List of top 98 famous quotes and sayings about nothing left to do to read and share with friends on your Facebook, Twitter, blogs.
Top 98 Nothing Left To Do Quotes
#1. She would never again lie in bed on a Good Friday morning and relax in the blissful knowledge that there was nothing to do and nowhere to be, because for the rest of her life, there would always, always be something left undone. An unmade confession. An ugly secret.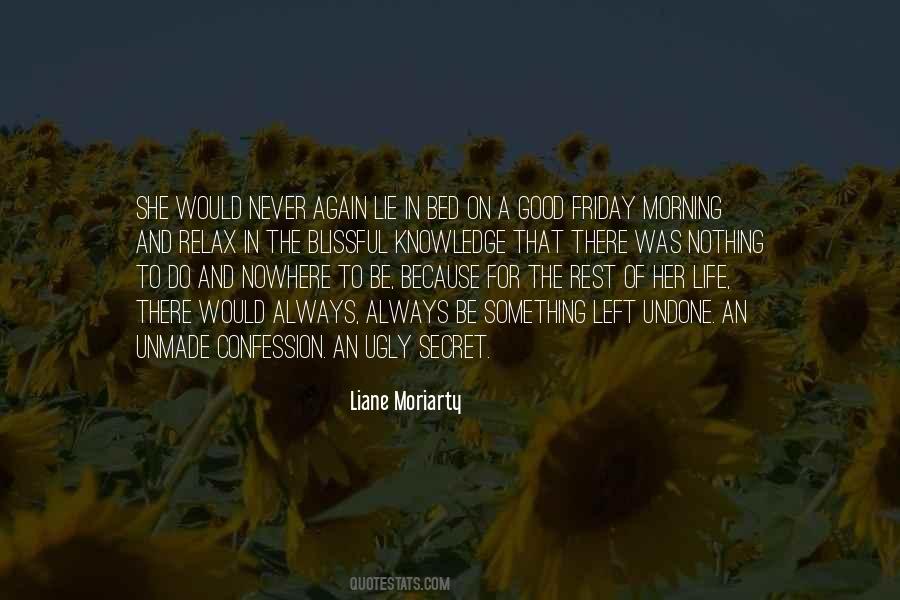 #2. Nothing left but true: "You're gravity I can't escape." His sore heart labored beats in the darkness. "What am I supposed to do with that?" she said. "What you can," he said. "What you want.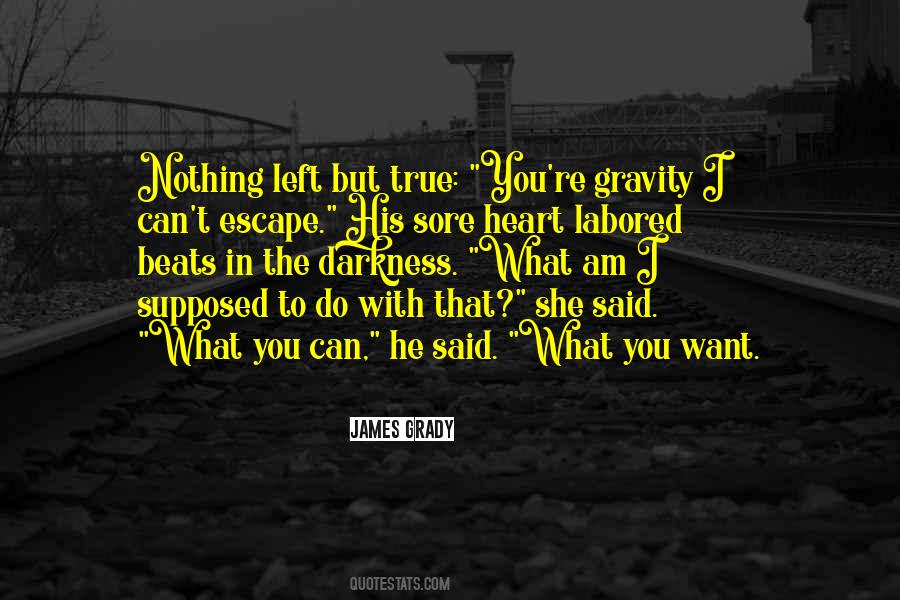 #3. There is nothing left for me to do but to go and see General Grant and I would rather die a thousand deaths.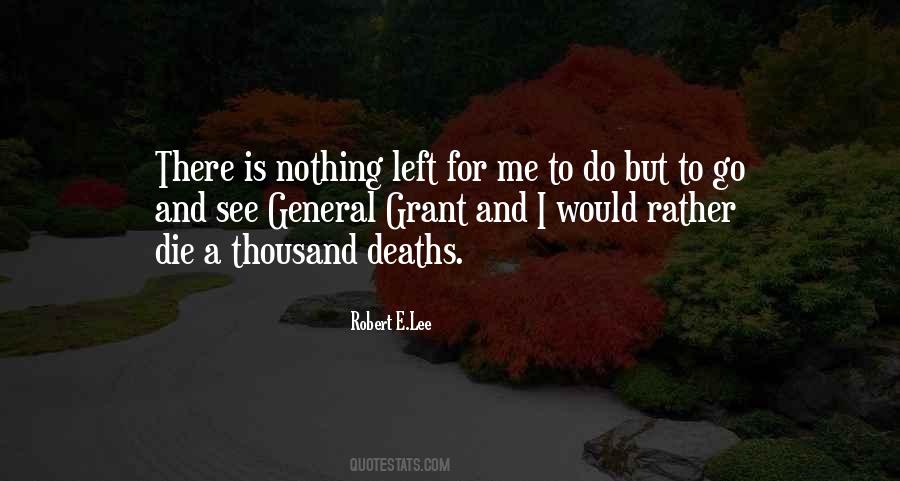 #4. Maybe I'll just become a cartoon character because there's nothing left for me to do in an R-rated comedy.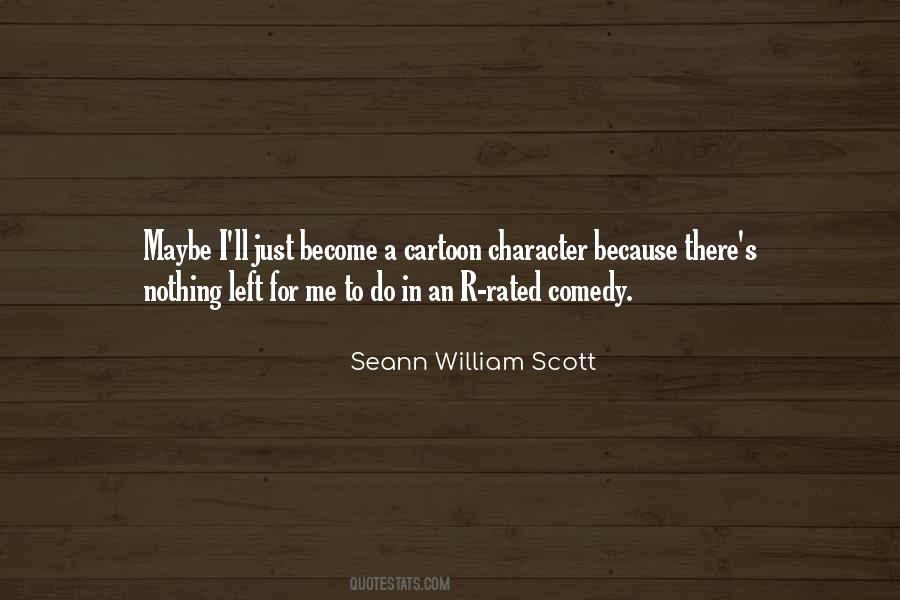 #5. Prepare like no other, know that there was nothing left for you to do when it's all said and done. This way a loss is just a stat. The better man will always win if he prepared like no other.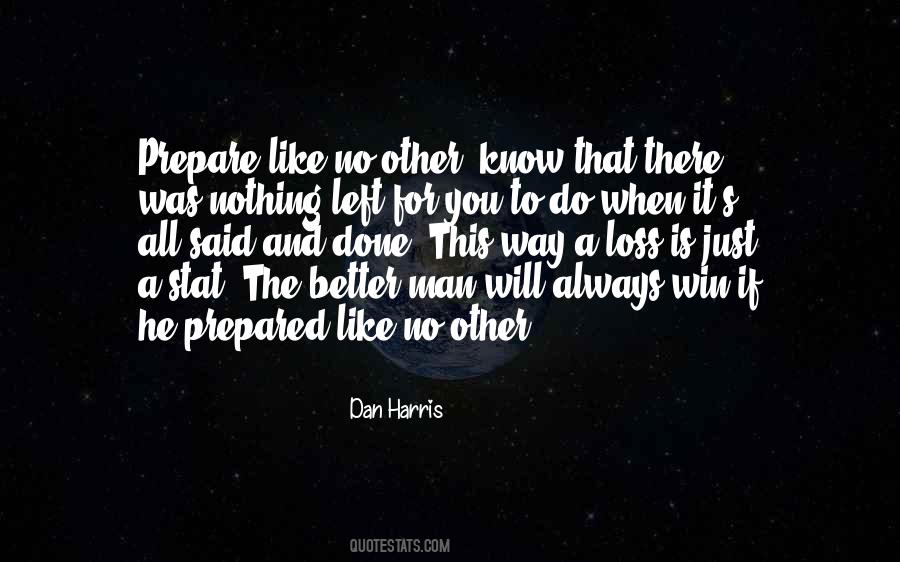 #6. If we do not die for liberty, we shall soon have nothing left to do but weep for her.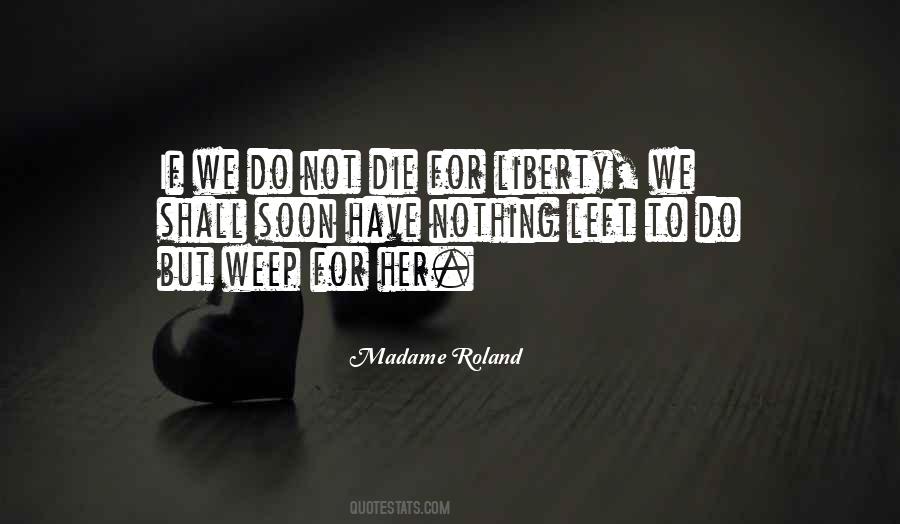 #7. To make belief the touchstone of the kingdom's operation is simply to turn faith into just one more cold work. Of course we must believe; but only because there is nothing left for us to do but believe.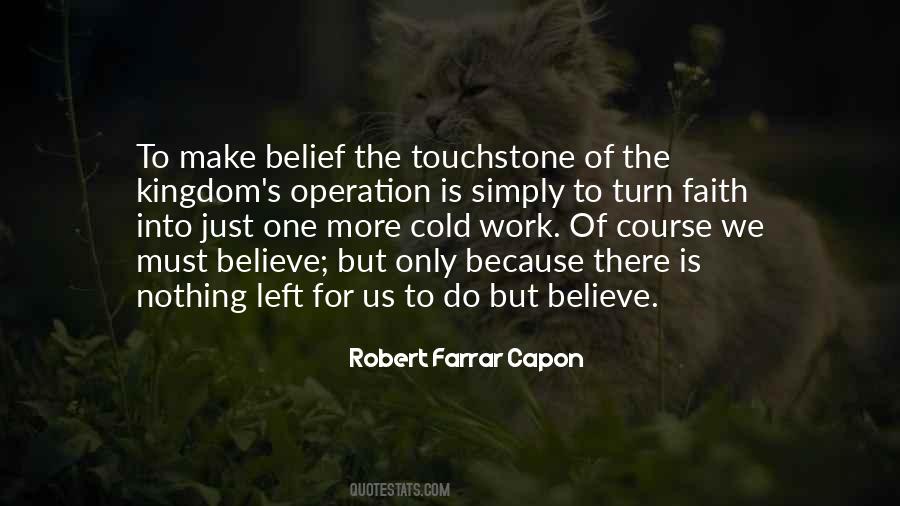 #8. I mention all this so that you will understand that is part of the process: once you've found out he's cheated on you, you have to keep finding it out, over and over and over again, until you've degraded yourself so completely that there's nothing left to do but walk out.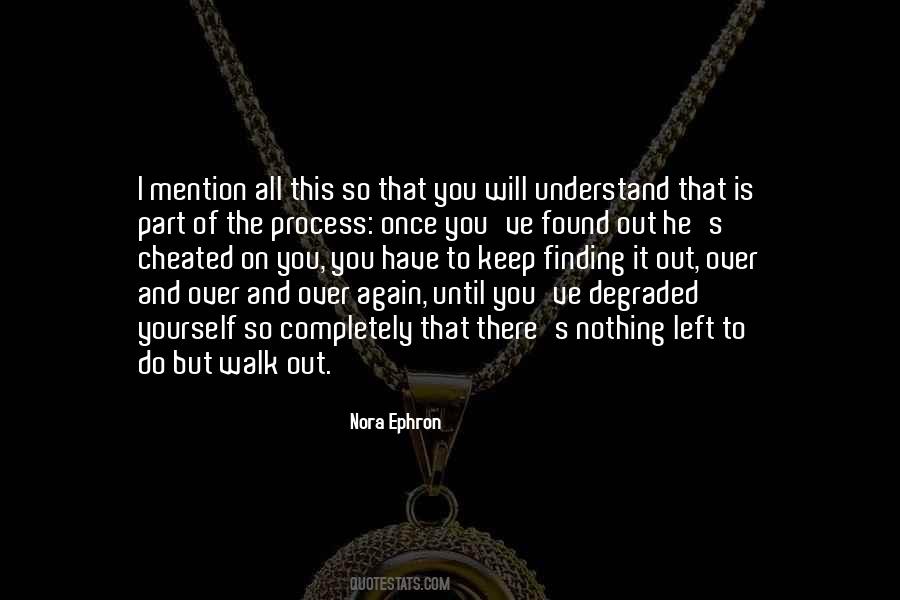 #9. Do you know what it's like to give your whole self to a person, and your whole heart to boot, until you've got nothing left to give-and then realize that it still isn't what they need?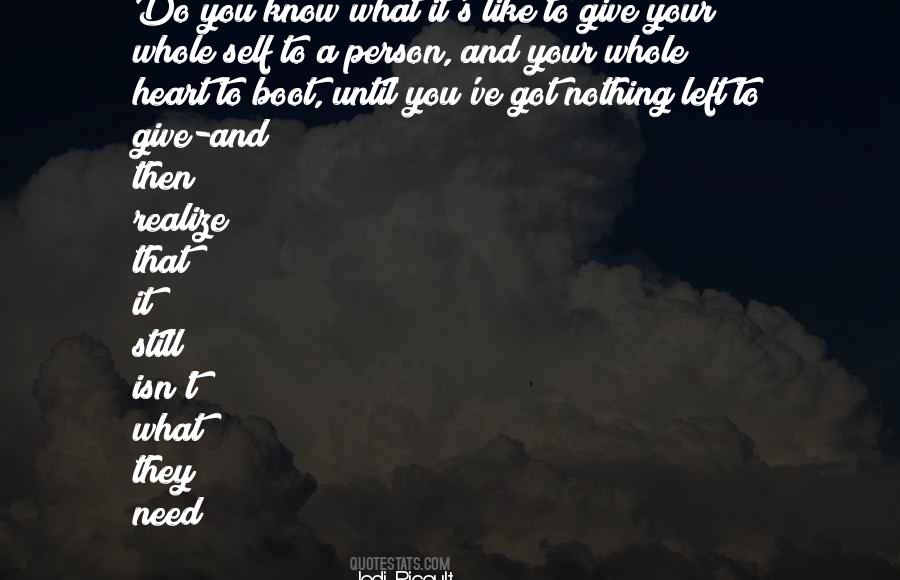 #10. Give as much you can possibly give, even if, or when, you do not receive. For the more you give, the more the heart gets 'bigger' and 'stronger'. So, never for one moment you hold back from giving, until the heart has nothing left to give again.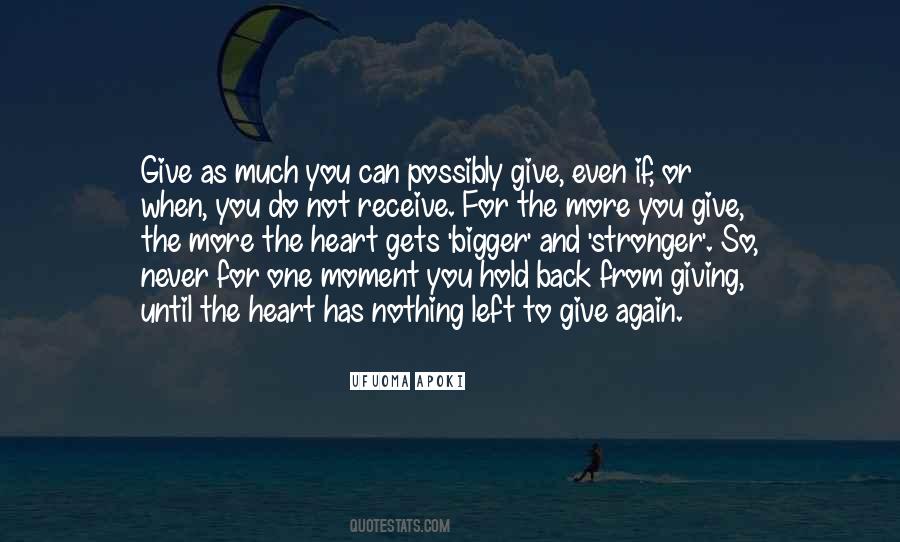 #11. Death does not trouble me. I have no fear of supernatural punishments, of course, nor could I enjoy an eternal life in which there would be nothing left for me to do, the task of living having been accomplished.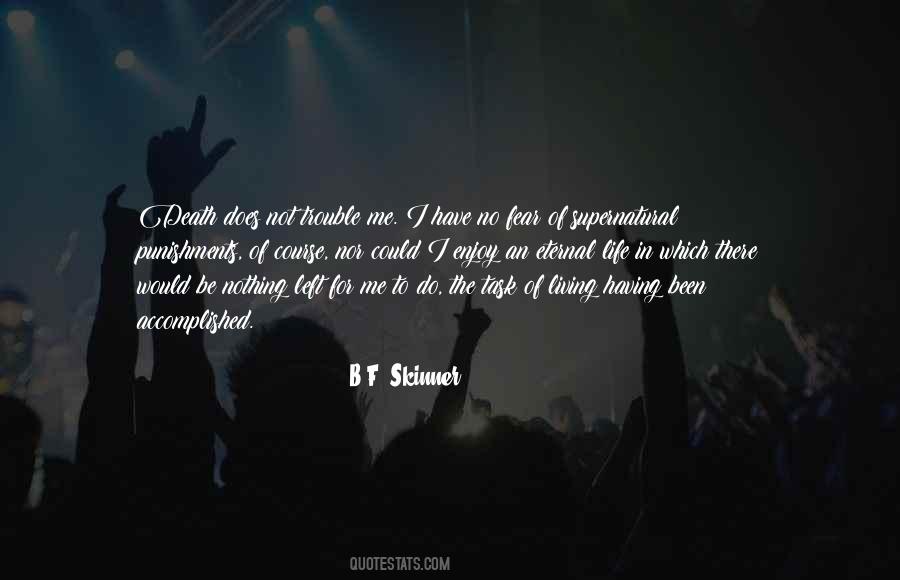 #12. So that's what it's like? All of a sudden all possibility just vanishes? A life full of projects, discussions just started, desires not even fulfilled - it all vanishes in a second and there's nothing left, nothing left to do, and there's no going back?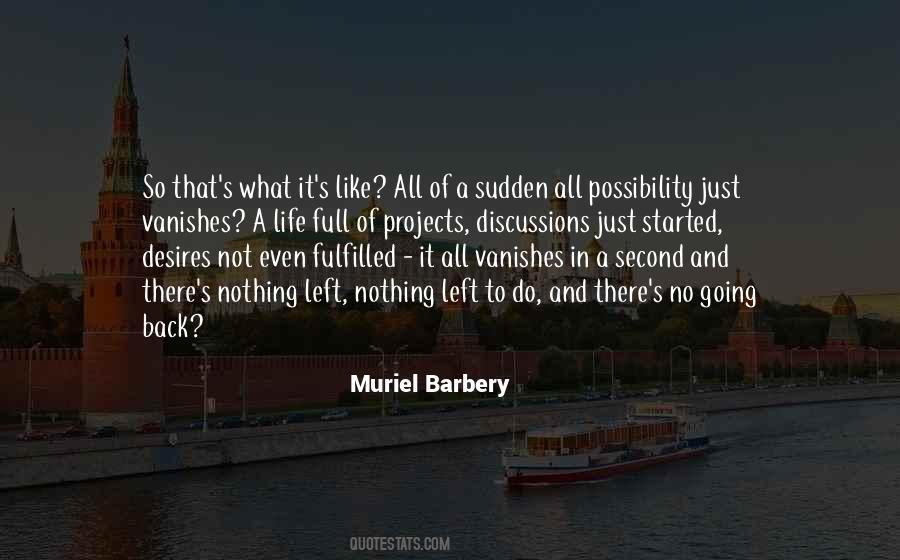 #13. Is this muteness a real physical handicap? One of the many symptoms of being Dead?Or do we just have nothing left to say?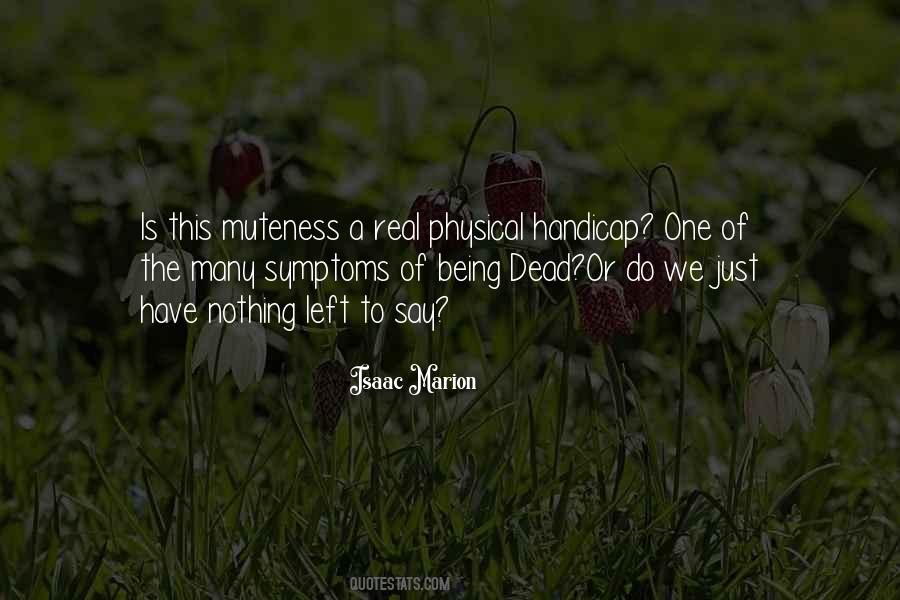 #14. But there was nothing left to do but continue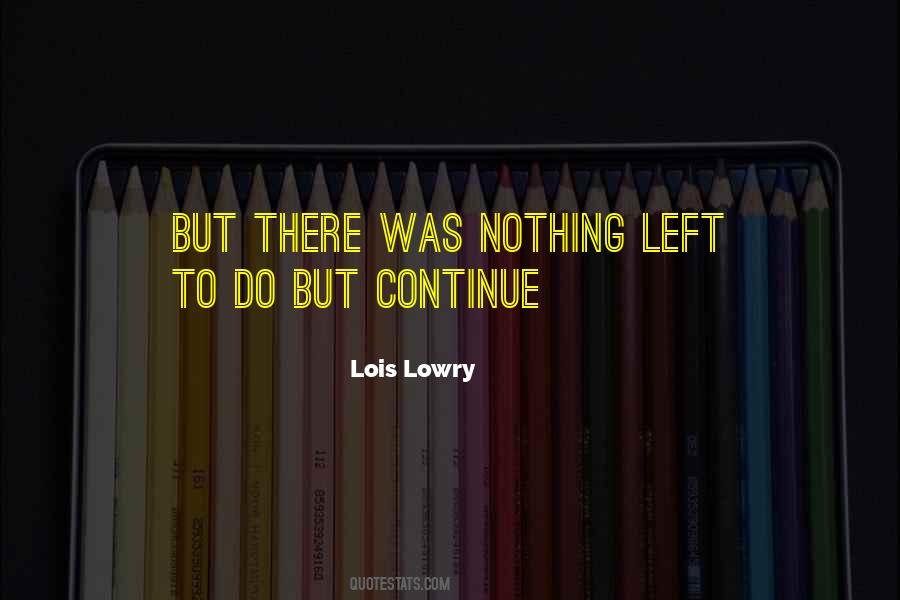 #15. Do you have to make me feel like there's nothing left of me? You can take everything I have, you can break everything I am, like I am made of glass, like I am made of paper.Go on and try to tear me down I will be rising from the ground like a Skyscraper ...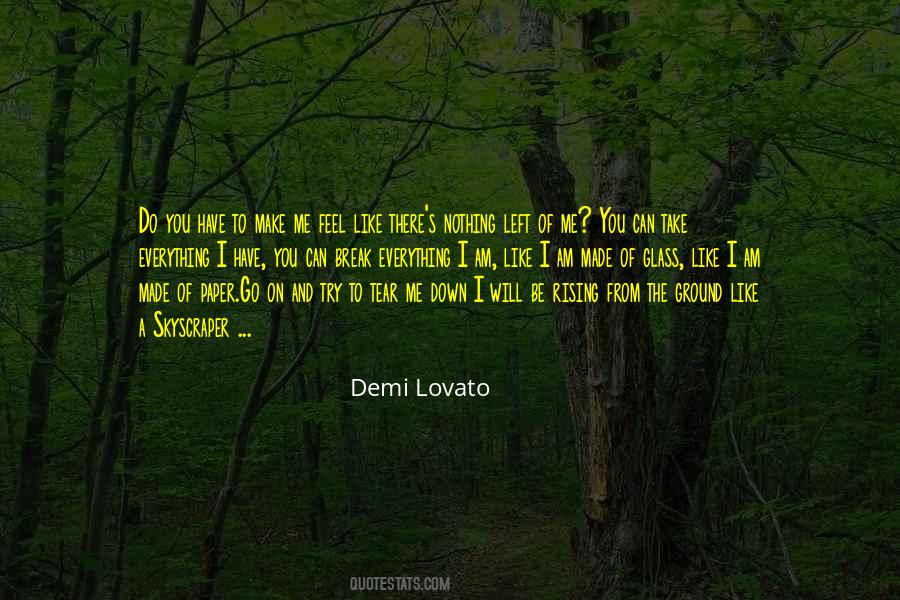 #16. I do not fall. I fell so hard so long ago there is nothing left for me to land on. I just
keep falling and falling and falling.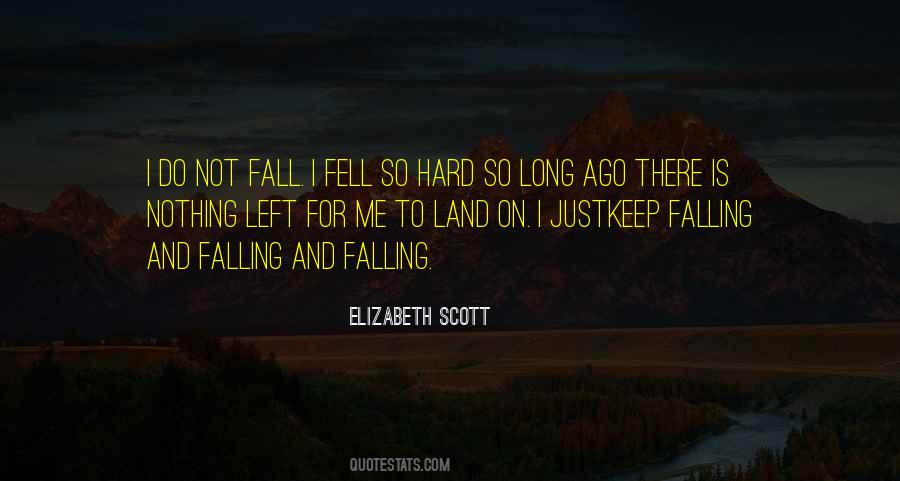 #17. I want to drink you until there's nothing left. I want you to magically rematerialize so I can do it again. I want a phoenix that will rise from the ashes just so I can keep burning her. I thought I knew madness, but I didn't know it before you.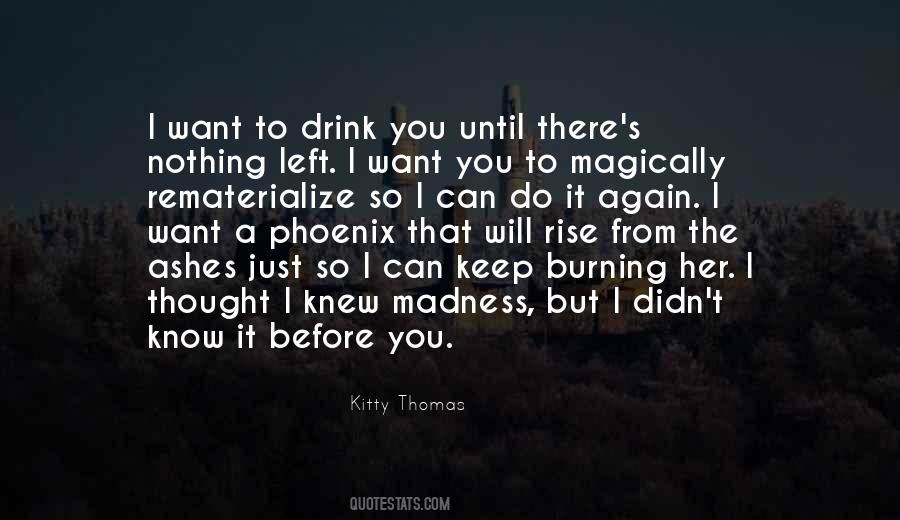 #18. Prayer. That was what people did when there was nothing else left to do.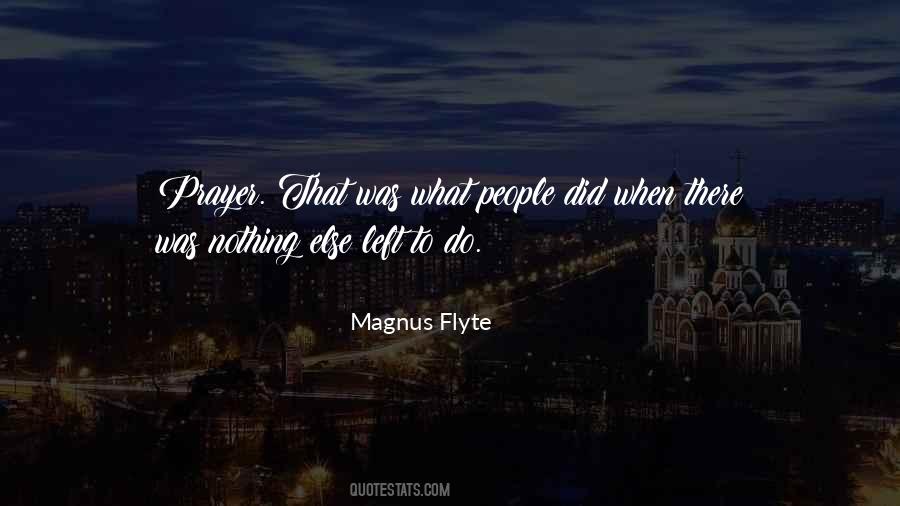 #19. (So why grieve? The worst of it, for him, is over.) Because I loved him so and am in the habit of loving him and that love must take the form of fussing and worry and doing. Only there is nothing left to do. Free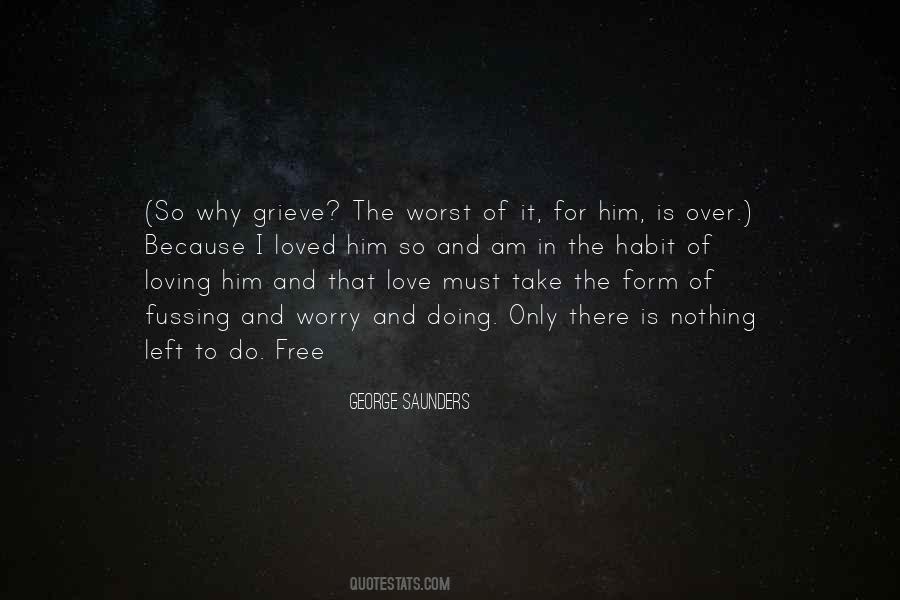 #20. Do you ever feel that we are only building sand castles? Why do so many things happen to us? I am afraid the little we have left will be swept away, too. Why bother?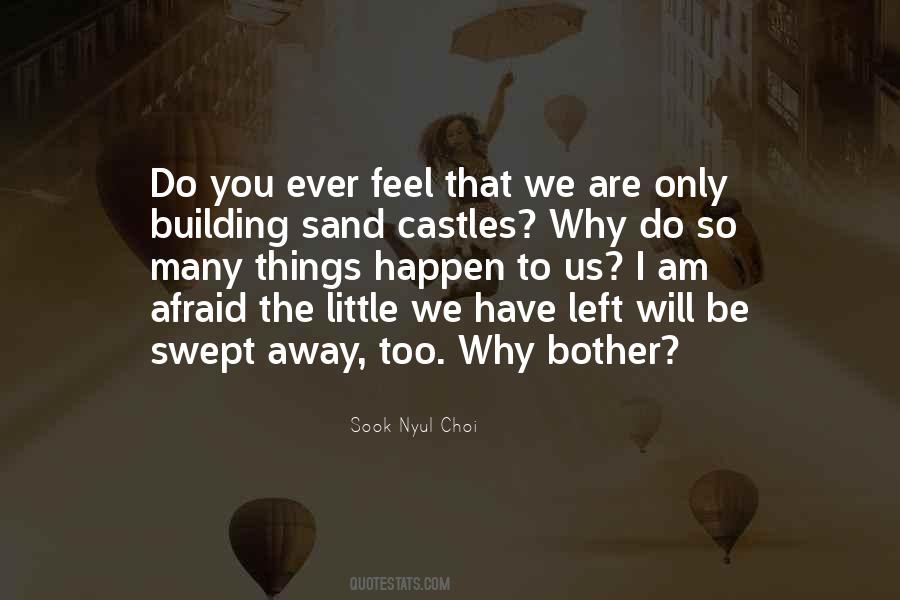 #21. Sometimes I wait for you at the exact edge of the jetty where we left each other. Sometimes I disappear into an unconscious hole and lie there silted up in stories having nothing to do with the vigorous immediacy of our epic.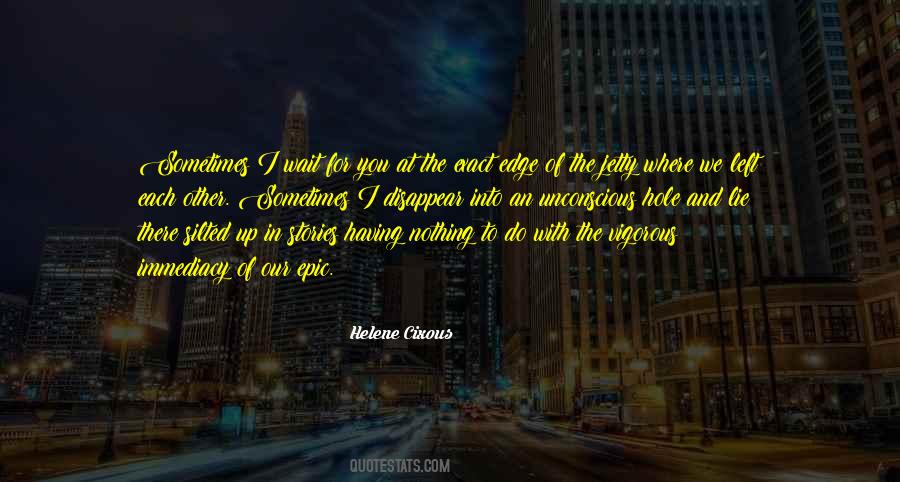 #22. You have this great big fantasy life, and it looks like a non-stop 24/7 party. But what do you do when you get to the end of the Internet and there's nothing left to buy? There's just a picture of Wayne Newton flipping you off.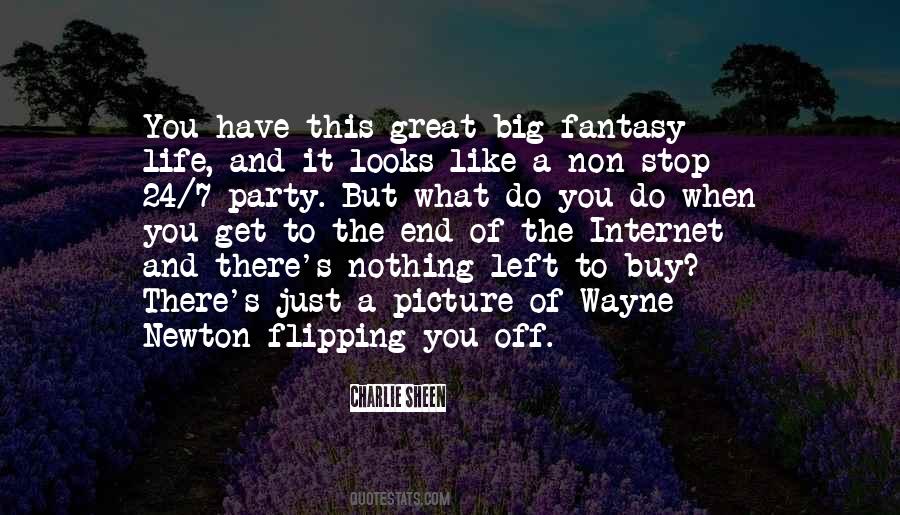 #23. It was the least she could do. For Nehemia - for. . . a lot of other people. There was nothing left in her, not really. Only ash and an abyss and the unbreakable vow she'd carved into her flesh, to the friend who had seen her for what she truly was.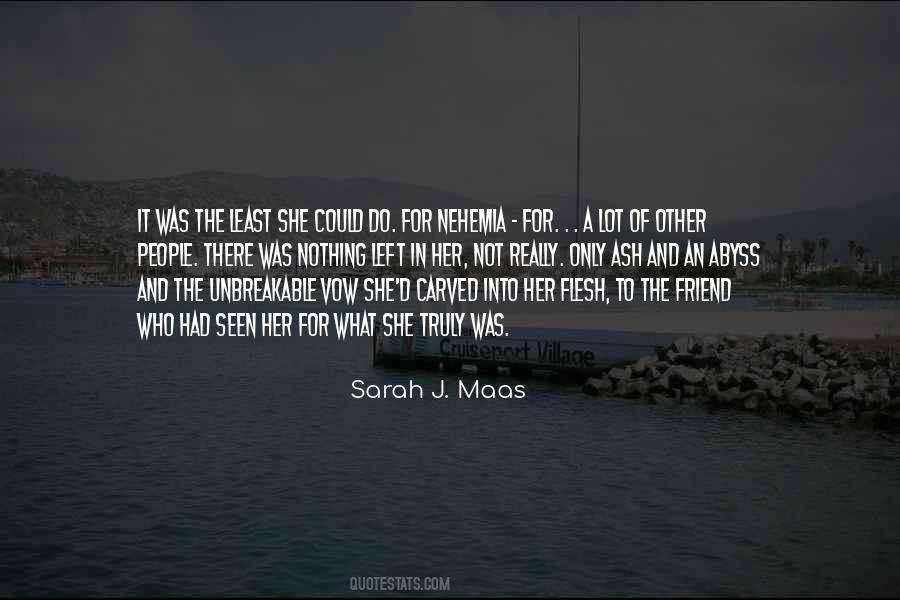 #24. Now she had no choice about what she had to do. What she would do to protect Dorian. It was what she'd realized last night: she did have someone left - one friend. And there was nothing she wouldn't do to keep him safe.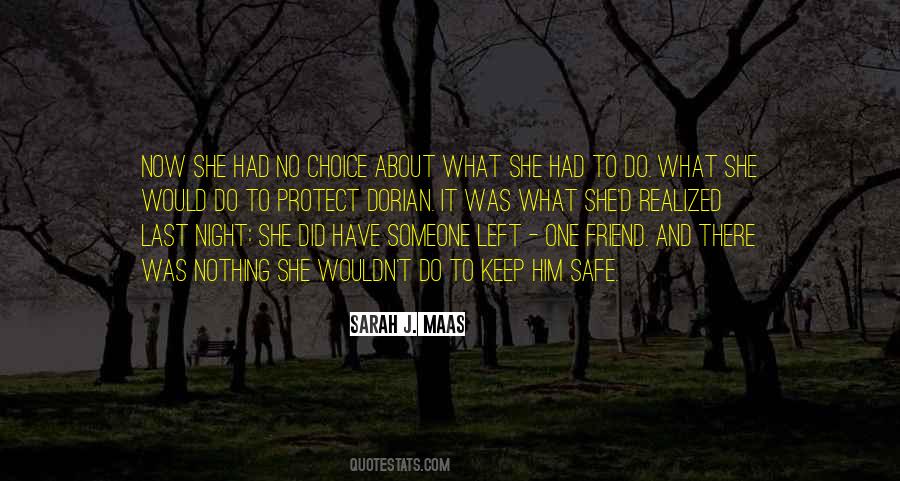 #25. If a tiny spark of God's love already burns within you, do not expose it to the wind, for it may get blown out ... Stay quiet with God. Do not spend your time in useless chatter ... Do not give yourself to others so completely that you have nothing left for yourself.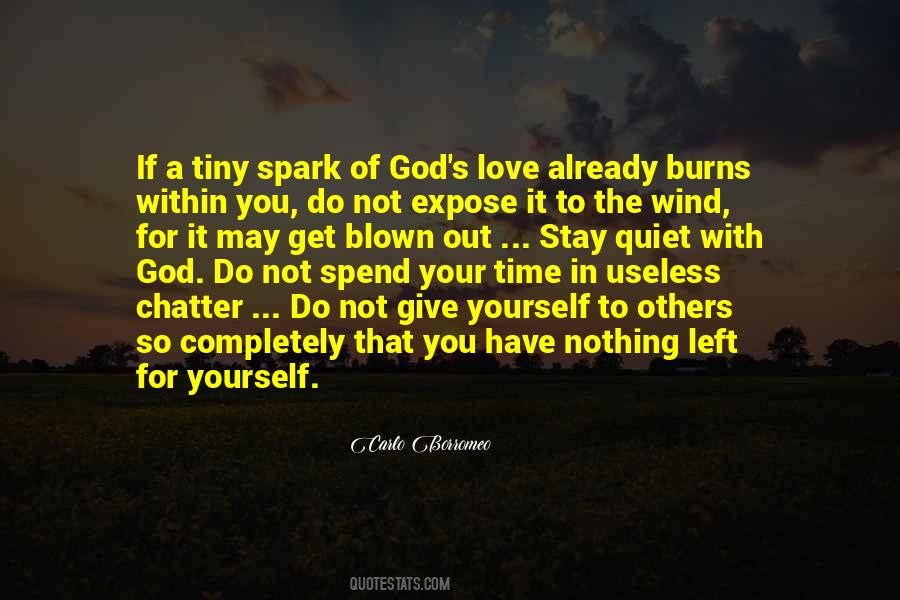 #26. I want to try to do something myself, knowing that when I have nothing left, someone will take me the rest of the way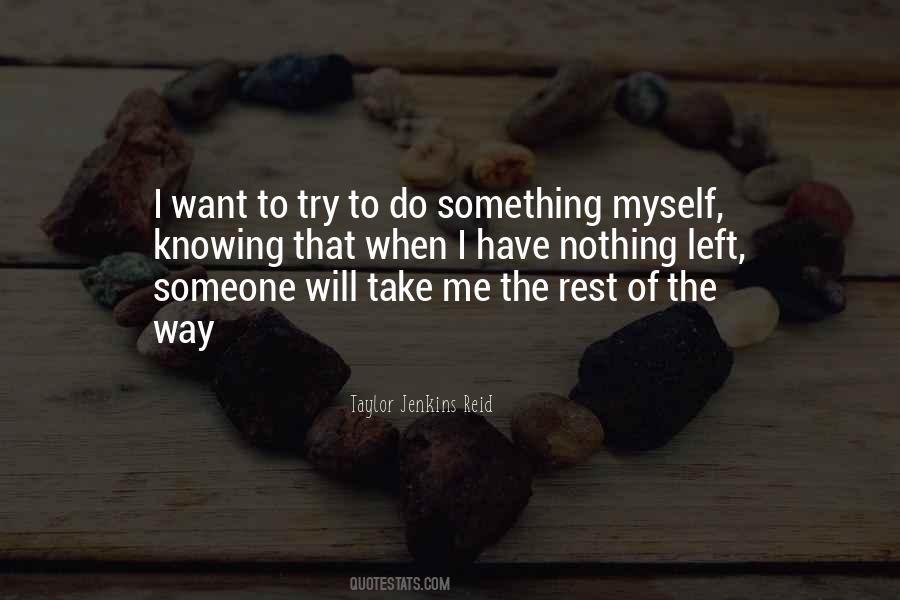 #27. No psychological message is so open to question as that which tells us that we have nothing left to do or to give.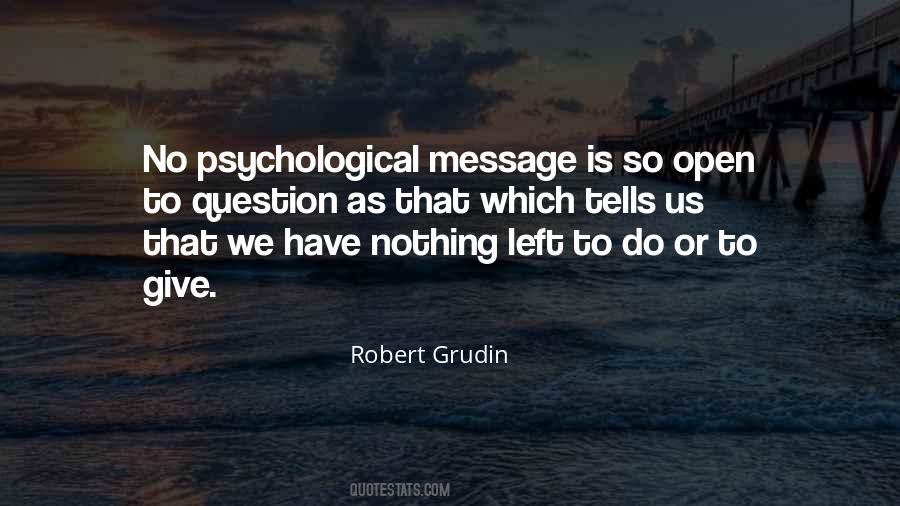 #28. I don't remember Sherlock Holmes ever mentioning what you are supposed to do when you've eliminated everything improbable, and nothing is left.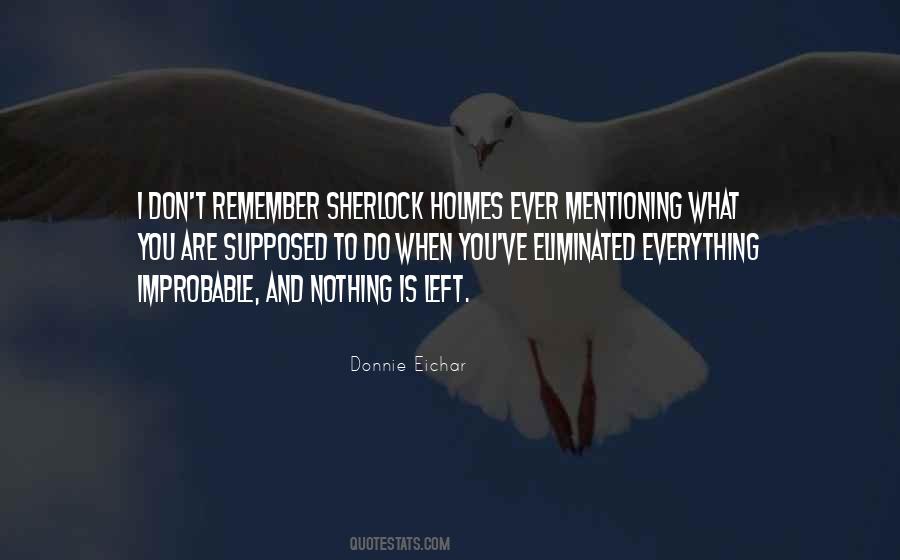 #29. There is nothing left to do but get drunk.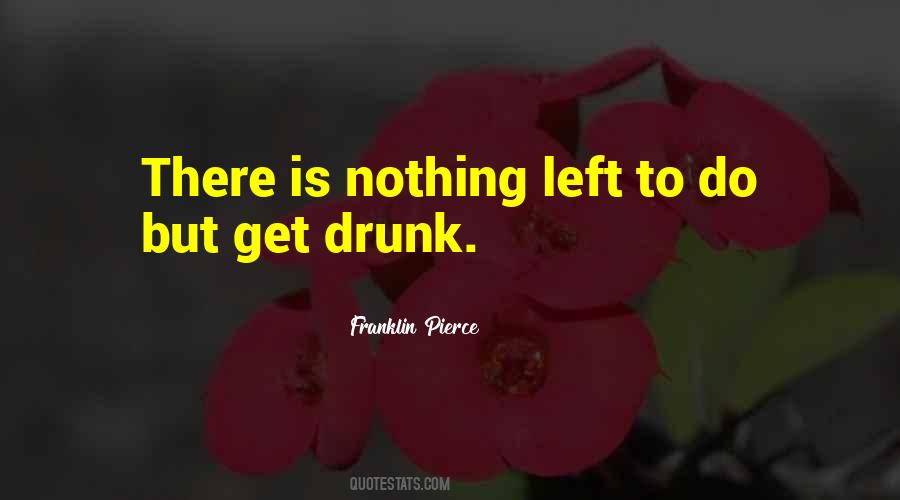 #30. There's release in knowing the truth no matter how anguishing it is. You come finally to the irreducible thing, and there's nothing left to do but pick it up and hold it. Then, at last, you can enter the severe mercy of acceptance.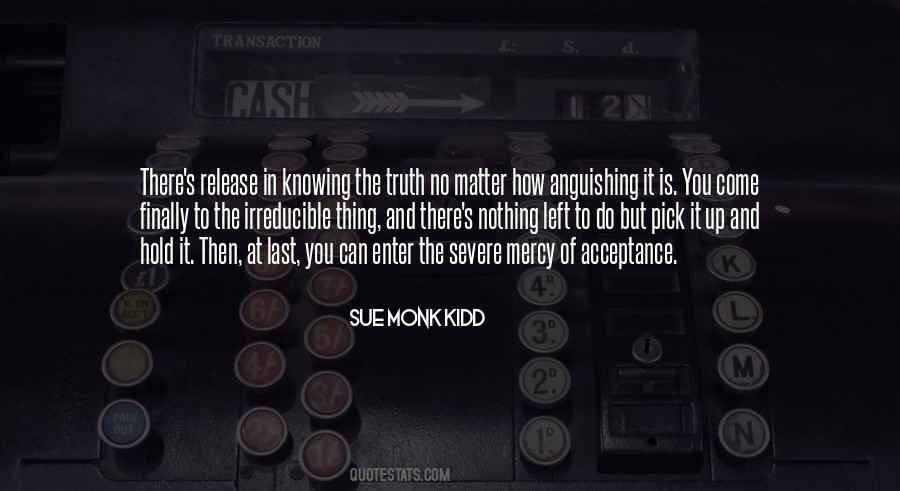 #31. When there is nothing left to give somone in need, we give them what we do have. We give them Divine Love, faith, and friendship. This is always enough to see anyone through anything. This, my friends, is how we save the world. (pg.99 of A Journey In to Divine Love)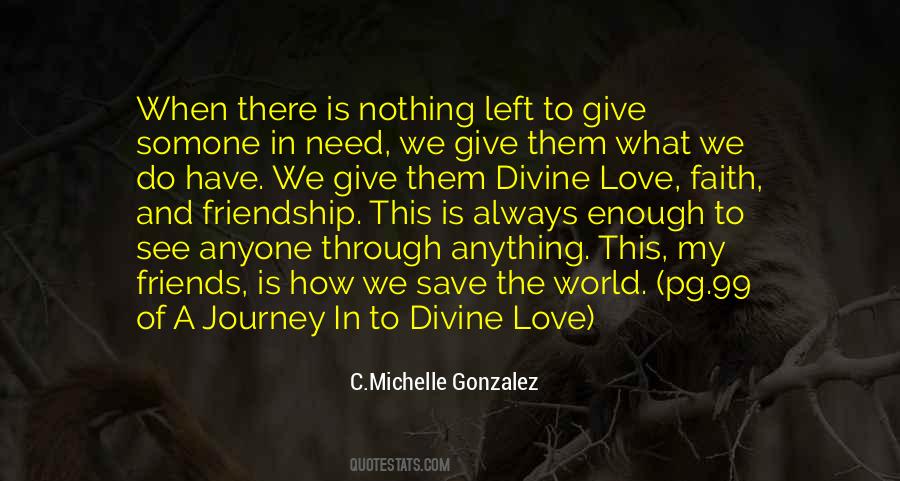 #32. And then, a strangely comforting thought trickled through me - I had nothing, so I could do anything now. Anything I wanted. I had nothing left to lose.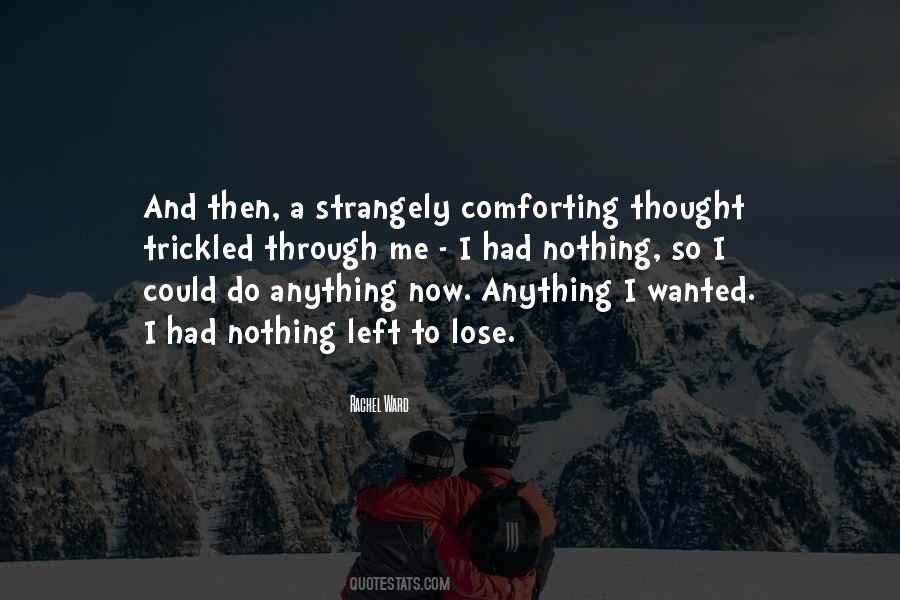 #33. Sometimes when I flick through a magazine and see these thin models I'm left wondering what effect they can have on an insecure person. But I say to girls: forget what you see in the magazines, that is a world which has nothing to do with reality; think of it as a cartoon.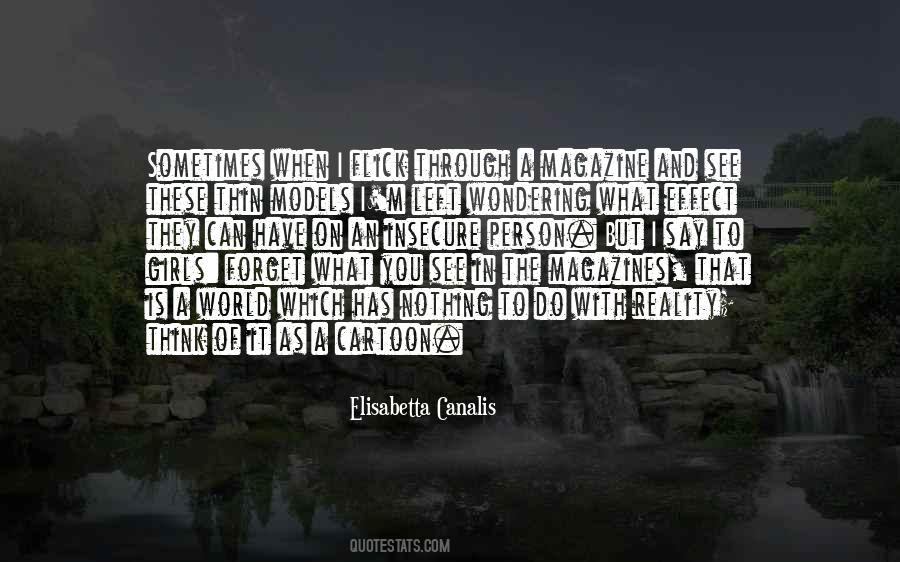 #34. Sometimes you will do a close-up for a scene in the morning where you are totally distraught, then shoot the rest of that scene seven hours later. How do you hang on to that feeling all day without burning up, without going so far that you have nothing left to give when the cameras roll again?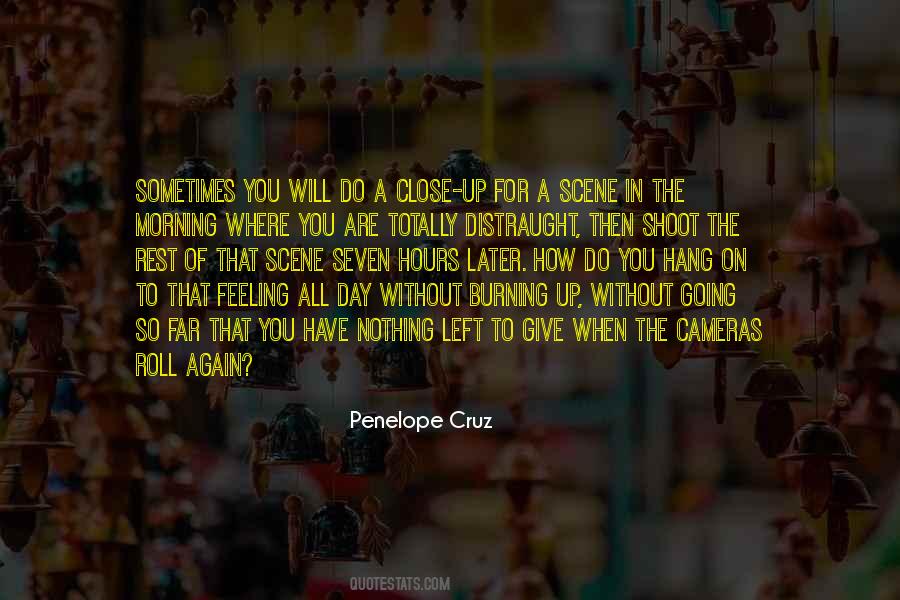 #35. Only in the present tense is the subject married to its verb. The action - all action, past and future - comes at the end. At the very end, when there is nothing left to do but act.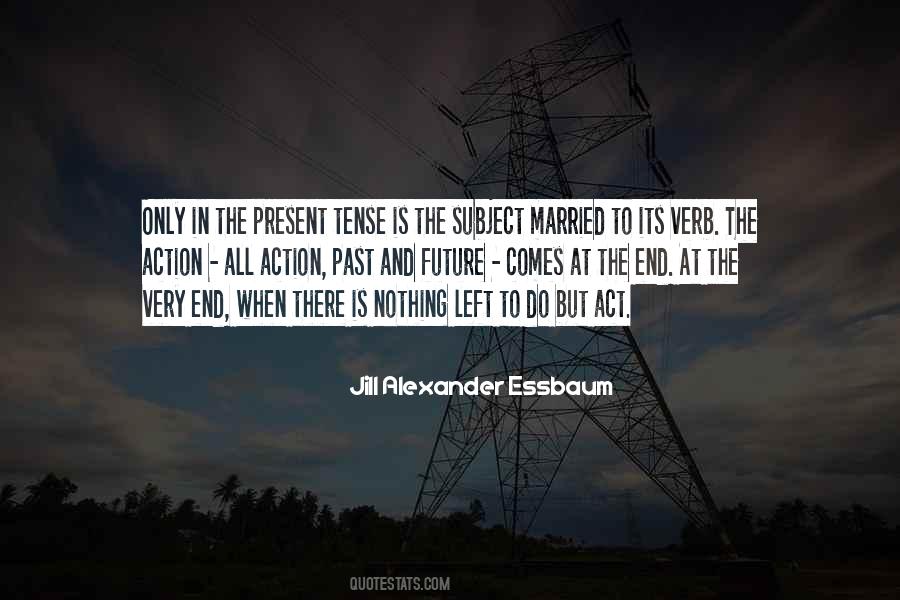 #36. If things do not change, there will be nothing left to change. Either power must pass to the people or everything will perish.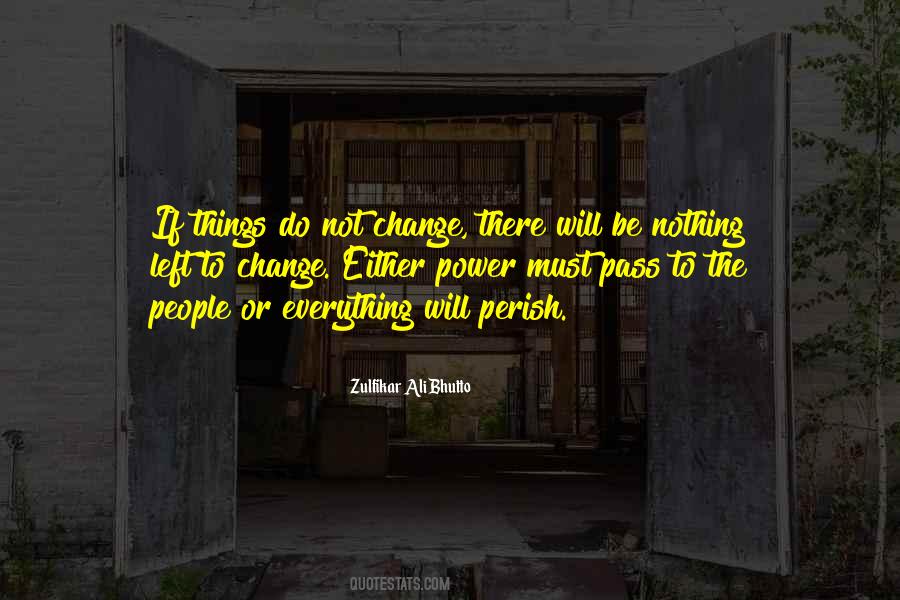 #37. In my family, there were Kei and Minoru and then there were the rest. Everyone in my family is very opinionated and everyone tried to join the debate. But by the time my turn came, there was nothing left to say. I couldn't keep pace, so I looked to do my own things.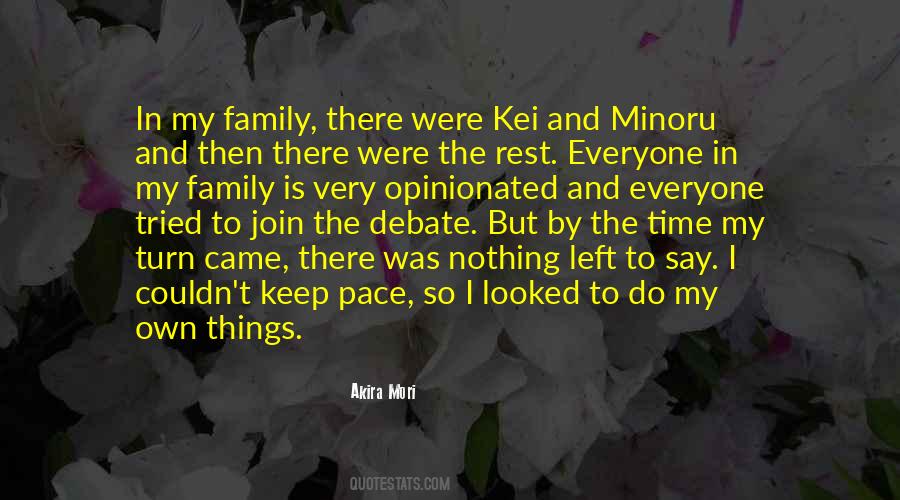 #38. And when you hang from the gallows. When the door beneath you opens, when your feet do the Devil's Dance, then you will realize in that moment that this has all been for nothing, because there will be no one left to pull your feet.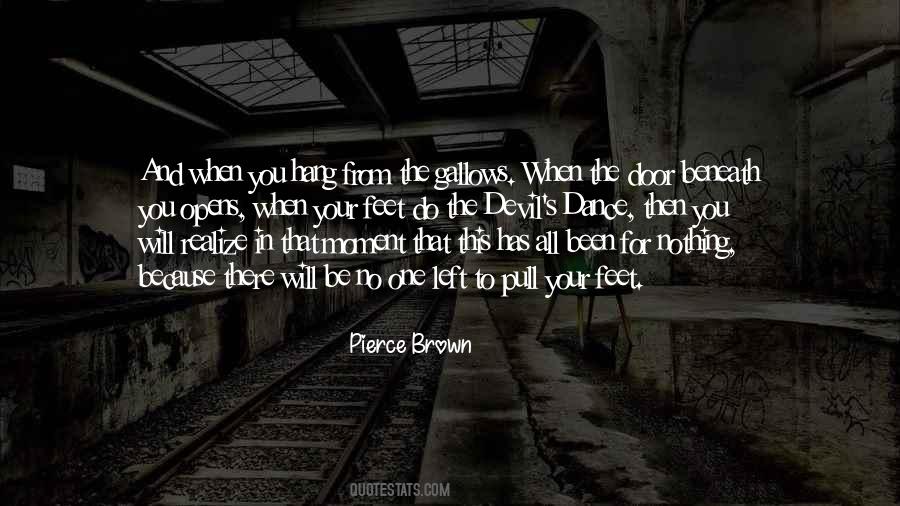 #39. But sometimes there's nothing left to do but move on.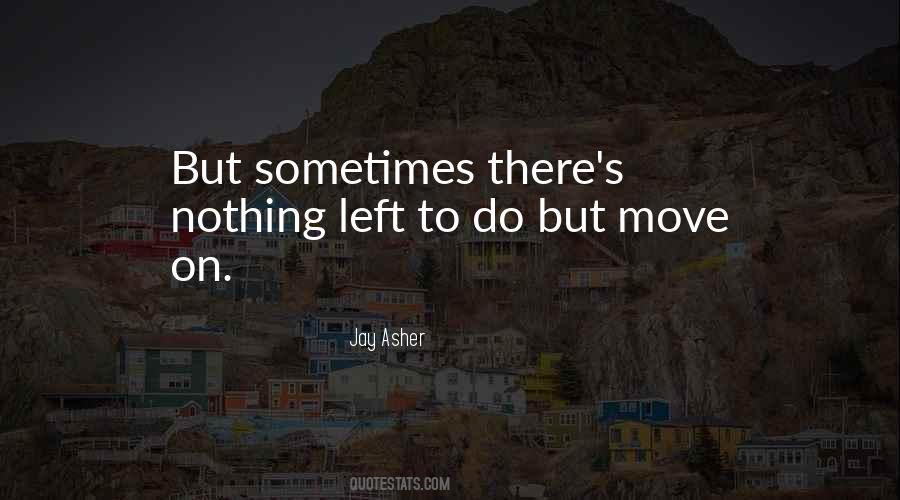 #40. Believe nothing others tell you. That is Rule No 1 of life in Astro City.

But what if the ones who set the rules are the ones lying to you?

What if the ones who reprimand the rule-breakers are lying to you?

Who do you believe when there is nobody left to believe?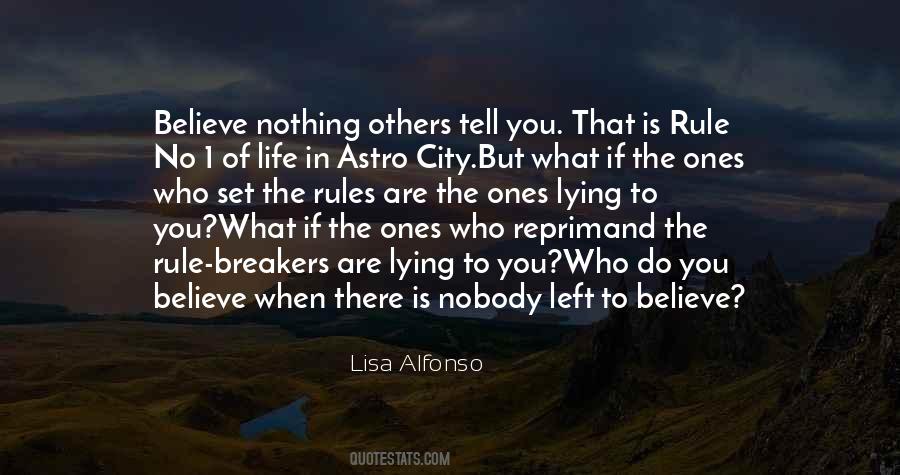 #41. Violence stinks no matter which side of it you're on. But now and then there's nothing left to do but hit the other person over the head with a frying pan.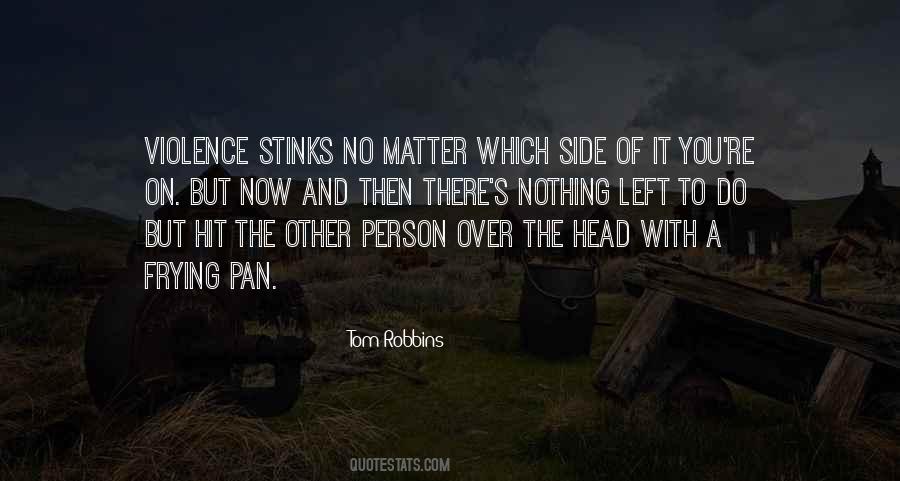 #42. Those who believe they know it all should not fret when they ultimately realize they do not, for when there is nothing left to learn what challenges remain.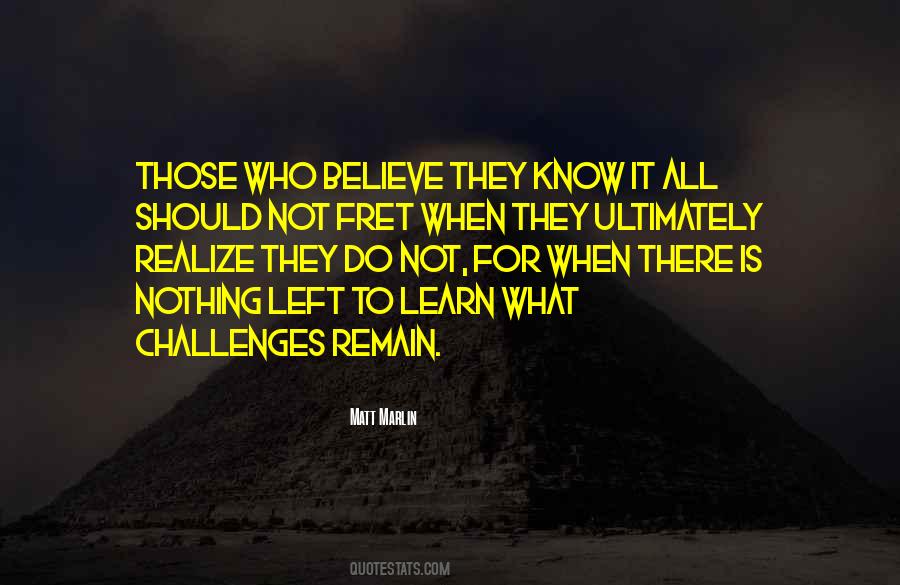 #43. If I had anyone to talk to about it, I knew they would say to give her time. I also knew that was just something people said when there was nothing left to say and nothing you could do.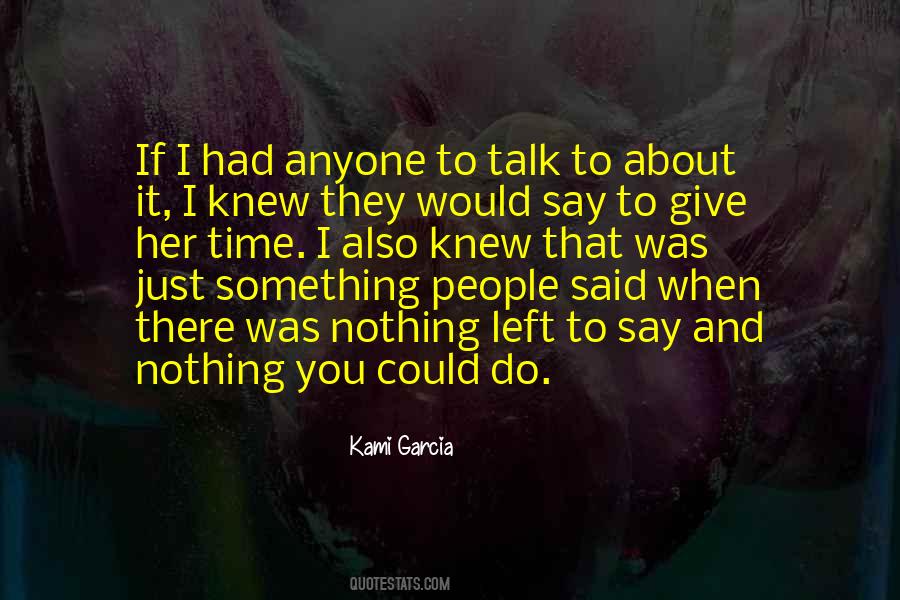 #44. If the Negroes are to remain forever removed from the producing atmosphere, and the present discrimination continues, there will be nothing left for them to do.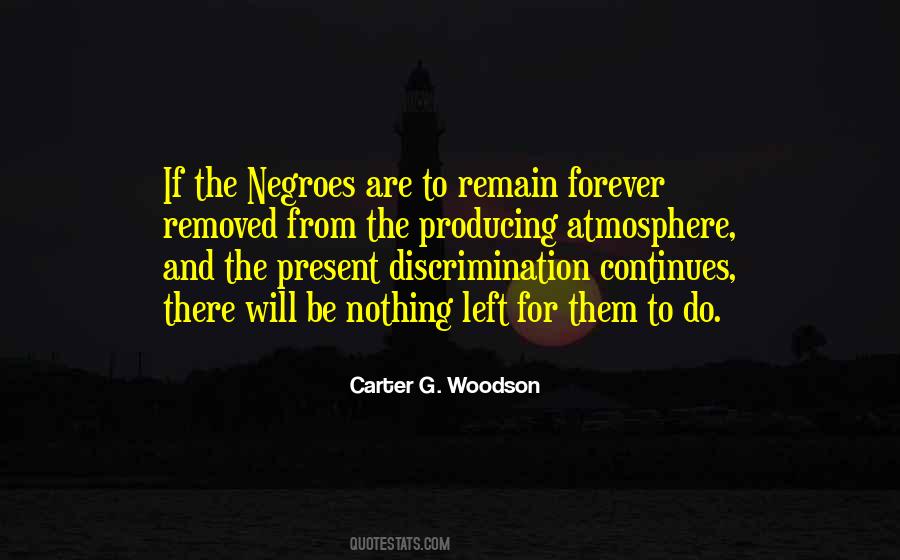 #45. It was strange to have no self-to be like a little boy left alone in a big house, who knew that now he could do anything he wanted to do, but found that there was nothing that he wanted to do.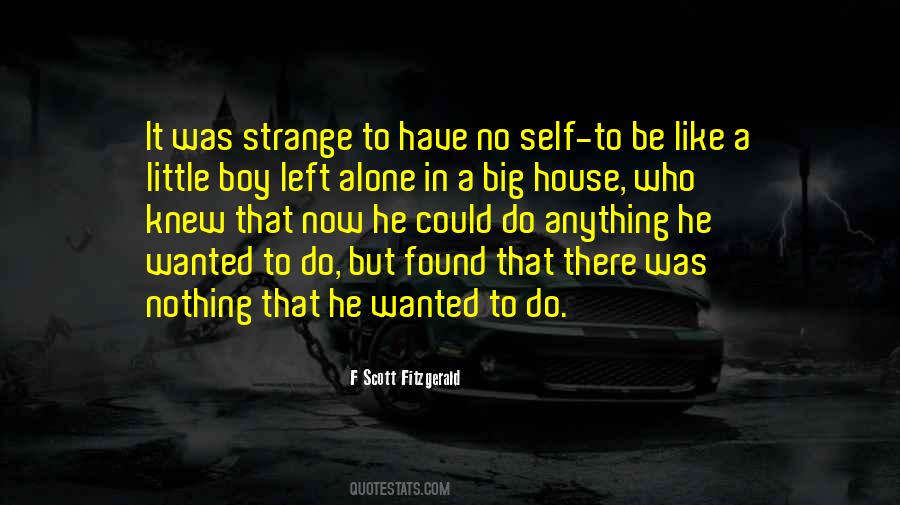 #46. When you're in the shit up to your neck, there's nothing left to do but sing.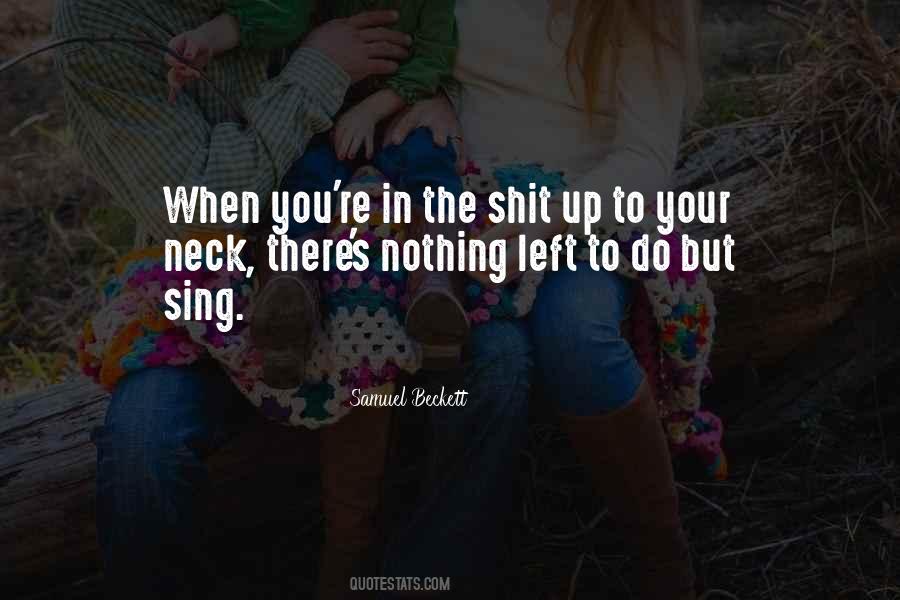 #47. Lord, you have conquered death and triumphed over evil. There is nothing left for us to fear. Put us to work on this earth, striving for the kingdom in everything we do. Let us die to ourselves each day that we might find ourselves made new in you. Amen.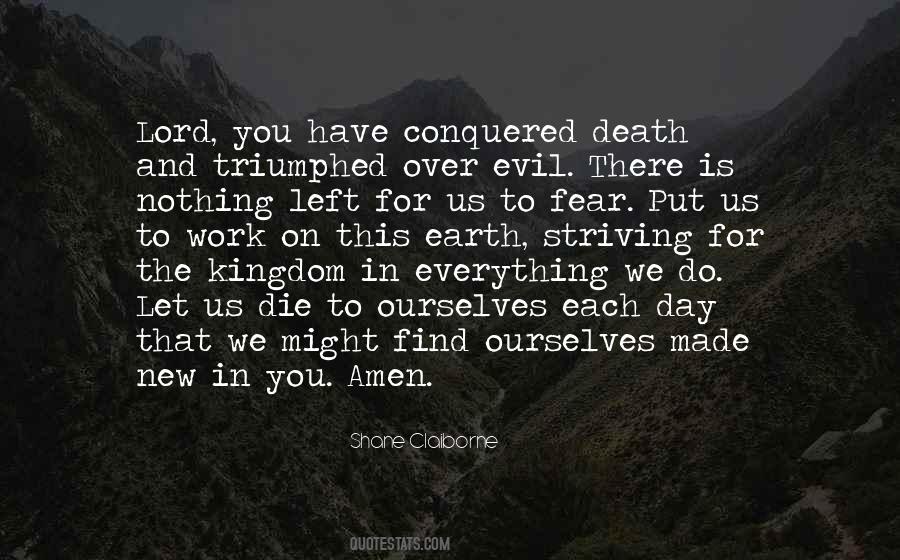 #48. Hope is a cancer. One of two things happens. Either you never learn the truth, in which case it gnaws down to the bone until there's nothing left, or worse, you do, and you go through that windshield at ninety because hope told you it was okay to make the drive without a seat belt.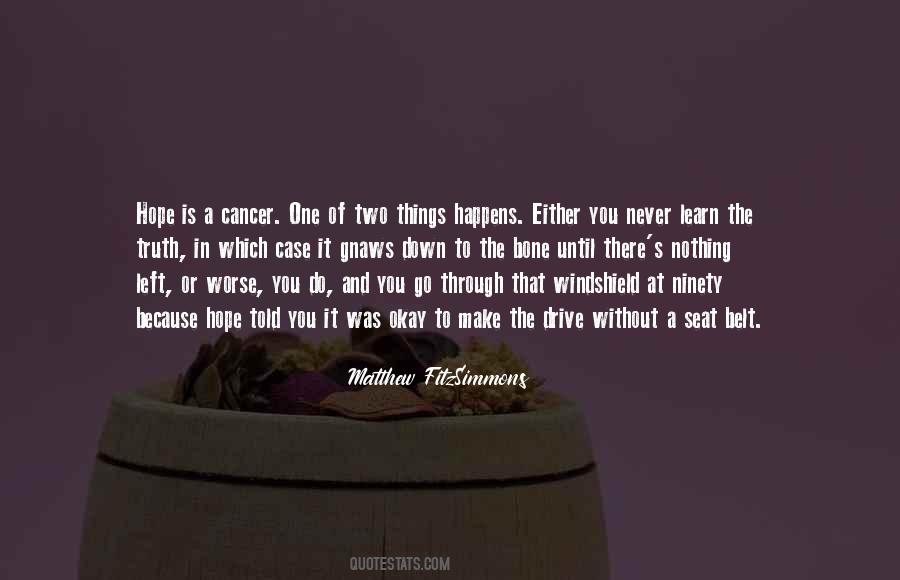 #49. That would have been the end of it, book Z in the series, nothing left to do but mourn, or curse her into the afterlife.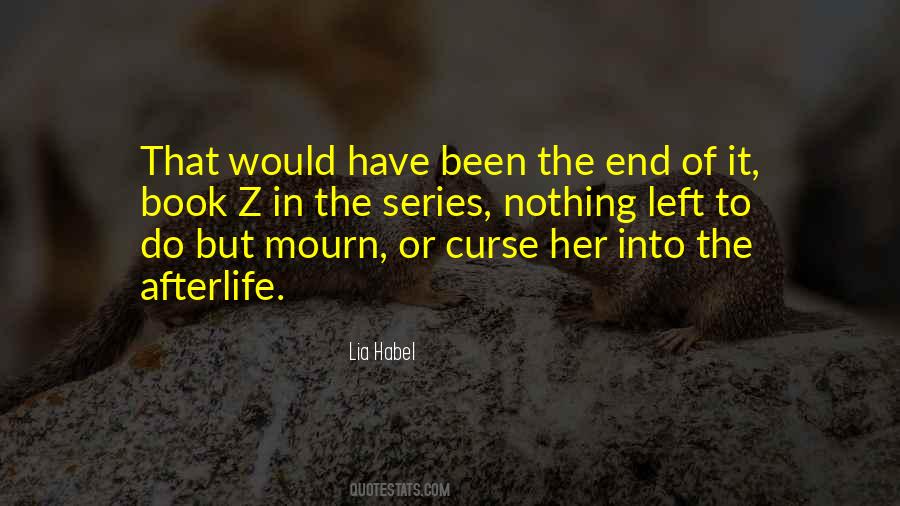 #50. But this is the idlest of dreams: for I did understand perfectly well at the time that the moment the breath left the body of the Magnificent Capitaz, the Man of the People freed at last from the toils of love and wealth, there was nothing more for me to do in Sulaco.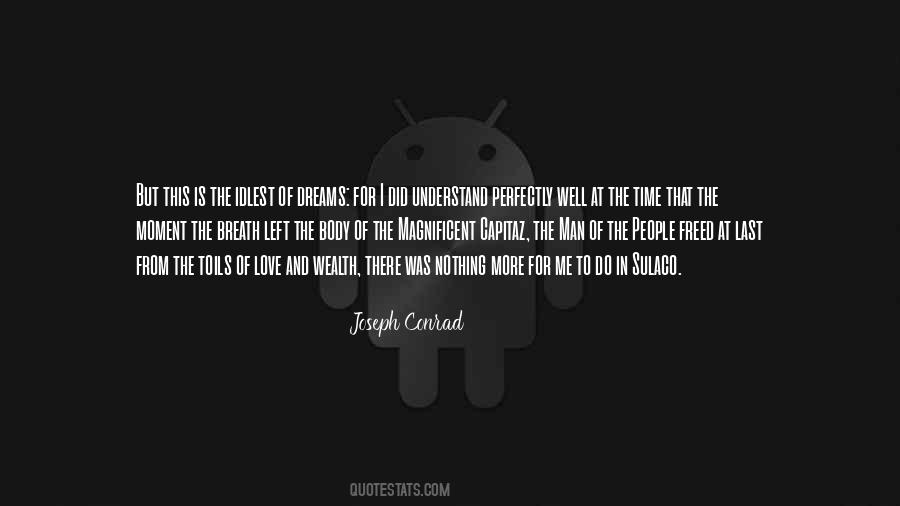 #51. You shoot like a girl, she laughed smoothly, then lifted her gun and shot me right between the eyes. There was nothing left to do but tackle her. So I did.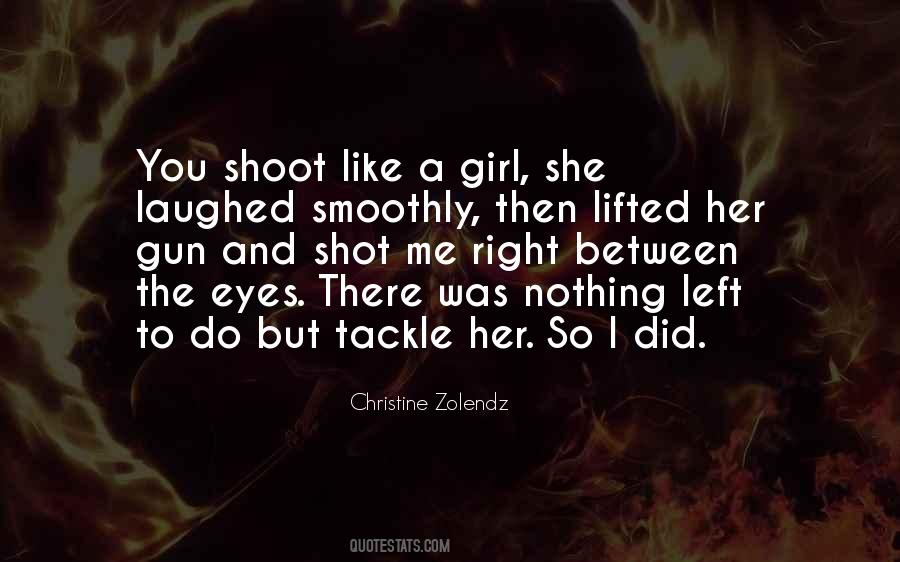 #52. Everybody has. It wouldn't do for us to have all our dreams fulfilled. We would be as good as dead if we had nothing left to dream about.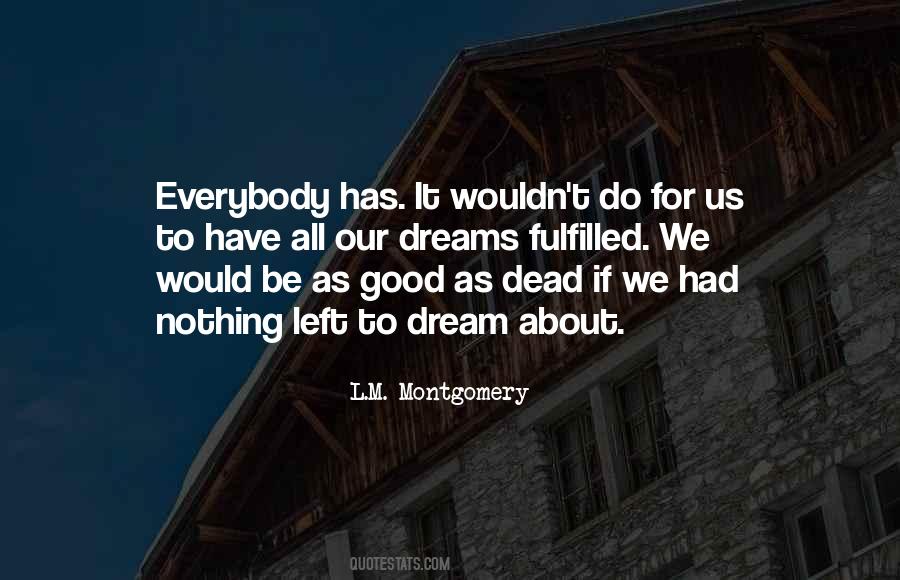 #53. Are you the sort of person who can turn around when you have nothing left, and find that little bit extra inside you to keep going, or do you sag and wilt with exhaustion? It is a mental game, and it is hard to tell how people will react until they are squeezed.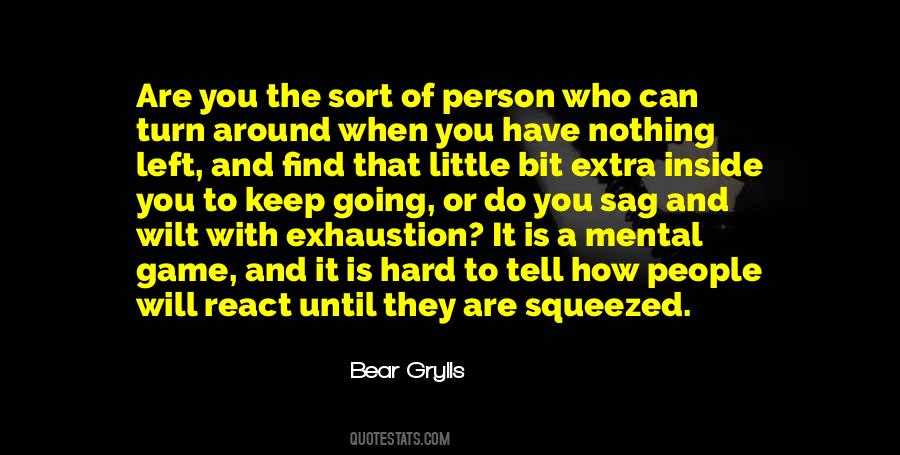 #54. I have long ago made a final and irrevocable decision. Nothing and no one, no pressure, cither from the right or from the left, will make me abandon the positions of perestroika and new thinking. I do not intend to change my views or convictions. My choice is a final one.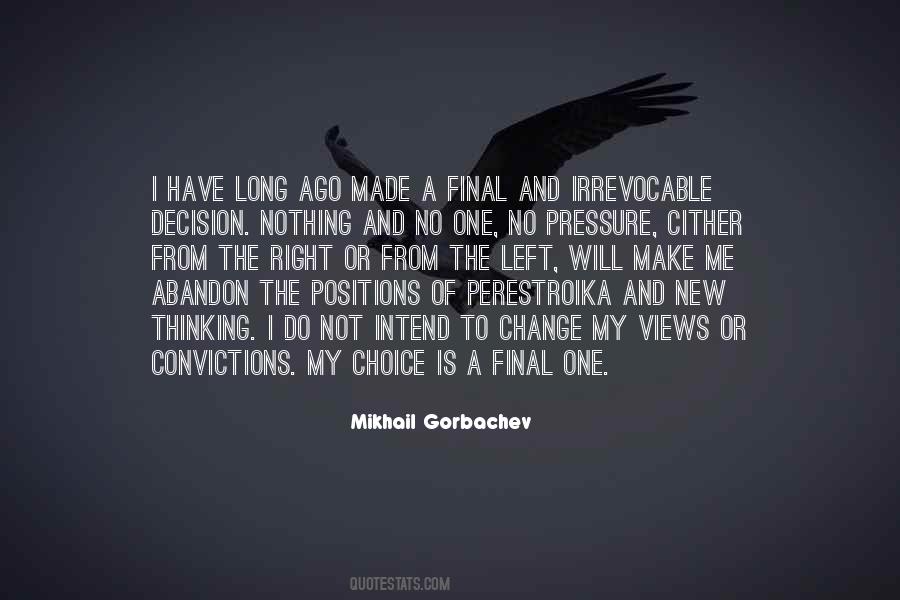 #55. A leftist government doesn't exist because being on the left has nothing to do with governments.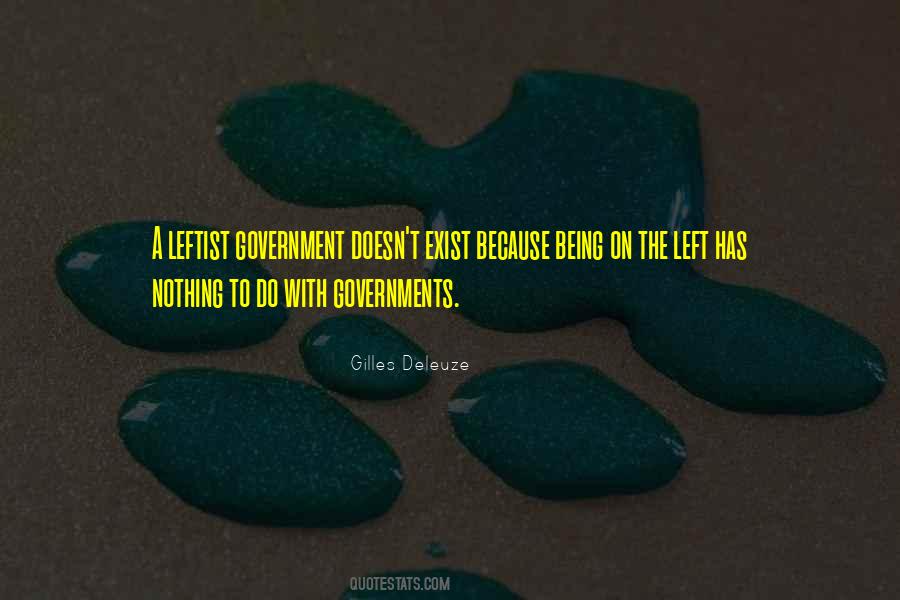 #56. My work is done; I have nothing left to do but to go to my Father.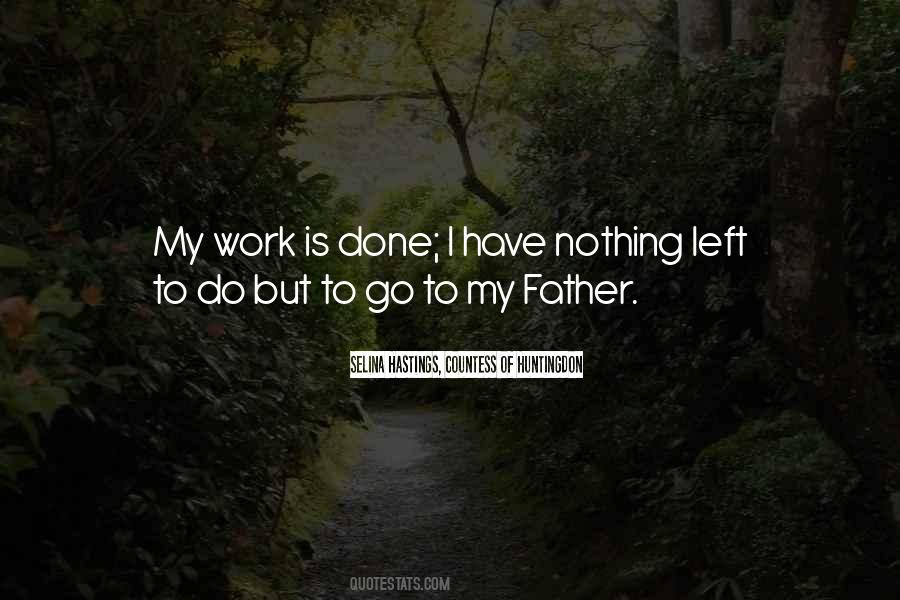 #57. If painters left nothing of themselves after their deaths, so that we were obliged to rank them as we do actors according to the judgment of their contemporaries, how different their reputations would be from what posterity has made them!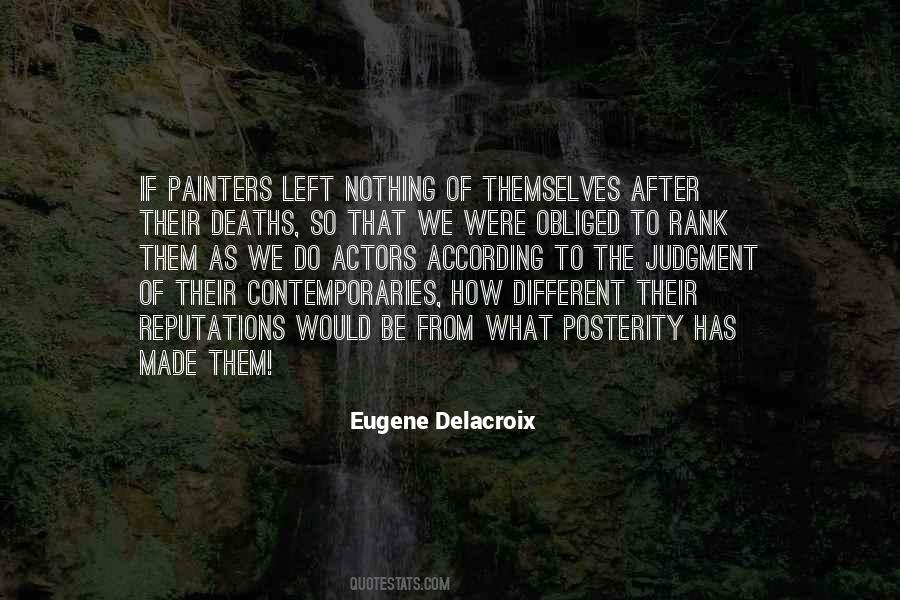 #58. I've had nothing to do with the intelligence world since I left it, in any shade or variety.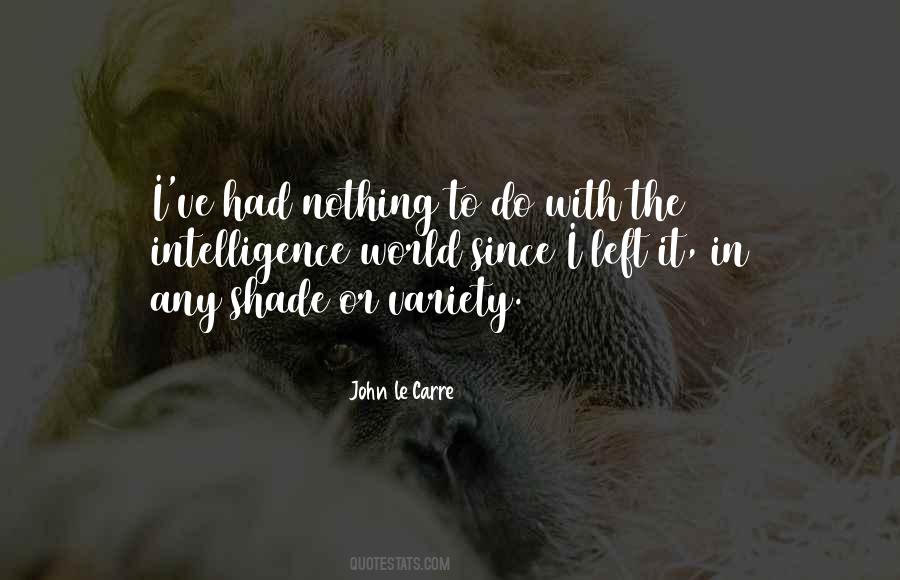 #59. When there is really nothing left to do or believe, except to remember, walking helps retrieve the absolute simplicity of presence, beyond all hope, before any expectation.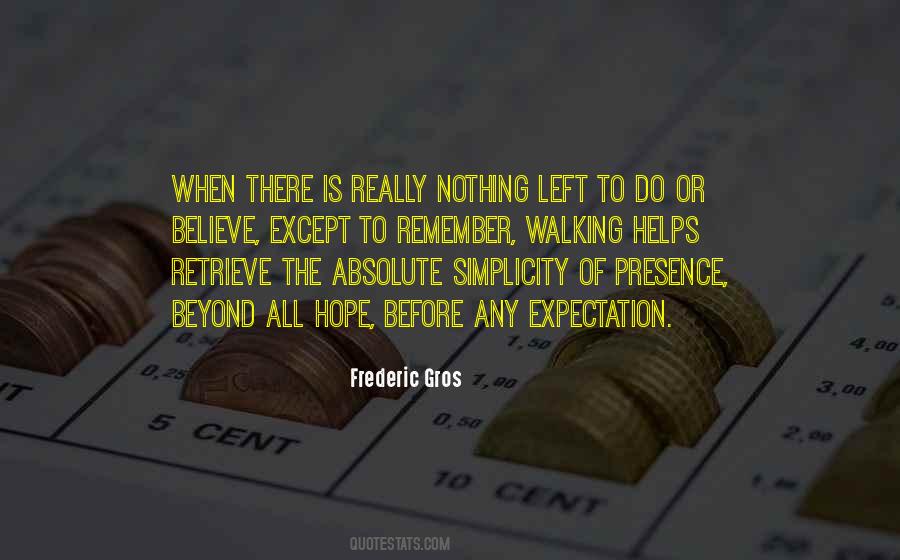 #60. There's something I forgot to do. I know I left something I didn't mean to.But when I look back in the rear-view mirror, no one's there. There's nothing at all. Nothing.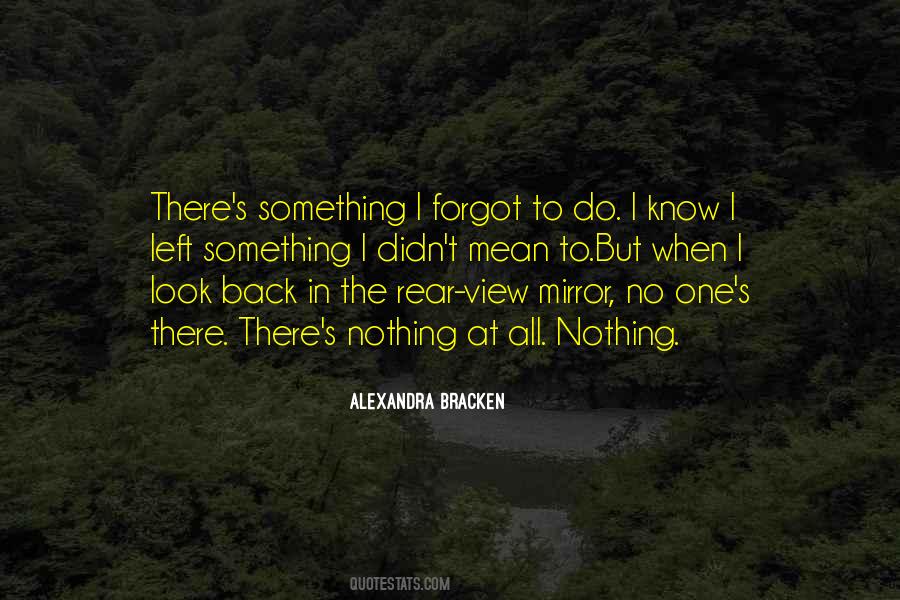 #61. Nothing left to do but smile.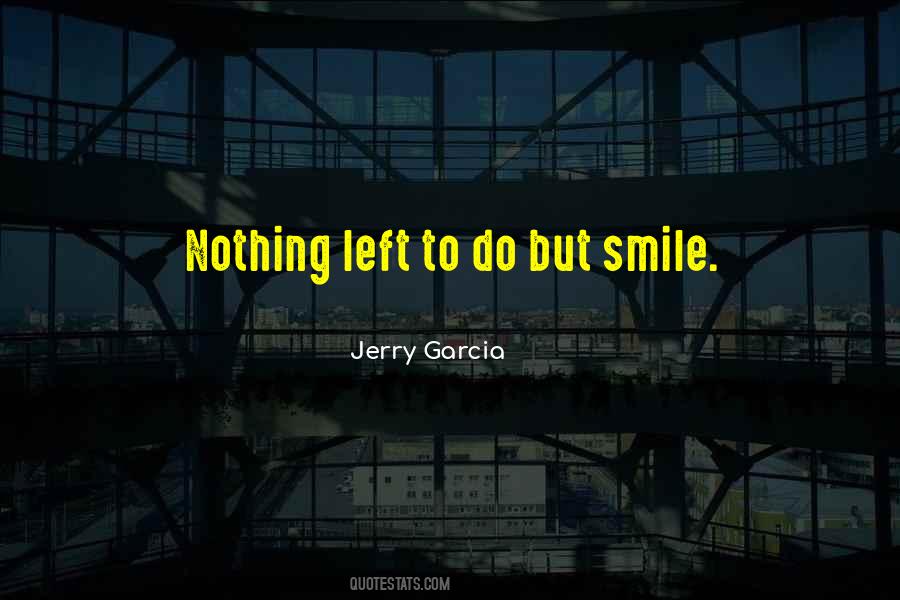 #62. I. Can't. Do this. I can't. It's too much. This-all of this-living- I can't. I just can't. To have given it all up and be left with nothing but this metal wall-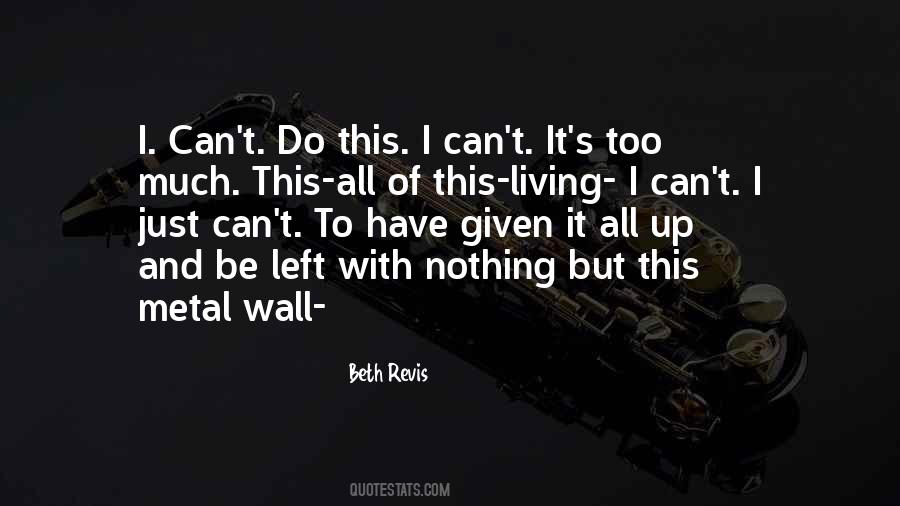 #63. Once beyond the self, however, holiness is no longer possible, because now, there is nothing left to give and no-one left to do the giving.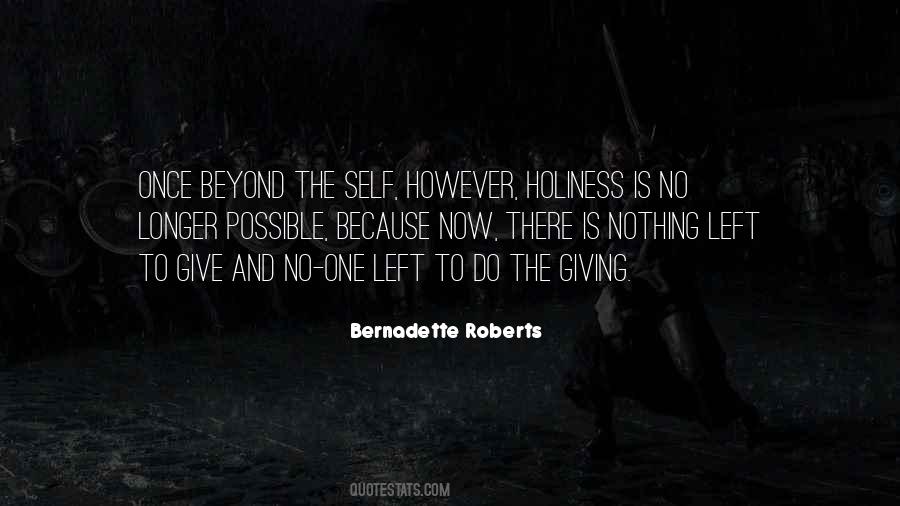 #64. Get started, there is nothing left to discuss. Do it. Now!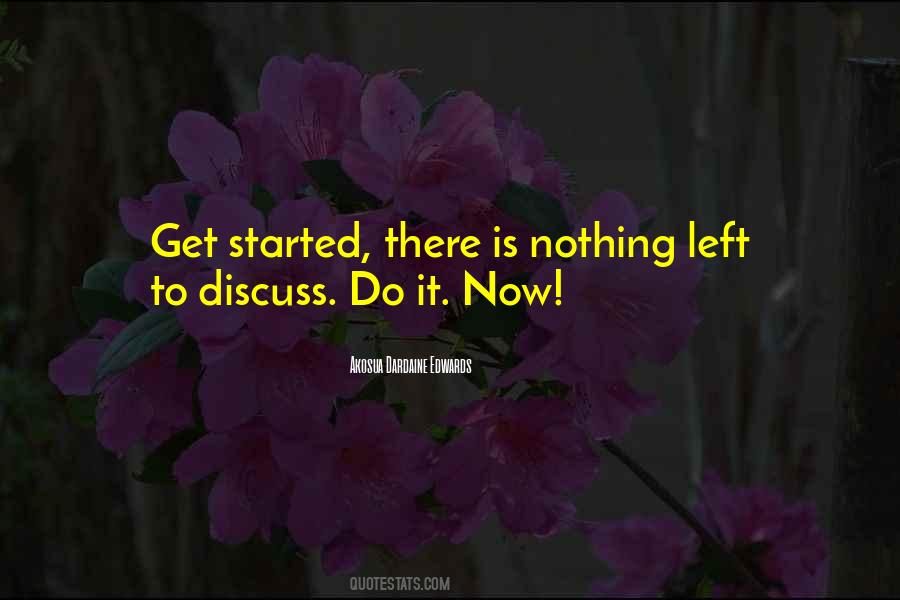 #65. When you have nothing left to lose. When there's nothing left to gain. You find yourself at the edge of the world, wishing nothing would have changed," I read and instantly got a twisted feeling in the pit of my stomach.
"All you can do is jump.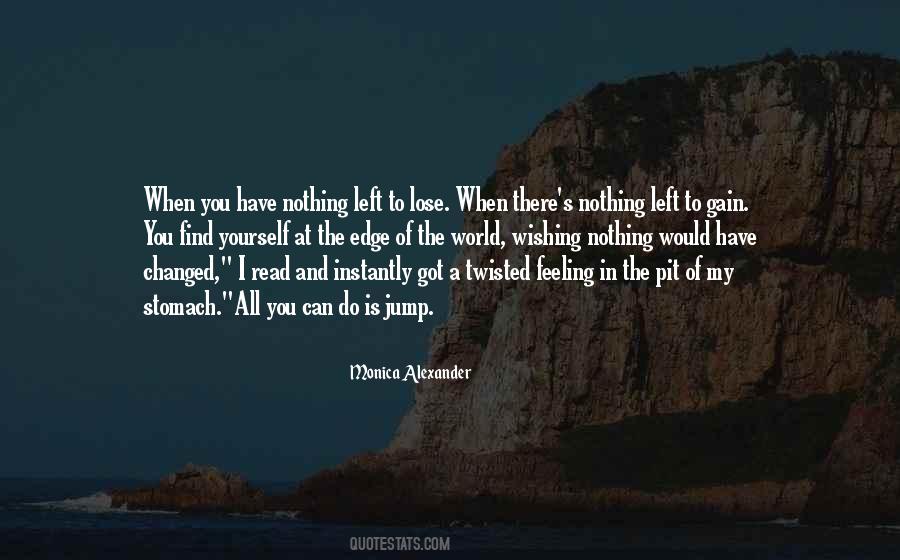 #66. This is the currency of friendship, traded over years and miles, and I hope it's an even exchange someday. For now, I do what all best friends do when there's nothing left to say. We lie together in all the darkness, shoulder to shoulder, and wait for the worst to be over.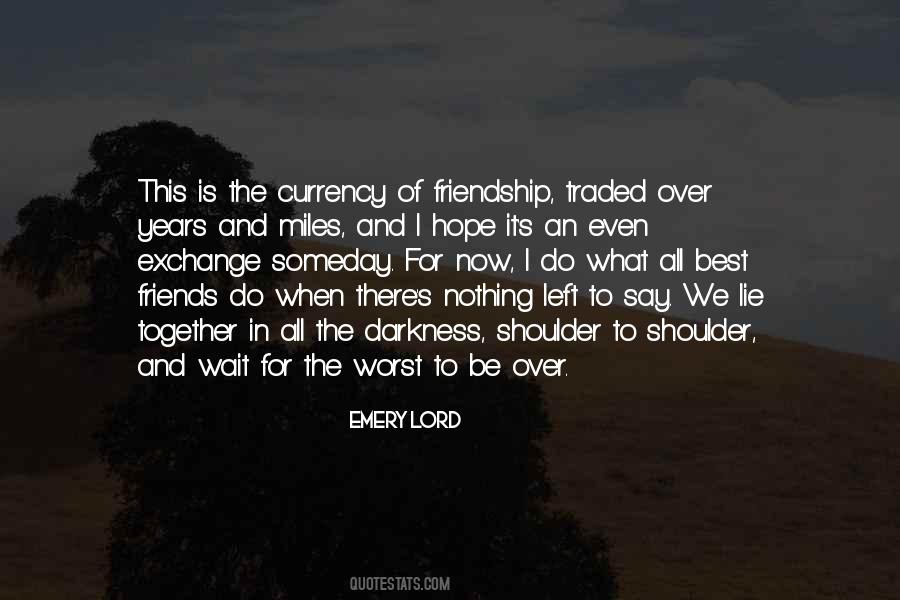 #67. Humanity can live without science, it can live without bread, but it cannot live without beauty. Without beauty, there would be nothing left to do in this life. Here the secret lies. Here lies the entire story.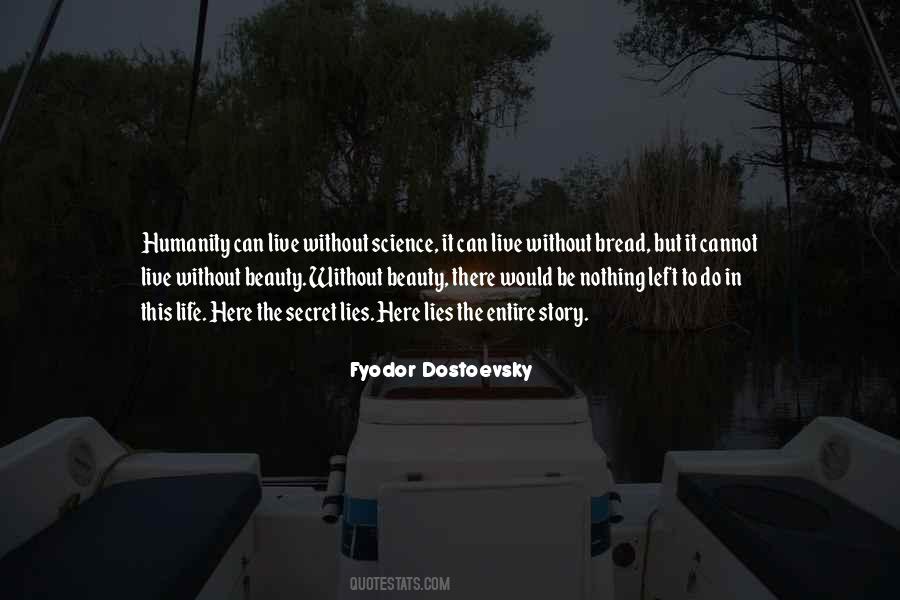 #68. In the pursuit of Knowledge, every day something is added. In the practice of the Way, every day something is dropped. Less and less do you need to force things, until finally you arrive at non-action. When nothing is done, nothing is left undone.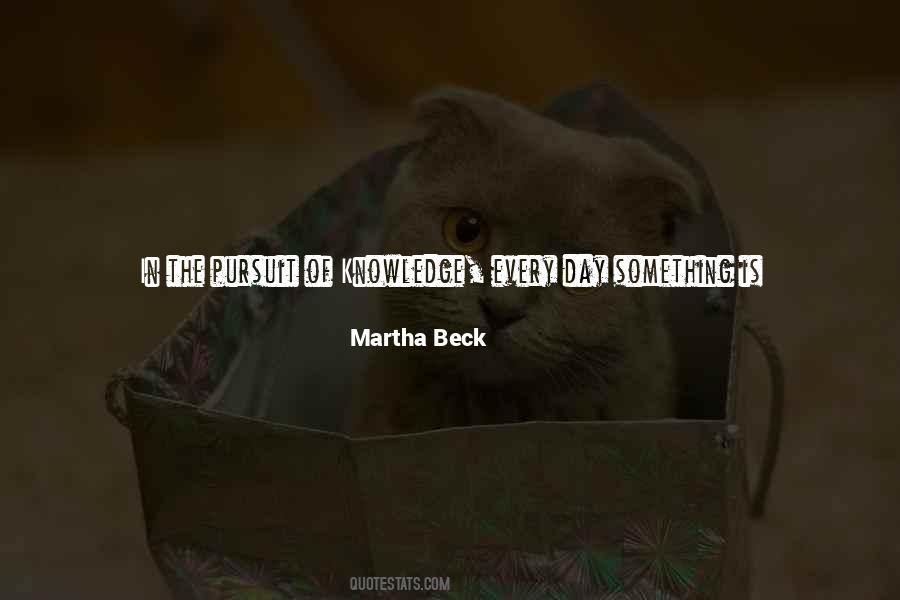 #69. I started to cry. And I looked up and saw the bleak pines by the bleak mills of Roanoke Rapids with one final despair, like the despair of a man who has nothing left to do but leave the earth forever.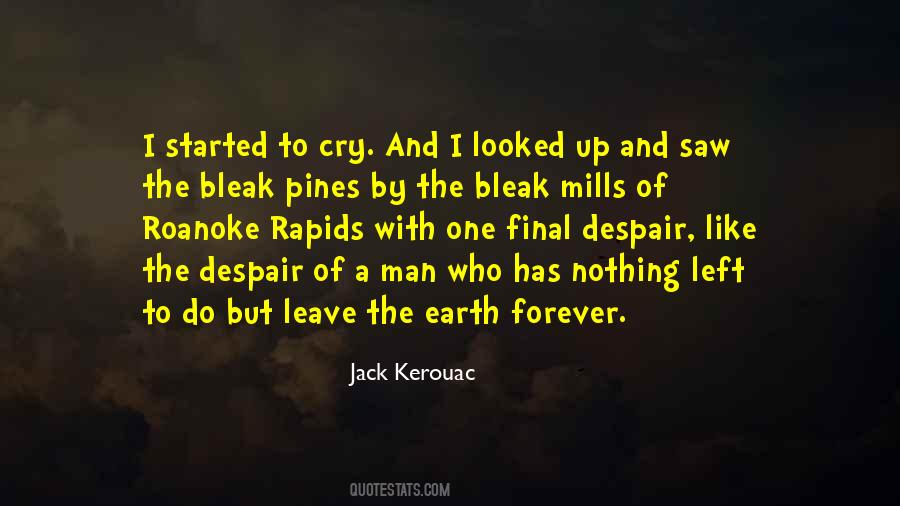 #70. There was nothing like working for clients who didn't micromanage and left you alone to do what they'd paid you to do for them.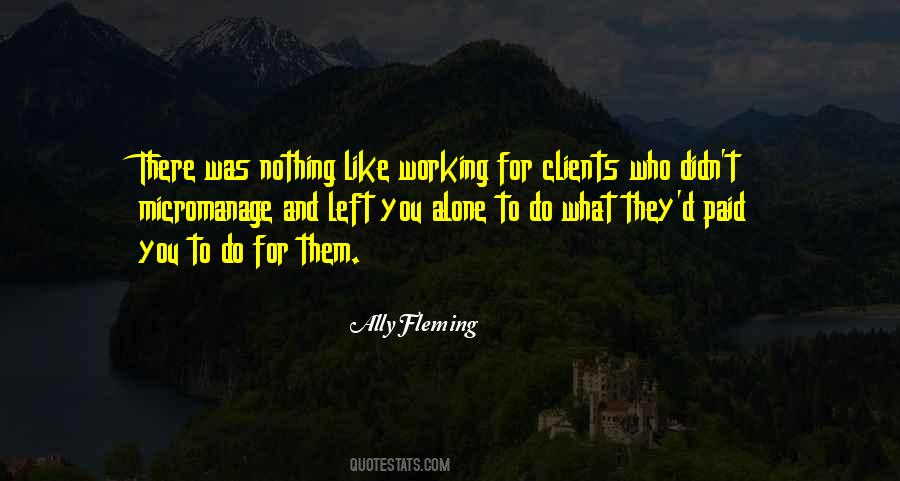 #71. The only hope I have left for you hangs on a great doubt - the doubt whether we are, or are not, the masters of our own destinies. It may be that mortal free-will can conquer mortal fate; and that going, as we all do, inevitably to death, we go inevitably to nothing that is before death.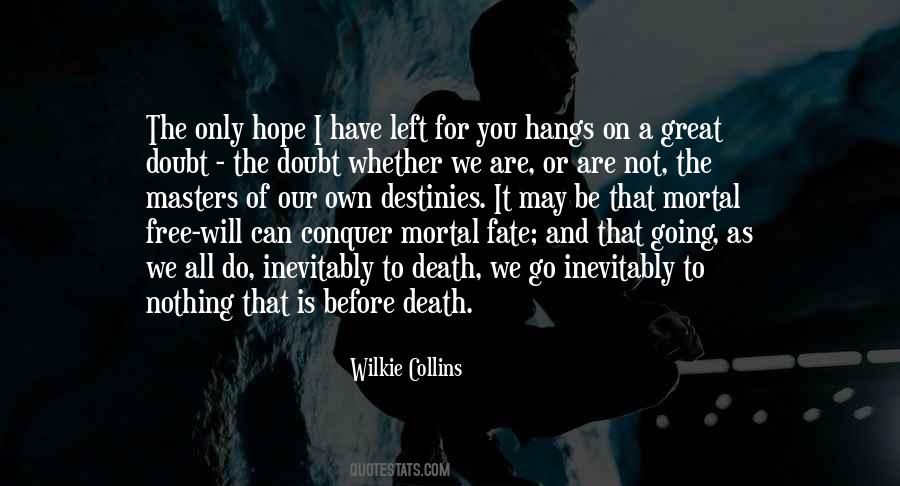 #72. The left claims that Republicans hate Hispanics, which is just the most ludicrous thing I've ever heard, and the right just claims all we need to do is close the borders and do nothing else, which is also ridiculous.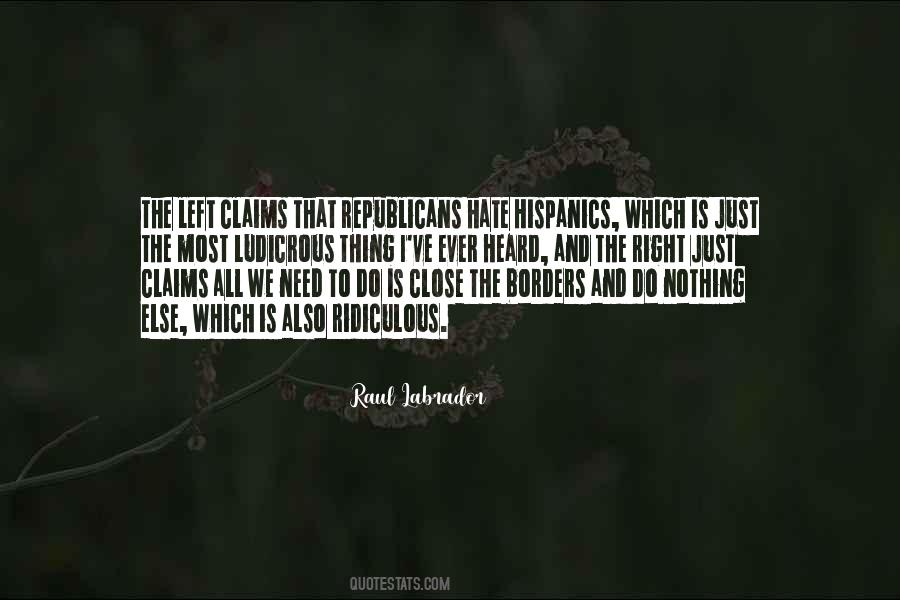 #73. Since my fried left me,I've got nothing to do but walking.I walk to forget.I walk,I escape,I get further.My friend will not come back,now I am a marathon man.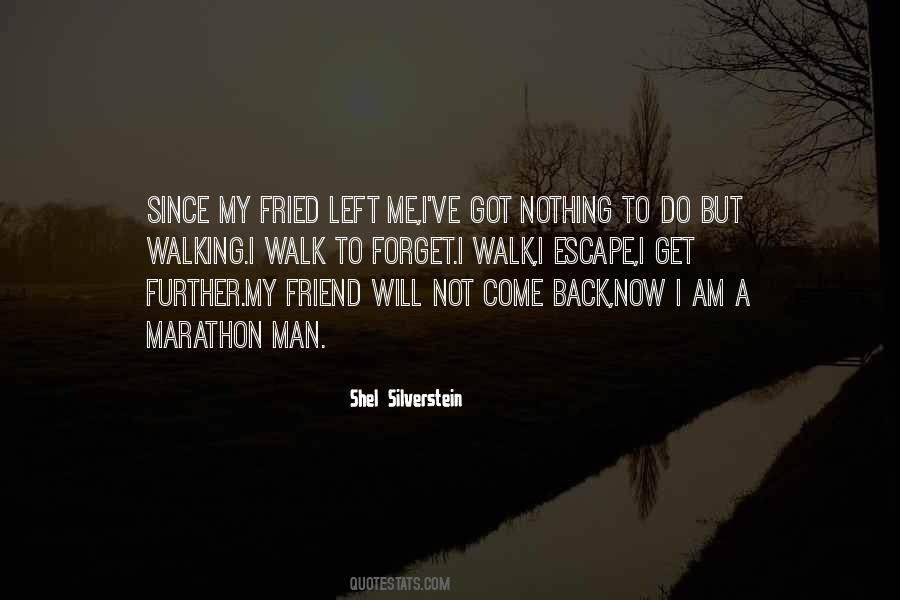 #74. Skies are crying,
I am watching,
Catching teardrops in my hands.
Only silence, as it's ending,
Like we never had a chance.
Do you have to make me feel
Like there's nothing left of me?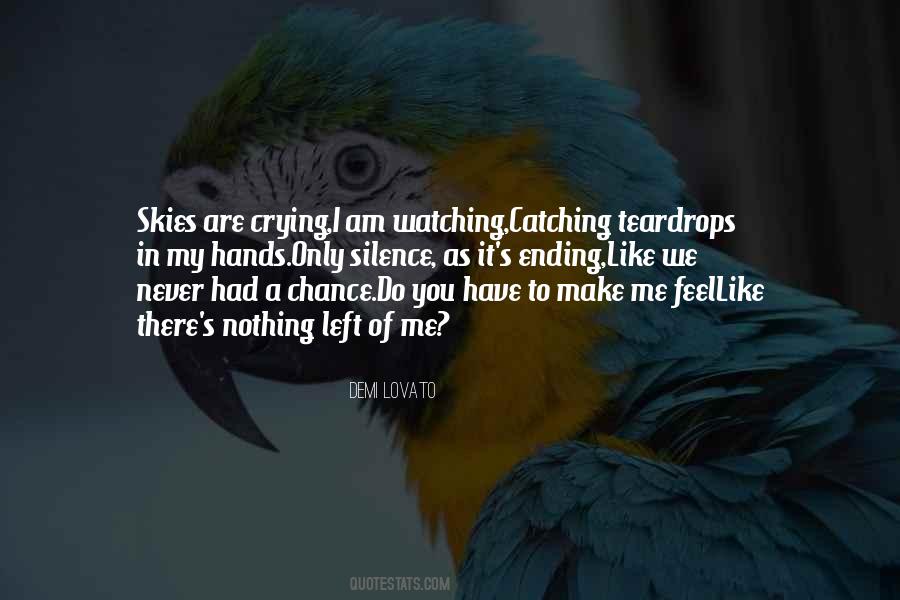 #75. After I left the convent, for 15 years I was worn out with religion, I wanted nothing whatever to do with it. I felt disgusted with it. If I saw someone reading a religious book on a train, I'd think, how awful.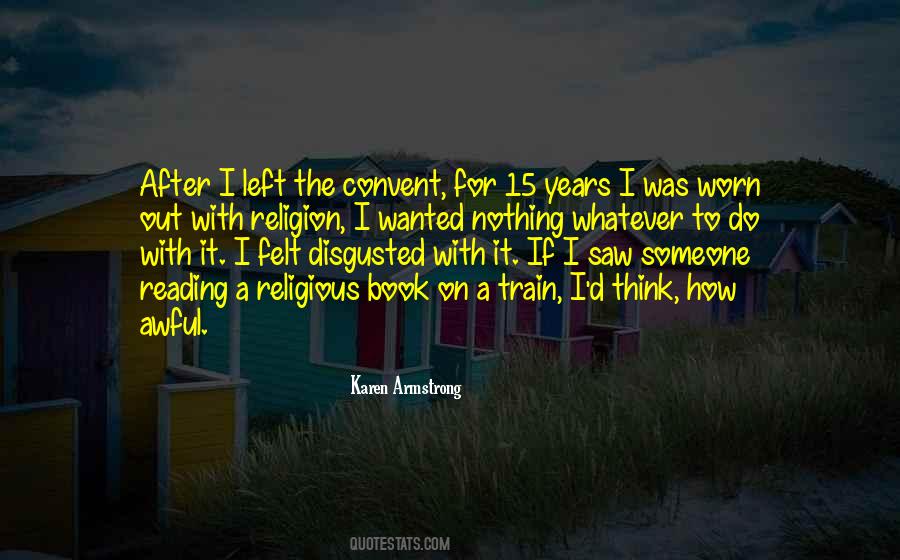 #76. Your mother left me because I slept with her best friend. My personality had nothing to do with it.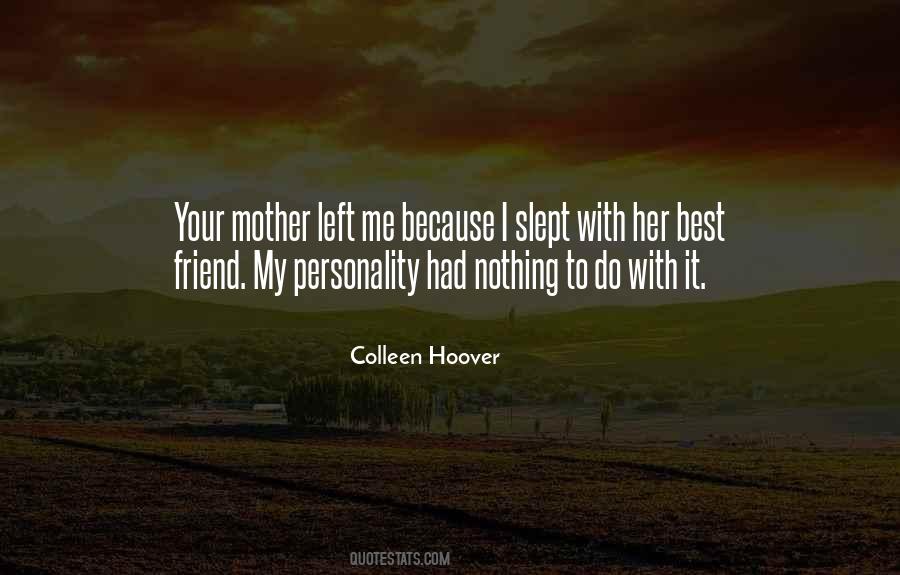 #77. Stories don't like to end when you want them to, do they? Loose ends aren't easy to snip with scissors or tuck inside a hem. They tempt you. They want you to keep pulling until there is nothing left to keep you warm.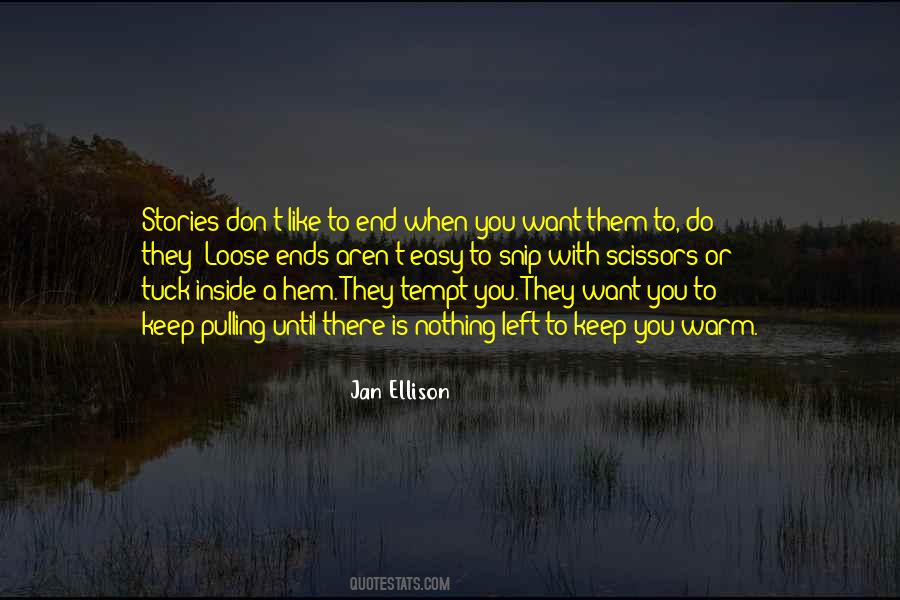 #78. Demons do not cry. You became a demon, because you couldn't cry anymore right? Humans cry and when their tears finally run dry, there's nothing left, not a demon nor a monster and one final prayer for death. So, laugh demon. Laugh that arrogant laugh of your and remember I beat you to it.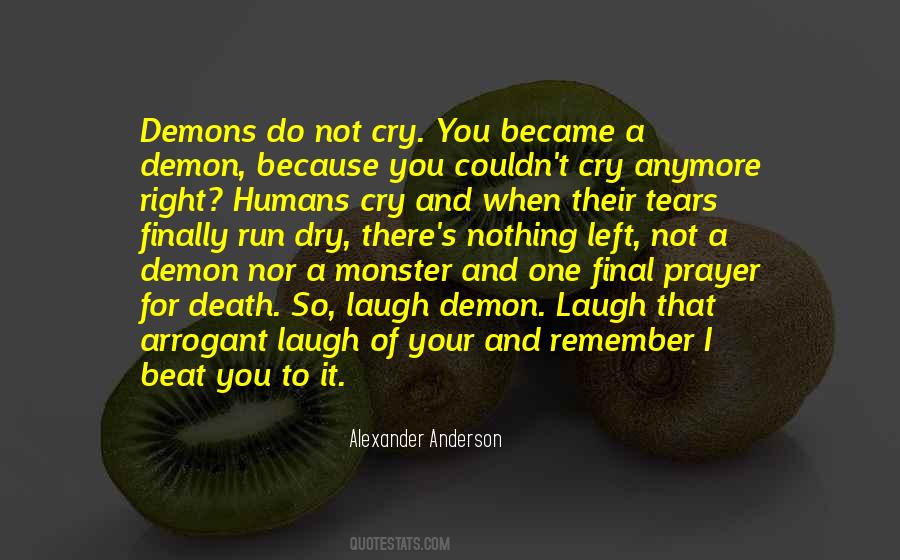 #79. Tired of all her efforts at Tara, Scarlett wishes to escape too: "I do want to escape too! I'm so very tired of it all! ... The South is dead, it's dead, the Yankees and the carpetbaggers have got it and there's nothing left for us."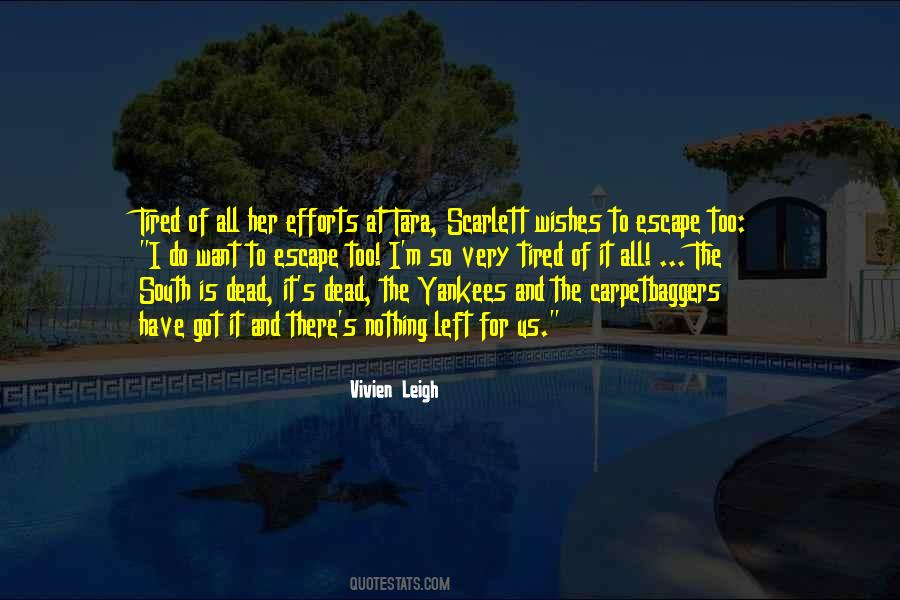 #80. It is false that the will, left to itself, can do good as well as evil, for it is not free, but in bondage ... On the side of man there is nothing that goes before grace, unless it be impotency and even rebellion.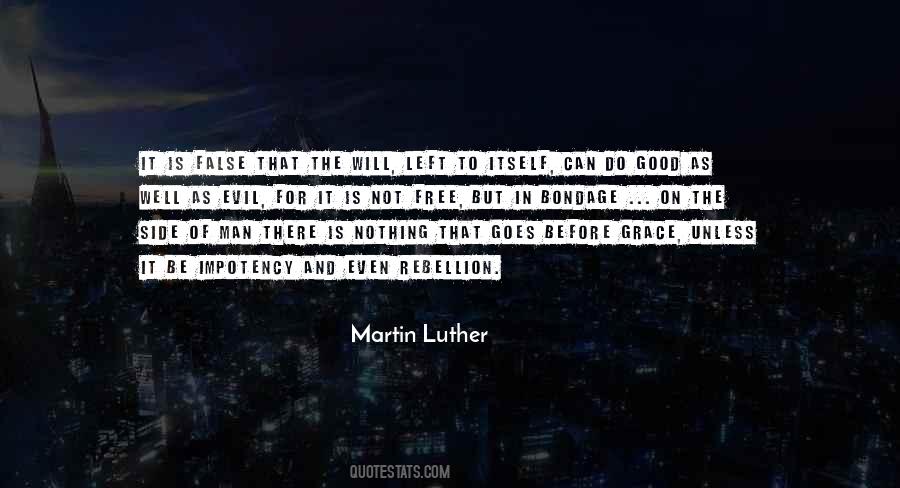 #81. Sometimes, there is nothing more you can do. Sometimes there is nothing more left to understand. Sometimes, there is a world beyond, waiting for you. Sometimes, it is just not worth it. Sometimes, you have to let go.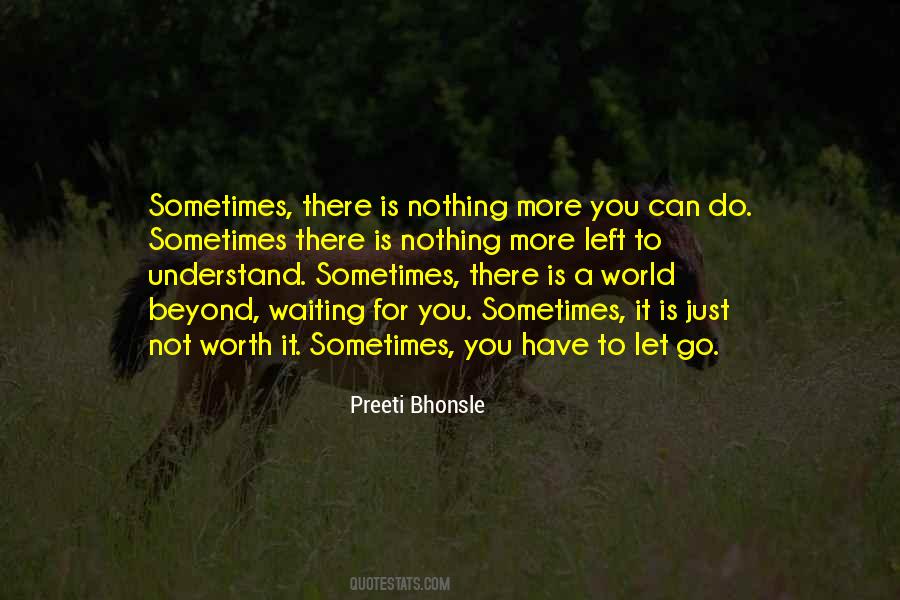 #82. If I should sell my forenoons and afternoons to society, as most appear to do, I am sure that for me there would be nothing left worth living for.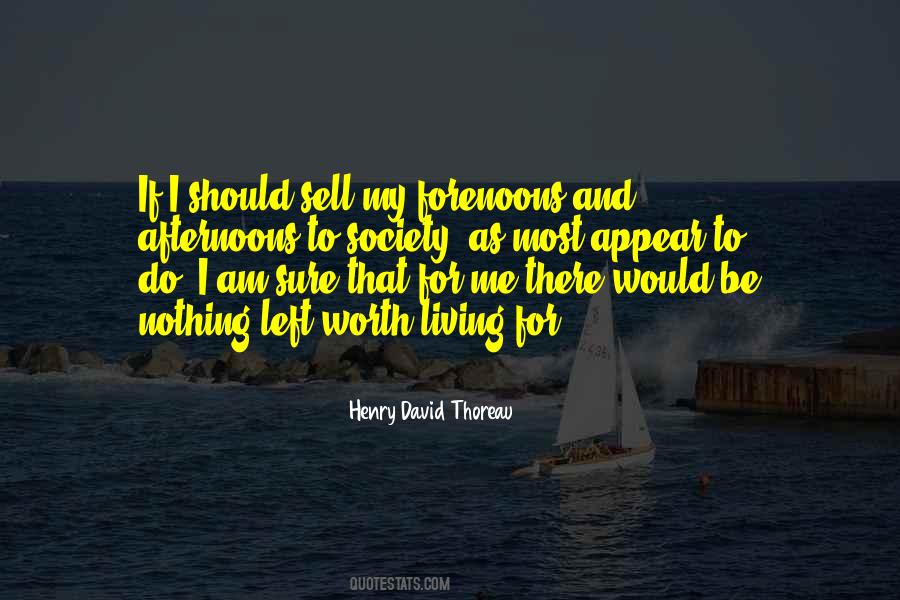 #83. We face eternity now. We have no universe left, no outside phenomena, no emotions, no passions. Nothing but ourselves and thought. We face an eternity of introspection, when all through history we have never known what to do with ourselves on a rainy Sunday.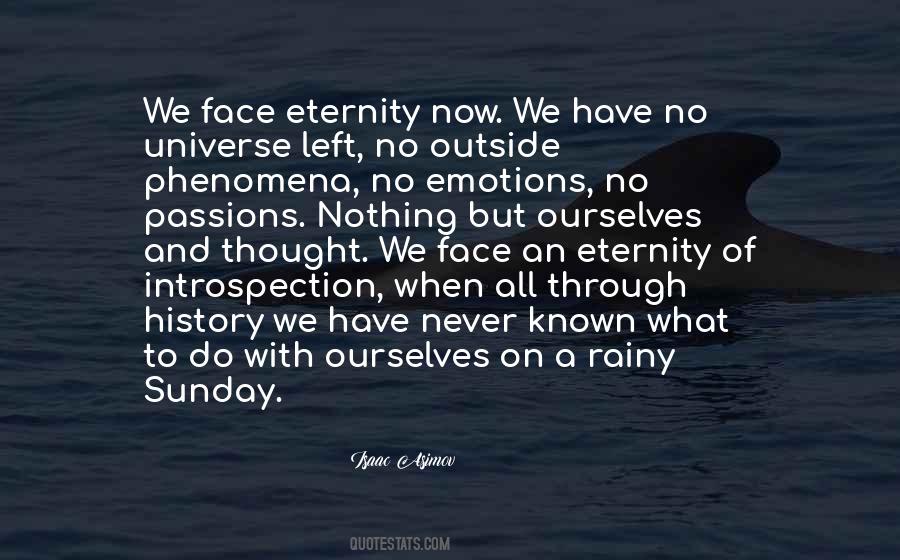 #84. I think how this is always the way he is, giving me something even when most would think there was nothing left to do but let go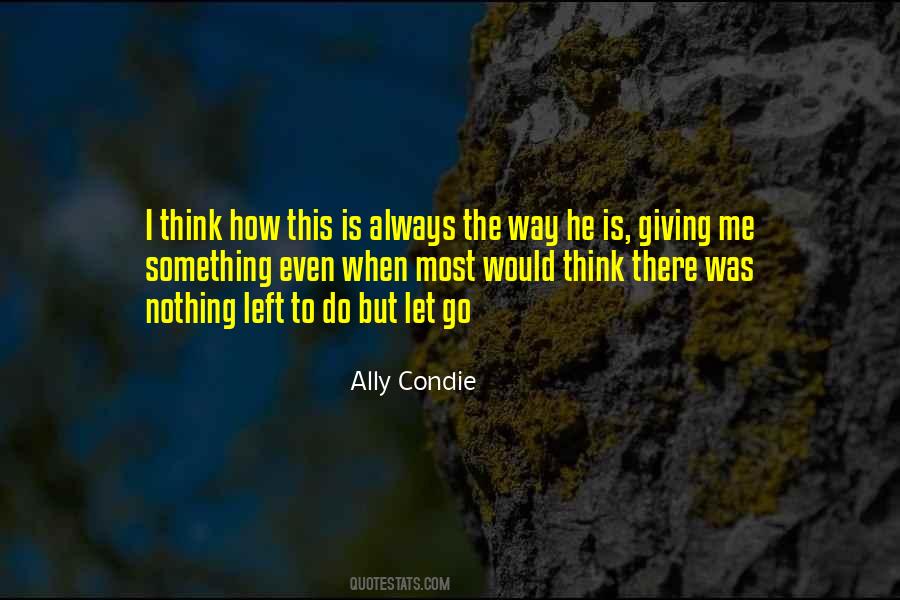 #85. They were here all at once, but not together. Survival took self-absorption, and it made them strangers with nothing to do and no way to relate. Emergencies gave you a shape and a plot to take part in, while death was no story at all. It left you nothing.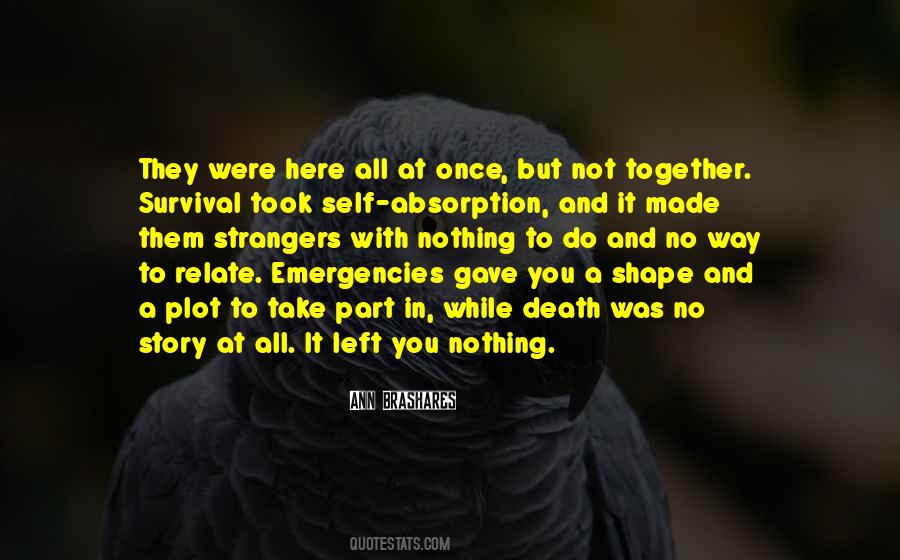 #86. Corpse Pose sounds like no big deal, right? Then what's so difficult about this spiritualized snooze? Forget about getting your feet behind your head. Just try lying still for ten minutes. With nothing left to do, you're finally forced to come face to face with yourself.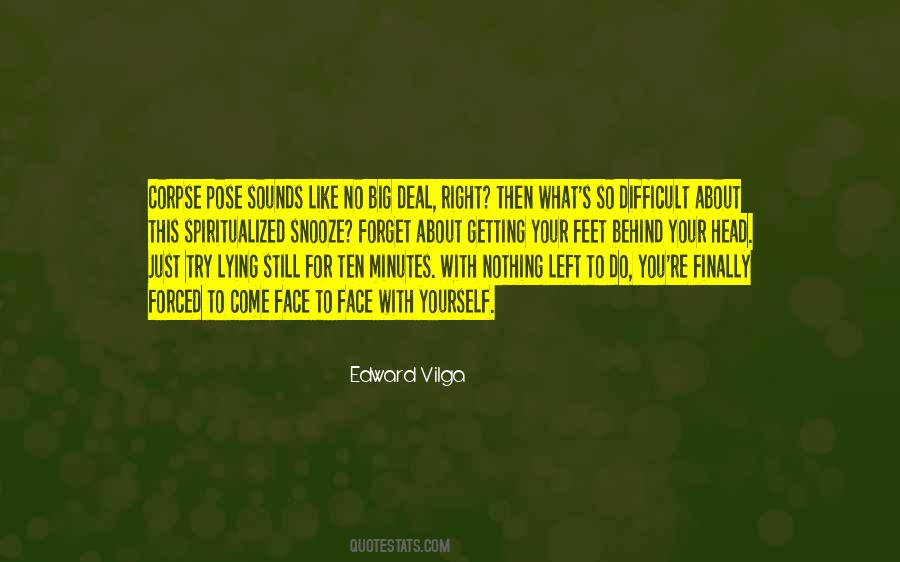 #87. To fall into it again in appearance was to leave it behind in reality! He had to do it! He would have done nothing if he didn't do that! His whole life would have been useless, all his penitence wasted, and there would be only one thing left to say: What is the point?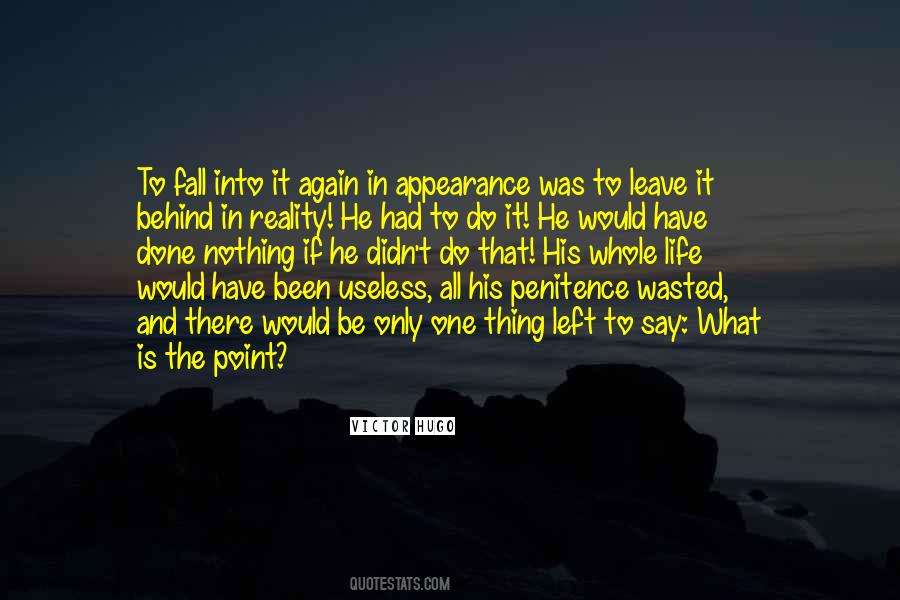 #88. Worthless. Stupid. These are the words I grew up hearing. They're the words I try to outrun, because if I let them in, until the only thing left of me is worthless stupid worthless stupid worthless stupid freak. And then there's nothing to do but run harder and fill myself with other words ...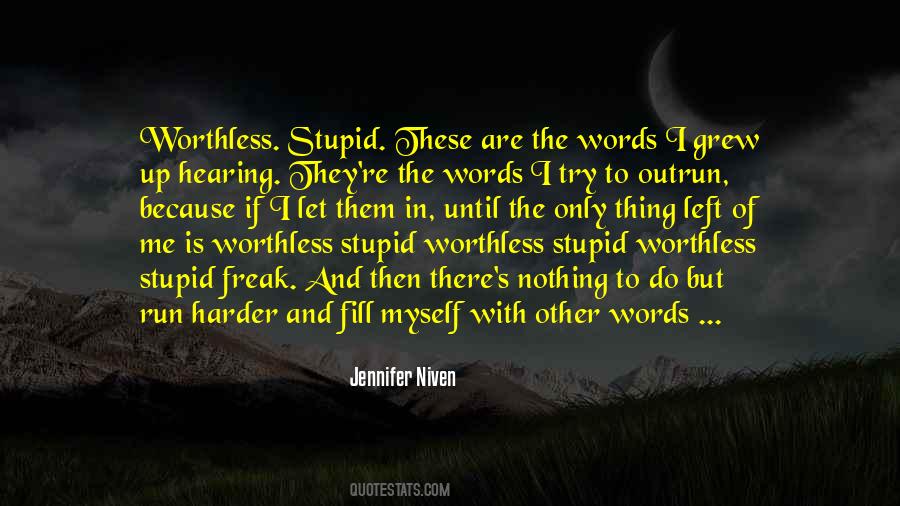 #89. Lying is easy. But it's lonely."
"What do you mean?"
"When you lie to everyone about everything, what's left? What's true?"
"Nothing," I say.
"Exactly.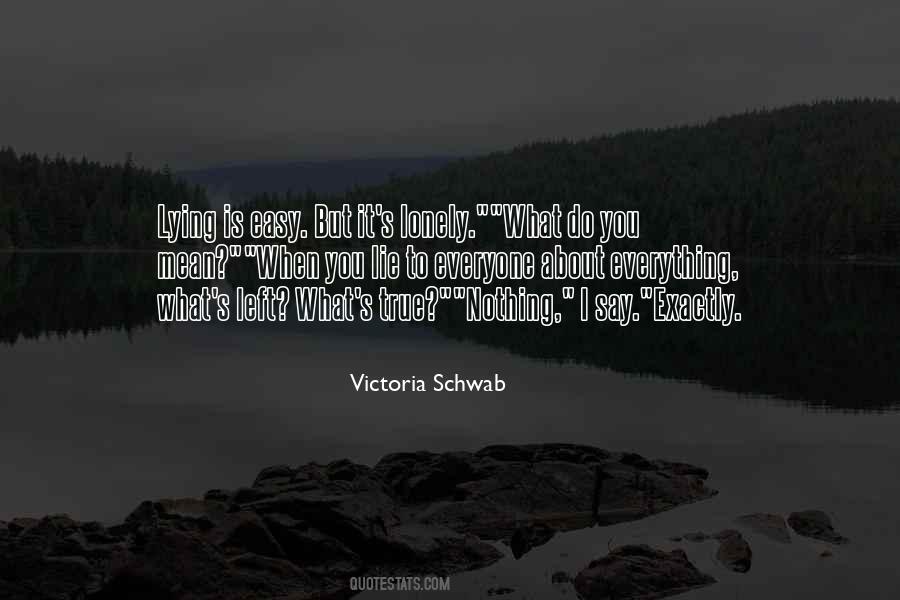 #90. There are people who have too much space between their ears, and given the time, do nothing but free fall forever inside their head. It's a spooky thing to be left alone inside an angry innerverse.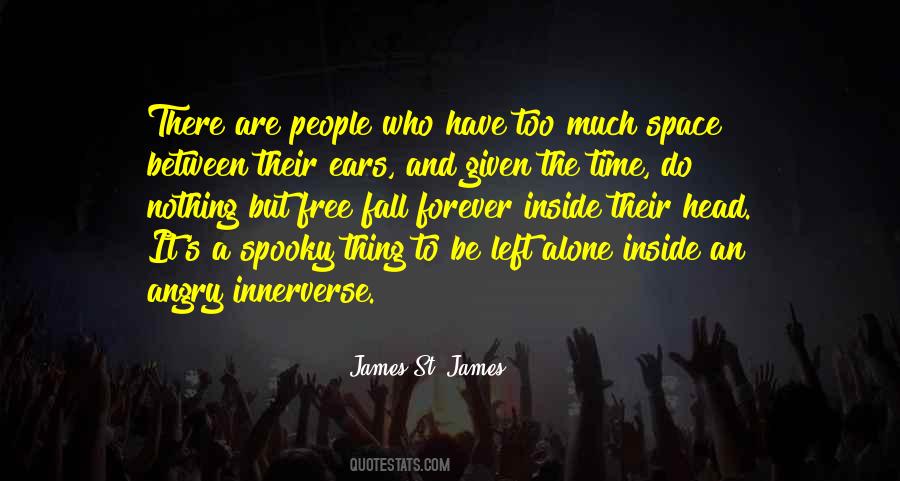 #91. Different directors have different things, so when I left Mike Leigh, as it were, and I went into other projects after 'All or Nothing,' it took some getting used to - what do you mean there's a script?!?' That kind of thing.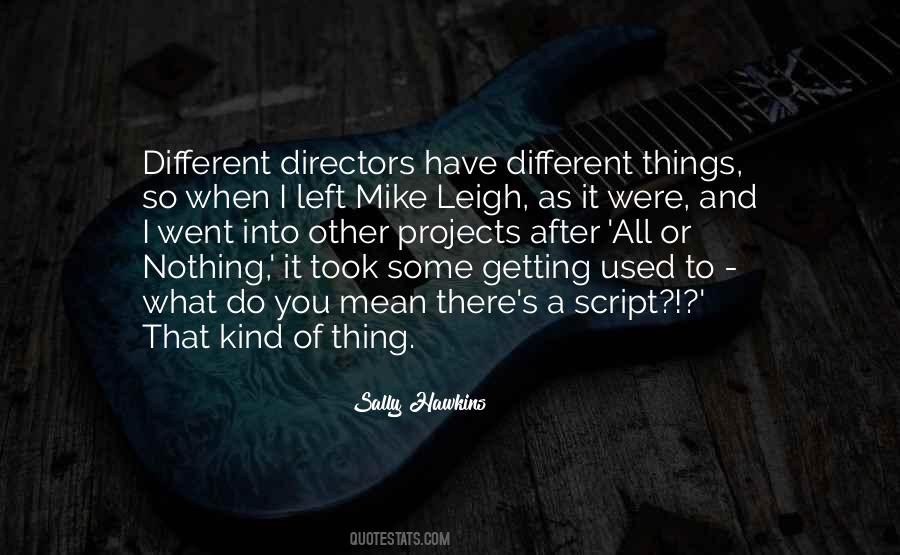 #92. It wouldn't do to have all our dreams fulfilled. We would be as good as dead if we had nothing left to dream about. - Anne Shirley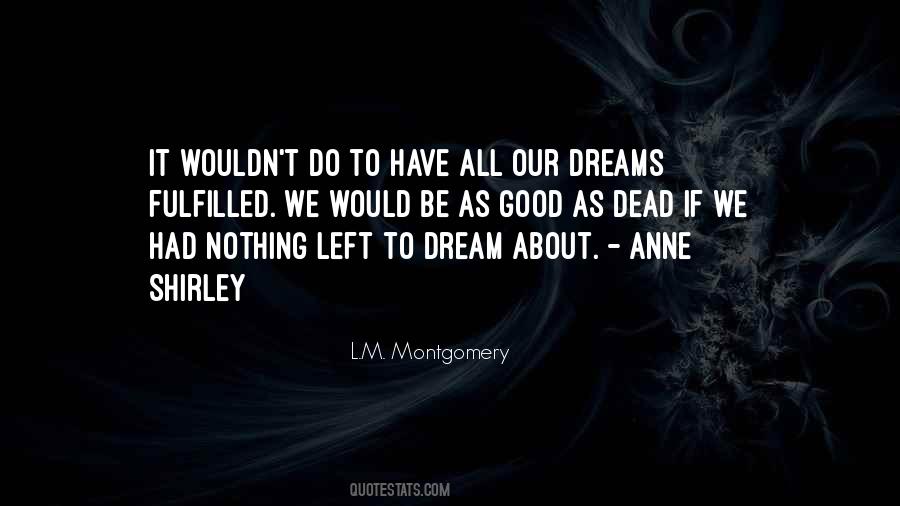 #93. How can I find the words? Poets have taken them all and left me with nothing to say or do"
"Except to teach me for the first time what they meant.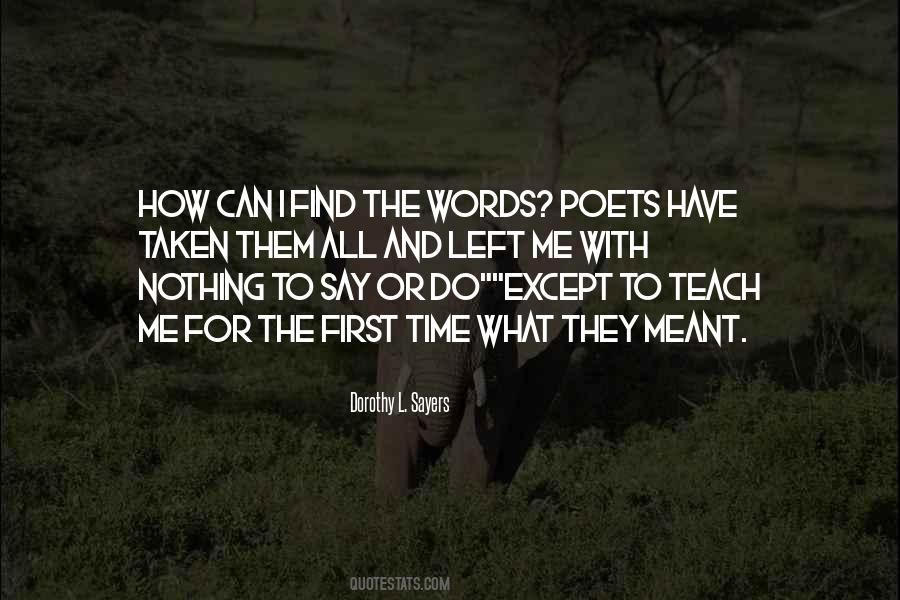 #94. I wake up every day thinking, 'I just can't do it anymore.' There's nothing left to say, and I'm completely dry. And then I get in the room with somebody and they say the right thing, and I'm on again.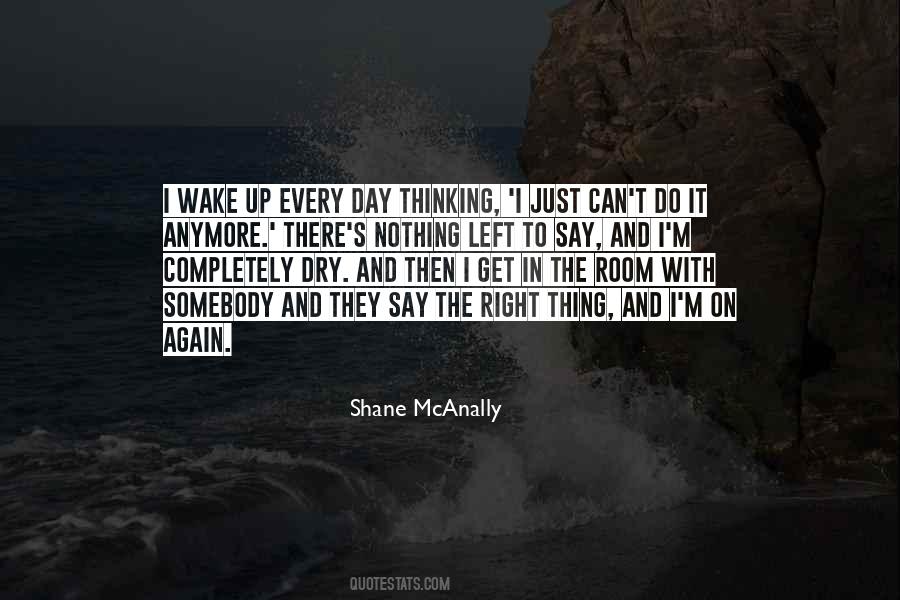 #95. Rachel felt the grief grow so wide and deep it felt like a dark fathomless pool she'd never emerge from. Because there was nothing left to do now, nothing except endure it.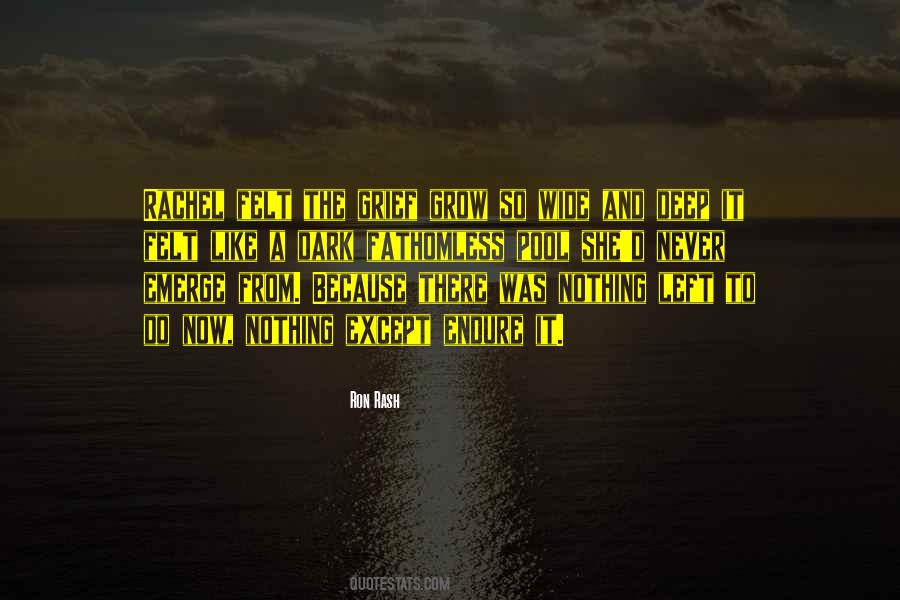 #96. I don't believe in total freedom for the artist. Left on his own, free to do anything he likes, the artist ends up doing nothing at all. If there's one thing that's dangerous for an artist, it's precisely this question of total freedom, waiting for inspiration and all the rest of it.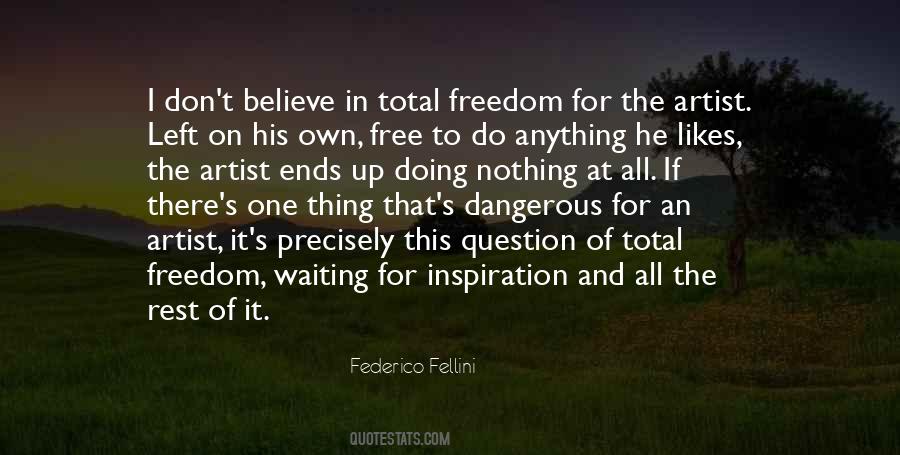 #97. People talk about how sad it would be to die before they've done everything they want to do or seen everything they want to see. But I think it would be worse to live life and have there be nothing left that you want to see or do.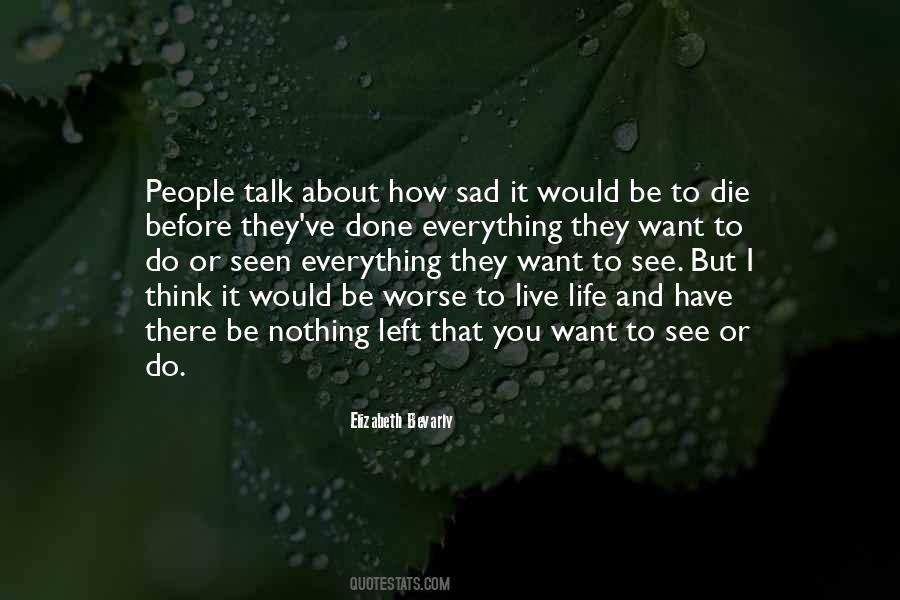 #98. How terrible when people are led to believe, or left to believe, that once they are in love they have nothing to do but live happily ever after, they have nothing further to learn.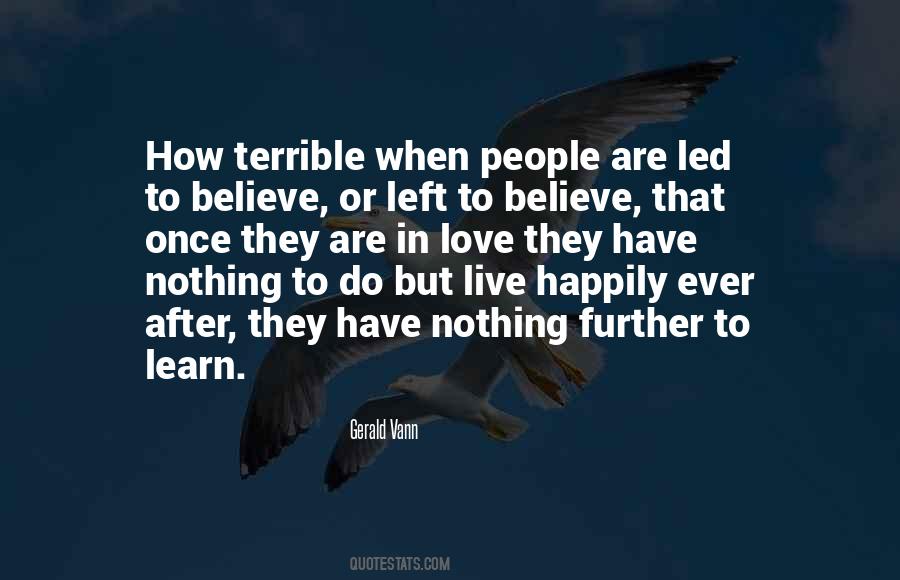 Famous Authors
Popular Topics