No One Loves Famous Quotes & Sayings
List of top 100 famous quotes and sayings about no one loves to read and share with friends on your Facebook, Twitter, blogs.
Top 100 No One Loves Quotes
#1. No one has ever been able to pinpoint the trigger."
"But?"
"But it is legend that ambrosia only rises when-"
She held her breath.
"- an archangel loves true. - Author: Nalini Singh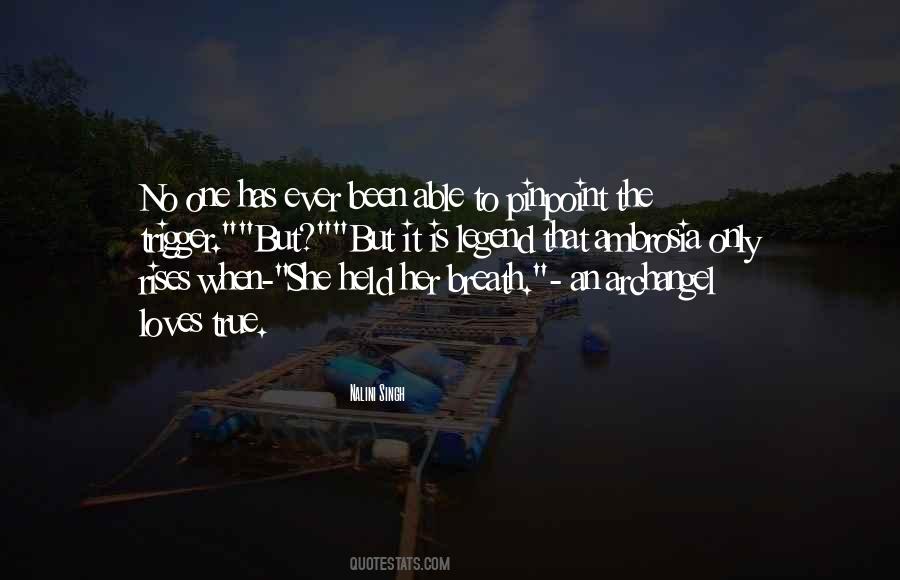 #2. No one loves you more than you do. - Author: Debasish Mridha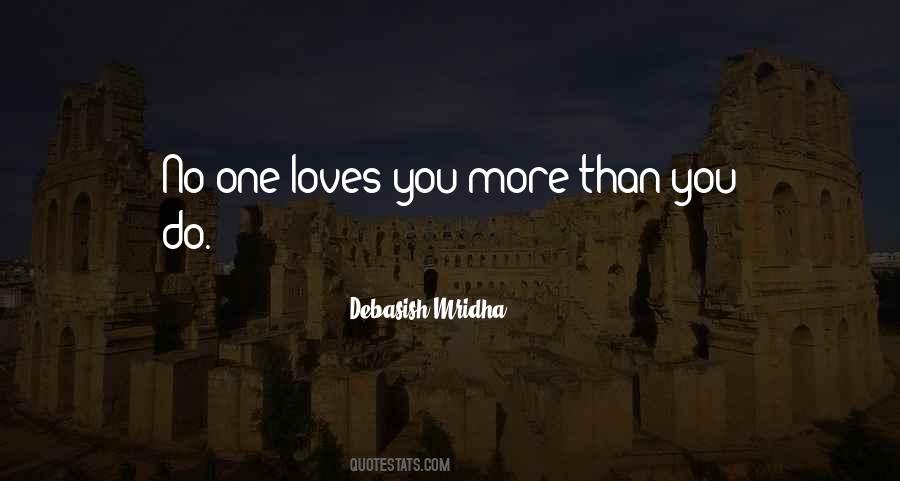 #3. An inconstant woman is one who is no longer in love; a false woman is one who is already in love with another person; a fickle woman is she who neither knows whom she loves nor whether she loves or not; and the indifferent woman, one who does not love at all. - Author: Jean De La Bruyere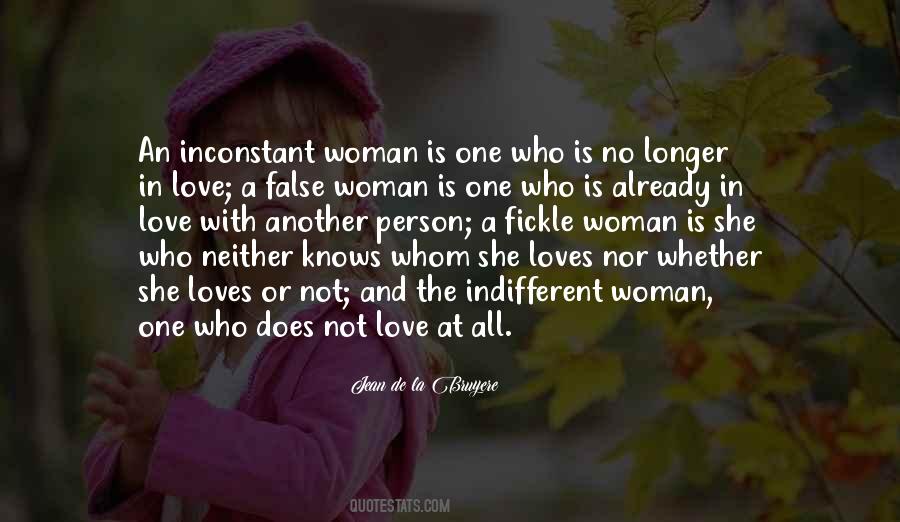 #4. What a sad life when one loves nothing and no one. - Author: Marty Rubin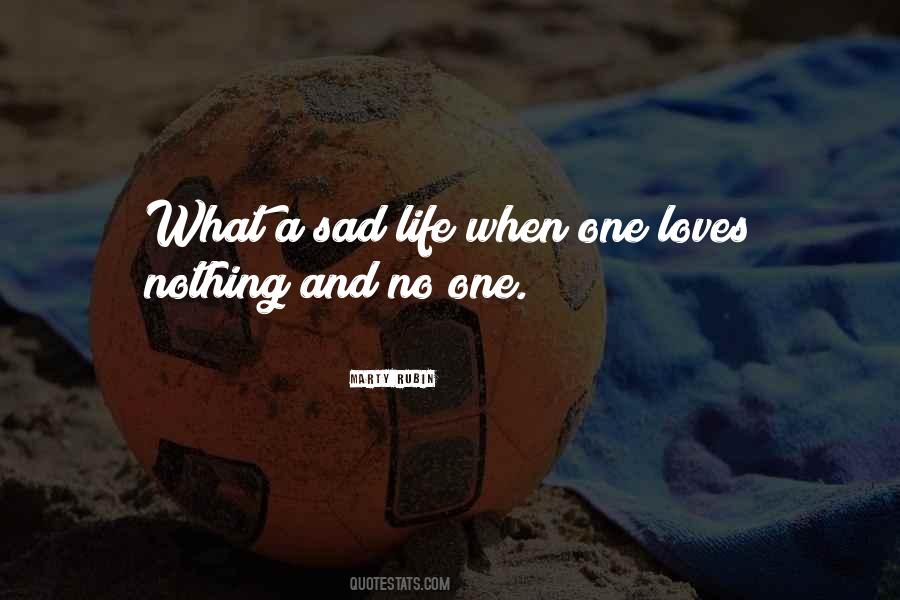 #5. No one loves us here, let's go to Mars. - Author: M.F. Moonzajer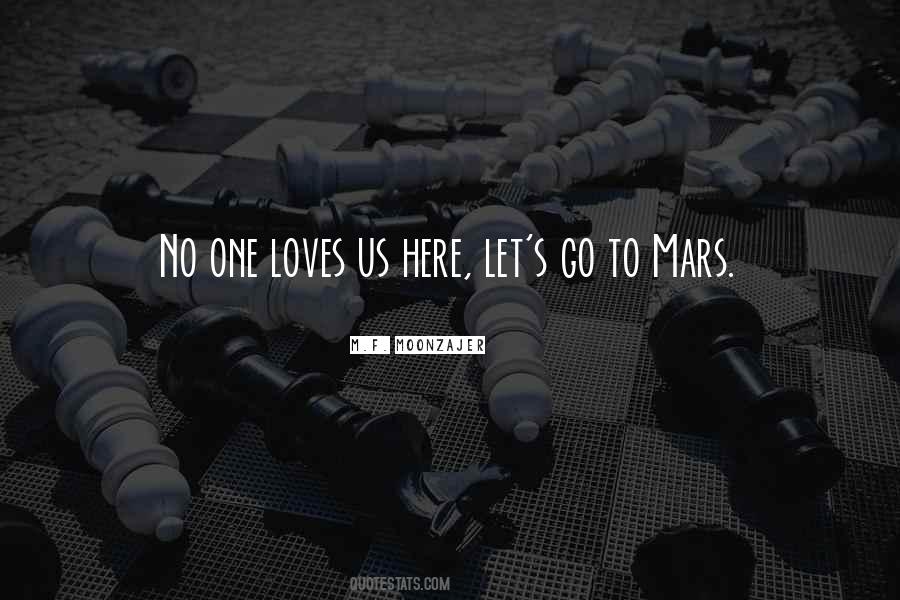 #6. Because no one can hurt you quite like someone who says he loves you. - Author: Alice Clayton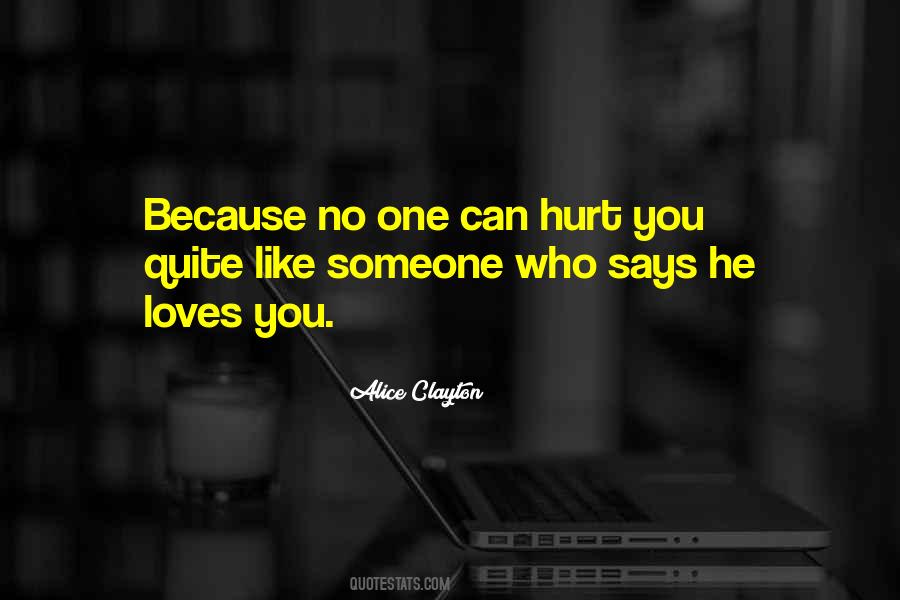 #7. When a man finds the woman he really loves, the one he respects and wants to call wife, there is nothing on earth he won't do for her. No mountain he won't hike. No river he won't wade. No door he won't open. She is Eve and there's not a snake crawling that can keep them apart. - Author: Yolanda Joe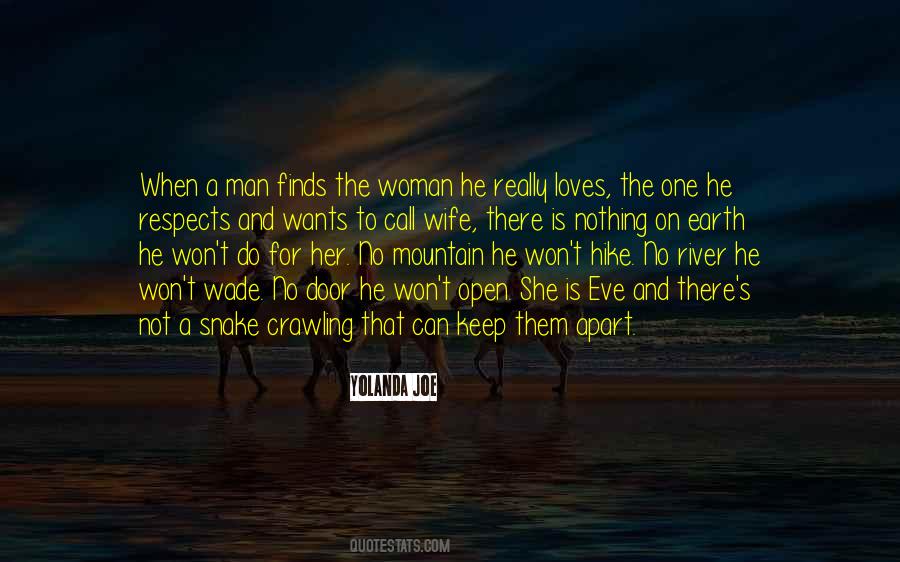 #8. If a man loves a woman for her beauty, does he love her? No; for the smallpox, which destroys her beauty without killing her, causes his love to cease. And if any one loves me for my judgment or my memory, does he really love me? No; for I can lose these qualities without ceasing to be. - Author: Blaise Pascal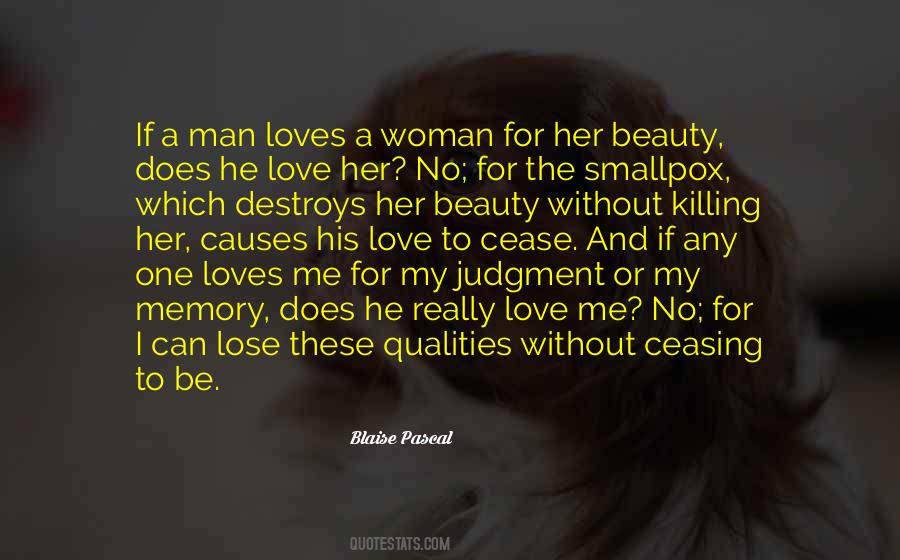 #9. There is now a widespread tendency to argue that one can only defend democracy by totalitarian methods. If one loves democracy, the argument runs, one must crush its enemies by no matter what means. - Author: George Orwell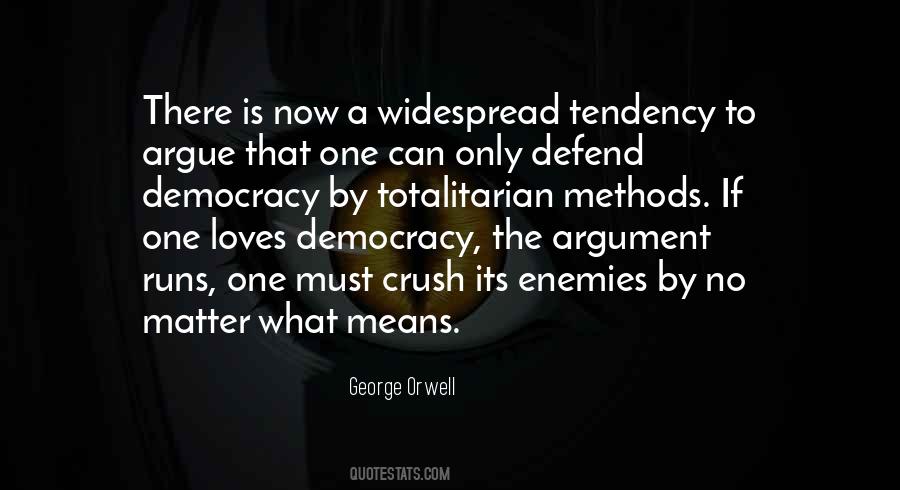 #10. Look, this is a loan. I don't know if love is something I will run out of one day. I don't know if I should be giving it all to you guys or not. Today, I feel like maybe I should have kept some for myself for days when no one else loves me. - Author: A.S. King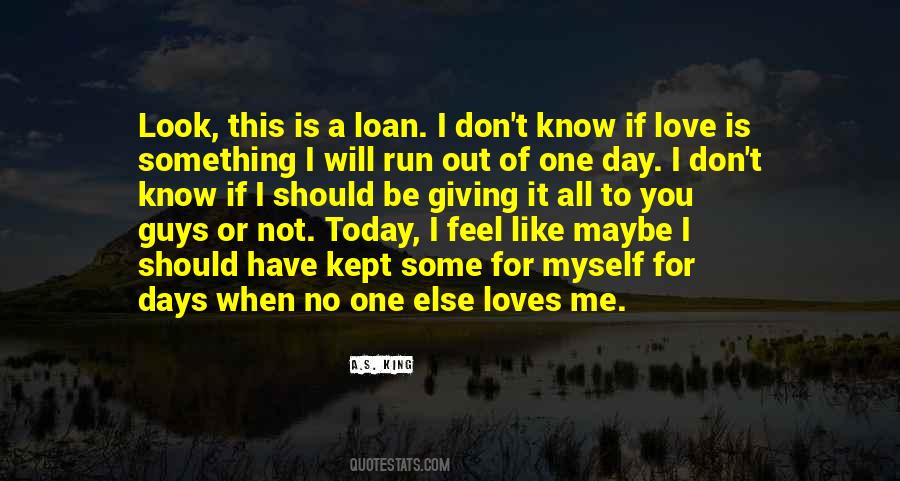 #11. If no one hates it no one really loves it - Author: Jessica Walsh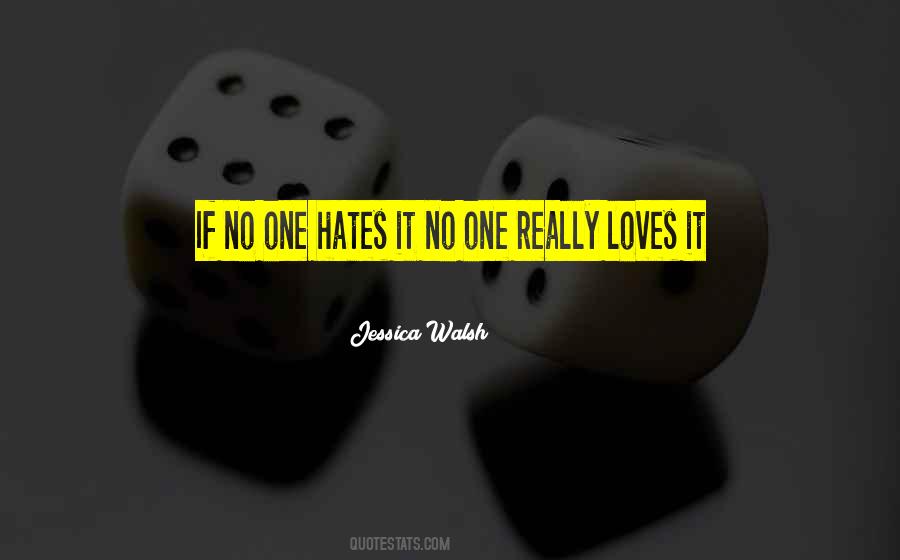 #12. When no one loves you, you have to pretend that everyone loves you. - Author: Charles M. Schulz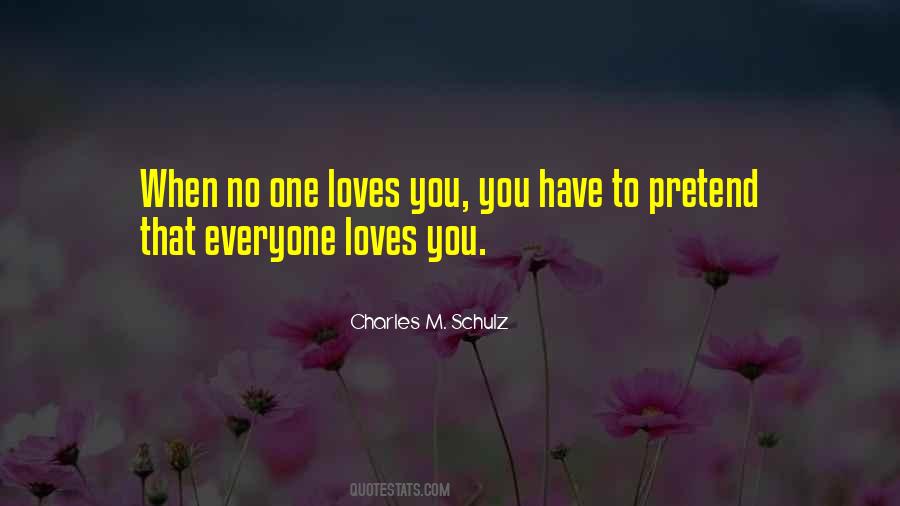 #13. See no one loves you more than me ... and no one ever will - Author: Lauryn Hill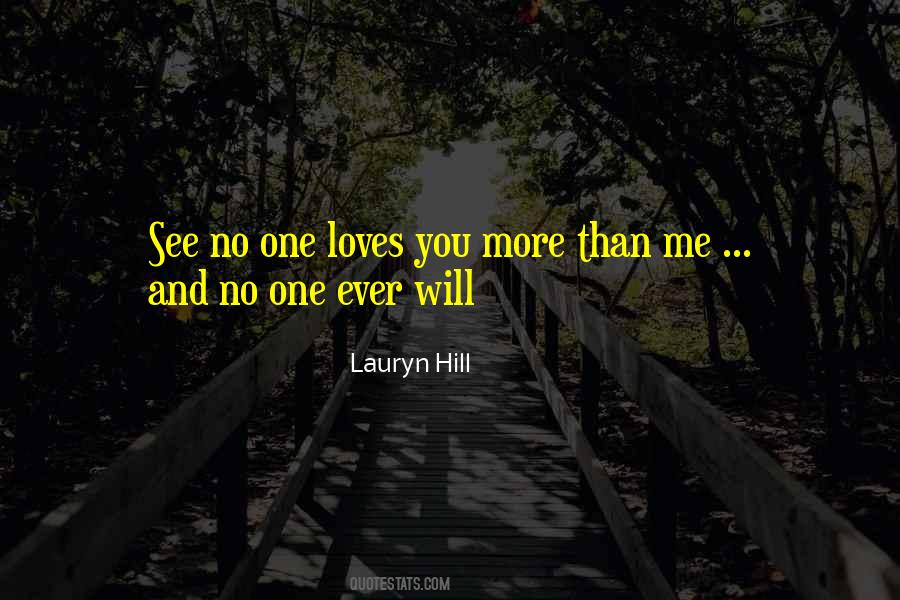 #14. I still watch 'Idol,' and it's still the No. 1 show, so obviously I'm not the only one who loves to sit at home and be entertained. - Author: Kelly Clarkson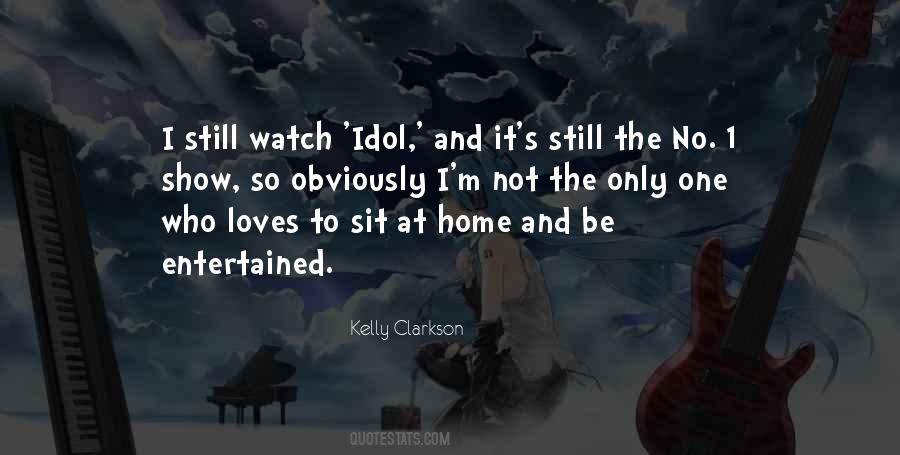 #15. I don't want to get old."
"You won't get old. Life will pass over your face, that will be all, and it will become more beautiful. One is old only when one no longer feels."
"No. When one no longer loves. - Author: Erich Maria Remarque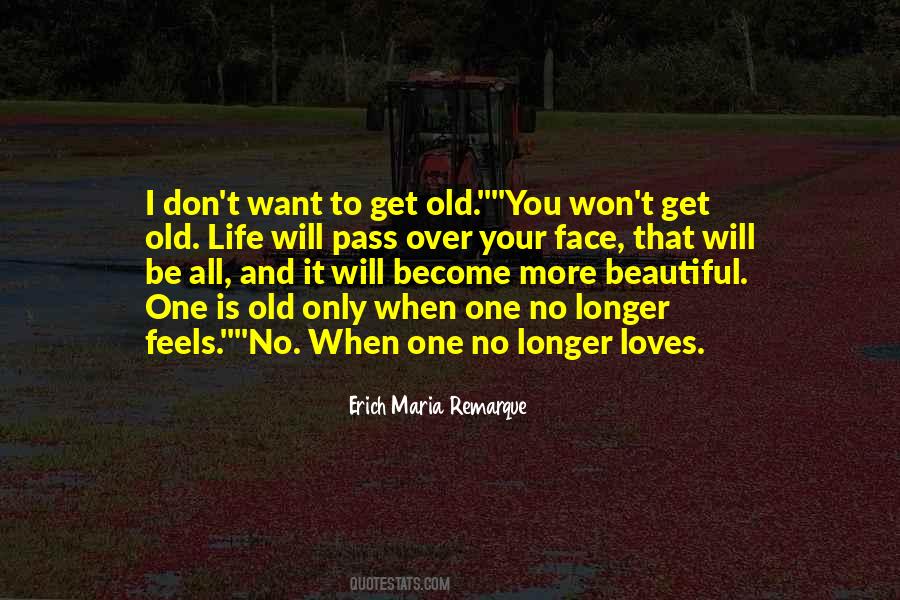 #16. No-one loves another
More than he loves whatever
another within may have
That is part of one's self - Author: Fernando Pessoa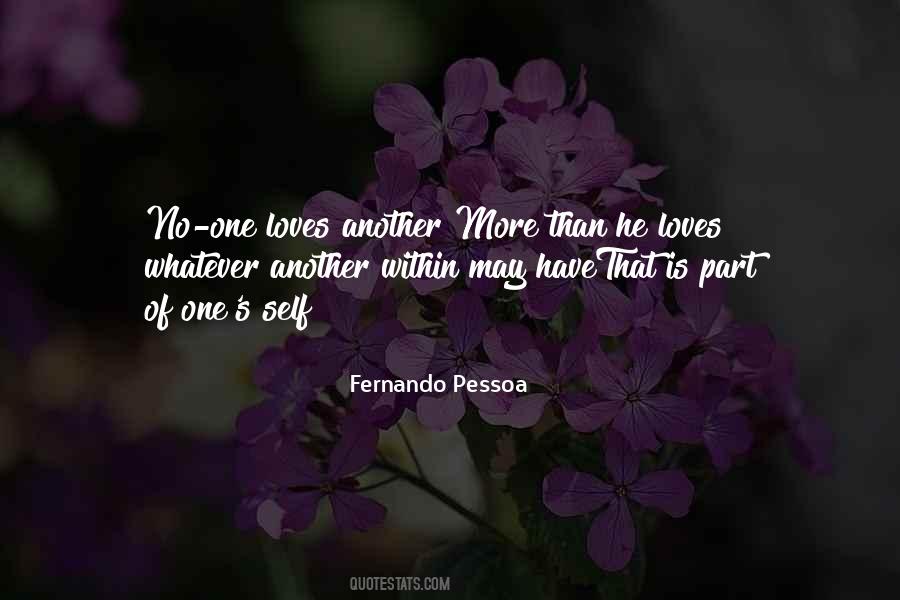 #17. The more you try to crush your true nature, the more it will control you. Be what you are. No one who really loves you will stop. - Author: Cassandra Clare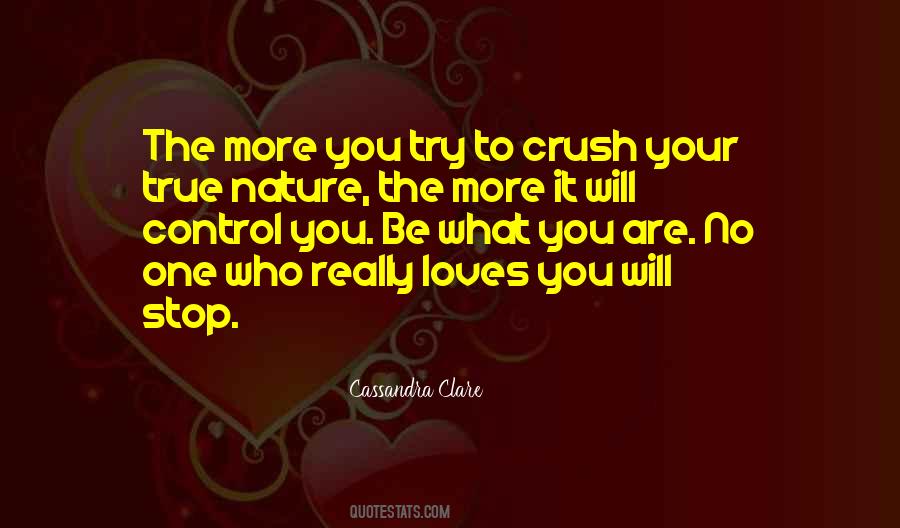 #18. Everyone loves the idea of "disruption" in business, but no one likes it when it happens to them. - Author: Richie Norton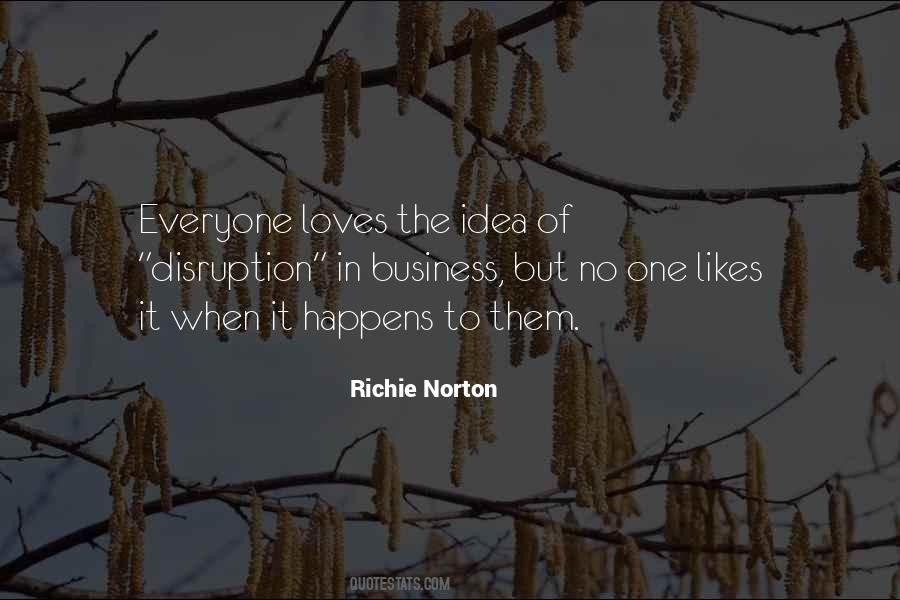 #19. No mother loves her children the same. Each one is different. - Author: Barbara Delinsky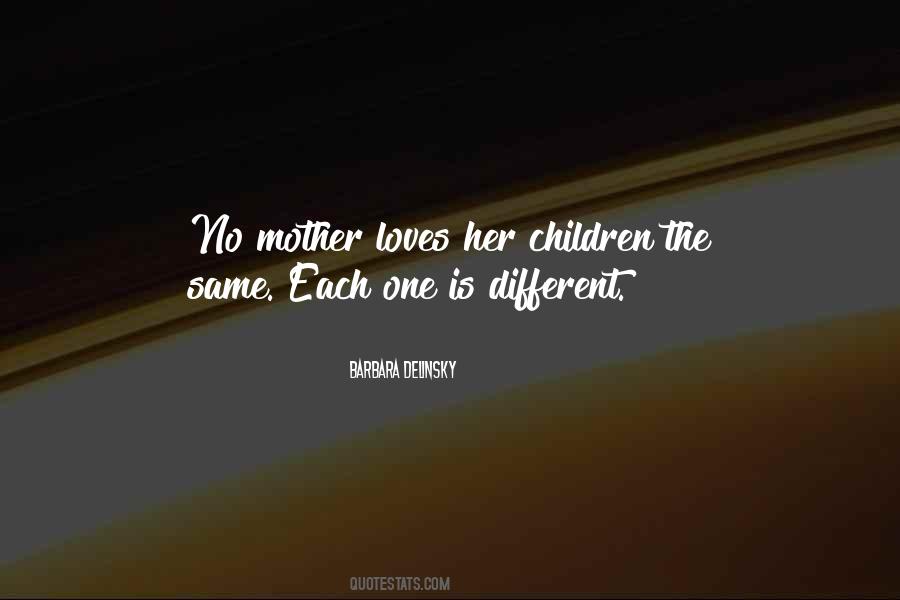 #20. When you make something no one hates, no one loves it. - Author: Tibor Kalman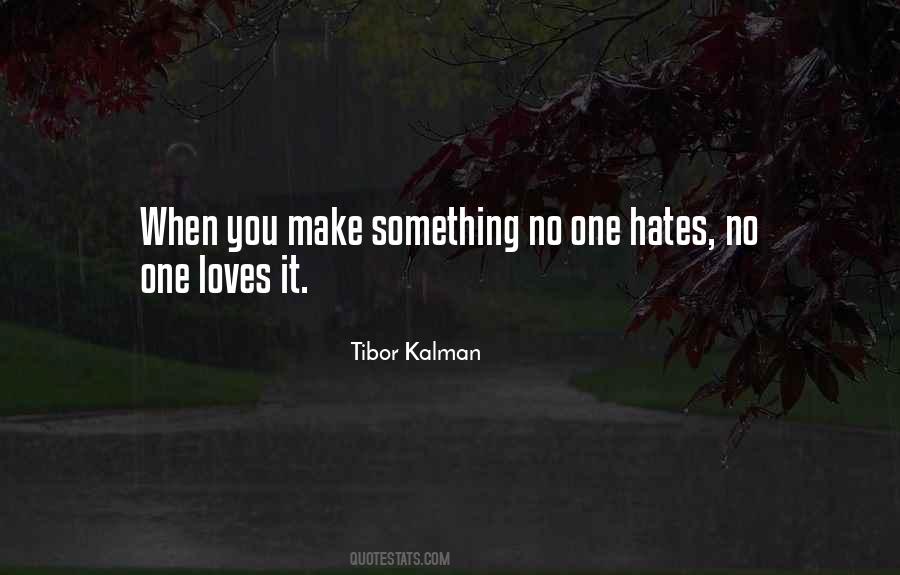 #21. The Marquess laughed her knife-like laugh again. "Do you think Fairyland loves you? That it will keep you close and dear, because you are a good girl and I am not? Fairyland loves no one. It has no heart. It doesn't care. It will spit you back out just like it did me. - Author: Catherynne M Valente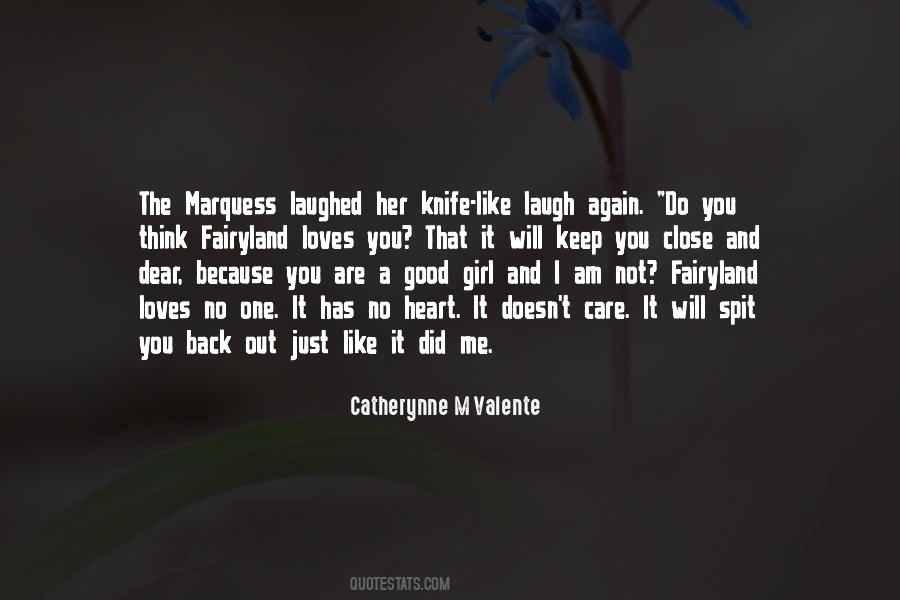 #22. When you feel like no one loves you, remember that I love you. When you feel like no one is there to help you through things, remember that I am there, I am at your side. I exist within you. We are one. - Author: Patience W. Smith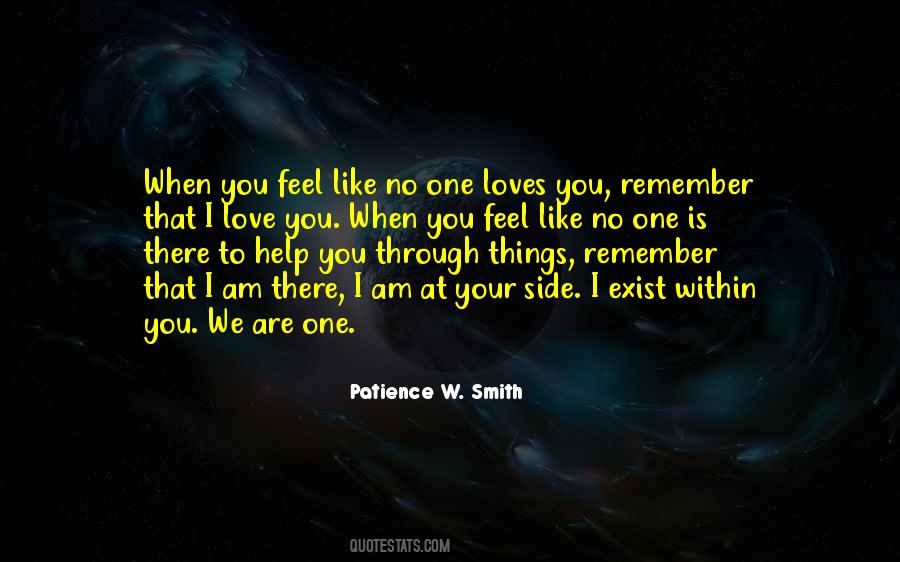 #23. I am too intelligent, too demanding, and too resourceful for anyone to be able to take charge of me entirely. No one knows me or loves me completely. I have only myself - Author: Simone De Beauvoir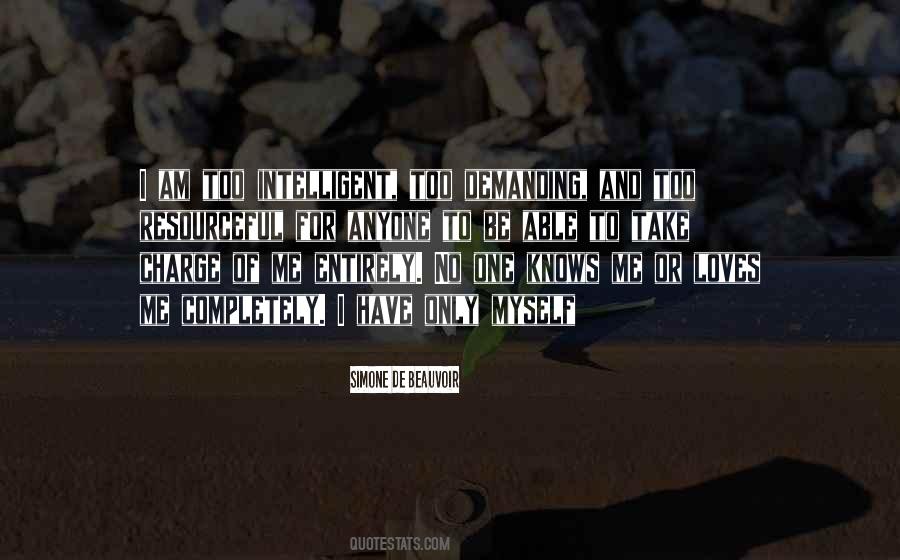 #24. Frankly, it's self-evident. As people of faith, it's our duty to love everyone, the way God loves everyone. There's no reason why any one group is less deserving of love - either the love of a church community, to the love of a family - than any other. - Author: Robin Talley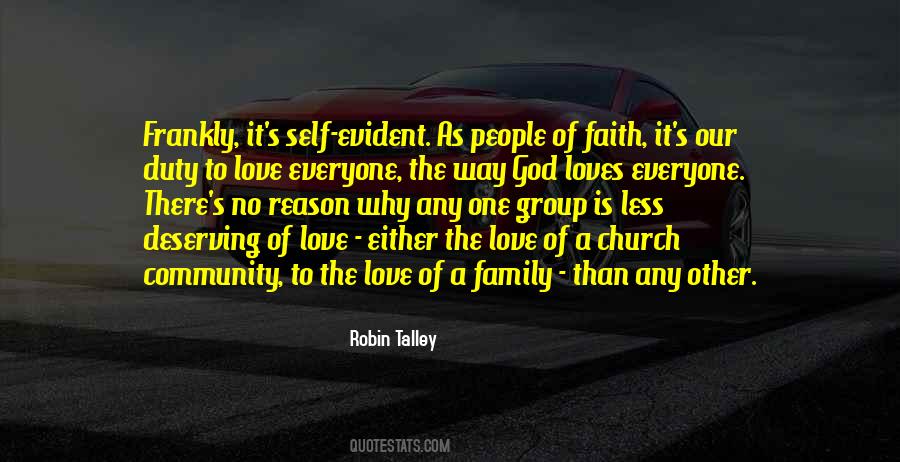 #25. No one loves the messenger who brings bad news. - Author: Sophocles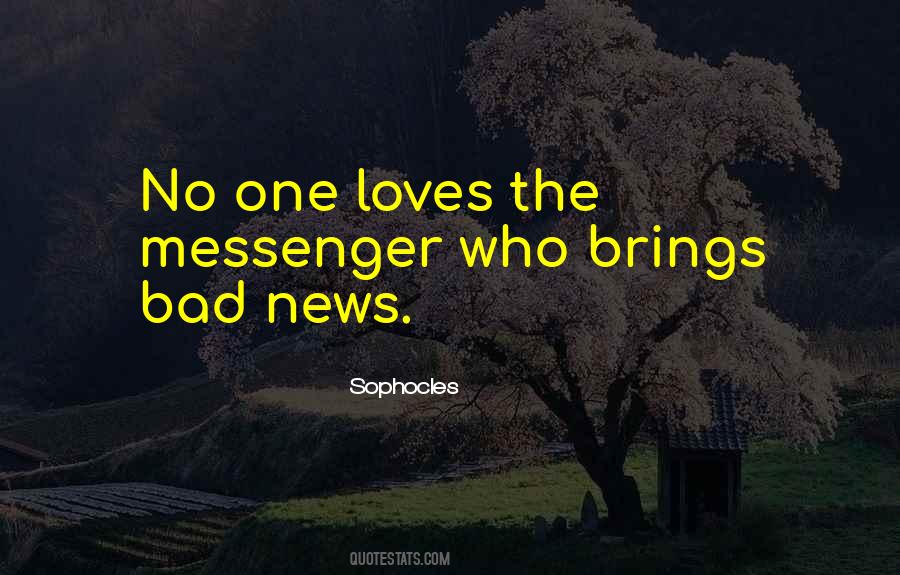 #26. No one who loves life can ignore literature, and no one who loves literature can ignore life. - Author: Laura Esquivel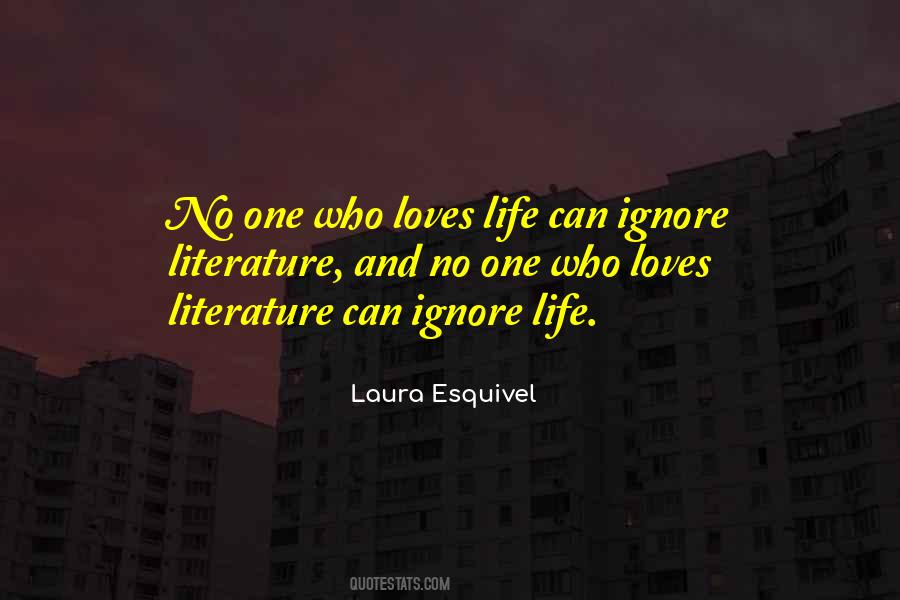 #27. I'm broken, and no one can fix it. I've tried. I'm still trying. I can't love anyone because it's not fair to anyone who loves me back. I'll never hurt you ... But I can't promise I won't pick you apart, piece by piece, until you're in a thousand pieces just like me. - Author: Jennifer Niven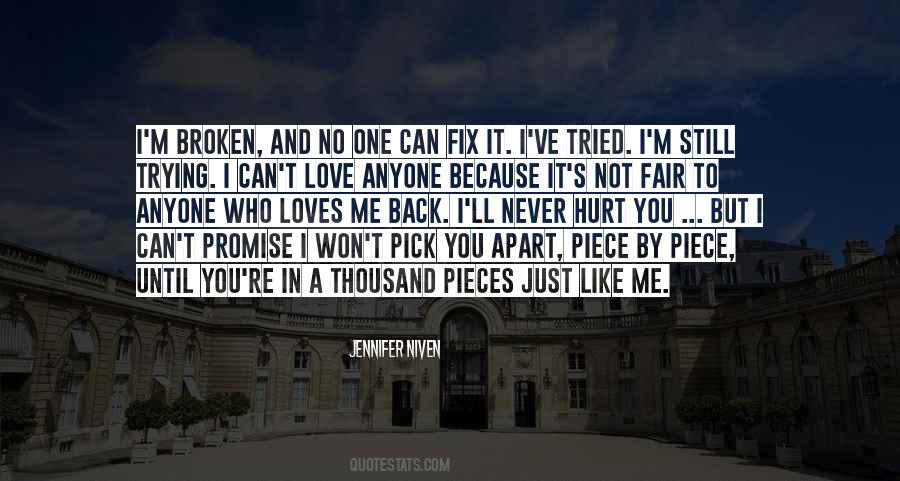 #28. Just be yourself and one day you will find someone who loves you for everything you are, flaws or no flaws. - Author: Lupe Fiasco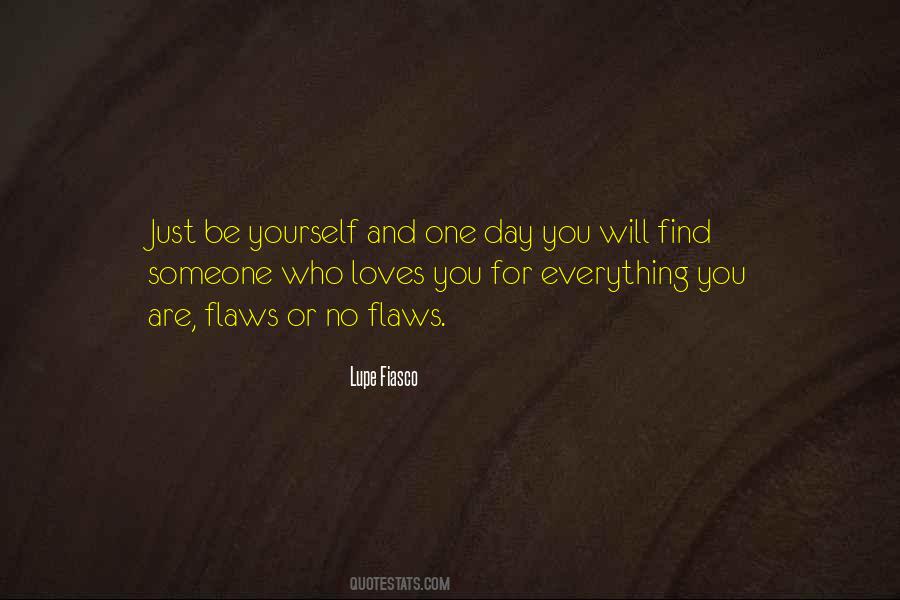 #29. They love each other. You said loved. Love doesn't die just because one heart stops beating. When you love someone, you have the same heartbeat and it's still there, just not as strong. So no. There's no loved. Dad still loves her. - Author: Jay McLean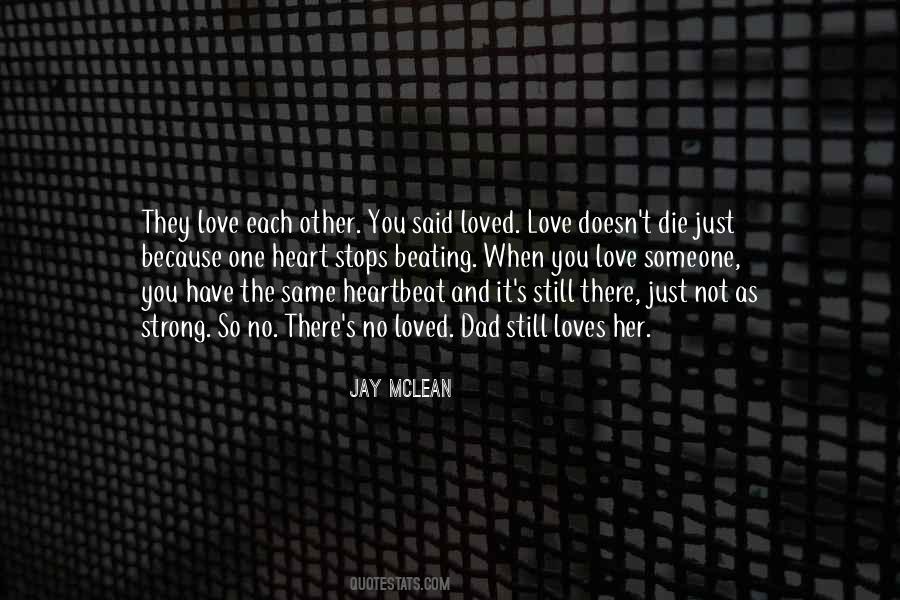 #30. One thing I can say about the French language is that no one in the world loves their language as much as they do. It doesn't matter if you're close - it still sounds terrible to their ears. - Author: Mads Mikkelsen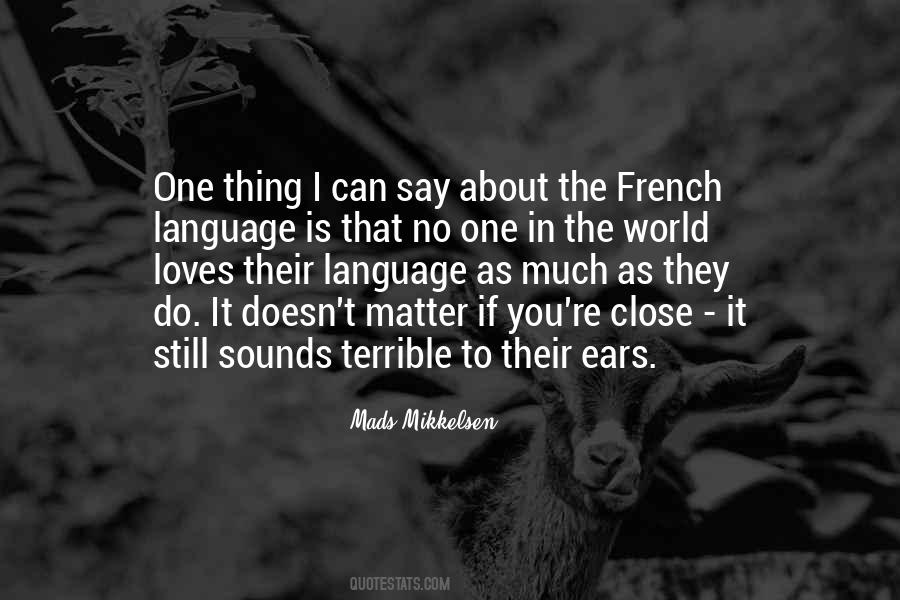 #31. I loved him in the way that one loves those who no longer matter: poignantly. - Author: Molly O'Neill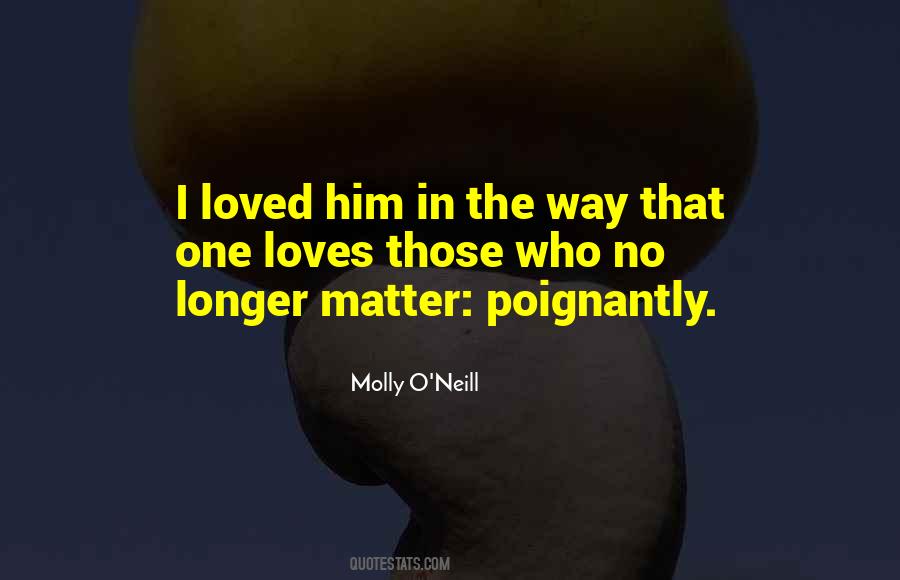 #32. Aren't you going to tell me I'm not so bad? she asked.
Mmm-no. I was thinking how every man loves a hot girl with a history of making mistakes. Because it's always possible she'll make one with you. - Author: Joe Hill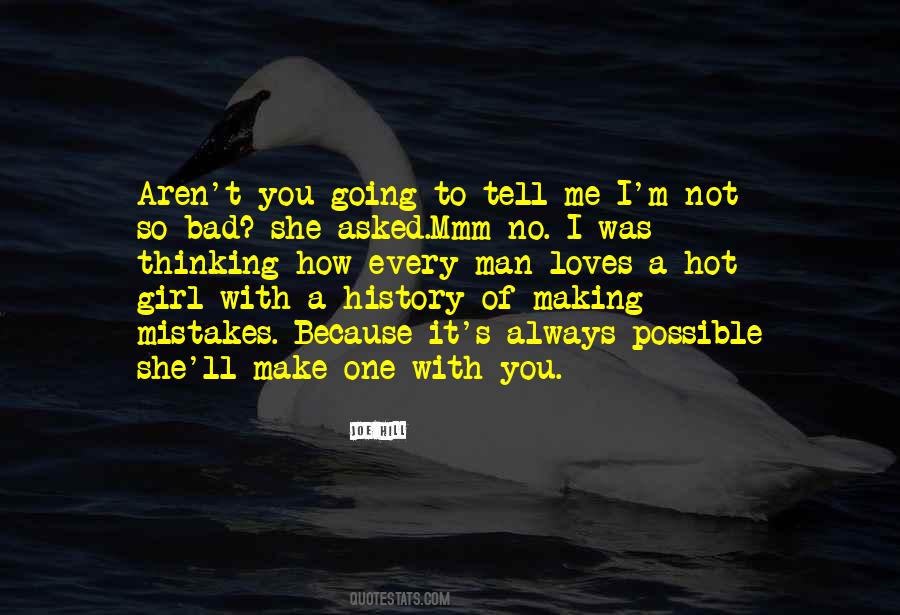 #33. The mob loves those who amuse and serve it. But to amuse it you have to love it. I love no one, least of all the mob, because the mob, the multitude, are like women: they betray those who love them. - Author: Pitigrilli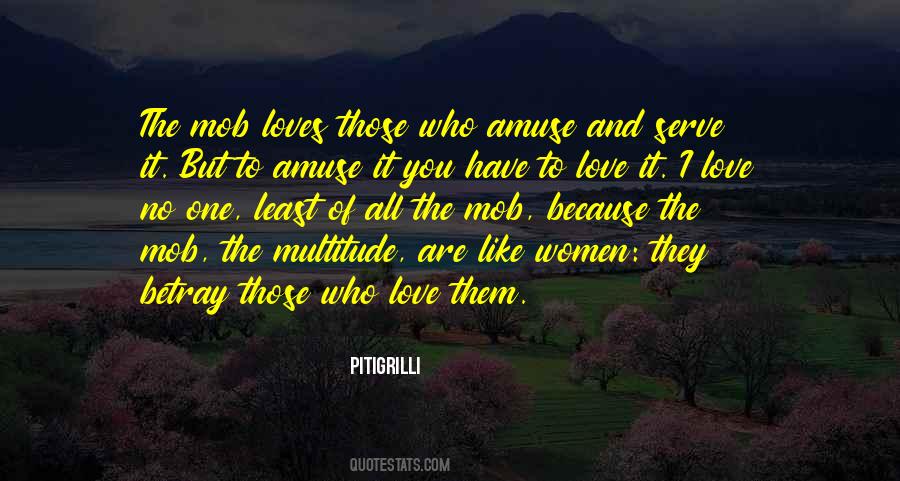 #34. He who loves 50 people has 50 woes; he who loves no one has no woes. - Author: Gautama Buddha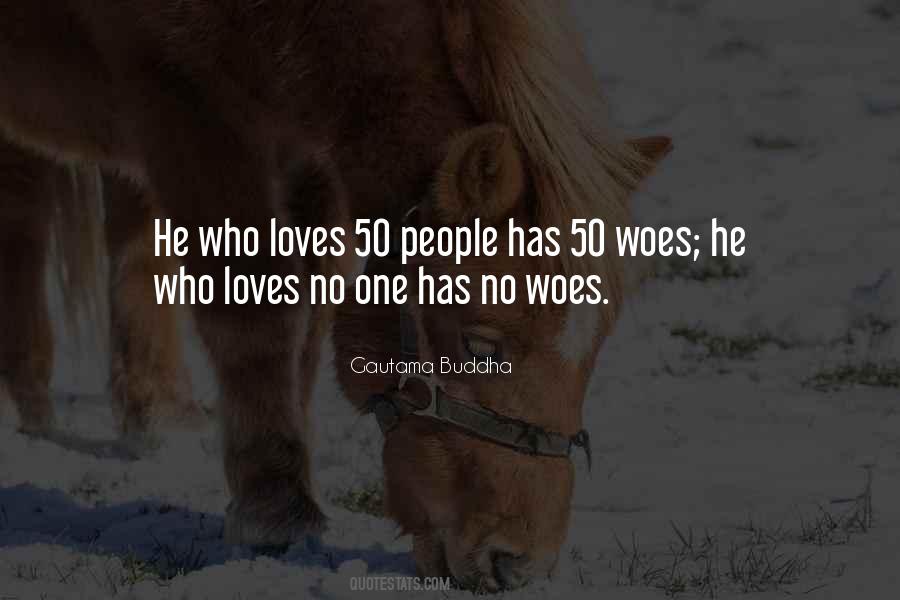 #35. Even when no one loves you, there is always someone to love, someone who needs to be loved. Always. You just have to look outside yourself. - Author: Anne Gracie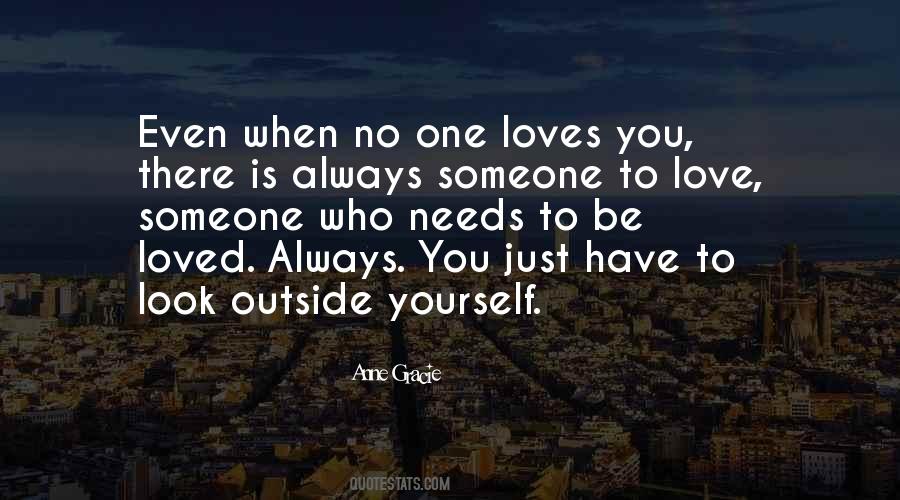 #36. Love the Lord your God, and love one another. Love one another as He loves. Love with strength and purpose and passion and no matter what comes against you. Don't weaken. Stand against the darkness, and love. That's the way back into Eden. That's the way back to life. - Author: Francine Rivers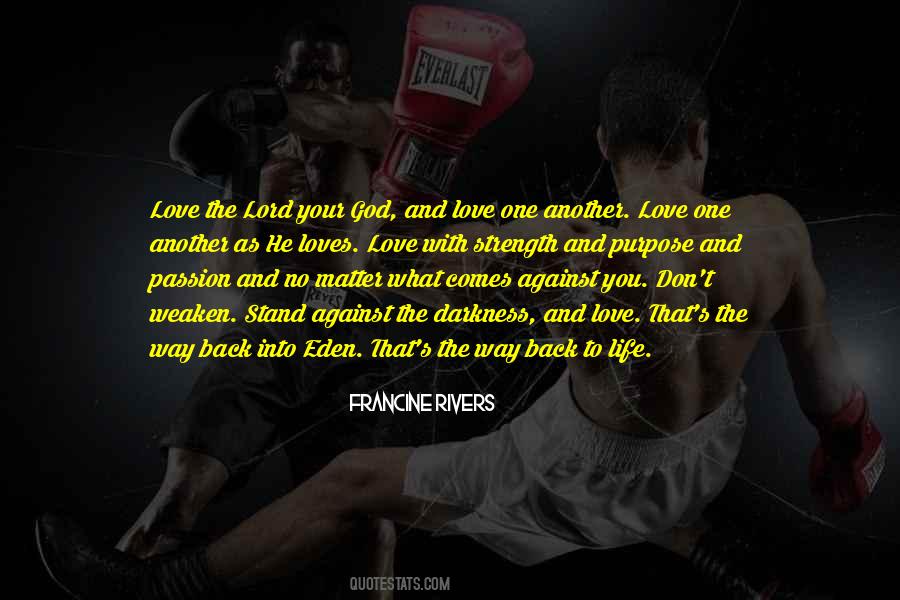 #37. As an adult, the only people who care about horror movies are academics. No one loves to talk about horror films more than somebody with a Ph.D. in cultural studies at a university. - Author: Chuck Klosterman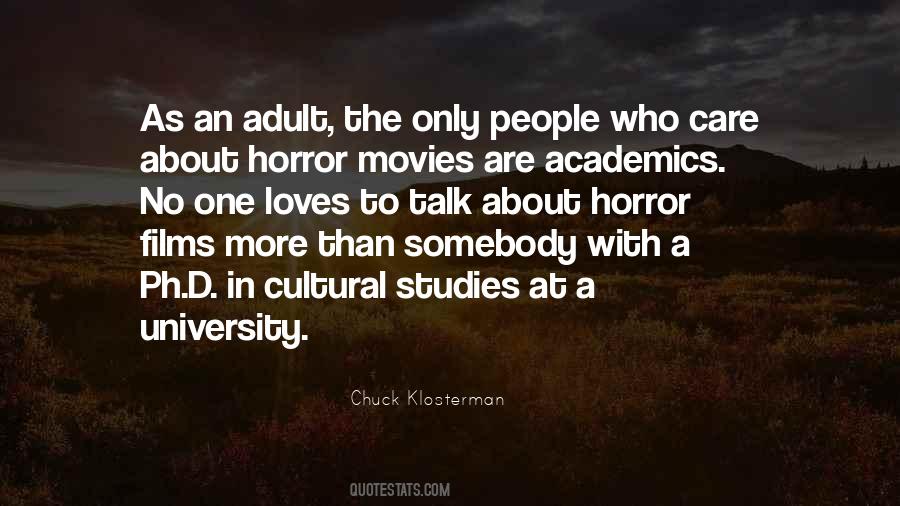 #38. As I drive home, I picture other signs- one for everyone who has a secret. Bill Corso's would say, I CAN'T READ, BUT I CAN THROW A FOOTBALL. Mr. Shunk's would read, I WISH I COULD TOSS YOU ALL ON AN ISLAND BY YOURSELVES. Dad's would read, I HATE MYSELF FOR NO GOOD REASON.

My Idea grows. - Author: A.S. King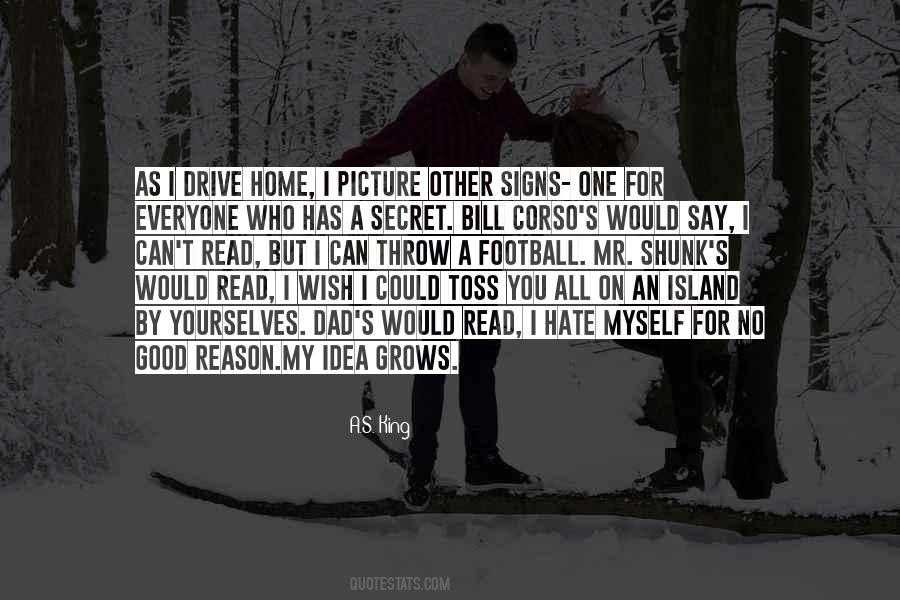 #39. Herein, lies the key to love. Love builds bridges. Soul exists because God loves It. Soul equals Soul; no one Soul is greater than another. Experience the greatest love of all. - Author: Harold Klemp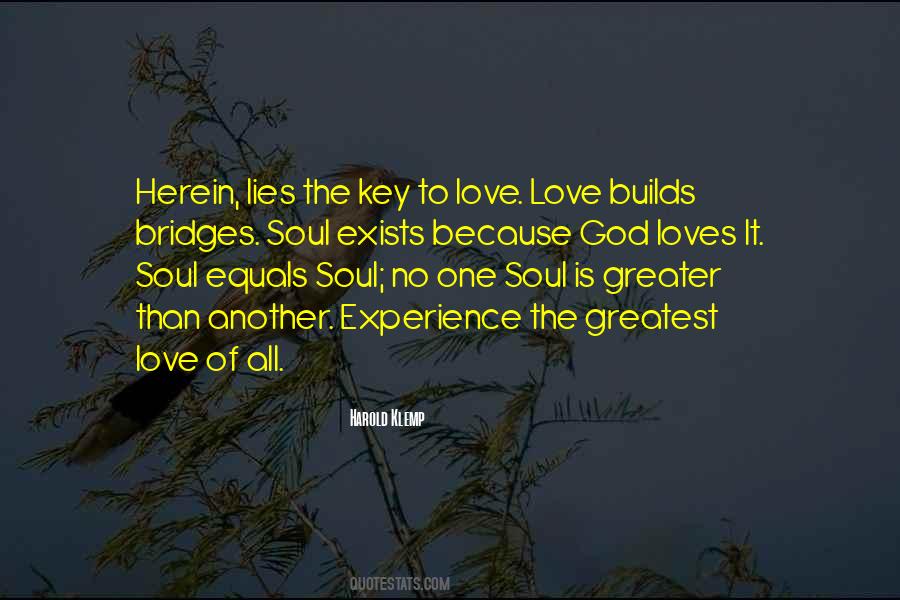 #40. You're unpredictable and dangerous and protect those you love fiercely. You should be proud. To me you're more than a knight in some stupid shiny armour. You're the monster who no one can tame but the woman he loves. - Tess Snow - Author: Pepper Winters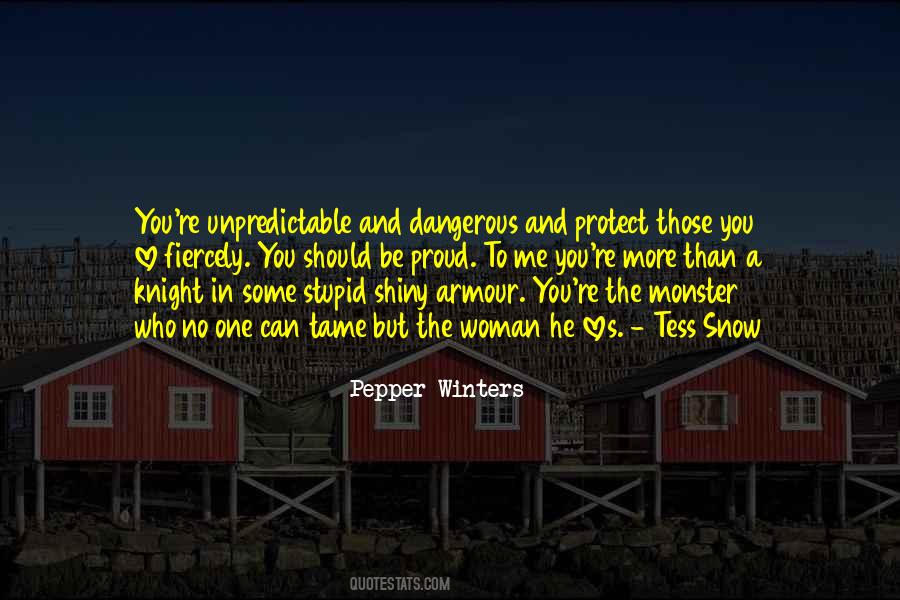 #41. Happiness, for you we walk on a knife edge. To the eyes you are a flickering light, to the feet, thin ice that cracks; and so may no one touch you who loves you. - Author: Eugenio Montale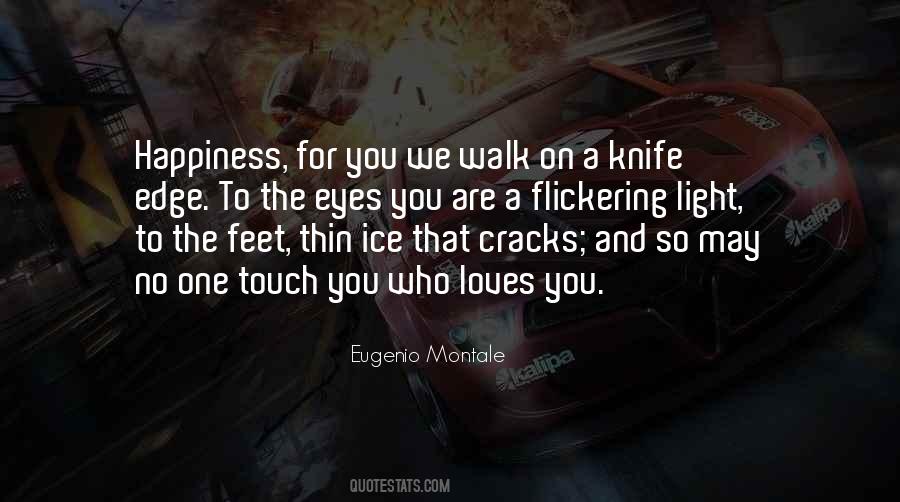 #42. No one is exempt from trials and tribulations. In fact, this is often what happens to people God loves very much, for it is part of God's often mysterious and good plan for turning us into something great. - Author: Timothy Keller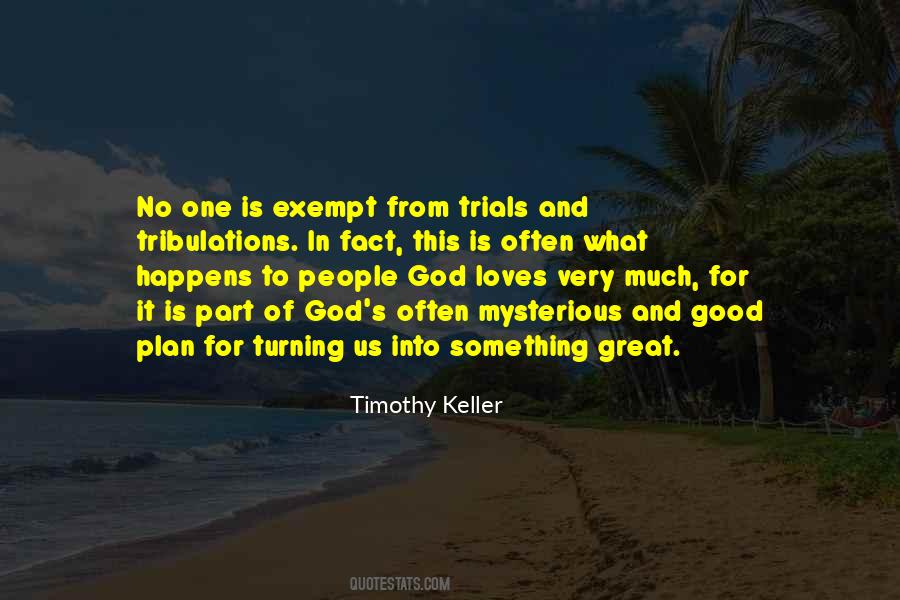 #43. God loves you as do I and no matter what physical characteristics that differ from each and every one of us, we are but one family under the heavens. - Author: Eric Anthony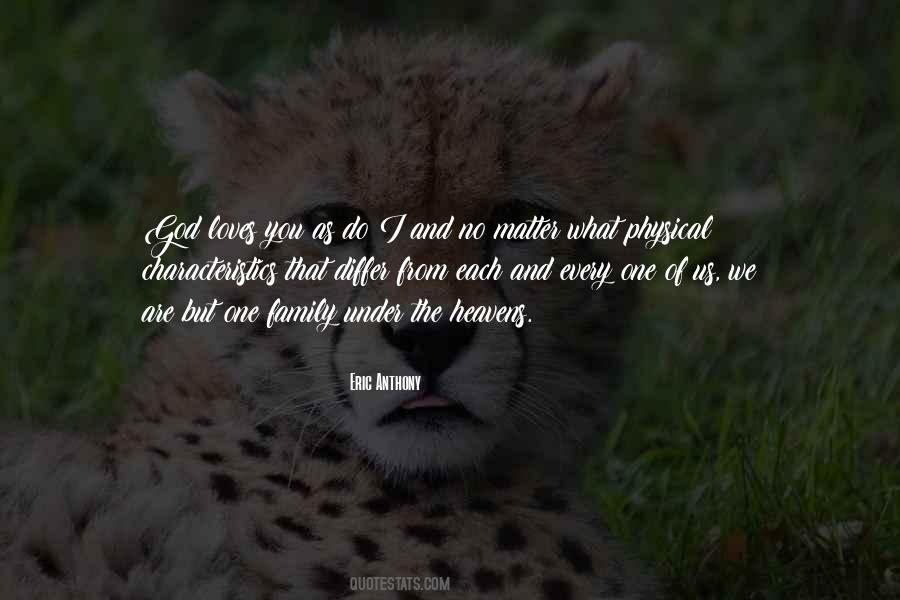 #44. No one loves the numbers more than I do, but numbers don't measure everything, especially when it comes to evaluating defense. And in the end, I am going to trust Buck Showalter's eyes more than a set of statistics devised by someone who never played the game. - Author: Tim Kurkjian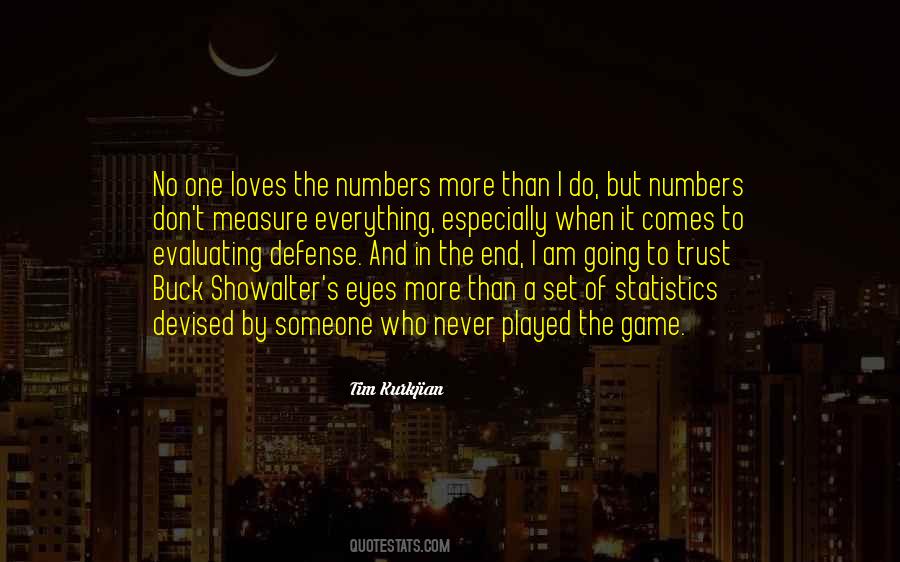 #45. It wasn't until I found the courage to look inthe mirror and say, 'I Love You' with conviction that I felt truly amazing! If no one loves you, love yourself! - Author: R.S. Lewis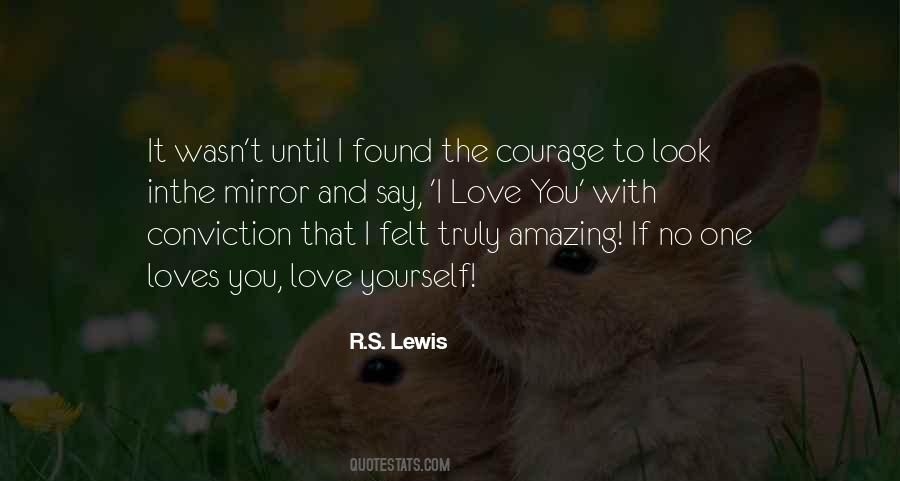 #46. One of my great loves is golf. When I am in L.A., I like to play with a few close friends: no phones, no distractions, the great outdoors and the chance to bet some money to keep it interesting. - Author: Nobu Matsuhisa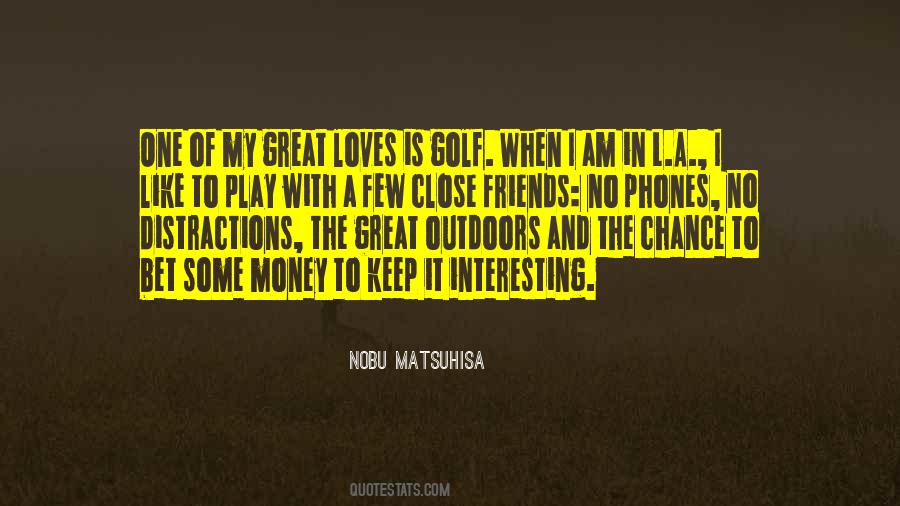 #47. If [you] are [a Christian] ... you should feel secure and honored that God loves you so much! That knowledge is a joy and a privilege. No one can ever take that from you because no one can ever take you from God! - Author: Van Harden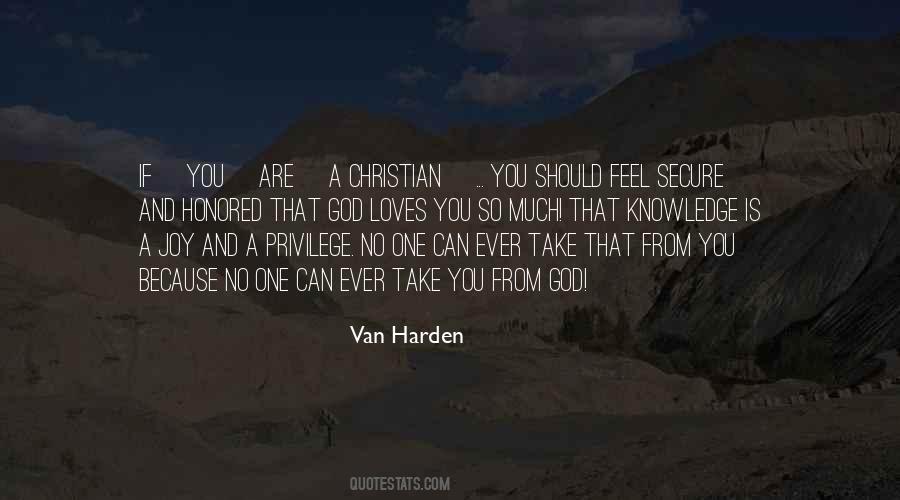 #48. I think there are profound differences between women and men. In intelligence and creativity, there is no difference, but in what one loves, what one likes, the passions - there are differences. - Author: Christiane Nusslein-Volhard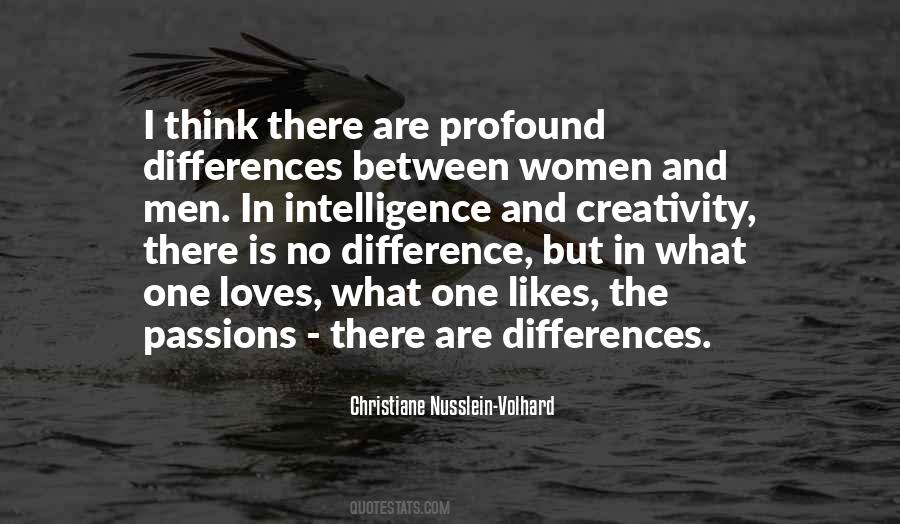 #49. You don't love me.. Believe me! You don't love anyone. How could you? And no one loves you. How could they? Except me, it's only because I love you that I'm telling you all this. I Love you.. R. D. Laing. - Author: R.D. Laing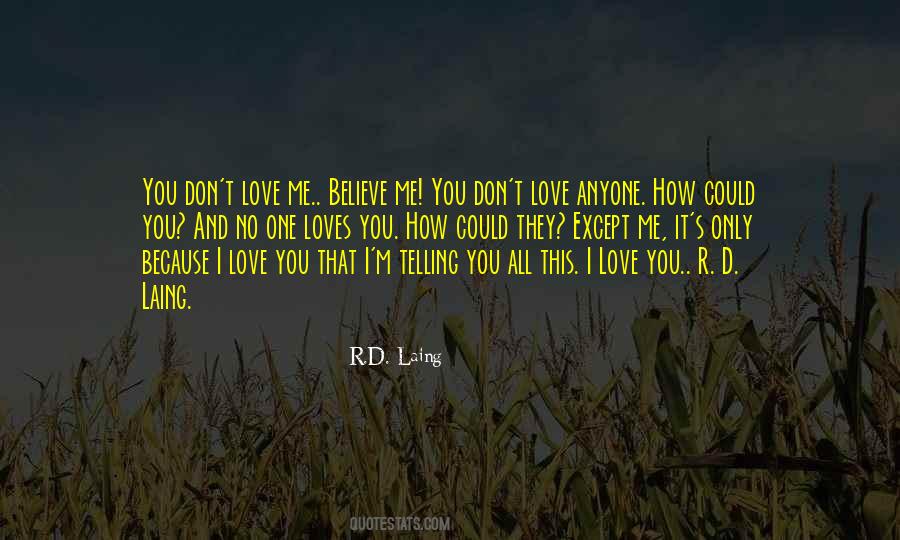 #50. 28So husbands ought also to jlove their own wives as their own bodies. He who loves his own wife loves himself; 29for no one ever hated his own flesh, but nourishes and cherishes it, just as Christ also does the church, - Author: Anonymous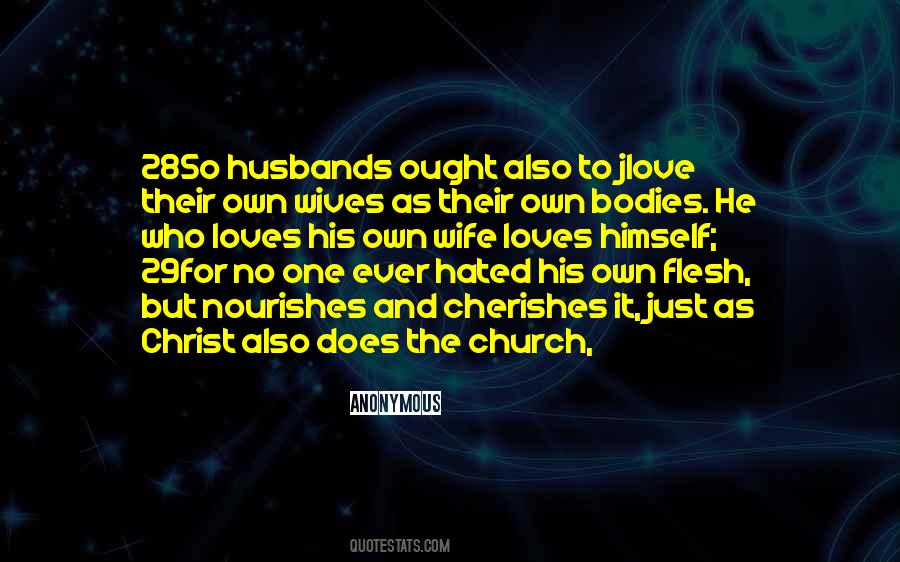 #51. It's hard to care when no one loves you. - Author: Tupac Shakur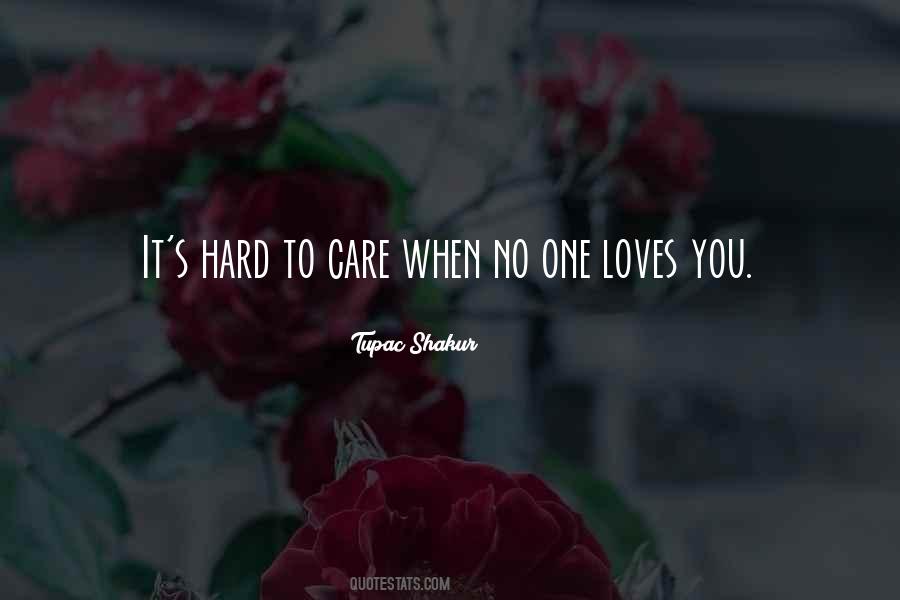 #52. And in his eyes he had the look of the cat who inspires a desire to caress but loves no one, who never feels he must respond to the impulses he arouses. - Author: Anais Nin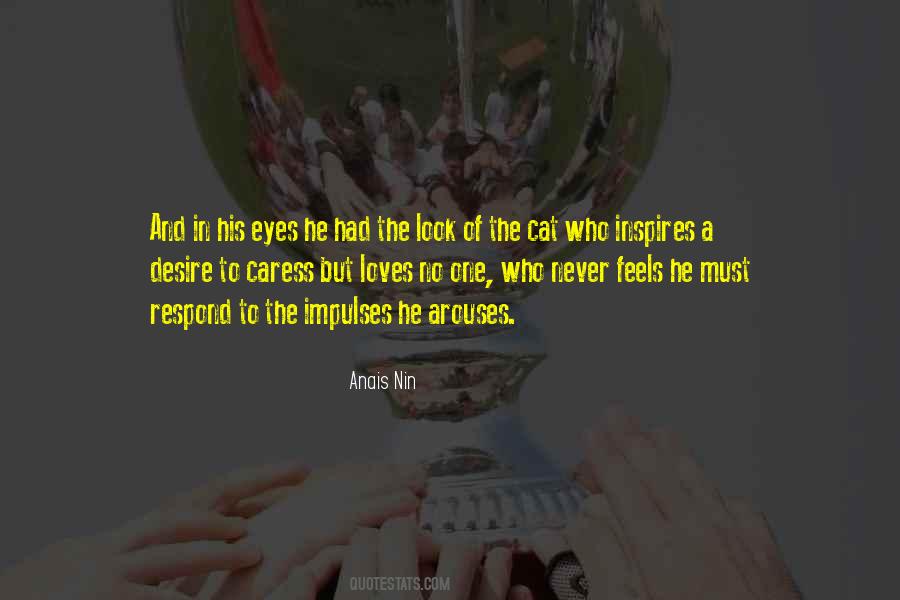 #53. President Reagan was the quintessential Happy Warrior, and no one loves, respects, and admires Reagan more than I do. - Author: Monica Crowley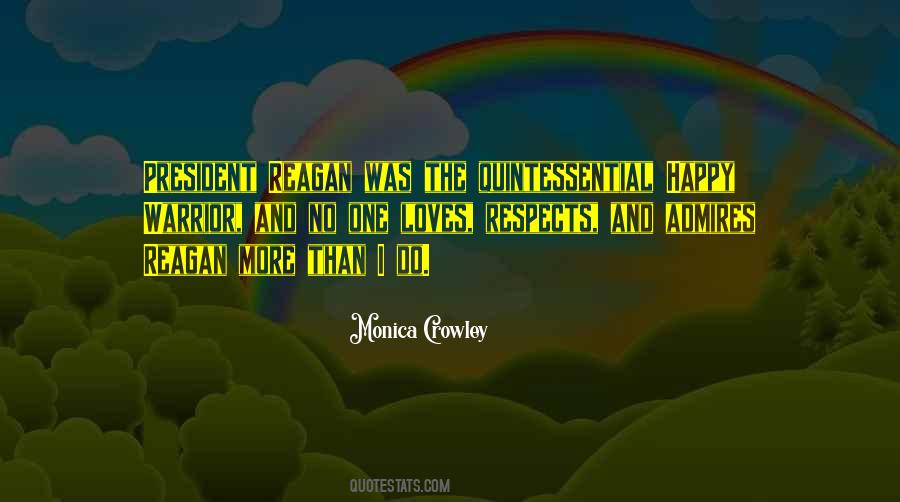 #54. No one can understand my conflict who has not looked into the eyes of those he loves, knowing that he has no alternative but to take a dangerous stand that leaves them tormented. - Author: Martin Luther King Jr.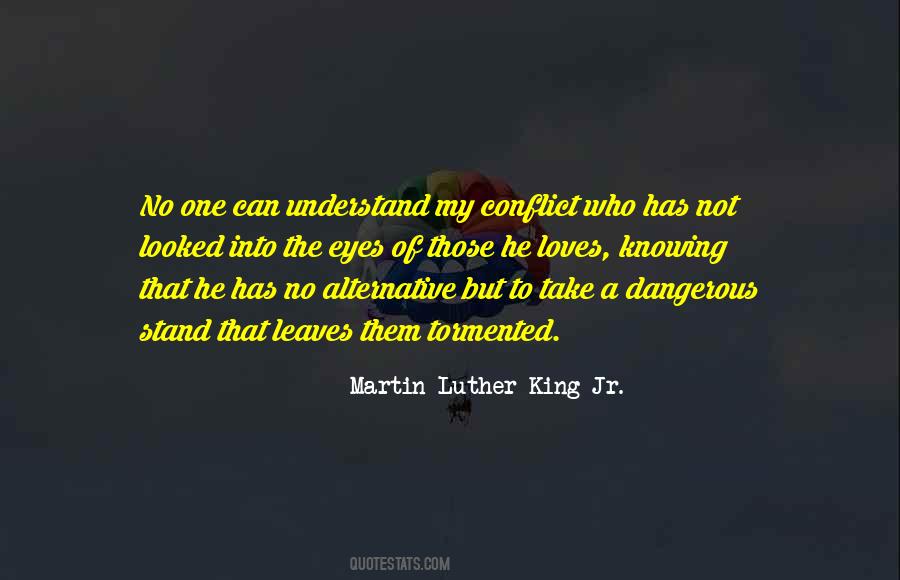 #55. Your mama-akra sent that to you, akri, to hurt the heathen-god. Now it's Dimonique time. The Simi can't be bothered we no Greek god messing with the one who pays the plastic bills. Can the Simi have that black metal card she loves so much? (Simi) - Author: Sherrilyn Kenyon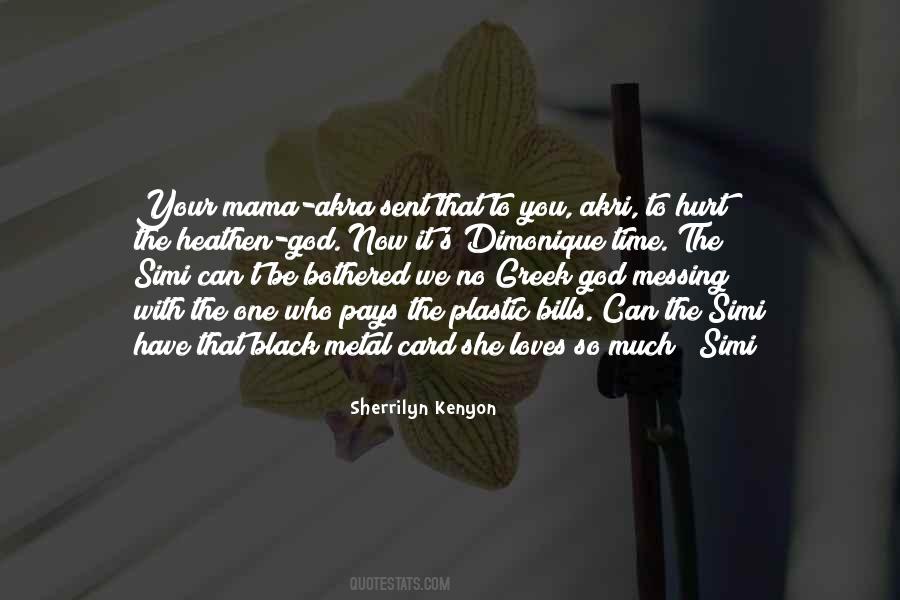 #56. No one loves the man whom he fears. - Author: Aristotle.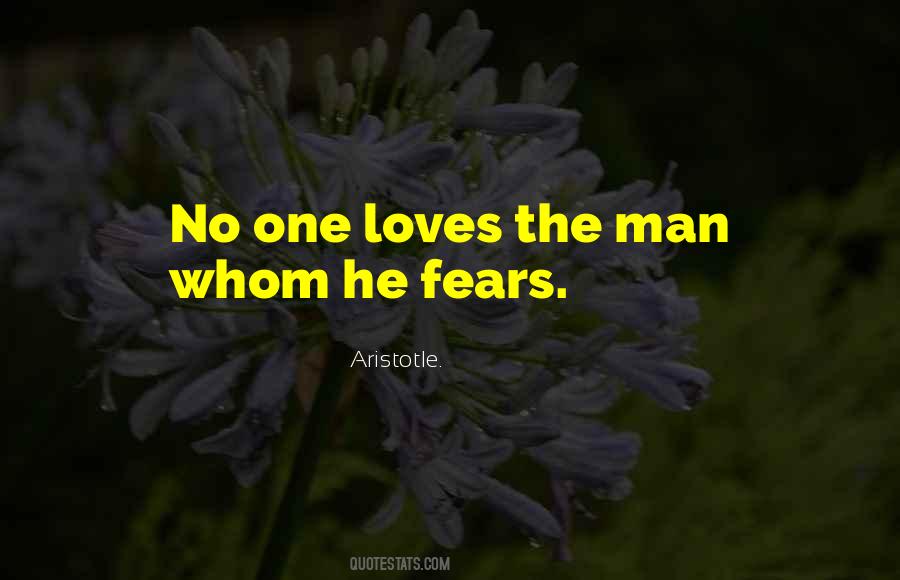 #57. I feel myself retreating to someplace deep inside. It is a pitiful kind of childhood, to know that no one loves you or is taking care of you, to always be on the outside looking in. - Author: Christina Baker Kline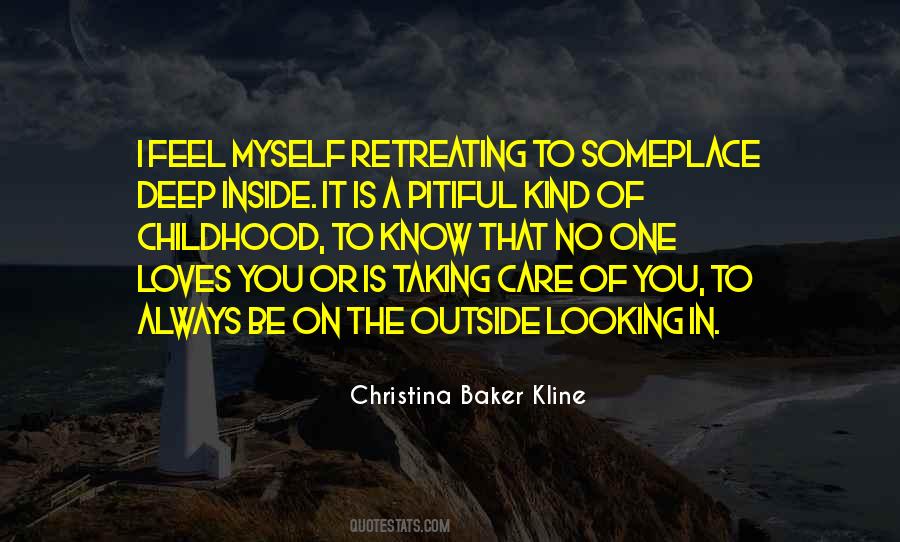 #58. No, she certainly is not. She would burst into flames if she set one foot on a good Christian campus, and don't you forget it." "Jesus loves everyone, Mom. - Author: Kami Garcia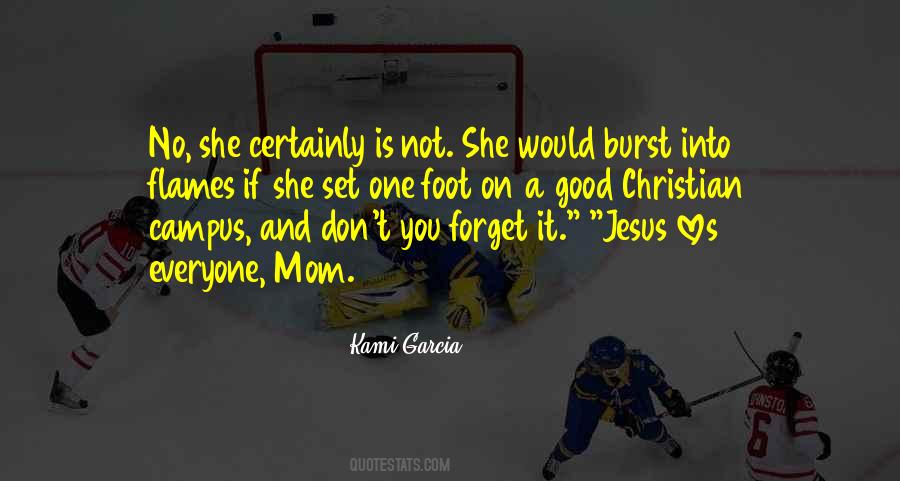 #59. Sometimes romance is of less importance than the feeling of being absolutely safe: of knowing that nothing and no one can hurt you, because the person who loves you most in all the world will destroy them if they try. - Author: Seanan McGuire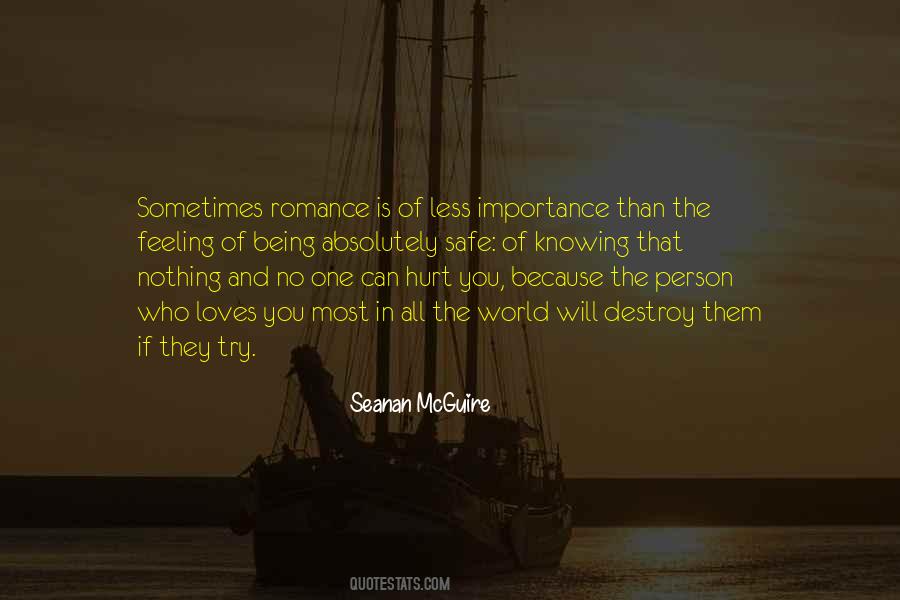 #60. I am nothing but a miserable, crushed worm, whom no one wants, whom no one loves, a useless creature with morning sickness, and abig belly, two rotten teeth, and a bad temper, a battered sense of dignity, and a love which nobody wants and which nearly drives me insane. - Author: Sophia Tolstaya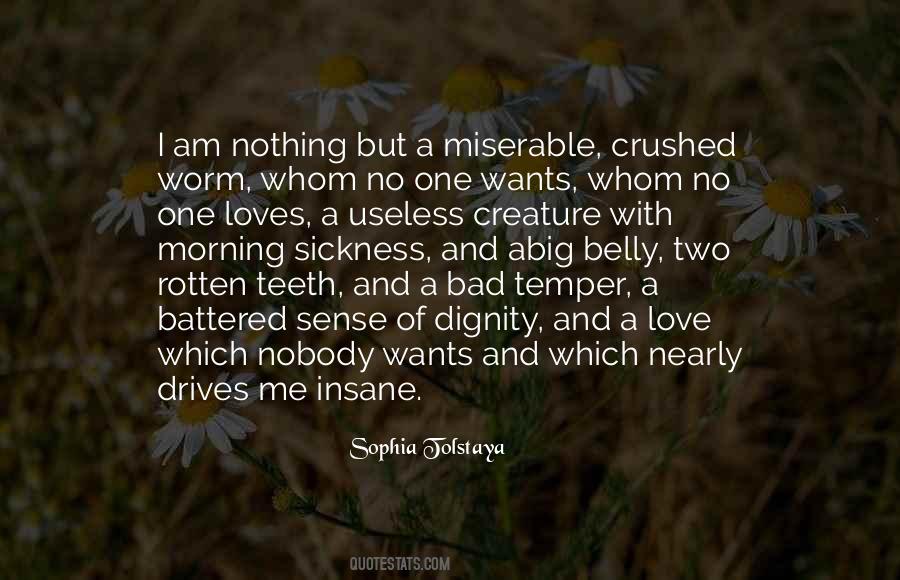 #61. You Unwinds are all the same. You think that because no one loves you, then you can't love anyone. All right, then, if there's no one you love, then pick someone who needs to hear what you have to say. - Author: Neal Shusterman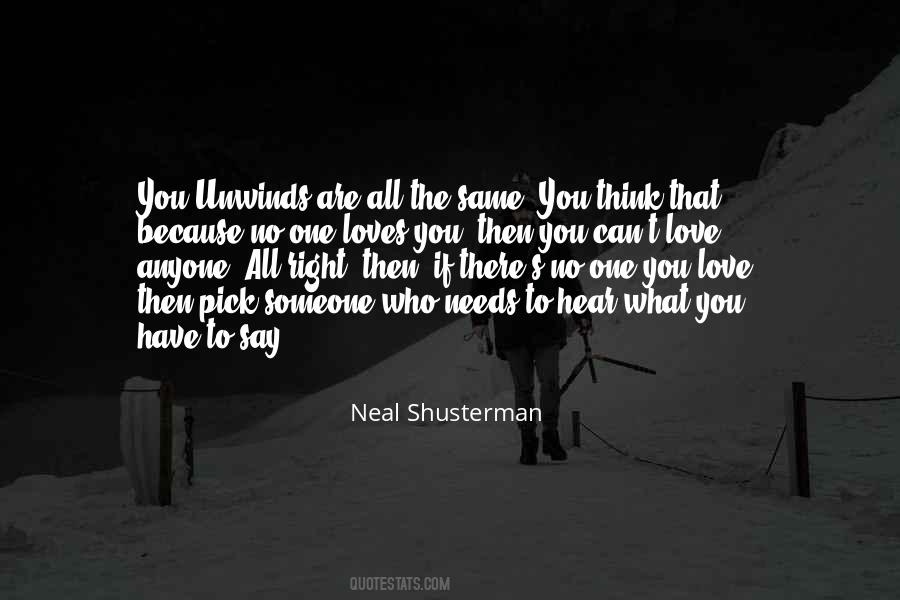 #62. Shall I belong to one man whom I don't love, merely because I have once loved him? No, I do not renounce; I love everyone who pleases me, and give happiness to everyone who loves me. - Author: Leopold Von Sacher-Masoch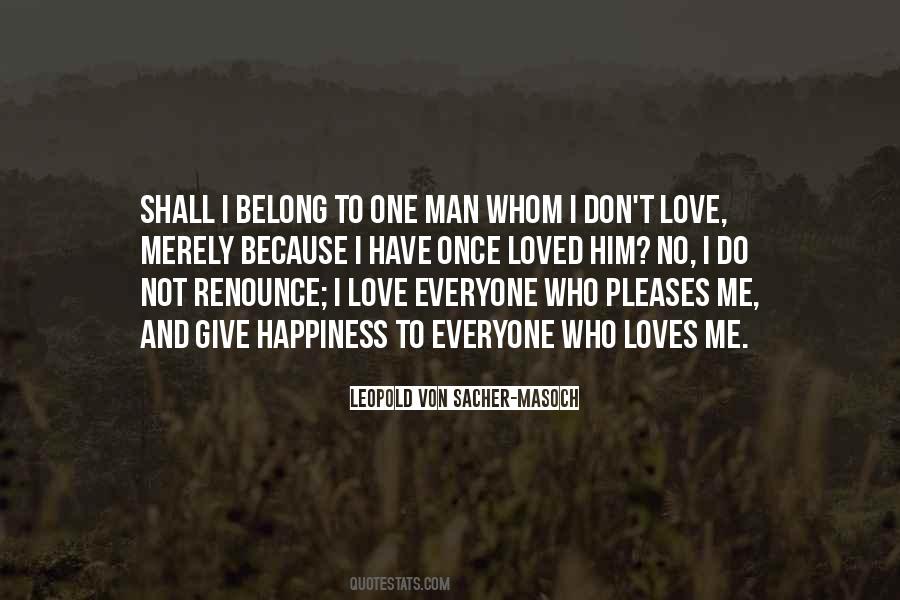 #63. Let no one believe that he has received the divine kiss, if he knows the truth without loving it or loves it without understanding it. But blessed is that kiss whereby not only is God recognized but also the Father is loved; for there is never full knowledge without perfect love. - Author: Bernard Of Clairvaux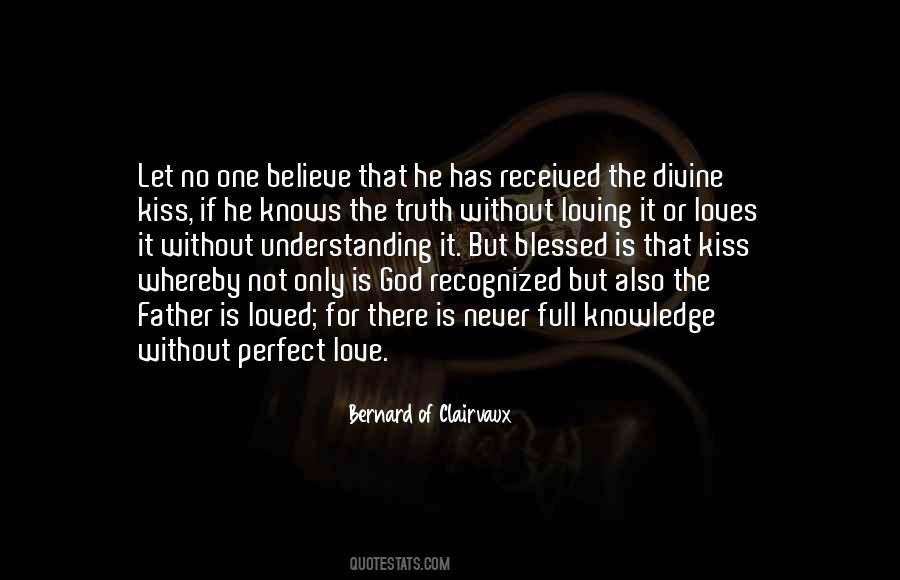 #64. The media, of course, loves to make claims about the fountain of youth. Don't believe it. No one has it. But we're getting close. - Author: Michio Kaku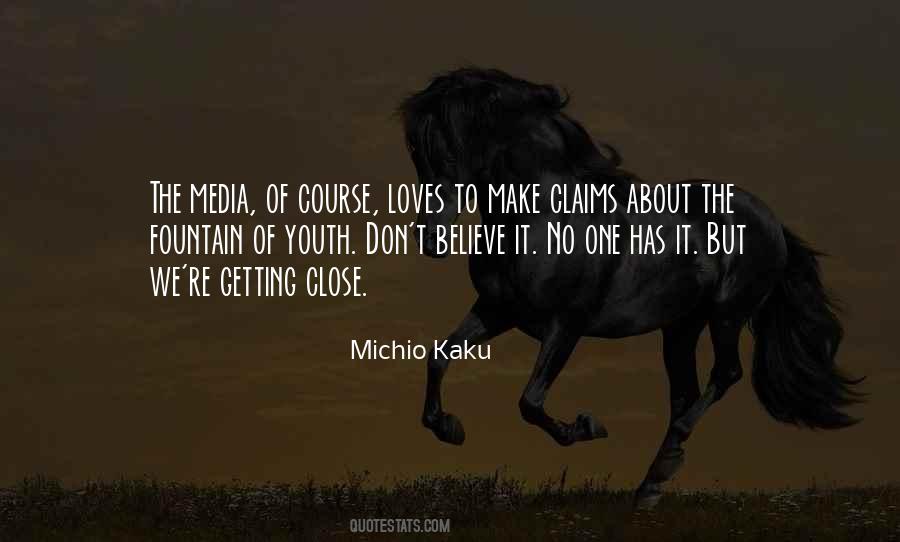 #65. Commandments are loving counsel from a wise Father. Our understanding and concept of God as a loving and personal Heavenly Father allows us no other definition. He gives us commandments for one reason only-because he loves us and wants us to be happy. - Author: Paul H. Dunn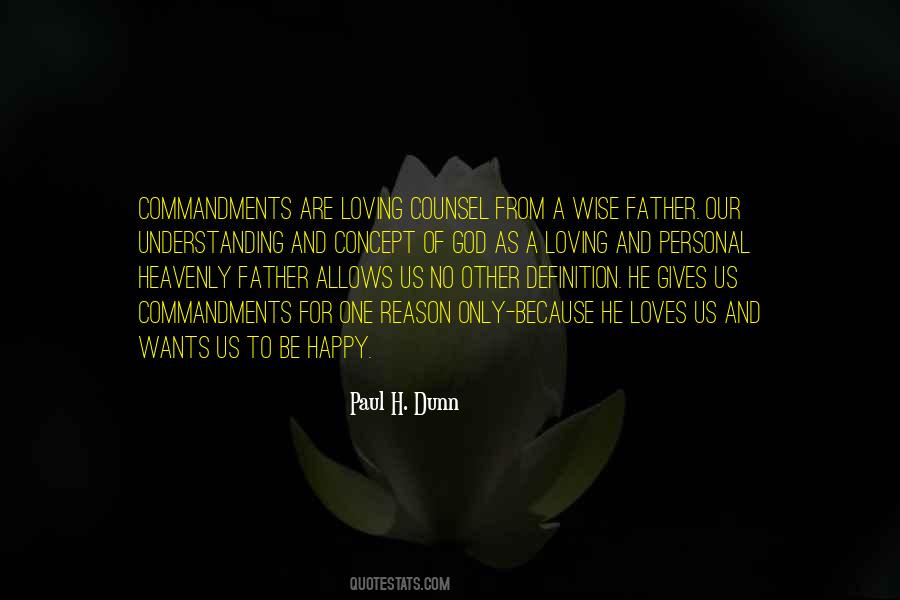 #66. If no one on this planet ever loves you, I always will. - Author: C.J. Reid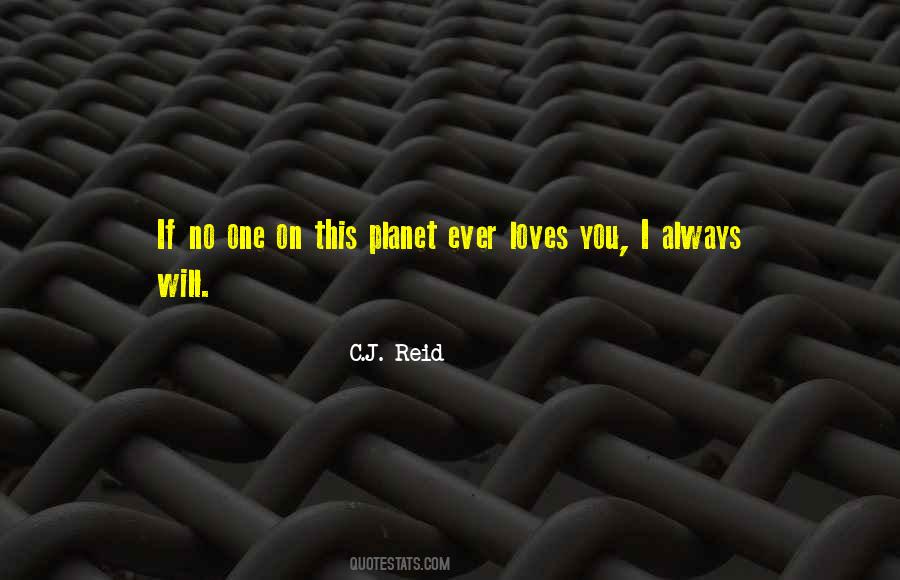 #67. No one loves his country for its size or eminence, but because it's his own. - Author: Seneca The Younger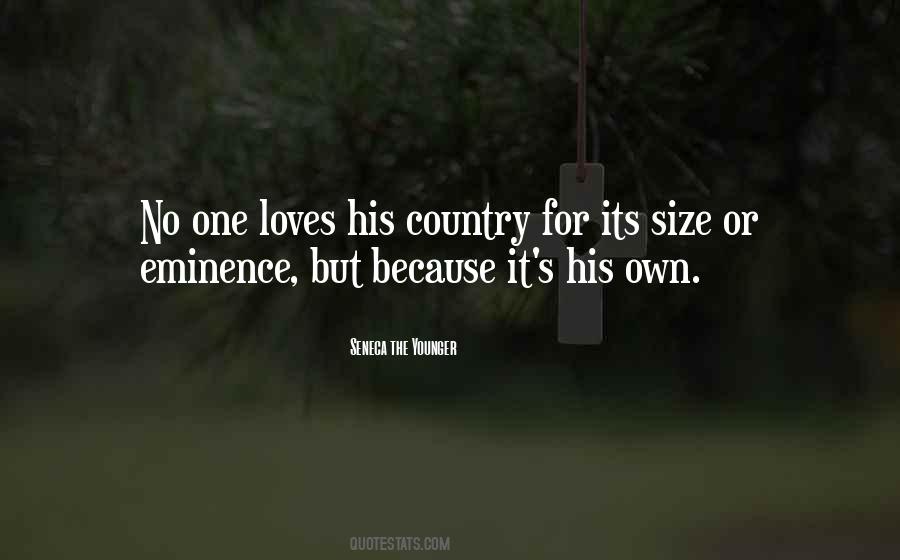 #68. You say she loves him? No one but a coward would be defrauded of the woman he loved and who loved him. Ah, if I had once felt Madeleine's hand tremble in mine, if her rosy lips had pressed a kiss upon my brow, the whole world could not take her from me. - Author: Emile Gaboriau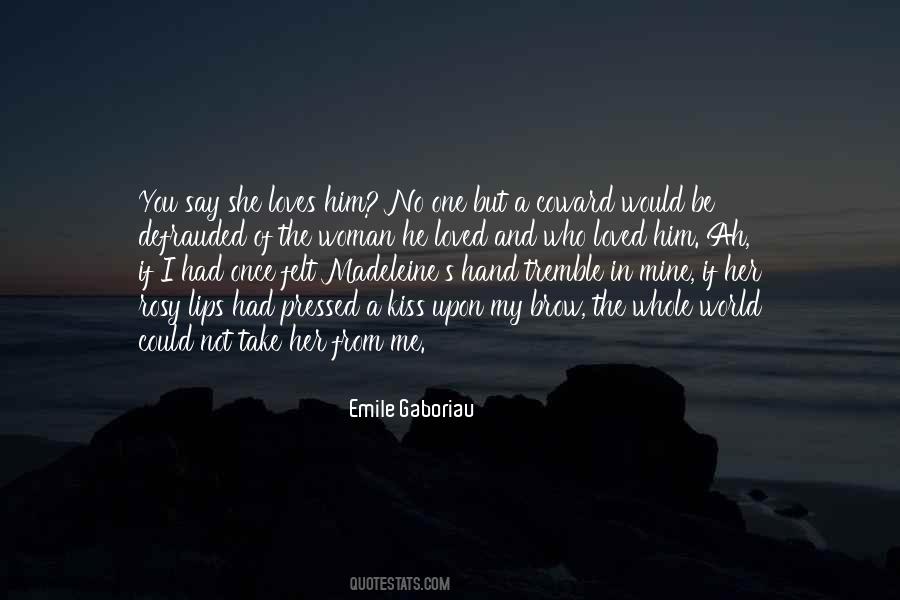 #69. No one loves authenticity like a graphic designer. And no one is quite as good at simulating it. - Author: Michael Bierut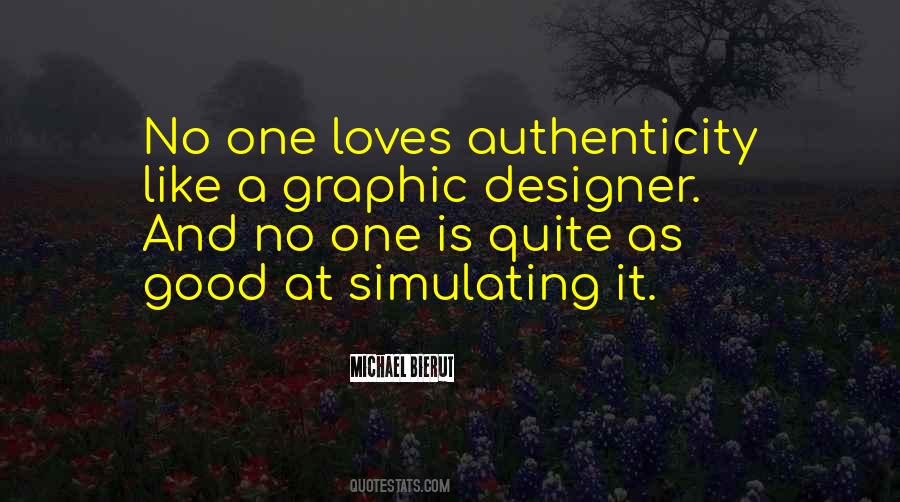 #70. I think Dwight loves being number two. I don't think he has any desire to be number one. He wants to be number two no matter where he goes. It's like Avis. 'We try harder.' That's Dwight. - Author: Rainn Wilson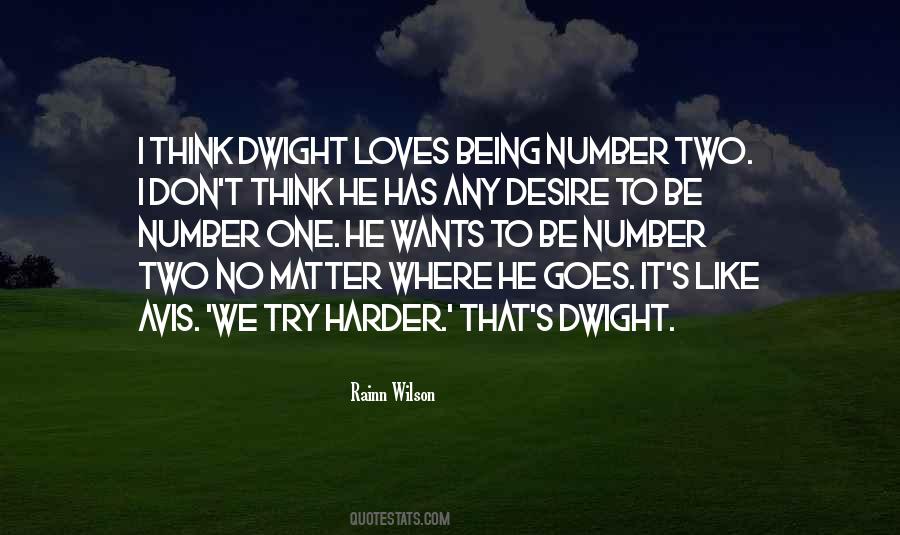 #71. We are drawn to what we lack. No one loves daylight more than a blind man. - Author: Victor Hugo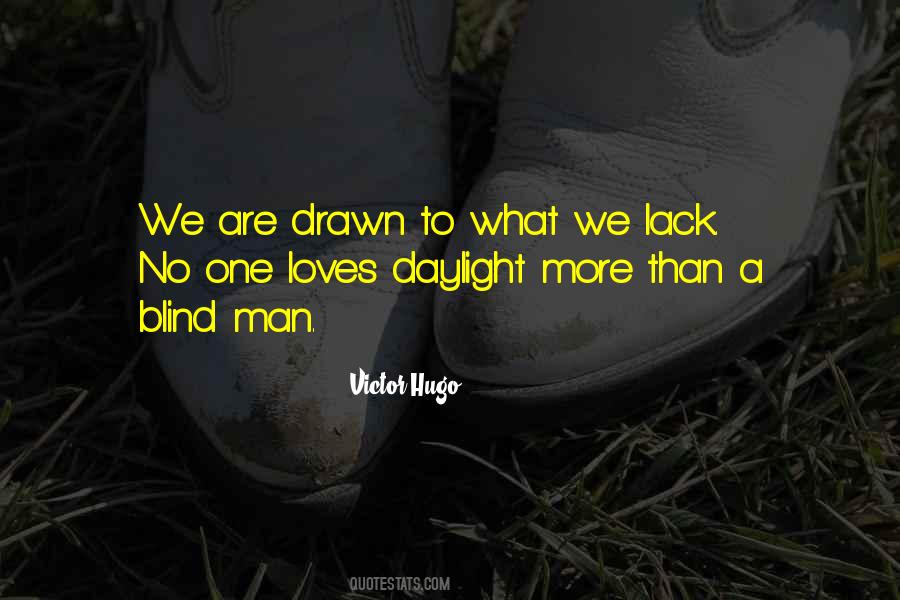 #72. No, no thought to the winnings. One loves because one loves. - Author: Vincent Van Gogh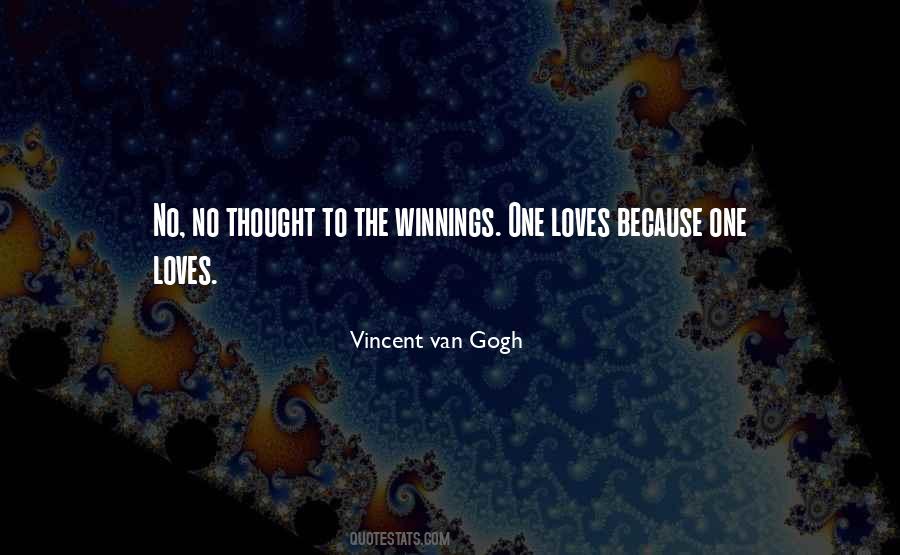 #73. No one can become fully aware of the very essence of another human being unless he loves him. - Author: Viktor E. Frankl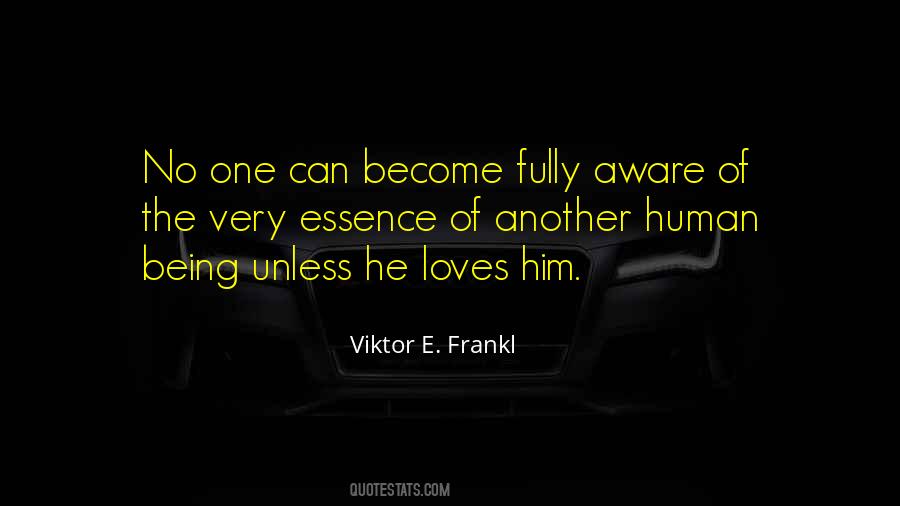 #74. I don't know where you'll find her, or what mindset she'll have, but I know one thing with unwavering certainty - that girl loves you like no woman has ever loved a man in the history of the world. She called you her heart. And I believed her. - Author: Jewel E. Ann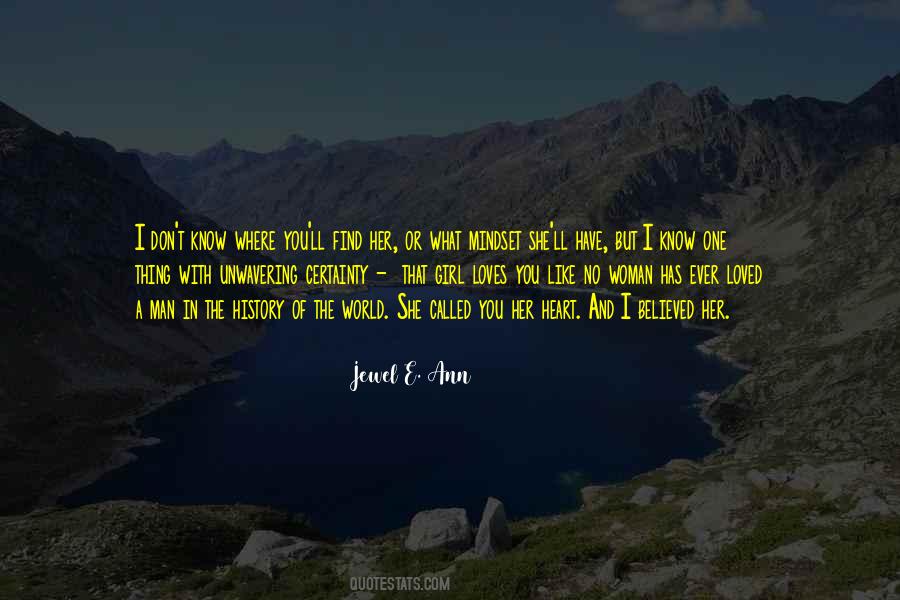 #75. I mean, if no one knows for sure what God's like, then why don't you just believe the people who think he's all rainbows and sunshine and loves you no matter what? - Author: J.C. Lillis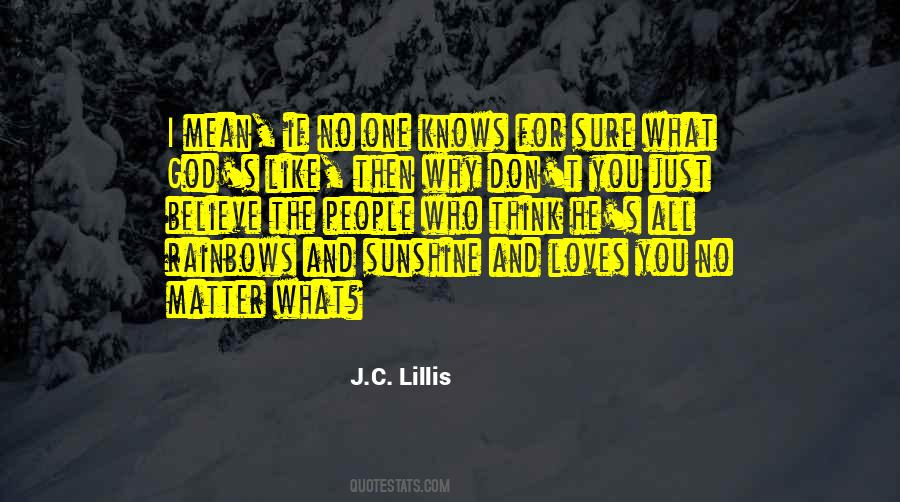 #76. 'You came to mean more and more to me, and I could no sooner have turned away from you than stop the earth spinning. I thought, if this ends with me broken, so be it. But as every day passed, I thought: he won't break me, he loves me and one day, he'll tell me. But you didn't because you don't.' - Author: Barbara Elsborg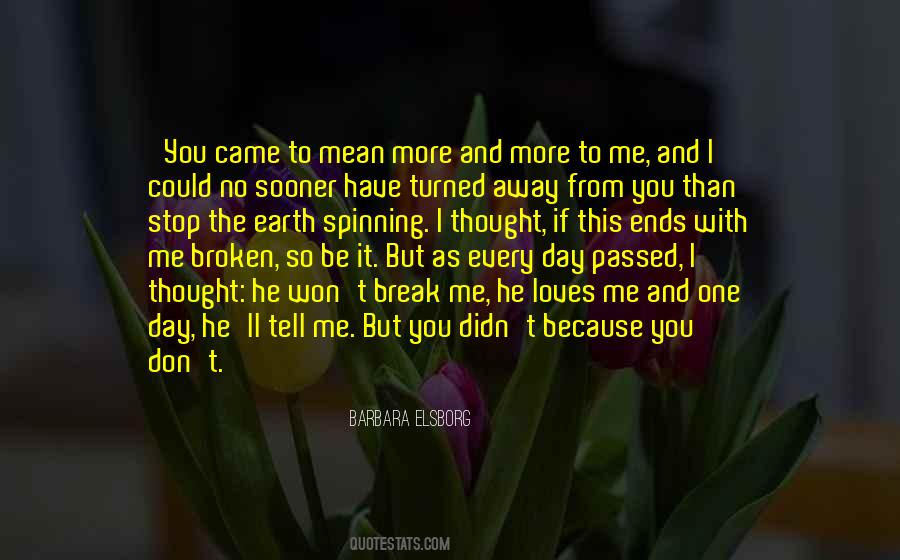 #77. Searching all directions with one's awareness, one finds no one dearer than oneself. In the same way, others are fiercely dear to themselves. So one should not hurt others if one loves oneself. - Author: Thanissaro Bhikkhu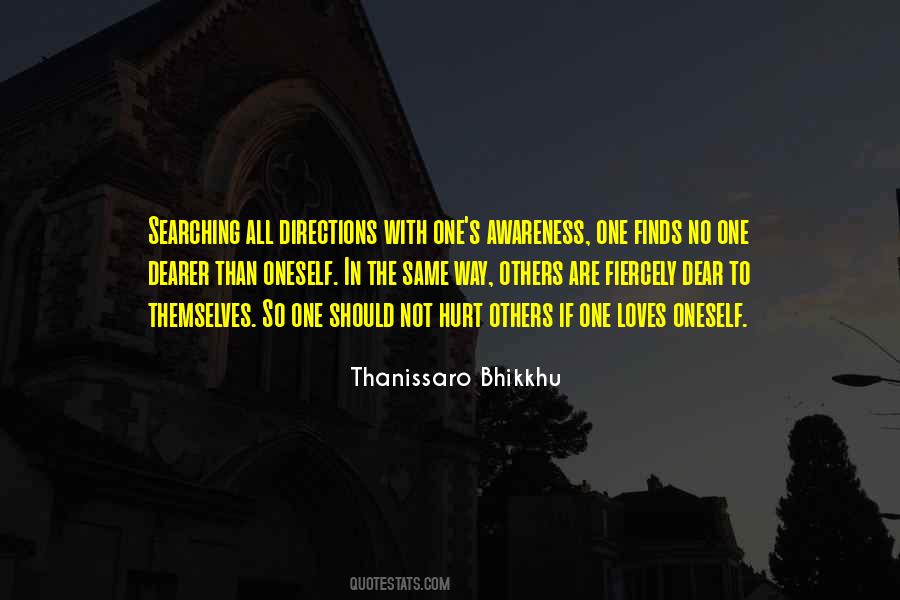 #78. Reese, your books might not tell you this, so I will. Every heart has two parts, the part that pumps and the part that loves. If you're going to spend your life fixing broken hearts, then learn about both. You can't just fix one with no concern for the other. - Author: Charles Martin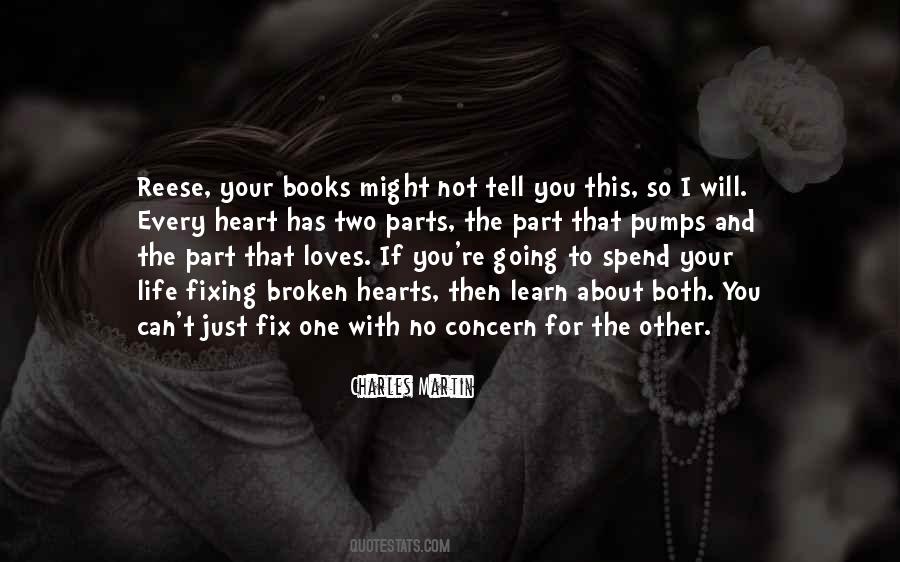 #79. And then Gwalchmai said, 'No one should distract an ordained knight from his thoughts in a discourteous way, for perhaps he has either suffered a loss or he is thinking about the woman he loves best. - Author: Sioned Davies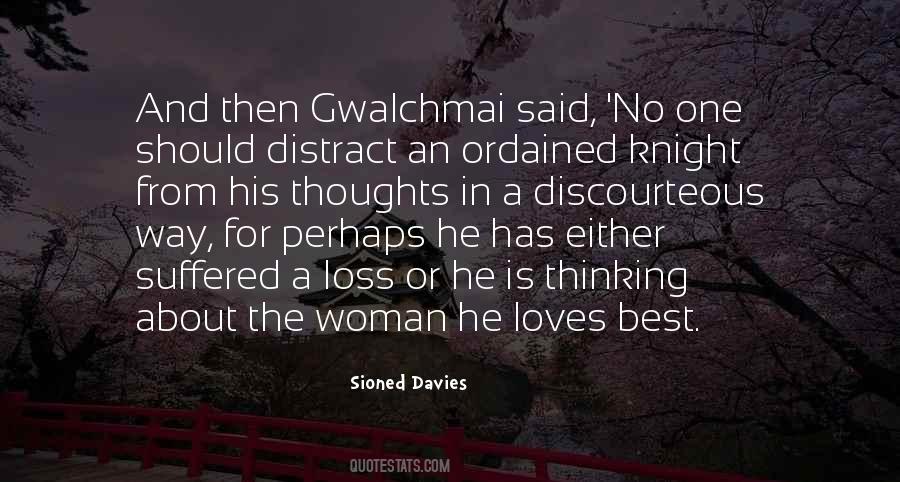 #80. She thought, Ours is one of the epic loves of our generation. Possibly of all time. Who cares if no one sees it, walking by? This story is s a love song. Who cares if history won't remember? - Author: Lydia Netzer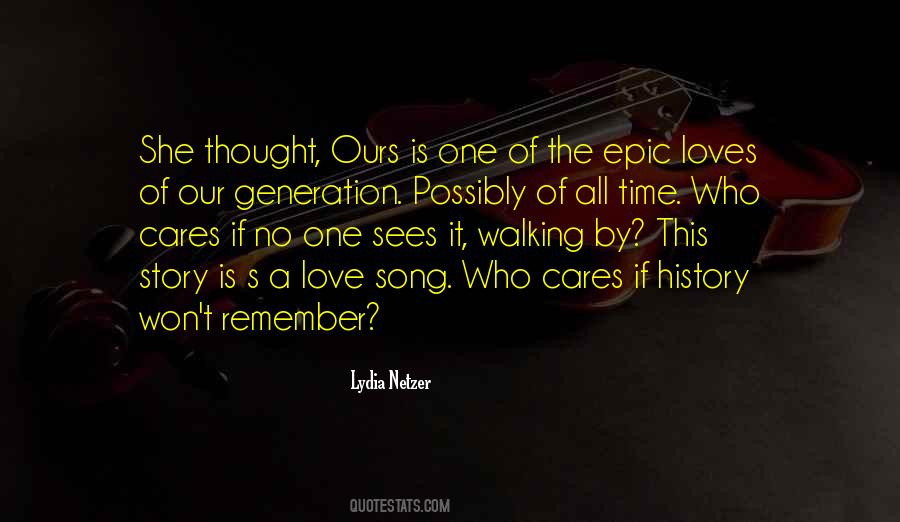 #81. Patriotism can flourish only where racism and nationalism are given no quarter. We should never mistake patriotism for nationalism. A patriot is one who loves his homeland. A nationalist is one who scorns the homelands of others. - Author: Johannes Rau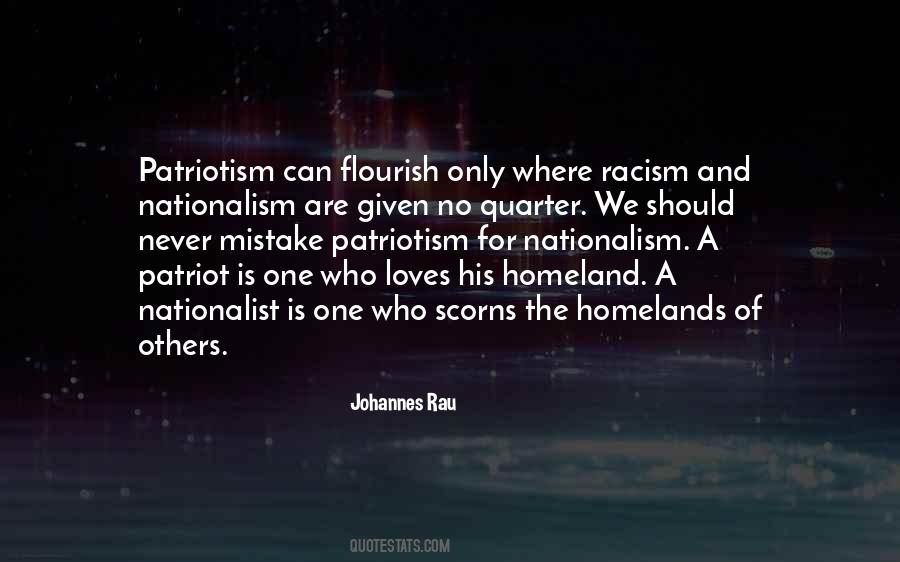 #82. The calling of the teacher. There is no craft more privileged. To awaken in another human being powers, dreams beyond one's own; to induce in others a love for that which one loves; to make of one's inward present their future; that is a threefold adventure like no other. - Author: George Steiner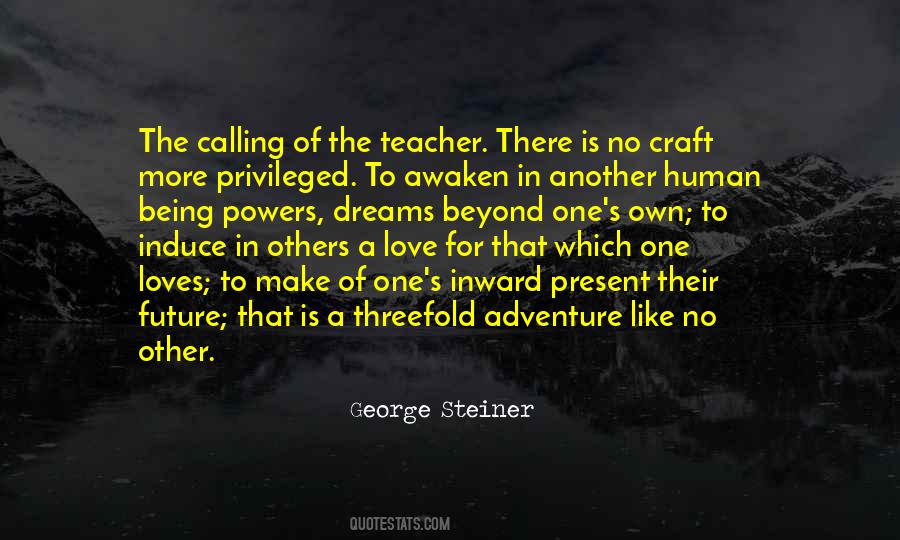 #83. No one perfectly loves God who does not perfectly love some of his creatures. - Author: Marguerite De Valois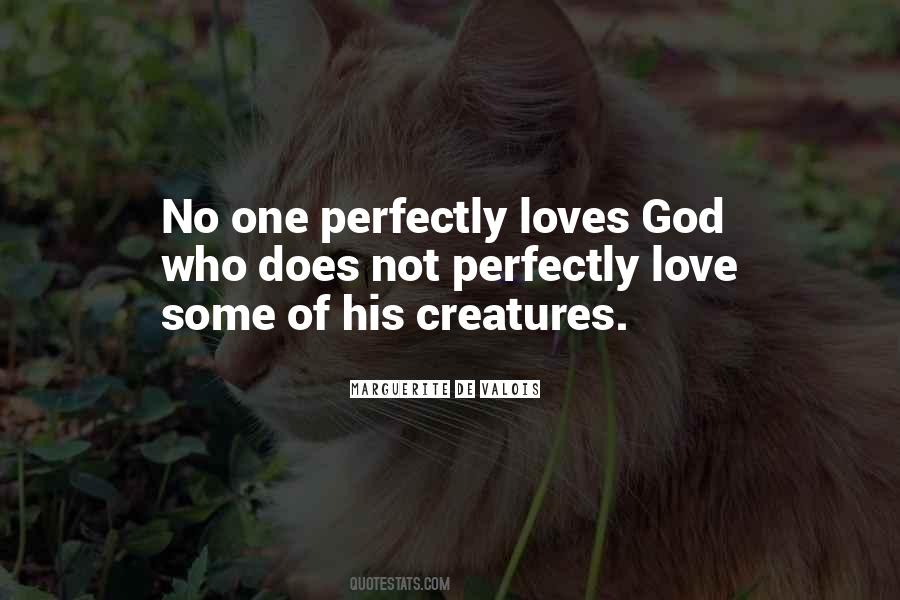 #84. No one loves me, - no one cares for me, but you, mother. - Author: Elizabeth Gaskell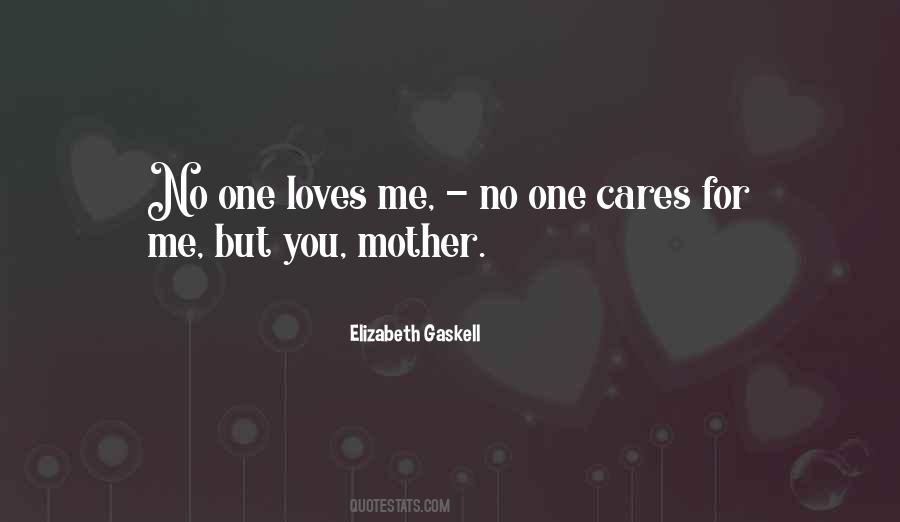 #85. There's no one, no one, loves you like yourself. - Author: Brendan Behan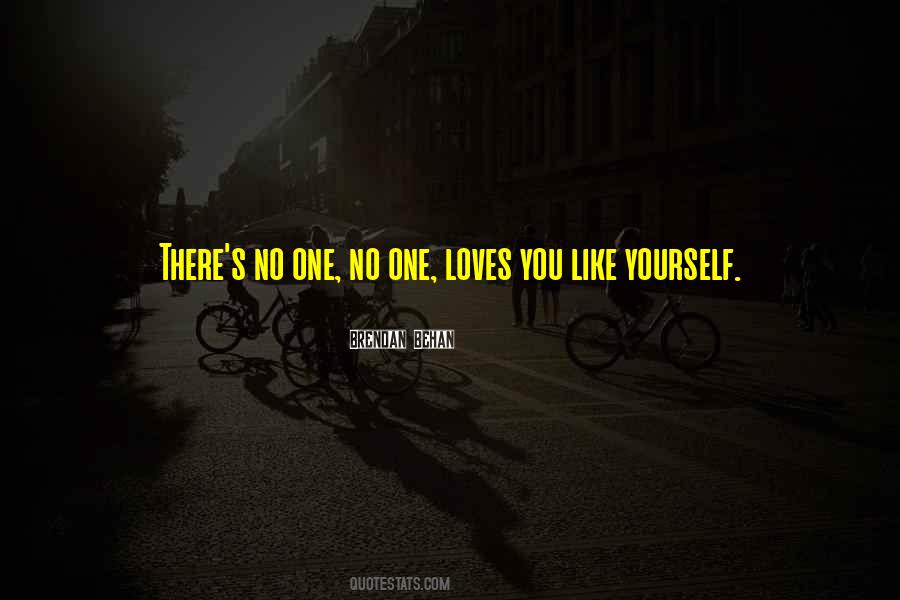 #86. No one of us is less treasured or cherished of God than another. I testify that he loves each of us
insecuritie s, anxieties, self-image, and all. - Author: Jeffrey R. Holland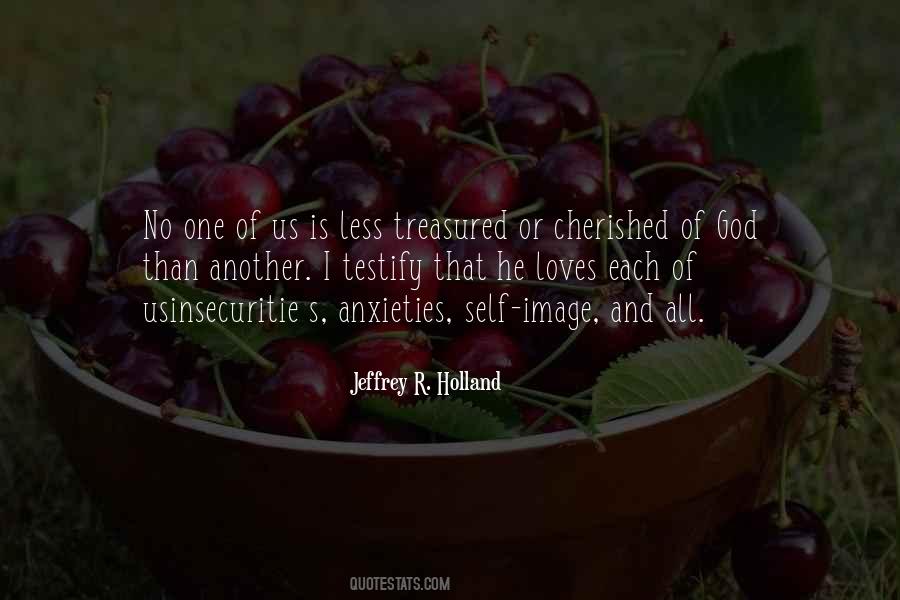 #87. I cover my face with my arms because this isn't happening. It isn't possible. For someone to make Peeta forget he loves me ... no one can do that. - Author: Suzanne Collins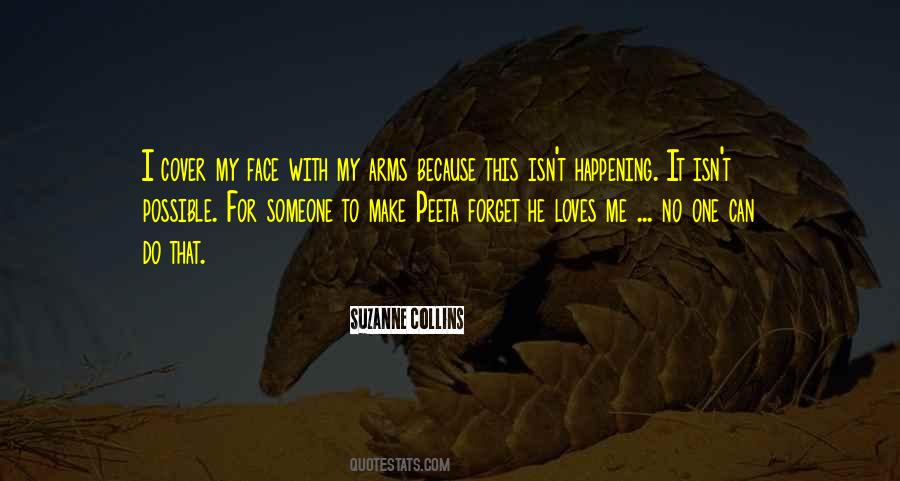 #88. No one loves armed missionaries. - Author: Maximilien Robespierre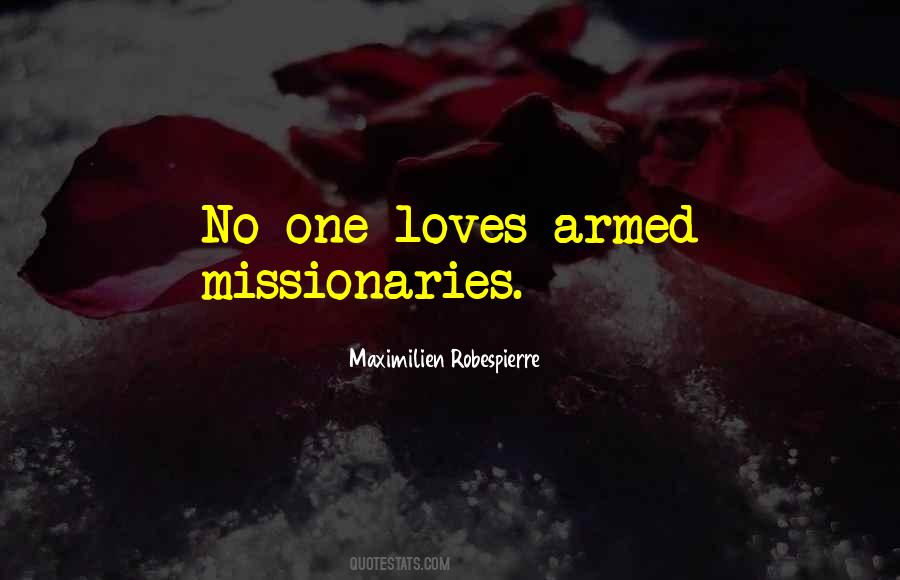 #89. This is one of the paradoxes of the democratic movement - that it loves a crowd and fears the individuals who compose it - that the religion of humanity should have no faith in human beings. - Author: Walter Lippmann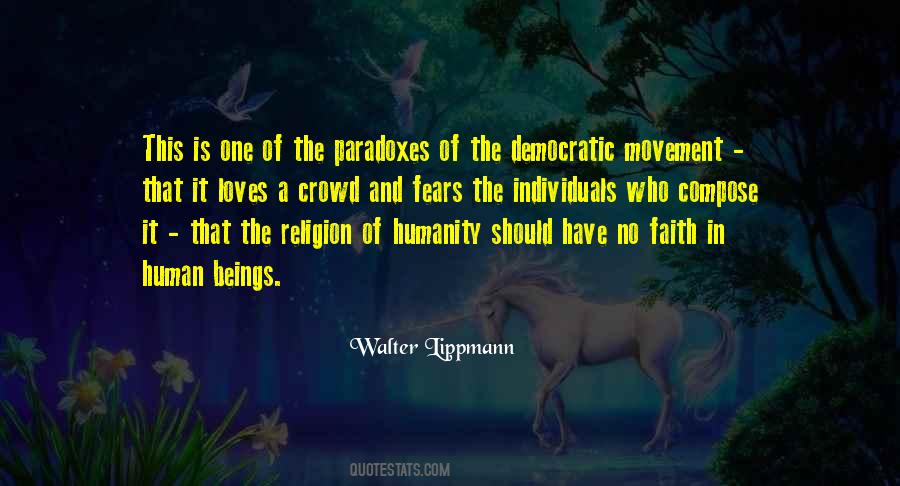 #90. Nobody loves me. No, everybody wanted me to do this one by myself, and I wanted to do it by myself. So, this is sorta like my first solo album. I didn't pull any tricks out of my hat, and just went with the natural flow of the film. - Author: Marlon Wayans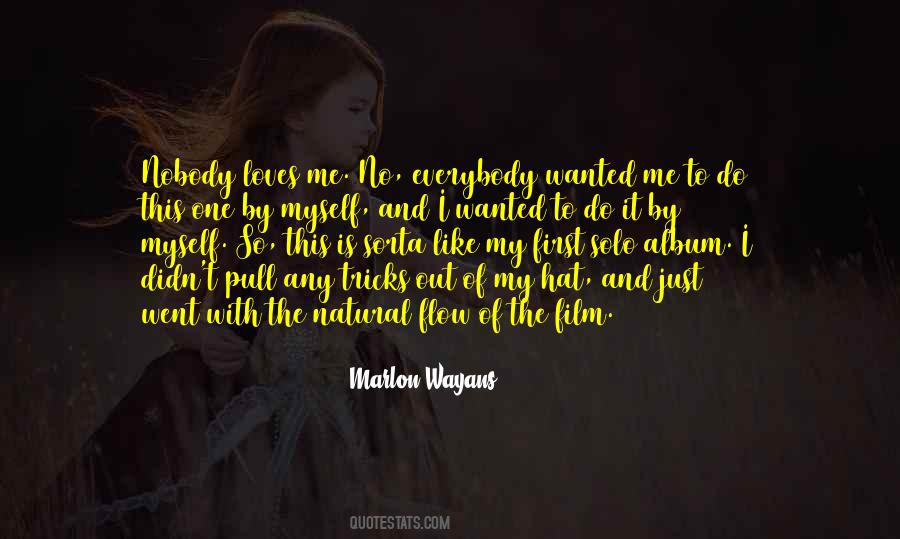 #91. She thought it would dry his tears and give her some satisfaction as well. It could have worked, I suppose, but the children of suicides are hard to please and quick to believe no one loves them because they are not really here. - Author: Toni Morrison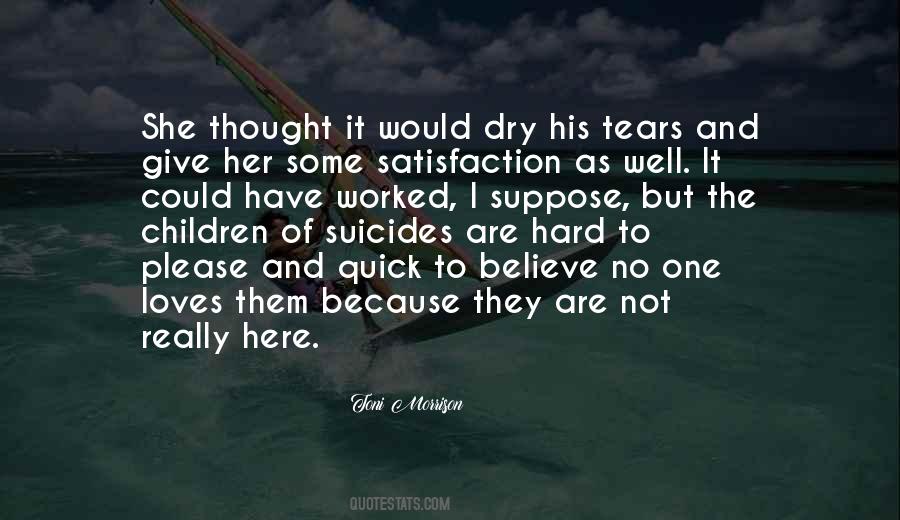 #92. He loves so wholly. It is his nature.
No one compares to him. And right now, I want nothing else. - Author: Marie Lu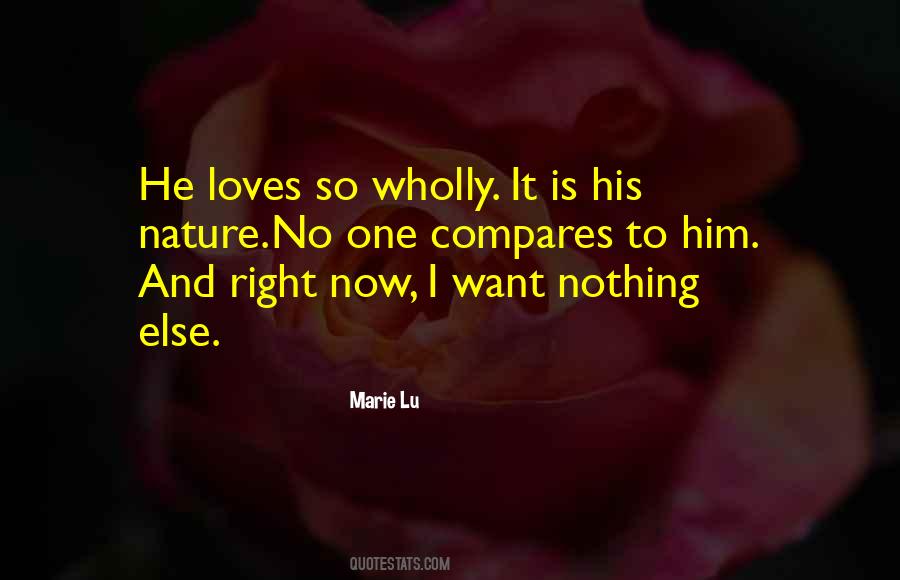 #93. Whilst in Prussia poets only speak of the love of country as one of the dearest of all human affections, here there is no man who does not feel, and describe with rapture, how much he loves his country. - Author: Karl Philipp Moritz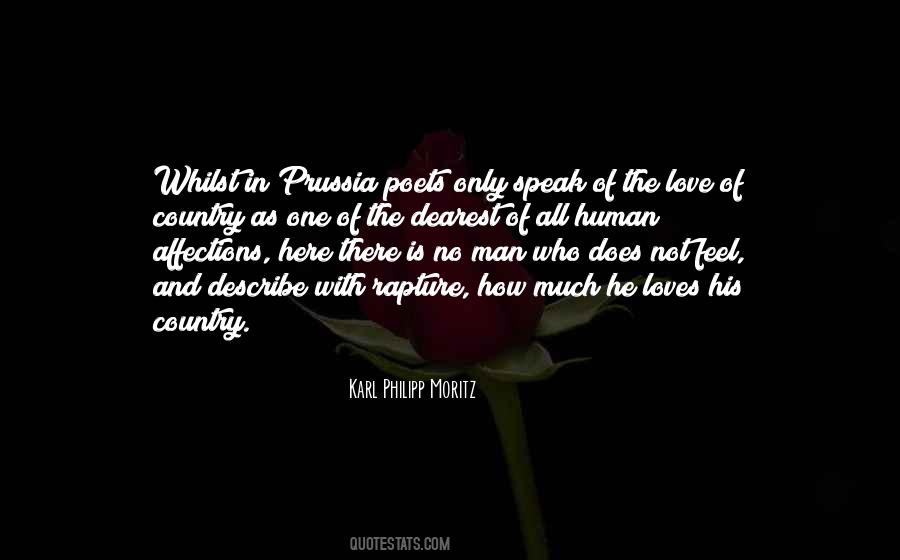 #94. Ah, no difficulties can ever daunt me,' replied d'Artagnan: 'my only fear is, of impossibilities.'
'Nothing is impossible,' said the lady, 'to the one who truly loves.'
'Nothing, madame?'
'Nothing' she replied. - Author: Alexandre Dumas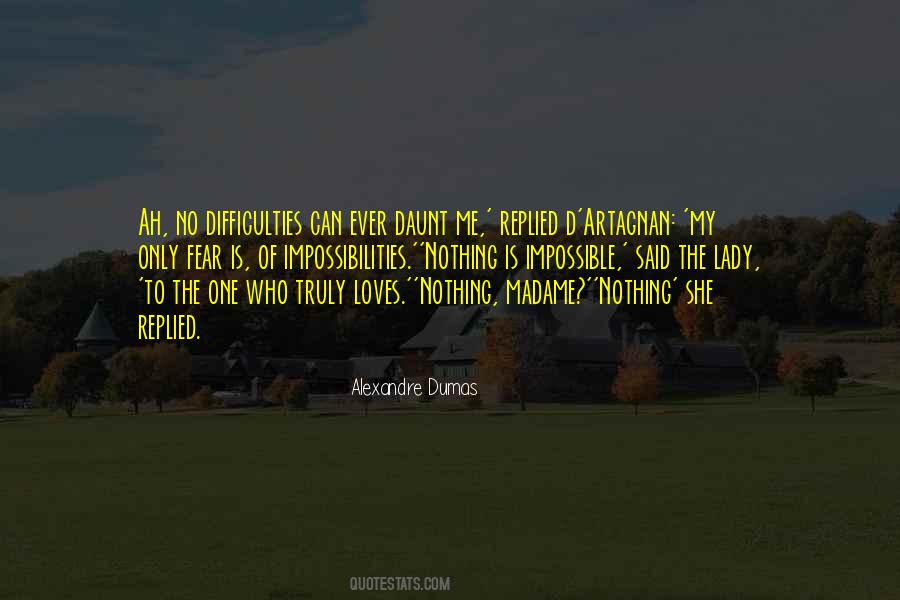 #95. No one wants to do it with a chick who smells like bacon."
Her brow creases. "Everybody loves bacon. - Author: Sarah Ockler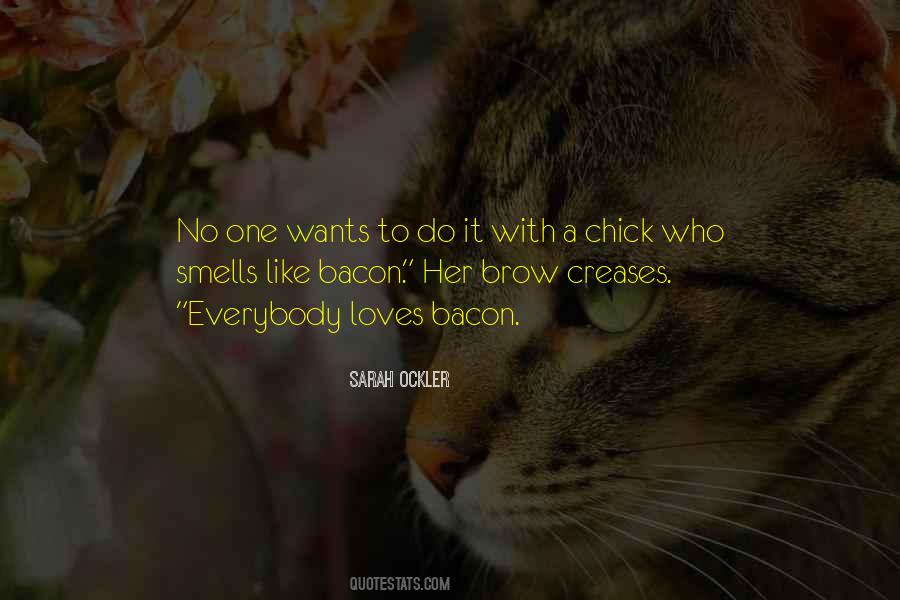 #96. Heathcliff. The "hero" of Wuthering Heights. Although no one knows why.
He's mean, moody, and possibly a bit on the pongy side. Cathy loves him, though. She shows this by viciously rejecting him and marrying someone else for a laugh. Still, that is true love on the moors for you. - Author: Louise Rennison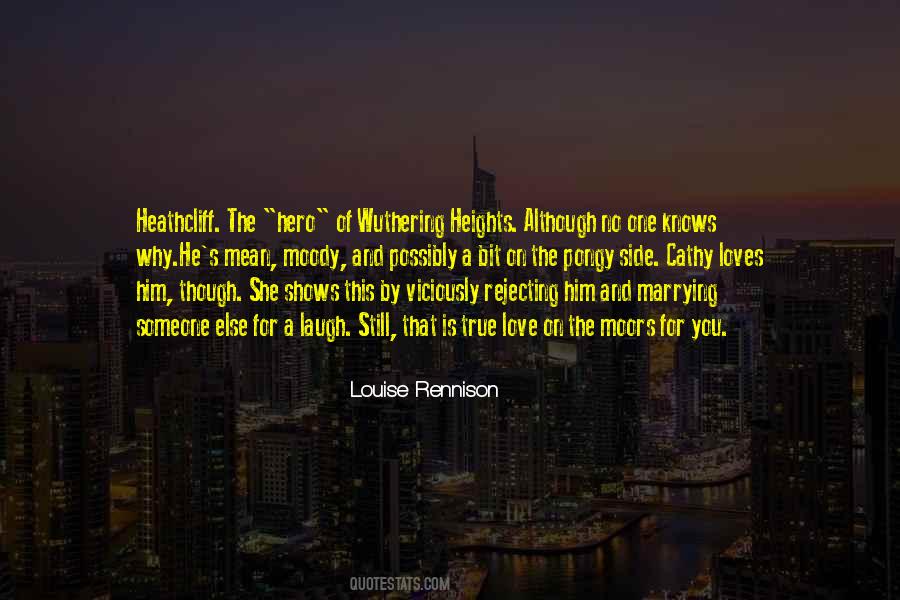 #97. We cease loving ourselves if no one loves us. - Author: Germaine De Stael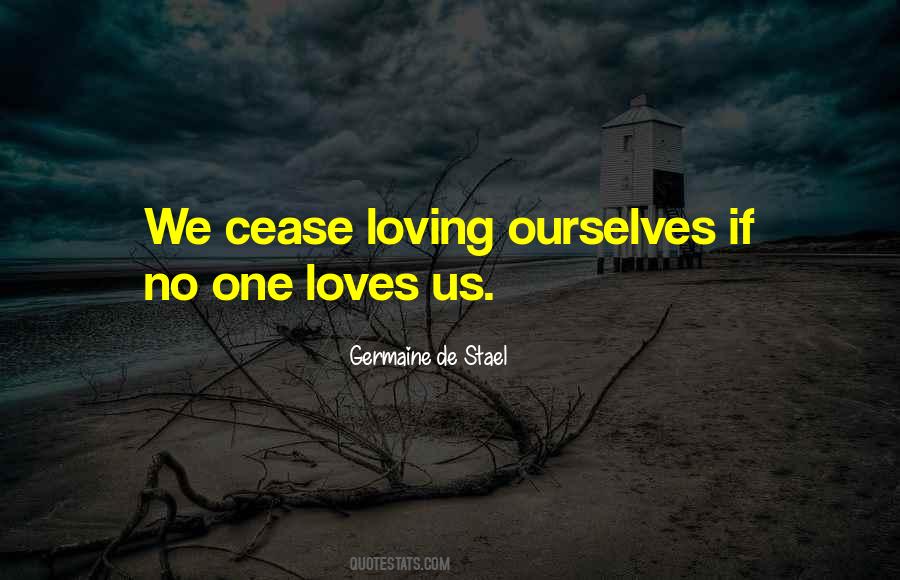 #98. No matter how hard your shell is on the out side you will aways find some one who loves you - Author: Kelly Armstrong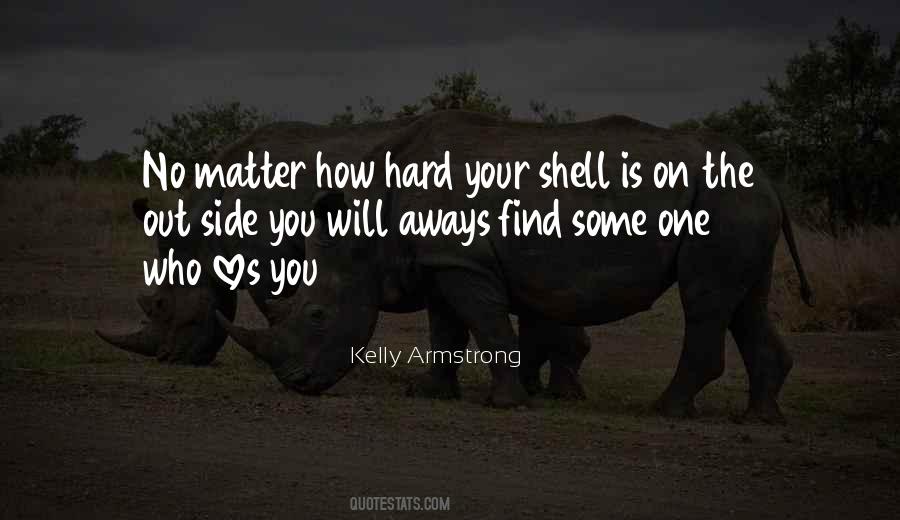 #99. Knowing ourselves is knowing our worth in the eyes of God. That's why the number one thought we cannot fail to think and believe is that He loves us. Always. No matter what. - Author: Toni Sorenson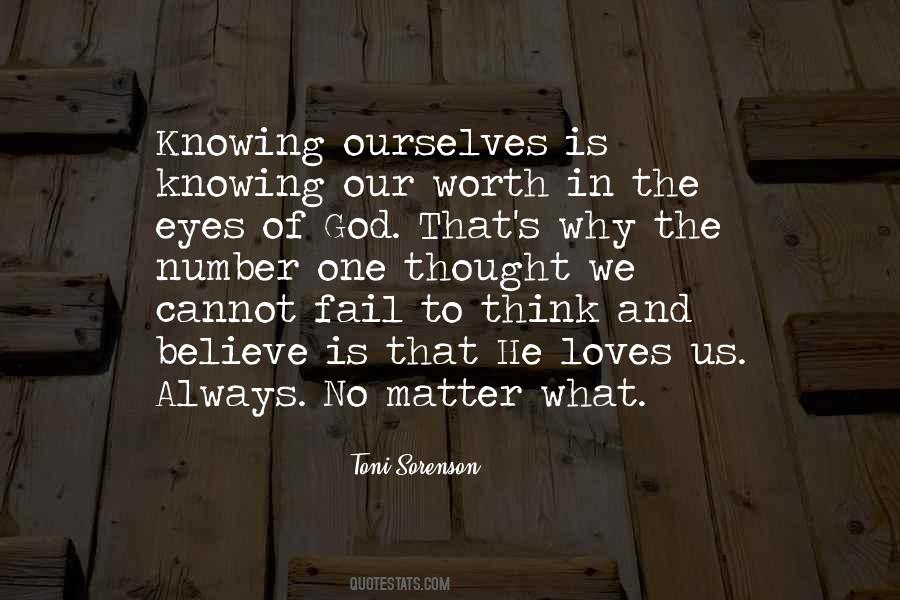 #100. I'm here because of the way she loves me with no reservations. She doesn't hold anything back, but gives it all to me as if there was no one else like me in the universe. She has no idea that she alone is the unique being. - Author: Amy A. Bartol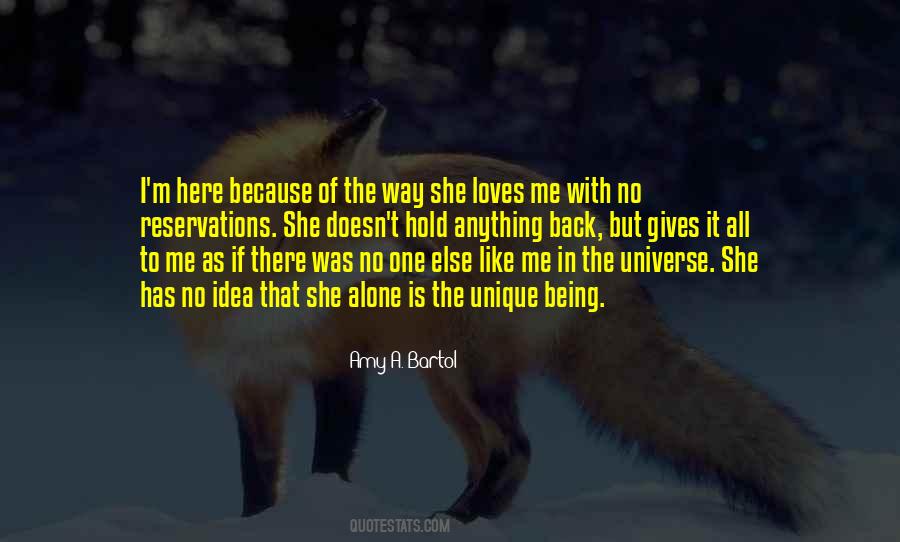 Famous Authors
Popular Topics