Need Coffee Famous Quotes & Sayings
List of top 81 famous quotes and sayings about need coffee to read and share with friends on your Facebook, Twitter, blogs.
Top 81 Need Coffee Sayings
#1. He went to make coffee. Because when you have just heard about the possible transformation of the human race into feral monsters you need to be doing something with your hands and creating something hot and comforting for another person. - Author: Charlie Jane Anders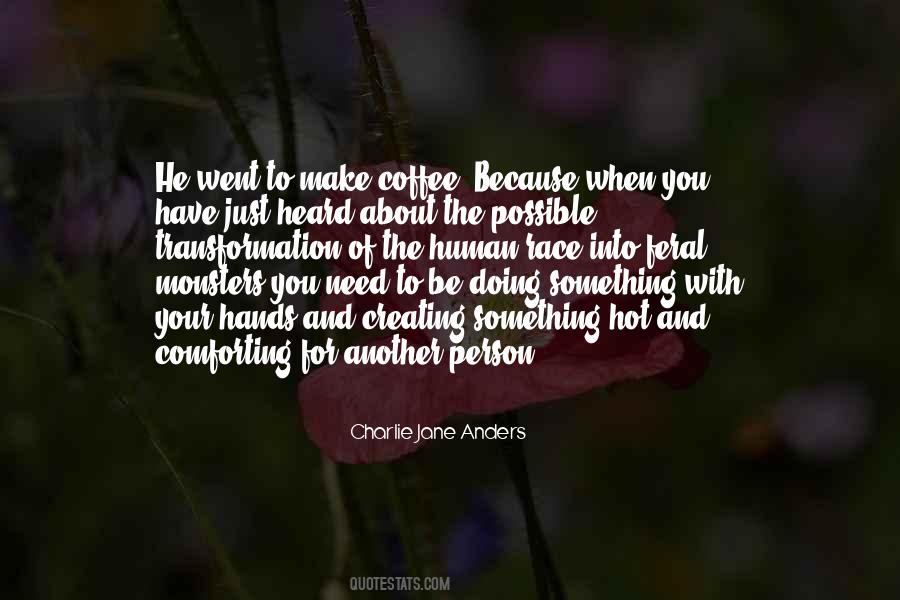 #2. Does your uncle need anything? A coffee? A latte?"
"He needs someone to bear his illegitimate child if you're interested - Author: Darynda Jones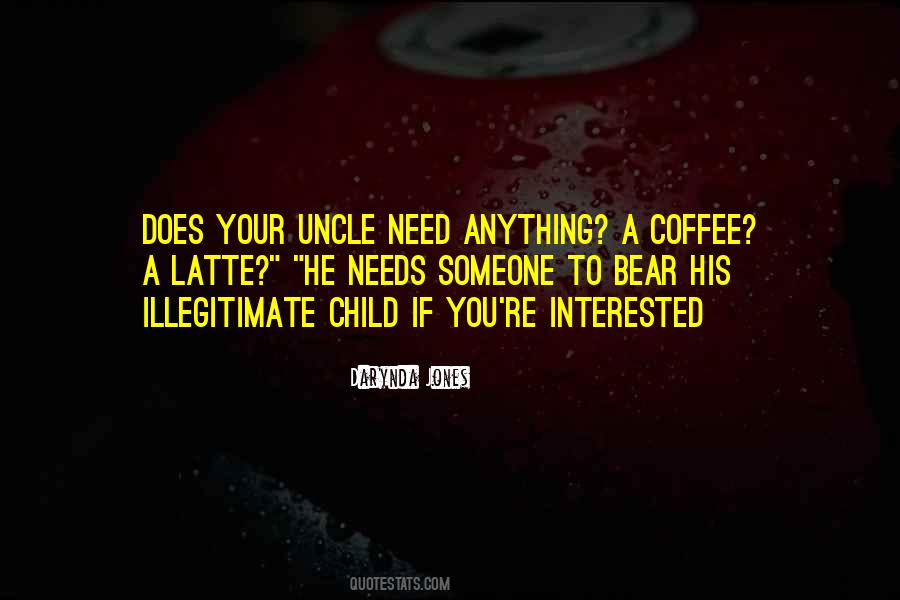 #3. I love going to the feed store and drinking coffee and talking about how much rain we need. - Author: Thomas Haden Church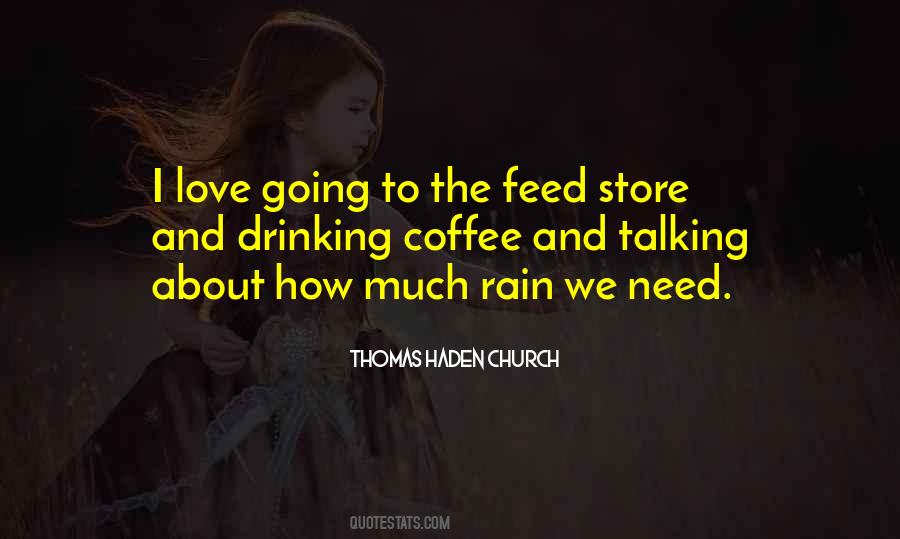 #4. When adjusting your grinder, make sure the grinder is running. This is because the grinding burrs need to move closer for a finer grind. Since coffee is actually a very hard material, if you adjust it with it off, you can stress the adjustment mechanism and actually damage the machine! - Author: Luca Vincenzo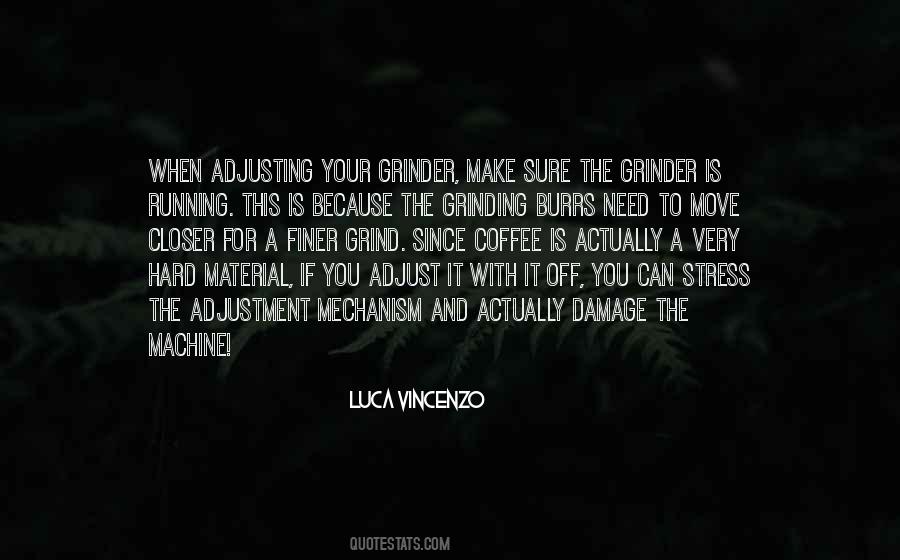 #5. To begin ... To begin ... How to start? I'm hungry. I should get coffee. Coffee would help me think. Maybe I should write something first, then reward myself with coffee. Coffee and a muffin. Okay, so I need to establish the themes. Maybe a banana-nut. That's a good muffin. - Author: Charlie Kaufman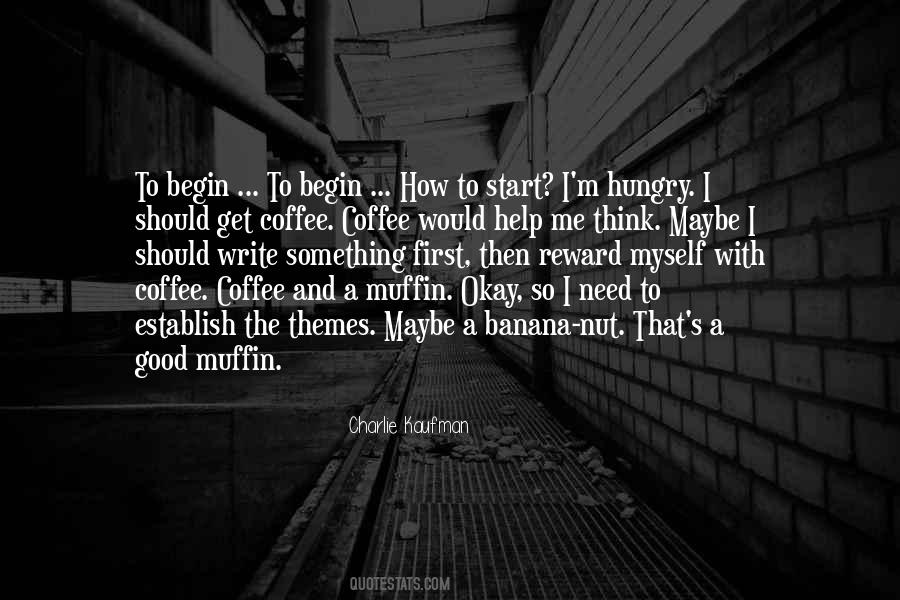 #6. Sometimes you need coffee, and sometimes you need a Bloody Mary. - Author: Mike Dirnt
#7. I decipher the brewing machine because I am, after all, trained to save lives, and this is a life-or-death situation. We need coffee. Now. Or heads will roll. - Author: Lisa Wingate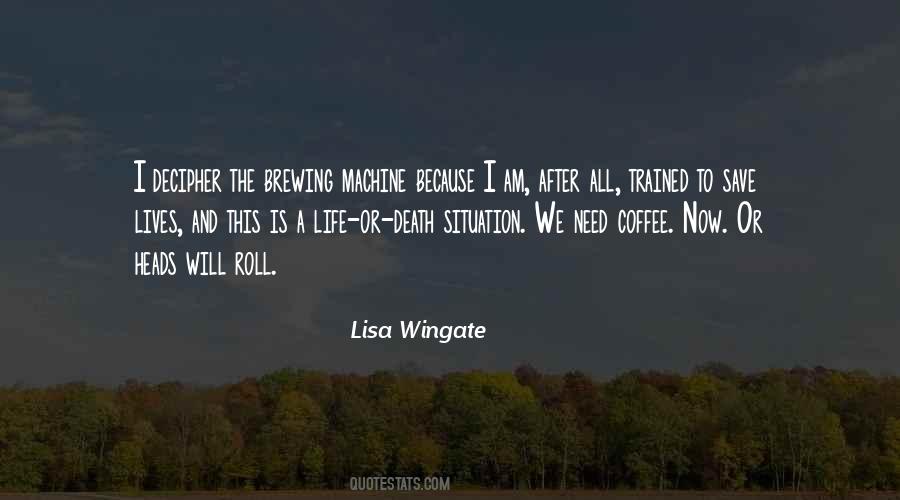 #8. All you need do, Bernie,"she gulped her toast soaked in coffee, "is present the truth as fiction. - Author: James Purdy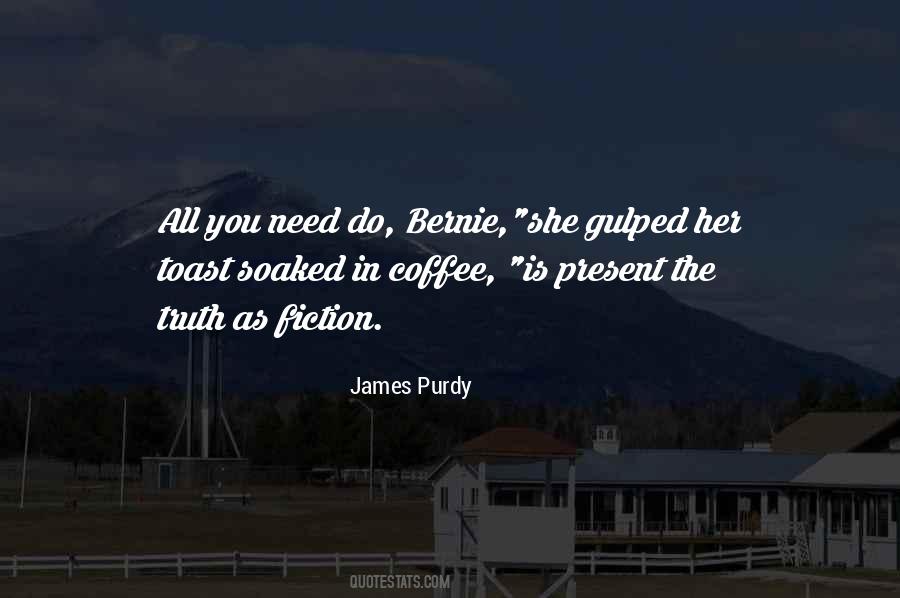 #9. If you can put this book down, it means you need more coffee and less sleep. After all, sleep is for the weak which is why I get 8 hours every night and 2 hours during the day and drink de-cafe. - Author: Leviak B. Kelly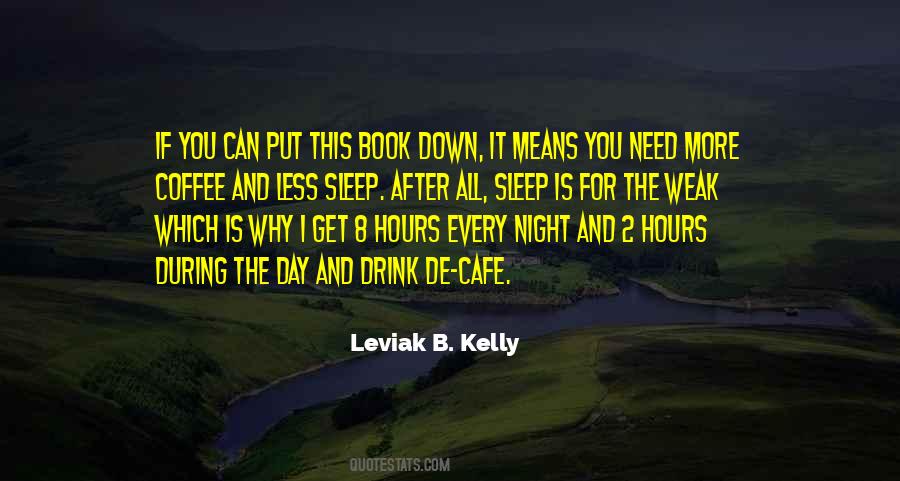 #10. I sit in places like Costa Coffee in Banstead and write rubbish. I need a deadline. I think about the 44 tour dates and keep imagining standing in front of all these people. Then every day I write 15 jokes minimum. - Author: Tim Vine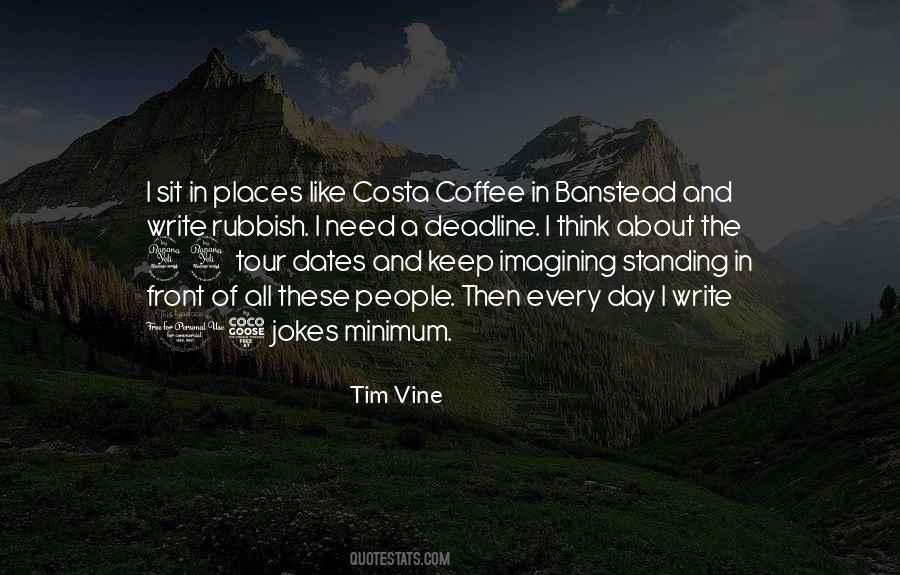 #11. Some people need coffee; I need the outdoors. - Author: Brad Meltzer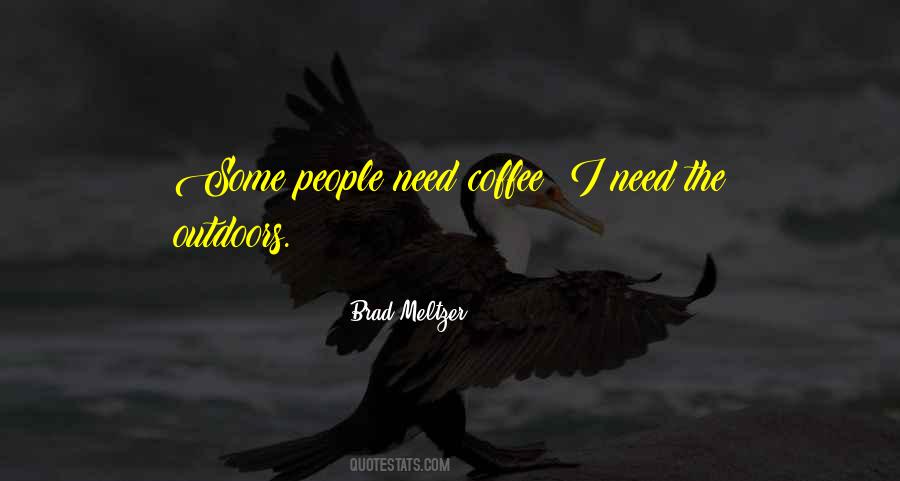 #12. If he had any kind of a clue, he wouldn't be caught dead with that stuff. See what I did there? Caught dead? I crack myself up. Eve sipped more coffee she probably, at this point, didn't need. - Author: Rachel Caine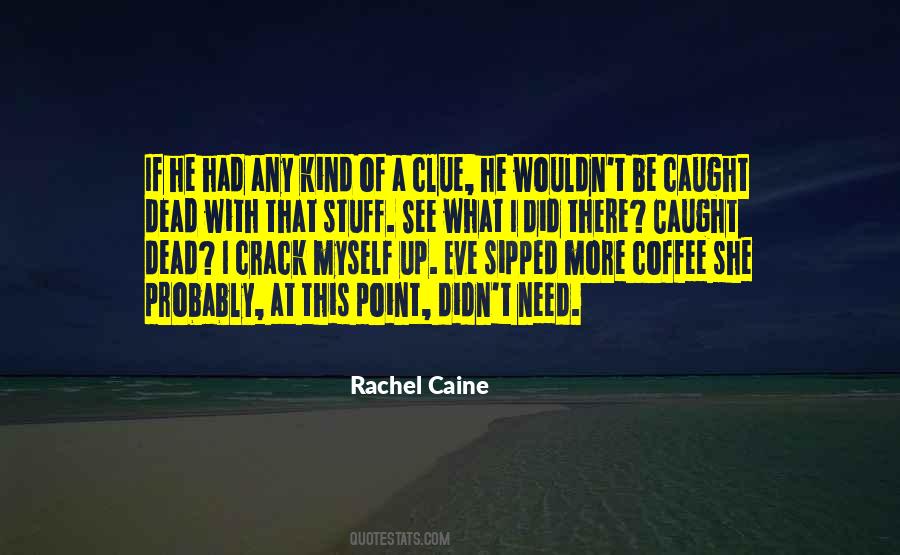 #13. This left me alone to solve the coffee problem - a sort of catch-22, as in order to think straight I need caffeine, and in order to make that happen I need to think straight. - Author: David Sedaris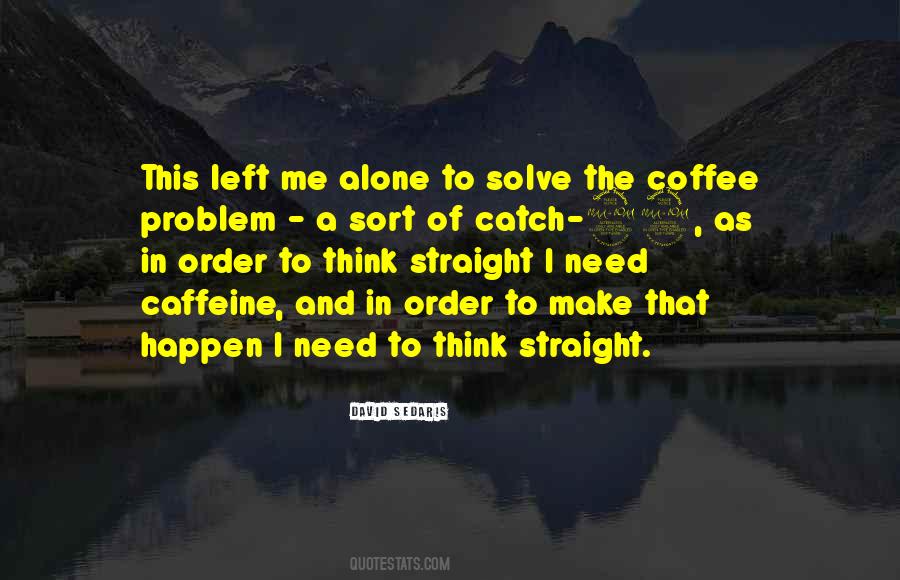 #14. Is it possible to get a cup of coffee-flavored coffee anymore in this country? What happened with coffee? Did I miss a meeting? They have every other flavor but coffee-flavored coffee. They have mochaccino, frappaccino, cappuccino, al pacino ... Coffee doesn't need a menu, it needs a cup. - Author: Denis Leary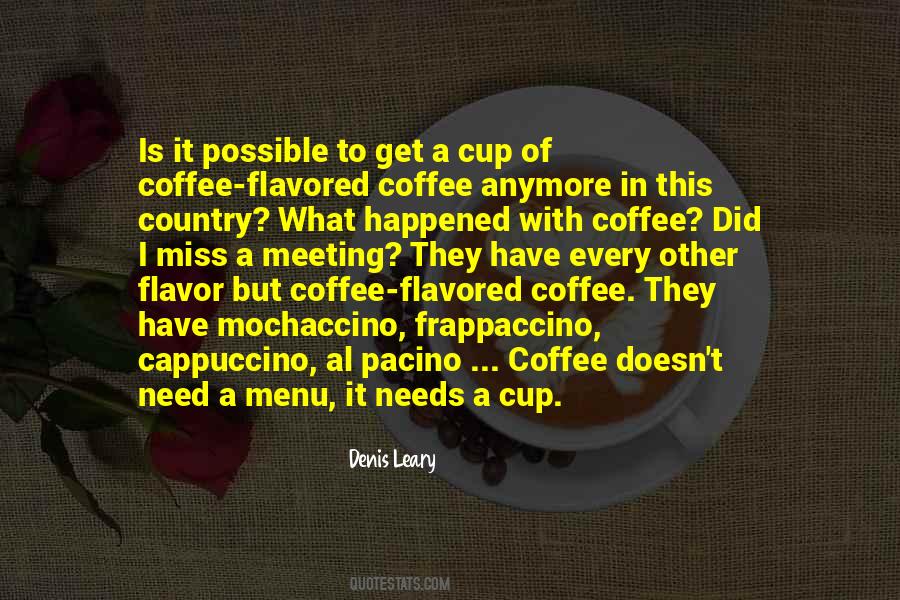 #15. You don't even really need a place. But you feel like you're doing something. That is what coffee is. And that is one of the geniuses of the new coffee culture. - Author: Jerry Seinfeld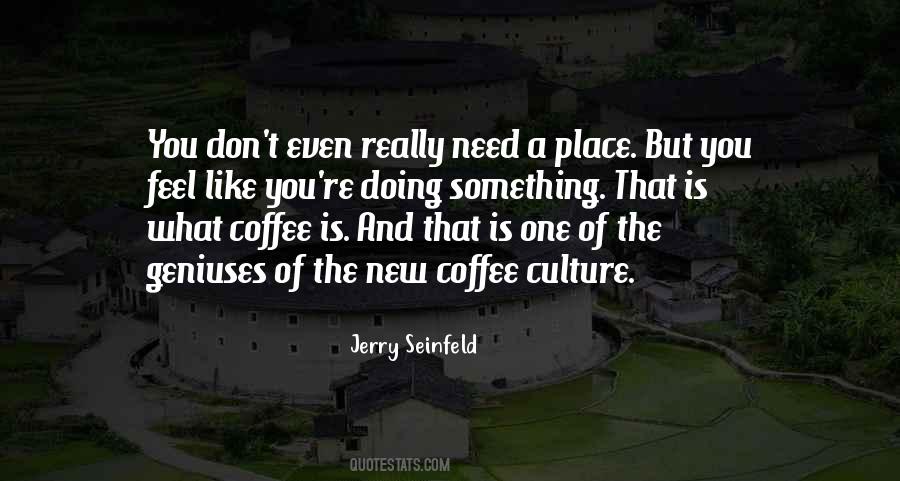 #16. For some stupid reason, I had this irrational need to prove to Cooper that I could inspect dead bodies over black coffee and maple bars just like him and the other guys on the police force.
(Violet Parker) - Author: Ann Charles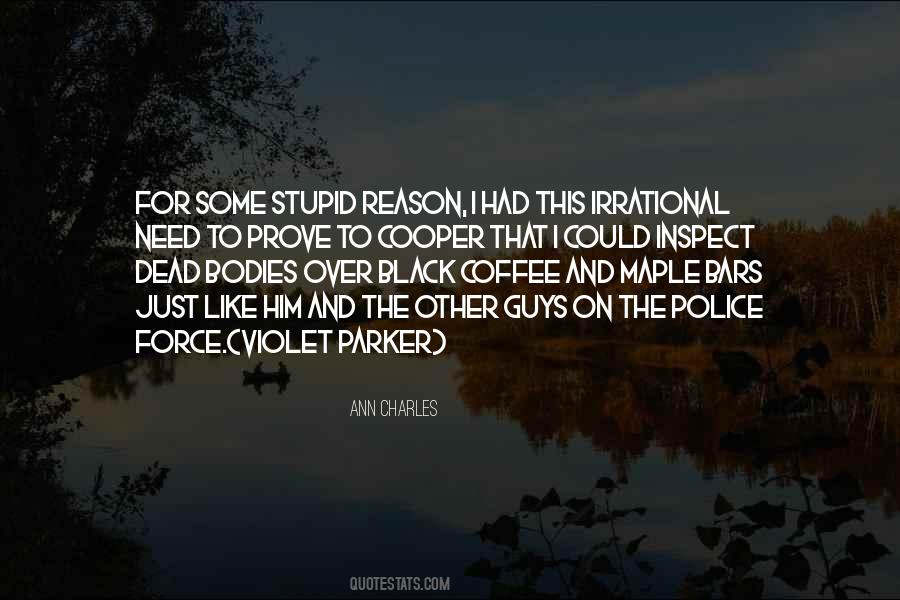 #17. This coffee looks, like, totally amazing and delicious, but I really want to kiss you. And for that I need two hands because I'm going to have to hold you up. That's how hard I'm going to kiss you. - Author: Jessica Park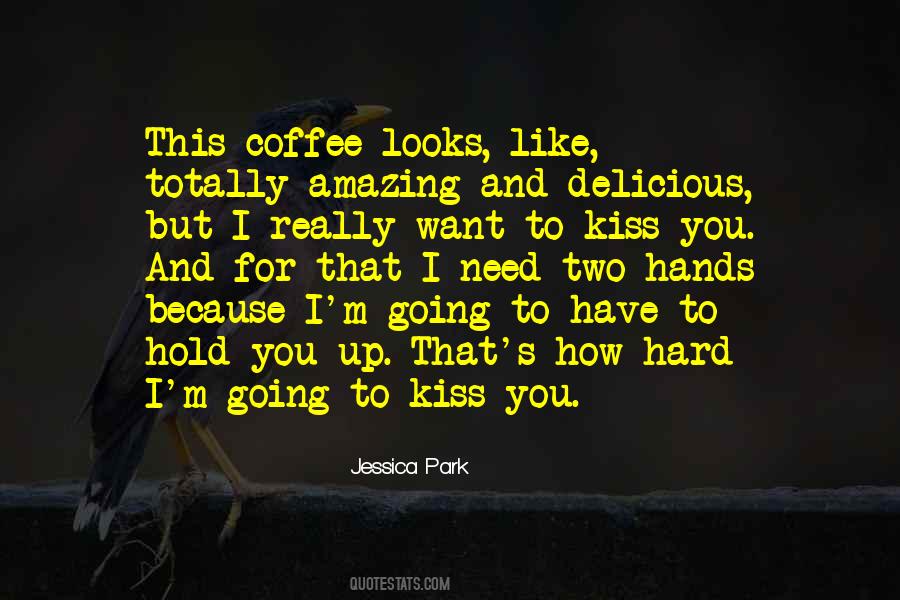 #18. I eye 'Modern Love' warily between that second and third cup of coffee on Sunday mornings, calculating how much of a push I need to get through the day's unhurriedly earnest saga of heartbreak and recovery. - Author: Sandra Tsing Loh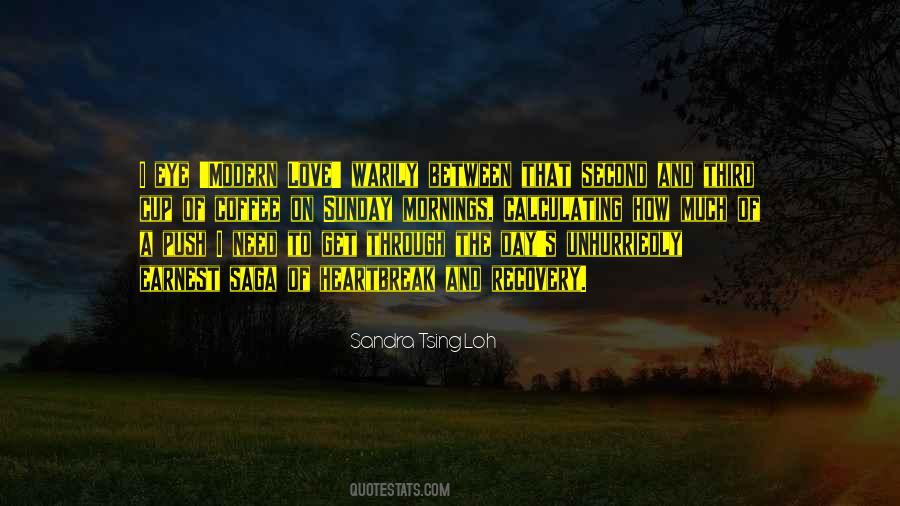 #19. Don't keep excessive amounts of anything. Those glass vases that come from florists. Those ketchup packets that come with take-out food. A house with two adults probably doesn't need fifteen mismatched souvenir coffee cups. - Author: Gretchen Rubin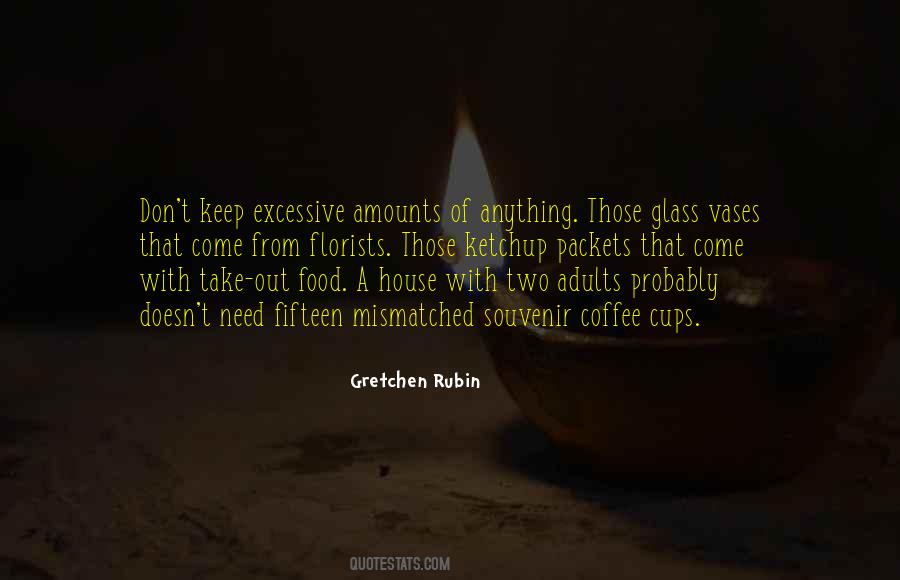 #20. I'm programming us a couple of spinach smoothies"
"I'll pass. For the rest of my natural life."
"Just what you need," he insisted, tapped buttons manually. And came out with two cups of coffee. - Author: J.D. Robb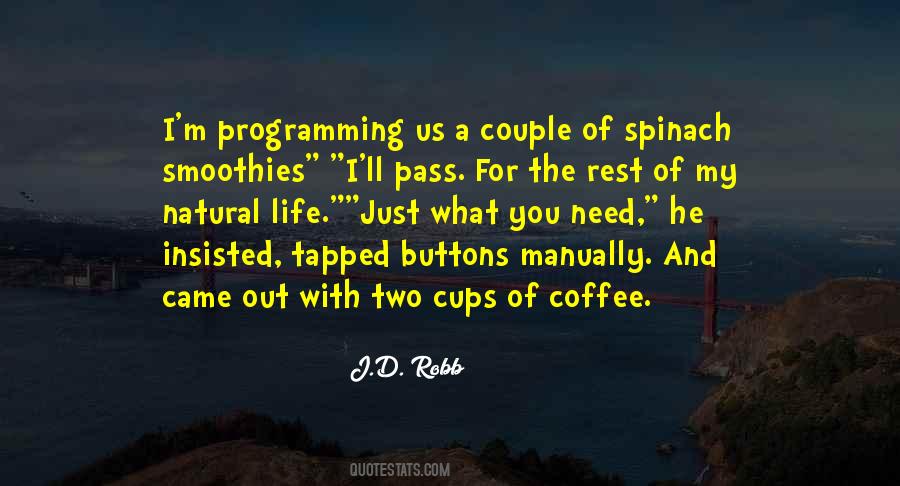 #21. I don't need that fluff on my coffee. Looks like shaving cream. One swallow and you're foaming at the mouth. - Author: Margaret Atwood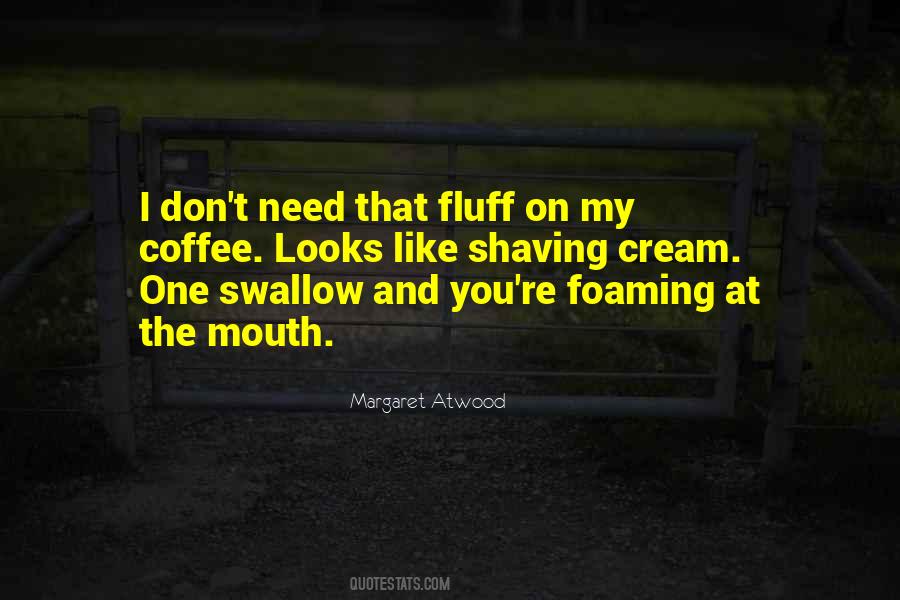 #22. I'm a very emotional writer. I always need to have a boyfriend. I always need to have some food. I always need to have a heater at my feet, and I drink this thing called Cool Brew, which I found in Louisiana. It's like condensed coffee. - Author: Ester Dean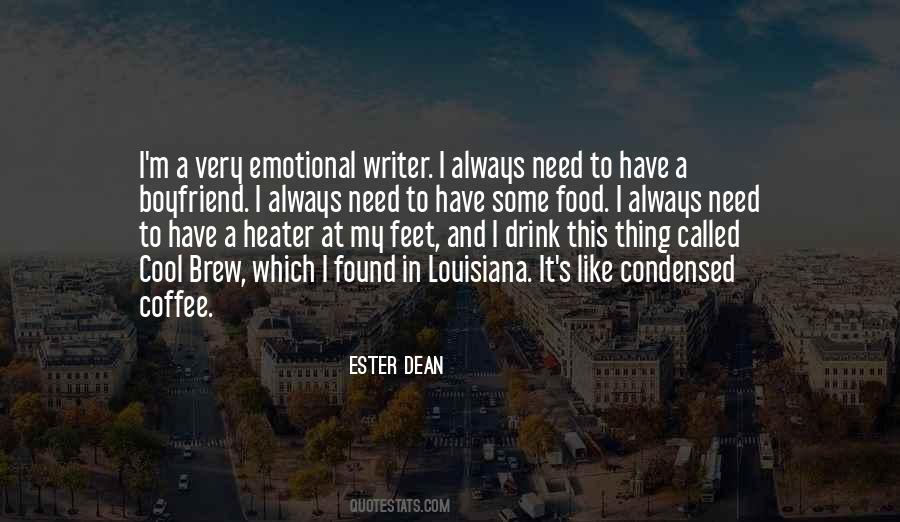 #23. Coffee's the most important thing they sell because most of us need it to keep us going, like gas in the car. - Author: Emma Donoghue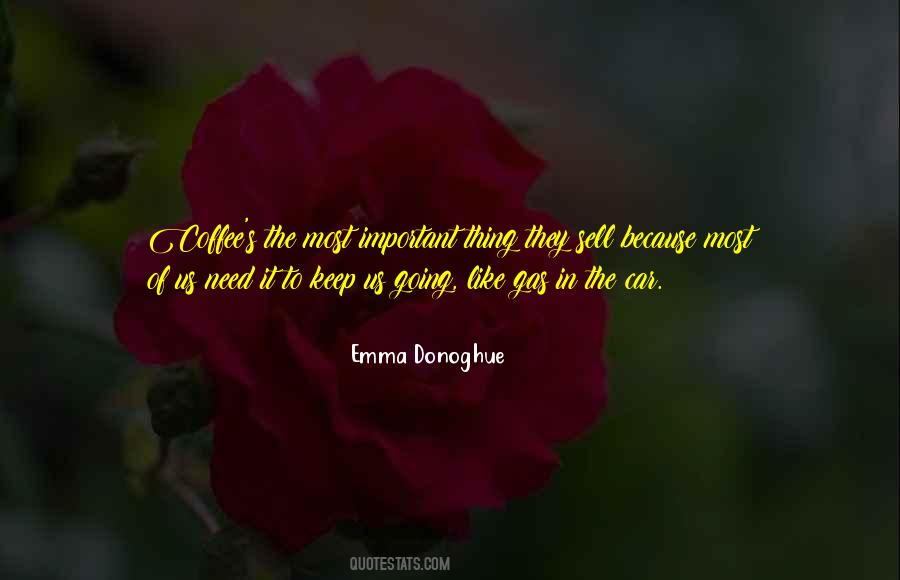 #24. You don't want to keep giving yourself a sugar spike and then crash and get exhausted and need coffee because you shoot for a long time. On set, I eat a lot of peanut butter and apples, things that have actual energy and protein in them to keep me going. - Author: Allison Williams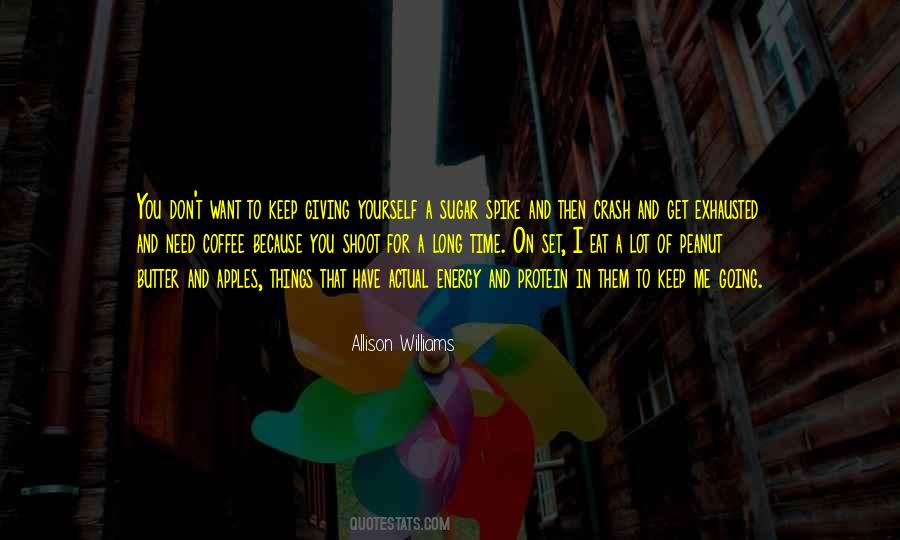 #25. Few people read coffee-table photo books, and indeed they are not intended to be read. I find the text in these books is often surprisingly good, perhaps because the author
or more importantly, the editor
feels no need to pander. - Author: Tyler Cowen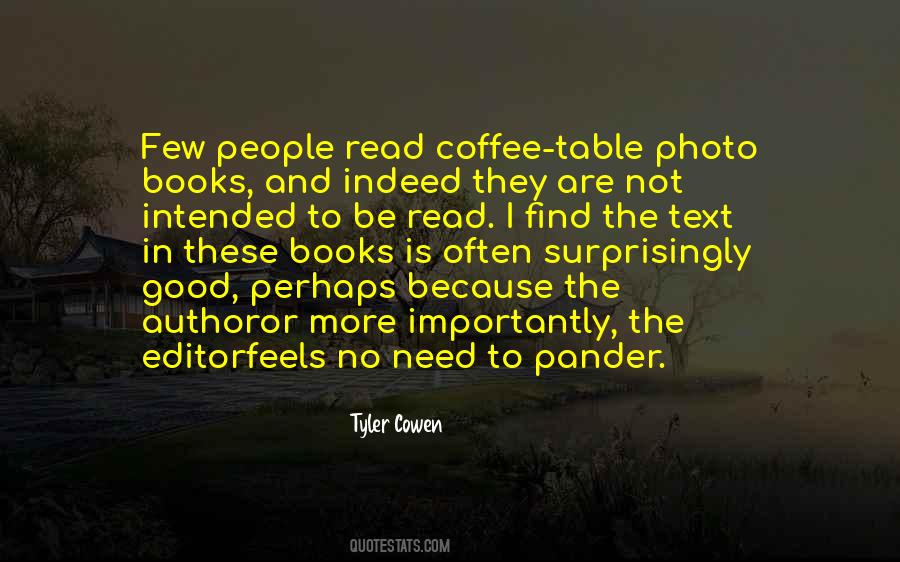 #26. God, I need that coffee. I feel like a bag of smashed assholes. - Author: Ruta Sepetys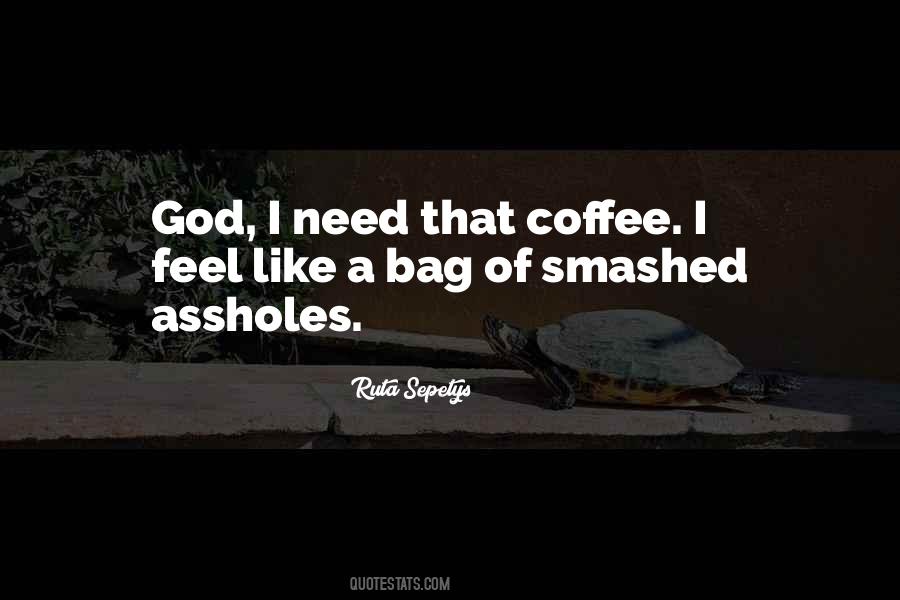 #27. If zombies were made of bacon, I would only need a couple of fried eggs and a gallon of coffee, and the problem would basically solve itself. - Author: James Dean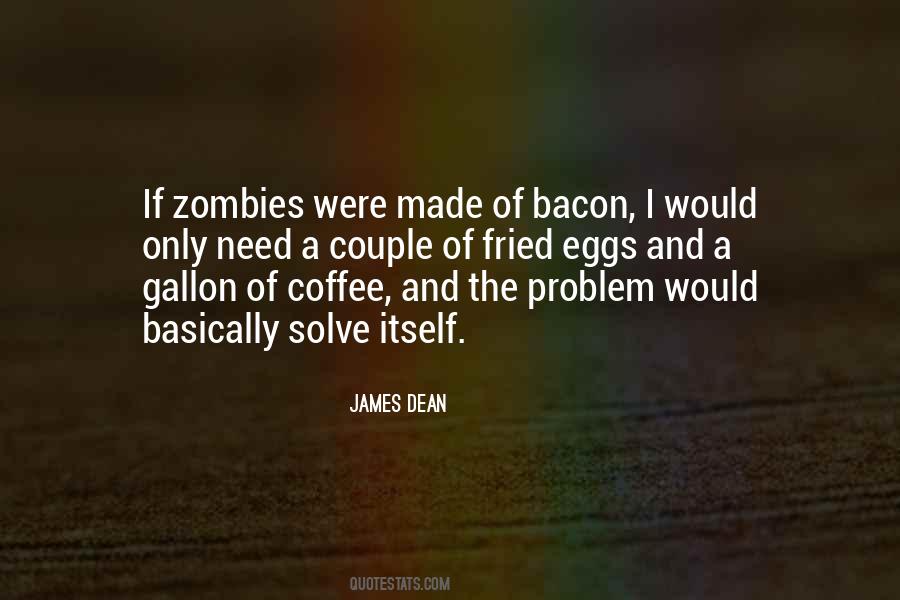 #28. I don't like coffee but I need caffeine. - Author: Preet Bharara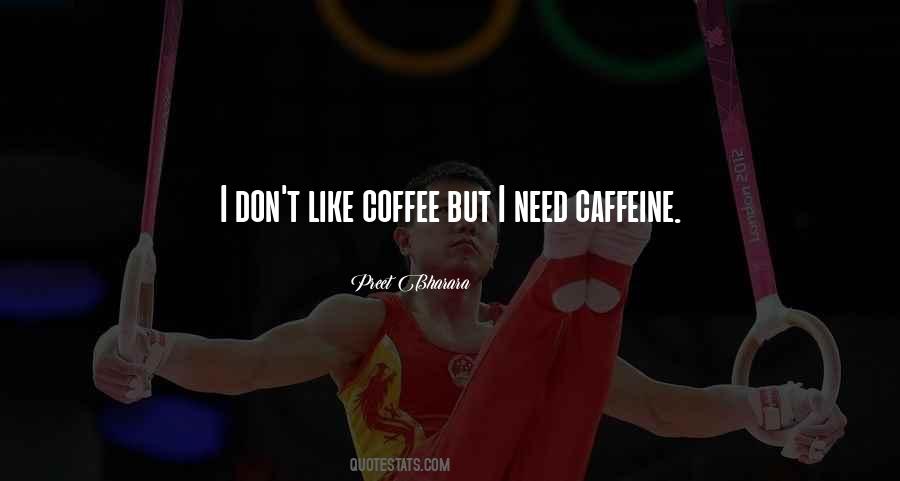 #29. You'll need coffee shops and sunsets and road trips. Airplanes and passports and new songs and old songs, but people more than anything else. You will need other people and you will need to be that other person to someone else, a living breathing screaming invitation to believe better things. - Author: Jamie Tworkowski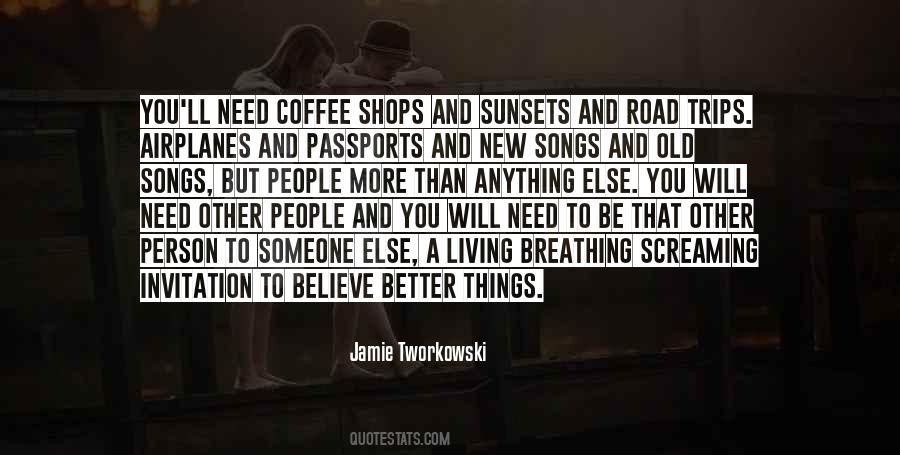 #30. Coffee is the ultimate stress buster for me and I need my cup of coffee in the morning to kick start my day. - Author: Anushka Sharma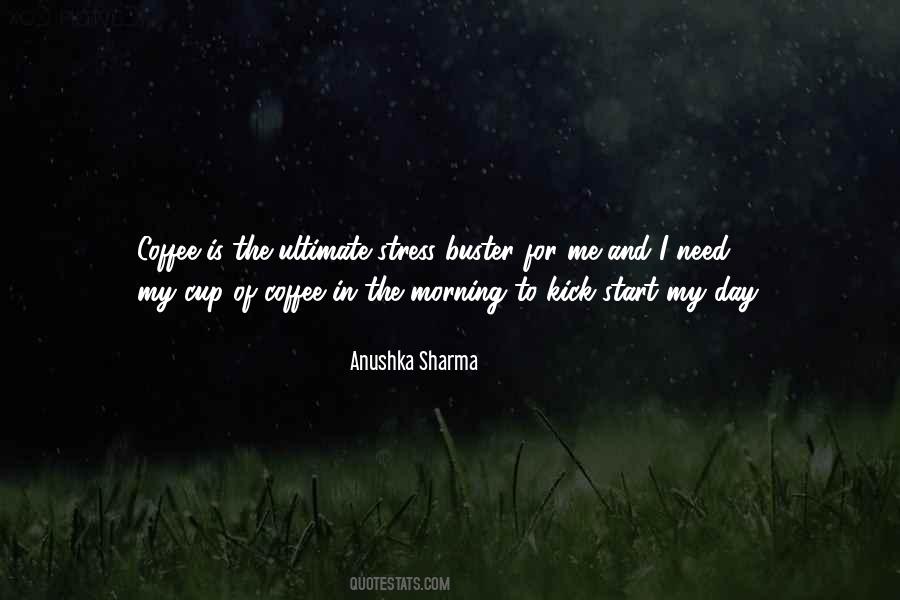 #31. Today everything must be easy and it mustn't take time ... ready meals. Powdered hot chocolate and instant coffee ... Living takes time. We need to give each other time. - Author: Karin Fossum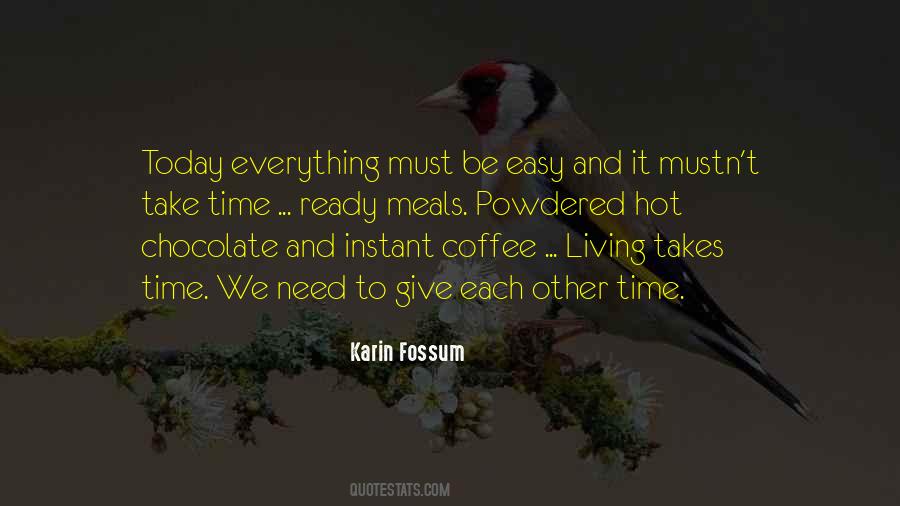 #32. It's a cute little studio apartment that has just what I need: a bed, a couch, a table, a chair, and a coffee-maker. - Author: Shawn Lukas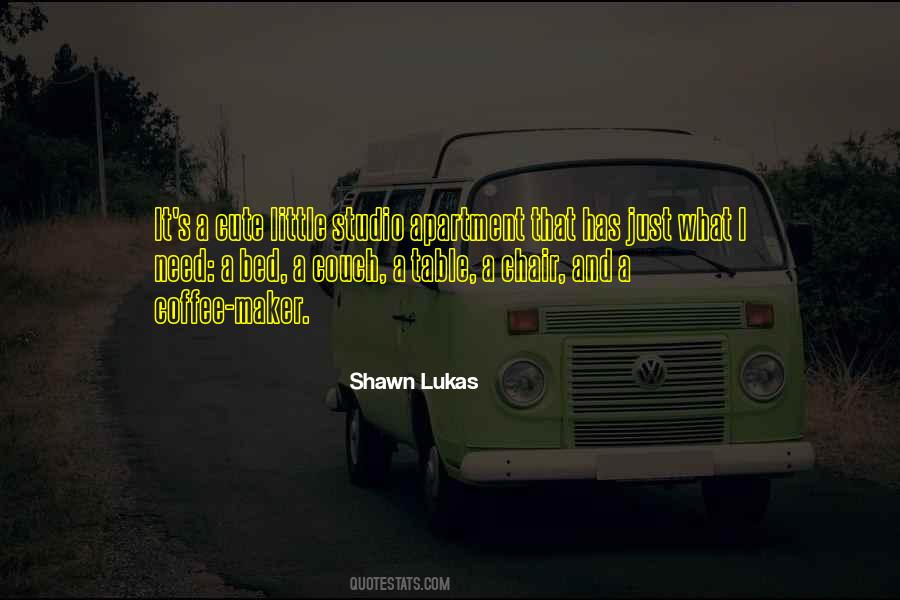 #33. Grabbing his very fine, very taut ass in my hands, I squeezed. "I need more coffee to deal with your gift, ace."
Chapter 8, pg 131 - Author: Sylvia Day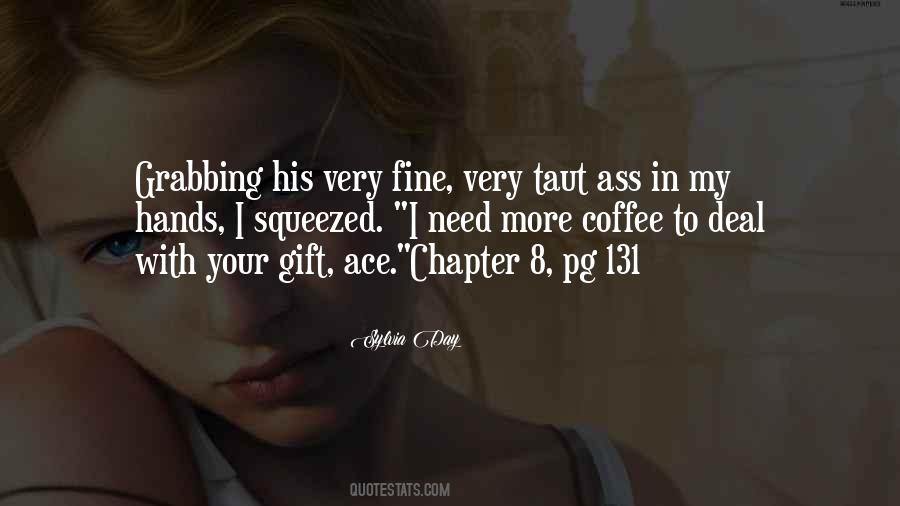 #34. We don't want to eliminate the ego completely. Otherwise we'd be wandering around the house each morning, drinking coffee for hours, saying, 'Who the hell am I?' We need the ego to sustain a sense of identity. - Author: Stuart Wilde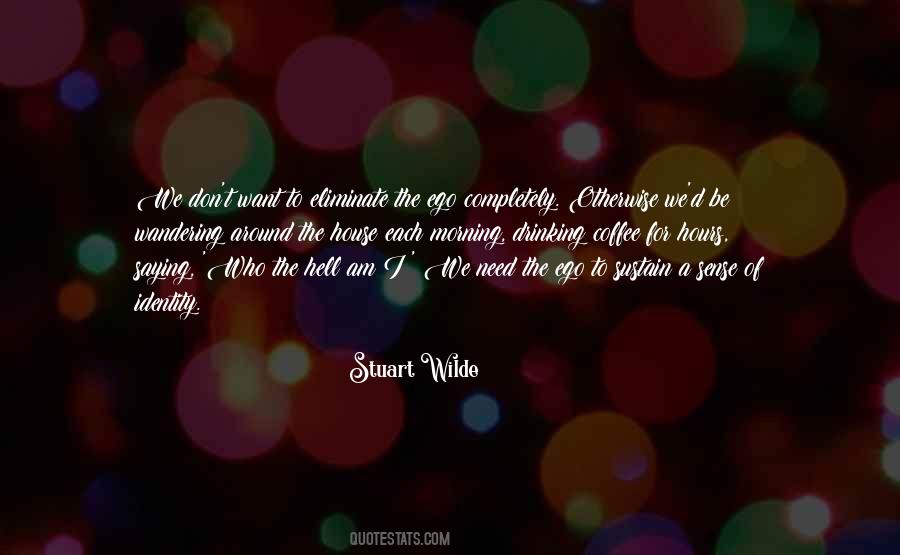 #35. They glared at her the way any intelligent persons ought to glare when what they need is a smoke, a bite, a cup of coffee, a piece of ass, or a good fast-paced story, and all they're getting is philosophy. - Author: Tom Robbins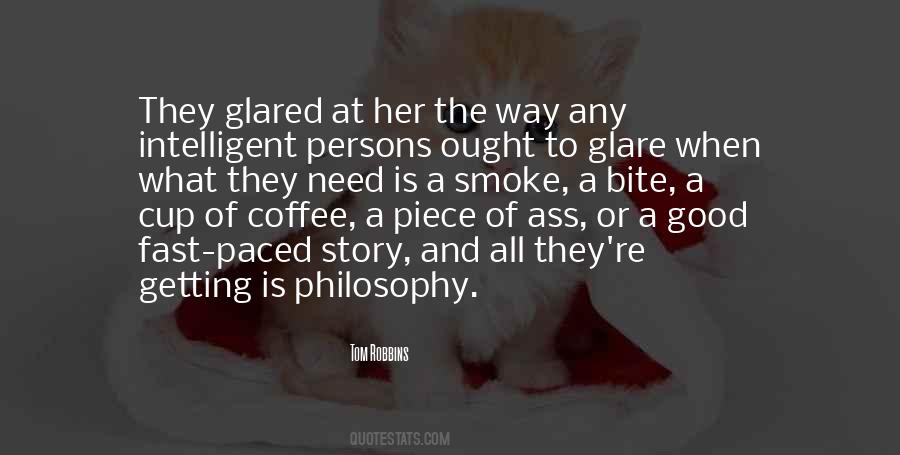 #36. With my crazy schedule, that often means cutting into my sleep. But yoga gives me the energy and focus I need to get through my day. I'm not saying I don't need a cup of coffee in the afternoon sometimes, but it's the yoga that definitely keeps me centered. - Author: Giada De Laurentiis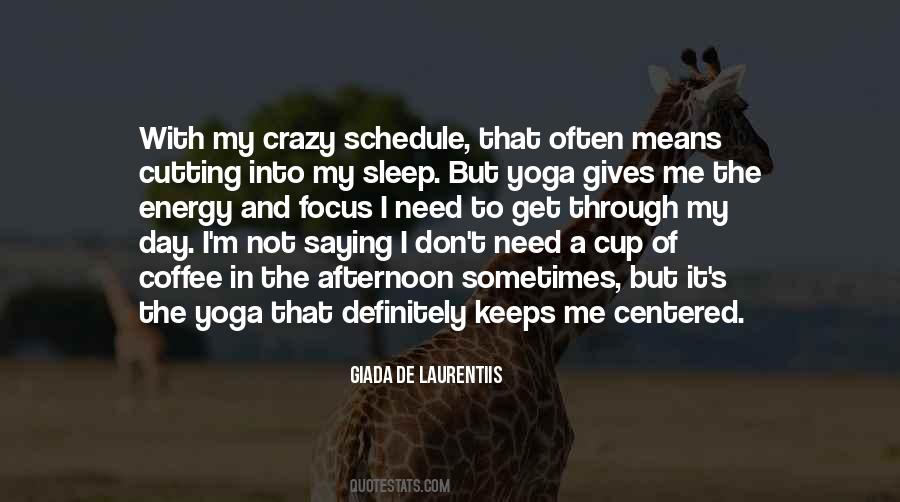 #37. Is there any time in your life when you do not feel the need for caffeine?"
"Sure. Sometimes I'm asleep. - Author: Seanan McGuire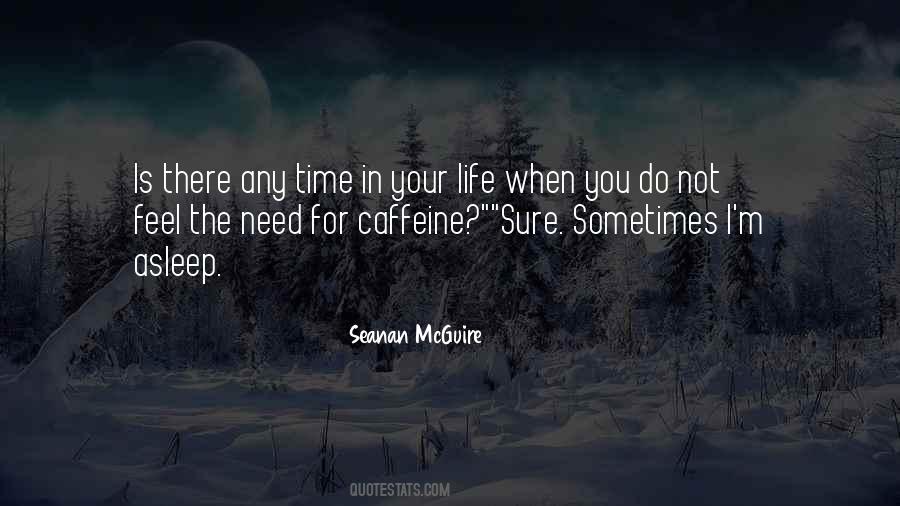 #38. I need coffee to deal with this, and I'm not getting decaf. - Author: Matthew Arnold Stern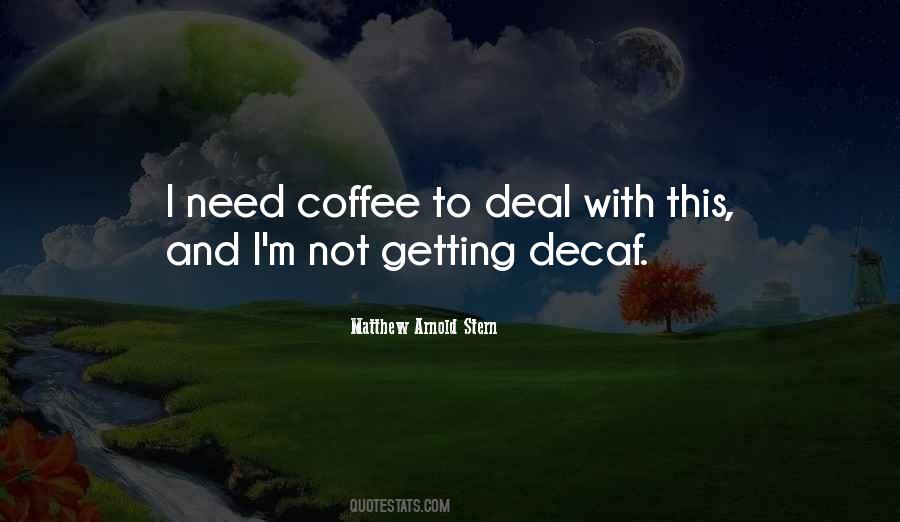 #39. Three eggs two slices of toast a cup of coffee an episode of Mr. Ed. A Violin and a bowl of fruit what else does a man need? - Author: Stanley Victor Paskavich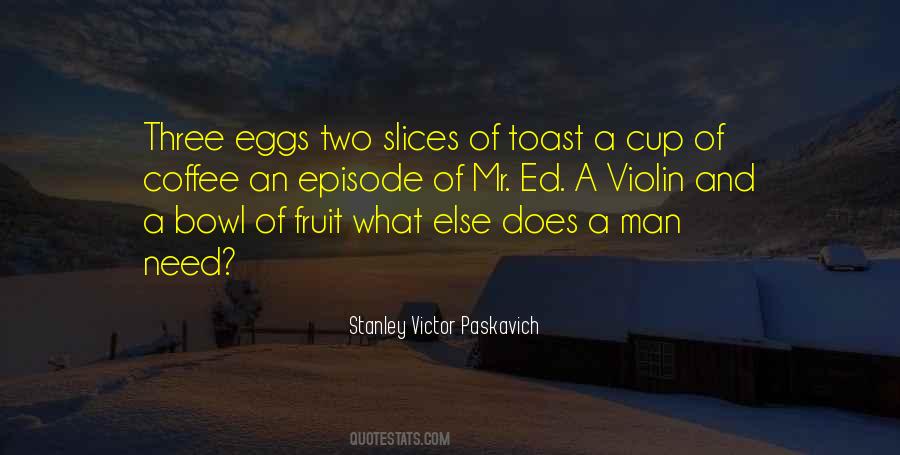 #40. When you're 25, you can eat hamburgers and pizza and drink beer and stay out all night and come out the next day and drink a couple cups of coffee and just play. If I did that today, my heart would stop and I'd need a stretcher and an IV. - Author: Mike Piazza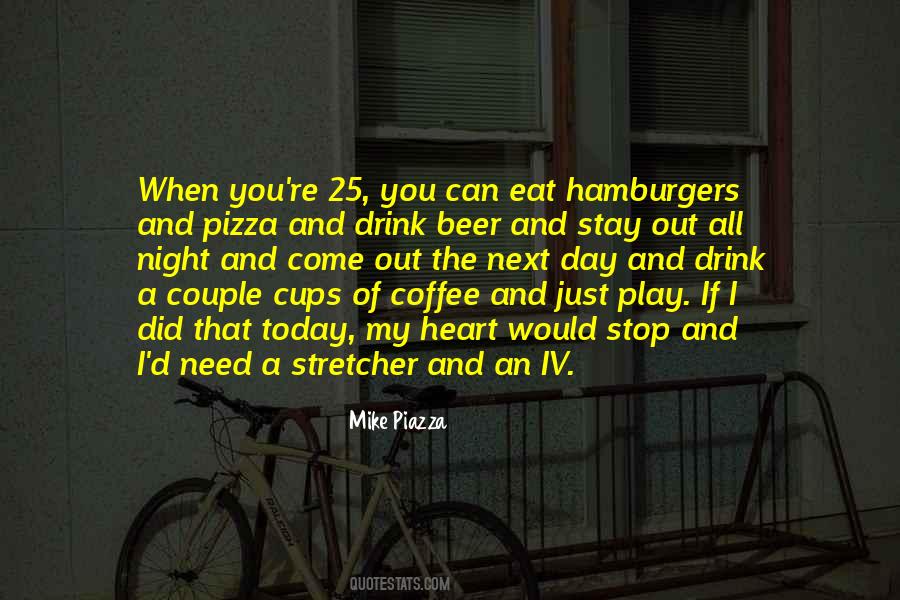 #41. I drink coffee for the taste, of course, since caffeine is the last thing I need. Most of the things I do in life are for flavor, not necessity - Author: Emery Lord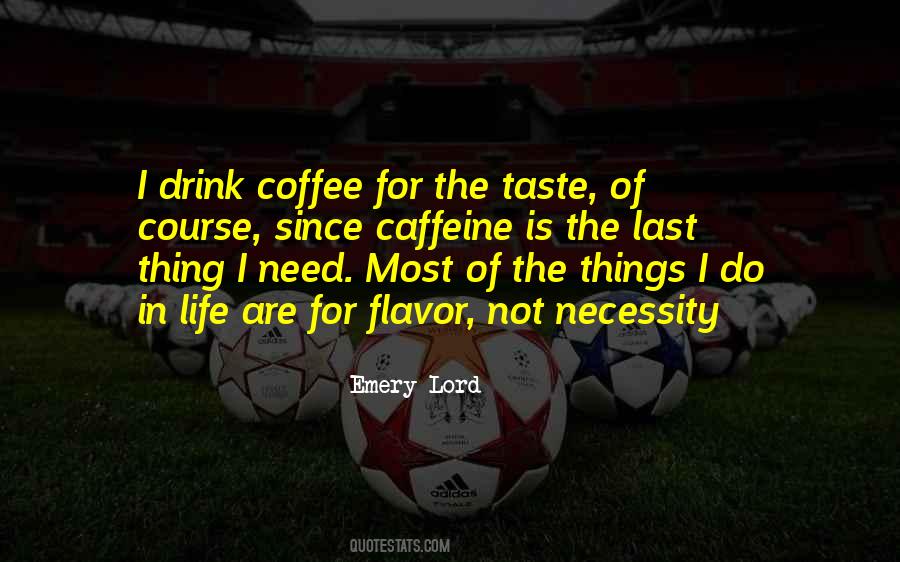 #42. I need a coffee to go with my coffee. - Author: Zooey Deschanel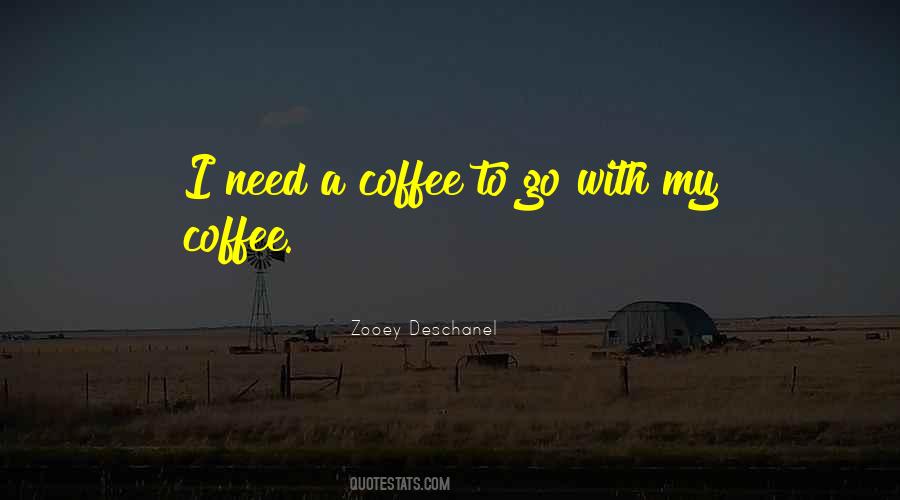 #43. When you're passionate about something, you don't need coffee or an energy drink to get you moving. - Author: Rob Liano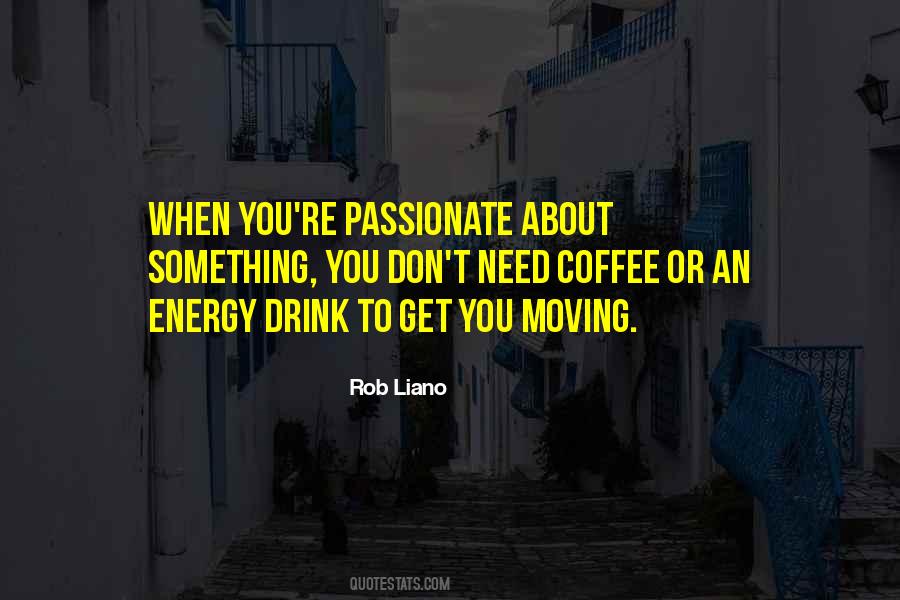 #44. Coffee doesn't need a menu, it needs a cup. That's all it needs! Maybe a saucer underneath the cup - that's it. - Author: Denis Leary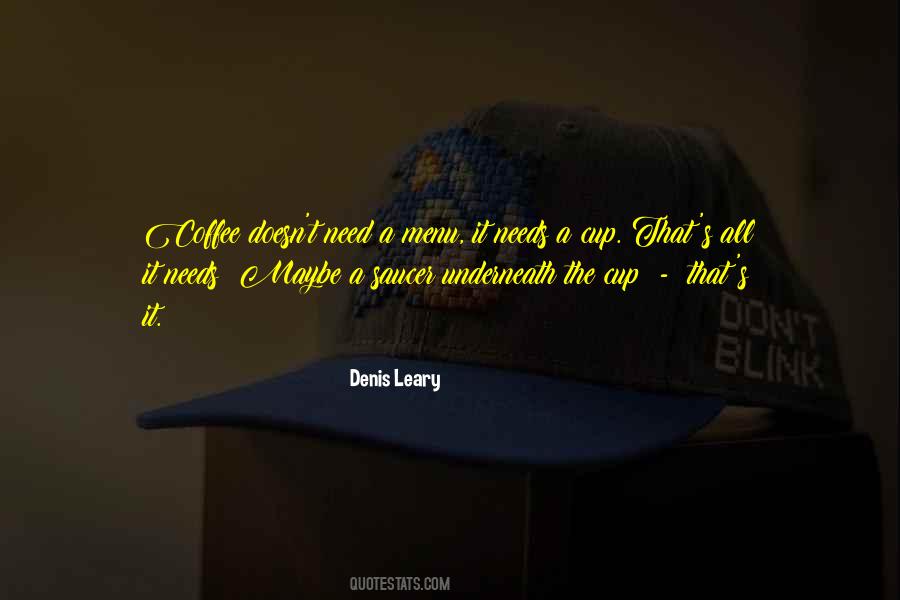 #45. I definitely need coffee all the time. I drink probably four or five cups a day. - Author: Rebecca Ward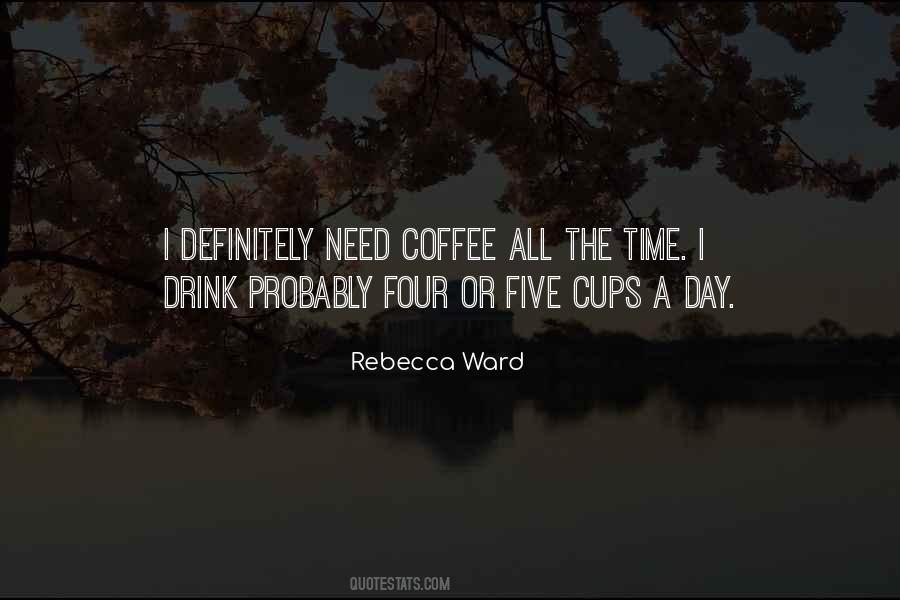 #46. Good gravy on biscuits, girlfriend, you are in the middle of more messes than a platter of scrambled eggs. What's going on? Are the planets aligned funny? Or is that unaligned? Shoot, I have no idea. But I need to know what's going on. You and I will be going out for coffee in about thirty seconds. - Author: Paige Shelton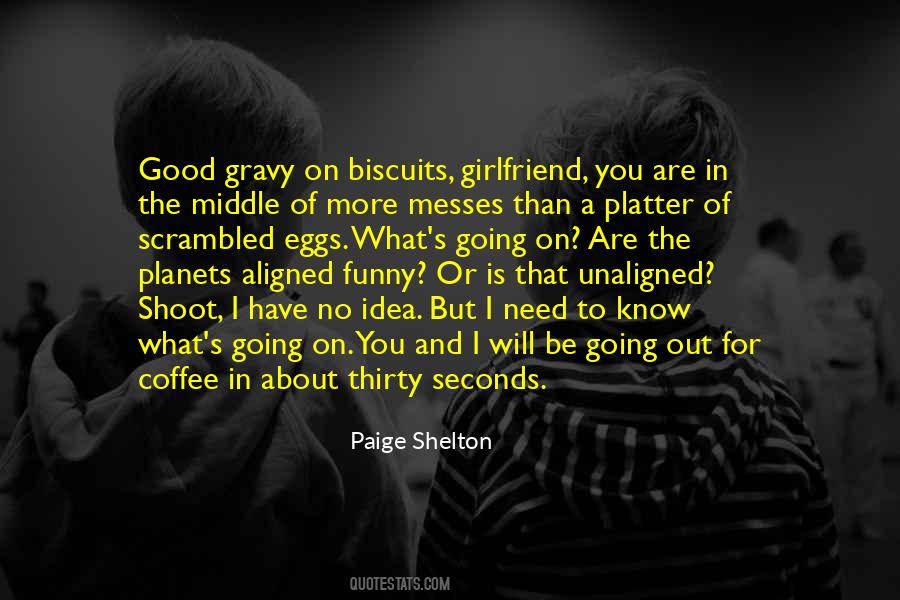 #47. I need good coffee!" I say in horror. "It's my only luxury!"
I can't live with my parents and drink bad coffee. It's not humanly possible.
Becky talking about cutting back with her parents. - Author: Sophie Kinsella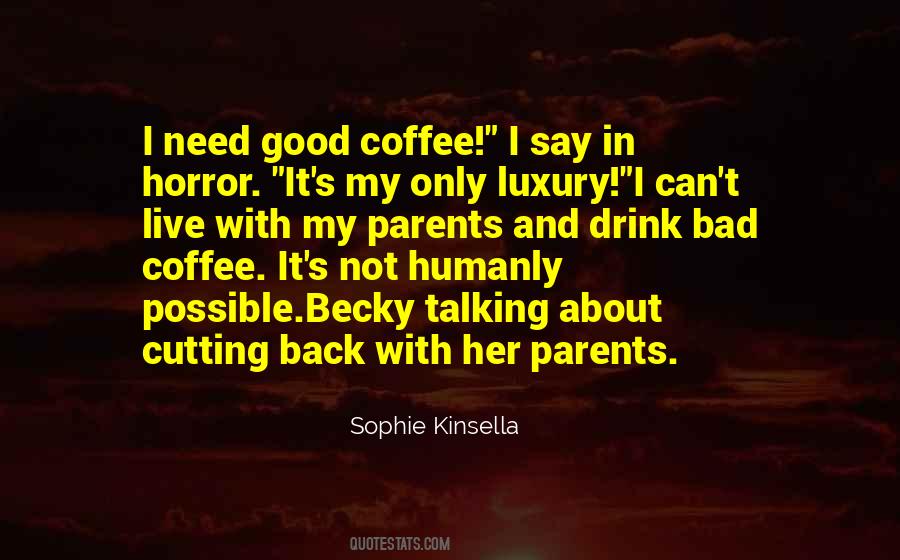 #48. I've never been a morning person, and if it's one thing I don't need before my first cup of coffee, it's a visit from the cops. But at eight forty-five on a Friday morning, two of them waited for me at my law office. - Author: Debbi Mack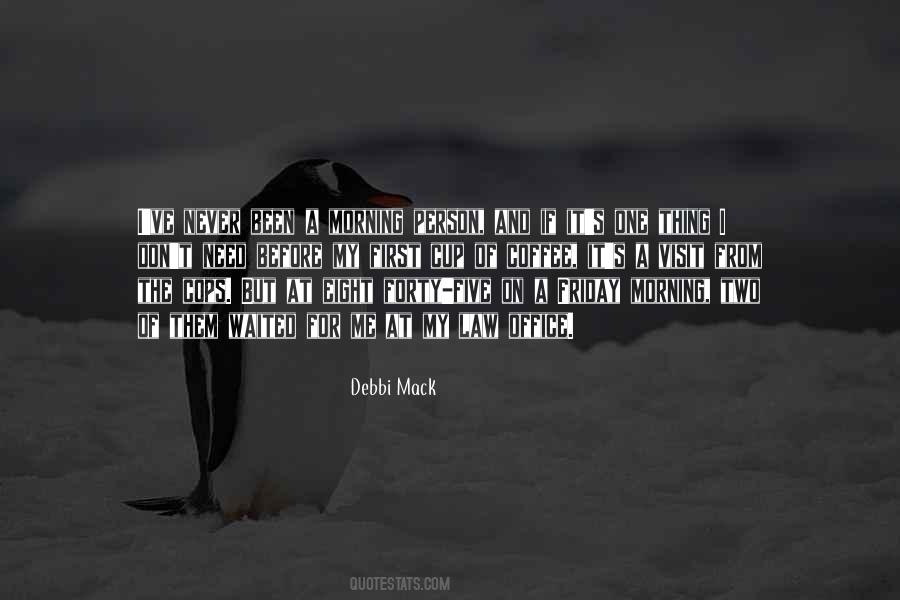 #49. Sydney sighed and stood up, smoothing her rumpled clothes with dismay. 'I need a coffee shop or something.'
'I think I saw one in a cave down the road,' I said.
That almost got a smile from her. - Author: Richelle Mead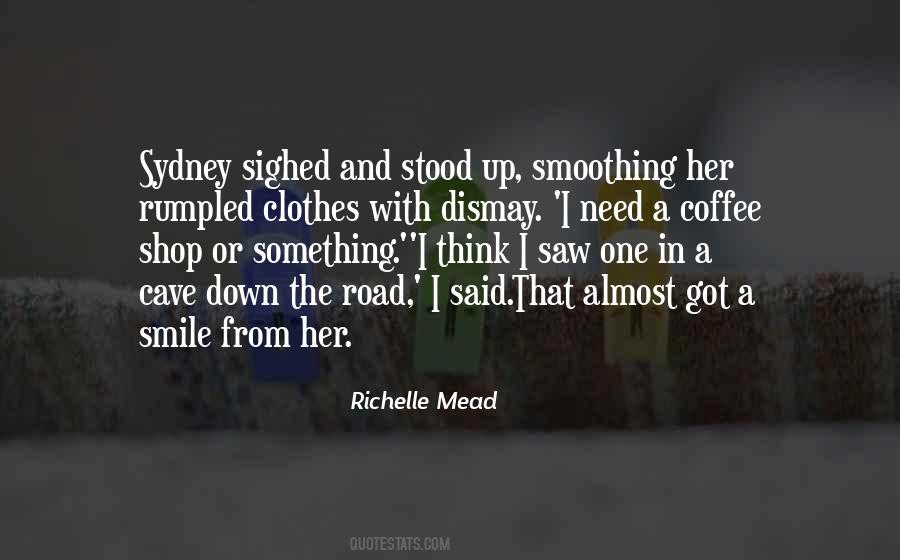 #50. You don't need coffee, you don't need cocaine, you need to breathe into YOUR FUCKING BALLS ! - Author: Elliott Hulse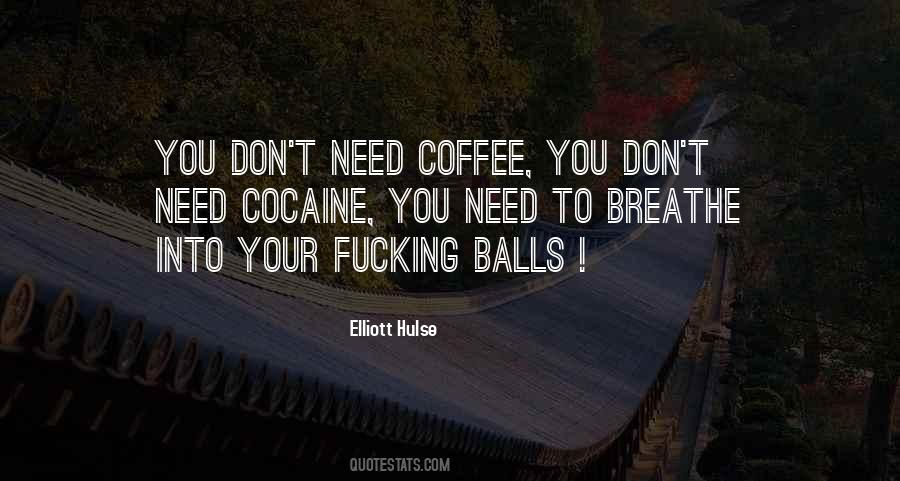 #51. Young, new moms need coffee to survive. Older moms with teenagers need cocktails. - Author: Sandra Lake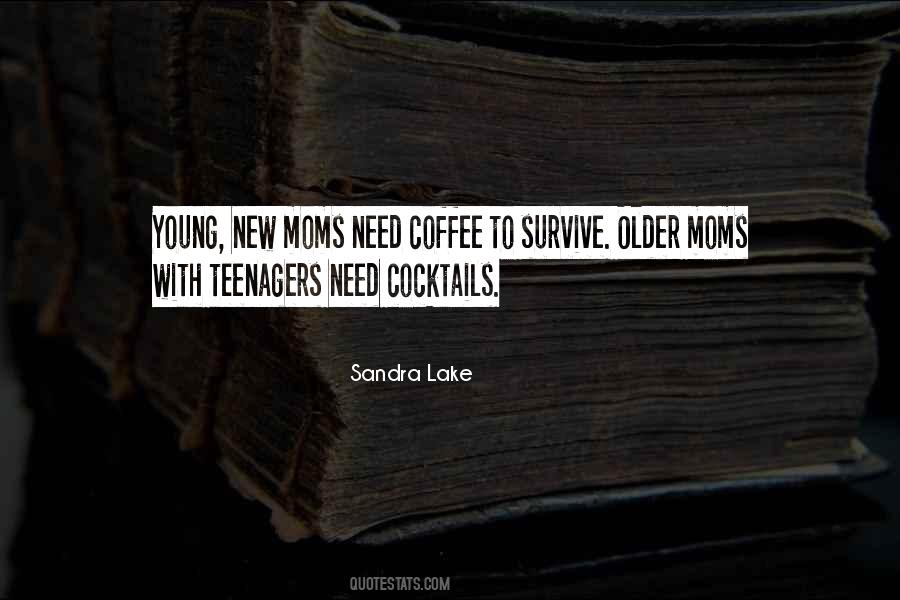 #52. Oh and P.S.? I am in dire need of more coffee. Industrial strength."
"But we're going to sleep soon," I say.
"I know." Laila shudders. "Addiction is a bitch. - Author: Susane Colasanti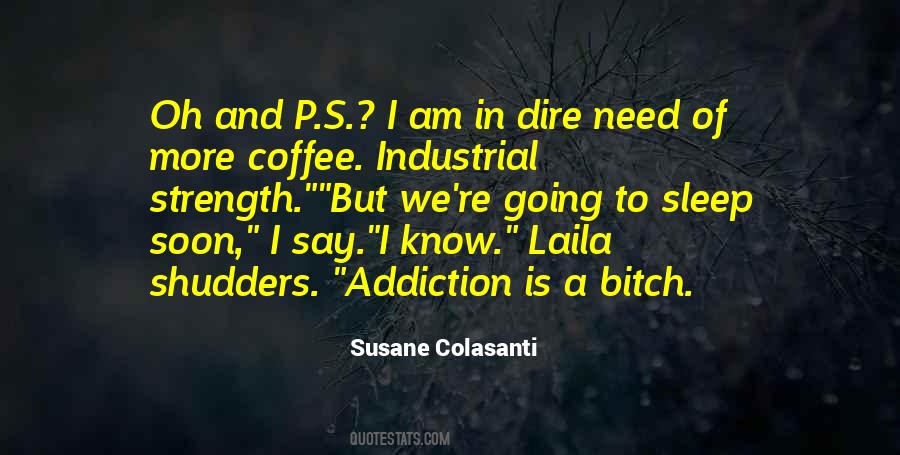 #53. If brains were money, you'd need to take out a loan to buy a cup of coffee. - Author: Shelley Long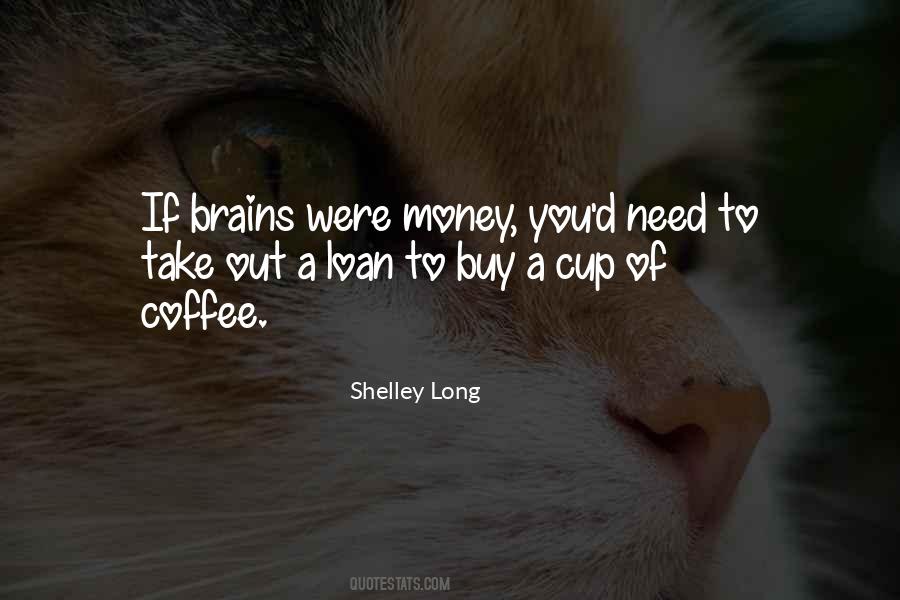 #54. Coffee, whiskey, and fishing poles. That's really all you need in life. - Author: Brandi Carlile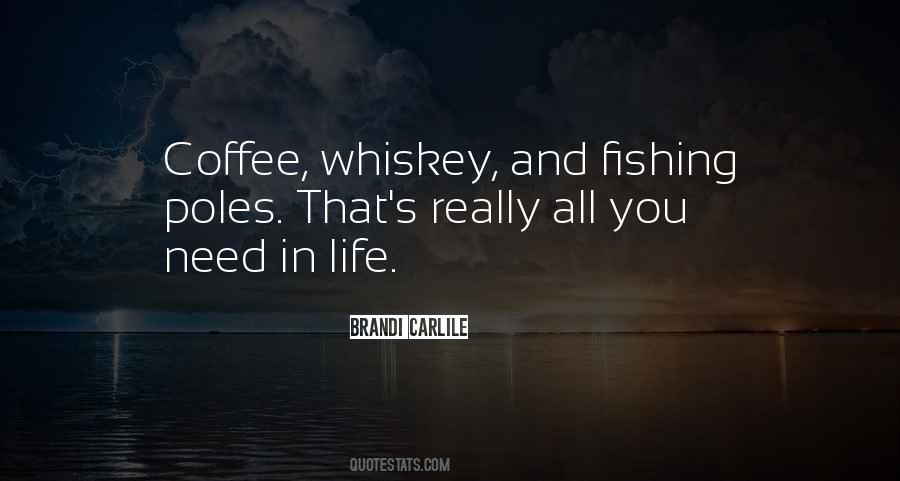 #55. You don't need coffee. Nobody needs coffee. You can get along without it. - Author: Gordon B. Hinckley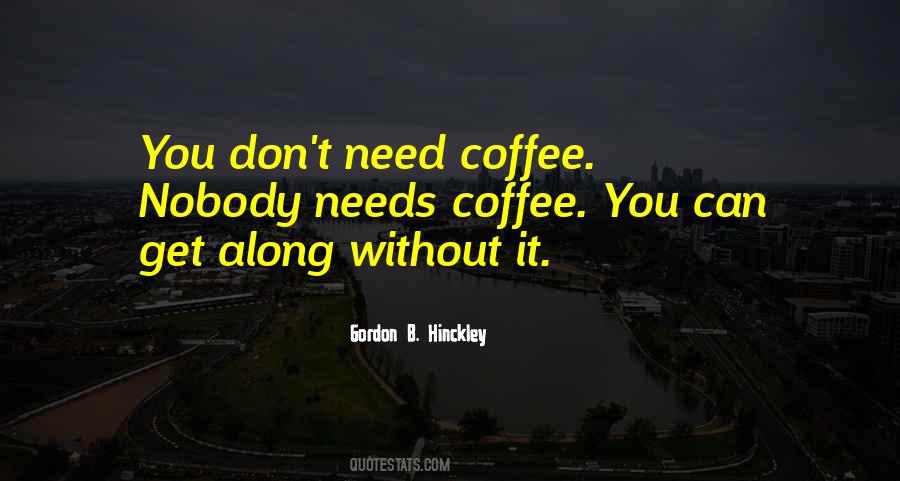 #56. But honestly? What women need?" Dean paused to take a sip of his coffee. "Actions. Not words. Sorry doesn't mean shit, begging doesn't mean shit, and promises don't mean shit. - Author: Priscilla Glenn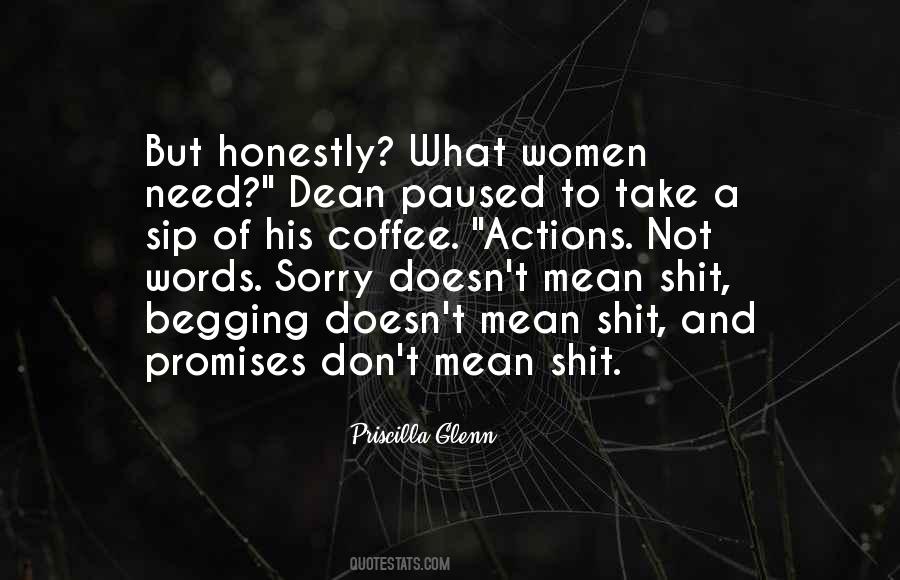 #57. Coffee," I said boldly. "Some people need it in order to function, but being who you are, I wasn't sure if you actually needed anything other than blood and the souls of virgins to make it through the day, so I took a gamble. - Author: Rachel Van Dyken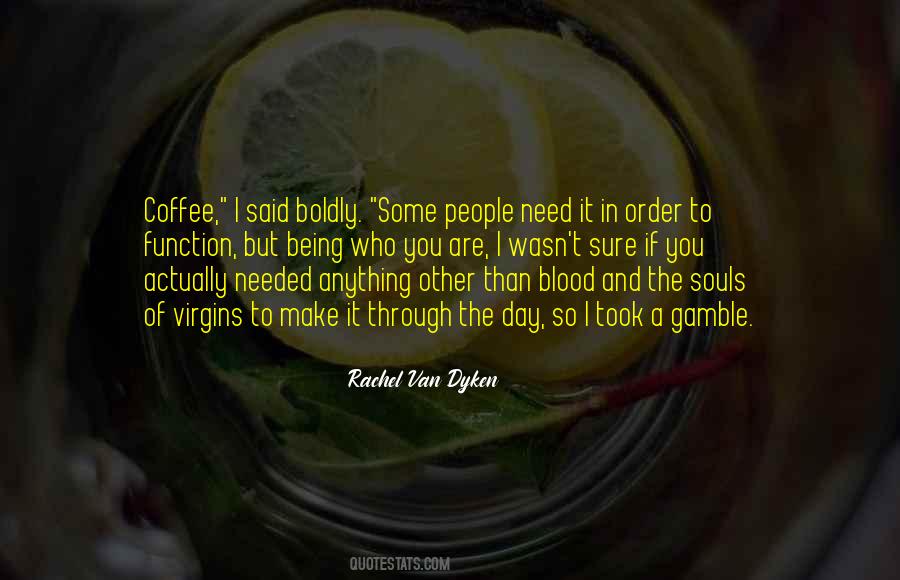 #58. I need COFFEE to help me change the things I can ... and WINE to help me accept the things I can't! - Author: Tanya Masse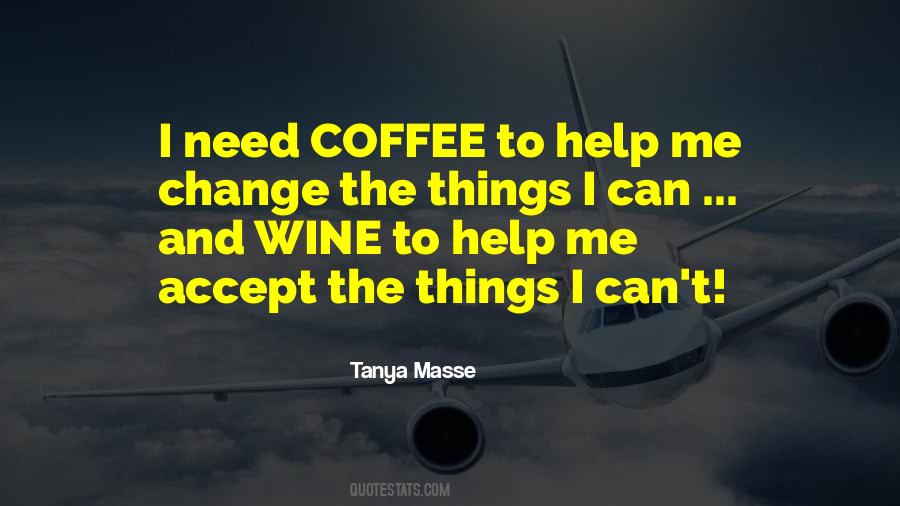 #59. I tend to work in coffee shops. I need to get out of the house, and, well, I need the coffee. - Author: Bryan Cogman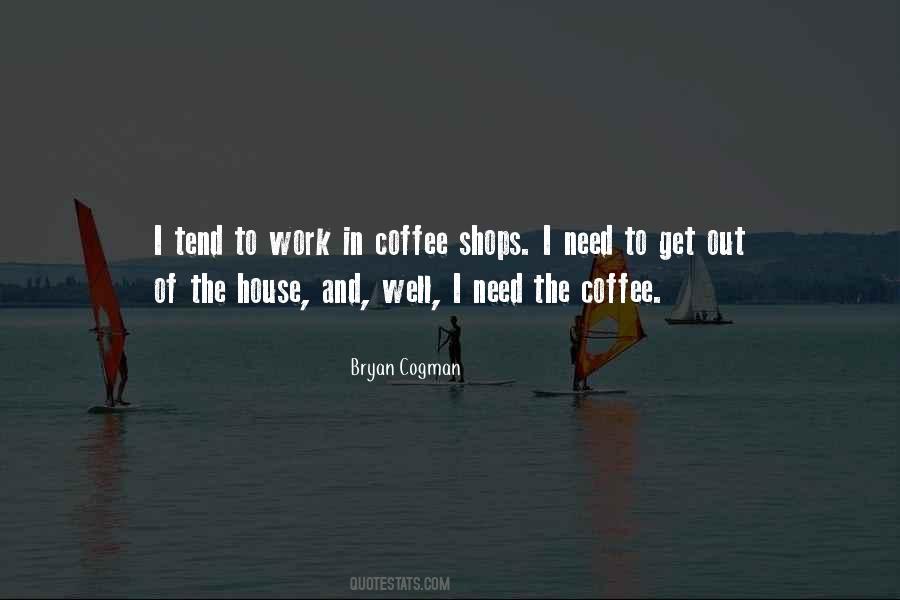 #60. Many things in life are like good coffee, they need time to percolate. - Author: H.M.C.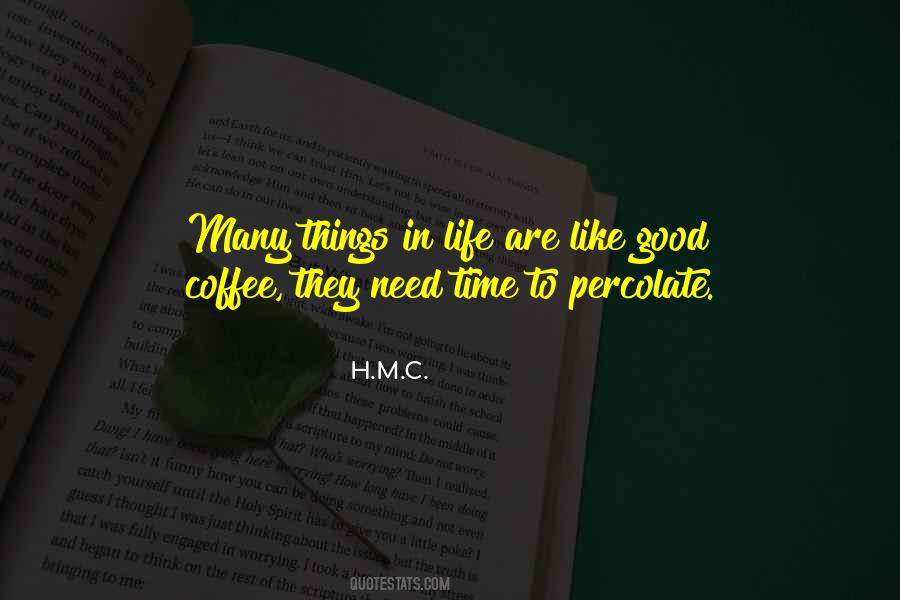 #61. The emphasis in doing any in-depth photography is on building relationships, quality relationships. It's what I call thirty-cups-of-coffee-a-frame photography. You need to enter into the community - not just photographically, but intellectually and emotionally. - Author: Lynn Johnston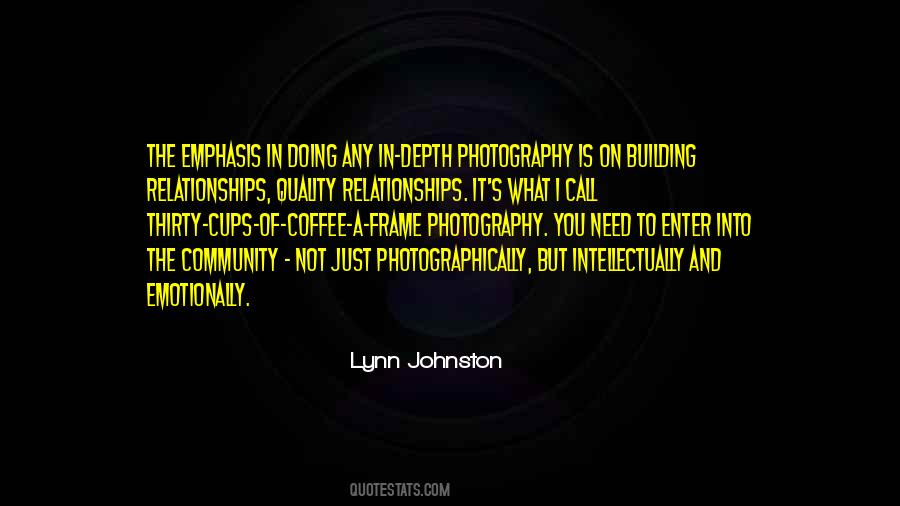 #62. But sometimes you need to go get coffee more than you actually need coffee. - Author: Taylor Jenkins Reid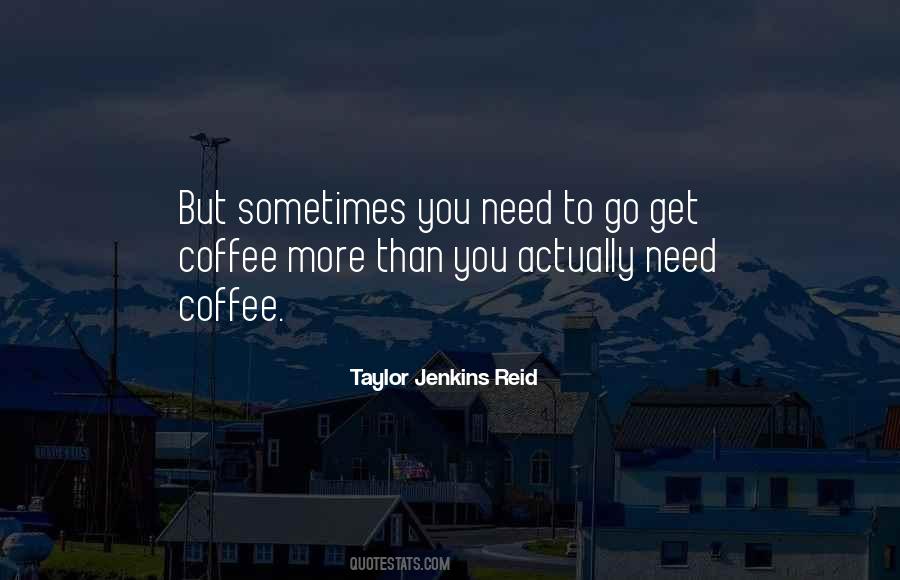 #63. By my reckoning, I only need about 200 more takeout coffee cups to complete my bitterly ironic mosaic of Al Gore. - Author: Merlin Mann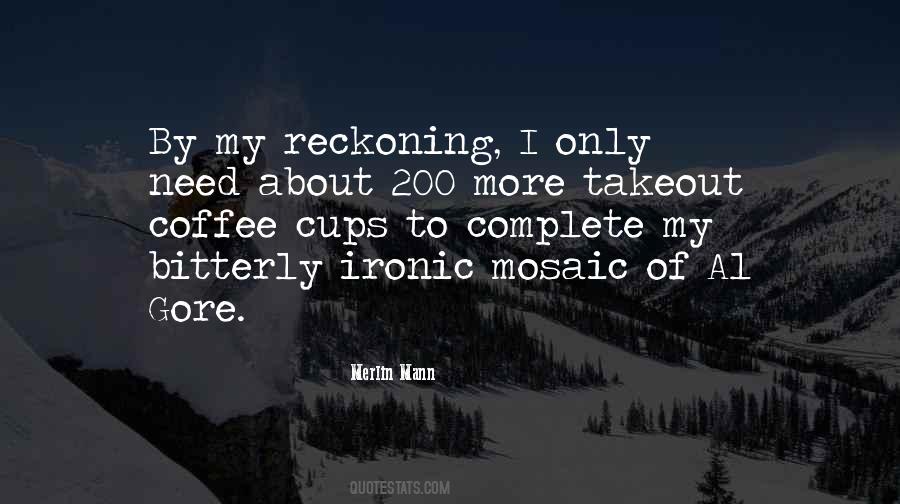 #64. A dozen ... chocolate chip cookies ... a pot of coffee, and a good book are all I will need for the rainy weekend rolling in. - Author: Adriana Trigiani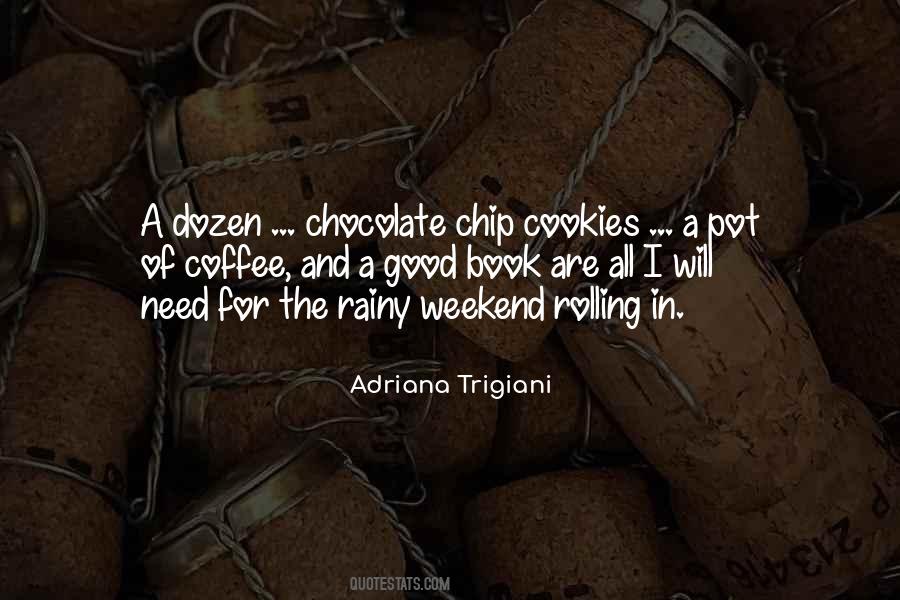 #65. Every morning just before breakfast I don't want no coffee or tea, just me and my good Buddy Wieser, that's all I ever need. - Author: George Thorogood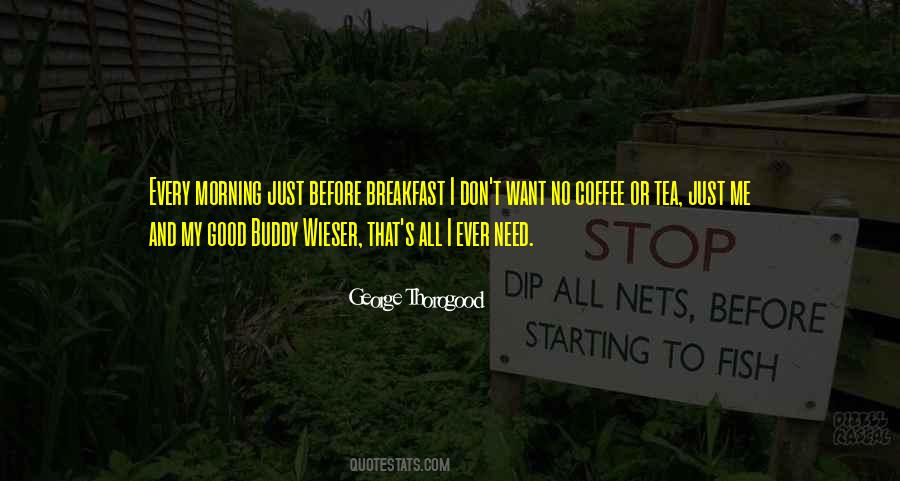 #66. There's no mistaking what kind of potion I need. Caffeine - for alertness and rejuvenation. - Author: Amy Alward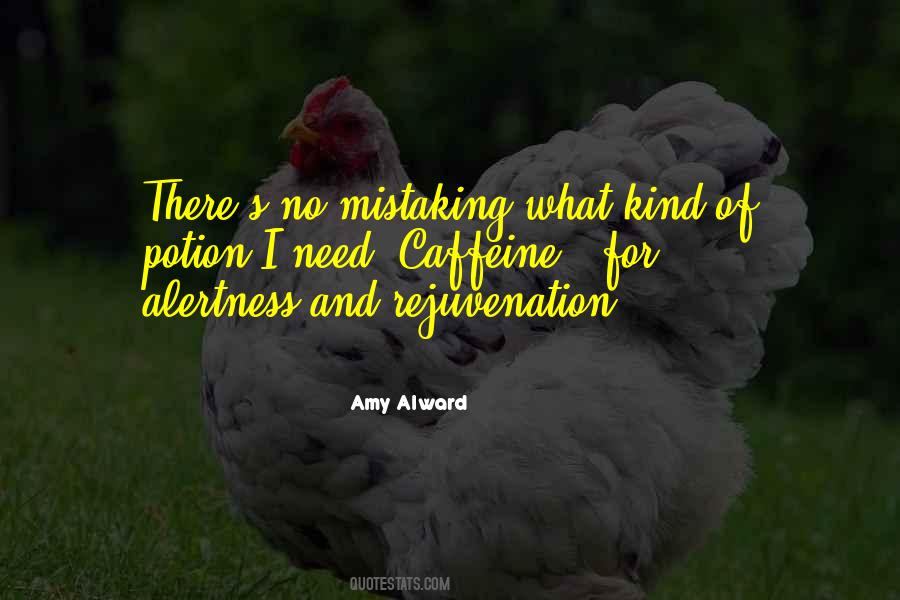 #67. Do you ever get really excited about life and then realize it's just the caffeine? It's really depressing, but that just means you need more coffee." -- Janet Tomalin, Mahogany Slade - Author: Stephen Robinson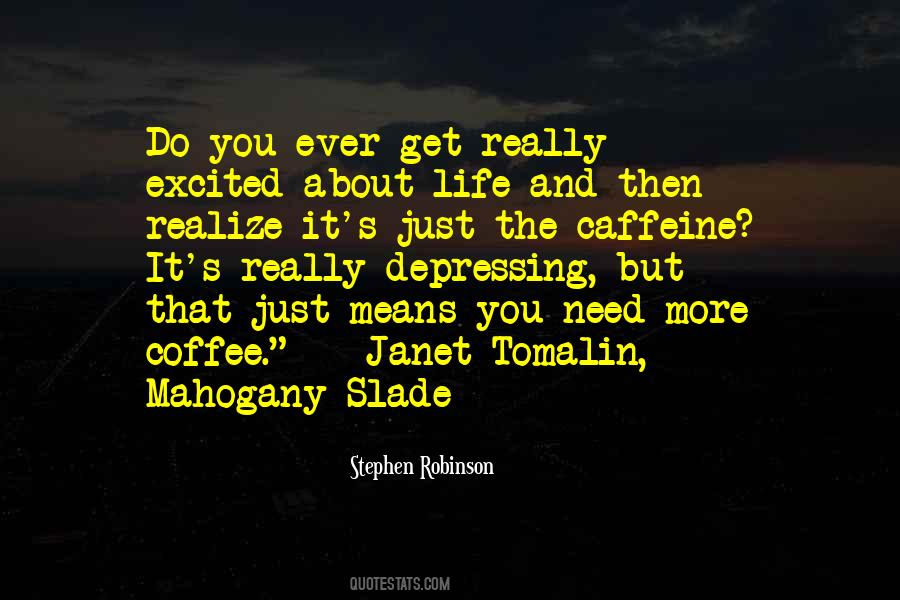 #68. He felt that alcohol, cigarettes and the occasional cannabis joint was quite enough. There was no need to add caffeine to the list of health risks he put his body through."-Drake Kingsley's reason for not drinking tea or coffee, The Venetian Violinist. - Author: Marcio Goncalves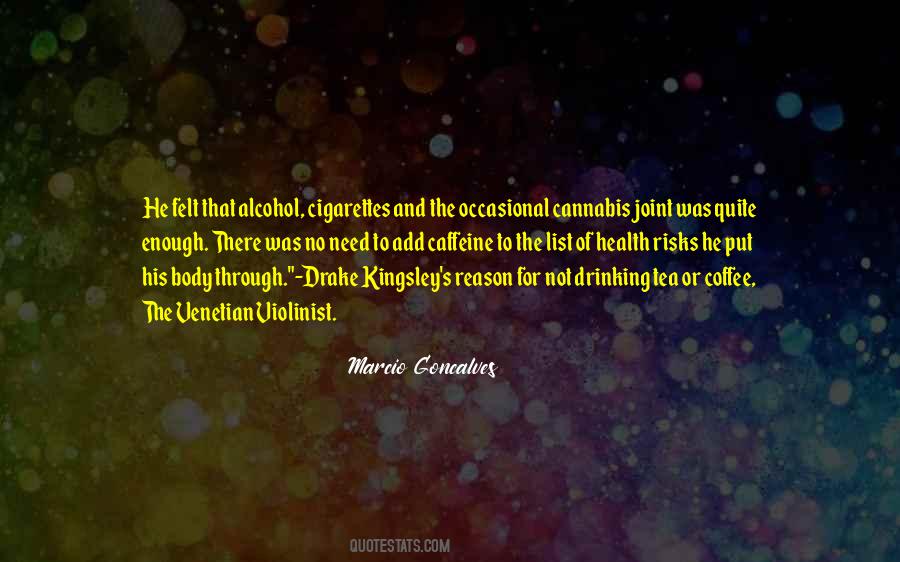 #69. Well, coffee is my drug of choice, generally, with a little bit of Pepsi here and there, if I need more sugar. But yeah, if I could do intravenous coffee, I would. But I guess that's pretty standard. - Author: Larry Wall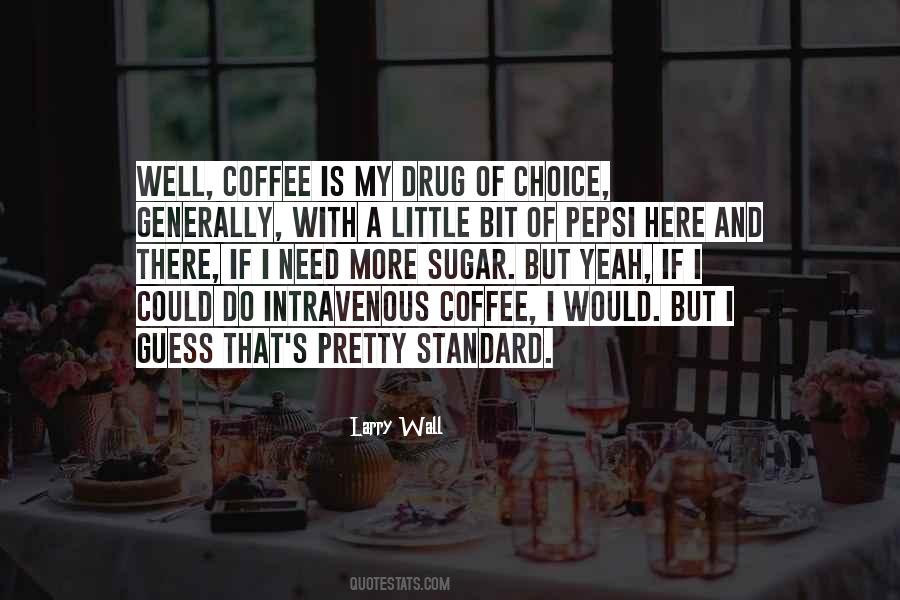 #70. I think controversy is not always a bad thing. Jesus was controversial. It's through controversy that people often wake up and smell the coffee and say, 'What's going on here? Do we need to rethink something here?' - Author: Kirk Cameron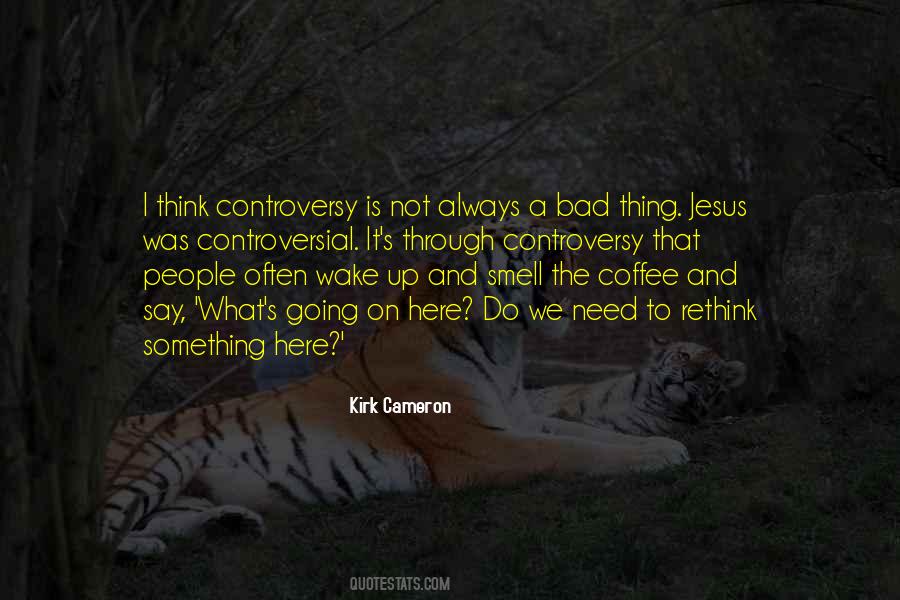 #71. You need some coffee, don't you?"
"Yes, I've only had a gallon. - Author: John Grisham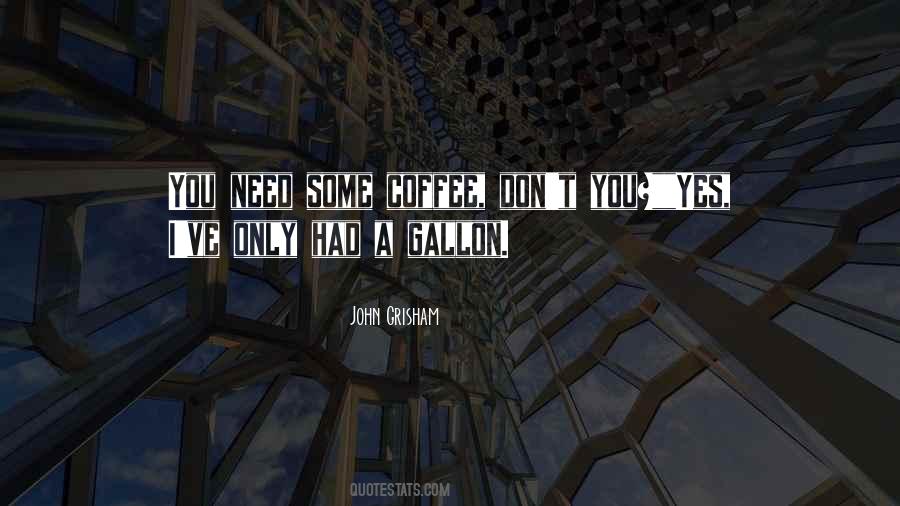 #72. All you need is coffee, some cigarettes, and a Twitter account and your writing career begins! How far you go is determined by the followers you call friends. - Author: Stanley Victor Paskavich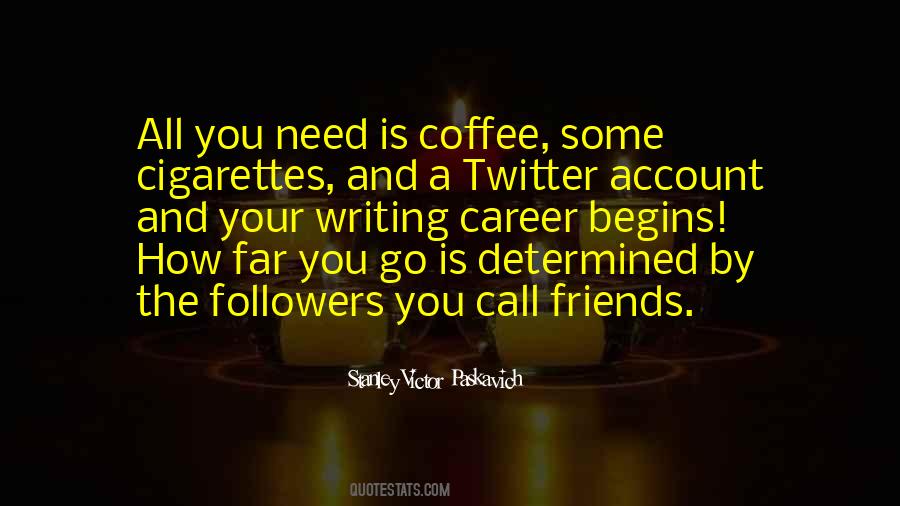 #73. Which was your favorite? Living room, or bed, or floor, or bed, or wall, or mirror, or bar, or floor?"

"Shhh," I whisper, lifting my cup to take another, more careful sip of coffee. I smile into my mug. "You're weird."

"I think I need a cast for my penis. - Author: Christina Lauren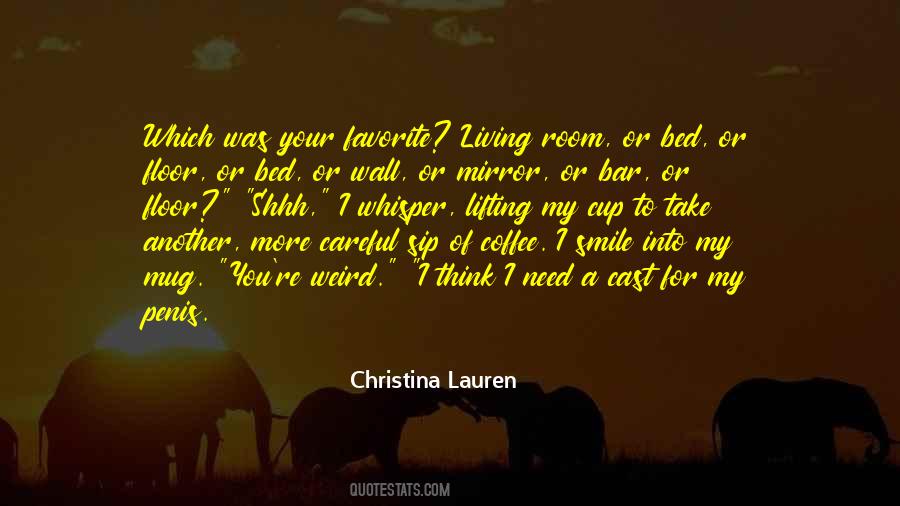 #74. If you had a daily printout from the brain of an average twenty-four-year-old male, it would probably go like this: sex, need coffee, sex, traffic, sex, sex, what an asshole, sex, ham sandwich, sex, sex, etc - Author: Kate White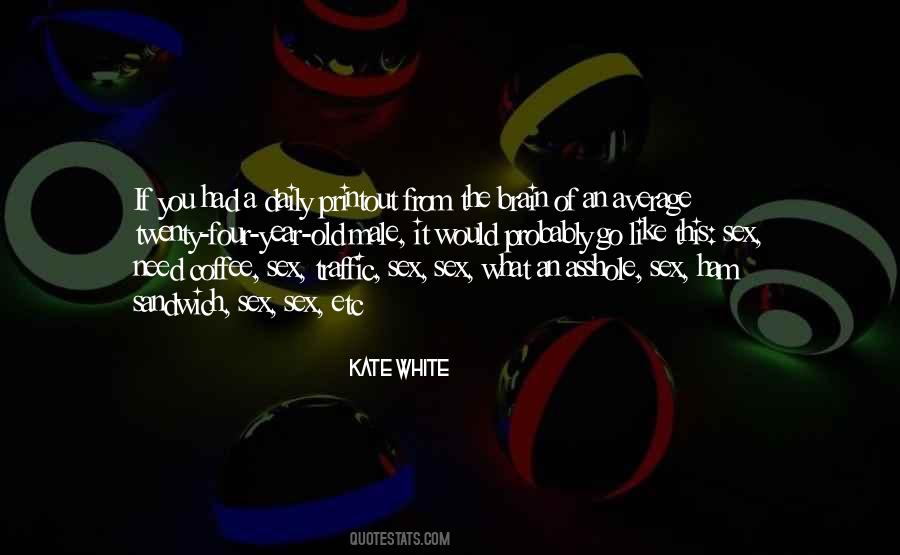 #75. I drag my husband out of bed, hook him up to a coffee to stay awake and make him listen to my plotting and any issues I may be having. I *need* his head-nodding (he's an expert head-nodder). - Author: Violet Duke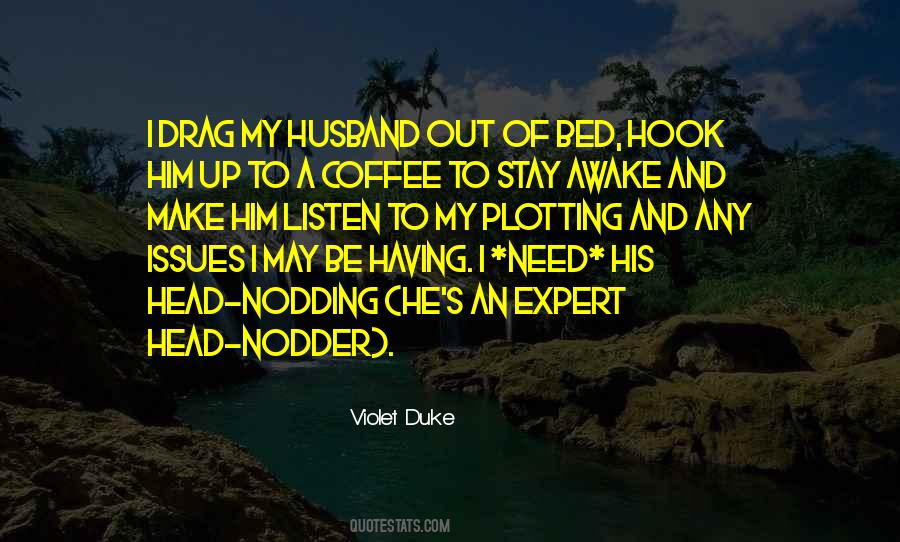 #76. Drinking caffeinated drinks including high potency energy drinks, and consuming other enablers, we do not need to develop an internal source for the energy, effort, endurance, and enthusiasm needed to confront each day. - Author: Kilroy J. Oldster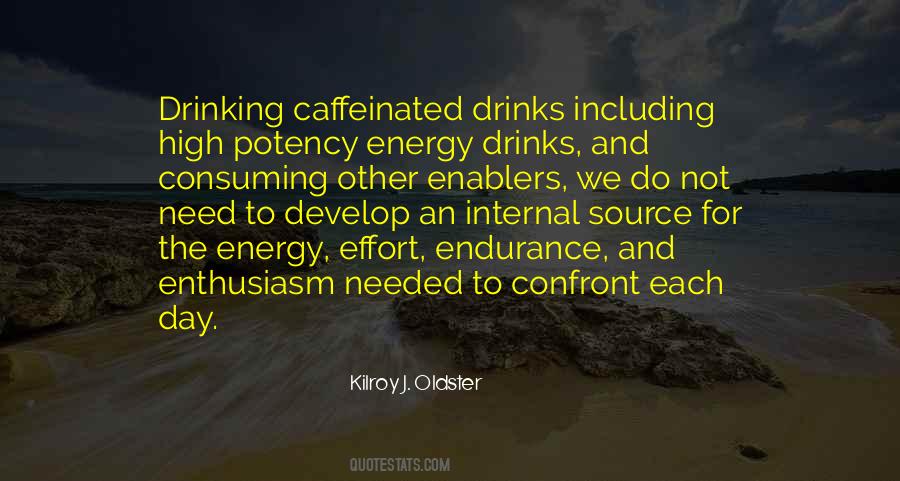 #77. It is inhumane, in my opinion, to force people who have a genuine medical need for coffee to wait in line behind people who apparently view it as some kind of recreational activity. - Author: Dave Barry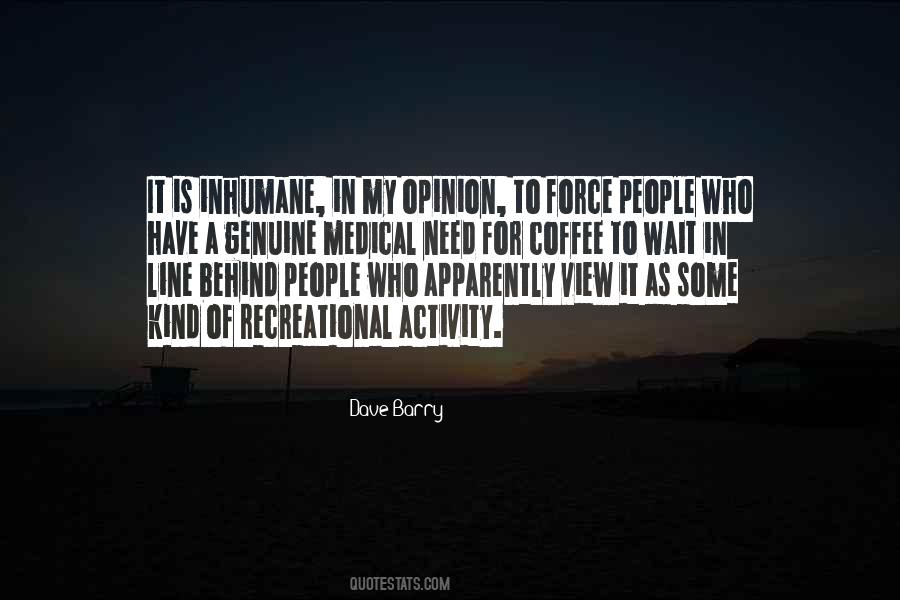 #78. In order to satirize adequately, I think you need to bring people down to Earth and be like, 'Yeah, these people drink coffee and have tummy troubles and they go to the bathroom like anybody else, and they all have relationship problems, if they even have relationships.' - Author: Anna Chlumsky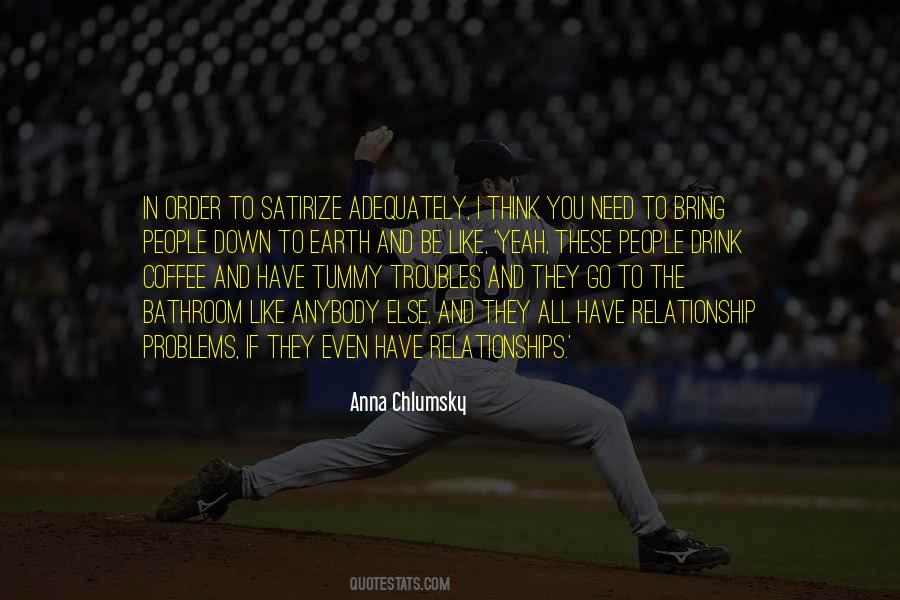 #79. He trailed off as he saw the books. Piles and stacks of them beside the sofa, another stack on the coffee table, a sea of them on her dining table.
Jesus Christ, Dane, you need treatment. - Author: Nora Roberts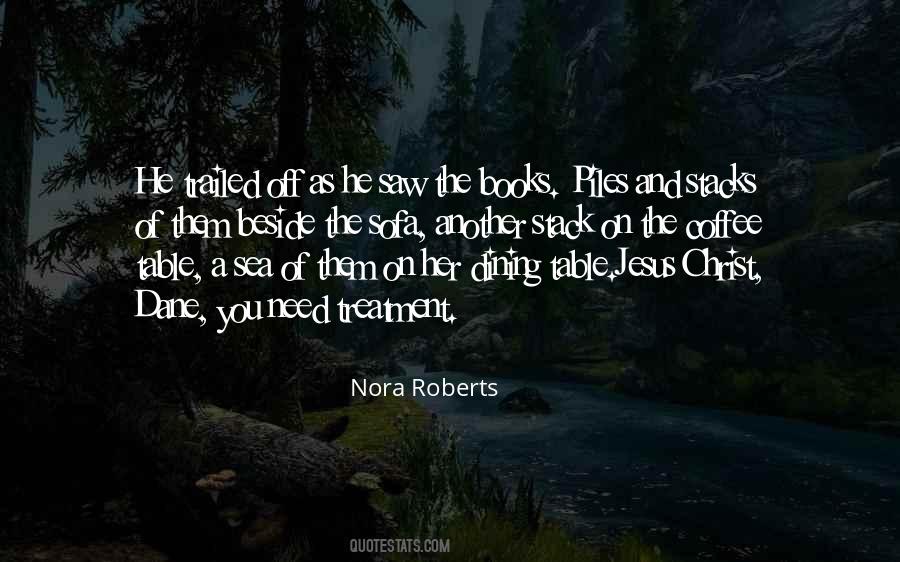 #80. Any partying I did, I did at home. I didn't want to be in the spotlight ... There's an easy way to get away from the paparazzi; they're not that difficult to hide from and you don't need to go out for coffee every five minutes. - Author: Valerie Bertinelli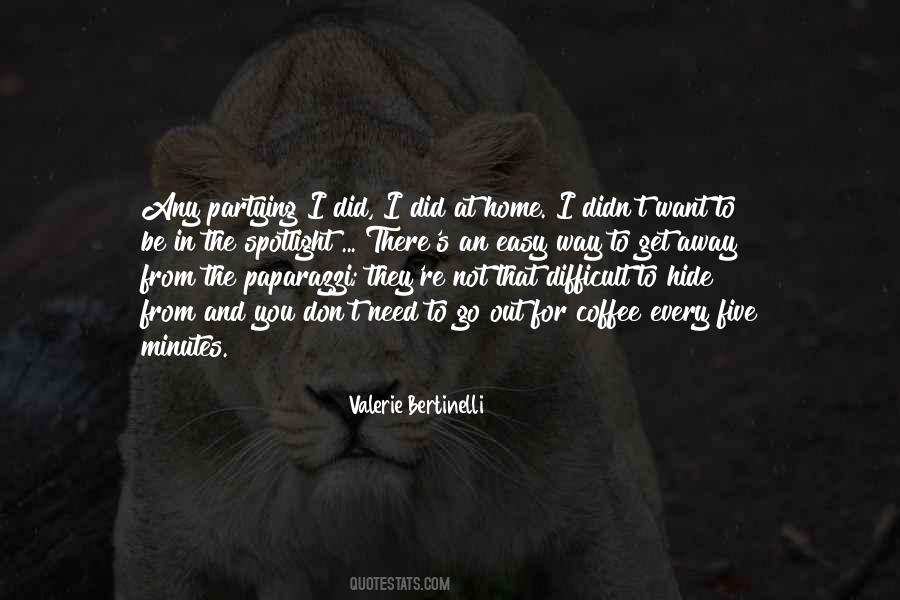 #81. The less Holy Spirit we have, the more cake and coffee we need to keep the church going. - Author: Reinhard Bonnke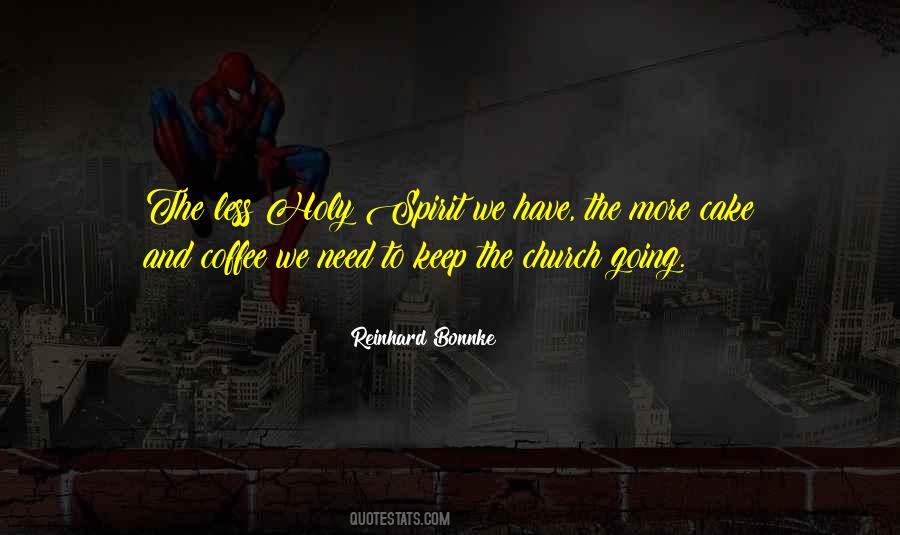 Famous Authors
Popular Topics