Mind Is Running Famous Quotes & Sayings
List of top 98 famous quotes and sayings about mind is running to read and share with friends on your Facebook, Twitter, blogs.
Top 98 Mind Is Running Quotes
#1. There is something magical about running; after a certain distance, it transcends the body. Then a bit further, it transcends the mind. A bit further yet, and what you have before you, laid bare, is the soul. - Author: Kristin Armstrong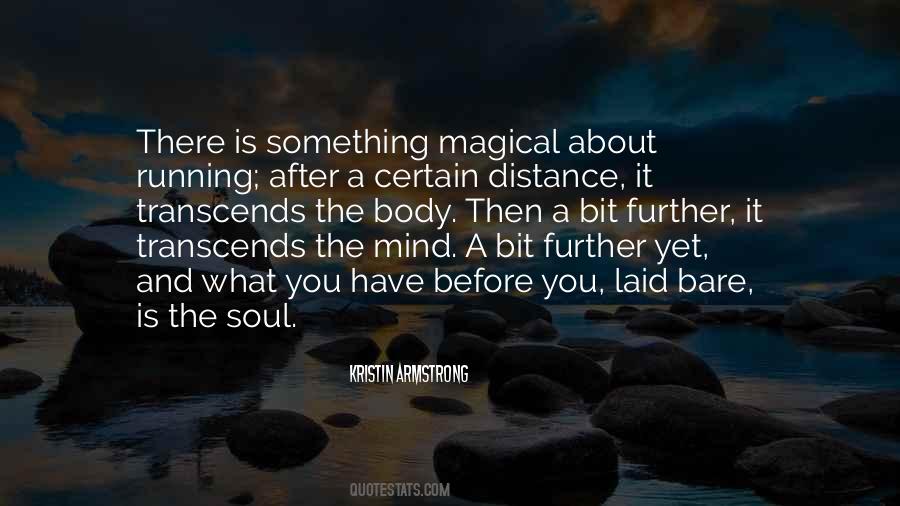 #2. The city is a fact in nature, like a cave, a run of mackerel or an ant-heap. But it is also a conscious work of art, and it holds within its communal framework many simpler and more personal forms of art. Mind takes form in the city; and in turn, urban forms condition mind. - Author: Lewis Mumford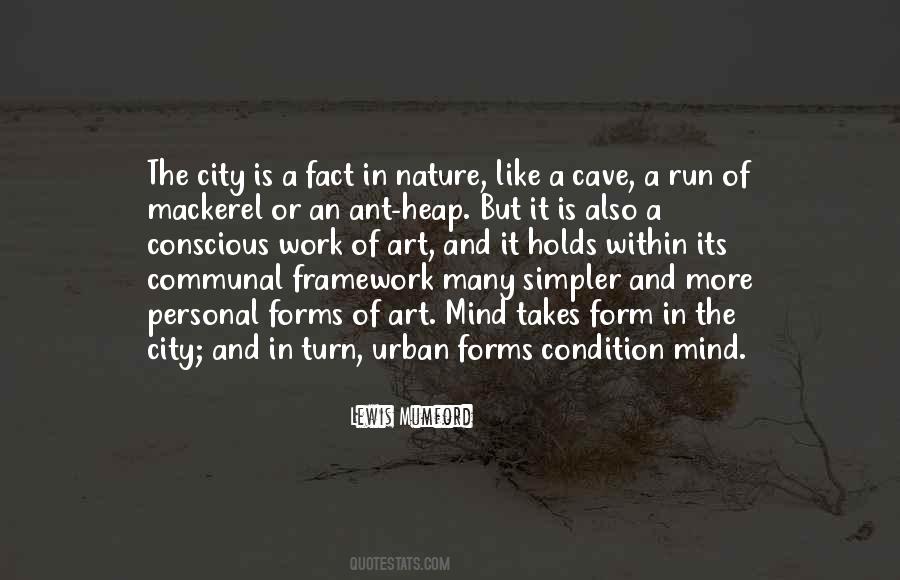 #3. The mind is a dynamo in the dark, an engine endlessly running, powering nothing. It thrashes in the night, seeking daylight, inventing its own. - Author: John Jackson Miller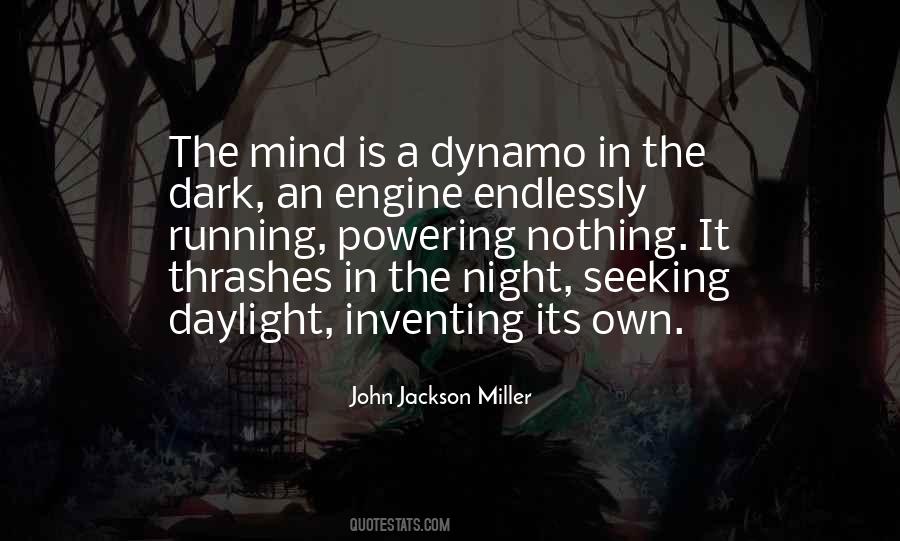 #4. Pain is nothing. Pain is in the mind. If you can walk you can run. - Author: Cam Neely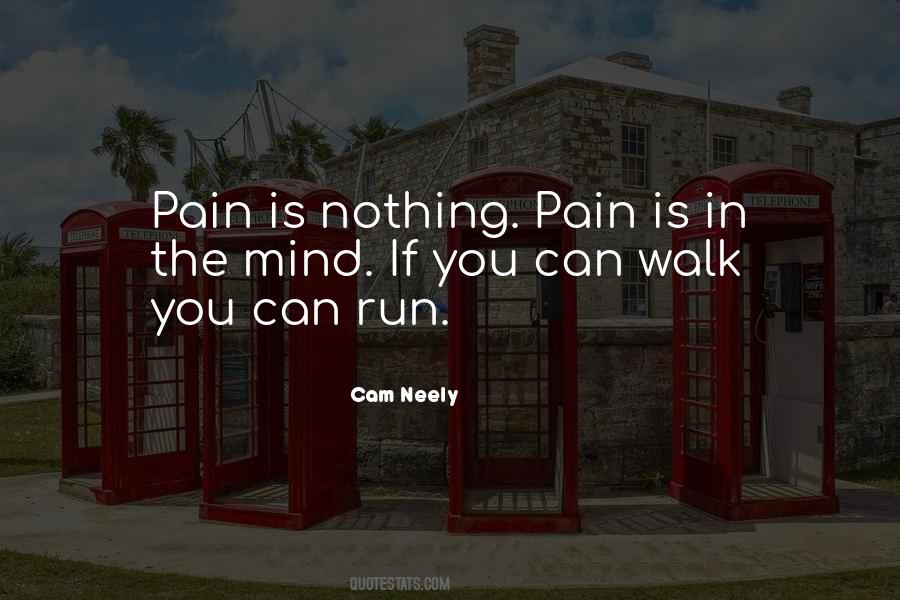 #5. I found you a thousand times; I guess you done the same; But then we lose each other; It's like a children's game; As I find you here again; A thought runs through my mind; Our love is like a circle; Let's go 'round one more time. - Author: Harry Chapin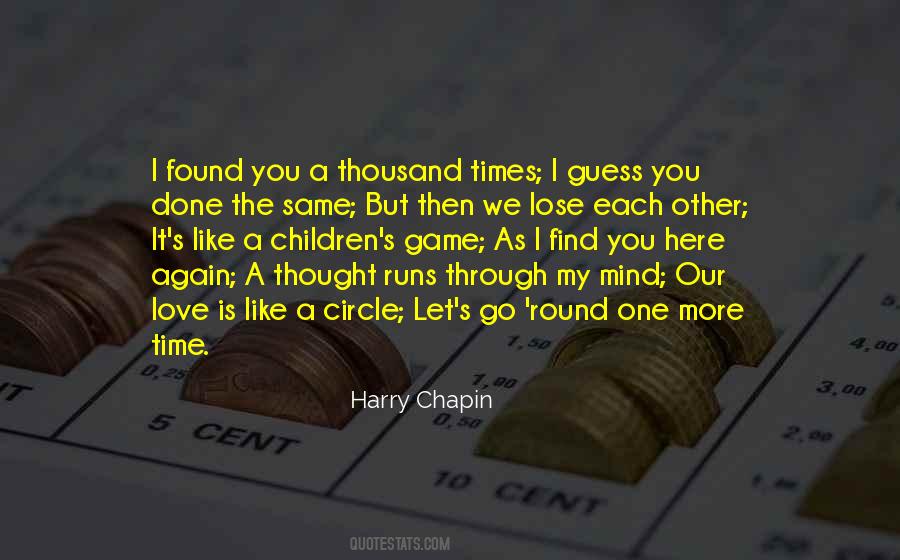 #6. She seems to think that running off and leaving me heartbroken is a good idea, so I decided that I'm going to take her home with me every single day to remind her that my heart beats only for her. That my day starts with her running through my mind and ends with her sleeping in my arms. - Author: Claire Contreras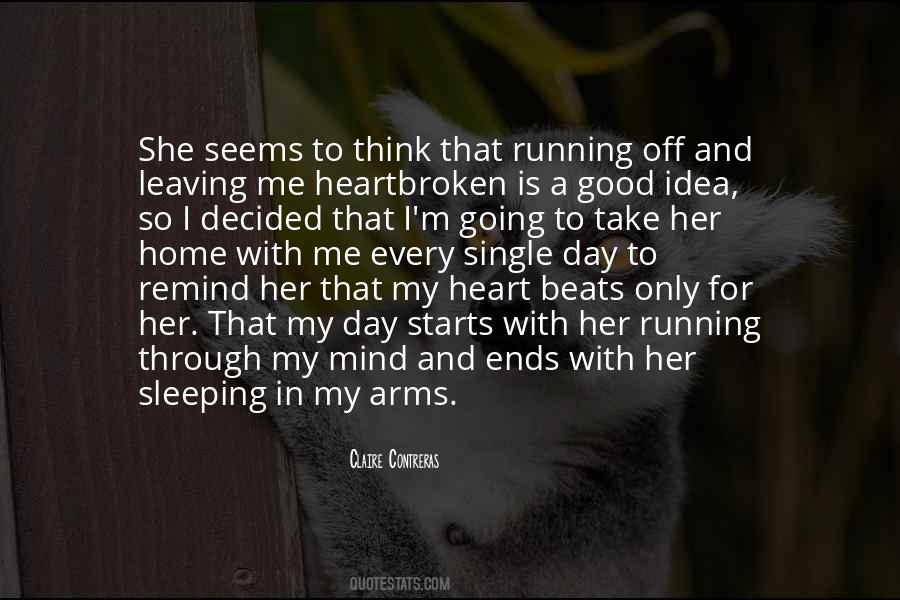 #7. My ideal is to write most of the day, then go running, find friends and socialise all evening; my mind recharges with human contact. - Author: Philipp Meyer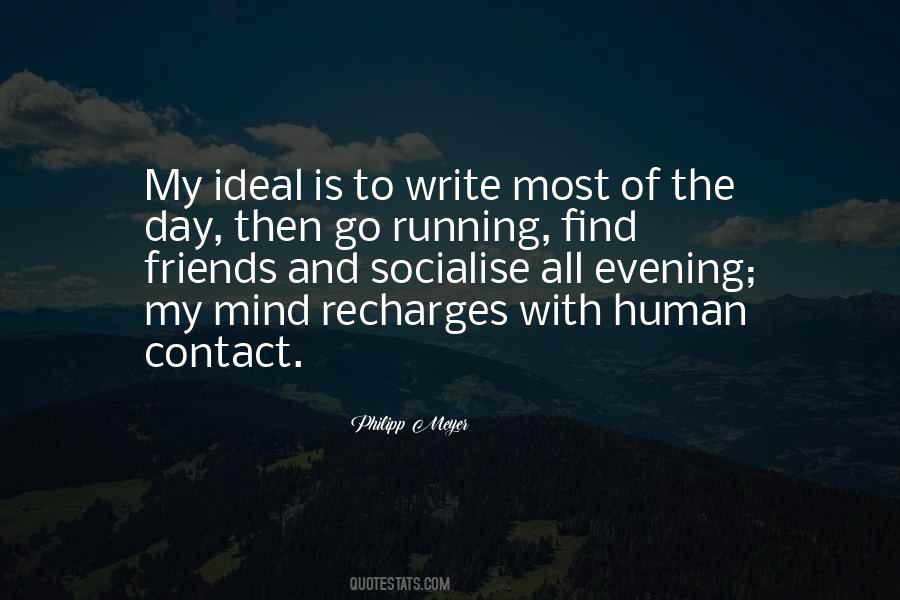 #8. And so, now, she runs. In her running, her mind leaves her.
And she can hear nothing but her heart, the blast making her deaf.
There is a great white silent empty in her running.
She runs. - Author: Lidia Yuknavitch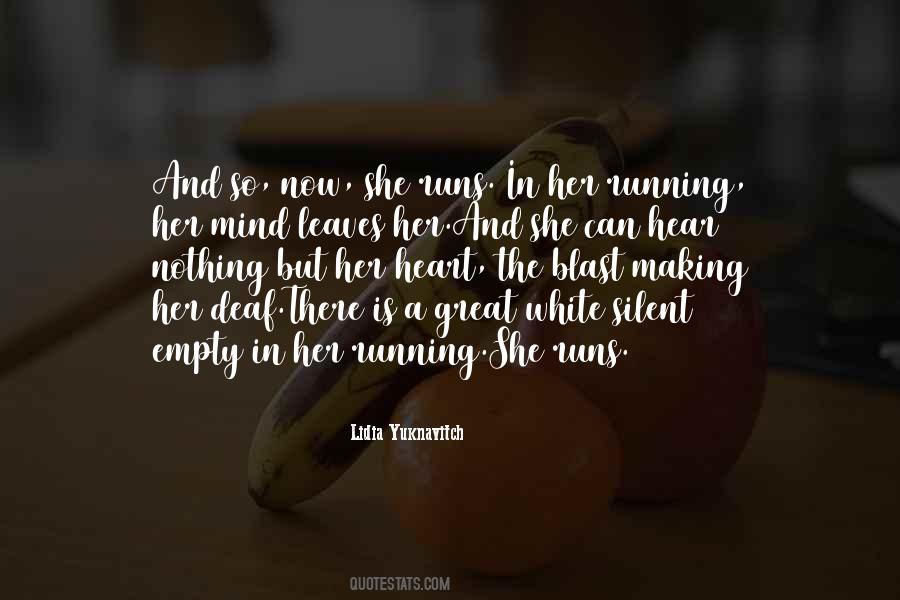 #9. Running is one the best solutions to a clear mind. - Author: Sasha Azevedo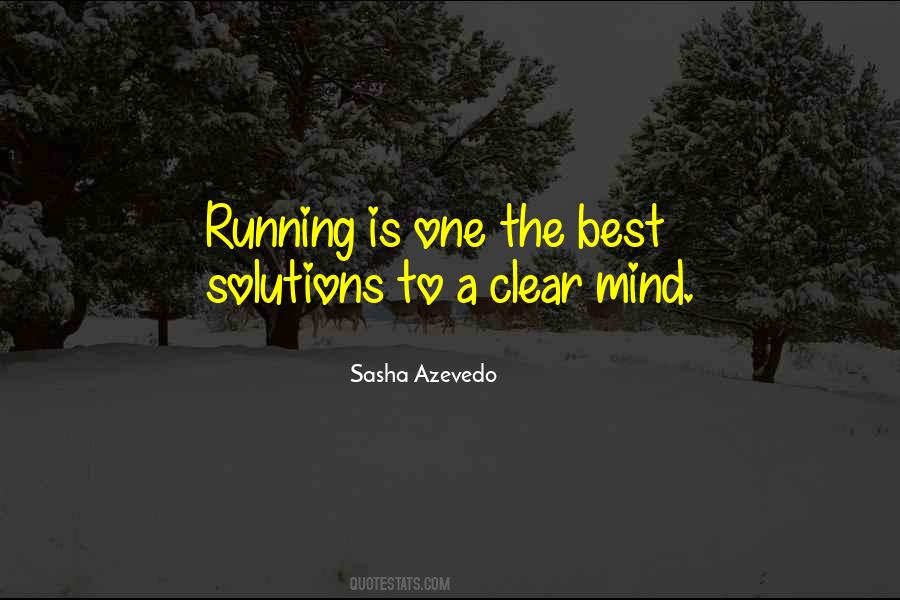 #10. We have millions and millions of North Korean children totally stunted in mind and body and will have to be dealt with at some point, who have been raised to believe that they live in a regime that is run by a god. - Author: Christopher Hitchens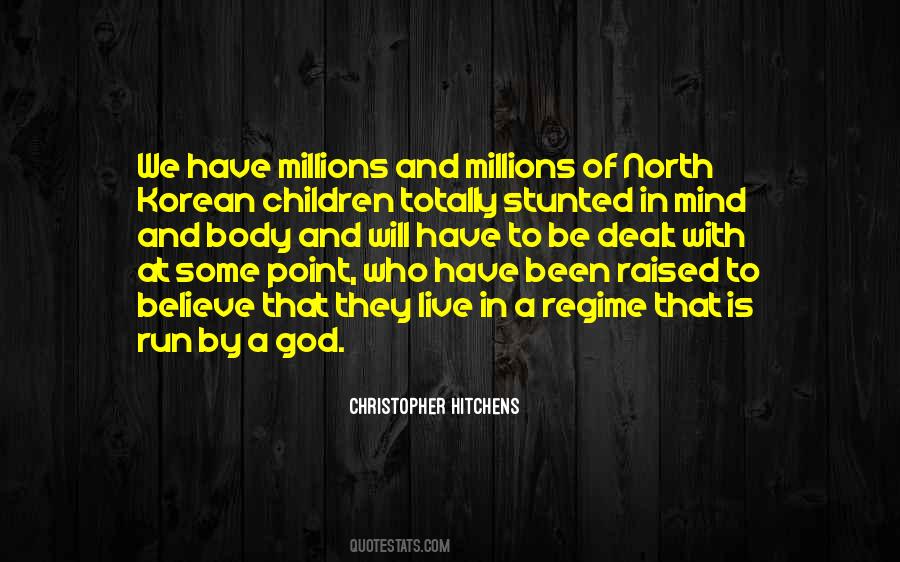 #11. When we desire or solicit anything, our minds run wholly on the good side or circumstances of it; when it is obtained, our minds run wholly on the bad ones. - Author: Jonathan Swift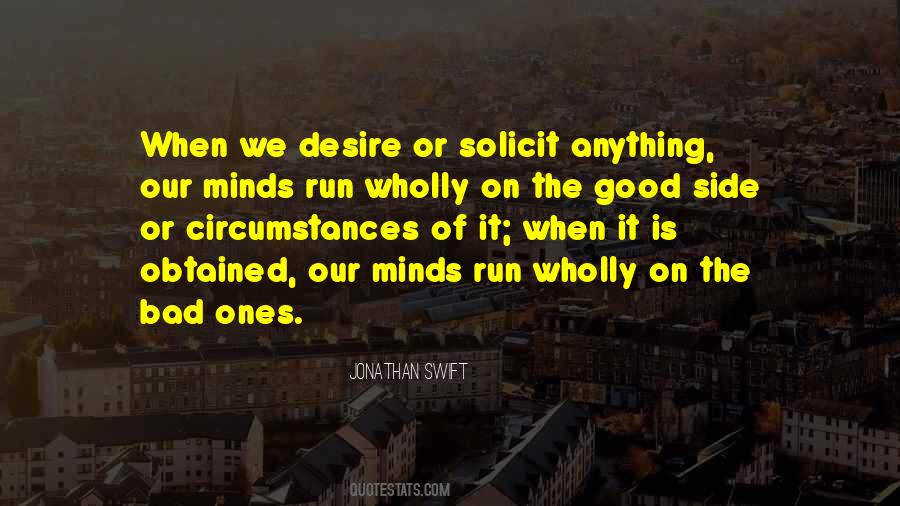 #12. When I am running my mind empties itself. Everything I think while running is subordinate to the process. The thoughts that impose themselves on me while running are like light gusts of wind
they appear all of a sudden, disappear again and change nothing. - Author: Haruki Murakami
#13. In a lot of minds, God is big enough to raise dead people, but He's not big enough to deal with our running. - Author: Jason Upton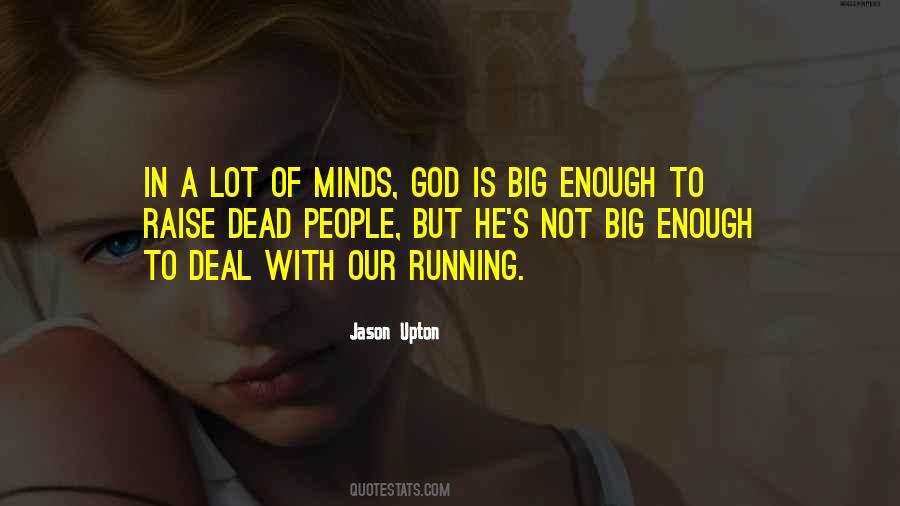 #14. You are not there, Father," I cried. "I wake up at Gaudlin Hall, I spend most of my day there, I sleep there at night. And throughout it all there is but one thought running through my mind."
"And that is?"
"This house is haunted. - Author: John Boyne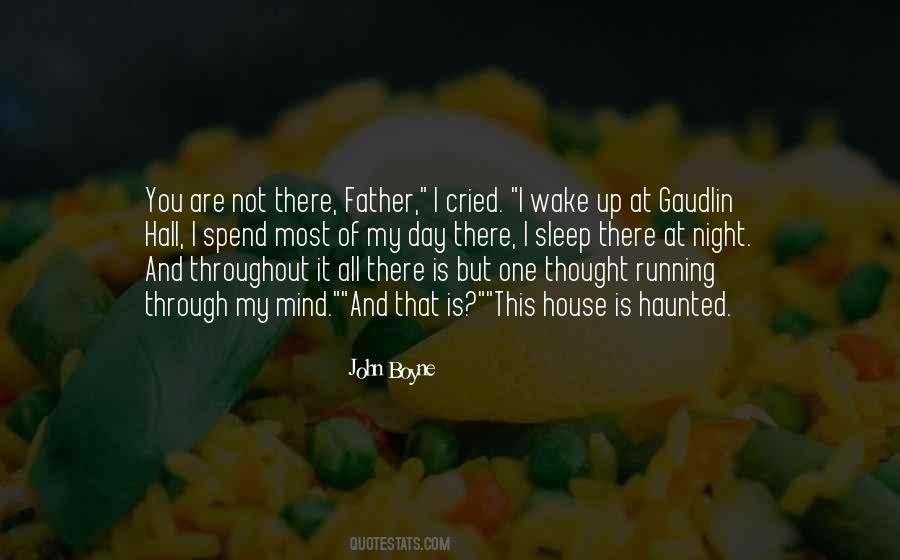 #15. To me, the relationship between meditation and running is natural, for one is a training of the mind and one is a training of the body. - Author: Sakyong Mipham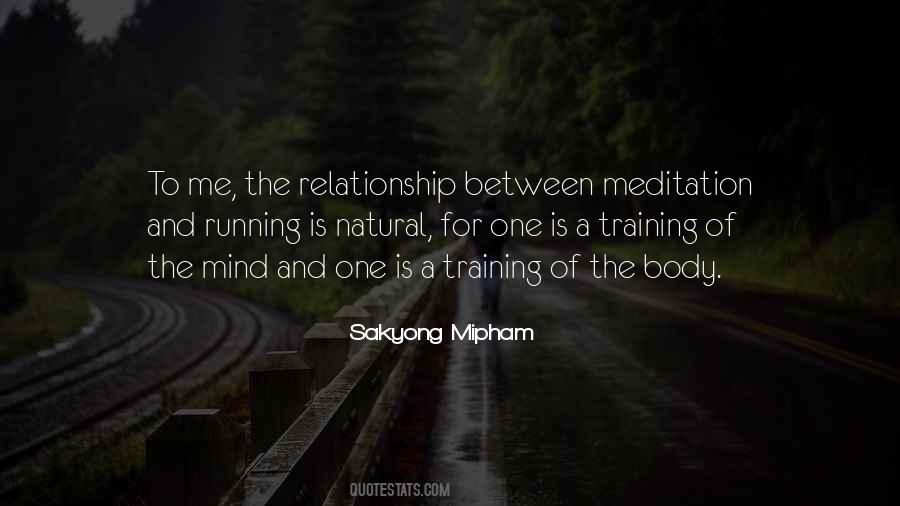 #16. Running is WD-40 for the mind. - Author: Corey Irwin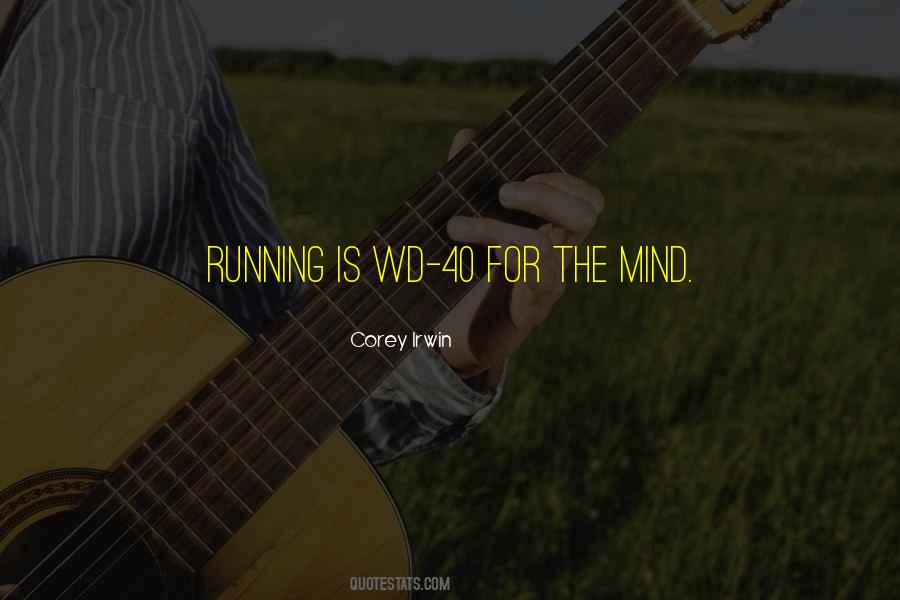 #17. A better way to get good feedback is to run a field experiment - that is, rather than trying to mimic the real world in a lab, take the lab mind-set into the real world. You're still running an experiment but the subjects don't necessarily know it, which means the feedback you'll glean is pure. - Author: Anonymous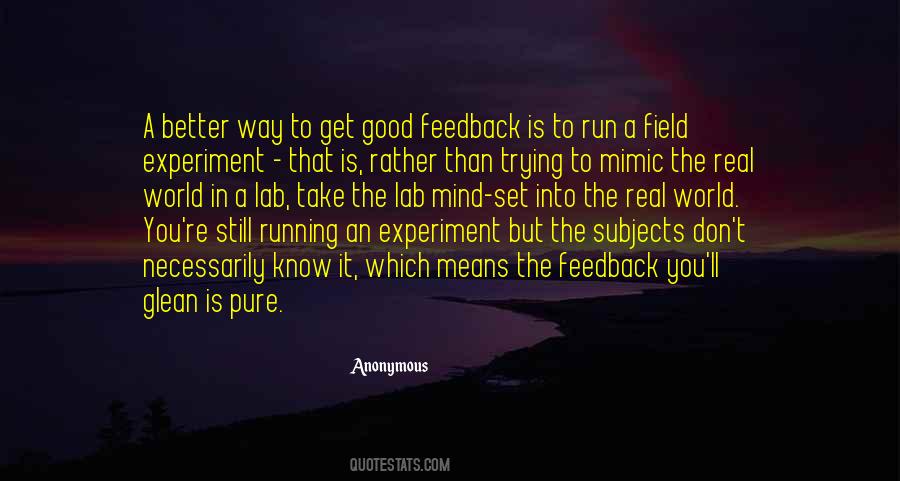 #18. There are lots of ways of being miserable, but there's only one way of being comfortable, and that is to stop running round after happiness. If you make up your mind not to be happy there's no reason why you shouldn't have a fairly good time. - Author: Edith Wharton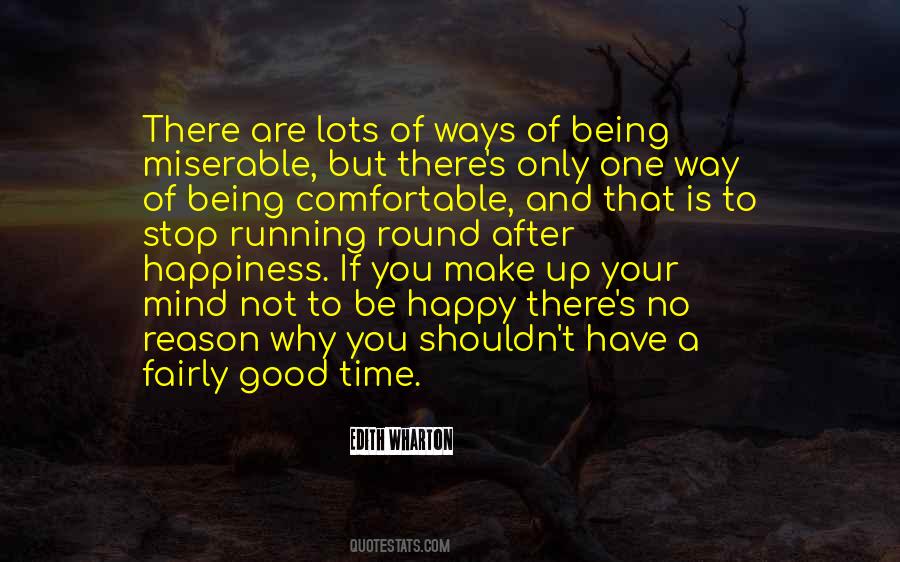 #19. It hurts, but that's all it does. The most difficult part of the training is training your mind. You build calluses on your feet to endure the road. You build calluses on your mind to endure the pain. There's only one way to do that. You have to get out there and run. - Author: David Goggins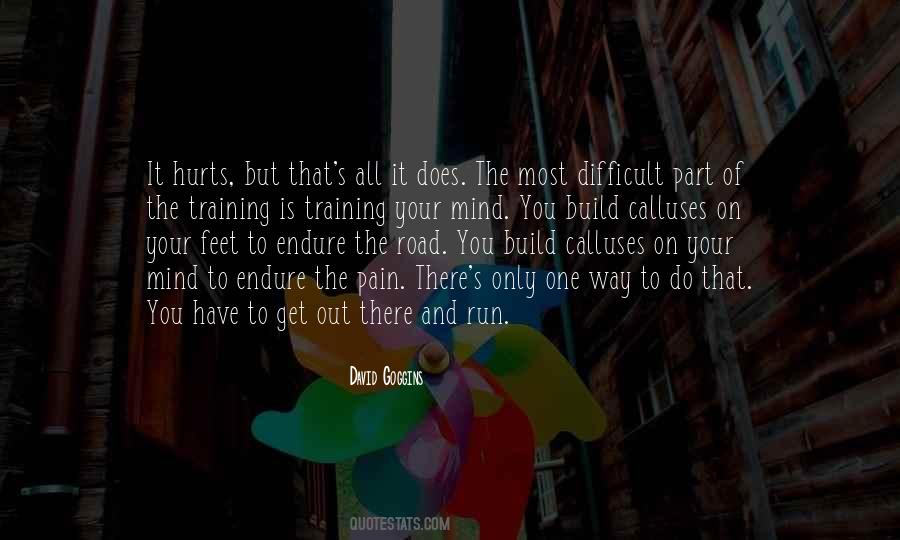 #20. What makes American Elf so good is that it's incredibly personal and it runs the full spectrum from super-sickening sweetness to gut-wrenching terror and sorrow. It's a funny and powerful window into a real person's mind. - Author: Tony Millionaire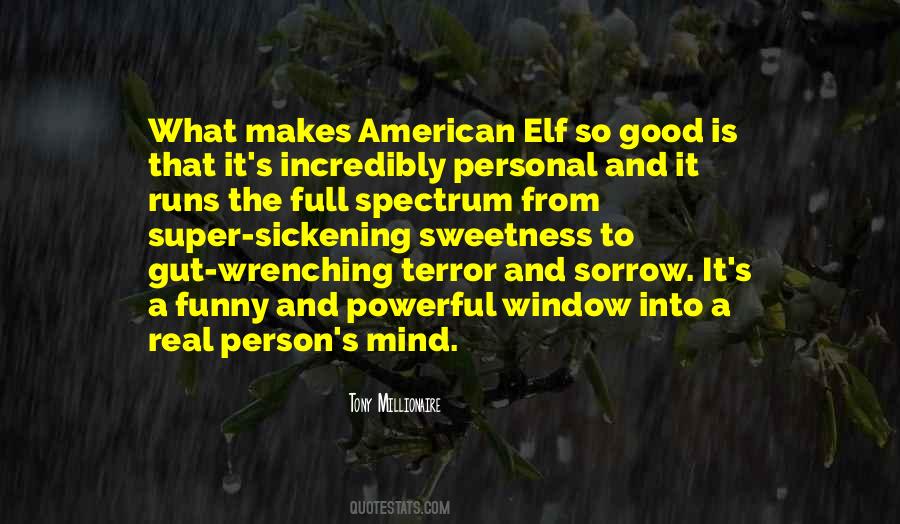 #21. Nature is really important because it's a manifestation of love that hasn't been run through human minds. - Author: Ram Dass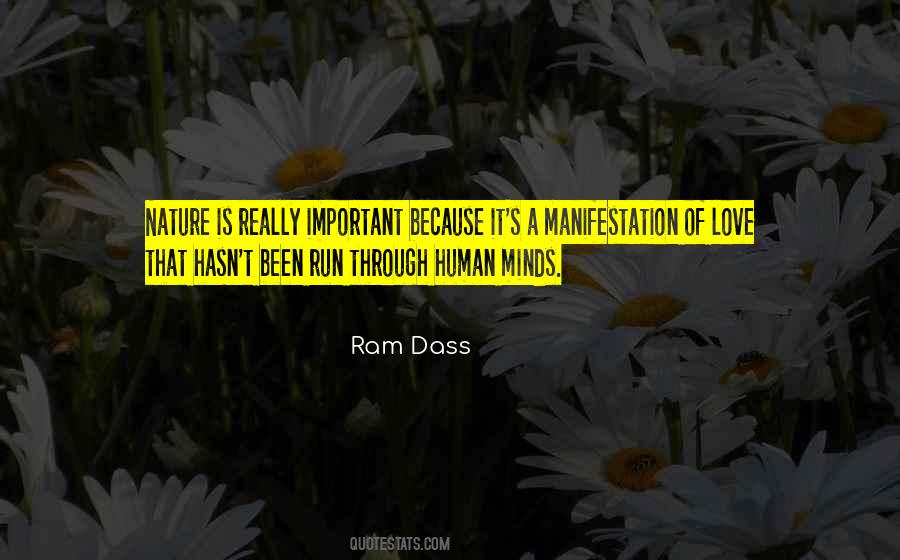 #22. Running is very spiritual for me. It is therapeutic; it clears my mind and helps me to focus. - Author: Amy Locane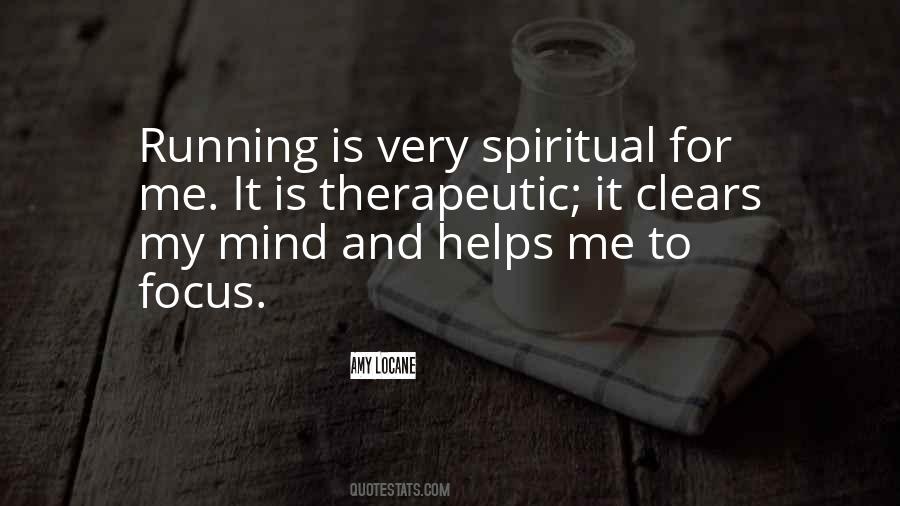 #23. It used to be the custom in this country that when you had made a career and were mature in judgment, you went to the Senate to give something back t the Republic. The idea that at age 25 you go out and buy a blow dryer and starting running for office is not what the founders had in mind - Author: Gore Vidal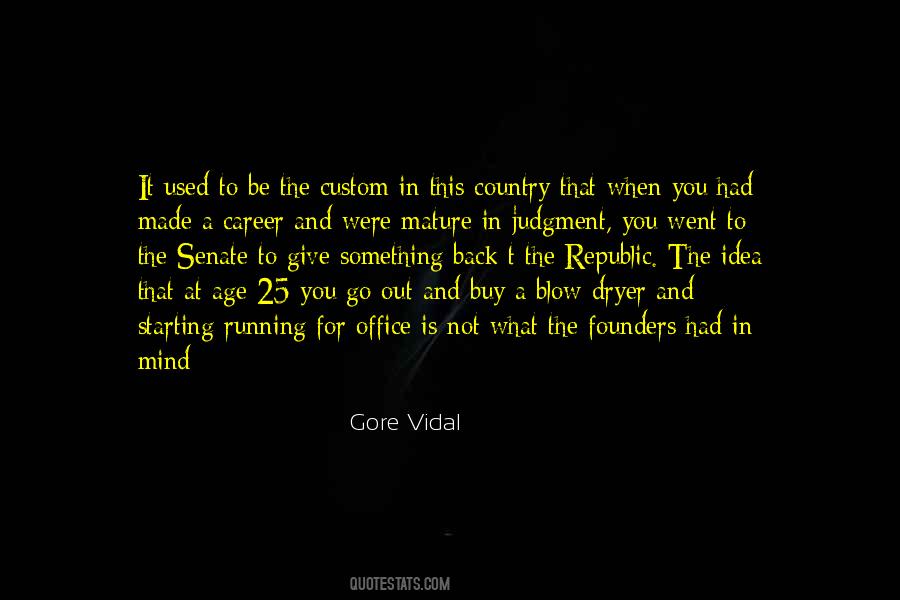 #24. She runs up into the light surprised
Her arms are opened
Her mind's eye is
Seeing things from a better side than most can dream - Author: Dave Matthews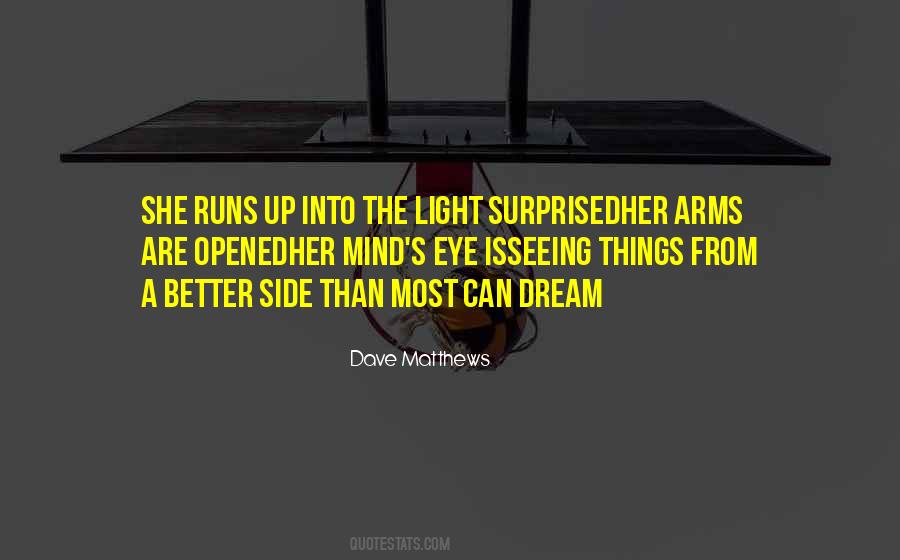 #25. The real reason I couldn't tear my gaze away, the thing that
turned my muscles to ice even as my skin burned, was the one
and only thought running through my mind: That's him. That is
the guy from my dream. - Author: Anastasia Hopcus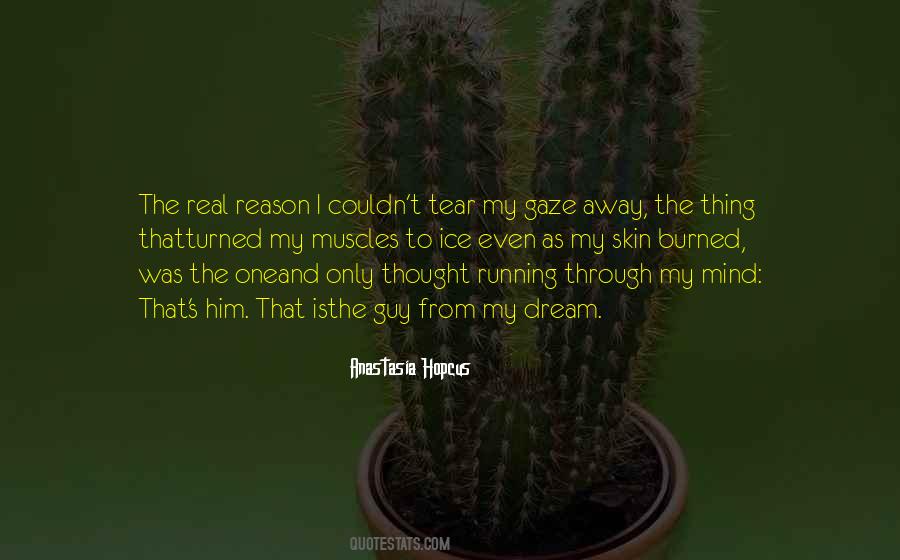 #26. It is better to meditate a little bit with depth than to mediate long with the mind running here and there. If you do not make an effort to control the mind it will go on doing as it pleases, no matter how long you sit to meditate. - Author: Paramahansa Yogananda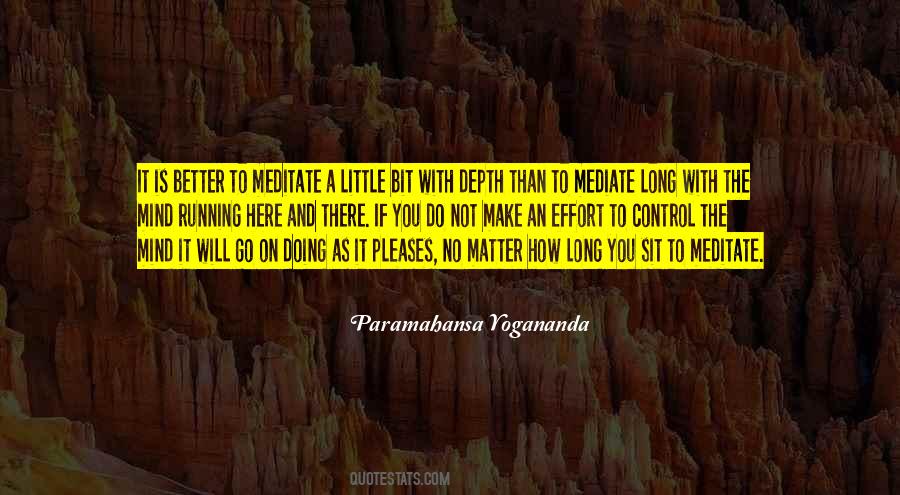 #27. The reality is the world is a really, really big place, and there's a lot of people running around with a lot on their mind. And you really have to figure out how to build a company that can put on a message that can actually reach people and have an impact globally. - Author: Marc Andreesen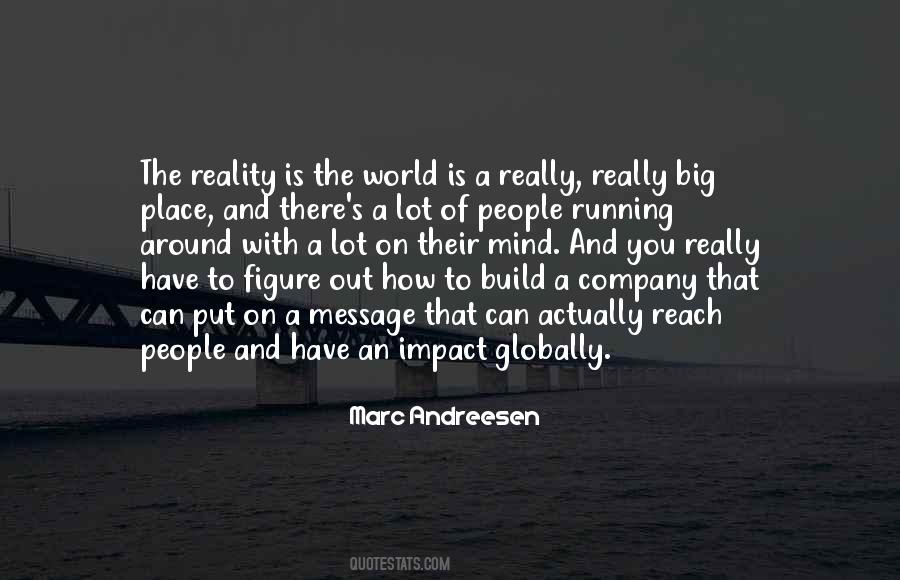 #28. Running a marathon with a backpack is tough and may hinder you from winning the race. Don't let the baggage from your past - heavy with fear, guilt, and anger - slow you down. - Author: Maddy Malhotra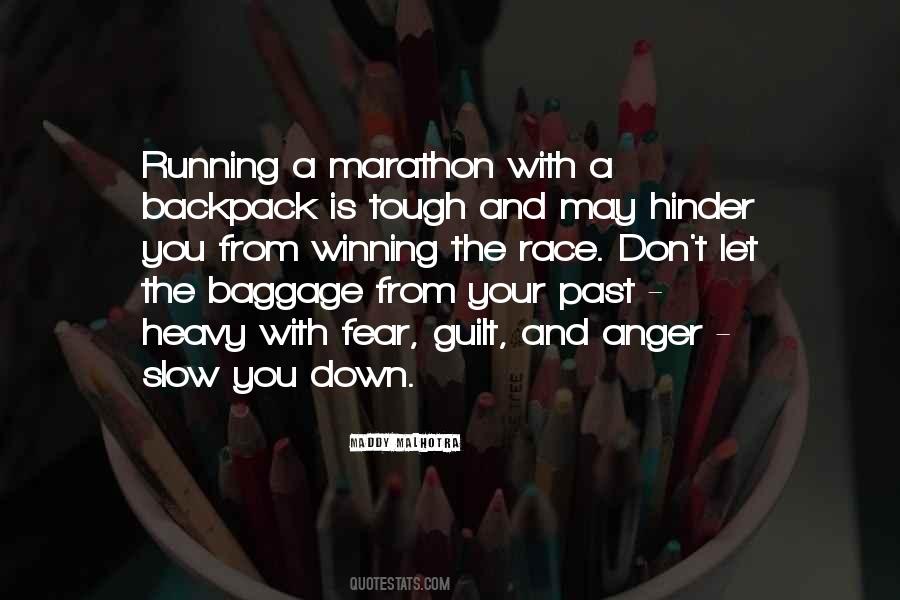 #29. Freedom, I found is not only in the running but in the heart, the mind, the hands. - Author: Louise Erdrich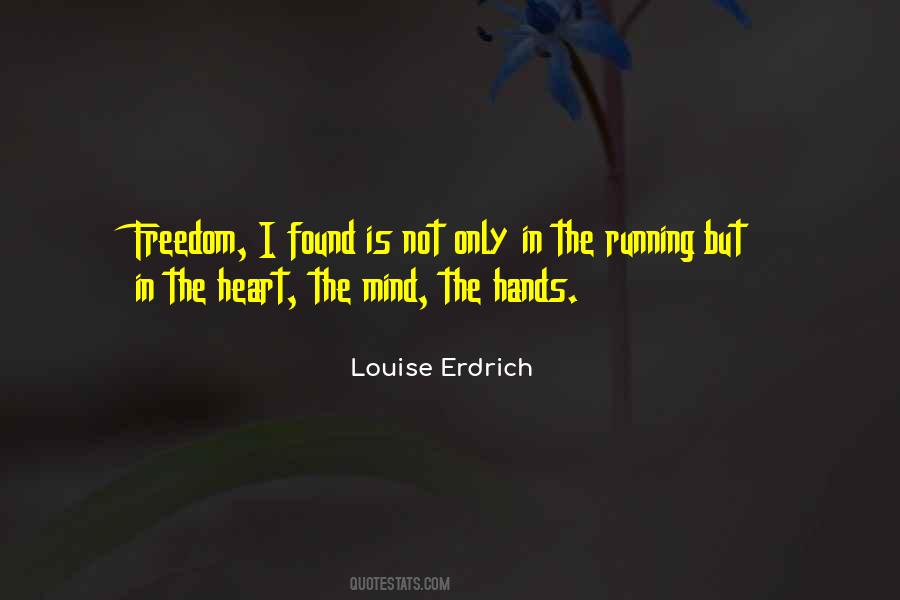 #30. Being an athlete is a state of mind which is not bound by age, performance or place in the running pack. - Author: Jeff Galloway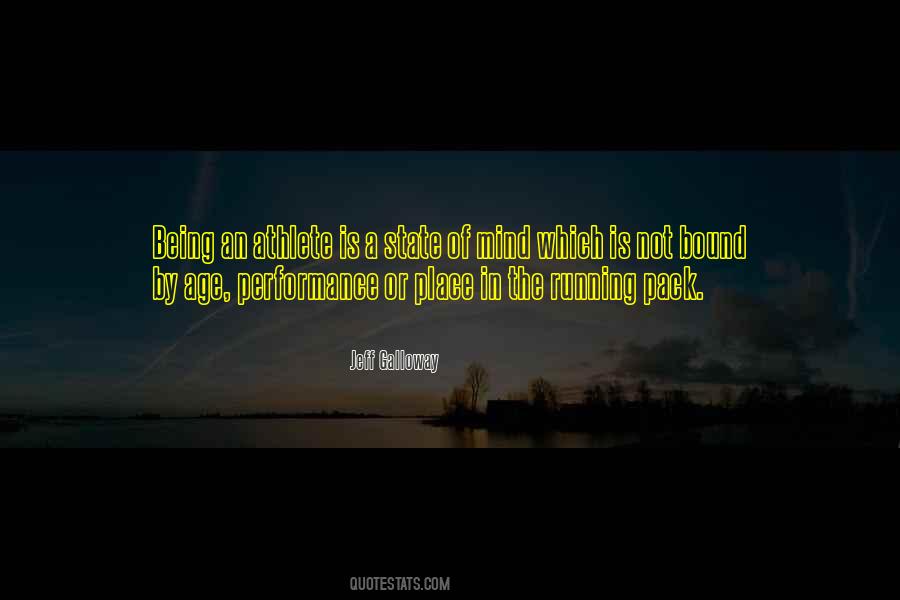 #31. Like writing, running is so much about mind over matter. There are times when you have to override the discomfort and keep pushing. That capacity to endure and then prevail is just amazing. - Author: Susan Orlean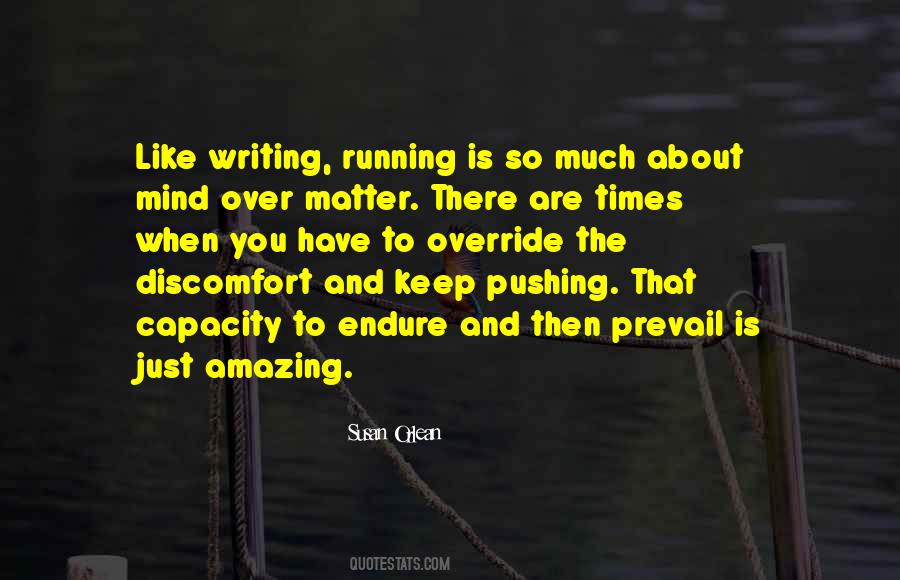 #32. I run or hike three to four times per week and believe that an "everything in moderation" approach to dieting is the best way to keep your mind and body healthy and your taste buds happy. - Author: Ian Anthony Dale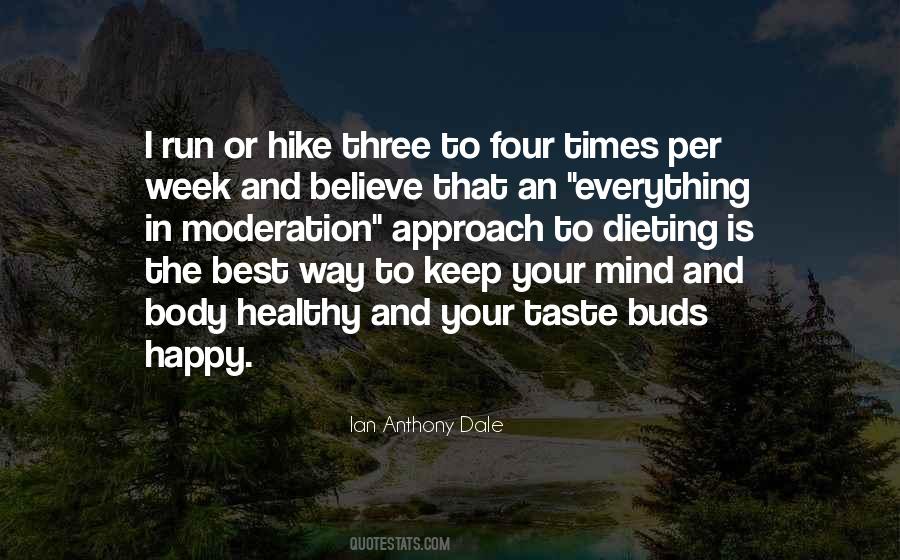 #33. If we only practice compassion on the mind level, we run a great risk of our compassion being just talk. As we know, talk is cheap. To develop true compassion we have to put our money where our mouth is. - Author: Gelek Rimpoche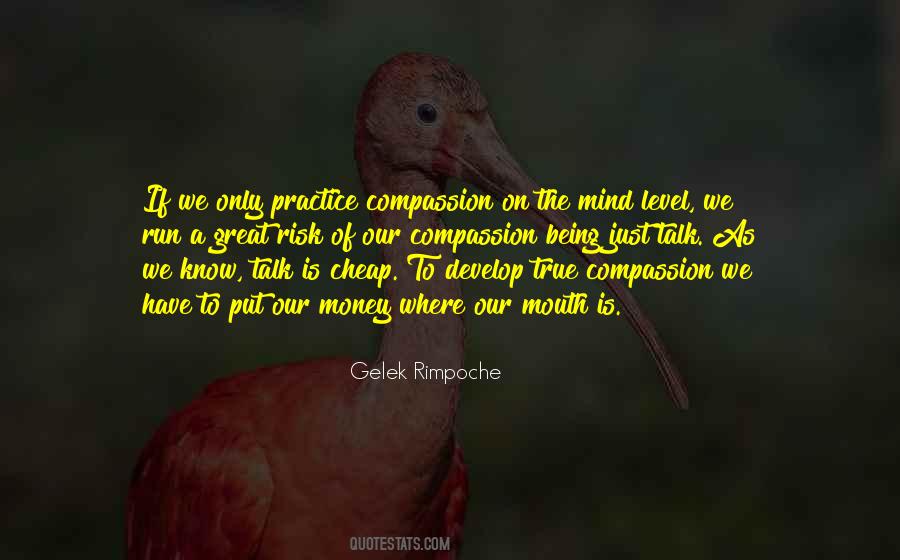 #34. If your day is full of little mean, dark thoughts, is it any wonder you feel crabby? Maybe it's because you let your mind run wild like a dog putting its nose into garbage everywhere. - Author: Barbara De Angelis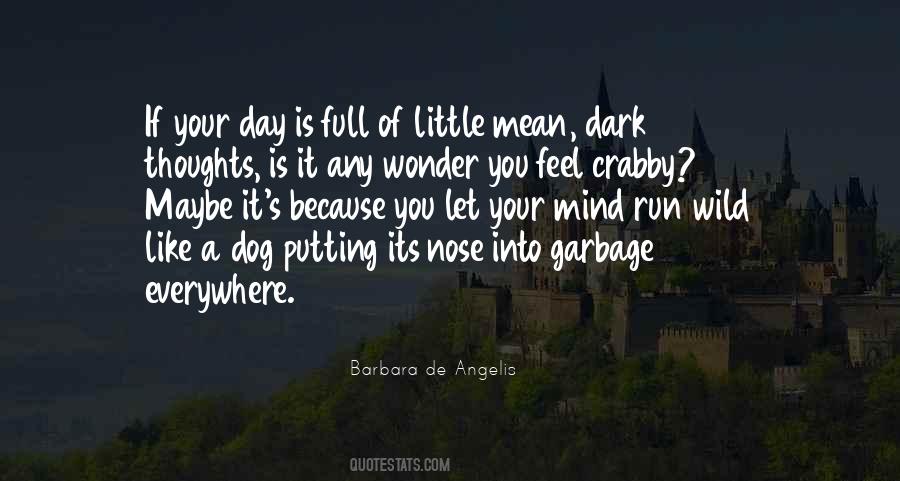 #35. A man should stop his ears against paralyzing terror and run the race that is set before him with a single mind. - Author: Robert Louis Stevenson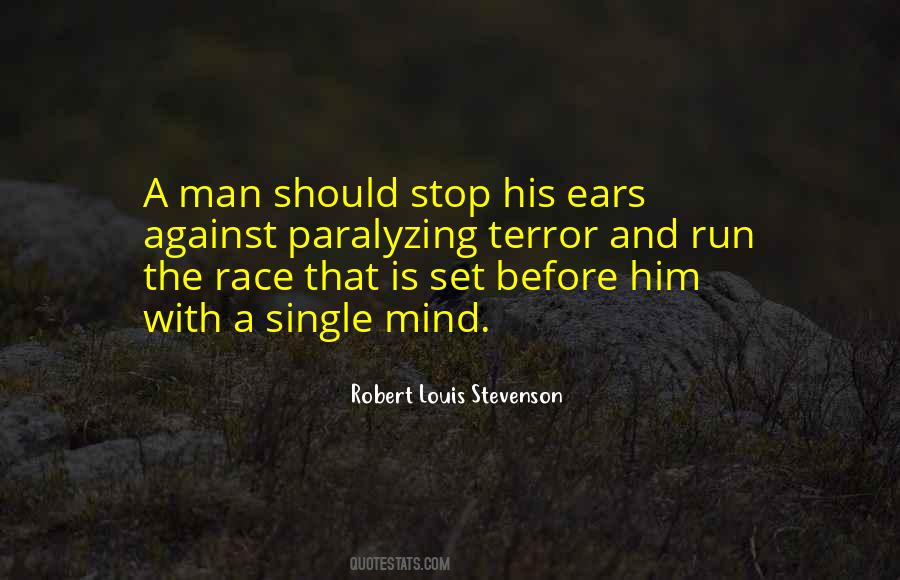 #36. Last year they came in and won the game; that's how I would define it. Revenge is never on our mind. What's on our mind is playing defense, rebounding, taking care of the ball, and running our transition game. - Author: Karl Hobbs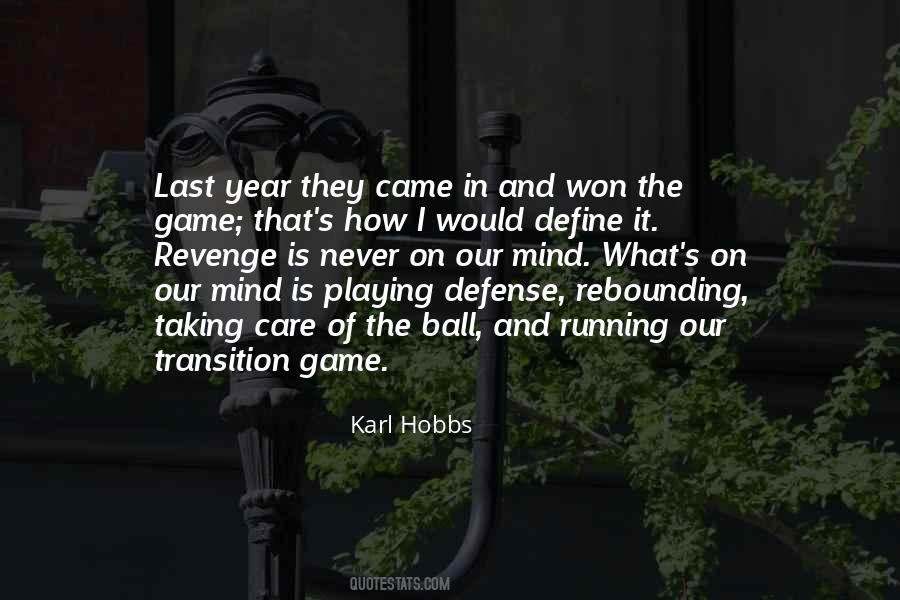 #37. After a long day, my favorite way to unwind is by going running. Not exactly the most relaxing activity, granted, but I always imagine I'm sweating out all the things weighing on my mind. - Author: Becca Fitzpatrick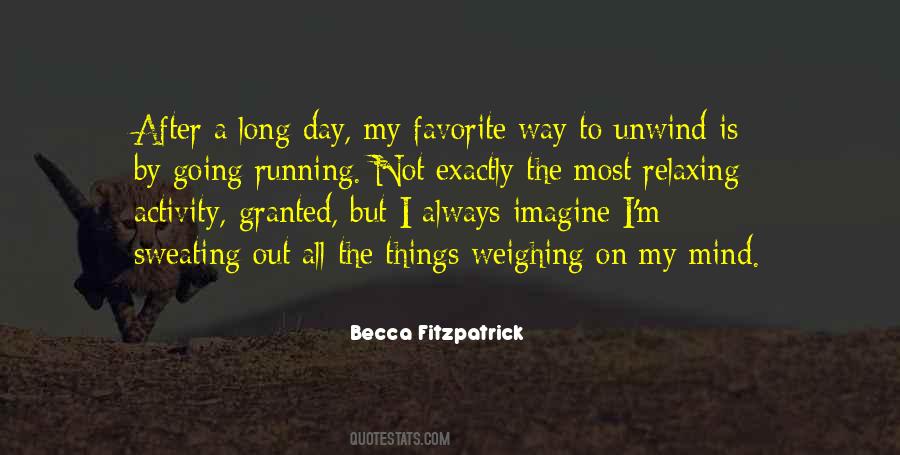 #38. Running through my mind are thoughts of all the races I ran. On my chest are medals from the races I won. In my heart is gratitude to Gerard Hartmann for helping make my dreams come true. I am very honoured to be a part of this wonderful book. - Author: Douglas Wakiihuri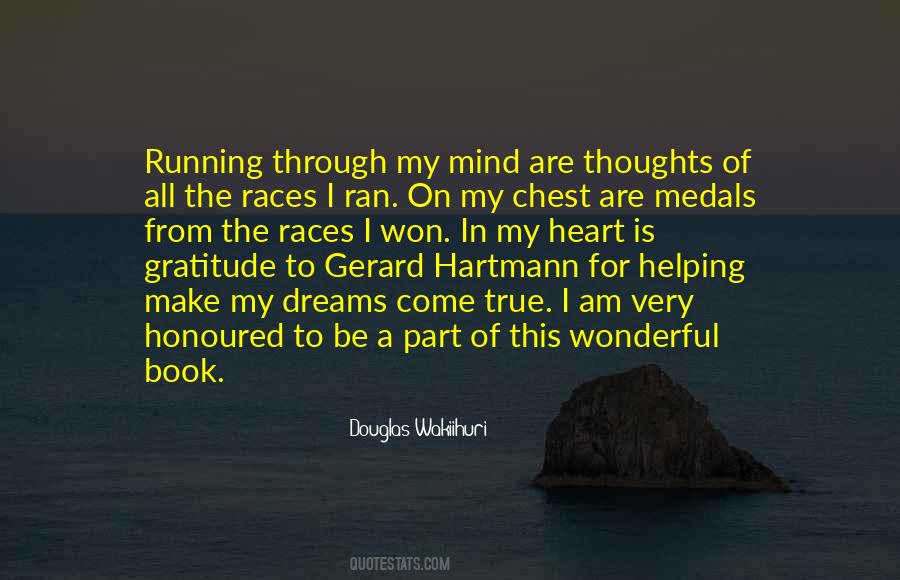 #39. Attention is the mind's feet; if you do not control your attention strictly, it runs into misleading pathways. - Author: Zicheng Hong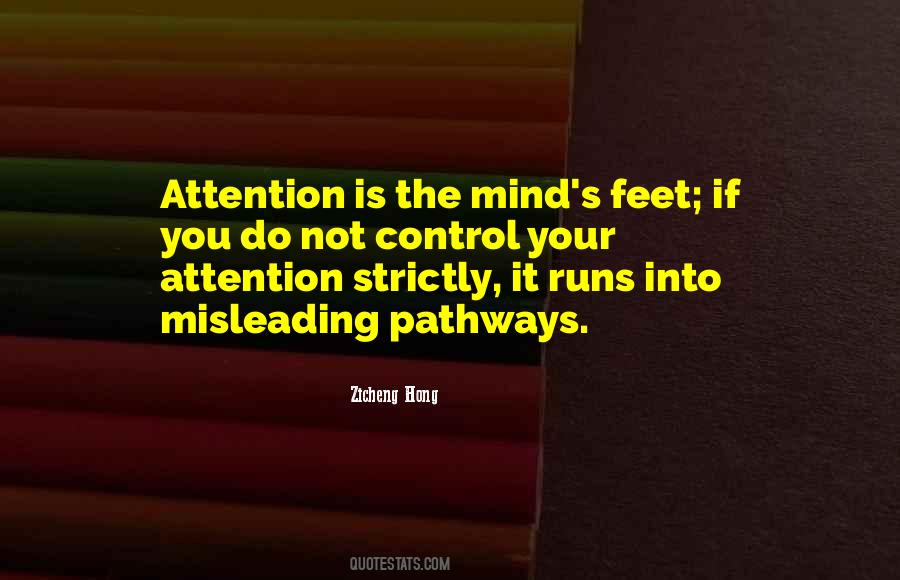 #40. There is a fine line deep within the mind that makes self-belief and confidence, the defining elements of success and failure in any circumstance. How we learn to activate them without running the risk of lying to ourselves is the key that unlocks the superhuman lying dormant within us. - Author: David Amerland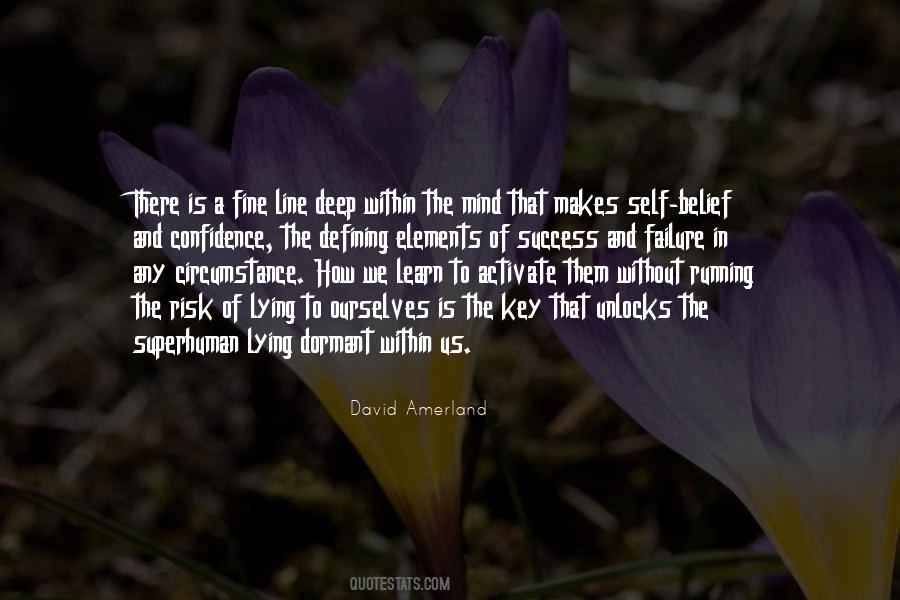 #41. Eradicate poverty. This is all that matters in my country. When I am out training I think about this a lot; when I am running it is going over in my mind. As a country we cannot move forward until we eradicate poverty. - Author: Haile Gebrselassie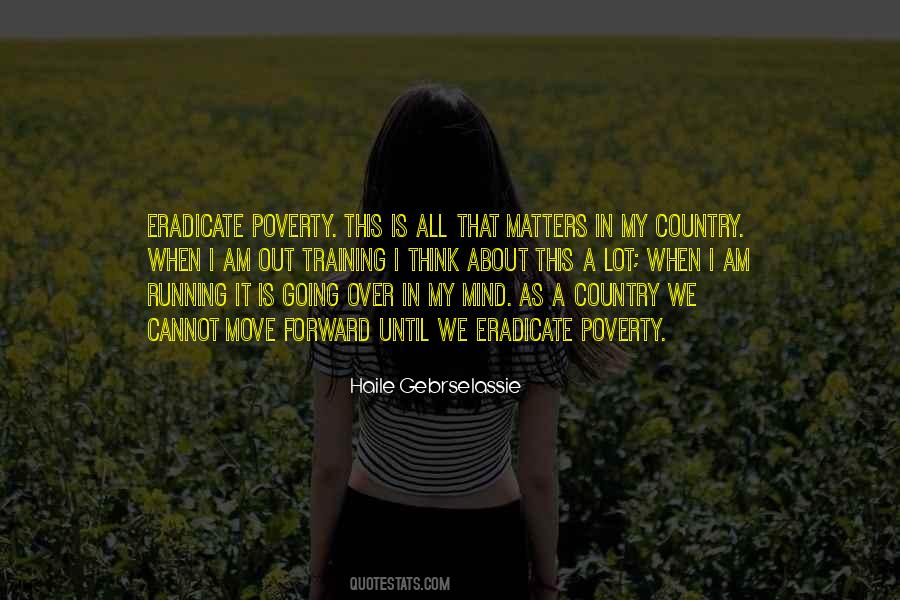 #42. In a certain sense, this guy - who is one of the most evil people in the book - he's not really that bad at running the show, because he knows what he's doing, he's smart and he's got the big picture in mind. He's like the Godfather. - Author: Kevin J. Anderson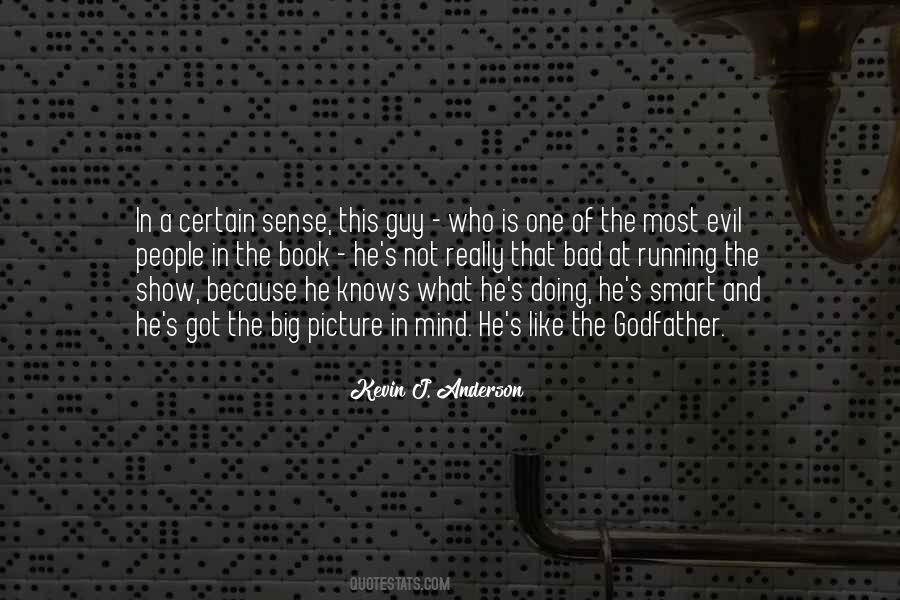 #43. If you are around a lot of human beings who are filled with jealousy and anger and rage and desire, it filters into the mind. Zen is writing a new program to run in the mind. - Author: Frederick Lenz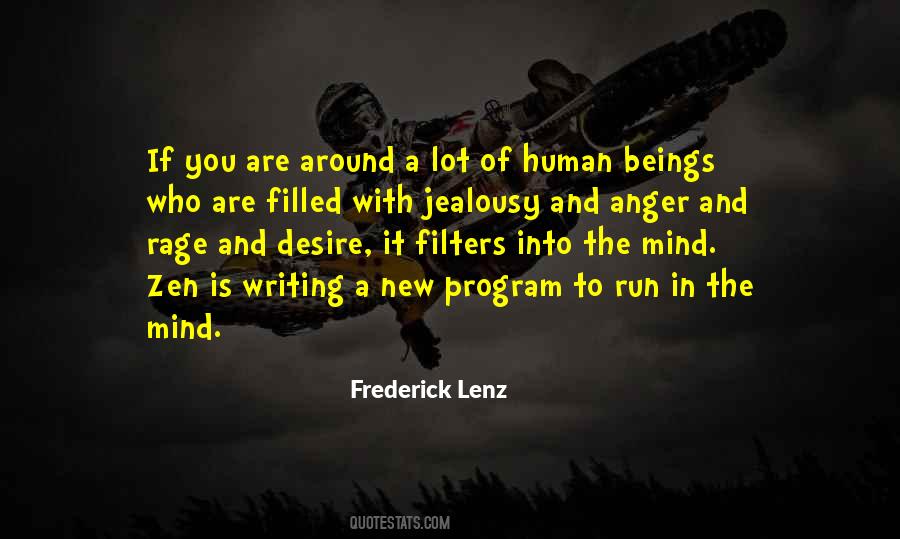 #44. The Lord is a good psychologist: he knows the way our minds run. Turmoil can be the Lord's way of tapping us on the shoulder and saying, 'Don't forget me.' - Author: Eknath Easwaran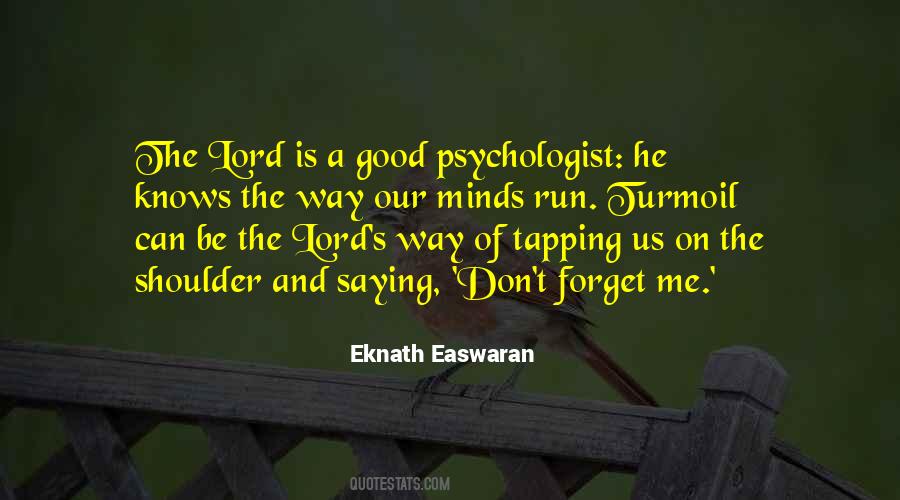 #45. The body does not want you to do this. As you run, it tells you to stop but the mind must be strong. You always go too far for your body. You must handle the pain with strategy ... It is not age; it is not diet. It is the will to succeed. - Author: Jacqueline Gareau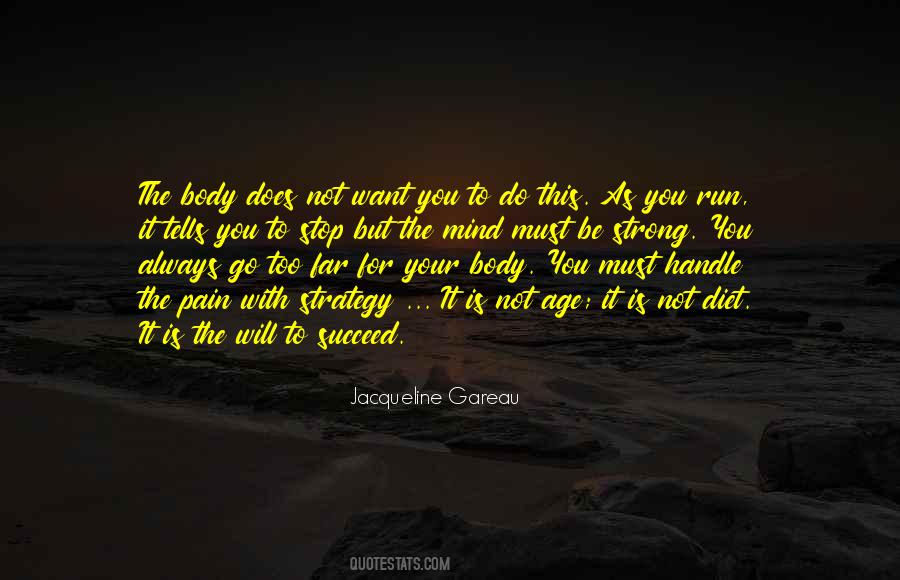 #46. The mind is like a computer. It runs programs. Most of the software has been poorly written. It is written in the language of fear. - Author: Frederick Lenz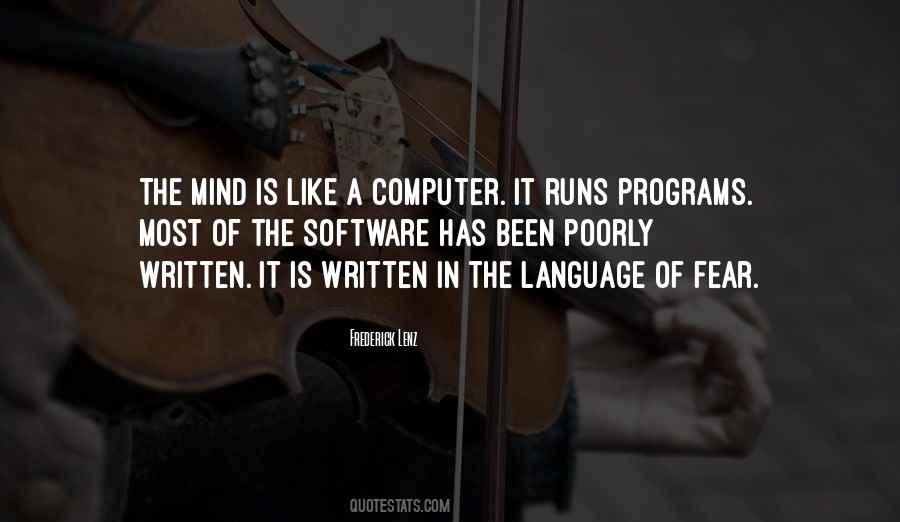 #47. Shutting off the thought process is not rejuvenating; the mind is like a car battery - it recharges by running. - Author: Bill Watterson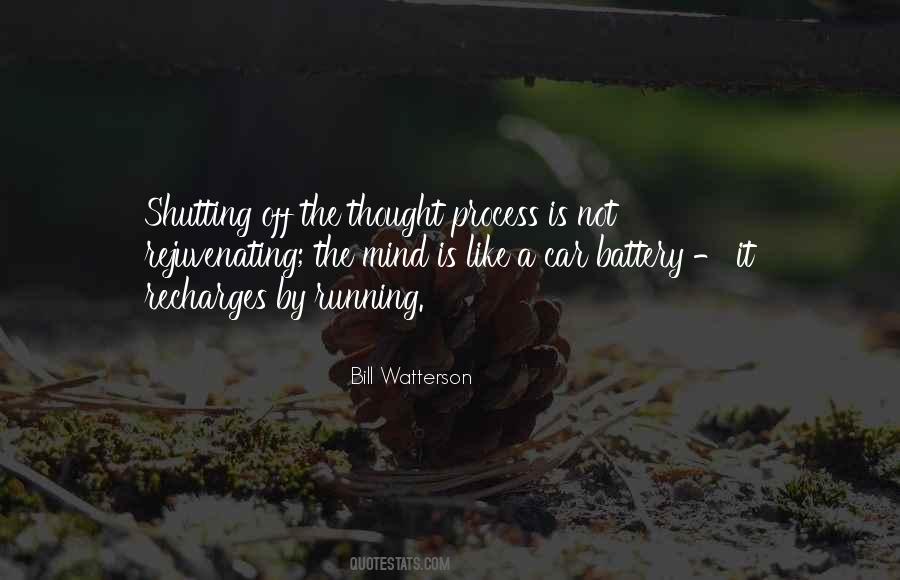 #48. Nothing tells in the long run like a good judgment, and no sound judgment can remain with the man whose mind is disturbed by the mercurial changes of the stock exchange. It places him under an influence akin to intoxication. What is not, he sees, and what he sees, is not. - Author: Andrew Carnegie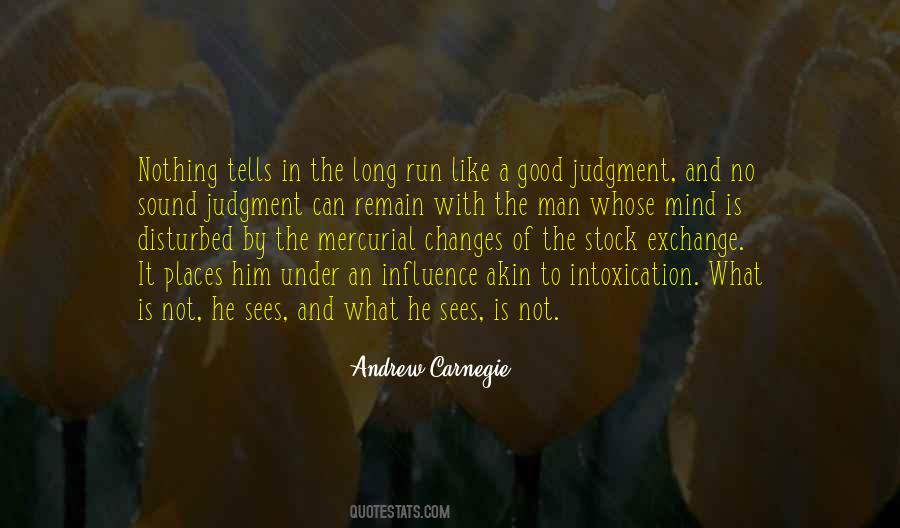 #49. There is no way in my right mind I would contemplate running 26 miles-plus unless it involved a chase with Pamela Anderson. - Author: Jasper Carrott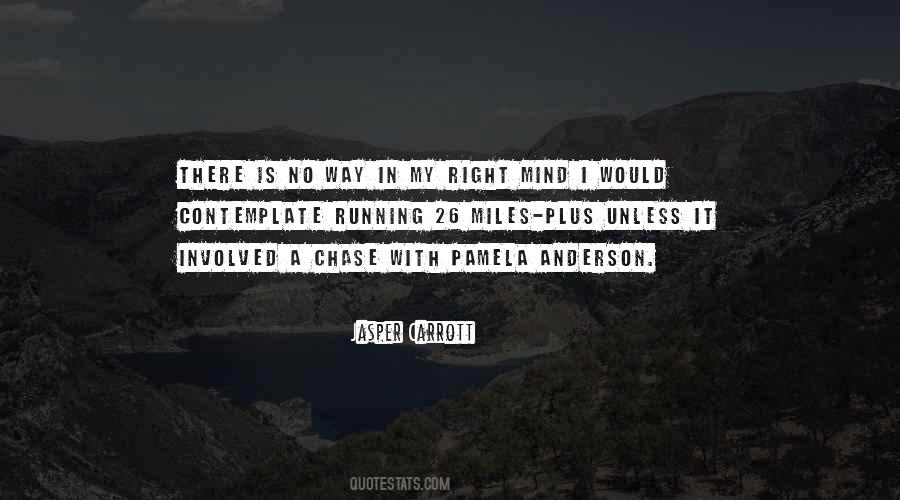 #50. The mind is continuously running around. It never sits, it can't sit. Sitting seems to be death to it, and in a way it is. - Author: Rajneesh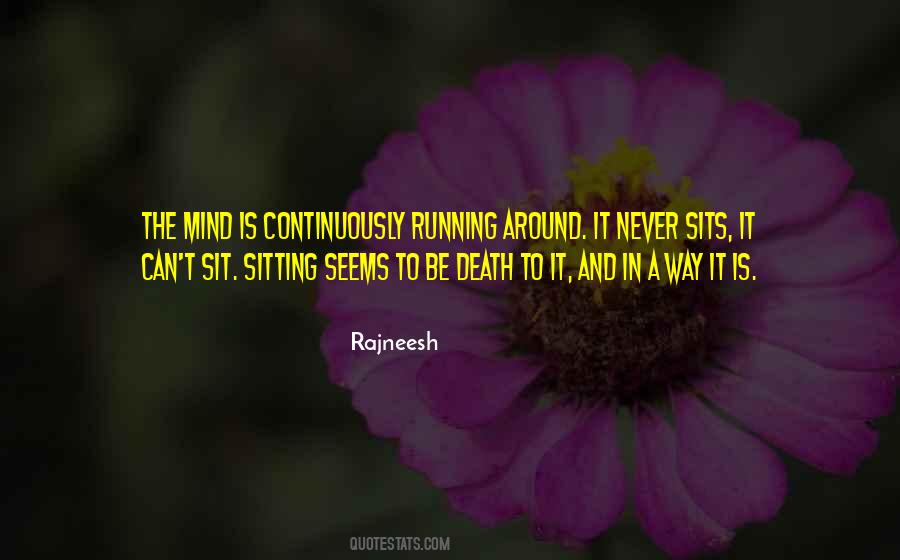 #51. Everybody who is not awake spiritually is totally identified with and run by their thinking mind - the incessant voice in the head. - Author: Eckhart Tolle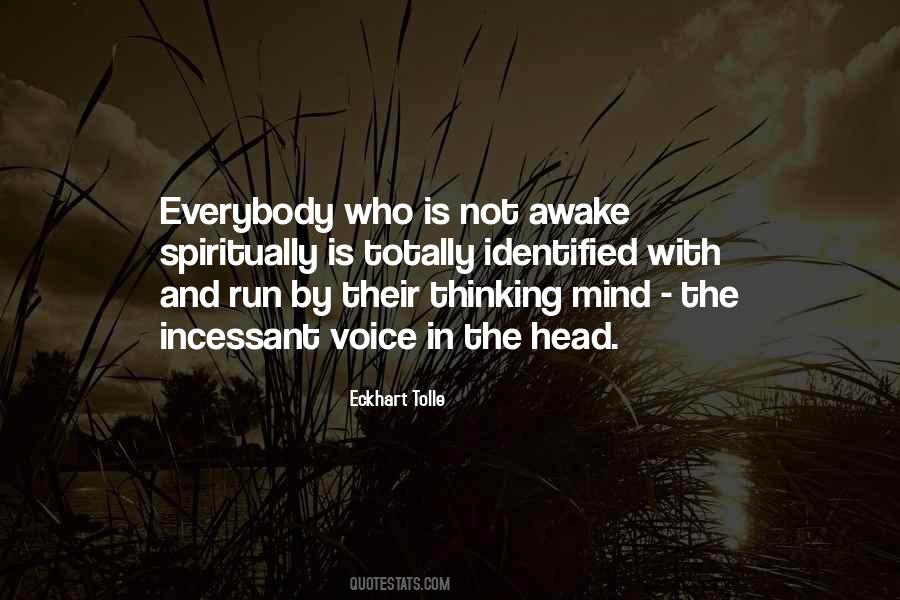 #52. When I get an idea I start at once building it up in my imagination. I change the construction, make improvements and operate the device in my mind. It is absolutely immaterial to me whether I run my turbine in my thought or test it in my shop. I even note if it is out of balance. - Author: Nikola Tesla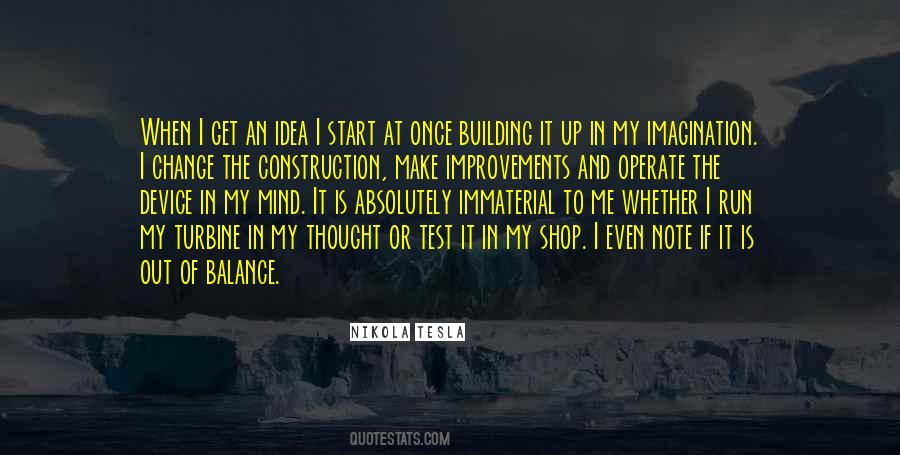 #53. Somehow I find the energy to continue the run. Part of the high that comes after finishing a long run is overcoming the wall, that point when your body crashes but your mind keeps moving you forward. - Author: Shannon Mullen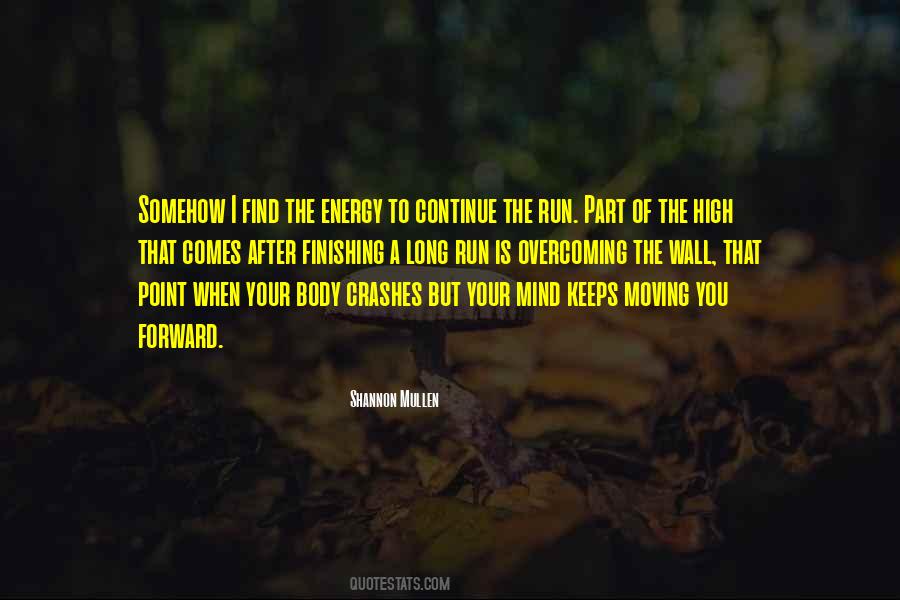 #54. Most people (by the time they have become adults ) can't change their minds because their neural pathways have become set ... the longer neural pathways have been running one way the harder it is to rewire them. - Author: Howard Gardner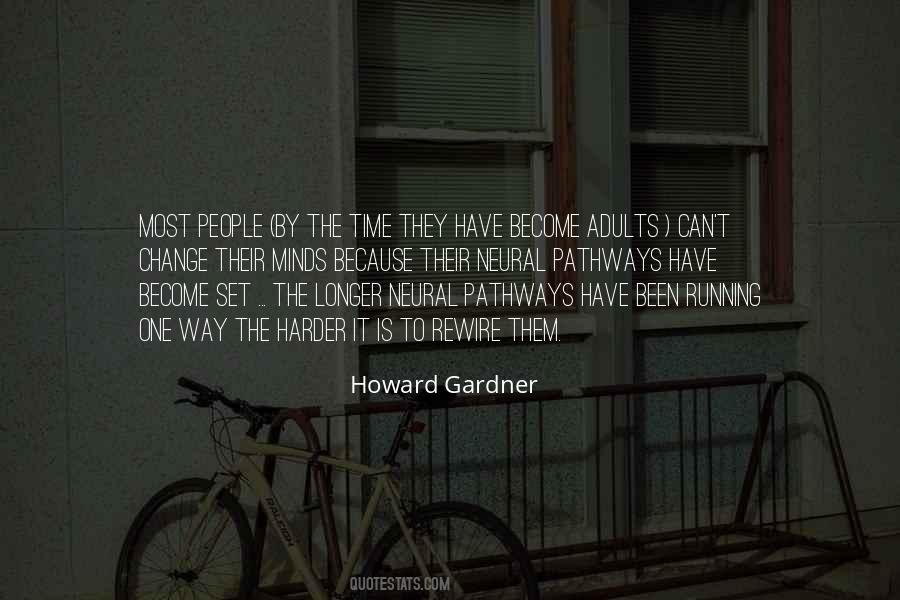 #55. It's not really about the competition. Your biggest challenge in a race is yourself. You're often racing against time. You're frequently running everything through your mind. You're always competing against preconceived ideas. It's not really the person next to you that you worry about. - Author: Summer Sanders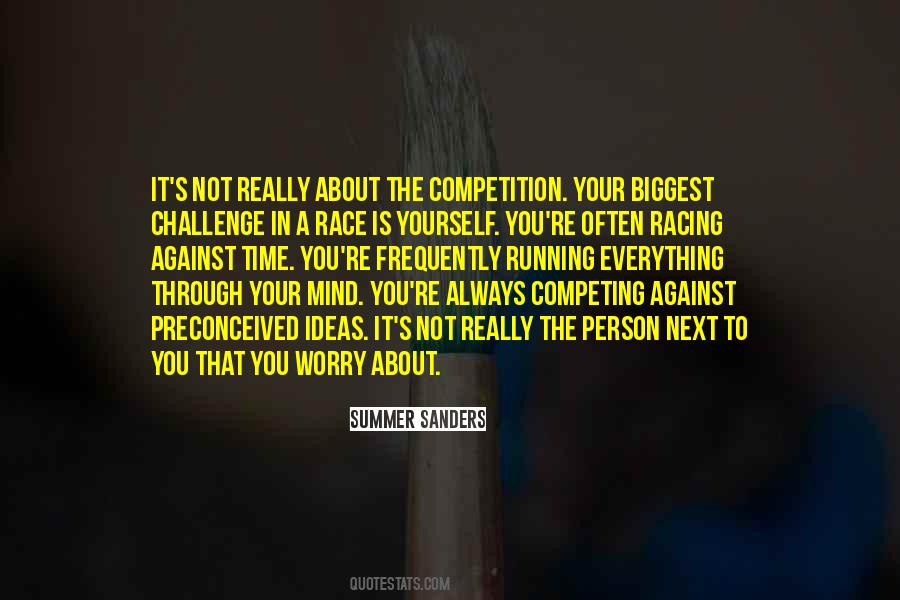 #56. Bhakti is the one essential thing.
To be sure, God exists in all beings.
Who, then is a devotee? He whose mind dwells on God.
But this is not possible as long as one has egotism and vanity.
The water of God's grace cannot collect
on the high mound of egotism. It runs down. - Author: Ramakrishna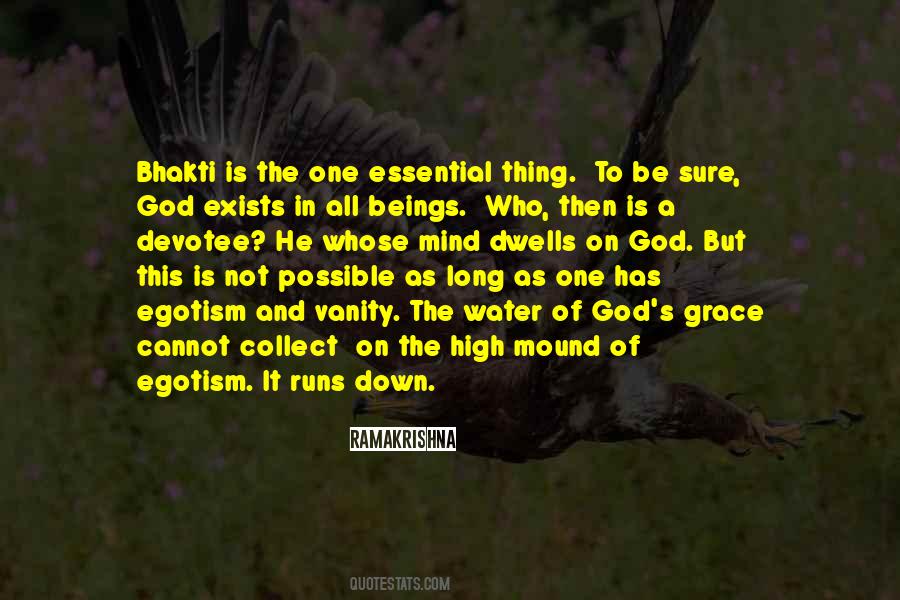 #57. The craft with which the world is made runs also into the mind and character of men. No man is quite sane; each has a vein of folly in his composition, a slight determination of blood to the head, to make sure of holding him hard to some one point which Nature has taken to heart. - Author: Ralph Waldo Emerson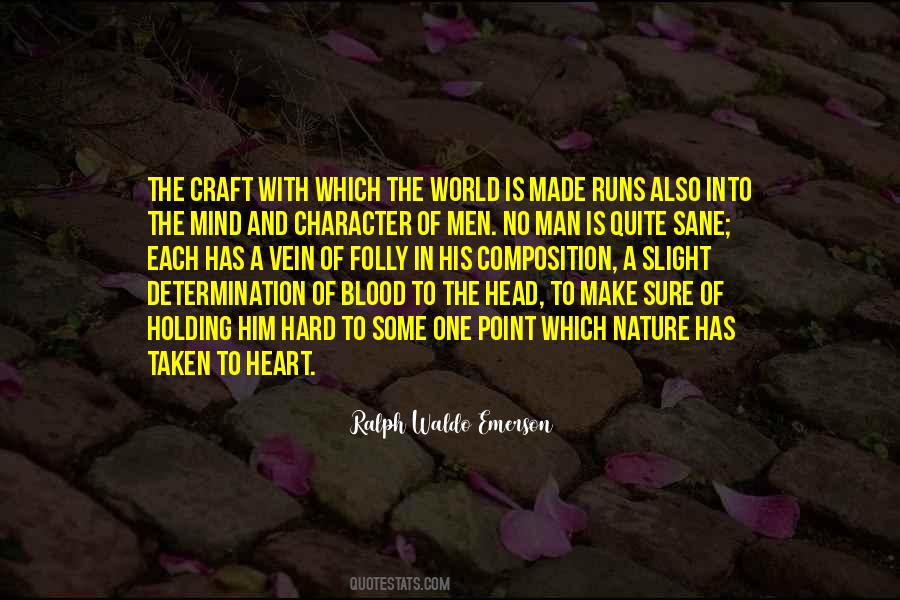 #58. Nature has unlimited time in which to travel along tortuous paths to an unknown destination. The mind of man is too feeble to discern whence or whither the path runs and has to be content if it can discern only portions of the track, however small. - Author: Karl Von Frisch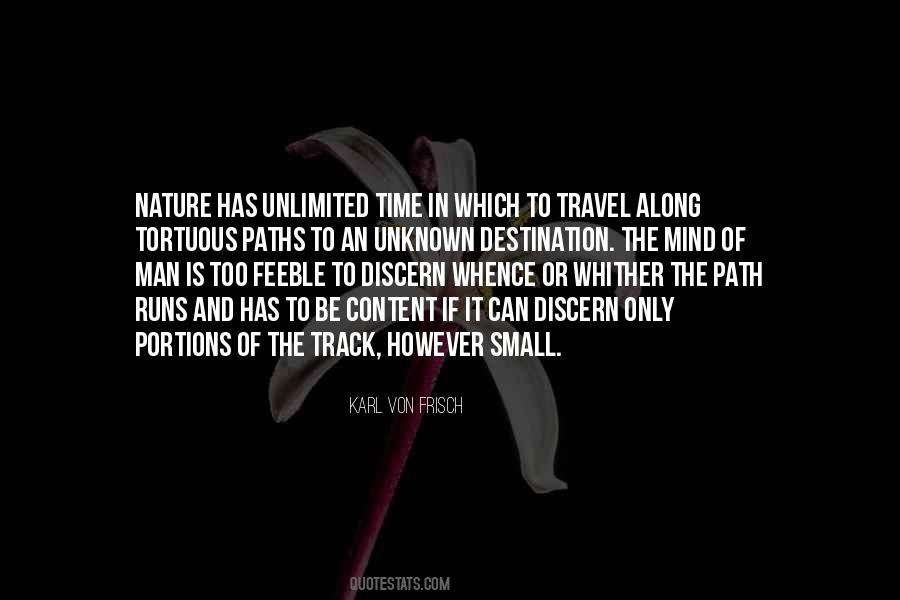 #59. The mind of one who practises doesn't run away anywhere, it stays right there. Good, evil, happiness and unhappiness, right and wrong arise, and he knows them all. The meditator simply knows them, they don't enter his mind. That is, he has no clinging. He is simply the experiencer. - Author: Ajahn Chah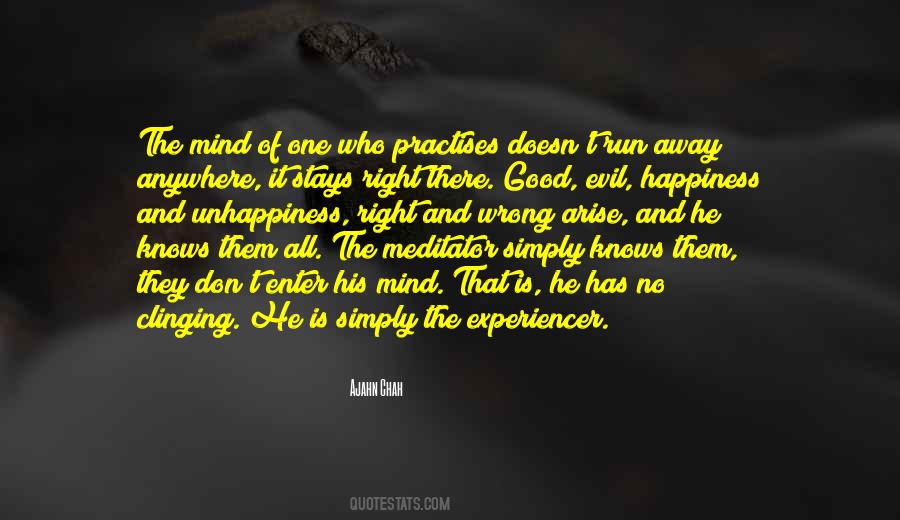 #60. Running is my meditation, mind flush, cosmic telephone, mood elevator and spiritual communion. - Author: Lorraine Moller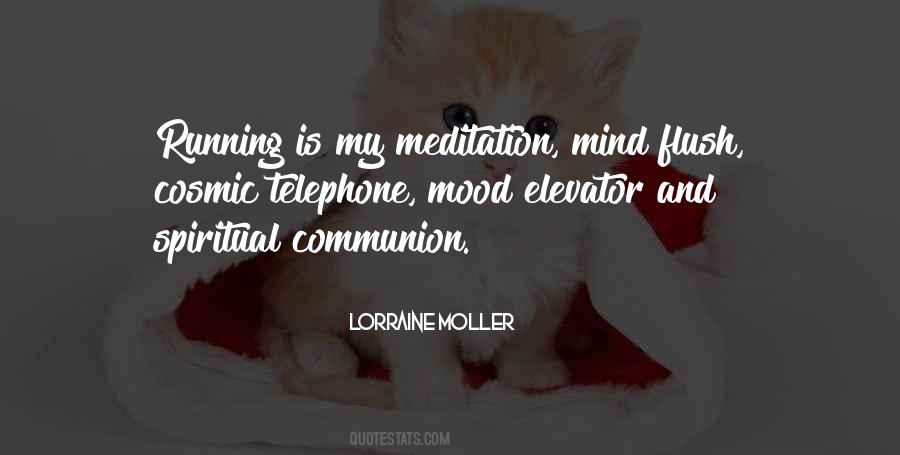 #61. Running is ultimately a personal experience. It is a revival of the spirit, a private oasis for the thirsty mind. Yet, its healing power only increases in the presence of others. Run together and the oasis grows cooler and more satisfying. - Author: Amby Burfoot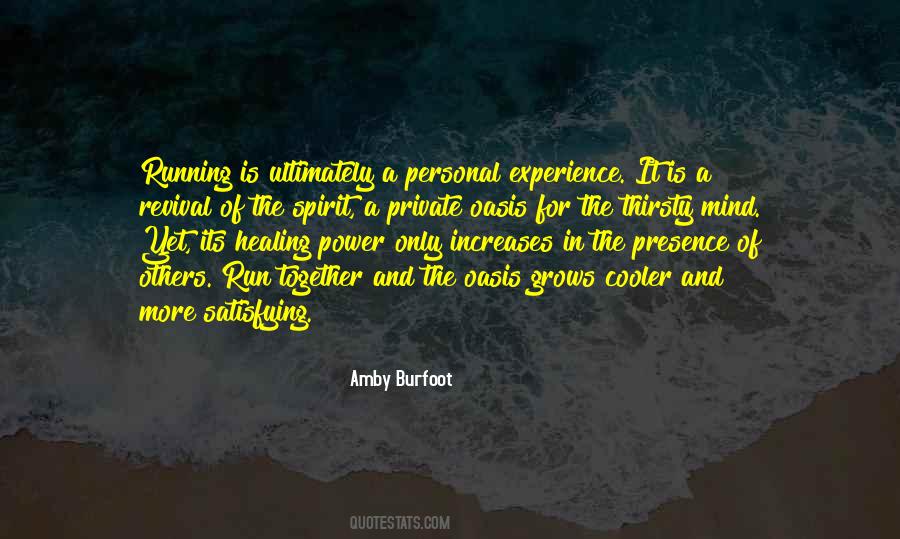 #62. Cowardice shuts the eyes till the sky is not larger than a calf-skin: shuts the eyes so that we cannot see the horse that is running away with us; worse, shuts the eyes of the mind and chills the heart. - Author: Ralph Waldo Emerson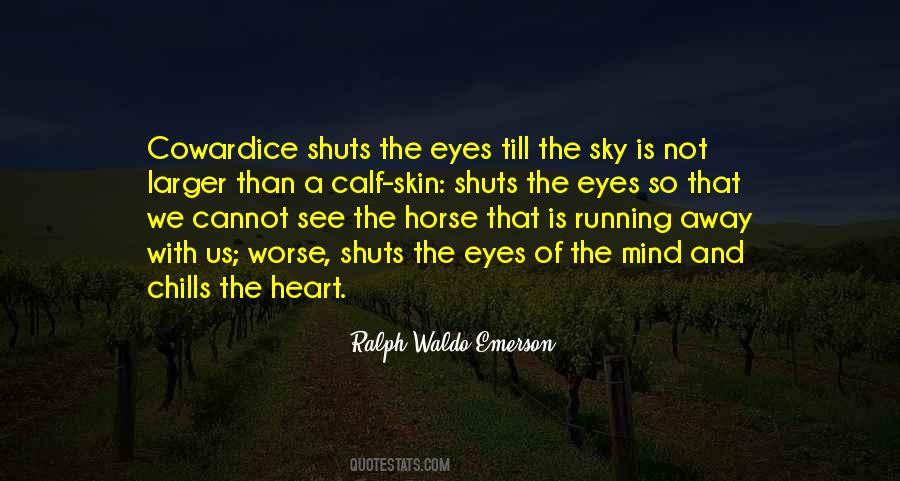 #63. If someone is doing something crazy - or what I think is crazy - I'm watching, but also am I keeping the actual seriousness of someone actually running for president in my mind all the time? - Author: Maria Thayer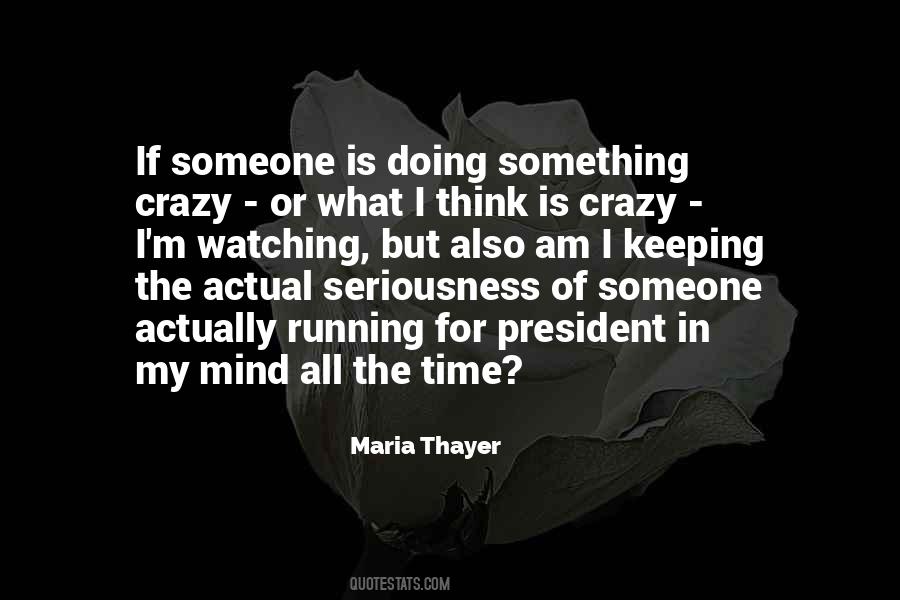 #64. With automatic spell checkers running unleashed over what we compose, our era is that of correctly spelled typos. - Author: Neil DeGrasse Tyson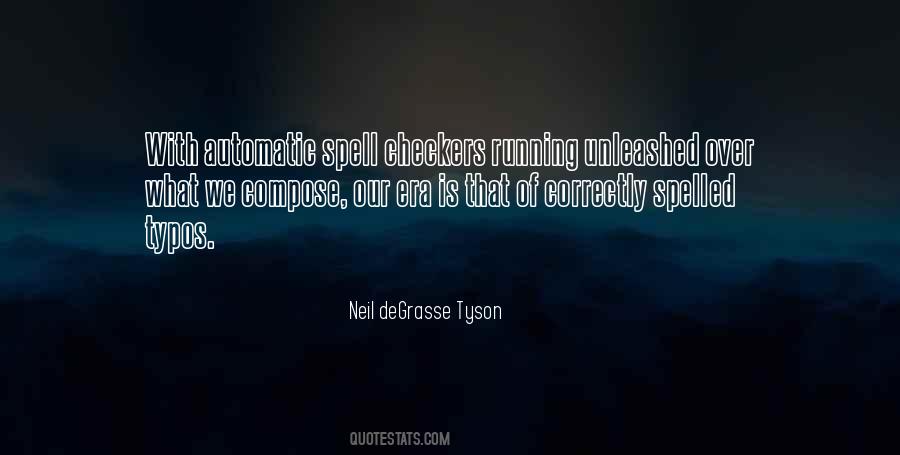 #65. I find significance in all kinds of small details when I run; I'm hyper aware of my surroundings, the sensations in my body, and the thoughts running through my mind. Everything is clearer, heightened. - Author: Kristin Armstrong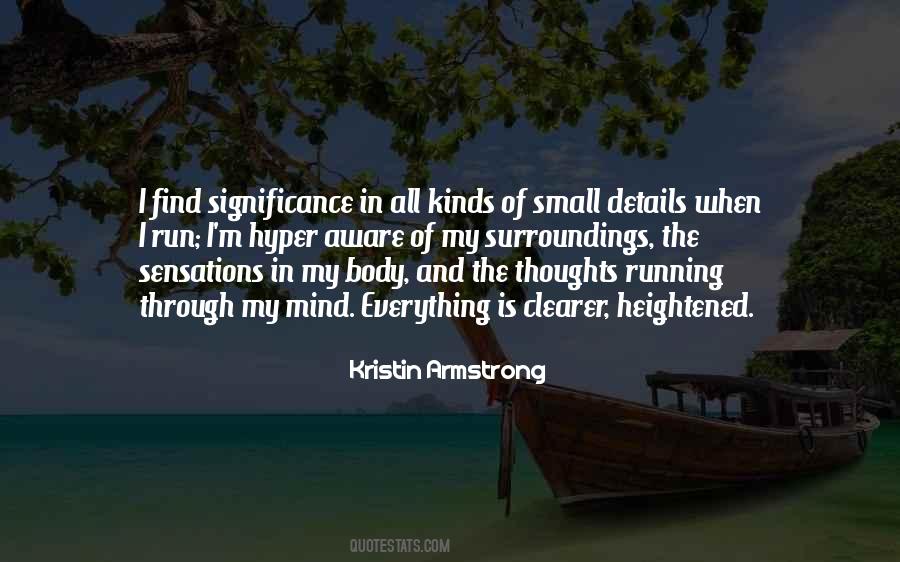 #66. Be true to Love.
Do not betray Her.
Then, on the day
that the forest of the mind
bursts into flames,
you will not run.
You will remain silent and still;
for this is when Love bears
Her sweetest fruit:
untouched Presence. - Author: Mooji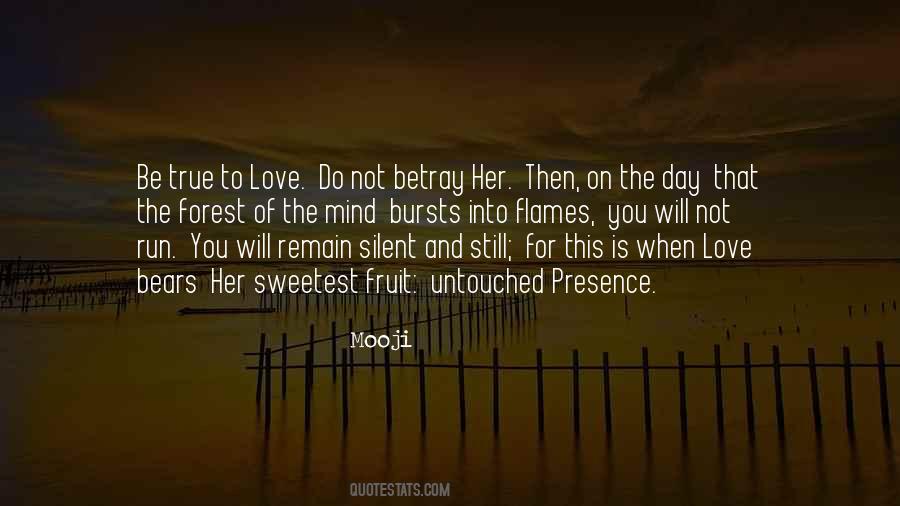 #67. I don't have any particular plans in mind. What I see is that you can become so focused on the idea of running that winning becomes your motivation, as opposed to what you stand for being your motivation. - Author: Zephyr Teachout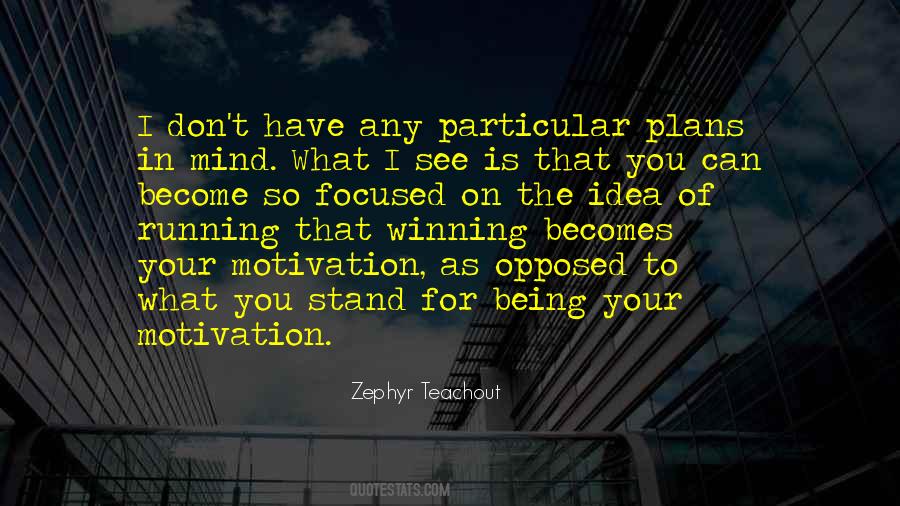 #68. Not until you surrender does the spiritual dimension become a living reality in your life. When you do, the energy you emanate and that then runs your life is of a much higher vibrational frequency than the mind energy that still runs the world. - Author: Eckhart Tolle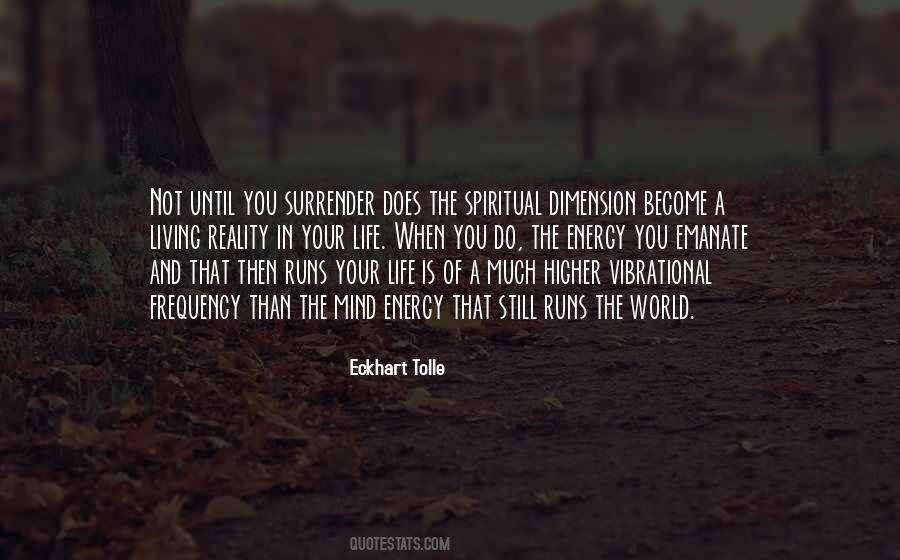 #69. Running is a great way to relieve stress and clear the mind. - Author: Joan Van Ark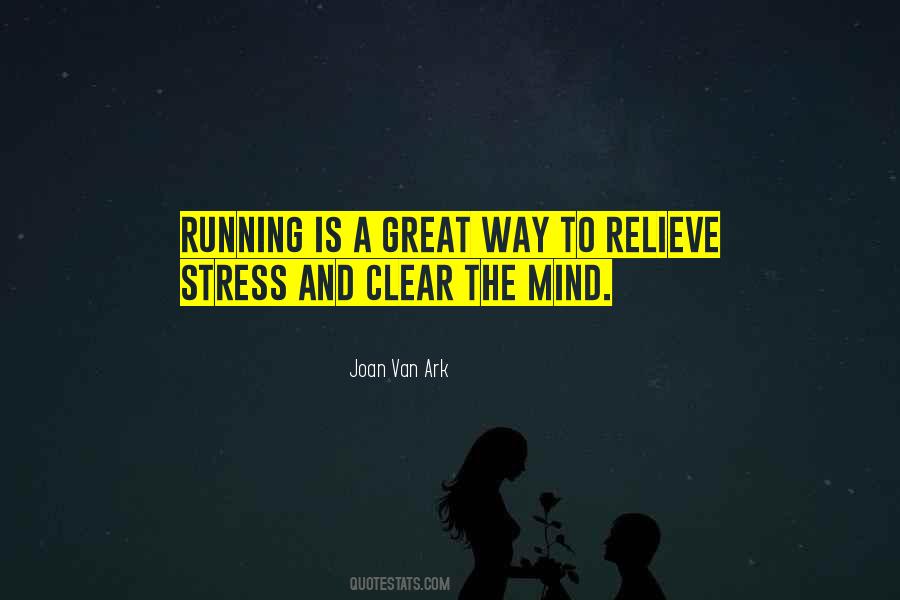 #70. Consider your body and mind as a machine that runs a program; then be aware of who is writing the program you are running. - Author: Russell Eric Dobda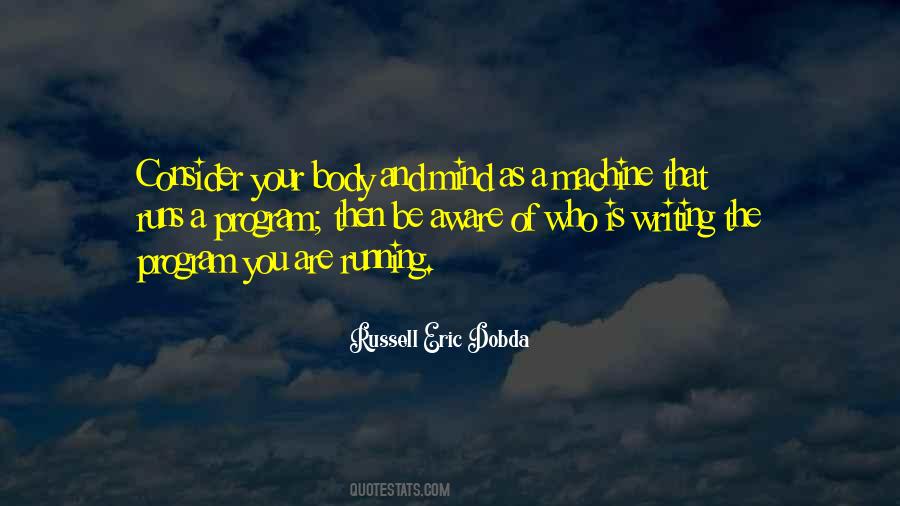 #71. Sense is a line, the mind is a circle. Sense is like a line which is the flux of a point running out from itself, but intellect like a circle that keeps within itself. - Author: Ralph Cudworth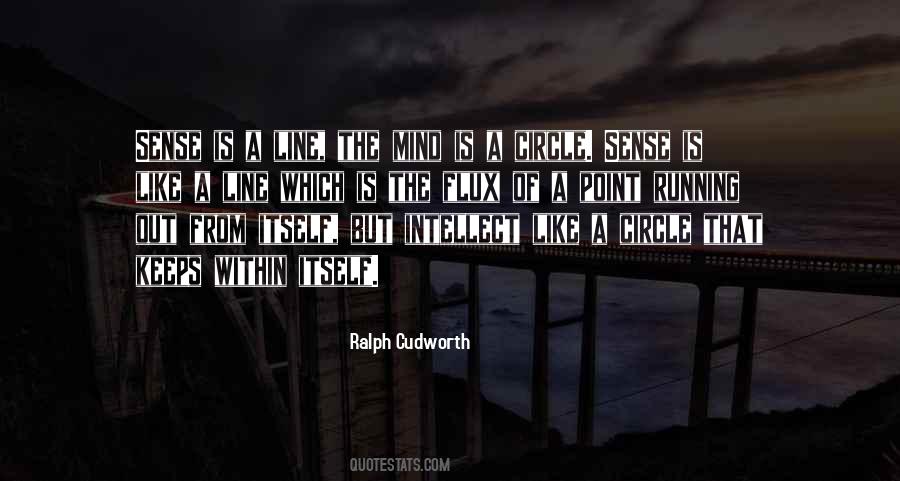 #72. The human mind is not meant to be governed, certainly not by any book of rules yet written; it is supposed to run itself, and we are obliged to follow it along, trying to keep up with it as best we can. - Author: Lewis Thomas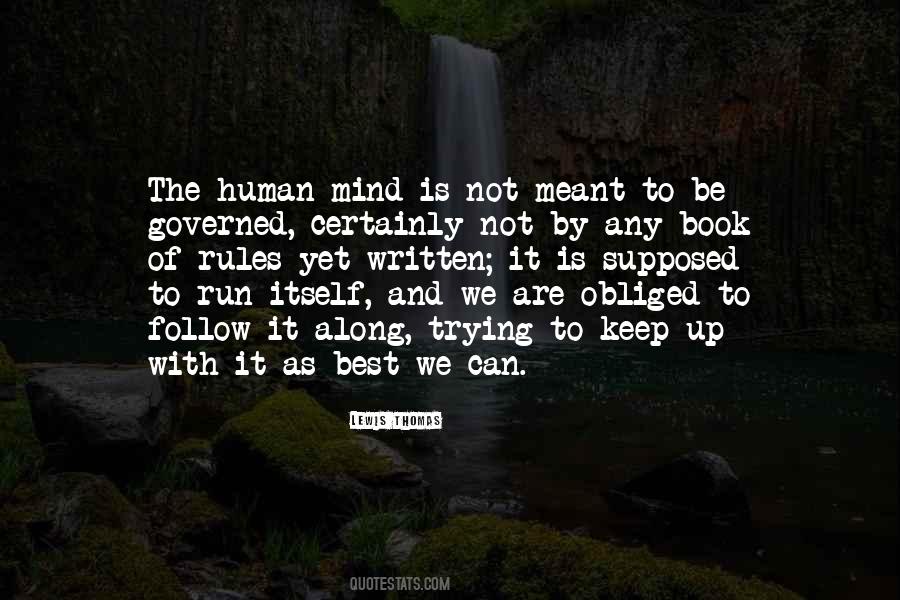 #73. If you are running, then the whole energy moves into the body, there is no possibility for the mind to think. And when you run fast, you breathe deep, you exhale deep, you become just the body. - Author: Osho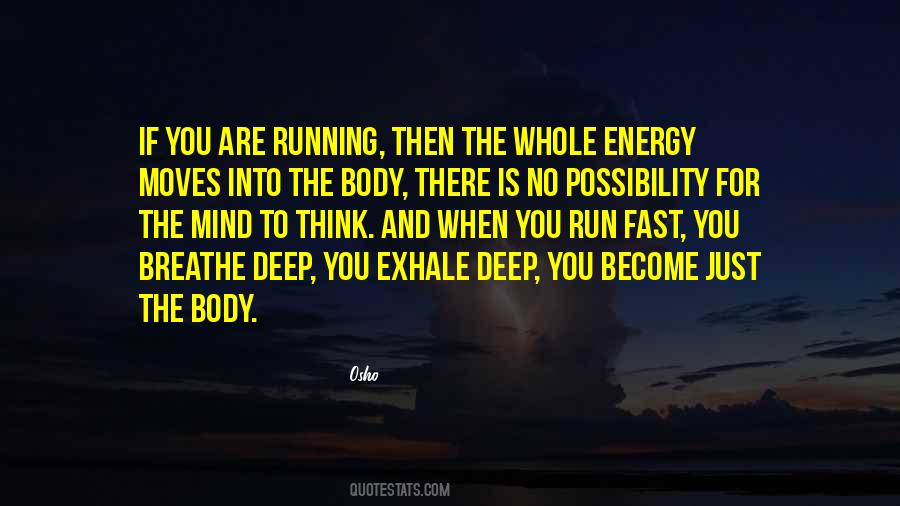 #74. A poem is a revelation, and it is by the brink of running water that poetry is revealed to the mind. - Author: James Stephens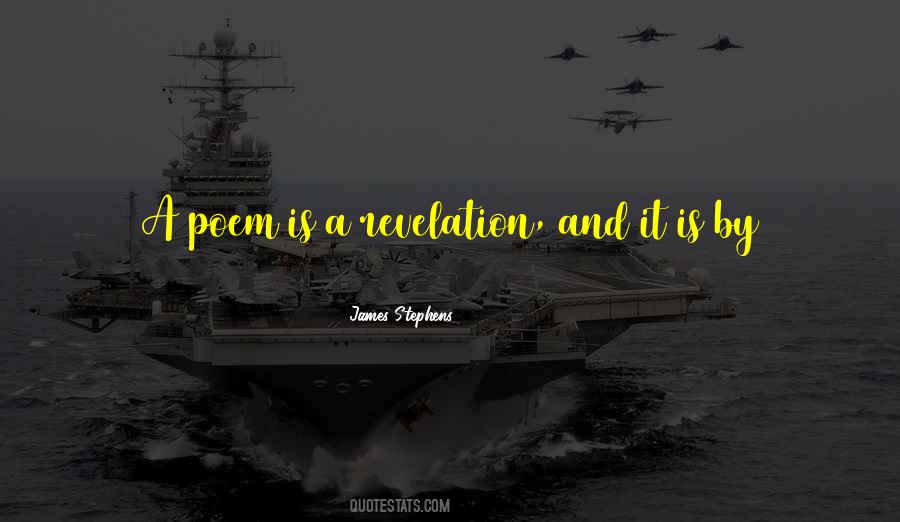 #75. They miss the whisper that runs any day in your mind, "Who are you really, wanderer?"
and the answer you have to give no matter how dark and cold the world around you is: "Maybe I'm a king. - Author: William Stafford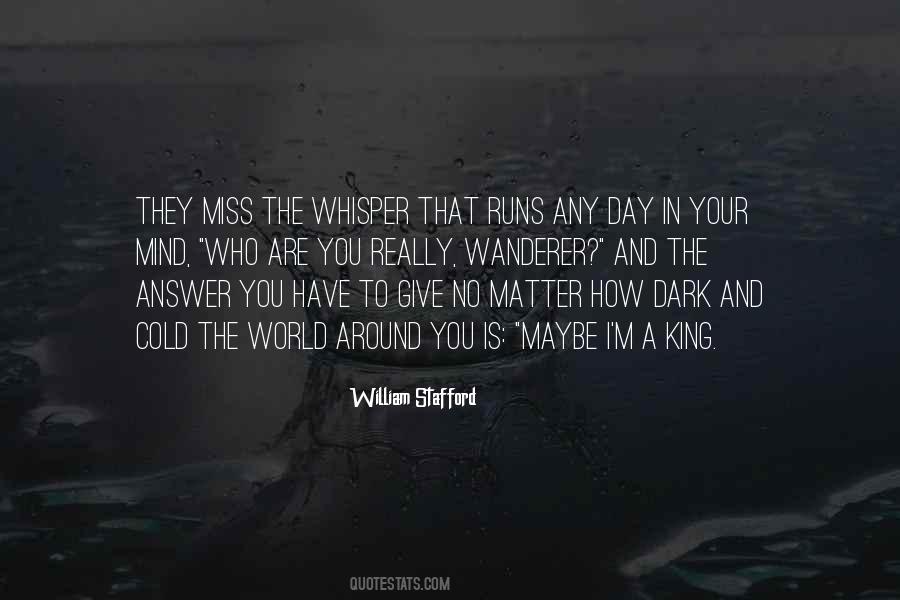 #76. I never think of nothing. The closest I come to a blank mind is when I am counting, fucking, or drinking. The rest of the time, my thoughts are like a hamster on a wheel, running endlessly but getting nowhere. - Author: Megan Hart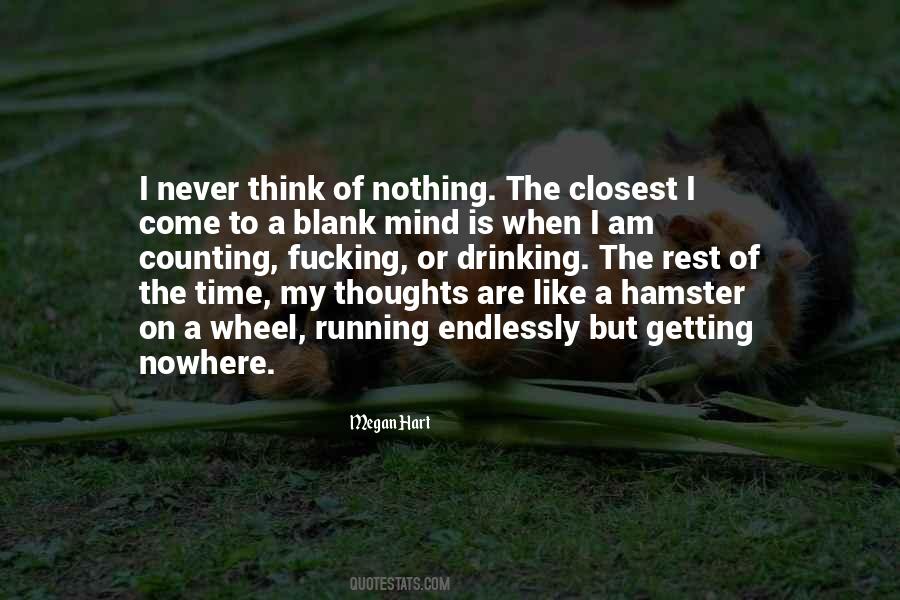 #77. The mind generally takes up various objects, runs into all sorts of things. That is the lower state. There is a higher state of the mind, when it takes up one object and excludes all others. - Author: Swami Vivekananda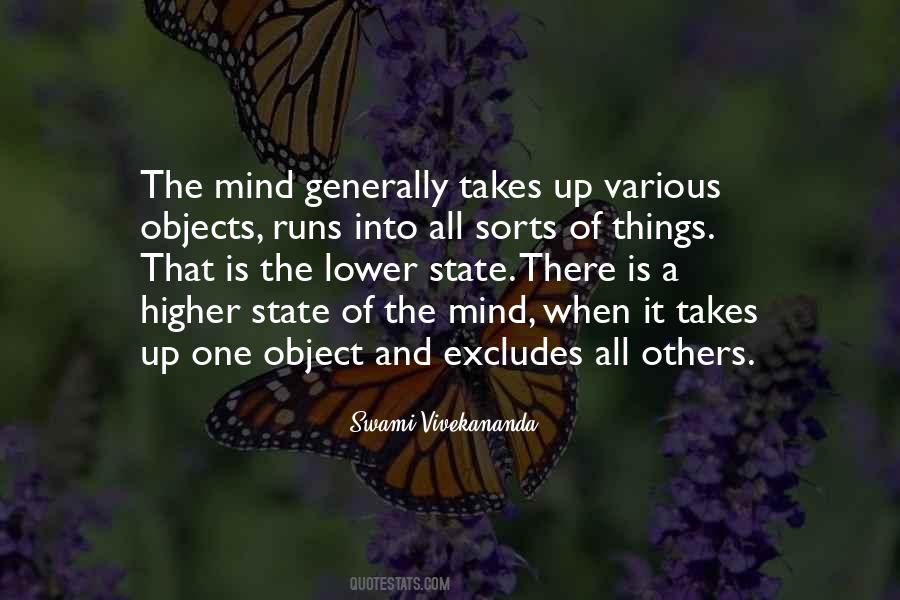 #78. The mind is running on all sides to think about many things, - what we call thoughts coming from outside. We must withdraw the mind from these distractions and make it abide in the self. Thus guarding the peace within we shall have to do the work without. - Author: Sri Aurobindo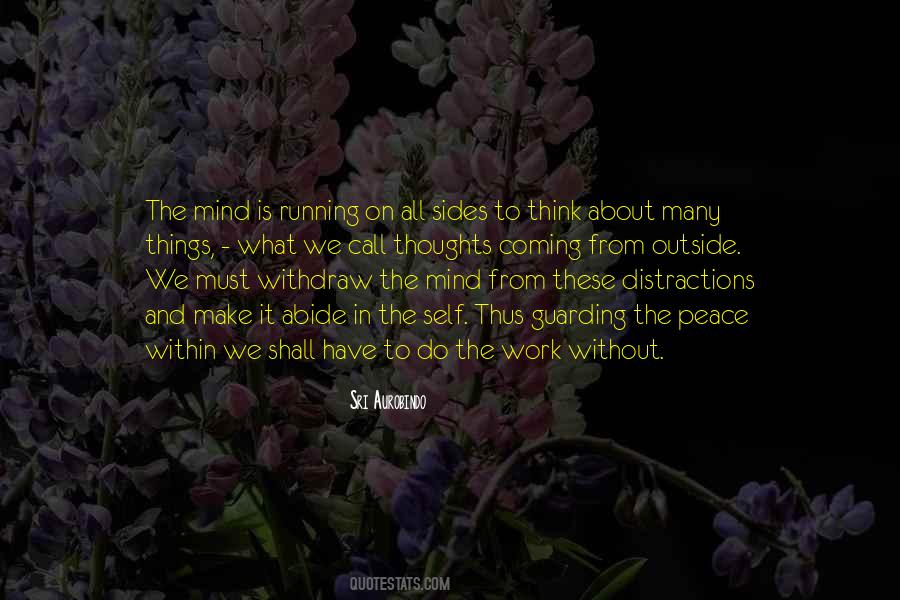 #79. out of sight, out of mind, right? That motto is just a
temporary fix - until you're forced to come face to face with what you've been running from. That's when
the mental walls you've built to hide behind come crashing down in one hard blow. - Author: Penelope Ward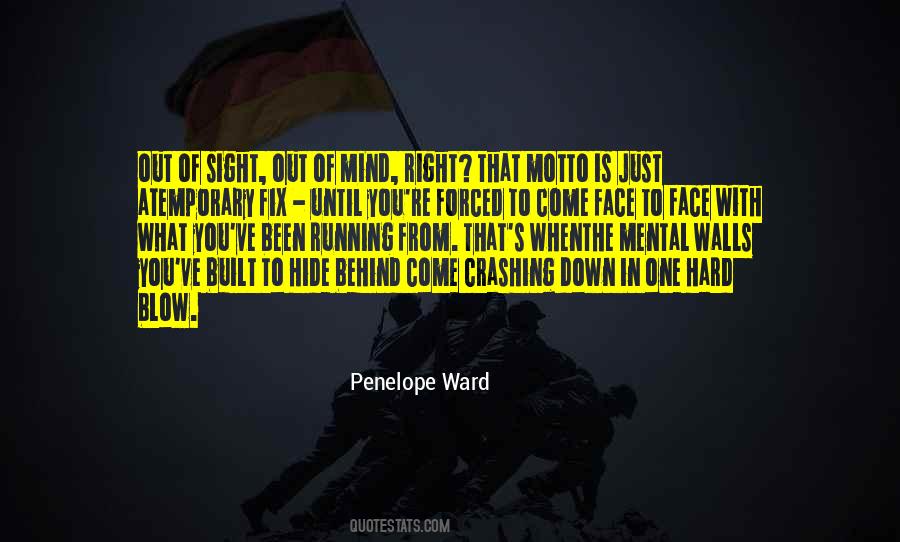 #80. Never underestimate the power that one good workout can have on your mind. Keeping the dream alive is half the battle. - Author: Kara Goucher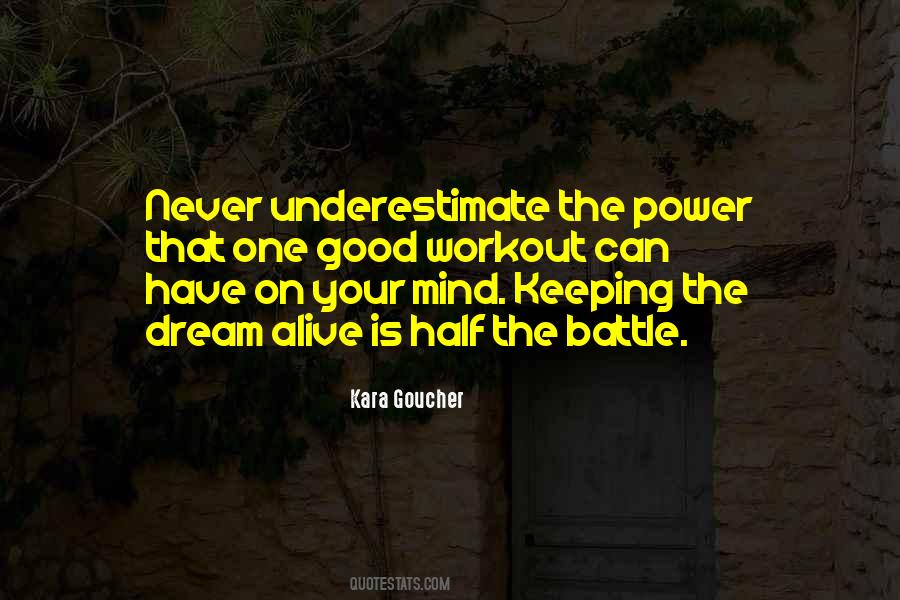 #81. The problem is to keep the monkey mind from running off into all kinds of thoughts. - Author: Lee Kuan Yew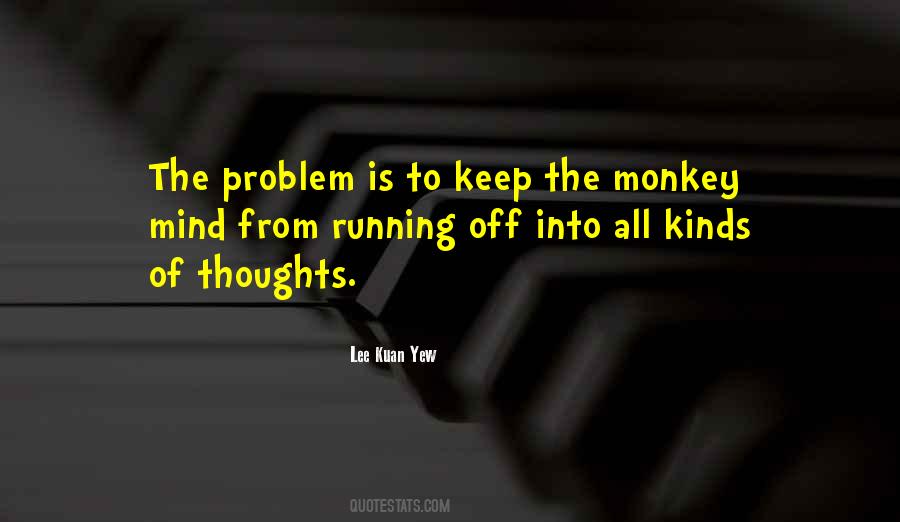 #82. I was running track early in my years and I was breaking track records in sprint running. I was training and I wanted to be in the Olympics. I thought I was going to be able to win a gold medal, and my mind was pretty much set on 'this is what I want to do'. - Author: Sheila E.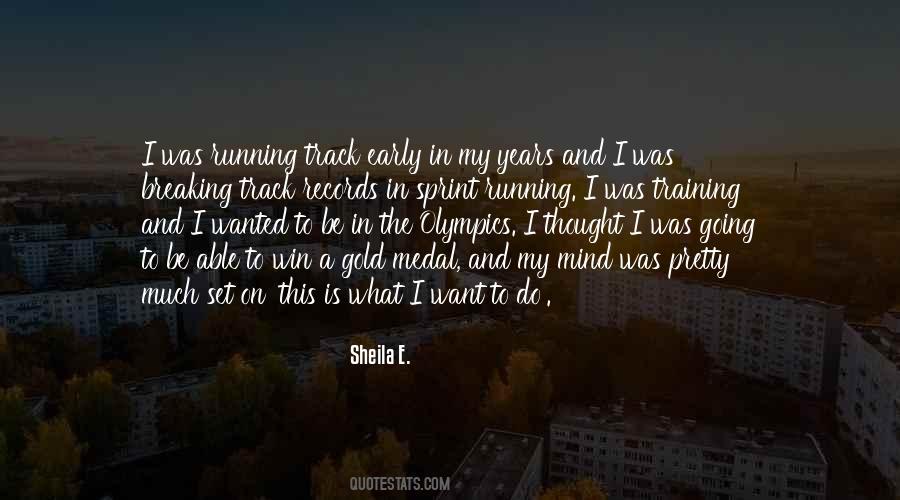 #83. Do I want to tackle a 230-pound guy who's running like a deer? Heavens no, no one in their right mind would. But there is something that drives me and compels me to stick my head in there and give it my best shot. - Author: Hale Irwin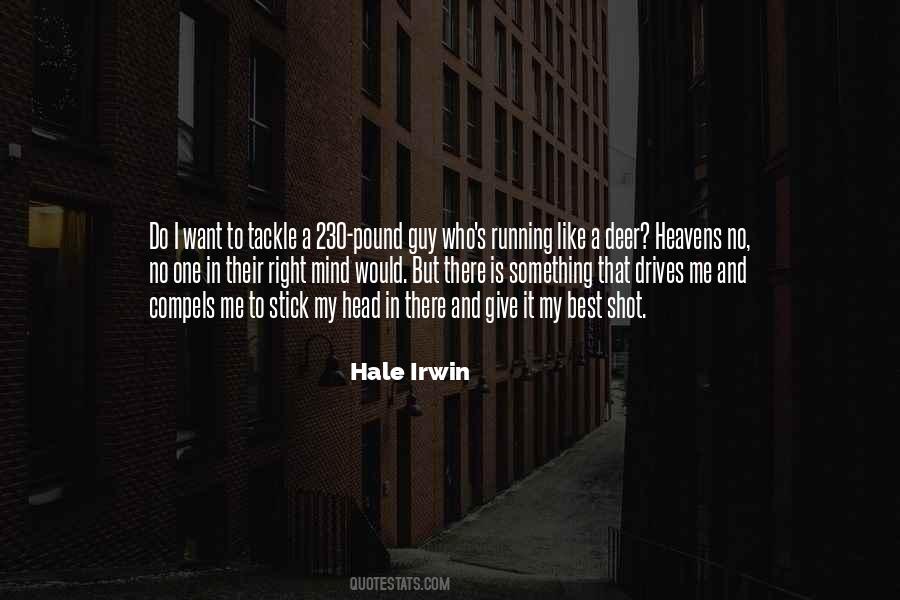 #84. Make a decision that from now on, your thoughts do not run you, you run your thoughts. From now on, your mind is not the captain of your ship, you are the captain of the ship, and your mind works for you. - Author: T. Harv Eker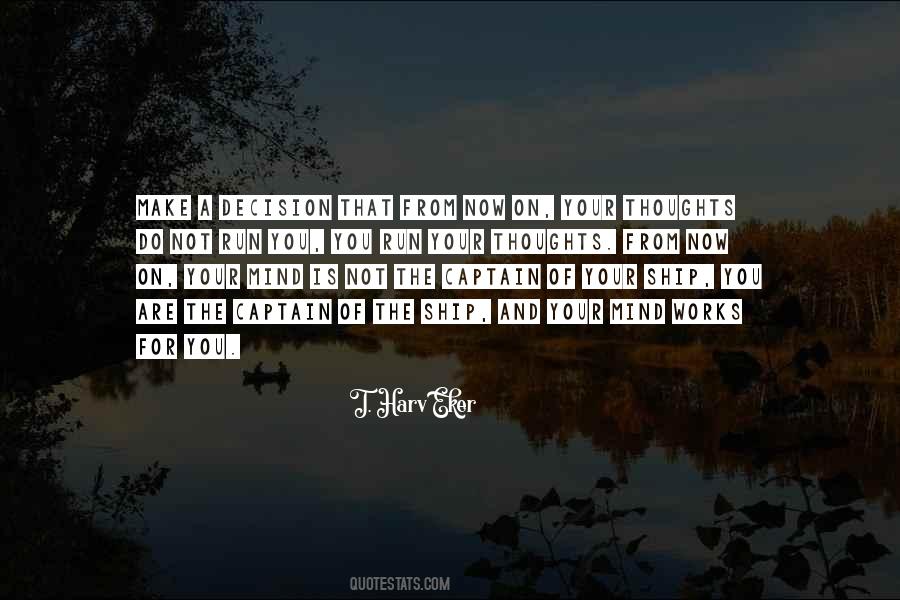 #85. I'm like my cat. I run around in circles in my apartment, because the big bad outside is just too big. And scary. And outside. How do stray cats deal with all the stress of having no protection from all the air that's going on around there, without anyone to guide and control it into timidity? - Author: Will Advise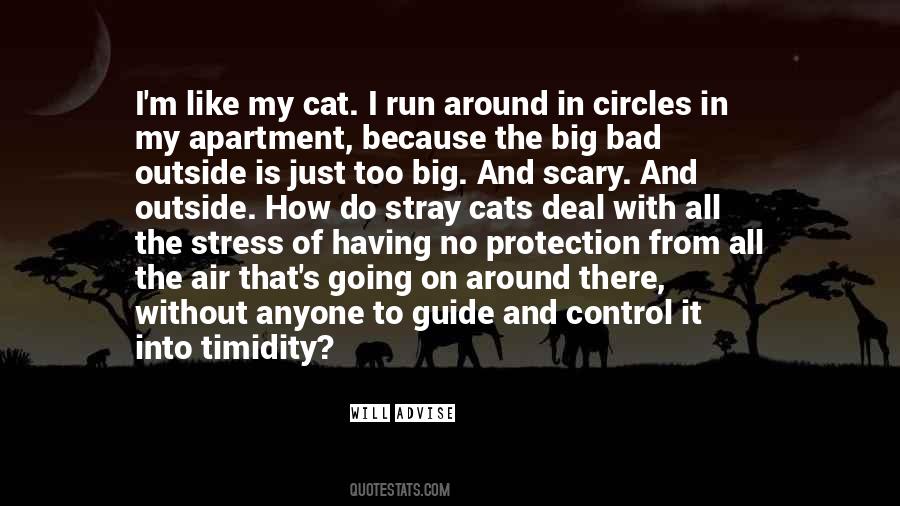 #86. The ideal is the flower-garden of the mind, and very apt to run to weeds unless carefully tended. - Author: Margaret Oliphant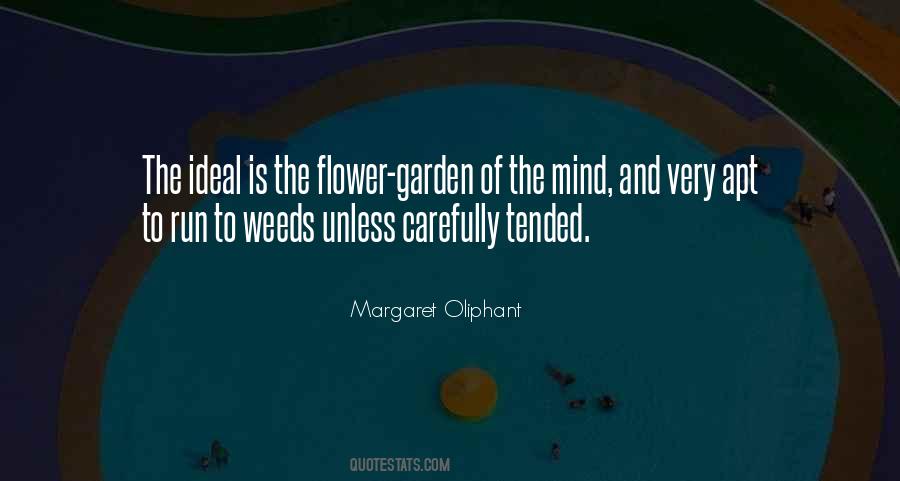 #87. Reflection is a flower of the mind, giving out wholesome fragrance; but revelry is the same flower, when rank and running to seed. - Author: Desiderius Erasmus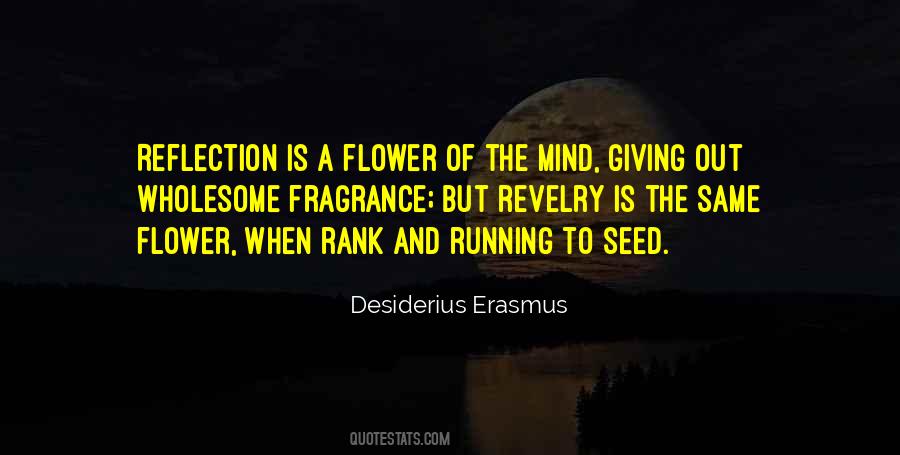 #88. Running is not only a great way to exercise but also one of the best forms of mind-body therapies there is. - Author: Vijay Vad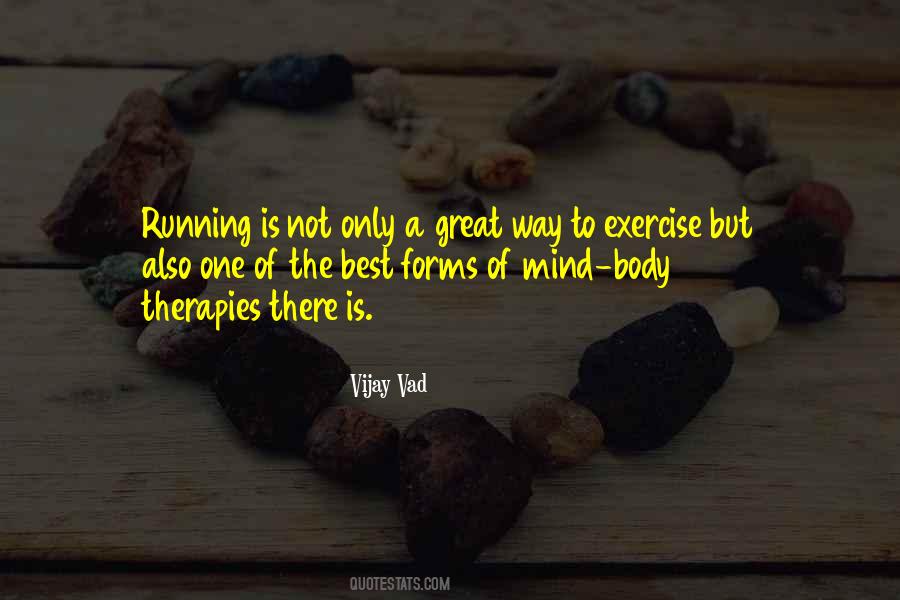 #89. A fad or heresy is the exaltation of something which even if true, is secondary or temporary in its nature against those things which are essential and eternal, those things which always prove themselves true in the long run. In short, it is the setting up of the mood against the mind. - Author: Gilbert K. Chesterton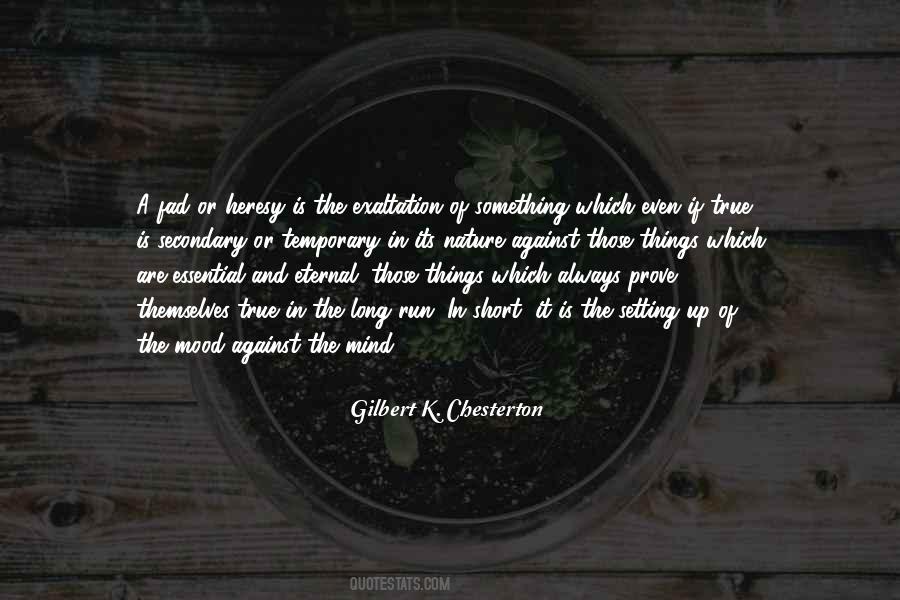 #90. Any company run by unknowing and mechanistic minds is in jeopardy and faces a limited life. Specifically, the pursuance of policies that focus on cost reduction and a continued optimisation of the bottom line just accelerate progress towards sudden death - Author: Peter Cochrane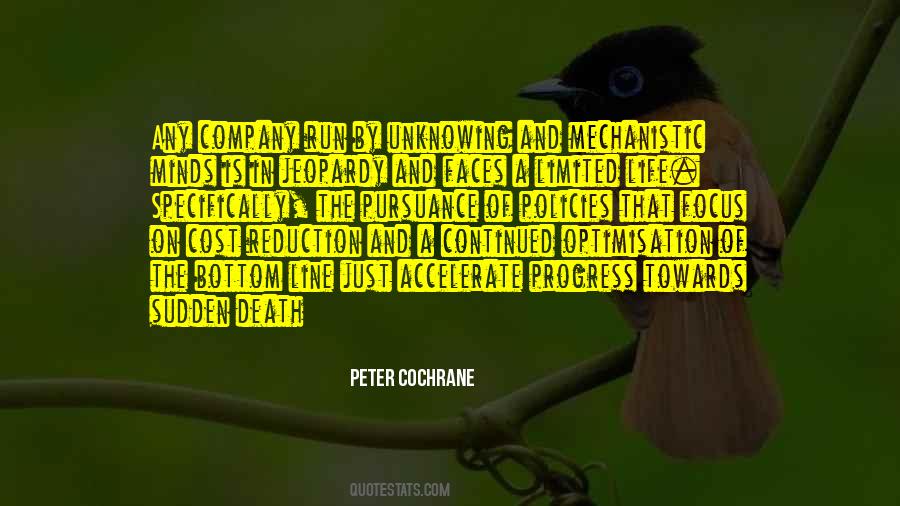 #91. I have such a stressful job that the only way I can get it out of my mind is by running hard. - Author: Alan Turing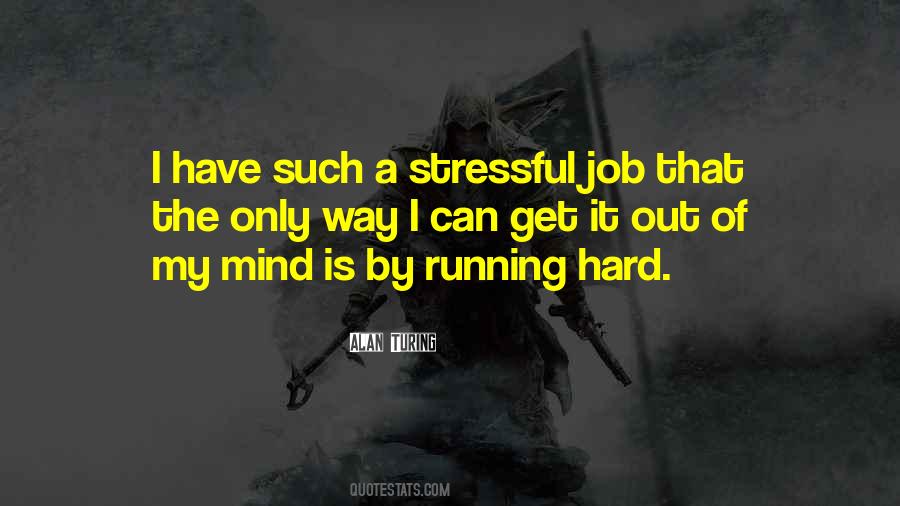 #92. Productivity is less about what you do with your time. And more about how you run your mind. - Author: Robin Sharma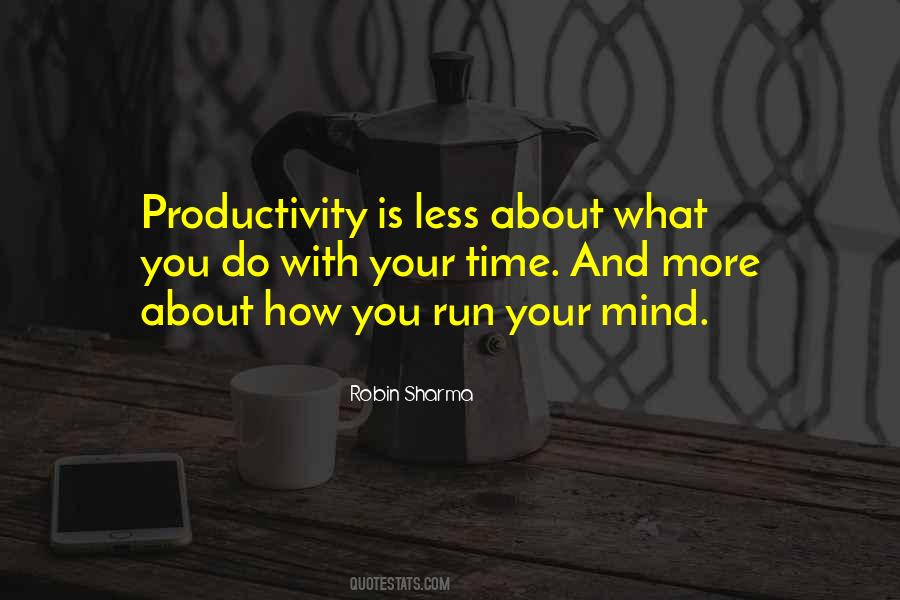 #93. The English mind is intelligent rather than intellectual. The French are intellectual in the sense that the intellect is emancipated and left free to run its own course. - Author: Ralph Barton Perry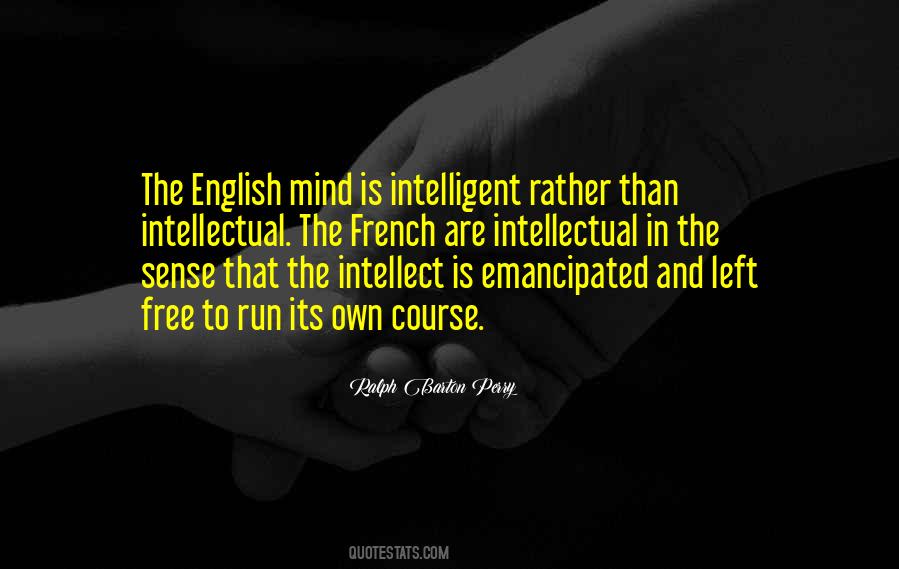 #94. When disinformation is running rampant, there are two ignorances that may emerge: the one is actually positive, a sort of pure and intentional emptying of the mind; but the other is of course negative and clogged and polluted. - Author: Criss Jami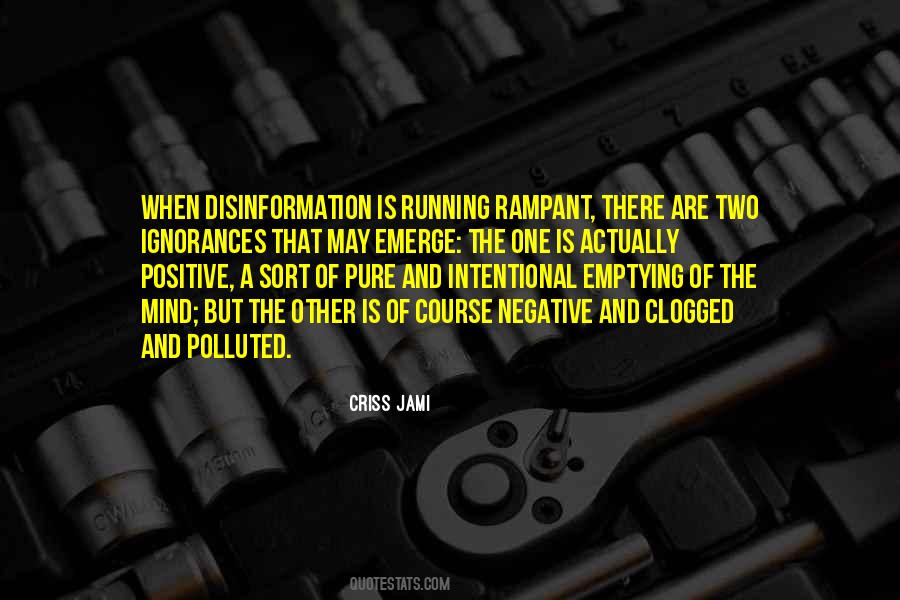 #95. When the whole world is running towards a cliff, he who is running in the opposite direction appears to have lost his mind. - Author: C.S. Lewis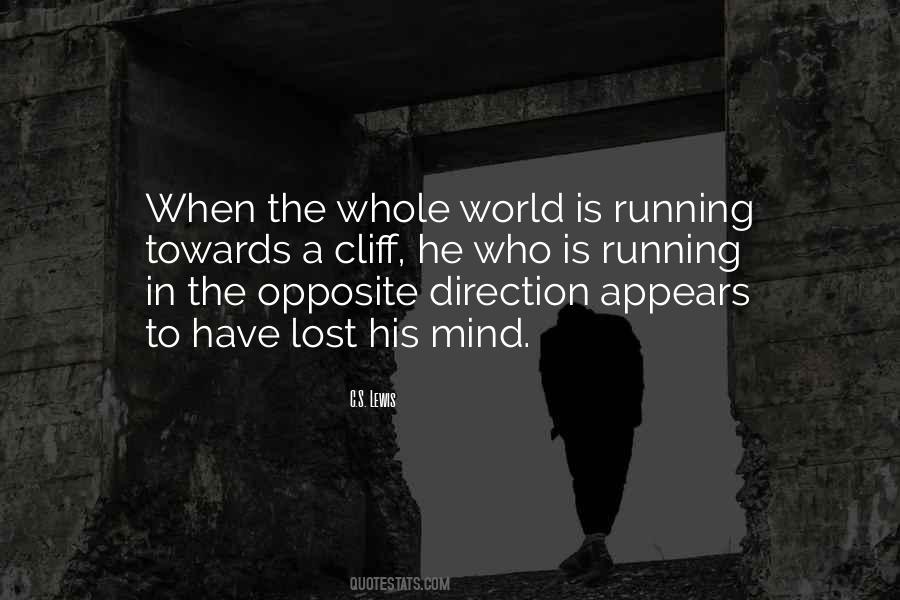 #96. Whatever you teach, be brief; what is quickly said, the mind readily receives and faithfully retains, everything superfluous runs over as from a full vessel. - Author: Horace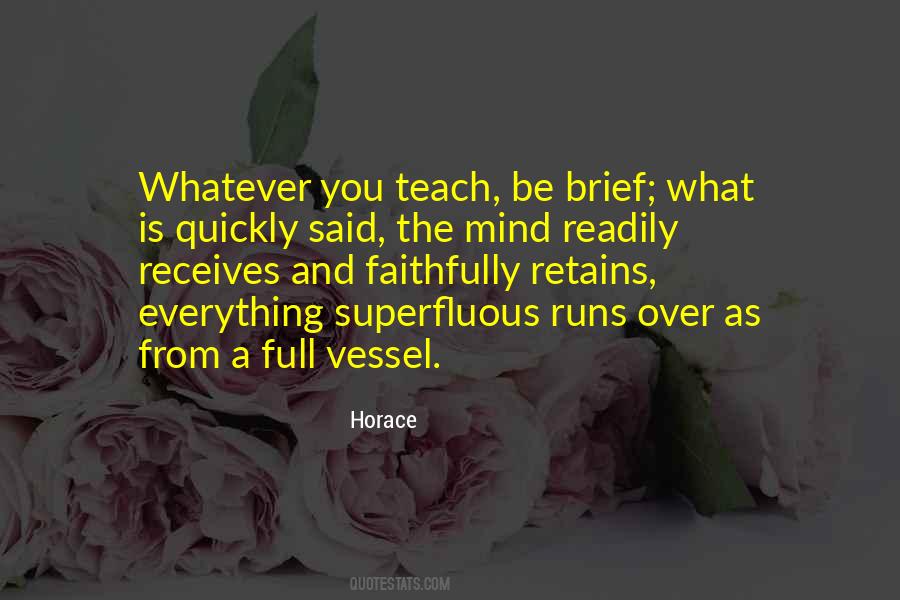 #97. It is 3:38 a.m., and the time of night when my mind starts running around all wild and out of control, like my cat, George, when he was a kitten. - Author: Jennifer Niven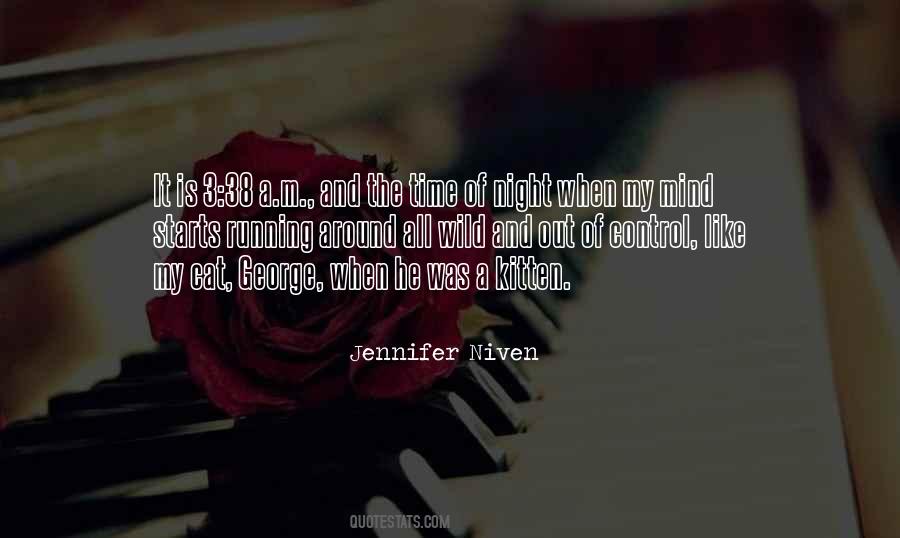 #98. The mind of man is like a clock that is always running down, and requires to be constantly wound up. - Author: William Hazlitt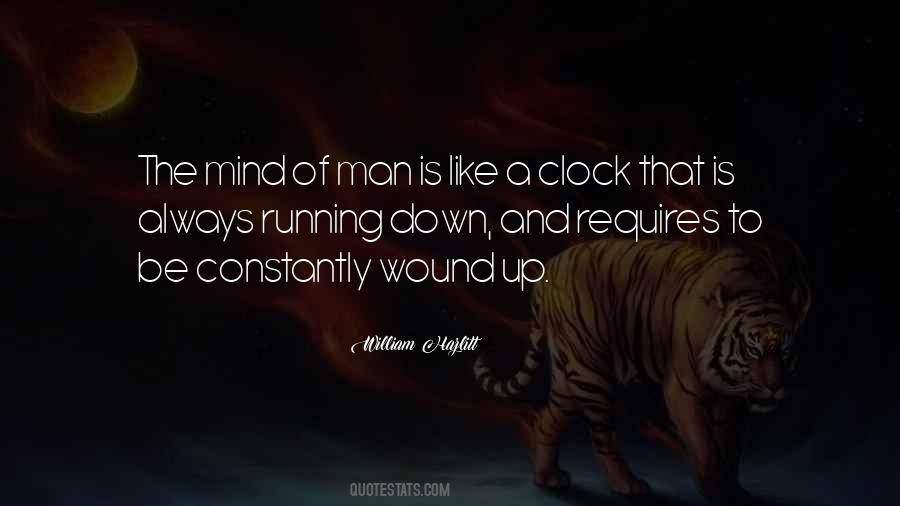 Famous Authors
Popular Topics