Love Will Fade Away Famous Quotes & Sayings
List of top 100 famous quotes and sayings about love will fade away to read and share with friends on your Facebook, Twitter, blogs.
Top 100 Love Will Fade Away Quotes
#1. Beauty is precious, you see, and the more beautiful something is, the more precious it is; and the more precious it is the more it hurts us that it will fade away; and the more we are hurt by beauty, the more we love the world. - Author: Louis De Bernieres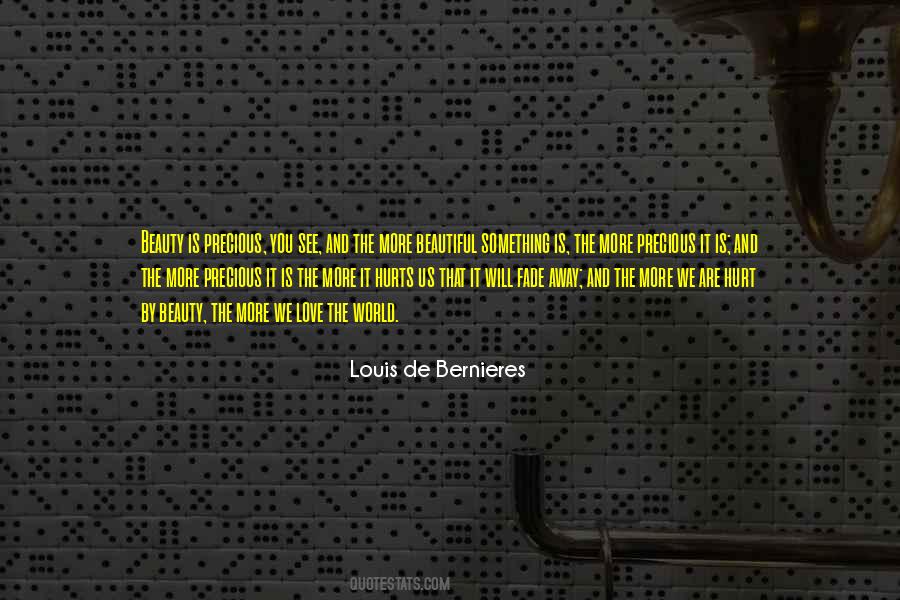 #2. When it comes to love, Princess, rules blur, and traditions fade, - Author: Rose B. Mashal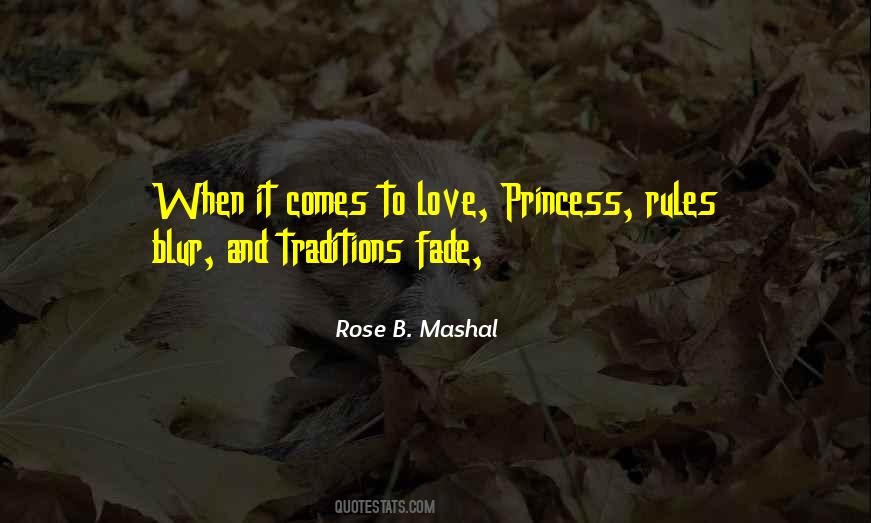 #3. Memories should fade with time but I do not understand why they become clearer as days go by. - Author: Auliq Ice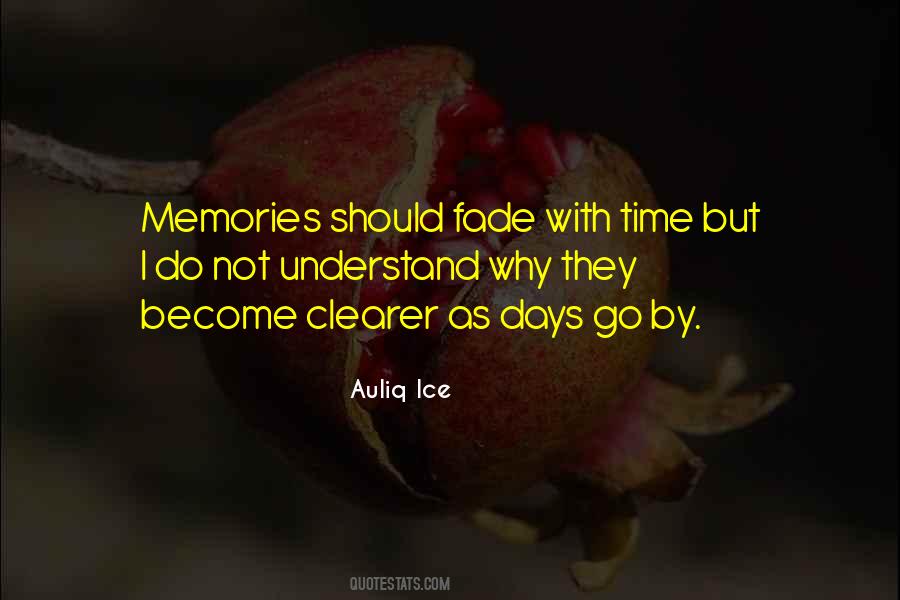 #4. William Shakespeare: You will never age for me, nor fade, nor die. - Author: Marc Norman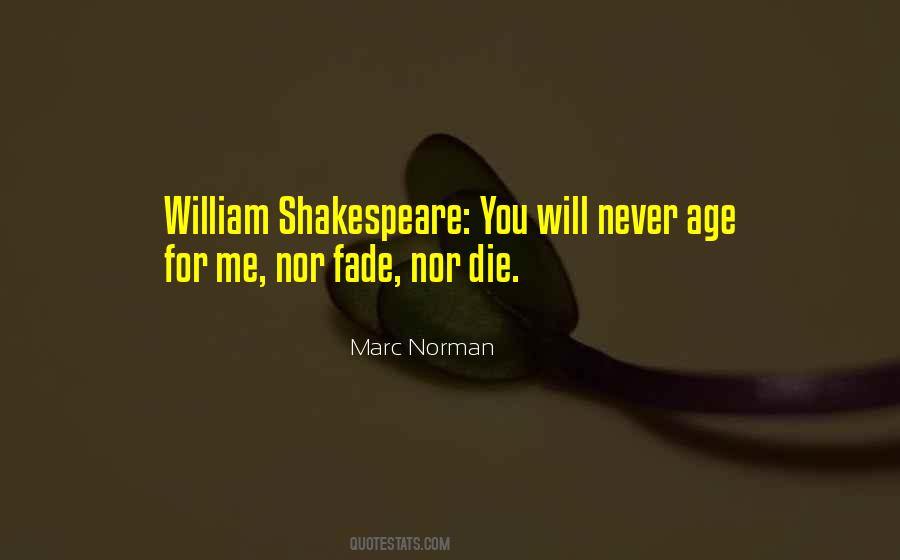 #5. Like an old photograph, time can make a feeling fade, but the memory of a first love never fades away. - Author: Tim McGraw
#6. Fixate your love on Him, be obedient to God's word, and don't seek the glory of this world. In doing these things, God will exalt you in this earth and you won't have to sacrifice your soul for earthly crowns that will fade. - Author: Monica Johnson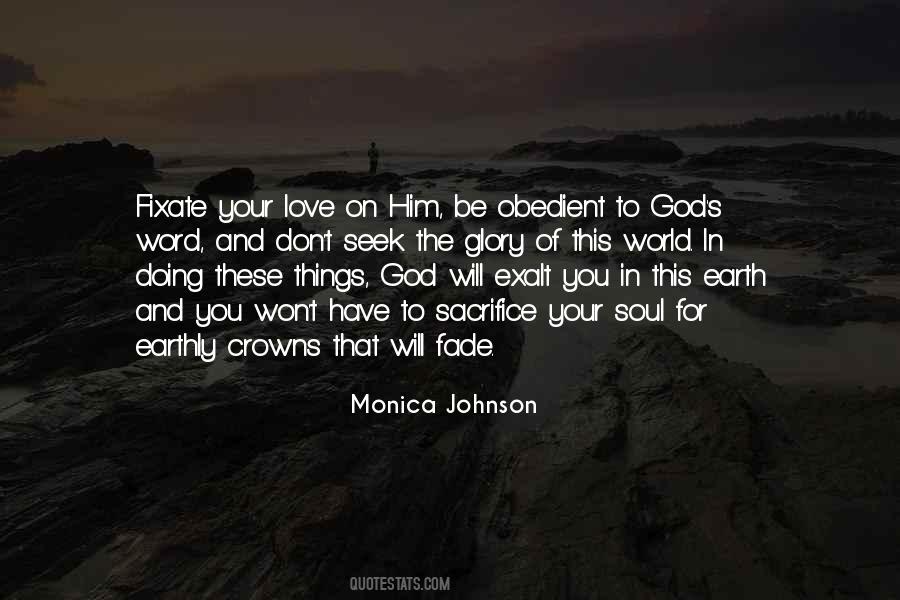 #7. Sometimes moments in life are so perfect you want to freeze frame them; capture them within your soul forever so they never fade away - they burn themselves into your being until they're a part of who you are. - Author: Cassandra Giovanni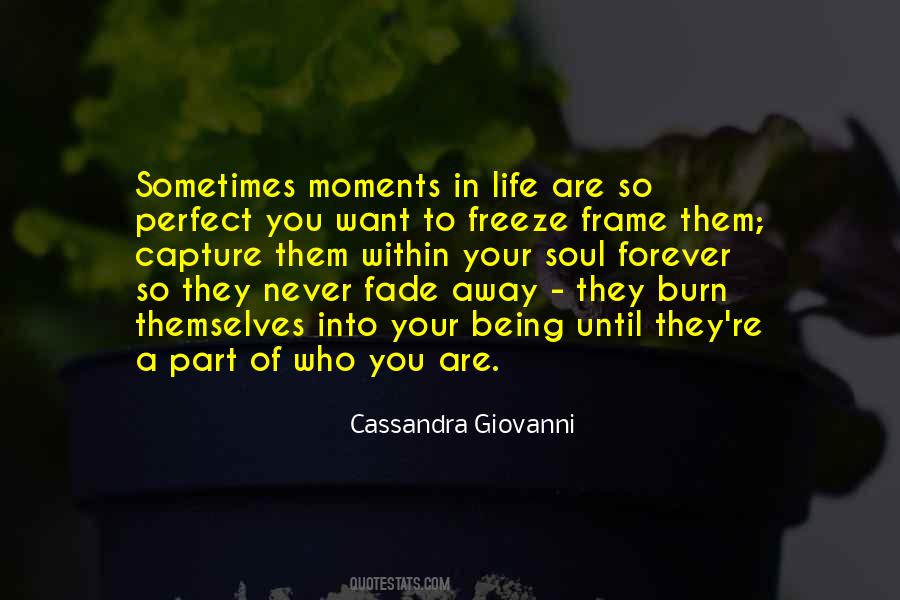 #8. Lines are drawn, but then they fade. For her I bend, for you I break. - Author: Colleen Hoover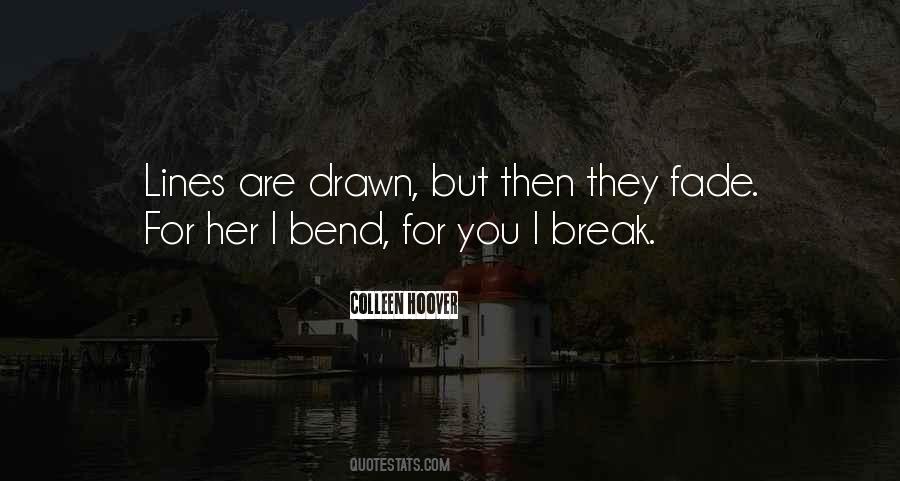 #9. Act that way and slowly but surely I will fade away. All the dawns and all the twilights will rob me, piece by piece, of myself, and before long my very life will be shaved away completely - and I would end up nothing. - Author: Haruki Murakami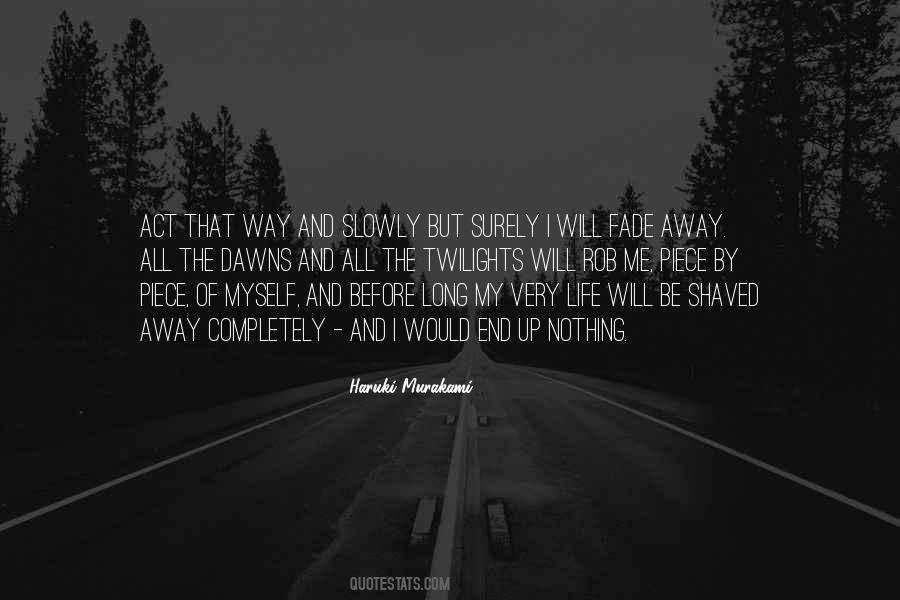 #10. Maybe when you're young, you love people as much for their potential as for who they are right now. And if that's the case, what happens to love when time passes and that potential starts to shrivel and fade? Does love die with it? - Author: Janelle Brown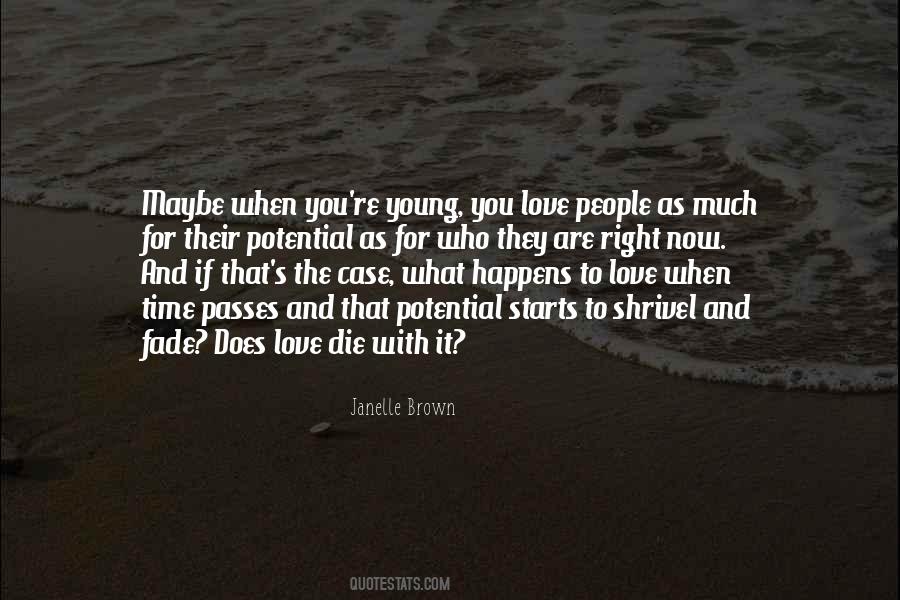 #11. 'The grief didn't fade, but it changed into something I could carry around with me, a noose I wore around my neck. It wasn't until I saw you that the knot loosened.' - Author: Sara Bell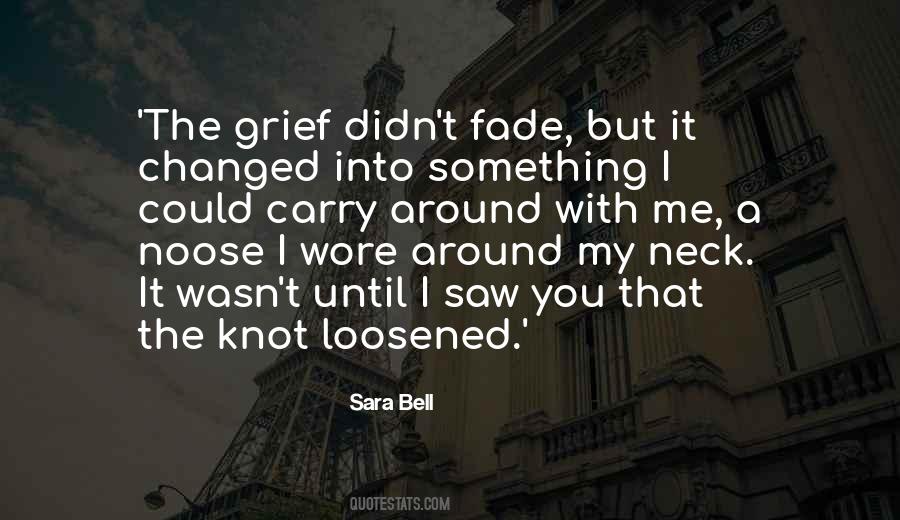 #12. I didn't want to make the same mistake my parents made. I didn't want my love to fade away one day like an old scar. I wanted it to burn forever. - Author: Jenny Han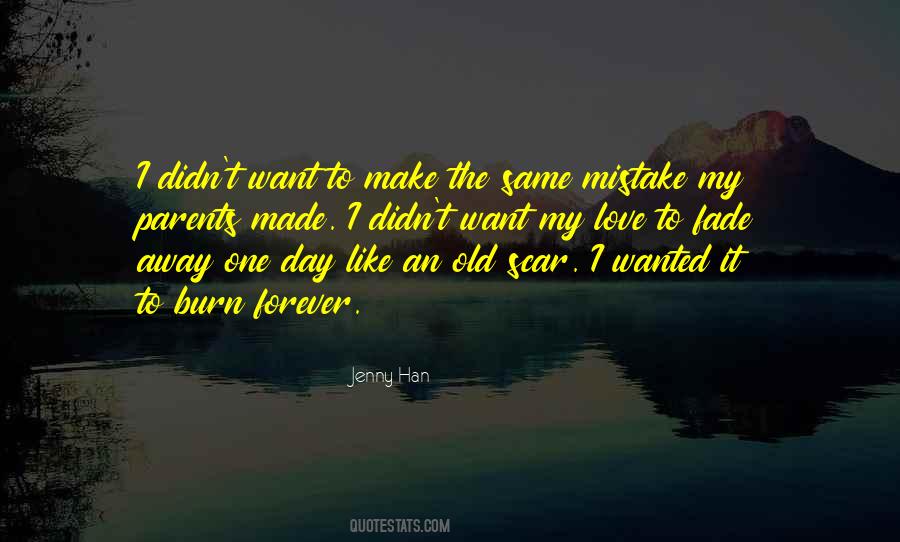 #13. Sport is a passion and out of passion comes love. No point trying to work out why some become heroes and others don't. The chosen ones just go into the pantheon and refuse to fade. Think of Bradman and Les Darcy, Phar Lap and Tommy Corrigan. - Author: Les Carlyon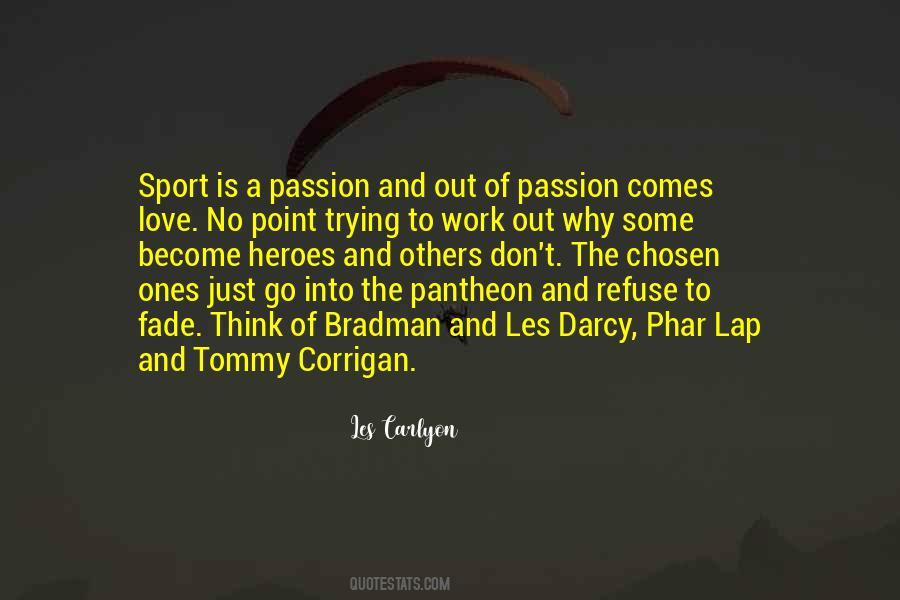 #14. Then he was stepping back, away, letting distance flood between us again. His voice was low, rough. "Give 'em hell, darlin'."
"And for the love of God, bitch, don't get stabbed this time!" Vida added. - Author: Alexandra Bracken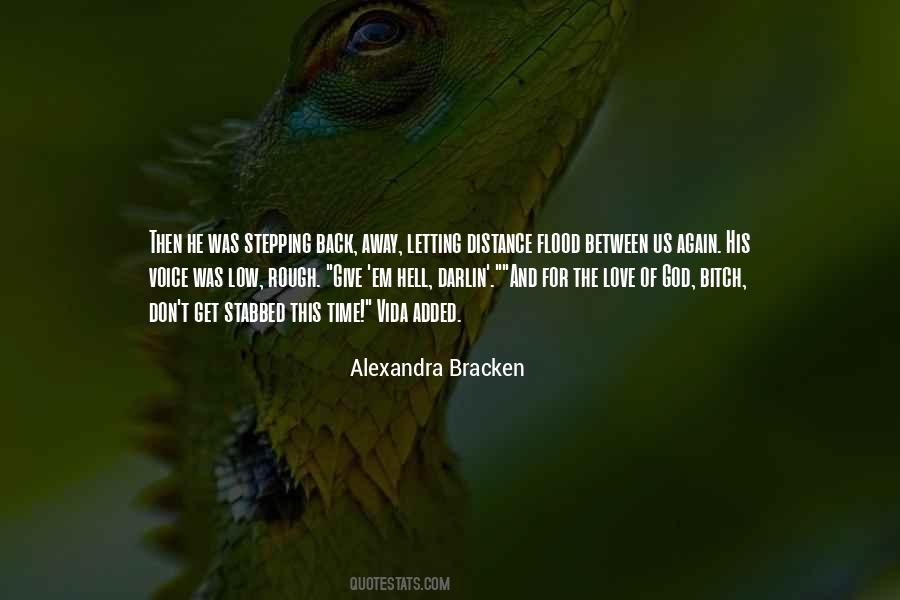 #15. Time was the most precious thing in the world to me, and I'd just given her all of it. Because I was falling for her. Because I cared for her. Because I wanted to give her something to remember me by, even if it would eventually fade like its namesake. Time ... what an absolute horror-inducing word - Author: Rachel Van Dyken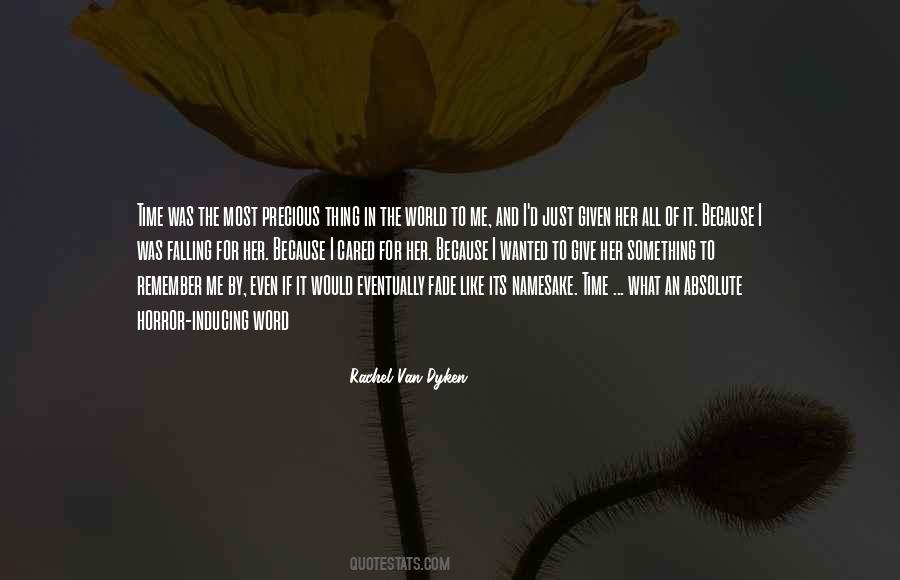 #16. Julian spoke through his teeth. "Malcolm, this is not a love story."
"Every story is a love story. - Author: Cassandra Clare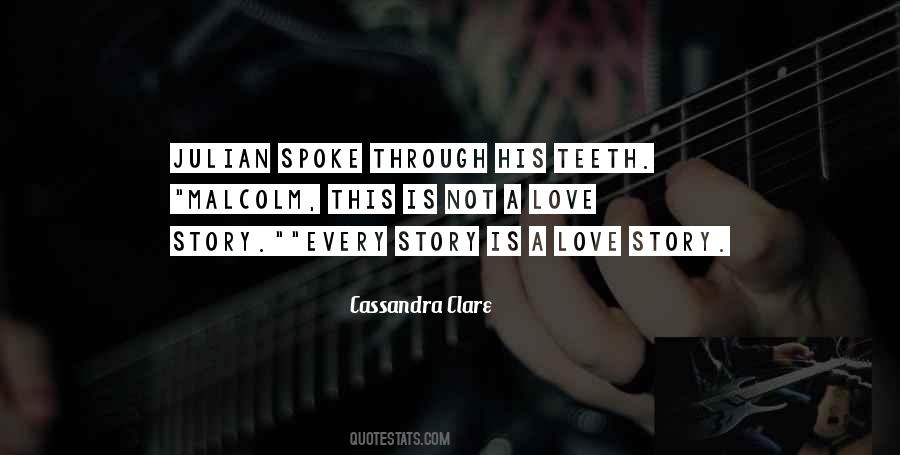 #17. Our surroundings fade and we exist in unison, two people who once shared cups of coffee, unprecedentedly ourselves in a changing world. - Author: Caroline George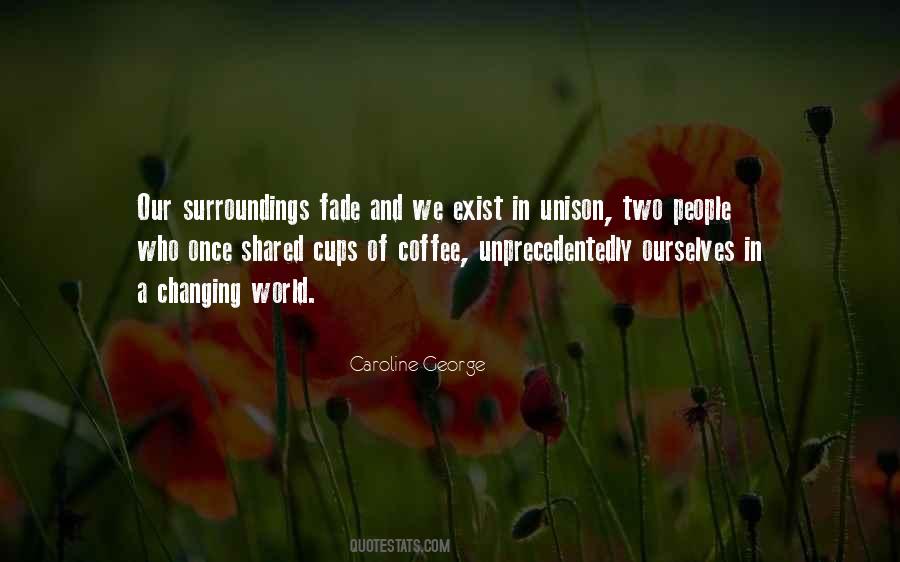 #18. Nature, take my breath with you; renew it with the wild breeze and fill my being up with so much soul, ego learns to fade away. - Author: Nikki Rowe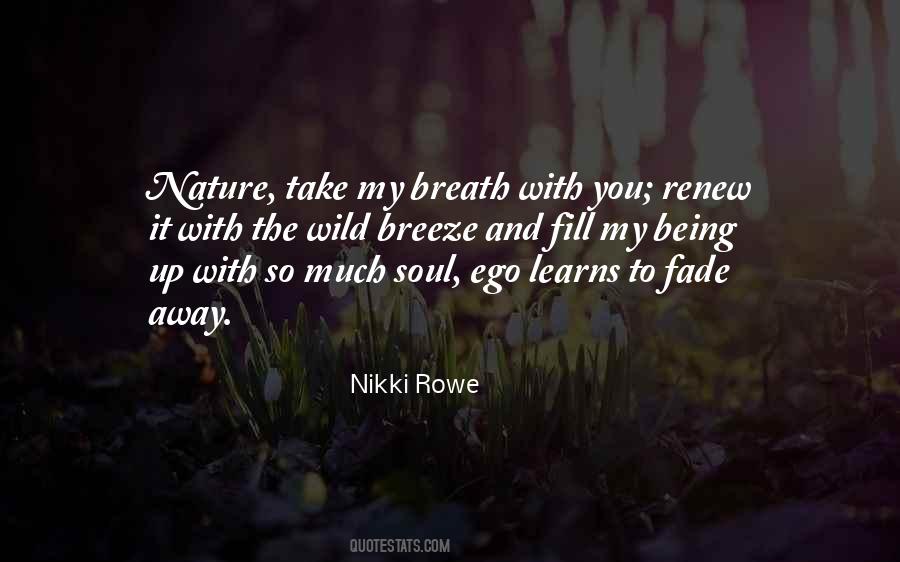 #19. Why did the flower fade? I pressed it to my heart with anxious love, that is why the flower faded. - Author: Rabindranath Tagore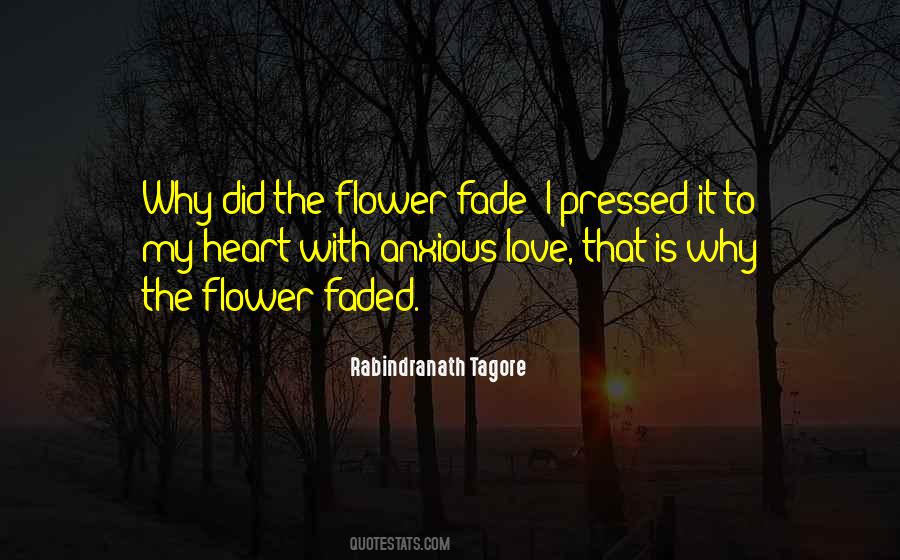 #20. Like a constant assurance Bailey carried with her, God remained. All things might change. Love could come and go and friendships could fade. But God stayed. It was the truth that kept her company on the loneliest nights. - Author: Karen Kingsbury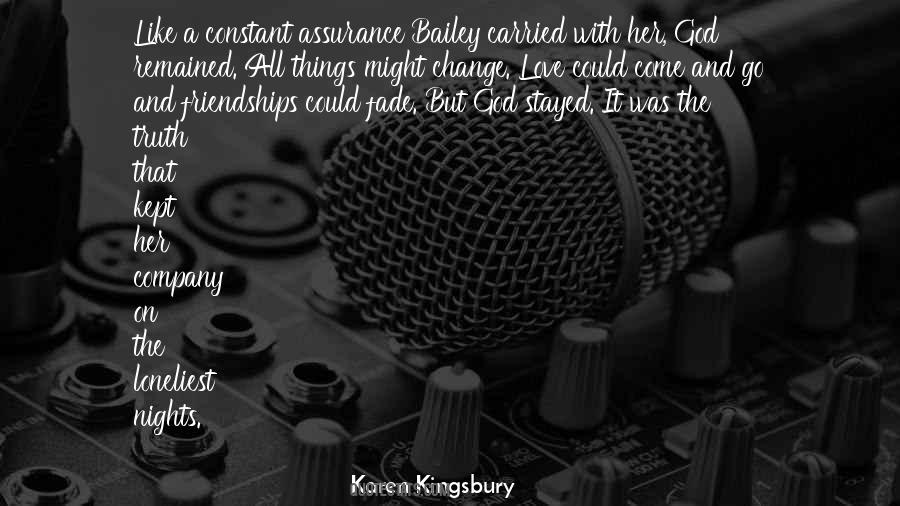 #21. Love cuts deeper than the sharpest blade, cripples more than shattered bones, and leaves scars that can never fade. - Author: Jeaniene Frost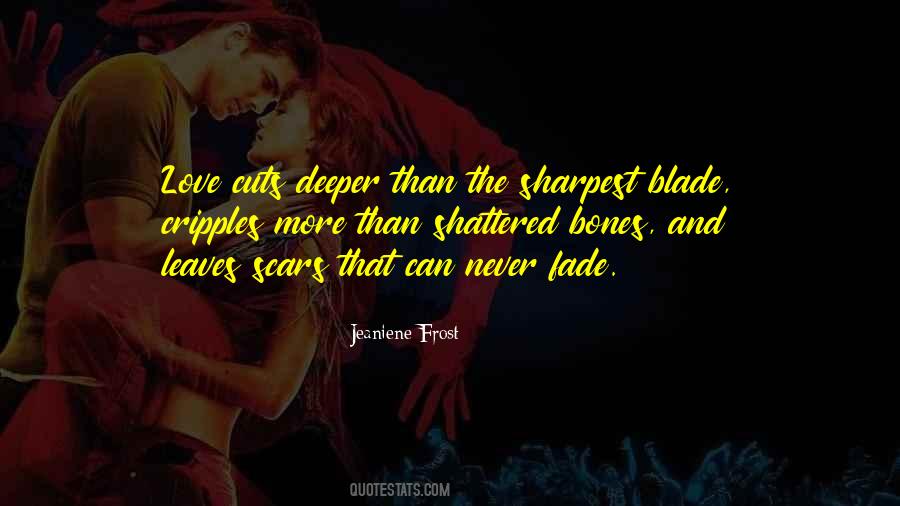 #22. Distance can make a love fade, while closeness can make hate flare; as distance can make hate fade, while closeness can make love flare. - Author: Anthony Liccione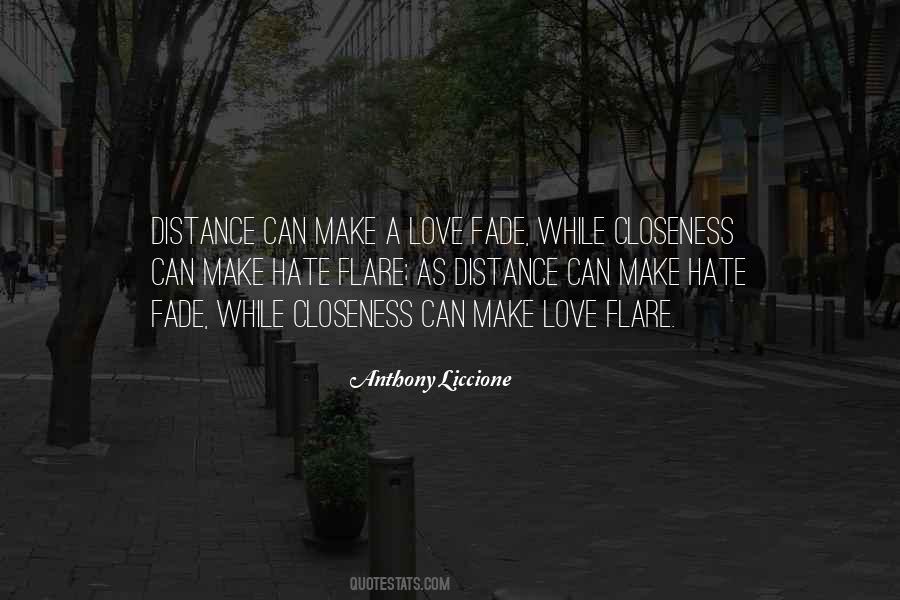 #23. Don't let your journey fade. It's God's way of reminding us that we need him in our lives and it's not wrong - Author: Shellie Palmer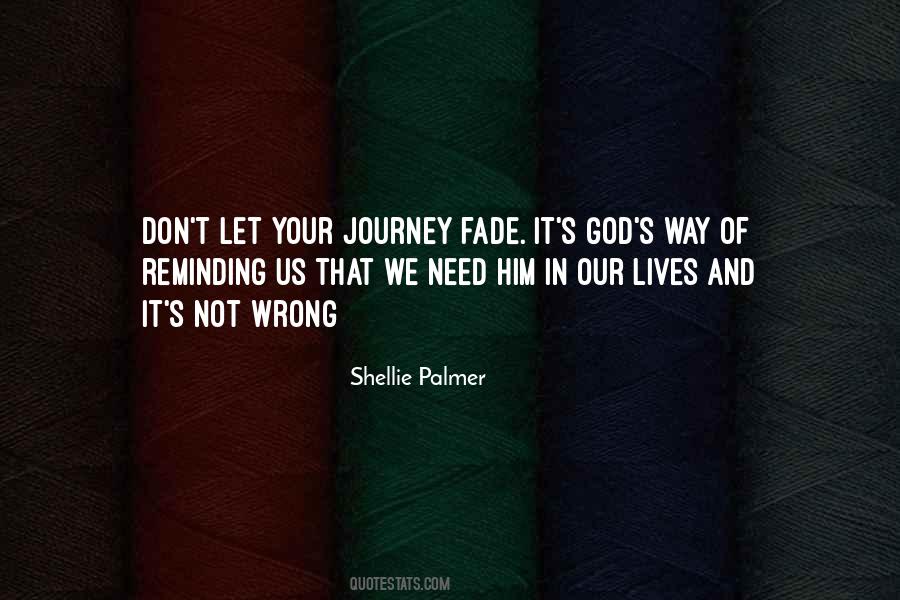 #24. If we don't defend what we love-if we let it fade-then our lives lose meaning. We must declare ourselves of what we are ... What we love. - Author: Guillermo Del Toro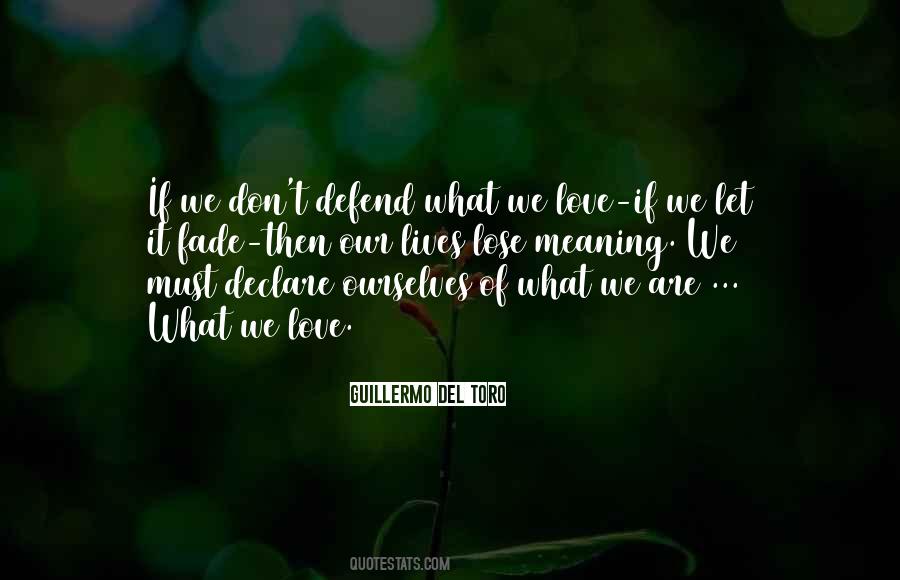 #25. Every parent who loses a child finds a way to laugh again. The timbre begins to fade. The edge dulls. The hurt lessens. Every love is carved from loss. Mine was. Yours is. Your great-great-
great-children's will be. But we learn to live with that love. - Author: Jonathan Safran Foer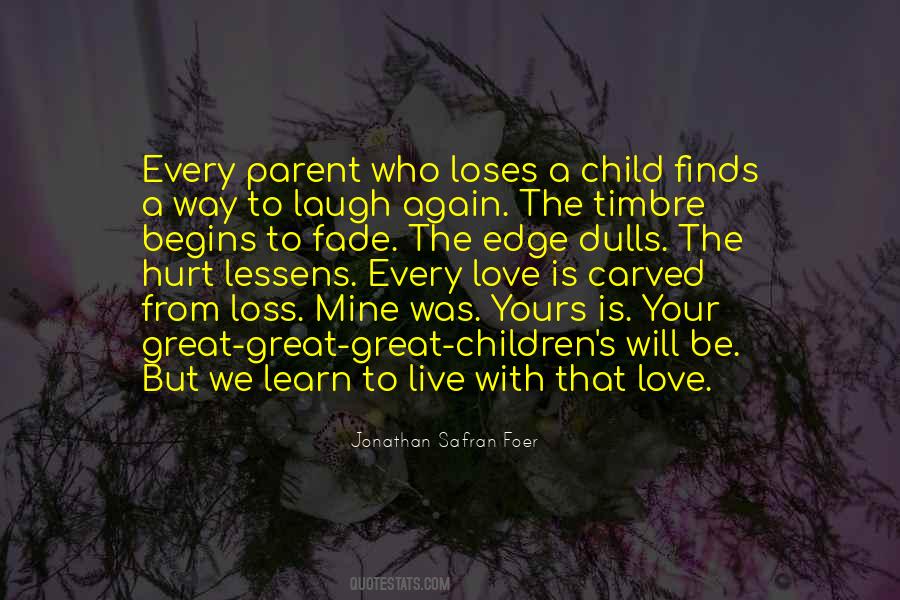 #26. If ever the day comes when he wakes beside me and my name doesn't come to his lips, when that bewildered look in his eyes doesn't fade away, I'll remember for us both. I won't let him forget the life we built together. I won't let him go. - Author: J.M. Snyder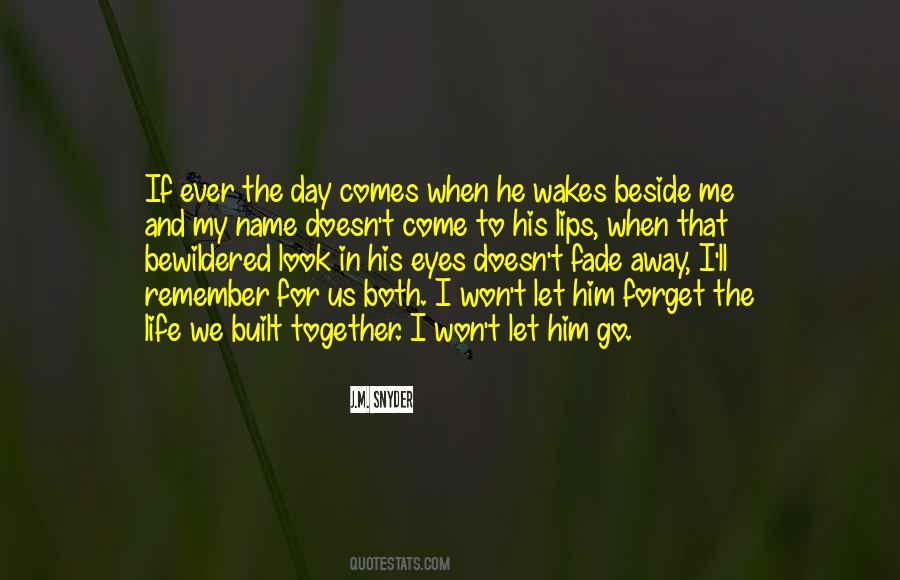 #27. There's only one time in your life when you can burn all the way down and walk away stronger. Waste your youth. That's what it's for. Don't hold back. Love until it hurts. The fire will fade. You're going to die. - Author: Josh Wagner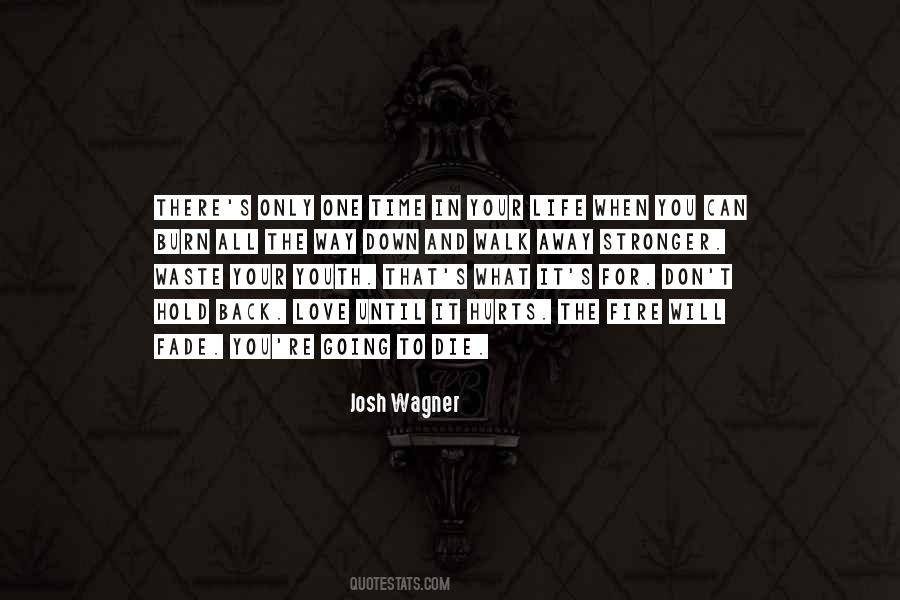 #28. Everyone always wants to know how you can tell when it's true love, and the answer is this: when the pain doesn't fade and the scars don't heal, and it's too damned late. - Author: Jonathan Tropper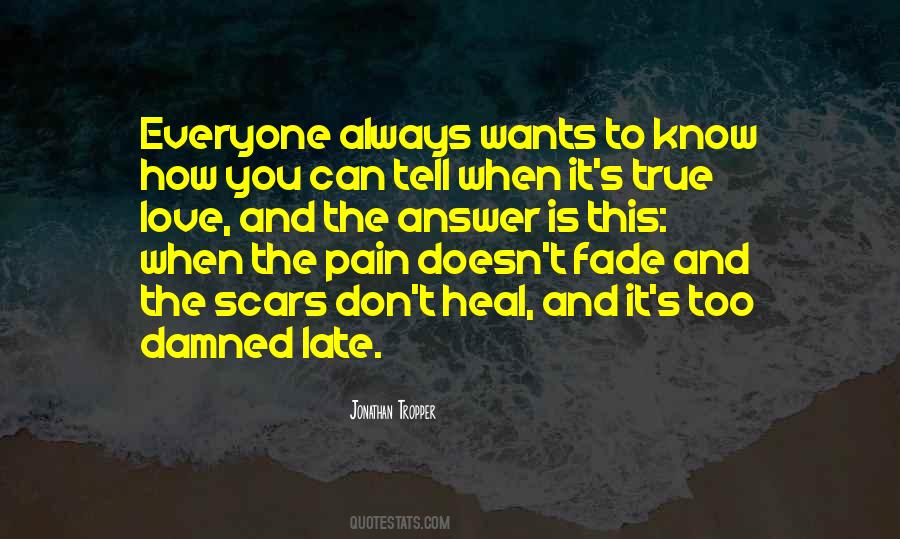 #29. First loves were supposed to be flimsy and temperamental. They were supposed to burn bright and fade fast. They weren't supposed to stick. They weren't supposed to eat away at a man's heart, his capacity for life. - Author: Alessandra Torre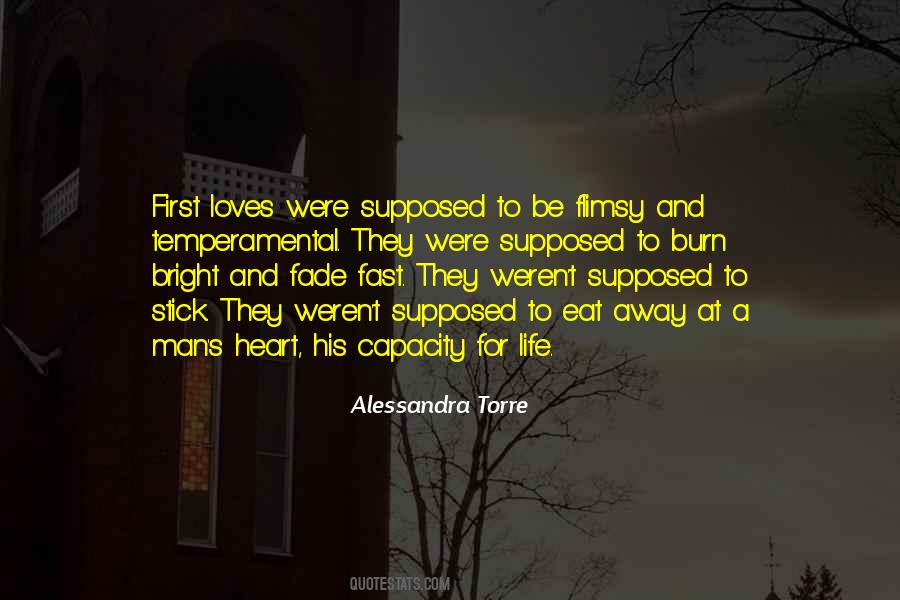 #30. I learned the real meaning of love. Love is absolute loyalty. People fade, looks fade, but loyalty never fades. You can depend so much on certain people, you can set your watch by them. And that's love, even if it doesn't seem very exciting. - Author: Sylvester Stallone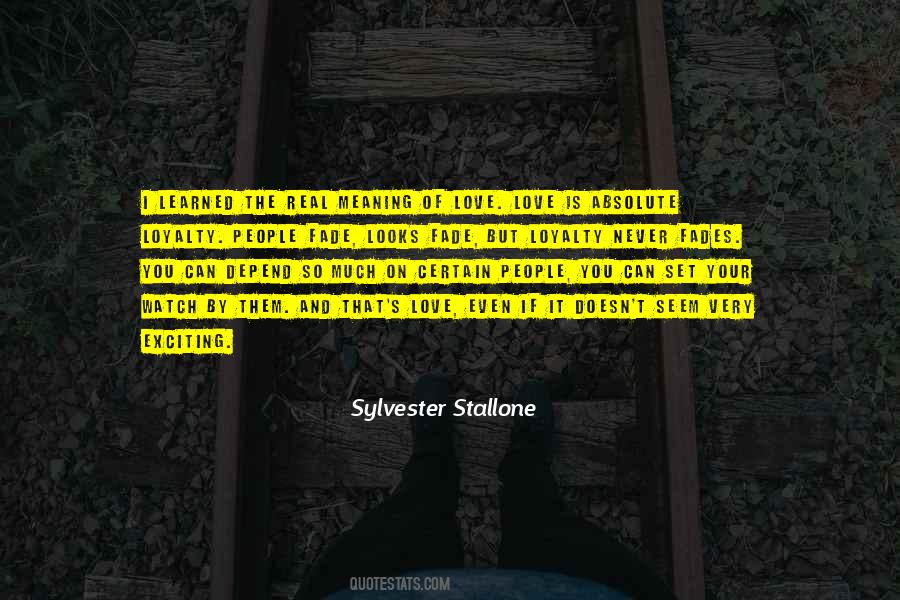 #31. Because sooner or later, all kinds of love - crazy love, wild love- fade into the same thing. The love becomes old and predictable -safe. - Author: Lang Leav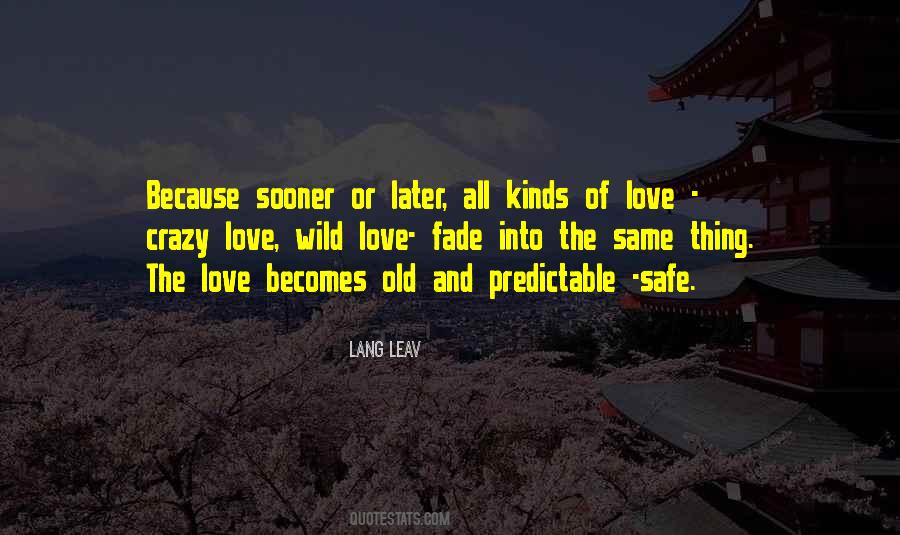 #32. Dear Maya,
Life is an illusion.
And as it turns out, so is death.
What is real?
What remains when we all fade away?
Two things: Love. Forgiveness.
Don't forget - Author: Cathy Ostlere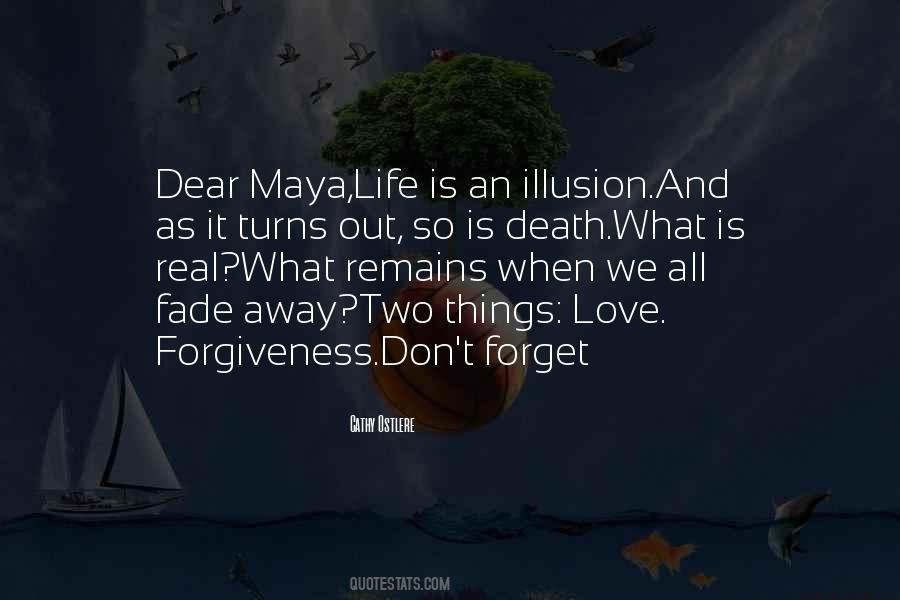 #33. No matter how you look at it, all the emotions connected with love are not really immortal; like all other passions in life, they are bound to fade at some point. The trick is to convert love into some lasting friendship that overcomes the fading passion. - Author: Harold Pinter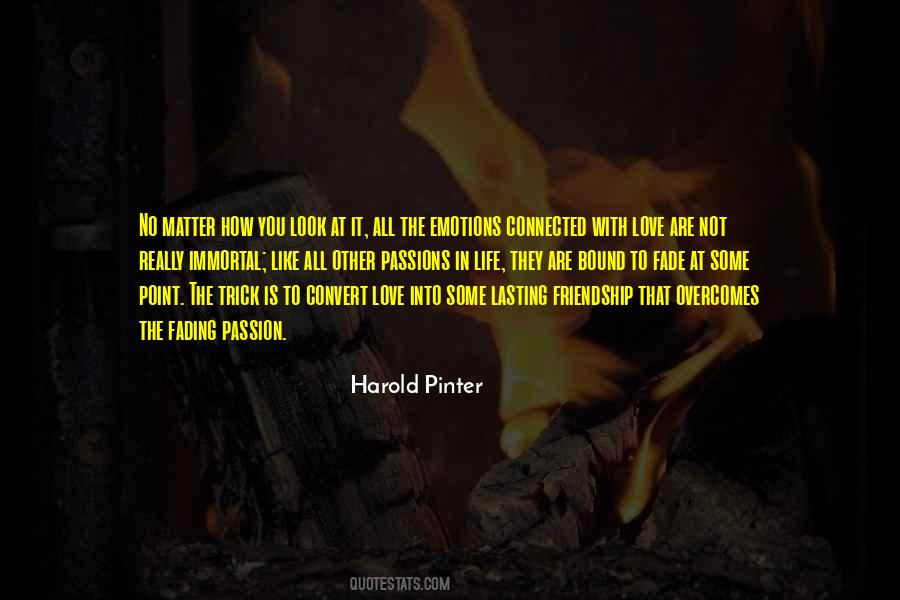 #34. Material blessings fade and deteriorate, but your riches in Christ are everlasting. - Author: Elizabeth George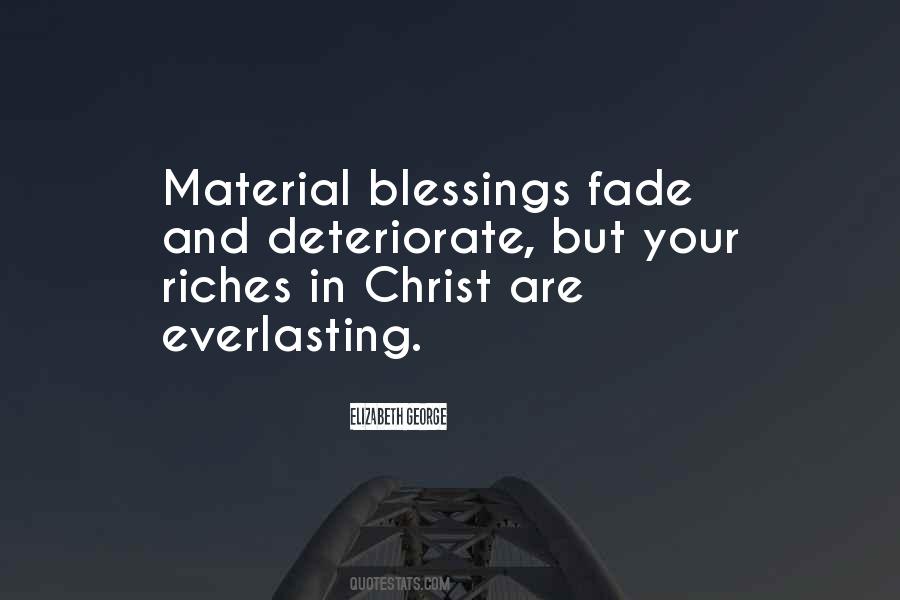 #35. Shelter me from the powder and the finger
Cover me with the thought that pulled the trigger
Think of me as one you'd never figured
Would fade away so young
With so much left undone
Remember me to my love,
I know I'll miss her. - Author: Neil Young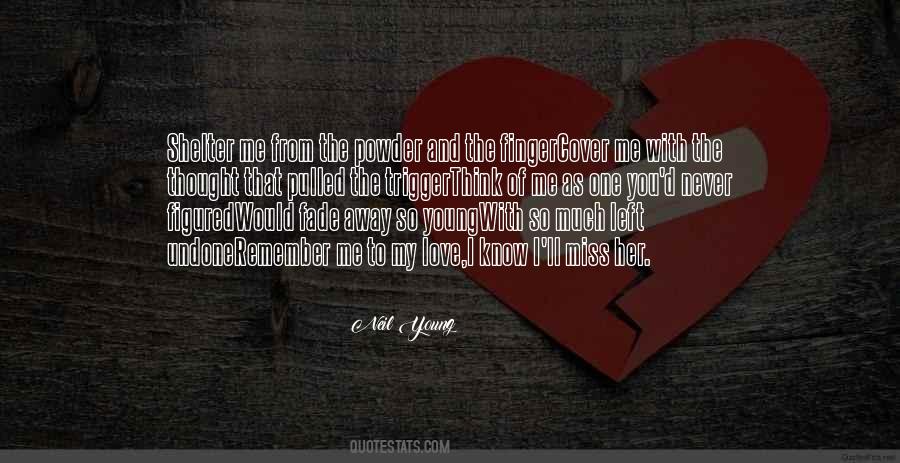 #36. Love is absolute loyalty. People fade, looks fade, but the loyalty never fades. - Author: Sylvester Stallone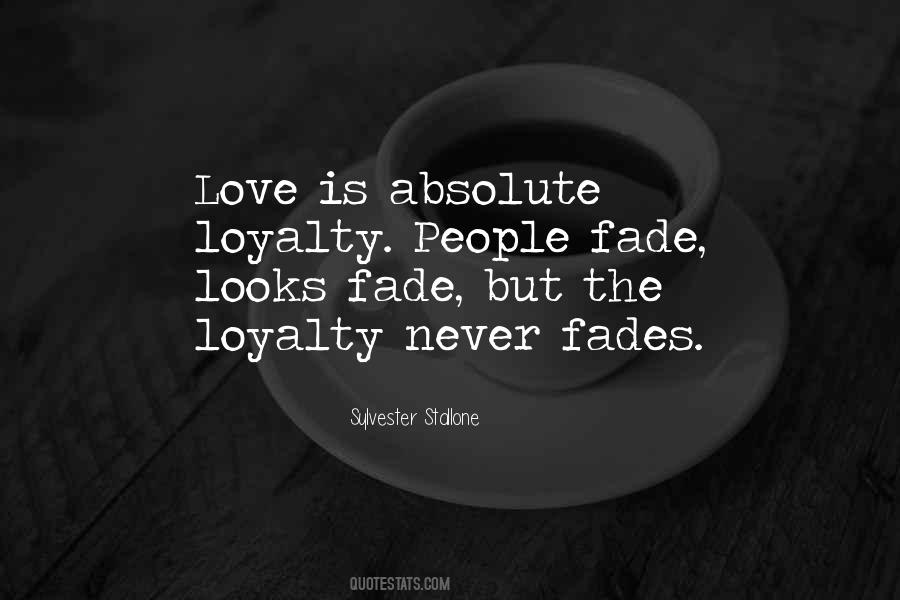 #37. ... everyone regrets something, but you can't change the past. You've got to let go and make new memories until the old ones fade enough that they don't hold any power over you. - Author: Olivia Arran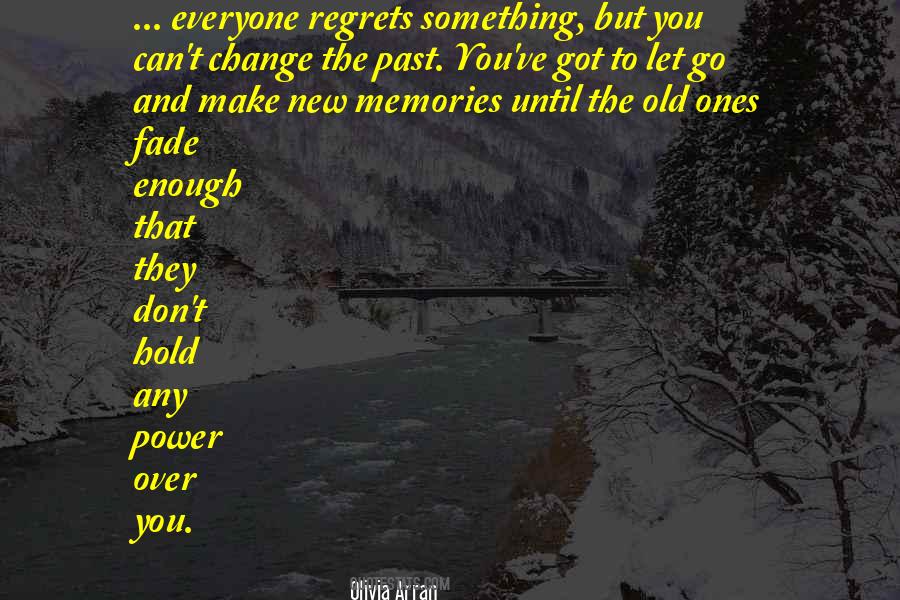 #38. Love in a night shall live and die,
Love in a day shall wing and fly;
Love in the Spring shall last an hour,
Easily fade a spring-tide flower. - Author: Aleister Crowley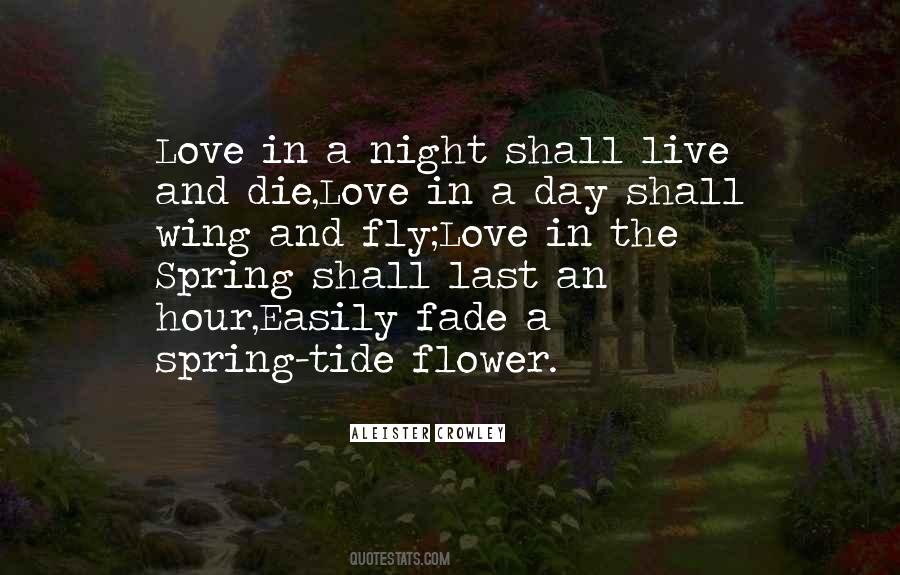 #39. Whoever you are. Where ever you are. With whom so ever you are & were. Whatever may be your past. What so ever may be the truth. I will wait for you & I will fade away just like a daffodil when storm comes. - Author: Srinivas Shenoy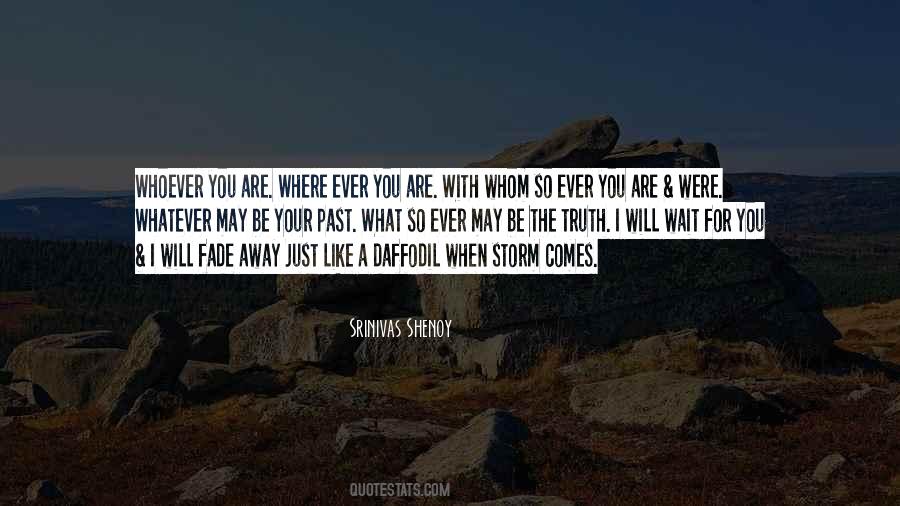 #40. God's power and love don't fade, nor does His presence, but we cannot tap into it as fully when we don't have praise and worship toward Him in our heart - Author: Stormie O'martian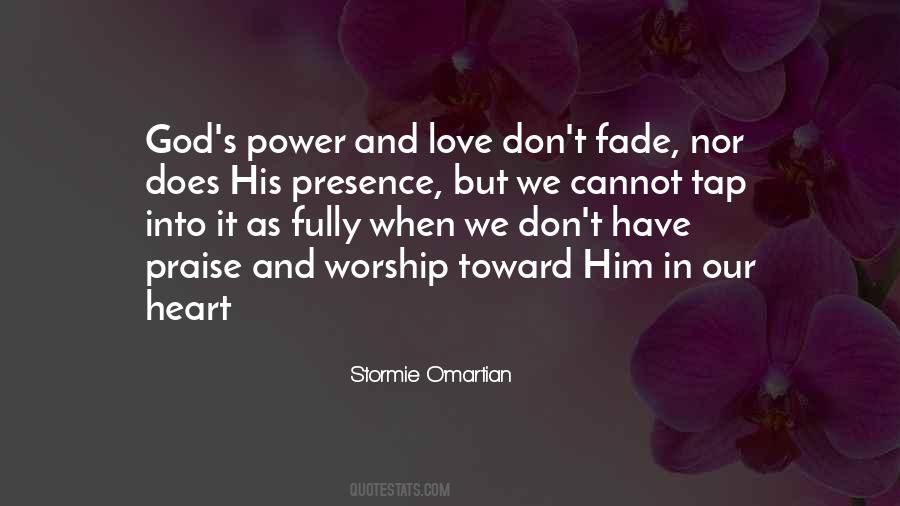 #41. Time can heal and time can help forgive and forget because in time the memories fade. The time will go so slow so fast and love will stay if it's right. - Author: Kate McGahan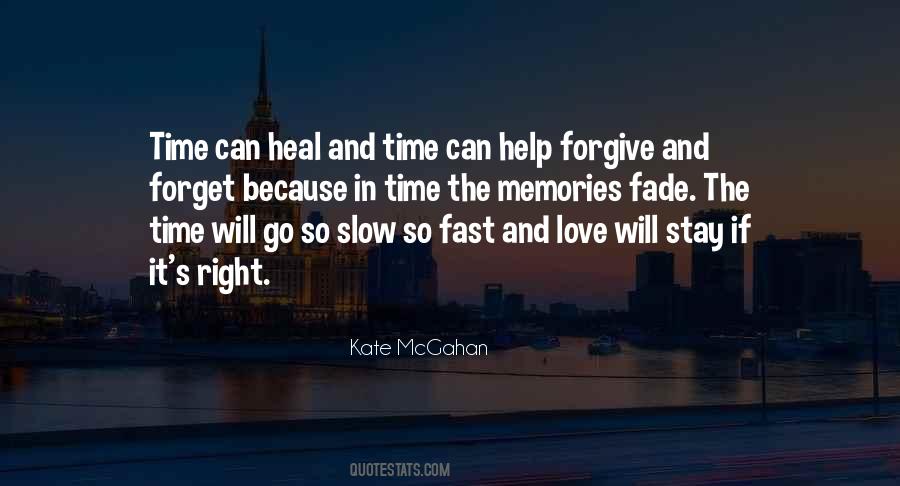 #42. Love doesn't come along too often. Believe me, I know. When it does, only the foolish let it fade. Even if it is him. - Author: H.M. Ward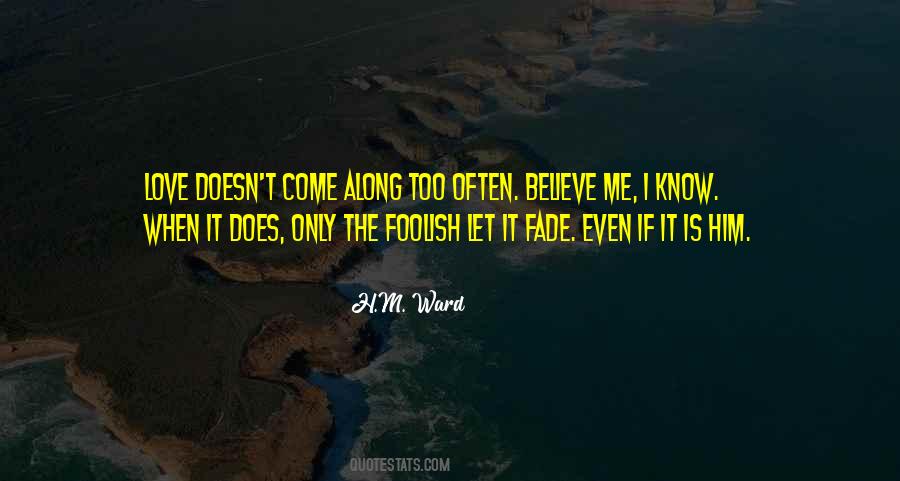 #43. When they left, I saw four or five black-and-white photographs I had taken of you, peeping from the file. They'd faded a little over time and were stuck to each other. Delicately, i separated them. - Author: Sachin Kundalkar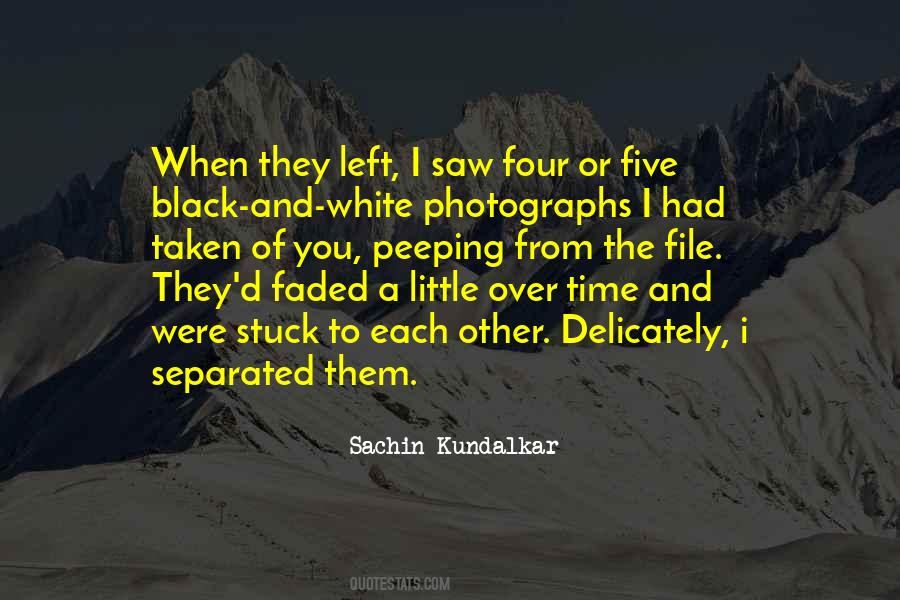 #44. Evil can be helped to fade away more quickly if we remain in obedience to the Law of Love - evil must be overcome with good. - Author: Peace Pilgrim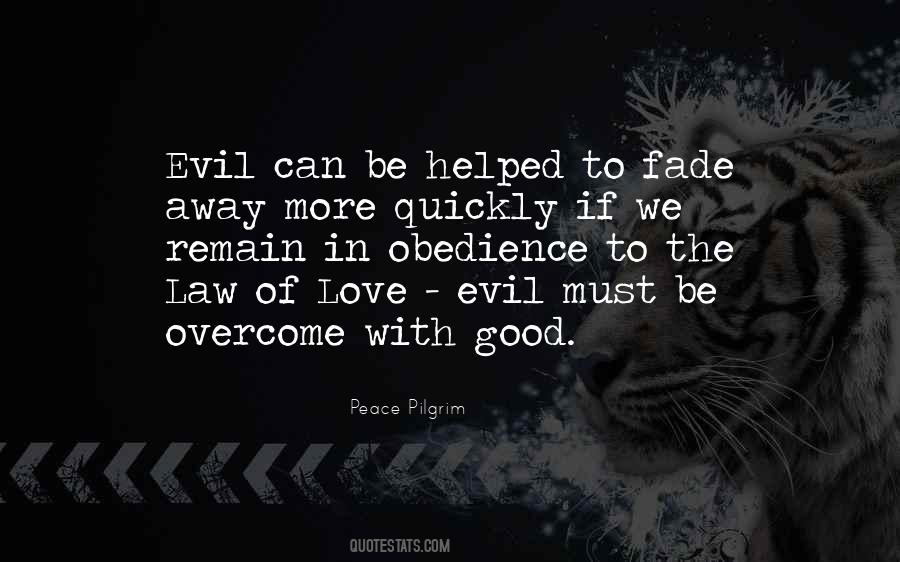 #45. Somehow, even outside the library and our clearing in the woods, we were still in our own world. Everything else could fade away, and he and I would remain, tied together by something I couldn't quite expline. In its simplest term, love. - Author: Rachel Schieffelbein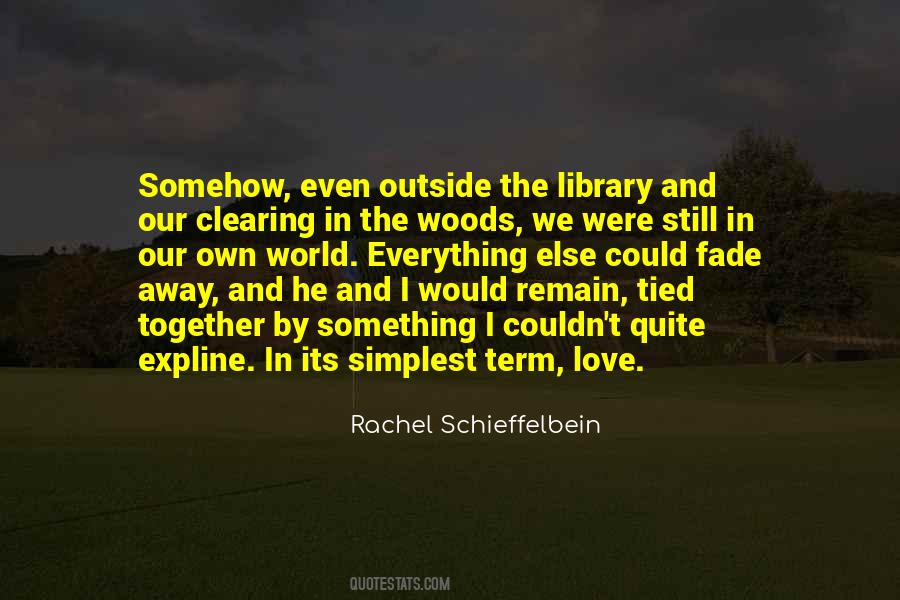 #46. Joy is family, life, all of it - the big stuff and the small stuff. Just holding the woman you love in your arms can make a hard day at work fade away. - Author: Renee Carlino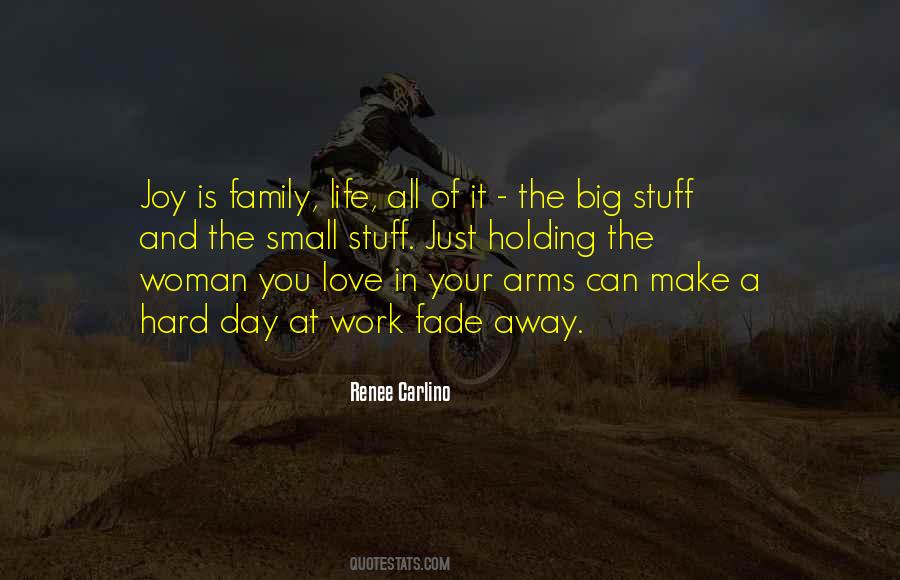 #47. Every now and then, if I allow my mental focus to slip, I catch myself looking at her face and forgetting how to breathe. I guess these things take time to fade completely. - Author: Melissa Keil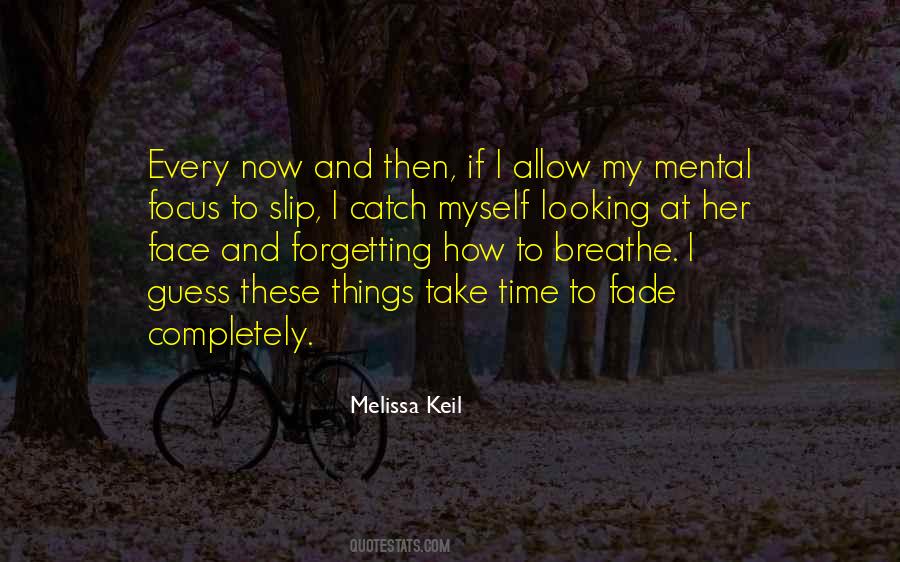 #48. We would not want the joy of physical and sexual intimacy to fade after years together. We need to also remember to keep our intellectual and emotional intimacy every bit as sacred. - Author: Cathy Burnham Martin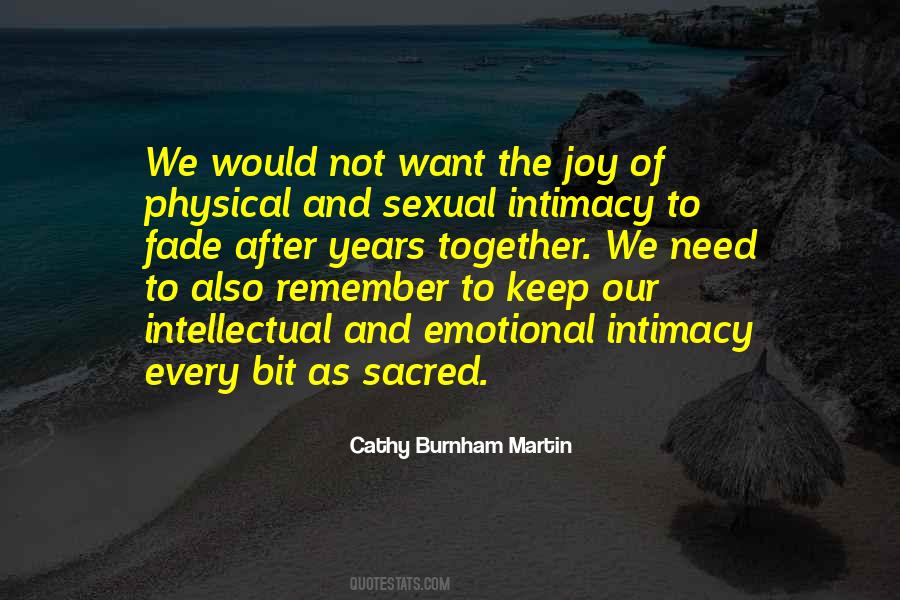 #49. After the fire died down, what remained were two charred hearts, that once beat as one. - Author: Anthony Liccione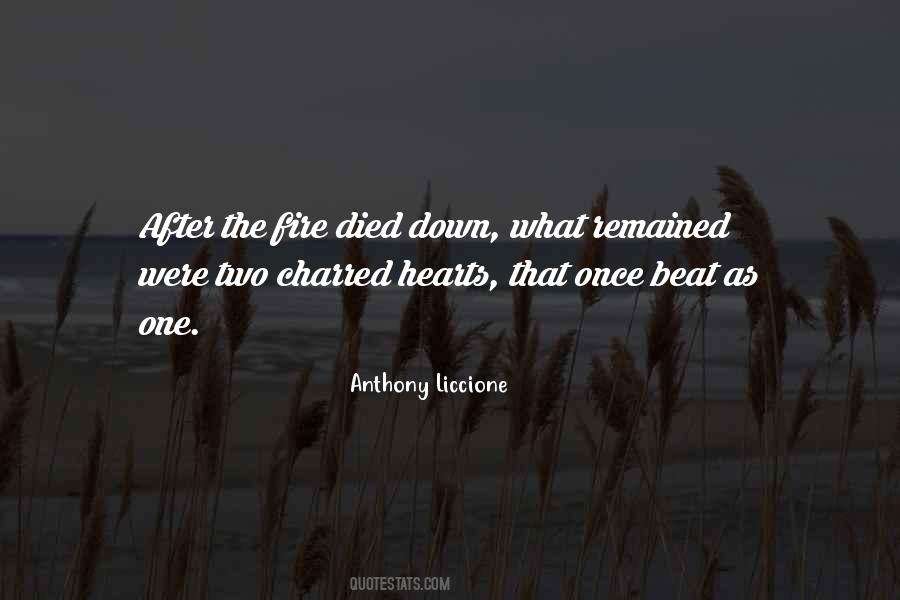 #50. People don't realize, if you love yourself and accept yourself for who you are, all those insecurities eventually fade away. - Author: Winter Renshaw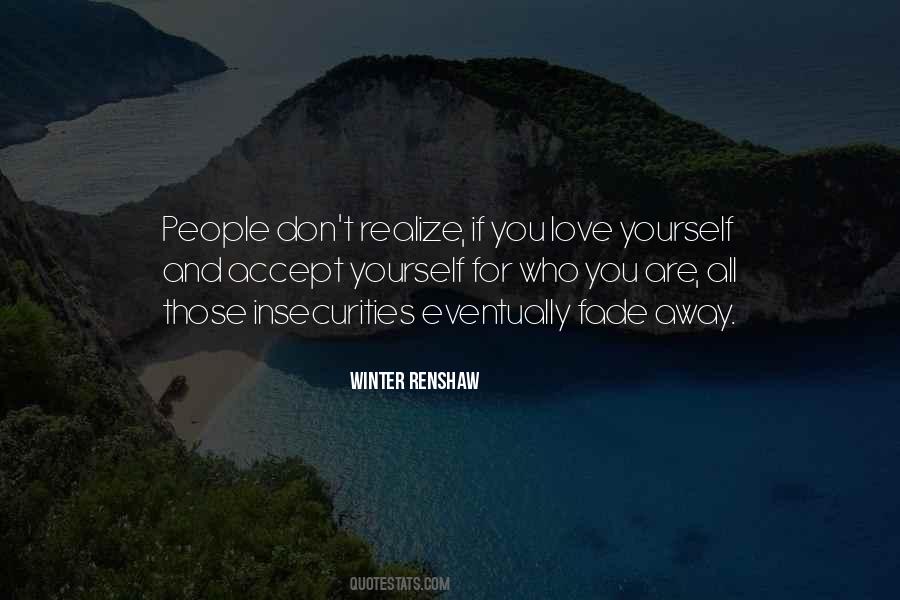 #51. Me do not live as you do. For us, love doesn't fade gradually. It snaps like a branch bent to far. - Author: Holly Black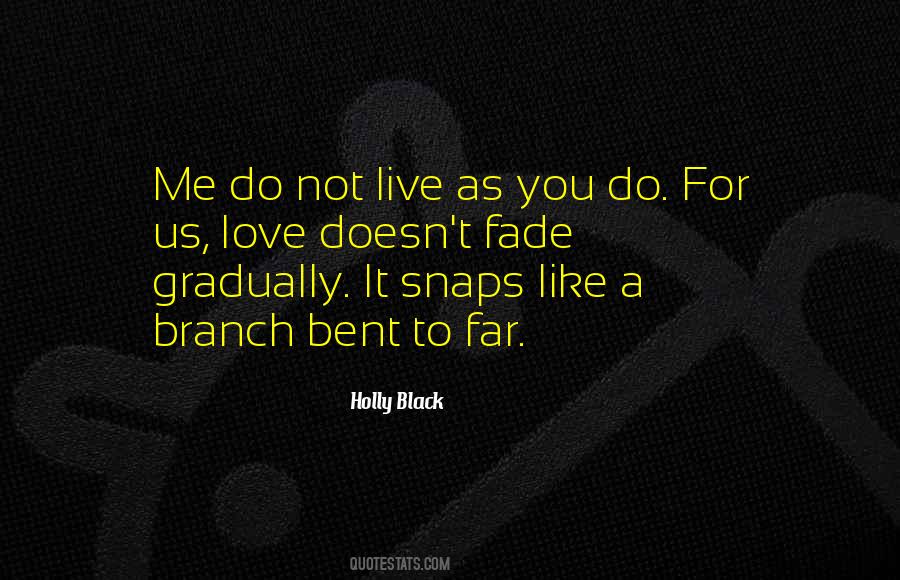 #52. With time, the hurt would begin to fade away, but not the memories. - Author: Anamika Mishra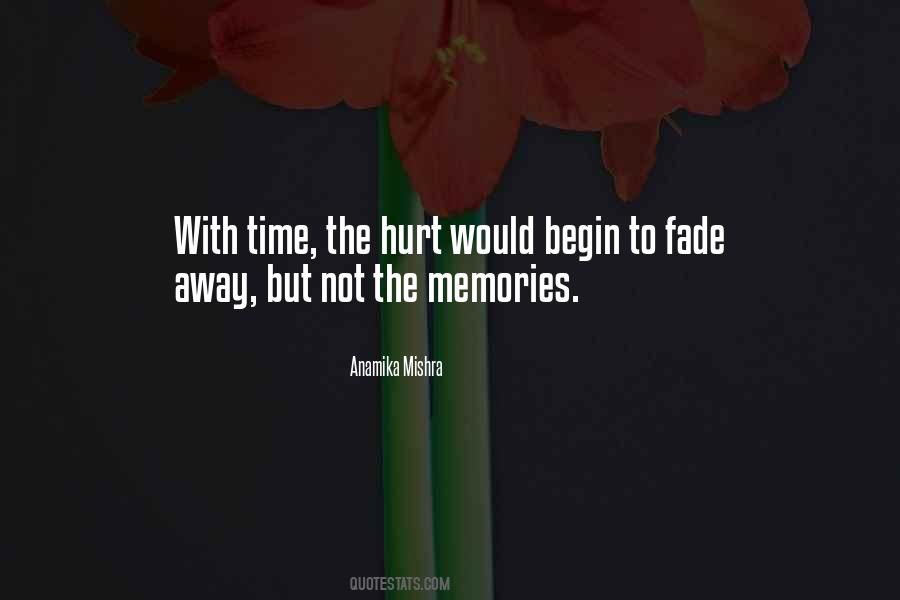 #53. Thoughts and imaginations will fade away if you don't act on them. - Author: Debasish Mridha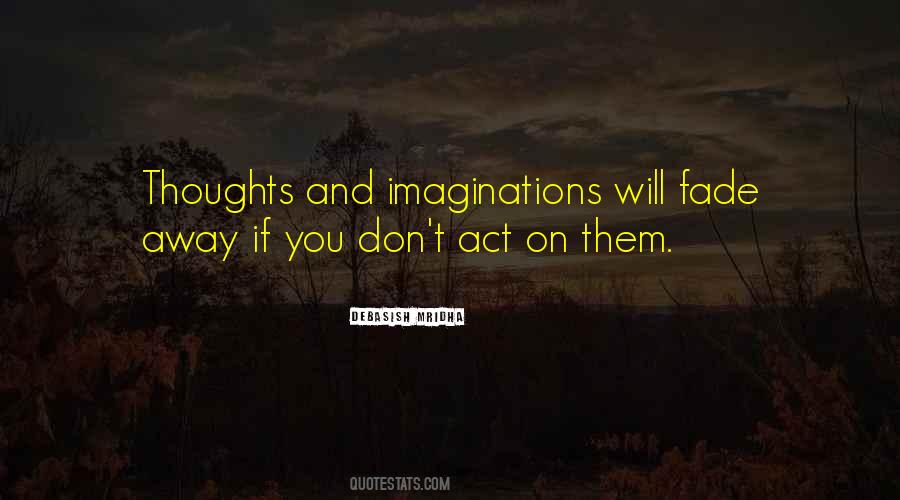 #54. While there is nothing wrong with physical desire per se, and wanting a partner who you consider to be physically attractive, you should also understand that if you are serious about finding that special someone and perhaps growing old with them, looks fade but character does not. - Author: Stephen Richards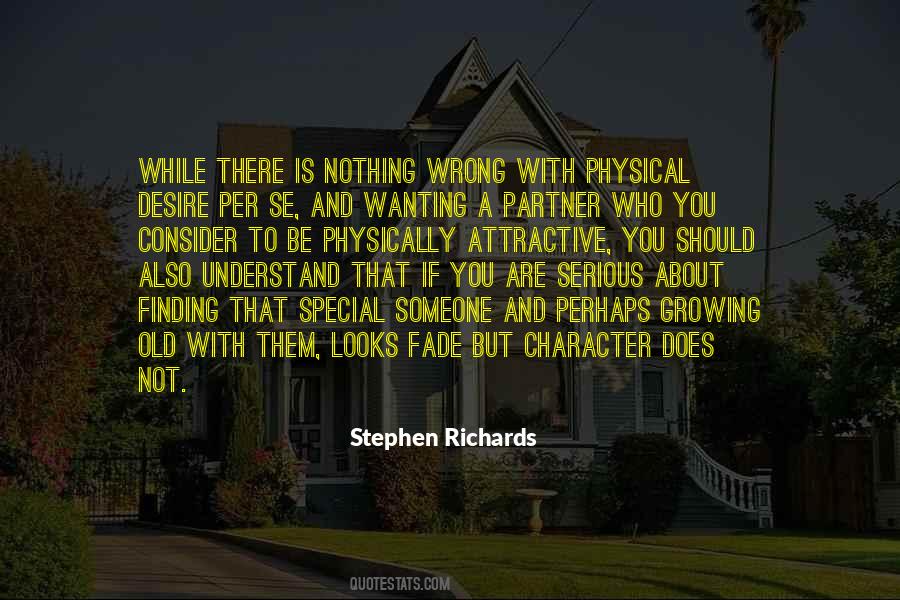 #55. Sad, slow music in the small hours of the morning isn't just sad and slow music. It's a narration. And through the myriad of morning dew, we are the twinkling stars that fade with the rising sun. - Author: Dave Matthes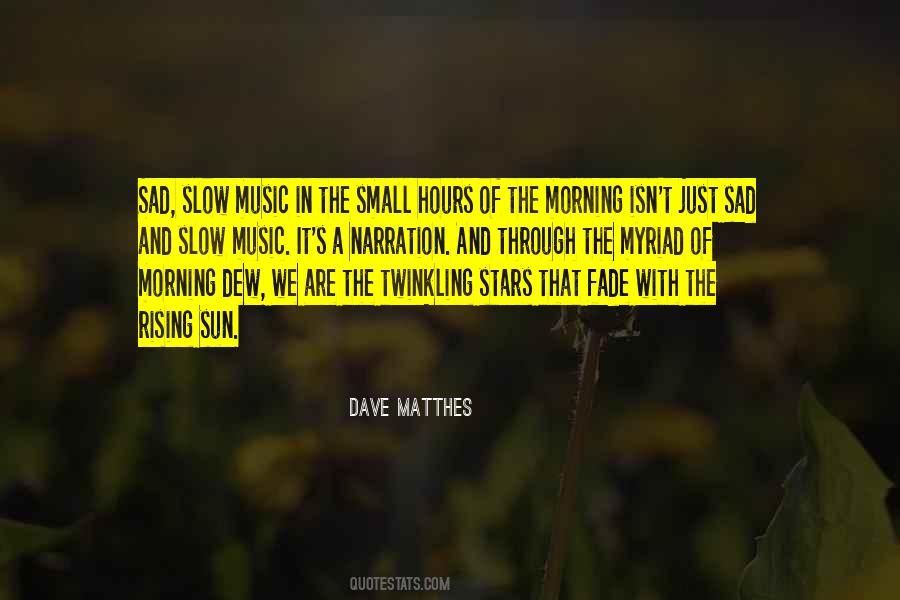 #56. It was one thing to lose the people you love. That happens to everybody. But it was another thing to lose them because you just ... faded away.
I didn't want to fade away. - Author: Jennifer Brown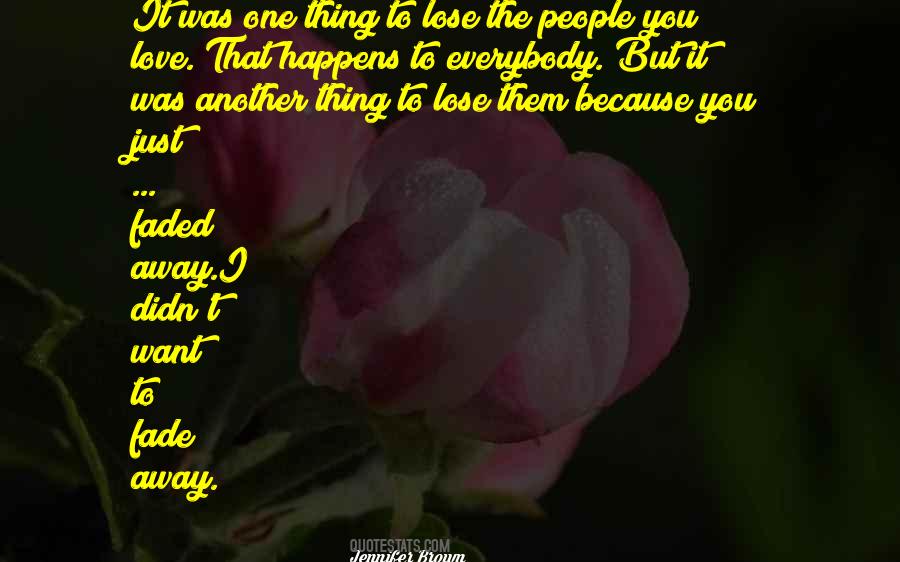 #57. Love never dies but the affection/passion you have for each other may fade over time when you don't personally connect with each other. - Author: Kemi Sogunle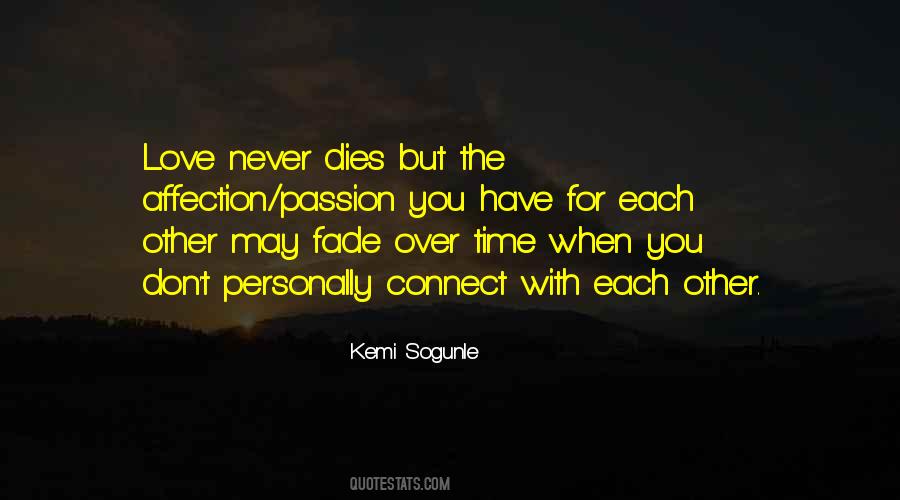 #58. Memories are meant to fade, Lenny. They're designed that way for a reason. - Author: Angela Bassett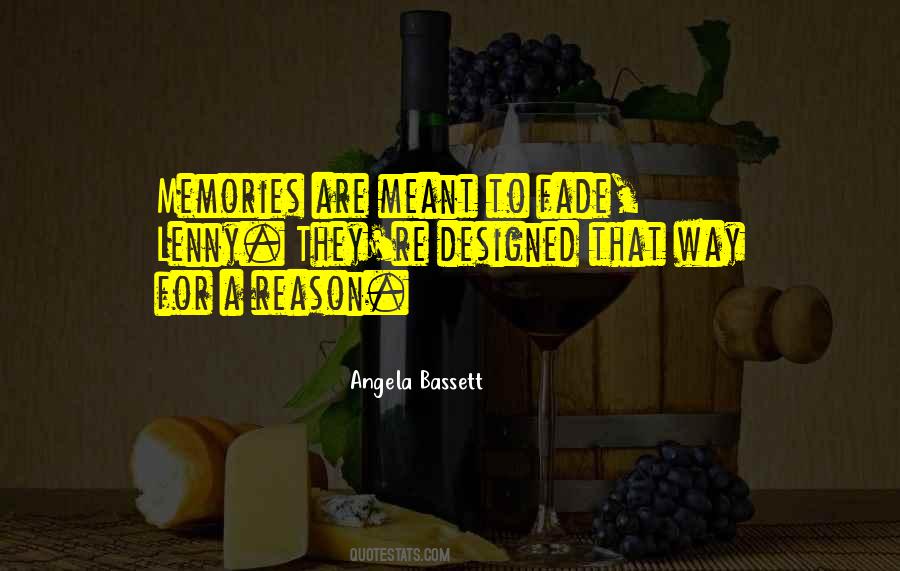 #59. Truths are written, never said ... Lines are drawn, but then they fade. - Author: Colleen Hoover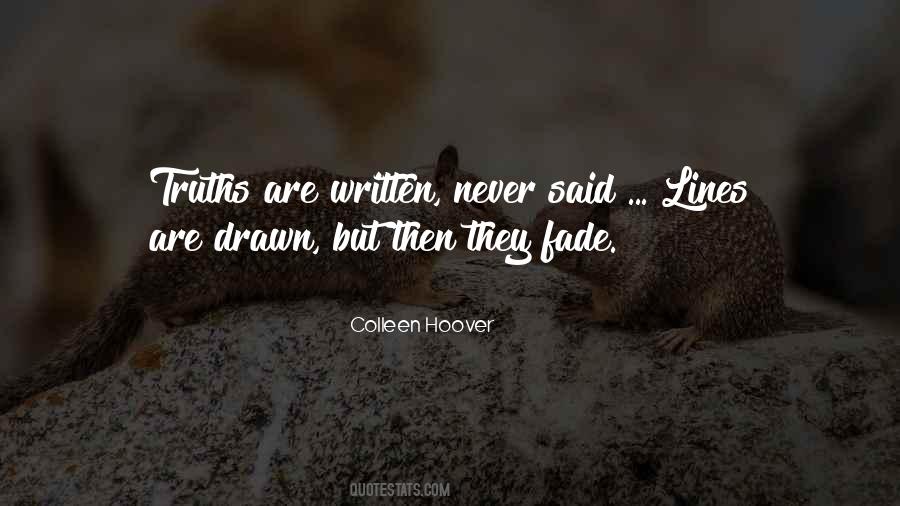 #60. In closing, I hope everything helps show that I wouldn't be a fade-out or a person who turns to think to drink or dope when things get tough. I believe that anything is possible if you have the combination of love for what you're doing and the will to sit down and not get up until it's done ... . - Author: Kaye Gibbons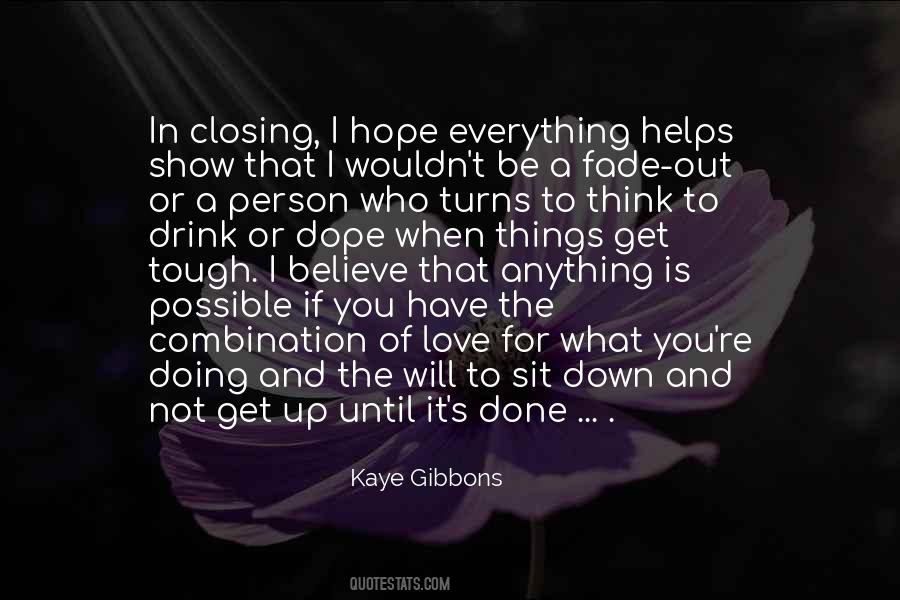 #61. Life and love are life and love, a bunch of violets is a bunch of violets, and to drag in the idea of a point is to ruin everything. Live and let live, love and let love, flower and fade, and follow the natural curve, which flows on, pointless. - Author: D.H. Lawrence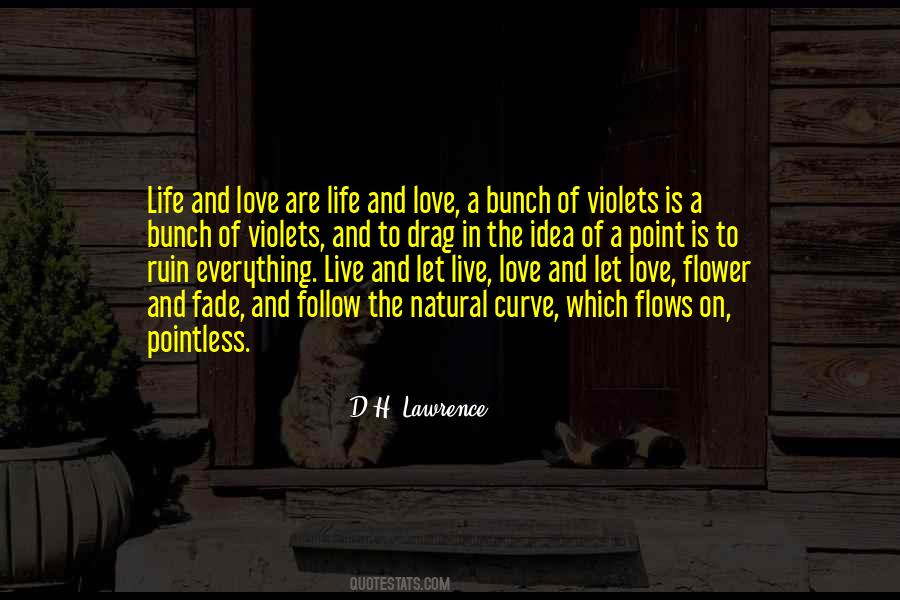 #62. A broken heart is probably tougher the second time around but just remember those pieces will come together again. The hurt and pain will fade. You will then remember how strong you are. You will thank a broken heart someday, remember that. - Author: Aline Alzime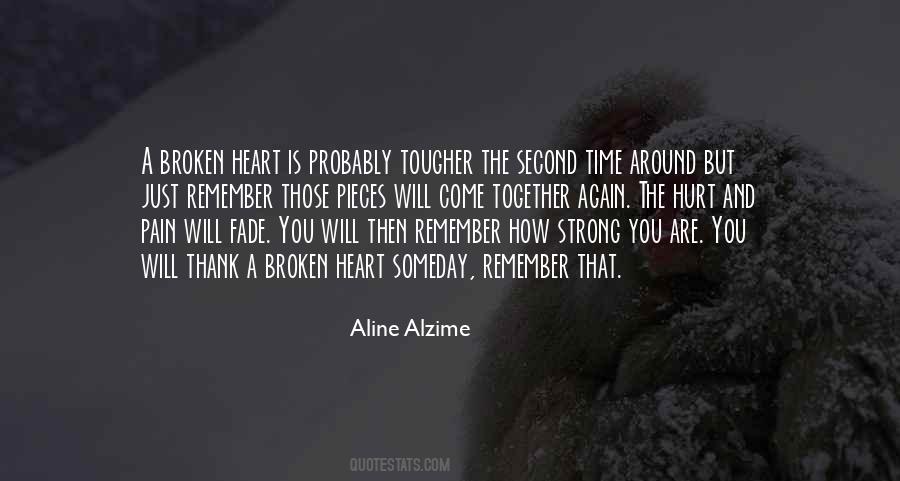 #63. The body will blossom and fade, but you will remain after this body of yours has gone away. This knowledge allows you to love the body without attachment. Thus, the body becomes absolutely pure. - Author: Frederick Lenz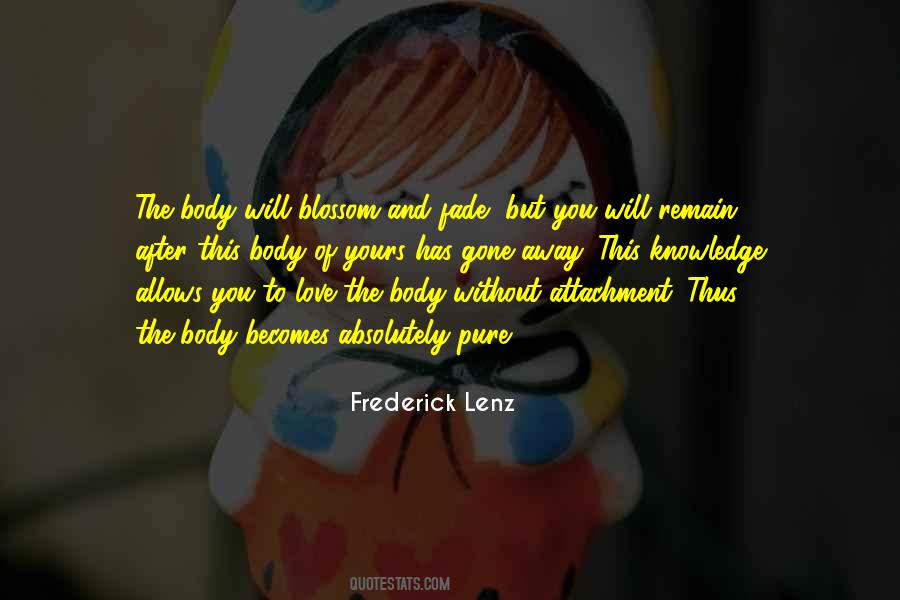 #64. I want to be the star in your diary" -Shawn, Fade to White - Author: N.L. Churney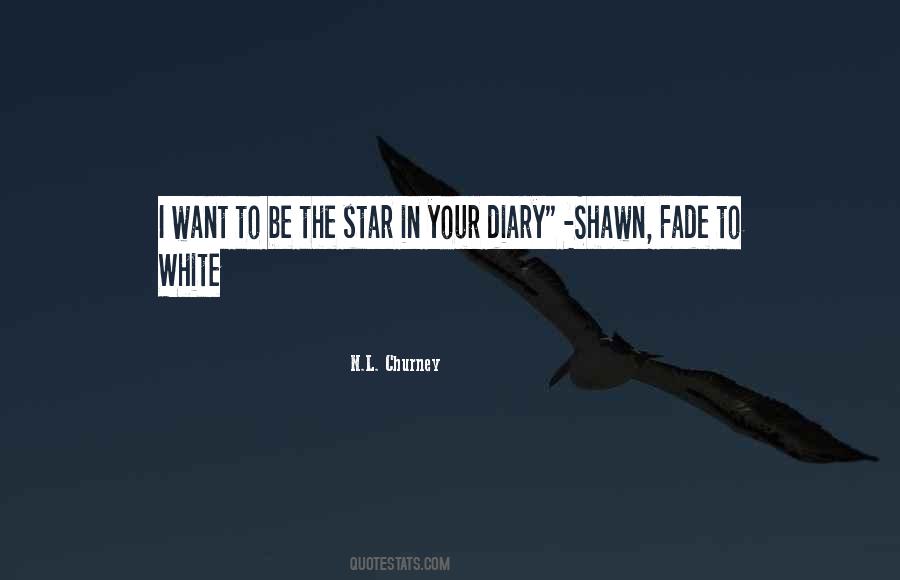 #65. Love is like the foundation of the house, if you have strong foundation the love don't fade, but get stronger, unless get hit from a bulldozer. - Author: Zybejta "Beta" Metani' Marashi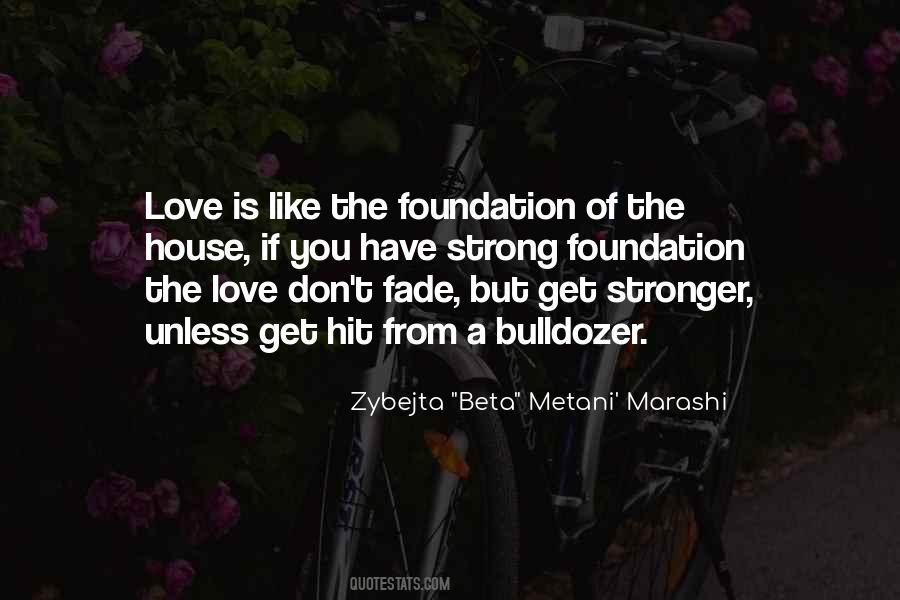 #66. Don't strive to be beautiful from the outside, strive to be beautiful from the inside. Surface beauty will fade through time and age, but beauty from the heart, however, will never fade. - Author: Emily Eaton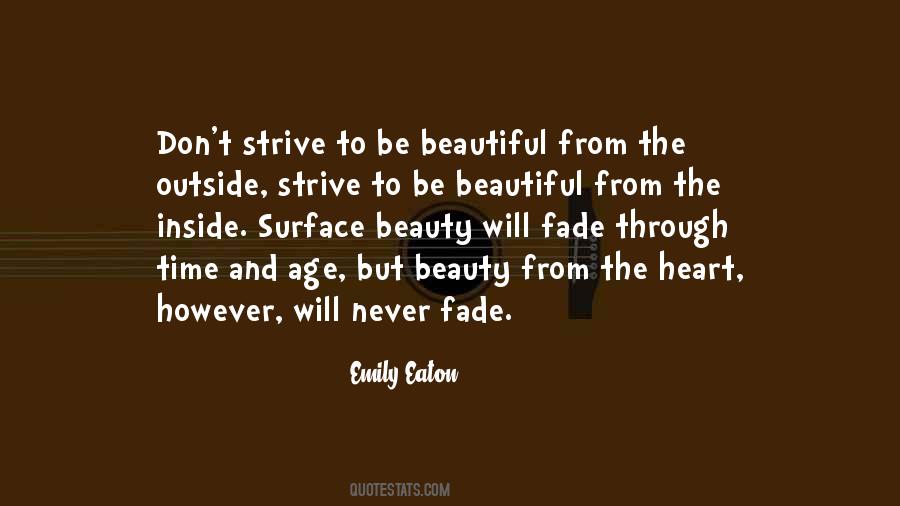 #67. Romance lasts forever, love don't fade away. They may take away our future, but they can't stop yesterday. - Author: John Denver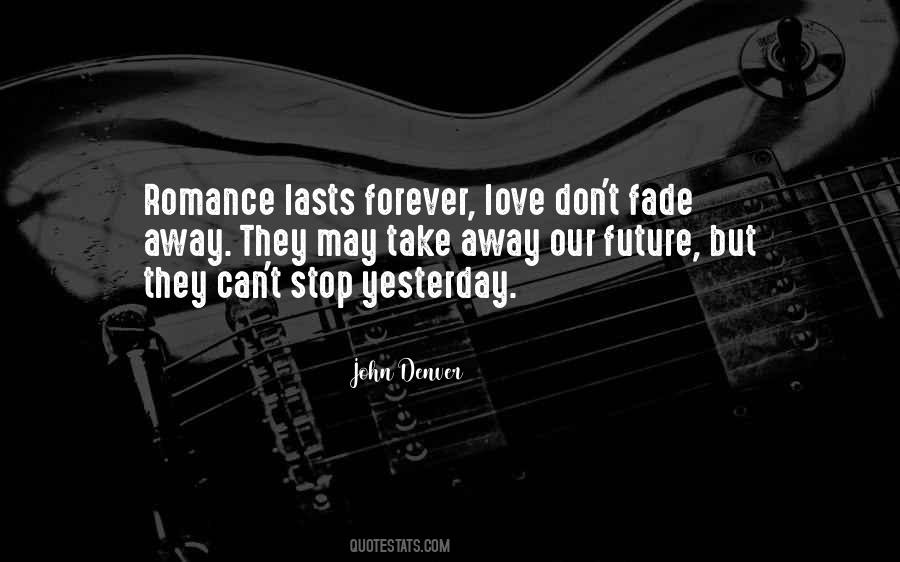 #68. People love destroying mankind, for some strange reason. You make a movie about mankind's destruction, you're going to fill seats. People just love the idea. For a couple thousand years, we've been dreaming up how we're all going to disappear and fade away from this planet. - Author: Michelle Rodriguez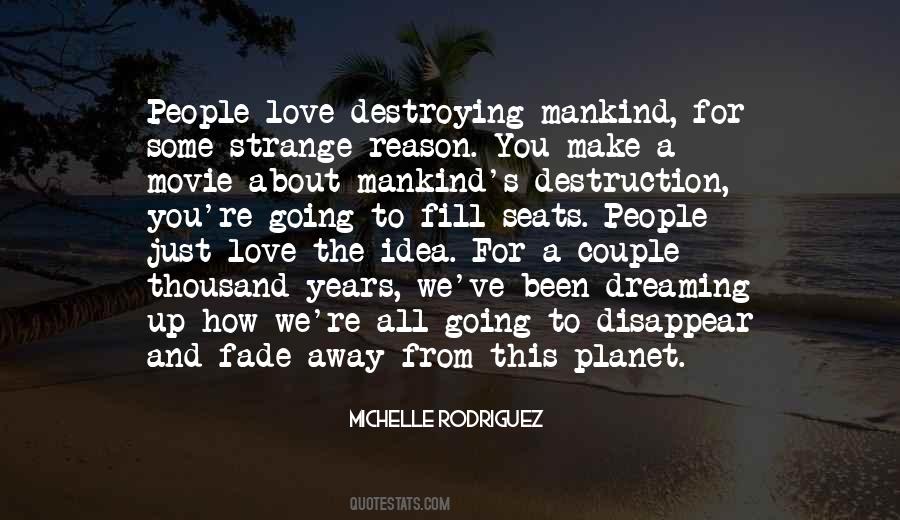 #69. I don't think you understand what it means when a demon falls in love, Layla. It doesn't go away. It doesn't fade, even if we want to. We love until death. That's not just something we say. We love and we love once and it's forever. - Author: Jennifer L. Armentrout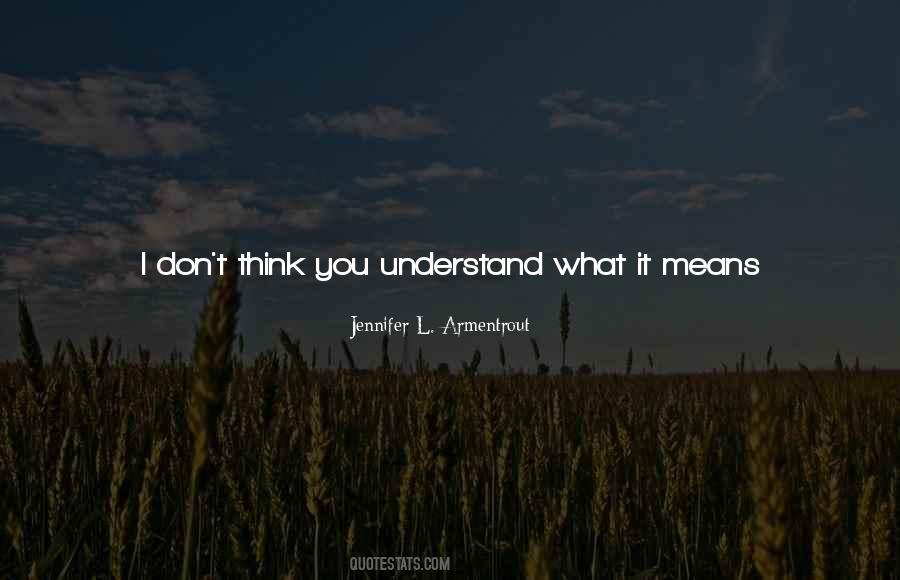 #70. I love you, Hsin," he said hoarsely. "I missed you so much."
"I love you, too." Sin's voice was still thick and husky. "I came back for you. Because I wanted to find you, because I wanted to remember you. - Author: Santino Hassell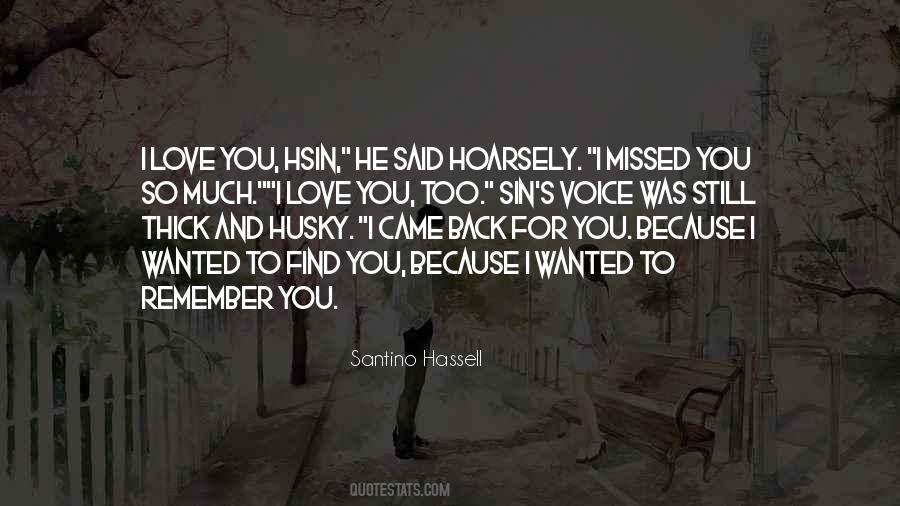 #71. Everyone wants to know how you can tell when it's true love, and the answer is this: when the pain doesn't fade and the scars don't heal, and it's too damned late. Jonathan Tropper, from The Book of Joe - Author: Madelon Phillips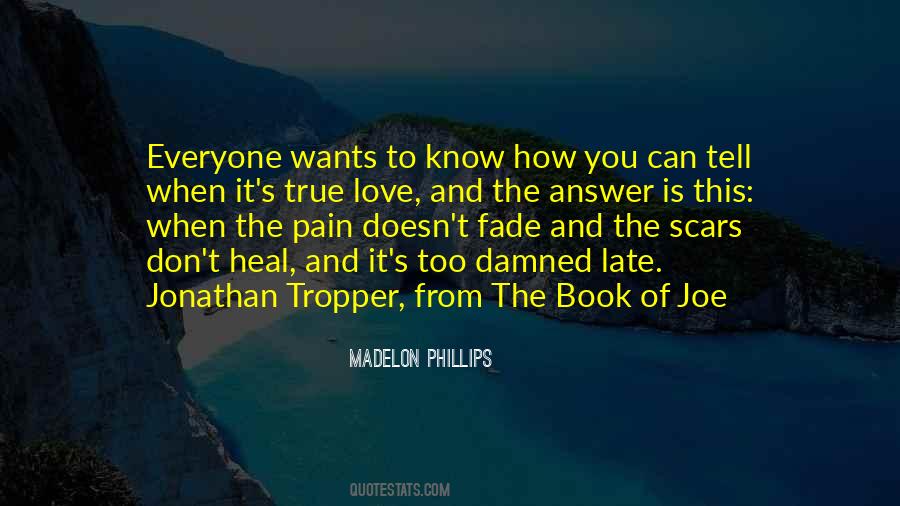 #72. Bold Lover, never, never canst Thou kiss, Though winning near the goalyet, do not grieve; She cannot fade, though Thou hast not Thy bliss, Forever wilt Thou love, and she be fair - Author: John Keats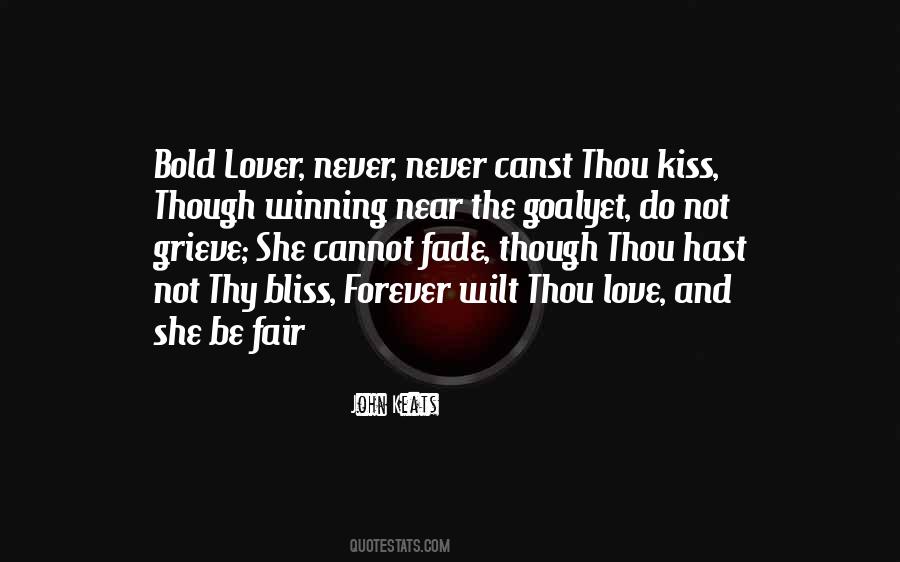 #73. True love will never fade like a rainbow. - Author: Jon Jones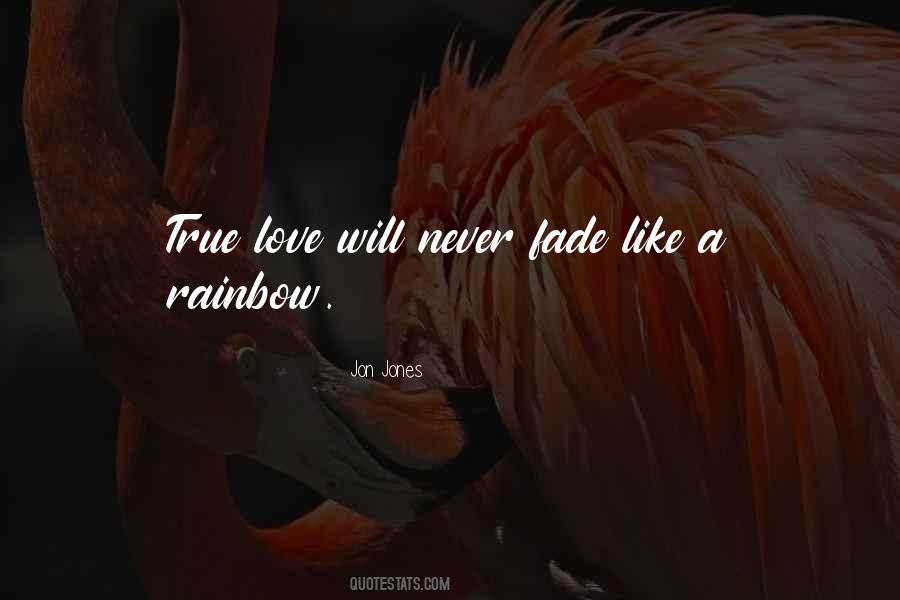 #74. The video for 'Whatever' is kind of a documentary in a way. It's showing that love can last. Not just in your early 20s or your late 30s, but in your 50s, 60s and 70s. There's an awful myth out there that when you get married, love and lovemaking fade. It's not true. - Author: Jill Scott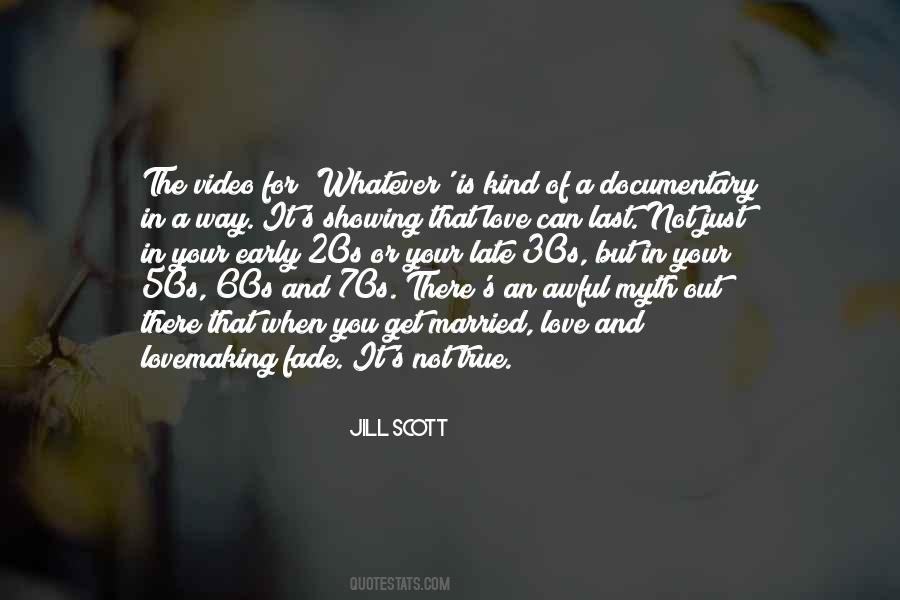 #75. I pull away and all the magical qualities of his touch fade. It's the worst feeling in the world. - Author: H.M. Ward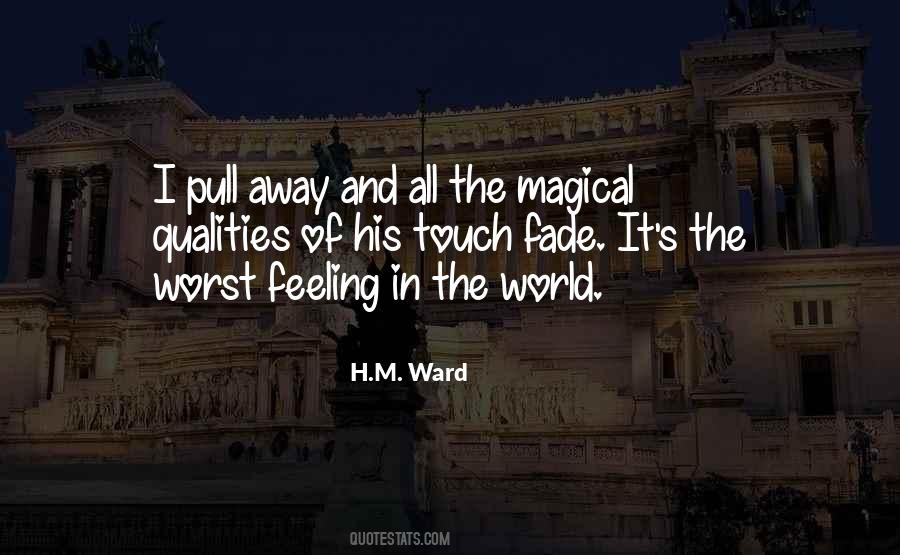 #76. When two hearts become one,
It cannot be undone.
A promise has been made
And cannot be broken or swayed.
For this love will last an eternity and will not fade. - Author: Charlene M. Martin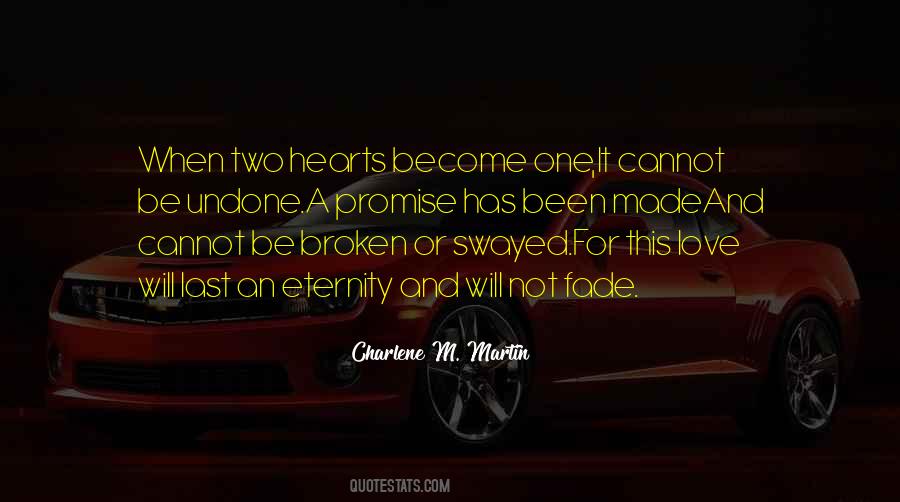 #77. Our sweetest hopes rise blooming. And then again are gone, They bloom and fade alternate, And so it goes rolling on. I know it, and it troubles My life, my love, my rest, My heart is wise and witty, And it bleeds within my breast. - Author: Heinrich Heine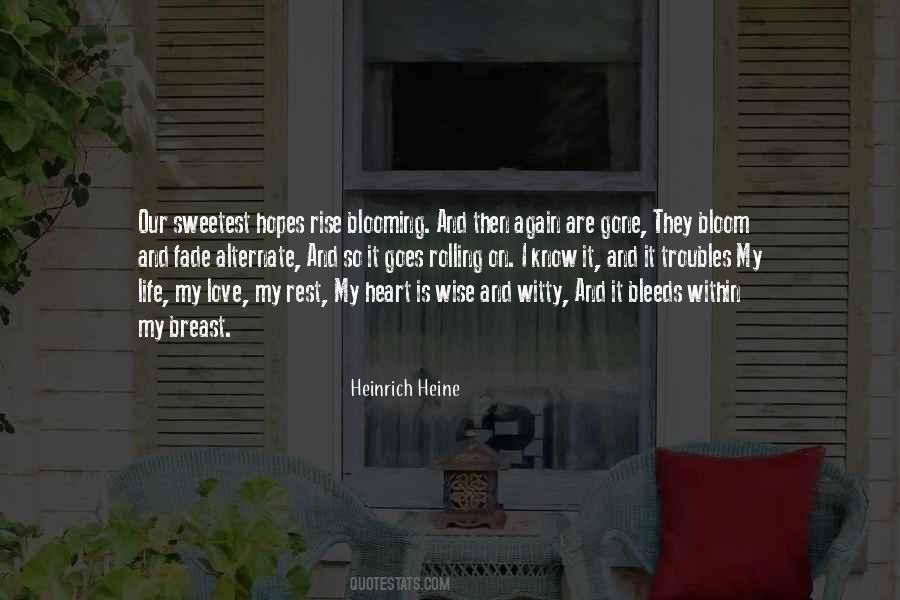 #78. Lys. How now, my love? Why is your cheek so pale? How chance the roses there do fade so fast?
Her. Belike for want of rain, which I could well beteem them from the tempest of my eyes. - Author: William Shakespeare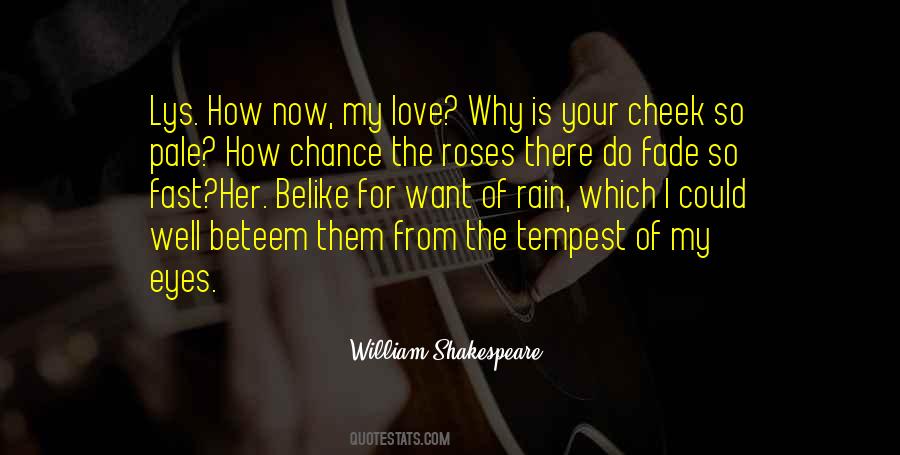 #79. We love until we do not. For us, love doesn't fade gradually. It snaps like a branch bent too far. - Author: Holly Black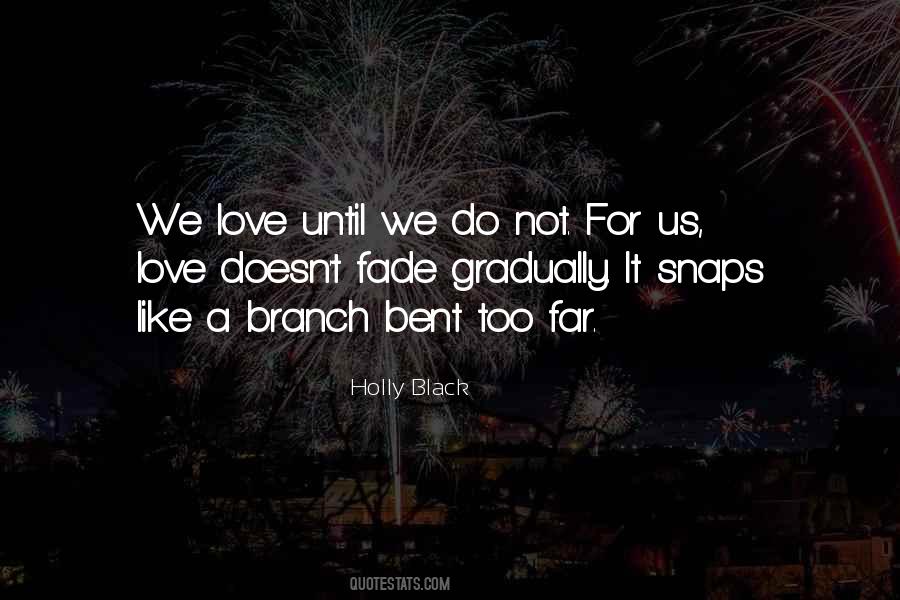 #80. Love can fade and die. I've seen it. It can grow and build as well. I think when it's real and meant, it can only grow bigger and stronger. - Author: Nora Roberts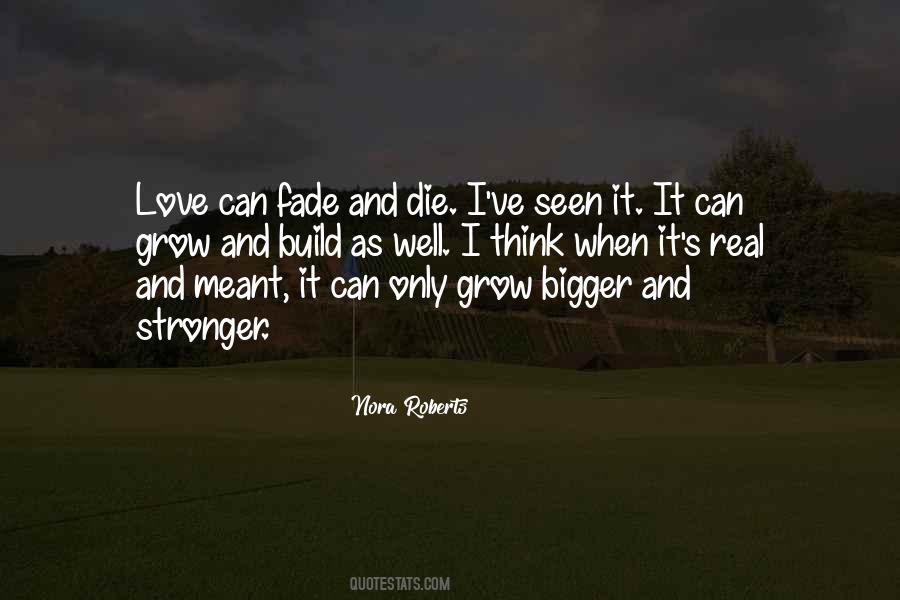 #81. Laws are meaningless, child. There is nothing more important than love. And no law higher. - Author: Cassandra Clare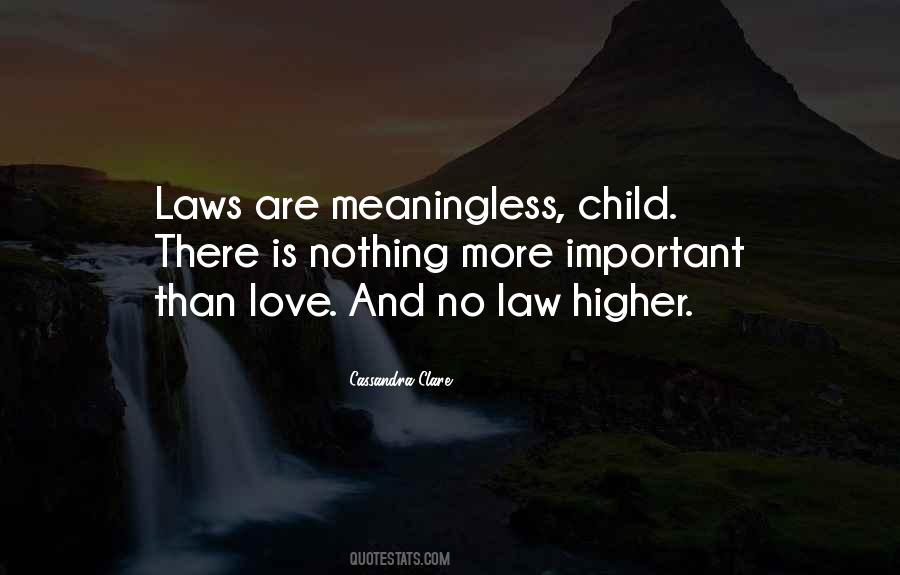 #82. Remember that time slurs over everything, let all deeds fade, blurs all writings and kills all memories. Exempt are only those which dig into the hearts of men by love. - Author: Aristotle.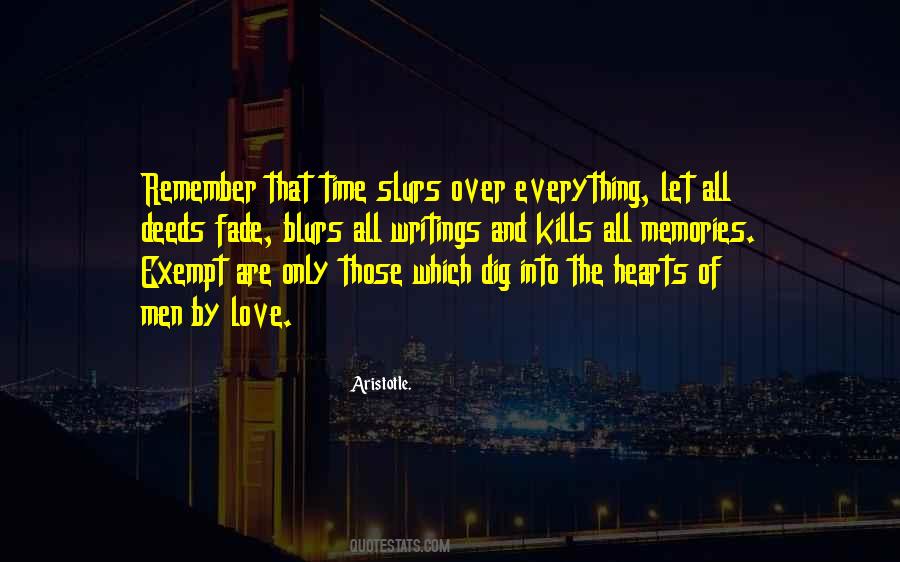 #83. And he knew at that moment that love world never die, that it would never fade away altogether. The time might come when he would meet and marry someone else. He might even be reasonably happy. But there would always be a deep precious place in his heart that belonged to his first real love. - Author: Mary Balogh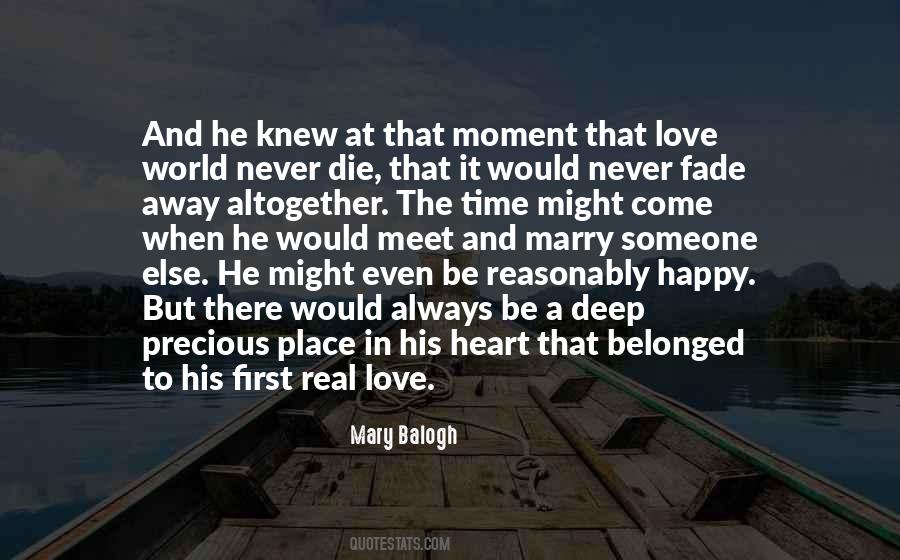 #84. But then again I wonder if what we feel in our hearts today isn't like these raindrops still falling on us from the soaked leaves above, even though the sky itself long stopped raining. I'm wondering if without our memories, there's nothing for it but for our love to fade and die. - Author: Kazuo Ishiguro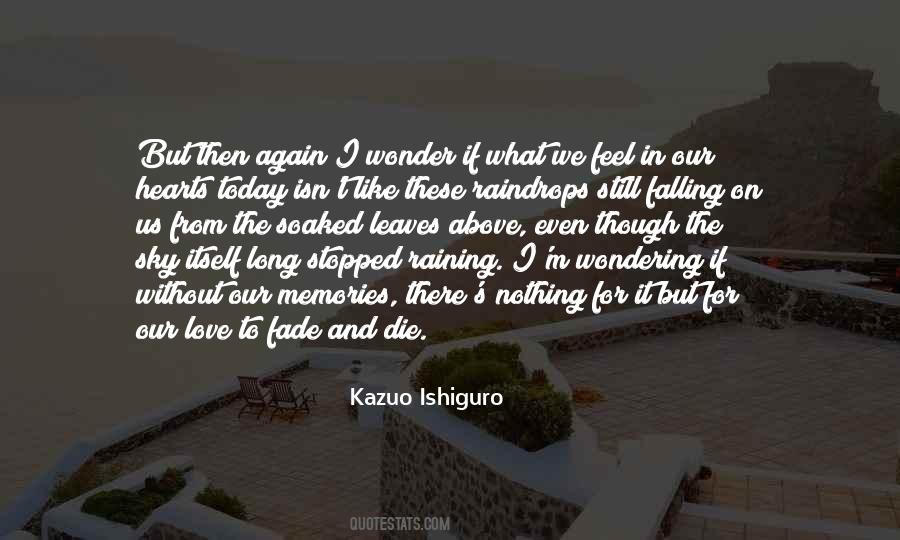 #85. They say distance makes old friendships fade away. They say with time and distance lovers forget one another. I find it quite the opposite. Distance, time, they all enhance the aroma of every moment two close souls once spent together, they magnify every little shared pleasure. - Author: Carol Vorvain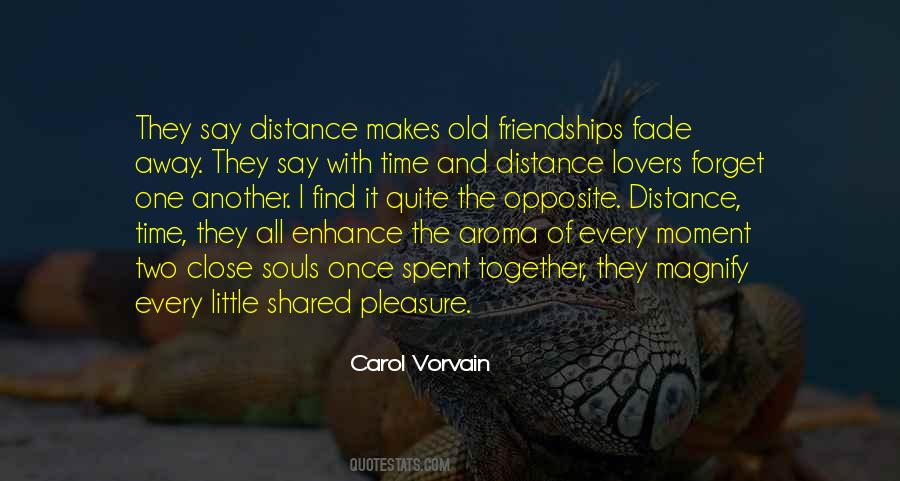 #86. When fate and love come into conflict, the former must always win; for love will fade if it rests upon indignity or abdication. - Author: Jorge G. Castaneda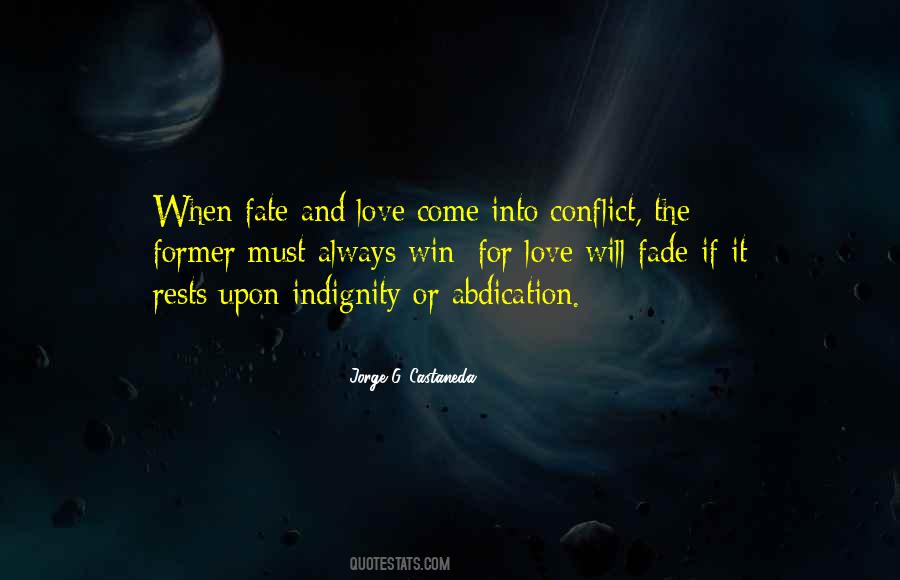 #87. Set not your hearts on the flowers of this world. They shall fade and die. Prize the Rose of Sharon and the Lily of the Valley. He changes not! Live nearer to Christ than to any person on this earth; so that when they are taken, you may have Him to love and lean upon. - Author: Robert Murray McCheyne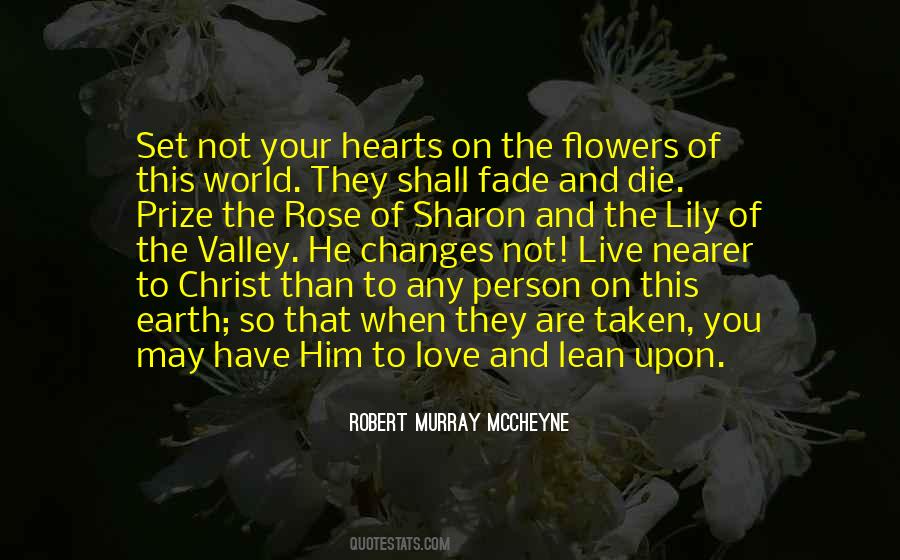 #88. Then tell me Mark, how can I do it? How do I watch her life fade everyday but not hurt? How do I continue to breath, when I know she takes one less breath everyday? Why Mark, Why is this happening to someone so precious? - Author: D. Love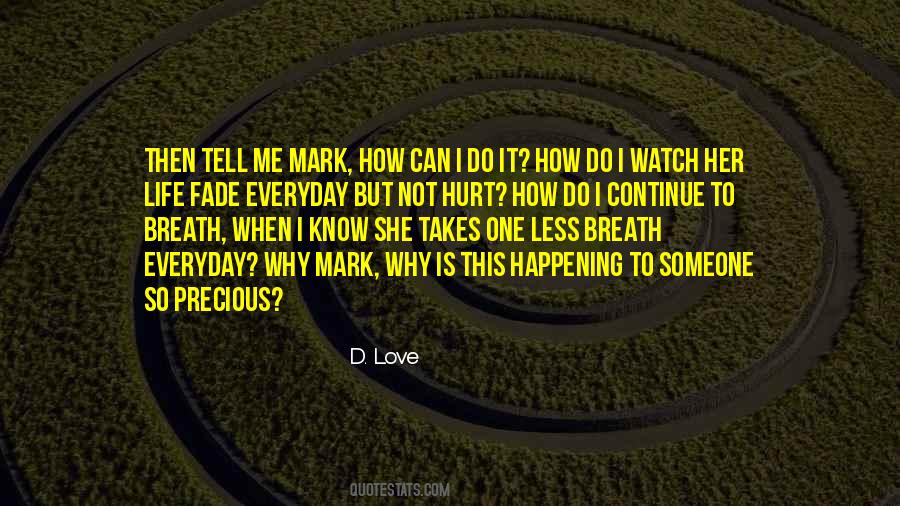 #89. Like a force of nature
Love can fade with the stars at dawn. - Author: Neil Peart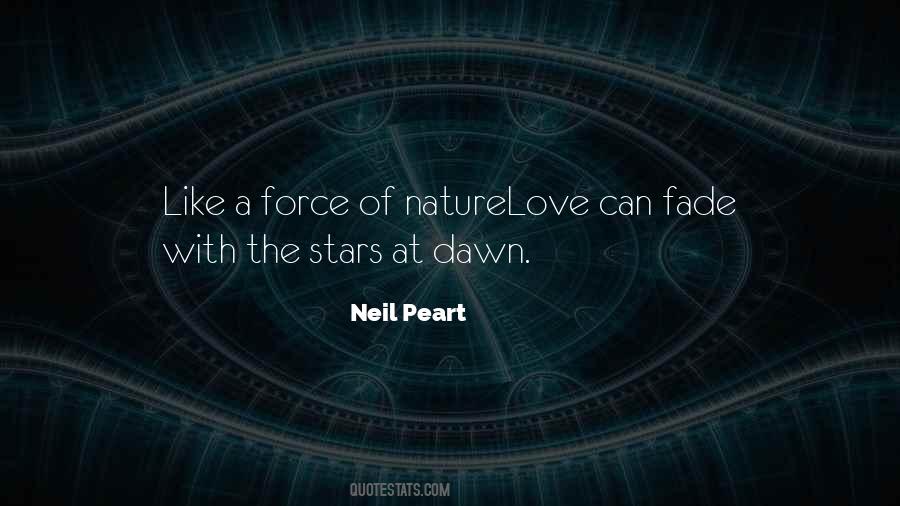 #90. Do you know why I love you?"
The intensity of his eyes changed. It didn't fade, it kept burning strong, just the emotion behind it shifted.
"Yeah," he replied. "Because I'm awesome."
"No," I whispered. "Because you're everything a man should be. - Author: Kristen Ashley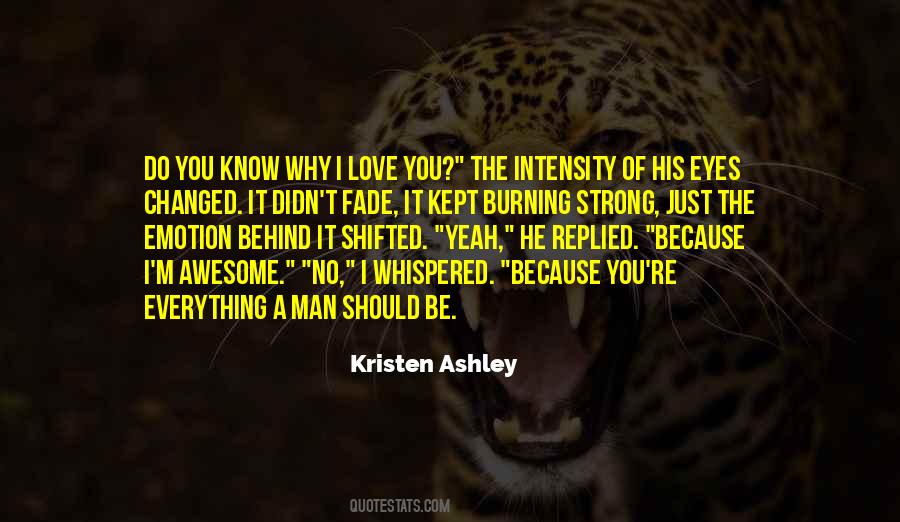 #91. Time moves on for us, for you it stands still. You will be forever ageless as we grow old, your smile will never wrinkle, nor will that shine in your eyes fade.. - Author: Kendal Rob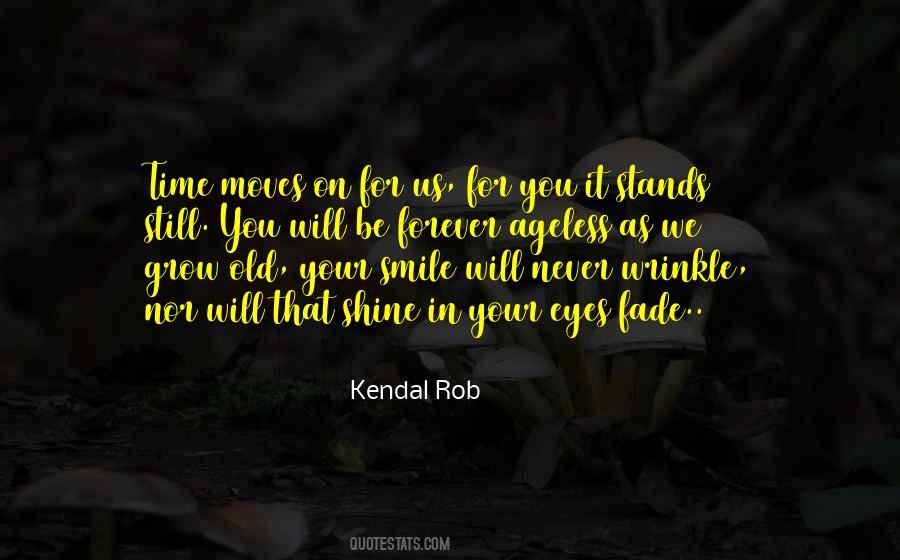 #92. One of us," said Malcolm, "is worth five hundred of you. I can burn you to the ground in six seconds flat and use the ashes to stuff a teddy bear for my girlfriend. Not that I have a girlfriend at the moment," he added, "but one lives to hope. - Author: Cassandra Clare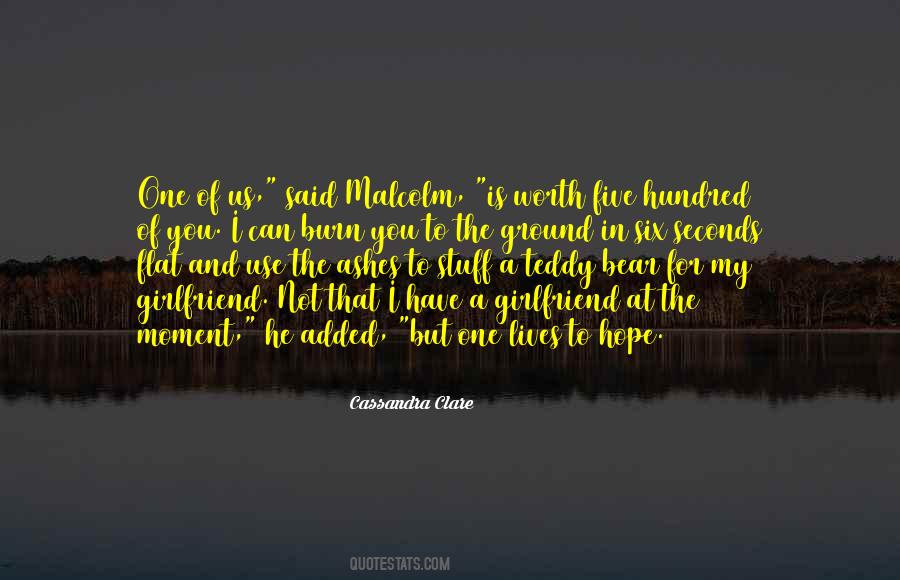 #93. But thy eternal summer shall not fade. - Author: William Shakespeare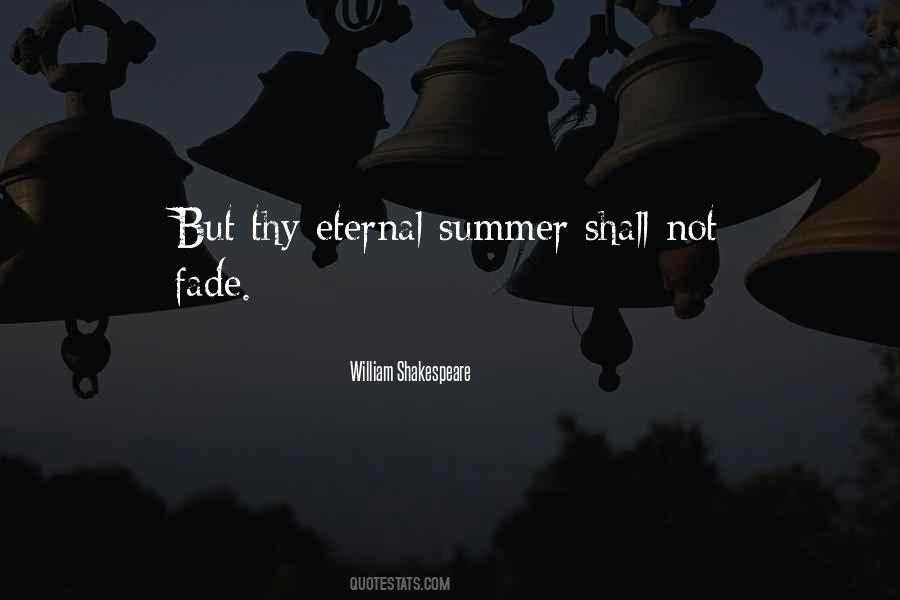 #94. I'd keep your beauty timeless.
like a flower pressed in a book, yes
I wouldn't let it fade
Folded in the chapters of my mind - Author: Richard L. Ratliff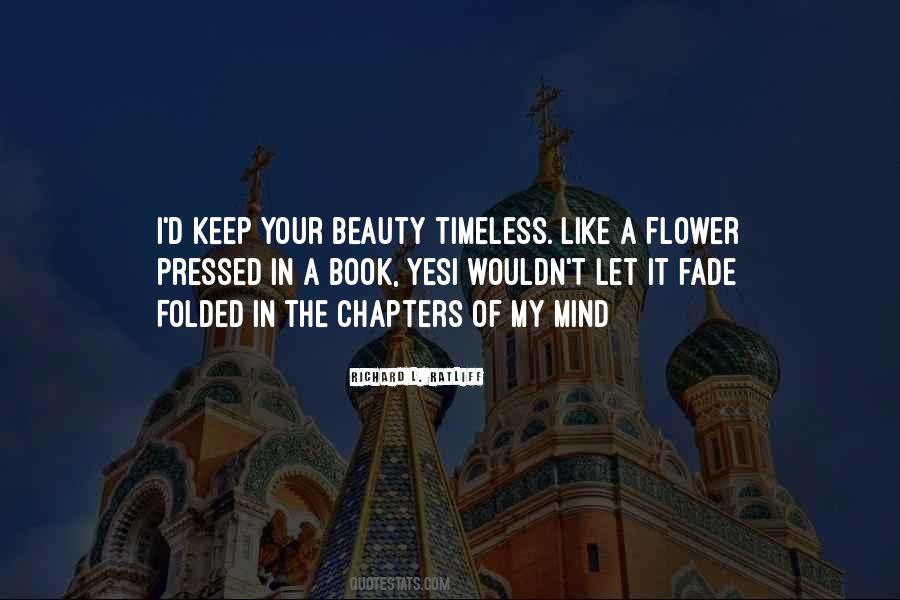 #95. Only time will tell, as our memories fade into a past that isn't meant to be a part of the future. Eventually, we have to find a way to let them go, to move forward and accept what's to come. - Author: A.M. Willard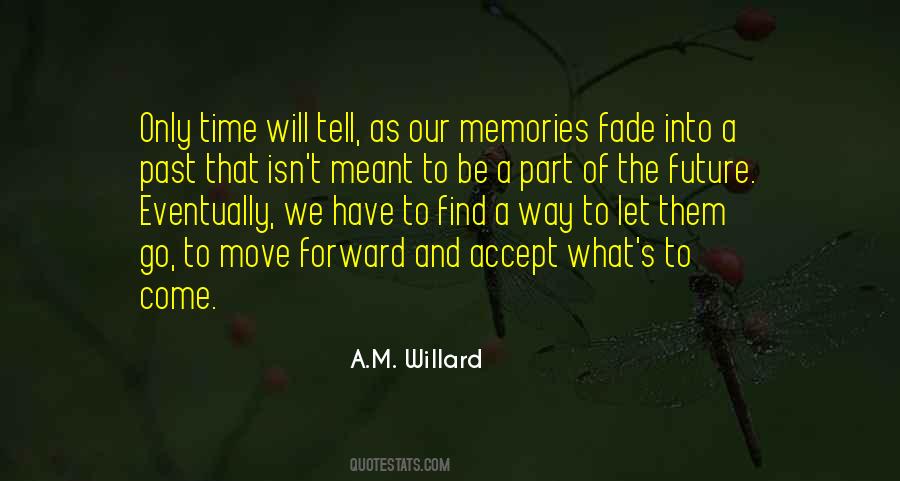 #96. When I'd remember this night in weeks, months, or even years, it wouldn't be the sex. Sex would fade and so would the need to be filled with him, but right now I felt him inscribe his soul around my chest, and the reminder would be there with every beat for as long as I lived. - Author: Rebecca Berto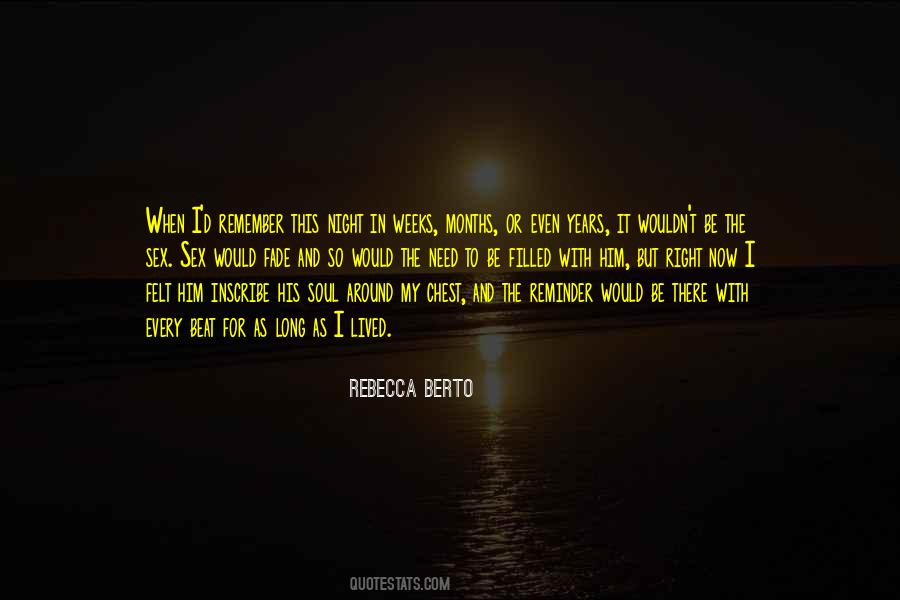 #97. When love is new, it's brighter than the sun and 30 times as great as the force of the atomic bomb dropped and felt from your heart, but to some people it will slowly fade but to me it will always be the same. - Author: Auliq Ice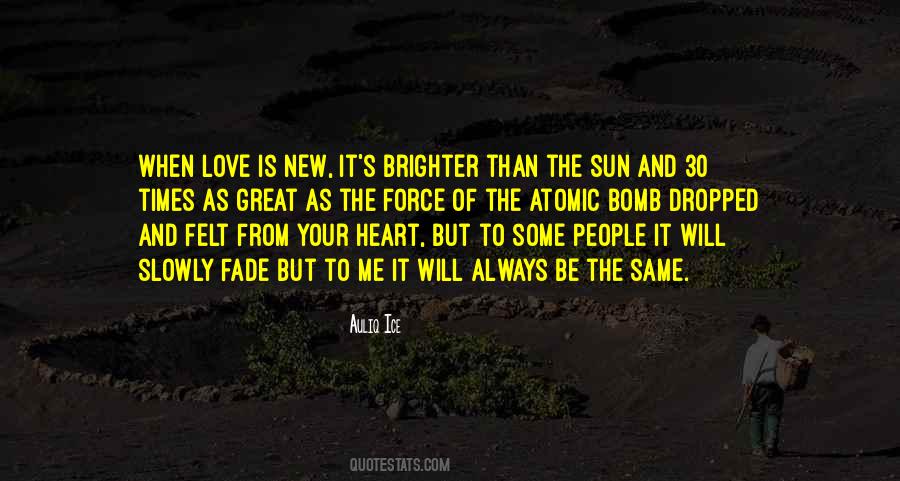 #98. Beauty will never fade away from the eyes of those who love one another. - Author: Auliq Ice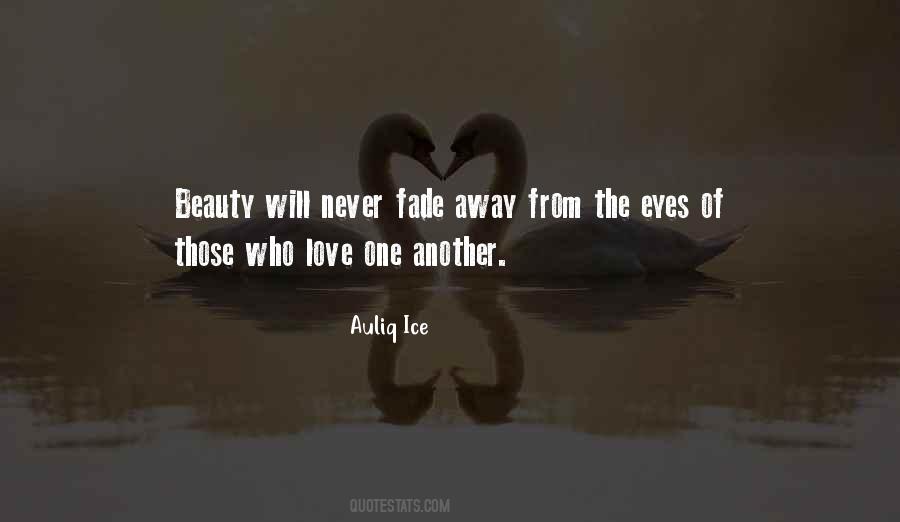 #99. For such as truly love the world, a thousand years would fade like the dream of one night. - Author: Yoshida Kenko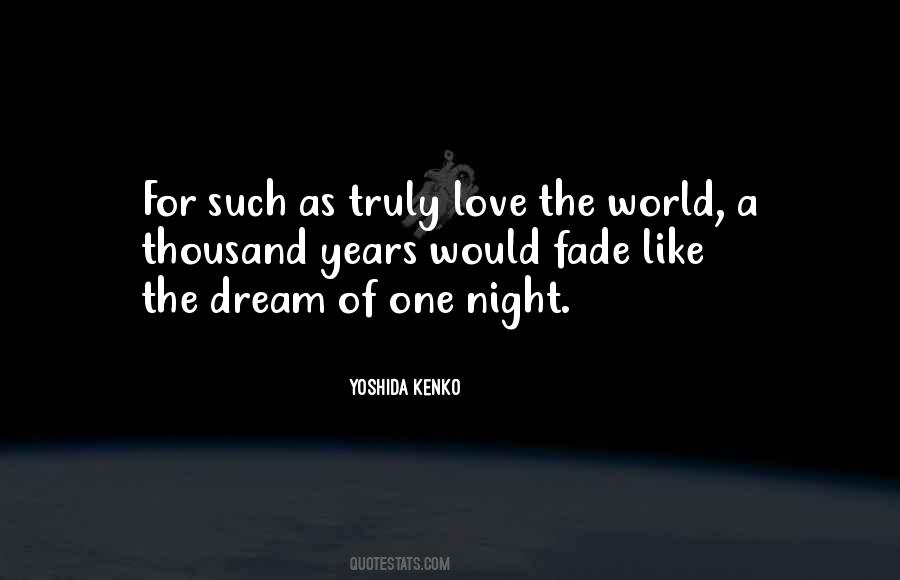 #100. Because I love you.' It was easy to say it this time now that I understood what it meant. Then I quoted his own words back to him. 'Not just when it's easy. All the time. - Author: Ann Aguirre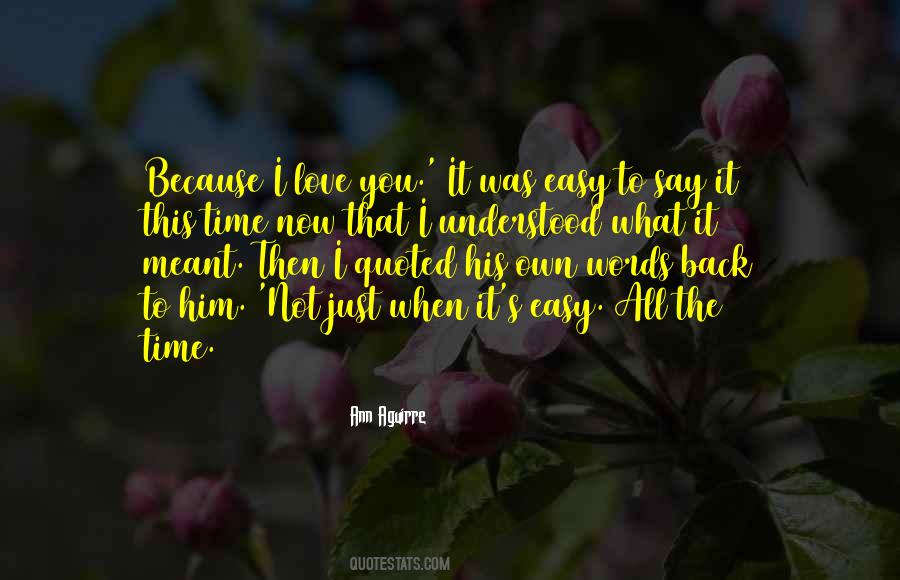 Famous Authors
Popular Topics