List of top 100 famous quotes and sayings about love my name to read and share with friends on your Facebook, Twitter, blogs.
Top 100 Love My Name Quotes
#1. Writing for the love of writing. My muse makes no apologies under this pen name. ;)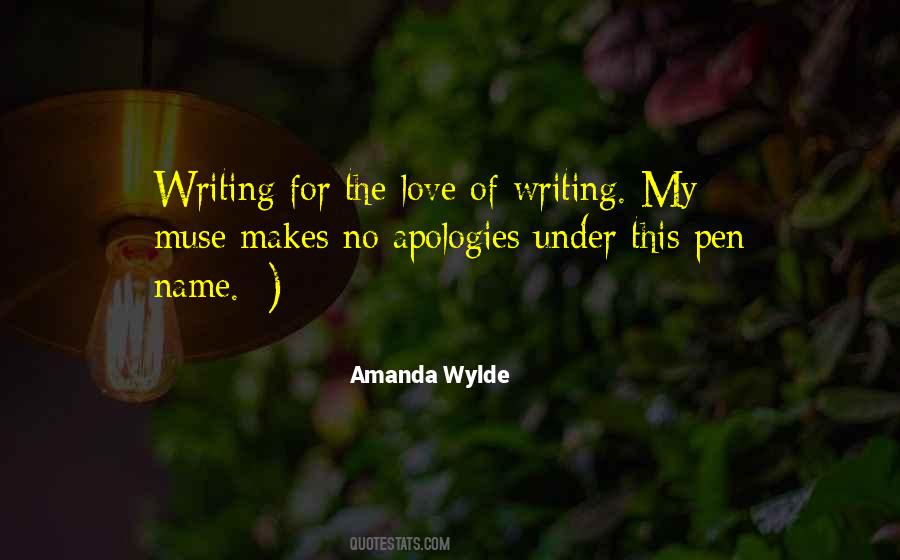 #2. She sits down at the end of my bed again. "Who were you with? Do you have a boyfriend now or something?"
I can't help but laugh. If I have a boyfriend, his name is Death. And I'm pretty sure Roman is in love with him too. It's a love triangle gone wrong.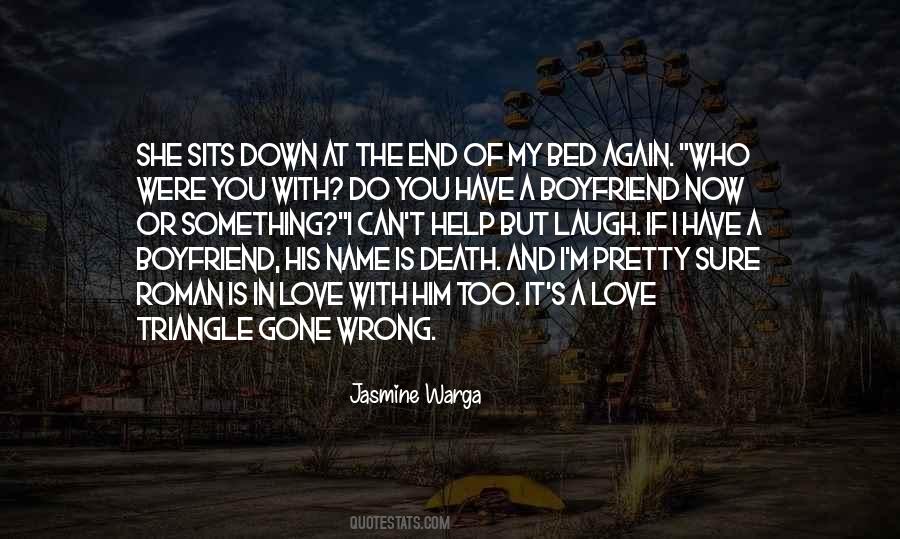 #3. No, no, you have driven me mad! When I think
that I had only one object in life: to give my name to an opera wench!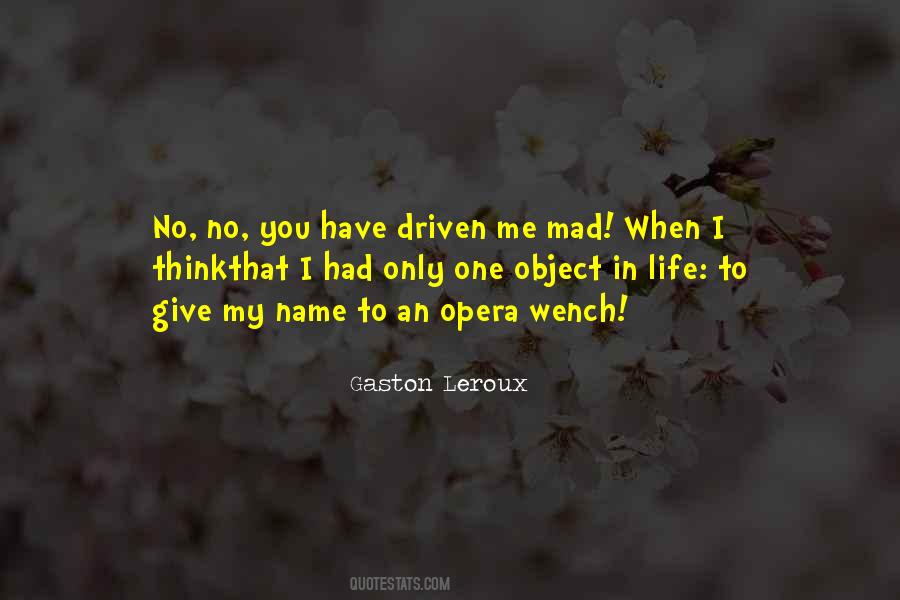 #4. My quote is that a guy name beastly theres a guy that has a wierd face and he loves her. so much and the women didn,t like him at all. then they get in love alot in the end.and then he gets his face normal.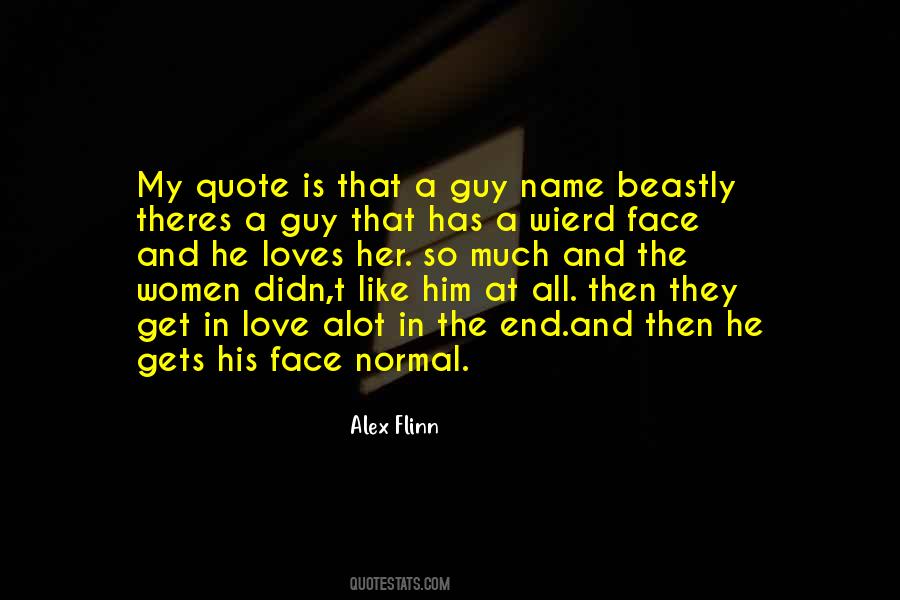 #5. I declare, on my soul and conscience, that the attainment of power, or of a great name in literature, seemed to me an easier victory than a success with some young, witty, and gracious lady of high degree.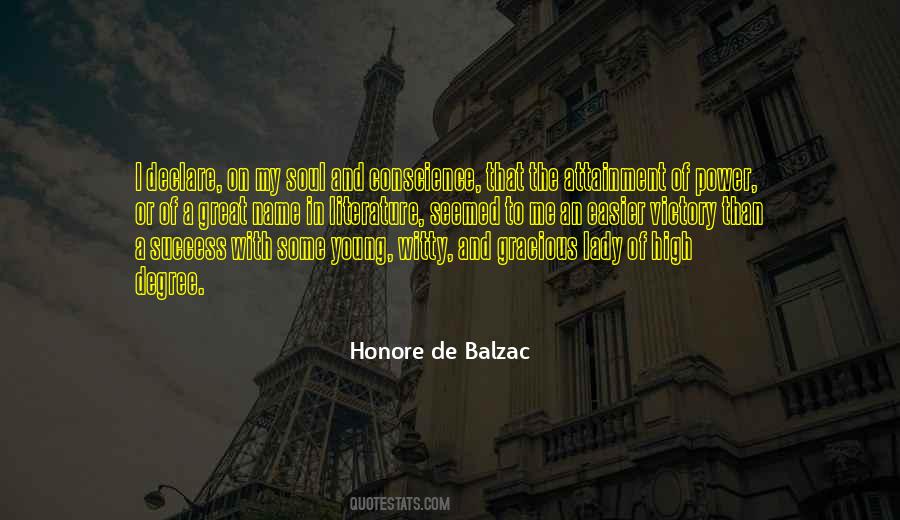 #6. No! he wanted to cry out. No, Tania, please come back. What can I leave her with, what can I say, what one word can I leave with her, for her? What one word for my wife?
"Tatiasha," Alexander called after her. God, what was the curator's name ... ?
She glanced back.
"Remember Orbeli-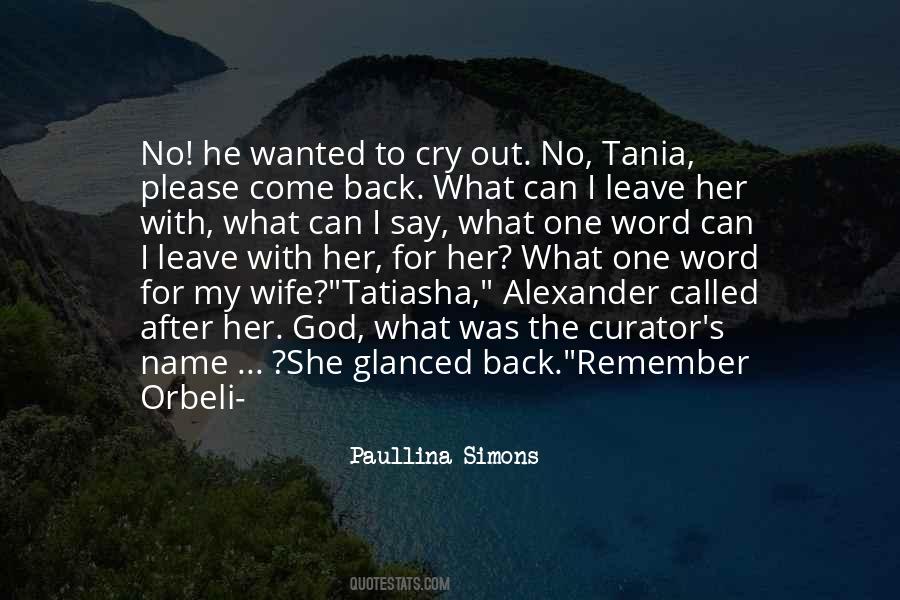 #7. For every person that says, 'I love your work, and my daughter thinks you're great, and we watch all your movies,' and is very kind, there are 10 more that are like, 'Who are you? What's your name? Are you on 'House of Cards'?'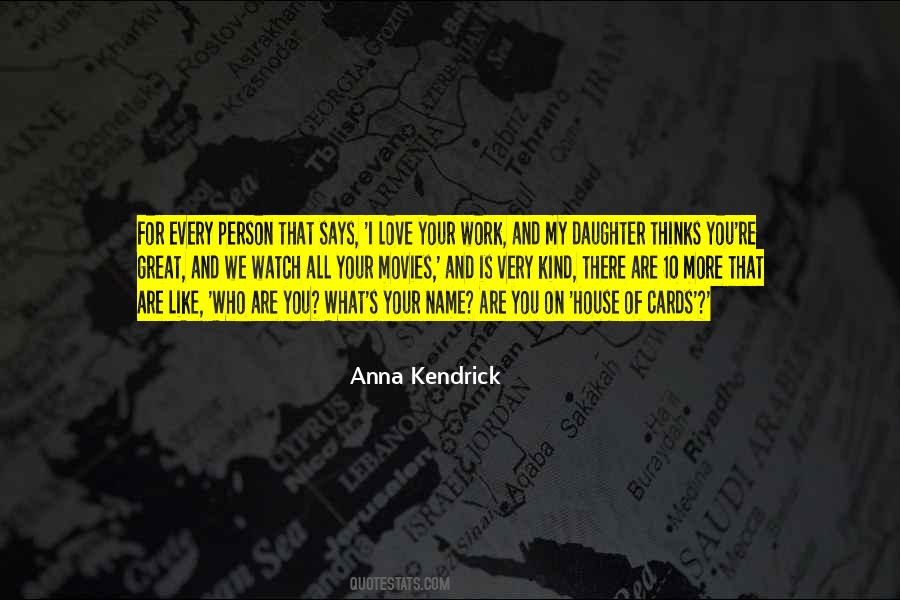 #8. Lord # God , I praise Your Holy Name. Let every beat of my heart be a note of love in the symphony of my life.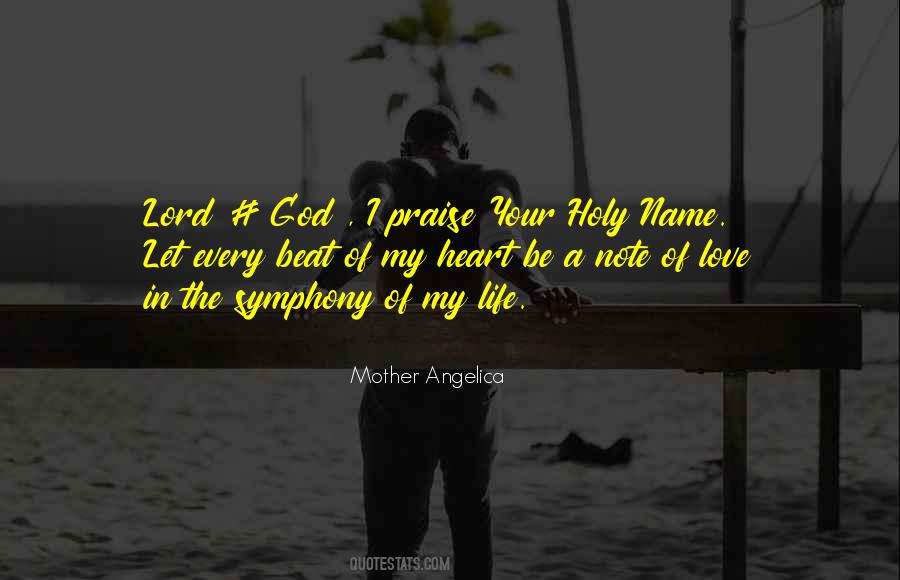 #9. To say that I am made in the image of God is to say that love is the reason for my existence, for God is love. Love is my true identity. Selflessness is my true self. Love is my true character. Love is my name.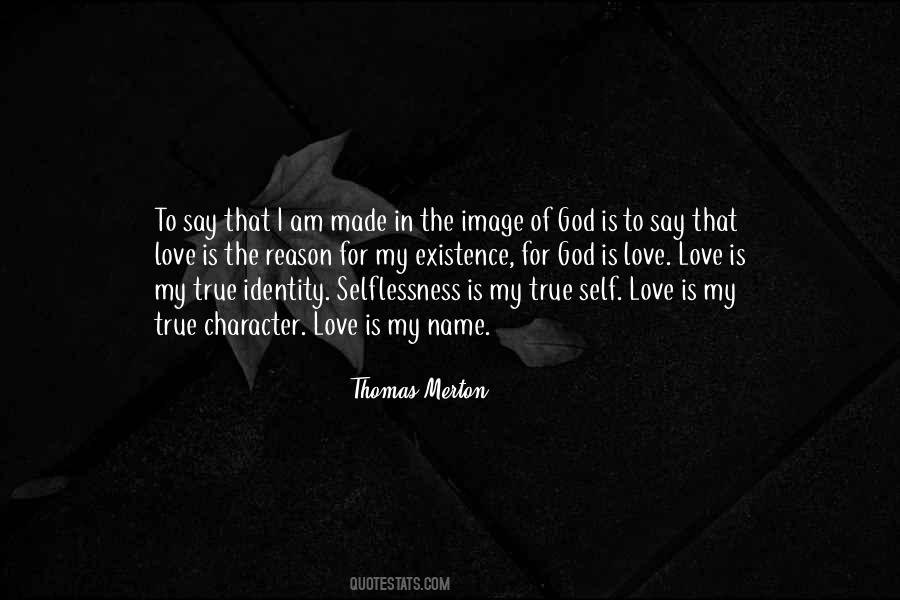 #10. Just the sound of his name causes my heart to trip over itself. I love the way Ryan makes me feel. I love his words. I love his hands on my body. I love the way his gaze causes me to blush.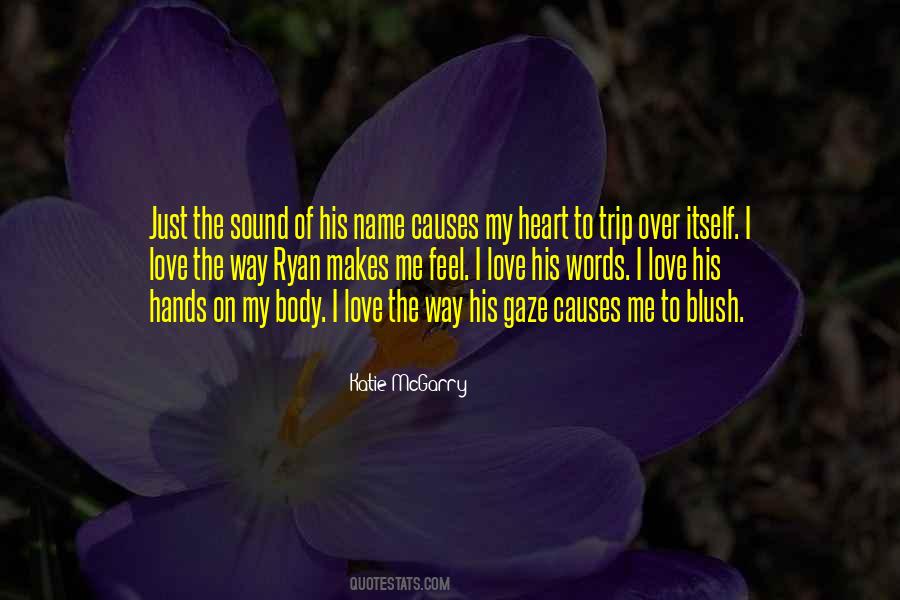 #11. What's your name, love?"
Love? LOVE! Still dying, here.
"Bliss."
"Is that a line?"
I blushed crimson. "No, it's my name."
"Lovely name for a lovely girl.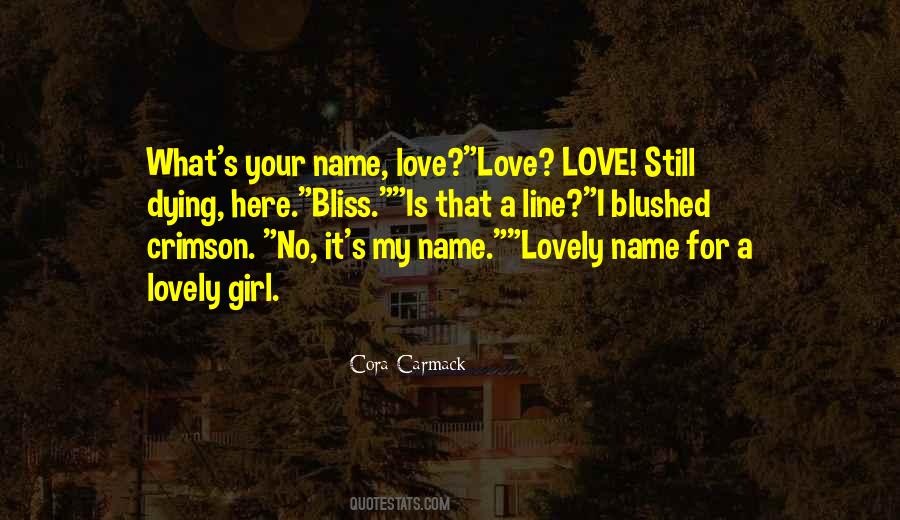 #12. If I were today on my deathbed, I would name my love of the color blue and making love with you as two of the sweetest sensations I knew on this earth.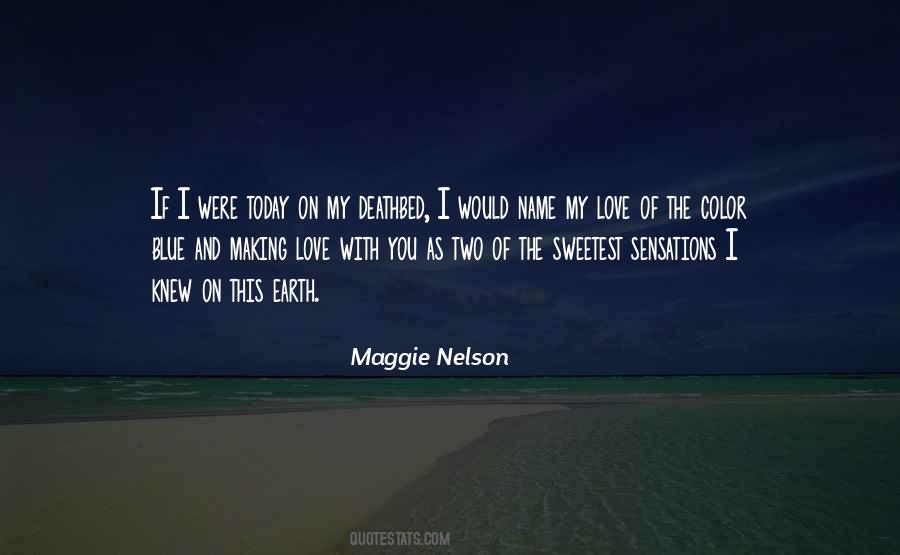 #13. I love the idea of couture and its emphasis on creation. There's where I made my name - in design - and there's where I'd like to stay.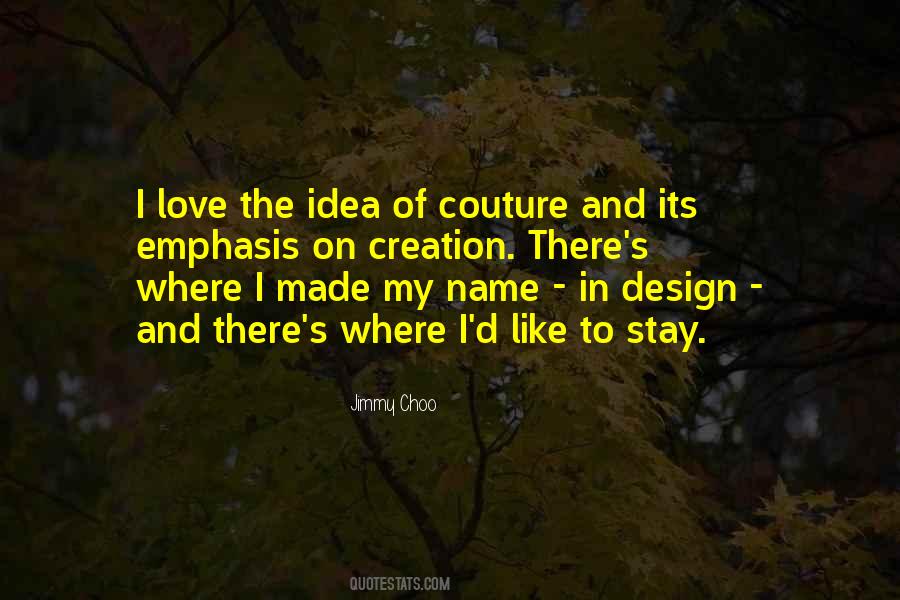 #14. Two people who share a secret no one else knows because no one else understands the way it is between us when our clothes are off and her breath is my breath and there are no more questions, just answers, and every single one is her name.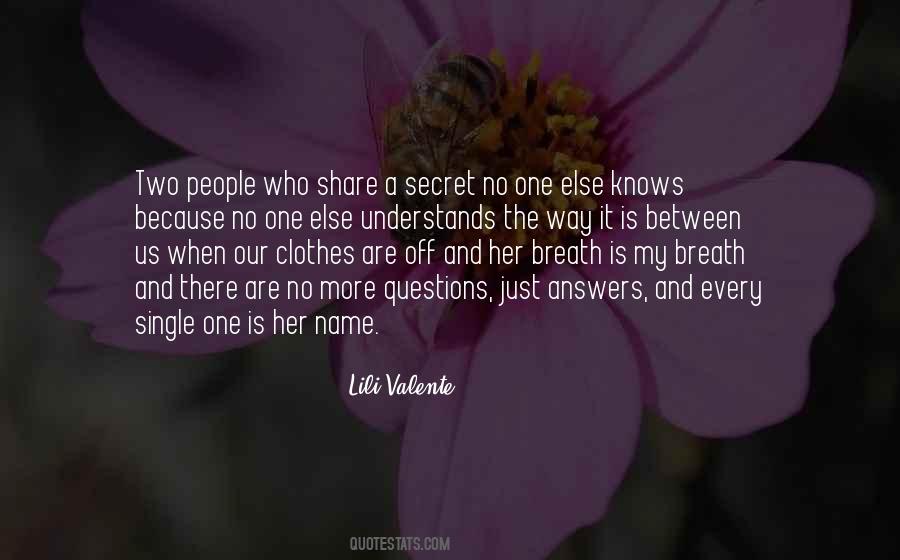 #15. I name you today, heart fears. I am small, but you are smaller. You will not stop me. You have a voice, fears, and I must listen, but then I will open my heart. I will love you right to death.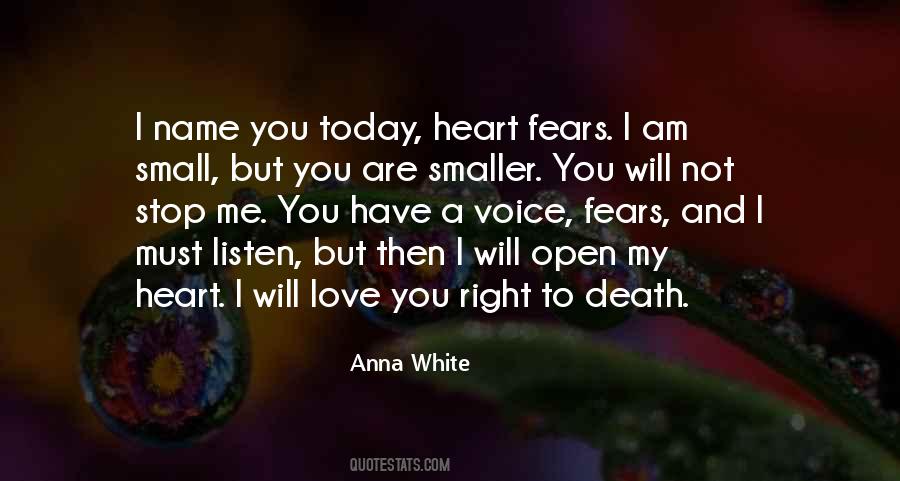 #16. My middle name should be 'Drama,' but I love it. I think everyone should have some kind of stress in their life; otherwise, it's boring isn't it?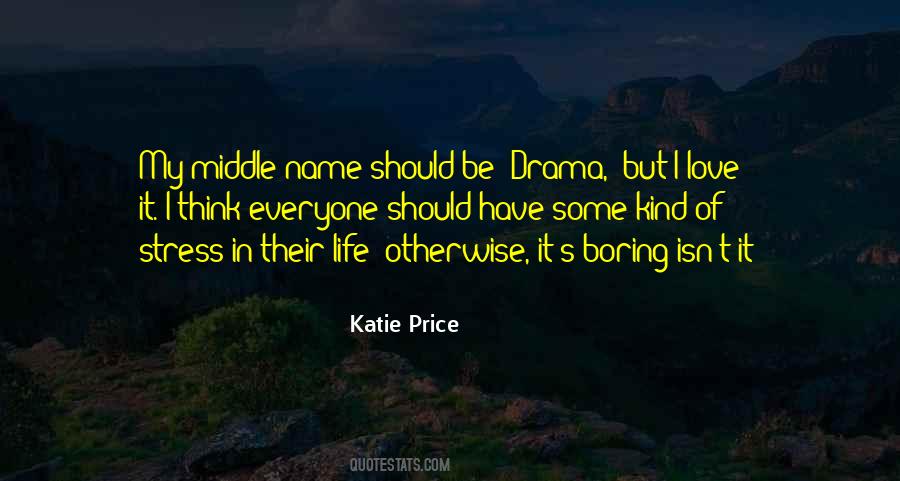 #17. Now my soul is incarnate in my country,
My body has swallowed her soul,
And I and my country are one.
My name is million, for I love and suffer for millions.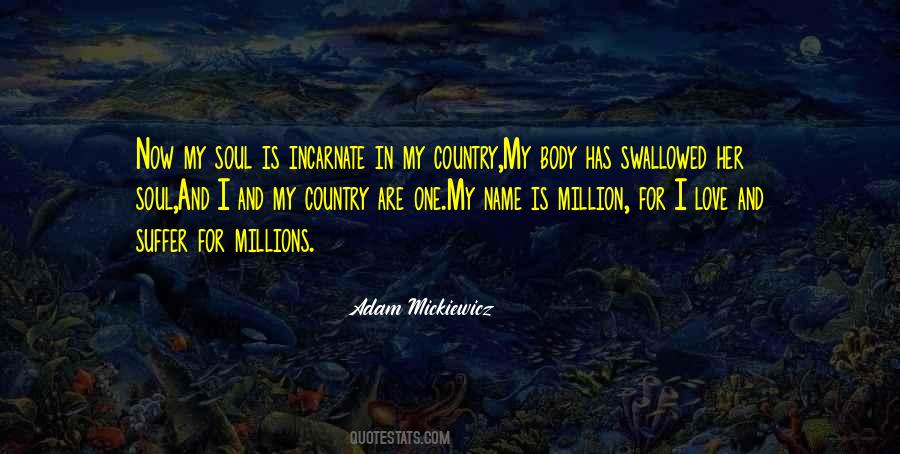 #18. There's not a wind but whispers of thy name; And not a flow'r that grows beneath the moon, But in its hues and fragrance tells a tale Of thee, my love.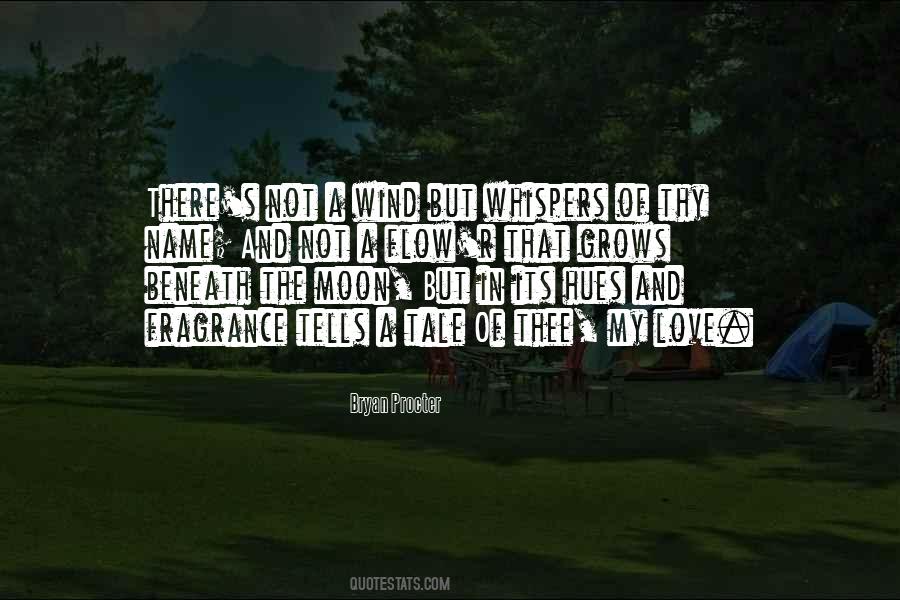 #19. And yet her name was like a summons to all my foolish blood.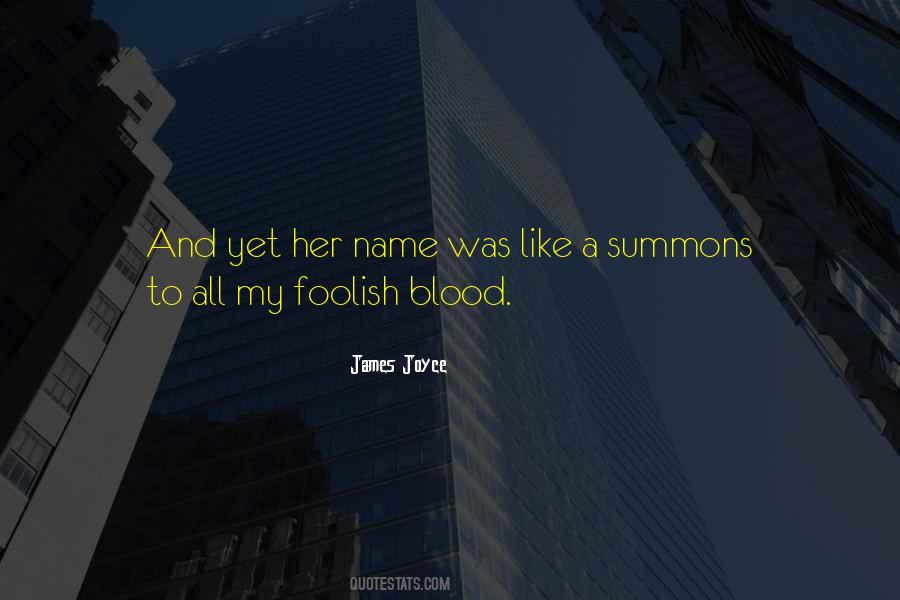 #20. Love and war, it seemed, worked by the same rules. One had to hurry, before the fires flared out.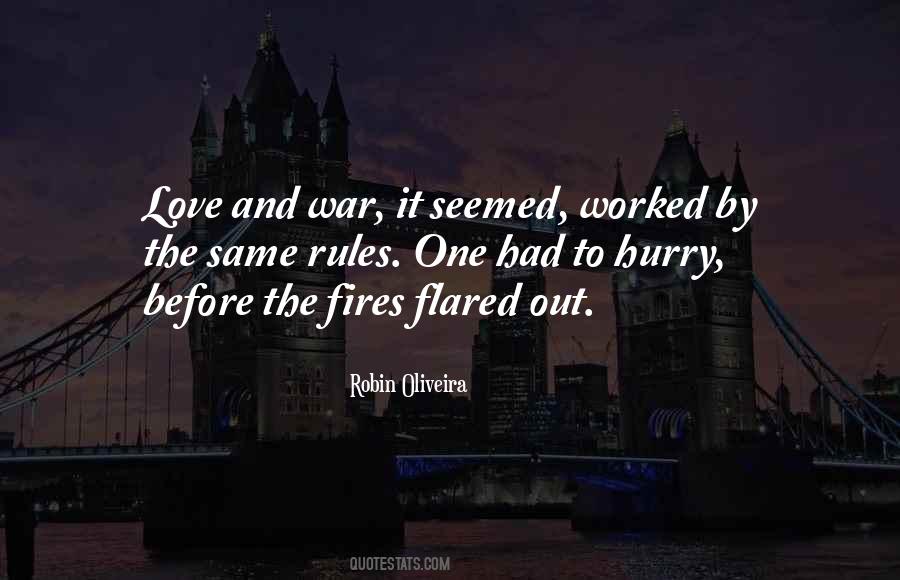 #21. May I ask your name, my lady? Or perhaps angels have no names, only beautiful faces.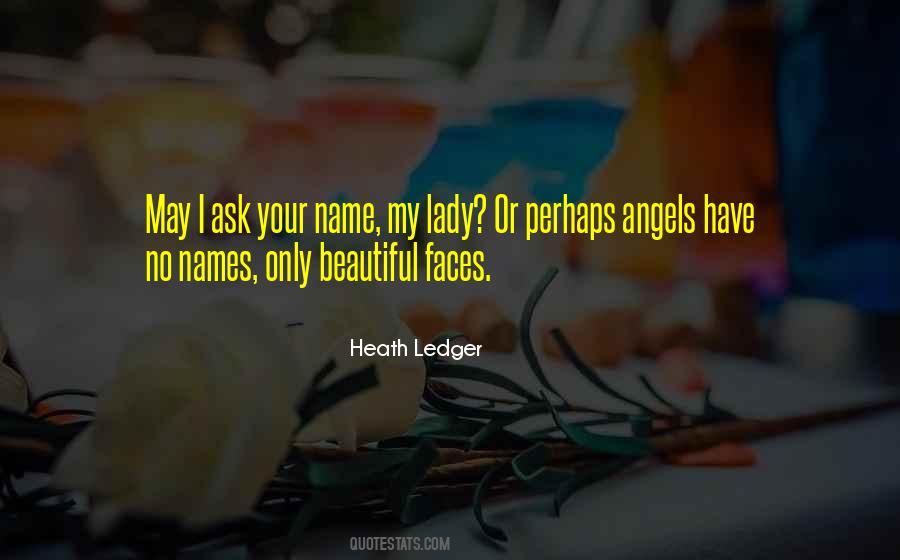 #22. My name is Hazel. I started out as an idea, but I ended up something more. Not much more, to be honest. It's not like I grow up to become some great war hero or any sort of all important savior... but thanks to these two, at least I get to grow old.

Not everybody does.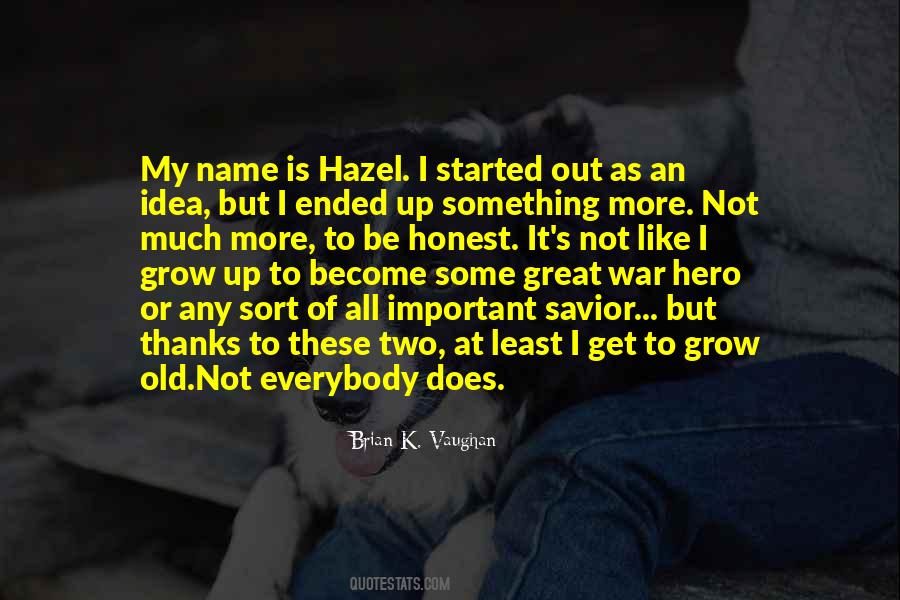 #23. My very beloved and deceased third-grade teacher, Cliff Kehod, was the one that I really remember calling me Ike a lot. It just stuck. It is a dog's name, but I love dogs.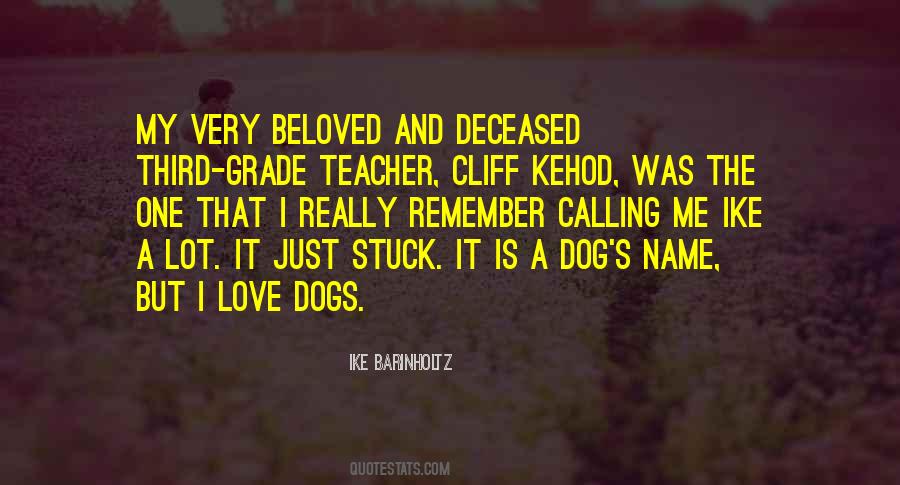 #24. If 'Party of Five' hadn't done well, it would have been a bunch of names involved in the demise. But if 'Time of Your Life' doesn't do well, it will be my name. You have to prepare for the worst. This is a very fickle business.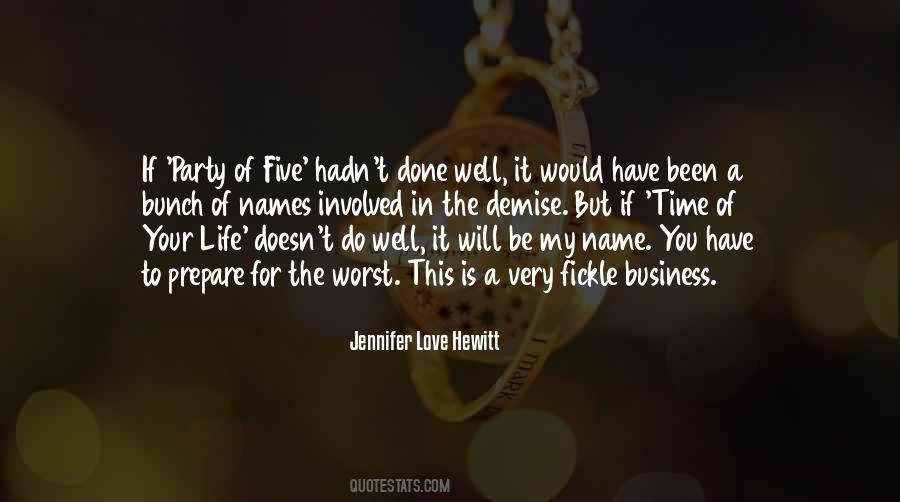 #25. Daniel," she whispers.
I groan and drop my forehead to hers, touching her cheek with my hand. "You make me love my name so damn much.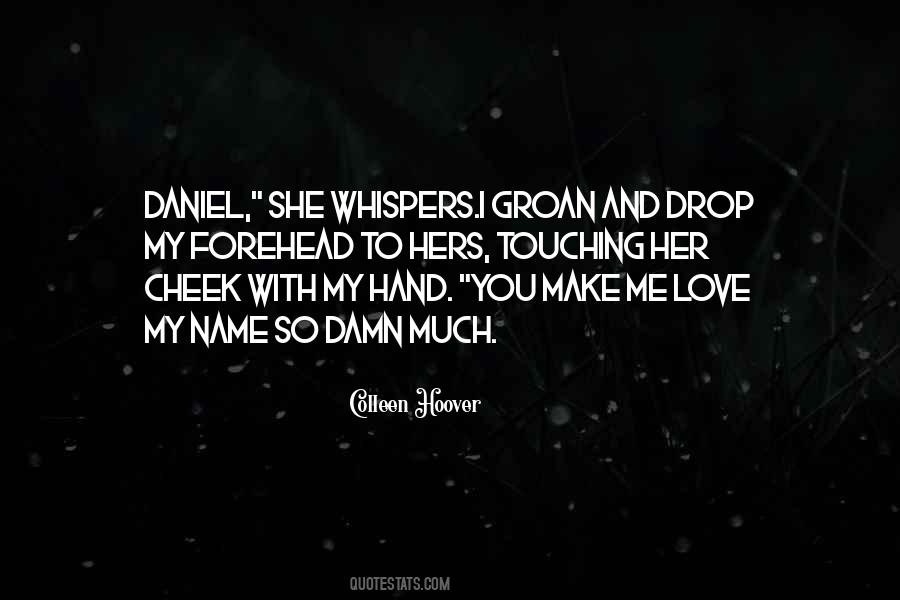 #26. Well, I've always wanted to call my son Barr."
"Like a tavern? Like a soap?"
"My father's name is Barr."
"Oh. And I love it!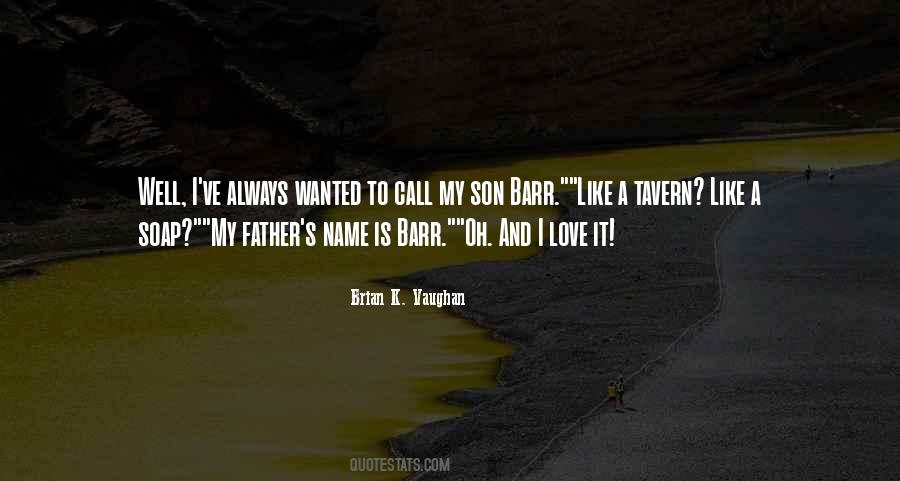 #27. (My sole fond memory from this period is of a rubbery little Appalachian number by the name of June. Acrobatic tongue. Tooth decay. Illiterate in everything but love.)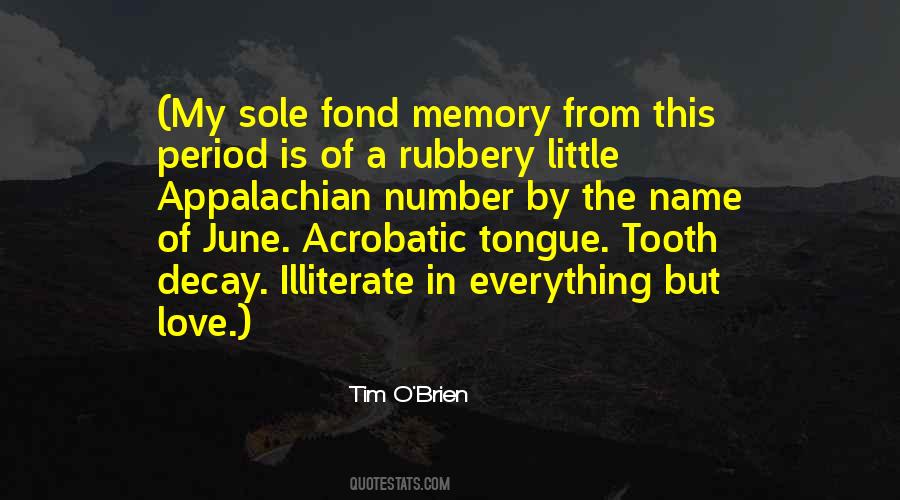 #28. I know my name now. Love Warrior. I came from Love and I am Love and I will return to Love. Love casts out fear. A woman who has recovered her true identity as a Love Warrior is the most powerful force on earth. All the darkness and shame and pain in the world can't defeat her.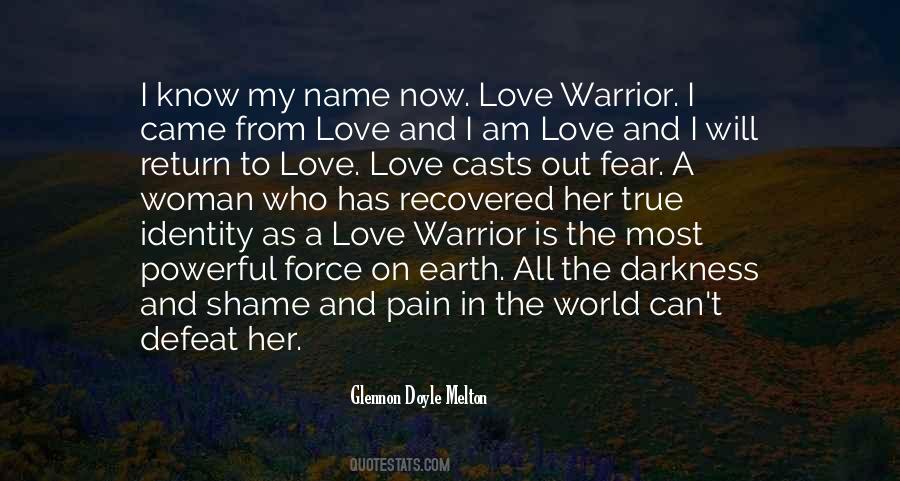 #29. Echo to echo I try to hear. From one echo to another I ransack my scream to find your name.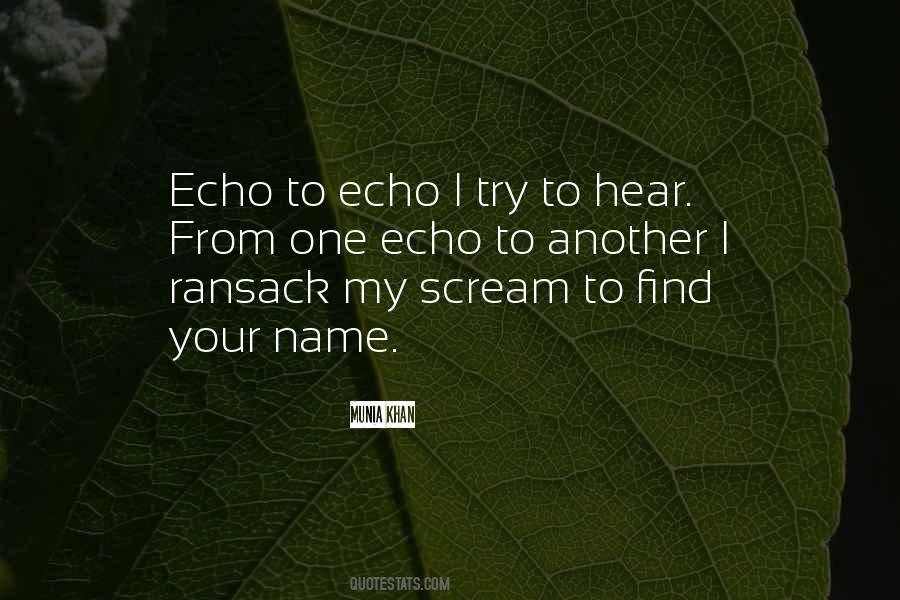 #30. There will never be another name on my heart.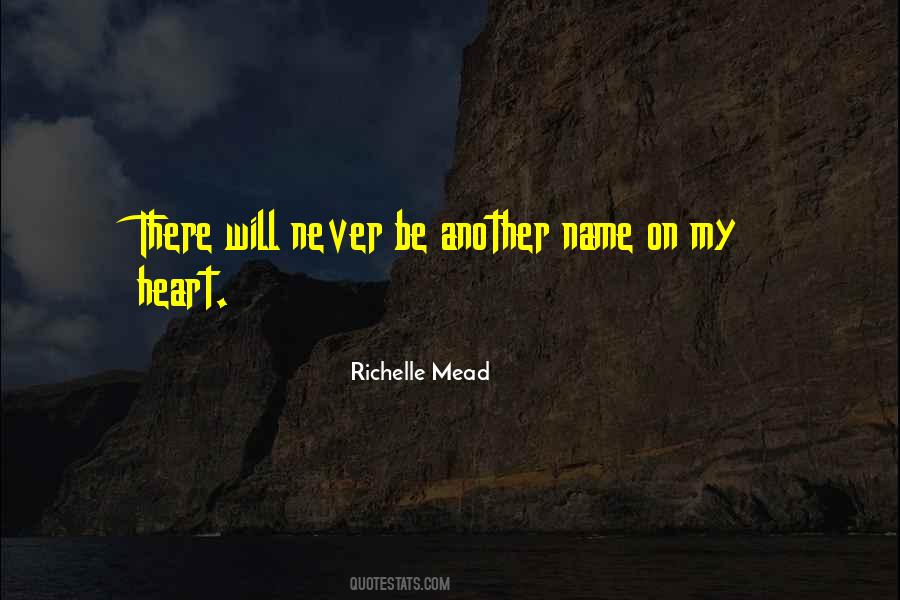 #31. I hold you in my mouth, in the words that contain you, in the unsaid and the haunts, in all the forms your name.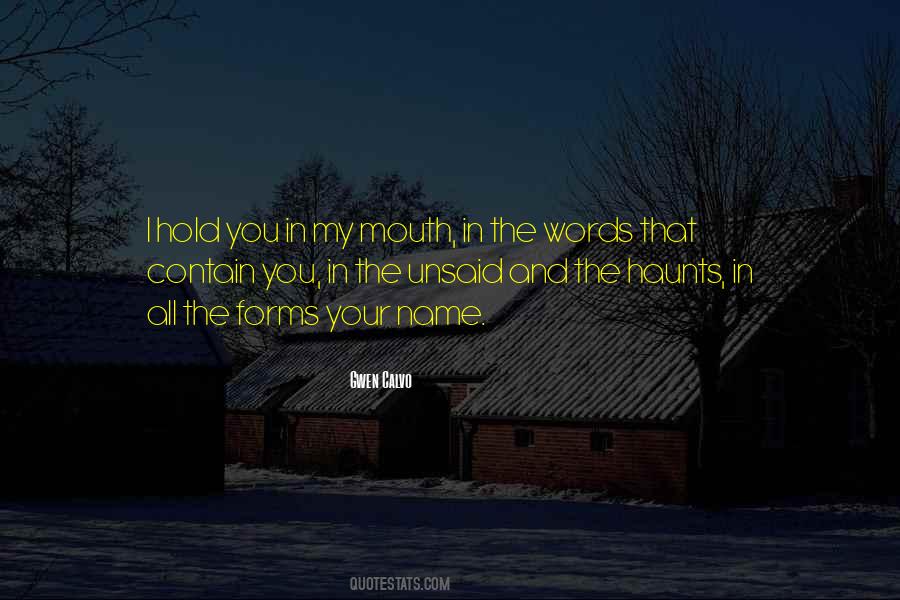 #32. There is only him and me and this thing between us that I cannot name, not out loud, but that my heart knows is love.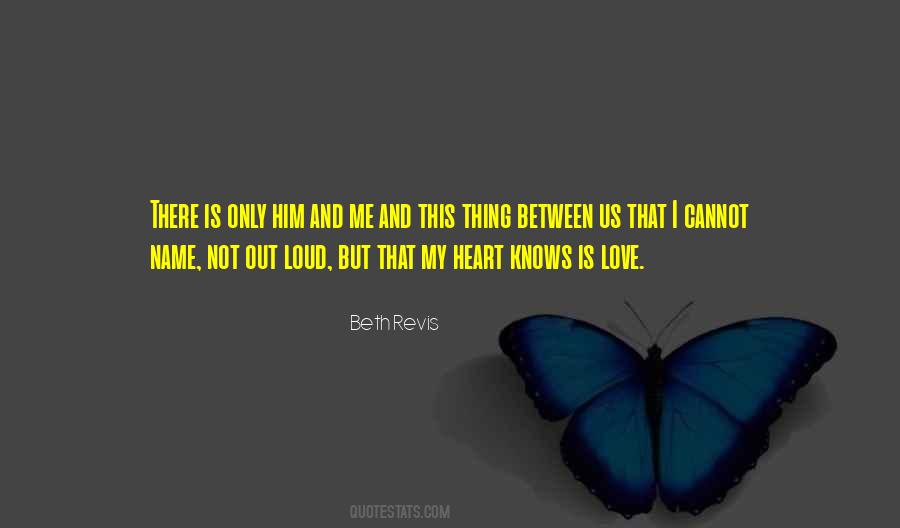 #33. Do I have to make a poster and scream Ryan, Ryan?" I kidded.
"The only time I want to hear you scream my name is when I'm making love to you. Although you did call me God the other night. That's acceptable, too.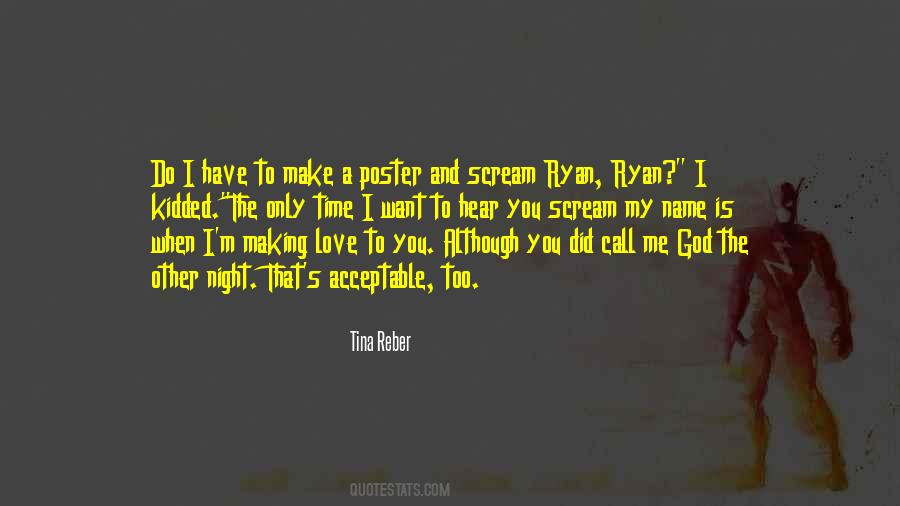 #34. She continued. "I love my people, James," she said, and his name on her tongue was indescribably sweet. "I am proud to be Asante, as I am sure you are proud to be Fante, but after I lost my brothers, I decided that as for me, Akosua, I will be my own nation.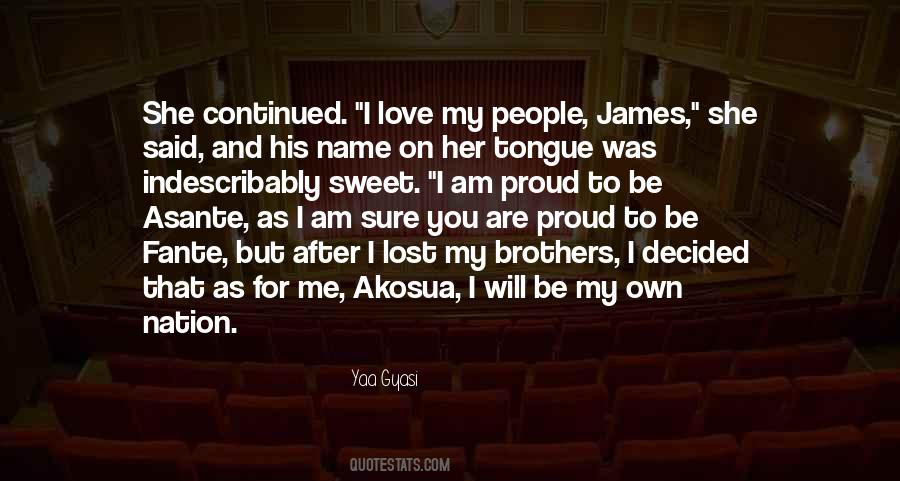 #35. I am not really much interested in talking to adults, although I suppose practically every mother in the kingdom knows my name and my books. It's their children I love.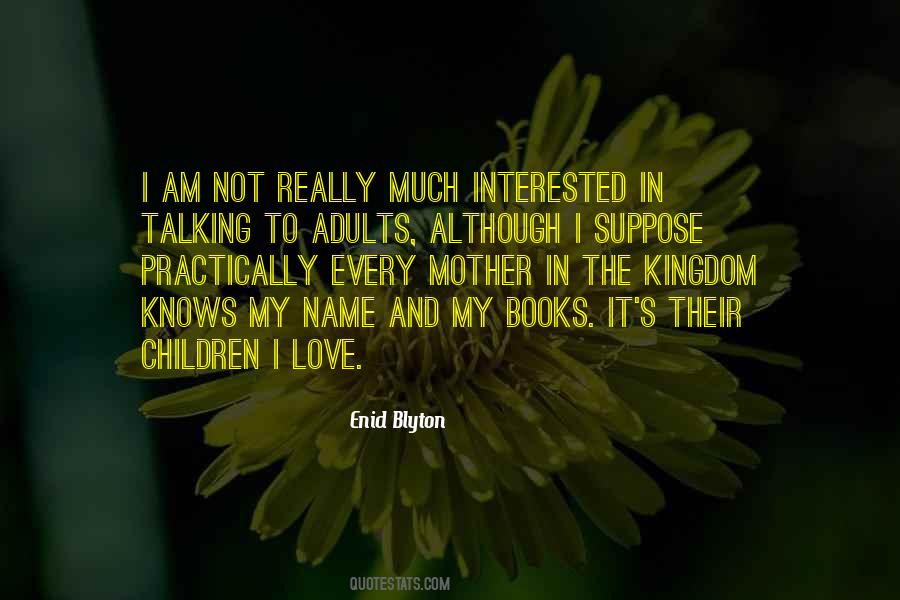 #36. I never feel lonely when I'm alone because I always think ahead and prepare everything I do. It's easy for me to make a daily plan, weekly plan, a monthly plan, a yearly plan, a five year plan - you name it. My beloved daughter thinks I'm anti social, I love her to bits though.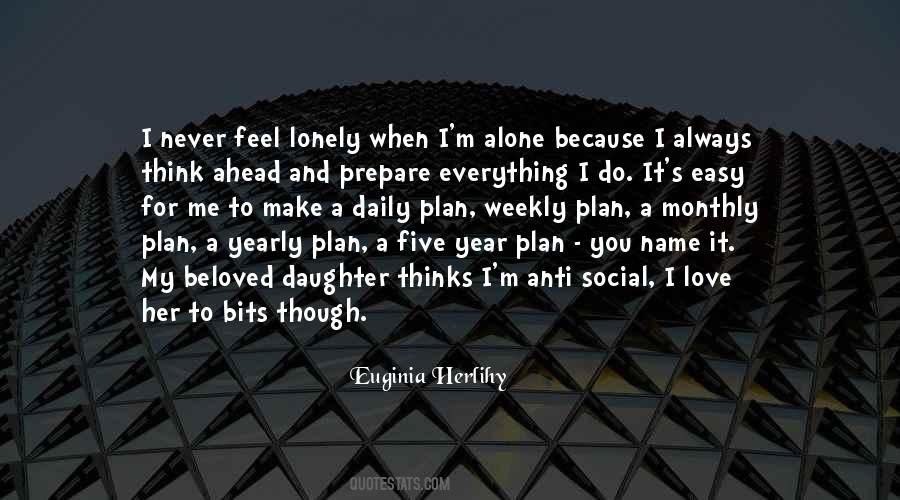 #37. Stab me in the heart; once, twice, more. For it is your own you are stabbing; I gave you mine to hold long ago. No pain will be greater than you leaving with my heart in your hands. Rip me apart or hold it for eternity, in the name of love.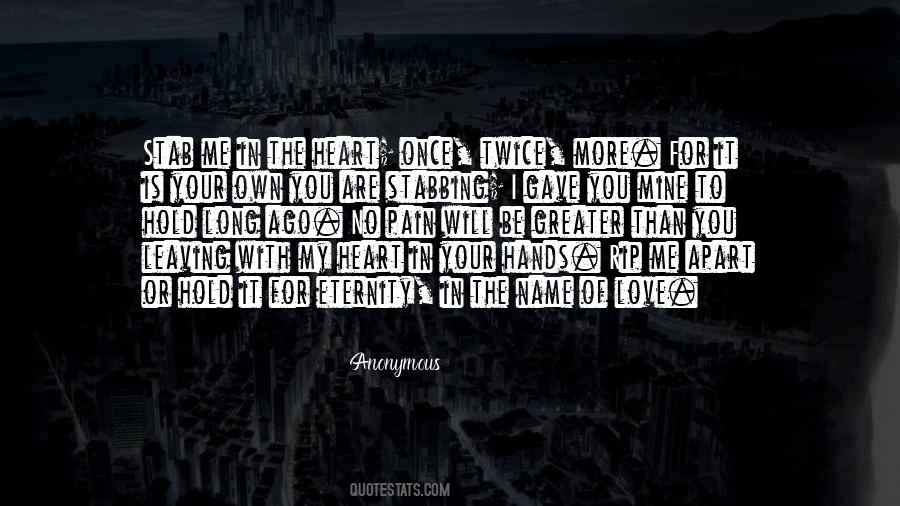 #38. And may my bronze name / touch always her thousand fingers / grow brighter with her weeping / until I am fixed like a galaxy / and memorized / in her secret and fragile skies.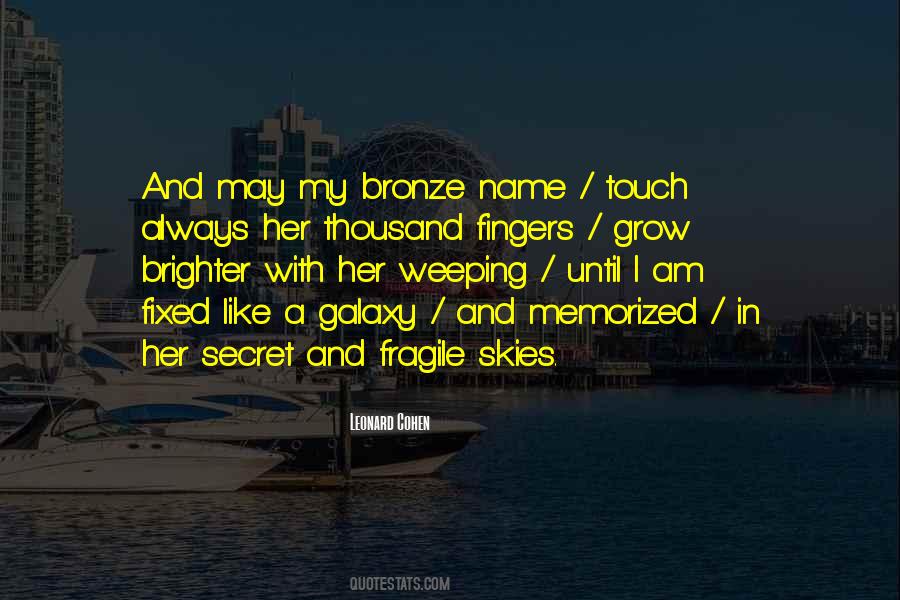 #39. My name is Kat Berger, and I love porn. There is nothing wrong with enjoying watching two people fuck.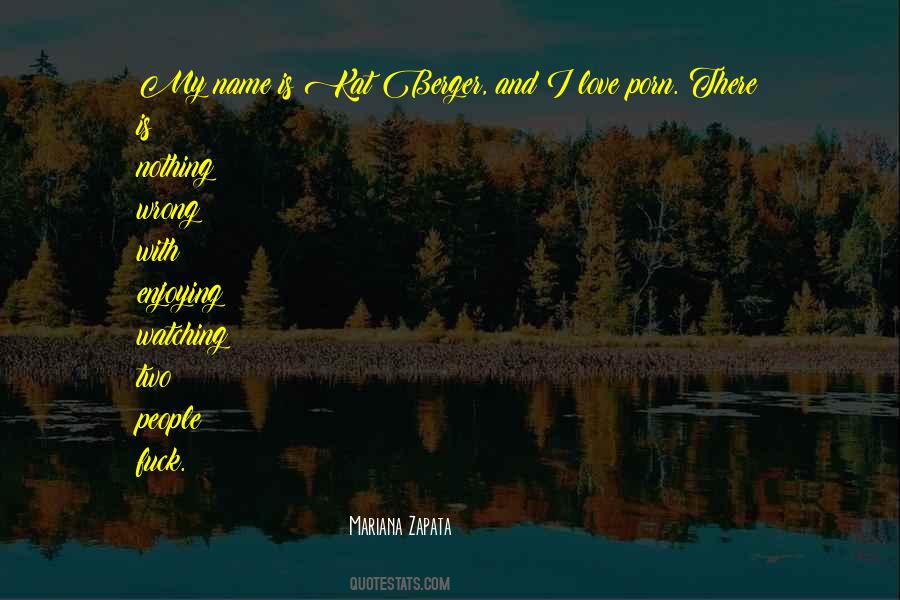 #40. I love bookstores and booksellers. In my novel 'Dirty Martini,' I thanked over 3,000 booksellers by name in the back matter.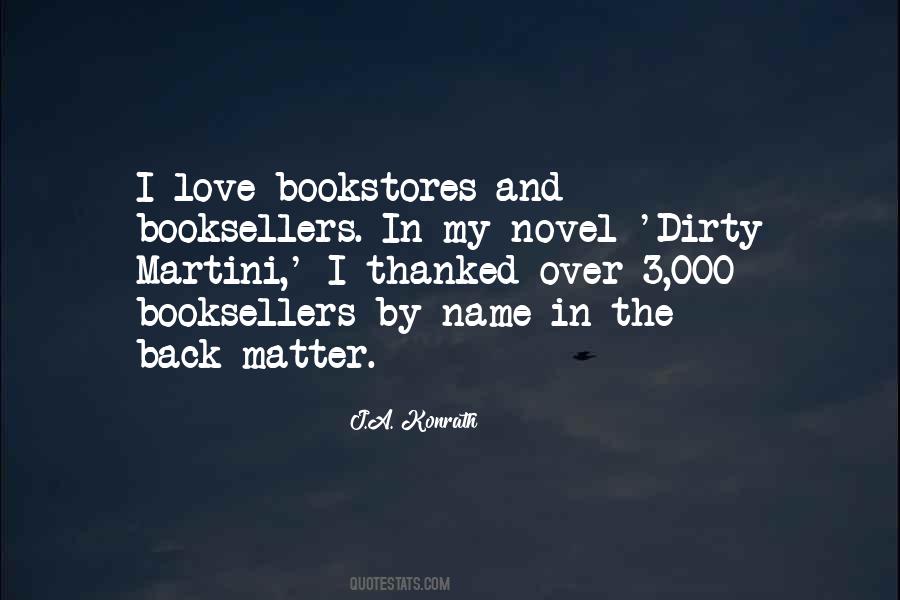 #41. No matter what happens, please remember that I love you, hridaya patni. Promise me that you'll remember."
"It's a pet name our father used to call our mother. It means ... wife of my heart.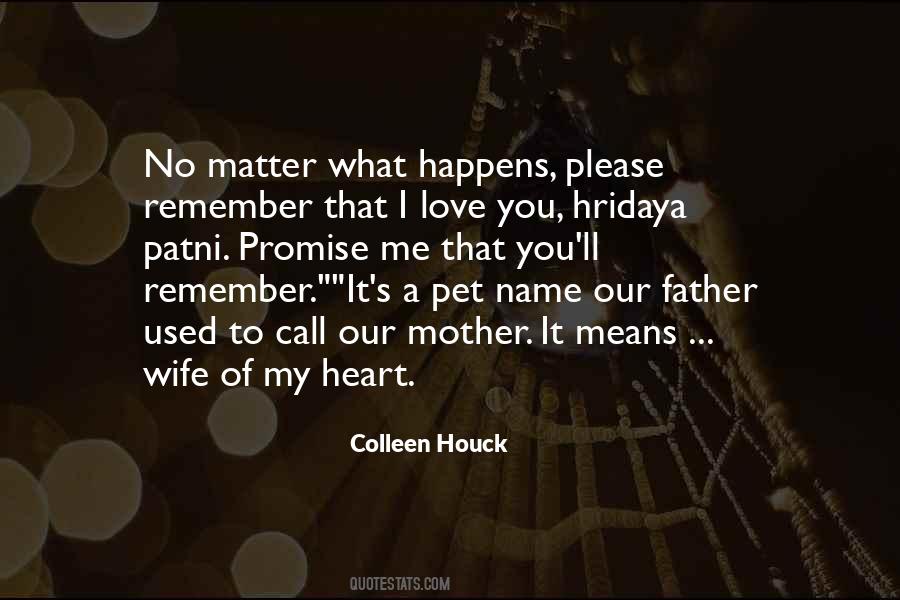 #42. Say my name with hints of longing and hunger. I'd like to hear the desire in your voice scraping against the walls, messing up the sheets of my bed, scratching on my skin. Caress every single letter of me like you're making love to me. I want to be owned by you.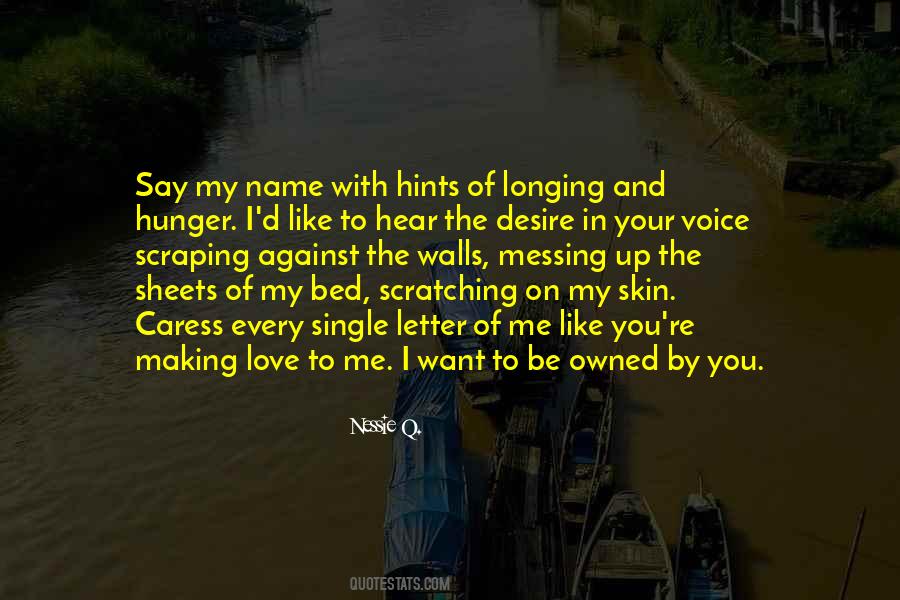 #43. I get so breathless, when you call my name,
I've often wondered, do you feel the same?
There's a chemistry, energy, a synchronicity
When we're all alone.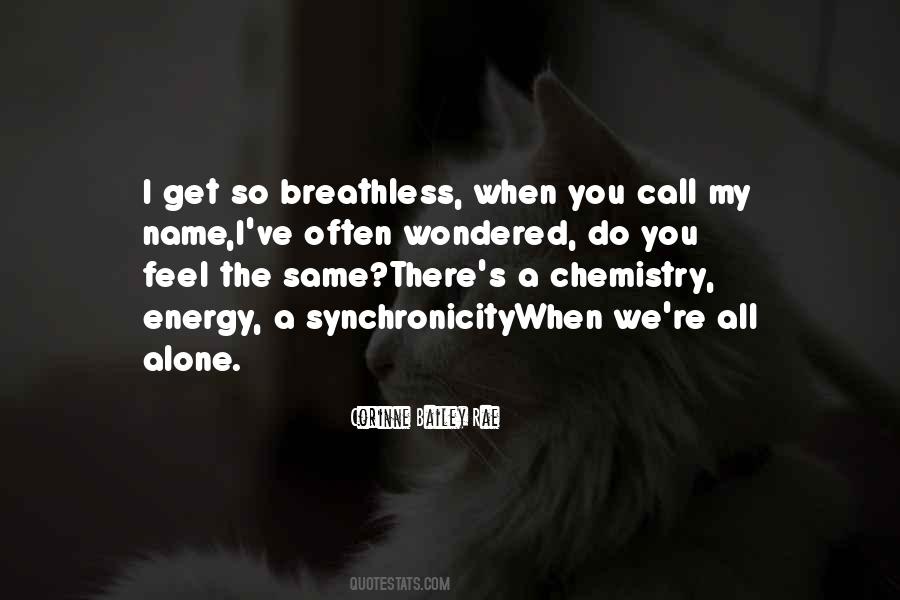 #44. I didn't think you remembered my name."Lucas narrowed his eyes back as a tiny smile flitted across his face. He wrapped an arm around my shoulders and placed his mouth close to my ear. "Of course i did, love. I always remember the names i moan out in pleasure.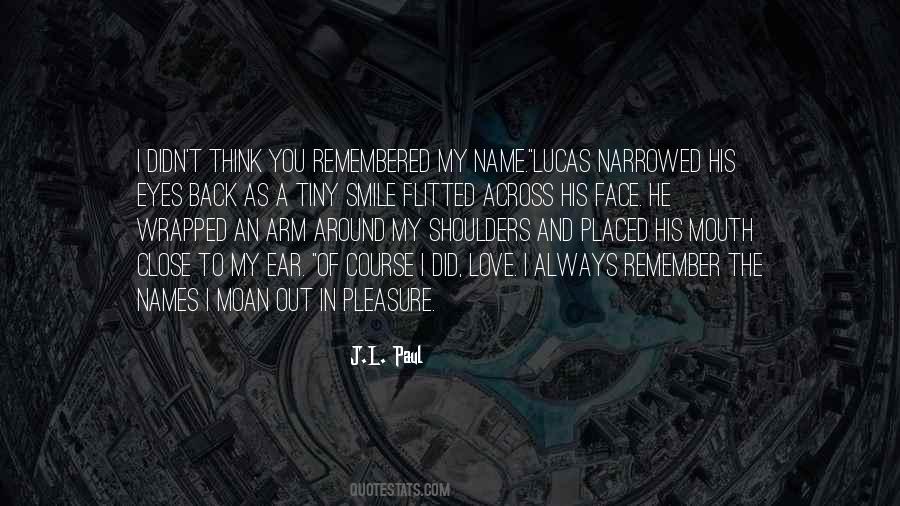 #45. With a name like Cush Jumbo, you never get forgotten. The 'Jumbo' is from my father, who is Nigerian, and 'Cush' was a king in ancient Egypt. It's a name that took a few years to grow into, but now I feel it was meant to be. It's absolutely who I am, and I love it.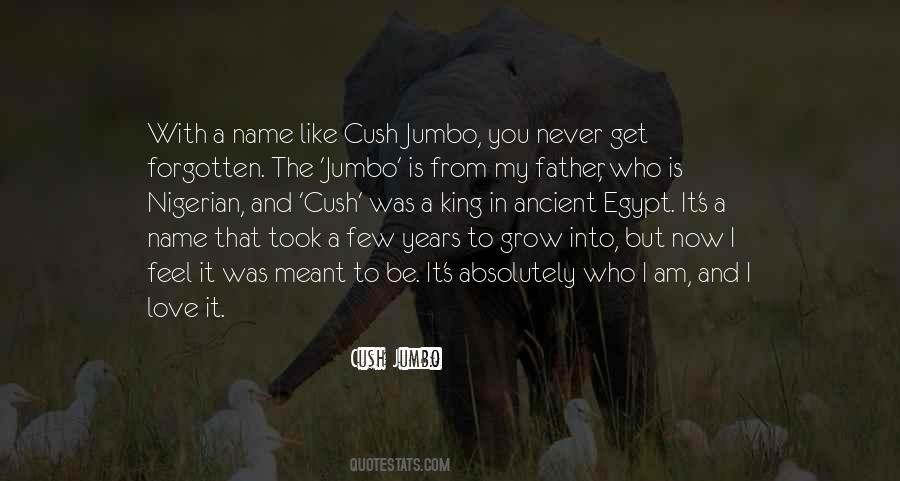 #46. My parents shared not only an improbable love, they shared an abiding faith in the possibilities of this nation. They would give me an African name, Barack, or blessed, believing that in a tolerant America your name is no barrier to success.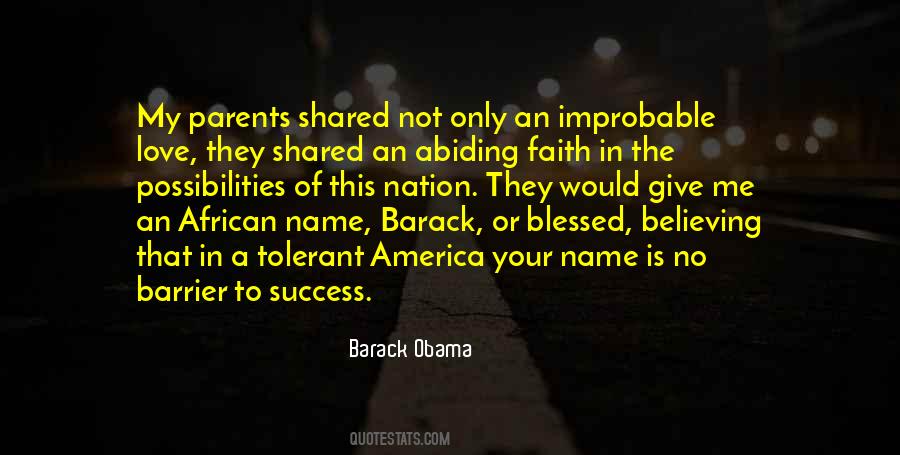 #47. I love myself. Anything that has my name I'm tickled to death.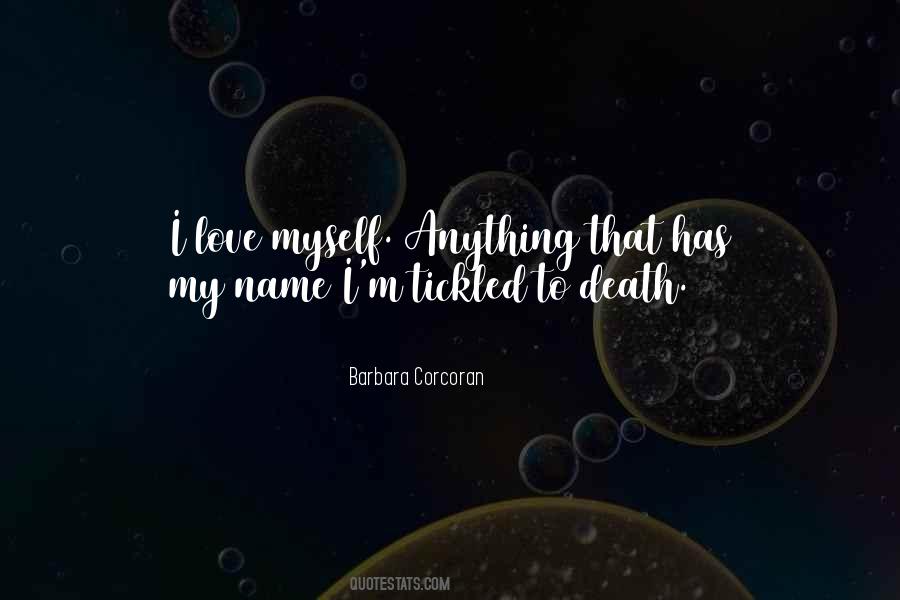 #48. So I'll be your queen if you'll be my king,
My knight to defend my claimed heart.
I need no crown, just your last name and a ring
And the promise you'll never depart.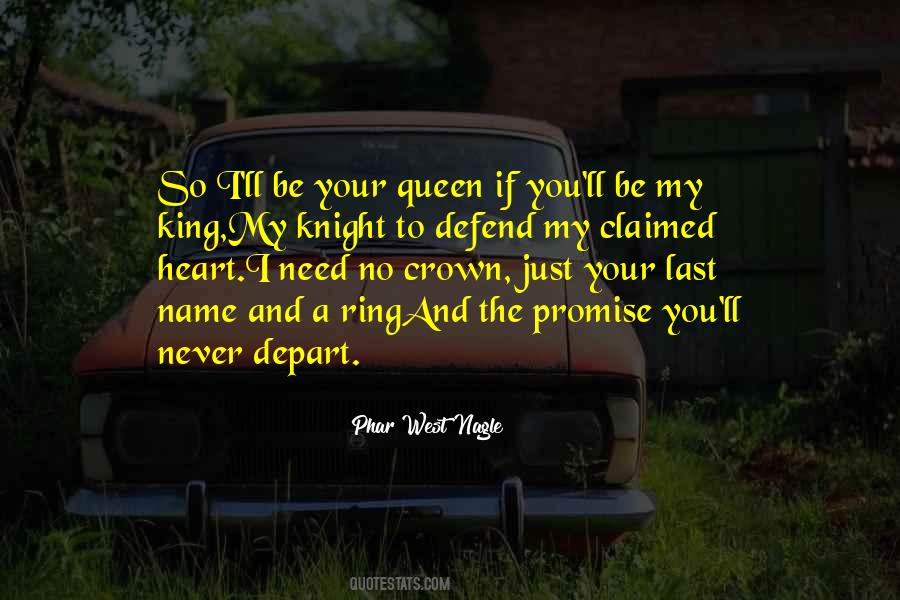 #49. I always just wanted to be the singer or the bass player in the band. I'd love to have a band, where I was obviously the singer, but where it wasn't me, it wasn't my name.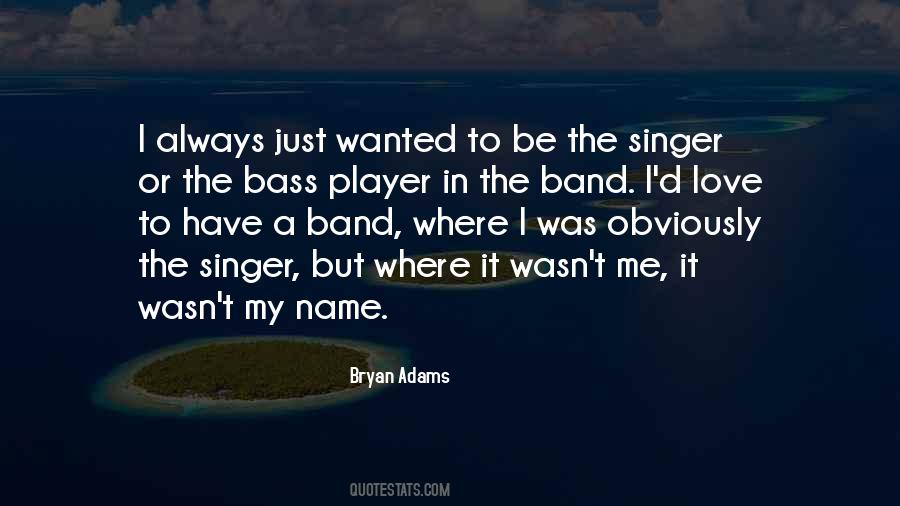 #50. My father is Italian, and I never met my paternal grandparents. The family name was 'Caroselli' and it was changed in the mid '50s. I think they wanted to assimilate, which was pretty common, although I love the name 'Caroselli.'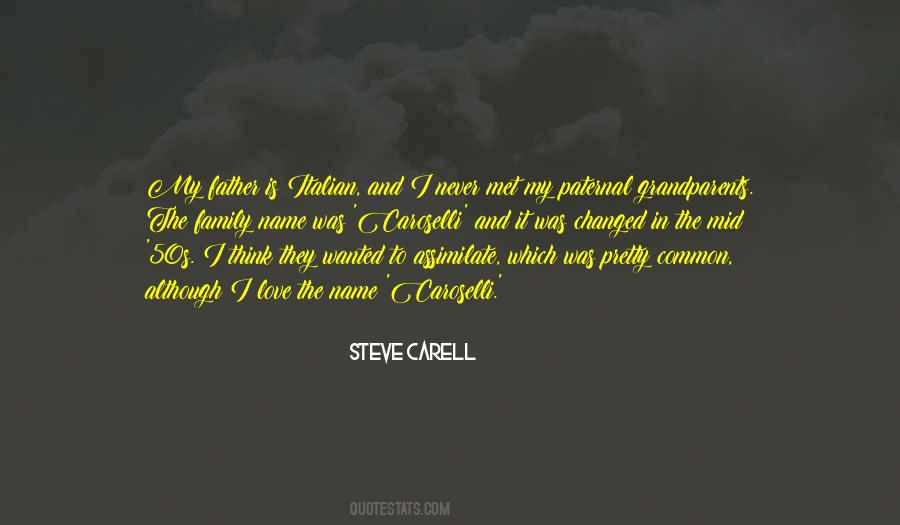 #51. My love for you won't stop with my leaving. Come an evening over the years, when you step outside your door and hear the wind blowing through the cottonwoods, that'll be me, thinking of you, whispering your name, and loving you.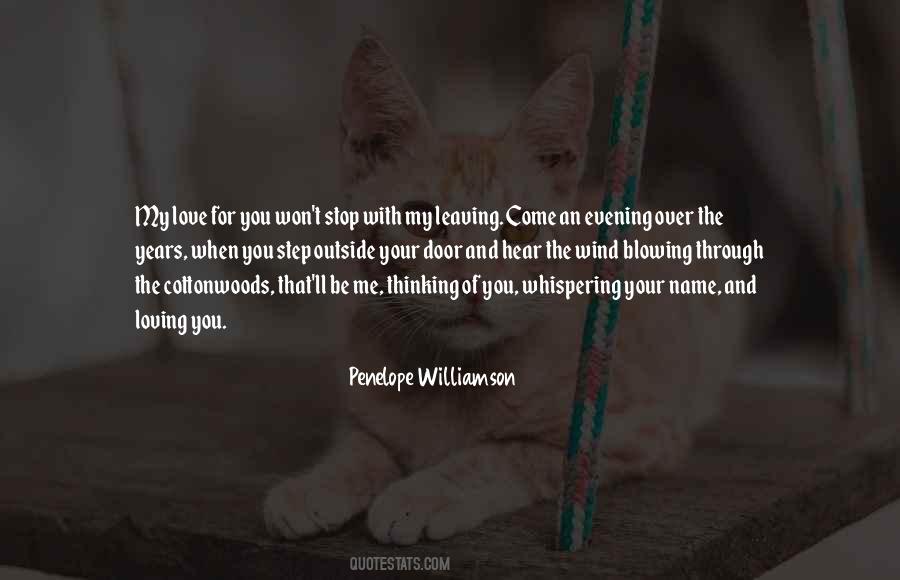 #52. Your name
fit into my mouth
better than my own ever has.

Like I was
born to speak it.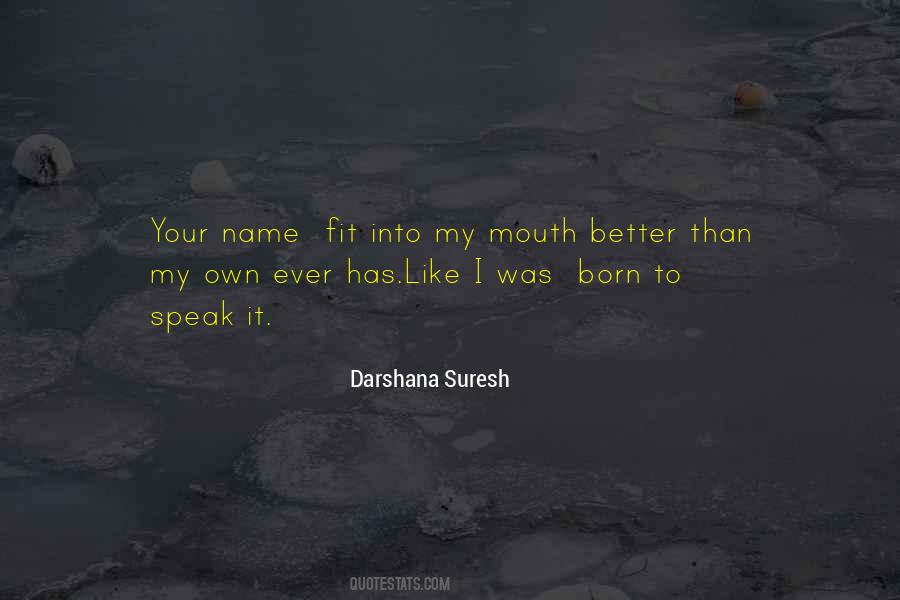 #53. When I fall in love... it's only... one time. -Luka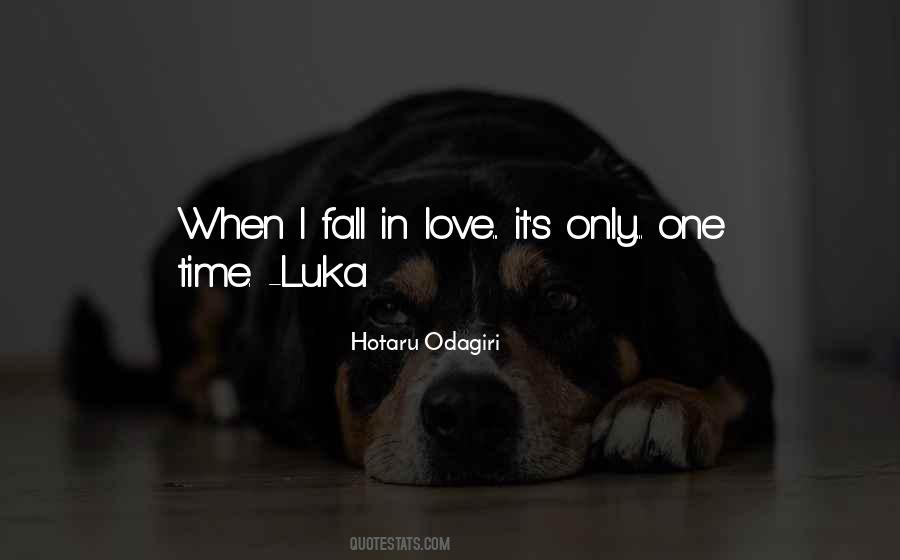 #54. He drops into the room, landing on the balls of his feet like a cat. I'm in his arms in the time it takes to say 'I love you,' which he does, stroking my hair, whispering my name and the words, 'My mayfly.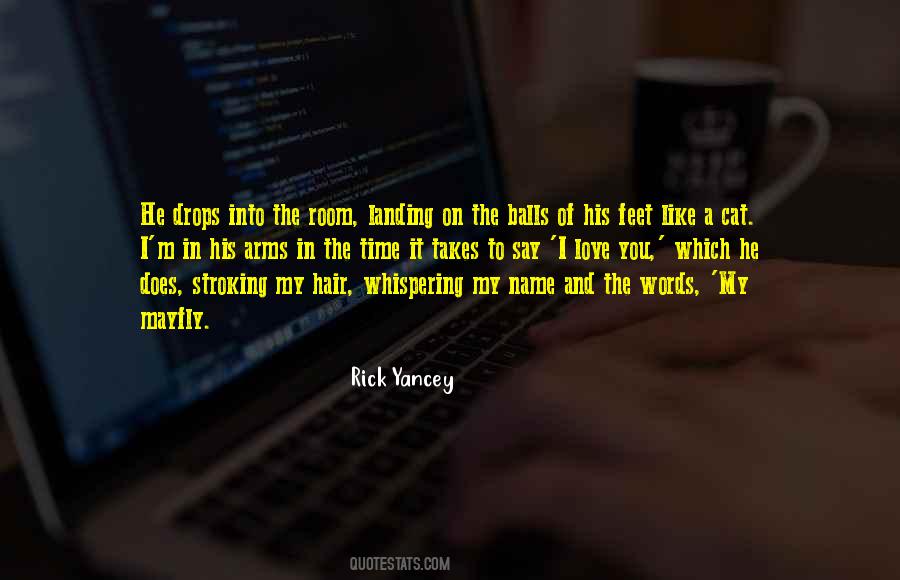 #55. This black box is yours to keep, to stash your troubles away. Just lock it up and call my name and I'll be there always.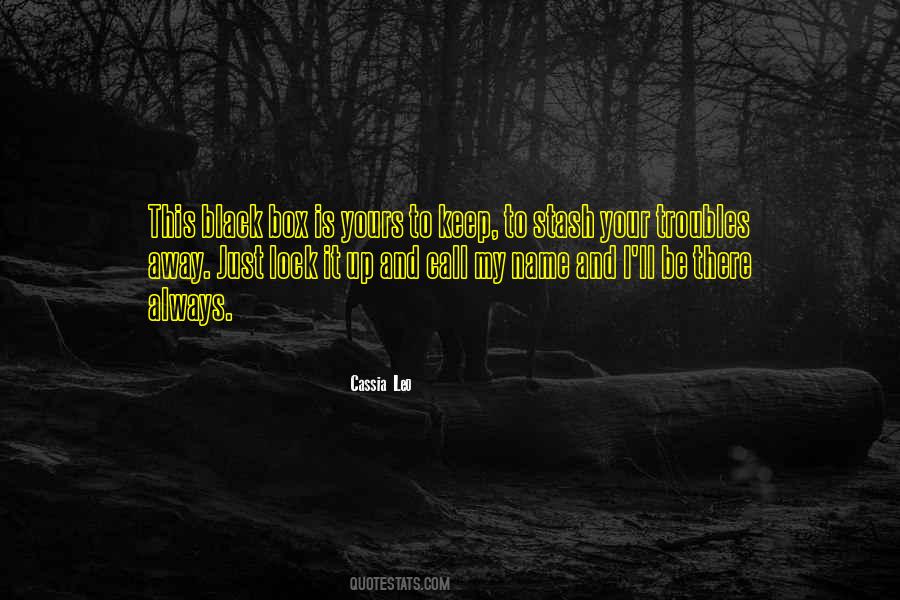 #56. I don't think I've ever referred to any girl I dated as my girlfriend. I think that would freak me out. Even the girl that I dated for two years in college I don't think I ever referred to her as my girlfriend."
"How would you introduce her?" I asked.
"I'm just going to say her name," he said.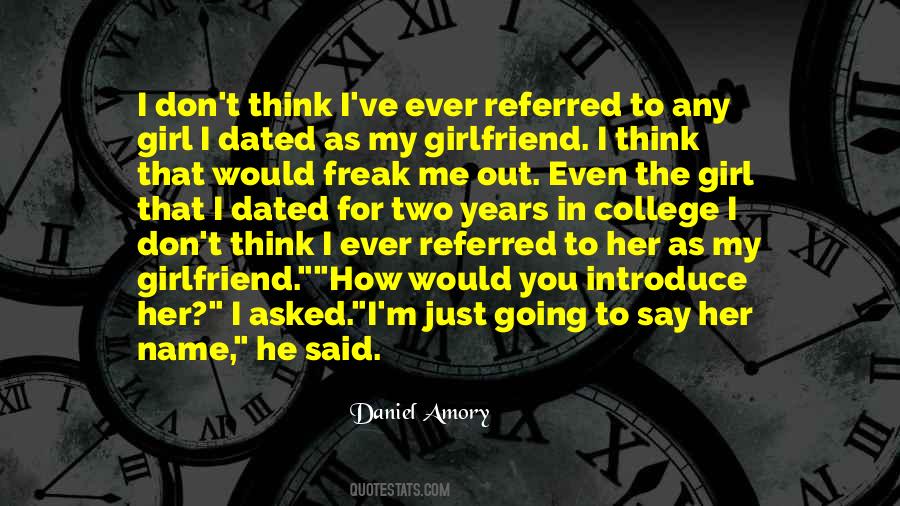 #57. All I care for is the inclusion of my name in the list of the believers of the supremacy of human soul over all other masterpieces He has ever produced.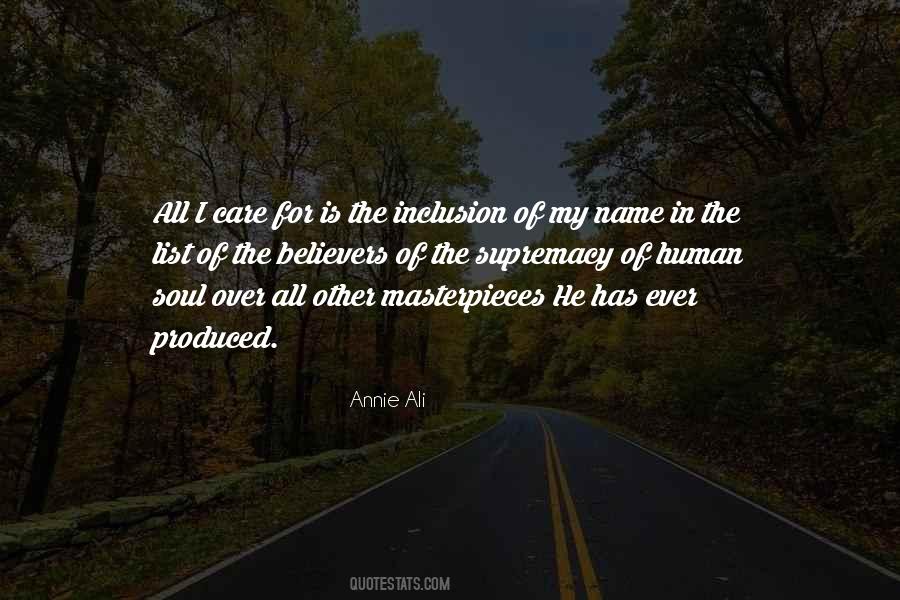 #58. She was also a memory, the worst kind of memory
the kind that pulled you to your knees at just the sound of her name.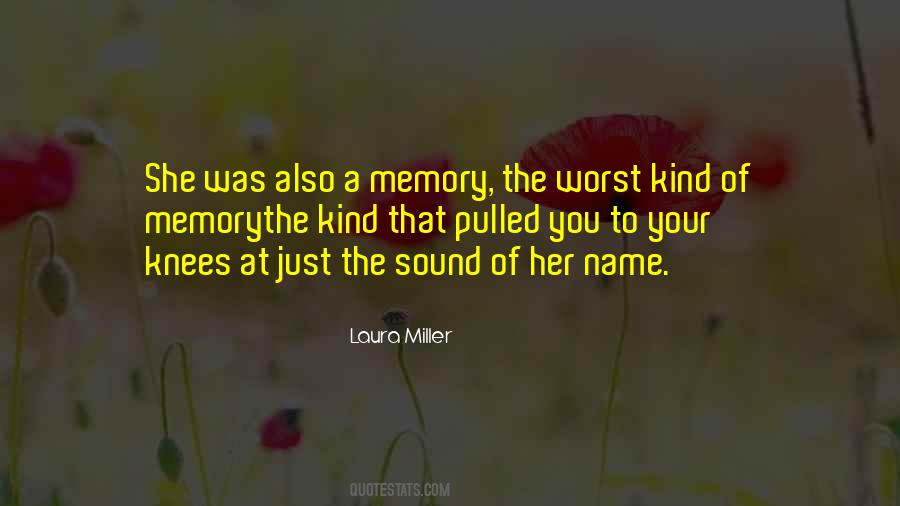 #59. I love it when he cocks an eyebrow whenever I say something he finds clever or amusing.
I love listening to his boots clomp across my bedroom ceiling.
I love that the accent over his first name is called an acute accent, and that he has a cute accent.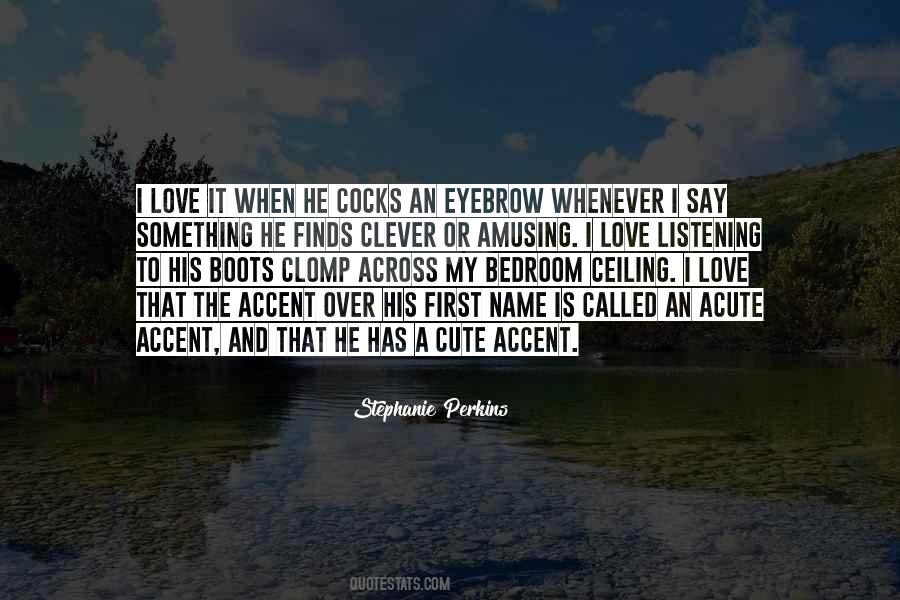 #60. How could I have let you do any of those things when I've never even seen your face? When I don't even know your name?"
"That may be true," he said quietly, "but for just a moment there, I would have sworn you knew my heart.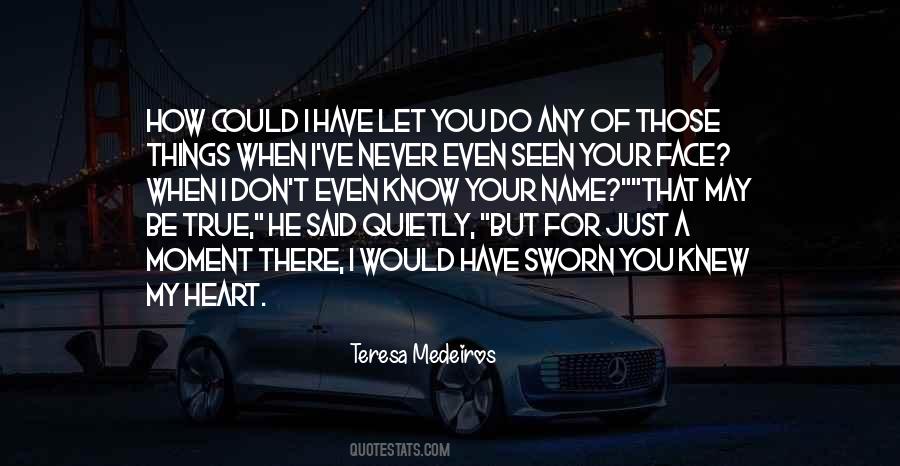 #61. The love of glory is like the bridge that Satan built across Chaos to pass from Hell to Paradise: glory links the past with the future across a bottomless abyss. Nothing to my son, except my name!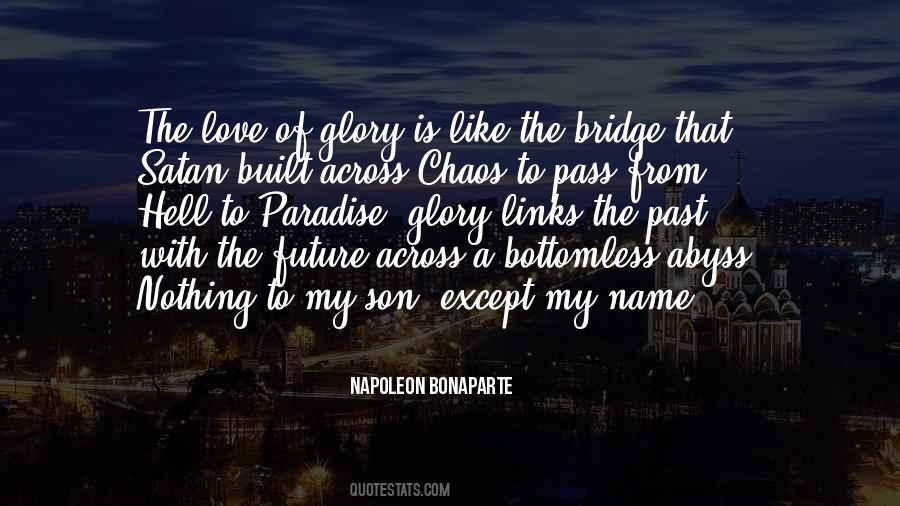 #62. That's my darling little doggie. Bubbles by name, bubbles for brains. You've got to love him.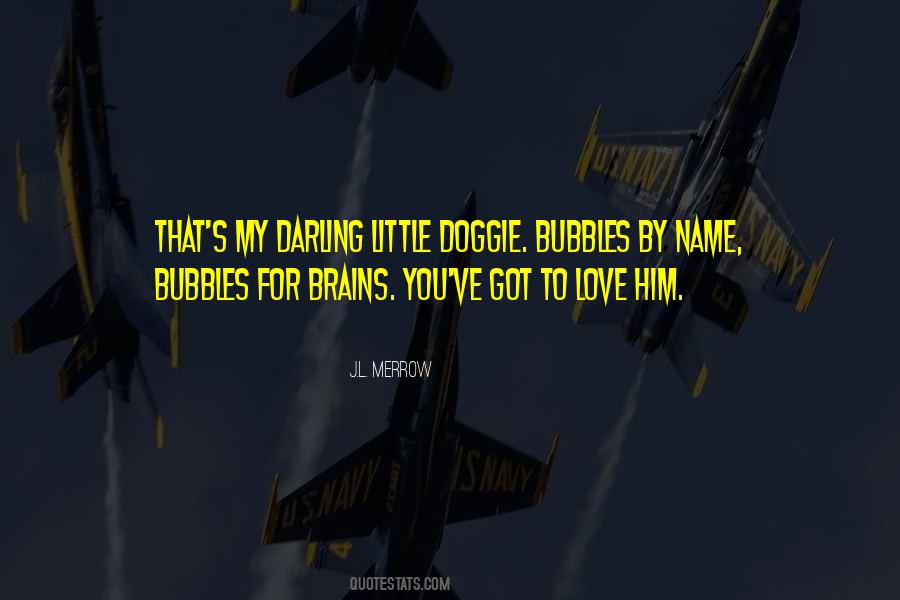 #63. I was 16 and got my boyfriend's name tattooed on me. Don't do it. 'Cause it hurts. The moment you do it, the next month, the next year, you'll be broken up - trust me - and cover-ups hurt. You can show your love in other ways. Ink is not it. Write it on a piece of paper and mail it to him.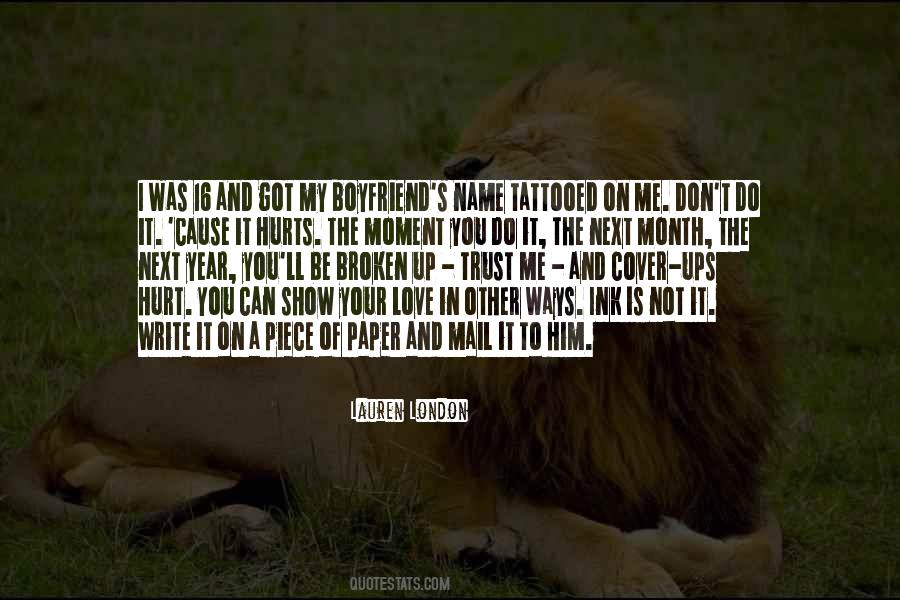 #64. I'm active on Facebook and Twitter professionally, then personally I have my own Facebook account, but nobody knows my name or anything. I don't use it to connect with my friends, but I love to play on it.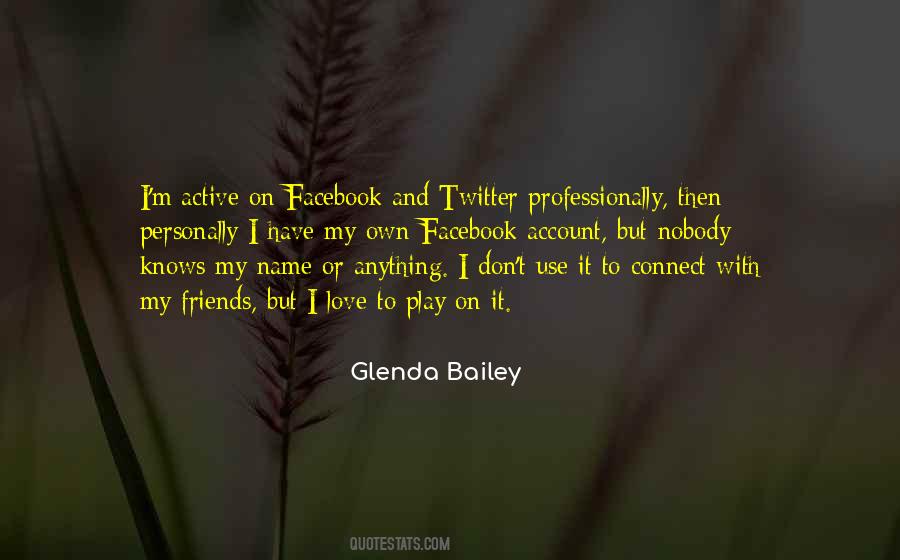 #65. Beau, what is it you want?"
"A porch," he says softly. He says it like it's my name, and right then, I think, what both of us want more than anything is something we can never have. "All I really want is to build a house with a nice, big porch that gets used every day.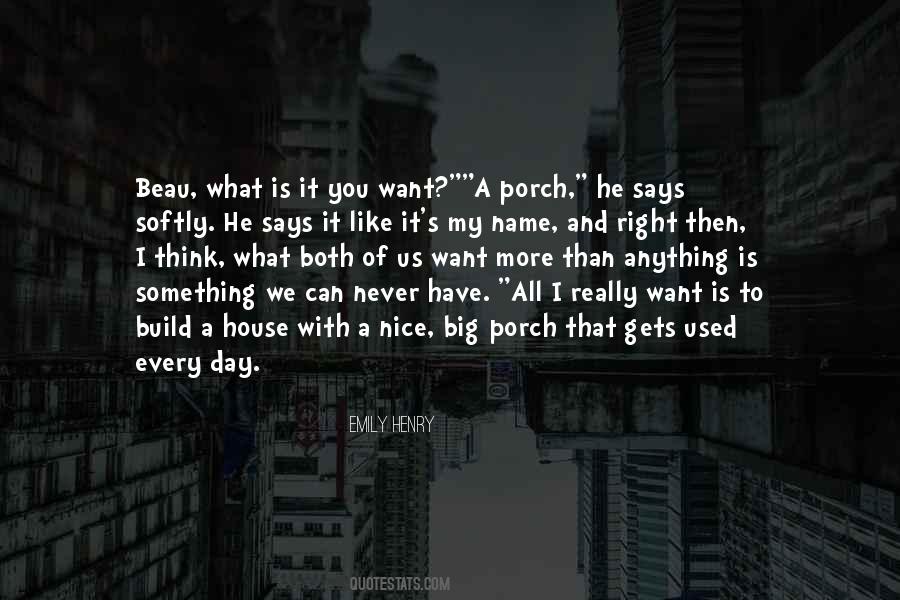 #66. I'm so proud the fans still sing my name, but I fear tomorrow they will stop. I fear it because I love it. And everything you love, you fear you will lose.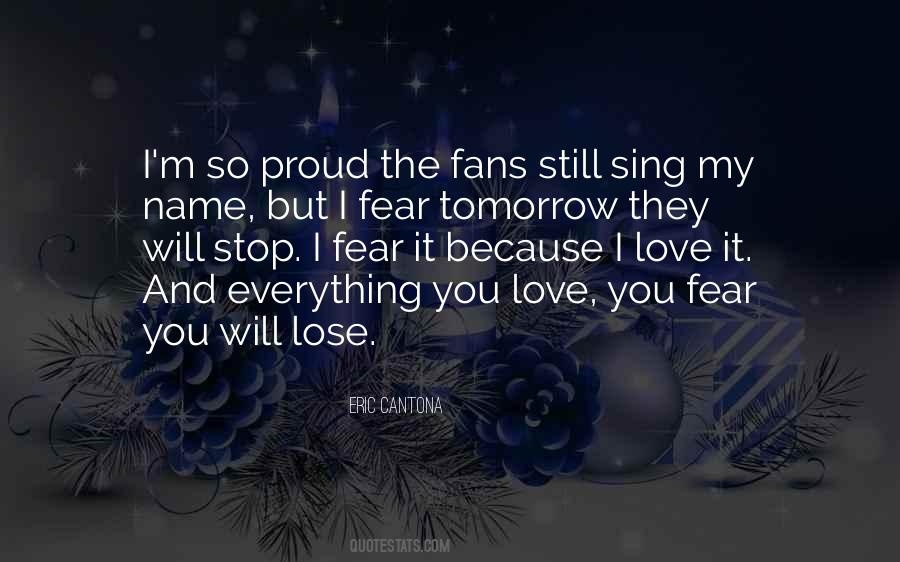 #67. There was an old, crazy dude who used to live a long time ago. His name was Lord Buckley. And he said, a long time ago, he said, 'People
they'r e kinda like flowers, and it's been a privilege walking in your garden.' My love goes with you.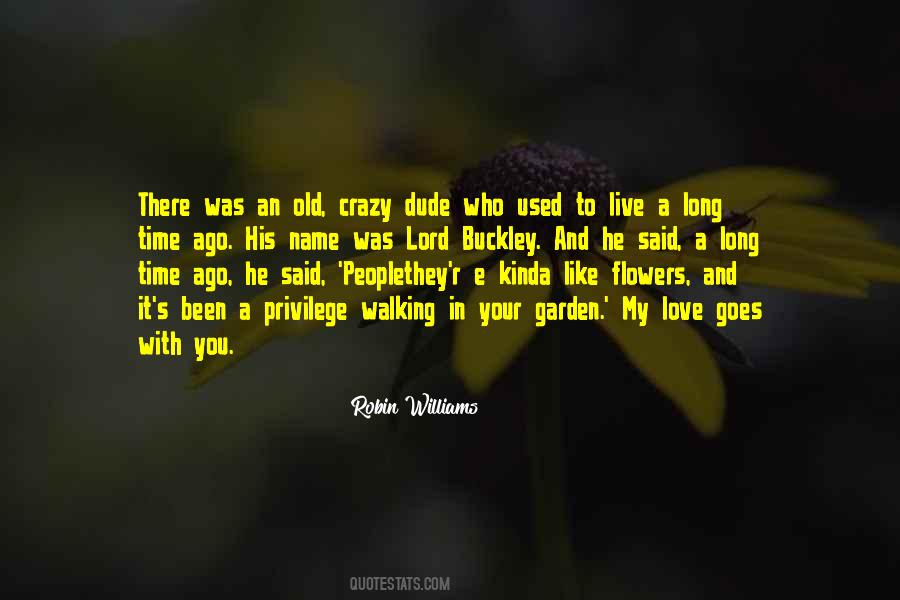 #68. What's the best part of a movie? I love to know what my name is. It's just so fun. That's the first thing I ask. It's just fun because you have a different name in every movie.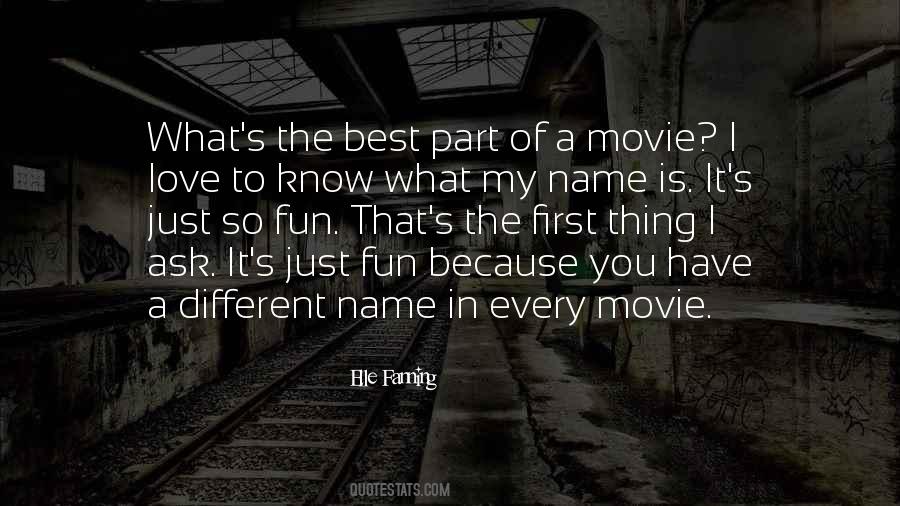 #69. I love to personalize things. I love to make things my own. I like to name everything - from cars to iPhones to the socks I just lost.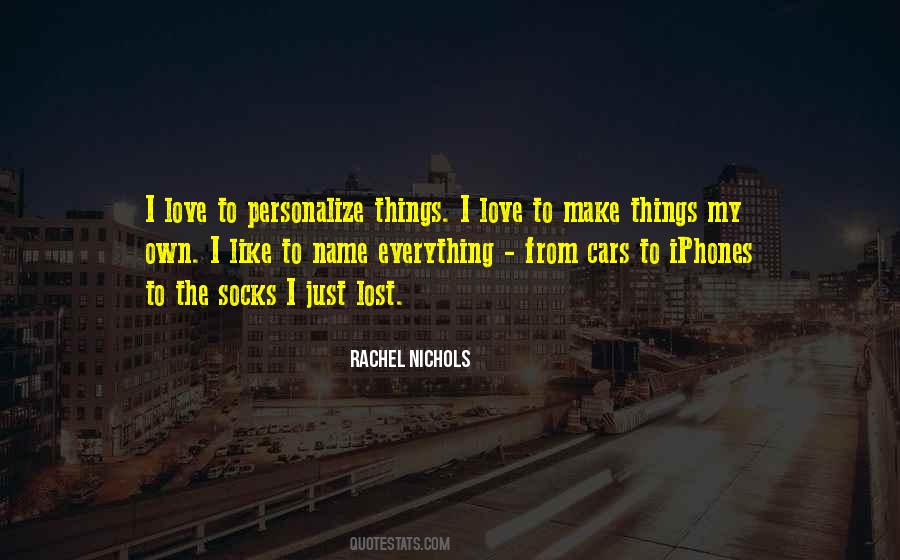 #70. Fia, James says, and I love the way he always answers the phone with my name: a statement, not a question.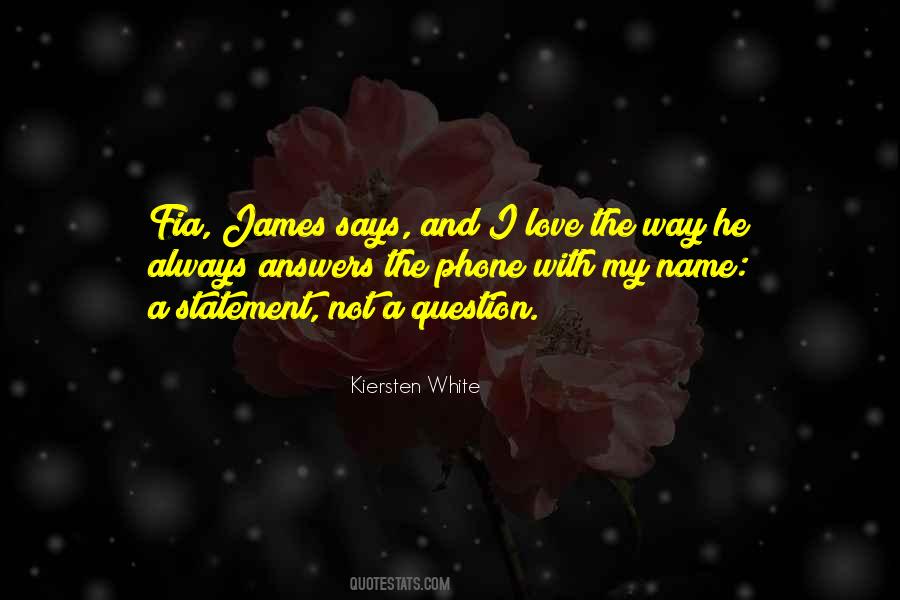 #71. Will I be some kid's dad one day? Are any future people lurking deep inside mine? ... Which girl's carrying the other half of my kid, deep in those intricate loops? What's she doing right now? What's her name?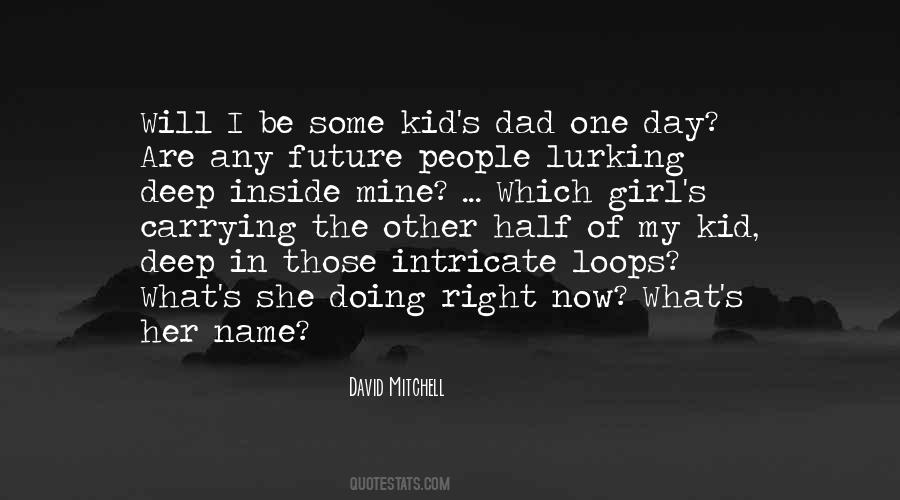 #72. [bookcover:Lessons Learned|13578440] Another shot, and for some reason, I'm the only one who can't move. Who can't scream. Who can't do anything but watch as the young man's body slumps over his tray. Finally, I find my voice and scream his name.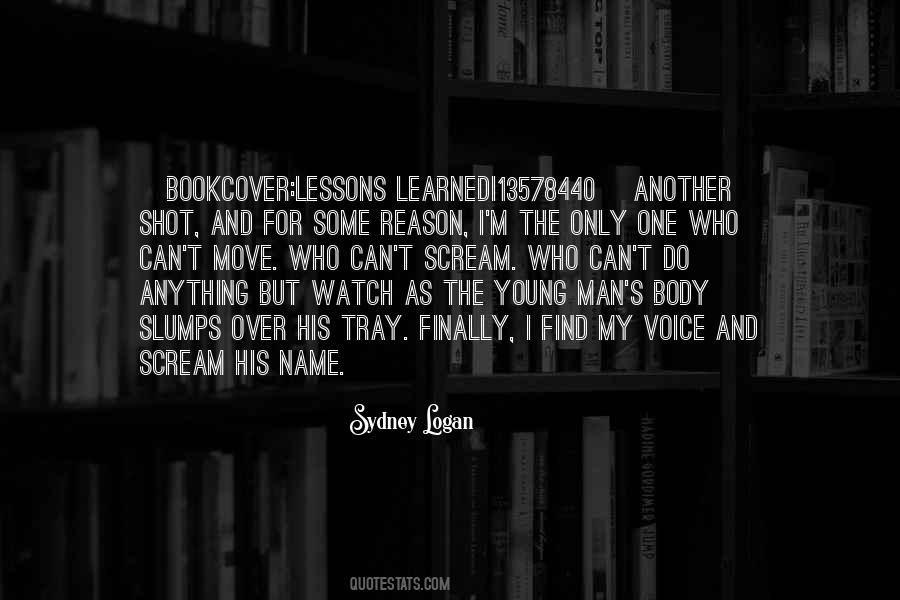 #73. Burn me down to ashes,
Lend me to the flames.
Rise again I valiantly shall,
For LOVE is but my name.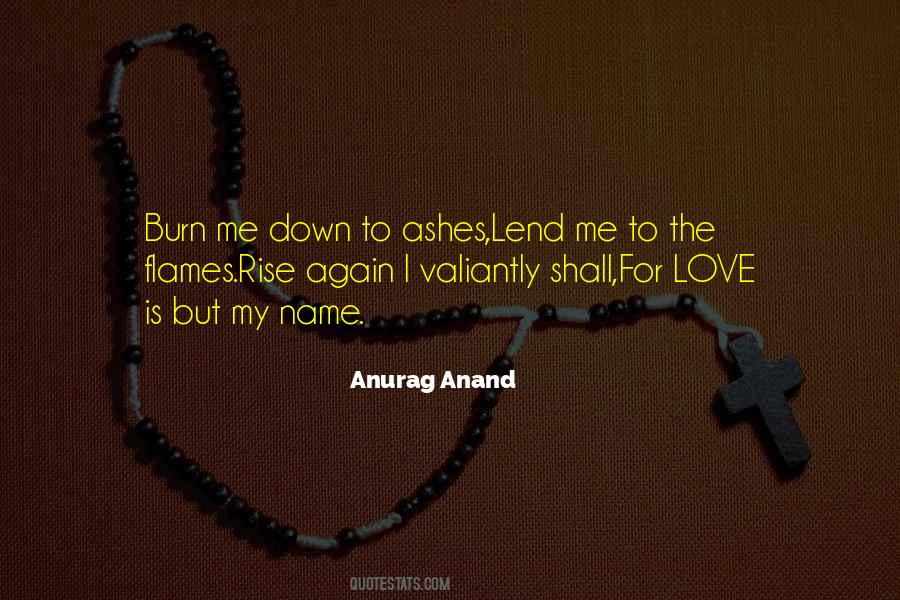 #74. It's weird to think I have fans now, so I appreciate all of the people that follow and support me - and I love them to death. But yeah, when I start looking on Twitter, and I see, 'I want to name my kid after you,' I'm like, 'Whoa!' I'm a little surprised.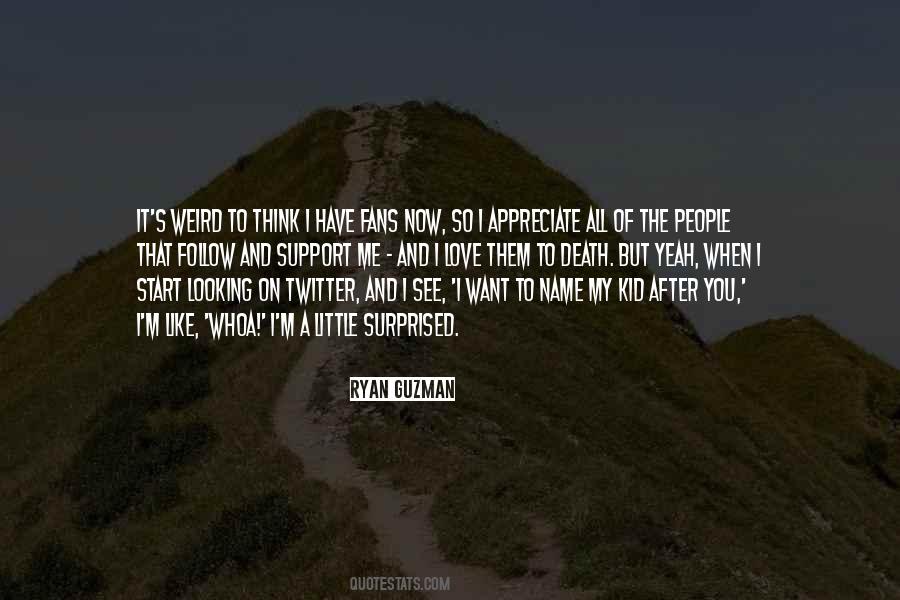 #75. I taught myself to name my name,
To bark back, loosen love and crying;
To ease my woman so she came,
To ease an old man who was dying.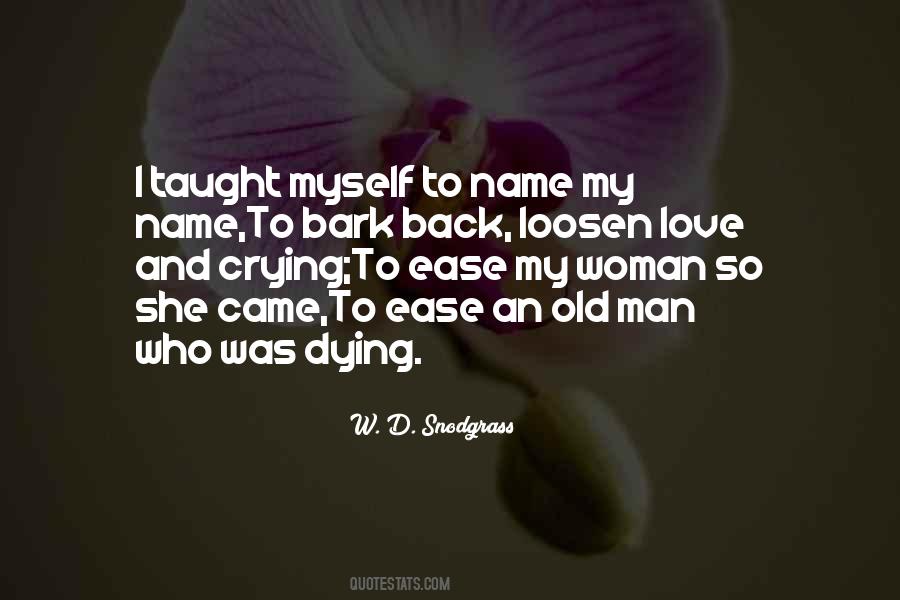 #76. Tell me if you ever cared,
if a single thought
for me was spared.
Tell me when you lie in bed,
do you think of something
I once said.
Tell me if you hurt at all,
when someone says
my name with yours.
It may have been so long ago,
but I would give
the world to know.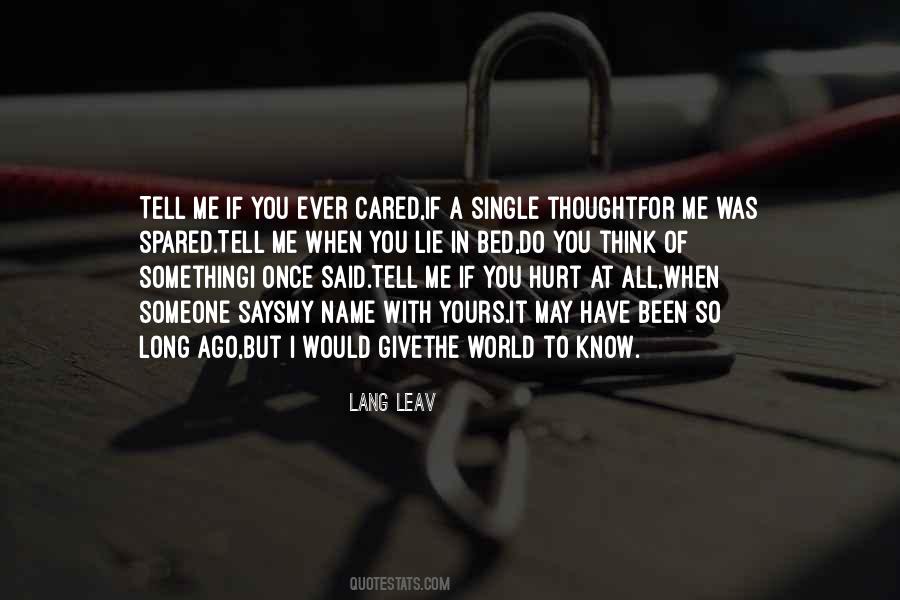 #77. I hold his name close as my own blood and I will never let it out. I only spoke it that once so he would know he was alive.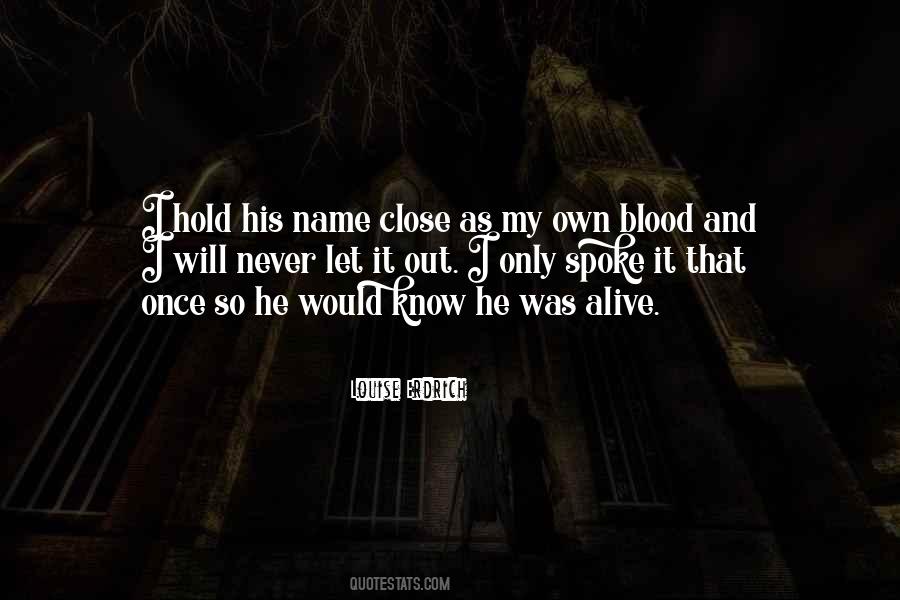 #78. Ah woe is me, through all my daysWisdom and wealth I both have got,And fame and name and great men's praise;But Love, ah! Love I have it not.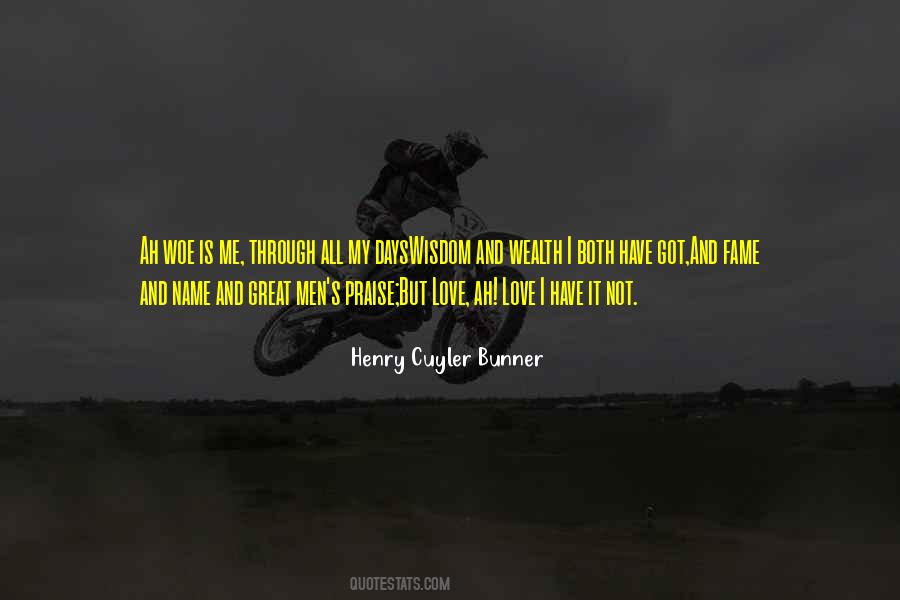 #79. I want people to smile when they hear my name. I love everyone. I want to help make it a better time for the kids after me.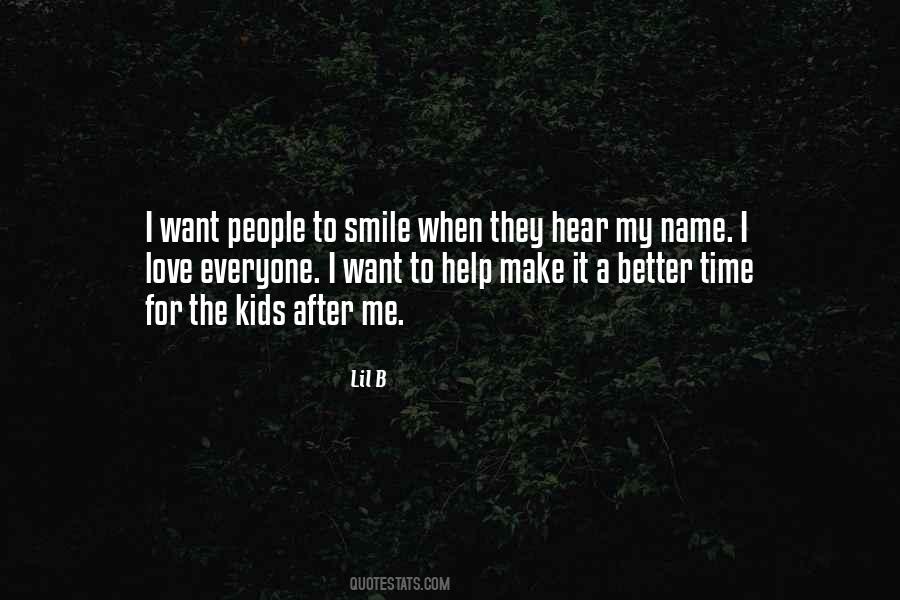 #80. There's always time to do things that you're passionate about ... If my name helps get something out there that I believe in then I am going to produce it ... Design is really my true love.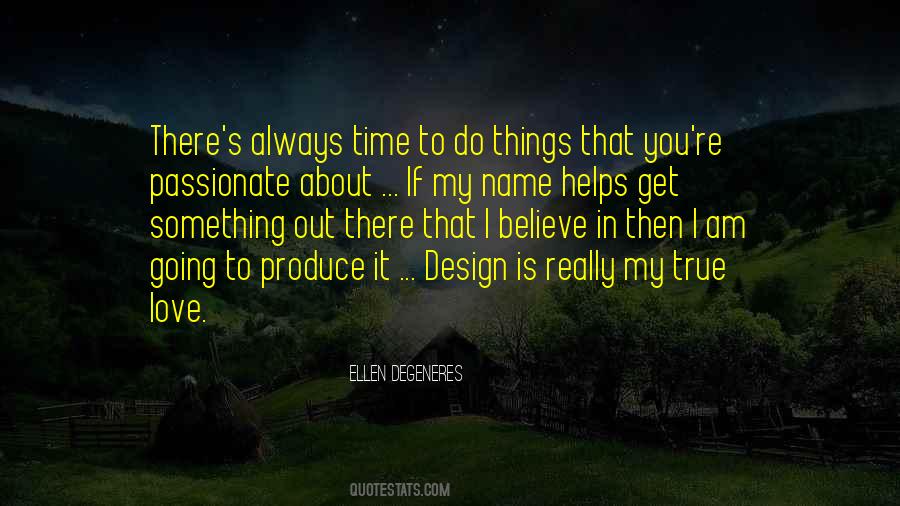 #81. I'm a hopeless romantic. I love love. My middle name is Love. Valentine's Day is my favorite holiday. I want to have a family and children. I am a sucker for every romantic comedy that comes out.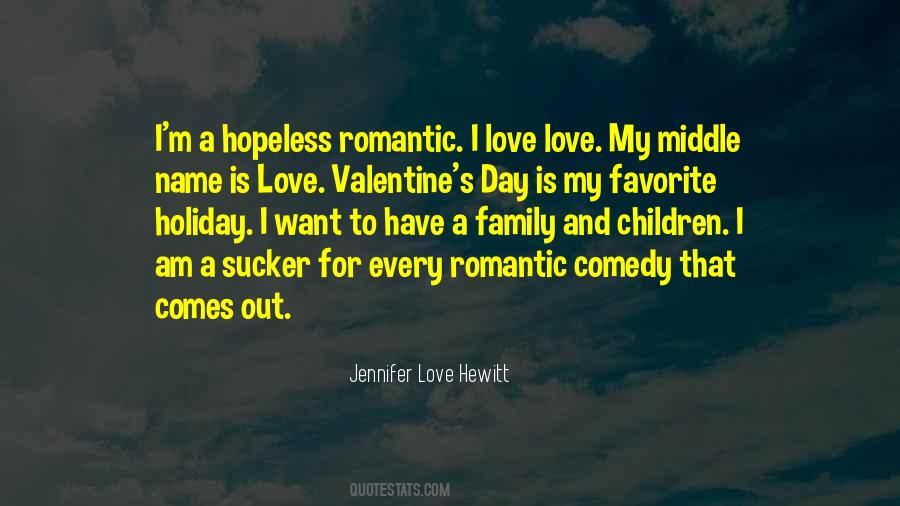 #82. And when you are afraid my darling, When you are afraid If worry claims you for her own If darkness shrieks your name Take courage, then, my dearest love, Although you cannot see Our God is watching o'er you, He'll bring you back to me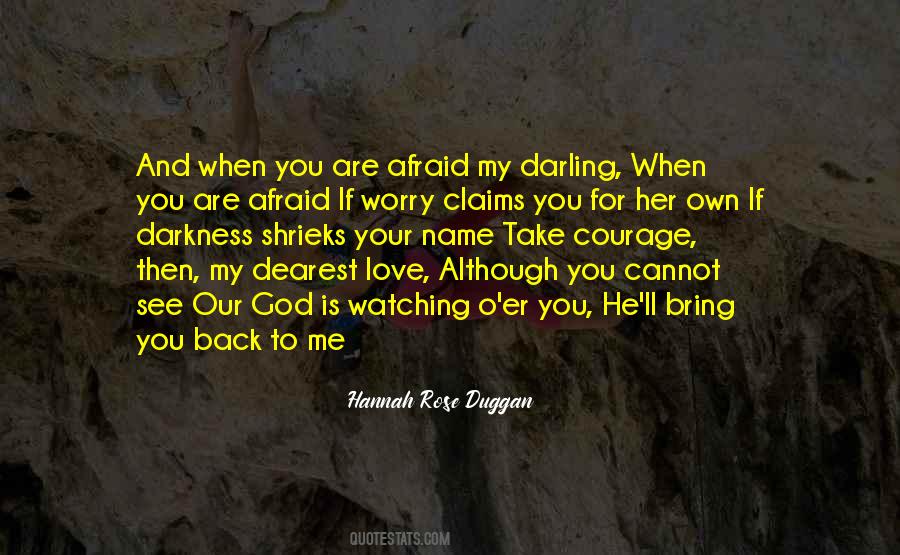 #83. Love taught me to die with dignity that I might come forth anew in splendor. Born once of flesh, then again of fire, I was reborn a third time to the sound of my name humming haikus in heaven's mouth.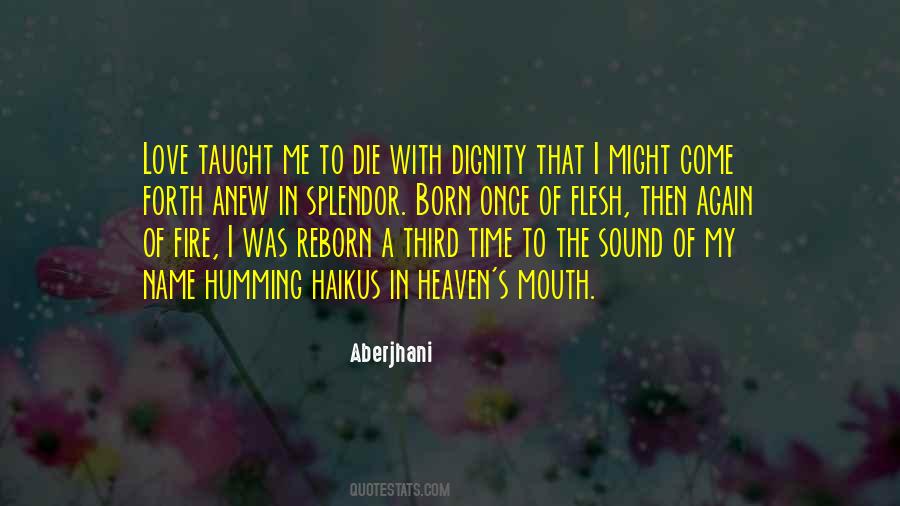 #84. He gripped her hard, forcing her to meet his eyes as he snarled, "I see you. I see every part of you. And I am not afraid."
I will not be afraid.
A line in the burning brightness.
My name is Aelin Ashryver Galathynius . . .
And I will not be afraid.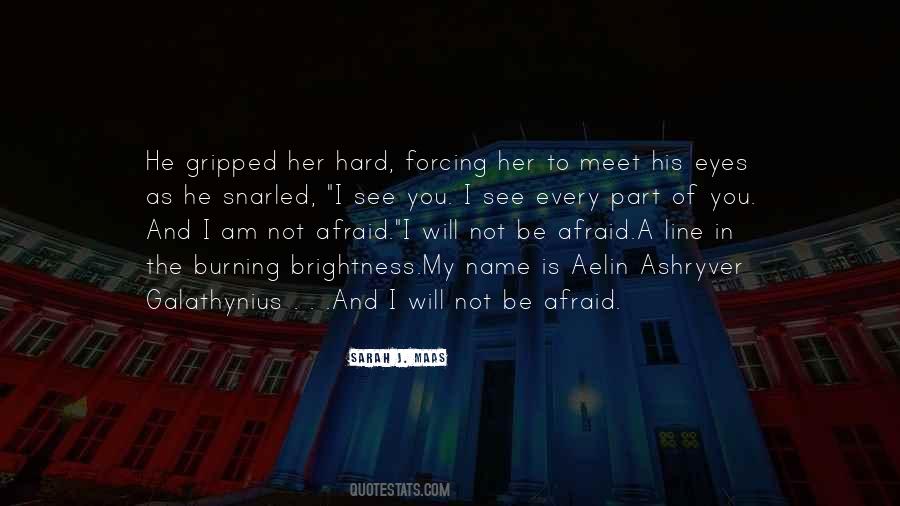 #85. You whispered my full name and we fell asleep in each other's arms and I remember how the next morning you were gone, completely gone, and nothing in my bed or the house could have proven otherwise.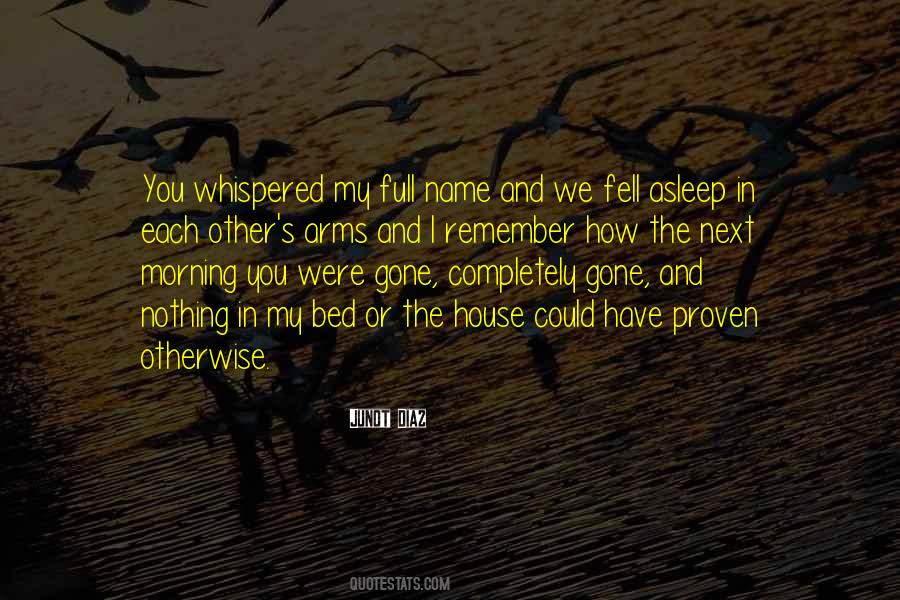 #86. Lord Jesus, Your love is beyond my understanding but I believe it's true. Right now I offer You my shame, the filthy rags of my past. I choose to step out of this storm of condemnation and into Your peace. Thank You for loving me and for making me worthy, In Your great name, amen.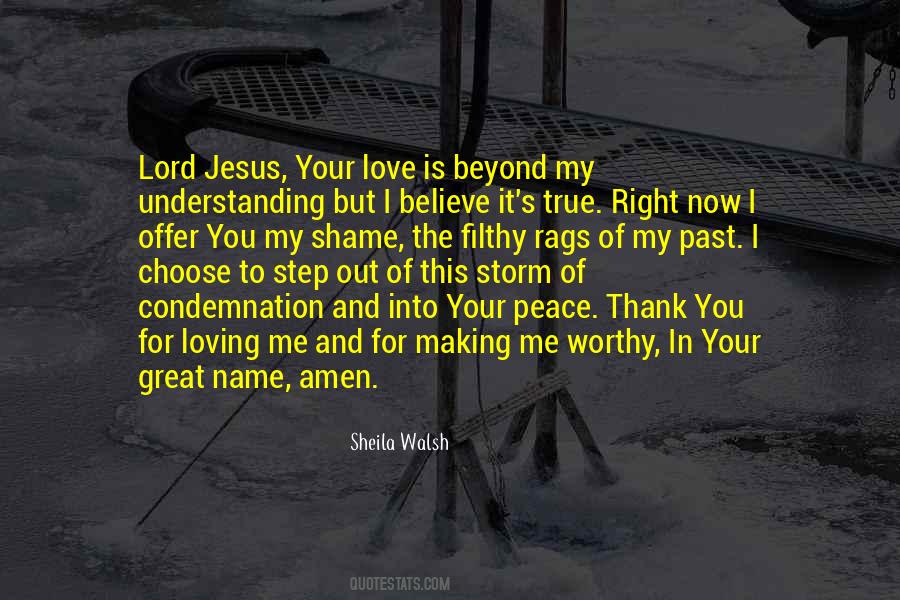 #87. Of course, I love tools. I also love arranging them, to the point where I came up with a name for my organizing metric: first-order retrievability.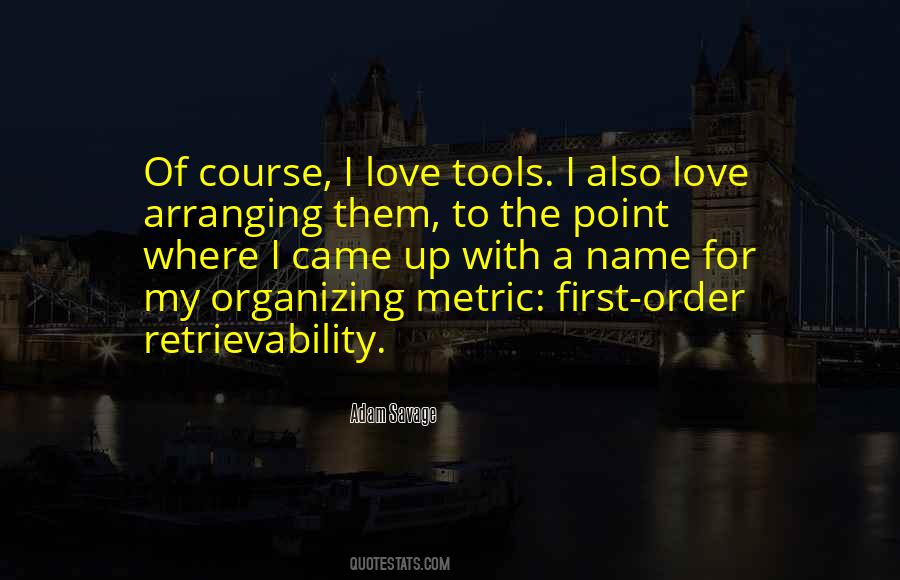 #88. I like my name. My mom named me after a song by the 1970s group Bread. So, it's meaningful, and I like the song. It's a love song - kind of - but it's kind of depressing and dark.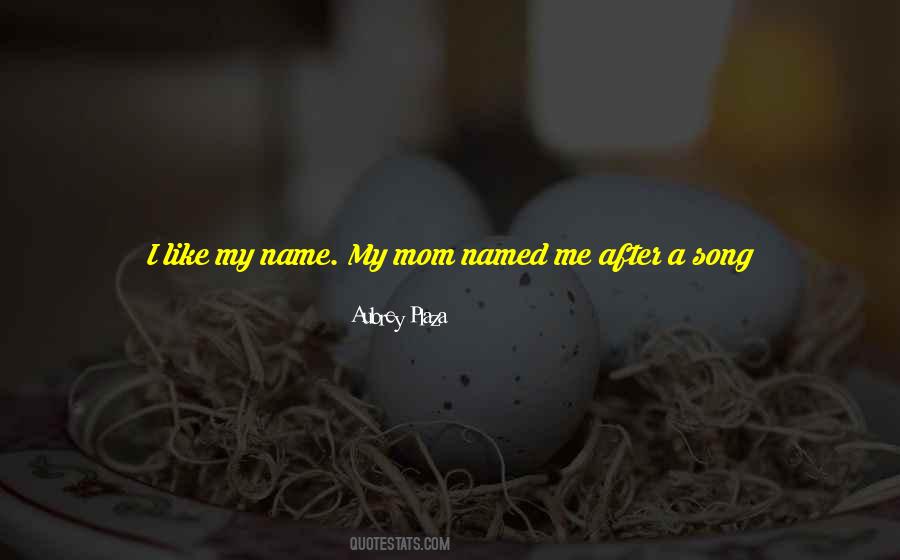 #89. Hearing her say my name - a name I'd walked away from long ago - tore at my insides worse than any bullet could. It hurt like love. Like dying.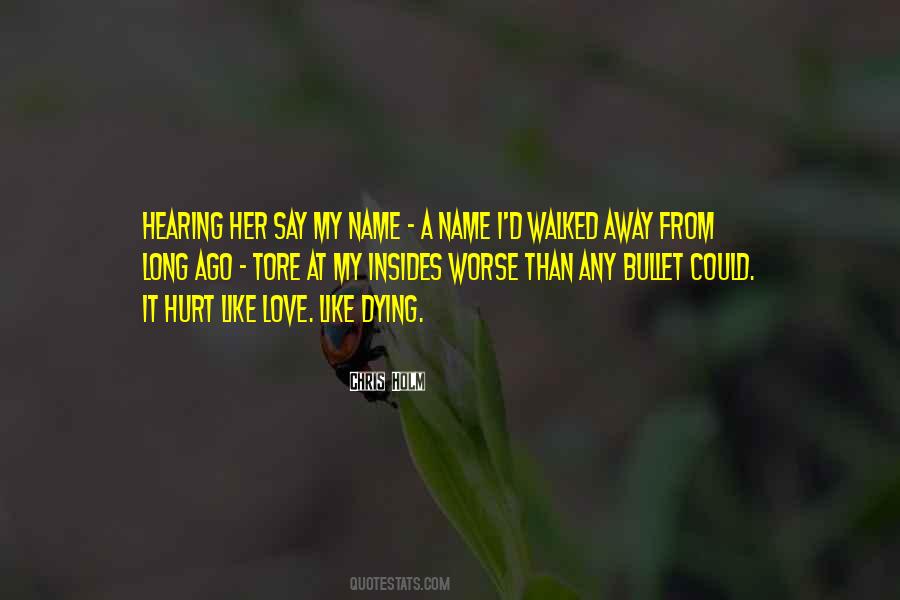 #90. Don't you dare. Don't you run away from me." He holds me tight, his fingers pressing into my back. "I'm listening. You're not Ariel. Then what should I call you? I don't care. I'll love you no matter what name you want me to use.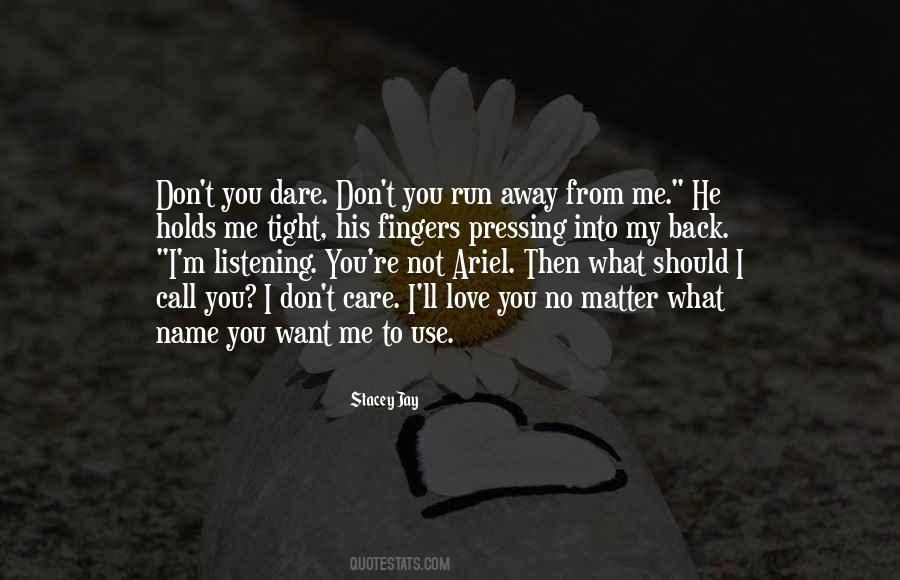 #91. I am the one whose love
overcomes you, already with you
when you think to call my name.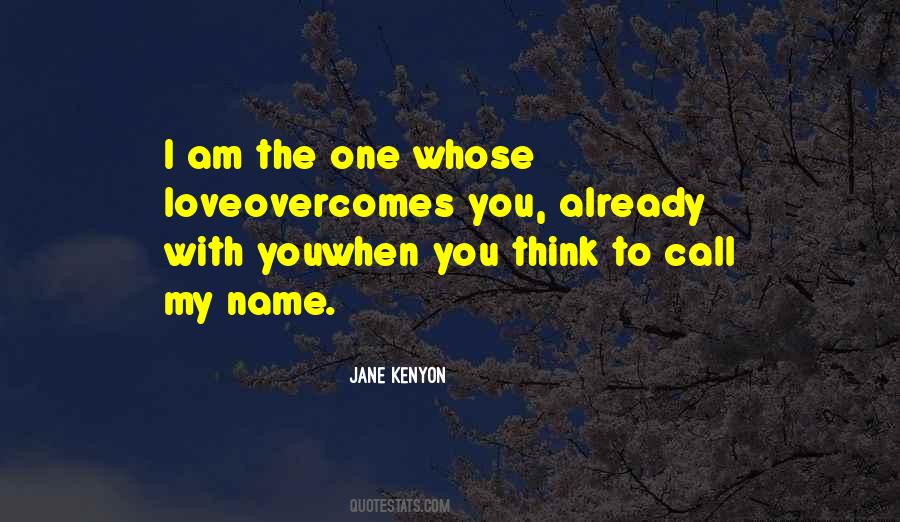 #92. We always felt divine in this place, tasting a desired view of the world, knowing a voracious appetite for the love that dare not speak its name, my soul sewn to your soul. Our fortunate embroidery.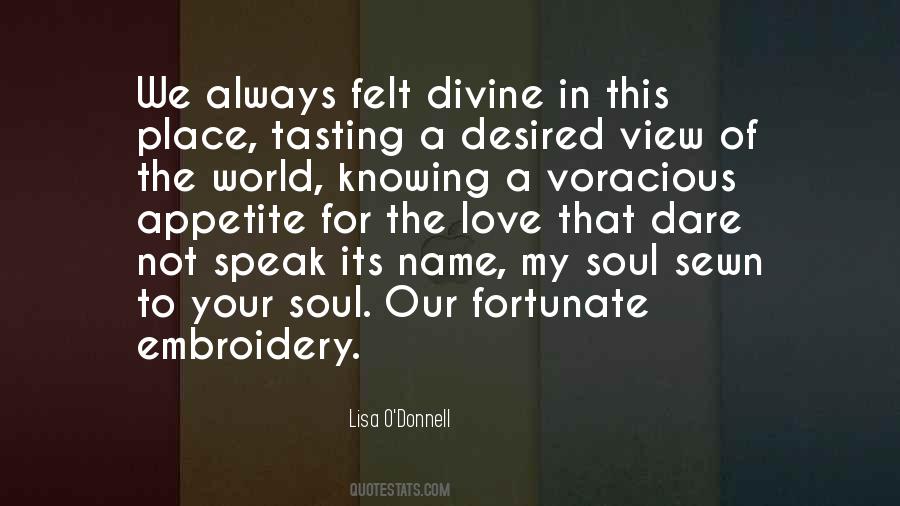 #93. Dear God,
I asked that you clear my mind of any negative thoughts so my heart can run free; so I may look at the world with a clearer understanding of your beautiful creation. Cleanse my heart dear God so I may always look through the wonder light you shine upon us. In Jesus name Amen.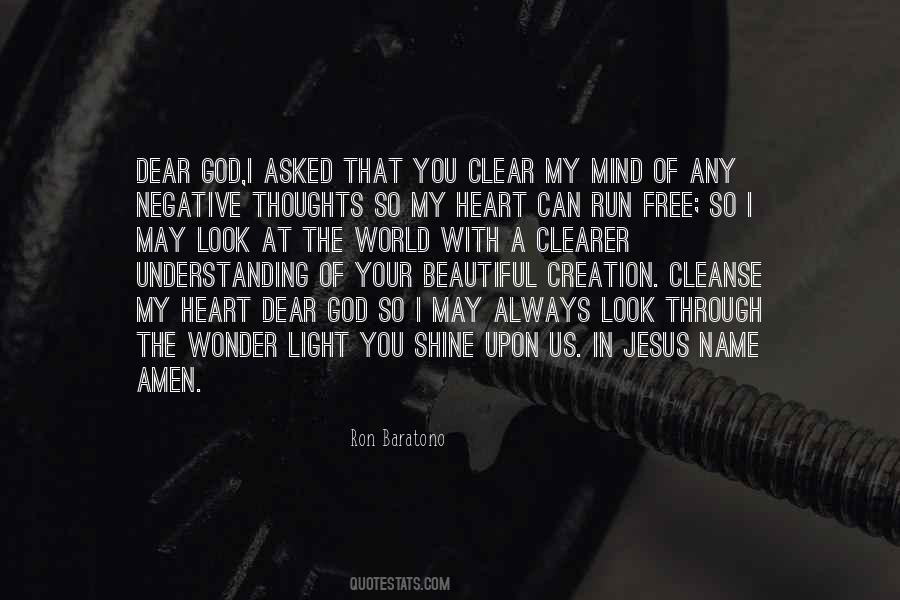 #94. I hold to faith in the divine love - which, so many years ago for a brief moment in a little corner of the earth, walked about as a man bearing the name of Jesus Christ - as the foundation
on which alone my happiness rests.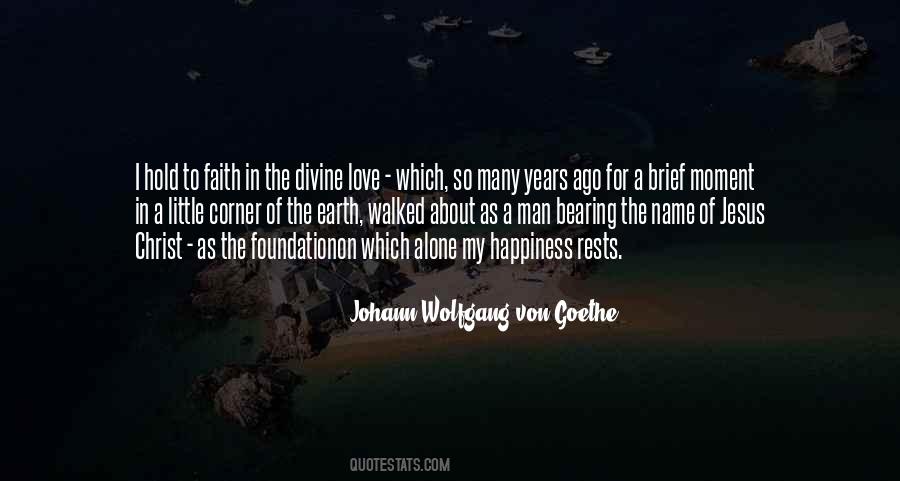 #95. There was a time when she did not remember my name or that we were married, but she still remembered that she loved me.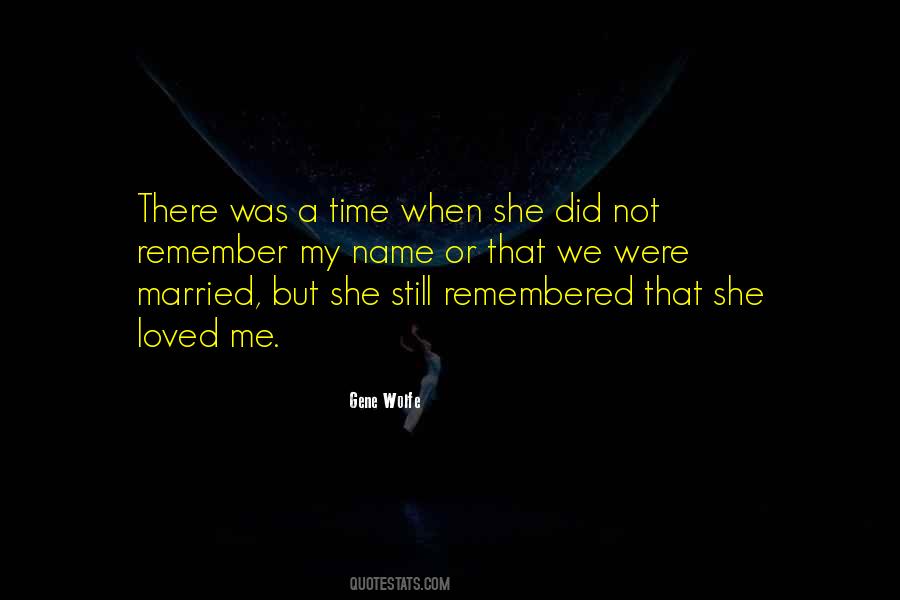 #96. She screams my name, and I know she's coming.
God, I love her voice.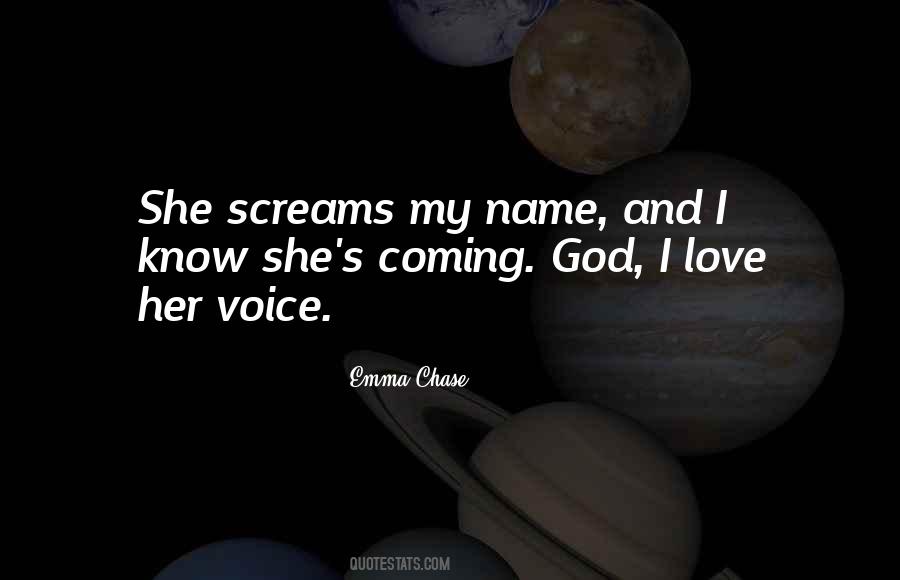 #97. To hear her name I truly yearn,
My heart is crying out;
The sense of love I wish to earn,
Without a second doubt.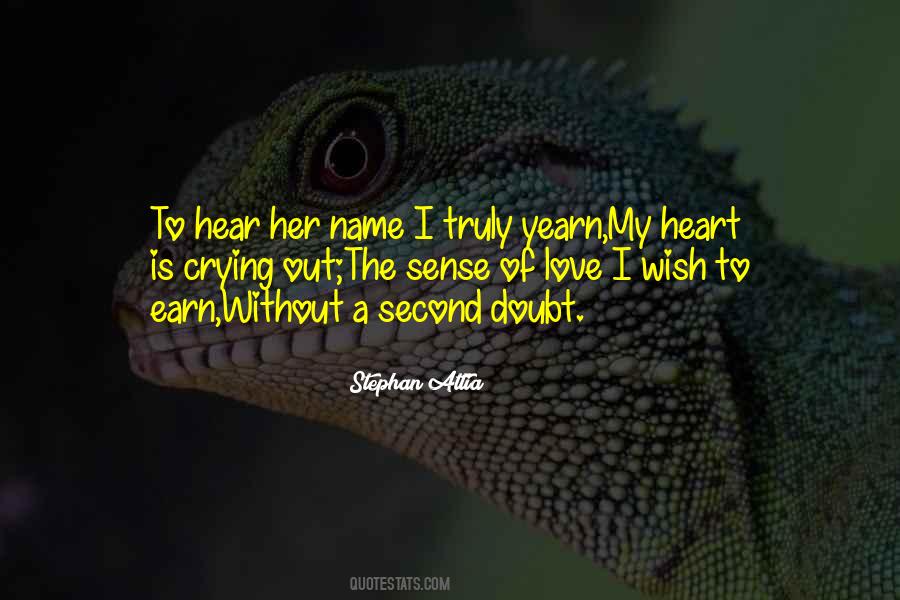 #98. By the way, my name's Rose Hathaway. I'm seventeen years old, training to protect and kill vampires, in love with a completely unsuitable guy, and have a best friend whose weird magic could drive her crazy.
Hey, no one said high school was easy.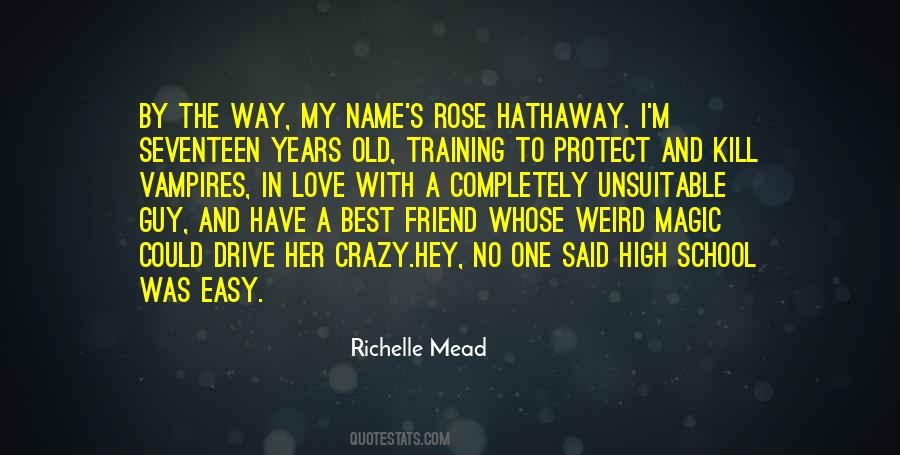 #99. By these things examine thyself. By whose rules am I acting; in whose name; in whose strength; in whose glory? What faith, humility, self-denial, and love of God and to man have there been in all my actions?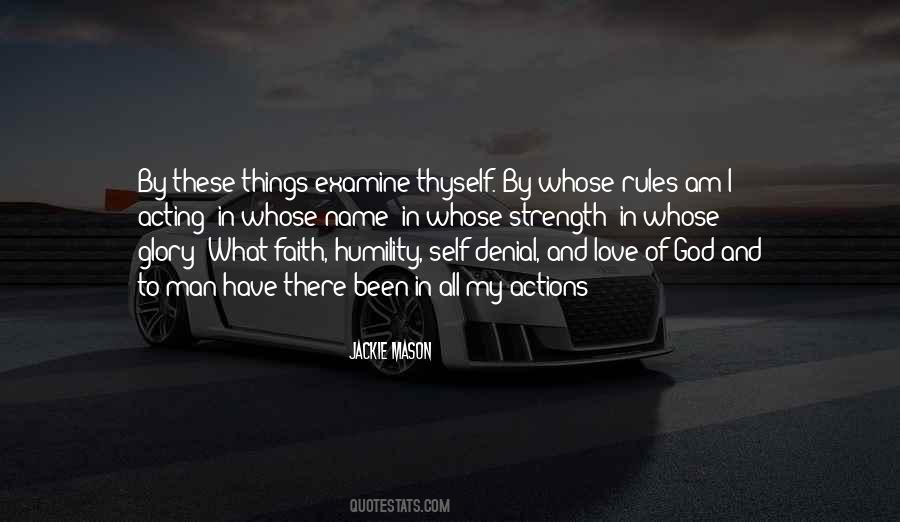 #100. Keep it in mind, every second I
live, is only for you. Every
breath I take has your name on it.
And every moment I spend, is so
that I can be with you forever.
The day you cease to exist in my
life, my life will cease to exist
at all. #LIFE OF LOVE (Film)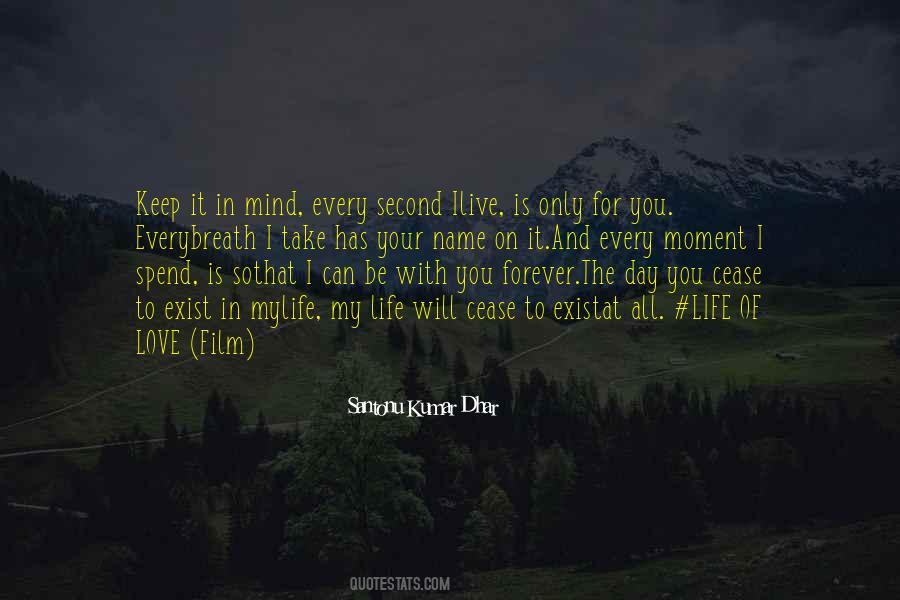 Famous Authors
Popular Topics