List of top 100 famous quotes and sayings about live a little to read and share with friends on your Facebook, Twitter, blogs.
Top 100 Live A Little Quotes
#1. I want to move to the mountains. I want to live in a little cabin next to a towering, tenacious mountain fourteen thousand feet above sea level and eat a bowl of raisin bran every morning in its shadow.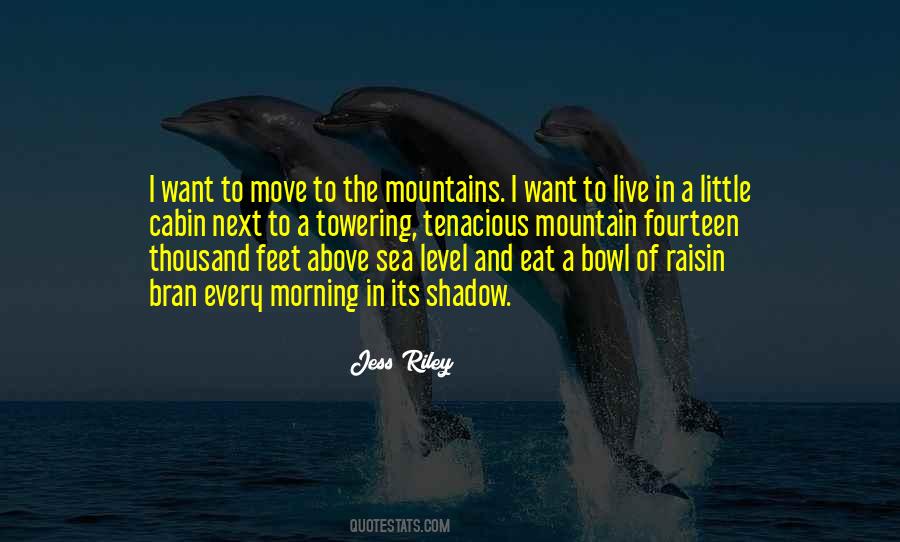 #2. The days of chivalry are not gone, notwithstanding Burke's grand dirge over them; they live still in that far-off worship paid by many a youth and man to the woman of whom he never dreams that he shall touch so much as her little finger or the hem of her robe.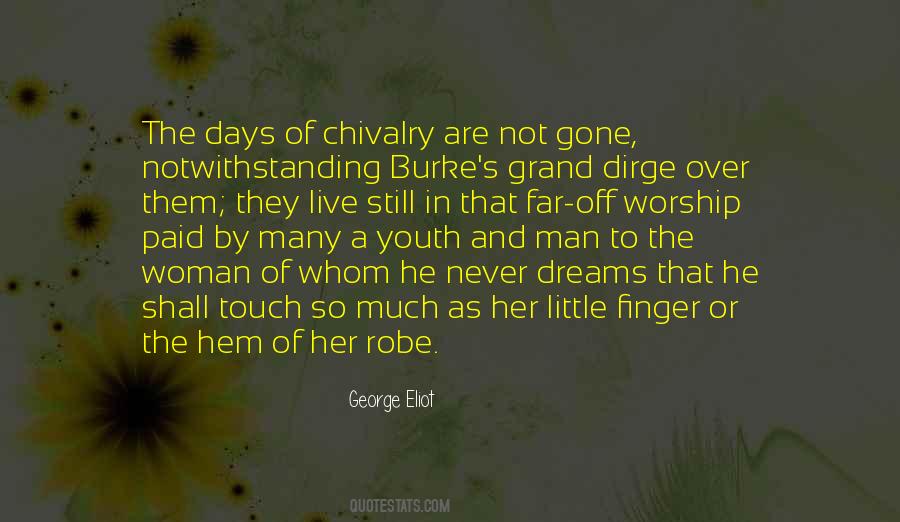 #3. The only time I felt a little too exposed was for a week then I started life-streaming for a couple of hours a day on Qik and Ustream. It became very much like the film 'We Live in Public.'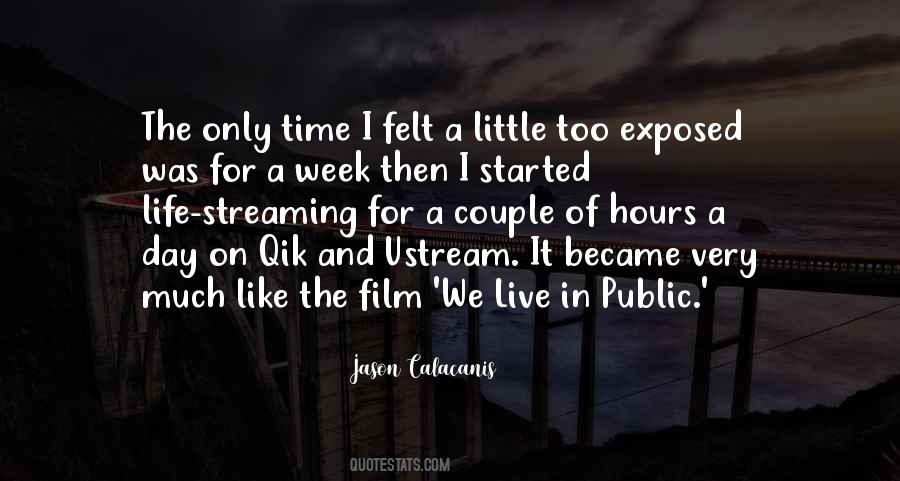 #4. Don't we have to live a little first? And read later?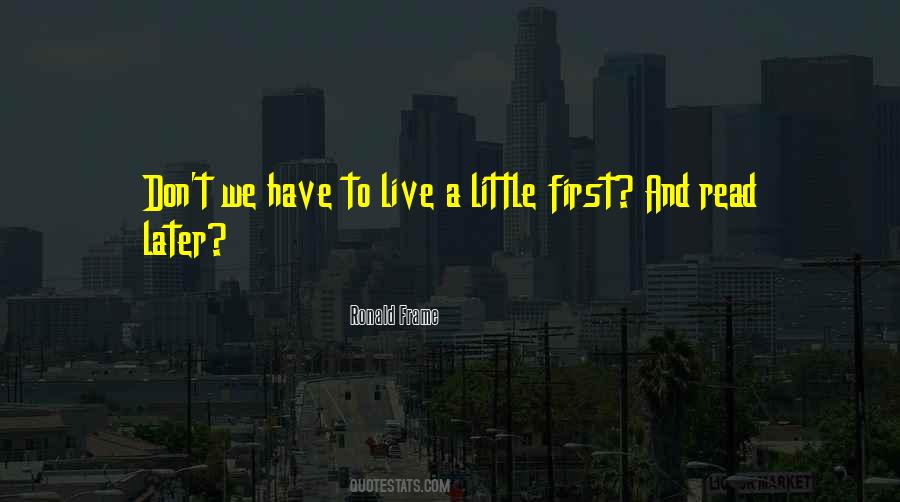 #5. The idea is to become an old wizard; to live a long and fruitful life and have family and be healthy and enjoy the ride. And speaking of the ride, why not let it rip, at least a little bit? Everyone I know who's really stoked about getting out of bed in the morning does that to some extent.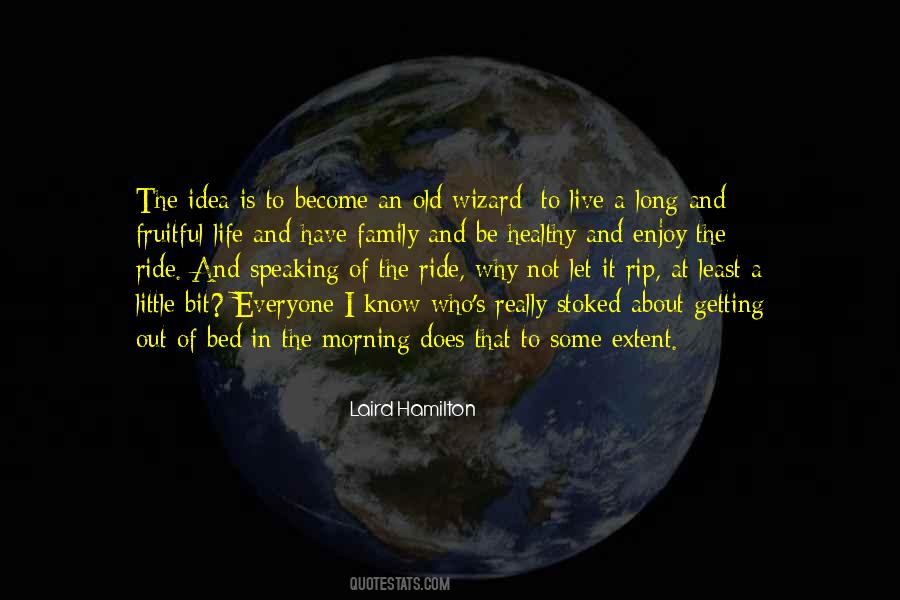 #6. Many enlightened persons are never very well known. Many are reclusive. They live in little villages in India or up in the high Himalayas in Tibet. Some have no students at all. Some have a few.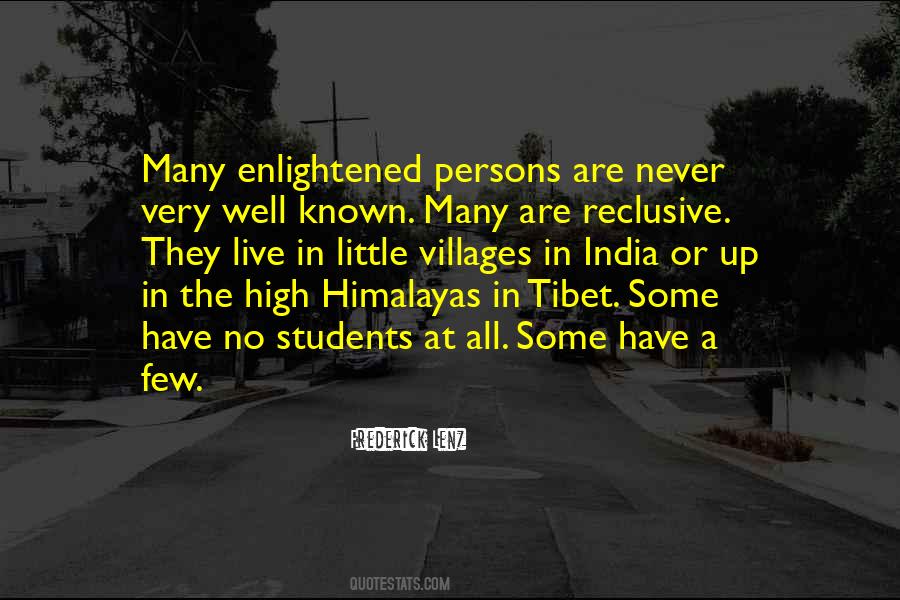 #7. Every little boy wanna pick up the mic,
And try to run with the big boys and live up to the real hype.
But that's like pickin up a ball, playin with Mike,
Swingin at Ken Griffey or challengin' Roy to a fight.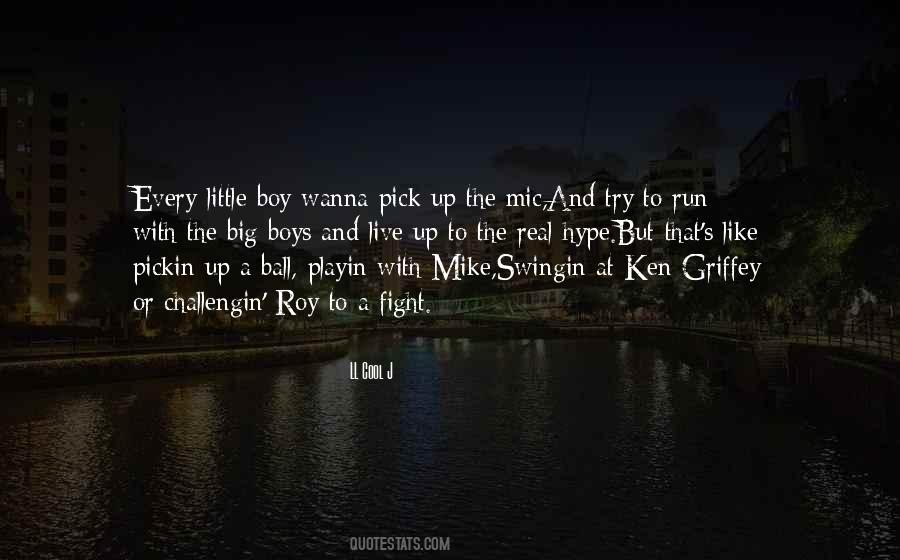 #8. I am deeply spiritual; I revel in those things that make for good - the things that we can do to shed a little light, to help place an oft-dissonant universe back in tune with itself ... Long live art, long live friendship, long live the joy of life!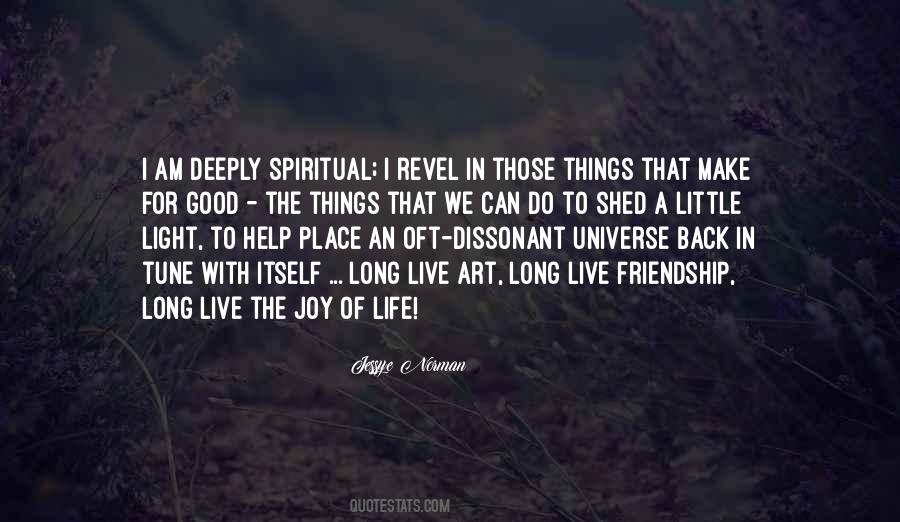 #9. We're still who we are at the roots. I reckon, hopefully, you let it branch out a little bit and you learn. You live and learn, so that's what we've tried to do.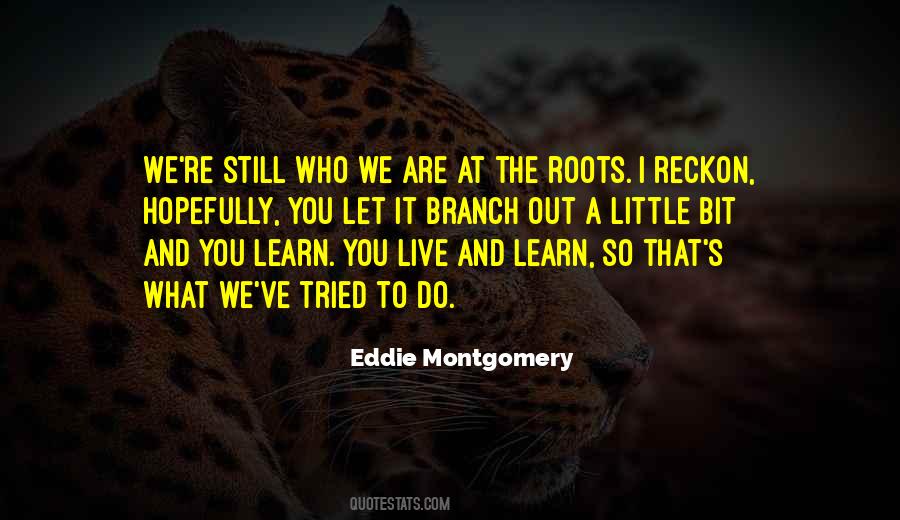 #10. You can't just live in a comfortable little suburban neighborhood and get your education from movies and television and have any perspective on life.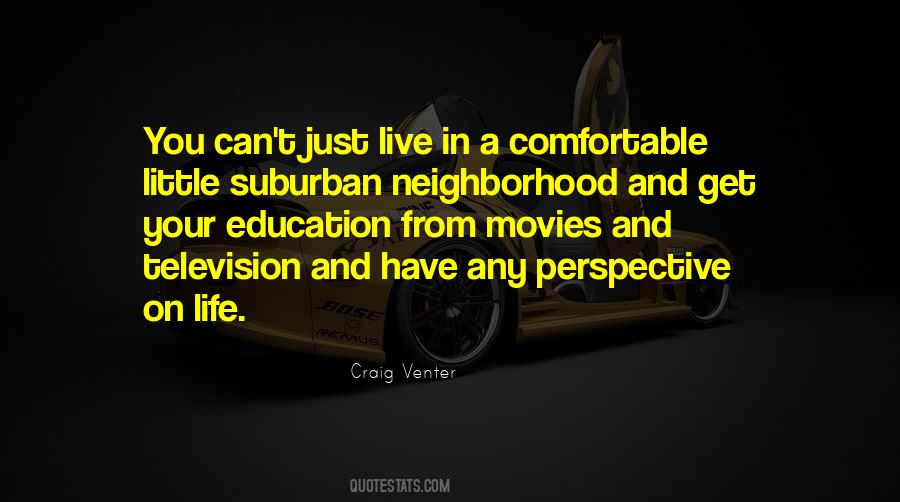 #11. He is always a slave who cannot live on little.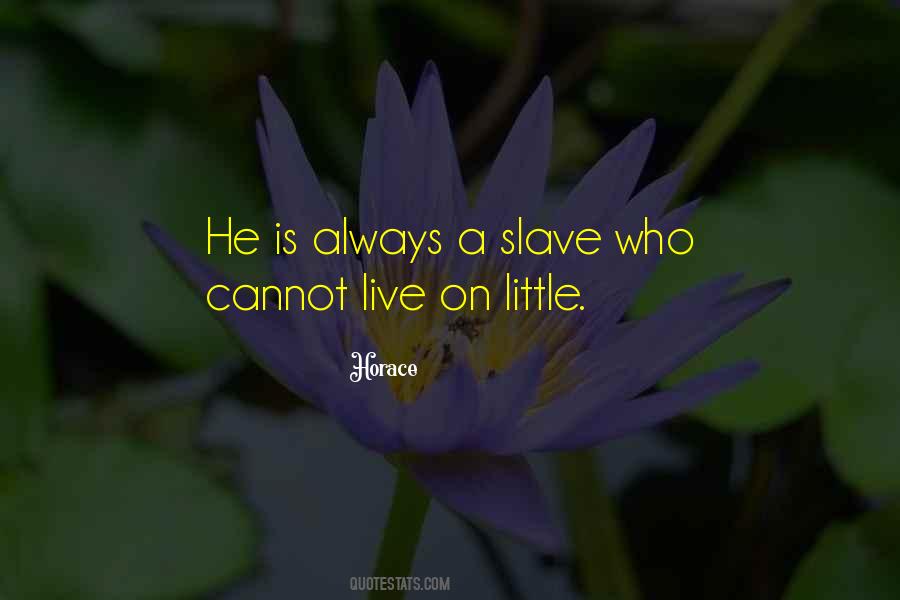 #12. Stories that pander to your every readerly desire and whim are like overly loyal dogs that live for the simple glow of your approval. I'm a cat person. I like a little aloofness in my pets and my writing.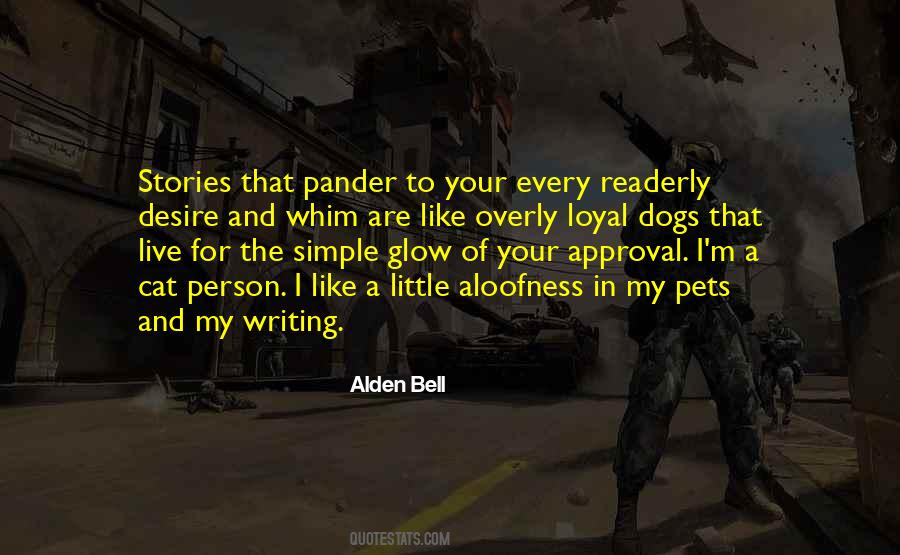 #13. But a lot of writers - and I'm one of them - do tend to feel dissatisfied. It makes you a little hard to live with, but it's a goad and does keep you alert and restless.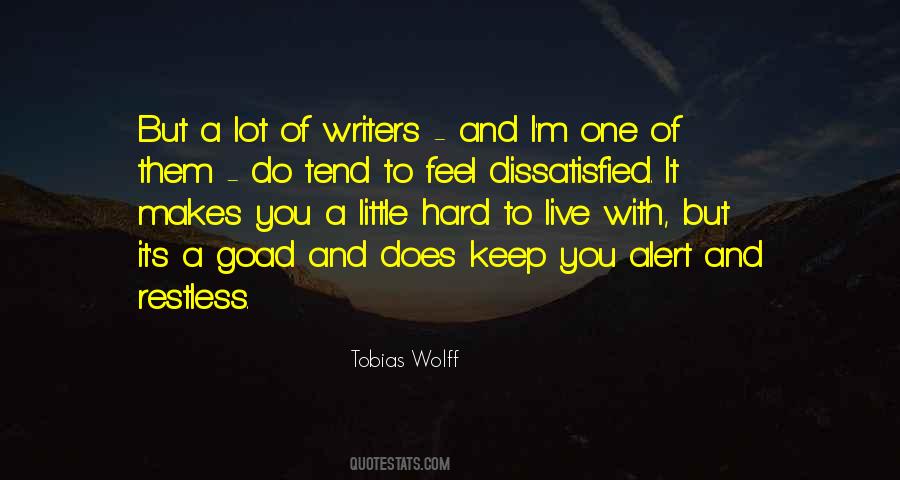 #14. I love Michigan, to be honest. I don't think I'd live nowhere else. It's cheap! This is Detroit. A little bit of nothing gets you a lot of something.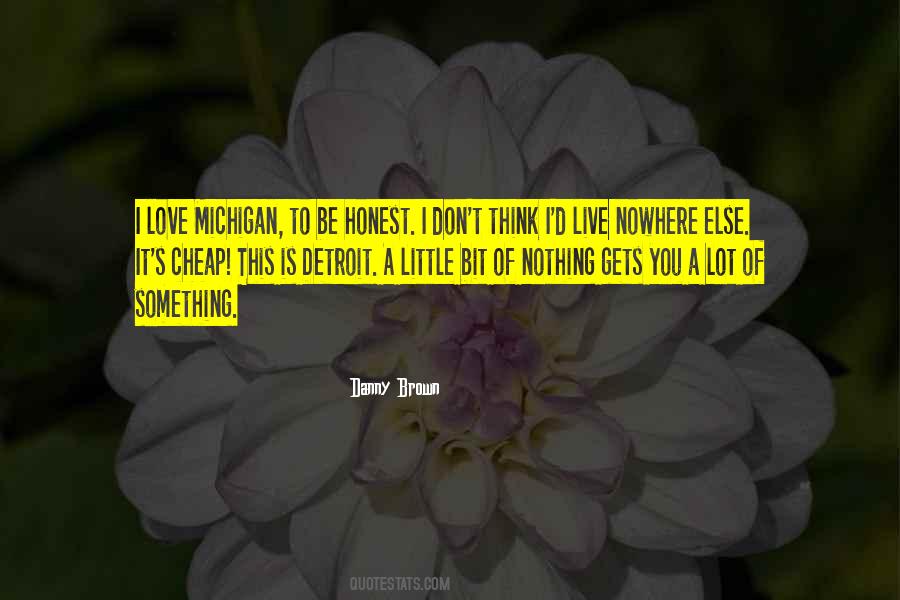 #15.
like the airwaves were taking a little longer to get here, so we could live in yesterday a little longer, even if it felt wrong.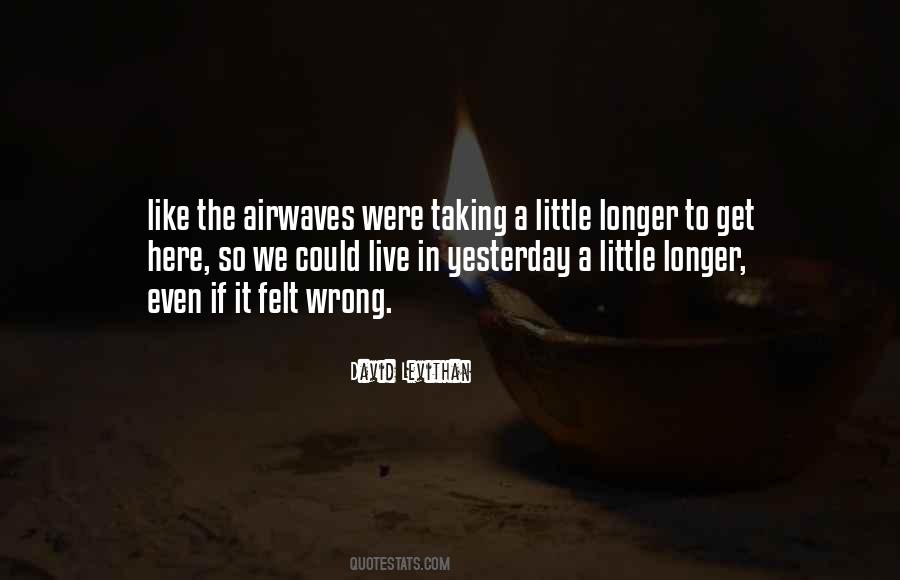 #16. We live increasingly in a system in which little direct attention is paid to the object, the function, the program, the task, the need; but immense attention to the role, the procedure, prestige, and profit.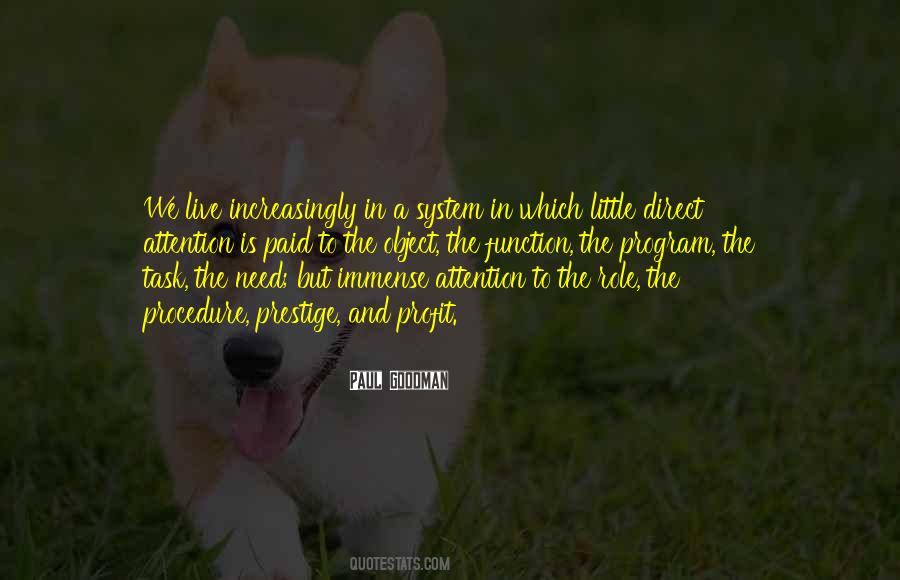 #17. I enjoy doing these silly little videos, and a lot of stuff online is stuff I actually created for my live comedy shows.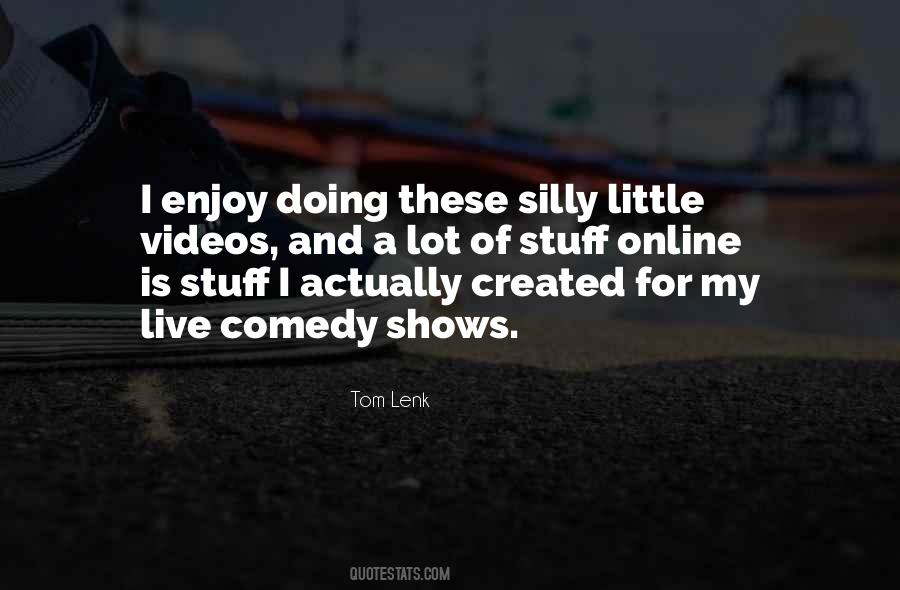 #18. It is a true pleasure to live in a century in which such great events take place, provided that one can take shelter in some little corner and watch the play in comfort. (attributed to N. Poussin)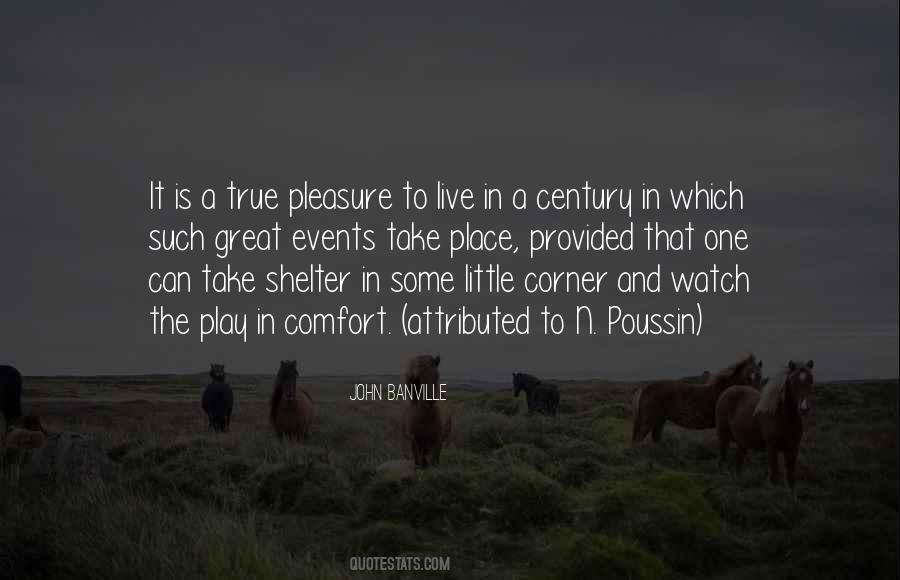 #19. Sometimes life gives you a little punch in the stomach ... You just gotta catch your breath and keep going.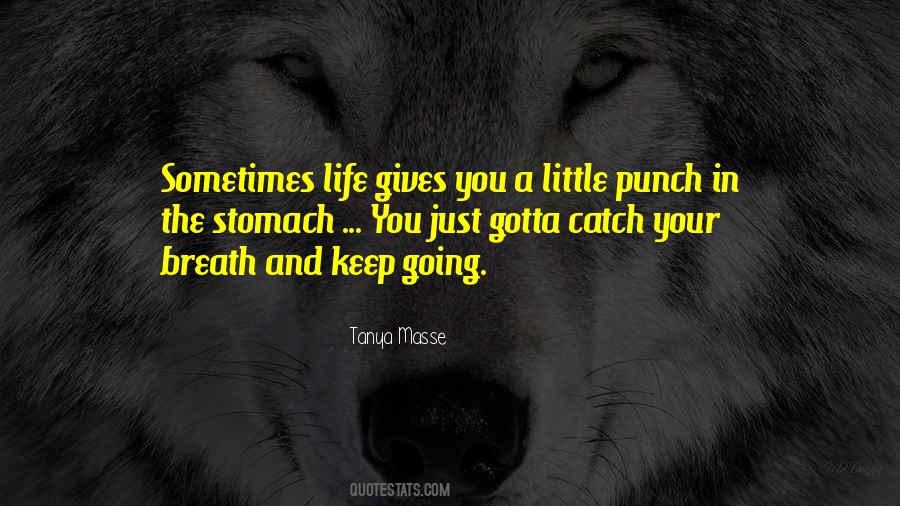 #20. You need to live a little, girl. There's nothing wrong with a little quick love if they're good. I hear he's good.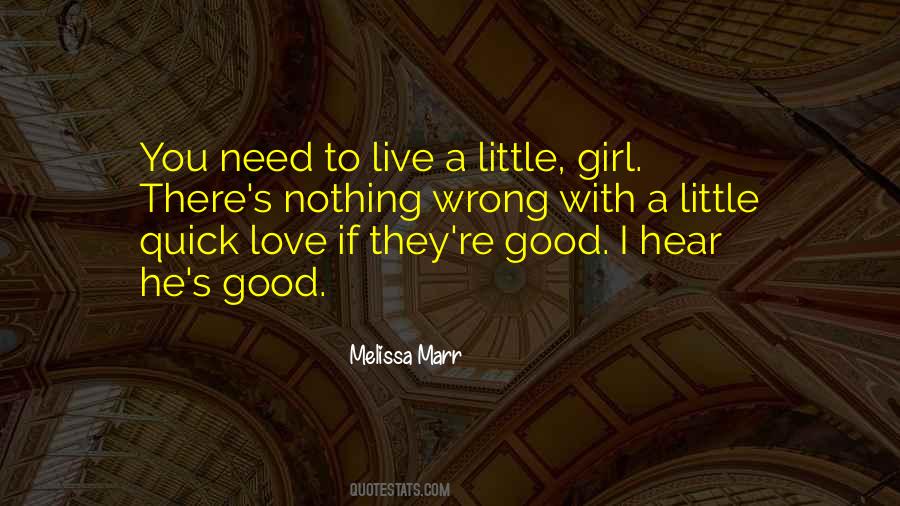 #21. To use a word I never thought I'd apply to myself, I've sort of become a Luddite with regard to information. Where everyone else is getting their Twitter feeds from 'The New York Times' and their 'Huffington Post' emails, I live in a little bit of a bubble.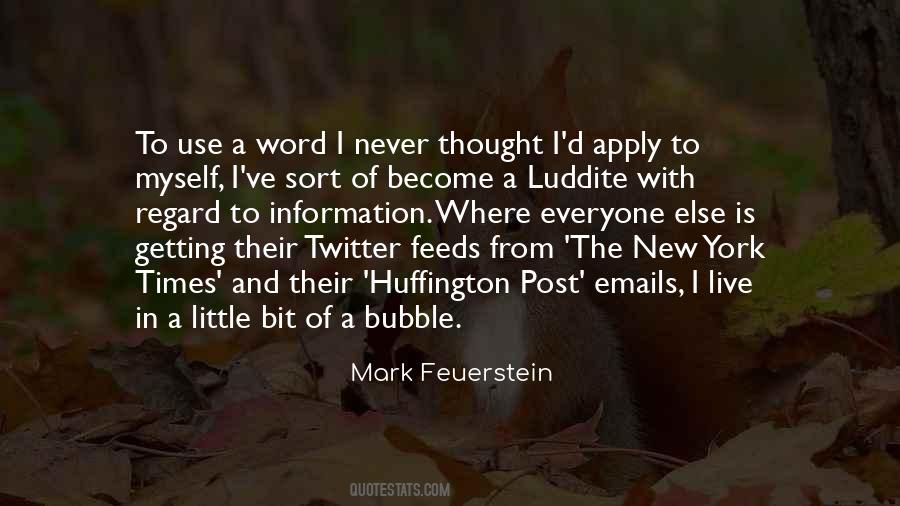 #22. We live in a culture that paces itself to the speed of machines. We are trying like good little robots to match our speed with theirs. Humans cannot move at the same rate as machines. When we attempt to, we lose contact with our own humanness.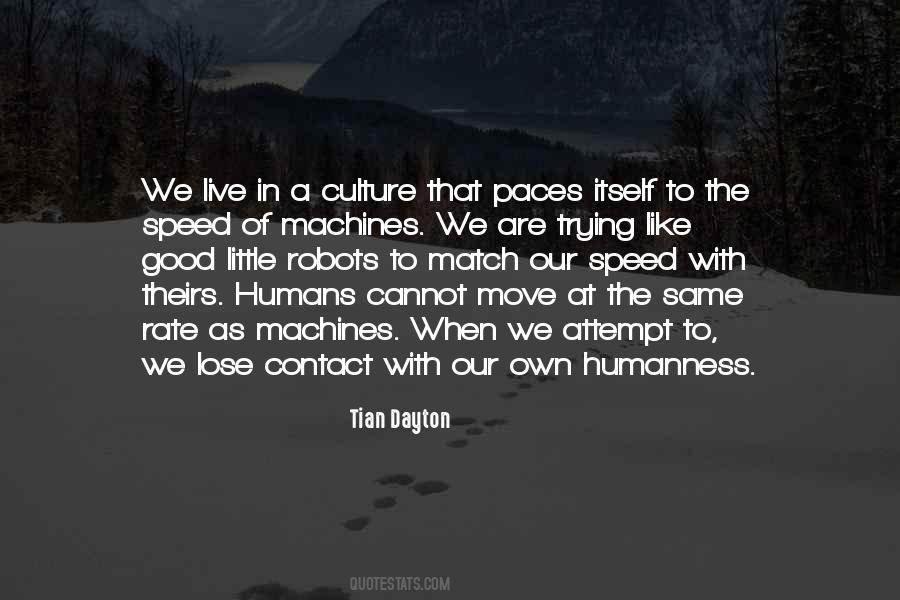 #23. When you live far away, home looks a little different every time.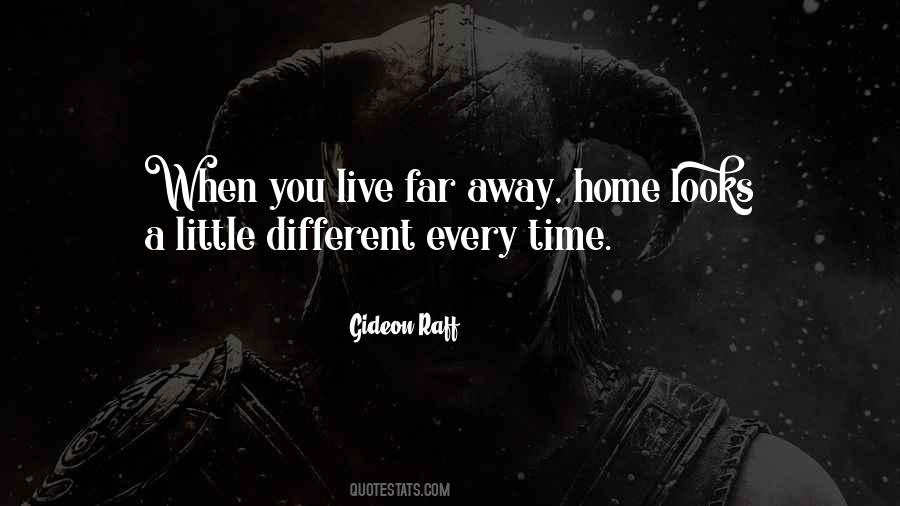 #24. I am scared of spiders! And I still get a little afraid every time I have to do something new or have to get out in front of a big crowd. The first time I sang "Swag It Out" live, I was really scared.
#25. I believe strongly in 'giving while living.' I see little reason to delay giving when so much good can be achieved through supporting worthwhile causes today. Besides, it's a lot more fun to give while you live than to give while you are dead.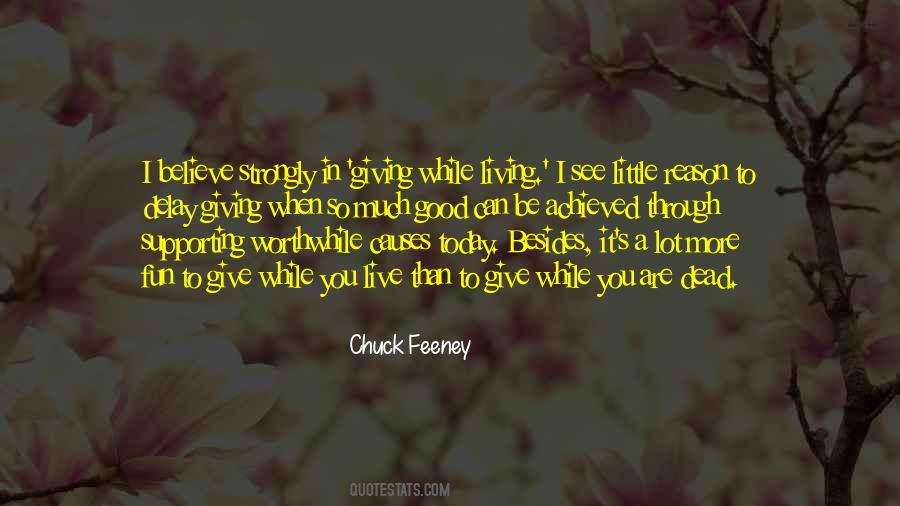 #26. When you live with beautiful things you stimulate your mind, you enjoy life a little bit more.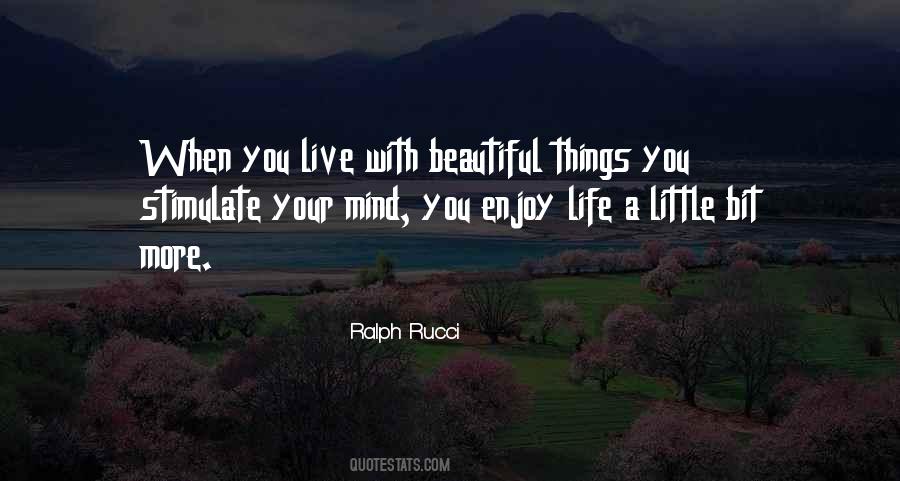 #27. I'd love to do a live album, like a little bit old school but still progressive, influenced maybe by more electronic music. I like everything, but I don't know anything about music. So it comes in to a lot of different ingredients. I love hip hop.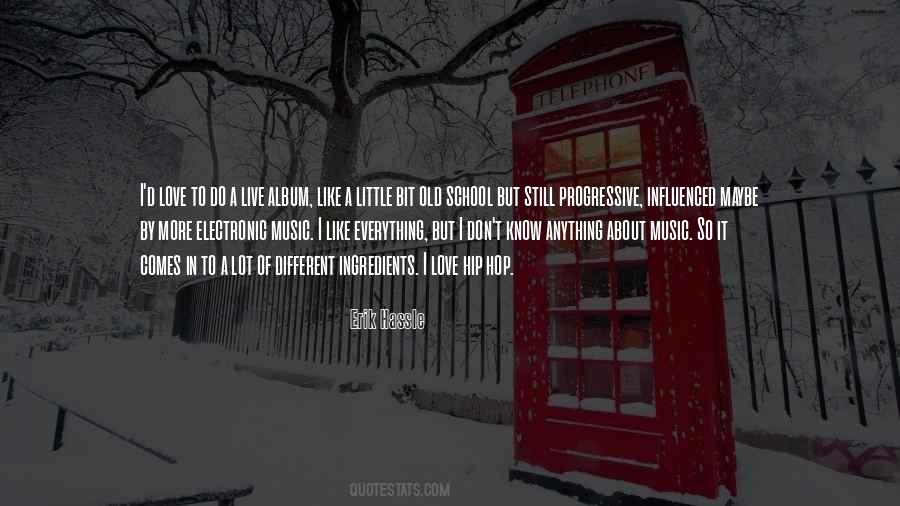 #28. It is on a day like this one,
a little later a little earlier
that you descover without surprise
that something is wrong
that you don't know how to live
and you will never know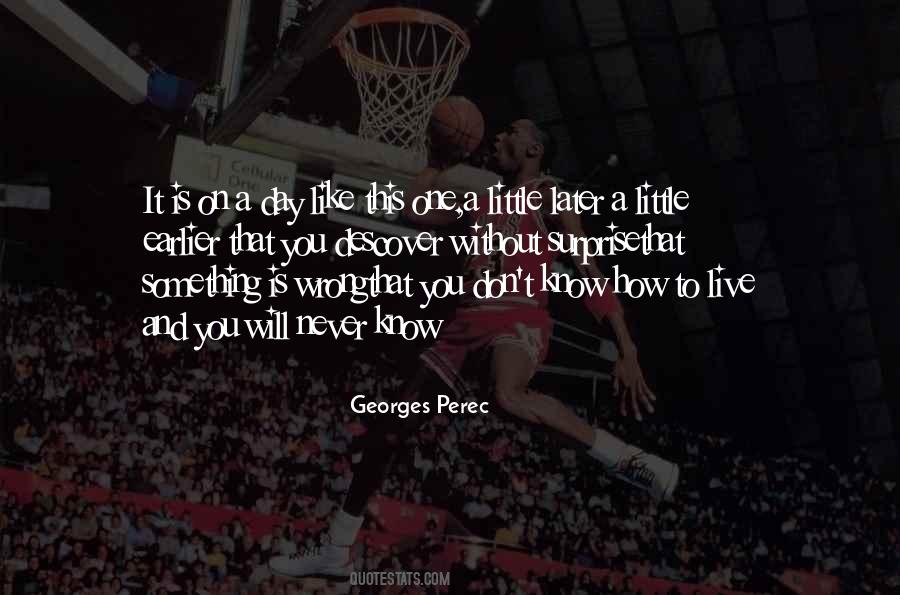 #29. The Marquesa would even have been astonished to learn that her letters were very good, for such authors live always in the noble weather of their own minds and those productions which seem remarkable to us are little better than a day's routine to them.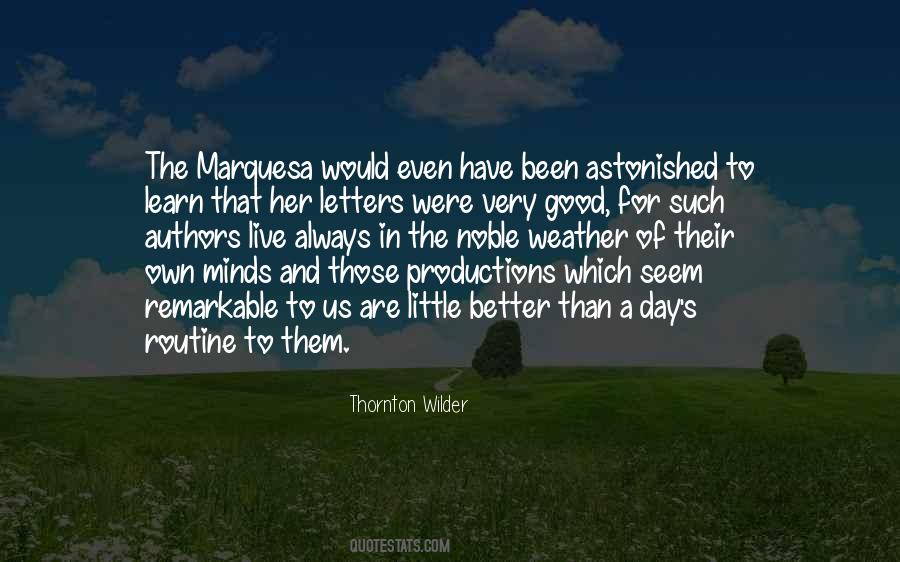 #30. For generations, Americans have expected something new and better in their lives with every passing day - something that will make life a little more fun to live and a little more enlightening to behold. Exploration accomplishes this naturally. All we need to do is wake up to this fact.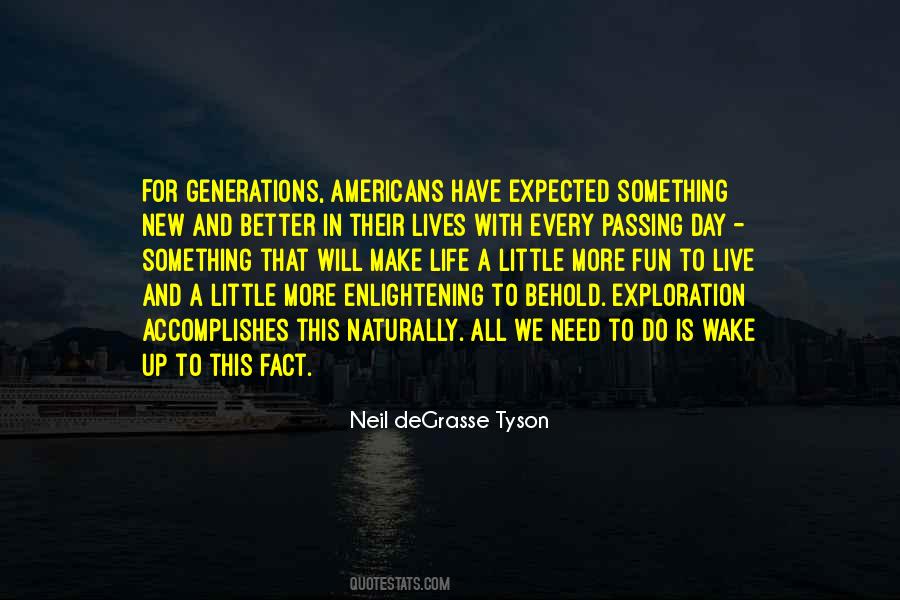 #31. Men want a battle to fight, an adventure to live, and a beauty to rescue. That is what is written in their hearts. That is what little boys play at. That is what men's movies are about. You just see it. It is undeniable.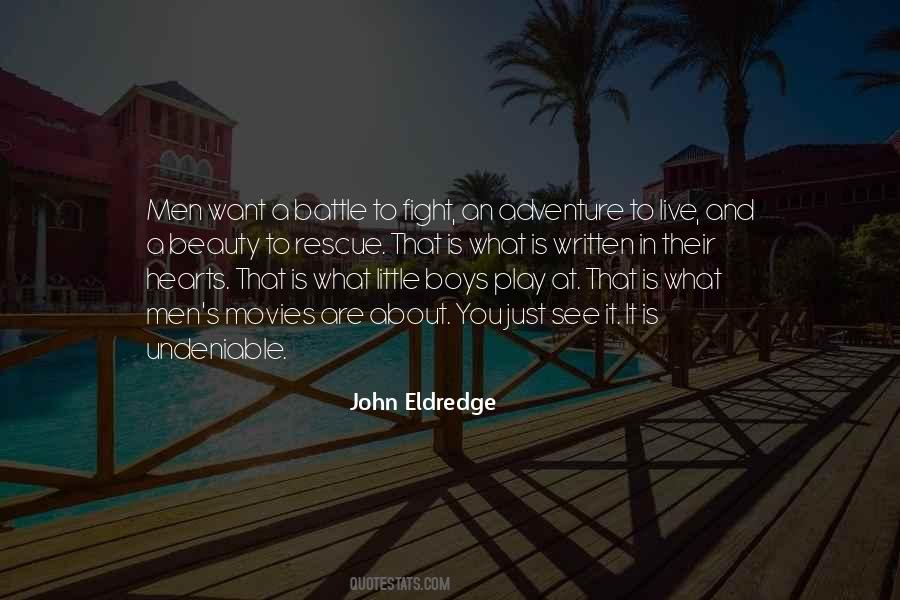 #32. We live in a world where we give our pounds to those who have too much and our pennies to those who have too little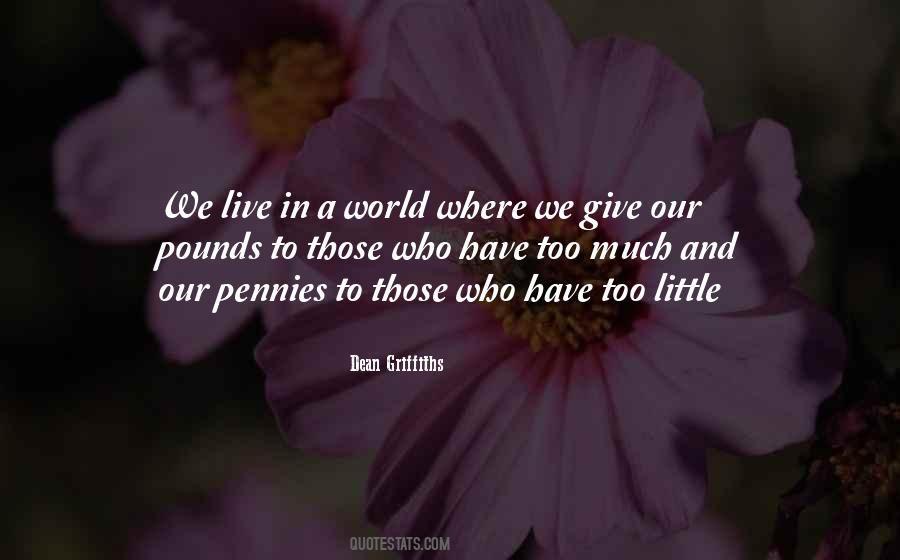 #33. You dress like that all the time. Like a man."My eyes widened. "I don't dress like a man," I said. "I dress practically. Because I live on a farm. And do icky, farmy things all the time."
Lorenz grinned, which was breathtaking. "A cute little man.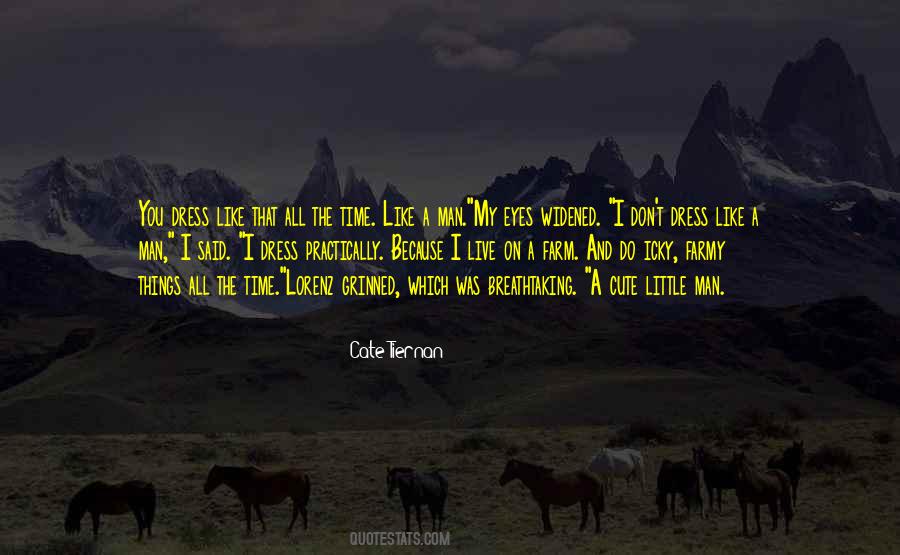 #34. Life is so transient and ephemeral; we will not be here after a breath. So think better, think deeply, think with kindness, and write it with love so that it may live a little longer.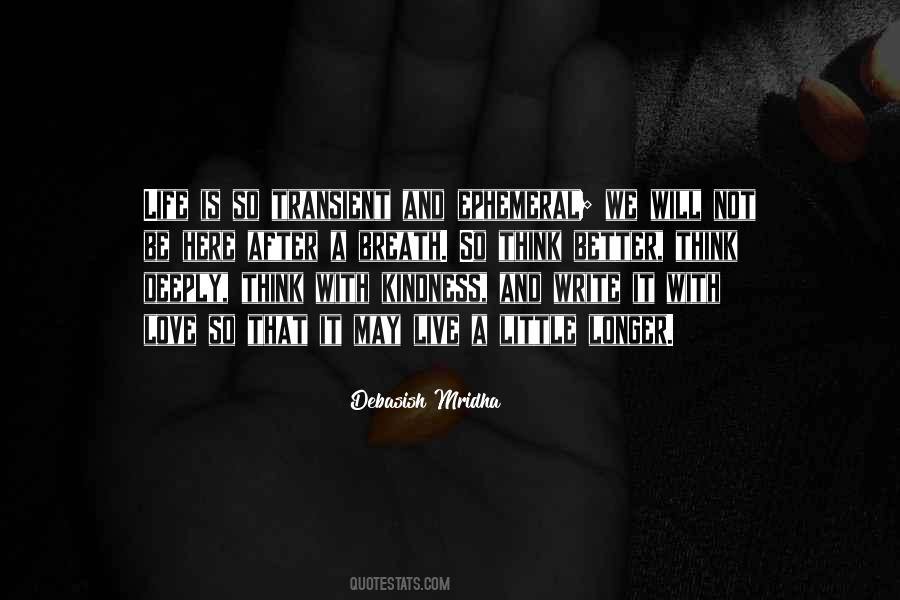 #35. She sits up. I can't read her expression, but her cheeks look a little pink. "I didn't think you were going to be here."
"I live here.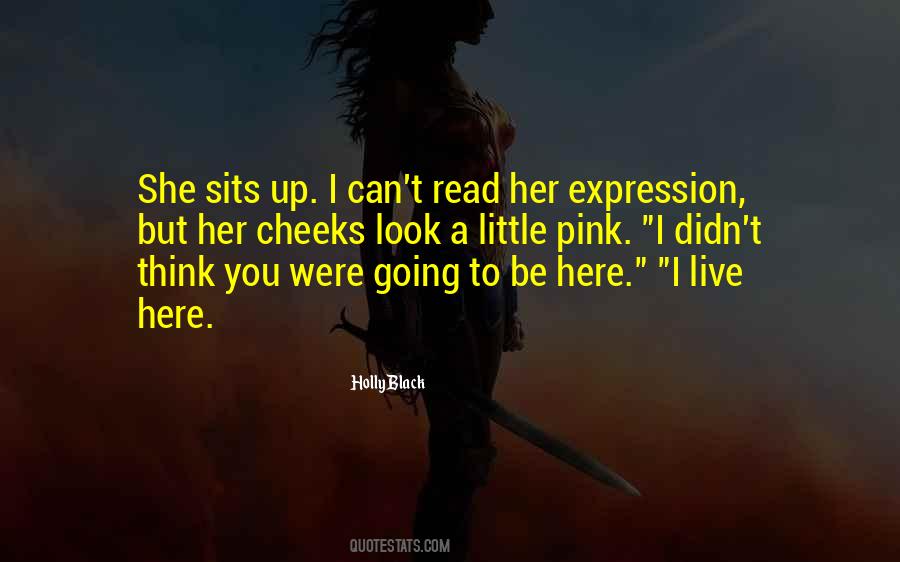 #36. You never made me weak," he said, giving her a little shake. "You make me strong." His big hands smoothed up her arms. "Just knowing you're in this world makes me want to live in it, makes me want to fight.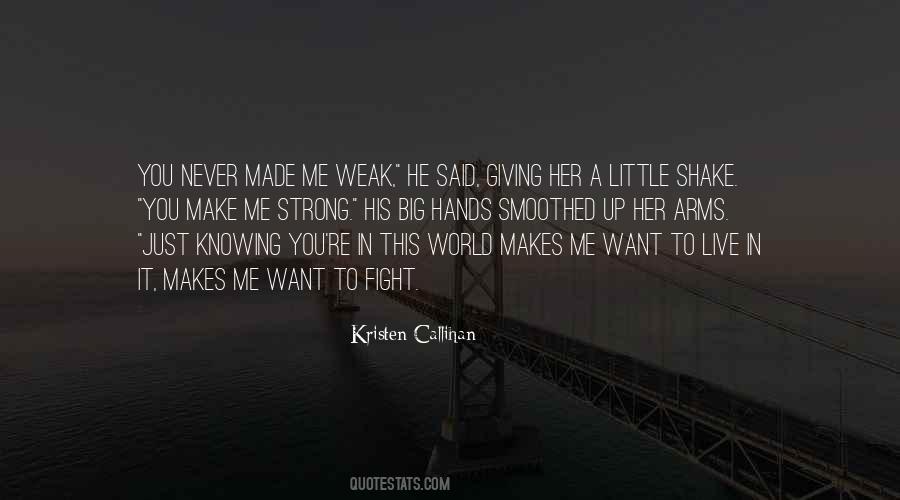 #37. Today we live in a world that judges its achievements by speed and busyness. ... We are so busy making things happen that we have little time left to think about the value of what is happening. We urgently need people who concentrate on the meaning of life rather than simply the speed.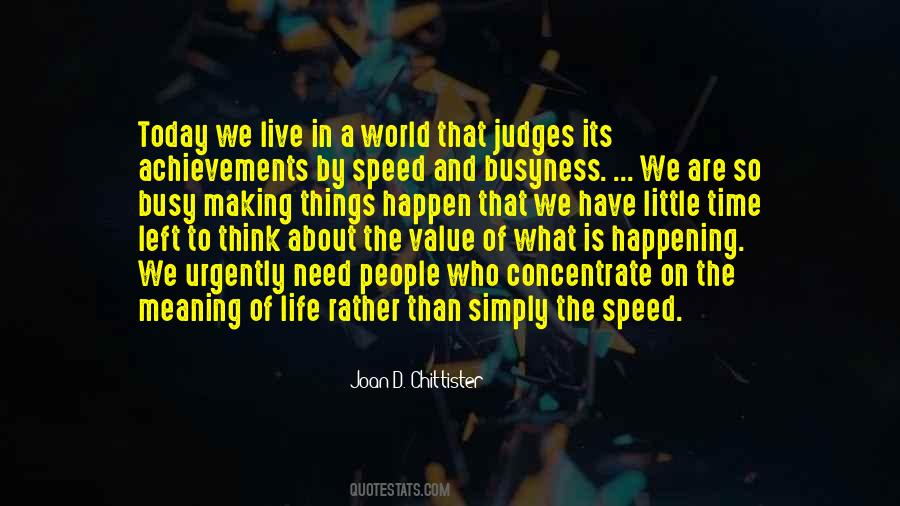 #38. We all have things inside ourselves we can't kill,' I say, not sure which part of me would be better off dead: this monster self, or the normal one who wants nothing more than a little place on a little planet with his friends, the one who will have to live with being a killer.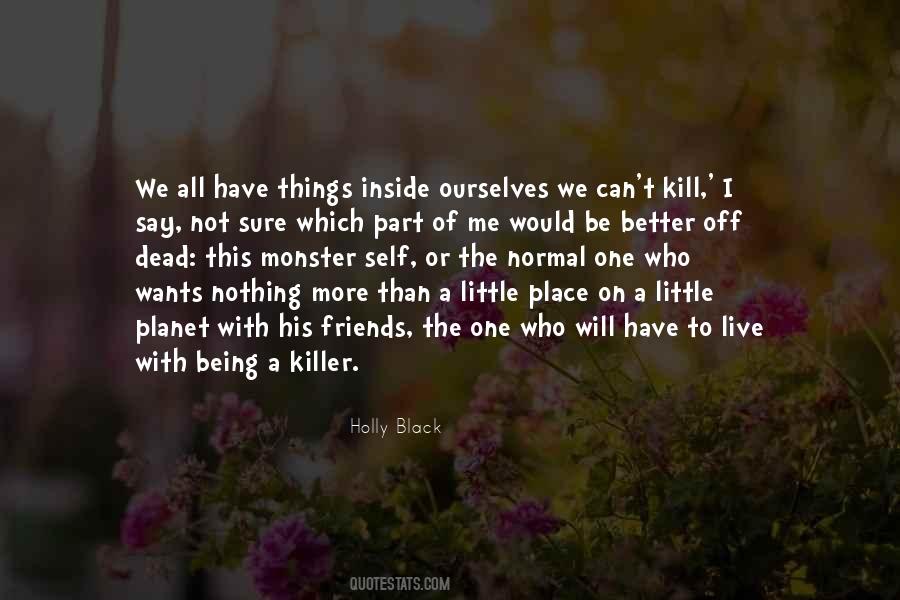 #39. Work and live to serve others, to leave the world a little better than you found it and garner for yourself as much peace of mind as you can. This is happiness.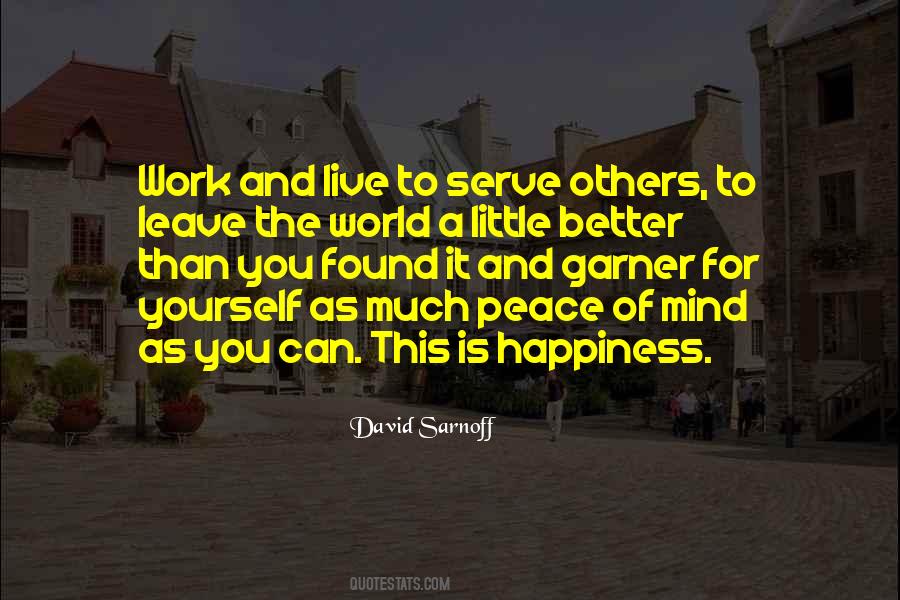 #40. I live on a farm in Dorset. The nearest neighbour is a quarter of a mile away. It's really quiet, with an amazing view - can't see a pylon, can't see a road. Blockbuster's an event in our house, when the little blue envelope comes in.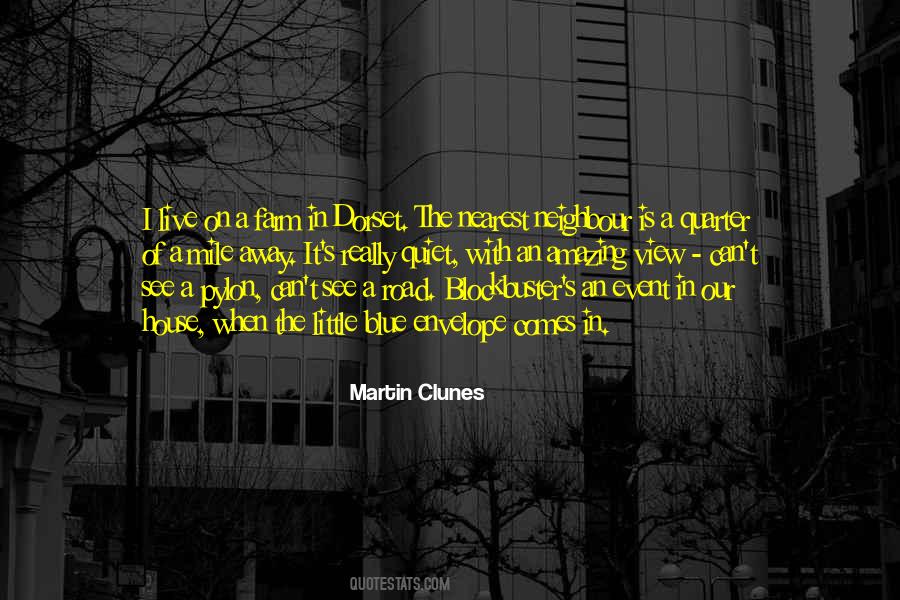 #41. Everything is on such a clear financial basis in France. It is the simplest country to live in. No one makes things complicated by becoming your friend for any obscure reason. If you want people to like you you have only to spend a little money.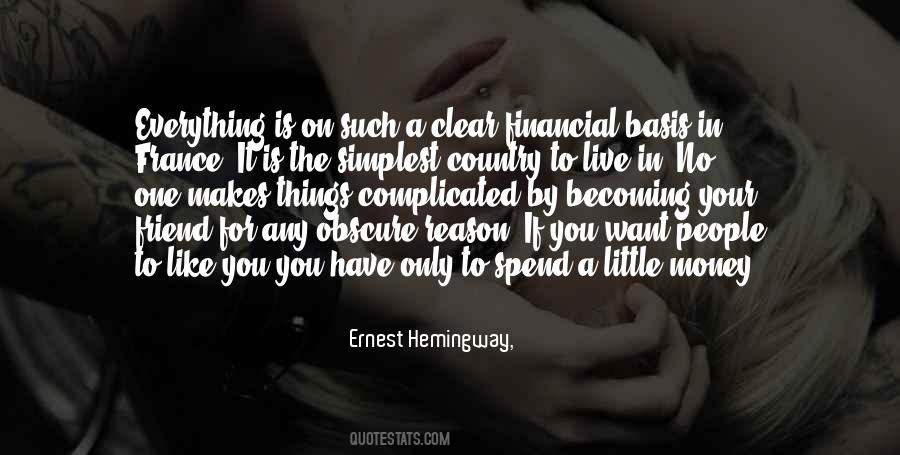 #42. Once upon a time there were three little sisters,' the Dormouse began in a great hurry; 'and their names were Elsie, Lacie, and Tillie; and they lived at the bottom of a well
' 'What did they live on?' said Alice, who always took a great interest in questions of eating and drinking.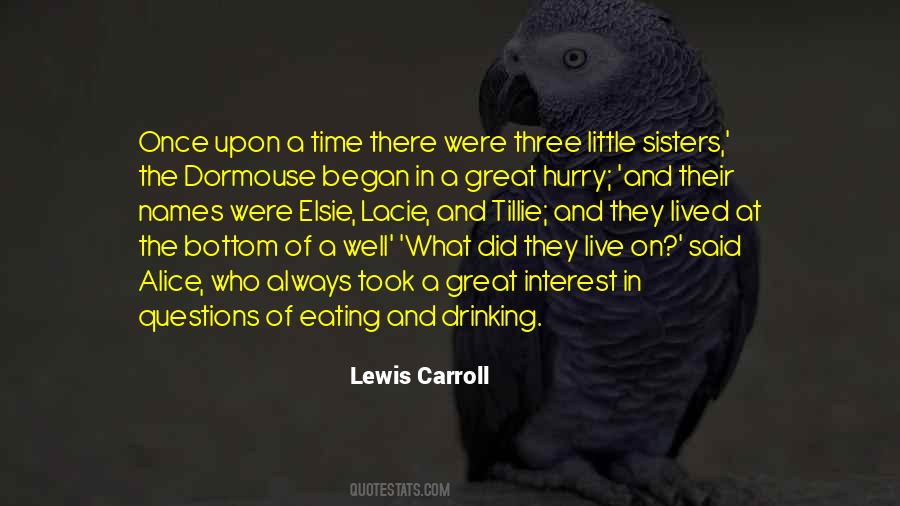 #43. In the world in which we live, it is almost a necessity to be able to regain one's strength of body and spirit, especially for those who live in the city, where the conditions of life, often feverish, leave little room for silence, reflection and relaxed contact with nature.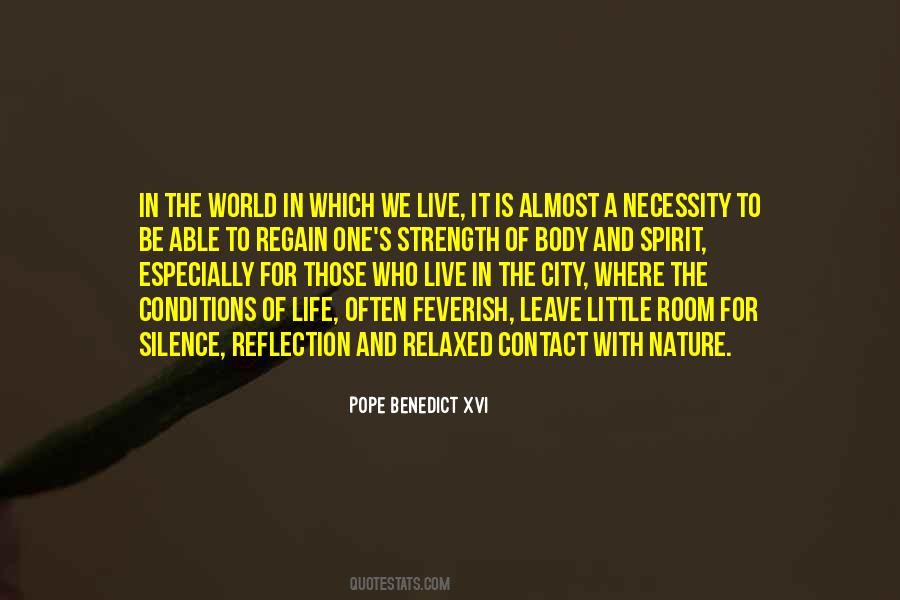 #44. One can imagine a world without essays. It would be a little poorer, of course, like a world without chess, but one could live in it.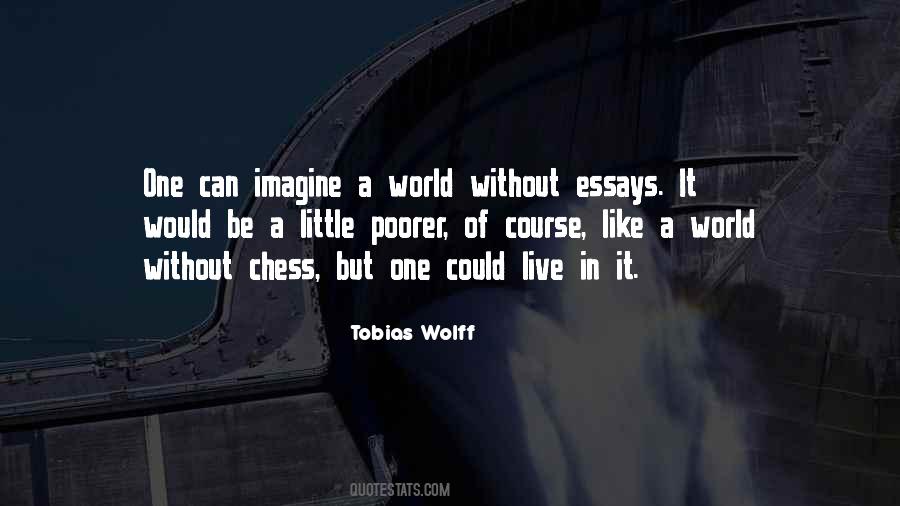 #45. People who have had little self-reflection live life in a huge reality blind-spot.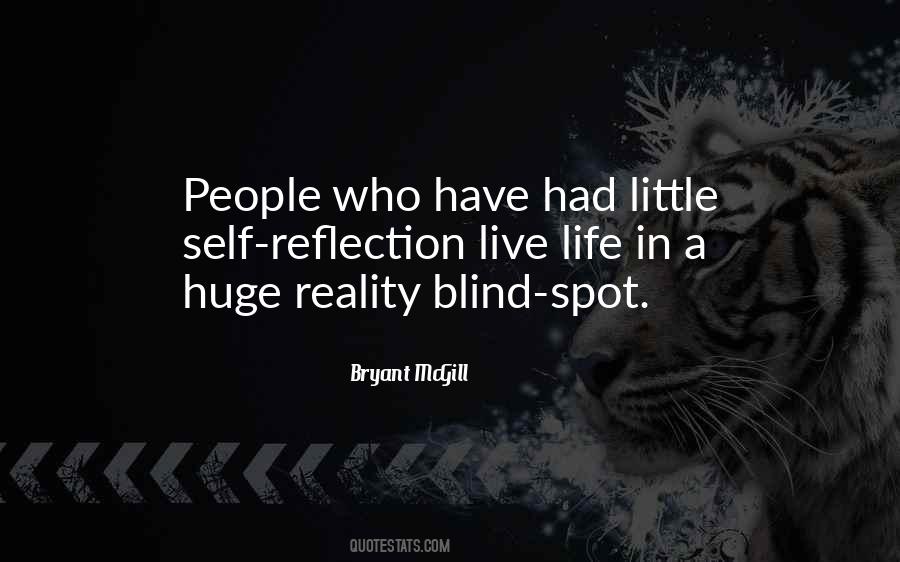 #46. Live by this credo: have a little laugh at life and look around you for happiness instead of sadness. Laughter has always brought me out of unhappy situations.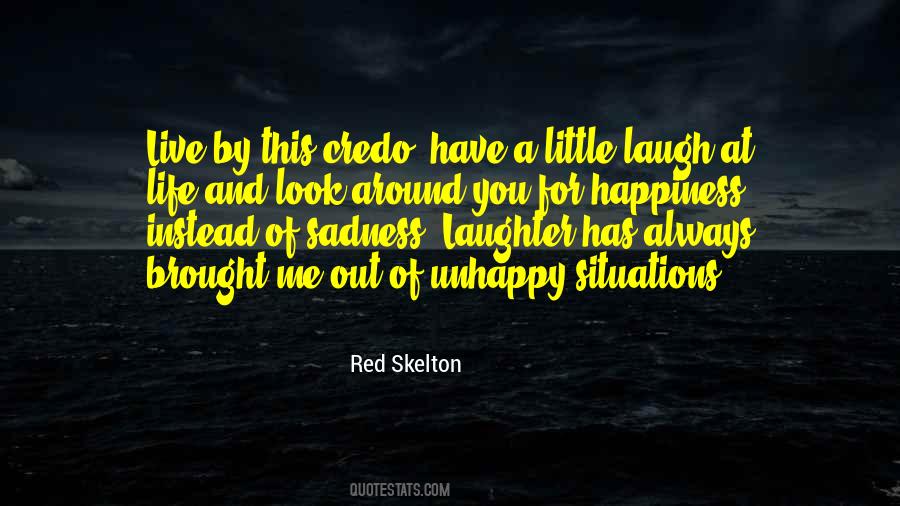 #47. When we are afraid of ourselves and afraid of the seeming threat the world presents, then we become extremely selfish. We want to build our own little nests, our own cocoons, so that we can live by ourselves in a secure way.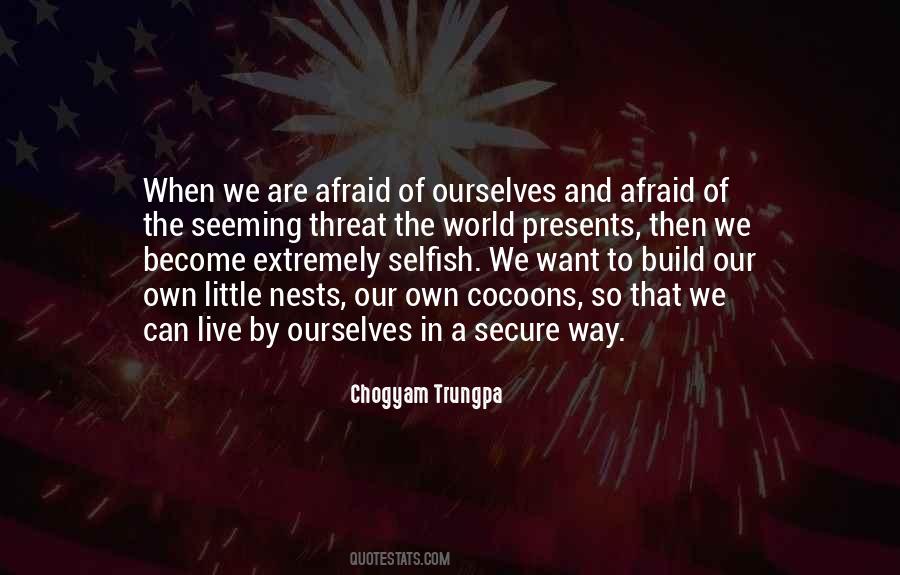 #48. I've fallen in love with Brooklyn. I'm going to buy a little house in Brooklyn and live there. I'll go to the coast only when I have to make a picture.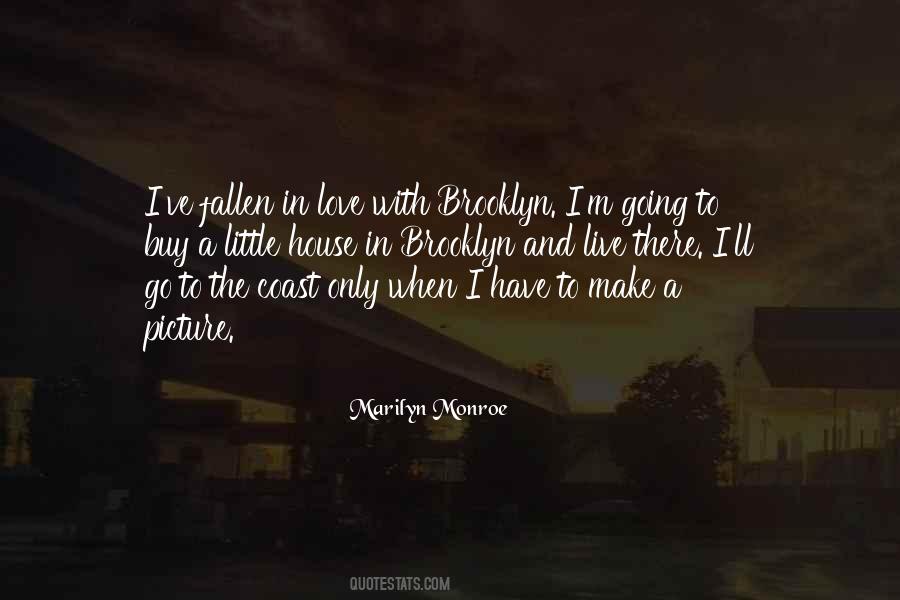 #49. And she didn't once say anything about this being a sin. It used to be I got the word sin slapped in my face every time I did something wrong, but come on, when you live in a sin-free family with sin-free parents and a sin-free sister, well, you can't help but sin a little extra on their behalf.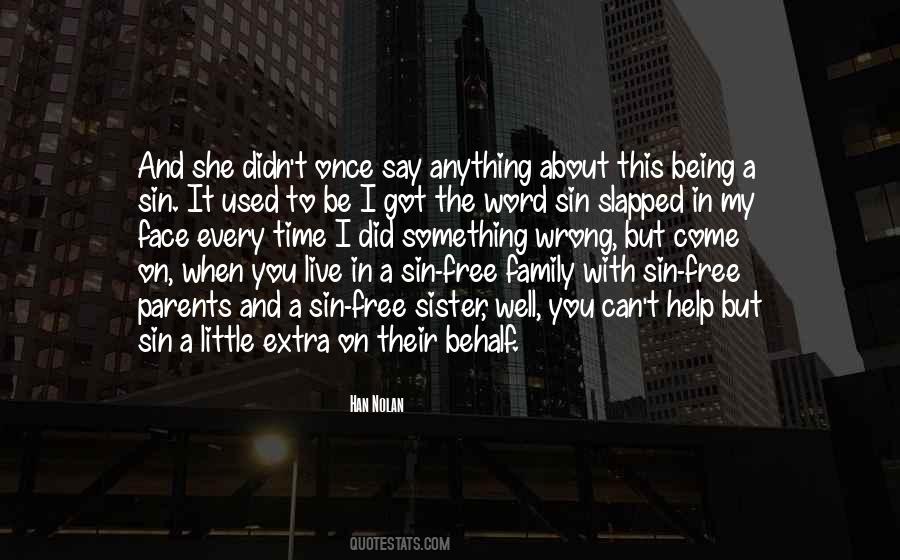 #50. My mom decorated with lots of antiques. I never liked it when I was a little girl - I wanted to live in a modern house. But now I love it.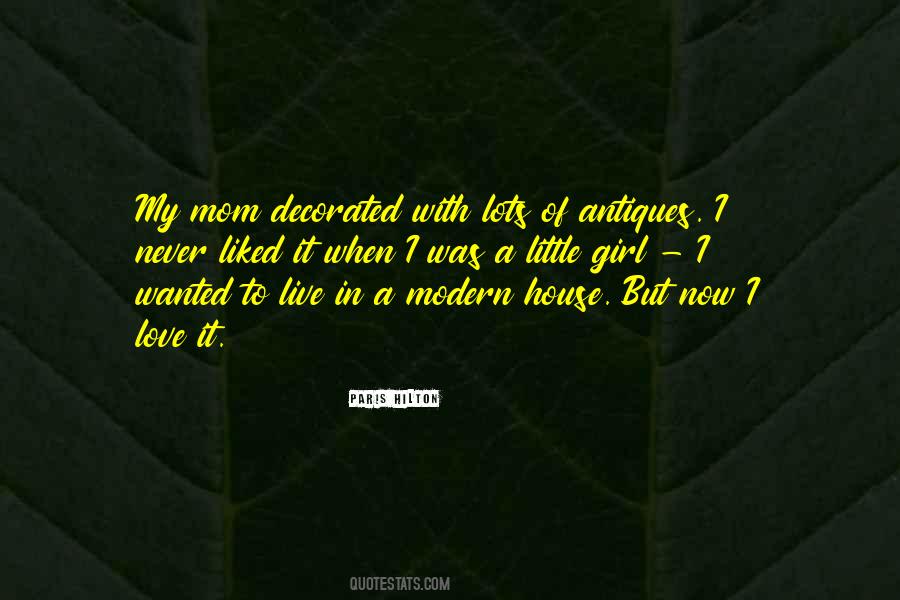 #51. I think TV has been a little bit irresponsible in how they portray these people because homicide detectives are not brooding, tortured souls who are stained with the stink of the city and who have blood on their hands. They are real, live people that are incredibly entertaining.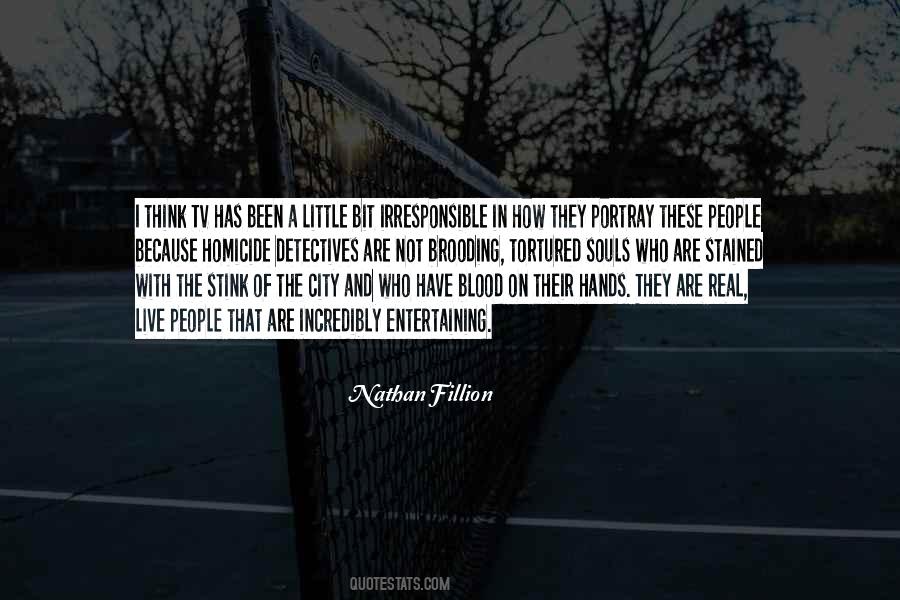 #52. But because many endeavor to get knowledge rather than to live well, they are often deceived and reap little or no benefit from their labor.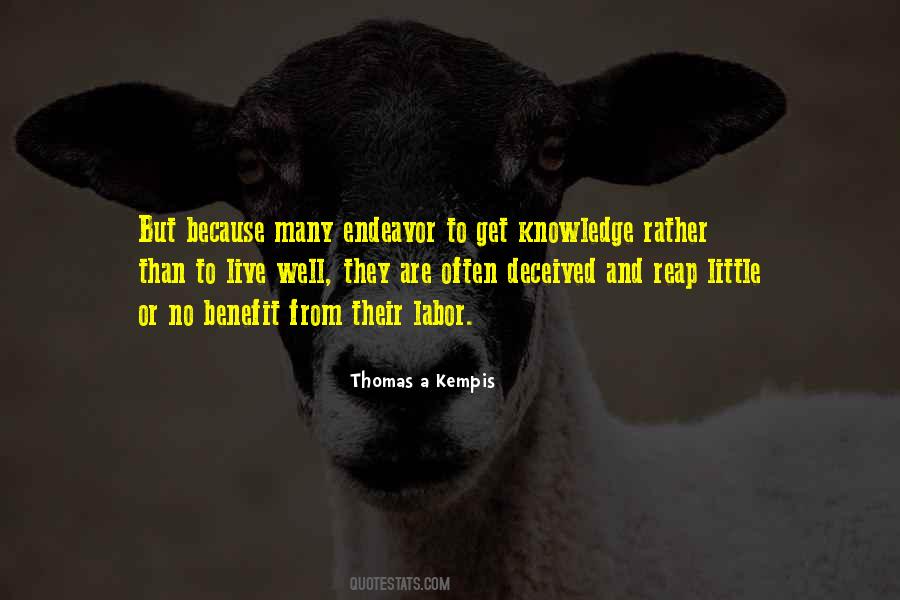 #53. You like rock?
Little boy, I'm not your friend. I'm not your Dark-Hunter and I'm not your friggin' date. You only speak to me when I ask you a question. Otherwise you keep your mouth shut, your eyes off me, and you might live long enough to get me to the French Quarter. (Zarek)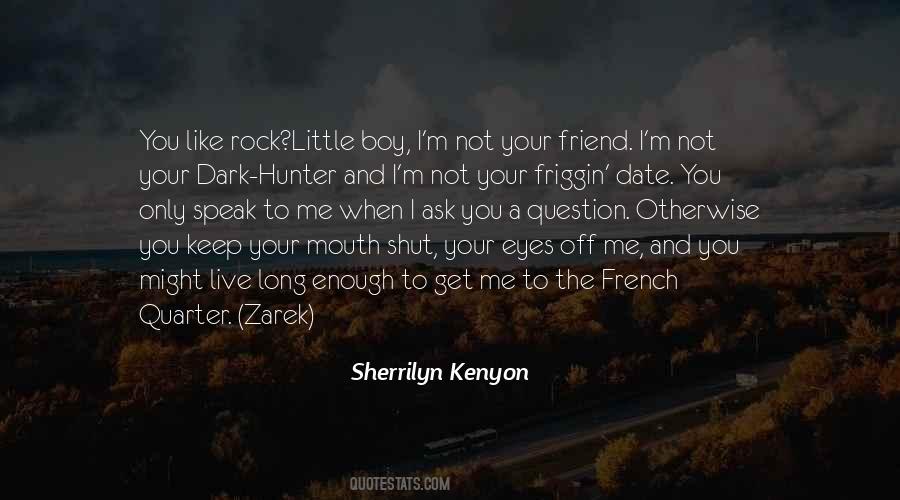 #54. It is time for me to be dead for a little while - and then live again.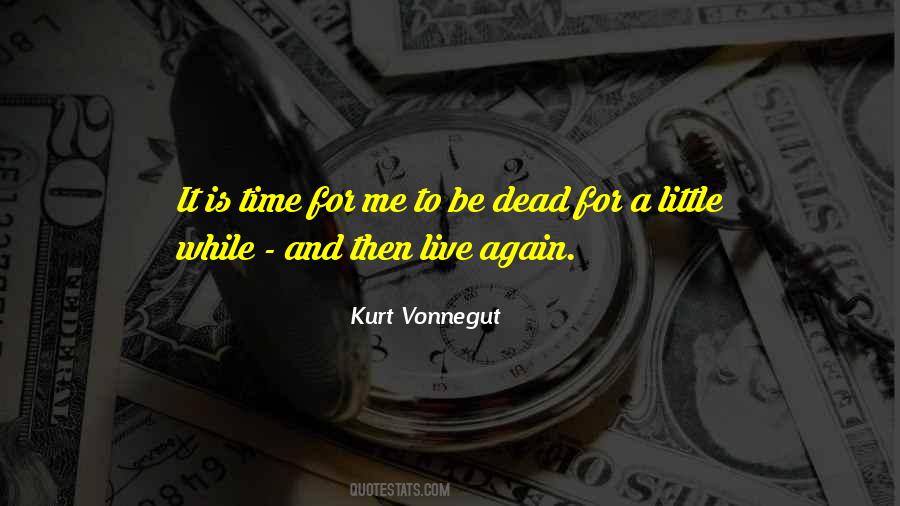 #55. [He] went on to say that during all those years he had done nothing at all, that all he had felt had been a need to live, to live actively, violently, noisily, a need to sing, to make music, to roam the woods, to drink a little too much and get involved in a brawl.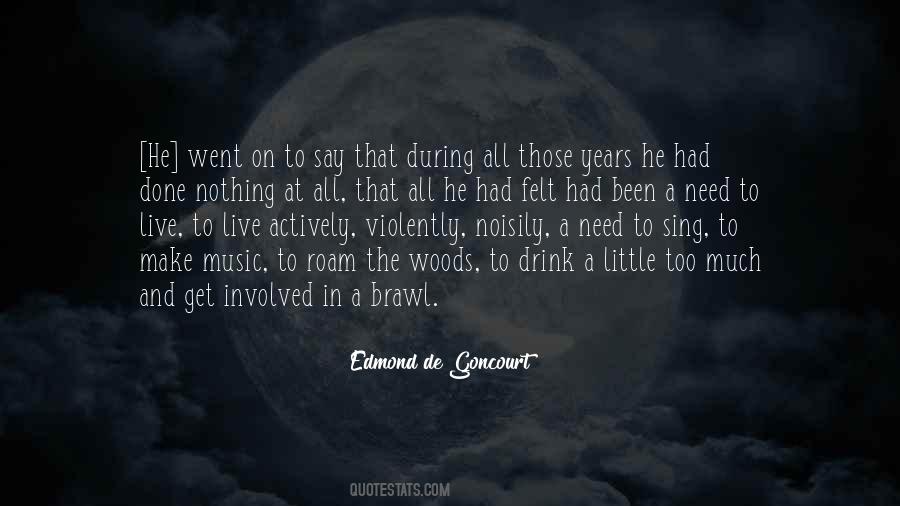 #56. I live in my head all day long and the world is a little dreamy.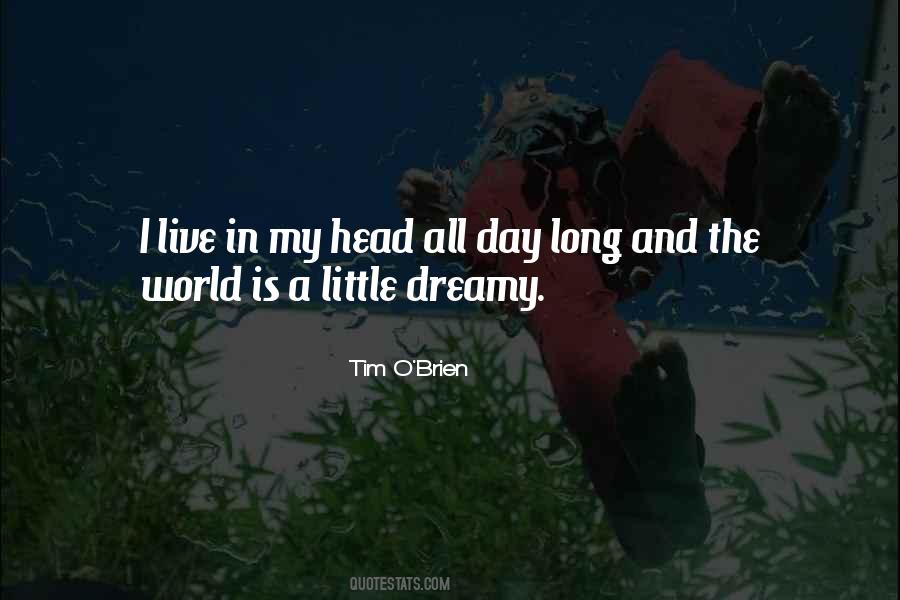 #57. He had made money his god. As soon as that god was gone out of his little world there was nothing more to worship; and when a man's object of worship is gone he has no more to live for.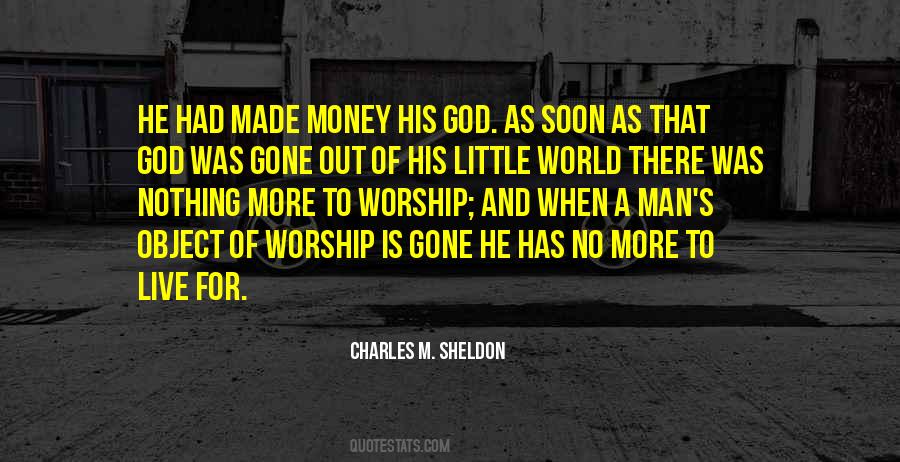 #58. George, she says it's the truth that matters. We live and die for the chance to maybe tell a little bit of the truth, maybe shame the Devil just a little bit before we go.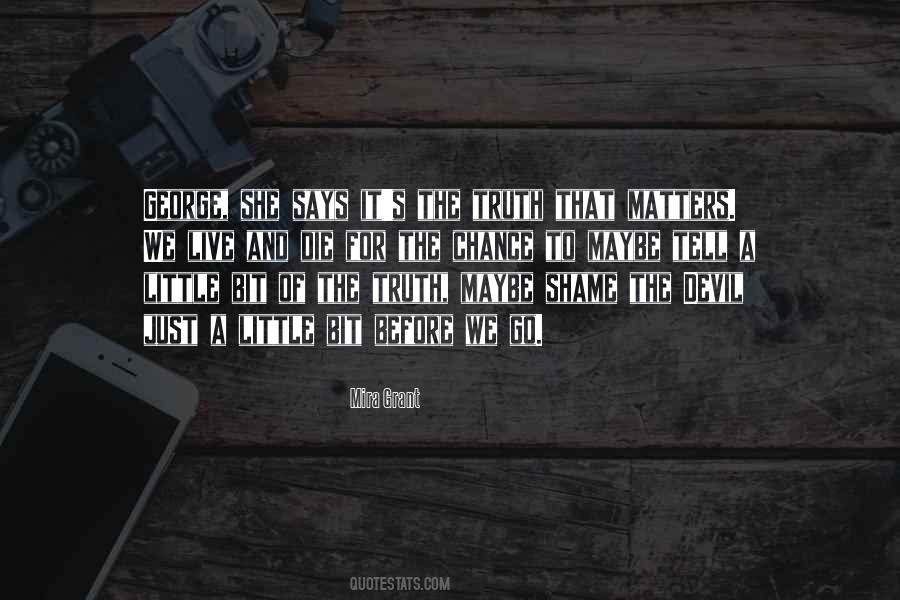 #59. We create our own destiny, but notwithstanding an occasional trip down the wrong path. The key is realizing when it's the wrong path and having the courage to do a little backtracking until you are back on the road to the life you were meant to live.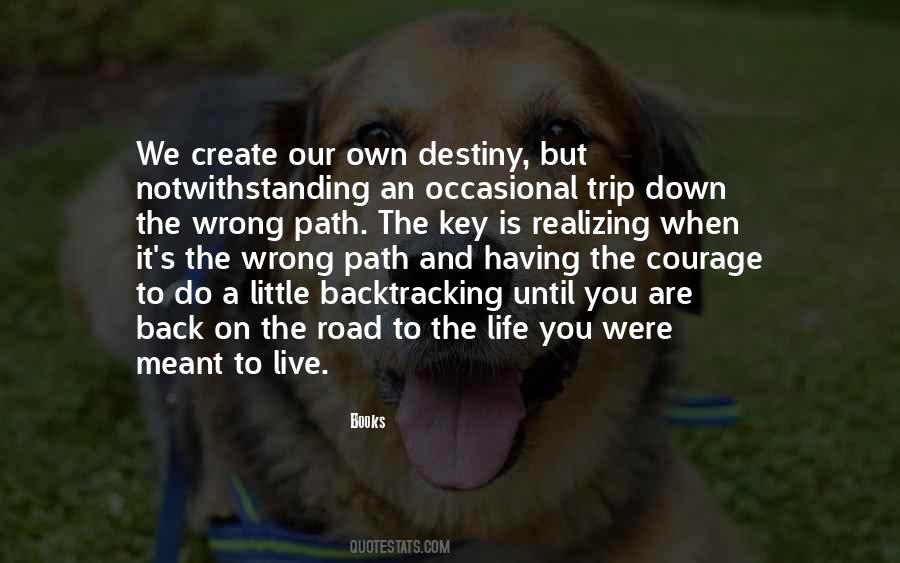 #60. Hughes might discuss Calvinism ably, but he did not live it, he was - by Time corporate standards - just a little lazy.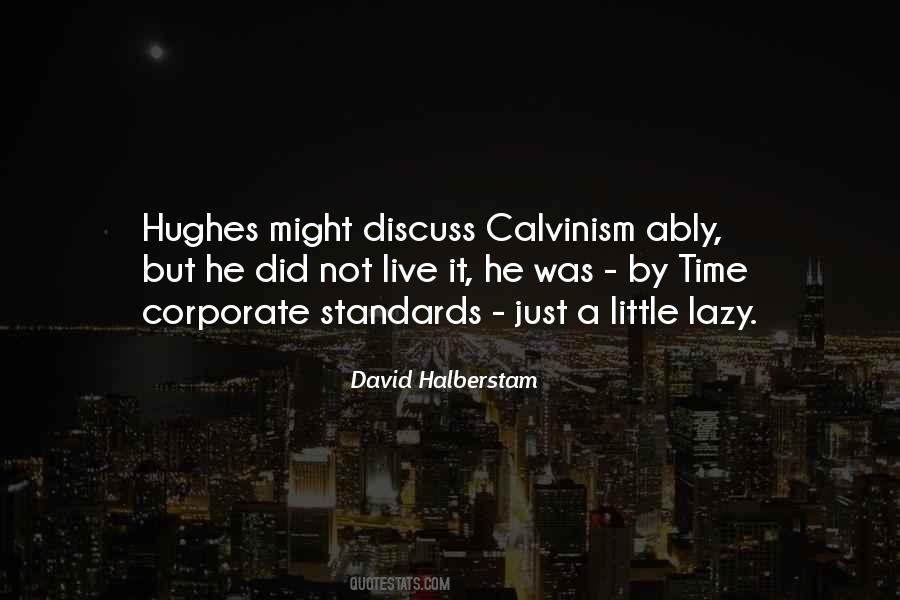 #61. I live in a house that was built in 1480. It has a moat around it. It is like a little baby castle.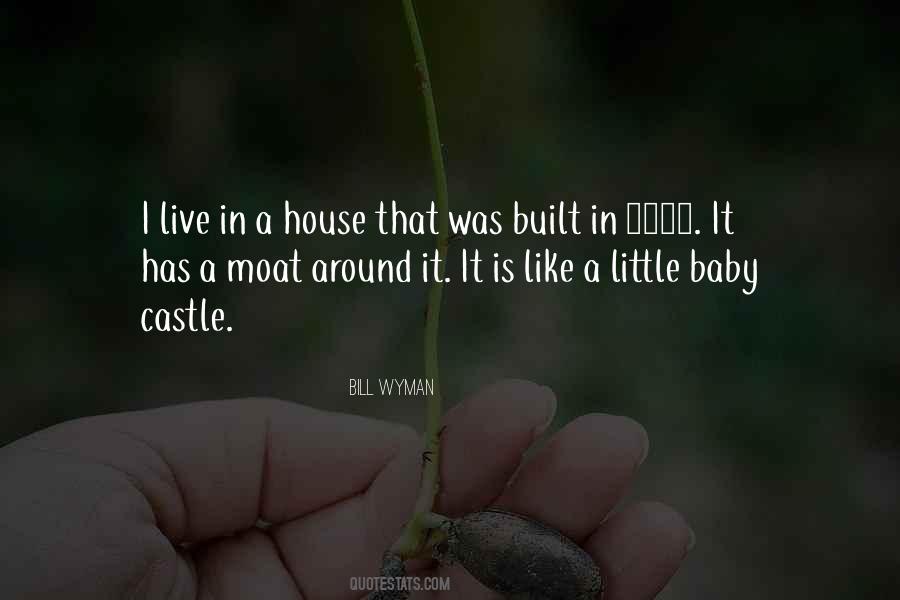 #62. A nutritionist has told me to have very little butter and very little spices, but I can't live like that.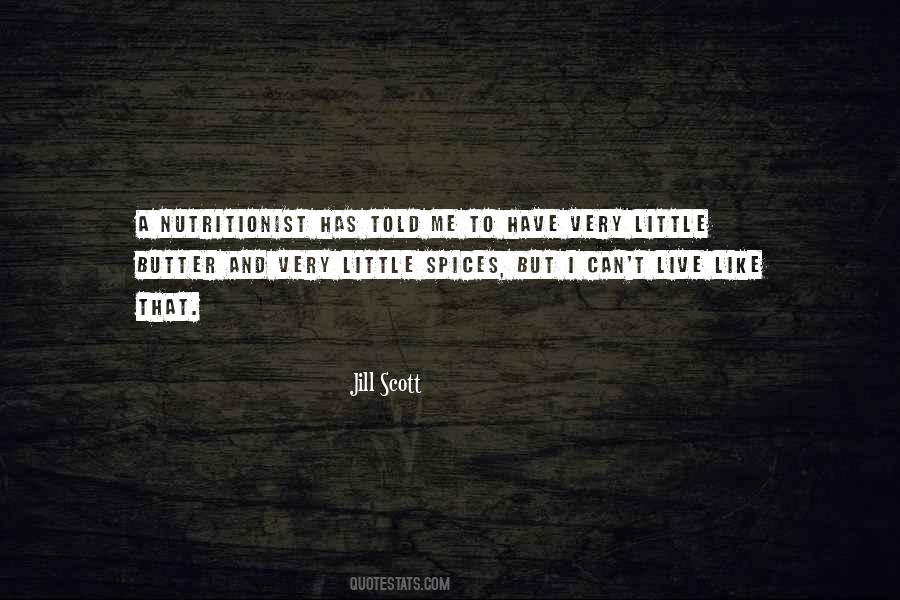 #63. Everybody is bound by some social rules. But I think that artists need some kind of freedom to explore their minds and that some of them tend to take that freedom to live a little more openly or a little more dangerously, sometimes a lot more self-destructively, than other people.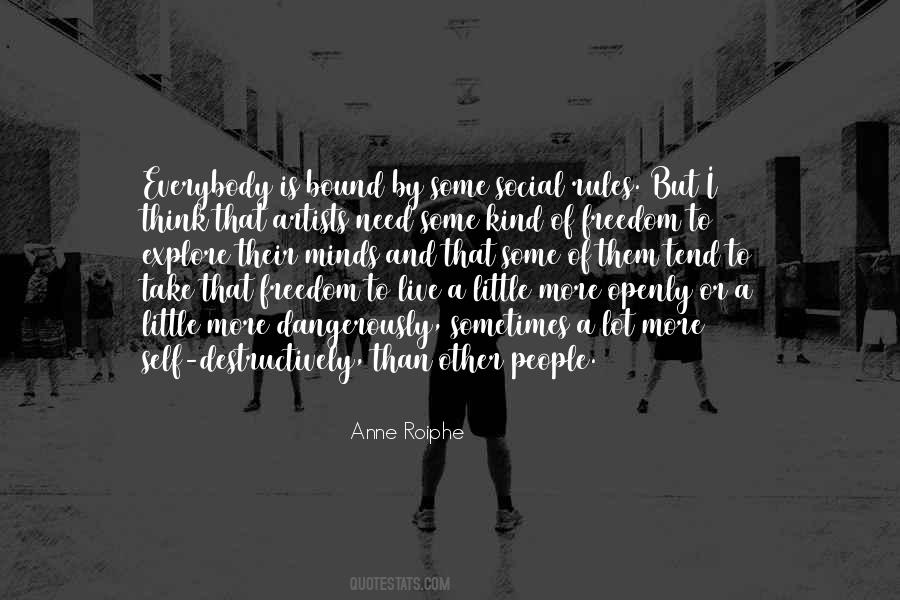 #64. Obviously, there are people who constrict themselves and build walls around themselves, whether it's from a moral standpoint or a patriotic standpoint, or just plain old conformity, and who therefore live in those little prisons, and when things breach those walls, it's shocking for them.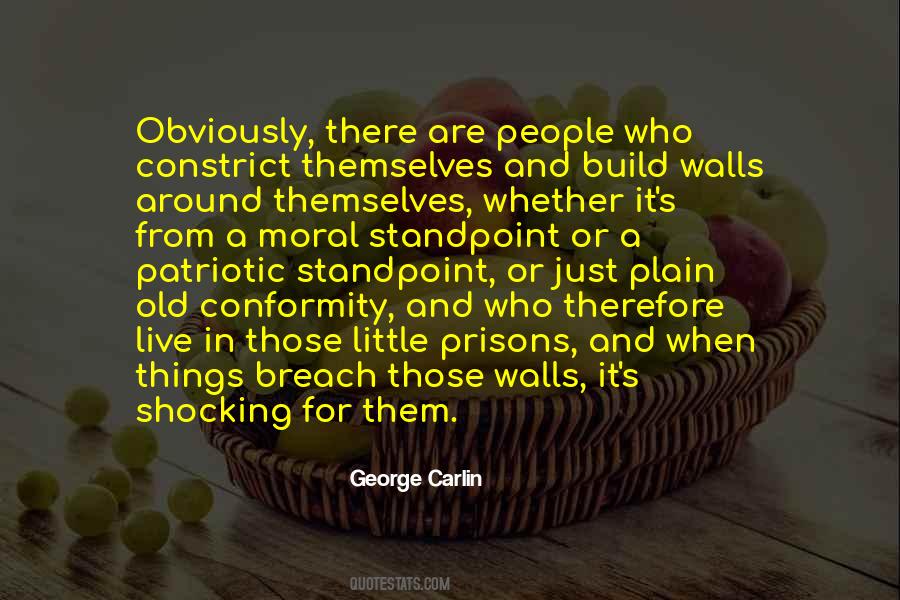 #65. We live in this world, not another one that we'd prefer, and sometimes it's necessary to follow painful paths if we hope to provide at least a little help for suffering people.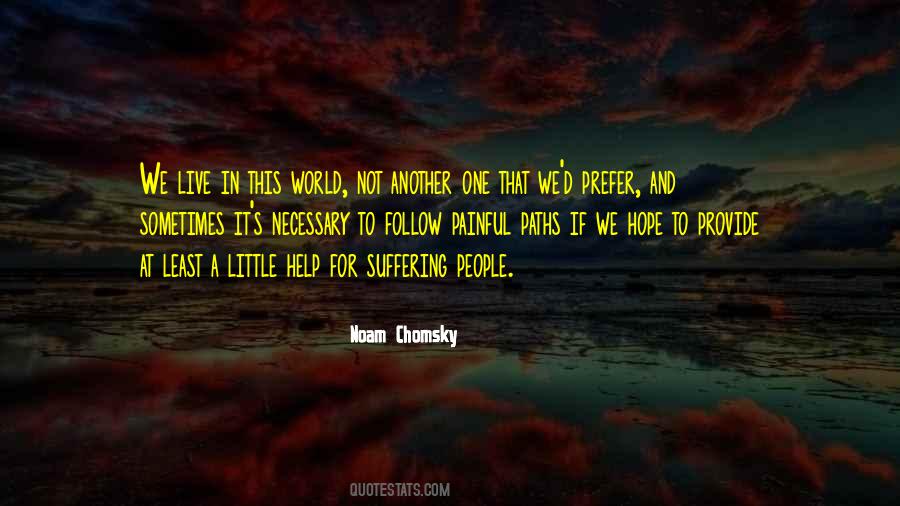 #66. I learned a long time ago we've control of little in this world, Amanda. It doesn't belong to us. It's out of our hands. Like being born or being sold into prostitution at eight. All we can change is the way we think and the way we live.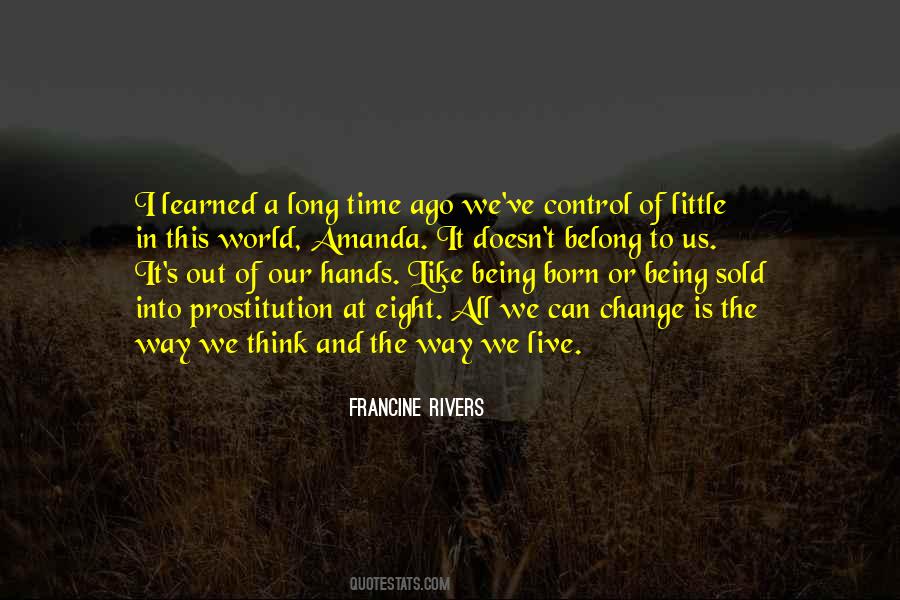 #67. From 1960-2015 Nigerians live under the rules of those who are above the law, but from 2015 we hope for a little change, and if there is no change in 2015, only God knows what will happened.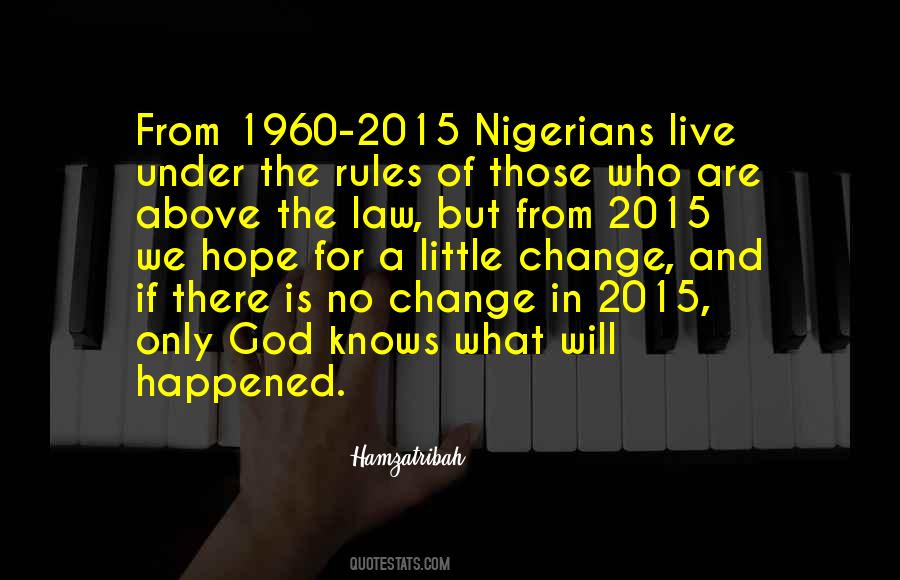 #68. Hold me like you hold the hand of a little kid who needs you in loneliness, bite my fingers like you bite a giggling kid in front of her friends, and play with me like you play with a kid who only has a few days to live.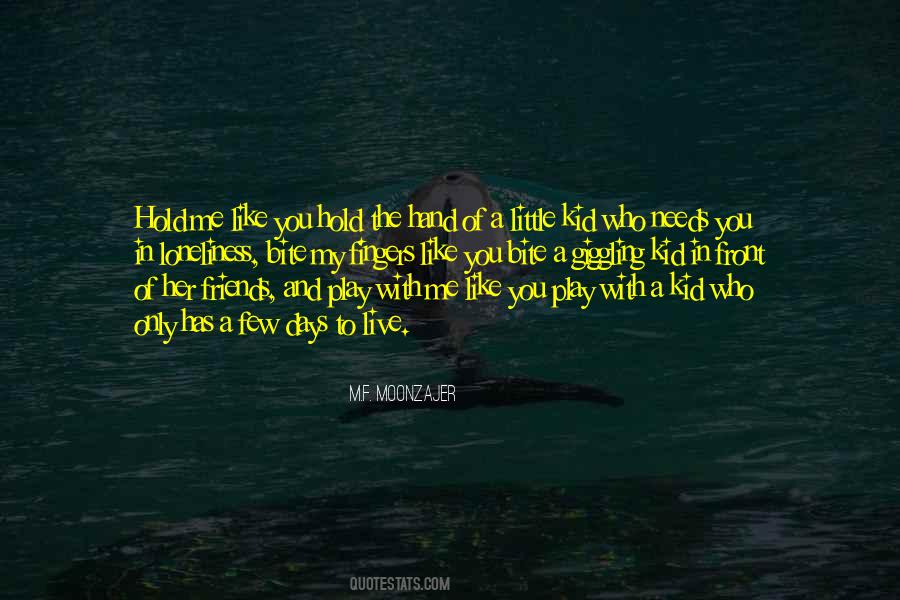 #69. I think many of us live in a rut. Stuck in a groove we can't get out of, whether it's our job, family drama or the little frustrations of everyday life.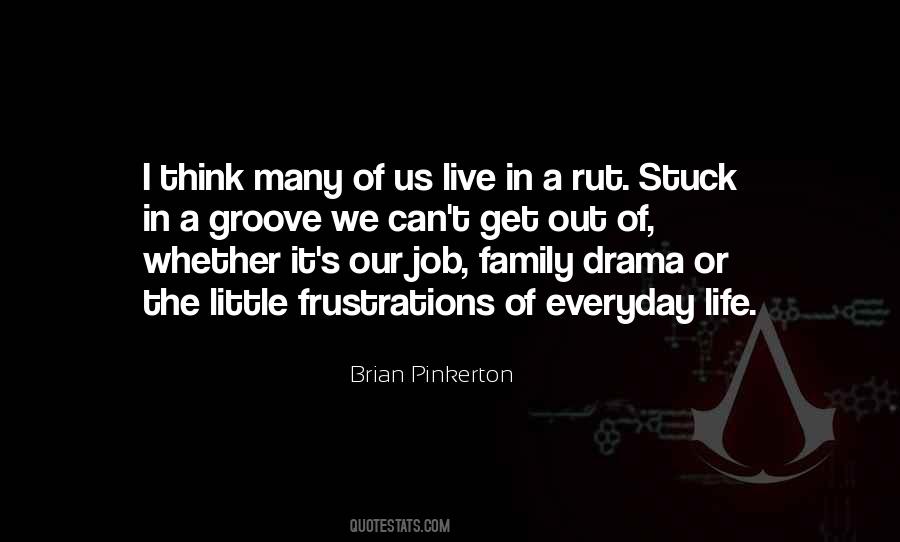 #70. Europe seems a little softer, but in America it's harsh. In L.A., where I live, it's all about perfectionism.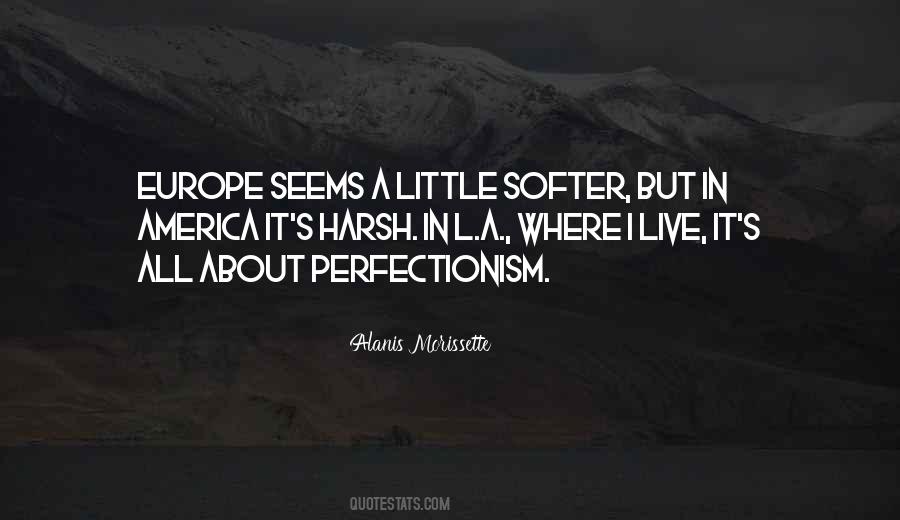 #71. Be content to live unknown for a little while, and to walk your weary way through the fields of poverty, or up the hills of affliction; for by and by you shall reign with Christ, for he has made us kings and priests unto God, and we shall reign for ever and ever.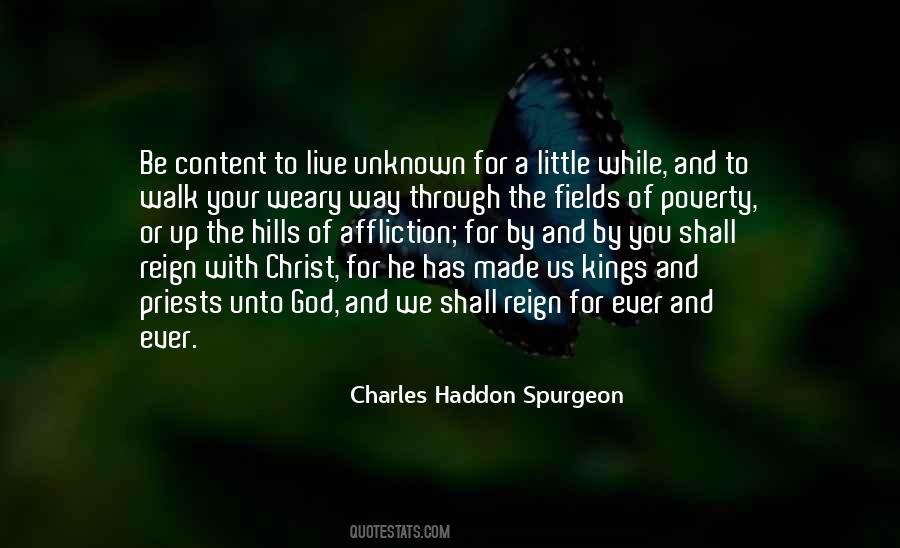 #72. Just ... tell me I'm not crazy," he whispered. "That this ... isn't as insane as I think it is"
...
"I don't know ... Maybe we're both a little crazy."
"I can live with that.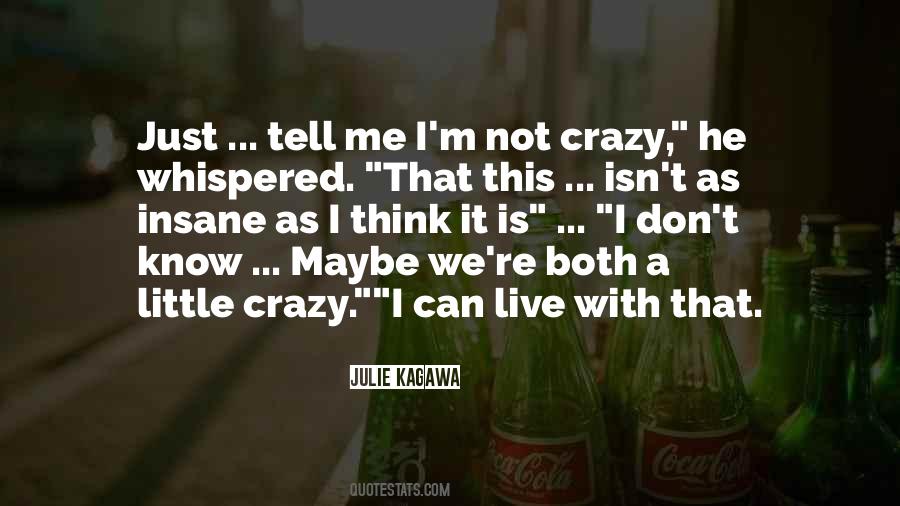 #73. There are a lot of us little gypsies out there that need to go and find another place you know. A safer, healthier or just a different venue in order to develop and find ourselves. I am so lucky to live the life that I do.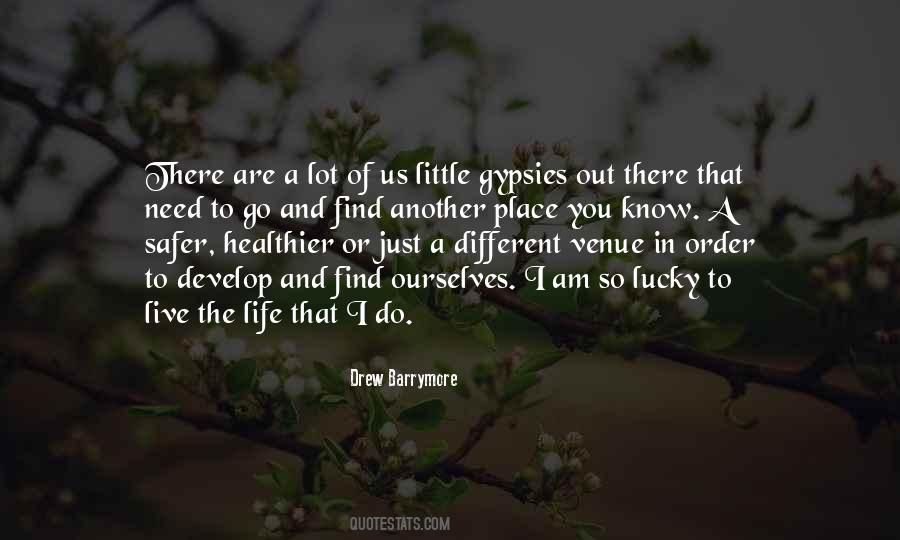 #74. The human race is a monotonous thing. Most people work most of the time in order to live, and the little freedom they have left over frightens them so, that they will do anything to get rid of it. Oh, the regimentation of mankind!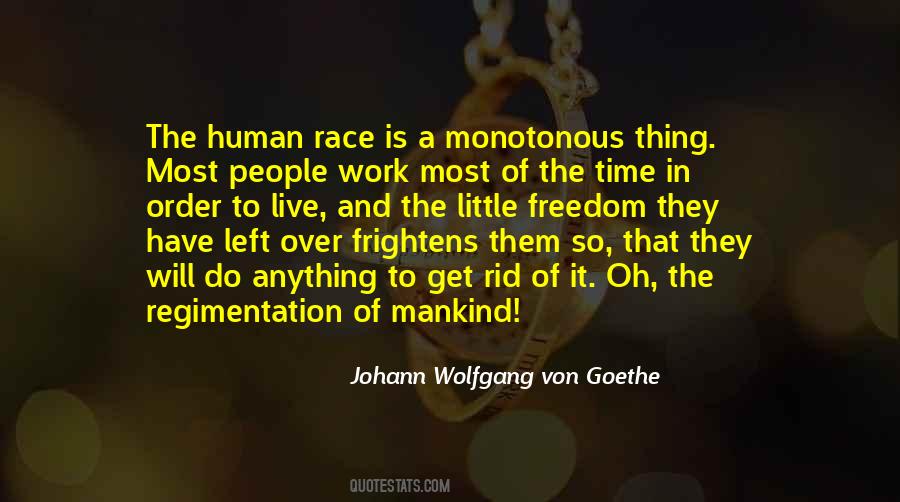 #75. Here is joy and neglect. A little mescal. A little jacking off, but mostly just work. - This is how I live, I am thinking.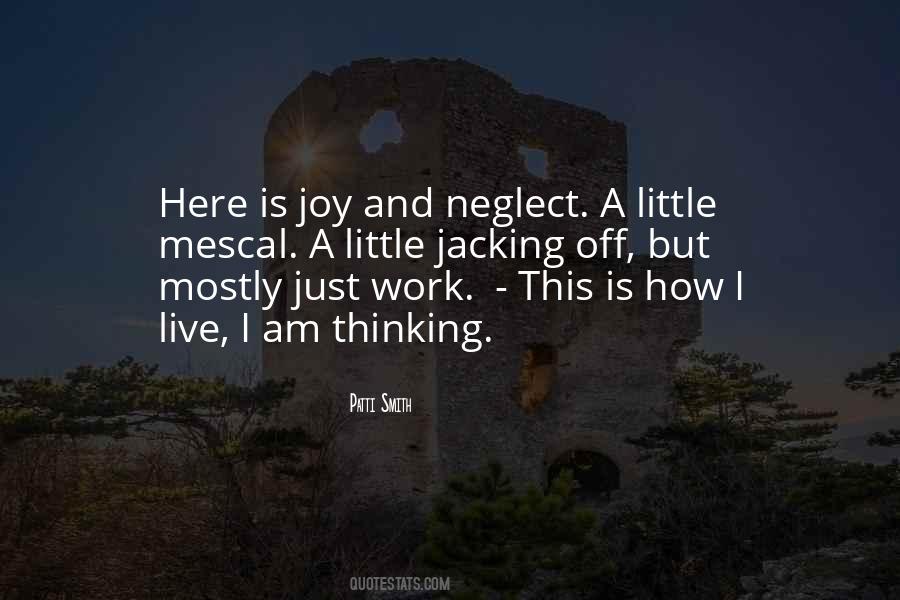 #76. I can't solve the world's problems, can't even begin to contemplate them all. But on my little corner of Earth, I at least can try to live in a way that treads lightly.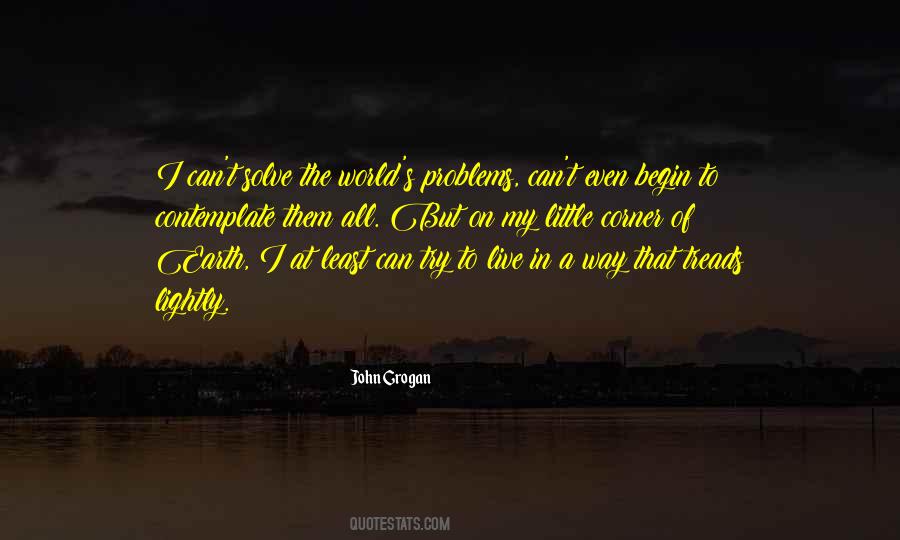 #77. I enjoy recording live better, but I think by the nature of it you are going to end up with something that's a little bit more traditional.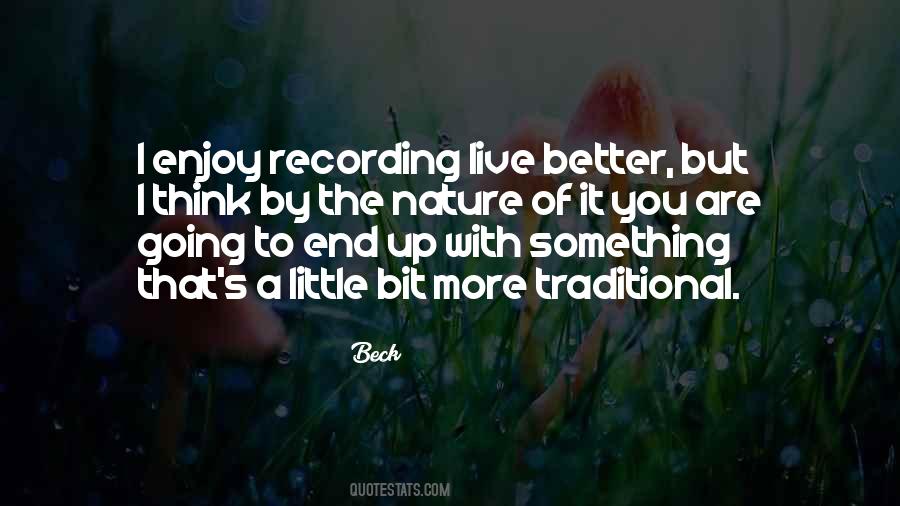 #78. Tell me." Edward had to raise his voice a little. "Do you live by the principle that what people don't know can't hurt them?" "No," Harper replied. "What people don't know can't hurt me.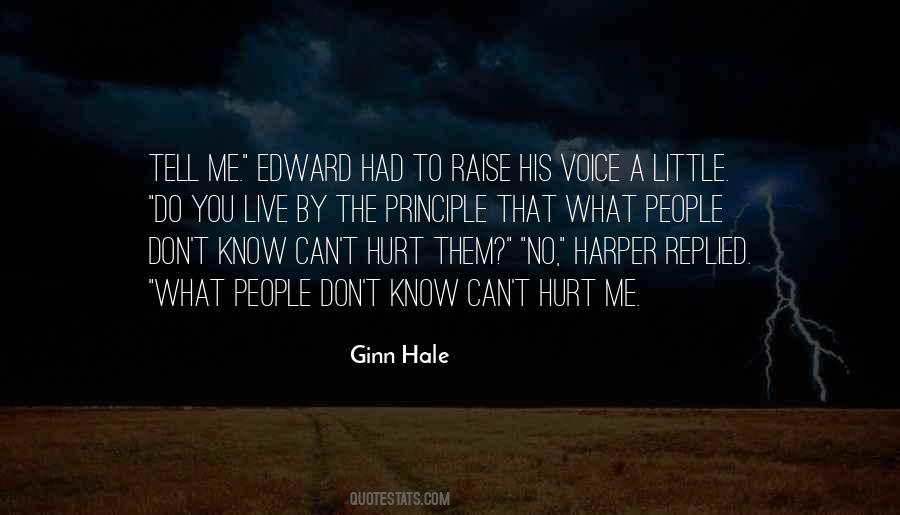 #79. Your heart weeps a little bit when you have to say goodbye to a crew you spend two months with, but when it comes to the part, when you live so close to someone for two months, it kind of fades away and then you see her again on screen later on.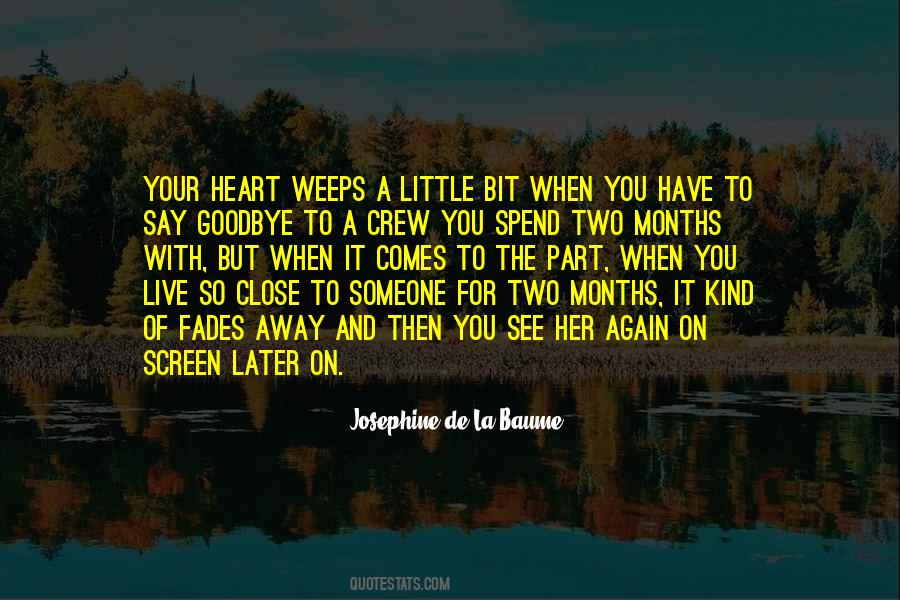 #80. Whilst you live a very little religion seems enough; but believe me, it requires a great deal when you come to die.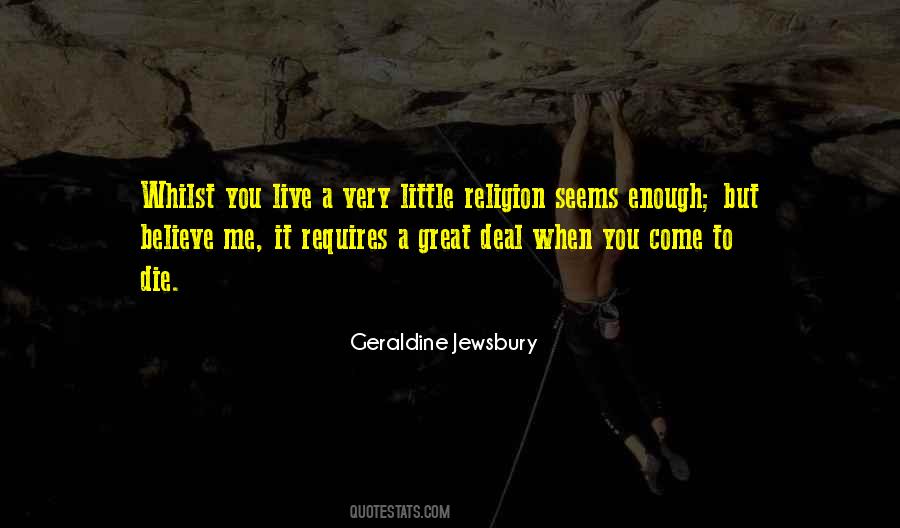 #81. Portland in particular is a cheap enough place to live that you can still develop your passion - painting, writing, music. People seem less status-conscious. Even wealthy people buy second-hand clothes and look a little bit homeless.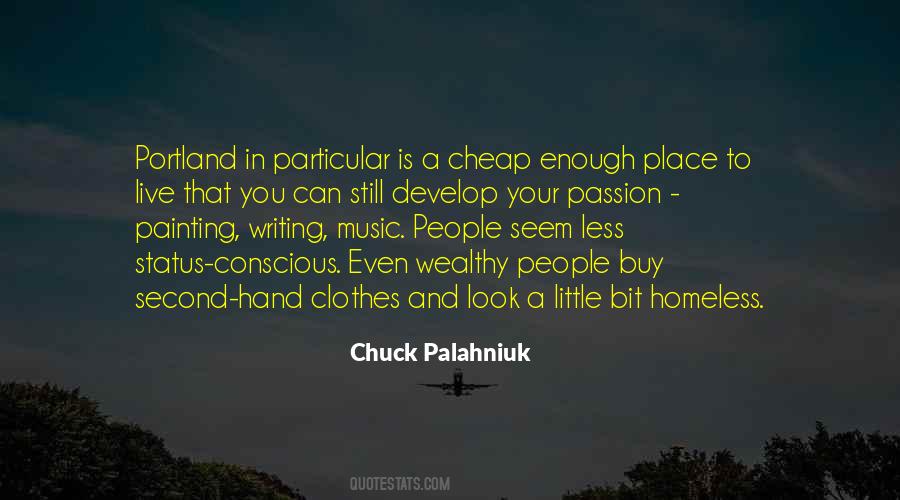 #82. We see men and women who work as hard as they possibly can and still fall behind a little more every month. We see lives that look nothing like those lived by billionaires in eighteen-thousand-square-foot condos, because these people don't live in some fairy tale - they live in today's reality. *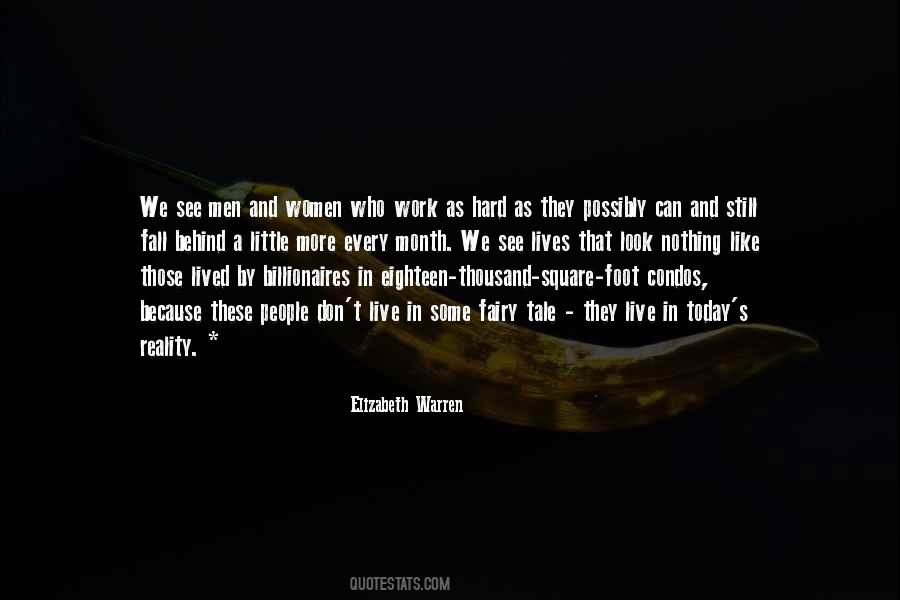 #83. In those days, he said the following: I can only give you a little; but that little, I give to you with love.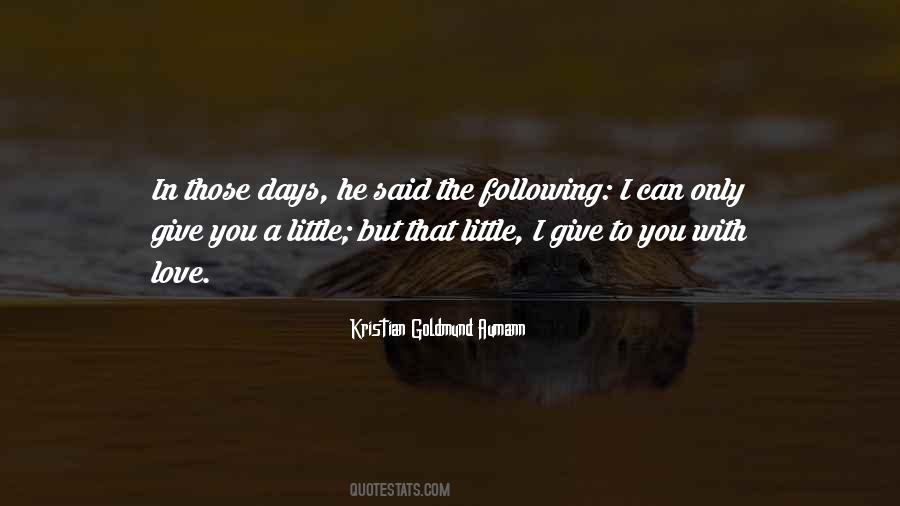 #84. He listened gravely to the discussion of possible danger, but in truth, he paid little heed. Silvanoshei was young, and the young know they will live forever.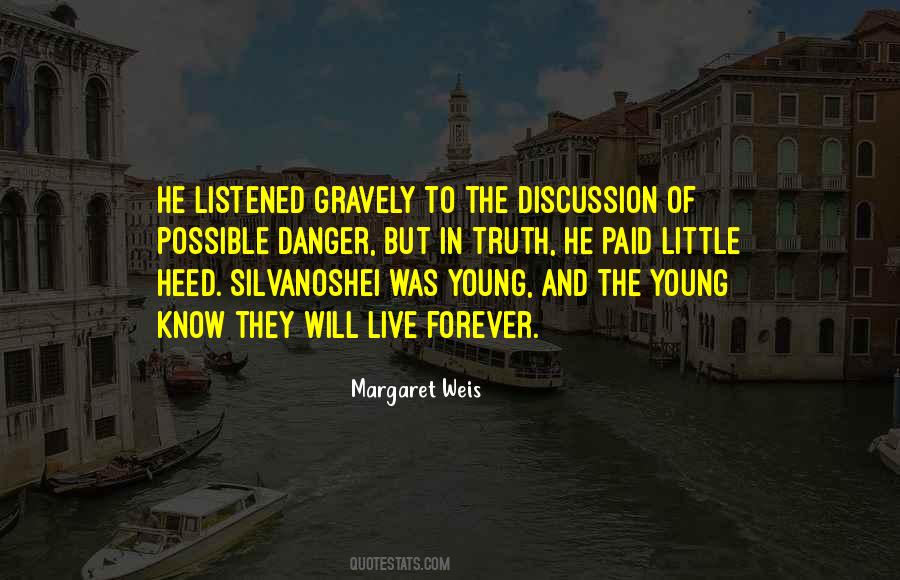 #85. I've found a place that would amaze you. People used to live there, but now it's all overgrown and no one goes there. Absolutely no one - only me ... Just a little house and a garden. And two dogs.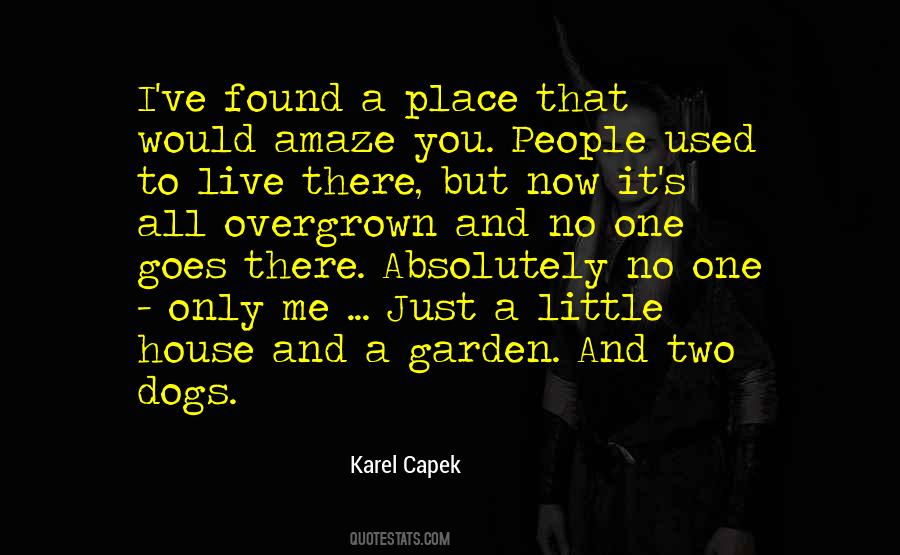 #86. Don't live like there's no tomorrow, that's stupid. But live your life like it's a story that you would want to tell someone else. A little fun, a little exciting, a little sexy, and always off key.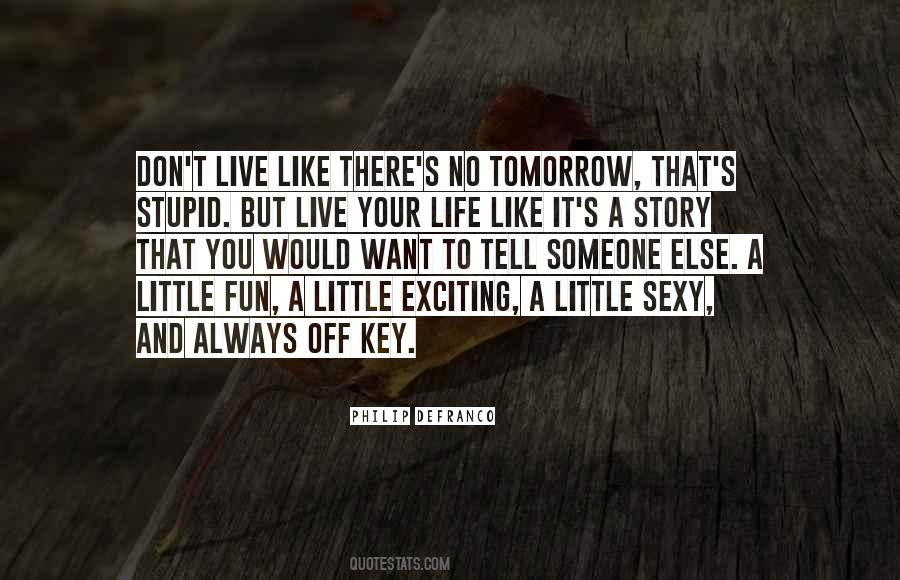 #87. The fact is, if a young man is naturally indolent, the spur of necessity will drive him but a very little way, while the having enough to live upon is often the means of preserving his self-respect.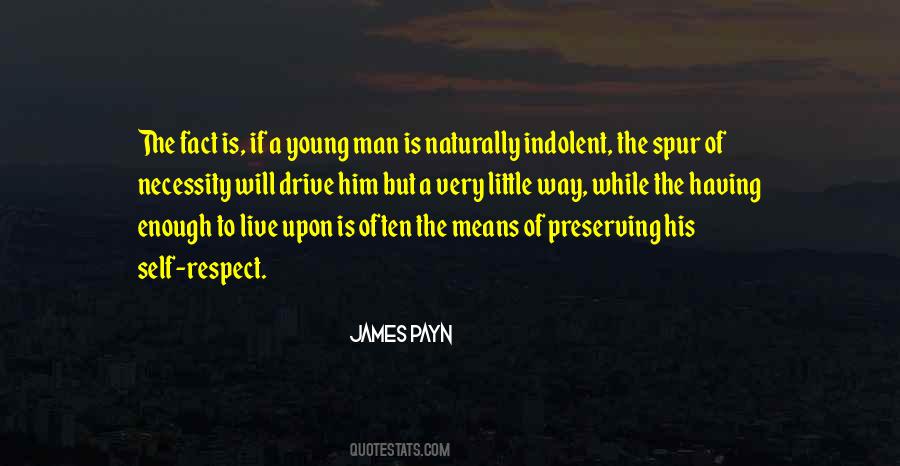 #88. We can all afford to do a little soul-searching about the choices we make and the way we live our lives, but sometimes searching one's soul doesn't provide the answers we seek.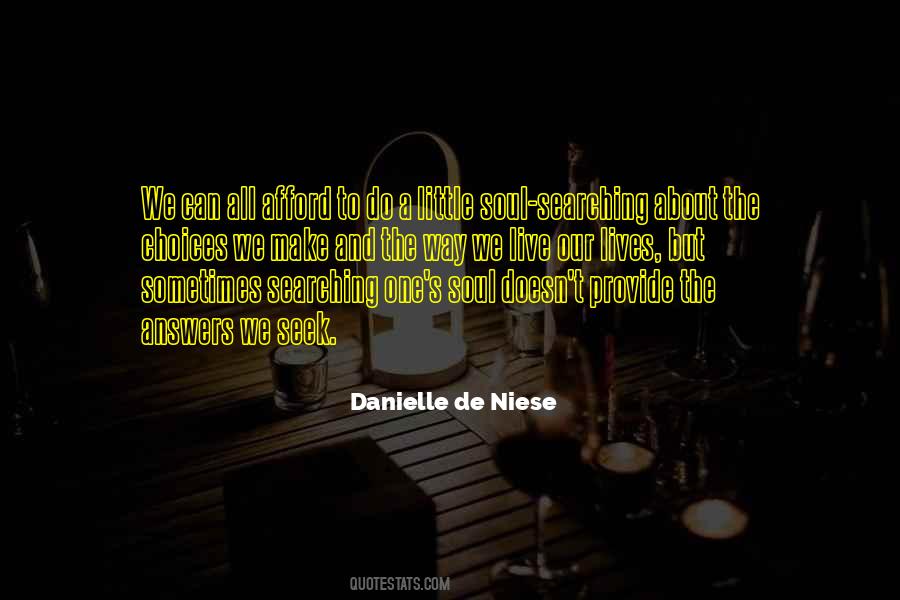 #89. It seems to me that the most delightful walk of life is to be found in a household of moderate means, to live there with an obliging spouse and to be satisfied with little.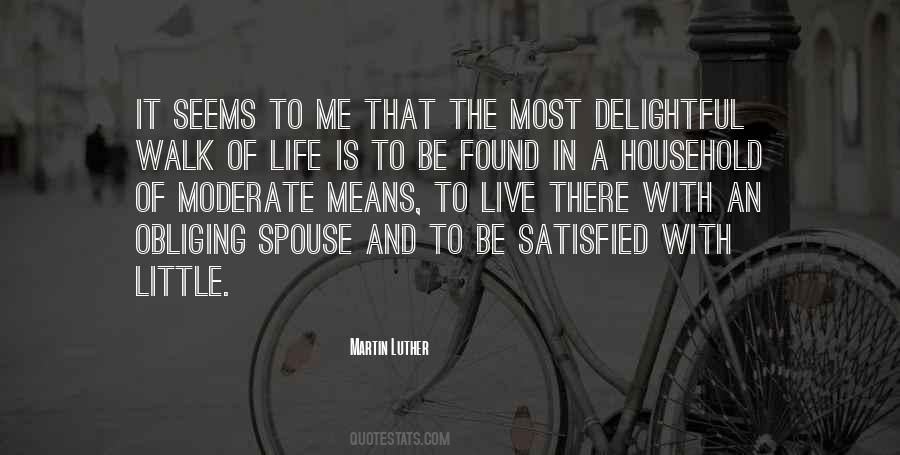 #90. We live but for a short time, we see but very little, and we know almost nothing; so, at least, let's do some dreaming. Have yourself a very good Sunday, my dear readers.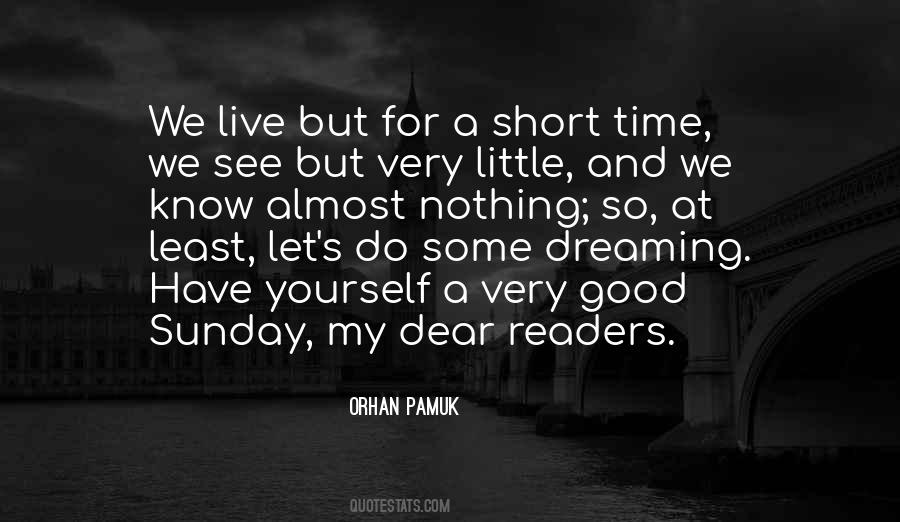 #91. All is well. You did not come here to fix a broken world. The world is not broken. You came here to live a wonderful life. And if you can learn to relax a little and let it all in, you will begin to see the universe present you with all that you have asked for.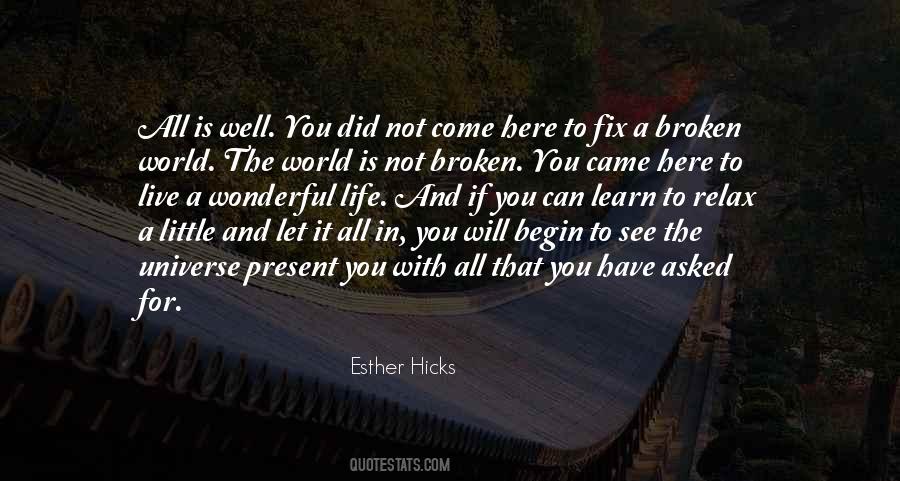 #92. I'm American. I can't stand Brazilians. They live in a third-world country anyway, so they'll go anywhere if there's a little money. I live in America. I want to be a champion of an American organization.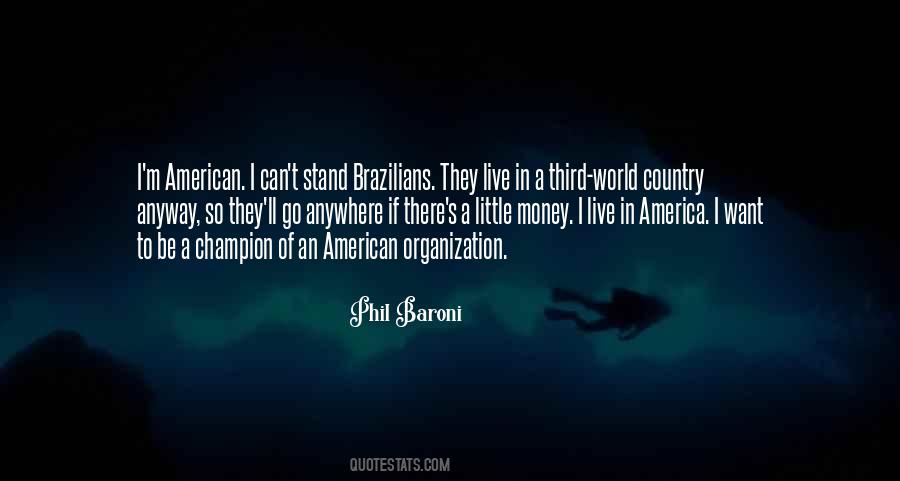 #93. We have ... dreamed so much and observed so little, that our imaginations have grown larger than the world we live in, and our judgments have dwindled down to a point.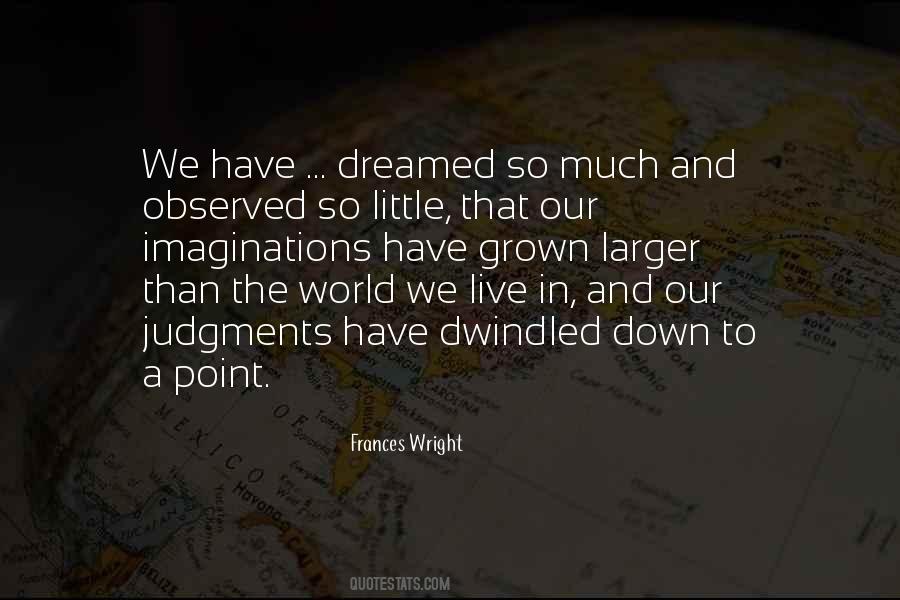 #94. And then I realized that my sister was trying to LIVE a romance novel.
Man, that takes courage and imagination. Well, it also took some degree of mental illness, too, but I was suddenly happy for her.
And a little scared. Well, a lot scared.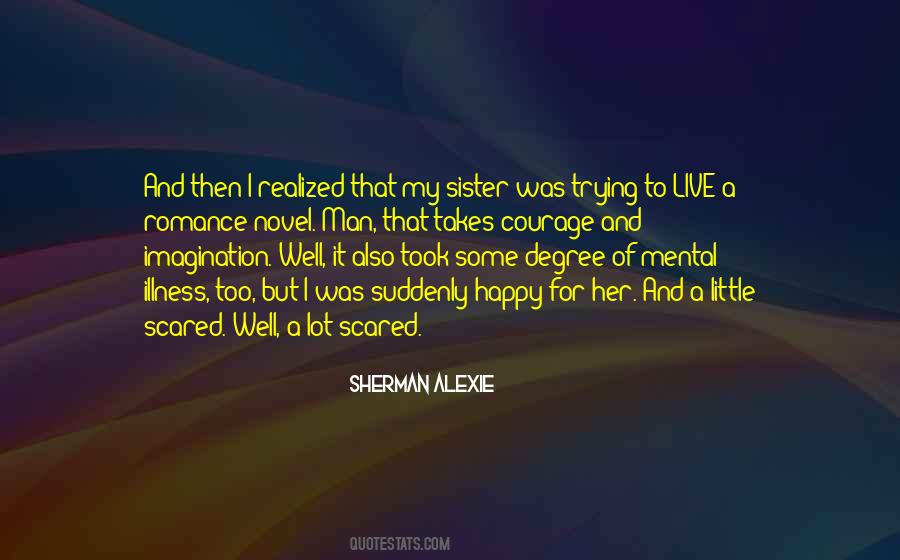 #95. You think then, that it is better to have a few duties and live a little for others, do you?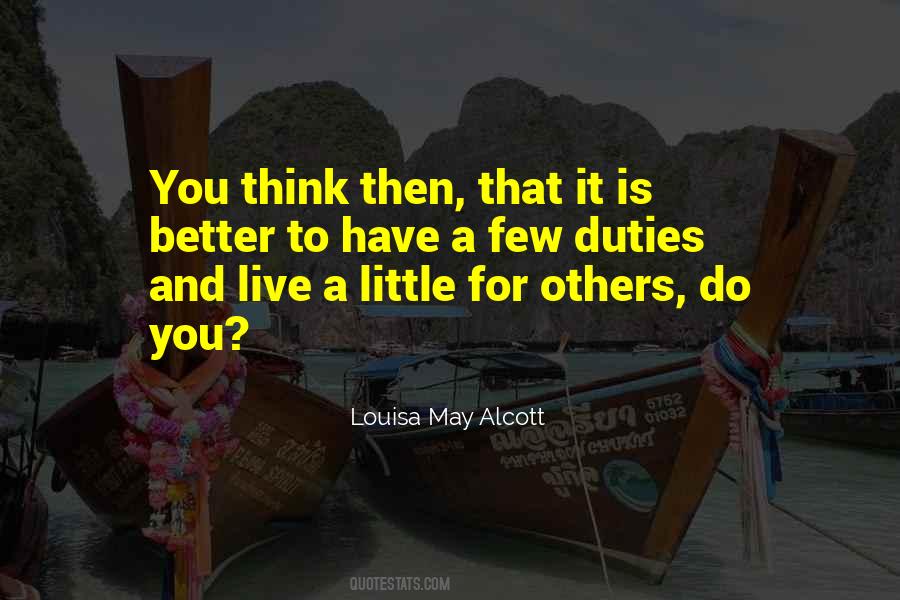 #96. People who don't live at least a little bit in fear, have nothing left to live for.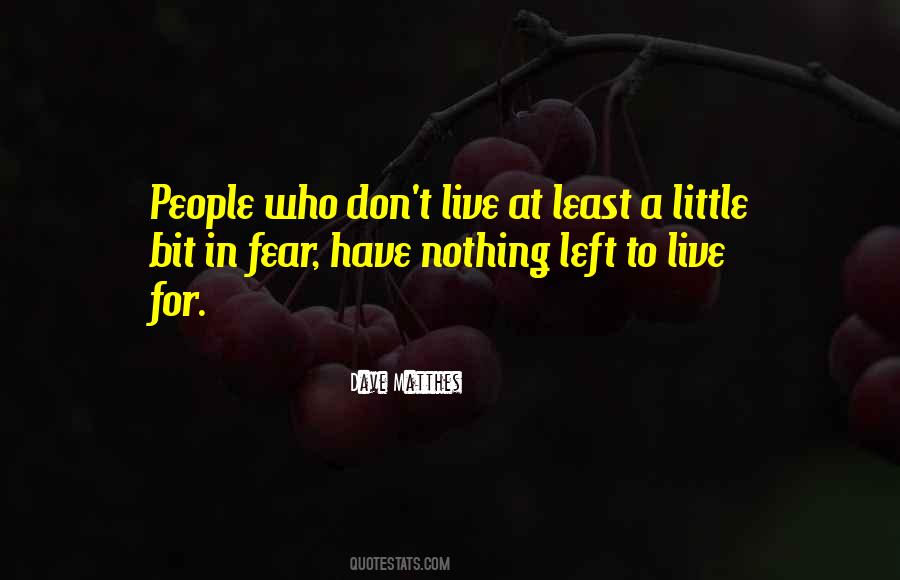 #97. A man must live like a great brilliant flame and burn as brightly as he can. In the end he burns out. But this is far better than a mean little flame.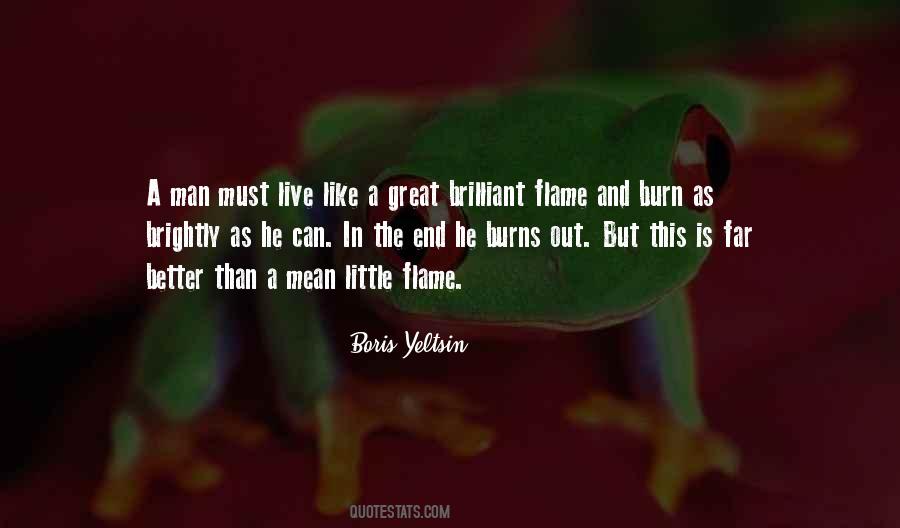 #98. The Amish like to live a very plain lifestyle, the way they think God intended. It sort of brings you back to, like, 'Little House on the Prairie' days or something.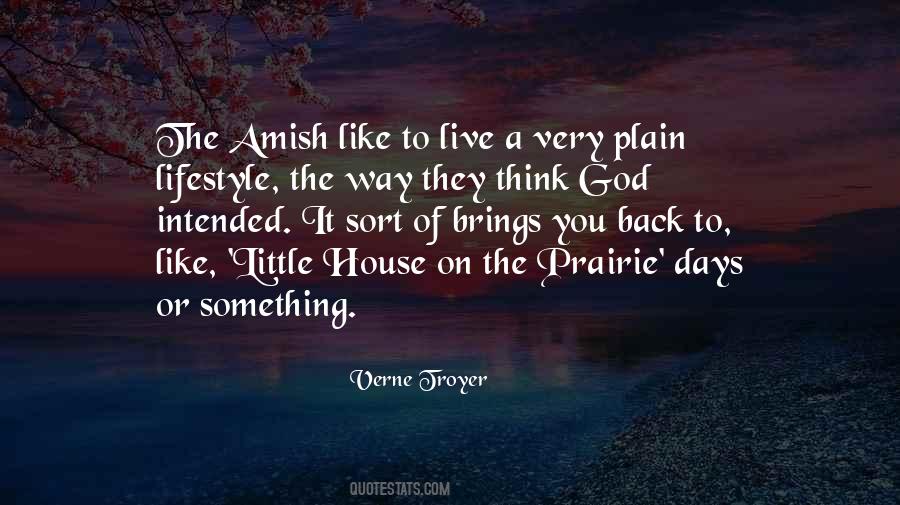 #99. Many people are good at talking about what they are doing, but in fact do little. Others do a lot but don't talk about it; they are the ones who make a community live.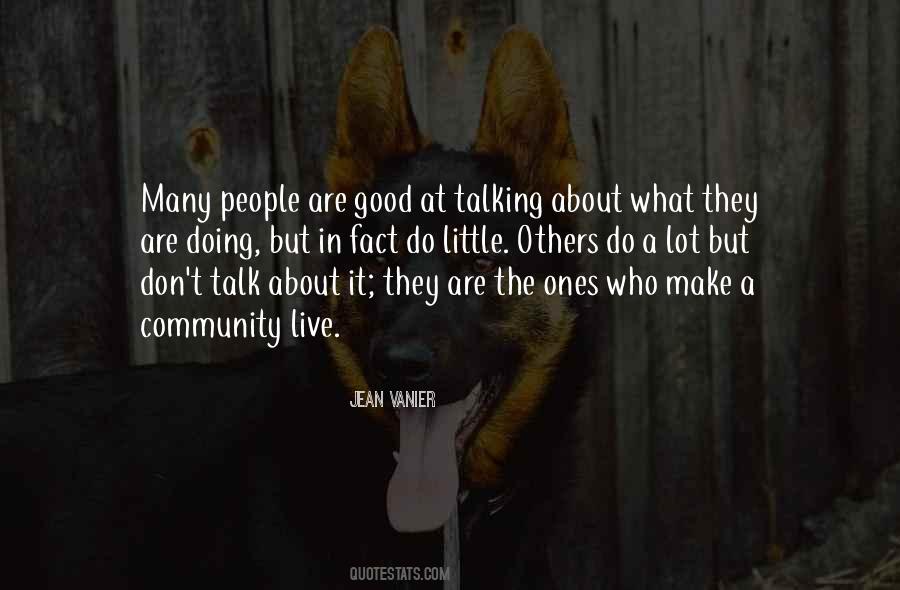 #100. You have to appreciate every single day that you're alive. Life is a little bit like a garden - you have to find time to plant the seeds for beautiful flowers to grow.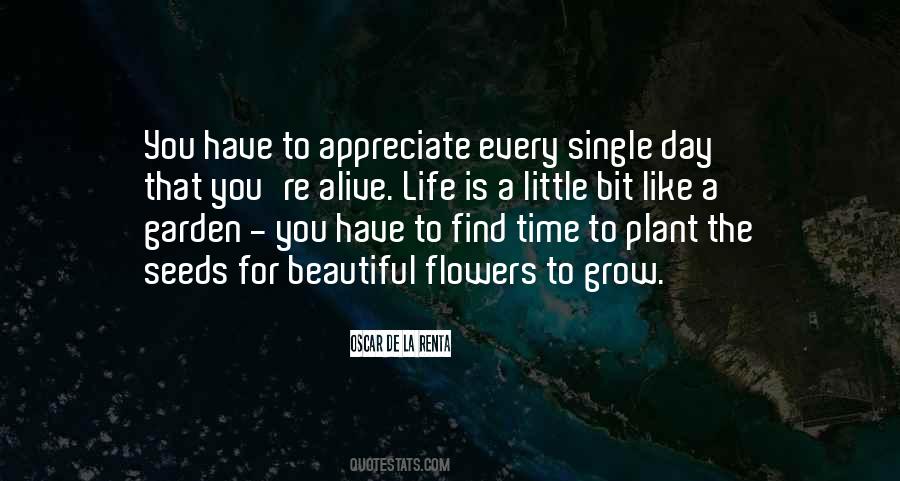 Famous Authors
Popular Topics