Life My Way Famous Quotes & Sayings
List of top 100 famous quotes and sayings about life my way to read and share with friends on your Facebook, Twitter, blogs.
Top 100 Life My Way Quotes
#1. I think that every decision I make in my life is based off of an emotion - and it definitely hurts me in some situations, and helps in some situations, like obviously writing and stuff is my favourite thing to do because I get to use all of my emotions and express them in that way. - Author: Melanie Martinez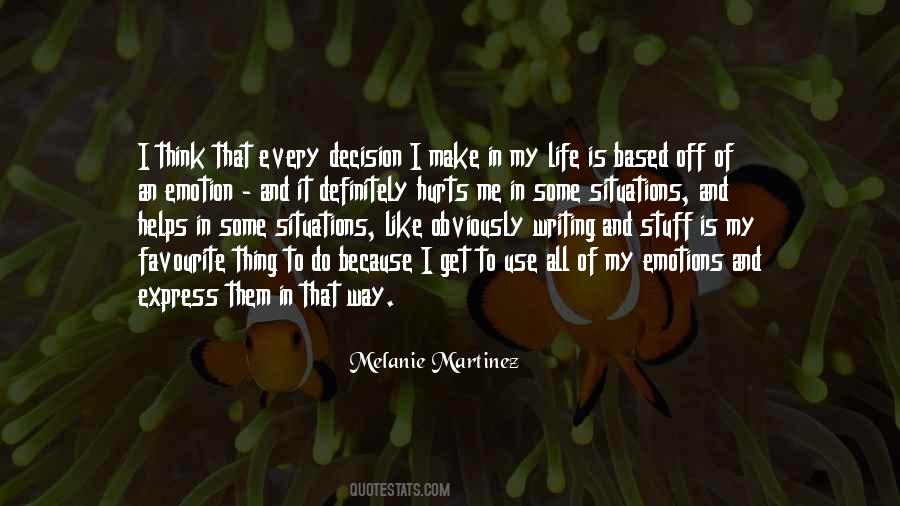 #2. By the way, to perform in front of Don Rickles, it 's not nerve-wrecking. It 's enjoyable, i am enjoying Jeff Garlin. I hope I perform in front of Don Rickles every night of my life ! - Author: Jeff Garlin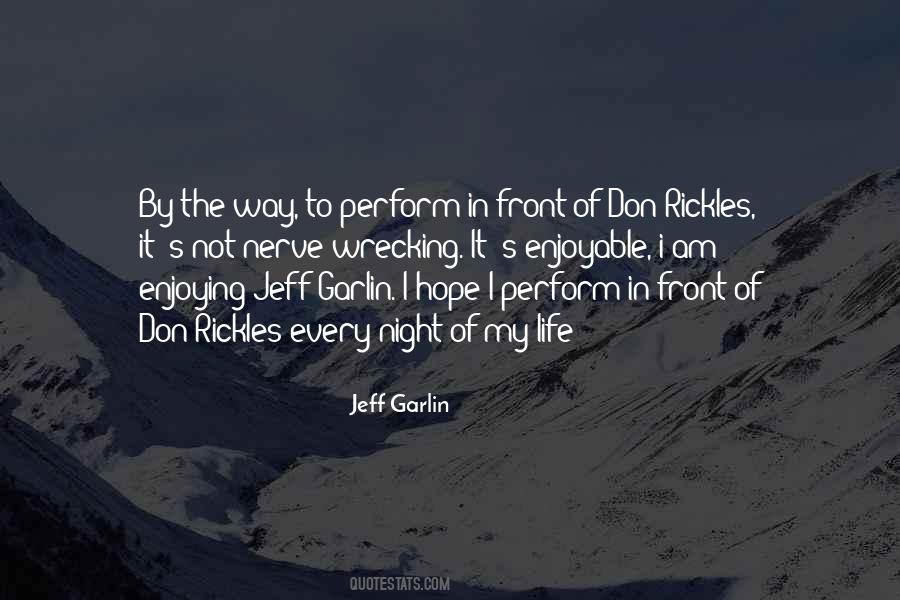 #3. But at night, once I had taken off my makeup and my defenses were down and my mind started to wander, it seemed rather than new love sitting down at the table of my life to join me, old love managed to find its way back in ... - Author: Mandy Hale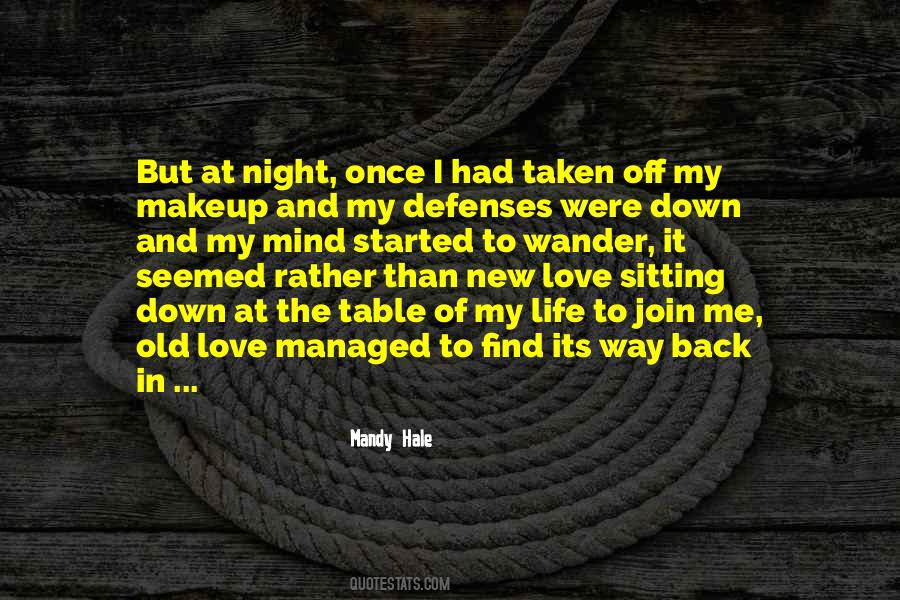 #4. As a woman who grew up in a village in India, I've spent my whole life fighting tradition. There's no way that I want to be a traditional Indian housewife. - Author: Arundhati Roy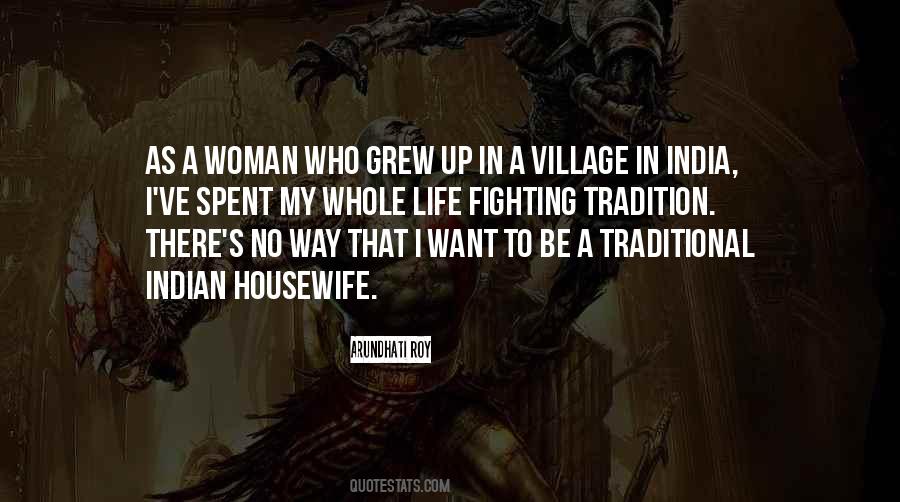 #5. You make me believe in happiness ... if I had my way, if anything were up to me, I'd never be without you. You are my purpose. - Author: Courtney Kirchoff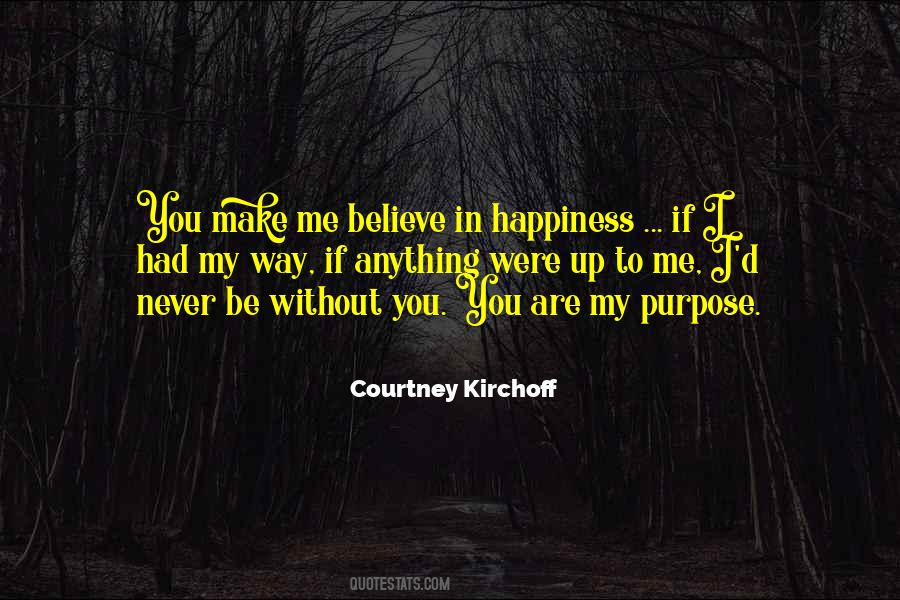 #6. Once I turned 40, my whole life changed in the most mature - not boring way but much cooler way. I feel much more like an adult. - Author: Chelsea Handler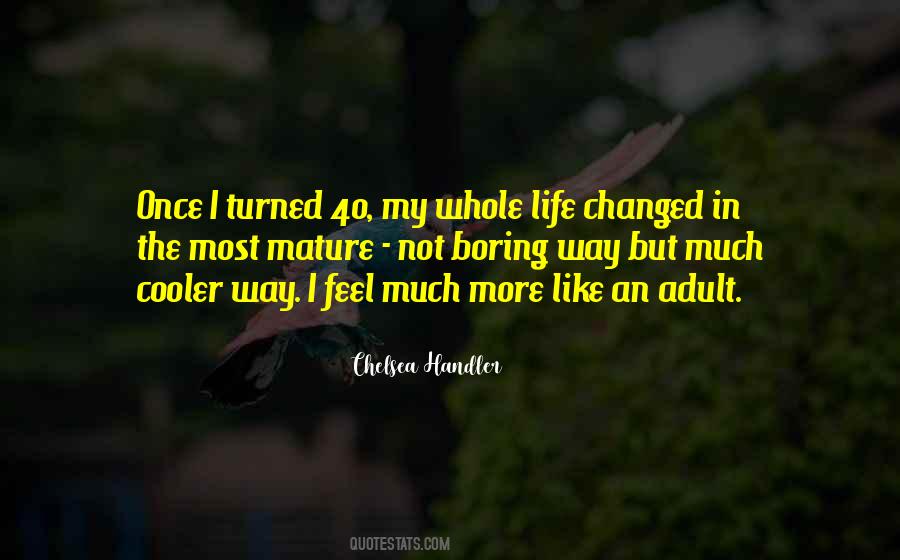 #7. Have you ever tried to organise a threesome in real life?'

I shook my head. I'd only encountered them in porn, but it seemed to happen without much admin, the same way all porn skipped out the granular details of sex, like condoms and kissing, that were supposed to happen in real life. - Author: Olivia Sudjic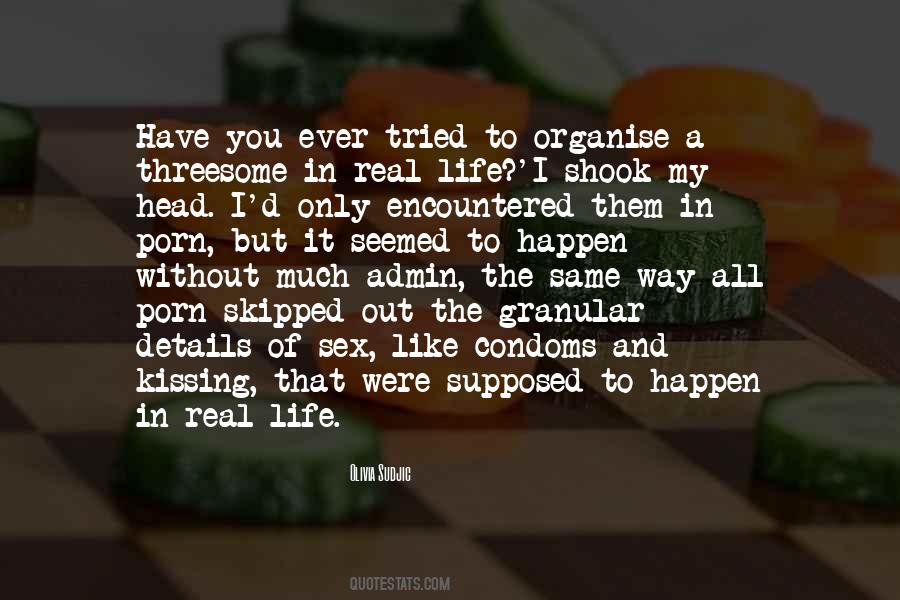 #8. At the crossroad in my life, I didn't know which way to go. I just mindlessly choose a random direction... then, after regretting my decision I tried to retrace my steps. However, without even realizing it the sun had already set. - Author: Nobuyuki Fukumoto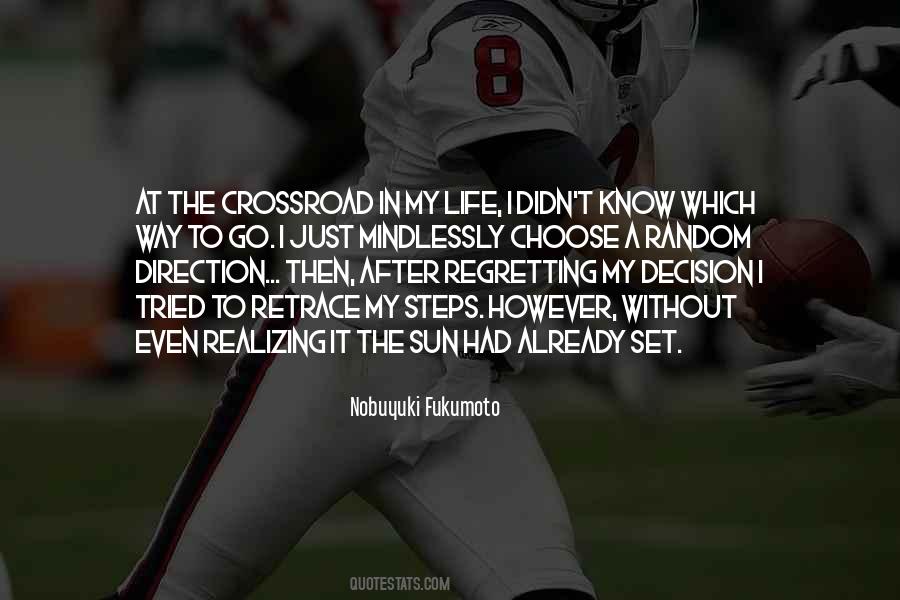 #9. Alice interrupted. No tears, no secrets. I want the life I'm meant to have, Etta. It's as simple as that. My father always says that the way to truly live is to do so without expectations or fear hanging over you, affecting your choices ... - Author: Alexandra Bracken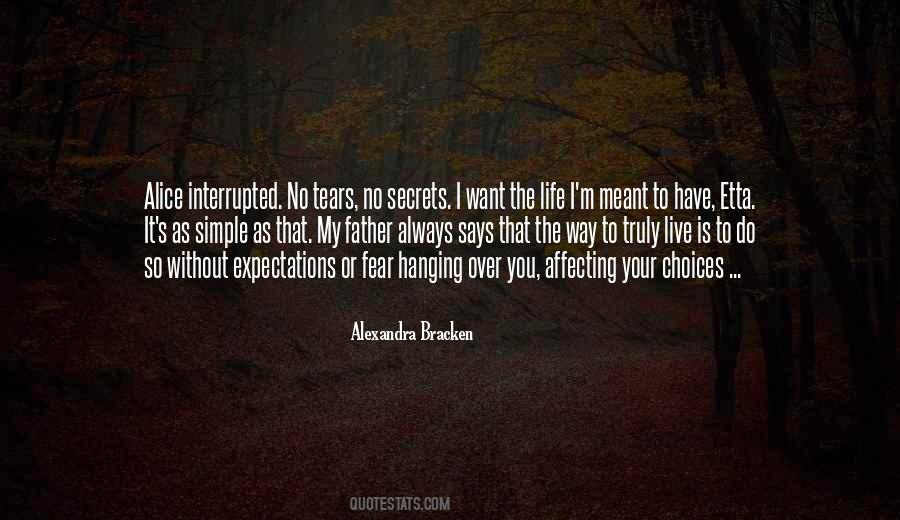 #10. Divine reality is not way up in the sky somewhere; it is readily available in the encounters of everyday life, which make hash of my illusions that I can control the ways God comes to me. - Author: Barbara Brown Taylor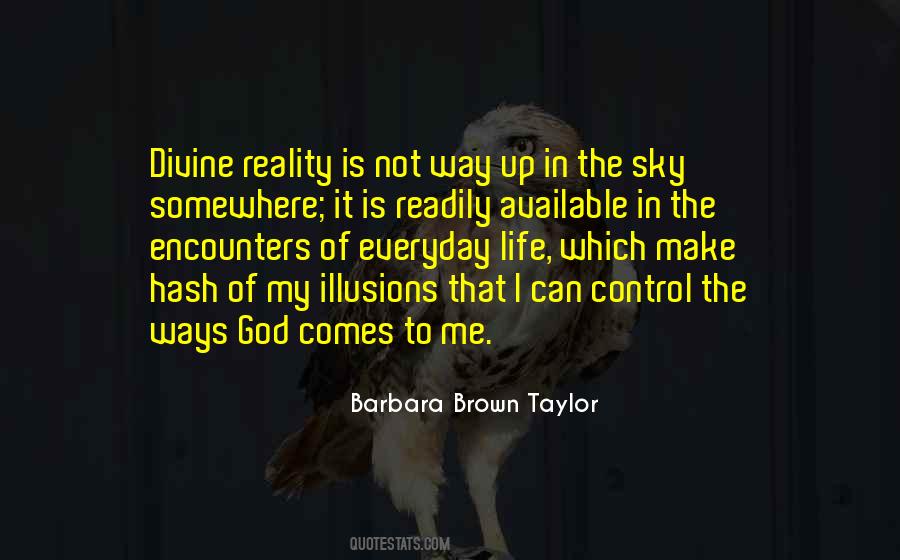 #11. Writing is the birth of my closure. Either it splits me open and comes out easy with tears or it pushes me to hysterics. Whichever way, it brings me a new life. - Author: Sandra Proto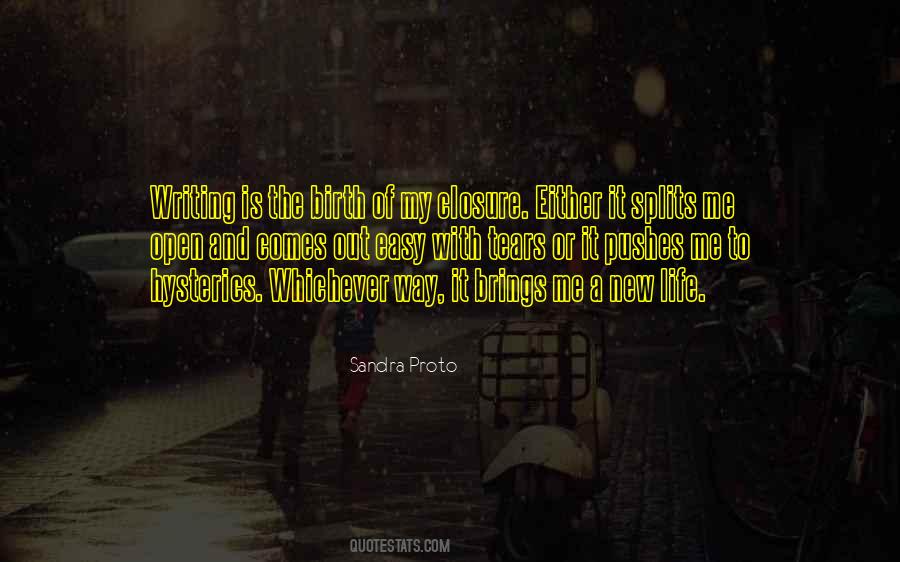 #12. I picked songs that I've been singing my whole life that stuck with me. I tried to pick stuff that was a variety. And I think the same way I always imagine that people are going to play the record at their house and I imagine them doing stuff with music on, like the way I am. - Author: Chris Isaak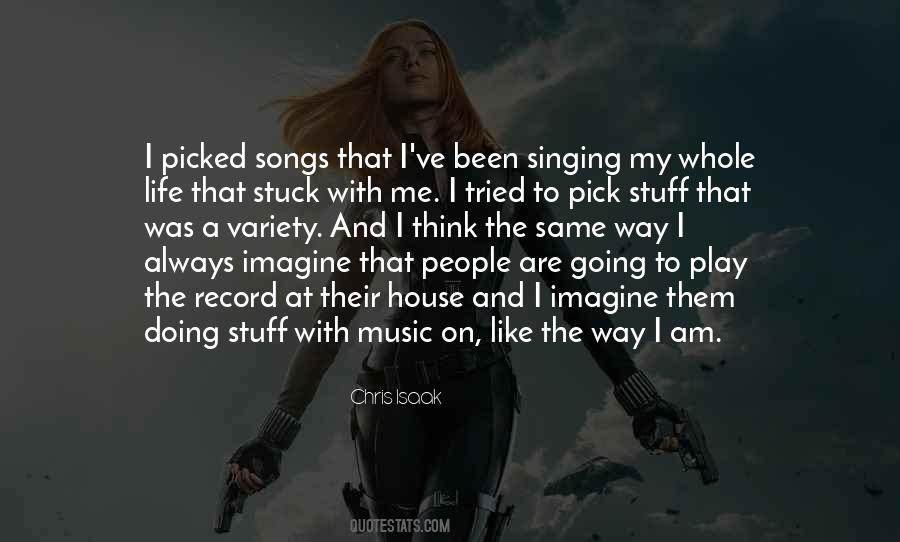 #13. So yes I know how angry, or naive, or self-destructive, or messed up, or even deluded I sound weaving my way through these life stories at times. But beautiful things. Graceful things. Hopeful things can sometimes appear in dark places. Besides, I'm trying to tell you the truth of a woman like me. - Author: Lidia Yuknavitch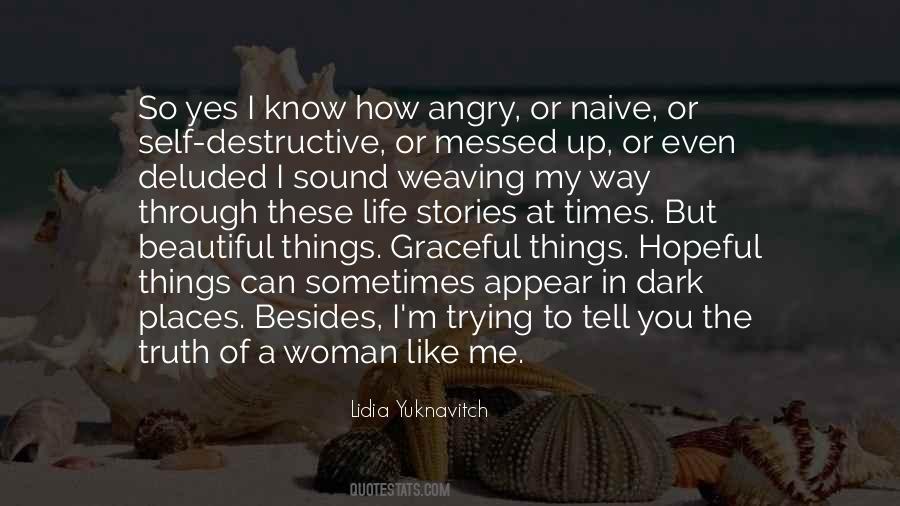 #14. The point is that life for me is not going to be the way it is for everyone else. I have a fog machine and movie lights in my bedroom. - Author: Marilyn Manson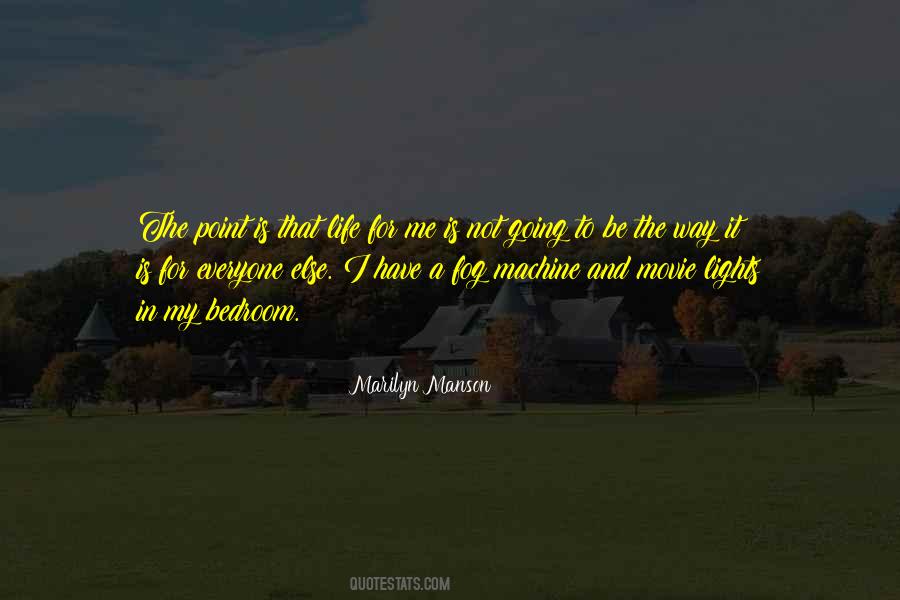 #15. I'm very much a girl that likes to have options. That's the way I am with fashion, and that's the way I am with my life. - Author: Ashley Greene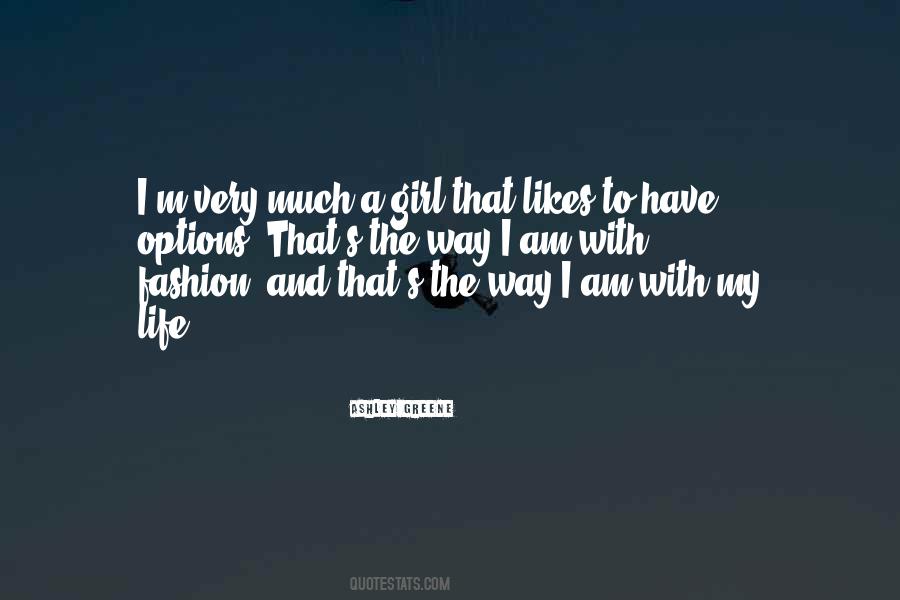 #16. I started to learn Greek when I was in high school, the last year of high school, by accident, because my teacher knew Greek and she offered to teach me on the lunch hour, so we did it in an informal way, and then I did it at university, and that was the main thing of my life. - Author: Anne Carson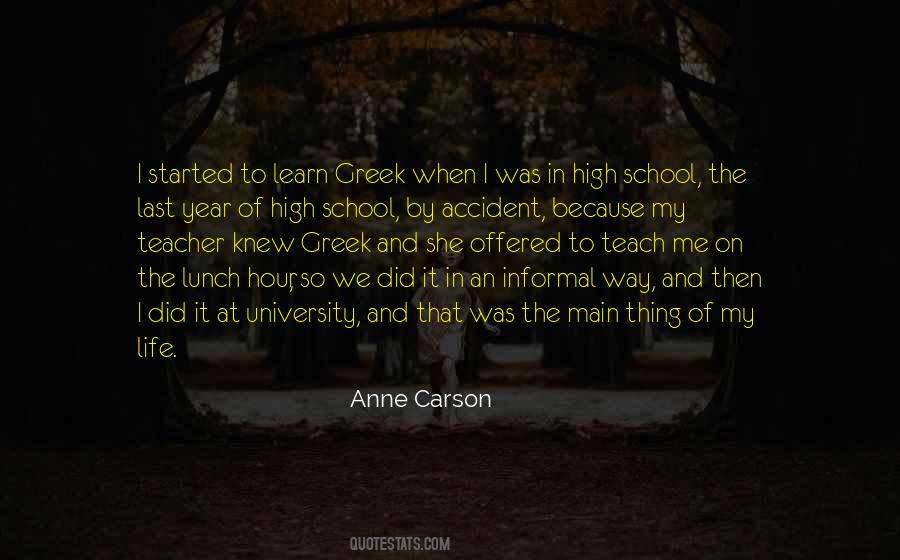 #17. Obviously I've spent most of my working life with men and they have this way of operating which seems a bit alien to me. - Author: Janet Street-Porter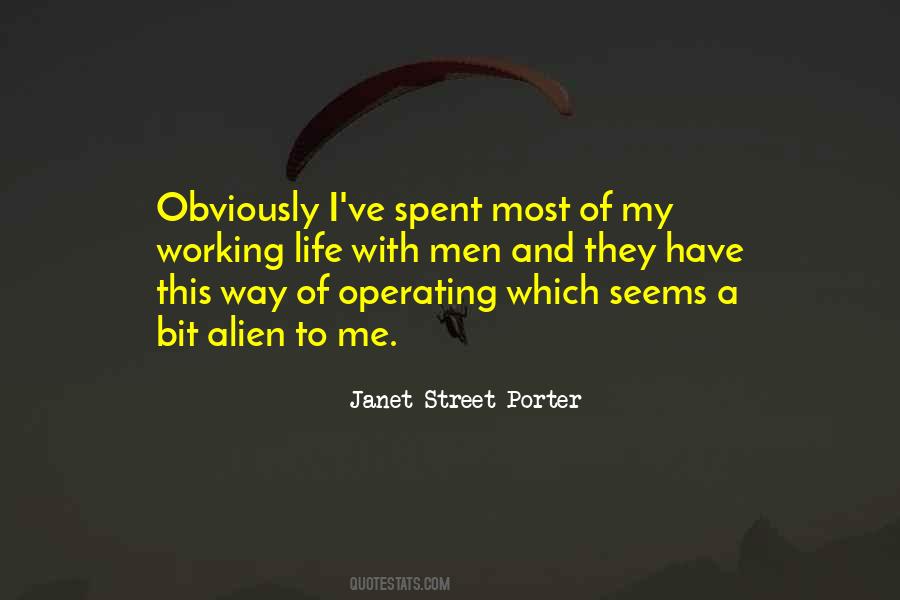 #18. As I matriculate my way down the field of life, I will never forget this moment and you wonderful people who helped make this day possible. - Author: Hank Stram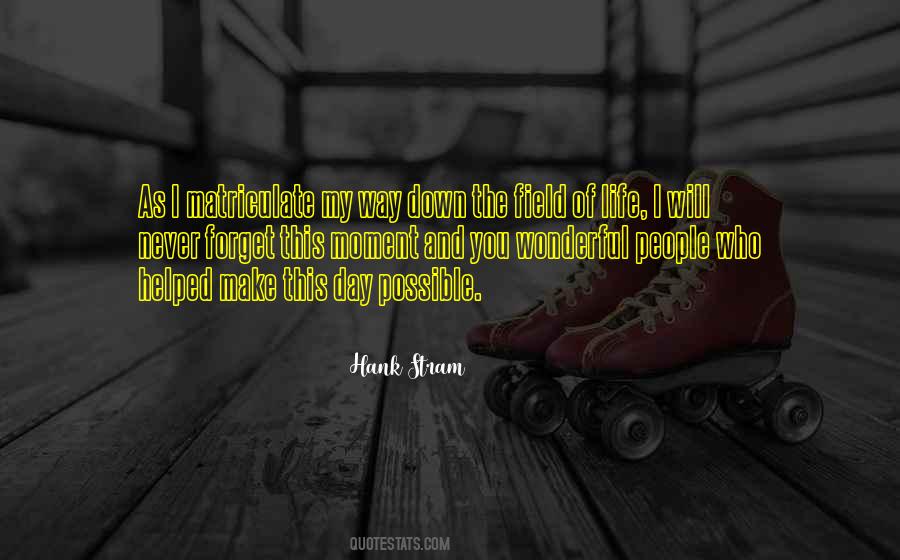 #19. My experiences with violence in schools still echo throughout my life but standing to face the problem has helped me in immeasurable ways, - Author: Shane Koyczan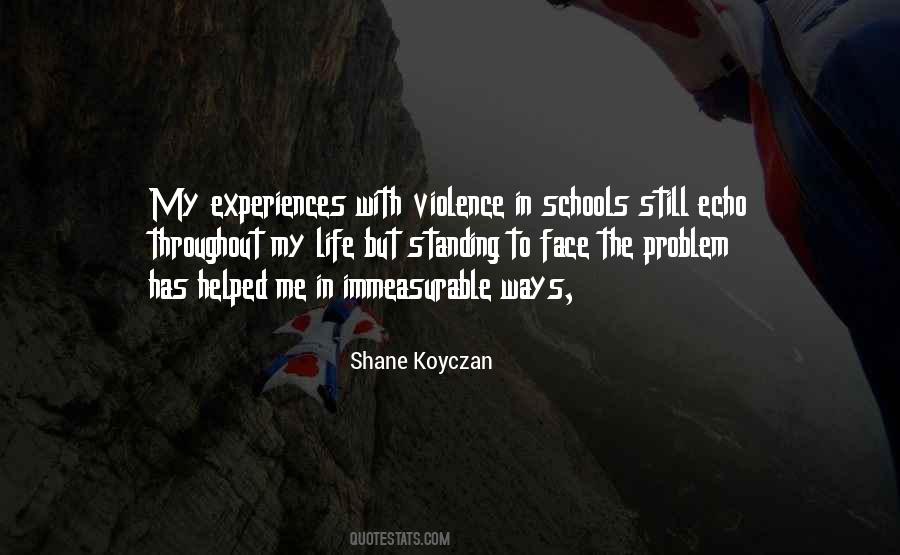 #20. Everyone in their life has his own particular way of expressing life's purpose - the lawyer his eloquence, the painter his palette, and the man of letters his pen from which the quick words of his story flow. I have my bicycle. - Author: Gino Bartali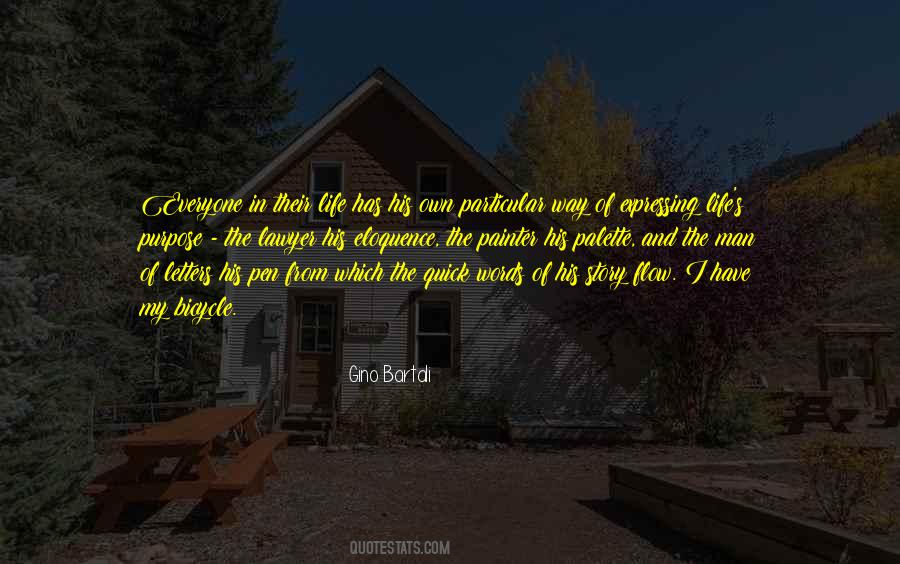 #21. I get up at six to work out. I've done it since school, it's always been part of my life. It's a good way to take the edge off. I like getting up early; I've got a daughter, I'm a single dad. - Author: Ray Liotta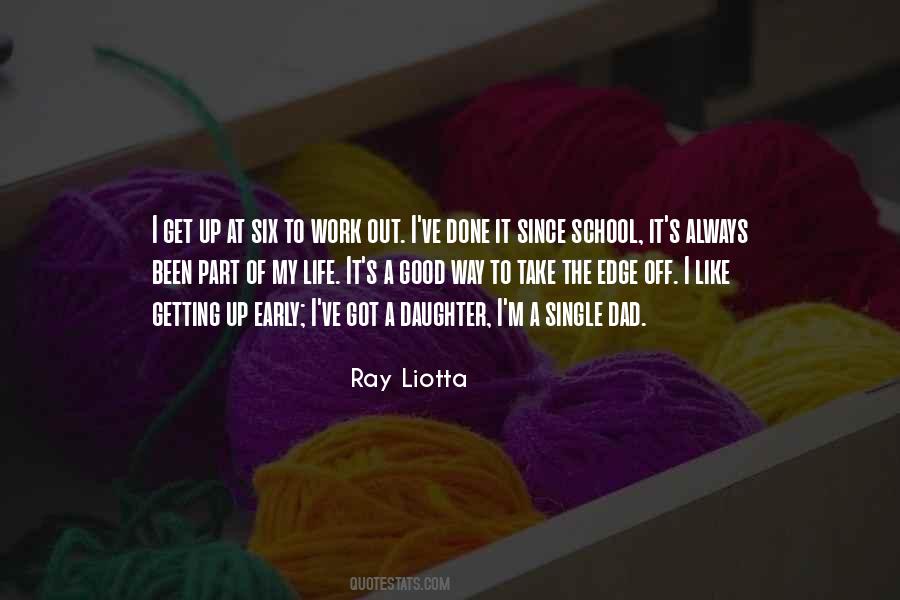 #22. My secret to survival has been embracing life's challenges and not letting them dictate my frame of mind or determine my fate ... Learning to stand strong in the face of challenge and adversity is the only way to get through the tough times. - Author: Sandra Lee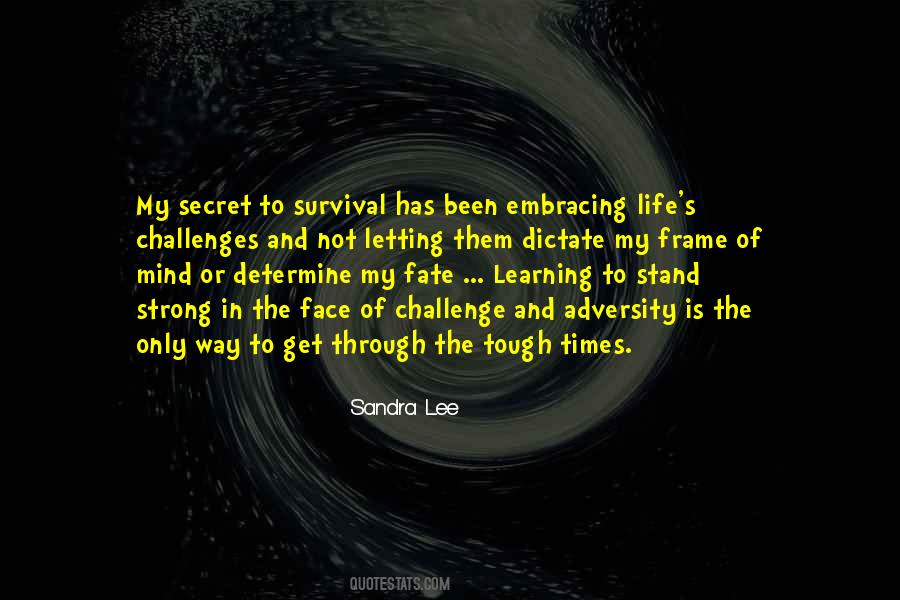 #23. Life is multi-layered and there's no way I could do my life justice in one pat answer. - Author: River Phoenix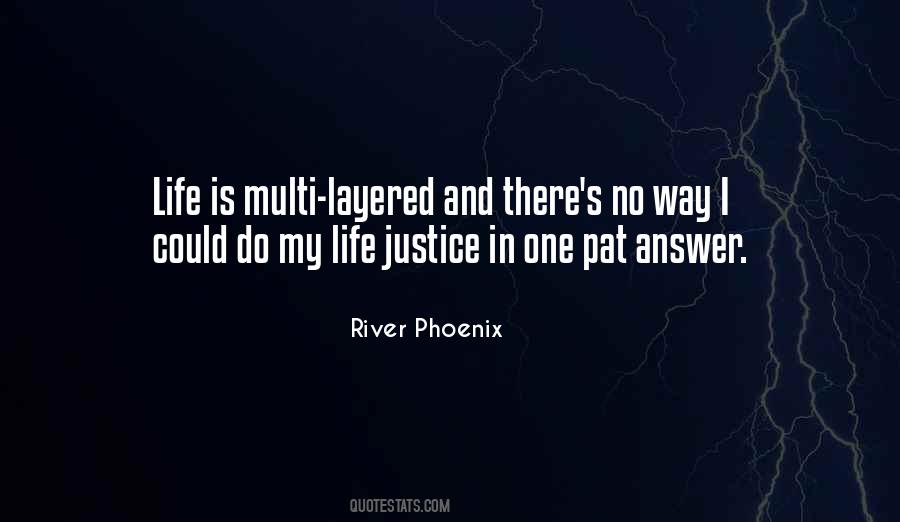 #24. And she had the magic I had never come across all my life. A minute with her messed up my mind and heart in a way that all the theories of right and wrong didn't matter anymore. All of a sudden opening my arms to the storm seemed a better choice, than dancing under the rainbows. - Author: Akshay Vasu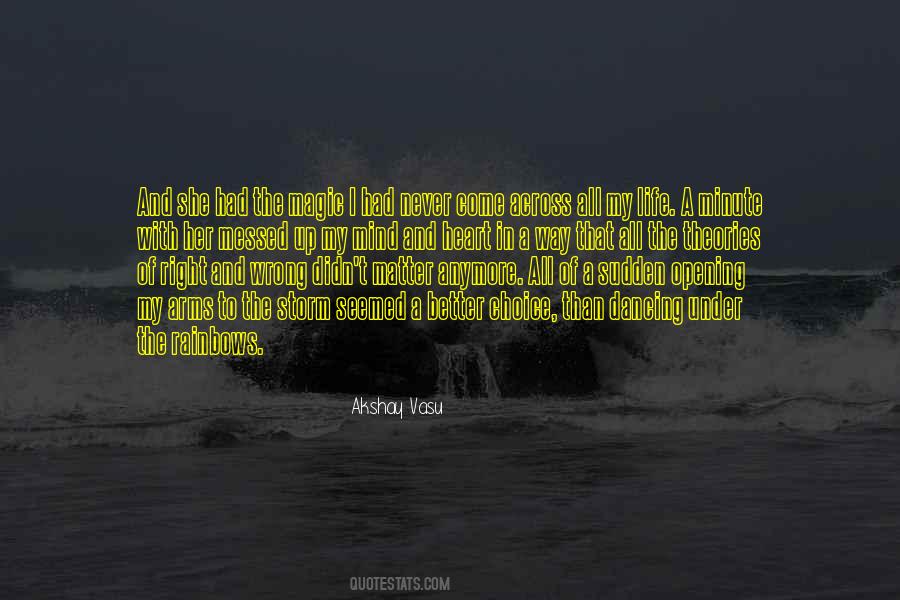 #25. [W]hoever leads an auspicious life here and governs the commonwealth rightly, as my most noble father did, who promoted all piety and banished all ignorance, has a most certain way to heaven. - Author: Henry VIII Of England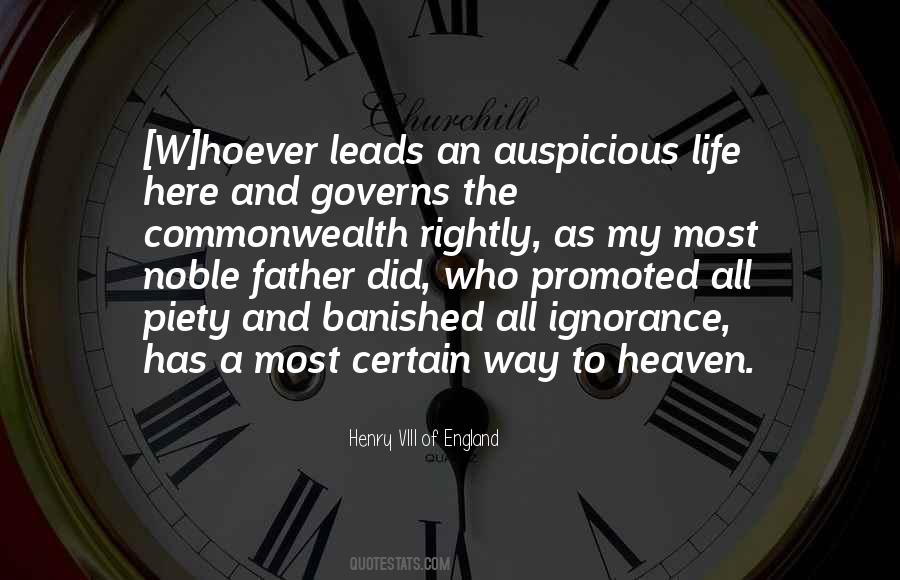 #26. The roles that have come into my life have taught me - and in that time period maybe I didn't even know it, but whatever came up or whatever it is that you have to express at that time, has benefitted me in a particular way. - Author: Emma Stone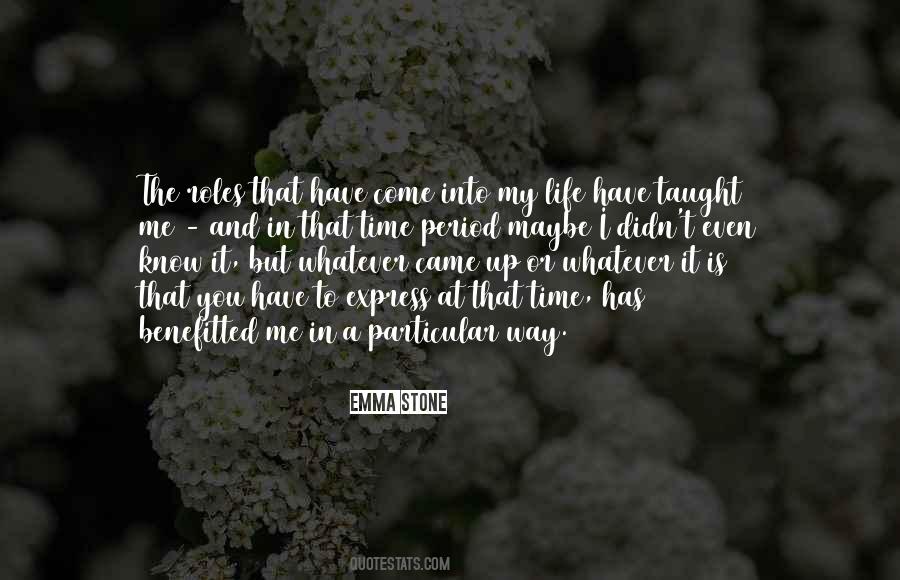 #27. Music has always been a dominant force in my life. As a young kid, it was a way for me to escape everyday life. - Author: John Varvatos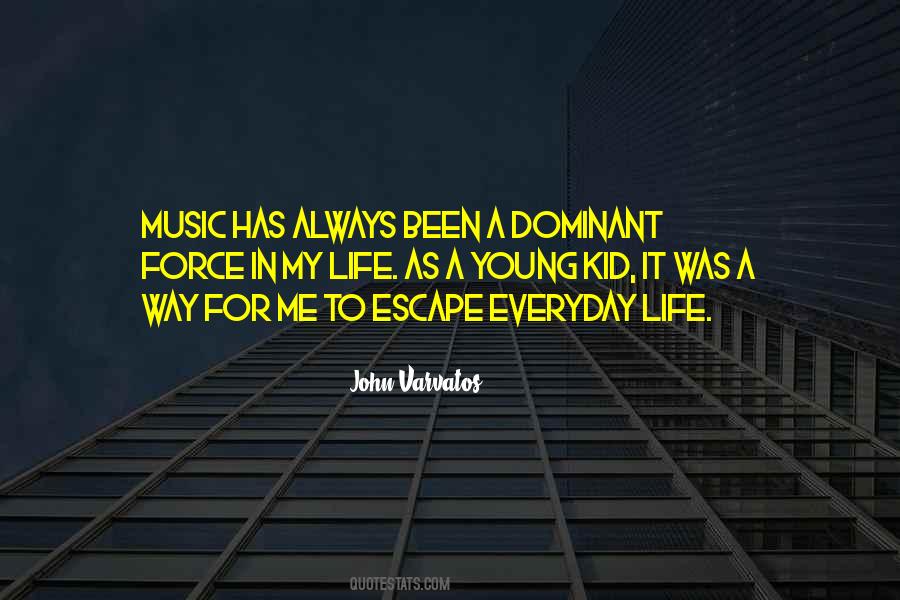 #28. All fear has ever done is hold me back. I have so many things I want to accomplish in my life. For myself and for the world. Fear is useless; it just gets in the way of accomplishing everything Overcome fear today and and confront one of your phobias. - Author: Demi Lovato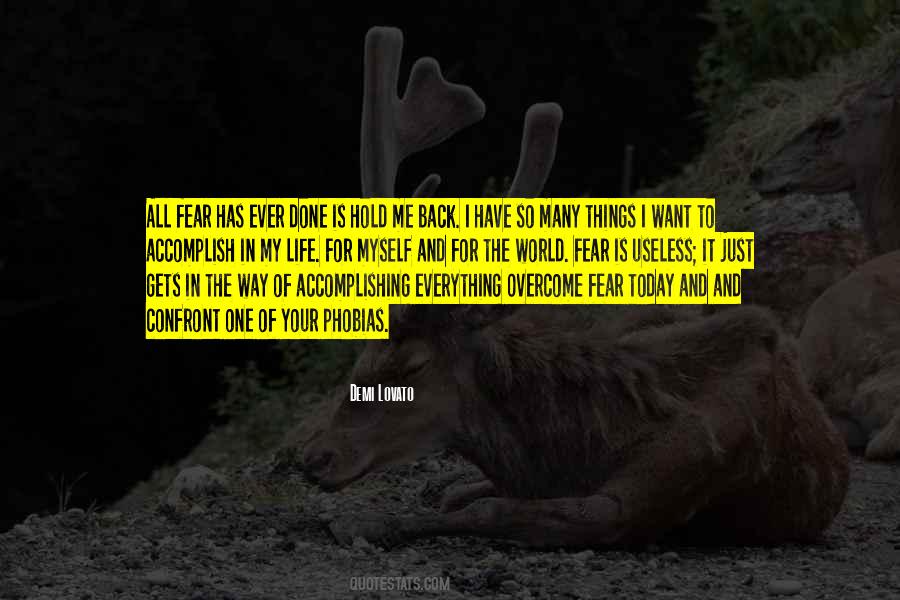 #29. I do my duty: other things trouble me not; for they are either things without life, or things without reason, or things that have rambled and know not the way. - Author: Marcus Aurelius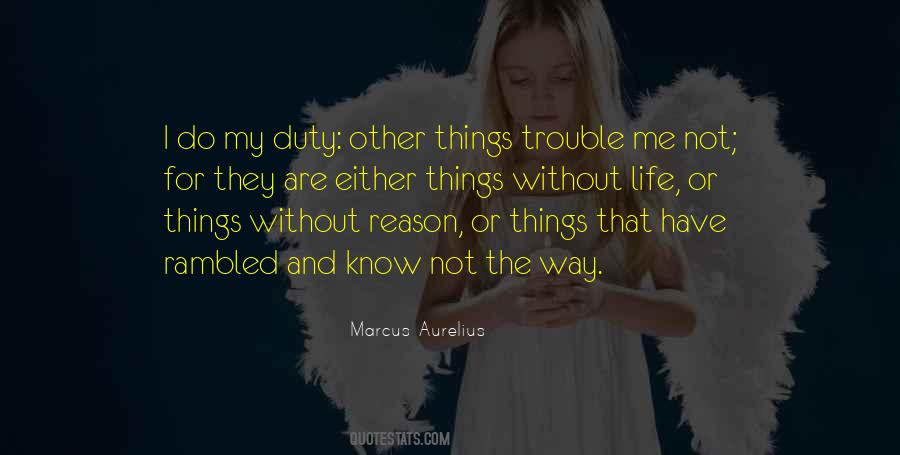 #30. For twenty years, my research has shown that the view you adopt for yourself profoundly affects the way you lead your life. It can determine whether you become the person you want to be and whether you accomplish the things you value. - Author: Carol S. Dweck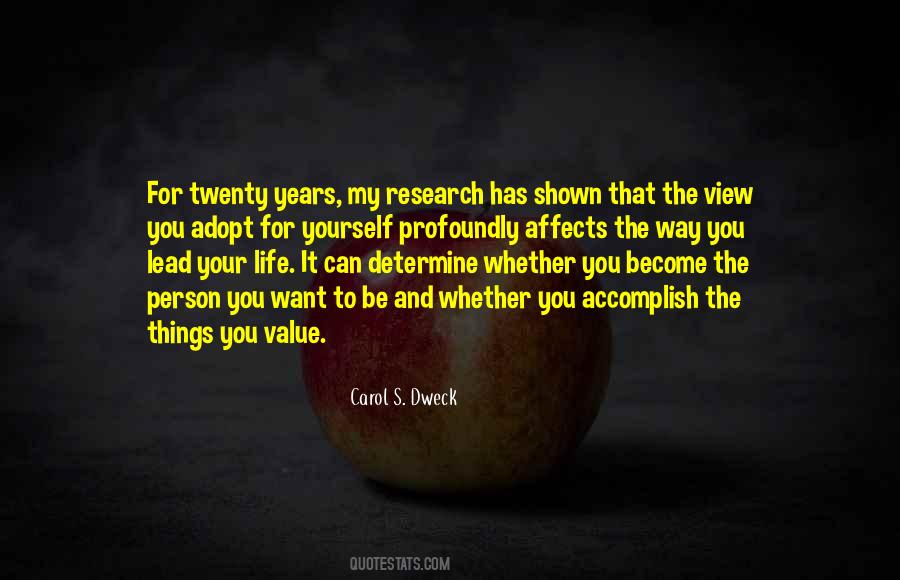 #31. My life is very crazy and busy, but I love it that way. - Author: Hilary Duff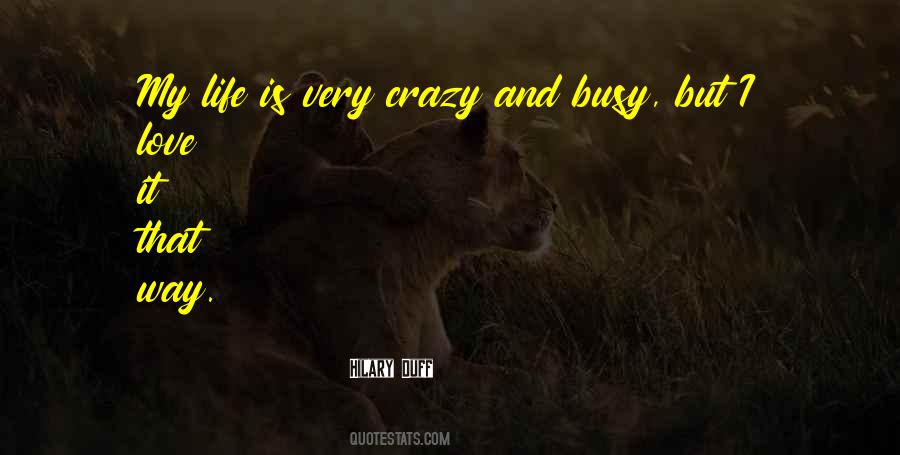 #32. My way is in the sand flowing
between the shingle and the dune
the summer rain rains on my life
on me my life harrying fleeing
to its beginning to its end - Author: Samuel Beckett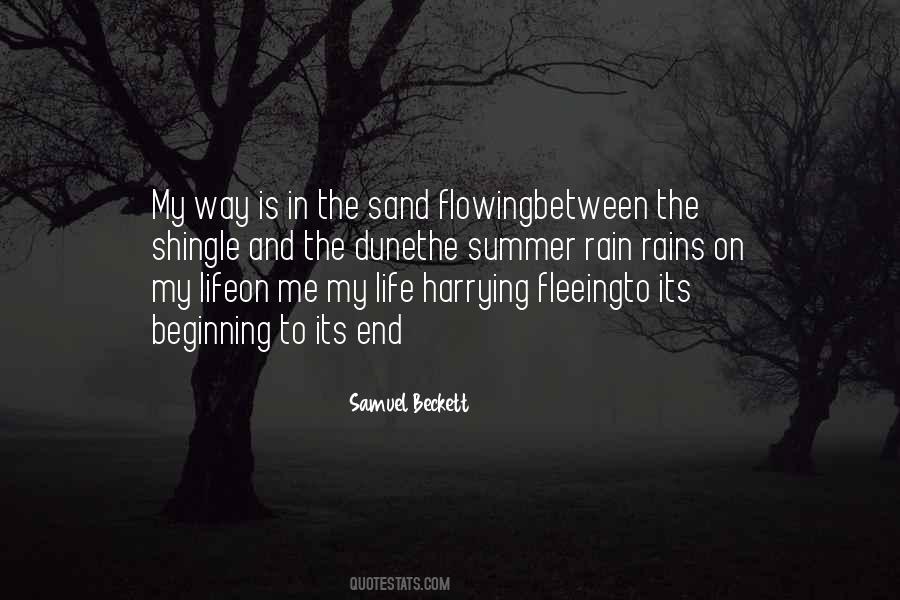 #33. I made my kids into Viking fans, so they will carry their misery with them, too. A little disappointment in life goes a long way. - Author: Dave Goldberg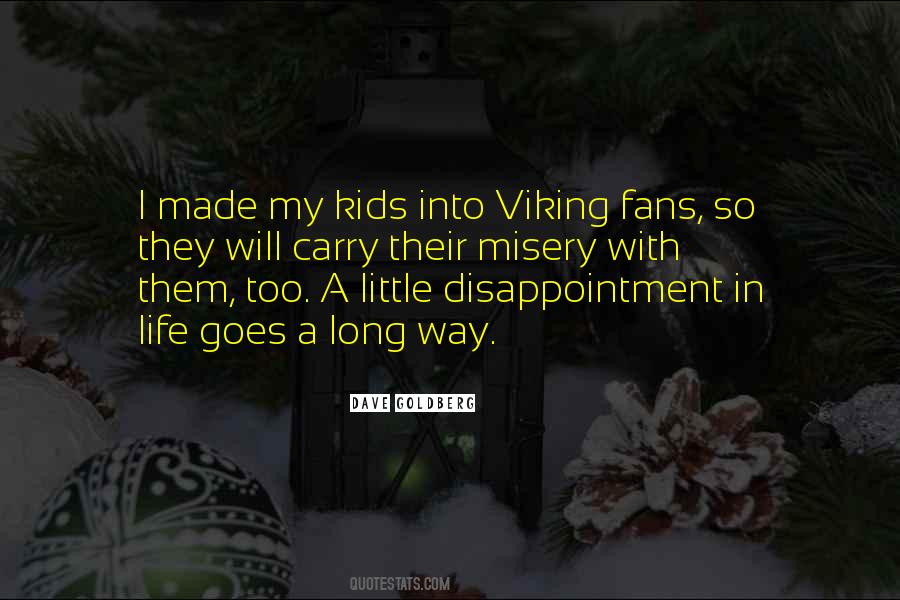 #34. Deal with death every day of my life... in one way or another. You can never tell when it's going to bring you undone. - Author: Scot Gardner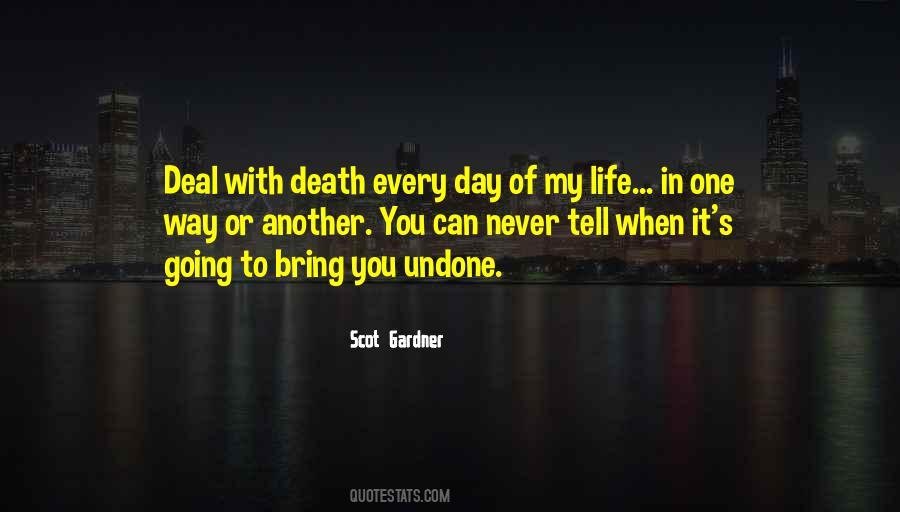 #35. God is constantly knocking at the gate of my heart to invite me to go beyond the state I have reached, because my whole life should be a journey on the way to Love. - Author: Charles Journet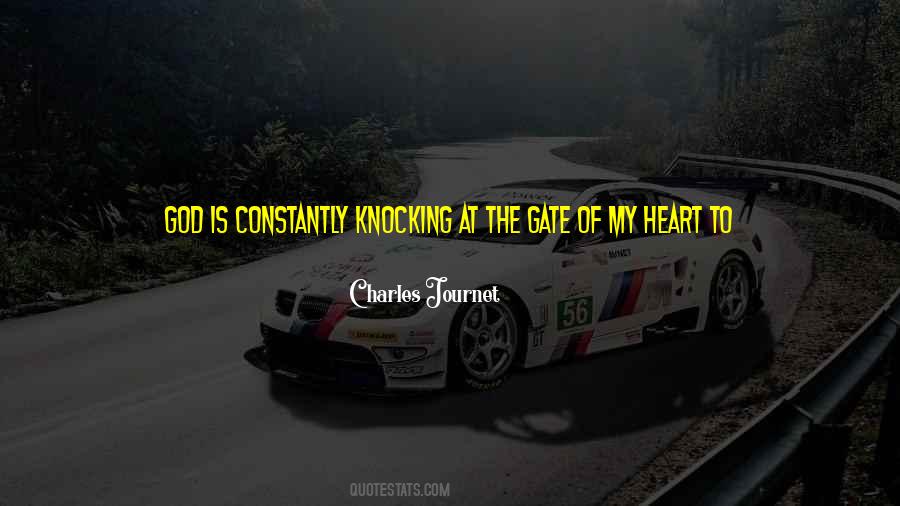 #36. My way of life is objectively better because mine has Wi-Fi and Netflix. - Author: Madeleine Roux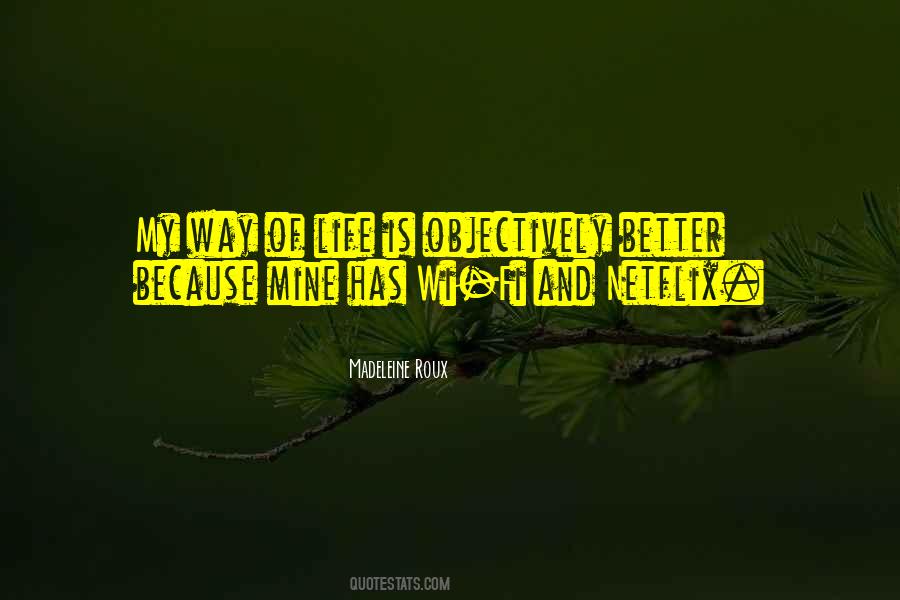 #37. Before, singing was my life, my vocal chords used to lead the way. Now, I'm in-charge. - Author: Celine Dion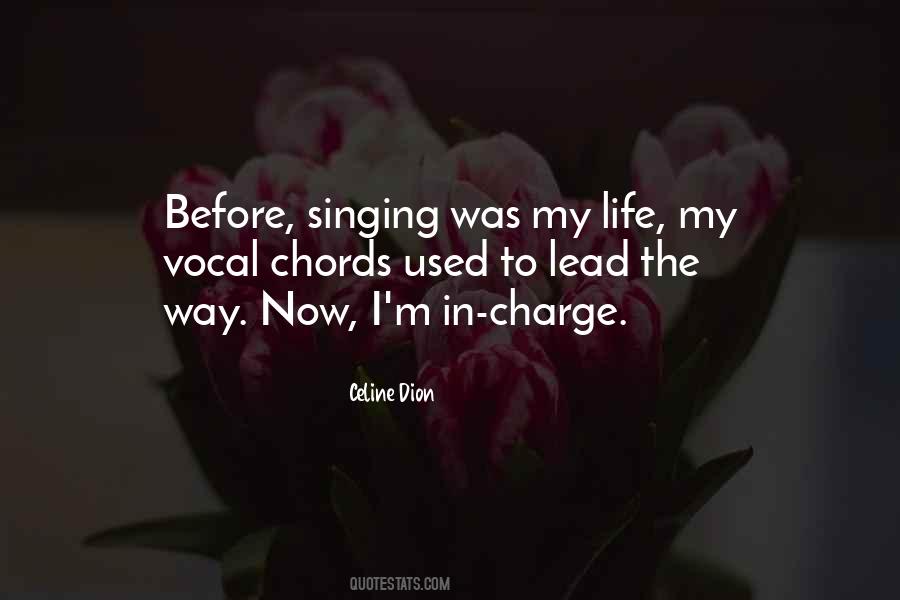 #38. I won't change and my perspective won't change. I want to continue my life the way I live it, and I'm not going to let anything stop me from doing that. It isn't all about acting. There's a lot more to life than Hollywood. - Author: Elijah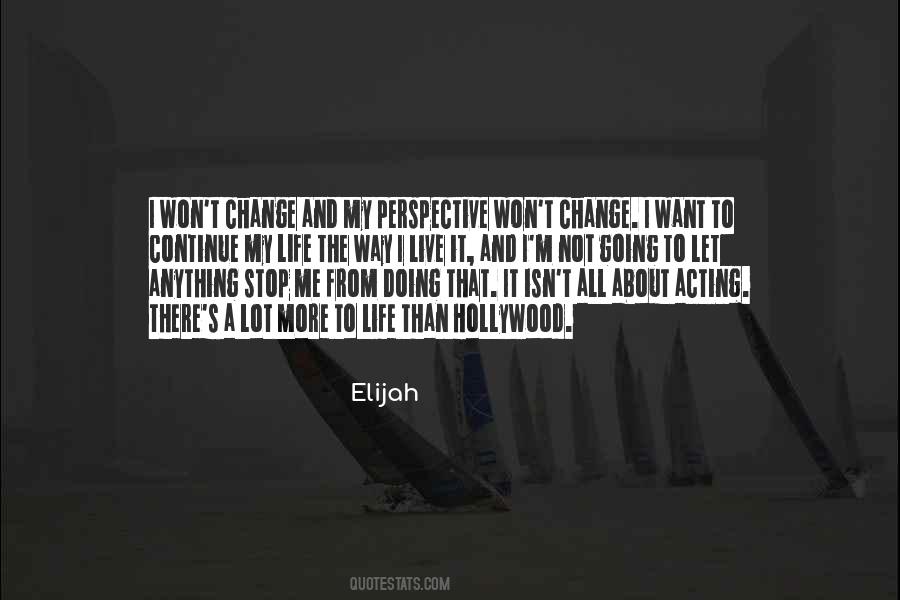 #39. Like so many addicts, I'd thought that if I could only sort out my life, I could then sort out my drinking. It was a revelation to see that it would be simpler the other way around - Author: Pete Townshend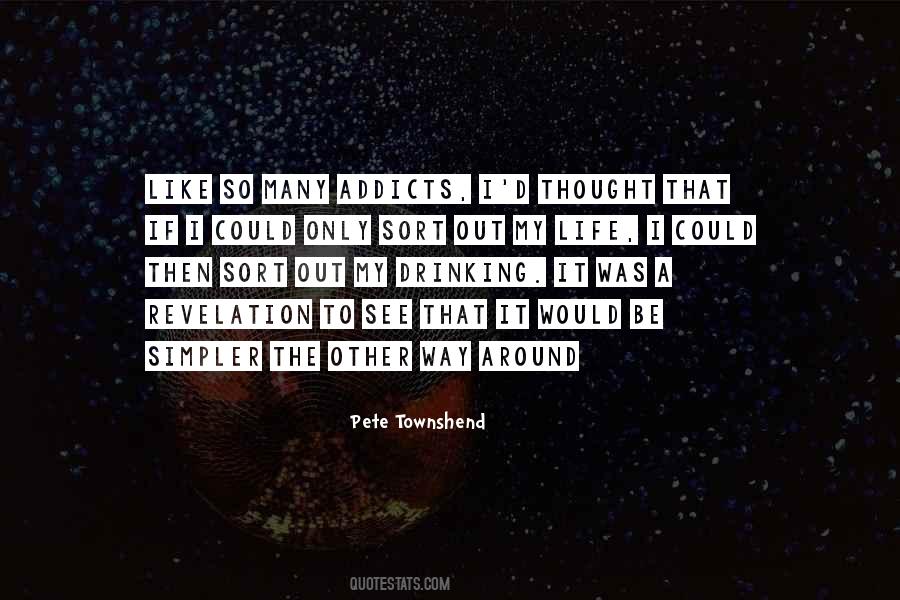 #40. Music overwhelmed me, soaked into my skin like water. I didn't have words for the squiggles and dashes across the pages, or the way his fingers stretched across the keys to make my heart race. If I could hear only one thing for the rest of my life, this was what I wanted. - Author: Jodi Meadows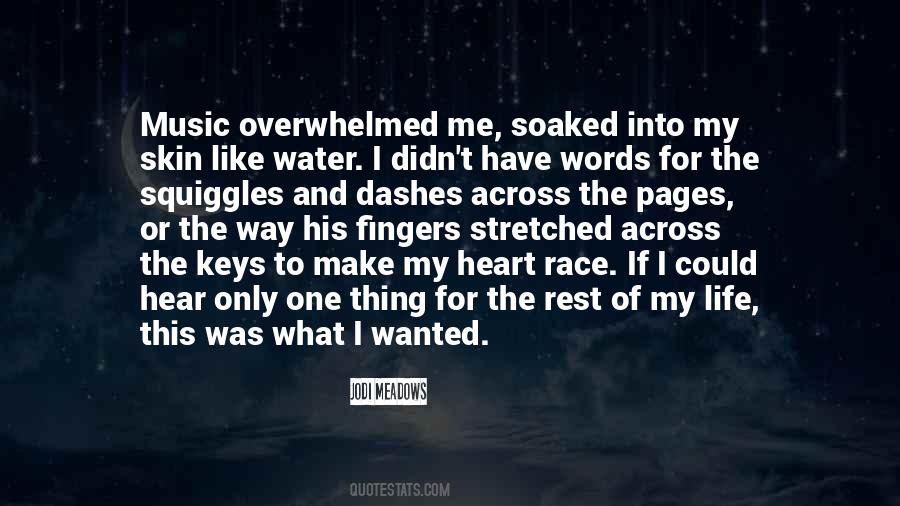 #41. Cosmopolis is the movie of my life. I didn't consider myself an actor before, even if I had 10 years of acting behind me. I always felt like a fraud, and inappropriate. I doubt a lot. David Cronenberg gave me confidence in myself. He changed my way of acting and thinking in this industry. - Author: Robert Pattinson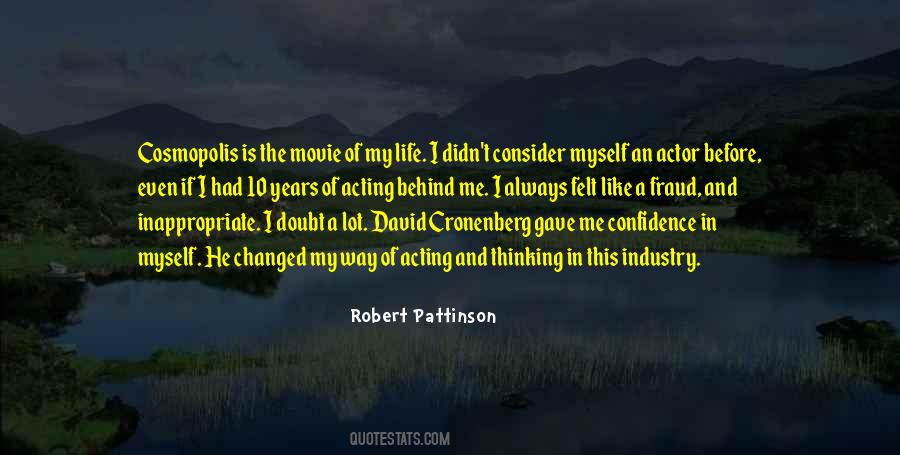 #42. I still live my life the way that I want to live it, and people are very respectful of my space, but they also want to chat, and I quite like chatting. - Author: Walton Goggins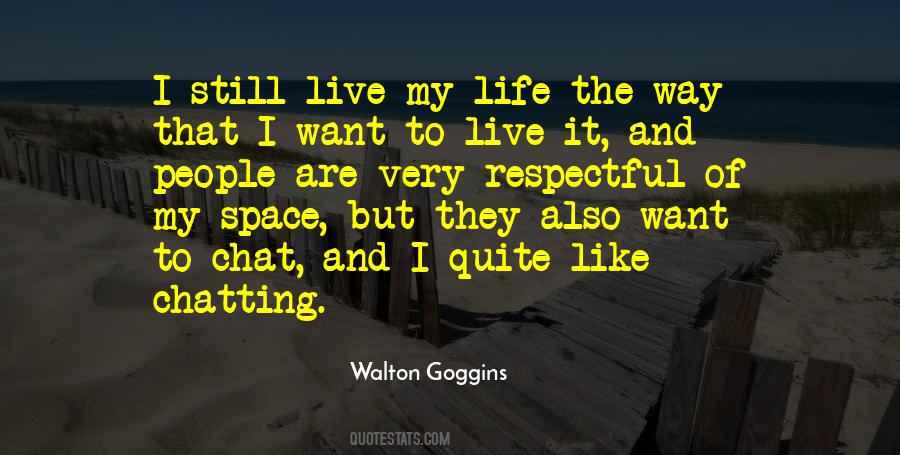 #43. The way I run my business seems to be easier than the way I run my life. - Author: Donald Trump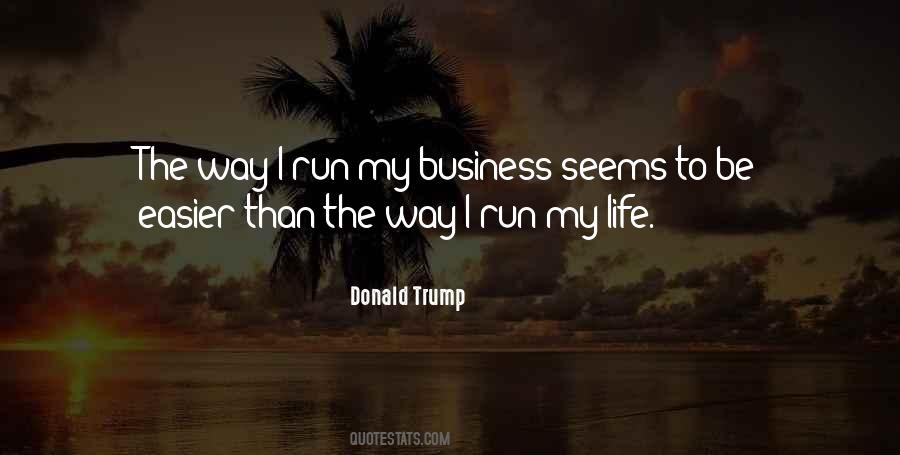 #44. I definitely write about my life and the issues I might have or the dilemmas I'm going through, but usually I write about it in a general way and make metaphors. Like "I'm the wolf and you are the moon ". - Author: Oh Land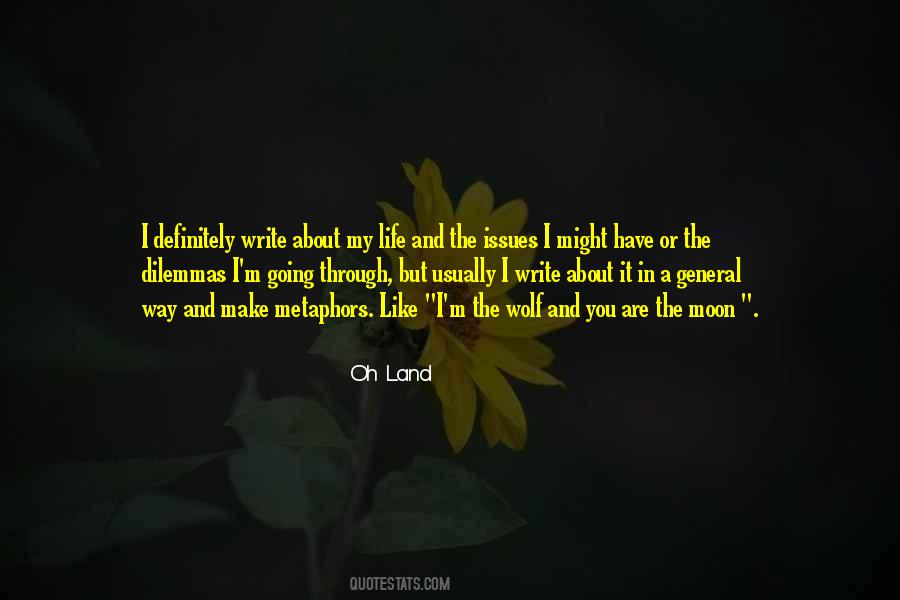 #45. I've got a hectic schedule, but I wouldn't have my life any other way. - Author: Dominic Monaghan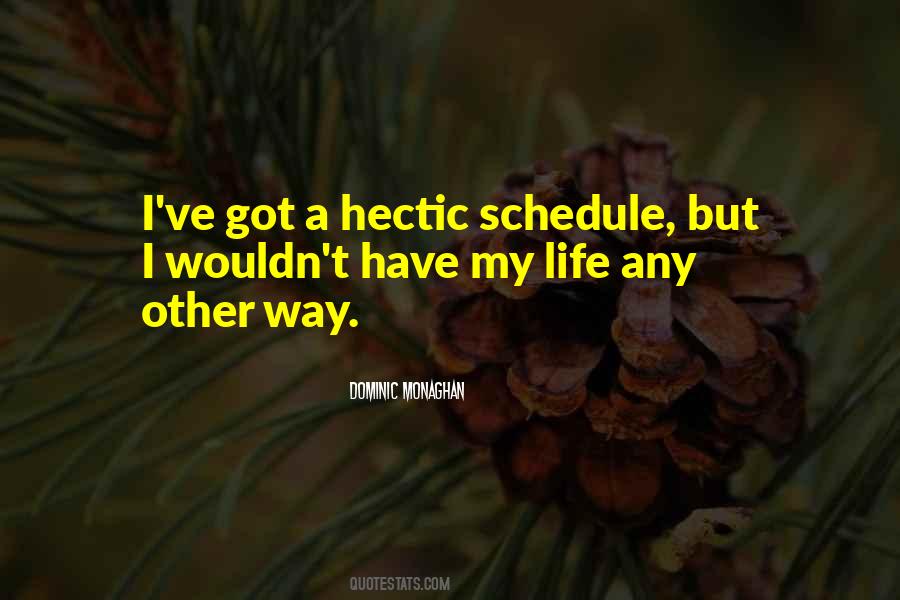 #46. I come to writing the same way I come to teaching, which is that my goal is always to create life-long readers. - Author: Rick Riordan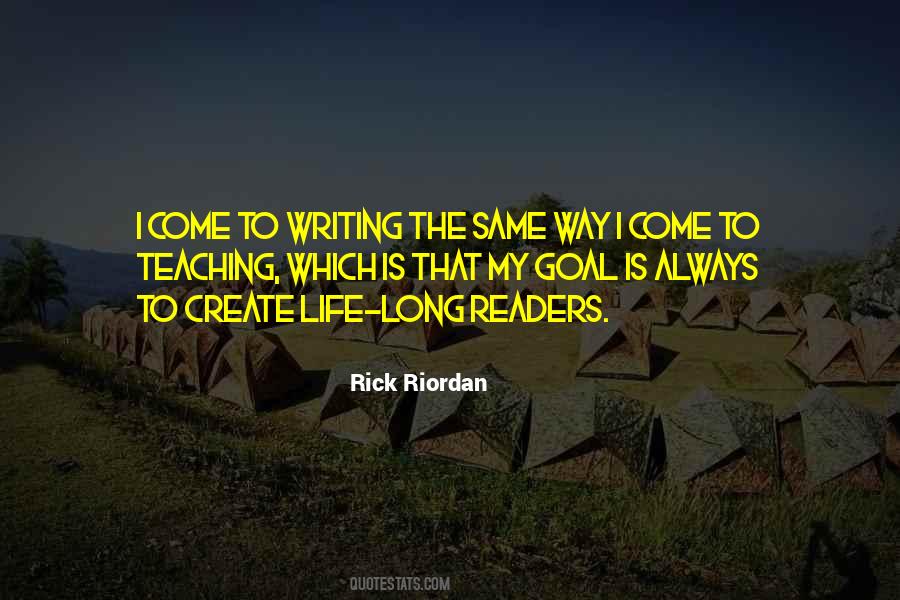 #47. I am not married to any particular genre. I am more interested in projects that capture my imagination and move me in a way that I can spend a year of my life working on it. - Author: Oscar Torre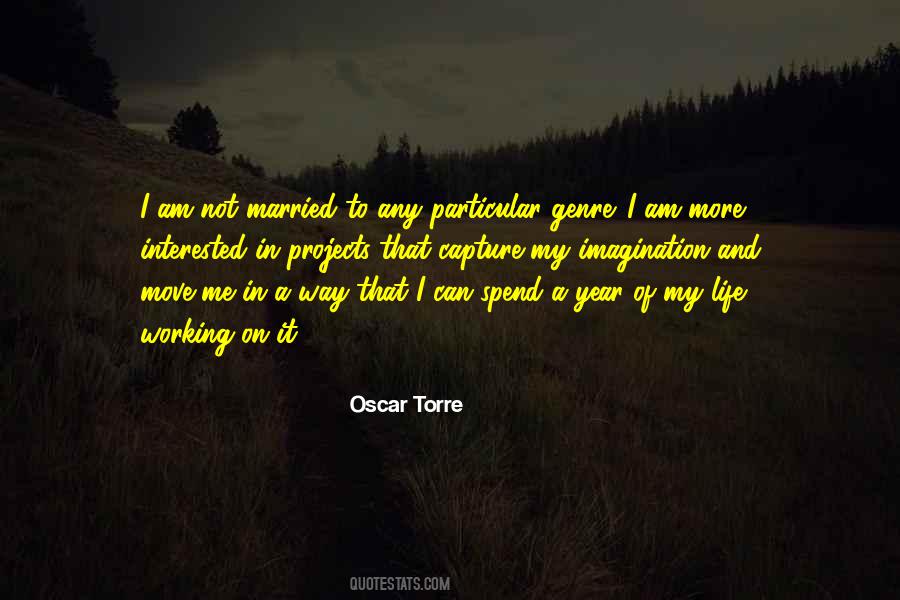 #48. I go to therapy a lot. And I'm - I'm open about that, and I try to get the help so that I - so that I can cope and - and make my way in life and with my family. - Author: Howie Mandel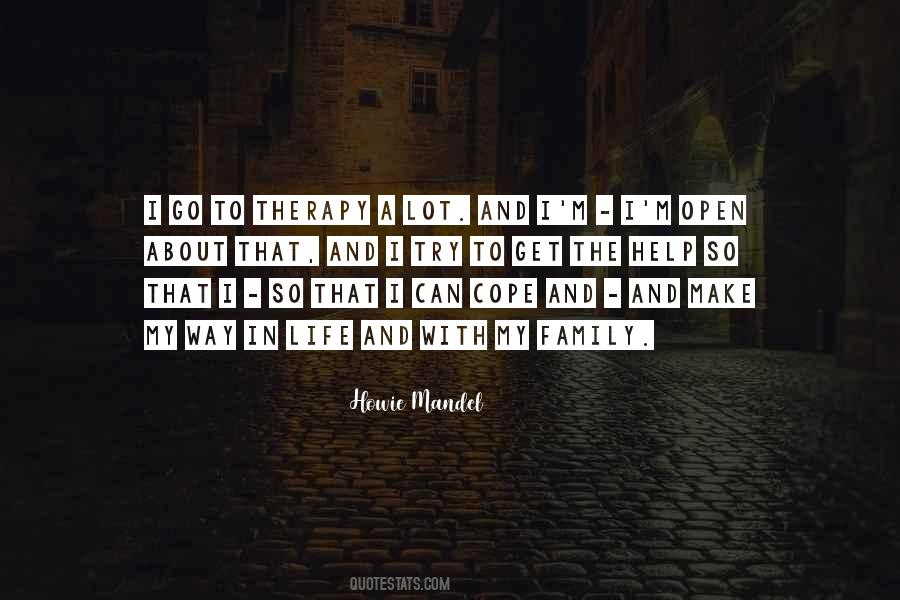 #49. I am so enriched because so much has happened in my life. The way I can express myself is because of the life I have led. It's only when you experience life can you emote it. - Author: Bipasha Basu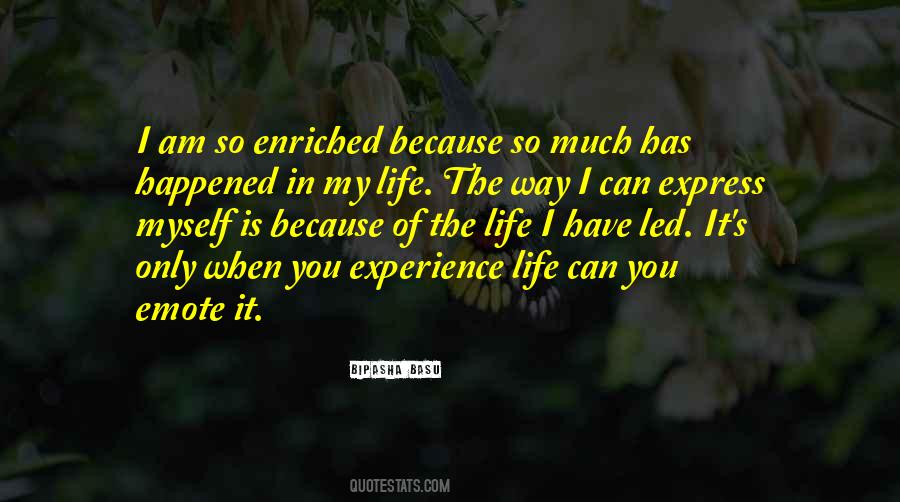 #50. I got stuck up a tree when I was about seven, and my dad had to come and get the ladder to get me down. I loved to climb all the way up to the top. I must have been a koala in my past life. - Author: Miranda Kerr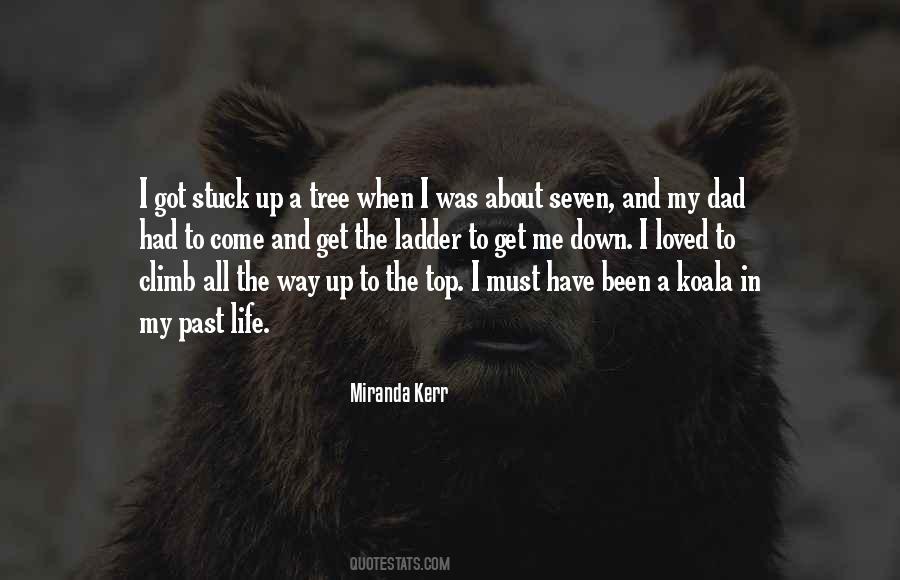 #51. I'm my biggest inspiration. And I say this in the most humble way. I've been through so much, just in my life. - Author: Brandy Norwood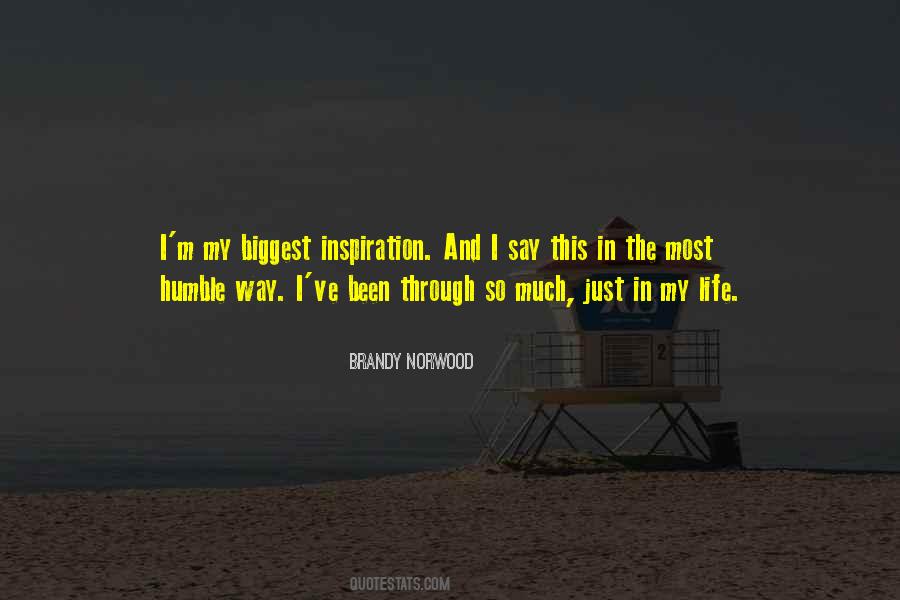 #52. If I had my way I'd shut everything out of your life but happiness and pleasure, Anne, said Gilbert - Author: L.M. Montgomery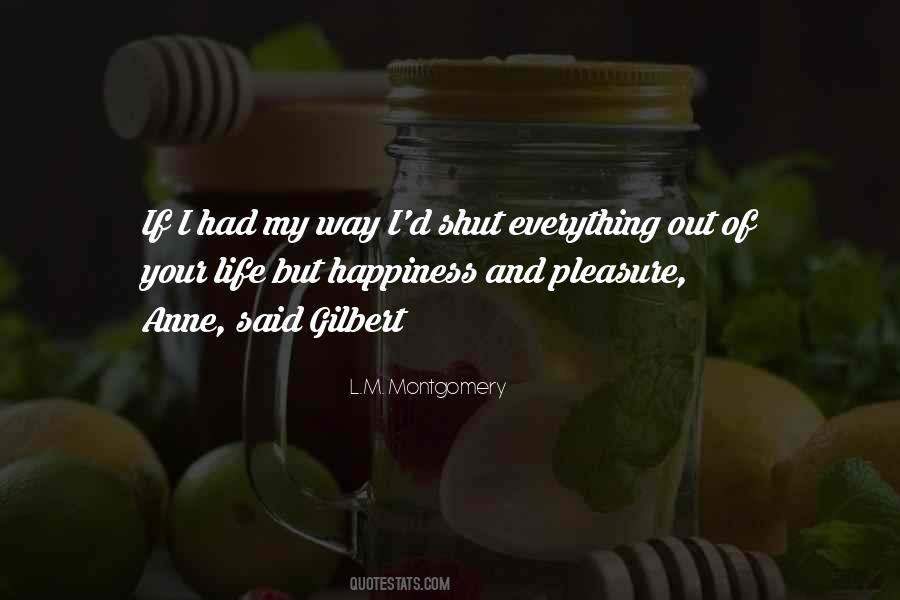 #53. I can only speak for myself. But what I write and how I write is done in order to save my own life. And I mean that literally. For me literature is a way of knowing that I am not hallucinating, that whatever I feel/know is. - Author: Barbara Christian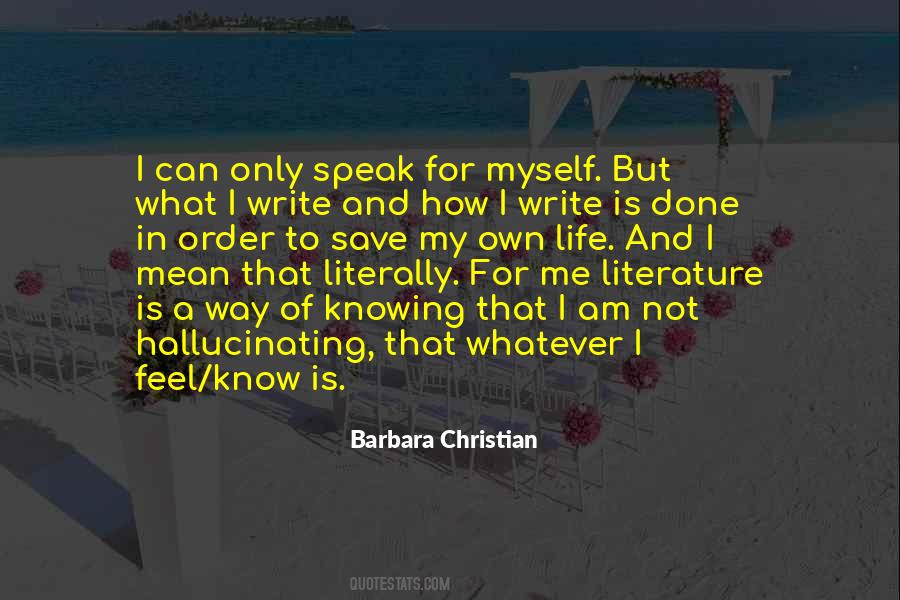 #54. He rolled the other way and watched the digital display of his alarm ticking seconds off he'd never get back. This is the life we're given. One life. One opportunity to be happy, to make others happy, and I'm letting it slip through my fingers because I'm afraid. - Author: Barbara Elsborg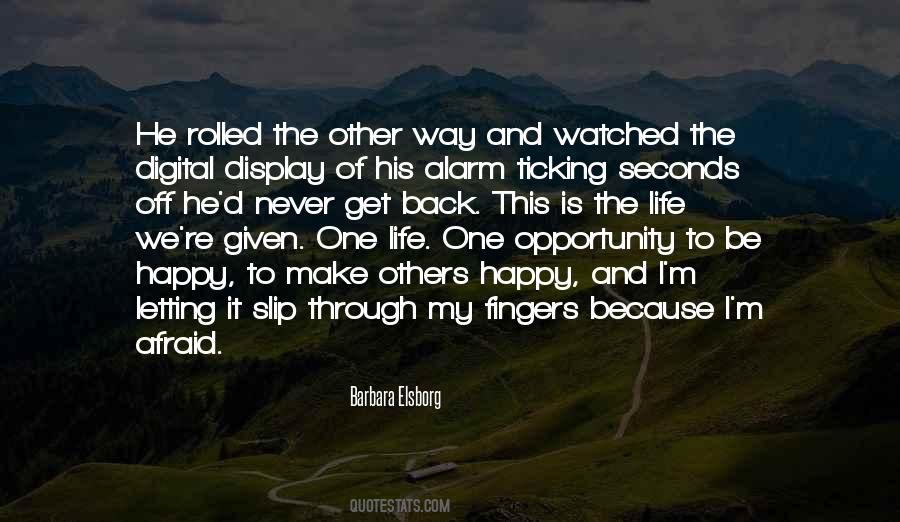 #55. If someone wanted to have a grudge against me, or didn't agree with my lifestyle, the way I breathed, the space I took up on this planet, they had an open door to 'report' to the powers that be. - Author: Mark Alders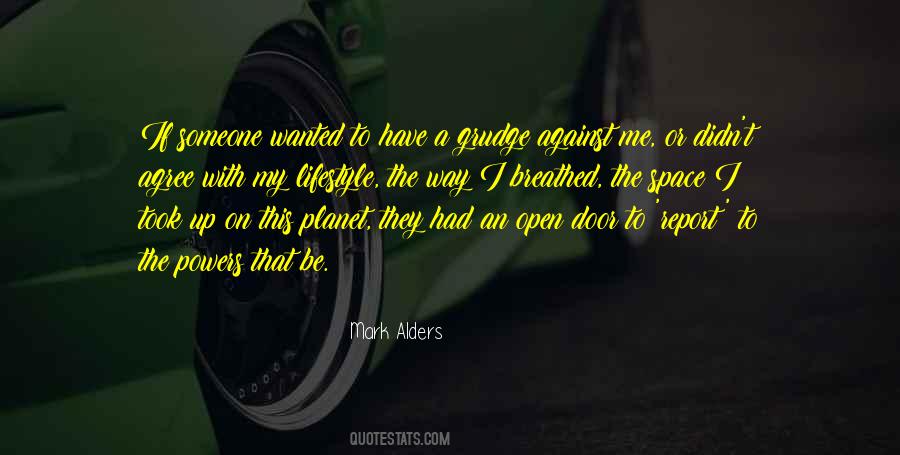 #56. A lot of my songs are about death and the fleetingness of life. It just feels good to remind myself about that a lot. For whatever reason. And it's a beautiful thing, actually. It seems to me like it's a beautiful way to live in the world and to relate to things, with an awareness of temporality. - Author: Phil Elvrum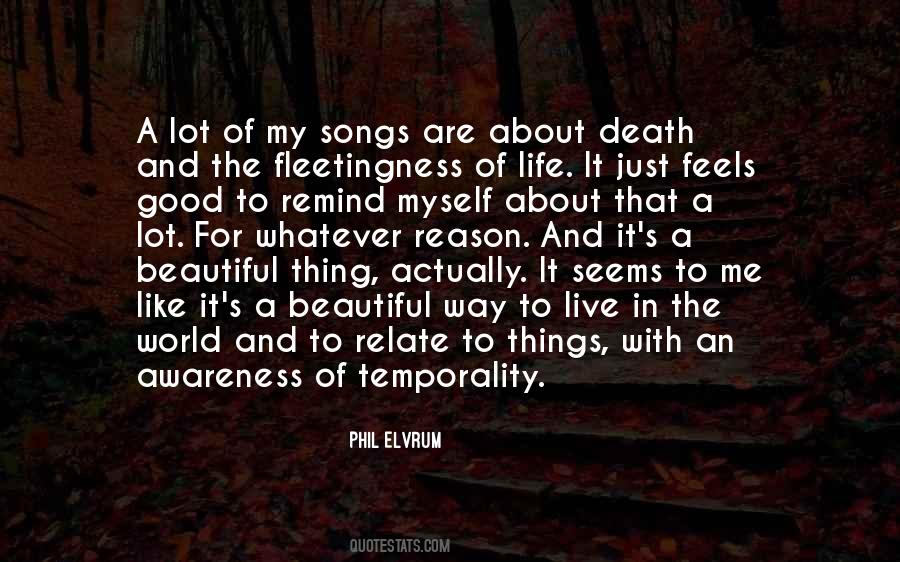 #57. I am inexpressibly grateful that the Lord of my life has granted to me in such abundance these opportunities to take part in the life of his ecclesia and to bear witness to the Living Christ in so many places and in so many ways. - Author: Emil Brunner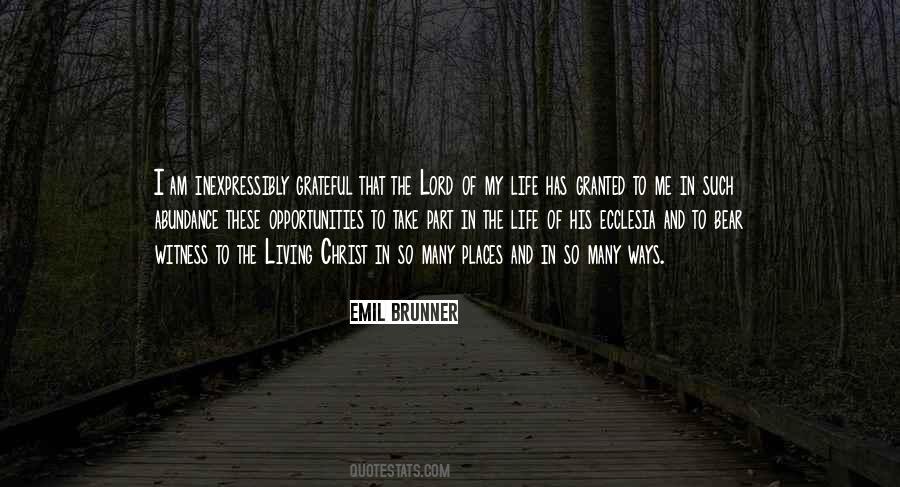 #58. It's as if I've stepped off the edge of a cliff, and even though my heart's in my mouth and my stomach is in knots, I'm the most excited I've ever been in my life. I'm totally enthralled by him. I want him, every part of him, and I desperately want him to feel the same way about me. - Author: Serena Grey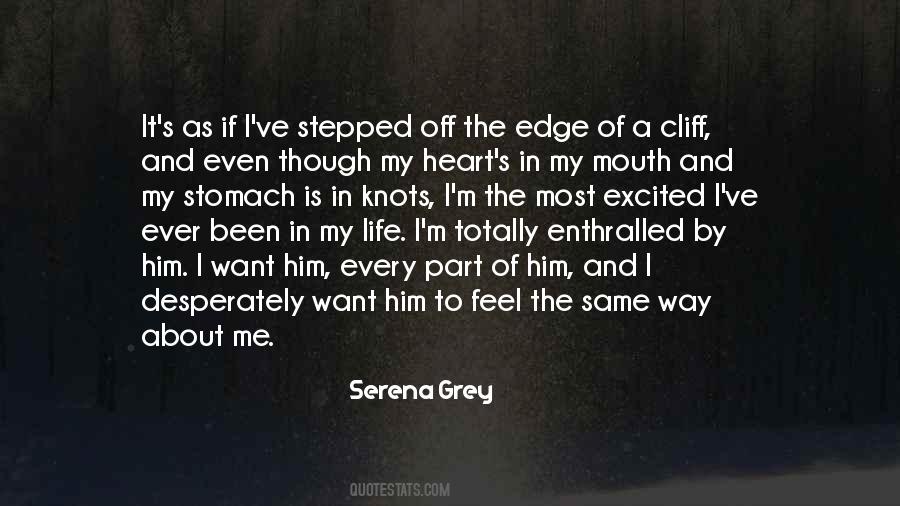 #59. It's hard to explain how this works, and I admit that it's fairly implausible or untenable as a way of life, but that seems to be how I go about my days: peaceably in person, fiercely on paper. - Author: Katie Roiphe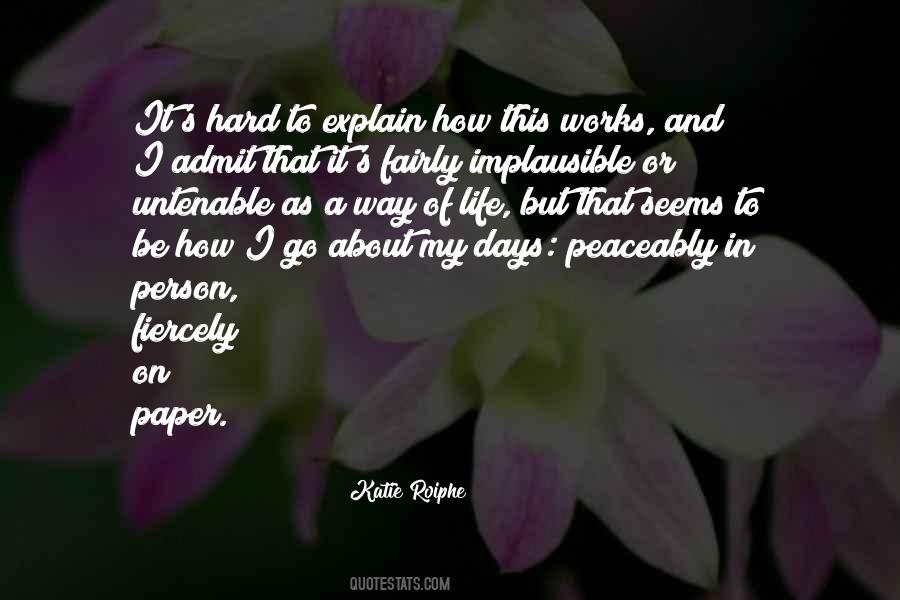 #60. I might not be all that good with mathematics in class; but go into my mind; and you will see that type of mathematic I put in; in my everyday life, and you can say that I am genius in a way in the terms of mentality; but retarded in class. - Author: Temitope Owosela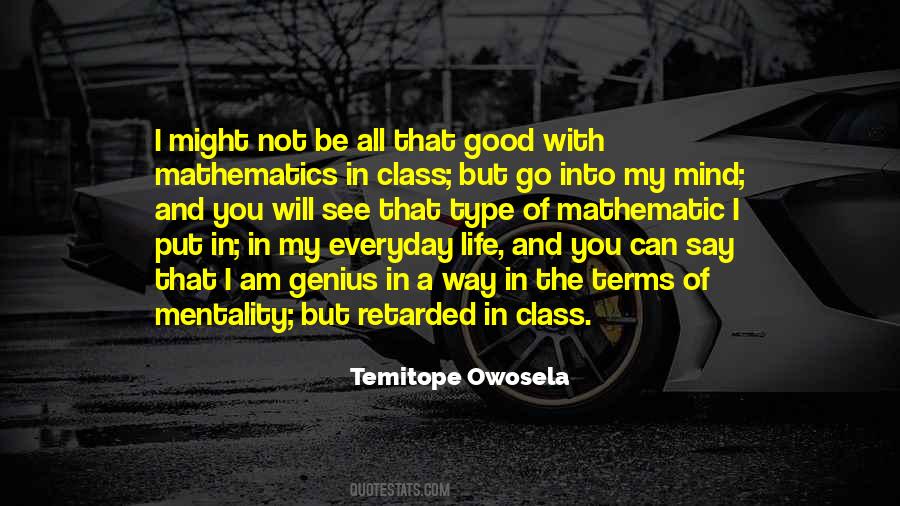 #61. Overall, my life has been one of survival, and the decisions that I have made along the way, including my identification, have been to survive. - Author: Rachel Dolezal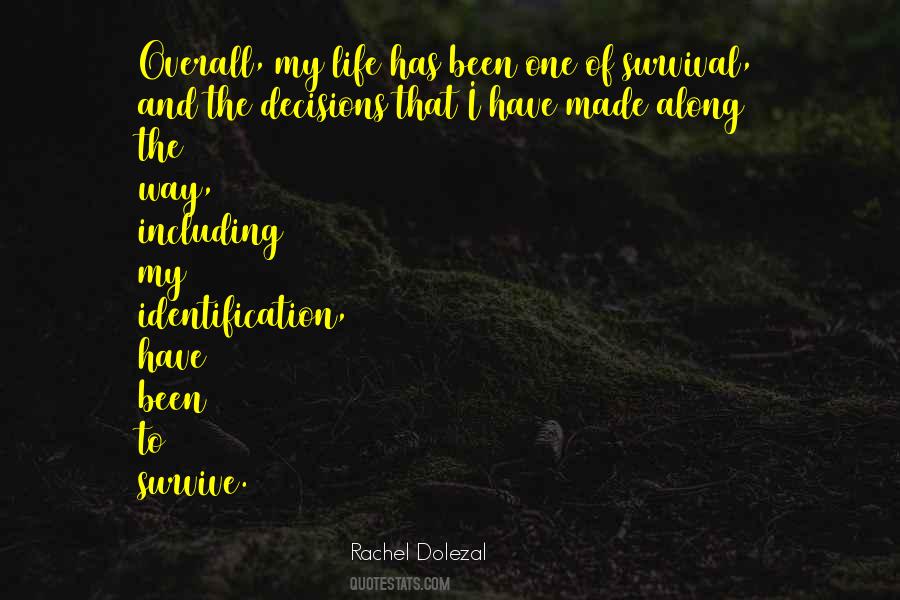 #62. I do feel like I have always, in my life, been inclined to be on the outside, walk a different path or something. Because of that, and increasingly over the years, my sense of distance from mainstream society or from the way culture works, I have a different kind of perception of it. - Author: Ian MacKaye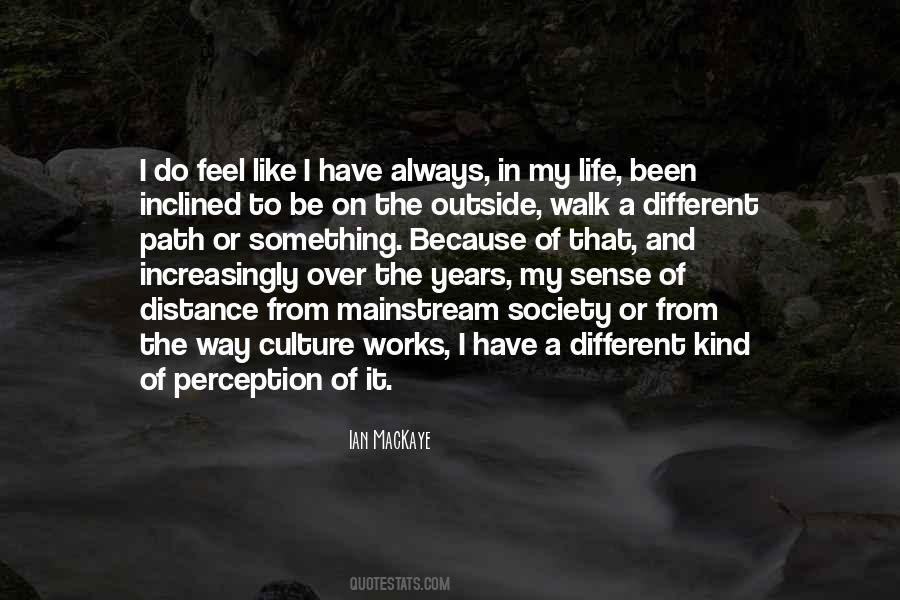 #63. I use Spanish dancing as a way to exercise. I've done that for my whole life. - Author: Sofia Vergara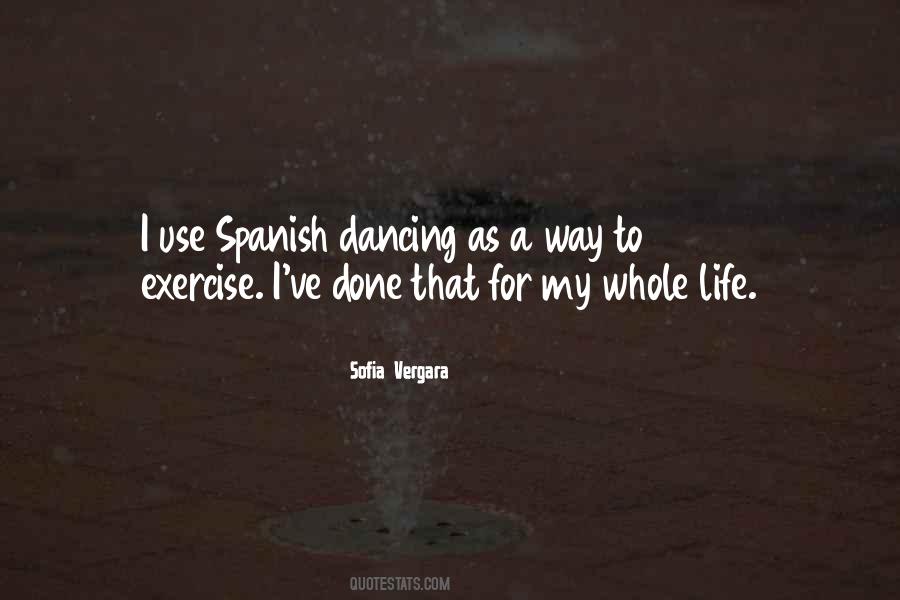 #64. I'm one of those people. I can be sold by the candy in life, and then it can be stripped away within a split second and I feel like I've seen too much. And that's the way, I've been like that most of my life, so I could never say I was there yet in any stretch of the imagination. - Author: Richard Ashcroft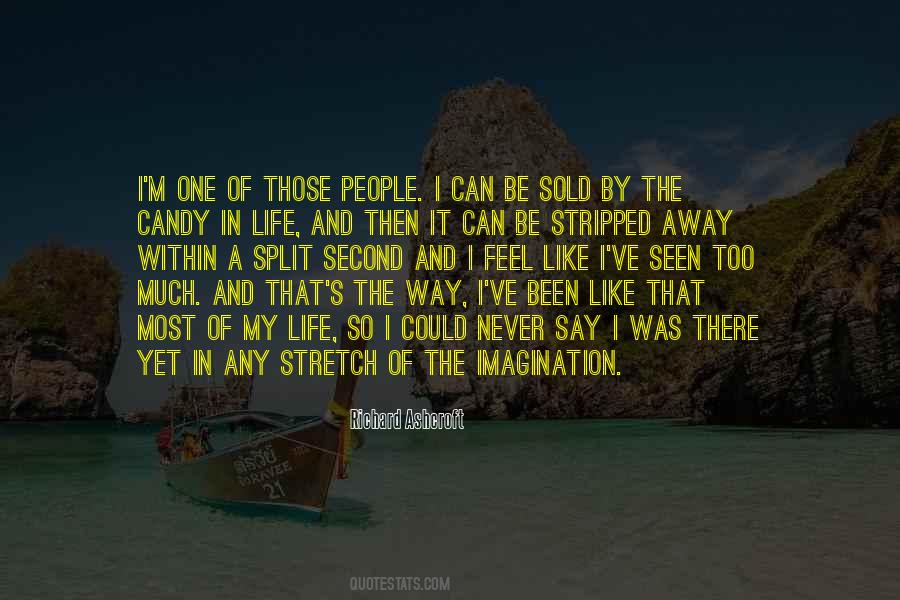 #65. I keep waiting for the roof to cave in. I was raised to follow the Golden Rule, you know, treat people the way you wish to be treated. That's kind of the way I live my life. Maybe someone up there likes me for that. - Author: Matt LeBlanc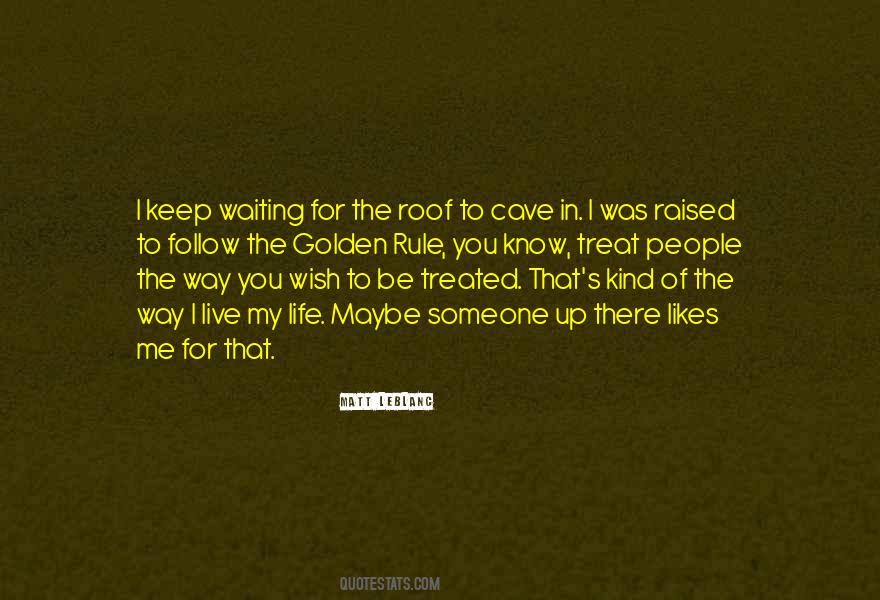 #66. I always wanted to be a hero
to sacrifice my life in a big way one time
and yet, God has required my sacrifice to be thousands of days, over many years, with one more kiss, one more story, one more meal. - Author: Sally Clarkson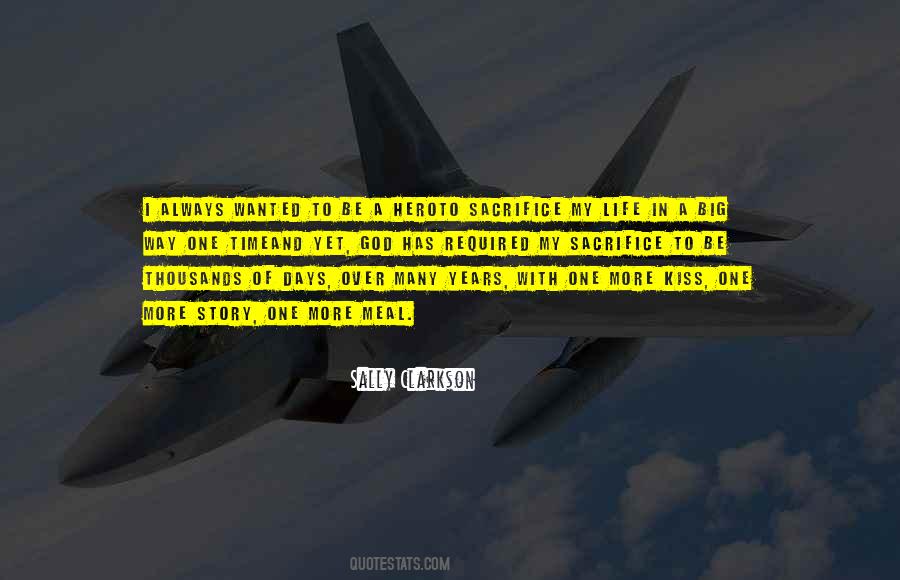 #67. My imagination was a great place to escape from all the anxiety and disapproval of my life ... I had to live in my head ... art was a way of making myself feel better. - Author: Philip Schultz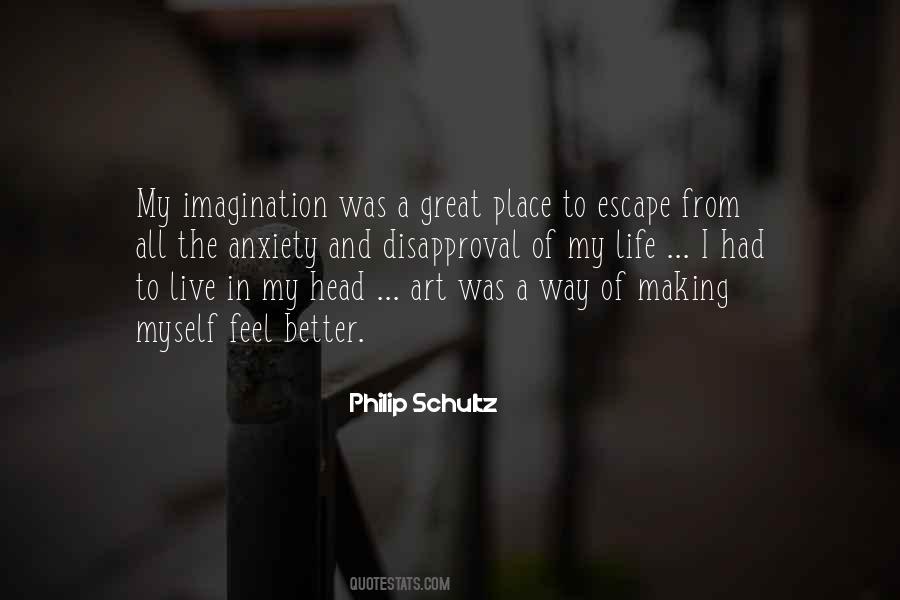 #68. So what if my life isn't turning out exactly the way I'd planned? It's not ruined, it'll just be different. - Author: Katherine Allred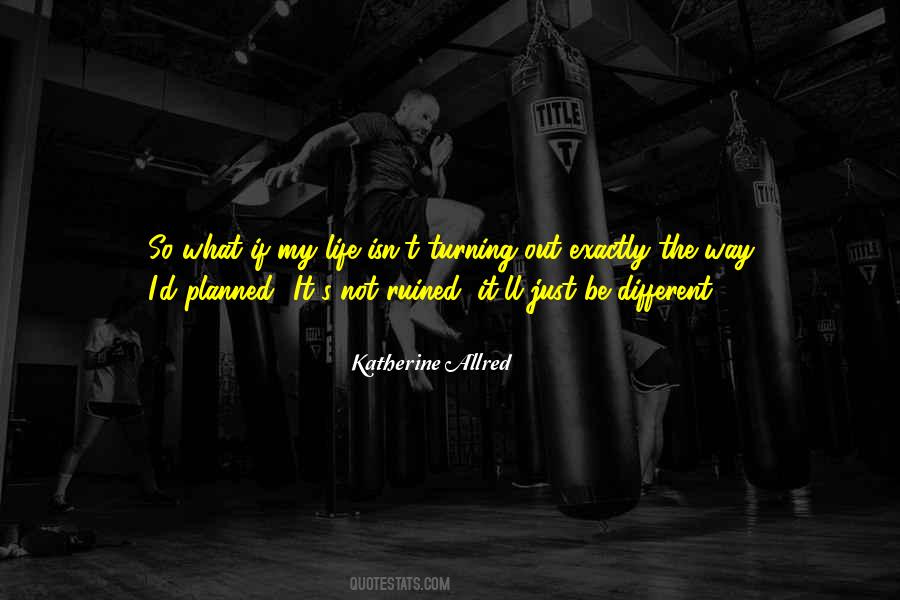 #69. I suppose more than anything, it's the way of life in this part of the country that influences my writing. In Eastern North Carolina, with the exception of Wilmington, most people live in small towns. - Author: Nicholas Sparks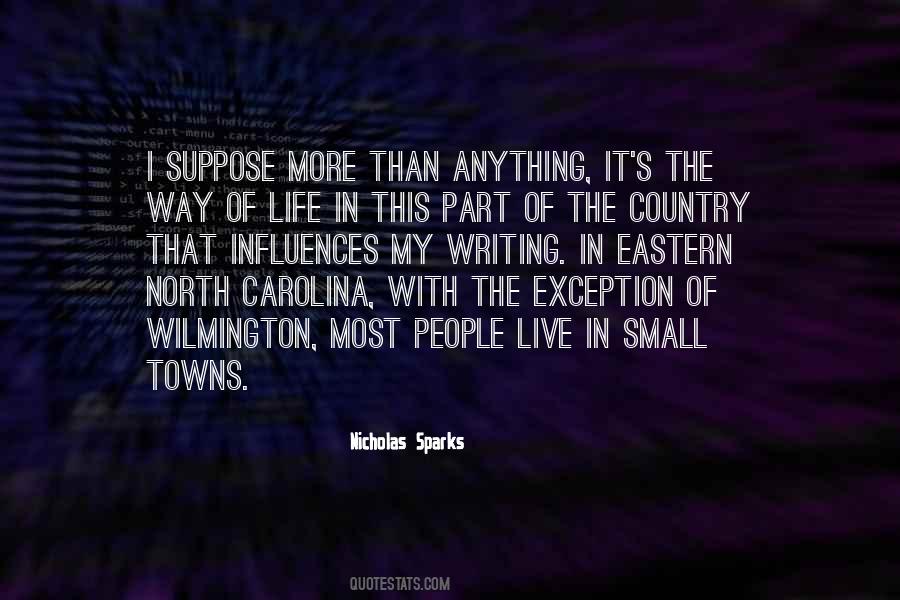 #70. MANY MANAGE TO SEPARATE THEIR LIFE FROM THEIR FILMS. THEY LIVE ONE WAY AND EXPRESS OTHER IDEAS IN THEIR WORKS. THEY ARE ABLE TO SPLIT THEIR CONSCIENCE. I CAN'T. TO ME CINEMA IS NOT JUST MY JOB: IT'S MY LIFE, AND EACH FILM IS AN ACT OF MY LIFE. - Author: Andrei Tarkovsky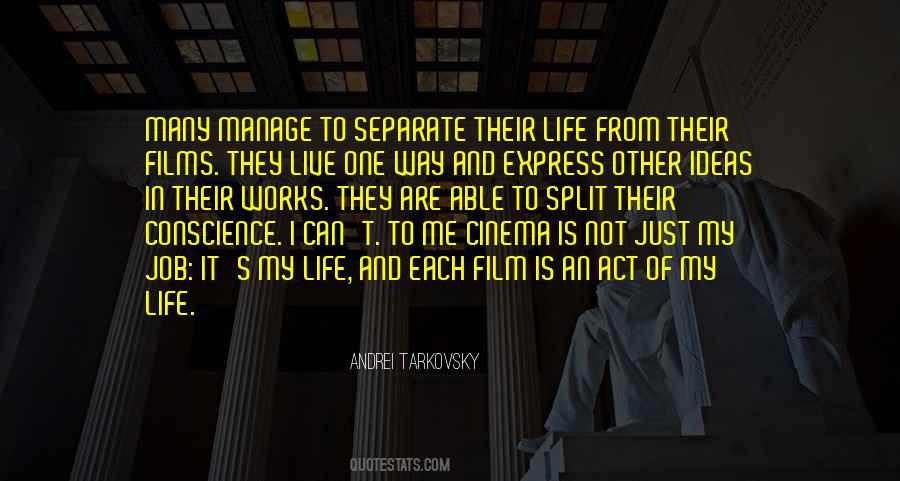 #71. Thank you Jonah."
He lowers his head at the break in my voice. I ignore the moisture in his eyes and pretend that mine don't sting.
"For what?" he whispers.
" For showing me that people can change. Even if it is one person out of a million. - Author: Katie McGarry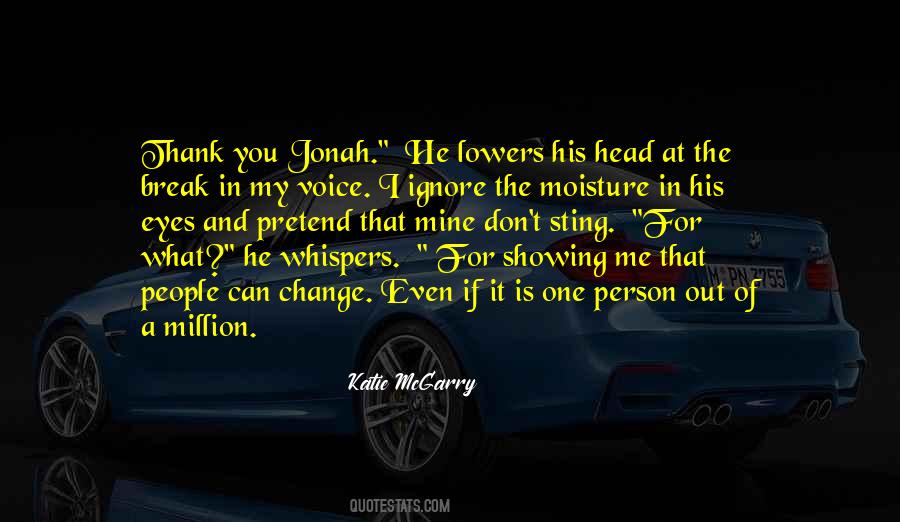 #72. I enjoy living life and I enjoy going to different restaurants and eating my way through a country and going to different museums and learning about different cultures. - Author: Mila Kunis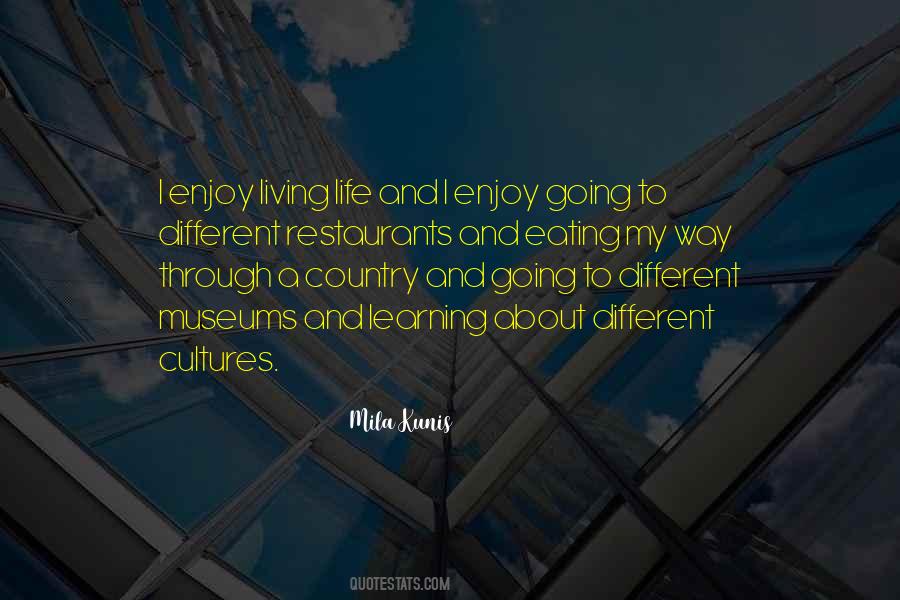 #73. I do feel good doing them [family-friendly movies], but it's not going to be my way of life. I'm a comedian. - Author: Adam Sandler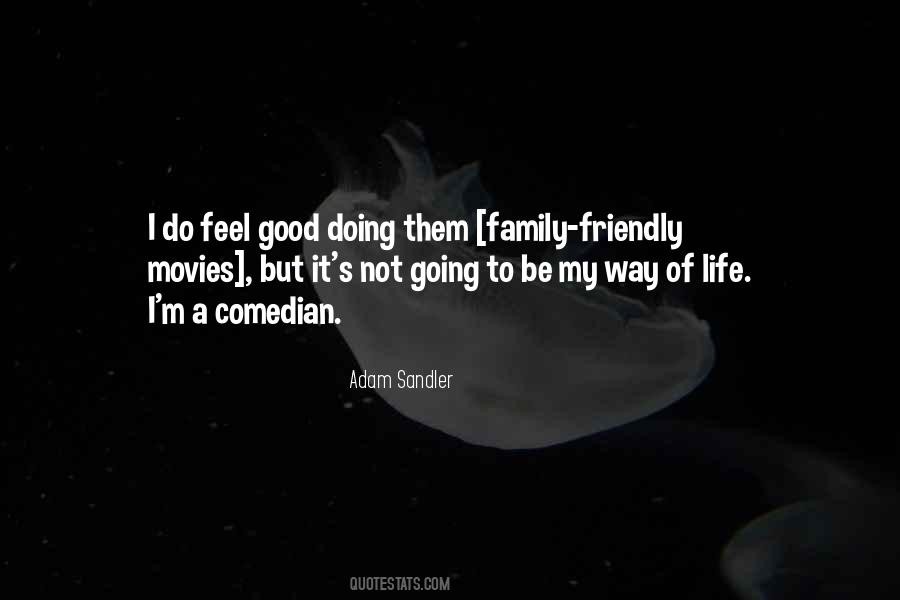 #74. When I look at my life and the lives of my female friends these days - with our dizzying number of opportunities and talents - I sometimes feel as though we are all mice in a giant experimental maze, scurrying around frantically, trying to find our way through. - Author: Elizabeth Gilbert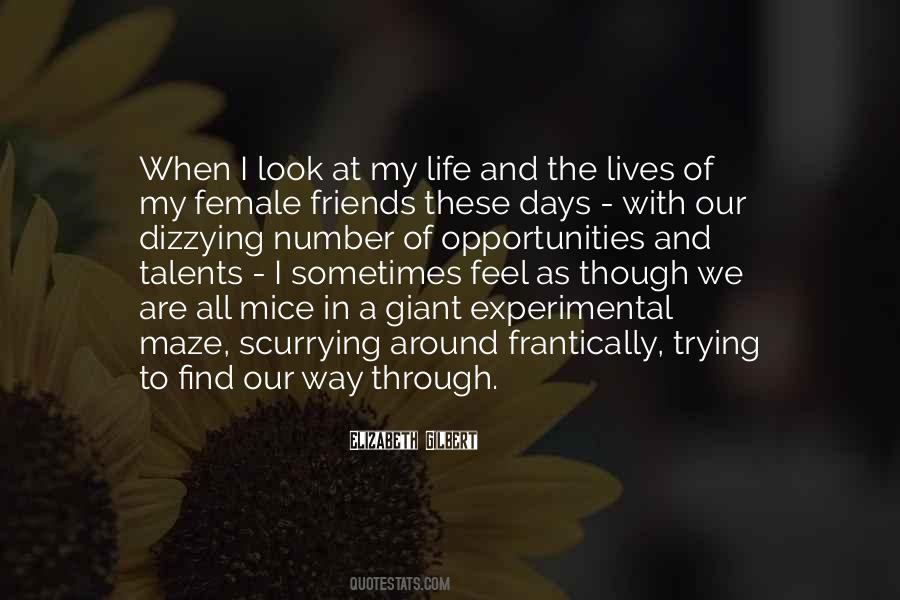 #75. People who grow rich almost always improve their sex life. More people want to have sex with them. That's just the way human beings work. Money is power. Power is an aphrodisiac. Money did not make me happy. But it definitely improved my sex life. - Author: Felix Dennis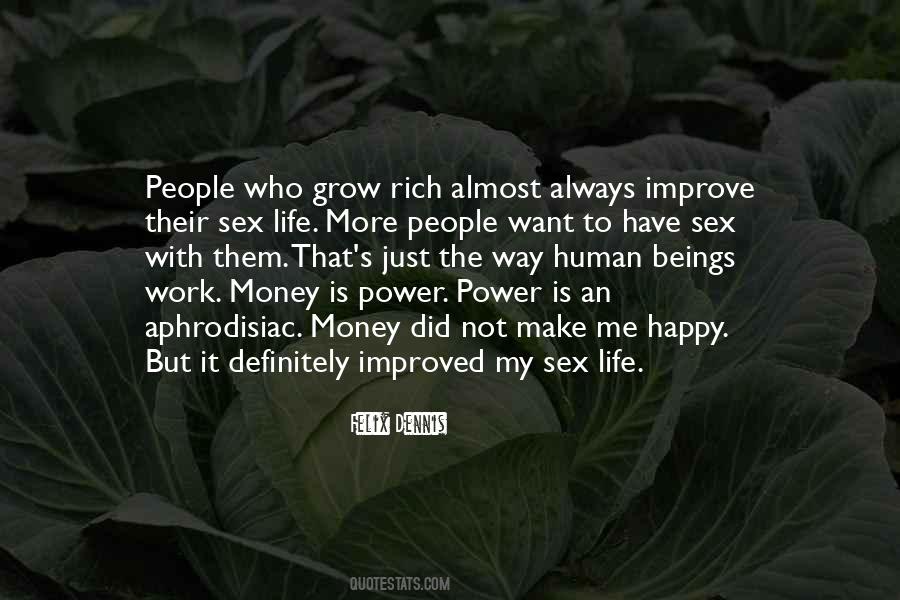 #76. I am very disciplined in my life and very up front. It is the only way I can do it and do it well. I am up every day at 7, and I feed my kids, no matter how long the day was. - Author: Sean Hannity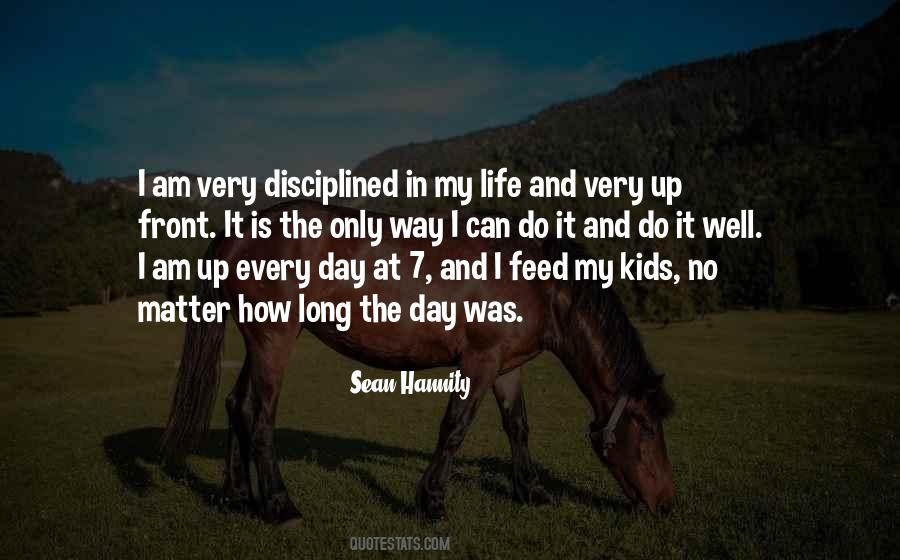 #77. When my father arrived in Kenya, he had found the Kikuyu way of life similar to that of the British at the time the Romans invaded England 2,000 years ago. - Author: Louis Leakey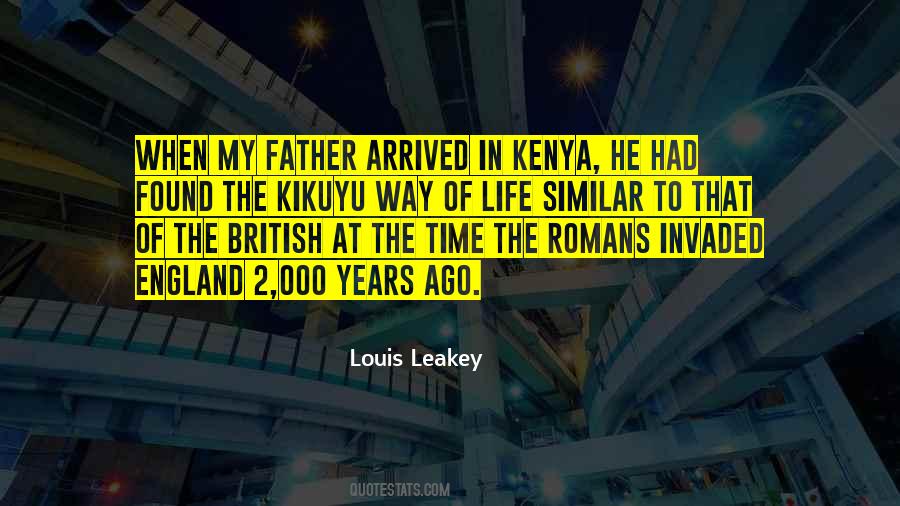 #78. I just want Aerosmith to always give me a hard-on, that's all I ever ask for, for it to be the most special thing in my life. As long as I look at it through those eyes, it will always be that way. - Author: Steven Tyler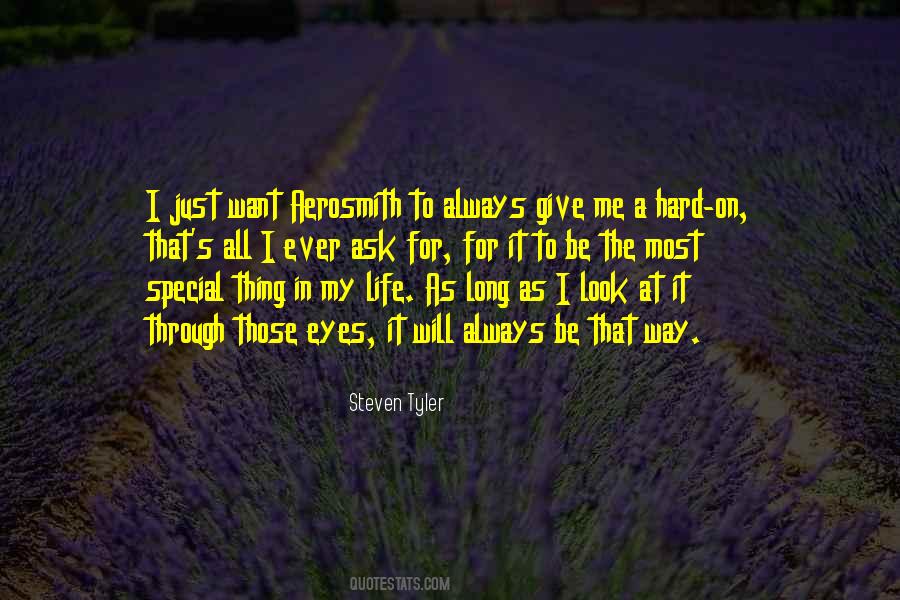 #79. I've learned to put great store in my own observations of everyday life, because while laboratory experiments are one way to study human nature, they aren't the only way. - Author: Gretchen Rubin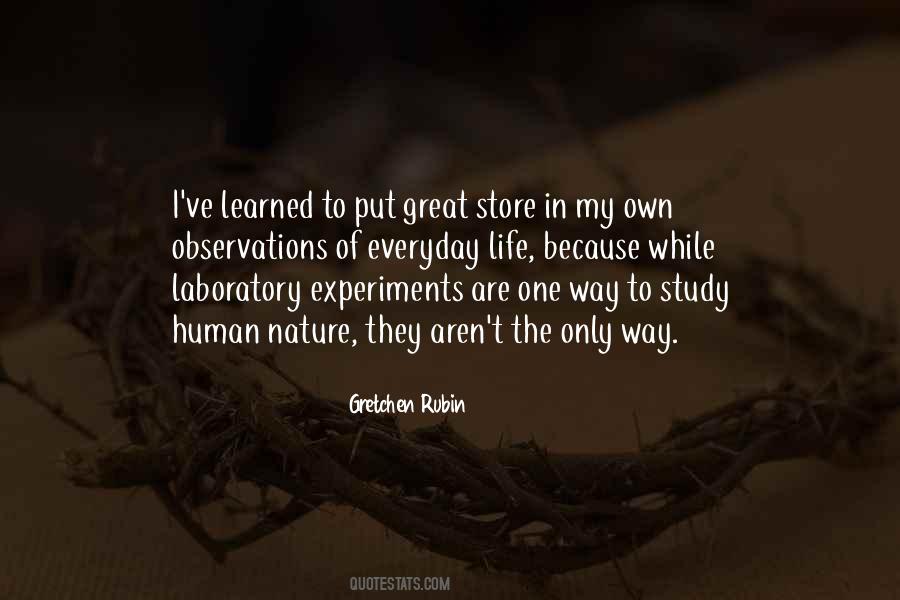 #80. I discovered makeup when I was 13, and it changed my life. I started wearing mascara, and overnight, people reacted to me in a very different way - I was more popular and I felt more confident. - Author: Charlotte Tilbury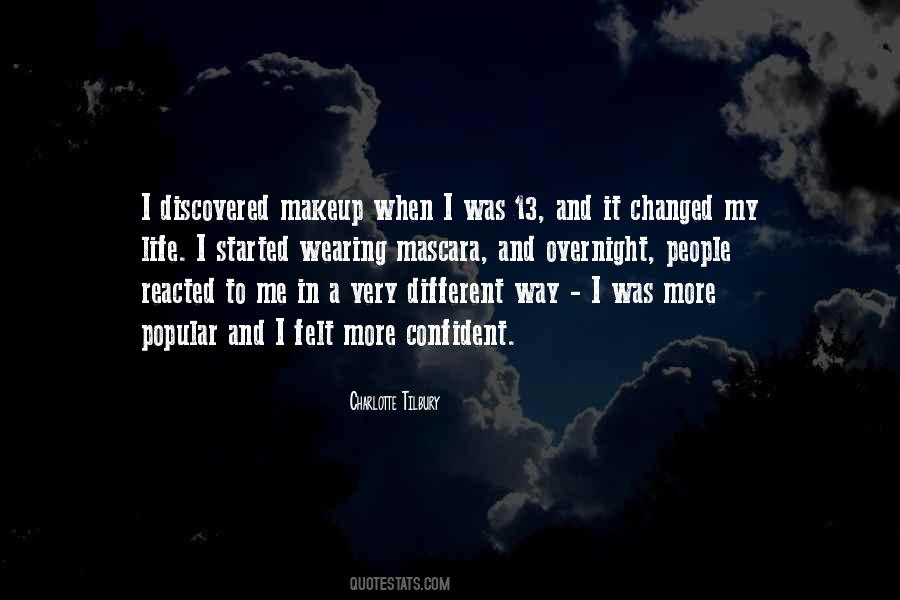 #81. I am perfect as I am. Everything in my life is working just the way it should. I am loved, and I am love. - Author: Deepak Chopra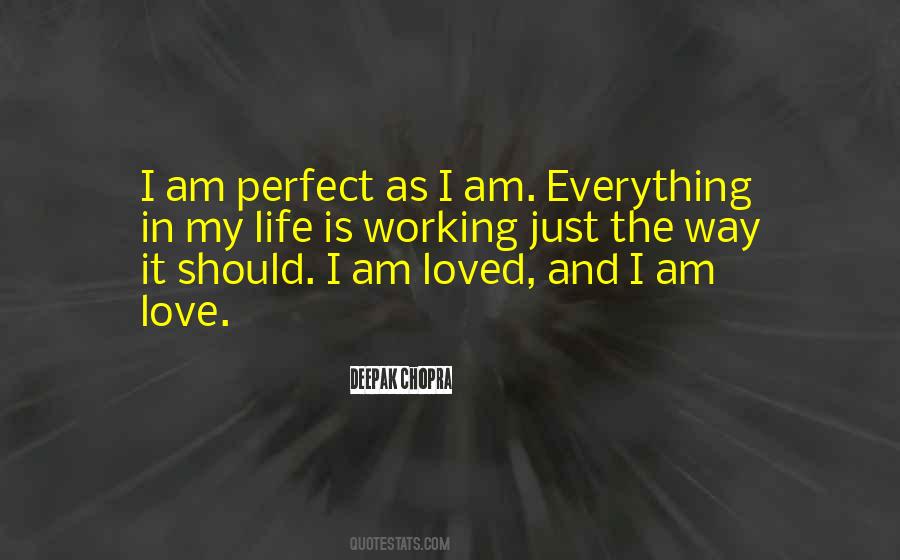 #82. For me now, I feel that climbing is a part of who I am. It's my way of life. It's my way of expressing myself. My way of being in the world. In the past, I questioned it a lot. Now it's obvious. This is who I am. This is what I do. - Author: Chris Sharma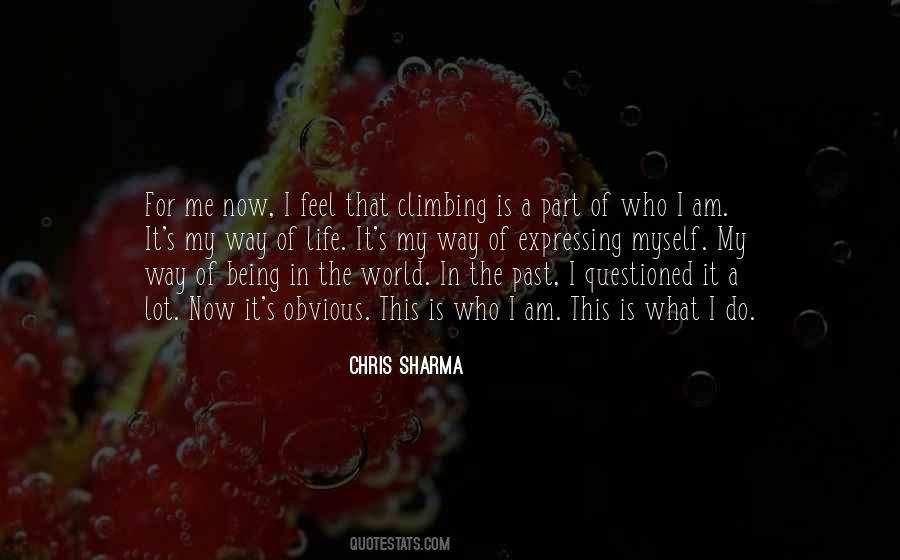 #83. Death straps me to the hospital bed, claws its way onto my chest and sits there.I didn't know it would hurt this much. I didn't know that everything good that's ever happened in my life would be emptied out by it. - Author: Jenny Downham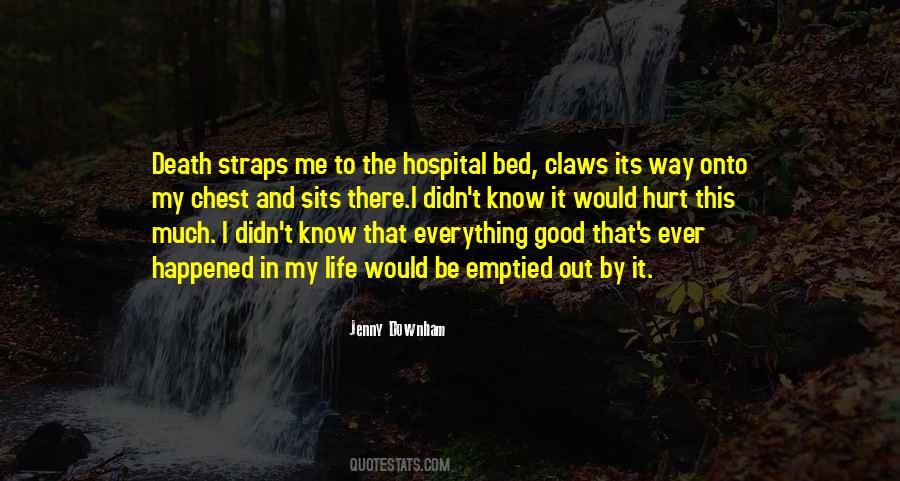 #84. I've had happy moments in my life, but I don't think that happiness
being happy
is a perpetual state that anyone can be in. Life isn't that way. - Author: Grace Kelly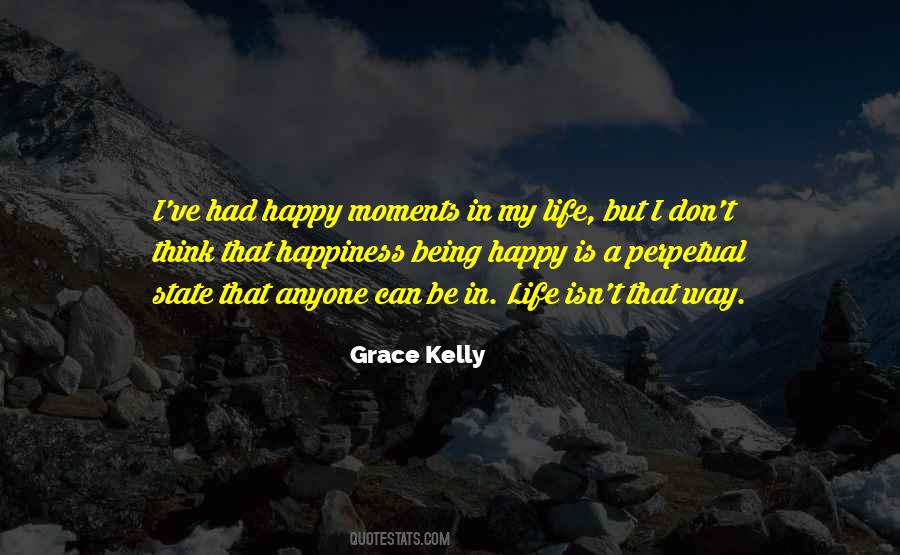 #85. I'm going to keep living my life the way I've been living my life, and nothing is going to change that even if the Olympics are coming up. - Author: Ryan Lochte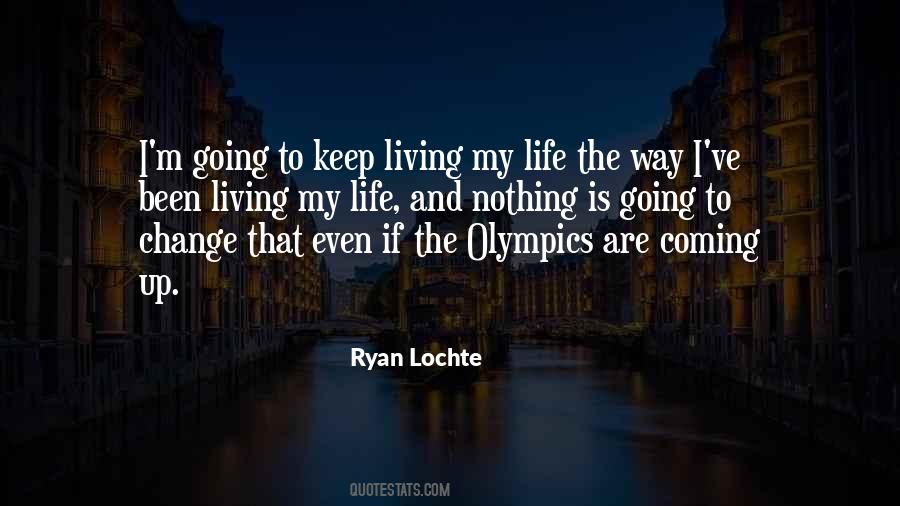 #86. I've done thousands of interviews in my life, and it's a format that I quite enjoy, because I think of questions in interviews as an opportunity to sort of gauge my growth in a way. It gives me an idea of how I'm navigating this world that I'm in. - Author: Ian MacKaye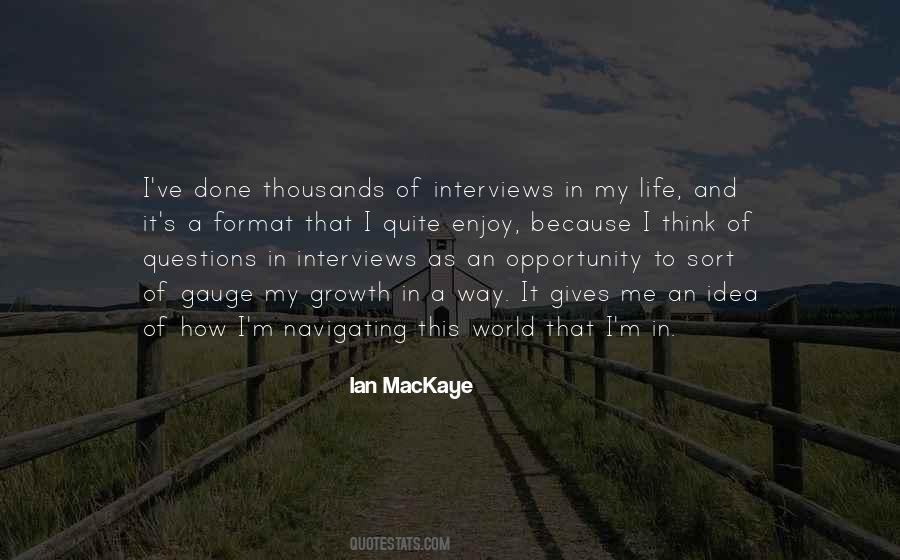 #87. I don't think I ever sing the same way twice. The blues is sort of a mixed-up thing. You just have to feel it. Anything I do sing is part of my life. - Author: Billie Holiday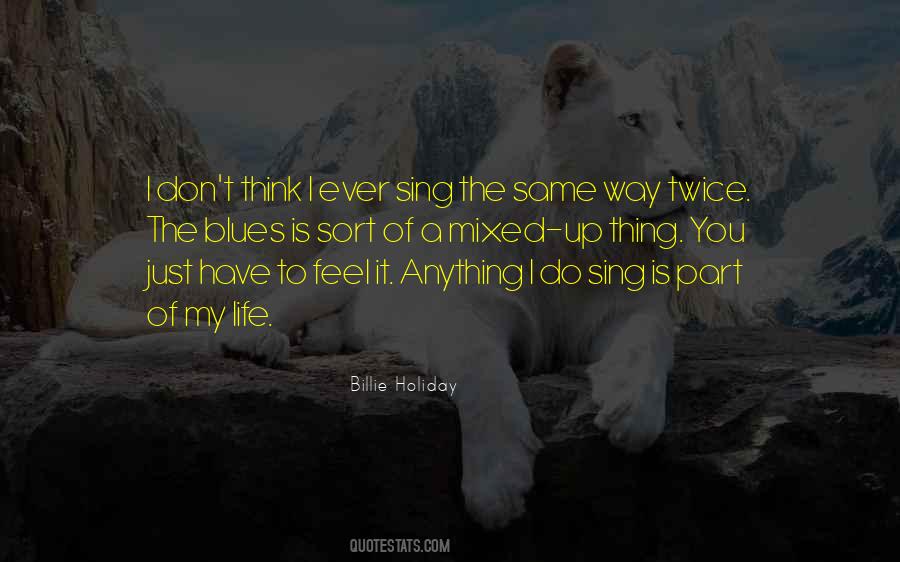 #88. My life is great because I made it that way. Anything other than happiness doesn't get a pass key. - Author: Keshia Chante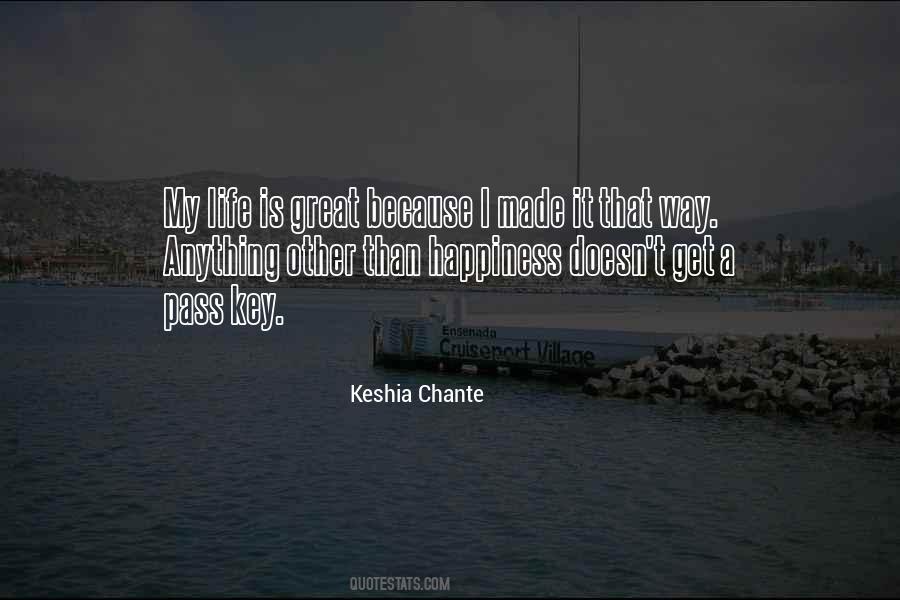 #89. Yes, I will probably be that way. I am sure I will. I think that it shouldn't stop you. I think of course my life is going to change, and I definitely will make sacrifices, but you know, I think I will be able to bring hopefully my little rider with me. - Author: Beyonce Knowles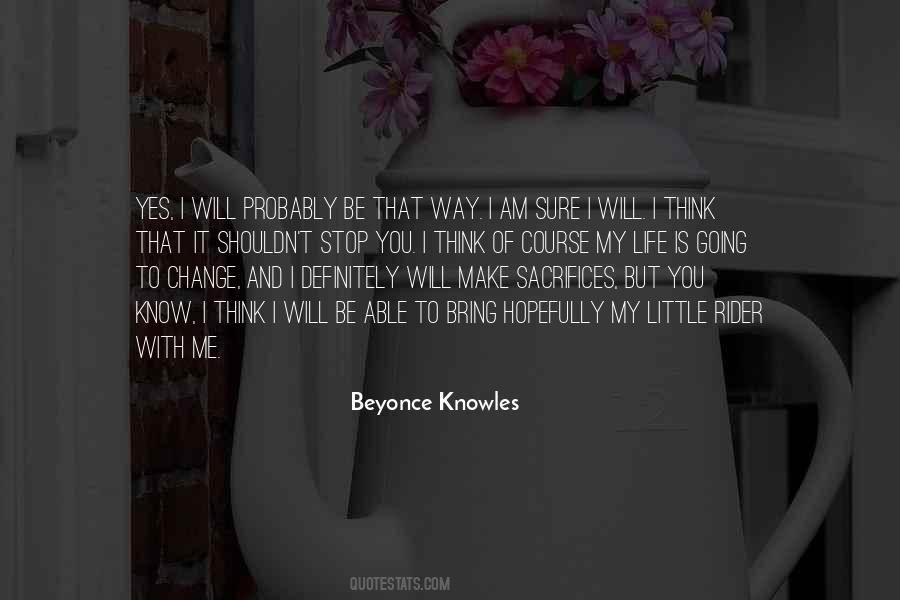 #90. In my whole existence, I have been lost in many different ways. However, there has always been someone who shines brightly for me, and helps me find my way home. I have come to realize that Jesus is my brightest Star who always rescues me and consistently helps me through. - Author: Kcat Yarza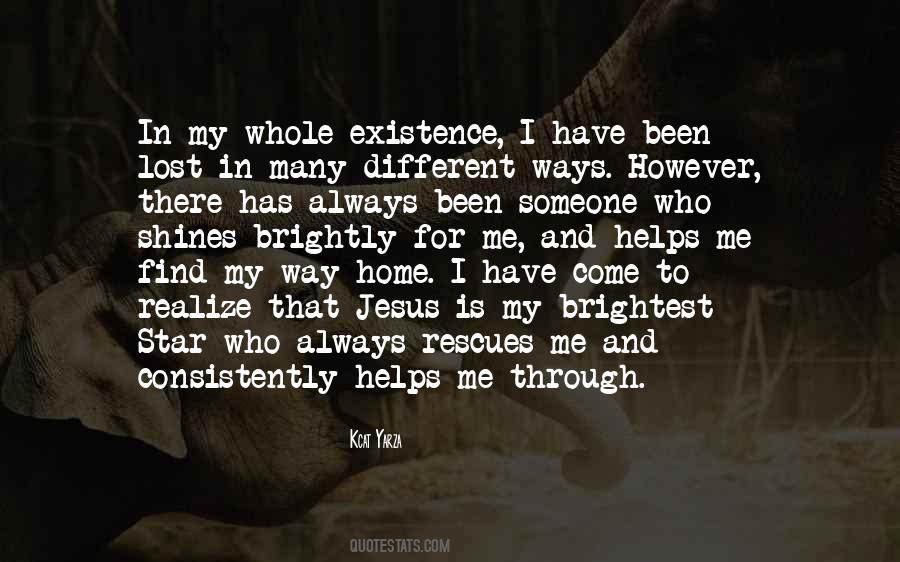 #91. some of the best ideas I've had in my life and in my work, they often occurred in the spaces "in between" my commitments. They materialized when I least expected, during a moment of downtime, and typically when I was doing something in no way related to the project. - Author: Todd Henry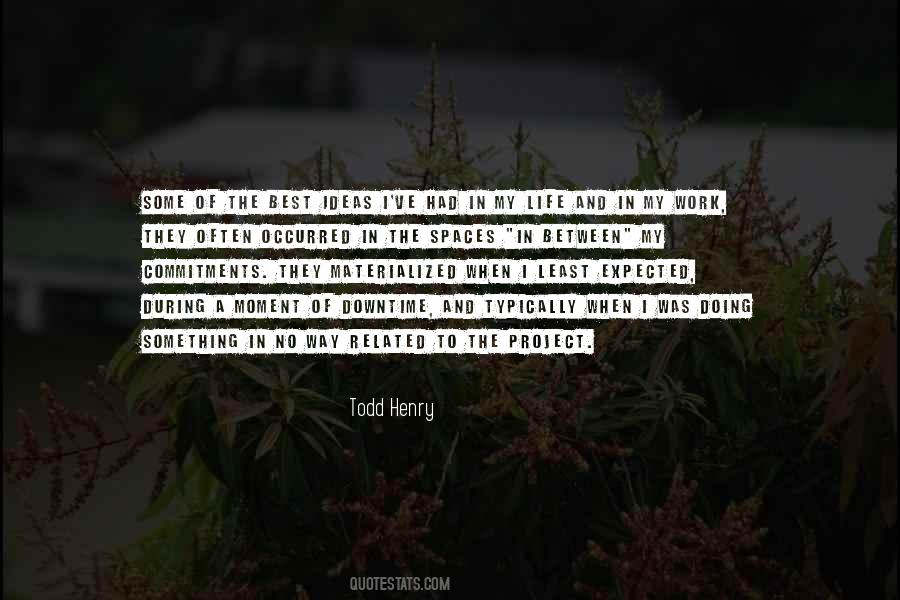 #92. The only person I can count on is myself. It's up to me to create the life I want. I can't blame my parents or Scott or anyone else for the way things are. - Author: Susane Colasanti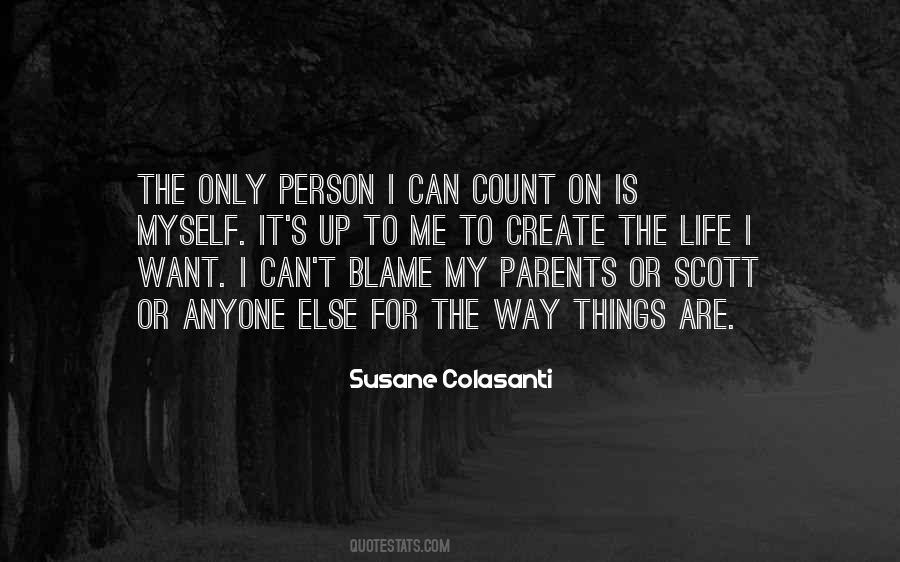 #93. What would I have done if I'd been put to the test? Would I have risked my own life for people I hardly knew? Probably, I would have looked the other way at best or become another apologist for evil at worst. - Author: Lionel Blue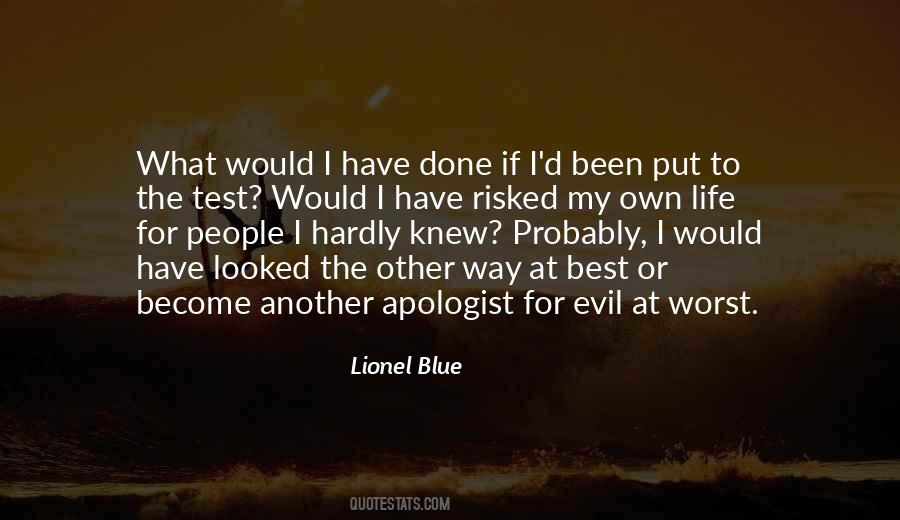 #94. I've never done anything else in my life other than preach and be an activist. Way before I was known. - Author: Al Sharpton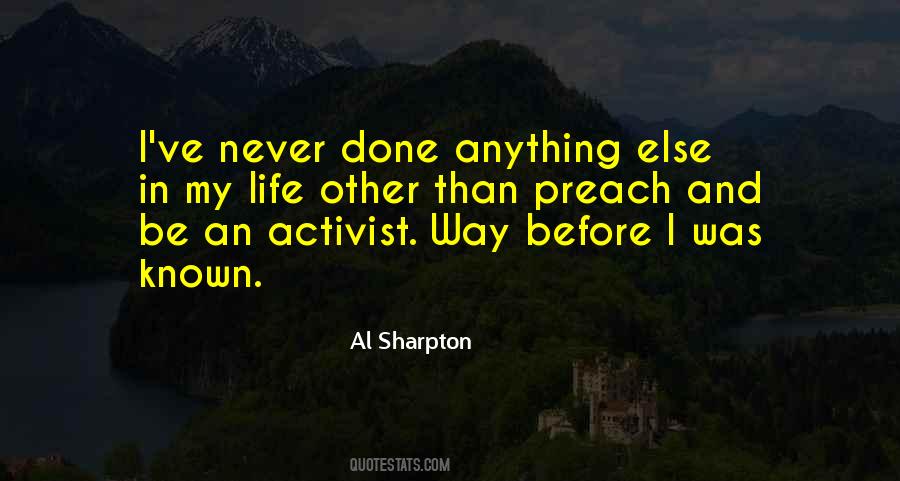 #95. I don't envision a long life for myself. Like, I think my life will run out before my work does, y'know? I've designed it that way. - Author: Townes Van Zandt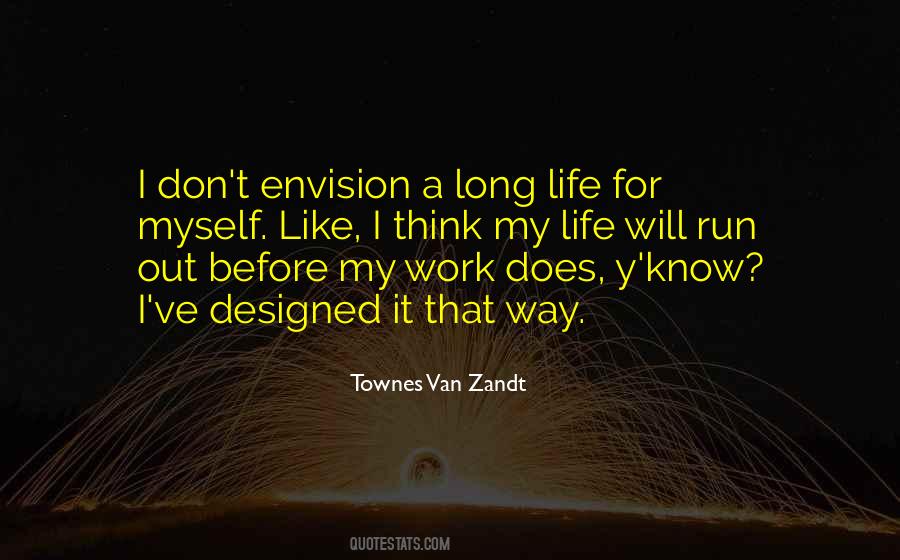 #96. I had never before considered leaving my religion, my family, my customs, and my beliefs behind. It was all that I had ever known. Would it be worth it to give it all up? I had no way of knowing. It was frightening even to contemplate a life beyond - Author: Carolyn Jessop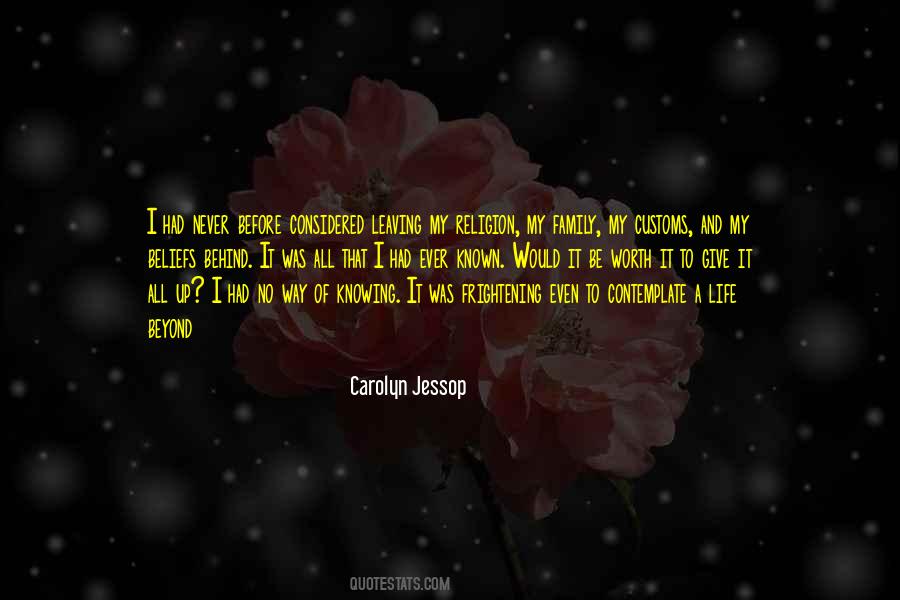 #97. My God, help me always resolutely to strive, and, through life and death, to force my way unto Thee. - Author: Christian Scriver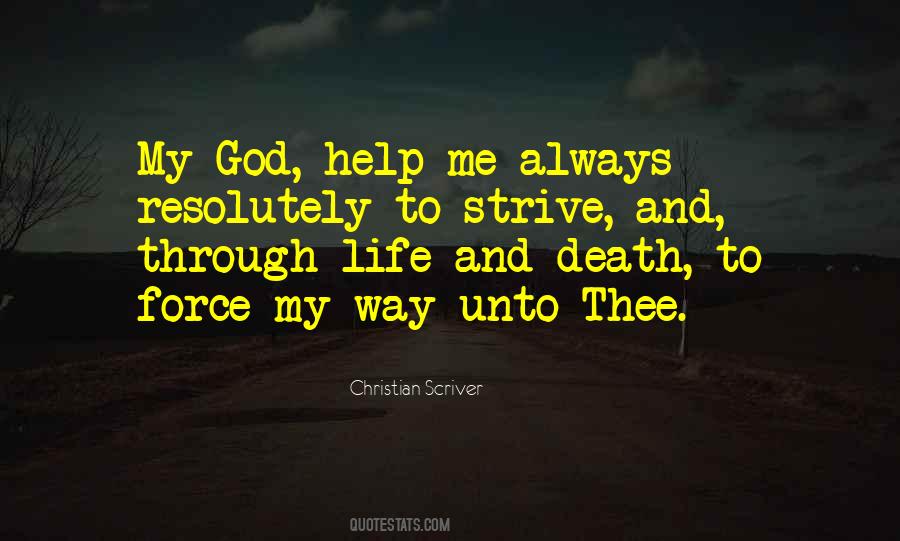 #98. If there was a birthday party or a gathering and I was at training and couldn't make it, then I guess I might have missed out on a few things, but I wouldn't see them as sacrifices because I love what I do so much. I feel I've made the right choices in the way I've lived my life. - Author: Liam Tancock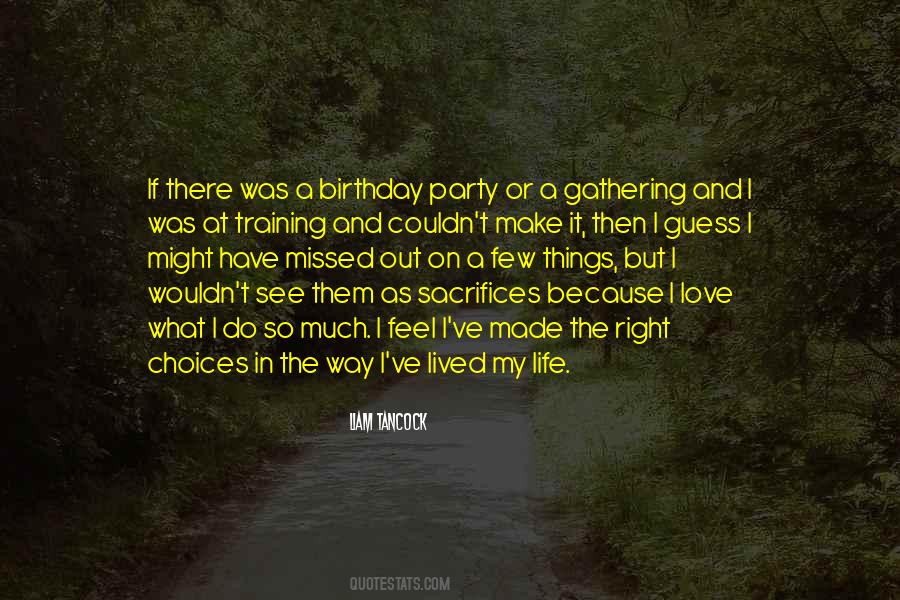 #99. We have all our own way and Possibilities to progress in life, if somebody think to put others away from his path, many power to be consumed for doing that, happy day my Friend keep Smiling. - Author: Jan Jansen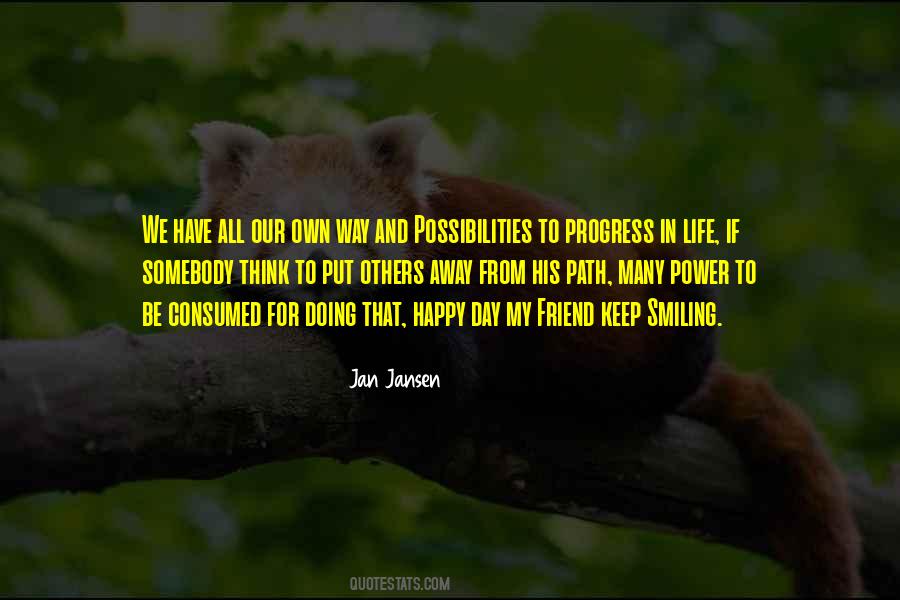 #100. I ended up with my life slanted toward television, and I just accept that. I think you play the hand the way it's dealt, that's all. - Author: Efrem Zimbalist Jr.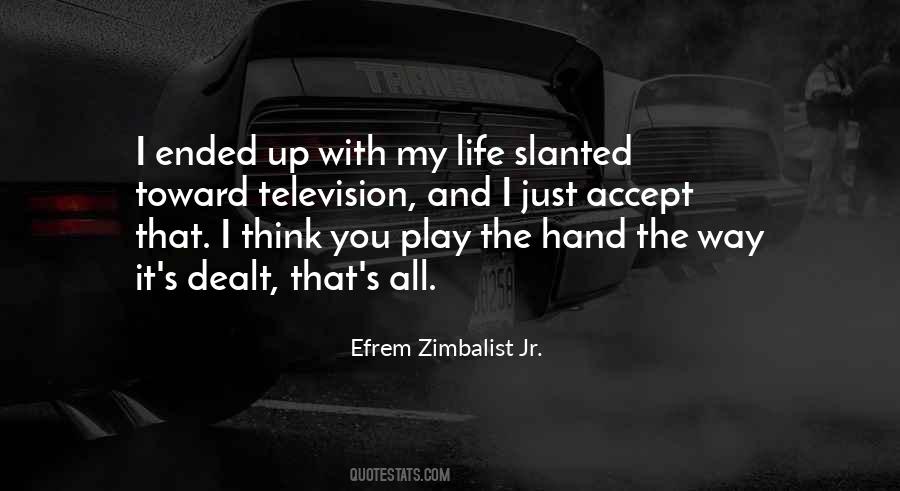 Famous Authors
Popular Topics