Just Missed Famous Quotes & Sayings
List of top 100 famous quotes and sayings about just missed to read and share with friends on your Facebook, Twitter, blogs.
Top 100 Just Missed Quotes
#1. I don't really have any regrets because if I choose not to do something there is usually a very good reason. Once I've made the decision I don't view it as a missed opportunity, just a different path. - Author: Andrew Lincoln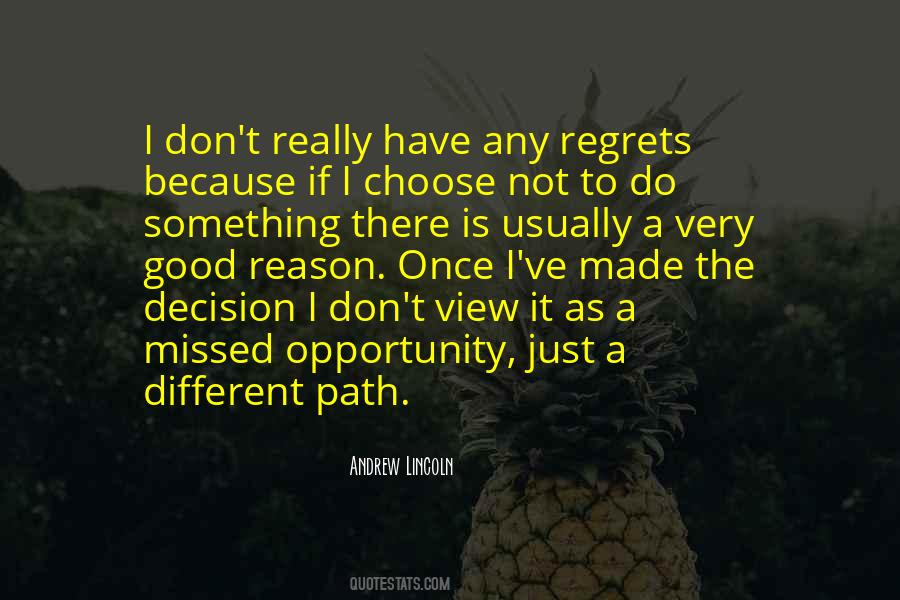 #2. At the end of the night they all seemed so happy. Maybe it was just because they hadn't seen each other in a while, but as they all gathered around hugging, kissing, and well-wishing each other, I found myself feeling for the first time in my life like maybe I'd missed out on something. - Author: Dito Montiel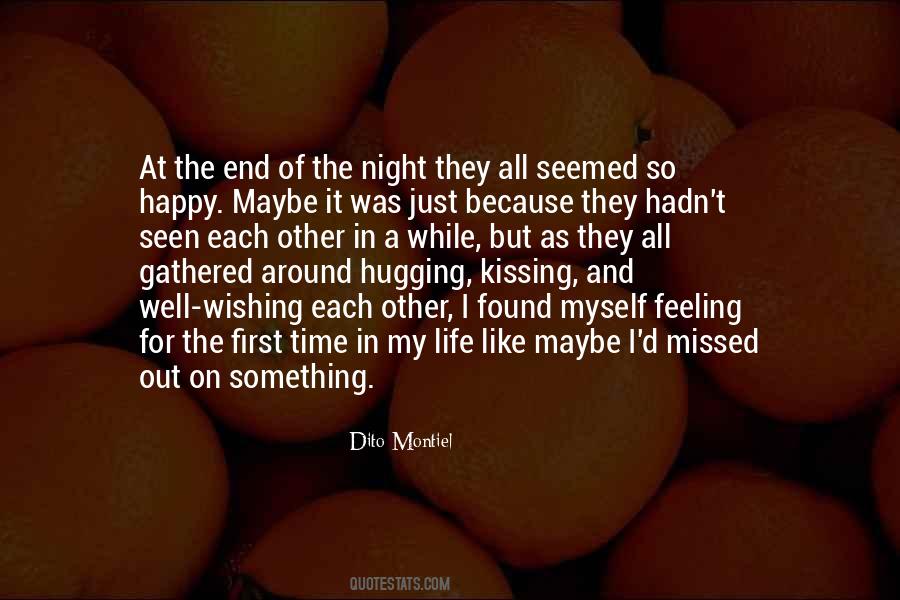 #3. You better not have missed me just this morning," I say. "You better miss me every moment we're apart. - Author: Nicole Haroutunian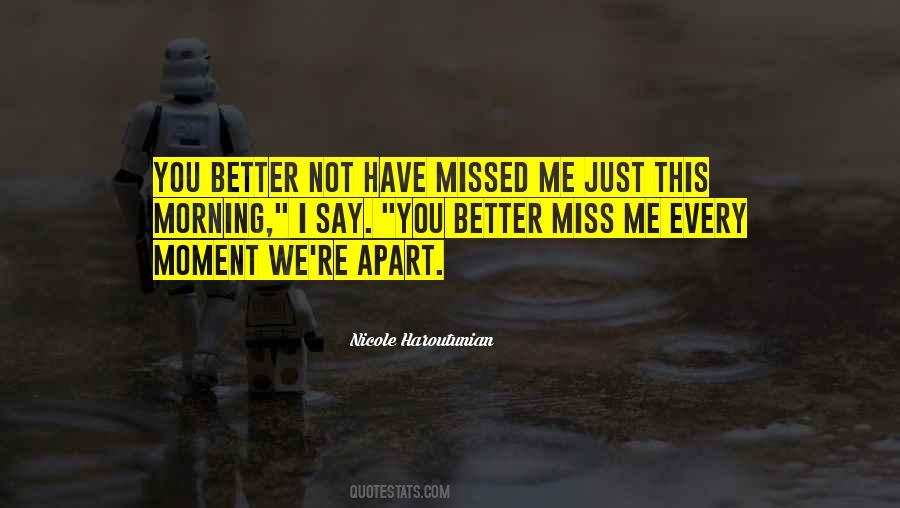 #4. What could he do with a pile of scratch that big? Jesper could just imagine his father saying, Land yourself in a pile of shit twice as big. Saints, he missed him. - Author: Leigh Bardugo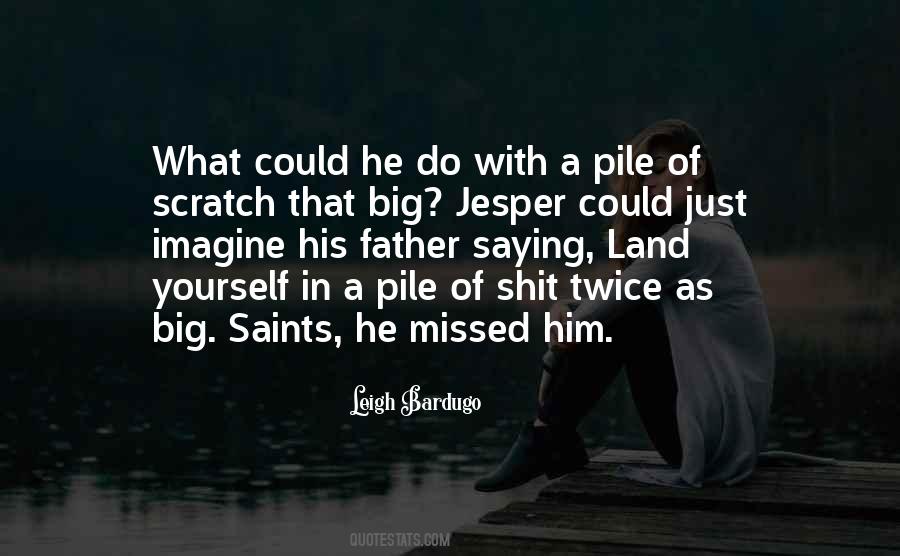 #5. The love that I got when I finally did start performing again was all that I needed to just get back out there. Just to know that people were out there and they missed me. That made all the difference. - Author: Jazmine Sullivan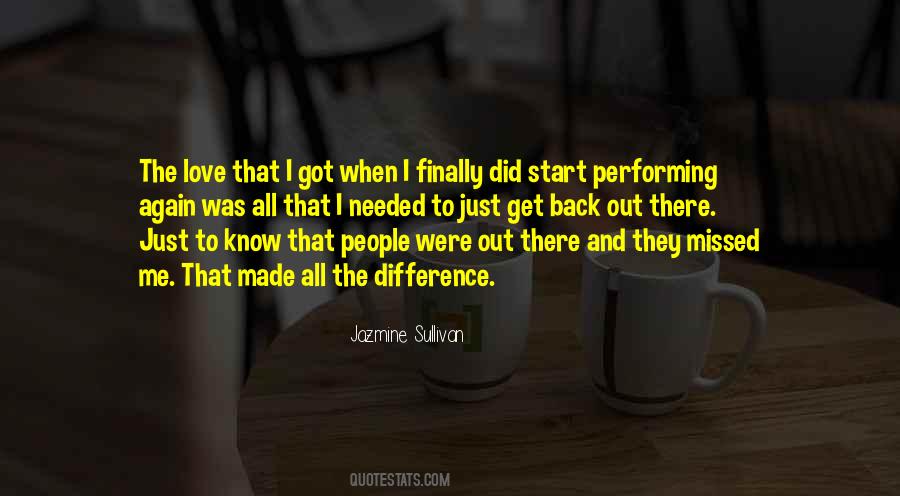 #6. I have a 4-year-old and a 14-year-old, and think I missed a recital and a graduation, and they were like 'It's OK mommy, we'll take pictures.' It was my upset, though ... they were just fine! I just give them a kiss and a hug and let them know that I love them every day. - Author: Kimberly Quinn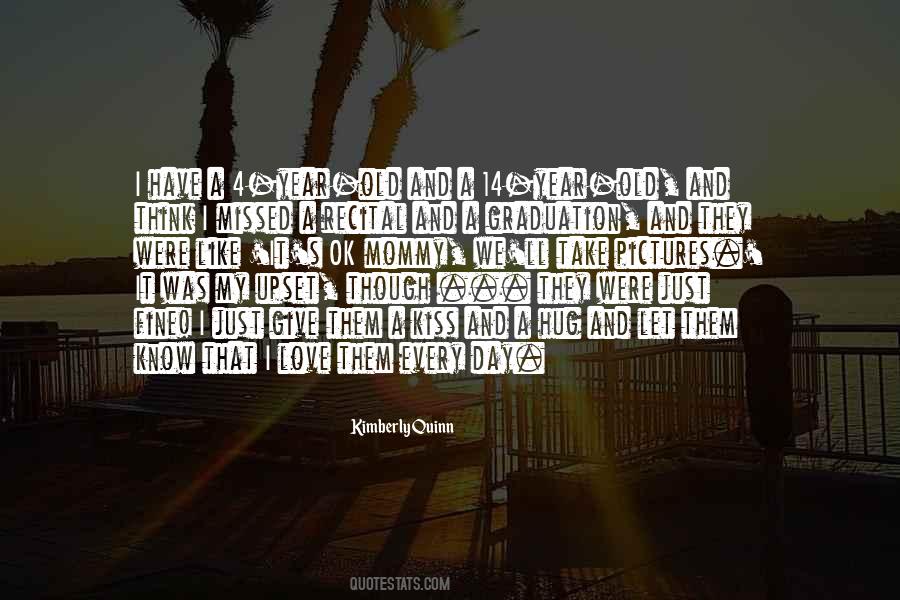 #7. You get my point now? Coz before I thought you missed it. I'ma viagra triple shot, you just a limp bizkit. WORD LIFE. - Author: John Cena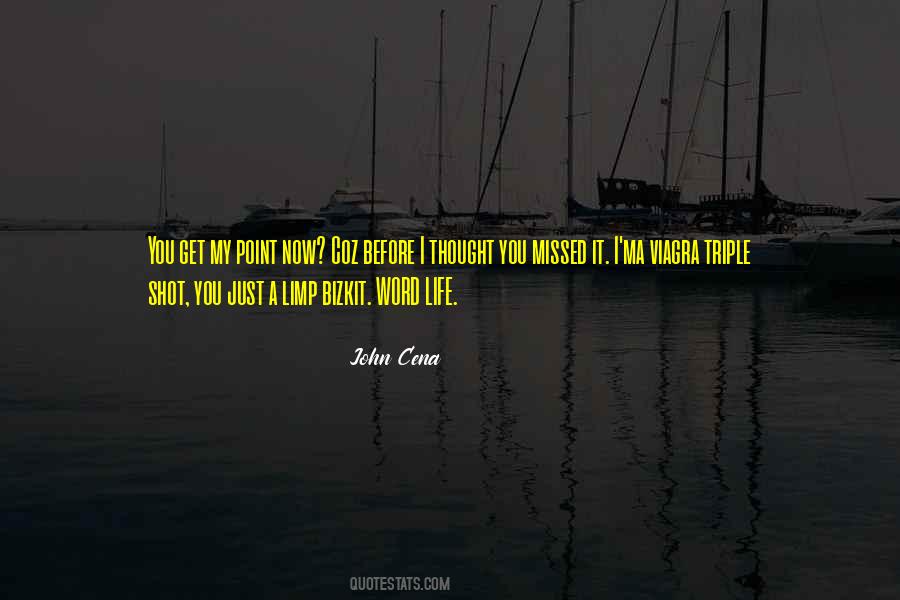 #8. Moments, when lost, can't be found again. They're just gone. - Author: Jenny Han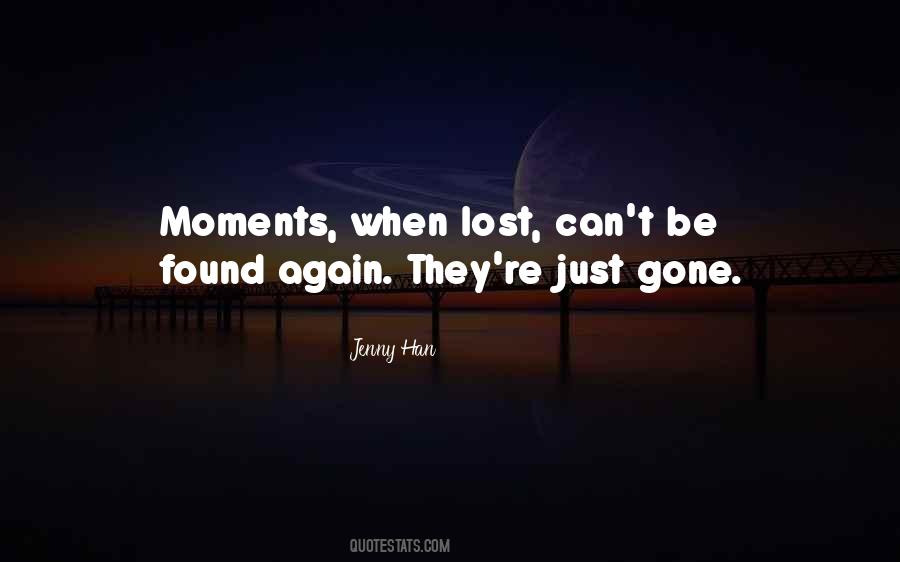 #9. I just feel like it gets harder and harder every year with Ace getting older and time away from my husband and even family events such as birthdays and friends' weddings and things that I've always just missed out on because of softball. - Author: Jennie Finch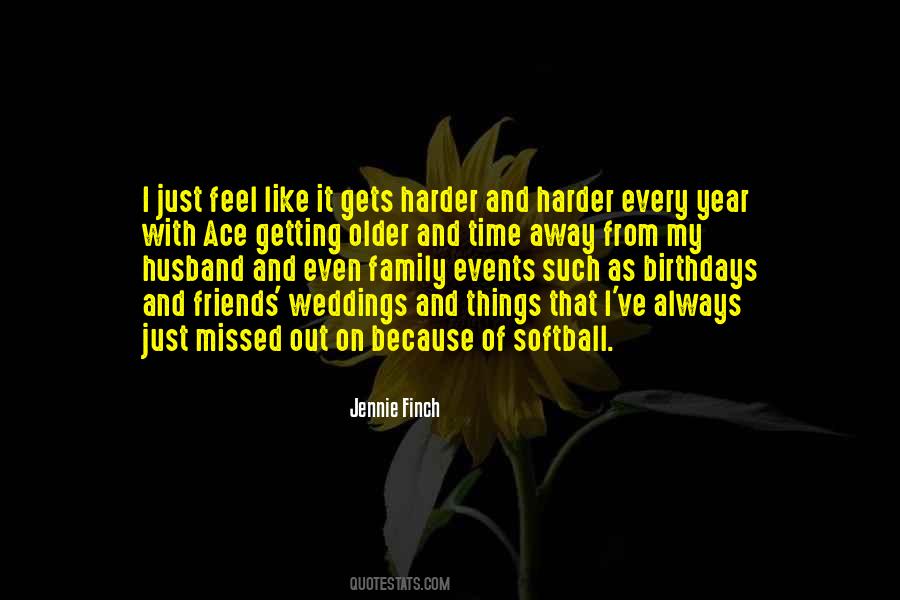 #10. I was not happy as a traveller, I did not feel really at home anywhere I went, even in Spain which was the most I felt at home, I still was a foreigner. I missed Australia, and I can't tell why. It's just this is what I grew up with and this is the things I wanted to make meaning of in my life. - Author: Richard Meale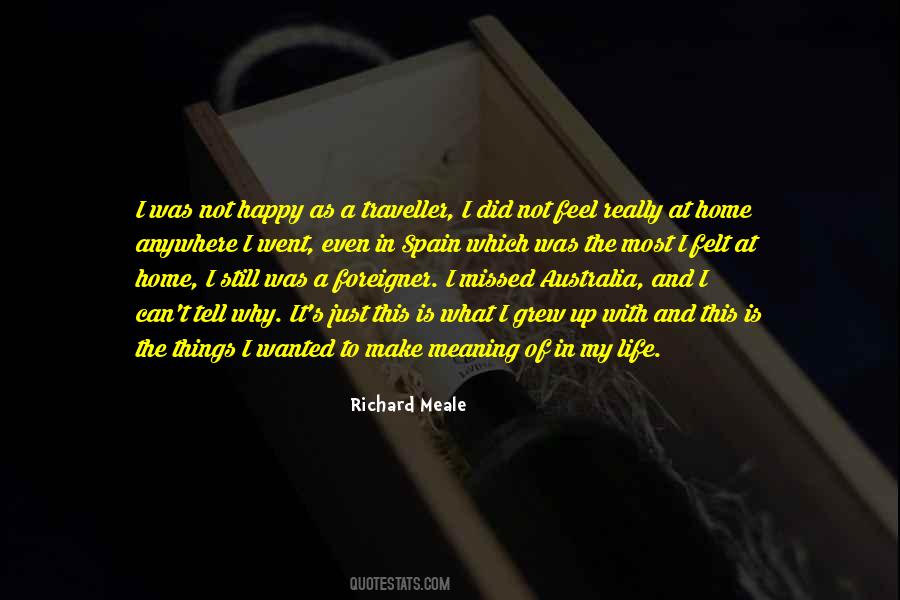 #11. I had a turnover and three missed shots down the stretch. I just have to make sure I calm my nerves. - Author: Chris Bosh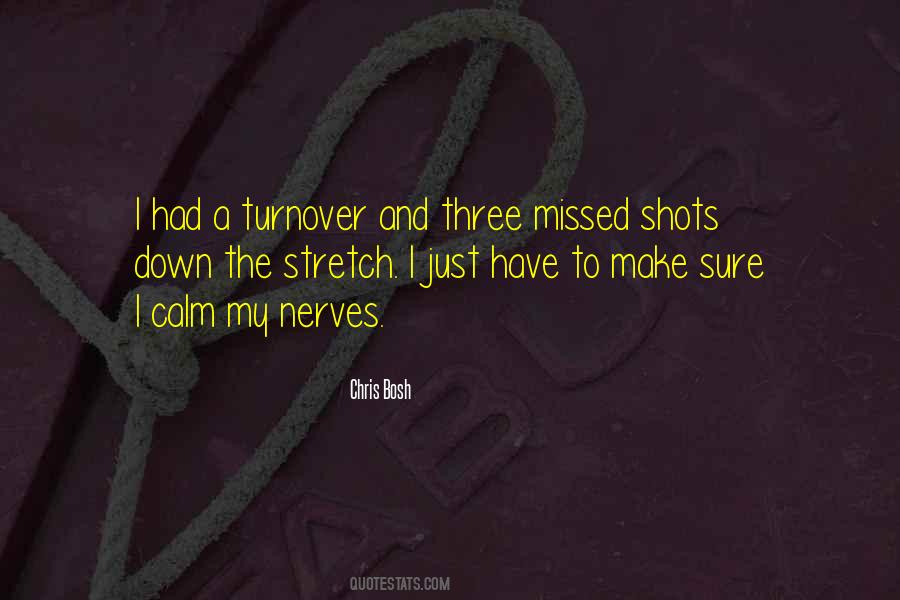 #12. ,I have never visited any city in the world where I was not told that I just missed the golden age. I seem never to be on time. Cyrus Sitema - Author: Gore Vidal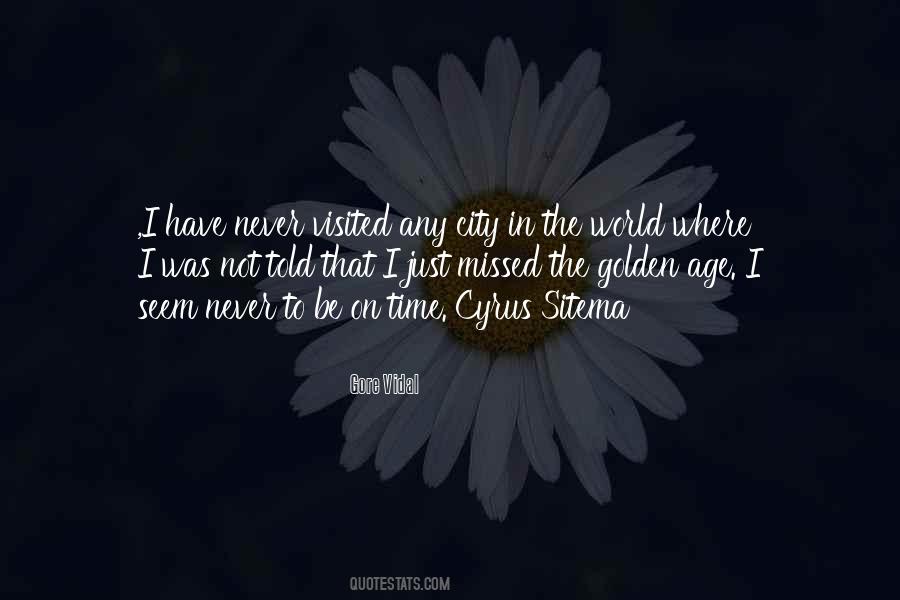 #13. Wasn't there a spell for making yourself happy? Somebody must have invented one. How could he have missed it? Why didn't they teach it? Was it in the library, a flying book fluttering just out of reach, beating its wings against some high window? - Author: Lev Grossman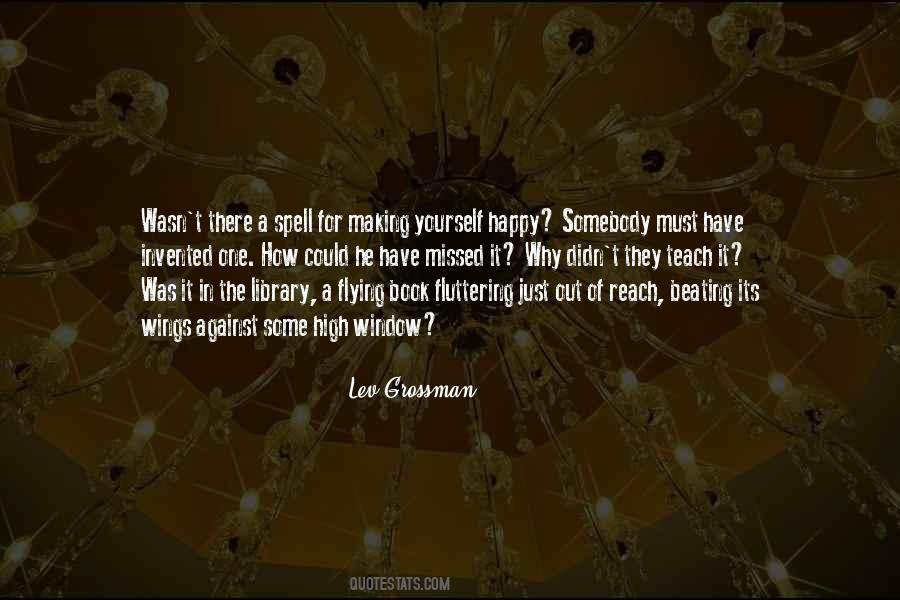 #14. My heart stopped beating, I know it did. Hearts do that sometimes, for just a beat or two. Then they start up again. But they never regain those missed beats, and nothing is ever the same afterwards. Life proceeds to a different cadence, and never again as harmonious as before - Author: Ann Rinaldi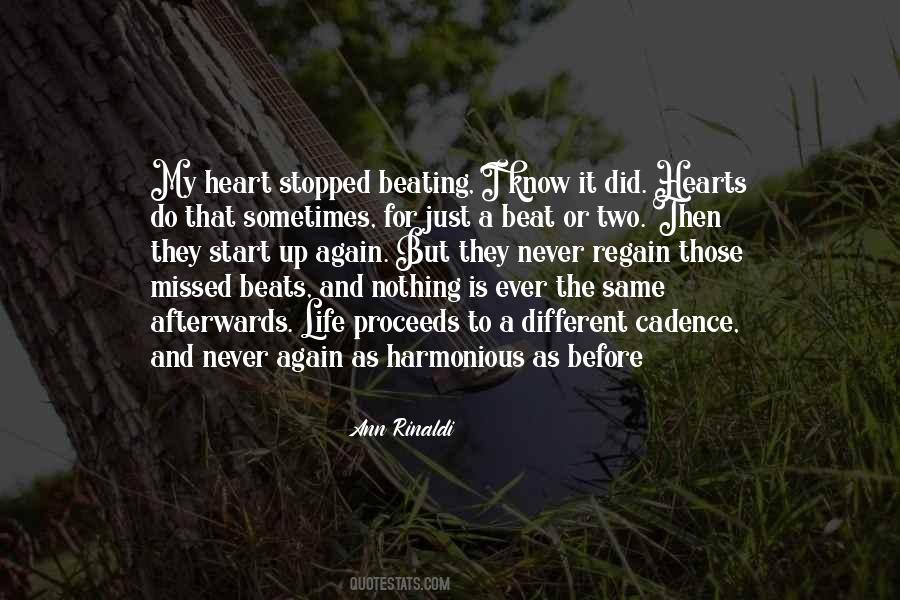 #15. He stood looking at her. She knew that he did not see her. No, she thought, it was not that exactly. He always looked straight at people and his damnable eyes never missed a thing, it was only that he made people feel as if they did not exist. He just stood looking. - Author: Ayn Rand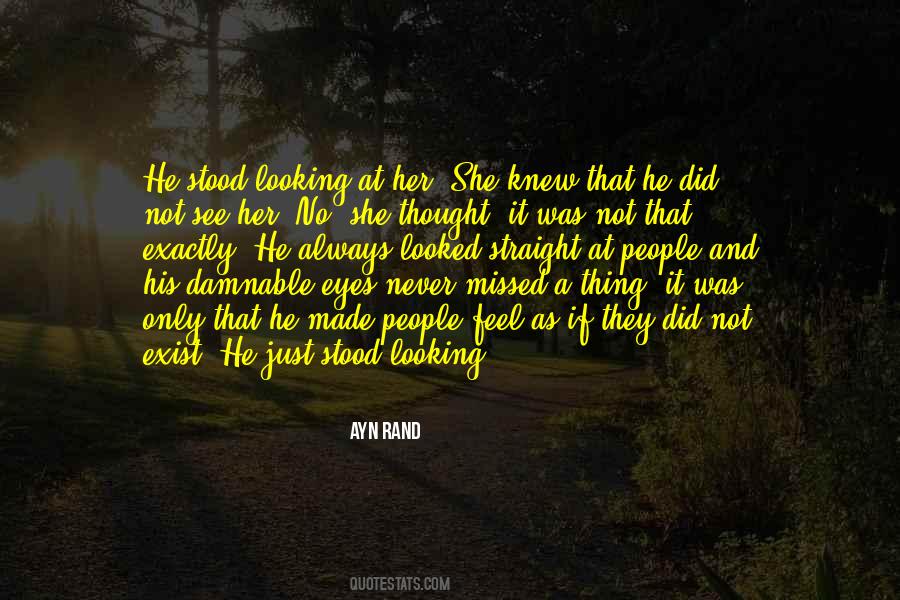 #16. Just like the good old days: marching together into the unknown, searching for missing magical weapons and risking painful death. I'd missed my buddies! - Author: Rick Riordan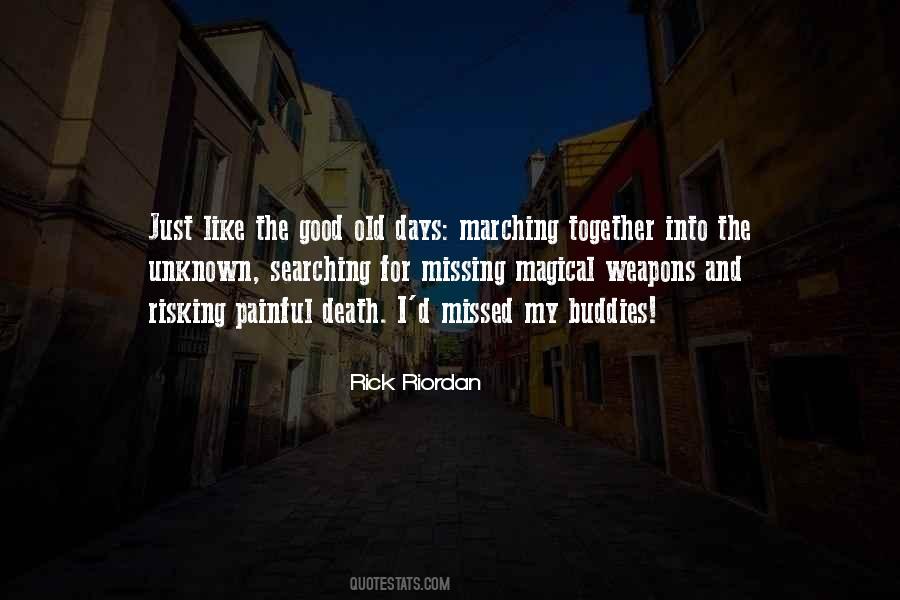 #17. I didn't know what to say to Mal. I never did these days. But maybe I could just start with the truth: that I was lost and confused, and maybe losing my mind, that I scared myself sometimes, and that I missed him so much it was like physical pain. - Author: Leigh Bardugo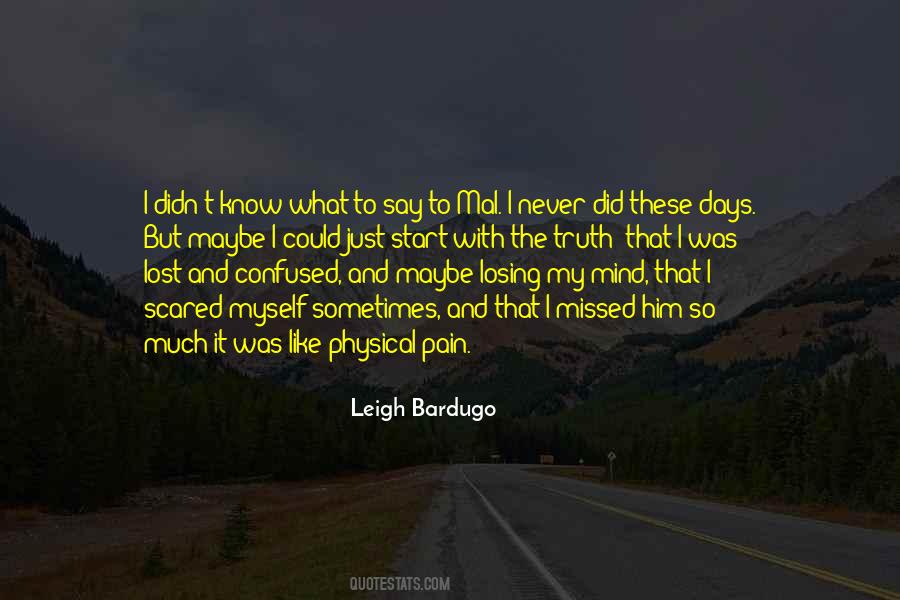 #18. I thought of the one thing about home that I missed, my dad's study with its built-in, floor-to-ceiling shelves sagging with thick biographies and the black leather chair that kept me just uncomfortable enough to keep from feeling sleepy as I read. - Author: John Green
#19. Watch this, I'll show you love like you dreamed of
I've got so much to give, watch this
Don't be afraid you'll be amazed at all the ways that I can
Show you what you've missed
Just close your eyes, and watch this - Author: Clay Walker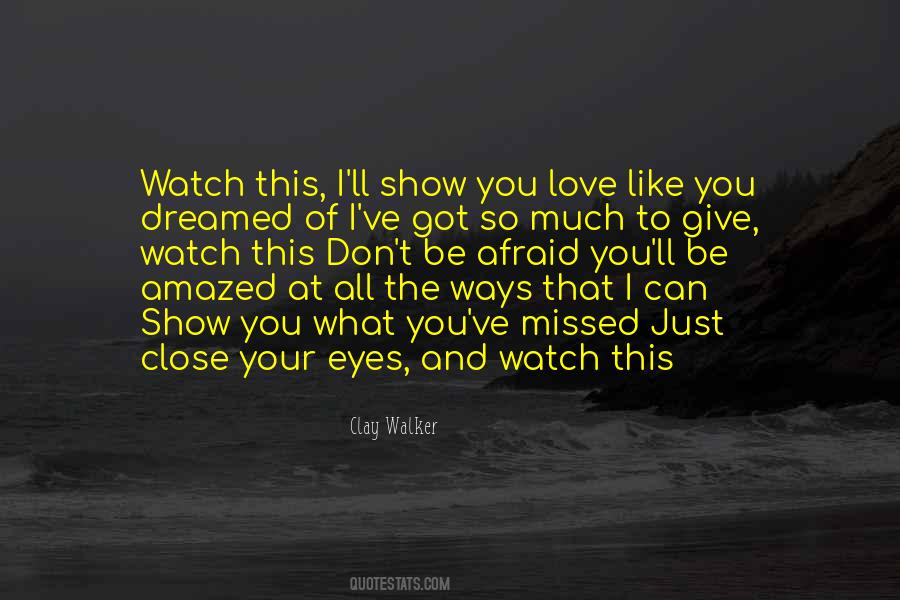 #20. You just missed a perfectly good opportunity to toast an awful Coldplay T-shirt. If I ever spontaneously combust, I hope I'm holding a whole stack of their CDs. Harper - Author: Joe Hill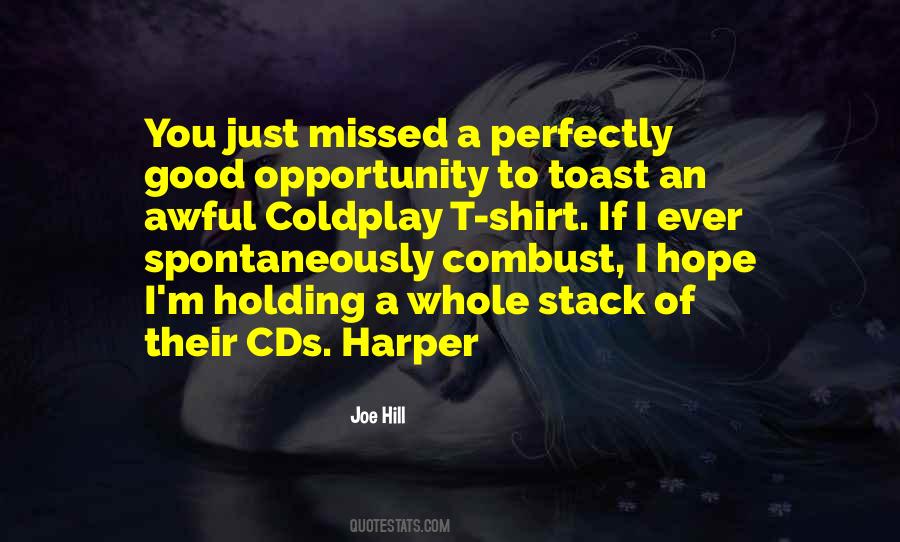 #21. And then, 'Why is a raven like a writing desk?' Those things just became so important to the character. You realize that the more you read it, if I read the book again today, I'd find 100 other things that I missed last time. It's a constantly changing book. - Author: Johnny Depp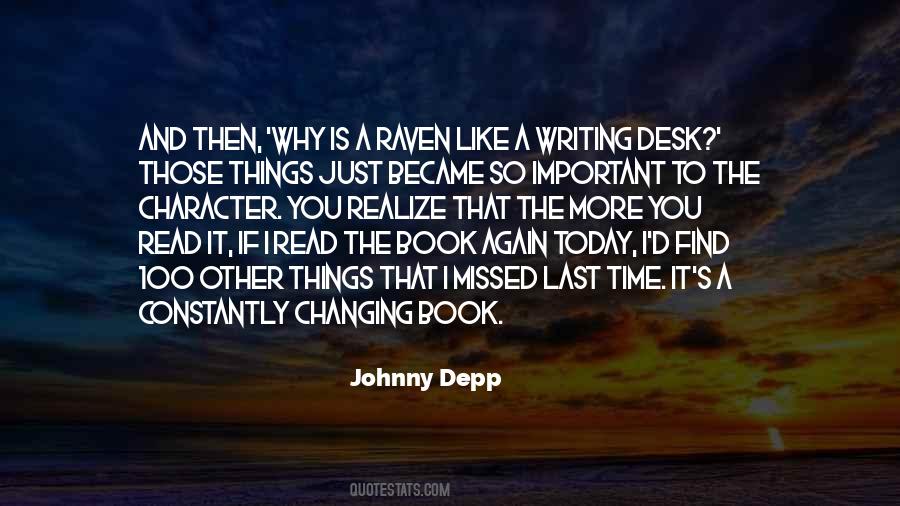 #22. Habitual procrastinators will readily testify to all the lost opportunities, missed deadlines, failed relationships and even monetary losses incurred just because of one nasty habit of putting things off until it is often too late. - Author: Stephen Richards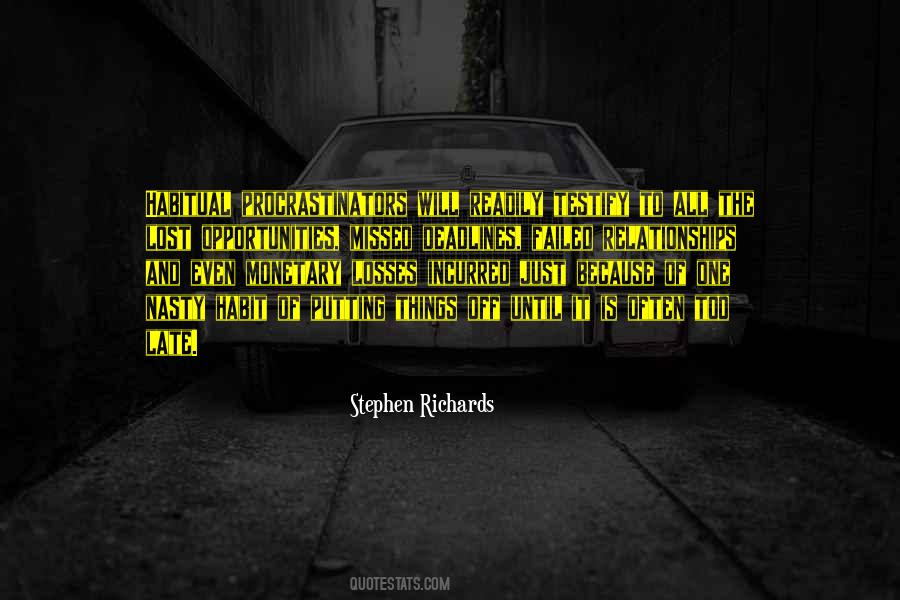 #23. I missed Breaking Bad and people just go on and on about it until you're blue in the face with envy and you've got to watch it. - Author: Rhys Darby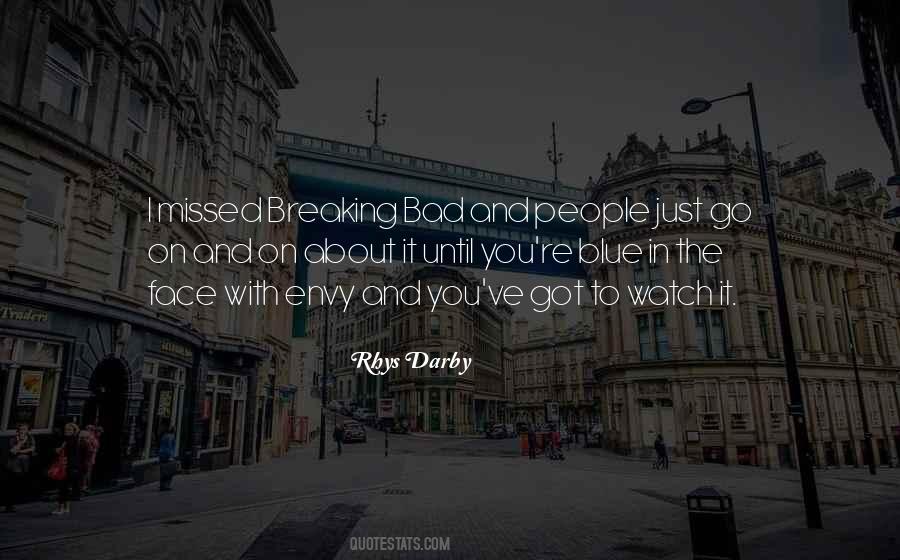 #24. Reports in Washington show that our reasoning was just like that of your physicists. With all this information available, at least to privileged persons, I cannot understand why it is generally held in the United States that we completely missed the basic principle of the bomb until after Hiroshima. - Author: Werner Heisenberg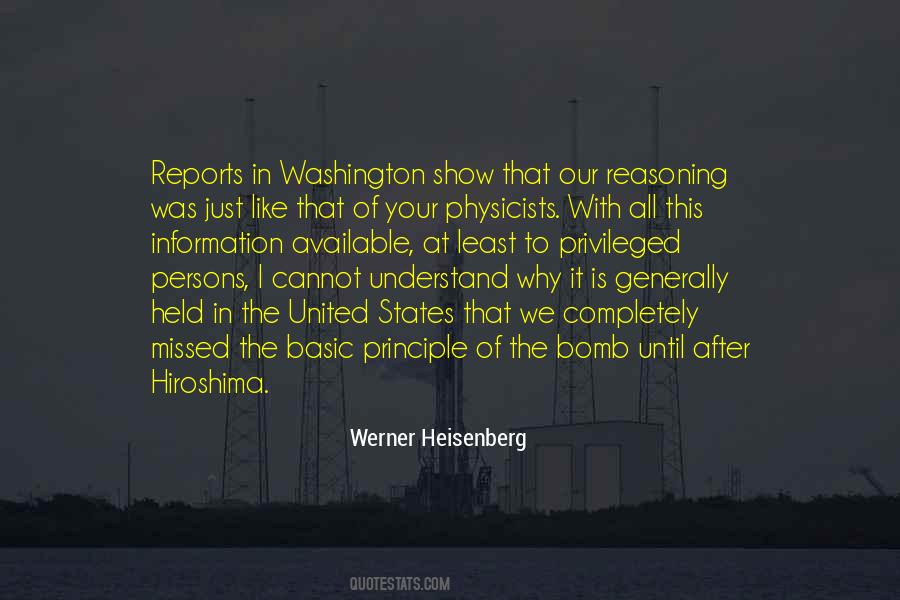 #25. John and I would go and have a couple of quiet beers, just to sit down and chew the fat. And he'd talk about Cynthia and how much he missed her - Author: Pete Best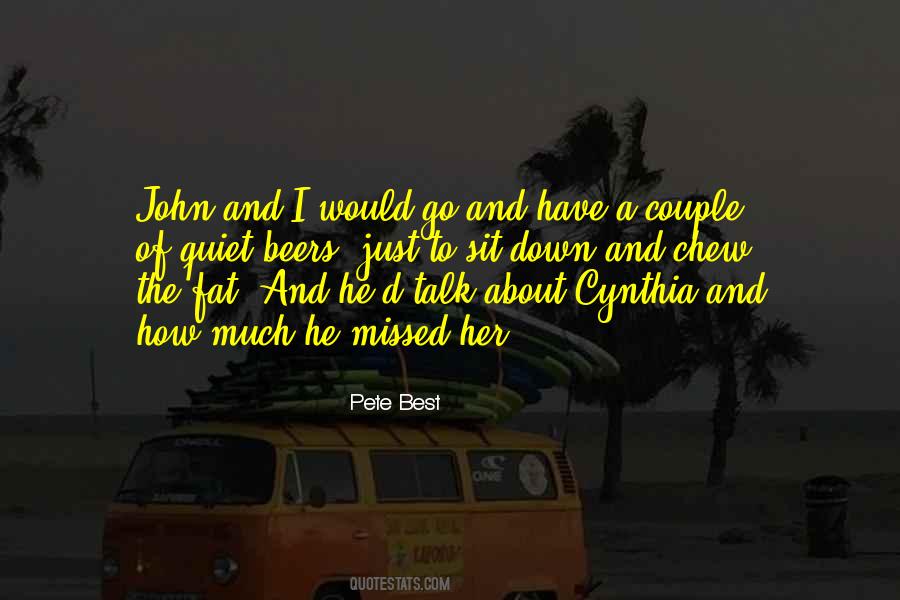 #26. For the first five years of music and first five years of acting, I don't remember it because I was running to where I was going. Finally I was like, 'Man, I missed everything.' So I just stopped, and I started looking around. - Author: Christian Kane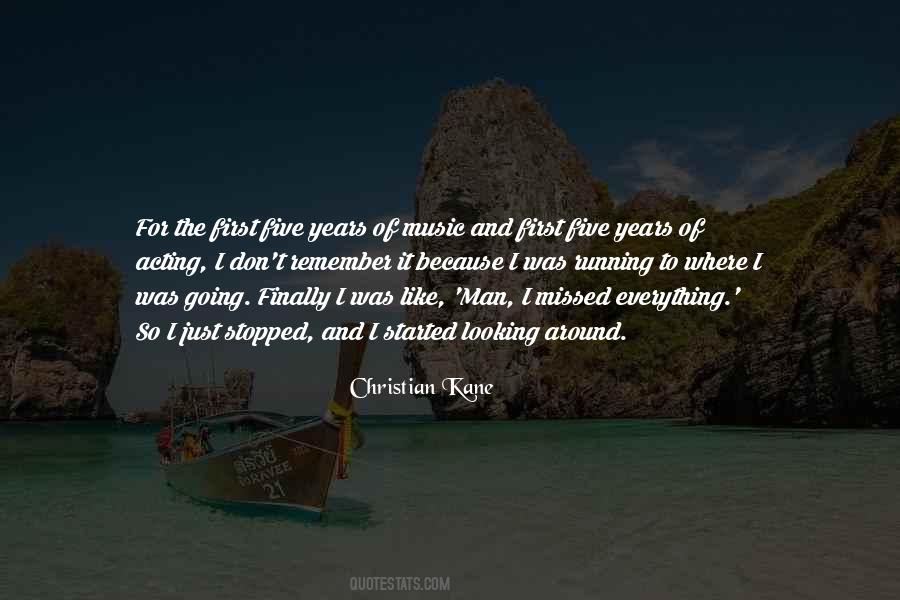 #27. My uncle missed the sixties. Not because he was too young. He just simply slept through them. - Author: Jarod Kintz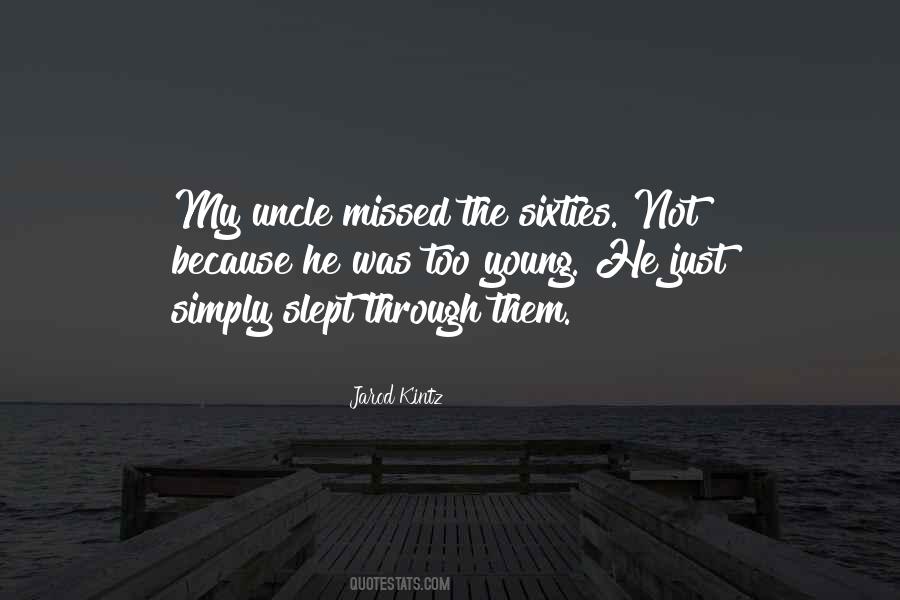 #28. Every band I've been in, it's just become my total life. I feel like a child star - I've missed out on so much. - Author: Kathleen Hanna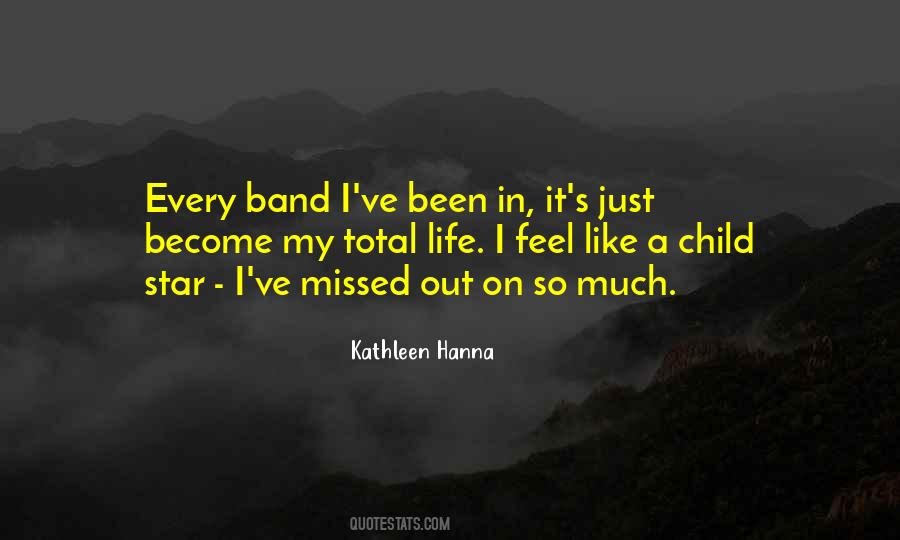 #29. All sorts of men don't make it home for the births of their children. But My mother was out of town on the day I was born, so she missed it, just seems ... seems like a more profound complaint, somehow. - Author: Lois McMaster Bujold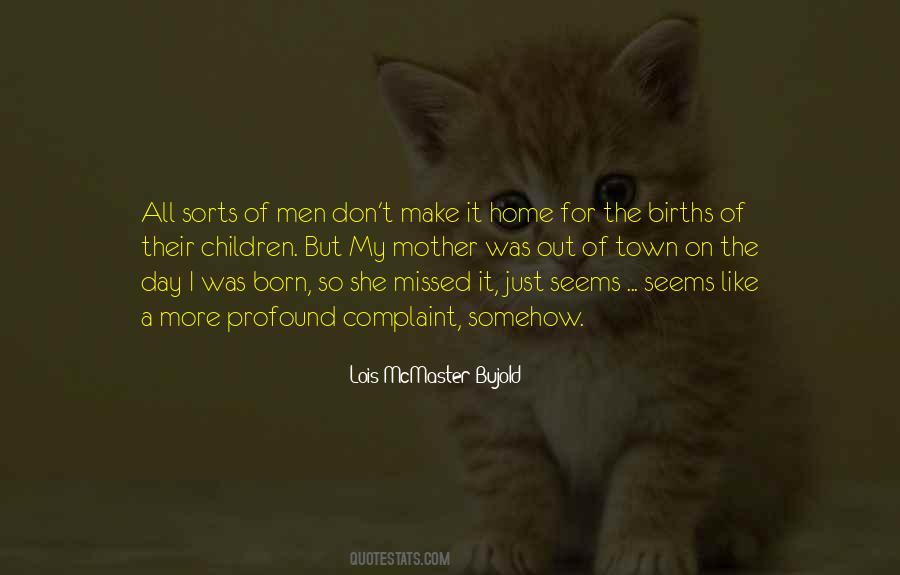 #30. William glanced at the captain. The way she sat suggested she was tense - and that she disliked the princess on sight. William wasn't sure why, but he knew that women tended to pick up on subtle points men missed. Or maybe she just felt dowdy when compared to the princess. - Author: Christopher G. Nuttall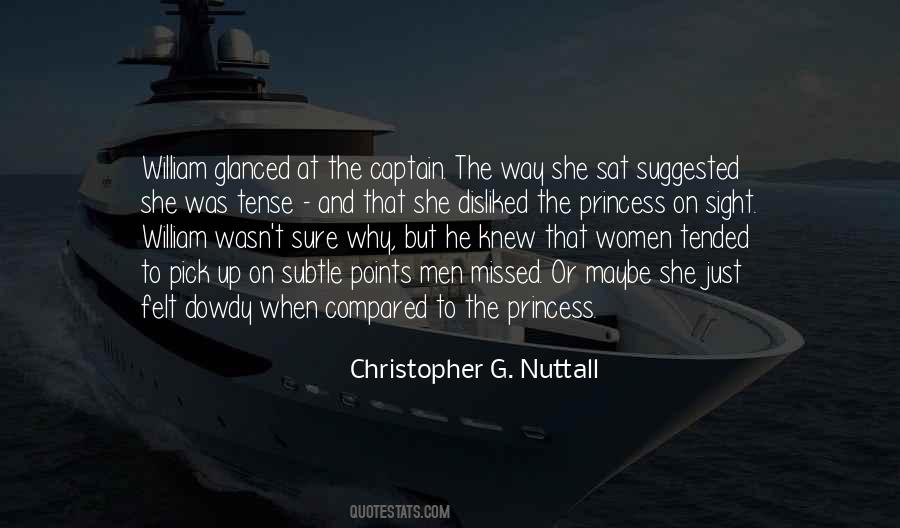 #31. It wasn't that she wanted to be in college again, exactly. No, she just missed it sometimes, the aftermath of those nights out, inexplicable bruises and lost wallets, phone numbers being requested, make-outs with near strangers in crowded bars - Author: Jennifer Close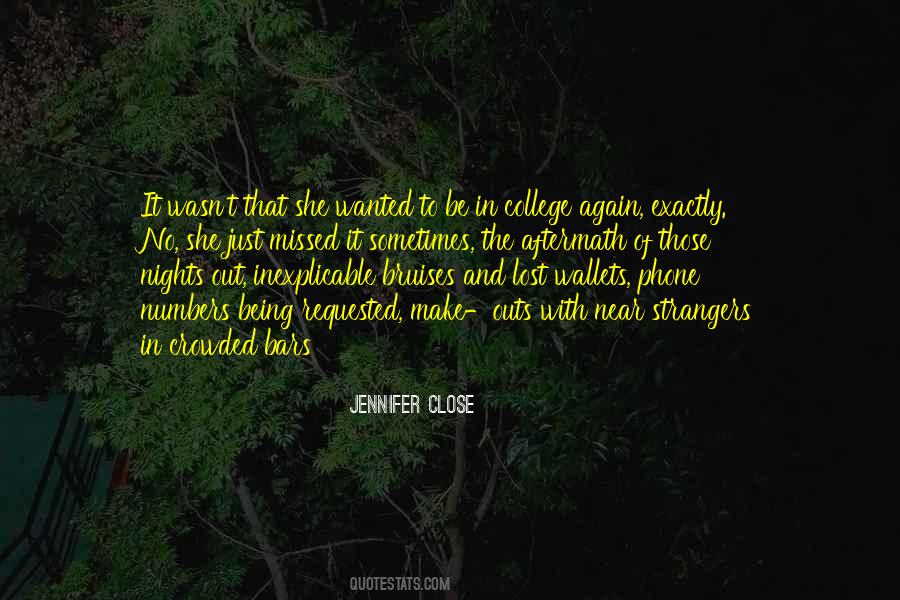 #32. Some of you people just about missed it - Author: David Byrne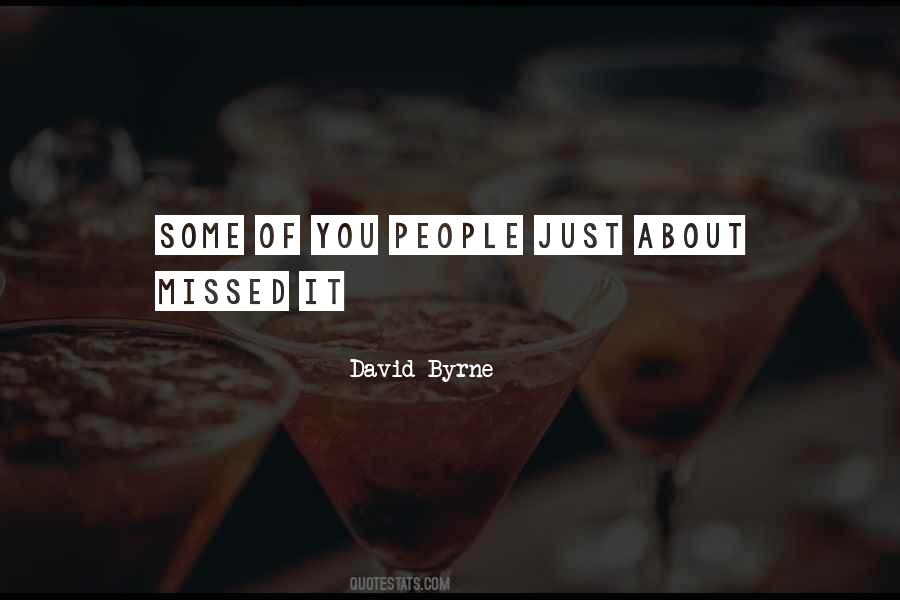 #33. I fired the nurse the next day because she didn't check out the NFL schedule in advance - just kidding, ... I plan to be in Denver. I haven't missed a lot of games over the years. But there's a bunch I wish I had. - Author: Lamar Hunt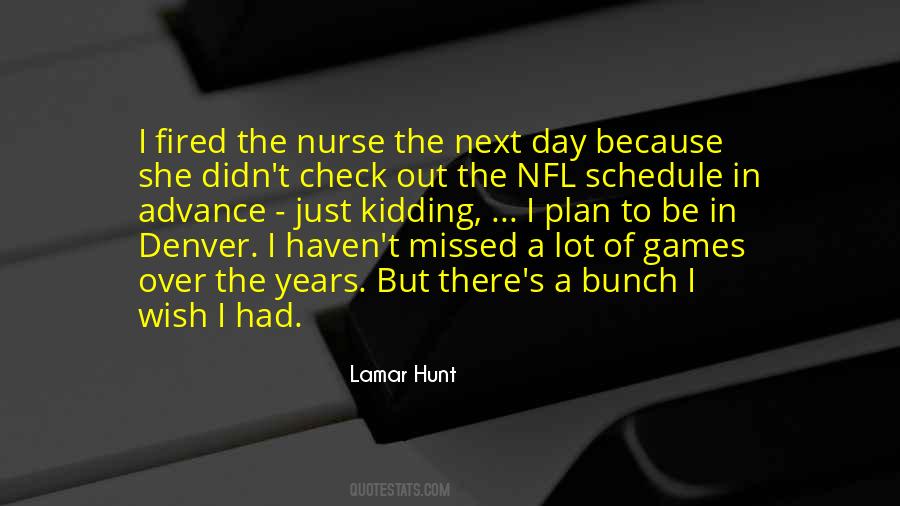 #34. Standing so close, he realized how much he missed her, but looking into her cold, indifferent gaze, he realized something else; it just might be too late. - Author: Rachel Gibson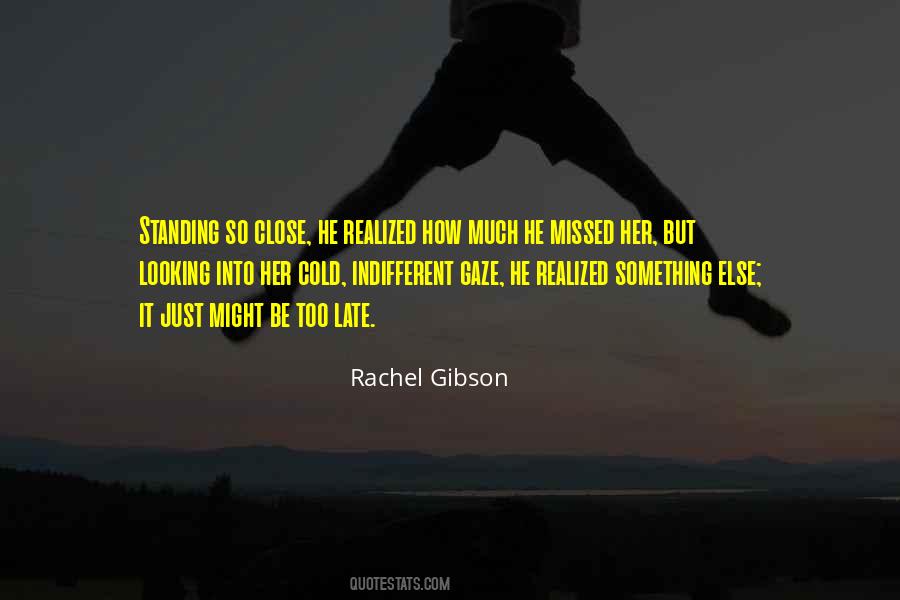 #35. I just wanted you to know you were missed. - Author: Megan Erickson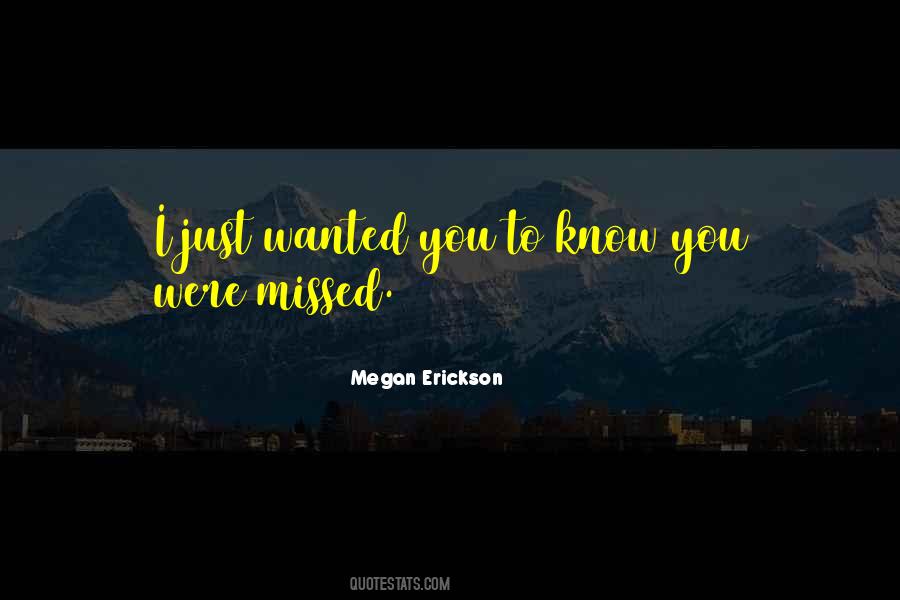 #36. Mark Winchester has left the band. He's decided that he's tired of the road and just wants to concentrate on his career in Nashville. I don't blame him at all. He'll certainly be missed. - Author: Brian Setzer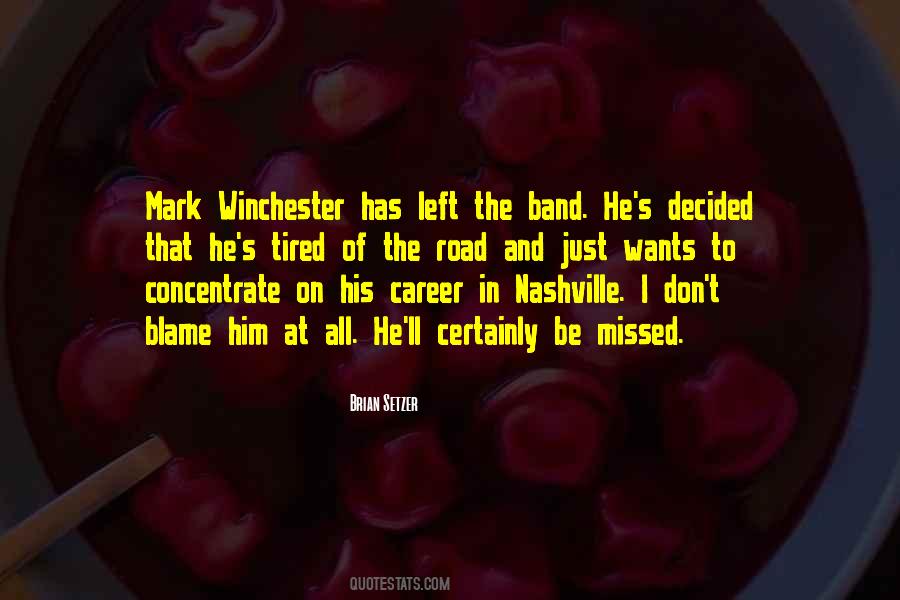 #37. Have you ever felt you were born in the wrong decade, or came just a bit too late and missed out on all the good stuff when it was in its heyday? - Author: E.A. Bucchianeri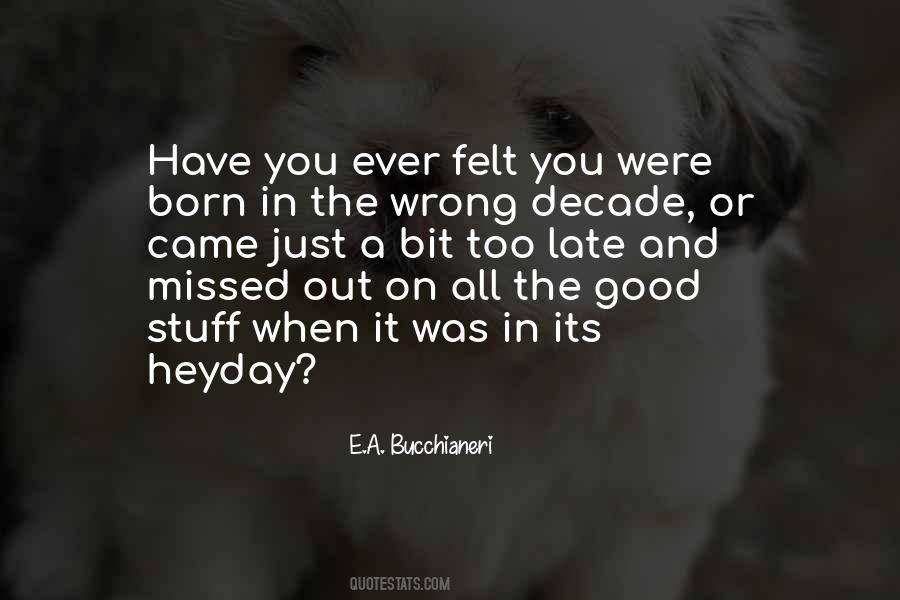 #38. In 1958, a year before the revolution, Magnum wanted to send me to Cuba because they had contacts with the rebels. I'd just spent six months in South America and said 'No', so I missed everything. - Author: Rene Burri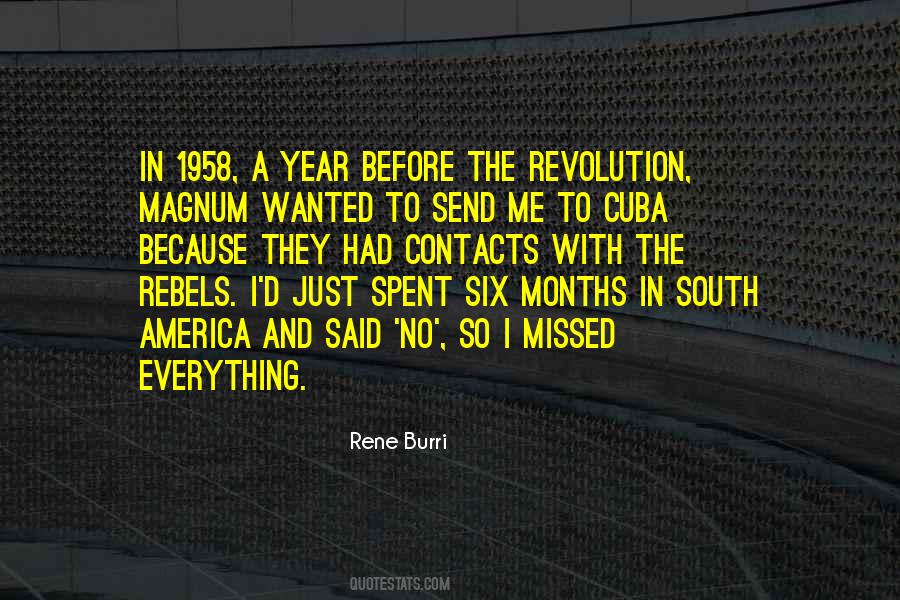 #39. Everyone has their own calling, but not everyone is looking for the phone, or either they missed the call, or just not answered it. - Author: Anthony Liccione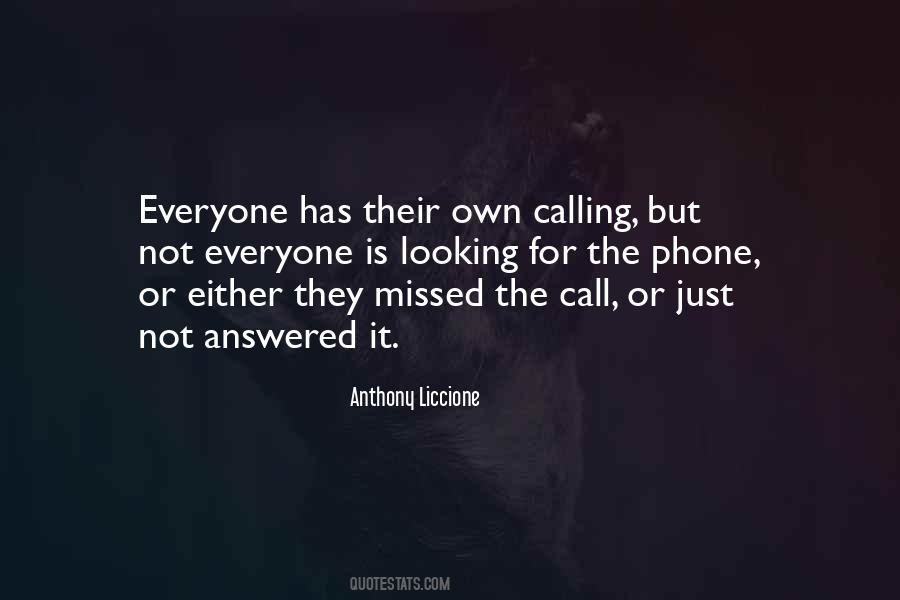 #40. I missed New York. Every break I had from the series, I'd fly back to the East Coast just to get back onstage. - Author: Bebe Neuwirth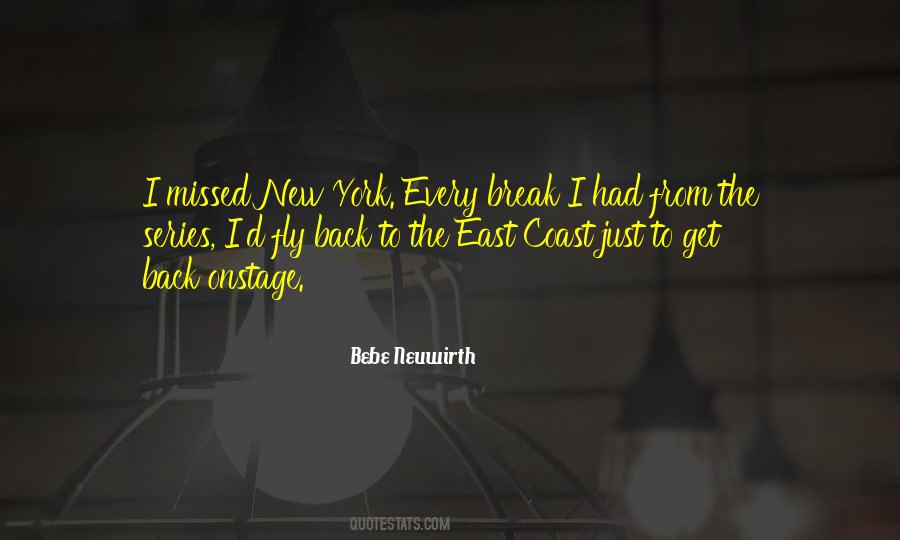 #41. You missed with me so close? What? You failed your assassin training classes? Did you even bother to show up? Or are you just that incompetent? (Syn) - Author: Sherrilyn Kenyon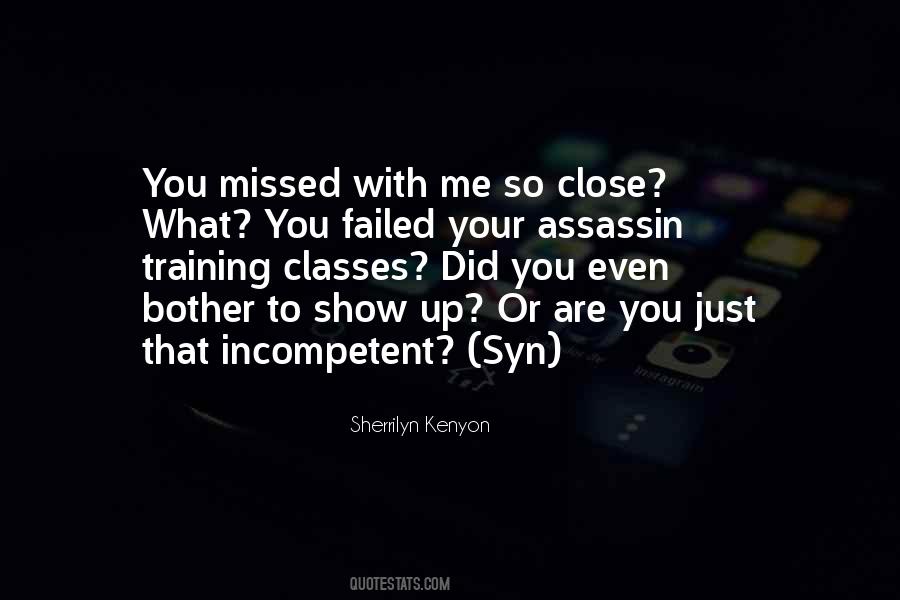 #42. Did prisons have air-conditioning? Was it just primary schools that missed out? - Author: Liane Moriarty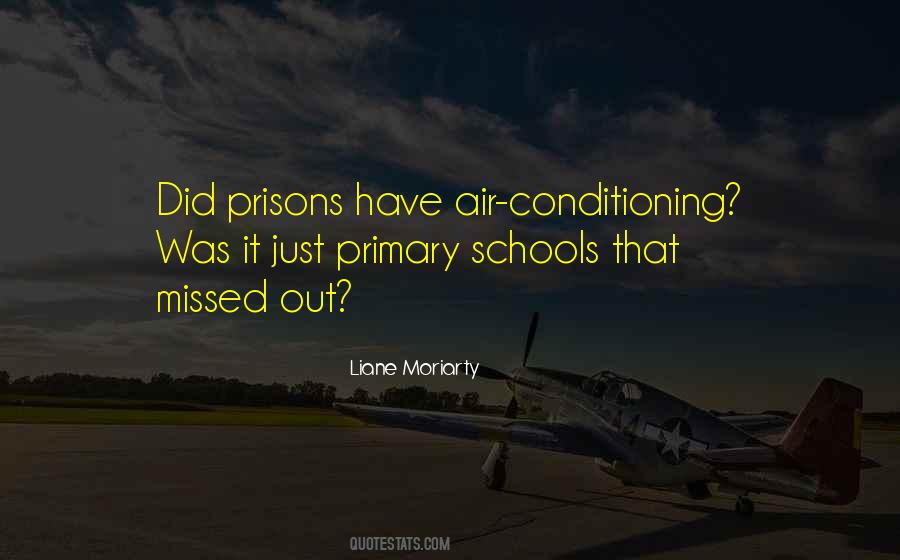 #43. Just to be clear, if, like Pat Robertson, you somehow missed all the evidence, all the research, the depth and breadth of all the knowledge garnered about HIV and AIDS over the past three decades, you cannot get HIV if you share towels, - Author: Anderson Cooper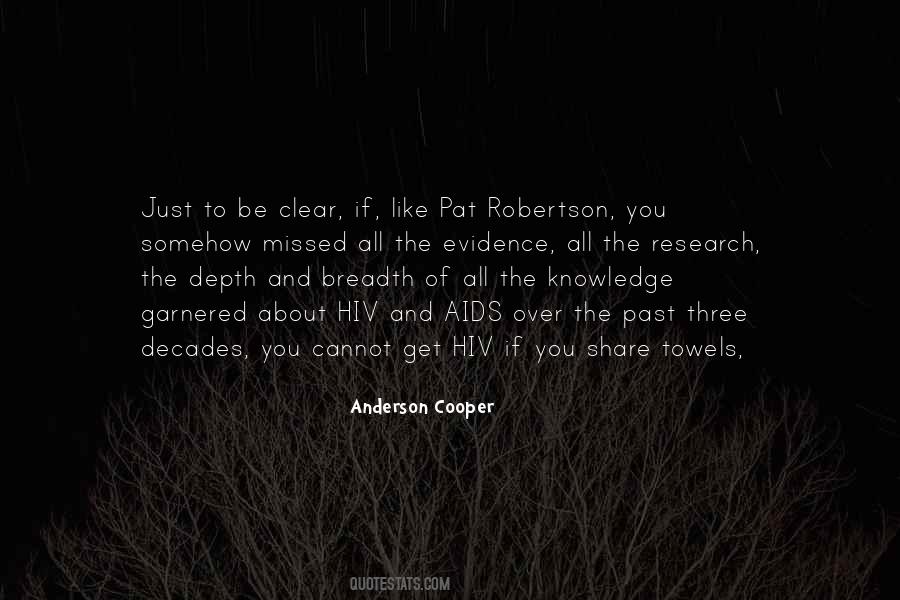 #44. But hereby resolve to write in this book at least twenty minutes a night. (If discouraged, just think of how much will have been recorded for posterity after one mere year!) (September 5) Oops. Missed a day. - Author: George Saunders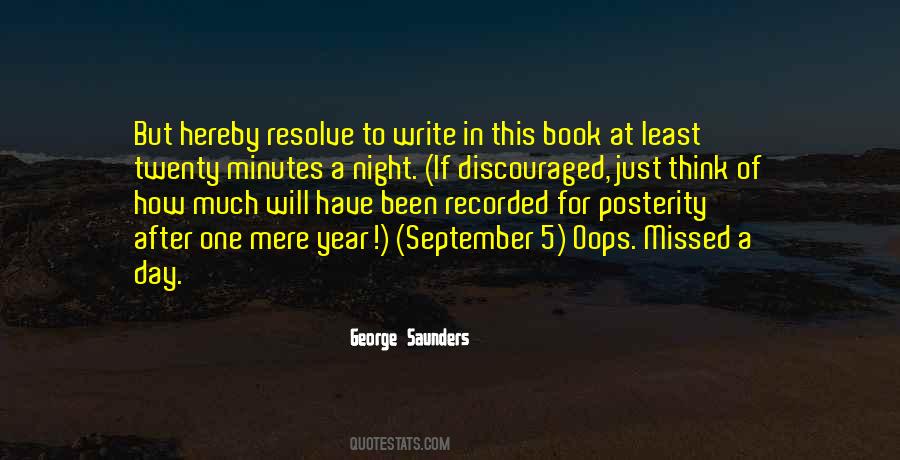 #45. I was fighting it left all day, just enough to get myself in difficult positions to get up and down. The par 5s have been good to be all week, and the three places I missed, I didn't get good lies. - Author: Darren Clarke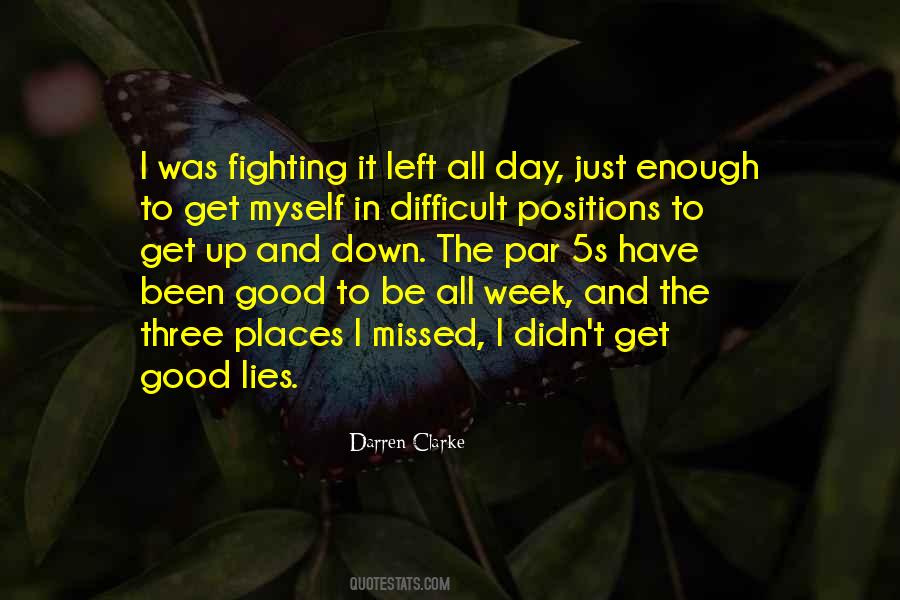 #46. Is that your subtle way of saying you missed me last week?"
"I've missed my hot chocolate. I just think of you as the guy who brings it to me. Sometimes I forget your name and call you hot chocolate guy. - Author: Kasie West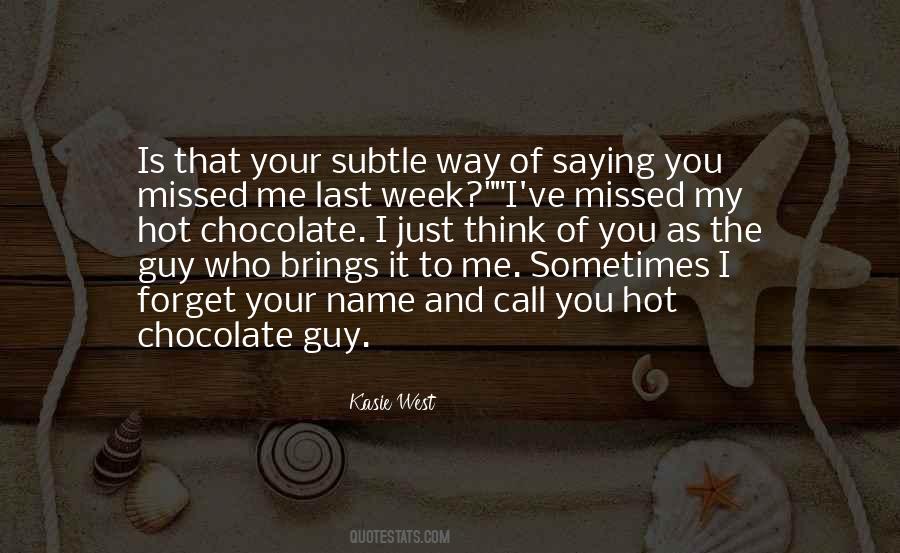 #47. [To audience members who were arriving late] You haven't missed a thing, I was just killing time 'til you got here - Author: Billy Connolly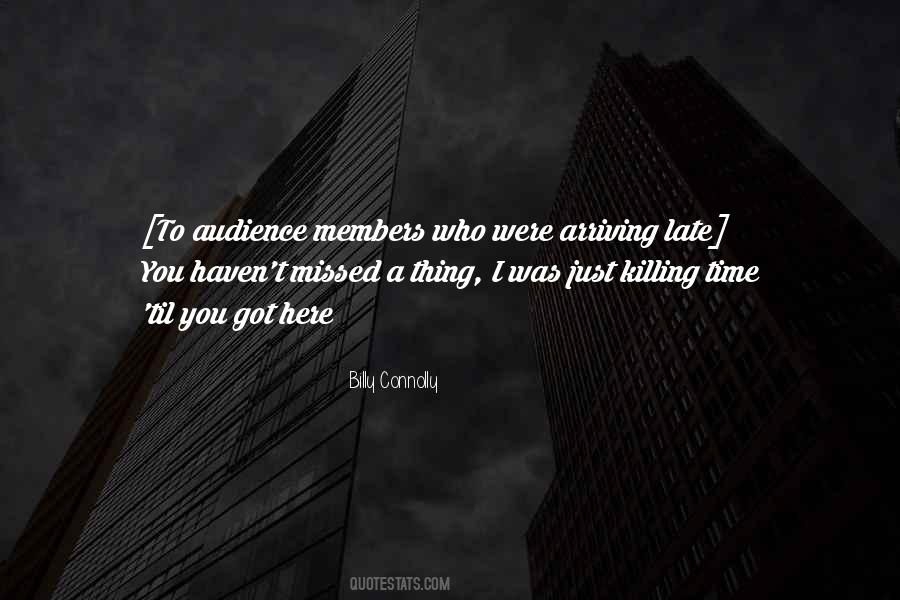 #48. People take pictures of the Summer, just in case someone thought they had missed it, and to proved that it really existed. - Author: Ray Davies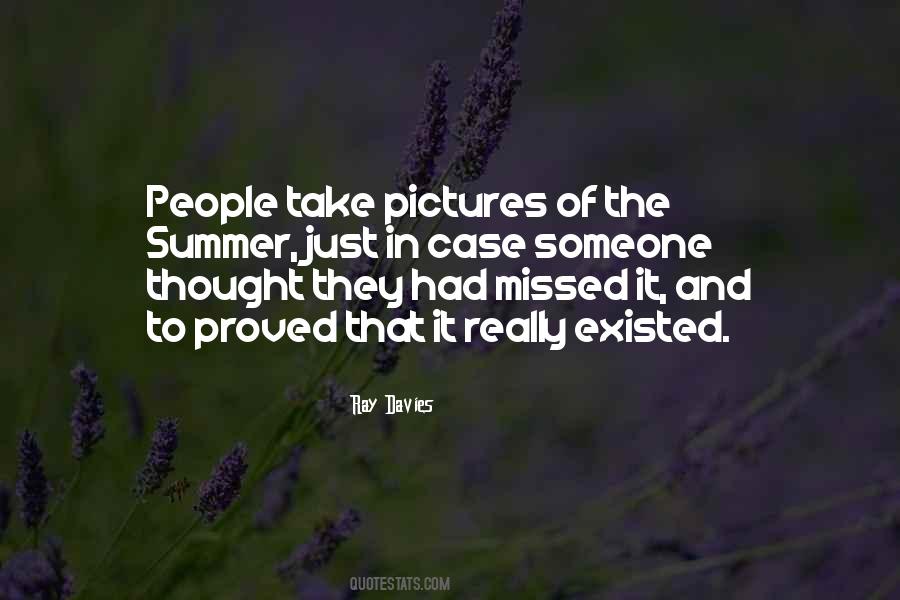 #49. Death doesn't just take someone, it misses someone else, and in the small distance between being taken and being missed, lives are changed. - Author: Mitch Albom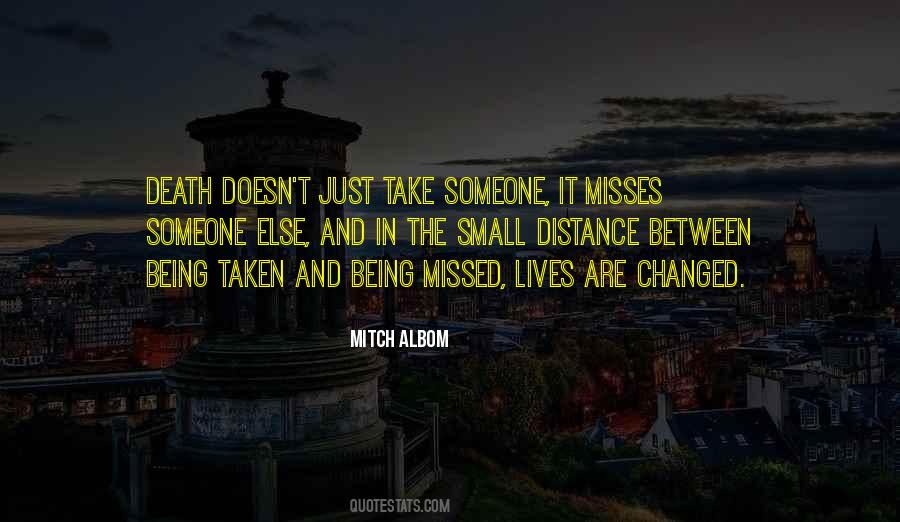 #50. There were signs. Probably more of them than I ever caught, even after the fact. But I missed them all.
Maybe because I wasn't looking for them. I was too busy checking over my shoulder at the fire I'd
just come through to pay much attention to the thousand-foot cliff looming in front of me. - Author: Gayle Forman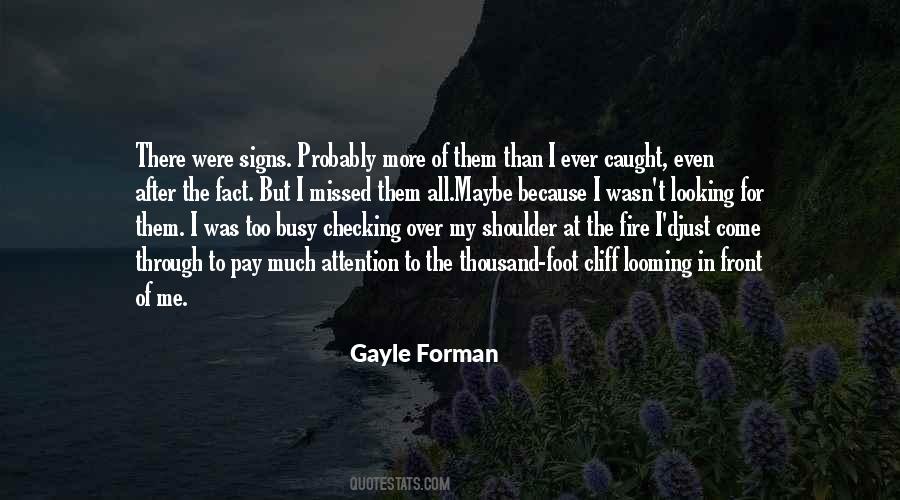 #51. Lumpy and lazy; I aspired to lethargy. In the second year of university, I missed half my classes just because I couldn't pull myself out of bed. - Author: Victor LaValle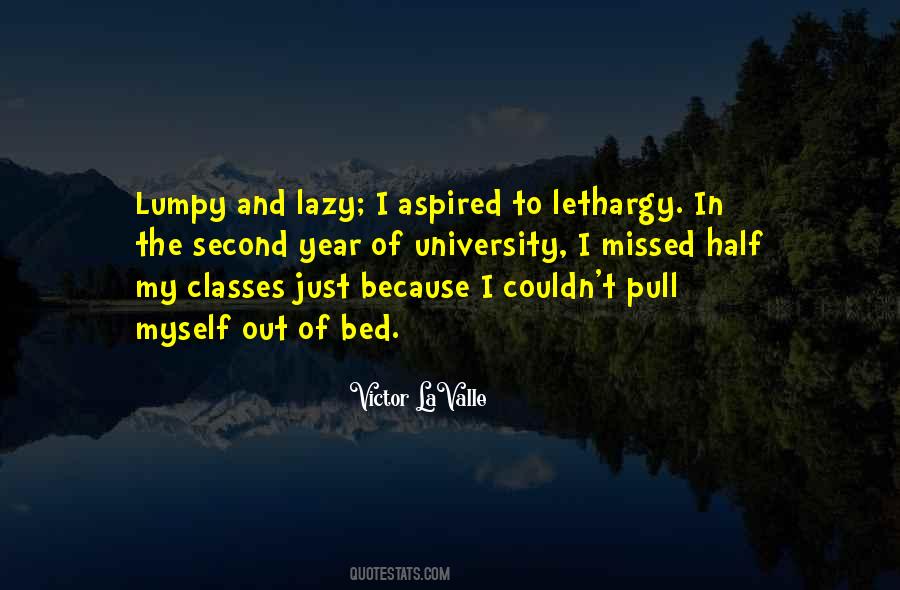 #52. I am so saddened by the loss of our dear friend, Bonnie Franklin. She was just full of light and love. Bonnie will be very much missed by all the people she touched with her love. - Author: Mackenzie Phillips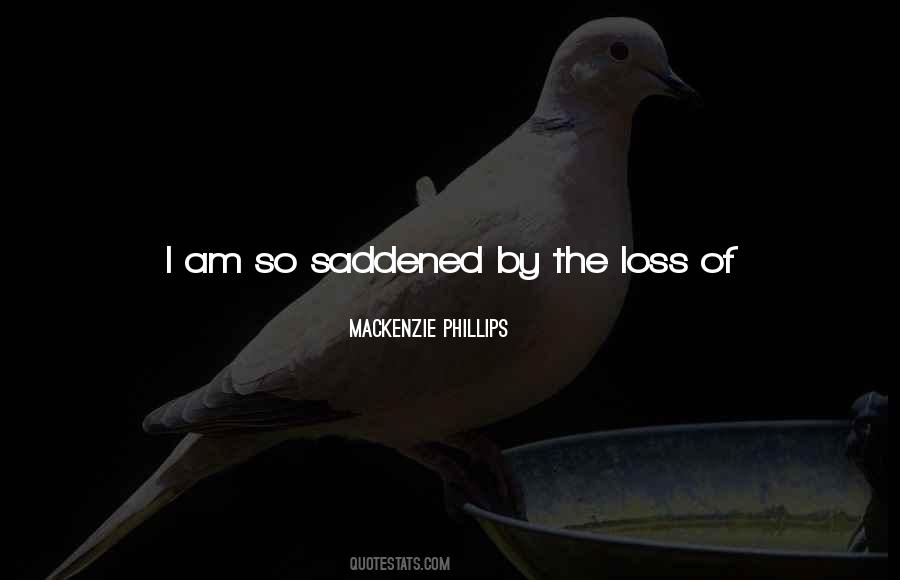 #53. How would I feel if I woke up and she told me that we had done it while I slept? I'd be fine with it. A little sad that I missed things, but I wouldn't be mad. I'd just ask her if I had a good time. Women are different, though. - Author: Christopher Moore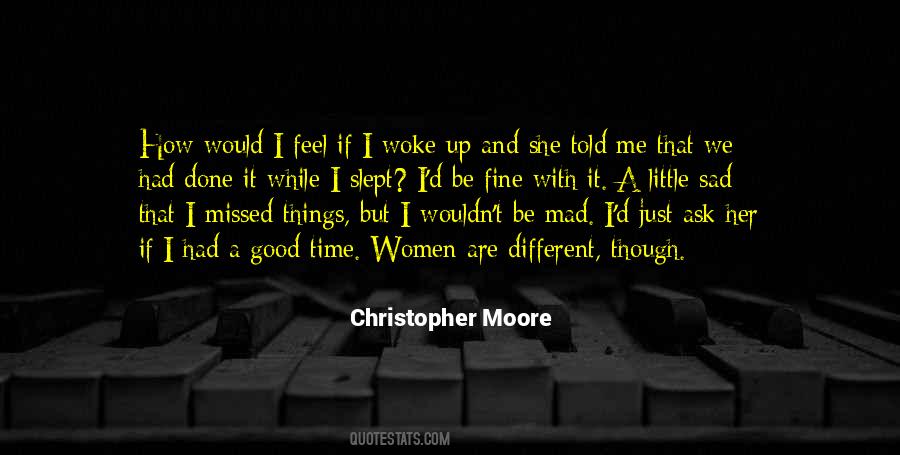 #54. I am always looking for some clue, some easily missed sign that might just be the missing piece in the puzzle. - Author: Oliver Harris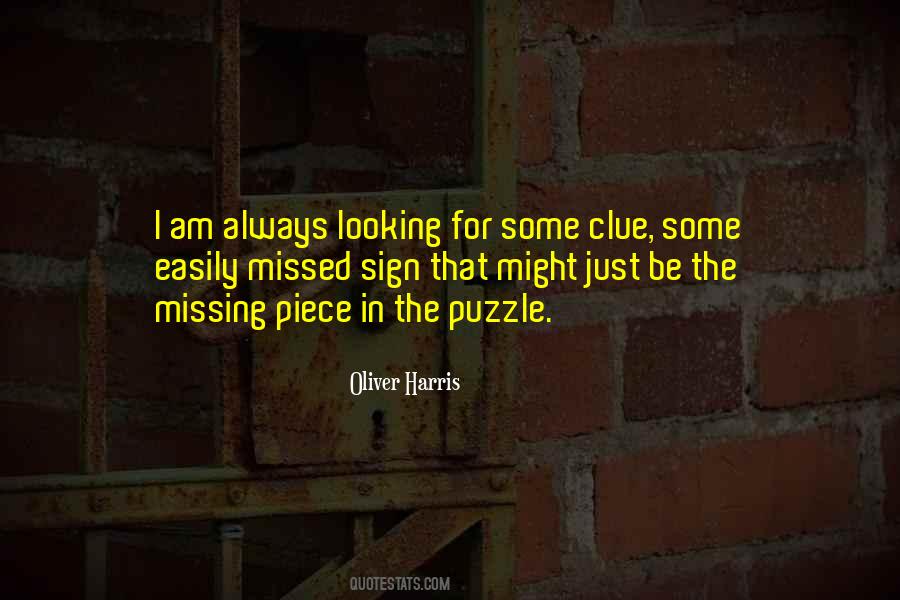 #55. Happiness can be a simple thing just like dreaming of someone you've missed for a long time. - Author: Jhane Barnes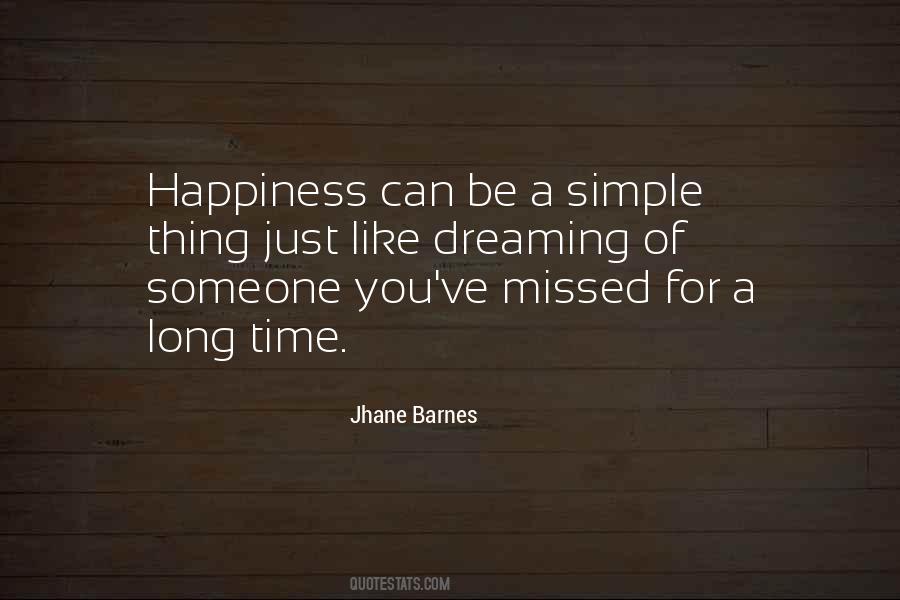 #56. Executive assistant. "Mrs. Albrecht, how are you today?" "Very well. I just got here and thought maybe I had missed you." "Nope. I just got here too." "Come in, please." The house had a two-story entry area - Author: Michael Connelly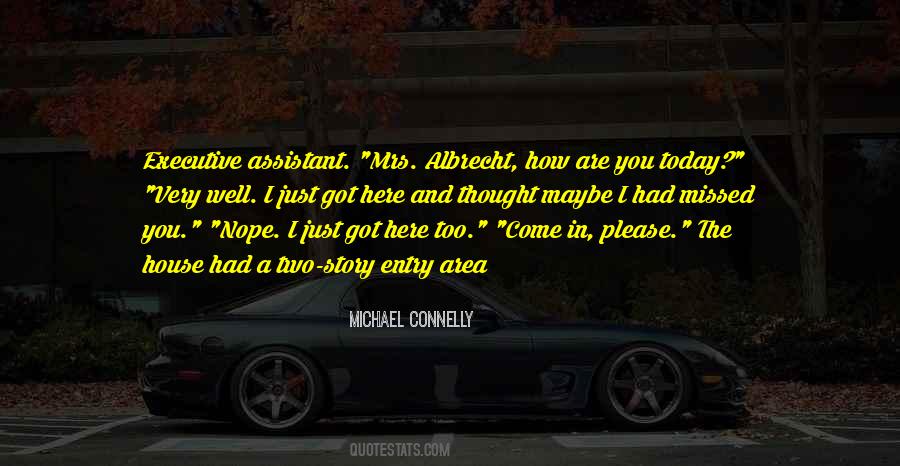 #57. I used to get down on myself a lot if I missed a shot, and it would just break my focus. But now I stay mentally tough and try to just forget about that play and keep on going. - Author: Antonio McDyess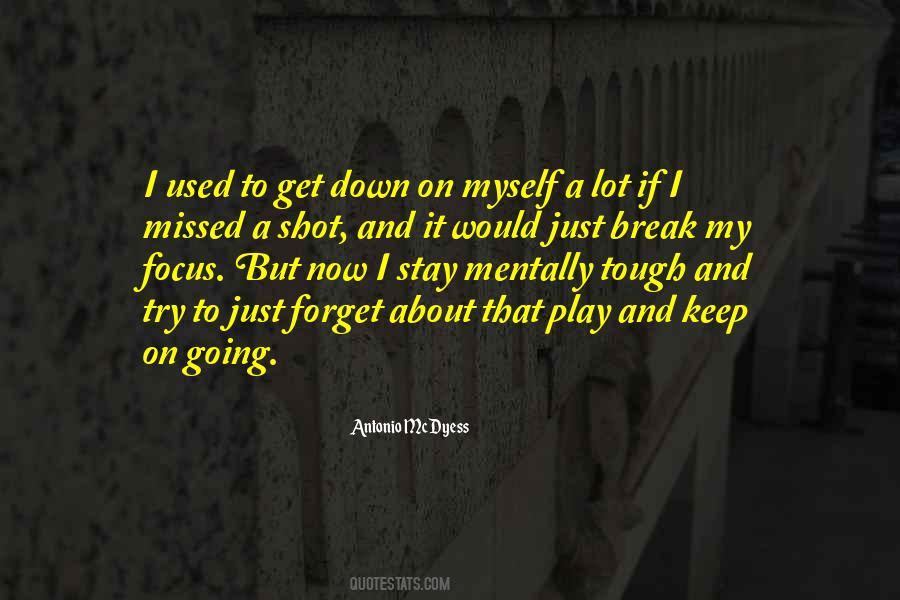 #58. Before I could catch it, my heart slammed straight down to my feet, leaving me with a massive hole in my chest. It was amazing how I could just be going along, doing okay, and then suddenly-wham-I missed her so much even my fingernails hurt. - Author: Jenna Evans Welch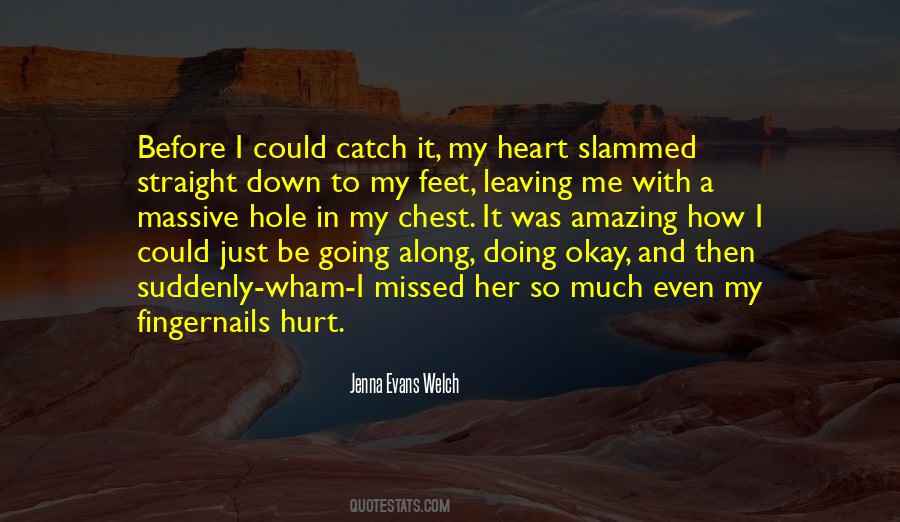 #59. Oh really I was just thinking about how great a gold filigree necklace and teardrop earrings would look on me, and at seventy five ninety nine plus shipping , its a freaking ,steal. But damn , I missed the deal because , oh that's right.. IM FUCKING FROZEN .. - Author: Larissa Ione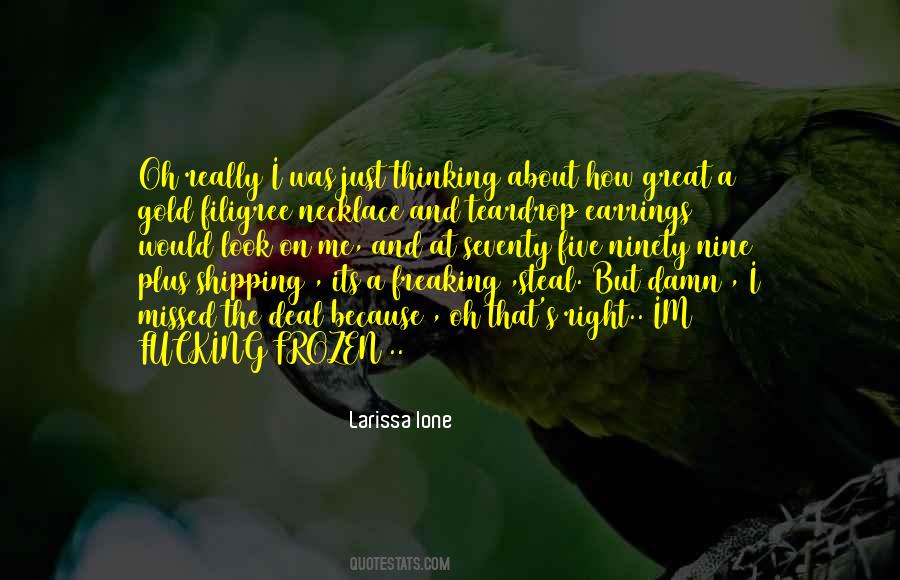 #60. They say that Grandma Moses had several canvases going at the same time. Maybe it was a way for her to catch up with the time she missed while raising children and tending the farm. Like Grandma, I tend to have more than one poem or fiction going at a time. For me, it's just the way I think. - Author: Marge Simon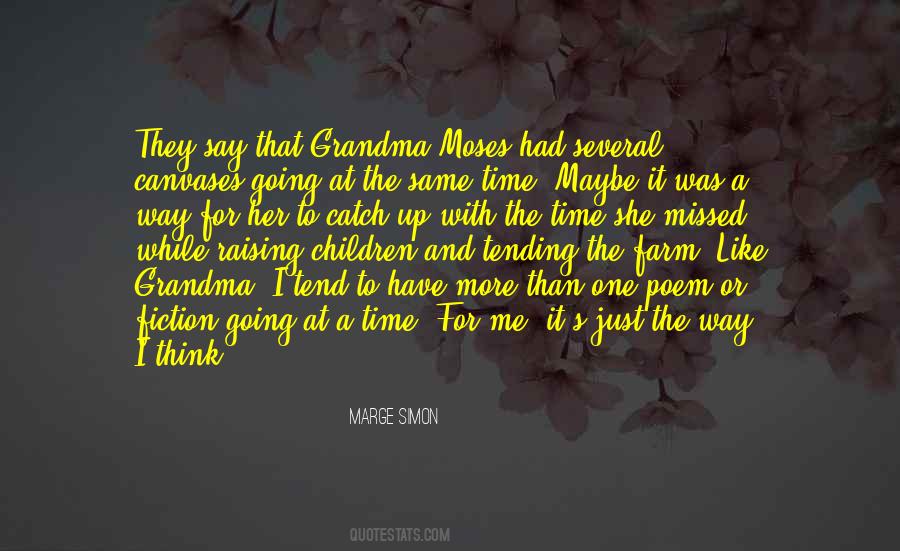 #61. It'll always bother you, wondering what you missed out on," Merrin said now. "That's how men are. I'm just being practical. I'm not waiting to get married to you so I can fight through your midlife affair with our babysitter. I'm not going to be the reason for your regrets. - Author: Joe Hill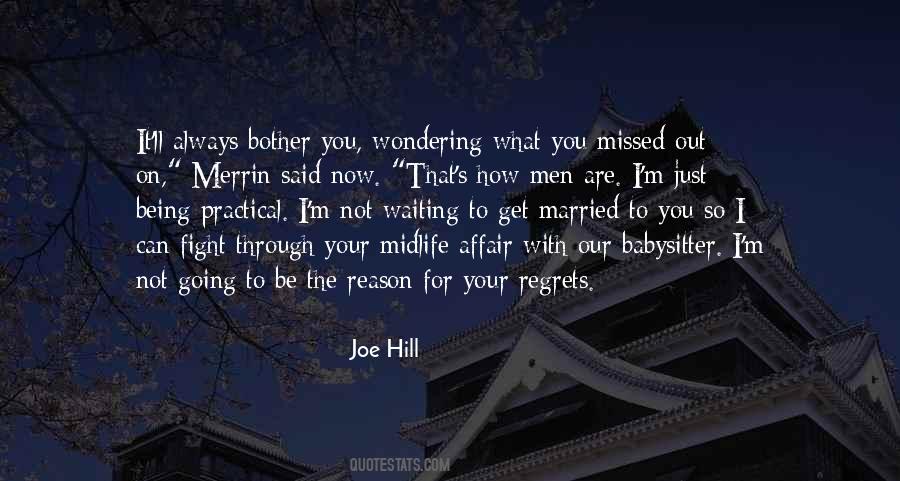 #62. His tongue felt good, it tasted good, it was all just good. Not just good. It was better than good. I missed this. I loved kissing and, Lord, did I miss it. - Author: Kristen Ashley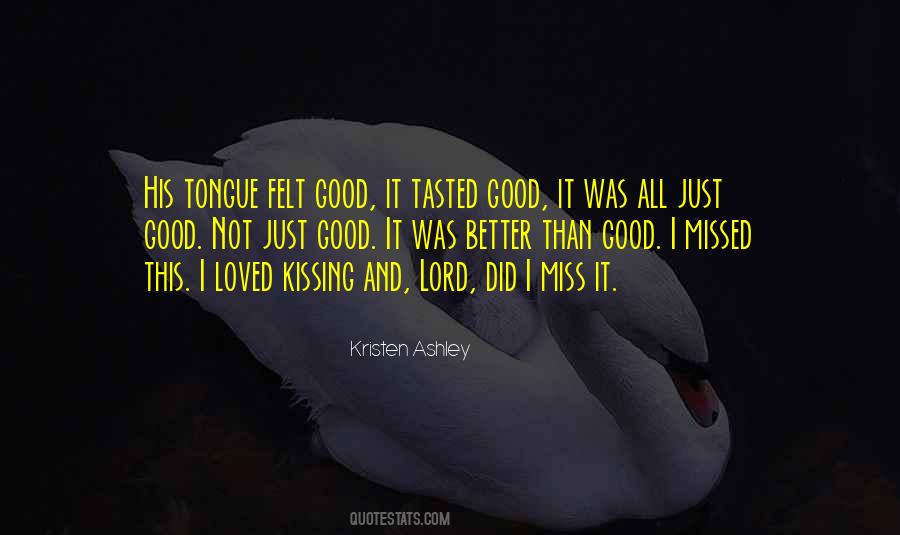 #63. Trev, remember when I told you about the one thing I missed from my life before I met you?"
Kegan dropped his forearms onto his bent knees, leaned his forehead on them.
"You just met her. - Author: Sherri Desbois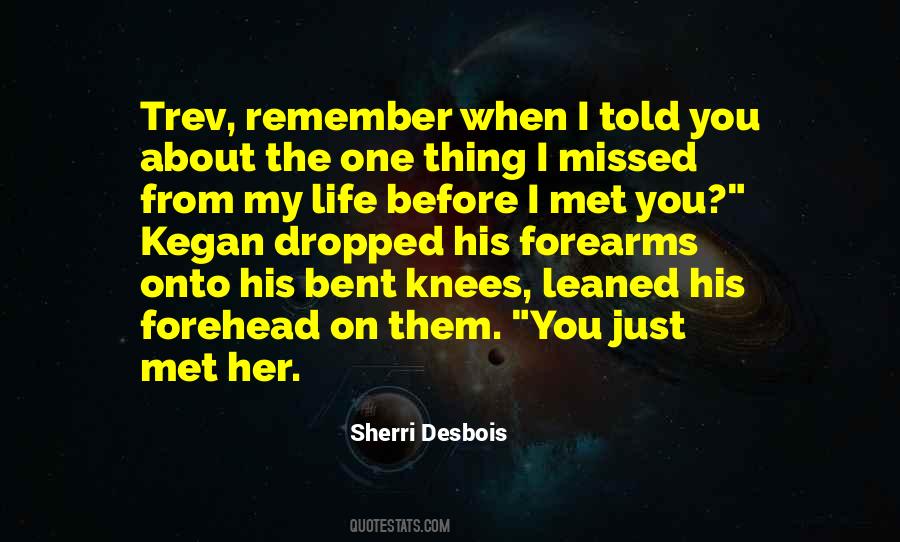 #64. Yet torture is above all an art, an artistic discipline just like literature , cinema, or contemporary dance. All detained in the City-State ghettos bitterly missed the torturers of yesteryears, those monsters who worked with the precision of a Swiss watch-maker. - Author: Fiston Mwanza Mujila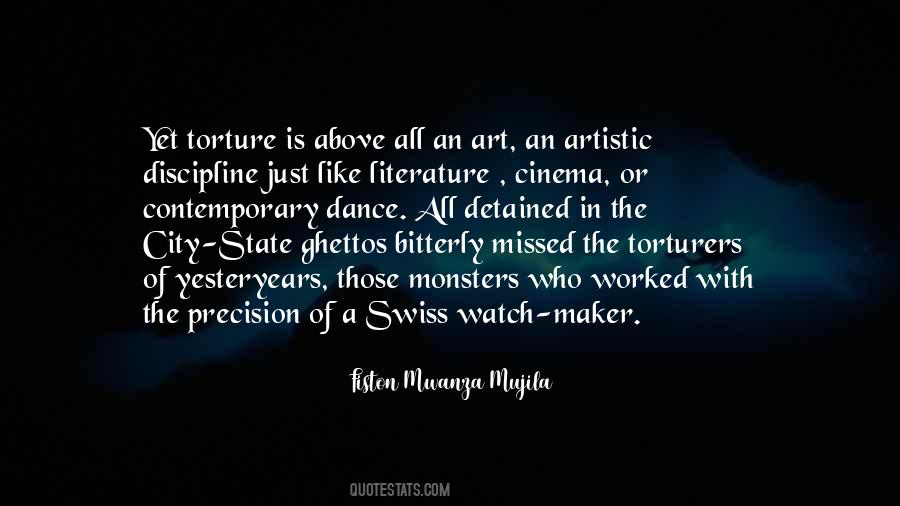 #65. Hello Rush," she said, breaking the silence. The sound of her voice almost sent me to my knees. God, I'd missed her voice.
"Blaire," I managed to say, terrified that I'd scare her away just by speaking. - Author: Abbi Glines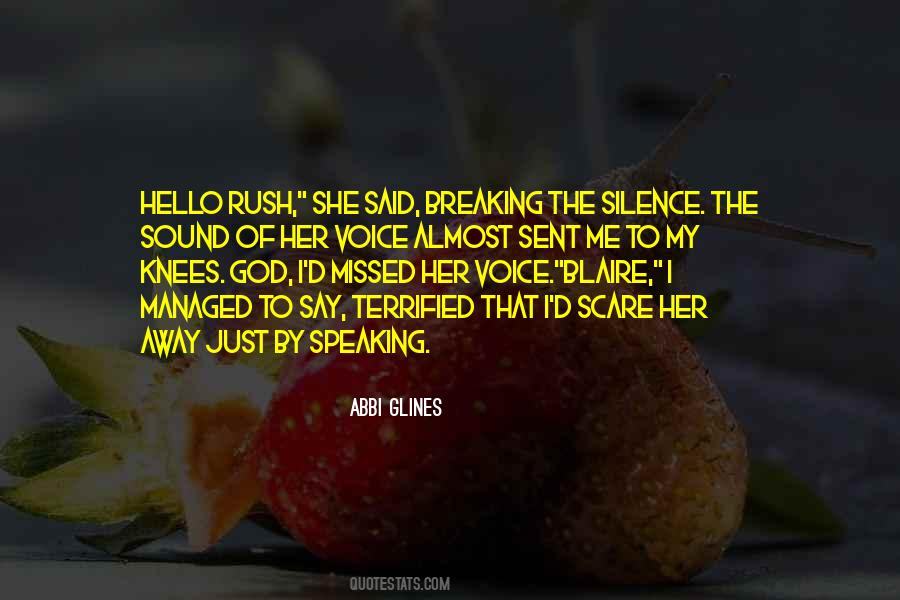 #66. Then you're going to take off your suit and show me just how much you missed your phone cord."
"And the attachment."
"And the attachment. - Author: Sylvain Reynard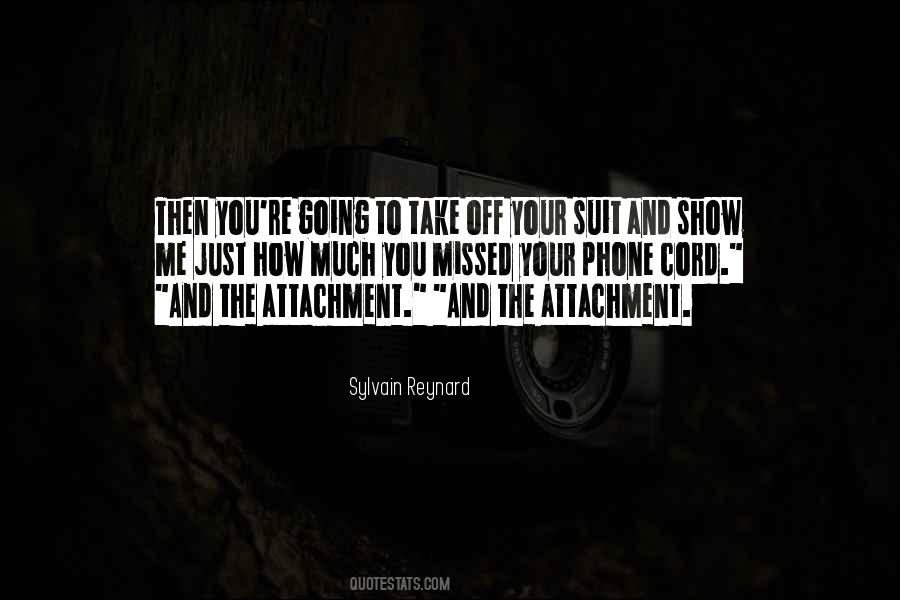 #67. I just wanted to have fun for myself - I felt I had a lot to say, and I realized that I missed having a magazine as a place to express my ideas. The Times column is a place for me to unload those perceptions. - Author: Tina Brown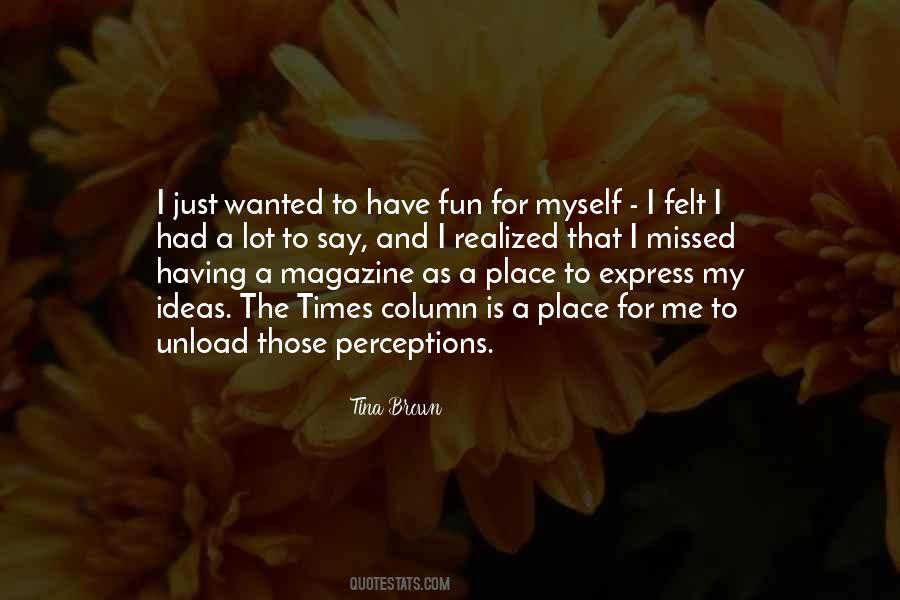 #68. I missed talking to you, and playing with you, and touching you, and seeing you smile. I missed just ... sitting next to you. I've never missed anyone or anything that much - Author: Mila Ferrera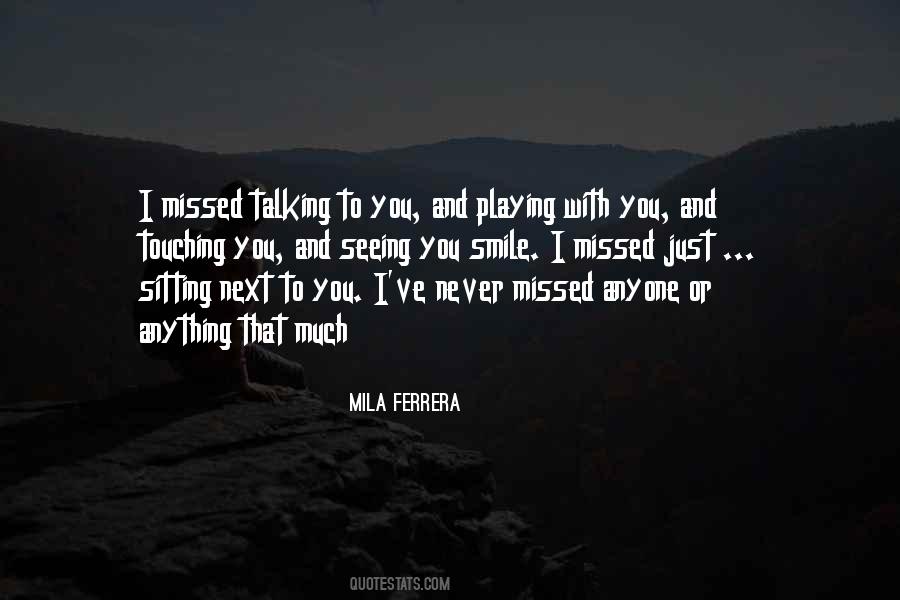 #69. To this day I always insist on working out a problem from the beginning without reading up on it first, a habit that sometimes gets me into trouble but just as often helps me see things my predecessors have missed. - Author: Robert B. Laughlin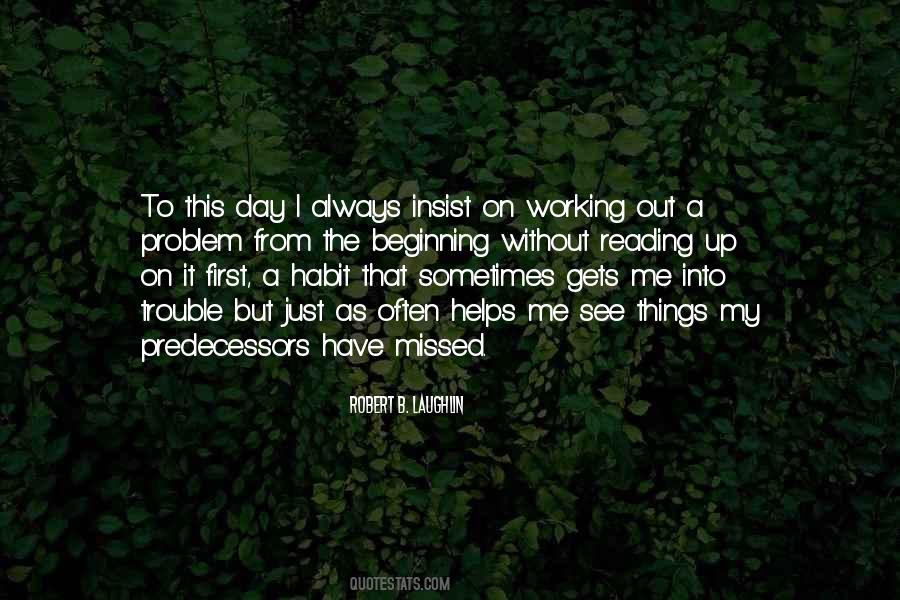 #70. Maybe I am a bit unusual here, but I am less stressed if I have my phone with me. Because I can spend like an hour in the morning taking care of everything instead of I sit there and wonder what I missed or wonder what's happening. So it's way less stressful for me to just answer my phone. - Author: Sam Altman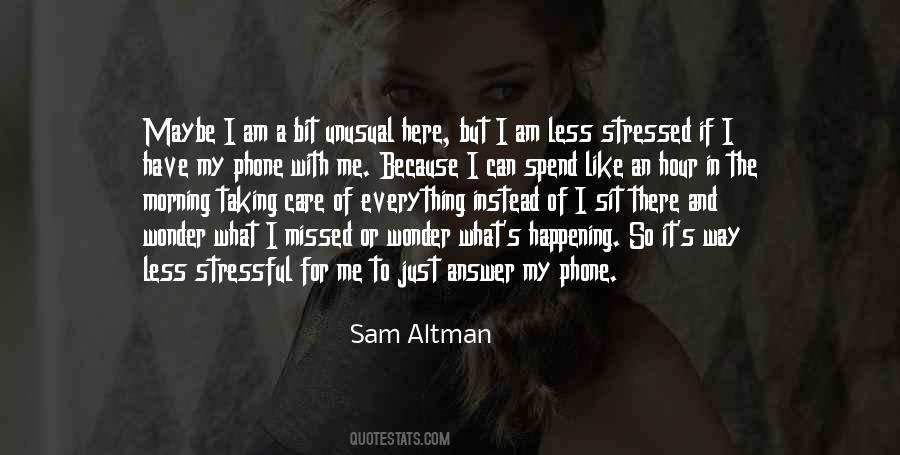 #71. I was just after Generation X. I missed the John Hughes movies; I had to watch them on TBS. - Author: Freddie Prinze Jr.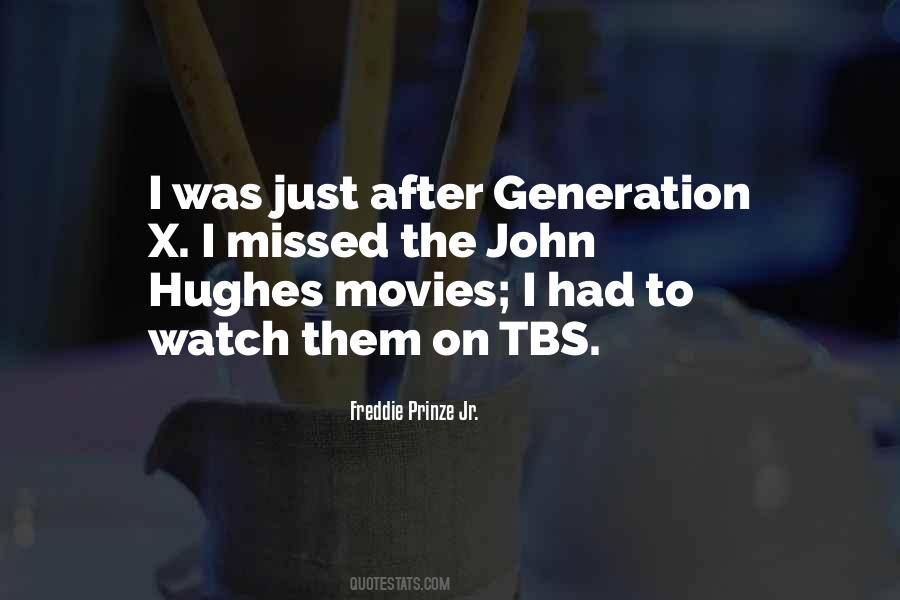 #72. We decided to start our own group because we were bored with everything we heard ... Everything was 10th-generation Led Zeppelin ... Overproduced, or just junk. We missed music like it used to be. - Author: Joey Ramone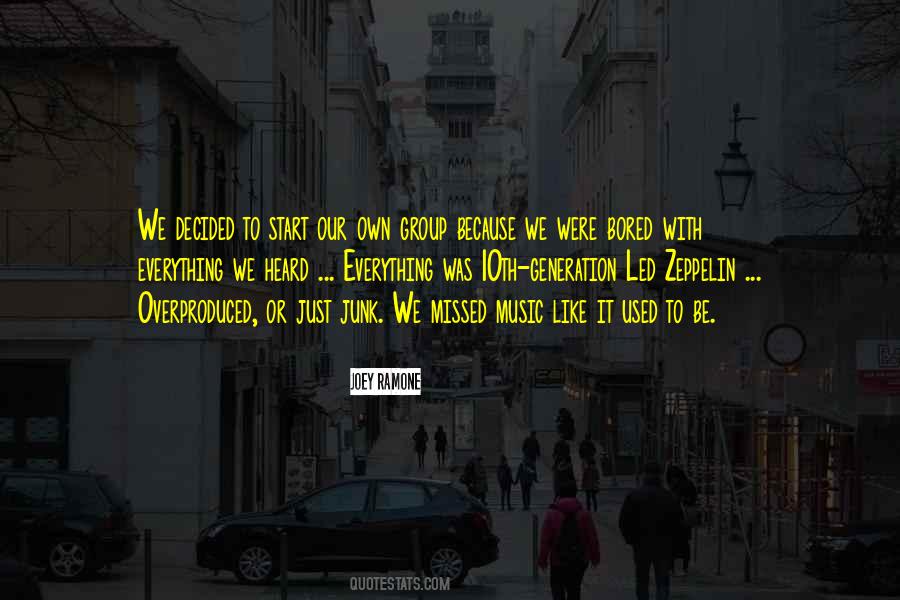 #73. I'm just one of those hopelessly romantic people so I don't think I'll ever run out of stories. I'm always looking for love. But I'm afraid now - by doing what I do - I've missed my chance to ever find it. That I'm destined to get burned again and again. - Author: Chris Carrabba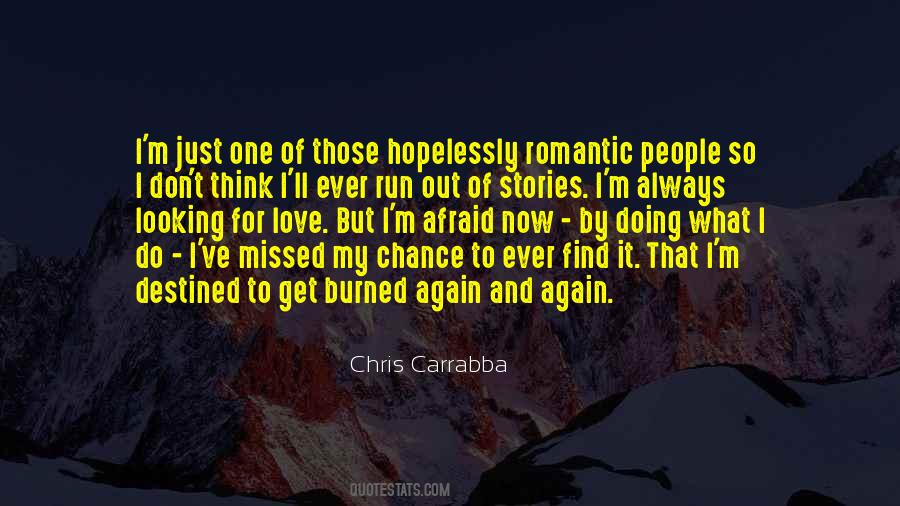 #74. When you don't know where to start,
just go to a place you miss so much. - Author: Toba Beta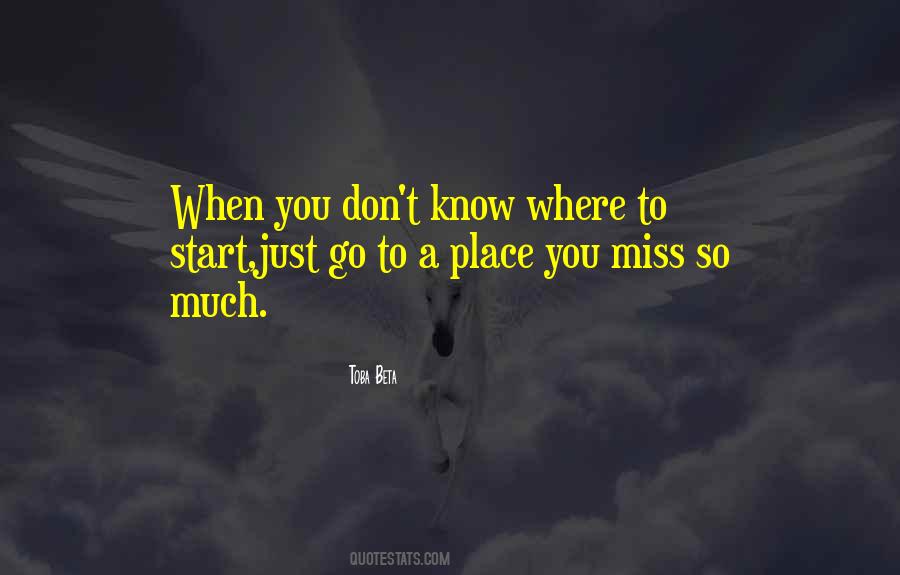 #75. The Tinted Windows shows were very fun but it's very different for me as a performer. I'm not playing music - I'm just singing and I missed that. I miss rocking out on keys, drums, guitar ... whatever it is. - Author: Taylor Hanson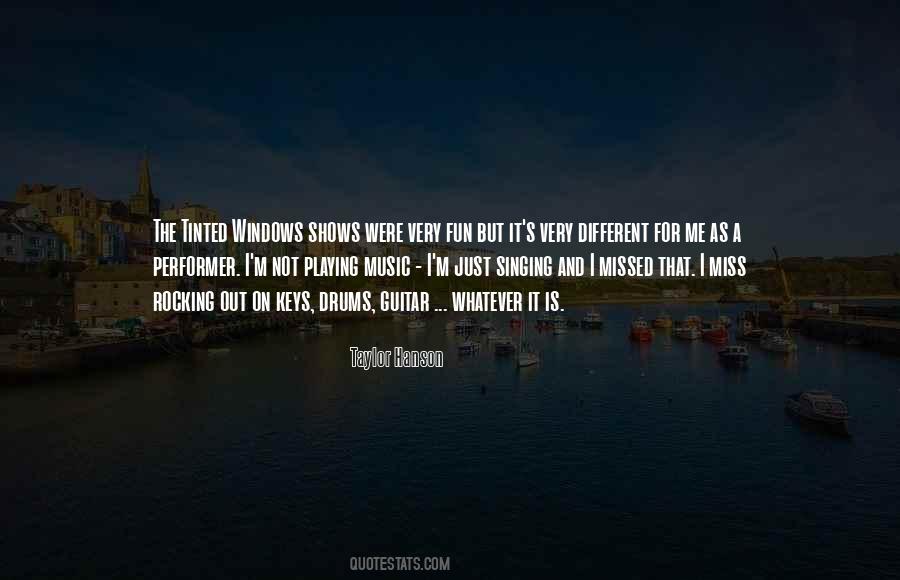 #76. Our interactions were confined to a nod as I settled down into my seat. A few days into our routine and we were like an old married couple
we'd just missed out the honeymoon and skipped straight from flirtation to habit." from "First Impressions - Author: Josephine Myles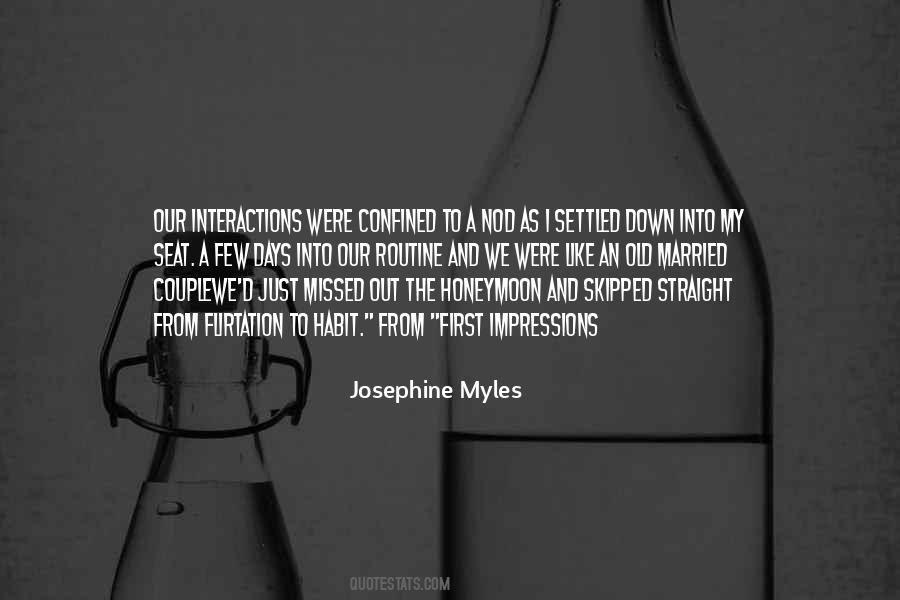 #77. Mistakes are just 'mis-takes,' or an action that we took that missed. - Author: Bill Crawford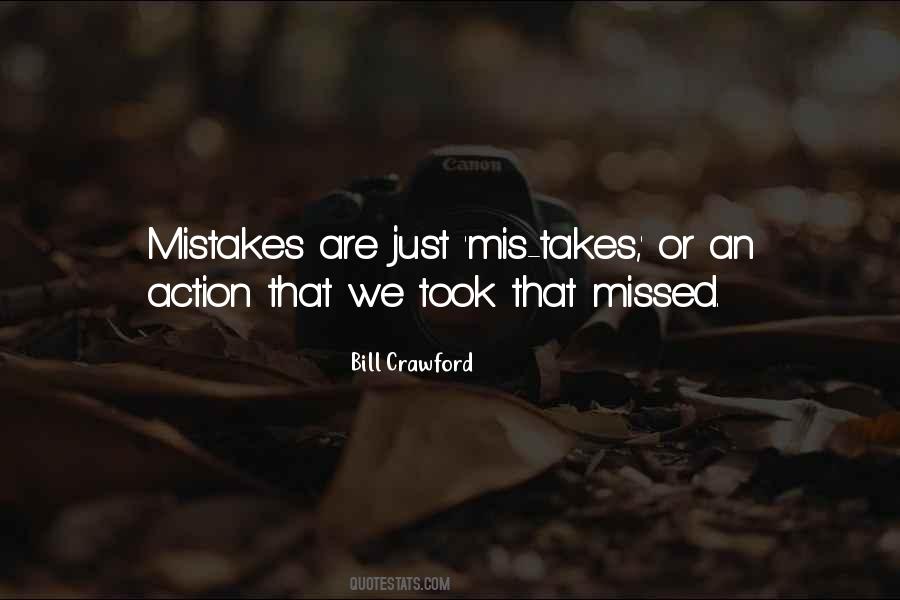 #78. One night Roger was in a foul mood and he threw his entire bloody drumset across the stage. The thing only just missed me - I might have been killed. - Author: Freddie Mercury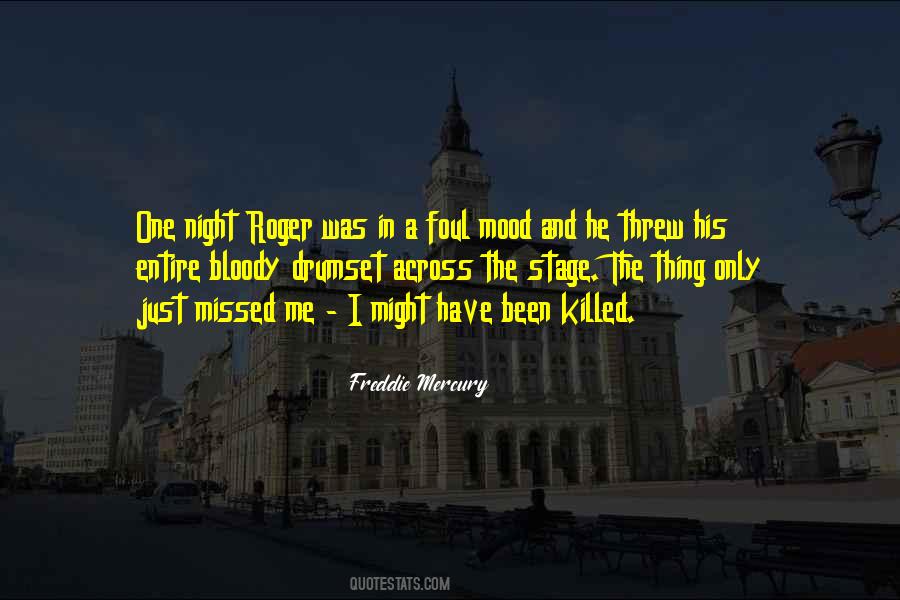 #79. Sometimes you've just got to let an umpire know that you're not satisfied with his decision. That they've missed the play in your opinion. Not that it's going to do you any good, but you've got to let them know. - Author: Tommy Lasorda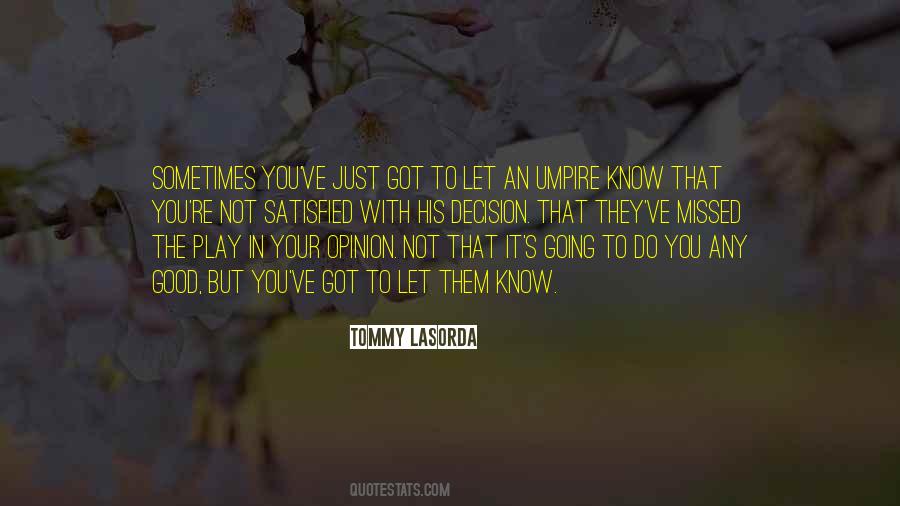 #80. He, better than anyone, understood that while ideas ultimately can be so powerful, they begin as fragile, barely formed thoughts, so easily missed, so easily compromised, so easily just squished. - Author: Brent Schlender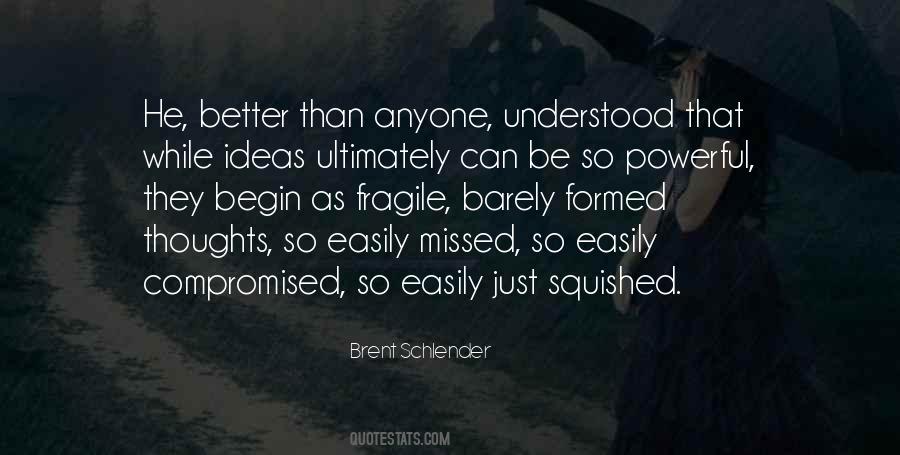 #81. He held a beautiful bouquet of mixed wildflowers and offered them to her. "They missed you." He brushed a kiss on her lips. "Just like me. - Author: Tracy March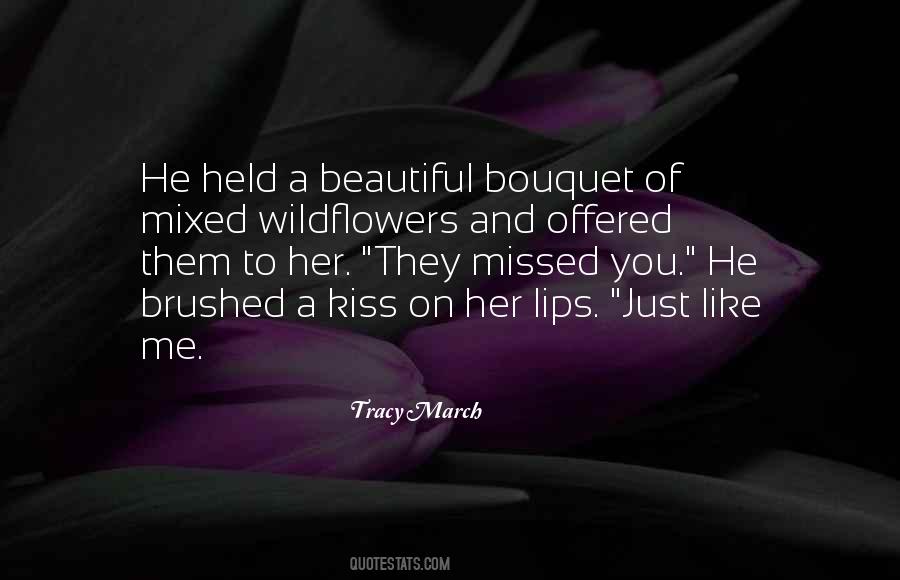 #82. You can't just explain a joke. Either it isn't funny, or the person just totally missed the punchline. - Author: Cass McCombs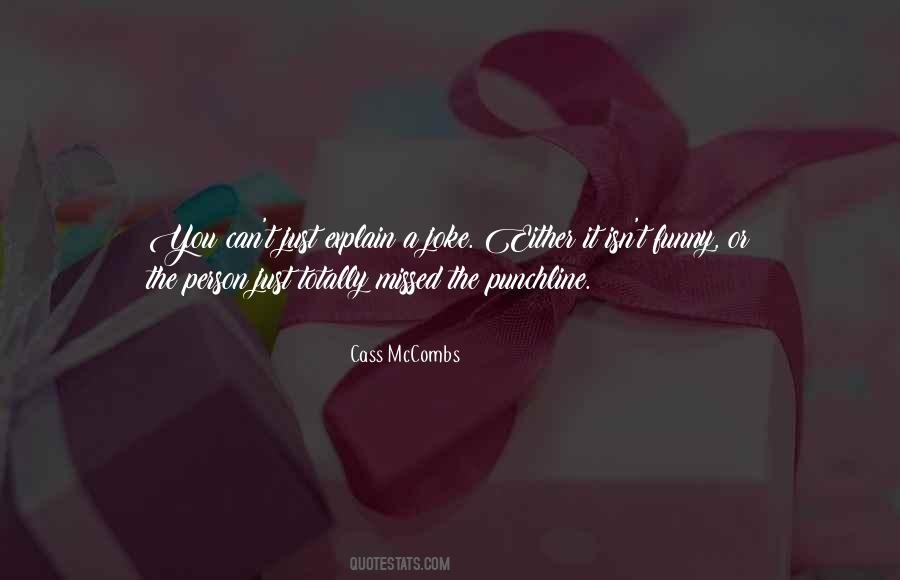 #83. We find all kinds of species that have taken up a second chromosome or a third one from somewhere, adding thousands of new traits in a second to that species. So, people who think of evolution as just one gene changing at a time have missed much of biology. - Author: Craig Venter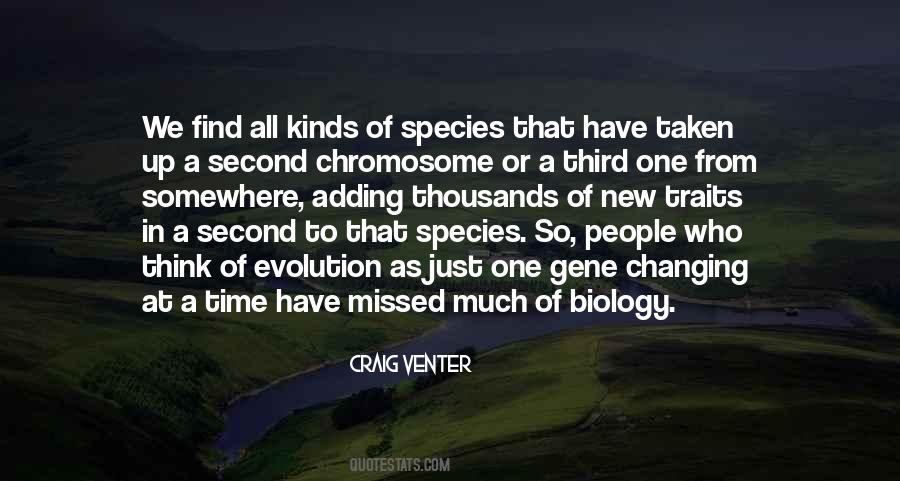 #84. A wasted opportunity wasn't just a missed chance, but was a wound to your future. Miss too many opportunities, thus sustaining too many wounds, and you wouldn't have a future at all. - Author: Dean Koontz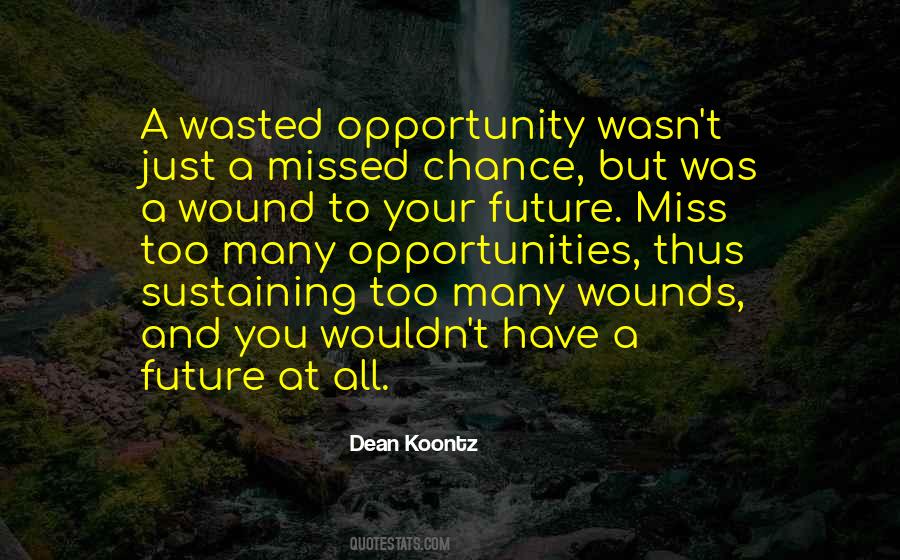 #85. Nights in white satin never reaching the end
Letters I've written never meaning to send
Beauty I'd always missed with these eyes before
Just what the truth is I can't say any more
Cause I love you
Yes I love you
Oh how I love you - Author: Justin Hayward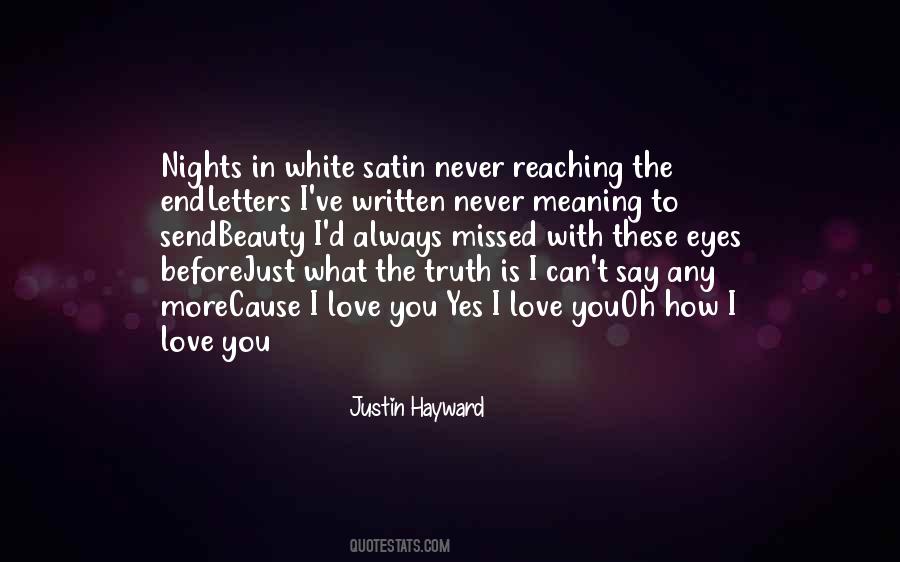 #86. There were signs and I missed them. For instance, Crake said once, "Would you kill someone you loved to spare them pain?" "You mean, commit euthanasia?" said Jimmy. "Like putting down your pet turtle?" "Just tell me," said Crake.
"I don't know. What kind of love, what kind of pain? - Author: Margaret Atwood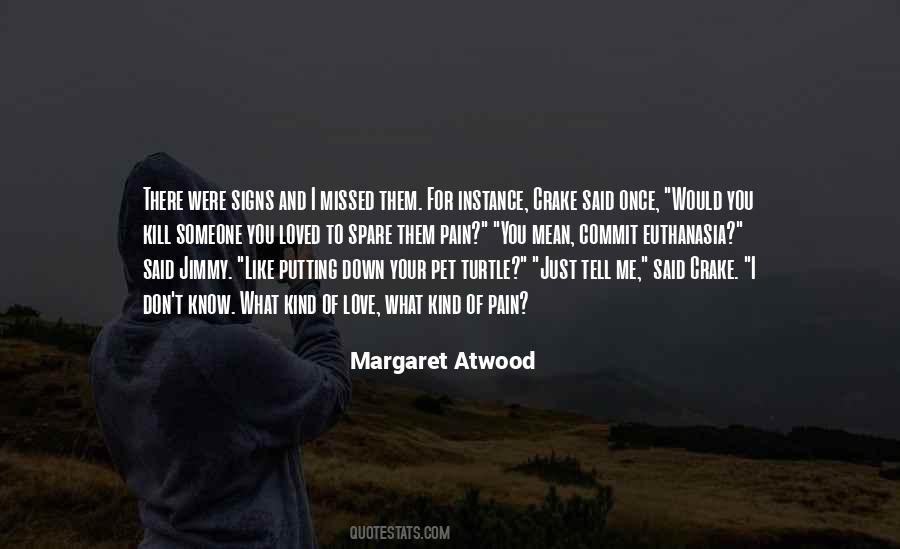 #87. I was playing golf. I swung, missed the ball, and got a big chunk of dirt. I swung again, missed the ball, and got another big chunk of dirt. Just then, 2 ants climbed on the ball saying, "Let's get up here before we get killed!" - Author: Henny Youngman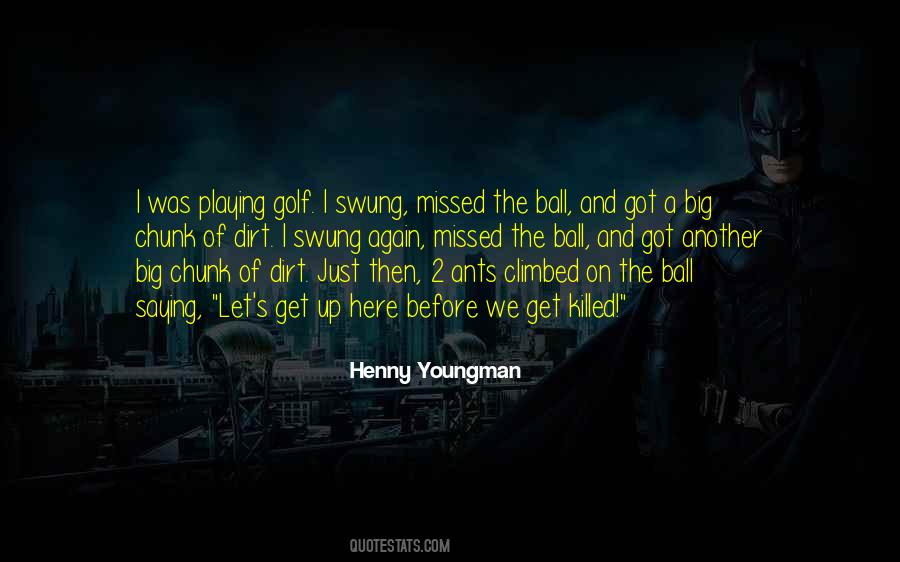 #88. I'm not really playing for the money, ... I just want to go out there and have fun. I really missed it so much last year. - Author: Kim Clijsters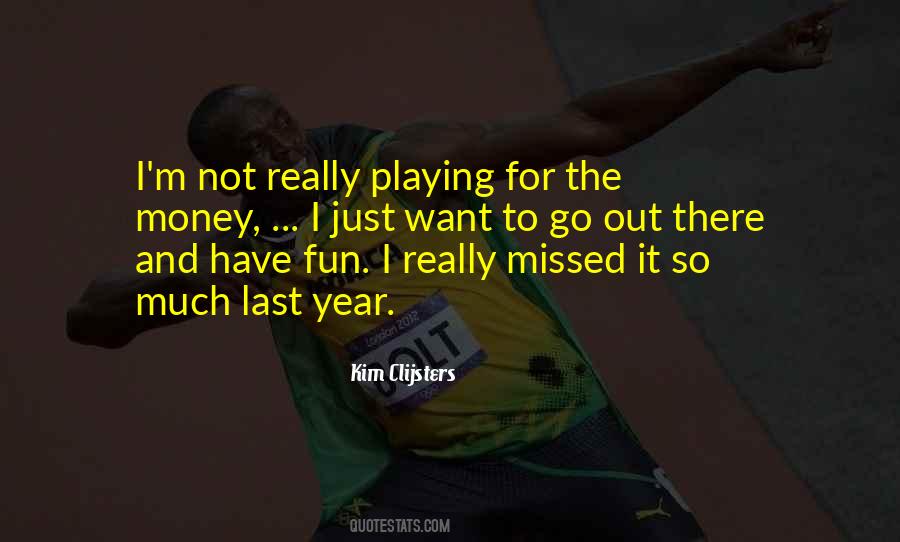 #89. If you feel that everything's too damn okay,
then it is just a sign that something is wrong. - Author: Toba Beta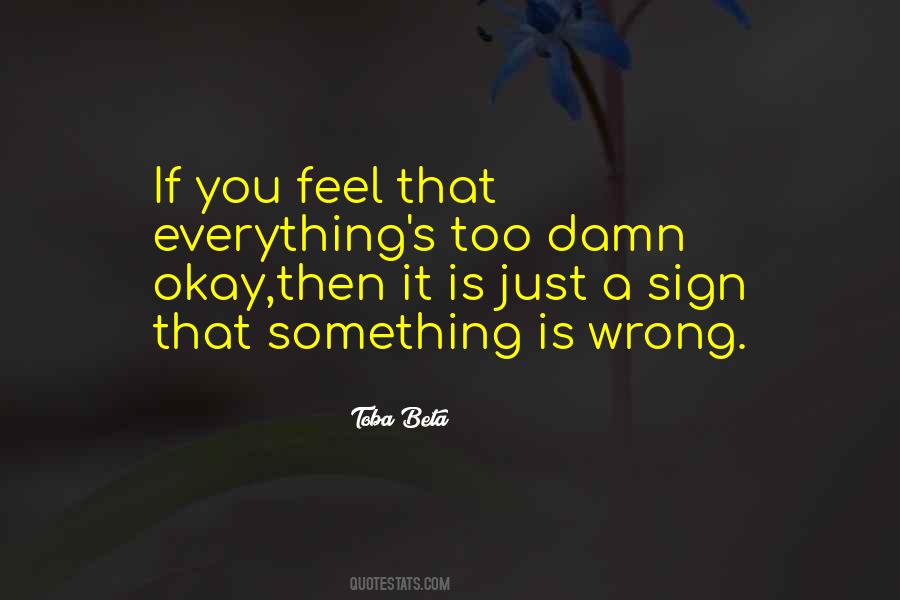 #90. I've missed this." He leans in and licks the soft skin just below my ear. "When I don't have you, I'm dreaming of fucking you, tasting your lips, and hearing you scream my name while you come all over my tongue. - Author: Michelle A. Valentine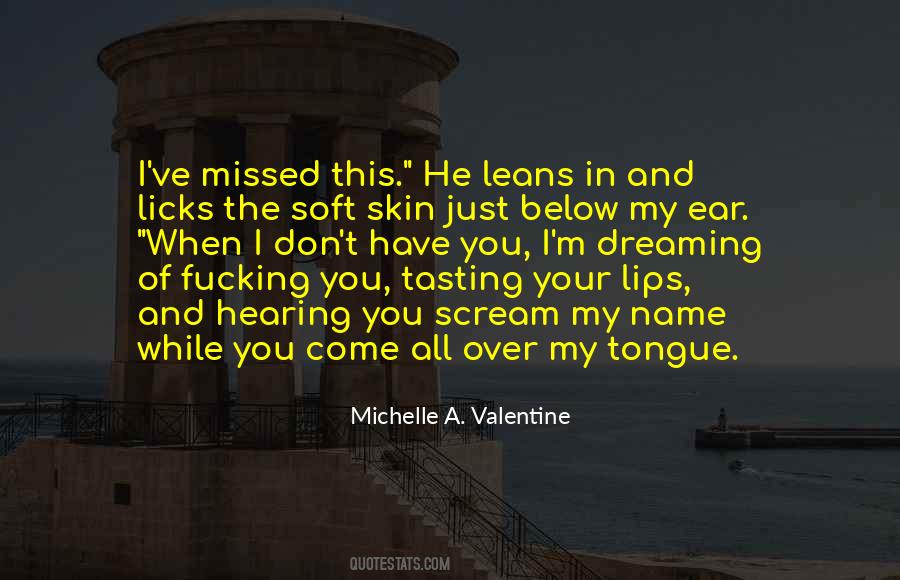 #91. Take a bucket, fill it with water, Put your hand in - clear up to the wrist. Now pull it out; the hole that remains Is a measure of how much you'll be missed ... . The moral of this quaint example: To do just the best that you can, Be proud of yourself, but remember, There is no Indispensible Man!24 - Author: David Brooks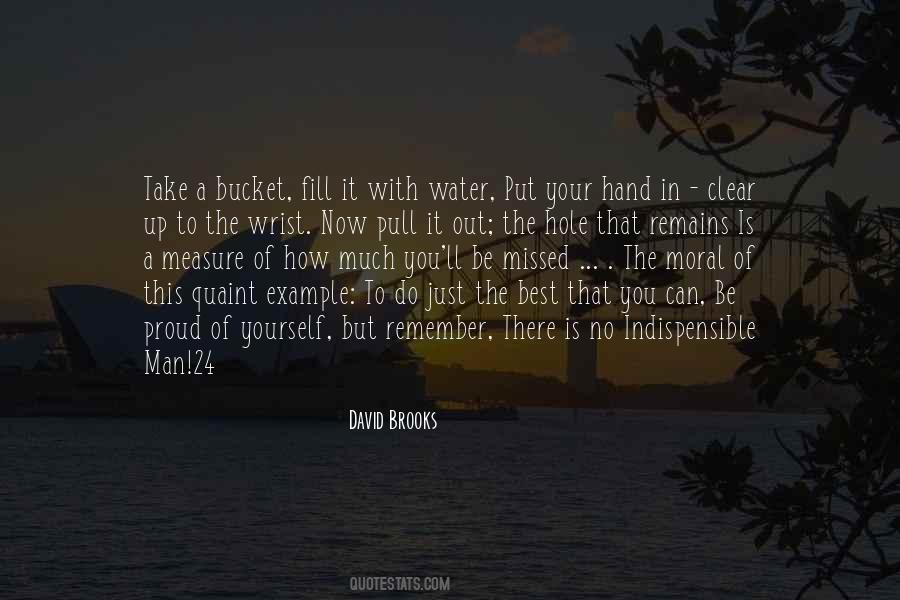 #92. All the adults I knew buried the knowledge beneath lying smiles and hugs. I was still stuck in my own world ...
Looking back, I couldn't believe how naive I was, just how many clues I missed. - Author: Alexandra Bracken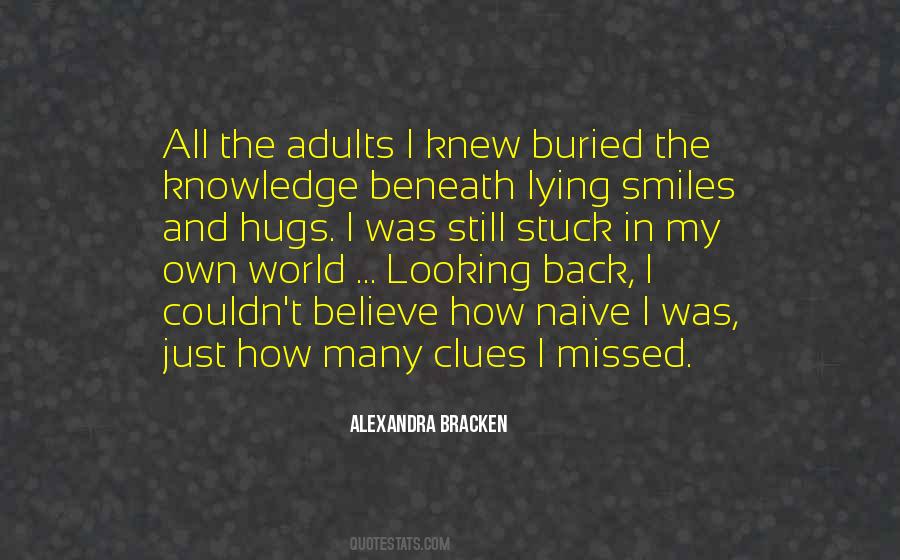 #93. He missed the Midwest ... Northern California was impractically beautiful. Everywhere you looked there were trees and streams, waterfalls, mountains, the ocean ... There was nowhere to look just to look, just to think. - Author: Rainbow Rowell
#94. I managed to get onto 'The Hobbit,' which is a story in itself. I missed the main round of auditions but managed to get a foot in the door at the last second - just as I came down with dysentery. - Author: Conan Stevens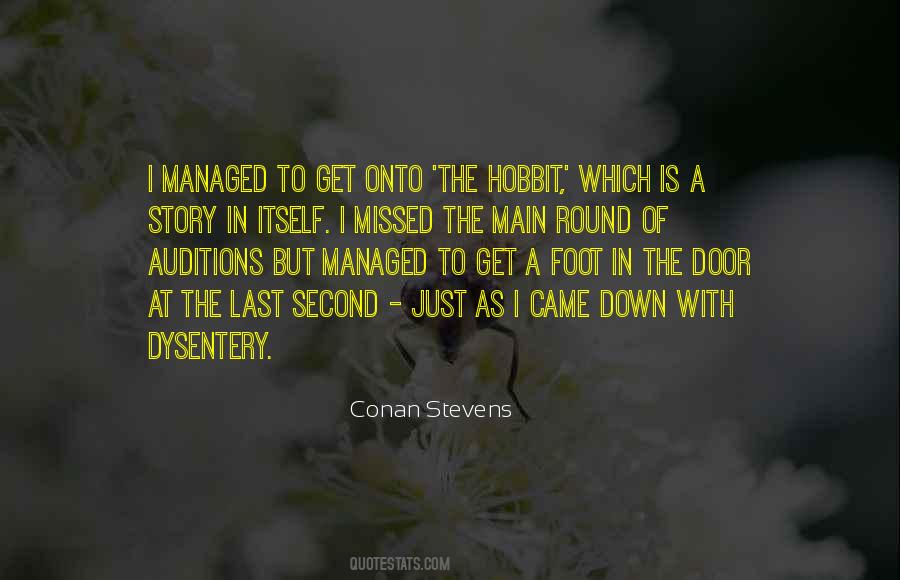 #95. Damn. It looks to me like I just missed the best reunion since Sherman got together with Atlanta. - Author: Susan Elizabeth Phillips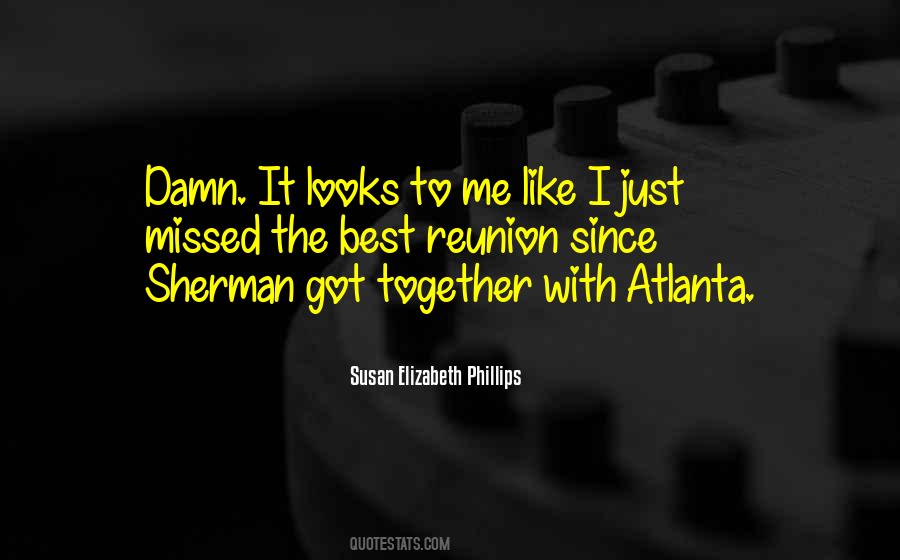 #96. He will know from and early age that failure is not disgrace. It's just a pitch that you missed, and you'd better get ready for the next one. The next one might be the shot heard round the world. My son and I are Americans, we prepare for glory by failing until we don't. - Author: Craig Ferguson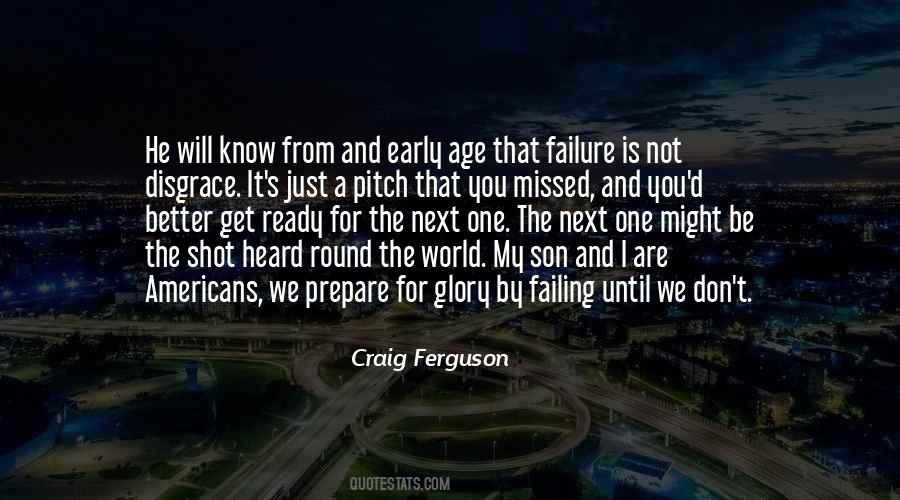 #97. It is always the same trap," she said gently. "You longed for conversation. The bear craved jokes. The gray wolf missed music. The boar just wanted someone to tell her troubles to. The trap is loneliness, and none of us escapes it. Not even me. - Author: Leigh Bardugo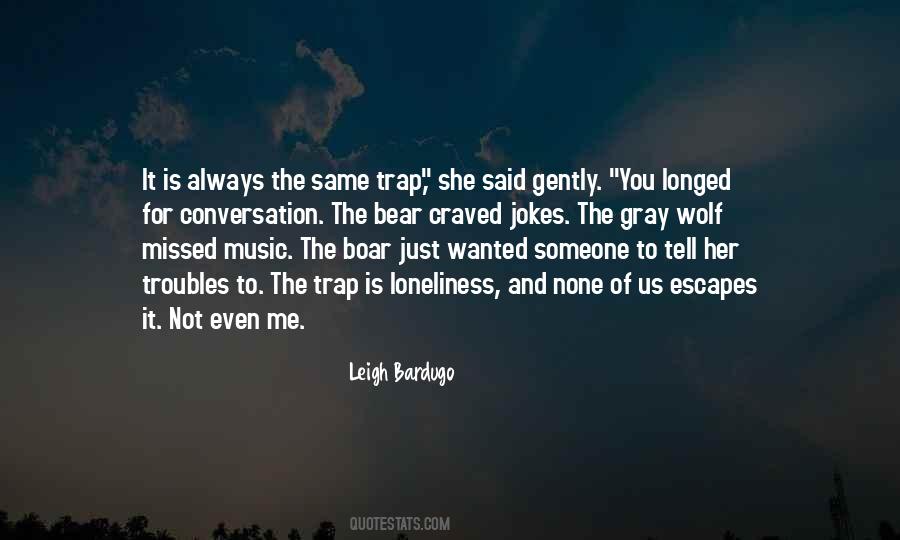 #98. I can't tell you how many pictures I've missed, ignored, trampled, or otherwise lost just 'cause I've been so hell bent on getting the shot I think I want. - Author: Joe McNally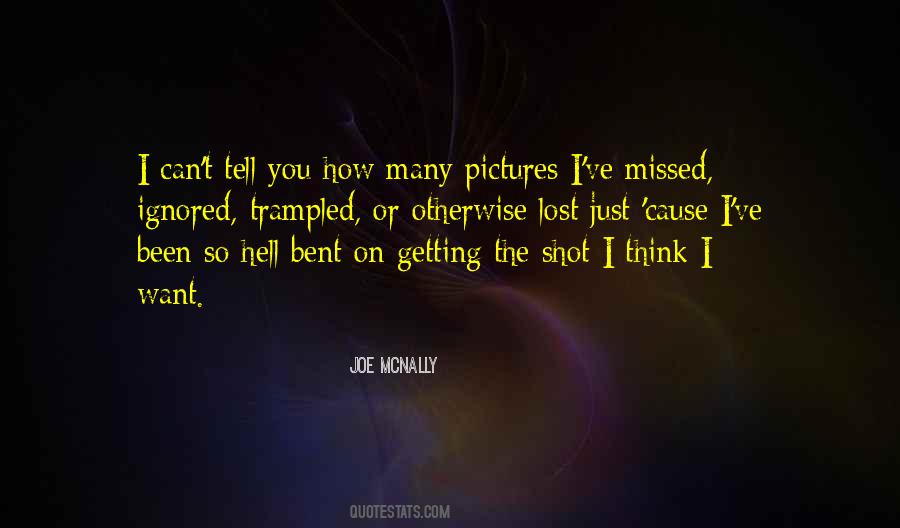 #99. It was only then, raising my water glass in his name, that I knew what it meant to miss someone who was so many miles and hours away, just as he had missed his wife and daughters for so many months. - Author: Jhumpa Lahiri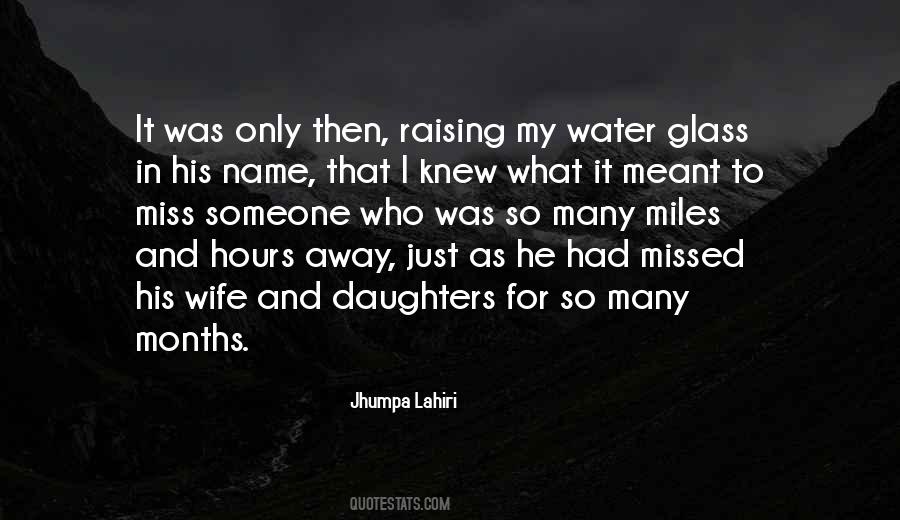 #100. I've spent a lot of my teenage years working on sets. I've missed out on more than just playing rugby, but I think I've managed to keep my feet on the ground and keep my friends around me. - Author: Douglas Booth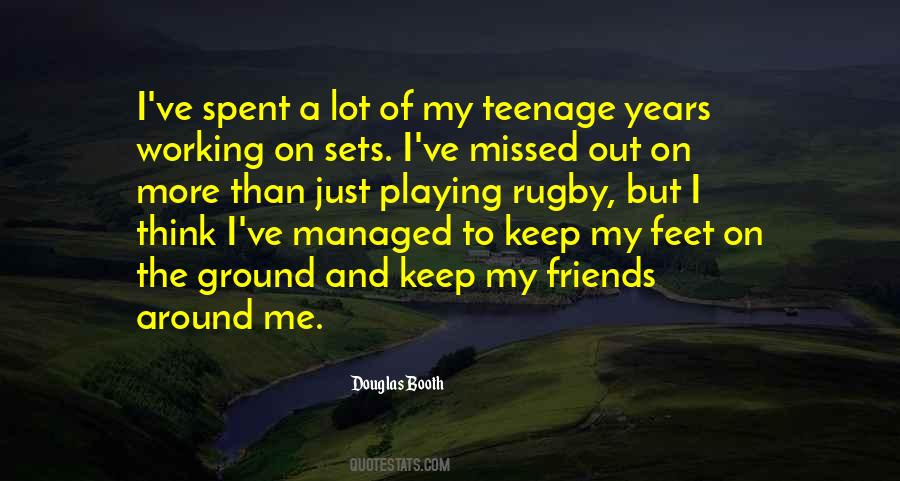 Famous Authors
Popular Topics