I See Him Famous Quotes & Sayings
List of top 100 famous quotes and sayings about i see him to read and share with friends on your Facebook, Twitter, blogs.
Top 100 I See Him Quotes
#1. Saving You
The darkness takes him over,
the sickness pulls him in;
his eyes - a blown out candle,
I wish to go with him.
Sometimes I see a flicker
a light that shone from them;
I hold him to me tightly,
before he's gone again. - Author: Lang Leav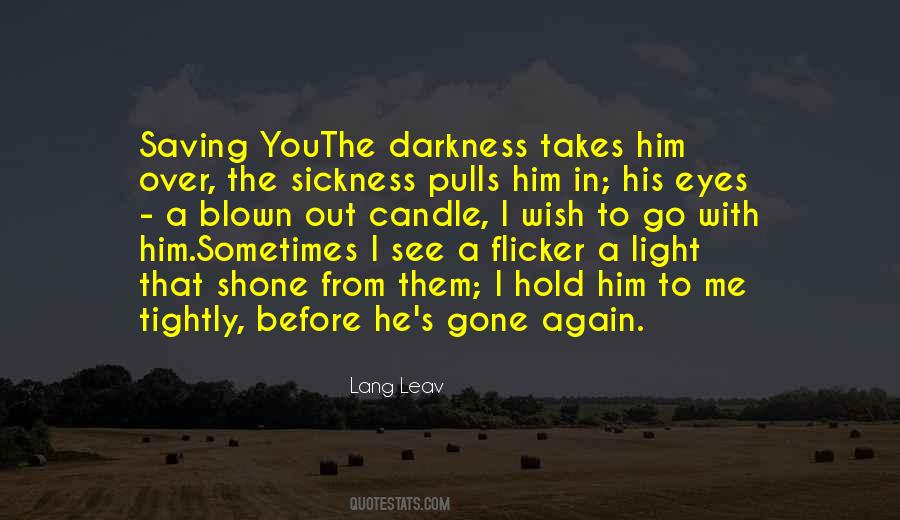 #2. I will say that Bernie Sanders are the opposite end of the spectrum from Donald Trump. We see him leading right now in the Republican Party in an intractable way. - Author: Rachel Maddow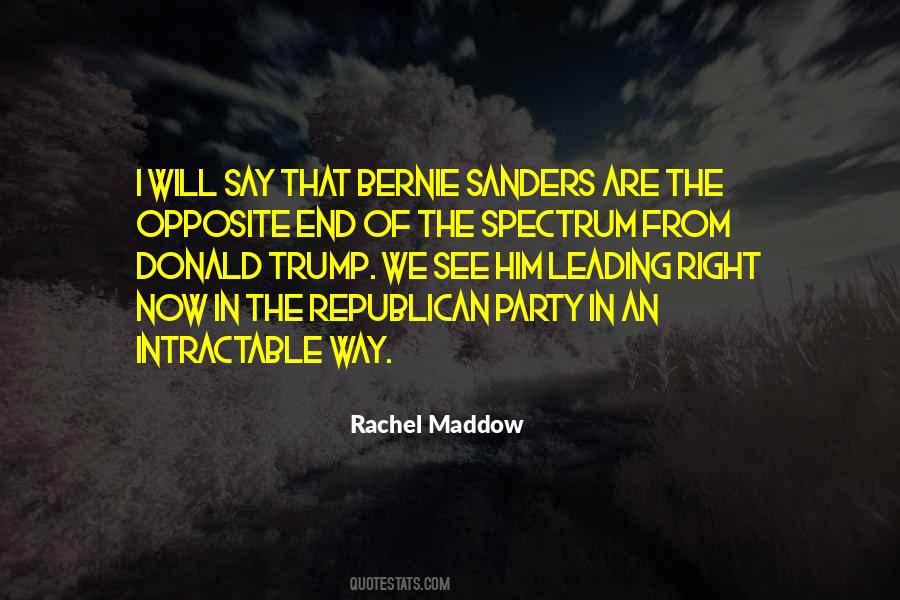 #3. I watched him for a moment, hoping this wasn't creepy, just taking in what it was like to see someone when they looked so peaceful, when all their defenses were down. - Author: Anonymous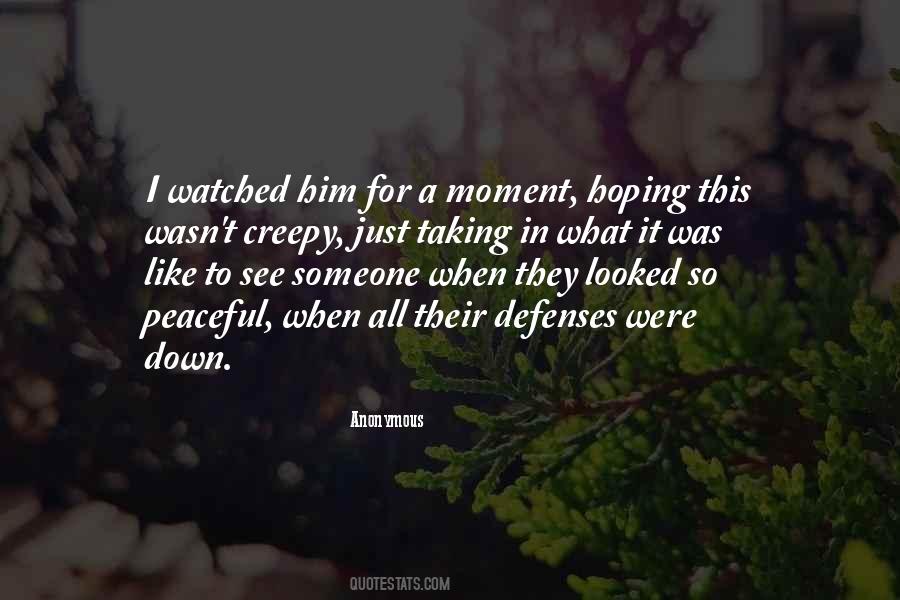 #4. When I'd get tired and want to stop, I'd wonder what my next opponent was doing. I'd wonder if he was still working out. I'd tried to visualize him. When I could see him working, I'd start pushing myself. When I could see him in the shower, I'd push myself harder. - Author: Dan Gable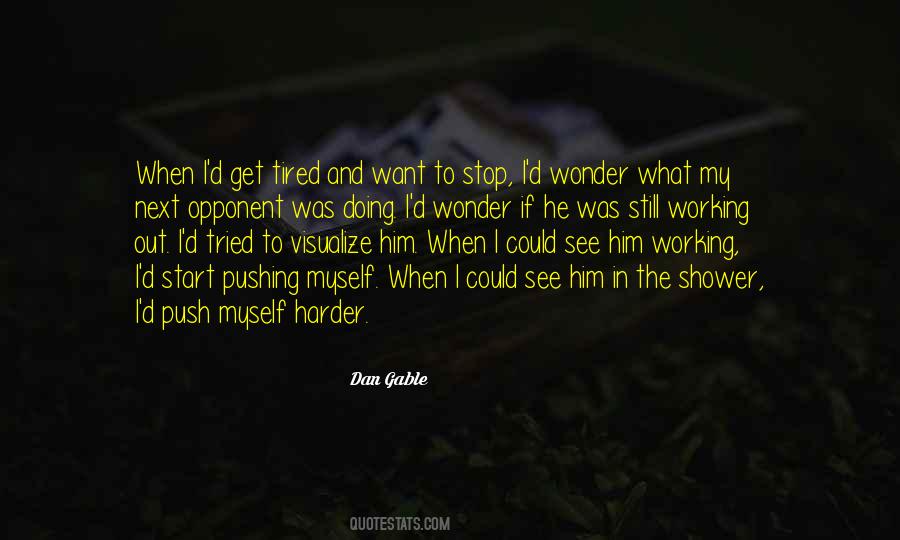 #5. You're going to
buy him a car. He'd tell you anything you want to hear."
"See why I love you? You've got him nailed - Author: Nora Roberts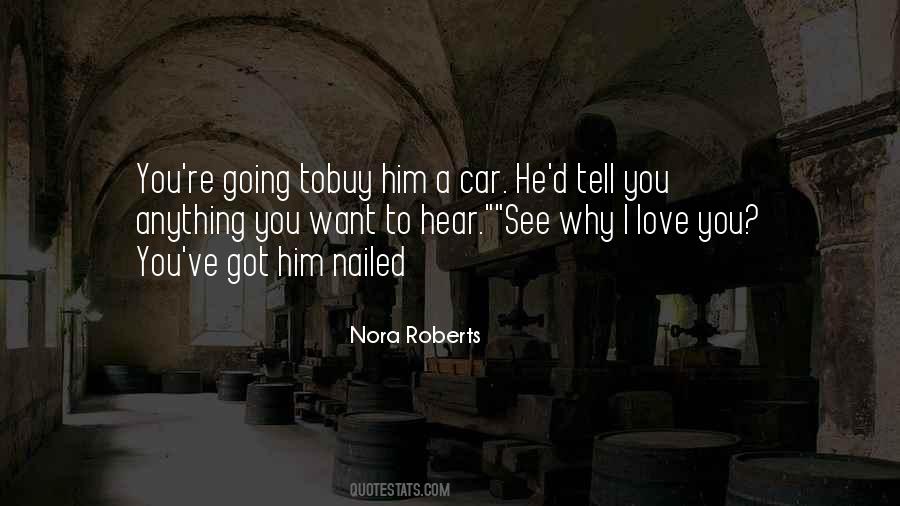 #6. He's heart-stoppingly handsome, and he has this brooding sense about him whenever I see his pictures. As if he rarely cracks a smile, so when he does you know it must be special ... - Author: Lauren Blakely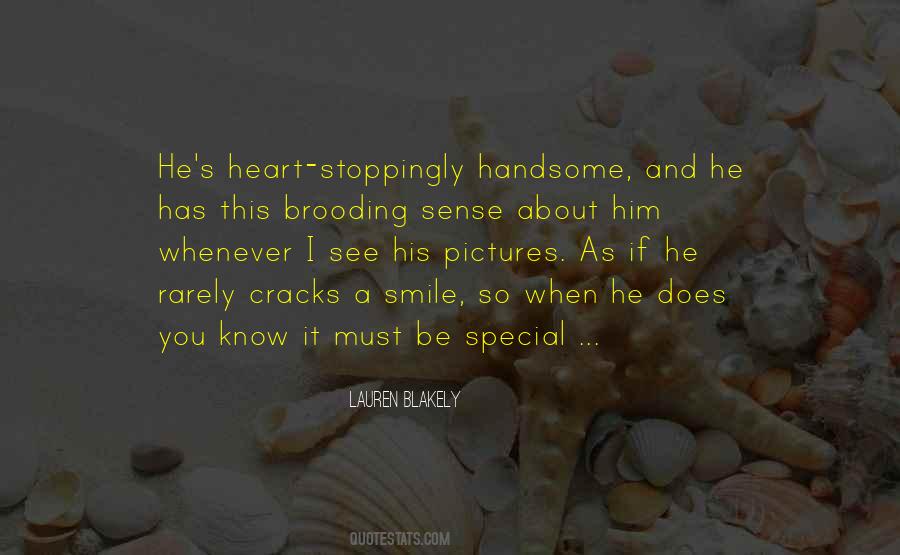 #7. The first record I bought was a Carl Perkins record, because I saw him at The Festival at Sandpoint, Idaho. I loved Elvis and I found out that he wrote 'Blue Suede Shoes' ... so connecting that experience of going to see him play was pretty awesome. That's when I realised I wanted to play guitar. - Author: Josh Homme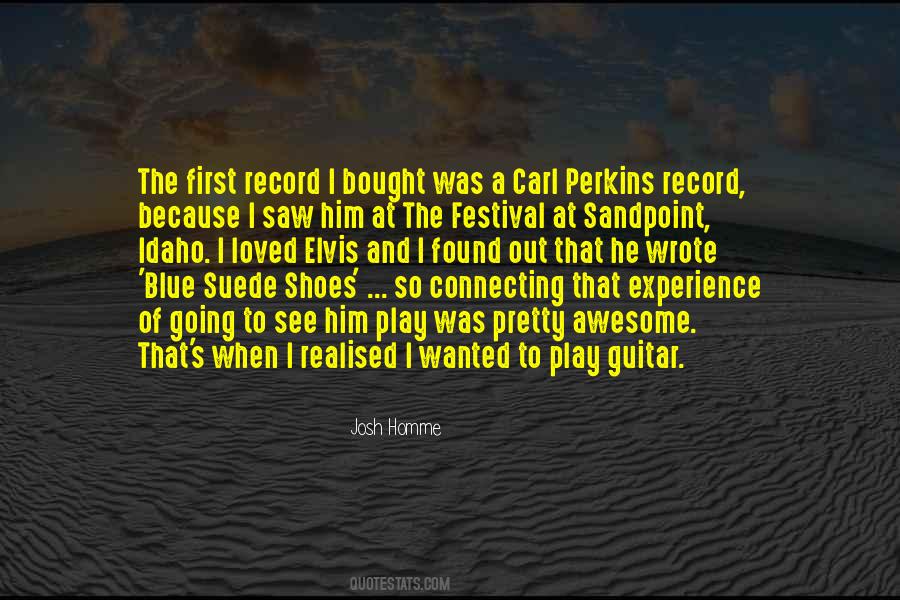 #8. -Some guy stopped by to see you.
-Who was it?
-I don't know.
-You don't know? Was he cute? Did you fall in love with him? - Author: Jeffrey Brown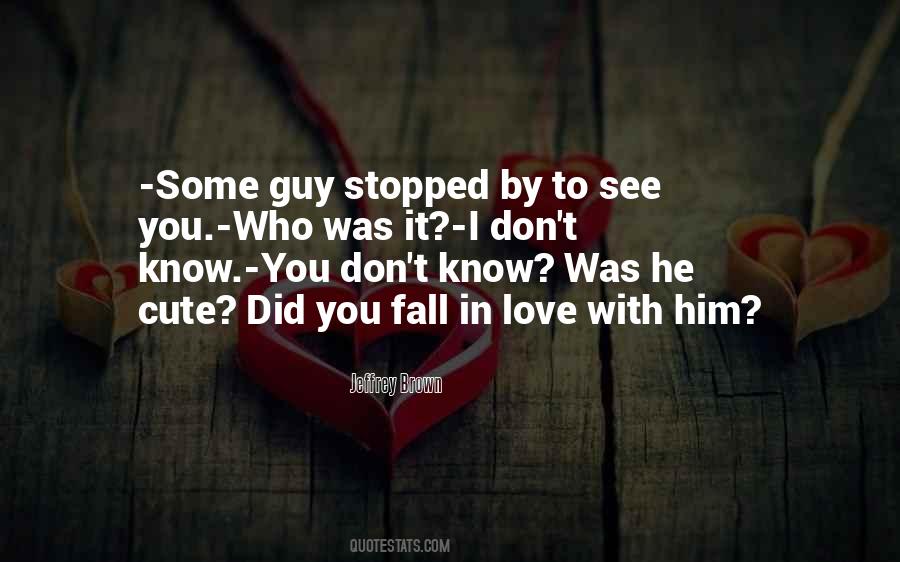 #9. Thomas stares at the floor between us with hollow eyes. "I loved him, June," he says after a moment. "I really did. Everything I did as a soldier, all my hard work and training, was to impress him." His guard is finally down, and I can see the true depth of his torture now. - Author: Marie Lu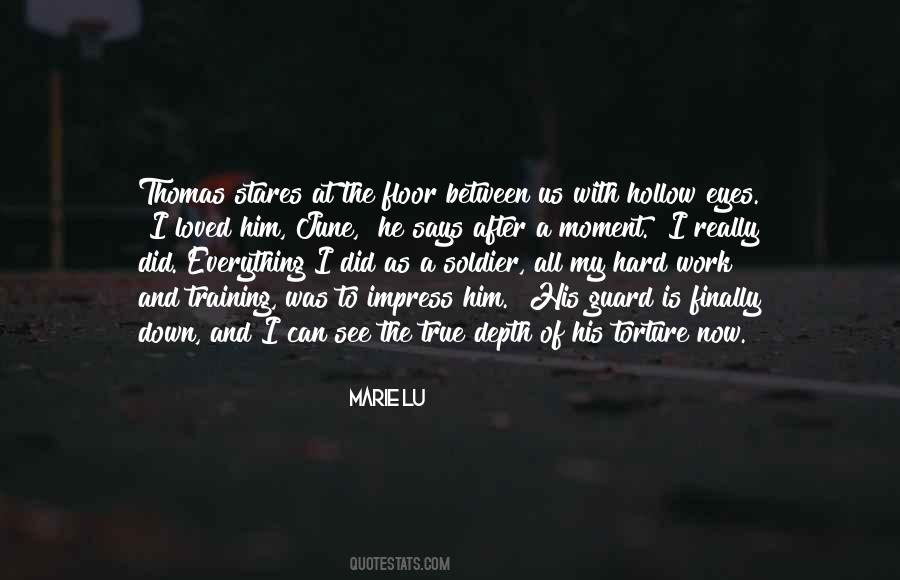 #10. There's something much more fundamental about Mitt Romney. He seems so old-fashioned when it comes to women, and I think that comes across, and I think that that's going to hurt him over the long term. He just doesn't really see us as equal. - Author: Hilary Rosen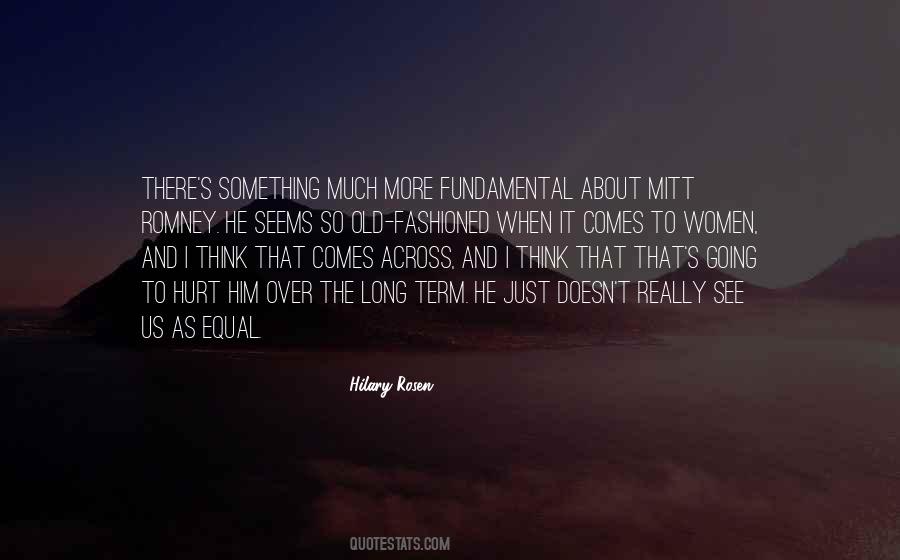 #11. I feel a strange, fierce squeeze in my heart when I see him, like pride, although there's nothing about Sean that I can take credit for. - Author: Maggie Stiefvater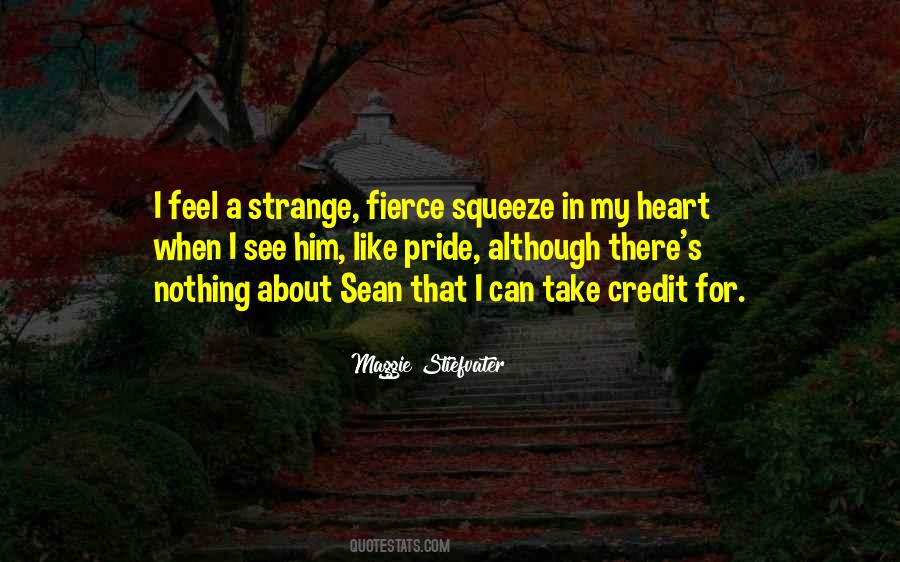 #12. Don't worry about me," I finally said. "Really. I'm more worried about you." And even more worried about where Graves is.
"Are you?" A fey smile lit his face, and I caught my breath. It was a shock to see him look so happy. "Well, then. - Author: Lilith Saintcrow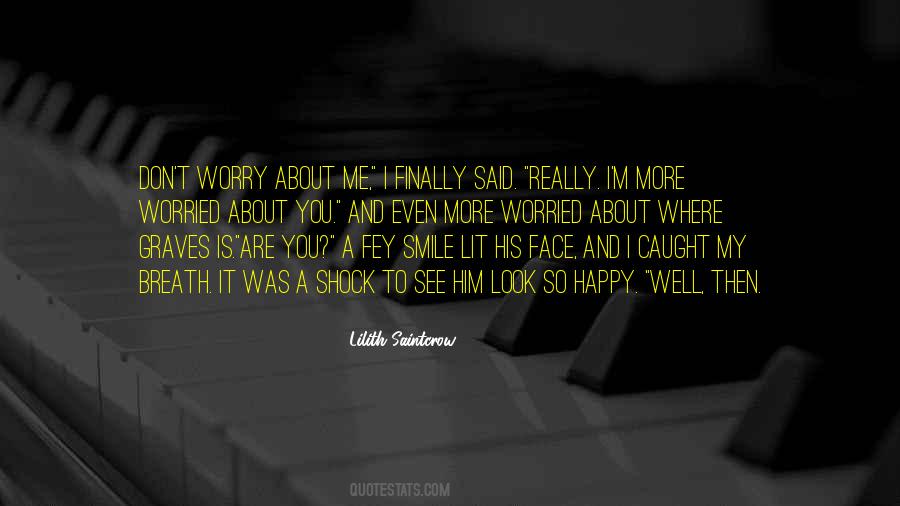 #13. To see Kyle, to wave to him, like getting off at the 79th street station, near where Kyle lives, instead of going all the way to the Lincoln Center station near school, so I can grab coffee and watch him walk by before I, too, walk on to Tuttle, about fifty feet behind him. - Author: Alex Flinn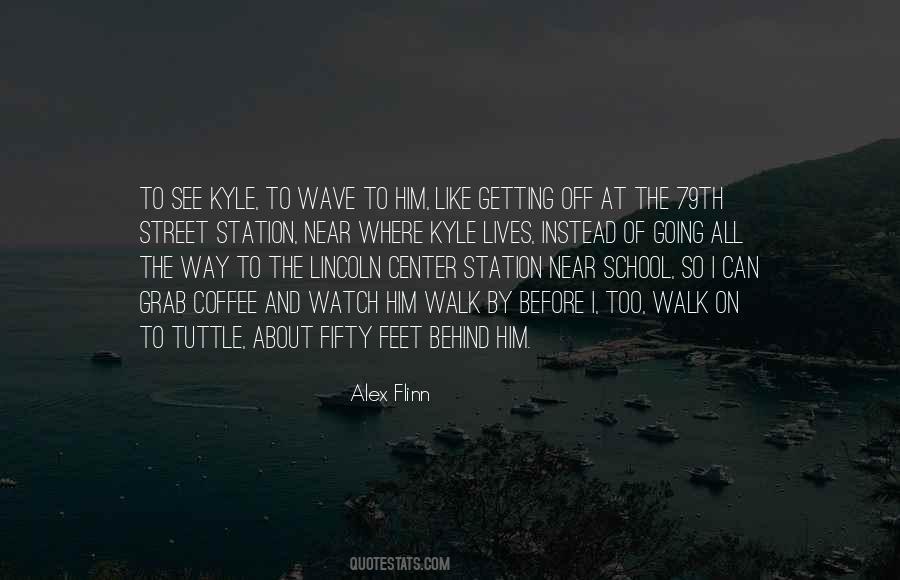 #14. So I write melodies - thirty, forty, fifty - then I cast them off until I have just two or three. If only one is needed, I go see the director and ask him to decide. - Author: Michel Legrand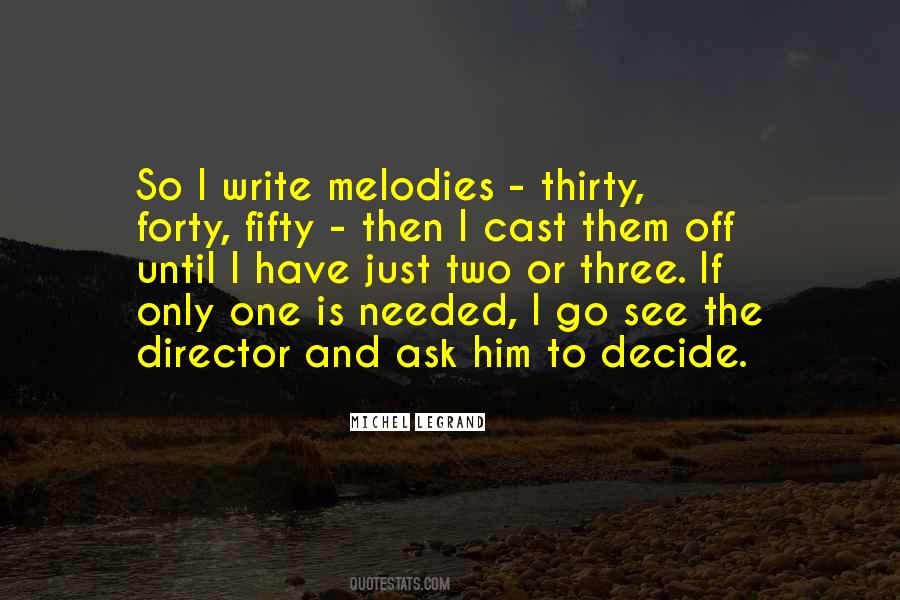 #15. I can see her, chin to chest, straining to push Junior out, and Junior snagging on her insides, grabbing hold of what he caught on to try to stay inside her, but instead he pulled it out with him when he was born. - Author: Jesmyn Ward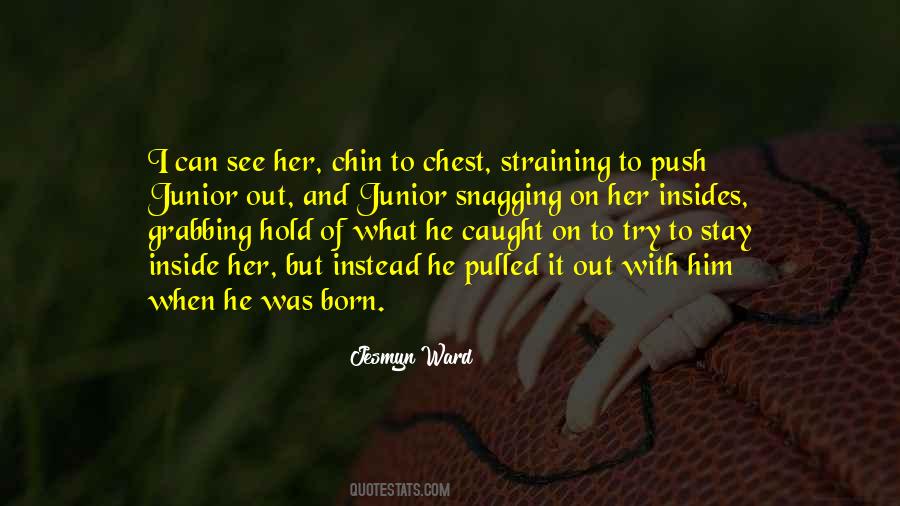 #16. The first moment I saw him, the night people clamored over each other to step out of his way, I was frightened. The guy with earrings and tattoos and an energy radiating danger. Now-inside and out-all I see is beauty. - Author: Katie McGarry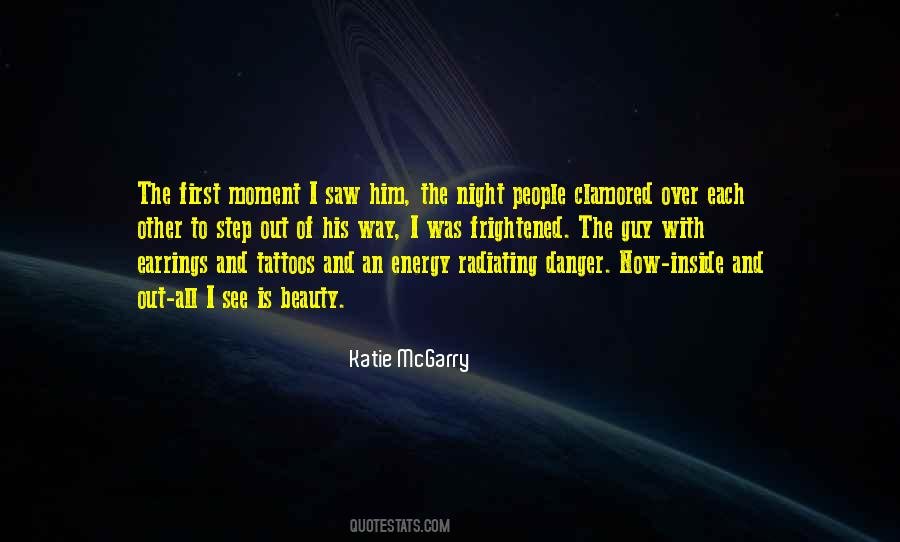 #17. Why do I keep thinking of her alluva sudden?! Especially when the only time my face gets red and my heart starts puonding ... is when I see him! -Syaoran Li - Author: CLAMP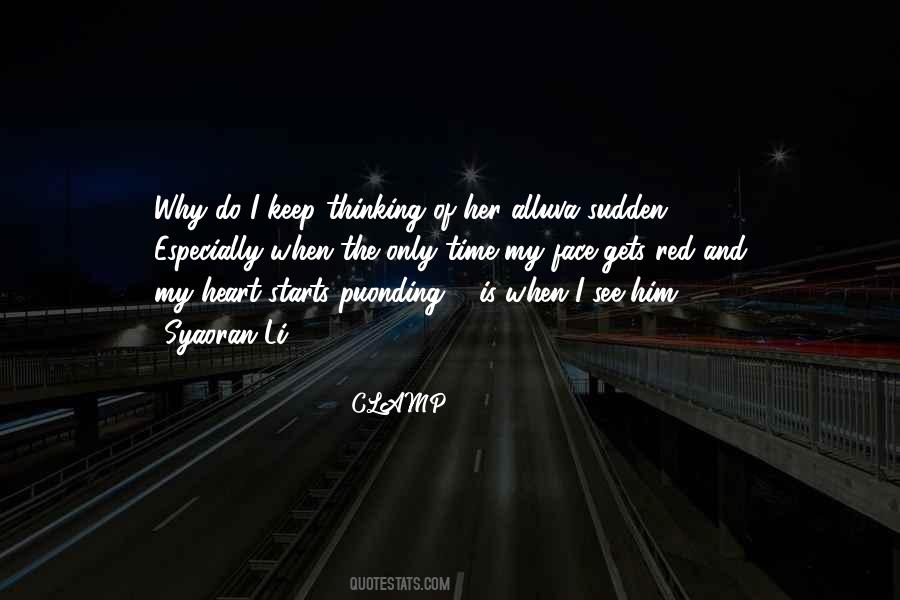 #18. I wonder if he'll ever see the truth in my own heart: that, whatever Dustpelt says, however much Fireheart breaks the warrior code, I love him more that I could imagine loving any other cat. And if Fireheart knew, would he love me, too?
- Sandstorm - Author: Erin Hunter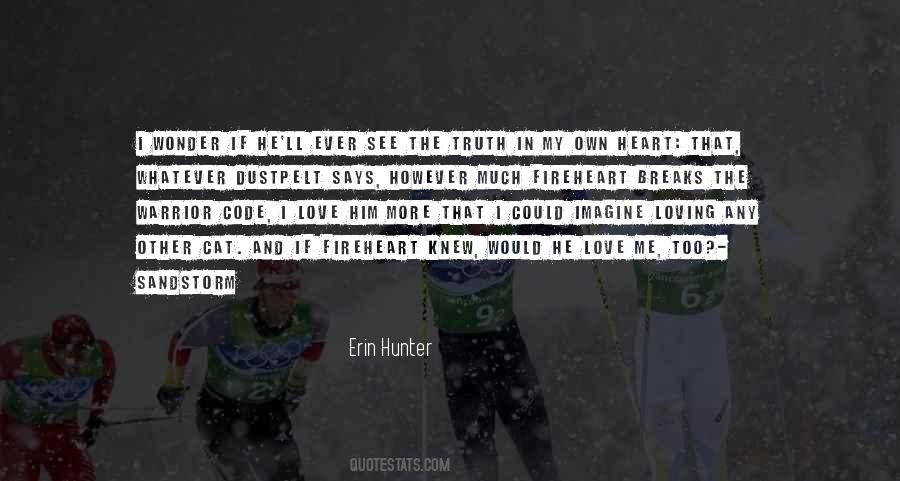 #19. Even though I wore an eye patch, the Cyclops and I, we didn't see eye to eye. We argued about the nature of love, and I hated it, so in the name of love I had to stab him. - Author: Jarod Kintz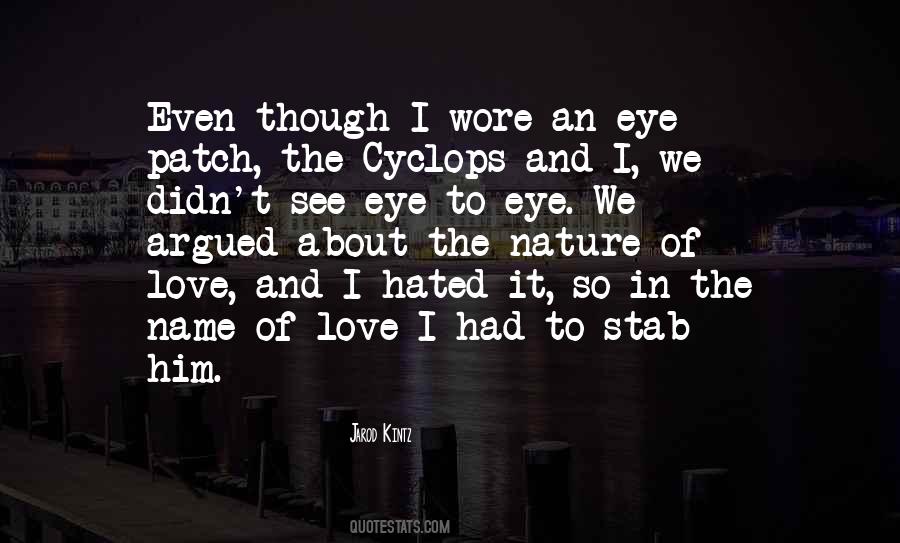 #20. They all did. "Then tell him you came to see me and I specifically told you I'm not available." Emma's eyes widened just a little bit more, if that was even possible. Her - Author: J.C. Reed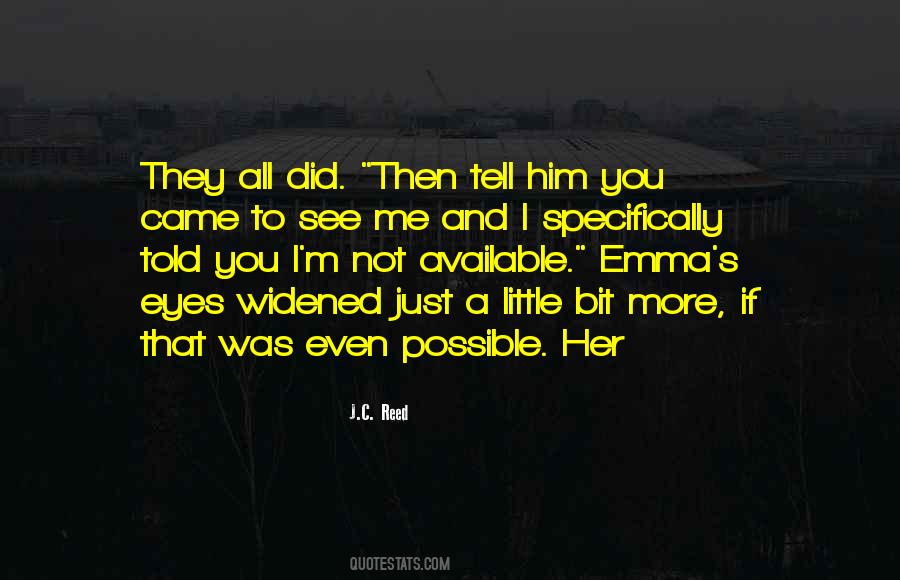 #21. Seriously, what is going to be awesome about touring with the mut of rock, who has hit on me every time I see him? Nothing - that's what. - Author: Samantha Towle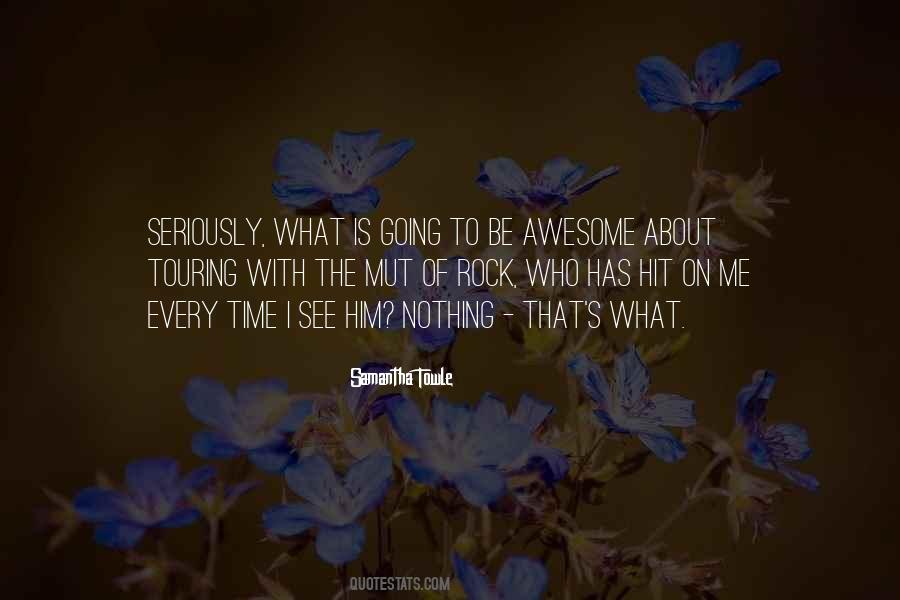 #22. As I recall, Drew made me take him to see a voodoo priestess he found in the yellow pages that week because he said the friend put a hex on his penis. For two weeks he slept with a two-pound package of boneless, skinless chicken breasts on his junk since he refused to sacrifice a live chicken. - Author: Tara Sivec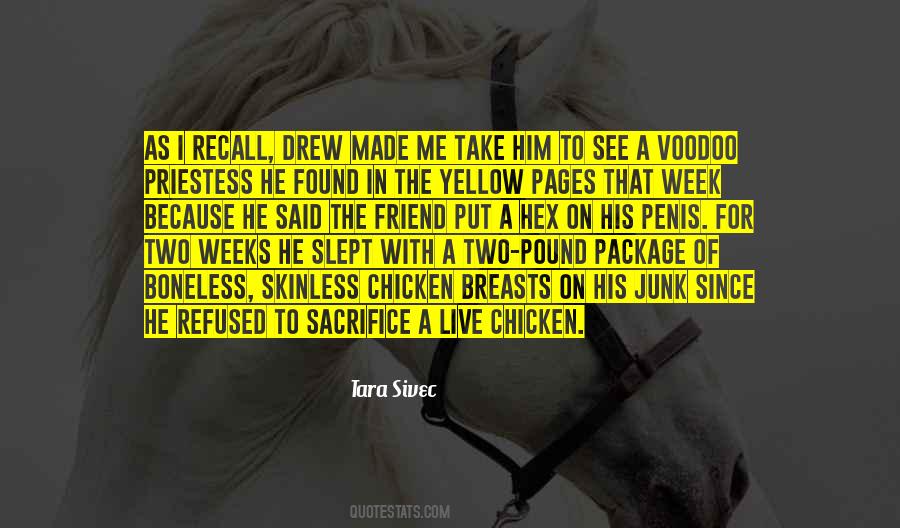 #23. I know General Grant better than any other person in the country can know him. It was my duty to study him, and I did so day and night, when I saw him and when I did not see him, and now I tell you what I know, he cannot govern this country. - Author: Edwin M. Stanton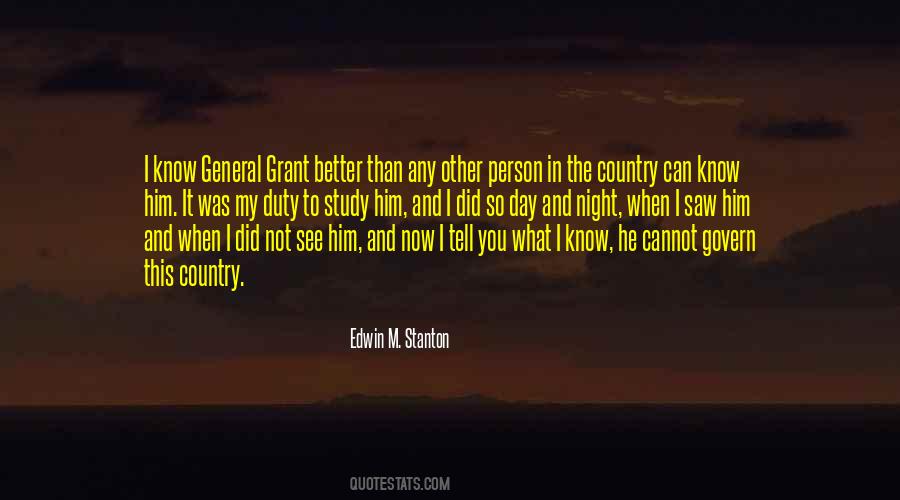 #24. I read Borges, Jorge Luis Borges. He think he too good for me, but I love him ... he was a blind man who see better than anyone - Author: Sheridan Hay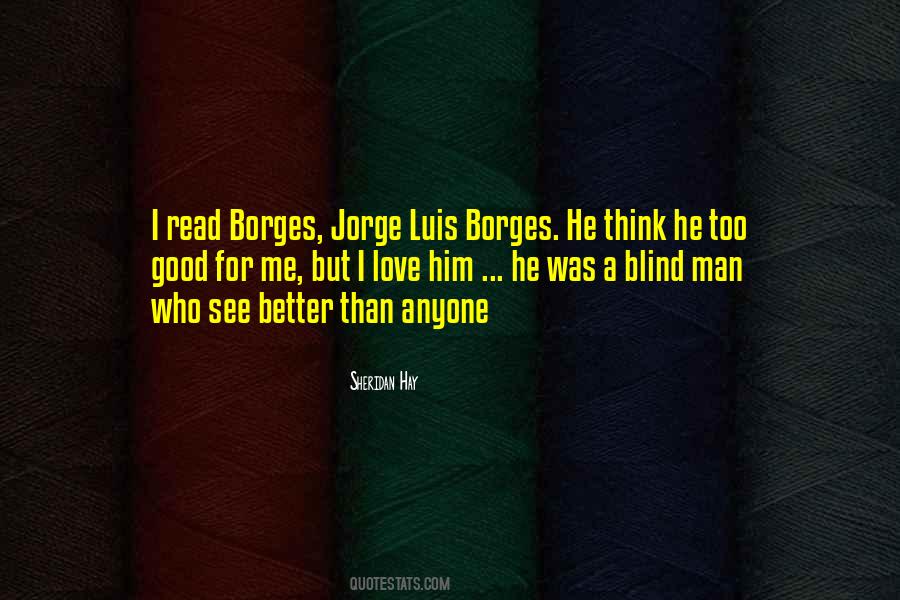 #25. Go and see whether the Doctor is about,' said Jack, 'and if he is, ask him to look in, when he has a moment.'
Which he is in the fish-market, turning over some old-fashioned lobsters. No. I tell a lie. That is him, falling down the companion-way and cursing in foreign. - Author: Patrick O'Brian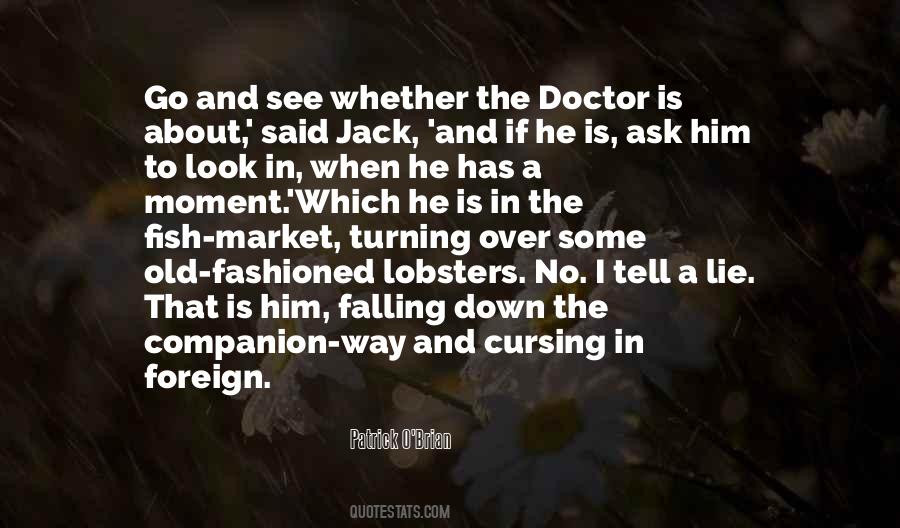 #26. My uncle Shawn used to stay with us when we were really young, and I used to come downstairs and see him break dancing on this piece of a cardboard. I probably always thought they were cool since then. I never knew his comedy, but I used to always see him break dancing. And he was terrible at it. - Author: Damon Wayans Jr.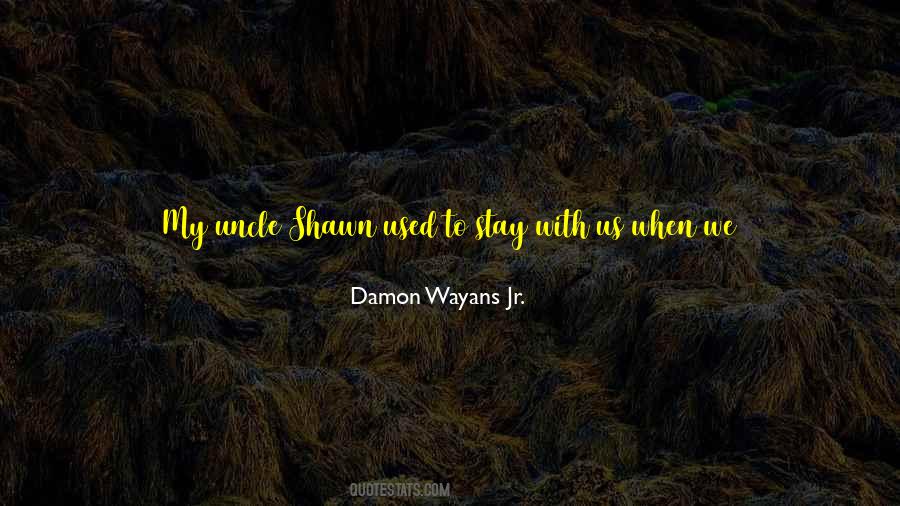 #27. That was when I lost it. I couldn't take any more. Not with him that close, his deep voice that sweet, his hand on me, his eyes looking into mine like he could see into my soul. - Author: Kristen Ashley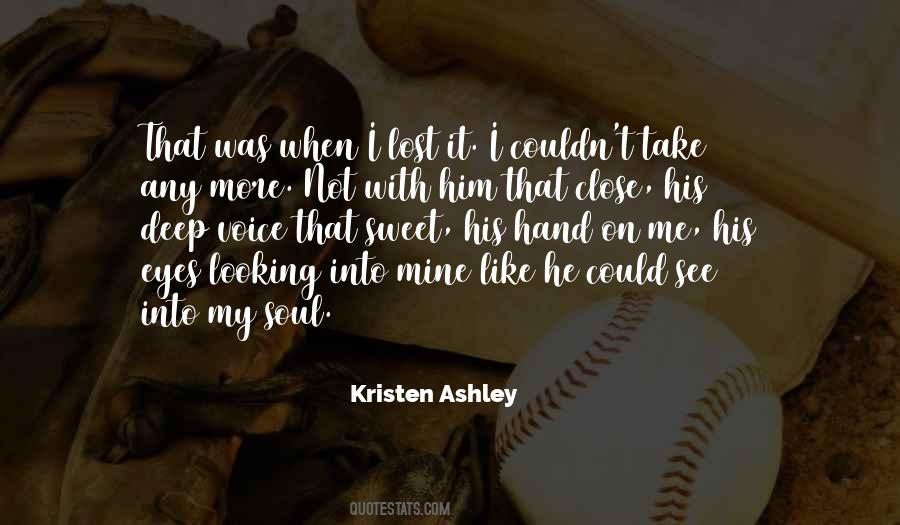 #28. Bringing him back" had been through those months my hidden focus, a magic trick. By late summer I was beginning to see this clearly. "Seeing it clearly" did not yet allow me to give away the clothes he would need. I - Author: Joan Didion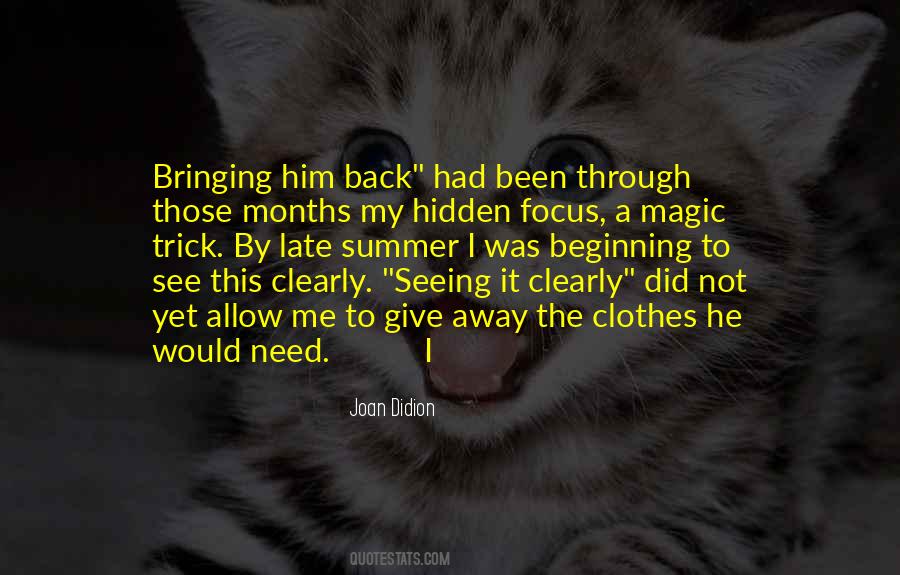 #29. Dr. Cox mentors the rookie doctors with a spoonful of dirt and then a cup of sugar. I see him as an archetypal descendent of two of my favorite curmudgeonly characters: Lou Grant and Louie De Palma. - Author: John C. McGinley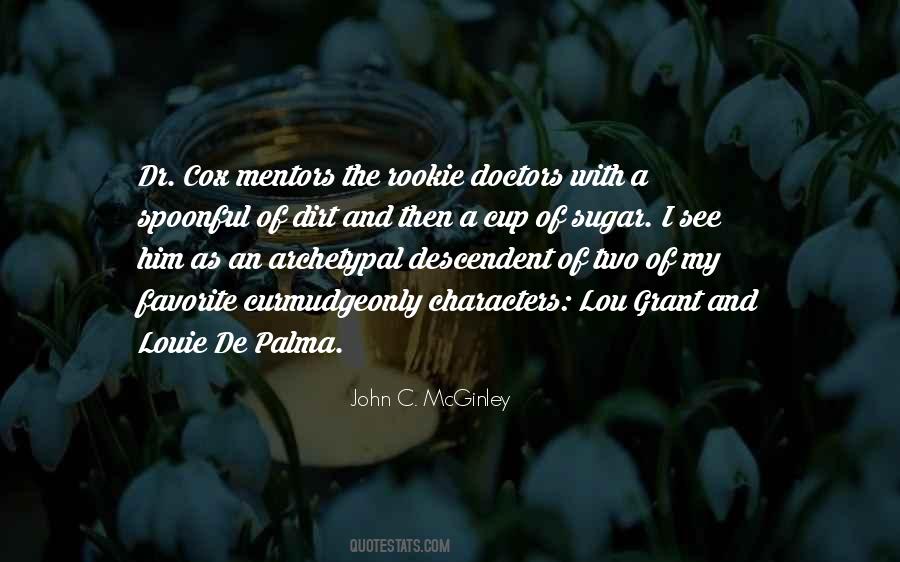 #30. Jane," he whispered as the streaks of dawn broke through their bedroom window. "Once more. In the daylight, so I can see you with the sun upon your skin."
And she rolled over, smiled, and held open her arms to him, welcoming him home at last. - Author: Charlotte Featherstone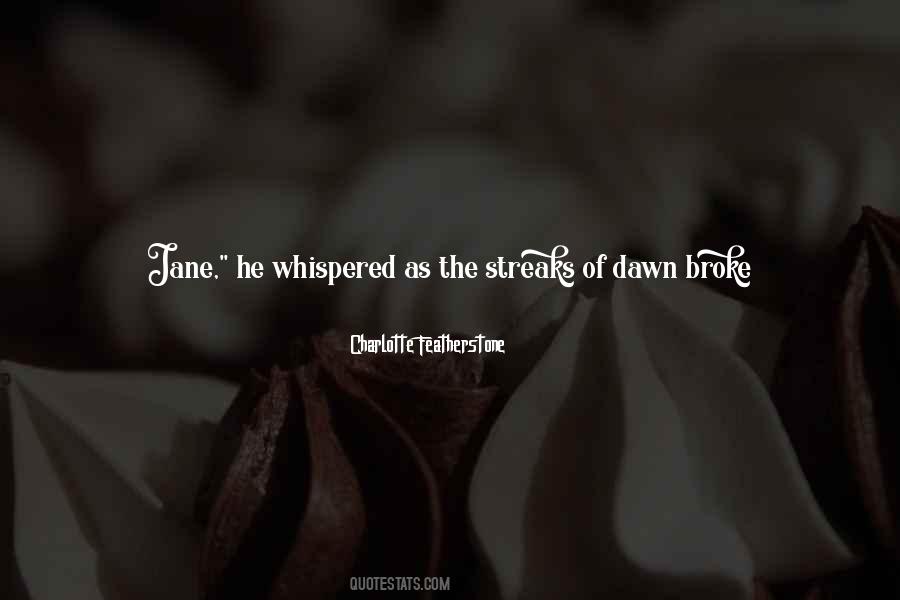 #31. I'm stuck somewhere between hating him so much, I never want to see him again and never, ever wanting to him to let me go. - Author: Jessica Love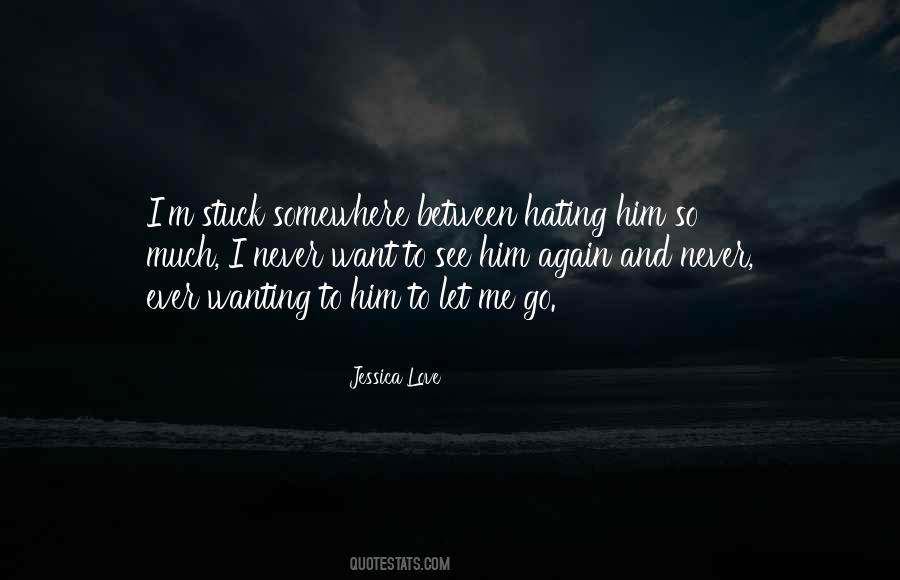 #32. What is on that memory stick, if you don't mind me asking?"
She was following him back into his apartment when he asked, and realized she still clutched it.
"Something I never want to see again. - Author: Pixie Lynn Whitfield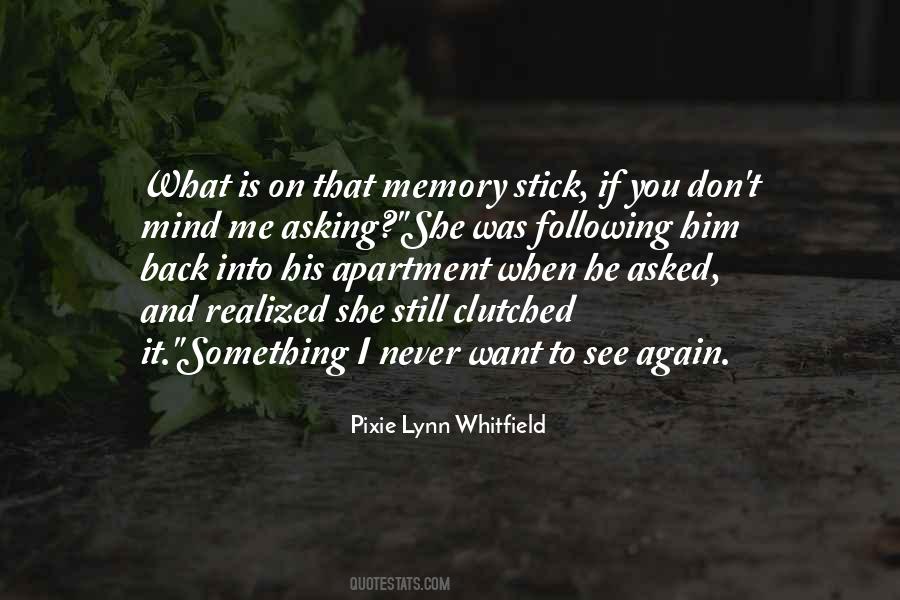 #33. Finally I see that it's never been me, just a blanket that keeps you warm. Easily tossed along
when something flashier or someone prettier comes along. Your heart I held so carefully, I see, this was all just a game ... - Author: Coco J. Ginger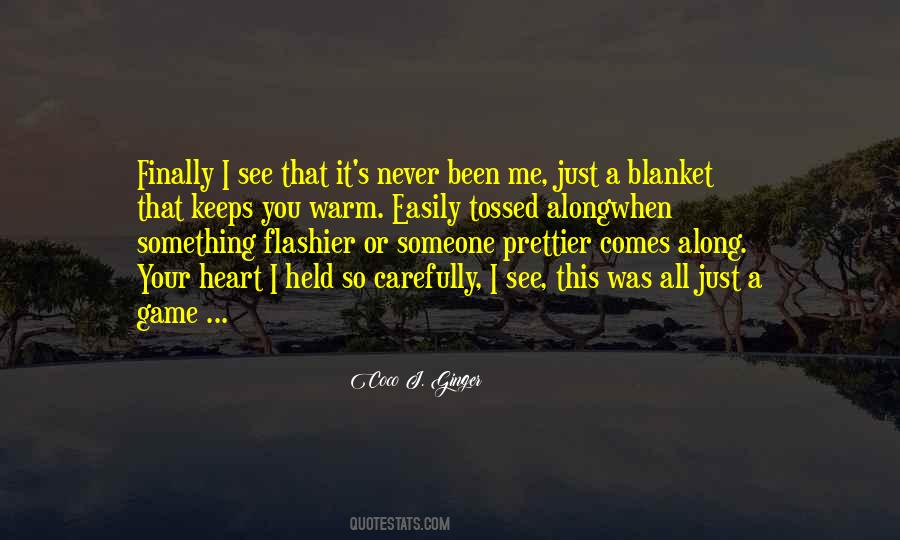 #34. Forget it, Ana, I scold myself. I decide that, all in all, it's been a very interesting experience, but I shouldn't dwell on it. Put it behind you. I never have to see him again. - Author: E.L. James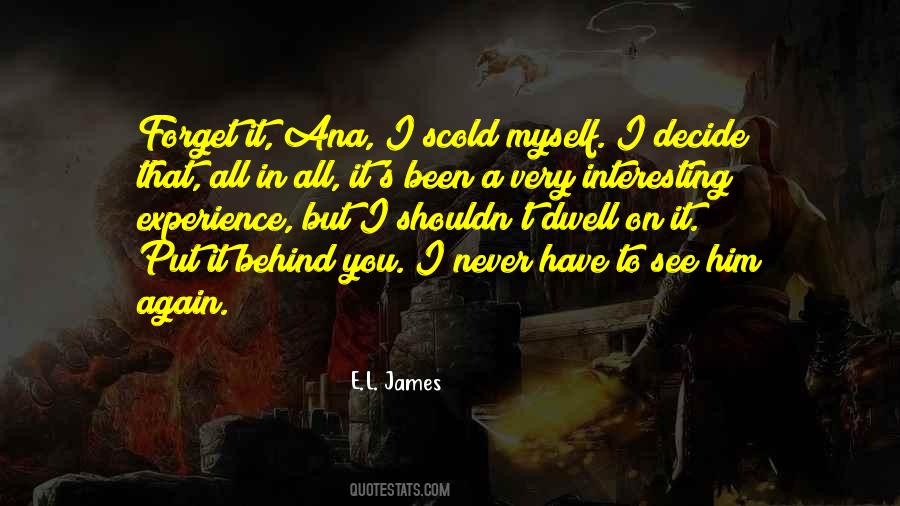 #35. Having loved the Stones all the time I was growing up, I wasn't about to see them go and split up. It got very close to it in the 80s, when Mick thought that Keith hated him and vice versa. - Author: Ron Wood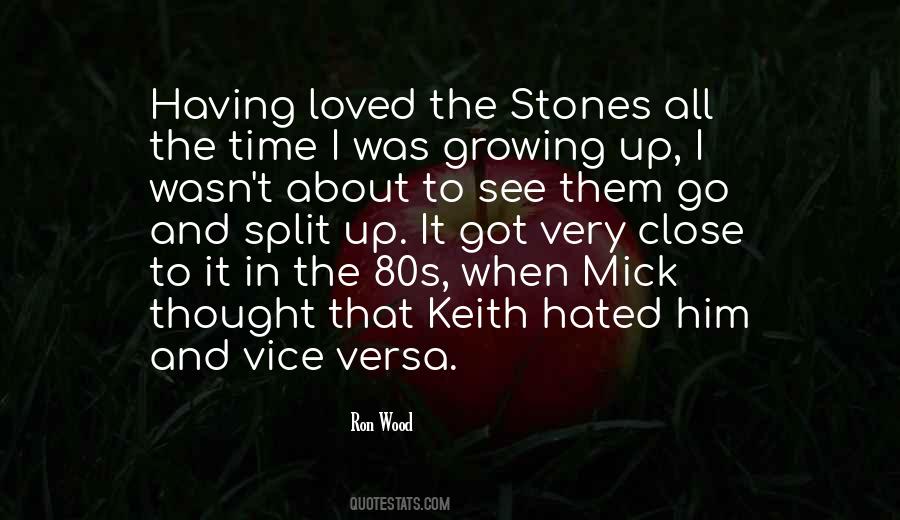 #36. Will you give me another chance?" Robert repeated. Smiling, Dougless kissed him on the cheek. "No," she said, "although I thank you very much for the offer. - Author: Jude Deveraux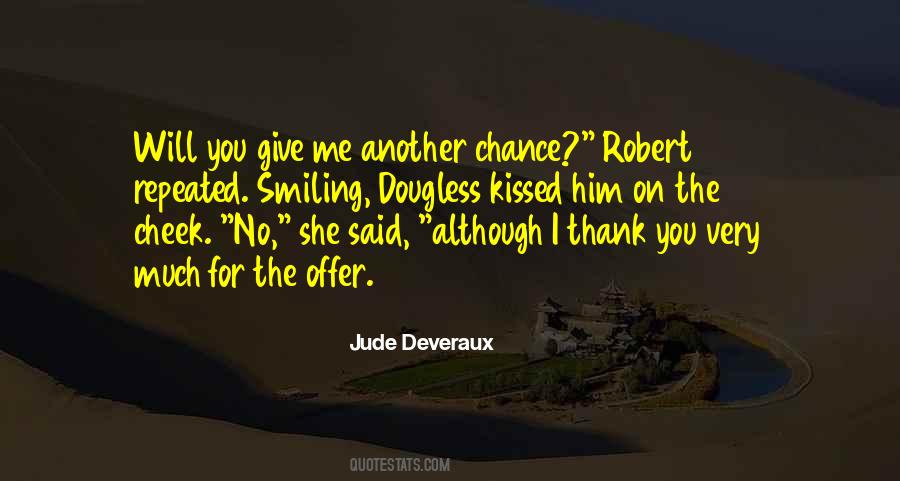 #37. I think I need to get home and talk to my dad. He'll be worried if he doesn't see us. Would you like to meet him?"
"I'd be honored," Blake said with a nod. - Author: Debra Anastasia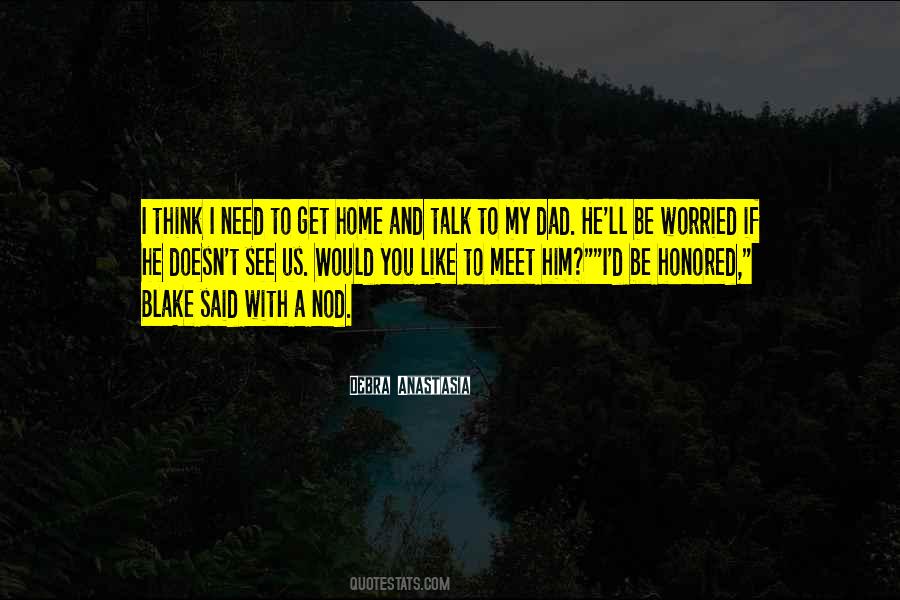 #38. First the shirt. His chest was so sculpted and beautiful. I could see all the tiny lines chiseled into his abdomen. If he looked this good in the window reflection, I couldn't even imagine how insanely gorgeous he was going to be when I looked directly at him. Next - Author: Vi Keeland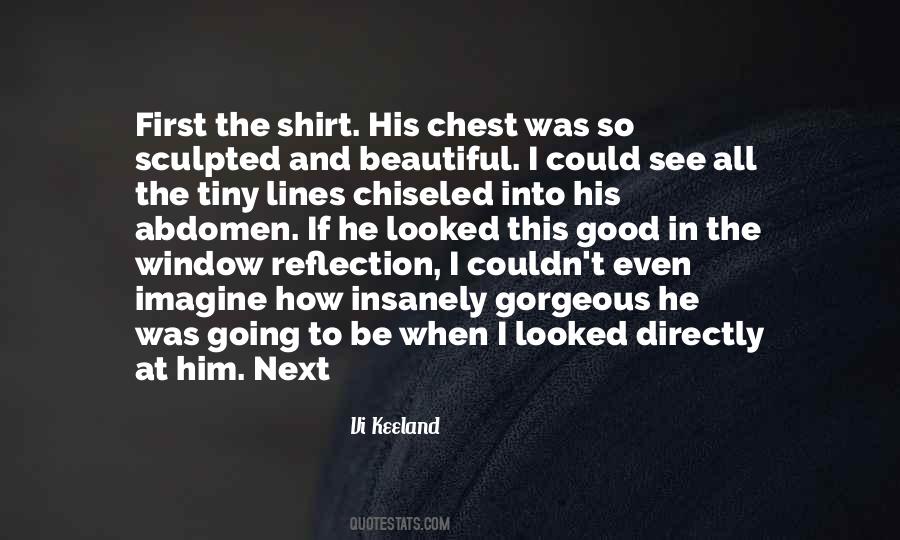 #39. We were blood brothers, pals forever. He was my very best friend. Nobody else could see him. I now know he was just pretend. - Author: Dan Barker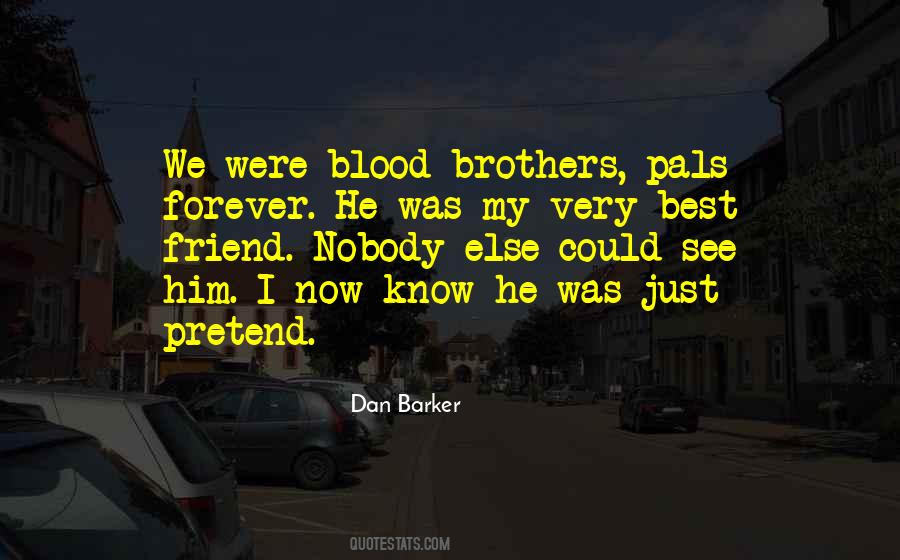 #40. I like to think that I gave Jack Warner Brothers inking and Joe Sinnott gave him MGM inking. If you're not as in love with old movies as I am you might not make that connection, but I can see that connection. - Author: Mike Royer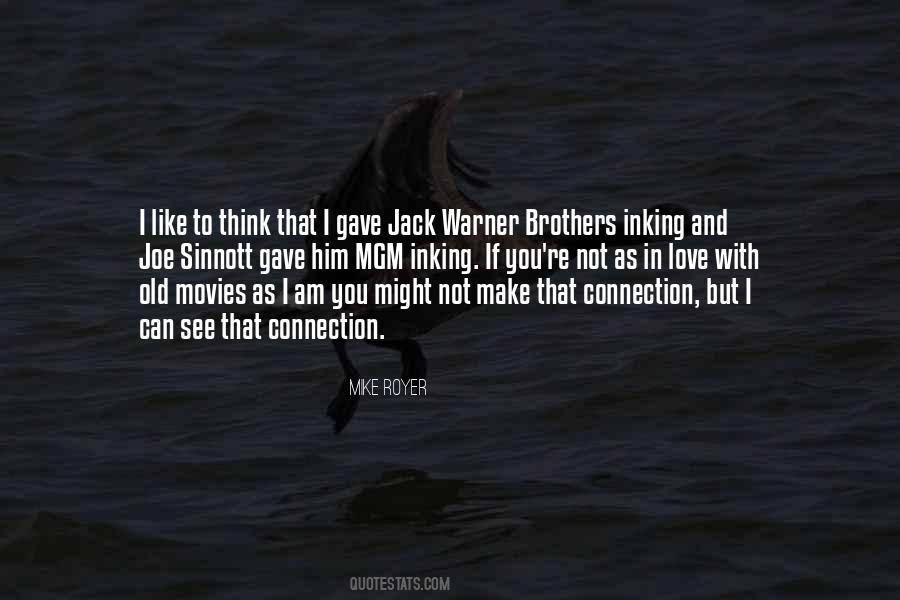 #41. You worry me, Mags, so self-contained and quiet. Hazelton would not have been my choice for you."
"Why not?"
"He's a man who dwells in the shadows and appears to like it there. You have enough shadows of your own."
"Maybe he sees me as I really am because shadows don't deter him. - Author: Grace Burrowes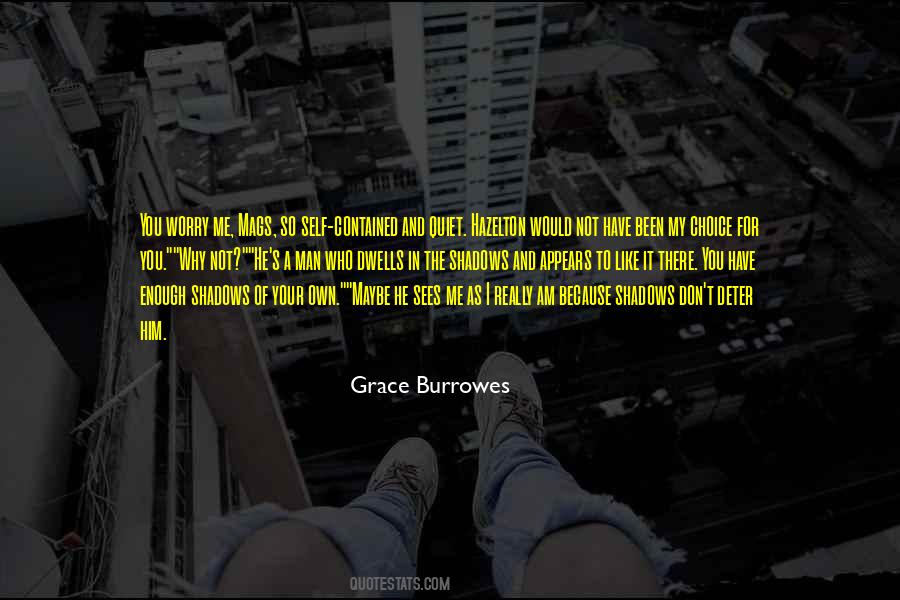 #42. I have three adopted children with Phil, and for years I was fighting in court with him over being able to see my kids. I was always going back and forth to California, going to court, and I was never able to get a project going. - Author: Ronnie Spector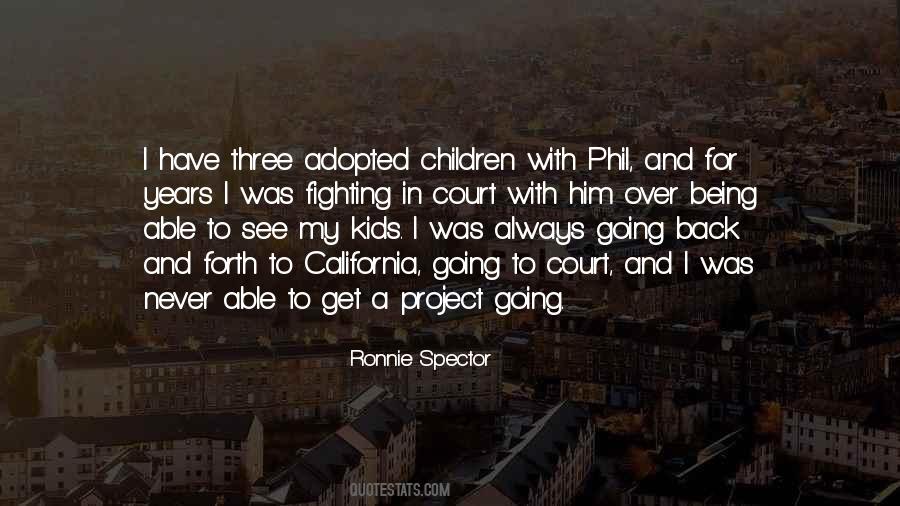 #43. From him I have learned that prayer is not asking for what you think you want but asking to be changed in ways you can't imagine. To be more grateful, more able to see the good in what you have been given instead of always grieving for what might have been. - Author: Kathleen Norris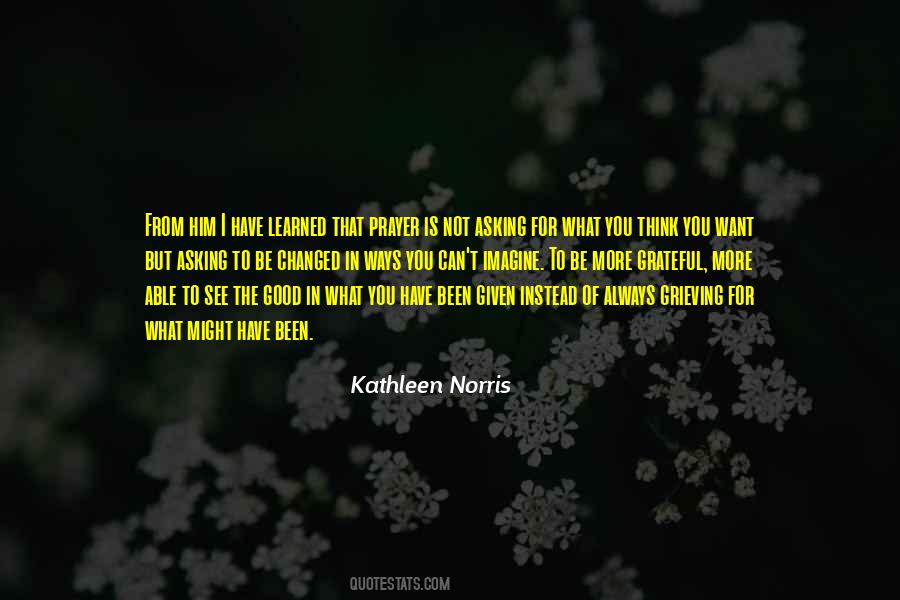 #44. I believe Christians often perceive obedience to God as some test designed just to see if we're really committed to Him. But what if it's designed as God's way of giving us what's best for us? - Author: Craig Groeschel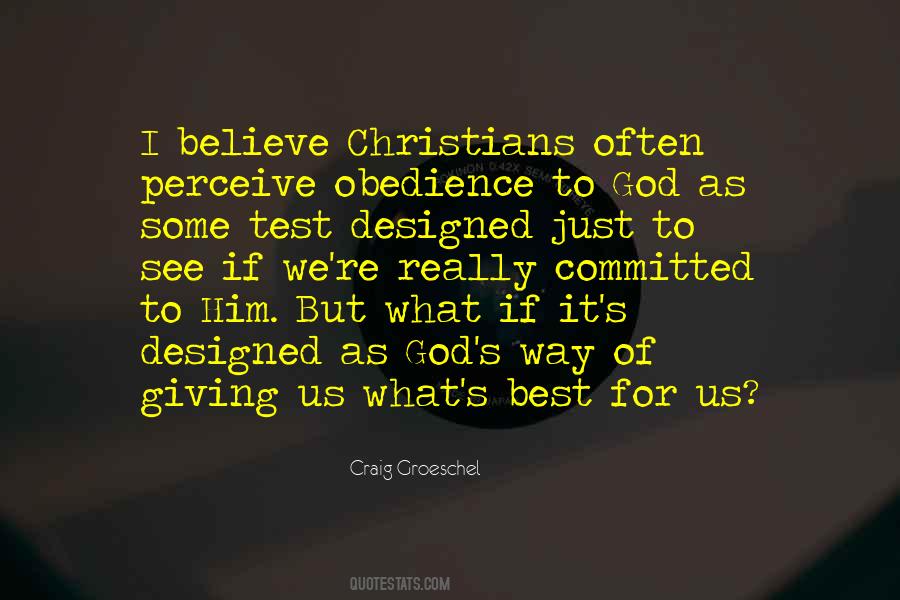 #45. Paul is Starsky, and I met him before shooting. He was very kind and encouraged us to go with what we wanted to do. It was very sweet to see them back with the car after 25 years. - Author: Ben Stiller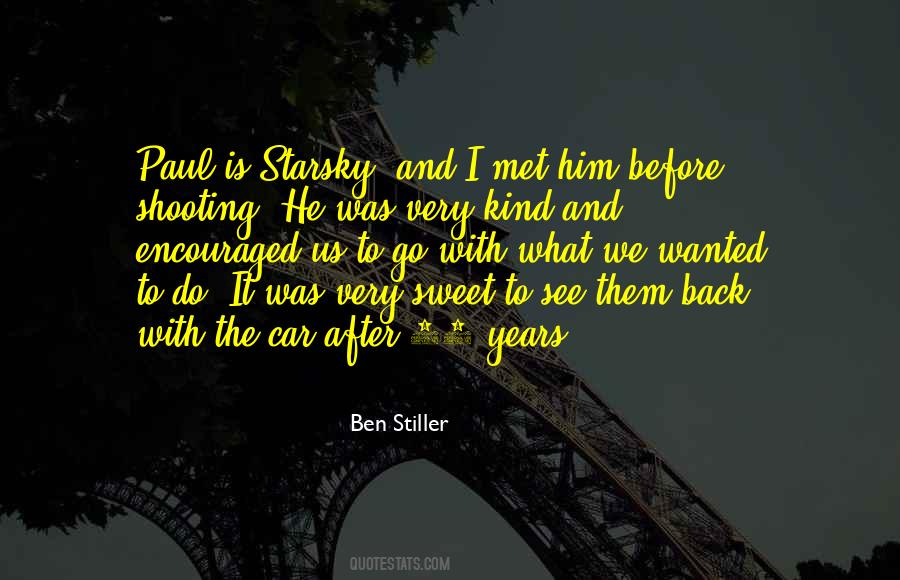 #46. I'd like to make over Marilyn Manson and just dress him really normally to see what he looks like. That'd be really weird! - Author: Karen Gillan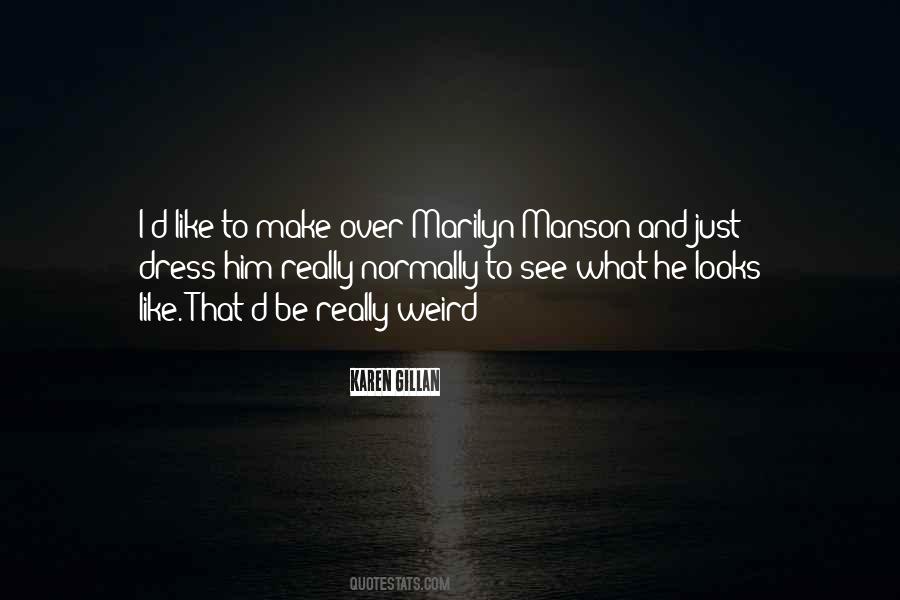 #47. God, would you just come here, Kate? I'll behave, I promise. It wrecks me to see you cry and not be able to hold you. Or if you can't do that, go to him and let him hold you. I'm making a bloody mess of everything. - Author: Rysa Walker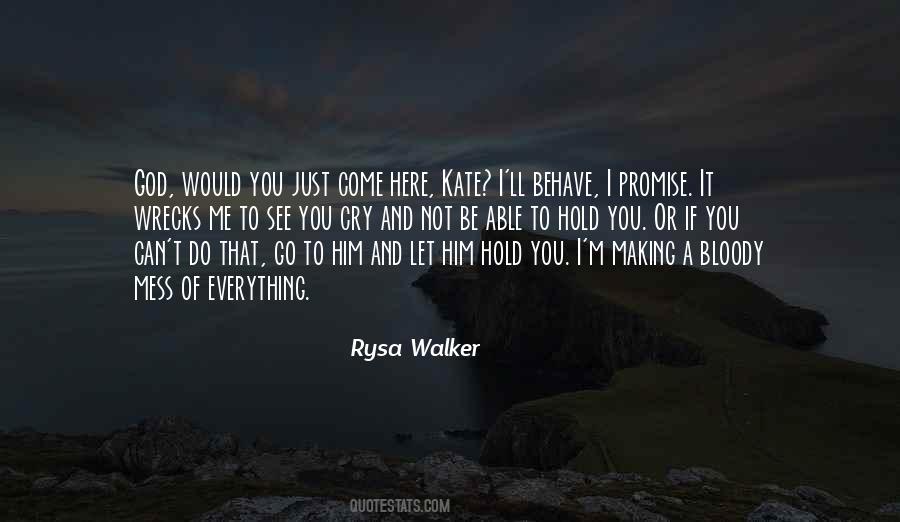 #48. As an energetic Socialist, I do my best to see the good that is in him, but it's hard. Comrade Bristow's the most striking argument against the equality of man I've ever come across. - Author: P.G. Wodehouse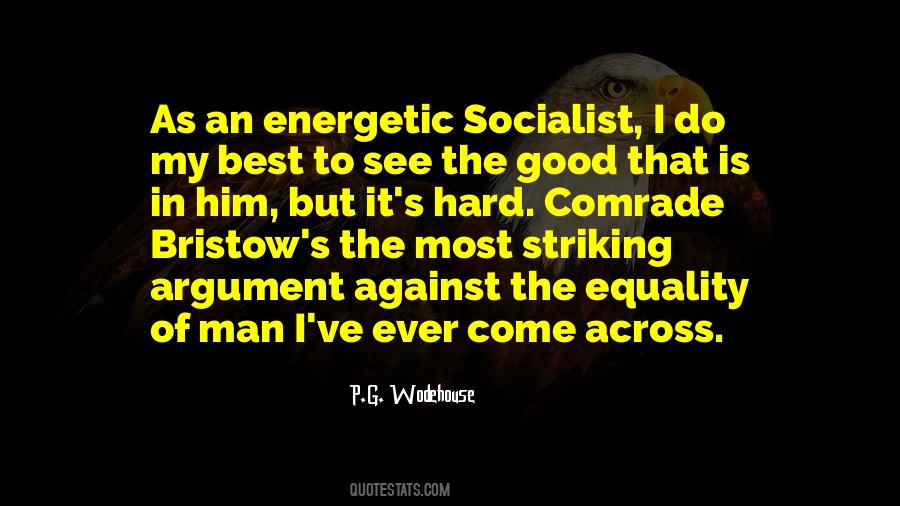 #49. Will you, Eva? WIll you risk everything to see David? Because that's what you'll be doing"
"I'm not risking anything. Theres nothing here I want if I cant have him. - Author: Michelle K. Pickett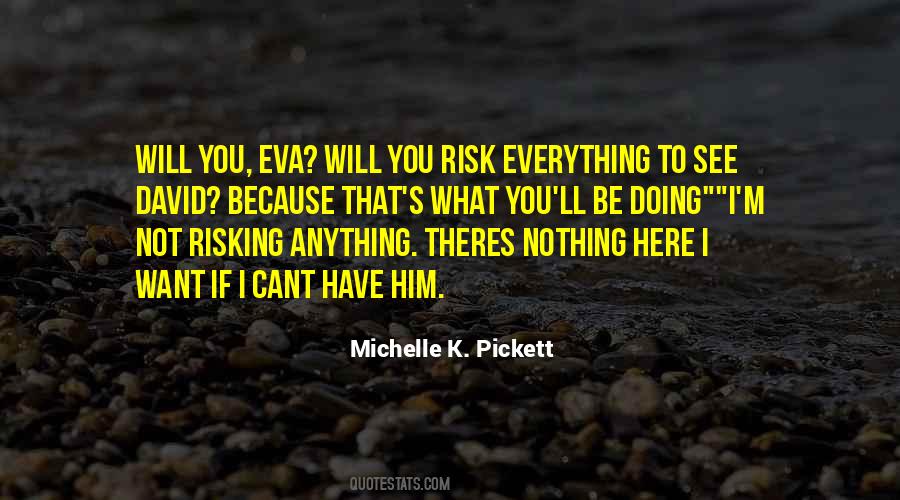 #50. He seems to have become a part of my life and I'm disappointed if I don't see him. If I get to the end of the day without seeing someone who reminds me of him, I feel as if a dull shadow has fallen over me. - Author: Dorothy Koomson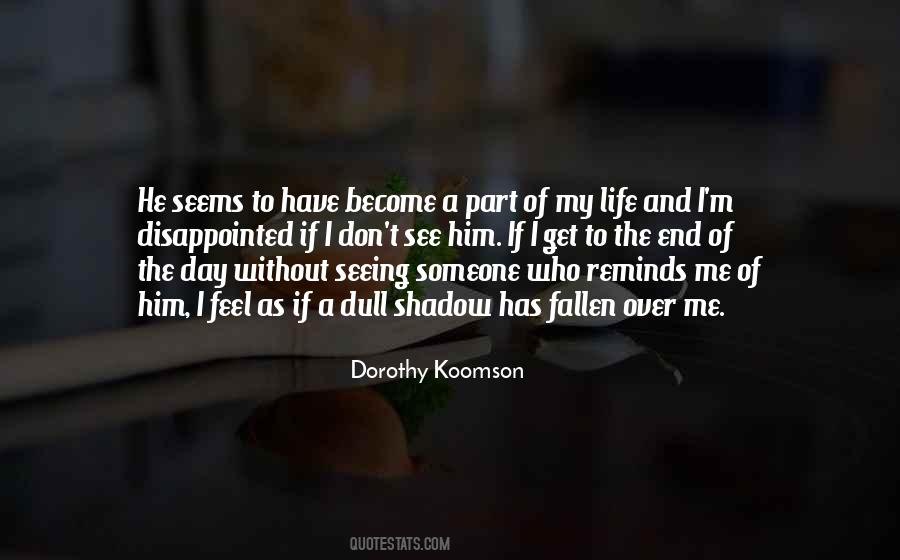 #51. I could see that it was God's forgiveness and His mercy that I needed, and that was provided through Christ on the Cross for those who will receive Him as Lord and Savior. That is how I came to Christ. - Author: Kirk Cameron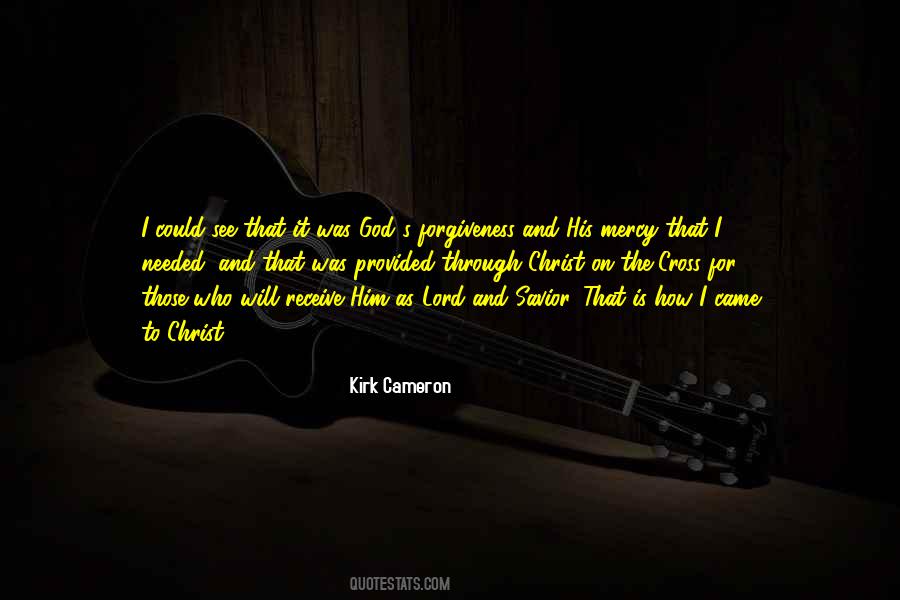 #52. Any chance I'd get to see you in that bikini?"
Zahara punched him in the arm. "No more talk of me in anything remotely skimpy or I'm gonna drop-kick you, got it?" ~Zahara and Bryan - Author: Annabell Cadiz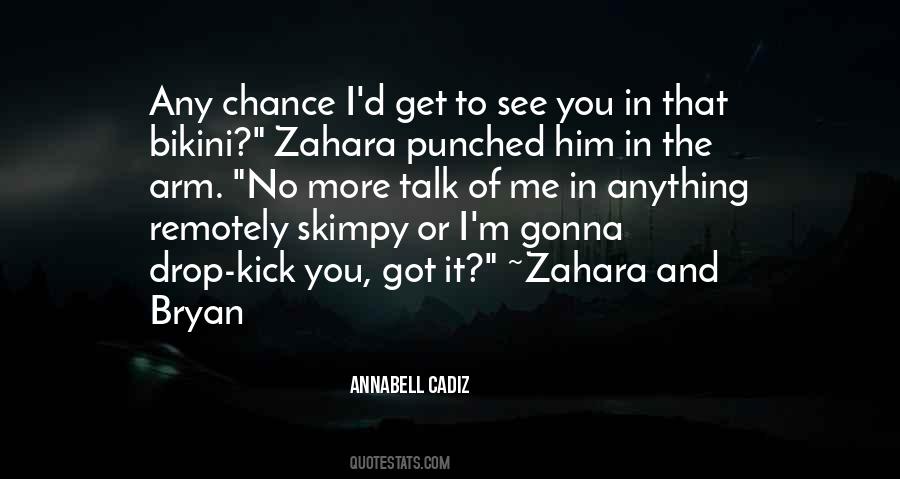 #53. When we put music on, he kind of kicks in the belly, and it's cool to see how he's not even born yet, but he's already responding to the music. When I talk to him, he kicks as well. It's a very deep connection that I have with my son already and he's not even born. So I'm loving it. - Author: Jencarlos Canela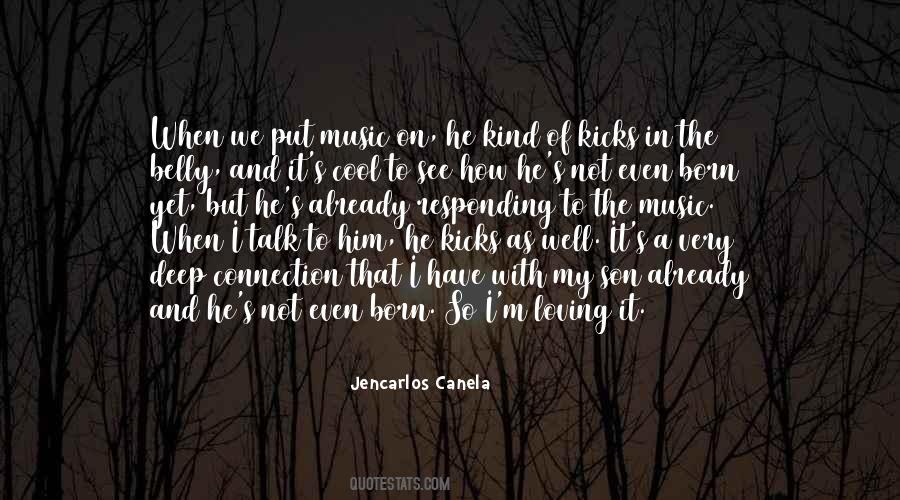 #54. I felt betrayed and absolutely livid, but my body wasn't smart enough to know it. It had liked the feel of his hands, wanted more of it, wanted it now. It was almost like there were two of me, one who heartily approved of the mage and one who would have dearly loved to see him dead. - Author: Karen Chance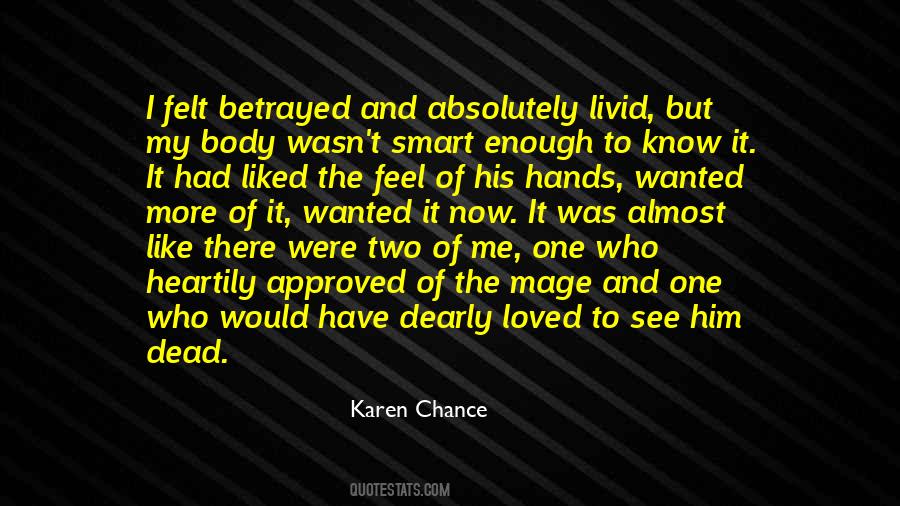 #55. Those who are not with Mr. Bush are against him. Worse, they are with the enemy. Which is odd, because I'm dead against Bush, but I would love to see Saddam's downfall
just not on Bush's terms and not by his methods. And not under the banner of such outrageous hypocrisy. - Author: John Le Carre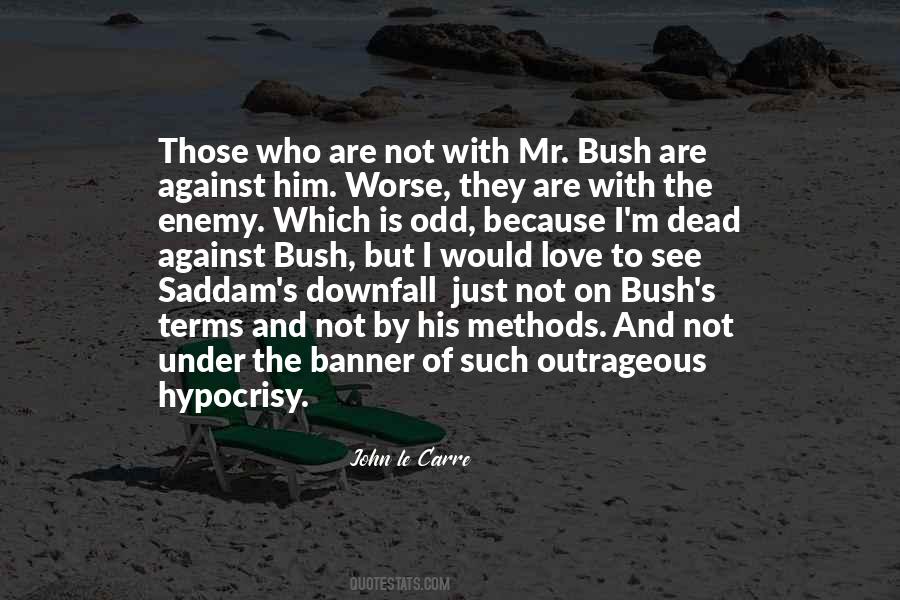 #56. Carter stood straight. I could see the doubt and fear in him, but possibly that was just because I knew him. I'd spoken his secret name. On the outside, he looked confident, strong, adult - even kingly. [Yes, I said that. Don't get a big head, brother dear. You're still a huge dork.] - Author: Rick Riordan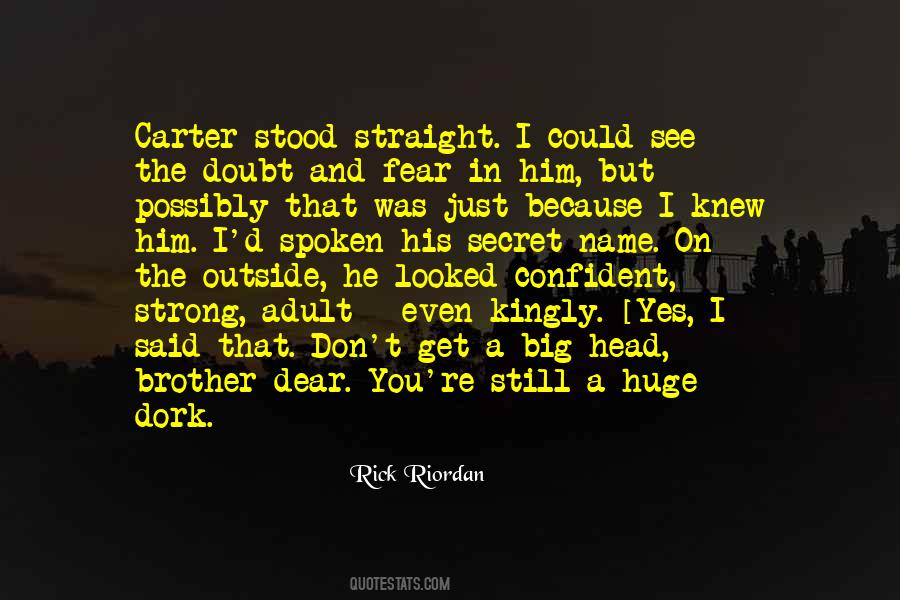 #57. The simple fact was that if the song wasn't about me, I couldn't see how it could possibly be about anybody else, including the one I knew it was supposed to be about, and good luck to him, too. - Author: William, Saroyan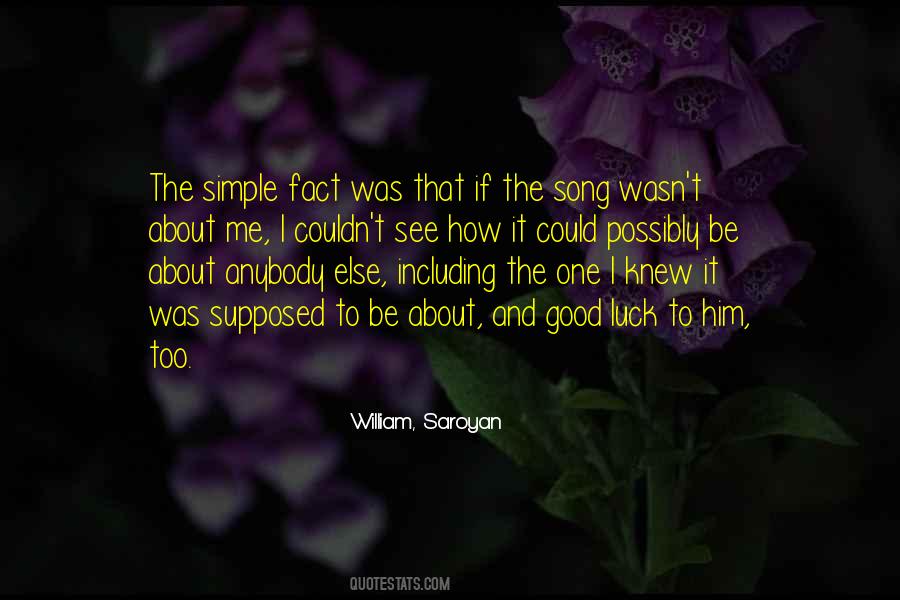 #58. I don't care who's playing. Even if it's my favorite artist, I'm probably not gonna go and see him. - Author: Etta James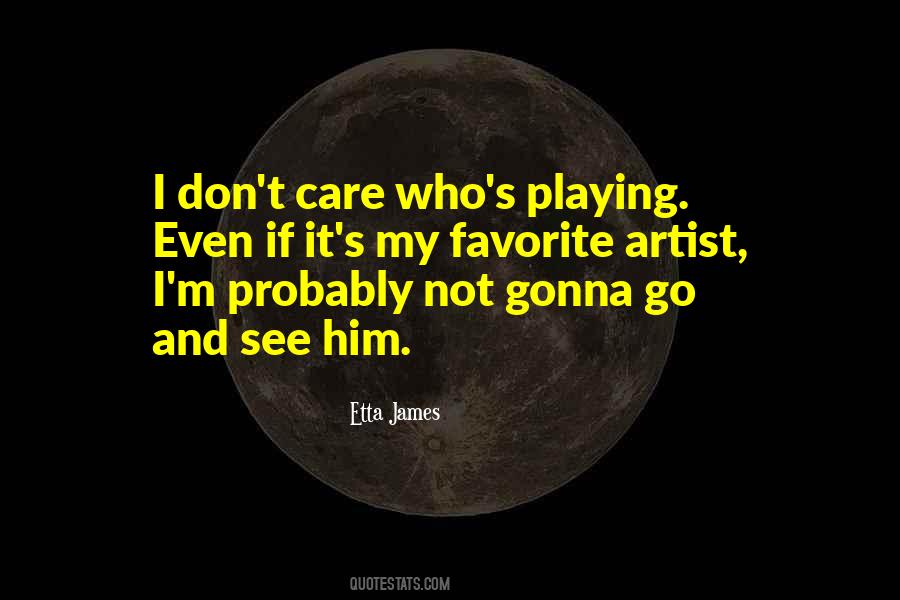 #59. You know, you may look like that actor, but the only way I can tell for sure you're him is if I see that six-pack - Author: S.E. Culpepper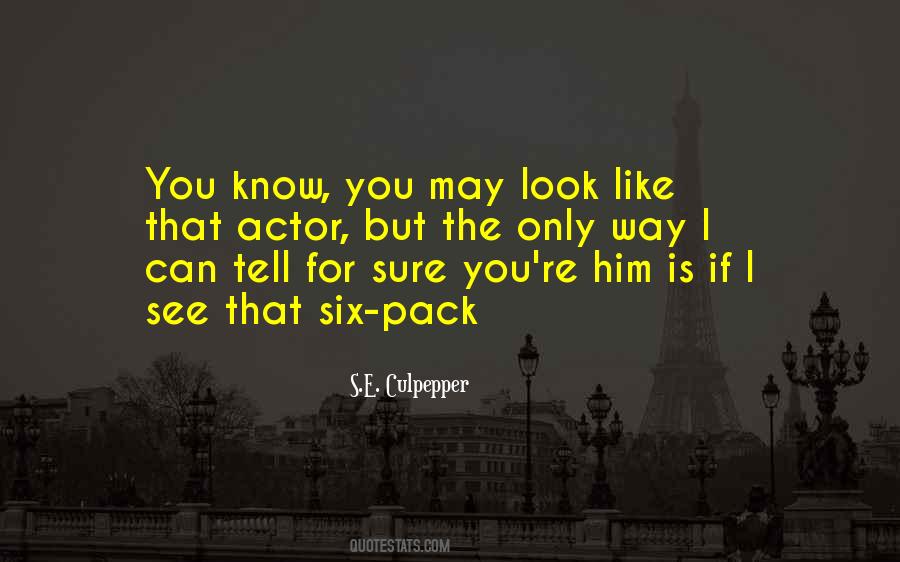 #60. I want him to know the game is over. No more Castles. The real gunslingers are here. Let's see if he can deal with them. - Author: Stephen King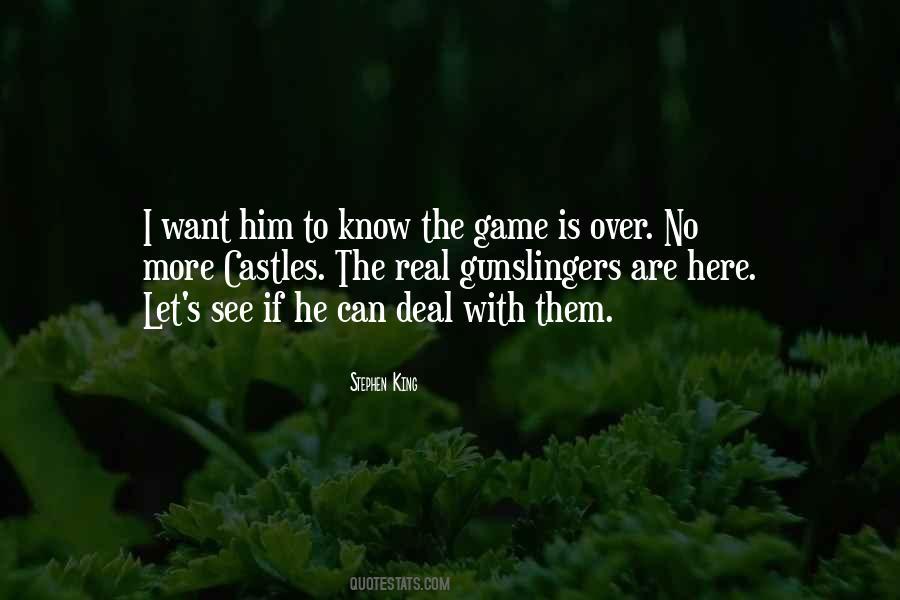 #61. Oh, if there were only a true religion. Fool that I am, I see a Gothic cathedral and venerable stained-glass windows, and my weak heart conjures up the priest to fit the scene. My soul would understand him, my soul has need of him. I only find a nincompoop with dirty hair. - Author: Stendhal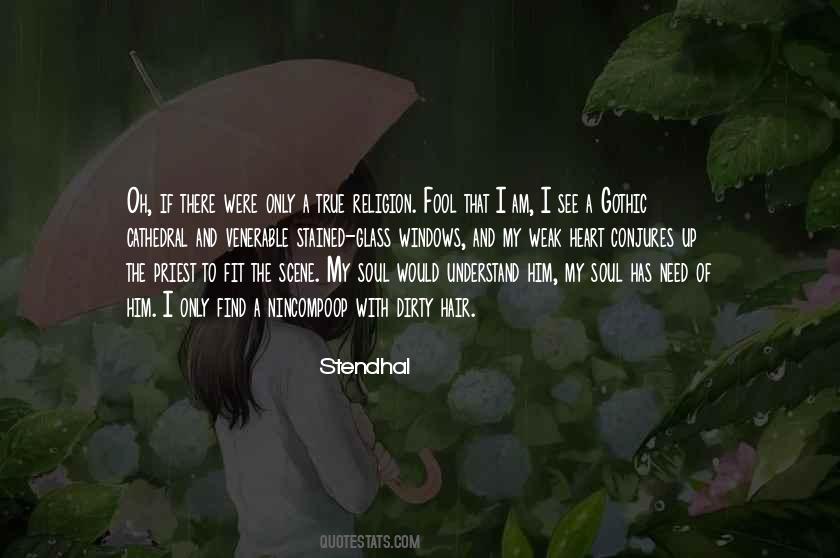 #62. I couldn't tear my eyes from the window, wanting to drink in as much of St. Louis as I could, knowing somewhere out there, one of those infinitesimally small lights was him. I wondered if he'd look up and see the planes crossing the sky like shooting stars, knowing one of those lights was me. - Author: Leah Raeder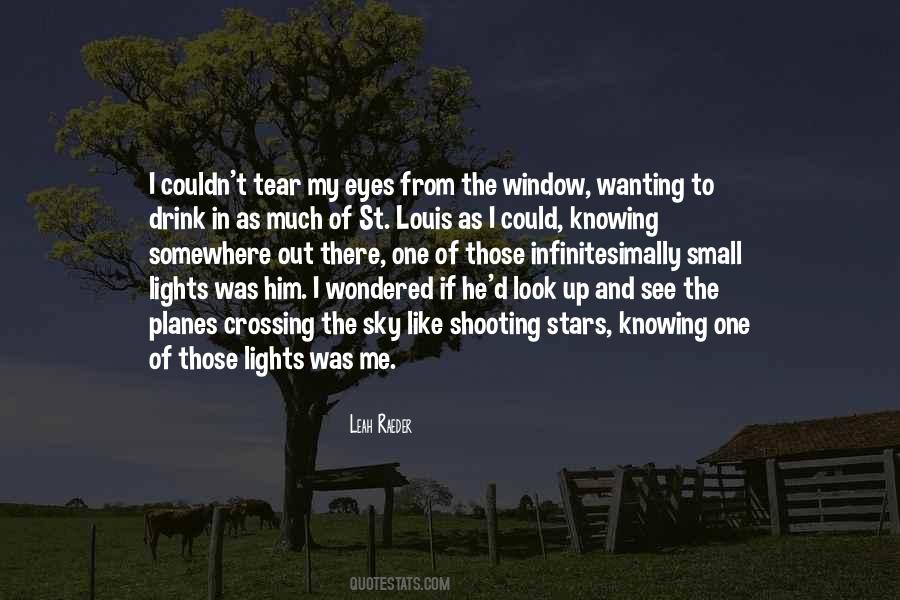 #63. Takano Masamune- " Maybe it's just me being rebellious, but...when I'm shown something so innocent and pure, it forces me to see the filthy part of myself even more and it pisses me off...it makes me want to break him. - Author: Shungiku Nakamura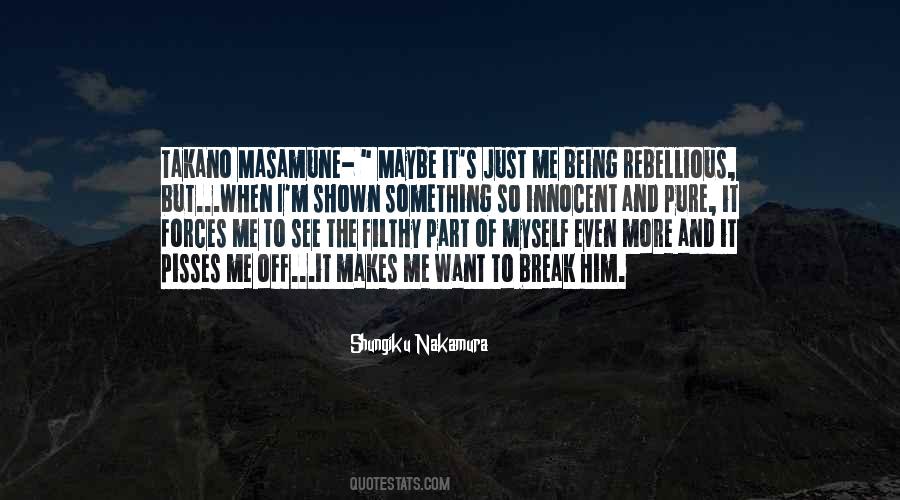 #64. I couldn't speak, for once in my life. I was terrified of seeing him again; and I would rather have shaved my head than not see him again. - Author: Charlaine Harris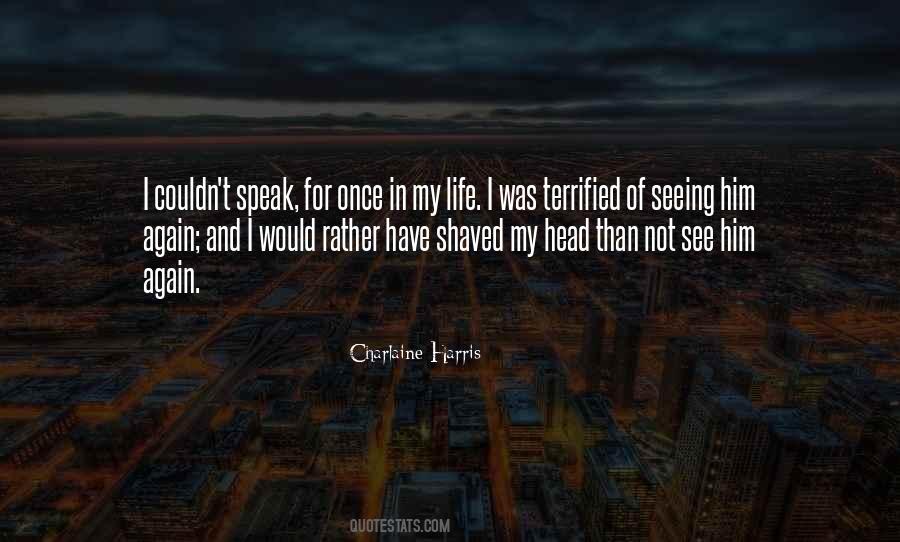 #65. Can you see God? You haven't seen him? I've never seen the wind.
I see the effects of the wind, but I've never seen the wind. There's a mystery to it. - Author: Billy Graham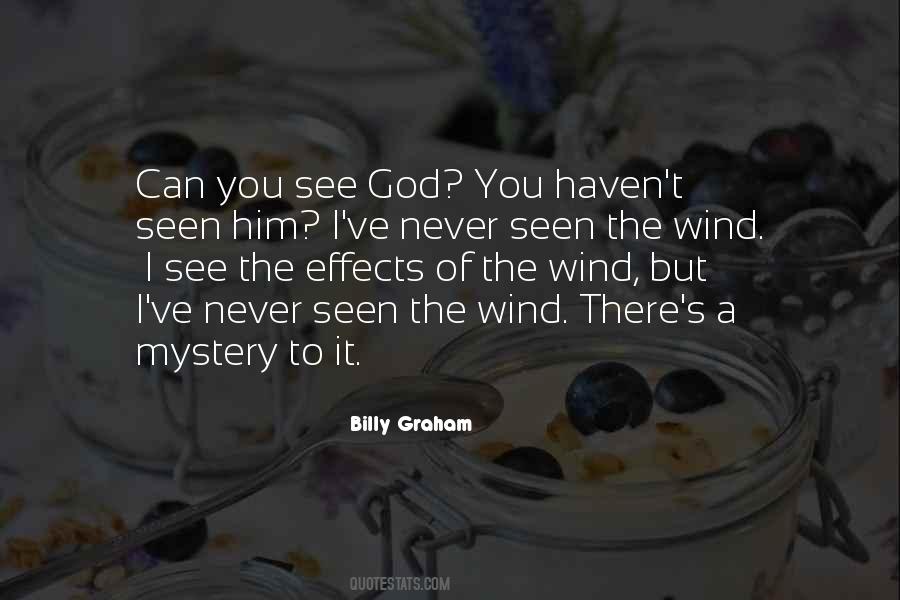 #66. I think when someone becomes an actor, people say, Aw, you could see it in him when he was little. But I think you can see that quality in every little kid. - Author: Skeet Ulrich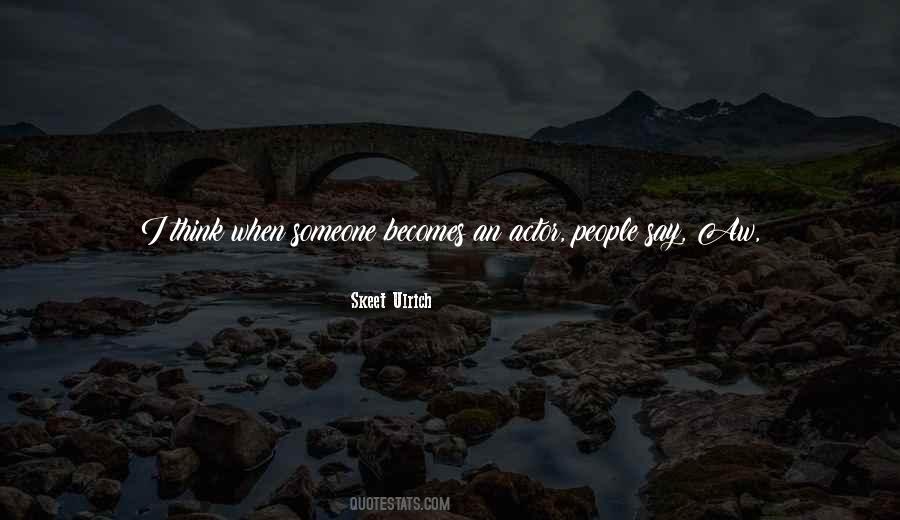 #67. I won't be the reason you don't go to him. I won't be your excuse. You've got to see for yourself, or you'l never be able to let him go
Jeremiah Fisher - Author: Jenny Han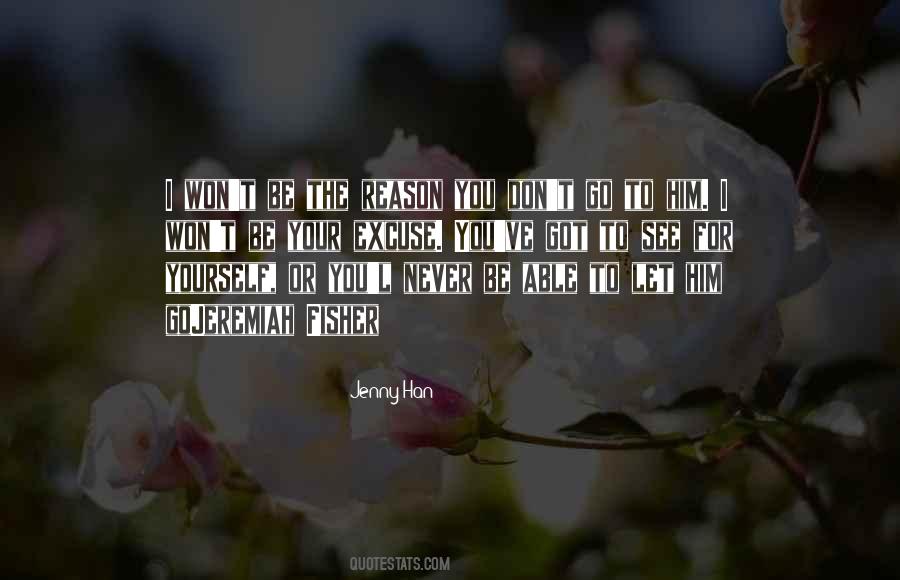 #68. I can see that you're in need of an accomplice," Thorne said, straightening his jumpsuit. "And lucky for you, I happen to be a criminal mastermind."
She glowered at him. "Go away."
"That's a difficult request in this situation. - Author: Marissa Meyer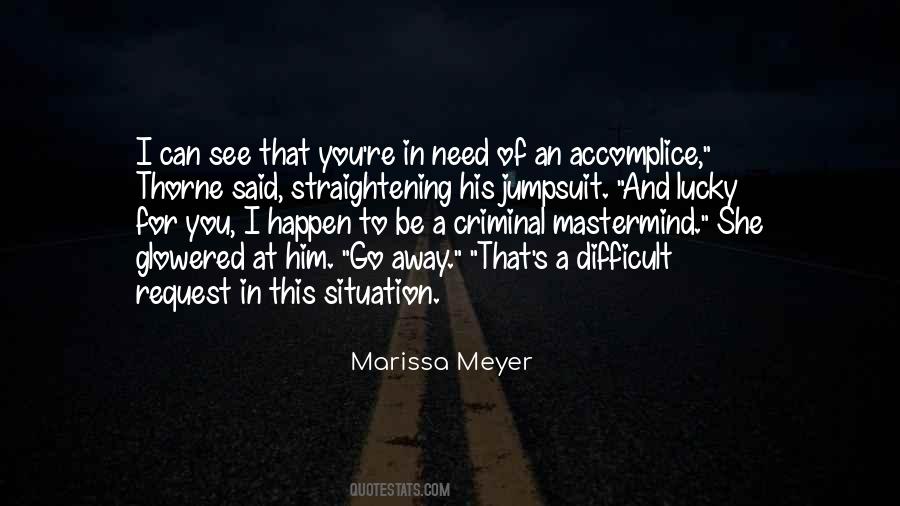 #69. Did you refuse to be tested to see if you and he were Soul Complements because you were afraid you might want sex with him?
Yes, I am tactful that way. - Author: Devon Monk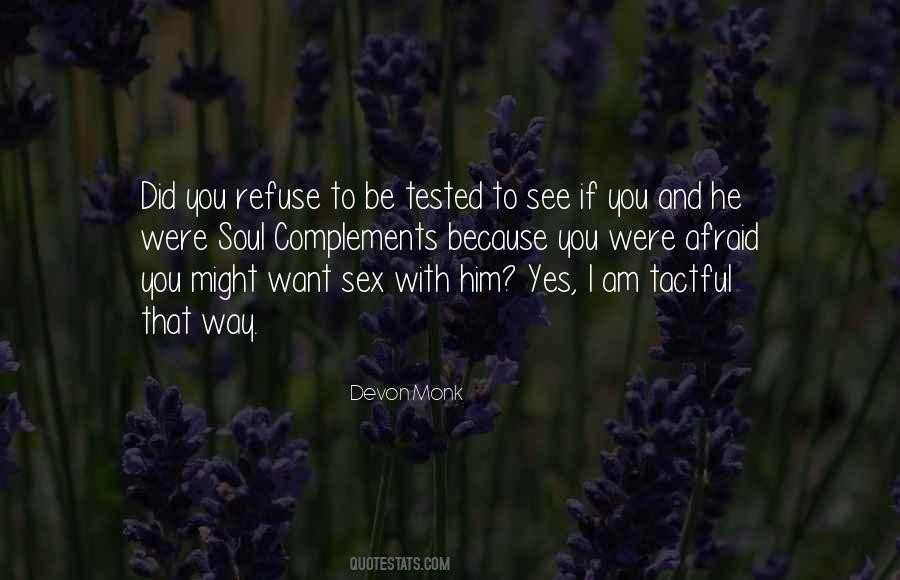 #70. I remember his eyes. They are just like mine. Every time I look in the mirror I see him. I try not to look at my self too much. - Author: Ida Lokas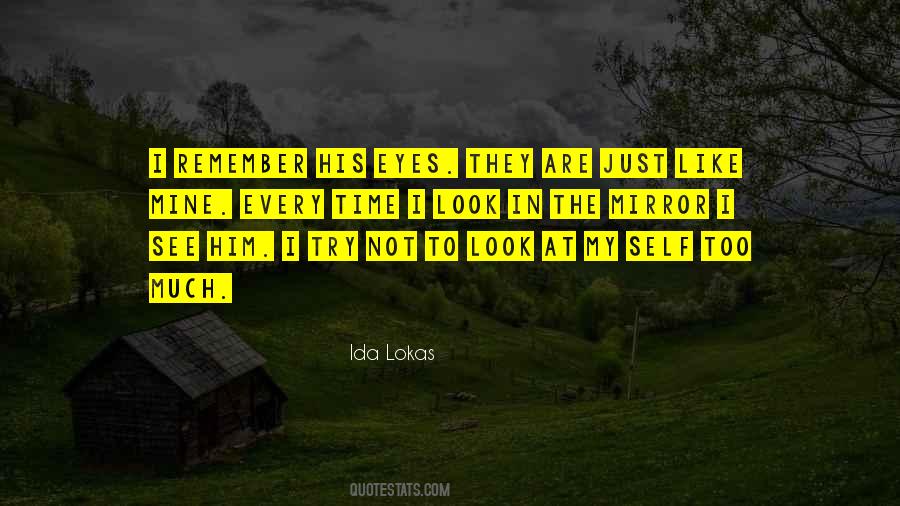 #71. If, like Harry Keogh, I could talk to the dead - God, there are an awful lot of people I would like to speak to! Not least my father. Being in the army for 22 years, I didn't see enough of him, and I know there are a great many things I could have learned from him. - Author: Brian Lumley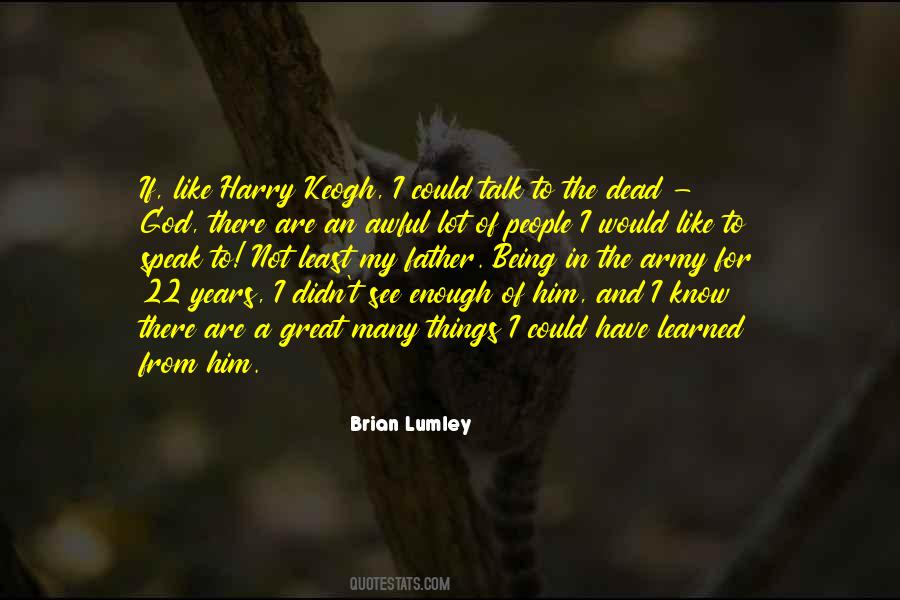 #72. I just hope it grows into where it was before because I want my son to see it. I want him to have a positive memory of it going forward, so he can be proud of his daddy. - Author: Scott Stapp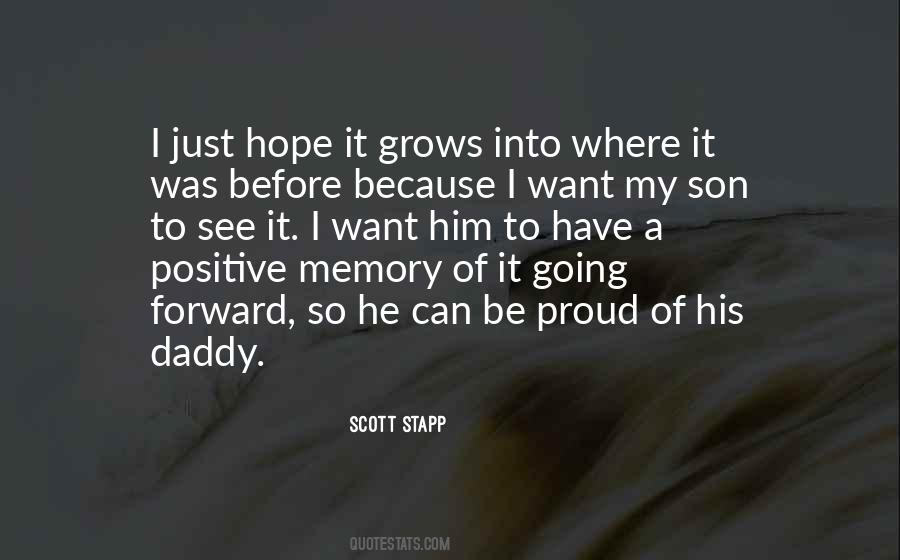 #73. I'm sorry. I can't serve him that item," the waitress said, only somewhat surprising her since she had a pretty good idea why.
"Why not?" she found herself asking anyway out of curiosity to see if she was right.
***
"Because he's a Bradford," the woman explained with a shrug. - Author: R.L. Mathewson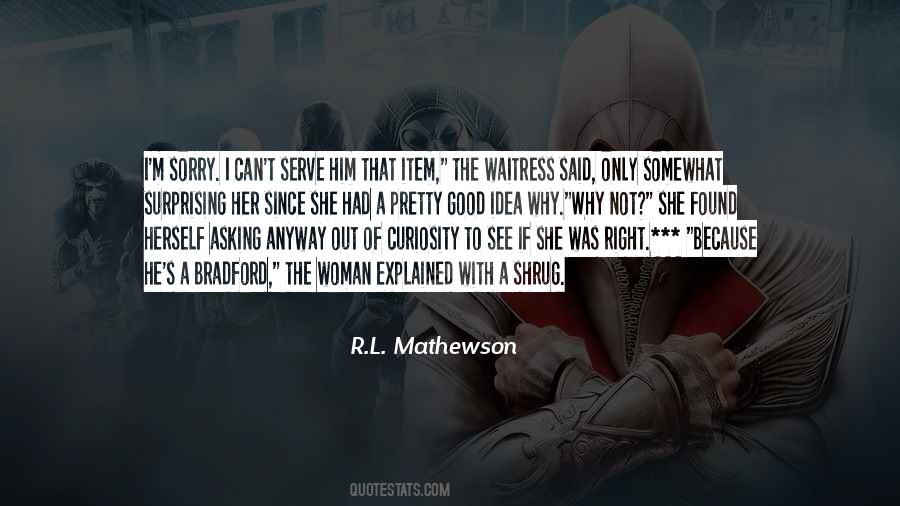 #74. When I see that my geek may have contained some of the best parts of me, when I love and appreciate him, I set my children free to see themselves as lovable however they are. - Author: Kenny Loggins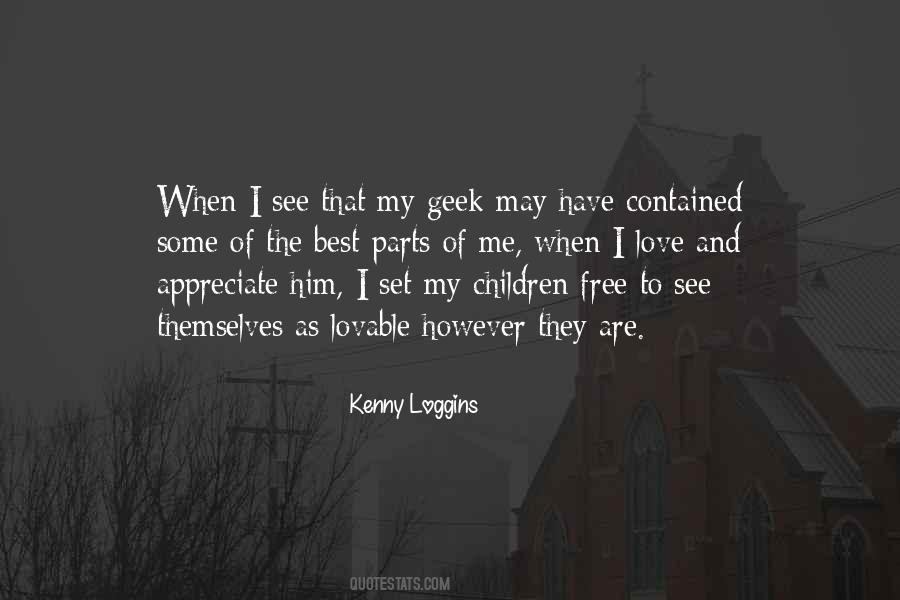 #75. Chubs is useful," I reminded her. "Please try not to kill him."
"Yeah, yeah we'll see. All I'm saying is, accidents happen. - Author: Alexandra Bracken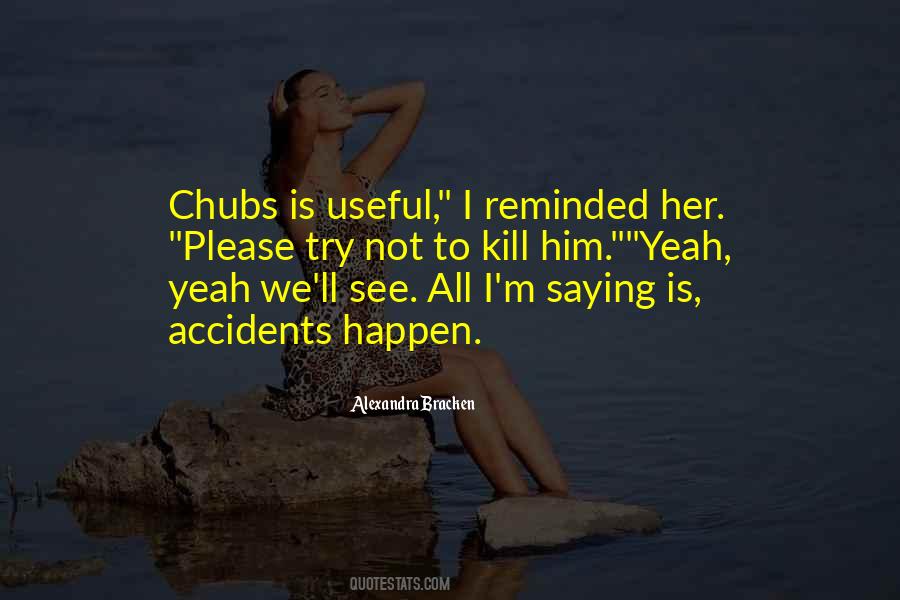 #76. I wish I could say I see my little brother more. We used to fight all the time but now that I don't see him very often I cherish the time I have with him. - Author: Zac Efron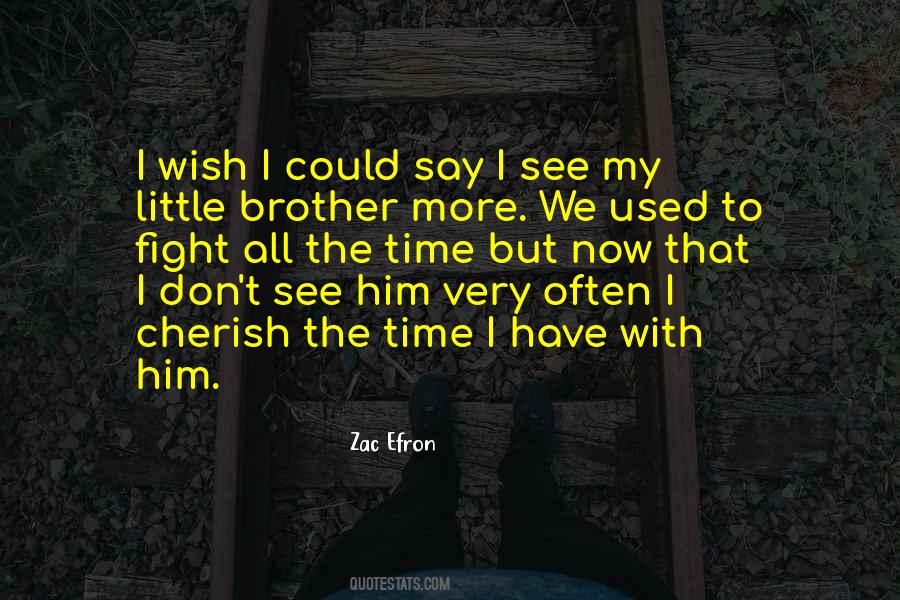 #77. I am so angry. And so happy to see him. - Author: E. Lockhart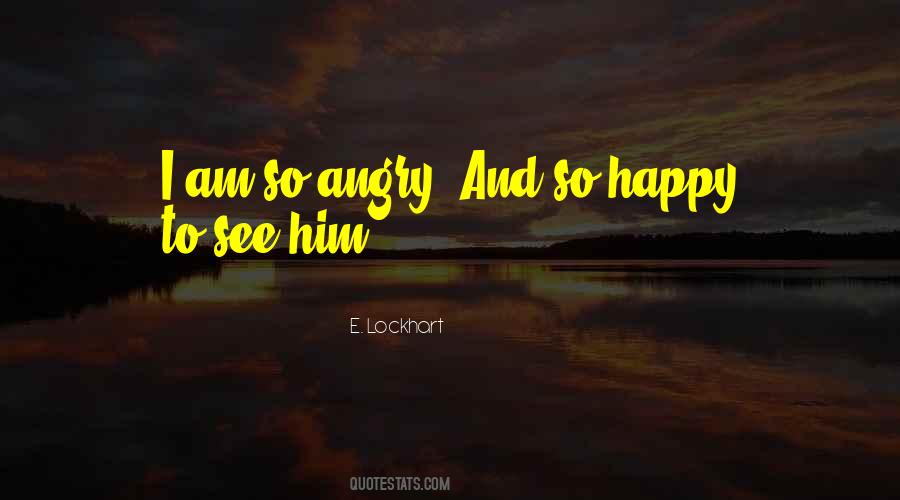 #78. I hear you don't write any more," he says ...
"Not true," I inform him. "You should see the margins of my student papers."
"Not the same as writing a book though, right?"
"Almost identical," I assure him. "Both go largely unread. - Author: Richard Russo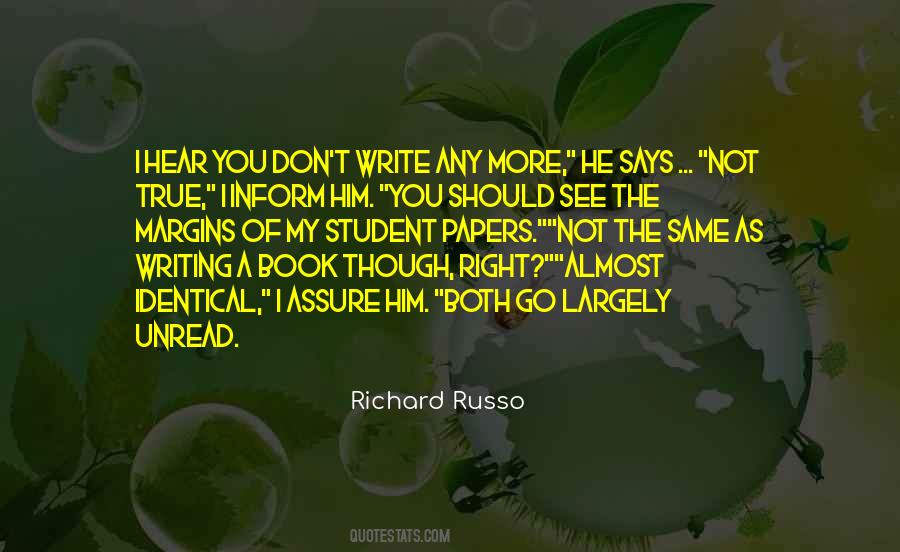 #79. I went for a private sitting with a clairvoyant and got some really good messages off him, but one thing that did frighten me was when he said, 'I can see a lot of fist fighting with you. - Author: Stephen Richards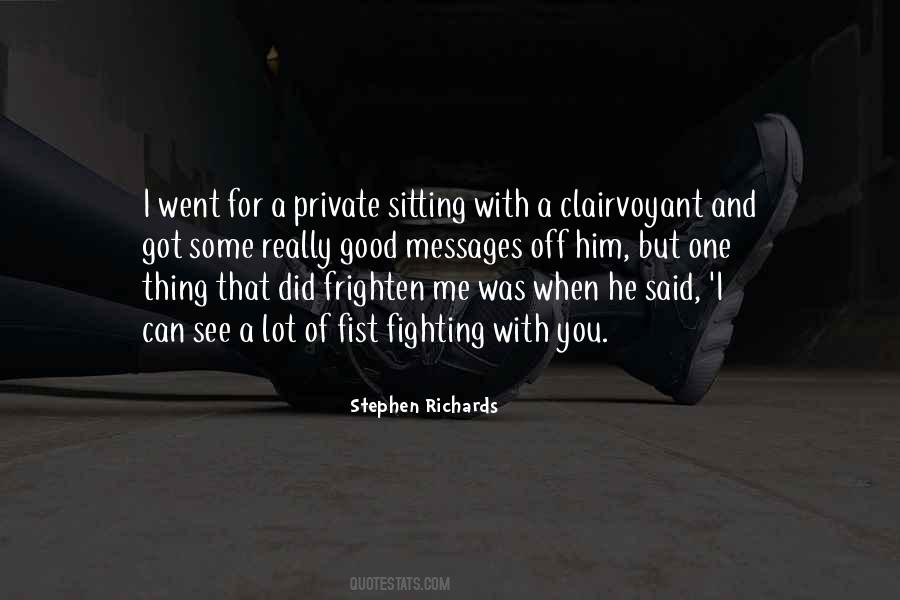 #80. Let's see if we can't get this war behind us now. Certainly, the man in the street, the common person there, wants to have this war behind him. I think a lot of the soldiers are very war-weary too. - Author: Warren Christopher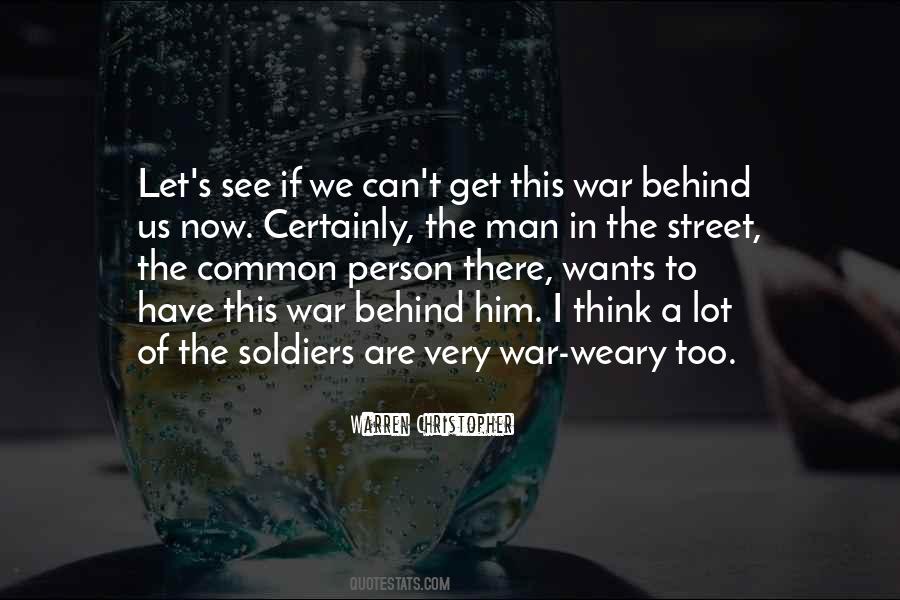 #81. I had examined him that day, too, looking away when his eyes met mine, for signs of difference, of godlessness. I didn't see any, but I was sure they were there somewhere. They had to be. - Author: Chimamanda Ngozi Adichie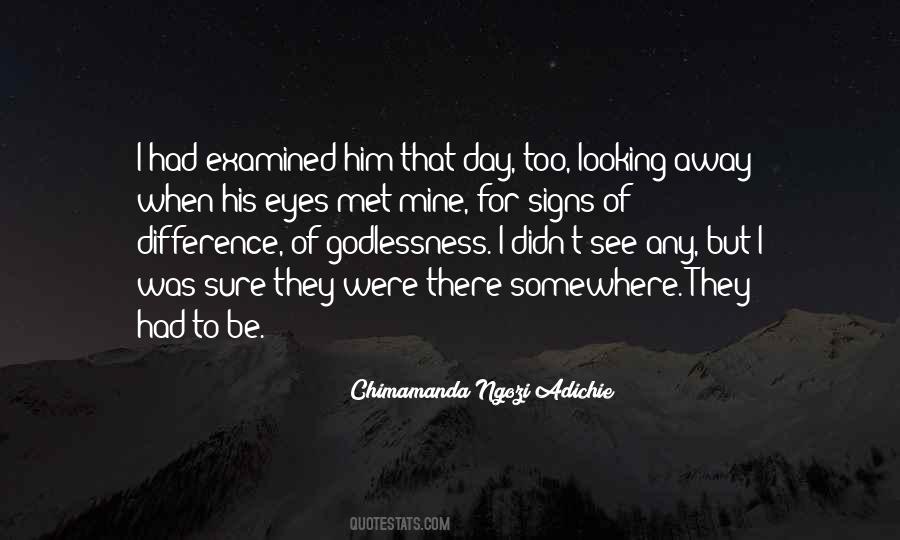 #82. When I auditioned with Anthony Minghella (The No. 1 Ladies Detective Agency), I loved the audition process, although I hated him for it. Because he had me audition six times for that role. Maybe three hours each. He wanted to see how quickly I could vary. - Author: Jill Scott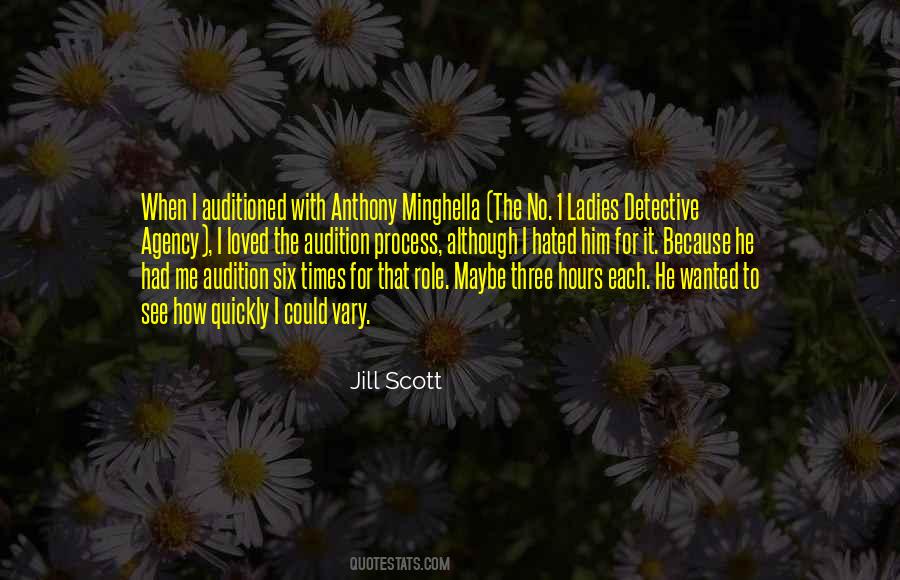 #83. When people see an actor speak, they think they know him or her, whereas I'm just a face or a body to them. - Author: Kate Moss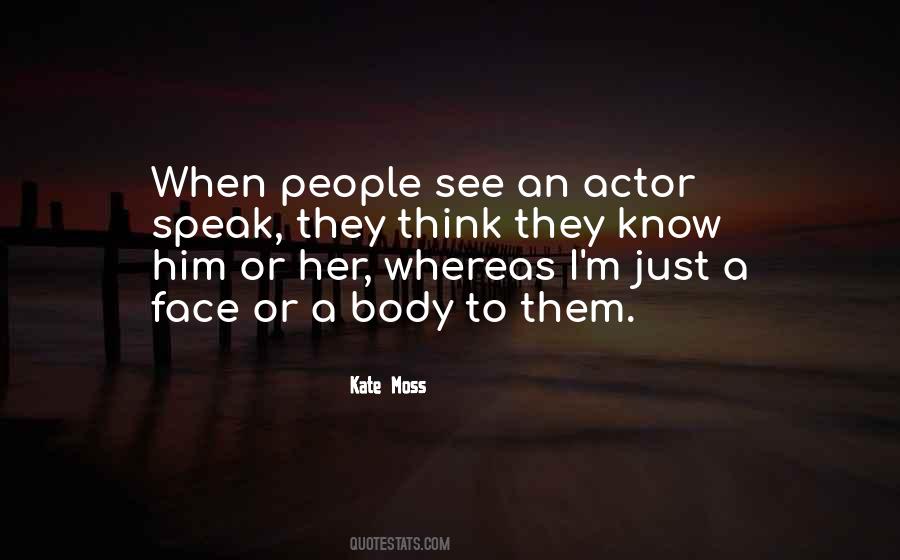 #84. My dad wears girls' clothes - it's so funny. Sometimes I see him and I'm like, 'Nice shirt!,' because it's from my closet. - Author: Liv Tyler
#85. If Mr. Selwyn calls again, show him up; if I am alive I shall be delighted to see him; and if I am dead he would like to see me. - Author: Henry Fox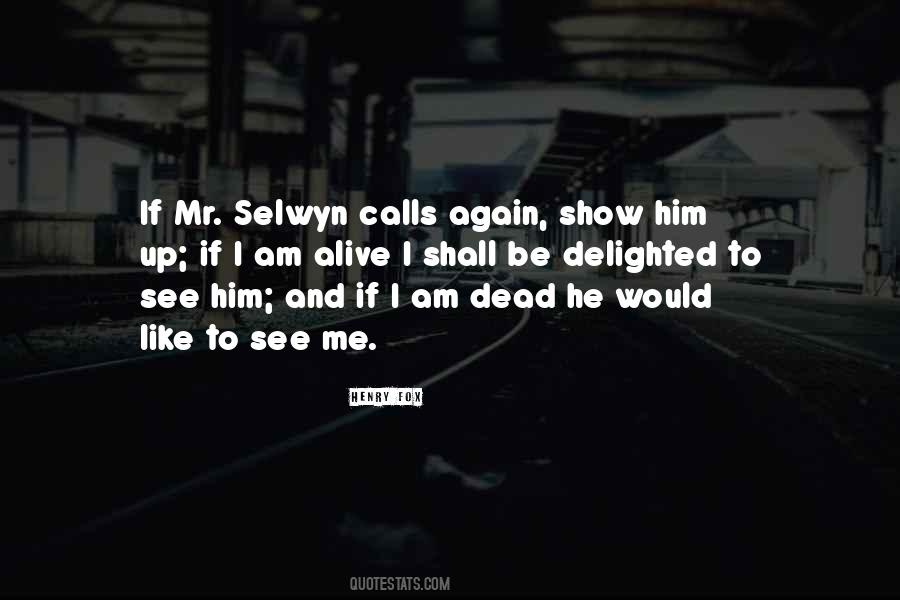 #86. But I'm a bad priest, you see. I know
from experience
how much beauty Satan carried down with him when he fell. Nobody ever said the fallen angels were the ugly ones. Oh, no, they were just as quick and light and ... - Author: Graham Greene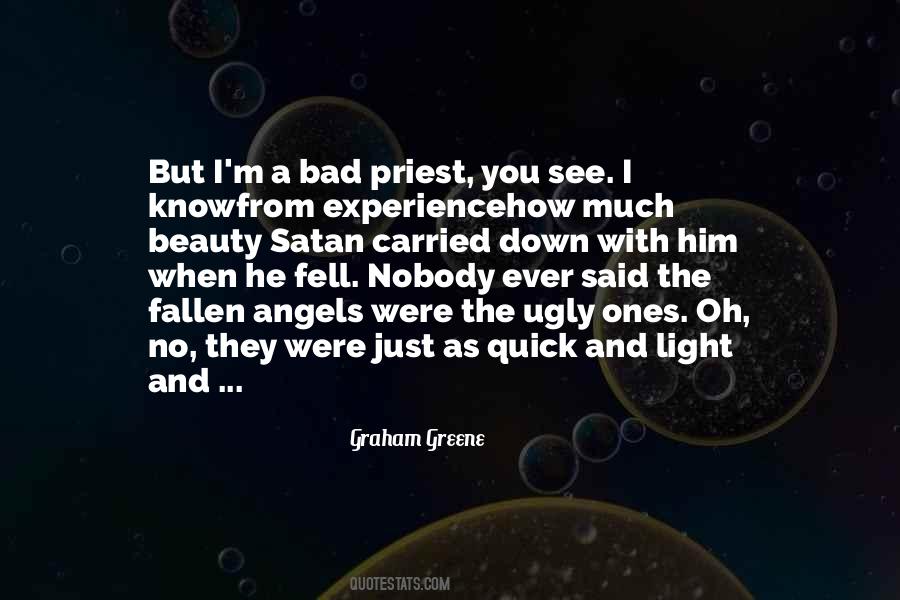 #87. My favorite scene in all of movies is Gregory Peck in 'To Kill A Mockingbird': You see him where he's on the porch, and his face is almost completely obscured. I don't want to see his face. - Author: Mary-Louise Parker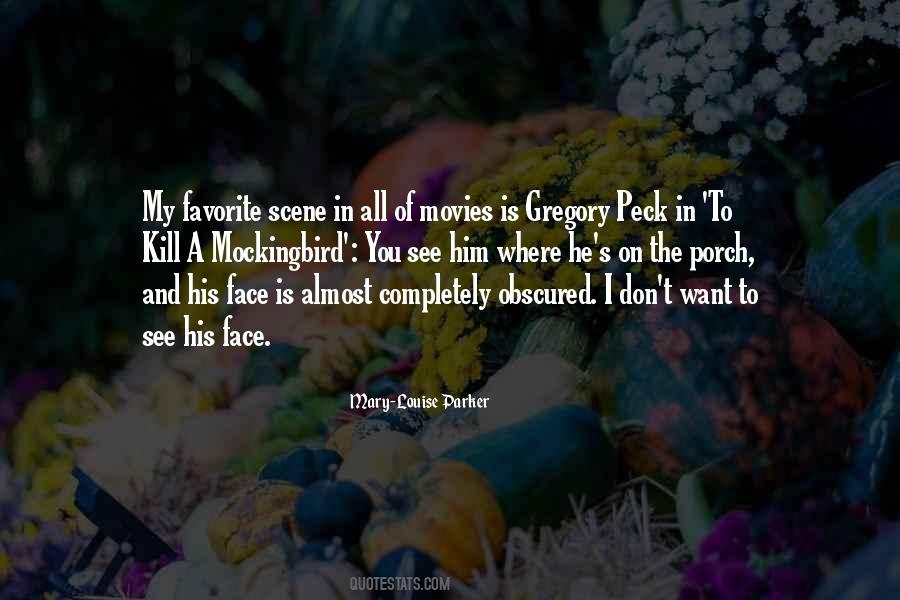 #88. I'm a religious man. I am Jewish but I believe in all religions. I believe in God and see him as an old man with a big white beard and pray to him every day for a few minutes. - Author: Uri Geller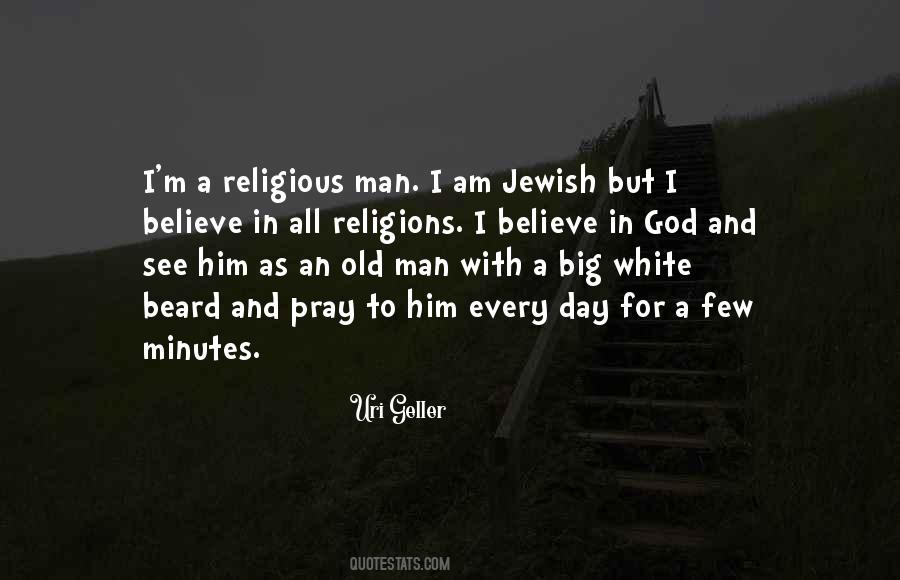 #89. In spite of his capacity for concealing his emotions, I could easily see that Holmes was in a state of suppressed excitement, while I was myself tingling with that half-sporting, half-intellectual pleasure which I invariably experienced when I associated myself with him in his investigations. - Author: Arthur Conan Doyle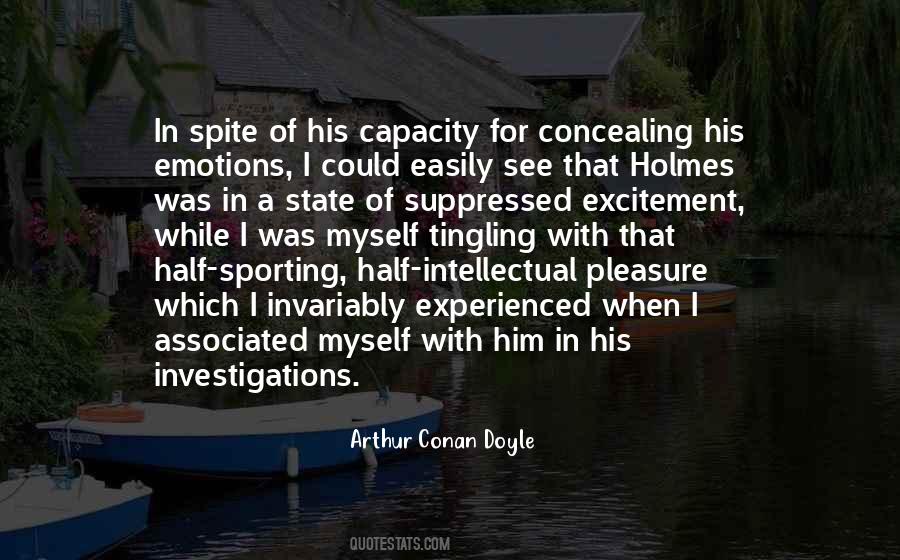 #90. I give [Barack Obama] a 10 [on a scale of 1 to 10] because he's not God, and he inherited a couple of wars, and a financial mess.I want to see him curse somebody out on TV. You can't finesse a bull. He's gotta throw down. He's in the shark tank. - Author: Tracy Morgan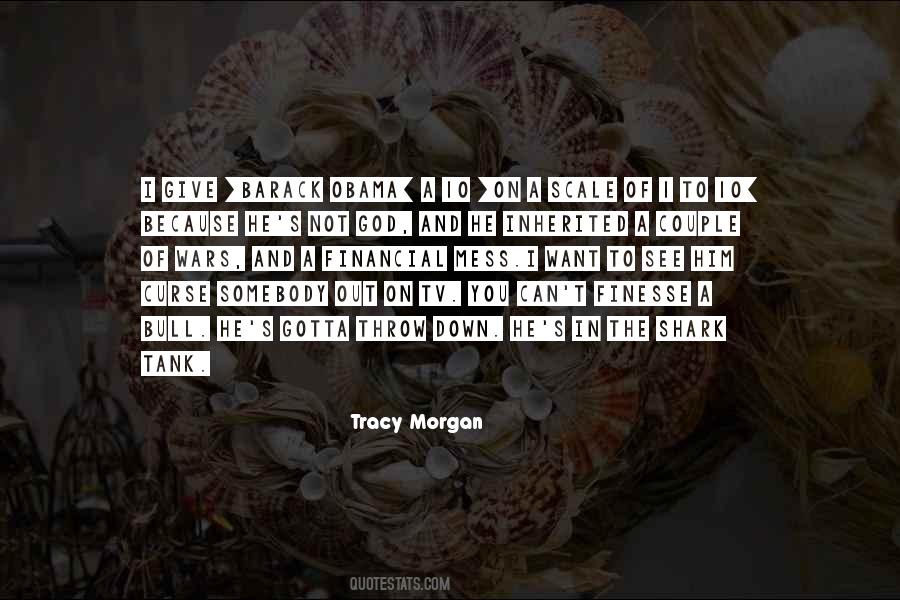 #91. As soon as sacrifice becomes a duty and necessity to mankind. I see no limit to the horizon which opens before him. - Author: Ernest Renan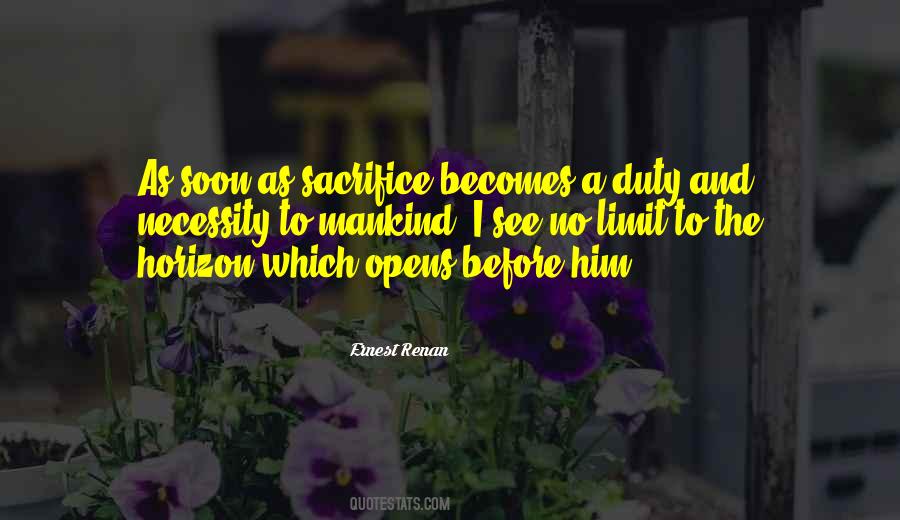 #92. While he wanted to teach me what he knew, I wanted him to see what it all looked like for me - perhaps love is a process of finding a common vision of reality. - Author: Aleksandar Hemon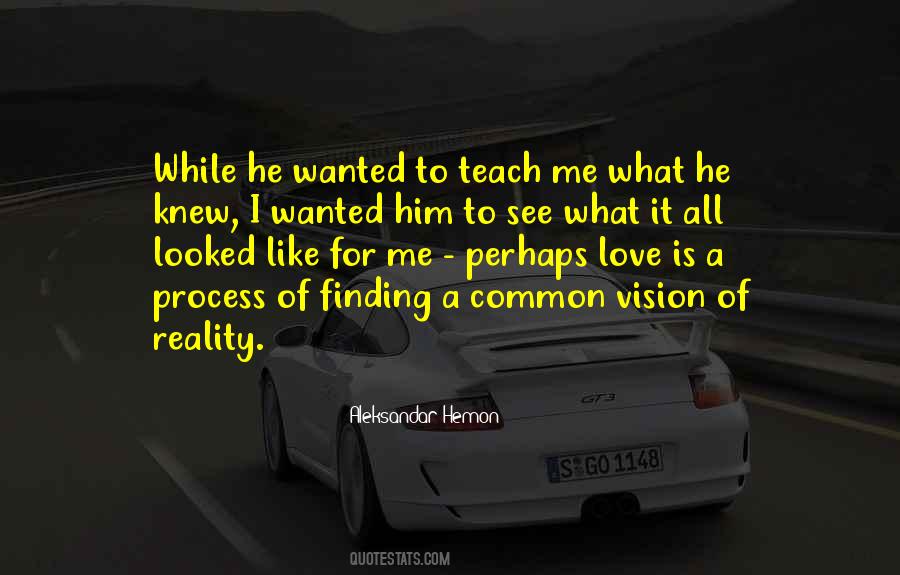 #93. He wept when they told him you were no longer allowed to see him. He WEPT. How much weeping have you done on his account, girl?"

"I wake up screaming every night on his account. - Author: Elizabeth Wein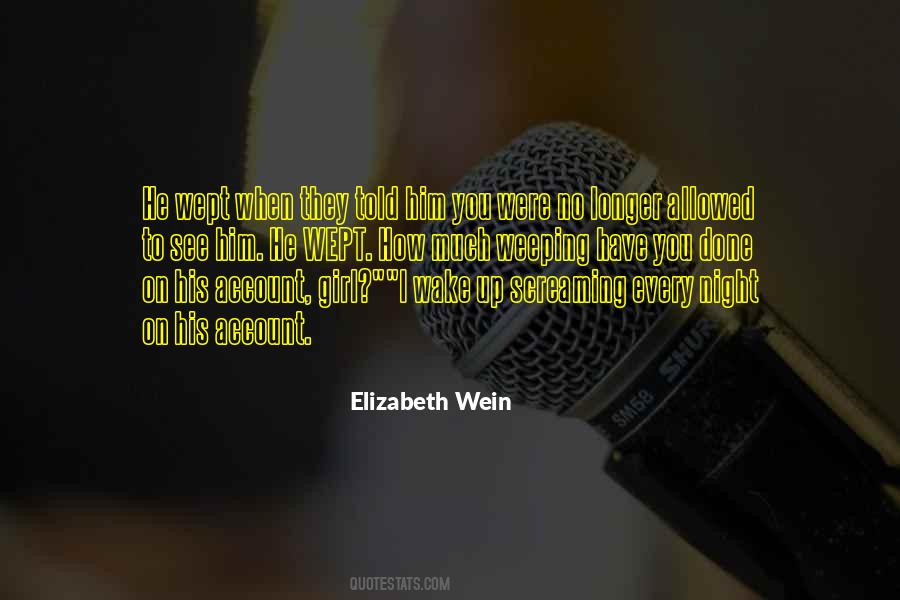 #94. I wish he would look at me the way he looks at his subjects. Because then he'd see there's more to me than shy, just like I see there's more to him than slacker - Author: Stephanie Perkins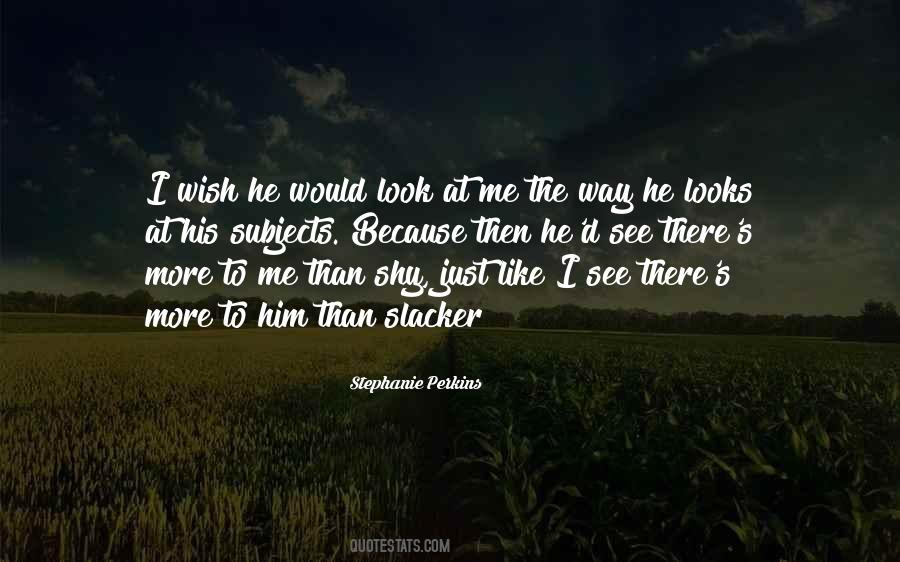 #95. Meanwhile I'll probably see him again. That's how sick I am. - Author: Candace Bushnell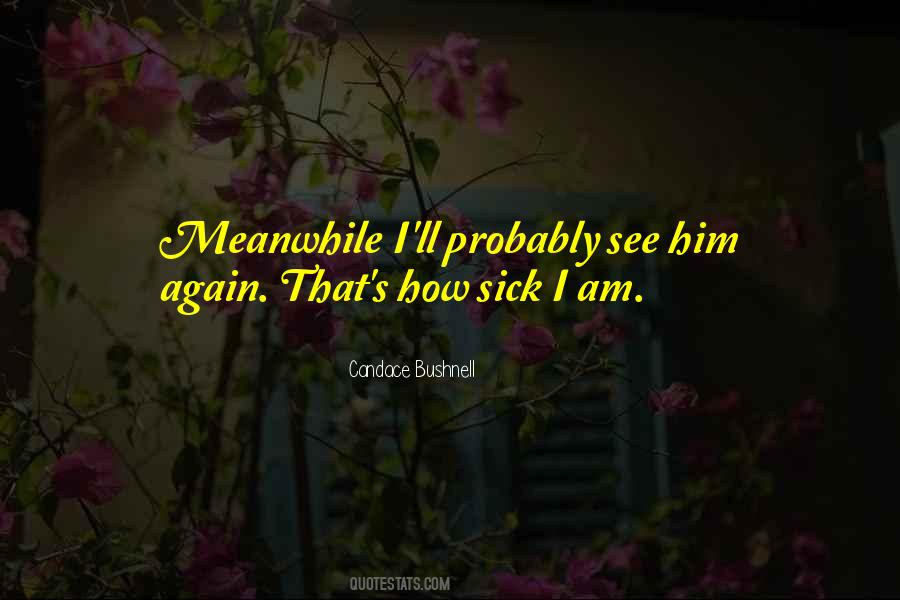 #96. Where is Polonius?
HAMLET
In heaven. Send hither to see. If your messenger find him not there, seek him i' th' other place yourself. But if indeed you find him not within this month, you shall nose him as you go up the stairs into the lobby. - Author: William Shakespeare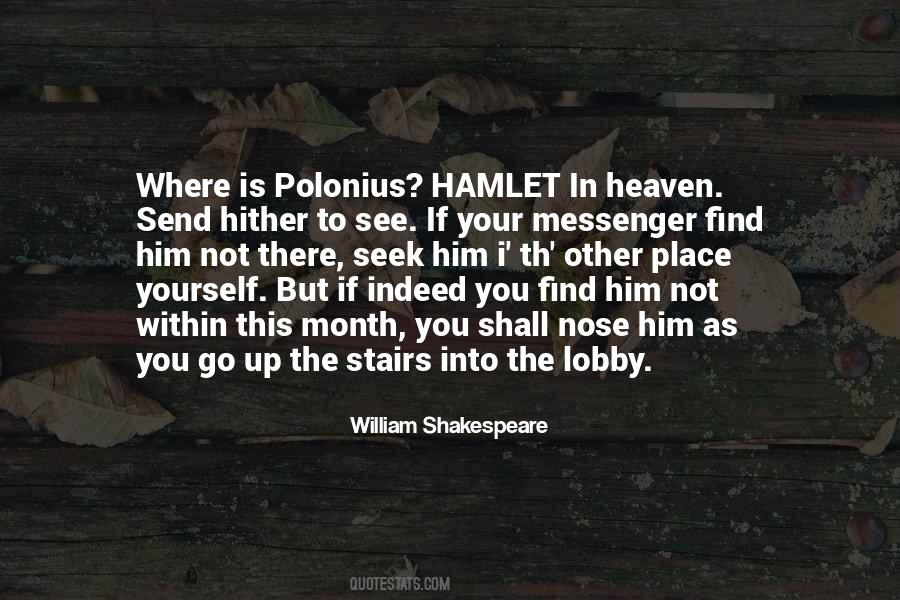 #97. I met Jay Jonhson. I won him the way poor people occasionally win the lottery: Shameless perseverance and embarrassingly dumb luck, and every time I see one of those sly, toothless, beaten-down souls on TV holding a winning ticket, I think, Go, team. - Author: Amy Bloom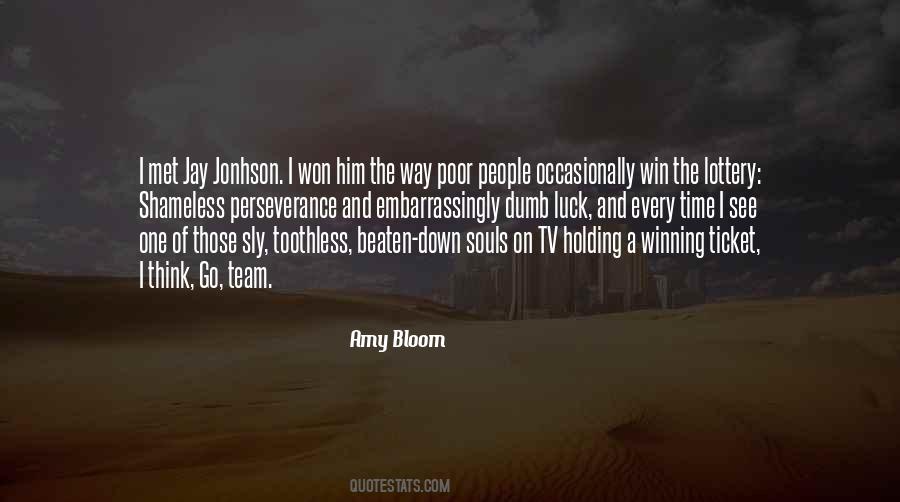 #98. I want him to see the flowers in my eyes and hear the songs in my hands. - Author: Francesca Lia Block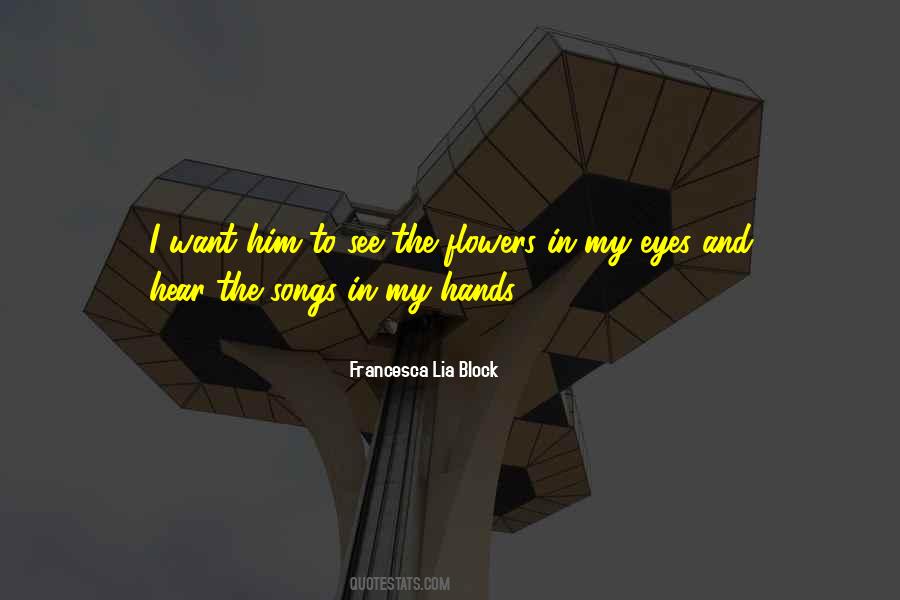 #99. Yeah, see, and that proves my point. What killed Housini? A stupid accident. But for one moment of stupidity, he'd have grown old with his Bess and been happy as a big in shit. Notice I ain't young, and if I die, old Cletus would kick my ass for leaving him all alone down here. (Jack) - Author: Sherrilyn Kenyon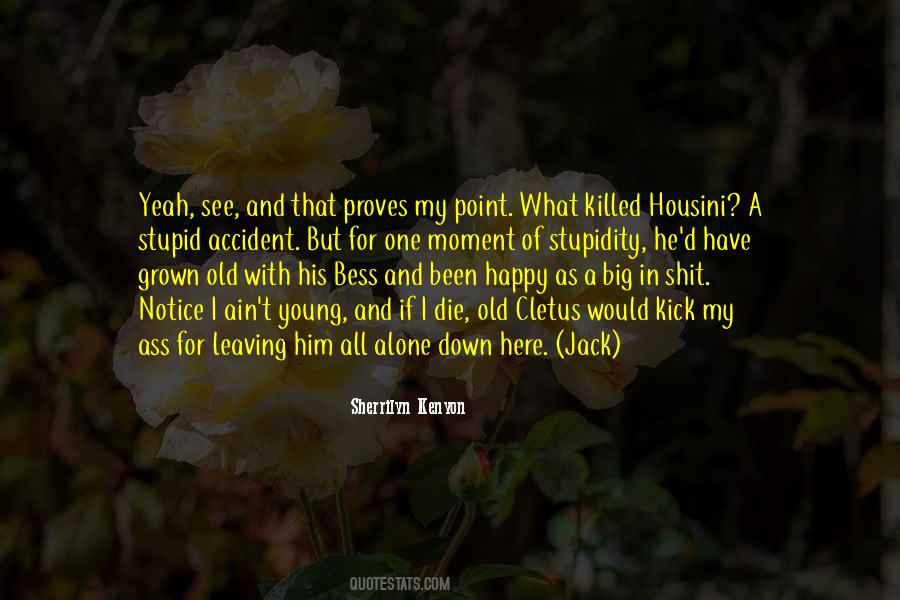 #100. I don't see anybody," he whispered to the two figures behind him. "No gates or locks, neither. Do you think maybe they're using invisible barriers or something? - Author: G. Norman Lippert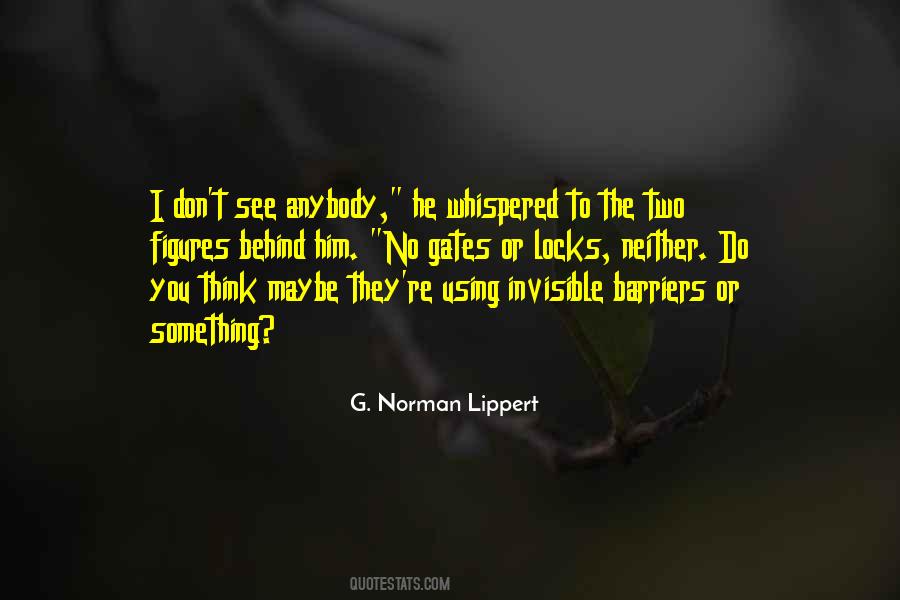 Famous Authors
Popular Topics