I Am A Fan Famous Quotes & Sayings
List of top 100 famous quotes and sayings about i am a fan to read and share with friends on your Facebook, Twitter, blogs.
Top 100 I Am A Fan Quotes
#1. I don't smoke and I don't want to smoke. I am not a fan of gratuitous smoking in films. - Author: Edward Norton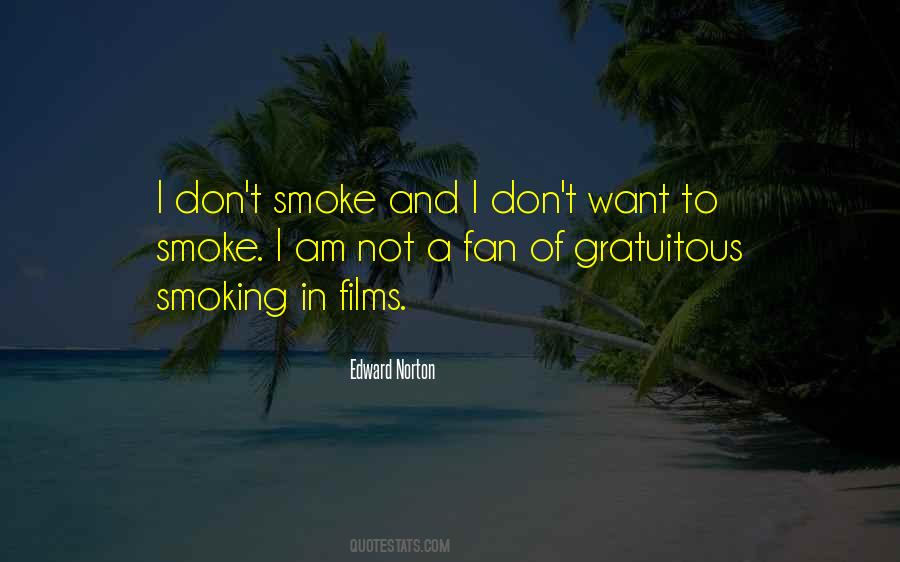 #2. I am personally am a fan of buff nails - not so much of clear polish, but a great buff nail is amazing. - Author: Adrienne Bailon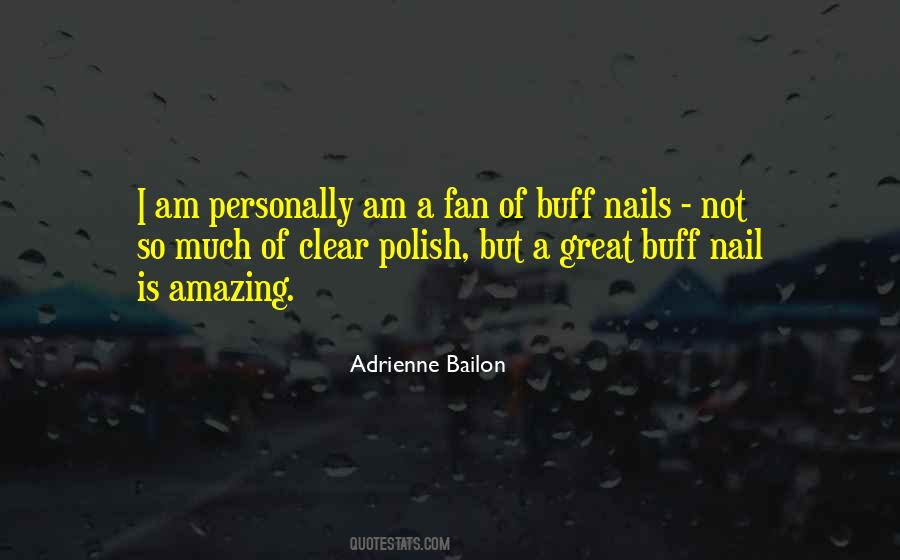 #3. I'm a huge fan of Cabernet and Bordeaux, and am passionate about Pinot Noir and Burgundies. - Author: Raymond E. Feist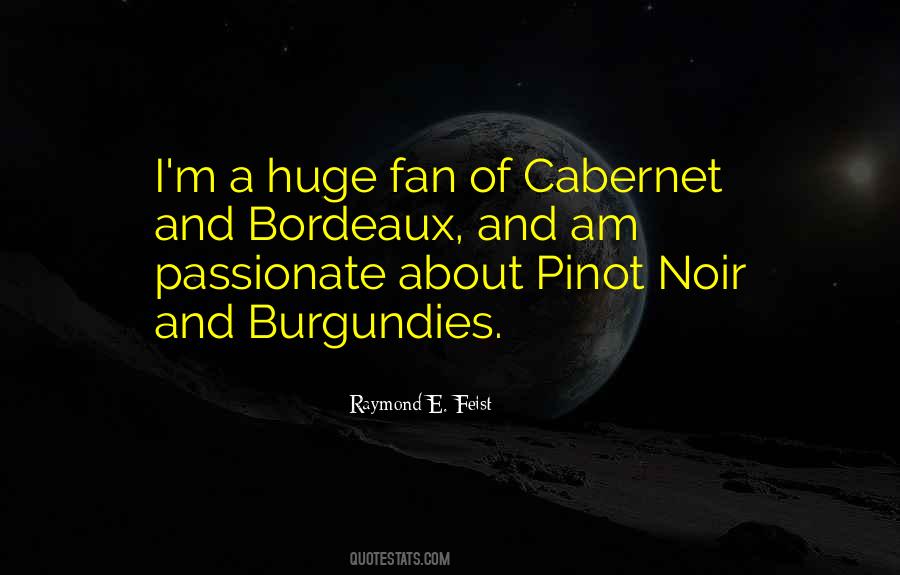 #4. I'm a fan of X-men. - Author: Will.i.am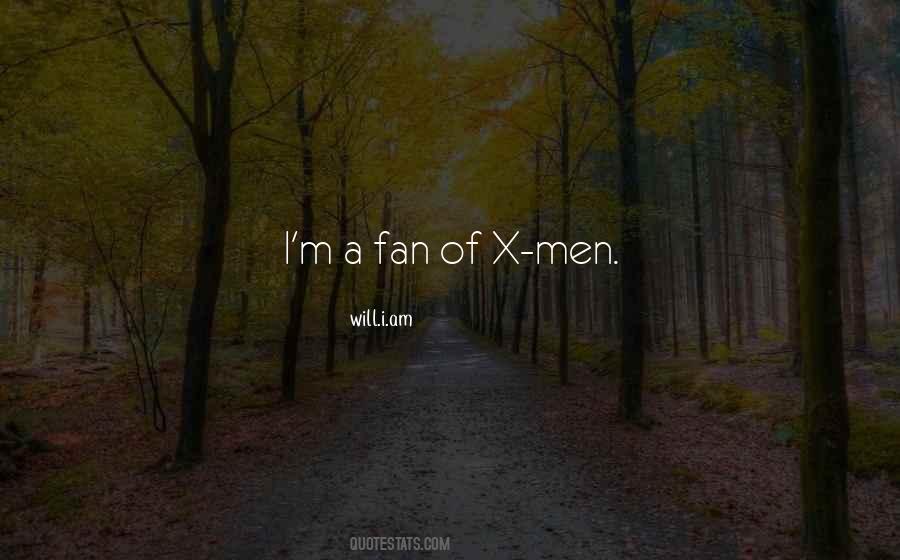 #5. I am a fan of Botox. - Author: Patricia Cornwell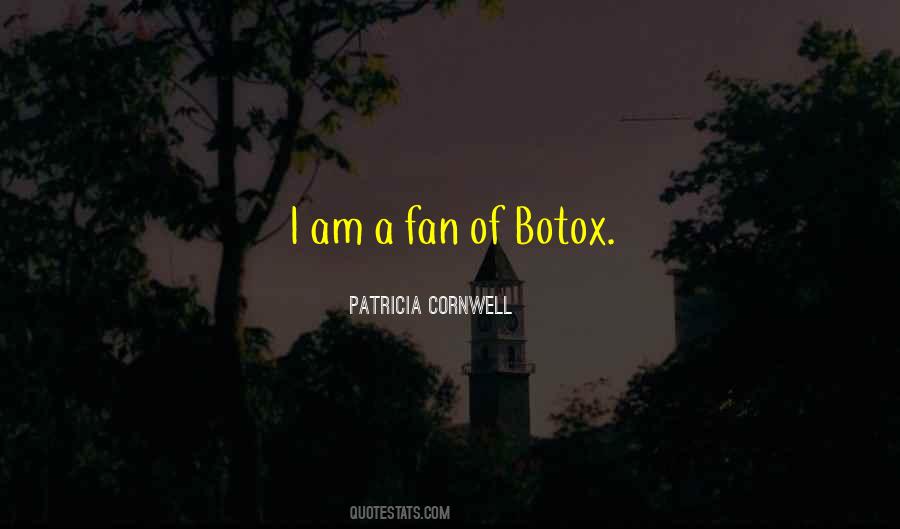 #6. I am not a fan of books. - Author: Kanye West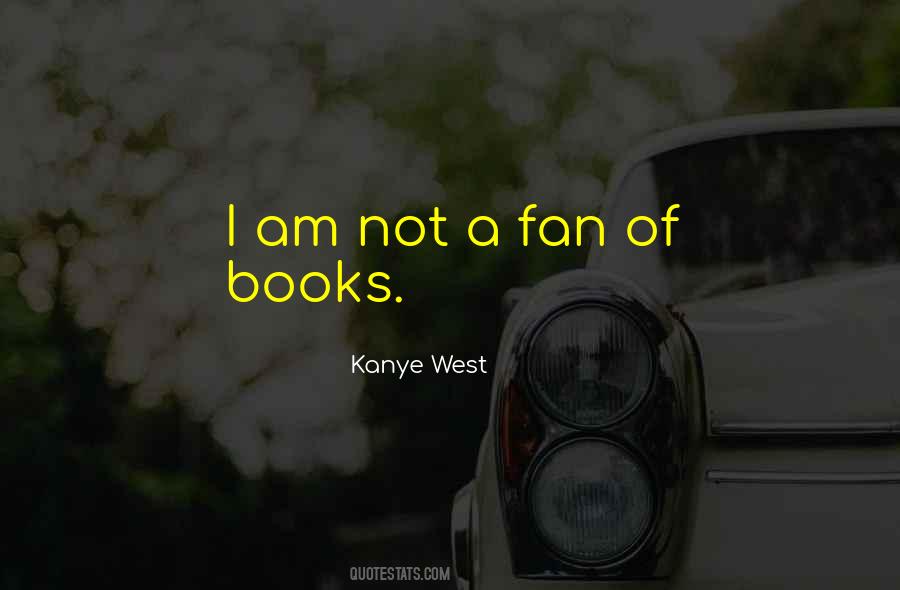 #7. I'm not a big music fan. Well, I am a big fan, but I'm not the type of person who buys stuff. - Author: Peter Shilton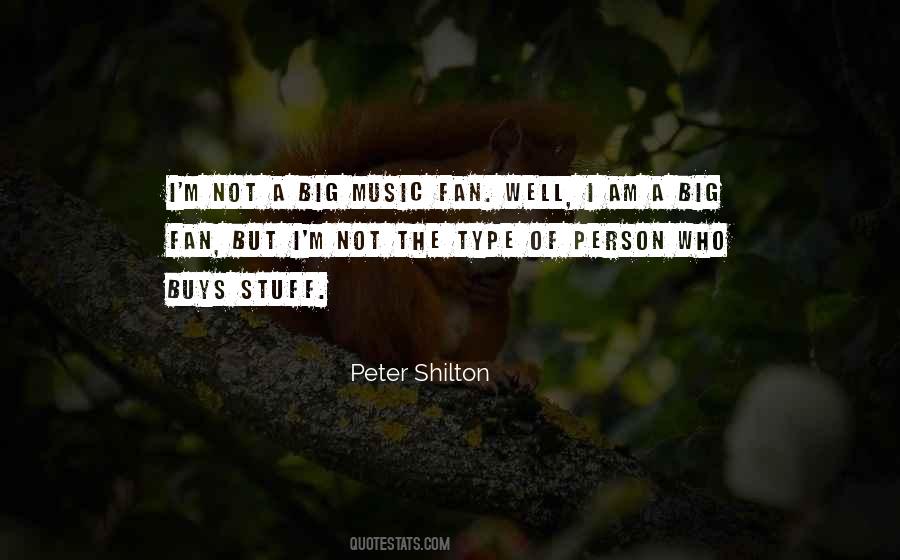 #8. I am a fan of Hrithik and I feel he will
be a star for 30-40 years. He is really great. - Author: Anil Kapoor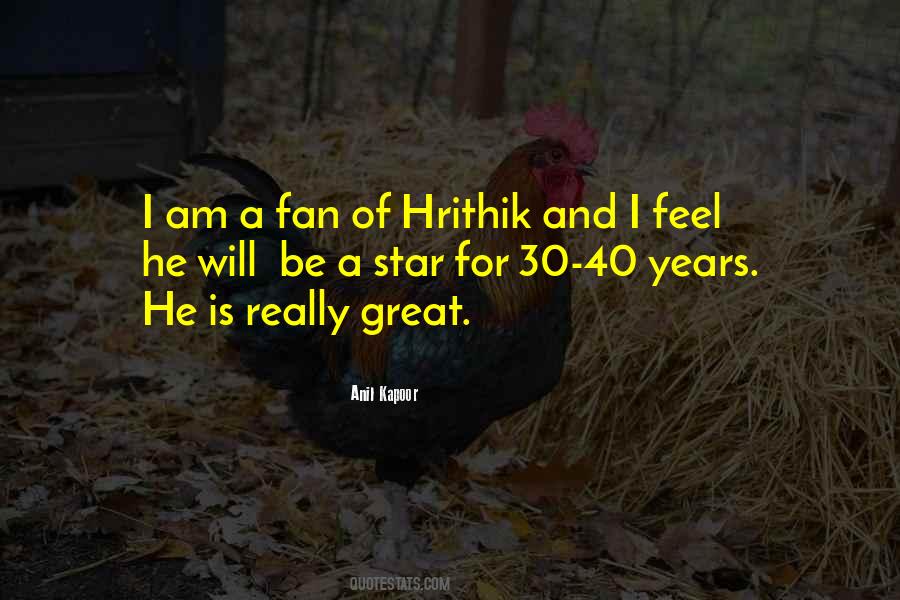 #9. I would definitely say that I am a very big movie musical fan in general, and I try to see every one that I possibly can - and 'Glee' every week. - Author: Jennifer Love Hewitt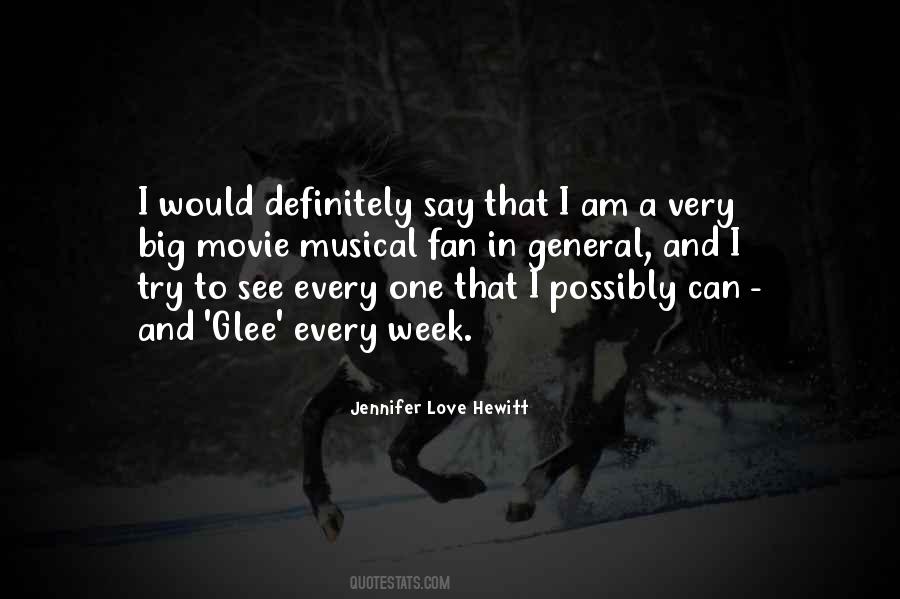 #10. I'm a massive comic book fan. I was buying weekly installments of "The Watchmen", and "From Hell", and "Parallax" and "Johnny Nemo". I was a huge comic book fan as a kid and I still am. Me and my youngest son are both comic book nerds together; make models and stuff. - Author: Jude Law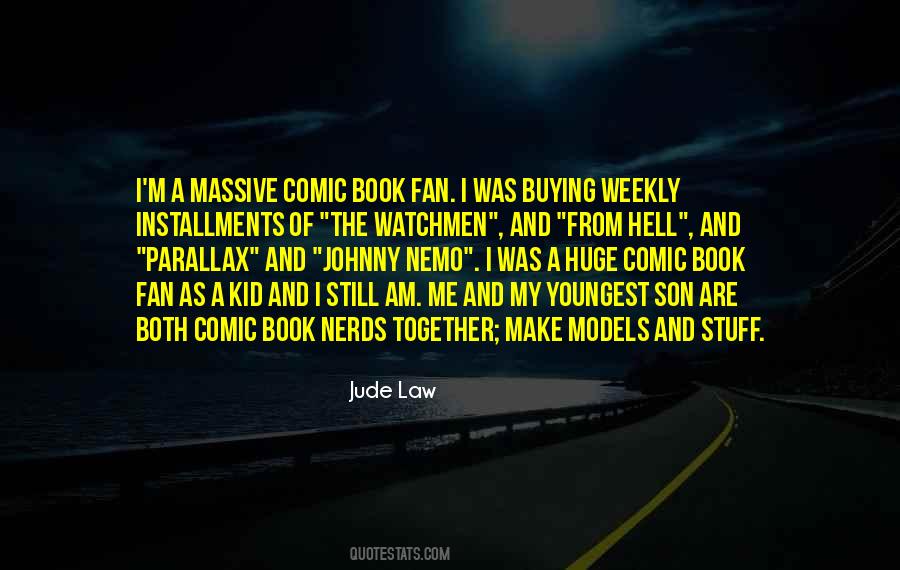 #11. I have to say I am a 'Strictly' fan, which is why I am in it. I've always watched it for years. I am not an 'X Factor' fan, and I just think it is a different show. One is about learning something new and having a great time, and the other is rather desperate. - Author: Felicity Kendal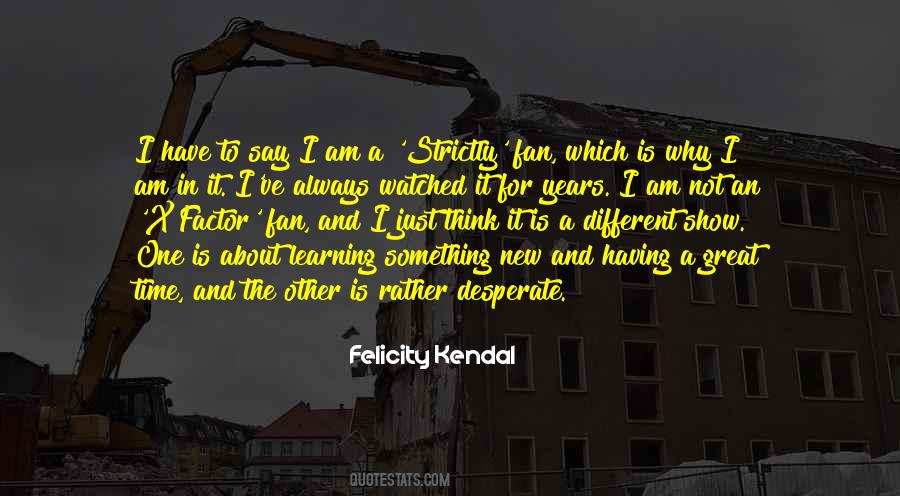 #12. My father was an army champion boxer ... in the British army. And so he loved boxing and talked it up as a sport. But then when my brother and I were beating the crap out of each other, he was always trying to tone it down. But I am a fan of boxing. - Author: Hugh Jackman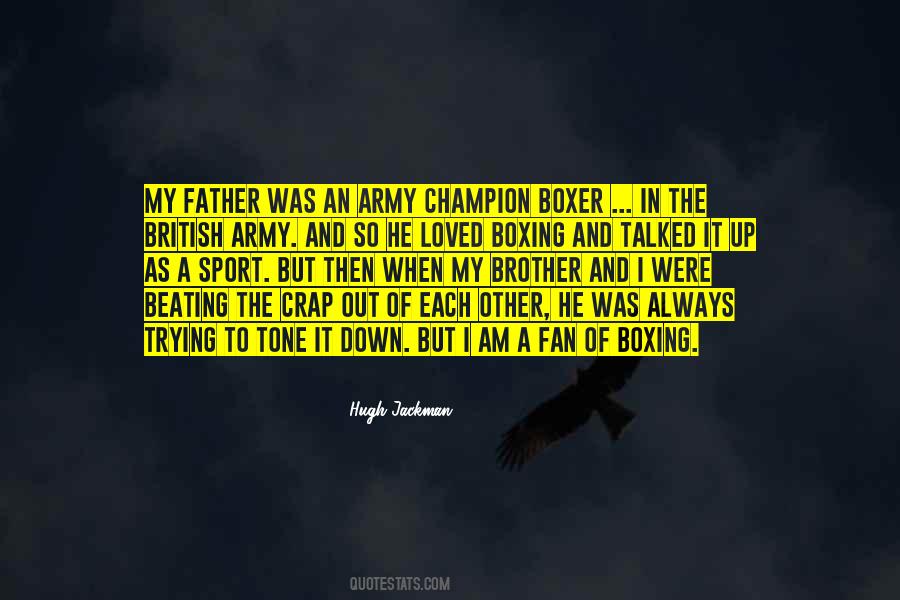 #13. This is a polarizing statement, as I have come to discover, but I am a Pats, Red Sox, Celtics and Bruins fan from birth until death. - Author: Rachel Nichols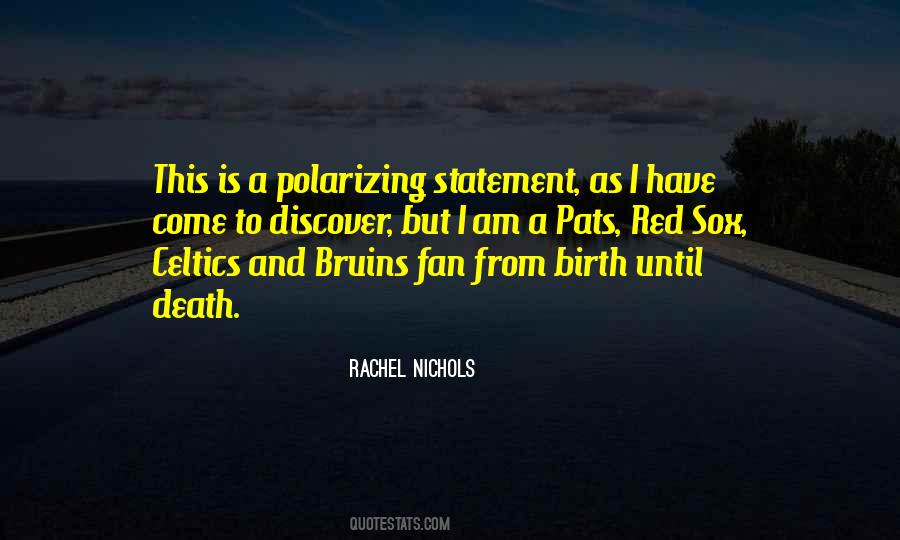 #14. I'm a big music fan, an admirer. But I mean by no means am I about to release an album or anything. - Author: Emma Stone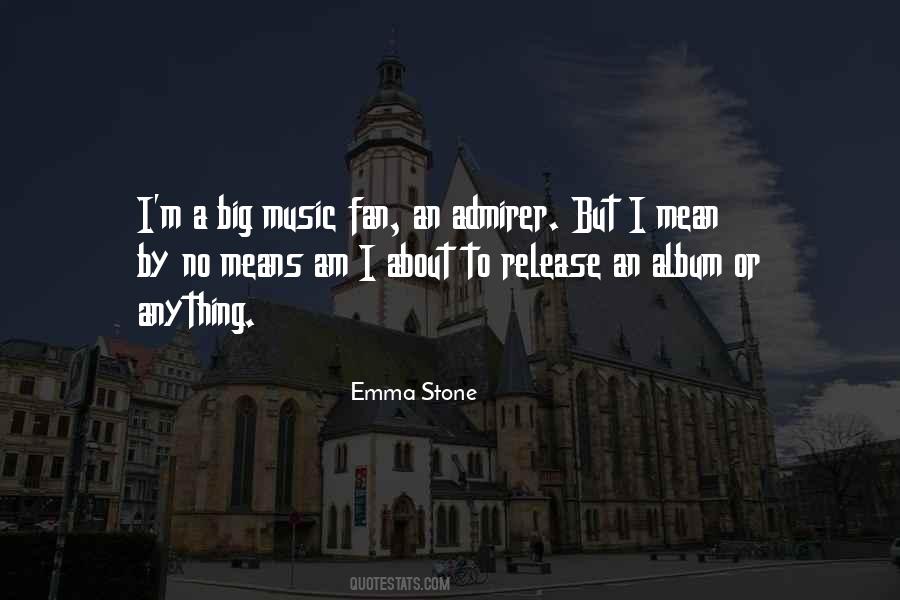 #15. I am a fan of movies and there is something about watching film that is burned into celluloid for all time that is now a piece of history. You go watch, being a fan of classic films and my children and their children are going to be watching these movies. - Author: Edward Zwick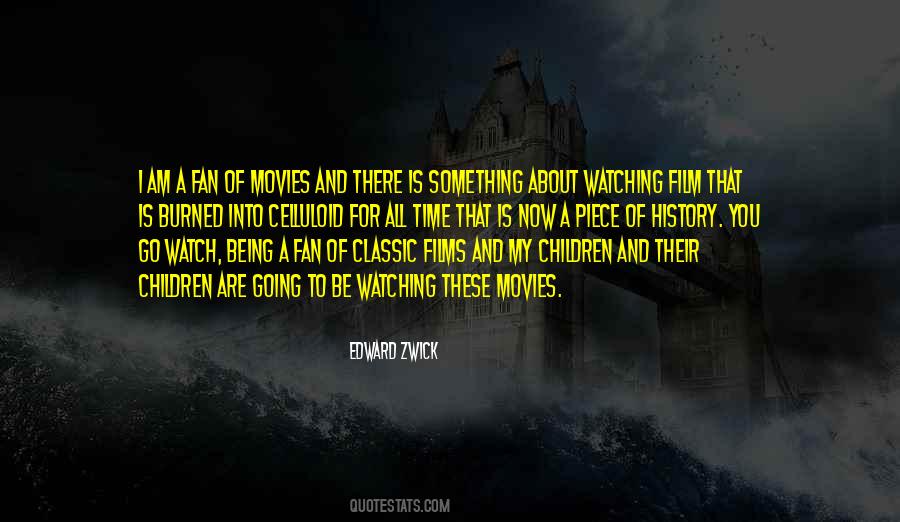 #16. I would love to be friends with Kendrick Lamar because I am just a huge fan of his music, I think he is so cool and he uses so many interesting sounds and has such good melodies and is just a beautiful rapper, his raps are just so well-written and his tracks are so insane, I am obsessed with him. - Author: Alana Haim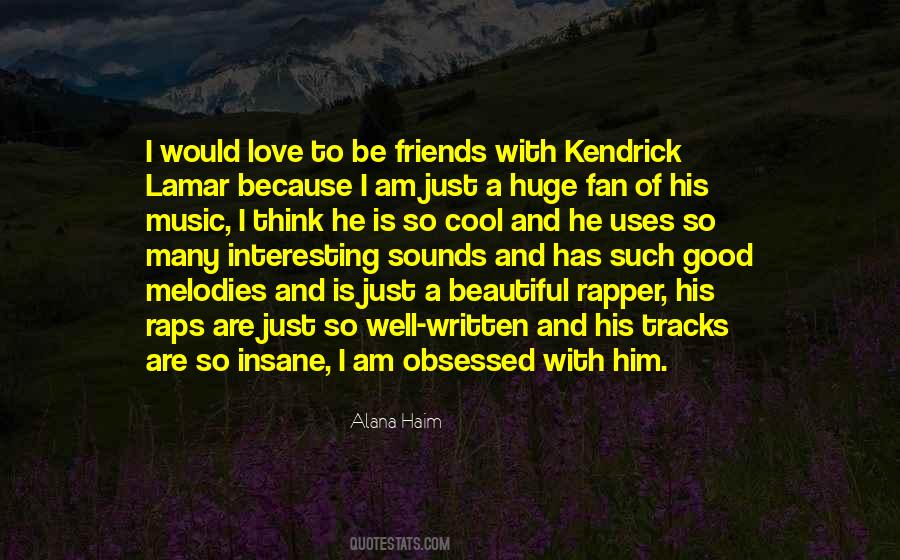 #17. I am a football fan, yeah. - Author: Joe Namath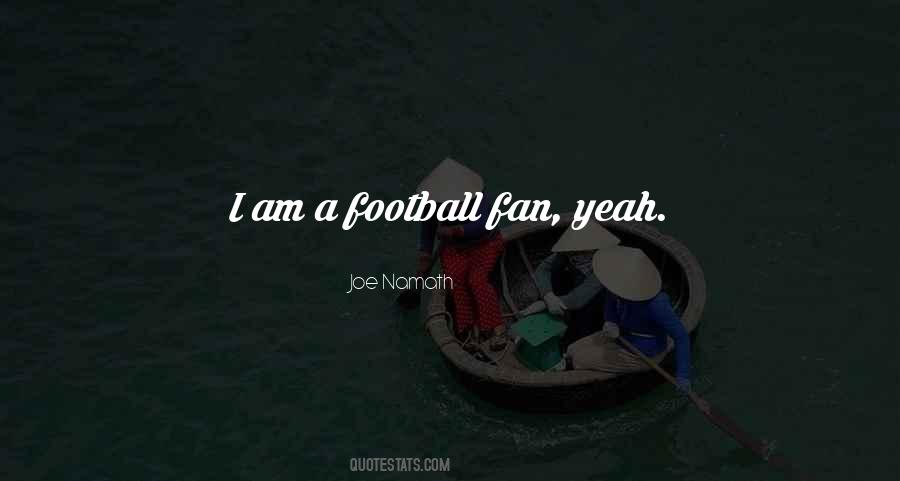 #18. I don't have a Madonna-sized fan base, so I can actually e-mail and talk to everyone that e-mails me because I am totally appreciative, and I like my fans! They seem to have the same interests as me. They are kind of nerdy and cool - and have good taste, obviously. - Author: Jill Sobule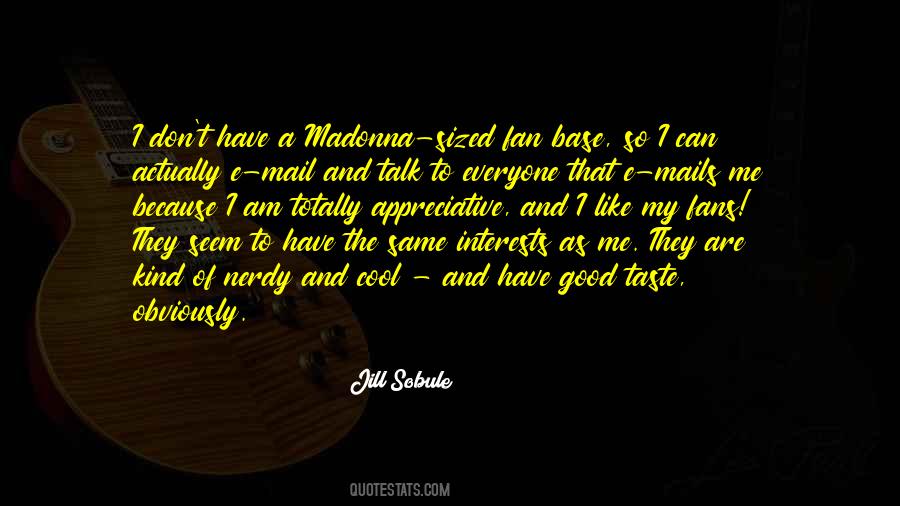 #19. I am a ceiling fan, especially during rain. - Author: Demetri Martin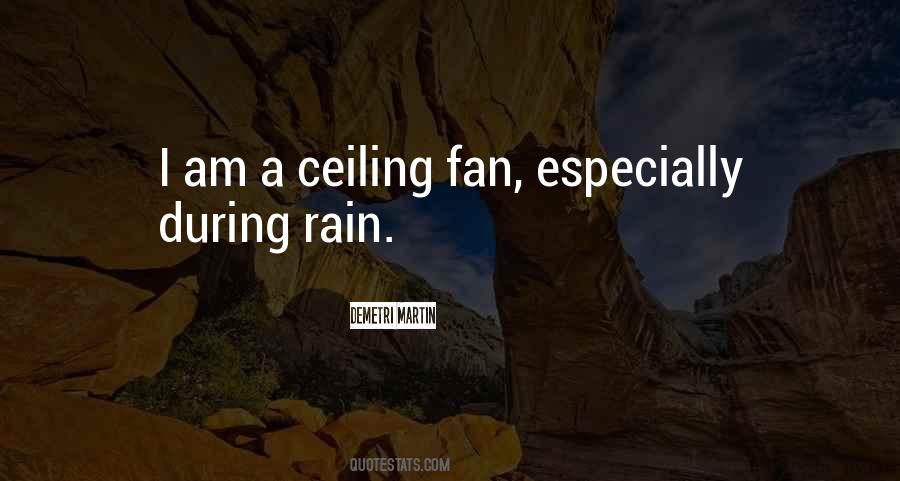 #20. I am a zombie fan, but all of the zombie stories I've enjoyed started when the dead rose and ended three days later with everybody looking exhausted. I was thinking, 'What happens in 20 years?' - Author: Seanan McGuire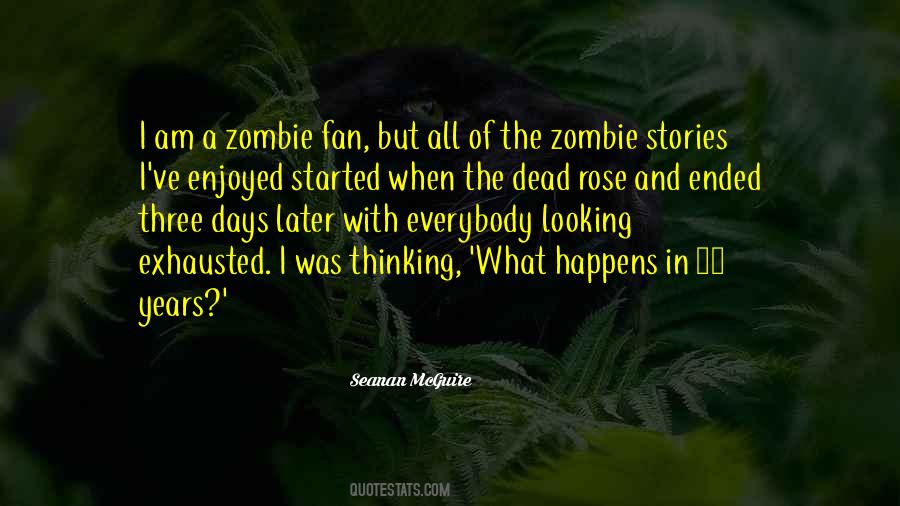 #21. I'm still getting used to the idea that people out in the world are reading my books. Every time I get a 'fan letter,' I am thrilled. But when people tell me that they're from the south or western Kentucky, and they say, 'I know exactly what you mean!' That's awesome. - Author: Molly Harper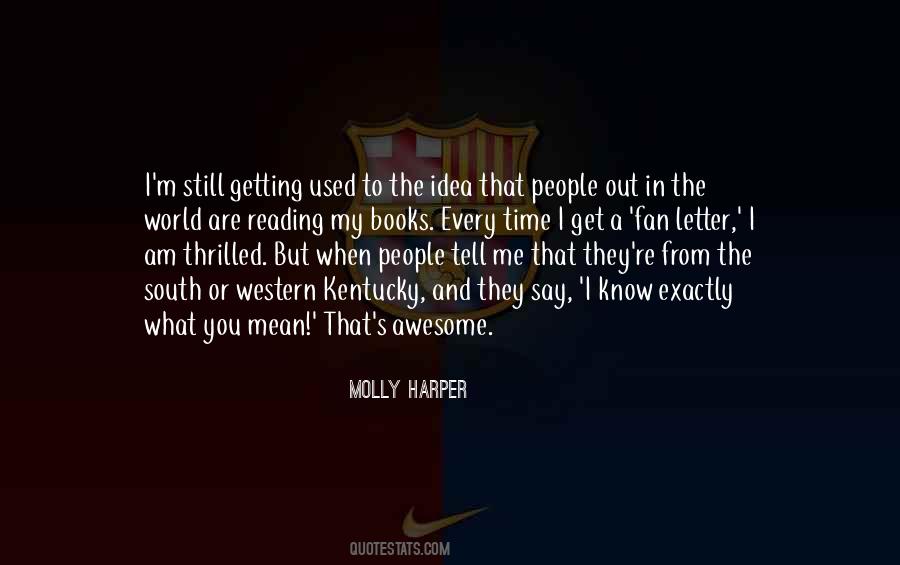 #22. I'm a music fan, and I can listen to the radio, or music, without thinking, "How am I going to screw this up?" [Laughs] If I'm really actively trying to think of a parody, then I'll have my antenna out, and be a little more proactive about it. - Author: Al Yankovic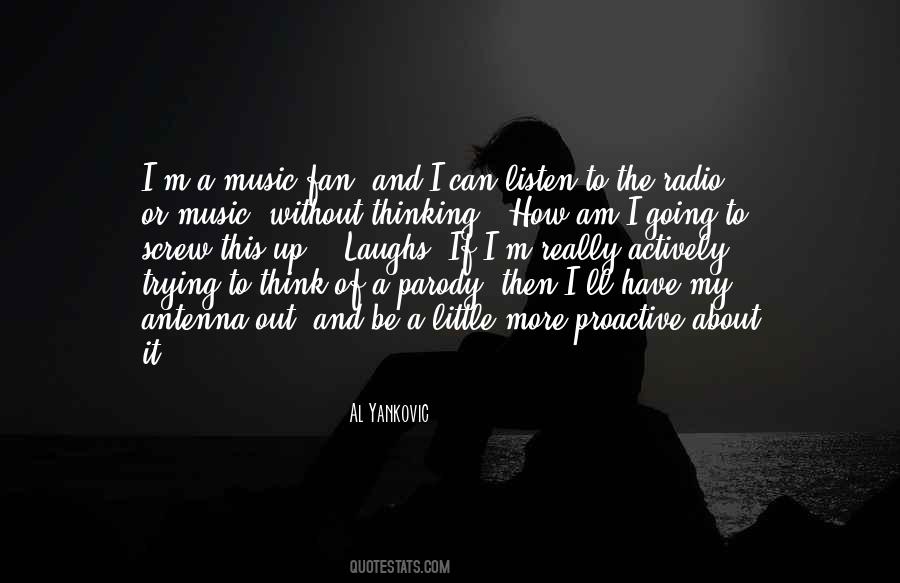 #23. Eric Peters' music is at the top of what gets played around my house, in my car and while I am running. I am a big fan. He writes incredibly honest and poetic lyrics coupled with memorable pop melodies and I can think of no better combination. - Author: Jill Phillips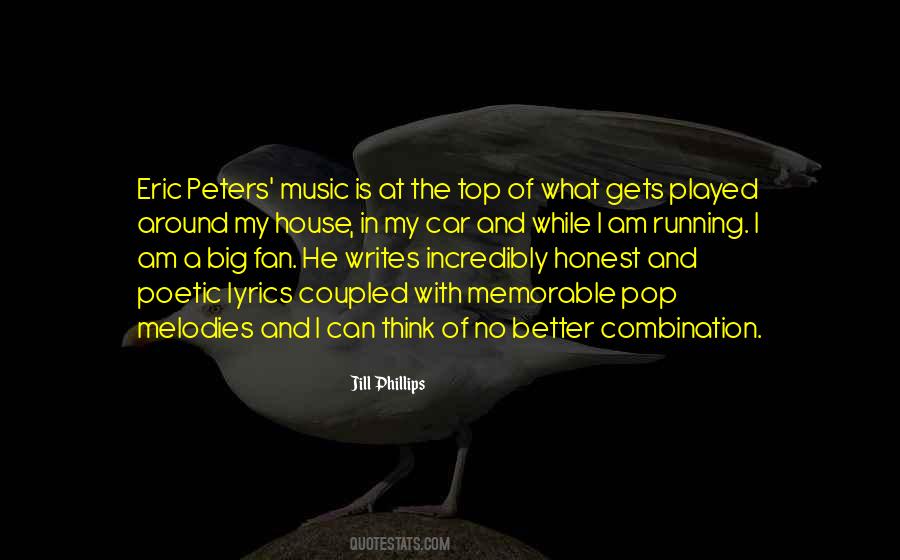 #24. I'm not recognized very often, and if I am, it's a die-hard Veronica Mars fan. Which is usually flattering and an honor. I really try not to think about it. - Author: Kristen Bell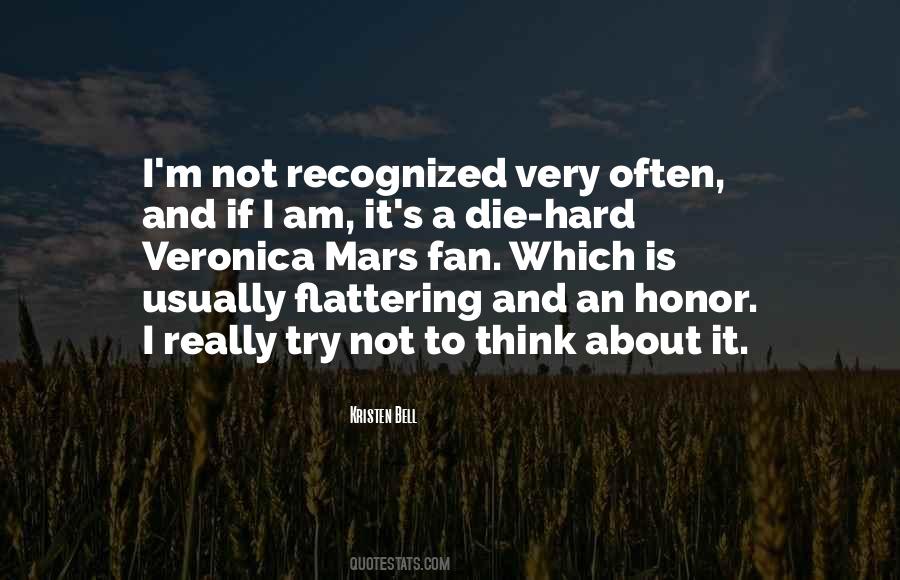 #25. Very rarely am I attracted to characters that are 'woe is me.' I'm not a big fan of women that have to be the victim and need to be saved, at all times. I don't necessarily think that's how it is, in real life, and I don't think that's how it should be in films. - Author: Mila Kunis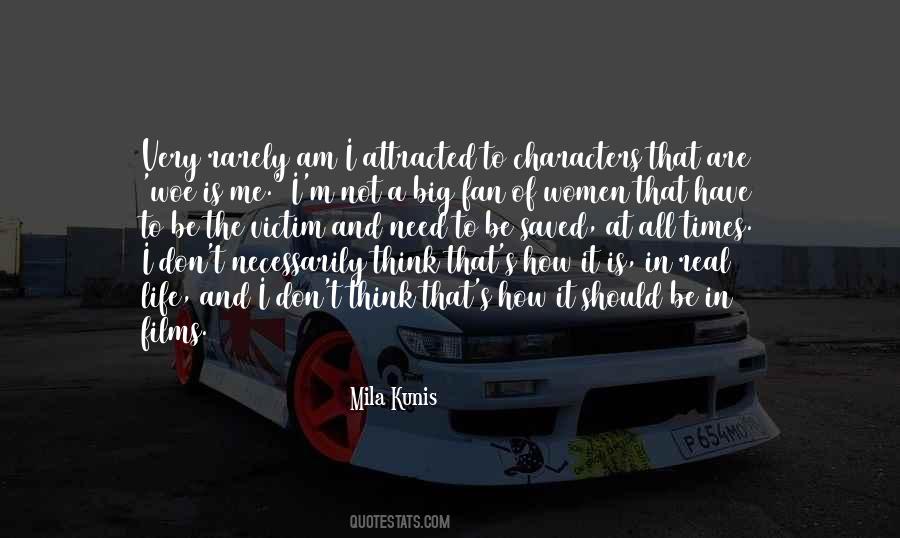 #26. Famous people scare me. I get really nervous around famous people ... I overcompensate (with) how unimpressed I am, which is completely and utter rubbish. So I'm a fan. - Author: Andrew Garfield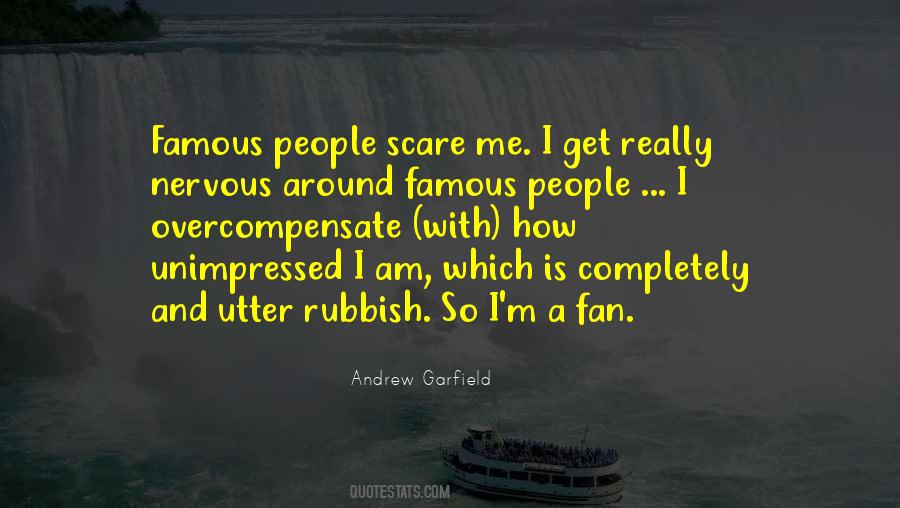 #27. I am a big fan of music in general. I listen to all genres: hip-hop, R&B, whatever sounds good to me; it doesn't matter to me where it comes from - there are no boundaries, no fences. If I like it, then it will inspire me to create. - Author: Stephen Marley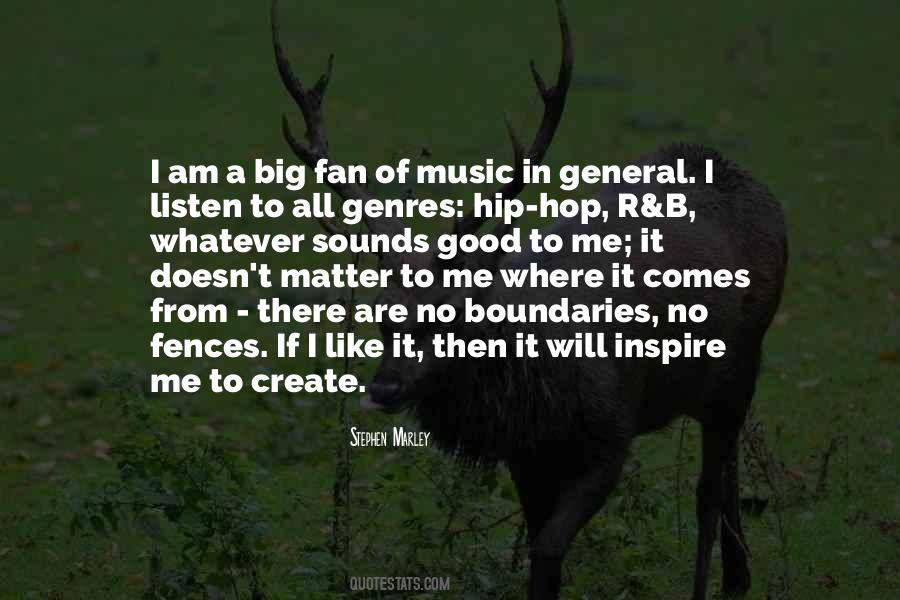 #28. My name is Catherine Elizabeth Deeley and I am a huge Mulberry fan ... Almost an addict! Bags, shoes, knitwear, bikinis, whatever Emma Hill designs, I normally want in copious amounts! This is an easy, breezy, Grace Kelly in High Society piece. A timeless dress, just perfect! - Author: Cat Deeley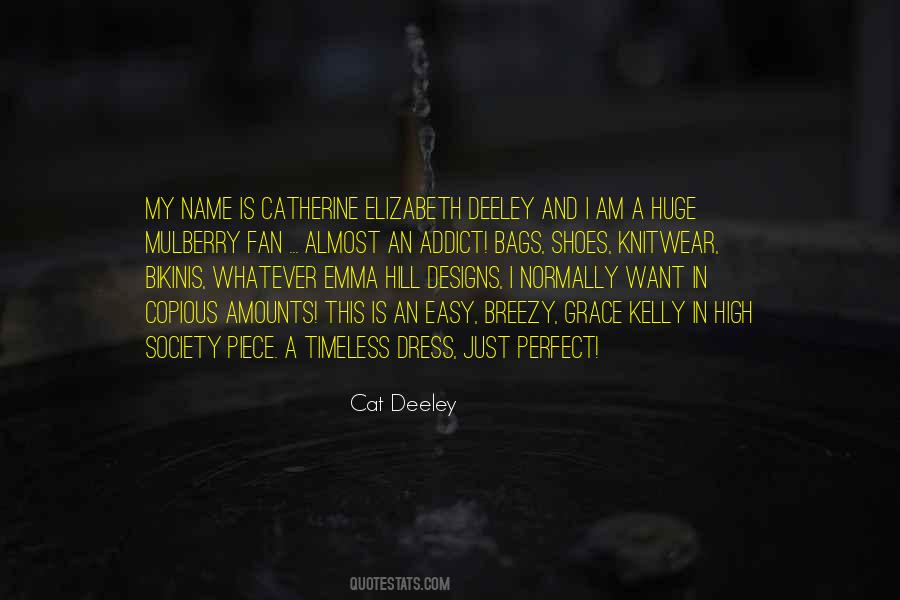 #29. I am so appreciative of all the attention I've gotten, especially since I don't ever consider myself anything more than a fan. - Author: Eddie Trunk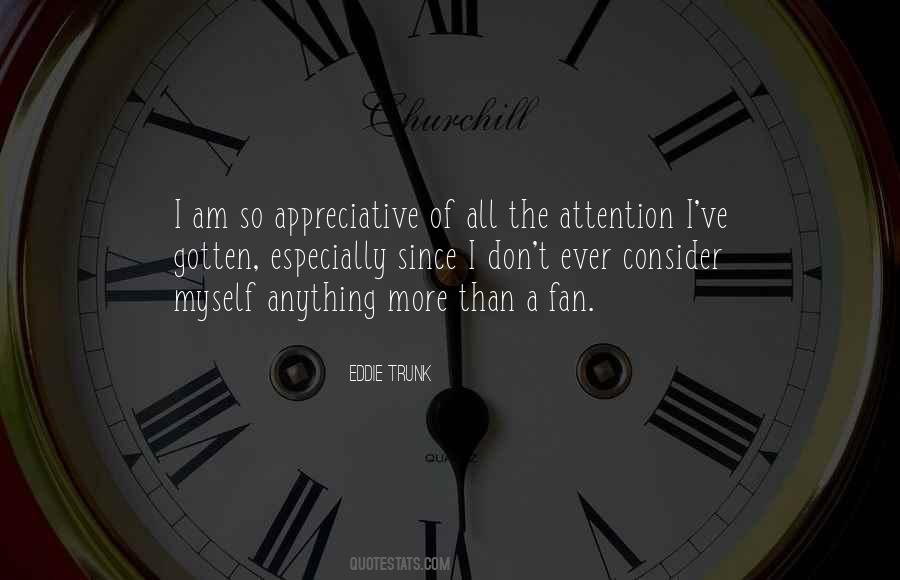 #30. I am a huge sports fan. - Author: Kris Allen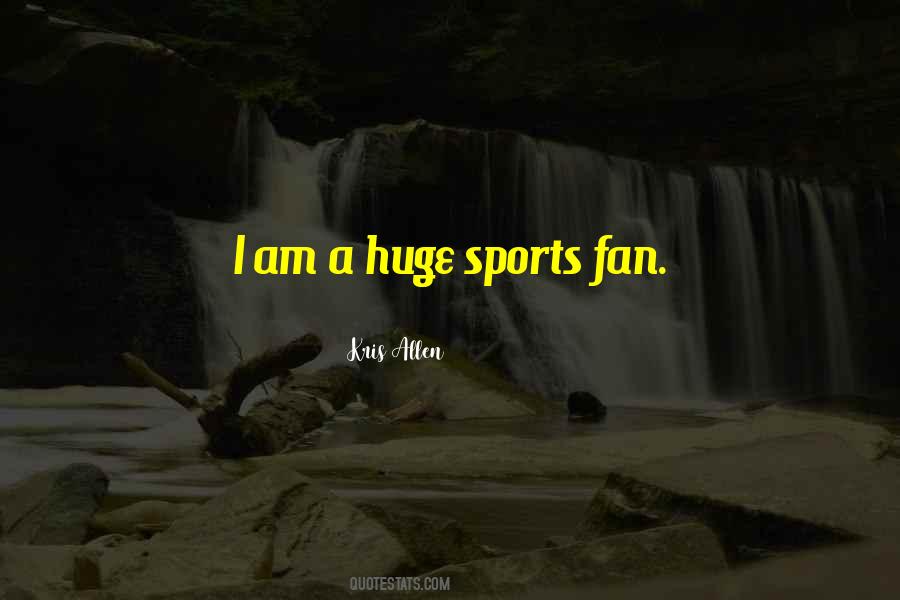 #31. It is well documented that I am a lifelong football fan. My love of the British game started with the 1966 World Cup. - Author: Alisher Usmanov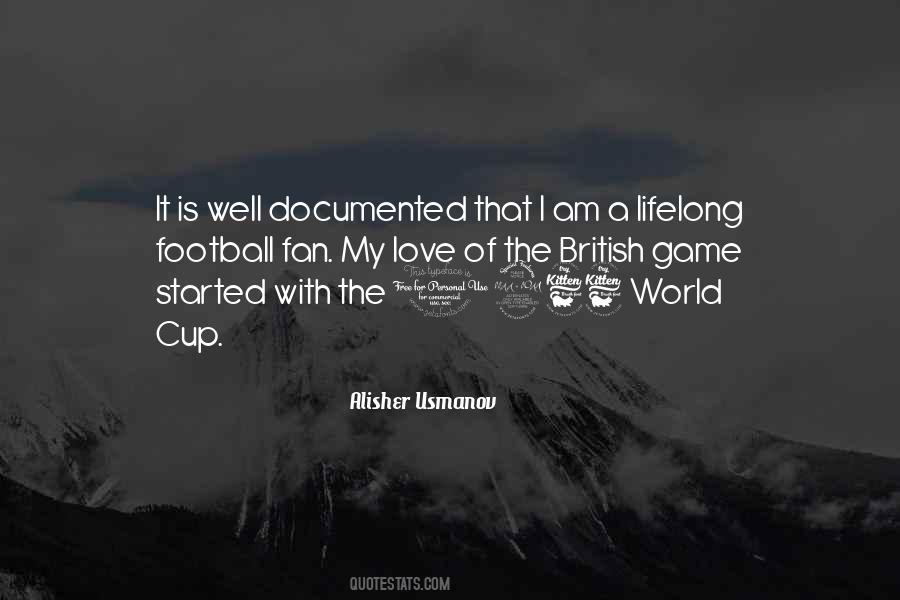 #32. I would say I'm more fascinated by Big Daddy V than I am necessarily a huge fan of Big Daddy V. He simply threw on the double-strapped unitard ... and now he's some sort of fearsome, fighting, wrecking machine. - Author: James Roday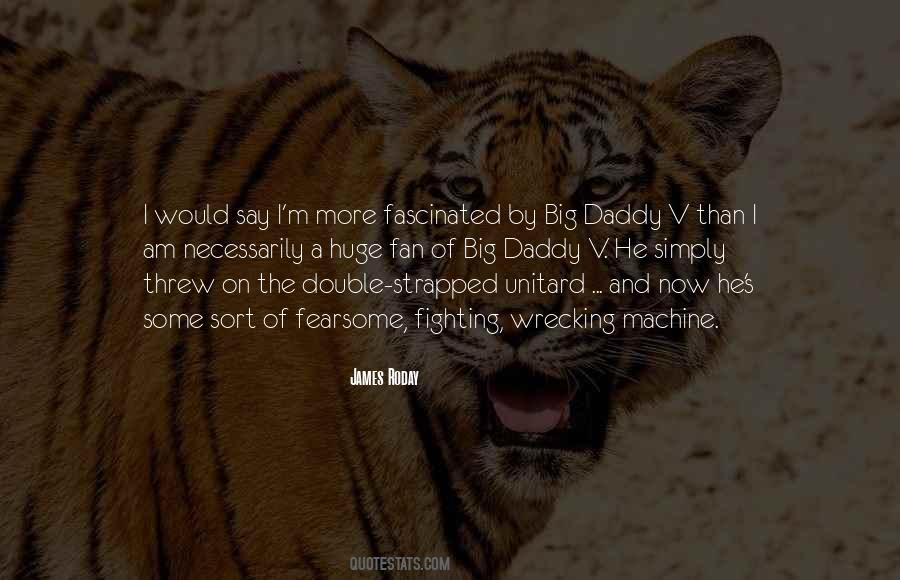 #33. I am not forgotten, you know, no, I still receive a very great deal of fan mail.
... Gladys Gudgeon writes weekly ... I just wish I knew why ... "
He paused, looking faintly puzzled, then beamed again and returned to his signing with renewed vigor. "I suspect it is simply my good looks ... - Author: J.K. Rowling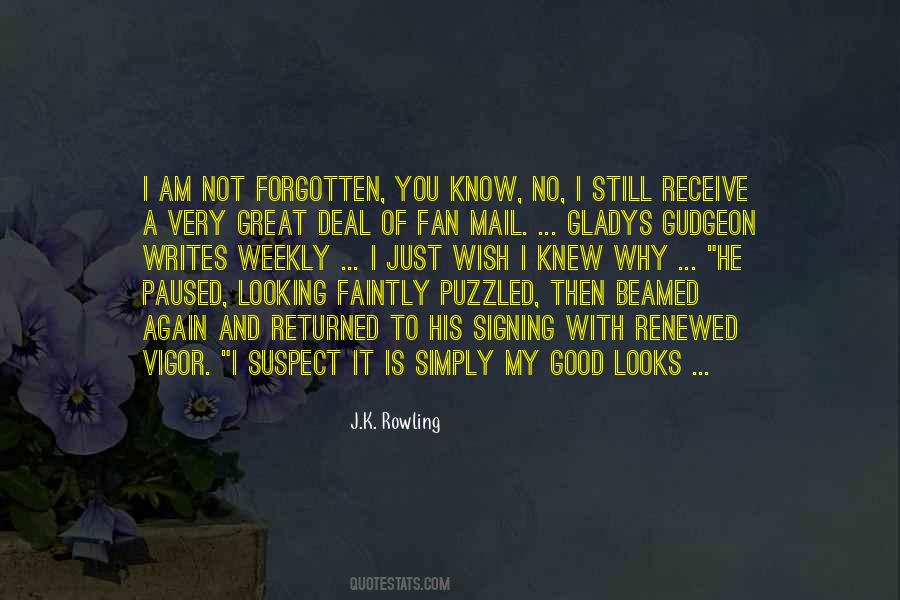 #34. I am not a fan of the cupcake image. This idea that you can distract a girl with something frivolous like a cake or shoes or handbags, and she won't be a threat to men. - Author: Joanna Trollope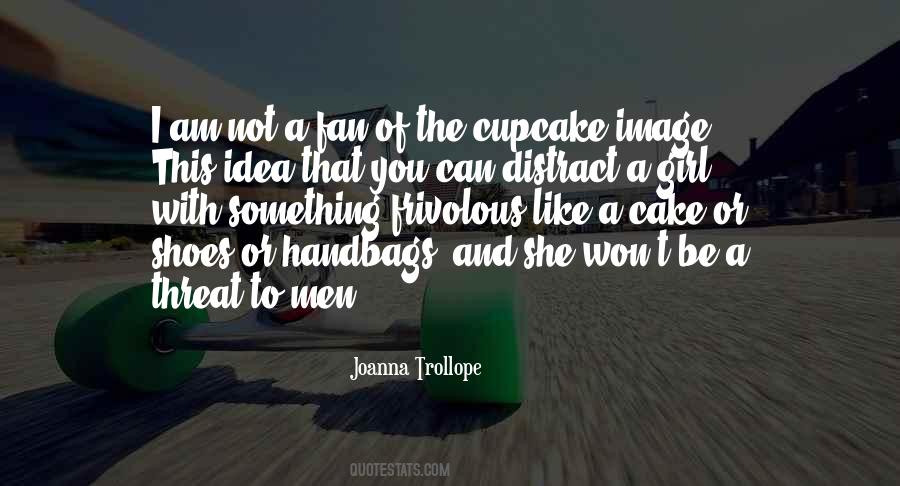 #35. You know, I'm a big comic book fan. As a kid I used to collect them until there was a horrible mudslide in Hollywood and I lost my collection, but I was also at an early age the voice of 'Jonny Quest;' it was a cartoon; so I am kind of a latent fan boy. - Author: Tim Matheson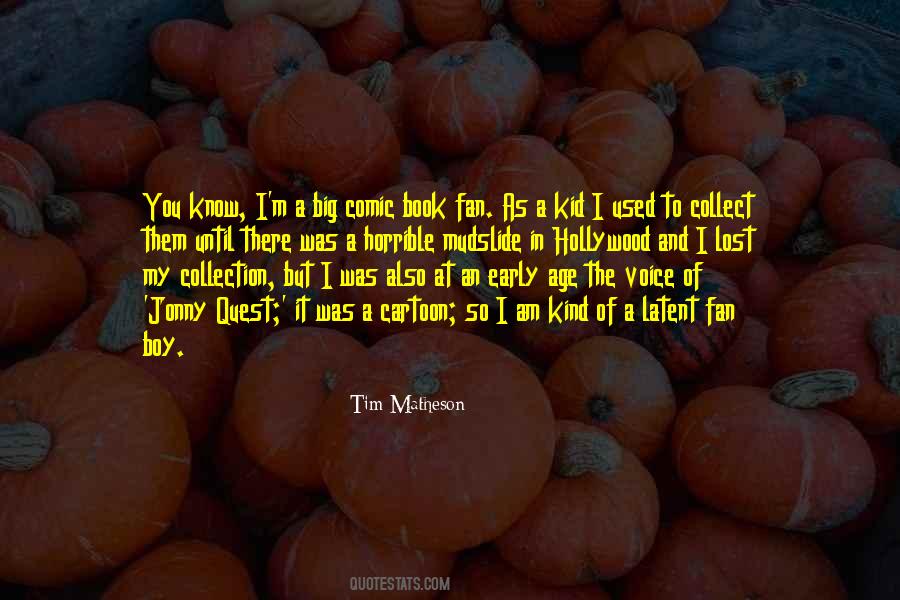 #36. Sport was an obvious favourite of mine, and not only golf. I was, and still am, a big rugby fan. - Author: Rory McIlroy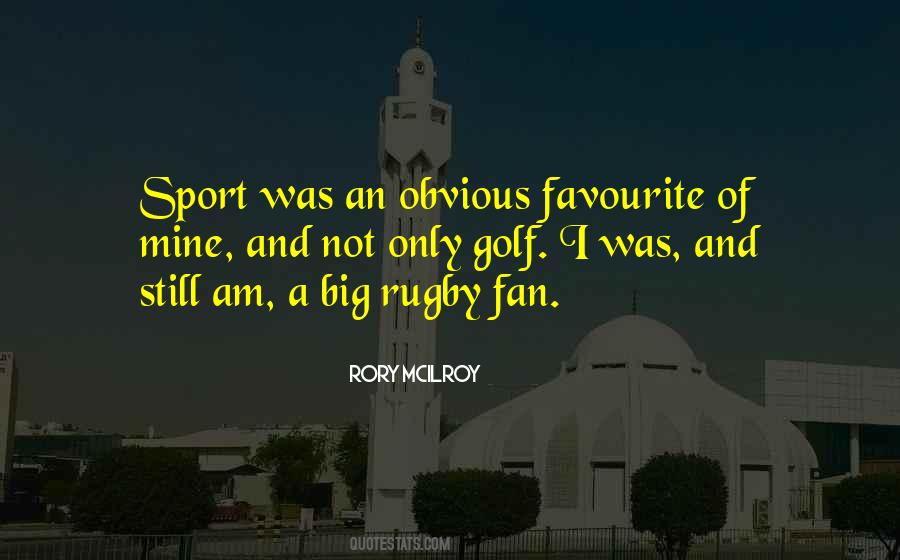 #37. I've always been a huge fan of thrillers like David Fincher's 'Se7en.' I am fascinated by the disturbing, dark underbelly of life. I find such films deeply engrossing. They delve deep into the human psyche, and that's a place worth exploring. - Author: Emraan Hashmi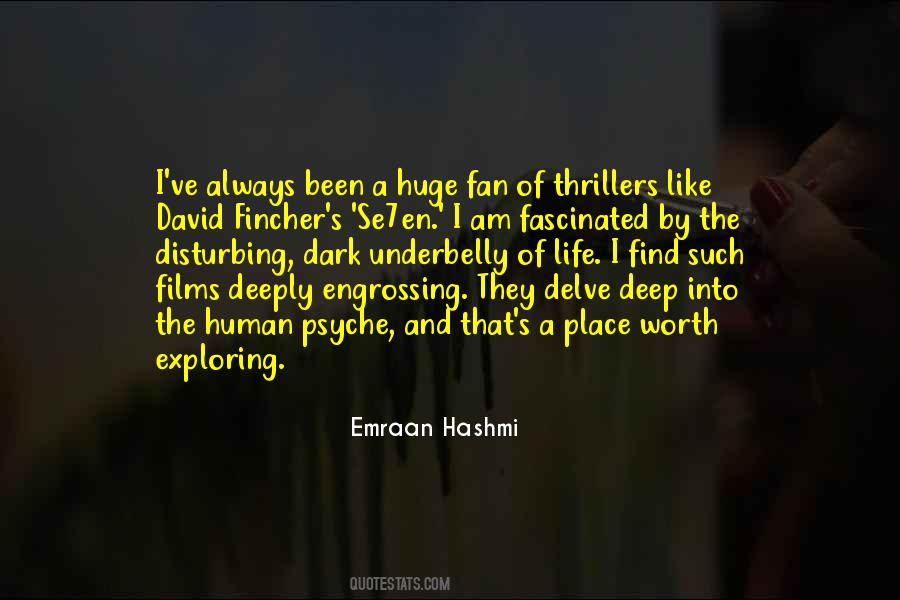 #38. I am a big fan of the TV series 'Taxi' which combined comedy and pathos better than any other show I've seen. - Author: Douglas Wood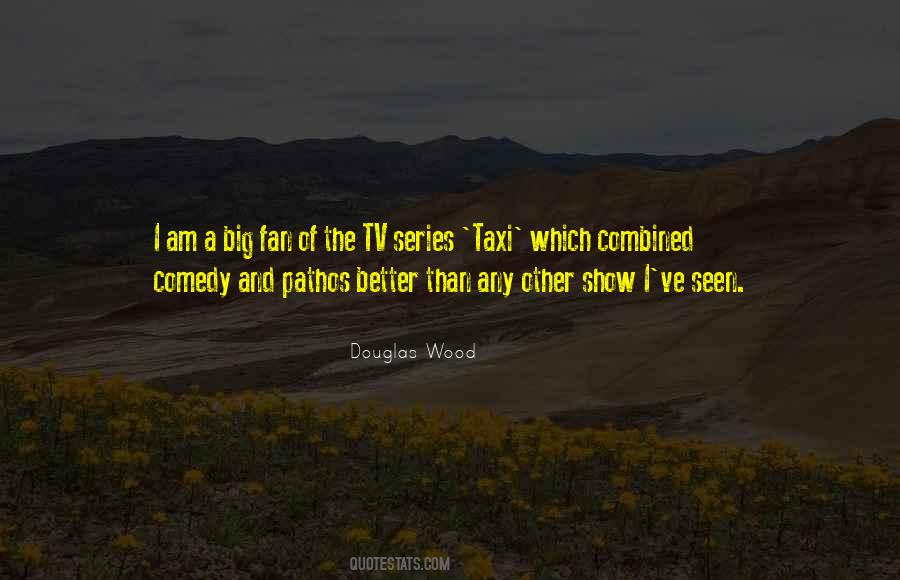 #39. I love college football and I love pro football. This is how fair-weathered I am. I used to be a Giants fan, but my son who's turning 12 has really gotten into football, and he likes the Jets, so I totally jumped ships so we can root for the same team. - Author: Chris Bauer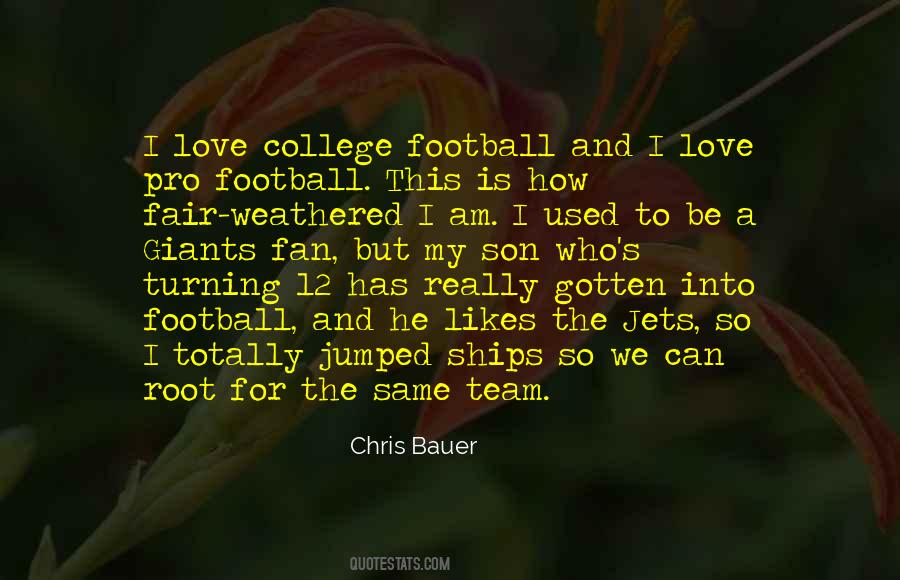 #40. I am a huge fan of the transgender community. - Author: Kesha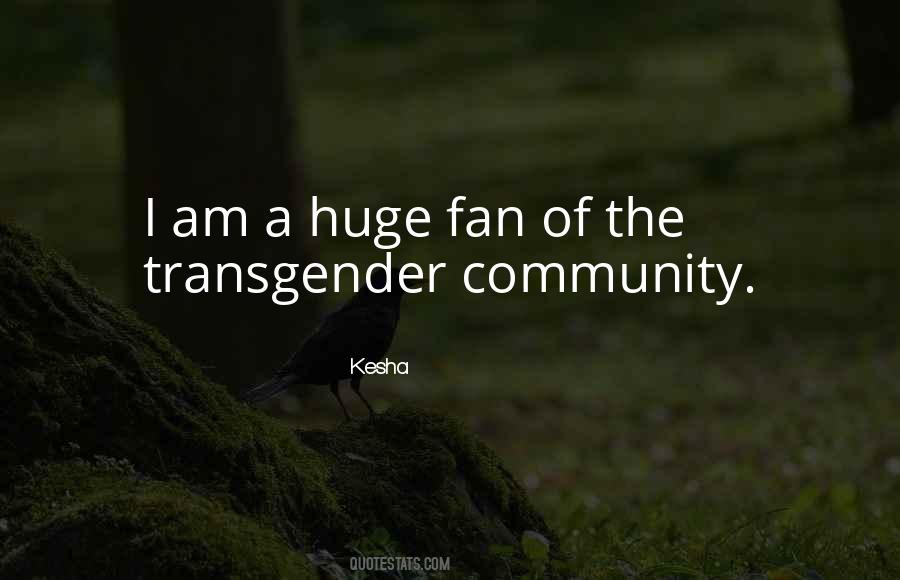 #41. Sports have always been a huge part of my life and my conversations. It is a thrill and an honor to be a part of this ground-breaking show. I am a competitor at heart, but a true sports fan to my core. - Author: Summer Sanders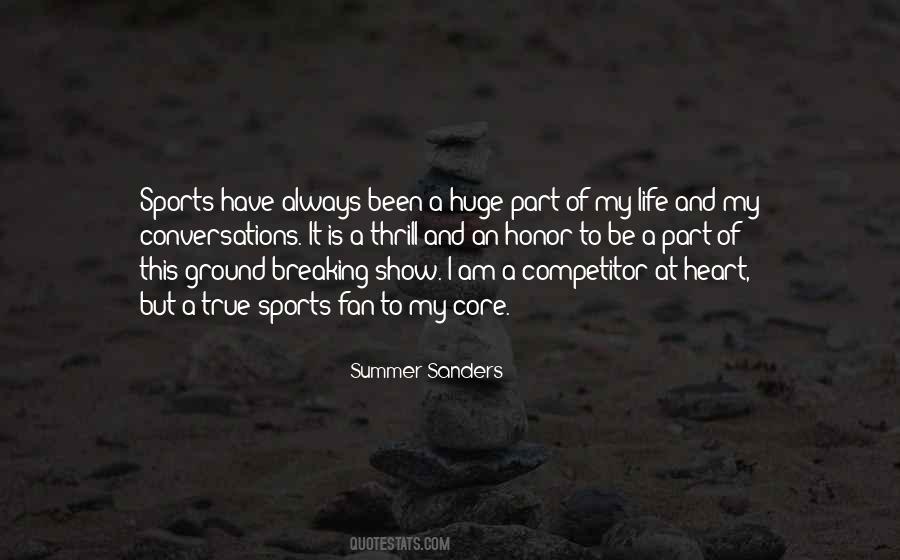 #42. I am a crazy Maverick fan. I would go there if Dallas was a great entertainment center. - Author: Flula Borg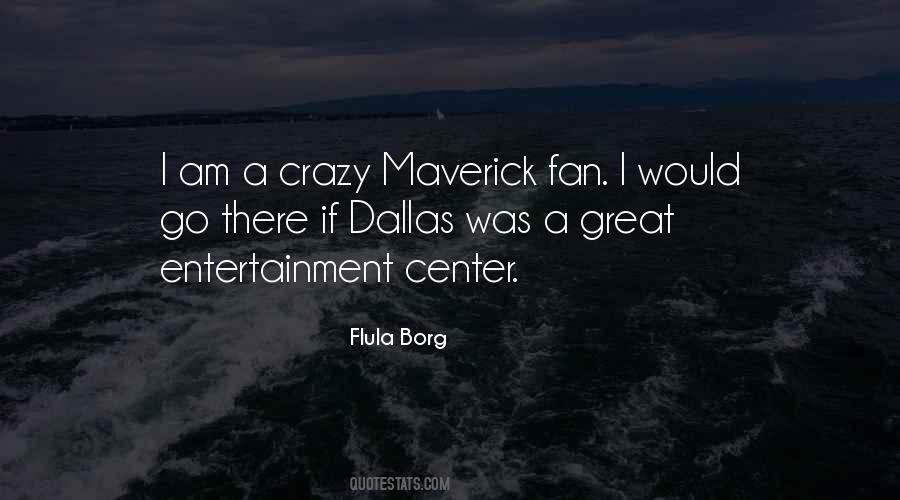 #43. I am a fan of sequels even though they are inevitably awful. - Author: Joss Whedon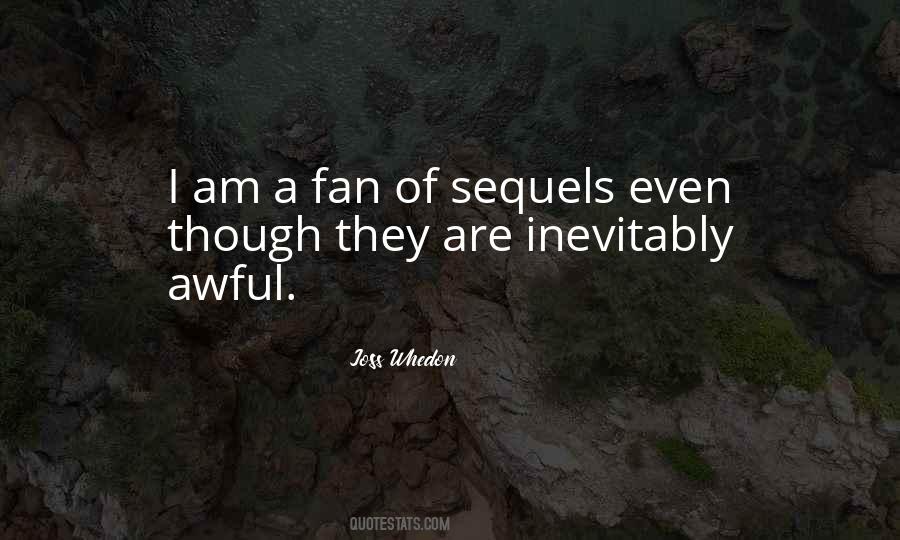 #44. If I am unhappy, I can write "damn it" in my personal diary, but I can't do that on a microblog so I might as well not start one. - Author: Fan Bingbing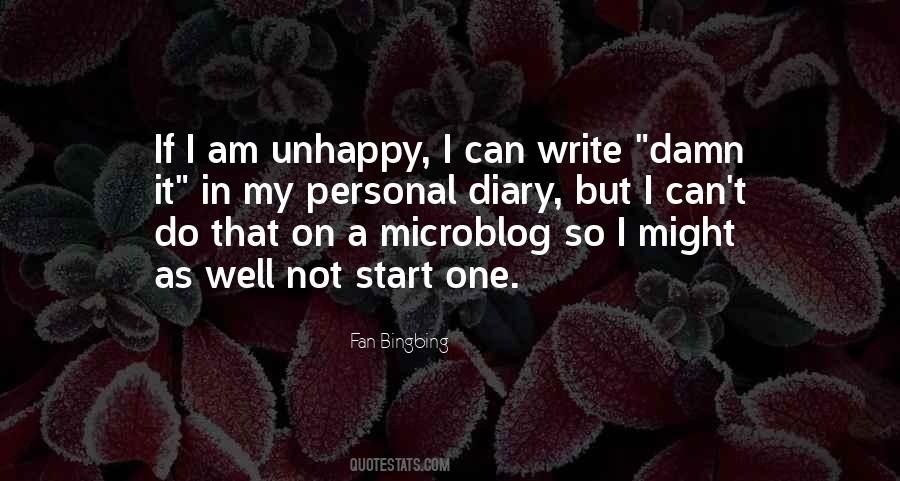 #45. I am, beneath everything else, a fan. I was fixed in this mode as a young boy and am awed by people who take the risks of performance. - Author: Roger Ebert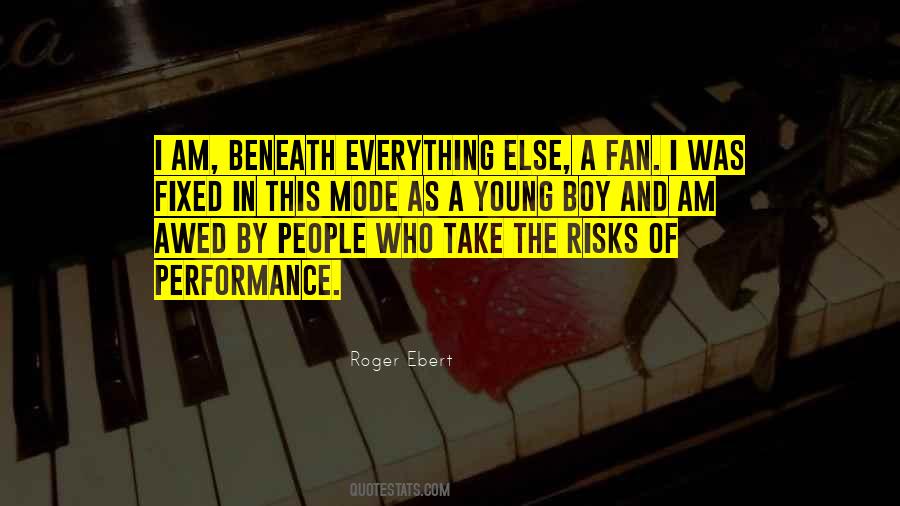 #46. I am a great fan of the universe, which I take literally: as one. All of it interests me, and it interests me in detail. - Author: Diane Ackerman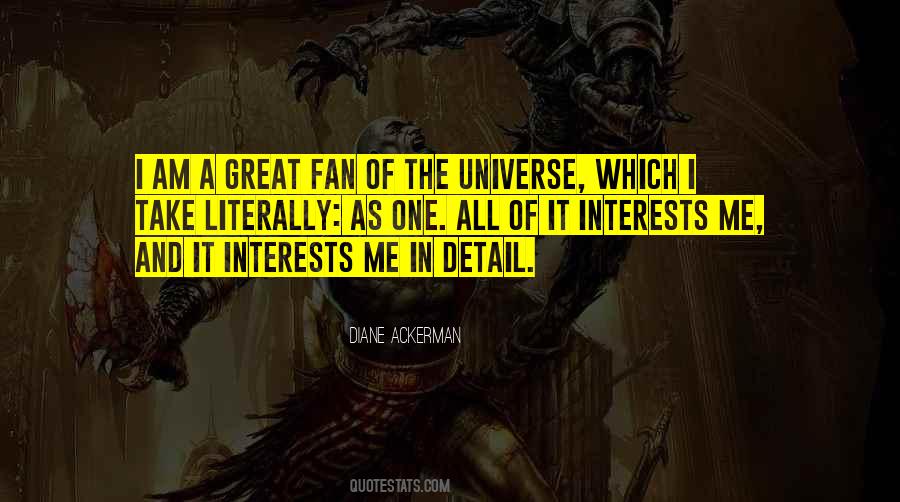 #47. I never want to cannibalize my act, and I'm really excited that I am going to be able to perform new material. I'm not a huge fan of repeating jokes, and I don't really do any of my old material from old stand-up acts. - Author: Daniel Tosh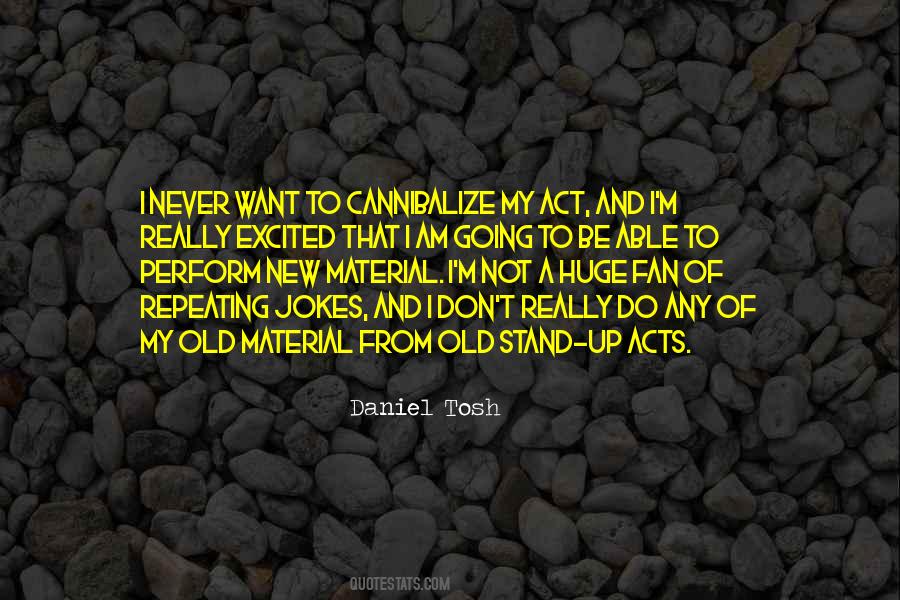 #48. I've seen first-hand the great enthusiasm Portland has for soccer; it's a soccer-smart fan base that generates an incredible atmosphere. I am very much looking forward to the first season of Thorns FC. - Author: Cindy Parlow Cone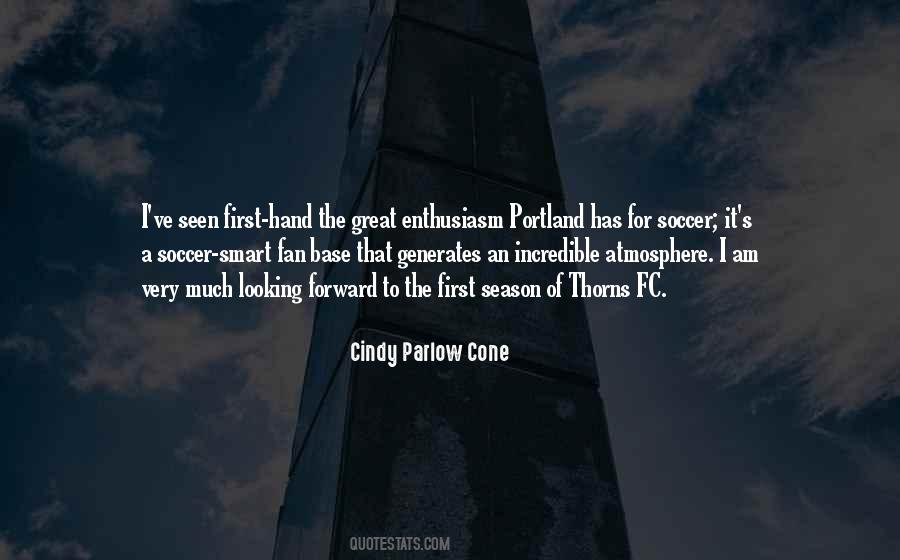 #49. I am a big, big geek at heart and a Sci-fi fan. And I love the Comic-Cons. - Author: Paula Garces
#50. I am trying to write stuff that is different. I am a big science fan. I read a lot of science, and 'Wonderland' has a lot of science in it. I don't know. They are hard to describe ... We are living in a wonderland age of science. - Author: Bob Seger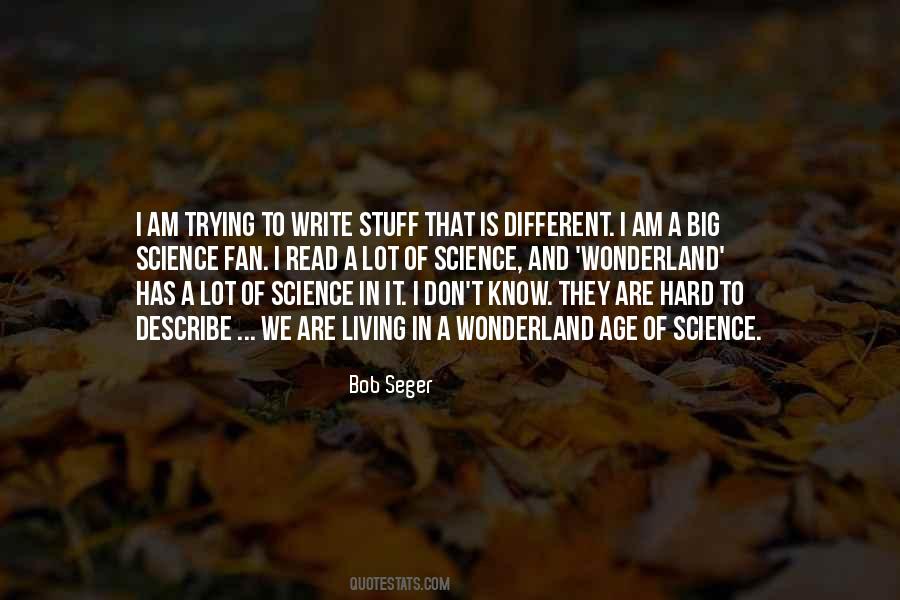 #51. I'm not a big horror movie fan. I am afraid of them; they scare me. - Author: Alan Tudyk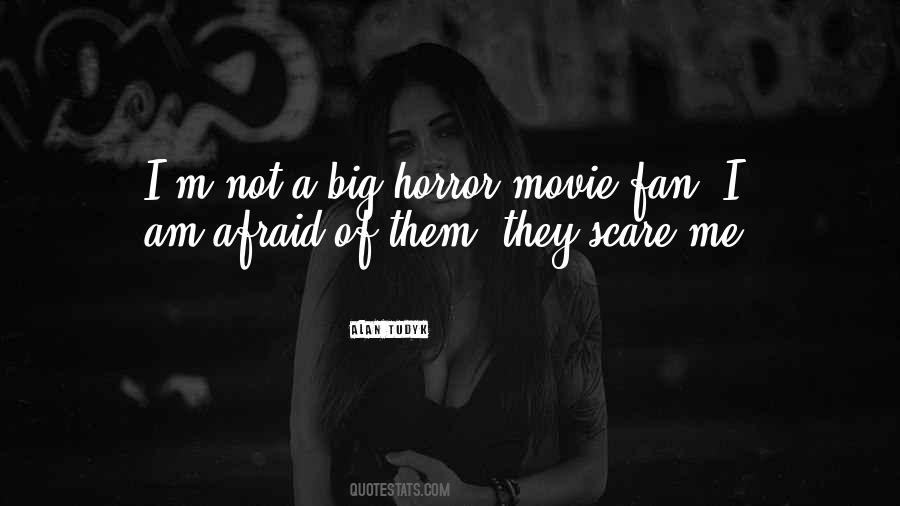 #52. As much as I am a huge soccer fan, music just kills it when it comes to importance. I could go to a desert island without a football and survive happily, but if I had to go without music, I think I'd end up killing myself. It fuels my soul. It always has. - Author: Joe Elliott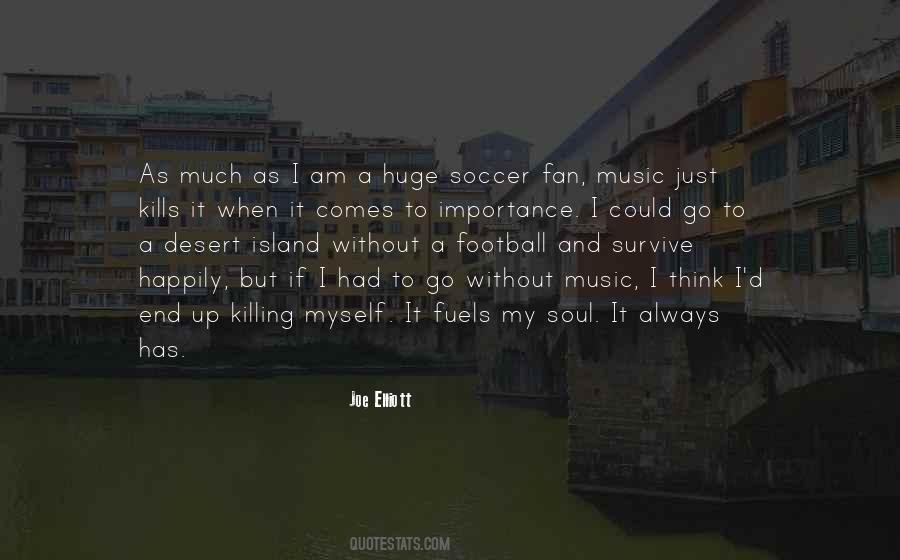 #53. I am a Beyonce fan. I'm gonna watch her upcoming documentary because fortunately one of the TVs in our kitchen has closed captioning so I'll be able to understand what she says. You know Beyonce can't talk. She sounds like she has a fifth grade education. - Author: Wendy Williams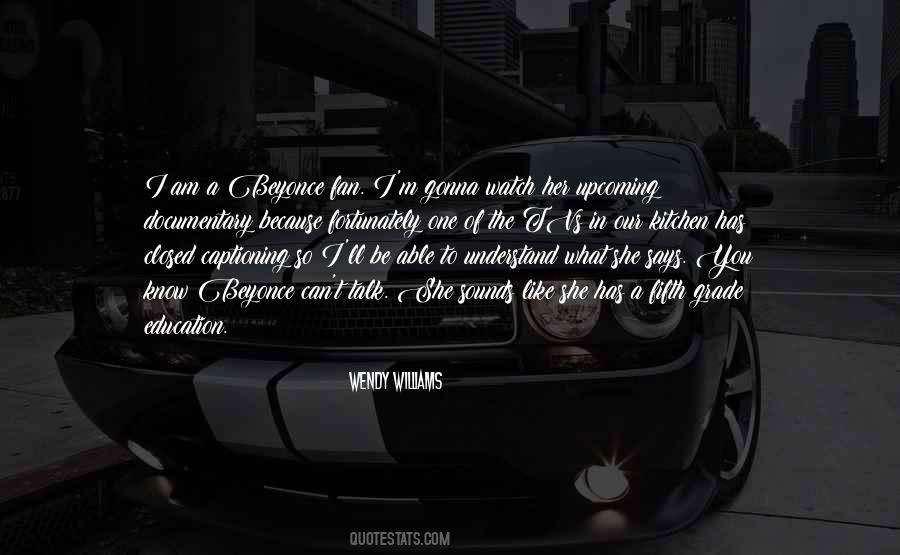 #54. I am a fan of rehearsal. I like doing it [scene] over and over and over and over until it looks like you never did it before. - Author: Bill Nighy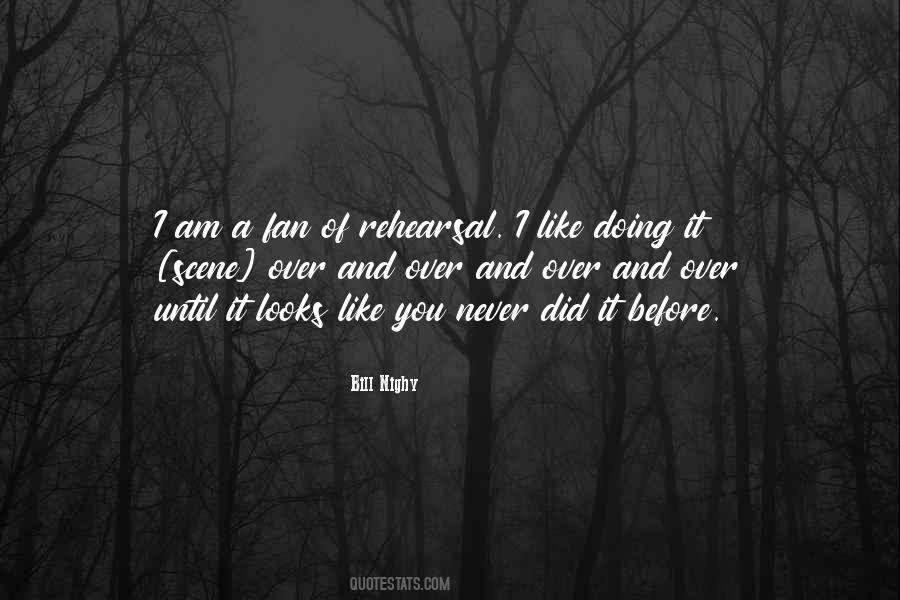 #55. Through that, I got to know Jerry's work, and I am definitely his number-one fan right now, which is interesting because it usually works the other way around: you usually create a project based on your hero. - Author: Sean Hayes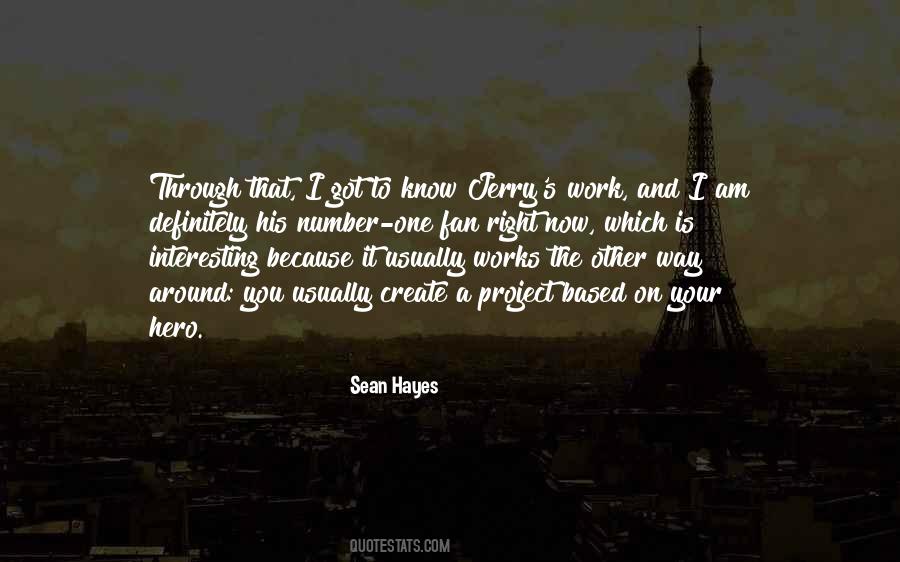 #56. I was a fan of Hitchcock, but more importantly than that, he is such an inscrutable man, and a very carefully inscrutable man. He apparently was blank-faced with a calm and controlled presence. I was immediately anxious and thought, 'How am I going to get behind that?' - Author: Toby Jones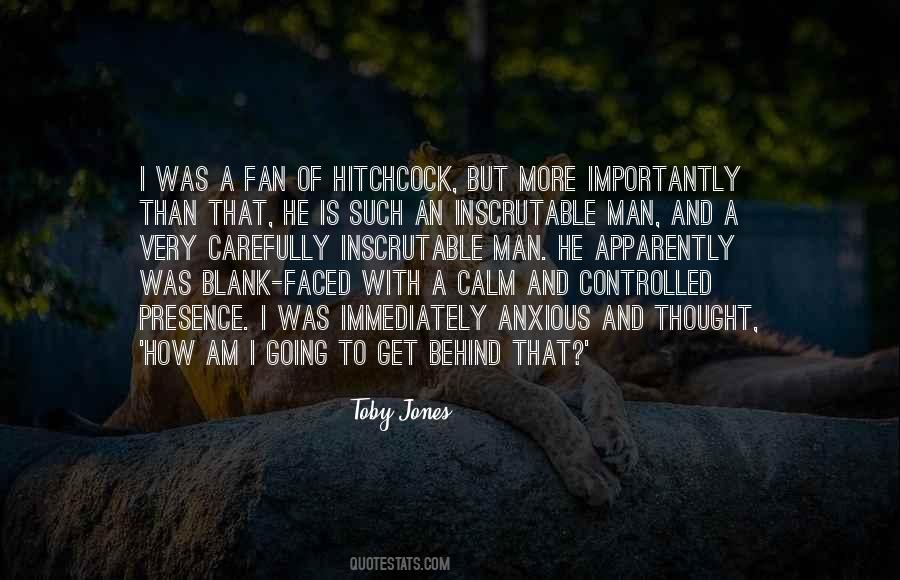 #57. I am a huge fan of capitalism and a huge fan of entrepreneurship and changing the world with technology and with entrepreneurship. Capitalism is awesome. To me, capitalism is my religion. - Author: Jason Calacanis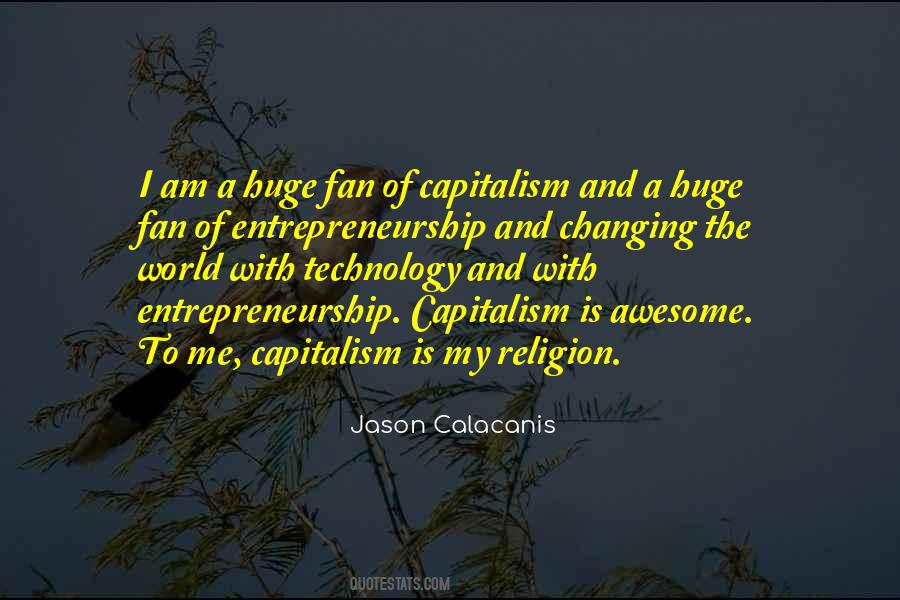 #58. I am a big theater fan. It's mostly just being pretentious, I think, and trying to look smart. - Author: Brian K. Vaughan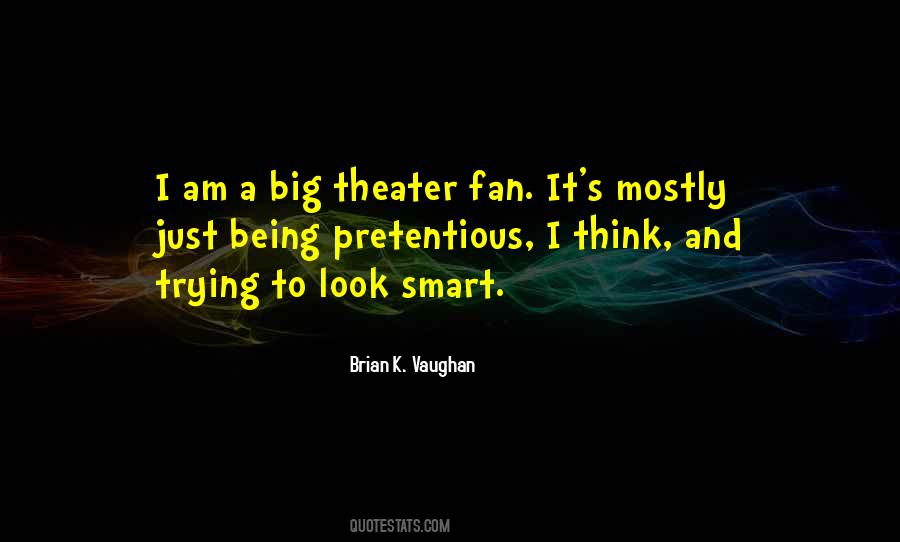 #59. Being a fan of someone's show and the way they still hold a family together doesn't mean I am OK with all they say. - Author: Liam Payne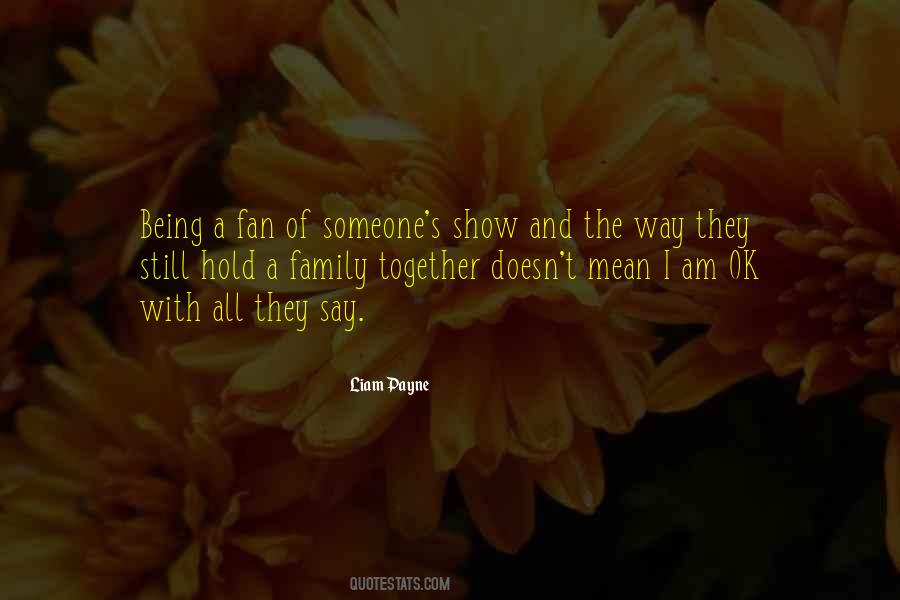 #60. I am a huge fan of the Black woman. I never hesitate to recommend her when times are bad or things go wrong. - Author: Nikki Giovanni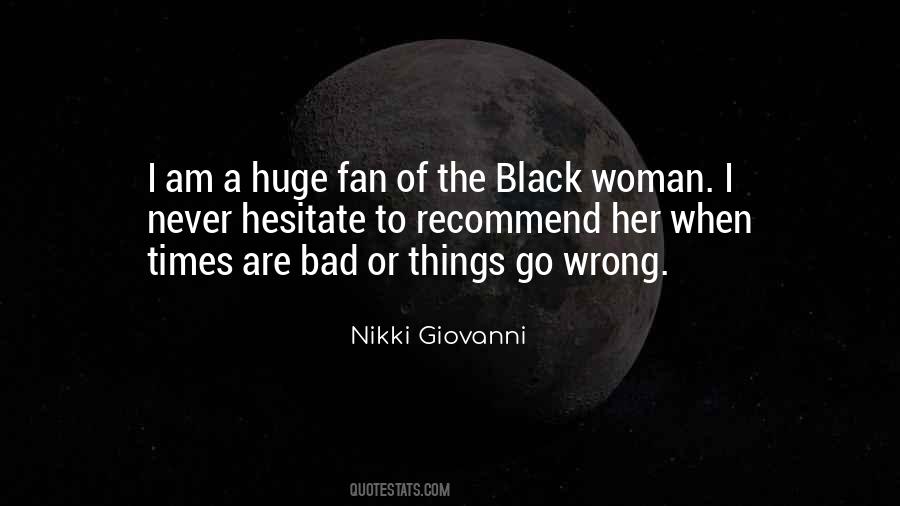 #61. I am a great fan of science, but I cannot do a quadratic equation. - Author: Terry Pratchett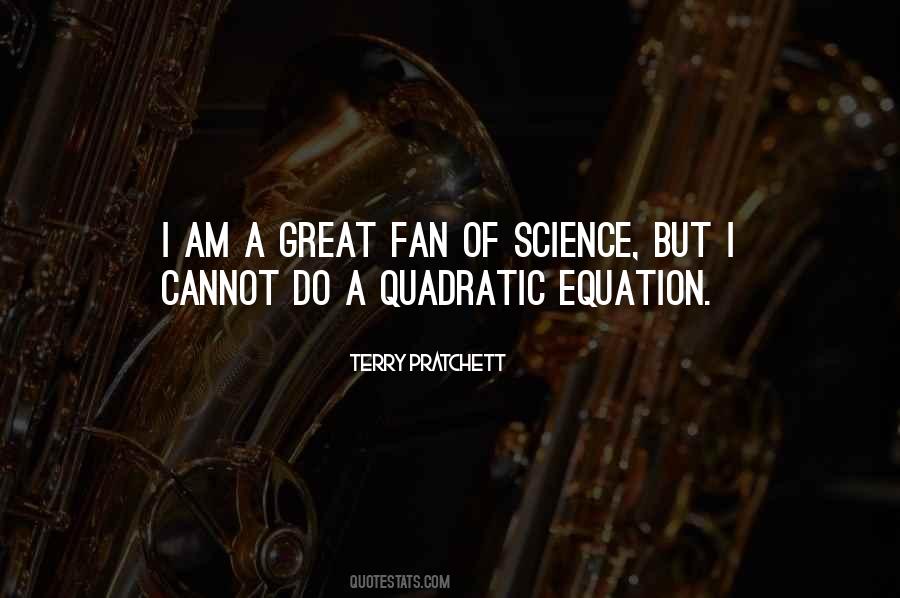 #62. I'm bi everything; sexual, coastal, political, controversial. I think if you find your comfortable sexual preference then that's excellent. Everybody knows that I'm a huge fan of gay men and drag queens and would not be who I am today without their help, support and make-up tips. - Author: Jessicka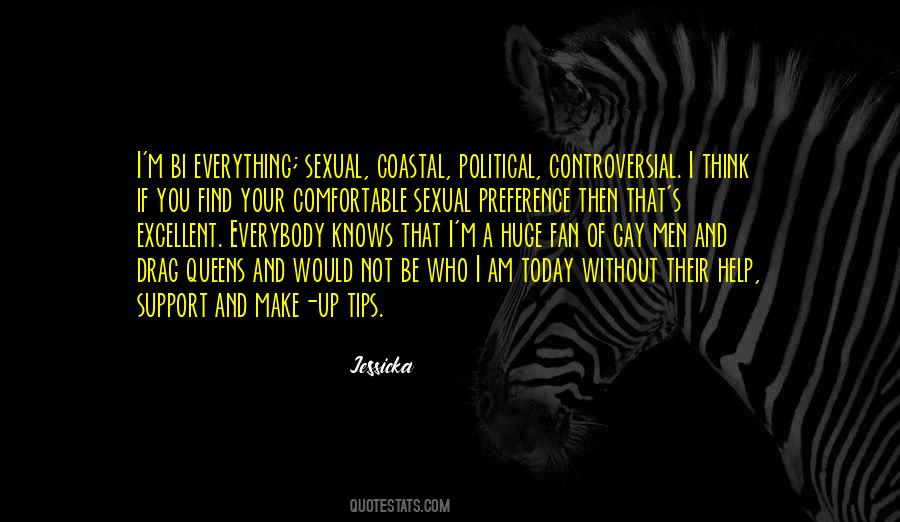 #63. I have always been a big fan of the character and am more of a moviegoer than a comic book guy, there is always something about the character of Batman that is very elemental. There is a great powerful myth to the character and romantic element that draws from a lot of literary sources - Author: Christopher Nolan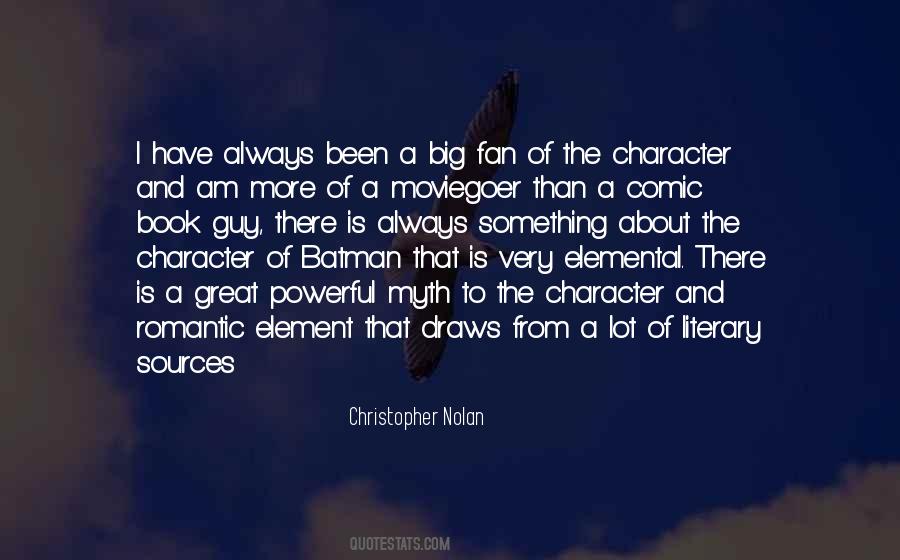 #64. I am a huge fan of gays. They love me, and I love them. They think of me as sort of a gay icon. - Author: Tori Spelling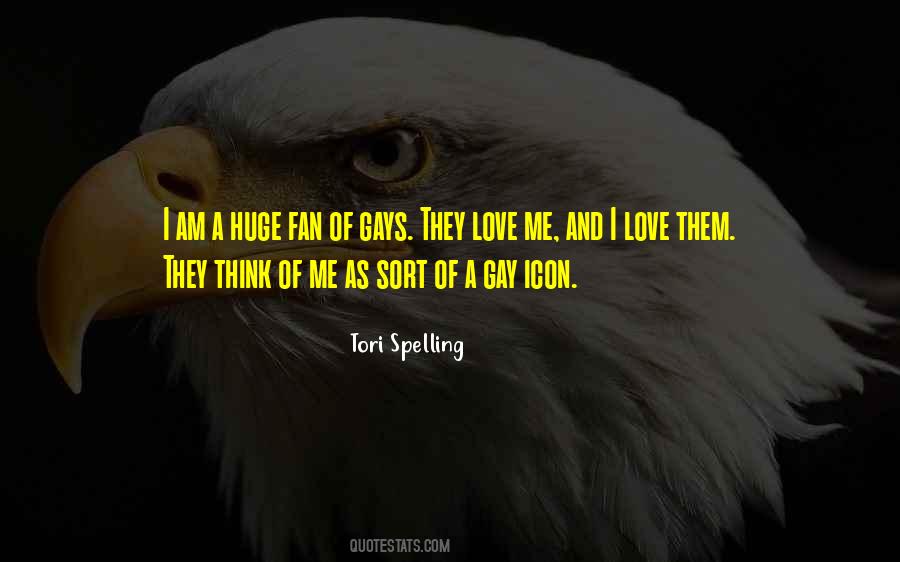 #65. I am a big fan of cosy. I get very excited by a roaring fire and even a perfectly made cup of tea. And being married really is the ultimate in cosy, so I couldn't be more content. - Author: Sophie Winkleman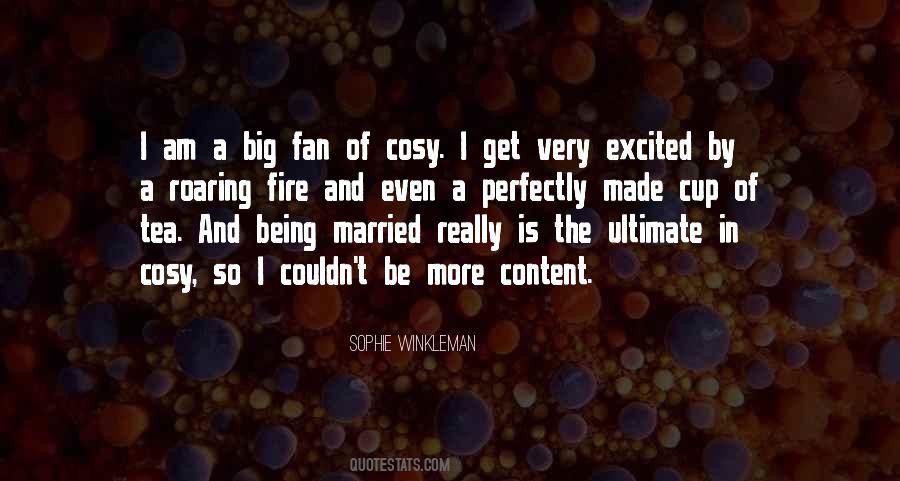 #66. I wouldn't ever presume to say that I am a comic book fan. - Author: Ray Stevenson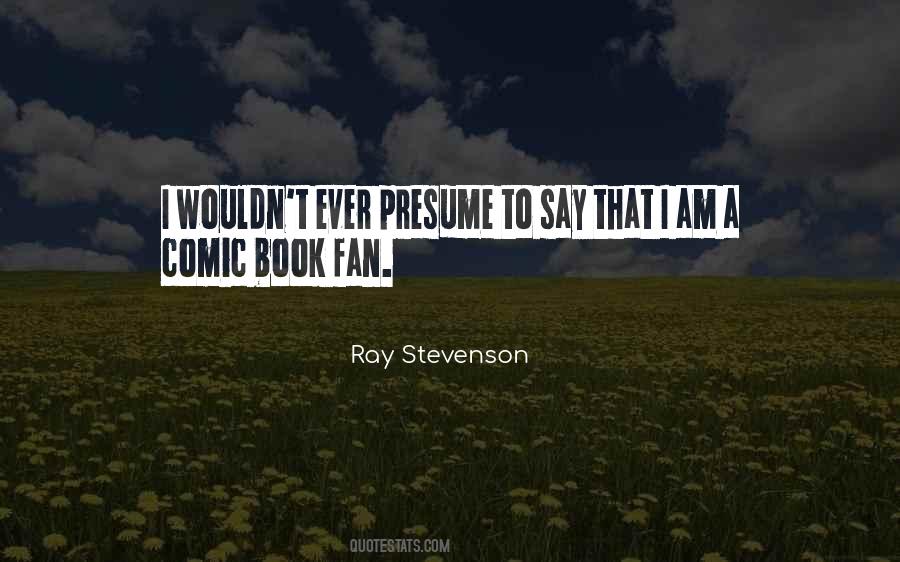 #67. I am a really big Harry Potter fan and I've seen all the sets, I've lived Harry Potter and I don't think it's destroyed the books at all, I think it's really spot on. - Author: Rupert Grint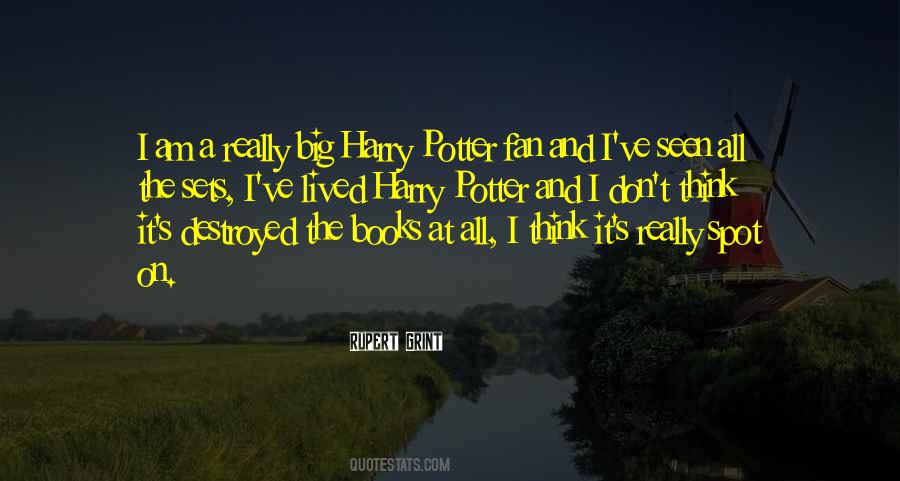 #68. I am a great football player. I had my own club when I was 14 years old. Football is in my blood, and I have been a fan of Fulham for the last 30 years. - Author: Mohamed Al-Fayed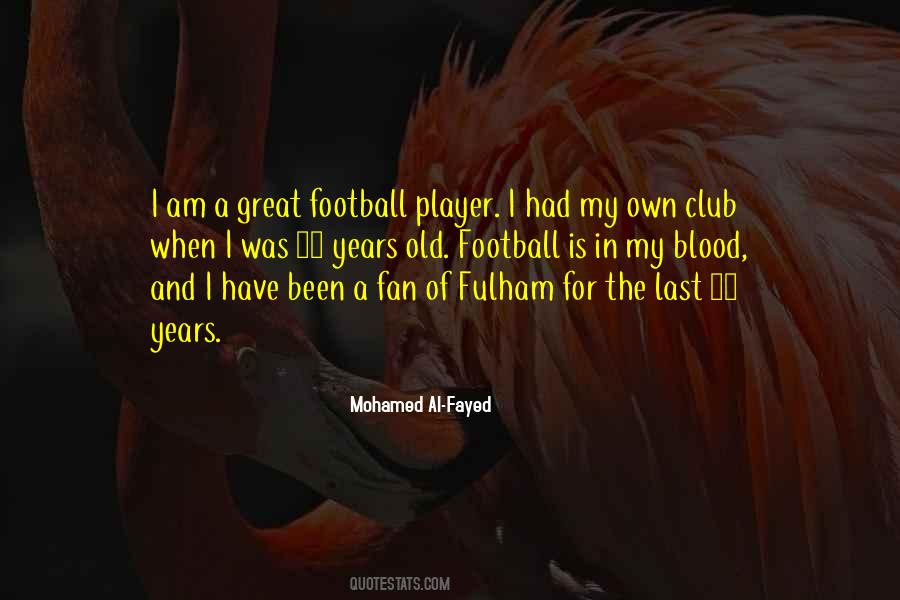 #69. Though I am not a fan of TV - it's mankind's greatest time-waster, the gift was completely appropriate, since I'll be in bed so much at the end. TV will be one of my last links to the outside world. - Author: Randy Pausch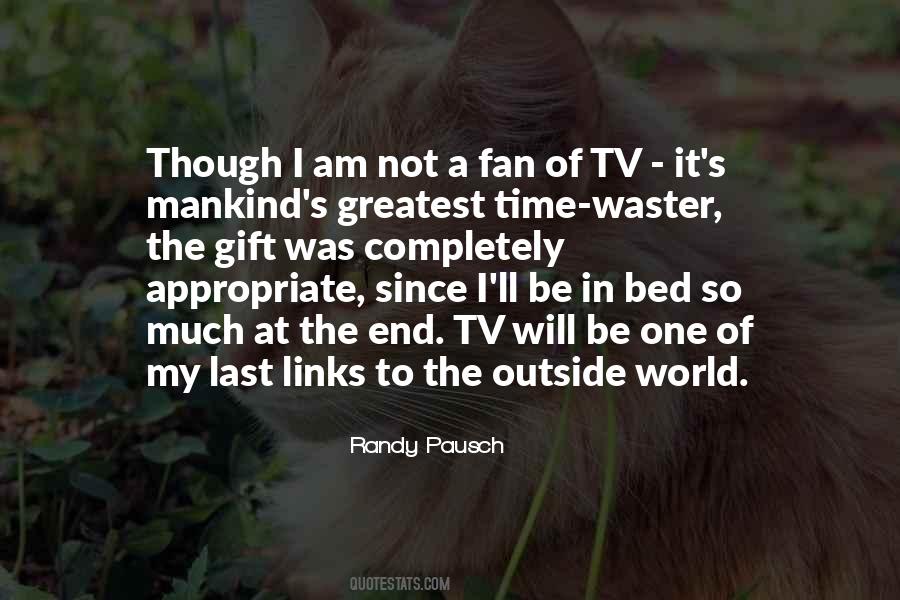 #70. When I talk football with my friends, I don't talk about Tom Brady's hair. I talk about how he handles the blitz, or how he runs his offense. I talk as a fan. I don't want pink jerseys, and I don't want dumbed-down content. I want to be treated as a real fan - because I am proud to be one. - Author: Indra Nooyi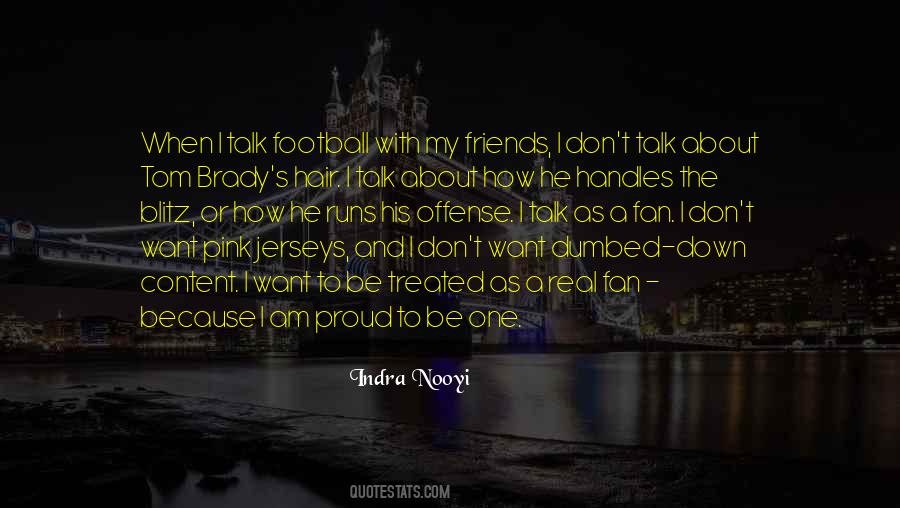 #71. I am a closet metal fan. - Author: Jon Gries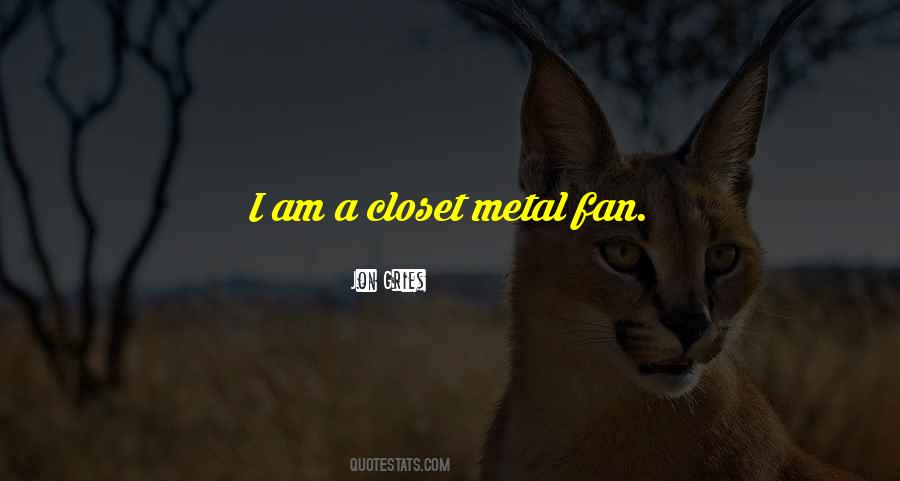 #72. I am very much a Red Sox fan; I can name you more players than you could possibly imagine. It's just part of who I am. - Author: Bill De Blasio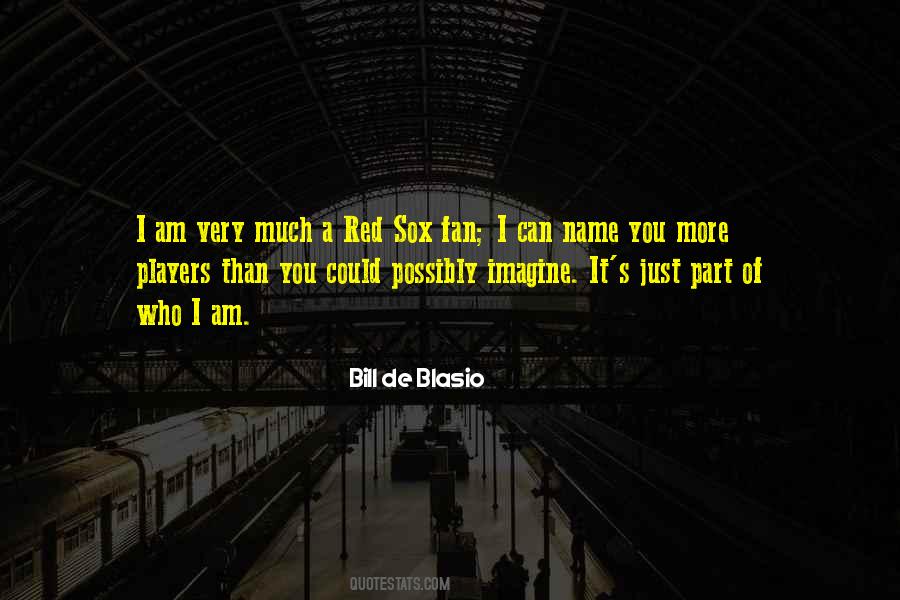 #73. I am not a fan of sealed up sterile homes or Faraday cages and their use in human health, although I do understand that some people do feel relief in these environments. - Author: Steven Magee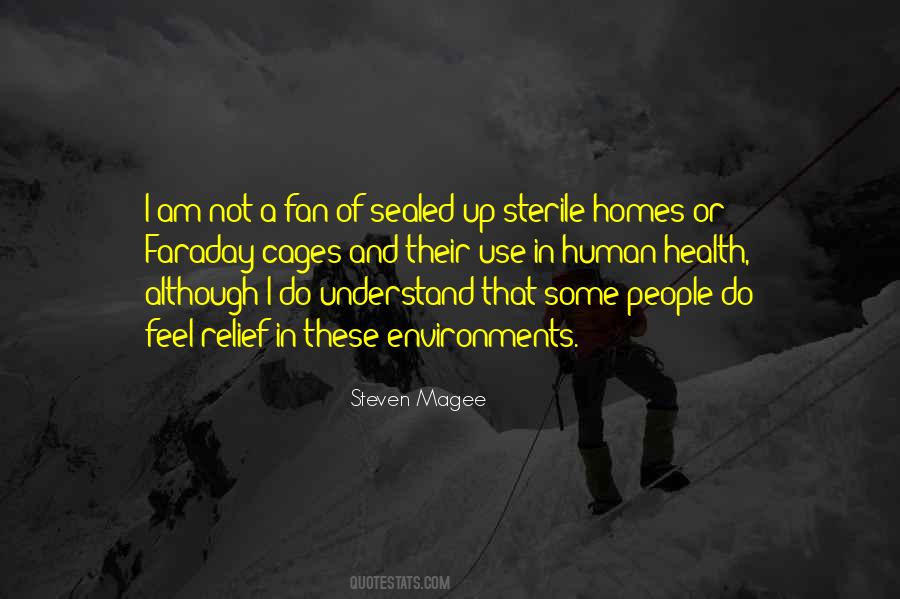 #74. For a rich and reasonably successful guy, it is impossible not to enjoy your job; otherwise, why would you spend so much time and effort doing it? I am a great fan of Norilsk, and I like this kind of challenge. - Author: Vladimir Potanin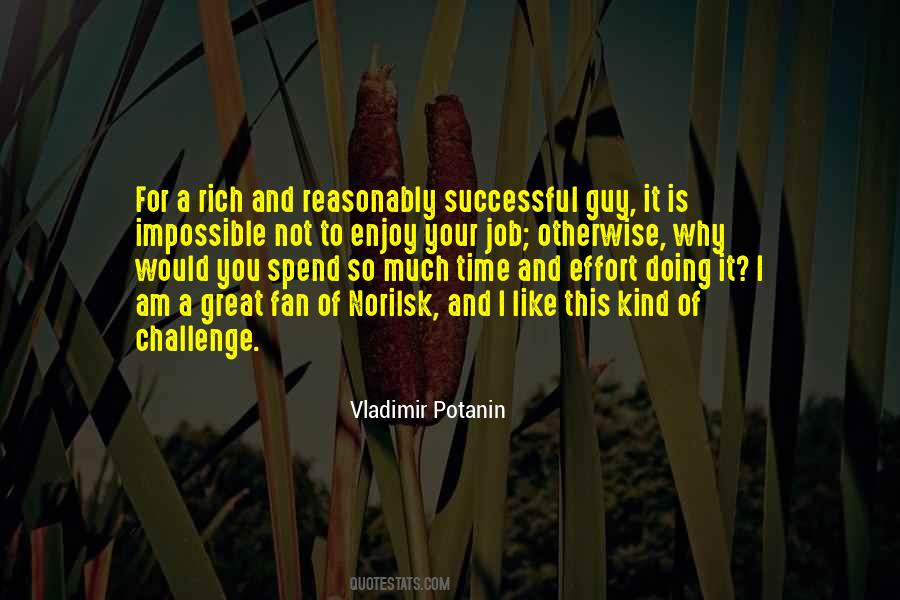 #75. I am no fan of books. And chances are, if you're reading this, you and I share a healthy skepticism about the printed word. Well, I want you to know that this is the first book I've ever written, and I hope it's the first book you've ever read. Don't make a habit of it. - Author: Stephen Colbert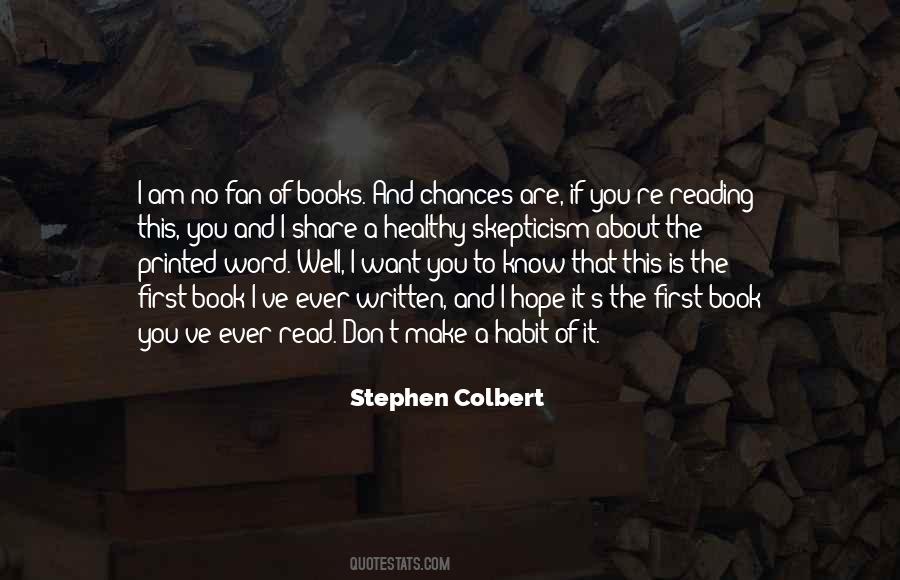 #76. I love being in the studio, and I am a huge fan of live music. Without writing good stuff in the studio, you have nothing to play live. - Author: Anthony Hamilton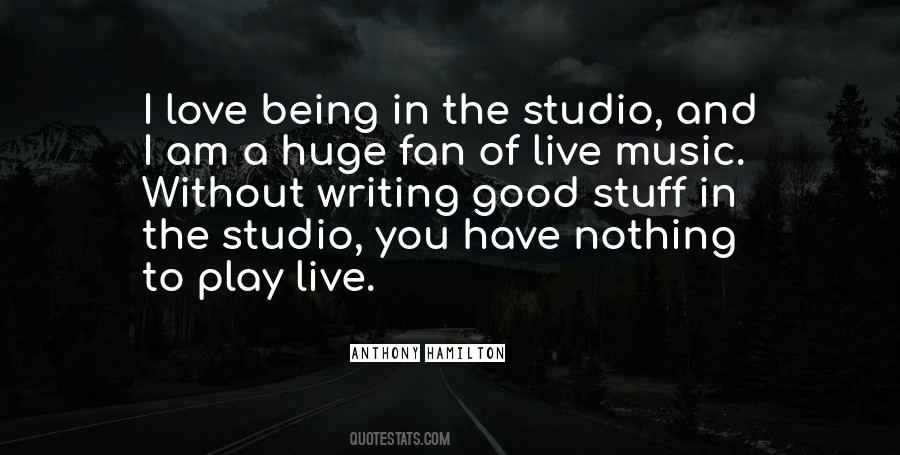 #77. I am a big fan of the Coen Brothers; I like their kind of absurd, dark approach. - Author: Volker Bertelmann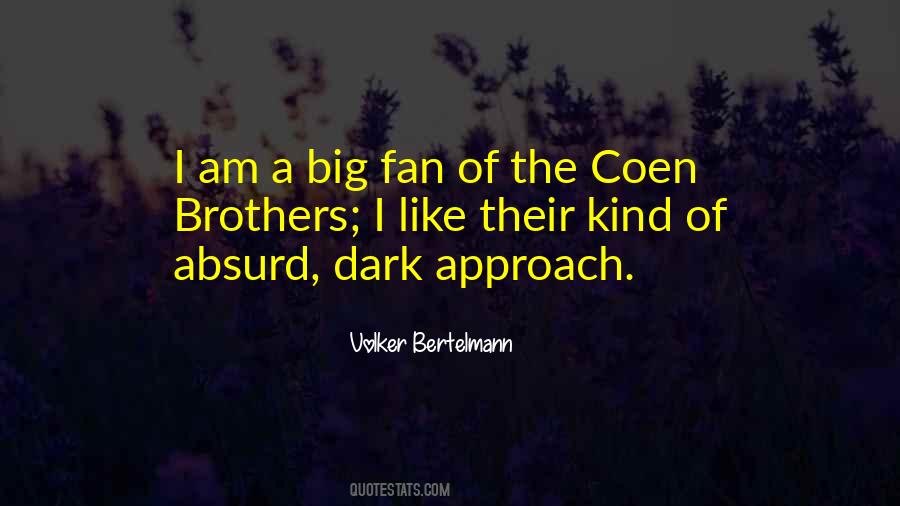 #78. I am a big fan of Chad Johnson. I think that I would compare myself to him as well. - Author: Jacoby Jones
#79. So why am I an A's fan? Because, from 1901 to 1954, they were the Philadelphia Athletics. Philadelphia is my home town. The A's were the team I loved as a kid, and no gap of space or time can fray that bond. - Author: Richard Corliss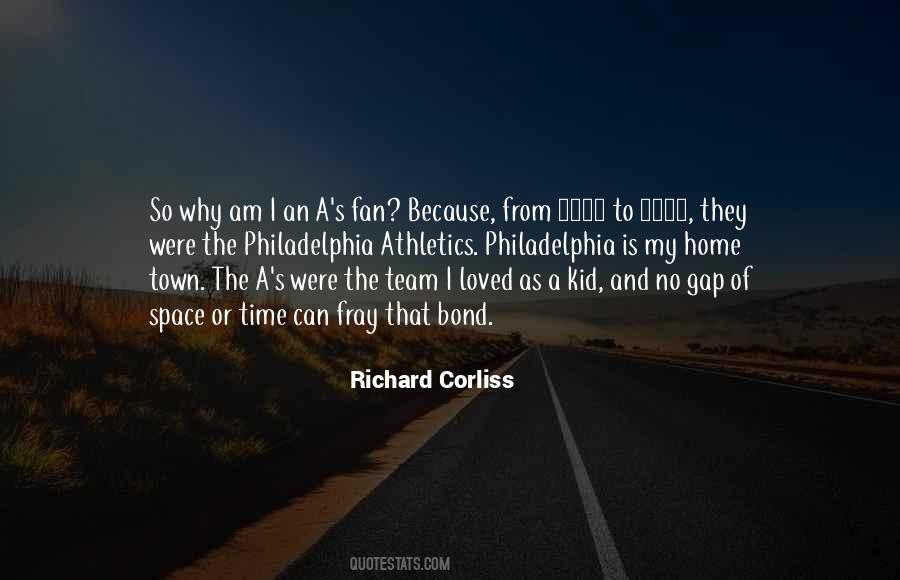 #80. I am a huge, huge fan of the plain white tee. A good-fitting, vintage plain white t-shirt, like the 'boyfriend shirt', is the sexiest thing a girl can wear. It goes with anything, fancy or casual. - Author: Zoe Kravitz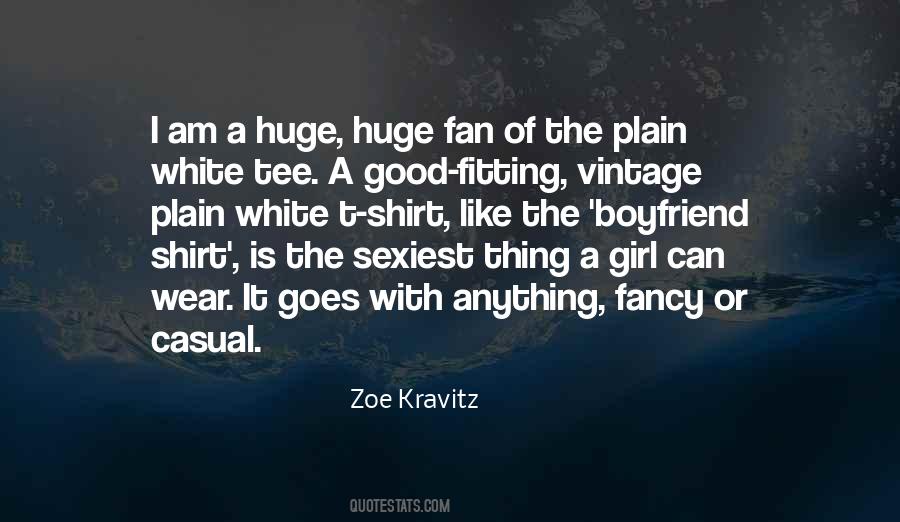 #81. I am a big fan of movies that don't take themselves too seriously. You know you won't change the world, but have fun. Movies like 'Butch Cassidy' I enjoyed tremendously, but it didn't alter my opinion of the world. - Author: Baltasar Kormakur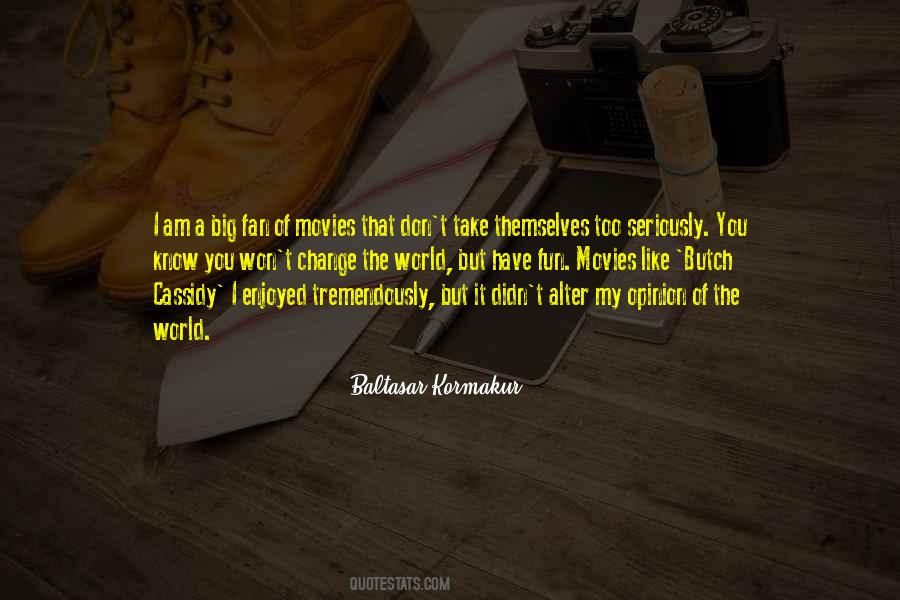 #82. I am a massive fan of early electronica like Steve Reich, Pat Metheny and Thomas Dolby. I used to be a big raver, too, so anything dance. I love ambient music like Tunng. I love acoustic and classical, too. - Author: Kate Fleetwood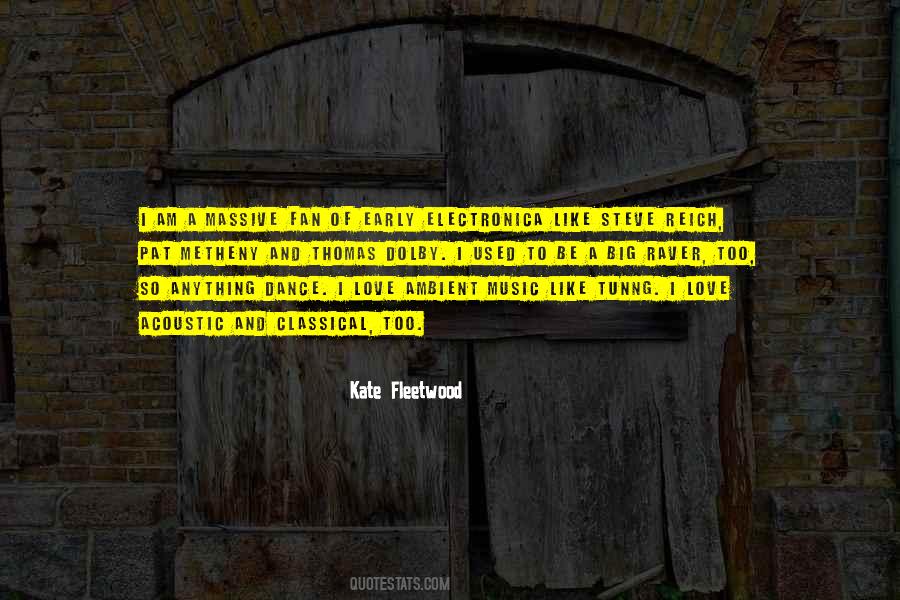 #83. I've been a fan of hip-hop for a really long time, and I still am. - Author: Jeremy Piven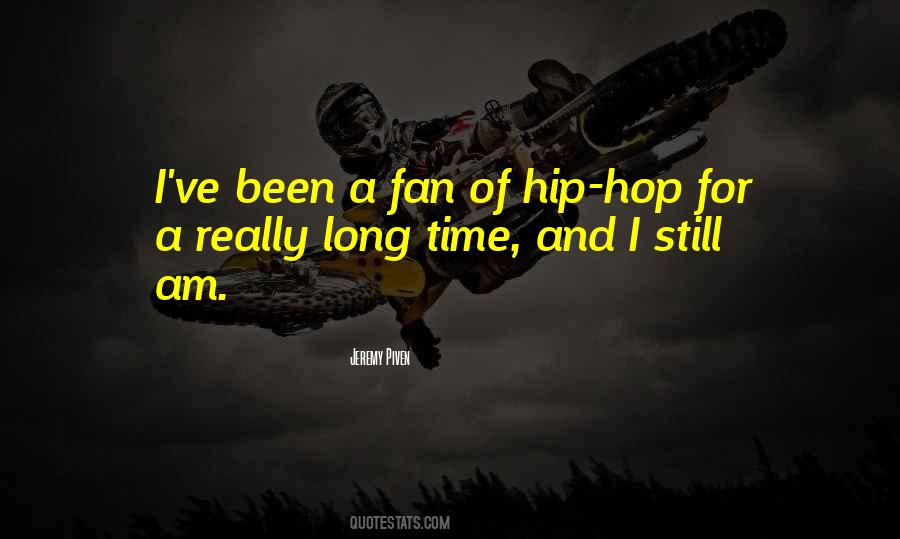 #84. I don't love duck nails, where the nails are really wide on top. I am not a fan of that! - Author: Adrienne Bailon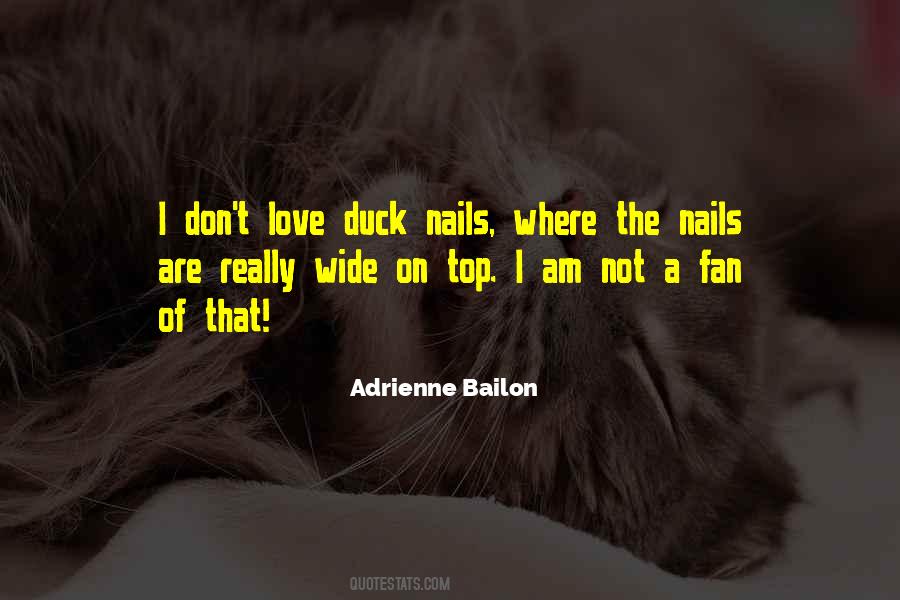 #85. I am not a fan of referencing your own work when it's in a different universe than what you're doing. That, to me, is a wink at the audience, and winking isn't actually cool when you're not, like, 10. - Author: Joss Whedon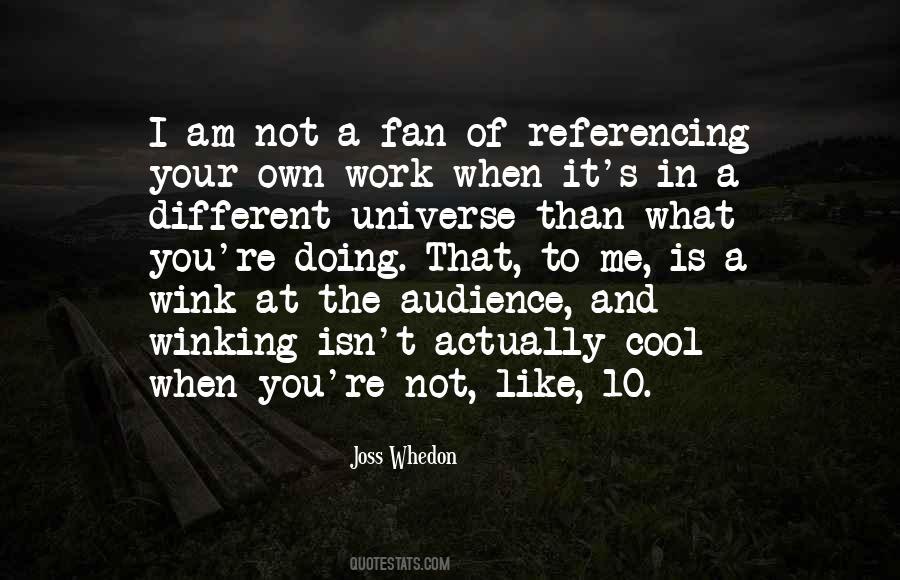 #86. As a fan, I want all of the Marvel TV projects to be successful. I am a comic book fan. - Author: Marc Guggenheim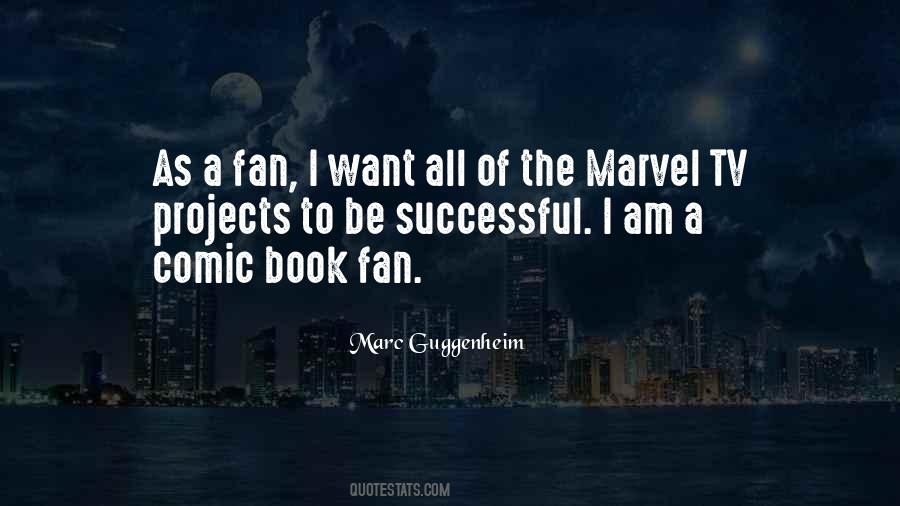 #87. I prefer to do cable TV because it allows you the time to do other things. I definitely have an eye on doing more work in features and playing different characters, but I am also a big fan of going on vacation and playing golf and going to the beach. - Author: Bailey Chase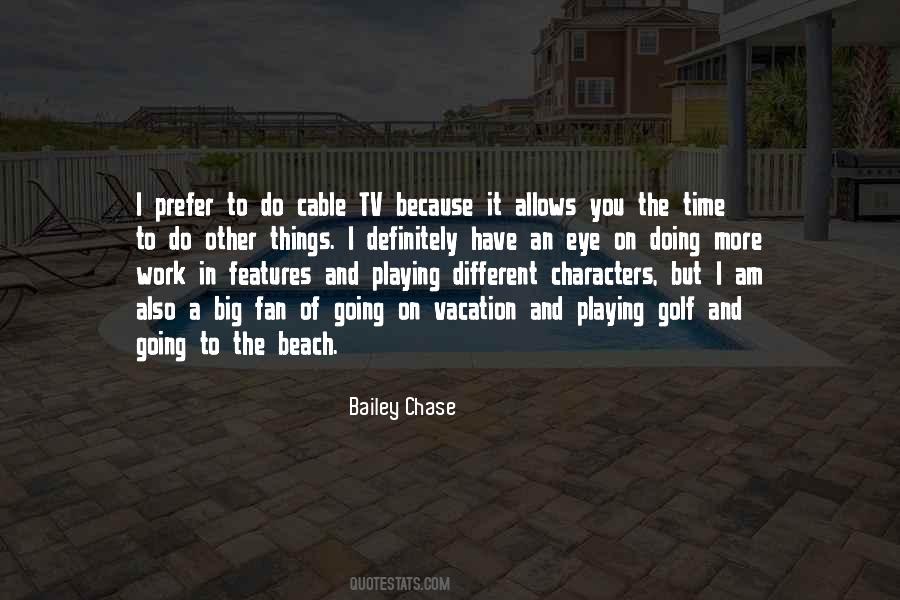 #88. I am a classical fan. I like Debussy a lot, so I was trying to learn it on the piano. I've learned like a third of it, but I think I'm getting to a section that may be beyond my skill level. - Author: Charlie Day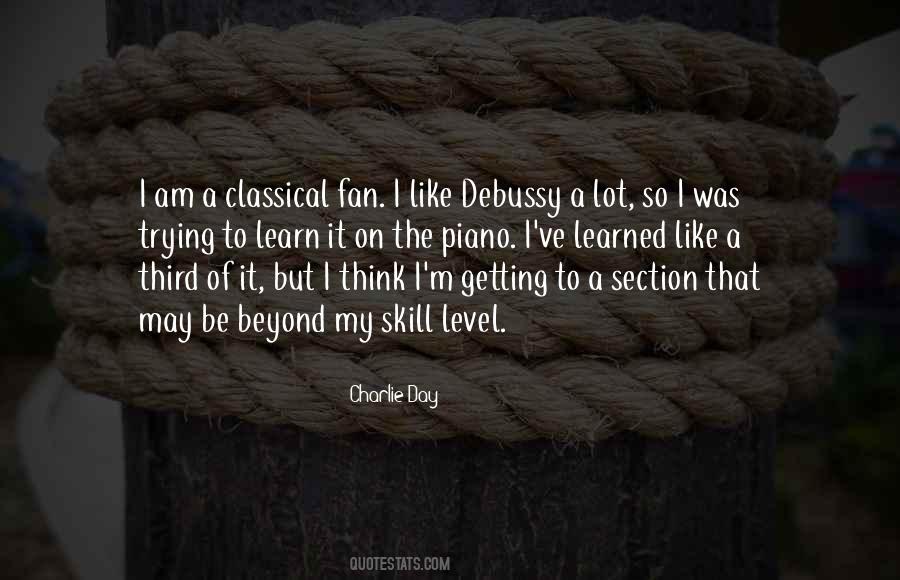 #89. I am a huge hockey fan. - Author: Serinda Swan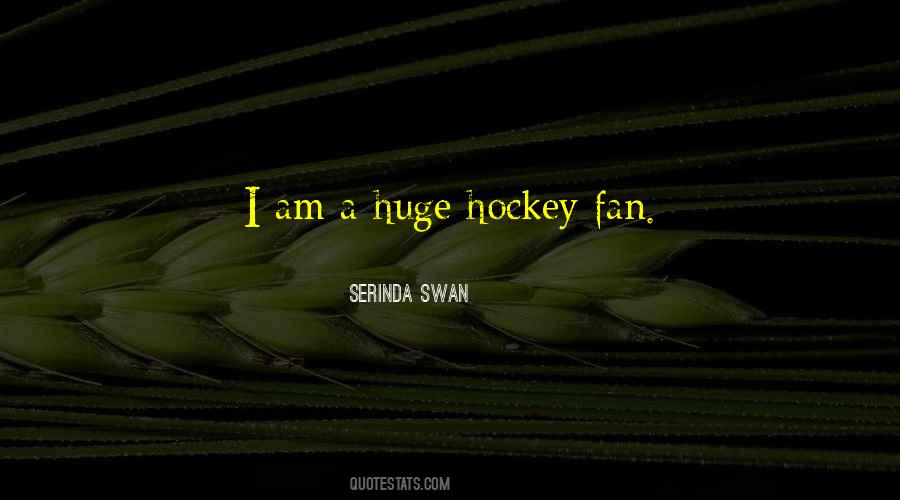 #90. It's important to keep a balanced diet, but I'm not a fan of deprivation. If I want a cheeseburger, I am not only going to eat that cheeseburger, but I'm going to enjoy that cheeseburger. - Author: Heidi Klum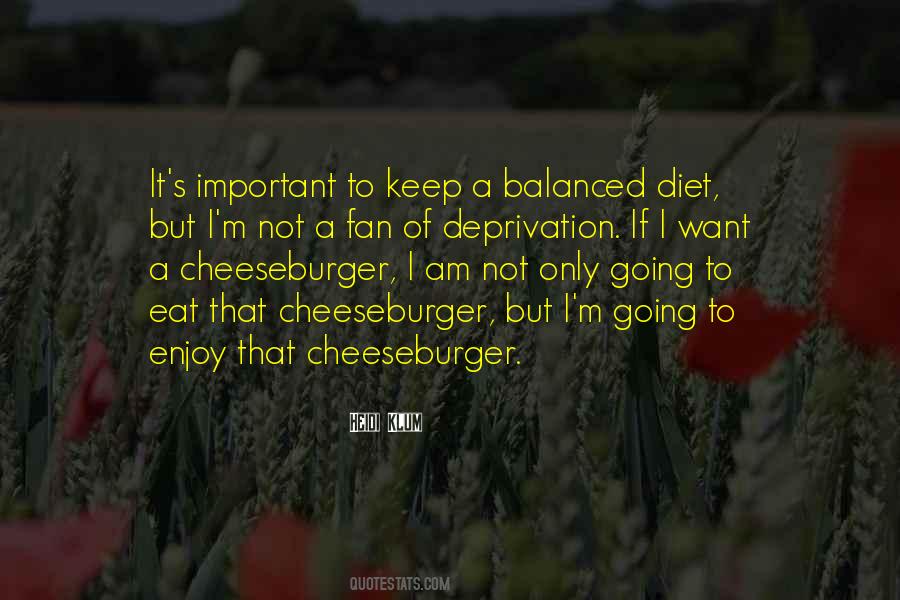 #91. I'm a Giants fan through and through. I am crazy about Eli Manning. I'm all about the Giants. - Author: Jesse McCartney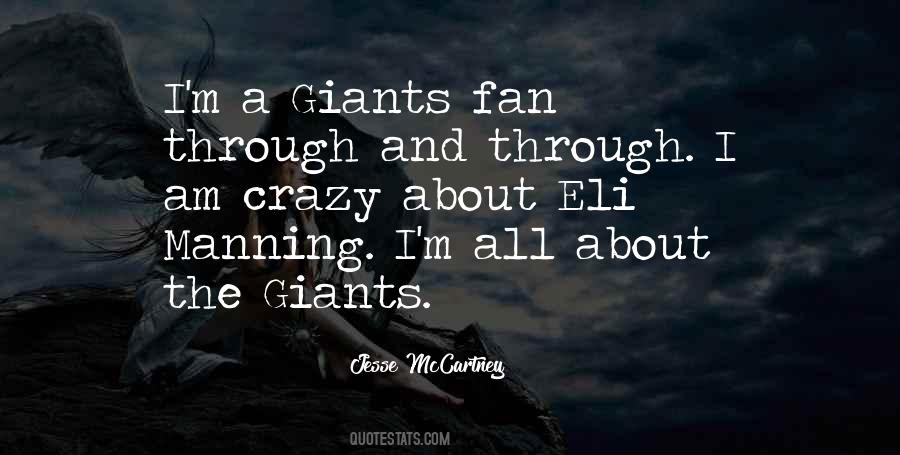 #92. Who do I like? I am a big fan of French and Saunders - not that that they are particularly stand-up I have to say, but I think they have been great for women and they are of themselves just incredibly funny whether they are male or female. - Author: Jo Brand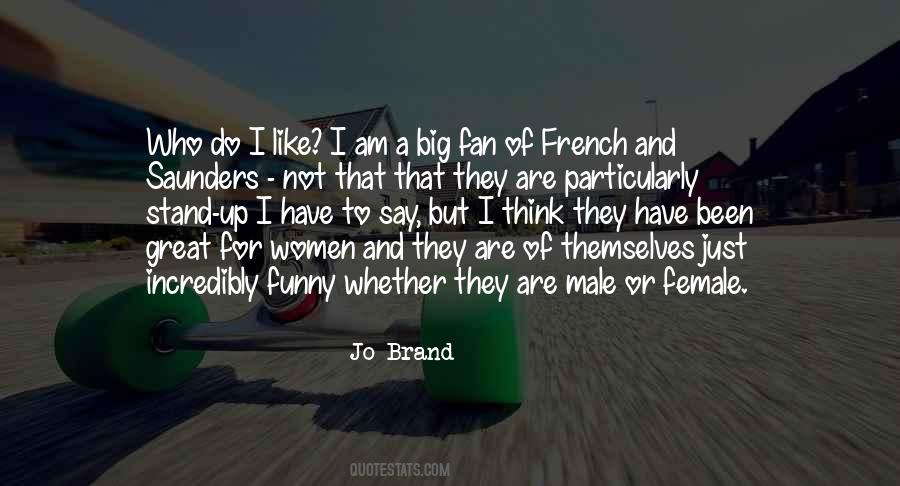 #93. From the age of four, I was a huge comic fan and still am. When Lost in Space came along it was like being in a huge comic so we jumped at the chance of being part of that project and it proved to be a good choice. - Author: Bill Mumy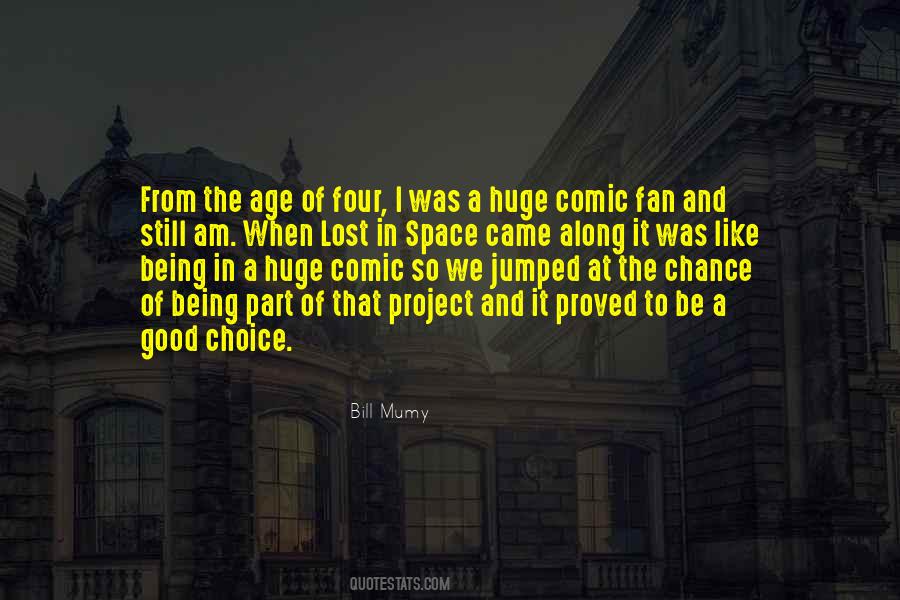 #94. I am a huge fan of Reese Witherspoon, and I always get told that I look like her little sister. So I would love to play her little sister one day. - Author: Brittany Snow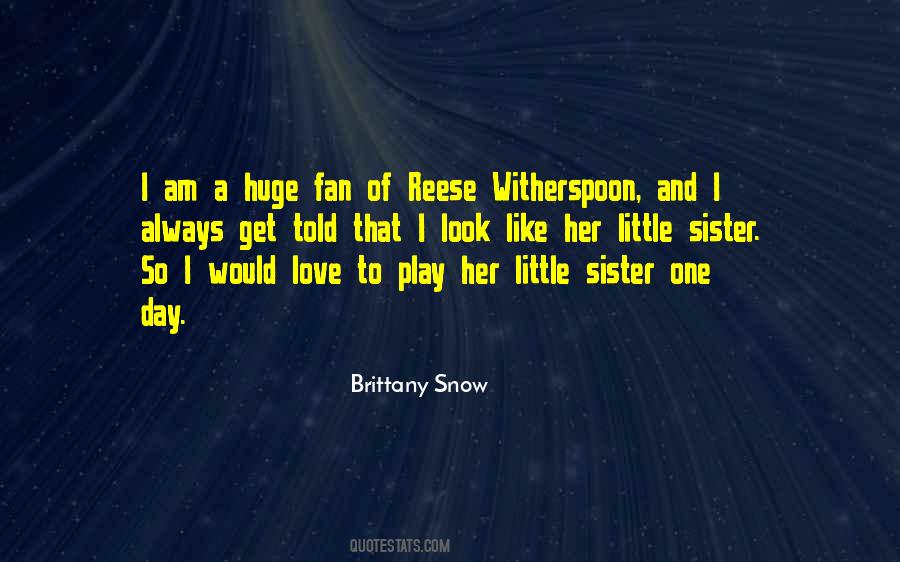 #95. I am a fan of the monster and horror genre but that's not my style as a director. - Author: Bong Joon-ho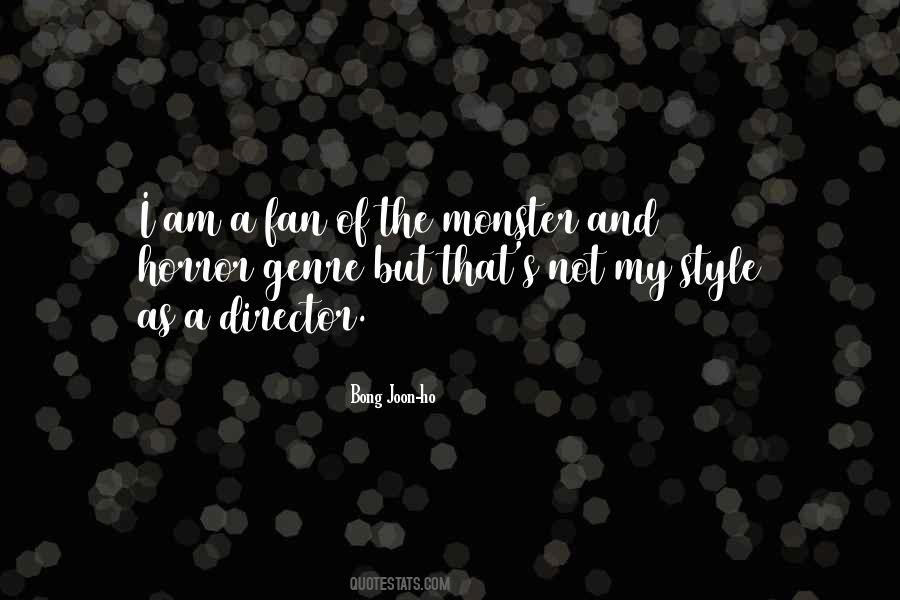 #96. I am a big Pink Floyd fan. That is where a lot of the concept lyrics come from. - Author: Gary Cherone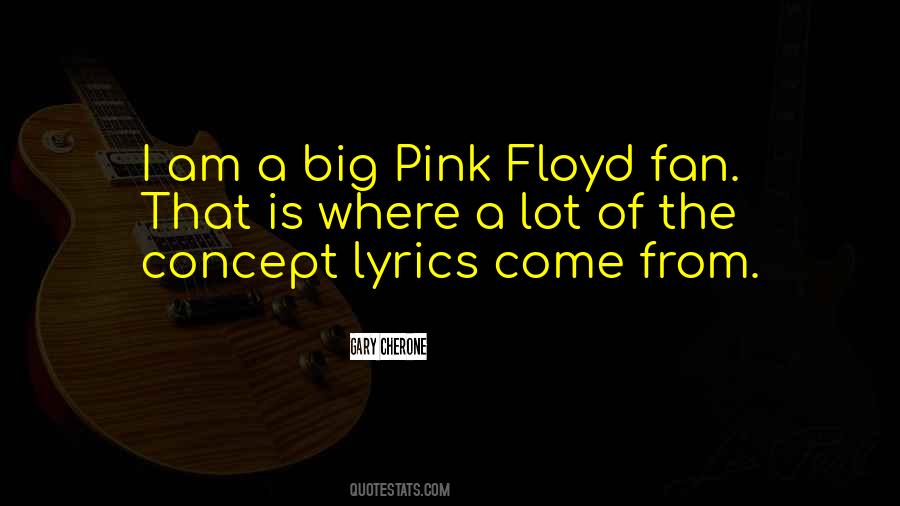 #97. I am a big David Bowie fan. - Author: Kristen Wiig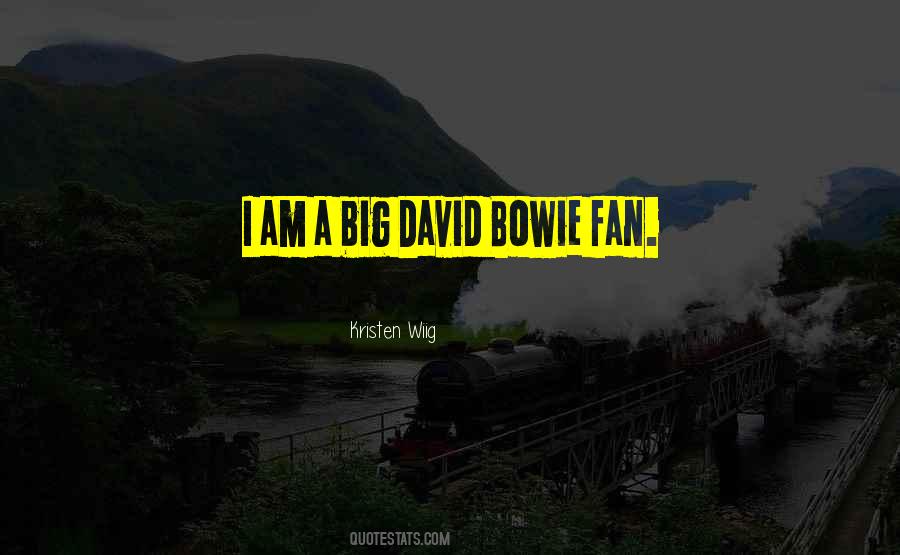 #98. I am a Yankees fan. I should say - have been to more Yankees games than Mets games. - Author: Harold Ford Jr.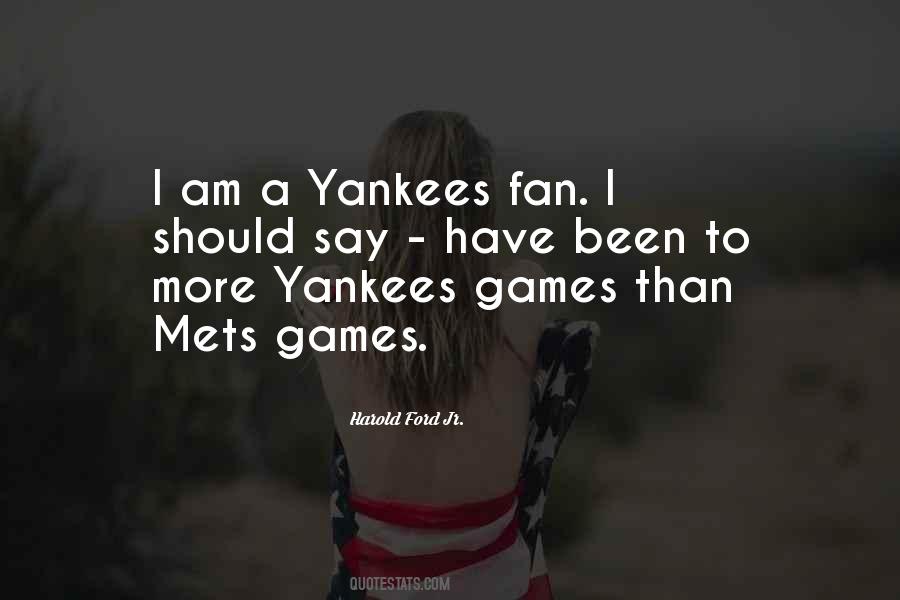 #99. I am a Russell Brand fan. I'm one of the few people who think he did a cracker-jack job in 'Arthur.' - Author: Catherine Hicks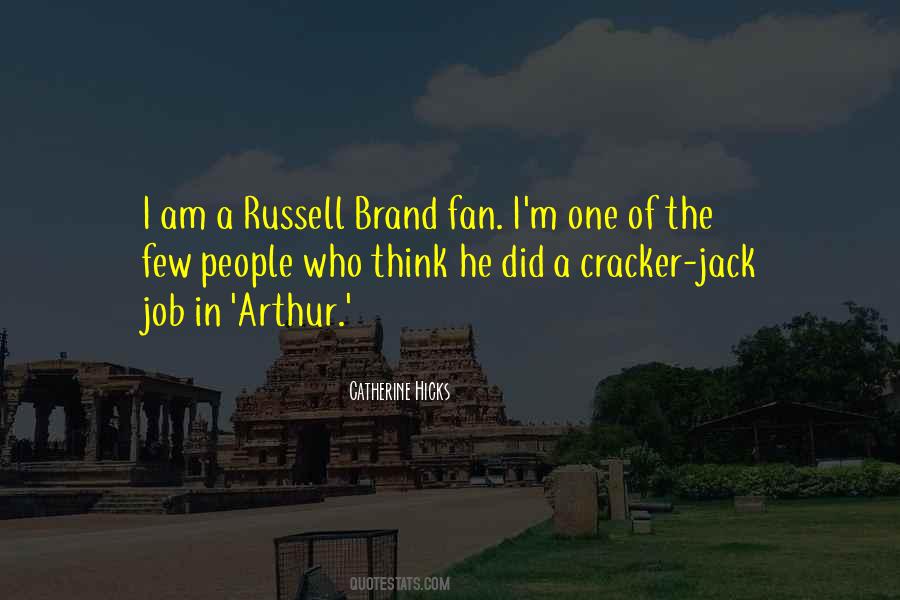 #100. I know that there are a lot of sort of silly things that one thinks as a music listener about bands. I am a fan of many bands. - Author: James Mercer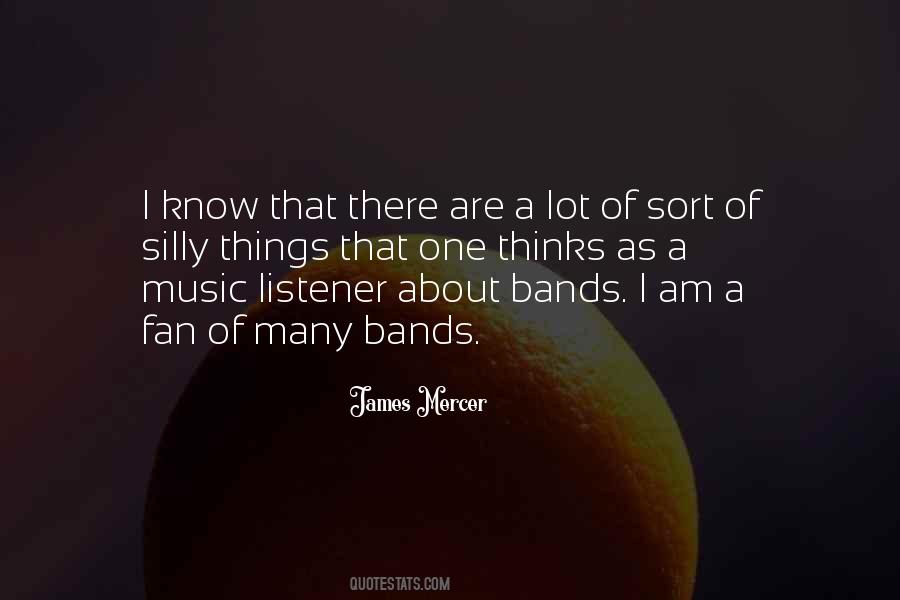 Famous Authors
Popular Topics