Heart And Feeling Famous Quotes & Sayings
List of top 100 famous quotes and sayings about heart and feeling to read and share with friends on your Facebook, Twitter, blogs.
Top 100 Heart And Feeling Quotes
#1. Honestly, he blamed Jace and Colt for that little nagging feeling in his heart that insisted something was missing. Was he lonely? Hell, he didn't know. - Author: Kindle Alexander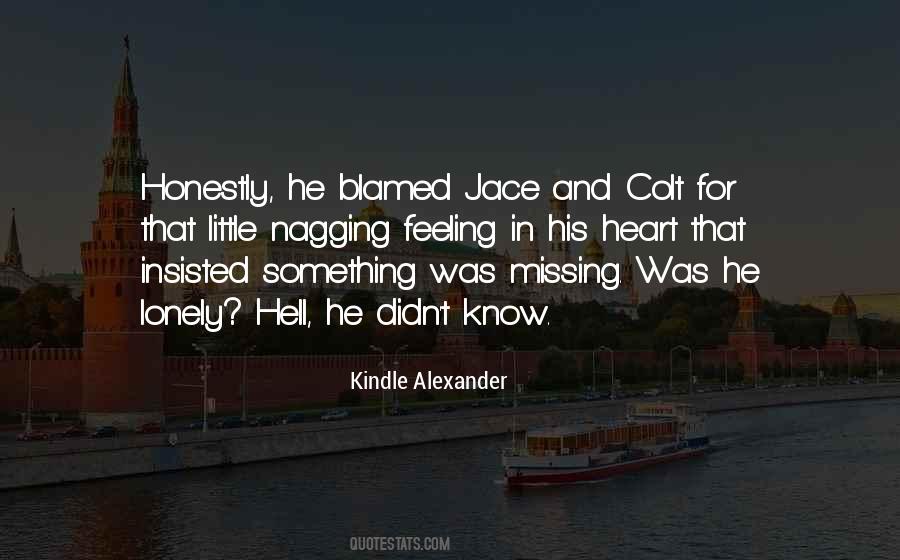 #2. Della's heart did a dip, feeling the emotional tug of seeing two people who were so right for each other. She'd always gotten that feeling when she saw Kylie and Lucas together. - Author: C.C. Hunter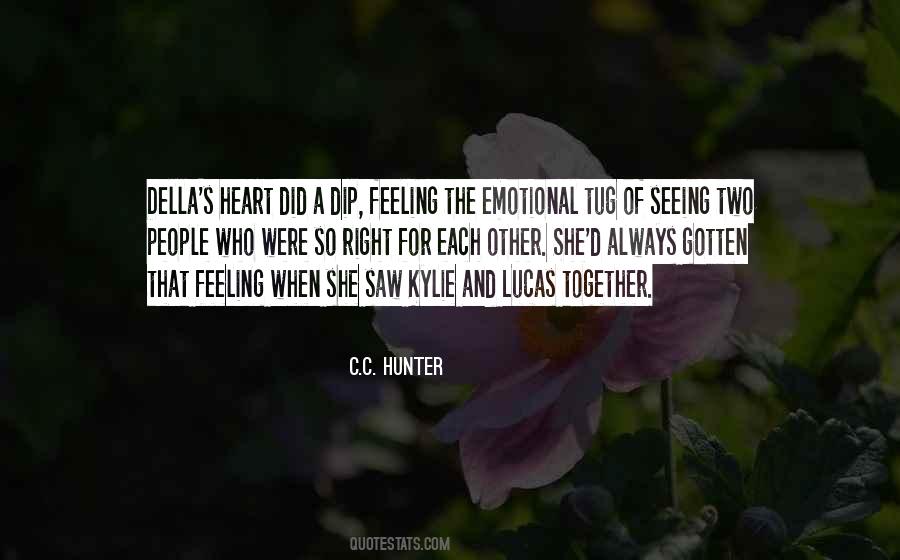 #3. I'm not a politician, I'm not an ideologue, I'm not an organizer anymore. I'm a human being sharing ideas, and those ideas have to feel fresh and from my heart and my head, and I have to feel it. You can't force that feeling. - Author: Hari Kondabolu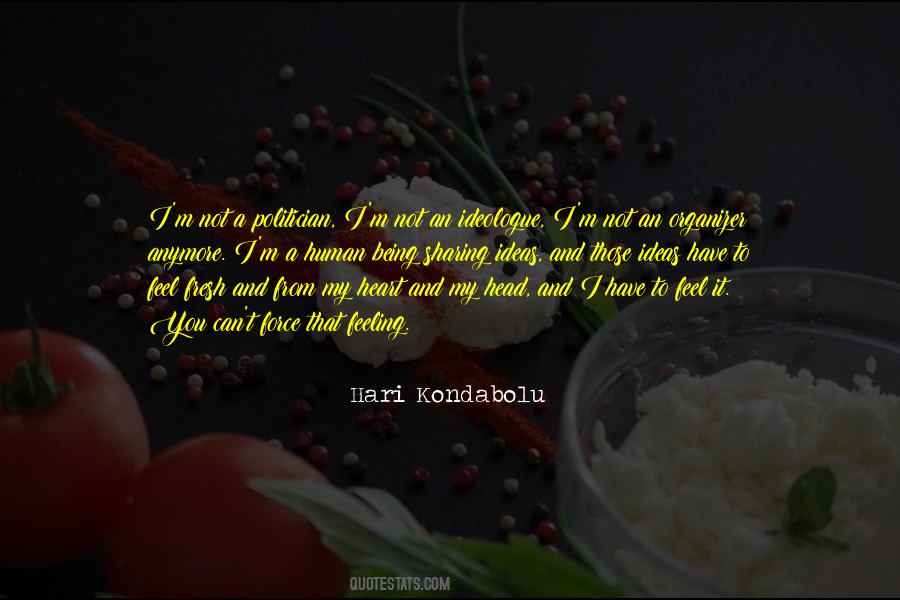 #4. He pulls my swaddled figure close to his chest and I shatter. Two three four fifty thousand pieces of feeling stab me in the heart, melt into drops of warm honey that soothe the scars in my soul. - Author: Tahereh Mafi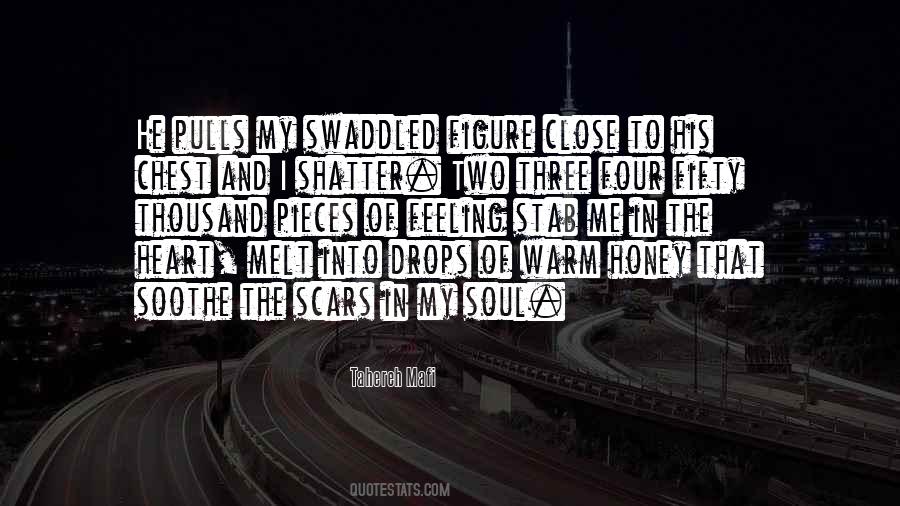 #5. I don't know what this feeling is... I only know that I feel safe in your arms. My heart races every time I see you, I can't catch my breath when I'm around you, and I'm on fire whenever you touch me... - Author: Sarah West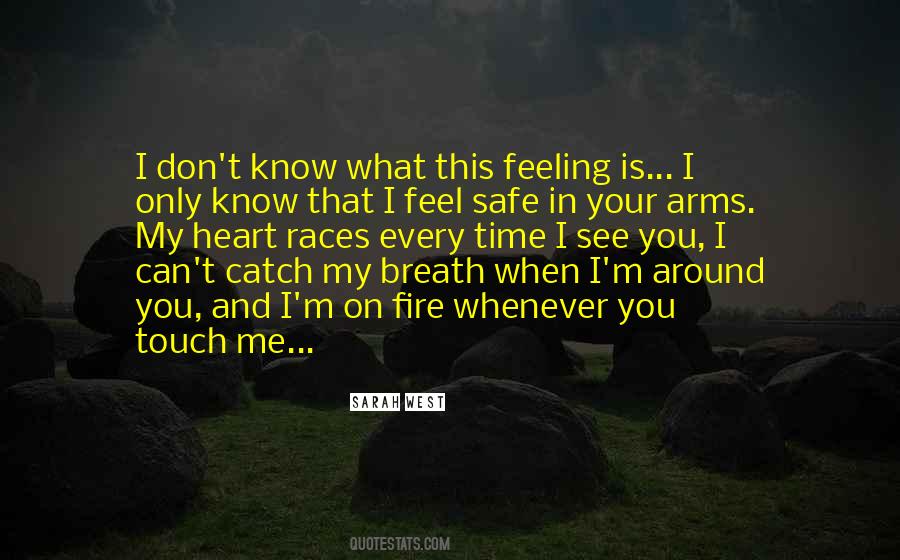 #6. This feeling of guilt is your conscience calling your attention to the higher road, and your heart wishing you had taken it. - Author: Richelle E. Goodrich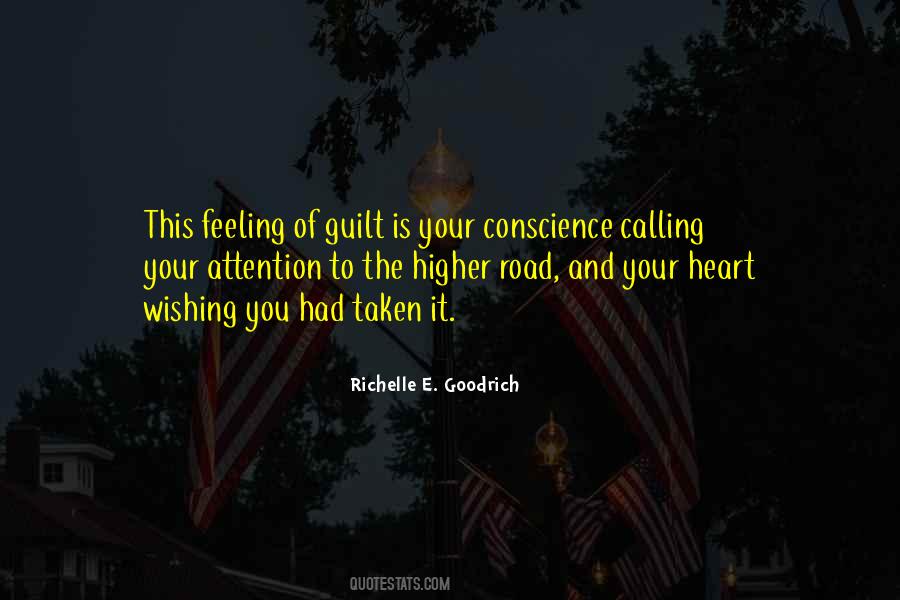 #7. And I never forgot this as long as I've ever performed, no matter how crap I had felt before I went on stage. I just remember Tina Turner going up there, singing her heart out for everybody, and meantime she had a 102-degree fever and she was feeling terrible. - Author: Bryan Adams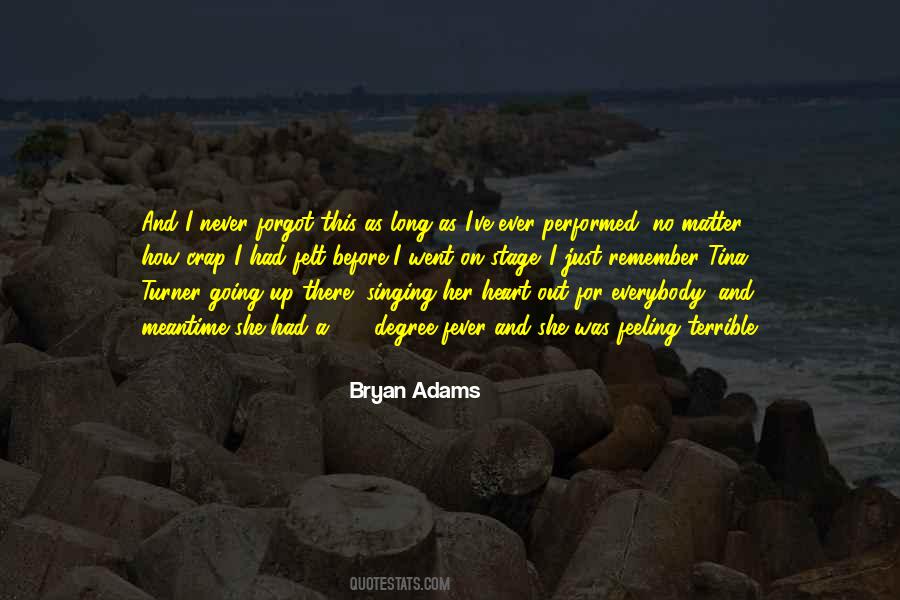 #8. Art-making is learned by immersion. You take in vocabularies of thought and feeling, grammar, diction, gesture, from the poems of others, and emerge with the power to turn language into a lathe for re-shaping, re-knowing your own tongue, heart, and life ... - Author: Jane Hirshfield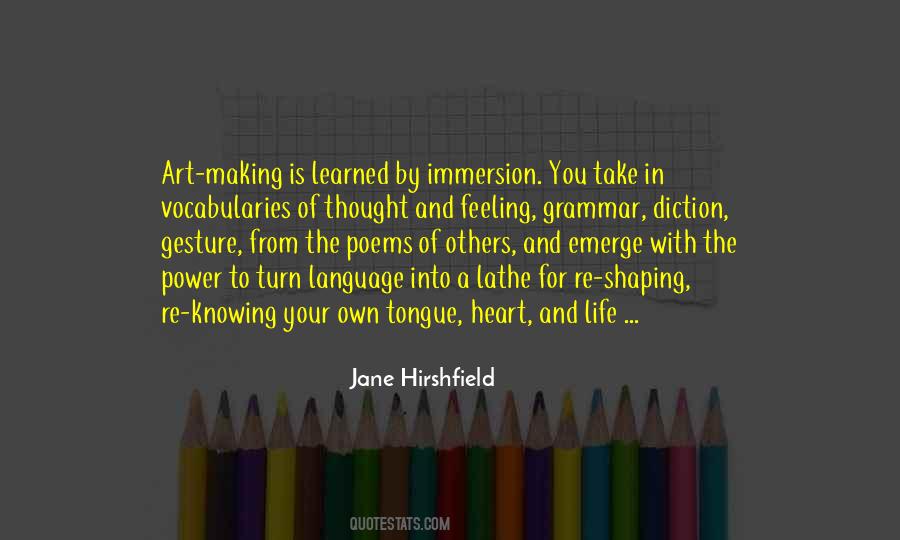 #9. Dustfinger still clearly remembered the feeling of being in love for the first time. How vulnerable his heart had suddenly been! Such a trembling, quivering thing, happy and miserably unhappy at once. - Author: Cornelia Funke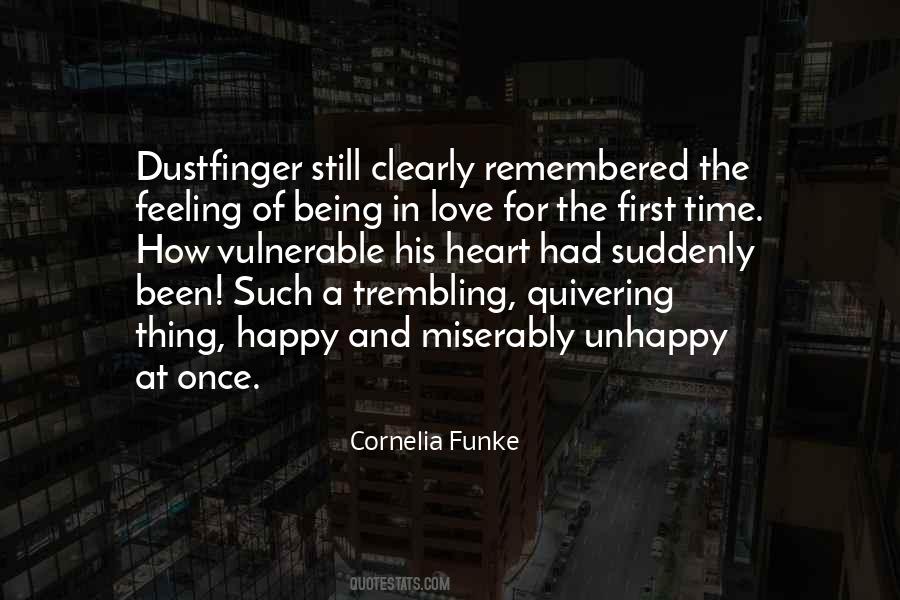 #10. And the sweetest, spellbound feeling spilling from her heart. - Author: Lauren Kate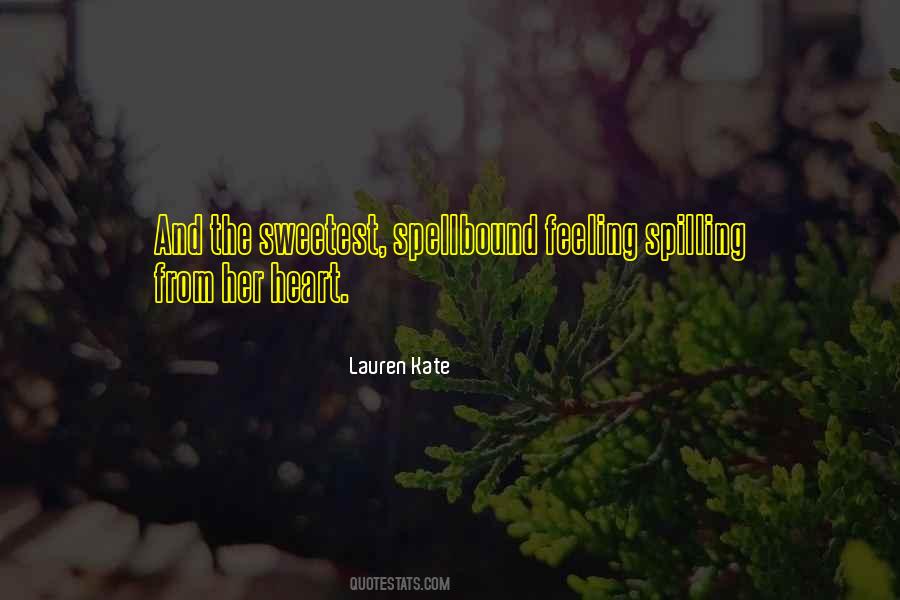 #11. Later I wake and he's asleep and I move over him gently to kiss across his chest and listen to his slow heartbeat, and I want to stay there, listening to his heart. I feel strange. I can't remember ever feeling like this. I think I'm sort of happy. - Author: Sally Green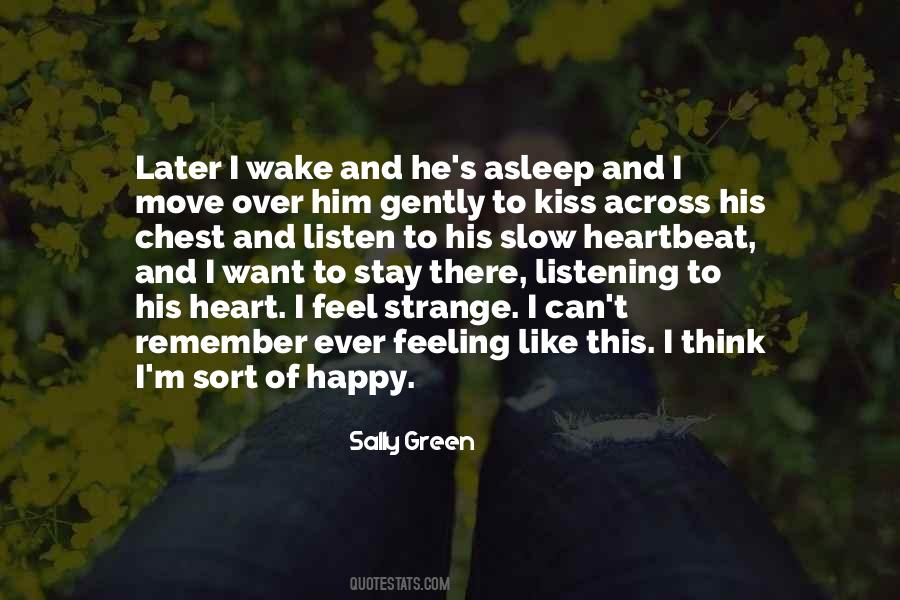 #12. Love is anything but safe, it's wild and raw and will rip at your heart strings but once you've tasted it for the very first time it becomes like an addiction feeling nostalgia when seperated for another beating heart & before them you question where you called home. - Author: Nikki Rowe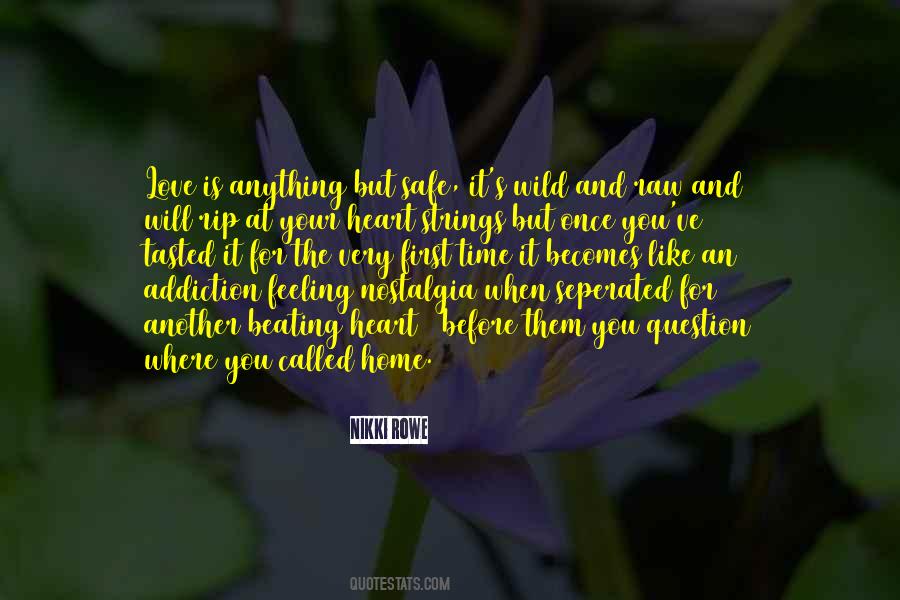 #13. One of the things that happens when we're feeling more love and care is that we go into what's called "heart rhythm coherence," which you can actually measure and monitor on a computer screen. It's also possible to train yourself to go into heart rhythm coherence at will. - Author: Marci Shimoff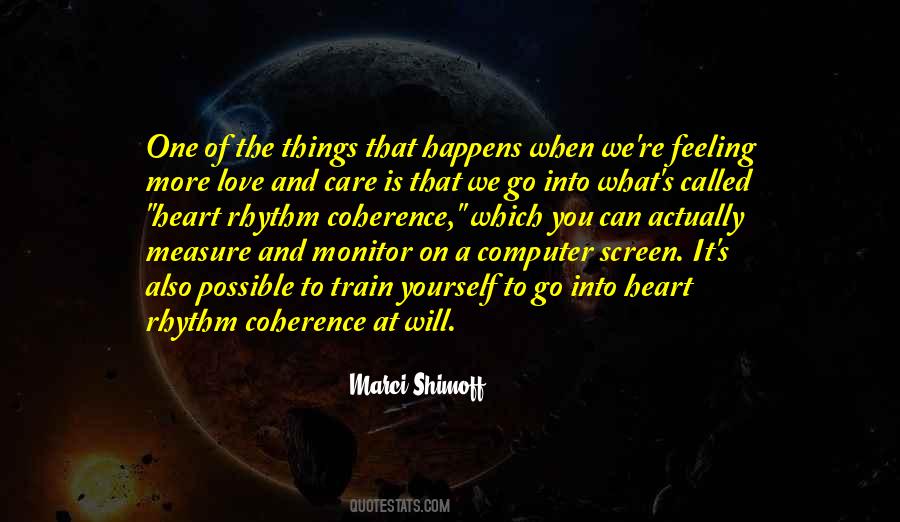 #14. What happens when you have great grief in your life is the arteries of that heart begins to spasms down, just literally squeezes down like this because you're feeling the tension of your life and then the heart muscle itself will also begin - to get stressed out. - Author: Mehmet Oz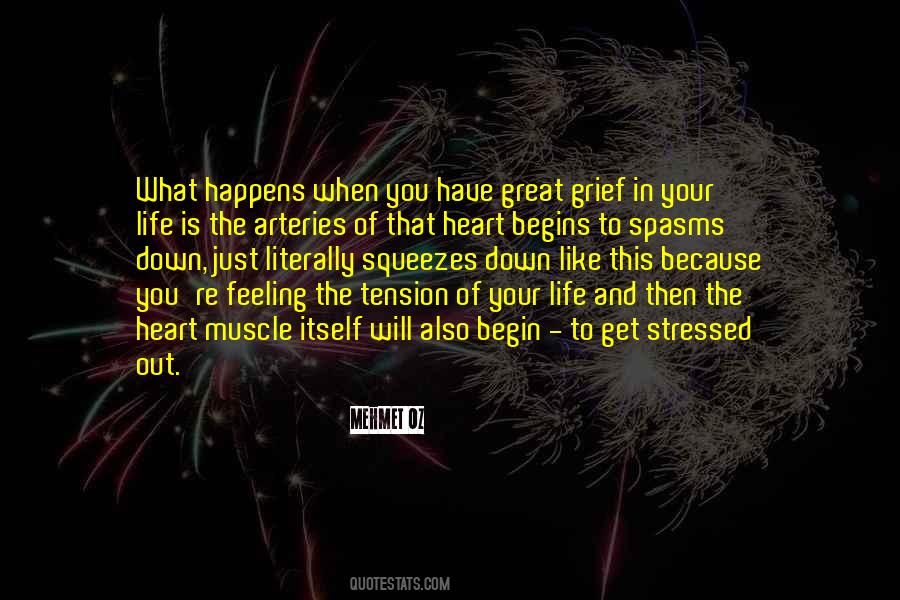 #15. She's the only girl who's ever broken my heart, and it's a very weird, uncomfortable feeling for me. I like to be the one doing the heartbreaking. Well, not really. No one ever likes to break someone's heart, but sometimes it has to be done. - Author: Lauren Barnholdt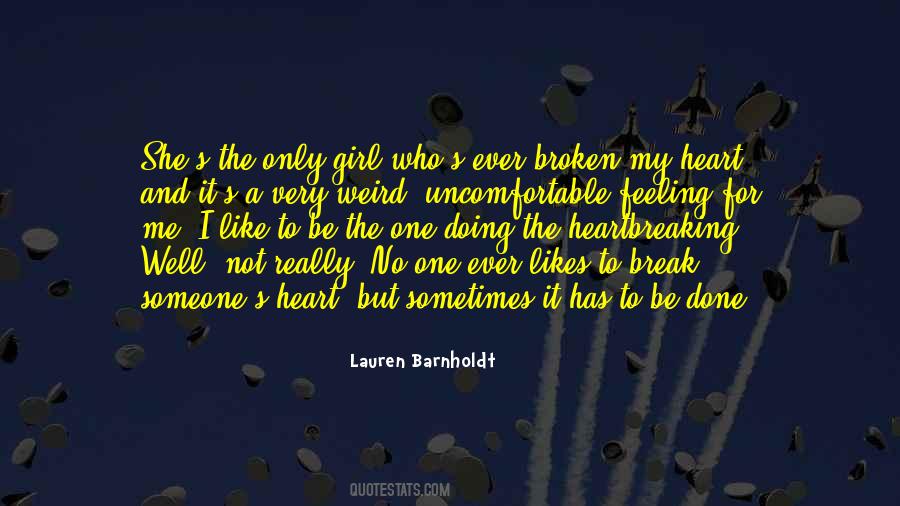 #16. Harden our hearts to the innocents in the womb, and we have hardened our hearts to the need for compassion, and mercy, and fellow-feeling, and charity, and decency in this world. - Author: Alan Keyes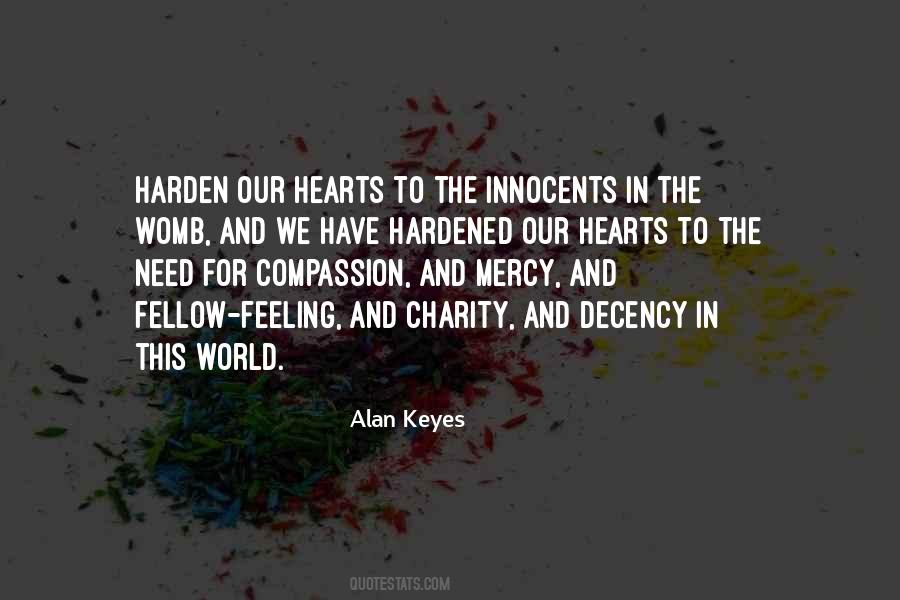 #17. Feel like Christ and you will be a Christ; feel like Buddha and you will be a Buddha. It is feeling that is the life, the strength, the vitality, without which no amount of intellectual activity can reach God. It is through the heart that the Lord is seen, and not through the intellect. - Author: Swami Vivekananda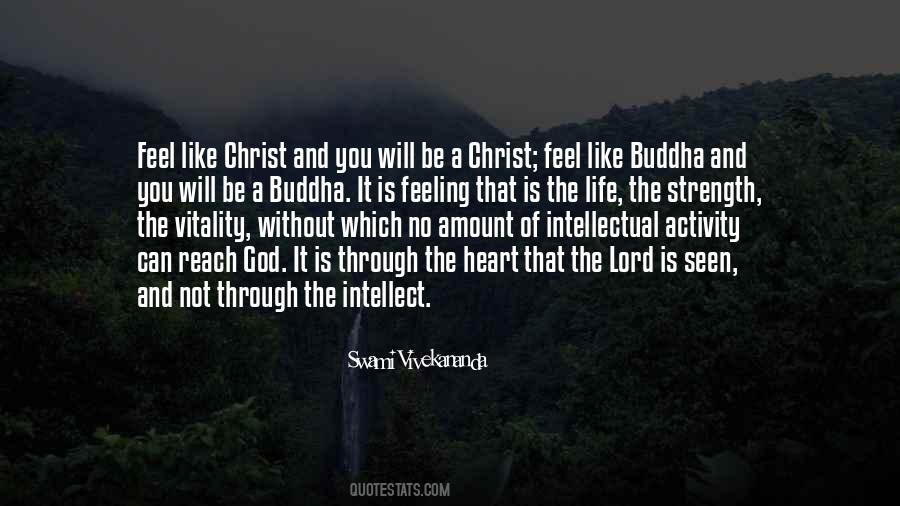 #18. If by chance some day you're not feeling well and you should remember some silly thing I've said or done and it brings back a smile to your face or a chuckle to your heart, then my purpose as your clown has been fulfilled. - Author: Red Skelton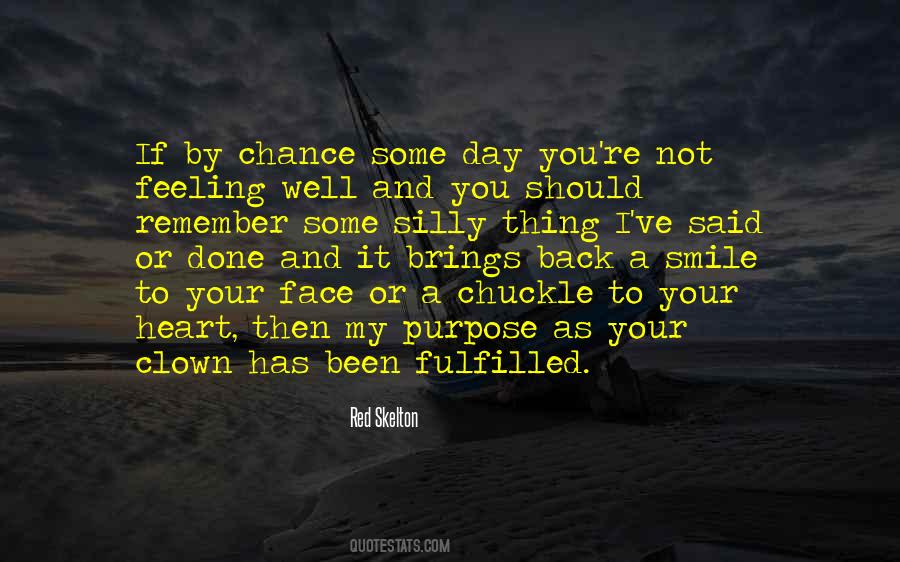 #19. Nick leaned in and our lips met. It really was an out-of-body experience. I had never felt that shocking feeling that starts in your lips, travels throughout your entire body and rests in your heart. - Author: John H. Ames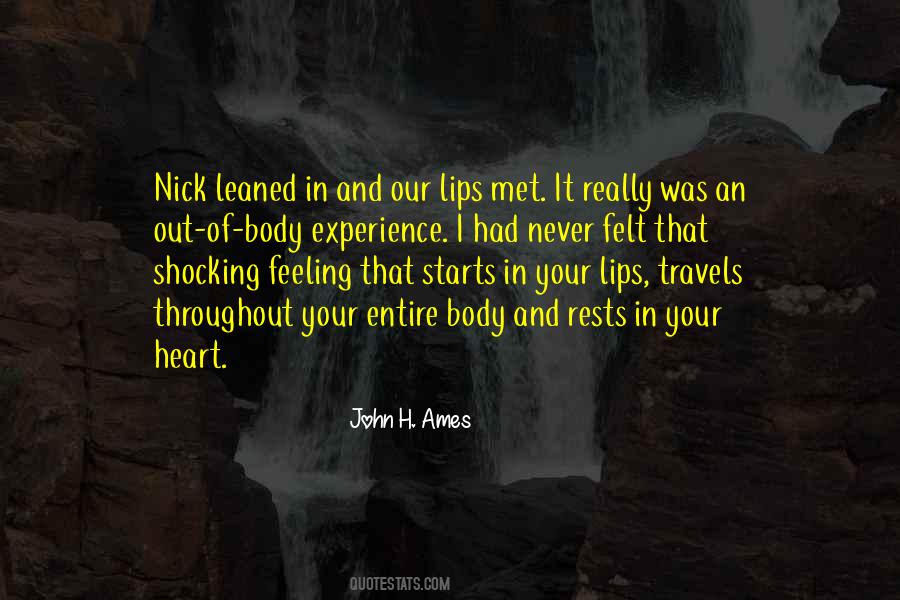 #20. The feeling of intense repulsion, which had begun to oppress and torture his heart while he was on his way to the old woman, had by now reached such a pitch and had taken such a definite form that he did not know what to do with himself to escape from his wretchedness - Author: Fyodor Dostoyevsky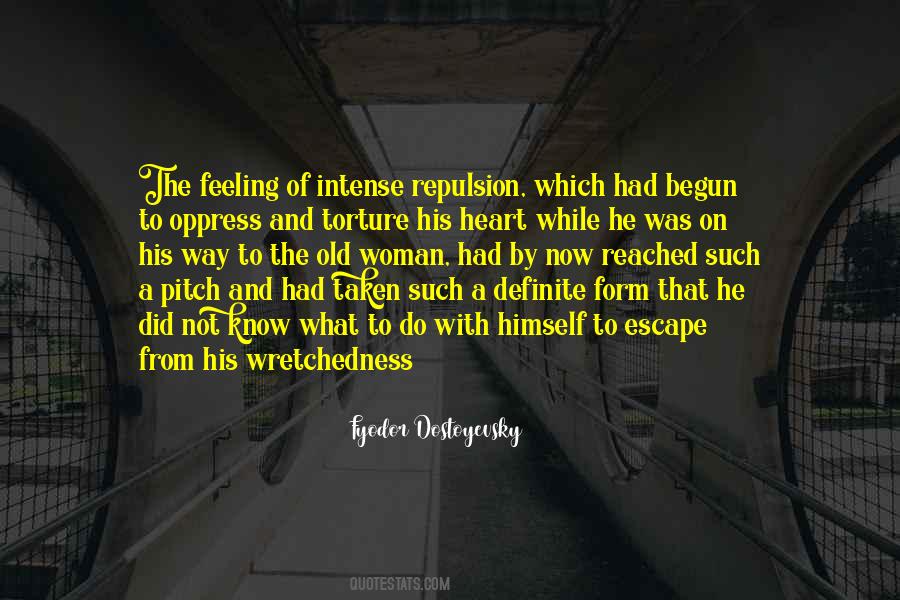 #21. The girl's eyes were soft and tender, and the heart within her stretched a little and grew - grew in sweetness and intuition and depth of feeling. It had looked into another heart, felt it beat, and heard it sigh; and that is how all hearts grow. - Author: Kate Douglas Wiggin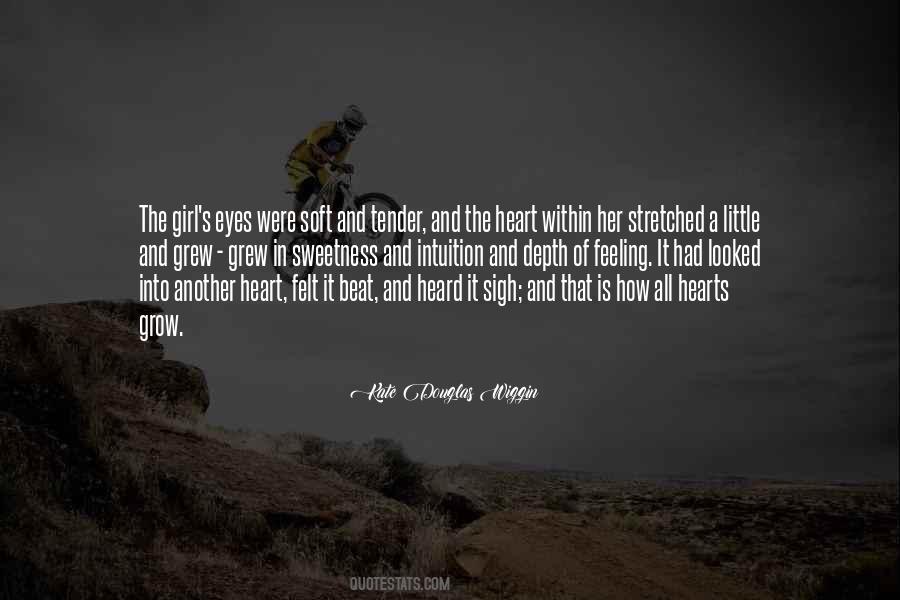 #22. The kitchen door, painted red from the day Naomi moved in, and a geranium, also red, outside on the stoop, gave the whole area a feeling of whimsy. - Author: Suzanne Palmieri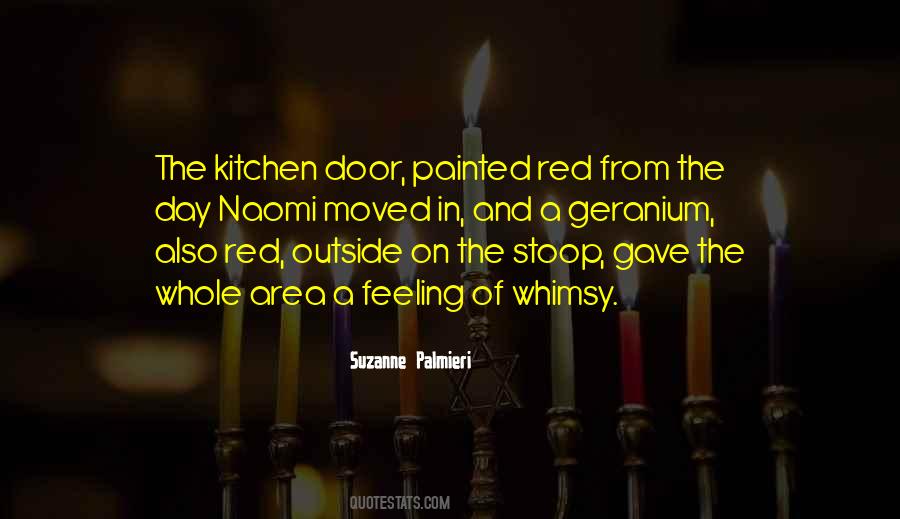 #23. But even considering these, I have great confidence in our young people as a whole. I regard you as the finest generation in the history of the Church. I compliment you, and I have in my heart a great feeling of love and respect and appreciation for you. - Author: Gordon B. Hinckley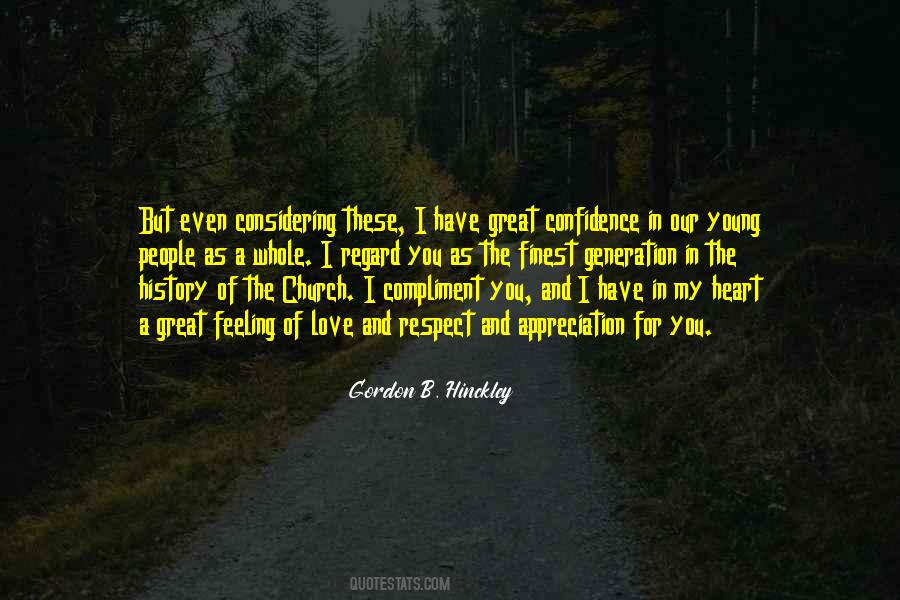 #24. I sing this song in church - 'I don't believe He brought me this far to leave me.' I got a feeling that all these shows, all this everything, is part of my blessing. And in my heart, I know I'm going to do every show, and everything is going to be OK. - Author: Sharon Jones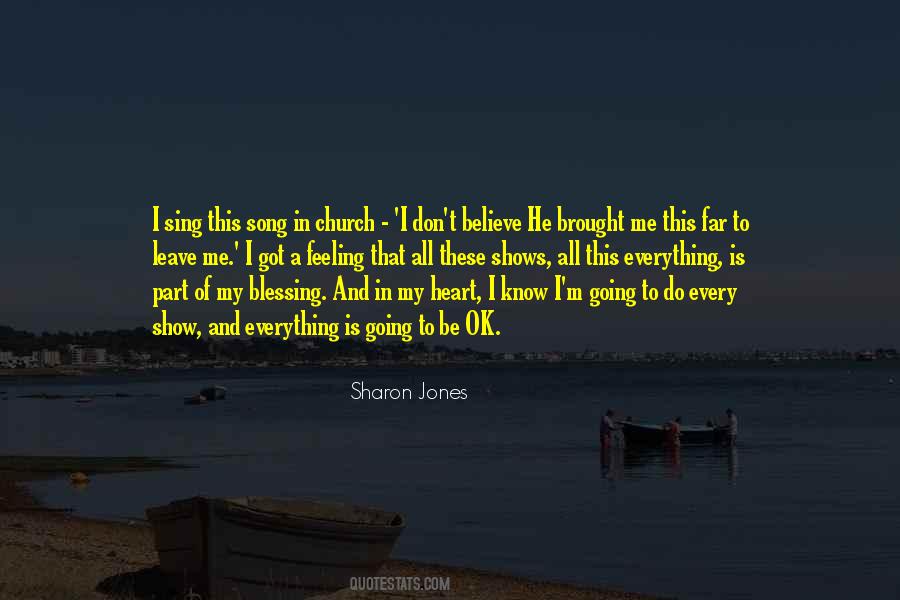 #25. Trust your heart's feeling, accept it and be happy. - Author: Debasish Mridha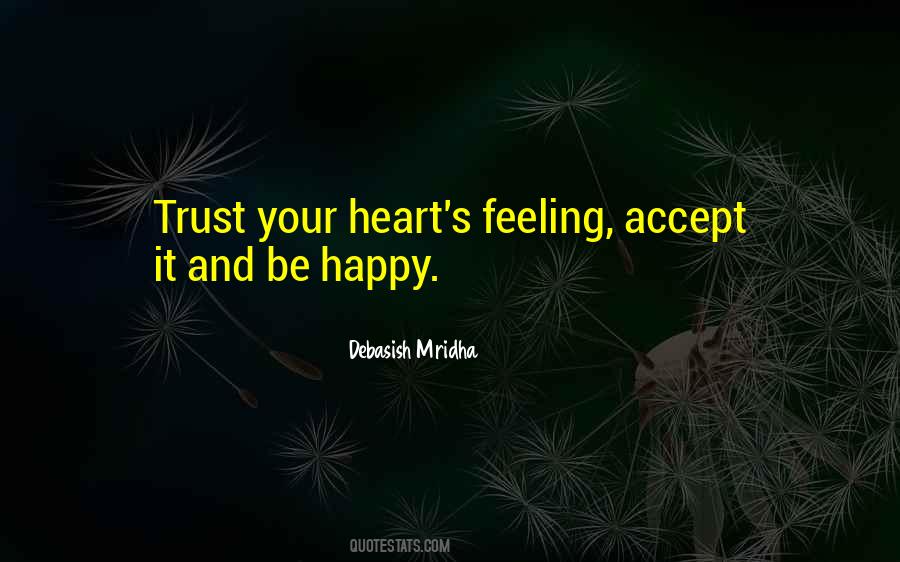 #26. It is a curious sensation: the sort of pain that goes mercifully beyond our powers of feeling. When your heart is broken, your boats are burned: nothing matters any more. It is the end of happiness and the beginning of peace. - Author: George Bernard Shaw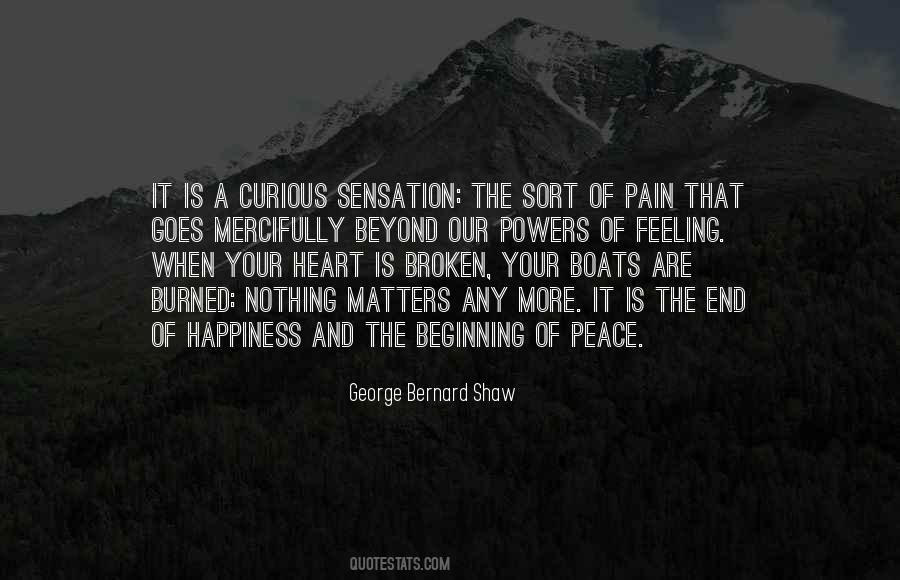 #27. I love stepping onto the ice knowing I can create whatever I want or am feeling that day. It inspires me to be creative and artistic. It's a great therapeutic outlet to utilize both my heart and body at the same time. - Author: Tara Lipinski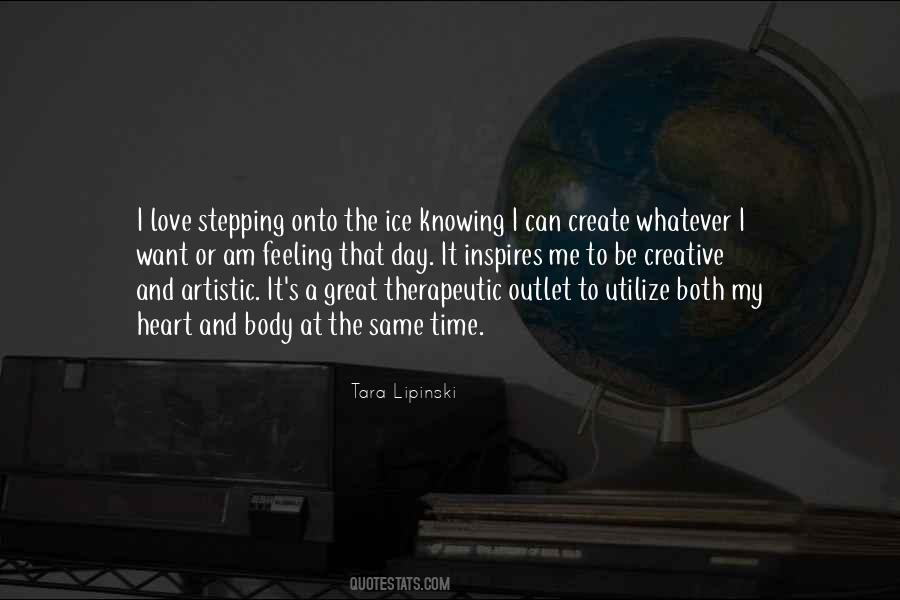 #28. I haven't made anything I don't believe in. I've always started a movie with a song in my heart, and even when I'm a little unclear about it, something magical happens and it comes into focus in a way that I'm feeling good about. - Author: Nicolas Cage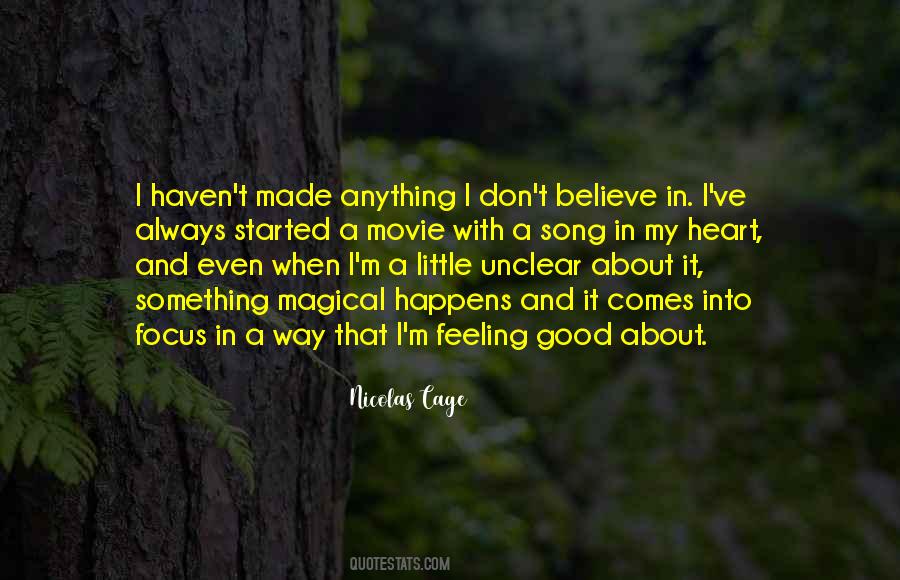 #29. Suffering is part and parcel of extensive intelligence and a feeling heart. - Author: Fyodor Dostoyevsky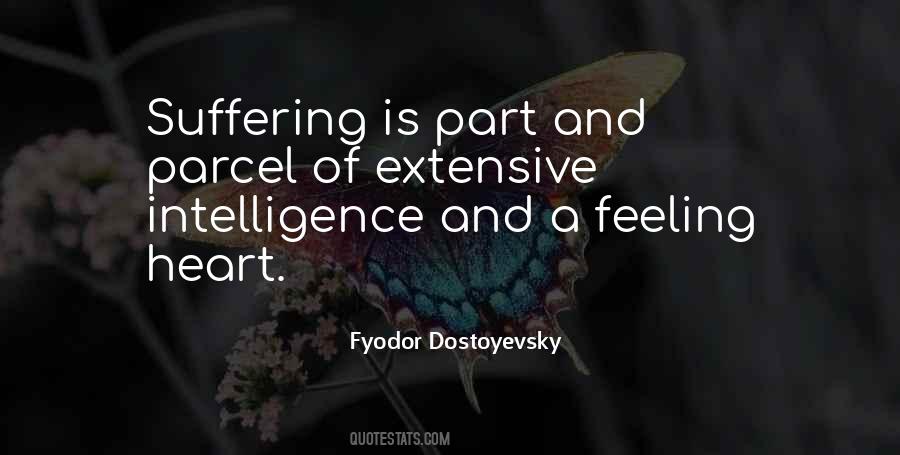 #30. Motherhood is an amazing feeling, and if you get to relive those special moments while working, it works as an icing on the cake. Kids have always been close to my heart, and working with them is a pleasure for me. - Author: Kajol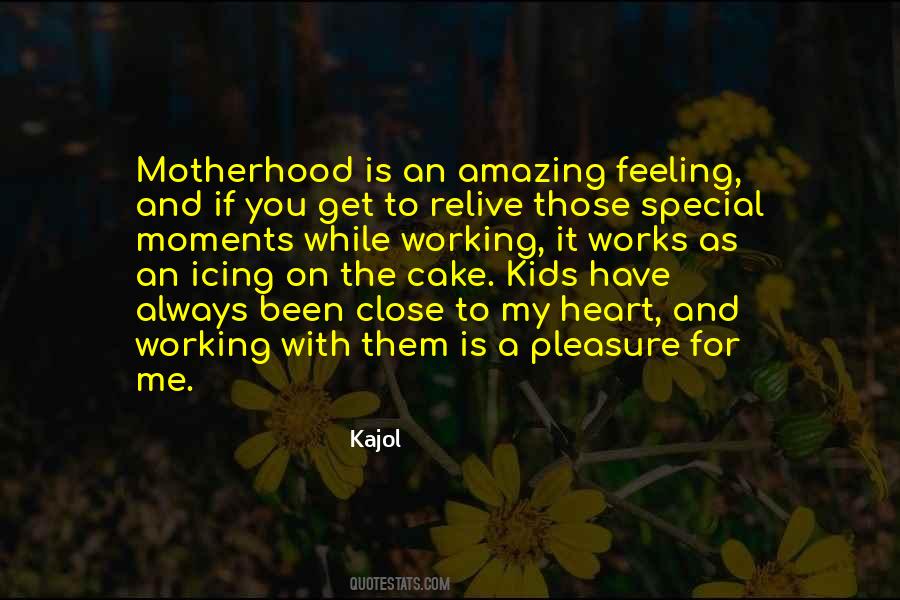 #31. I still get butterflies on the first tee. I still get sweaty hands, and my heart pumps a lot going down the 18th. But I know what winning is all about now, and that's a feeling that I like. - Author: Annika Sorenstam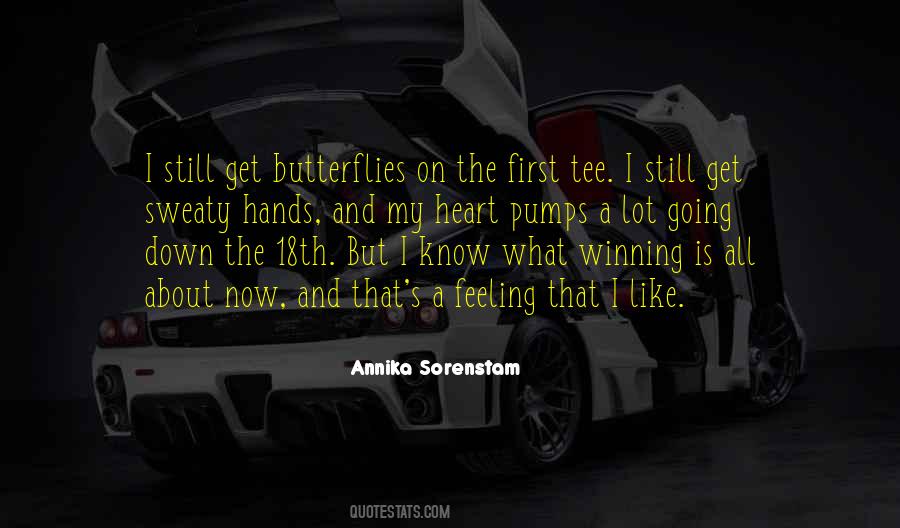 #32. I gang my own gait and have never belonged to my country, my home, my friends, or even my immediate family, with my whole heart; in the face of all these ties I have never lost an obstinate sense of detachment, of the need for solitude - a feeling which increases with the years. - Author: Albert Einstein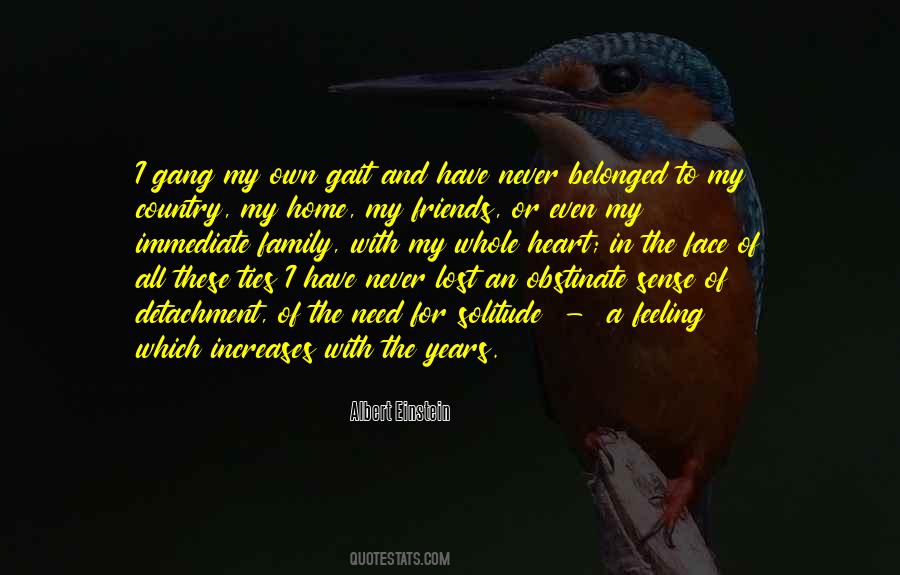 #33. He took a step closer. "I don't know if I'll ever get you out of my system, not completely. I have this ... feeling. That you'll always be there. Here." Conrad clawed at his heart and then dropped his hand. - Author: Jenny Han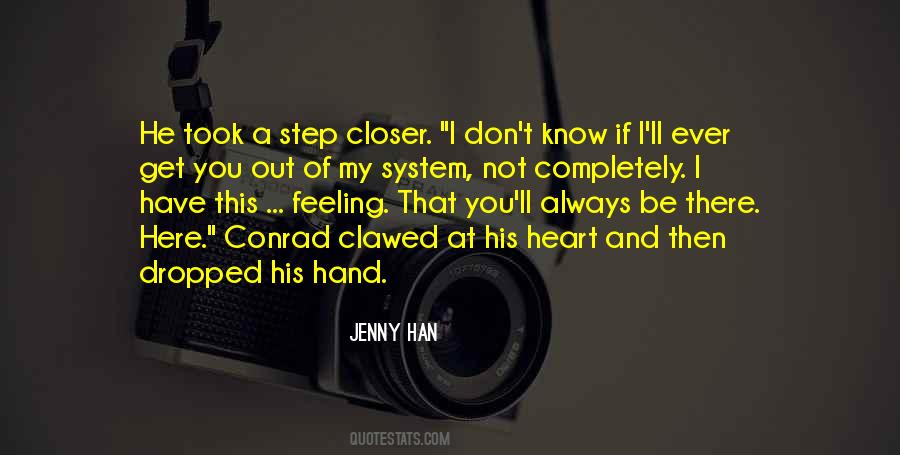 #34. If we had a keen vision and feeling of all ordinary human life, it would be like hearing the grass grow and the squirrel's heart beat, and we should die of that roar which lies on the other side of silence. - Author: George Eliot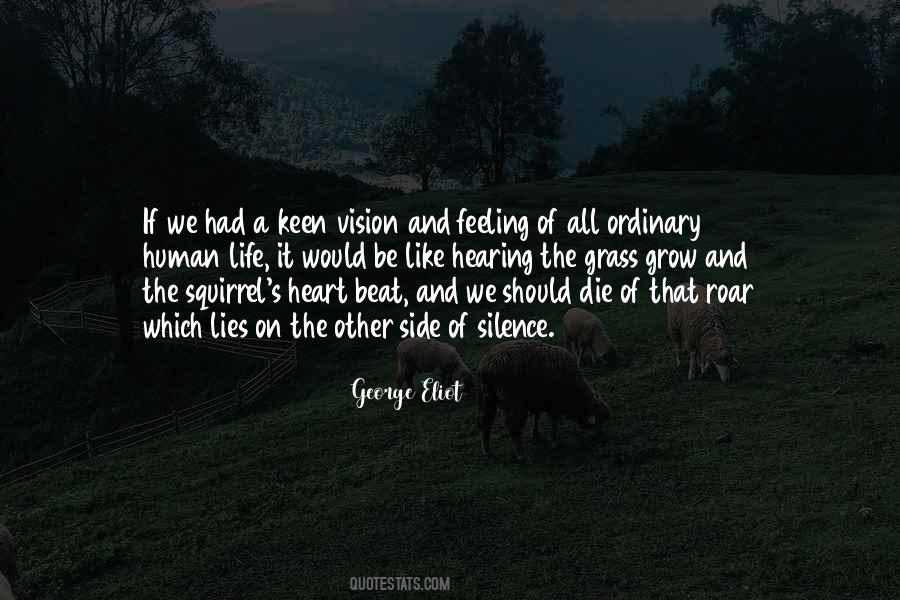 #35. At 10, I heard Neil Diamond's 'Solitary Man' and it moved me so deeply I stood, frozen in place during school recess, feeling such empathy for the narrator in Diamond's masterpiece that my heart was smashed. - Author: Dan Hill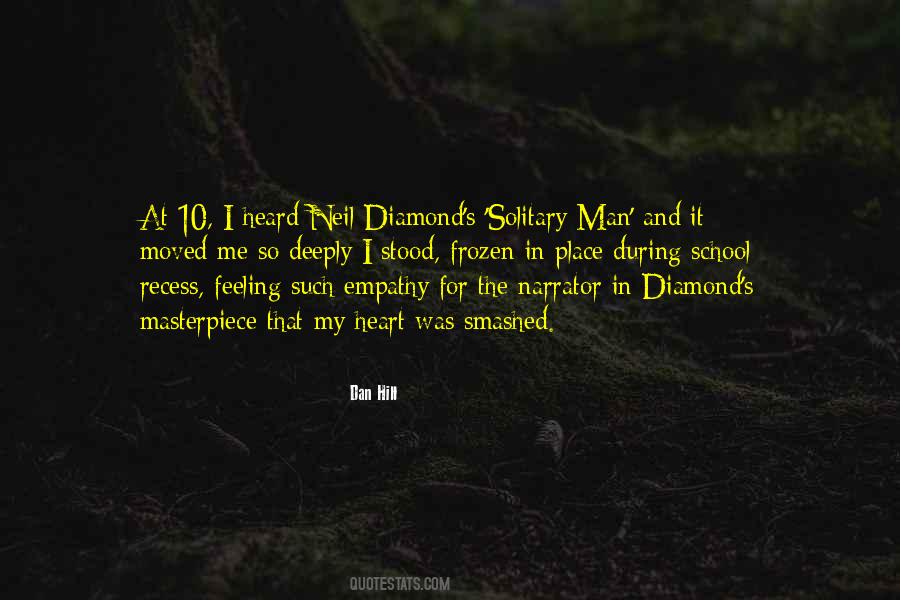 #36. I give myself this advice: Do not fear truth, let it be ever so contrary to inclination and feeling. Never give up the search after it; and let me take courage, and try from the bottom of my heart to do that which I believe truth dictates, if it lead me to be a Quaker or not - Author: Elizabeth Fry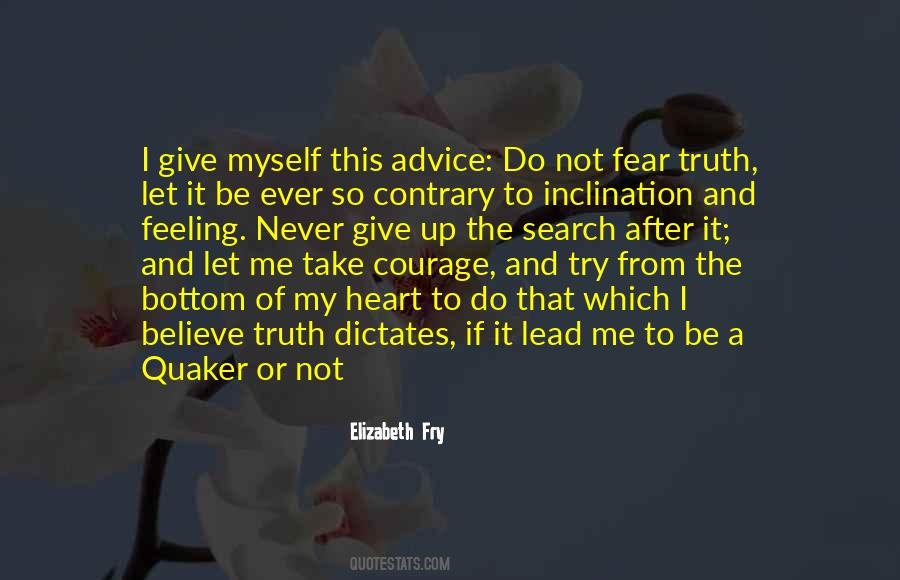 #37. There are receptors to these molecules in your immune system, in your gut and in your heart. So when you say, 'I have a gut feeling' or 'my heart is sad' or 'I am bursting with joy,' you're not speaking metaphorically. You're speaking literally. - Author: Deepak Chopra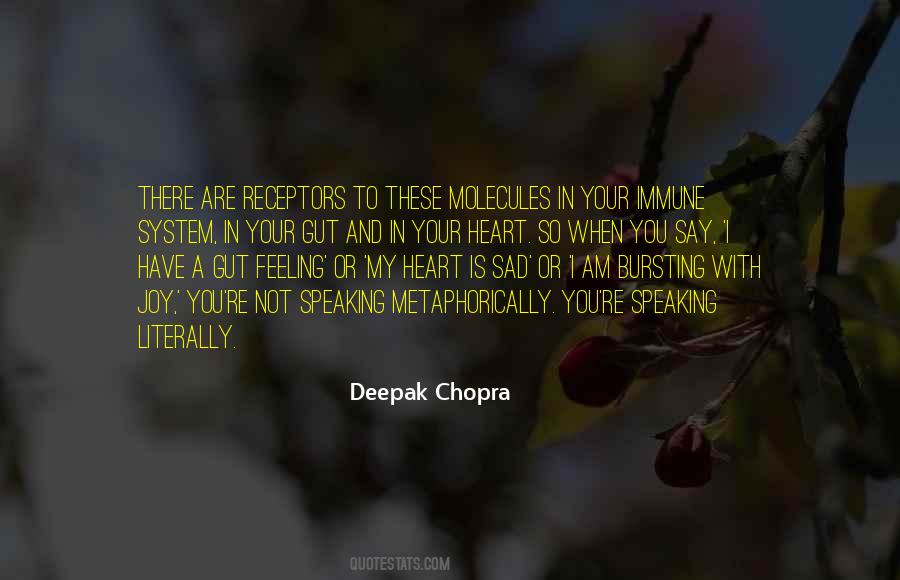 #38. When our hearts open, when we know that we are in fact the world, when we experience the pain of others in our own blood and muscle, we are feeling compassion. - Author: Ram Dass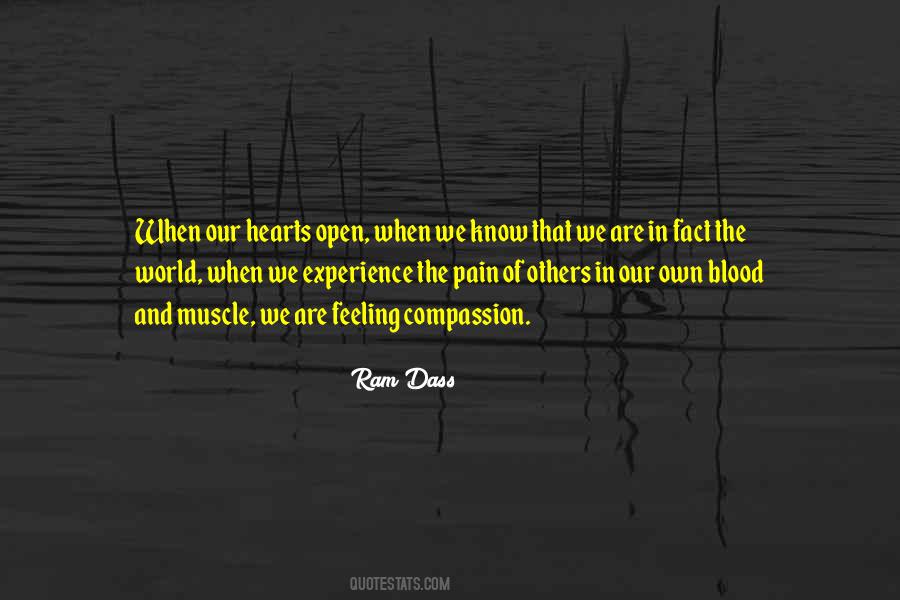 #39. There is nothing perhaps so generally consoling to a man as a well-established grievance; a feeling of having been injured, on which his mind can brood from hour to hour, allowing him to plead his own cause in his own court, within his own heart, and always to plead it successfully. - Author: Anthony Trollope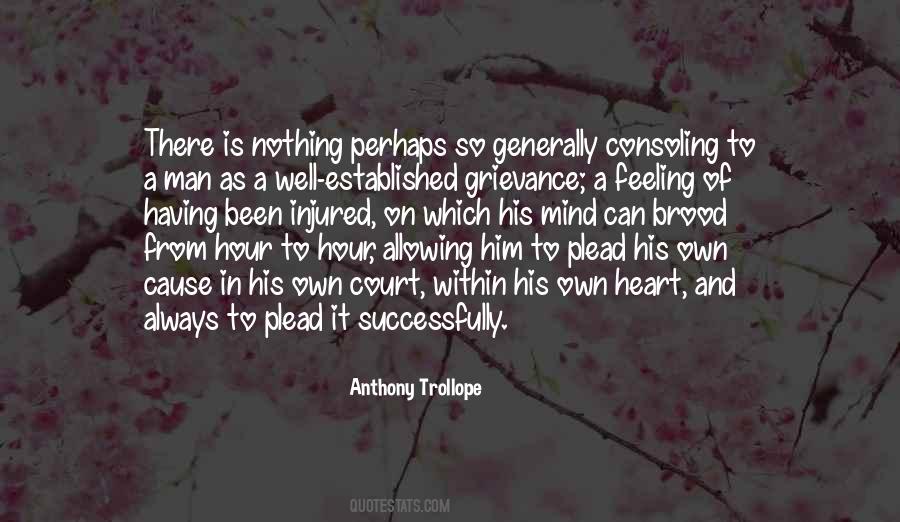 #40. Then she would wander through fields, over simple, poor land, looking carefully and keenly all round her, still getting used to being alive in the world, and feeling glad that everything in it was right for her - for her body, her heart, and her freedom. - Author: Andrei Platonov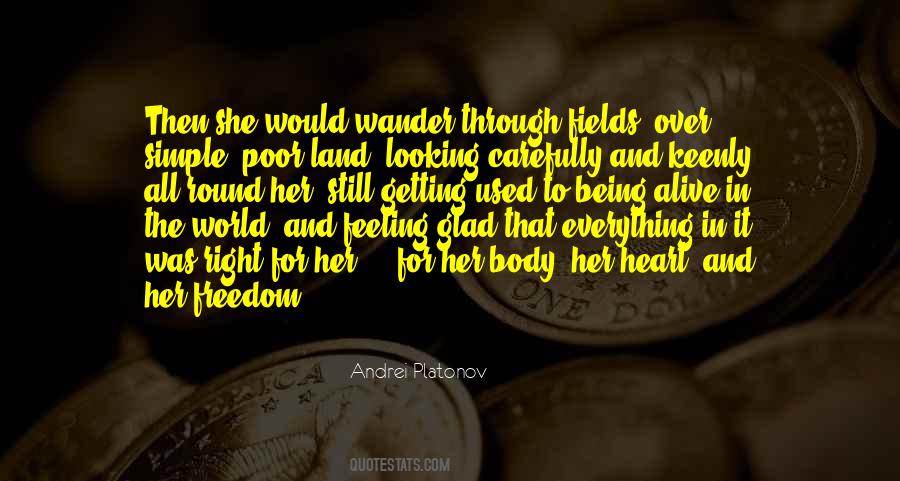 #41. Our heart knows what our mind has forgotten - it knows the sacred that is within all that exists, and through a depth of feeling we can once again experience this connection, this belonging. - Author: Llewellyn Vaughan-Lee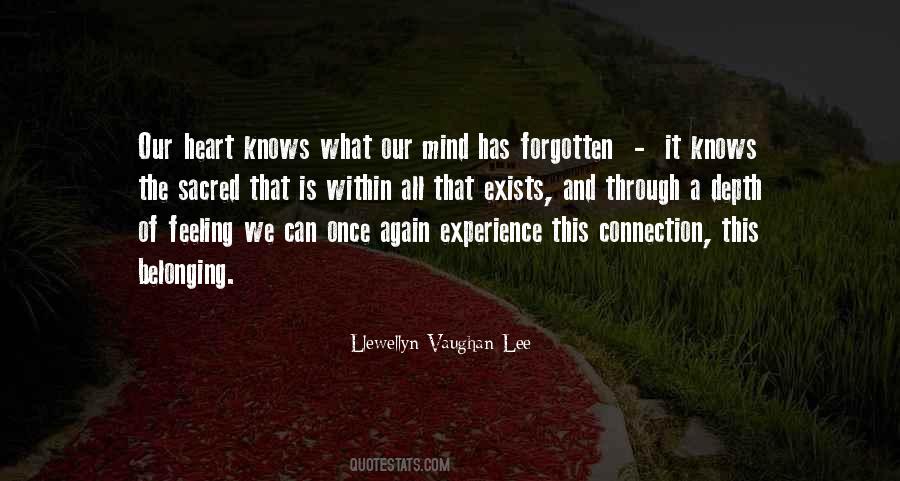 #42. A lot of my songs are personal and about me being 16 and having guys break my heart and feeling like it's the end of the world. - Author: Avril Lavigne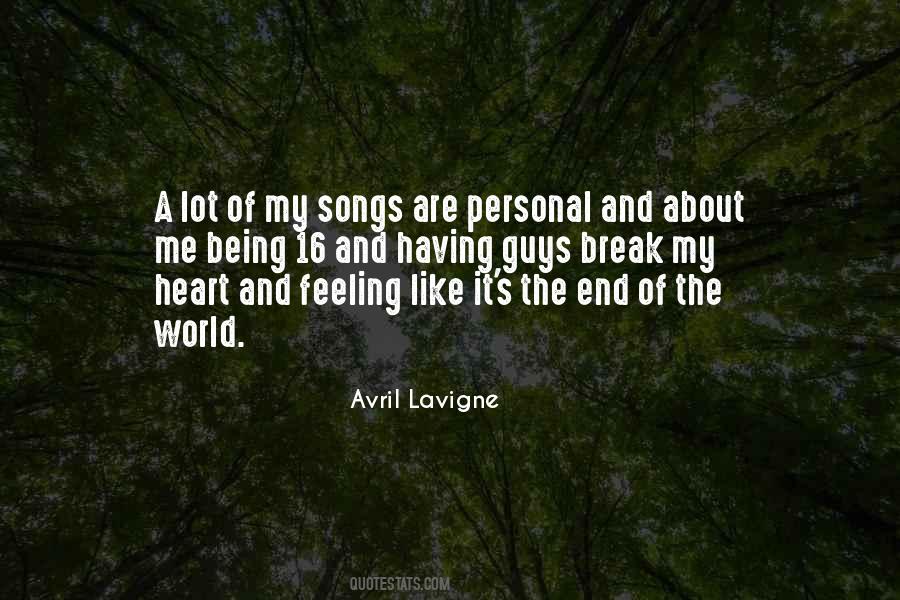 #43. Poetry is a second translation of the soul's feeling; it must be rendered into thought, and thought must change its nebulous robe of semi-wording into definite language, before it reaches another heart. Music is a first translation of feeling, needing no second, but entering the heart direct. - Author: Frances Ridley Havergal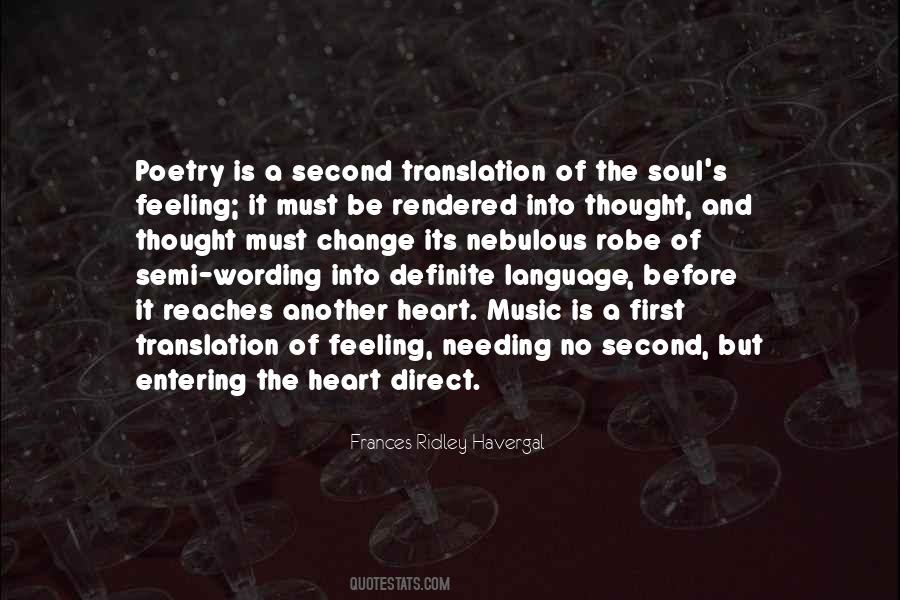 #44. Jude did not flip them off and then drove for a few blocks feeling good about himself, proud of his restraint. His will, it was like iron. - Author: Joe Hill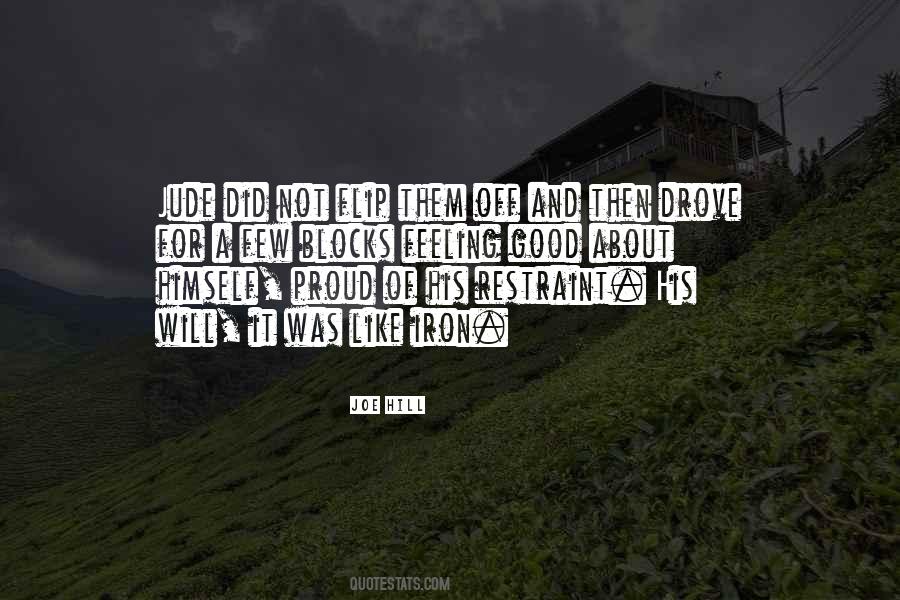 #45. Don't talk yourself into falling in love with someone. Either, you are in love or you are not. True love is not a choice. It is something you know in your heart when all guilt, doubt and fear are removed. - Author: Shannon L. Alder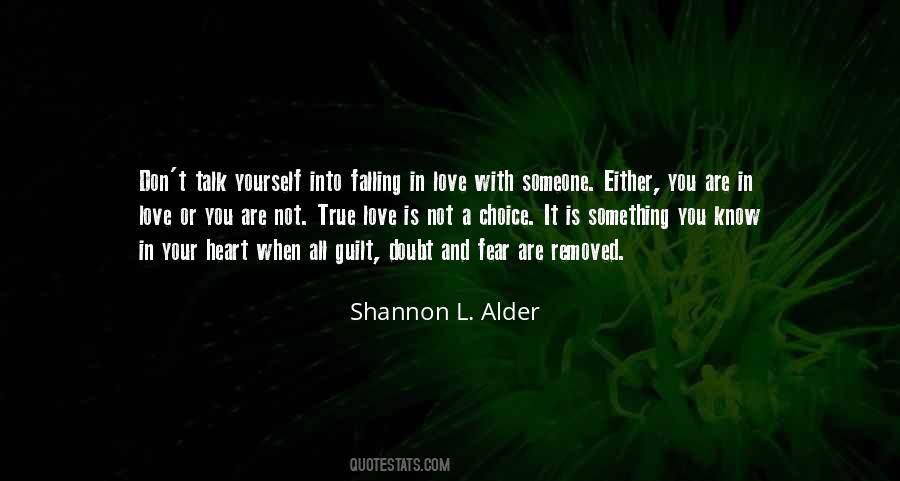 #46. The Lord said: 'Without Me you can do nothing' (Jn. 15:5). So for the duration of our life, every day and at every moment, we must keep unchanged in our heart the feeling, conviction and disposition, that on no occasion can we allow ourselves to think of relying on ourselves and trusting ourselves. - Author: Lorenzo Scupoli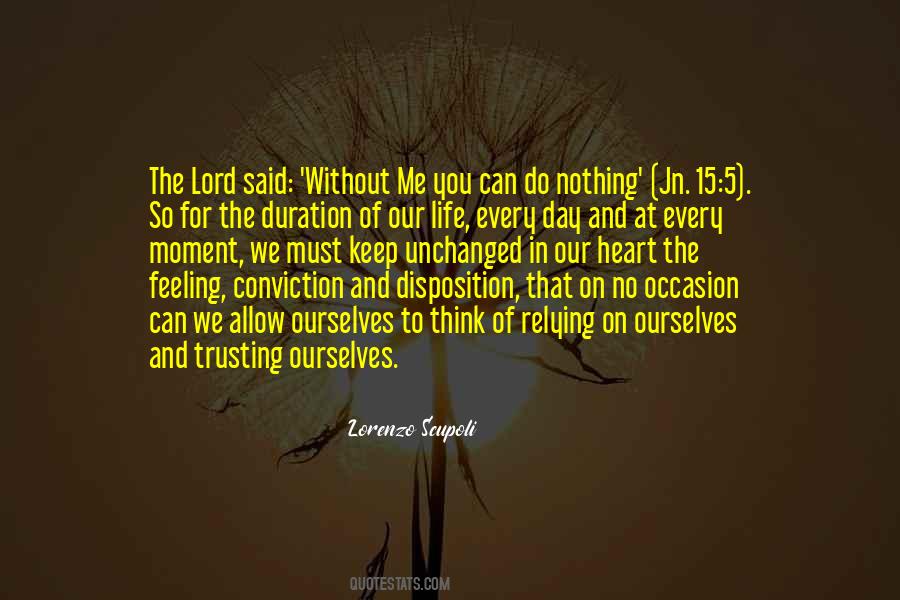 #47. There are many things in your heart you can never tell to another person. They are you, your private joys and sorrows, and you can never tell them. You cheapen yourself, the inside of yourself, when you tell them. - Author: Greta Garbo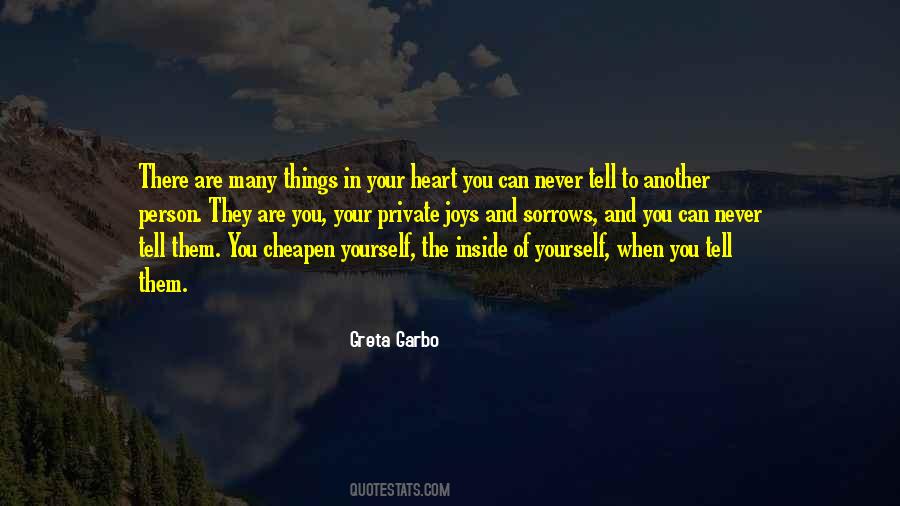 #48. A heartsong doesn't have to be a song in your heart. It doesn't have to be talking about love and peace. It can just be your message. It can be your feeling. Some people might even call it a conscience, even though that's not really what it is. It's your message, what you feel like you need to do. - Author: Mattie Stepanek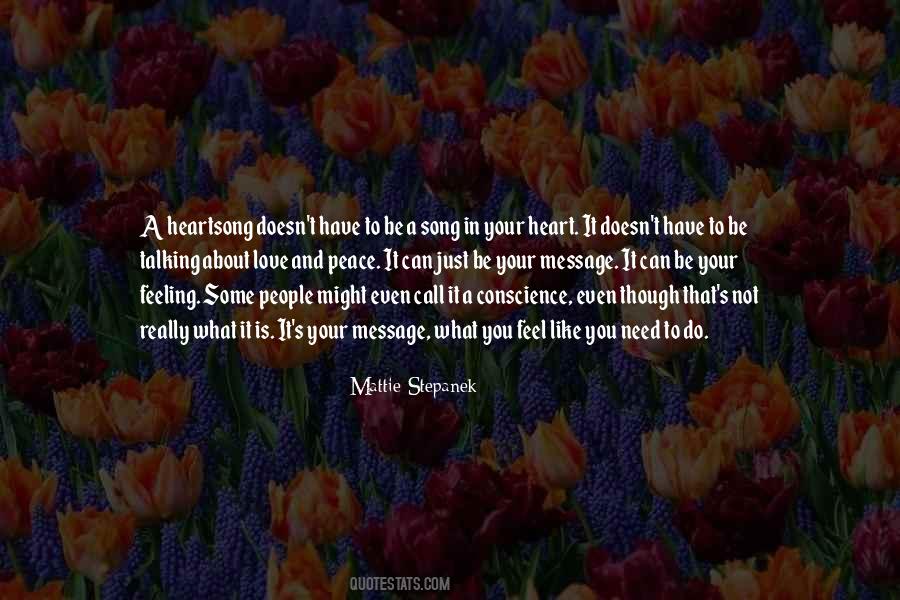 #49. I wasn't crying, but my heart was crying. I wasn't feeling, but my heart was bleeding. Now I am crying, but my heart is healing. I am learning that I know nothing. - Author: Benyf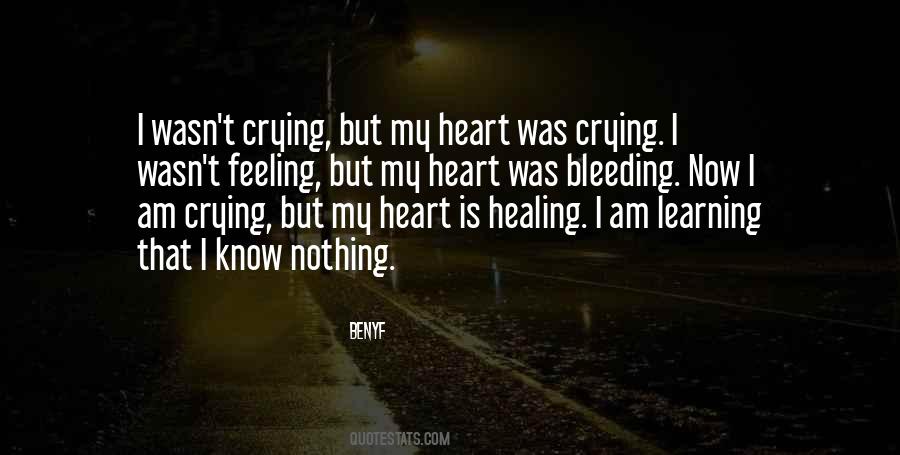 #50. It's a good feeling, that you can put your heart out there, no matter how black it is, and people can understand it. - Author: James Hetfield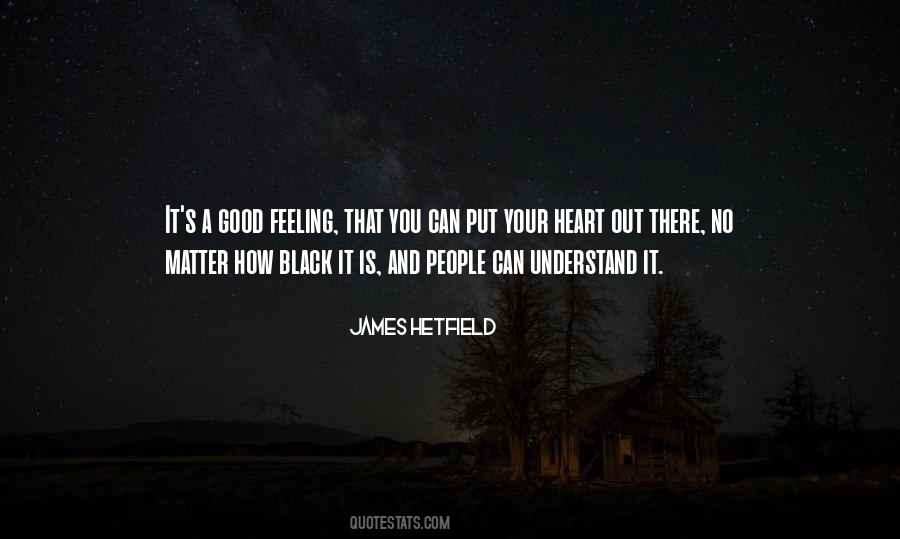 #51. We are to forgive so that we may enjoy God's goodness without feeling the weight of anger burning deep within our hearts. Forgiveness does not mean we recant the fact that what happened to us was wrong. Instead, we roll our burdens onto the Lord and allow Him to carry them for us. - Author: Charles Stanley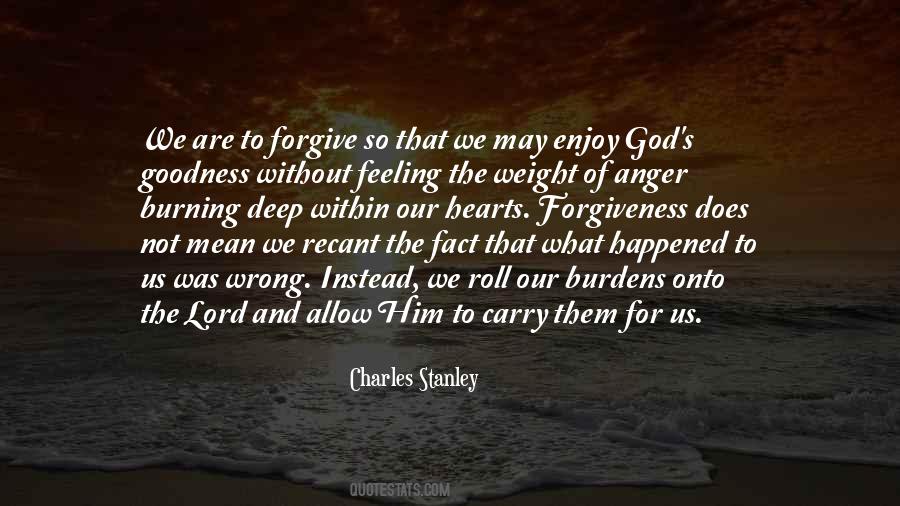 #52. The happiest life has the greatest number of points of contact with the world, and it has the deepest feeling and sympathy with everything that is. - Author: Liberty Hyde Bailey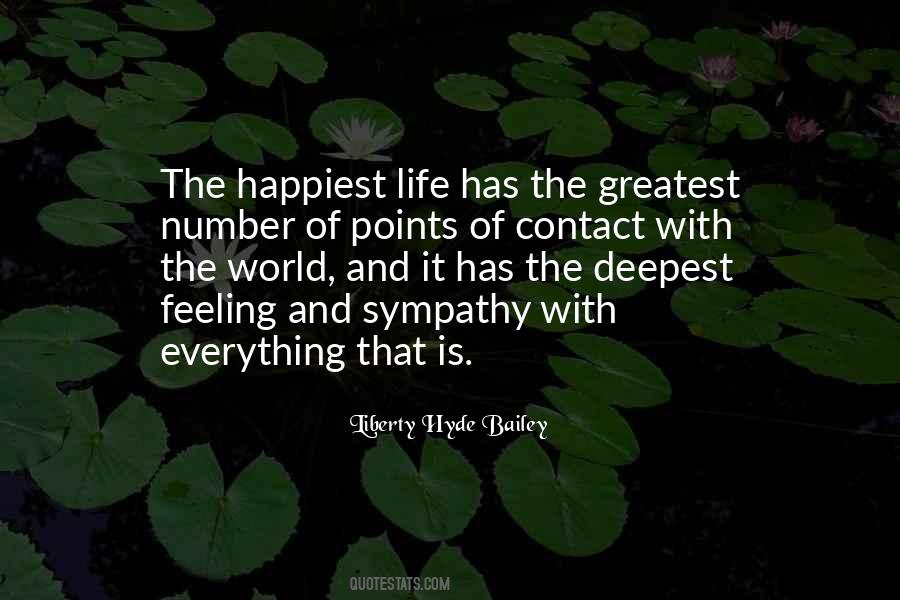 #53. You have infiltrated me completely, you make me feel alive Harlow, and I love that feeling. I have had my heart walled off for so long, and you have melted it so I can feel again. ~Beckett - Author: S.M. Stryker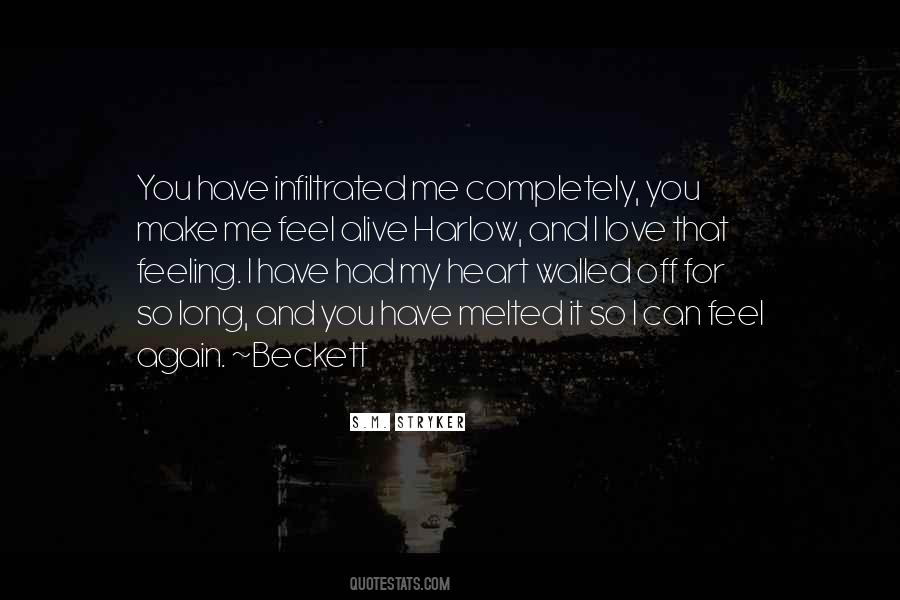 #54. The more often he feels without acting, the less he will be able ever to act, and, in the long run, the less he will be able to feel. - Author: C.S. Lewis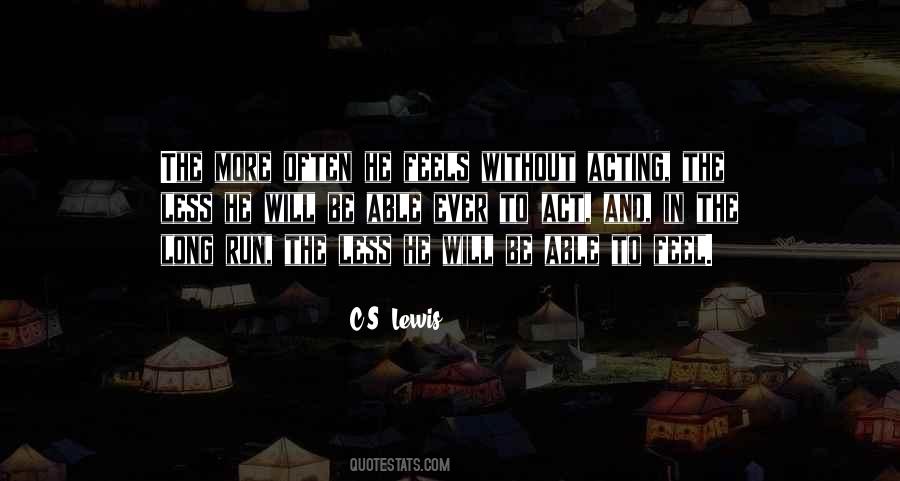 #55. Learn respect for the feeling function: Become aware of and undo some of your (improper) cultural training so that you grant the moods and messages of the heart the same respect that you give the thoughts and ideas of the mind. - Author: Elizabeth Lesser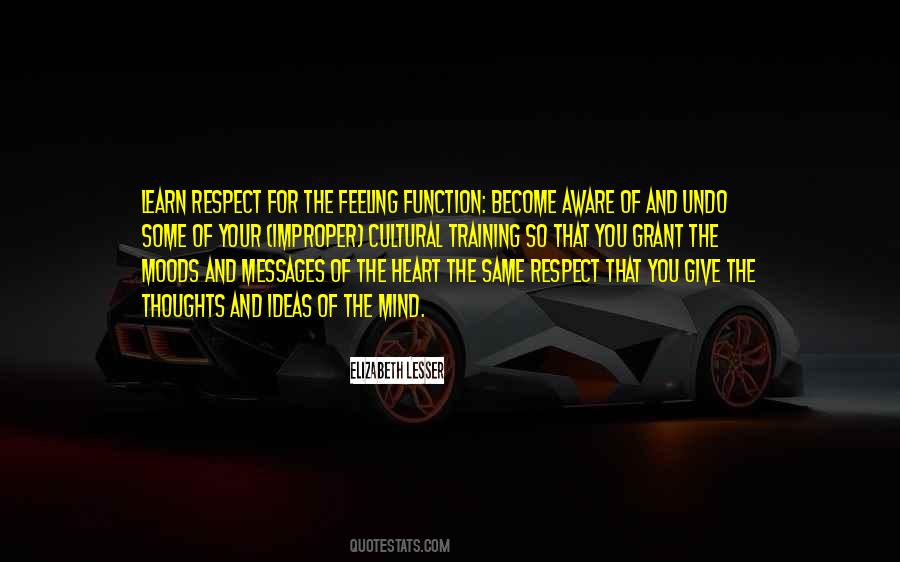 #56. I'm playing better than I've ever played, and I m feeling better. I have this crazy idea that the best part of my career is ahead of me. I really believe that with all my heart. - Author: Roger Williams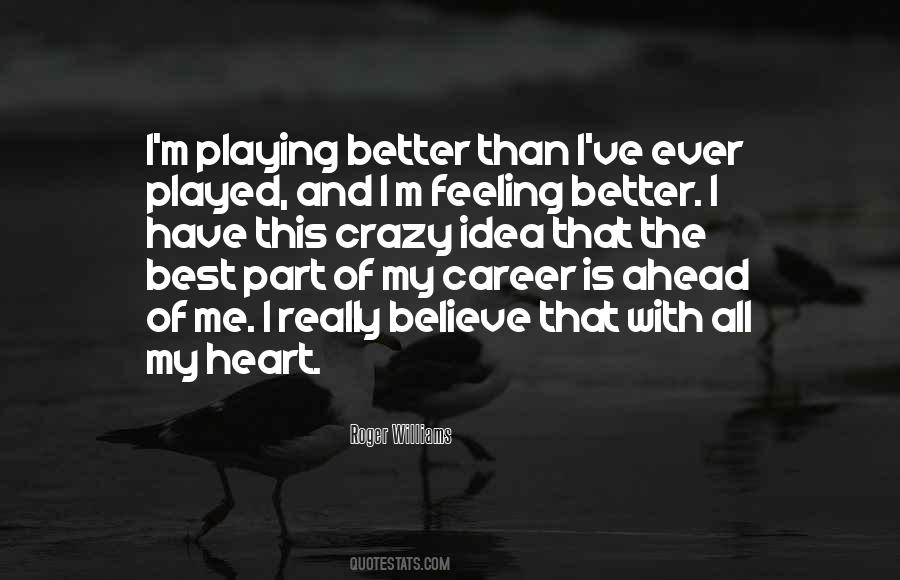 #57. You are the determining factor in your future. Don't let others be your judge and jury with their pity and negative thoughts or feeling. Know that you are here for a reason. Recognize, develop, and use the resources you do have. Others see the surface; you know your heart. - Author: Zig Ziglar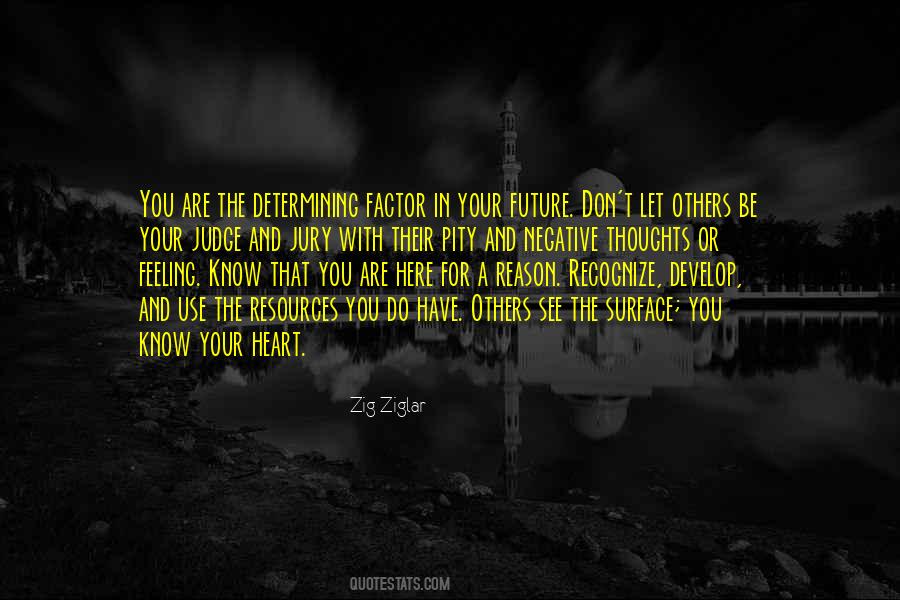 #58. She knew happiness was only one side of the coin and the coin was forever turning . . . Thomasina had every reason to be happy, but instead she held her heart at the same level she had always held it, because she did not trust extremes of feeling. - Author: Kathleen Winter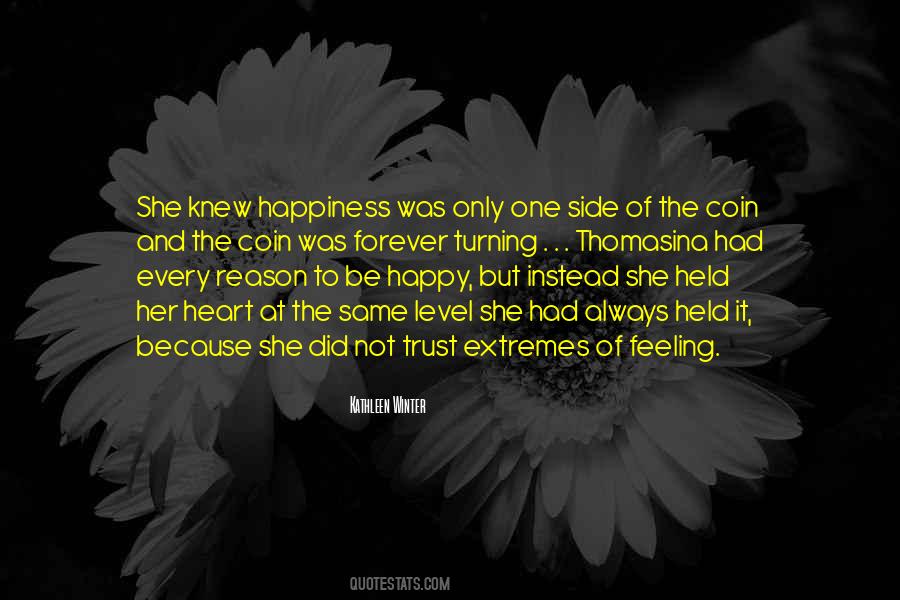 #59. Today, let's set our minds and hearts on feeling more thankful for what we are than guilty for what we're not. Let's cut the threads of guilt with grace. - Author: Lysa TerKeurst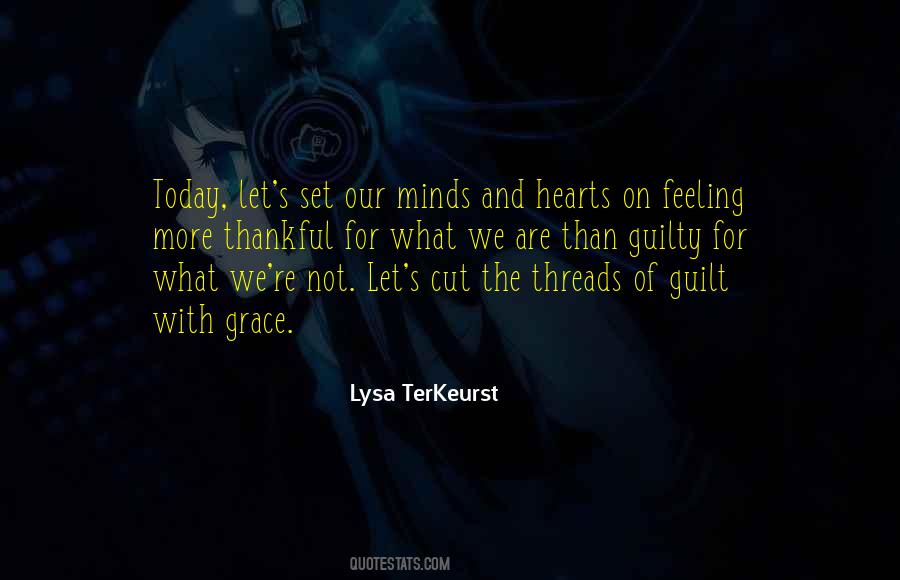 #60. This was what it was about. The feeling as if your heart beat right out of your chest and into theirs. Like you couldn't take another breath without the,. As if everything inside united and there were no questions. No uncertainties. - Author: Nashoda Rose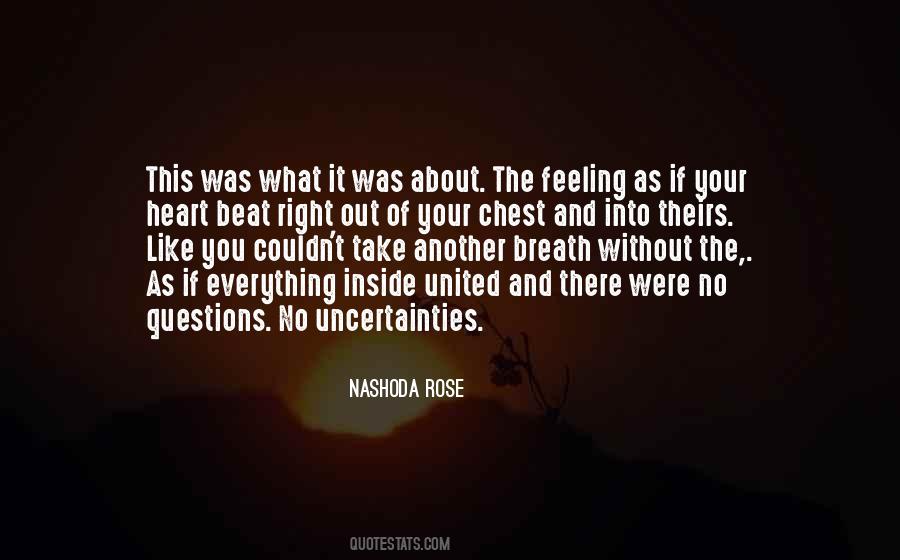 #61. There's definitely a dangerous feeling when you're in love-it's giving your heart to someone else and knowing that they have control over your feelings. I know for me, who always tries to be so tough, that's the dangerous thing. - Author: Beyonce Knowles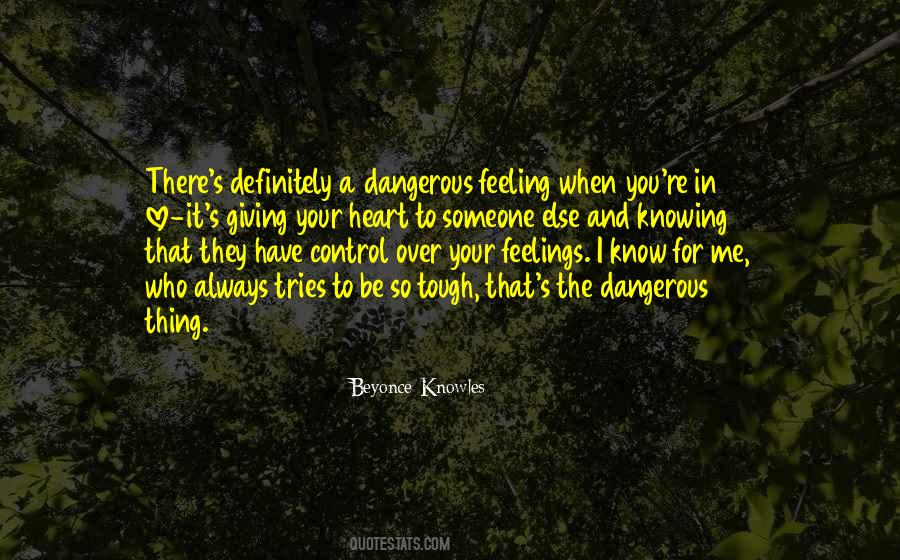 #62. I hope that the feeling of making poetry is not confined to the people who write it down. There is no luxury like it, and I hope we all share it ... I am sure that the great glory of poetry in one's heart does not wait on achievement. - Author: Stella Benson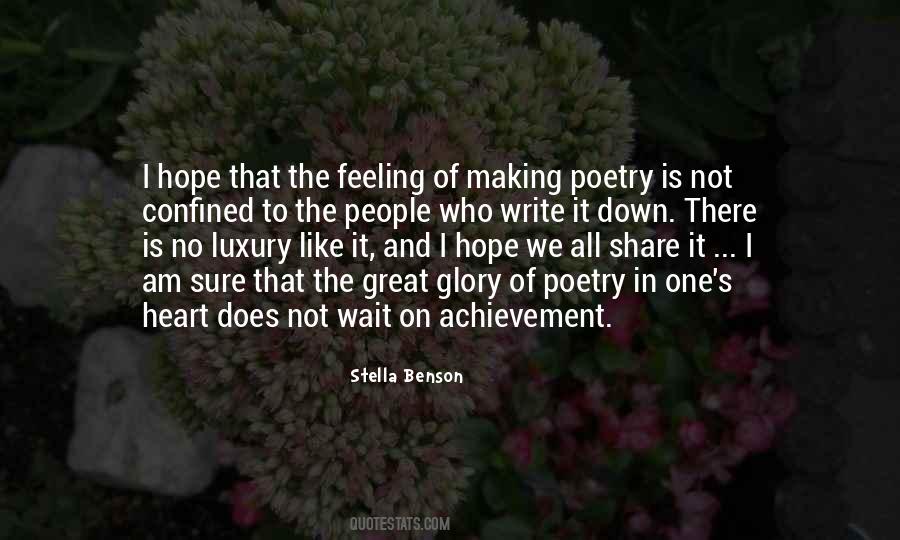 #63. Had my first son this morning ... well, actually, my wife had him. I just caught him. Wo. Heart expanding way faster than my brain ... If you could bottle up and distribute this feeling, I swear there'd be no more war. - Author: James Van Der Beek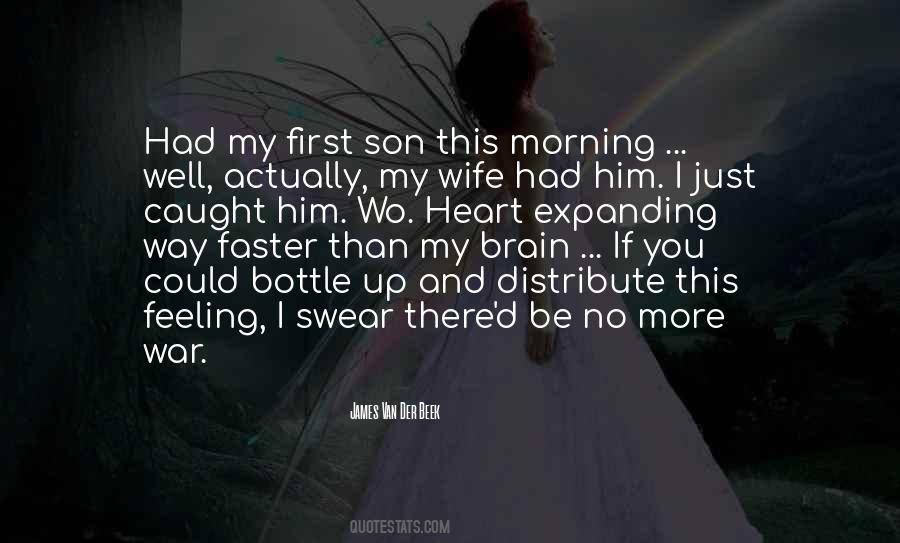 #64. Most of us know when we are about to react emotionally. We can feel it. Often there is a brief warning before the amygdala hijack. For some of us, it is butterflies in the stomach; for some, it is an increased heart rate, and for others, it is a feeling of agitation. - Author: Elizabeth Thornton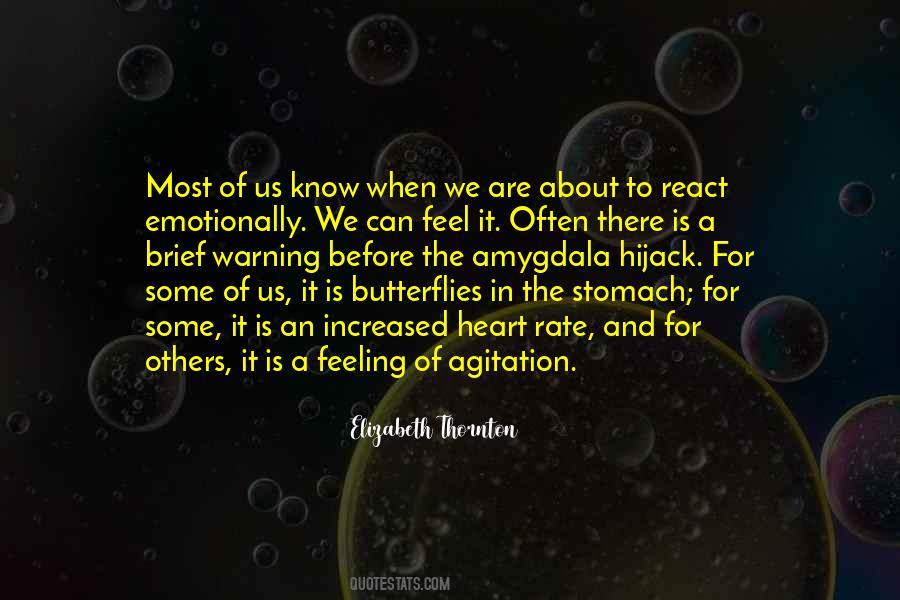 #65. To the eye a shot is only geometry and yardage and wind, but to a still-beating heart pulling a trigger on another living body and watching it fall is to be avoided, it does not give you a good feeling. If you aren't a psychopath or a male. - Author: Brian McGreevy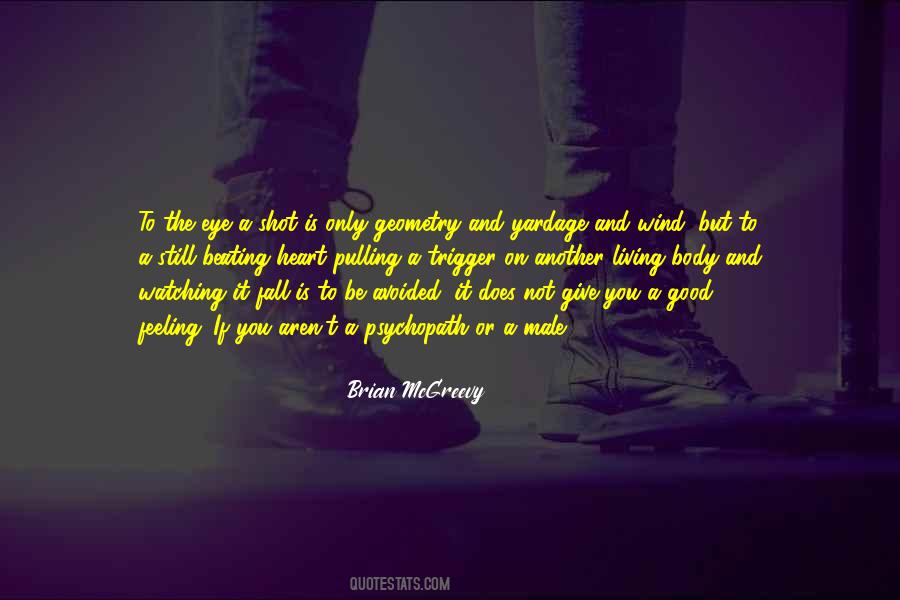 #66. Classic mountaineering grows out of a traditional romantic imagination. Its heart is the feeling, its path is blood, sweat and tears, and its restriction is God. - Author: Wojciech Kurtyka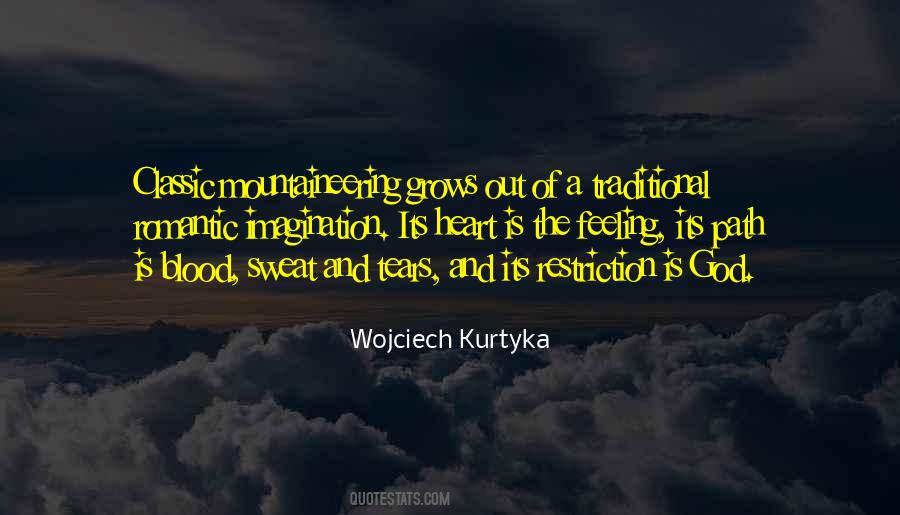 #67. When our heart is closed, it can create a lonely and isolated feeling together with the attitude: "Nobody loves me" or "Nobody cares about me", which can make it hard for other people to love us. - Author: Swami Dhyan Giten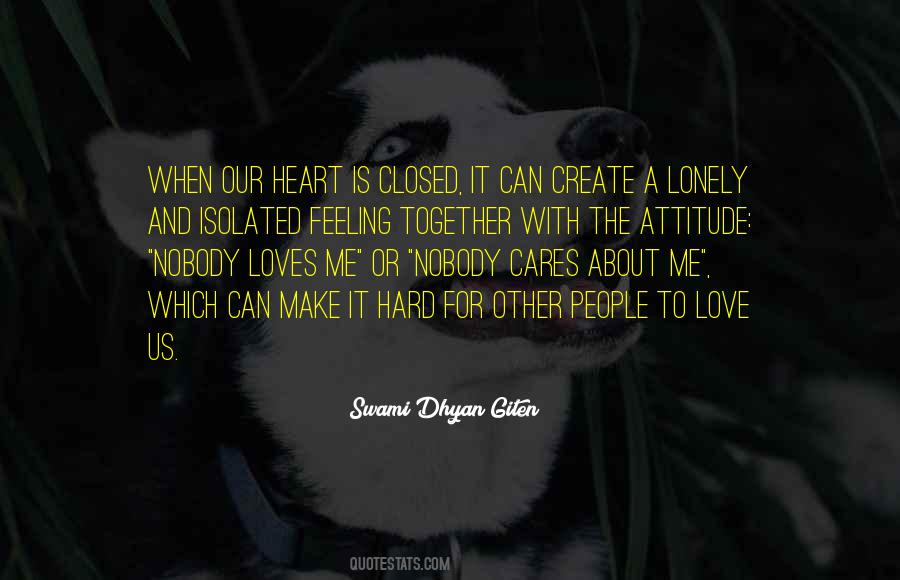 #68. Your tears mean nothing! You have never loved me; you have neither heart nor honorable feeling! You are hateful to me, disgusting, a stranger - yes, a complete stranger! With pain and wrath she uttered the word so terrible to herself - stranger. - Author: Leo Tolstoy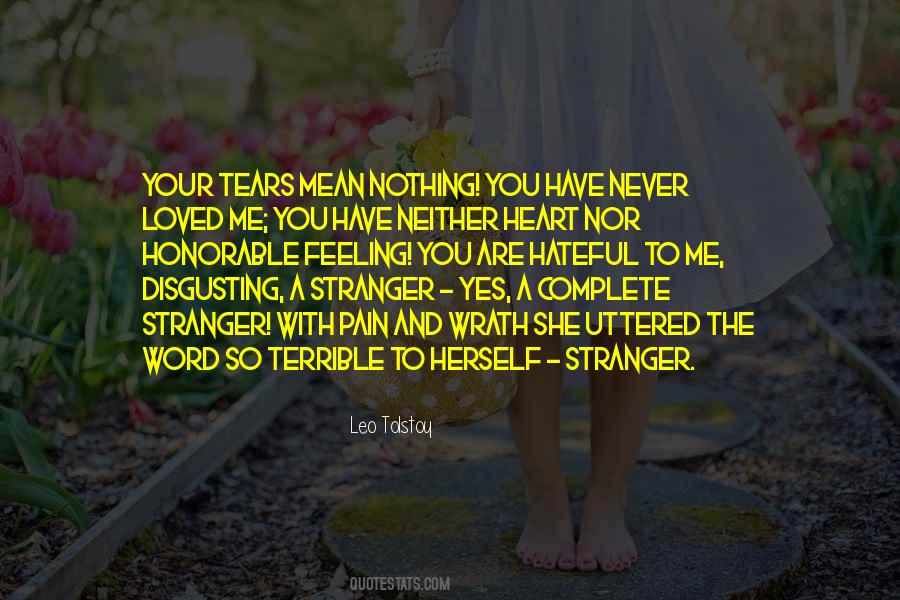 #69. I love being a grandmother. That feeling you have for your own child - you don't ever think it will be replicated, and I did wonder if I would have to 'pretend' with my grandchildren. But my heart was taken on day one. - Author: Joanna Lumley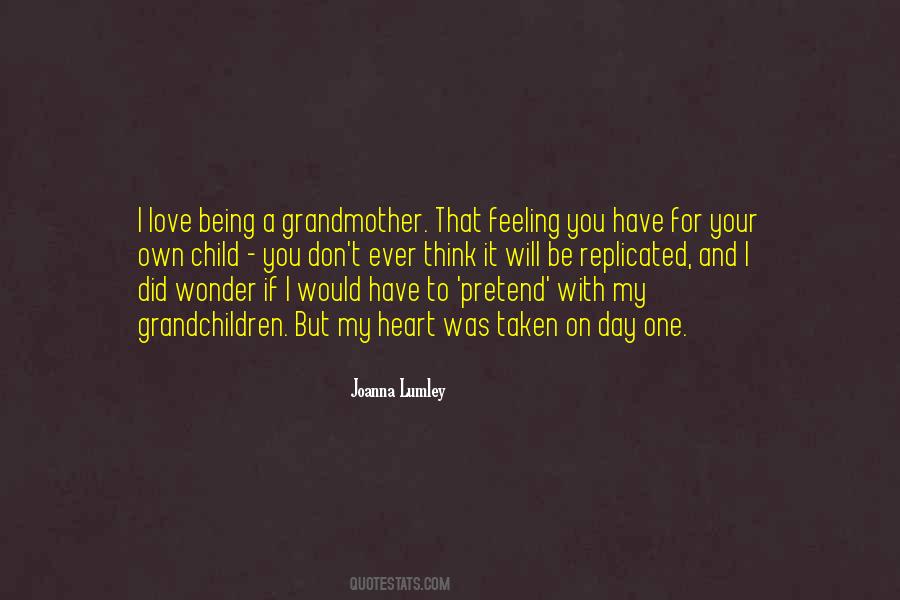 #70. And so he did his endless work,' I continued quietly, 'without feeling, without pity, without rest, for to open his heart to these would be to open his heart to his loneliness and longing and that was beyond bearing. - Author: Martine Leavitt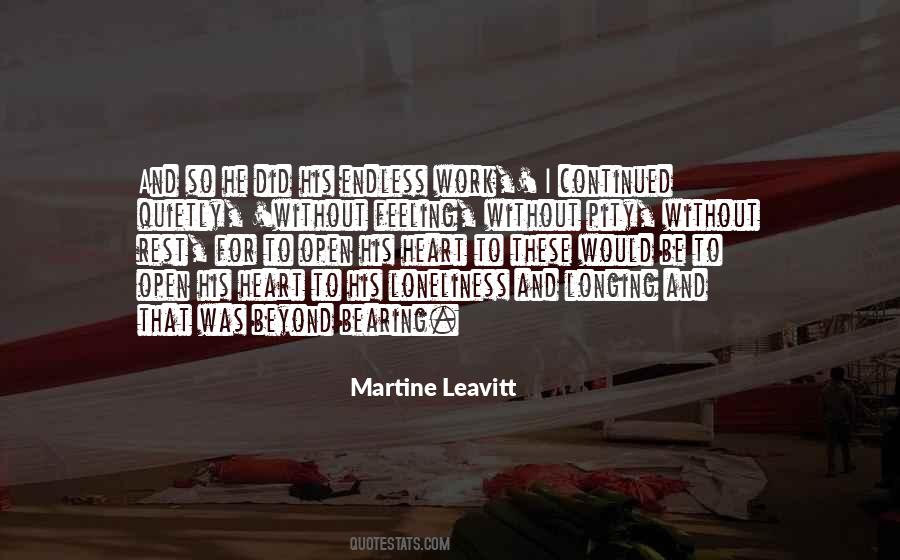 #71. Your thigh? Your shoulder? Is there any part of you that hasn't been hurt yet?"
He seemed to be contemplating my question for a moment and then he nodded. He tapped his chest. "Yeah, my heart." He looked over at me. "But its feeling mighty vulnerable these days, so who knows. - Author: Tess Oliver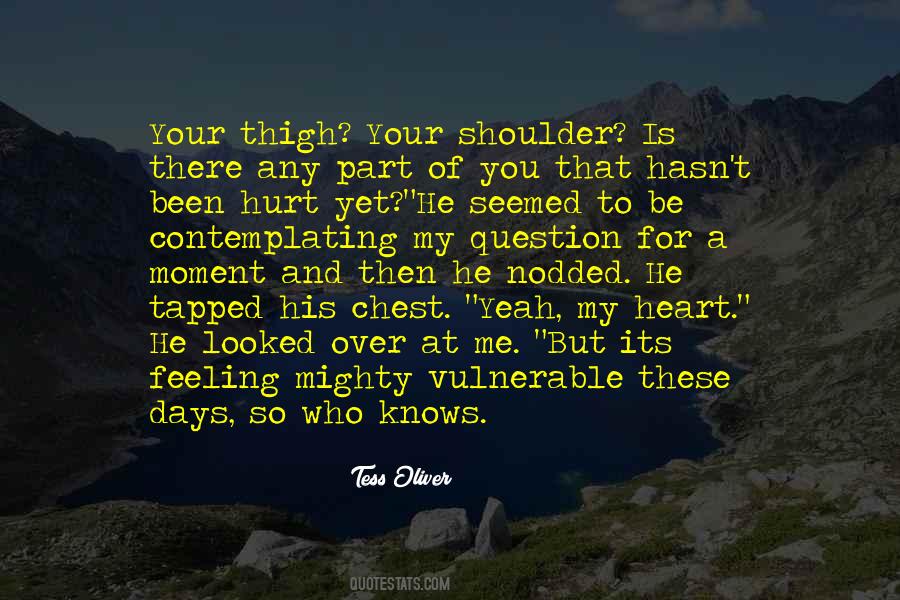 #72. When you're feeling down, sad, lonely, negative, you don't want to take care of yourself - and the weight problem and the diabetic problem and the heart attack and stroke problems and high cholesterol set in. - Author: Richard Simmons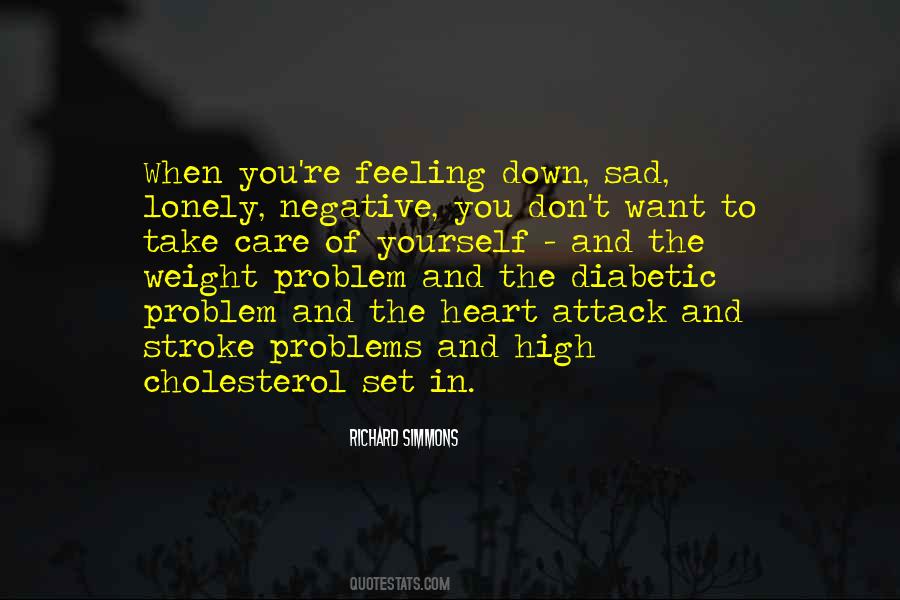 #73. It is in the area of feeling that religion enters the heart and is expressed by man. - Author: Edgar Magnin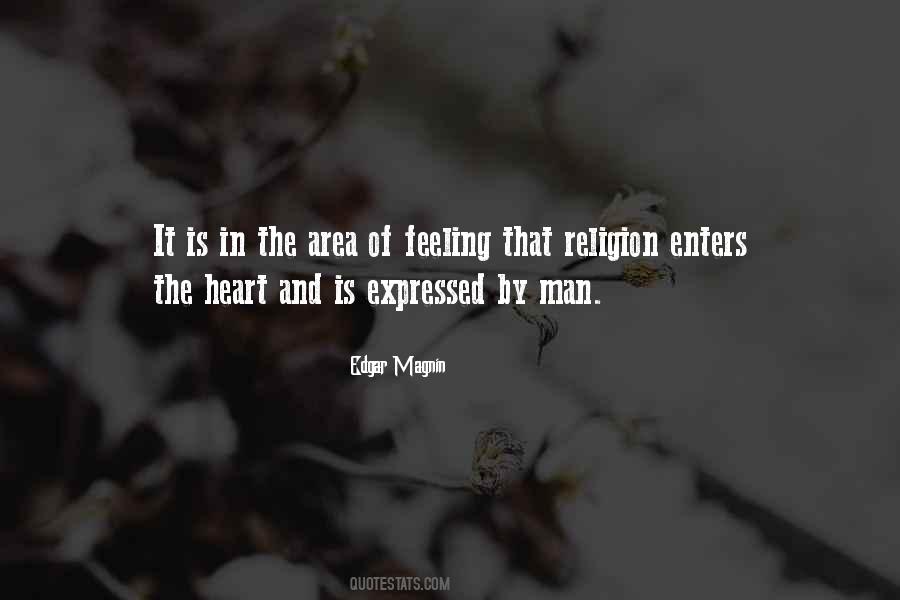 #74. Authenticity is the alignment of head, mouth, heart, and feet - thinking, saying, feeling, and doing the same thing - consistently. This builds trust, and followers love leaders they can trust. - Author: Lance Secretan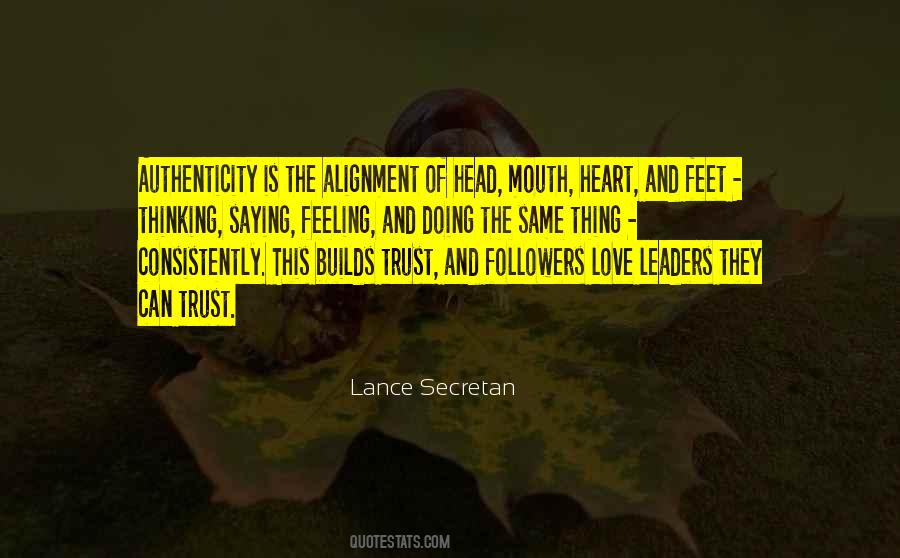 #75. Let me encourage you, if someone has wronged you, and you still get that cringing feeling on the inside when you see or think about that person, take it to God and allow Him to keep your heart soft and sensitive. - Author: Victoria Osteen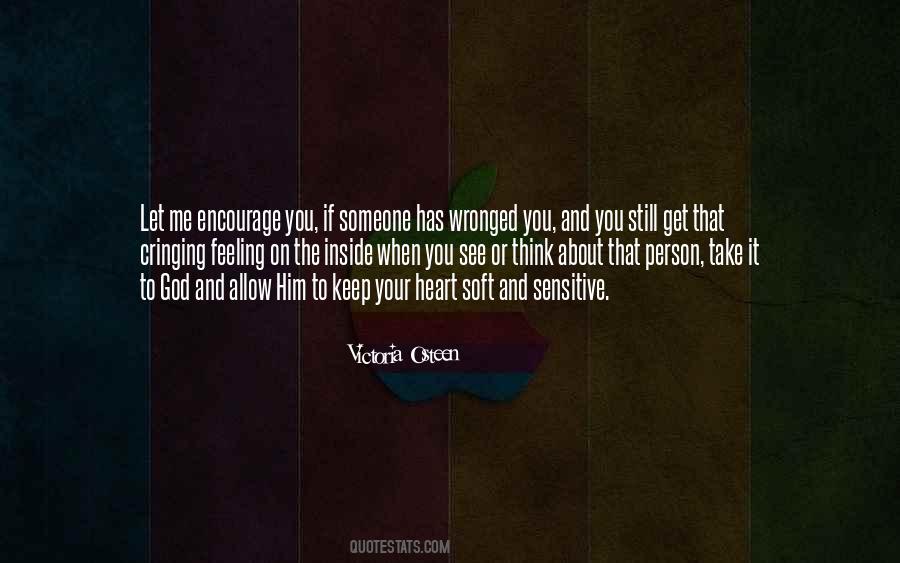 #76. In simple hearts the feeling for the beauty and grandeur of nature is a hundred-fold stronger and more vivid than in us, ecstatic composers of narratives in words and on paper. - Author: Mikhail Lermontov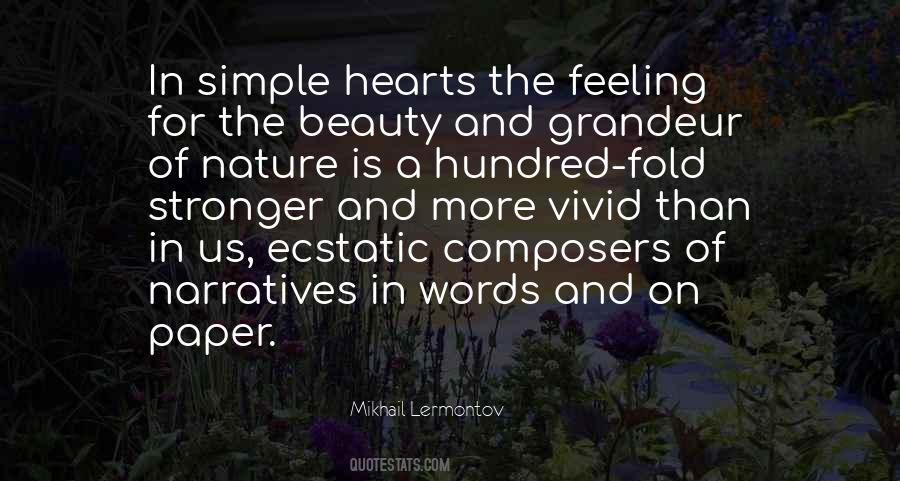 #77. Feeling like I am now lighting up the hall. I was used to standing in the shadow of a damaged heart. - Author: Sara Quin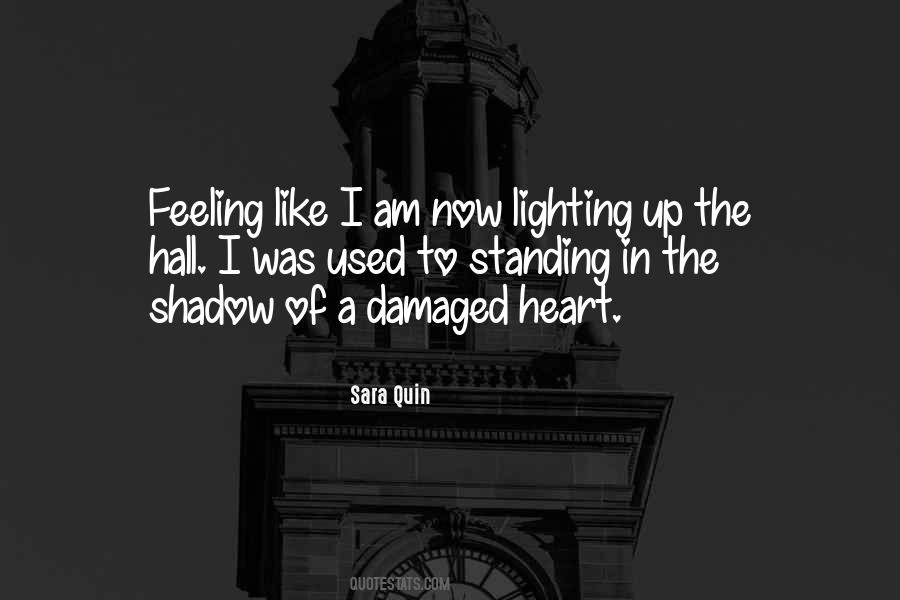 #78. One cannot live with sighted eyes and feeling heart and not know and read of the miseries which affect the world. - Author: Lorraine Hansberry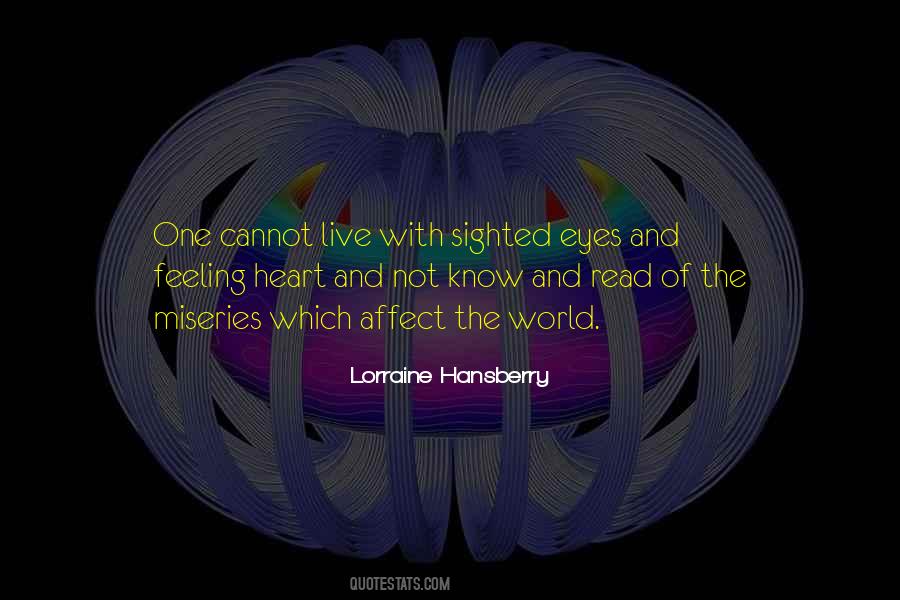 #79. They will never have this, will they? They might not ever know the feeling of cozying up to a lightning bolt, what it feels like to look at someone's face and see your heart there. - Author: Alexandra Bracken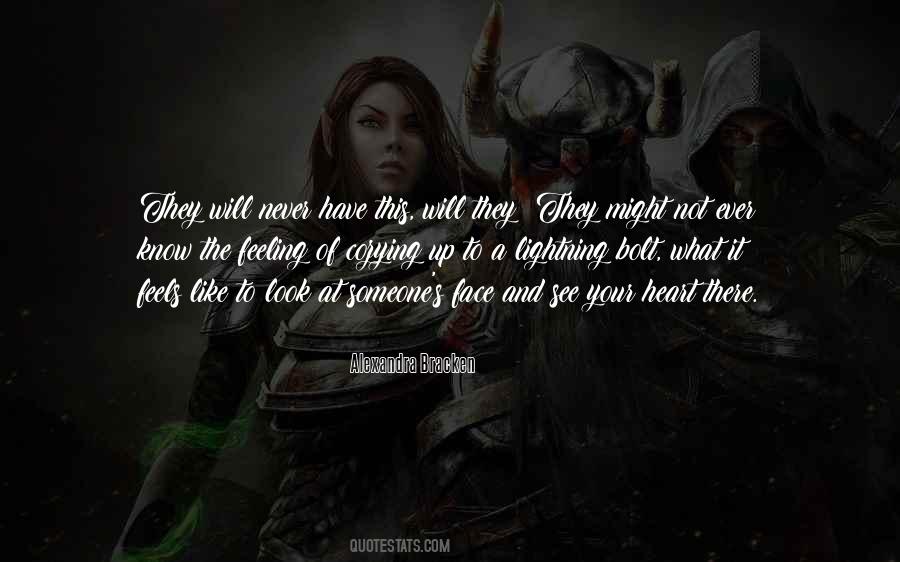 #80. The Christian has no reason to have in his heart any ill-feeling whatever against anyone--such ill-feeling, like every other evil, is the work of the Devil; the Christian must only have love in his heart; and as love cannot think of evil, he cannot have any ill-feeling against others. - Author: John Of Kronstadt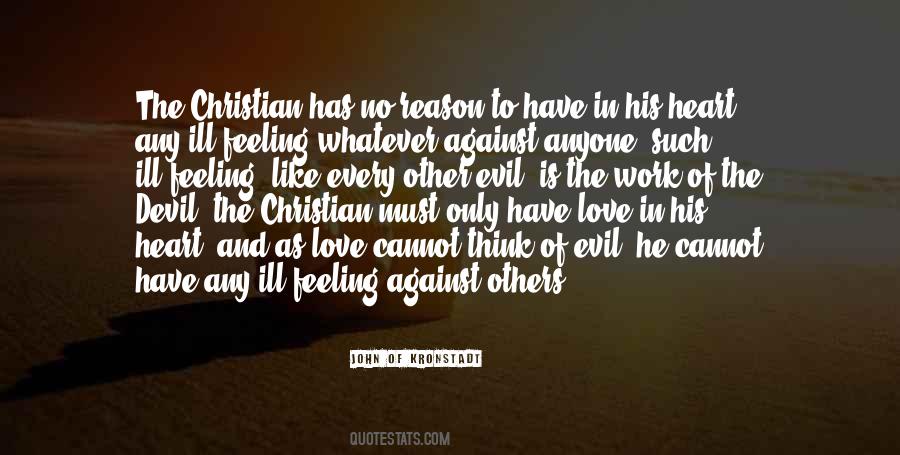 #81. Grief she could not feel, for there had been too much bitterness between her mother and herself to leave in her heart any deep feeling of affection; and looking back on the girl she had been she knew that it was her mother who had made her what she was. - Author: W. Somerset Maugham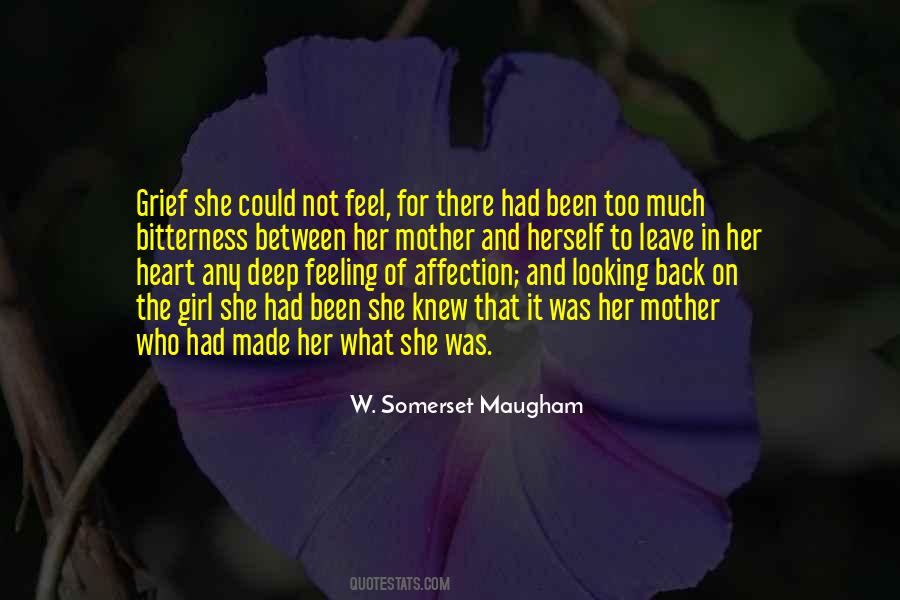 #82. And so she cut out her heart and offered it as a sacrifice. She would pay whatever price her mother Wallachia demanded.
"Make me prince," she said without feeling. - Author: Kiersten White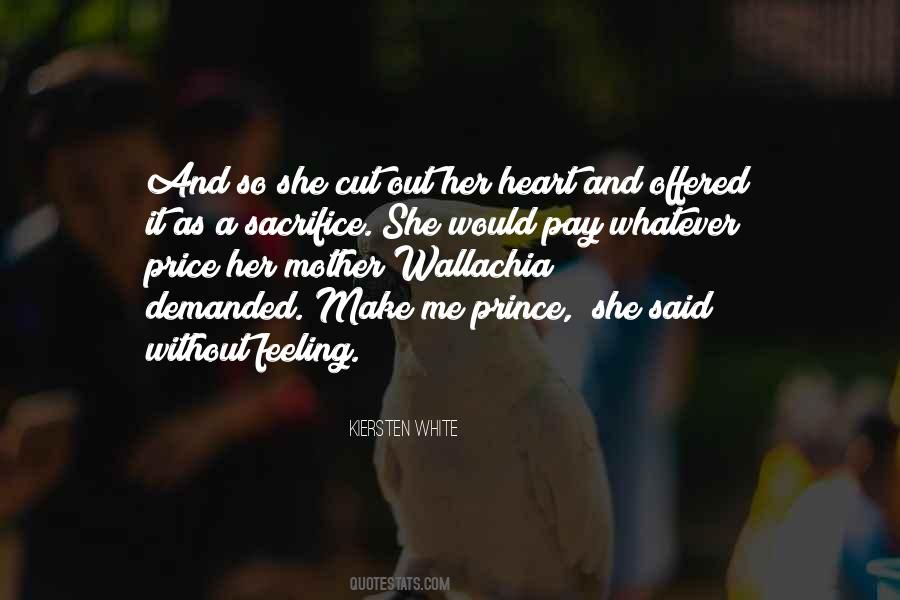 #83. Love is just a feeling of togetherness and openness in your heart ... - Author: Ken Keyes Jr.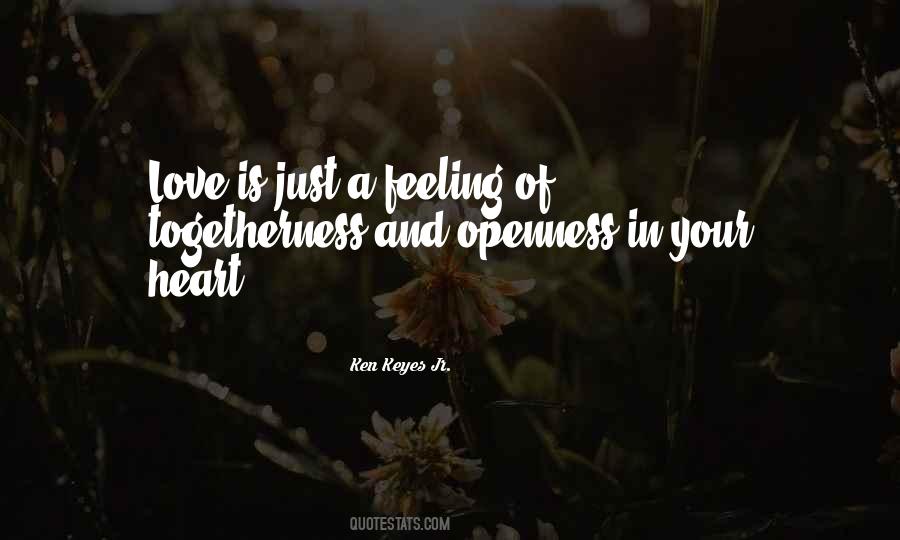 #84. The mind working alone produces thought; the heart produces feeling; the tongue makes speech and the hand in isolation makes scribble: all four together create voice. - Author: Geoff Hewitt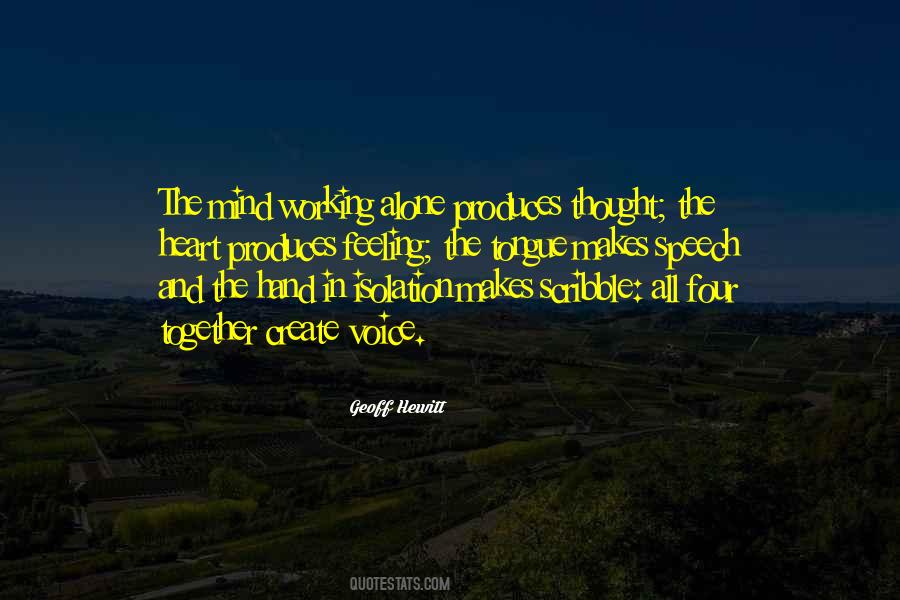 #85. I was conscious, then, of a different ache, deeper and more sharp than the feeling of bereavement that a hangover will sometimes uncover in the heart. - Author: Michael Chabon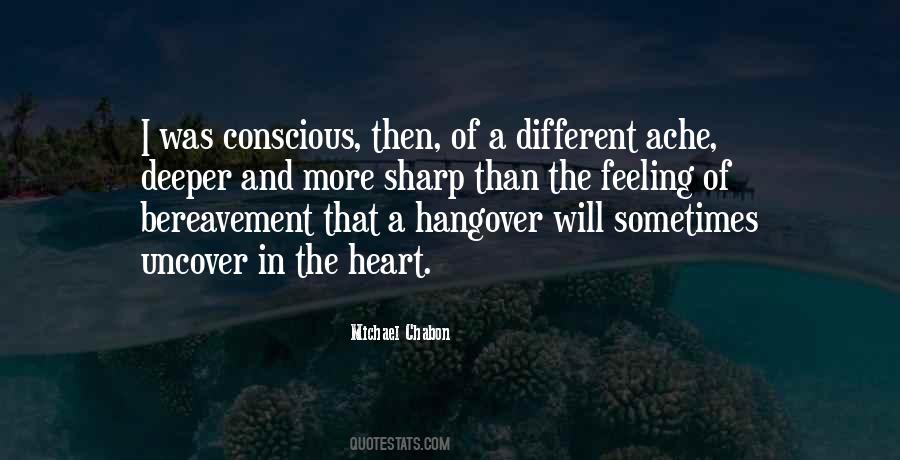 #86. Growing up and being a kid, I knew that creativity was at the heart of what I wanted to do. I always had this feeling of wanting to be a comedian and wanting to be an actor. - Author: Chris Gethard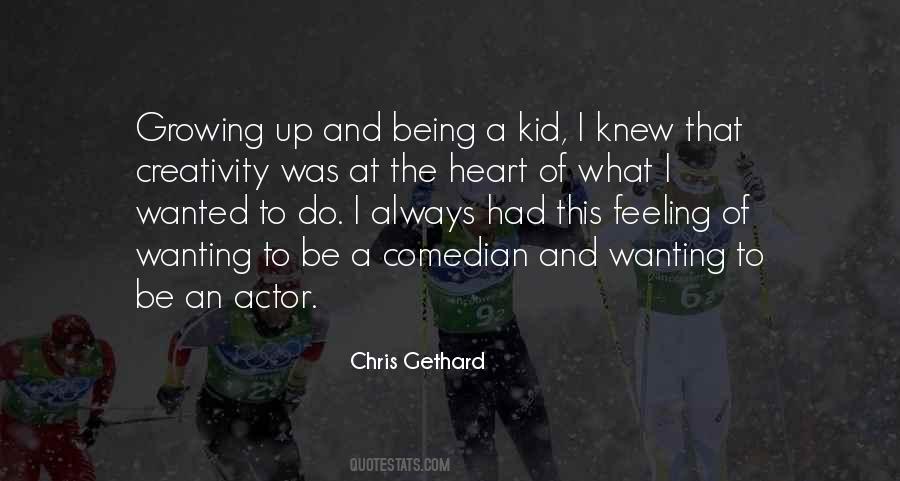 #87. Her hand rose to her lips and she stared up at the stars, feeling her heart grow, and grow, and grow. - Author: Sarah J. Maas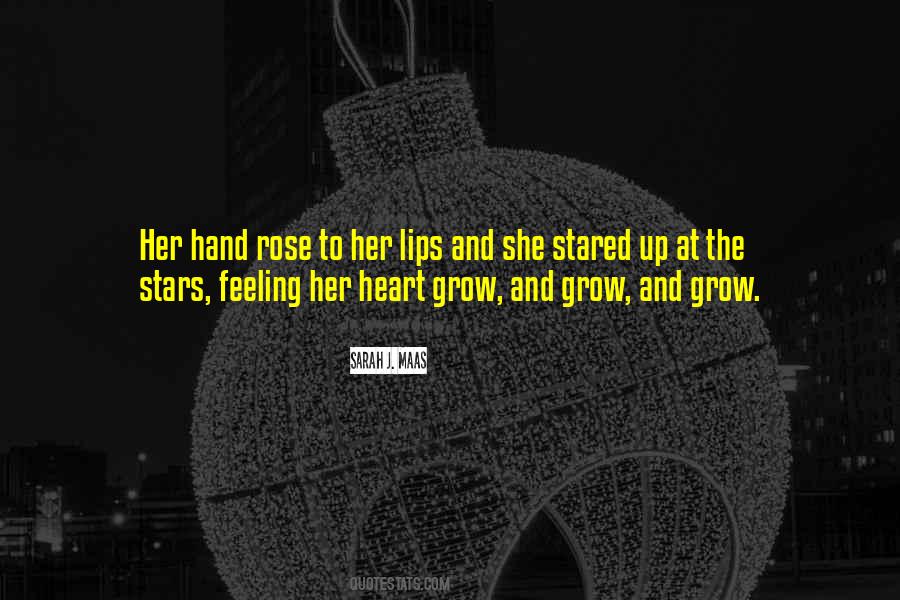 #88. My heart burnt within me with indignation and grief; we could think of nothing else. All night long we had only snatches of sleep, waking up perpetually to the sense of a great shock and grief. Every one is feeling the same. I never knew so universal a feeling. - Author: Elizabeth Gaskell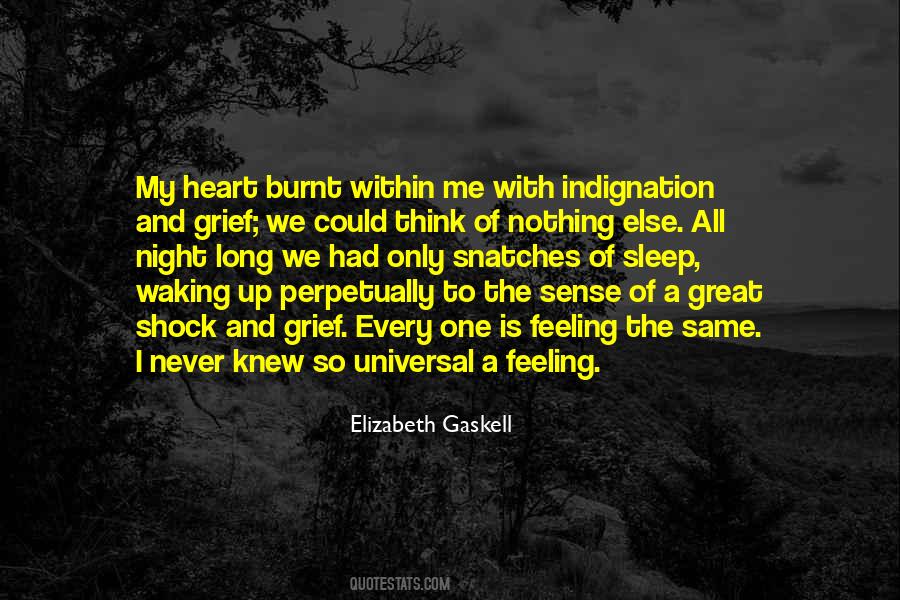 #89. He was struck by the details of the moment. This was something he needed to remember, when he dreamt. This feeling right here: heart thudding, pollen sticky on his fingertips, July pricking sweat at his breastbone, the smell of gasoline and someone else's charcoal grill. - Author: Maggie Stiefvater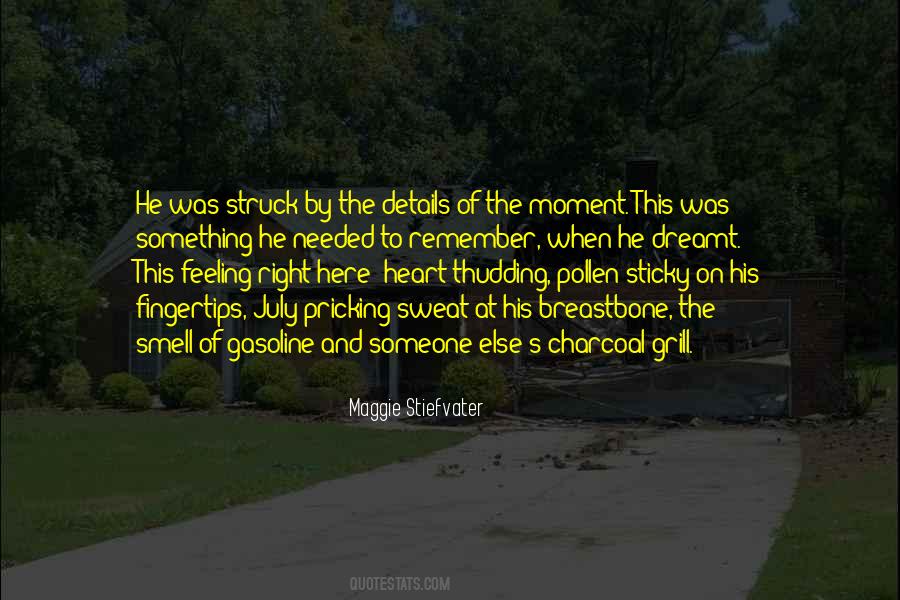 #90. For the murder of Jest, the court joker of Hearts, I sentence this man to death.'
She spoke without feeling, unburdened by love or dreams or the pain of a broken heart. It was a new day in Hearts, and she was the Queen.
'Off with his head - Author: Marissa Meyer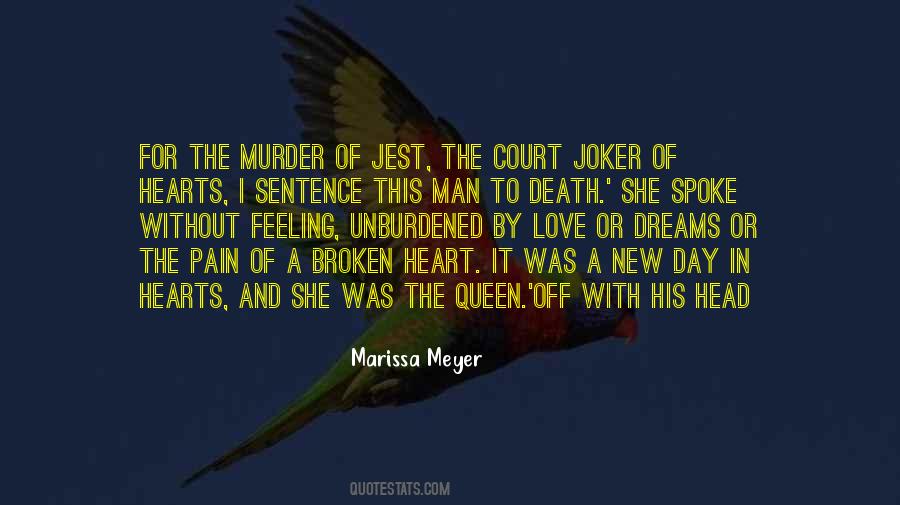 #91. Jealousy is a horrible thing. The pain of it is almost as consuming as heartbreak, and I would know because I was feeling both at the same time. I felt like someone had ripped open my chest with their bare hands, removed my heart and lungs, and replaced them with a bunch of rocks and stones. - Author: Samantha Young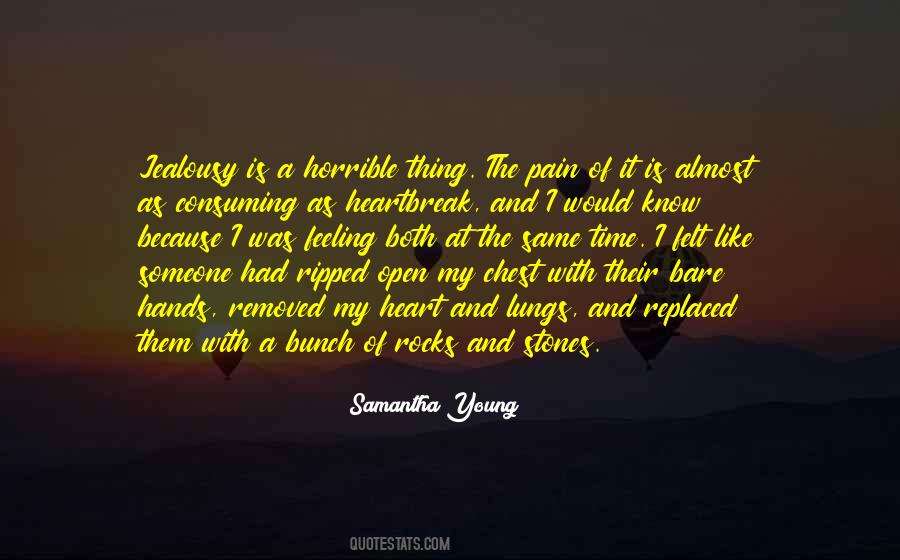 #92. She was few inches taller than him and when for the first time her promising eyes met with his, he knew it would be more than friendship. He was too young to name that feeling then. But love...above all relationships knows no age. - Author: Viraj J. Mahajan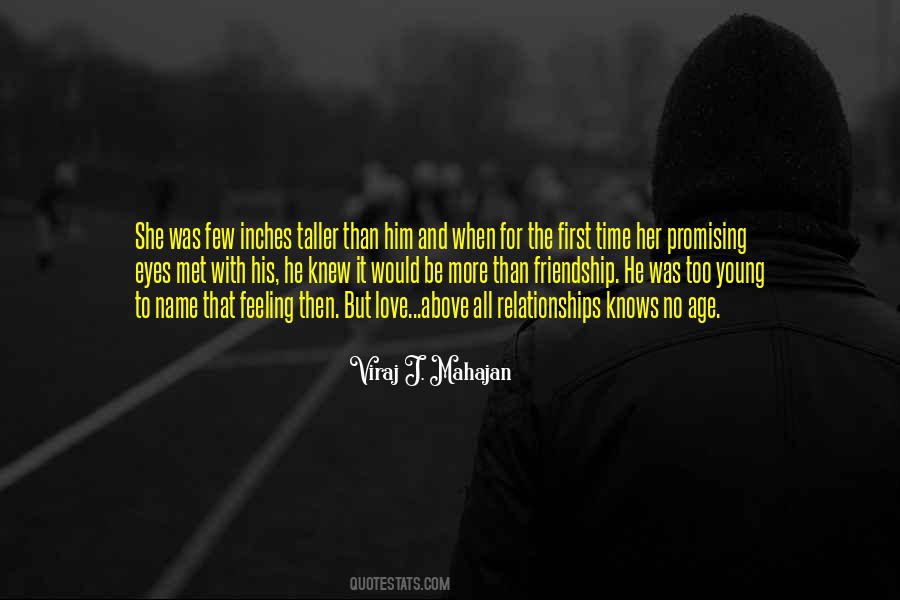 #93. Whoa," Thomas said, feeling bolder by the minute. "Slim it nice and calm there, old fella. You look three steps away from a heart attack. - Author: James Dashner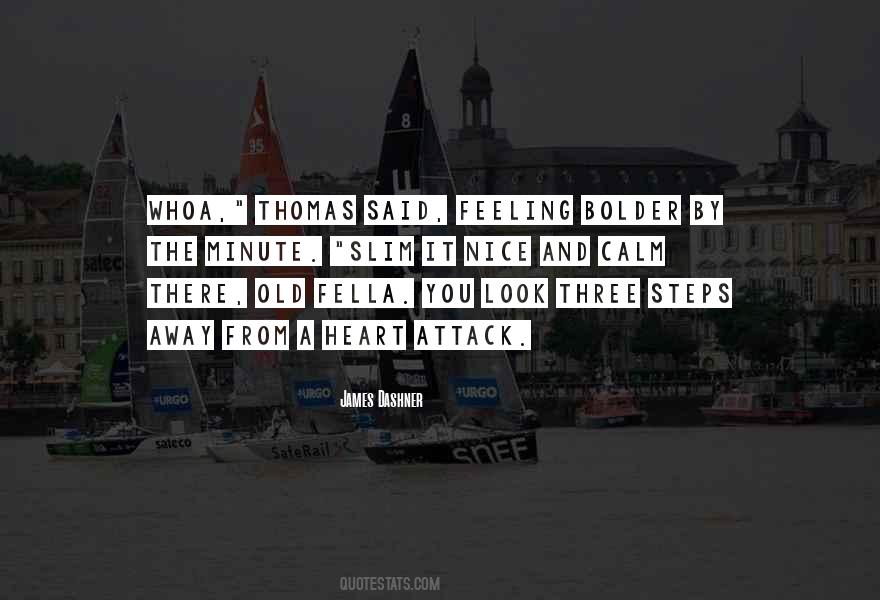 #94. As we continue toward the fifth secret technique of psychics, I have a gut feeling that you are the sort of person that lets your heart rule your head, can sometimes be too impulsive for your own good, and have recently come into contact with a goat. Rest assured you are not the only one. - Author: Richard Wiseman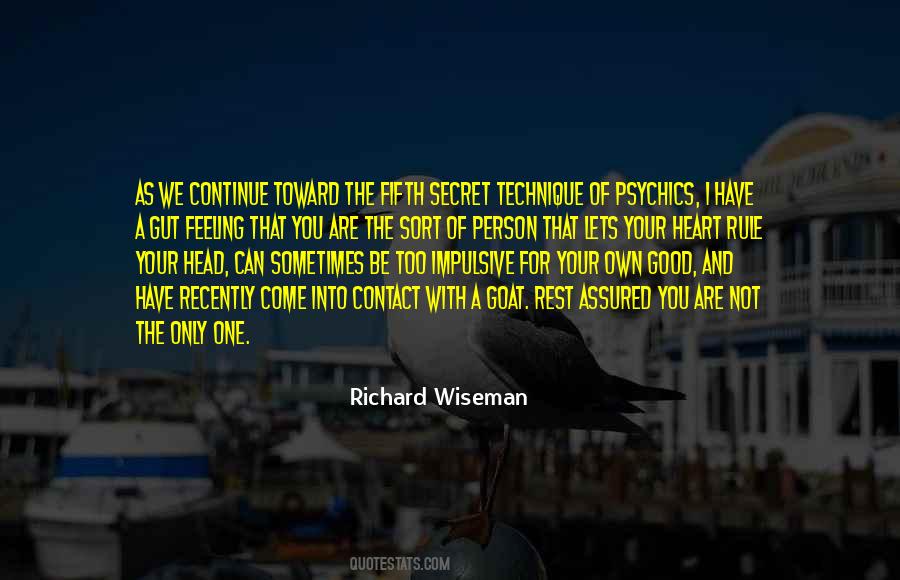 #95. Empathy is about standing in someone else's shoes, feeling with his or her heart, seeing with his or her eyes. Not only is empathy hard to outsource and automate, but it makes the world a better place. - Author: Daniel H. Pink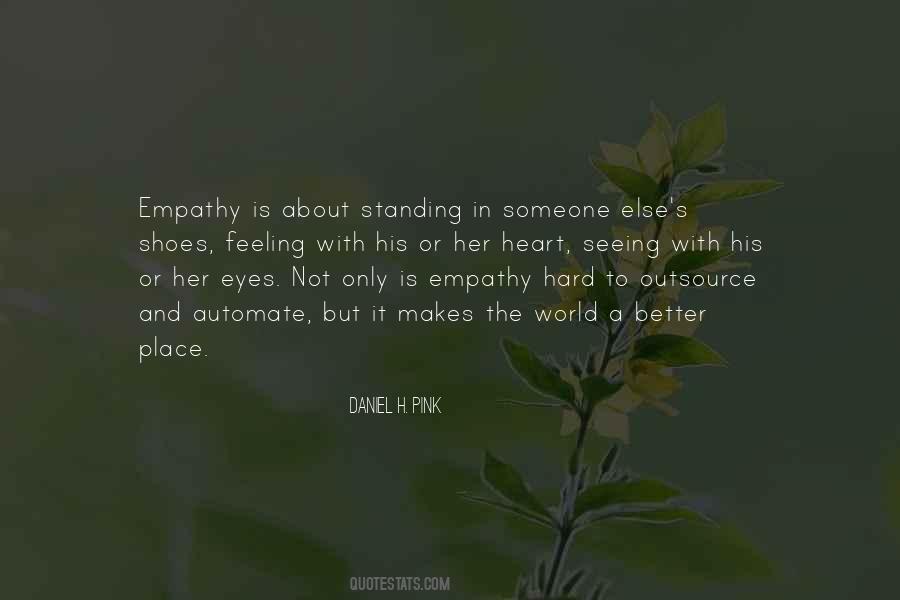 #96. Because I know if I sit down and start to write out how it feels ... . it all becomes too real ... the pain becomes too much. But that's the weird part because I feel so empty, like there no longer is a heart living where there used to be one, so why am I feeling pain? - Author: Chriselle Ravadilla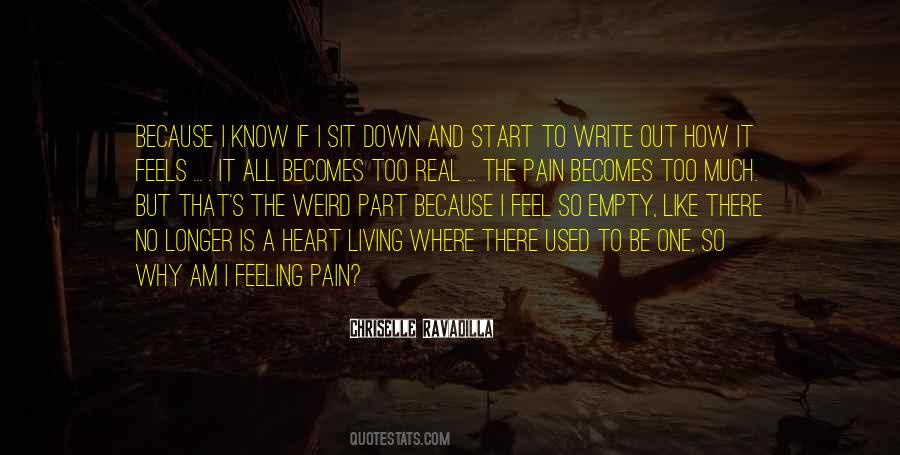 #97. I was afraid that letting their love in my heart would replace some of the pain I was feeling. I didn't want to let go of my pain - I wanted to own every single ounce of it - but I've worn my pain like a badge of honor for far too long. It's time for me to let the love in and the pain out. - Author: A.D. McCammon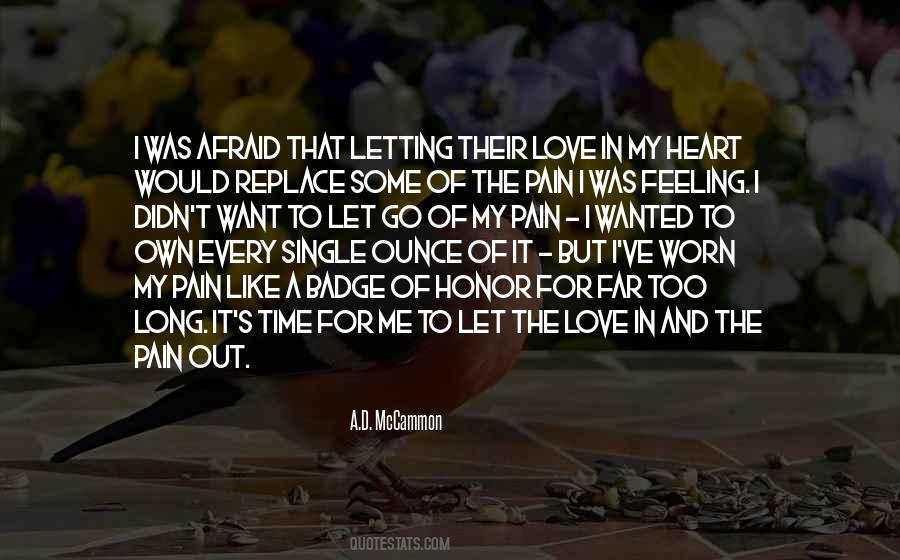 #98. I like songs with a lot of heart and feeling and subtlety. - Author: Norah Jones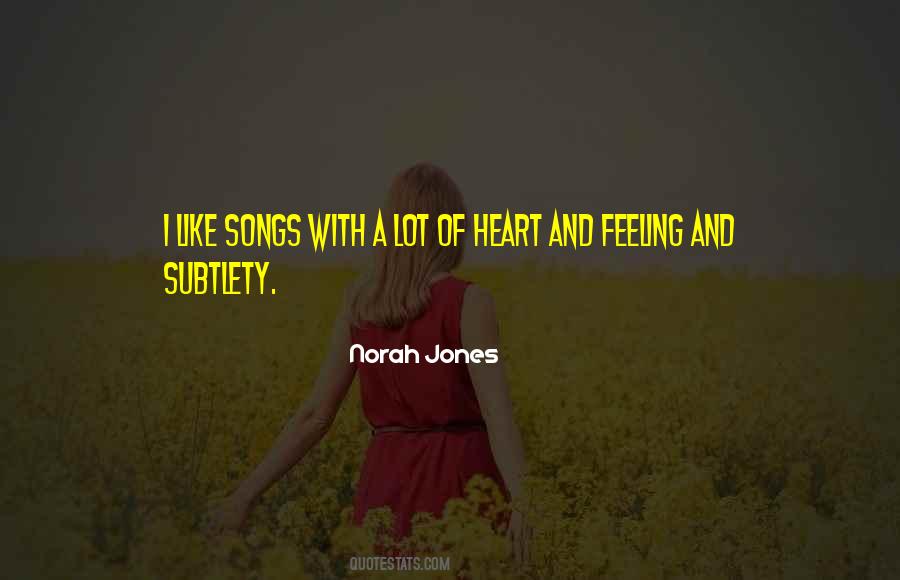 #99. Guilt. A painful, lonely feeling. It seeps into your pores slowly as you go through life day by day. Like a disease, it blackens your heart with thoughts and memories of what you did, or in my case, what you didn't do. - Author: Michele G. Miller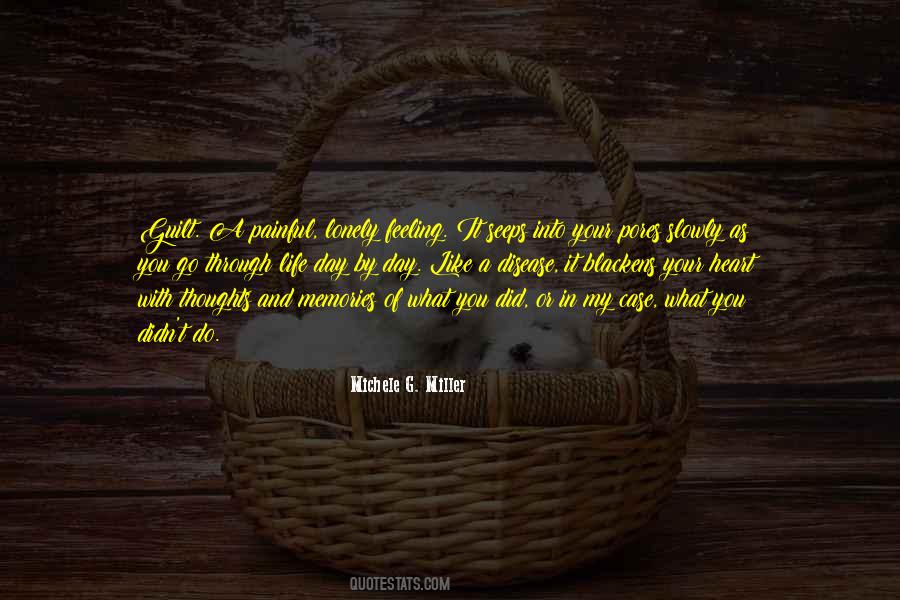 #100. You're out on stage, the music is blaring, the crowd is screaming, the lights are flashing, your heart is pumping, the sweat is flying, and it's the greatest feeling in the whole world. - Author: Michael Flatley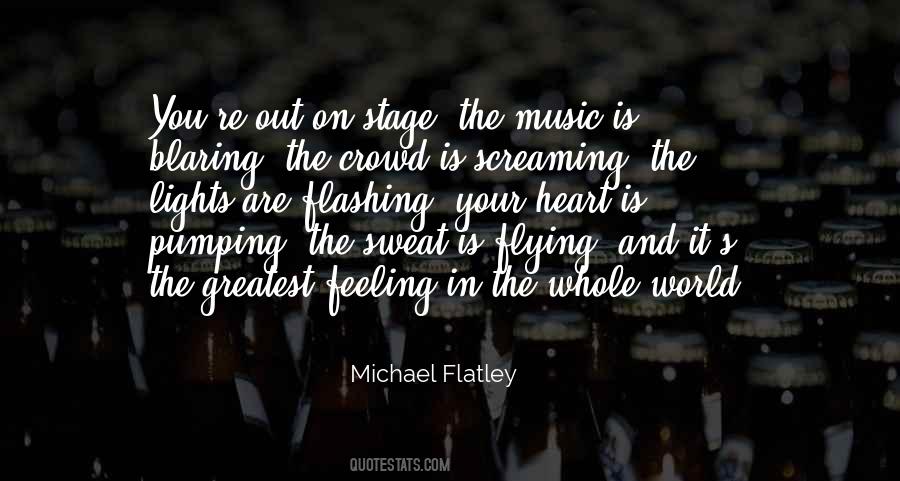 Famous Authors
Popular Topics