Good Management Famous Quotes & Sayings
List of top 100 famous quotes and sayings about good management to read and share with friends on your Facebook, Twitter, blogs.
Top 100 Good Management Quotes
#1. No amount of organization and time management will compensate for a lack of Christian character, not when it comes to this great calling of glory through good - bringing glory to God by doing good to others. - Author: Tim Challies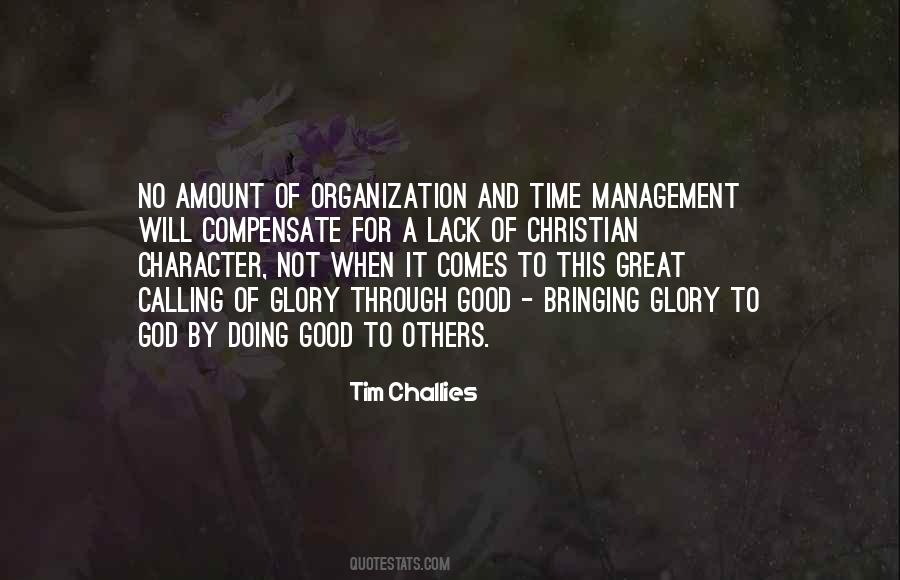 #2. A good manager instills staff with self-confidence, teaches them to believe in themselves and helps them to realise their brilliance. Do not ever treat your staff with disrespect. It is competent until proven incompetent; not incompetent til proven competent. - Author: Miya Yamanouchi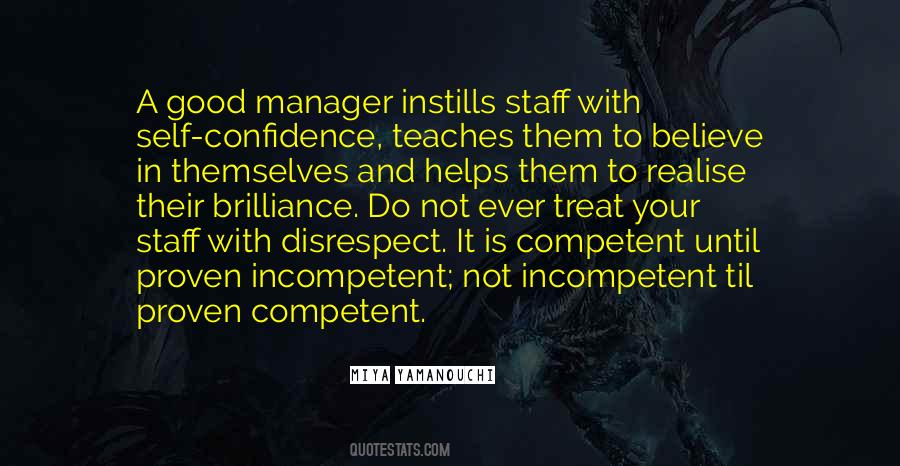 #3. I like a good cliche because it reminds you that much of management practice boils down to things you need to do but often forget or fail to do often enough. - Author: Steven Sinofsky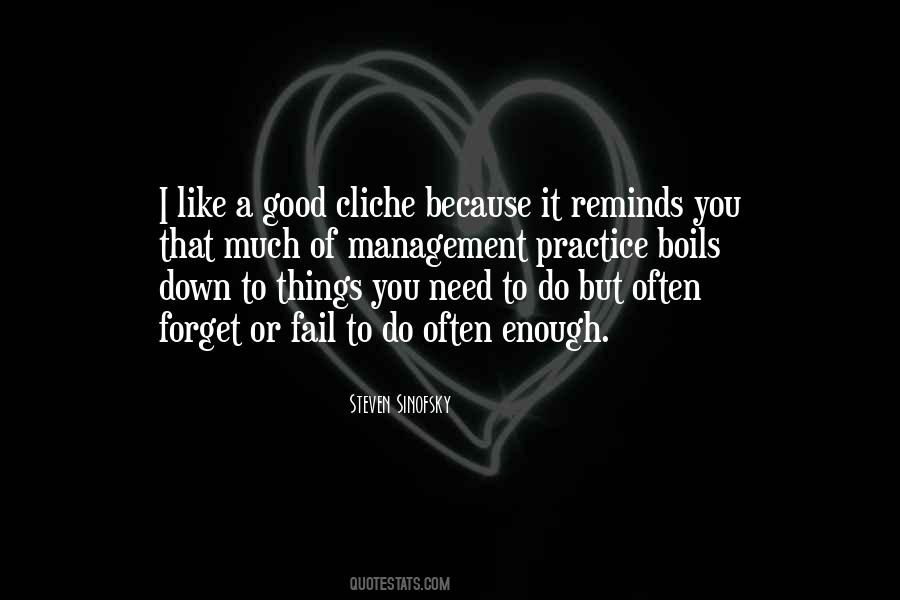 #4. A project goal like a joke. If you have to explain it, it is not good / fun. - Author: Gerry Geek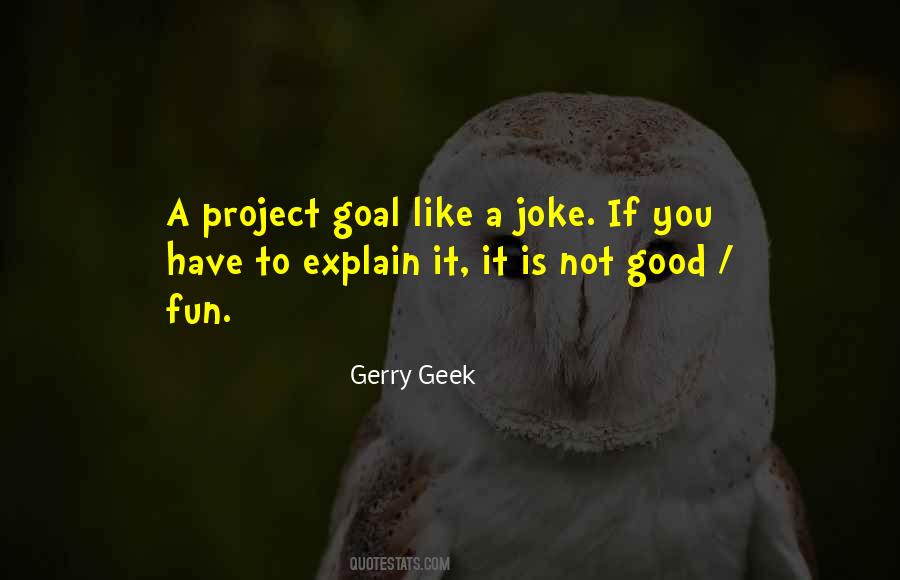 #5. Addiction might be redefined not as a character flaw but as a "biochemical deficit management." Our emotional habits will become an accepted factor of good health, along with slogans like "Heartache can be harmful to your unborn children." - Author: Marni Jackson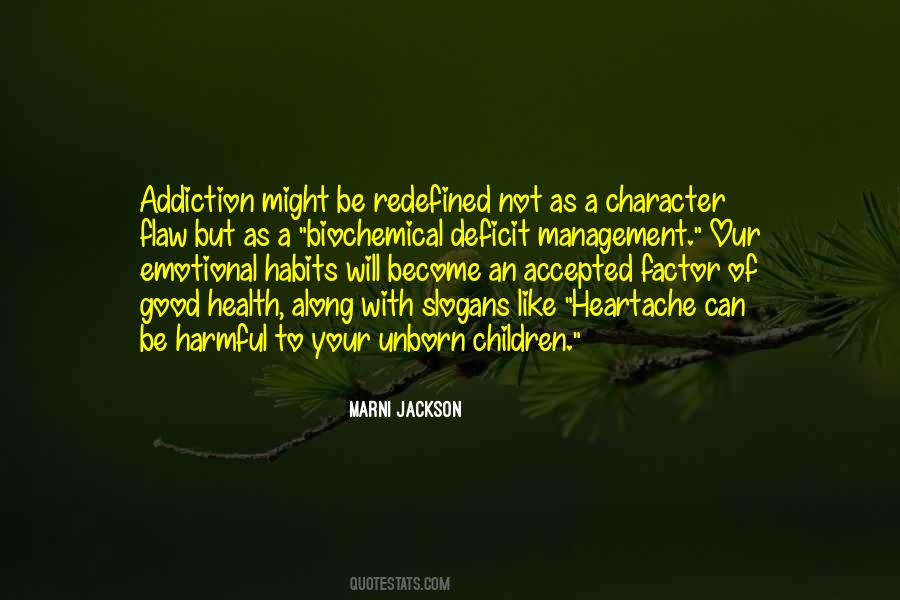 #6. It was a wonderful experience to play in the NFL, and I have no regrets. I truly will miss playing for the Lions. I consider the Lions' players, coaches, staff, management and fans my family. I leave on good terms with everyone in the organization. - Author: Barry Sanders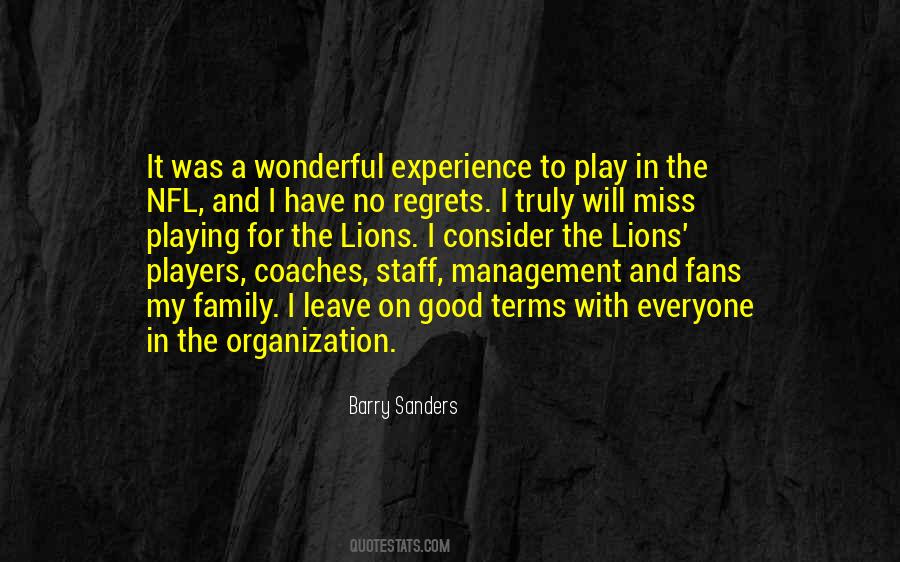 #7. Having more women in company boards, in senior management, supervisory positions and workers in the formal sector is not only the right thing to do, but the smart thing to do. It's good for the bottom line. - Author: Michelle Bachelet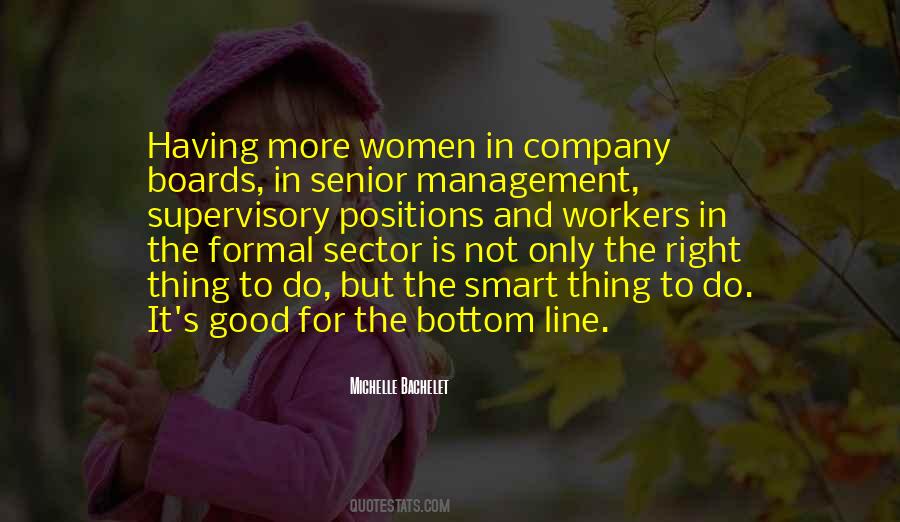 #8. Training the eye is the most important way to gain an appreciation and understanding of good design in busienss management. - Author: Van Day Truex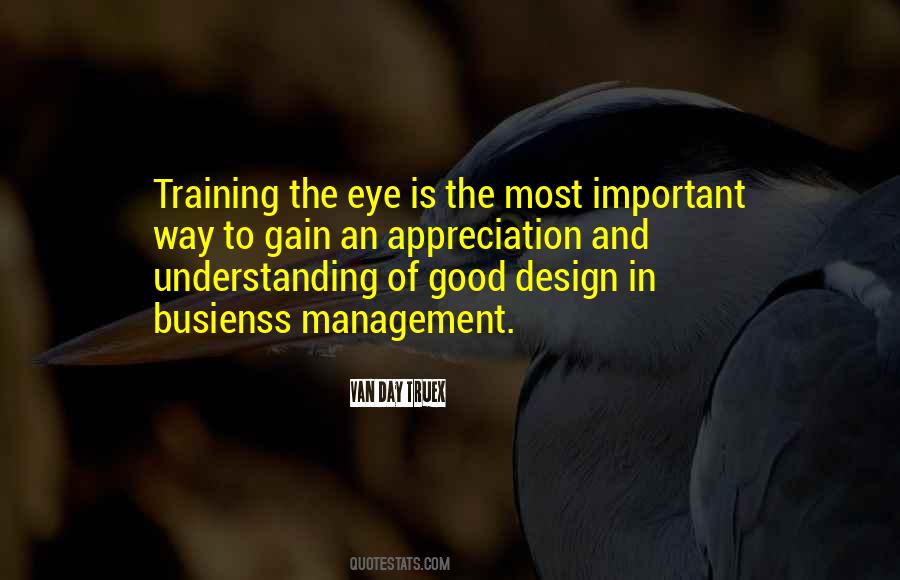 #9. If the communications media are a good destined for all humanity, then ever-new means must be found - including recourse to opportune legislative measures - to make possible a true participation in their management by all. The culture of co-responsibility must be nurtured. - Author: Pope John Paul II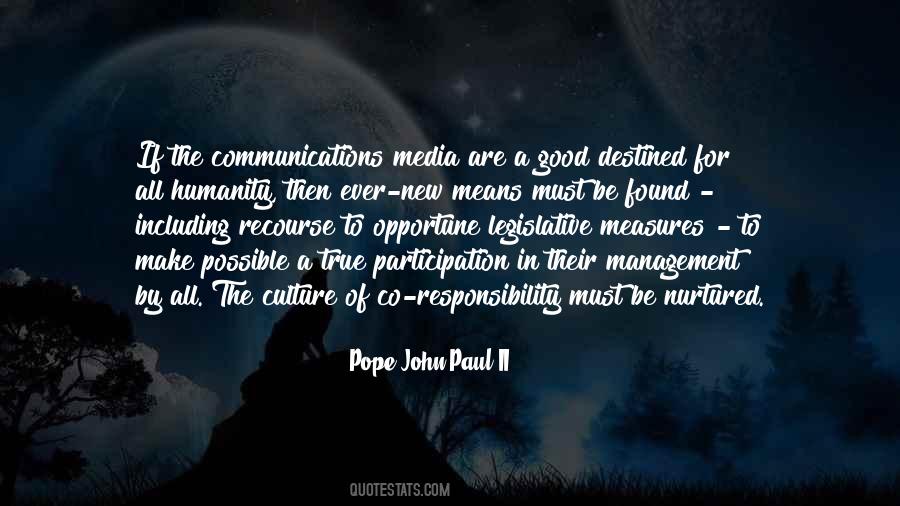 #10. There was nothing scientific about Scientific Management (Taylorism), and neither was it good management. - Author: Paul Gibbons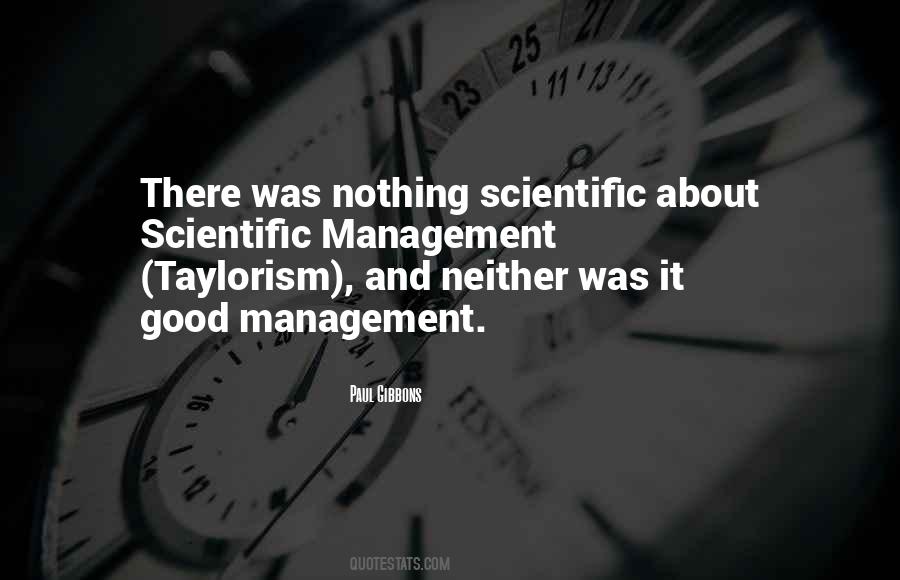 #11. If you have a workforce that enjoys each other, they trust each other, they trust management, they're proud of where they work - then they're going to deliver a good product. - Author: Jeff Smisek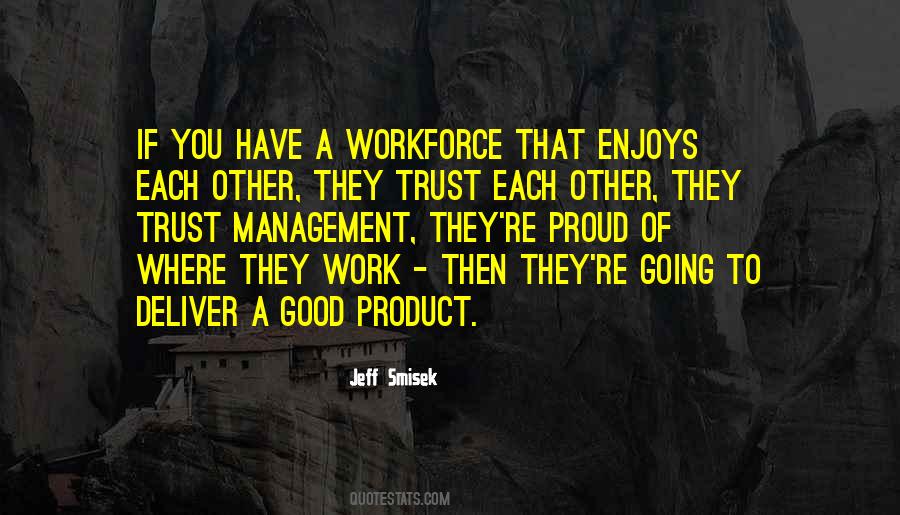 #12. What if a day could be just a day...not good or bad, but just a day filled with all types of moments? - Author: Gina M. Biegel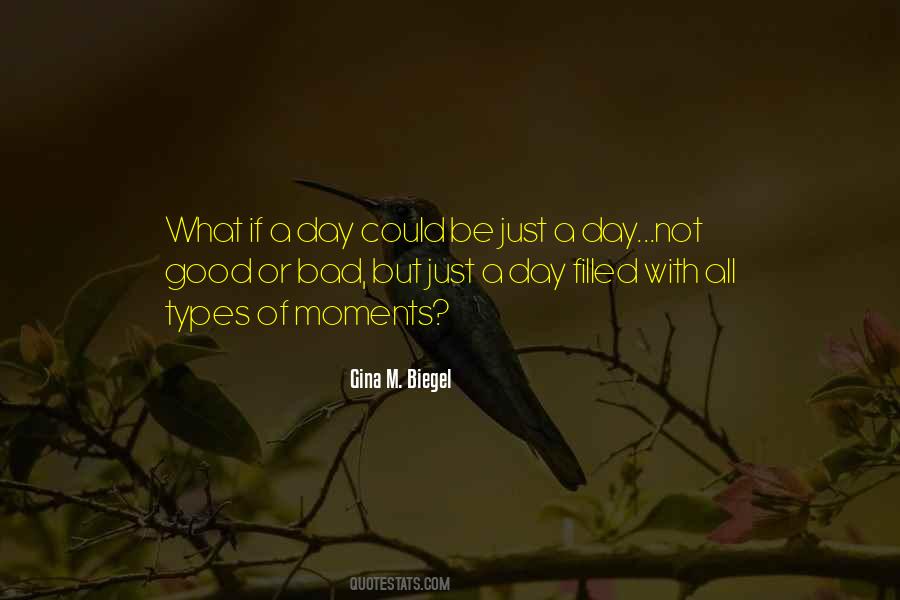 #13. Meet your people where they are. They may not be as good as they can be, but they are as good as they believe they can be. They are waiting for you to lead them. - Author: Susan C. Foster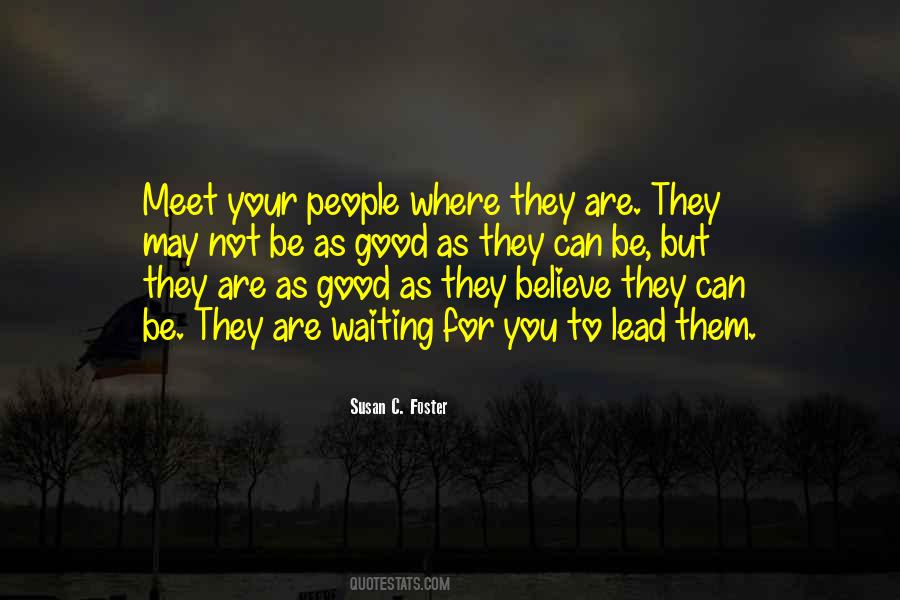 #14. Never waste your precious time in discussing the good and bad qualities of others. - Author: Abhijit Naskar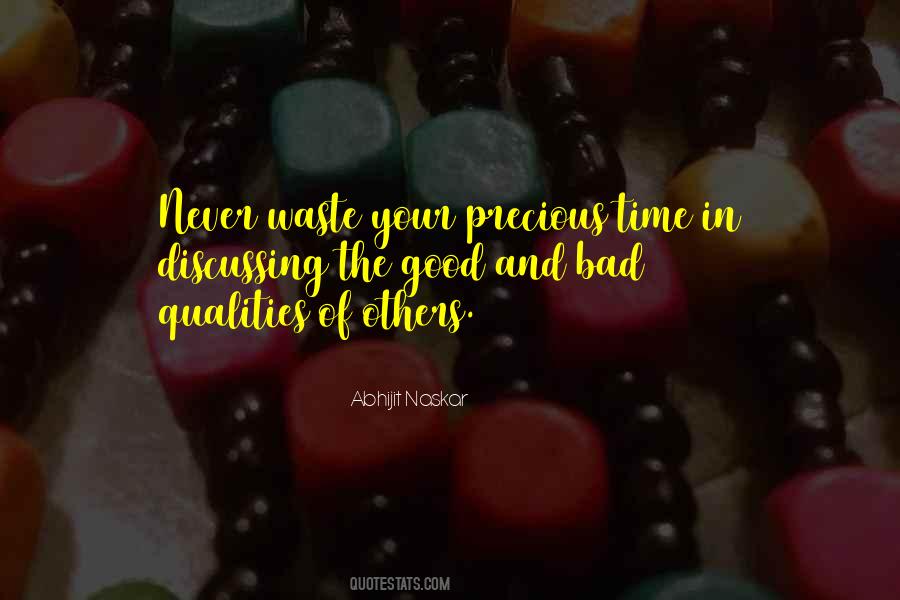 #15. My idea of management is that what your job is as the boss is to find really good people and empower them and leave them alone. - Author: Ruth Reichl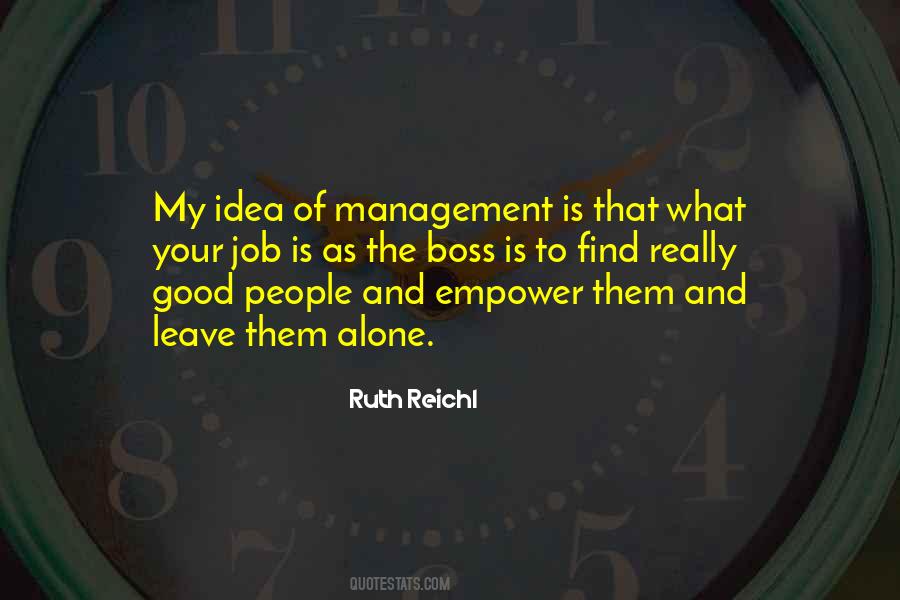 #16. Now property is part of a household, and the acquisition of property part of household-management; for neither life itself nor the good life is possible without a certain minimum supply of the necessities. - Author: Aristotle.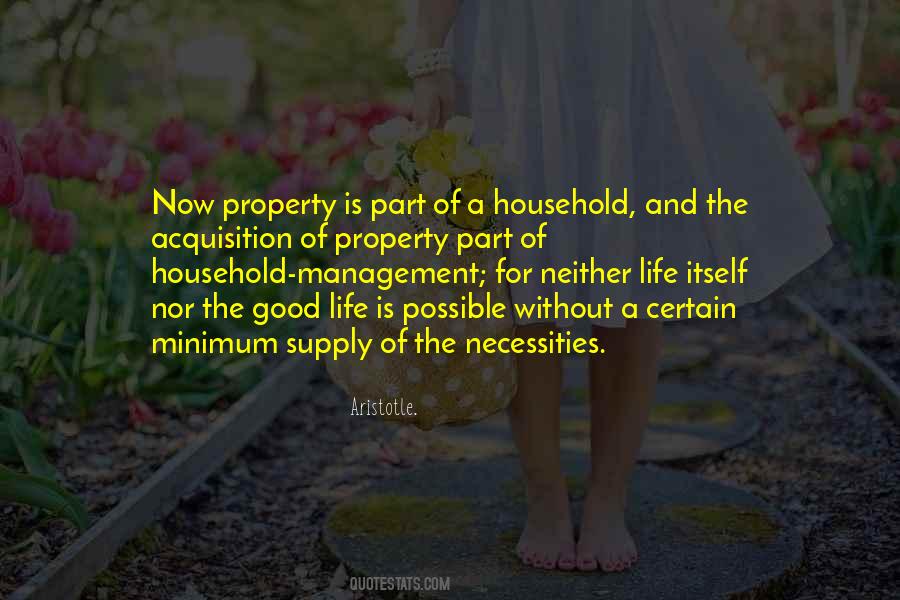 #17. Producing is a thankless task akin to hotel management. Unfortunately, there are not too many good hotel managers. - Author: David Hemmings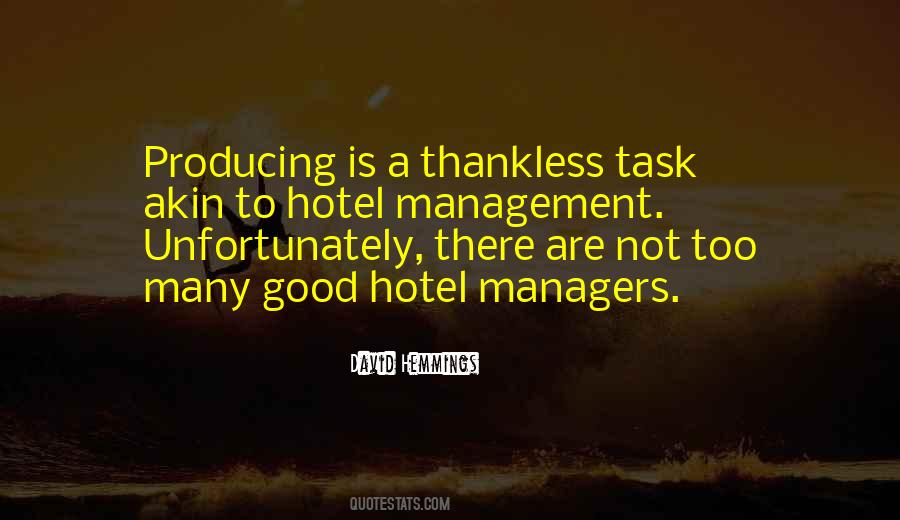 #18. The Bible says we're to be moderate in all things. It's good to help others but not at the expense of your own family. - Author: Lori Copeland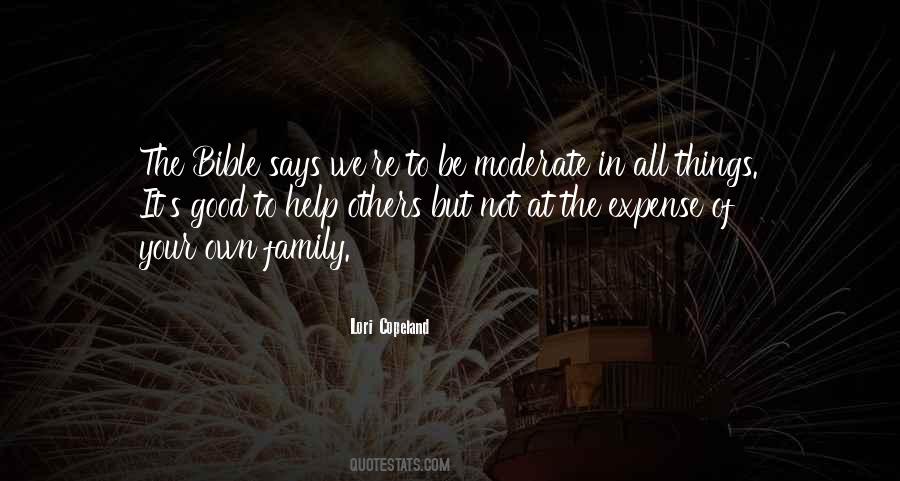 #19. Good environmentalism is good economics - Author: Barber Conable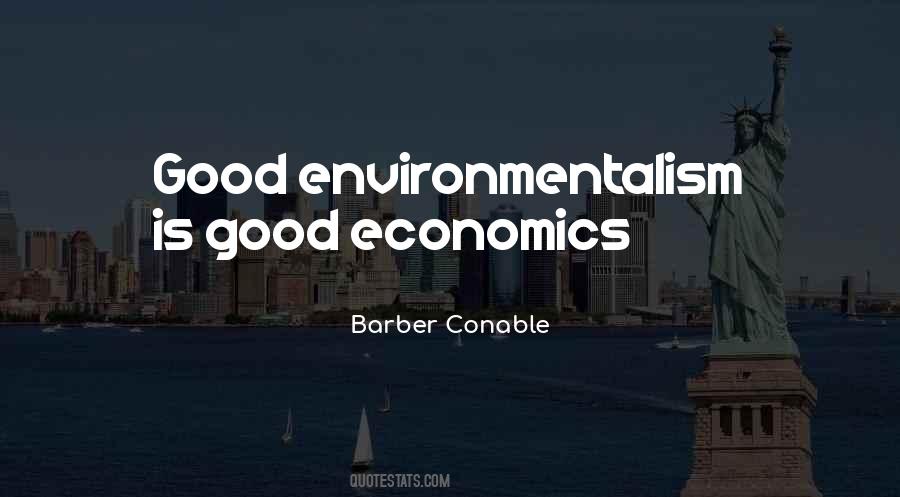 #20. Feeling good about yourself is the best sleeping pill of all. - Author: Annika Sorensen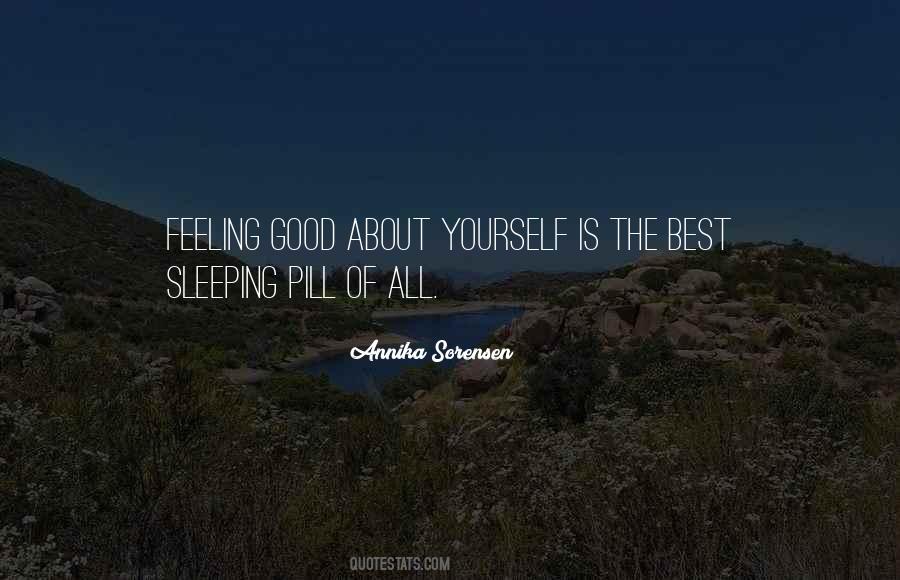 #21. Management is like sex - everyone thinks they're good at it despite limited evidence. - Author: Robin Hoyle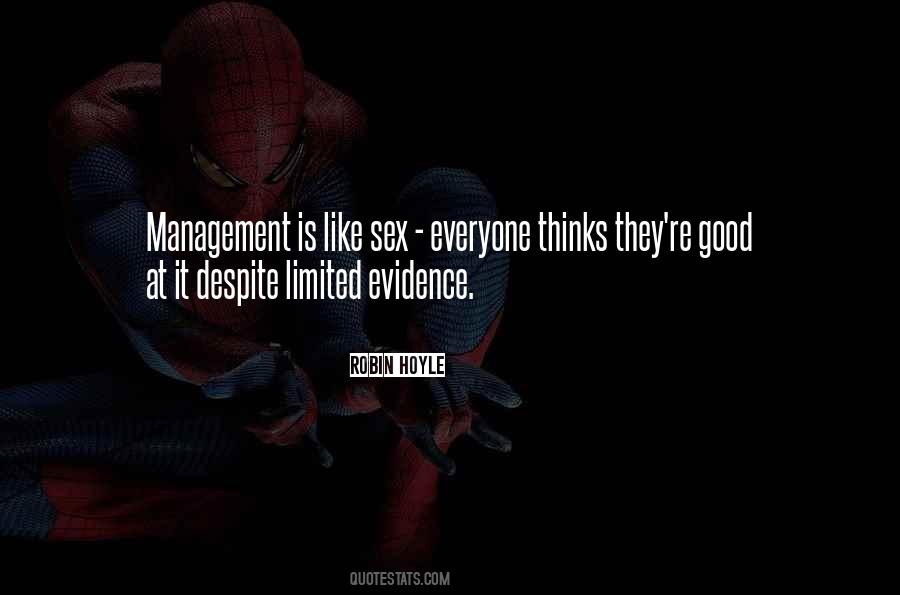 #22. In my opinion, the entire field of investment management, involving hundreds of billions of dollars, would be more satisfactorily conducted if everyone had a good yardstick for measurement of ability and sensibly applied it. - Author: Warren Buffett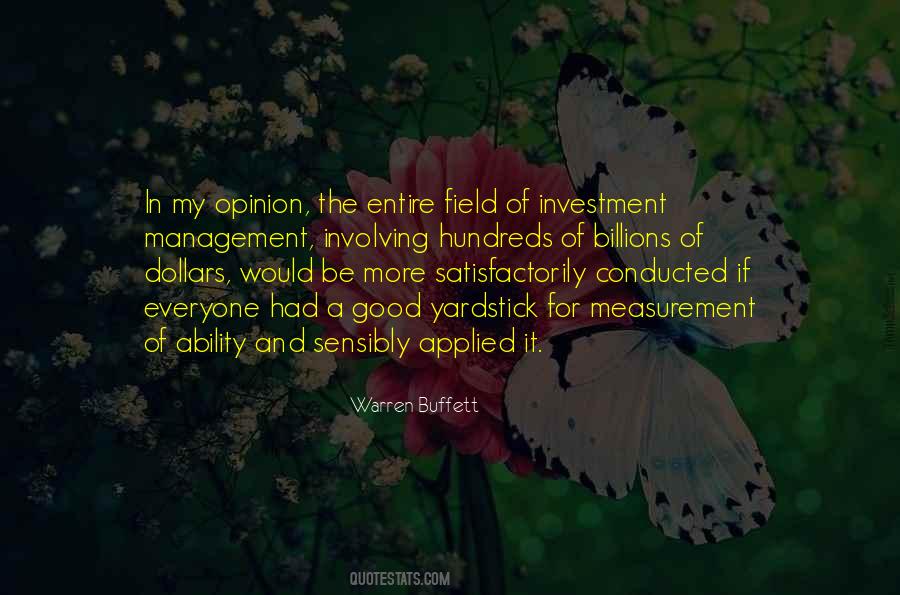 #23. The hardest thing about choosing good names is that it requires good descriptive skills and a shared cultural background. This is a teaching issue rather than a technical, business, or
management issue. - Author: Robert C. Martin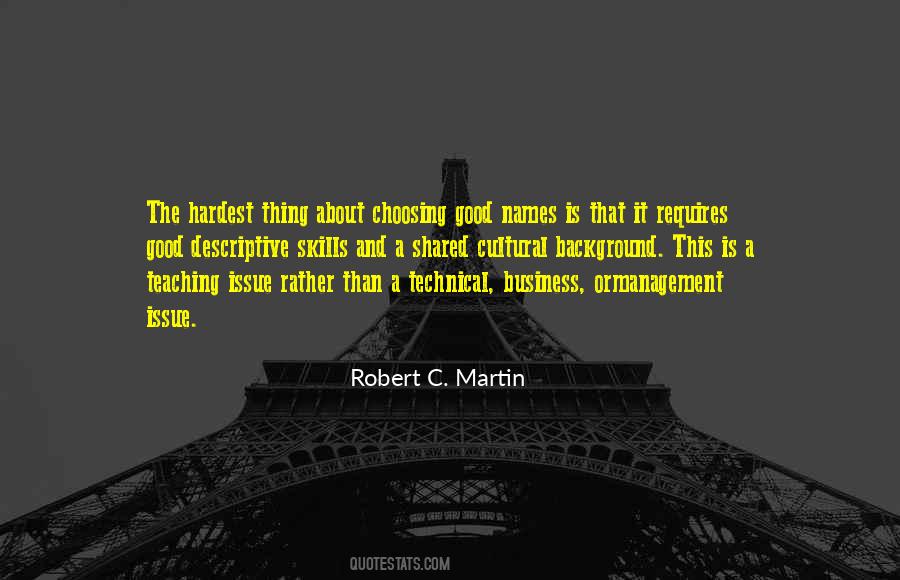 #24. Good change-management
requires the right mix of urgency and empathy. - Author: A.J. Sheppard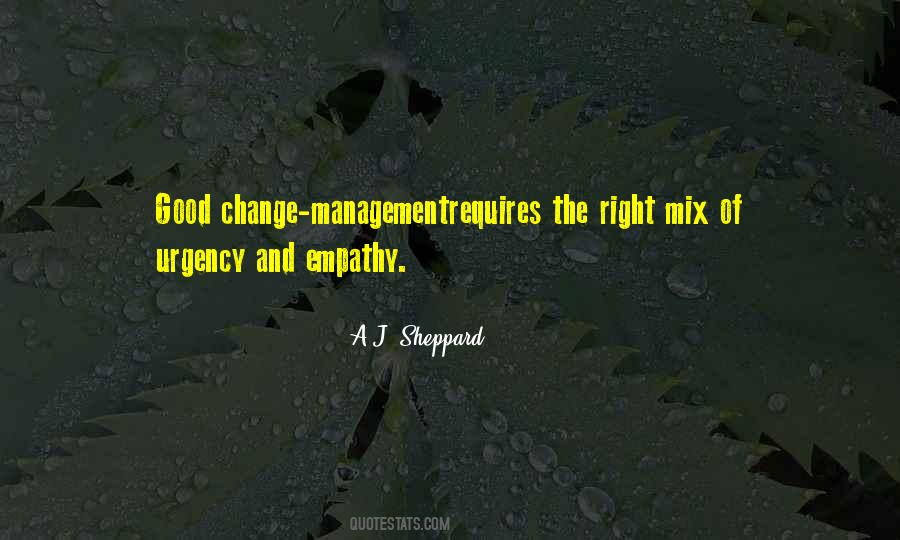 #25. The 'Journey of quality' speaks of the paradigm of 'a process approach' of good inputs to a high success
in ISO9001:2008 Quality Management System: A Reference Guide
DIVYA SINGHAL, K. R. SINGHAL - 2012 - Author: Priyavrat Thareja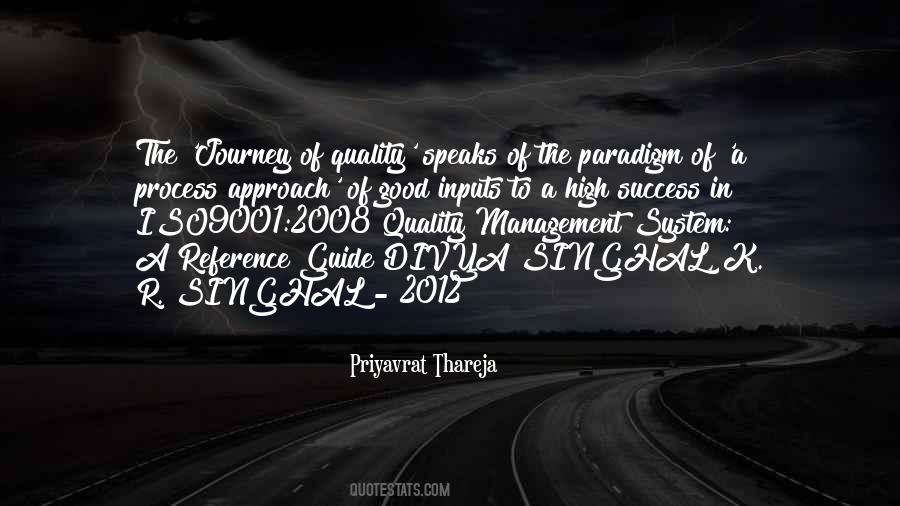 #26. 'We need to do more' is not very sophisticated thinking and not good sales management. - Author: Jason Jordan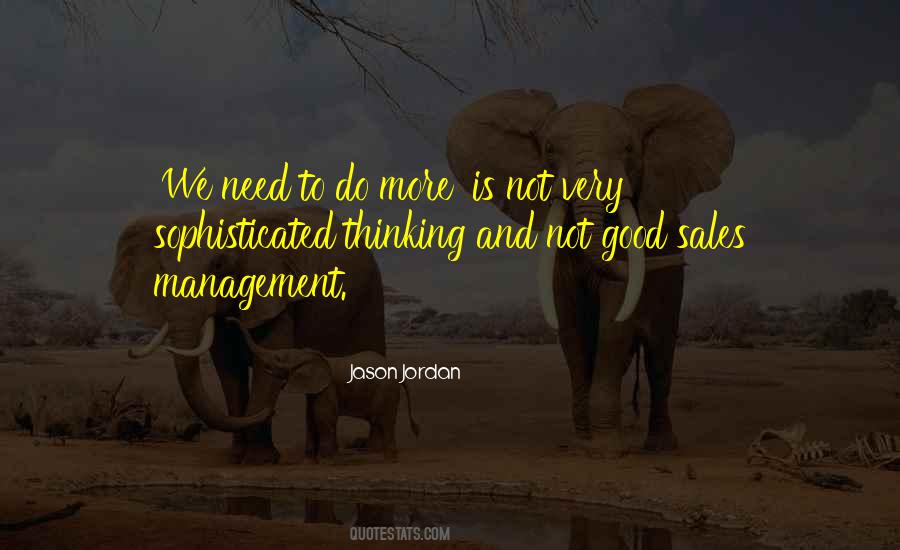 #27. The potential of this nation is as boundless as the imagination and drive of the American people ... Quality management is not just a step. It must be a new style of working. Even a new style of thinking. The dedication to quality and excellence is more than good business; it's a way of life. - Author: George H. W. Bush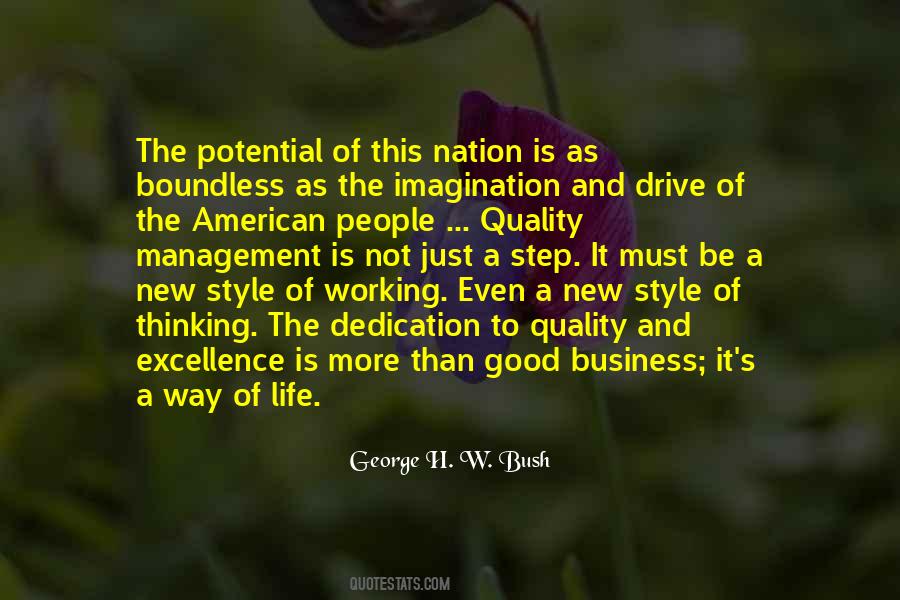 #28. I was working with Bill Graham management at the time and it was obvious to everyone concerned that albums like Open Fire, while they were good for me creatively, were not going to be commercially successful. - Author: Ronnie Montrose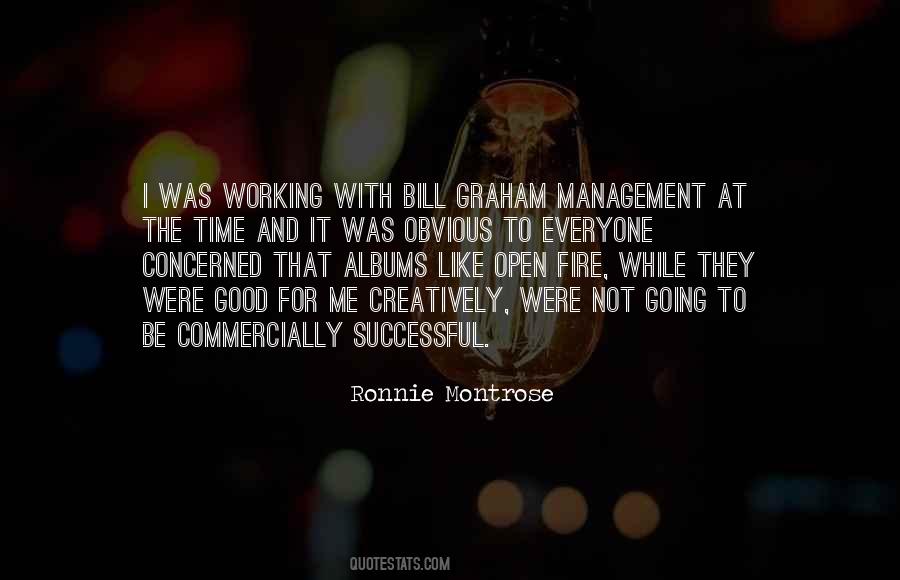 #29. A Florida planter defended his management practices by pointing to his slaves' "natural increase which in the last year has been over ten percent, in a gang of 120." A Georgia overseer informed his employer that with good management his plantation could produce much more cotton. - Author: James Oakes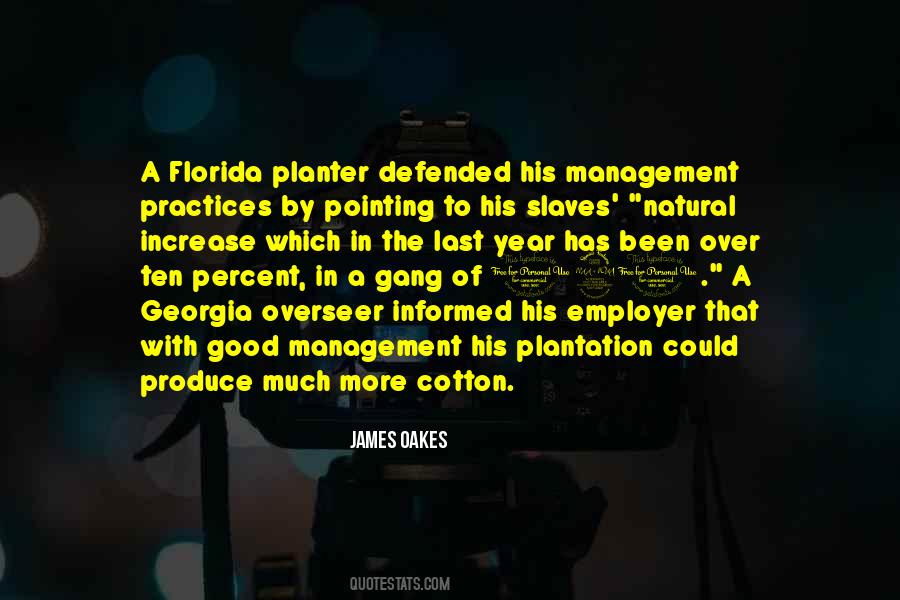 #30. The secret to wealth is hard work and good management. - Author: John Patrick Hickey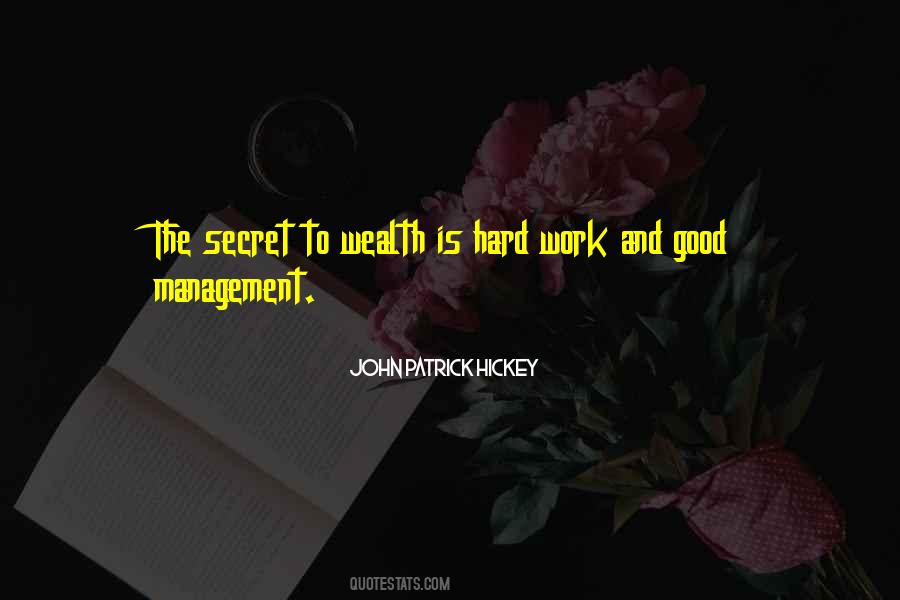 #31. Management has to provide the coordinating mechanism between what the supplier provides and what the user needs in not-good-enough situations where product architecture is consequently interdependent. Management always beats markets when there is not sufficient information. - Author: Clayton Christensen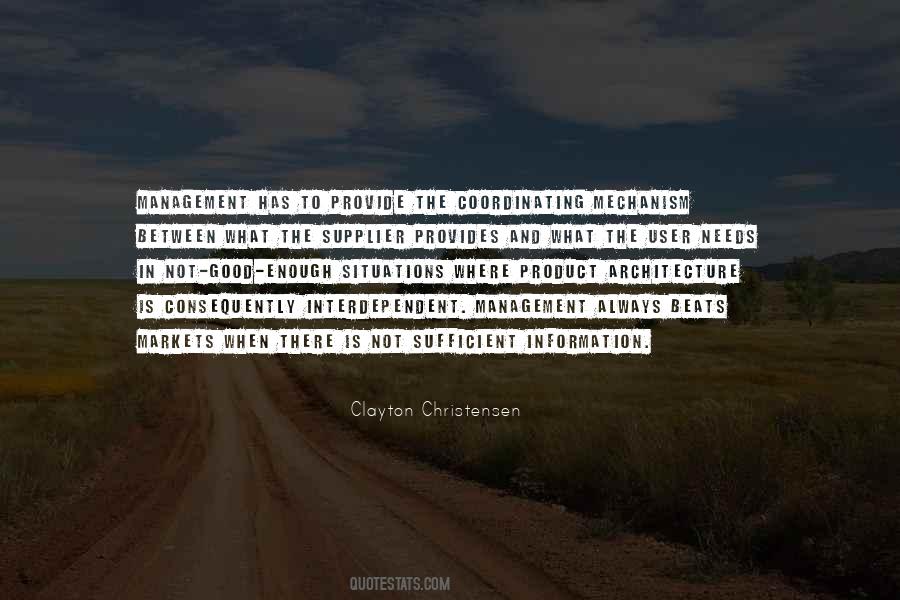 #32. Everyone is a business person. You must be in the business of managing your time. Managing your time means managing your life. Good time managers are good life managers, and vice versa. - Author: Archibald Marwizi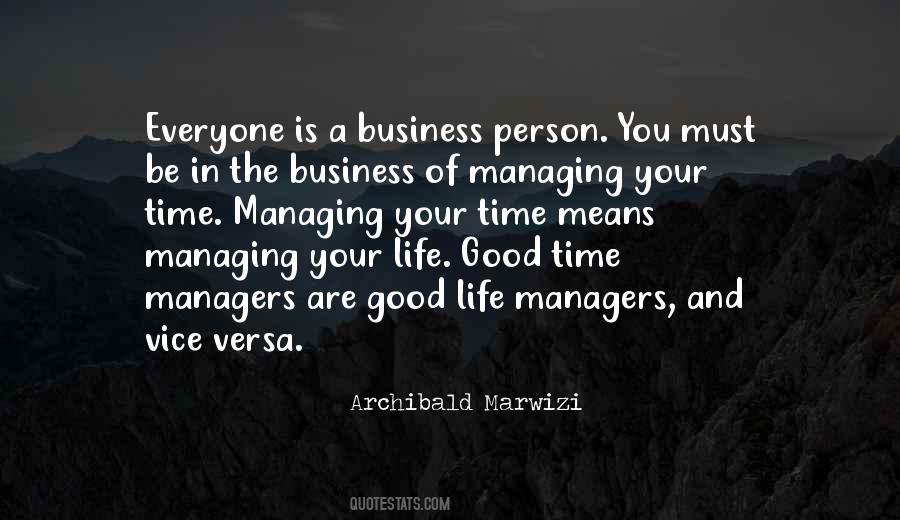 #33. At the BBC we've had plenty of women in good management jobs. It comes and goes but there's been plenty. On air, I think there's quite a bit more we can do. - Author: Evan Davis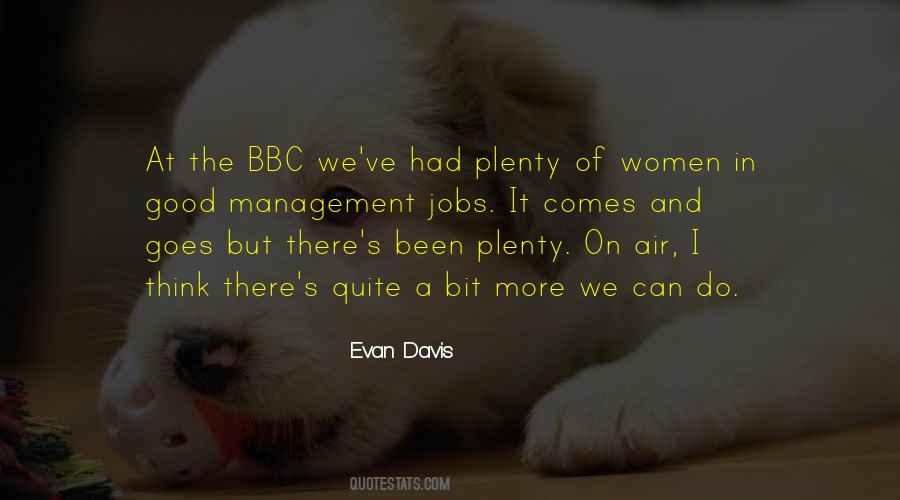 #34. Reading a book about management isn't going to make you a good manager any more than a book about guitar will make you a good guitarist, but it can get you thinking about the most important concepts. - Author: Drew Houston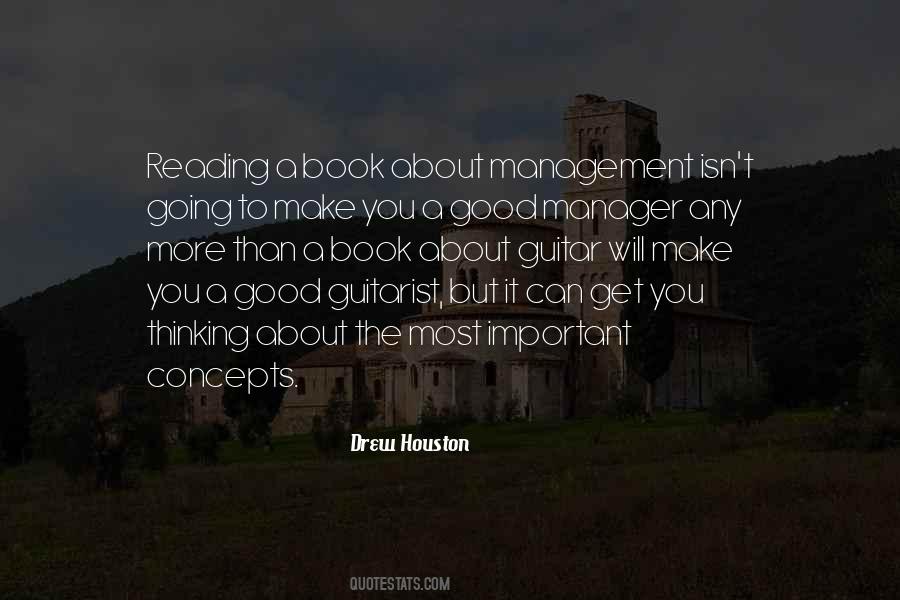 #35. Under a good administration, the Nile gains on the desert. Under a bad one, the desert gains on the Nile. - Author: Napoleon Bonaparte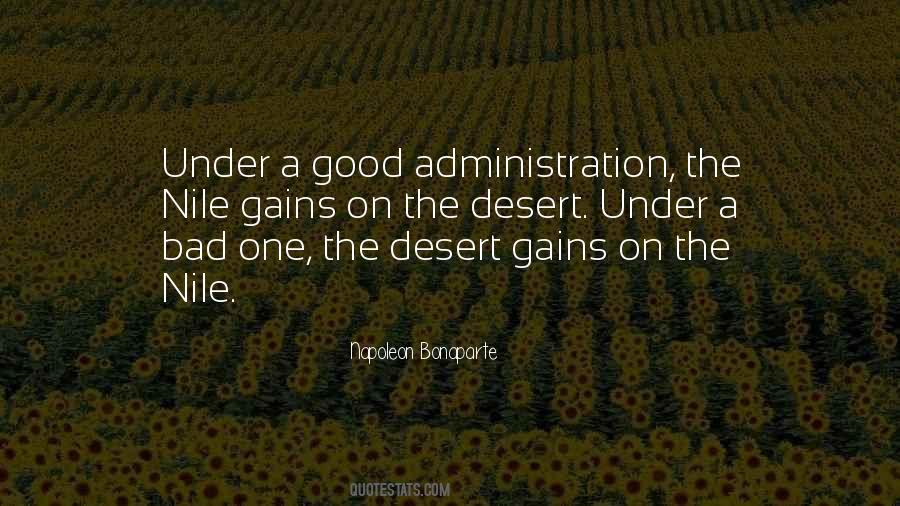 #36. Certain management policies-stretching of credit resources, for example-may lead to great progress in good conditions; but, like the Grand Prix car in comparison with the Land Rover, they may not be robust enough to survive when the going gets tough. - Author: Anthony Stafford Beer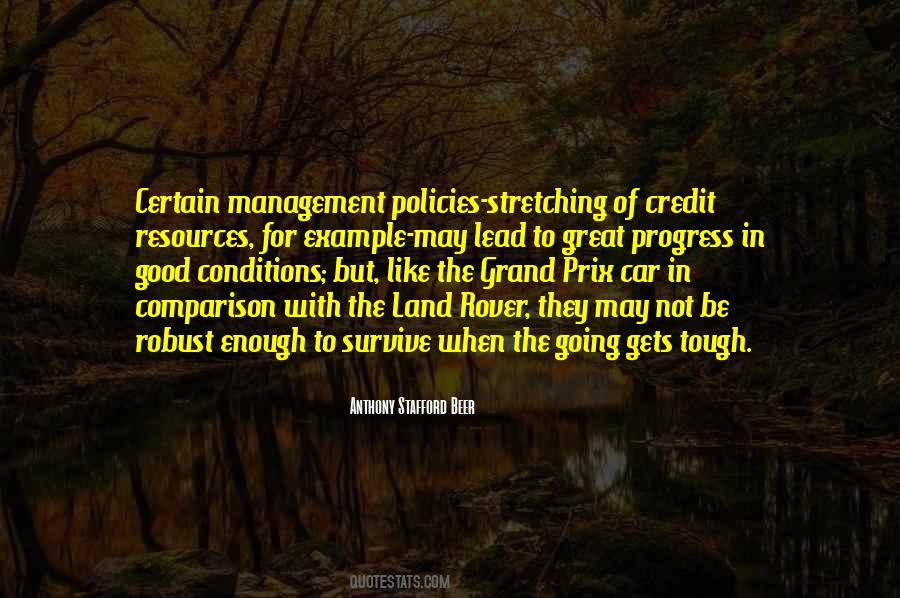 #37. In most cases being a good boss means hiring talented people and then getting out of their way. - Author: Tina Fey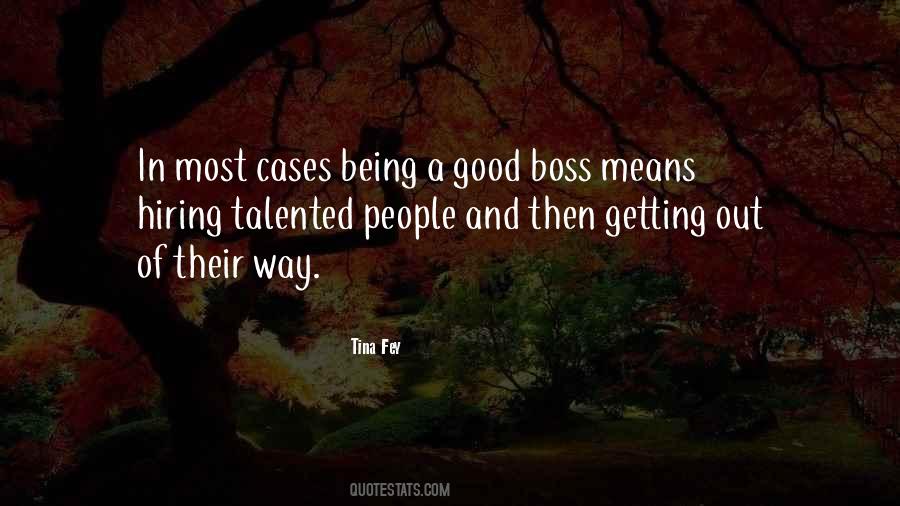 #38. Good managements produce a good average market price, and bad managements produce bad market prices. - Author: Benjamin Graham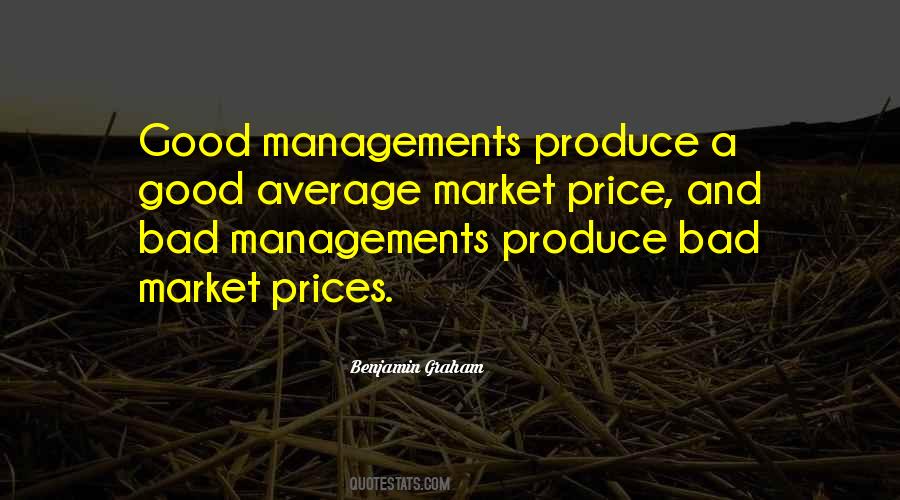 #39. I've never formally trained for pain management, but I have a good understanding of how to conquer it. I just analyze the pain, feel it in the moment, and then mentally become numb to it. - Author: Criss Angel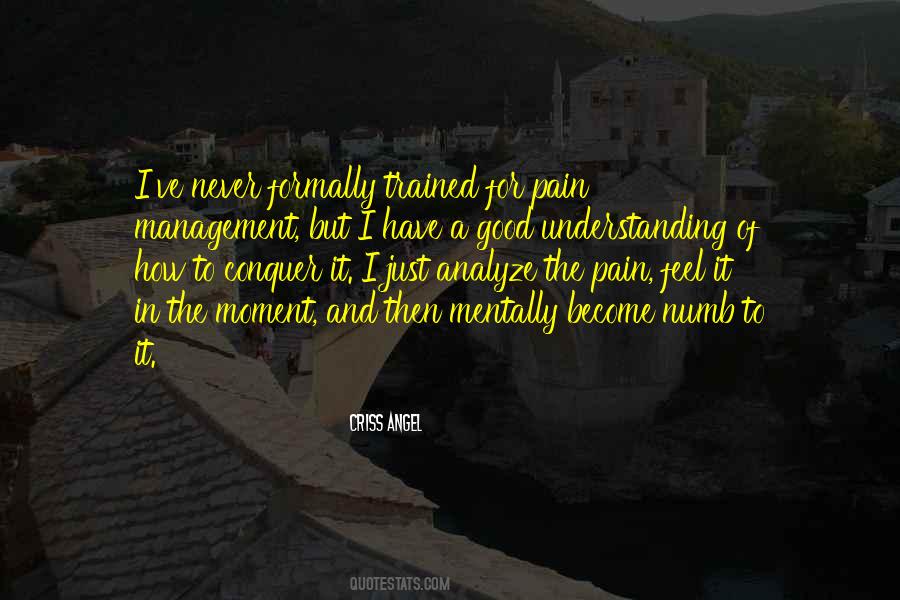 #40. The smart strategist allows strategy to be shaped by events. Good reactions can make great strategy. Strategy involves competition of goals, and the risk is the difference between those goals and the ability of the organization to achieve them. So part of the risk is created by the strategy. - Author: Max McKeown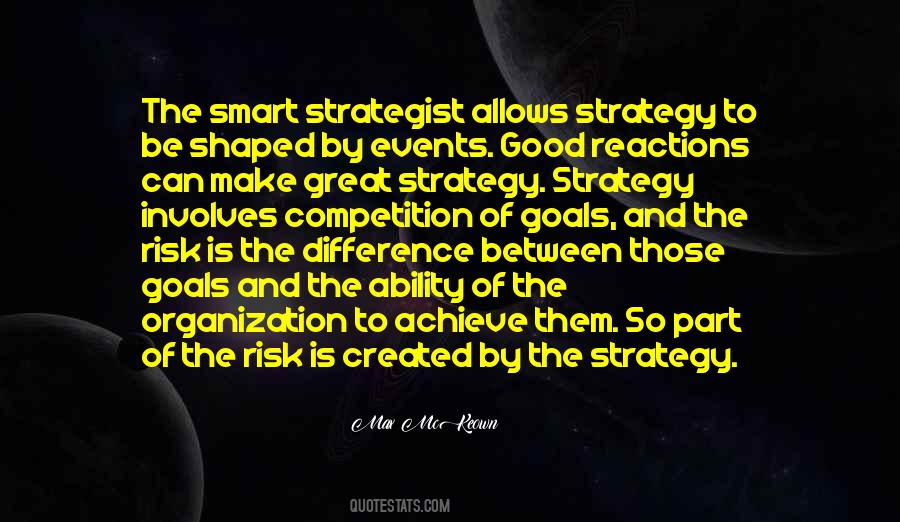 #41. In our experience, what we have found is the rare commodity is a good management team. And good management teams manage through good and bad cycles and manage to grow their business over a long period of time. - Author: Warren Stephens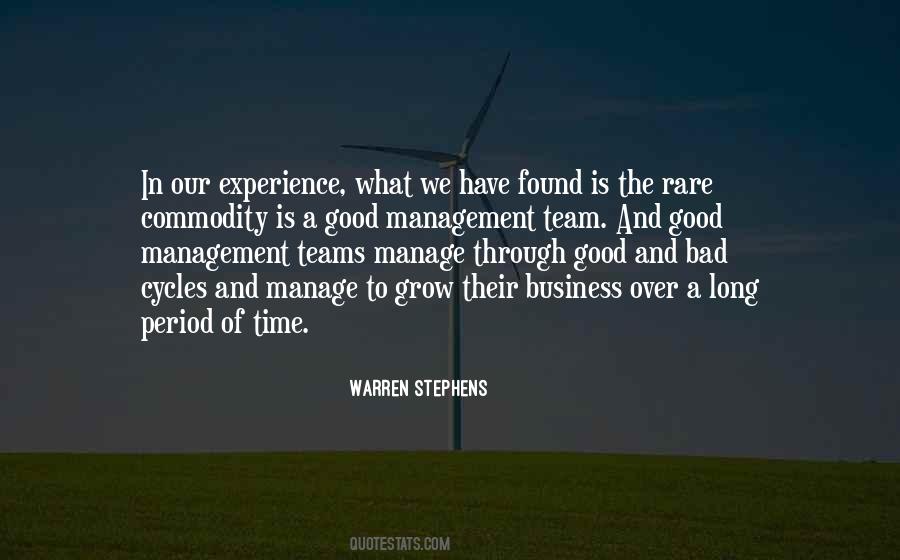 #42. To make a decision, all you need is authority. To make a good decision, you also need knowledge, experience, and insight. - Author: Denise Moreland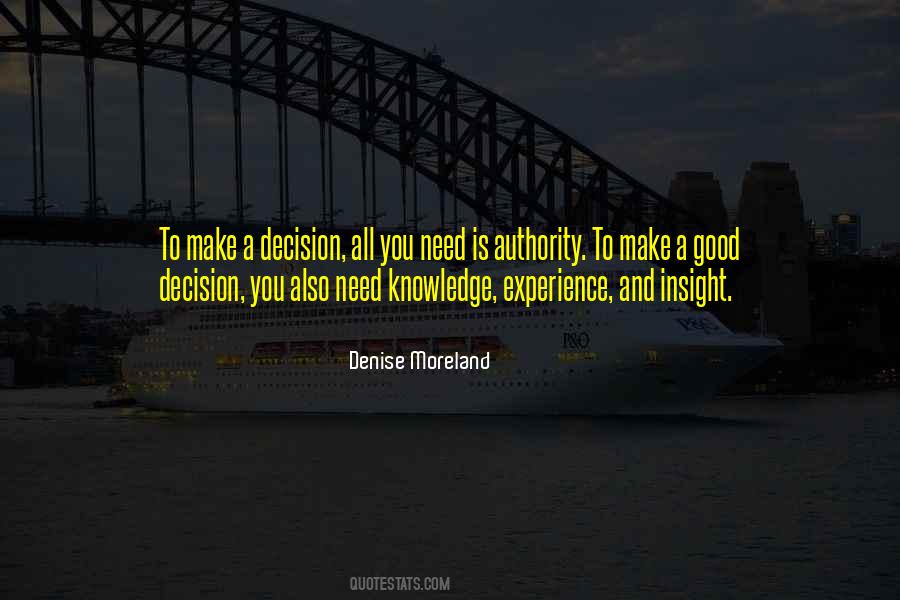 #43. I'm very content to have great management and a great label. But for me, success started when my managers came to me and told me, 'Go ahead and quit your job.' I told them, 'As long as I don't have to wash dishes anymore, I'm good.' - Author: Leon Bridges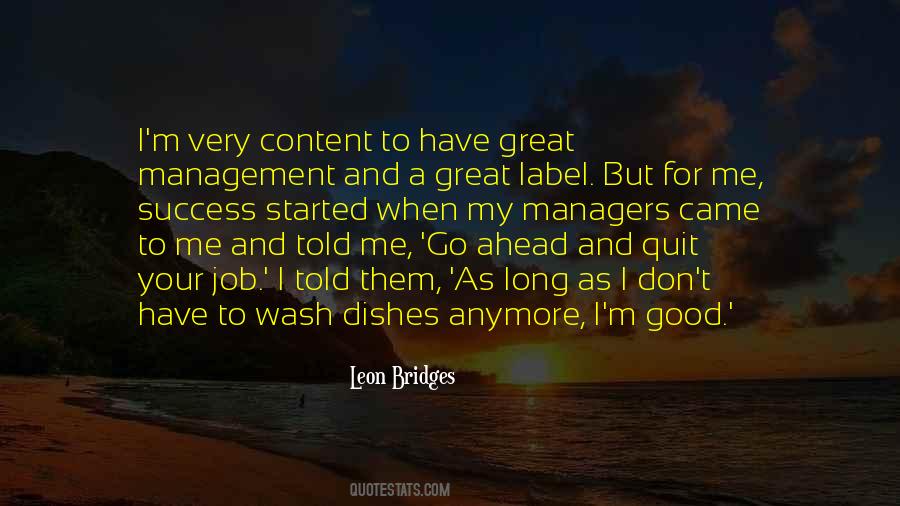 #44. the real essence of our lifetime lies in the time of our lives - Author: Ernest Agyemang Yeboah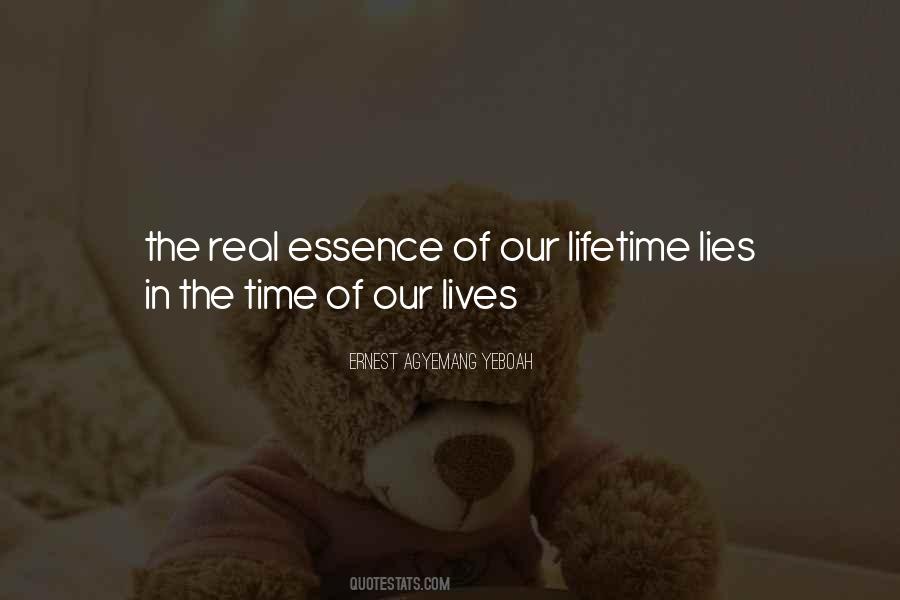 #45. I have always advocated doing everything possible to pay off credit card balances; it's good financial management and the ticket to a strong FICO credit score. - Author: Suze Orman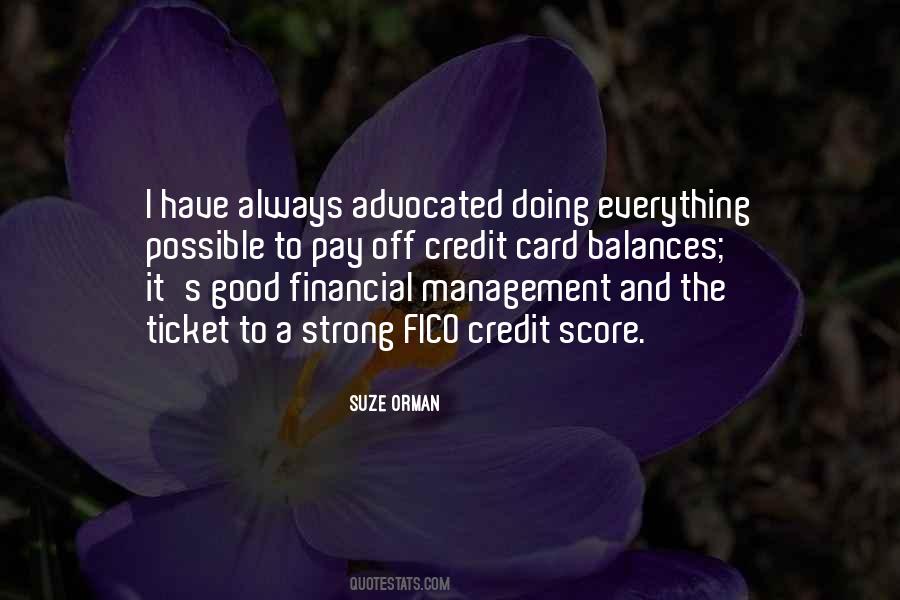 #46. I got even with all the bad management I had by being a good manager. - Author: Victoria Principal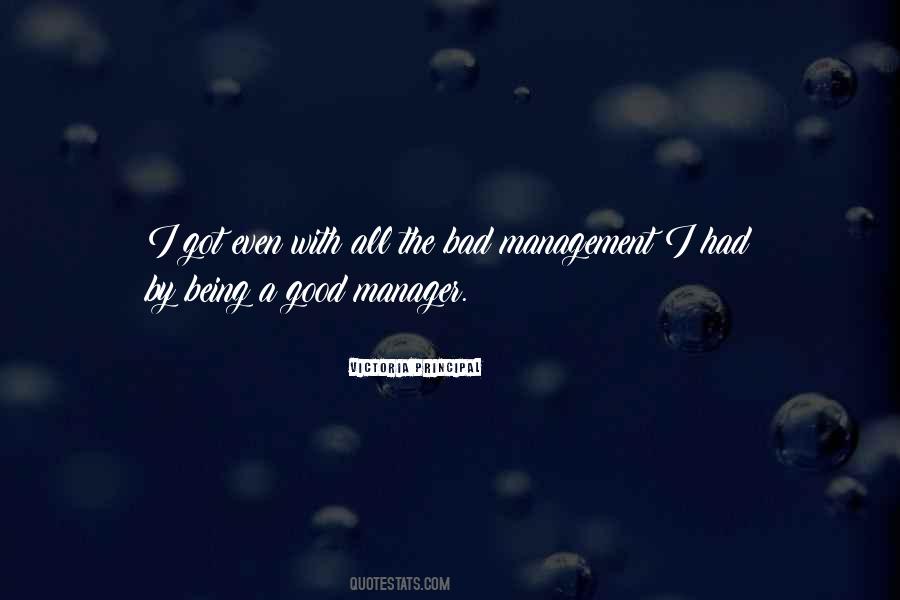 #47. Time: no start no end, the most powerful force in nature, killing more people than 100 atomic bombs, generating thoughts & ideas. Devil&Good - Author: Rossana Condoleo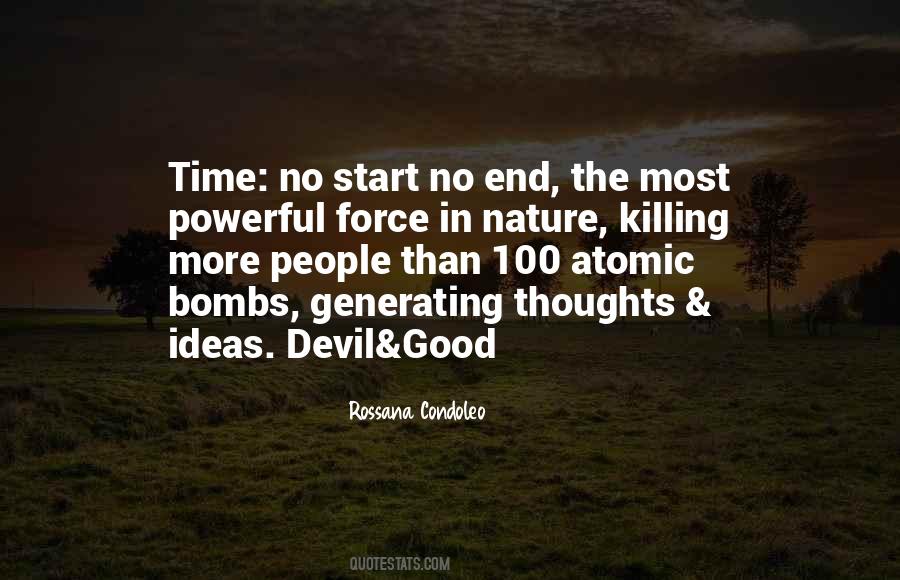 #48. In short, they're a bit like a referee at a sporting event: Do a good job and nobody notices; make a mistake and the finger pointing begins. - Author: Andrew Longman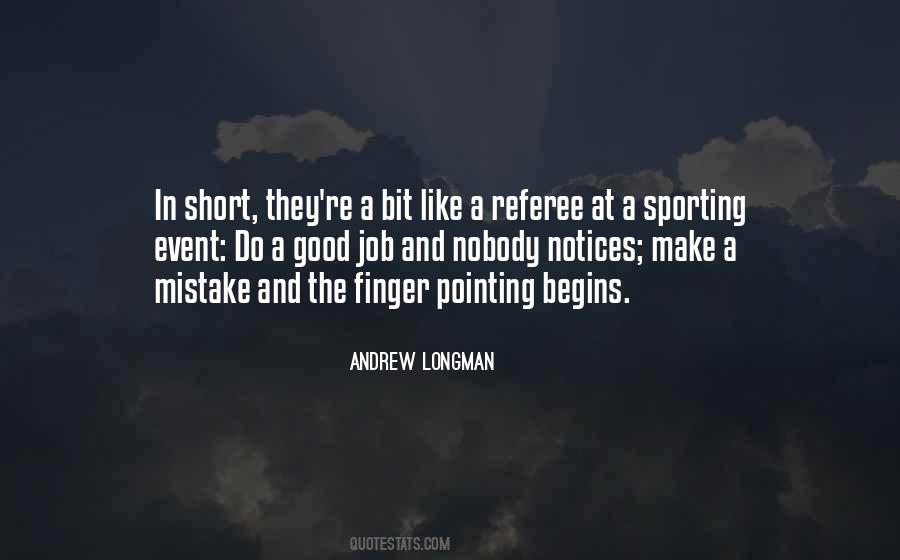 #49. I believe in the difference that a man or woman can make at the top of an organisation. Once you have a really good guy in place at the top, the next most important thing is continuity of management as opposed to a revolving door. - Author: Anthony Pratt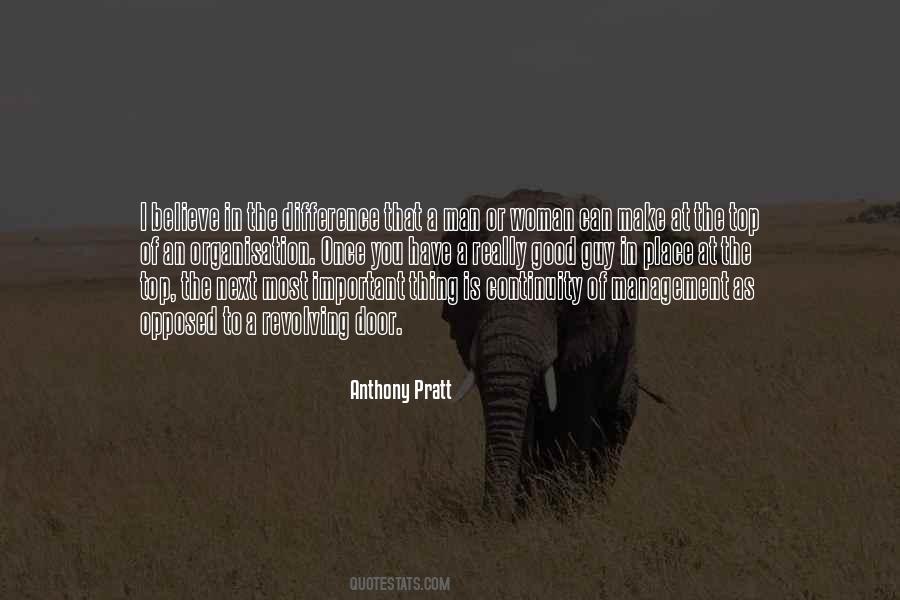 #50. Learning, like money, may be of so base a coin as to be utterly void of use; or, if sterling, may require good management to make it serve the purposes of sense or happiness. - Author: William Shenstone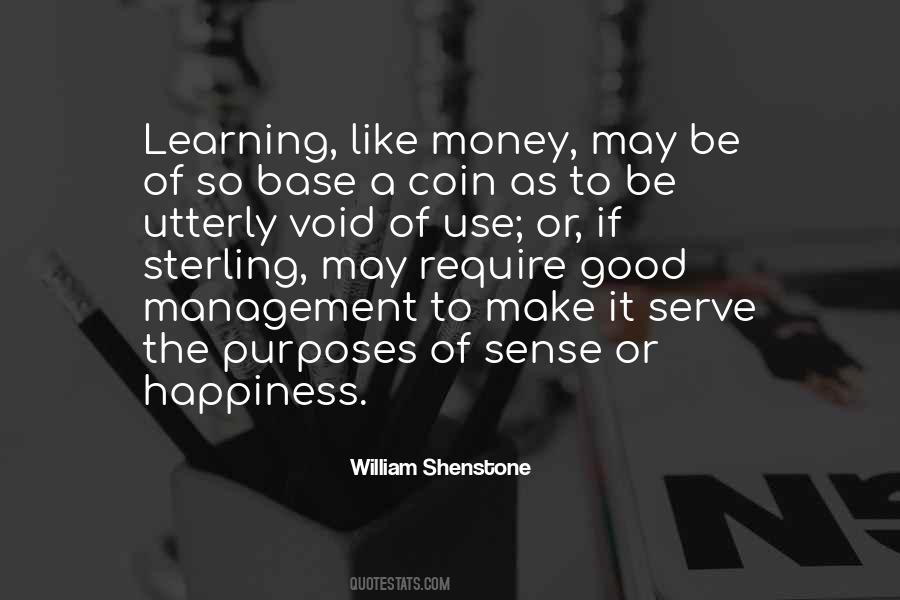 #51. Good governance is not fire-fighting or crisis-management. Instead of opting for ad-hoc solutions the need of the hour is to tackle the root cause of the problems. - Author: Narendra Modi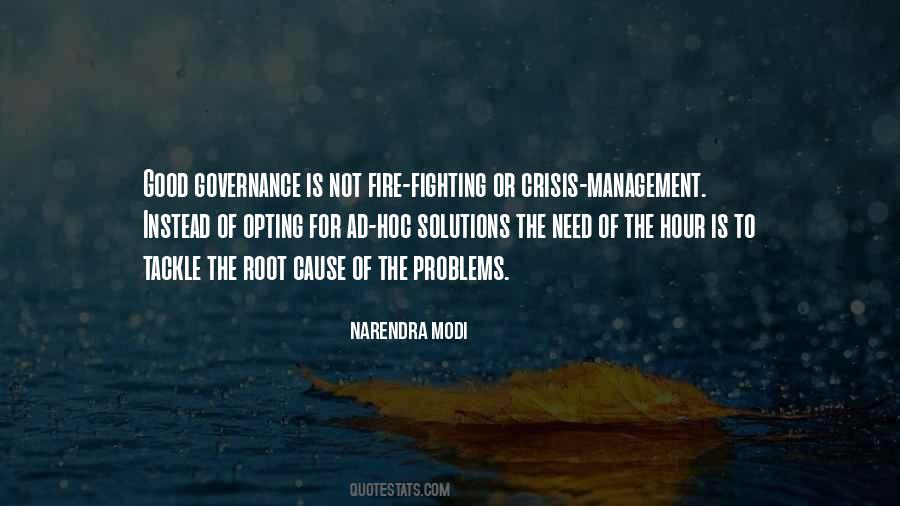 #52. No man can be a good citizen unless he has a wage more than sufficient to cover the bare cost of living, and hours of labor short enough so after his day's work is done he will have time and energy to bear his share in the management of the community, to help in carrying the general load. - Author: Theodore Roosevelt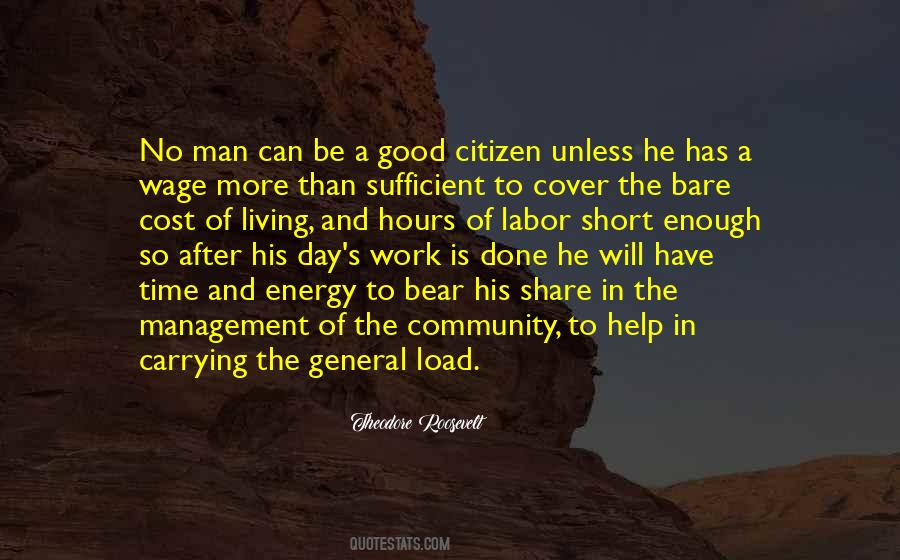 #53. Stock prices relative to company assets are no better at signaling the likelihood of future earnings growth than they were the day the Titanic sank, and risk management is a good deal worse. - Author: Timothy Noah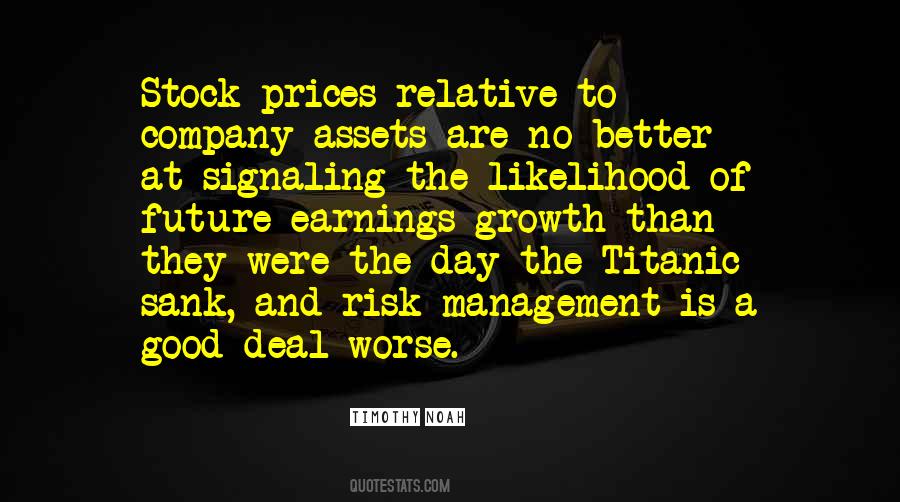 #54. Good management has helped me find much of the success I've got. - Author: Sarah Vaughan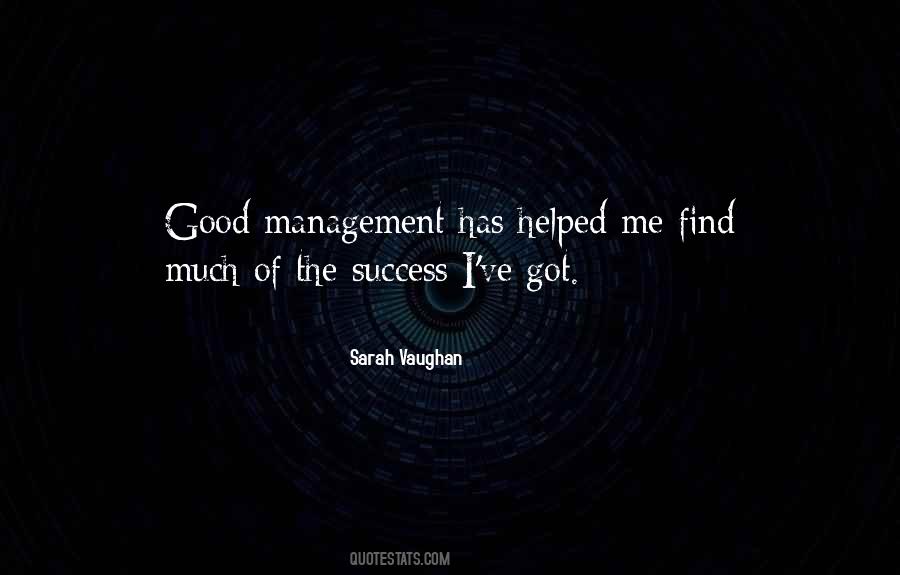 #55. I built stages and I did stage management - I think I built the sets twice, I happened to be good with a drill, which is a talent I didn't know I had. - Author: Gwendoline Christie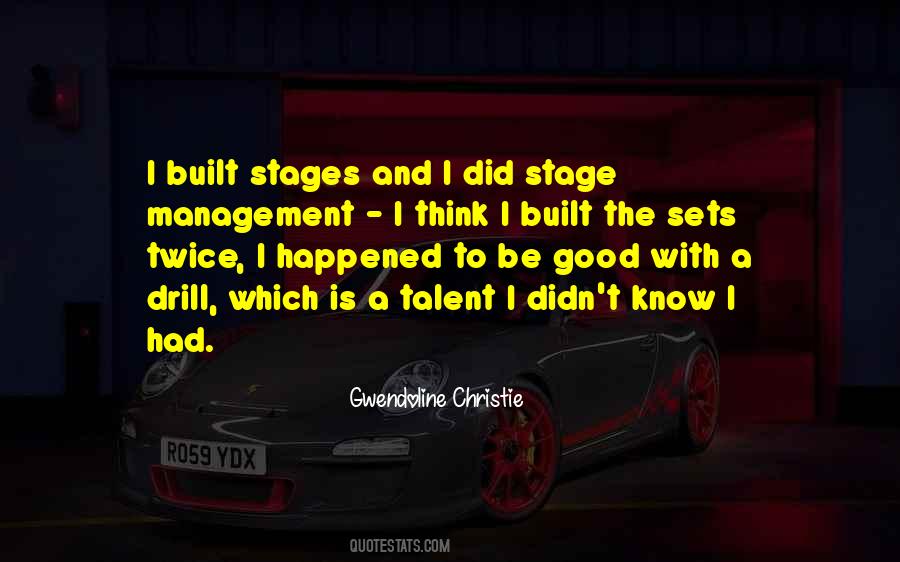 #56. Since graduating from HMS my greatest satisfaction has unequivocally been my family. My main disappointment is that I have wasted too much time in personal pursuits and been less of an influence for good than I might have been. - Author: Norris B. Finlayson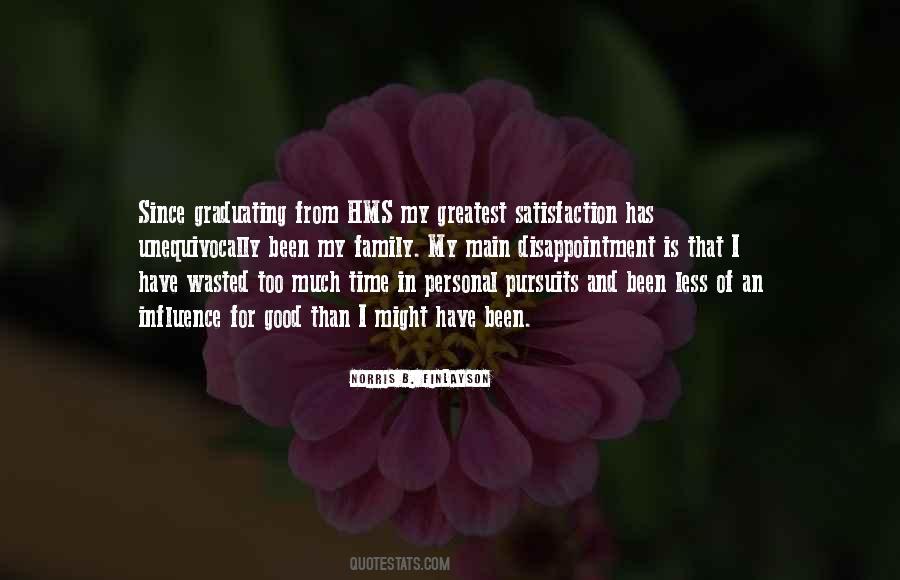 #57. The game is never over. The universe has a pretty good knowledge management system and stores every new idea, every innovation ever attempted in its bottomless ledgers. - Author: Rohit Prasad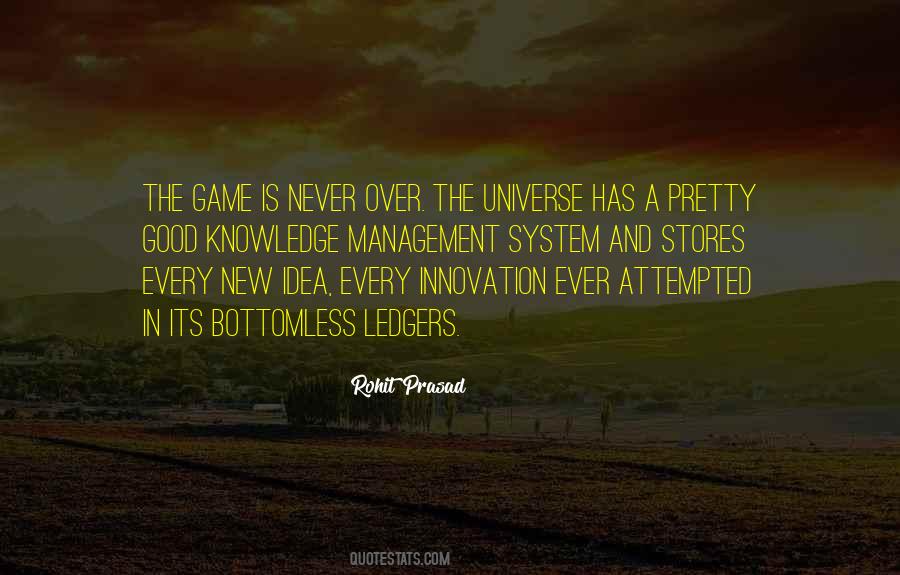 #58. Doing good induces others to reciprocate. - Author: Arthur P. Ciaramicoli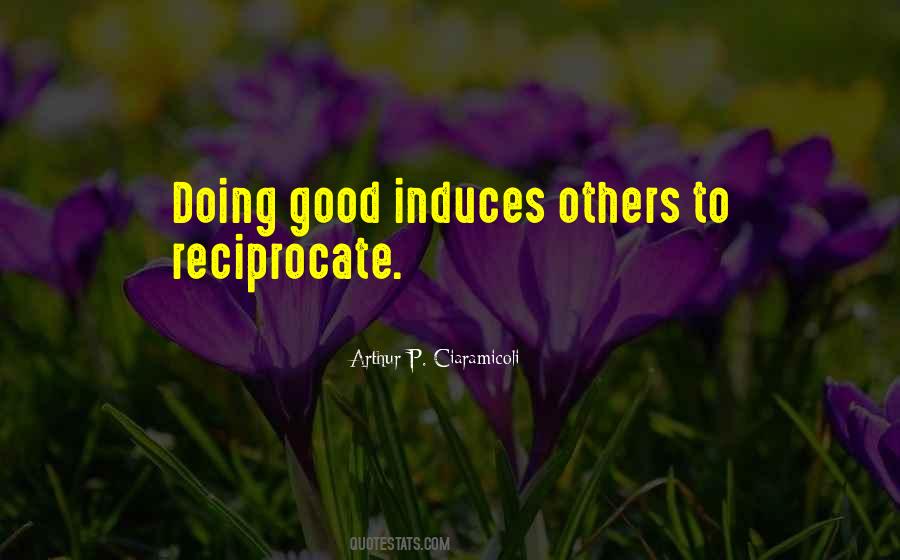 #59. Good work is always done in defiance of management. - Author: Bob Woodward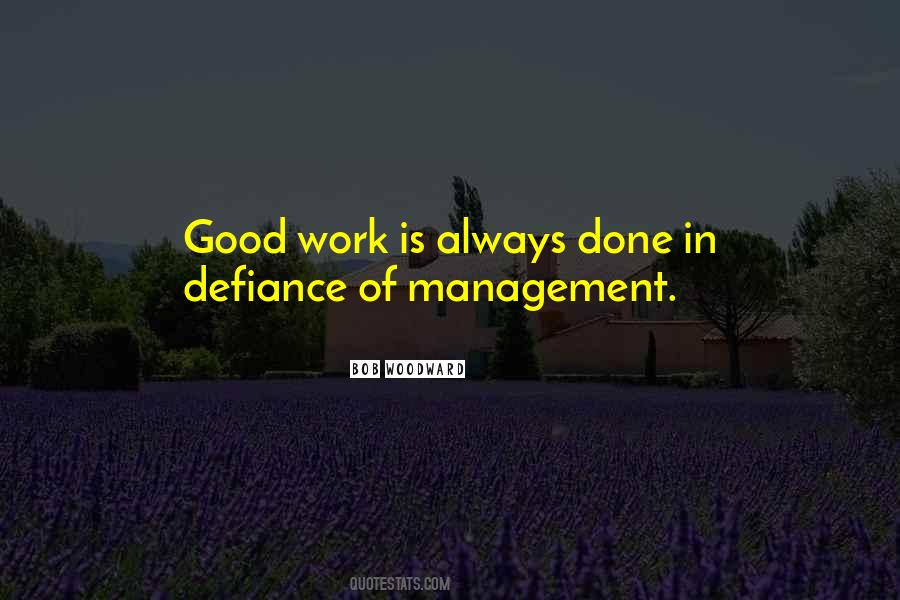 #60. Good management is the art of making problems so interesting and their solutions so constructive that everyone wants to get to work and deal with them. - Author: Paul Hawken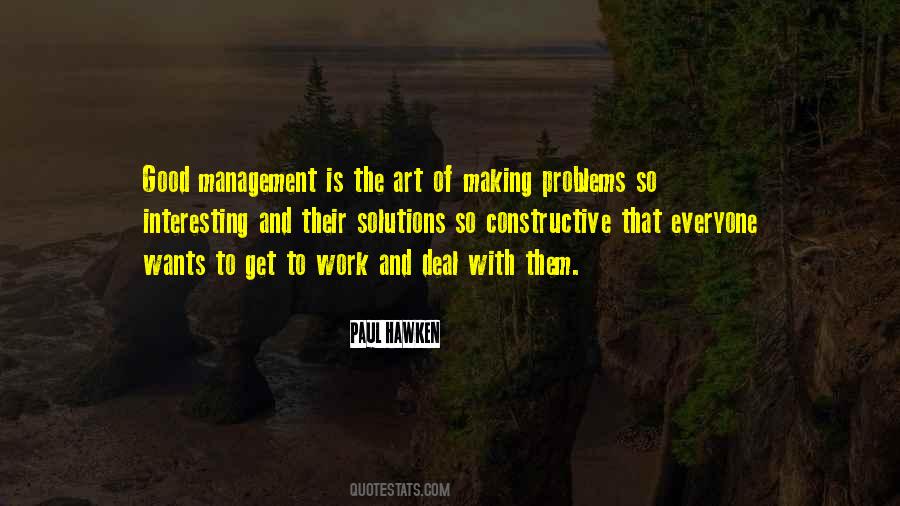 #61. Japanese management practices succeed simply because they are good management practices. This success has little to do with cultural factors. And the lack of cultural bias means that these practices can be - and are - just as successfully employed elsewhere. - Author: Masaaki Imai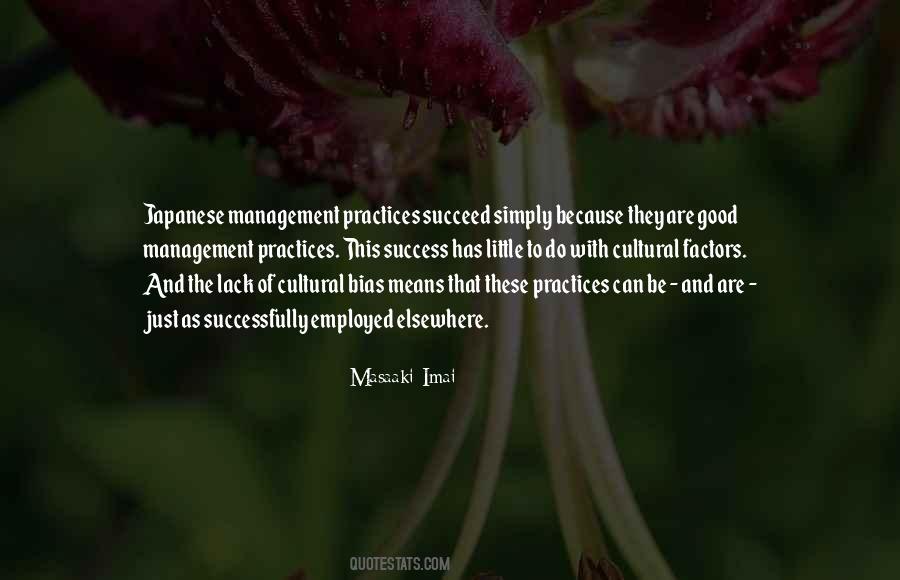 #62. No one has all the answers. Fortunately, it is not necessary to have all the answers for good management. - Author: W. Edwards Deming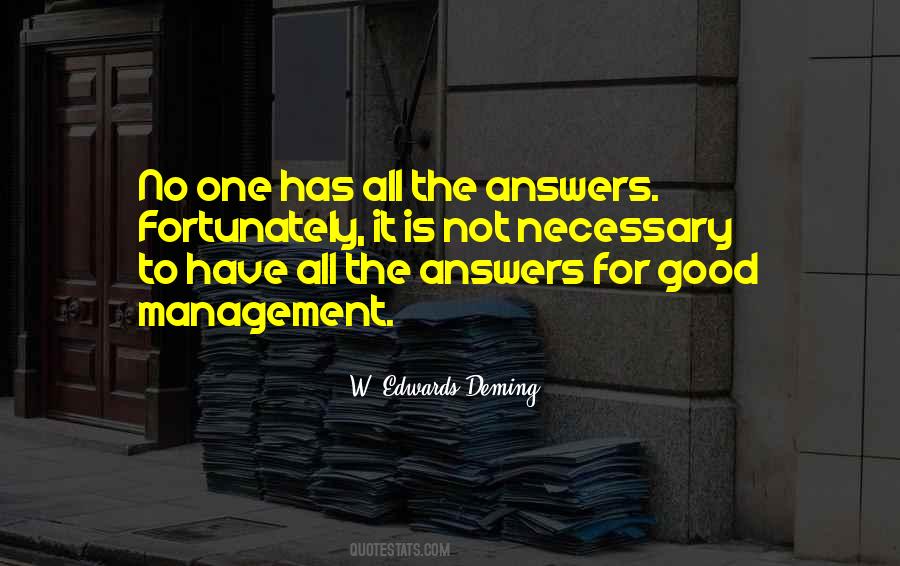 #63. Good management is the lifeblood of the healthy corporate body. Getting rid of it to save cost is like losing weight by giving blood. - Author: Tom DeMarco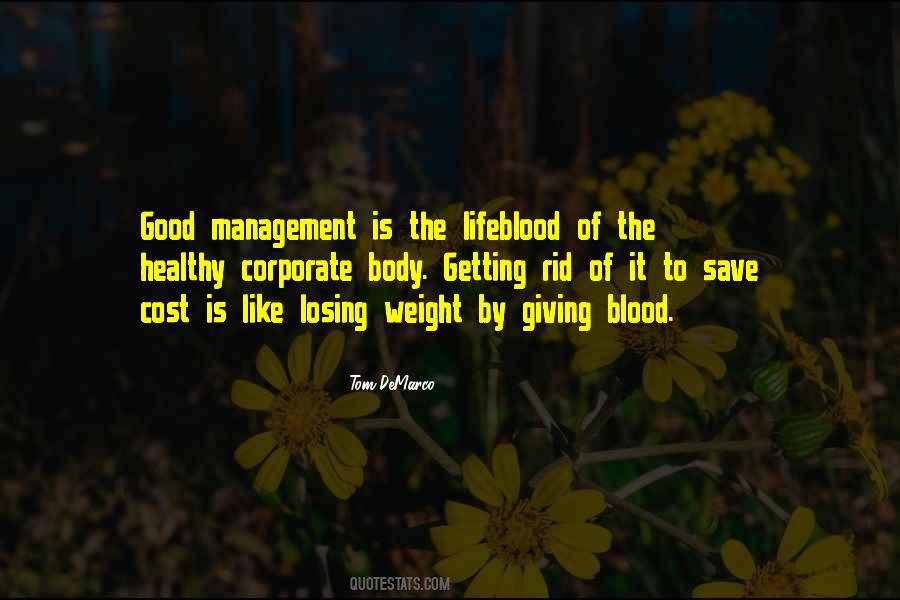 #64. A good idea is like a lighted match, easily blown out by the cold winds of rigid management. - Author: Richard Kinder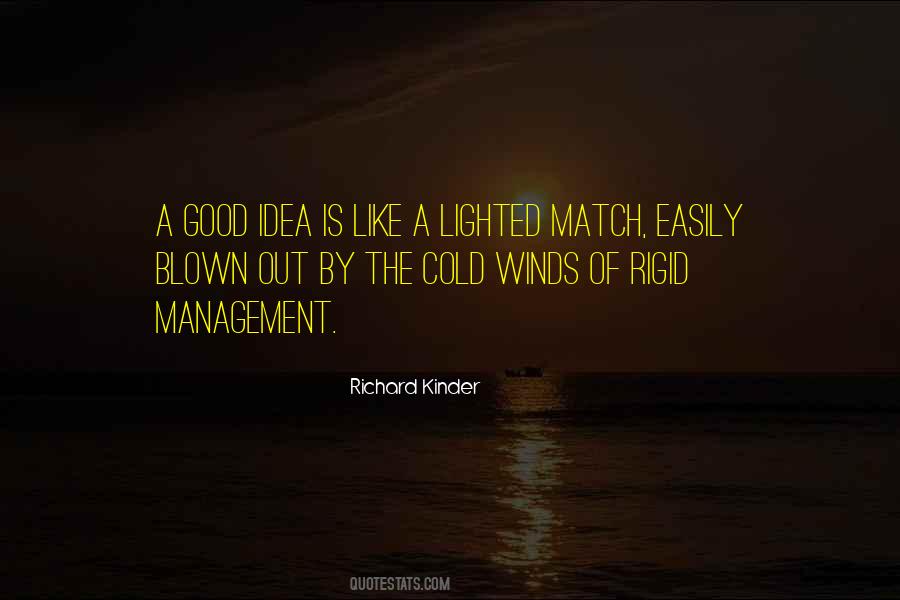 #65. The one thing I seek above all else is understanding. Sometimes I'm so frustrated and I don't get it. But I'm lucky to have a good management team and people around me who explain things and answer my questions. - Author: Justin Guarini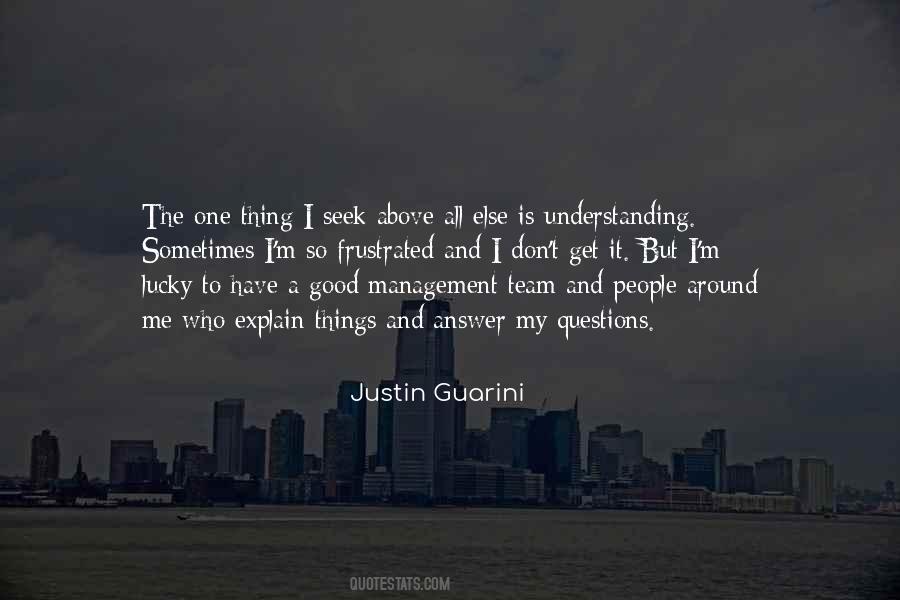 #66. I.B.M. was my college education, effectively. They were very good at teaching you management. - Author: Mike McCue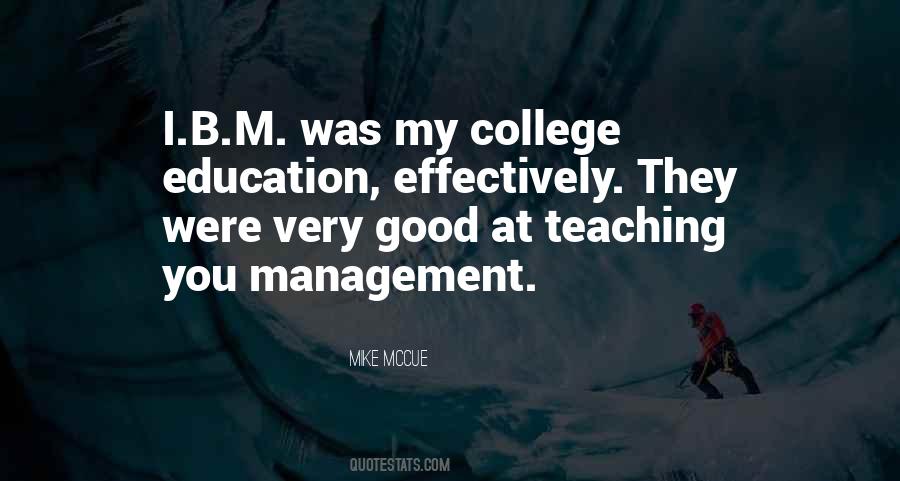 #67. Cost-effective, attractive to business partners, environmentally friendly, easy access to a wide range of guidance and support - it makes good business sense to implement and maintain a robust and effective environmental management system - Author: Elliot Morley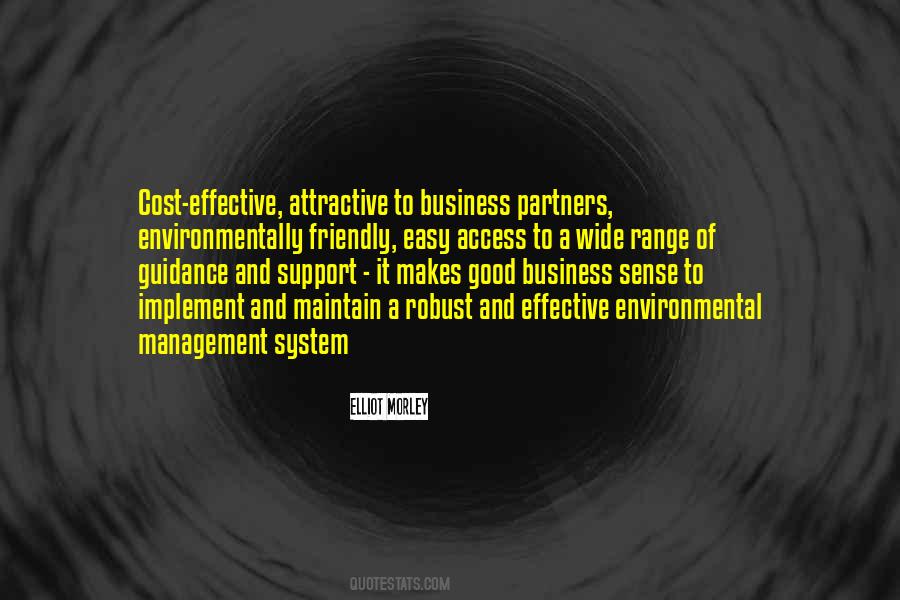 #68. Good Charlotte is anger management teen angst. - Author: Joel Madden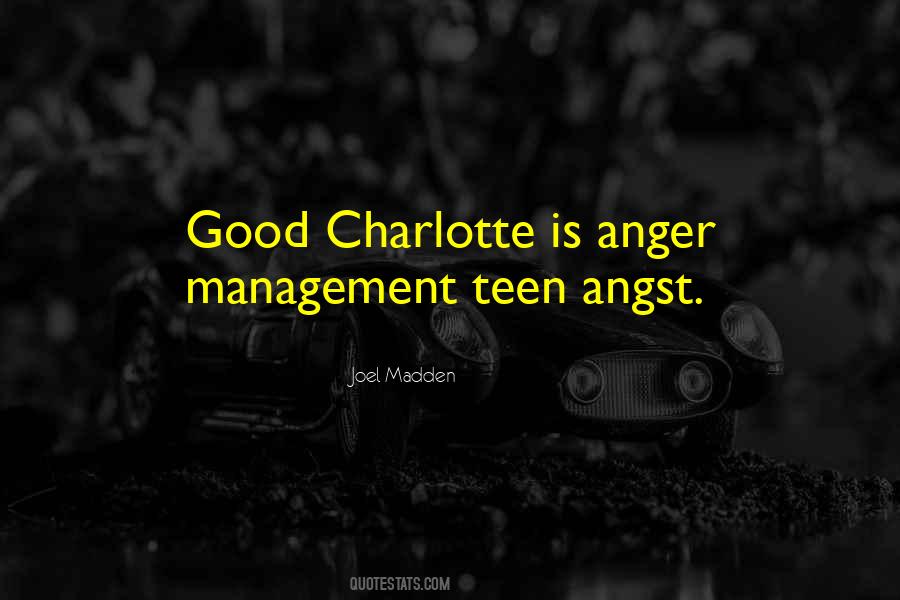 #69. a management practice is a good practice when: It engages people and their interactions; It enables them to improve the system; It helps to delight all clients. - Author: Jurgen Appelo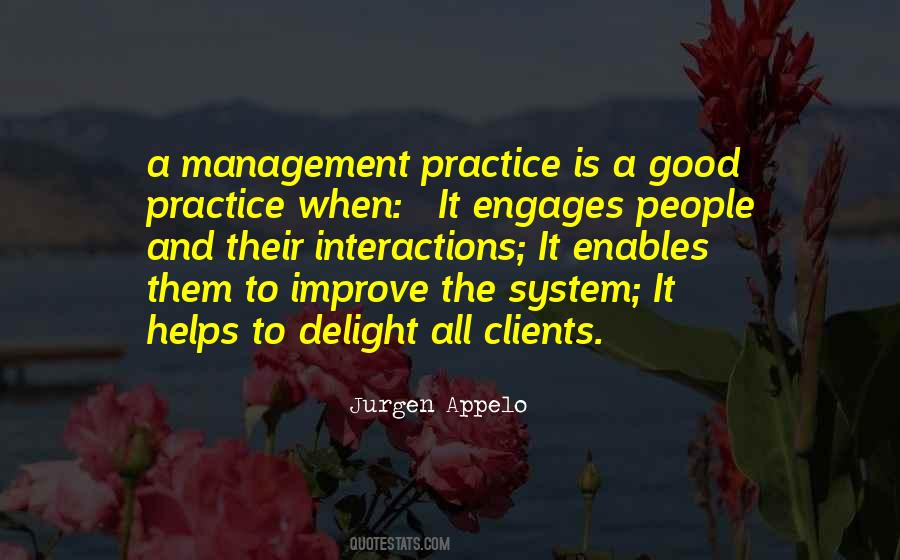 #70. I look in music magazines now and see things on Luther Allison, and my name's getting out there more, thanks to all the good people at Alligator Records and at my management company. - Author: Luther Allison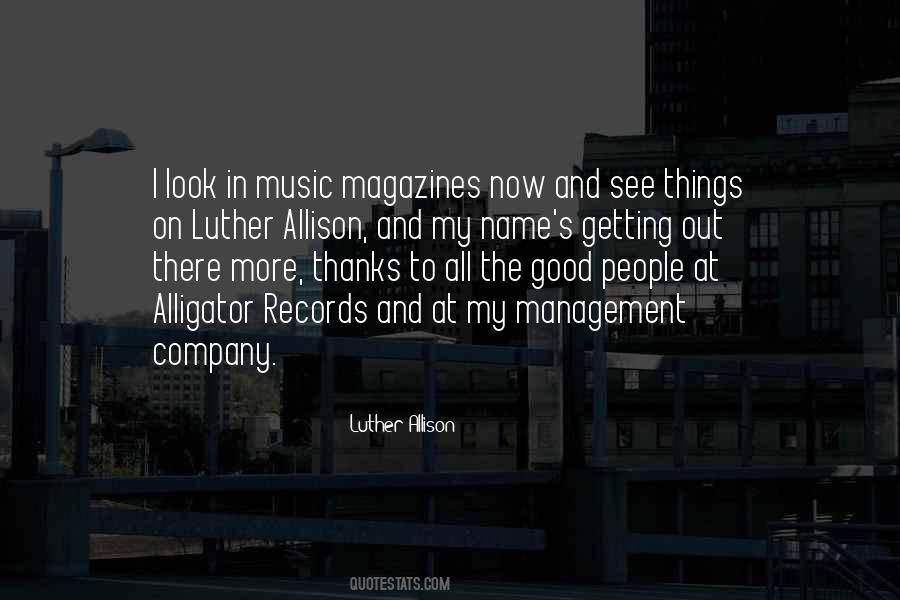 #71. I've worked since it was basically legal to work. I was a waitress on and off for eight years. I worked at Sears; I worked at Abercrombie folding clothes. My dad really instilled good money management habits, and I've saved 10 percent of my paycheck, every paycheck, since I was 15. - Author: Rosanna Pansino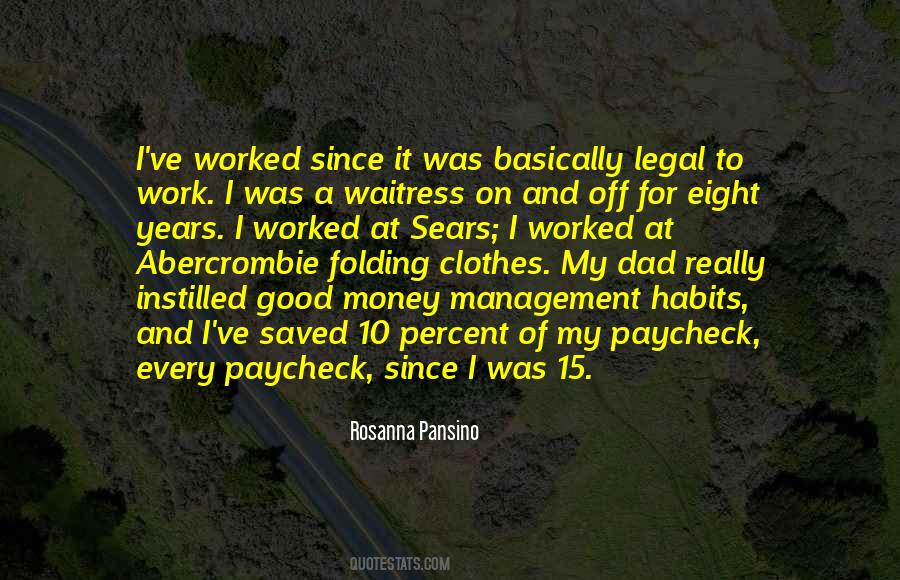 #72. Shenanigans is a financial model on the catwalk. - Author: Toba Beta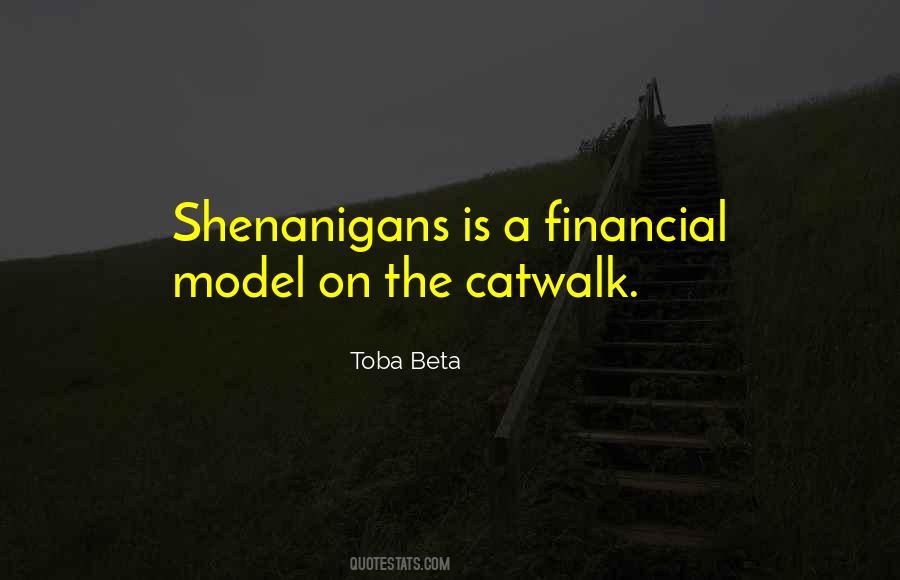 #73. Good businesses can survive a little bad management. - Author: Charlie Munger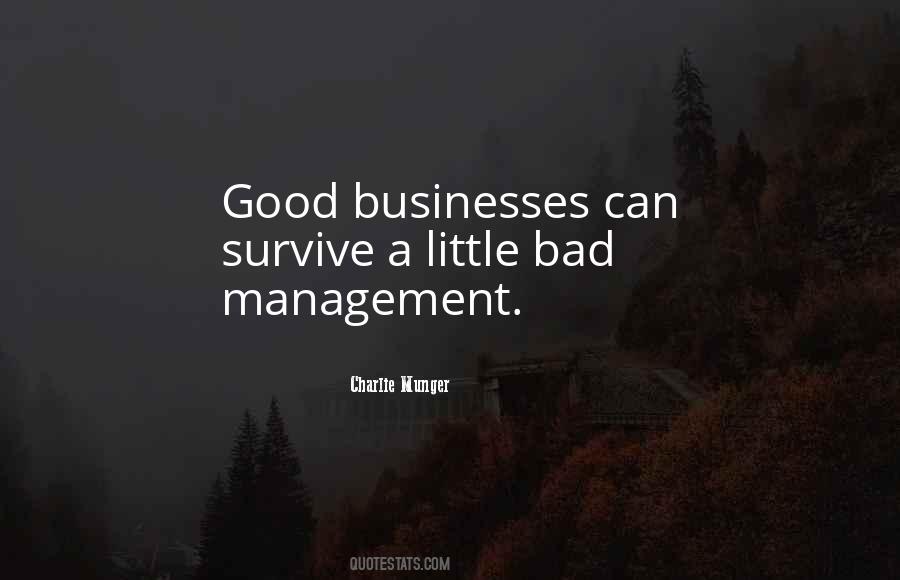 #74. Rwanda really did take very strong steps towards development. I mean, this place is unrecognizable. There's a very good management of economy and resources - it's a success story, and that's great. - Author: Mo Ibrahim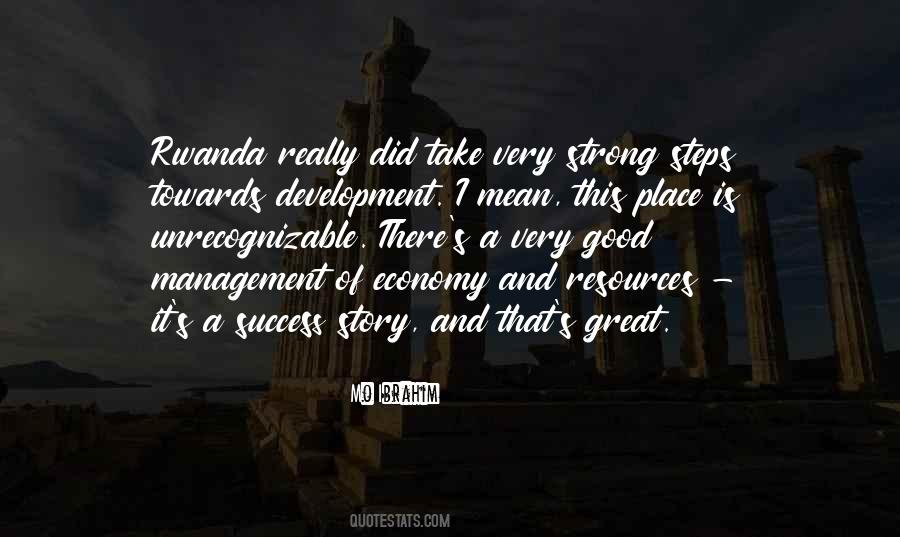 #75. Discipline is "the systematic management of your life to prepare and position you for your divine design." Discipline and stewardship are one and the same. Discipline brings order to life and is absolutely required if we're going to be good stewards of the call to leadership. - Author: Kent Ingle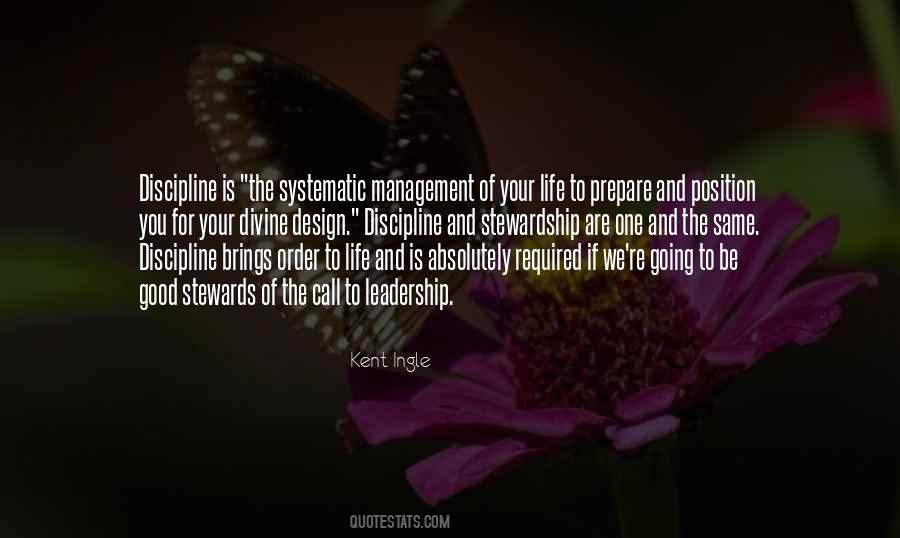 #76. I like to do weird things in the shower, like drink my coffee, brush my teeth and drink a smoothie. It's good time management. - Author: Michelle Williams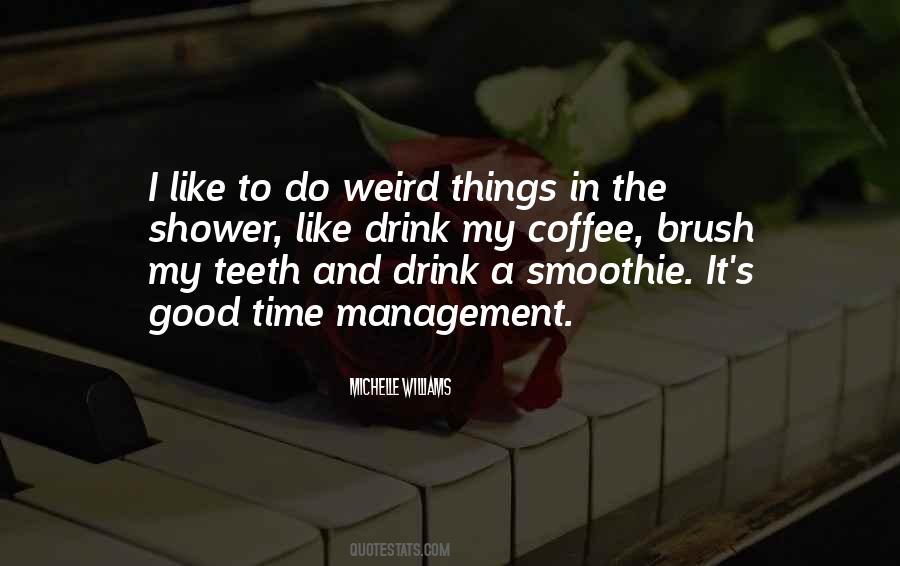 #77. Being good in business is the most fascinating kind of art - Author: Andy Warhol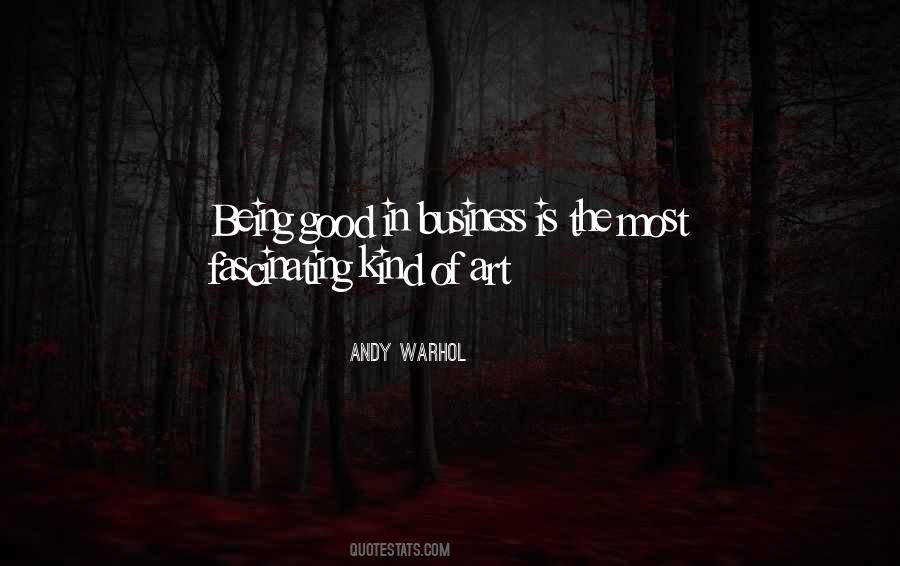 #78. Unfortunately it's also true to say that good management is a bit like oxygen - it's invisible and you don't notice its presence until it's gone, and then you're sorry. - Author: Charles Stross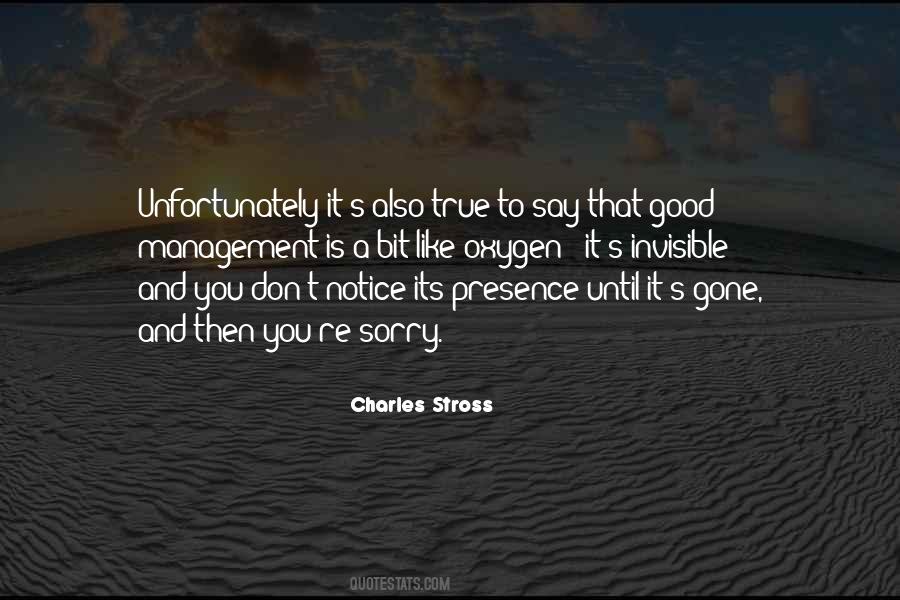 #79. Good wages are pro business, since they reduce turnover, increase morale, produce better-skilled employees, and improve productivity. - Author: Jim Hightower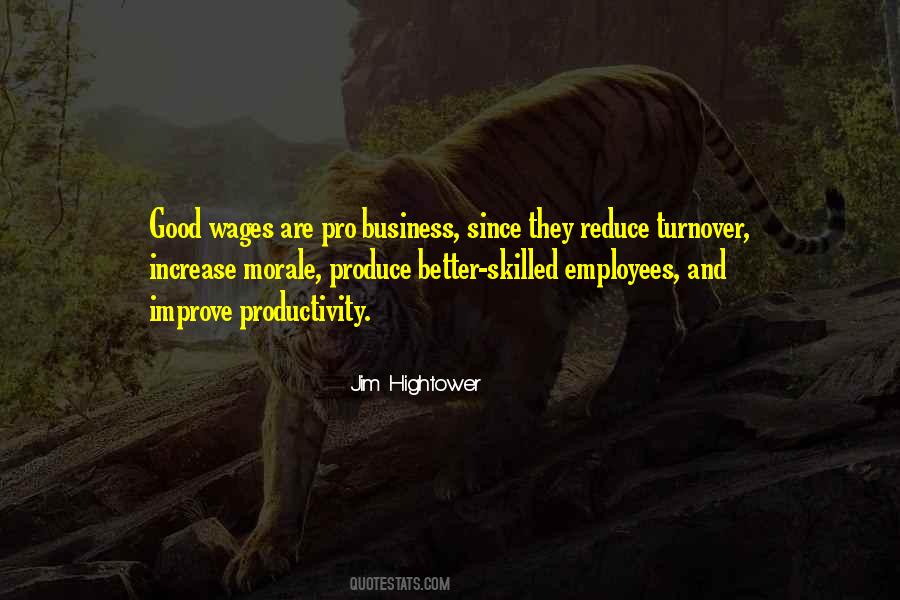 #80. I love the ability to work with very good managers, and to provide the right incentives for them, and truly become a partner with that management, and make that management take a long view. - Author: Henry Kravis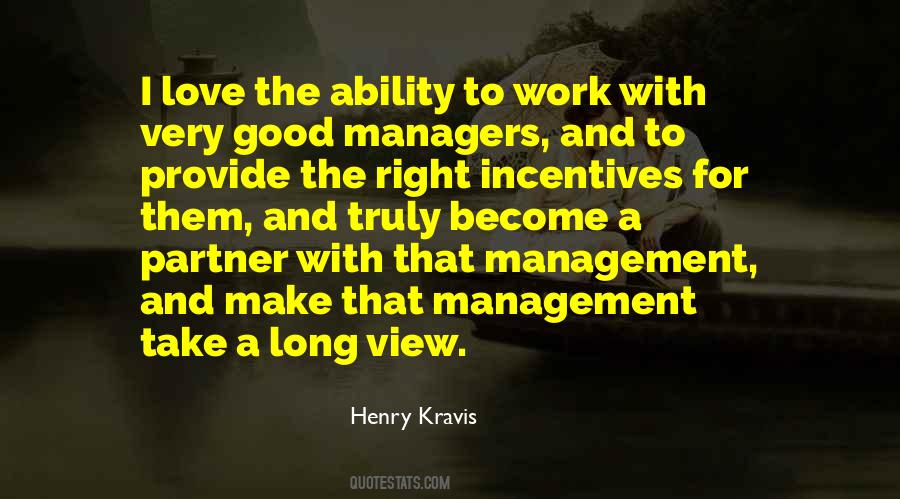 #81. Planning is the essence of good management and when it comes to health care we must allow states to plan for future needs. We need to cement this federal commitment to Alaskans so the state has the assurance that money vital for providing Medicaid health care will not just dry up and disappear. - Author: Lisa Murkowski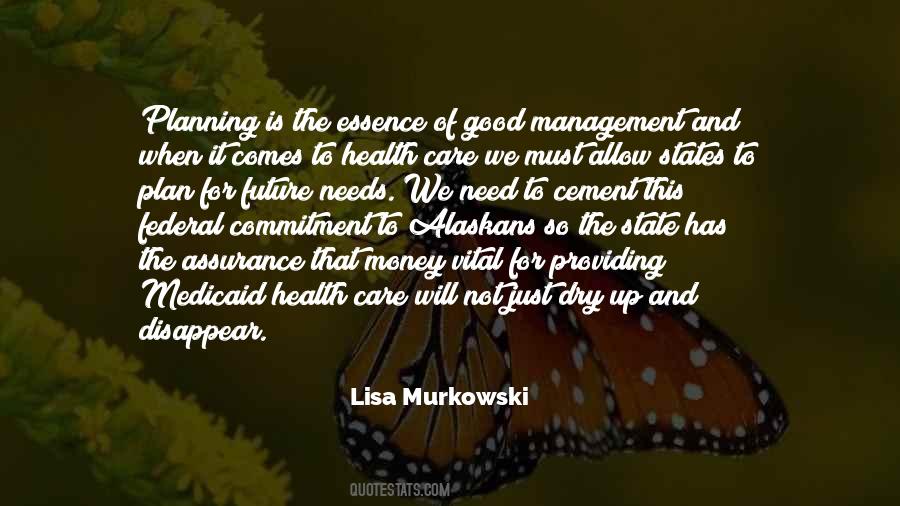 #82. Racism does not have a good track record. It's been tried out for a long time and you'd think by now we'd want to put an end to it instead of putting it under new management.
- Author: Thomas Sowell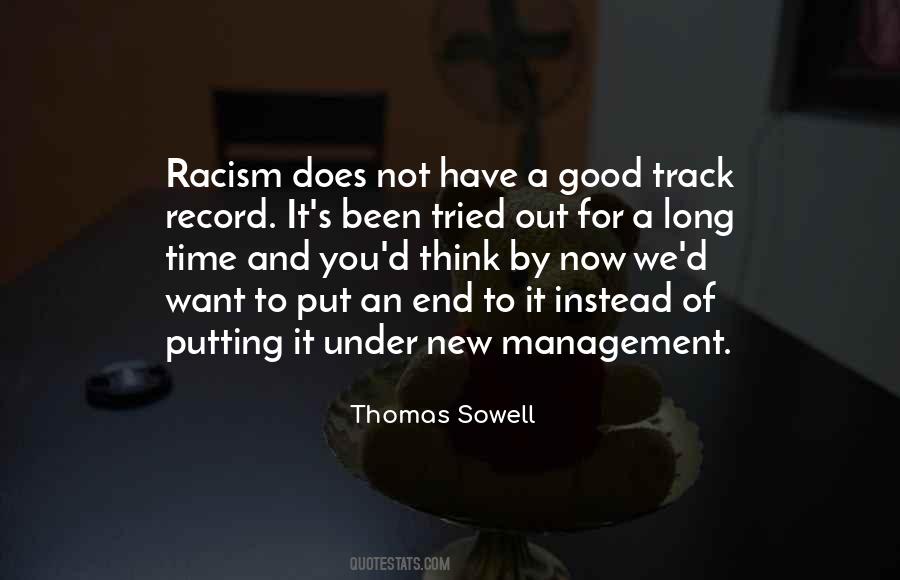 #83. There is no shortage of time. In fact, we are positively awash with it. We only make good use of 20 per cent of our time ... The 80/20 principle says that if we doubled our time on the top 20% of activities, we could work a two-day week and achieve 60 per cent more than now. - Author: Richard Koch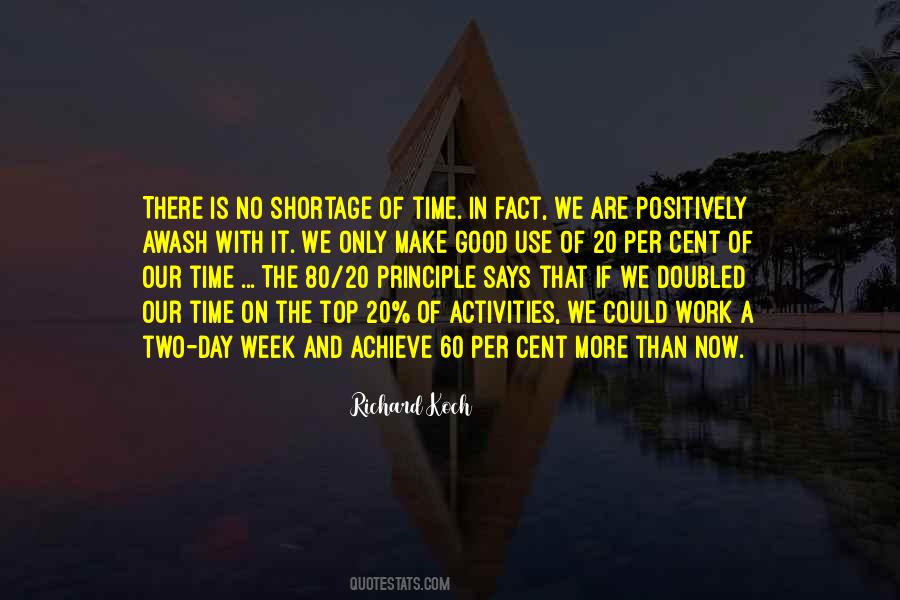 #84. I like the guys on the team and the coaching here. I especially like the management. The Galaxy have been really good to me. - Author: Cobi Jones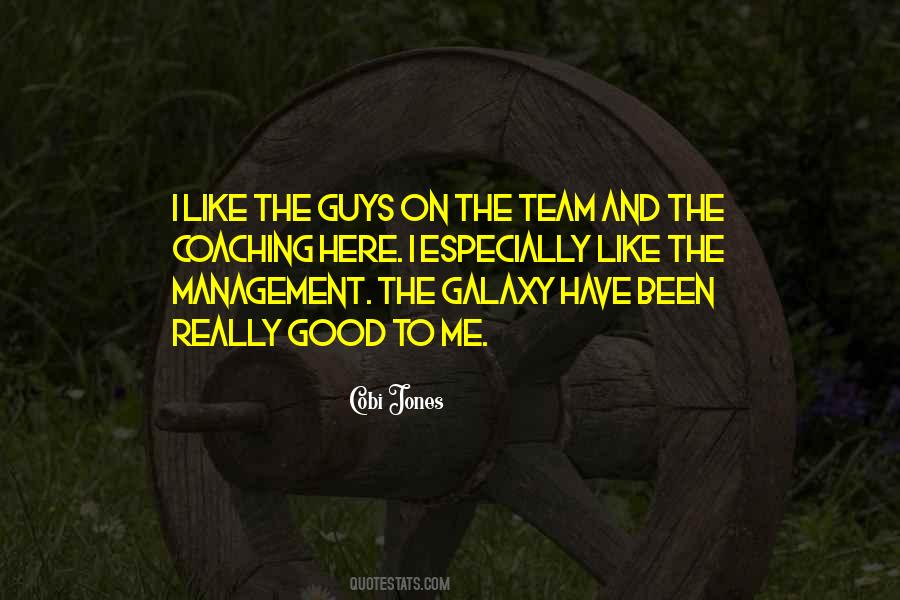 #85. Good management has considerable impact on engagement levels of the employees and drives them towards excellent performances. - Author: Abhishek Ratna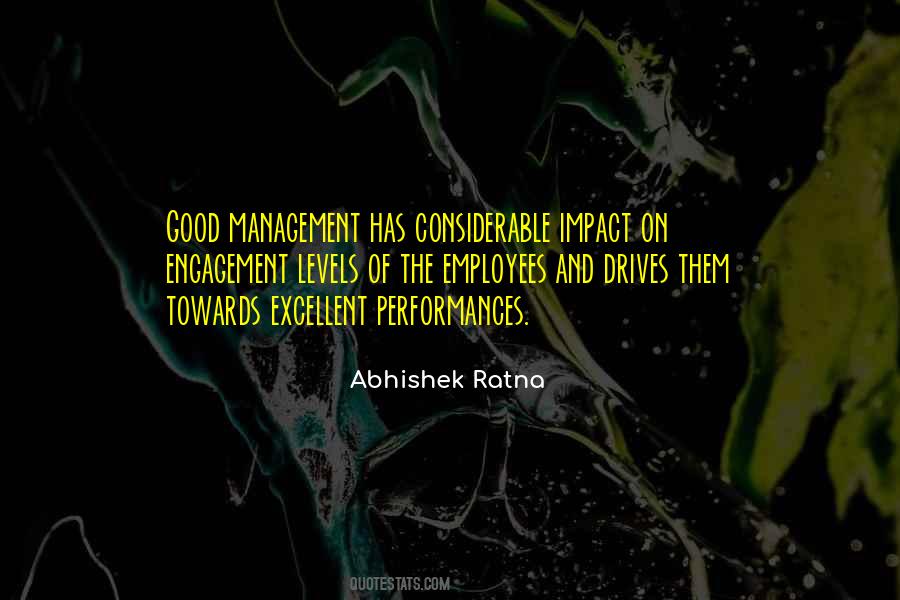 #86. Of one thing the investor can be certain: A large company's need to bring in a new chief executive from the outside is a damning sign of something basically wrong with the existing management - no matter how good the surface signs may have been as indicated by the most recent earnings statement. - Author: Philip Arthur Fisher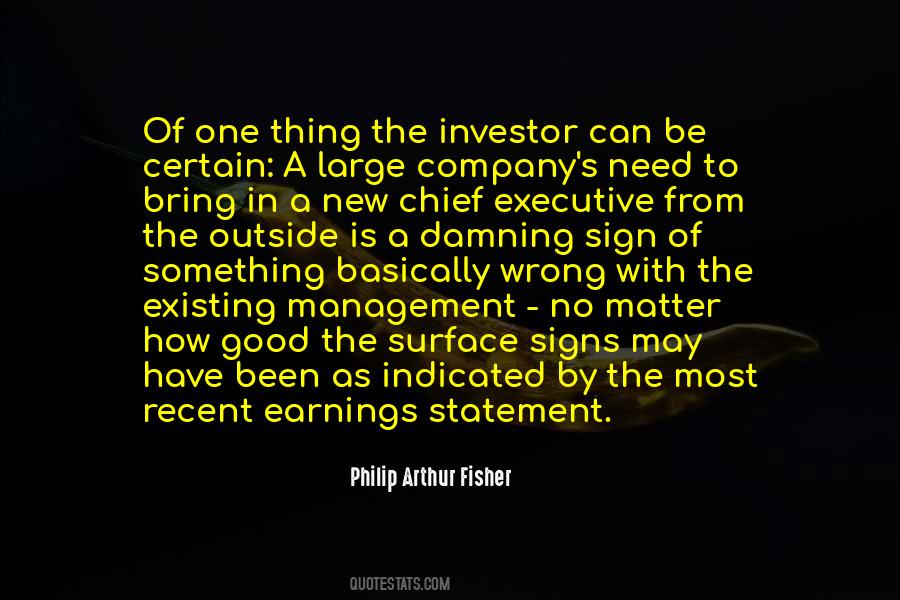 #87. Everything is good when it is on time. - Author: Sunday Adelaja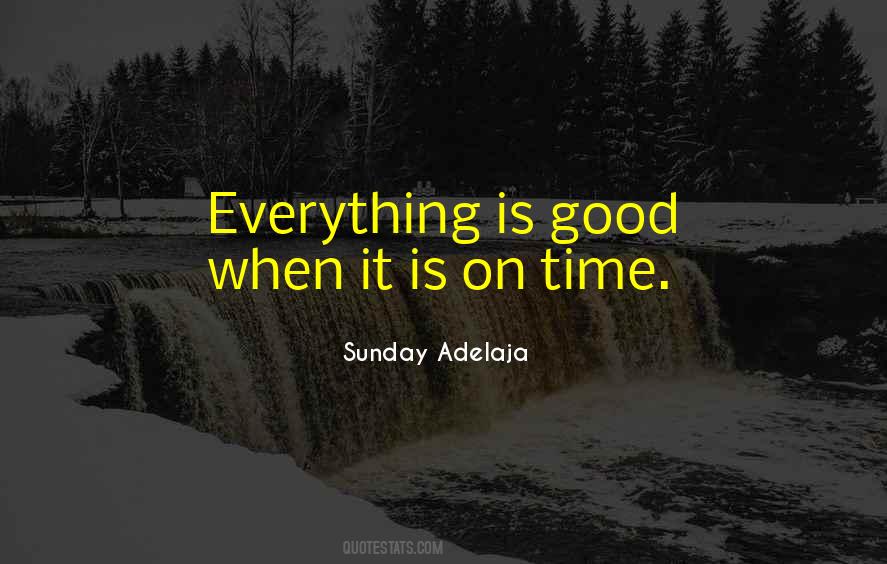 #88. My view is that good community management is like having good municipal government: You should be able to have dissenting opinions and so on, freedom of speech, but your grandmother should also be able to walk down the street at night without having to worry about getting mugged. - Author: Jimmy Wales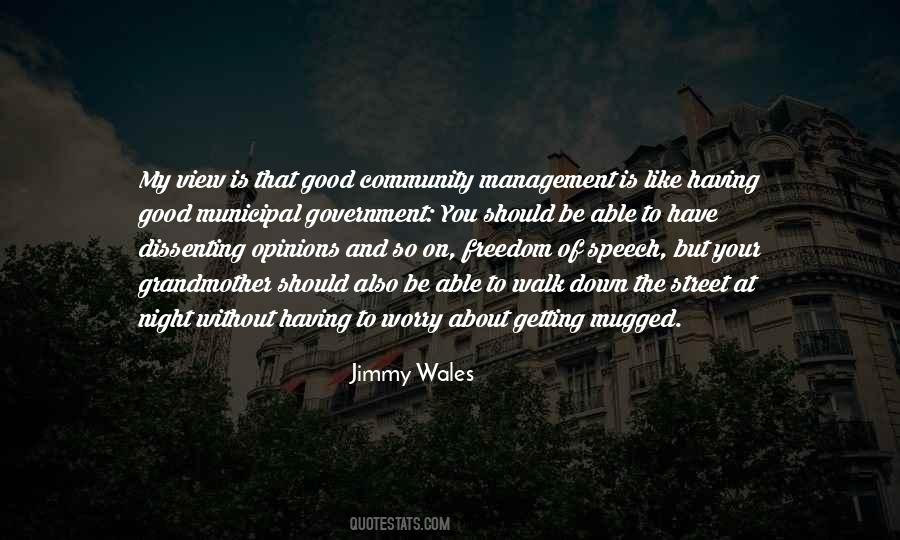 #89. We are continuing to look for ways that we can do something that's good for both of us. Good for both of us being the Cowboys relative to relief as to our cap management and good for him that would maybe be some pluses for him on his contract. - Author: Jerry Jones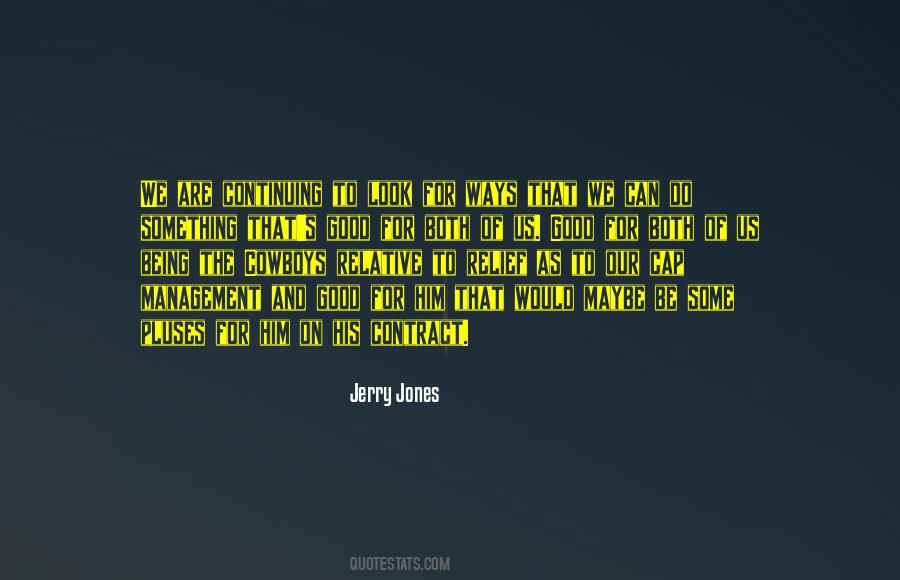 #90. The first case of mad cow disease since 2006 was discovered right here in the United States. The good news, since the cow is in California, instead of putting the cow down, they are going to enroll him in anger management classes. - Author: Jay Leno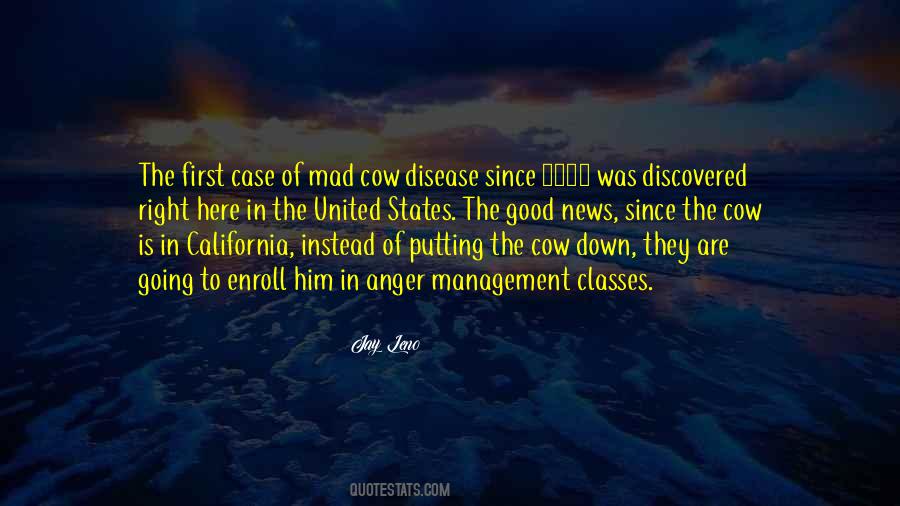 #91. It's not a good idea to cut back indiscriminately on what you read. The reason is that reading can save you time, because it gives you the opportunity to learn from other people's experience. - Author: Kathryn Alesandrini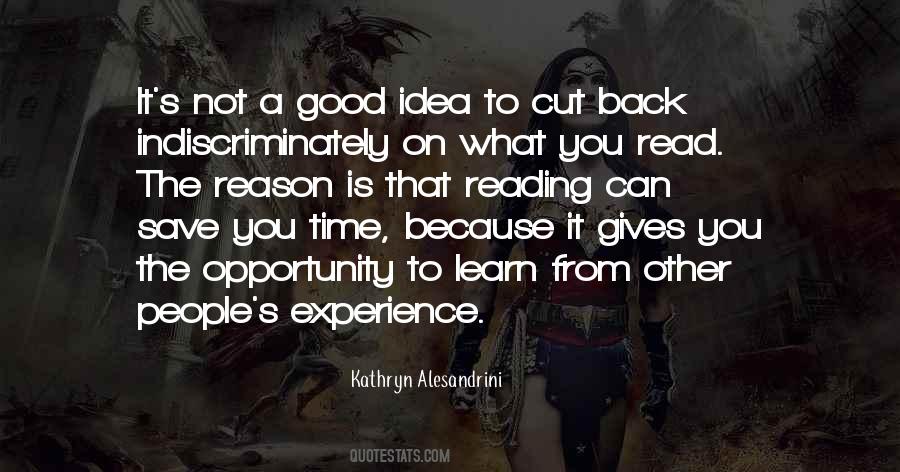 #92. the first object of any good system must be that of developing first-class men; and under systematic management the best man rises to the top more certainly and more rapidly than ever before. - Author: Eric Ries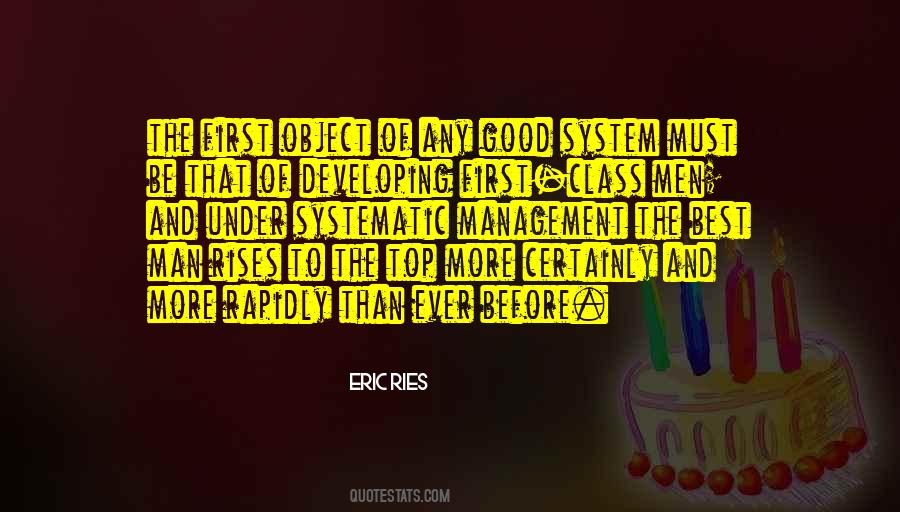 #93. A sustainable business is resource efficient, respects the environment and is a good neighbour - Author: Phil Harding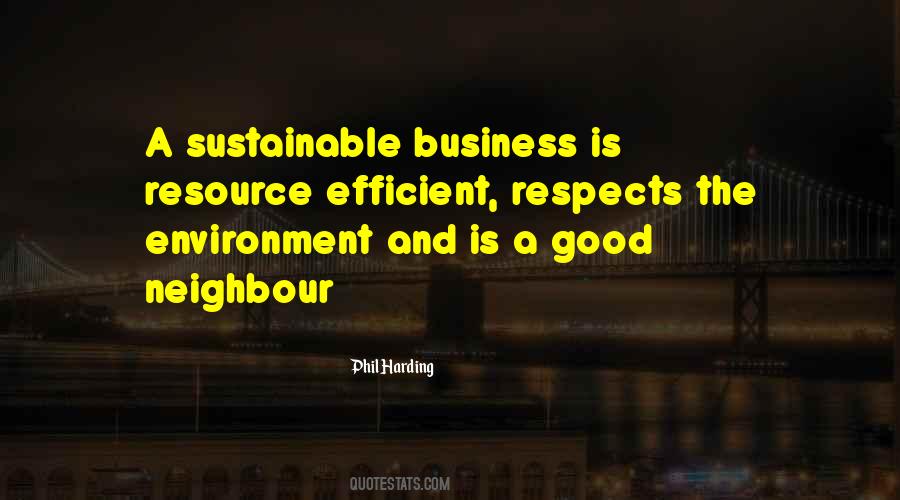 #94. Molly. I have an opportunity for you."
"An opportunity?" I repeated, without enthusiasm. Oh, good. Next comes the part where he tells me to be a "team player" and then dumps some tedious task on me.
"It's a chance for you to show that you can be a team player," Bill Vogel said. - Author: Frankie Bow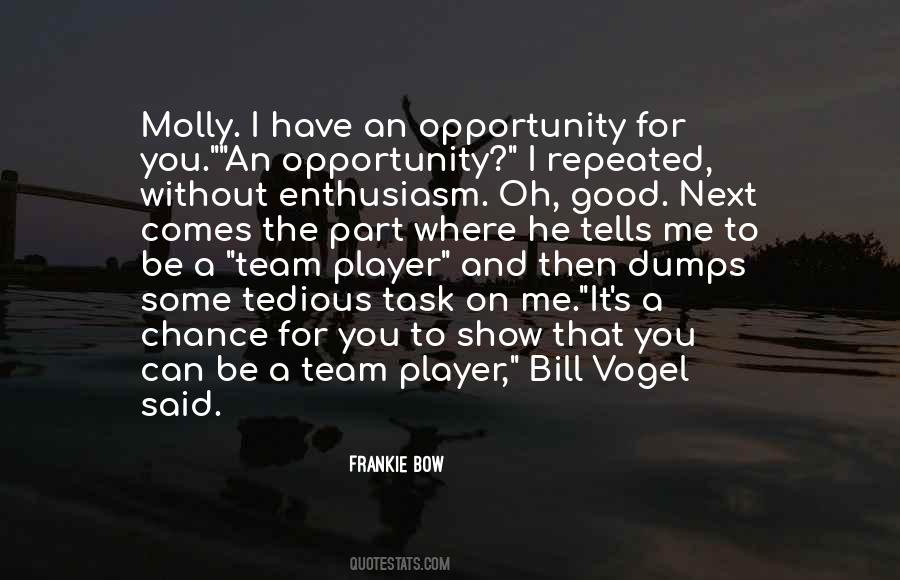 #95. The bad news is time flies. The good news is you're the pilot." - - Author: Michael Altshuler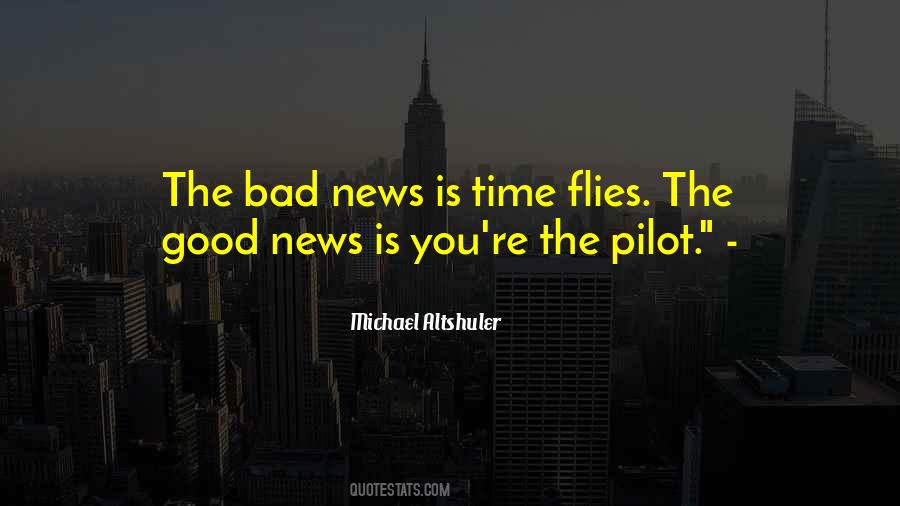 #96. Good people equals good management and good management equals good people. - Author: Donald Trump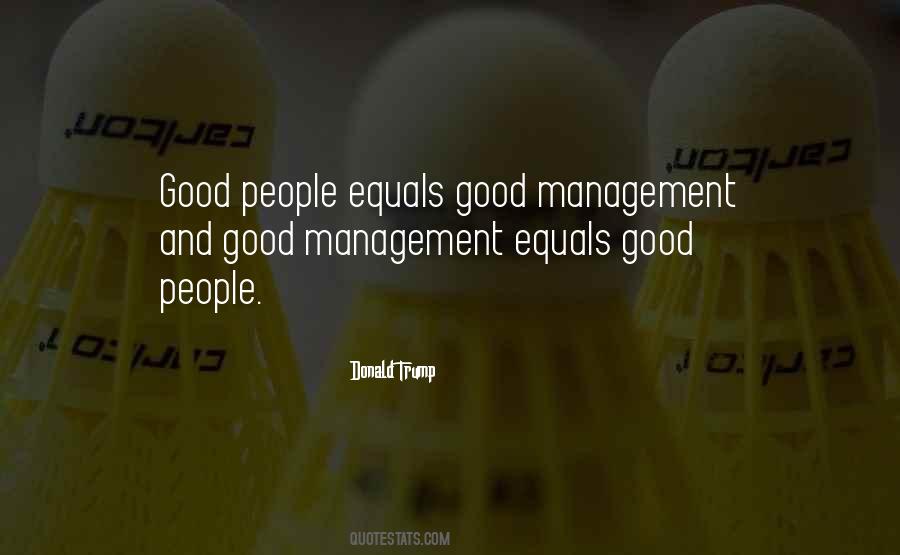 #97. You can't be a practicing attorney without being very disciplined and detail-oriented and having good time management. - Author: Charles Soule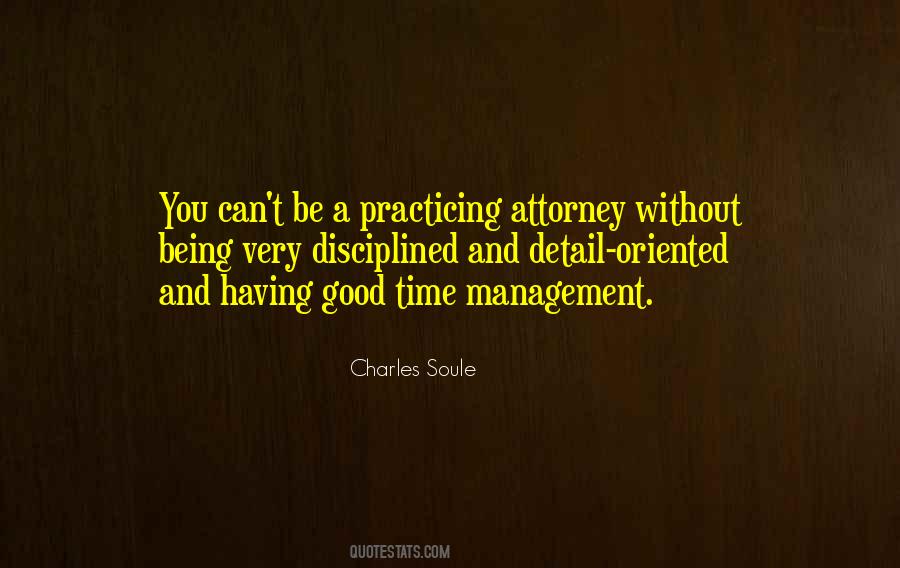 #98. A market downturn, doesn't bother us. For us and our long term investors, it is an opportunity to increase our ownership of great companies with great management at good prices. Only for short term investors and market timers is a correction not an opportunity. - Author: Warren Buffett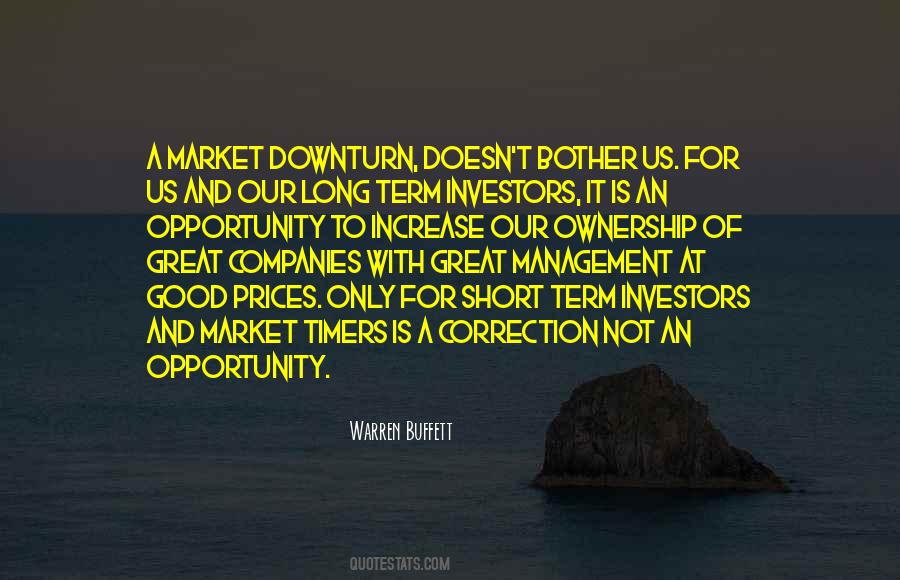 #99. Good people have always been at the heart of the Virgin business, and that's largely because we have tried to keep our business small, and our management teams tight-knit. I feel that small, compact companies, are better run. That is partly because people feel more connected in small companies. - Author: Richard Branson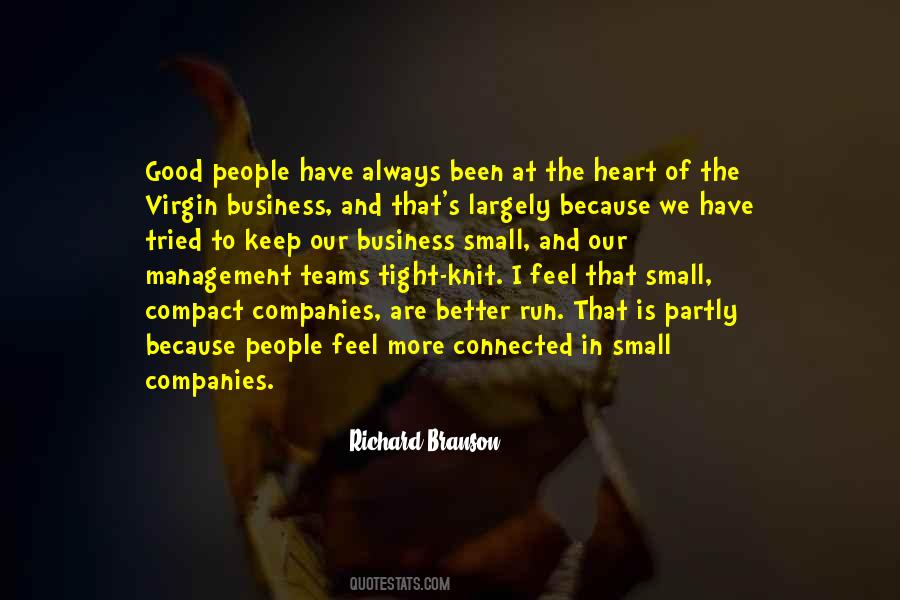 #100. It needs good management to enjoy life. I enjoy it twice as much as others, for the measure of enjoyment depends on the greater or less attention that we give to it ... The shorter my possession of life the deeper and fuller I must make it. - Author: Michel De Montaigne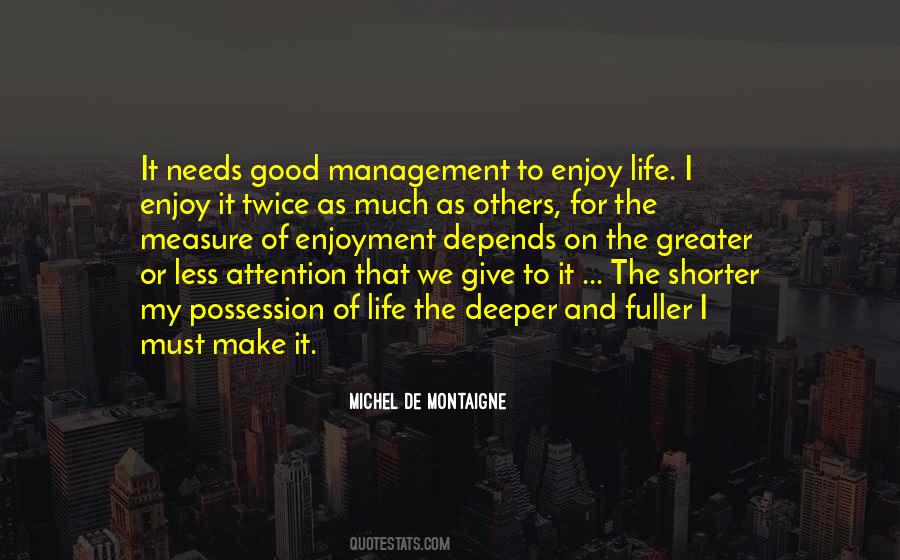 Famous Authors
Popular Topics