Good Is God Famous Quotes & Sayings
List of top 100 famous quotes and sayings about good is god to read and share with friends on your Facebook, Twitter, blogs.
Top 100 Good Is God Quotes
#1. You can be courageous in admitting your sin precisely because God is richly abundant in his mercy. He comes to you in mercy not because you are good but because you are a sinner, and he knows that because of this condition, you are unable to help yourself. - Author: Paul David Tripp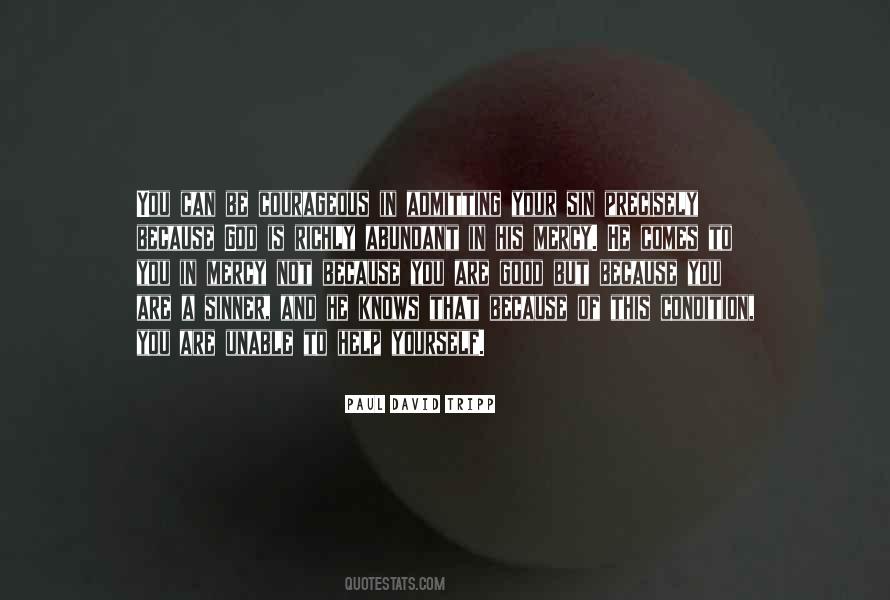 #2. God is good, and He cannot be anything else. - Author: Joyce Meyer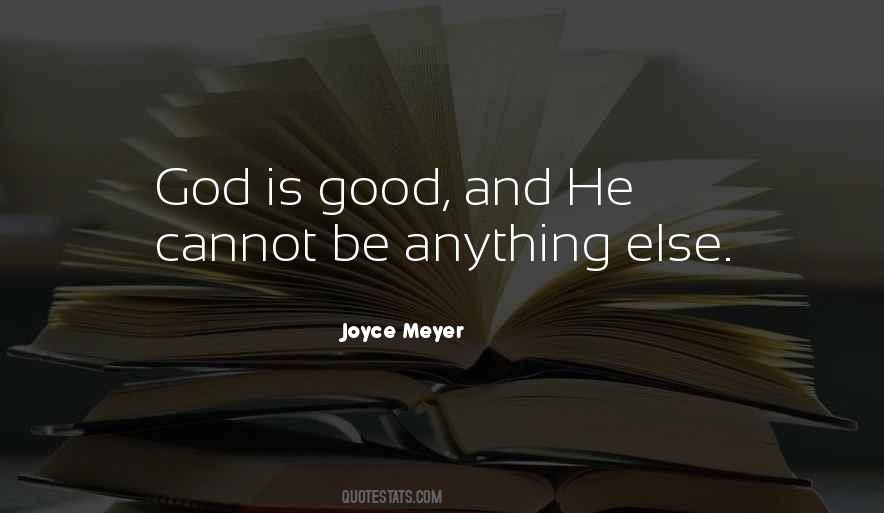 #3. I was kicked off a record label and didn't get picked up again. It was devastating at first because I thought, 'Oh my God. My career is over. What's gonna happen? What am I going to do?' Once I got that I could have a career, a very good career, without having a hit record, then I changed. - Author: Thelma Houston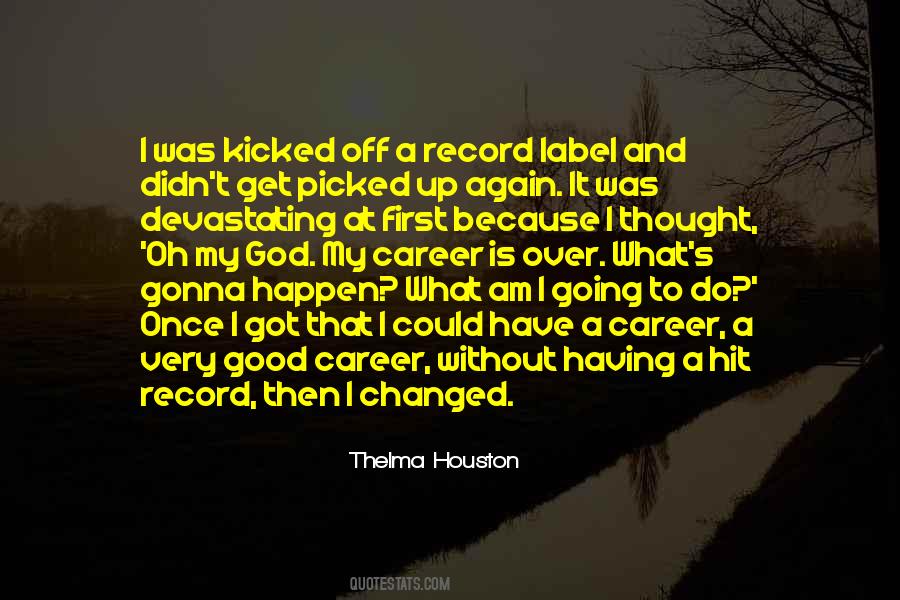 #4. The last story: God is everything, God is good. - Author: Byron Katie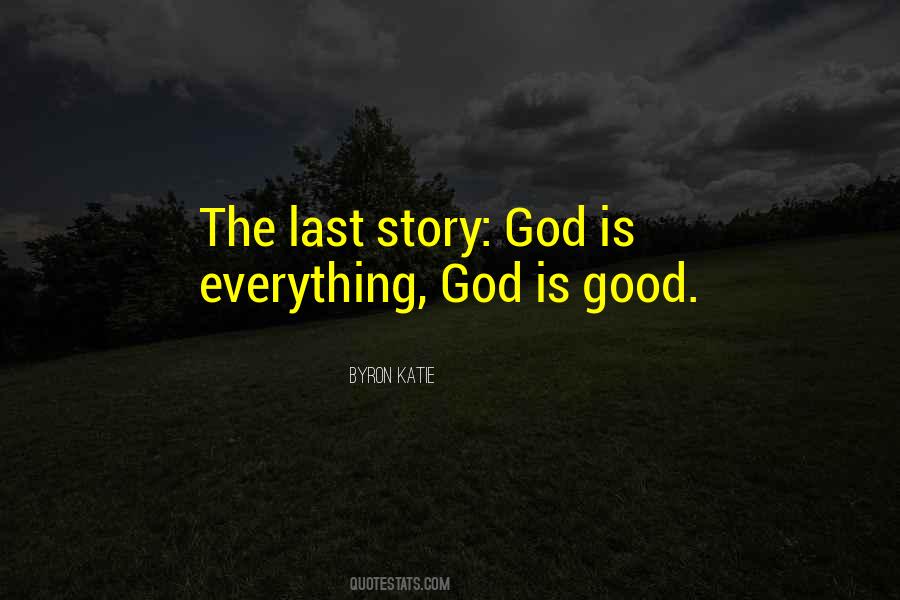 #5. Art, if it is successful in the task of questioning reality, if it is good painting and not merely a performance of dexterity, will be an affirmation of God. - Author: Patrick Swift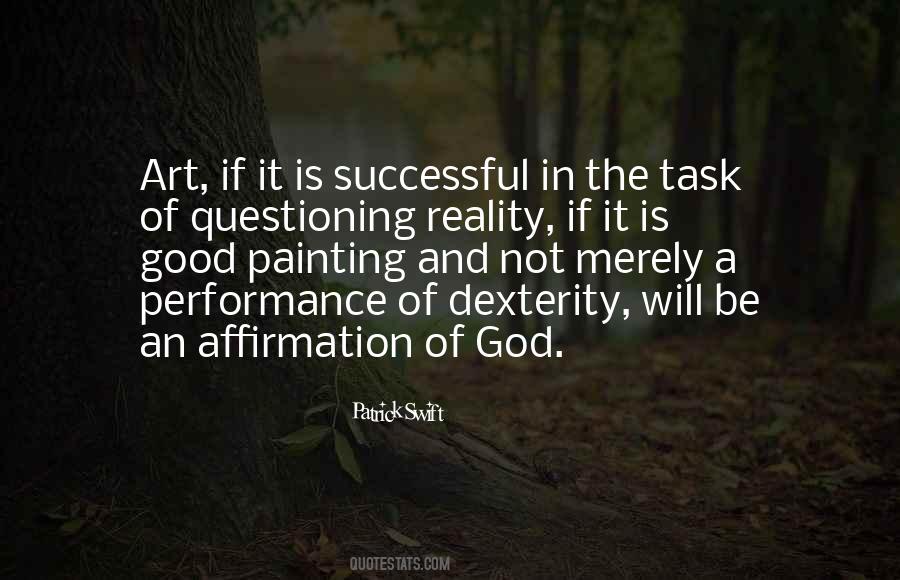 #6. To have a restful or peaceful life in God is good; to bear a life of pain in patience is better; but to have peace in the midst of pain is the best of all. - Author: Bernard Of Clairvaux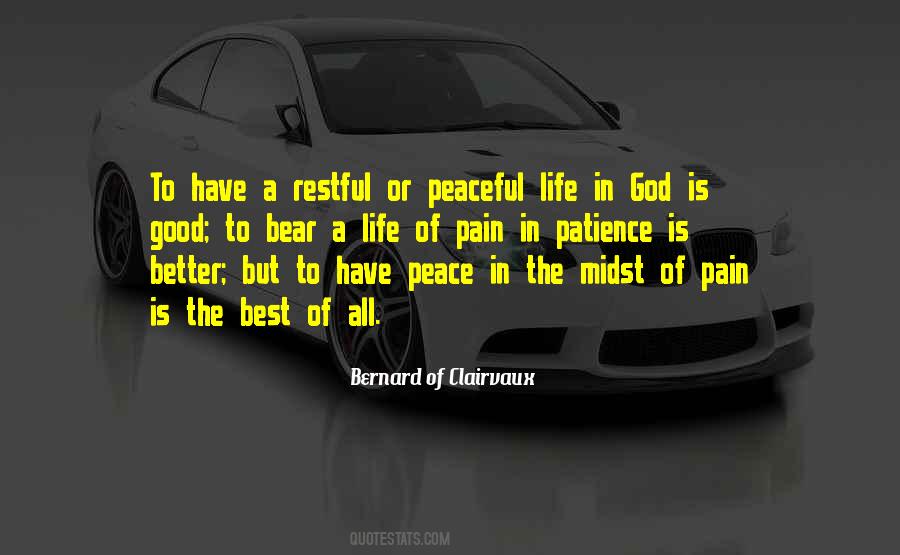 #7. The birds of the air die to sustain thee; the beasts of the field die to nourish thee; the fishes of the sea die to feed thee. Our stomachs are their common sepulchre. Good God! with how many deaths are our poor lives patched up! how full of death is the life of momentary man! - Author: Francis Quarles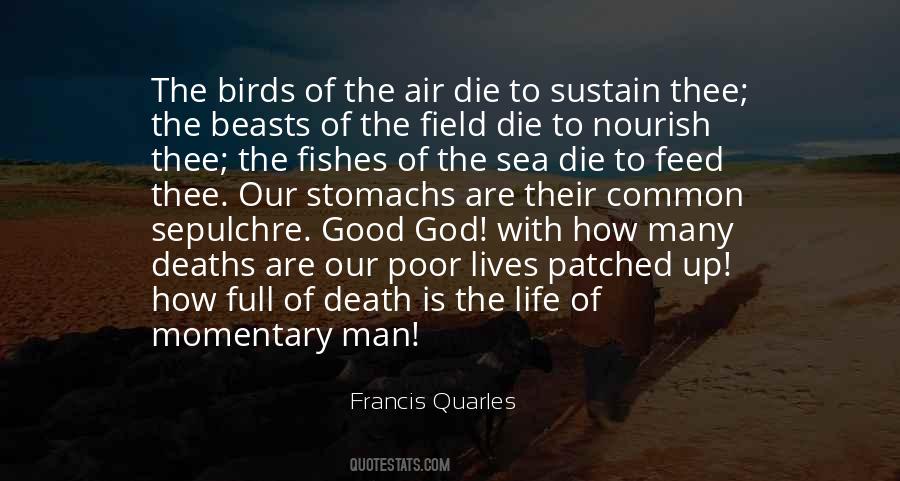 #8. To labor rightly and earnestly is to walk in the golden track that leads to God. It is to adopt the regimen of manhood and womanhood. It is to come into sympathy with the great struggle of humanity toward perfection. It is to adopt the fellowship of all the great and good the world has ever known. - Author: J.G. Holland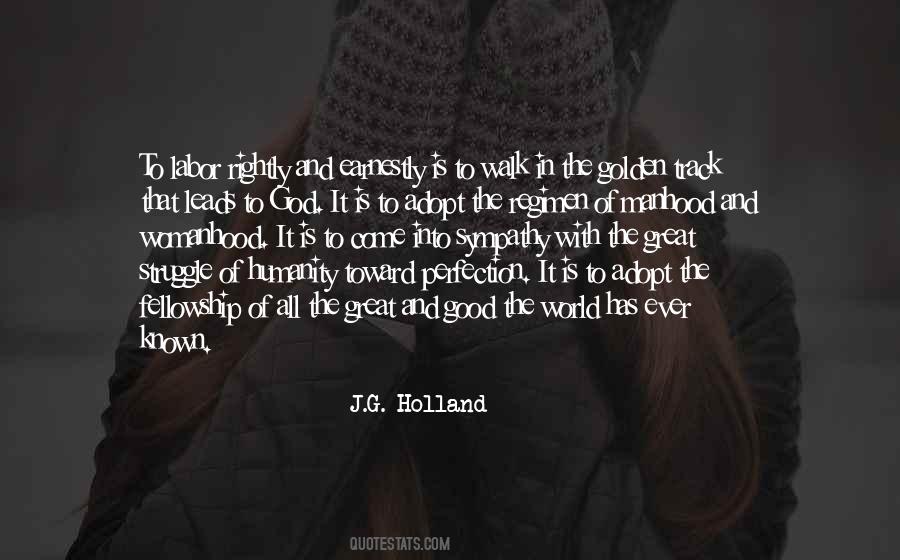 #9. Don't feel like you have to take every suggestion people give you. Not every good idea is a God idea. - Author: Joyce Meyer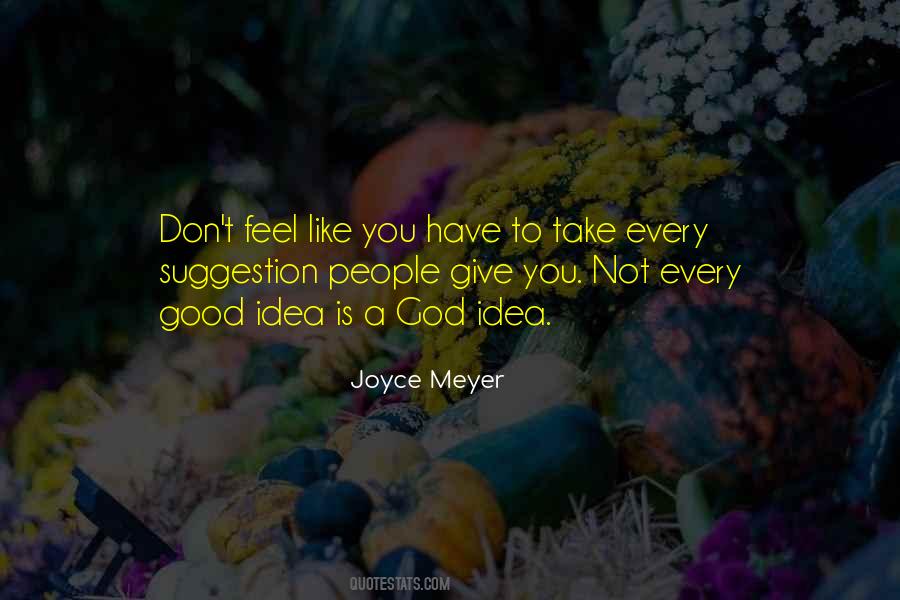 #10. After meditation, it is a good idea to bow and offer your meditation to god, to that stillness and perfection that is existence. Feel that you are giving your meditation away. - Author: Frederick Lenz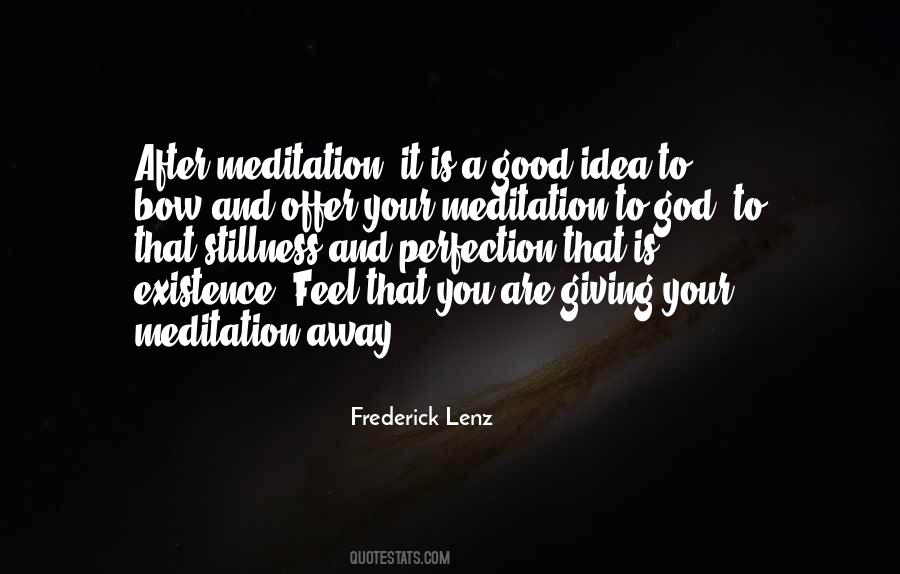 #11. Religion is the fear of God, and its demonstration good works; and faith is the root of both: For without faith we cannot please God; nor can we fear what we do not believe. - Author: William Penn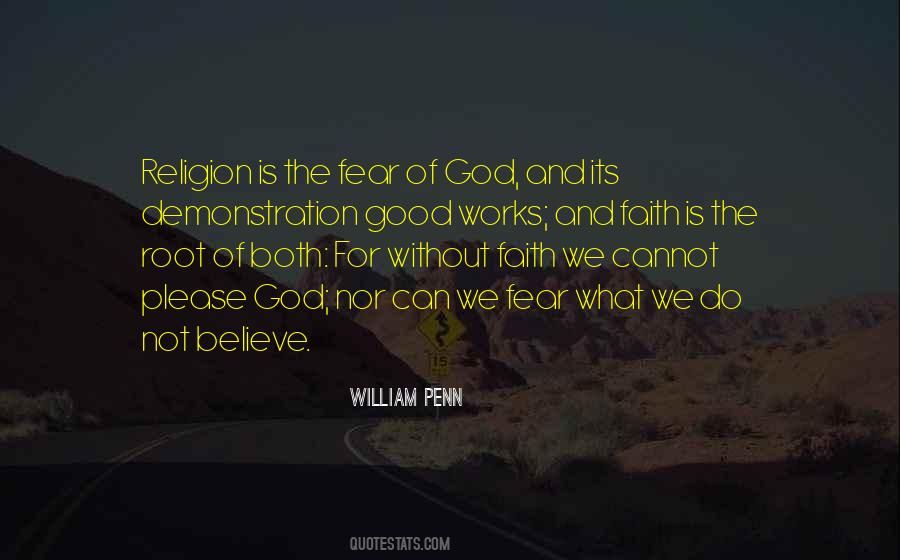 #12. For, were it not good that evil things should also exist, the omnipotent God would almost certainly not allow evil to be, since beyond doubt it is just as easy for Him not to allow what He does not will, as for Him to do what He will. - Author: Saint Augustine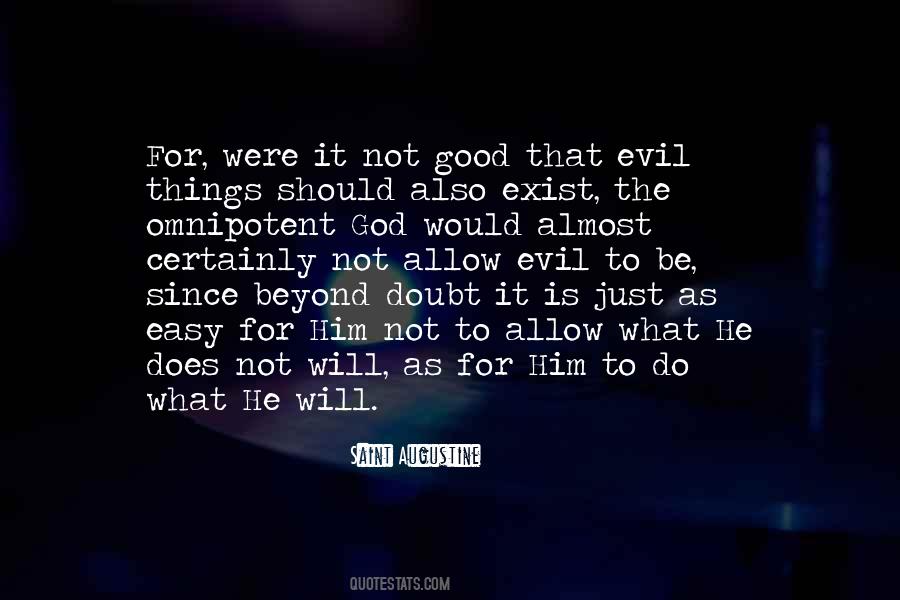 #13. Your love for your friend should be grounded in Me, and for My sake you should love whoever seems to be good and is very dear to you in this life. Without Me friendship has no strength and cannot endure. Love which I do not bind is neither true nor pure. - Author: Thomas A Kempis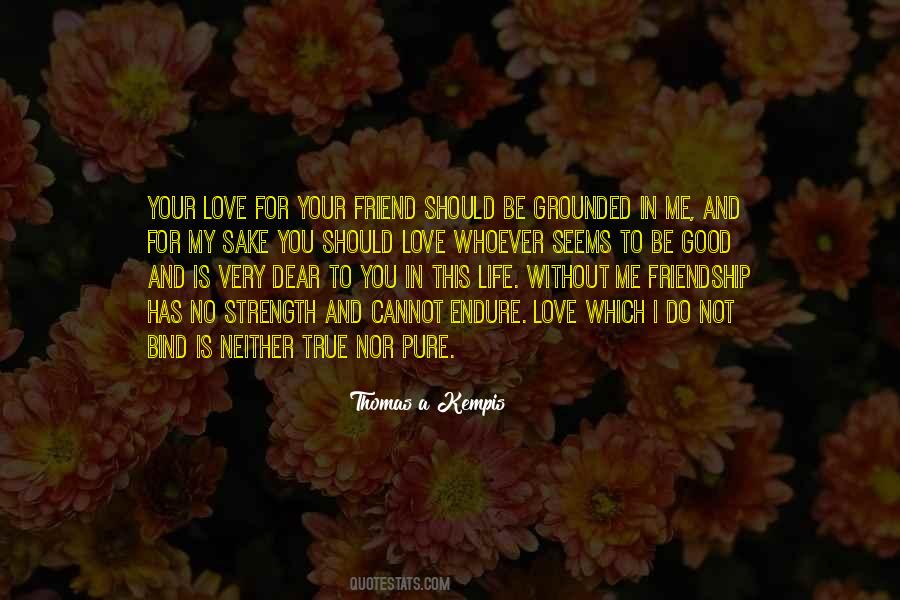 #14. God's word is the way to God himself. If you miss the word of God, you will miss God. Jesus is the word! - Author: Israelmore Ayivor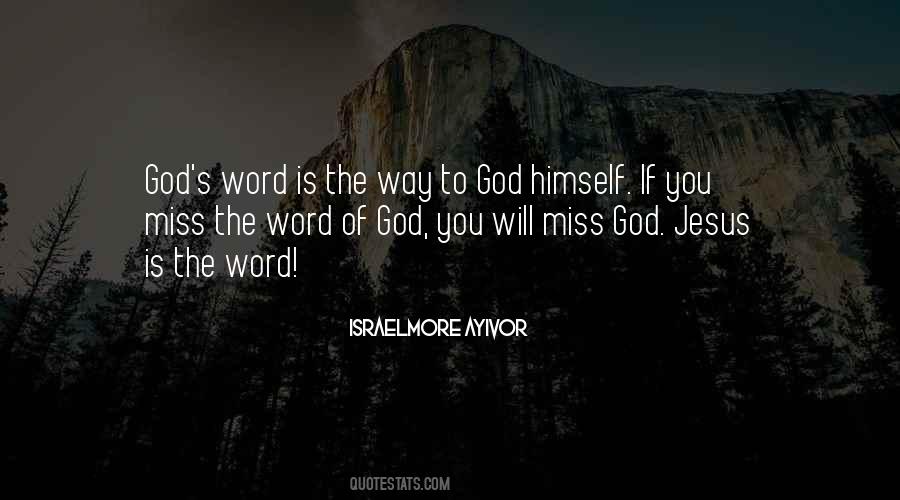 #15. All good things come from love; God used the cross a symbol of His love, to paralyze and defeat all forces of evil. God is love. John 3:16 - Author: Felix Wantang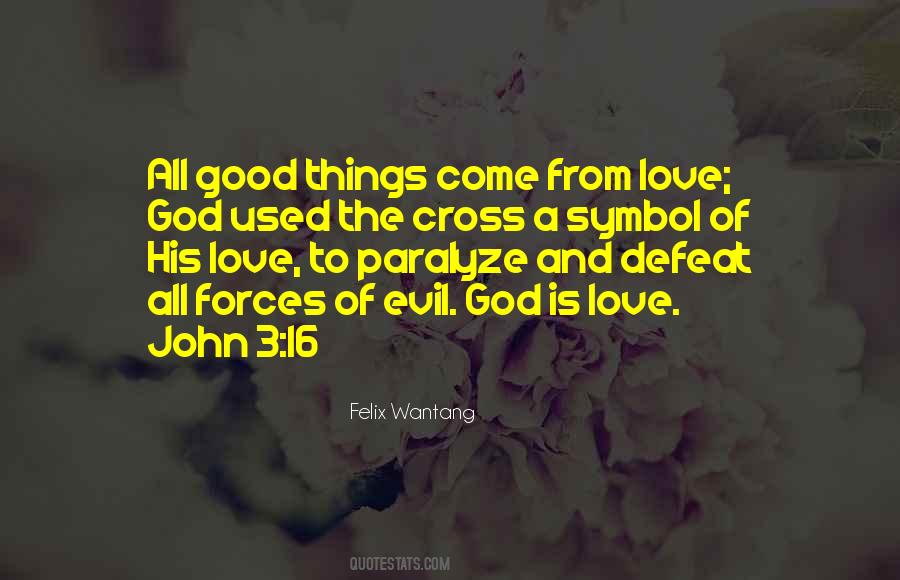 #16. Real success in the kingdom of God is not about being strong and looking good and knowing all the right answers. It's about continually yielding oneself to Jesus and determining to take purposeful little steps of obedience, and the ragged reality that it's all about God and His grace at work in us. - Author: Mary Beth Chapman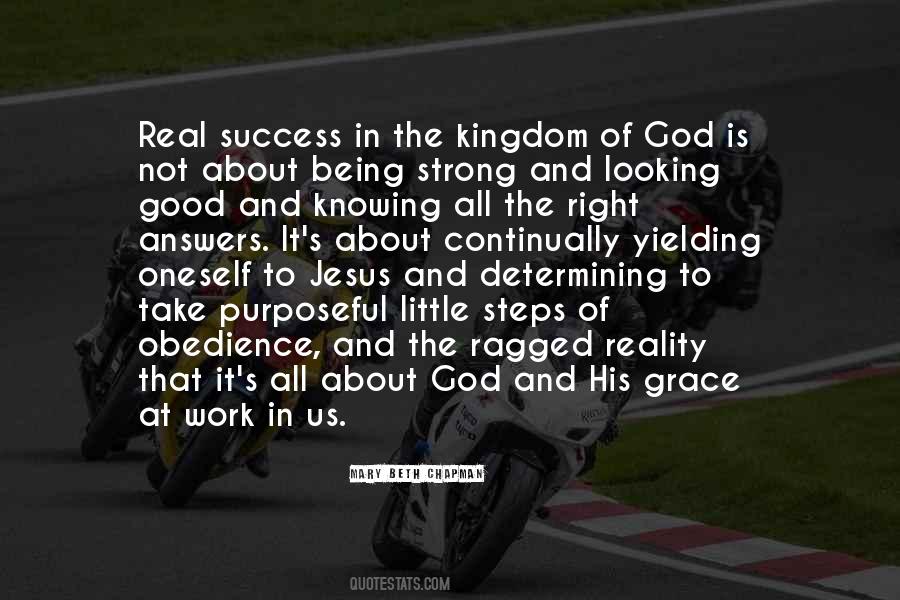 #17. Oh God, this is so good, Princess, what is it?"
"Dark and stormy," she sighs. "And you may as well take the bowl. I can't use it now you've had your dirty paws in it."
"Hmmm, dark and stormy...like you. I like it. - Author: Kerry Heavens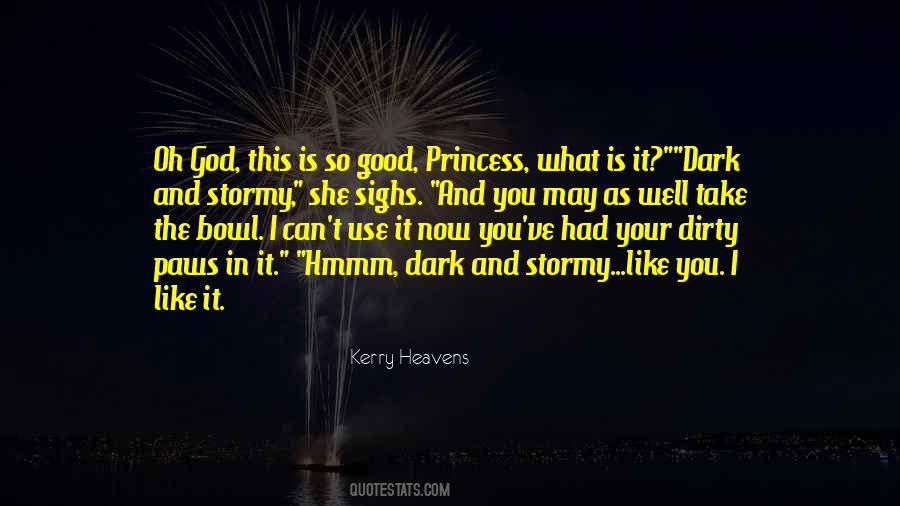 #18. Good girls earn good things." She let my jaw go, her eyes going beyond me toward Benny's house, then coming back to me. "Let yourself have good things." "It's not right," I told her quietly. "Know one thing on God's beautiful earth, and that is" - she leaned into me - "love is never wrong. - Author: Kristen Ashley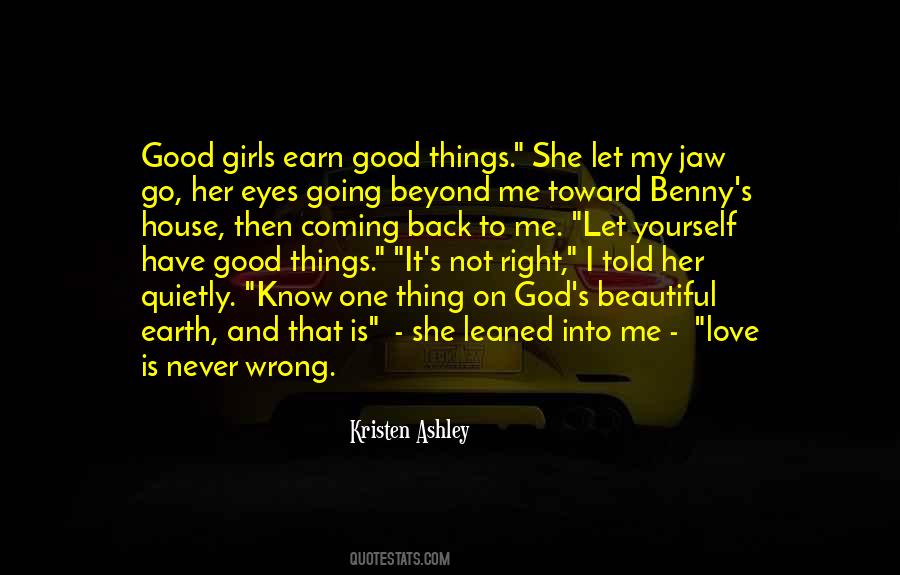 #19. I believe the power to make money is a gift from God ... to be developed and used to the best of our ability for the good of mankind. - Author: John D. Rockefeller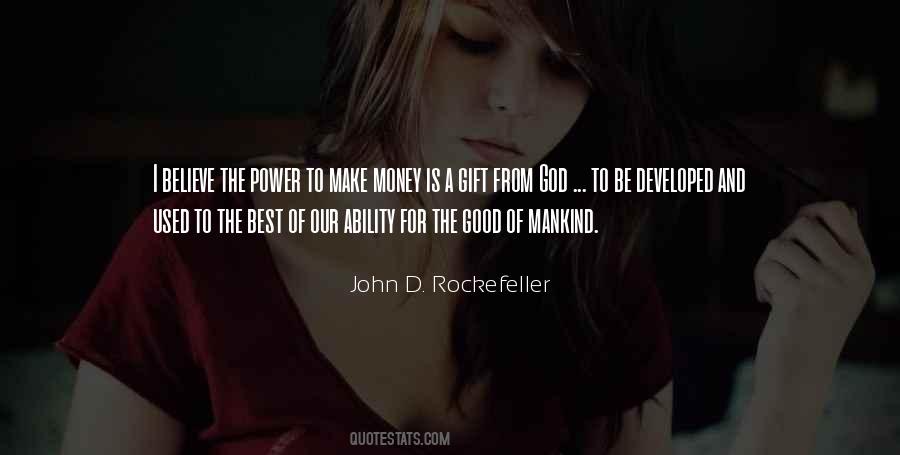 #20. Good God, woman. Hit the brakes on the freight train that is your mouth. - Author: Shelly Laurenston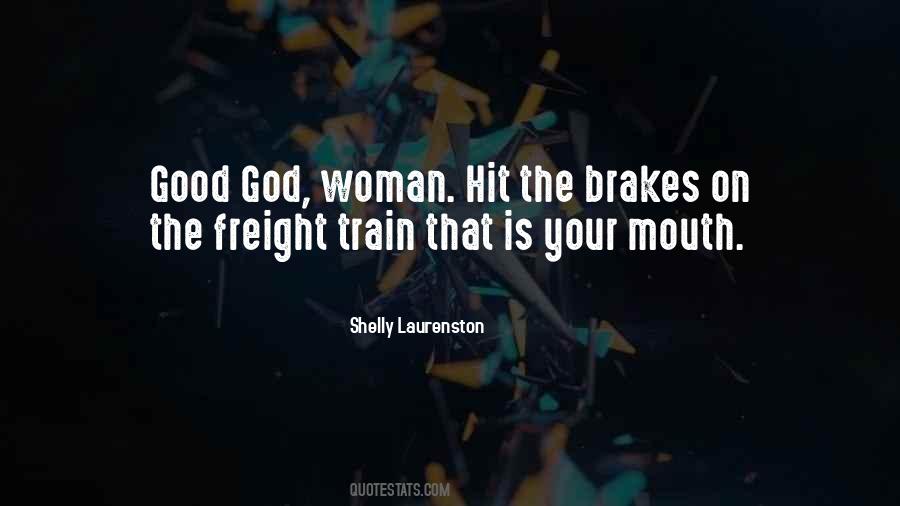 #21. Although I have these problems, I know that You, Lord, are greater than they are. You are my heavenly Father. You are a good God. In You is everything I need for my life, and I choose to exalt You above all. - Author: Stormie O'martian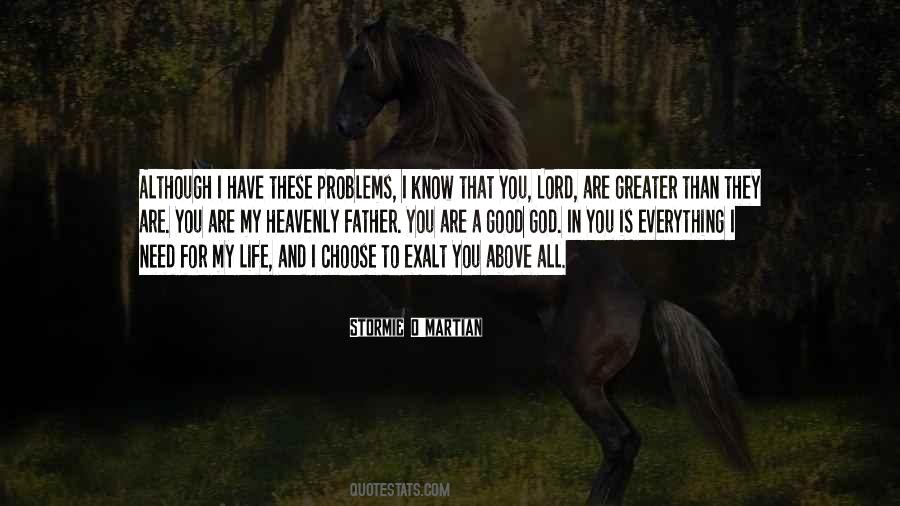 #22. You see, the richest people I know don't always understand what is going on. They don't always like what they see. But they have a quiet confidence that God will put all things together for their good. - Author: Phil Callaway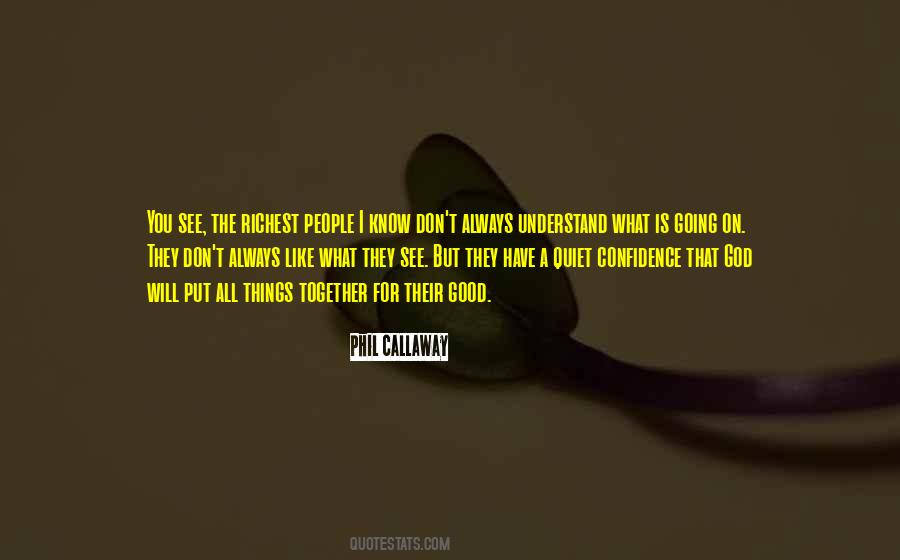 #23. God's Word is as good as He is. There is an old saying that a man is as good as his word. Well, God is as good as His Word. His character is behind what He has said. - Author: J. Vernon McGee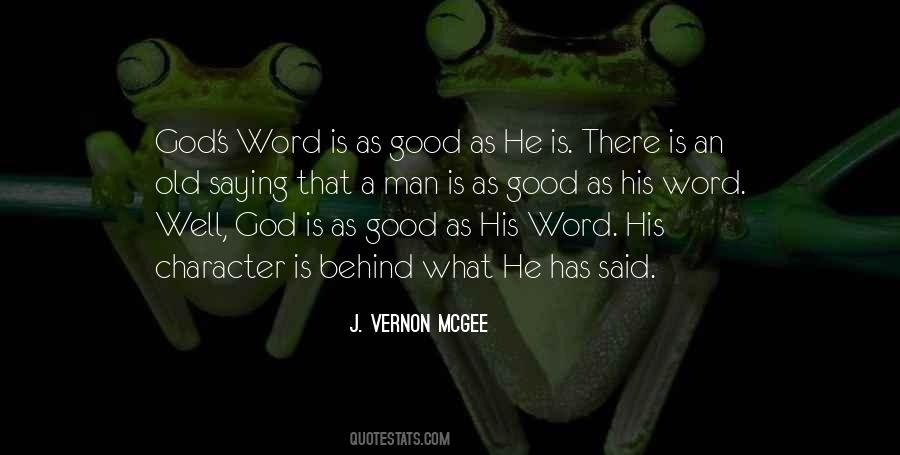 #24. True prayer does not seek God's help, but it focuses on what is good for everyday life and all of humanity. - Author: Debasish Mridha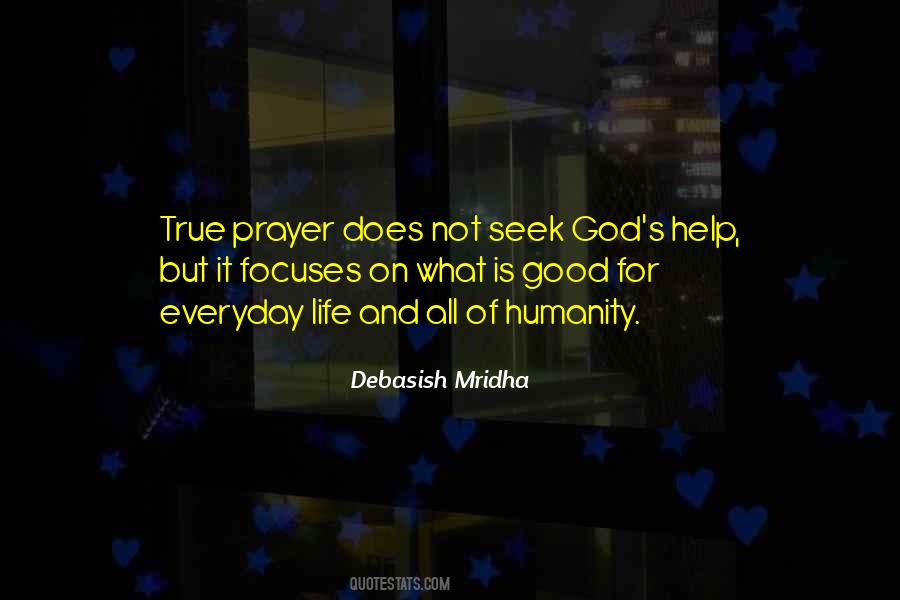 #25. People create their own gods so that they could compete with other people's gods. It is not the humanity that fights but human gods. God war. Good war. - Author: Aporva Kala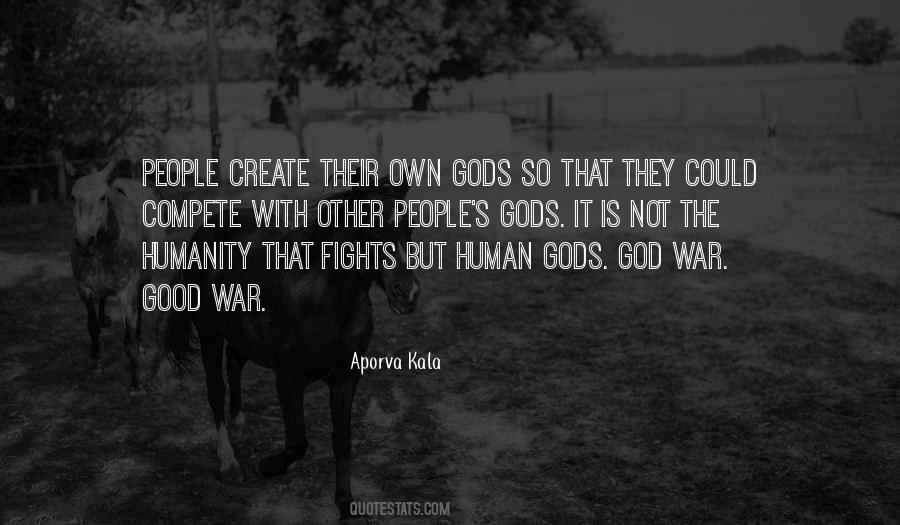 #26. 10 As the Scriptures say, No one is righteous - not even one. 11 No one is truly wise; no one is seeking God. 12 All have turned away; all have become useless. No one does good, not a single one. - Author: Anonymous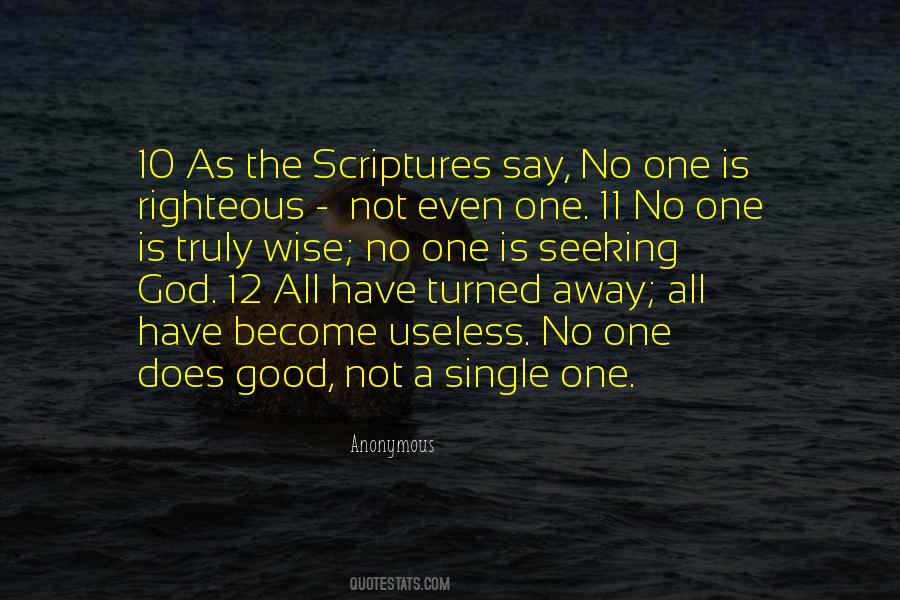 #27. God wills us to have everything. As we express life, we fulfill God's law of abundance, but we do this only as we realize that there is good enough to go around-only as we know that all of God's gifts are given as freely and fully as the air and the sunshine. - Author: Ernest Holmes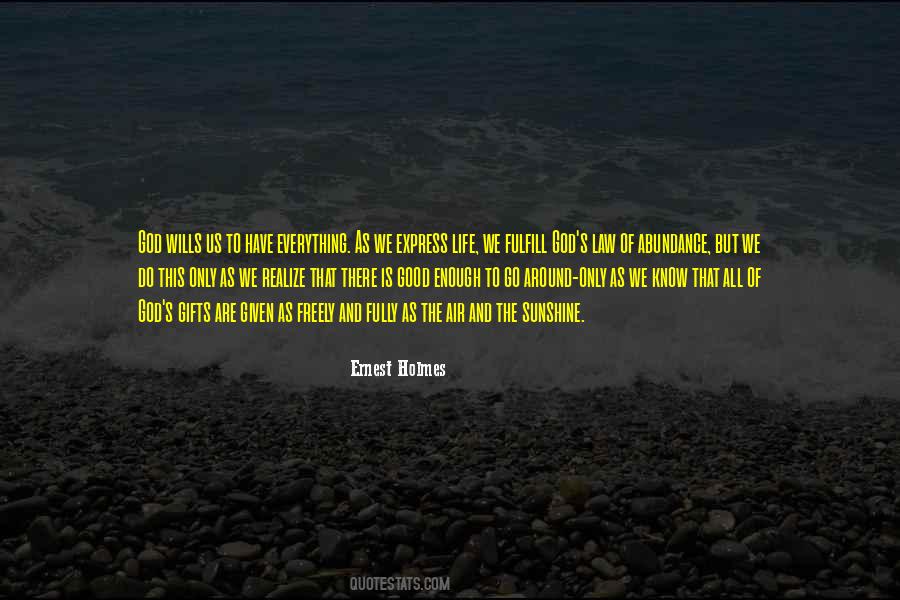 #28. Ah, don't grieve, little falcon,' he said with that tenderly melodious gentleness with which old Russian women speak. 'Don't grieve, little friend: you suffer an hour, you live an age! So it is, my dear. And we live here, thank God, with no offense. There's bad people, and there's good - Author: Leo Tolstoy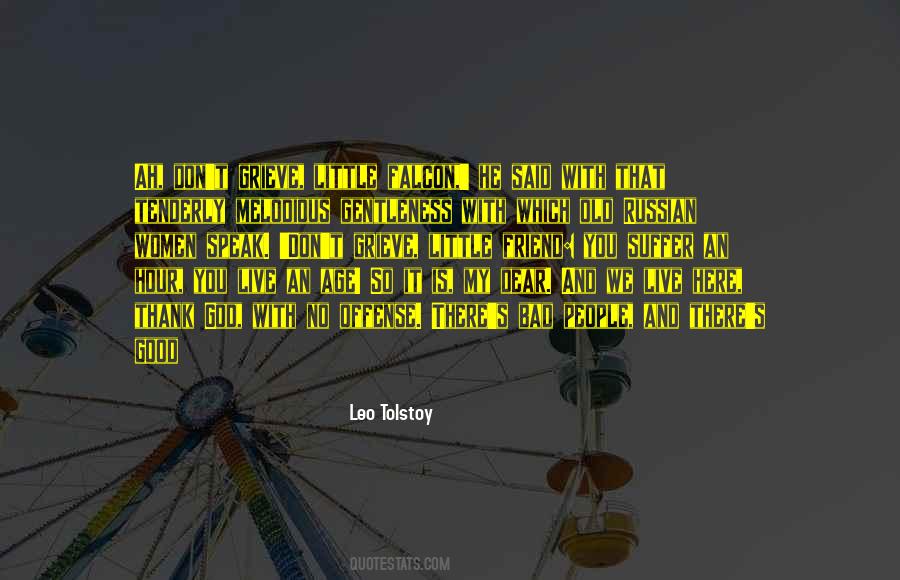 #29. Good boy," said Dr. Van Helsing. "Brave boy. Quincey is all man. God bless him for it. - Author: Bram Stoker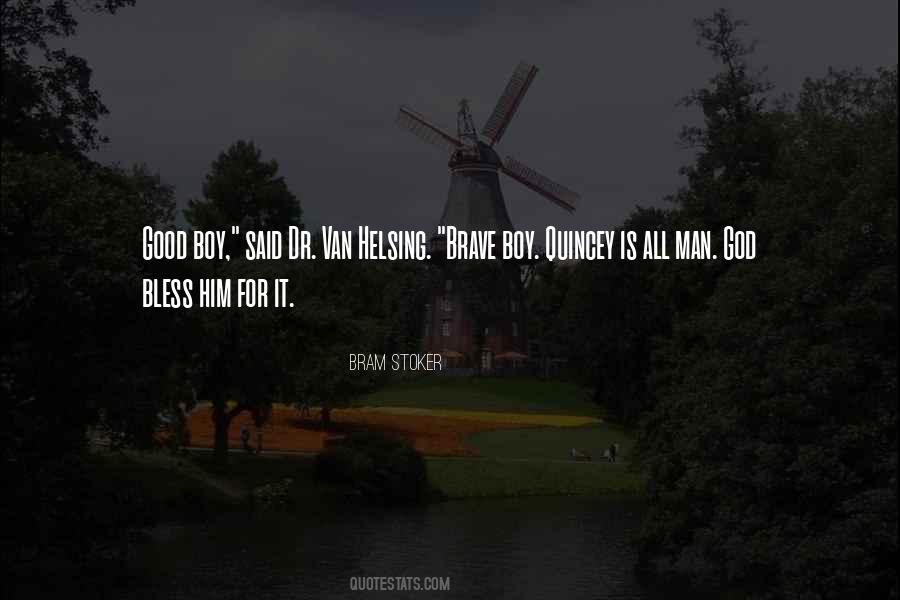 #30. Giving respect is an obligation, not a favor; it is an act of maturity, birthed in a profound understanding of God's good grace. - Author: Gary L. Thomas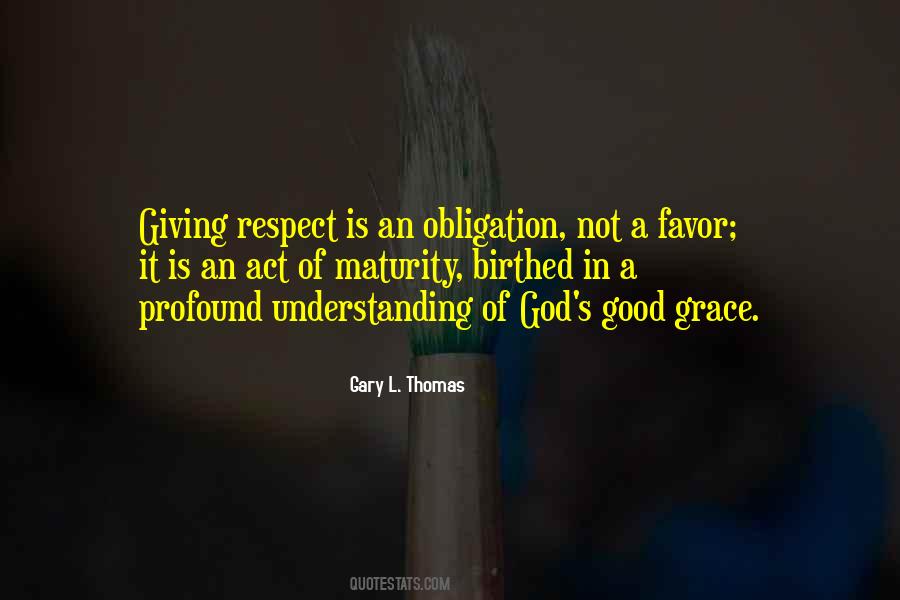 #31. Suffering is not good in itself. What is good in any painful experience is, for the sufferer, his submission to the will of God, and, for the spectators, the compassion aroused and the acts of mercy to which it leads. - Author: C.S. Lewis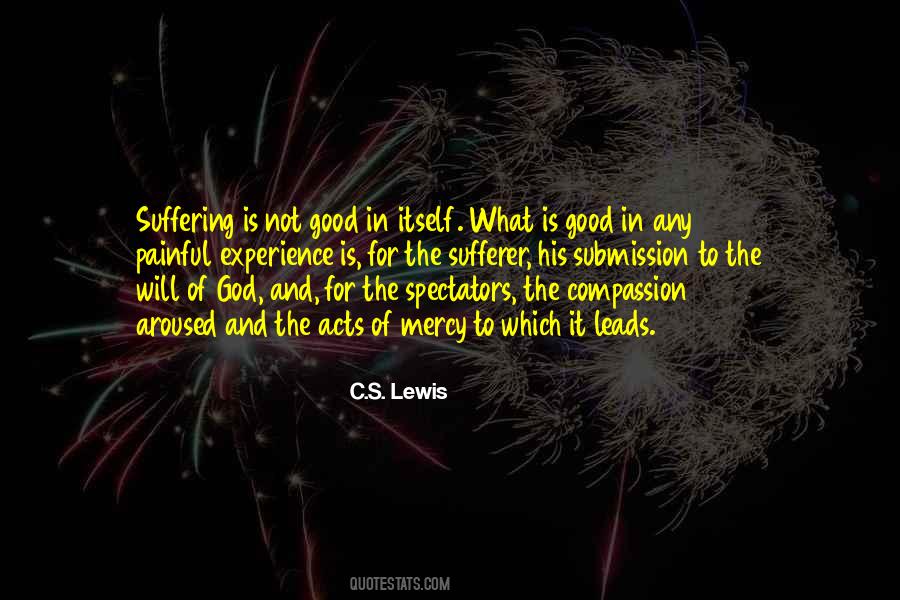 #32. If you knew what a sensation of the nearness of a higher power one instinctively feels when one is permitted to contribute to the good of mankind, as I have done, and still do! Believe me, it is a great gift of God's mercy! - Author: Jenny Lind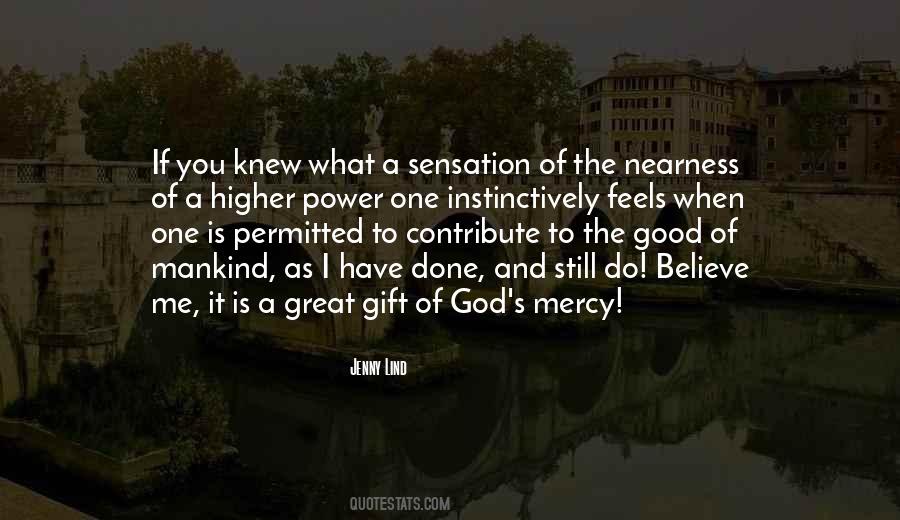 #33. A lot can be said for the infinite mercies of God, but the smarts of a good pharmacist, when you get down to it, is worth more. - Author: Philip K. Dick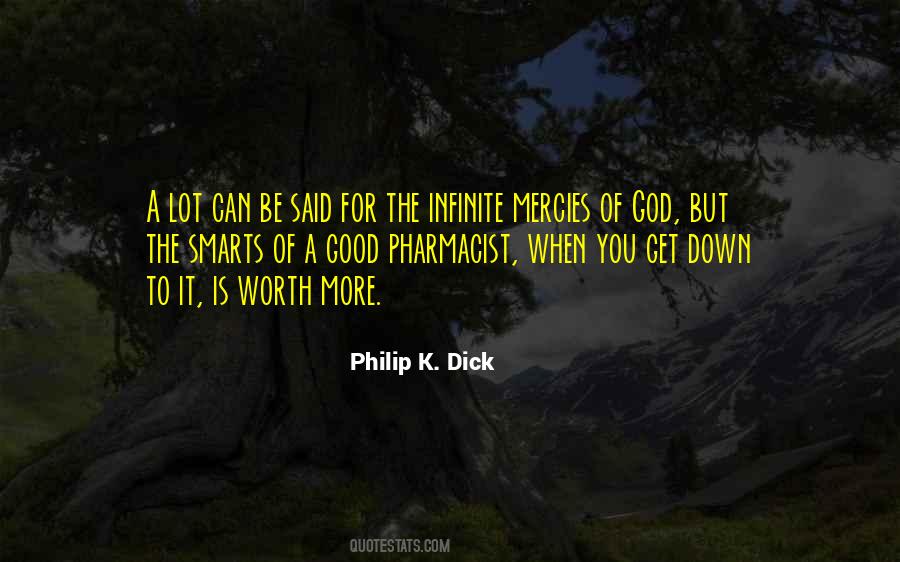 #34. Suffering together builds togetherness, and if togetherness is more important for us and for our joy than freedom from suffering is, then God is good to allow this suffering. - Author: Peter Kreeft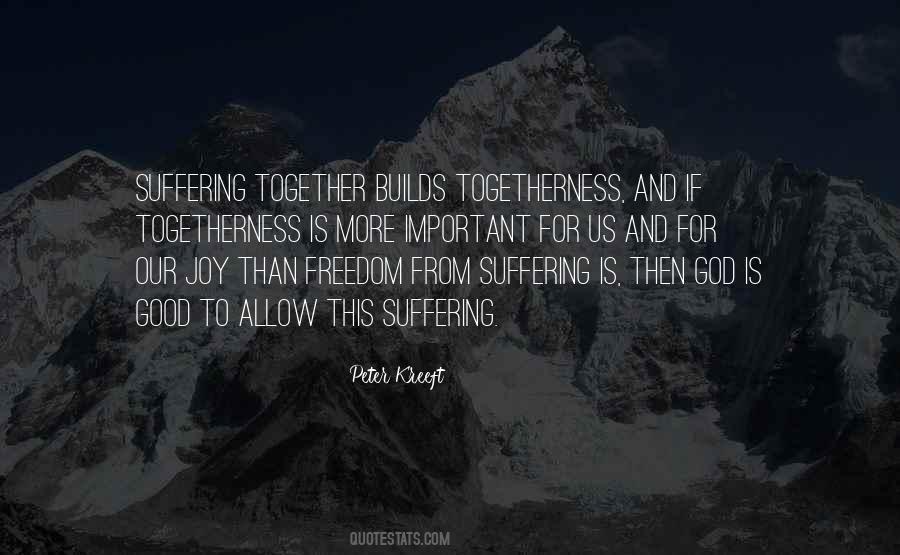 #35. There is no alternative to doing good, if we desire for God to be good to us. - Author: Sunday Adelaja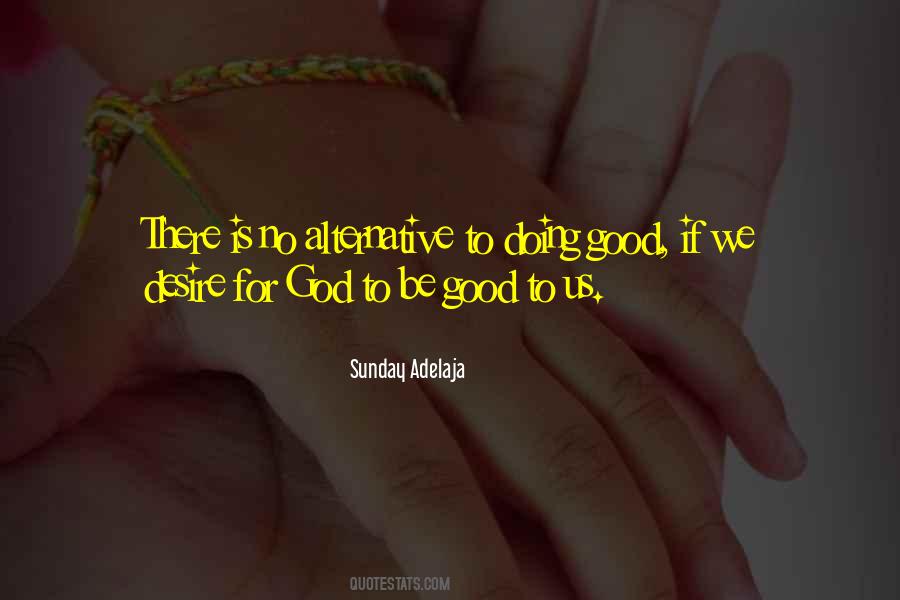 #36. God is everywhere but He is most manifest in man. So serve man as God. That is as good as worshipping God. - Author: Ramakrishna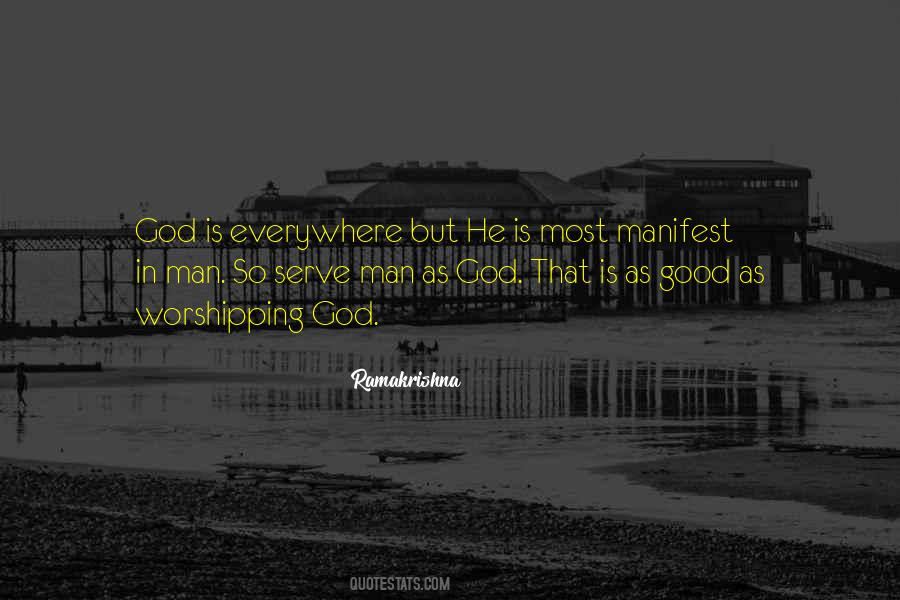 #37. If someone asked you what the greatest good on this earth is, what would you say? An epic surf session? Financial security? Health? Meaningful, trusting friendships? Intimacy with your spouse? Knowing that you belong? The greatest good on this earth is God. Period. God's one goal for us is Himself. - Author: Francis Chan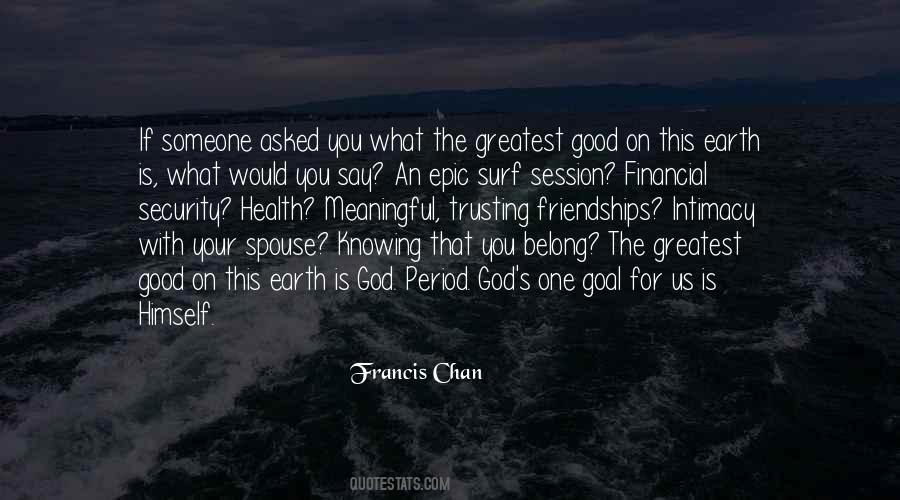 #38. It is a good rule never to look into the face of a man in the morning till you have looked into the face of God. - Author: Charles Spurgeon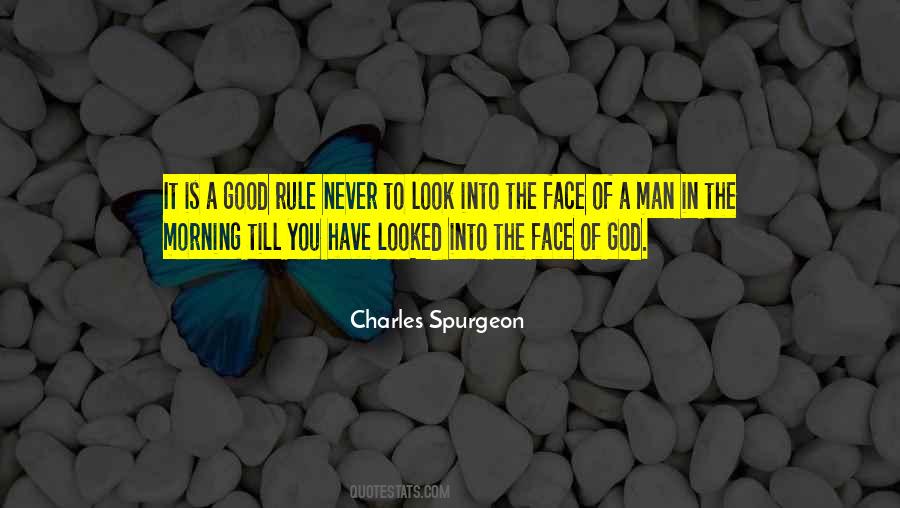 #39. America's religion. This is it gang, this is all you need to know. There is a God, He's going to judge us, we should be good to each other, cause daddy's gonna be pissed in the end if we're not. That's it. That's called a big principle. - Author: Glenn Beck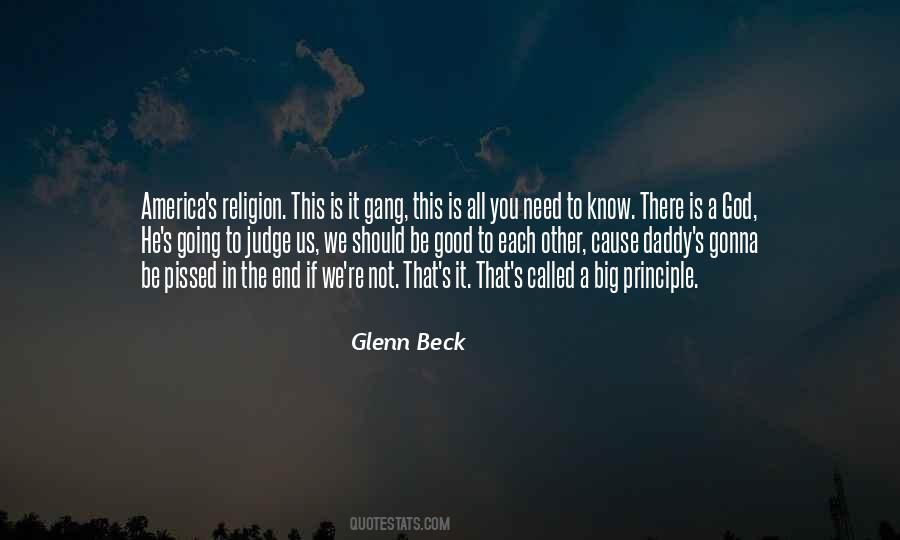 #40. My heart is filled with endless praise. - Author: Lailah Gifty Akita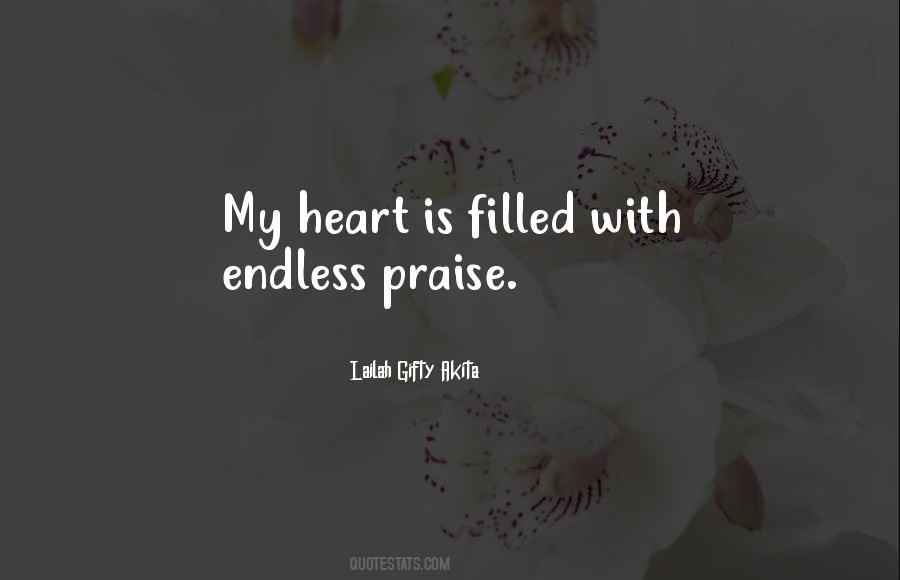 #41. When everything is going good, that's when I know God has rewarded me for my faith. - Author: Torii Hunter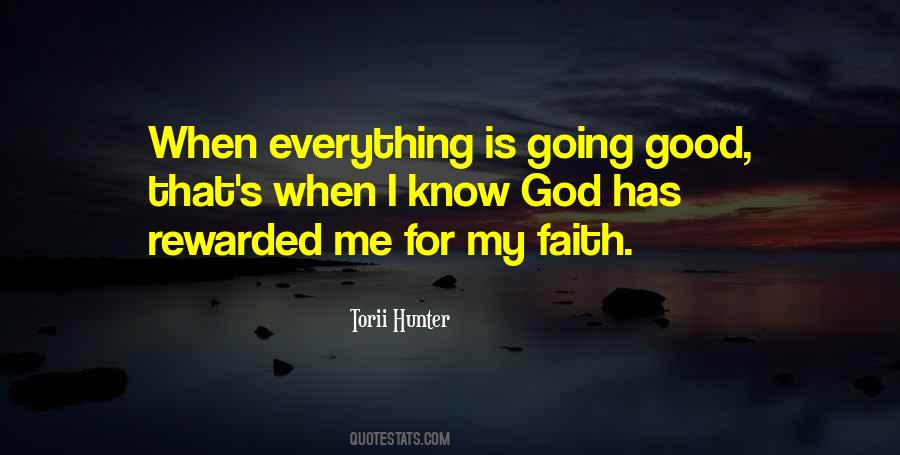 #42. Learn to walk in God's perception of who you are, because yours is not good enough. - Author: Graham Cooke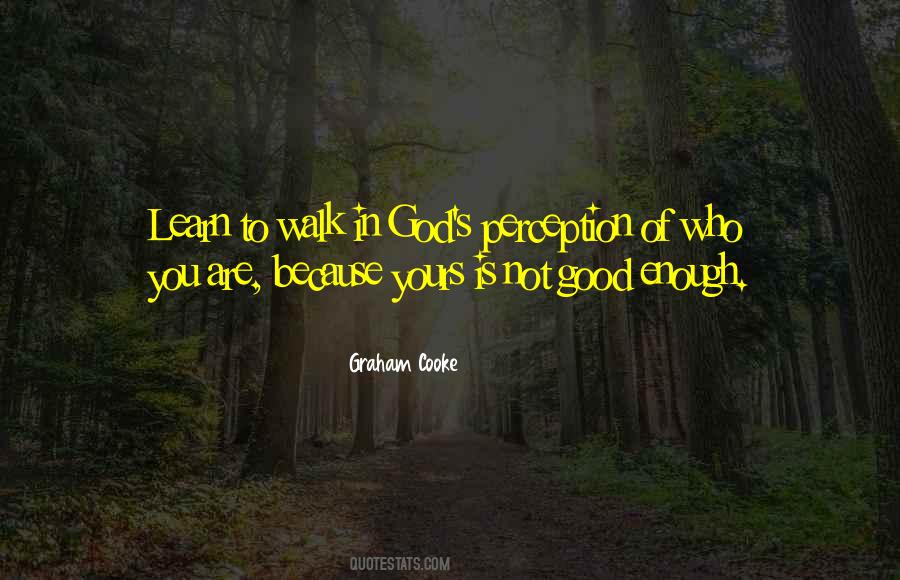 #43. Marriage is a holy bond because it permits two people to help each other work out their spiritual destinies. God declared marriage to be good. - Author: Billy Graham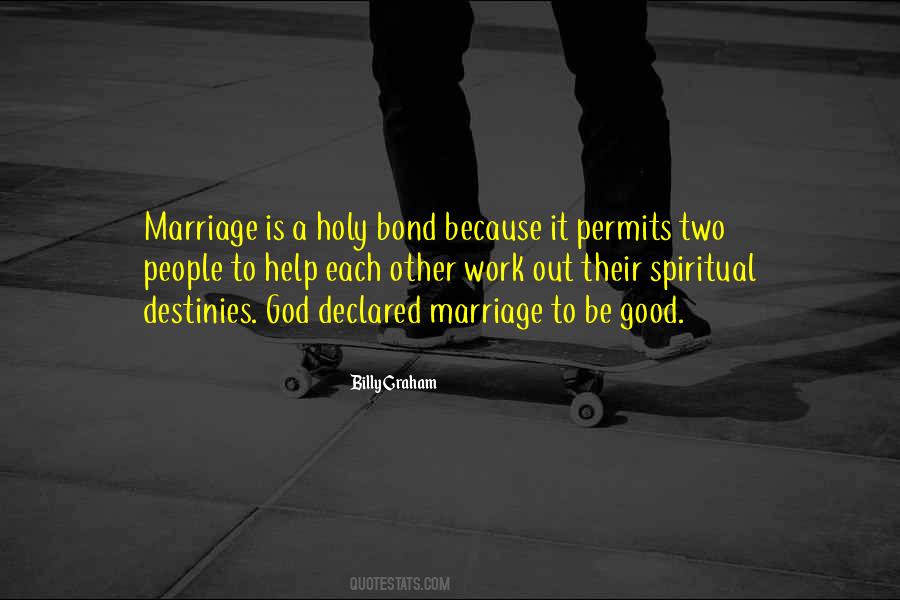 #44. If [God] doesn't exist, man is the chief of the earth, of the universe. Magnificent! Only how is he going to be good without God? - Author: Fyodor Dostoyevsky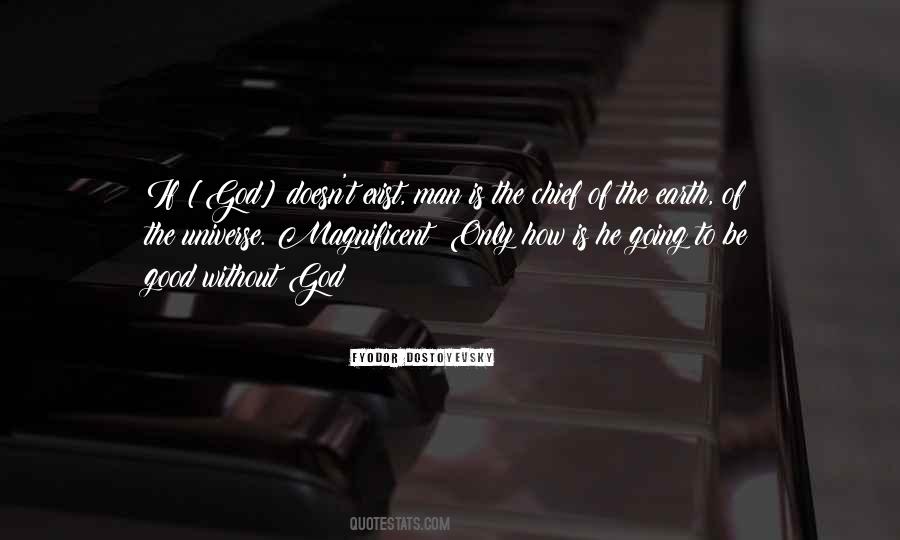 #45. While it is good to apologize and ask forgiveness from God, it's just as important (perhaps more so) to extend it towards the person you wronged. Becoming a better person or trying to make amends with the universe only works when you start with the one you owe it to. - Author: Donna Lynn Hope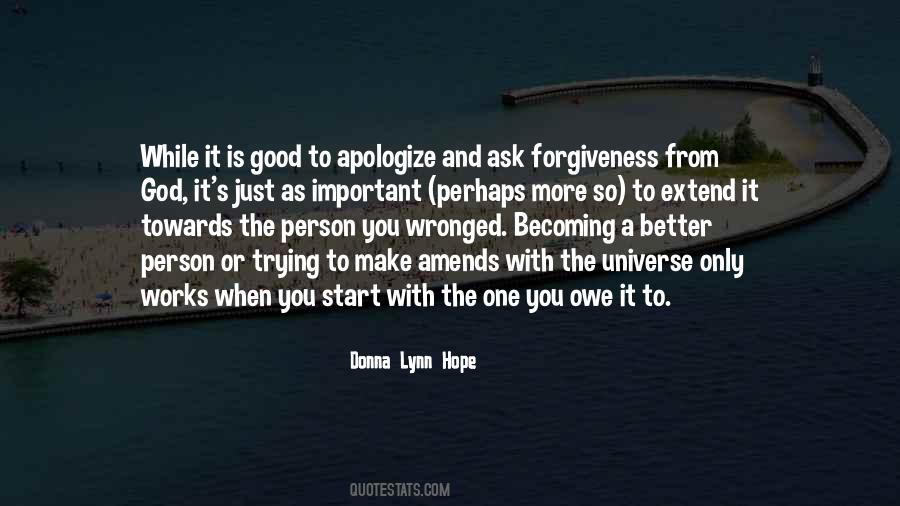 #46. The good man has his enemies. He would not be like His Lord if he had not. If we were without enemies we might fear that we were not the friends of God, for friendship of the world is enmity to God. - Author: Charles Spurgeon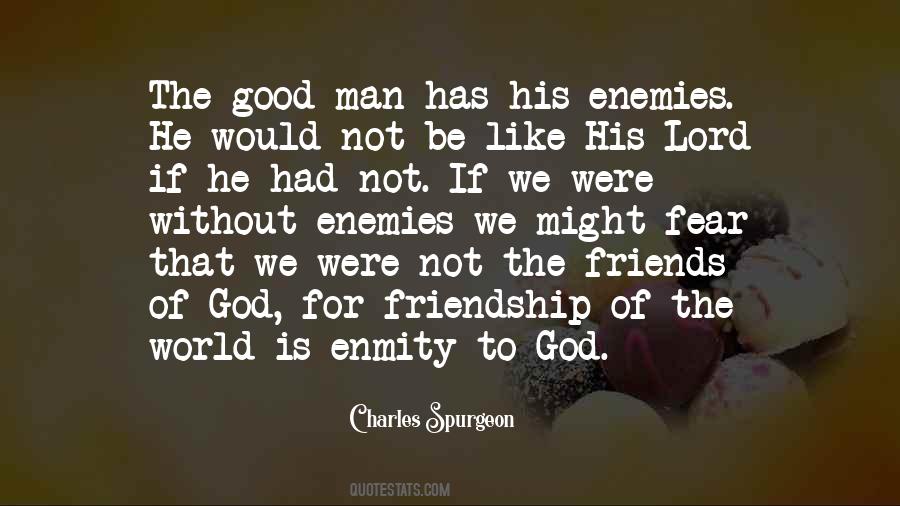 #47. My truest desire is fellowship with good friends, the love of a caring family, and a close relationship with God. - Author: Wanda E. Brunstetter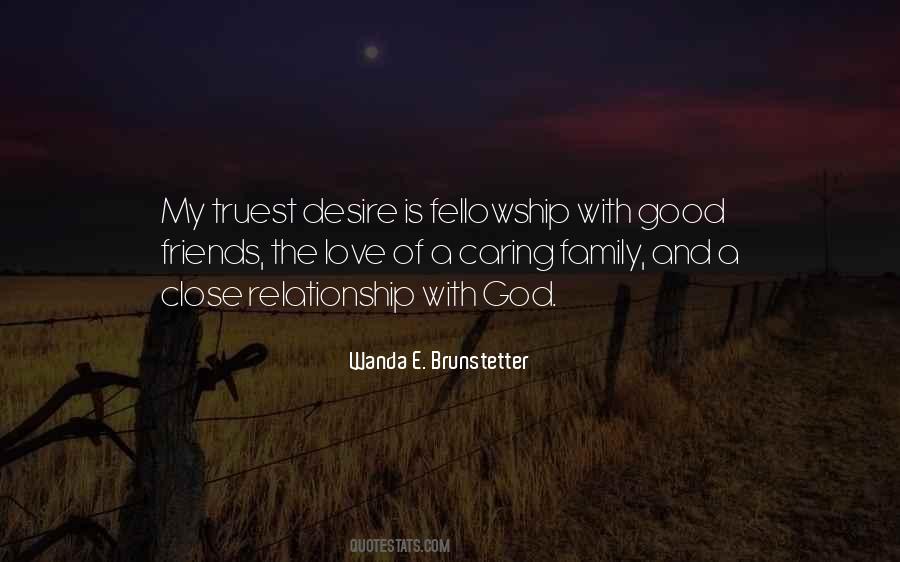 #48. I thank God for happiness and sadnessIf you are never sad you will never know how good happiness is - Author: Shahrukh Khan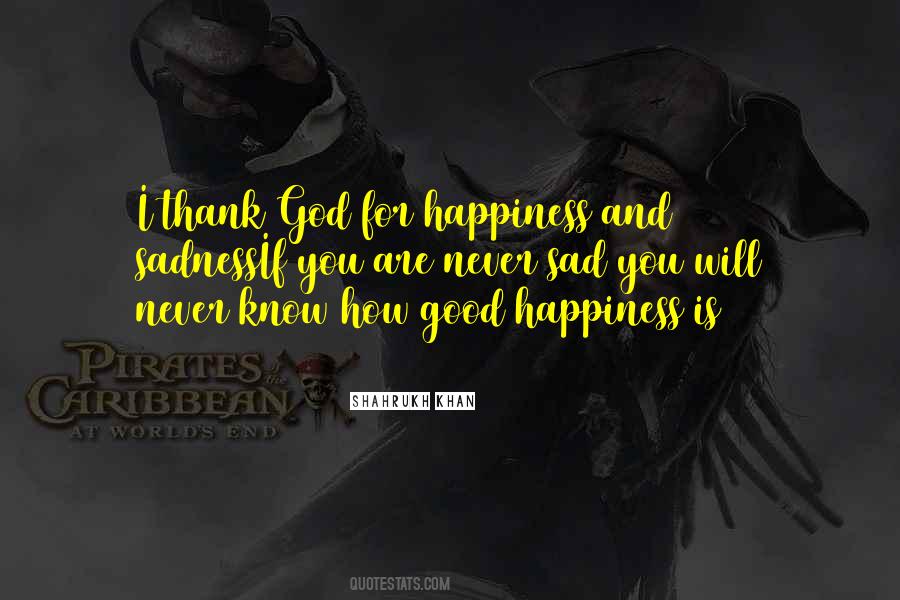 #49. It doesn't matter how hard the world tries to get the sons of God, everything is turned around for their good - Author: Sunday Adelaja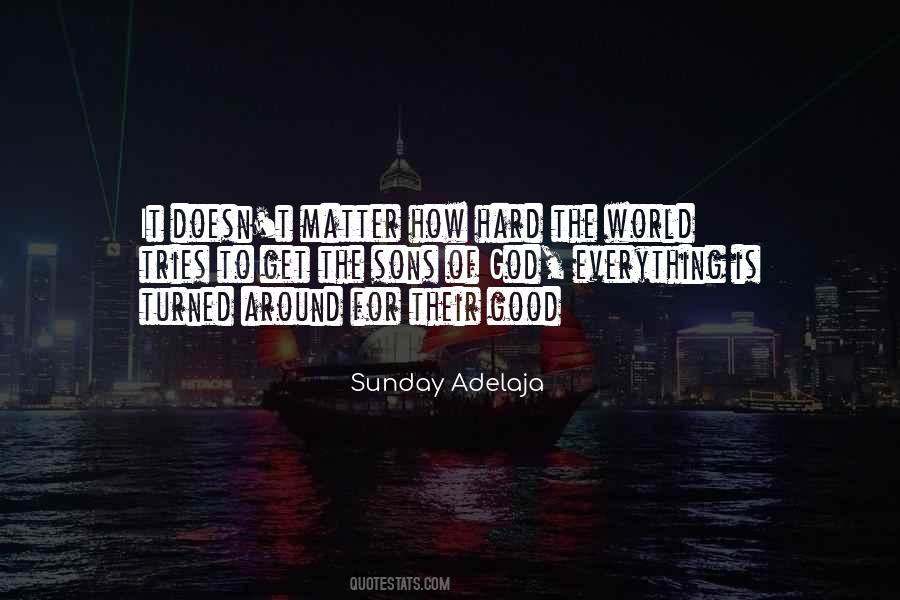 #50. God is able to make all grace abound toward you that you alway having all sufficiency in all things, may abound to every good work - Author: Anthony B. Powell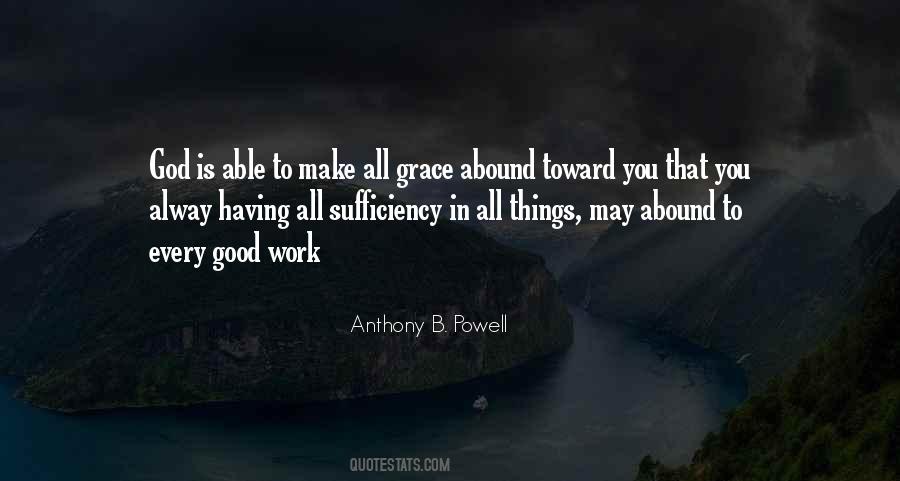 #51. Our heart is a garden, which the good God has given us to cultivate, and we must always be aware of the weeds that grow without observation. It is necessary that we should unceasingly apply ourselves to the cultivation of the good and the extraction of the evil which might take root. - Author: Christoph Von Schmid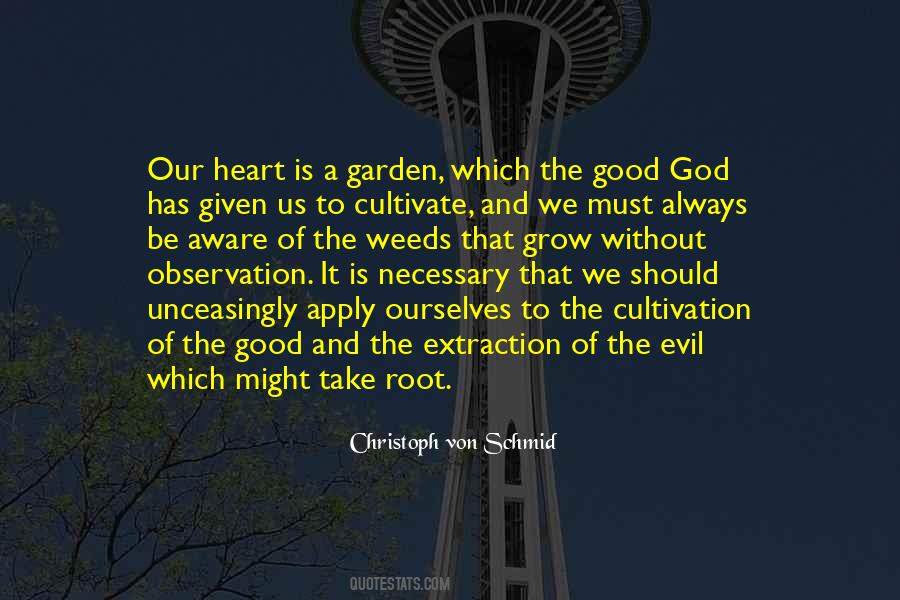 #52. What greater thing can you do - besides for God - than good for other people? That goes for you mean people, too - I mean, really, what is your problem? - Author: Ysabella Brave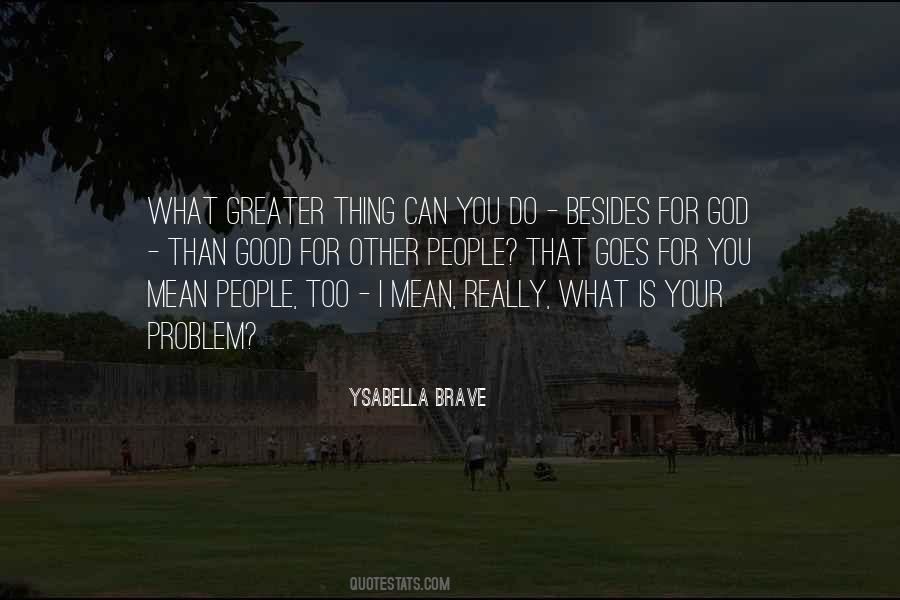 #53. The God we serve does not seek out the perfect, but instead uses our imperfections and our shortcomings for his greater good. I am humbled by my own limitations. But where I am weak, He is strong. - Author: Rick Perry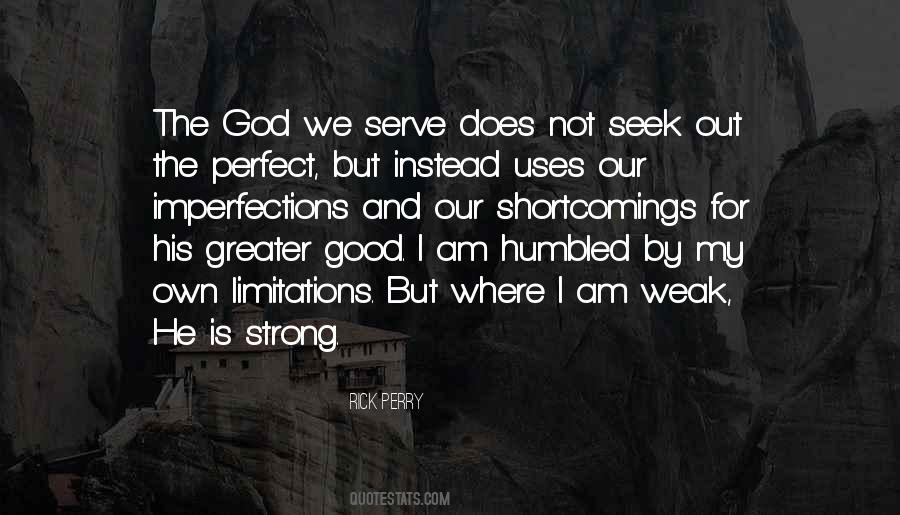 #54. Do some good to the ghetto, Mr. Kris Kringle.
Come and stay awhile, kick it with God's Angels.
Take and acknowledge my wisdom and understand
That Santa Claus is a black man. - Author: Keith Murray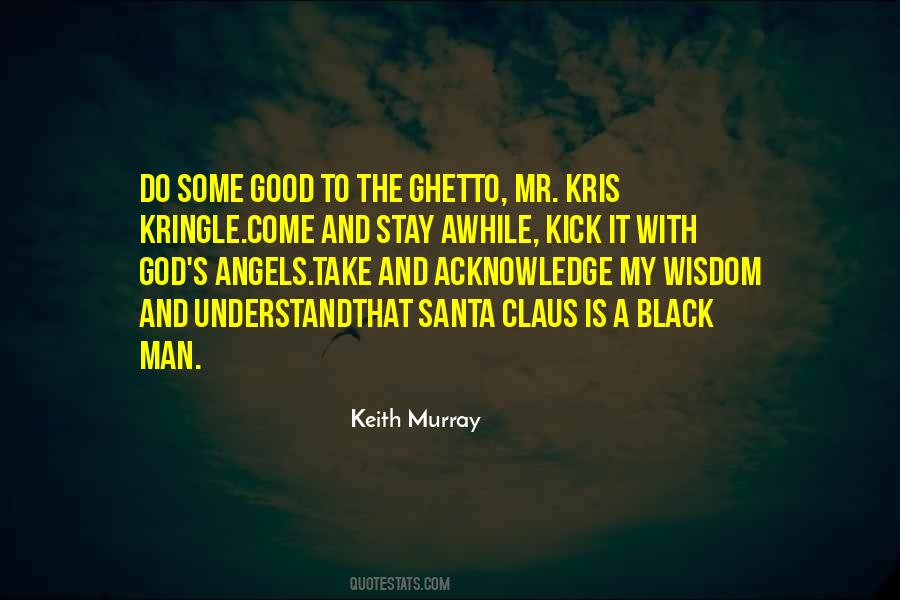 #55. No one is good but God alone. What is good is therefore divine, what is divine is therefore good. - Author: Saint Ambrose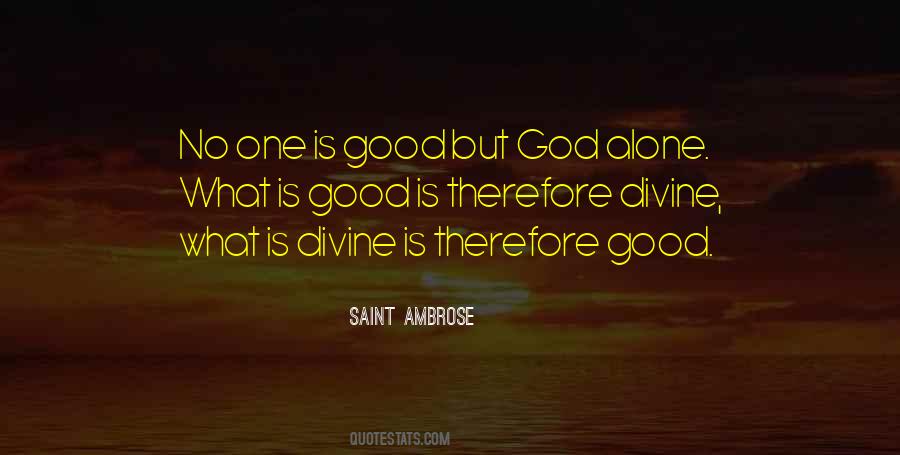 #56. God is a good paymaster; He pays His servants while at work as well as when they have done it; - Author: Charles Haddon Spurgeon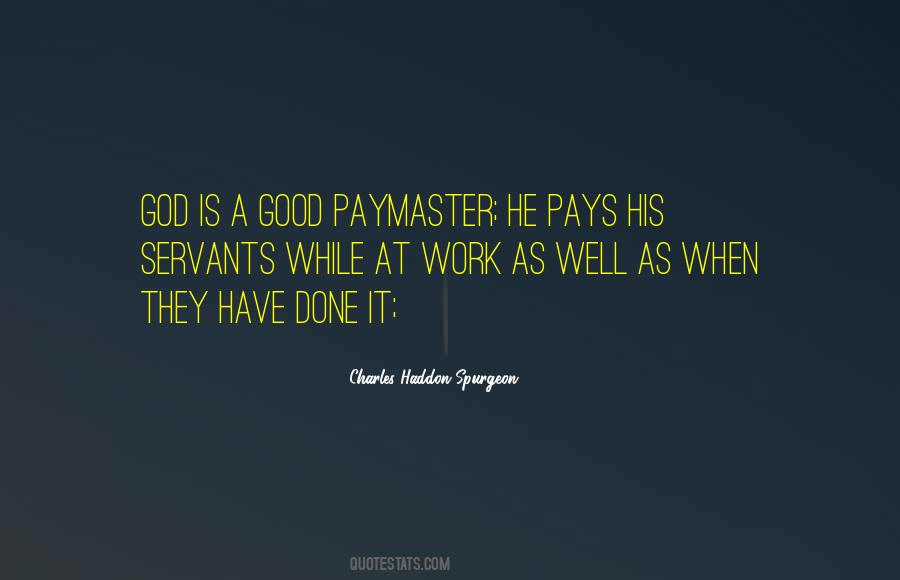 #57. More and more I don't have any philosophy about writing, except that it is something we can do if God is good to us. Of course we are the ones who have to do the paperwork. - Author: M.V. Carey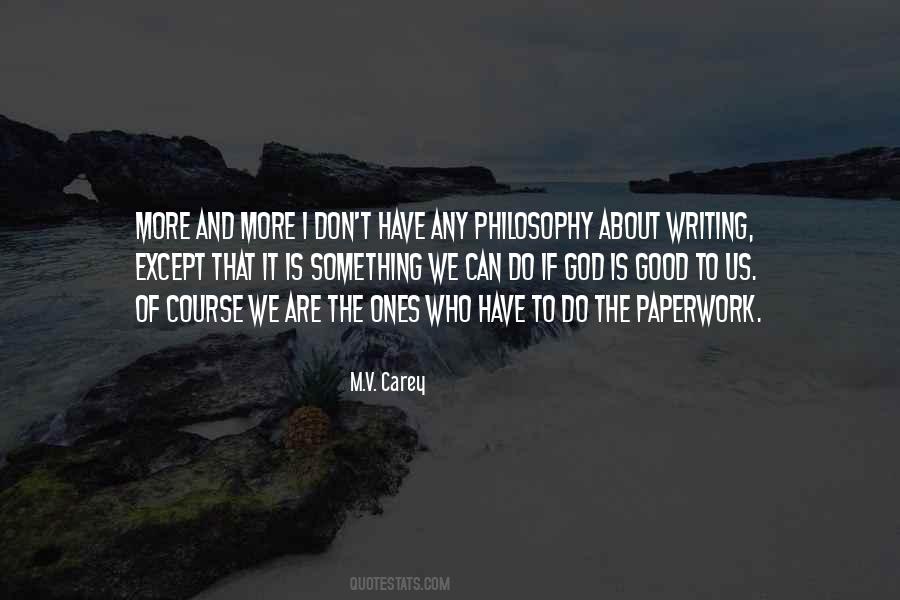 #58. Wine is God's special drink. The purpose of good wine is to inspire us to a livelier sense of gratitude to God. - John Calvin - Author: Lauren F. Winner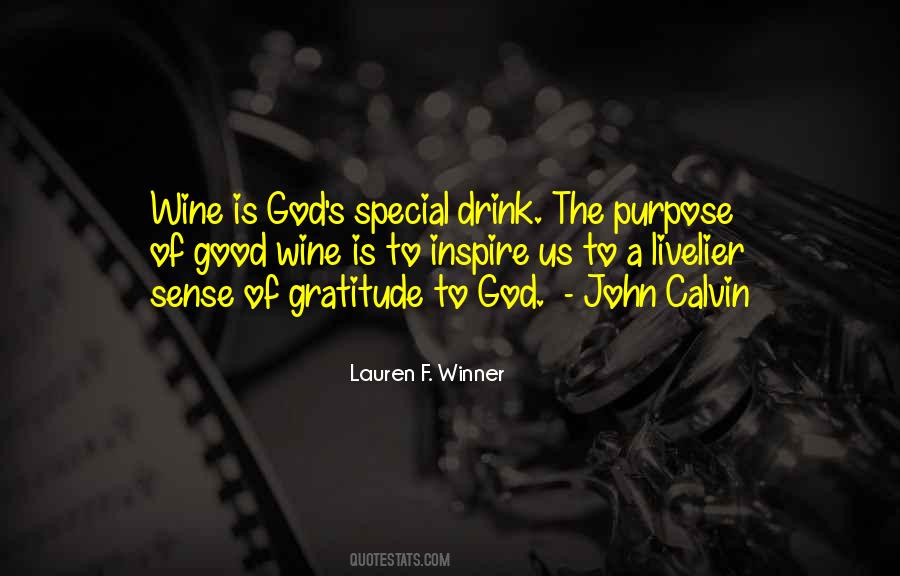 #59. The sins of good men are greater than the sins of bad men. One lie from a truthful man is more hurtful than all the lies of a liar. The sins of a man after God's own heart have done more harm than all the crimes of all the Pagan emperors. - Author: Hesba Stretton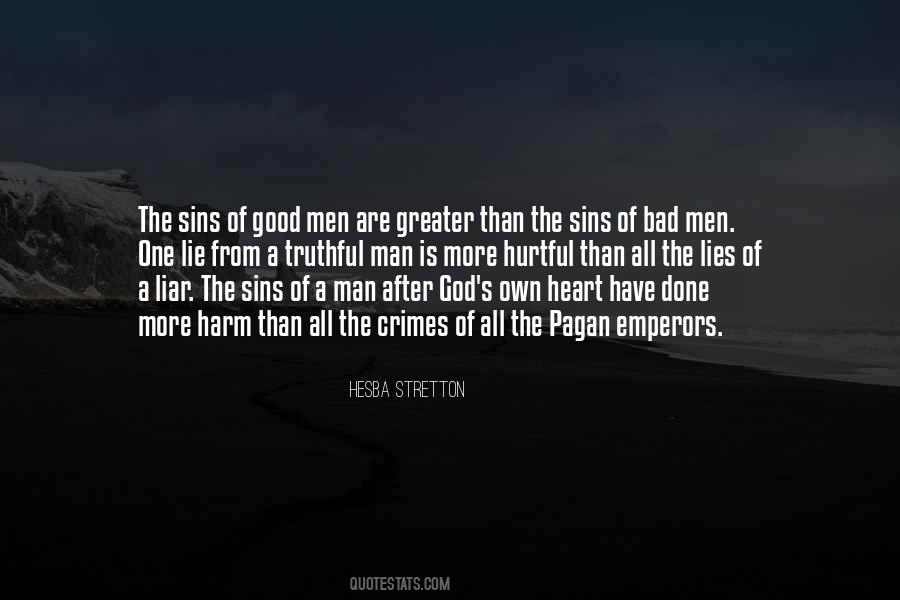 #60. Develop a little self-righteousness. A lot of that is an ugly thing, God knows, but a little applied over all your scruples is an absolute necessity! It is to the soul what a good sun-block is to the skin during the heat of summer. - Author: Stephen King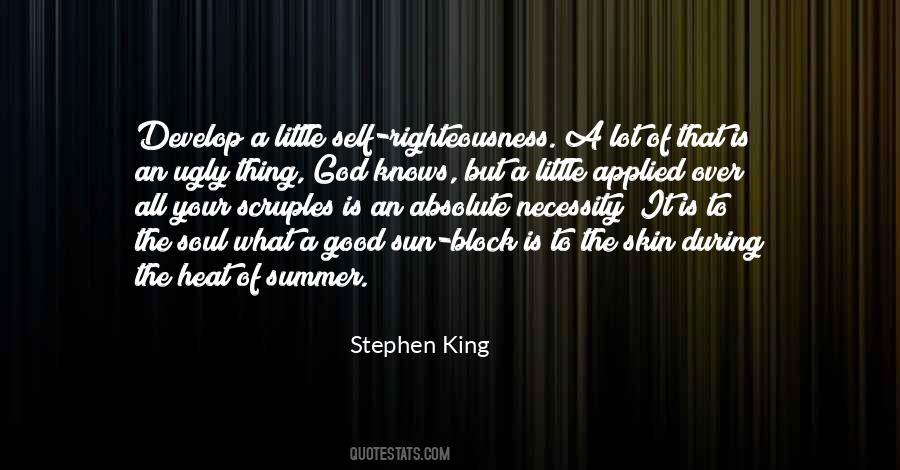 #61. God is the creator of all good plot twists! - Author: Shannon L. Alder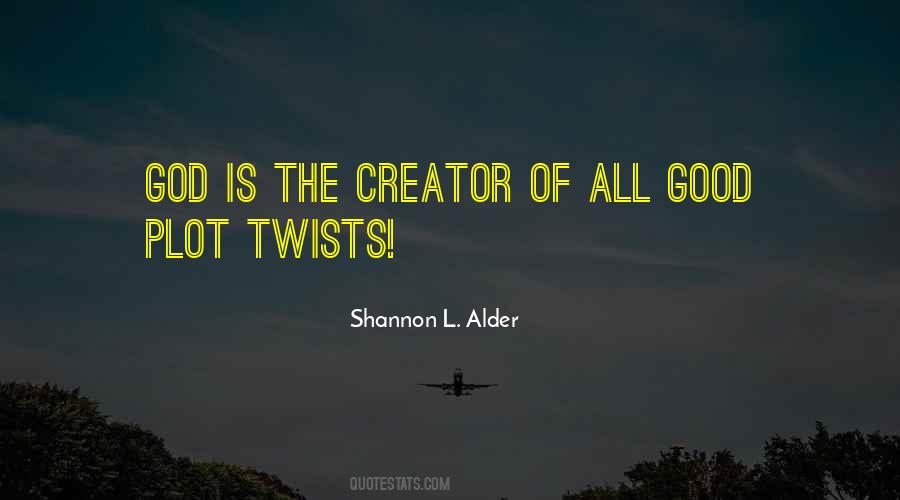 #62. Wristband). The gospel is not a message about what we need to do for God, but about what God has done for us. So get them with the good news about who God is and what he has done for us. - Author: Kevin DeYoung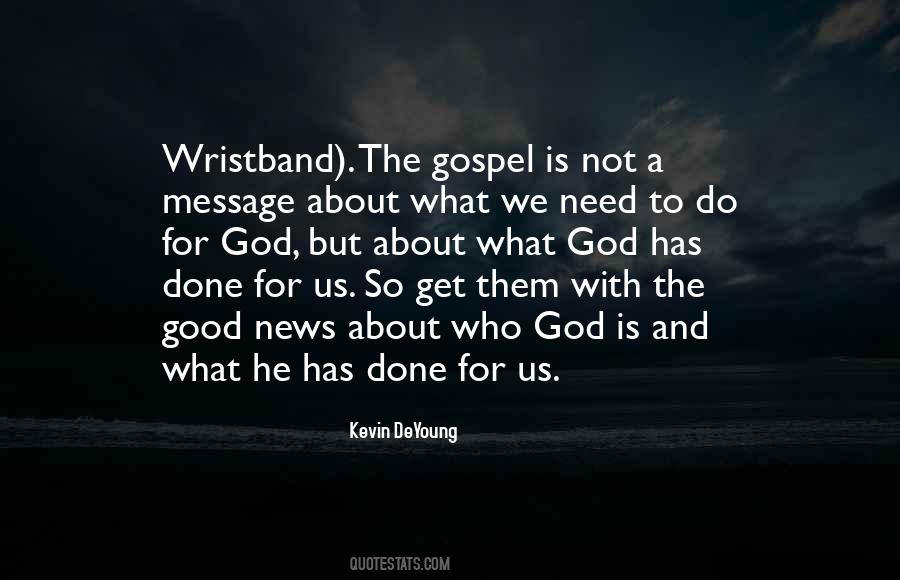 #63. Drunkenness is an immoderate affection and use of drink. That I call immoderation that is besides or beyond that order of good things for which God hath given us the use of drink. - Author: Jeremy Taylor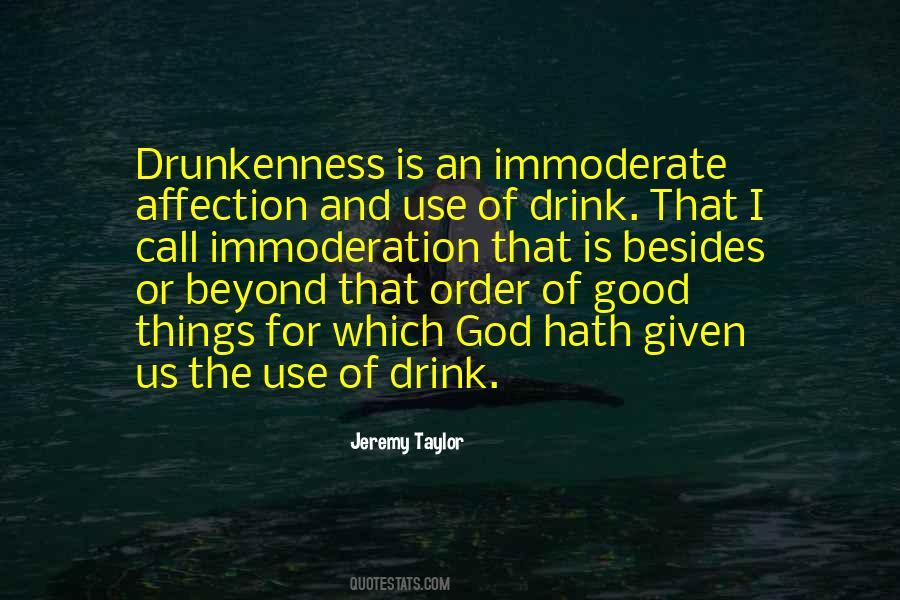 #64. With all the decision making in my life, I often have to pause, look up and remember God is the One working behind the scenes. I say to myself, He is able to work all things out for good. I just need to submit to Him and His ways. I can rest. - Author: K.P. Yohannan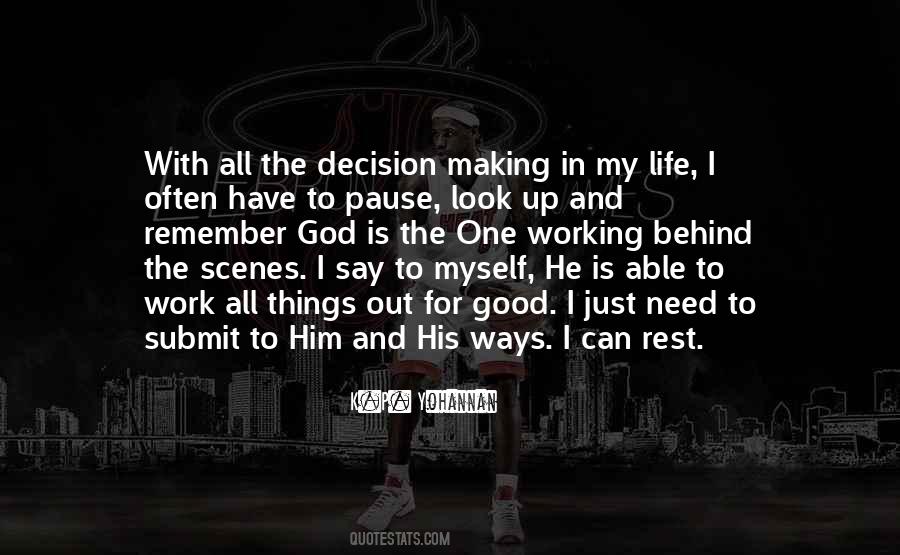 #65. We don't ask any people to throw away any good they have got; we only ask them to come and get more. What if all the world should embrace this Gospel? They would then see eye to eye, and the blessings of God would be poured out upon the people, which is the desire of my whole soul. - Author: Joseph Smith Jr.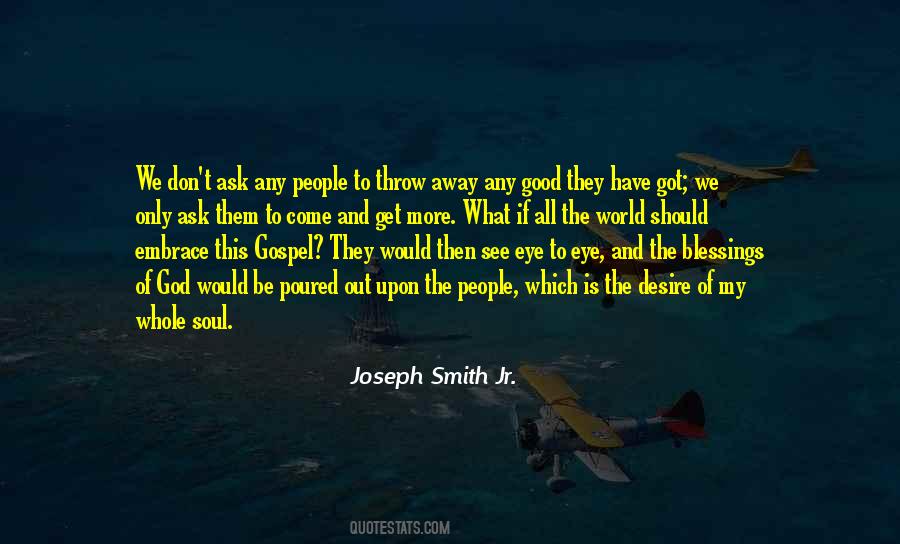 #66. There is unspeakable comfort in knowing that God is constantly taking knowledge of me in love and watching over me for my good. - Author: J.I. Packer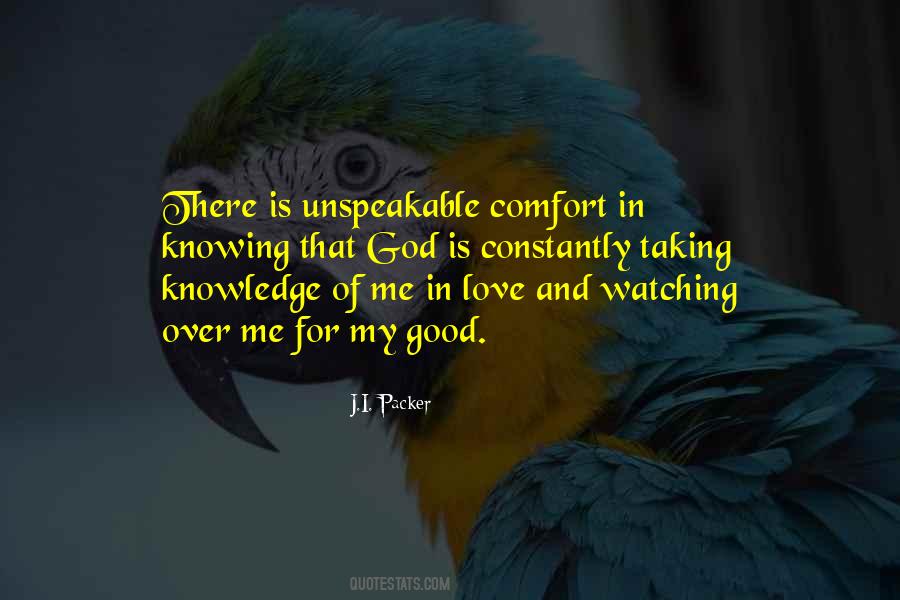 #67. Whenever we find that our religious life is making us feel that we are good - above all, that we are better than someone else - I think we may be sure that we are being acted on, not by God, but by the devil. - Author: C.S. Lewis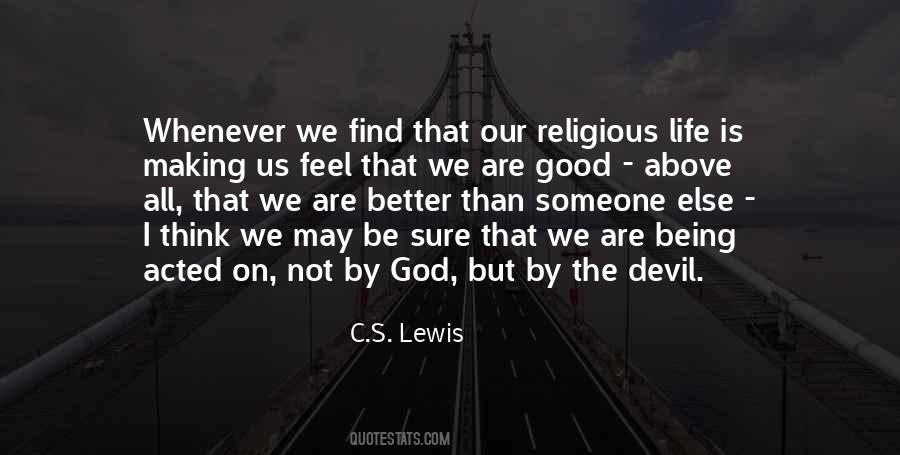 #68. To an unbelieving person nothing renders service or work for good. He himself is in servitude to all things, and all things turned out for evil to him, because he uses all things in impious way for his own advantage, and not for the glory of God. - Author: Martin Luther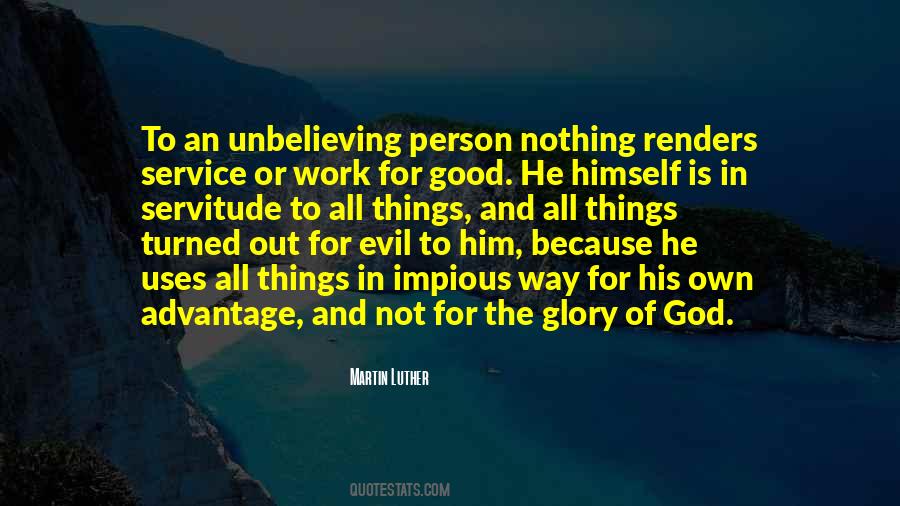 #69. I think God isn't interested in intervening every time some little bad thing happens. God is interested in getting the message of good news and love and comfort and hope across through people like us, ordinary people, or extraordinary people like Bono. - Author: Philip Yancey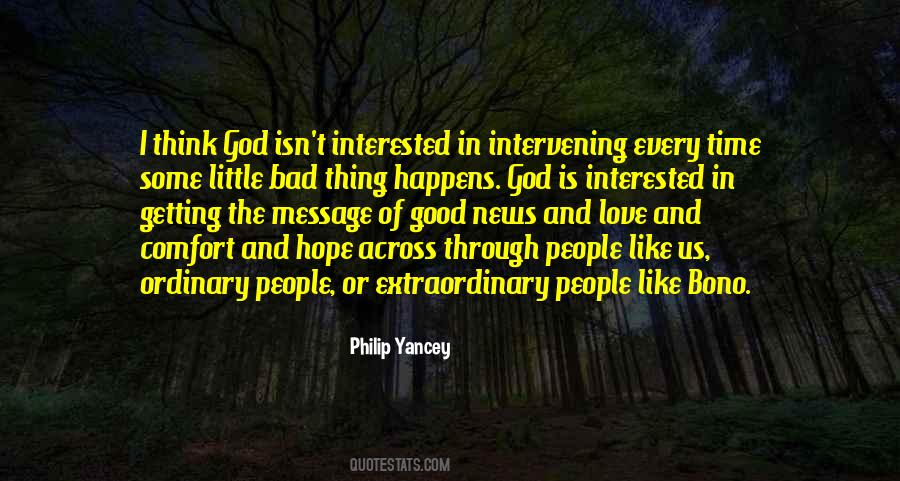 #70. Desire is God tapping at the door of your mind, trying to give you greater good. - Author: H. Emilie Cady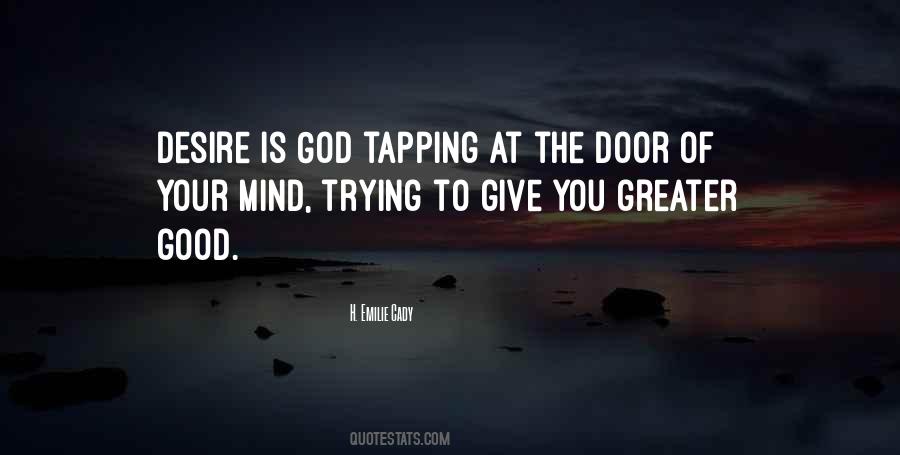 #71. Good God! Willloughby, what is the meaning of this? -Marianne Dashwood - Author: Jane Austen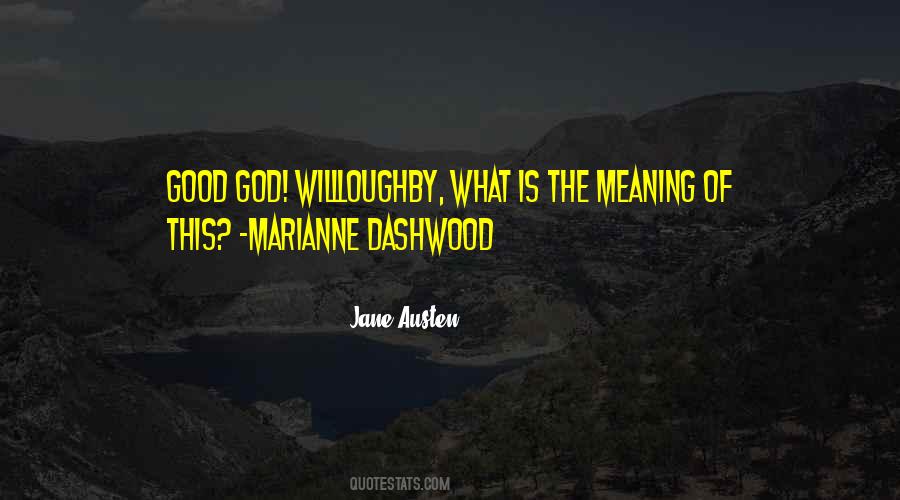 #72. A good decision is our will to do everything we can within our power. It means to serve God with all we've got, be it little or much. Every person can do that. - Author: Soren Kierkegaard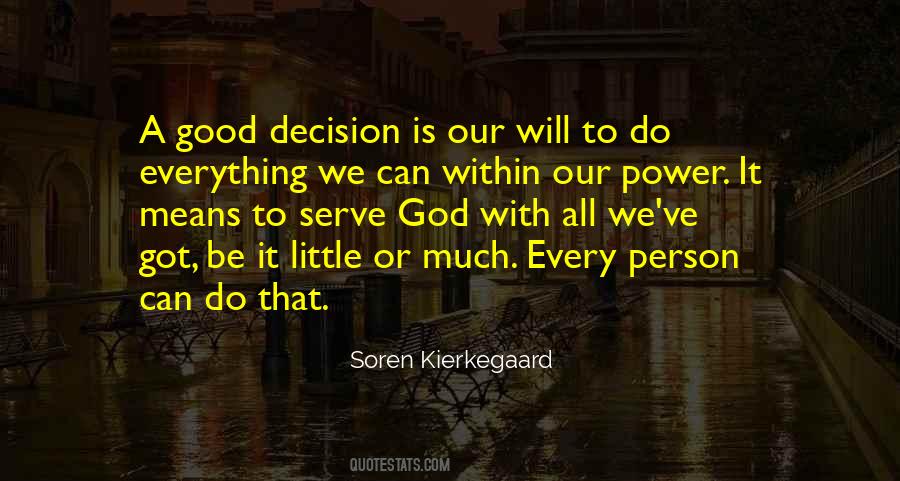 #73. Take up your own daily cross; it is the burden best suited for your shoulder, and will prove most effective to make you perfect in every good word and work to the glory of God. - Author: Charles Spurgeon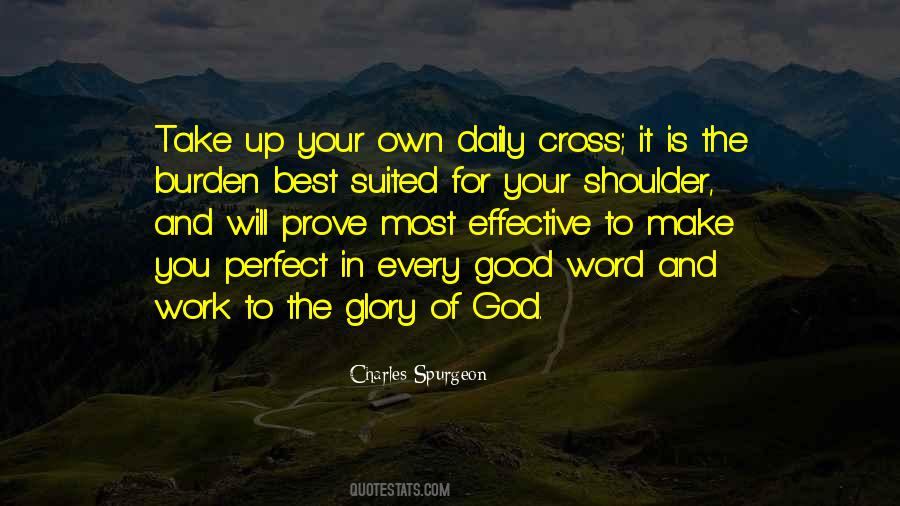 #74. There is a school of thought, a heresy from the madhouse of heresies in the ninth century, that says God is good and is in control of every individual thing that happens, every event, but that unfortunately the devil is in control of the timing. - Author: Norman Rush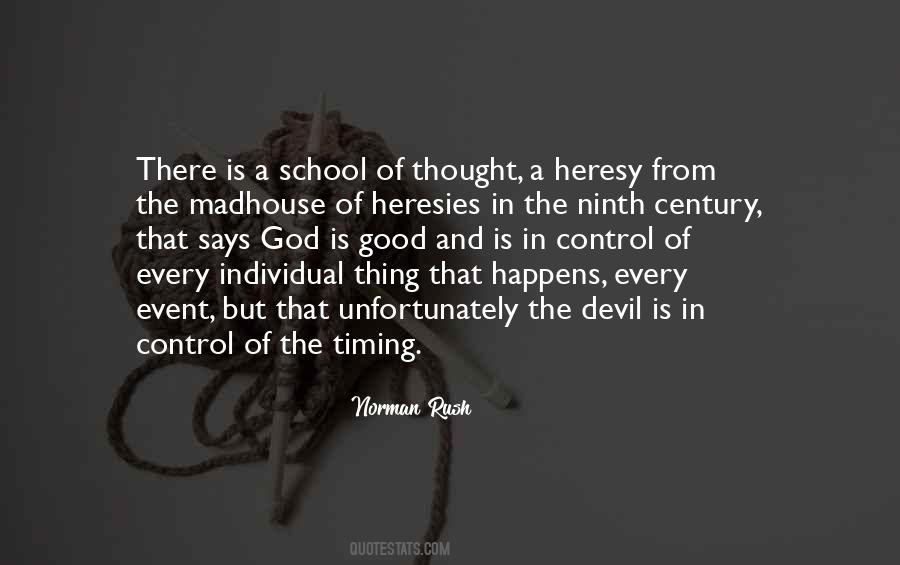 #75. A man with a good wife is the luckiest of God's creatures ... - Author: Stephen King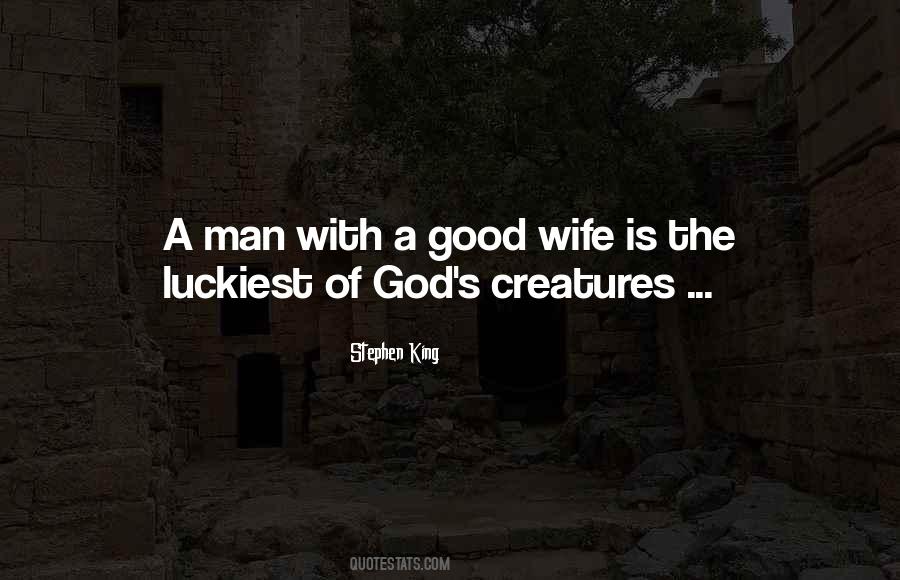 #76. If God is in fact separated from the government, then we can never possibly have a godly government. There's no way for America to be good if she's not godly. - Author: Joyce Meyer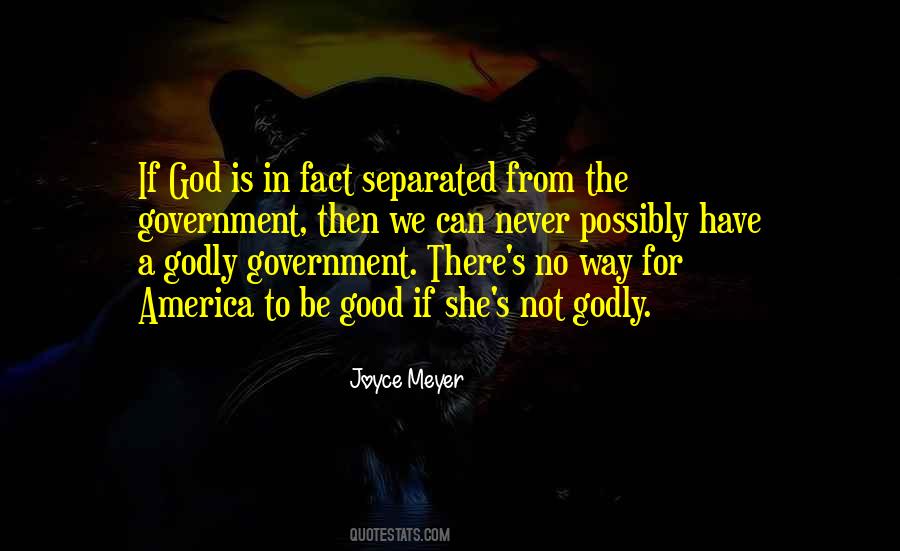 #77. I think something innate in us understands that seeking the good of society is usually best for the individual as well. Humankind is noble, when we give it the chance to be. That nobility is something that exists independent of any god's decree. - Author: Brandon Sanderson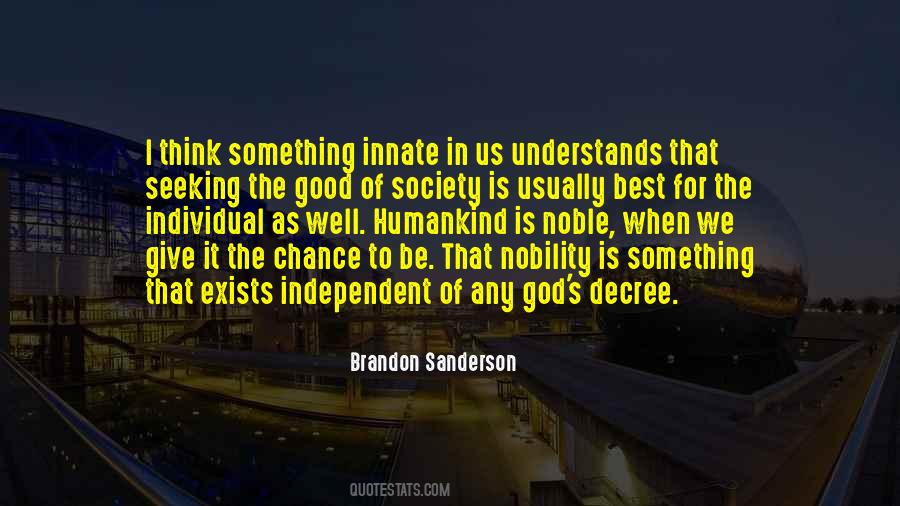 #78. Good God, is the man a heathen?'

'Worse, a capitalist with pretensions of culture. - Author: Melanie Jackson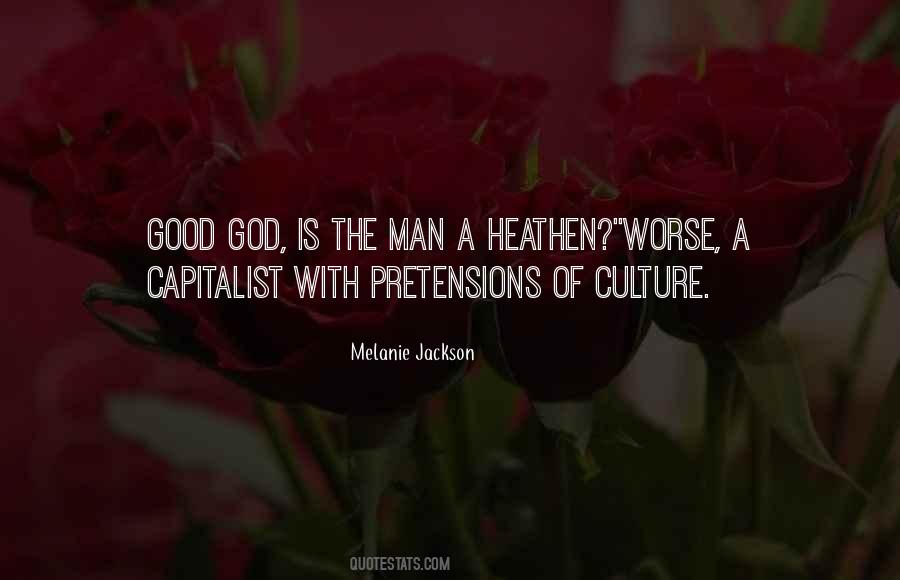 #79. The gospel, in the New Testament, is the good news that God (the world's creator) is at last becoming king and that Jesus, whom this God raised from the dead, is the world's true lord. - Author: N. T. Wright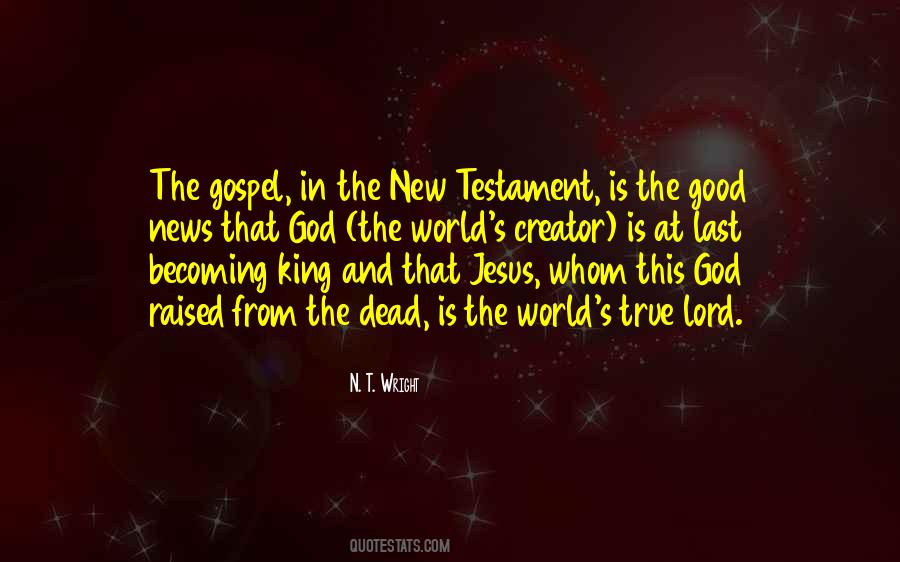 #80. But how good God is! How well He fits our trials to our strength! - Author: John Beevers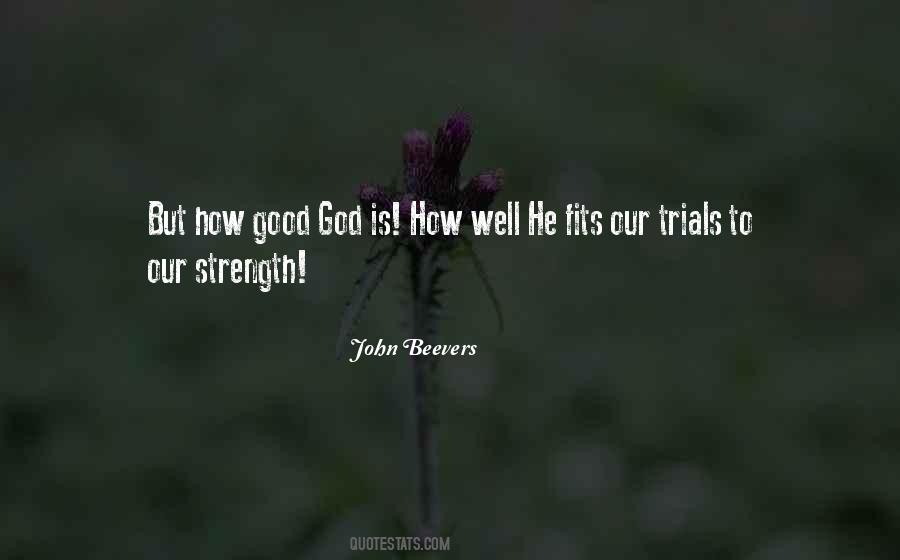 #81. Good God, man, what is that smell?" He eyed with disgust the doctor's filthy cloak.
"Life," answered the doctor. - Author: Rick Yancey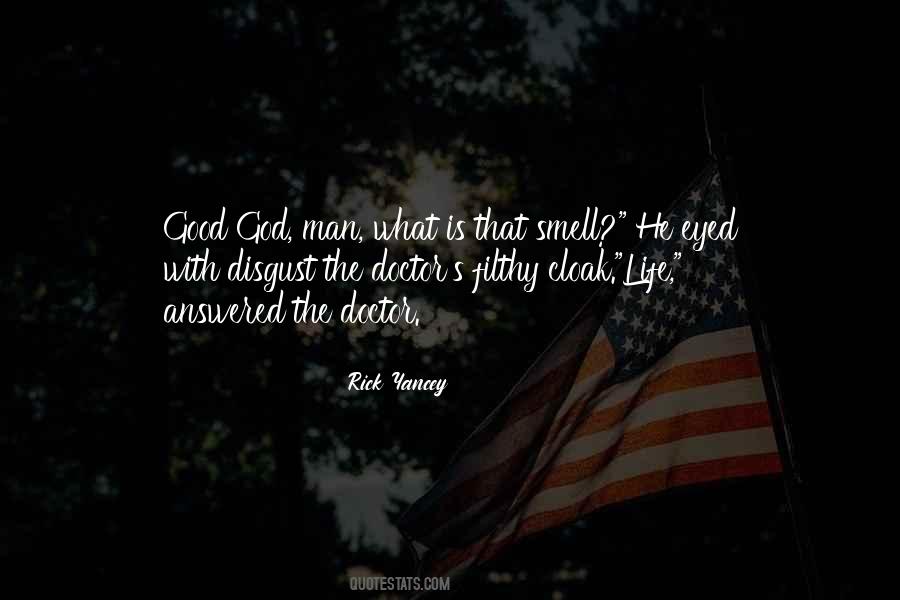 #82. Fighting [in defence] is ordained for you, abhorrent as it may be to you. You may dislike something although it is good for you, or like something although it is bad for you: God knows but you do not. - Author: Anonymous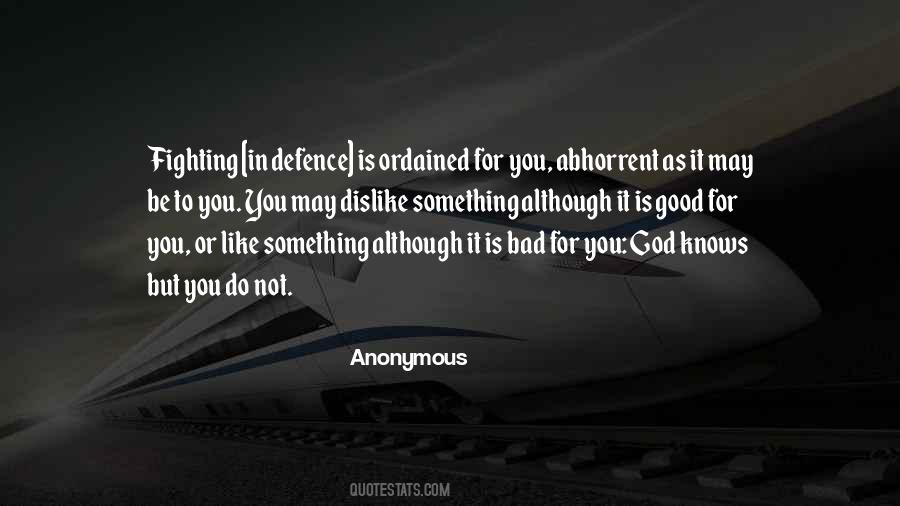 #83. When our embarrassment level is exceeded by our desperation level, we are a good candidate for God's grace. - Author: Peter Lord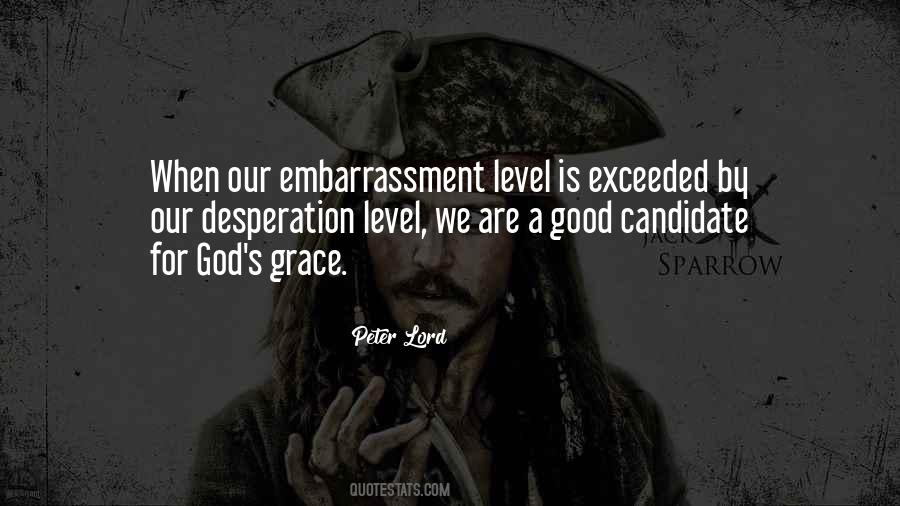 #84. A good education is that which prepares us for our future sphere of action and makes us contented with that situation in life in which God, in his infinite mercy, has seen fit to place us, to be perfectly resigned to our lot in life, whatever it may be. - Author: Ann Plato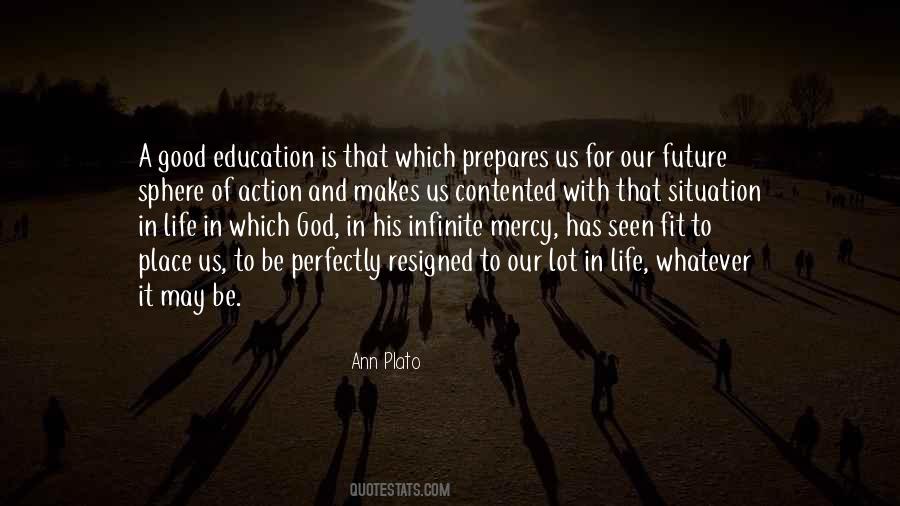 #85. When we have done our best, we also have to learn that we still need to rely on God. Our best - no matter how good - is incomplete if we leave God out of the picture. - Author: Ben Carson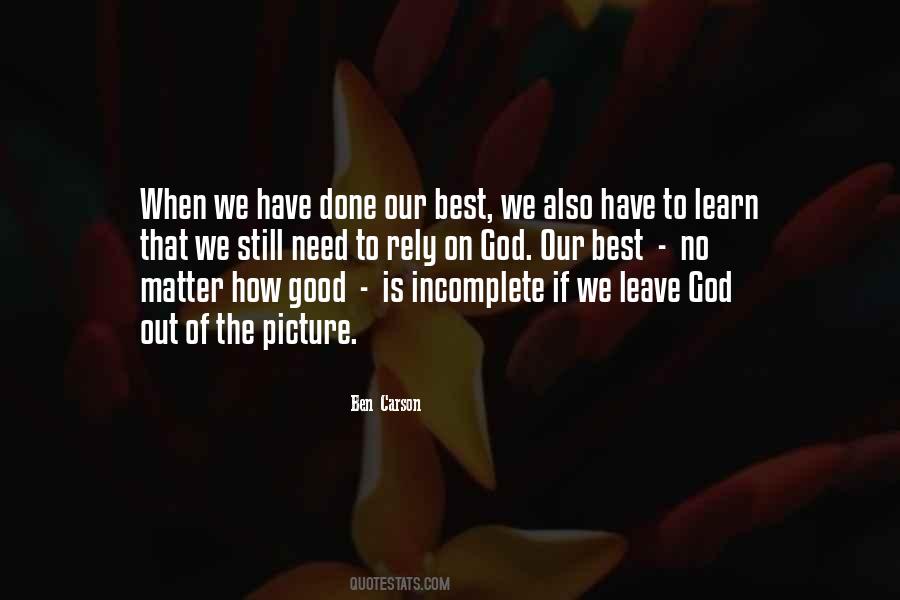 #86. If there is a good and wise God, then there also exists a progress of humanity toward perfection. - Author: Plato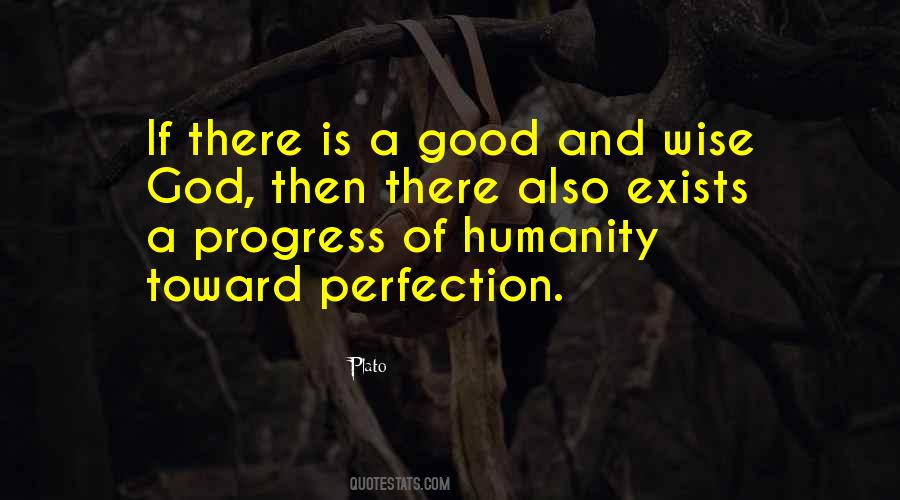 #87. It will not hurt either of you as long as you have health. And if that fails, God will provide for you in some way," said her father. "He is rich, and could give you more now if He saw that it would be good for you. Never forget that. - Author: Elizabeth Payson Prentiss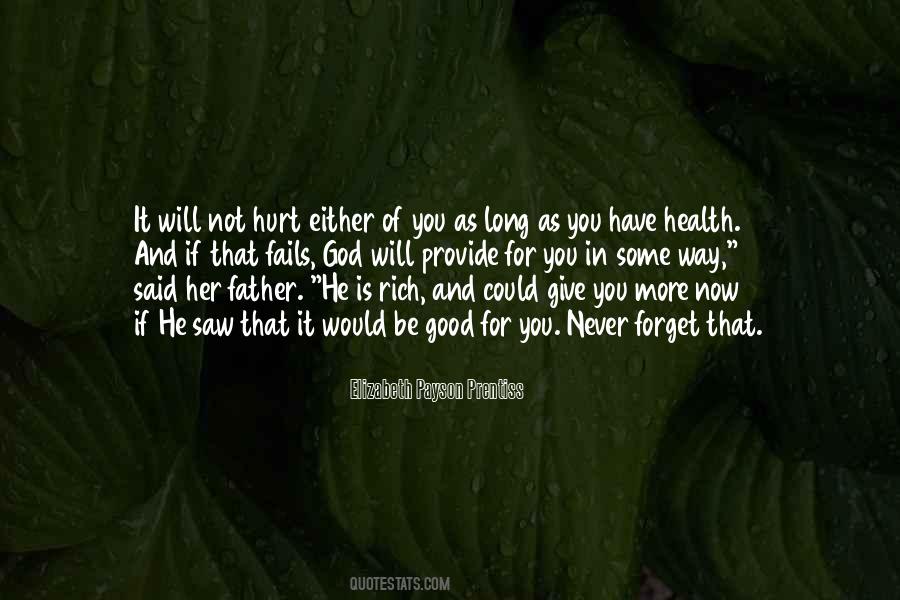 #88. The goal of work is not to gain wealth and possessions, but to serve the common good and bring glory to God. - Author: Richard J. Foster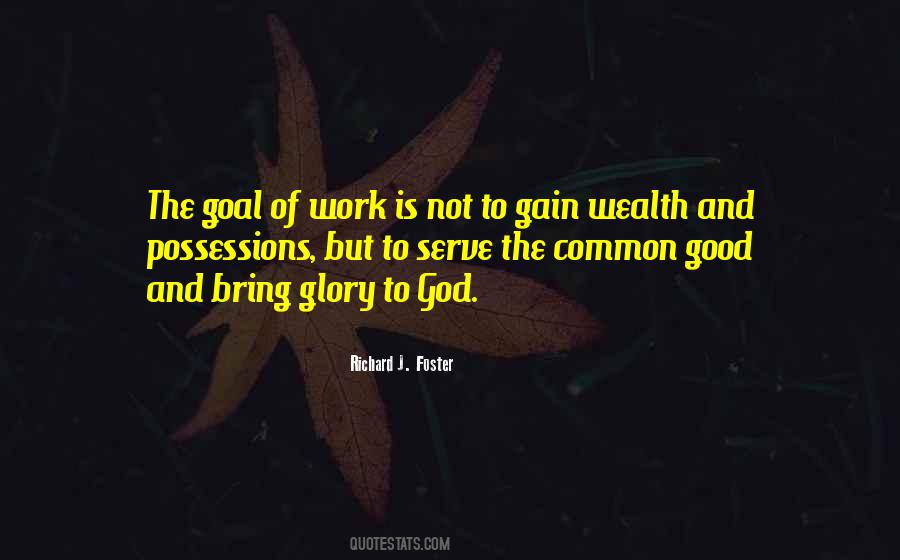 #89. God is all the good stuff. God equals love. - Author: Amy Harmon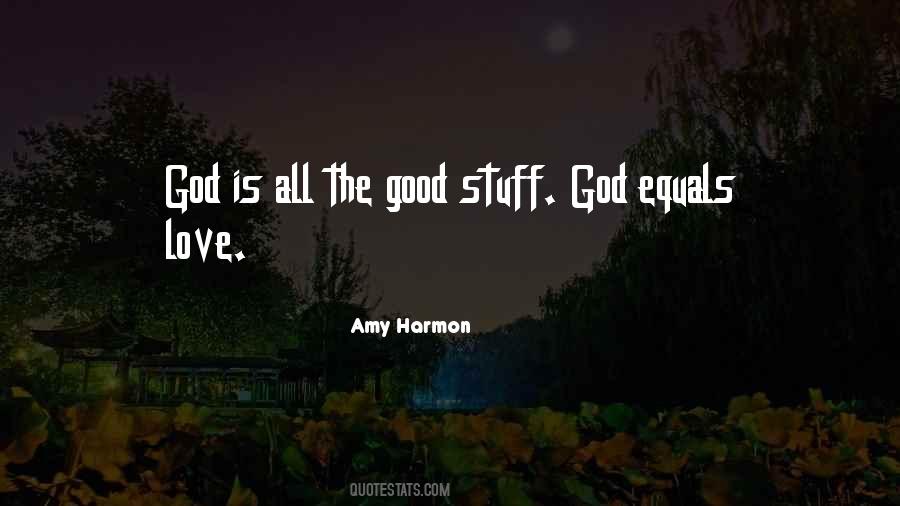 #90. It has ever been thus. The way is hard and narrow, it is true. But it is a path beaten smooth by the countless others who have gone before us. And good news! We do not have to walk it alone. God Himself is with us and has blessed us with friends for the journey. - Author: Stephen R. Lawhead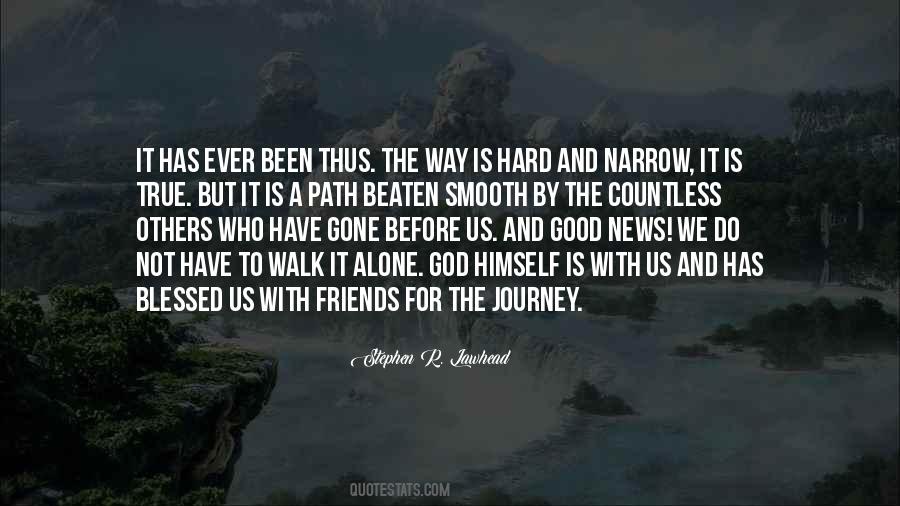 #91. God does not send the problem; genetics, chance, and bad luck do that. And God cannot make the problem go away, no matter how many prayers and good deeds we offer. What God does is promise us, I will be with you; you will feel burdened but you will never feel abandoned. In - Author: Harold S. Kushner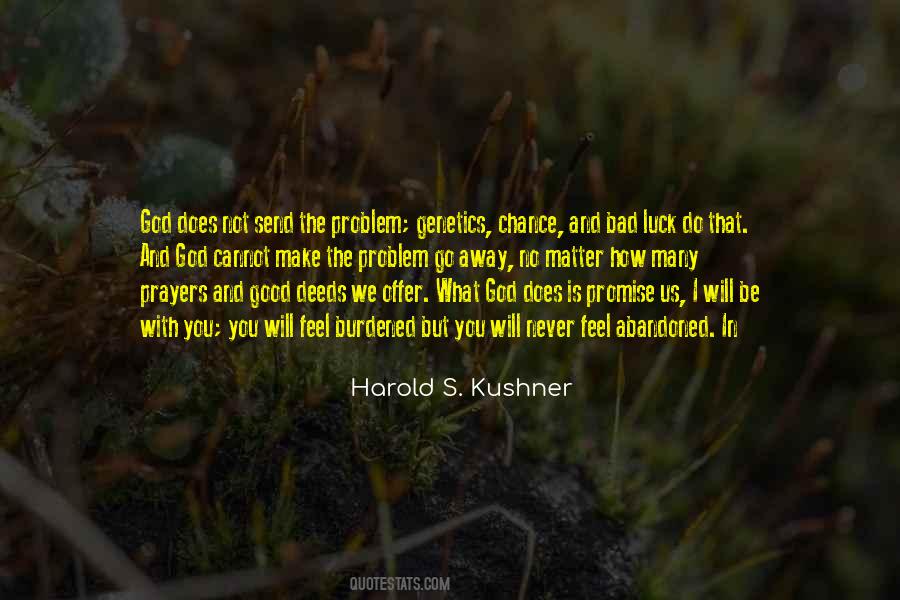 #92. When people think about 'thinking,' they often think 'academia;' they think 'threat.' They think 'coldness.' I want to reverse all those images and say, 'No, the brain God gave you is intended to throw fuel on the fire of your affections for God. It's really good at it if you let it.' - Author: John Piper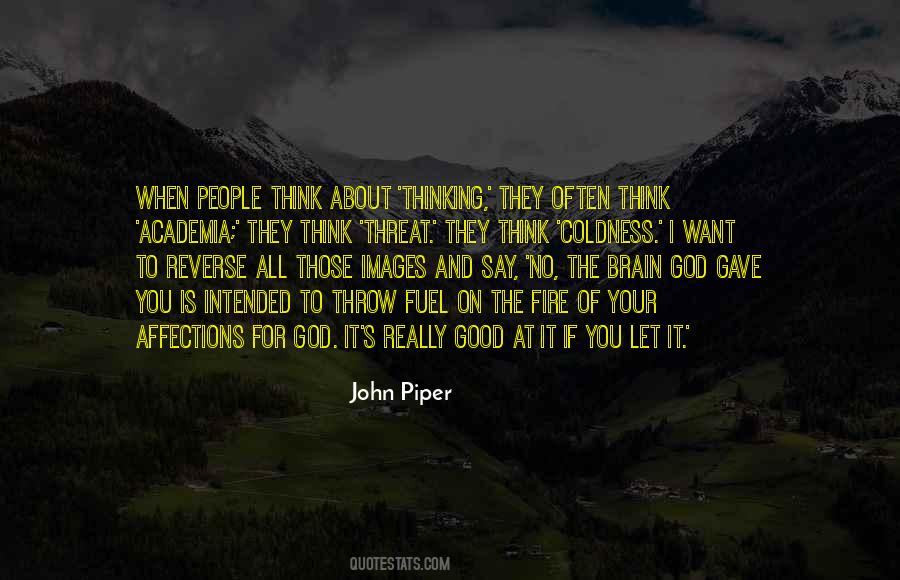 #93. Praise the LORD! For it is good to sing praises to our God; For it is pleasant, and praise is beautiful. - Author: John F. MacArthur Jr.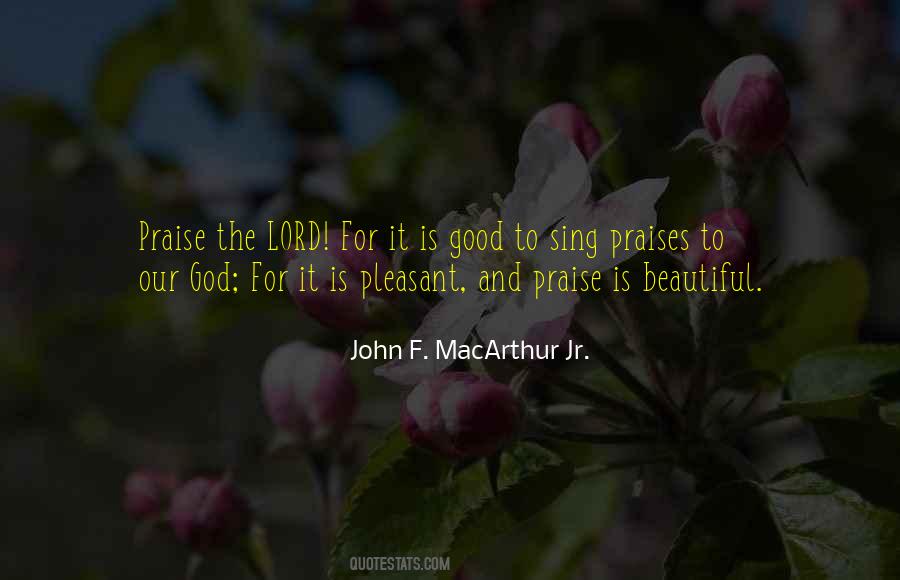 #94. When life is good, enjoy it. But when life is hard, remember:
God gives good times and hard times, and no one knows what tomorrow will bring. (Ecclesiastes 7:14, New Century Version) - Author: Anonymous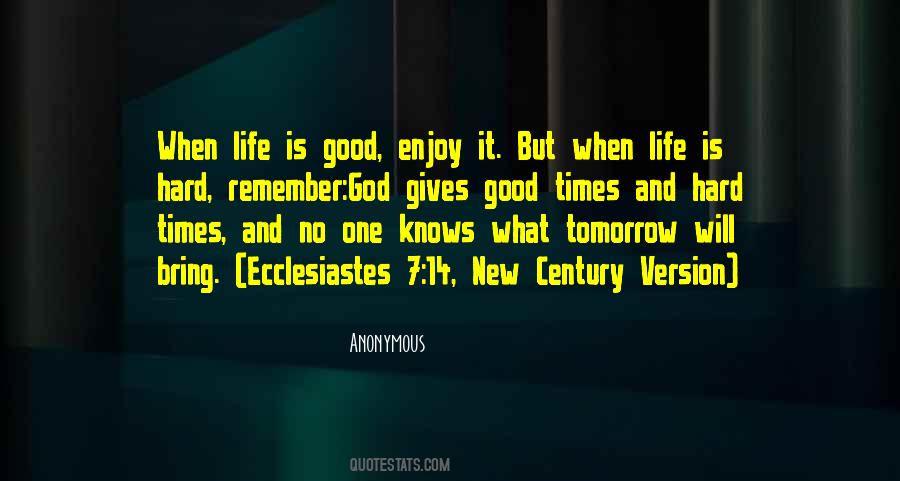 #95. Good God, it's like a burly pirate landed in my bed and is waiting for another round of debauchery. - Author: Kristen Callihan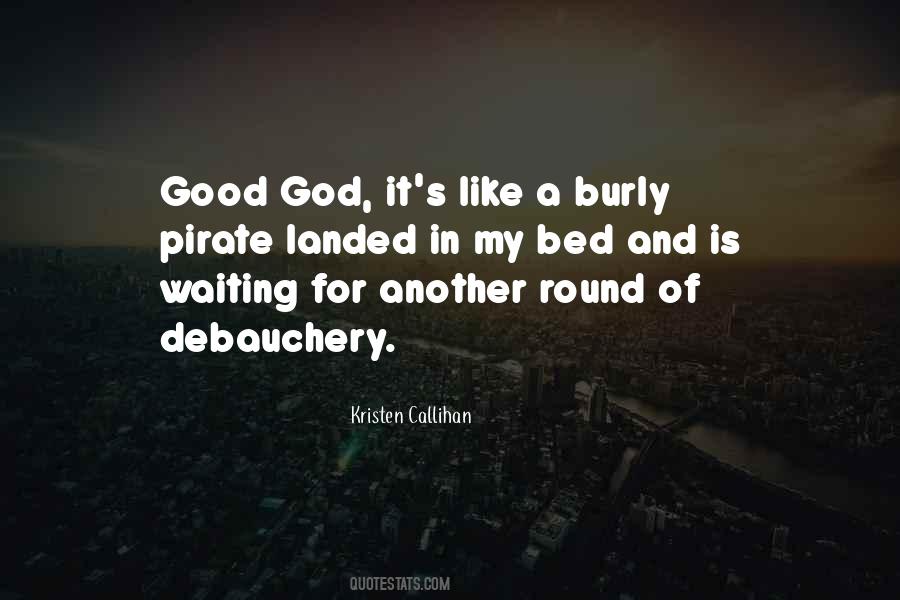 #96. Be strong and of good courage. do not fear of be afraid of them ; for the Lord your God, He is the One who goes with you. he will not leave you or forsake you. Deut.31:6. - Author: Anonymous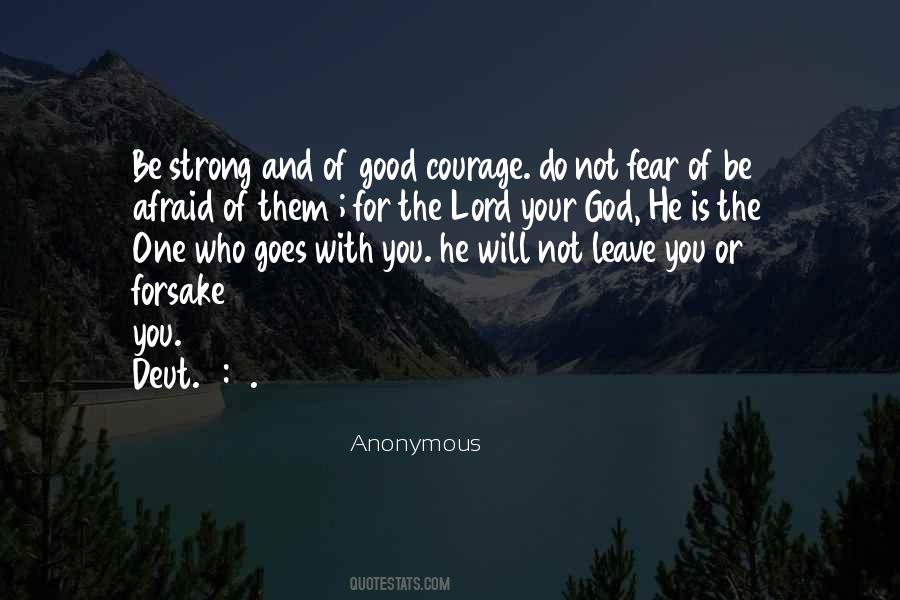 #97. God is not merely good, but goodness; goodness is not merely divine, but God. - Author: C.S. Lewis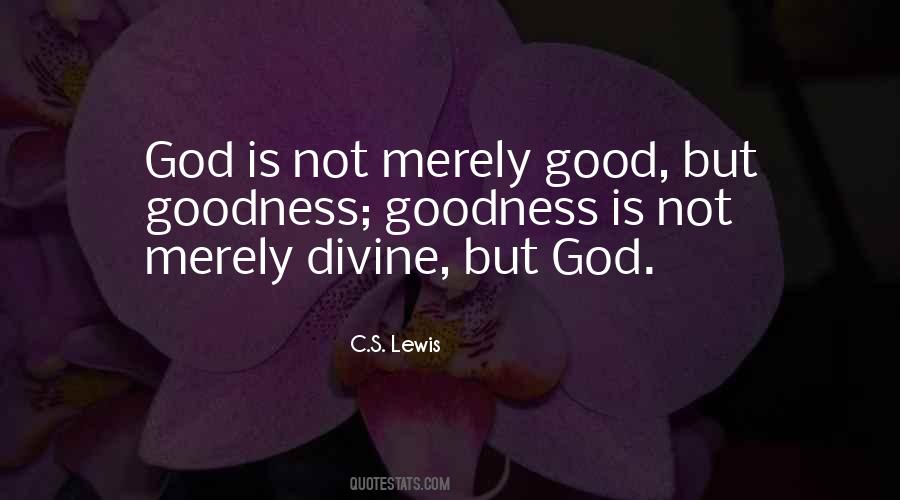 #98. God will save whomever He chooses to save. The Christian should proselytize not because he thinks he can change everybody; he should proselytize because the Gospel being shared is the ultimate act of love: because he thinks he can love everybody. - Author: Criss Jami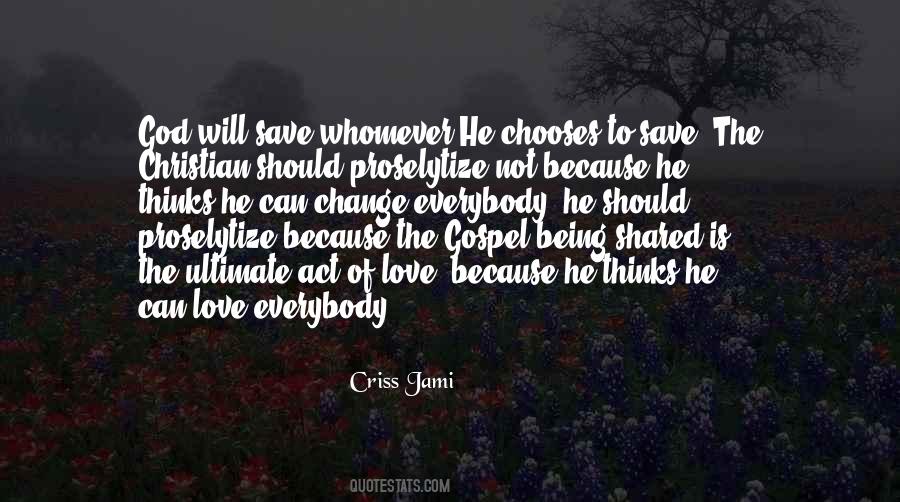 #99. In every person there is a soul, In every soul there is intelligence, In every intelligence there is thought, In every thought there is either good or evil, In every evil there is death, In every good there is life, In every life there is God. - Author: Stephen R. Lawhead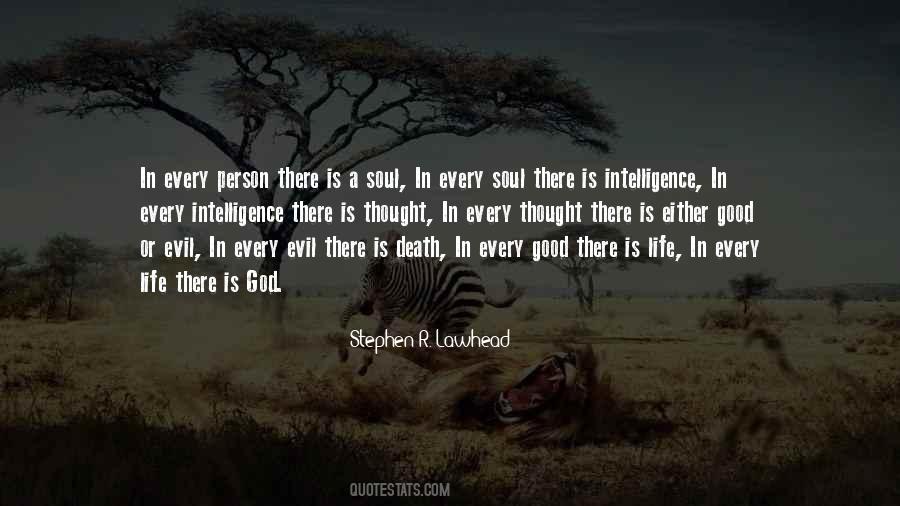 #100. Mom says good health is like buying an appliance at a garage sale. You do the best you can to make sure it's in good shape and then leave the rest to God. - Author: Dandi Daley Mackall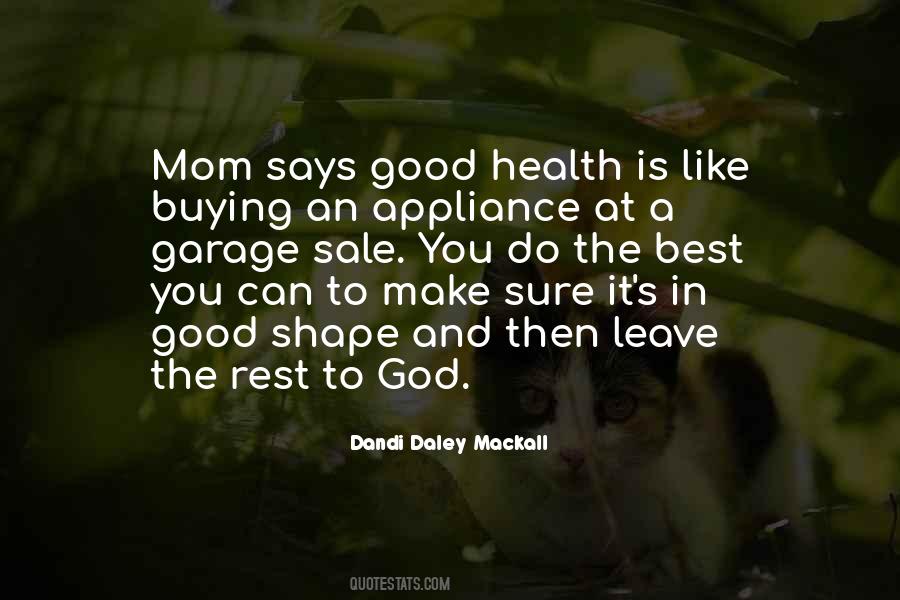 Famous Authors
Popular Topics