Feel Freedom Famous Quotes & Sayings
List of top 100 famous quotes and sayings about feel freedom to read and share with friends on your Facebook, Twitter, blogs.
Top 100 Feel Freedom Quotes
#1. I like working alone. I feel freer, less constrained. I know what I have to do and I try to do it. There are no superficial hangups. - Author: Oliver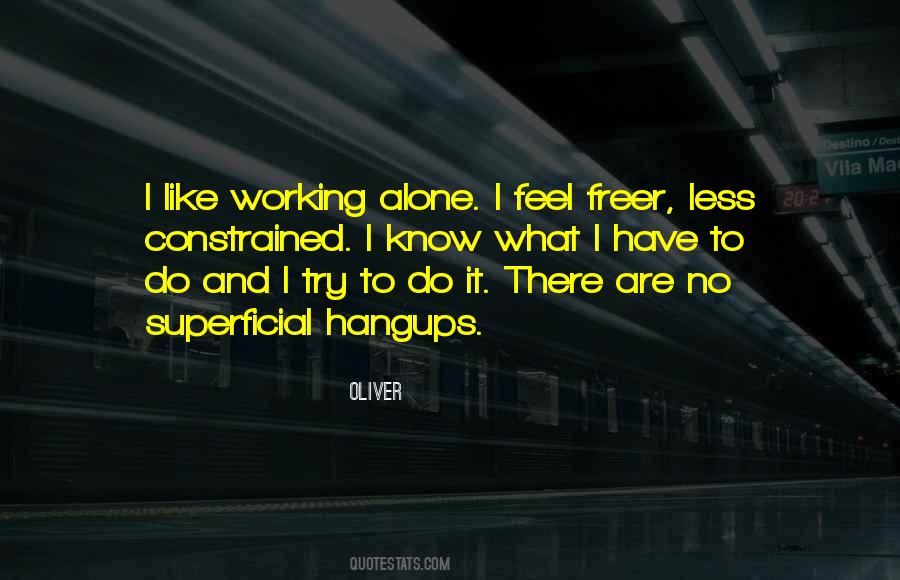 #2. As a very young person, I was ready and willing to explore and try new things, unhampered by the daily routines that adults so often feel obligated to adhere to. - Author: K. Martin Beckner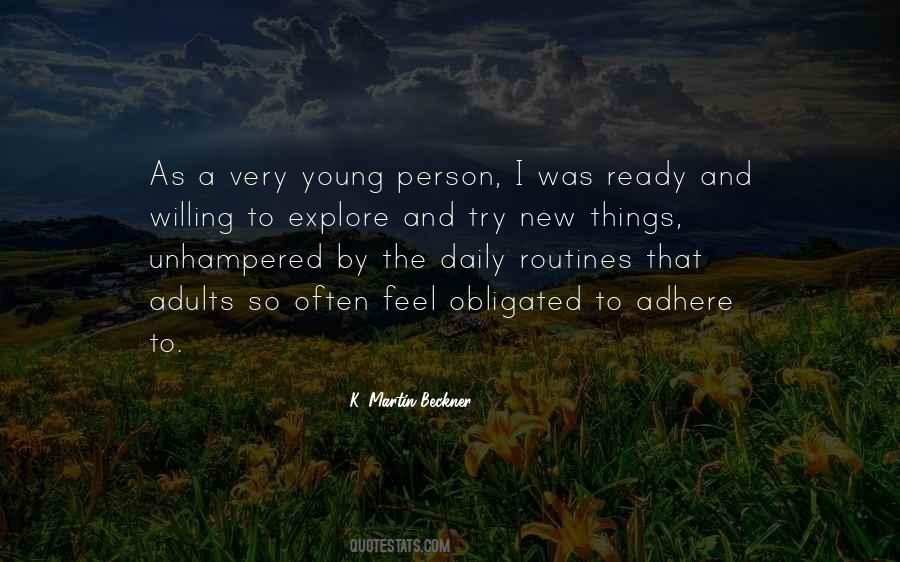 #3. It is the prime responsibility of every citizen to feel that his country is free and to defend its freedom is his duty. Every Indian should now forget that he is a Rajput, a Sikh or a Jat. He must remember that he is an Indian and he has every right in this country but with certain duties. - Author: Vallabhbhai Patel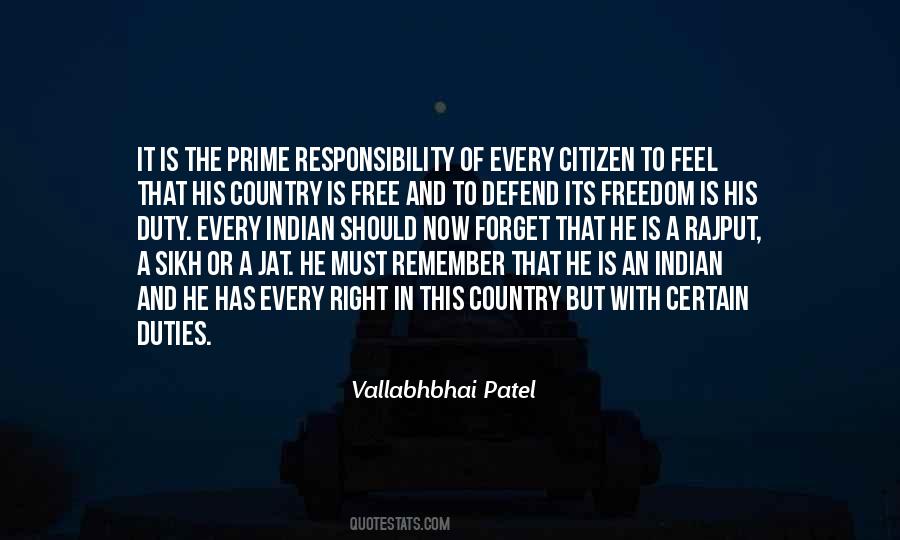 #4. After all these years, I feel so free. Who knows where I might fly? - Author: Kim Edwards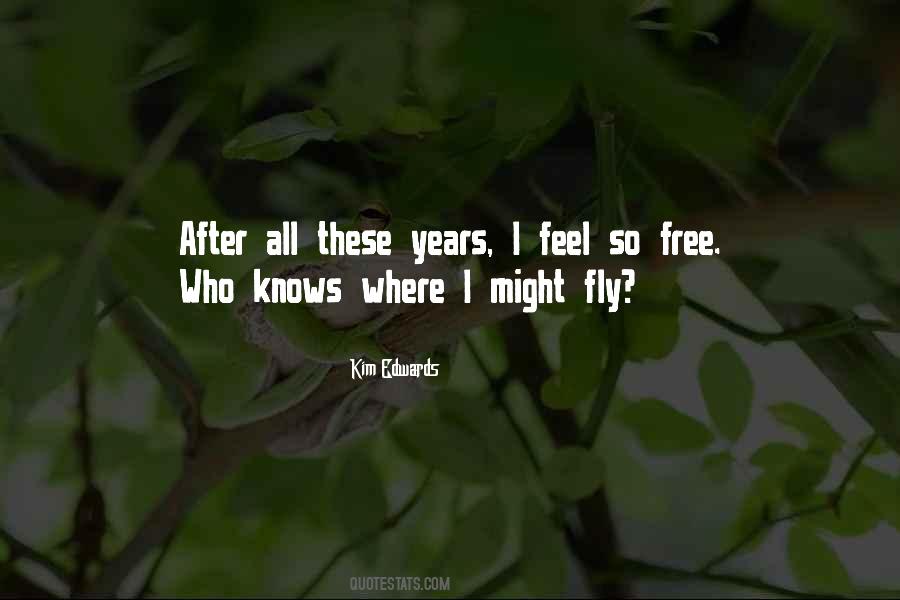 #5. I want people to feel the freedom to be themselves. - Author: Sophia Amoruso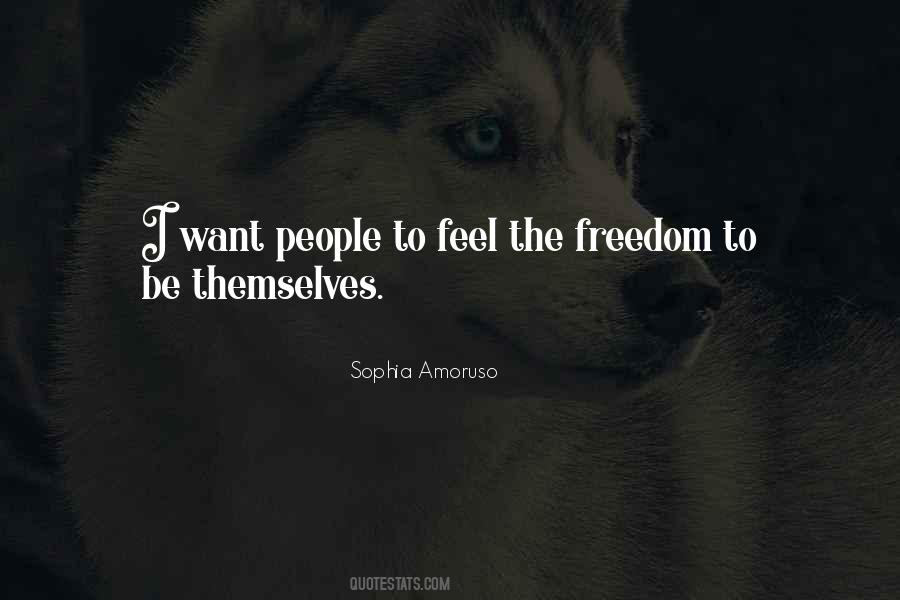 #6. Simply having the courage to say senseless things made me euphoric. I was free, with no need to seek or to give explanations for what I was doing. This freedom lifted me to the heavens - where greater love, one that forgives everything and never allows you to feel abandoned, once again enveloped me. - Author: Paulo Coelho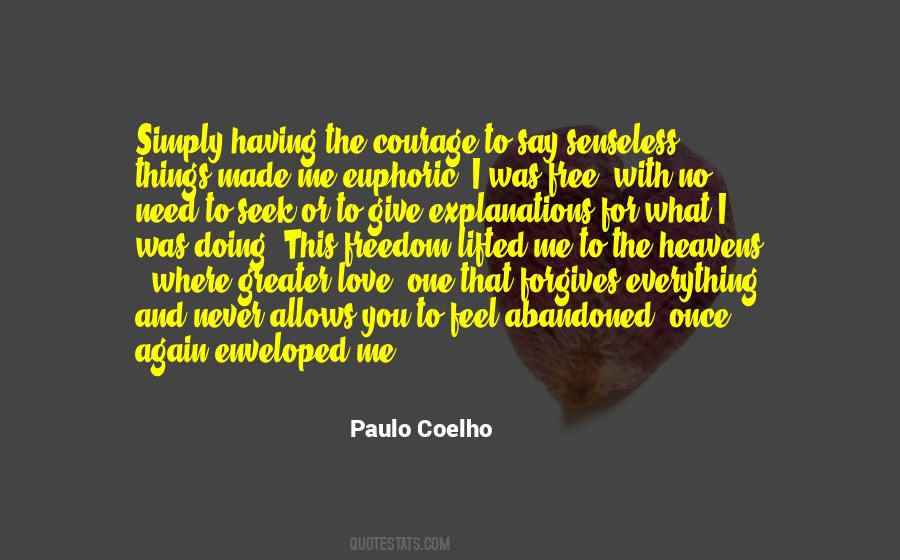 #7. There is an untroubled harmony in everything, a full consonance in nature; only in our illusory freedom do we feel at variance with it. - Author: Fyodor Tyutchev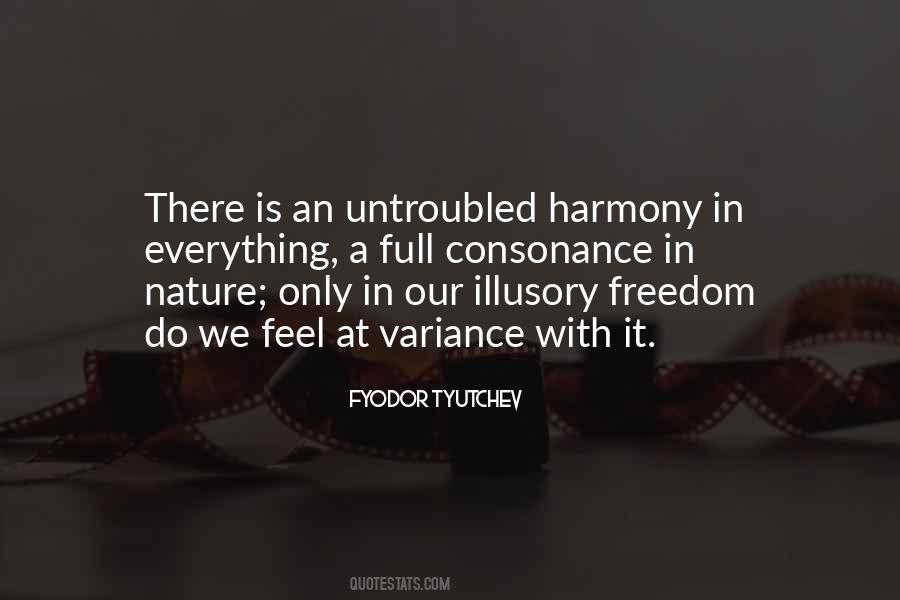 #8. Throughout my life, I've had different metaphors for freedom. At one time, it was skin diving. In the ocean you feel weightless; you escape from gravity. - Author: Sam Keen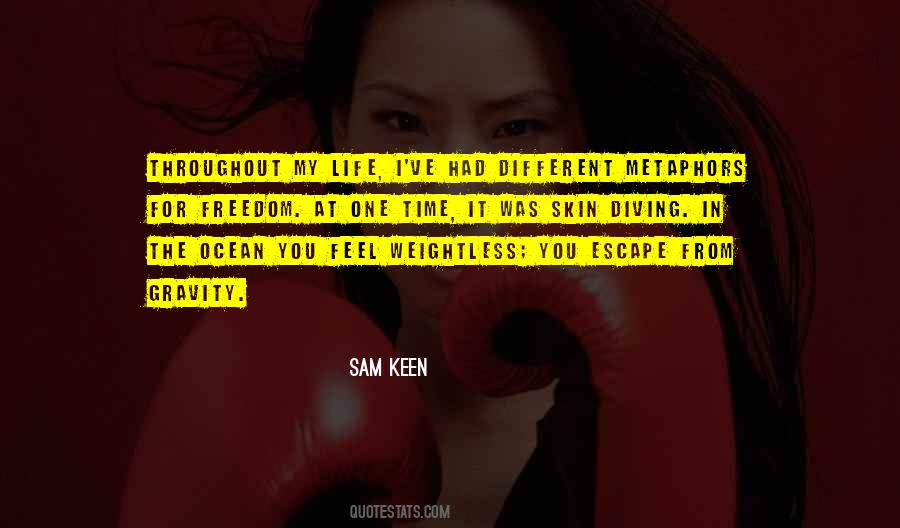 #9. I have to blame myself for not finding any way of reaching him, but I can't feel that either Ruth or I had anything much to do with his corruption.
His personal motives were freedom and pleasure, and he misread them both. - Author: Wallace Stegner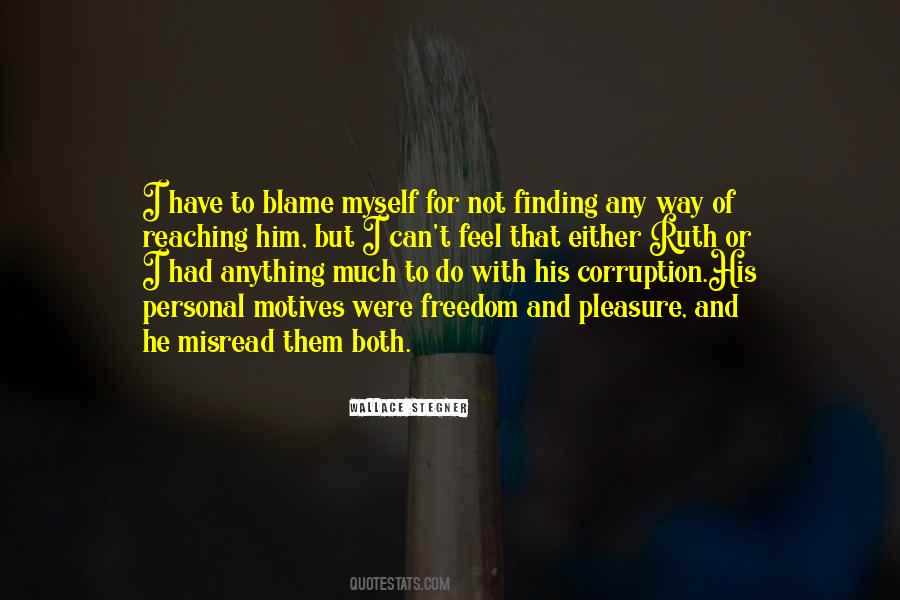 #10. When I feel like I'm doing my best work, there is a bit of a freedom, a bit of flight that you're not so much losing yourself but you're sort of in the zone. - Author: Chris Cooper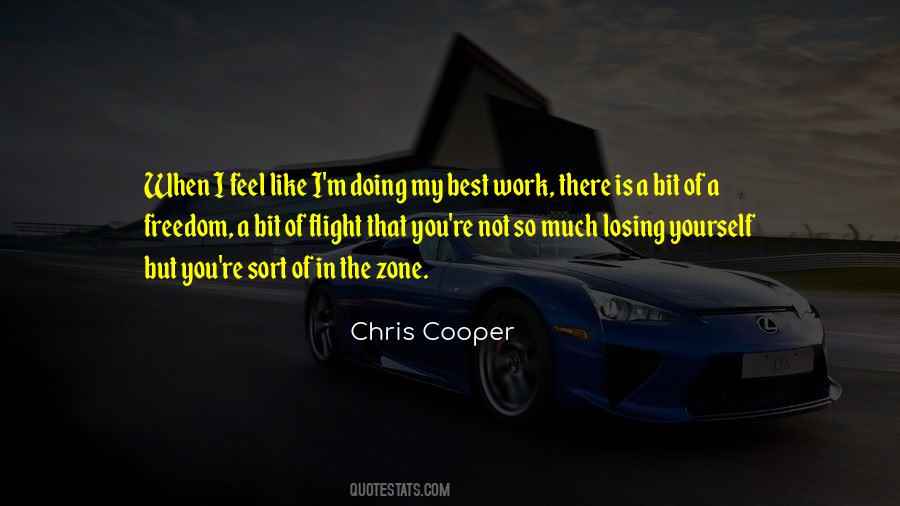 #11. freedom from programs that steal your private data. Freedom from programs that trash your battery. Freedom from porn. Yep, freedom. The times they are a changin', and some traditional PC folks feel like their world is slipping away. It is. - Author: Walter Isaacson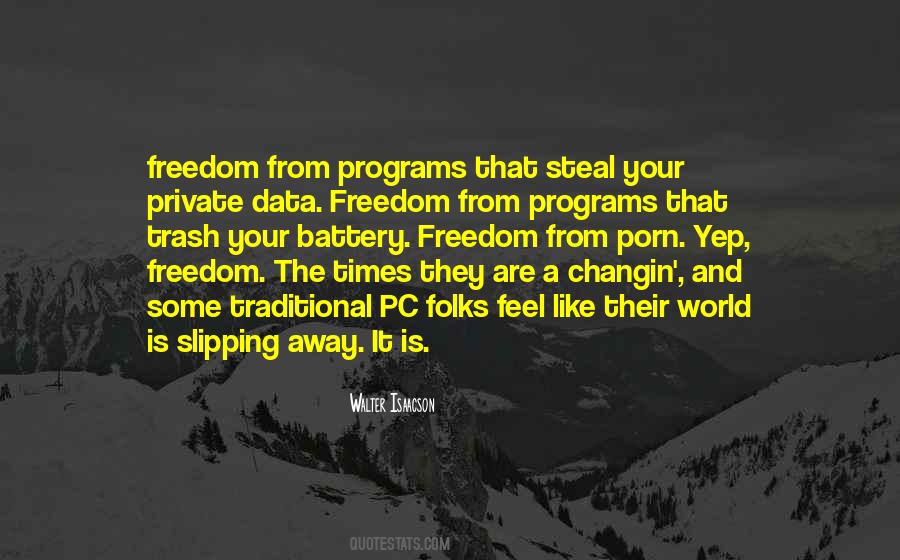 #12. There are two prerequisites to growing wings: the first is to feel encircled and the second is to believe that you can break the circle. - Author: Fatema Mernissi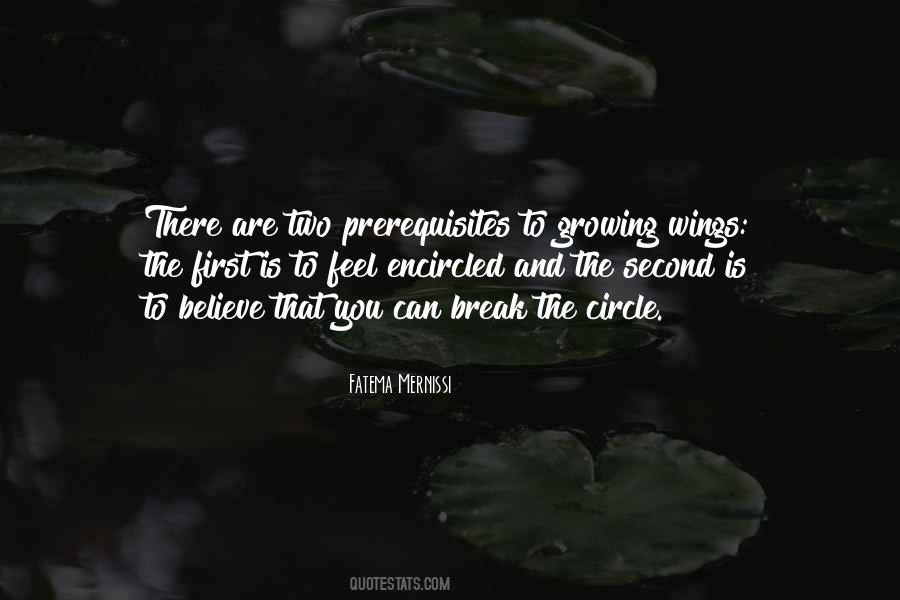 #13. I feel like freedom of speech is one of the great things in this country and the freedom to do what you feel is right. - Author: Taya Kyle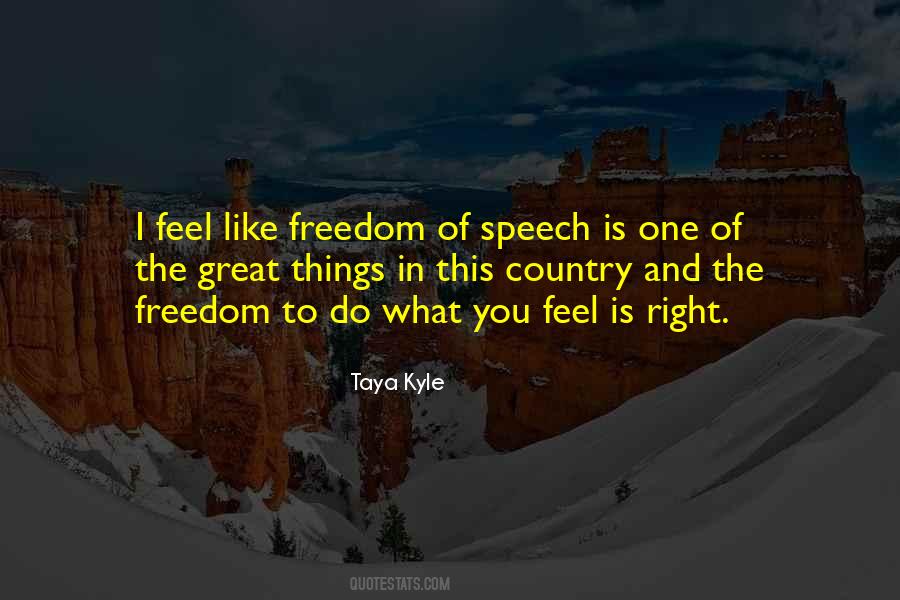 #14. Since Shakespeare had a feel for revolutionary rhetoric, let's all cry: "Peace, freedom and liberty! - Author: Carl William Brown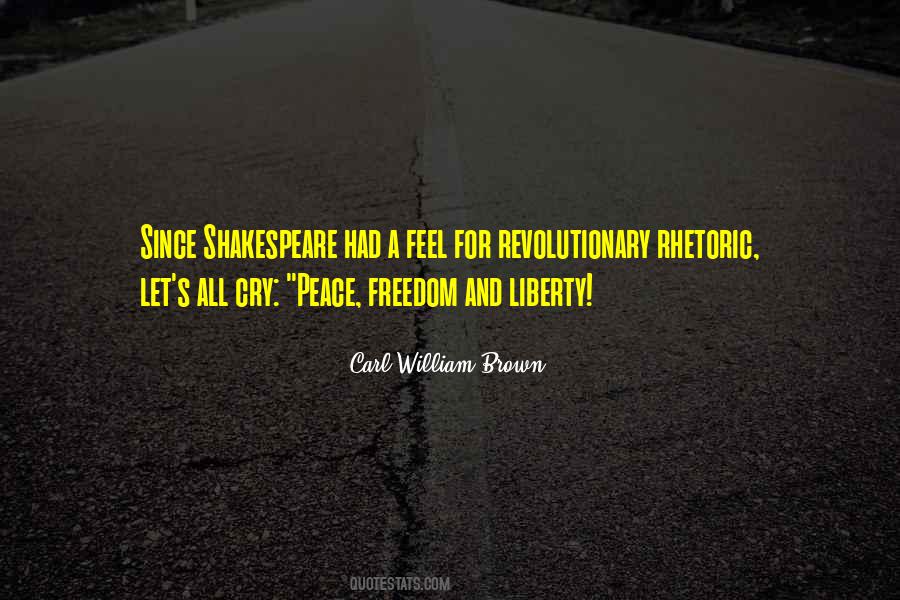 #15. I wish not to tell you how I feel,
I choose silence so that you leave,
Kiss me goodbye and set me free... - Author: Sanhita Baruah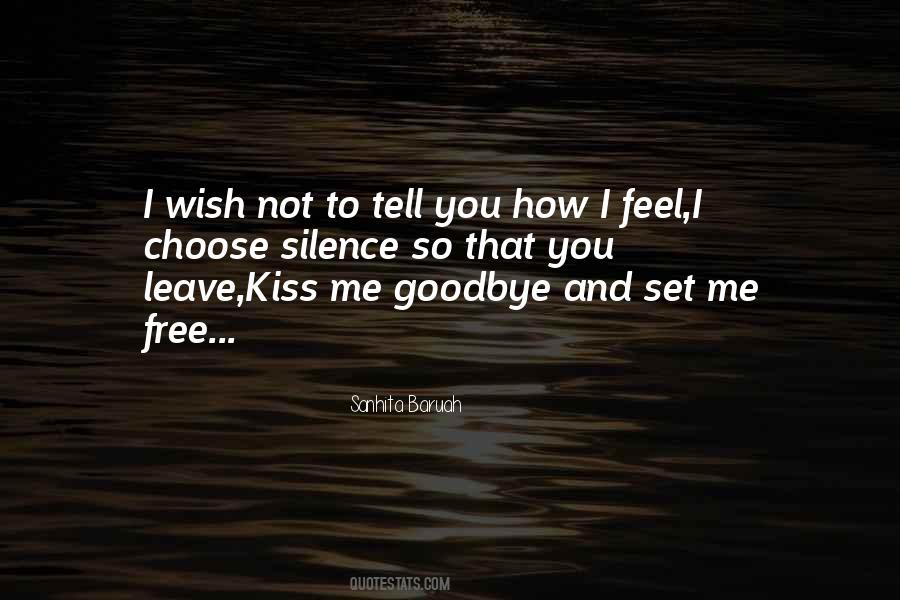 #16. A lot of people feel trapped by circumstance, by the expectations of others or the perception that they need a lot of money. They would like to have a different direction in their lives, but they're held back by fear or desires that are incompatible with that freedom. - Author: Roz Savage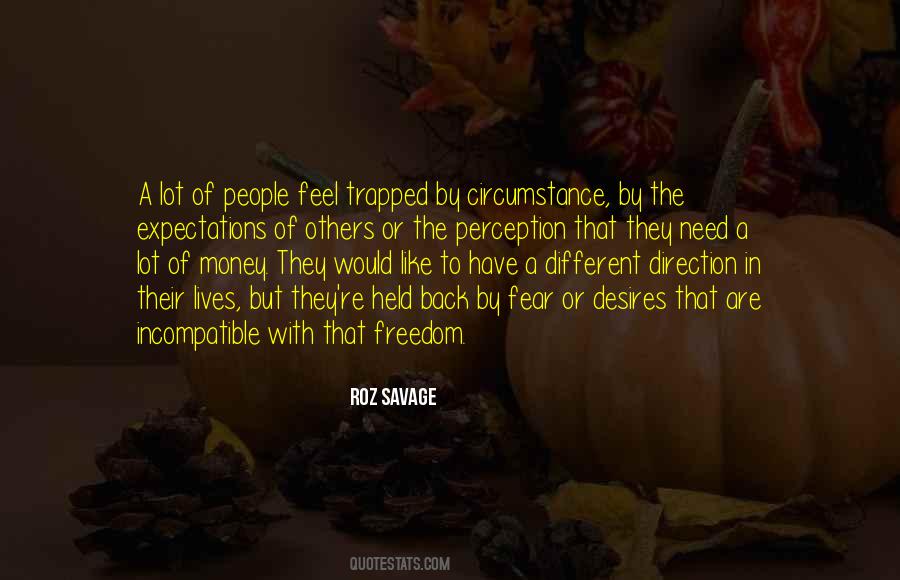 #17. A dark hand had let go its lifelong hold upon her heart. But she did not feel joy, as she had in the mountains. She put her head down in her arms and cried, and her cheeks were salt and wet. She cried for the waste of her years in bondage to a useless evil. She wept in pain, because she was free. - Author: Ursula K. Le Guin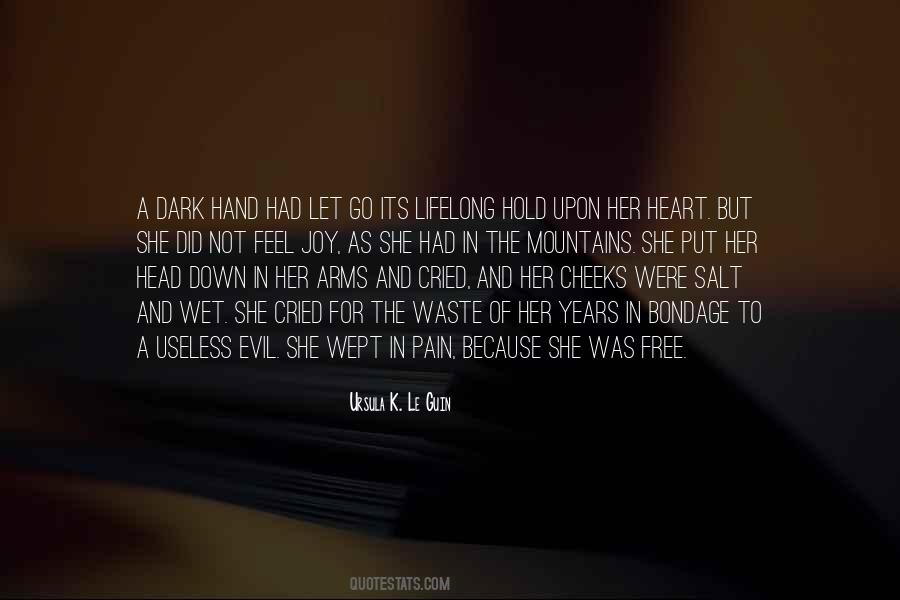 #18. You have riches and freedom here but I feel no sense of faith or direction. You have so many computers, why don't you use them in the search for love? - Author: Lech Walesa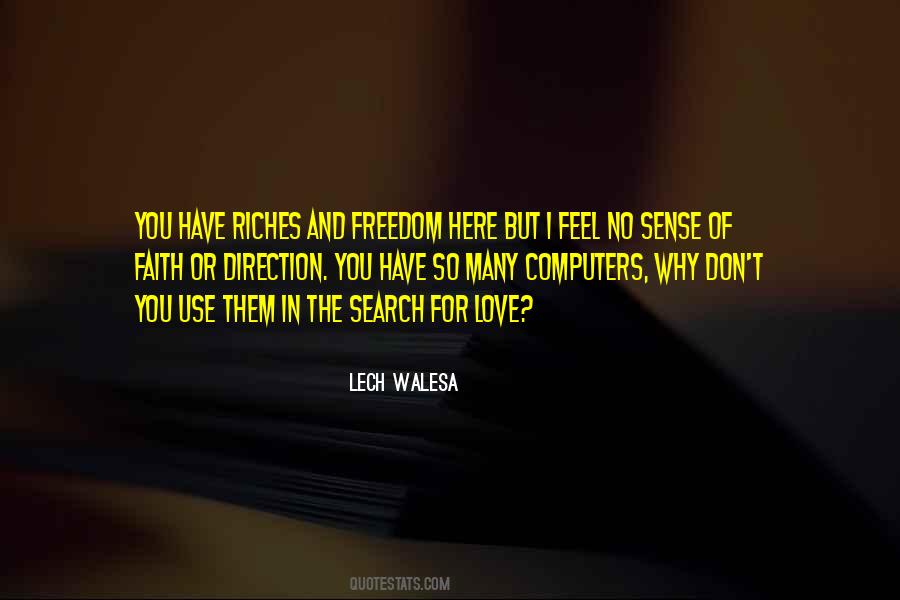 #19. I feel like there's a space of personal freedom for me where my art-making happens. When I go to that space, I'm completely in the world of possibility. - Author: Laura Owens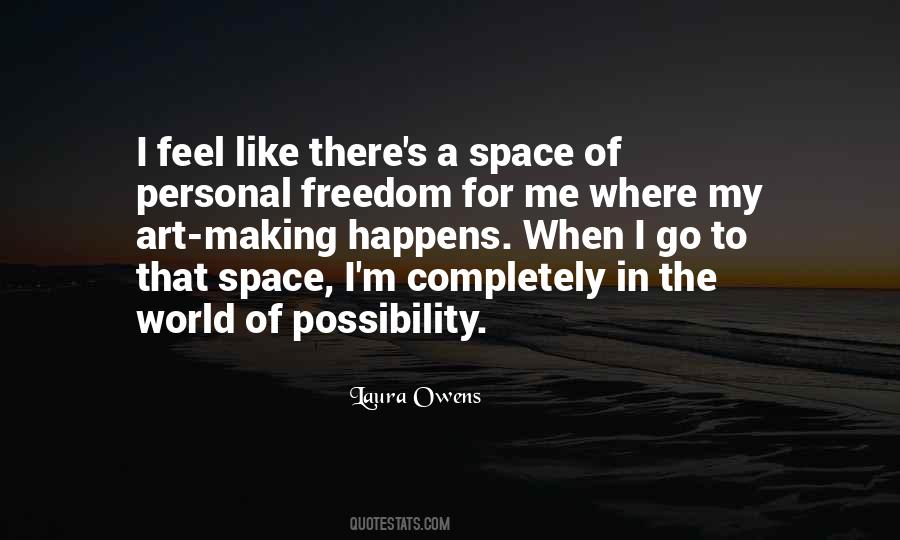 #20. I found out that total creativity involves a certain intellectual rebellion - not to become a criminal, but somehow. to be totally creating, you have to do things that are a little bit forbidden. You have to feel free, and we know freedom is a hard thing to get. - Author: Philippe Petit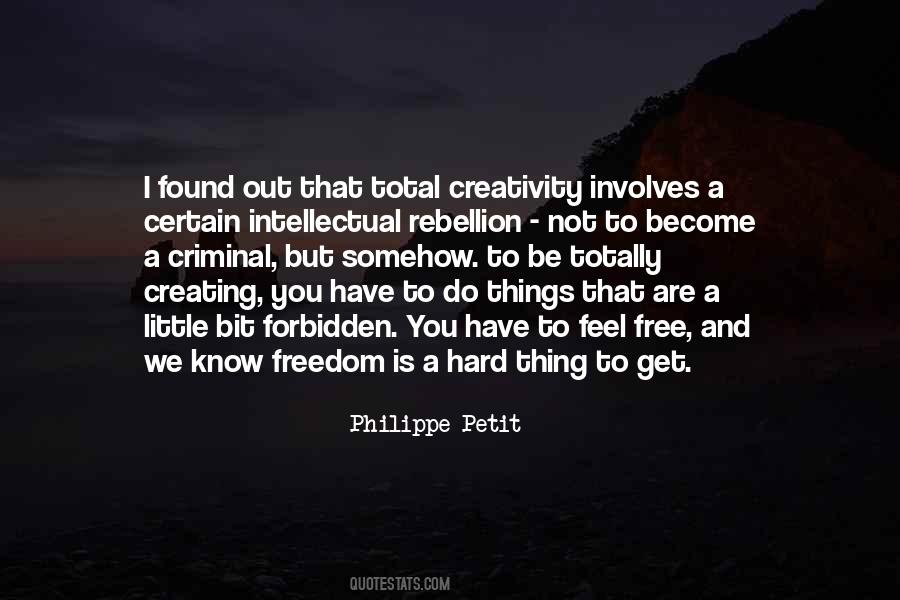 #21. Idea that you cannot control what happens to you, but you can control how you feel about it. Or, as Jean-Paul Sartre put it, Freedom is what you do with what's been done to you. - Author: Eula Biss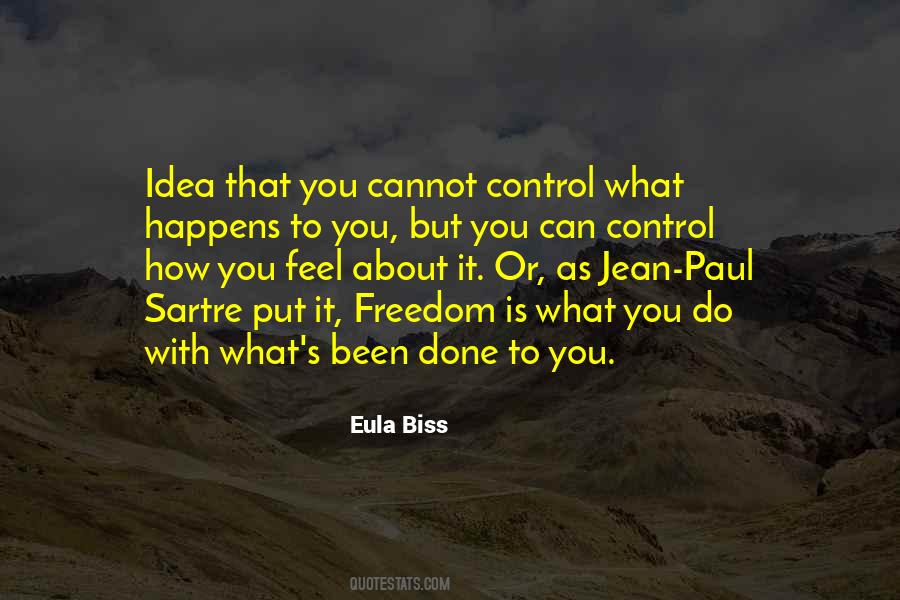 #22. Sometimes I feel I have more faith in European ideals than some of my British or French friends. For them, it's a financial burden. For me, Europe is primarily about values, about fundamental rights, freedom, women's rights. - Author: Elif Safak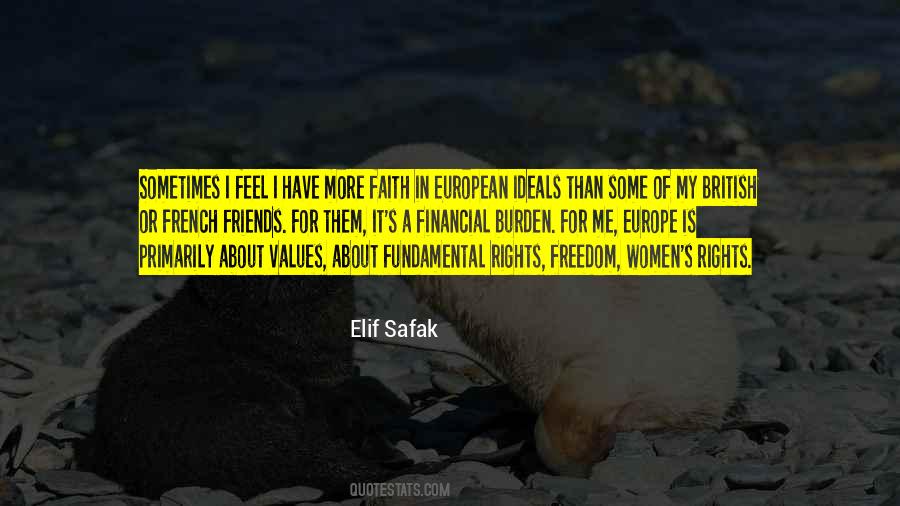 #23. I like recording by myself wherever I can, just because then I feel like I have ultimate freedom, and I can just control whatever I want to put down. There's something about going into your own little world. - Author: King Tuff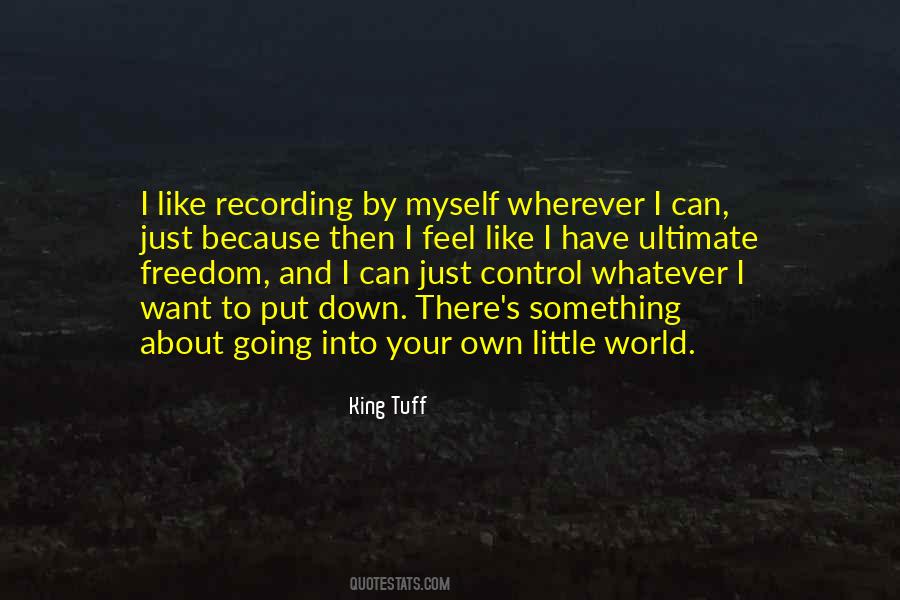 #24. Deep down many of us experience a vast discrepancy between what we're taught we should feel about sex and how we actually feel. - Author: Antonia Hall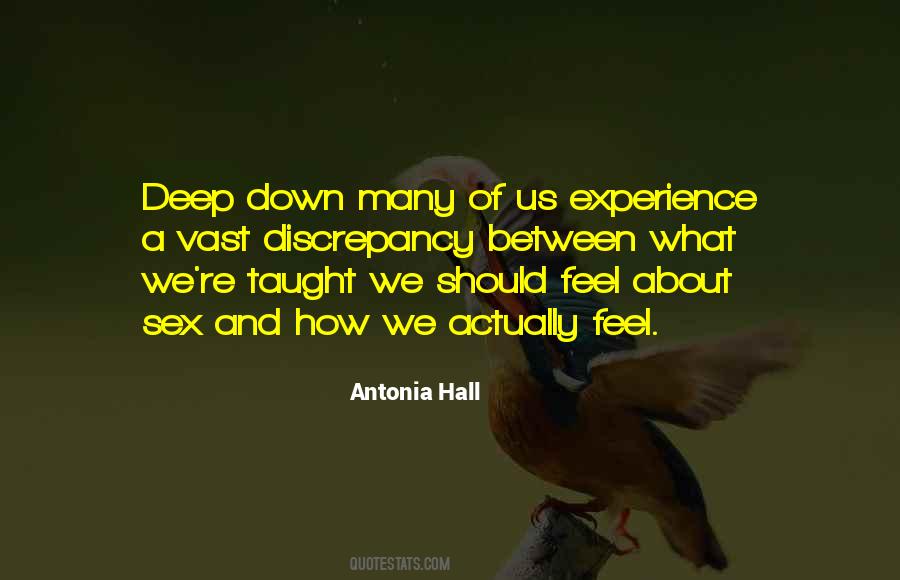 #25. It would be too frightening for me to consider myself a role model. But I like the idea of not being afraid of letting your imagination rule you, to feel the freedom of expression, to let creativity be your overwhelming drive rather than other things. - Author: Florence Welch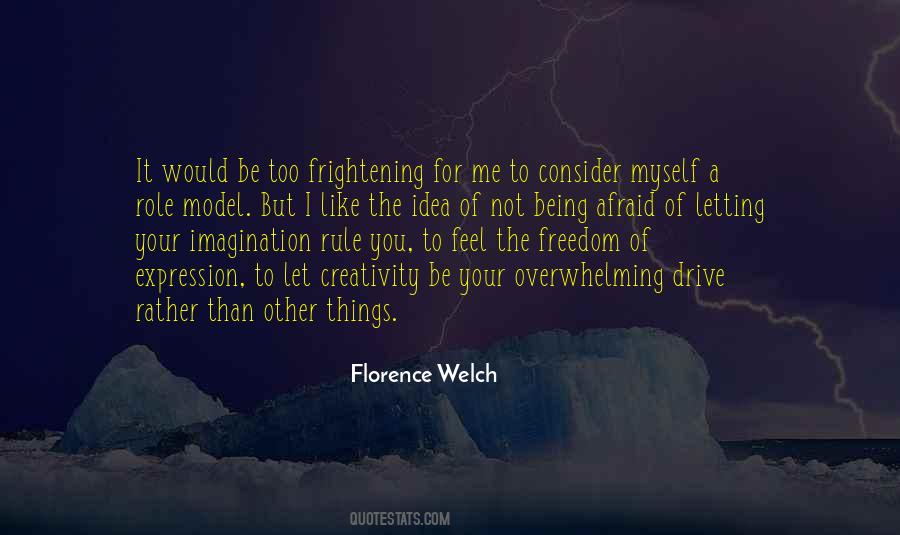 #26. Deliverance is not for me in renunciation. I feel the embrace of freedom in a thousand bonds of delight. - Author: Rabindranath Tagore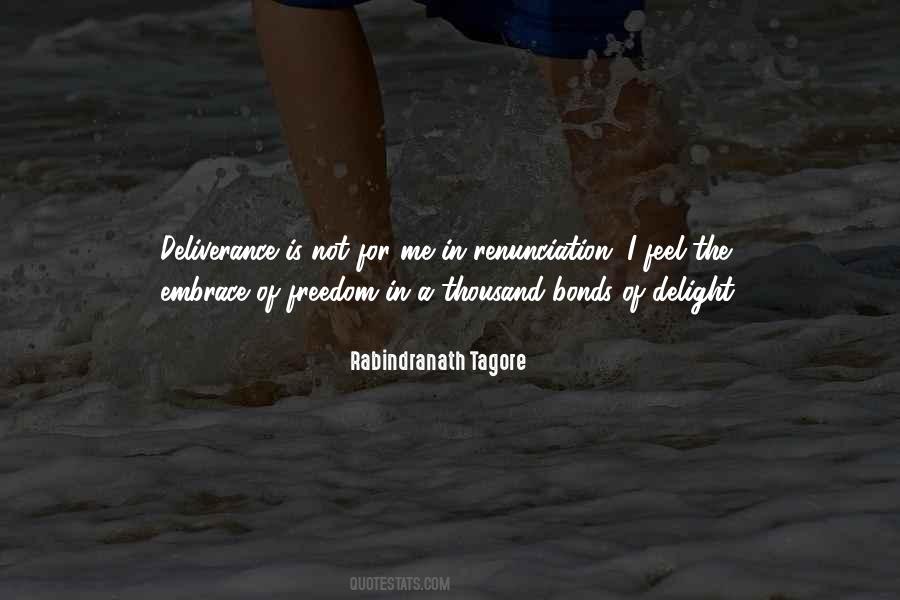 #27. There are three absolute freedoms that we have that no one can take away; freedom to think, freedom to love and freedom to feel the joys of life. - Author: Debasish Mridha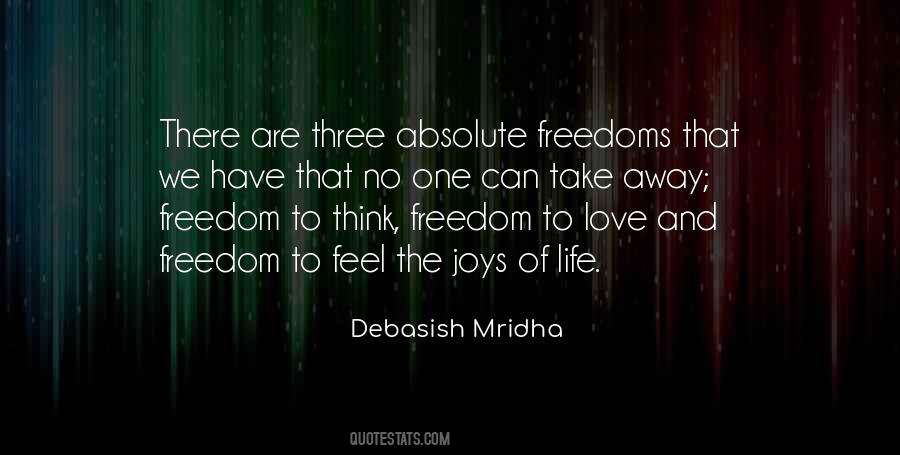 #28. I feel that, as an actor, you're constantly working to become better, which I love, but with painting, I can fail on my own terms. There's a freedom in that, so that's why I love to paint. - Author: J. August Richards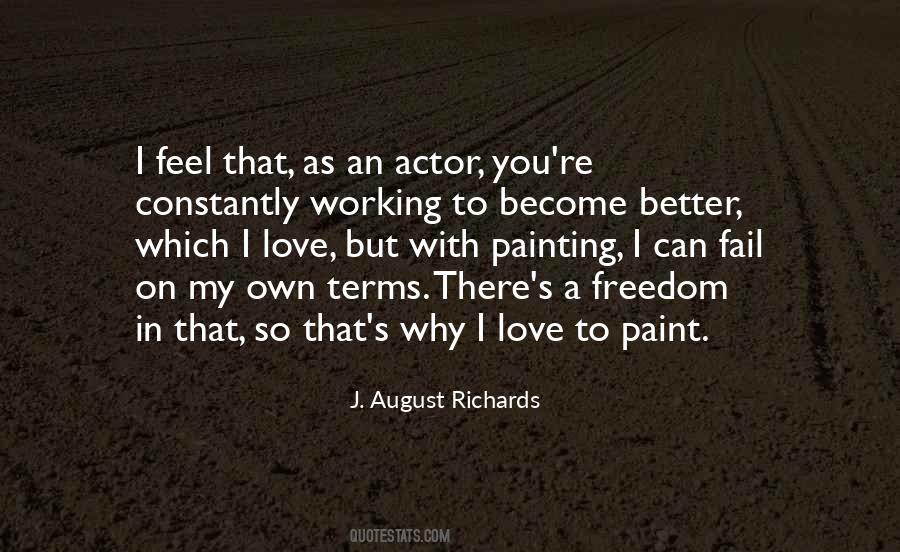 #29. I'm sort of a Freudian about theater; it's always a struggle between freedom and security, between 'Do I stay where I am with my family because I love them or do I follow the thing that makes my heart feel the greatest?' - Author: Bartlett Sher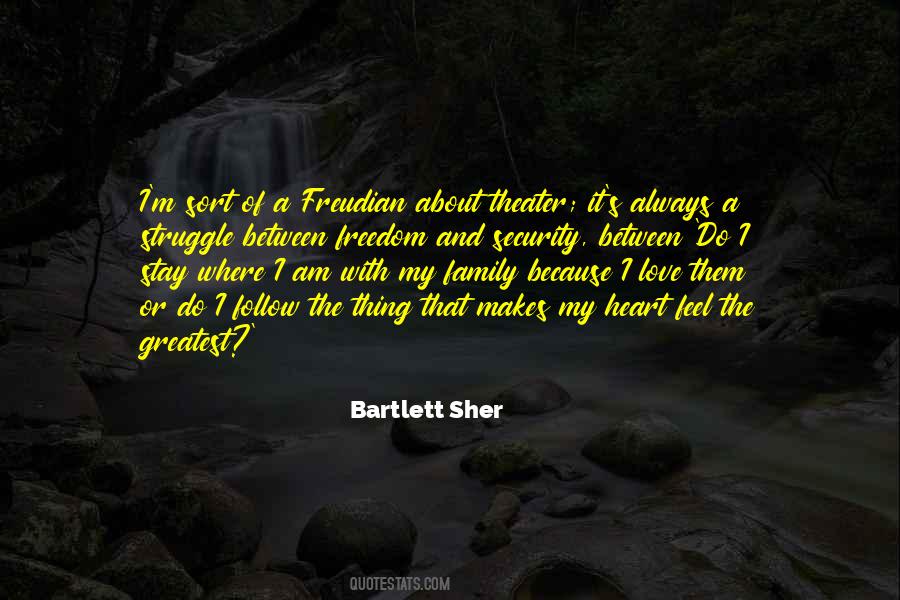 #30. If this is truly the time that will decide, we have no business refusing people who feel the way we do. No right to decide that they must huddle in their homes waiting to see if they are still slaves or not when the summer ends. - Author: Guy Gavriel Kay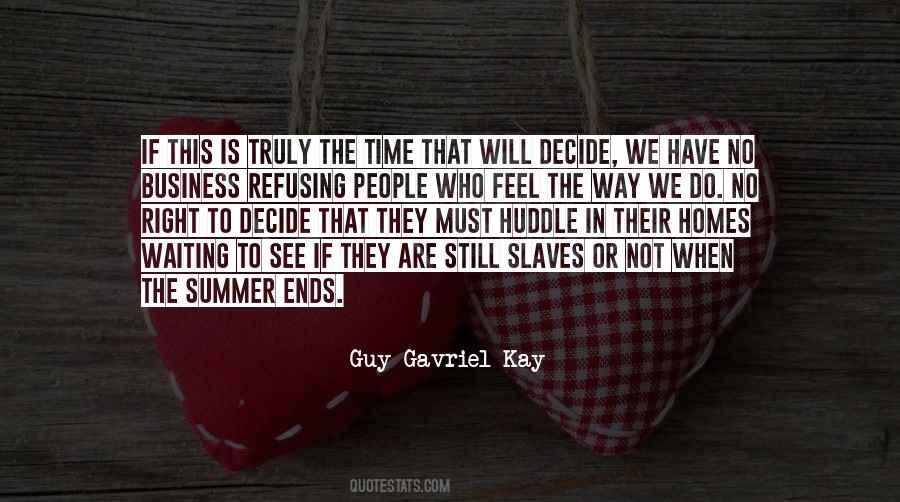 #31. I never thought that freedom would feel so much like grief. - Author: Rosamund Hodge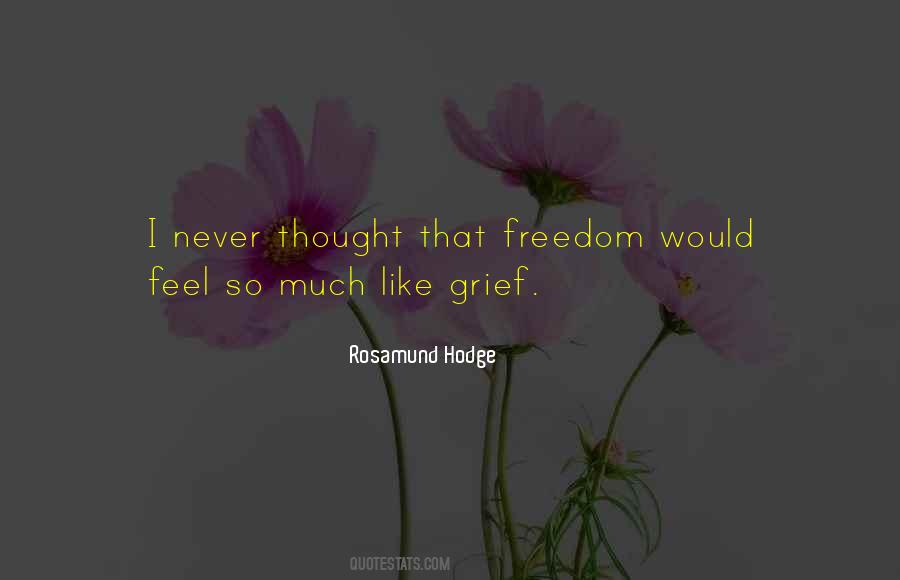 #32. Indeterminism does not confer freedom on us: I would feel that my freedom was impaired if I thought that a quantum mechanical trigger in my brain might cause me to leap into the garden and eat a slug - Author: J.J.C. Smart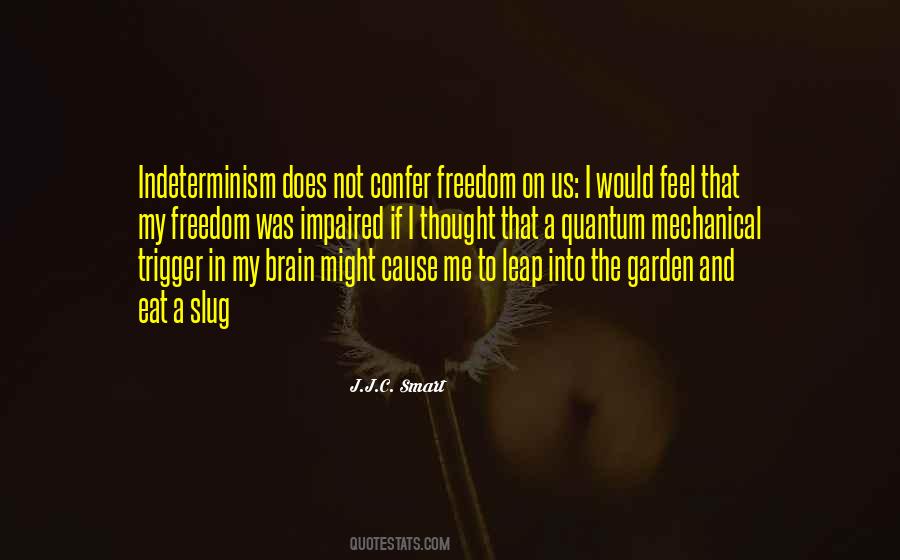 #33. The mission we are about is something that truly energises me. I feel that at Lockheed Martin we have the opportunity to make a difference ... supporting men and women fighting for our peace and freedom. - Author: Marillyn Hewson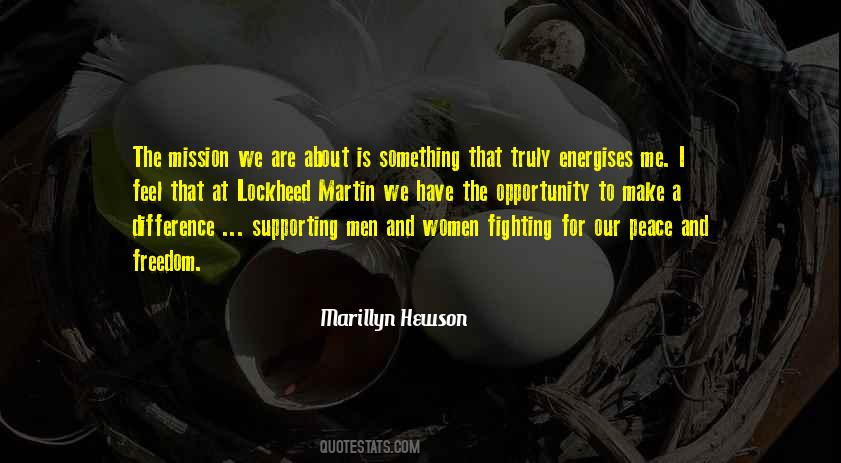 #34. There is also a false serenity that is not at all Christian. We need feel no shame as Christians about a measure of impatience, longing, protest against what is unnatural, and a strong measure of desire for freedom and earthly happiness and the capacity to effect change. In - Author: Dietrich Bonhoeffer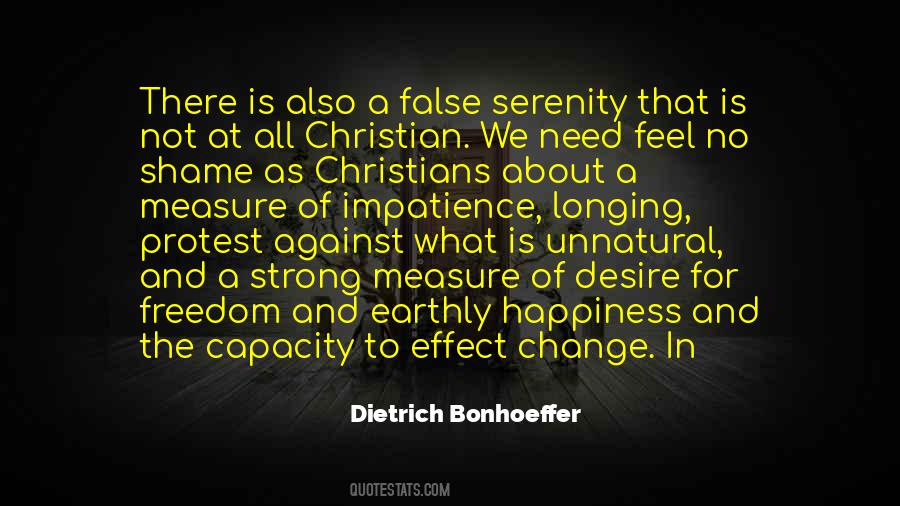 #35. I have such freedom when I'm living through a mask, and by contrast, can feel very exposed when a camera is capturing my real face. Kind of like the difference between walking out your front door in a sweater and jeans or in a Speedo. - Author: Doug Jones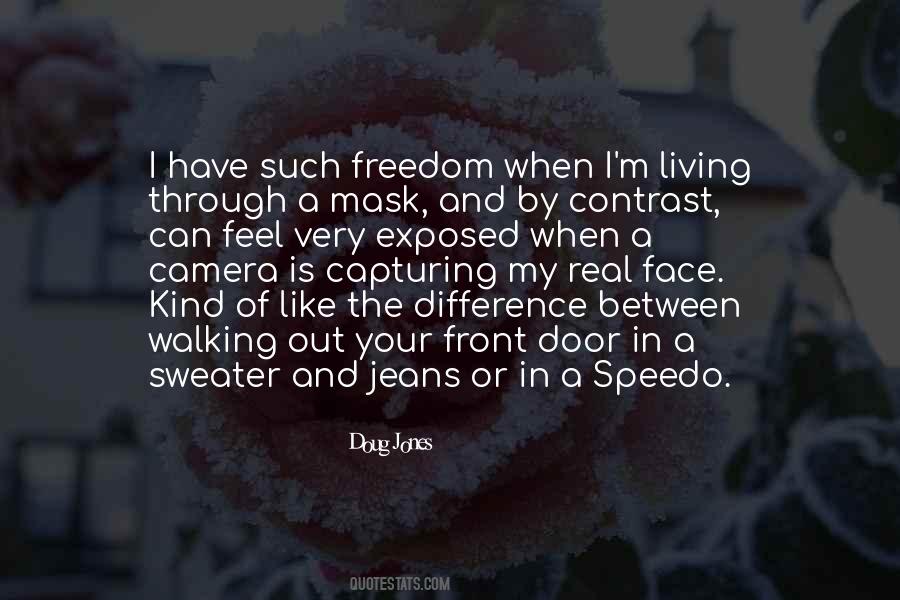 #36. i still have
the scarlet scarf
you gave me.
it smells of your
wild freedom.

if only we
could
feel what
we remember
and not just
remember
what we
felt. - Author: Christopher Poindexter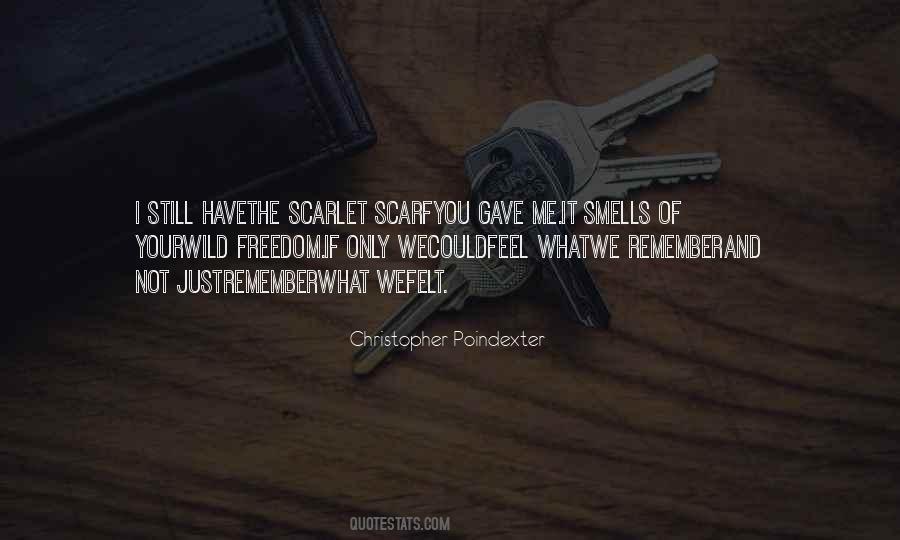 #37. Having destroyed all my connections, burned my bridges, I should feel a certain freedom, and in fact I do. One so intense I am afraid to rejoice in it. - Author: Emil Cioran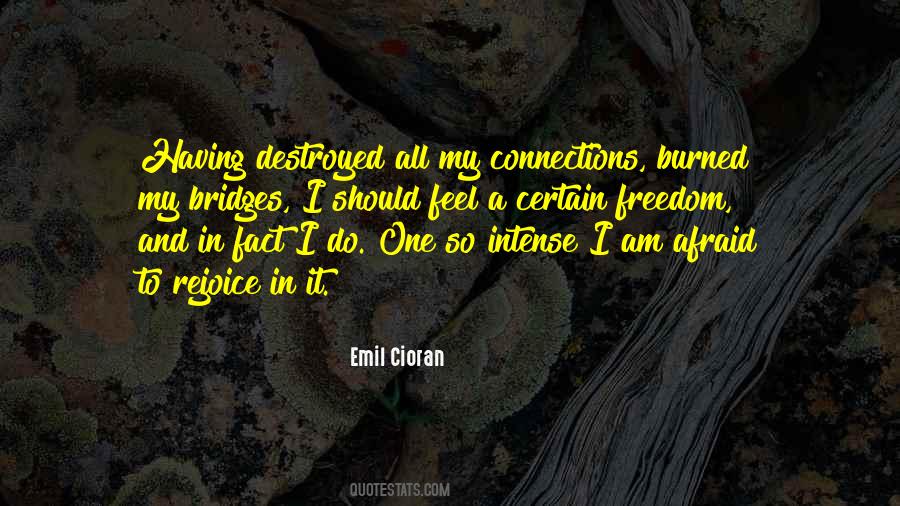 #38. Freedom is the crux of self-respect. It is difficult to feel good about ourselves when we are unnaturally dependent on someone or something. - Author: David J. Lieberman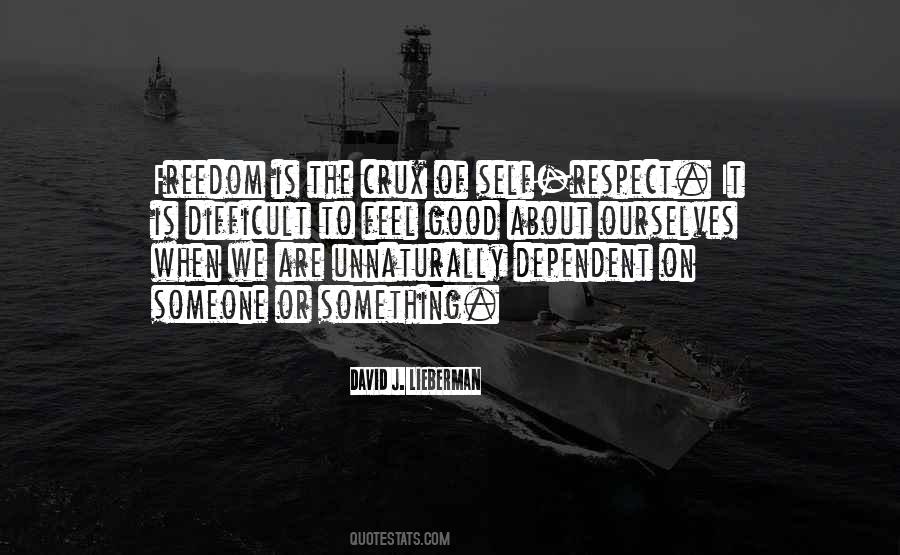 #39. This morning I woke up, how blessed I am
Eyes to see, a voice to speak
Words to read and love to feel?
If this isn't something to be thankful for, I'm not sure what is. - Author: Nikki Rowe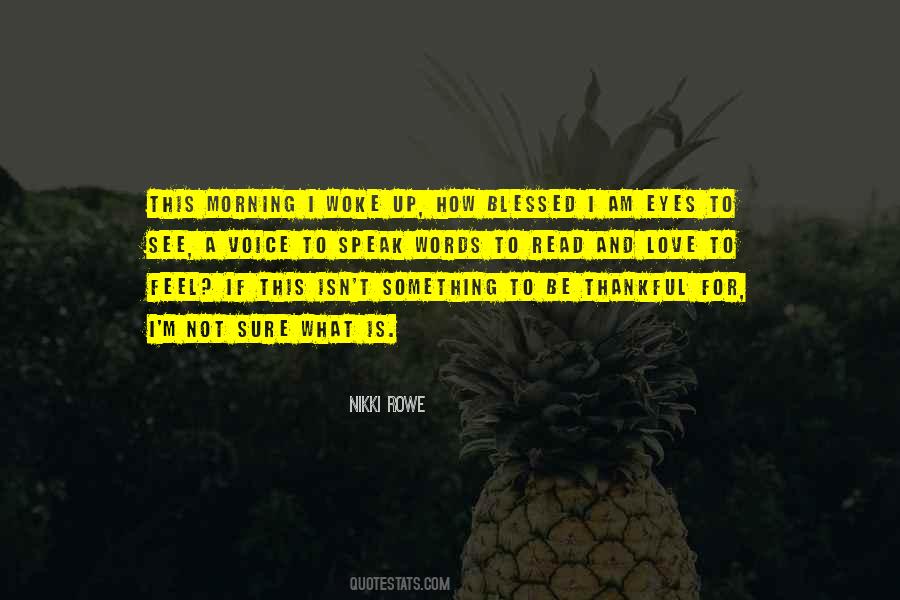 #40. He's in pain. I am, too. It strikes me that perhaps this is part of what we are fighting to choose. Which pain we feel. - Author: Ally Condie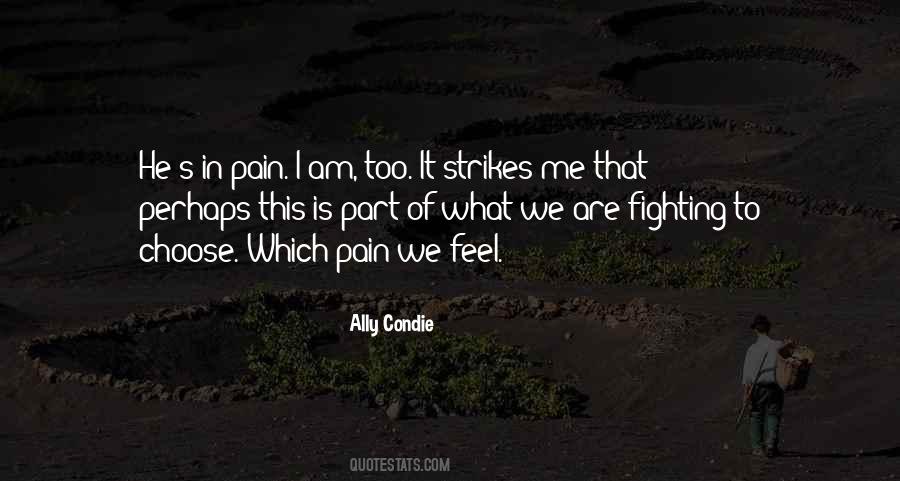 #41. The freedom you feel when you're actually in control of your own music is fantastic. - Author: Kate Bush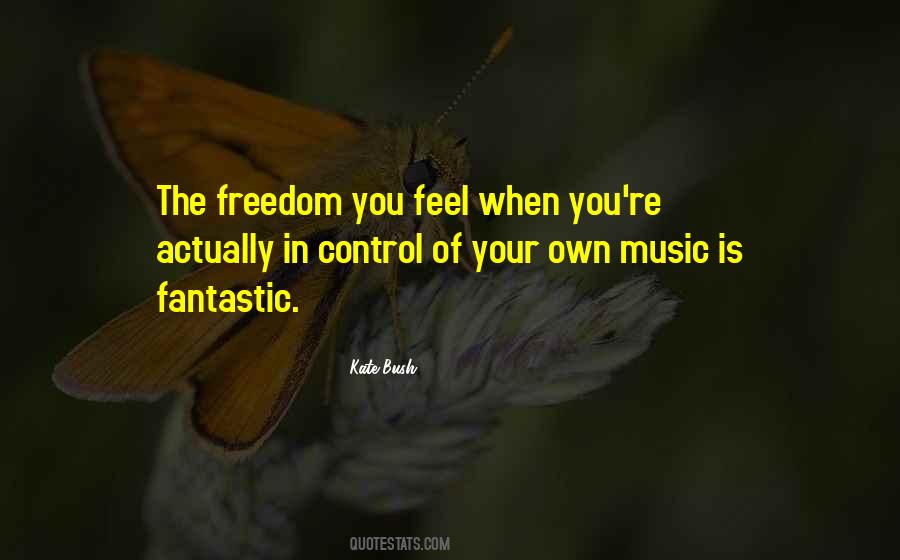 #42. After a devastating loss, your whole perspective shifts, and you're kind of in a blank space. You feel like on one side nothing matters, and on the other side a freedom because nothing matters. - Author: Andrew Shue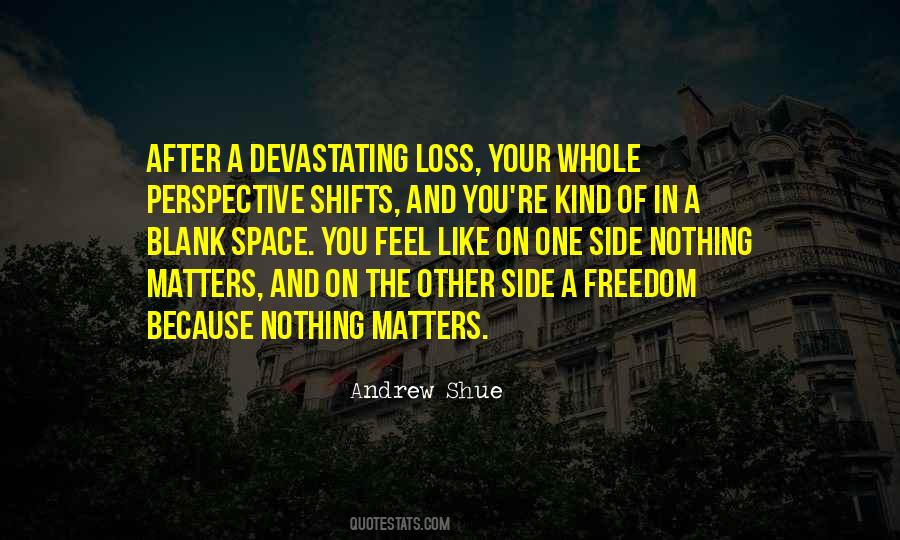 #43. Birds and the people who love freedom have something common: They must fly freely to feel that they are alive! - Author: Mehmet Murat Ildan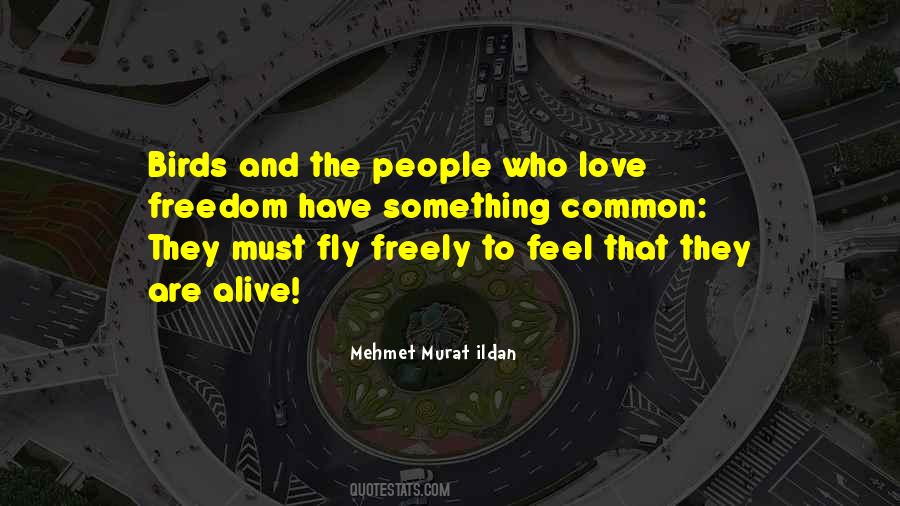 #44. To some, freedom means the opportunity to do what they want to do; to most it means not to do what they do not want to do. It is perhaps true that those who can grow will feel free under any condition. - Author: Eric Hoffer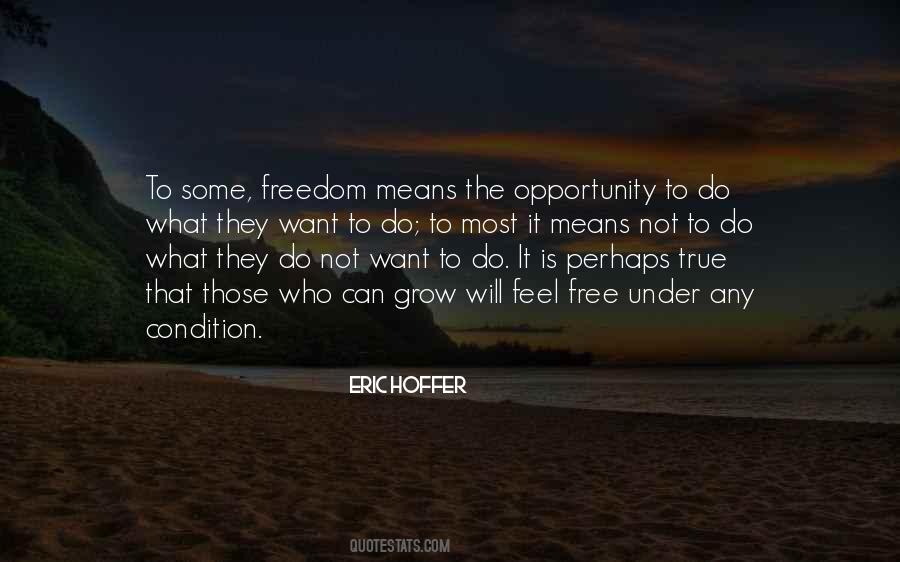 #45. Her death leaves me both depleted and emboldened. That's what tragedy does to you, I am learning. The sadness and wild freedom of it all impart a strange durability. I feel weathered and detached, tucking my head against the winds and trudging forward into life. - Author: Claire Bidwell Smith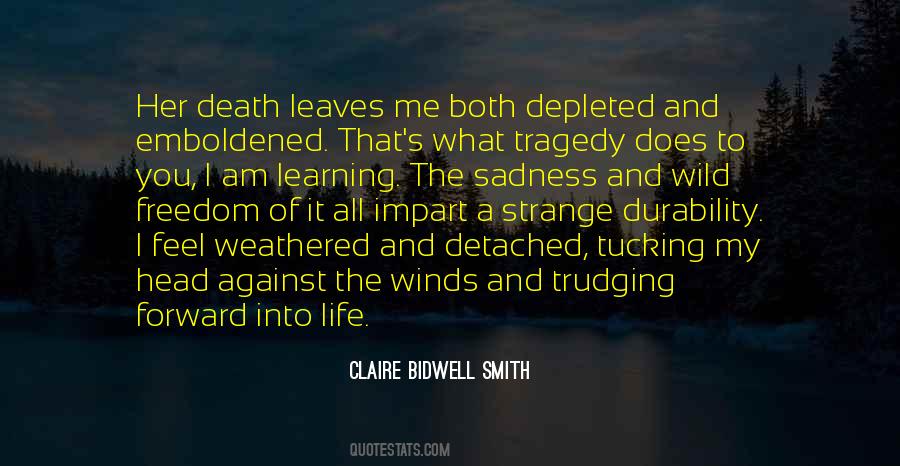 #46. In social situations I still feel scared. My best friend and husband give me the freedom to be myself. - Author: Susannah Constantine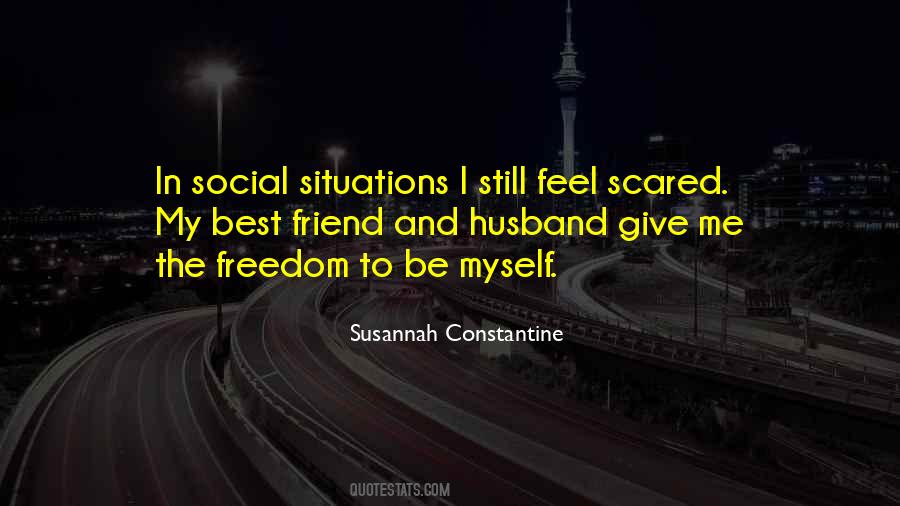 #47. What does that matter when he makes me happy?" There was an adjustment her mother made then, a slight giving in, a relaxing of her shoulders, as if she wondered for just a moment what that kind of freedom might feel like. - Author: Rae Meadows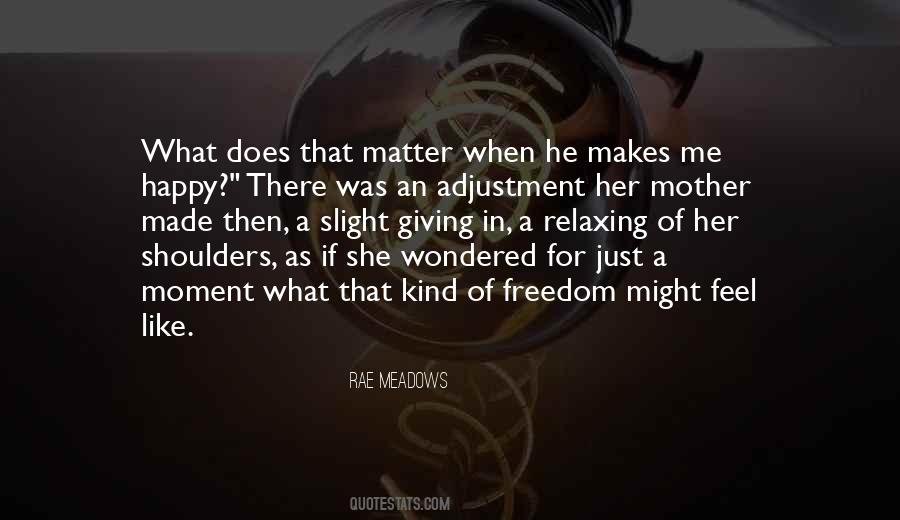 #48. I like to control my environment, because I feel if I have my physical space in order, then I'm free to dream. So there is some compulsion involved. But the dividend I get is the freedom to be totally disorderly in my dreamworld. - Author: George Carlin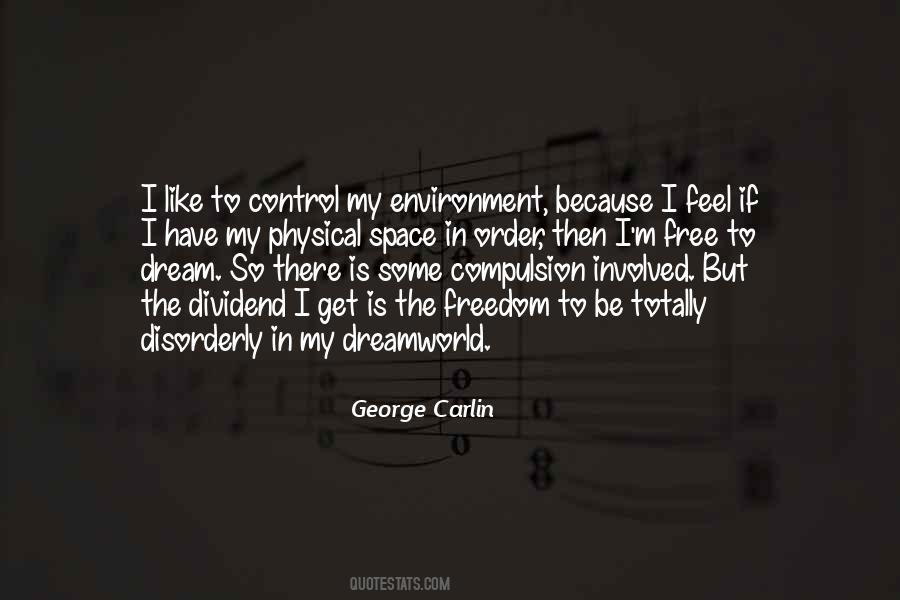 #49. I miss the restraints. In a way, they allowed me the freedom to writhe and flail. They gave me something and someone to fight against. Without them ... I feel like a traitor. No longer a prisoner, I seem to be allowing them to keep me here. - Author: C.J. Roberts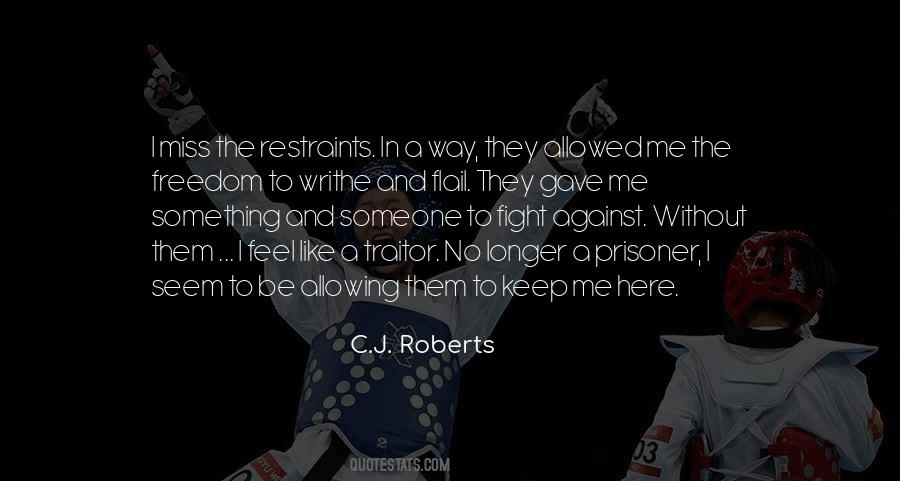 #50. I feel this society somewhere has lost its sense of what art is. Art is expression. In expression, you need 100% full freedom and our freedom to express our art is seriously being fucked with. Fuck, the word 'fuck' has many connotations as does the word 'art'. - Author: Kurt Cobain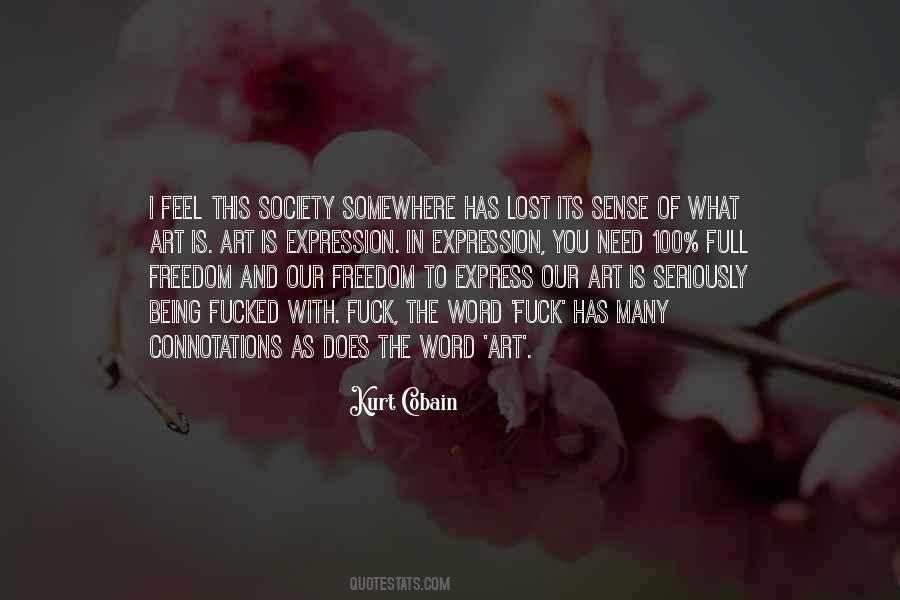 #51. Oh, merciless freedom, you continue to overwhelm me! You demand that I challenge myself and feel ashamed, and yet continue to feel so outrageously proud to live a life full of my desires. - Author: Nina George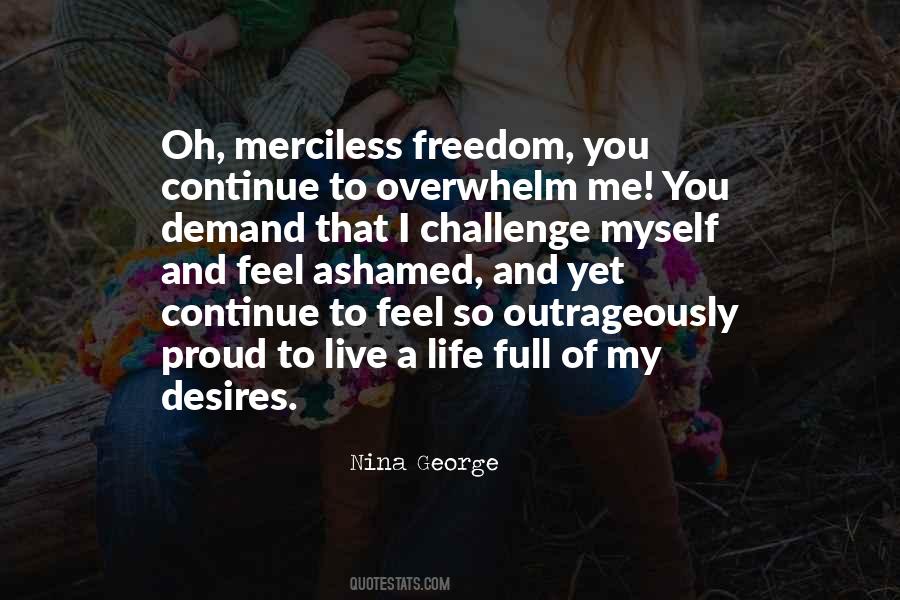 #52. You cannot mistake Bush's clarity of purpose. He believes in a story about freedom and opportunity that makes his followers feel like they aren't just ticking their days down but are part of something larger than themselves. - Author: Eric Liu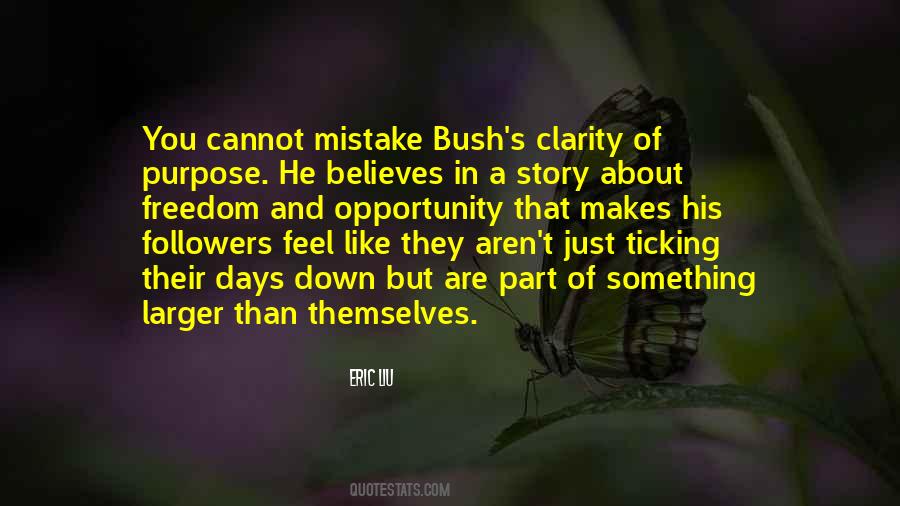 #53. No one ever stepped forward to protect me, Inspector. I wonder why I should feel any driving sense of duty to protect anyone else. Let me tell you something about love. It can be very cruel and very greedy. I've had done with it. And that has given me a freedom that I cherish. - Author: Charles Todd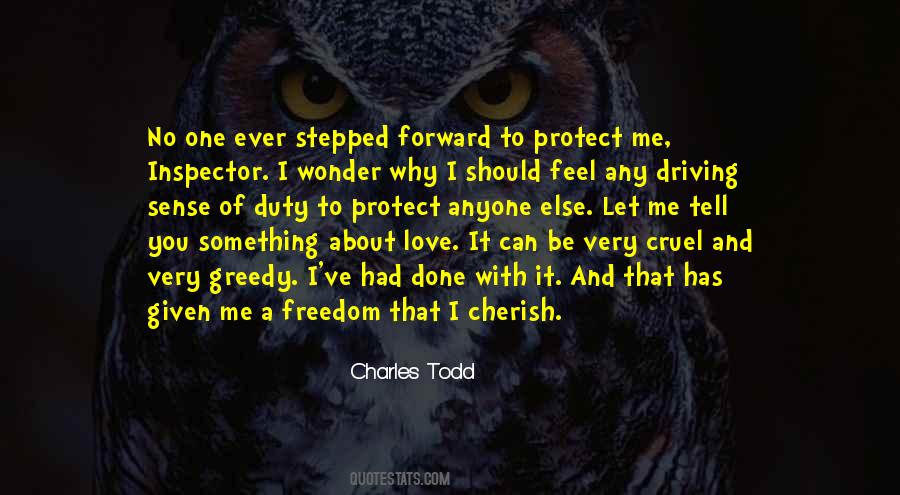 #54. I feel the freedom of being able to find comedy in the darkest moments because it makes it way more interesting, I think. Otherwise, you're just cruising down a path that's been traveled millions of times. It's cool to find the strange truth in those moments. - Author: Kevin Durand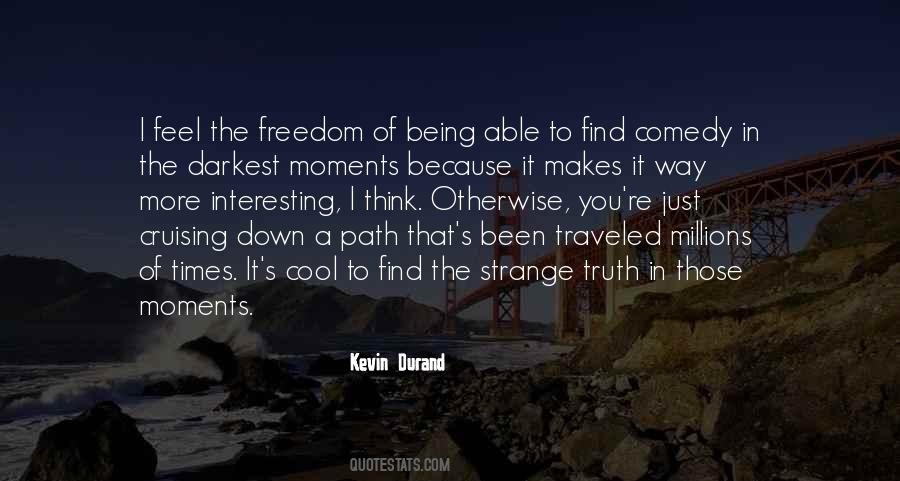 #55. As far as feeling freedom in my career now versus five years ago ... I think if I feel any more free it's simply because of the experiences that I've had, and the wisdom I've accumulated from that time. - Author: Mary Chapin Carpenter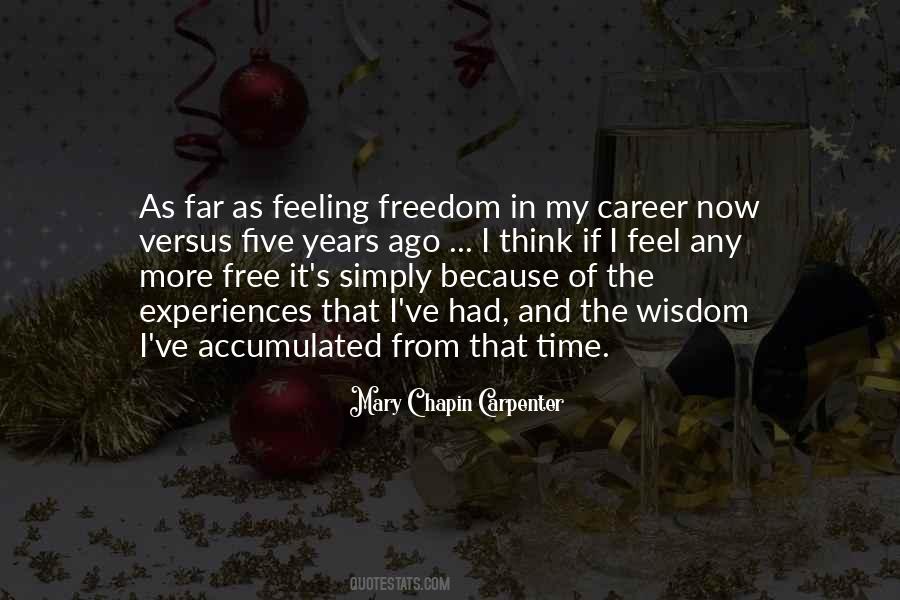 #56. Is it bad to like the way the scars look on my skin? Oh, the way they feel under my hands. My body's protecting itself, saying, "No, this barrier of scar tissue is to keep you out. - Author: Taylor Rhodes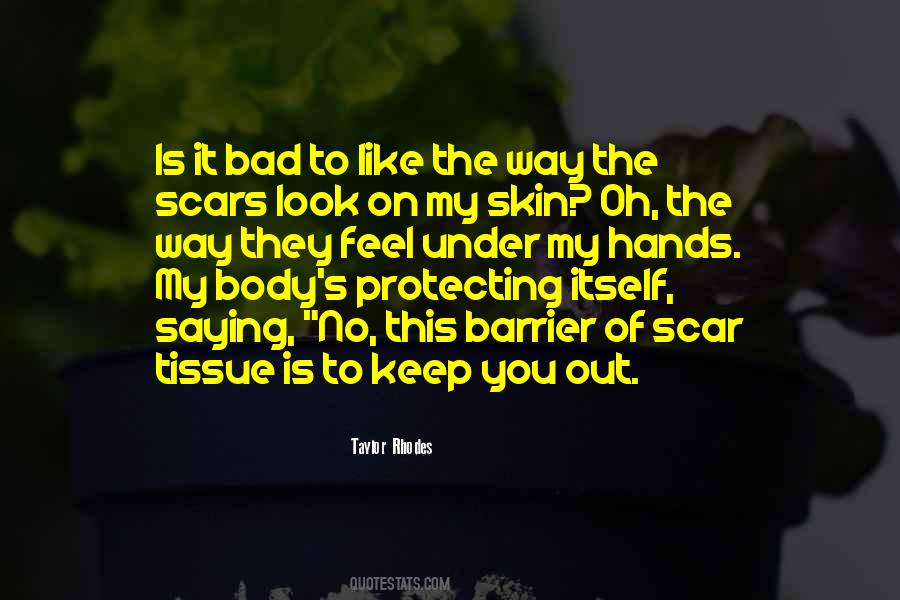 #57. Most people would look at an animal in a cage and instinctively feel that it should be set free ... It's a dangerous world out there, filled with predators ... What would you prefer? A comfortable, safe, warm, cosy life in a cage, or an uncertain life of freedom. - Author: Scarlett Thomas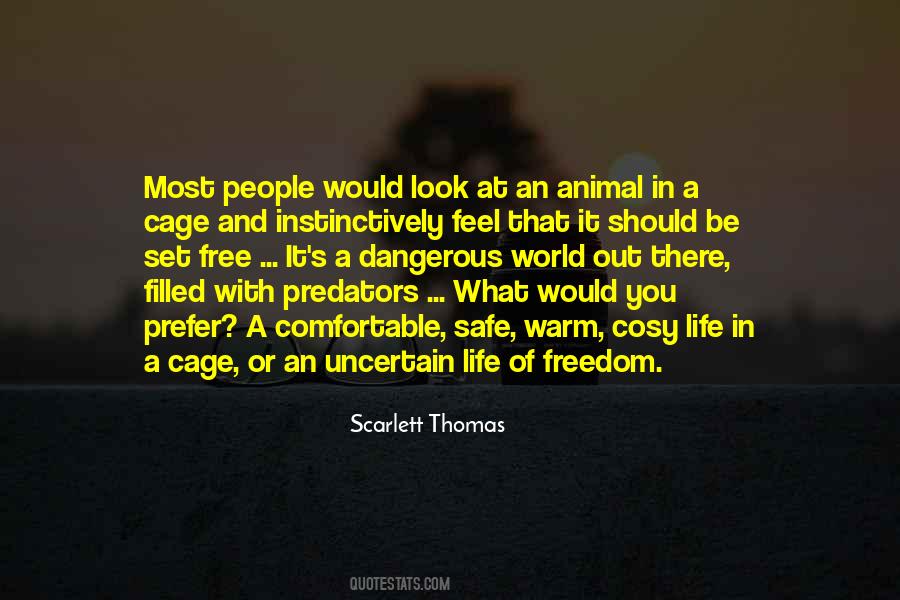 #58. I don't mind what happens. That is the essence of inner freedom.
It is a timeless spiritual truth: release attachment to outcomes,
deep inside yourself, you'll feel good no matter what. - Author: Jiddu Krishnamurti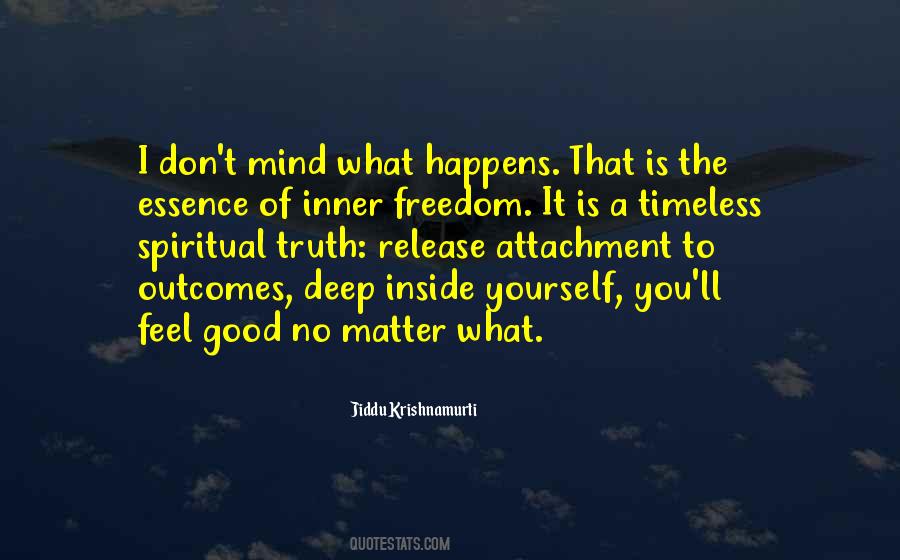 #59. Sometimes I feel like I'm losing my mind," she said with a hint
of sadness.
"You lost your mind a long time ago," he said seriously. She looked at him with indignation. "That's a compliment for anyone who knows the freedom and clarity of losing their mind," he reaffirmed her. - Author: Daniel J. Rice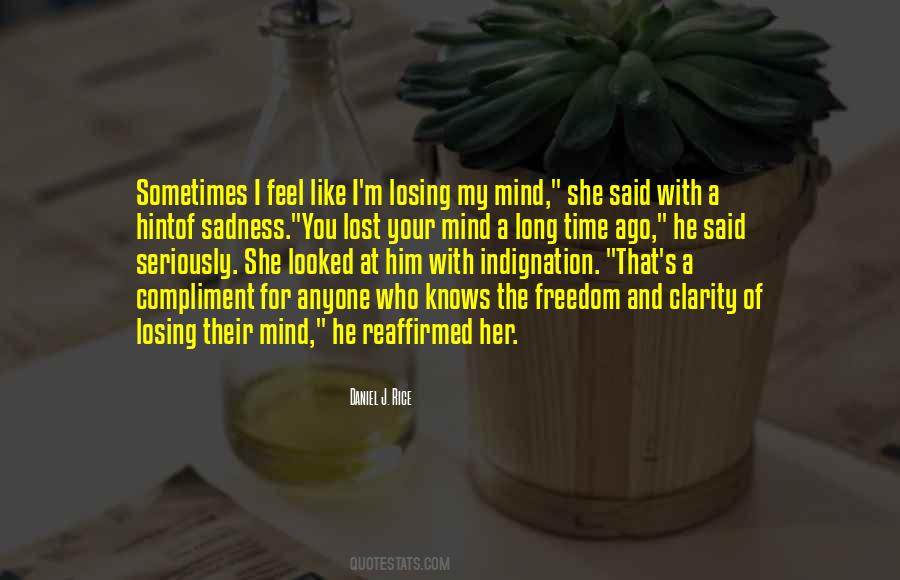 #60. We feel free because we lack the very language to articulate our unfreedom. - Author: Slavoj Zizek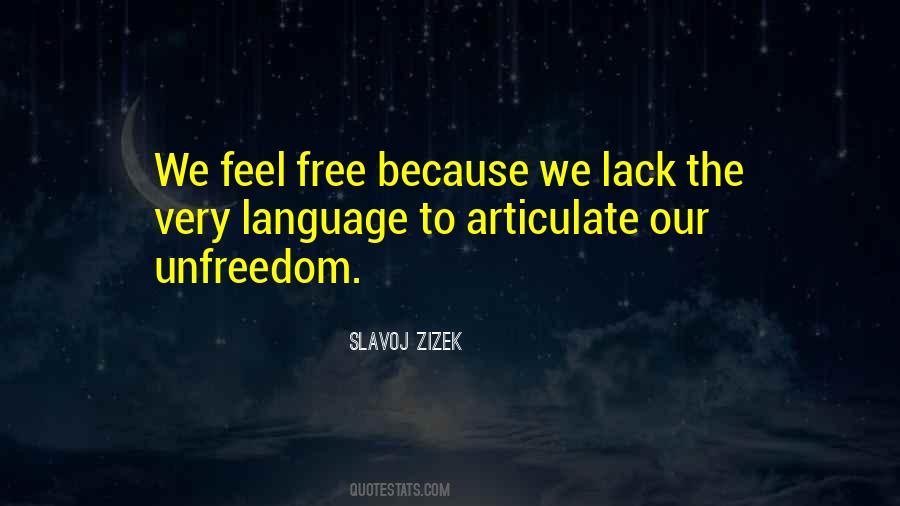 #61. Mackenzie, the truth shall set you free and the truth has a name; he's over in the woodshop right now covered in sawdust. Everything is about him. And freedom is a process that happens inside a relationship with him. Then all that stuff you feel churnin' around inside will start to work its way out. - Author: Wm. Paul Young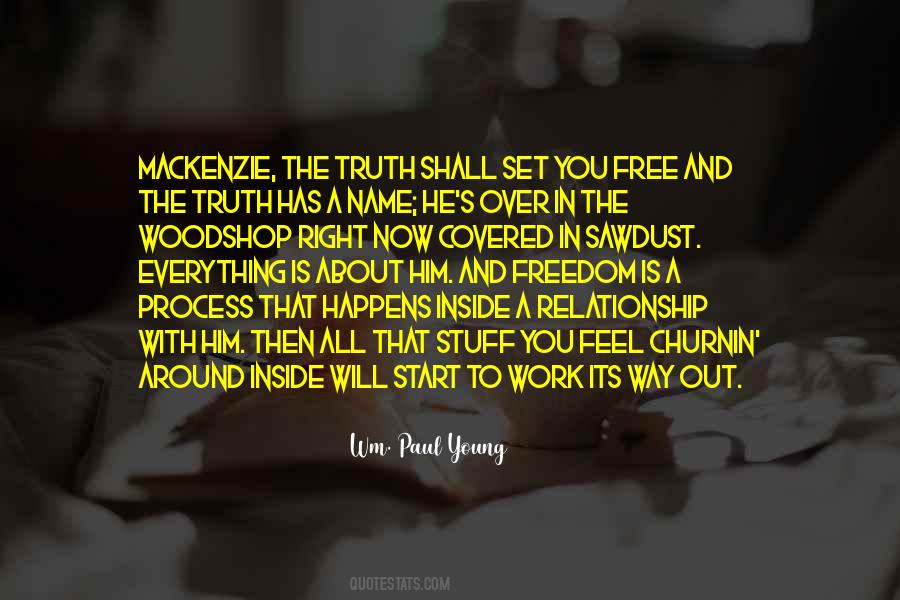 #62. If you live life on your own terms it shouldn't feel like a jail cell. - Author: Shannon L. Alder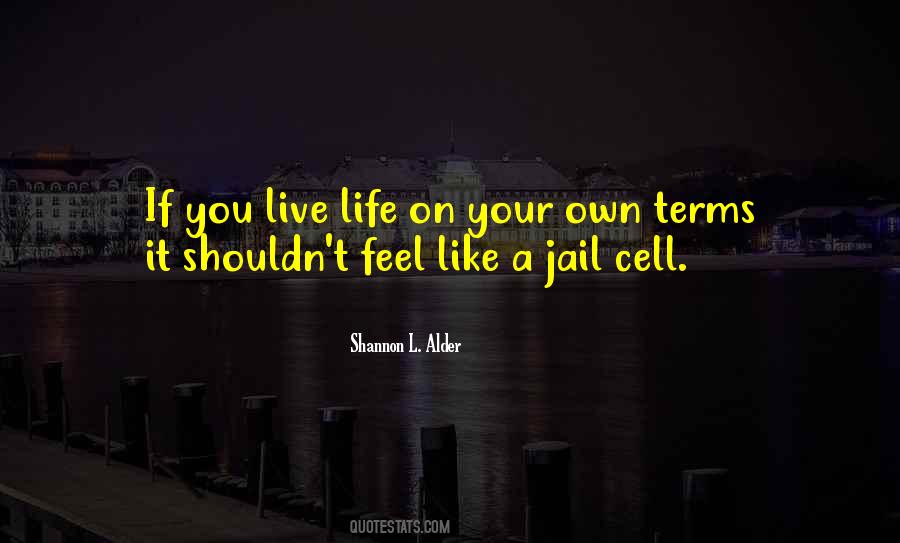 #63. I like L.A. because of the light. The light makes me feel so good. It's really beautiful. And there's something about L.A. being so spread out that gives you a feeling of freedom. Light and freedom. - Author: David Lynch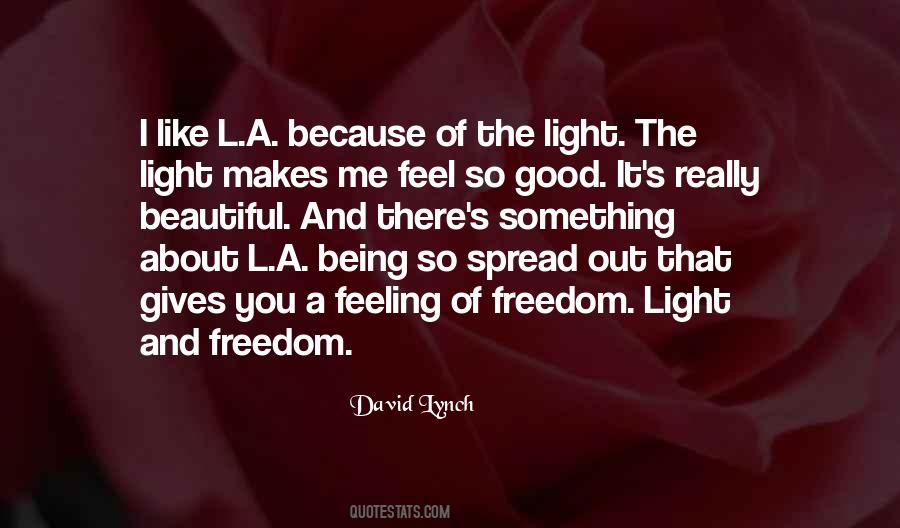 #64. A true friend is someone who lets you have total freedom to be yourself - and especially to feel. Or, not feel. Whatever you happen to be feeling at the moment is fine with them. - Author: Jim Morrison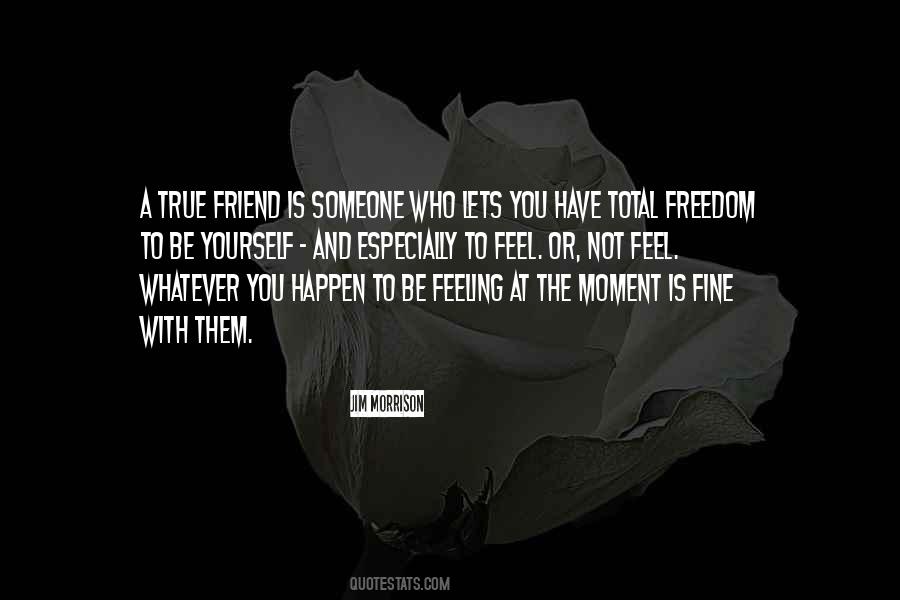 #65. For us to become a nation, everyone - including Arabs, Druze, ultra-Orthodox and new immigrants - must feel that they belong. Their success is extremely important to us. If they succeed, they will come to understand the advantages of democracy and freedom. - Author: Stef Wertheimer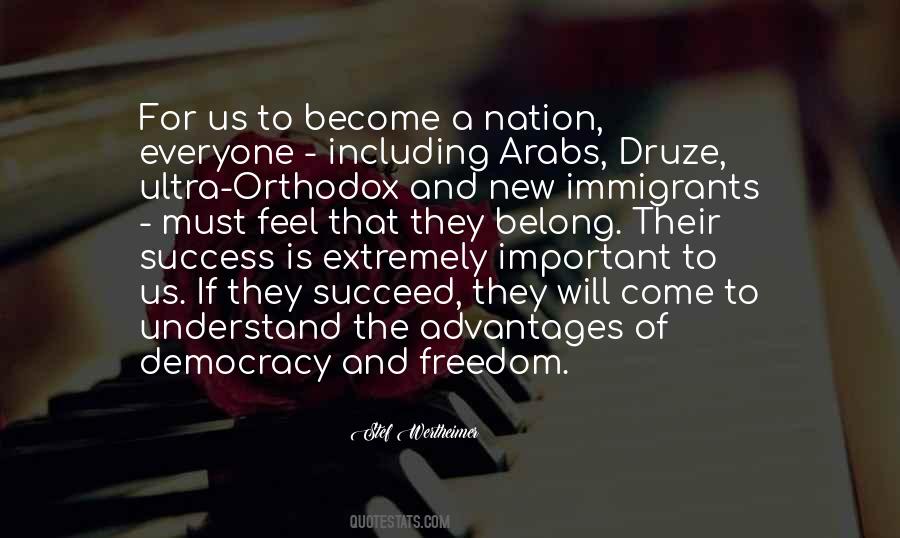 #66. When you love to run and you train hard enough to really feel it, running is all about freedom. Also, I find that sharing the value of our sport is very important. When I think back on my life, it isn't the winning that I remember so much, it's the people who I met through running. - Author: Doris Brown Heritage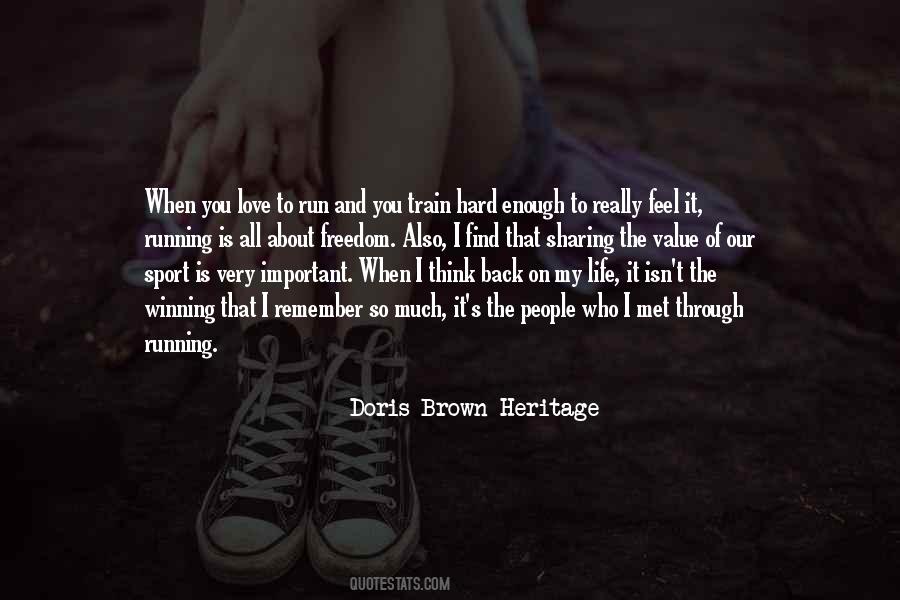 #67. Religion grants its adherents malign, intoxicating and morally corrosive sensations. Destroying intellectual freedom is always evil, but only religion makes doing evil feel quite so good. - Author: Philip Pullman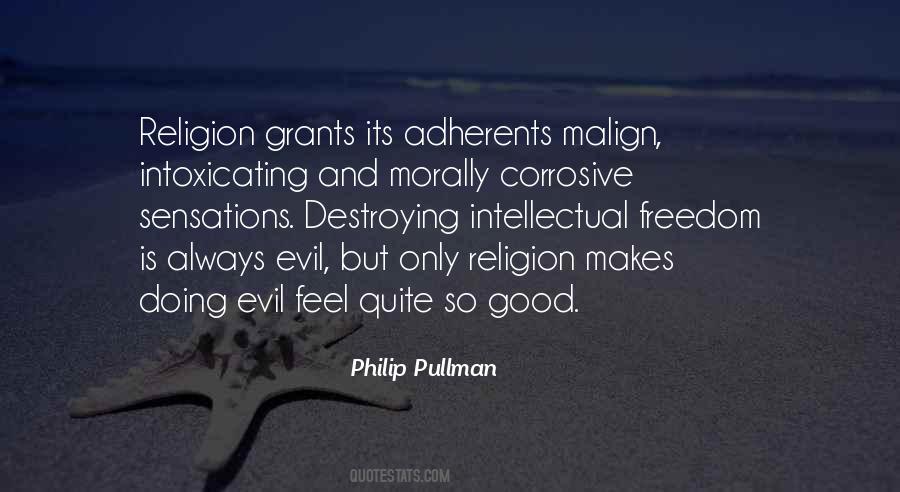 #68. When circumstances feel as if they are turning surreal, like the current political situation. We can be guaranteed, our intuition will lead the way to the truth, as long as we don't live in a world of wishful thinking. - Author: Anita B. Sulser PhD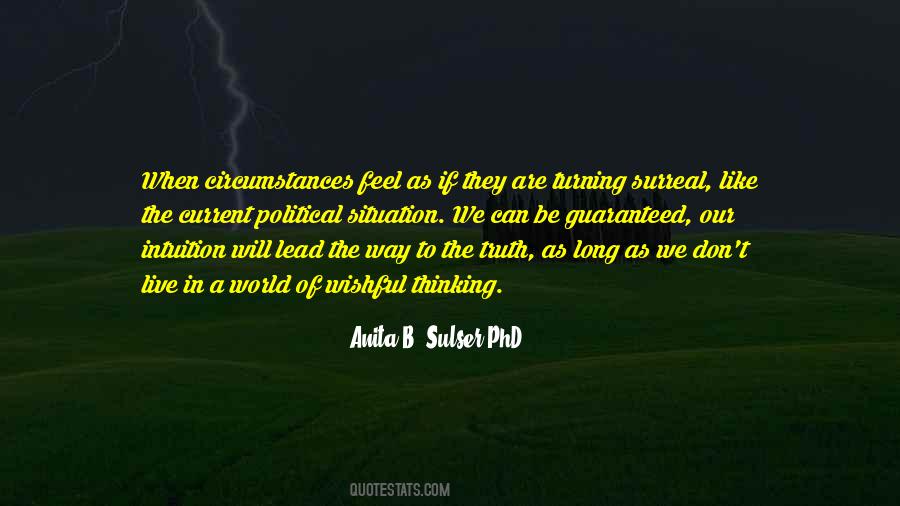 #69. Life in the open is one of my finest rewards. I enjoy and become completely immersed in the high challenge and increased opportunity to become for a time, a part of nature. Deer hunting is a classical exercise in freedom. It is a return to fundamentals that I instinctively feel are basic and right. - Author: Fred Bear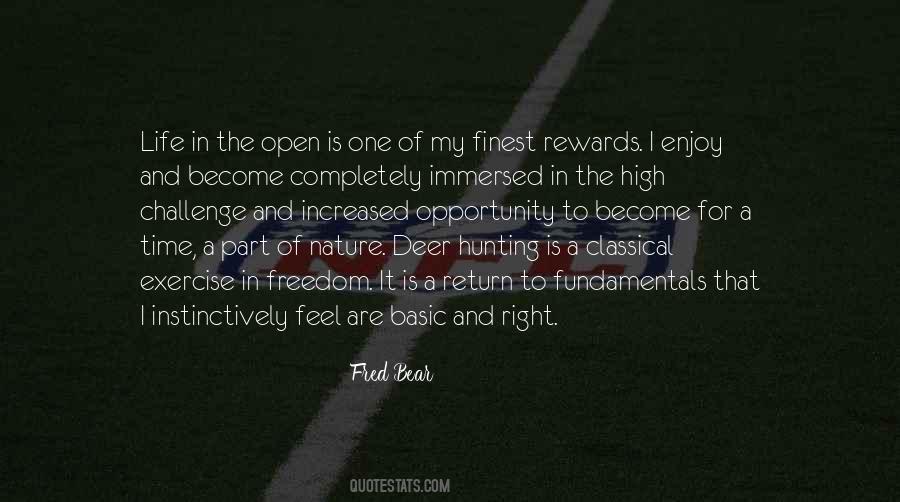 #70. As far as I'm concerned, freedom is the most important thing to creativity. You should feel free to write in whatever way, whatever language, feels comfortable to you. - Author: Edward Hirsch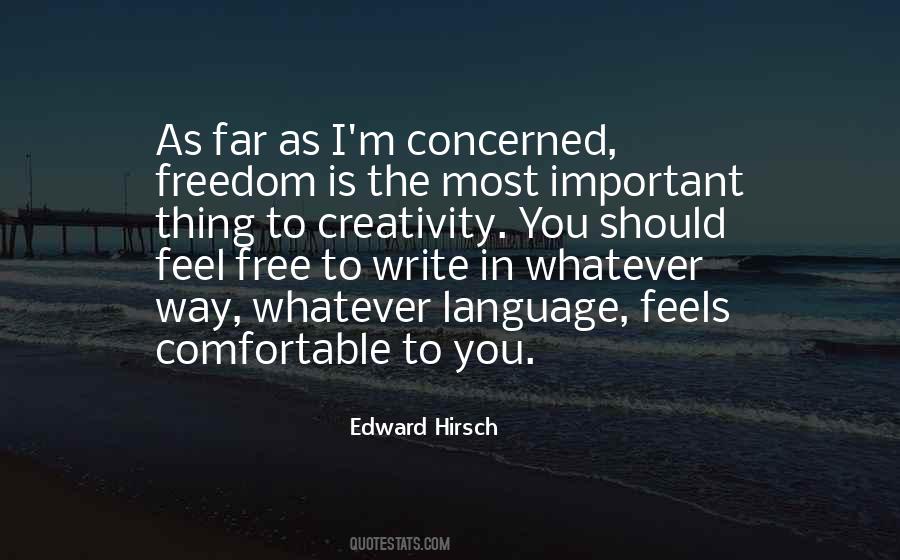 #71. I am an Iranian by birth and of my Islamic faith. I am also an American Citizen and I seek to help change America to be a more Islamic country. My faith guides me and I feel like it is going well in the transition of using freedom of religion in America against itself. - Author: Valerie Jarrett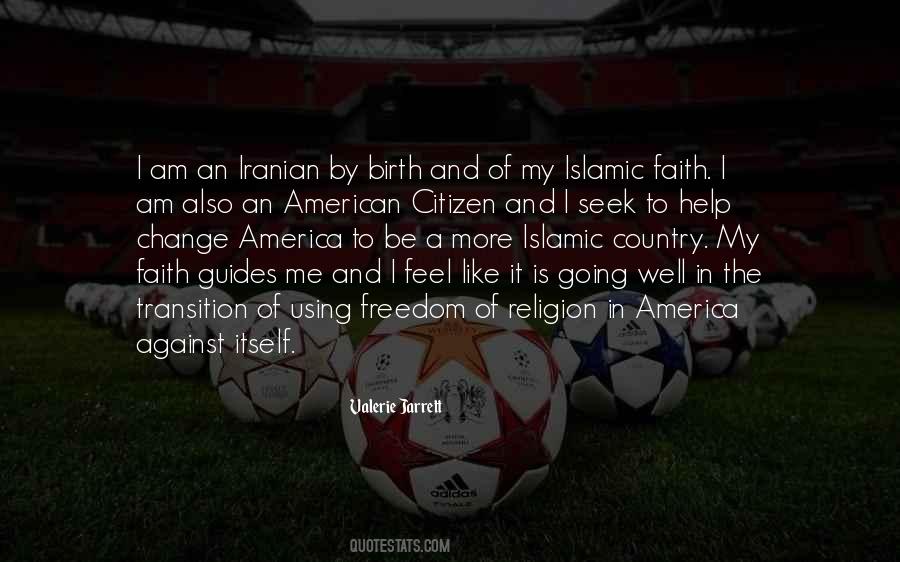 #72. The only people for me are the ones who spill things, the ones who drop their cups sometimes, the ones who get dirty hands and messy hair, the ones who can go barefoot if they feel like it, the people who forget things, and can laugh at themselves every day ... - Author: C. JoyBell C.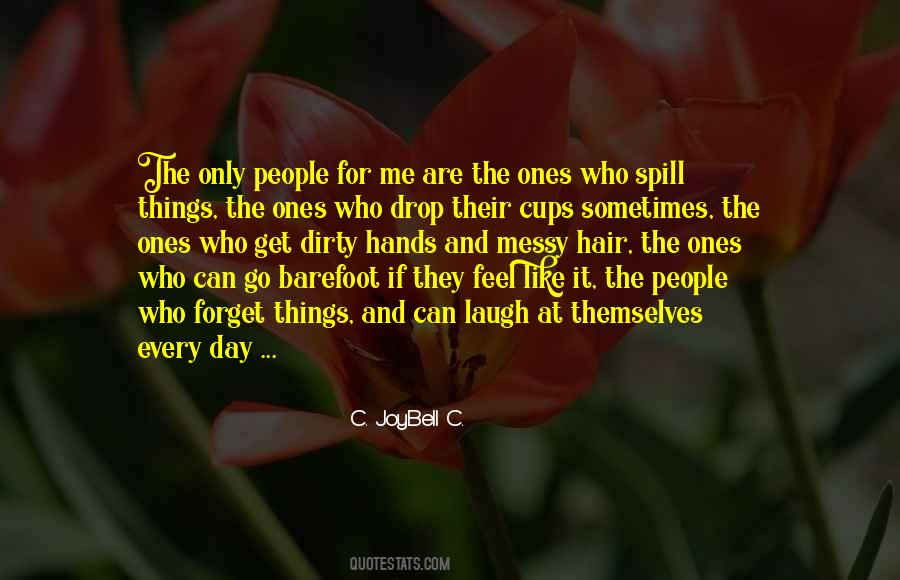 #73. Freedom from slavery is achieved only when a person starts to feel and understand that he would prefer death to life as a slave. - Author: Jarnail Singh Bhindranwale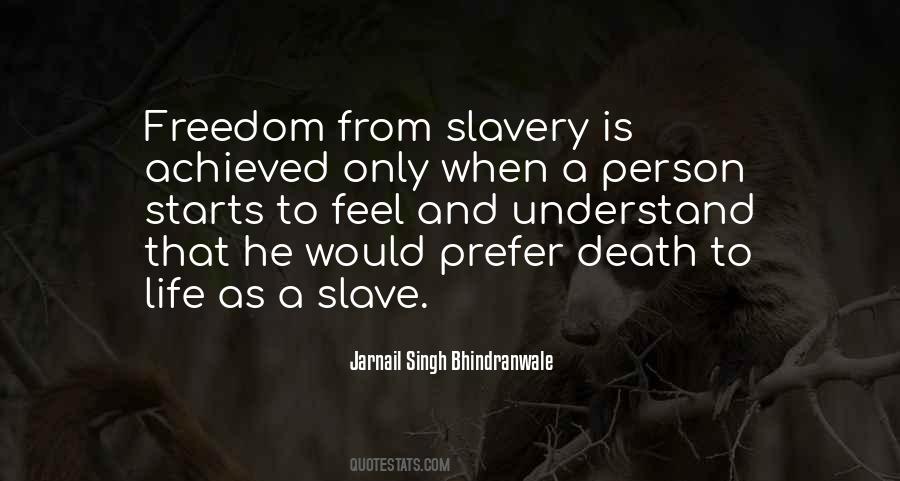 #74. This was freedom; to feel what the heart desired with no thought to the opinion of the rest ... She was free, for love liberates. - Author: Paulo Coelho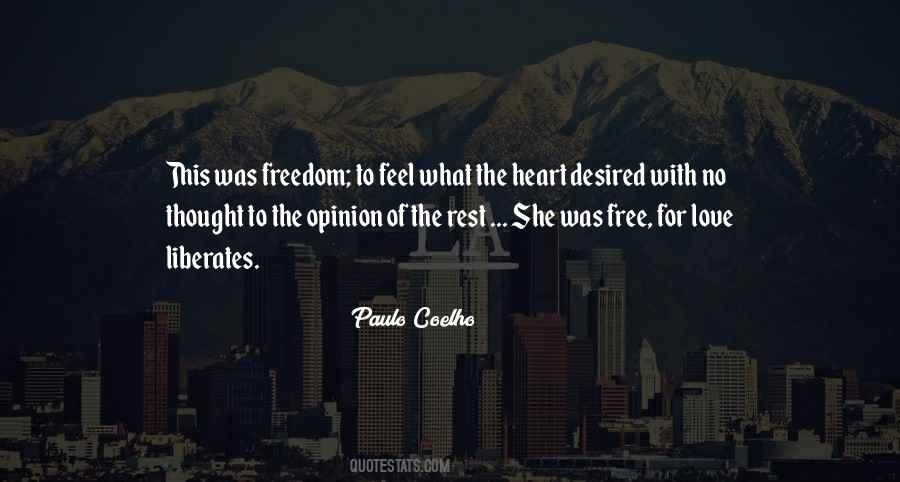 #75. Because I am untrained I approach my designs in an unconstrained way and I feel a freedom in this. It is unconventional but it means outcomes are not limited by traditional boundaries. - Author: Trelise Cooper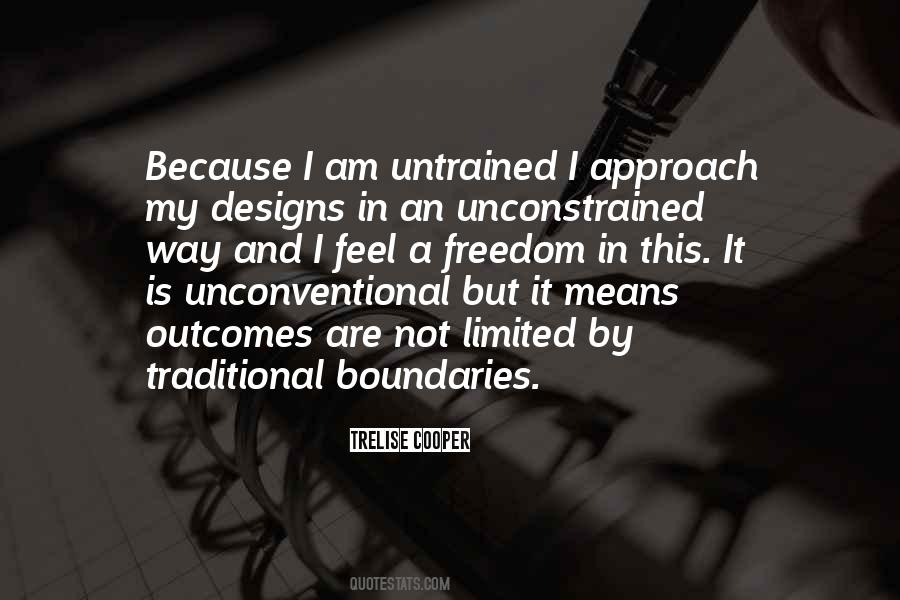 #76. MAC allowed me to have complete freedom on the collaborations - from the shades, the look-and-feel, to the campaign visuals. I have to admit that the visual aspect of the collection excites me most. For designers, we care about the photographs much more than a Ferrari. - Author: Philip Treacy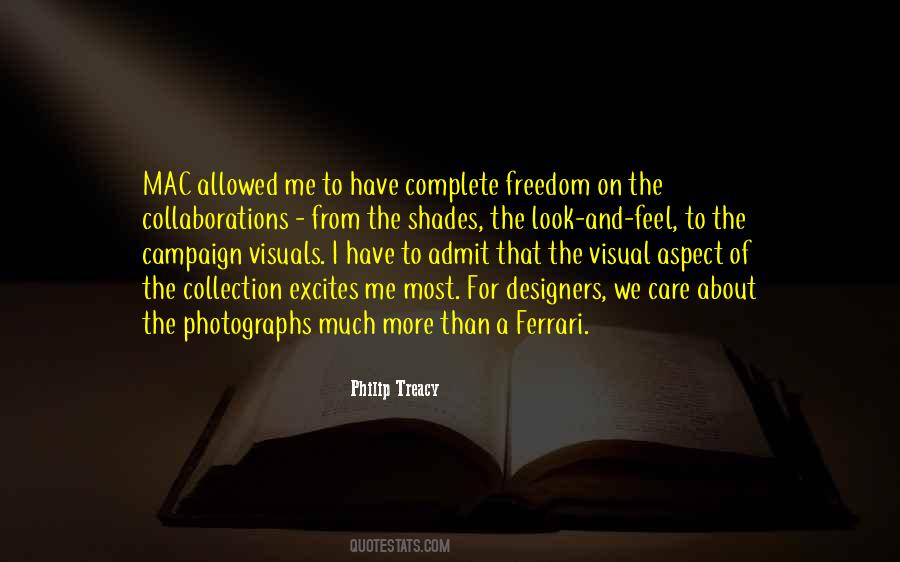 #77. I love the freedom you feel on horseback, and enjoy the discipline of competition. - Author: Jessica Springsteen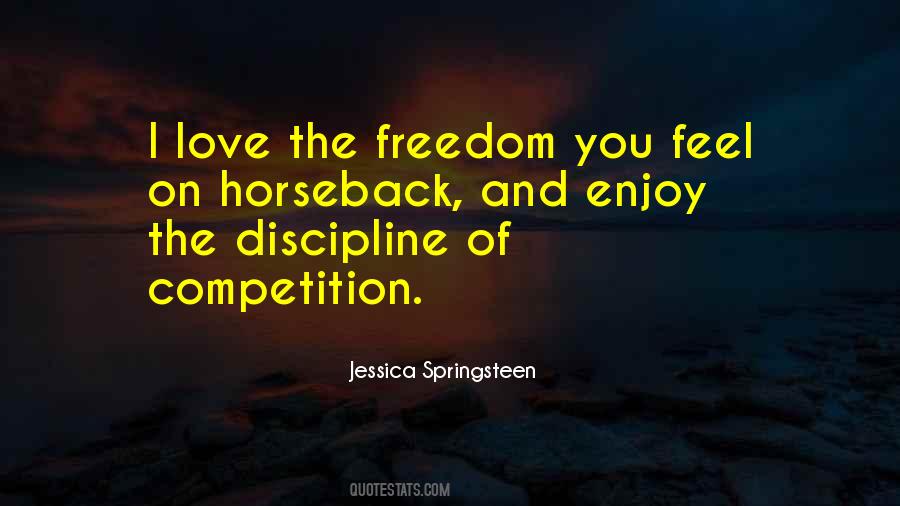 #78. What is needed is that you become aware of your aloneness, which is a reality. And it is so beautiful to experience it, to feel it, because it is your freedom from the crowd, from the other. It is your freedom from the fear of being lonely. - Author: Osho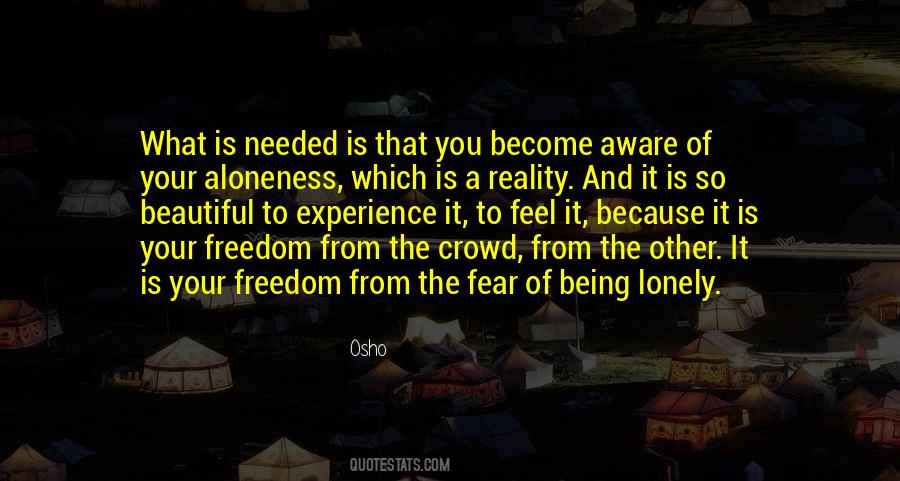 #79. Singing provides a true sense of lightheartedness. If I sing when I am alone, I feel wonderful. It's freedom. - Author: Andrea Bocelli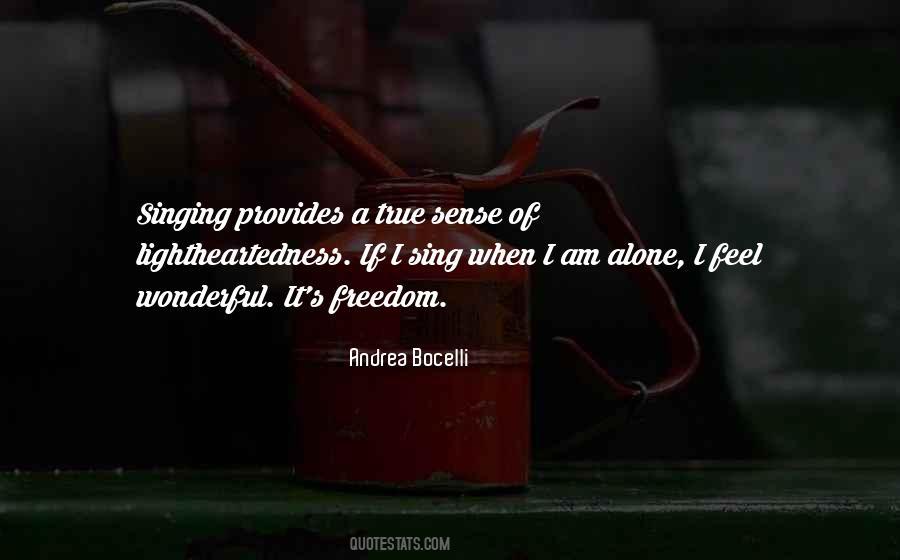 #80. It almost alarms me how free I feel on the ice. I don't think about the hospital or the groceries or the kids
I'm just in touch with myself. It's exciting when your whole body is moving in synchronous motion. - Author: Tenley Albright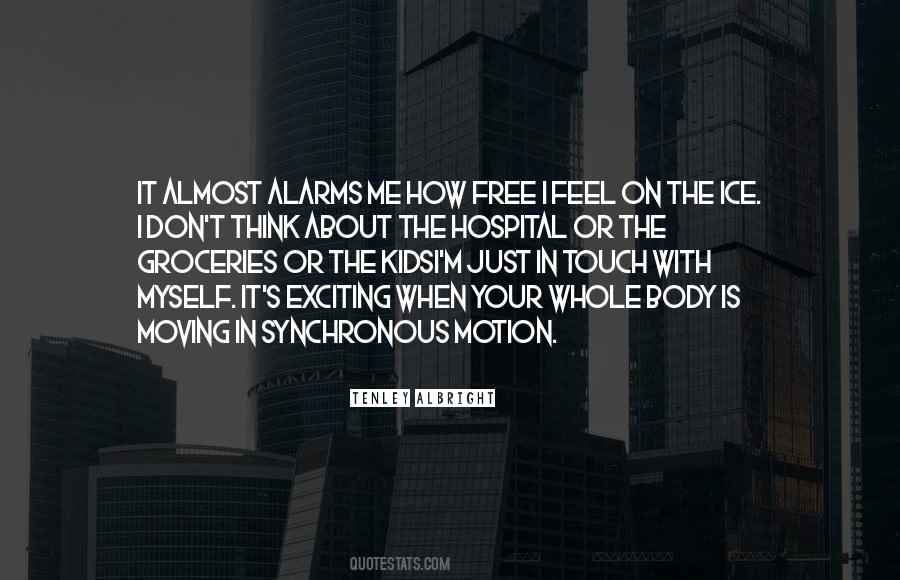 #81. Me this uncharted freedom tires; I feel the weight of chance desires, My hopes no more must change their name, I long for a repose that ever is the same. - Author: William Wordsworth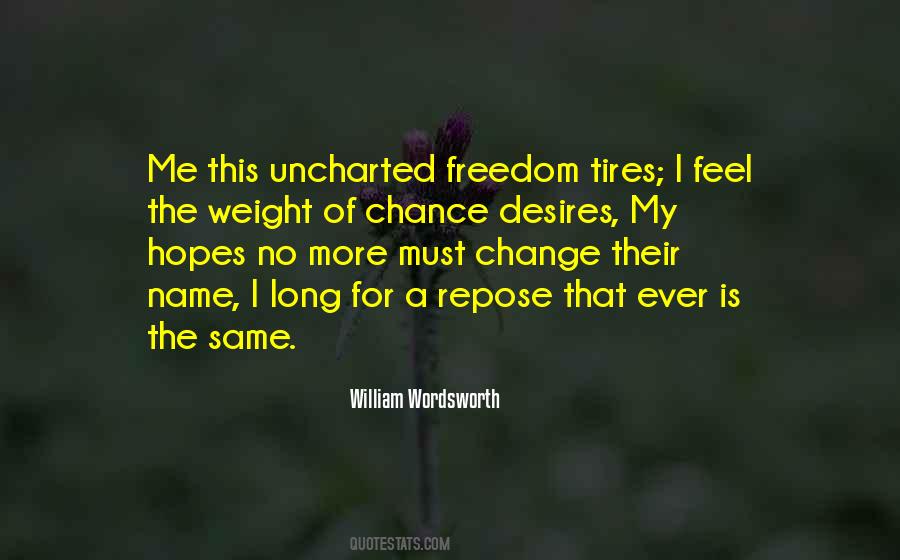 #82. Once you don't have freedom and you're obliged to do many things you don't want, and it becomes a routine, then your identity is at stake because you can feel that you are not anymore yourself, that you are what they want you to be - and you can lose yourself. - Author: Ingrid Betancourt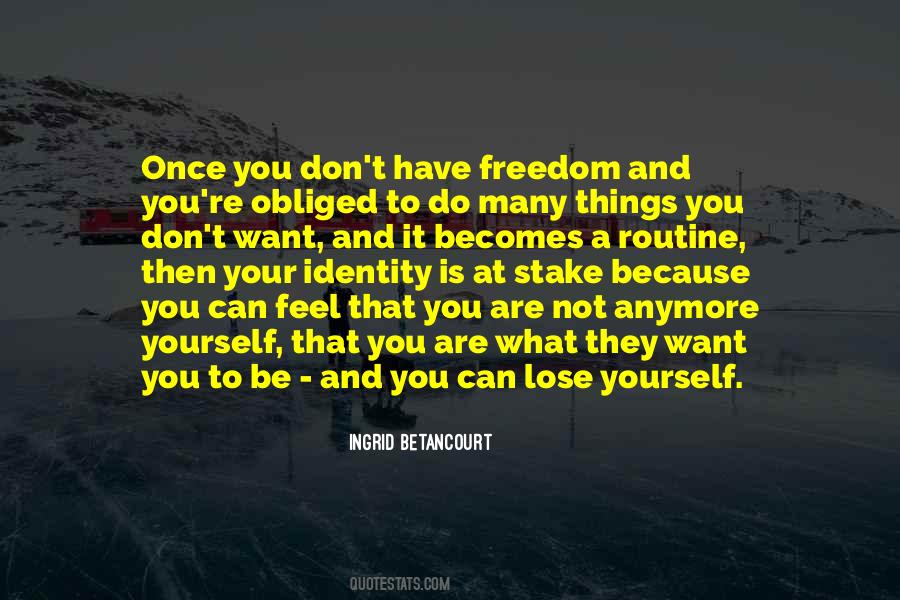 #83. Freedom and love go together. Love is not a reaction. If I love you because you love me, that is mere trade, a thing to be bought in the market; it is not love. To love is not to ask anything in return, not even to feel that you are giving something- and it is only such love that can know freedom. - Author: Jiddu Krishnamurti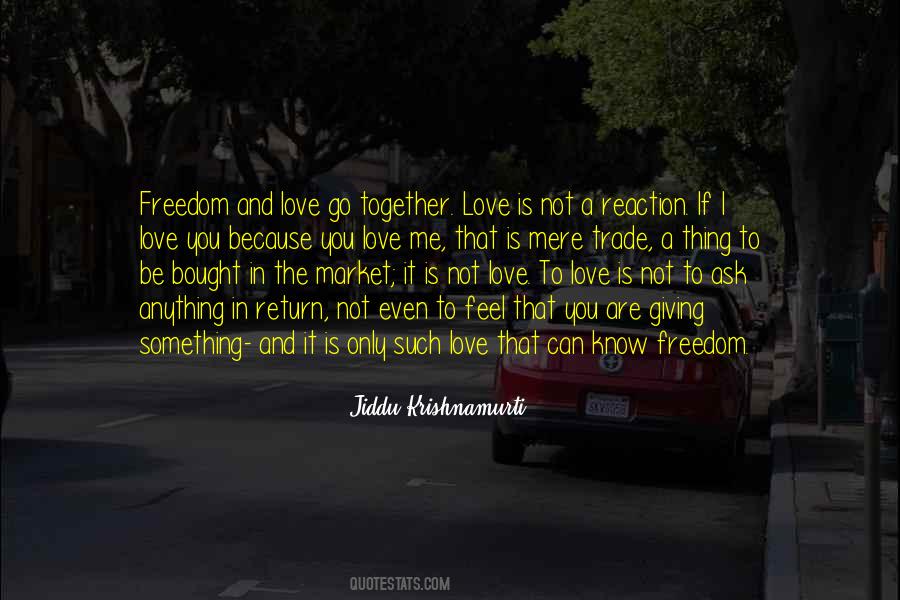 #84. You're allowed to feel whatever you want. - Jason Dorsey - Author: Jasinda Wilder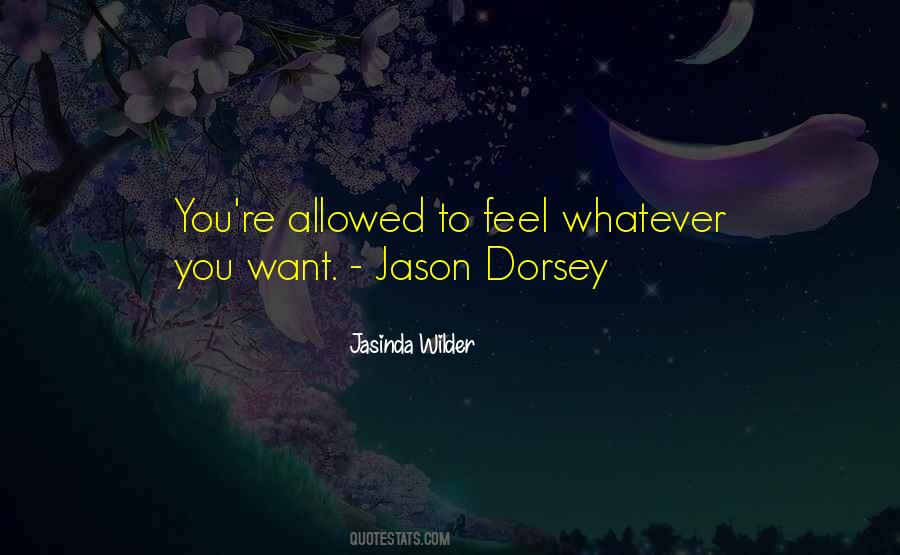 #85. I liked to feel I had to do things perfectly; I felt I was earning my freedom. Though I was in hiding, and though I worked every day until midnight, I felt I was much more in charge of myself than I had ever been. - Author: V.S. Naipaul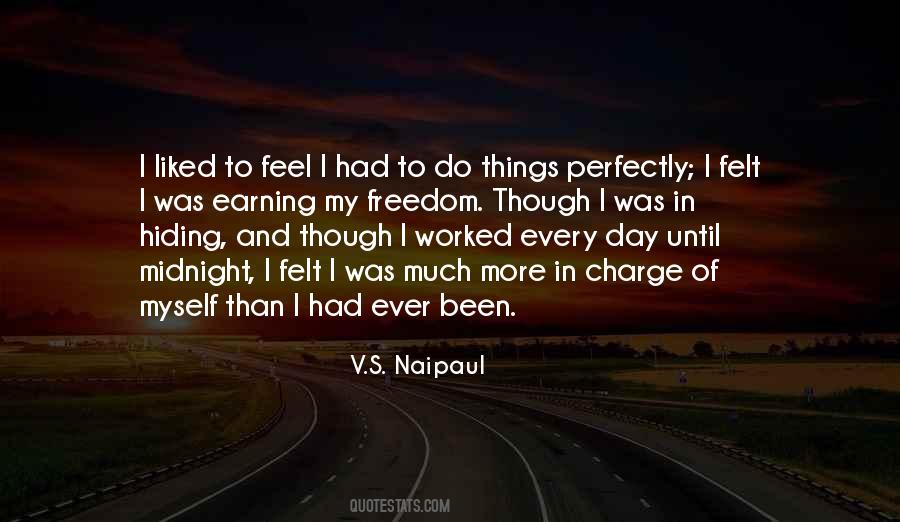 #86. The reason artists show so little interest
In public freedom is because the freedom
They've come to feel the need of is a kind
No one can give them they can scarce attain
The freedom of their own material ... - Author: Robert Frost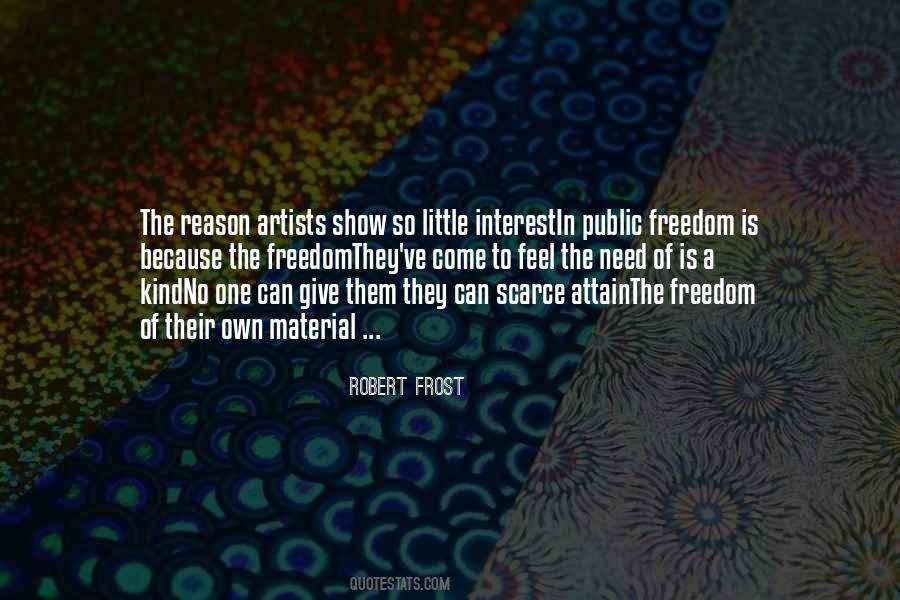 #87. I feel like I have a lot more freedom to make these decisions to kind of sit back and enjoy the fruits of my labor. I have a really good sense of who I am now and what I am capable of and because of that, I have the confidence to go after things like a 7-day 545-mile bike ride and know I can do it. - Author: Cristina Goyanes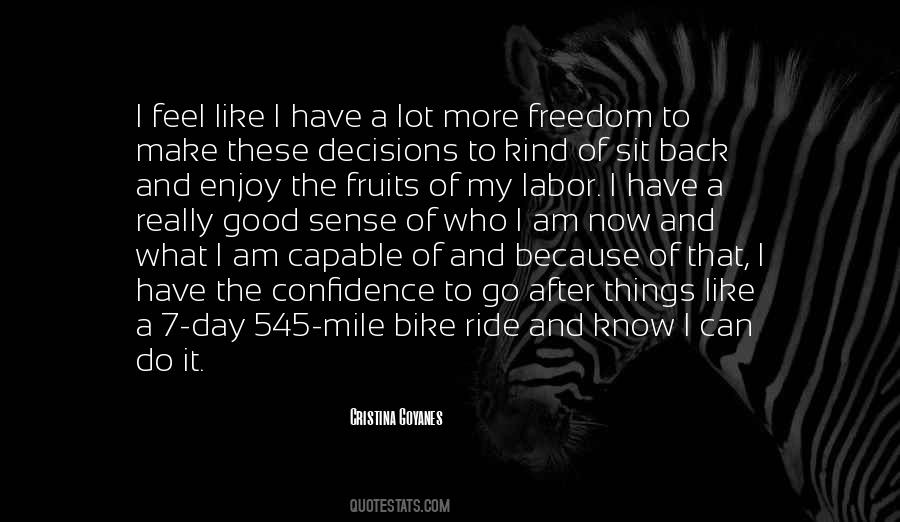 #88. Craziness in a shoe is great - you can have much more freedom, you can exaggerate and it doesn't feel stupid. But to have too much craziness near your face, that would just feel weird. - Author: Miuccia Prada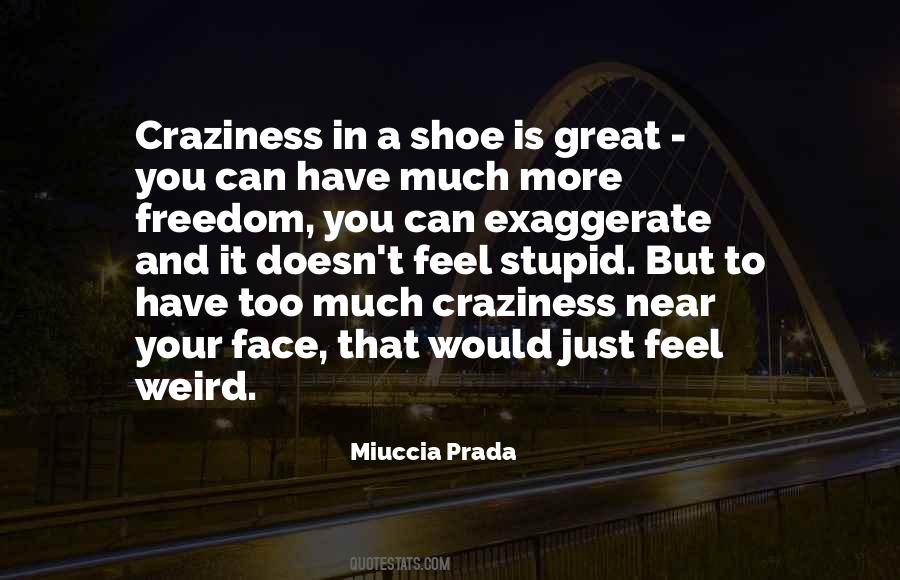 #89. Questioning our government's actions does not violate the principles of liberty, equality, and freedom of speech; it exercises them, and by exercise we grow stronger. I have read enough of Thomas Jefferson to feel sure - Author: Barbara Kingsolver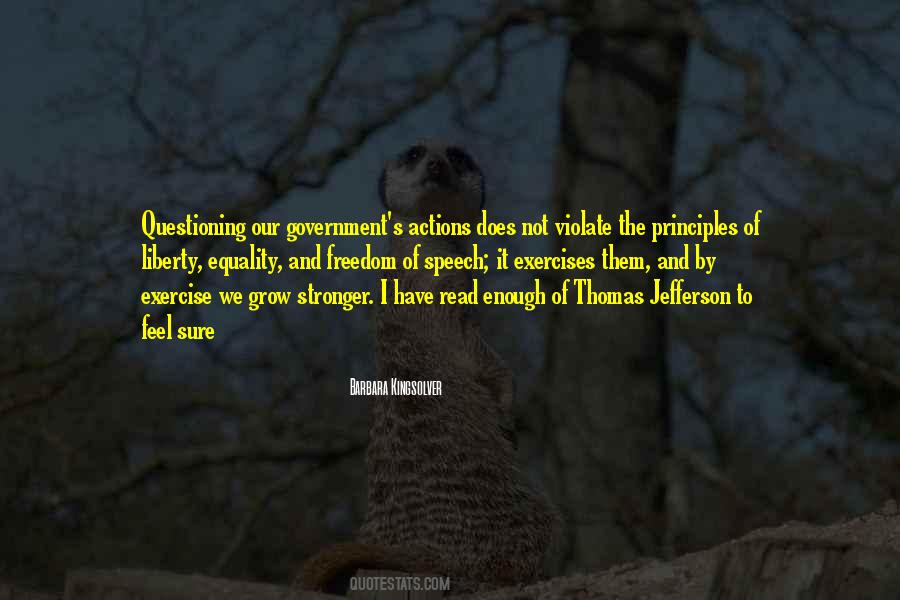 #90. As an immigrant, I chose to live in America because it is one of the freest and most vibrant nations in the world. And as an immigrant, I feel an obligation to speak up for immigration policies that will keep America the most economically robust, creative and freedom-loving nation in the world. - Author: Rupert Murdoch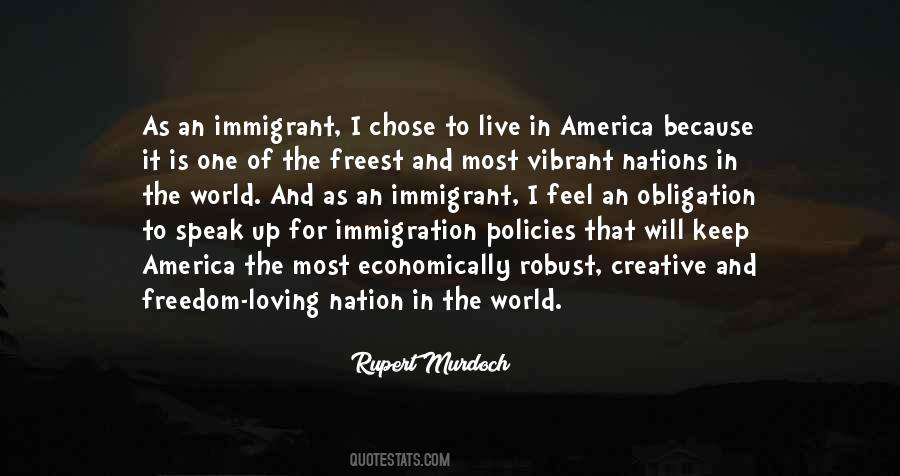 #91. While America will always, I think, feel foreign to me, New York City is my home. This is where I can construct my own identity freely and reject labels imposed on me. - Author: Raquel Cepeda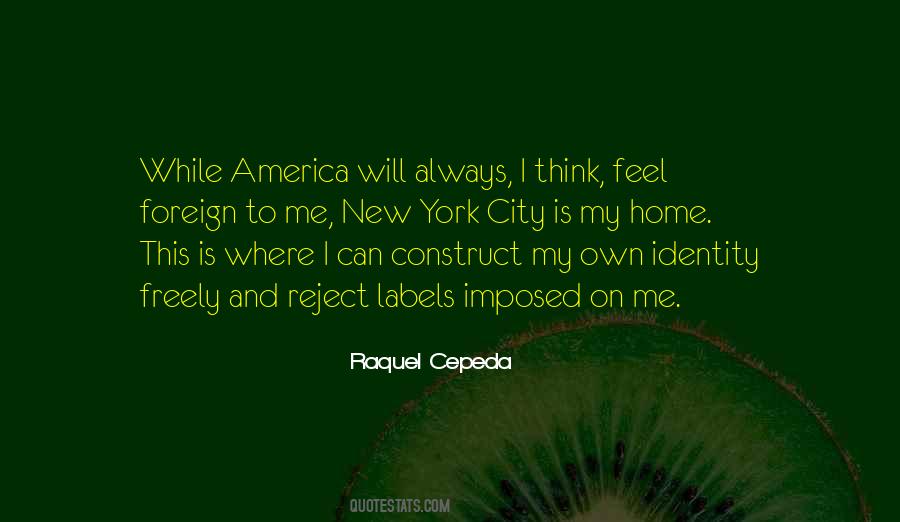 #92. My true friends, and my son, see me with kind eyes. I feel it. So that's the freedom my children have given me. To be naked in the world with an open heart. - Author: Sophie B. Hawkins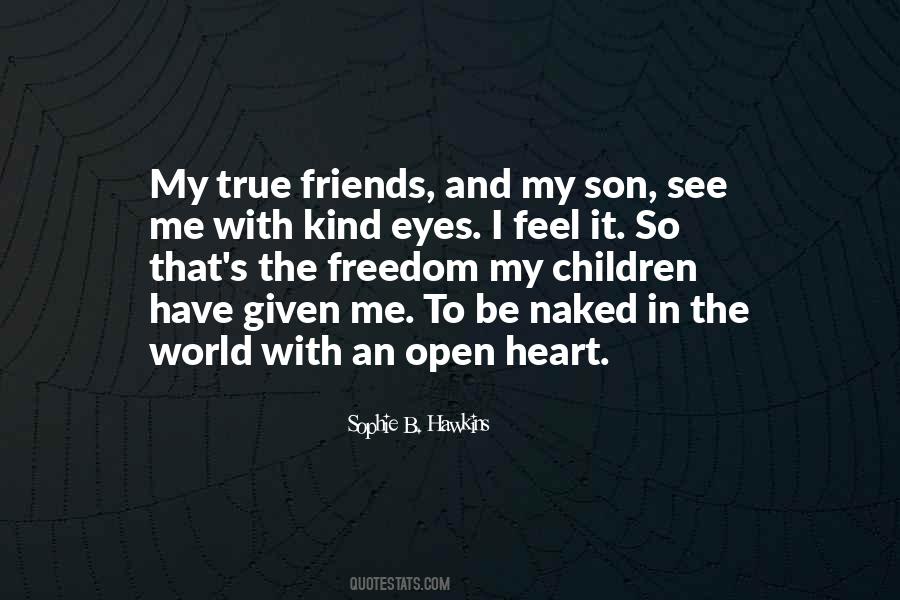 #93. When people come to my shows, they have the freedom to feel something, and we're all just a big bowl of feels. - Author: Christina Perri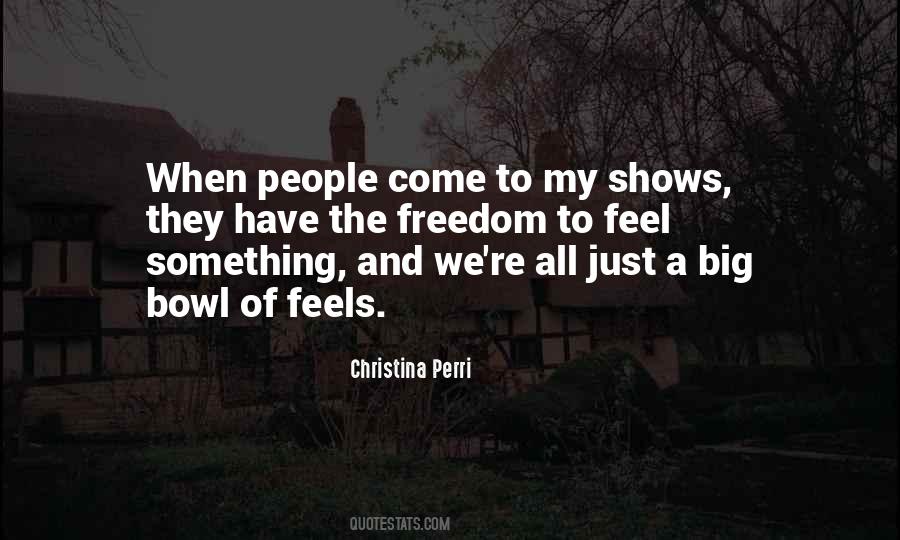 #94. That's what it's like to be a prisoner of anything. You want your freedom until you get it,
then you feel bare without your chains. - Author: Tarryn Fisher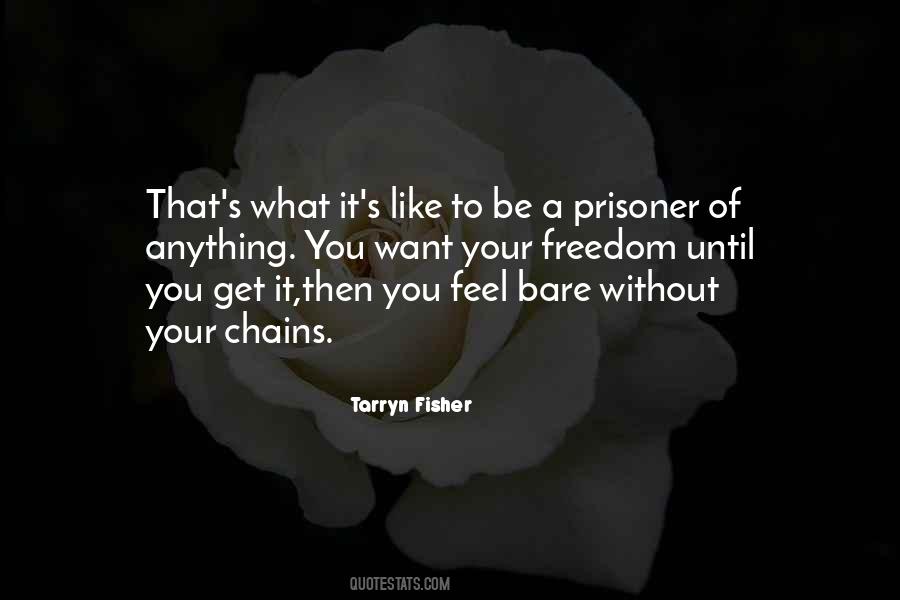 #95. All ran to meet their chains thinking they secured their freedom, for although they had enough reason to feel the advantages of political establishment, they did not have enough experience to foresee its dangers. - Author: Jean-Jacques Rousseau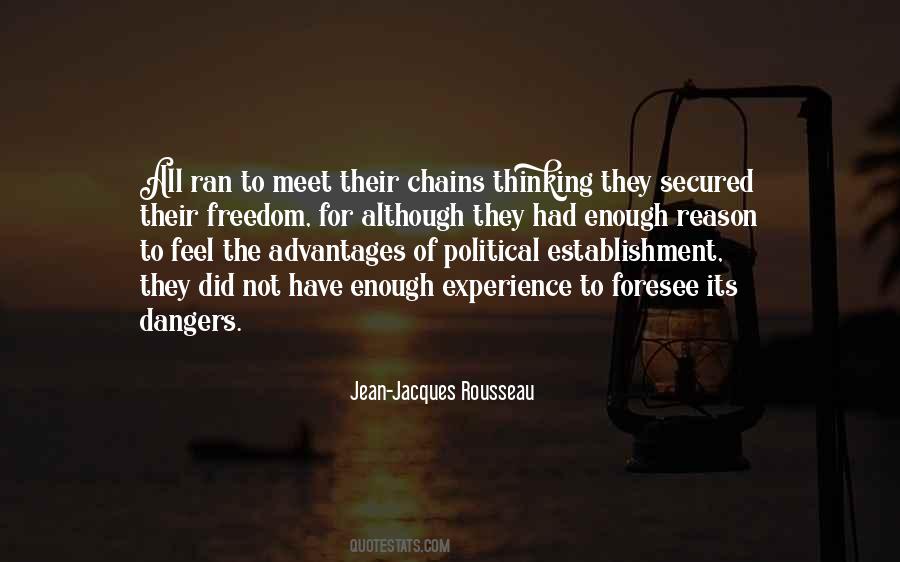 #96. I'm not a wide-eyed imperialist who wants to see Americans manning outposts all over the world. Not outposts to freedom in the cold war cliche, but islands of stability and seas of ethnic strife. That is not what anyone should feel comfortable seeing Americans doing. - Author: Richard Holbrooke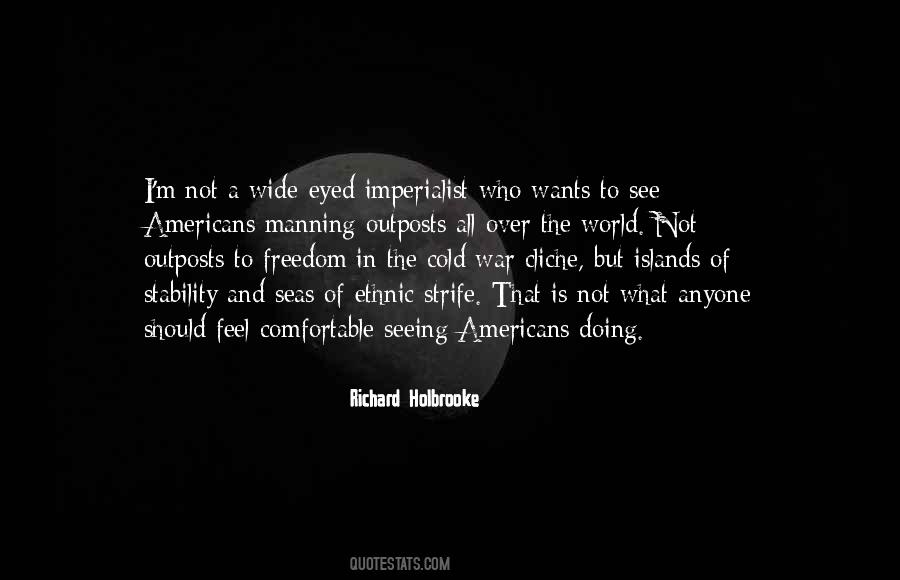 #97. Every principle that wants to command strong allegiance must make a moral case. Men want to feel that what they are doing is useful, but they want also, and mainly, to feel that it is right. Freedom is one of these principles - Author: Henry Wallich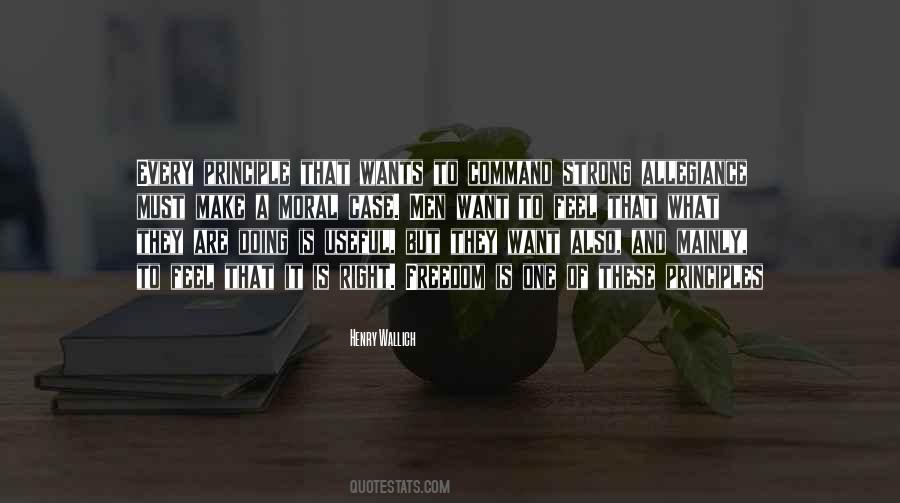 #98. A friend is someone who gives you total freedom to be yourself - and especially to feel, or not to feel. Whatever you happen to be feeling at any moment is fine with them. That's what real love amounts to
letting a person be what he really is. - Author: Ava Dellaira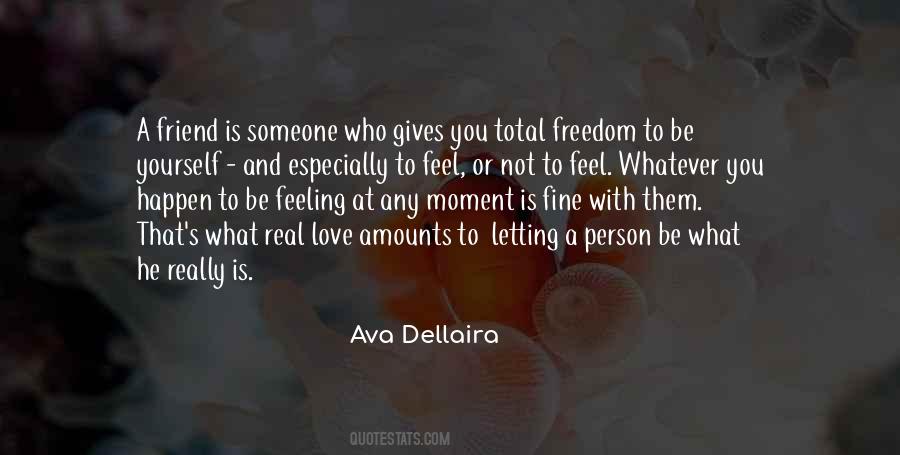 #99. An artist must not feel under any constraint. - Author: Henri Matisse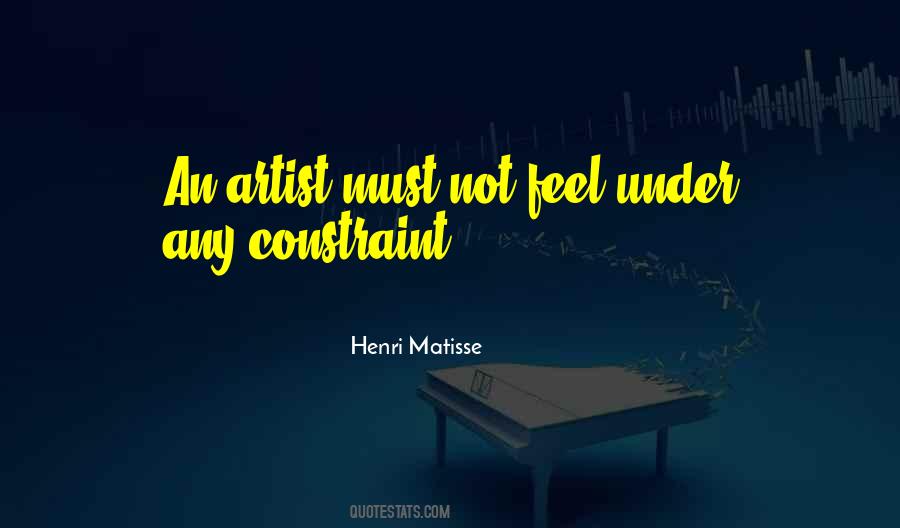 #100. When we give way to joy, we do not feel that we have lost control, but gained freedom. - Author: Jane Roberts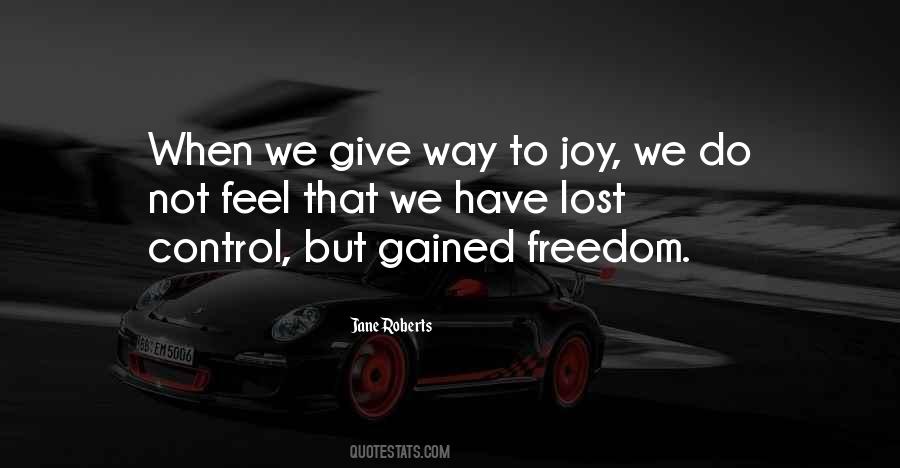 Famous Authors
Popular Topics