Don't Think About Yourself Famous Quotes & Sayings
List of top 100 famous quotes and sayings about don't think about yourself to read and share with friends on your Facebook, Twitter, blogs.
Top 100 Don't Think About Yourself Quotes
#1. Don't you think you ought to at least think about getting yourself to your ultimate? Because, trust me, nobody else is going to get you there. - Author: Claudia Gray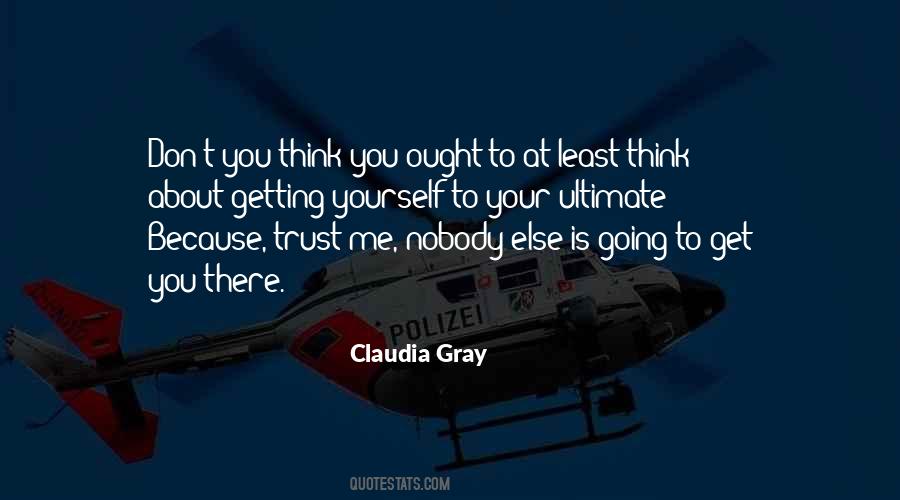 #2. I remember reading somewhere that you have to learn to love yourself before you can love someone else. But I don't think it's true. I think you have to learn to forget yourself before you can love someone else. At least I seem to forget about myself when I'm with you. - Author: Ryan Winfield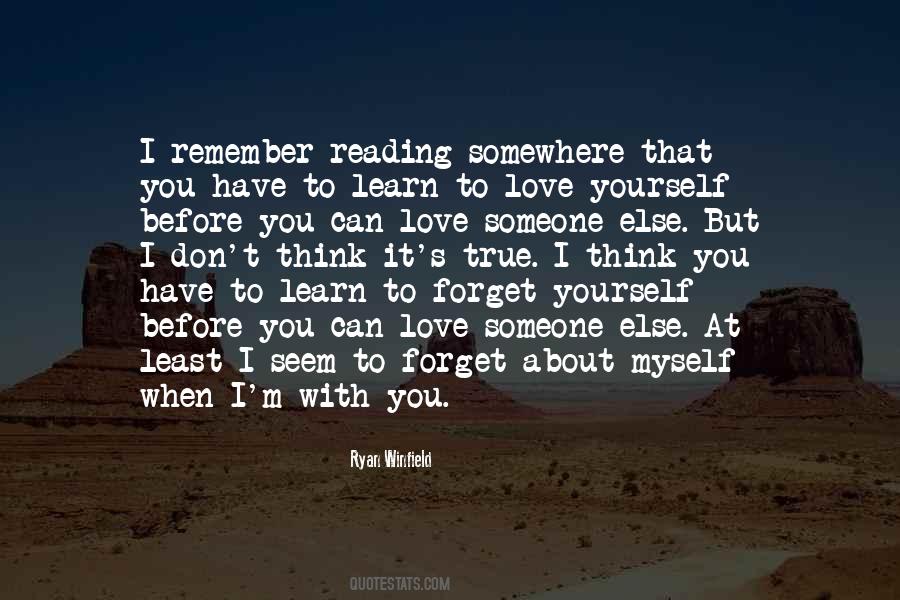 #3. When something works for you or another brand, ask yourself, 'Why?' Then don't copy it but think about what you can do that's unique to you and better. - Author: Simon Mainwaring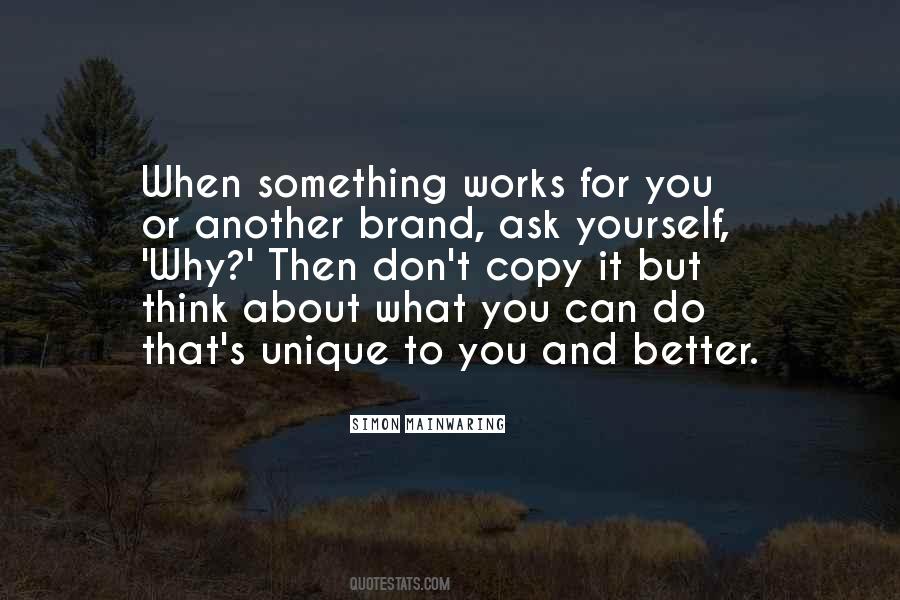 #4. I think it's good to surround yourself with people you care about and that care about you, and you all trust each other, and then you don't have to worry about problems and shitty stuff happening. - Author: Nate Diaz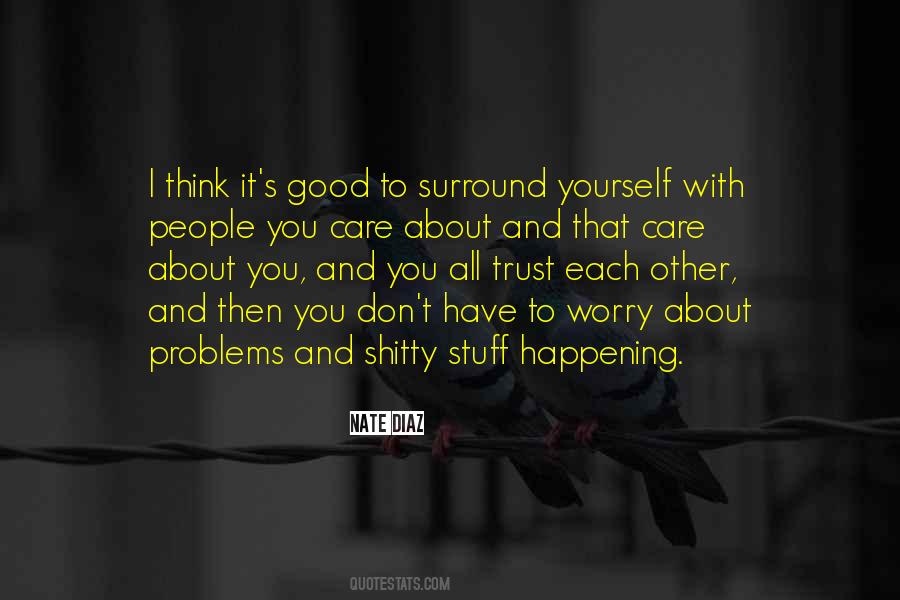 #5. Sometimes, if you don't have kids yourself, it's assumed you won't understand or know how to play a mom, which is kind of silly if you think about it. - Author: Tricia Helfer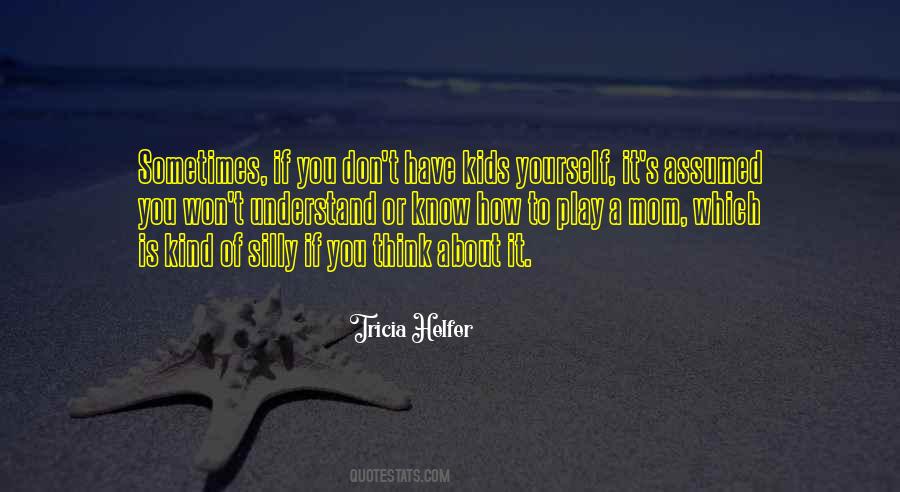 #6. You think I don't know how that feels? There's only one response, and I can tell you this because I see it every day. You live. And you throw yourself into everything and try not to think about the bruises." "Oh, - Author: Jojo Moyes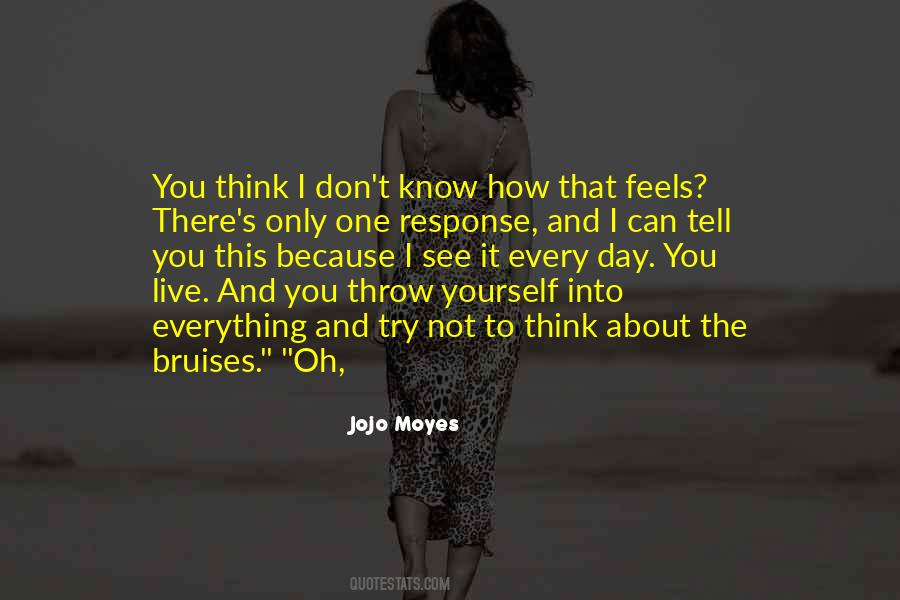 #7. People think that there is so much money in tennis, but the reality is unless you're ranked in about the top 50 you don't earn much at all. It is hard to support yourself travelling the world, to be away from home most of the year and to pay for a coach to help you become a better player. - Author: Samantha Stosur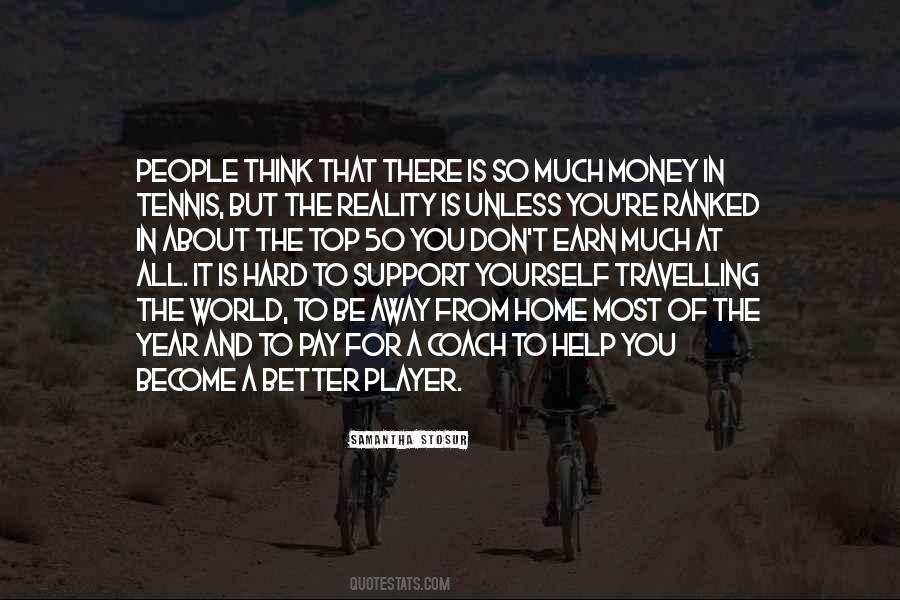 #8. I'm still shy," I admit, pulling the sleeves over my hands, "and I might always be, I don't know, but I think you can be shy and still feel okay about yourself at the same time. - Author: Megan Jacobson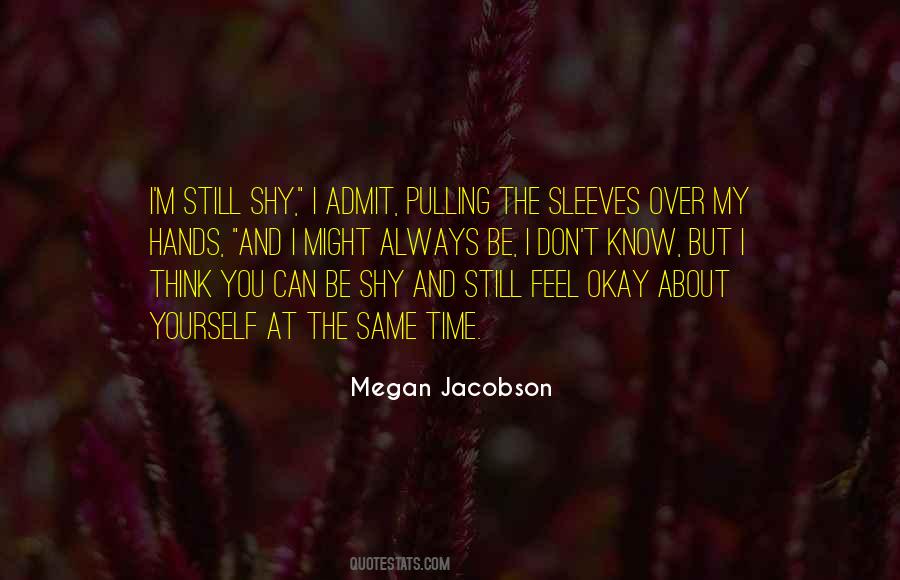 #9. Study the business you think you might like. Satisfy yourself that they will suit your needs. There are so many alternatives available - don't be too quick to choose. Just about any business can fail and any can succeed. - Author: Paul Clitheroe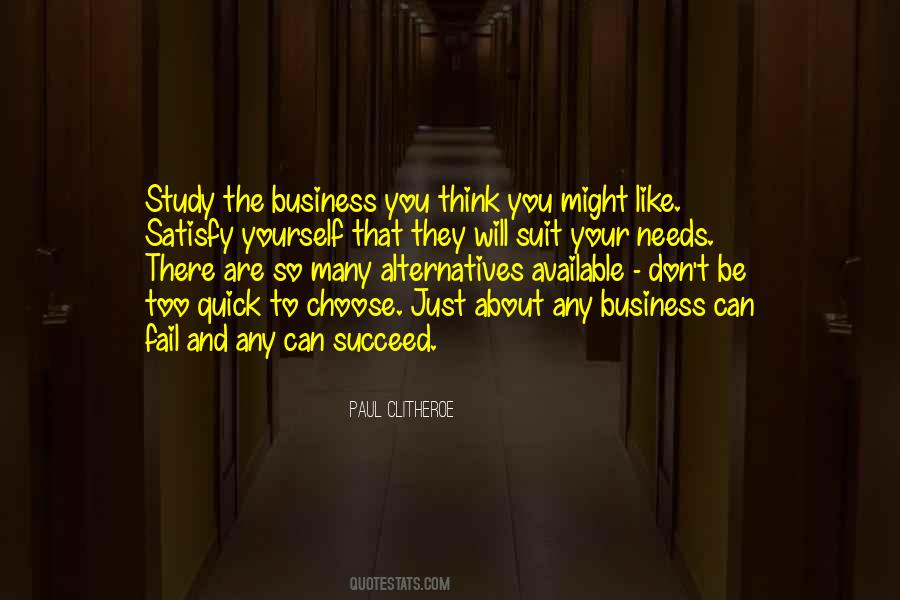 #10. If you have to change something about you to be in a part, I don't think it's easy to do. You should just pick the part where you can just be yourself. - Author: Lucas Black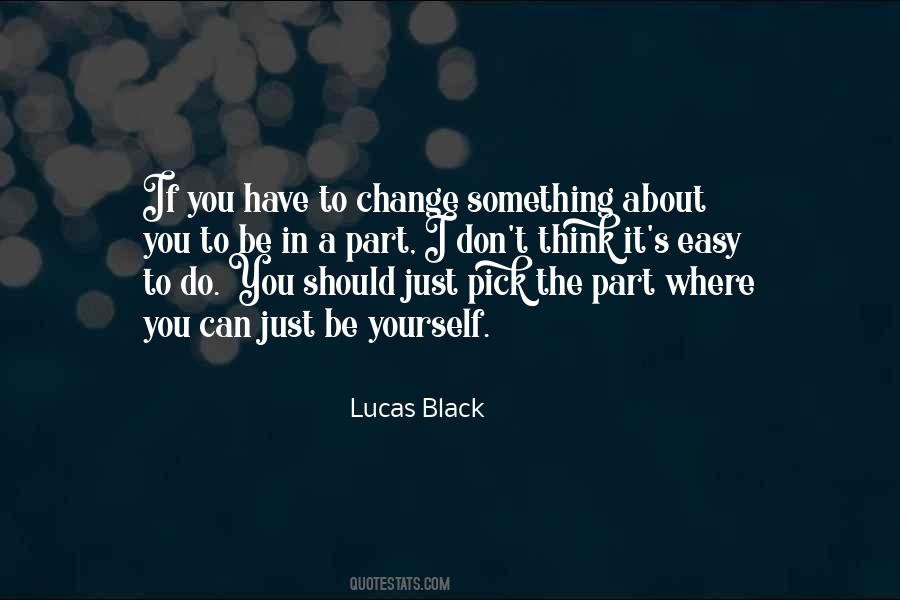 #11. People think [immigration] is only about the dollar, but it's so much more complex. This is a place where you can reinvent yourself. I don't know that you can do that anywhere else. - Author: Esmeralda Santiago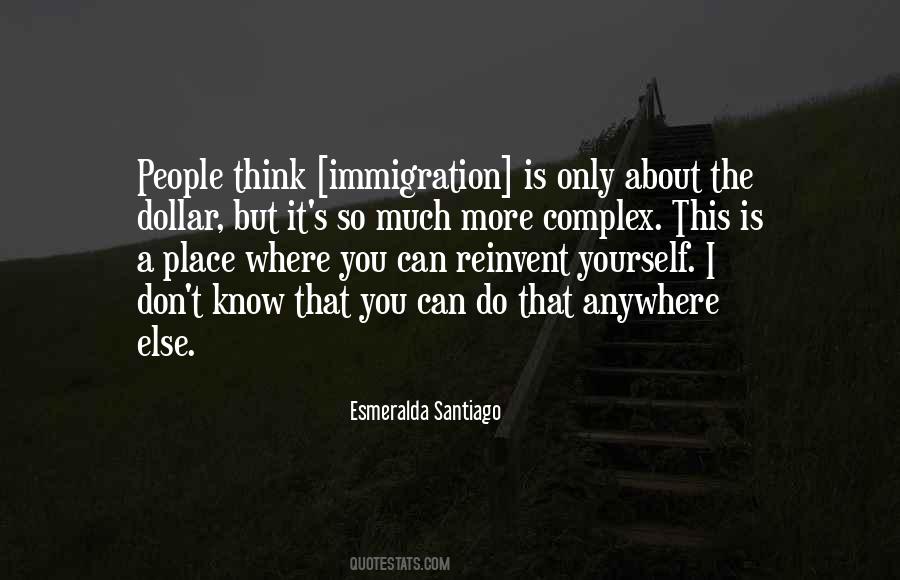 #12. Don't concern yourself about anybody. Just do what you think is right. - Author: Franz Kafka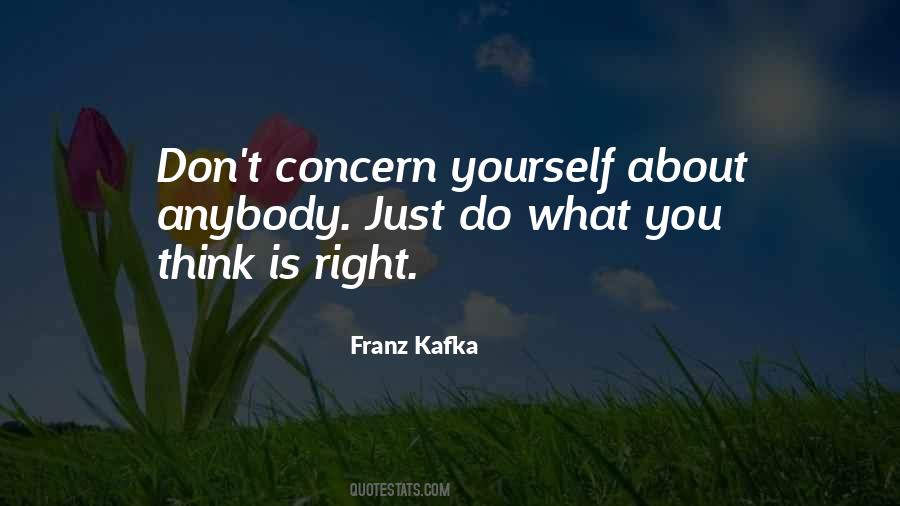 #13. Having this lovely person in my life. My daughter is the funniest person I know and I couldn't imagine my life without her. I think it also starts an amazing journey in a woman. You don't obsess about yourself in the way you used to, as the bulk of your time isn't spent on you. - Author: Donna Air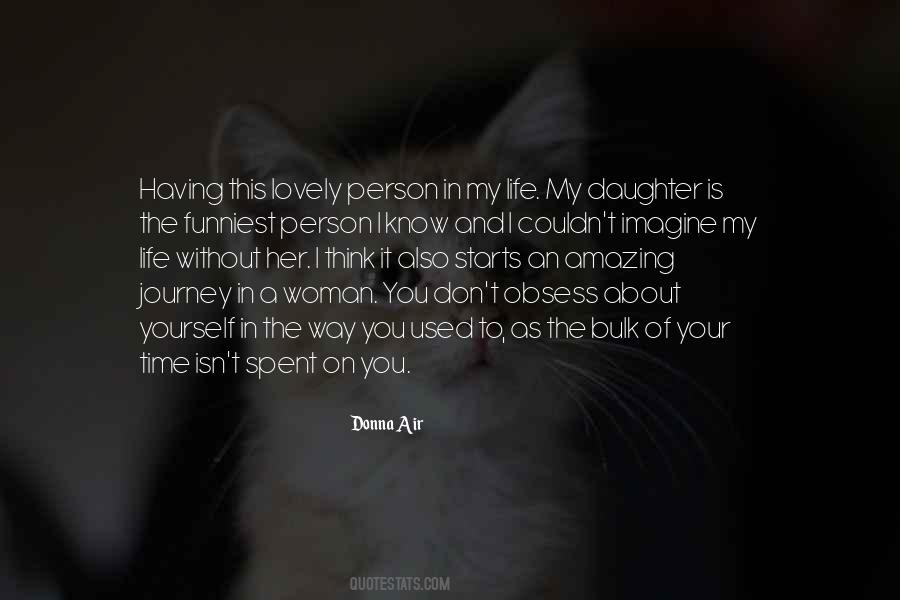 #14. I don't think the world of football is so serious. It's important to have distance about things and about yourself. If we believe we are kings or gods, we become crazy. We all know it's a game and we all enjoy it together. - Author: Eric Cantona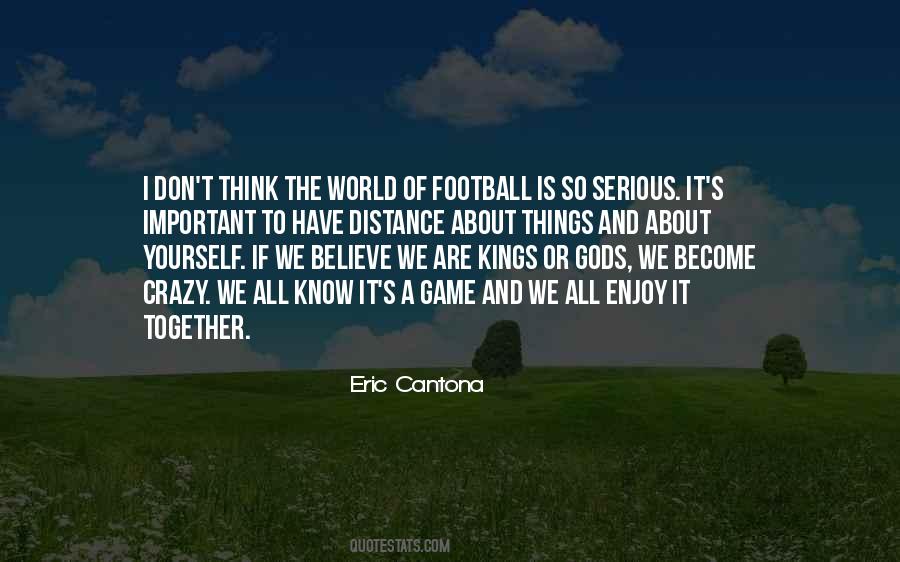 #15. I think everyone should go crazy at least once in their life. I don't think you've truly lived until you've thought about killing yourself. - Author: Pete Wentz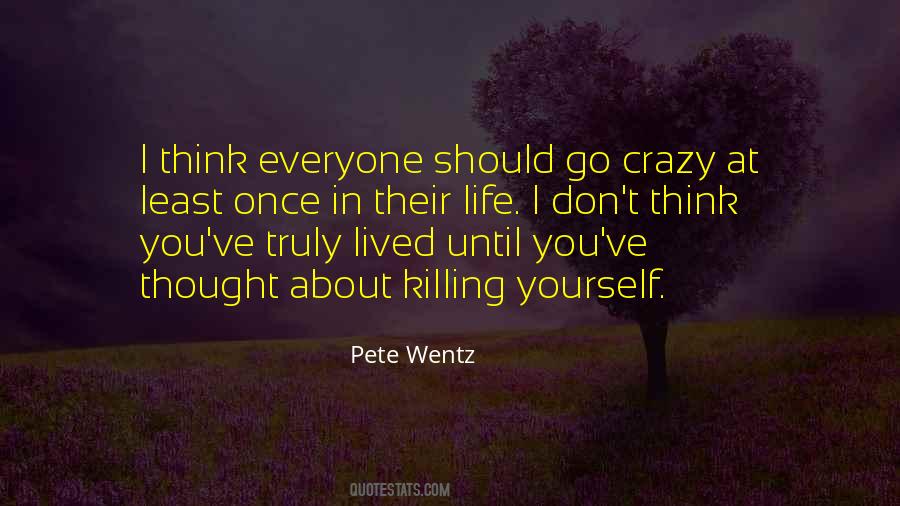 #16. If you find yourself about to complain, think of your many blessings and rejoice! Don't give the devil a ride today, because then he'll want to drive full-time. So, kick his attitude of complaining spirit out of your blessed zone. Don't give the devil NOTHING!! - Author: Anita R. Sneed-Carter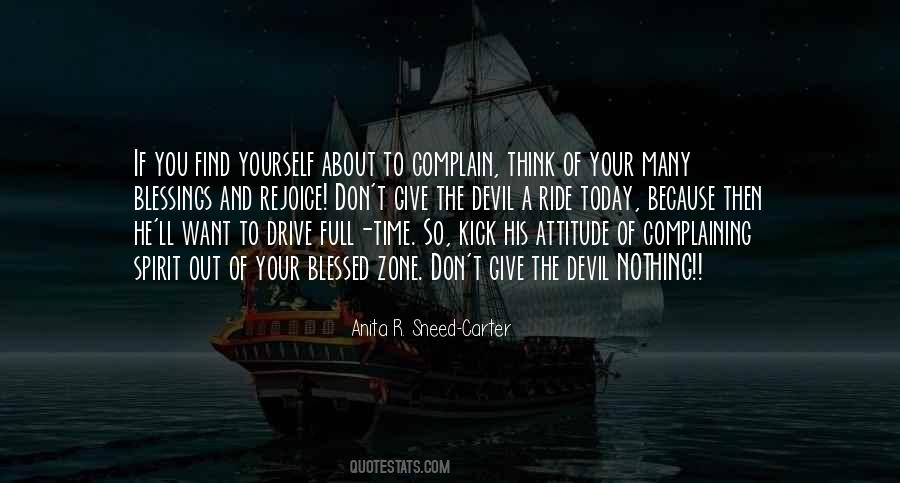 #17. Being all about me is not a good thing - I don't care what 1978 tried to say - because as long as you mostly think about yourself, you're not going to be a wonderful person. You're just not. - Author: Tracy McMillan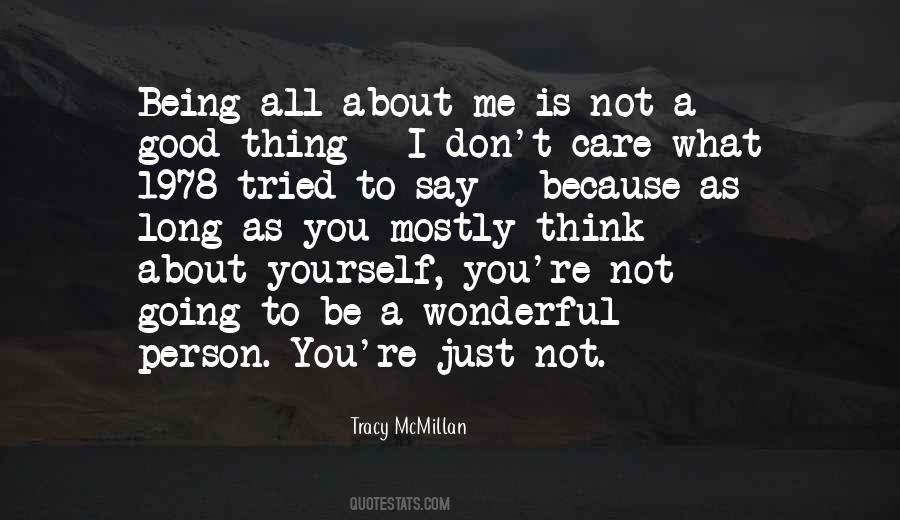 #18. No, I don't like work. I had rather laze about and think of all the fine things that can be done. I don't like work - no man does - but I like what is in the work, - the chance to find yourself. Your own reality - for yourself, not for others - what no other man can ever know. - Author: Joseph Conrad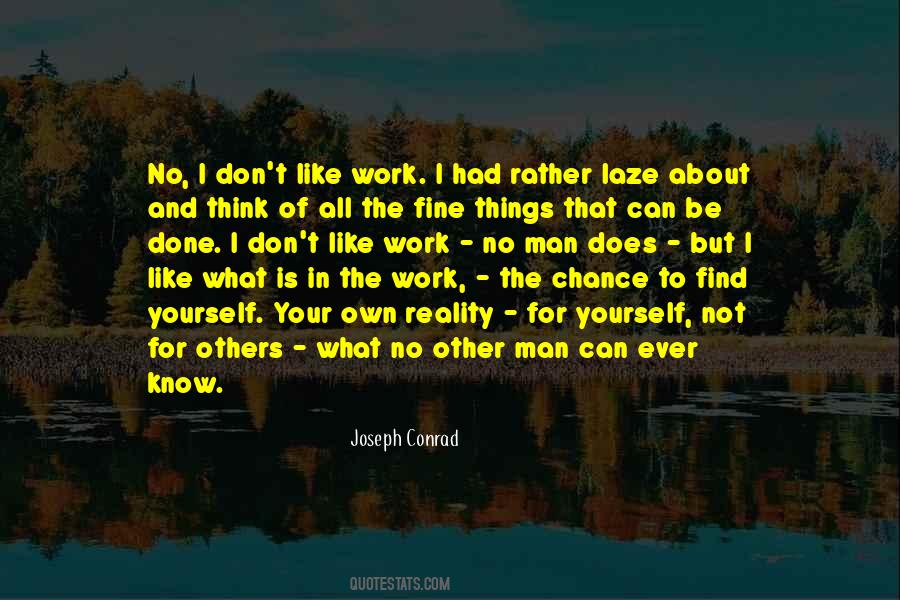 #19. I don't think any of us are careful enough about emails. When you are writing an email, you should imagine yourself in an auditorium speaking to 5,000 people, with your mother and grandmother in the audience, and it is being broadcast on CNN. - Author: Toby Emmerich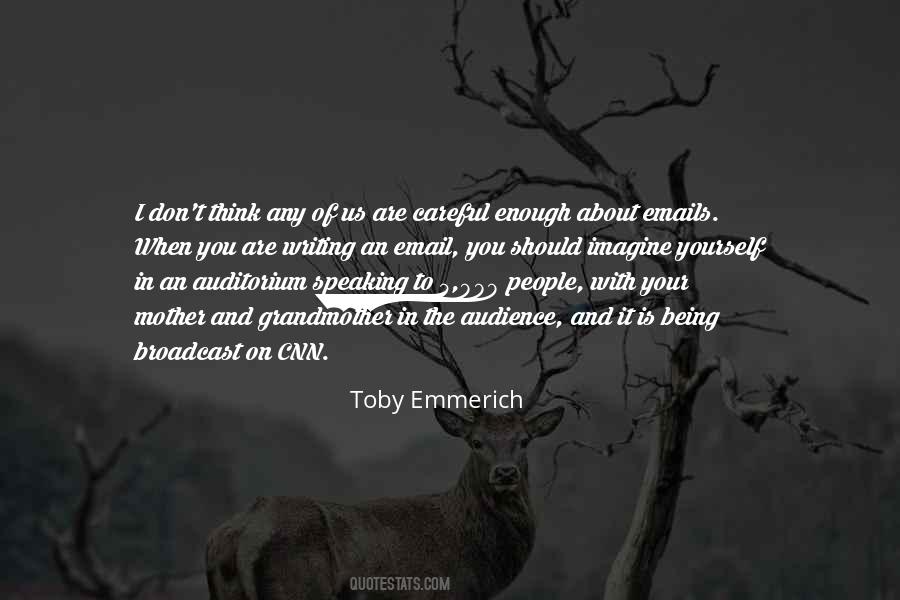 #20. I think between the ages of 15 and 32, don't worry about getting married, don't worry about settling down, don't worry about having a baby. Give birth to yourself. - Author: Kelly Cutrone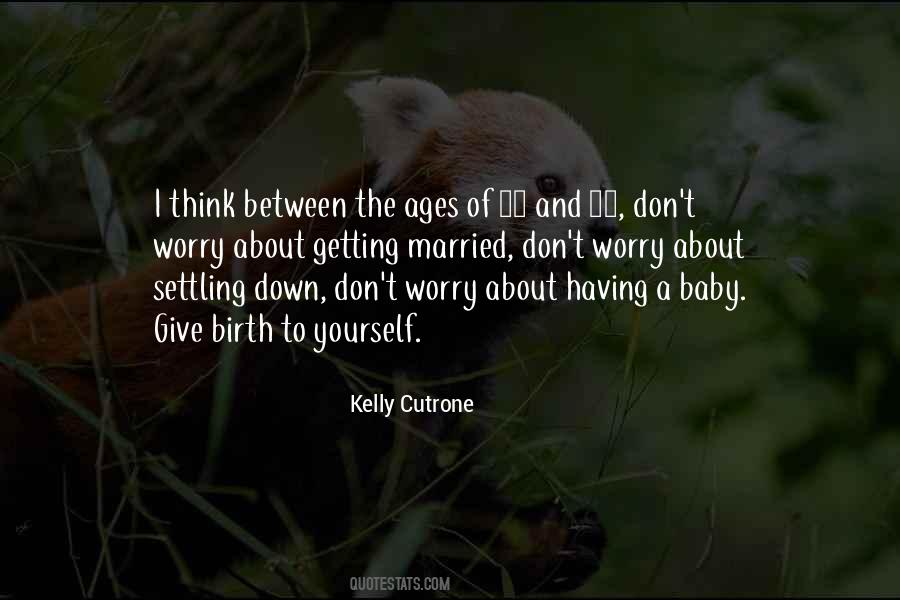 #21. Love yourself. Don't worry about what others say, think, or feel about you. They didn't create you, do not own you, and therefore hold no power over you. Do not allow your ego to replace your self-worth. - Author: Dina Redmon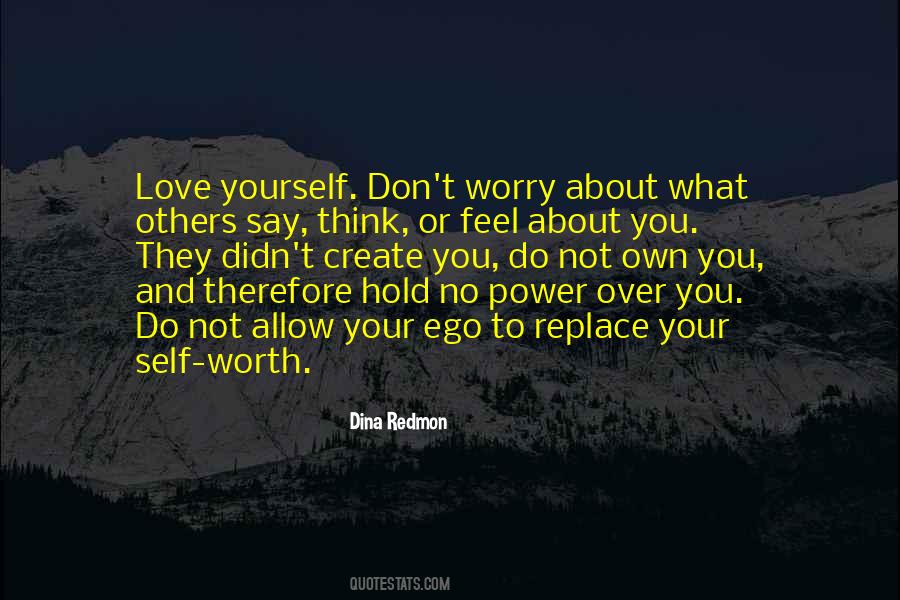 #22. Don't let yourself be. Find something new to try, something to change. Count how often it succeeds and how often it doesn't. Write about it. Ask a patient or a colleague what they think about it. See if you can keep the conversation going. - Author: Atul Gawande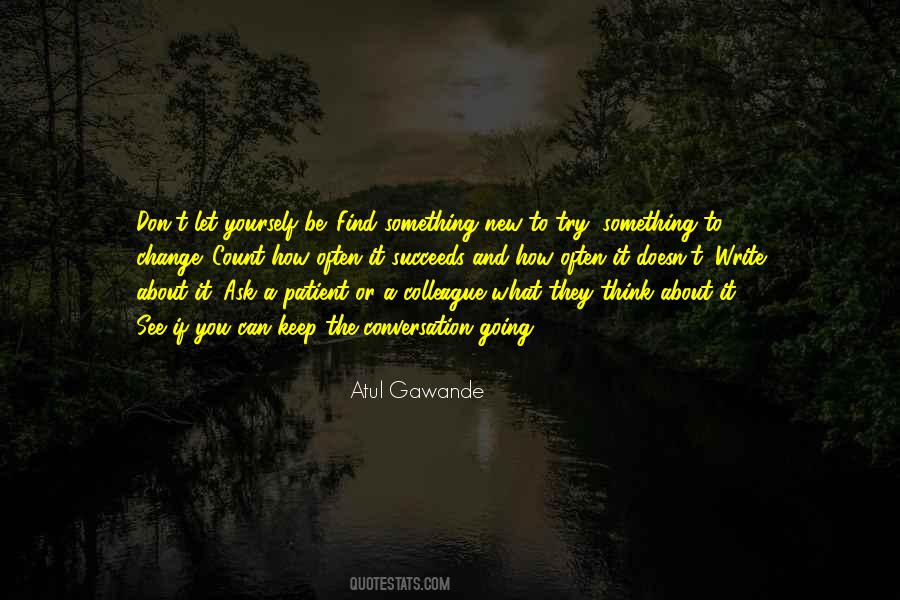 #23. The truth is, that one doesn't really know anything about anybody. Not even the people who are nearest to you...'
'Isn't that going a little too far--exaggerating too much?'
'I don't think it is. When you think of people, it is in the image you have made of them for yourself. - Author: Agatha Christie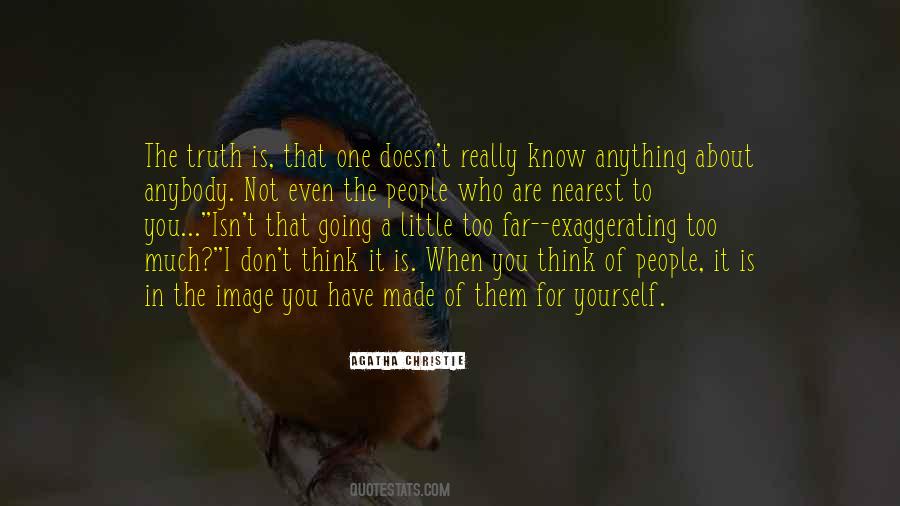 #24. It's very difficult to lie to yourself about certain things. I'm not necessarily convinced about how information is gathered and I don't think the credence that's given to it is valid. - Author: Andrew Dominik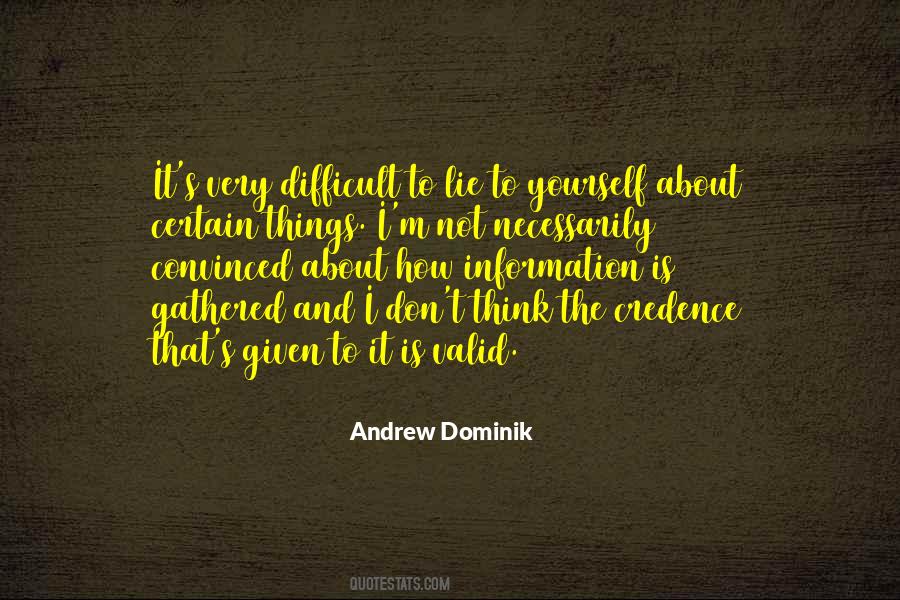 #25. You come to a point in your life when you really don't care what people think about you, you just care what you think about yourself. - Author: Evel Knievel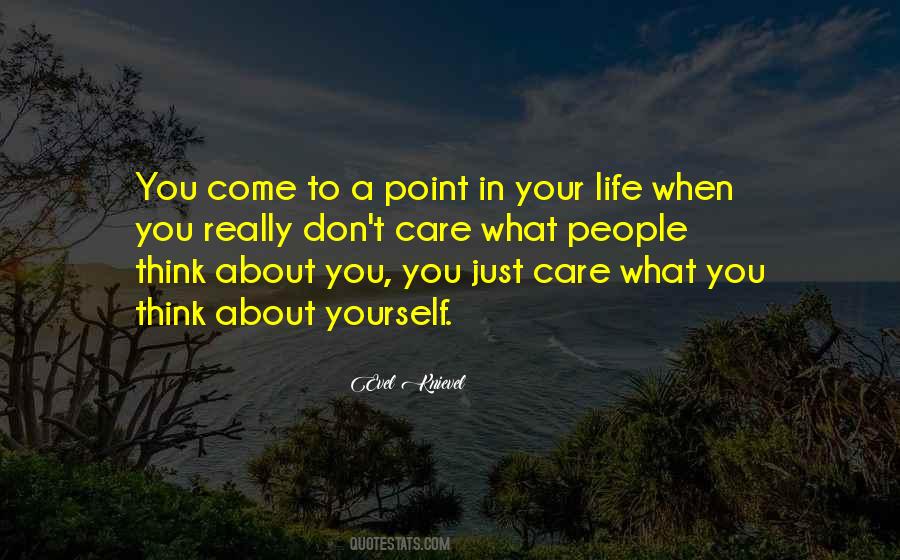 #26. You can always care [about what others think]. You probably always will care. But don't let it dictate your choices and what you want and what you want to accomplish and who you want to be. Don't let anyone get in the way of that. That's being yourself. - Author: Jenna Marbles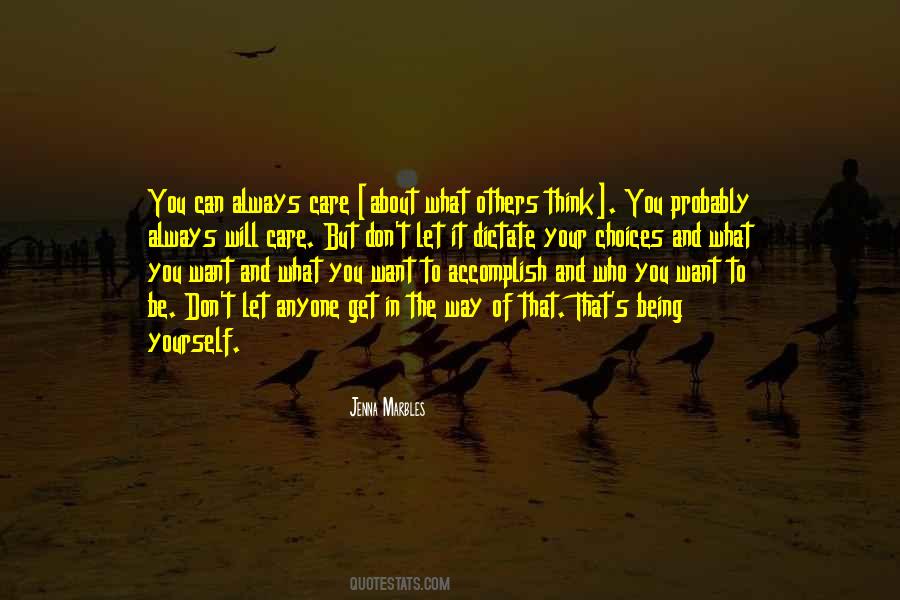 #27. Don't care what people think about you, Only care what you think about yourself.As we knows ourselves better than anyone.. - Author: Debolina Bhawal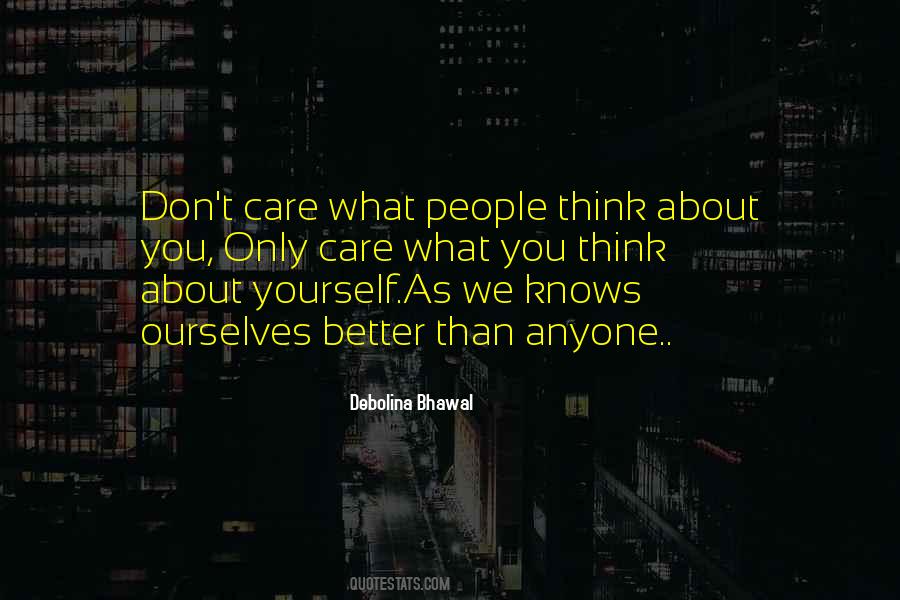 #28. If you think you cannot do it, you set yourself up to fail anyway. Maybe it will take one more try to do it, and that is what life is about. If you don't get it right on the first try, you try again. You keep doing it and doing it until you find success! - Author: Benoit Lecomte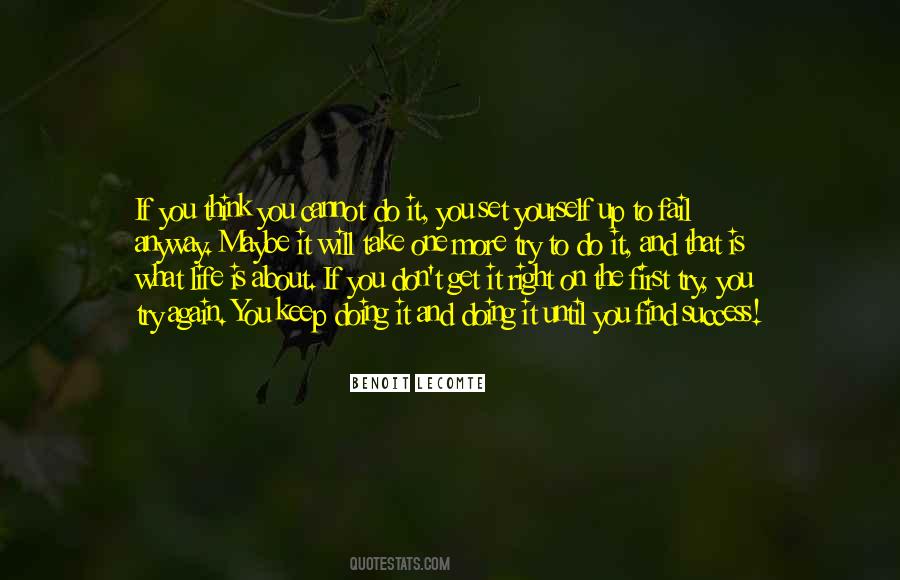 #29. I don't think a lot of actors talk about it, but there's usually a process where you essentially purge yourself of the character that you played prior to the movie. That's the first thing. You want to do it. - Author: Vin Diesel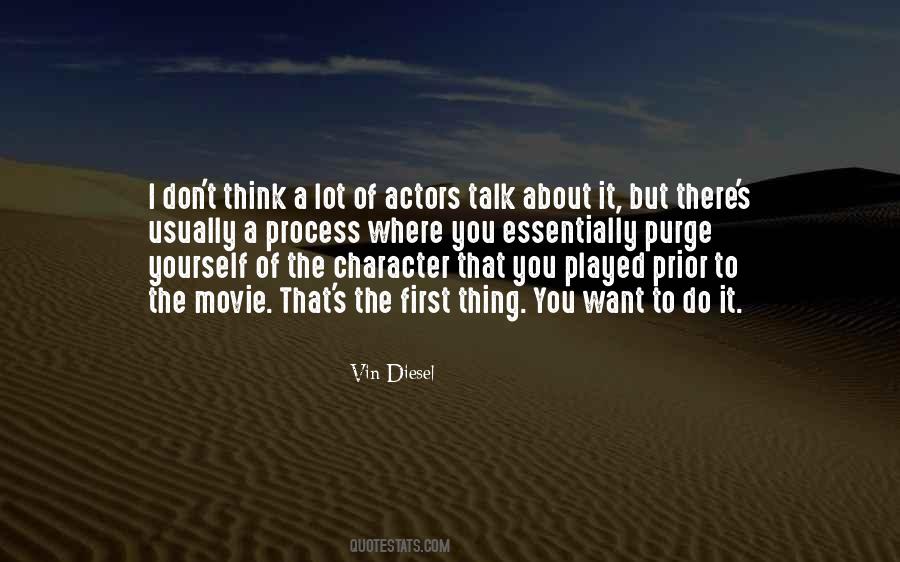 #30. The worst part about going crazy is that when you're not crazy anymore, you just don't know what to think of yourself. - Author: Benjamin Alire Saenz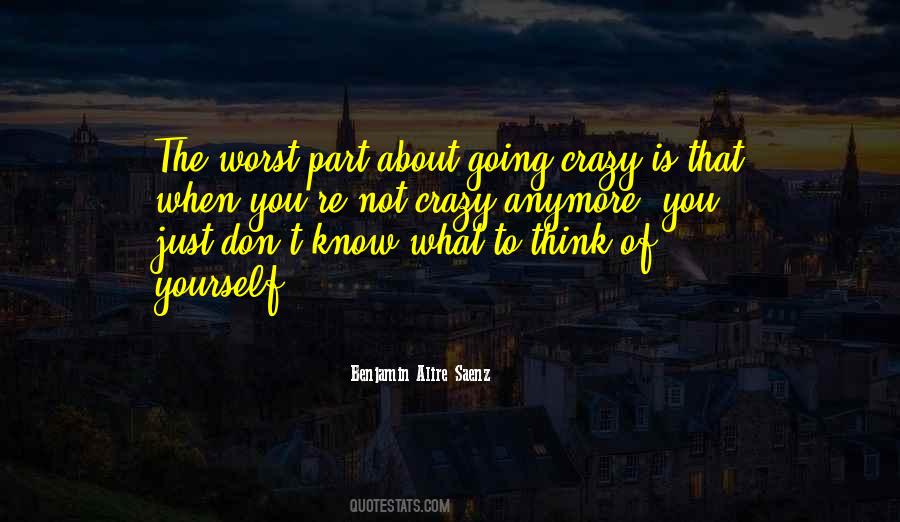 #31. How could anyone love Him? What did you just tell me yourself about the world? Don't you see, everybody hates God now. It's not that God is dead in the twentieth century. It's that everybody hates Him! At least I think so. - Author: Anne Rice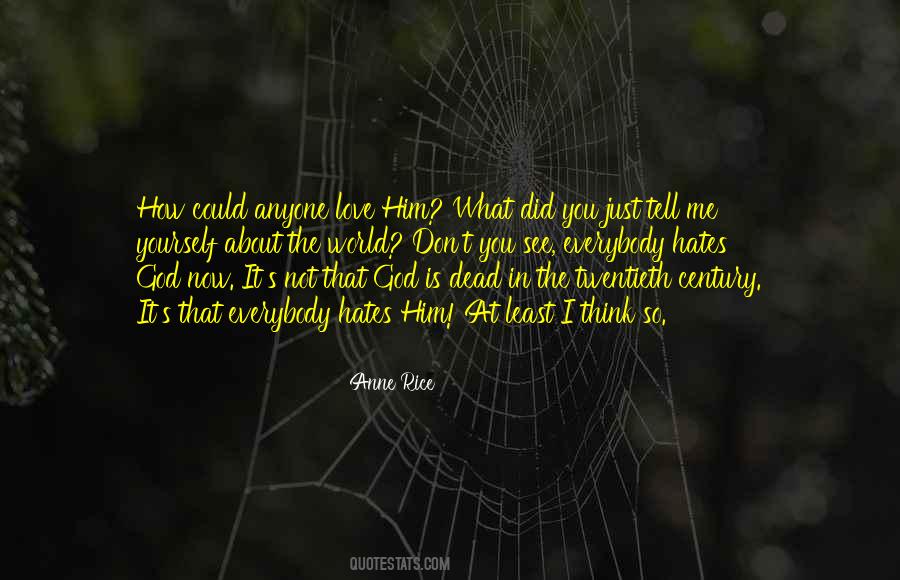 #32. As a young man ... you don't know anything about yourself. And add on to that, you're on the cover of magazines. People are interviewing you about what you think. You feel like a real phony. - Author: Ethan Hawke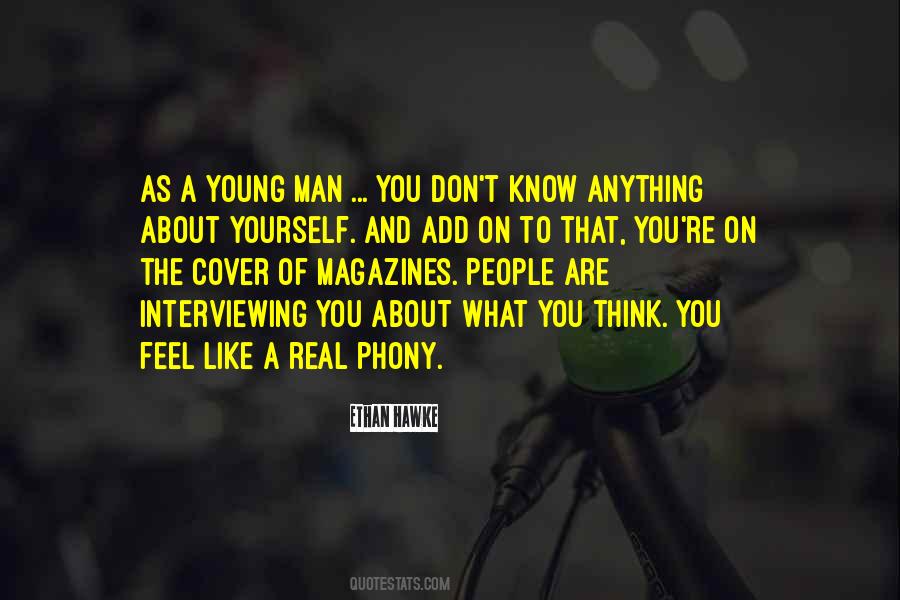 #33. I don't think about being beautiful or not being beautiful. It's more about feeling confident inside your own skin really and thinking about yourself as little as possible. - Author: Cate Blanchett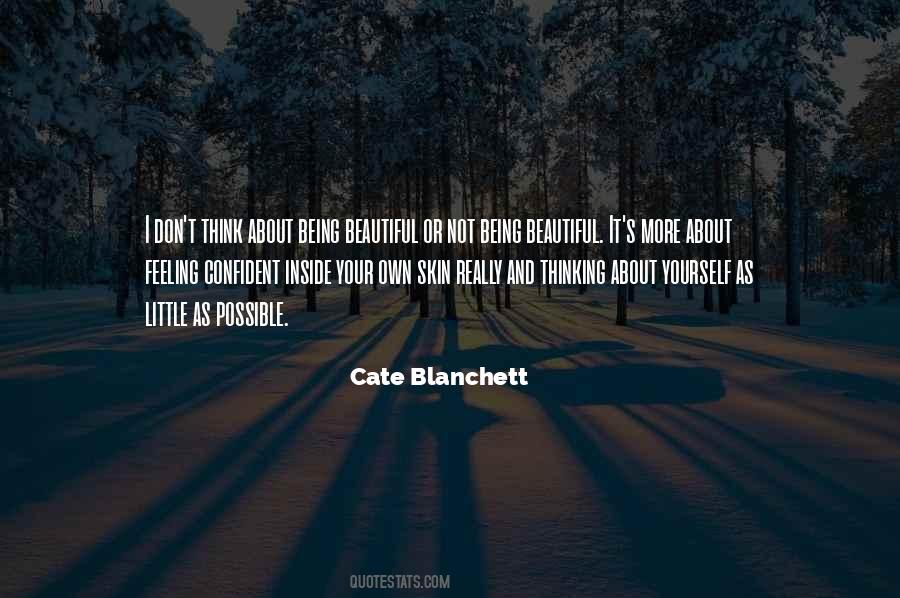 #34. That, dillop brain, is what getting close to the Darke does. It makes you think only of yourself. It takes you away from people you care about. And now you don't have anyone to talk to and it serves you right. - Author: Angie Sage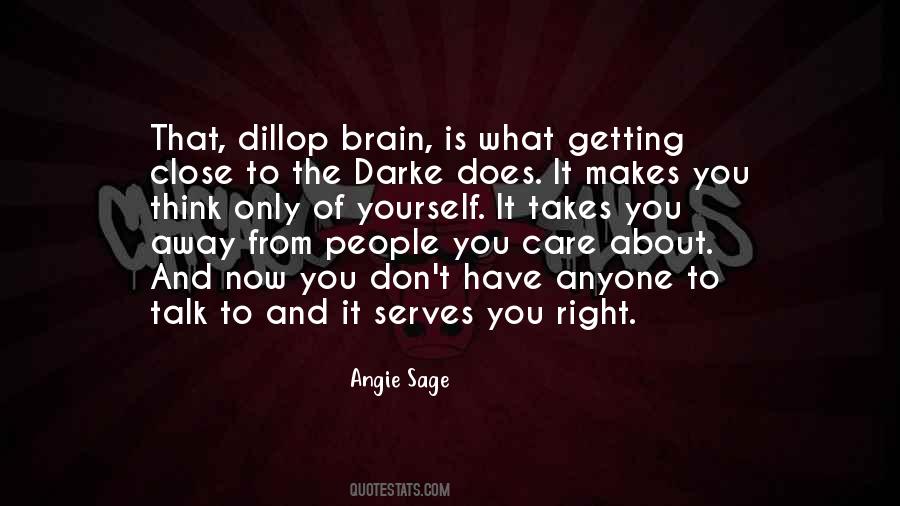 #35. There's a bug inside you. Growing in you, eating everything you've forced yourself to forget, everything you don't want to think about. Your bug will decide your fate one day. And ... chances are, you will die because of it. - Author: Kouhei Kadono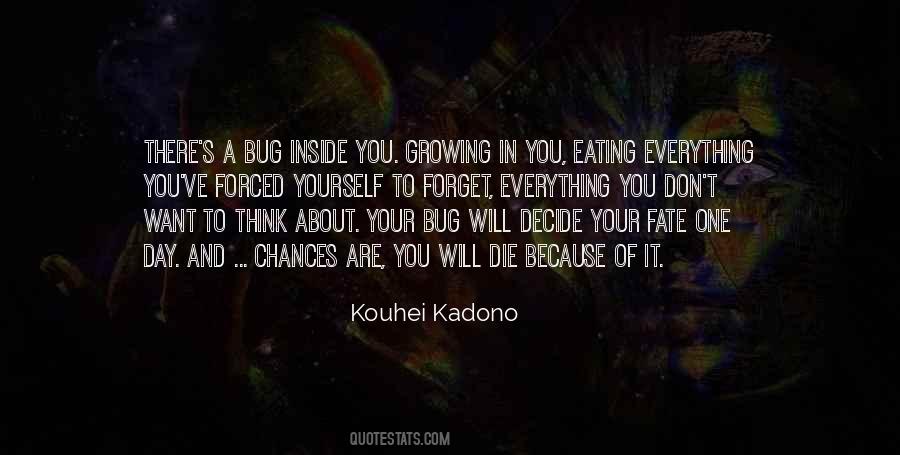 #36. There's a difference between not caring about what others think, and not caring about yourself. Your problem is you don't even care about you. And if you don't care about yourself, how the hell is anyone else supposed to? - Author: Lindy Zart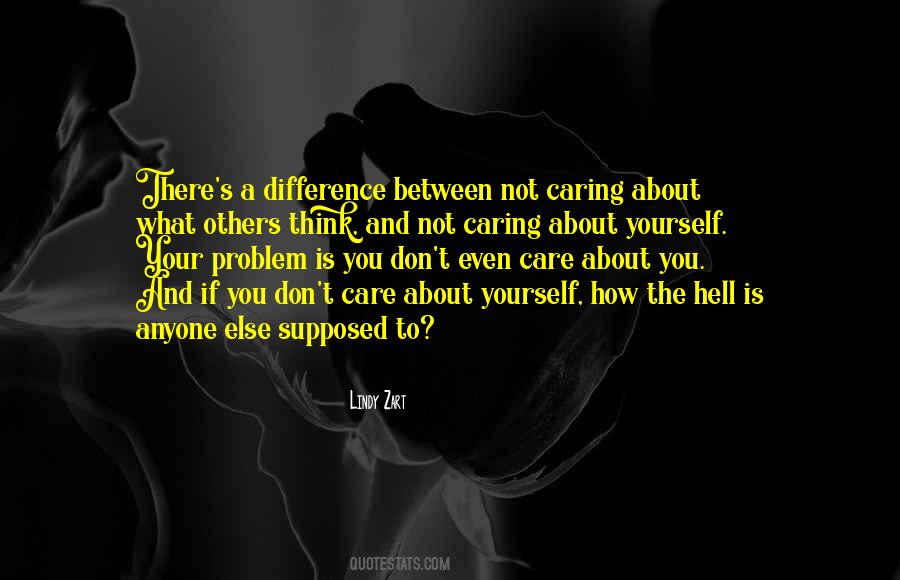 #37. I think the only thing in life that you really have to worry about is how you treat other people. If you mess up and treat someone else badly, you apologize, and you don't apologize for anything else. Be yourself and go for it. - Author: Anne Hathaway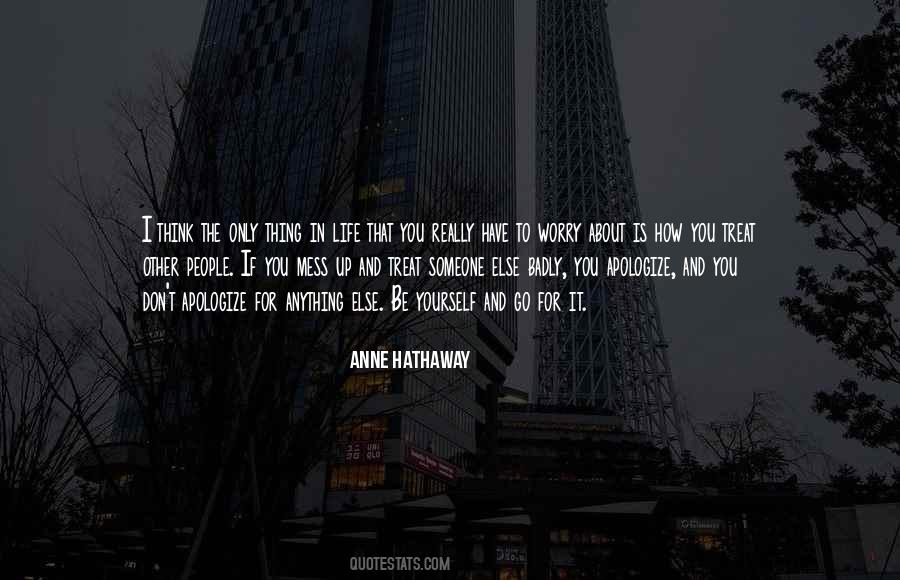 #38. Well, I just don't want you to think that this piece of shit is anything other than a pathetic, human defect. Nothing more. Not a monster, not a bogeyman. Nothing but another reason to feel better about yourself. Understand that it's just a person - not worth devoting any nightmares to. - Author: Jhonen Vasquez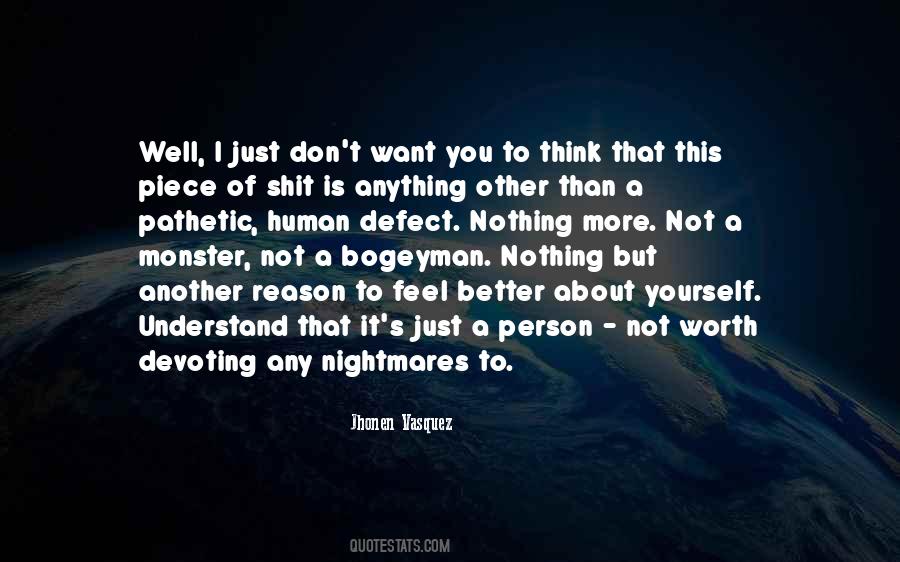 #39. Sometimes people think they know you. They know a few facts about you, and they piece you together in a way that makes sense to them. And if you don't know yourself very well, you might even believe that they are right. But the truth is, that isn't you. That isn't you at all. - Author: Leila Sales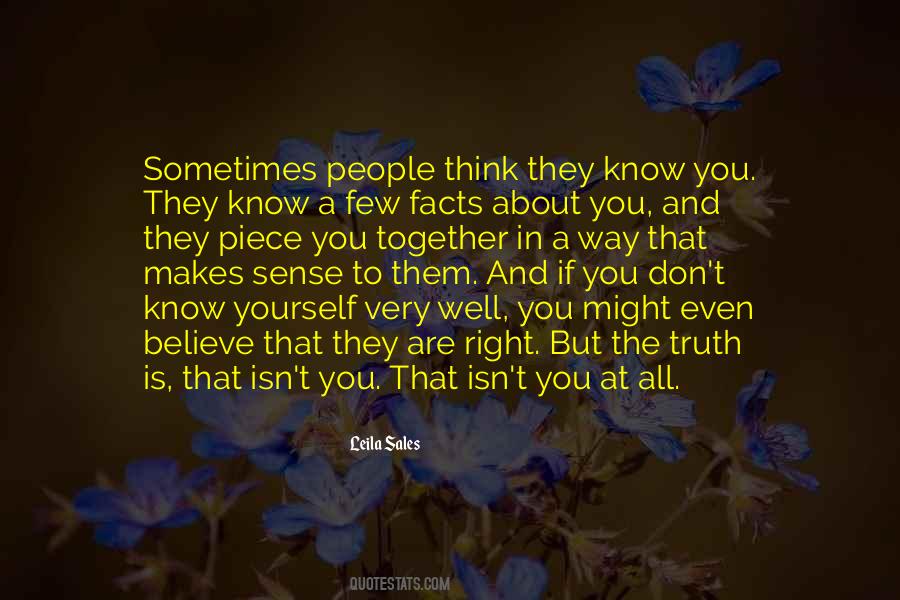 #40. I never think that being a woman is so hard. Maybe don't think about your gender and be confident as you go forward rather than try to single yourself out as some underserved part of filmmaking. - Author: Jerusha Hess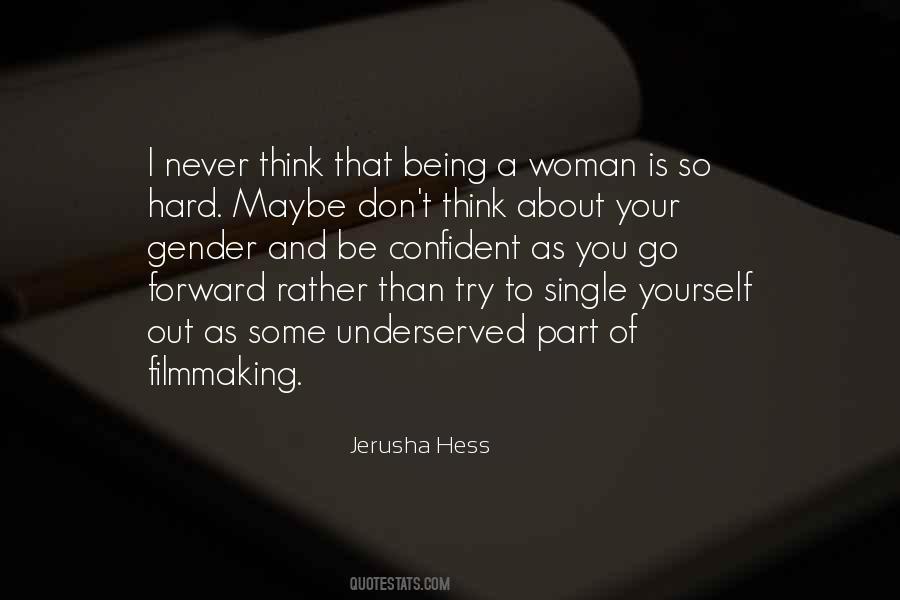 #41. She was looking for something I could never give her." Again his dark eyes bored into Julia's mind. "You have something of the same about you, young woman. Take my advice: Don't think you will find it in another person. You won't. It's not there. You must find it in yourself. - Author: Iain Pears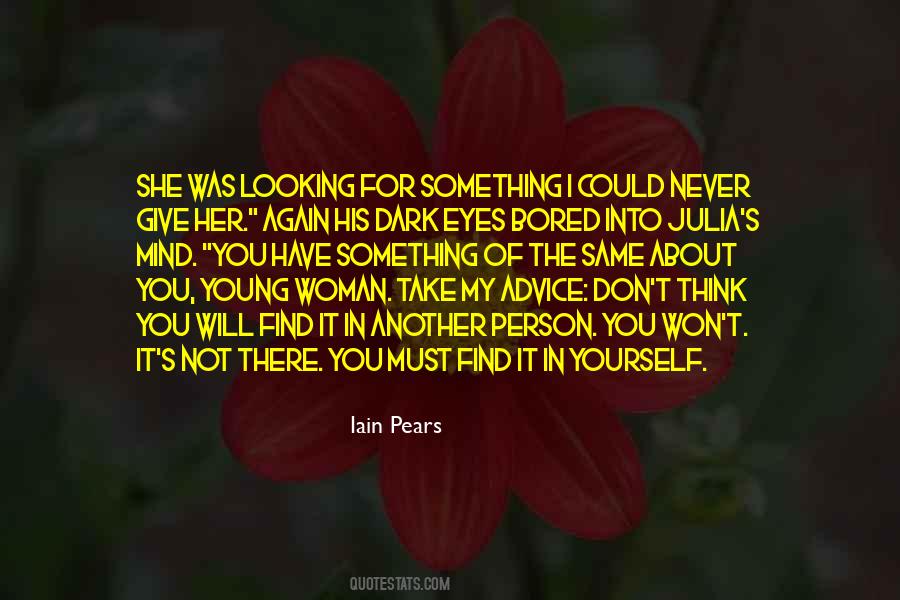 #42. If I thought about it before I went on, I would have never went on. So, therefore, you don't think about it; you have to talk yourself then into, 'Listen, this is it. This is the gig. Broadway or no Broadway, you've got to do your job.' - Author: Rachel Tucker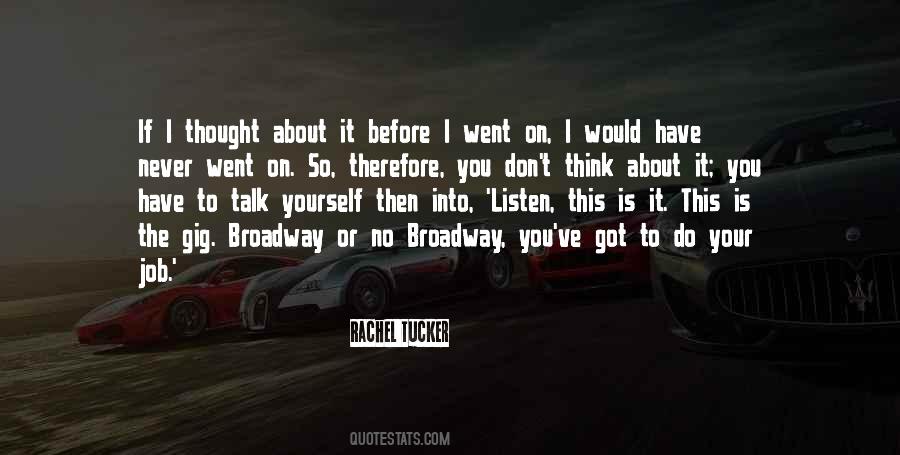 #43. Don't think about making life better for other people who don't even deserve you, rather, focus on making your life the best, for yourself and those who love you. - Author: C. JoyBell C.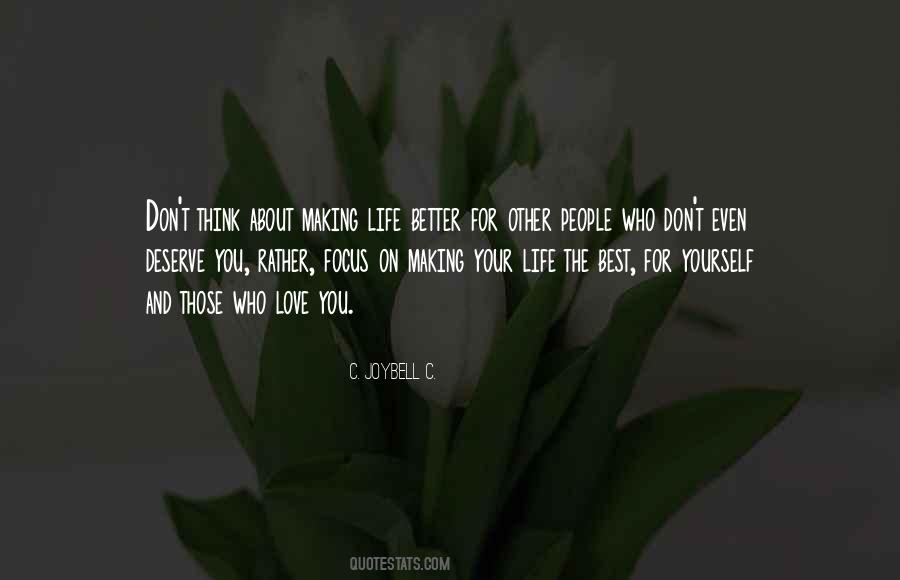 #44. Look up at the moon; don't think about yourself. - Author: Marty Rubin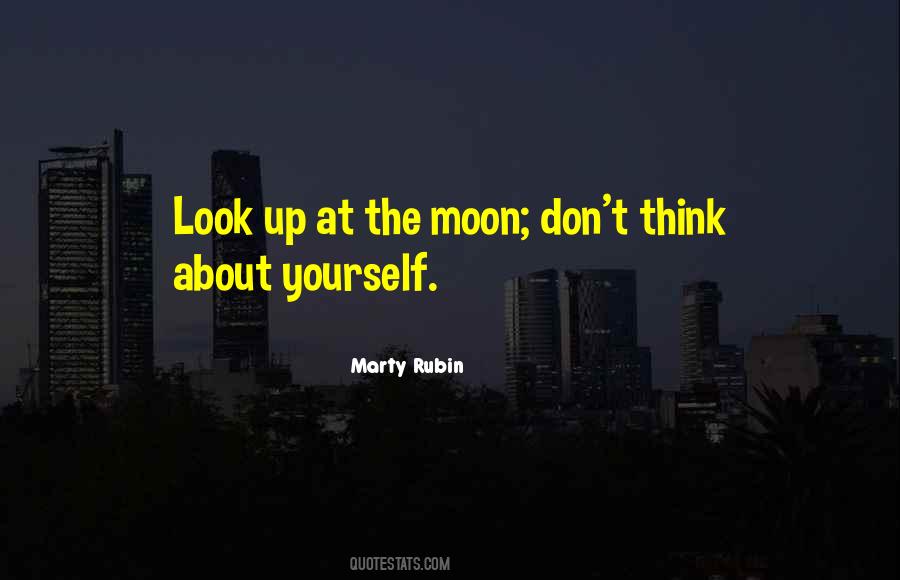 #45. It's a big thing to call yourself a poet. All I can say is that I have always written poems. I don't think I'm interested in any discussion about whether I'm a good poet, a bad poet or a great poet. But I am sure, I want to write great poems. I think every poet should want that. - Author: Clive James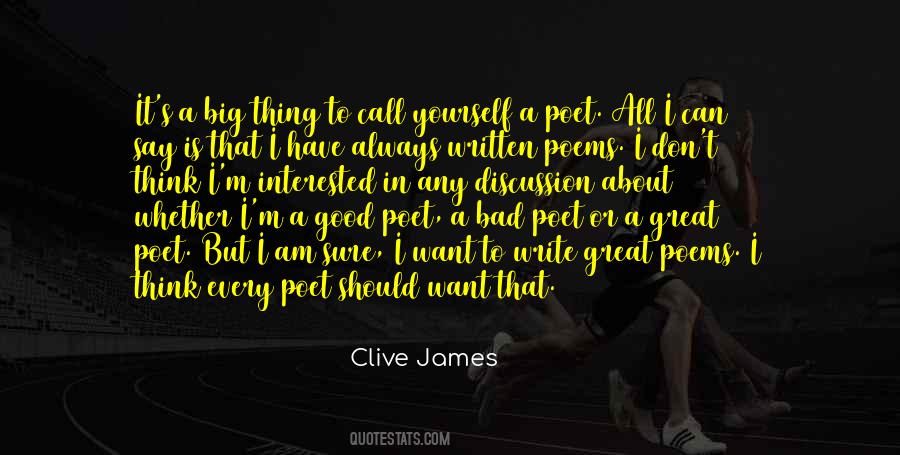 #46. I think you don't grow up until you stop worrying about other people's purposes or lack of them and find the purposes you believe in for yourself. - Author: Orson Scott Card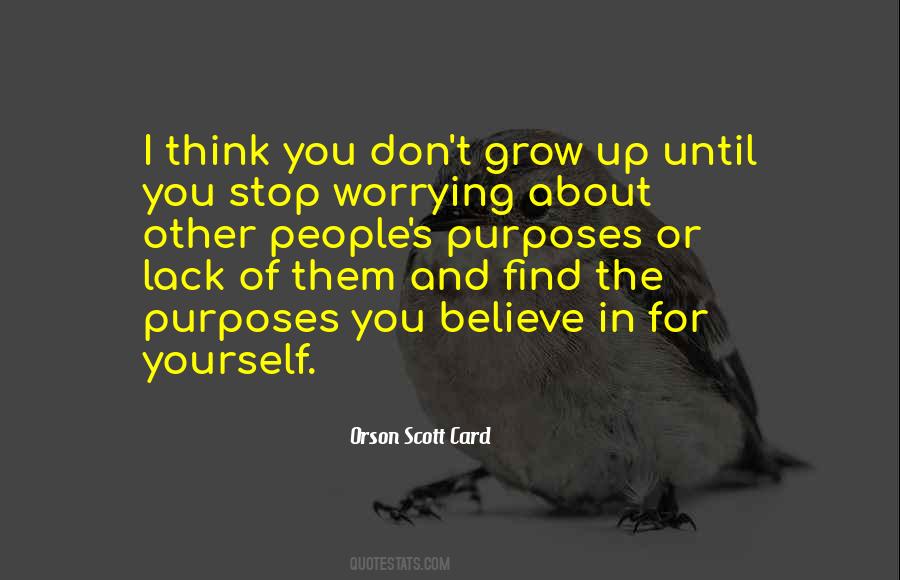 #47. -You don't like to talk about yourself, do you?
-I don't even like to think about myself. - Author: Erich Maria Remarque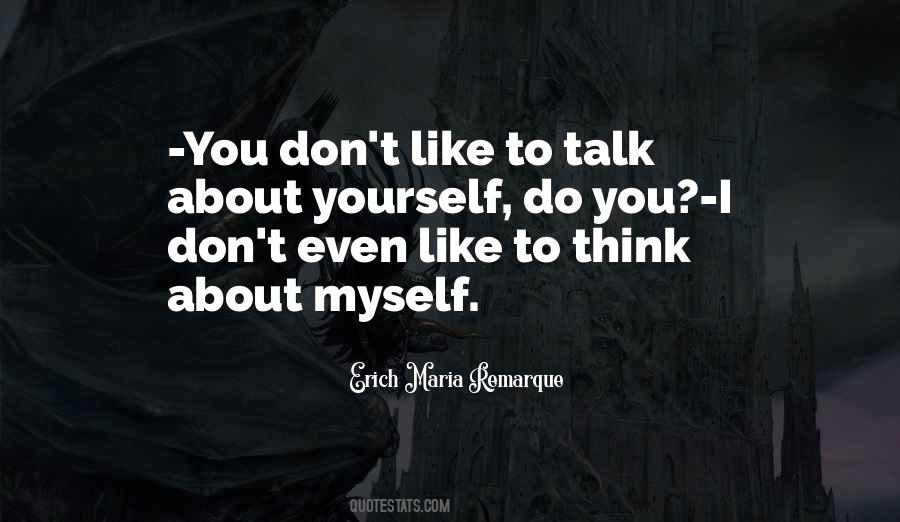 #48. Every time you state what you want or believe, you're the first to hear it. It's a message to both you and others about what you think is possible. Don't put a ceiling on yourself - Author: Oprah Winfrey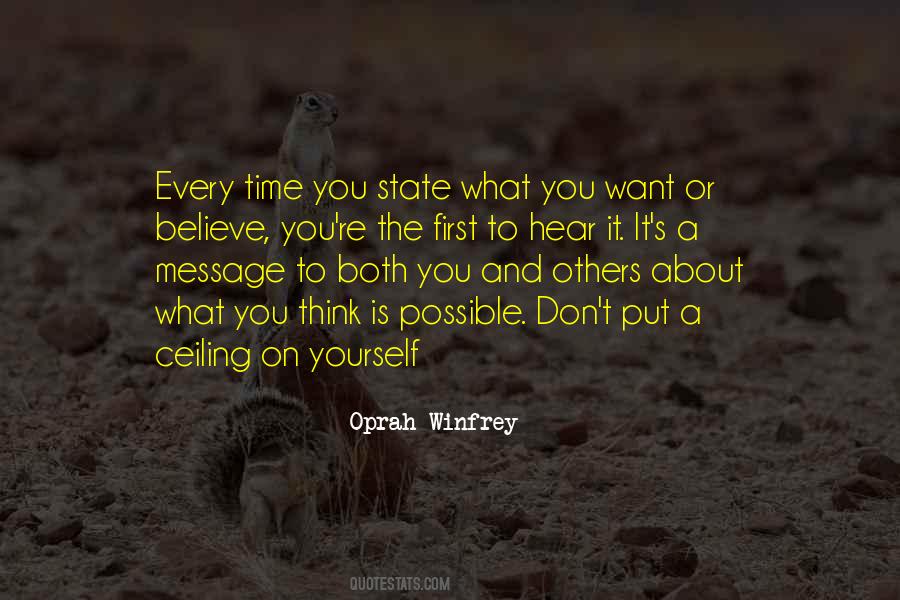 #49. Don't think about yourself what you are, just do it because will power and time teach & learn you what you are. - Author: AbdulNasir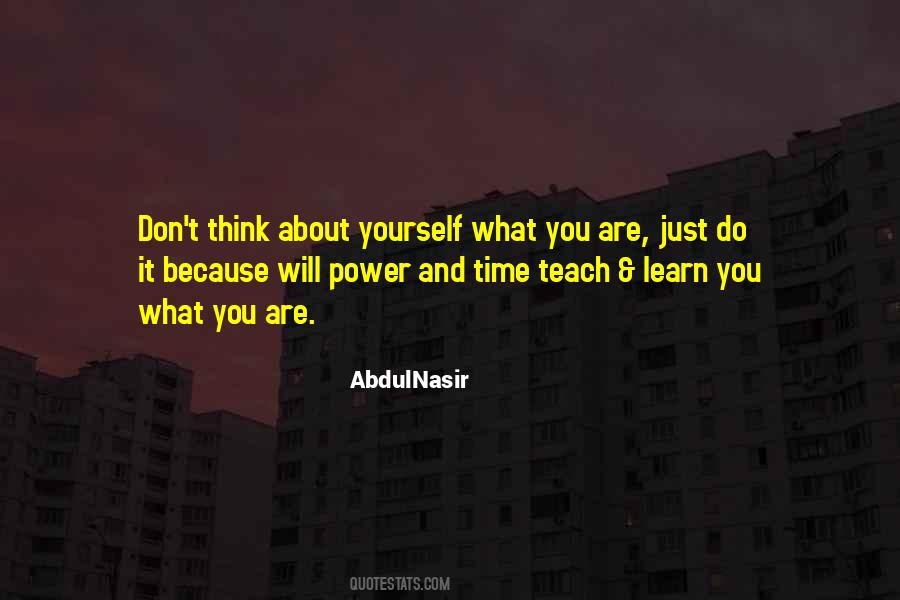 #50. In one deep sense, novels are concealed autobiography. I don't mean that you are telling facts about yourself, but you are trying to find out what you really think or who you are. - Author: Robert Penn Warren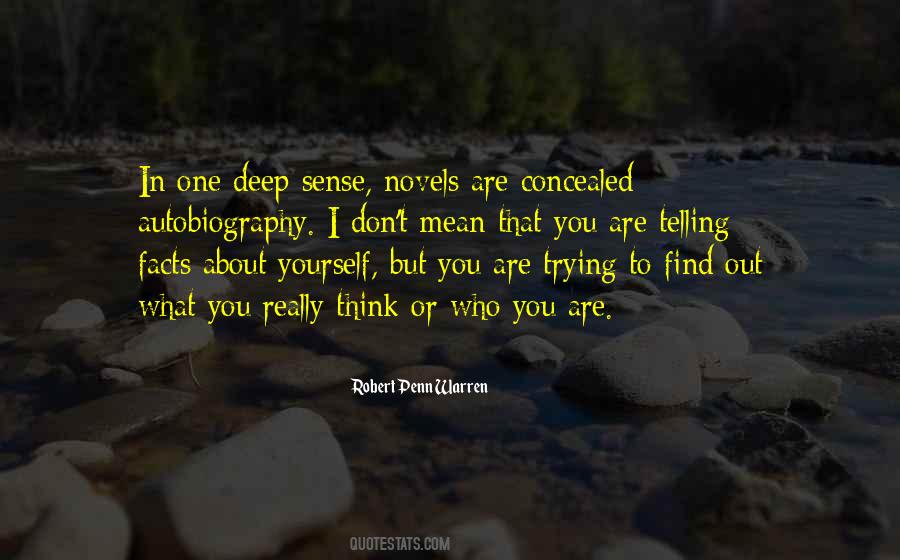 #51. You can be surrounded by people all the time, but you feel so alone. I think that's when you can lose perspective and lose control of what you're doing. It's almost as if you have no fear and you don't really care about what happens to yourself. - Author: Ladyhawke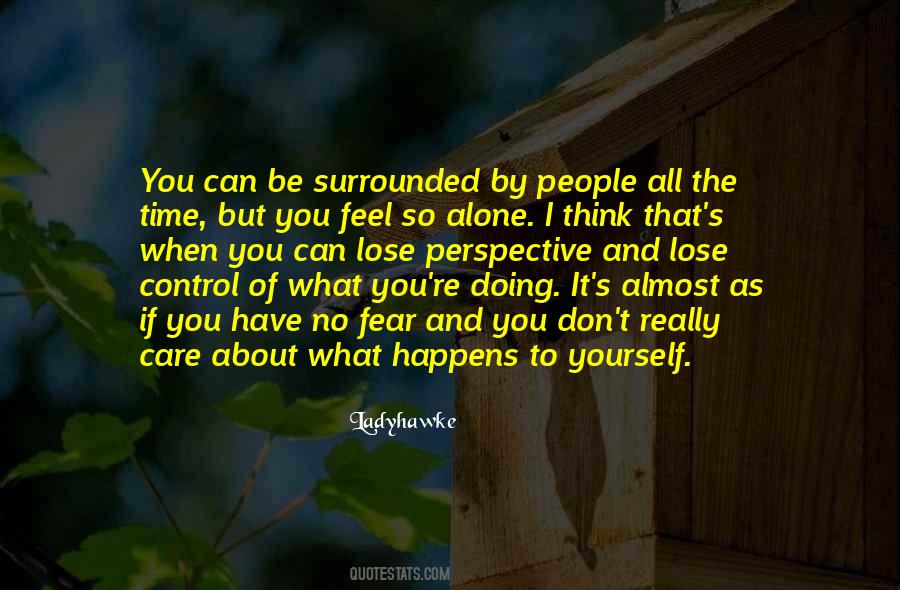 #52. If you live long enough as a parent, you discover that you have made mistakes you didn't bother to know about as well as the ones you do know about, all too well. You are somewhat humbled at heart, sometimes disgusted with yourself. I don't think my father felt anything like this. - Author: Alice Munro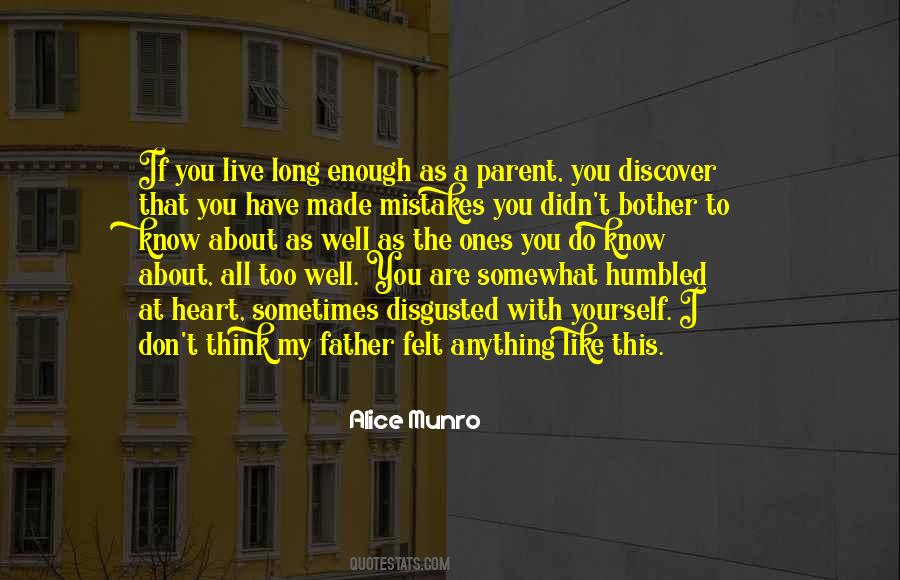 #53. I think it's really important not to be so judgmental and not to be so fearful. Try to have confidence in yourself. Don't depend so much on what others say about you or want you to be. - Author: Deepa Mehta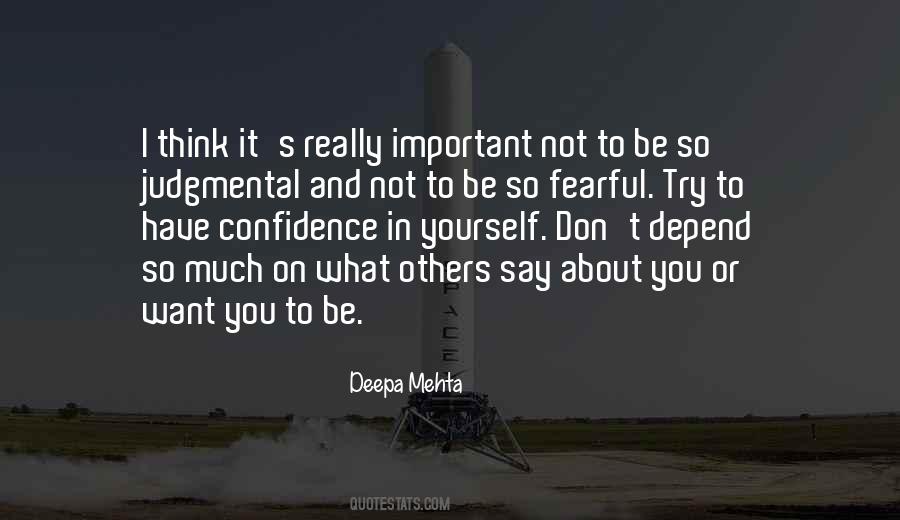 #54. I don't think there's anybody in this world who should be required to make you feel good about yourself. Be happy on your own. - Author: Shahid Kapoor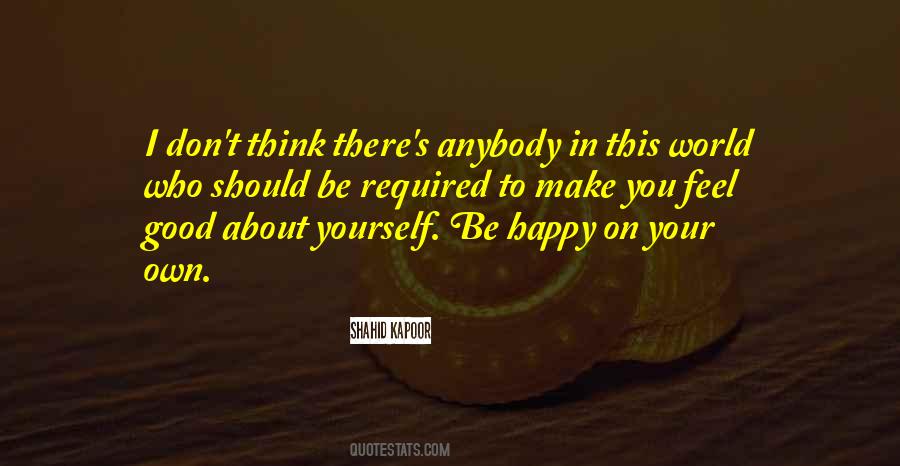 #55. We need somebody that can unify a country in spite of a vocal powerful media that's intent on division. It's not about winning the media. It's about winning the people, and I don't think it's necessarily persuasive to eat - to cannibalize yourself. I think that you have to pick the winner. - Author: Greg Gutfeld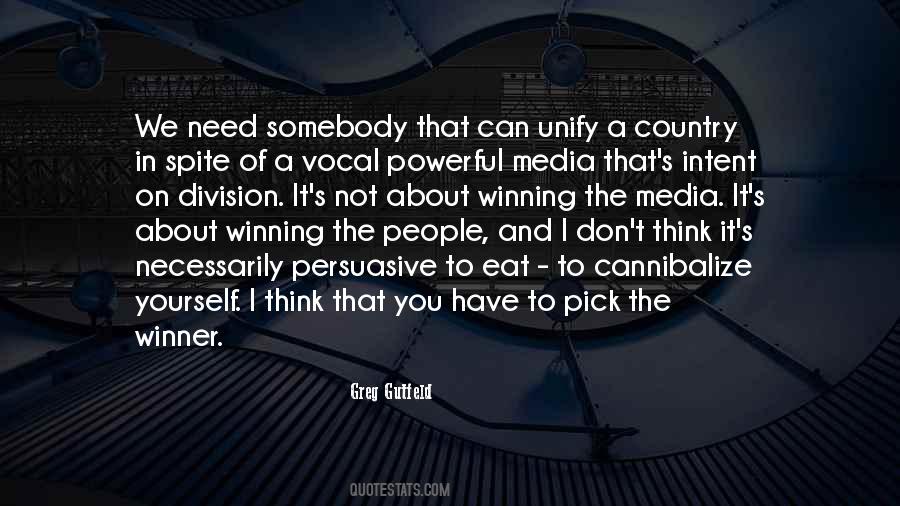 #56. I think dating is all about role playing, and figuring out what you want and don't want. You figure out more about yourself by meeting people. You're like, "I'm not right for that person, but why am I not?" I think dating is a really interesting journey. - Author: Shiri Appleby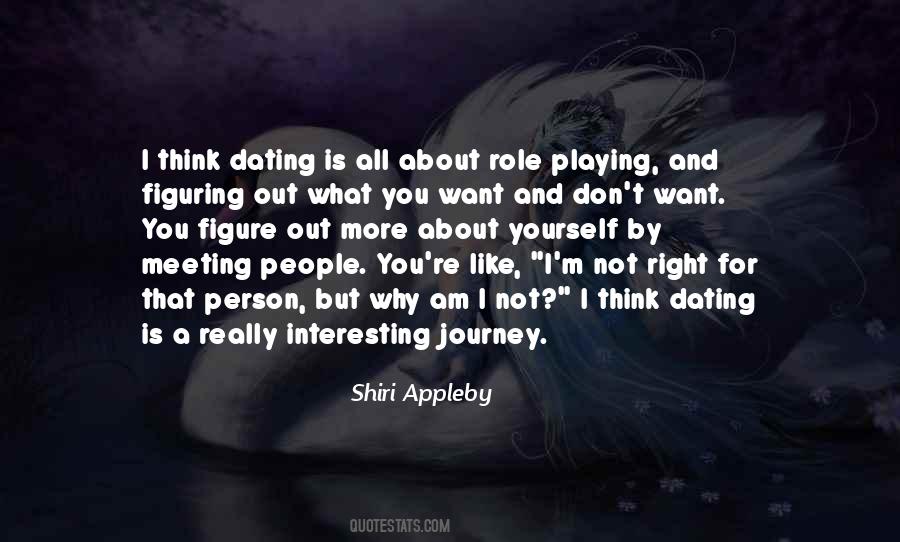 #57. When you're in your own body, you don't feel great about yourself. I don't think of myself that way. - Author: Paula Patton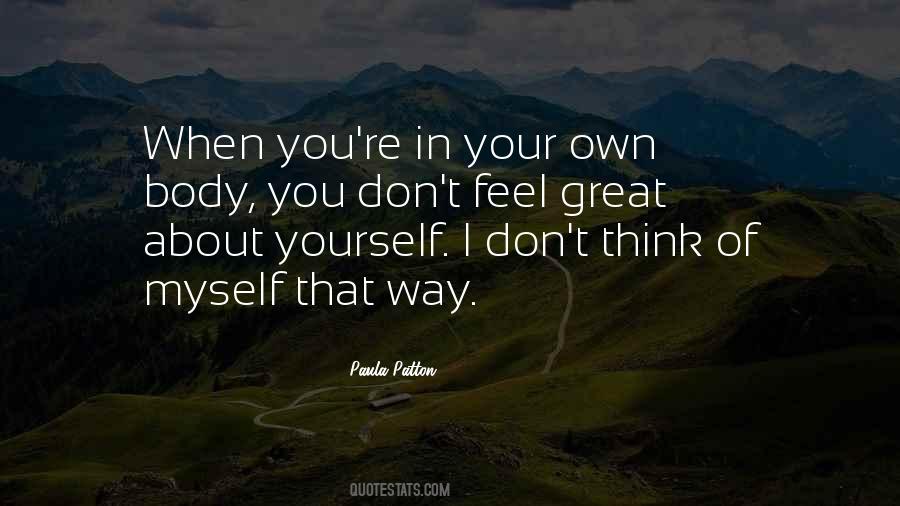 #58. Stay away from her. Don't look at her; don't even think about her. If she appears to you in your dreams, wake up and punch yourself in the face for me. - Author: Victoria Michaels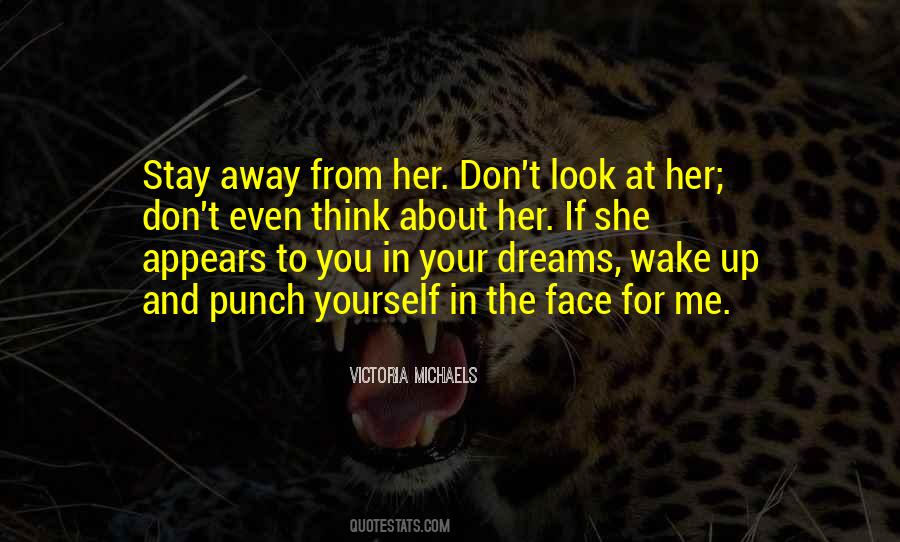 #59. See yourself the way I see you. Feel the way my hands touch you, think about the way I look at you. I see all of you, Thomas. You think I don't, but I do. Hide it, don't hide it, I know all of it, feel all of it. You're mine. Just let go. Let go and see it. I always have. - Author: Joey W. Hill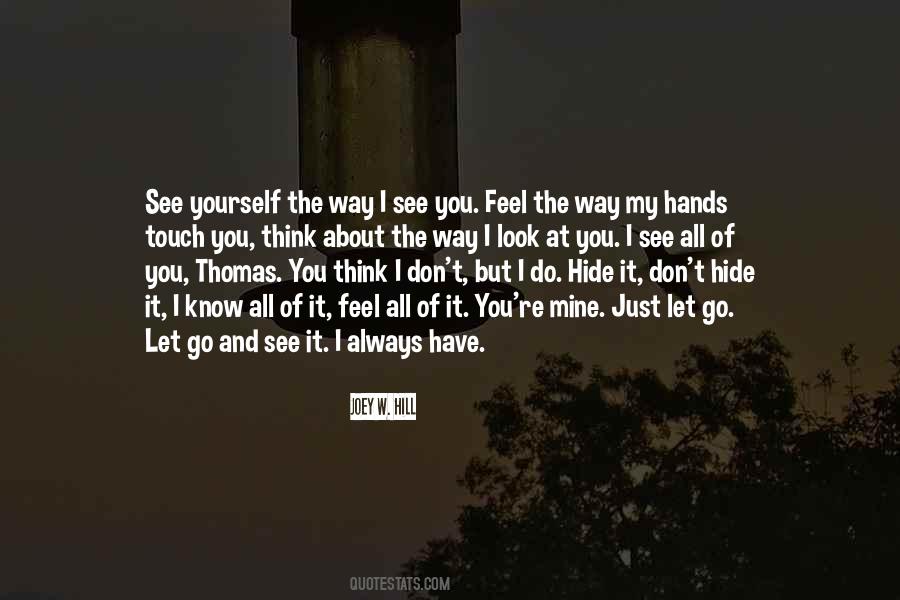 #60. You read about poor people having Botox go wrong and you think: 'Well, what the bloody hell were you doing?' Why would you inject yourself with poison? And why are we spending so much time looking at ourselves? I just don't get it. - Author: Imelda Staunton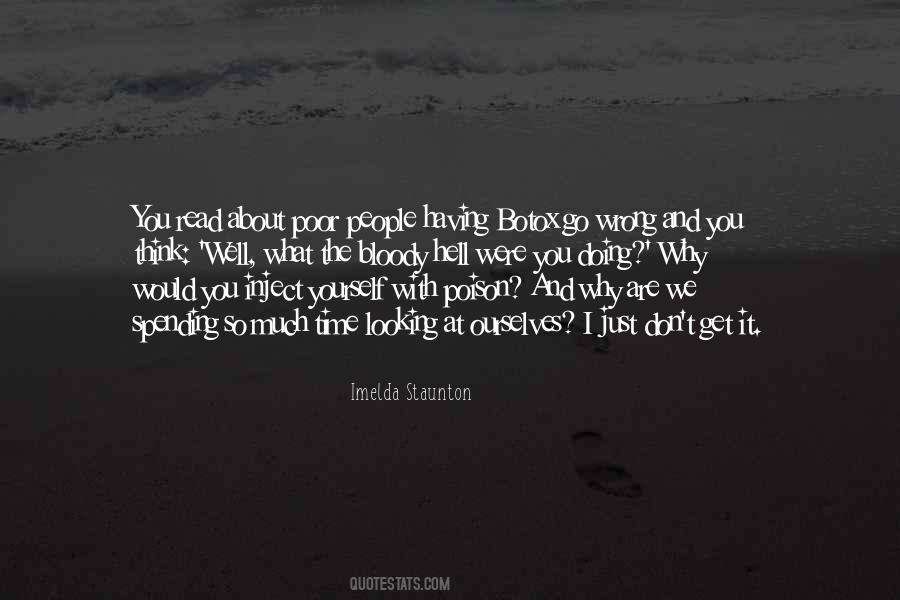 #61. Actors - we're selfish, but we can't think about the work in that kind of selfish manner. I think that you have to step away from yourself, if you're going to do it. Otherwise don't do it; otherwise why do it? - Author: Charlize Theron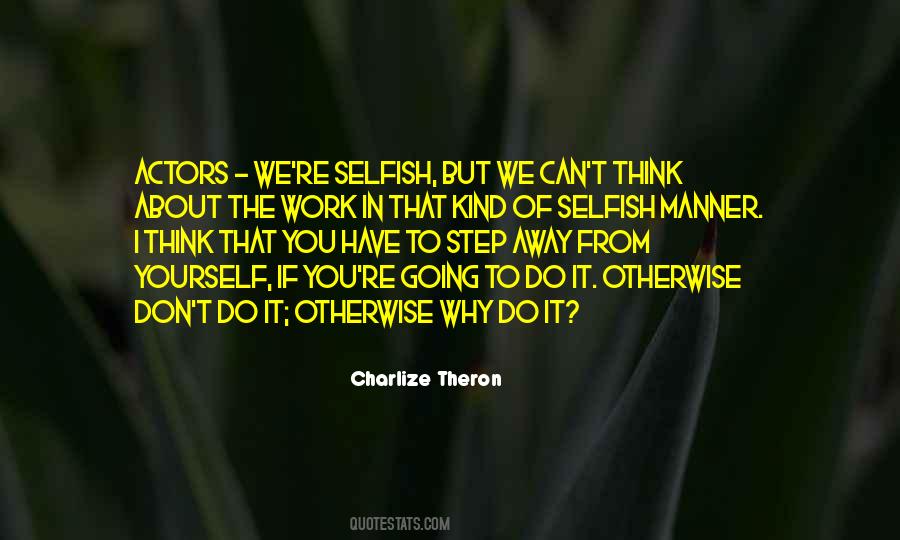 #62. I gave up my struggle with perfection a long time ago. That is a concept I don't find very interesting anymore. Everyone just wants to look good in the photographs. I think that is where some of the pressure comes from. Be happy. Be yourself, the day is about a lot more. - Author: Anne Hathaway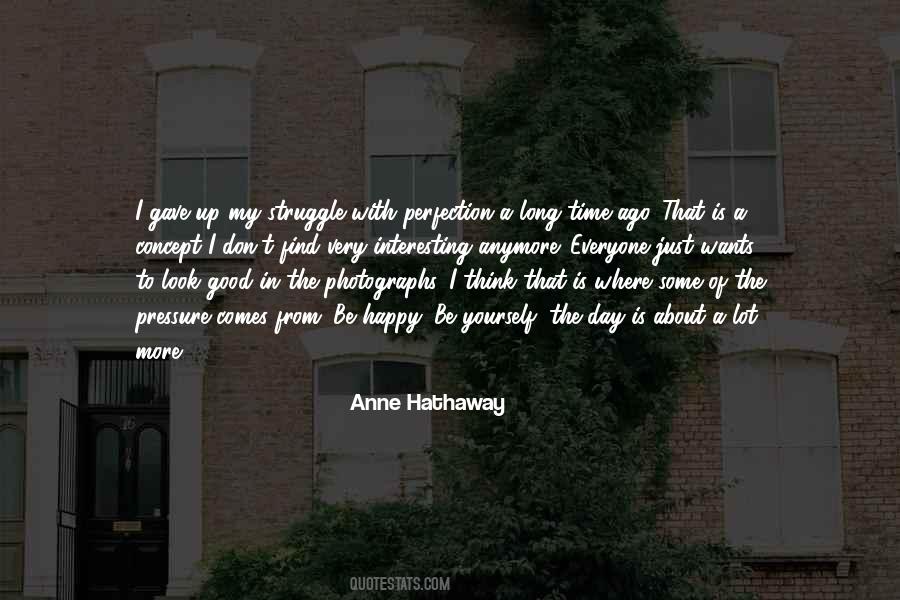 #63. I don't think Roger Dodger is really about men. I think it is more about relationships and about how you present yourself, not only to the opposite sex, but to yourself. What lies are you going to tell yourself in order to get through the day? - Author: Jennifer Beals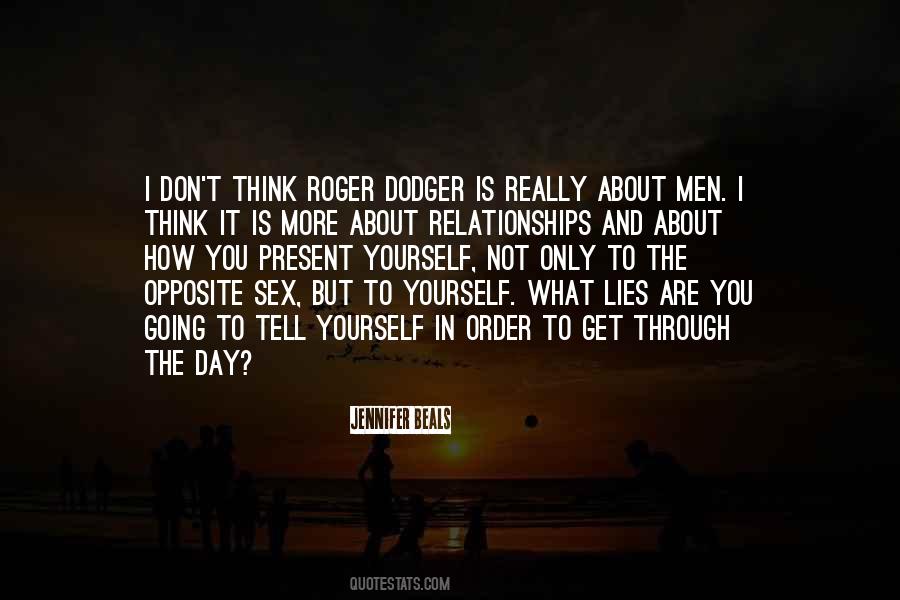 #64. I think the worst part about a breakup sometimes, if one could choose a worst part, would possibly be if you get out of a relationship, and you don't recognize yourself because you changed a lot about you. - Author: Taylor Swift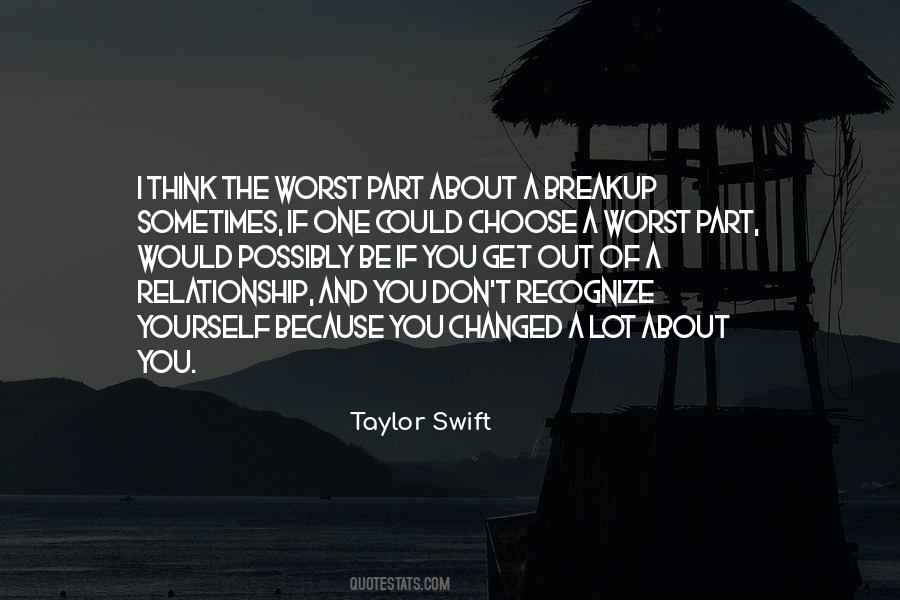 #65. Think about what you like to do and don't talk yourself into something for fear of being left out. That being said, it's important to try different things. Push yourself out of your comfort zone and you may surprise yourself. - Author: Amy E. Spiegel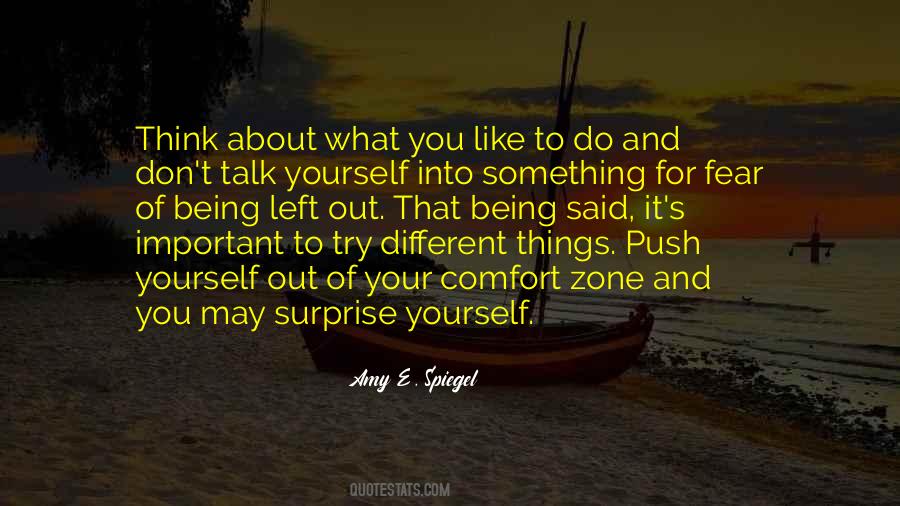 #66. George Clooney likes to talk about himself in the third person mostly. He's always enjoyed it. Listen, I don't like to think in those terms, where you just have to completely separate yourself one from the other. - Author: George Clooney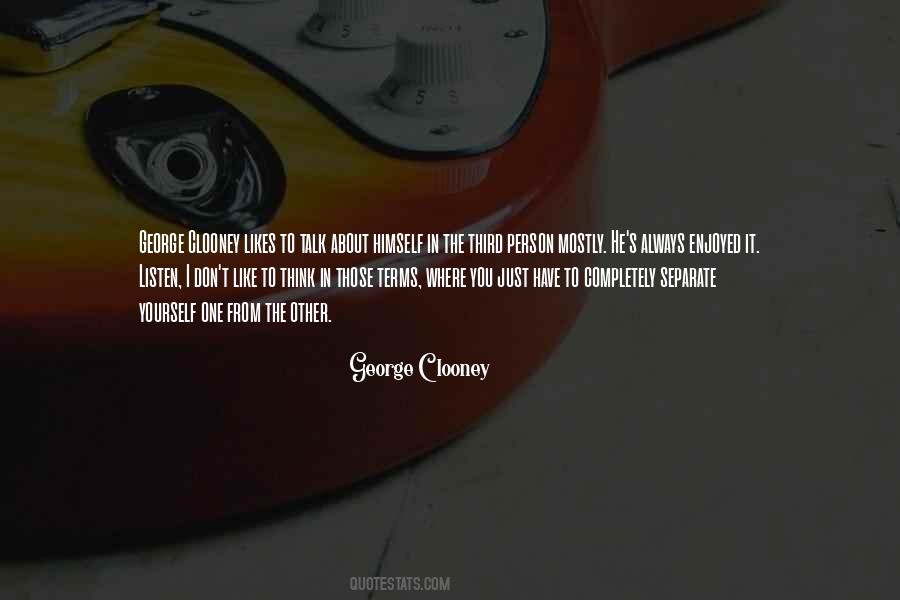 #67. You talk a lot about this amazing flow of time but you hardly see it. you see a women, you think that one day she'll be old, only you don't see her grow old. But there are moments when you think you see her grow old and feel yourself growing old with her: this is the feeling of adventure. - Author: Jean-Paul Sartre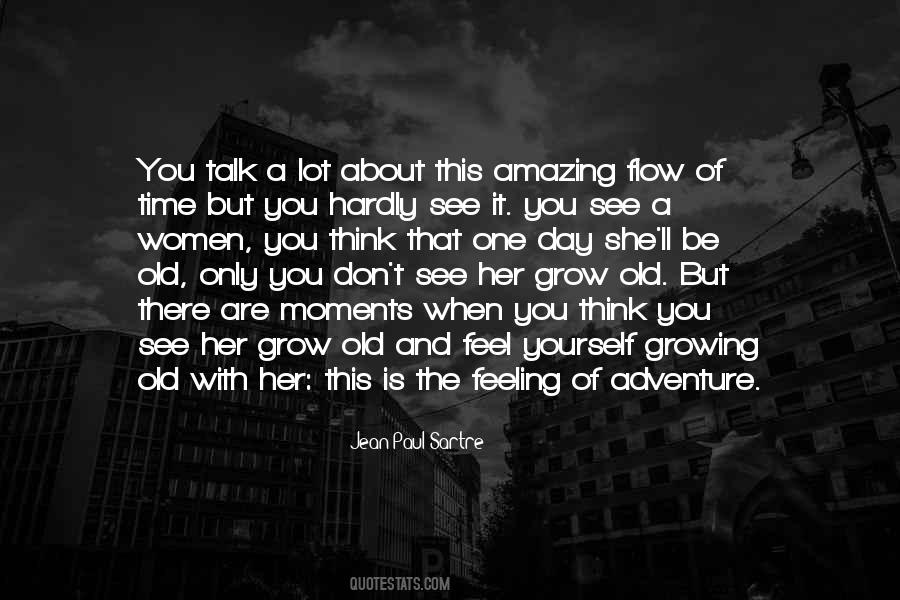 #68. I think creative people need to do a bit of, you know, tuning into every radio station - you just do, otherwise you don't know much about other people. You kind of have to learn a bit about yourself so you can work out how we all behave and why we do the things we do. - Author: Anne-Marie Duff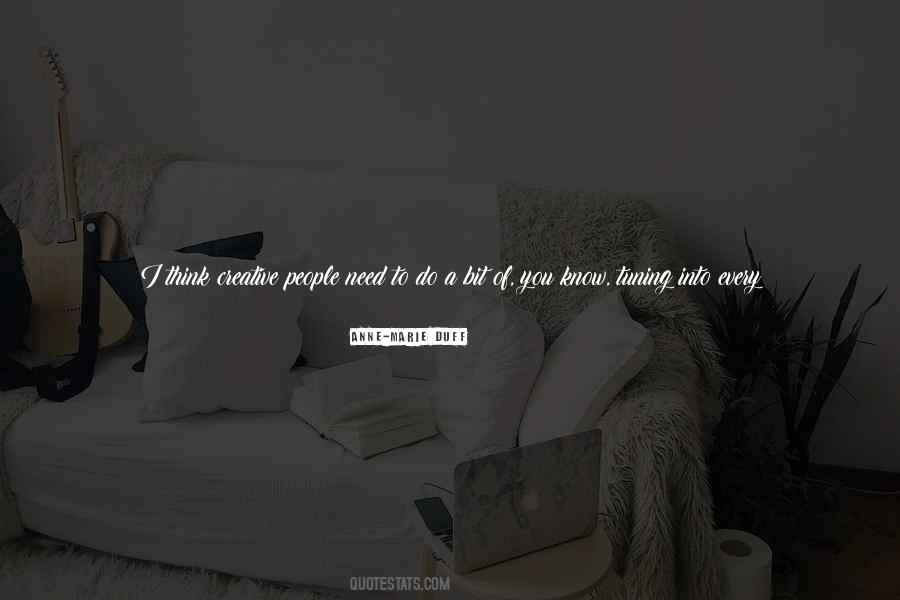 #69. I think you have to be yourself, and you have to be real and you have to admit what you don't know, and talk about what you do know, and talk about what you don't know as long as you say you don't know it. - Author: Anderson Cooper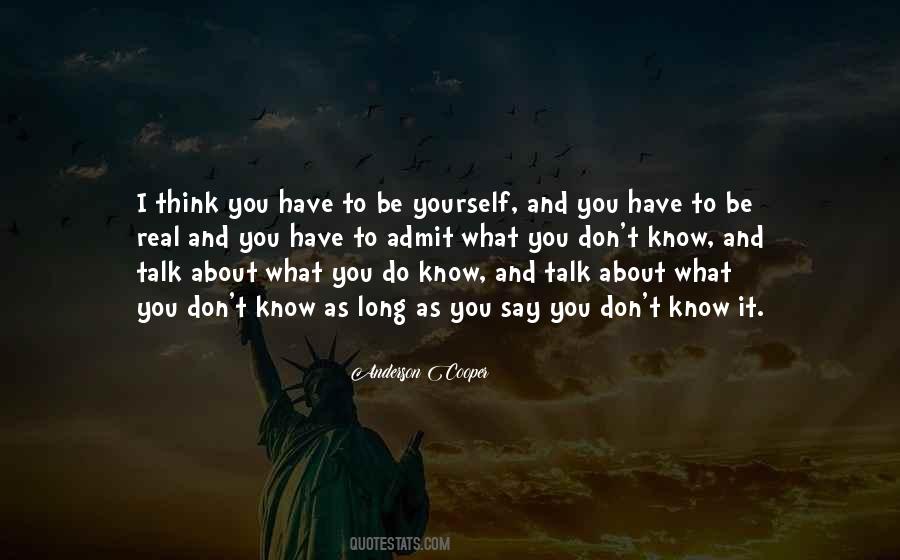 #70. Stop making things of less value your food for thought each moment of time! Your mind is precious. Mind your mind! - Author: Ernest Agyemang Yeboah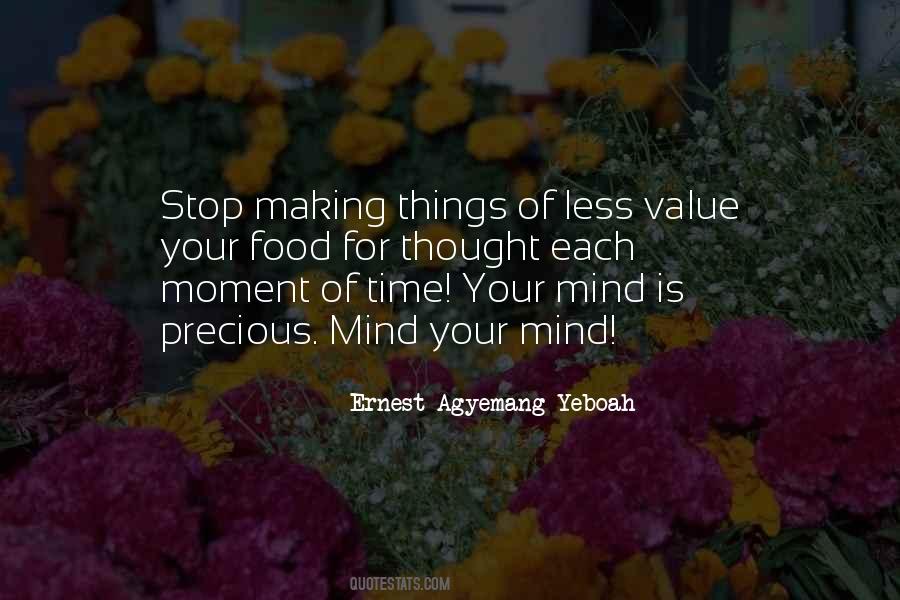 #71. Verne frowned. "Calm down. Don't exert yourself in your condition."
Salen looked at Verne in amazement. "Don't exert --! My dear woman, we are all about to die! I don't think it damn well matters if I shit my pants at this point -- - Author: Ash Gray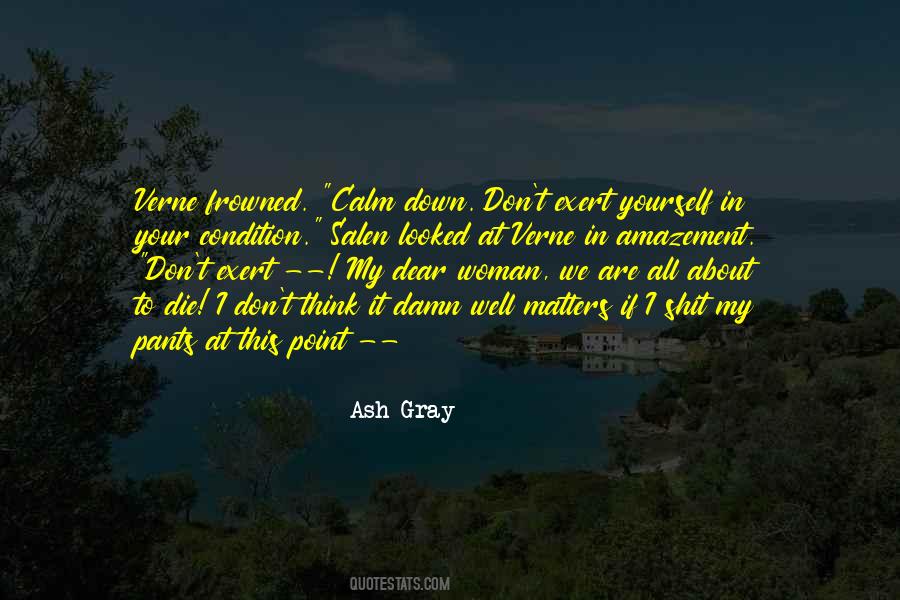 #72. Somehow, when you think about yourself in old age, you think you're going to be this completely different person that you don't even recognize - because you can't imagine it, you know? - Author: Emmylou Harris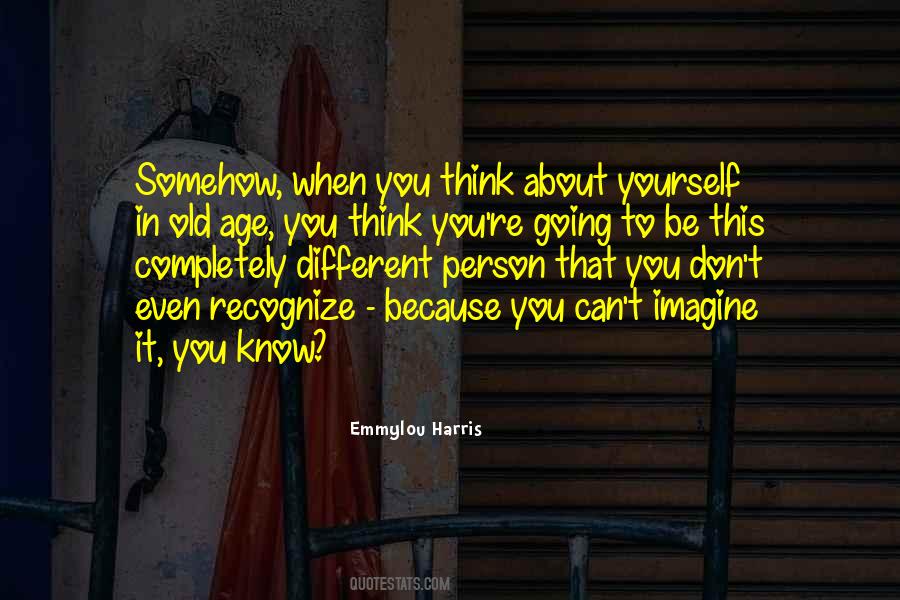 #73. I was raised a Catholic and when you're raised a Catholic they don't teach you to think for yourself. You're taught not to think too deeply about things. - Author: Abel Ferrara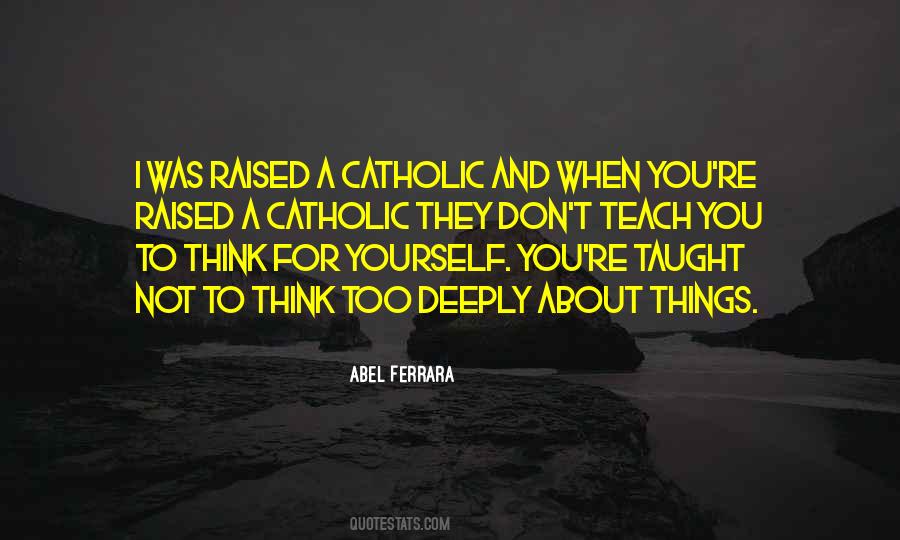 #74. If you are seeking the counsel of God on a directional matter in your life, never get so caught up in the specifics of your own situation that you selfishly forget about others. Don't neglect the poor. Think outside yourself. It's liberating! Likewise, - Author: John Crowder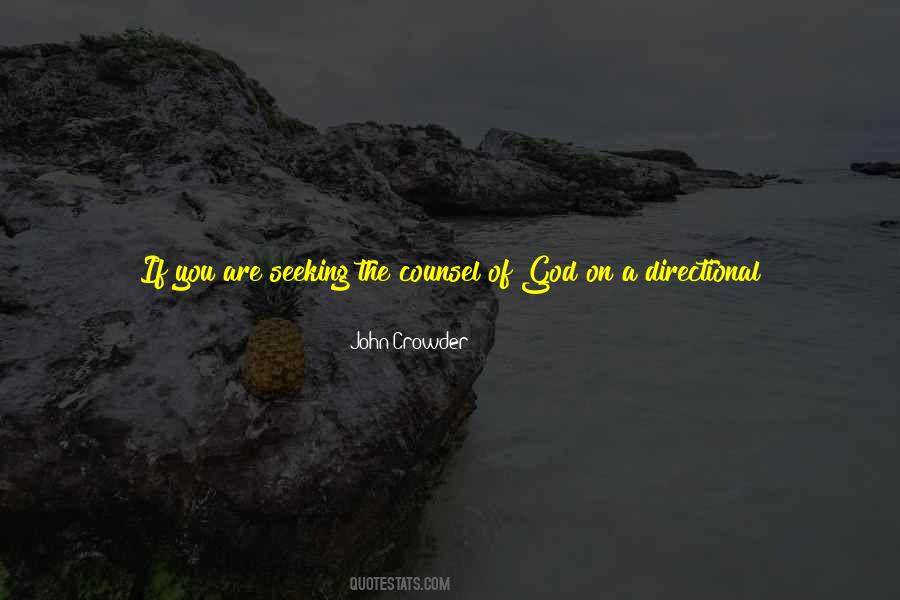 #75. Don't for a minute think that God has forgotten about you or doesn't have your back. And don't base God's love or desire to help you on your opinion of yourself. Base it on who God says He is. - Author: Susan May Warren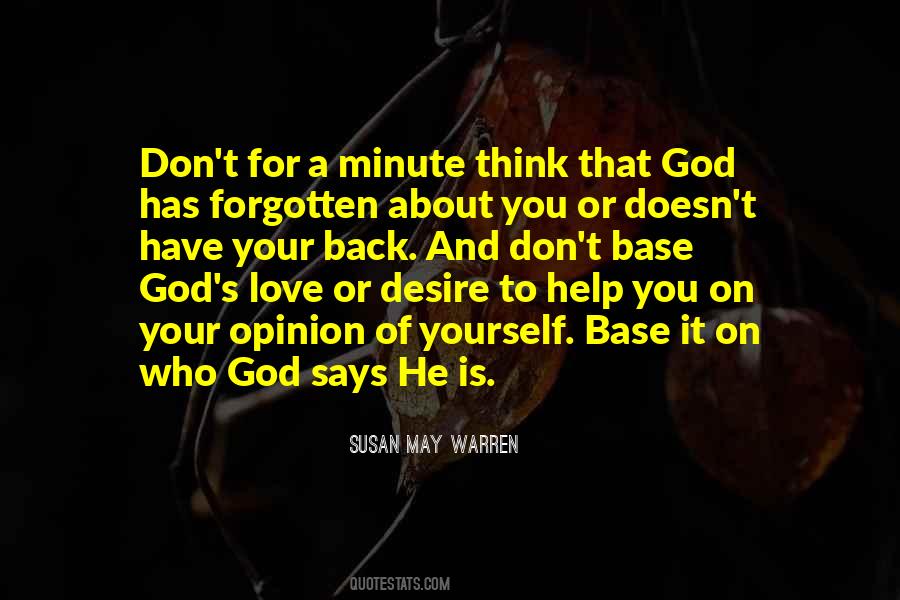 #76. I was brought up to think you don't talk about yourself. - Author: Cy Twombly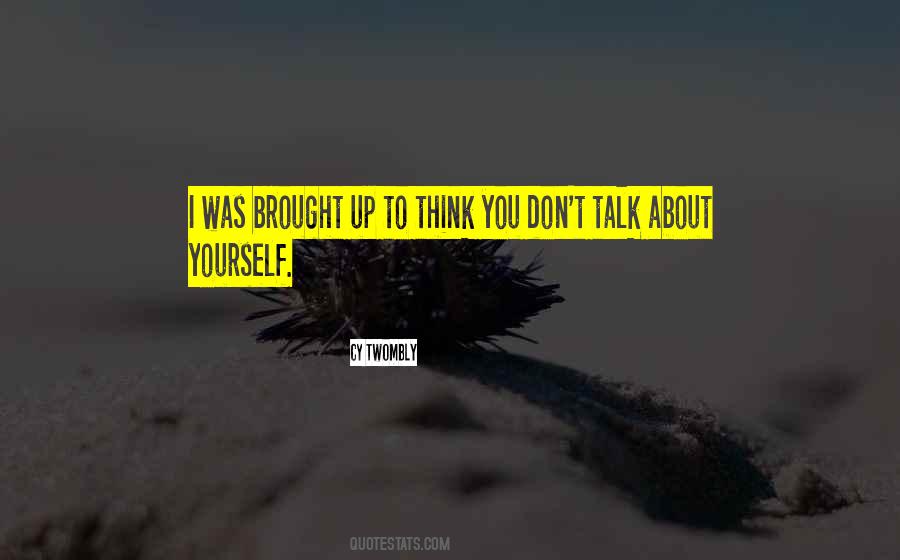 #77. Don't you ever talk about yourself like that to me again. You hurt me when you hurt yourself Spencer. Think about that the next time you go to say something so stupid. - Author: Ella Fox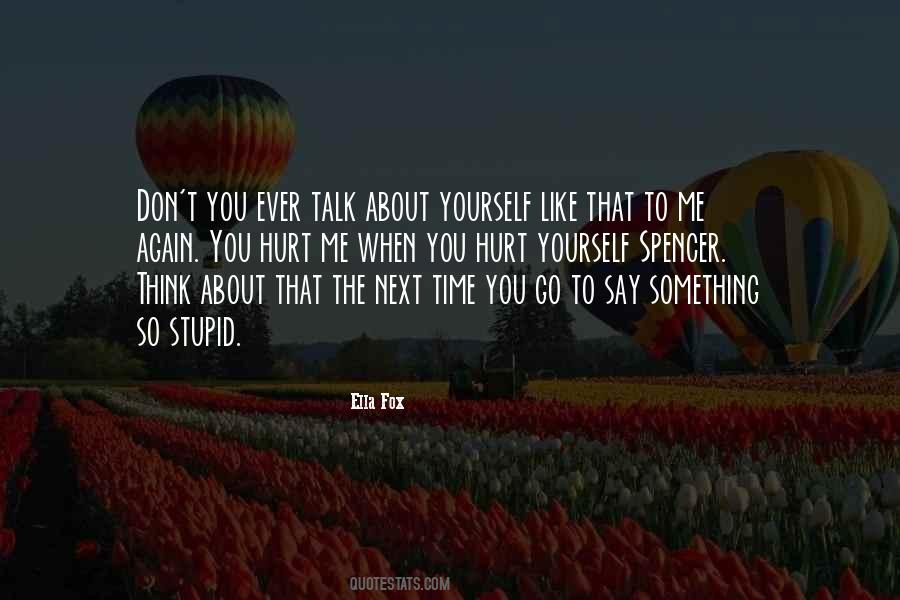 #78. Think about the word mould for a moment. A mould is a device into which one crams and smashes something until it becomes the shape that they desire. Don't spend your life letting other people destroy you while they try and force you into their moulds. - Author: Dan Pearce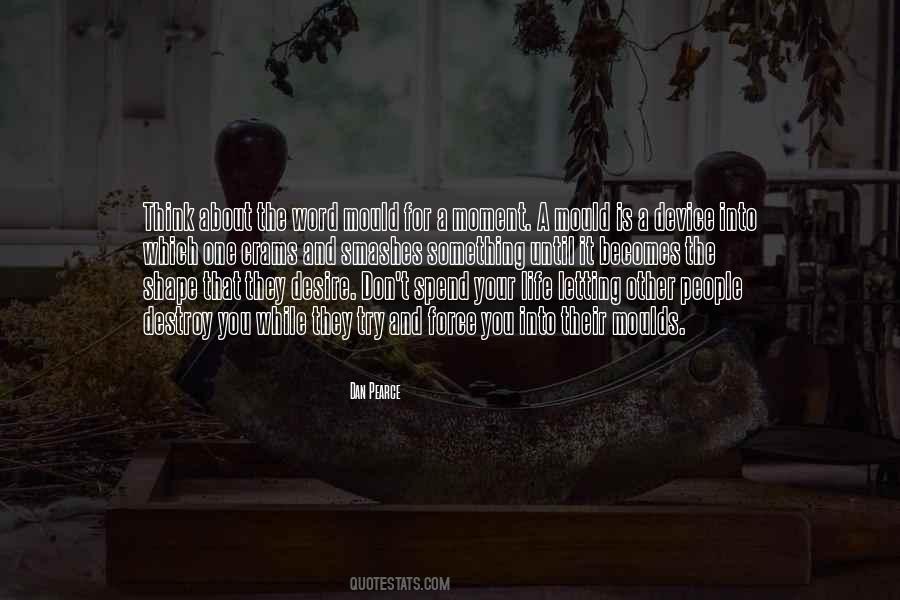 #79. Don't pressure yourself. Don't worry about what others think you should do or what the societal "norm" is. Do what moves you and makes you smile and the "good" will follow. - Author: Misha Collins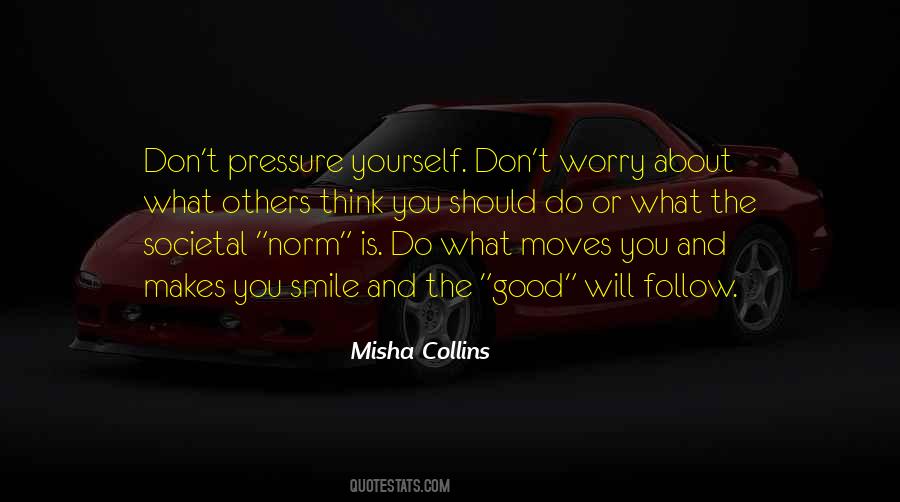 #80. I do think that sometimes you can invent more palatable or digestible reasons versions or reasons, when perhaps you don't want to admit the truth to yourself, and sometimes we deceive ourselves - along with others - about our reasons and motives. - Author: Adam Brody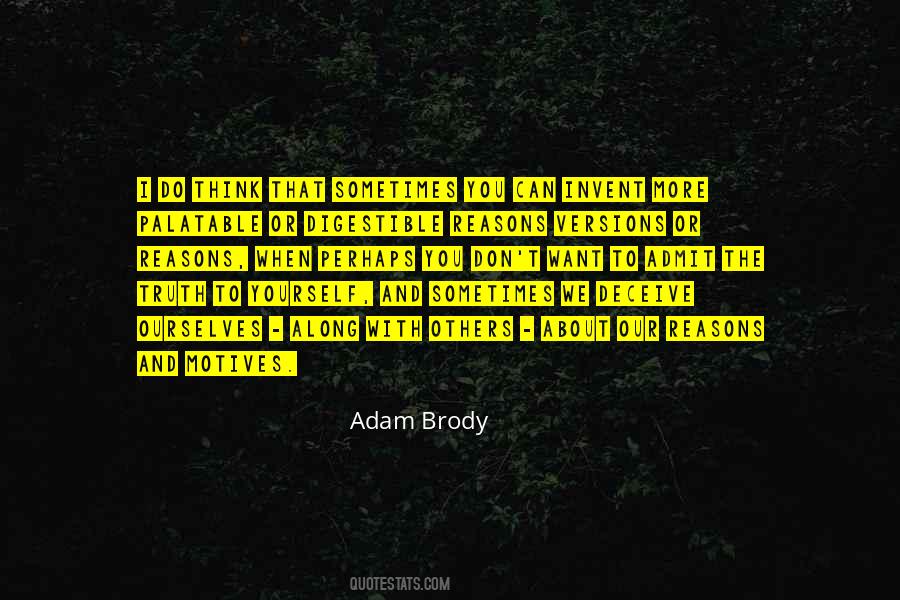 #81. Conduct yourself in a manner that is worthy of respect and don't worry about what others think. - Author: Bohdi Sanders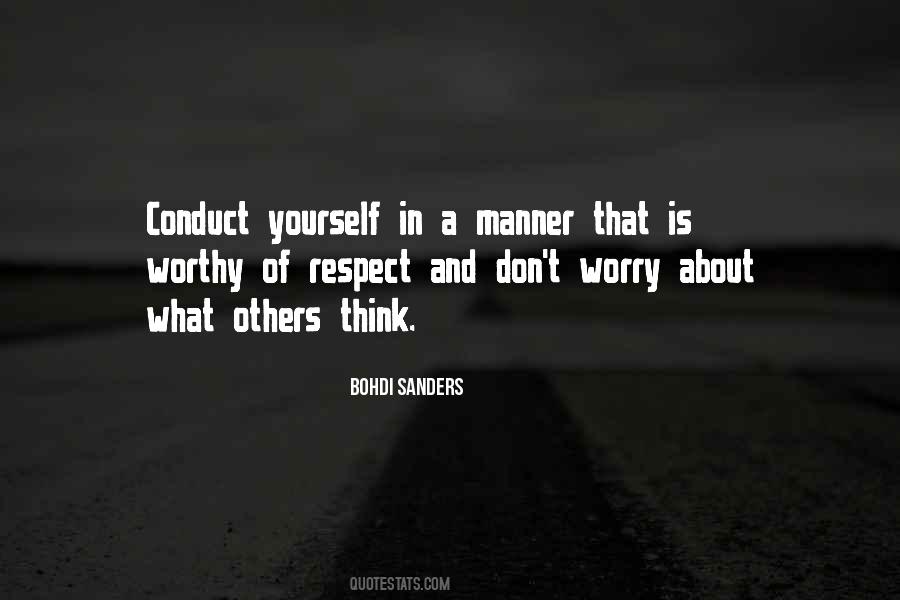 #82. You think if you don't talk about it, you can just pretend everything is all right? Everything is not all right. Not with us, not with your parents, not with anything today. And if you let yourself go anywhere real with it, you have to acknowledge it. - Author: Laura Dave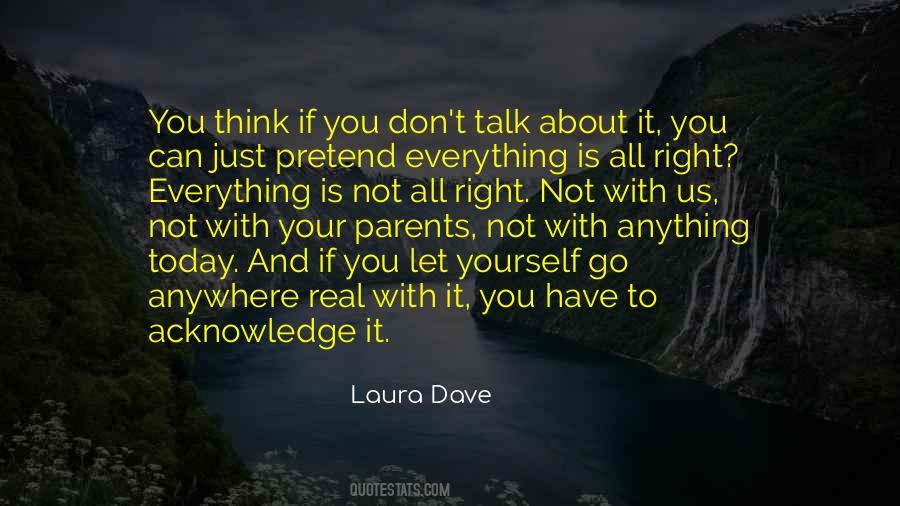 #83. I just want to live each moment, but it's kind of hard to do that when you are asked to analyze yourself constantly. But it's also good in that you are forced to think about things that you don't ordinarily think about. I think it's strange. - Author: Alexis Bledel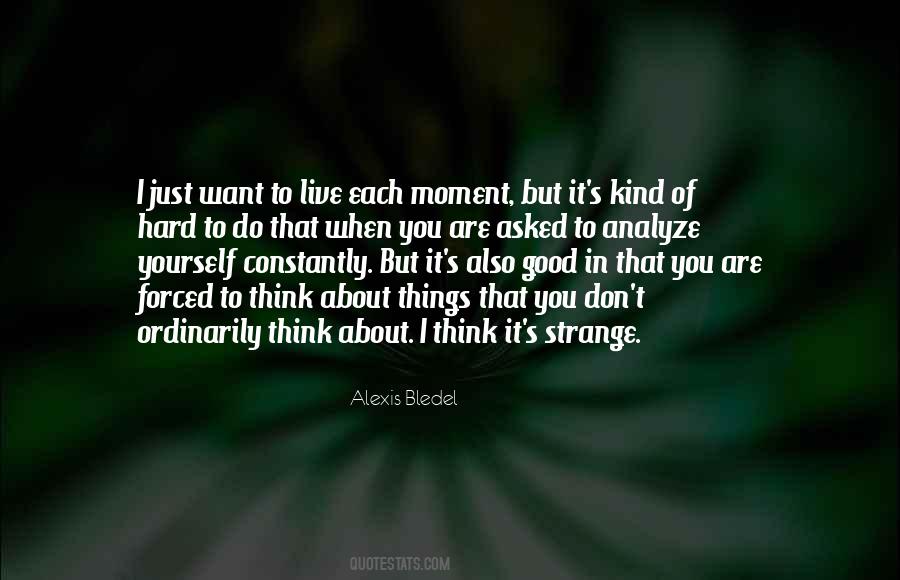 #84. I think sometimes it's too hard to believe in yourself. You just do the things you're not sure you can do. You just act, in spite of not being certain. I don't believe I can change the world - it sounds stupid to even talk about it - but I'm going to try. - Author: Cassandra Clare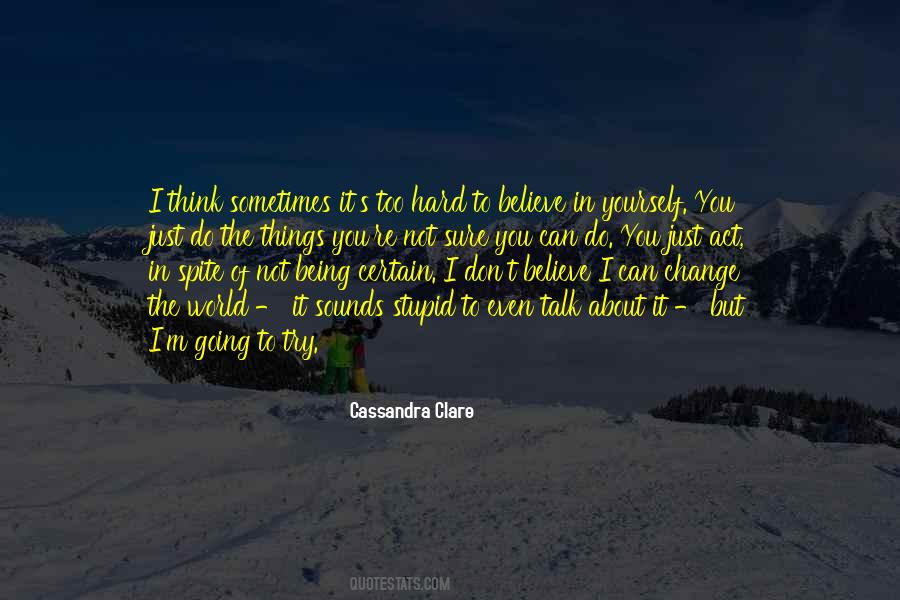 #85. In those moments, none of it matters. It's like that stuff is happening to someone else because all you feel is dark inside, and that darkness just kind of takes over. You don't even really think about what might happen to the people you leave behind, because all you can think about is yourself. - Author: Jennifer Niven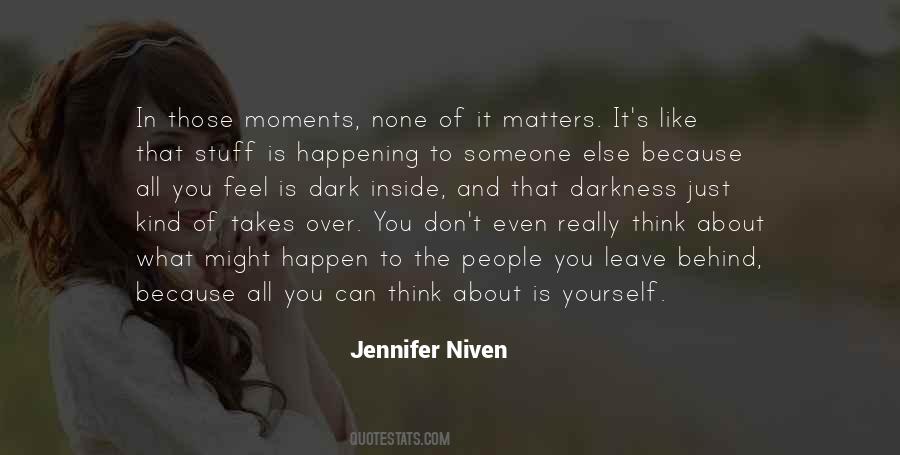 #86. I always think [W.S.] Merwin's poems will last of anyone writing today. If I had to bet on posterity I would bet Merwin. My poems could easily evaporate. So I don't know. If you find yourself as a writer thinking about posterity you should probably go out for a brisk walk or something. - Author: Billy Collins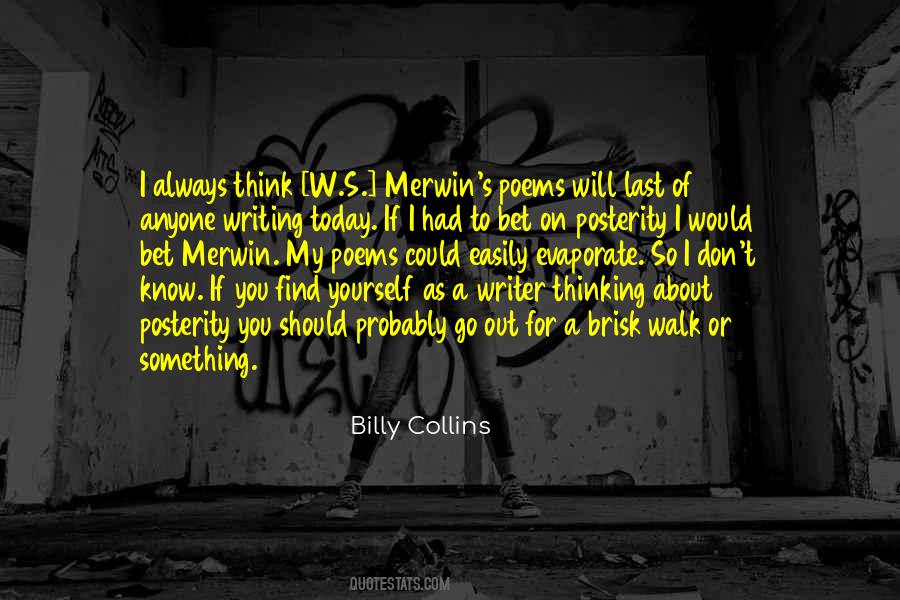 #87. Having a child makes you strong and gives you chutzpah. It relaxed my attitude to the job; my center of focus shifted, which I think is very helpful, because even if you're not a very indulgent actor you spend a lot of time thinking about yourself. I don't think that is particularly healthy. - Author: Imelda Staunton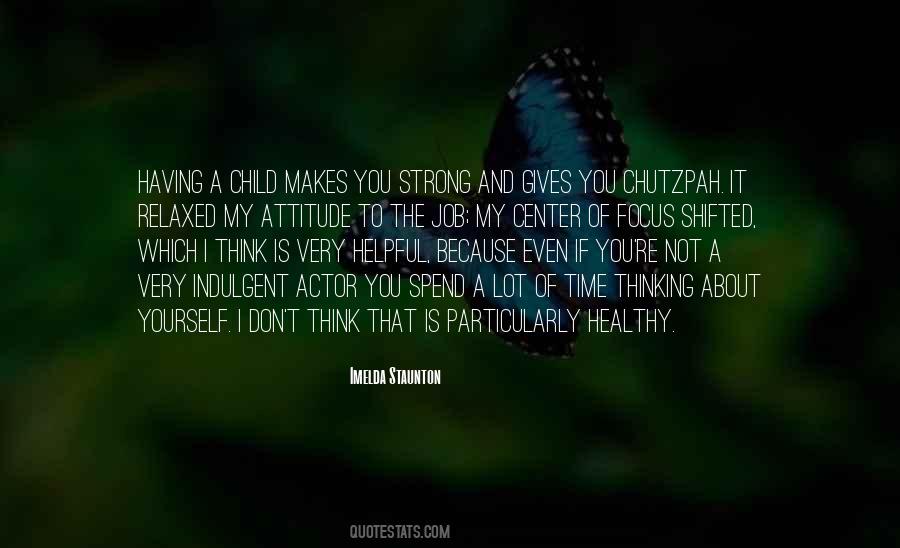 #88. It doesn't matter what you feel - ultimately, it's what the audience feels. You can finish a scene and think to yourself, 'Oh, God. I was so deep in that moment,' and find it just didn't play. I don't know if I have very good radar about that or not. - Author: Carey Mulligan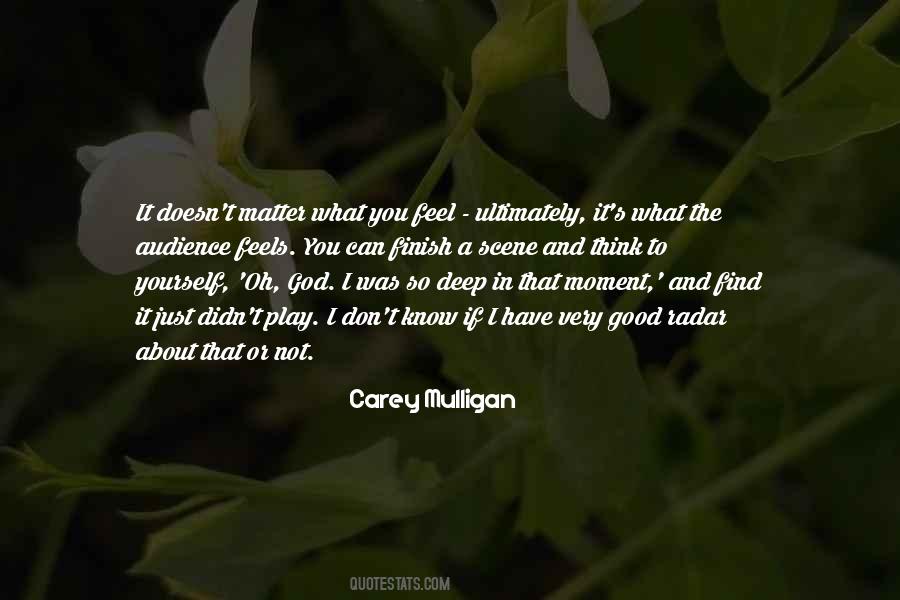 #89. I don't need to be liked, but I need to be vital - on set or on stage - and I think that probably would be my advice: Stay vital. It's about saying 'no' and asking the tough questions and believing in yourself when no one else will, but you have to know the rules to break them. - Author: Logan Marshall-Green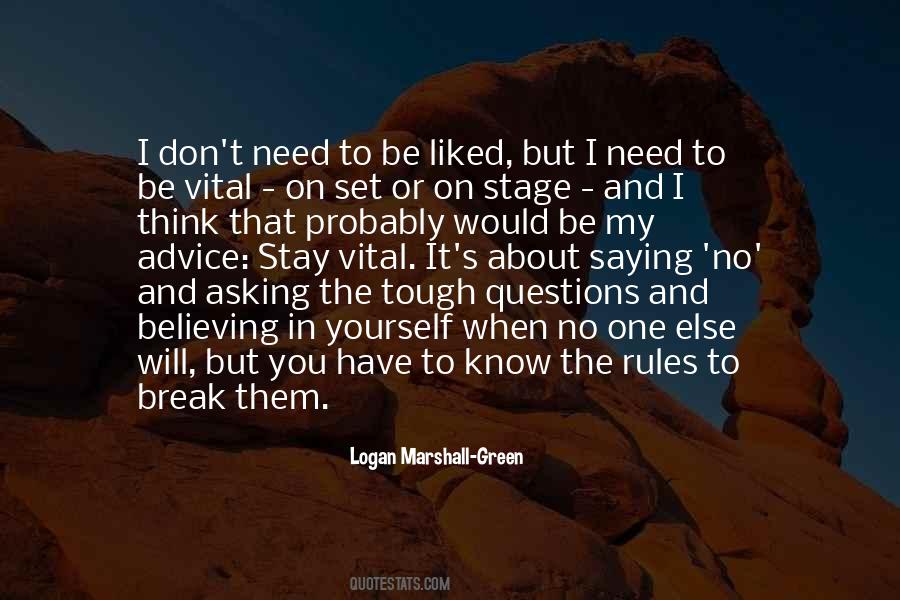 #90. It doesn't matter what others think. This is about YOU. Create a life that you genuinely love with your whole heart & start with yourself. - Author: Brittany Burgunder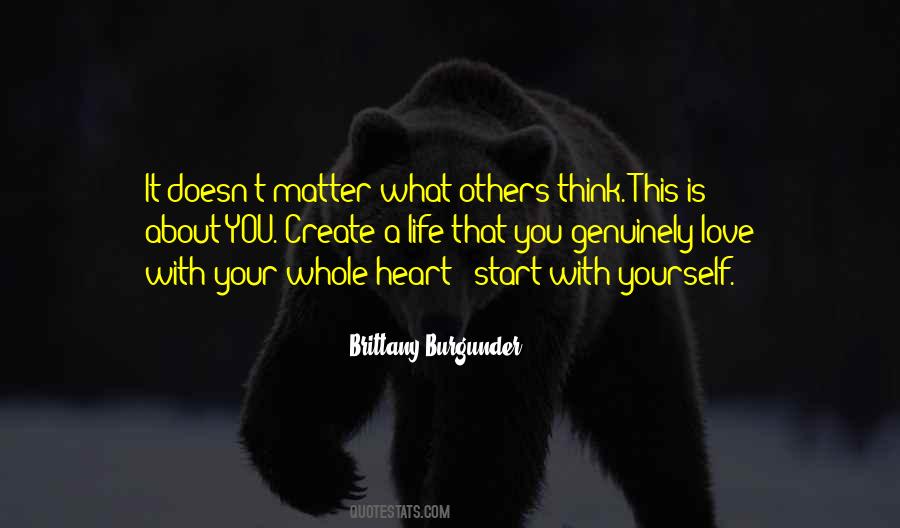 #91. I don't have any formula for ousting a dictator or building democracy. All I can suggest is to forget about yourself and just think of your people. It's always the people who make things happen. - Author: Corazon Aquino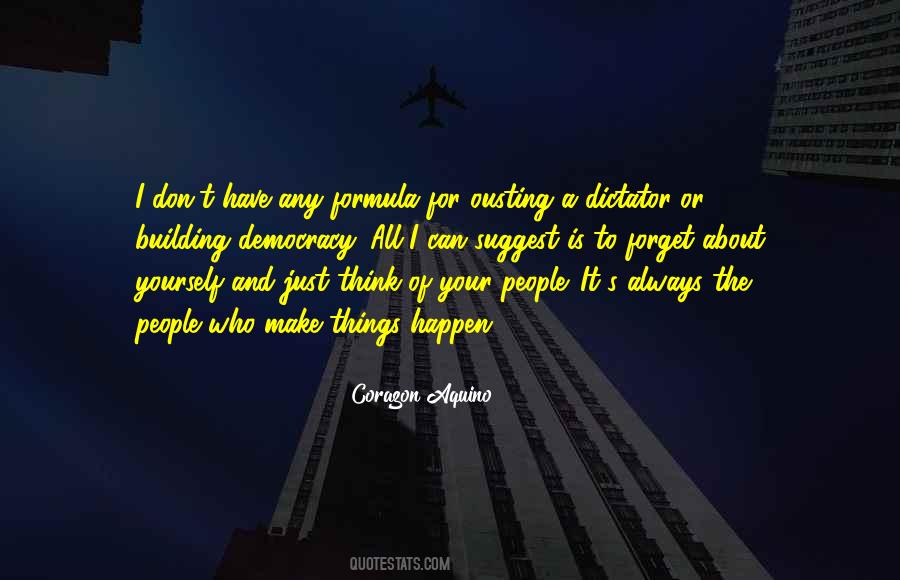 #92. Keeping it all together as a modern woman means multitasking, especially when you work. I think you always need to try your best, but at the same time you can only do what you can do, and you don't need to beat yourself up about it. I'm not white-picket-fence perfect. - Author: Heidi Klum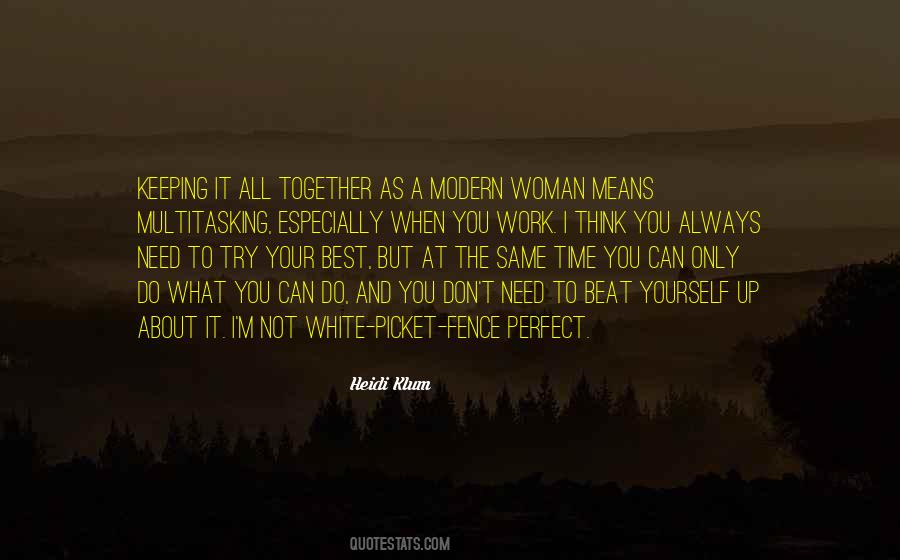 #93. Don't think less of yourself, just think less about yourself. - Author: Dieter F. Uchtdorf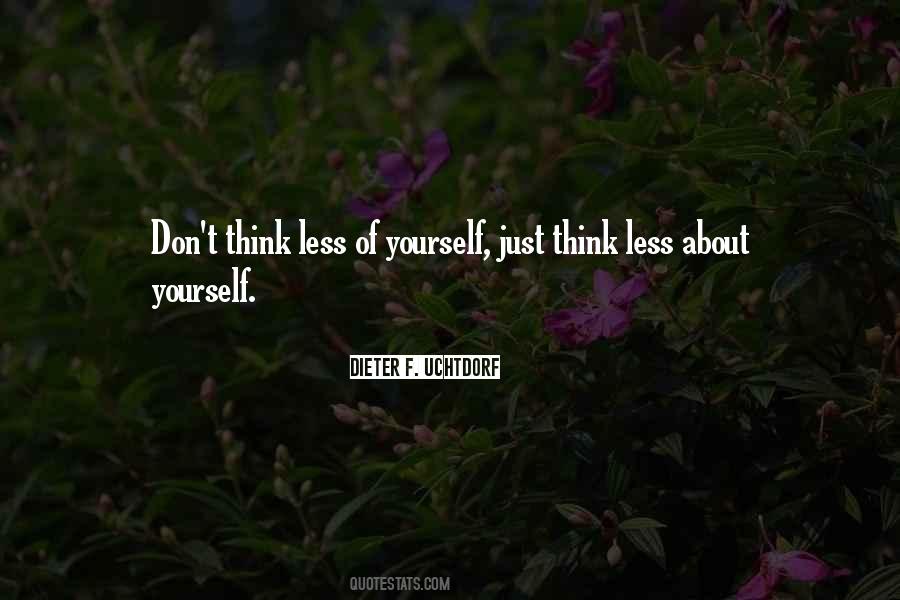 #94. I have to grit my teeth sometimes, knowing I am going to be written about. But I think it is my life, and I don't want to get people interested in debating it. But I do feel that if you are going to put yourself about as a public person on a television screen, there's a curiosity. - Author: Jonathan Dimbleby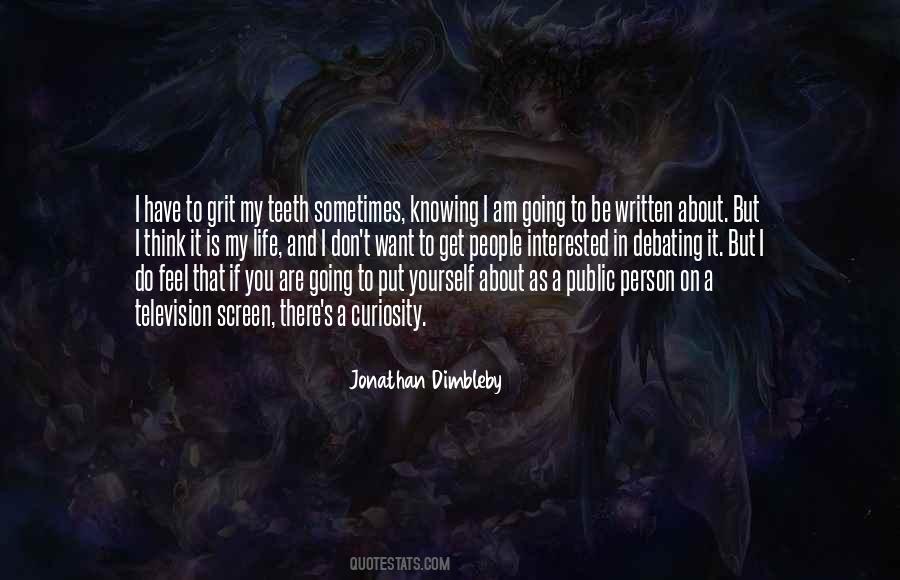 #95. People want to be happy, so they don't want to feel as though they're mired in this world of ugliness. I think that if people can recognize that you can actually help and change that ugliness, then you'll feel a lot better about yourself as well, and that does create a certain amount of happiness. - Author: Sheryl WuDunn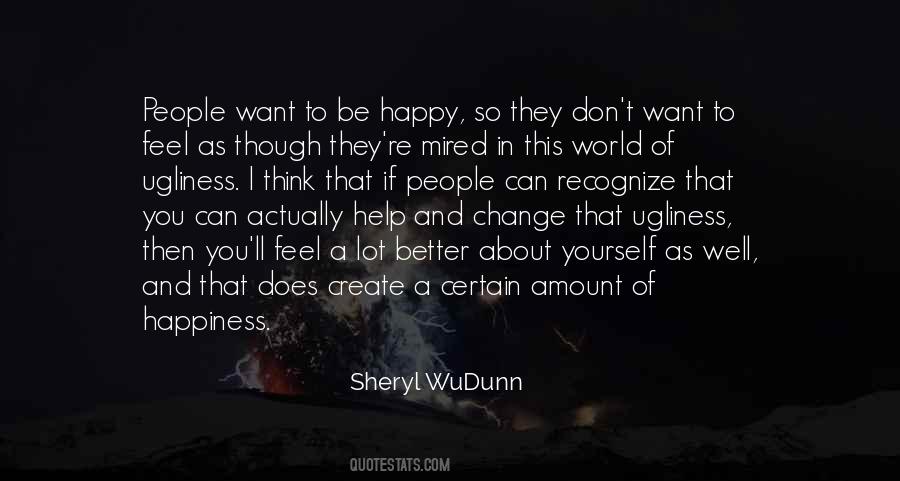 #96. I think you always need to try your best, but at the same time you can only do what you can do, and you don't need to beat yourself up about it. - Author: Heidi Klum
#97. The starting point of great success in your life begins, in the simplest terms, when you discipline yourself to think and talk about only the things you want and refuse to think and talk about anything you don't want. - Author: Brian Tracy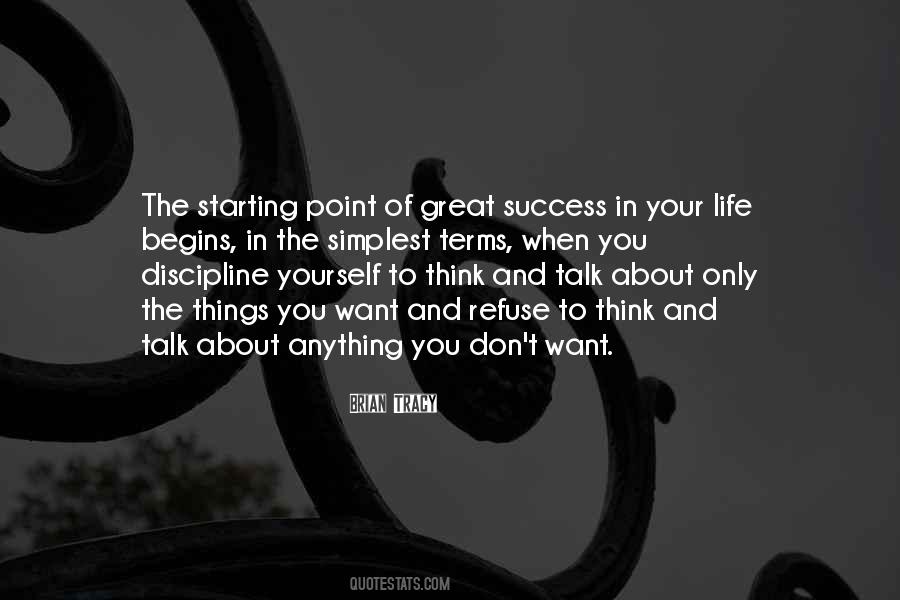 #98. You compose a question and then you just start walking. Concentrate on each step. Don't think too far ahead and don't think about where you have been. But consider closely how one step leads to another. Contemplate connections and links. Immerse yourself in the pattern. - Author: Amanda Quick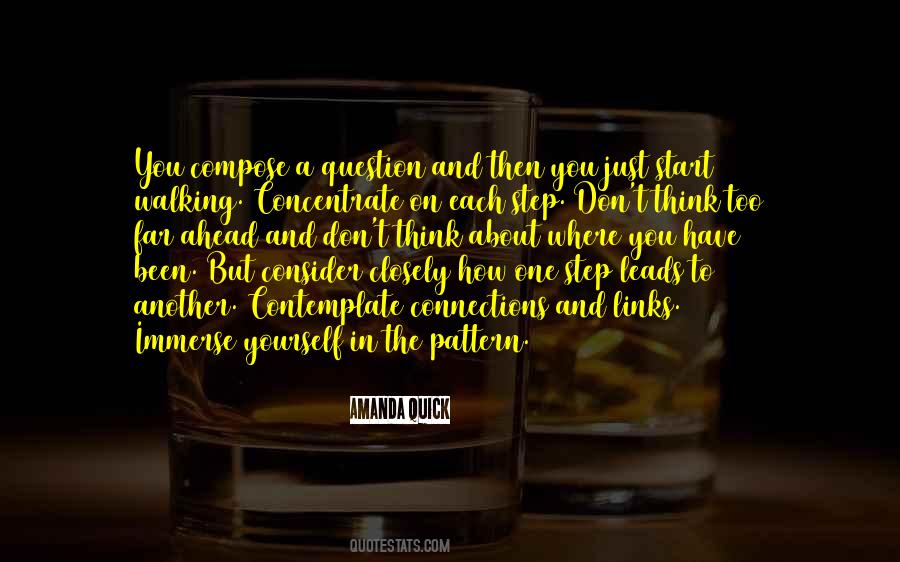 #99. My twenties were carefree in the worst ways. There's a nice balance now of work ethic and healthy lifestyle and carefree attitude, which is pretty nice. You get to a point where you don't care so much what people think of you and you care more about yourself. - Author: Norman Reedus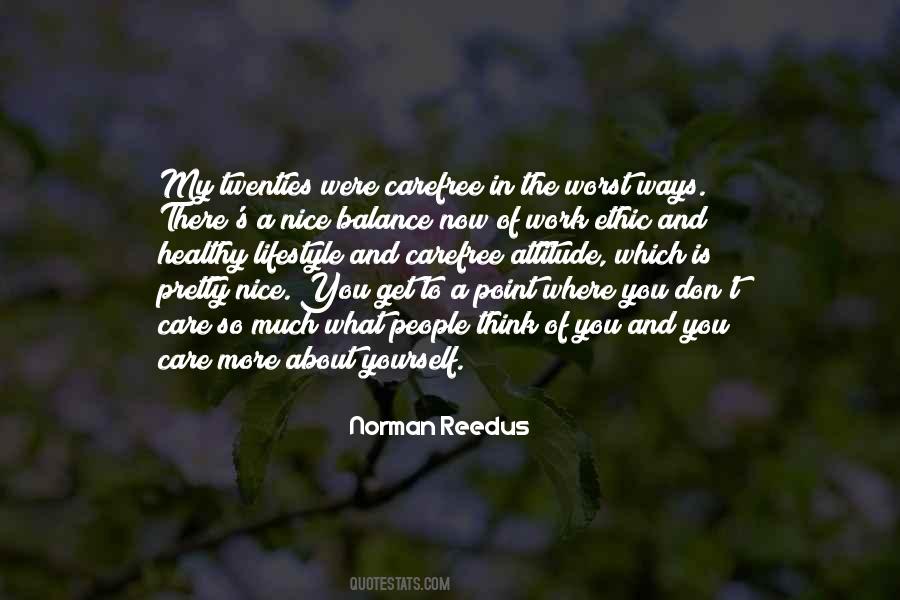 #100. People tend to focus on the things that they don't like about themselves. While that's important for change, it's equally important to focus on what they love about themselves. For every one thing you dislike about yourself, think of five things you like about yourself. It's a balancing act. - Author: Tom Giaquinto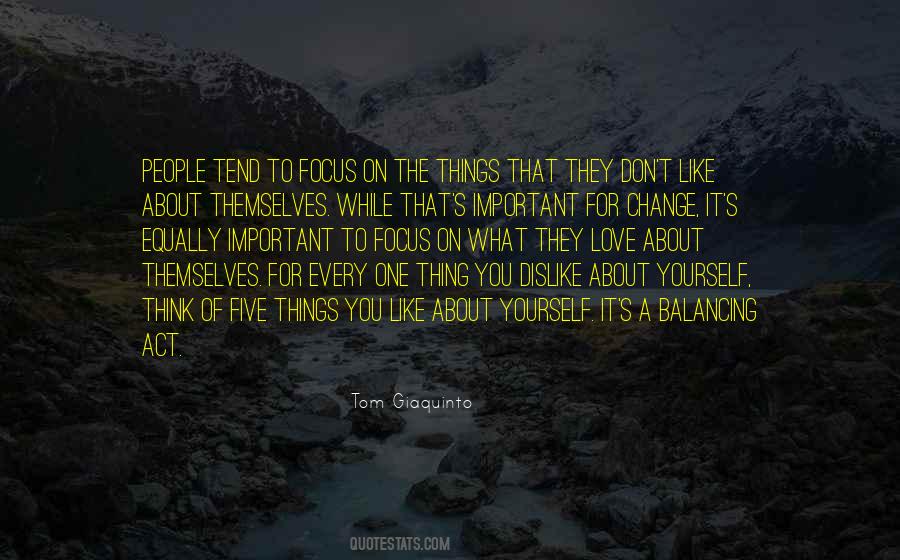 Famous Authors
Popular Topics