Day Ends Famous Quotes & Sayings
List of top 100 famous quotes and sayings about day ends to read and share with friends on your Facebook, Twitter, blogs.
Top 100 Day Ends Quotes
#1. Not a day passes when the eagle of dark depression doesn't take flight in my soul, said Sunay, infusing his words with mysterious pride. But I cannot catch myself. So hold yourself in. All's well that ends well. - Author: Orhan Pamuk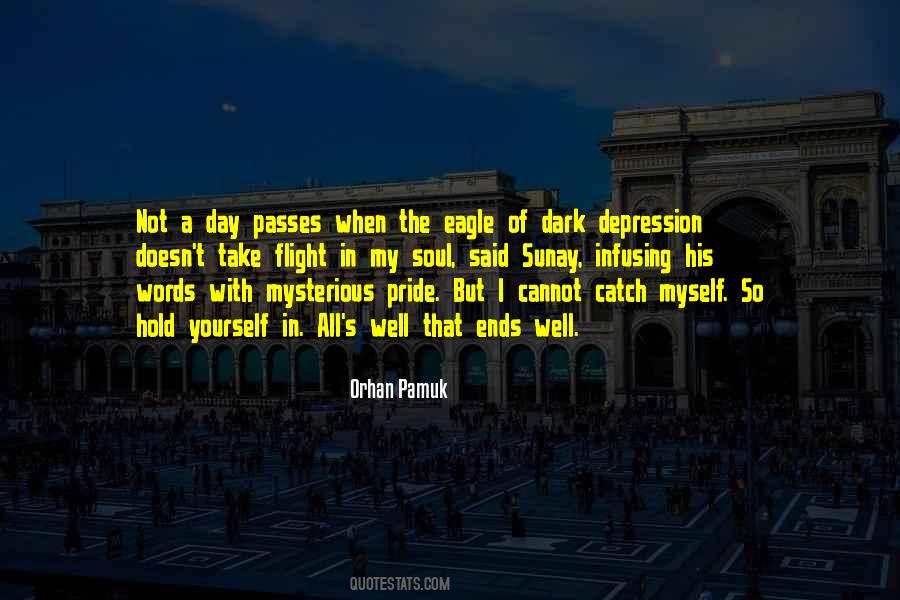 #2. crepuscle, the mysterious half-light that comes at both ends of the day, when the small secret things come out to feed. There - Author: Diana Gabaldon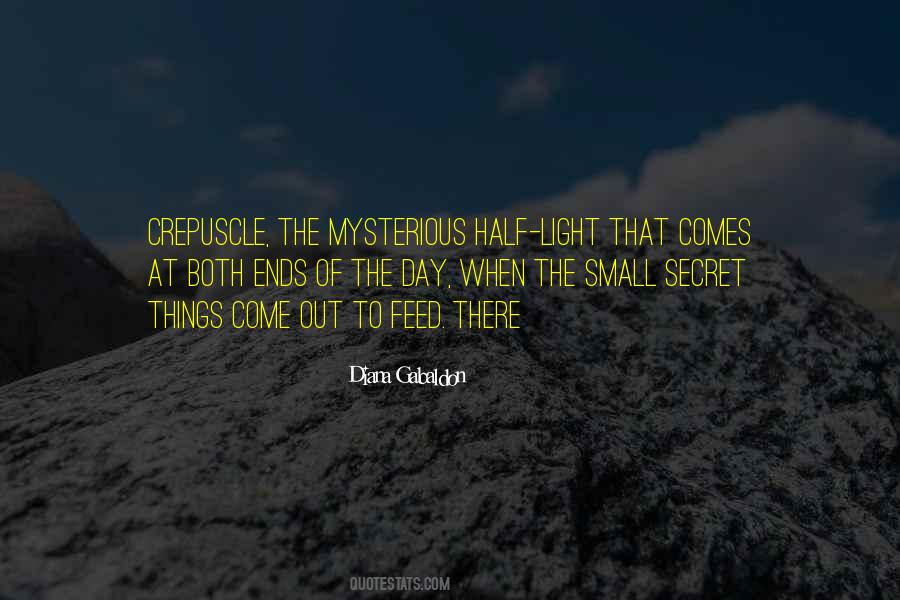 #3. Some days are like this. And the only way to get through them is to remember that they are only one day, and that every day ends. - Author: David Levithan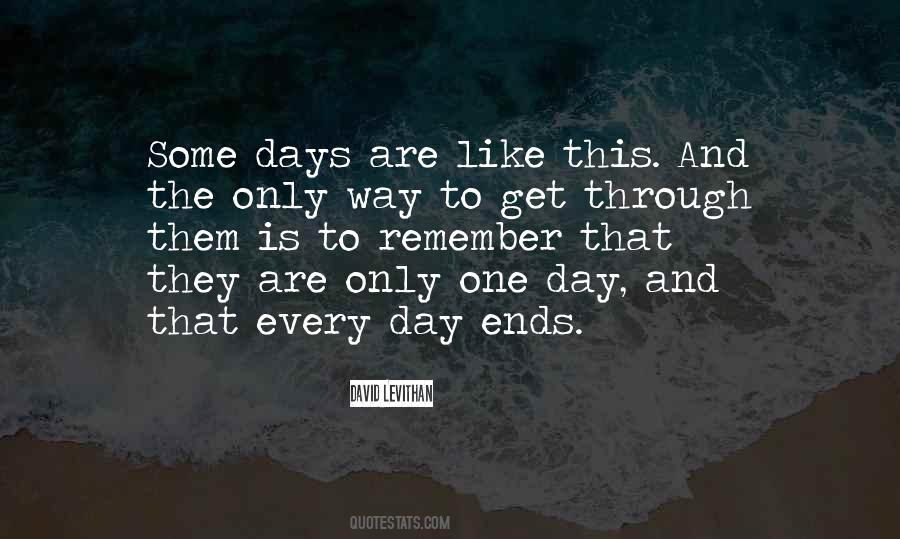 #4. Today is a black day. Tomorrow it may be white. You may look beautiful one day, and not the next. It is not only a matter of other people's perceptions, it's about our own perceptions. We constantly change. Every day our hair grows, our nails grow, we grow older. Everything ends. - Author: Chloe Thurlow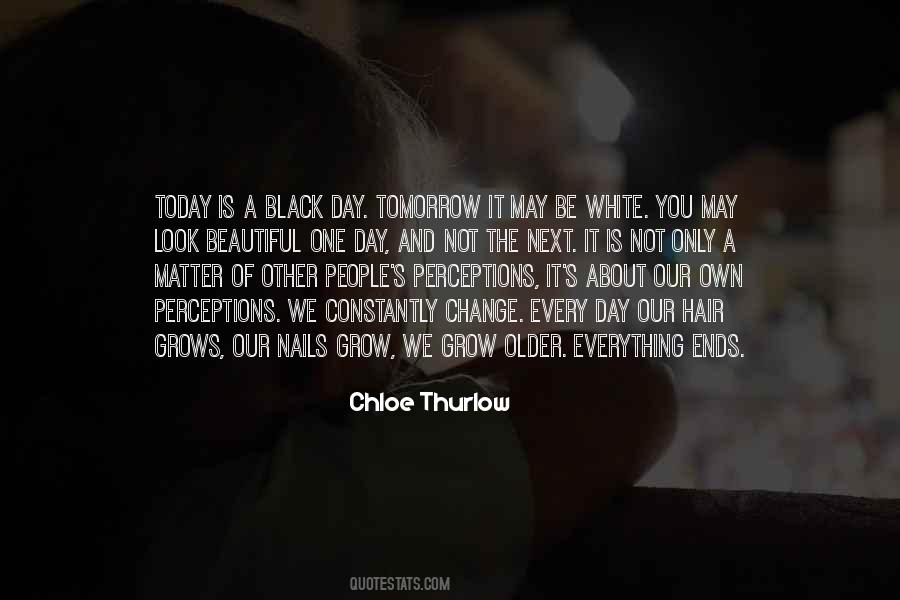 #5. And it's hard at the end of the day - Author: Sarah McLachlan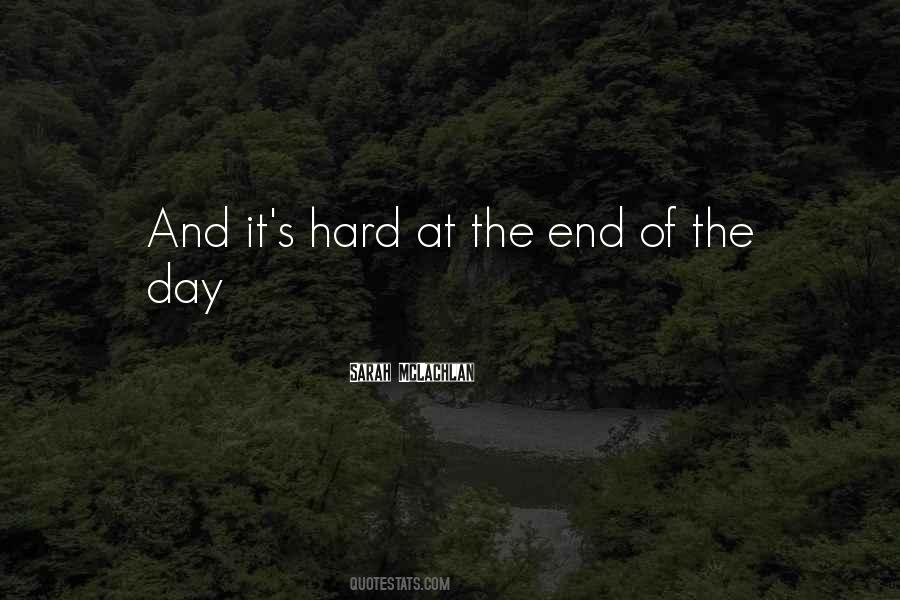 #6. The old river in its broad reach rested unruffled at the decline of day, after ages of good service done to the race that peopled its banks, spread out in the tranquil dignity of a waterway leading to the uttermost ends of the earth. - Author: Joseph Conrad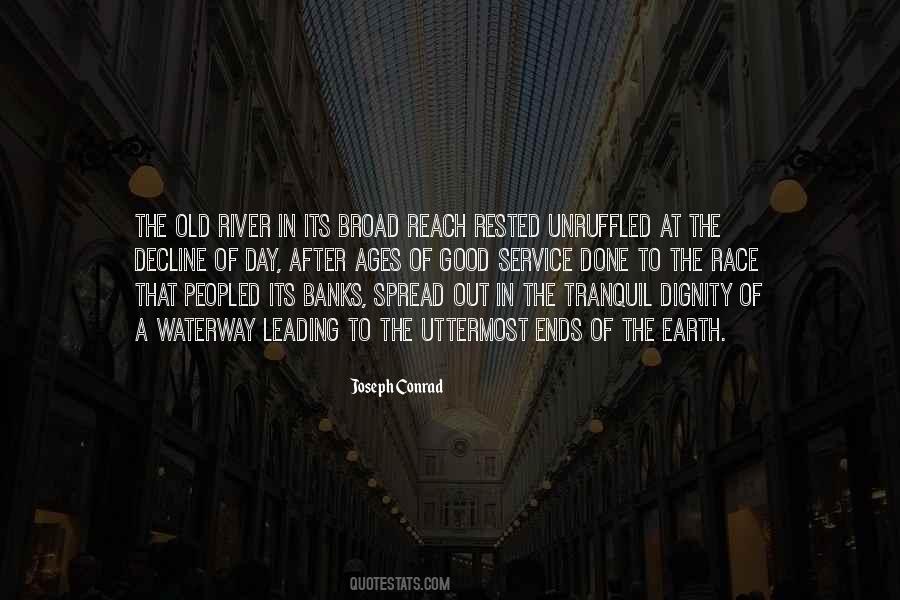 #7. First, you do a piece of material that begins and ends and has a flow; it's not chopped up as in a film, where in an extreme case you might be doing the last scene of the script the first day that you go to work, and you don't know enough about the character you're playing. - Author: Jean Stapleton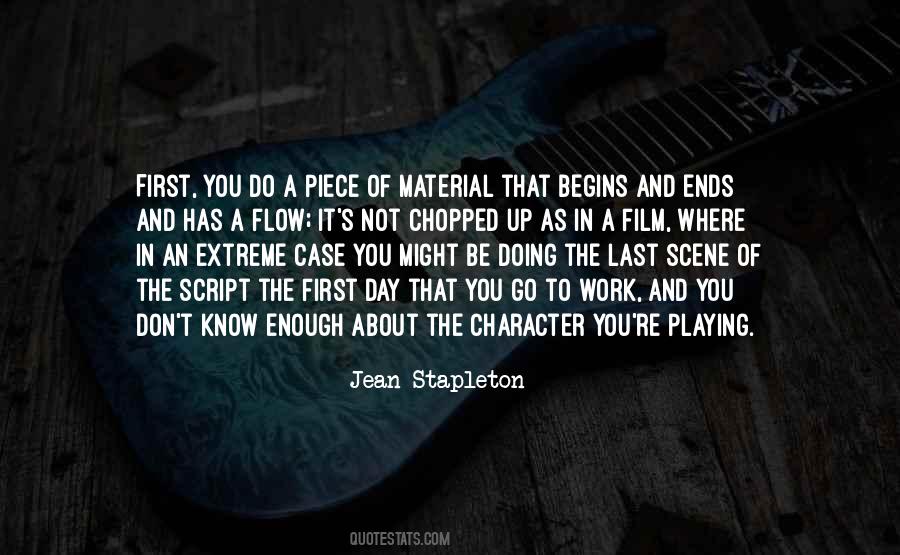 #8. On the day the world ends A bee circles a clover, A fisherman mends a glimmering net. - Author: Czeslaw Milosz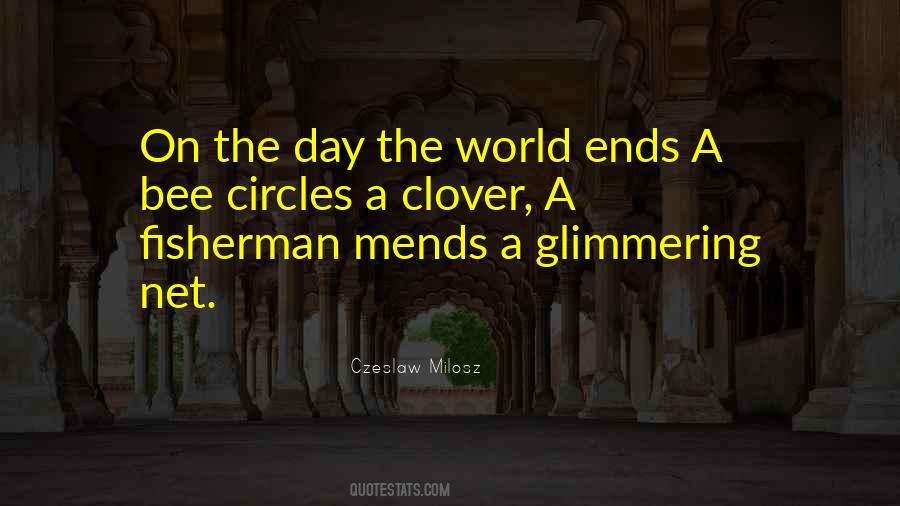 #9. It is better to be respected than it is to be popular. Popularity ends on yearbook day, but respect lasts forever. - Author: John Bytheway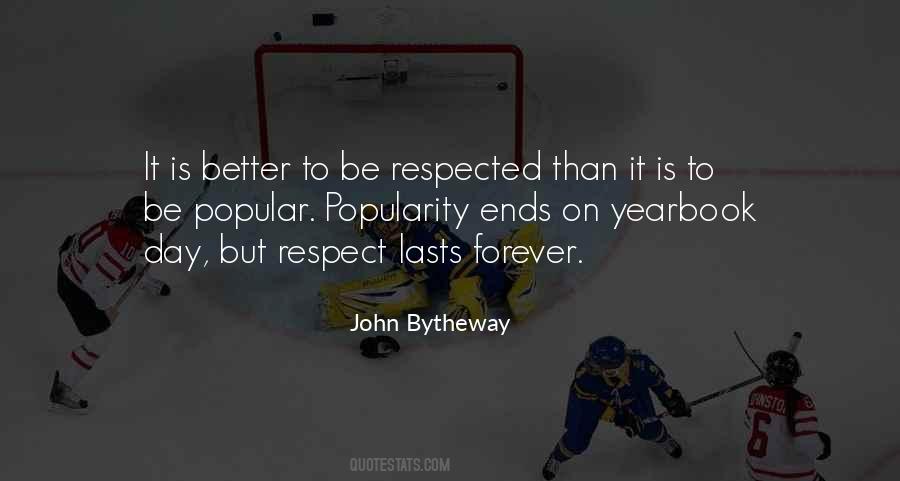 #10. Change, move, dead clock, that this fresh day
May break with dazzling light to these sick eyes.
Burn, glare, old sun, so long unseen,
That time may find its sound again, and cleanse
Whatever it is that a wound remembers
After the healing ends. - Author: Weldon Kees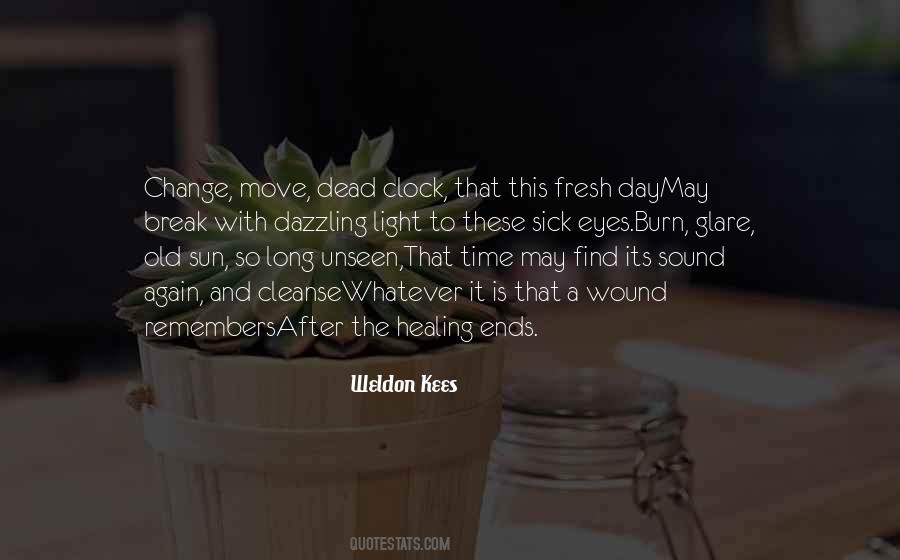 #11. You and Ethan had some kind of something?" "You're fishing. And we didn't have something or anything. We're just bummed it's Valentine's Day and I'm spending it with you guys." "Yeah, well, tone down the magic. You're giving me split ends. - Author: Chloe Neill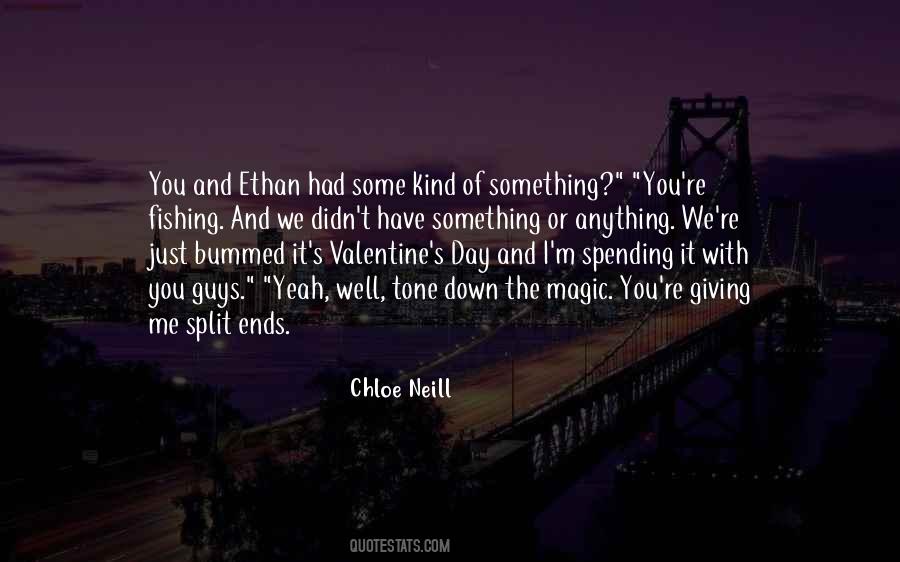 #12. Life is like a road.
With turnings and shortcuts.
Then one day ...
just ends. - Author: Myself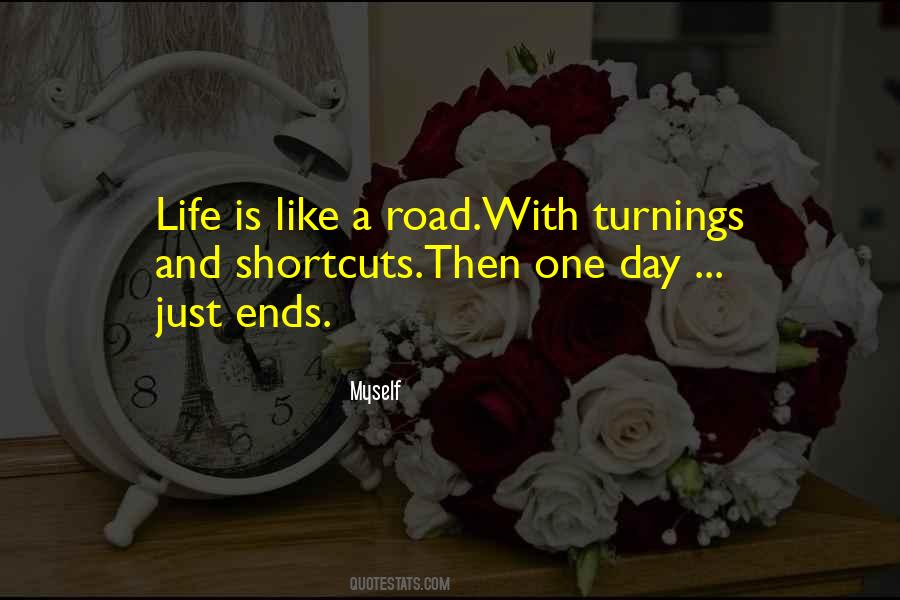 #13. Architecture, in itself, at the end of the day, is a rational profession. - Author: Jimenez Lai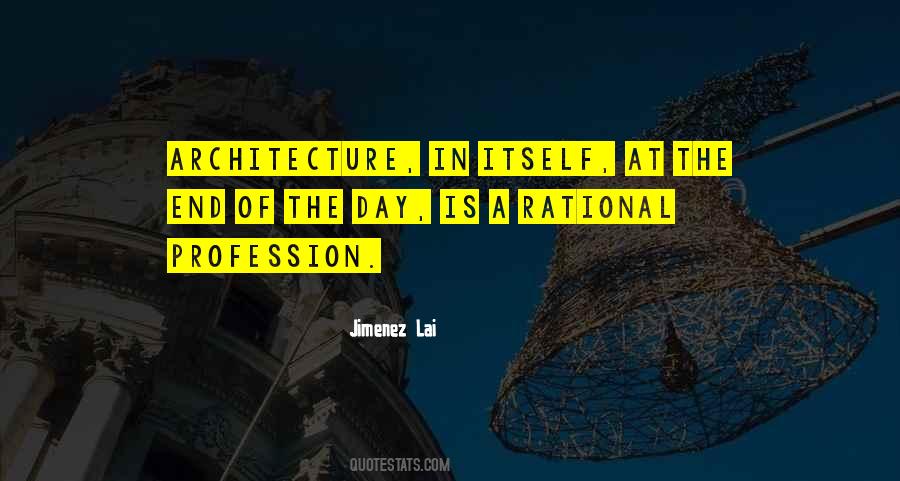 #14. At the end of the day, anybody who thinks there's a reward for nothing, ends up losing. - Author: Kerry Stokes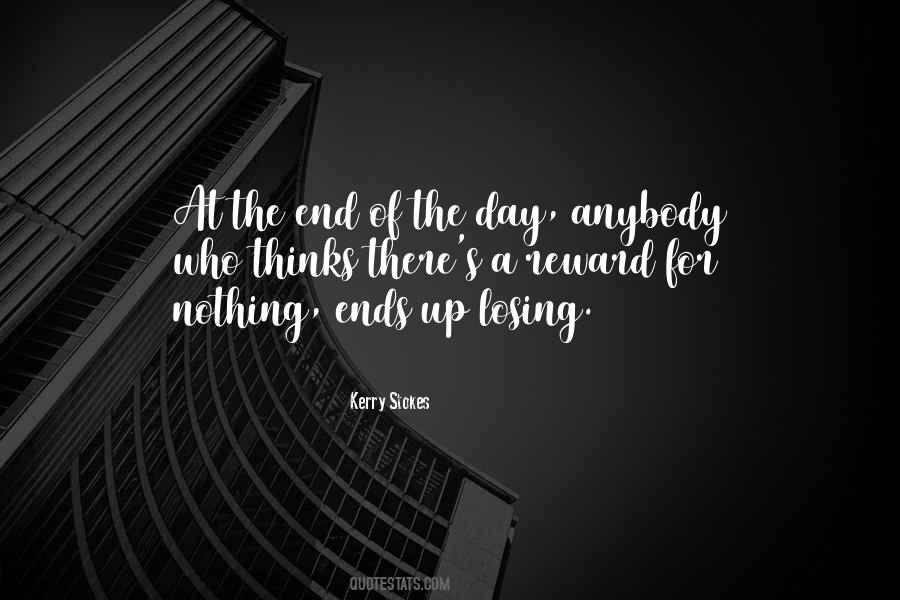 #15. To-morrow comes, true copy of to-day,And empty shadow of what is to be;Yet cheated Hope on future still depends,And ends but only when our being ends. - Author: John Clare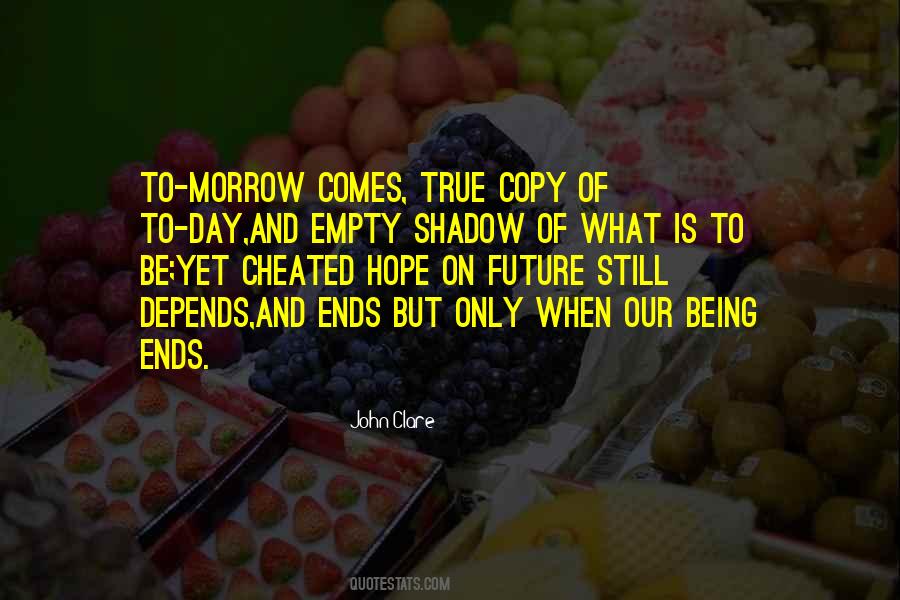 #16. 'Loose Ends' was an all-female crew and one of the greatest on-set experiences I've ever had. We were ahead of schedule every day, and there was a laid-back, calm, supportive vibe that was entirely new to all of us. - Author: Anna Akana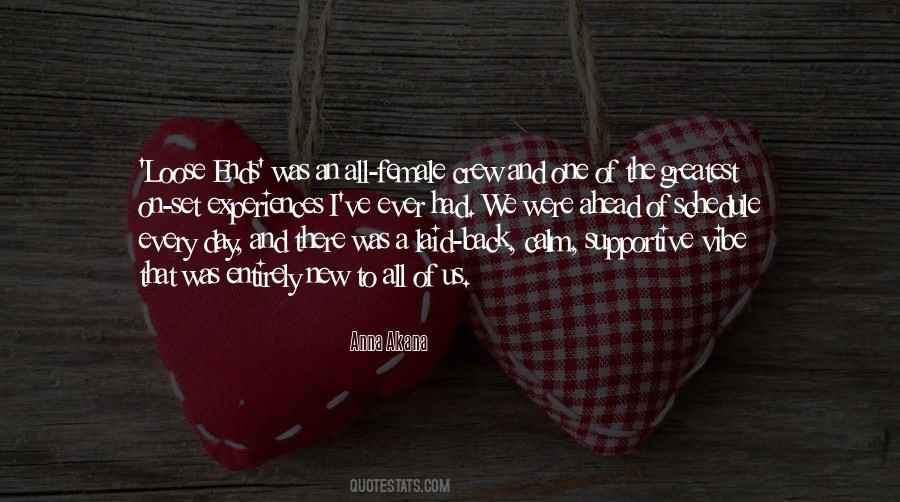 #17. We are all facing the end one day or another. I say, live a good and prosperous life, make sure your choices count, make them count. - Author: Steve Carell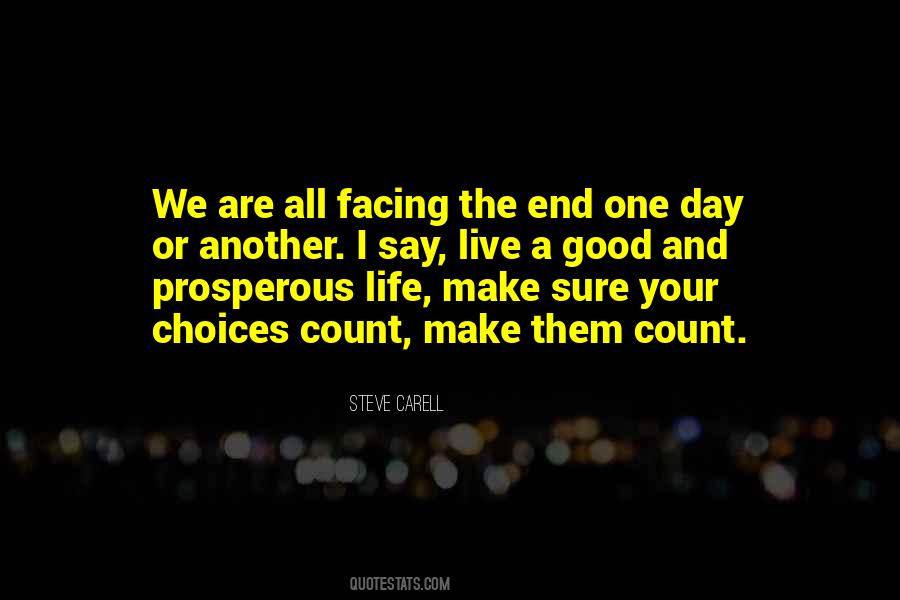 #18. every night i say prayers for him just so he knows that when my day
ends and i'm ready to dream he will always be one of the last waking
thoughts i have and perhaps one of the first dreams of my sleeping
night... - Author: Sandra Bernhard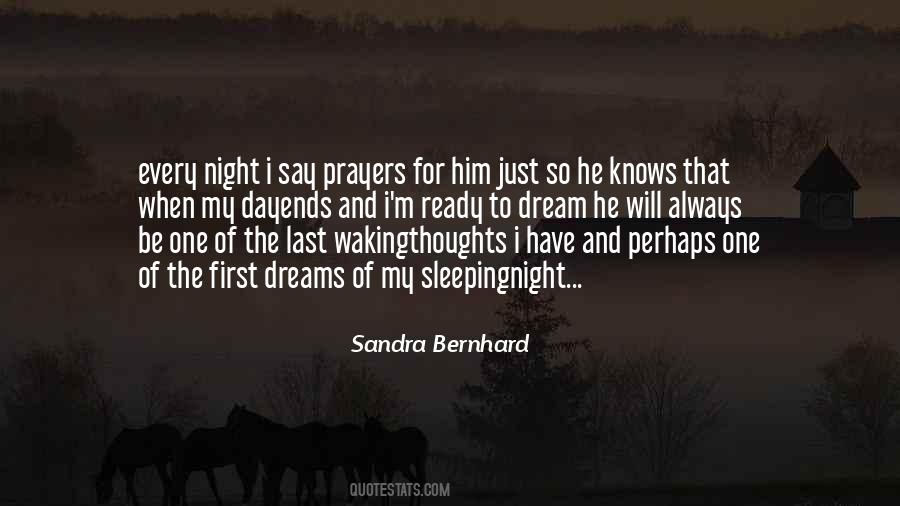 #19. The salary of a member of Congress ends the day that he of she leaves office. - Author: Virgil Goode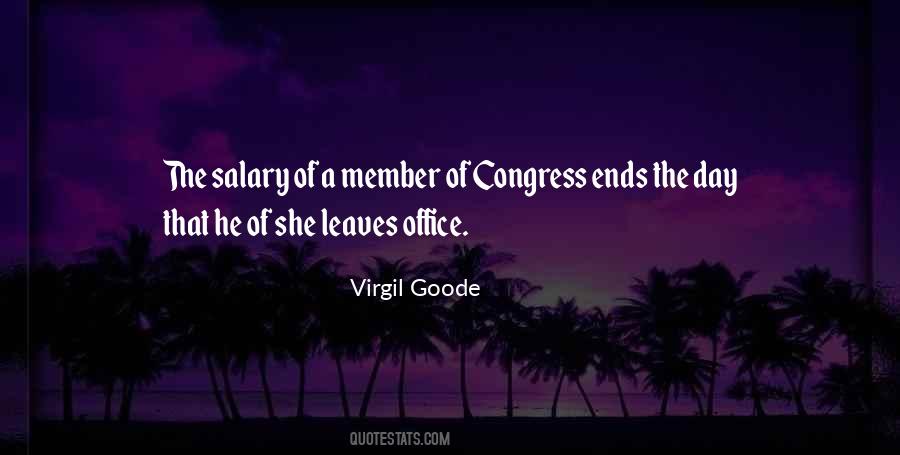 #20. You have to decide at the end of the day if you can live with yourself. - Author: Anne, Princess Royal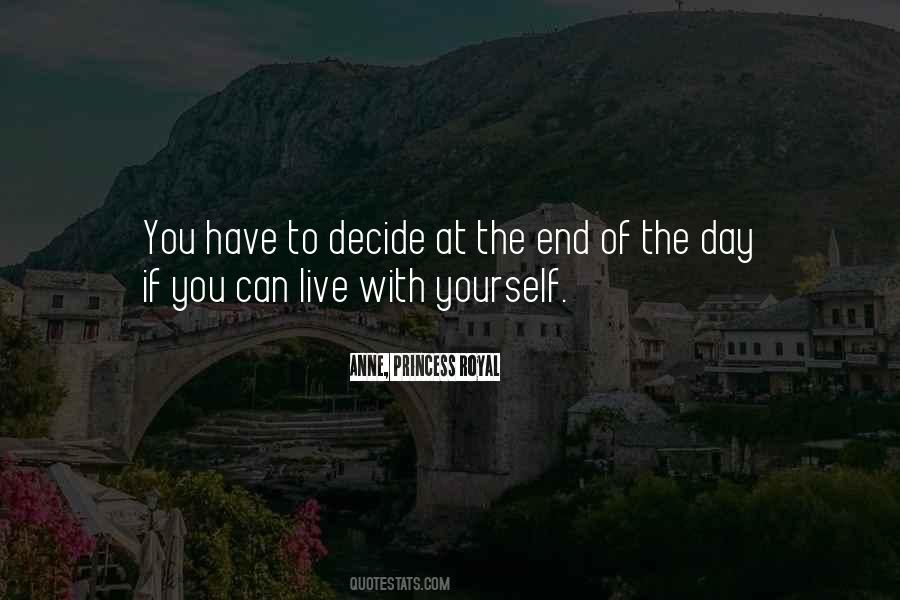 #21. I decided that one day I had to make a film where the viewer couldn't possibly guess the end. - Author: Claude Lelouch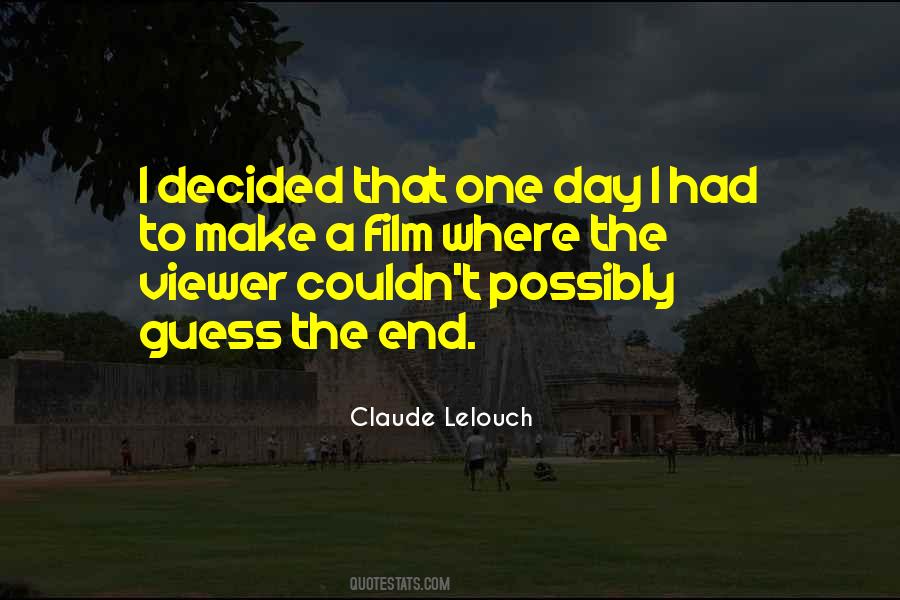 #22. She imagines that she is a seed, driven by the wind, that withstands cold and heat, the worst possible conditions, until one day it falls, like the Bible says, on fertile soil. She knows one day she will flower. This is inevitable. Winter always ends, and springtide blossoms in its place. - Author: David Bowles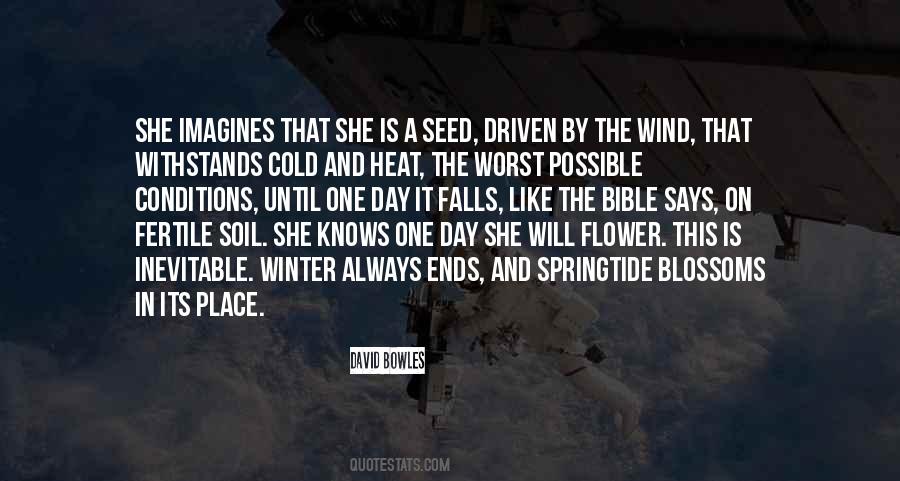 #23. Everything people forget about ends up there one day, they said. Toys, tables, whole houses. And people end up there too. They get forgotten as well. - Author: Lev Grossman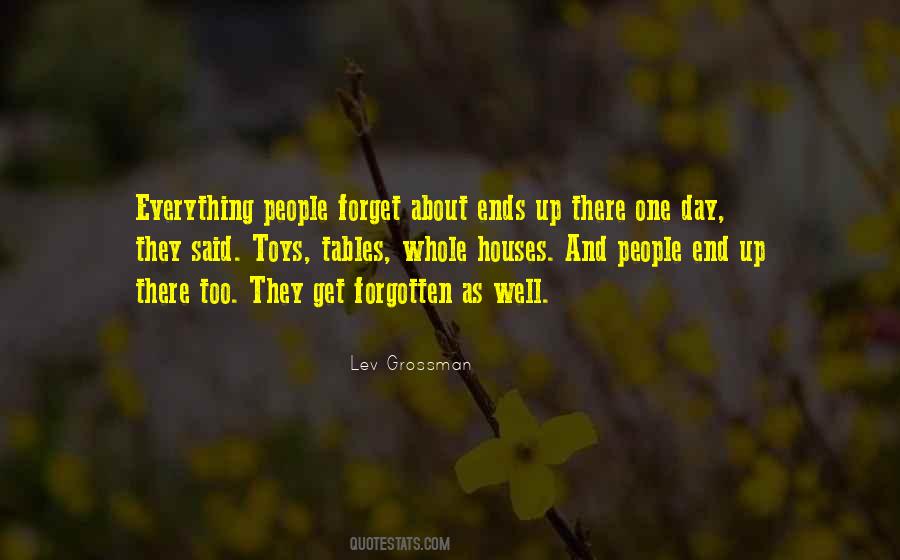 #24. At the end of the day I am a writer, and if I don't take care of this, no one else will. - Author: Elizabeth Gilbert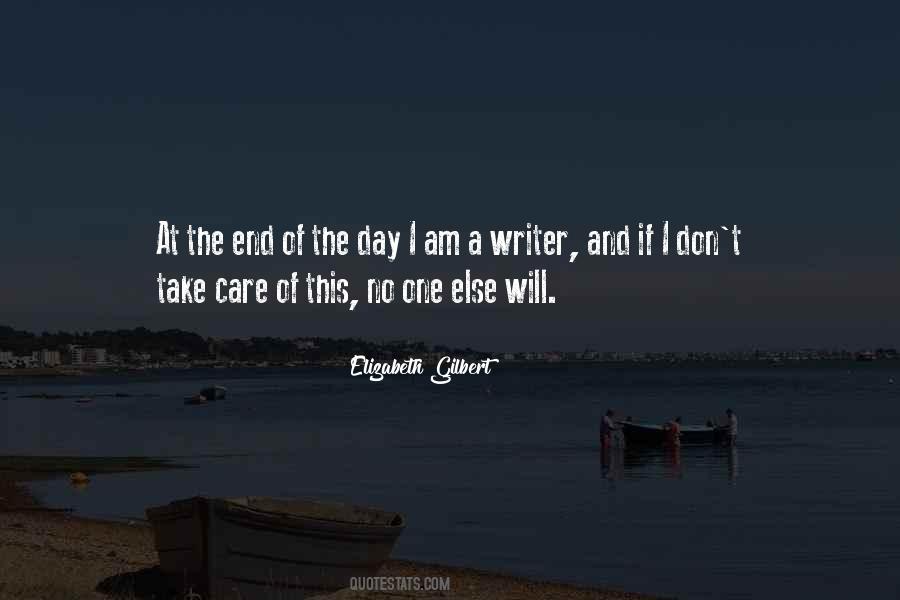 #25. If you even think about asking Harry Potter for an autograph, your day ends right now. - Author: Jasper Fforde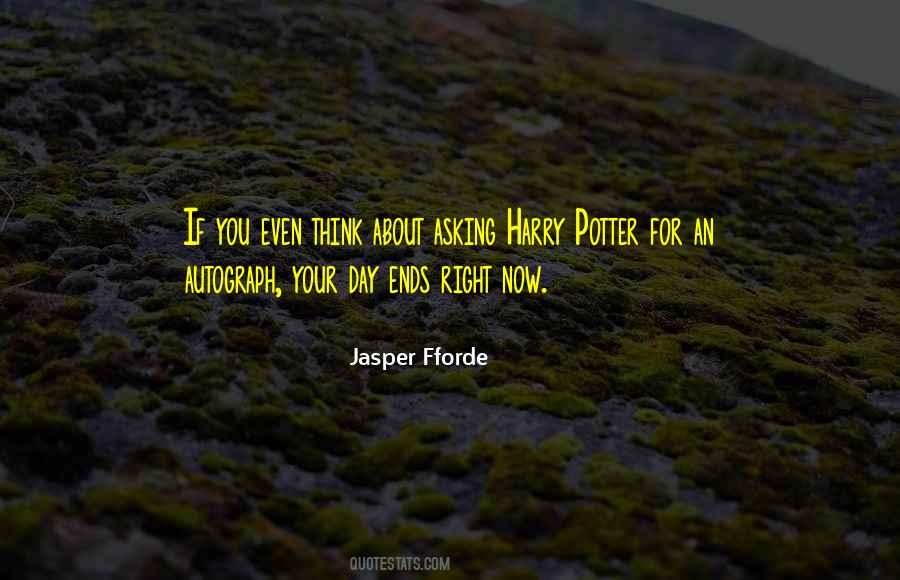 #26. The way you live your day is a sentence in the story of your life. Each day you make the choice whether the sentence ends with a period, question mark, or exclamation point. - Author: Steve Maraboli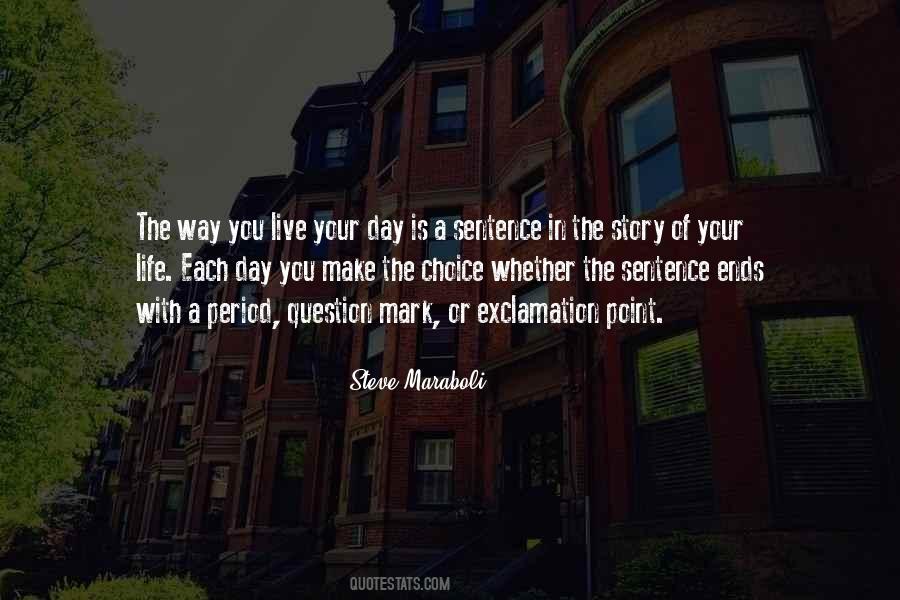 #27. I must go live at the ends of the earth and have my child there while I wait for Min and Jing to be freed.
That happy day will come: two men making their way towards a little cottage lost in the open countryside.
The door opens ... - Author: Shan Sa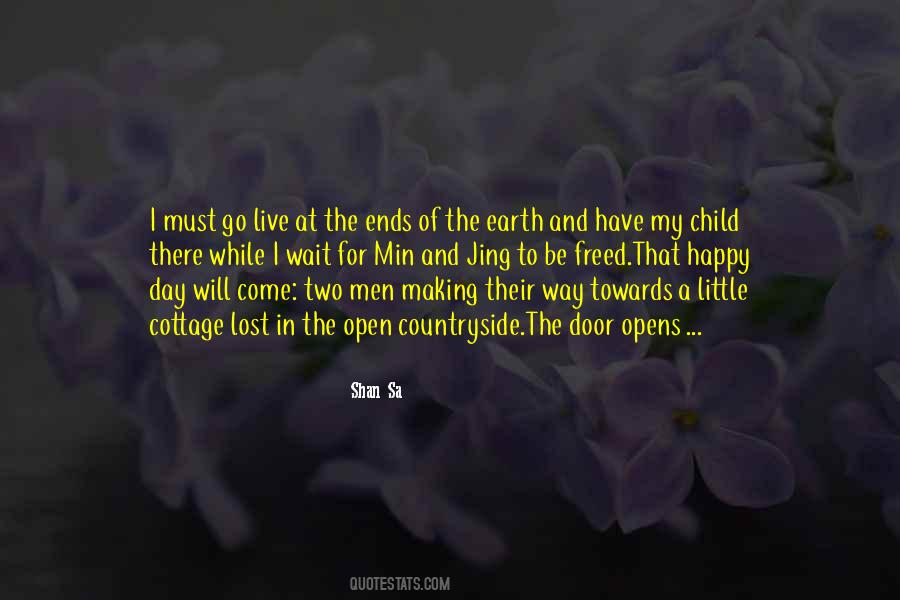 #28. It begins and ends with money. It's absurd in this day and age when we need so much money for education, health, for people, that a $100 million dollars can be spent on a film. It's obscene. - Author: Kathleen Turner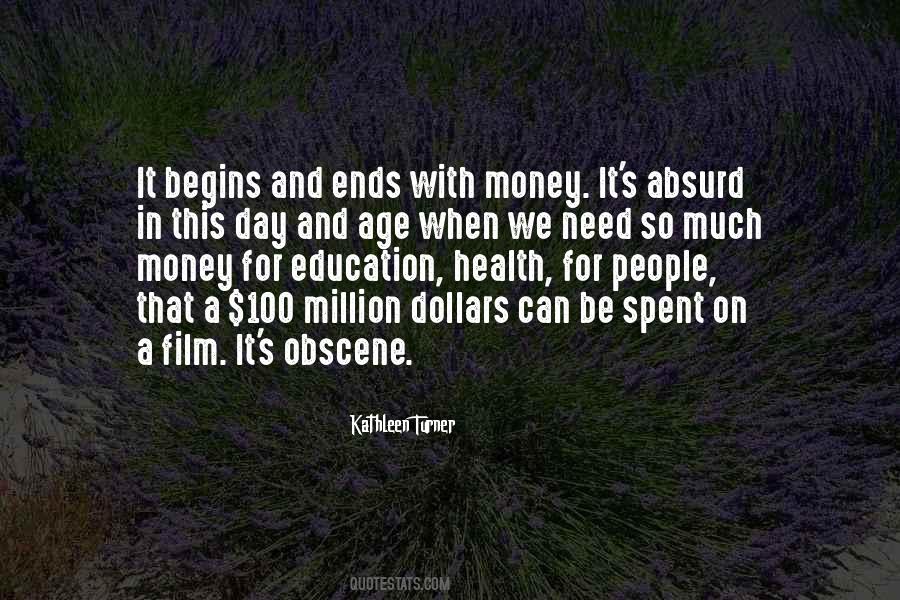 #29. Nothing moves around, it just goes straight from the start to the end. The final draft on the final day, that's it, same for the novels. What I turn in is what you see. There are some exceptions, but almost always I can see exactly what it's going to be. - Author: T.C. Boyle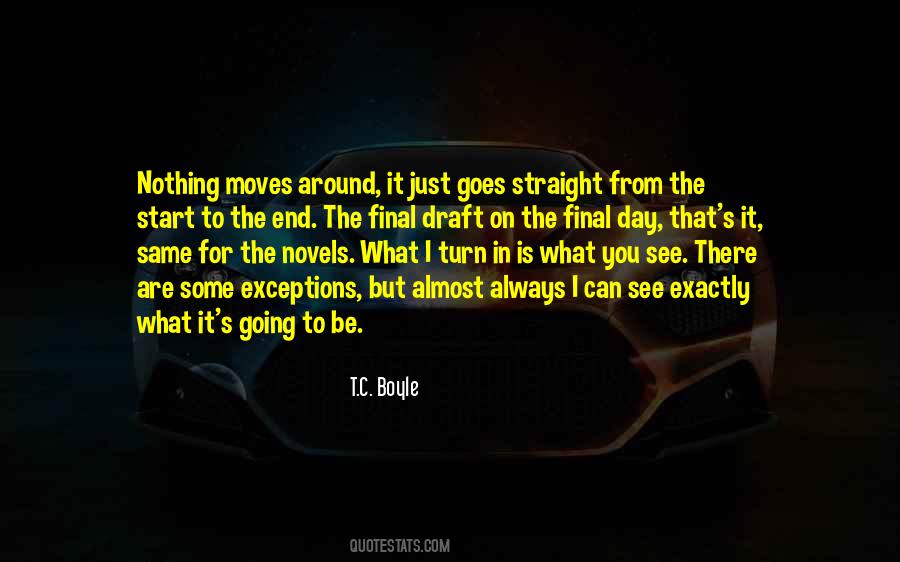 #30. At the end of the day, I'm a human being. - Author: Quinton Jackson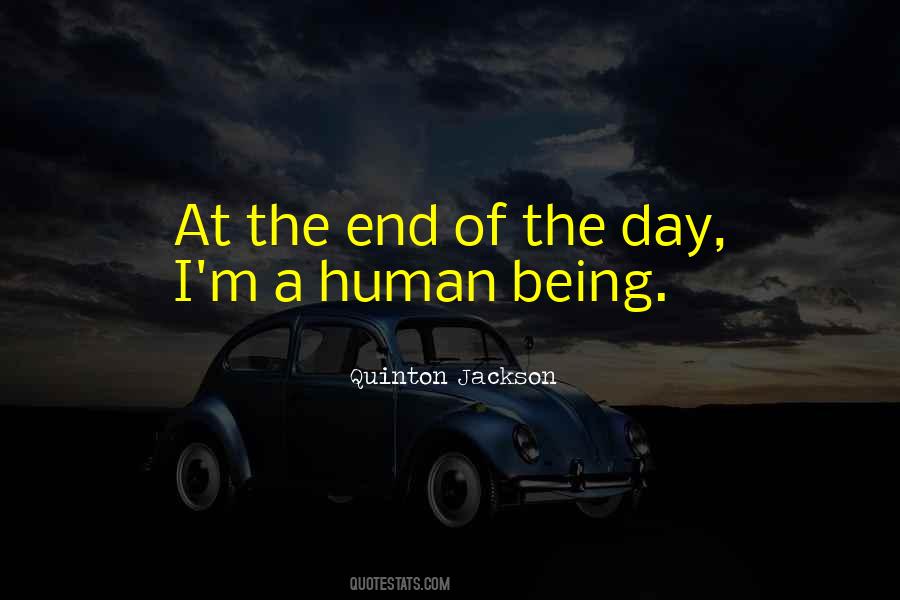 #31. Leadership requires a non-stop demand of fortitude from Day 1 to the end. - Author: Bill Hybels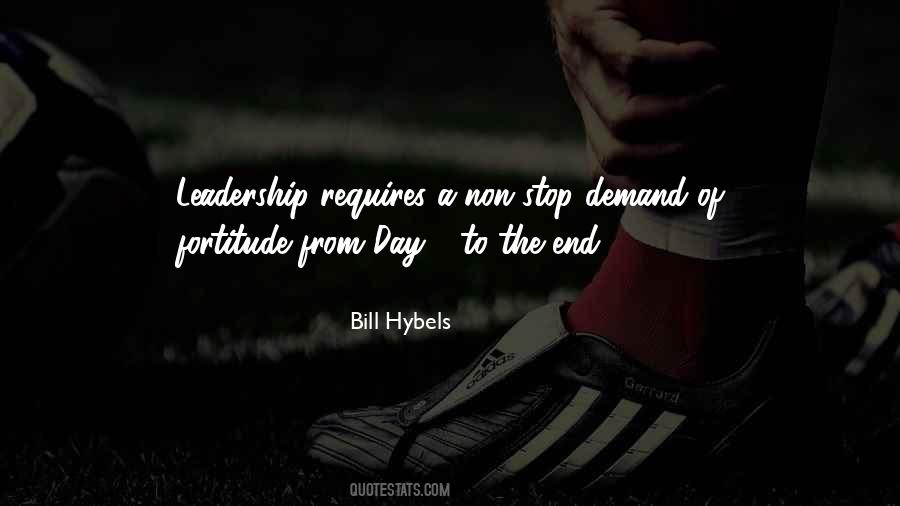 #32. At the end of the day, the team you build is the company you build. - Author: Steve Case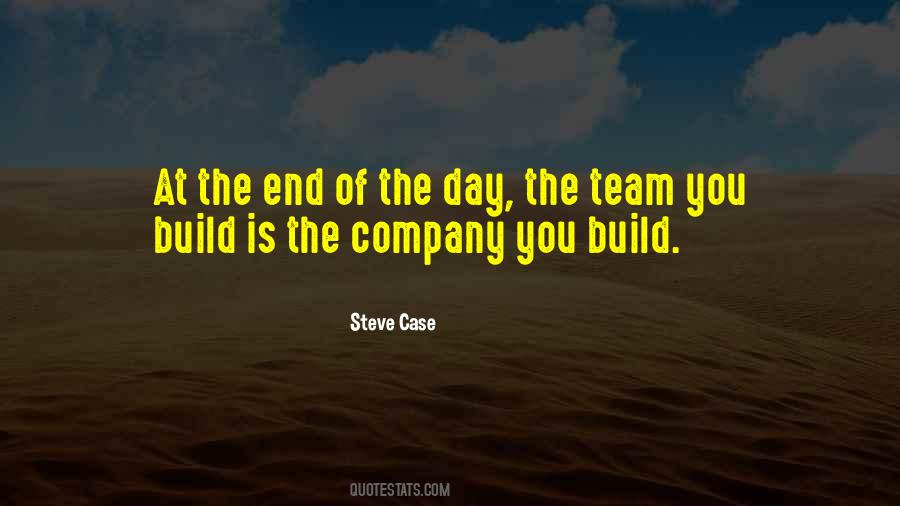 #33. In our rhythm of earthly life we tire of light. We are glad when the day ends, when the play ends; and ecstasy is too much pain. - Author: T. S. Eliot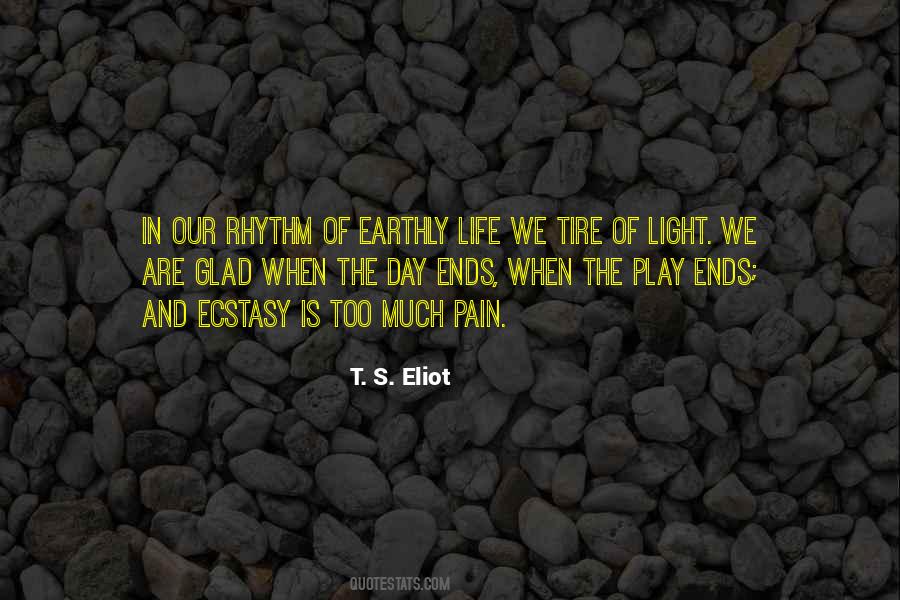 #34. The truest lengthening of life is to live while we live, wasting no time but using every hour for the highest ends. So be it this day. - Author: Charles Spurgeon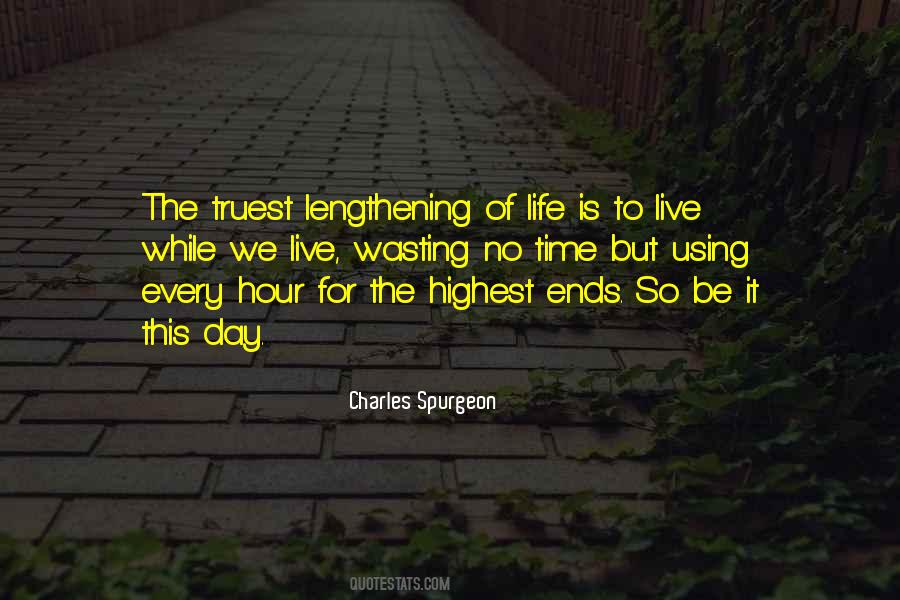 #35. Parents today are under a lot of stress, sometimes working two jobs just to make ends meet. They're trying to find day care for their kids and elder care for their own parents. The Federal Government shouldn't add to their worries by not living up to its obligations. - Author: Barbara Mikulski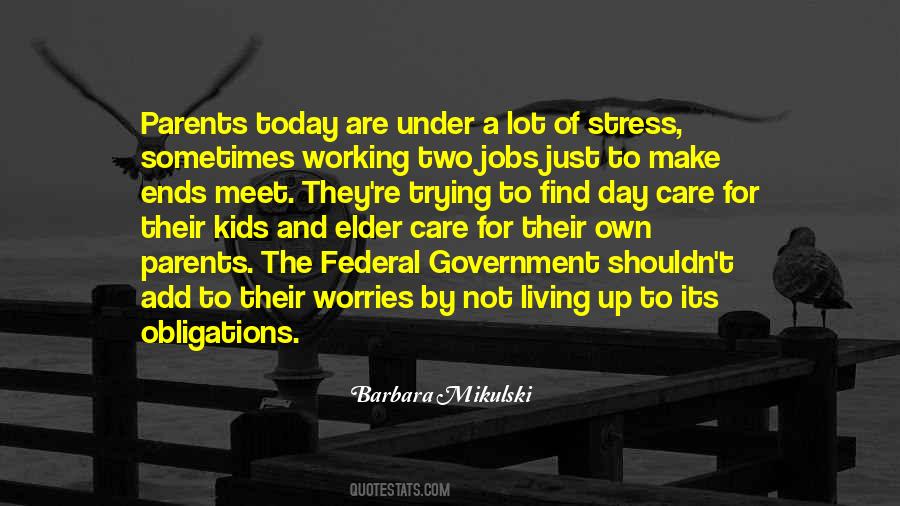 #36. An average working day begins at 8 or 9 am, includes an hour for lunch, and ends at 5 or 6 pm. - Author: Peter Straub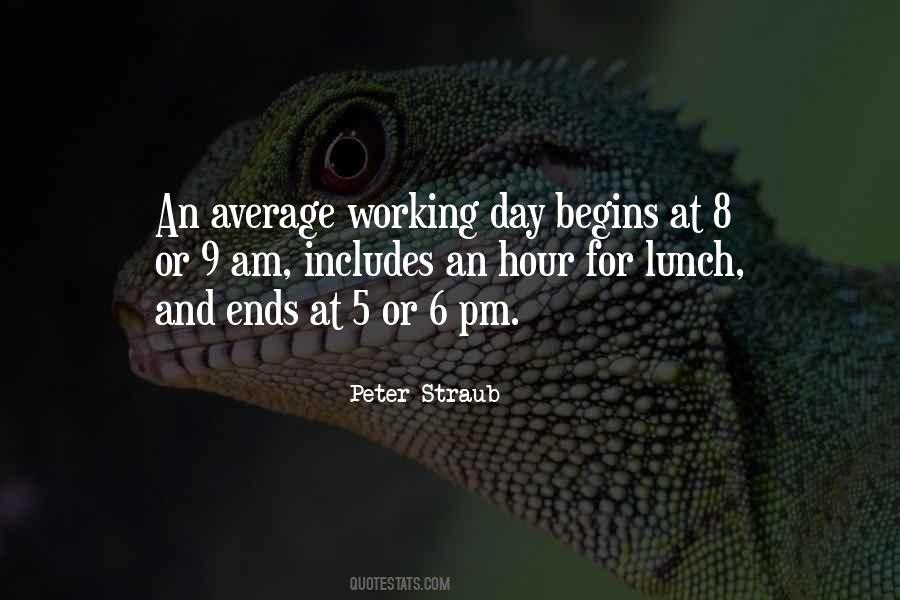 #37. Why live life from dream to dream? And dread the day when dreaming ends. - Author: Baz Luhrmann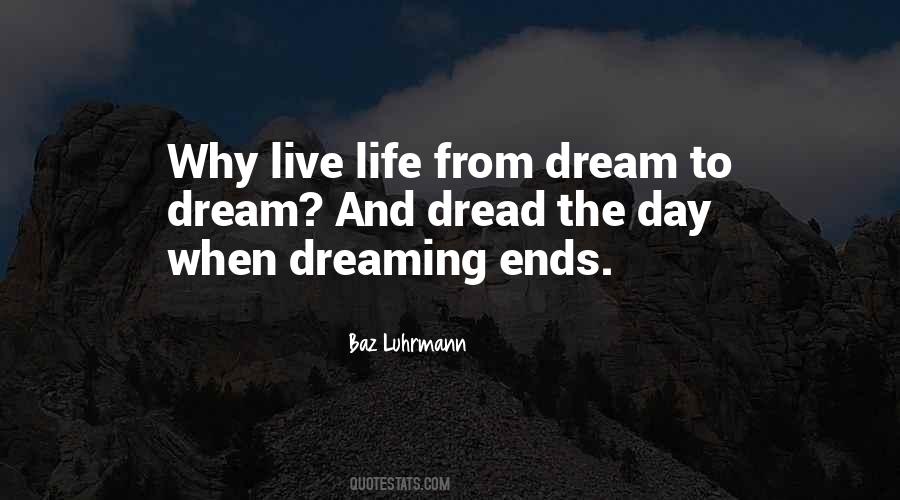 #38. I'm extremely humbled, I'm happy and I'm blessed, because at the end of the day, I'm doing what I love to do. - Author: La'el Collins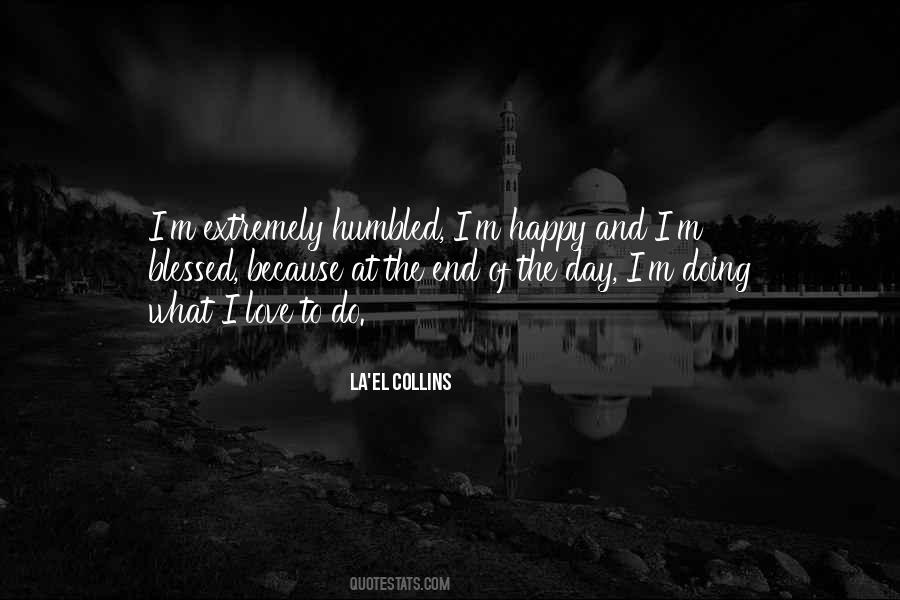 #39. I can't claim to know the words of all the national anthems in the world, but I don't know of any other that ends with a question and a challenge as ours does: Does that flag still wave o'er the land of the free and the home of the brave? That is what we must all ask. - Author: Ronald Reagan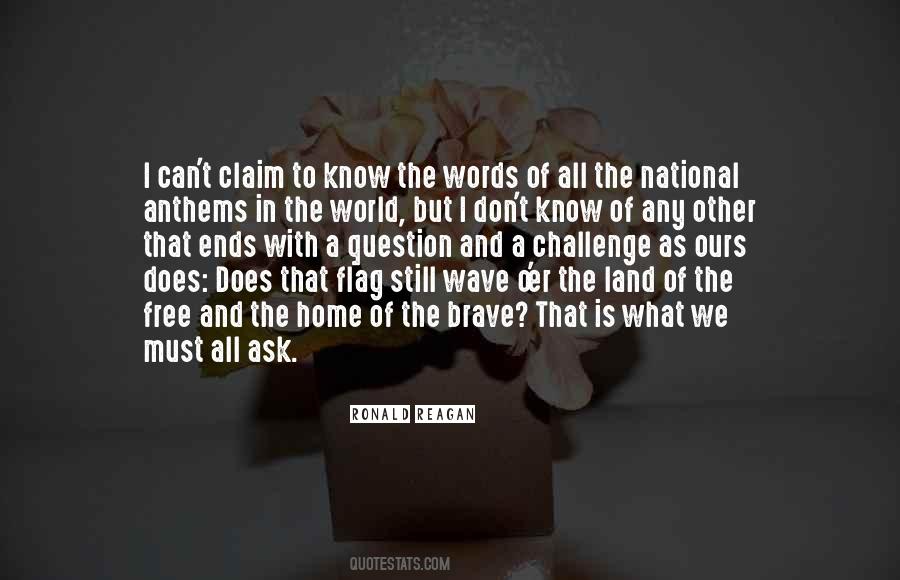 #40. At the end of the day, if you are an actor, you definitely know that you're just work-for-hire. - Author: Malik Yoba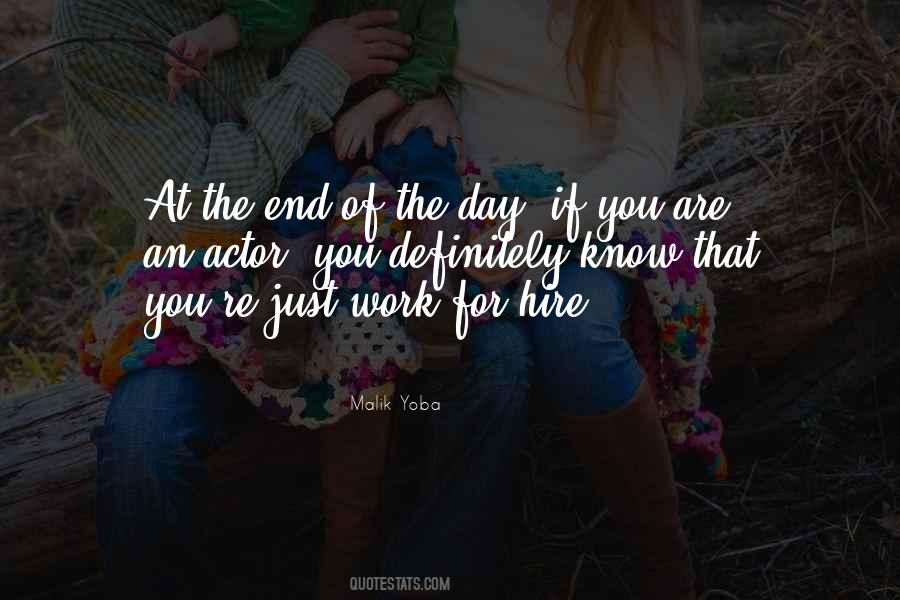 #41. Inasmuch as every judge some day ends up as a penitent, one had to travel the road in the opposite direction and practice the profession of penitent to be able to end up as a judge. - Author: Albert Camus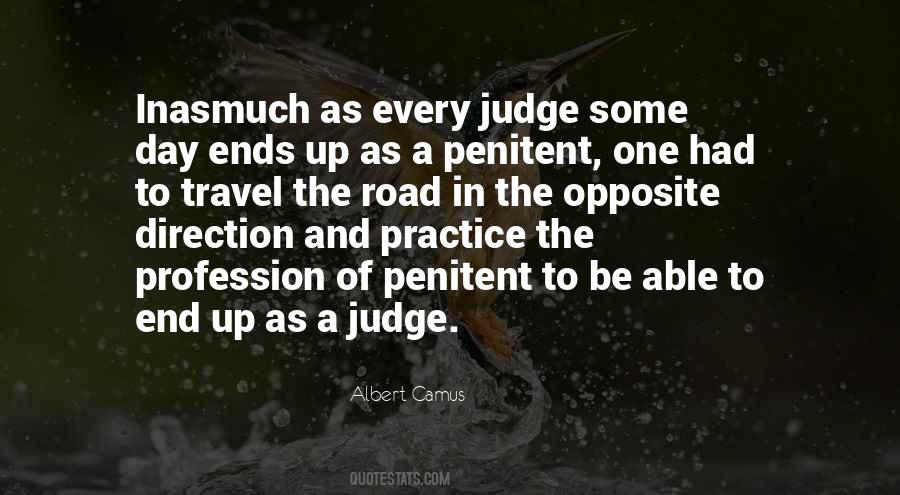 #42. Our part is to pursue with steadiness what is right, turning neither to right nor left for the intrigues or popular delusions of the day, assured that the public approbation will in the end be with us. - Author: Thomas Jefferson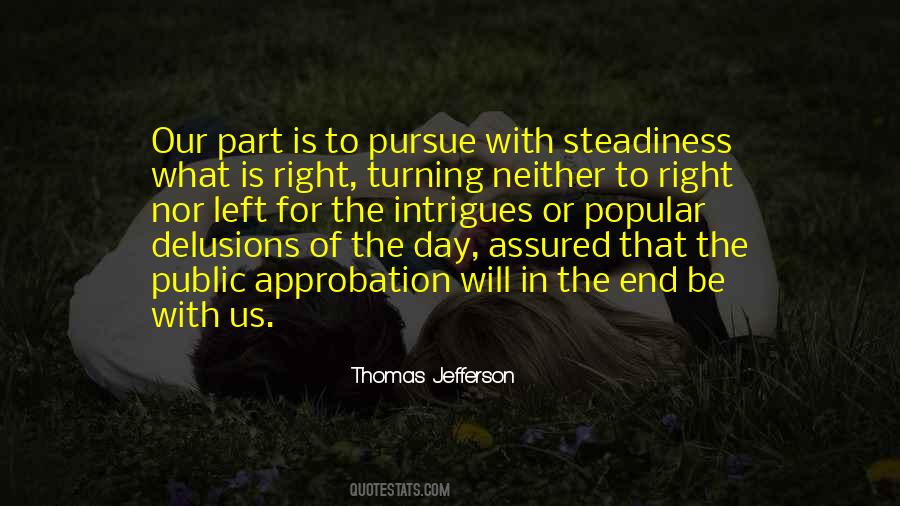 #43. The threads of these thoughts trailed after her throughout the rest of the day, like loose ends on a fabric, needing to either be tied into a knot or snipped away. - Author: Marilyn Brant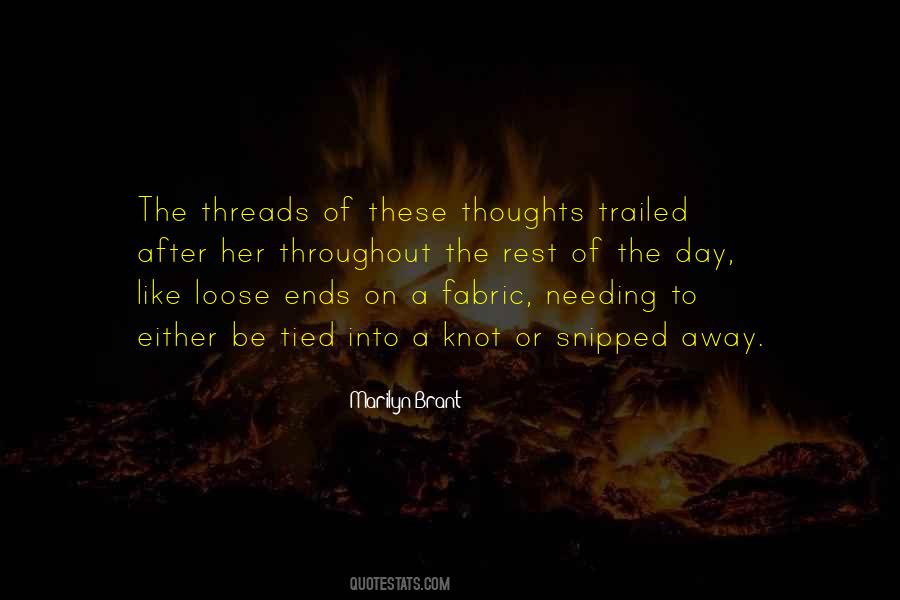 #44. When I was 14 years old, I literally just had to cut off all my ends because I was just a frizzball from the sun, like I absolutely killed my hair. So from that day on, I had leave-in conditioner stuck to me 24/7. - Author: Laura Enever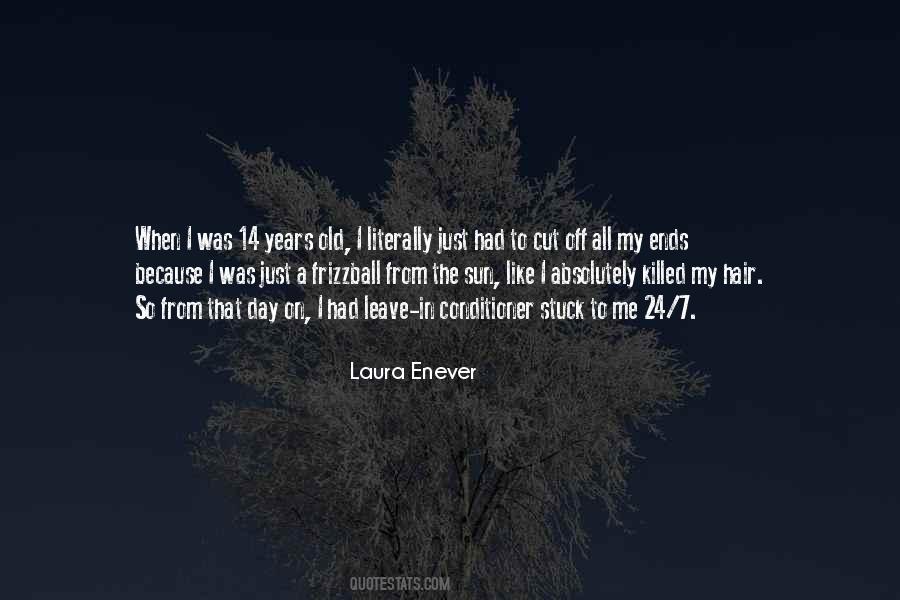 #45. Everything eventually ends. We all eventually die. That's why every day we have is so special. The fact that we only have limited amount of time is what makes life precious. - Author: J.T. Geissinger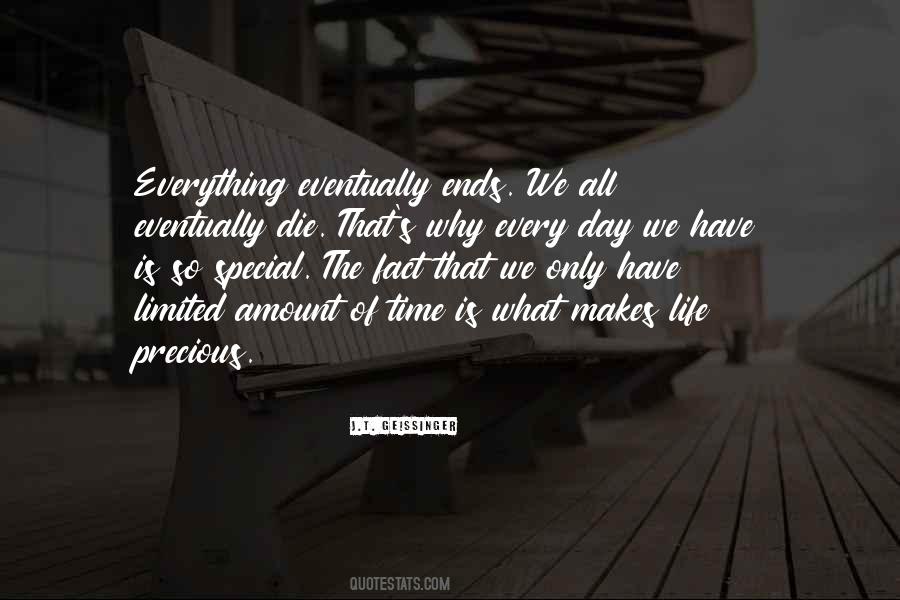 #46. Without TV, it's hard to know when one day ends and another begins. - Author: Homer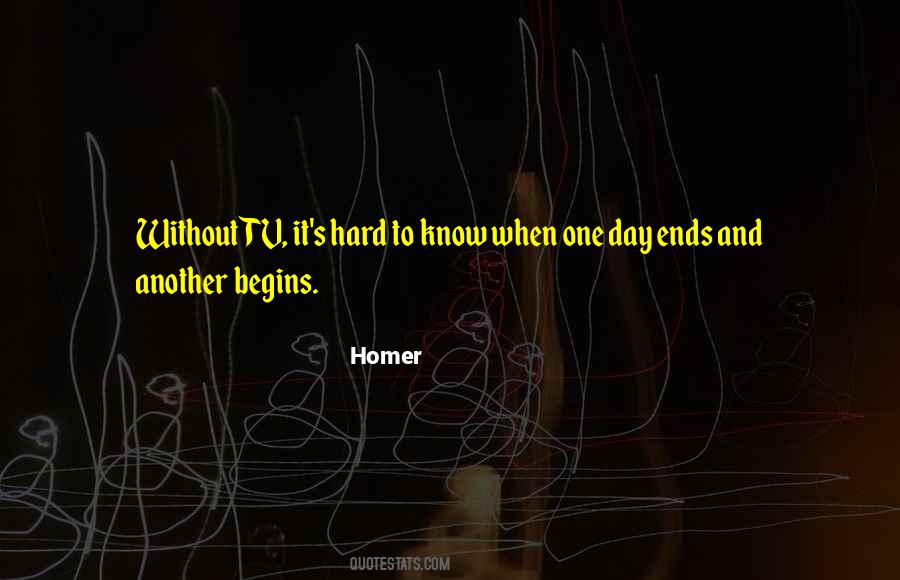 #47. On September 9, the day after Prevost's armistice ends, Napoleon launches and, at great cost, wins the Battle of Borodino, thus opening the way to Moscow. The casualties on that day exceed eighty thousand - a figure greater than the entire population, of Upper Canada. - Author: Pierre Berton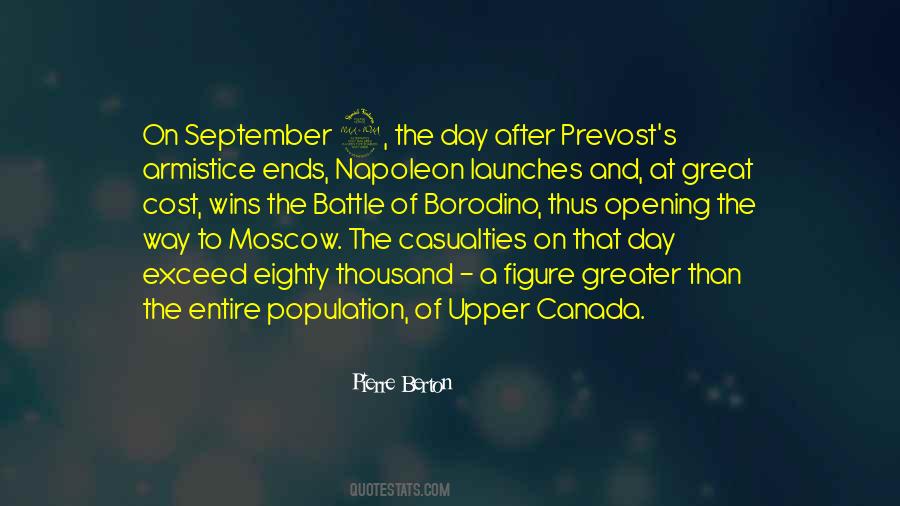 #48. The turkey has a destiny which ends on San Martino's day. - Author: Waverley Lewis Root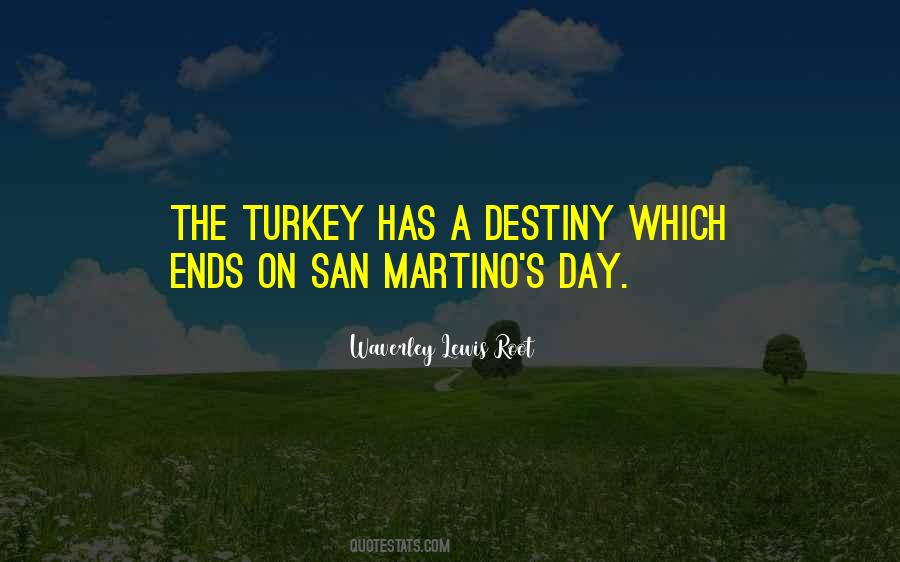 #49. At the end of the day, it's about the best interests of the children. - Author: Marlee Matlin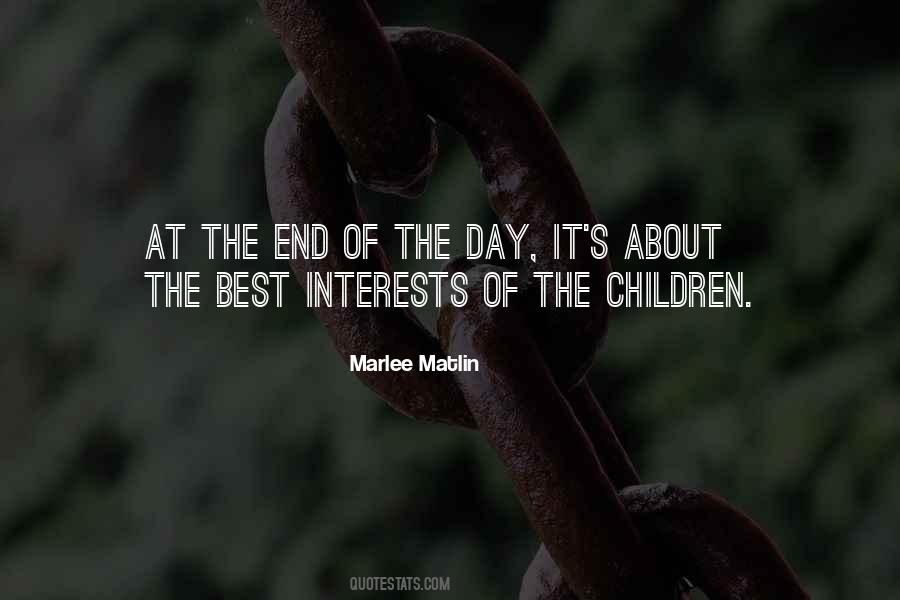 #50. While we enjoy sunrise and all touch of sunlight, the other side of the world suffers from dark times, fireballs, and mourning, like a sunset that ends the day. - Author: Aileene Mhar Jabarani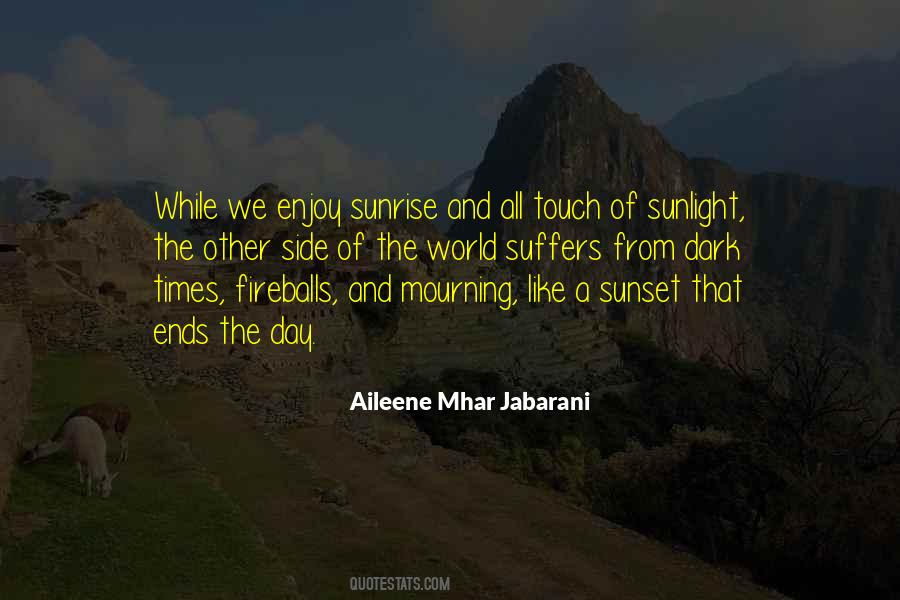 #51. The day the world ends, no one will be there, just as no one was there when it began. This is a scandal. Such a scandal for the human race that it is indeed capable collectively, out of spite, of hastening the end of the world by all means just so it can enjoy the show. - Author: Jean Baudrillard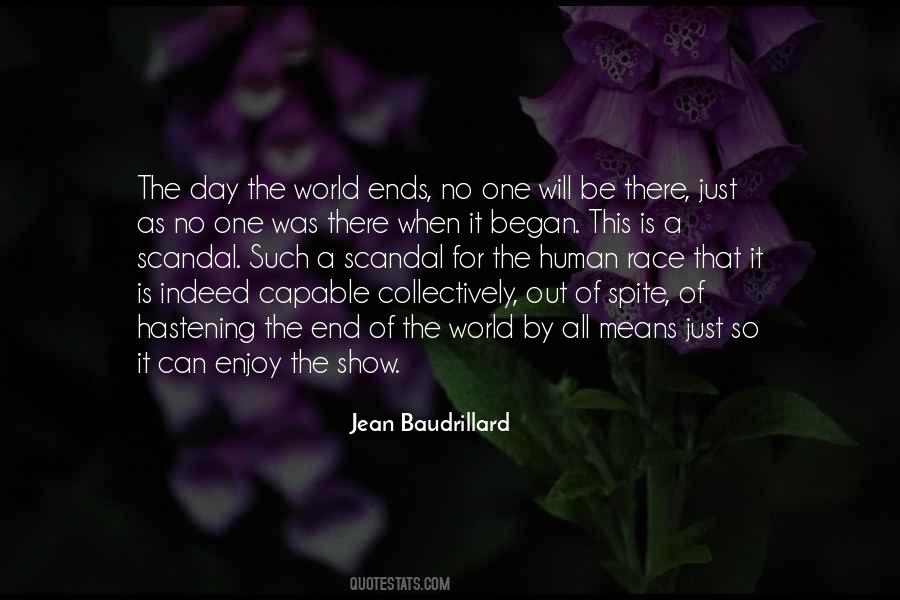 #52. Leading with our heart requires replacing fear with faith. It means releasing the desire to control situations or people, or see the future, or change a past event. We accept our personal power by purposefully leaving no loose ends, so we move from day to day without regret. - Author: Regina Cates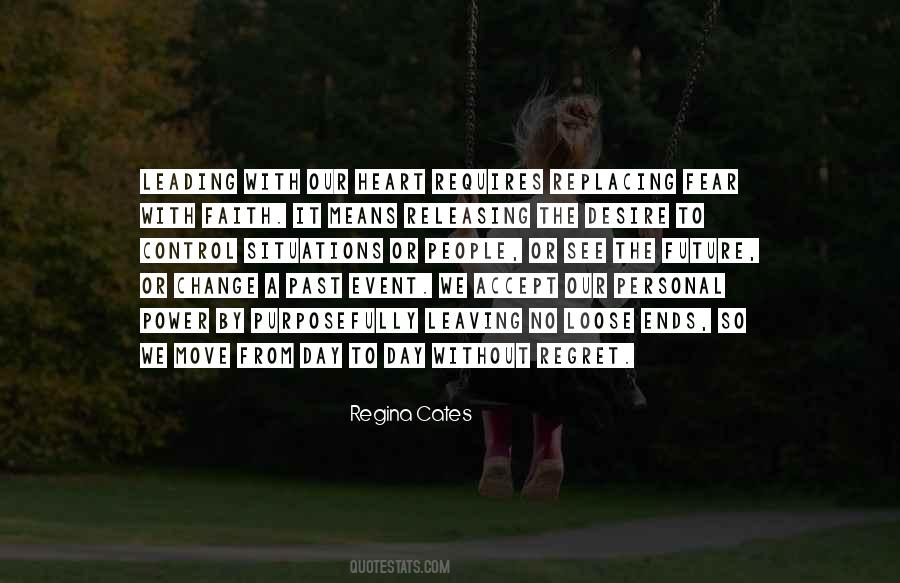 #53. One day the play ends and the screen goes blank. There is nothing. Everything returns to its original formlessness - and then another dream begins. - Author: Frederick Lenz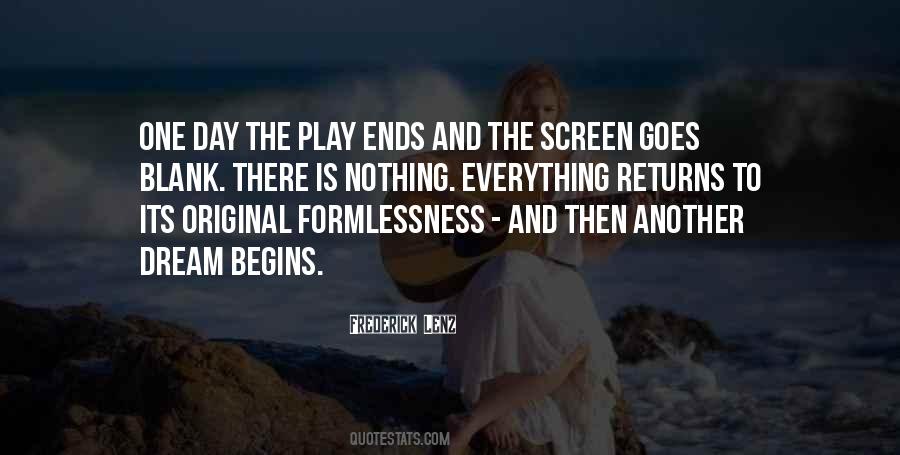 #54. What we do every St. Patty's day, which is wear green and drink a lot of Guinness. And maybe cry a little bit and laugh, and everyone will have to sing a song. That's how every funeral, christening, and wedding ends up in Ireland. Everyone ends up having to sing a song by the end of it. - Author: Saoirse Ronan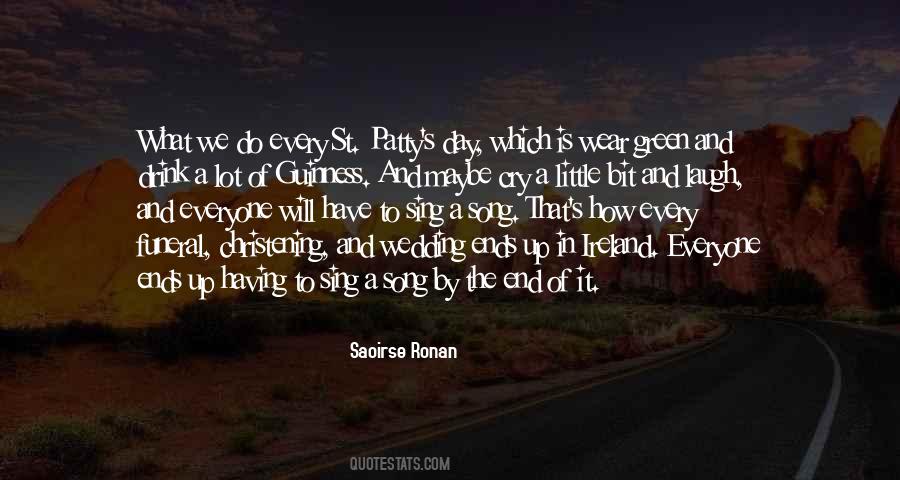 #55. Yeah, probably. Homicide: Our day starts when yours ends. Permanently." "You should sew that on a pillow. - Author: J.D. Robb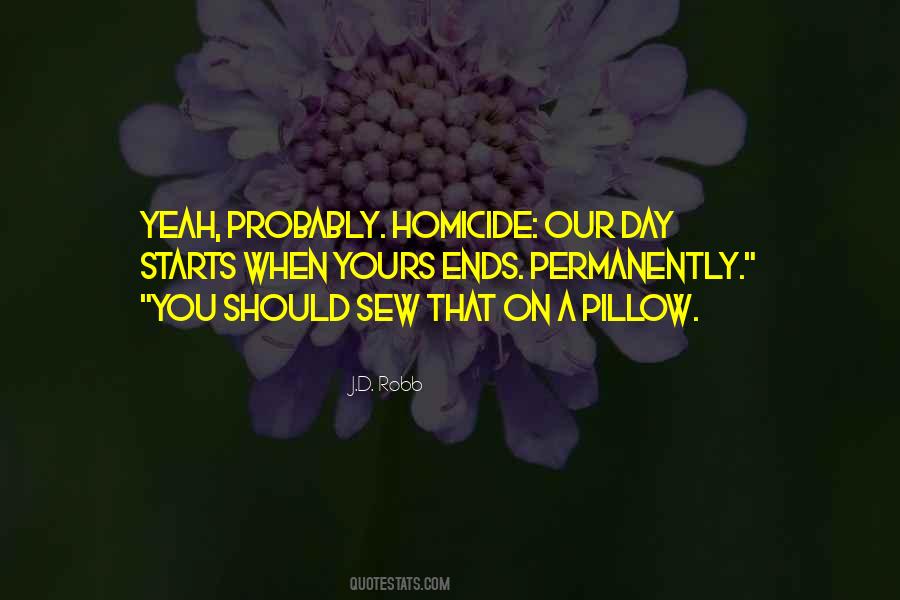 #56. My average day on 'Leverage' starts at 5 A. M. and ends 12 to 14 hours later. An hour drive to the set and back sometimes makes the day unbearably long. You have to grab a few minutes to yourself where you can. - Author: Gina Bellman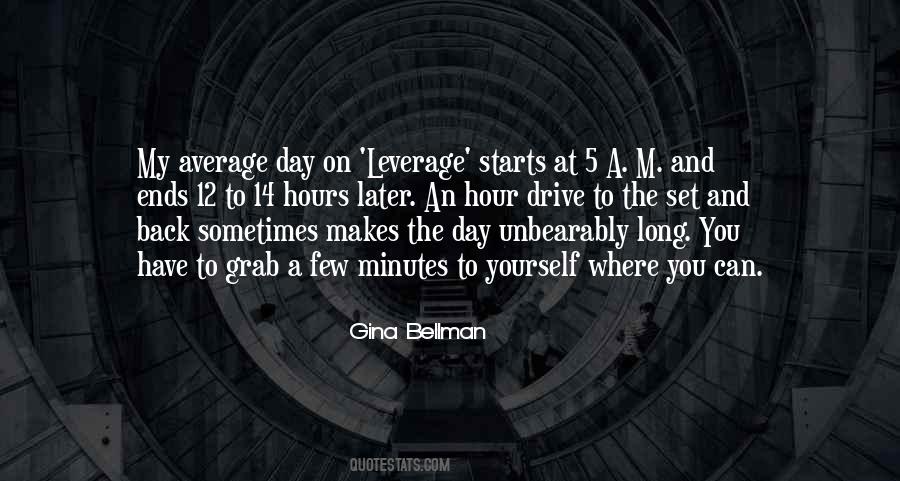 #57. At the end of the day, women are expected to hold up the world, not annihilate it. - Author: Kim Gordon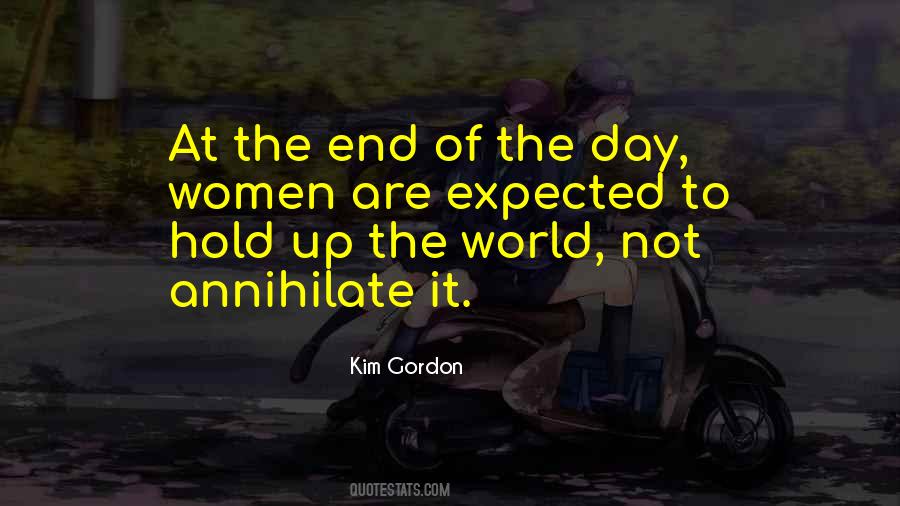 #58. Because when every day is the End of Days, after a while they feel pretty much like every other day, even though you know that's crazy. And nothing is the same. - Author: Kami Garcia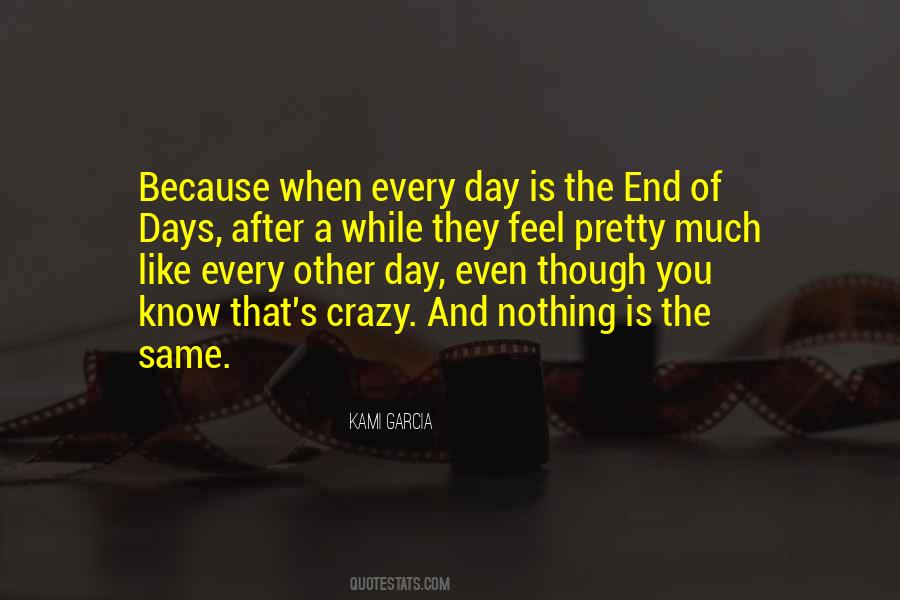 #59. Fish," he said, "I love you and respect you very much. But I will kill you dead before this day ends. - Author: Ernest Hemingway,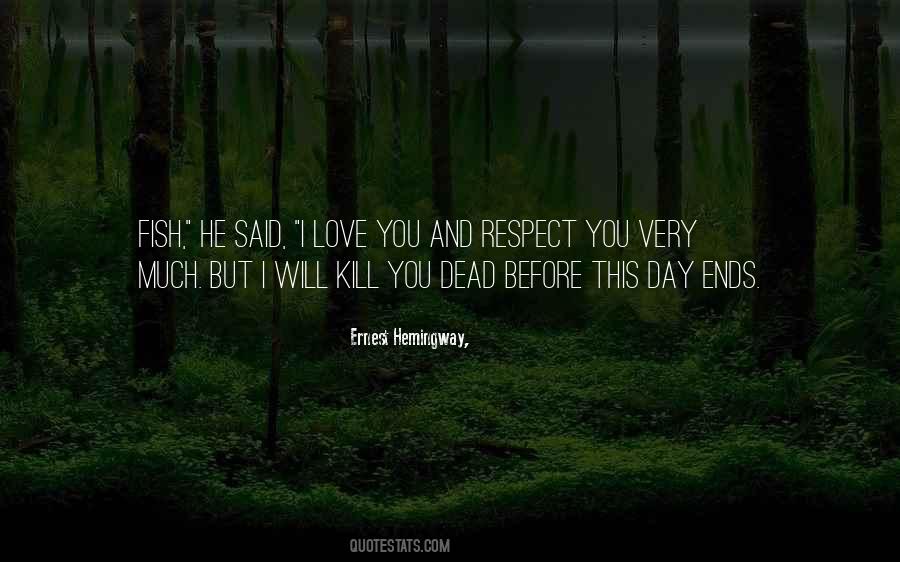 #60. You have yourself and your instinct - there isn't anything else at the end of the day. - Author: Nitin Sawhney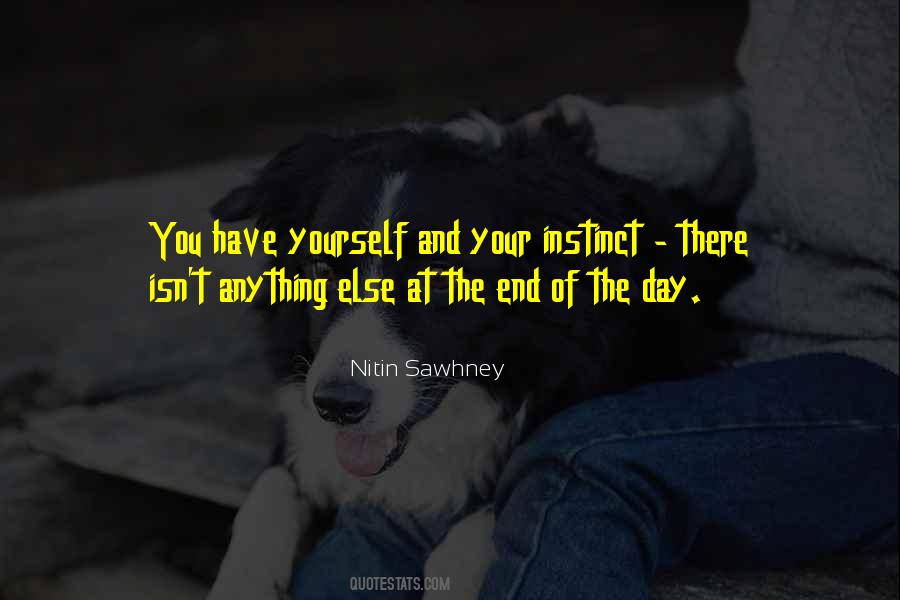 #61. Your life is a book;
it begins the day you are born,
the chapters pile up as you grow,
and the book ends as you die. - Author: Matshona Dhliwayo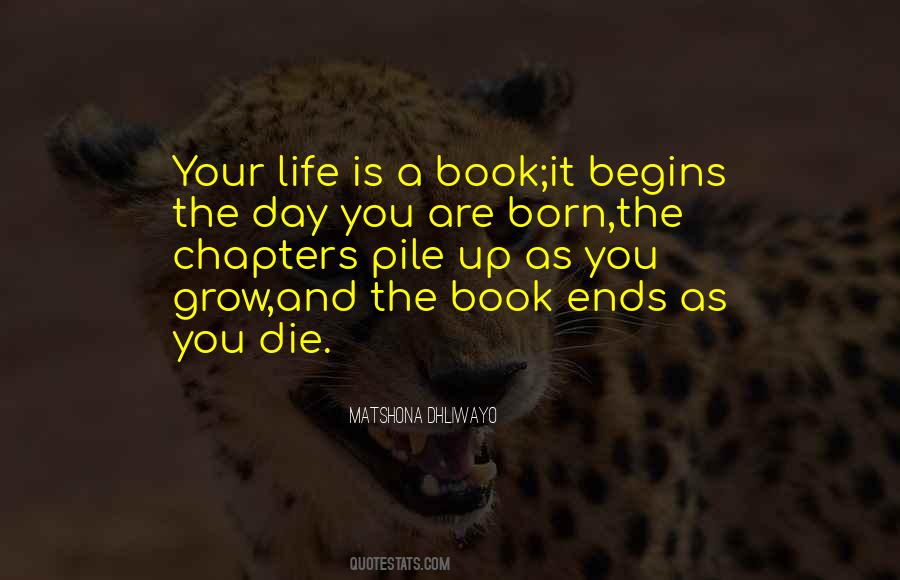 #62. Here ends another day, during which I have had eyes, ears, hands and the great world around me. Tomorrow begins another day. Why am I allowed two? - Author: G.K. Chesterton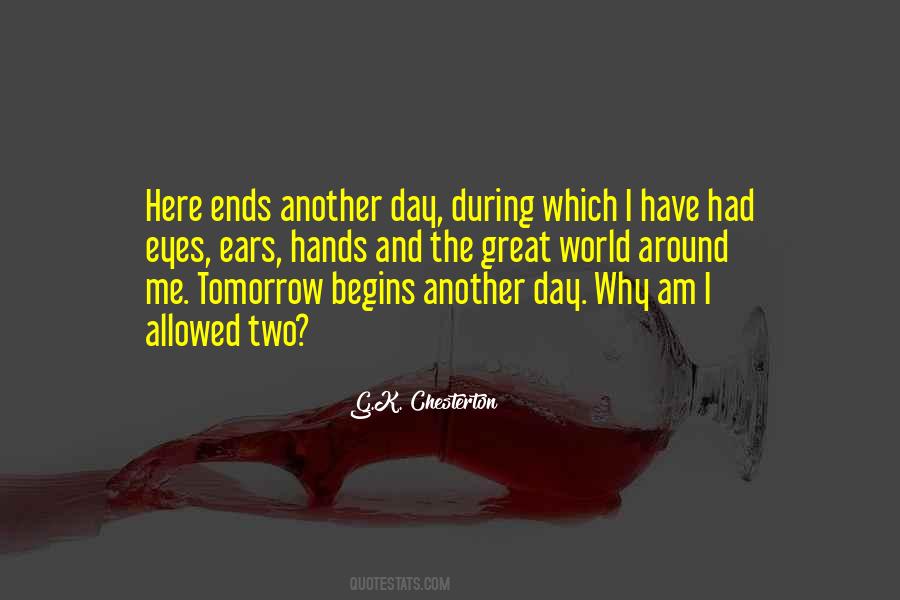 #63. At the end of the day, the GPL is not about making software free; it's about destroying value. - Author: Darl McBride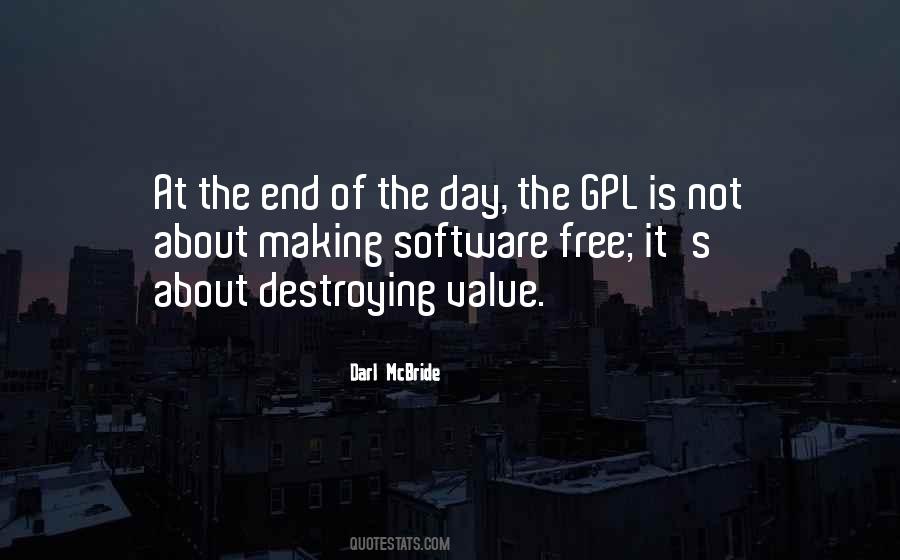 #64. God does not pay at the end of every day, but in the end He pays. - Author: Anne Of Austria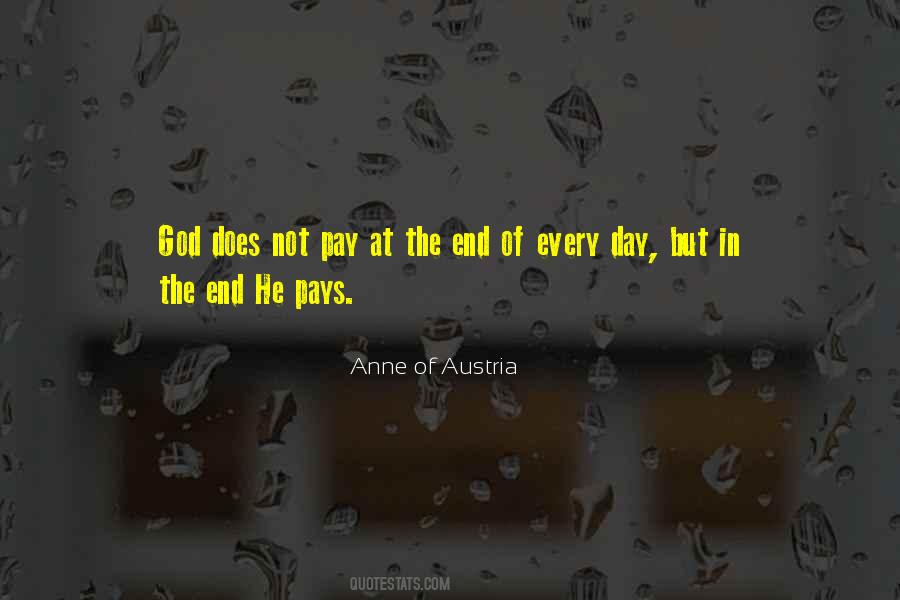 #65. I was tired. I hadn't slept eight hours in two, three years. I lived on four, five hours of sleep. You can do it during a campaign because thousands are screaming for you. You're getting adrenaline shots each day. Then the campaign ends, and there are no more shots. - Author: George McGovern
#66. At the end of the day it's just food, isn't it? Just food. - Author: Marco Pierre White
#67. Race preservation is a myth ... a myth that you all have lived by - a sordid thing that has arisen out of your social structure. The race ends every day. When a man dies the race ends for him - so far as he's concerned there is no longer any race. - Author: Clifford D. Simak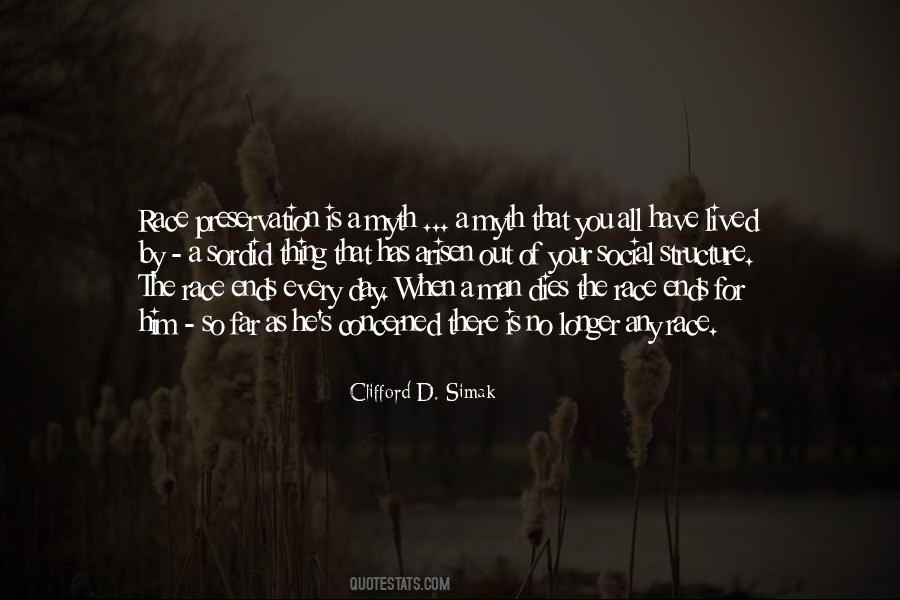 #68. No one knows what I am and really, I wonder if I do, at the end of the day. - Author: Mika.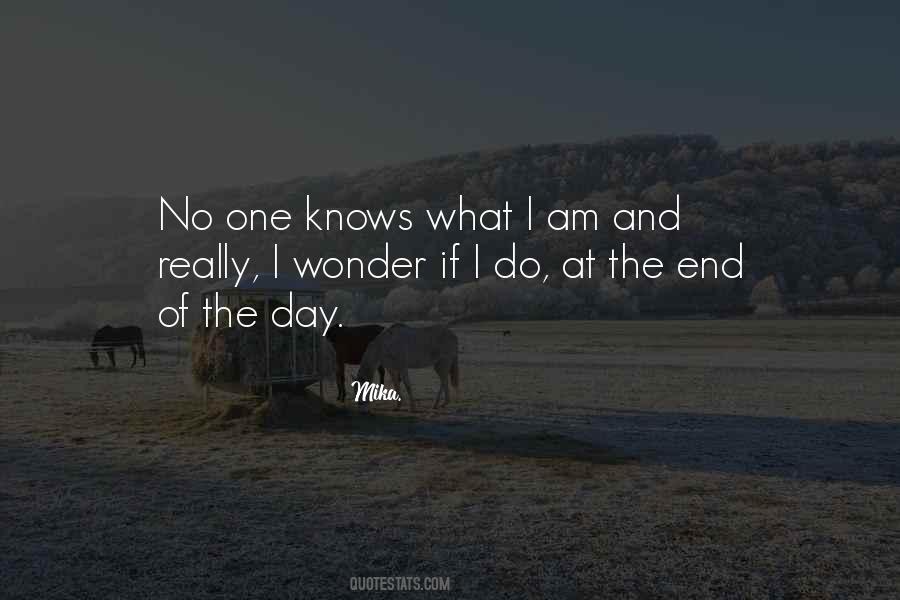 #69. Senescence begins
And middle-age ends
The day your descendants
Outnumber your friends - Author: Ogden Nash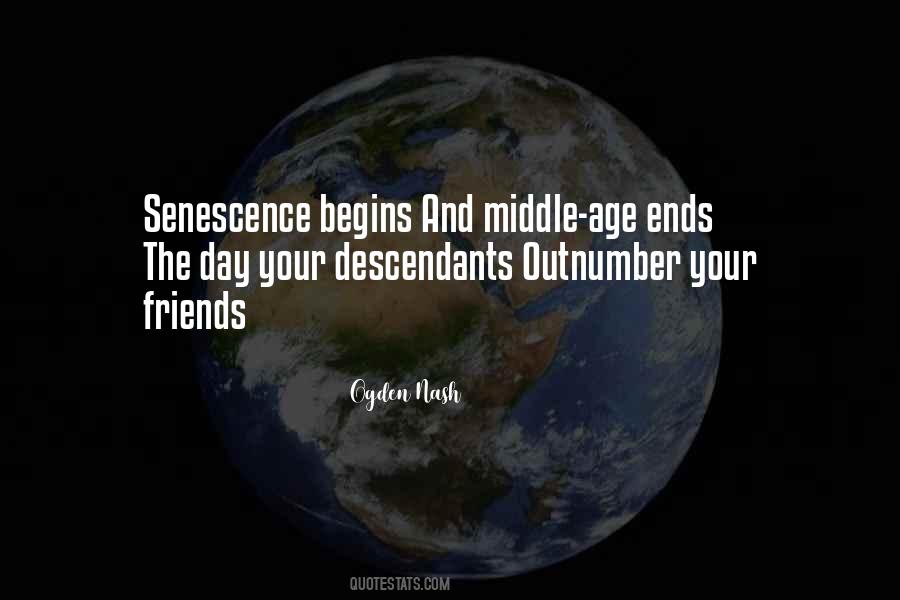 #70. She seems to think that running off and leaving me heartbroken is a good idea, so I decided that I'm going to take her home with me every single day to remind her that my heart beats only for her. That my day starts with her running through my mind and ends with her sleeping in my arms. - Author: Claire Contreras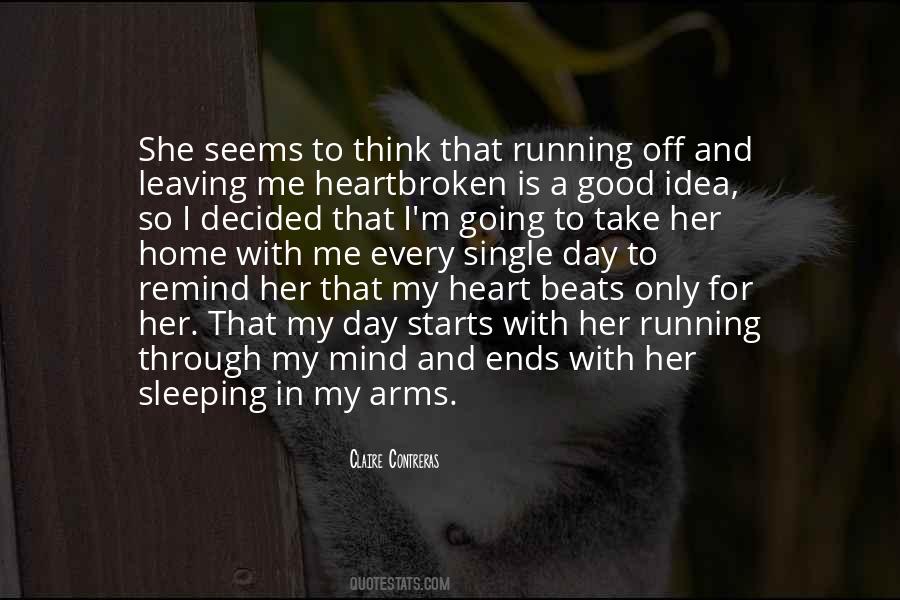 #71. recovery hurts almost as much as what you're recovering from, but one day it ends. - Author: Ledell Walters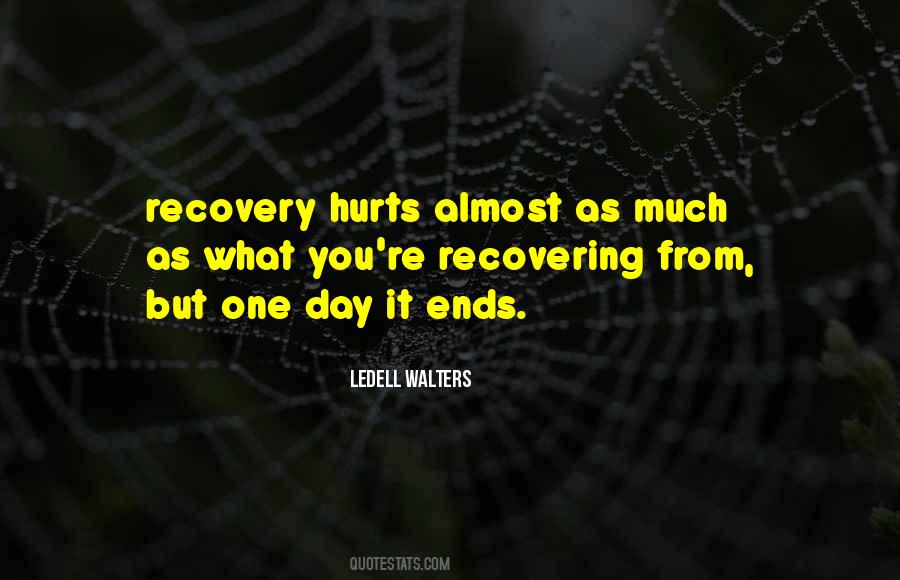 #72. There is nothing more powerful than this moment your living, now, more powerful than your convictions and truths, spend time with what your heart desires and souls screams for. Life ends a day before we know it, it's so important to chase everything that matters to you. - Author: Nikki Rowe
#73. The Moral Majority supports legislators who oppose abortions but also oppose child nutrition and day care. From their perspective, life begins at conception and ends at birth. - Author: Barney Frank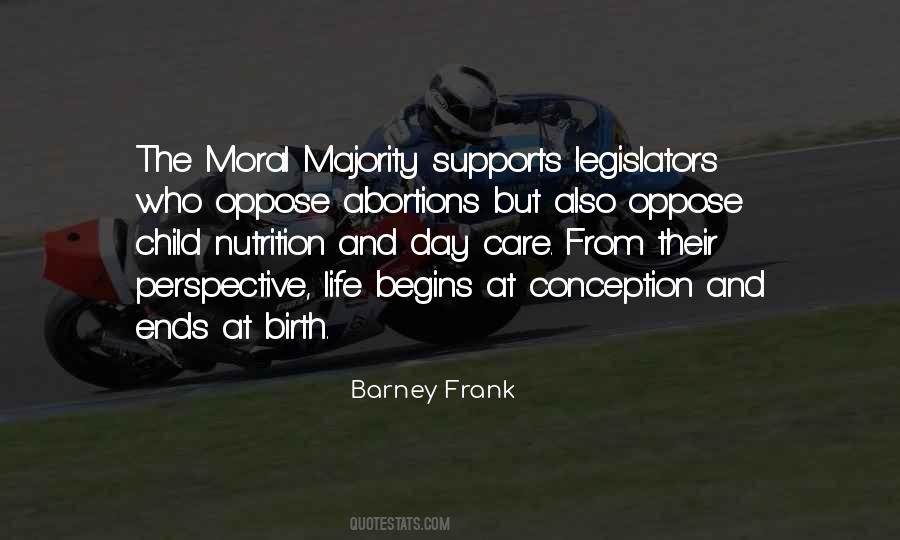 #74. When I rehearse, it ends up doing more harm than good. I think I work a little bit better when it's right off the bat. Mostly, I try to wrap my head around a role as much as I can without rehearsing and then kind of make it as fresh as possible on the day. - Author: Charlie Tahan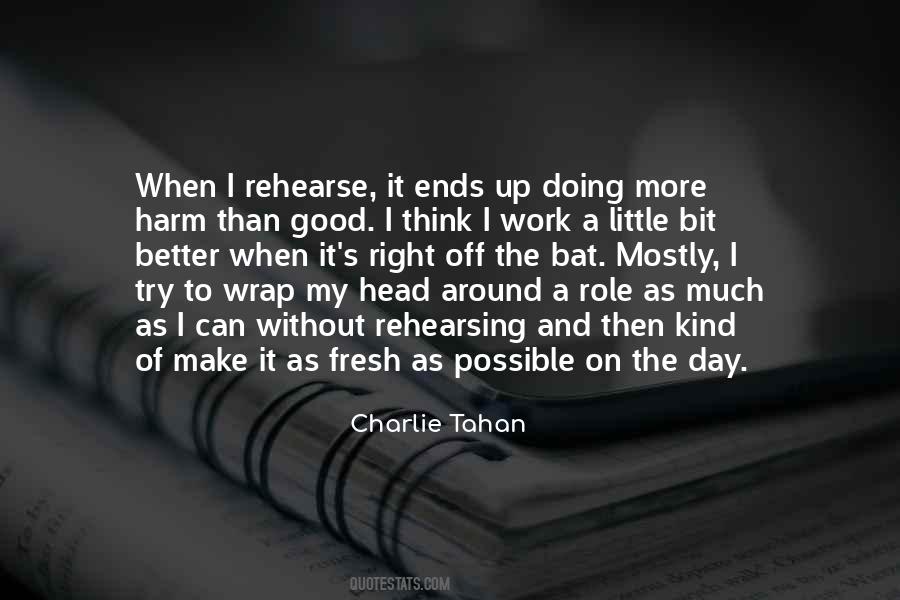 #75. Popularity ends on yearbook day-Respect stays forever. - Author: John Bytheway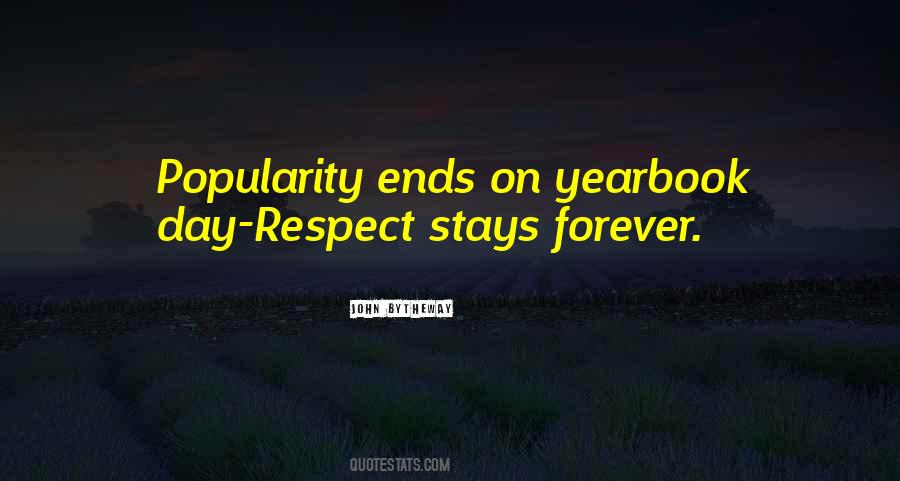 #76. 'You came to mean more and more to me, and I could no sooner have turned away from you than stop the earth spinning. I thought, if this ends with me broken, so be it. But as every day passed, I thought: he won't break me, he loves me and one day, he'll tell me. But you didn't because you don't.' - Author: Barbara Elsborg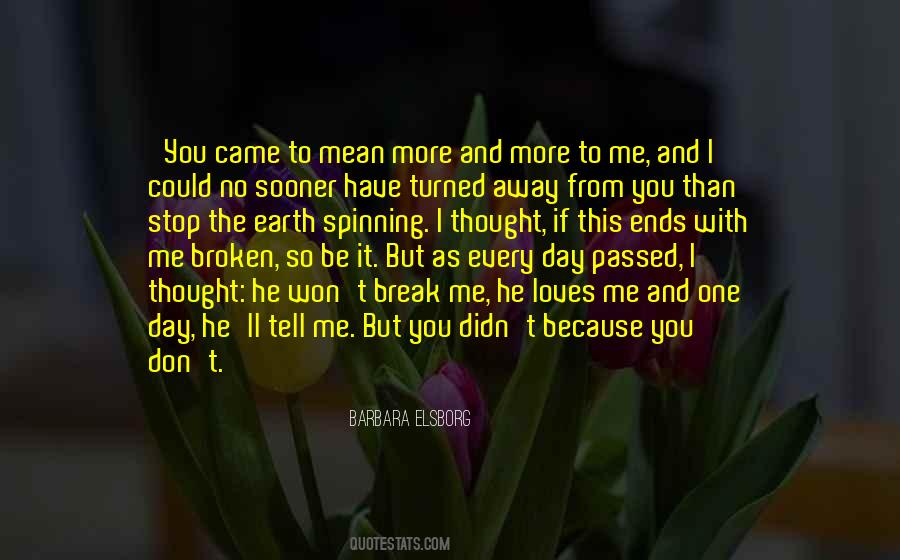 #77. Most people leave work at the end of the day so they can surround themselves with people and talk, but those are both things I do all day anyway! So I tend to seek out peace in my private time. - Author: Matthew Hussey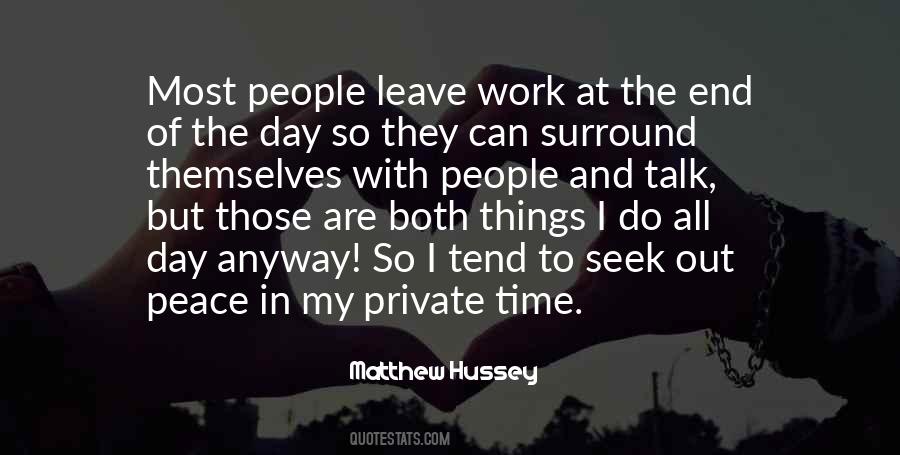 #78. Balance is not something that shows up one day and is suddenly here to stay; it's the result of creating moments of mindfulness and gratitude throughout our day. That's why it's called a practice - it never ends. - Author: Rachel Brathen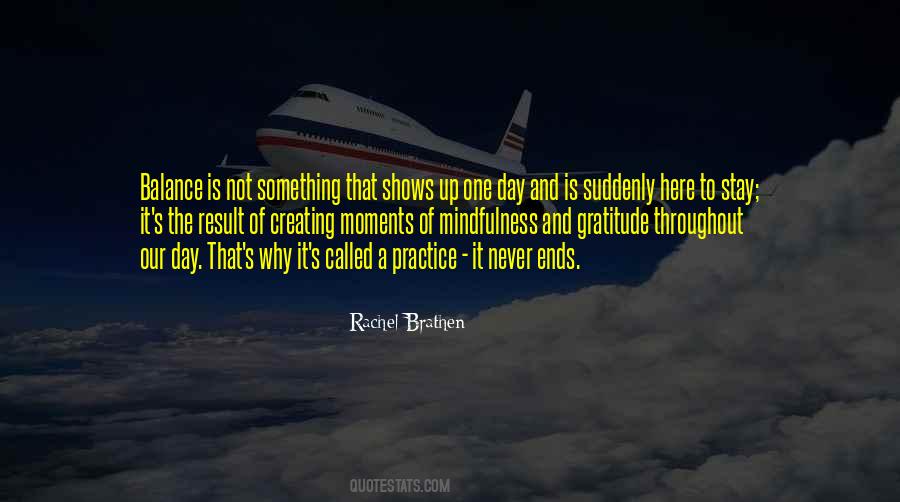 #79. How do you say a thing at all, at the end of the day? How do you say what's in your mind? And as soon as you say what you actually have in mind, it's wrong, isn't it? - Author: Ciaran Carson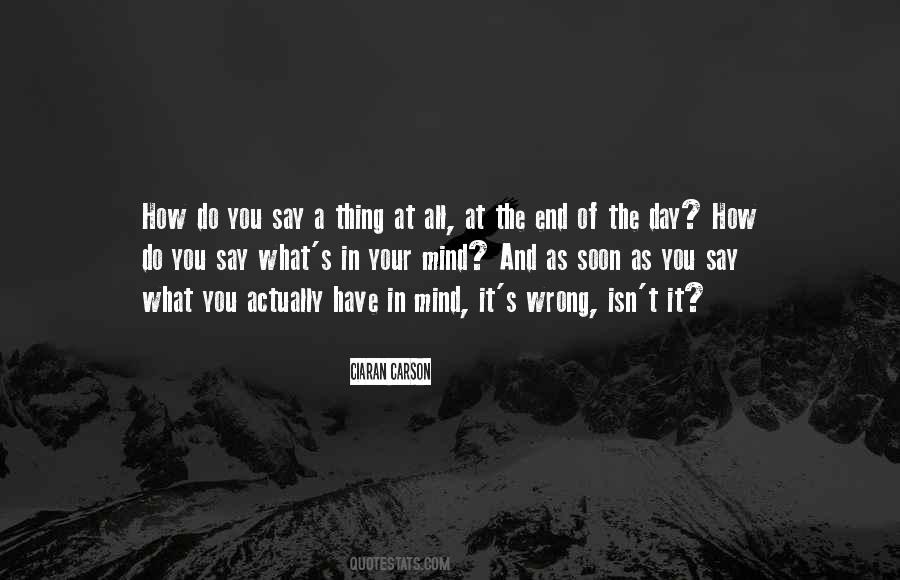 #80. Each new day begins with a meditation, and ends with a purifying catharsis. - Author: Kristian Goldmund Aumann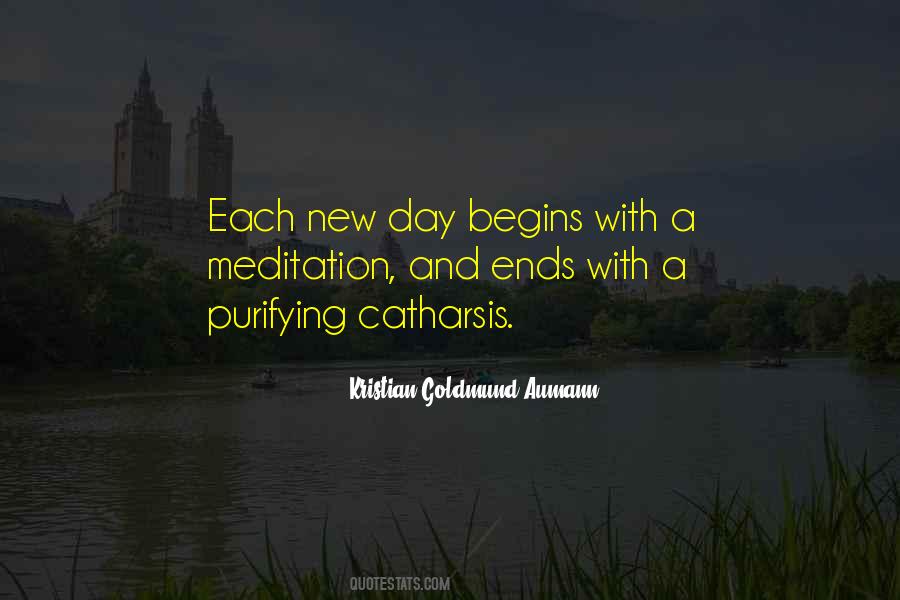 #81. His lips brush my ear as his voice causes my body to come to attention. If the night never ends, then there's never a new day ... and with a new day comes renewed hope, light. - Author: J.B. McGee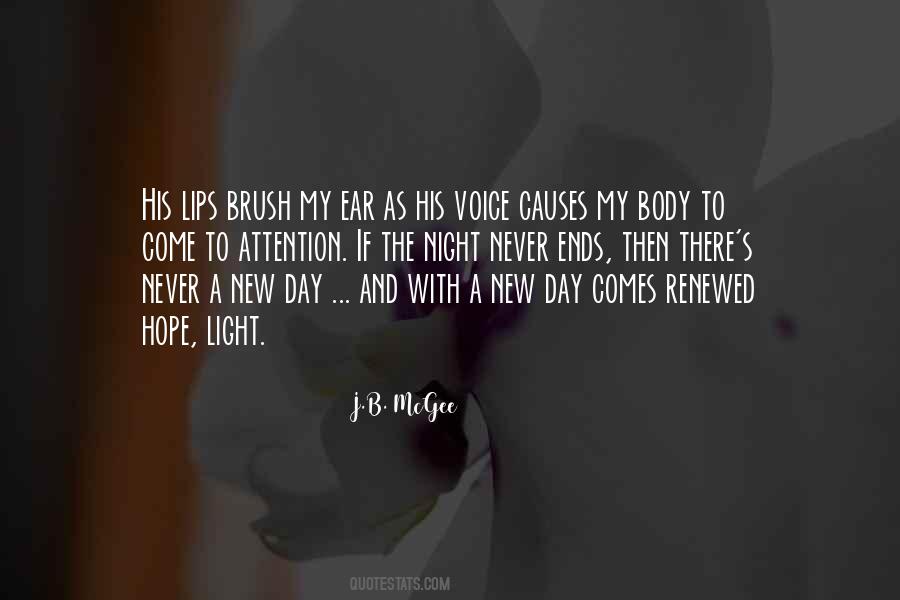 #82. At the end of the day, it's, 'Can we contribute as a group?' There are things that are going to happen. - Author: Steve Smith, Sr.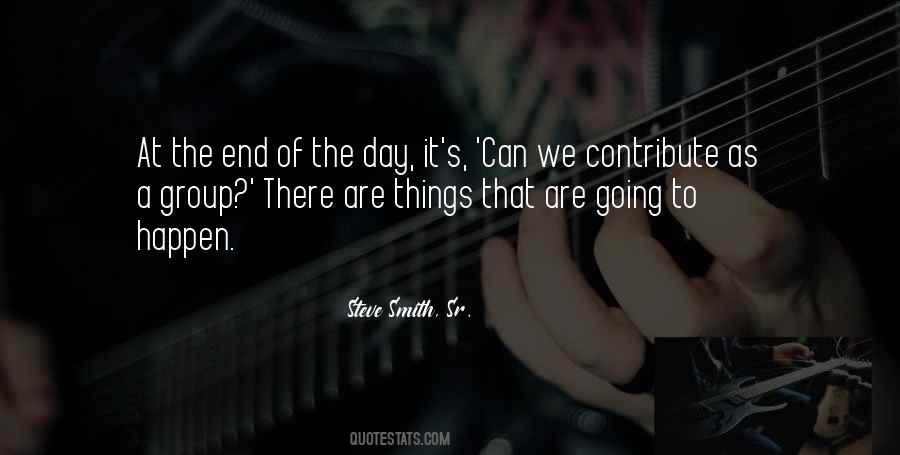 #83. If you work on something a little bit every day, you end up with something that is massive. - Author: Kenneth Goldsmith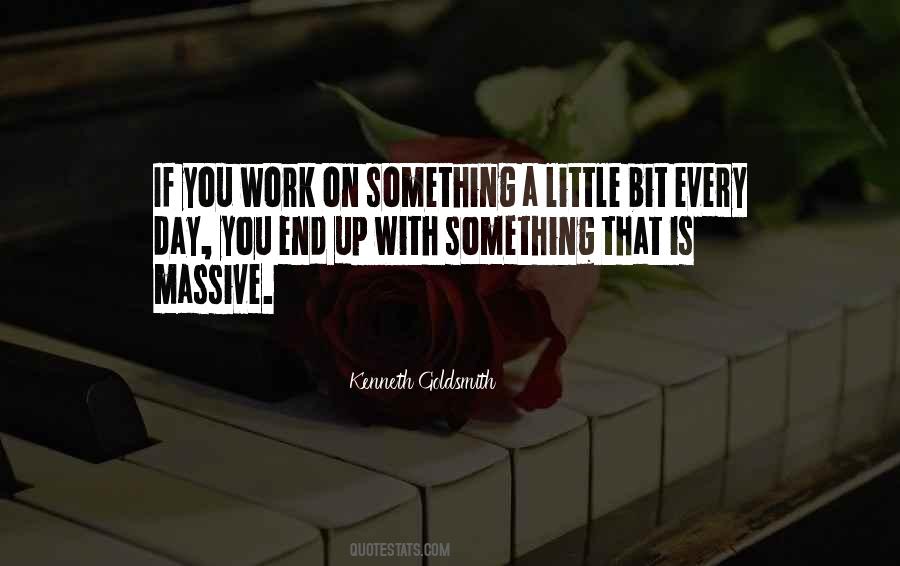 #84. I've been really lucky thus far with acting, in that I can do things I believe in and feel good about, and feel good about myself. If for some reason one day that ends, I won't do it anymore. If I feel like I have to compromise myself to continue to be in this industry, I don't want to do that. - Author: Rashida Jones
#85. You can spend an entire day walking around in New York, whereas in L.A., it always ends at some point because you have to find a way to get home. - Author: Carey Mulligan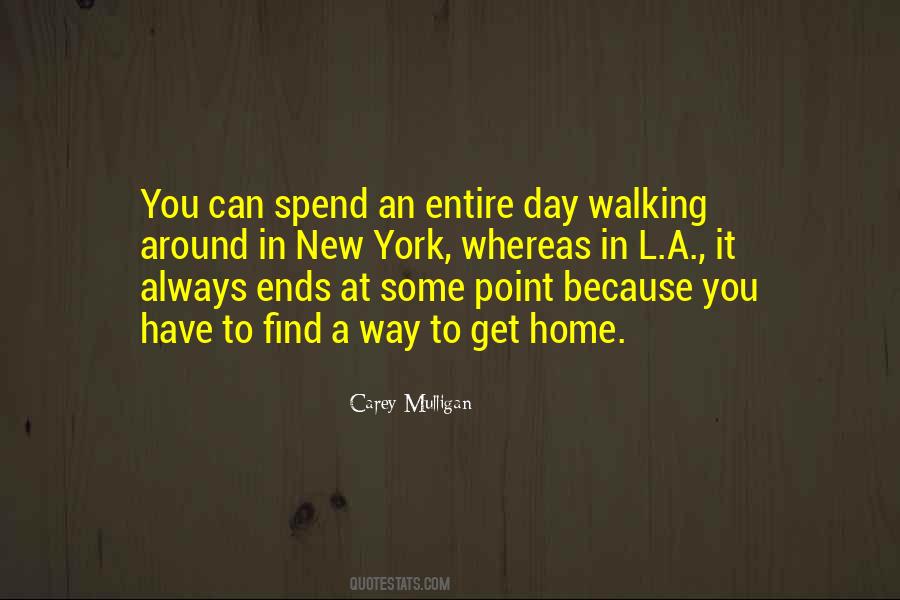 #86. If it all ends now, I have lived, I have learned, and I have been loved. The greatest lesson is the gift of life, and no matter what, tomorrow is always another day. - Author: Dave Pelzer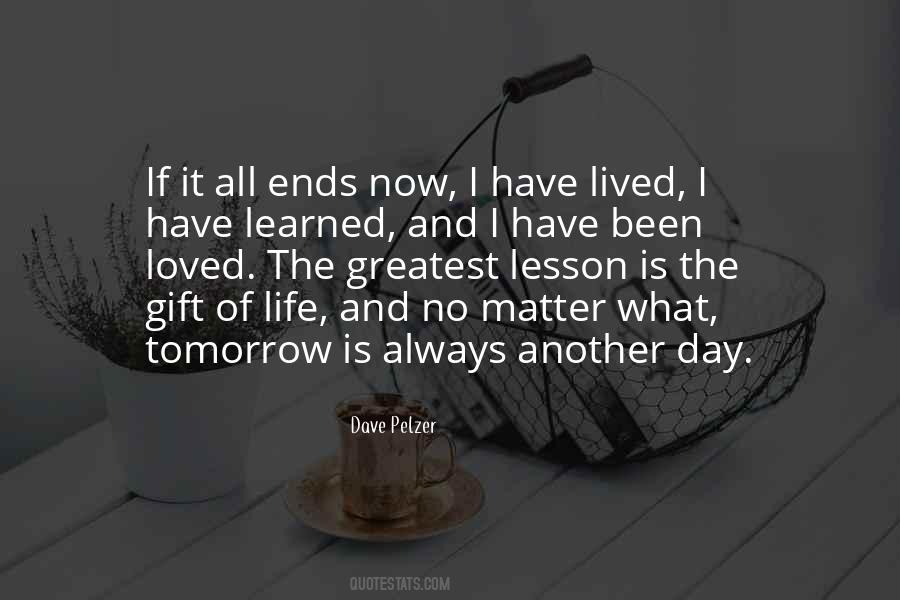 #87. Soldier, there is a war between the mind
And sky, between thought and day and night. It is
For that the poet is always in the sun,
Patches the moon together in his room
To his Virgilian cadences, up down,
Up down. It is a war that never ends. - Author: Wallace Stevens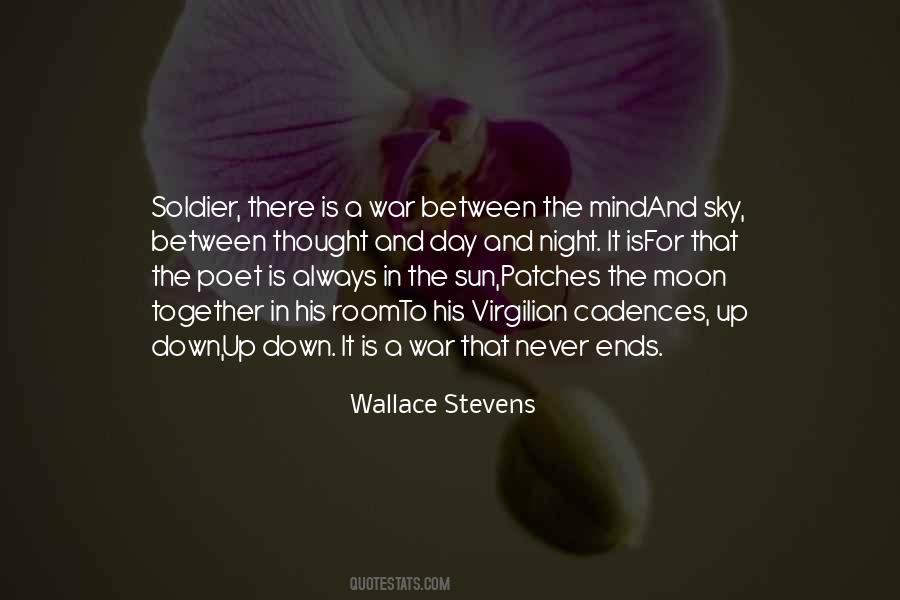 #88. Try me on any day that doesn't end in y - Jace - Author: Cassandra Clare
#89. It's weird: making a movie is like life compacted into three months. You have these very intense relationships with people, and you talk to them every day - your editor, the casting people, music people, your actors - then it ends. It's like a circus life. - Author: Dito Montiel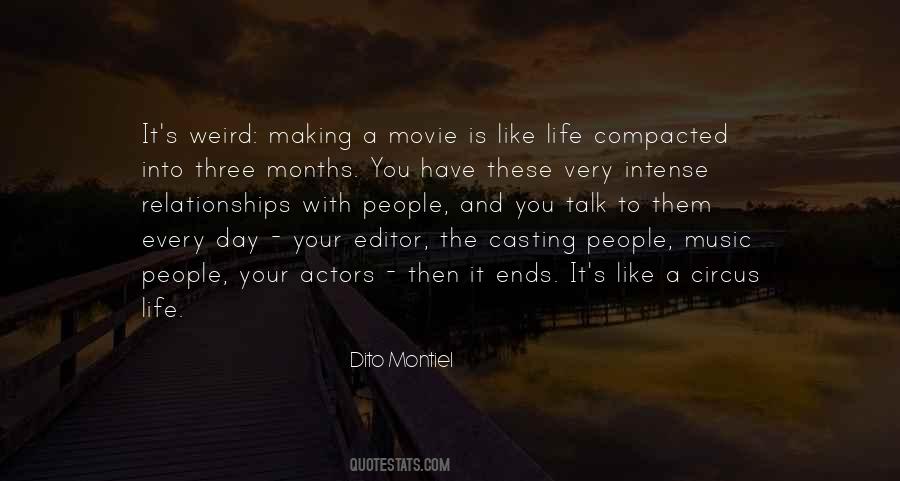 #90. At the end of the day, I had to remain dedicated to historical accuracy. - Author: Ava DuVernay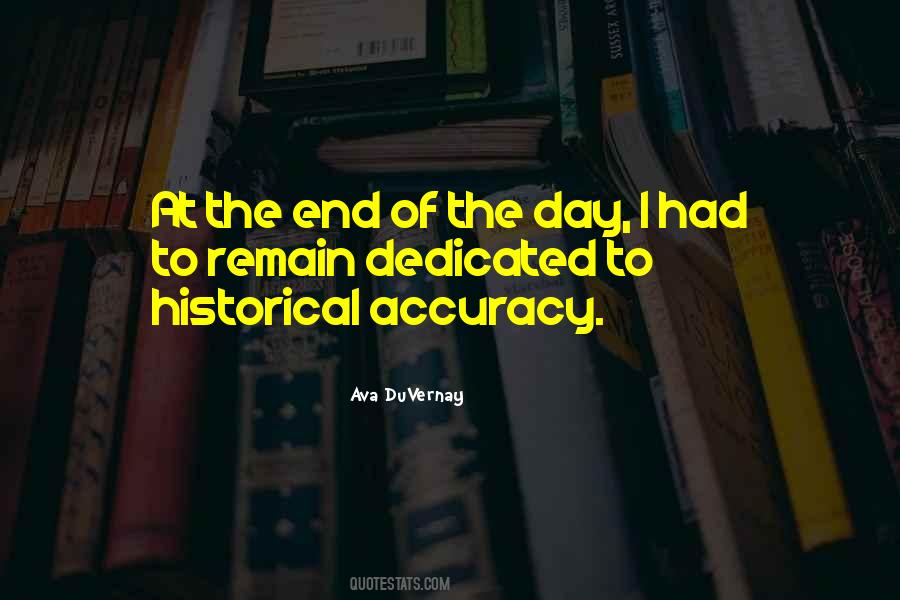 #91. The thing about death is that it's embarrassing. No one wants to focus on it for very long. We're happy to talk about sex all day long but no one wants to talk about the moment where it all ends. - Author: Laurel Nakadate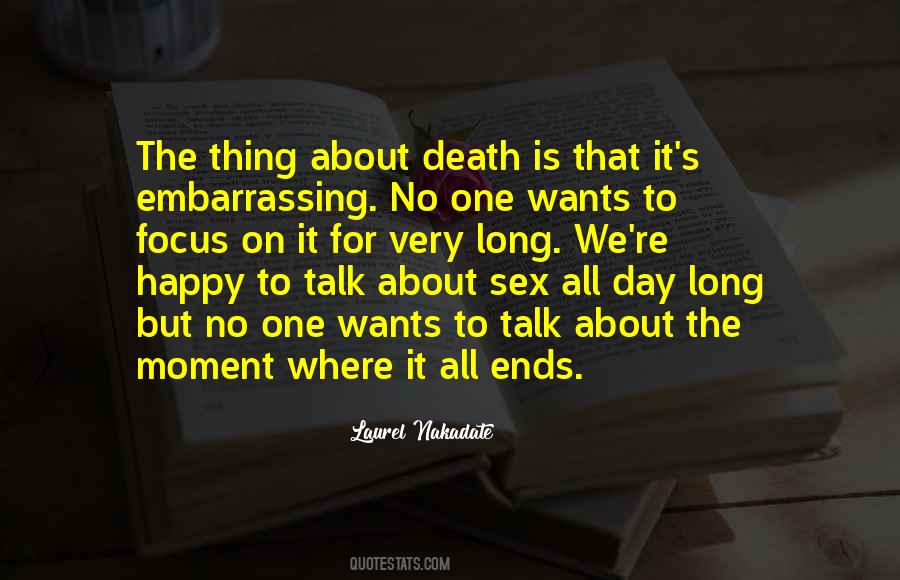 #92. The day you really want to end all hunger, there will be no more hunger. - Author: Neale Donald Walsch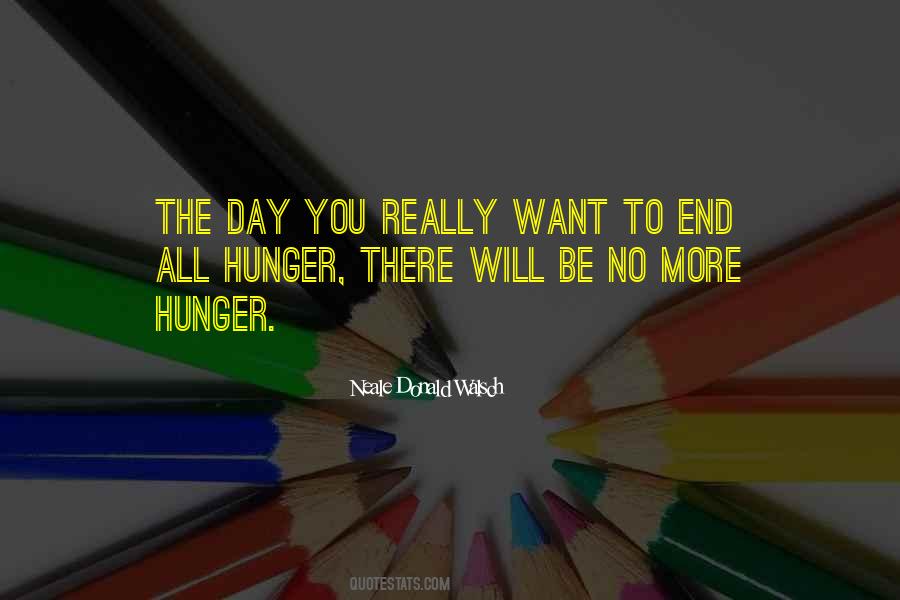 #93. What is it that makes all of us end each day with the sense that we have not lived our time, but have been lived, used by what we do? - Author: Jacob Needleman
#94. When Fashion Week ends, I miss the shows and the shot of adrenaline that comes with them. Each day is a new show, a new fitting, and you make new friends. Every season you get to know the other girls a little better. - Author: Magdalena Frackowiak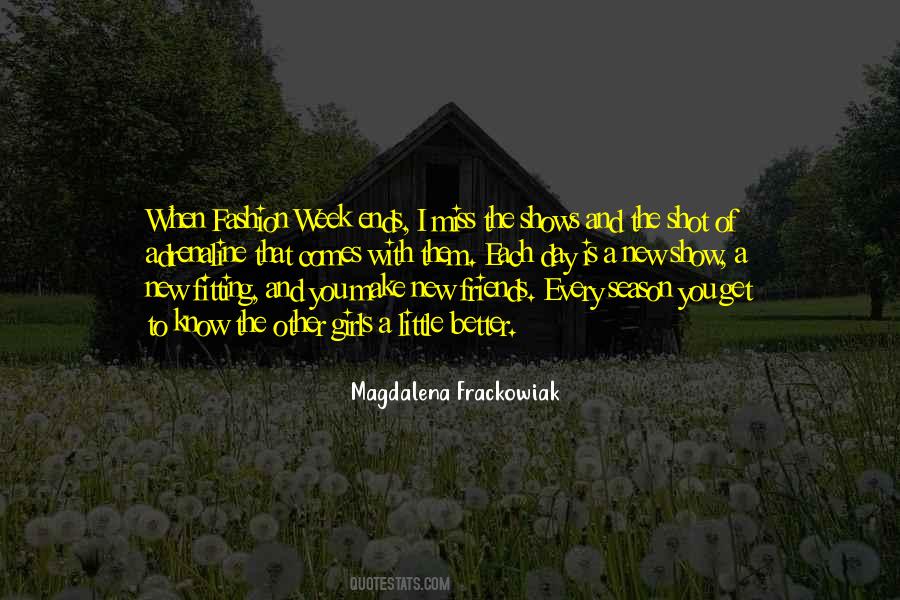 #95. For me, each day begins and ends with wanting to learn a little more about the secrets of spider silk. - Author: Cheryl Hayashi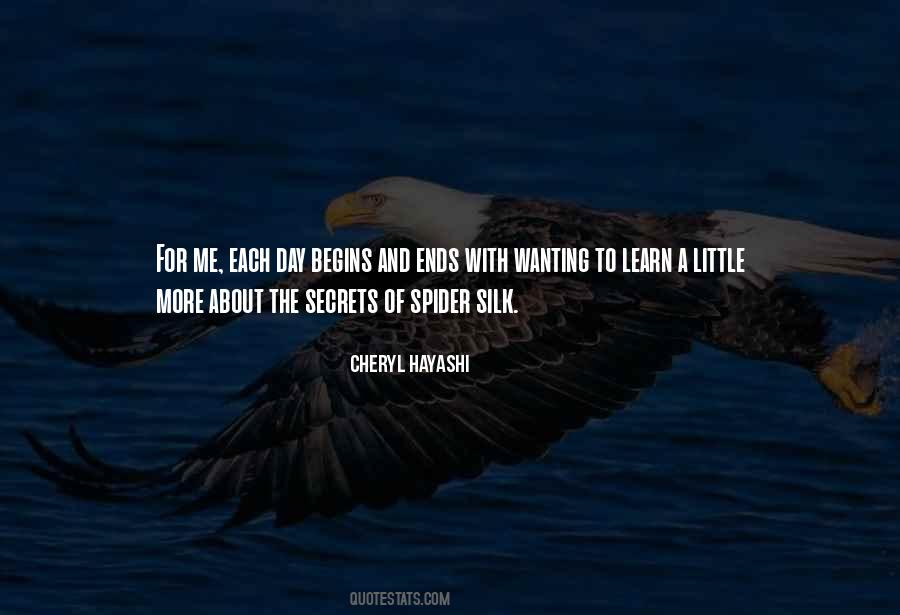 #96. Such is the joy of concluding a day performing duties earnestly leaving ends upon His feet! I have nothing to gain here except virtues, nothing to lose except love, O Lord, I am here to breathe the beauty of life! - Author: Preeth Nambiar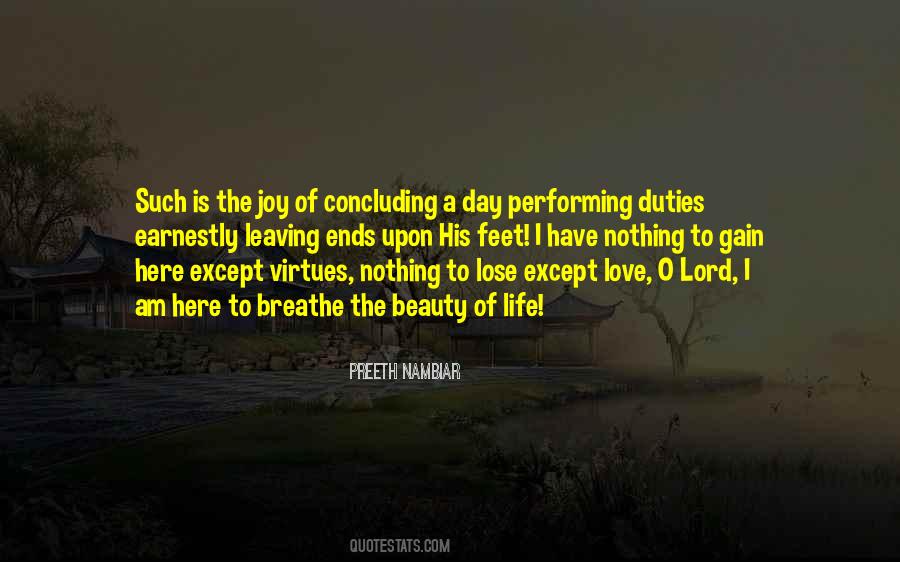 #97. At the end of the day, nobody can tell you how to tackle failure or how to handle change. The world is very good at encouraging you to go along with the status quo and at basking in your successes. - Author: Viola Davis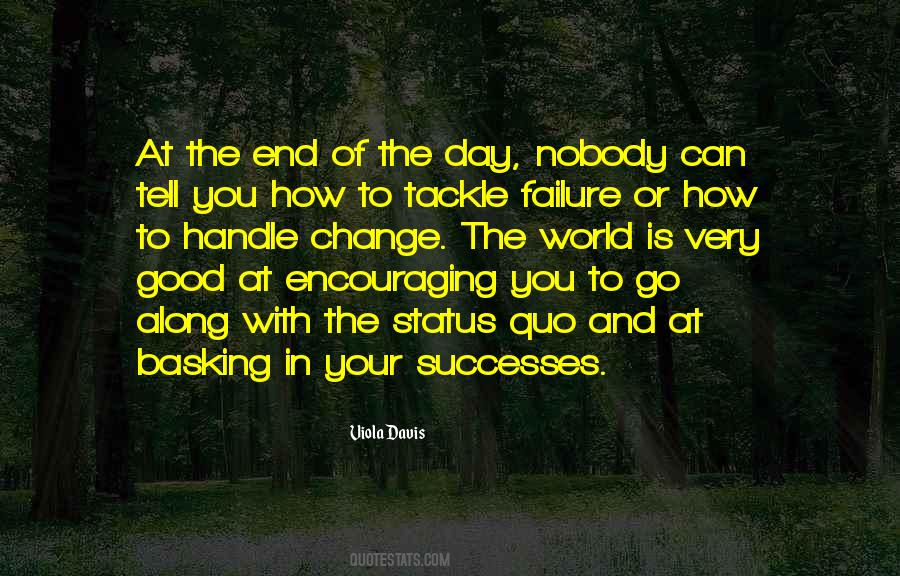 #98. To this day it cracks me up to think that my debut on national British television as a reporter ends with me turning a trick. - Author: RuPaul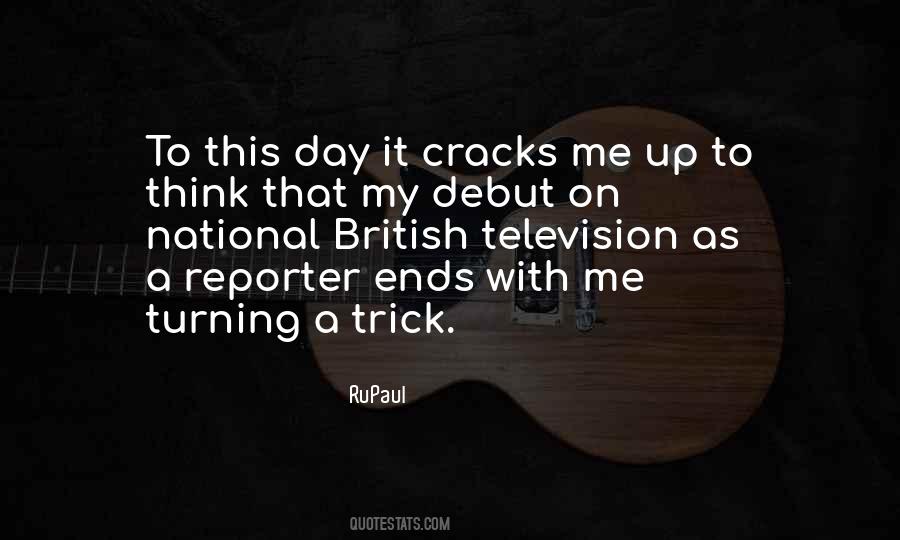 #99. Without a song the day would never end Without a song the road would never bend When things go wrong a man ain't got a friend Without a song - Author: Billy Rose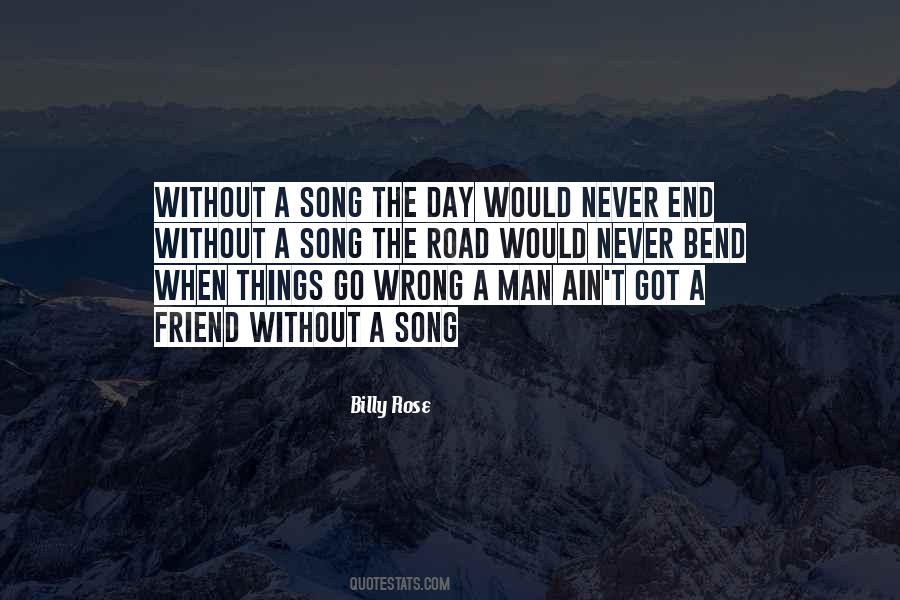 #100. We who burrow in filth every day may be forgiven perhaps the one sin that ends all sins. - Author: Vladimir Nabokov
Famous Authors
Popular Topics