Because I'm Worth It Famous Quotes & Sayings
List of top 100 famous quotes and sayings about because i'm worth it to read and share with friends on your Facebook, Twitter, blogs.
Top 100 Because I'm Worth It Quotes
#1. I hate complaining about paparazzi, I hate complaining about being recognised, because if I ultimately didn't want to be an actor or in the public eye, I would quit doing what I do. That's not the reason I do it, but I love the work so much that it's worth it. - Author: Leonardo DiCaprio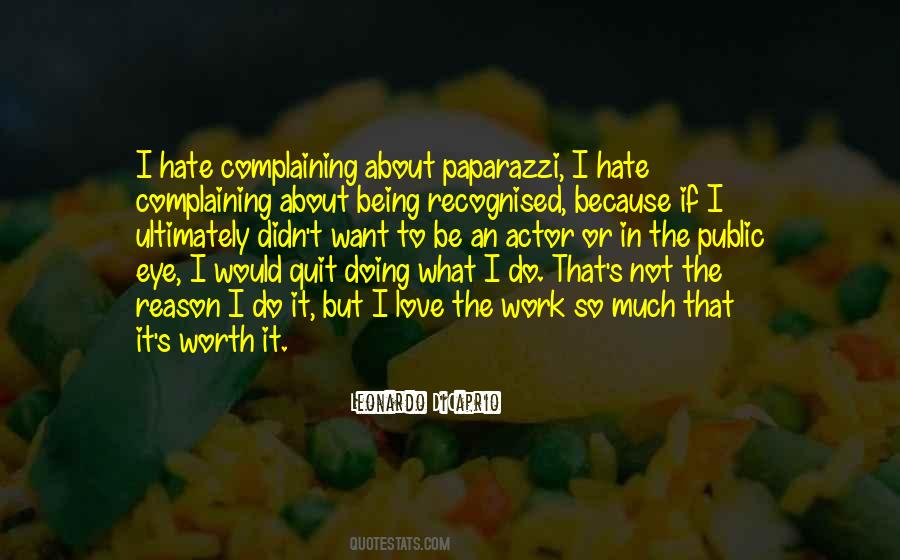 #2. I wouldn't buy a book simply because I like the cover. I would pick it up. The jacket can call your attention to it. But in that sense, Oprah Winfrey is worth all the jackets in the world. A jacket is basically trying to do what she does all on her own. - Author: Chip Kidd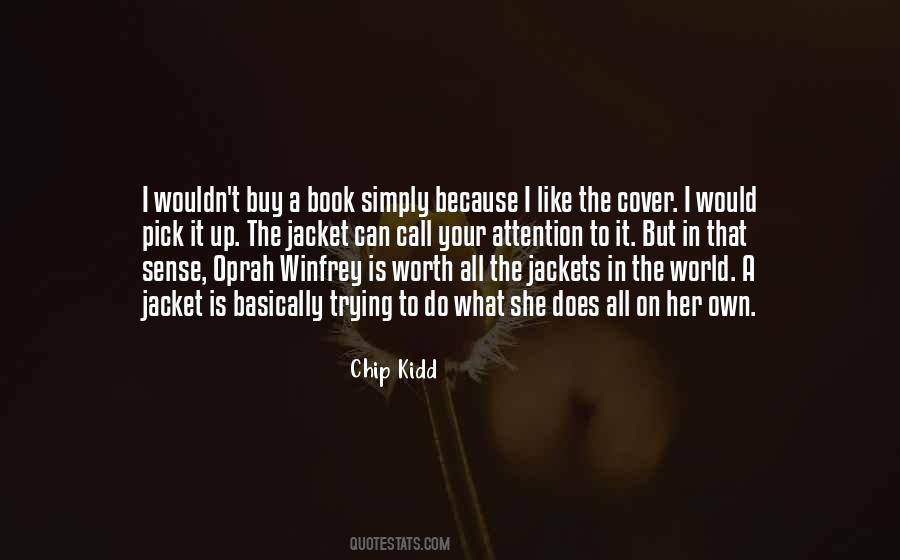 #3. I love jazz and funk, because it's hard. If it's not hard, it's not worth doing. - Author: Chris Carter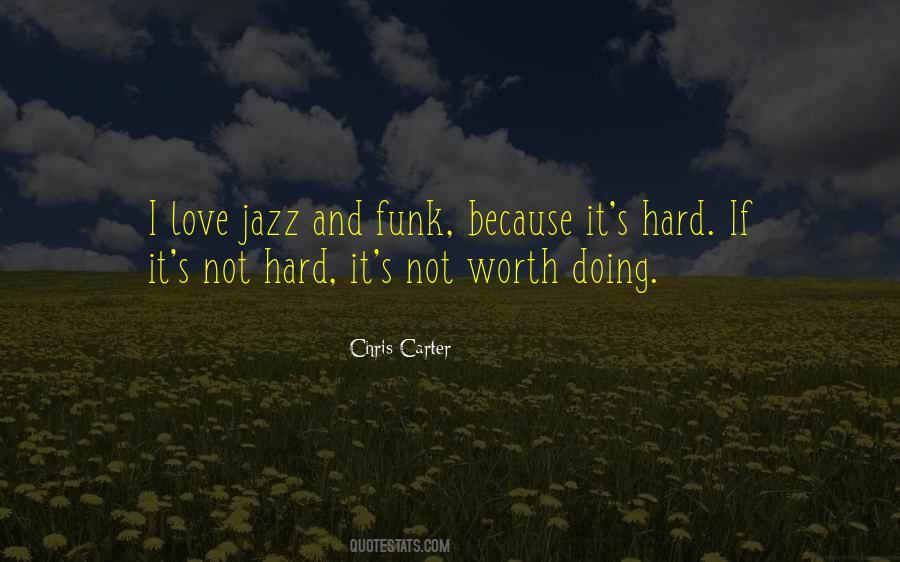 #4. It's so worth-while being a judge, because, if I make good, I can help prove that a woman's place is as much on the bench, in City Council, or in Congress, as in the home. - Author: Florence Ellinwood Allen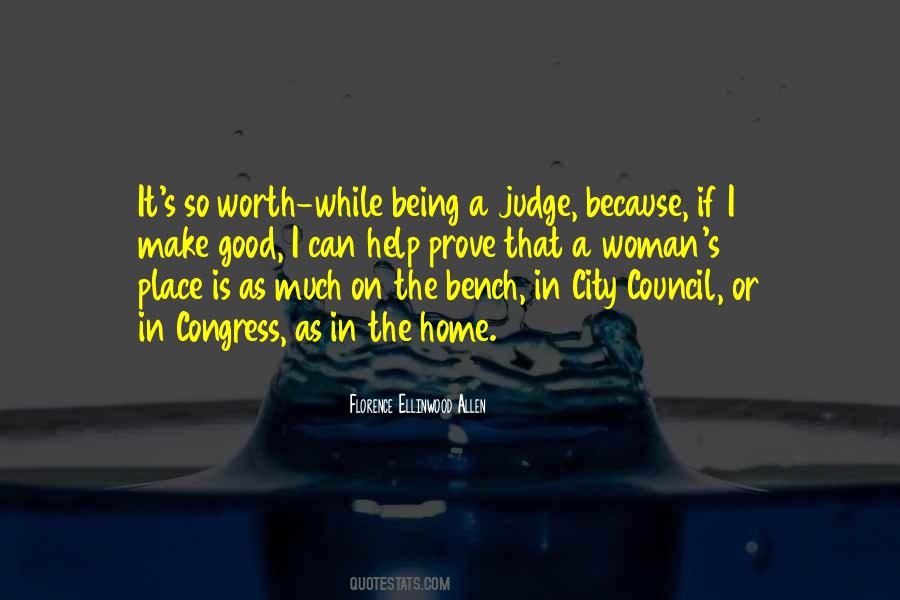 #5. People don't get involved with local charities or politics because they think it's hard to make a difference and the problem feels overwhelming. But I believe that if all I've time for this year is to write one letter to the local council, it's still worth doing. - Author: Monica Ali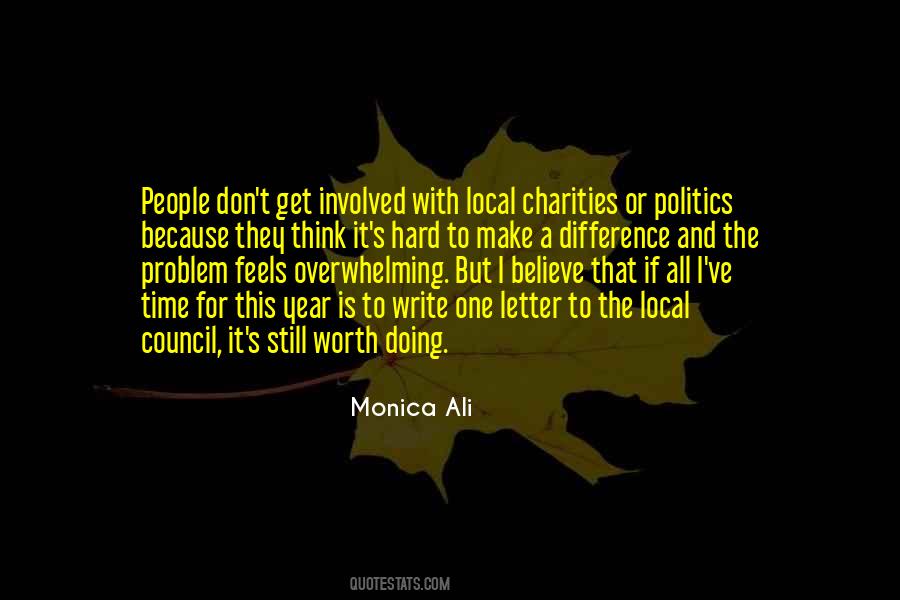 #6. ... it's my hope that you will see, that I fought for you because you're worth fighting for. - Author: Mia Sheridan
#7. Well, I don't really eat cereal that much because on Weight Watchers it's not worth the points. - Author: Jennifer Hudson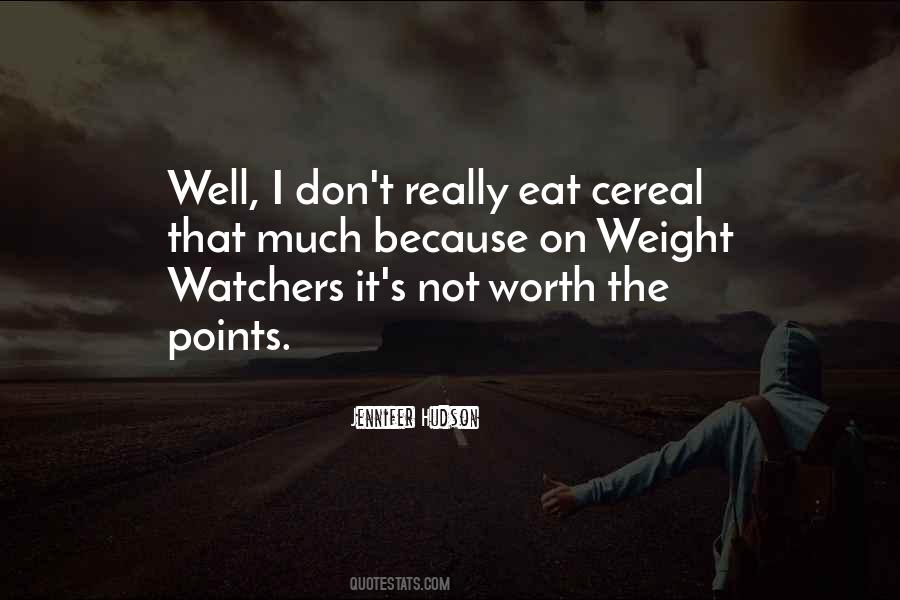 #8. I tell people not to be afraid of their fears; because their fears are not there to scare them, they're there to let them know that something is worth it. Yet I am often afraid. I guess that means in my life, lots of things have been worth it! - Author: C. JoyBell C.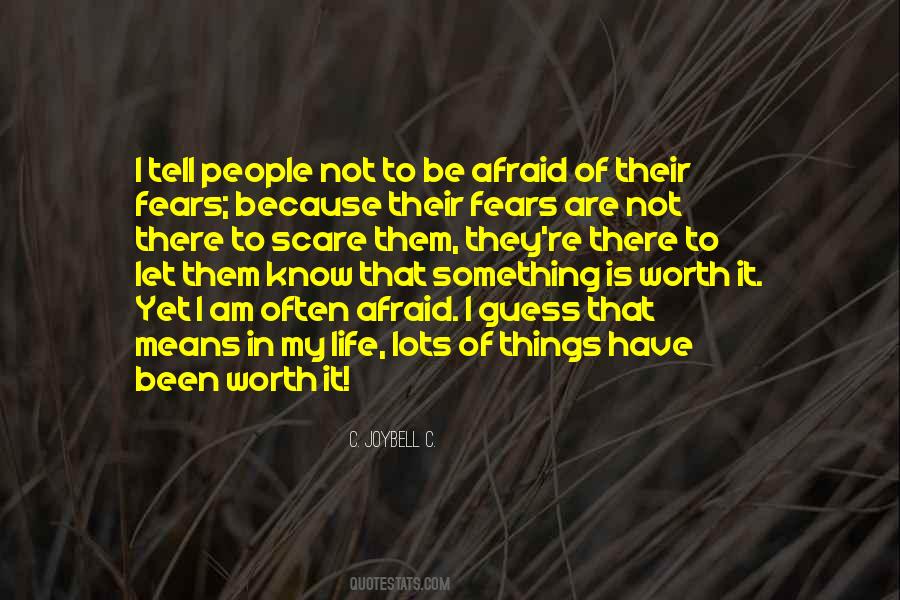 #9. All I can say is, Brad totally wasn't worth it. He was SO not my type. I only hooked up with him because I was trying to see if popularity could be sexually transmitted. Turns out it can't. - Author: Katherine Easer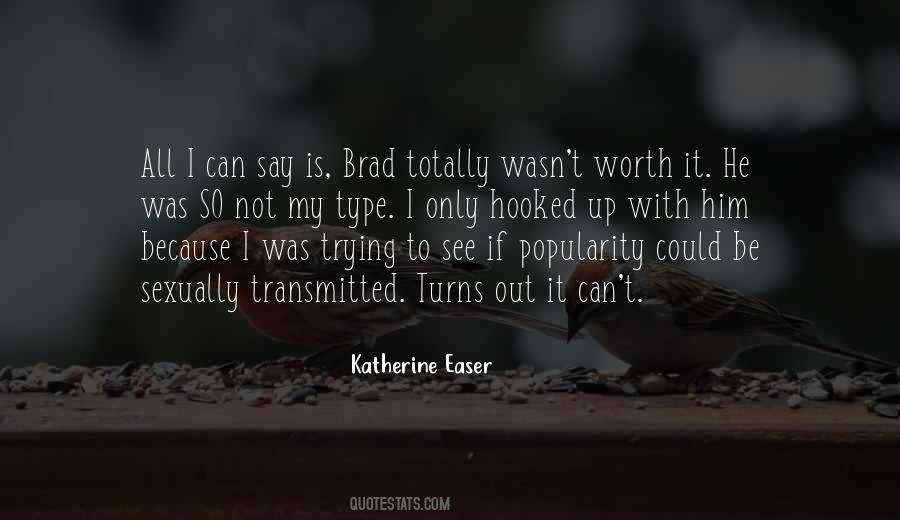 #10. It's a nice feeling,
Knowing,
Someone lived easier
Because I was alive. - Author: Nikki Rowe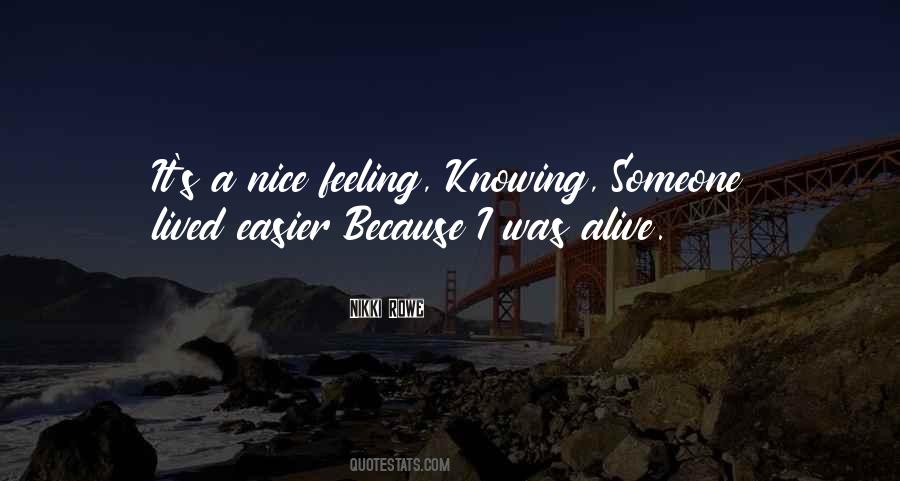 #11. Why was it worth so much of your life?" "Because I could not fail him again." "Fail who?" "My father. - Author: William Goldman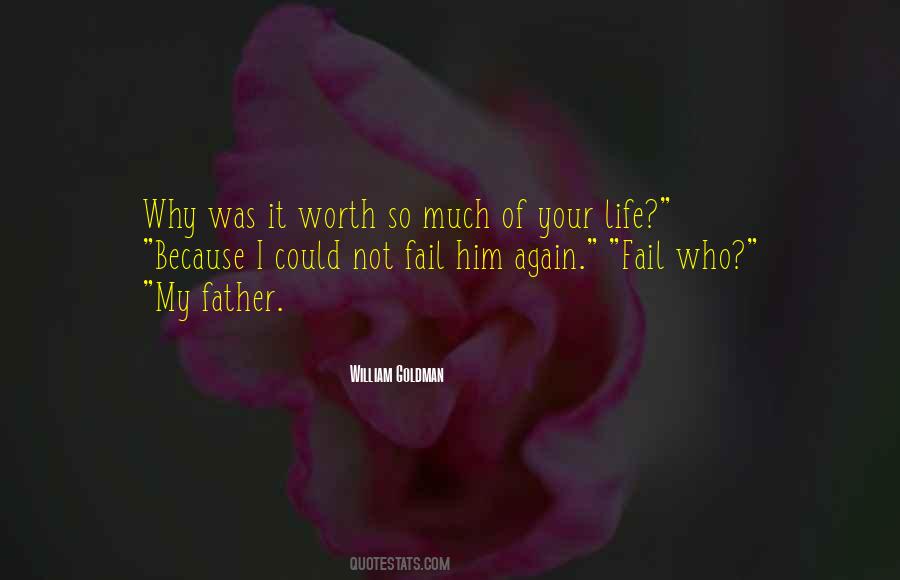 #12. I'm not a "conservative" because I see precious little left in this world worth conserving. Playing defense, it seems to me, can only forestall an inevitable slide into tyranny. - Author: Joseph Farah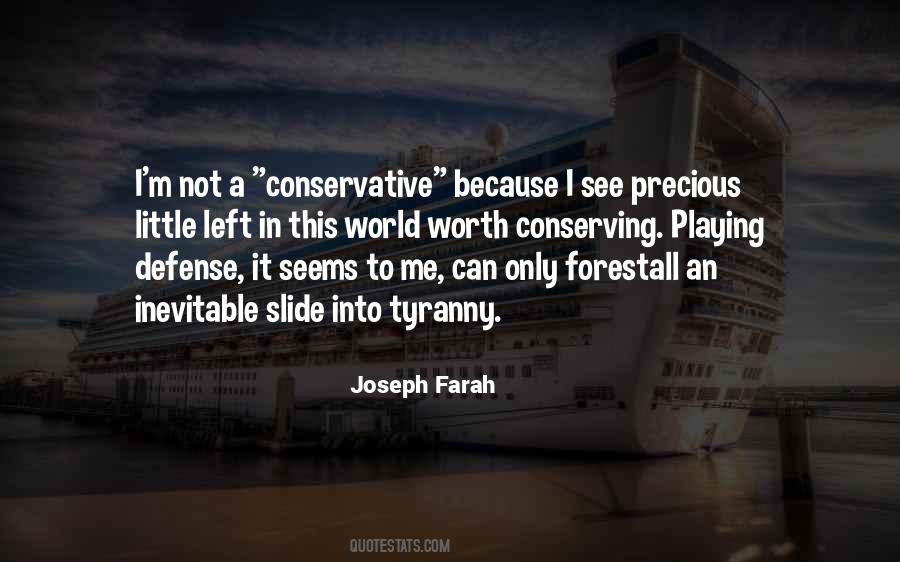 #13. I think sports makes for good drama because it has all the same ingredients as anything worth reading or listening to or watching. Conflict, desire, heartbreak - it's all there. - Author: Jay Baruchel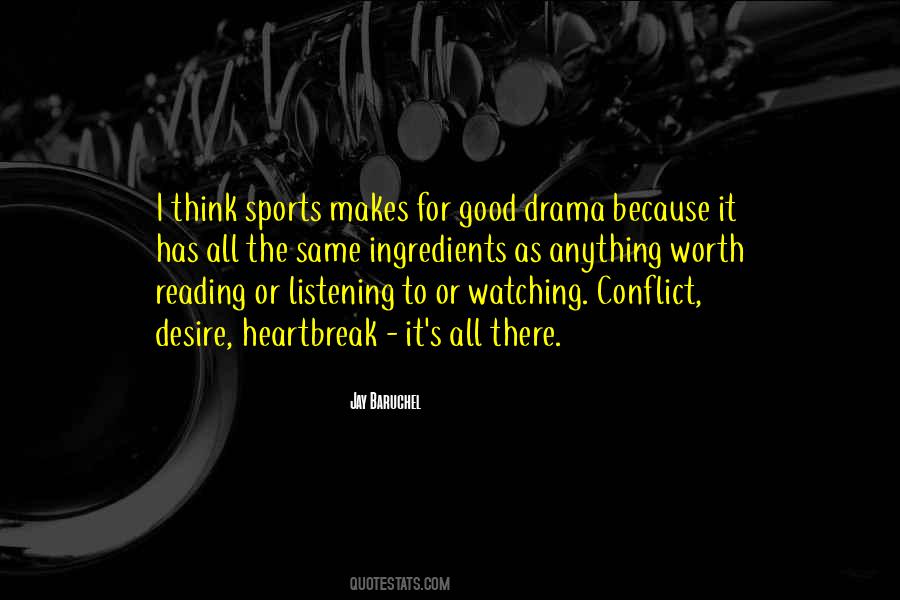 #14. Everything in my life has been leading up to this," he whispered. "Everything that's happened, everything I've done has been worth it because it's brought me here. - Author: Suzanne Brockmann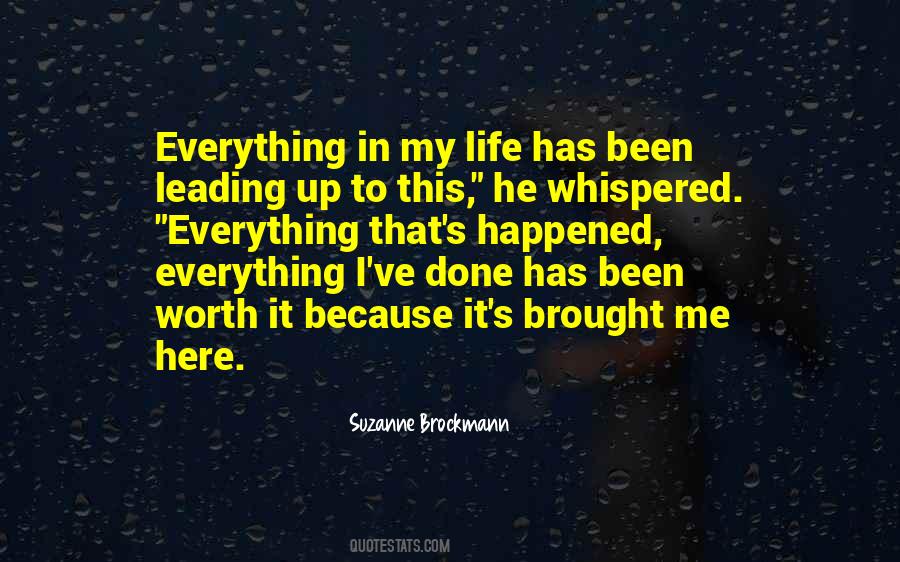 #15. I like to be the right thing in the wrong place and the wrong thing in the right place. Being the right thing in the wrong place and the wrong thing in the right place is worth it because something interesting always happens. - Author: Andy Warhol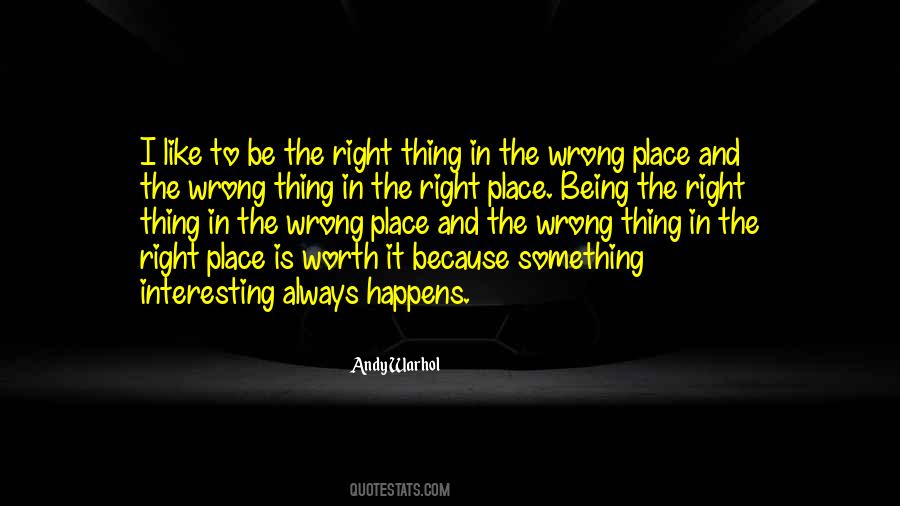 #16. I always think it's important to choose your initial theme very carefully because you're going to be married to it for a long time. You might have to generate an hour's worth of music from a very short, little piece of theme. - Author: Anne Dudley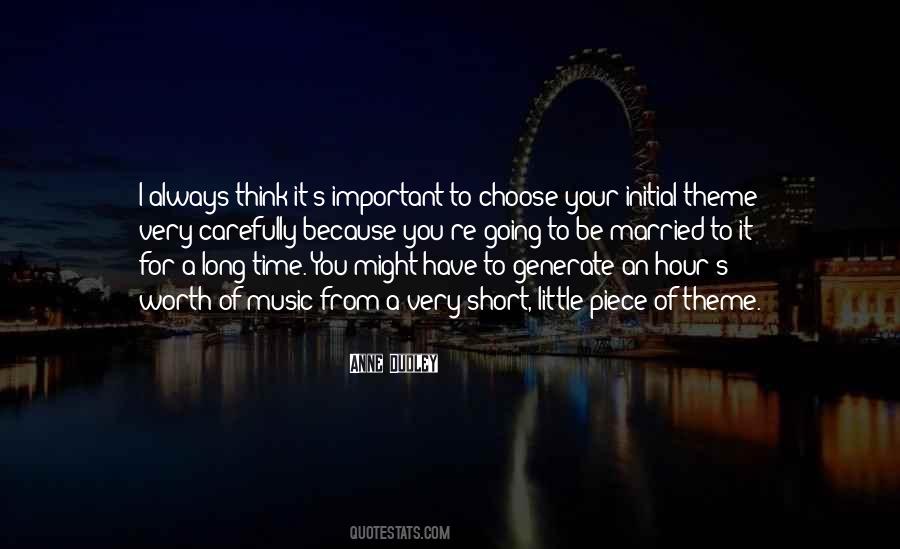 #17. I'm not crying because of you; you're not worth it. I'm crying because my delusion of who you were was shattered by the truth of who you are. - Author: Steve Maraboli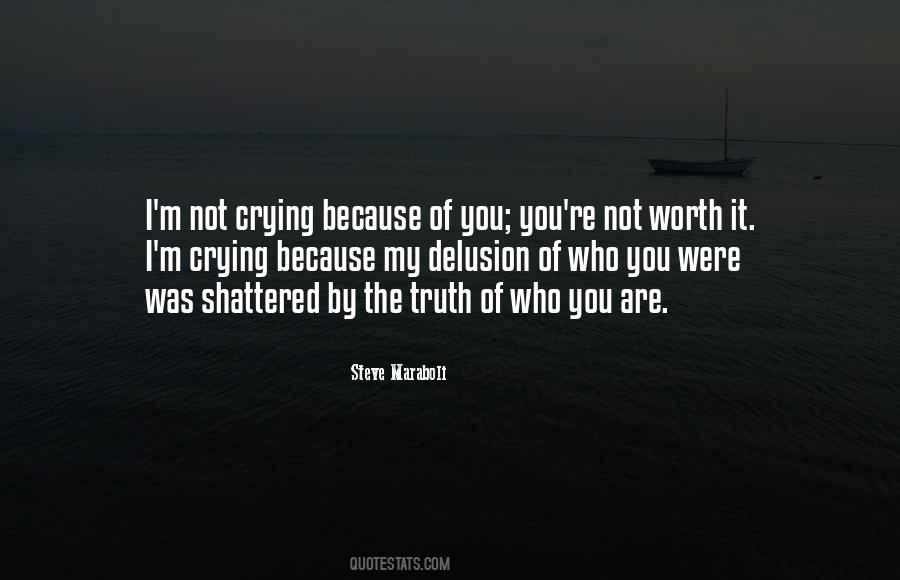 #18. If I had the flag that Betsy Ross worked so hard on, I wouldn't destroy it. I'd put it up on EBay because it's gotta be worth some serious coin. And that is the American way. - Author: Paul Provenza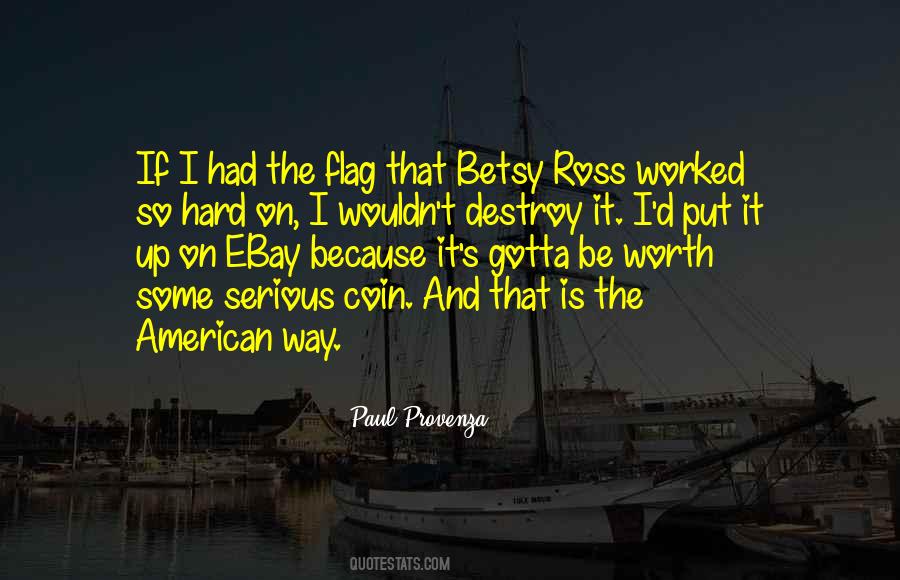 #19. People with a lot of money aren't in the business of throwing it away, and those paying footballers' wages, organising parking spaces for dead sharks, and even, dare I say it, buying iPads, are doing it because, for them, it's worth the money. - Author: Ian Watson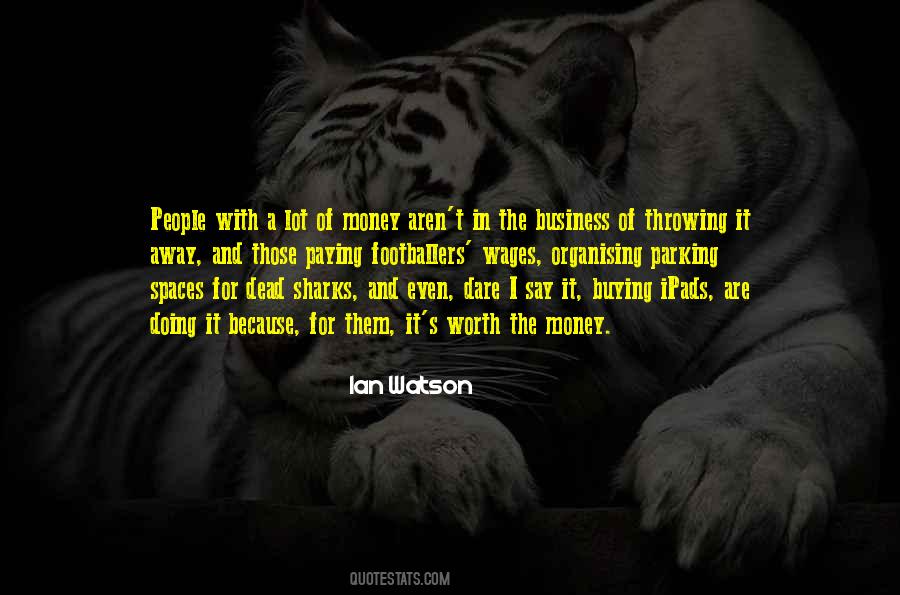 #20. It's just hard. I wish the studios felt there was more value in these themes and these pieces of material - that they're worth protecting more. Because then it just wouldn't happen. If the studios cared, the stuff would be stopped in a second. - Author: Danny Elfman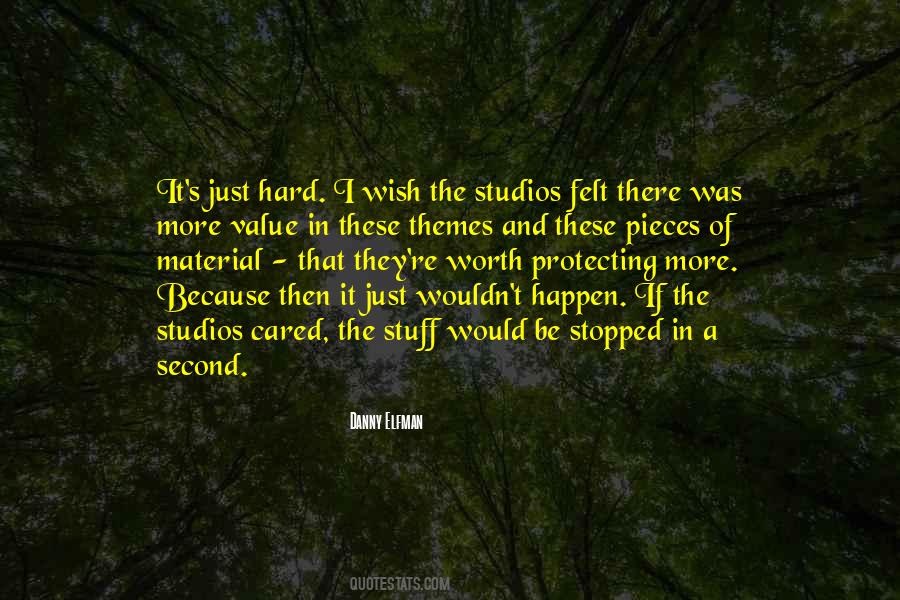 #21. All my life, I have judged my worth by how much I have been loved by a man. It's so with a lot of women, that their self-esteem is measured by how much they are loved by a man, their partner, their boyfriend or maybe their husband. In my case, it may be because I grew up without my father. - Author: Katrina Kaif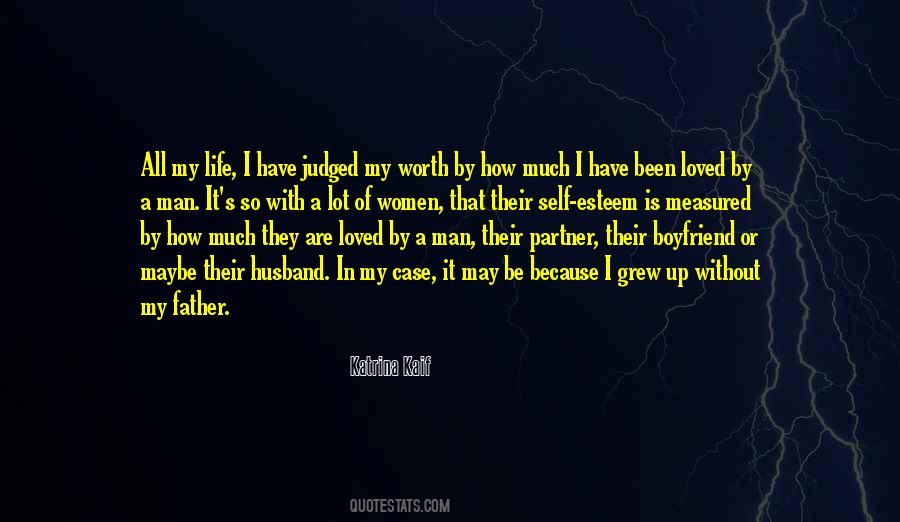 #22. I am a Hindu because it is Hinduism which makes the world worth living. I am a Hindu hence I Love not only human beings, but all living beings. - Author: Mahatma Gandhi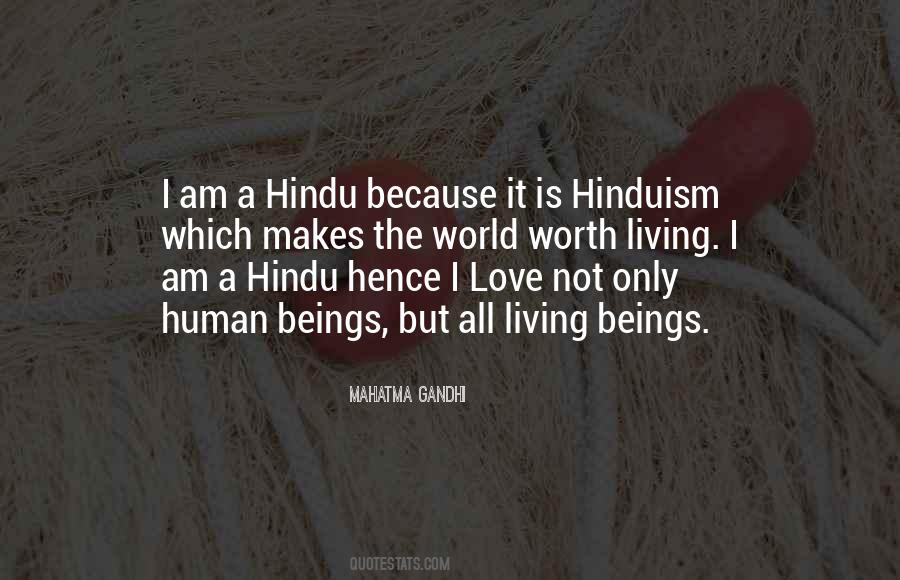 #23. I told myself that was why, that I wasn't bringing you back because it hurt too much to lose you. That a lifetime without free will wasn't worth three more
days with you. That wasn't good enough. I had to do it for the right reasons, you know. For them, not for us. - Author: Kelly Meding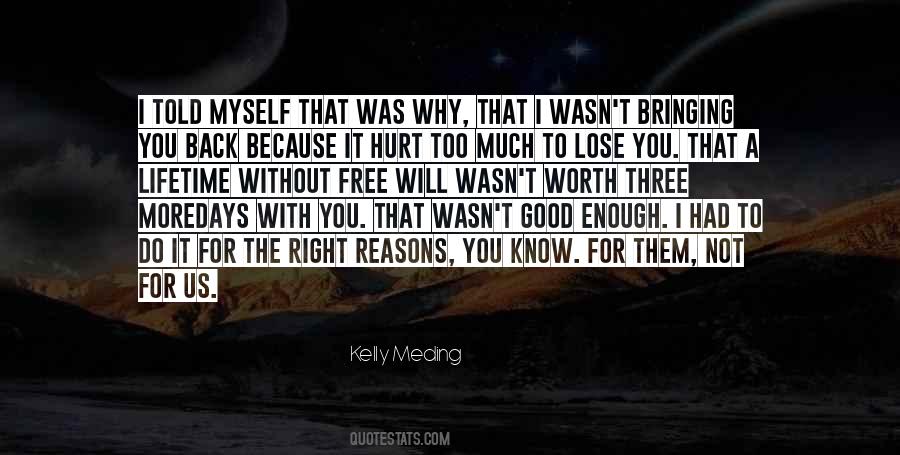 #24. And I know, despite all the constellations placed in the sky as warning, why all those Greek maidens gave it up in the end. It's because all the pain is worth it for this one moment. - Author: Courtney Milan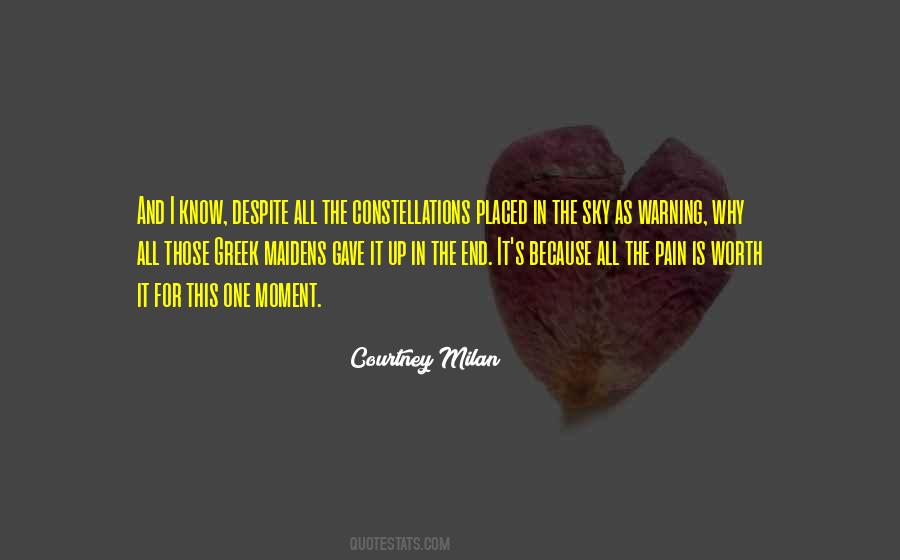 #25. I never gave him a chance to decide if I was worth loving. I'd taken that choice away from him - because I feared what it would be. - Author: Rebecca Donovan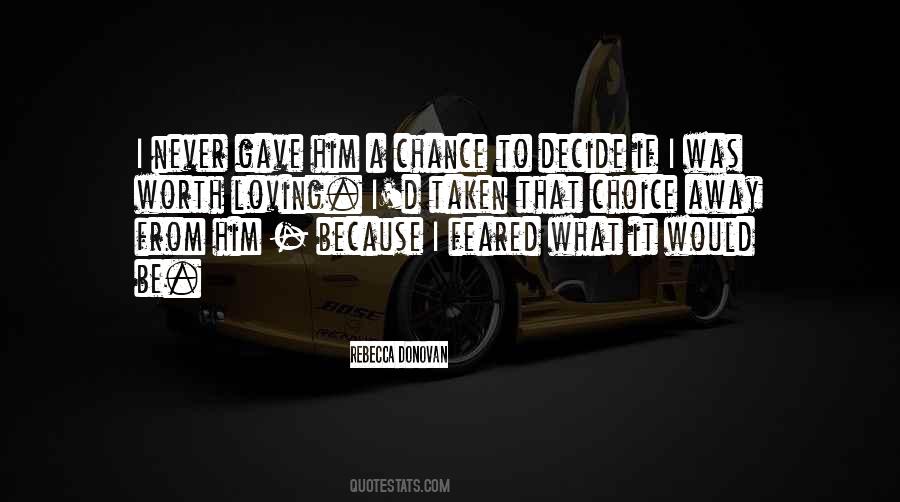 #26. I'm certainly not a person who spends their every waking moment soaking themselves in signs and signals of the sort that cult studies people study; and it's partly, I suppose, because some of those signs and signals aren't worth bothering about. You have to be selective about these things. - Author: Peter York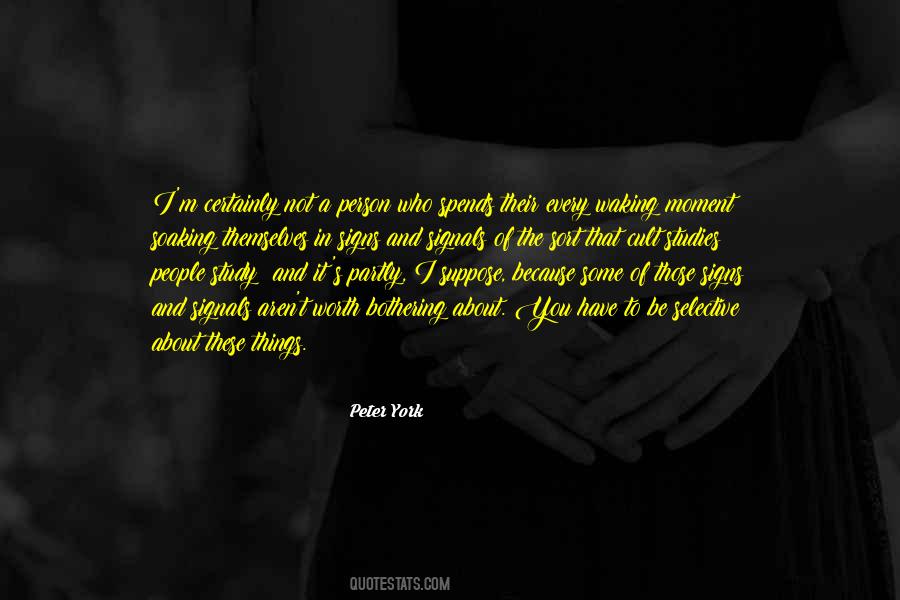 #27. I've been careful to keep my life separate because it's important to me to have privacy and for my life not to be a marketing device for a movie or a TV show. I'm worth more than that. - Author: Lisa Kudrow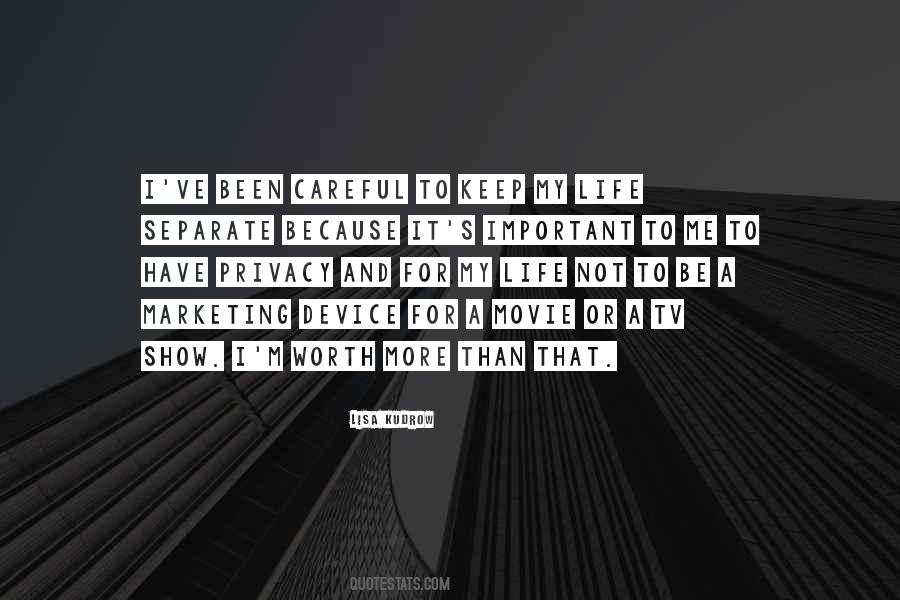 #28. I'm saying that I can wait. For now. But when things get back to normal - assuming that ever happens - I want my shot. We can make each other happy, Faythe. I know it. And I'm done walking away from things I want just because they don't come easily. You're worth the work. - Author: Rachel Vincent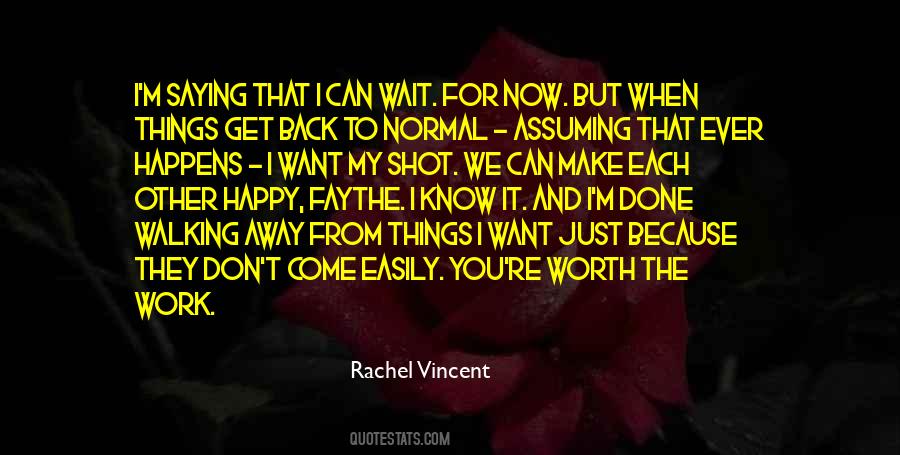 #29. [On her UNICEF work:] I'm glad I've got a name, because I'm using it for what it's worth ... I do not want to see mothers and fathers digging graves for their children. - Author: Audrey Hepburn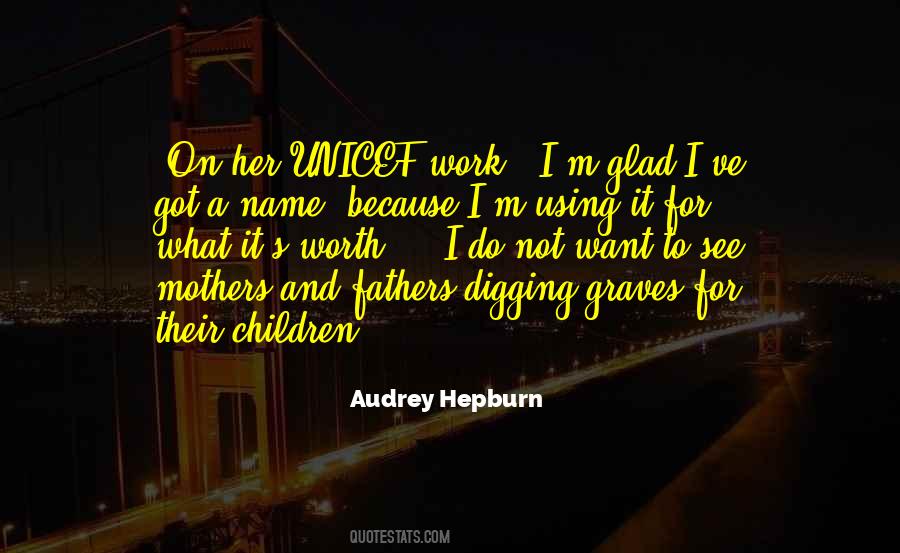 #30. You're trying to tell me that everything you've done is for a good cause. You think that all this killing is worth it because of the results. I'm not sure I agree. Lots of people work for charity; lots of people want to change the world. But they don't have to behave like you. - Author: Anthony Horowitz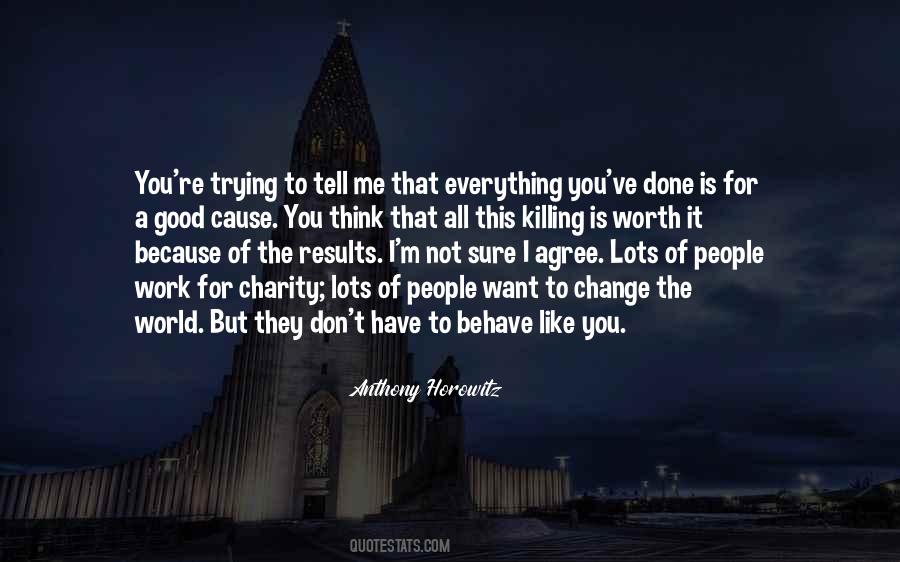 #31. Sometimes being scared of something can be good because it can give you strength. A great example for me would be acting in English! Basically, whenever I'm scared of a project, I know it's worth it. - Author: Stephanie Sigman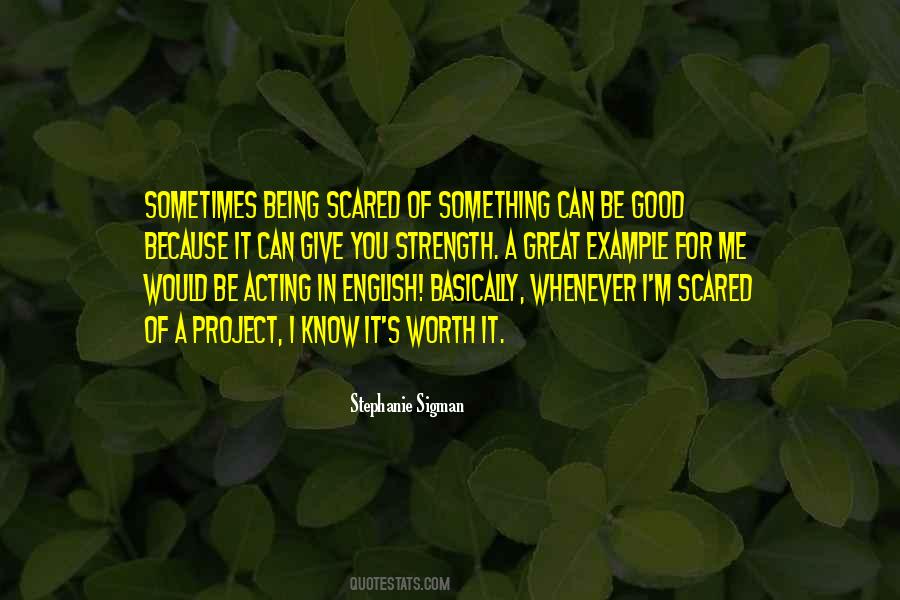 #32. When you come to 'Shark Tank,' the only person you should listen to is me, because you know you're getting the truth. I'll decide if it's worth it, and after I'm finished, the rest of the people can look into it. - Author: Kevin O'Leary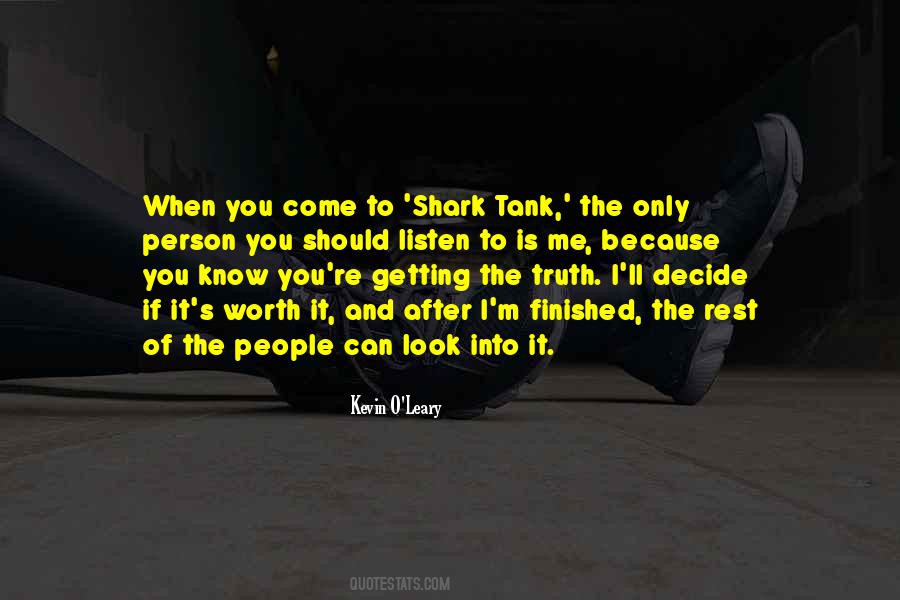 #33. Why are you waiting for me?" I asked.
"Because you're worth it."
"You don't know that."
"Yes, I do."
"How?"
"I've been around. I know when something's good."
My throat tightened a little. "What if you're wrong?"
"I'm not wrong. - Author: Nina Lane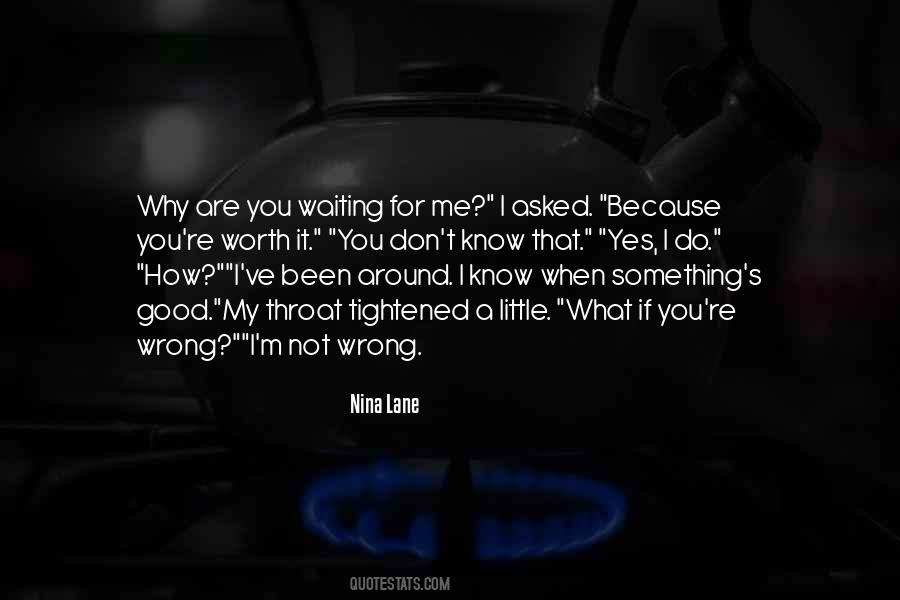 #34. We're going to shoot one Polaroid per show. I'm going to sign this before it even develops because I know that once it develops with my signature on it, it's worth a fortune. I'll make this a work of magic warlock art. - Author: Charlie Sheen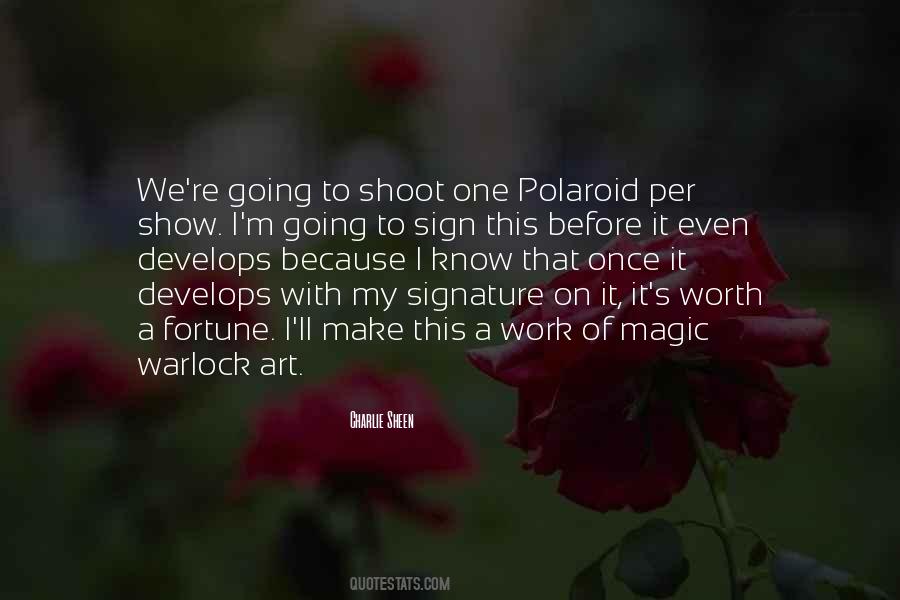 #35. I'm glad I did it, partly because it was worth it, but mostly because I shall never have to do it again - Author: Mark Twain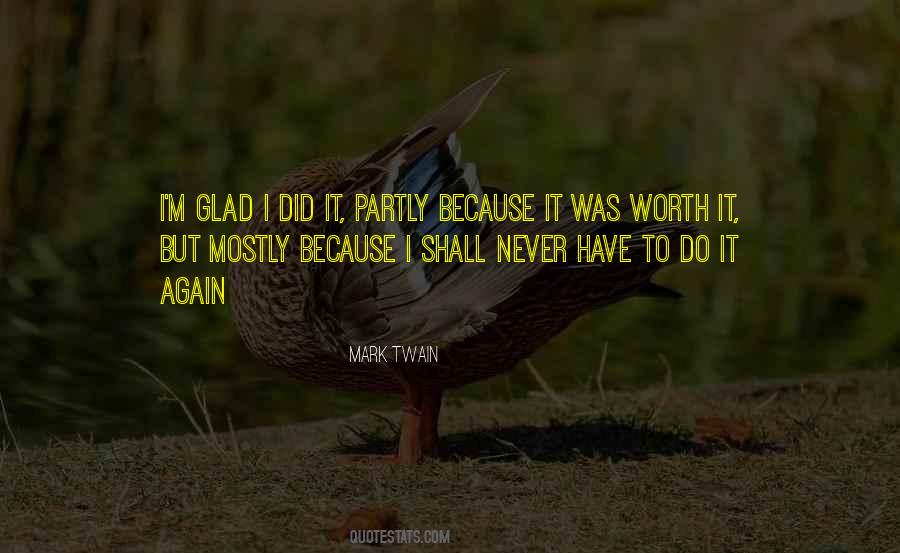 #36. I hope a kid listens to my stuff, I hope there's a change made and at least somebody walks away with: "I'm doing this because I like it." People are going to hate it and that's okay, but I have to do it because my happiness is important too, it's worth it. - Author: Donald Glover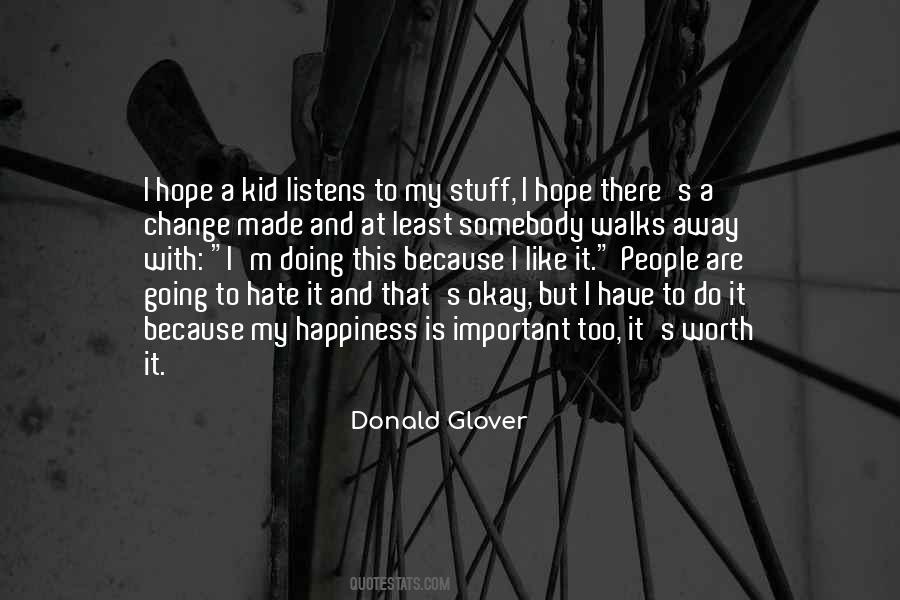 #37. When you don't use sugar in your diet, all of the sudden fruits are really sweet. Honey is really sweet. Your taste buds change. I'm not psycho never have anything sweet, because that takes too much energy. The stress on your body just isn't worth it. - Author: Laird Hamilton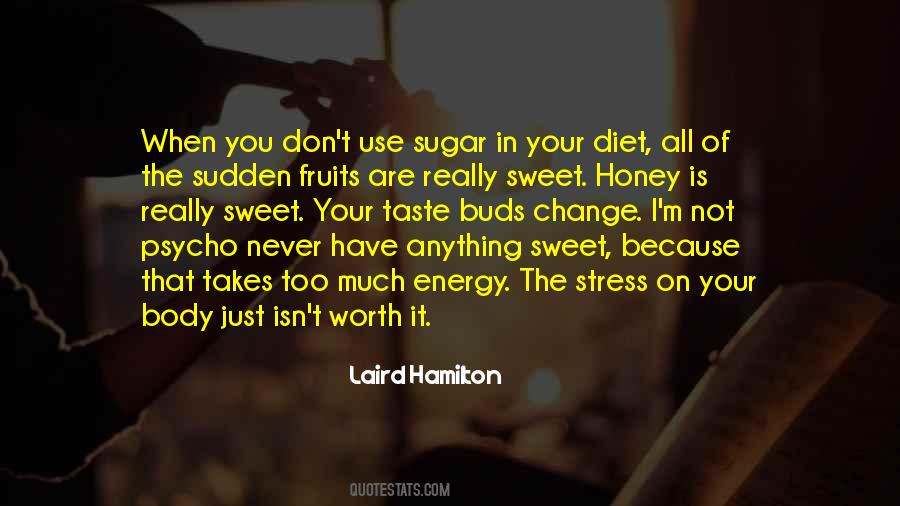 #38. It was so weird that I would end up directing 'The Greatest Game Ever Played,' because, y'know, I'm not a big golfer myself. But I grew up around the game. My mom and dad kind of built their dream house off the 11th fairway of Shady Oaks Country Club in Fort Worth. - Author: Bill Paxton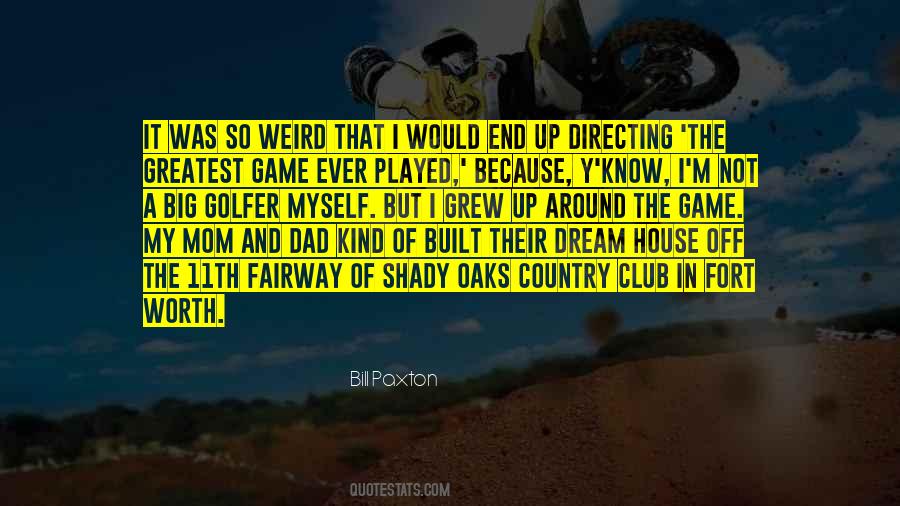 #39. And that's what love is, I suppose. The one thing that is most worth hoping for, and the one thing that's most surprising when it lands. Because it's better. It exceeds hope, makes hope nearsighted. - Author: Jessica Soffer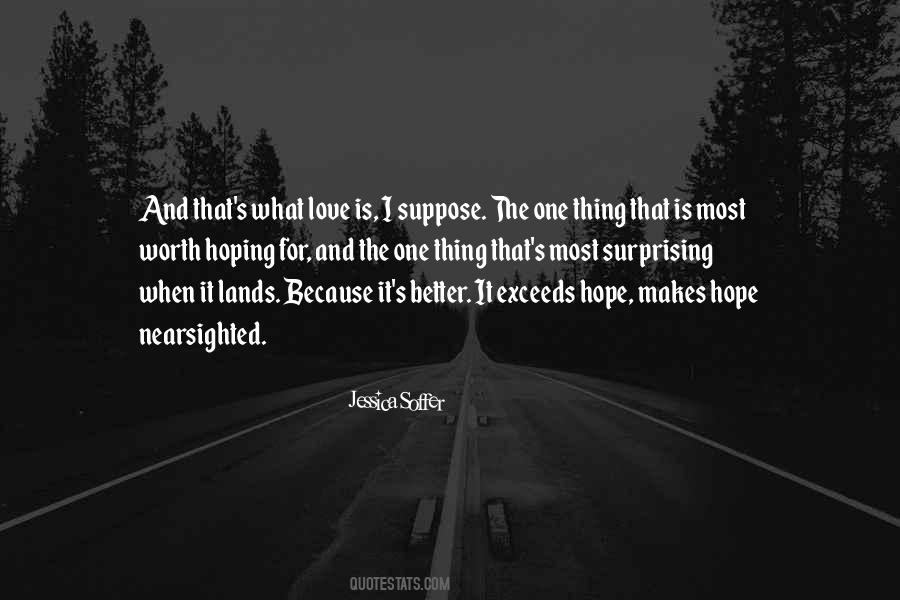 #40. I do feel pretty lucky that I'm not so great at playing and singing, it forces me to make sure I've really got something worth presenting because I can't rely on any kind of virtuosity to dazzle people with. - Author: Jeffrey Lewis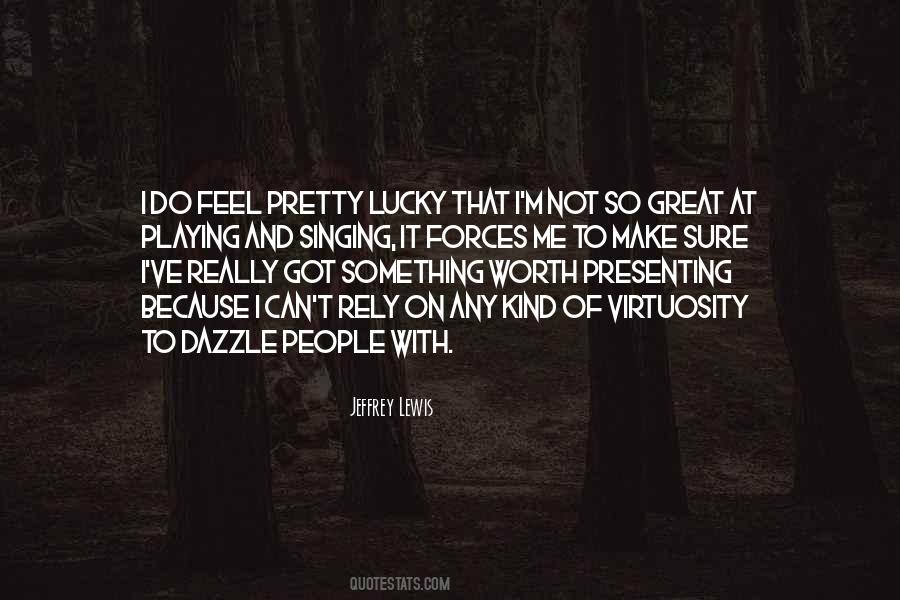 #41. I have occasionally - if ever I do interviews that are difficult or nerve-wracking - I take my wife's dog tags and have them in my pocket because it's a very quick way to realize that what I'm doing is not that important. It's not really worth getting stressed about because it's not, you know, war. - Author: John Oliver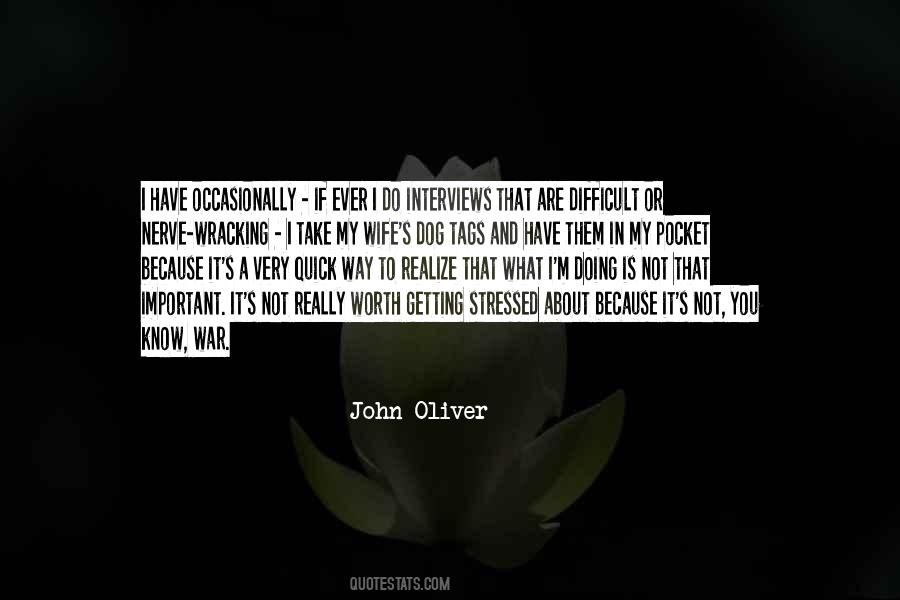 #42. I think it's a sacrifice that you have to make, because you lay yourself open for people to accuse and disrespect you. But it's worth it. It's worth it because not too many people are too honest anymore. - Author: Ronnie Radke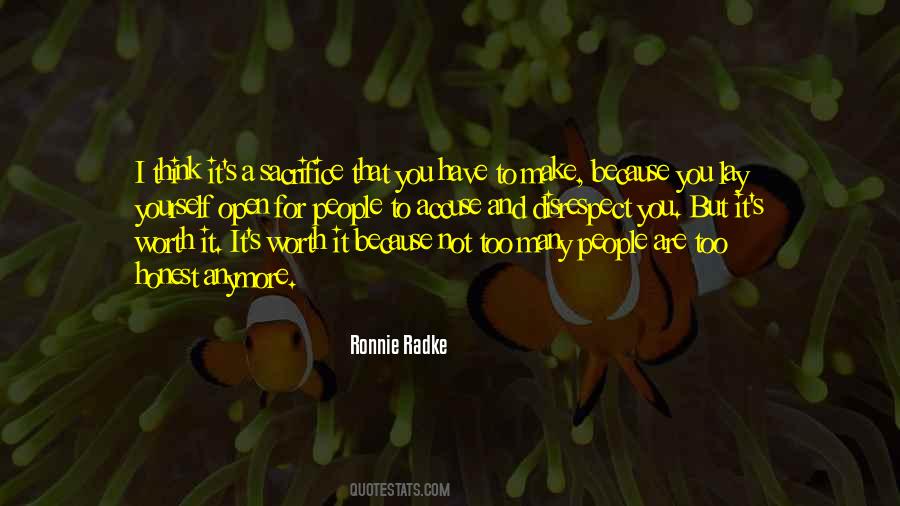 #43. And I thought, my God, there's an off chance that they will say something that's really worth preserving and there is one way to do that and I knew what it was because I come from television. - Author: James Lipton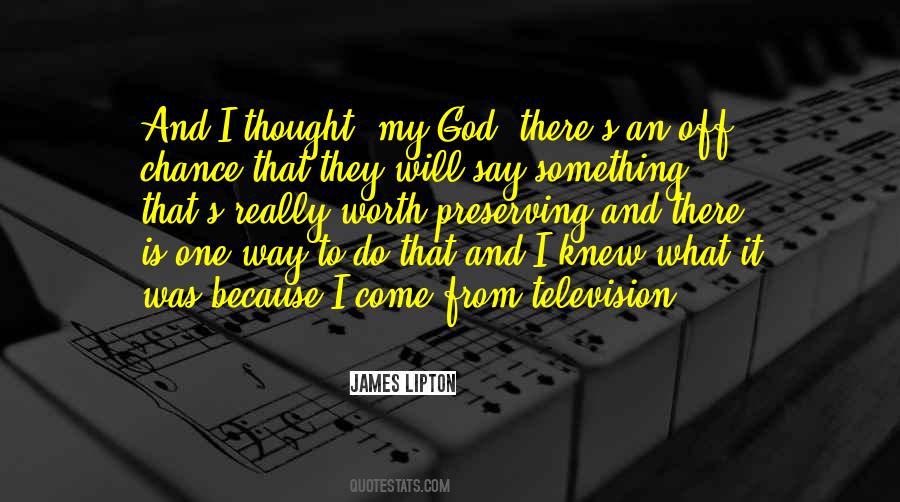 #44. Lord, when I feel that what I'm doing is insignificant and unimportant, help me to remember that everything I do is significant and important in your eyes, because you love me and you put me here, and no one else can do what I am doing in exactly the way I do it. - Author: Brennan Manning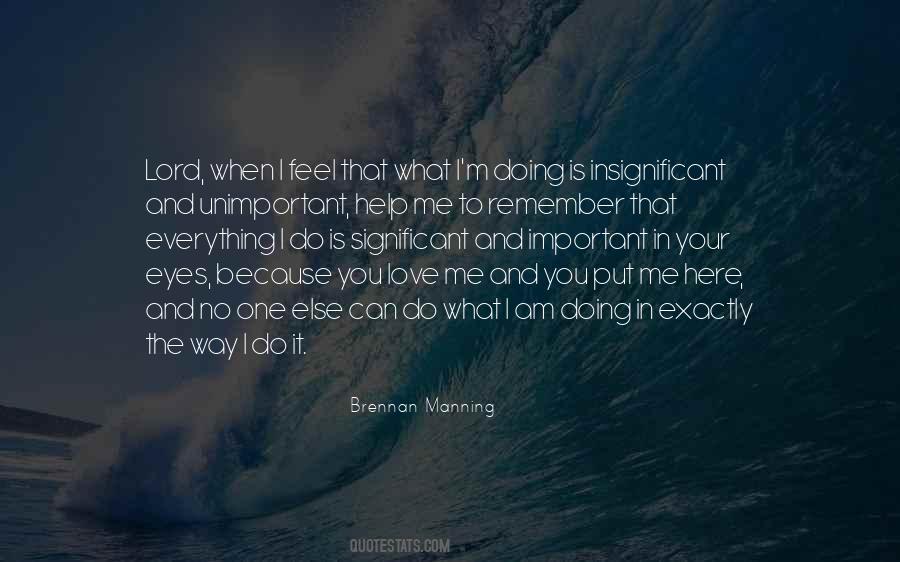 #45. During the periods in my marriage when I chose to stay home with my kids rather than work as an attorney, it caused me no end of anxiety. Despite the fact that I knew I was contributing to our family by caring for our children, I still felt that my worth was less because I wasn't earning. - Author: Ayelet Waldman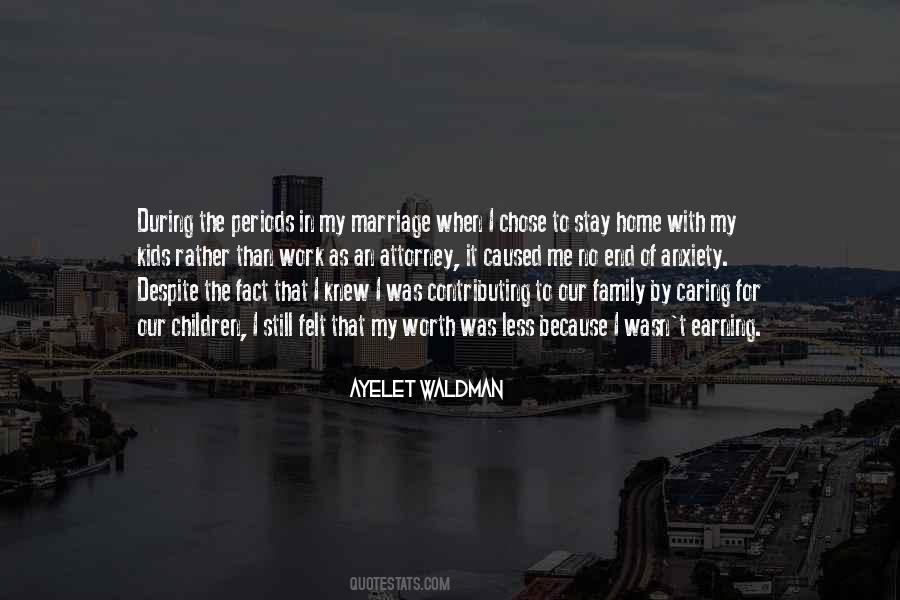 #46. McDonald's: I'm loving it!...
...because feeding my family healthy food is not worth more than $4. - Author: Beryl Dov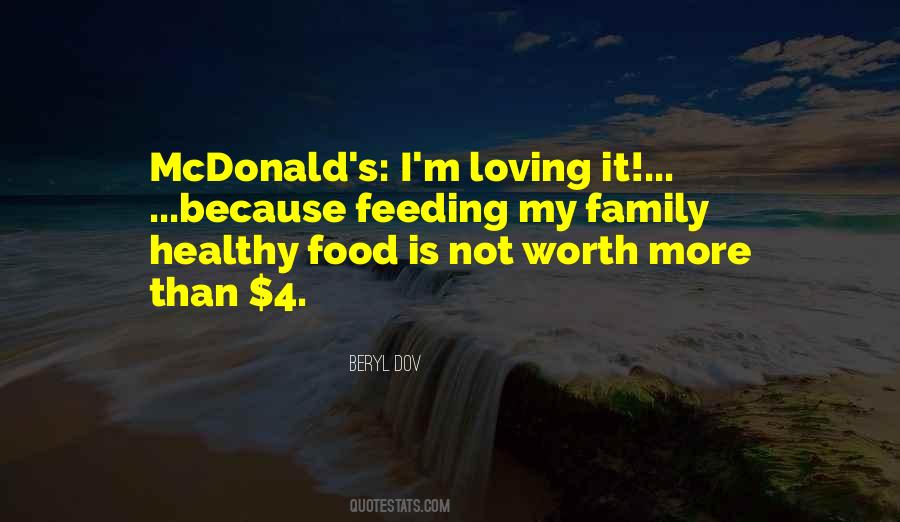 #47. Leaving Egypt and the people I loved so much, and the environment I liked, was definitely worth it, because I also have great love for medicine and science. - Author: Magdi Yacoub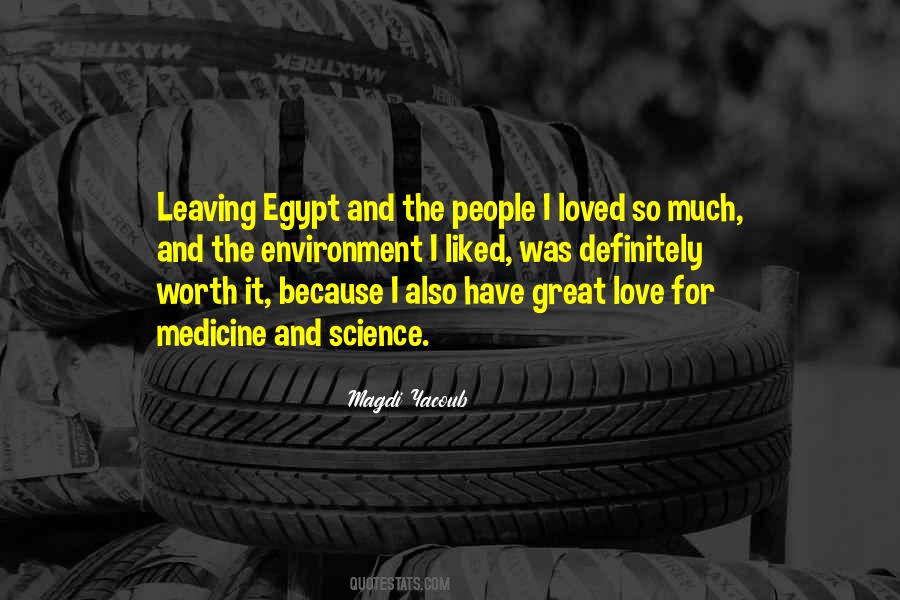 #48. I wanted to find self-worth and happiness in this false togetherness. I wanted companionship but by wanting that, it made me weak because I wanted to lean on him after leaning on myself for so, so long. I liked him. He - Author: Pepper Winters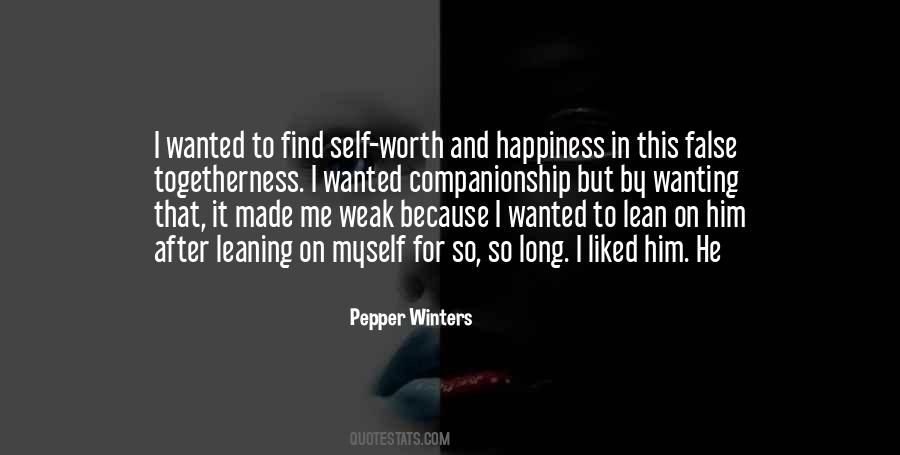 #49. If I am always standing at the bottom of the mountain longingly looking up, in all probability it is because I have heeded the pillaging dogma of mediocrity which persistently tells me that the dream is not worth the climb. - Author: Craig D. Lounsbrough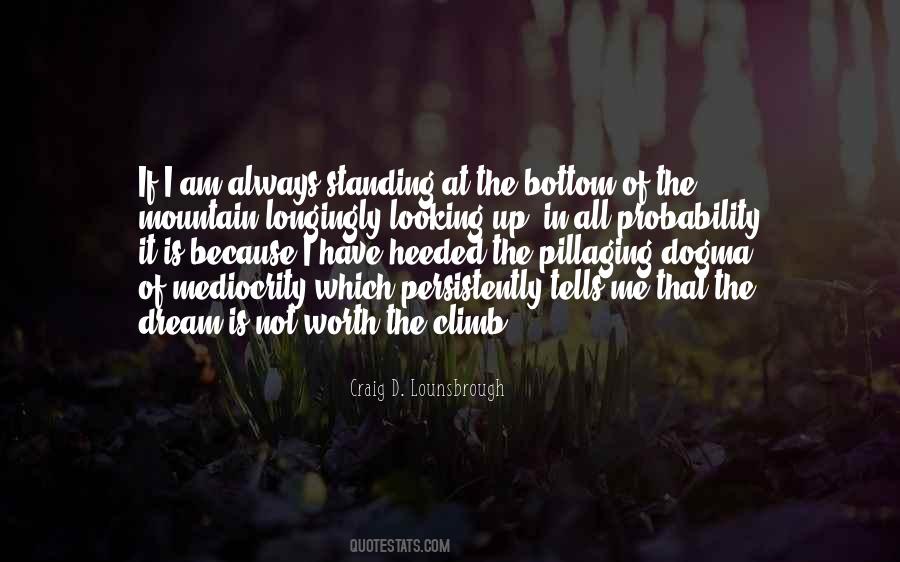 #50. So I'm pampering myself to a homemade stone pumice session, to sand down my feet because I'm worth it. - Author: Cody Lundin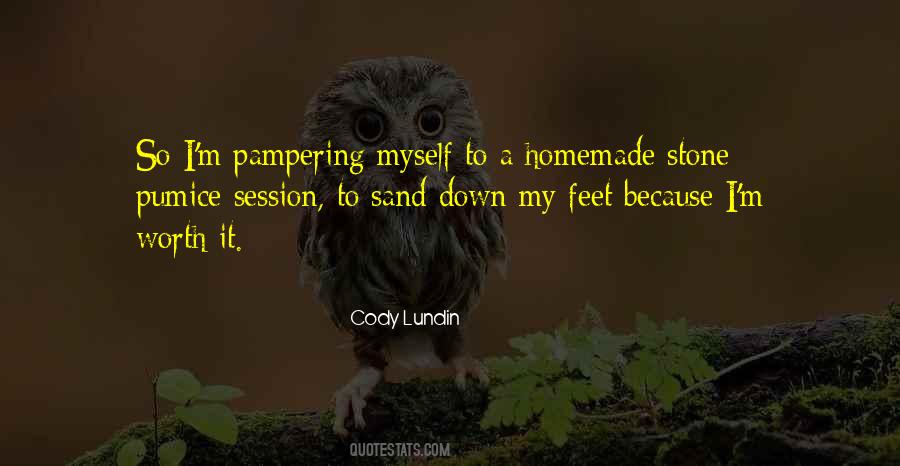 #51. As a proud spokesperson for L'Oreal Paris, I have communicated the 'Because You're Worth It' message many times, and know firsthand how empowering it is to say and how empowering it feels. - Author: Andie MacDowell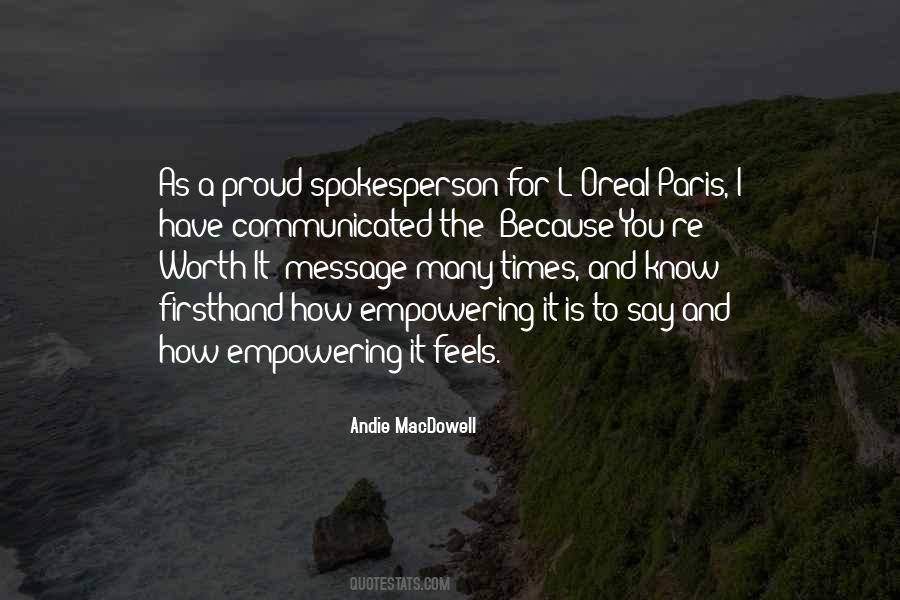 #52. If I had any advice for my 16-year-old self, it would just be to stay strong, because acting is not an easy lifestyle, especially when you are starting out. That being said, it definitely makes it all worth it when it does happen. - Author: Melissa Benoist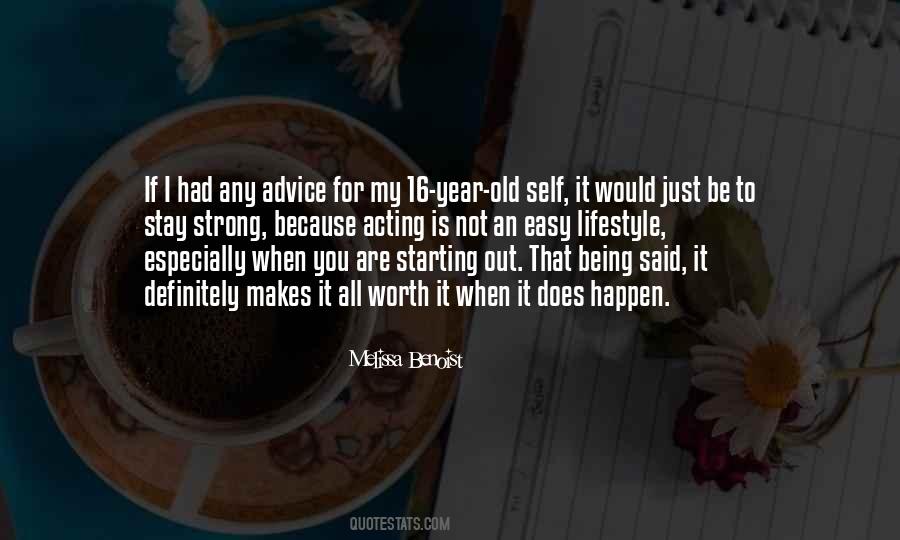 #53. I feel it most in my work, because there aren't roles about women who are spiritually evolving. That anyone would even write something like that, something that's worth doing, would be a miracle! - Author: Olympia Dukakis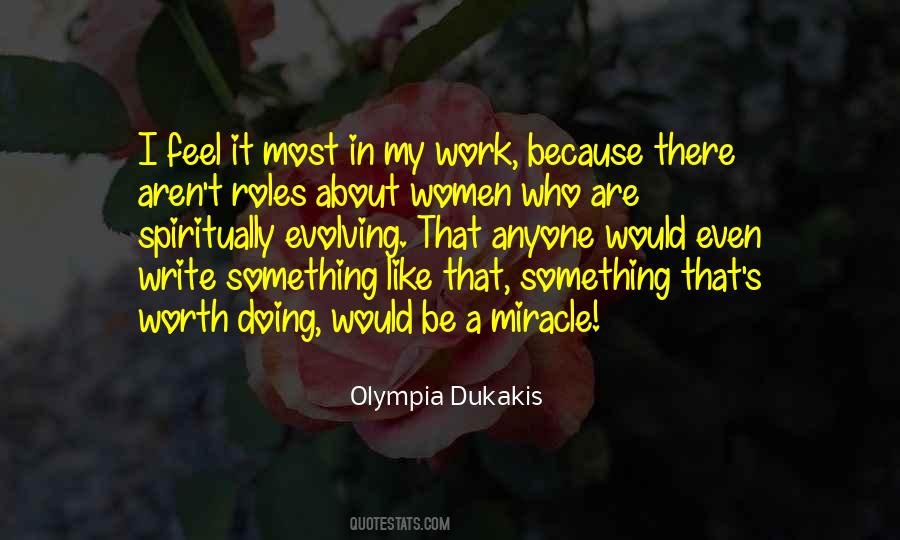 #54. I feel close to Marvin Gaye, Vincent van Gogh, because nobody appreciated his work until he was dead. Now it's worth millions. - Author: Tupac Shakur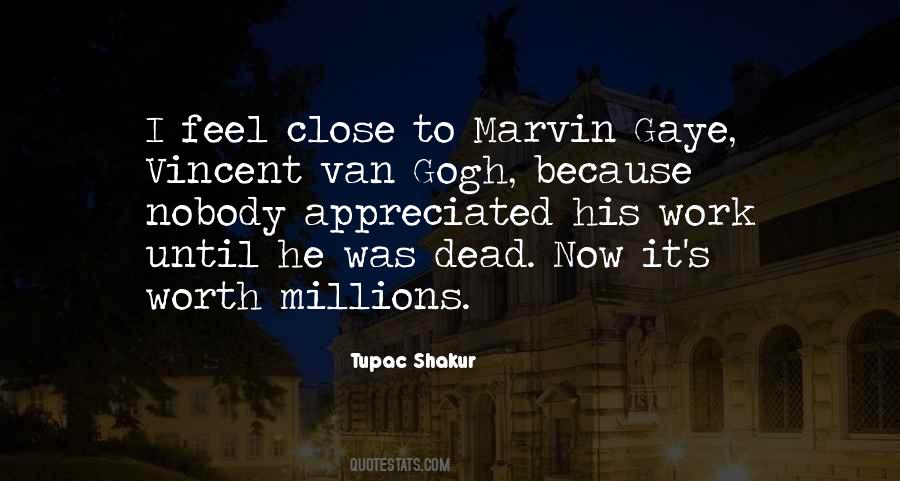 #55. And when you love someone like I loved your father, you're willing to walk through hell with that person because they're worth it. - Author: Mila Ferrera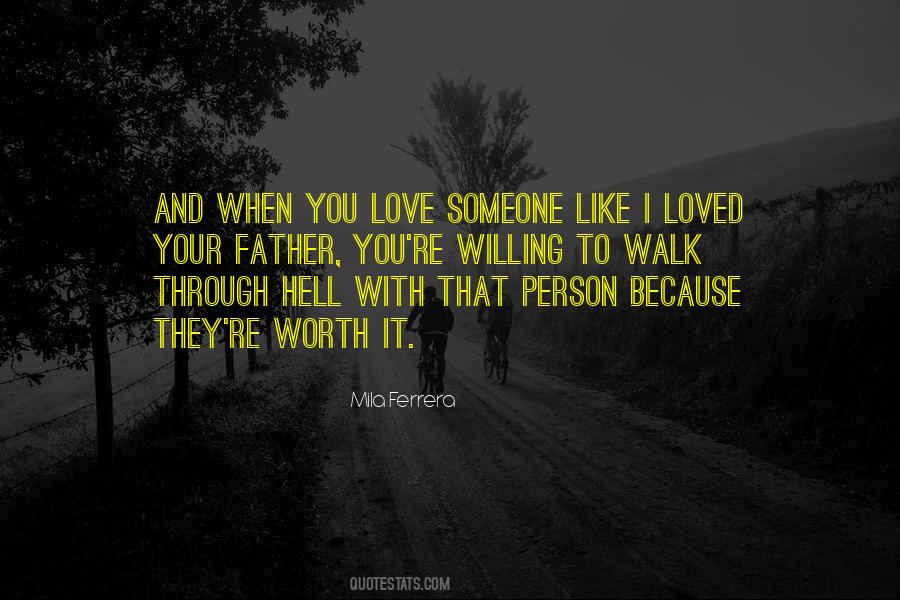 #56. I break my back for music because it's something that I love, but I'm not going to break my back for a bank. I wouldn't want to be an ATM repairman; there are some things that just aren't worth it. - Author: Joshua Homme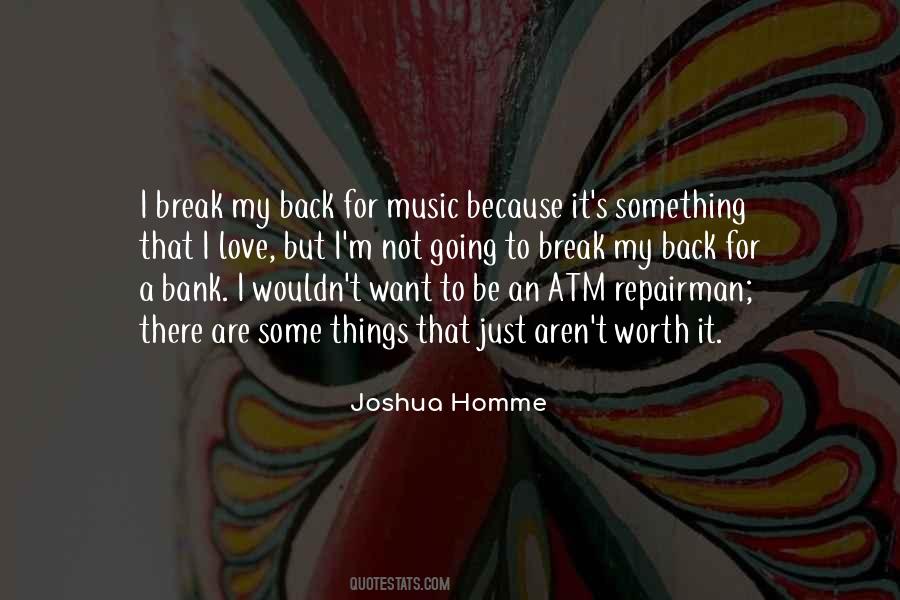 #57. When you're a dreamer, heart break and failure come with the territory, but I can tell you it's worth it, because it's a way of living that is both moving and memorable. - Author: Lauren Fleshman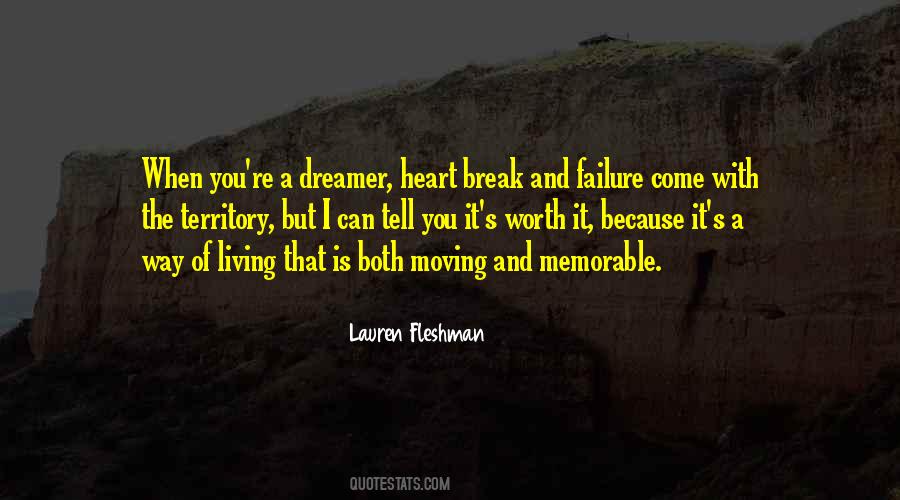 #58. If I don't get a TV show next year because someone looks up my Wikipedia and it says 'openly gay,' then it's worth the risk because I've had so many years being openly gay and proud of myself as a role model. - Author: Max Von Essen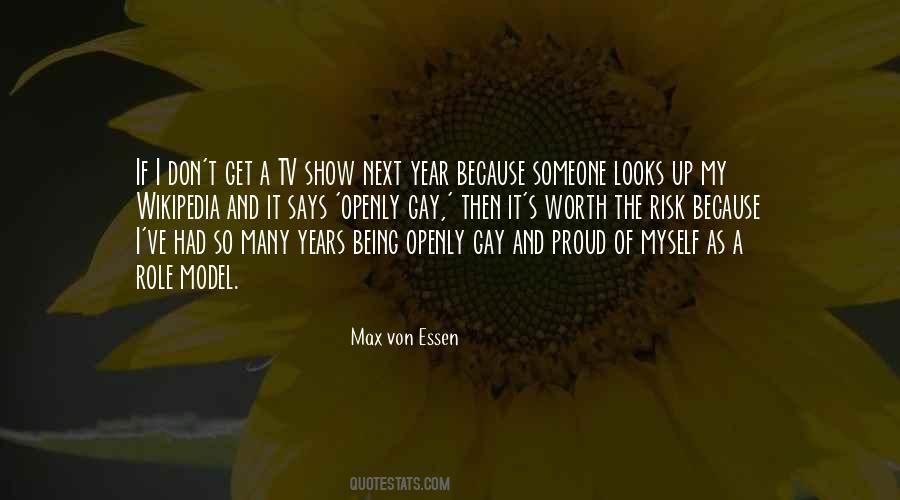 #59. If I was harsh with you, it was because I cannot bear to see you treat yourself as if you are worth nothing. Whatever part you might act to the contrary, I see you as you really are, my blood brother. Not just better than you pretend to be, but better than most people could hope to be. - Author: Cassandra Clare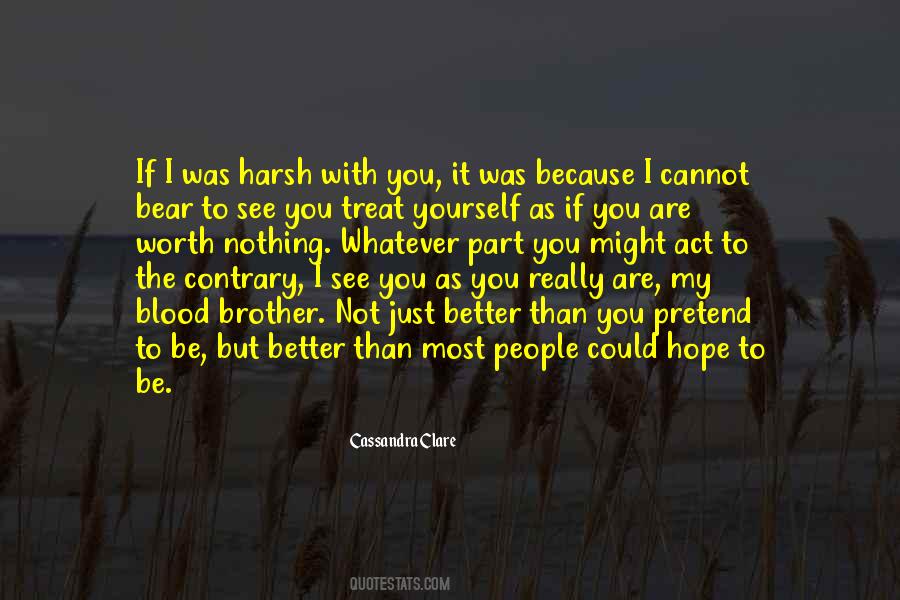 #60. They all got really quiet and started to lick their lips, closing in on Lucy. I started to lick my lips, too, because it's one of those subconcious, contagious things like sneezing, but then I stopped because it just isn't worth it if you forgot to bring ChapStick. - Author: The Harvard Lampoon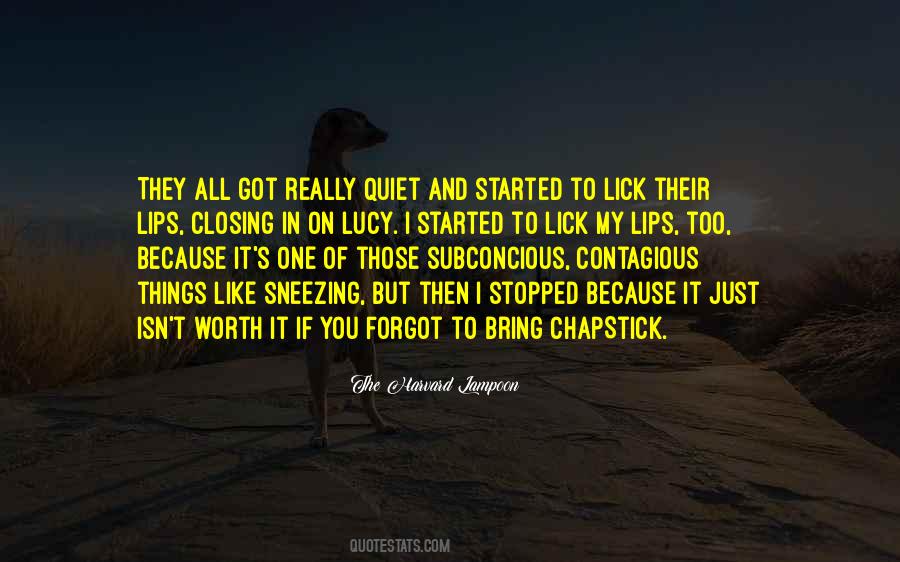 #61. I've stopped talking because there's really nothing left to say and there's this piercing sort of pain where my heart is. Maybe I'm even having a heart attack, but it doesn't seem worth mentioning. - Author: Suzanne Collins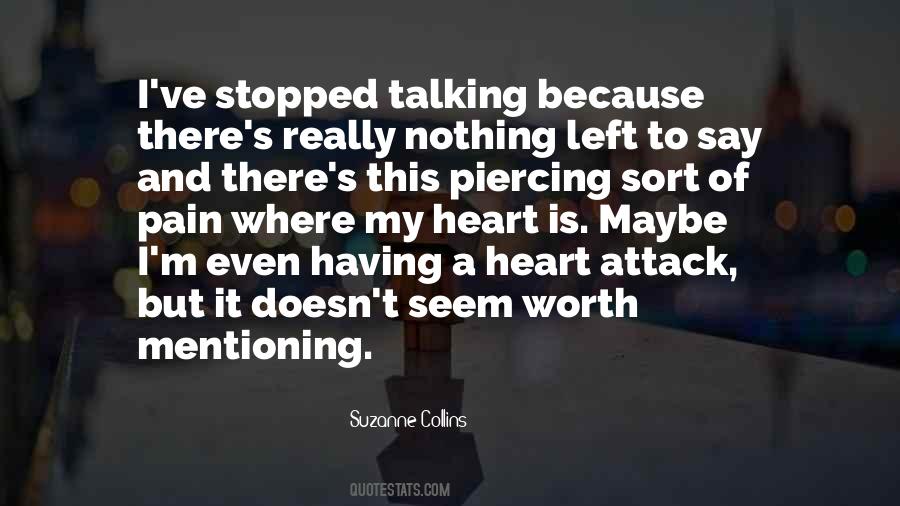 #62. I'm just saying that if it's something or someone worth fighting for, you should fight for it. It's not called a fight because it's easy. - Author: Jenn P. Nguyen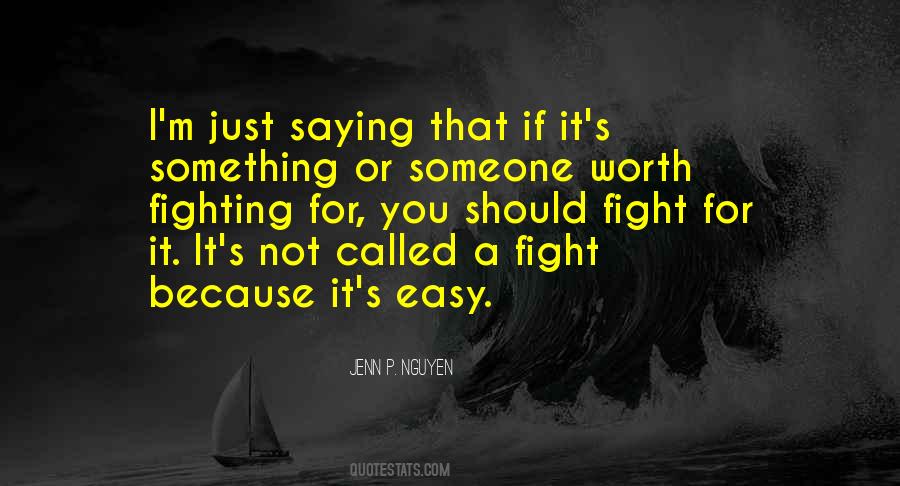 #63. I am so sorry for you, Leslie.' She said it like she really meant it. But not like she was completely surprised. 'And for him. Because he's lost you now.' This last part undid me. Despite her cruel criticism of me over the years, from where she sat, I was anyone and everyone's prize. - Author: Leslie Morgan Steiner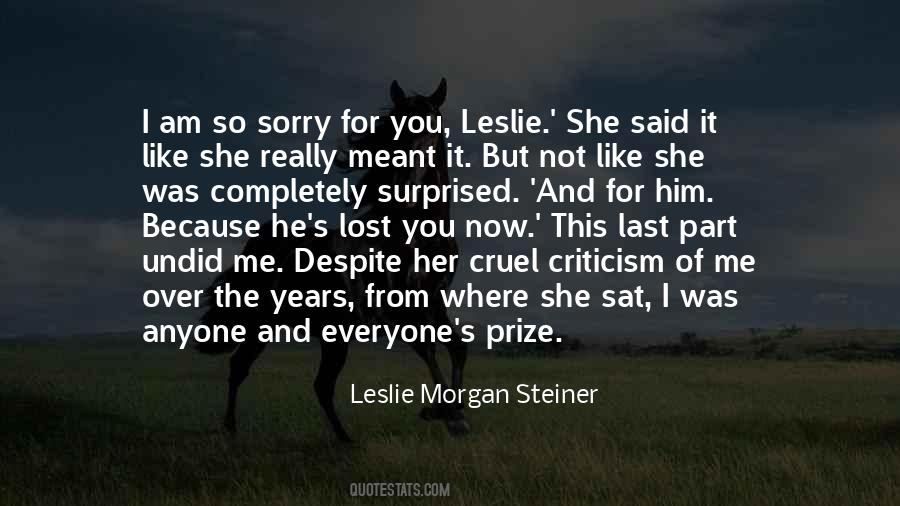 #64. Setting boundaries is a way of caring for myself. It doesn't make me mean, selfish, or uncaring because I don't do things your way. I care about me too. - Author: Christine Morgan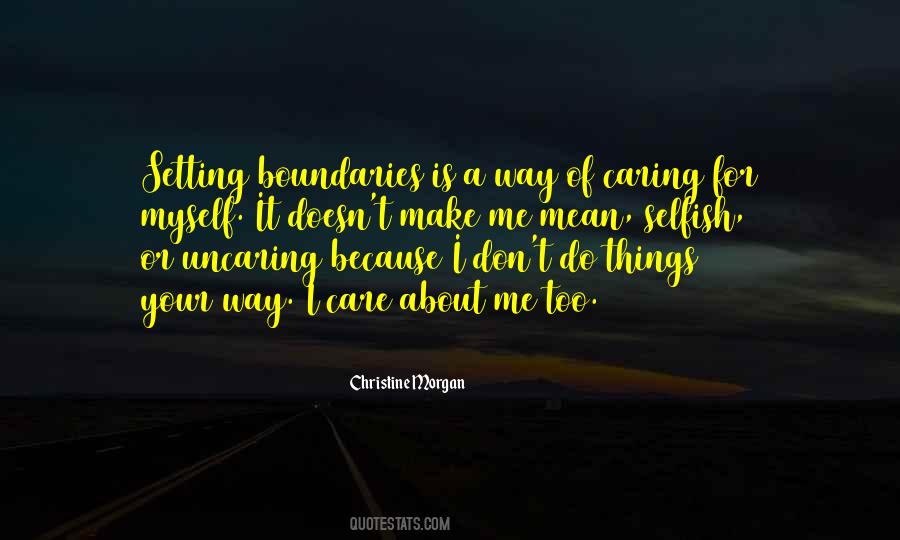 #65. Honestly?" Logan shrugged. "I didn't know it could kill me. If I'd ever heard that, I forgot it a long time ago. But I knew it was dangerous."
"Then why take the risk?" Stone asked.
Logan turned his head to look at me. "Because she was worth it. - Author: Jeri Smith-Ready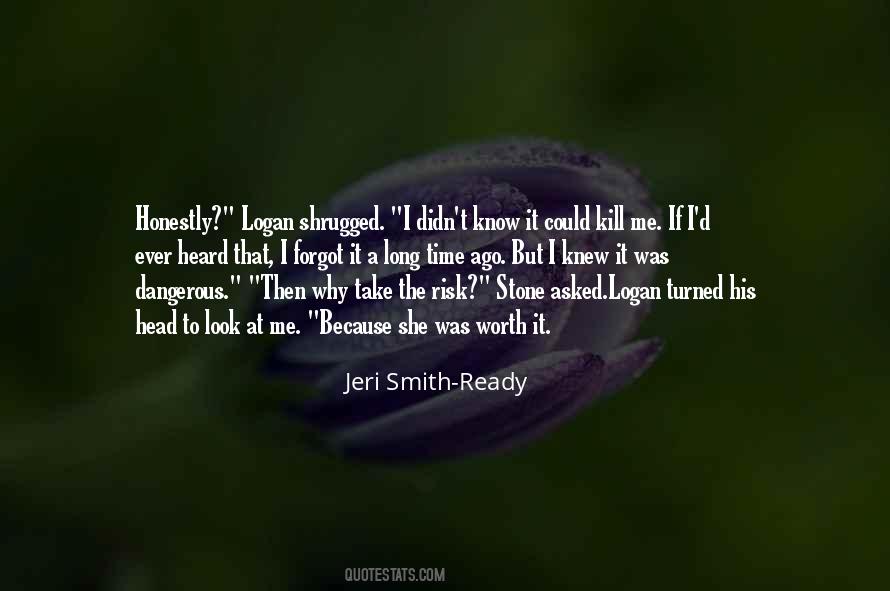 #66. That really pissed me off, because I am worth it, goddamn it!"
"I know you - "
"Still talking here! - Author: Robin L. Rotham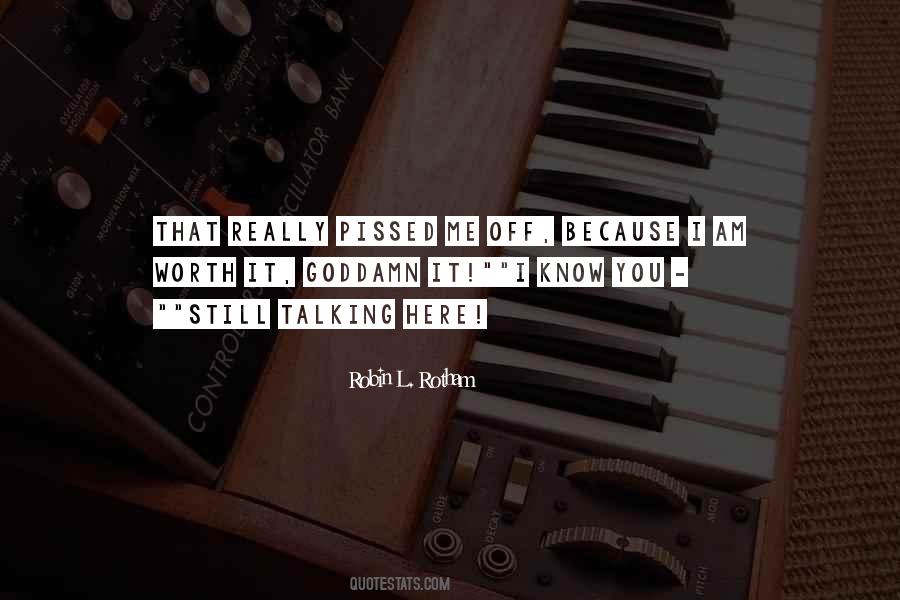 #67. I would never play an extra year for money. I play the game because I love it. I just so happen to get paid. If I don't feel I still enjoy the game, I can care less what a year is worth. I'm not going to play the game just because of money. - Author: Michael Jordan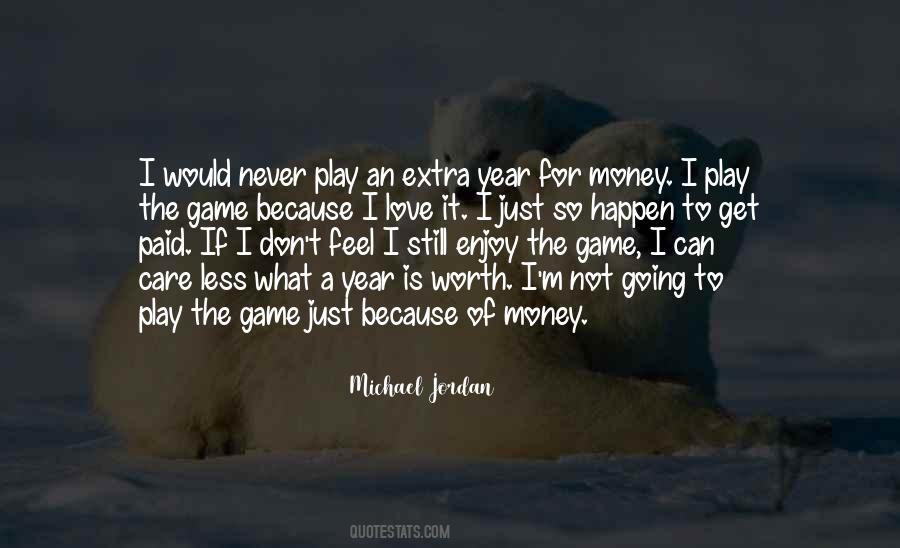 #68. Because what he showed me is that he sees the same things in her I do. He knows she's worth waiting for. And when it's time, he intends to be the one. That's why he's keeping her close. To those of us who live forever, a few years isn't long to wait. - Author: Karen Marie Moning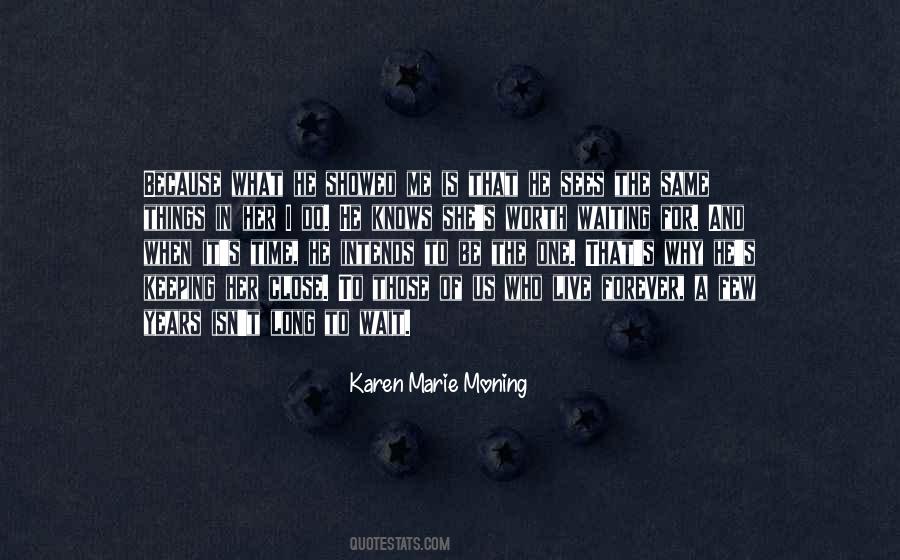 #69. The Super Bowl isn't for kids, I had a great time though and it was worth every nickel of it because by doing this lame piece about the game I can put it on my expense account. - Author: Andy Rooney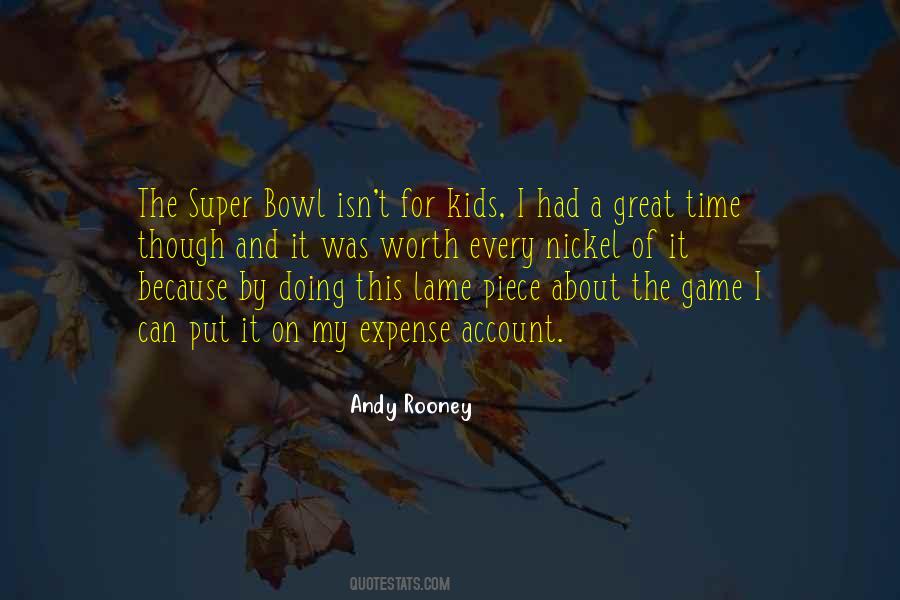 #70. I feel that The American Dream is this fallacy that you come to the United States and win lotto. That's a disservice to The American Dream because the American Dream is worth striving for. And it's not easy. - Author: James Gray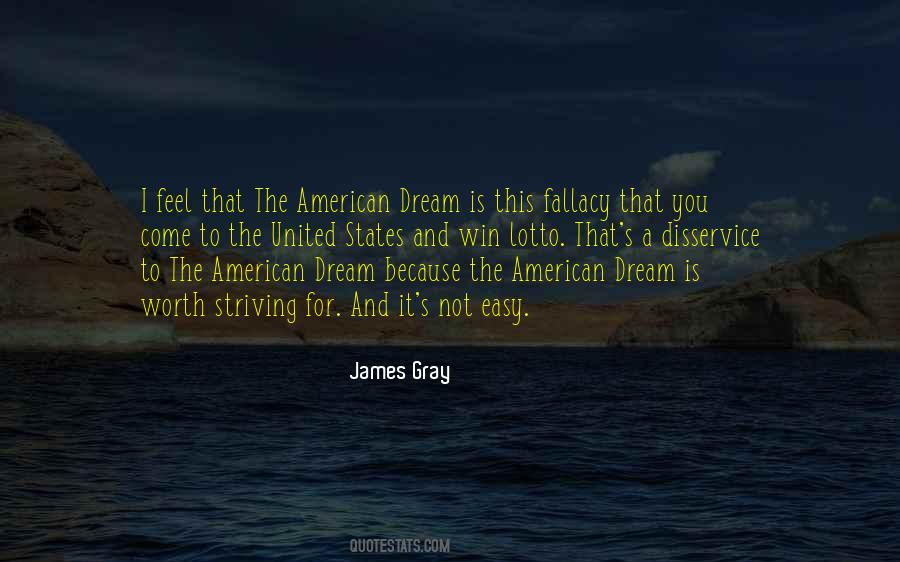 #71. People think because it's photography it's not worth as much, and because it's a woman artist, you're still not getting as much - there's still definitely that happening. I'm still really competitive when it comes to, I guess, the male painters and male artists. I still think that's really unfair. - Author: Cindy Sherman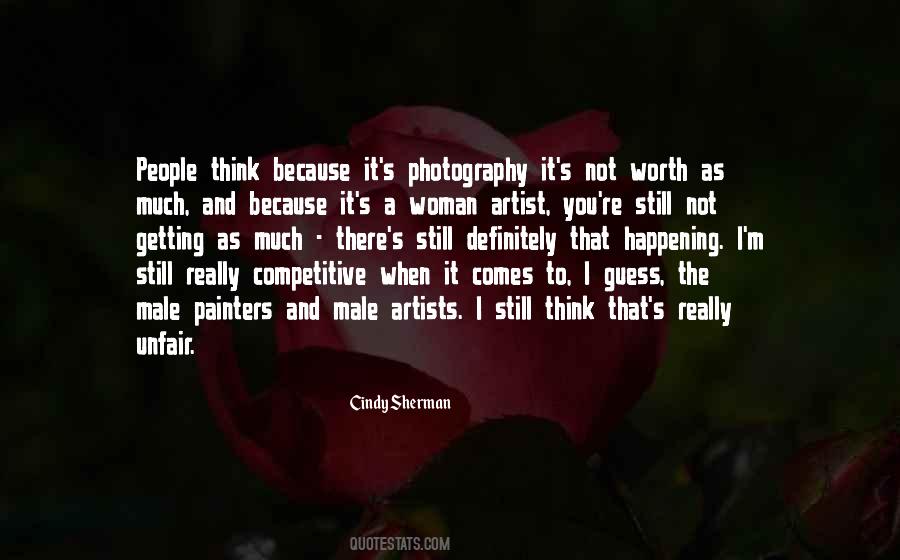 #72. As I look back on the time I've spent with him, loving him, learning him, I'm grateful for the moments. Because in the end, it's the moments that make life worth living ... - Author: Marie Hall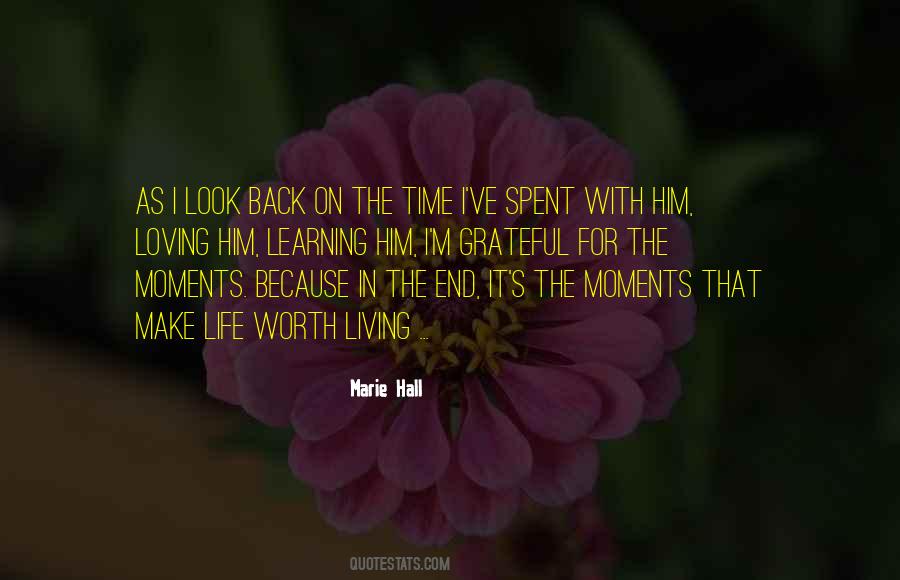 #73. I jumped off the wheel of fortune because I wanted to simplify things. Now I've fulfilled my obligations to myself by making my new record. I'd like it to sell millions of copies, but my self - worth is not based on chart positions. - Author: Roland Gift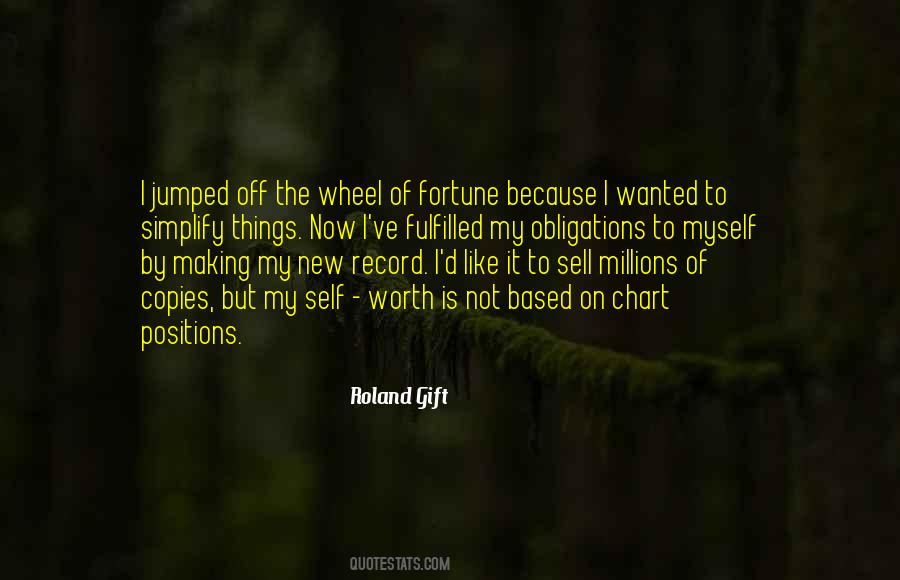 #74. I'm so happy for the both of you. Savor this moment. Remembering this feeling, because it won't always be like this. You'll have ups, you'll have downs. You'll drive each other crazy. But it's worth it if you stick through it. - Gavin - Author: S.C. Stephens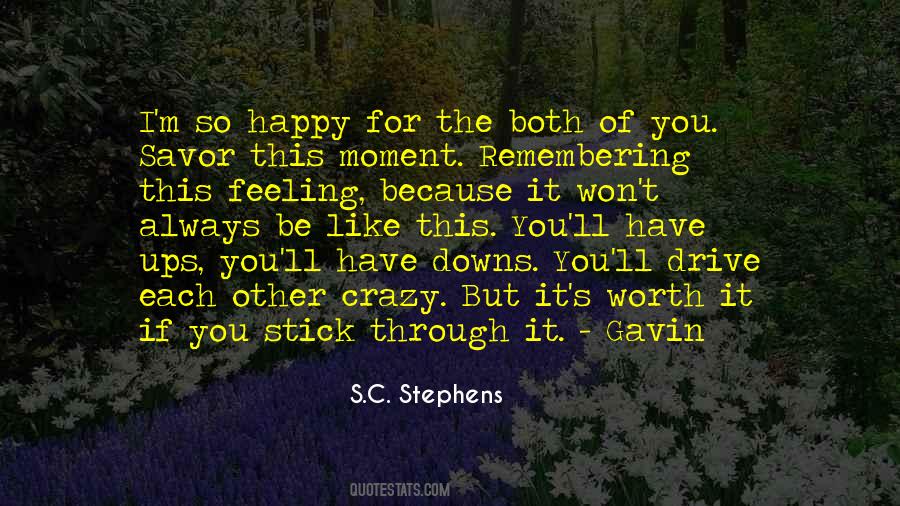 #75. I don't think there's any topic a writer should feel afraid of tackling just because it has already been discussed. If you feel you have a fresh perspective and an understanding of a certain emotional truth, it's always worth writing. - Author: Jami Attenberg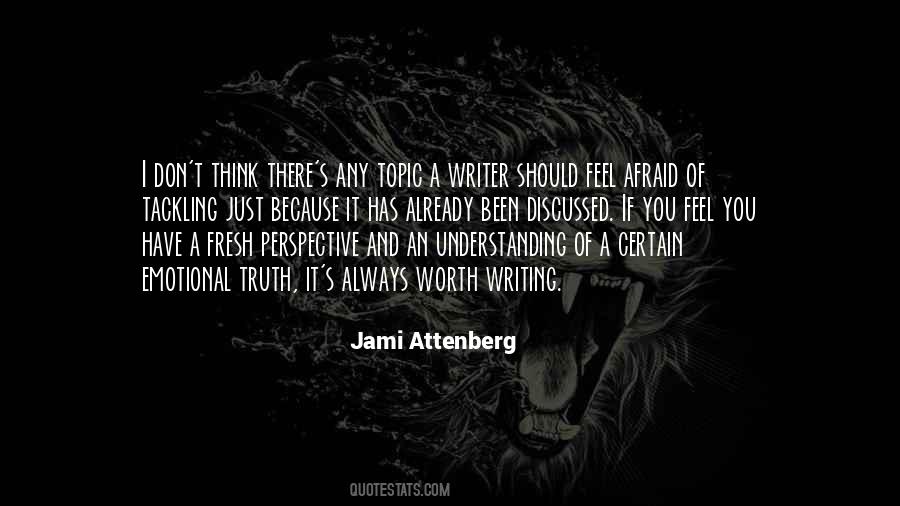 #76. I firmly believe that you can't get a good movie without risking a bad movie. A good adaptation of your book is worth it because it is such a wonderful experience to see your world translated onto the screen. - Author: Cassandra Clare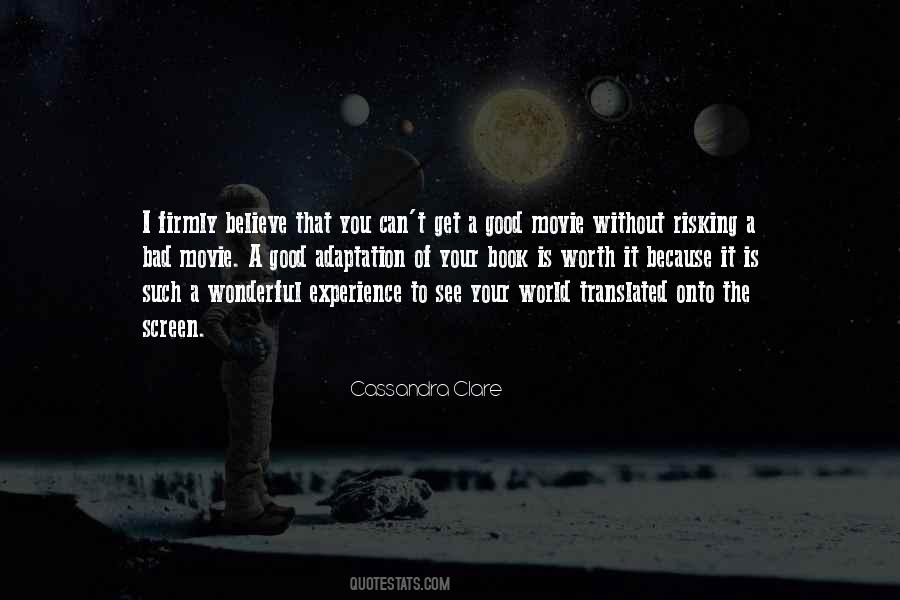 #77. She surely can cook a fight from the most peaceful ingredients. But nothing worth doing is easy. I love her in spite of it. I love her because of it. I love her." And his face broke out in that grin again. "Every day's a new adventure, that's for sure. - Author: Joe Abercrombie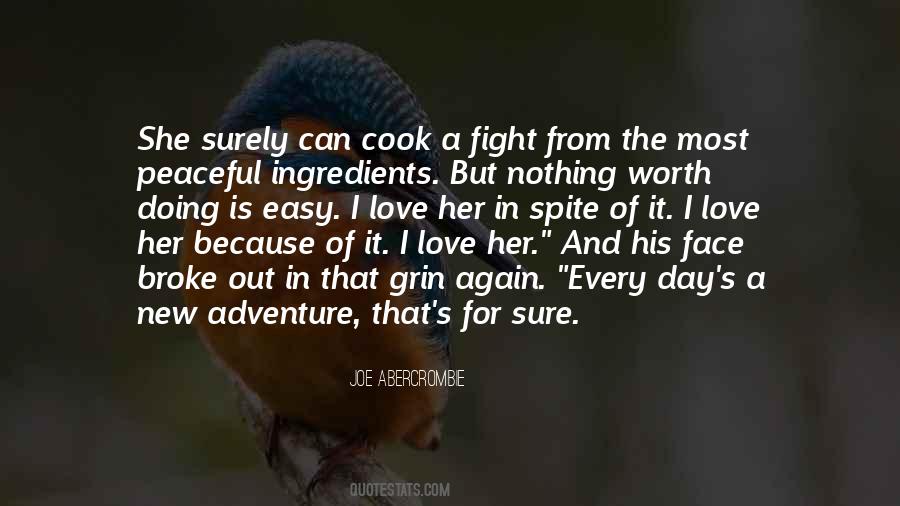 #78. A lot of good has come from drugs. I think 'Penny Lane' is worth 10 dead kids. Dark Side of the Moon is worth 100 dead kids. Because a lot of kids wouldn't even be born if it weren't for that album, so it evens out. - Author: Bill Maher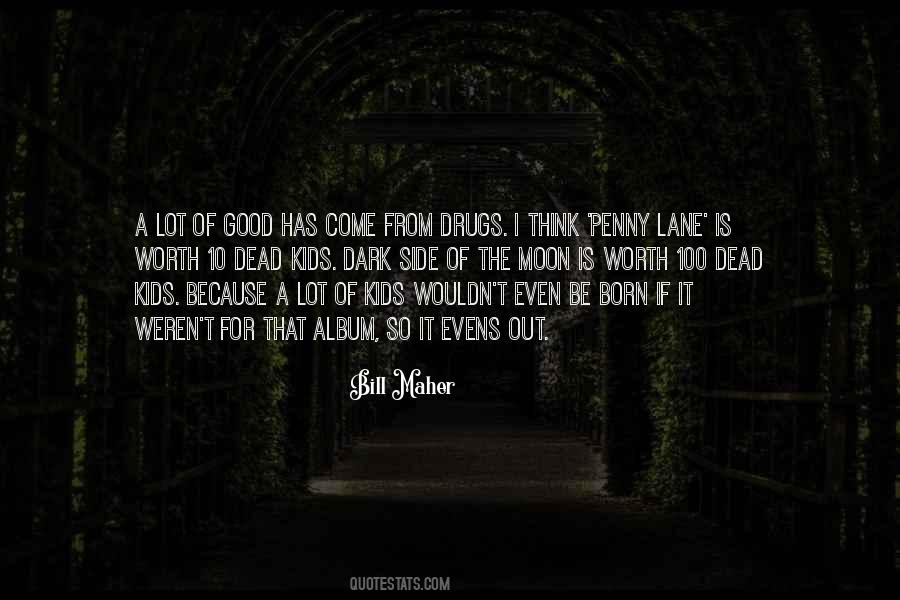 #79. What's happening right now, this month, I check in and go, 'Hey. You are at the top of a wave right now. Look around and enjoy it because it's not going to stay,' ... The wave goes away. It does not dictate how good I am or my worth. It's just the way it happens. - Author: Melissa Etheridge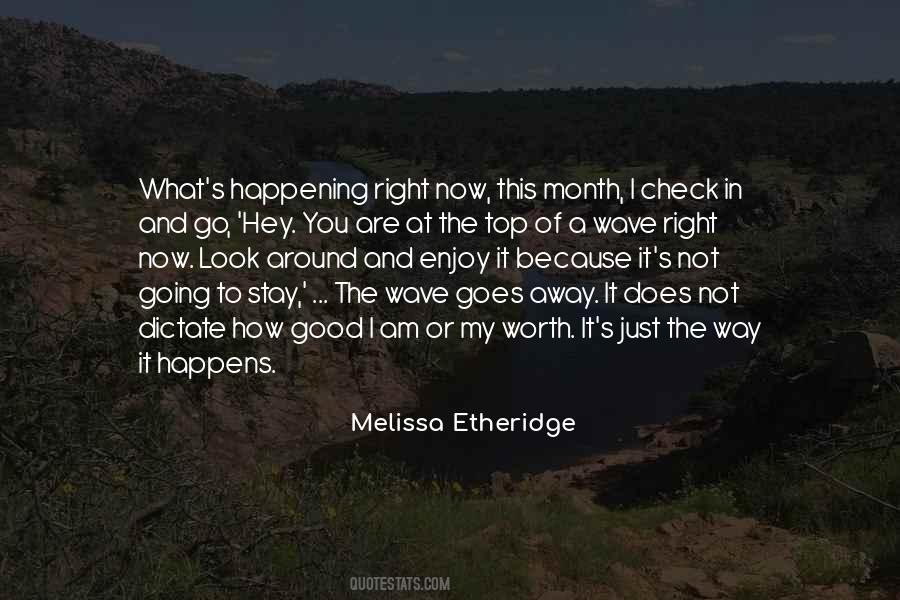 #80. So if there is something on the planet that is worth living for, I'd better not miss it, because once you're dead, it's too late for regrets, and if you die by mistake, that is really, really dumb. - Author: Muriel Barbery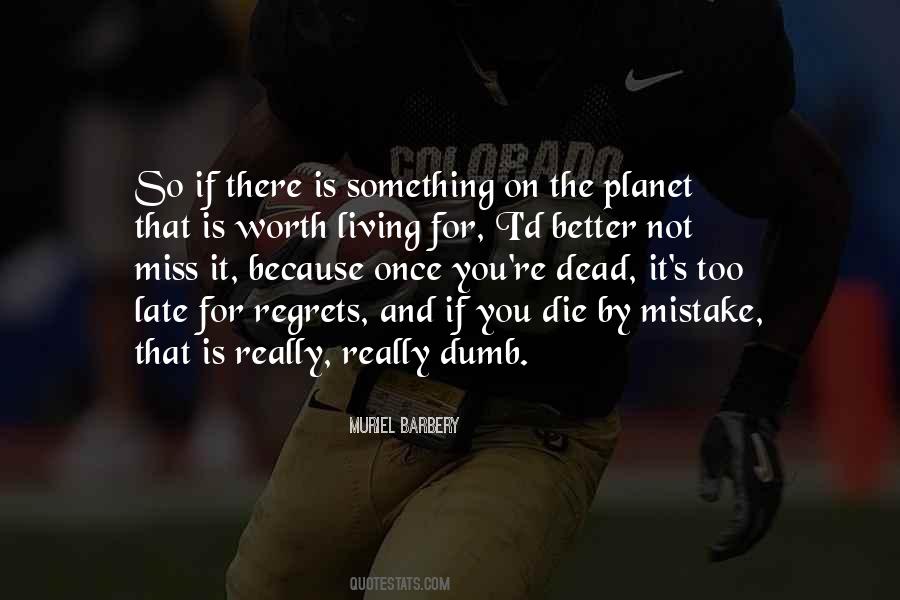 #81. I have no idea why you tried so hard to save me," I murmured into her hair. "But I'll be forever grateful you did."
Smiling at me, she just said, "It's because you're worth it. - Author: Linda Kage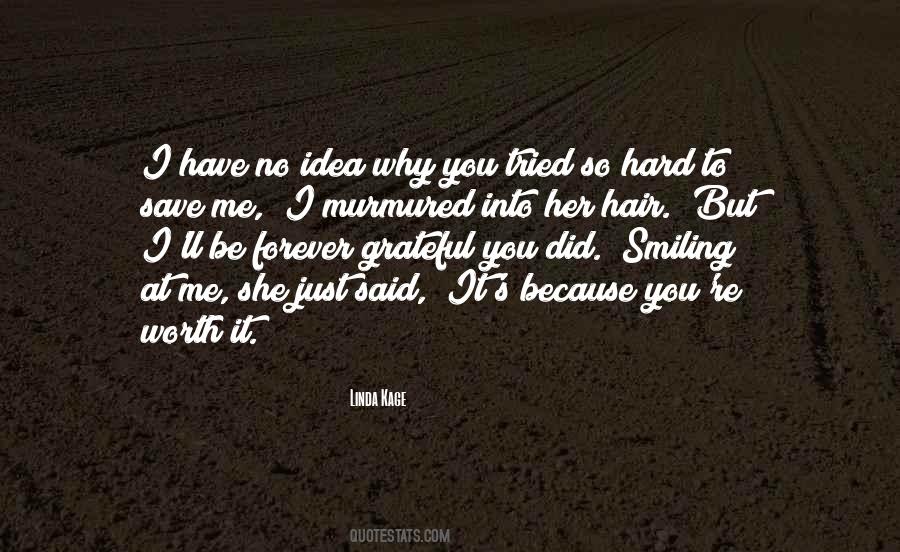 #82. Making those CDs, signing them, numbering them, packing them. It takes hundreds of hours, but it's worth it because I'm able to do the thing I love. - Author: Michael Gira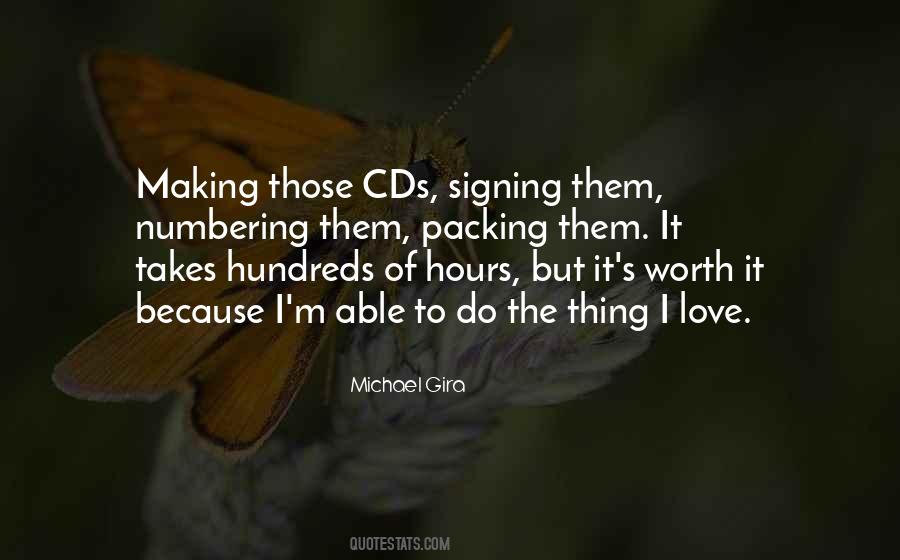 #83. I like alternating commercials with movies, because it keeps the pace up. You can't slack on a commercial. You need to go fast. That's a terrific piece of action, I think if that was scheduled for a movie, you'd put that in for two or three days worth of work. - Author: Paul W. S. Anderson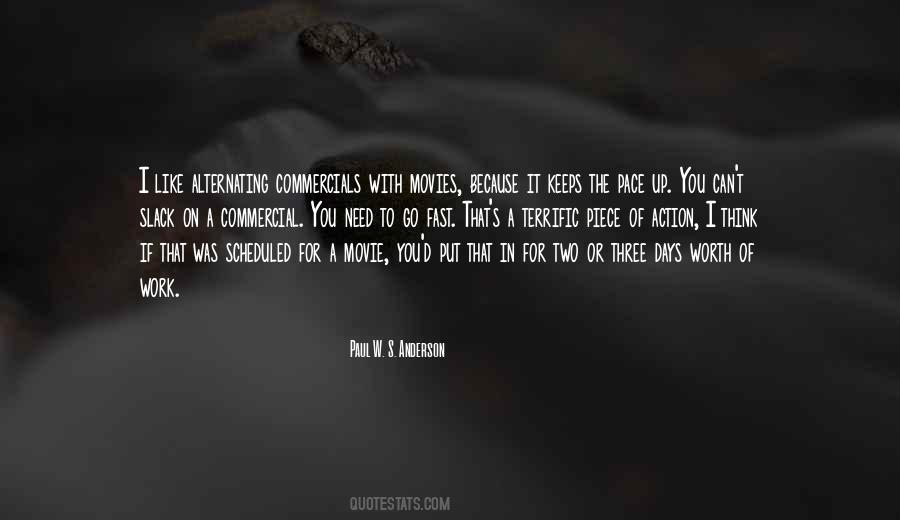 #84. I'm never letting you go again, Tate," I whispered, almost desperate. "I'm your friend forever, and if that's all I get, then that's what I'm taking, because only when you're here" - I took her hand and placed it on my heart - "do I feel like my life is worth a damn. - Author: Penelope Douglas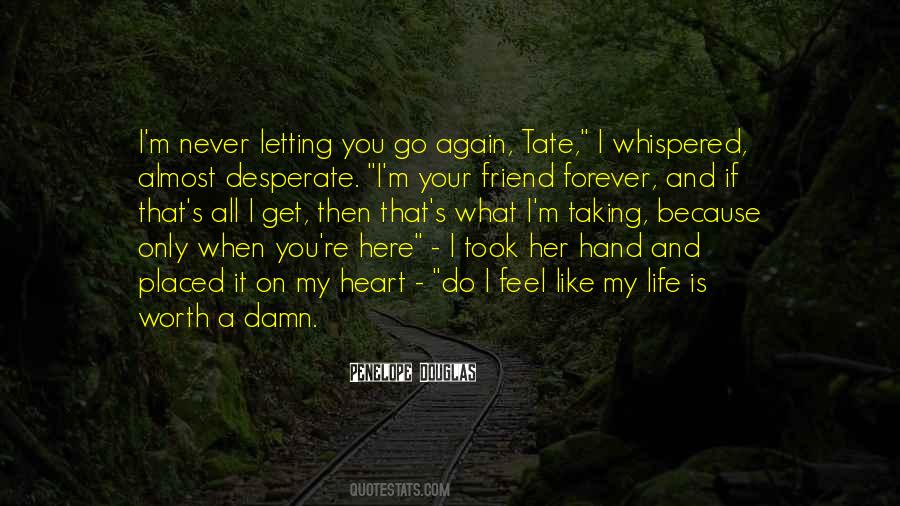 #85. I knew my value because the world seemed to be denying it, and that just made me want to prove it even more. - Author: A.J. Mendez Brooks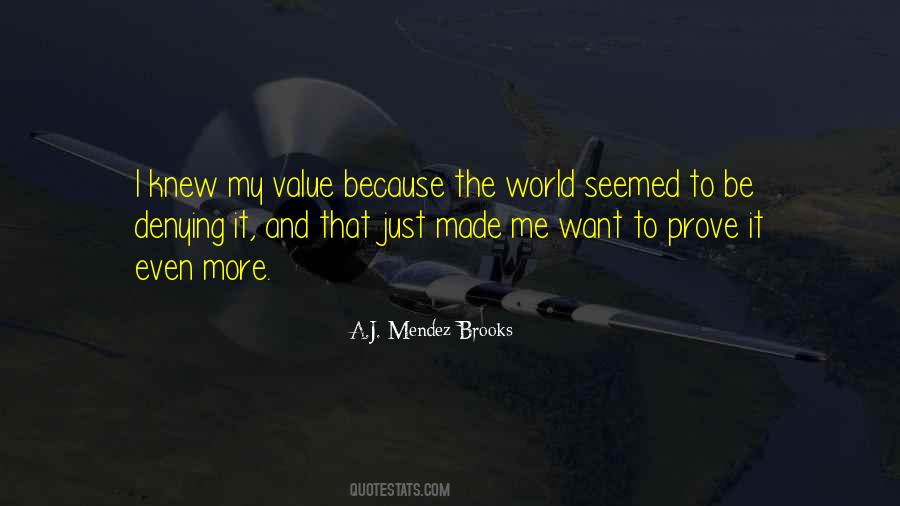 #86. I really believe that a lawyer - no matter how good - if he or she is really worth their weight in salt, they will lose some cases because, after all, it is not really one of those secretive things that not everything is decided by who your lawyer is. - Author: Floyd Abrams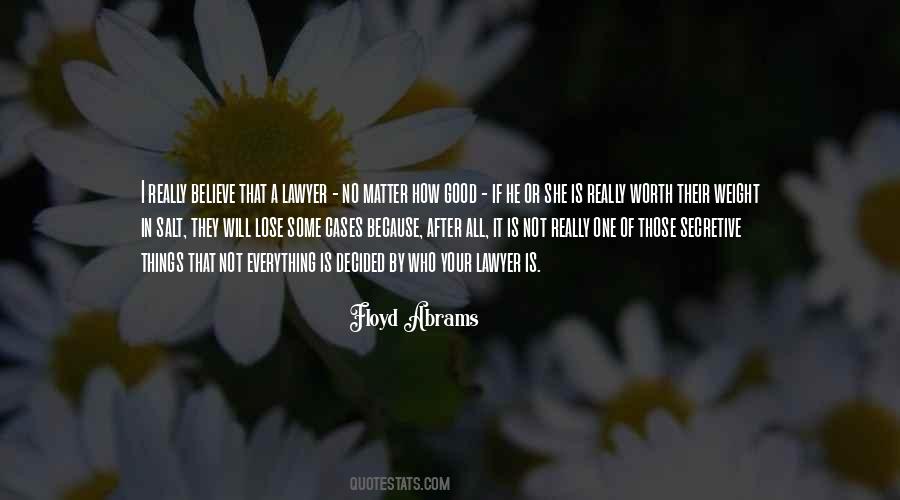 #87. Fatherhood means a great deal to me. I love it. To me, there aint nothing better, because your kids keep it real with you. When you think things are bad, you look at them and they show you how things could be all right, and it's all worth it. - Author: Martin Lawrence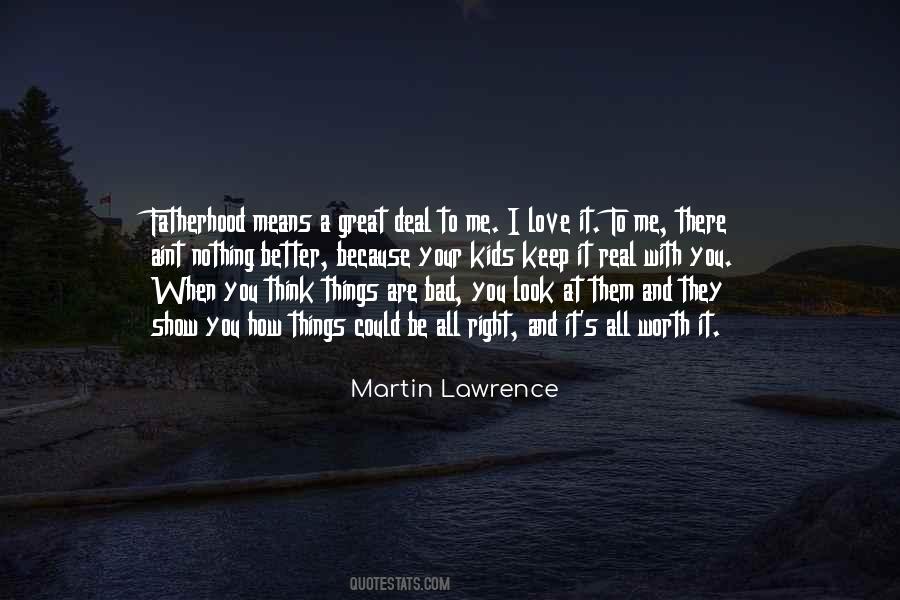 #88. I have finally figured out the meaning of life: there's no such thing. And that's a beautiful thing, because that means that WE get to choose it ourselves. Life has no meaning besides the meaning you give it. You are indeed the author of your destiny. So why not write a book worth reading? - Author: Dean Bokhari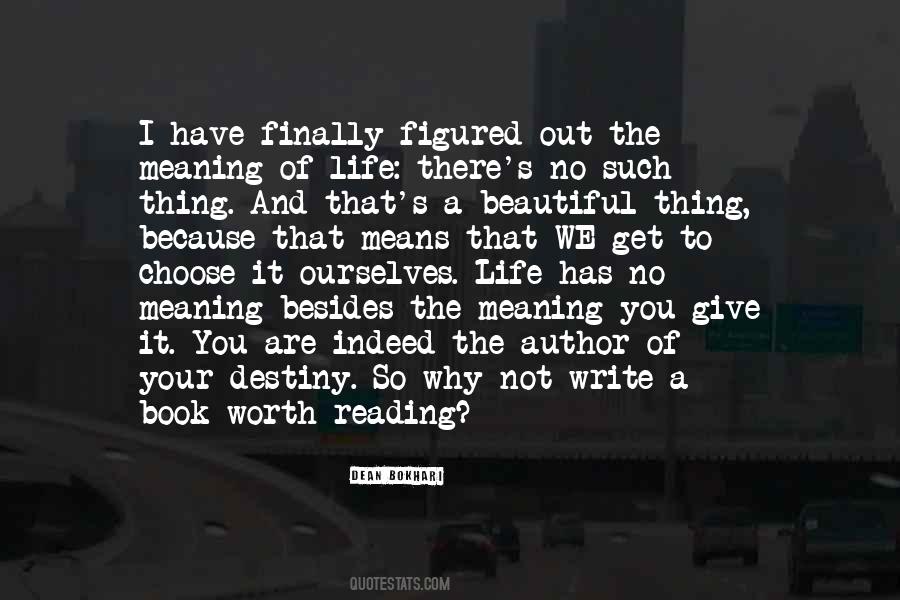 #89. I don't care anymore. Even if she never speaks to me again because of the press, she's worth it. She makes me a person, not just a wish granter. - Author: Jackson Pearce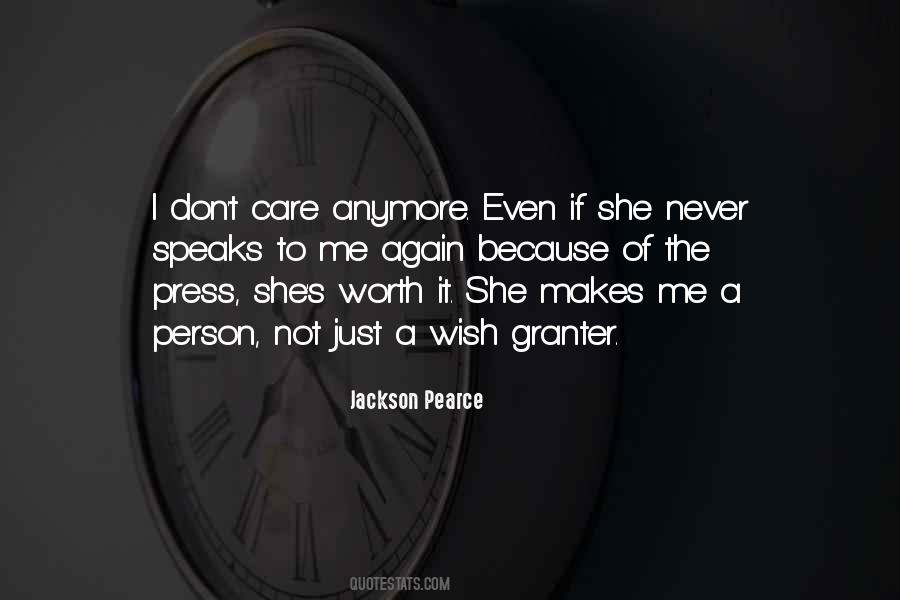 #90. I didn't want him to know that I thought it was worth it, that pain, that humiliation, it was worth it, and even if I had been killed it would have been worth it, because, if only for a night, I'd fallen in love. - Author: Kendall Kulper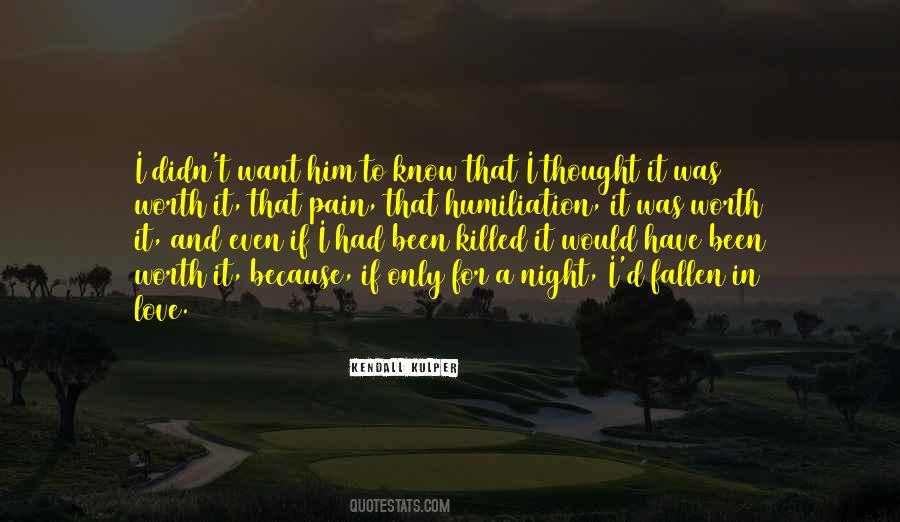 #91. I'm a very melody-driven writer and I have a rule that I don't write anything down because if I can't remember the melody than it wasn't worth remembering. So it's my way to test myself in the studio. When I was a kid I could sing pretty well so melody always made a lot of sense to me. - Author: Justin Timberlake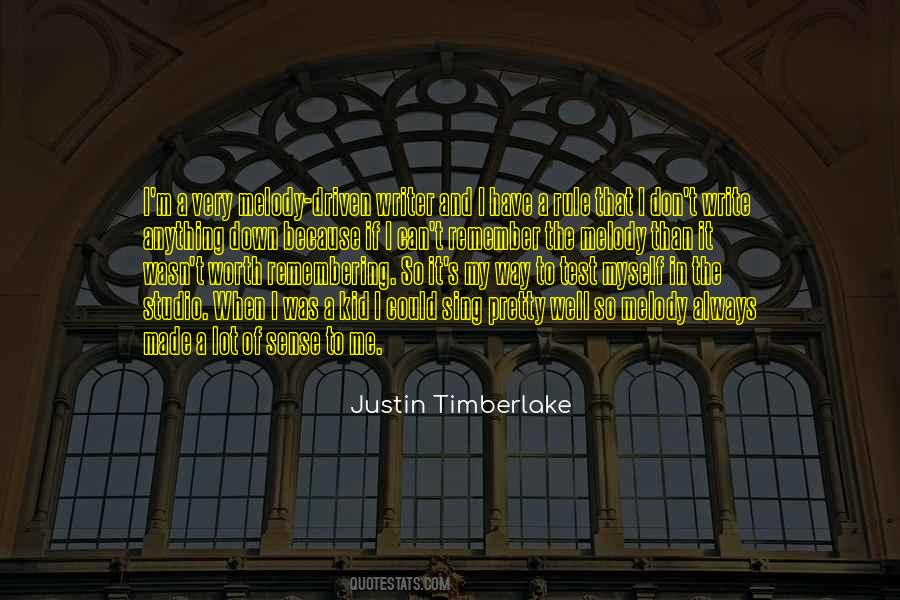 #92. I love basketball and I'm committed to it, but if I have to lock up my spirit because of basketball, it ain't worth it. - Author: Steve Nash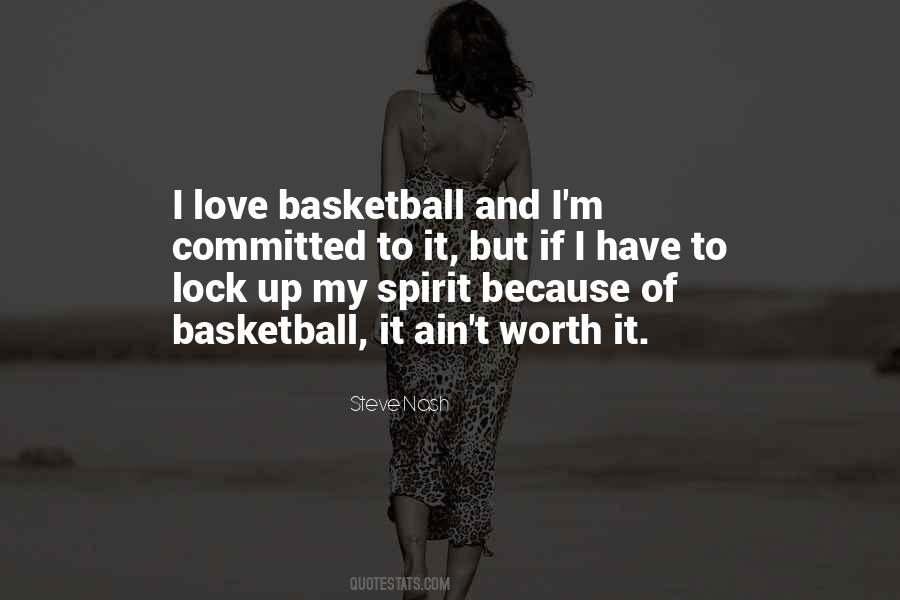 #93. Do you love her?"
"Yeah."
"And that's a bad thing?"
"Because relationships end."
"What?"
"If I don't tell Aly how I feel, we'll stay friends. I can handle that. Friendship is real. It lasts, and it's safe."
"Loving someone, being loved ... it's worth the pain of losing them. - Author: Rachel Harris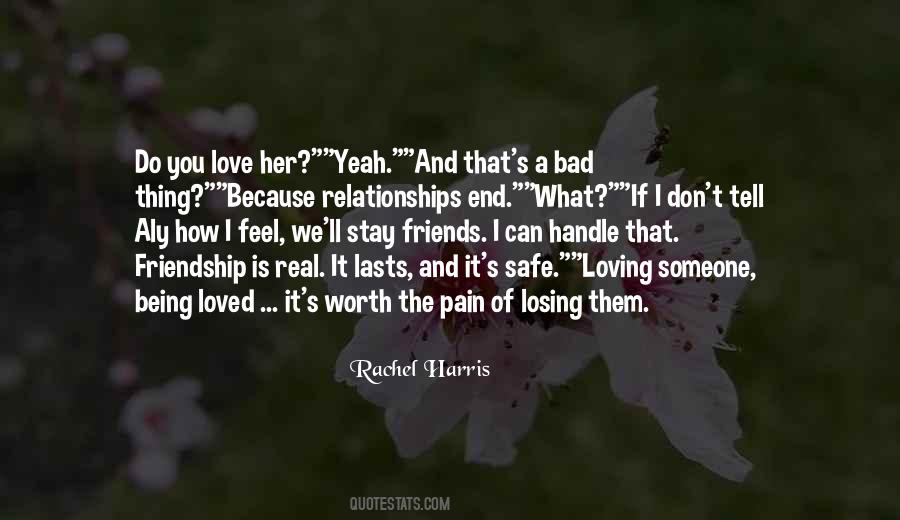 #94. I don't judge my self-worth as a football player. Football is something I love. It's a fun career deal, but it's not what I want to do with my life, because I see football as a game. - Author: Tim Tebow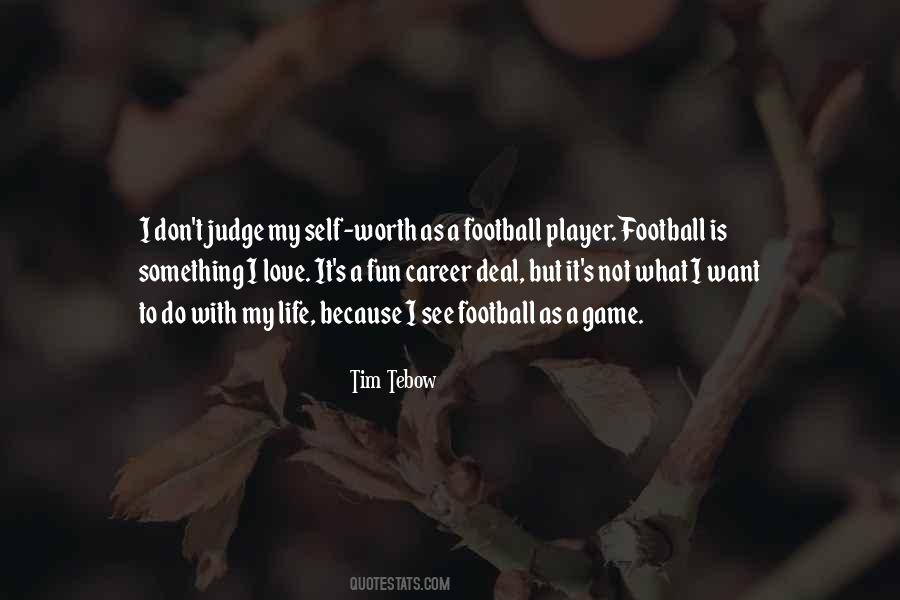 #95. As an aside, Hop got gold stars because he had buttermilk available for pancakes. These stars started shining when he told me pancakes weren't worth making without buttermilk and, since this was the God's honest truth, I took it as happy indication that Hopper Kincaid and I might just be soul mates. - Author: Kristen Ashley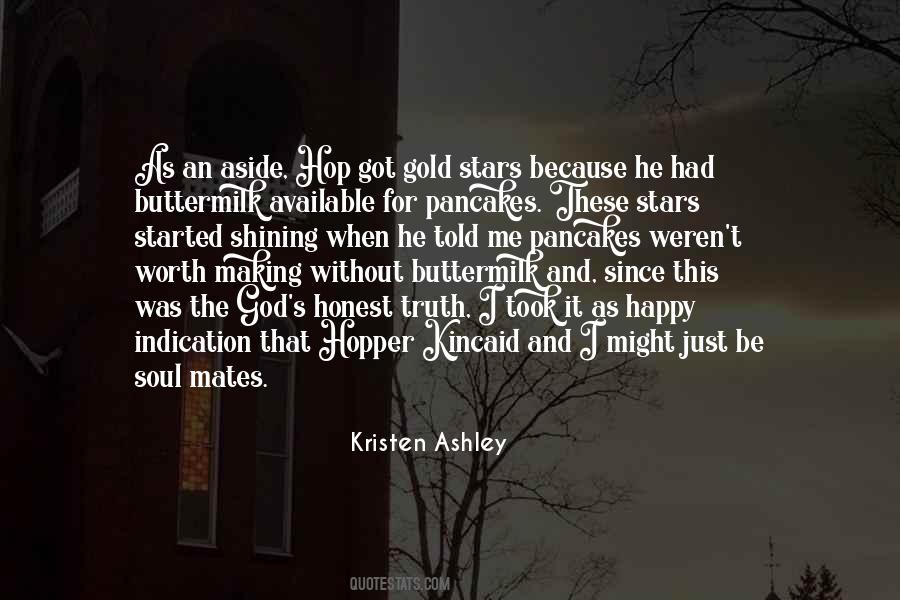 #96. It is worth taking the leap for something you have always wanted to do because until you try you'll never know. Through the experiences I have had and the risks I have taken, I have gained courage and confidence. I didn't start with the courage and confidence. I started with the risk. - Author: Laura Davies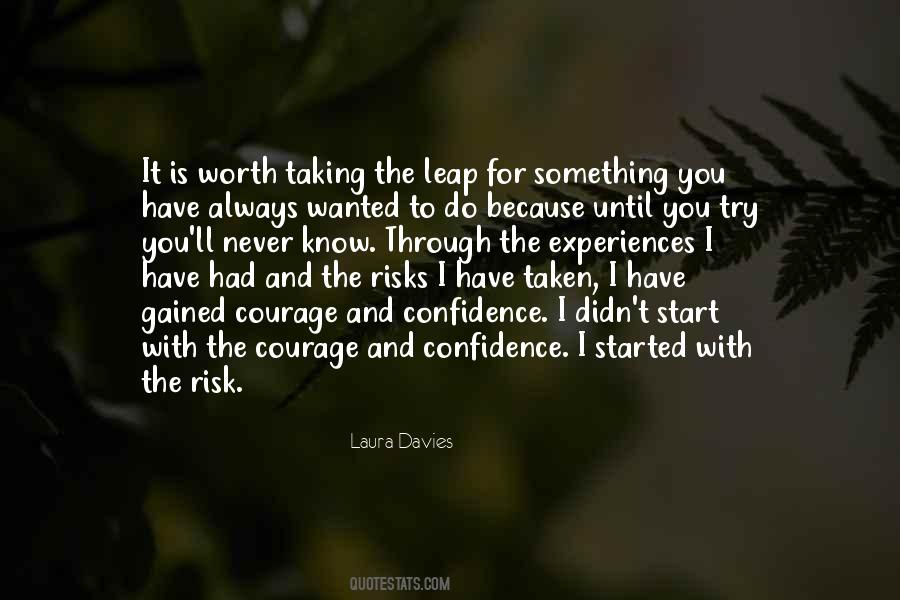 #97. The minute your parents die, you stop fighting them. I realized the more I changed my face for films, the more I looked like him. I always liked to disguise myself because I was trying to run away from his image. But all that is not worth it. - Author: Vincent Cassel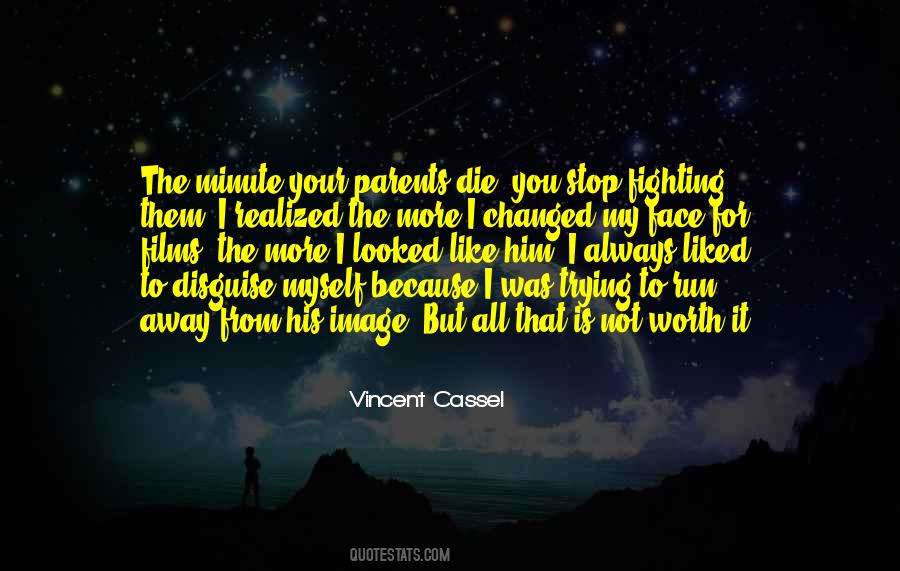 #98. I wanted to play Dracula because I wanted to say: 'I've crossed oceans of time to find you.' It was worth playing the role just to say that line. - Author: Gary Oldman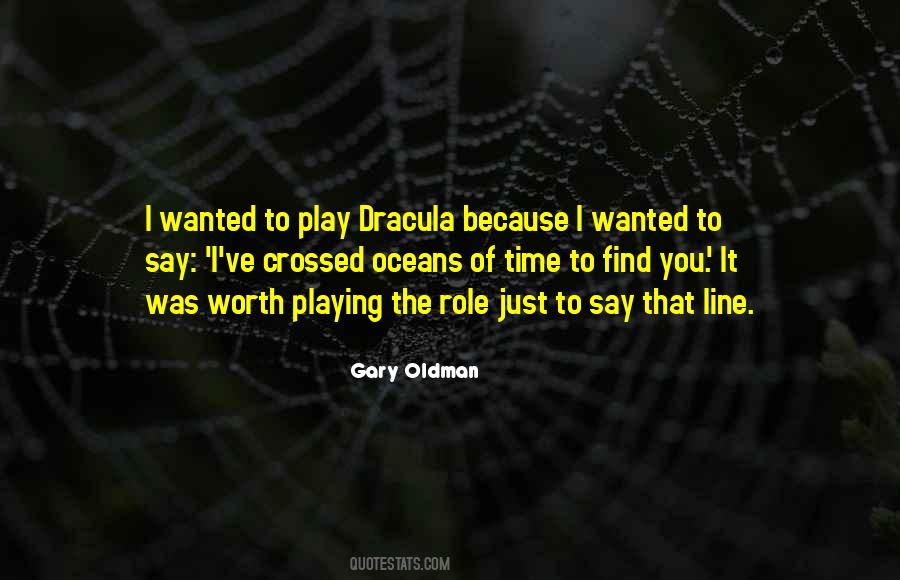 #99. I think love is one of those things that it's only really bad because it was once good. You can't miss something that was never amazing. So, what I've learned is that even if it ends badly, it's worth it if it made you feel something, if it taught you something. - Author: Taylor Swift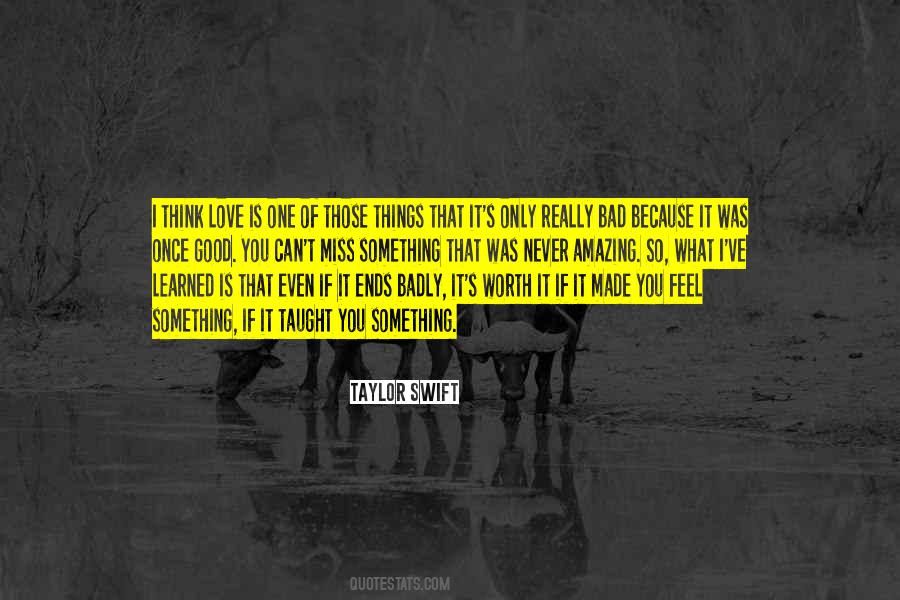 #100. In the complete overall history of tennis, I figure I'll be worth a sentence or two ... That's why my place in the all-time rankings means so very little to me, because I know I won't be anybody's number one, and it's that same old thing: if you're not number one, then what does it really matter? - Author: Billie Jean King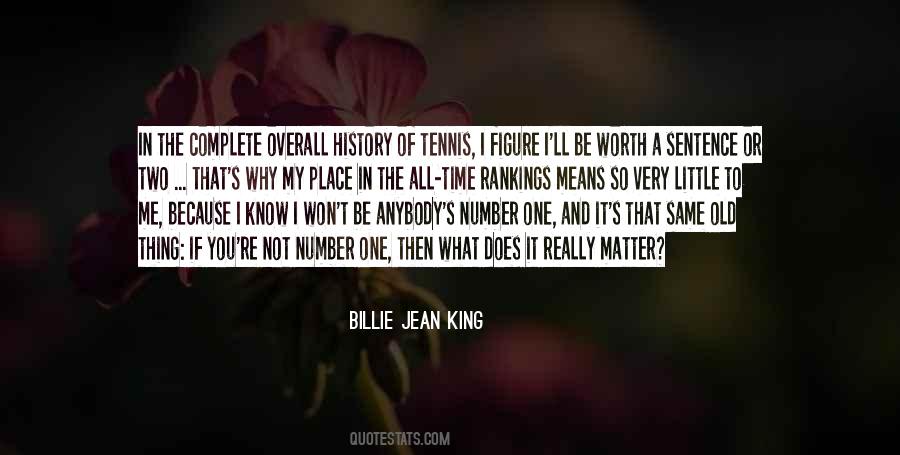 Famous Authors
Popular Topics