Be Grateful Famous Quotes & Sayings
List of top 100 famous quotes and sayings about be grateful to read and share with friends on your Facebook, Twitter, blogs.
Top 100 Be Grateful Quotes
#1. You forget that you do choose your life and there are so many things to be grateful for and I feel like society has gotten to that point where we're always looking for the next and the better and we lose sight of what's actually in front of us. - Author: Shailene Woodley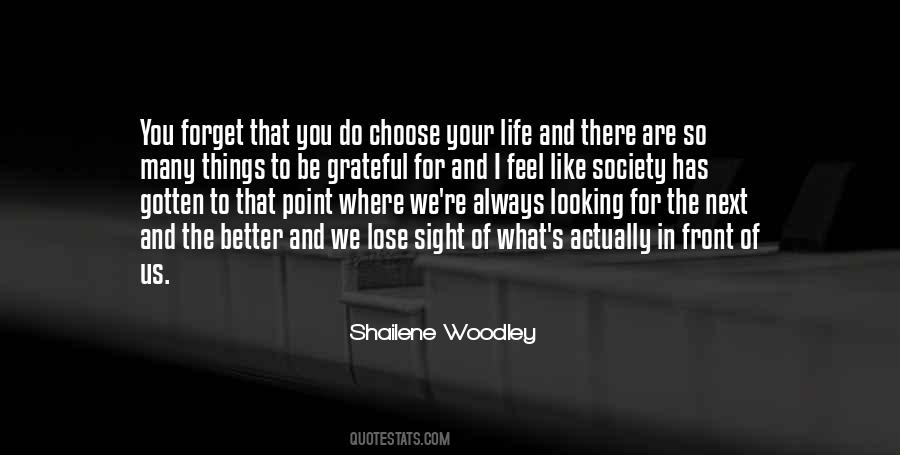 #2. Gratitude is the antidote for misery. When you are counting your blessings you are too busy to be counting your problems. - Author: Miya Yamanouchi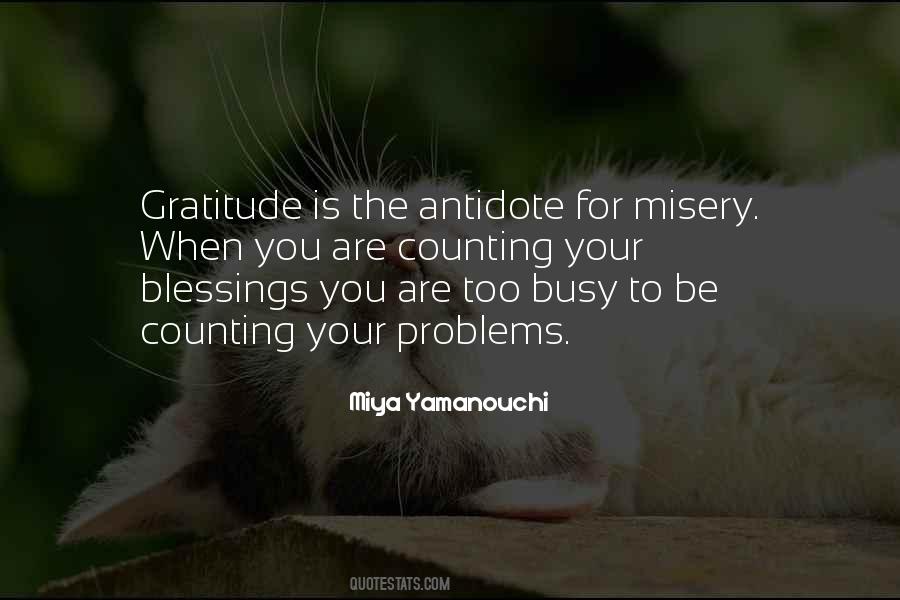 #3. Have a grateful heart to be happy. - Author: H. Jackson Brown Jr.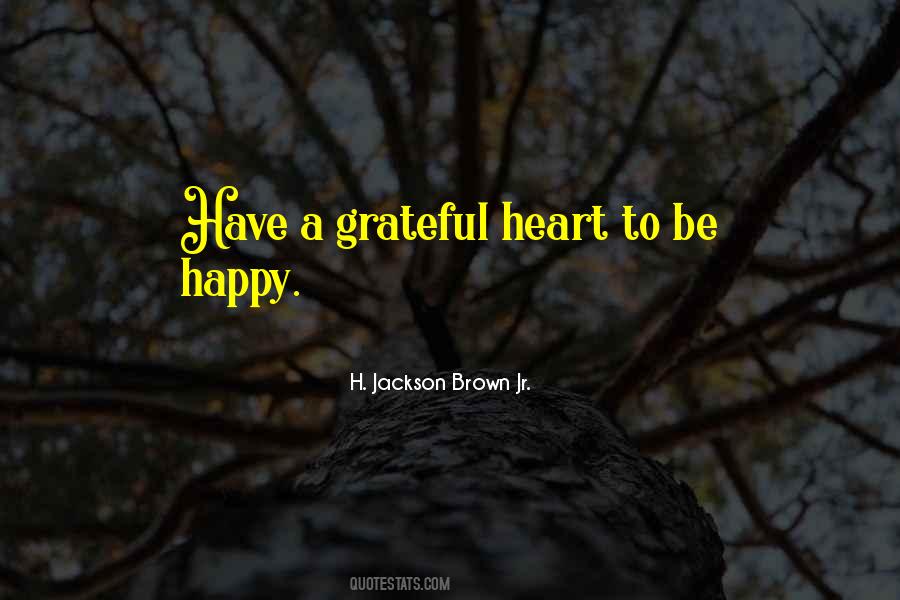 #4. 5. Your kids will be so grateful if you label and organize your photos now and if you stick a note on keepsakes explaining their significance. We settle a lot of estates, and it's frustrating to the next generation when they don't understand why something was left to them. - Author: Anonymous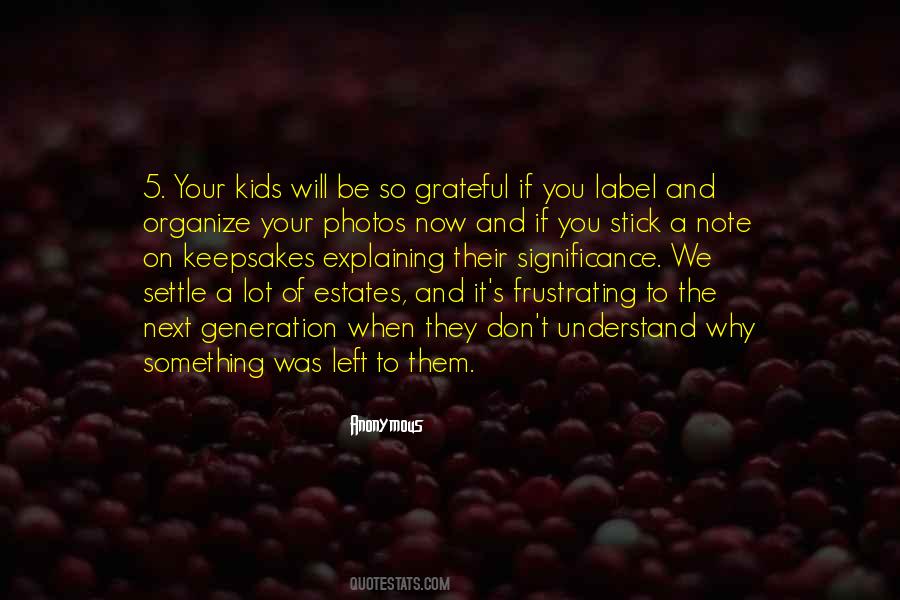 #5. Life on the farm had fed his soul since he was a child. he was ever grateful to Gott for giving him a chance to work the land and live by the seasons. It was a good life...but a lonely one for a man his age, a man too old to be living with his family. - Author: Rosalind Lauer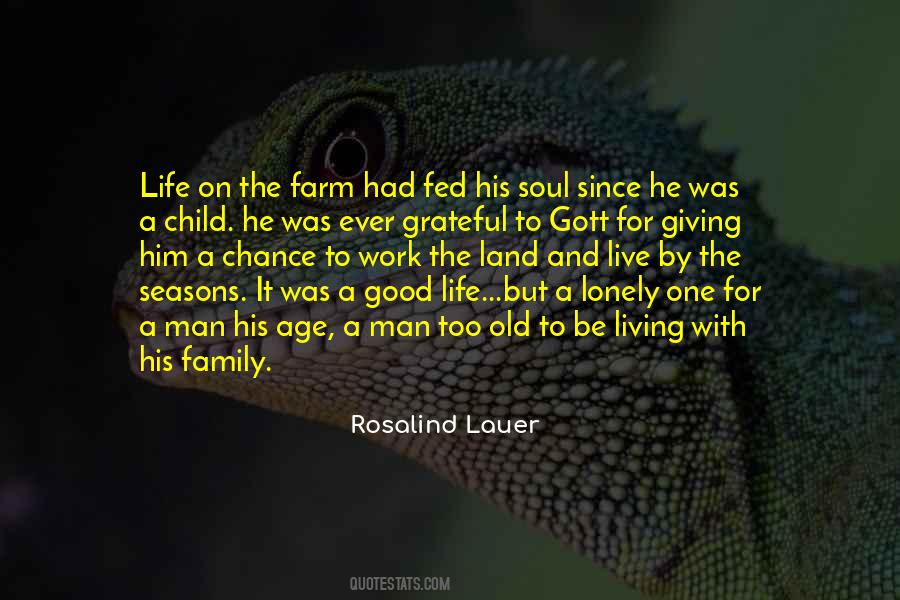 #6. Let us be grateful to the people who make us happy; they are the charming gardeners who make our souls blossom. - Author: Marcel Proust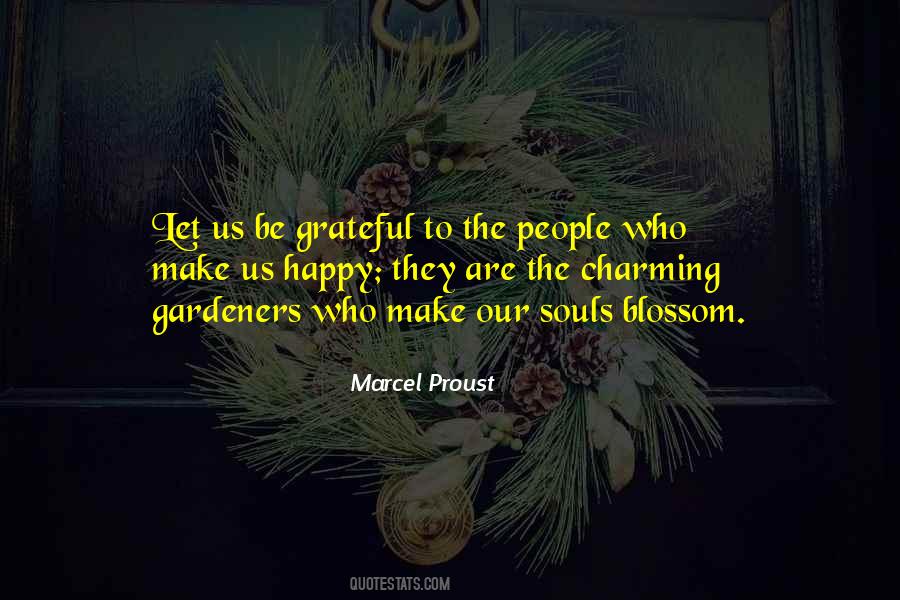 #7. We think we have to do something to be grateful or something has to be done in order for us to be grateful, when gratitude is a state of being. - Author: Iyanla Vanzant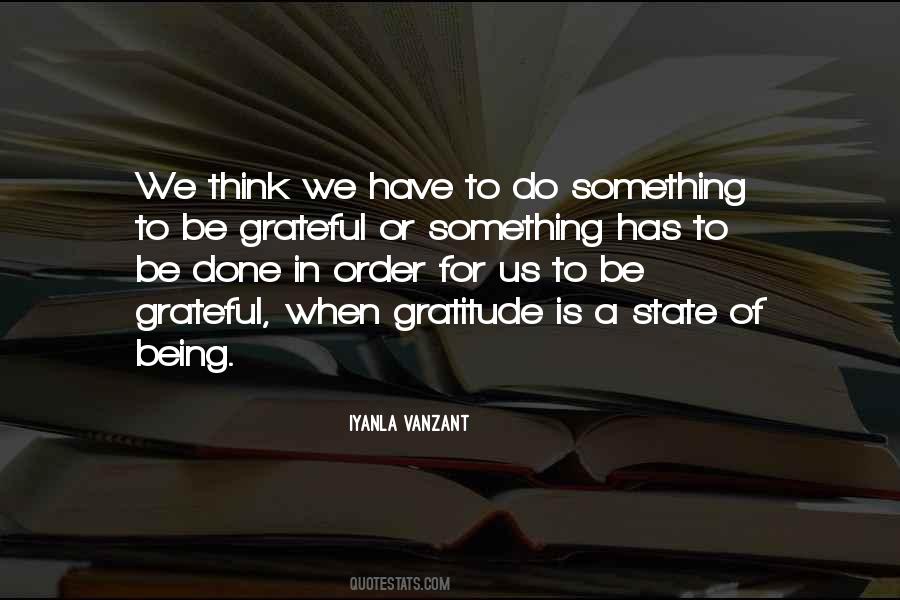 #8. Aristotle Onassis rescued me at a moment when my life was engulfed with shadows. He brought me into a world where one could find both happiness and love. We lived through many beautiful experiences together which cannot be forgotten, and for which I will be eternally grateful. - Author: Jackie Kennedy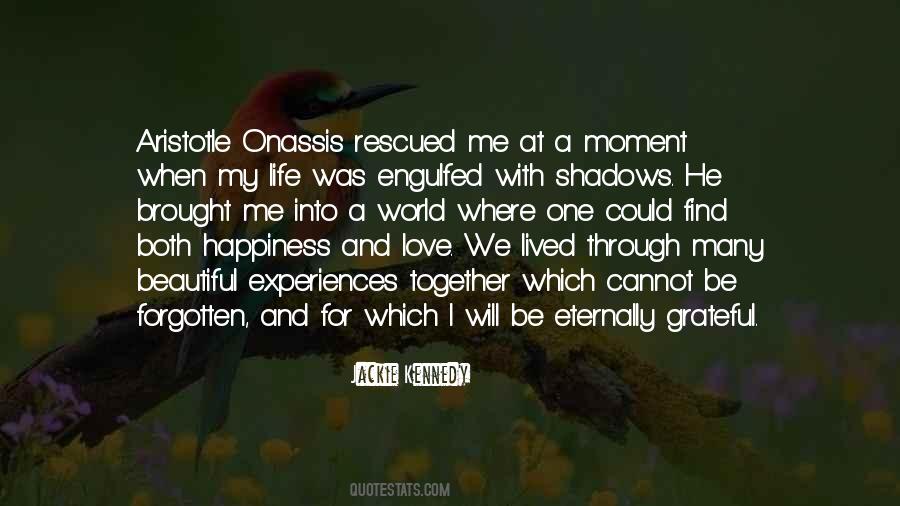 #9. It's funny - when I first started as an actor, obviously there were long periods of being idle and all you want to do is work. So if I ever get the compulsion to feel like I should complain or feel like I want to take a break, I just remember how I was before and be very grateful for it. - Author: Neil Jackson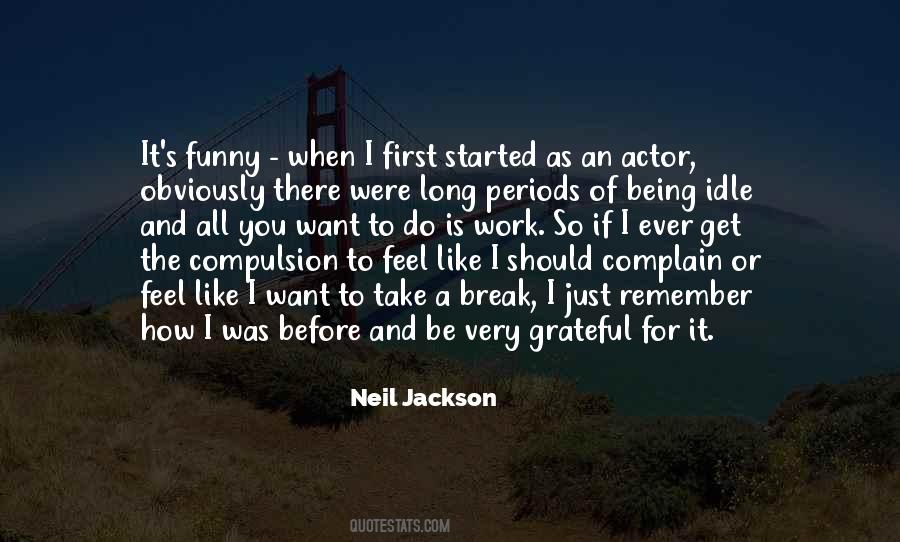 #10. I'm grateful to be working. The most exciting thing for me is that I never get bored - I've done comedy, drama, musical theatre and now Shakespeare. - Author: Sheridan Smith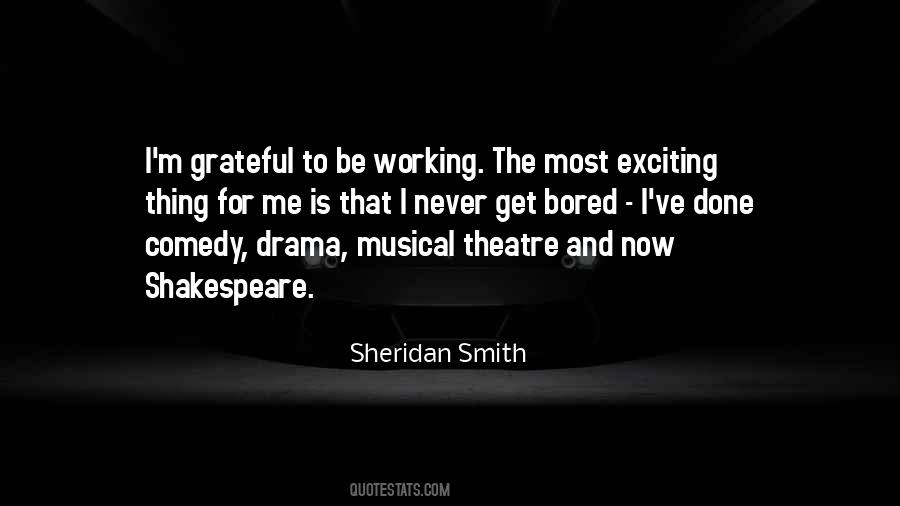 #11. I really enjoy what I do, and I'm very grateful to be given an opportunity to do it. That's one thing that people can say about me. - Author: Walton Goggins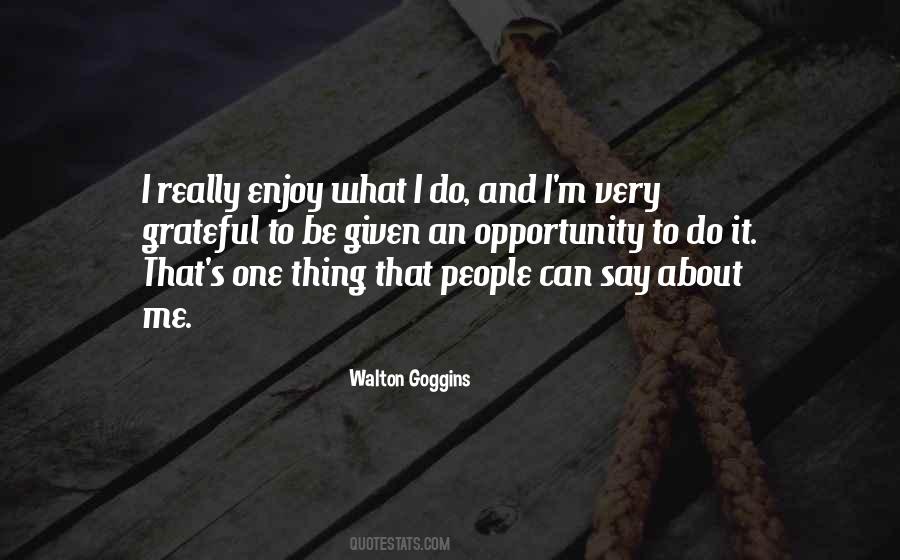 #12. Gratitude is like a magnet; the more grateful you are, the more you will receive to be grateful for. - Author: Iyanla Vanzant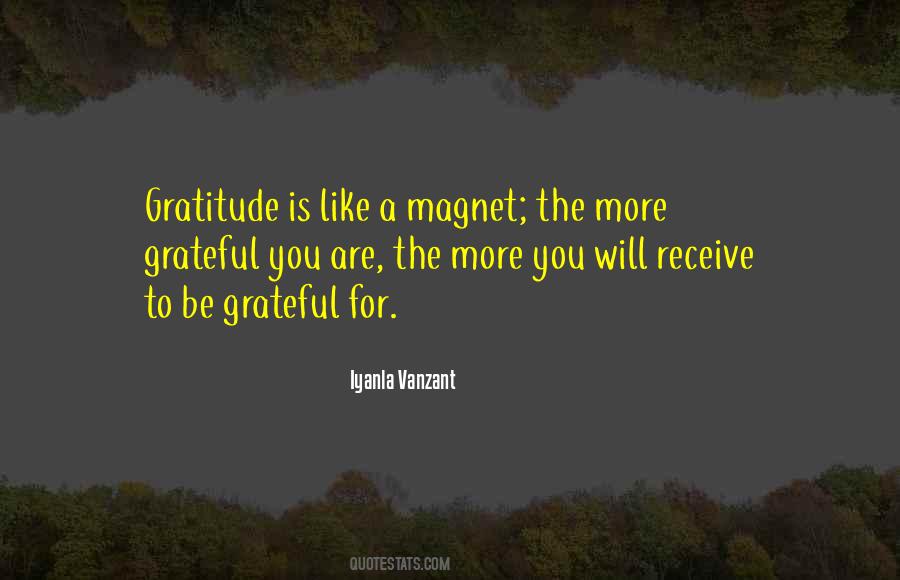 #13. Her mother began to pick apart the toilet paper covering her gift. 'I suppose, she said brightly, 'we should be grateful this hasn't been used before as well! - Author: Wendy Holden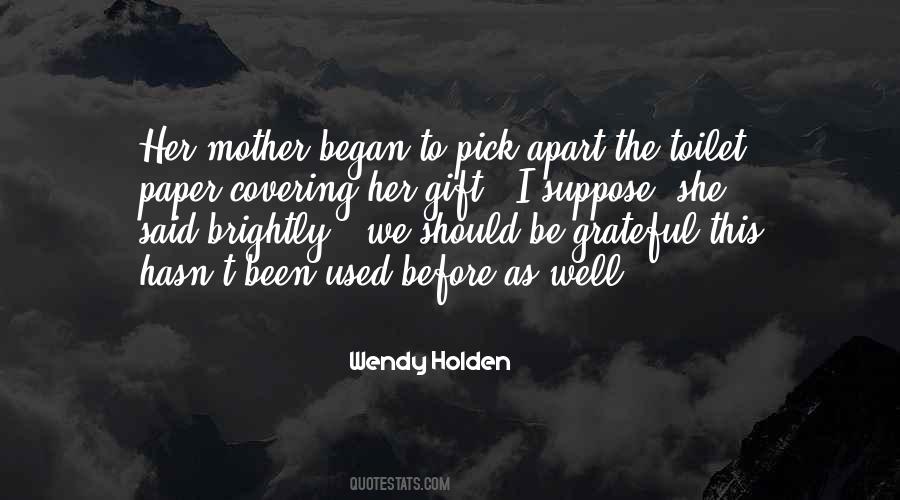 #14. Growing old is God's privilege to you ... you only can be compared to any antique and old wine ... antiques are expensive and old wines taste best ... above all, it beats the alternative
DYING YOUNG. So cheer up and be grateful that God is giving you that privilege. - Author: Peekey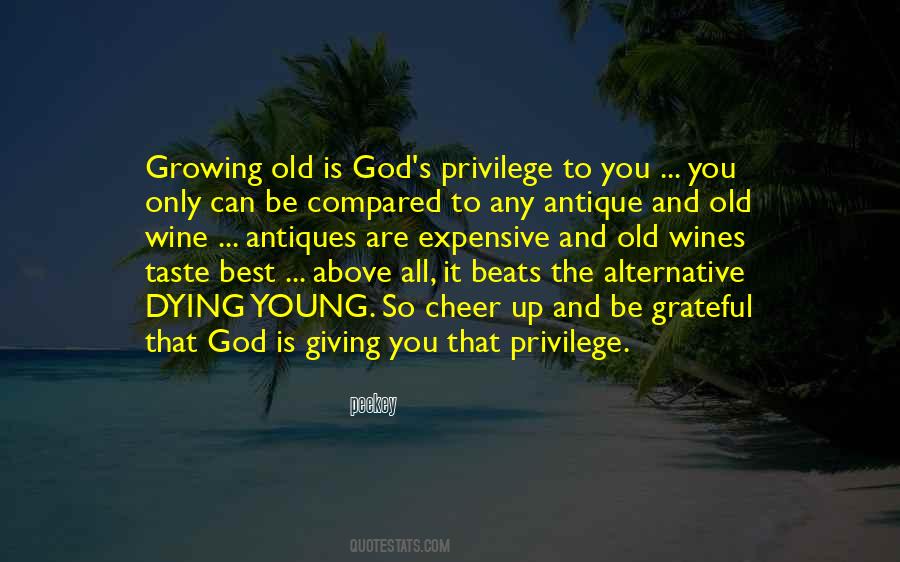 #15. There is a need to be grateful for whatever you may have. - Author: Steven Redhead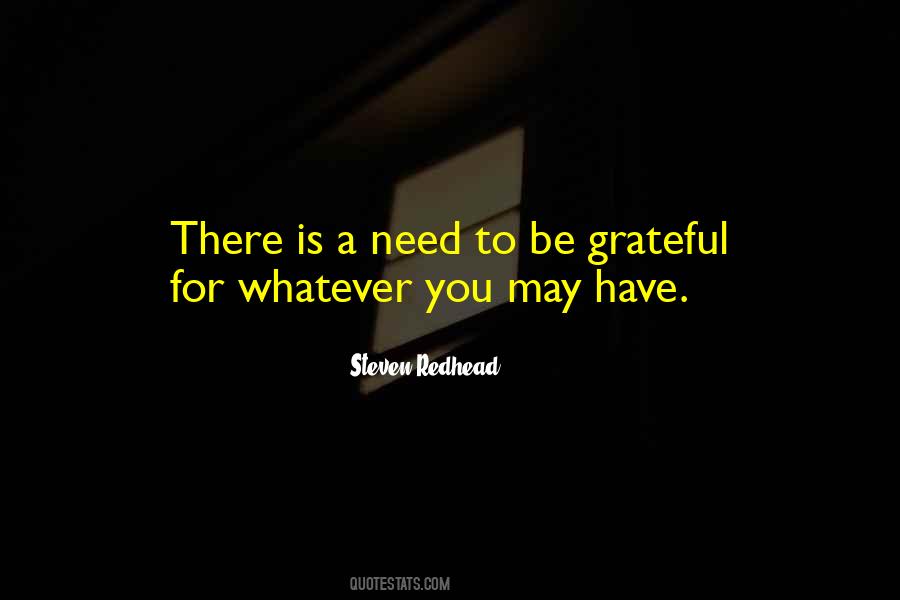 #16. Be grateful for each moment we have and be happy, but more than anything live it fully. - Author: Valerie Harper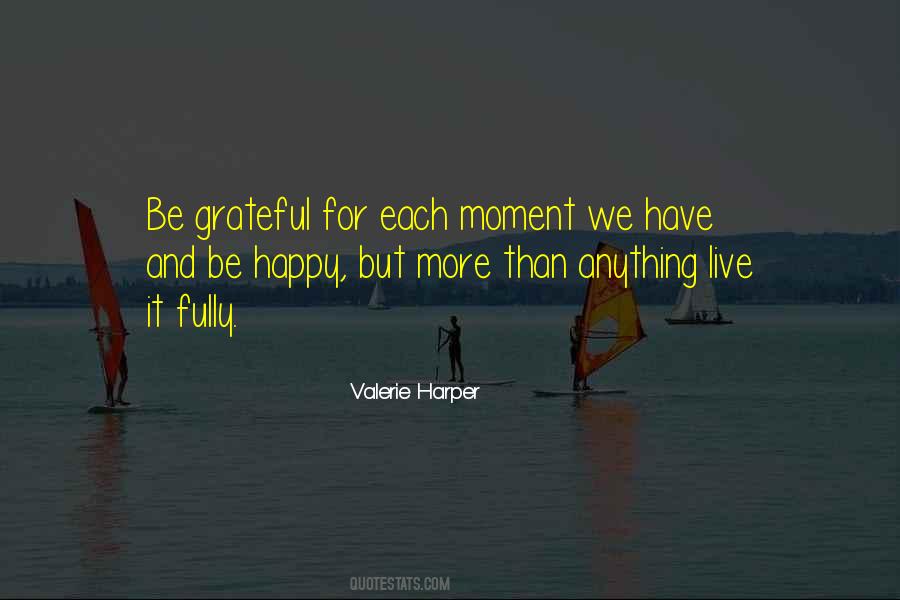 #17. I was sitting in a caf in London with my husband and baby daughter when my phone rang with the news! I feel so incredibly lucky and honored to be nominated, and so grateful to be part of the family that is The Killing. - Author: Mireille Enos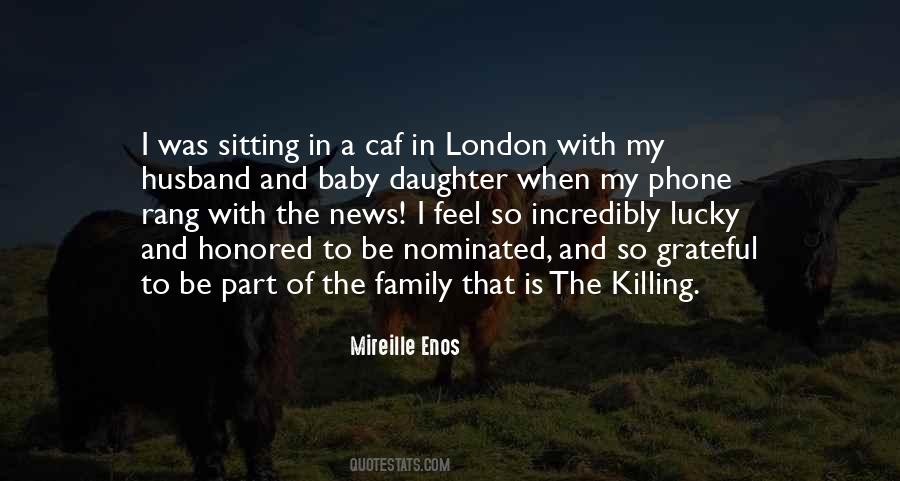 #18. It's Okay," he answered and smiled ironically. "I should be grateful to the knife that's curing me for being so sharp. - Author: Igor Eliseev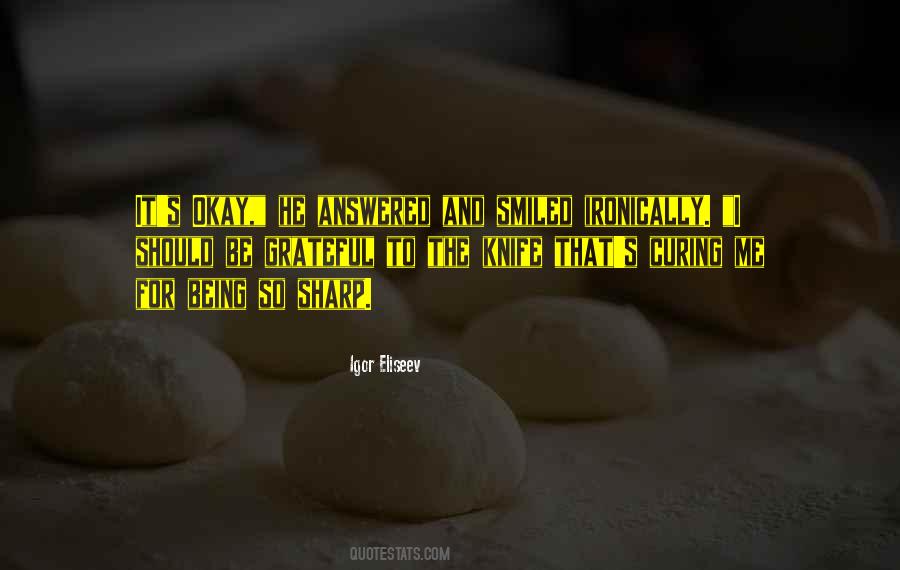 #19. There can be no life which does not contain something to be grateful for, and the habit of gratitude is one of the most powerful assets of success and happiness which can be named. - Author: Orison Swett Marden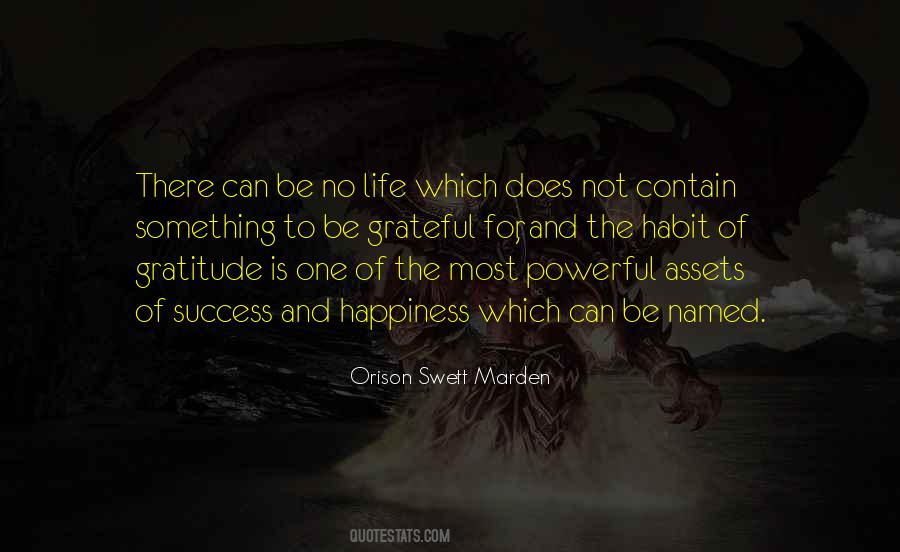 #20. We have all been guilty of complaining, but God does not look at it as lightly as we may think. Complaining was the reason the Jews ended up wandering in the desert for forty years. If we were more grateful for what God has done for us, abasing ourselves would not be a problem. - Author: Monica Johnson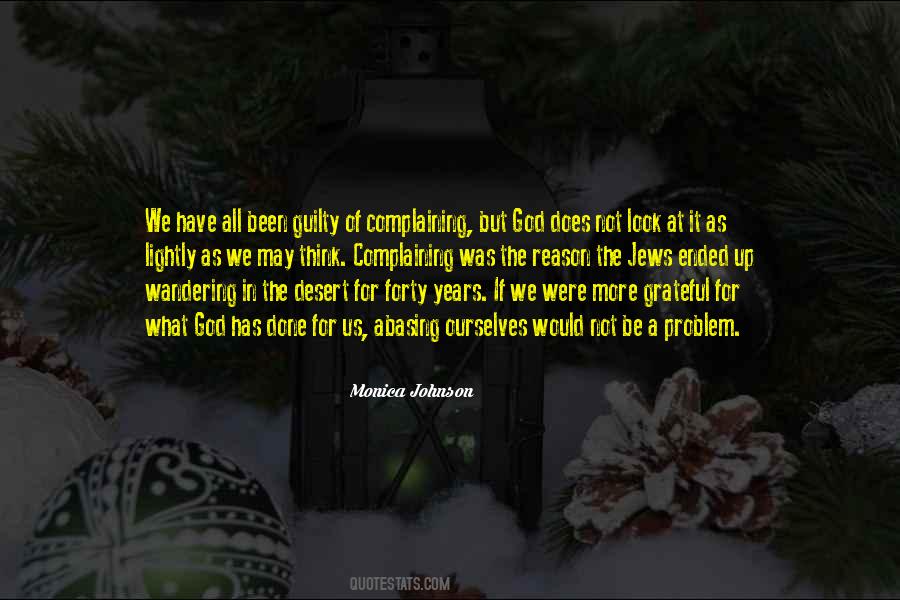 #21. I've always thought that was the lamest argument - that we need some people to be poor in order to remind the rest of us to be grateful. All that really means is that someone has to suffer poverty so other people can feel better about themselves. What a selfish way to look at the world. - Author: Josephine Angelini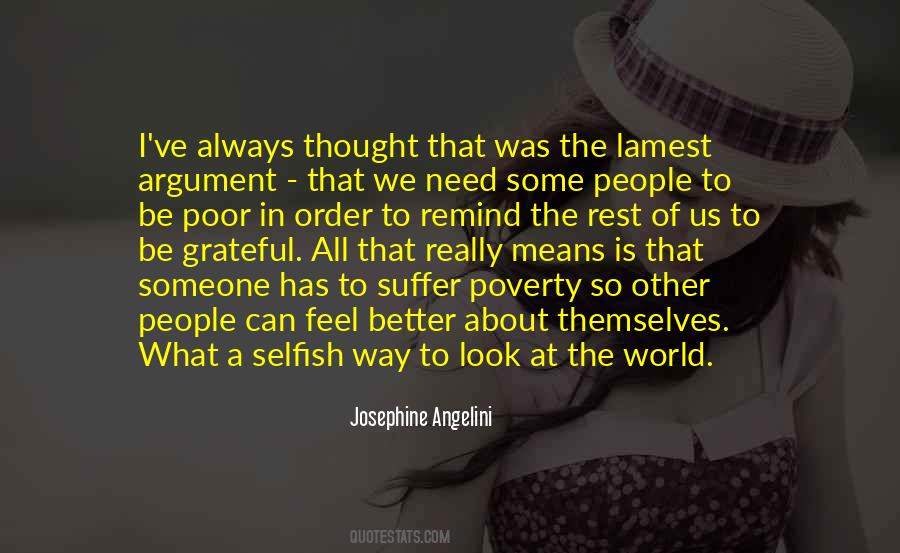 #22. Waking is hard, and waking is glorious. We watch as you stir, then as you stumble out of your beds. We know that gratitude is the last thing on your mind. But you should be grateful. You've made it to another day. - Author: David Levithan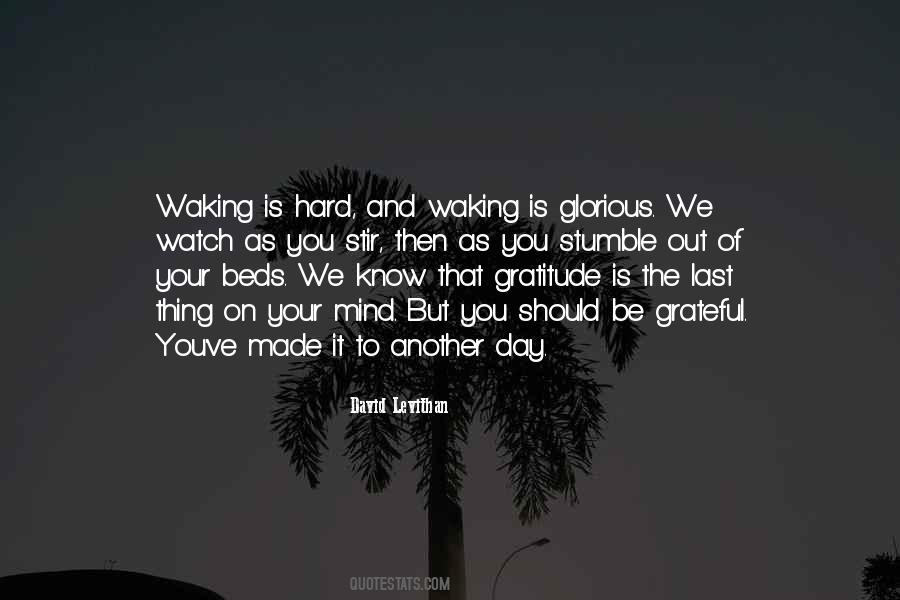 #23. As a mother, I work hard every day and I expect that work to be recognized and appreciated. Because I work for and with human beings, sometimes they're grateful and sometimes they aren't. - Author: Margaret Heffernan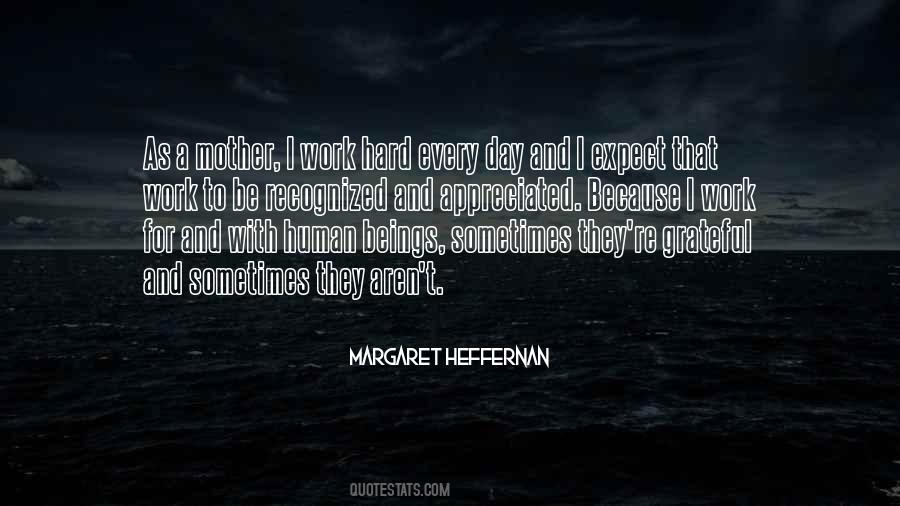 #24. I knew that by this time tomorrow, I was going to be eternally grateful for falling down the stairs and knocking myself unconscious. Smartest dumbest thing I'd ever done. - Author: Erin McCarthy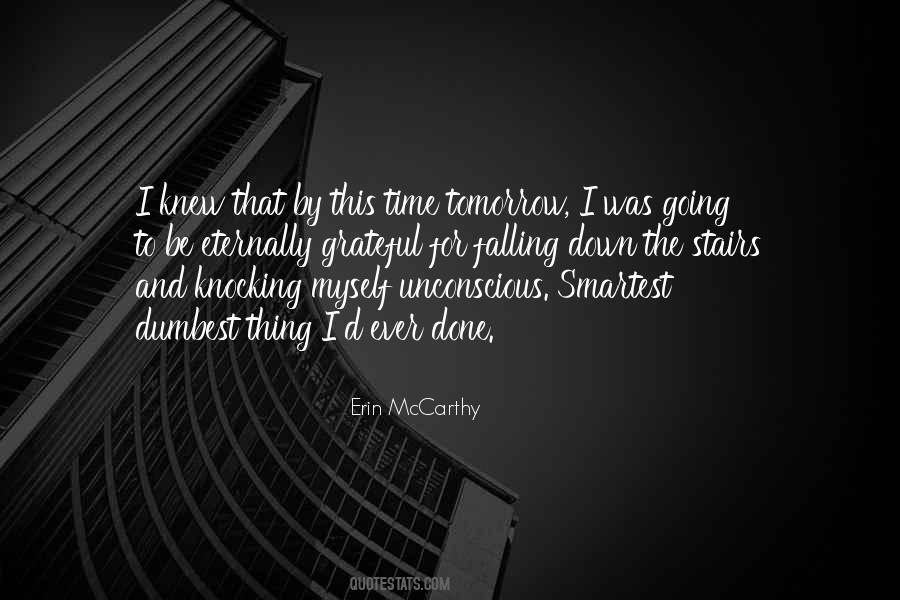 #25. Here's the gift of gratitude: In order to feel it, your ego has to take a backseat. What shows up in its place is greater compassion and understanding. Instead of being frustrated, you choose appreciation. And the more grateful you become , the more you have to be grateful for. - Author: Oprah Winfrey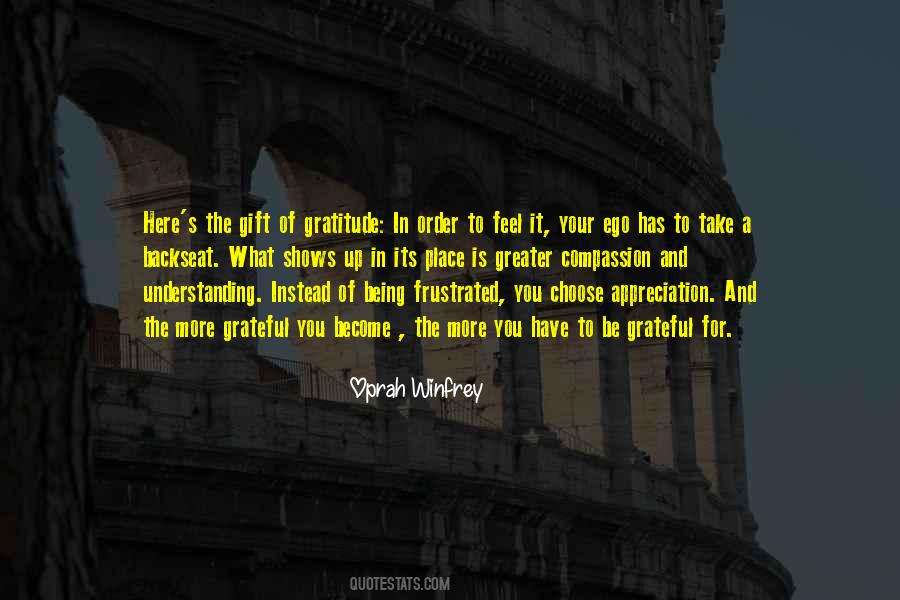 #26. You have to be grateful whenever you get to someplace safe and okay, even if it turns out it wasn't quite where you were heading. - Author: Anne Lamott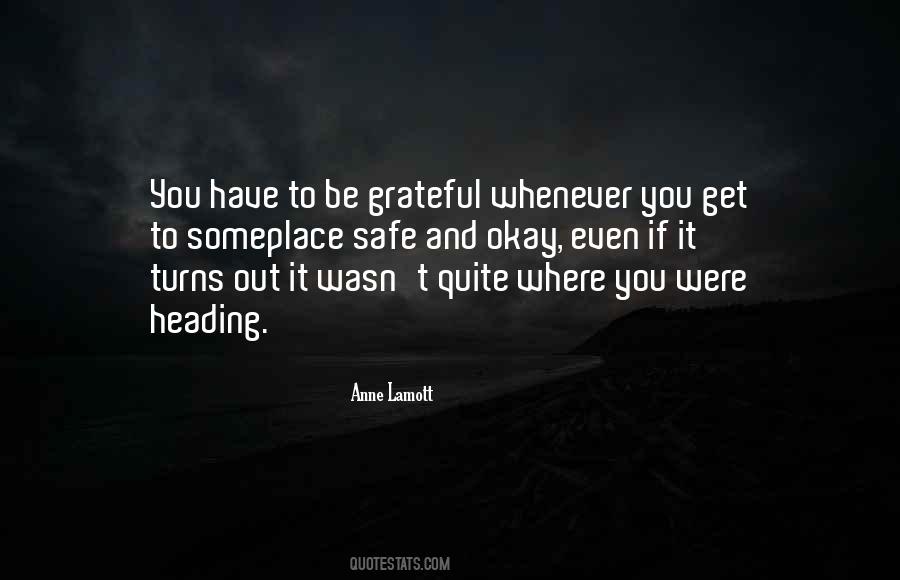 #27. Be grateful for holiness when you find it among churchmen, but do not expect it. As Flannery O'Connor wrote, "All human nature vigorously resists grace because grace changes us and the change is painful. Priests resist it as well as others. - Author: Rod Dreher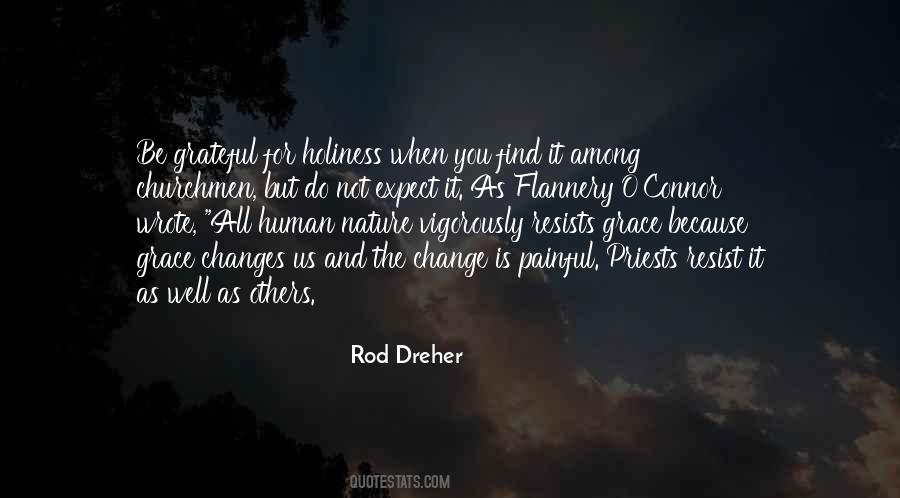 #28. The two men brushed shoulders in passing, in what Sophia assumed qualified as an acceptably masculine substitute for an embrace. How grateful she was to be female. - Author: Tessa Dare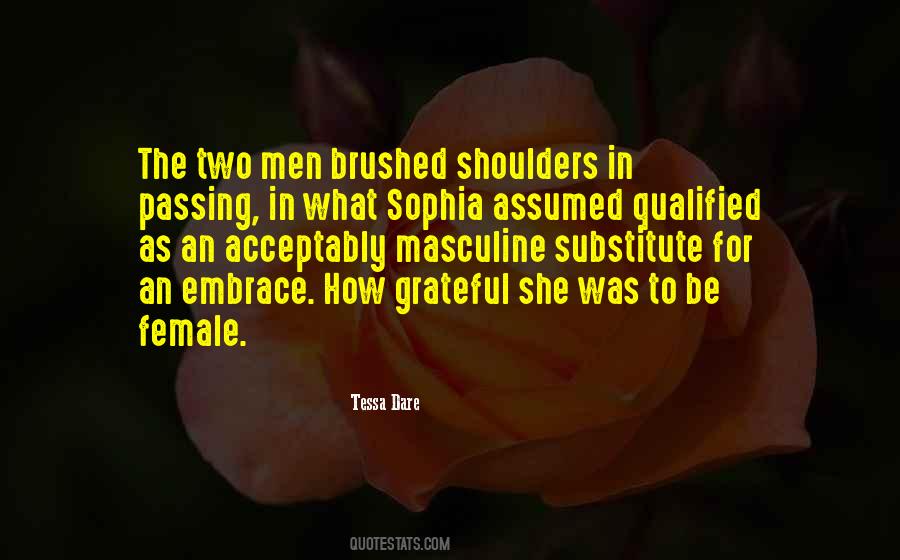 #29. As actors, we're all encouraged to feel that each job is the last job. They plant some little electrode in your head at an early stage and you think, 'Be grateful, be grateful, be grateful.' - Author: Daniel Day-Lewis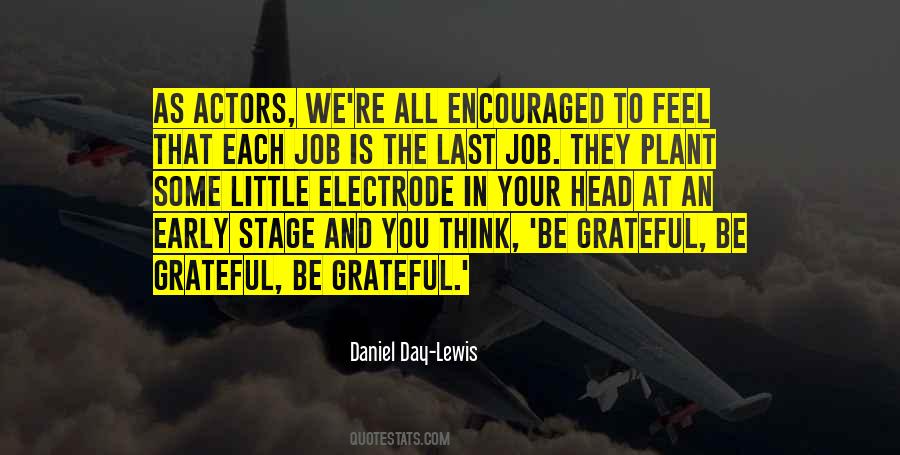 #30. When we're talking about feminism, I get sort of lost in the argument. Because as a woman of color, I don't know where I belong in this argument. Where do I say, 'I would be happy to have less money'? How do you fight for your rights when I'm super-grateful to be here at all? - Author: Margaret Cho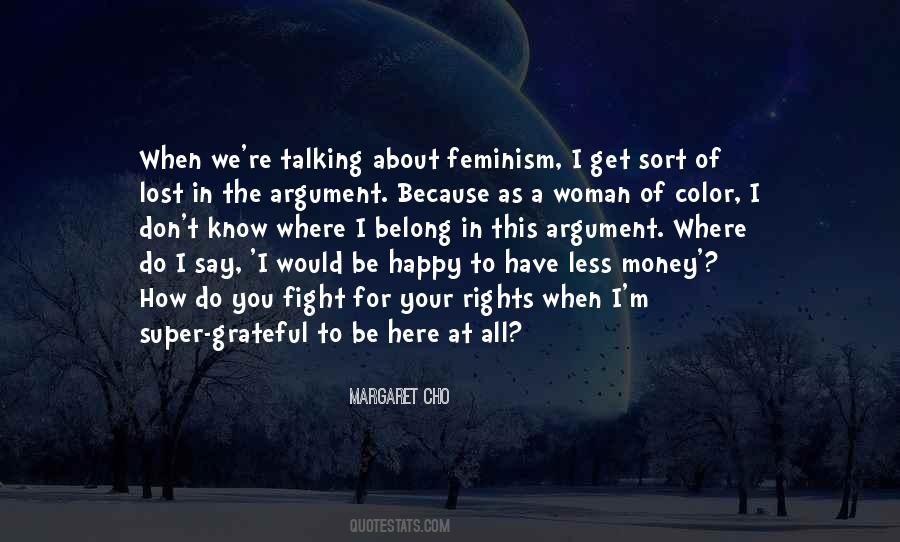 #31. The degree of complications and unhappiness in a person's life corresponds to the degree to which he dwells on the way he thinks the world ought to be rather than the way it really is. and being grateful it isn't worse, while trying to make it better. - Author: Robert Ringer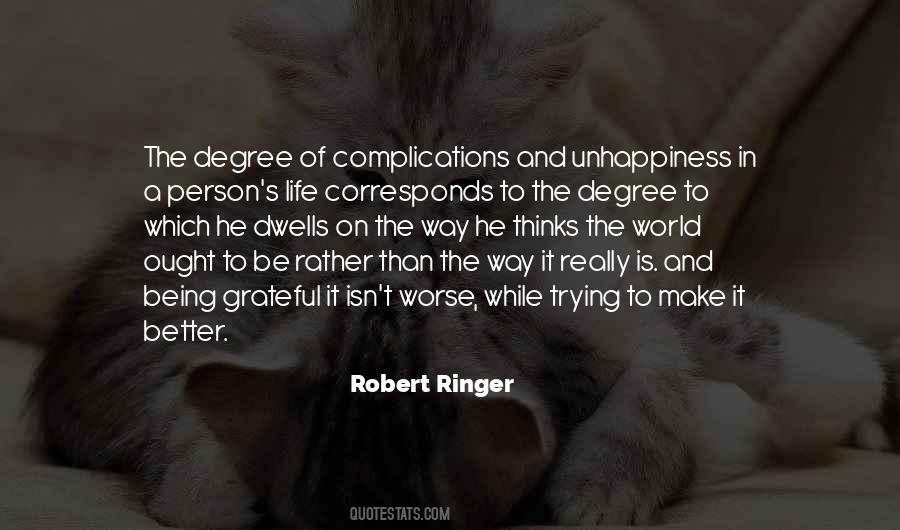 #32. Money can't change who we are. All it does is magnify our true natures. If you're mean and selfish, you have more to be mean and selfish with. If you're grateful and loving, you have more to appreciate and give. - Author: Anthony Robbins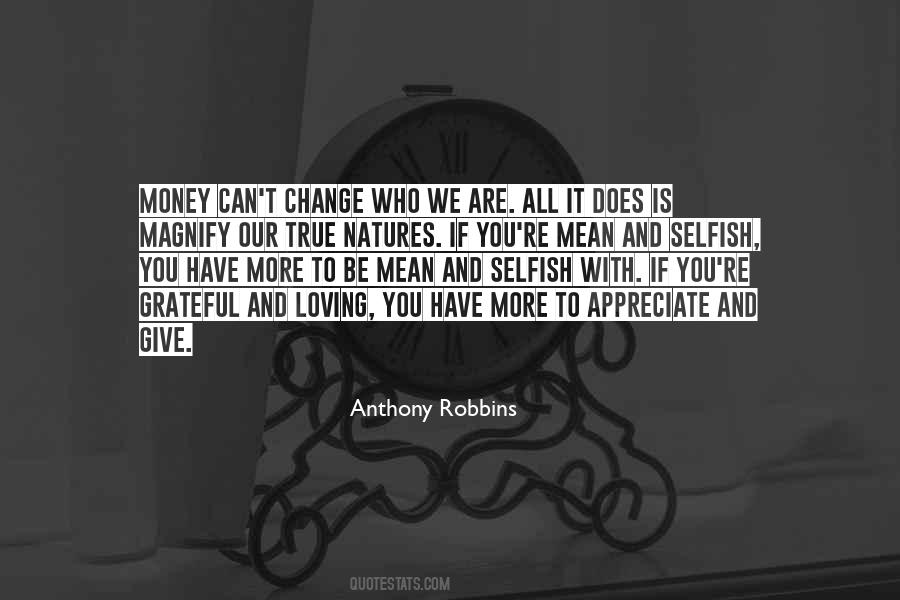 #33. Instead I ought to be grateful to Him who never owed me anything for having been so generous to me, rather than think that He deprived me of those things or has taken away from me whatever He did not give me. - Author: Rene Descartes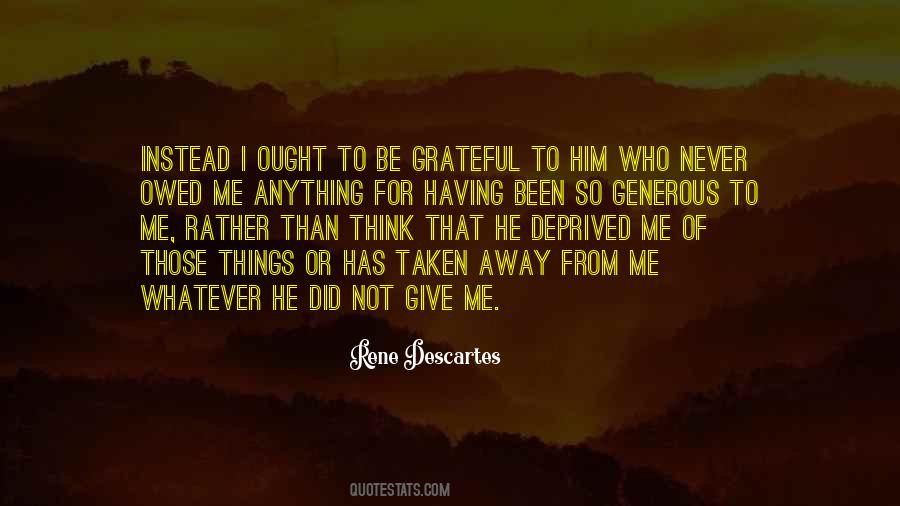 #34. I'm eternally grateful to fate and the citizens of Russia that they've trusted me to be the head of the Russian government. - Author: Vladimir Putin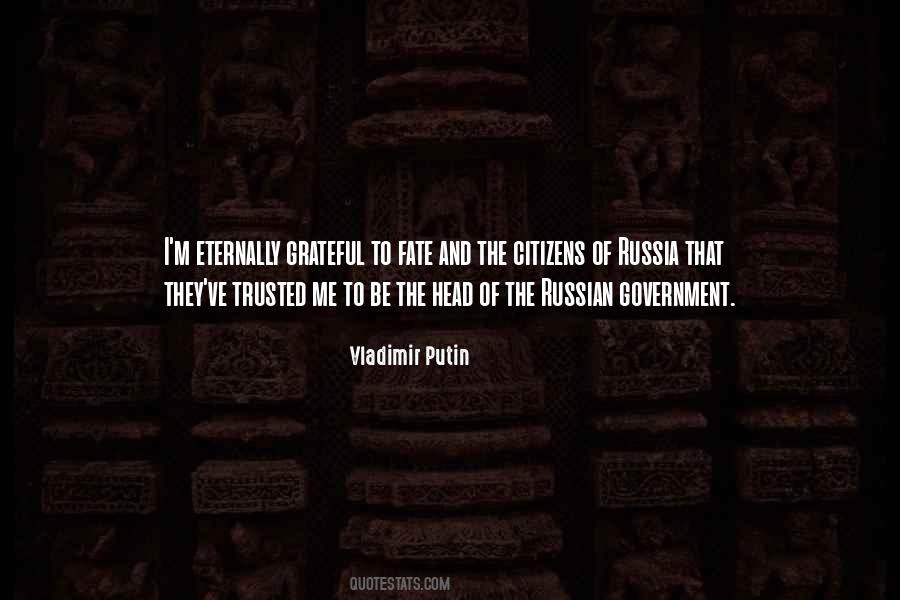 #35. There was no lasting happiness ... You just need to be grateful when it comes ...
There was no eternal sadness ... You just need to be patient until it goes
So ... whatever happens, life must go on ..
Just live and love your life ... because we are not immortal .. # andry_lavigne - Author: Andry Lavigne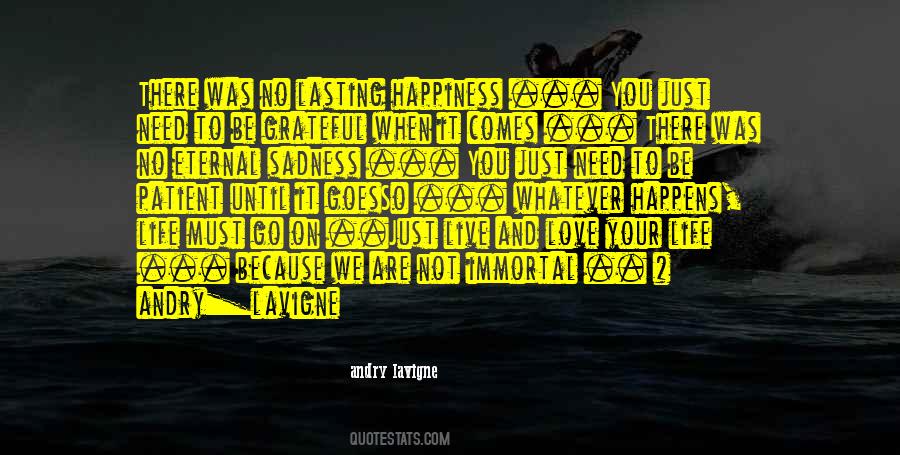 #36. Humility and gratitude go hand in hand ... Awareness increases so that we become grateful for everything we are given. We have to learn, literally learn, to be grateful for what we receive day by day, simply to balance the criticism that day by day we voice because of powerful emotions. - Author: Sivananda Radha Saraswati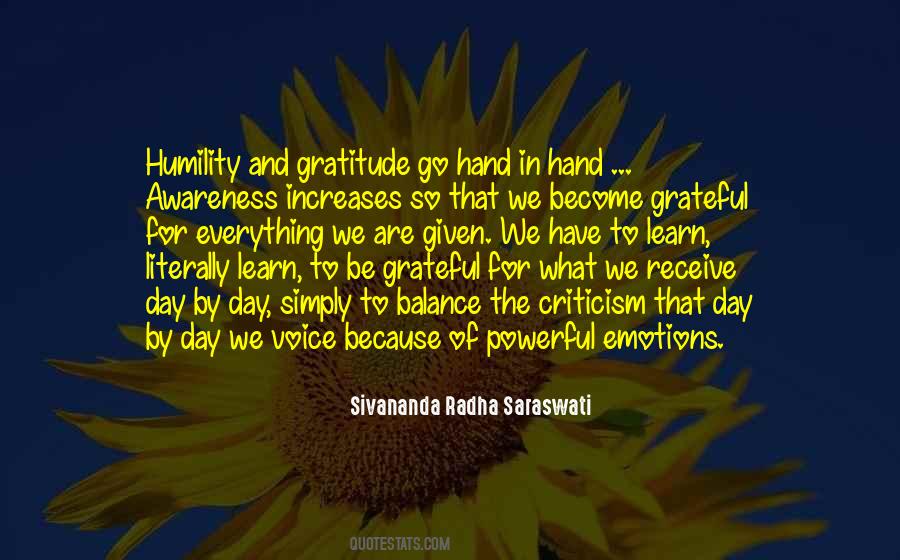 #37. From him I have learned that prayer is not asking for what you think you want but asking to be changed in ways you can't imagine. To be more grateful, more able to see the good in what you have been given instead of always grieving for what might have been. - Author: Kathleen Norris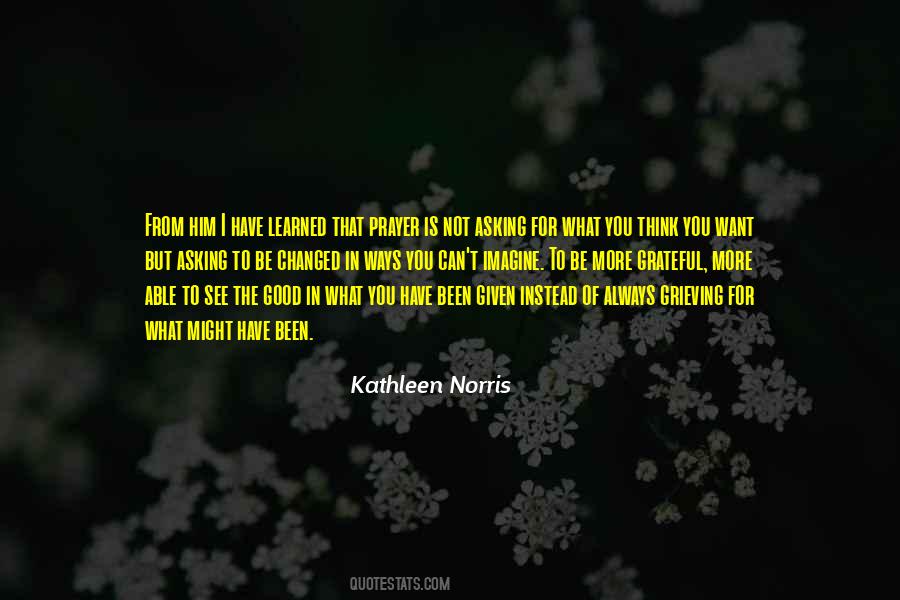 #38. Learn everything you can, anytime you can, from anyone you can, there will always come a time when you will be grateful you did. - Author: Sarah Caldwell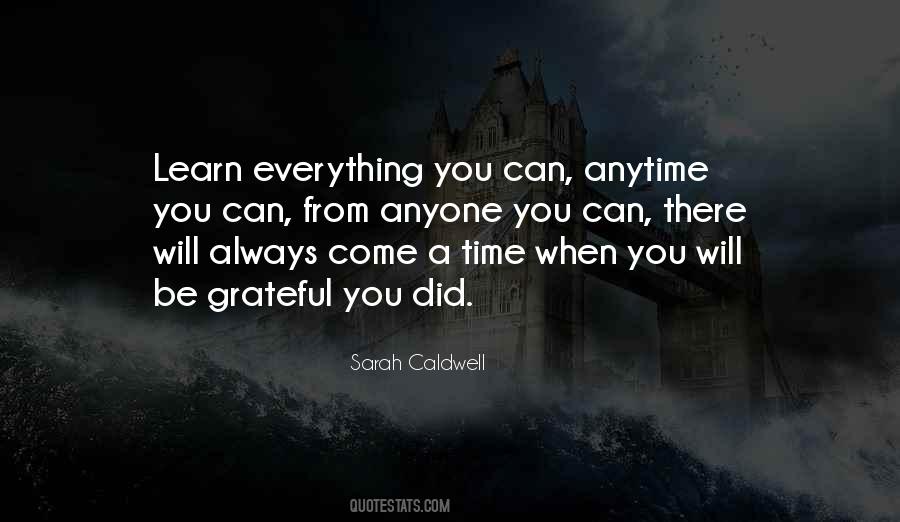 #39. Be pleased to look forward,
And pleased to look behind,
Count today, your 40th, and each birthday
With a grateful mind. - Author: John Walter Bratton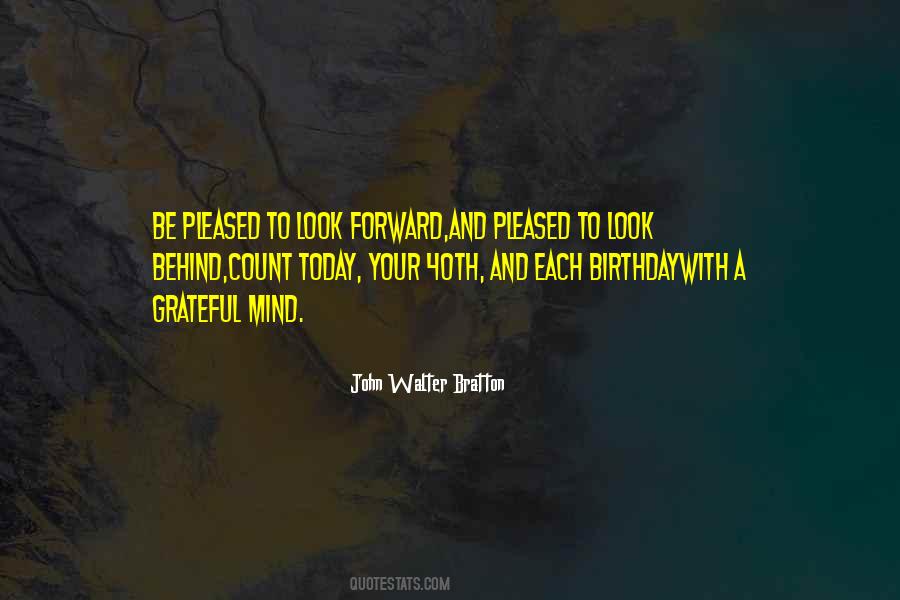 #40. Then I heard a voice: "Until you learn to be grateful for the things you have," it said, "you will not receive the things you want. - Author: John Kralik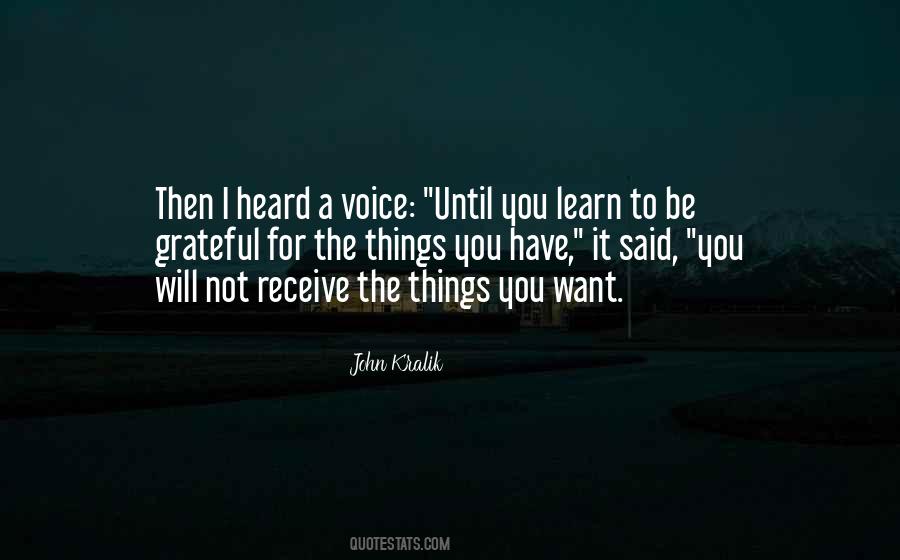 #41. And he knew it was crappy, but he was kind of grateful that people like that existed. Because people like Steve and Tina existed, too, and they needed to be fed. if it wasn't that redhead, it was going to be somebody else. And if it wasn't somebody else, it was going to be Park. - Author: Rainbow Rowell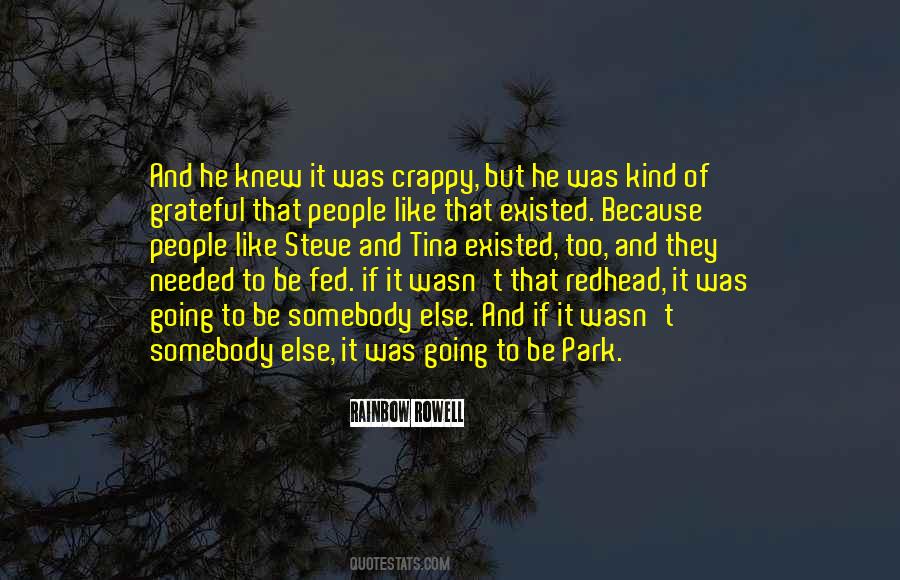 #42. It is so easy to magnify our problems and lose sight of the many blessings we all have to be so very grateful for. - Author: Robin S. Sharma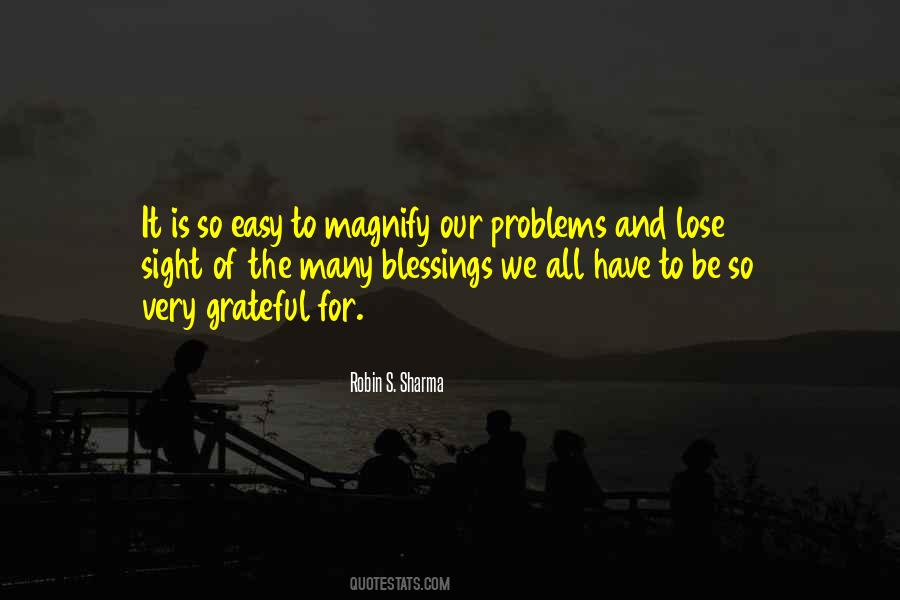 #43. Don't wish today away. Don't waste it. Redeem one hour to be grateful. Let your thanksgiving rise above the din of disappointment - opportunities lost, mistakes made, the clamor of all that has not yet come. - Author: Sarah Ban Breathnach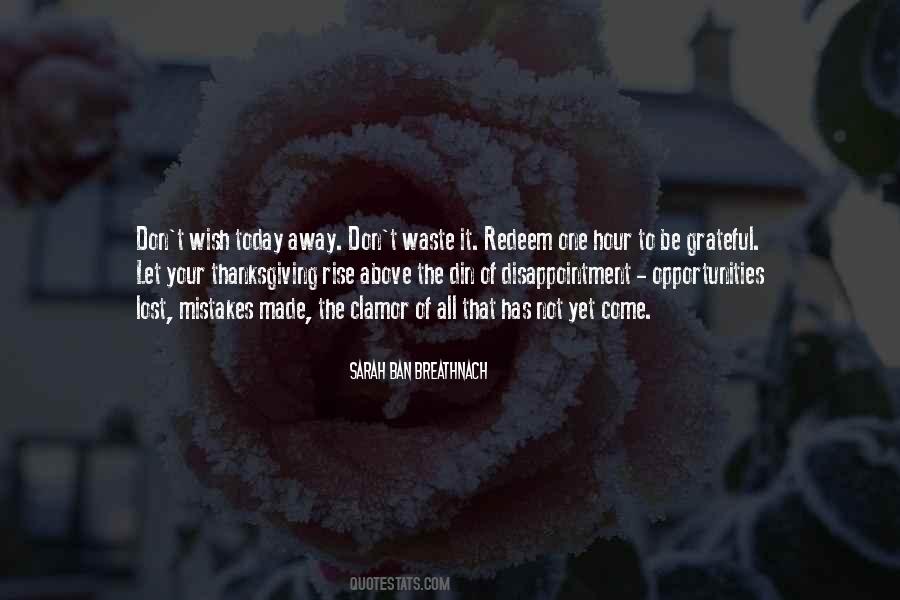 #44. Loving, not the beloved, is the joy of love. The beloved, knowing this, most resolutely declines to be grateful. - Author: Mason Cooley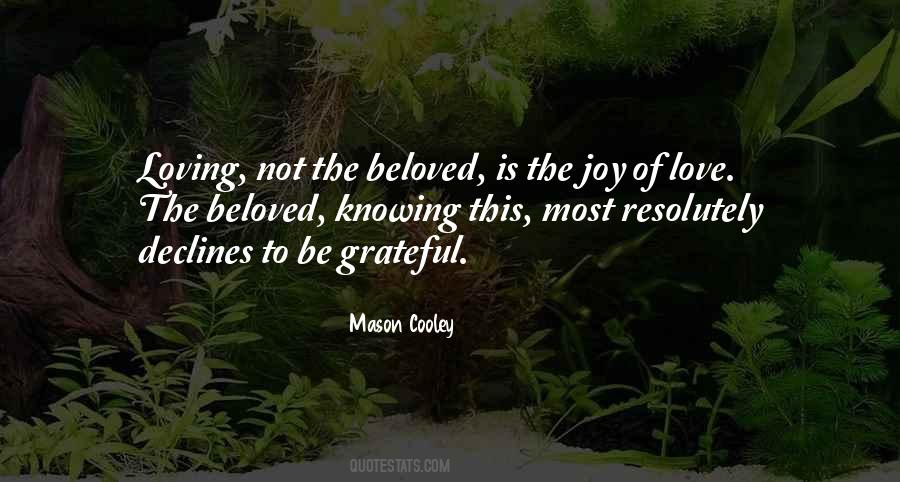 #45. New York seems to be thriving, which I'm grateful for. But I would hope that they would figure out how to negotiate the traffic and limit the pedicabs, because it seems to me that it's becoming a more chaotic city. - Author: Patti LuPone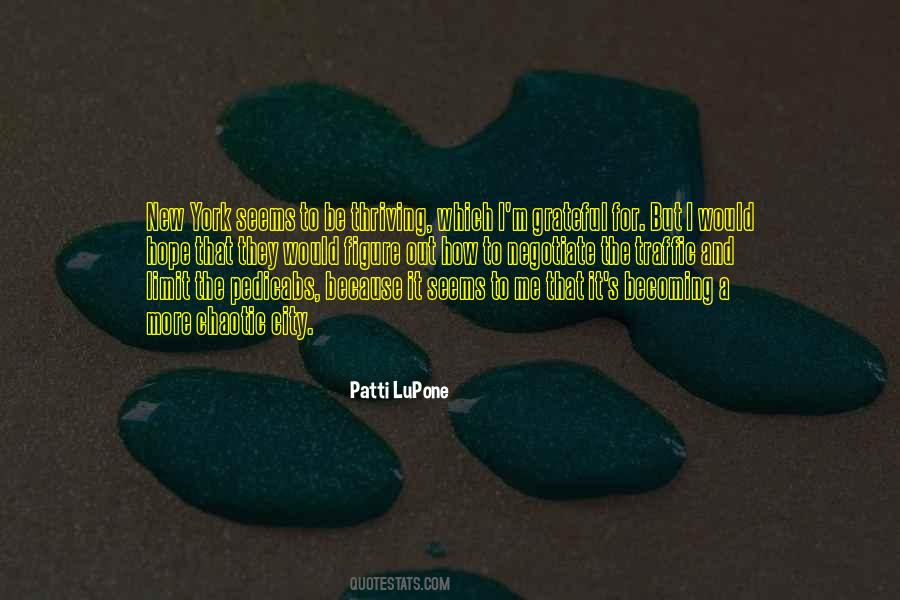 #46. Find the Silver Lining: When things don't work out the way you wish, always look for some positive outcome to the situation working out the way it did. For example, you can always be grateful that things didn't turn out even worse. - Author: Zelig Pliskin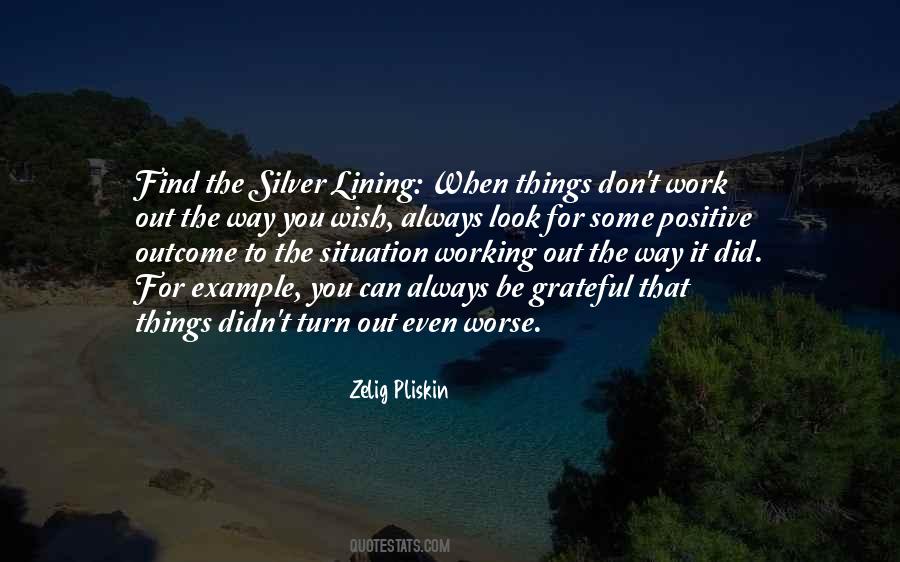 #47. The purpose of life is to be beautiful, to be bountiful, to be blissful, to be graceful and grateful. What a wonderful English word-grateful. If one is great and full, one is God. And whenever smallness faces you, you should be great, and full-full of that greatness. - Author: Harbhajan Singh Yogi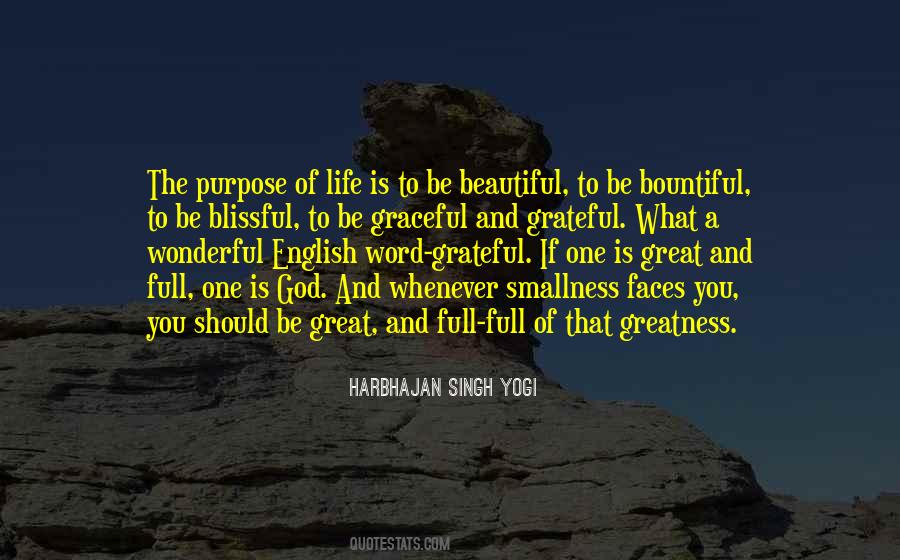 #48. Be humble and grateful for what you have and the universe will reward your gratitude. - Author: Joe Sacco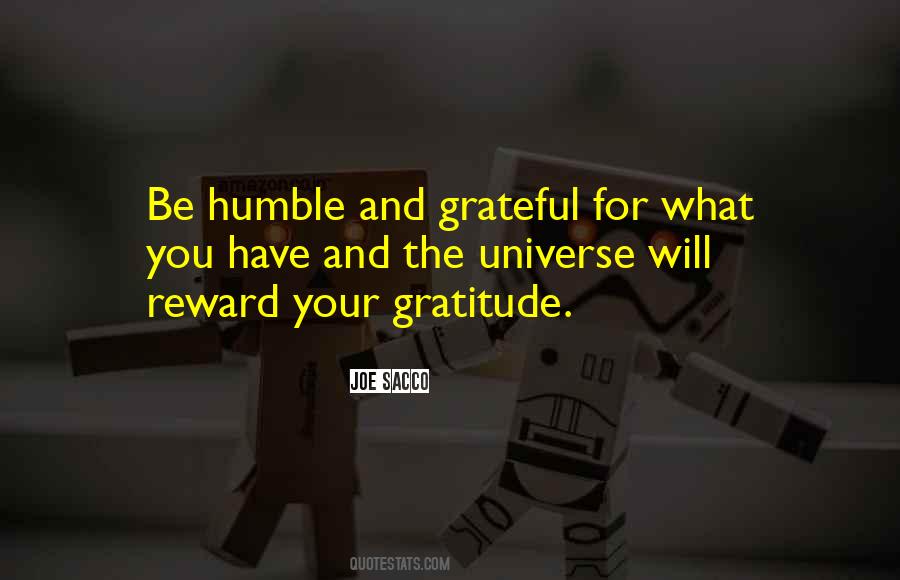 #49. Have no mean hours, but be grateful for every hour, and accept what it brings. The reality will make any sincere record respectable. - Author: Henry David Thoreau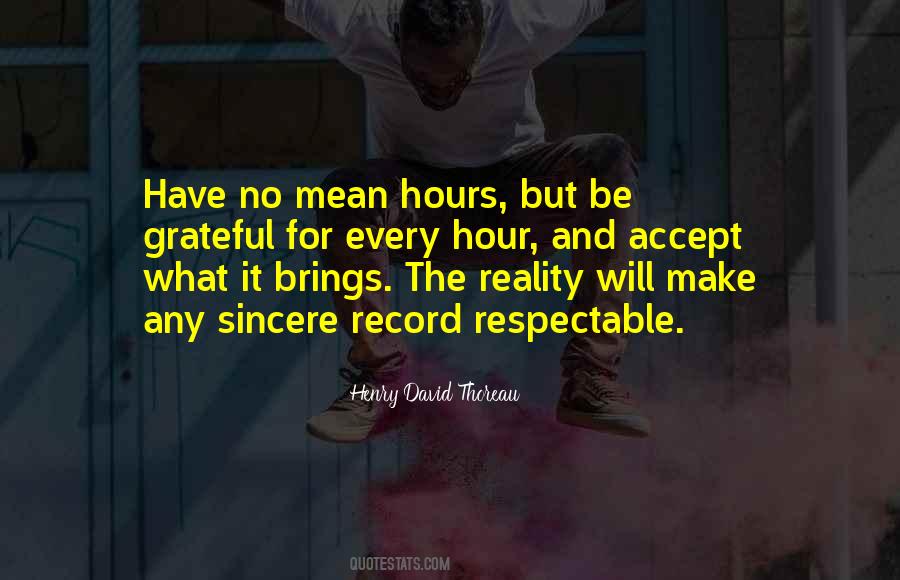 #50. Most men remember obligations, but are not often likely to be grateful; the proud are made sour by the remembrance and the vain silent. - Author: William Gilmore Simms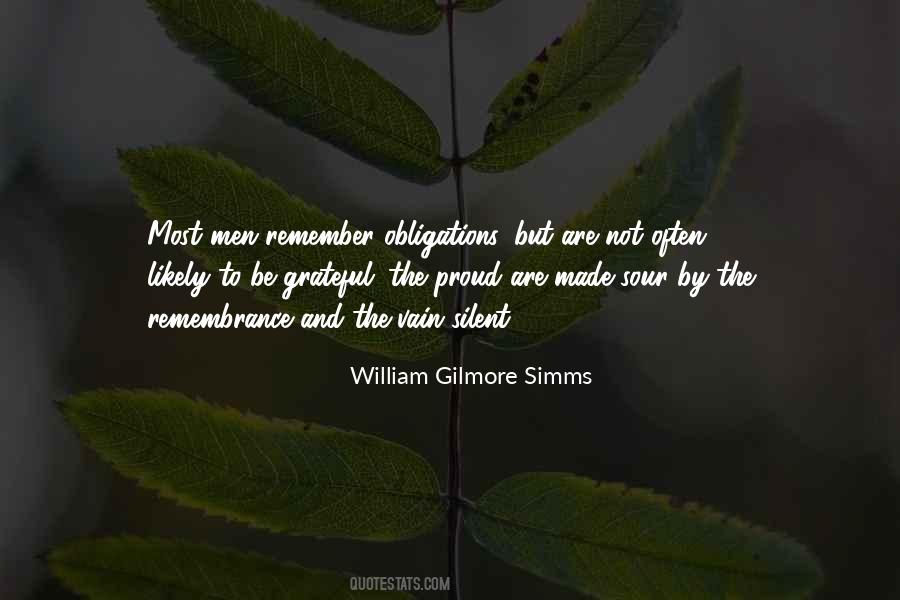 #51. But she was not even grateful to him for it; nothing good on Pierre's part seemed to her to be an effort, it seemed so natural for him to be kind to everyone that there was no merit in his kindness. - Author: Leo Tolstoy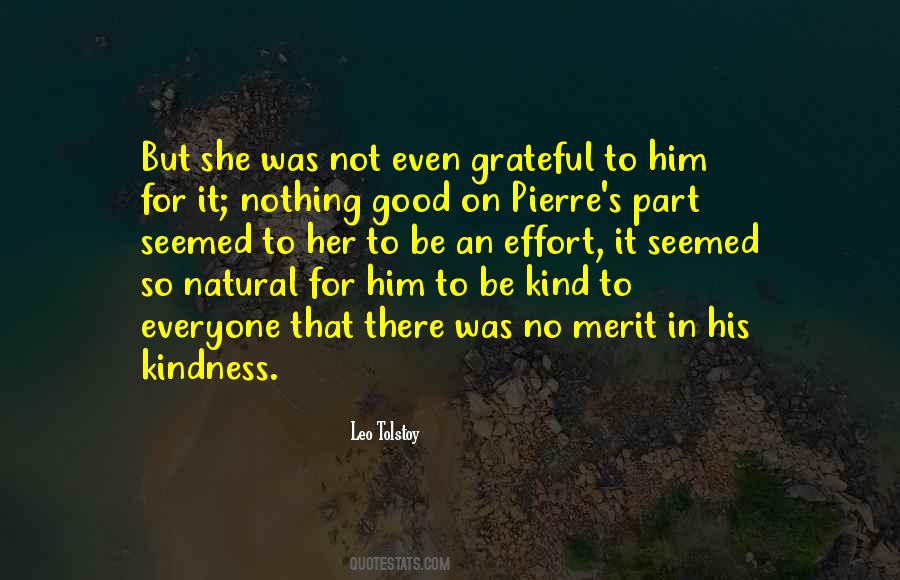 #52. Be grateful for every single person who was part of your story.The ones that hurt you. The ones that helped you. Because they all taught you. - Author: Yasmin Mogahed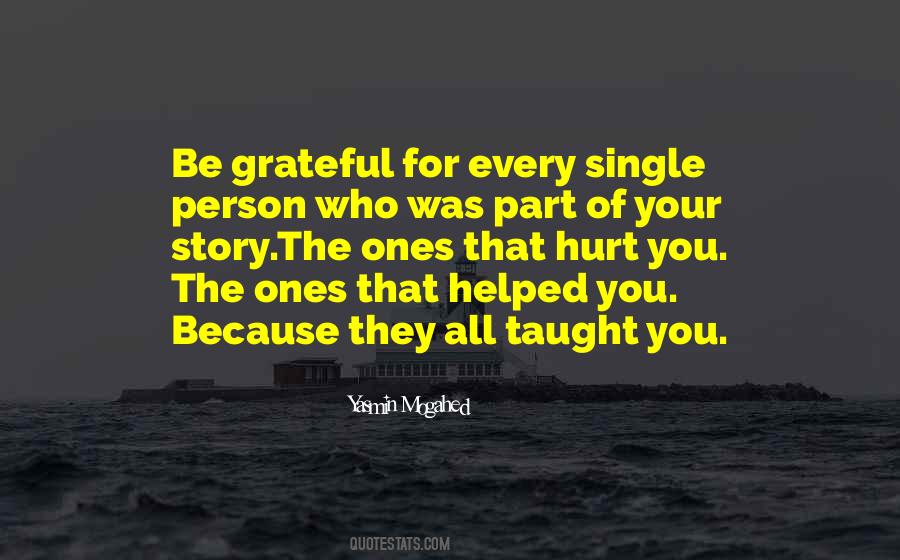 #53. Hey, just be grateful I'm old. When an Arcadian first starts time-walking, we only have about a three percent chance of success. I once ended up on Pluto. (Sebastian) Are you serious? (Channon) They're not kidding about it being the coldest planet. (Sebastian) - Author: Sherrilyn Kenyon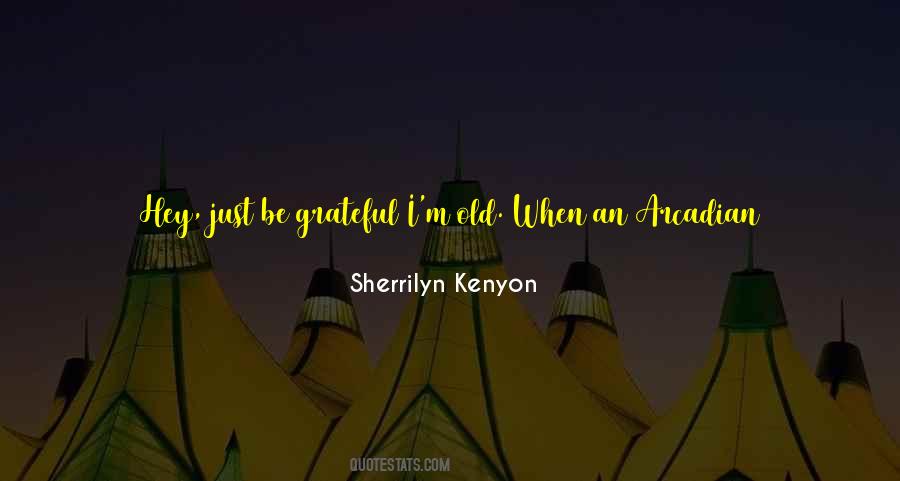 #54. While I am grateful for the friendships and relationships that I have with my Republican colleagues, it would be naive to pretend that those friendships will change the way that major policies are enacted in Arizona. - Author: Kyrsten Sinema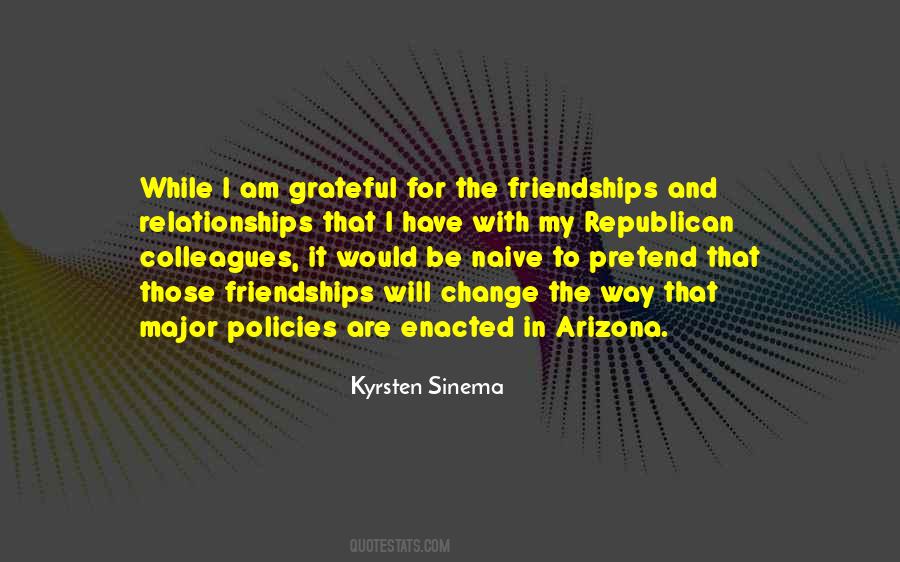 #55. I have but one system of ethics for men and for nations - to be grateful, to be faithful to all engagements under all circumstances, to be open and generous, promoting in the long run even the interests of both - Author: Thomas Jefferson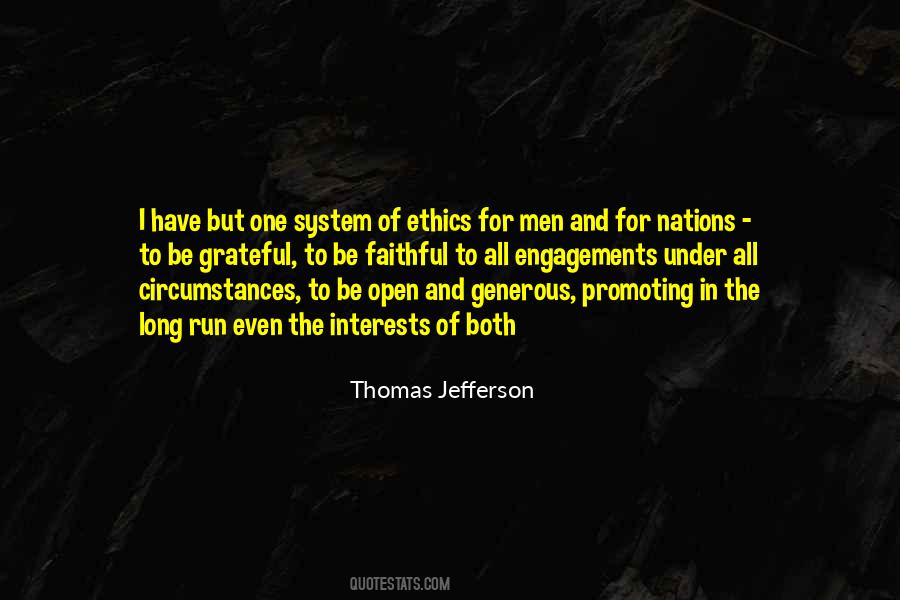 #56. You must understand that it is not in the nature of Man to be grateful. So in whatever you or I do for others we must never expect gratitude. If we do, we will only be disappointed. - Author: S R Nathan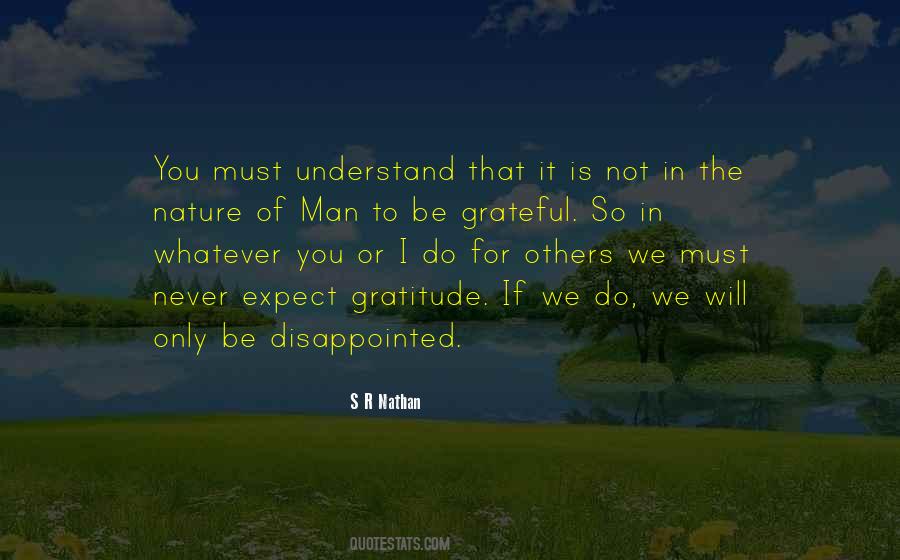 #57. No one is more grateful to be alive than someone who thought they were going to die. - Author: J.M. Darhower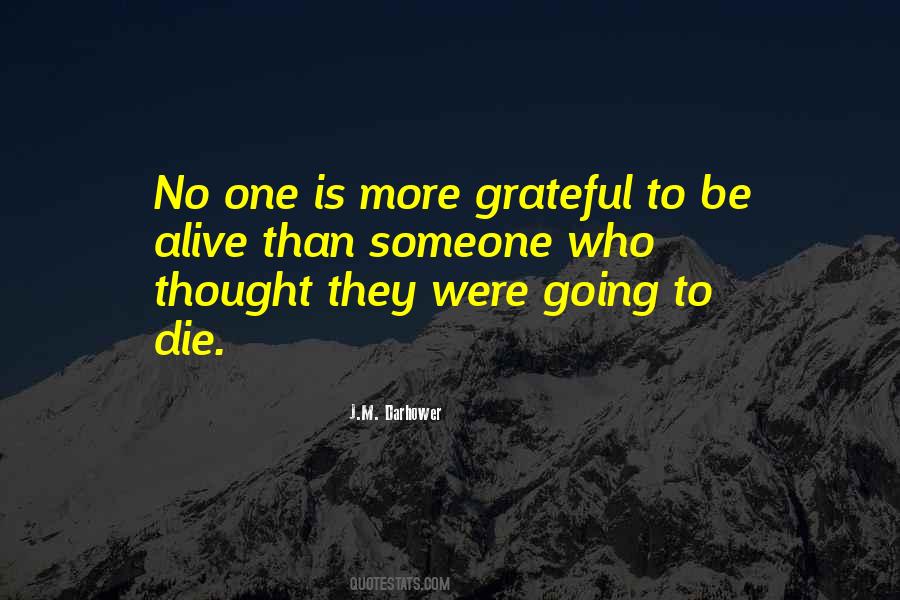 #58. I am deeply grateful to the citizens of Sarajevo and the Sarajevo Canton assembly for bestowing upon me this incredible honor of citizenship. I am so proud to now be a part of such an extraordinary part of the world and fellow citizen to the people I deeply love and admire. - Author: Angelina Jolie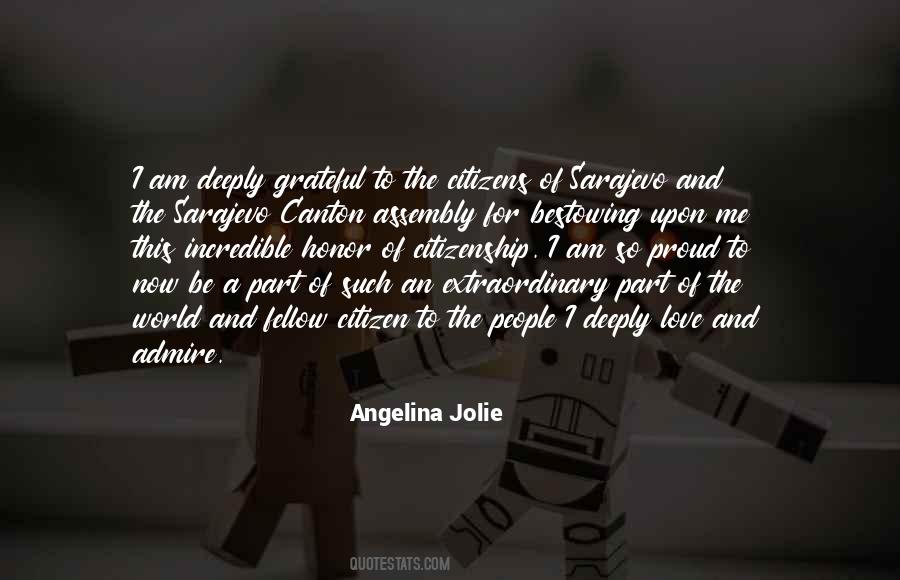 #59. It is always encouraging and kind when people say nice things about my work but I know that it is not me that did it then and it is not me that is doing it now. It is God living in me and for that I will always be grateful. - Author: Ken Hensley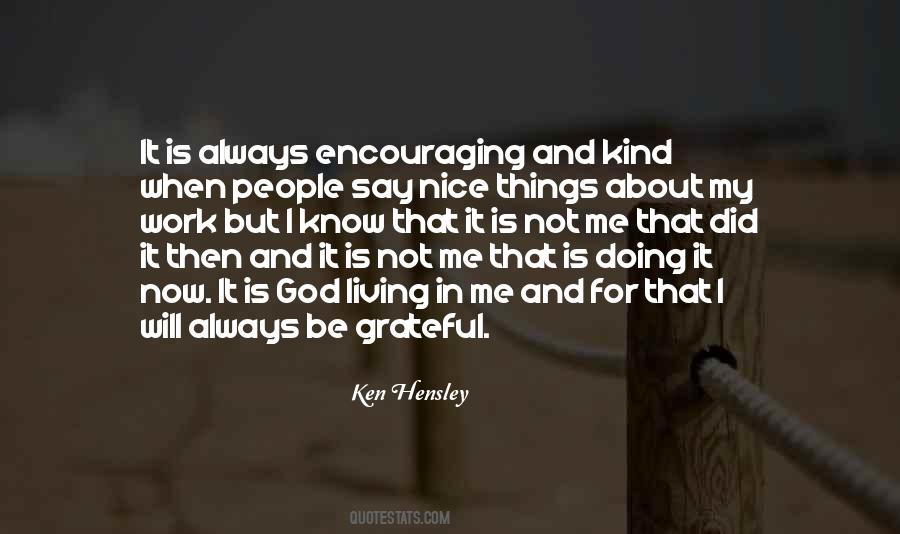 #60. Love has its own independent form and formlessness. When someone loves you be gratiful for it. If they stop loving be grateful for that. If they love another, let them love! - Author: Frederick Lenz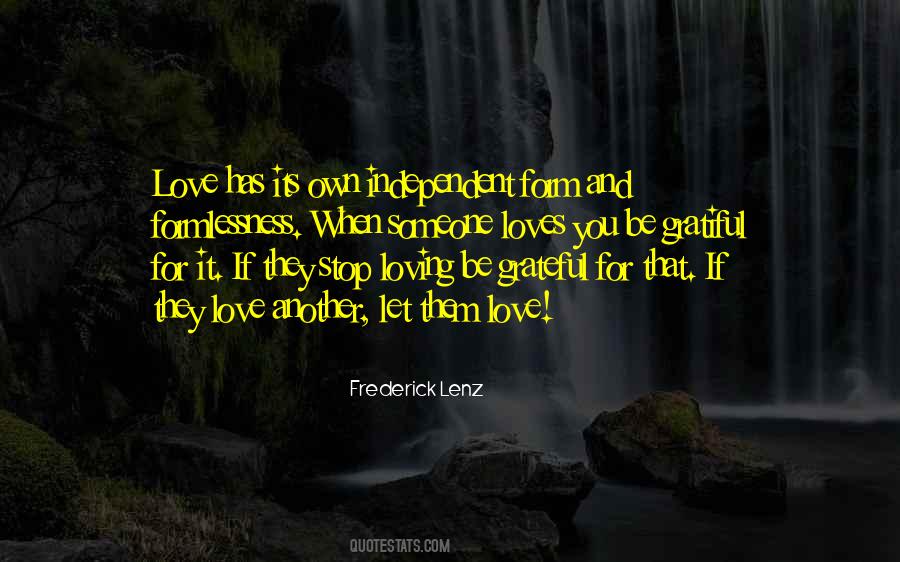 #61. On the one hand, I'm grateful to be hired and thrilled to be paid. - Author: Christopher Durang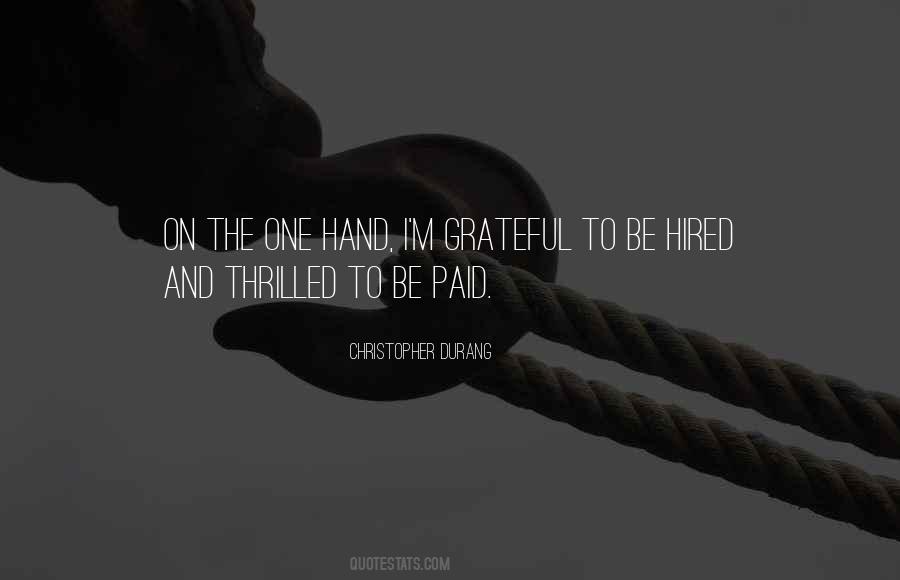 #62. I demand my kids be respectful, responsible and grateful. And they have to love the Lord with all their hearts. - Author: Mariano Rivera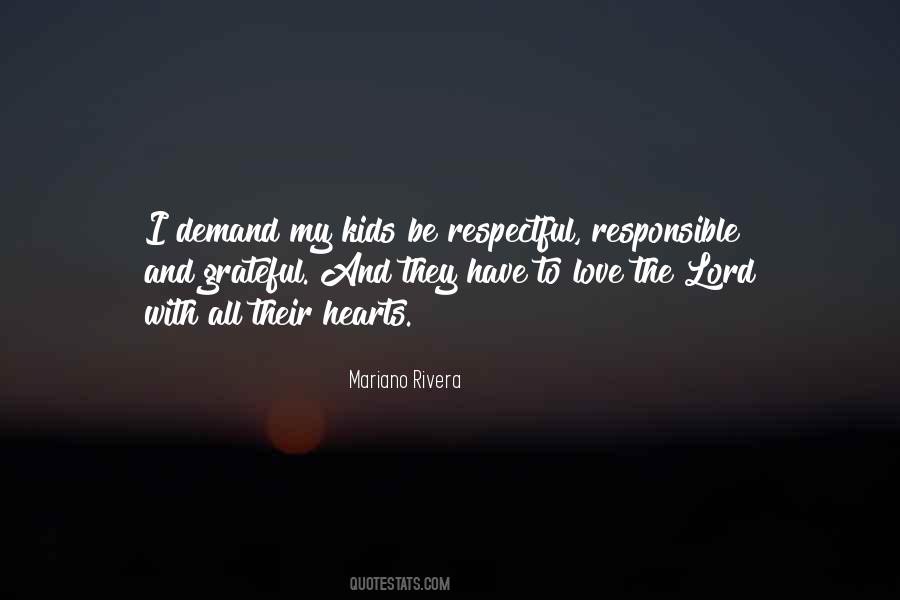 #63. The dam of tears broke again and I cried softly, grateful for the love I didn't deserve because the gift of me didn't seem to be enough. - Author: Denise Grover Swank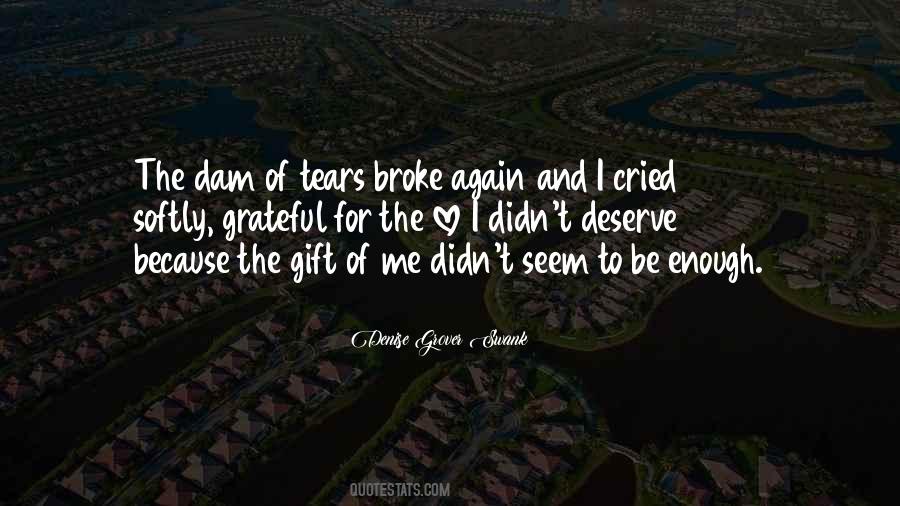 #64. Let go of me." It smoothed its tentacles again. "Be grateful, Joe. I'm not going to let go of you. - Author: Octavia E. Butler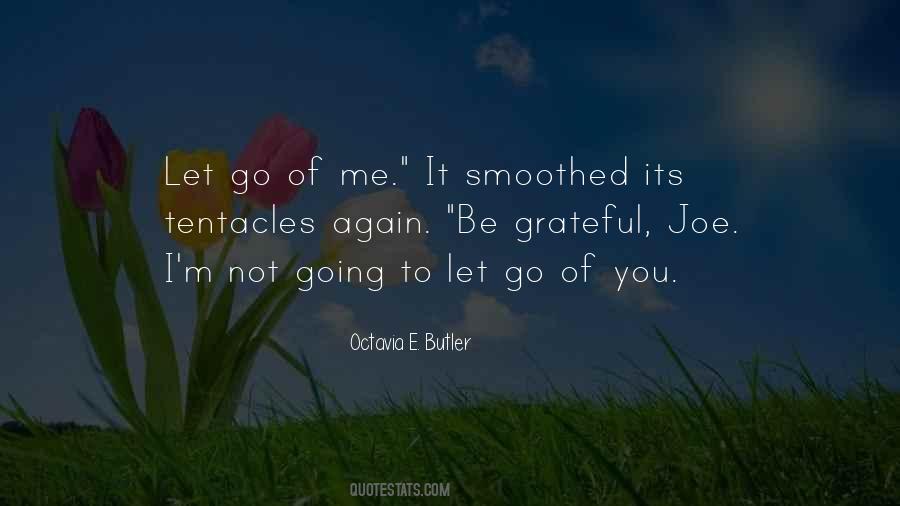 #65. Everything in life serves as a challenge and test to elevate us. Therefore it is right to be grateful for the opportunity to learn and grow through tackling this real life experience. - Author: Moshe Chaim Luzzatto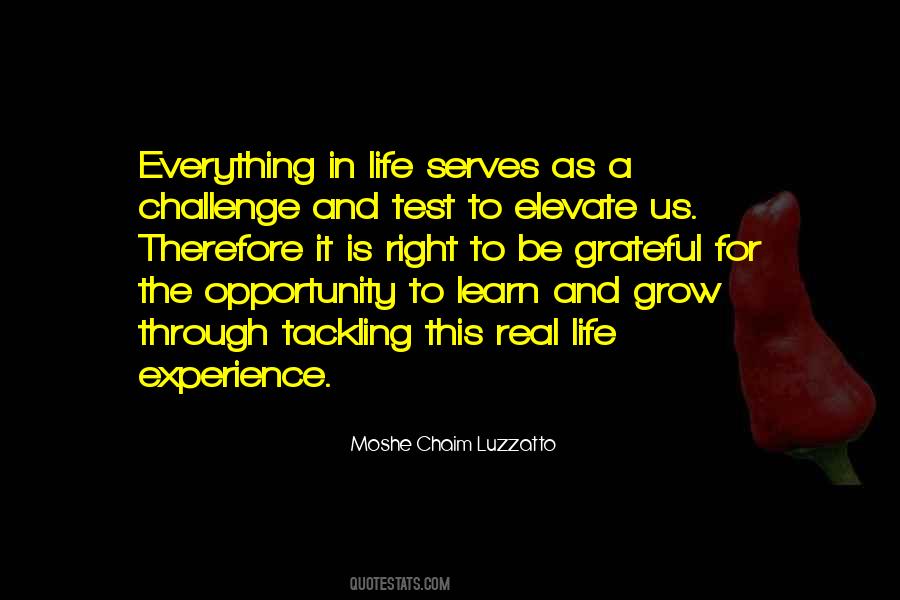 #66. I know that many, if not most, women would have a problem with my acceptance of what happened with Lara.
The reality is I shall always be grateful to Lara for helping my husband when I could not do so. I couldn't have chosen a better or kinder surrogate. - Author: Deirdre-Elizabeth Parker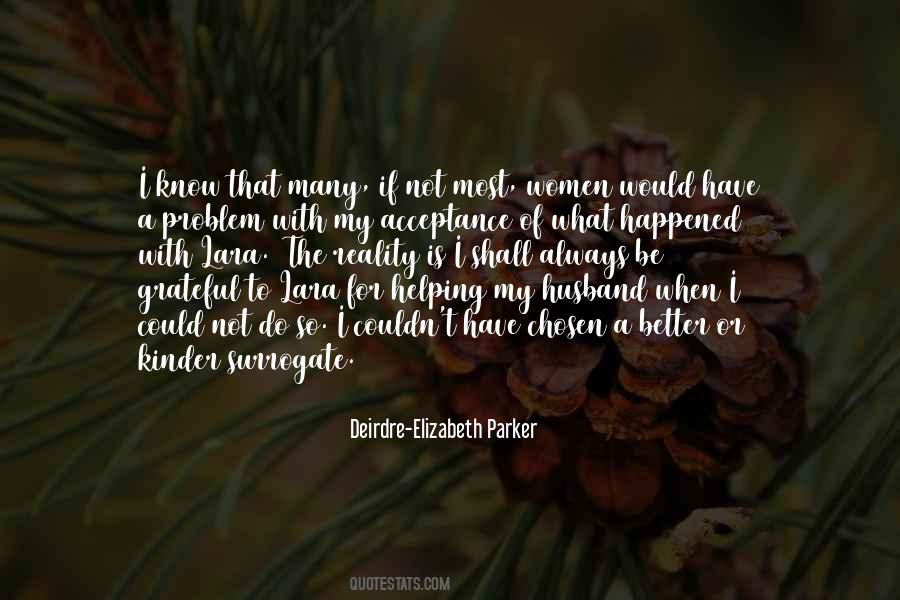 #67. I'm just gonna be real grateful to be on any freaking movie set for the rest of my life. - Author: Peter Weller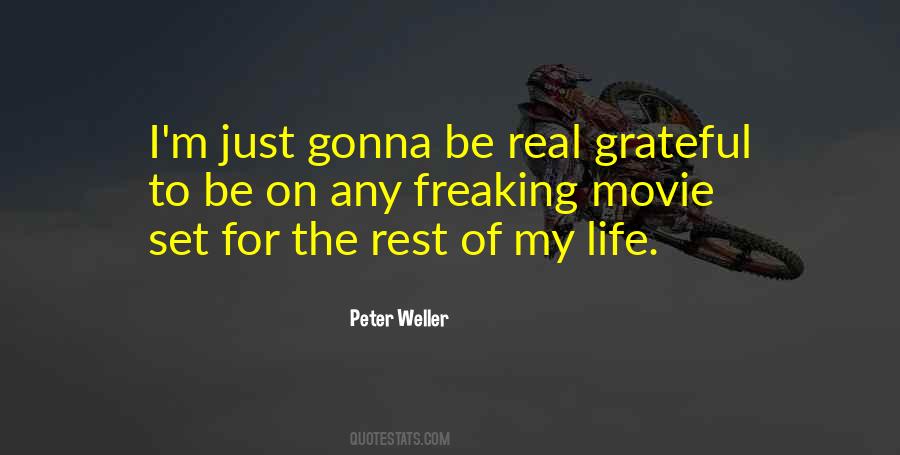 #68. I wanted to open the dialogue about race in ballet and bring more people in. It's just beautiful to see the interest that has exploded for such an incredible art form that I will forever be grateful to! - Author: Misty Copeland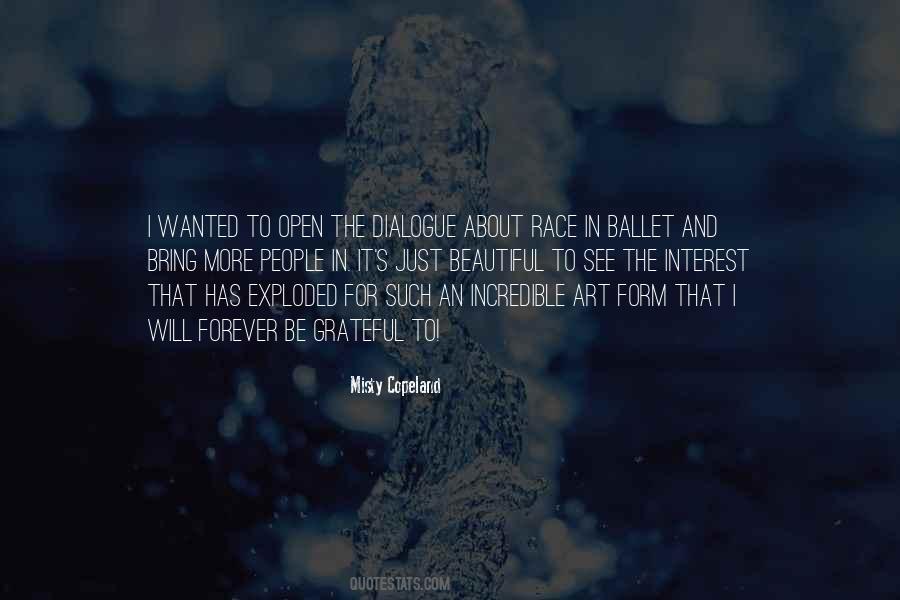 #69. When you appreciate what you have, then you will receive more. When you are in this moment feeling gratitude for this moment you actually up your vibrational signal to attract more things to be grateful for. - Author: Joe Vitale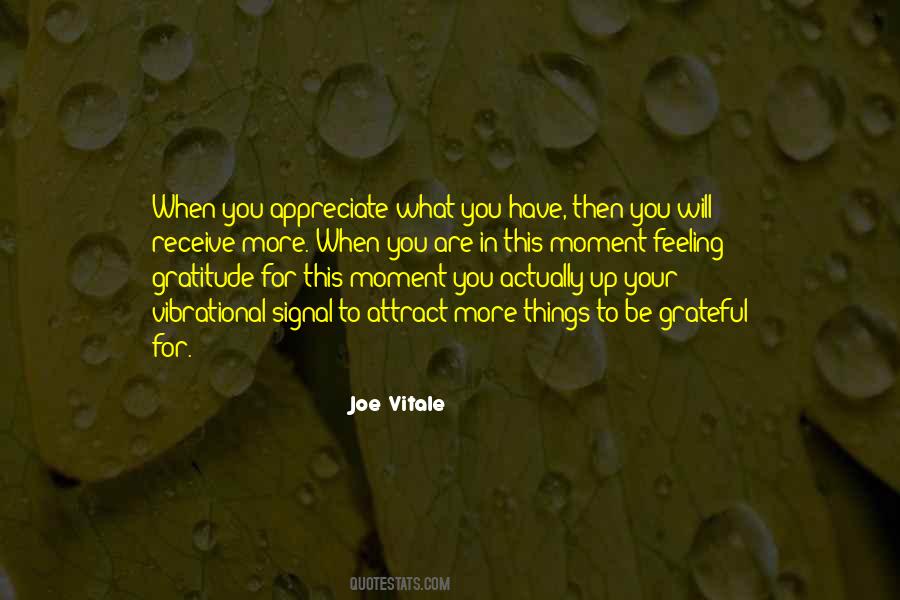 #70. To see the full miraculous essentiality of the color blue is to be grateful with no necessity for a word of thanks. To see fully, the beauty of a daughter's face is to be fully grateful without having to seek a God to thank him. - Author: David Whyte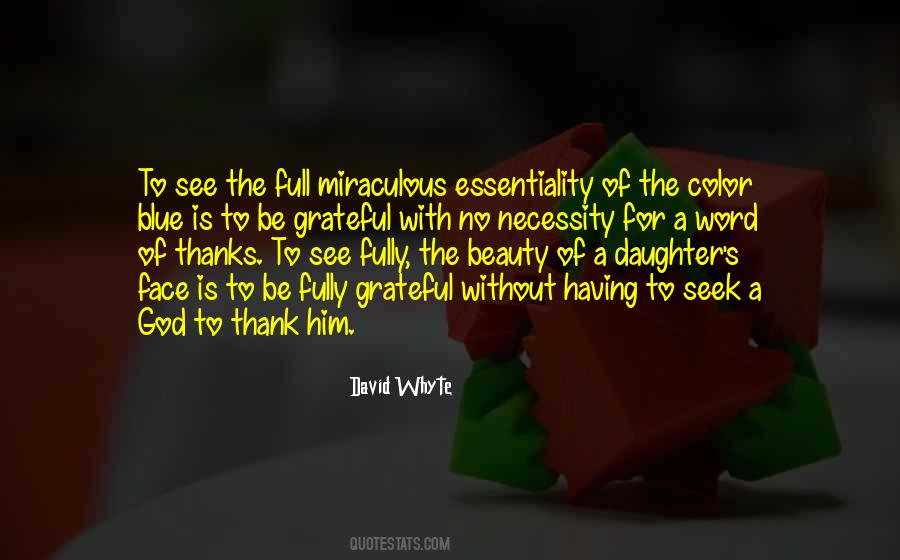 #71. God help us to be grateful for our blessings, never to be guilty of the sin of ingratitude, and to instill this same gratitude into the lives of our children. - Author: Ezra Taft Benson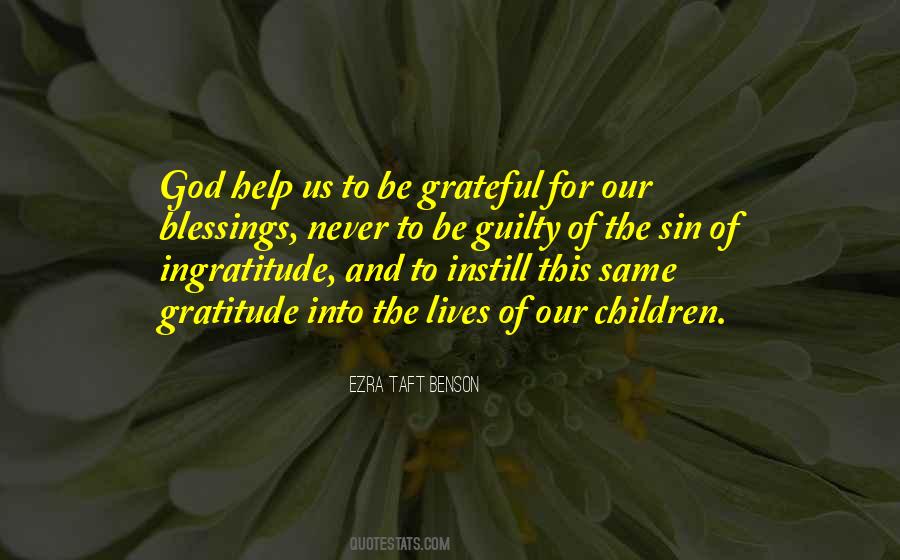 #72. I'm grateful for my whole family, but my dad is like Obi-Wan Kenobi, Superman, and Evel Knievel all at one time. I can think I have it all figured out, and he'll say, 'But did you look at that side of it?' He shows me just how much more there is than what appears to be. - Author: Guy Fieri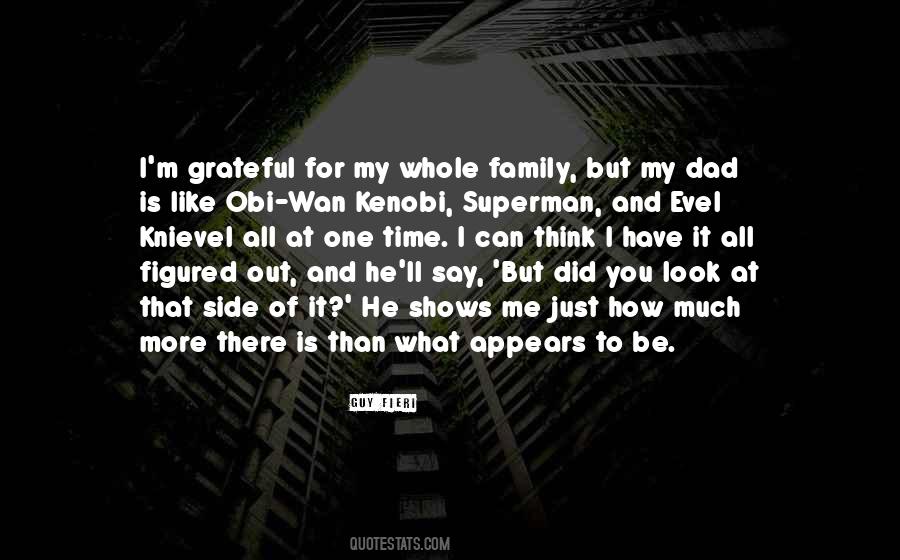 #73. The best advice on writing I've ever received was from William Zinsser: 'Be grateful for every word you can cut.' - Author: Christopher Buckley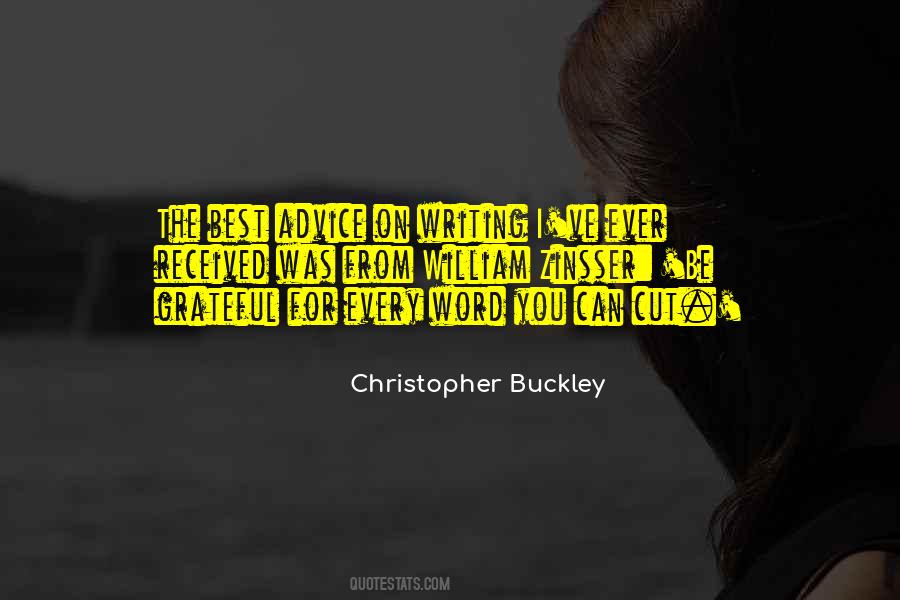 #74. In the middle of all this, as Sean slips out of his jacket, he looks over his shoulder at me and he smiles at me, just a glancing, faint thing before he turns back to Tommy. I'm quite happy for that smile, because Dad told me once you should be grateful for the gifts that are the rarest. - Author: Maggie Stiefvater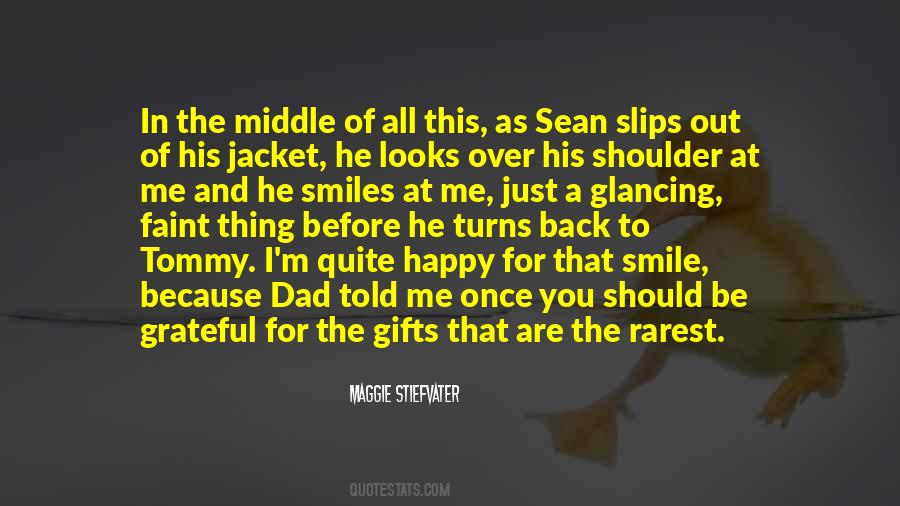 #75. If time stood still for a moment, what would you be grateful for? And will it be enough to allow time to have meaning when it begins? - Author: Steven Cuoco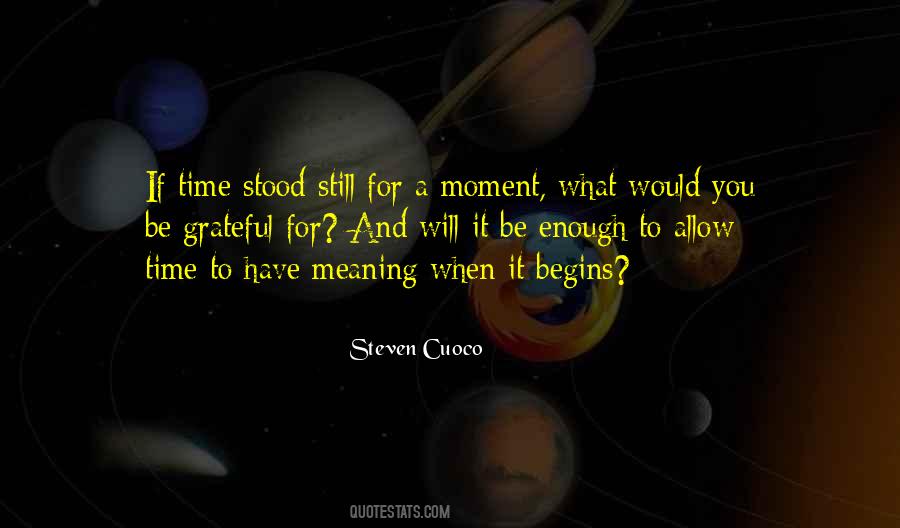 #76. Derailed. In exile. Deeply ashamed, despised. Yet she had so little pride, she was grateful most days simply to be alive.
There is Minimalist art; there are minimalist lives. - Author: Joyce Carol Oates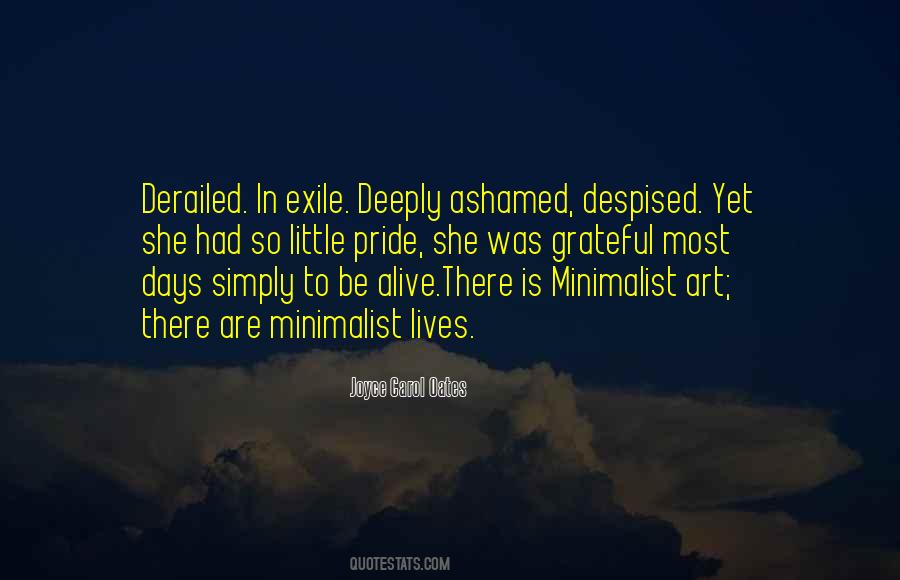 #77. She was wonderful; no mother could have been more wonderful. But ever after, she demanded that I should not forget it, nor cease to be grateful, nor hold an opinion different from her own, nor even, as I grew older, feel the need for any companionship but hers. - Author: Rosemary Sutcliff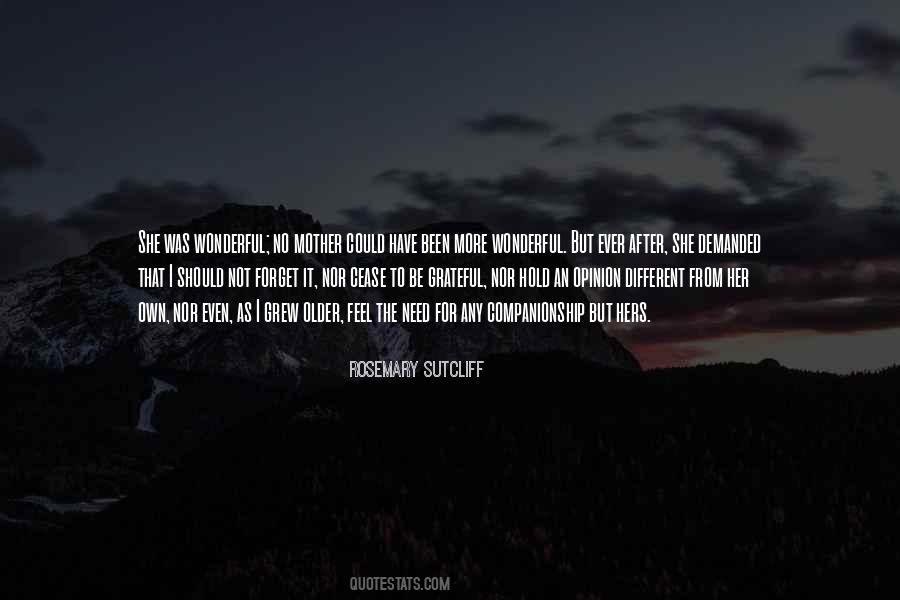 #78. Be thankful for every adversity. - Author: Lailah Gifty Akita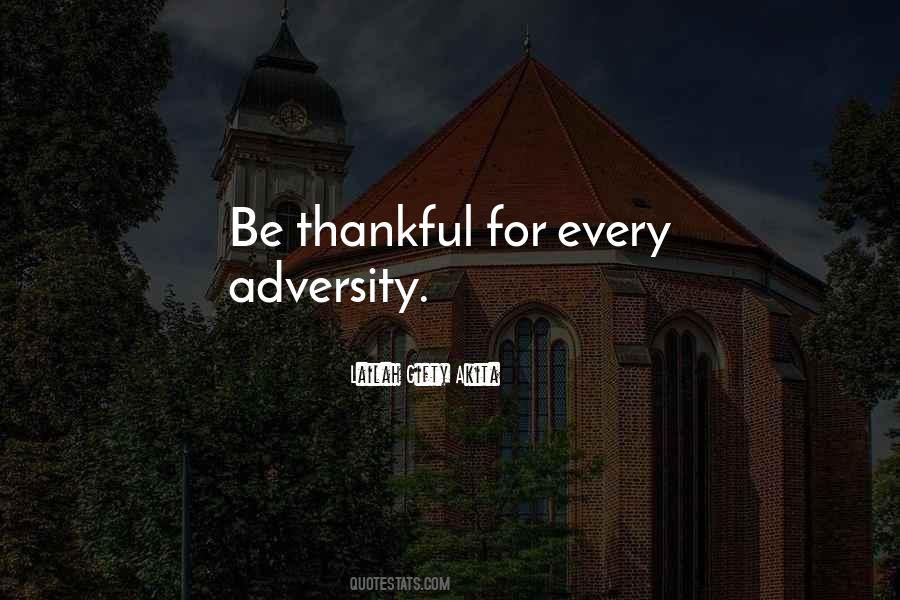 #79. No one had ever made it big from my town until I was able to make it to the NFL and now the big screen. The journey from my town to where I am now has taught me how to be resilient and fearless, and for that I will forever be grateful. - Author: Thomas Jones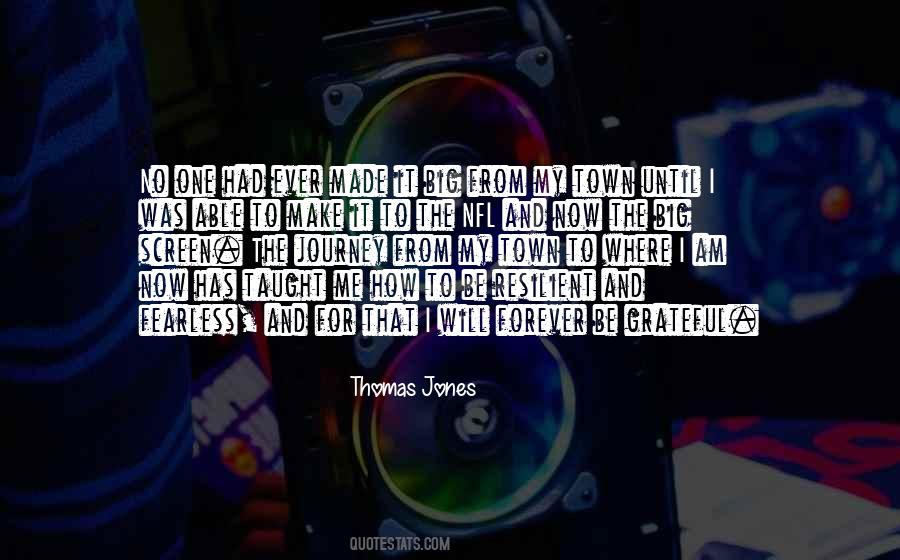 #80. Bernard was duly grateful (it was an enormous comfort to have his friend again) and also duly resentful (it would be pleasure to take some revenge on Helmholtz for his generosity). - Author: Aldous Huxley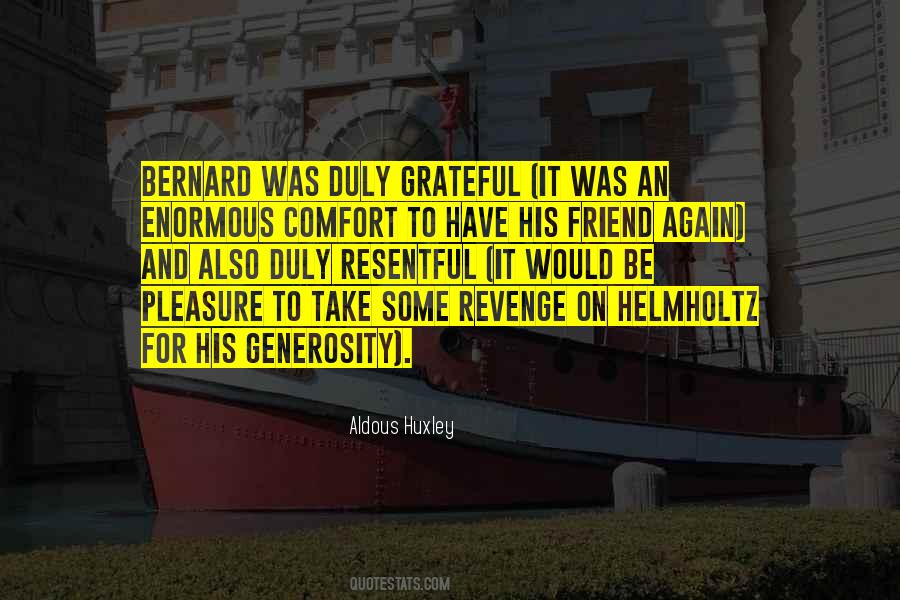 #81. BE GRATEFUL, FORGIVE PEOPLE, LOVE MORE, BLAME LESS AND BELIEVE THINGS WILL WORK OUT! - Author: Andrew Matthews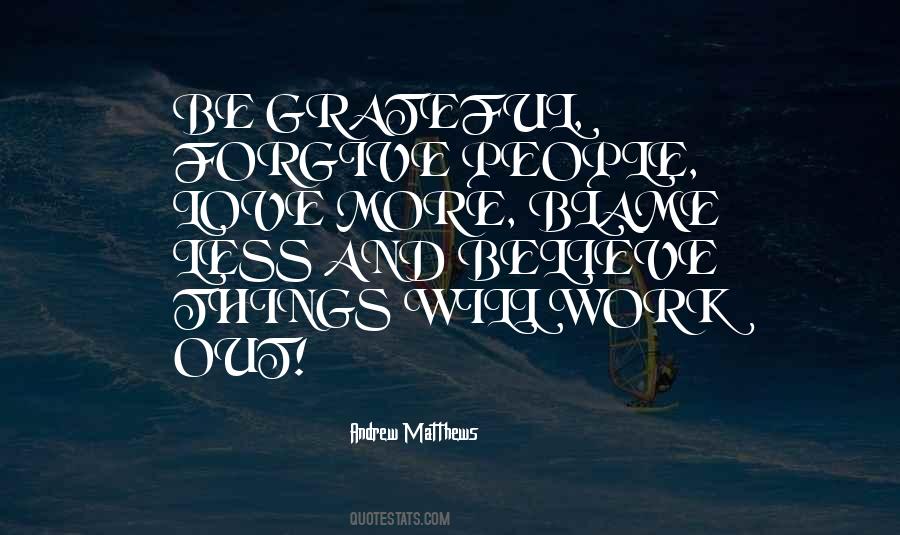 #82. Be Grateful- Your Life is a Miracle. - Author: Dashama Konah Gordon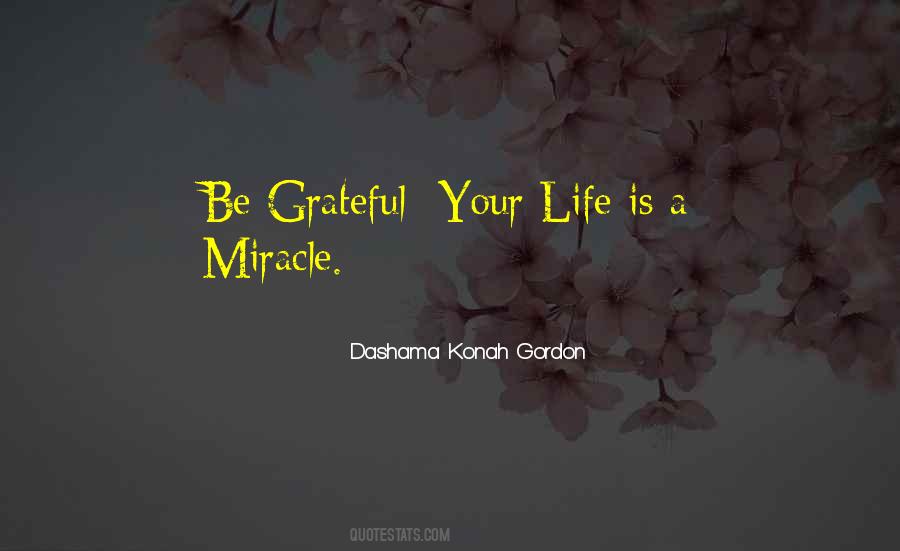 #83. I'm always looking at the next thing. I'm too curious to look back ... it's very hard to be unhappy when you're curious and grateful. You're busy. You don't have time to be unhappy. My biggest talent is I know who is more talented than I am. I find them and I go to them, and I learn. - Author: Liza Minnelli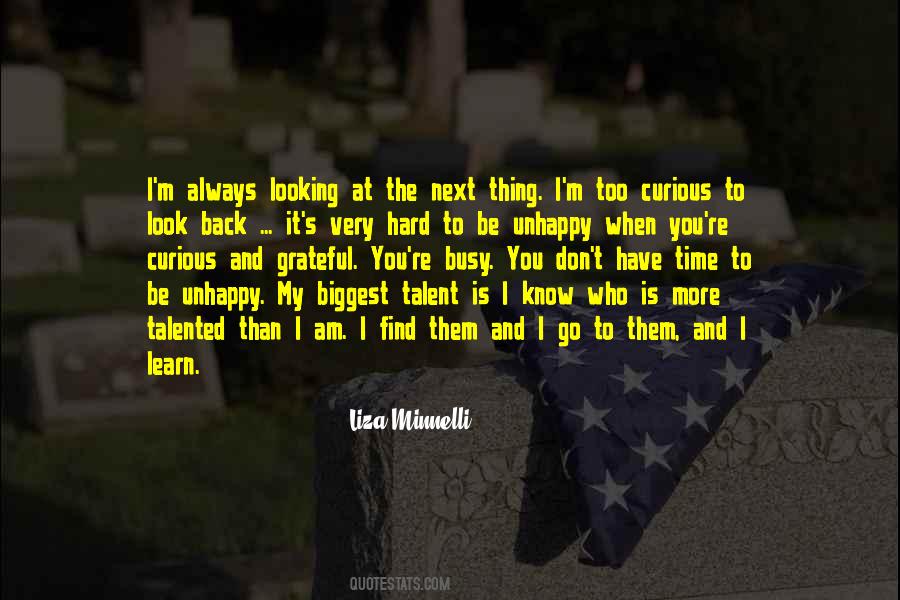 #84. For my friends do not desert me, and life stays; for those two things I must be grateful. - Author: John Edward Williams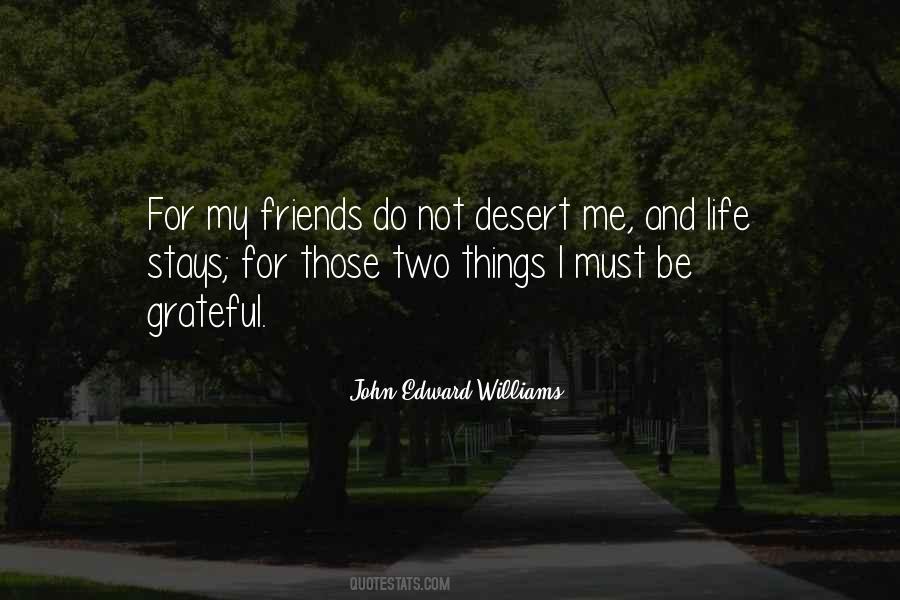 #85. Attitude is everything, they say . . . and I believe this to be true. If we learn to see the positive side of things, then we'll live longer, healthier, happier lives. A good way to do so is to stop complaining and start being grateful. - Author: David Hamilton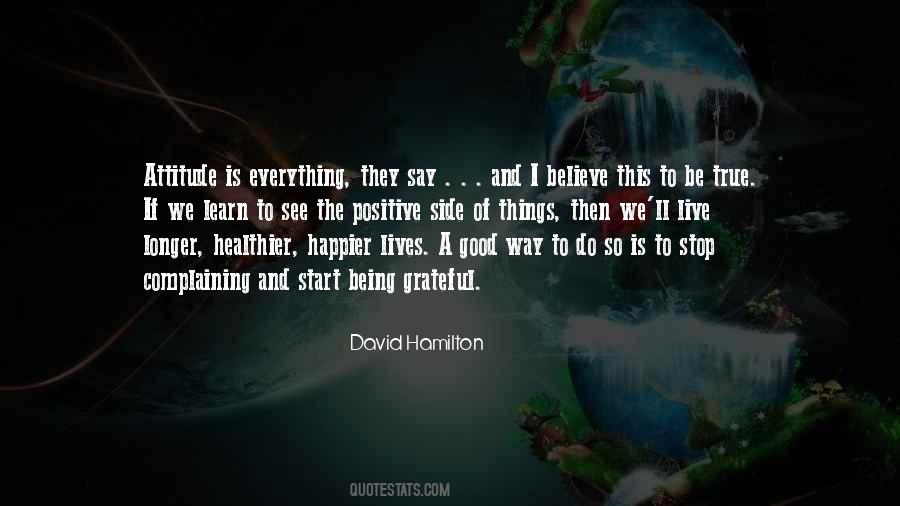 #86. As long as we keep dividing our lives between events and people we would like to remember and those we would rather forget, we cannot claim the fullness of our beings as a gift of God to be grateful for. - Author: Henri J.M. Nouwen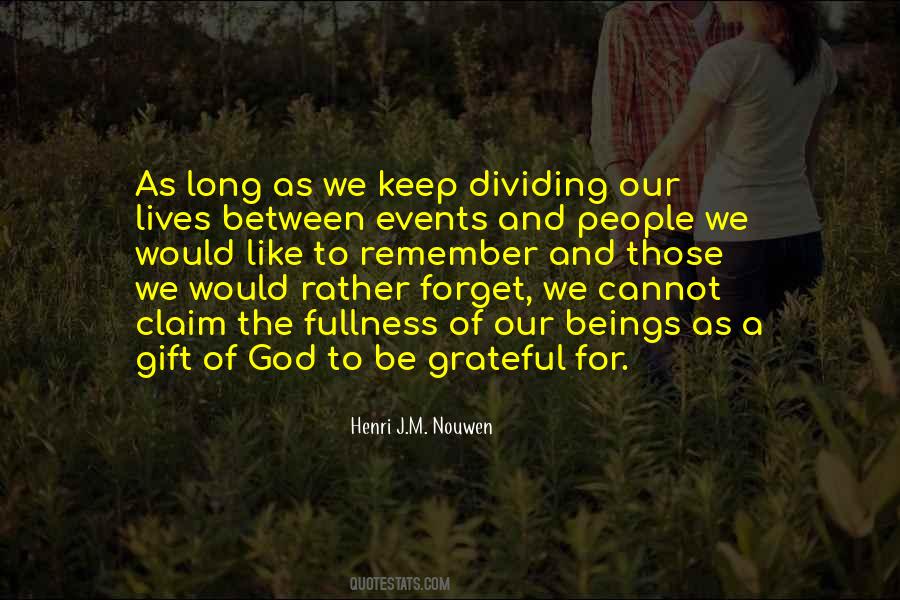 #87. The essence of learning to be grateful is to learn to want what you have. - Author: Maureen Gaffney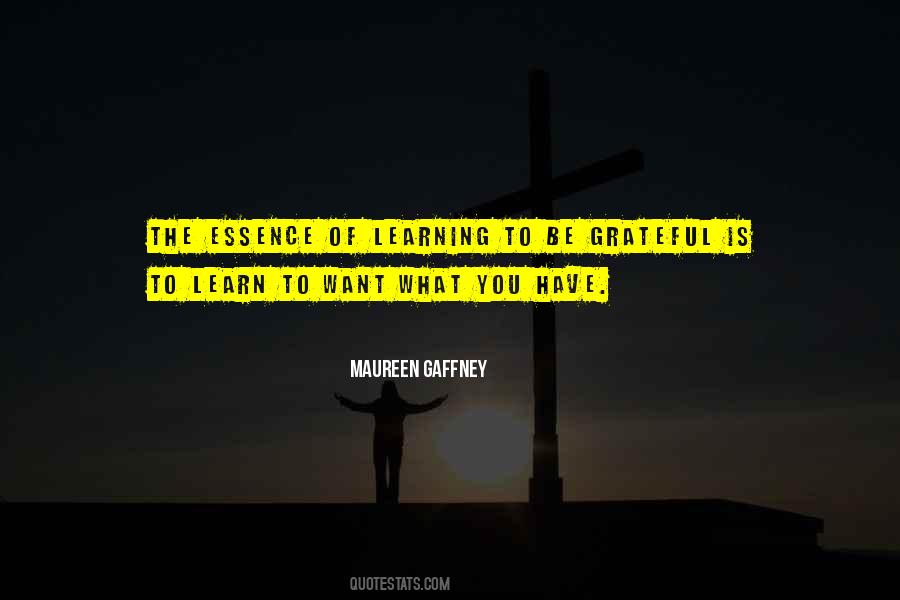 #88. You simply will not be the same person two months from now after consciously giving thanks each day for the abundance that exists in your life. And you will have set in motion an ancient spiritual law: the more you have and are grateful for, the more will be given you - Author: Sarah Ban Breathnach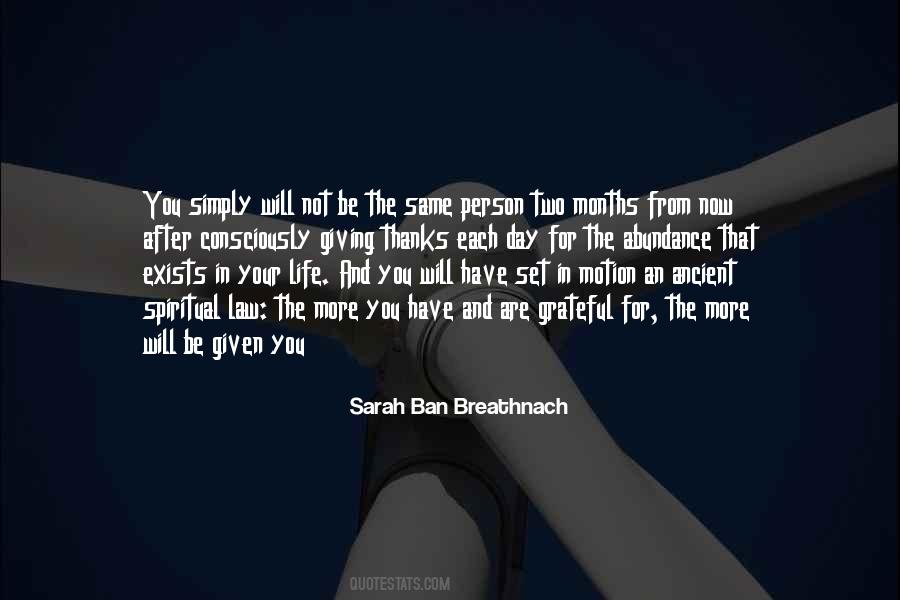 #89. A hungry man can be a fast learner. When you come to a table with nothing but need, you are grateful for things you might have pushed aside before. And when you kneel, hungry & broken at His table, you receive a grace from Him you might, at some other time, have completely missed. - Author: Mike Yankoski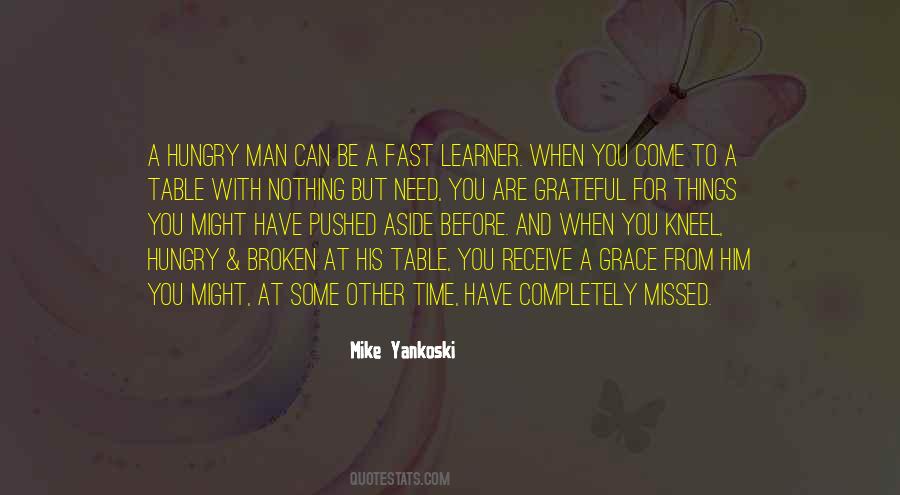 #90. Everybody asks me, 'So, what are you doing now?' Why must I be doing something? All my life I've been doing something. All my life I've been doing. For now, I'm being
being quiet, being grateful. - Author: Bess Myerson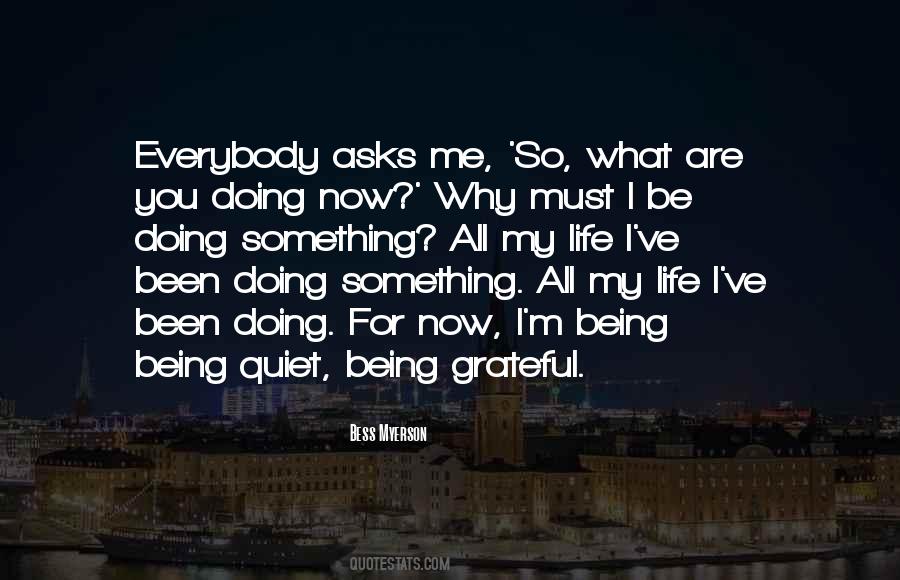 #91. Being a role model is cool and a great honor. I'm grateful to be considered one and will live up to that title by encouraging kids to eat their Wheaties and brush their teeth often. - Author: Jennette McCurdy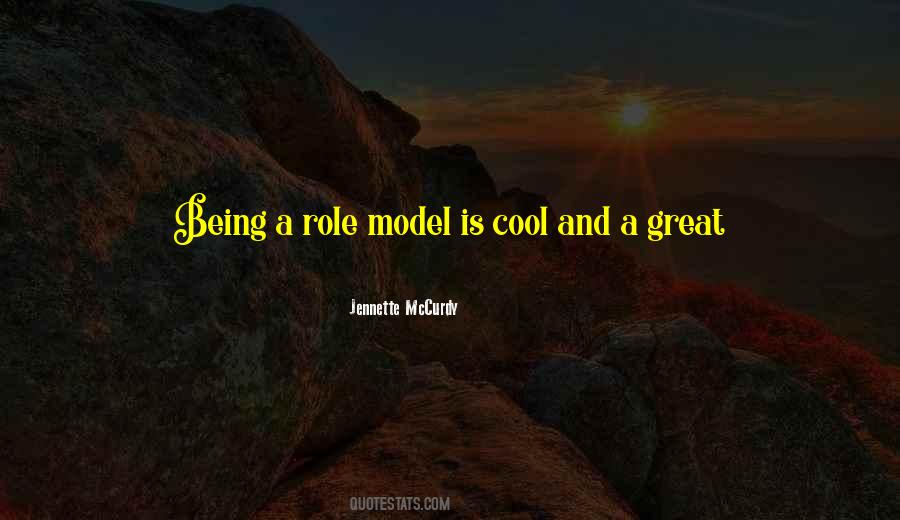 #92. Look, I hate to sound like Pollyanna, but I literally can't wait to get to work in the morning. I've got steady jobs, I've got my health, and I'm here in the greatest city in the world. I'd be a pig not to be grateful. - Author: Christopher Meloni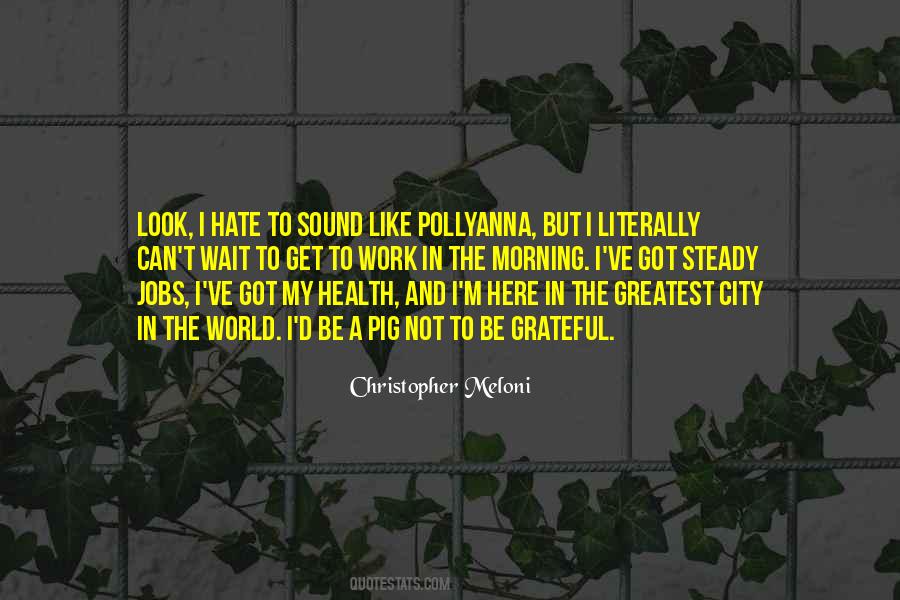 #93. Youth is seen as everything. You don't know anything when you're young. It's great being older, just having a more balanced perspective. I wake up and realise that what seemed to be important last year no longer is. I'm increasingly grateful for every day. - Author: Val Kilmer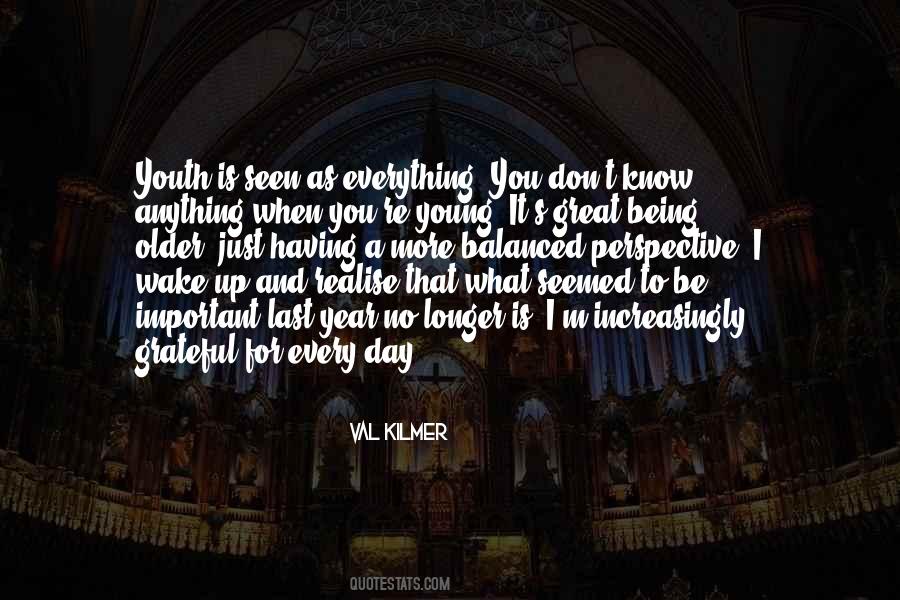 #94. Stand true to your calling to be a man. Real women will always be relieved and grateful when men are willing to be men - Author: Elisabeth Elliot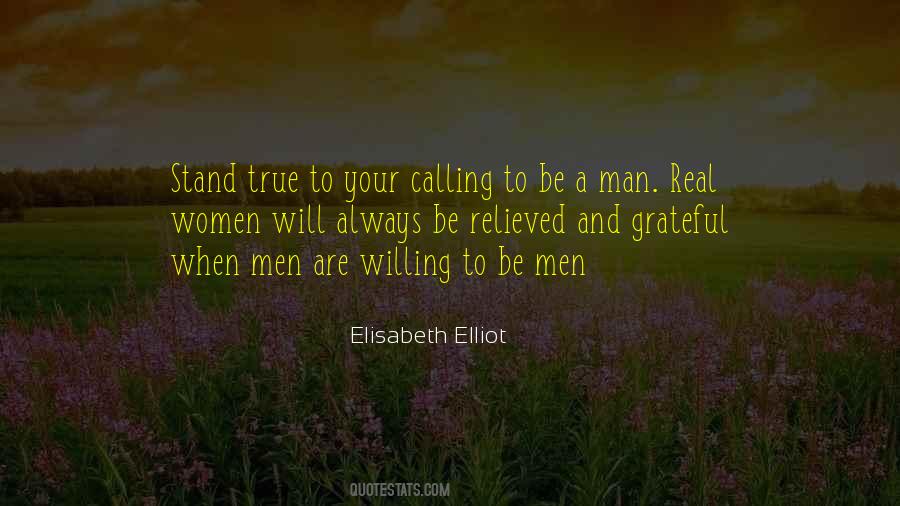 #95. Amidst all the bacchanal and confusion in your life, find something to be grateful for, even if it is the air that you breath and trust me, this will transform you in some small way. Gratitude is really really the great multiplier. - Author: Akosua Dardaine Edwards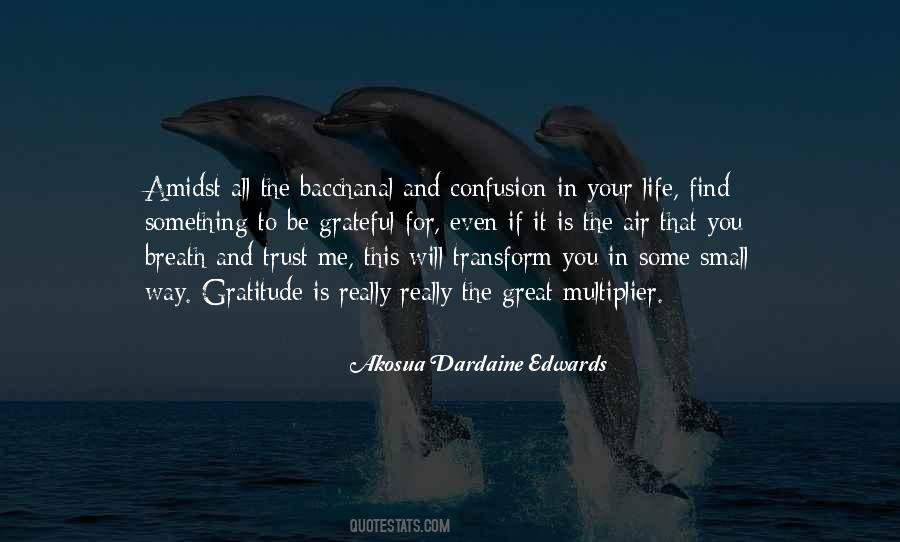 #96. Marriage was all a woman's idea and for man's acceptance of the pretty yoke, it becomes us to be grateful. - Author: Phyllis McGinley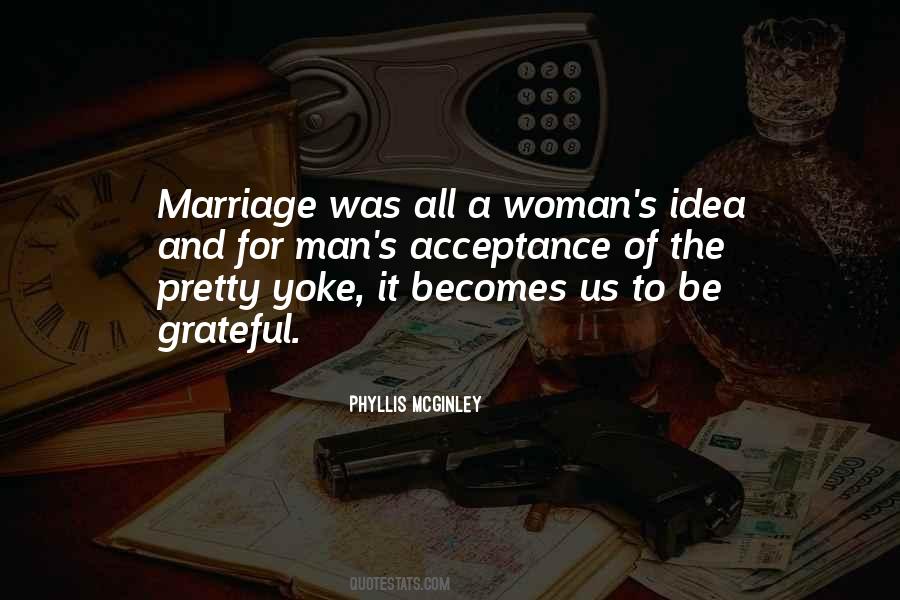 #97. Stumblingblocks? If you are facing one right now, be grateful for two reasons. It landed in front of you not on top of you. And now you have something to climb on top of so that you can see farther than you ever could before. Live large my friends, live deliberately. - Author: Jim Killon
#98. A night that began with mind-reading a grateful crustacean and ended with drunken elves would be a night to remember. - Author: Karen Joy Fowler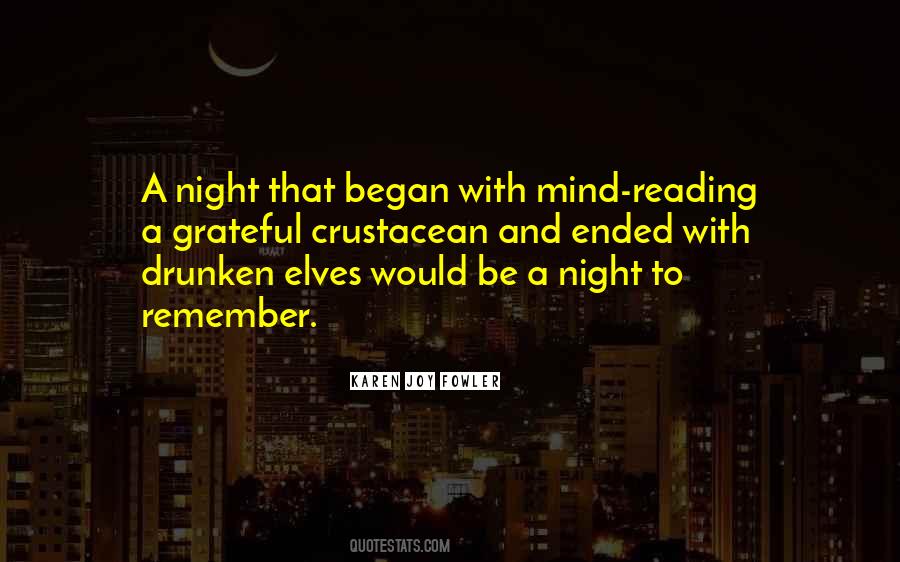 #99. The challenges are gonna go, and your children are gonna grow, so try to enjoy this moment, and try to look at what's good, and be grateful for what you have because you will see better days. - Author: Victoria Osteen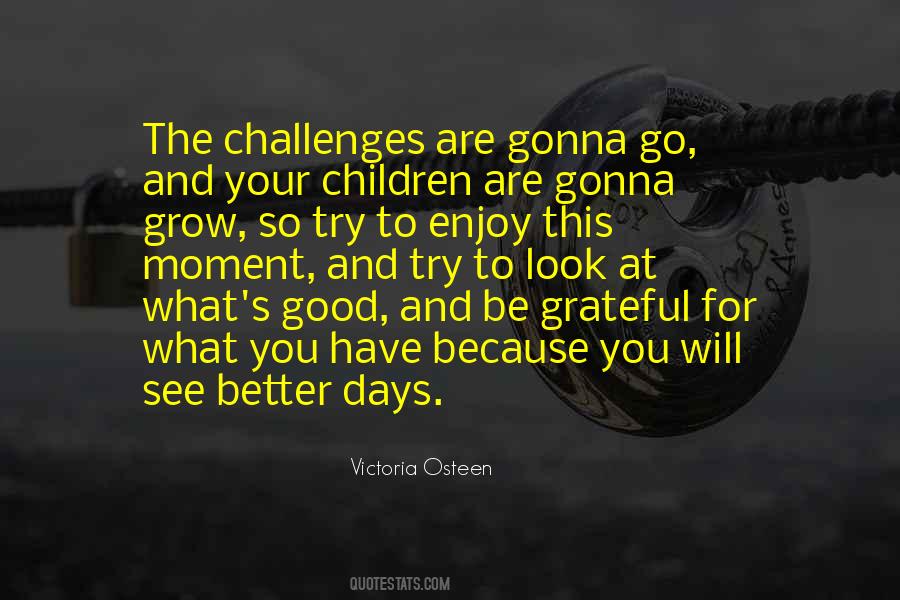 #100. I'm super grateful to be an employed actor. - Author: Mayim Bialik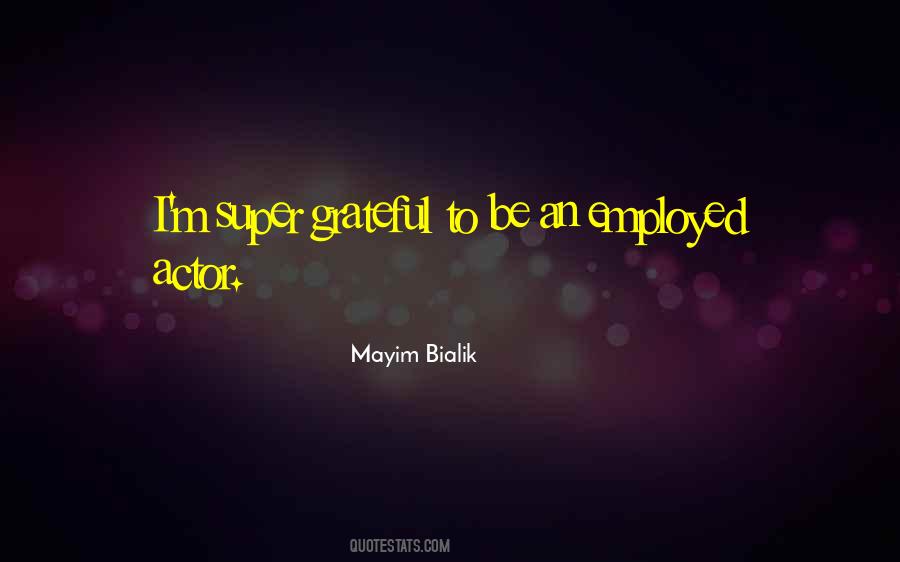 Famous Authors
Popular Topics