Be A Better Person Famous Quotes & Sayings
List of top 100 famous quotes and sayings about be a better person to read and share with friends on your Facebook, Twitter, blogs.
Top 100 Be A Better Person Quotes
#1. Maybe he is starting to understand. I don't really care, though. I do not want to be anyone's model for becoming a better person. - Author: E.K. Johnston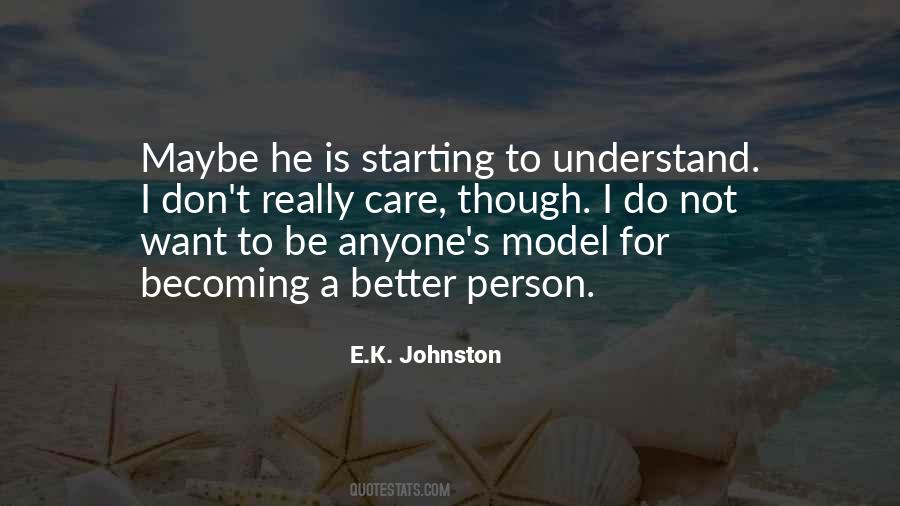 #2. You ought to expect better of people. It encourages you to be a better person yourself. - Author: Jeph Jacques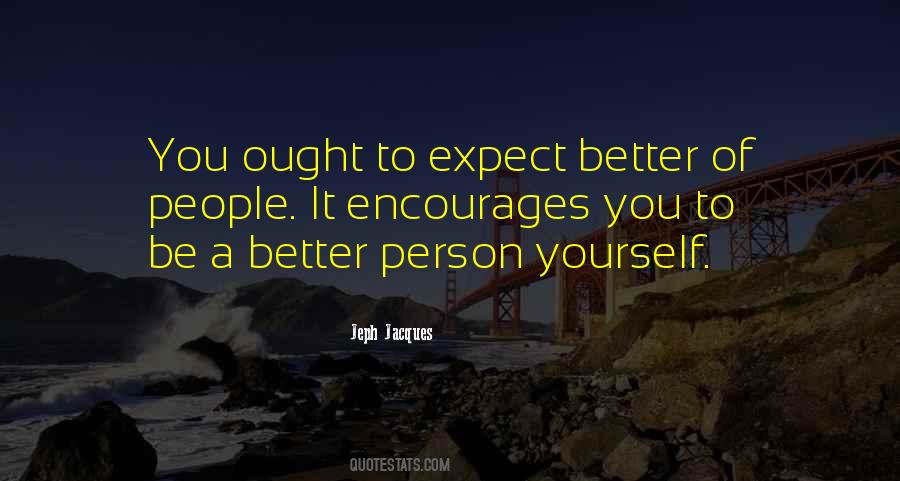 #3. I want to take time to understand life. I want to travel. I want to be a better person, a better Mom. I want to
do something good with my life. - Author: Angelina Jolie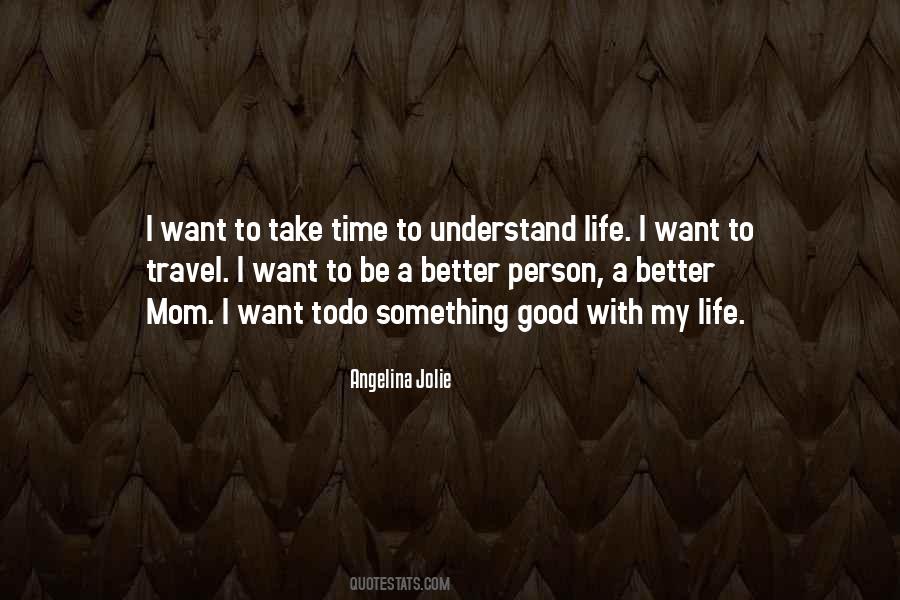 #4. For me, if somebody tells me to go away, that is an opportunity: for me to give the person a better life, to realize where not to be, and to see what could be even better than being with that person I love. - Author: Byron Katie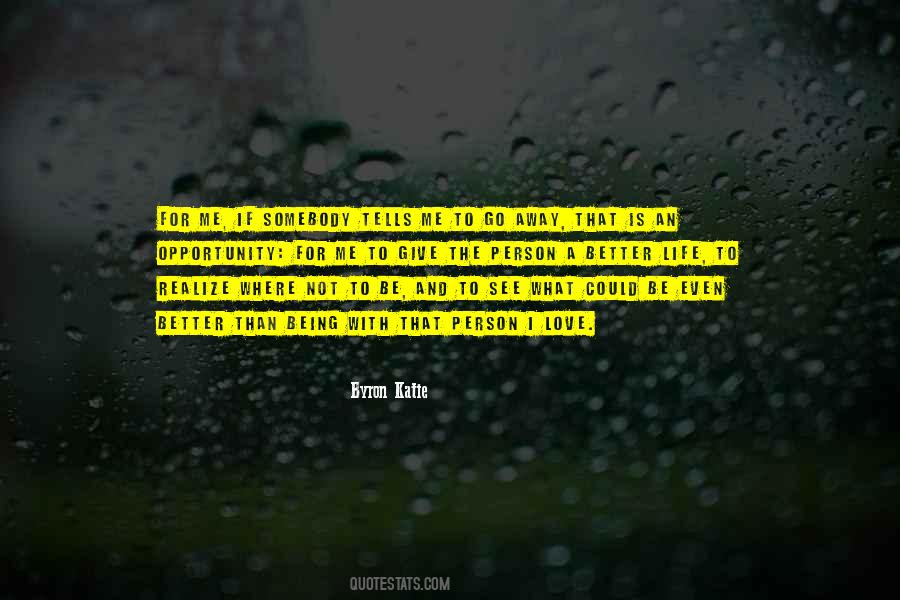 #5. If you live long enough, you'll make mistakes. But if you learn from them, you'll be a better person. It's how you handle adversity, not how it affects you. The main thing is never quit, never quit, never quit. - Author: Bill Clinton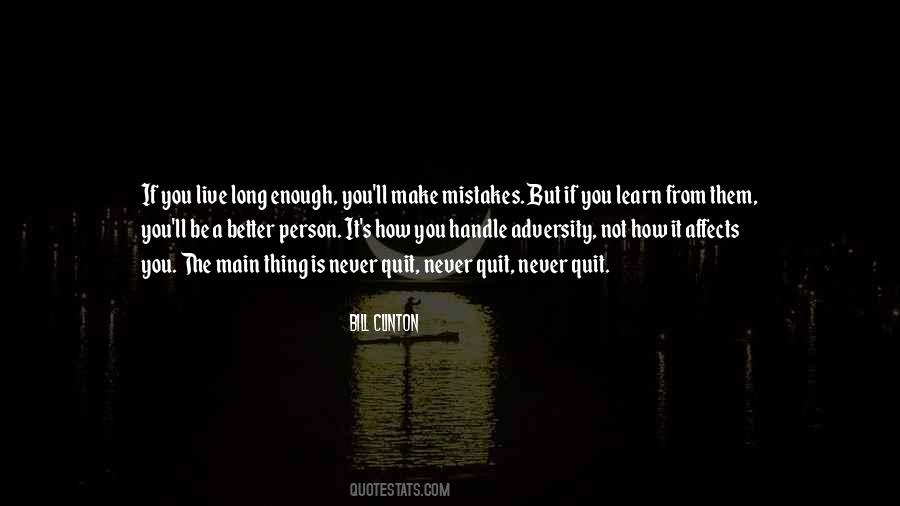 #6. I have picked the very, very best deputy that I could. David Parker is a fantastic guy. He's a person who I trust absolutely. He's got a wonderful sense for policy. He will be great on organisation, and I know that I could not have a better deputy. - Author: David Cunliffe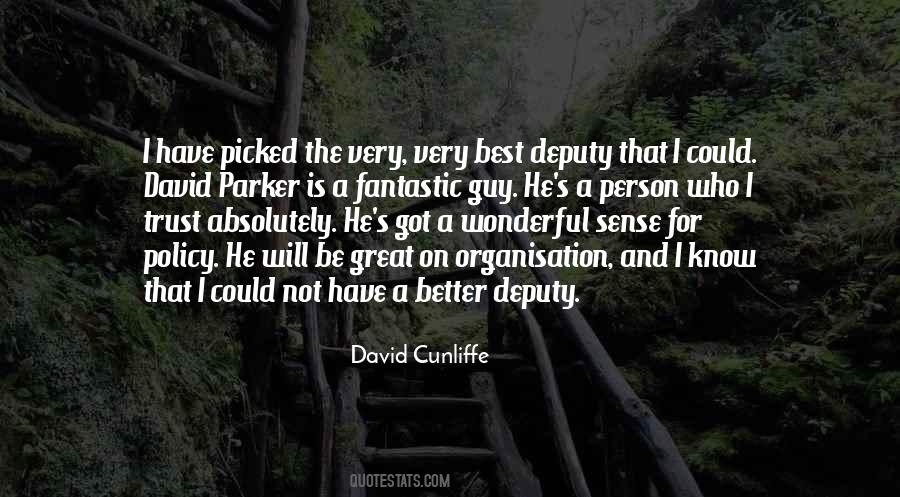 #7. Manager' is a title, not a function. It's better to be one than not. Since you spend all day doing the job of the person above you, the higher up you are, the less you have to do. - Author: Corinne Maier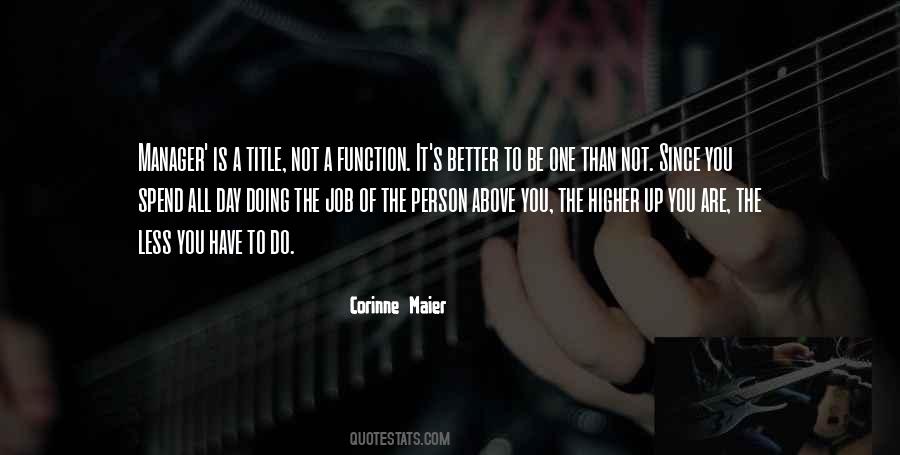 #8. To tell the truth, though, I don't think I deserve your kindness. I'm trying my best to be a much better person, but things aren't going so well. - Author: Haruki Murakami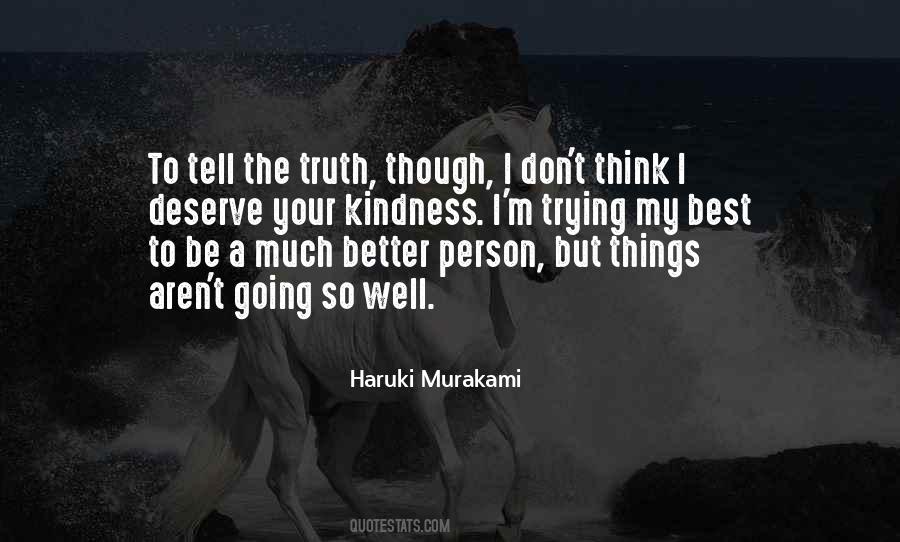 #9. I'm a singer. I'm a dancer. I'm a performer. I'm an actress. That's what I'm supposed to be doing. It makes me a better parent, a better person. I think I can just handle more than the average bear, you know? - Author: Jennifer Lopez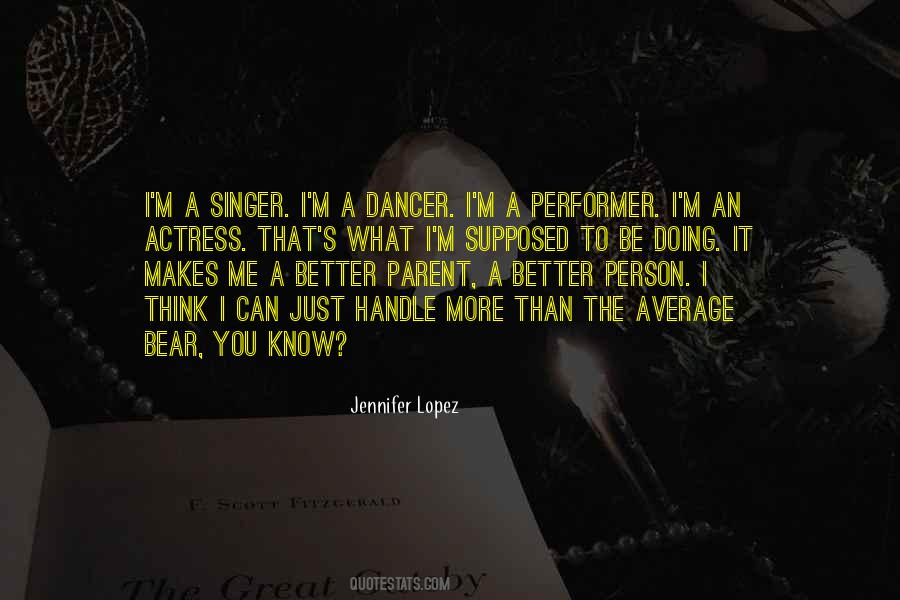 #10. You make your son out to be to be almost an idiot; well let me tell you something, Mrs Loan, if he were a complete idiot, drooling at the mouth, he'd still be a better person then you. - Author: Catherine Cookson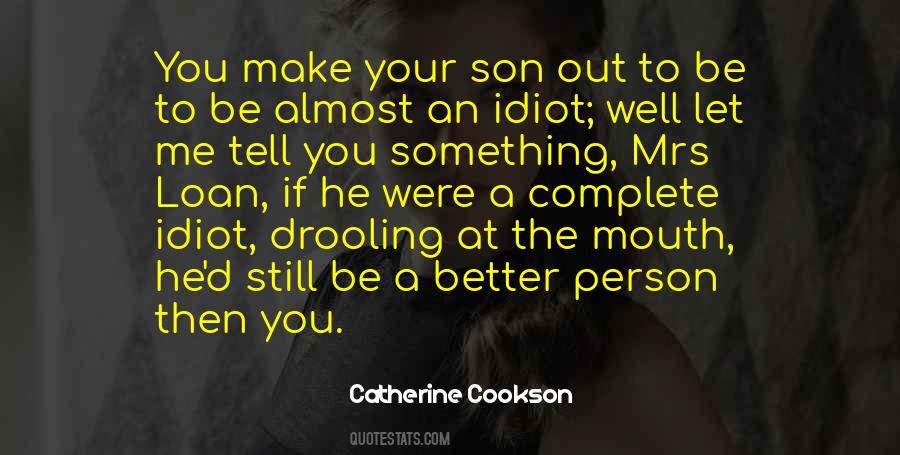 #11. If I want to be a better person for whoever is in my life, I have to learn. - Author: Paul Gascoigne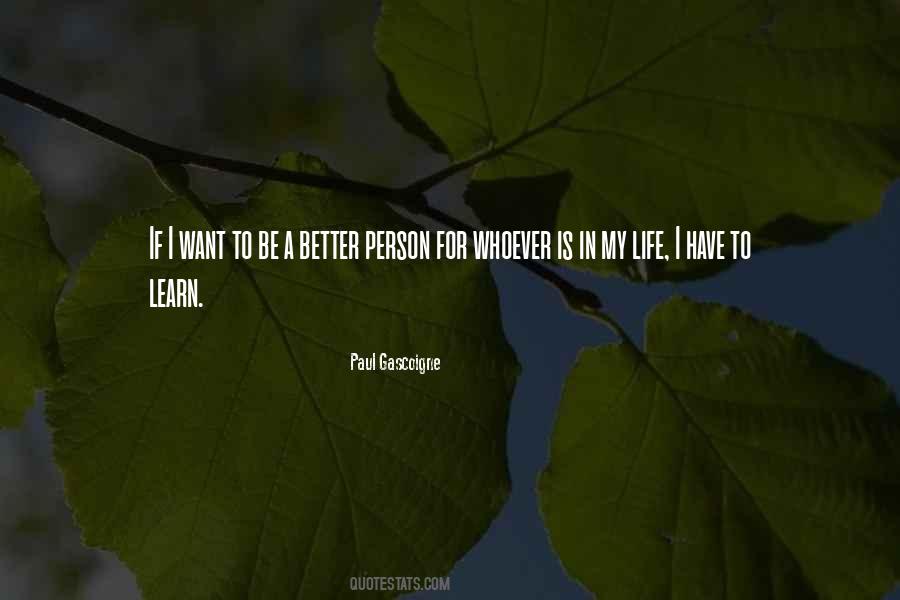 #12. But then my mother, who's a very selfless, stoic person from a family of Marines, would tell us that what was good for our father was good for us - he would make more money; therefore, we'd be able to get better educations. - Author: Patricia Richardson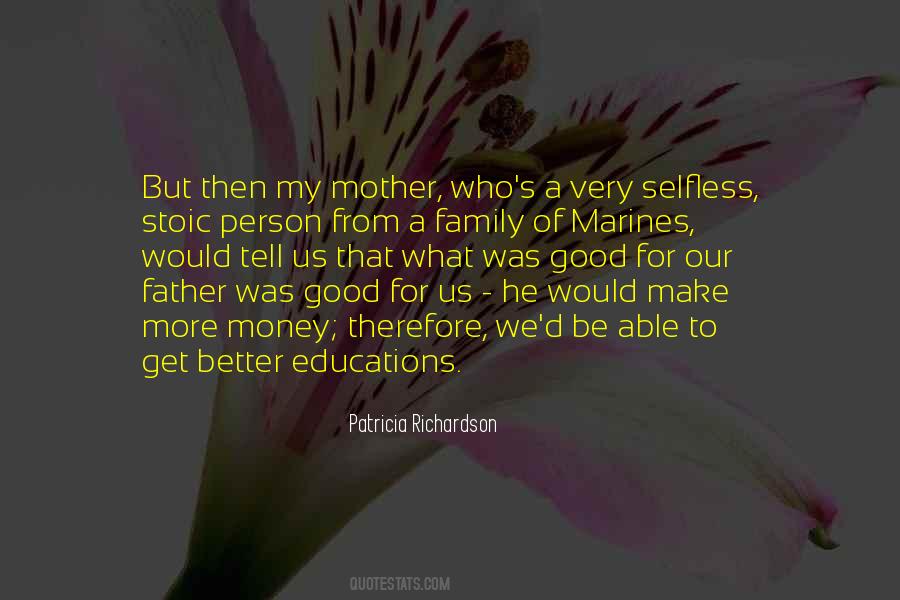 #13. We are all guilty and we all have to be part of the solution. We have to do the best we can and then try to do better. It's not about any one person doing everything; it's about all of us doing something and then maybe a little more. - Author: Laurie David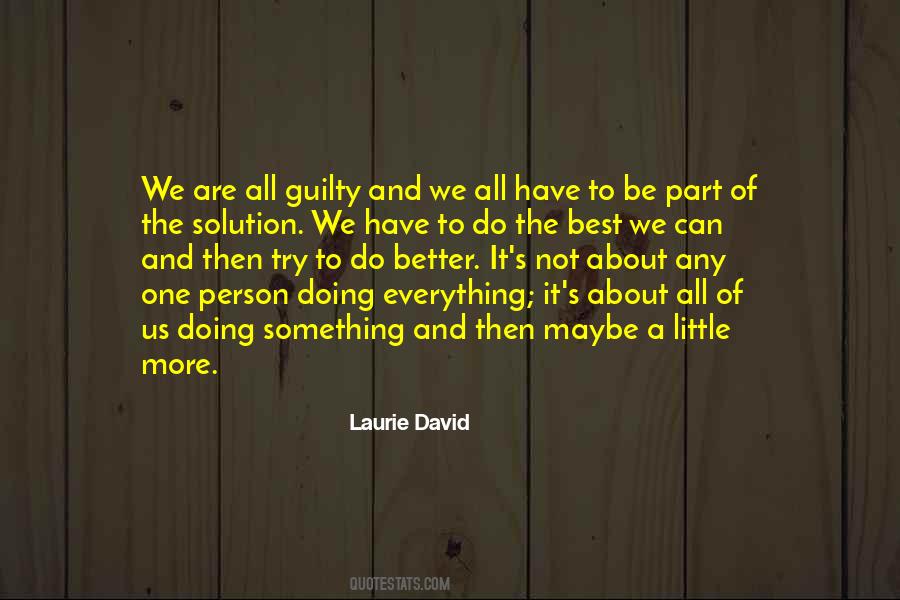 #14. Remember ... that each child is a separate person, yours forever, but never fully yours. She can never be all you wished or wanted,or all you know she could be. But she will be a better human being if you can let her be herself. - Author: Stella Chess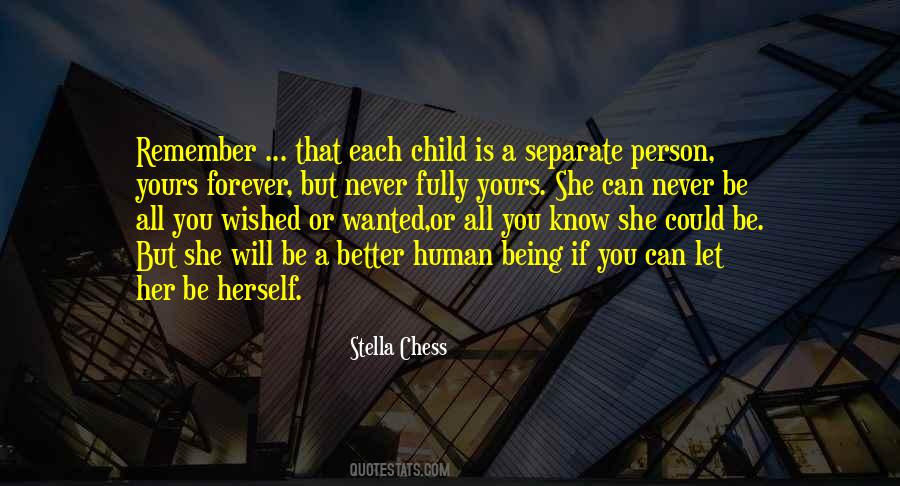 #15. She was the most beautiful woman in the world. If she was alive I'd probably be a better person. - Author: Melina Marchetta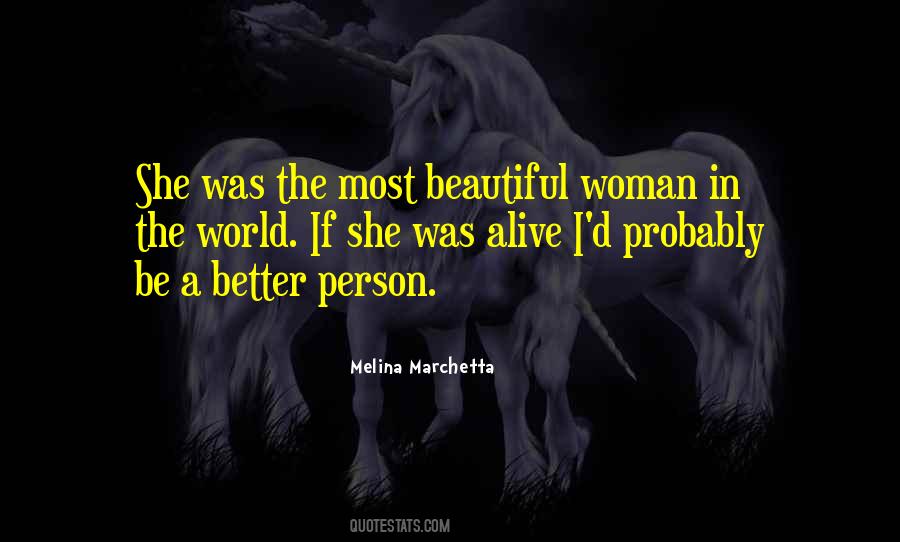 #16. If the American people really tire of democracy and want to make a trial of Fascism, I shall be the last person to object. But if that is their mood, then they had better proceed toward their aim by changing the Constitution and not by forgetting it. - Author: H.L. Mencken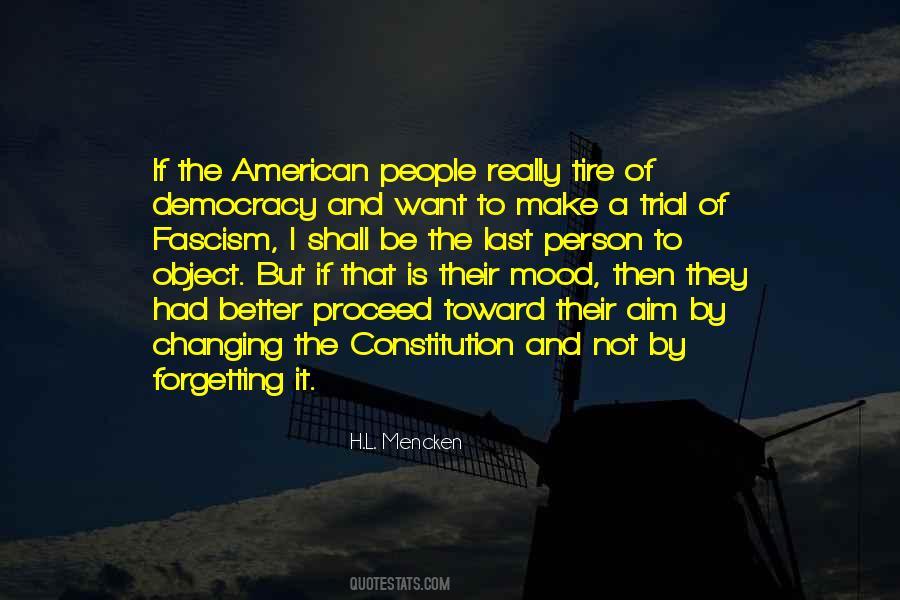 #17. To be a better person, spend less time filling out your personal scorecard and more time being kind . . . to you. - Author: Philip Chard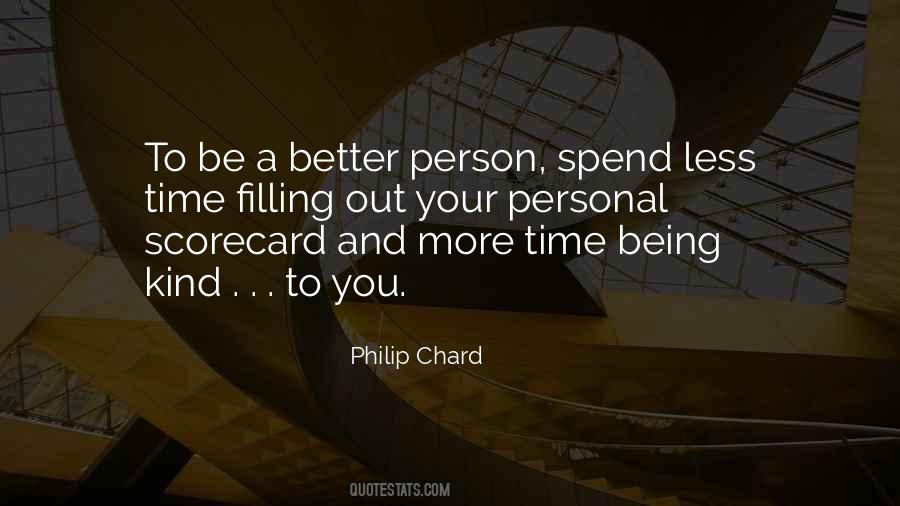 #18. Now I know the truth. Ethan's love won't fix me. I have to do that myself. So, no, his love isn't the cure. But it is something to live for. Without him, I might not want to fix myself. Ethan Dexter makes me want to be a better person. To be brave. - Author: Kristen Callihan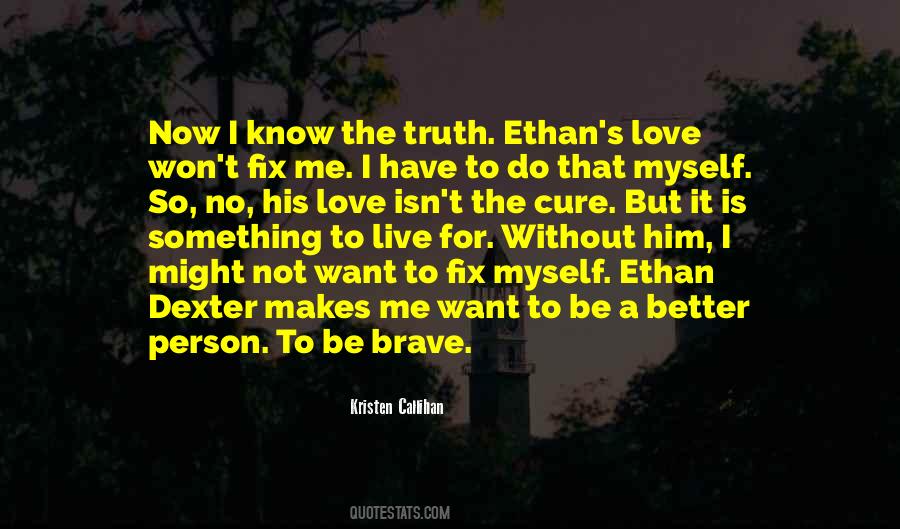 #19. I also learned that a person was not necessarily bad just because you did not agree with him, and that if you believed in something, you had better be prepared to defend it. - Author: Hillary Rodham Clinton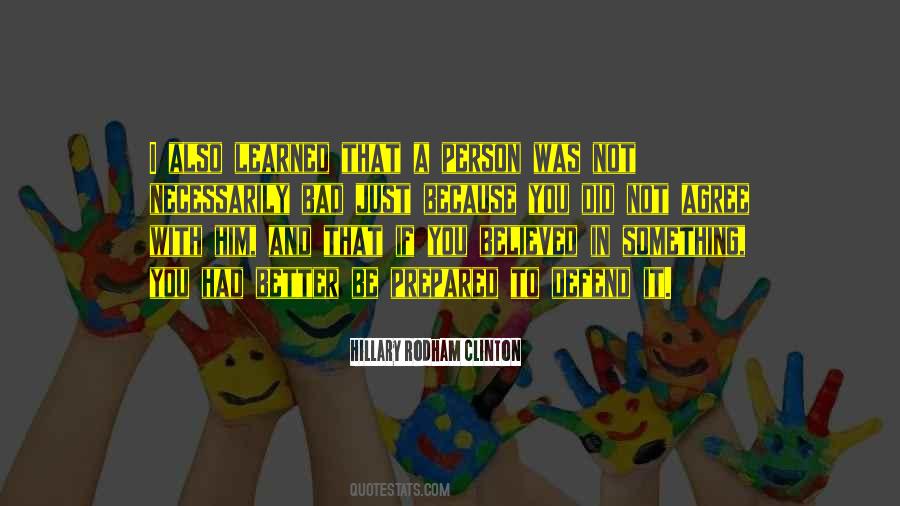 #20. I try each day, each month, each year to become a better and better person and to be good to the people I love and let them know how much I appreciate them. - Author: Drew Barrymore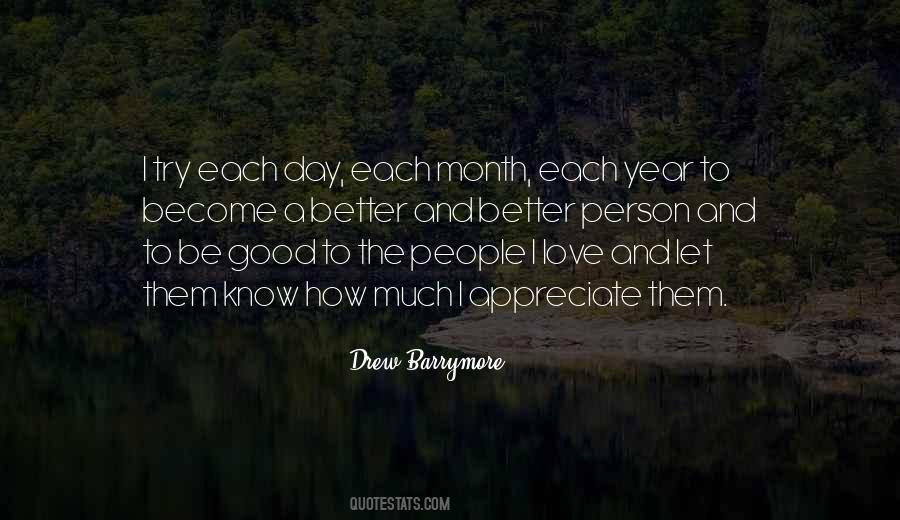 #21. I want to be a better person in every aspect. I really don't feel I've in anyway fulfilled my potential in every area of my life. But I'm optimistic. - Author: Damon Albarn
#22. Endurance is not a young person's game. I thought I might even be better at 60 than I was at 30. You have a body that's almost as strong, but you have a much better mind. - Author: Diana Nyad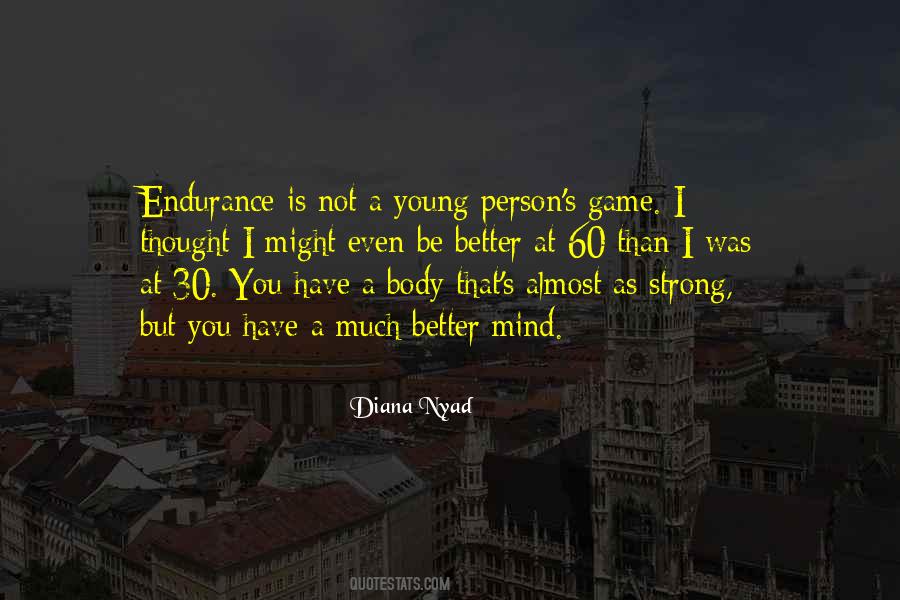 #23. I've never seen a job being done by a five-hundred-person engineering team that couldn't be done better by fifty people. - Author: Gordon Bell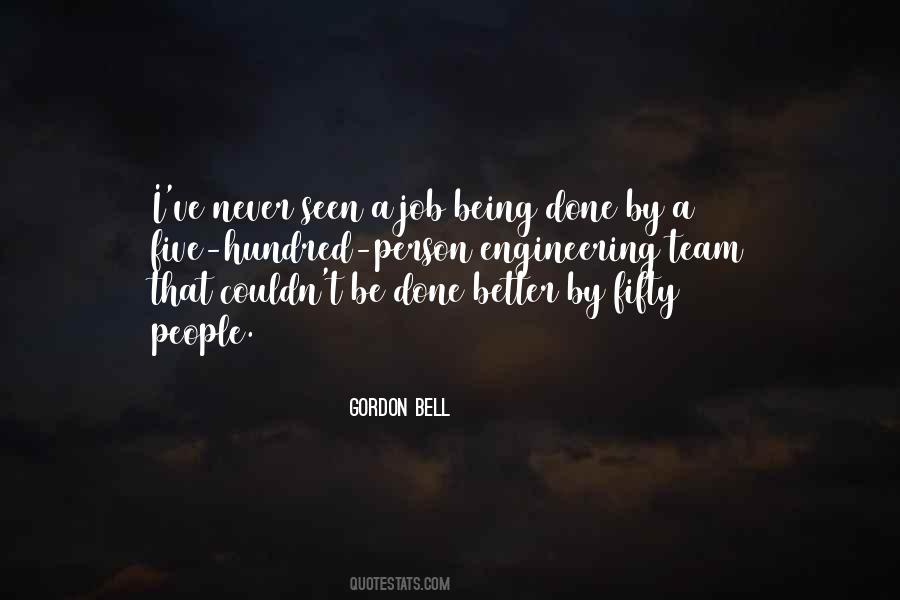 #24. And I'm sorry I ruined everything we had before I could admit it to you. Before I could admit it to myself. You didn't make me a better person, because no one can do that. You made me want to be a better person. - Author: Nicole Williams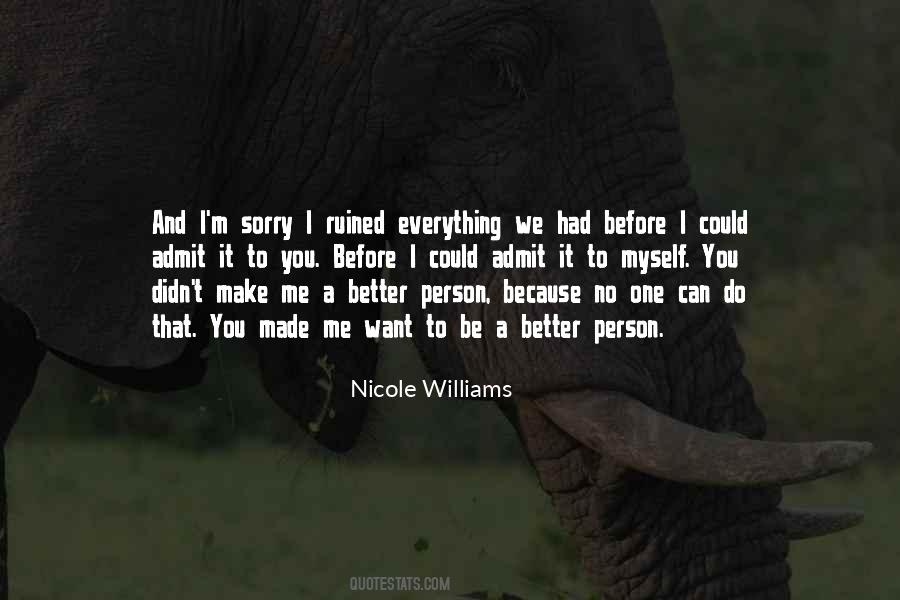 #25. For a long time, when it's working, the drink feels like a path to a kind of self-enlightenment, something that turns us into the person we wish to be, or the person we think we are. In some ways the dynamic is simple: alcohol makes everything better, until it makes everything worse. - Author: Caroline Knapp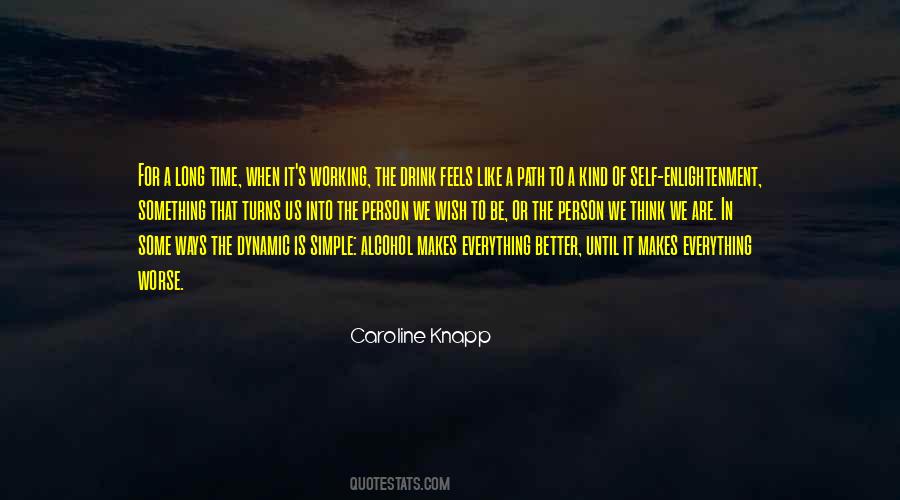 #26. Nobody gets through life without facing challenges. What's important is how we handle them. Tough times can be excellent opportunities to grow and become a better person. - Author: Sandra Vischer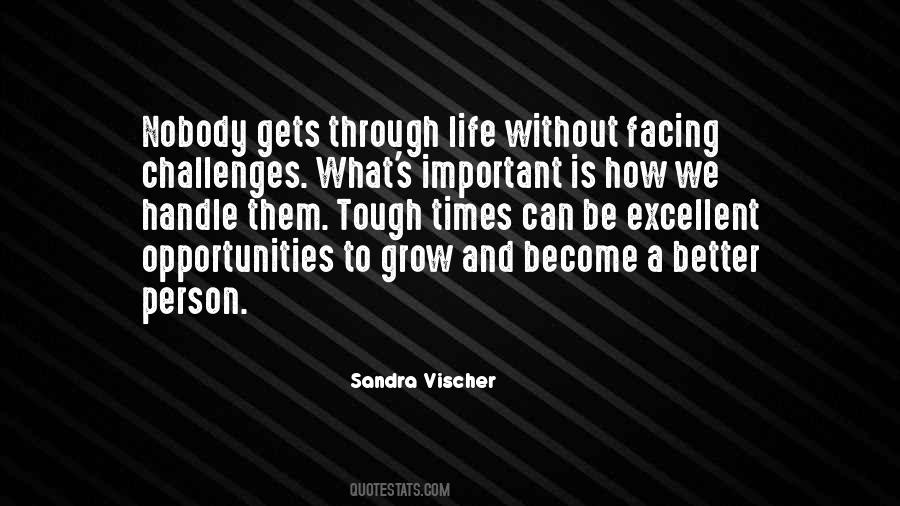 #27. Some of my lowest points were the most exciting opportunities to push through to be a better person. - Author: Demi Moore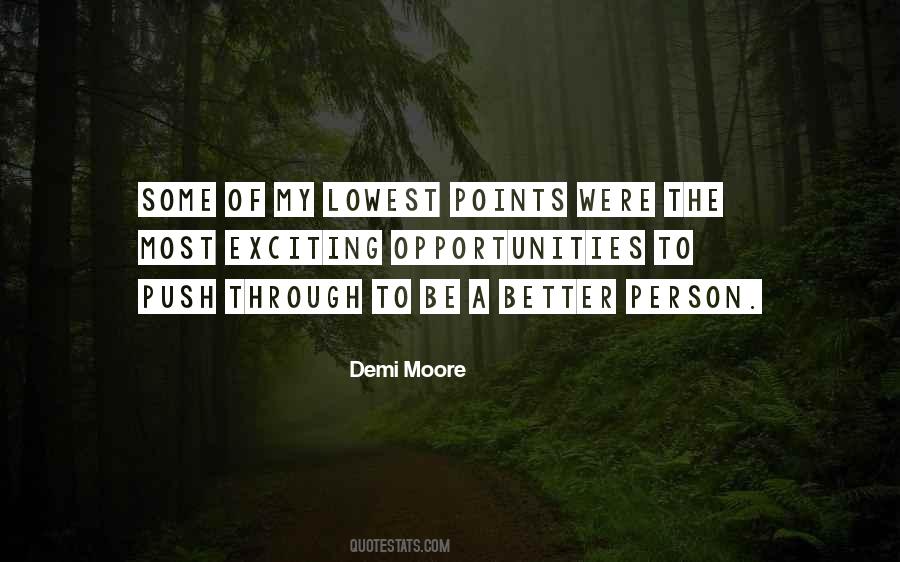 #28. The pain did not make me a better person. It did not teach me not to take anything for granted. It did not teach me anything except how to be afraid to love anyone. - Author: Amanda Lovelace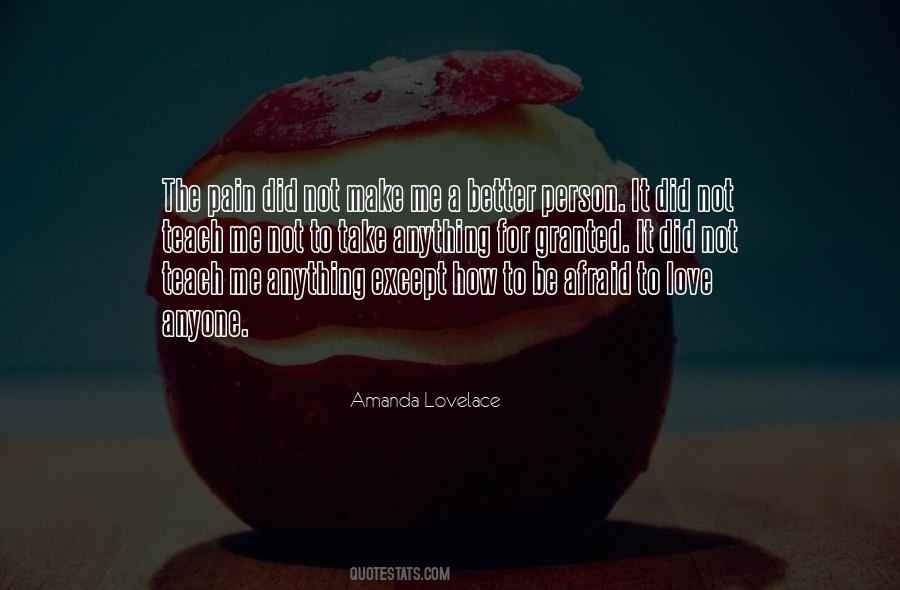 #29. I'm trying to be a better person and I'm pretty sure that even when I die, I won't be done with that. - Author: Sara Benincasa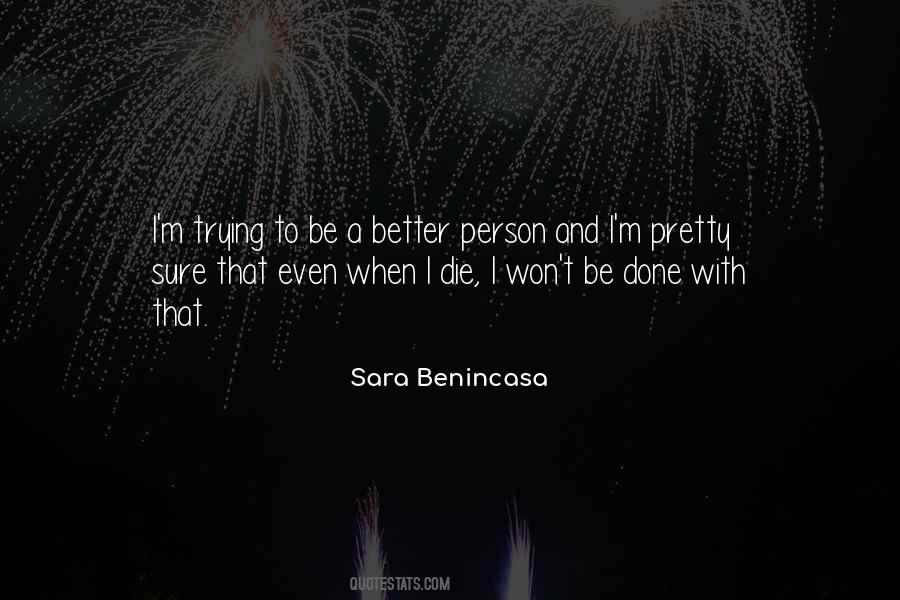 #30. I didn't want to repeat my mistakes so I stopped, took some time out and started having therapy. My songs were bringing up feelings inside of me I didn't really understand, so I wanted to understand where they were coming from to help me be a better person and a better songwriter. - Author: Neil Diamond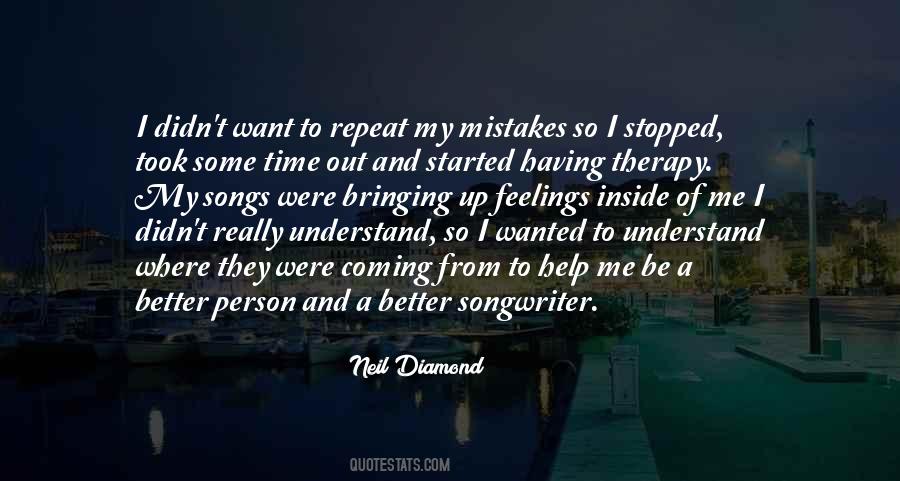 #31. There would be consequences to this weekend, I knew that now and I wasn't lying to myself anymore. But maybe they wouldn't all be negative. Maybe I would walk away a better person because of my encounter with this man. Yes, it sure was, life was wild. - Author: Mia Sheridan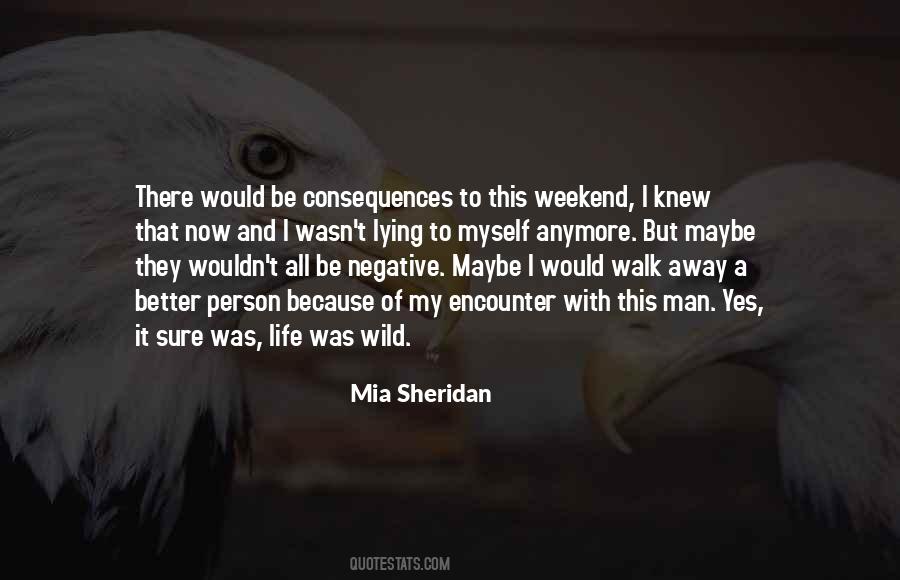 #32. Half my life was spent trying to be a better person, but you reach a certain age and you realize you don't have a choice about who you are. All of us are slaves to ourselves. - Author: Gareth P. Jones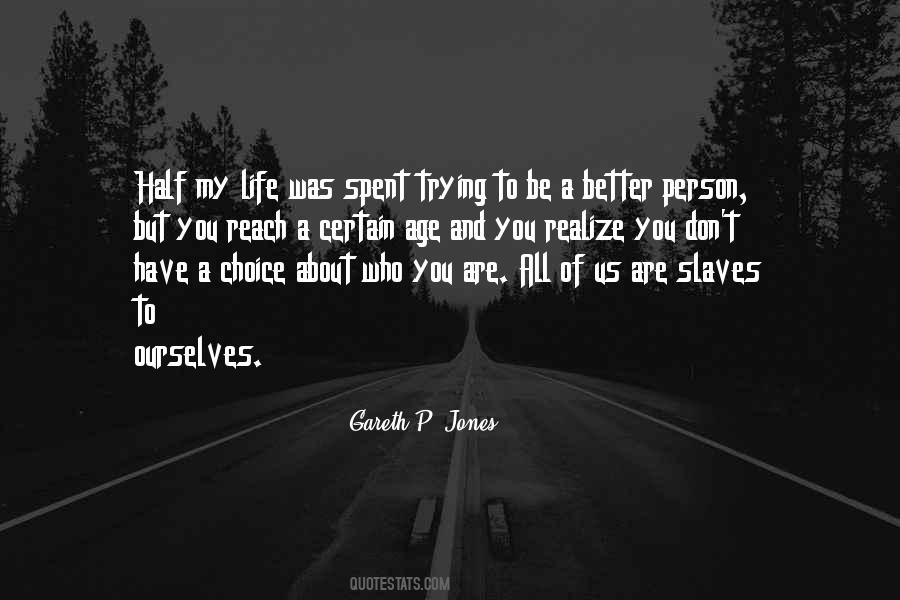 #33. You can always be a better person, a better version of you, focus on that you do that makes you feel good, cultivate
activities that make you feel in peace
and make them part of your daily life. - Author: Jorge Gw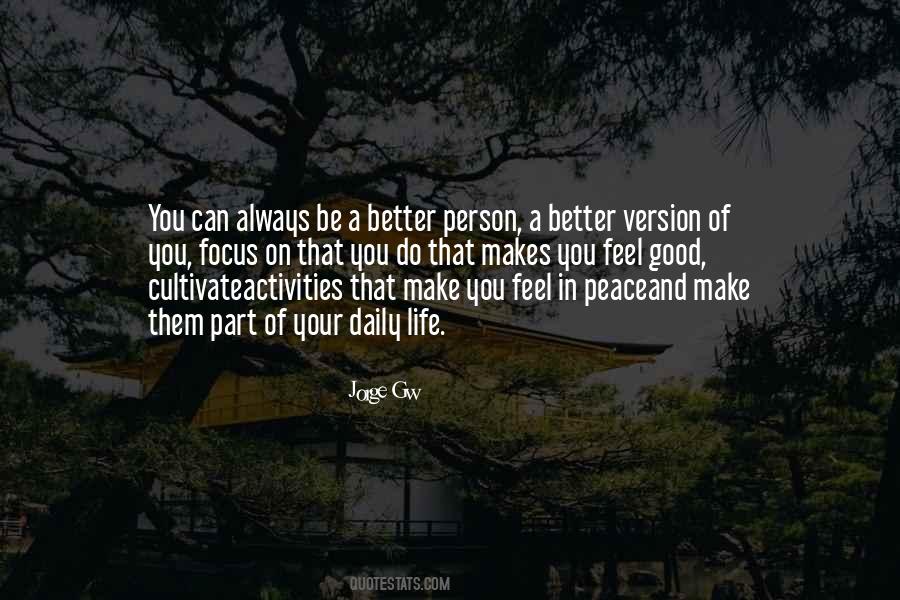 #34. I should be able to look at my accolades and go, "Come on, Paul. That's enough." But there's still this little voice in the back of my brain that goes, "No, no, no. You could do better. This person over here is excelling. Try harder!" It still can be a little bit intimidating. - Author: Paul McCartney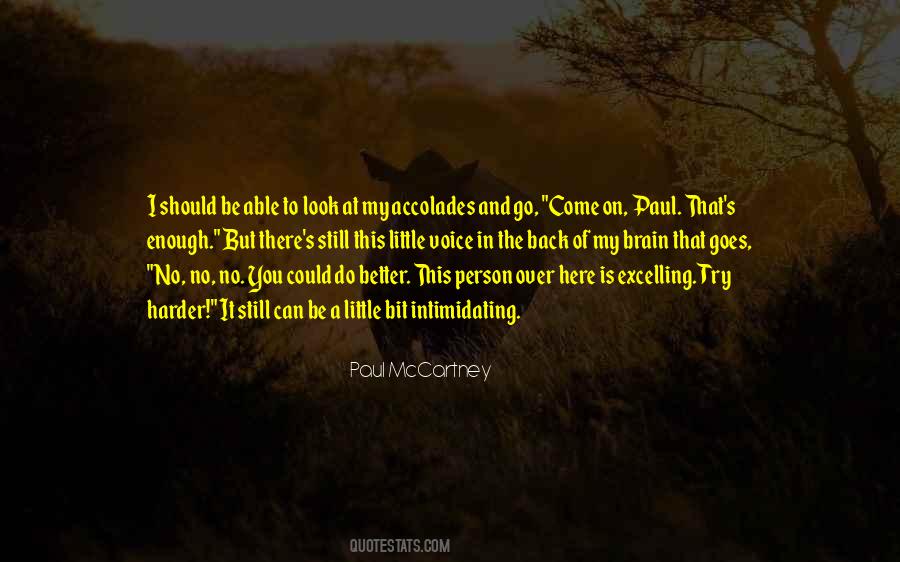 #35. We have all a better guide in ourselves, if we would attend to it, than any other person can be. - Author: Jane Austen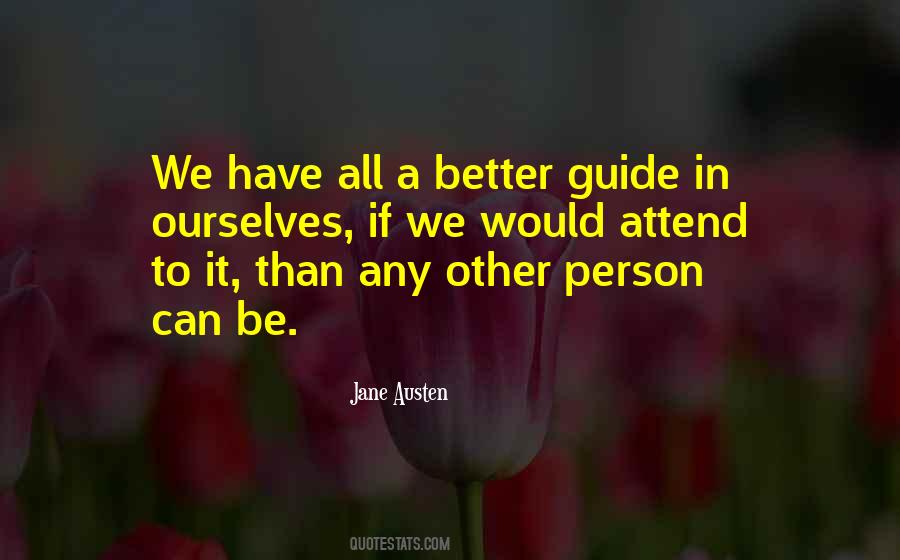 #36. One of the very first things I figured out about life ... is that it's better to be a hopeful person than a cynical, grumpy one, because you have to live in the same world either way, and if you're hopeful, you have more fun. - Author: Barbara Kingsolver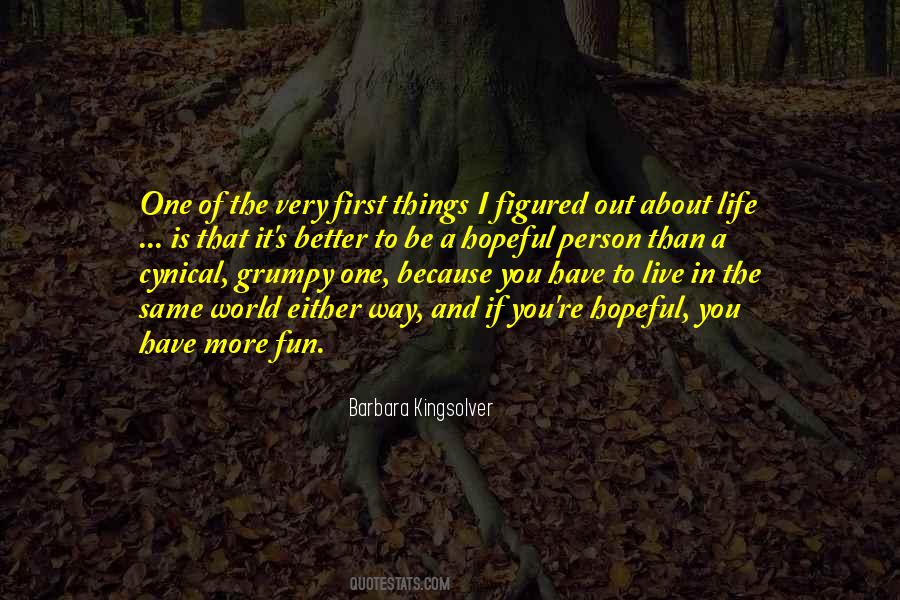 #37. Live a life of grace. You'll be a better person for it, and so will your children. - Author: Chevy Chase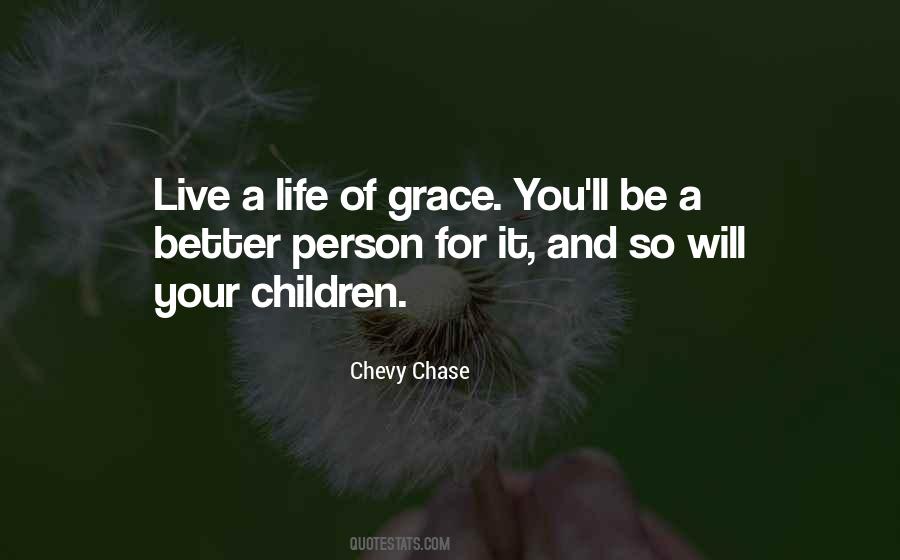 #38. When you compete with a person, you only have to be as good or better than the
person to win. If you compete with yourself, there is no limitation to how good
you can be. - Author: Chin-Ning Chu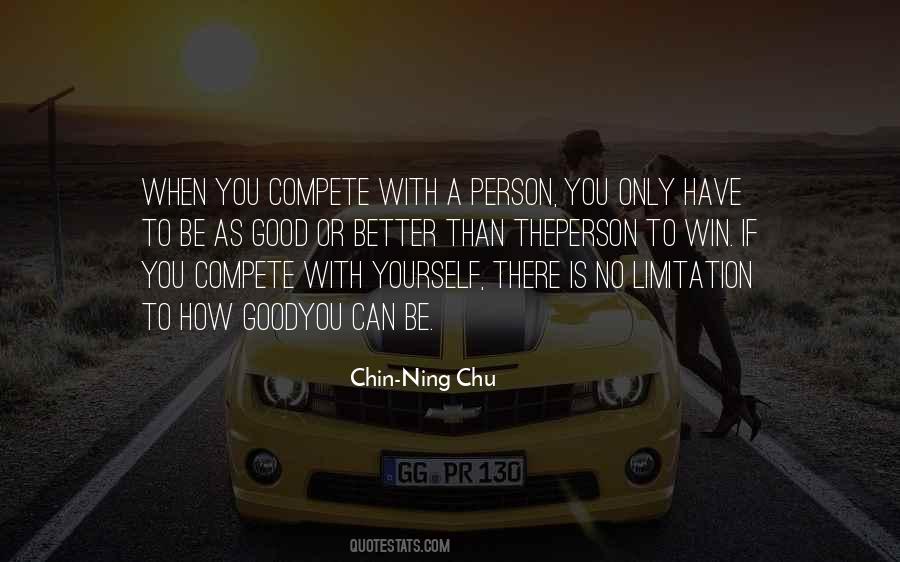 #39. Aspire to be a better person today than you were yesterday and you will be heading in the right direction. - Author: Danielle Ackley-McPhail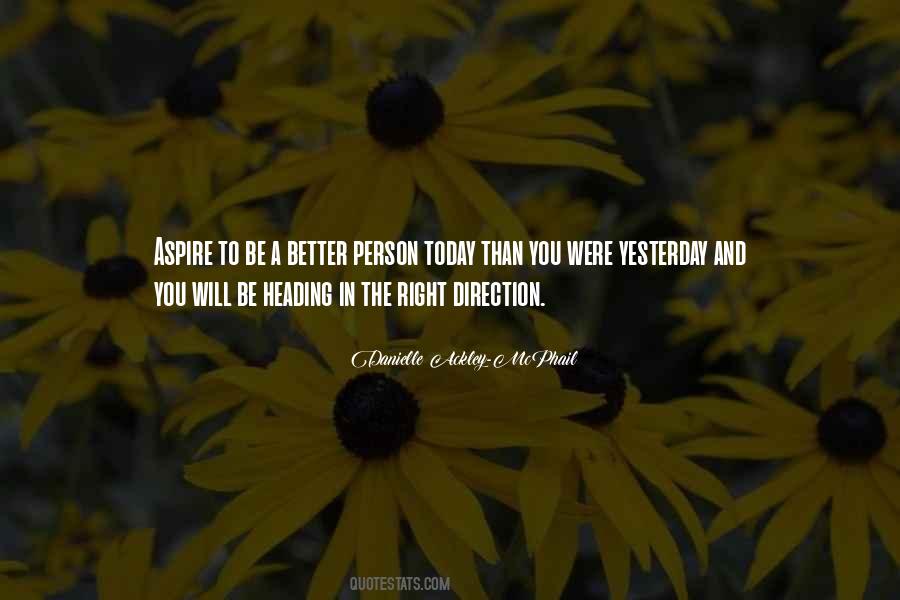 #40. It is only when you have mastered the art of loving yourself that you can truly love others. it's only when you have opened your own heart that you can touch the hearts of others. when you feel centered and alive, you are in much better position to be a better person. - Author: Robin S. Sharma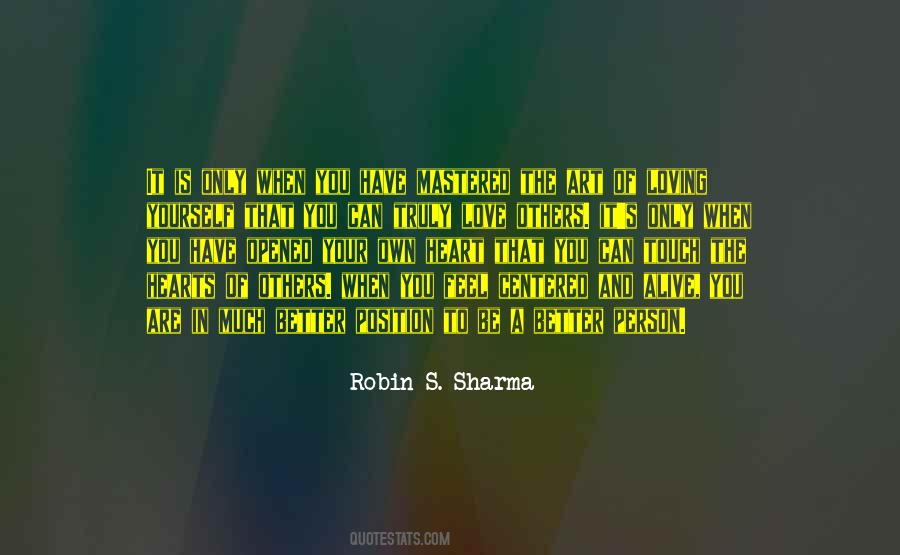 #41. If I had the remaking of man, he wouldn't have any conscience. It is one of the most disagreeable things connected with a person; and although it certainly does a great deal of good, it cannot be said to pay, in the long run; it would be much better to have less good and more comfort. - Author: Mark Twain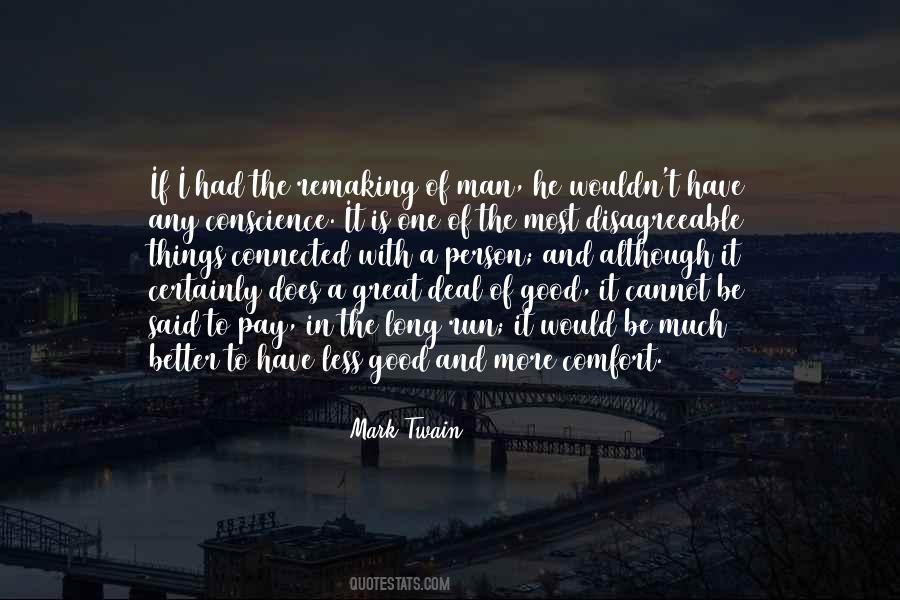 #42. I learned the hard way that not only do you not have to be superwoman, but it's better not to be and not to try to be. What I would like to be is just a good person - someone who tries her best and puts her best foot forward. - Author: Cindy McCain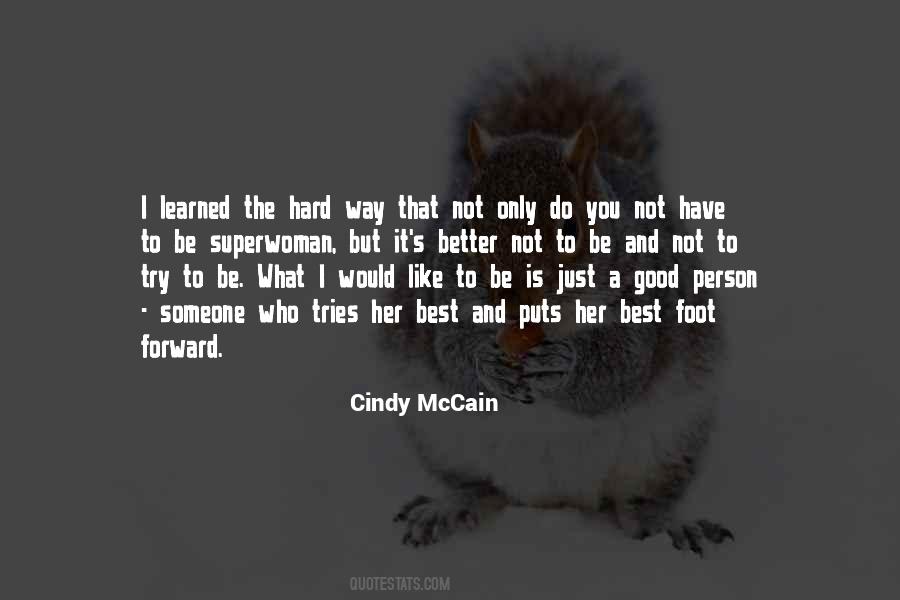 #43. Have integrity by doing something now that will always make you a better person today and never a shame of the person you will be tomorrow! - Author: Timothy Pina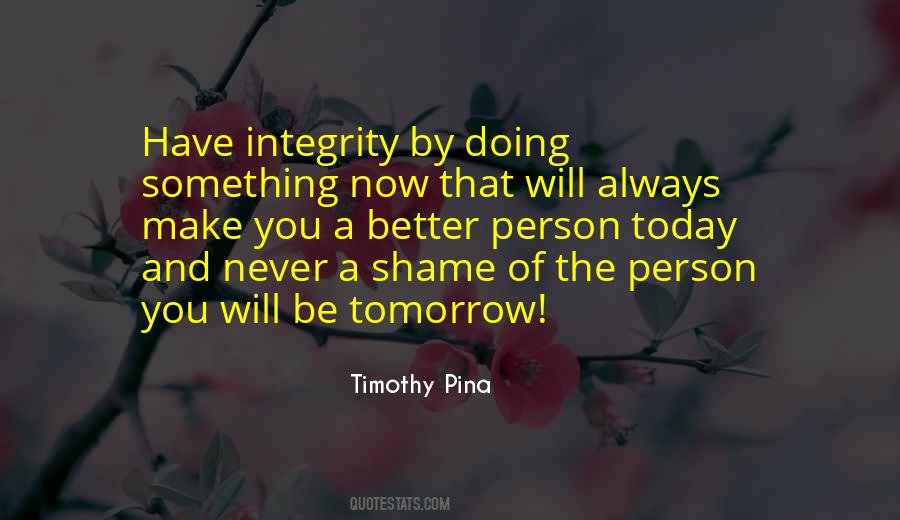 #44. I've heard it said that technology makes a good person better, and it makes a bad person worse. That's okay with me. I say we keep building new versions of ourselves, keep exploring the unknown, and keep growing. We're gonna be fine. Different, but fine. - Author: Daniel H. Wilson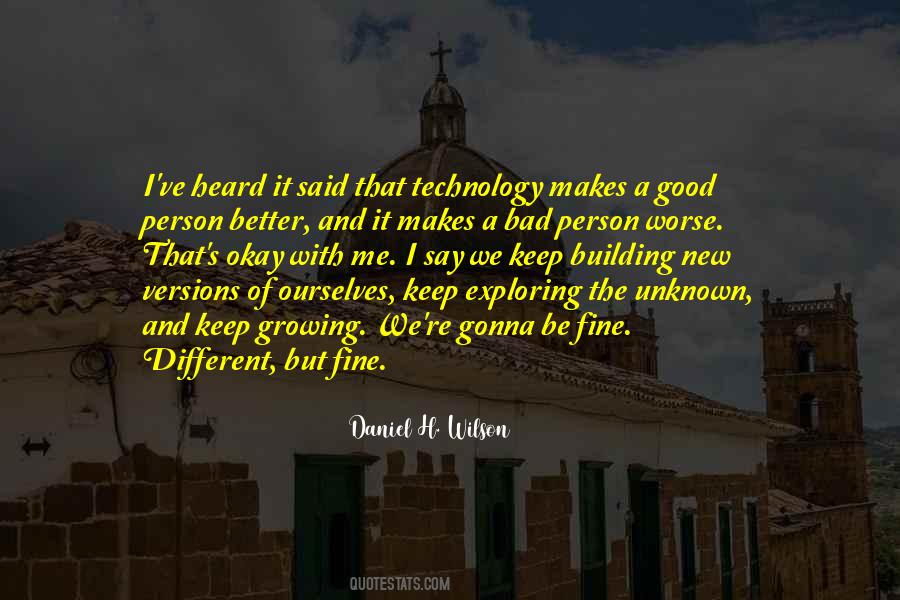 #45. I always hope to be a better person tomorrow than today. - Author: Mahershala Ali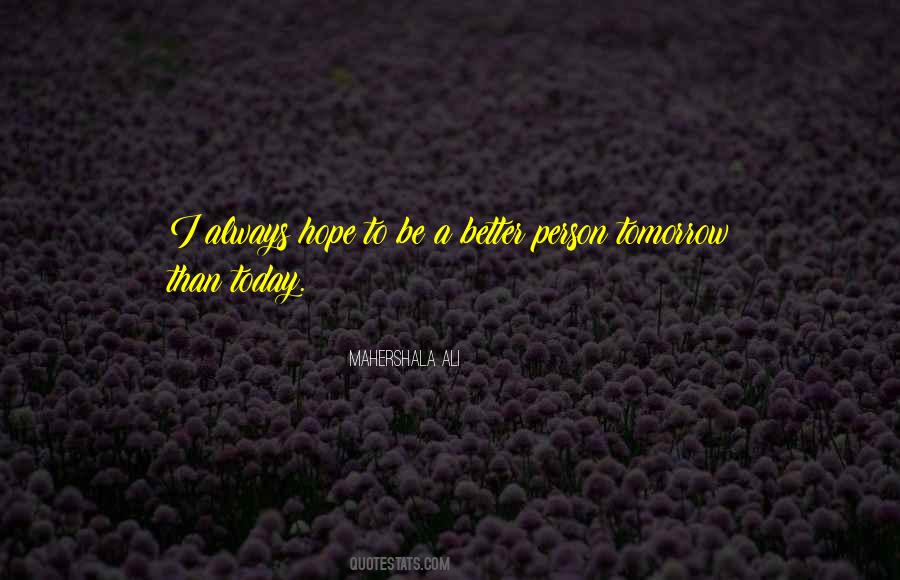 #46. Steve Jobs had something like a 90% approval rating from his employees. You hear stories about him being this short-tempered, aggressive person, which he was. But he was in the pursuit of making people around him better, so the product they created would be better. - Author: Ashton Kutcher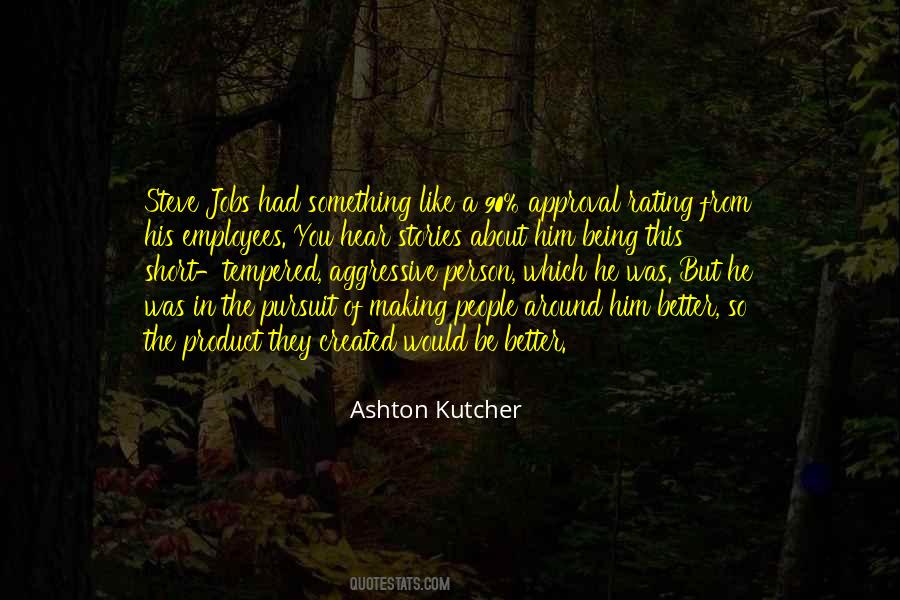 #47. If everyone were a good person, it'd obviously be a better world. - Author: Aaron Paul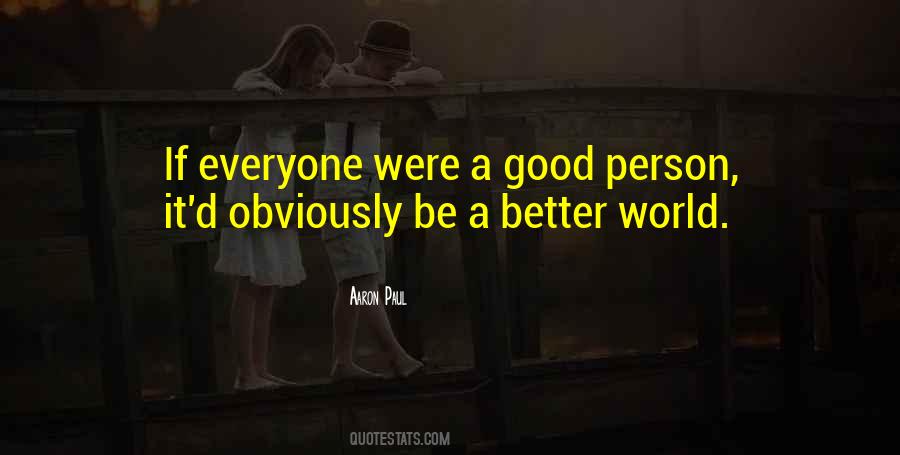 #48. I want to be a better person. I want to be a stronger person. I want to be someone who hurts less. - Author: Brian Molko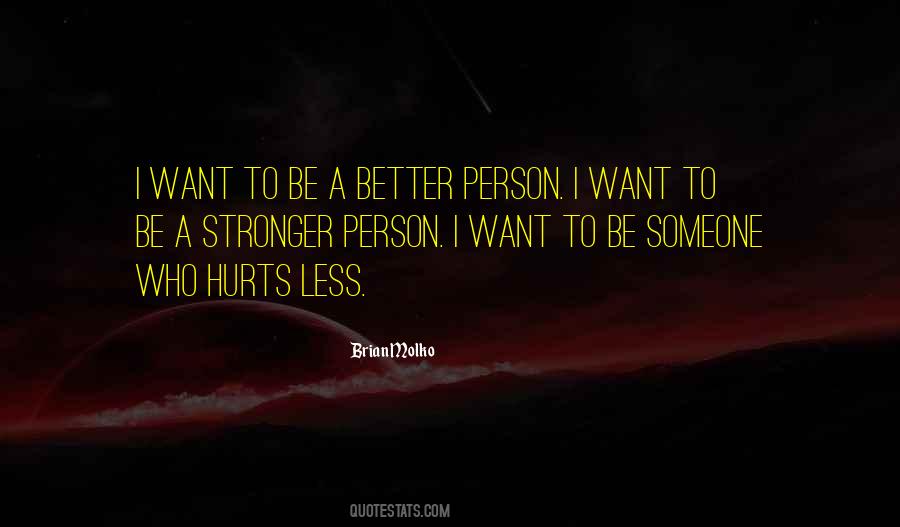 #49. I have tried to be a man of letters in love with ideas in order to be a wiser and more loving person, hoping to leave the world just a little better than I found it. - Author: Cornel West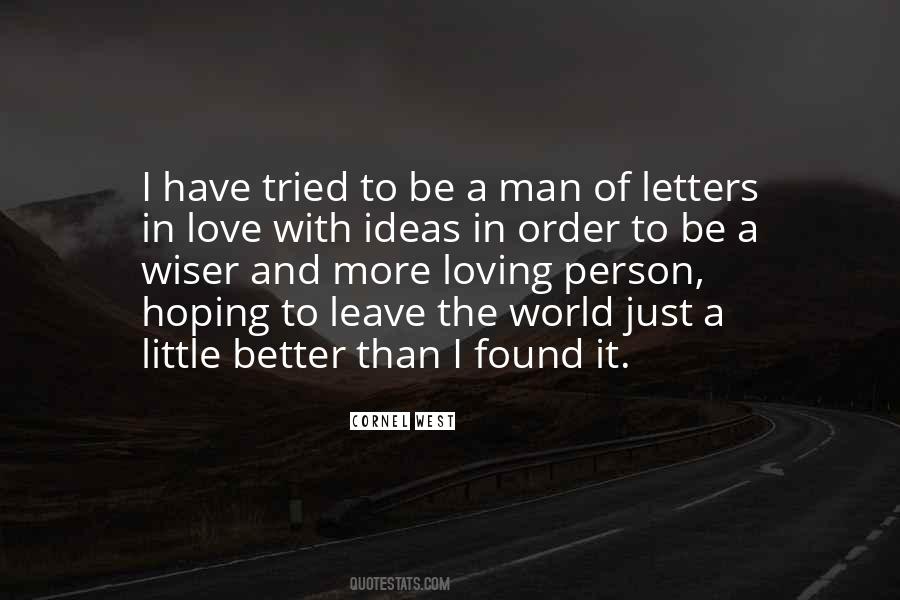 #50. Tennis has never been the most important thing in my life. My family, my health, my happiness ... they are more important to me. On court, I want to win. Off court, I want to be a better person. Tennis is a path to my future. - Author: Maria Sharapova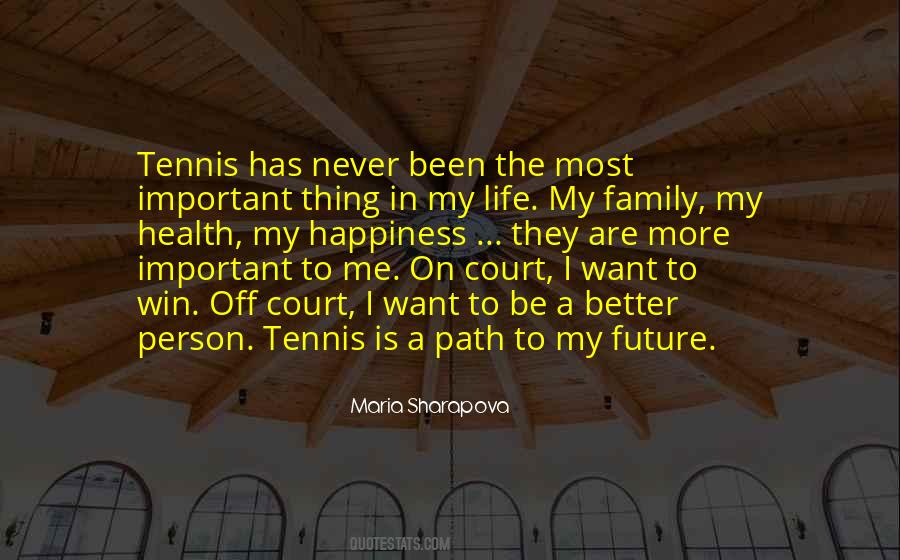 #51. It could be anything, give a homeless guy a sandwich, help an old lady across the street like anything to make this world a better place. If everybody just did one good thing for another person like a selfless good deed just think about how much a better place this would be. - Author: Frank Iero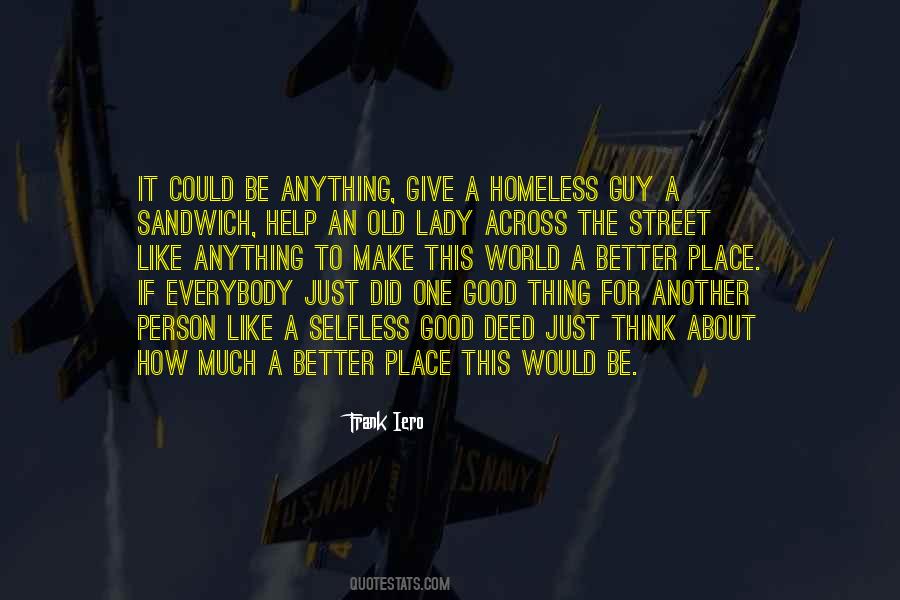 #52. Humans do not want to be better. A person may want to swim better or have a better smile. But they don't want humanity to swim better or have a better smile. It isn't even a question of "want," they don't care. I don't care. - Author: Noah Cicero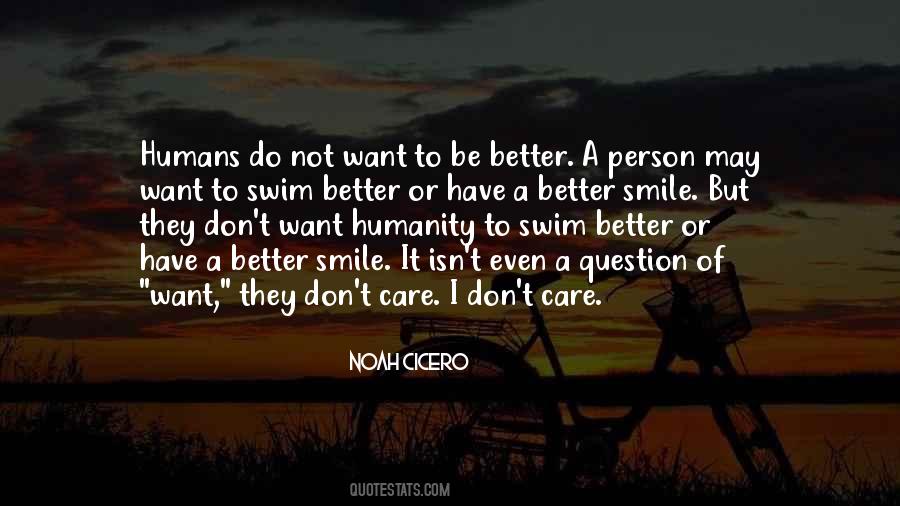 #53. Goal setting is the essence of life. Tenaciously pursue your goals not for external praise but for inner reward. It makes you a better person, parent, professional. It is important to be constantly growing. - Author: Bob Proctor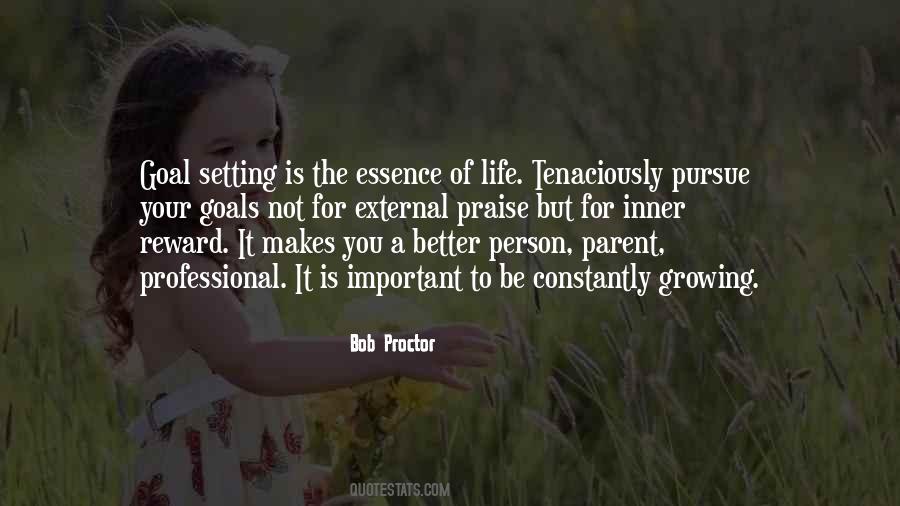 #54. If Hitch were a person, he'd be Mother Theresa or Gandhi or someone who treated all living creatures with the respect they deserve. It's depressing how my dog is a better human being than I am. - Author: McCall Hoyle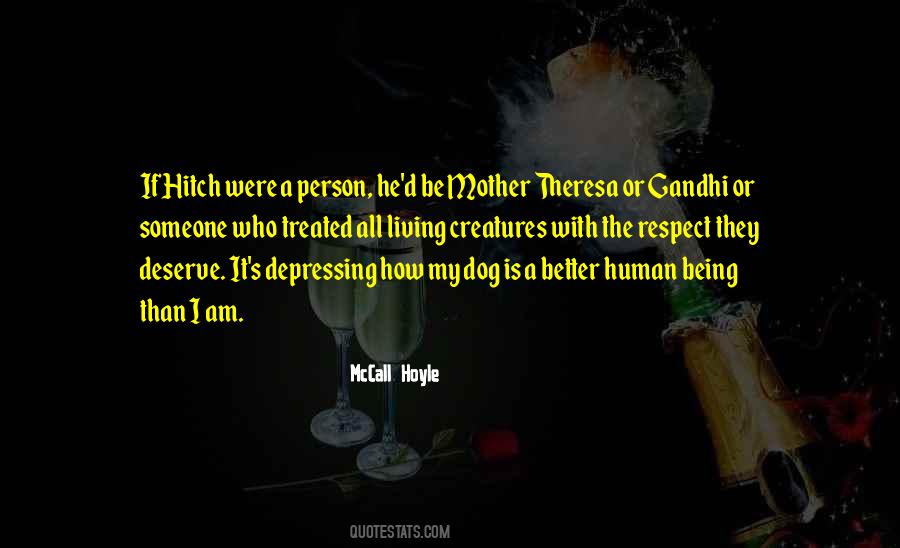 #55. True love makes a person reckless, makes them take risks and make sacrifices. True love tests the boundaries of our person, makes us yearn to be better and fight for the ground we stand on. I will fight for this love. Lie for it. Steal for it. It's worthy of that. - Author: Alessandra Torre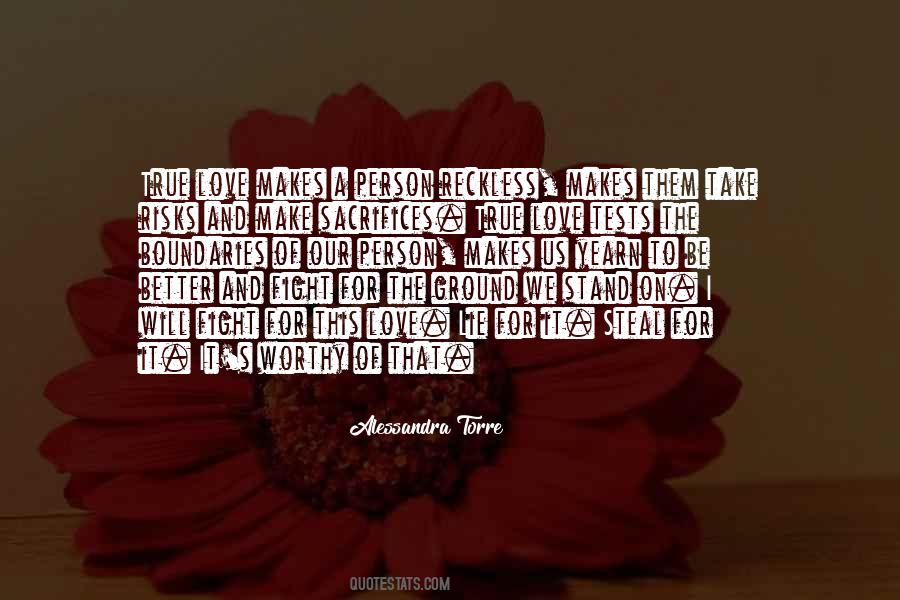 #56. Unless it's a soul-nourishing and breath-taking love, the kind that makes you wonder how you got along without them before you met them and makes you be a better, happier person, it is a waste of time. If the person cannot make you smile simply by thinking of them, they're not the one. - Author: Carlos Salinas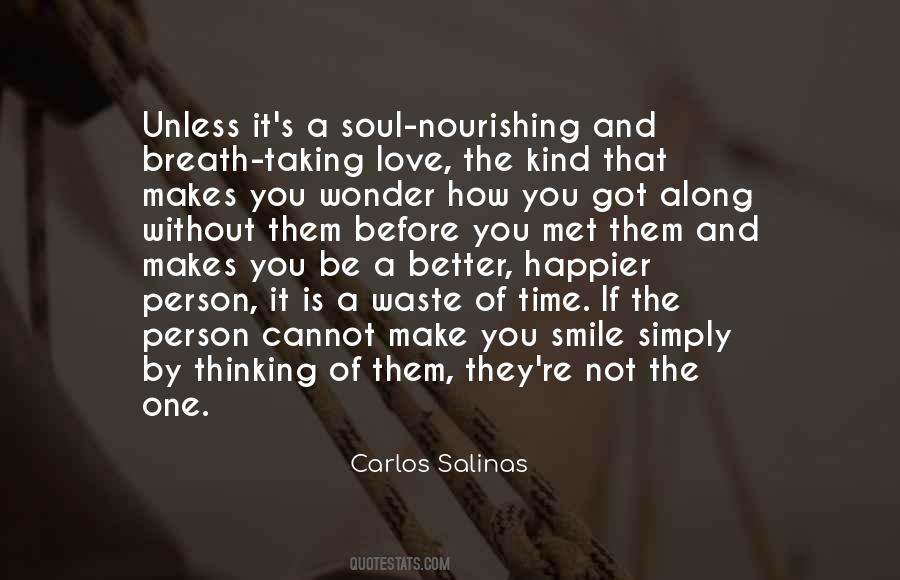 #57. We need to know ourselves better so that we can realize what we really want in our life. I think that the first condition for a person to be in a successful relationship is to be happy with the person he or she is, in other words to love themselves. - Author: Tarkan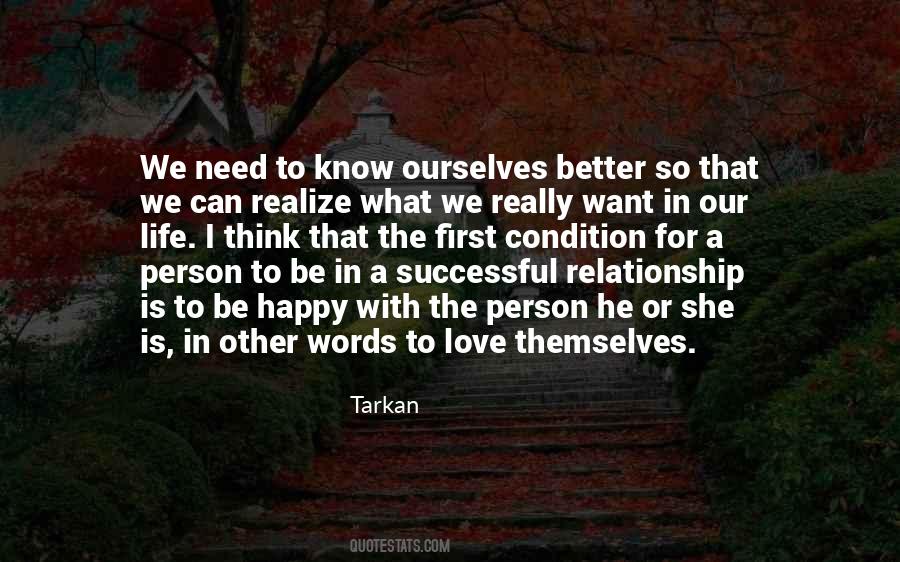 #58. The degree of complications and unhappiness in a person's life corresponds to the degree to which he dwells on the way he thinks the world ought to be rather than the way it really is. and being grateful it isn't worse, while trying to make it better. - Author: Robert Ringer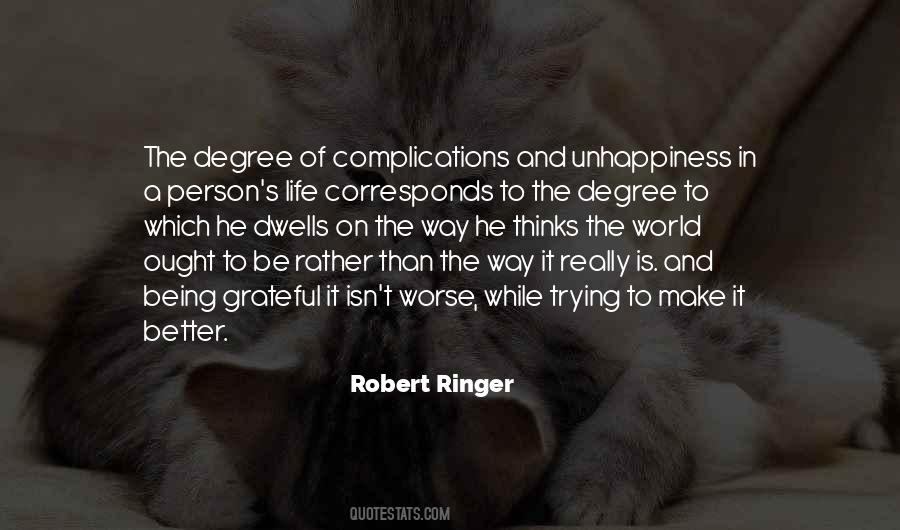 #59. It is better to be a failed happy person than to be a successful underachiever. - Author: Laksh Kishore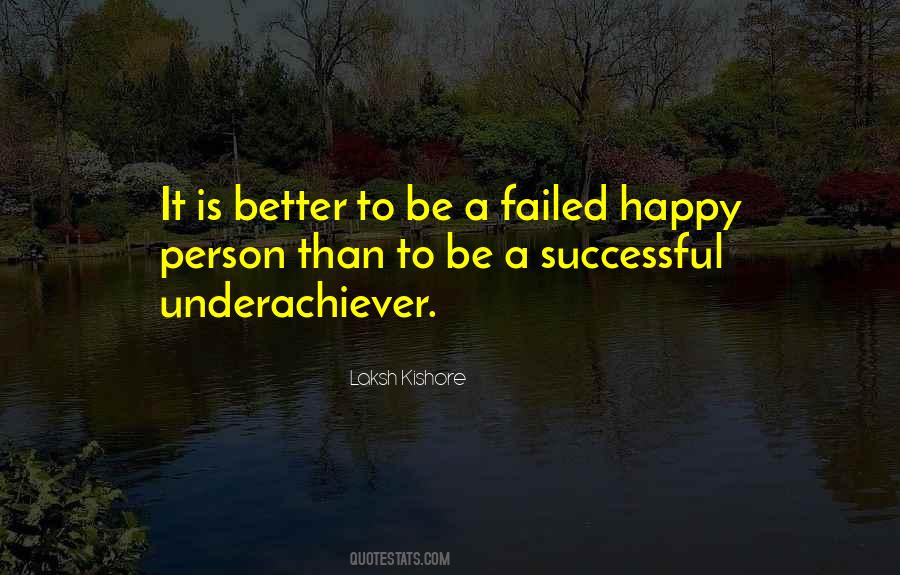 #60. You want to be a better person? Go listen to someone you disagree with. don't argue with them just listen. It's remarkable what interesting things people will say if you take the time to not be a jerk. - Author: Brandon Sanderson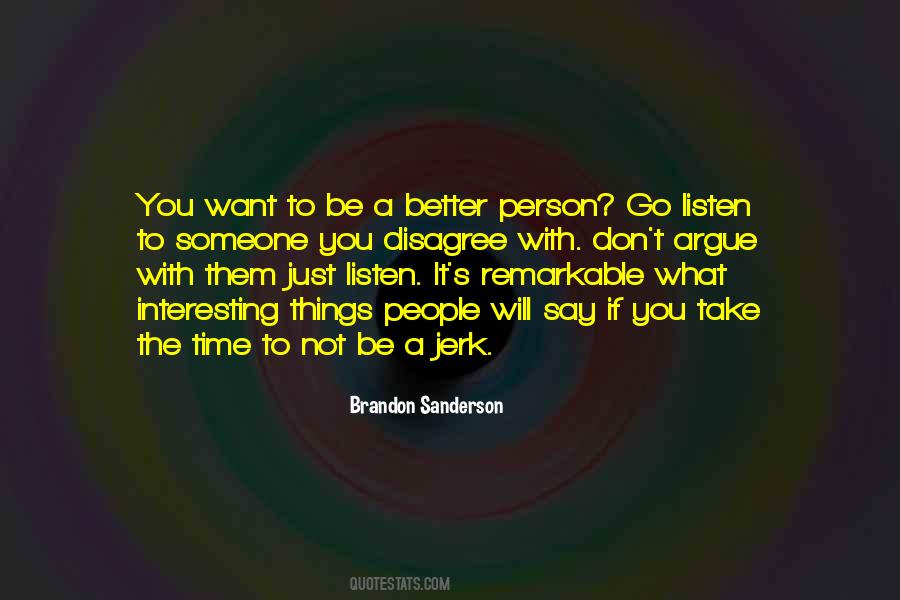 #61. I'll tell a young kid in a minute, 'If you don't know how to read, then what good is trying to be an MC?' Like, you can MC, but if you're not trying to be a better person, learn and apply that to your MCing, then how far do you think you're really going to go? - Author: Raekwon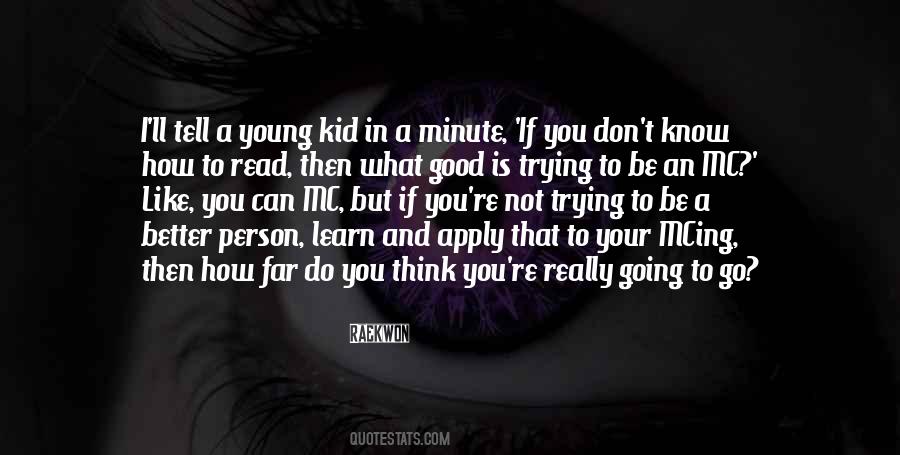 #62. If we all could be a true friend to someone, praying and encouraging one person somehow, that's a first step in being part of making the world a better place, - Author: Nick Vujicic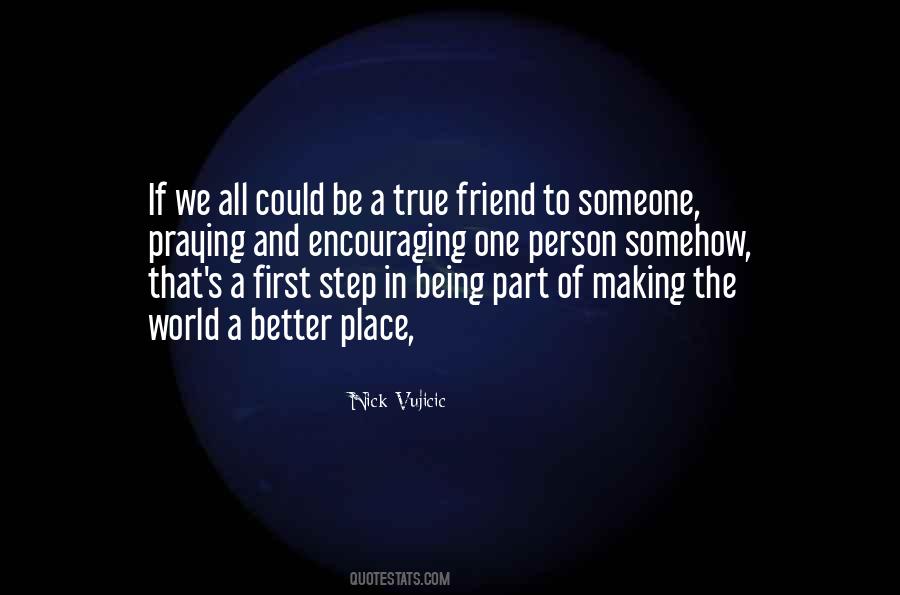 #63. I am and always will be a sinner. But that's the beautiful thing about Jesus. I'll always try to be a better person in the eyes of God. But I'm not all of a sudden stepping up on a pedestal and saying I'm holier than thou, 'cause I'm not! - Author: Billy Ray Cyrus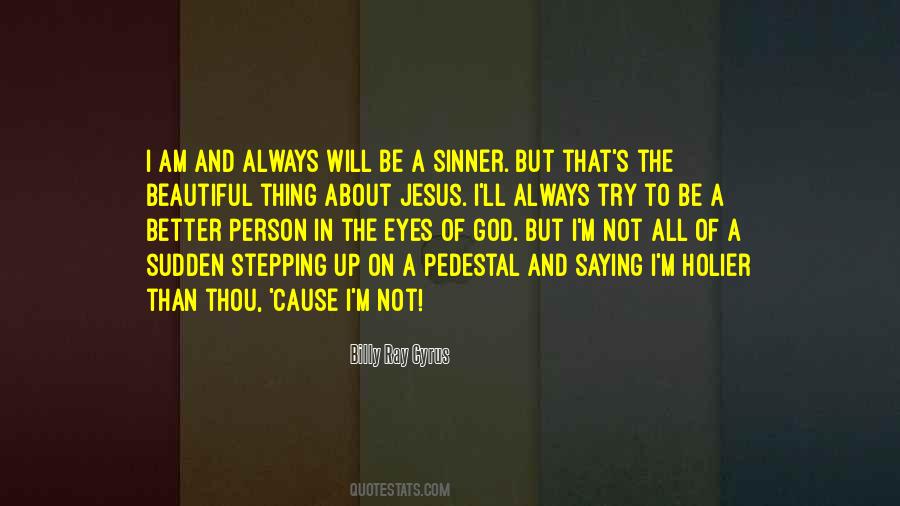 #64. Young readers have to be entertained. No child reads fiction because they think it's going to make them a better person. - Author: Mark Haddon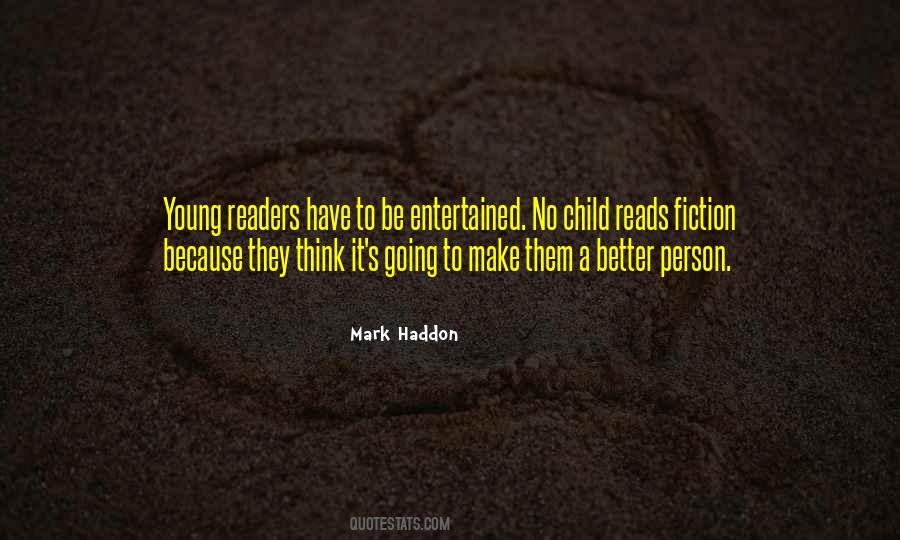 #65. When I play myself, I want to be a slightly better person. It just agrees. Everything I play about myself is kind of true, but it's amplified. We all edit, don't we? If you're self-aware, you stop yourself - you know how to behave properly. - Author: Steve Coogan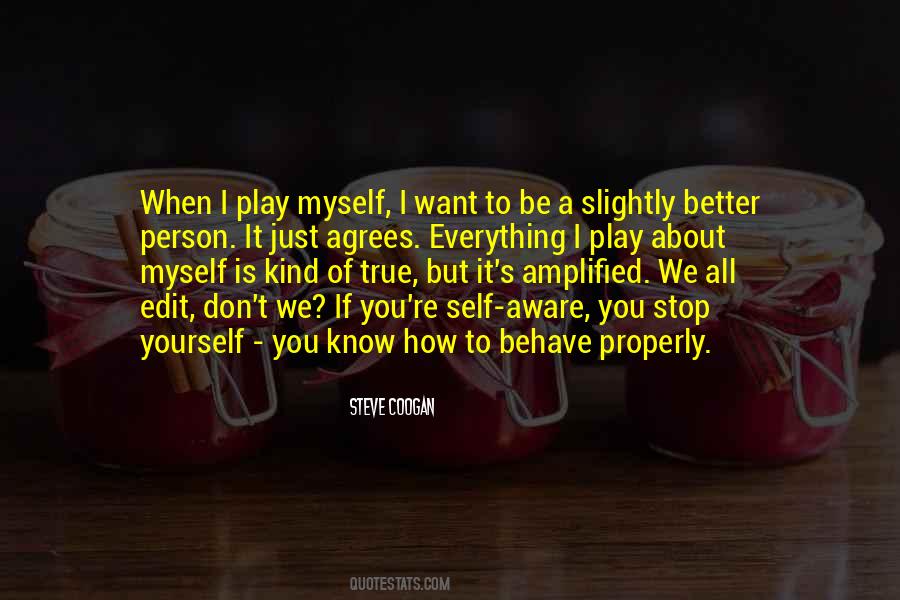 #66. I really love working. It makes me feel like an even better person when I work. I function much better if I have a really rigid schedule. When I'm left to my own devices, I can just be all over the place. - Author: Melanie Griffith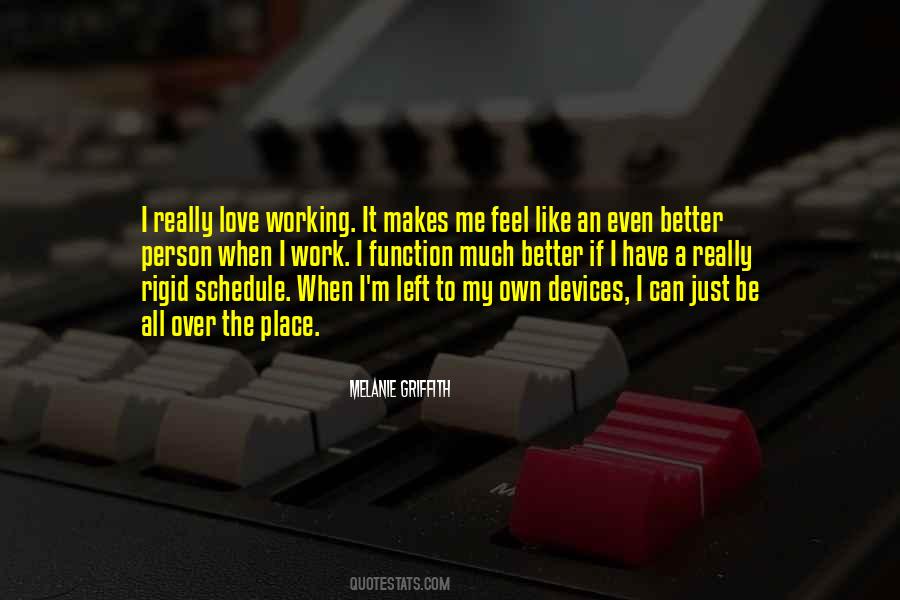 #67. I can't help but be a different person now that I've had kids. That really does change your whole perspective on life for the better. - Author: Jennifer Lopez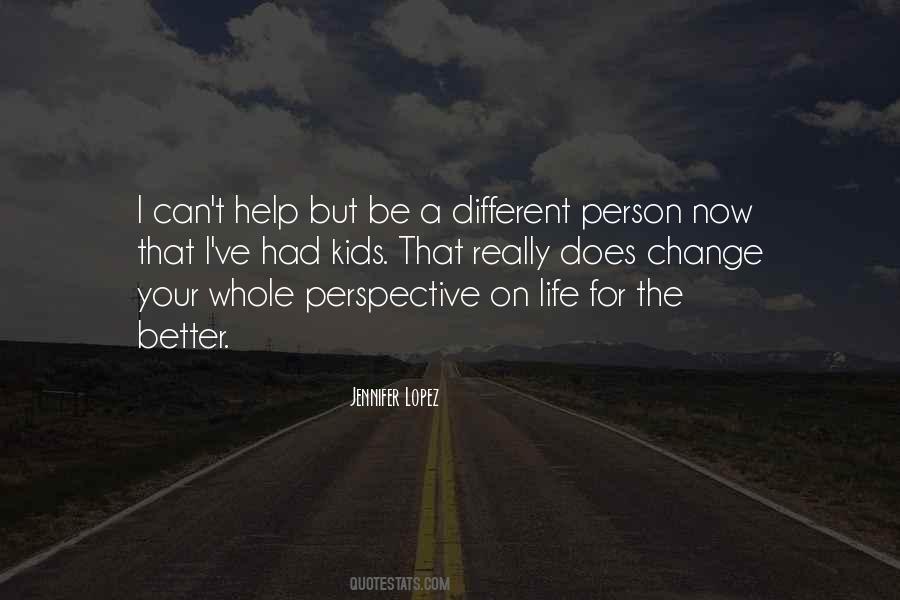 #68. You've changed me, and you don't even realize it. Just being with you, near you? It makes me want to be a better person. You make me want to take a risk. - Author: Ella Frank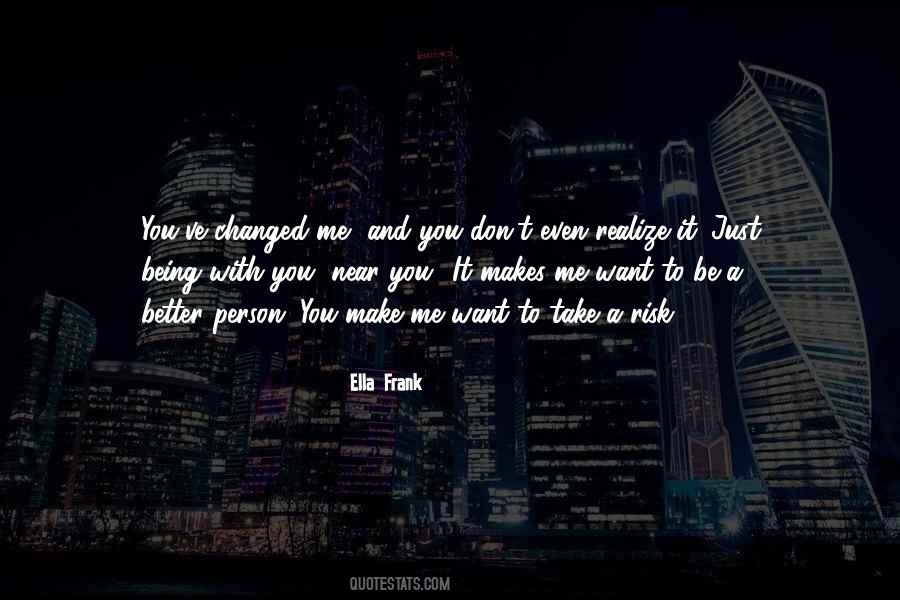 #69. You make me want to be a better person," he says softly. "To deserve you. I want you to know how right you feel to me. - Author: Janet Gurtler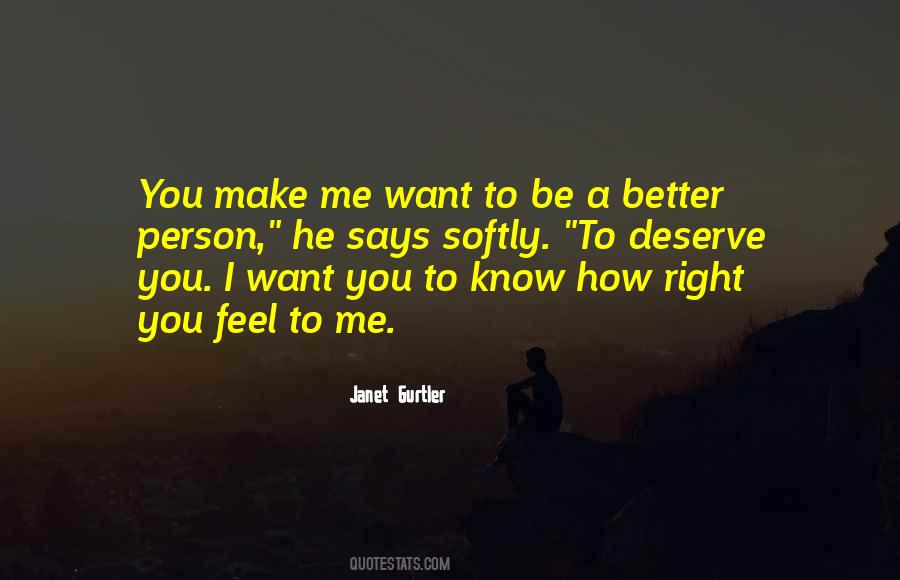 #70. [May] understood people and she let them be whatever way they needed to be. She had faith in every single person she ever met, and this never failed her, for nobody ever disappointed May. Seems people knew she saw the very best of them, and they'd turn that side to her to give her a better look. - Author: Cynthia Rylant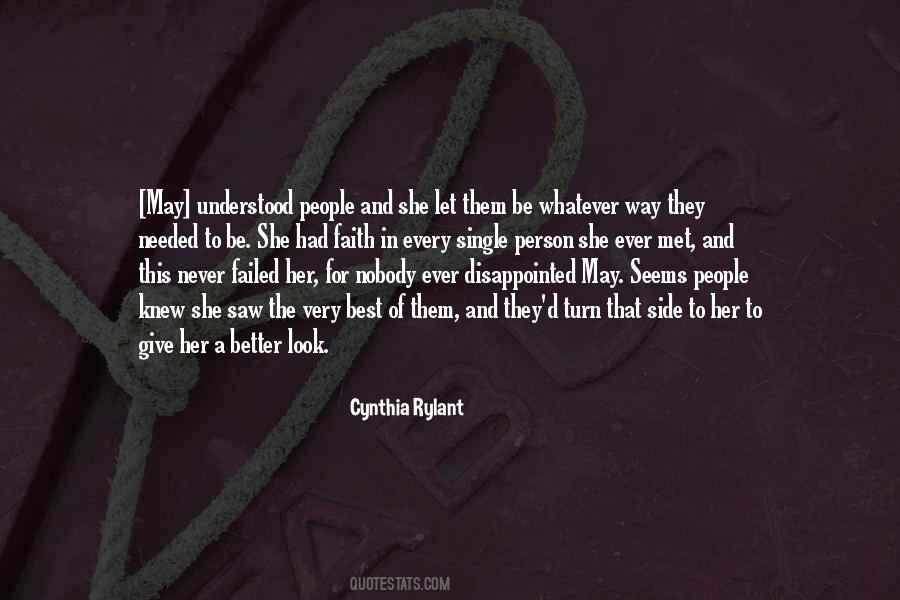 #71. I don't know you very well, and i'm almost afraid to know you better. Maybe i love you because i don't know you. Maybe if i knew what you were really like and what you wanted out of life and what you think is important, I wouldn't care for you at all and that would be the end of this. - Author: Elliot Mabeuse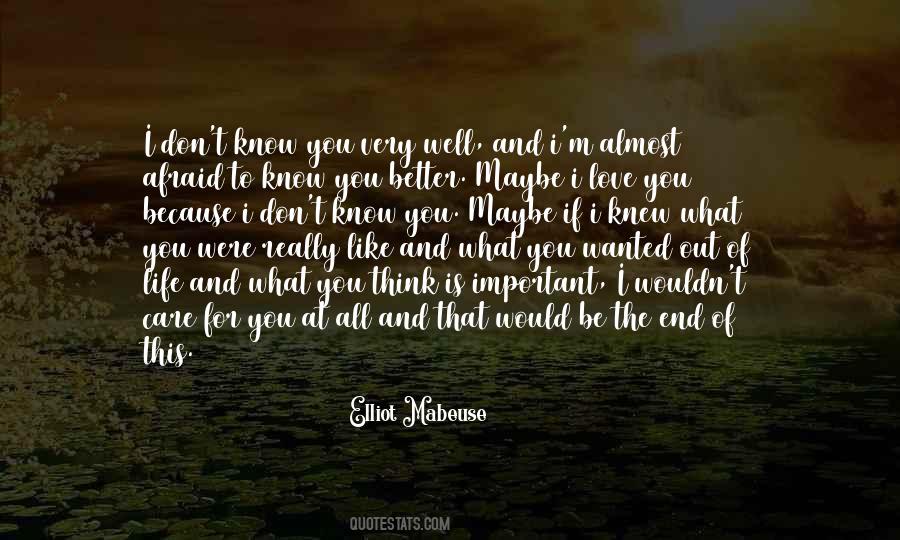 #72. Rejection Is God's Protection
When someone rejects or breaks up with you, it may be a blessing in disguise. The person was not right for you. Or maybe you would have eventually been miserable with them. Now the door is open for someone else much better to come into your life. - Author: Pamela Cummins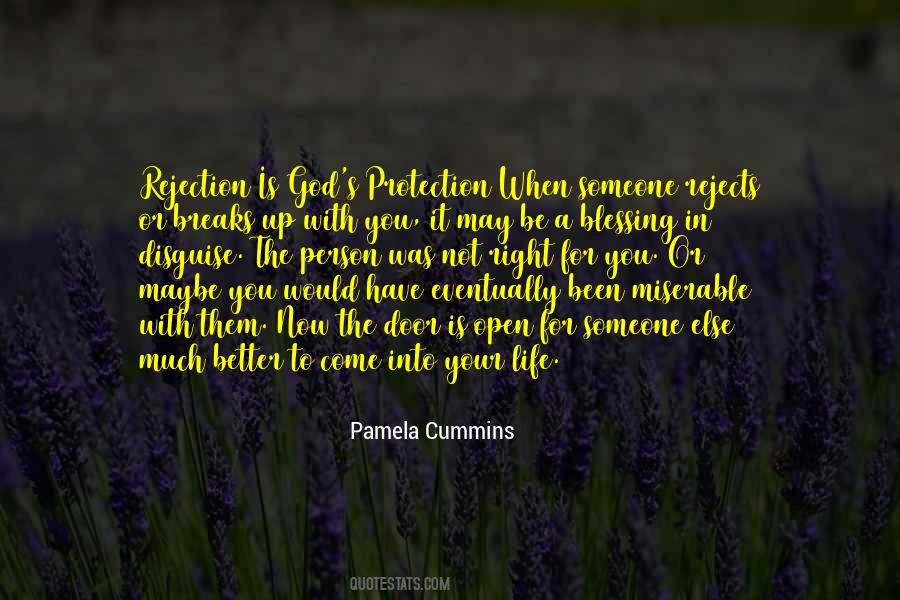 #73. The central idea of love is not even a relationship commitment, the first thing is a personal commitment to be the best version of yourself with or without that person that you're with. You have to every single day-mind, body, and spirit-wake up with a commitment to be better. - Author: Will Smith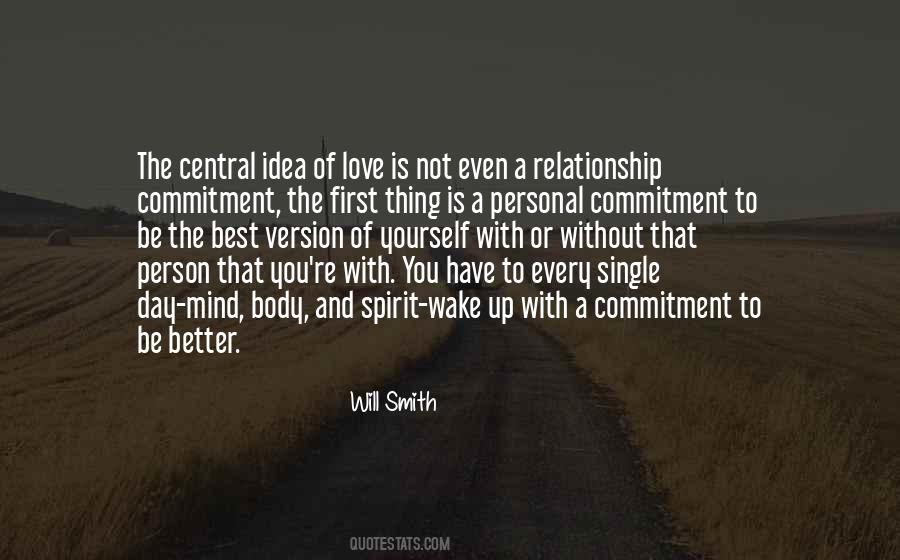 #74. I'm not a bad person. I haven't killed anyone. I (rarely) lie. I don't kick little puppies. So why do people look at me as if the world would be a better place without me? - Author: Gena Showalter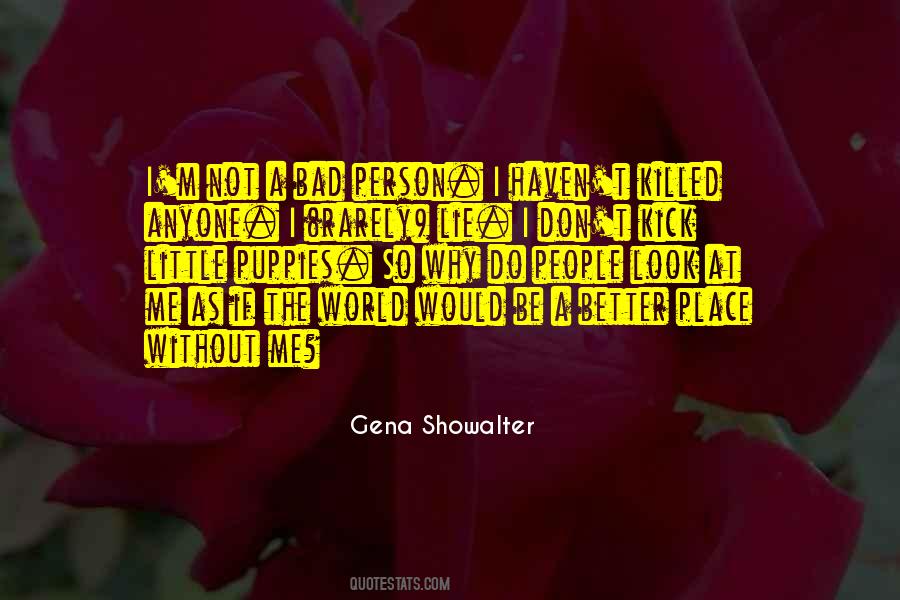 #75. Every job is an opportunity to be a better person. - Author: Benjamin Walker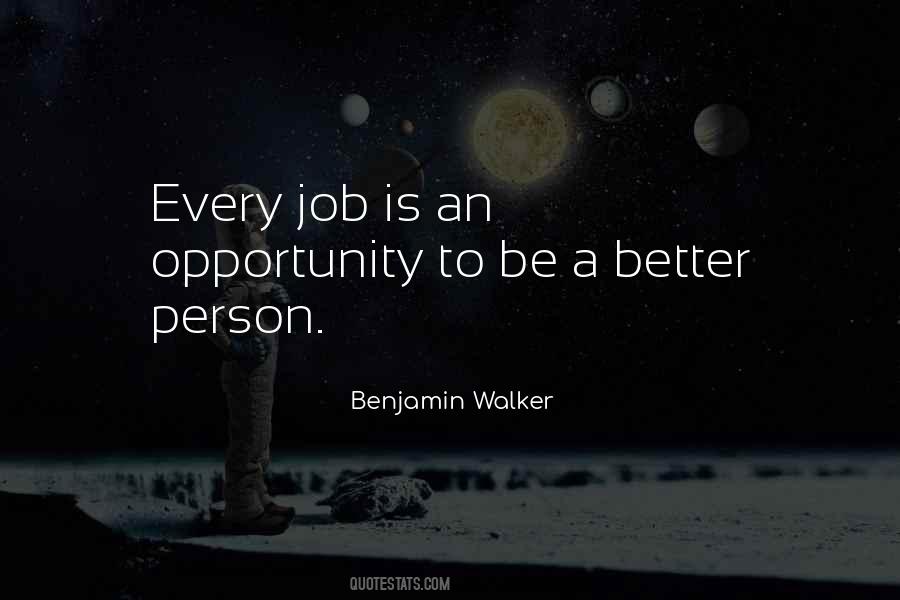 #76. I know what the important things are in life. I know that just because I pretend to be someone else for two hours on the silver screen doesn't make me a better person than the next man. So, I mind all those things. Simple things. - Author: Colin Farrell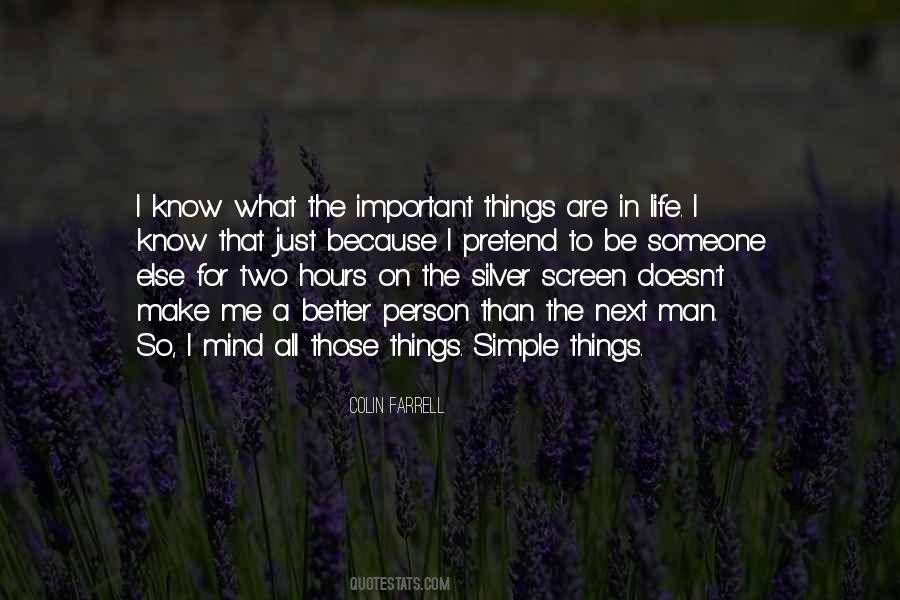 #77. I think it's a relatable concept - when you have a long-term relationship or marriage, and you want to try to be friends with that person, because you kind of grew up with that person and they know you better than anyone, and how it's just impossible to make that transition seamlessly. - Author: Rashida Jones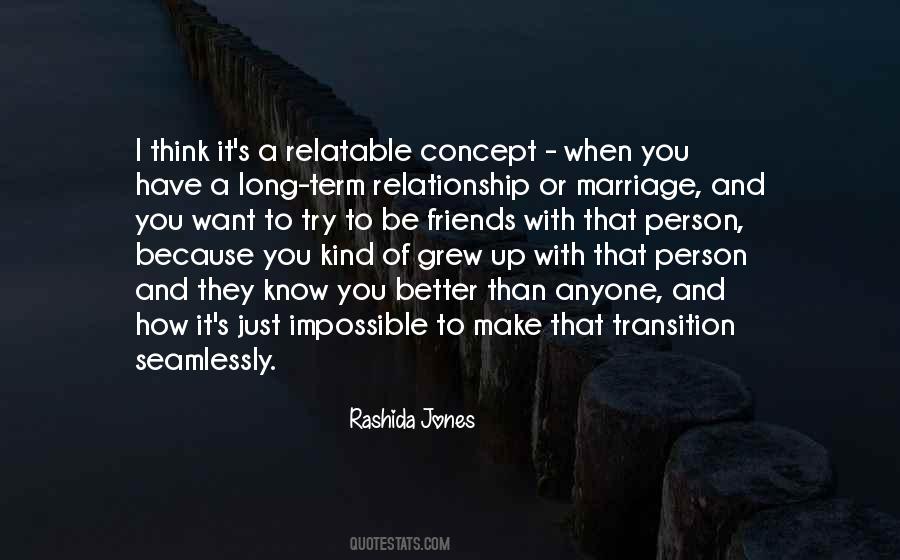 #78. As soon as a person starts thinking, 'I want to be a better person,' that is the start of Yoga. - Author: Baba Hari Dass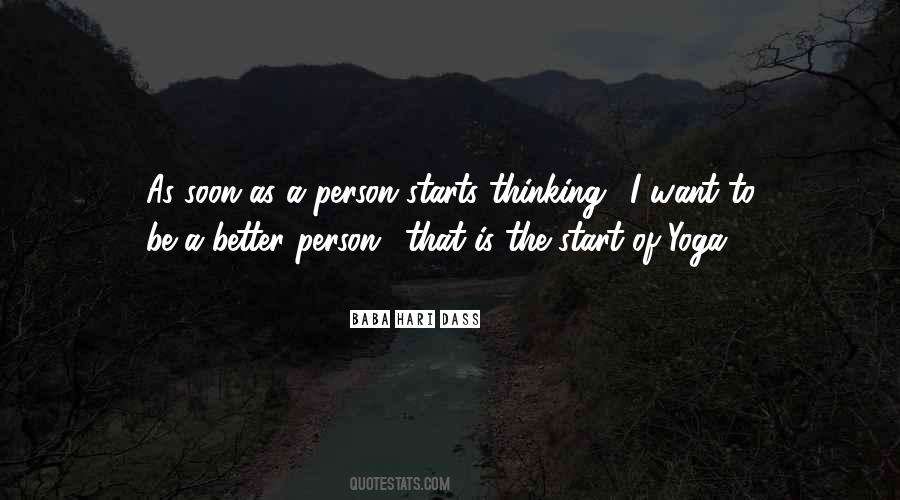 #79. That's the risk in working to be a dangerous person," she said. "There's always the chance you'll run into someone who's better at it than you. - Author: Scott Hawkins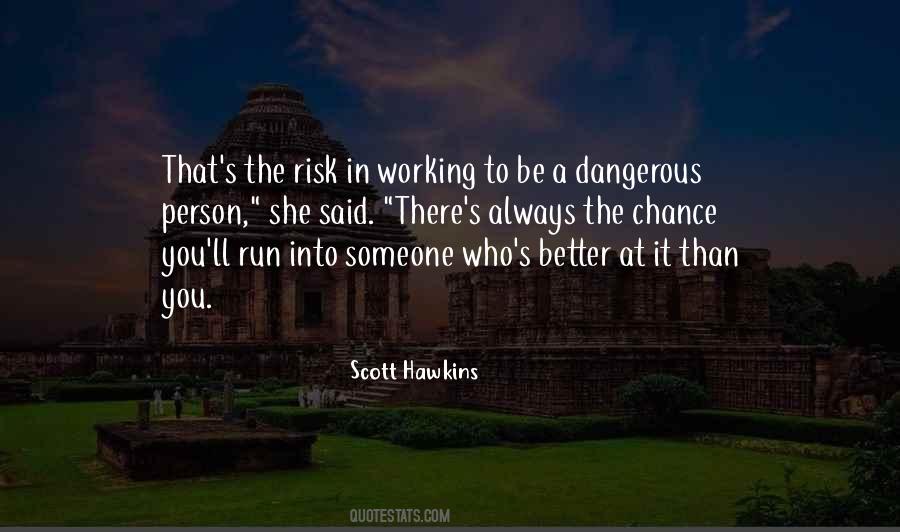 #80. I have very high expectations of myself. I'm a very competitive person but competitive with myself. I want to be the best that I can be and if that means that I'm eventually better than everyone else then so be it. - Author: Wentworth Miller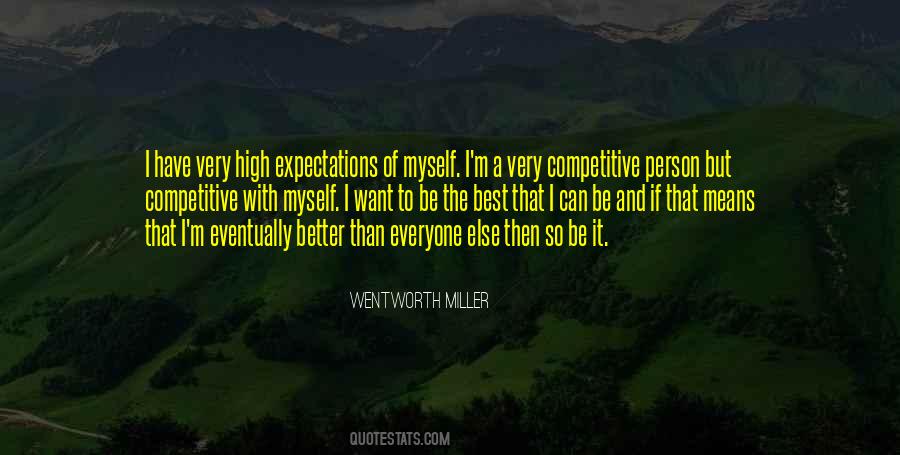 #81. You make me think before I act. You make me want to be a better person-Luxen-whatever. - Author: Jennifer L. Armentrout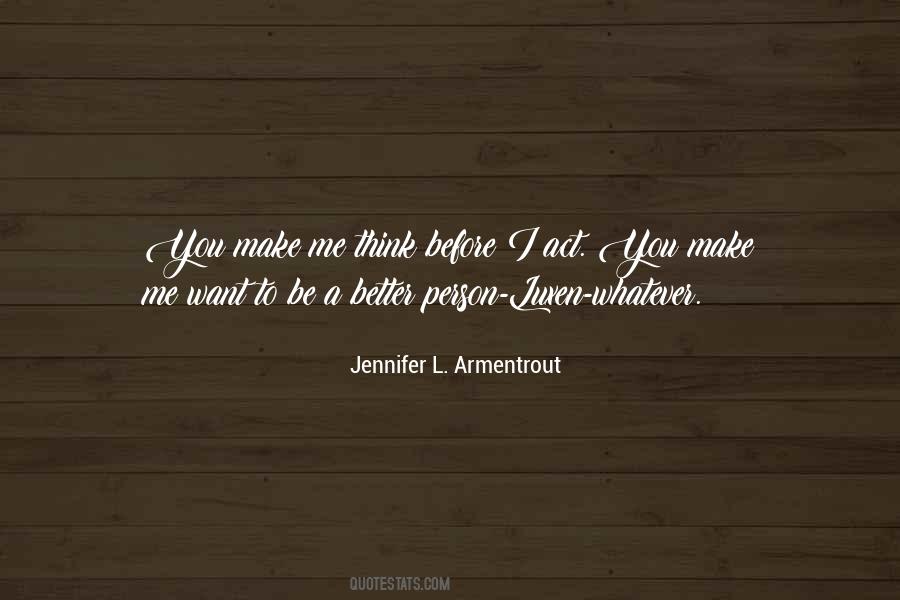 #82. Though I had success in my research both when I was mad and when I was not, eventually I felt that my work would be better respected if I thought and acted like a 'normal' person. - Author: John Forbes Nash Jr.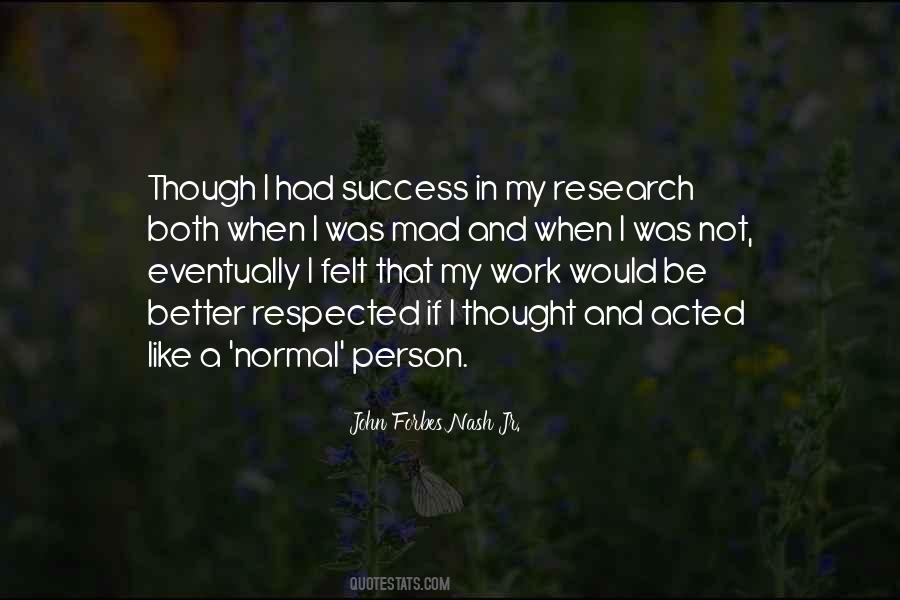 #83. The program of A.A., as written by Bill Wilson and Dr. Smith, only has one purpose: to get you sober. That's it. To make you a better person, forget it. That was one of the things he came to understand in those years of trial and error. It has to be about only one thing. - Author: Susan Cheever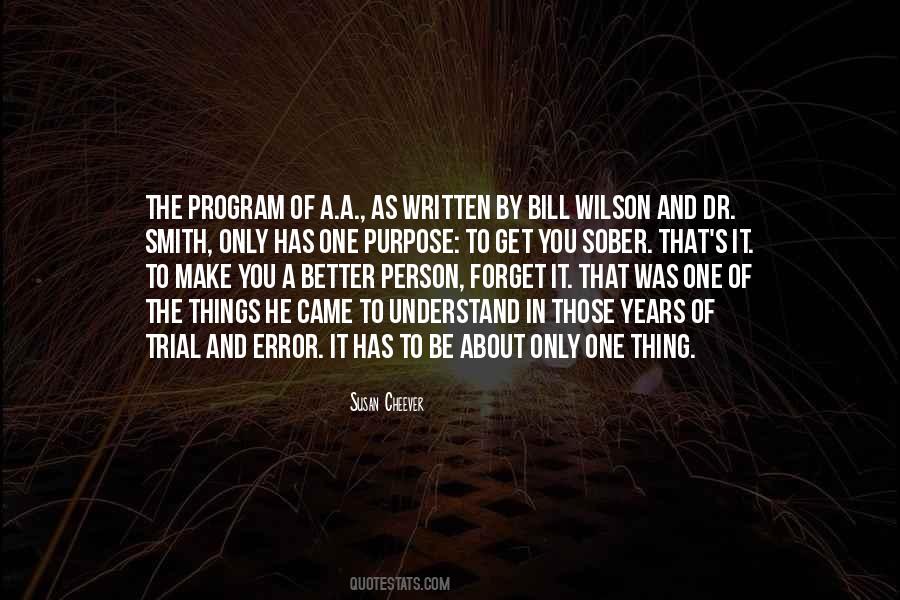 #84. I can't fashion myself into a different person who might be better suited to be his friend. - Author: Franz Kafka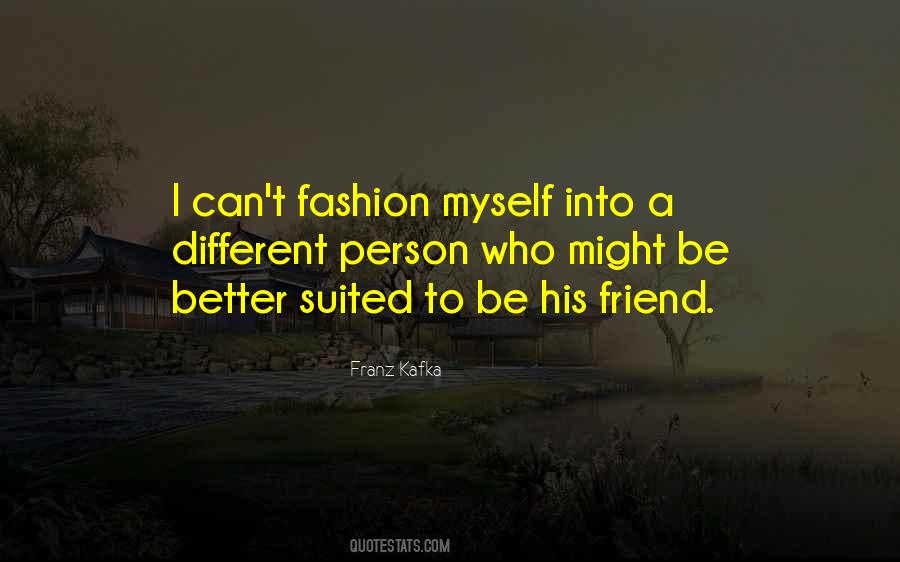 #85. Plant a seed of greatness in your children. Speak a word of encourgement to someone who needs to hear it. Inspire someone to be a better person. One day you'll reap a harvest, and your world will become a better place to live. - Author: George Foreman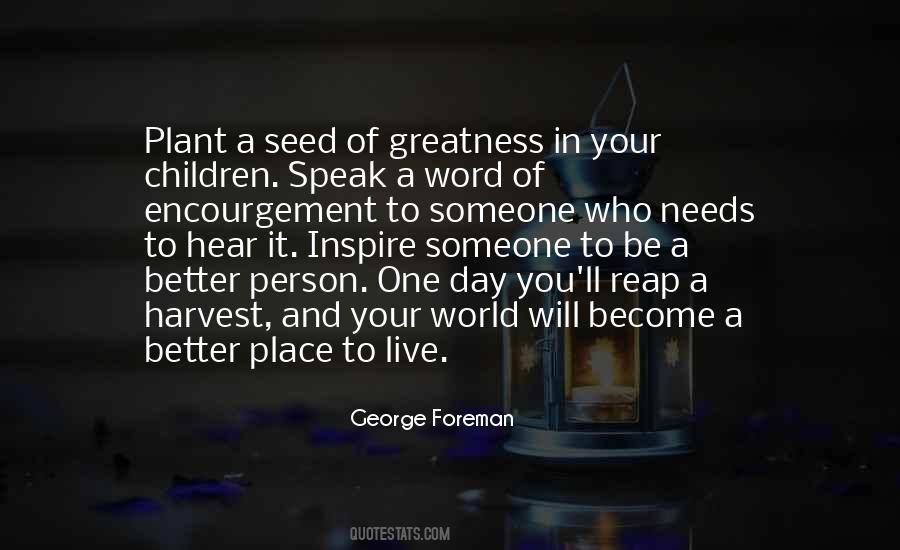 #86. I will spend my life loving you and you will spend your happy life making me a better person, as you already have, from your mere presence ... I will be the man you deserve. I'm not quite there, mouse, but I'm working on it. - Author: Belle Aurora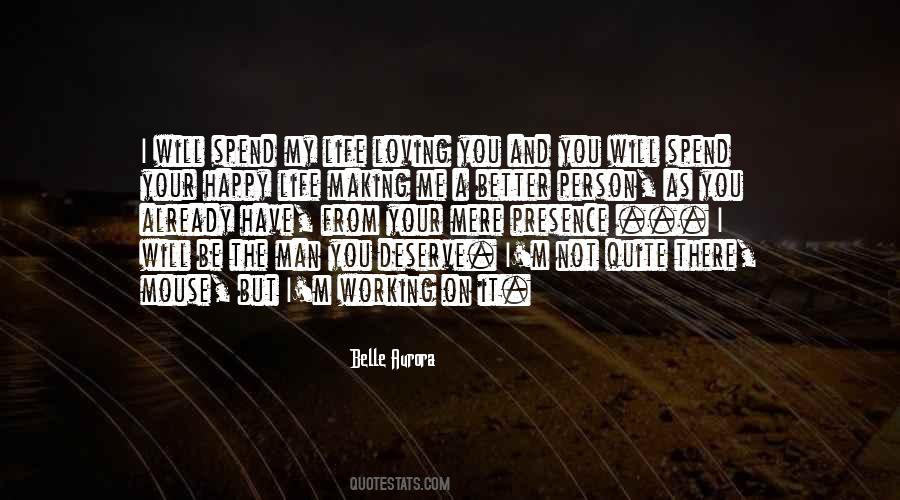 #87. I liked you because you could make me smile. I fell in love with you because you made me want to be a better person. Now that you're leaving me, what am I supposed to do? - Author: Lisa Gilbert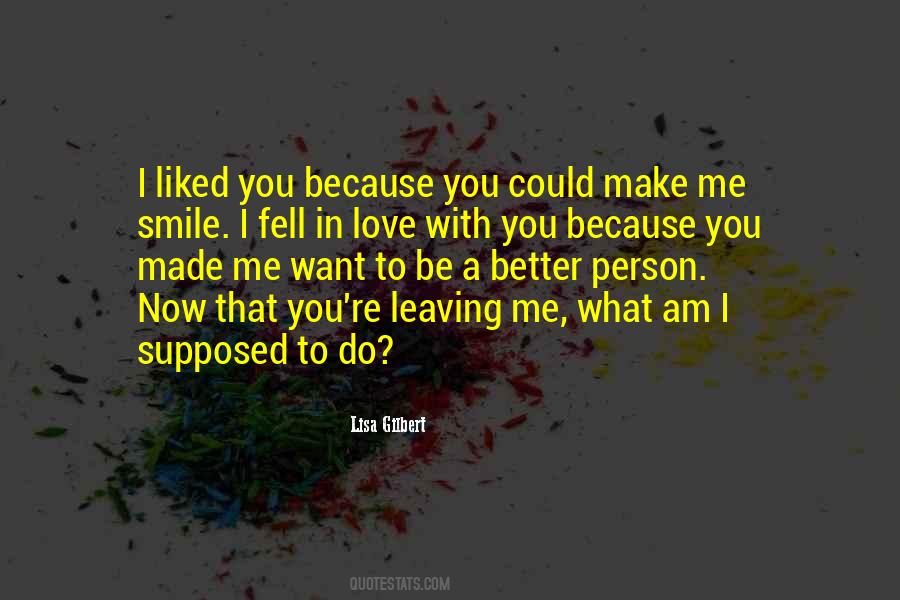 #88. I think the better you know yourself as a person, the better an actor you can be. - Author: Michael Angarano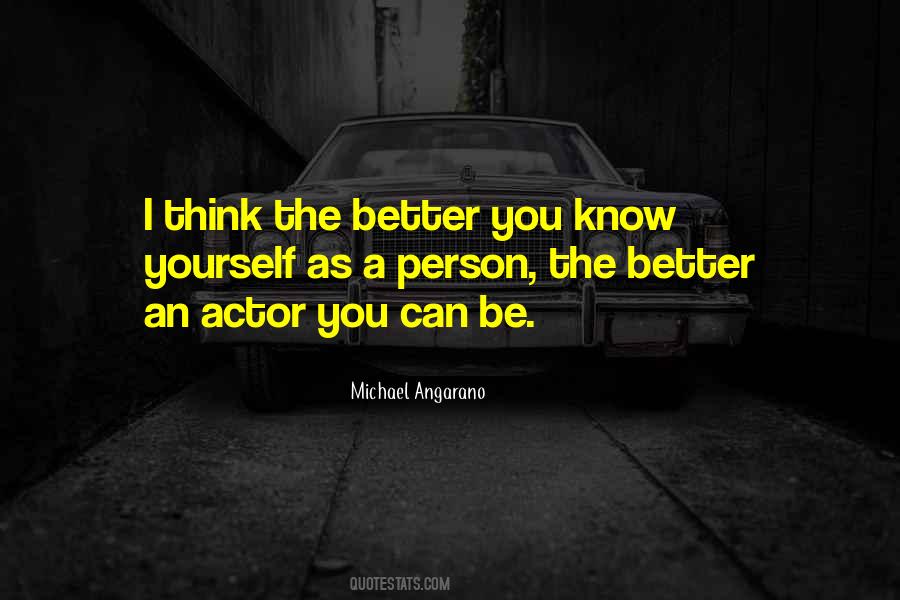 #89. You can look at a person's attitude and know what kind of thinking is prevalent in his life ... It's better to be positive and wrong than negative and right! - Author: Joyce Meyer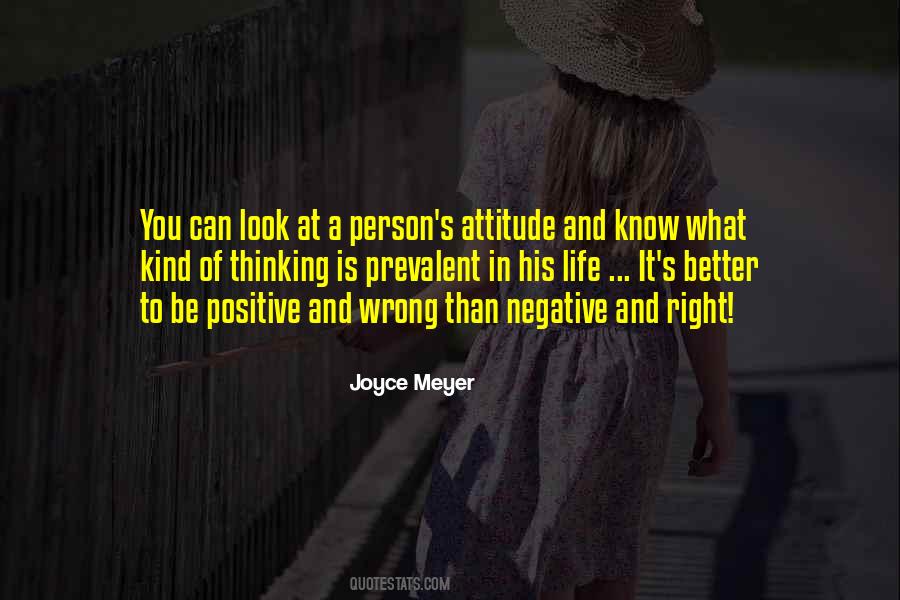 #90. It is far better to give work that is above a person, than to educate the person to be above their work. - Author: John Ruskin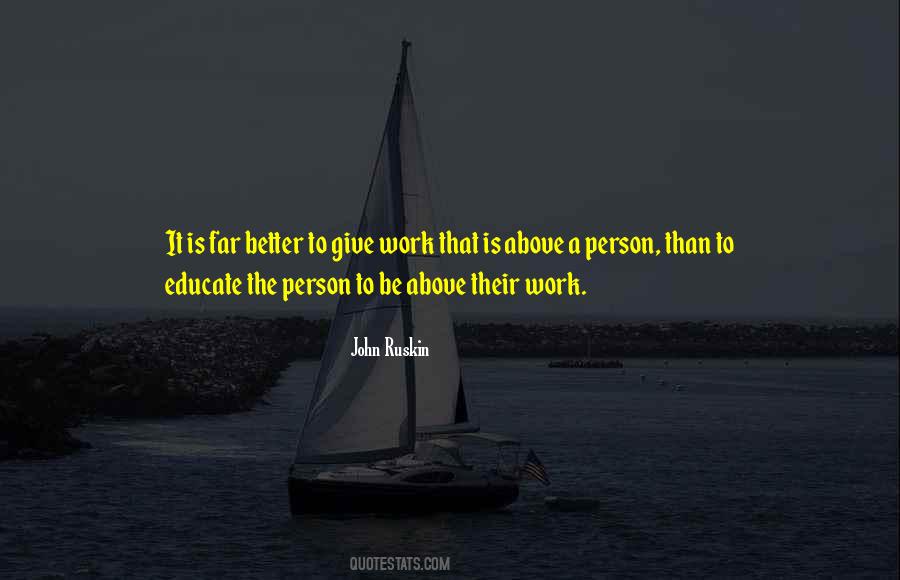 #91. My fans firstly [inspire me]. They make me want to be a better person and really motivate me when times get tough. Also Journey's "Don't Stop Believing" and, oddly enough, hubcaps. - Author: Ashley Rickards
#92. Not everyone is a morning person. Some of us perform better when we're actually awake. If you're also a night owl, take heart. Night owls are fun loving, seem to be more creative, and may even have a higher IQ than their morning person counterparts ([4]). - Author: Charity Grant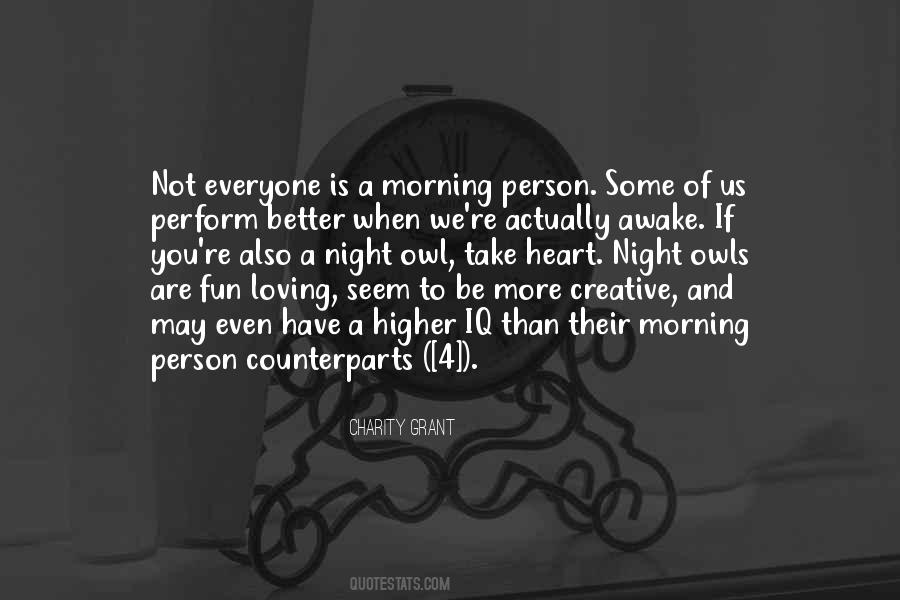 #93. The greatest thing about tomorrow is, I will be better than I am today. And that's how I look at my life. I will be a better golfer, I will be a better person, I will be a better father, I will be a better husband, I will be a better friend. That's the beauty of tomorrow. - Author: Tiger Woods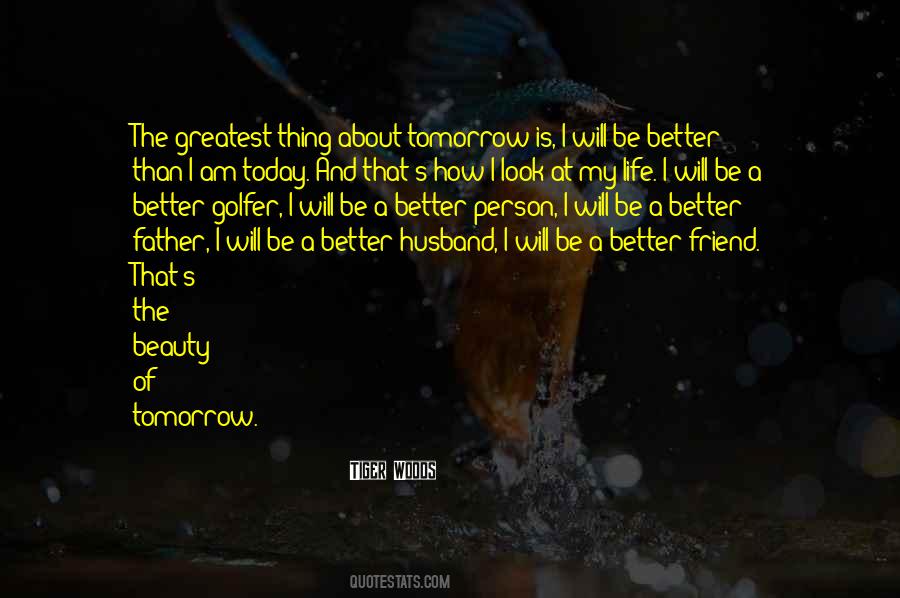 #94. I think my career would probably be in a better place had I been more aggressive. But I don't have it in me. I'm not a competitive person, and I'm also really private. - Author: Debi Mazar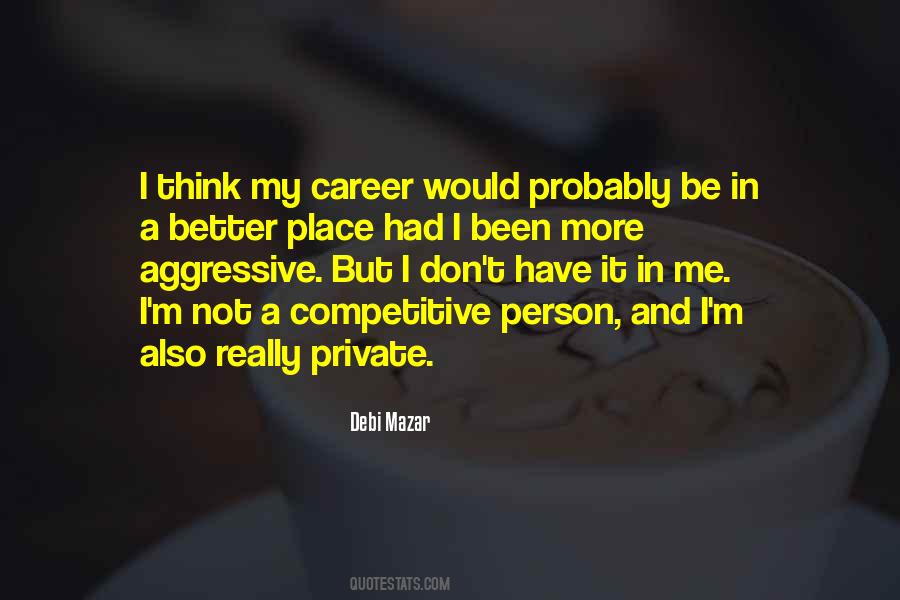 #95. I'd love to be in the '70s. I'd love to have a big, long wig parted down the middle with flat-ironed hair and bell-bottoms. They're actually very flattering for my figure. The wider the leg, the better for a person with a booty. - Author: Sarah Paulson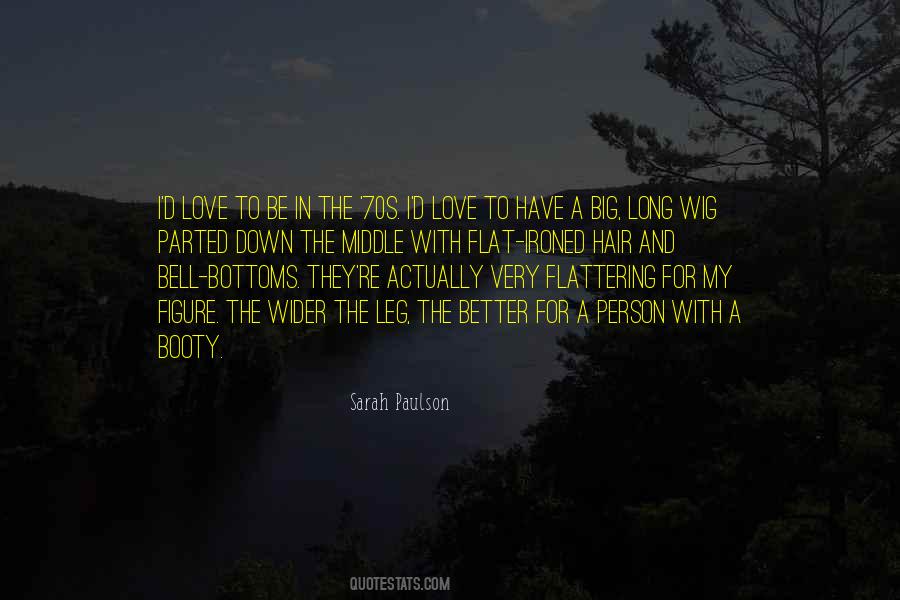 #96. I've tried to be a better person ... I've tried, and tried and tried! You know how hard I've tried! Tell me how I've tried ... "
"Nice try ... Five cents, please! - Author: Charles M. Schulz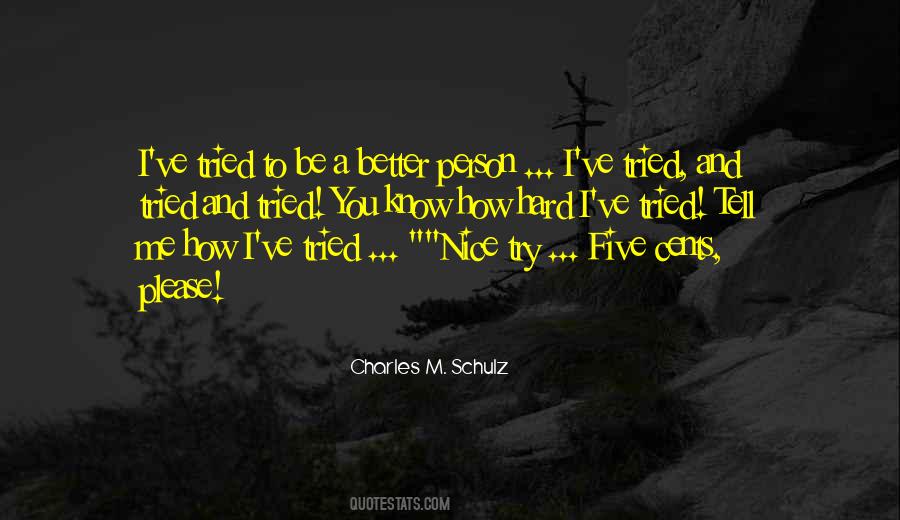 #97. I work on myself daily to be a better person. When I react in a negative way to somebody, I sit back and think about why I did it, so I'm always working on myself, and my music is the same. - Author: Lizzo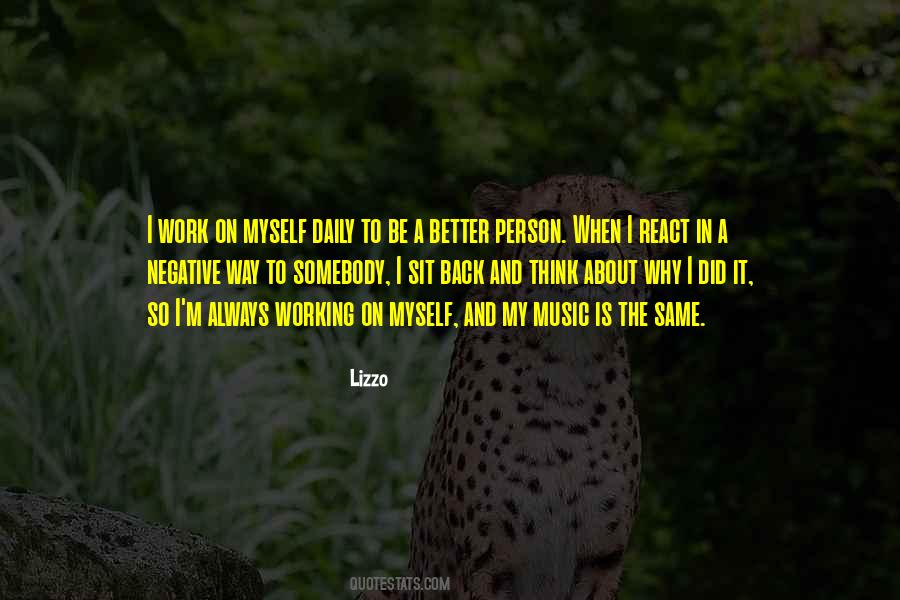 #98. You have to find some way to not become a cynical or negative person, a person who keeps walking around and opening your eyes in the outside world but inside you close down, a person who stops expecting tomorrow to be better than today. - Author: Richard Rohr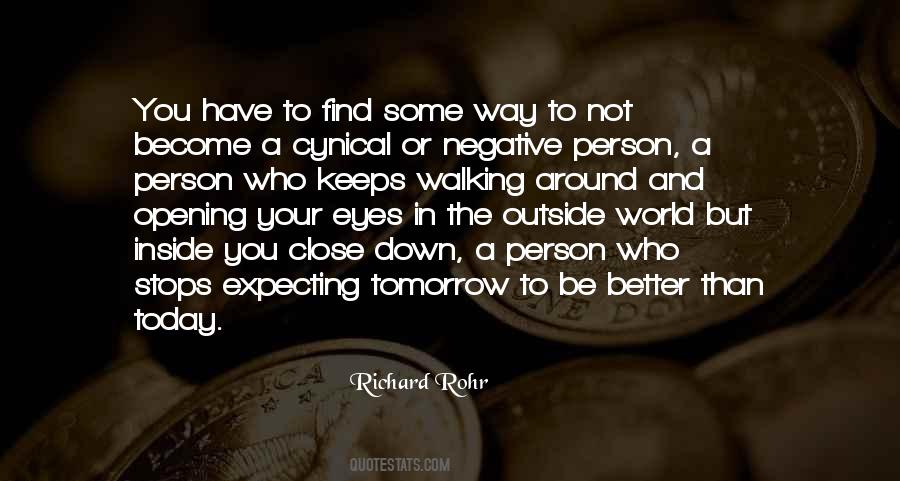 #99. You never actually solve a problem. You just become a better person by understanding it in a better way. Then it ceases to be a problem for you. - Author: Debasish Mridha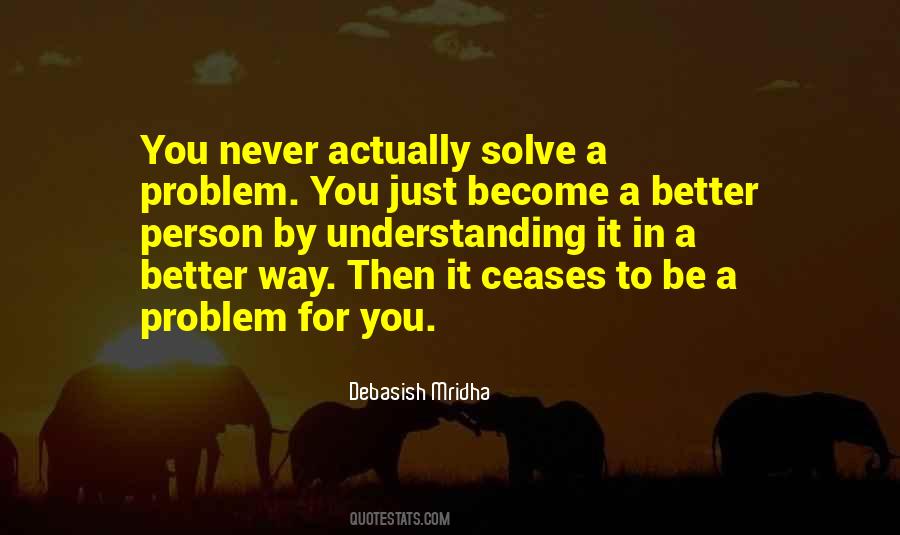 #100. Being a healthy broke person was better than being an unhealthy broke person. Besides, he needed to think. And to be honest, most of what he did at the gym was more like thinking than exercising. - Author: Marshall Thornton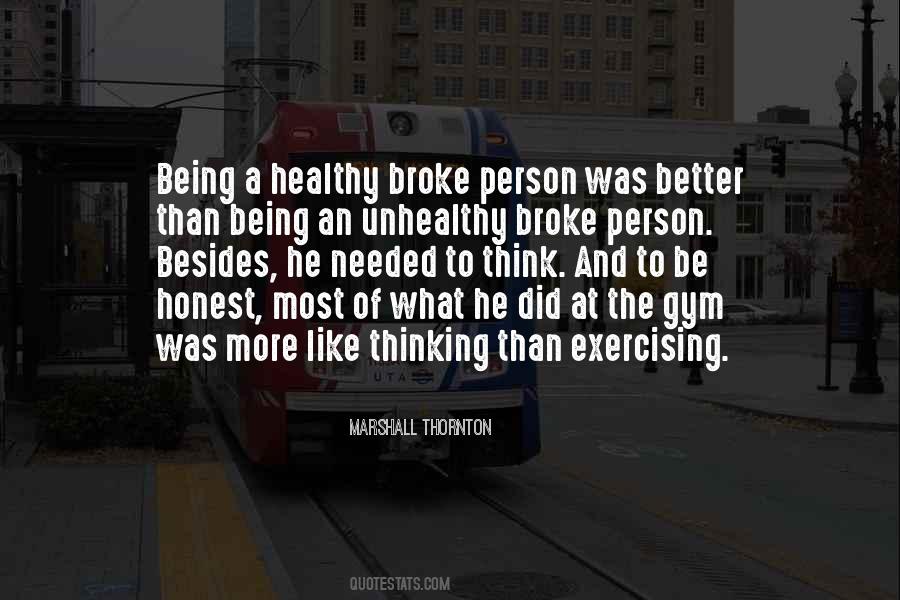 Famous Authors
Popular Topics