Your Love To Me Famous Quotes & Sayings
List of top 100 famous quotes and sayings about your love to me to read and share with friends on your Facebook, Twitter, blogs.
Top 100 Your Love To Me Quotes
#1. Everything about you fascinates me, Sophie. The smell of your skin. The sound of your voice. Your long legs. Your sense of humor. Your personality. You don't seem to need me, and if you don't need me, it is much more gratifying that you want me. - Author: Elisa Marie Hopkins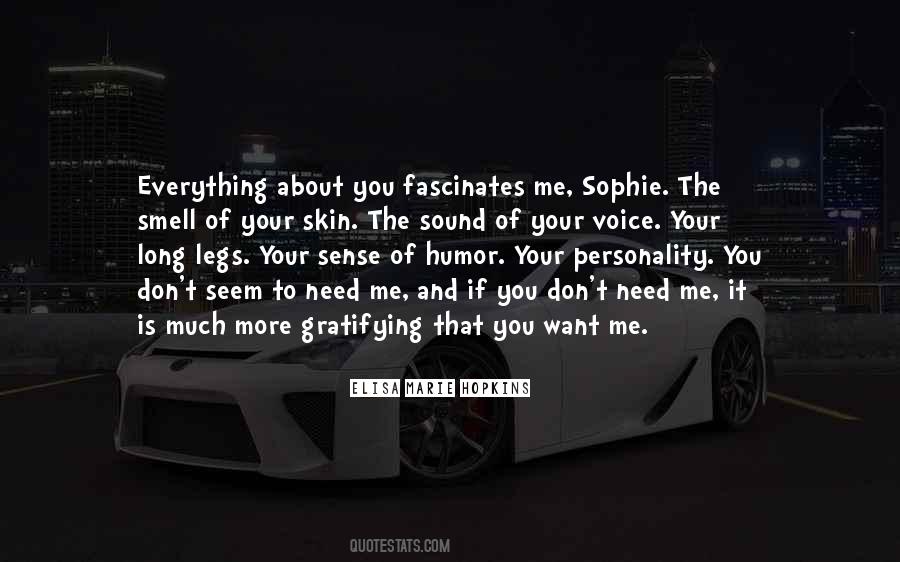 #2. OUT OF AN INFINITE LOVE, you, O Lord, have made me an heir of your kingdom and joint heir with Christ. O Good Jesus, to whom else shall I go? You have the words of eternal life. I hope, and I believe in you. Lord keep me from despair. Amen. O - Author: Derek A. Olsen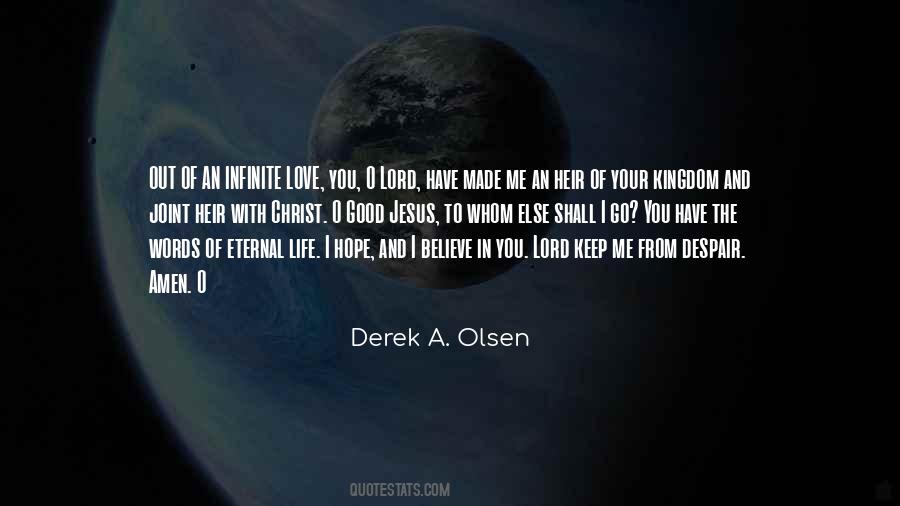 #3. I love to say "please" and you have to accept me that way. If you don't, it's your problem. - Author: Rajashree Choudhury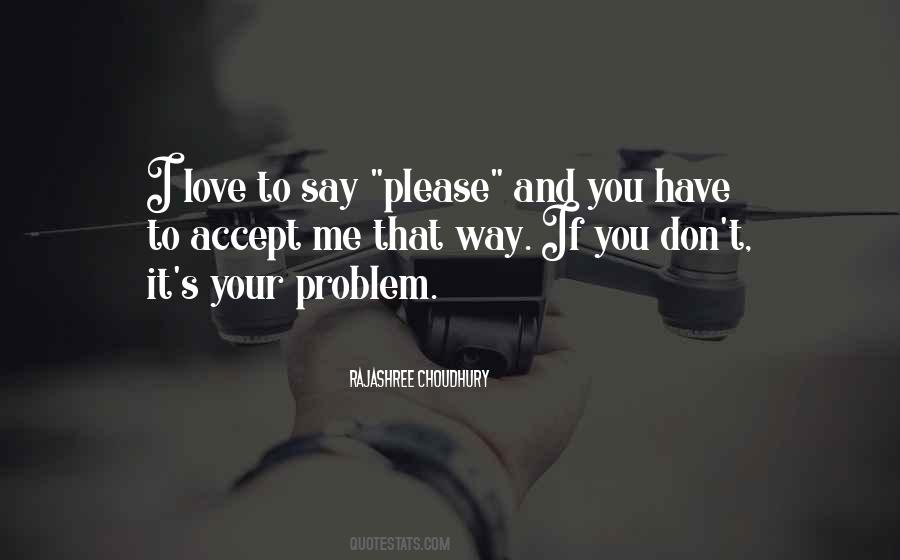 #4. Perfect love casts out fear. Where there is love there are no demands, no expectations, no dependency. I do not demand that you make me happy; my happiness does not lie in you. If you were to leave me, I will not feel sorry for myself; I enjoy your company immensely, but I do not cling. - Author: Anthony De Mello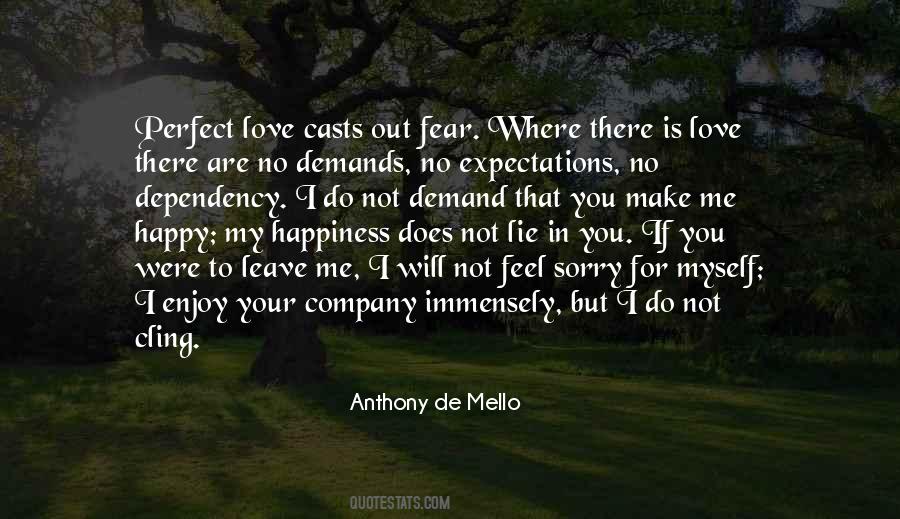 #5. 'I Want To Hold Your Hand' is a great classic by Paul McCartney and John Lennon, I sure love that song. I did like the classic version, a rock-oriented song, then someone heard me do it with the Grant Green approach - Grant Green and Larry Young did it, with a bossa nova beat on the funky side. - Author: George Benson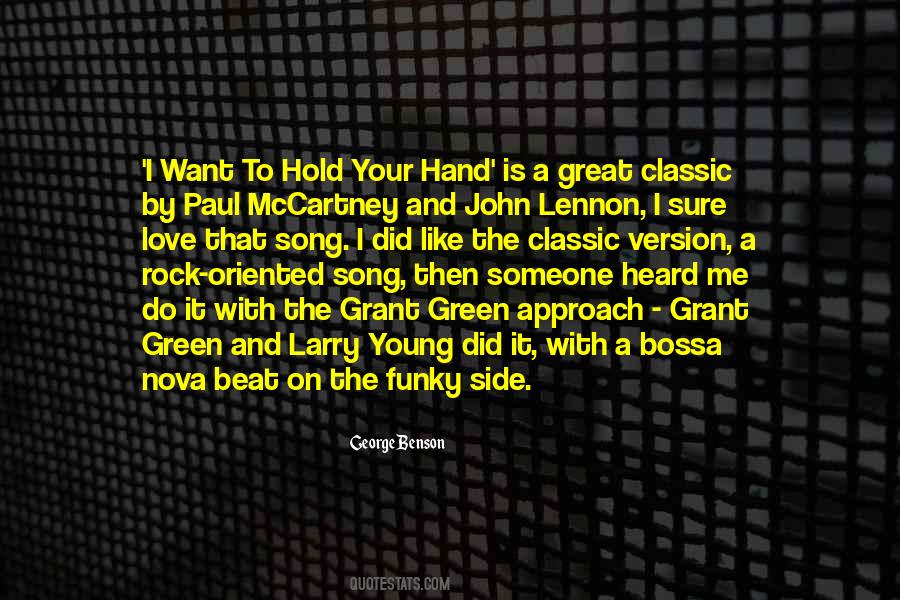 #6. You can try and hold me back. Build your damn walls, pack sandbags along the edges and yell at the clouds and the rain and the sky to stop.
But i will not relent. I will reach you. Because i am the sea. And i will continue to love you no matter what. - Author: Pleasefindthis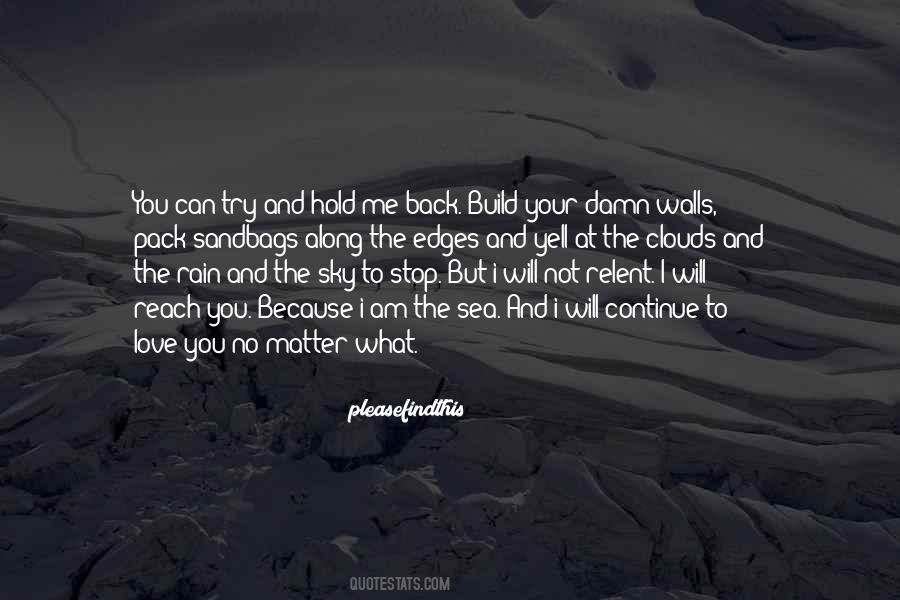 #7. Fall for me, as an apple falls, as rain falls, because you must. Use gravity to anchor your desire. - Author: Jeanette Winterson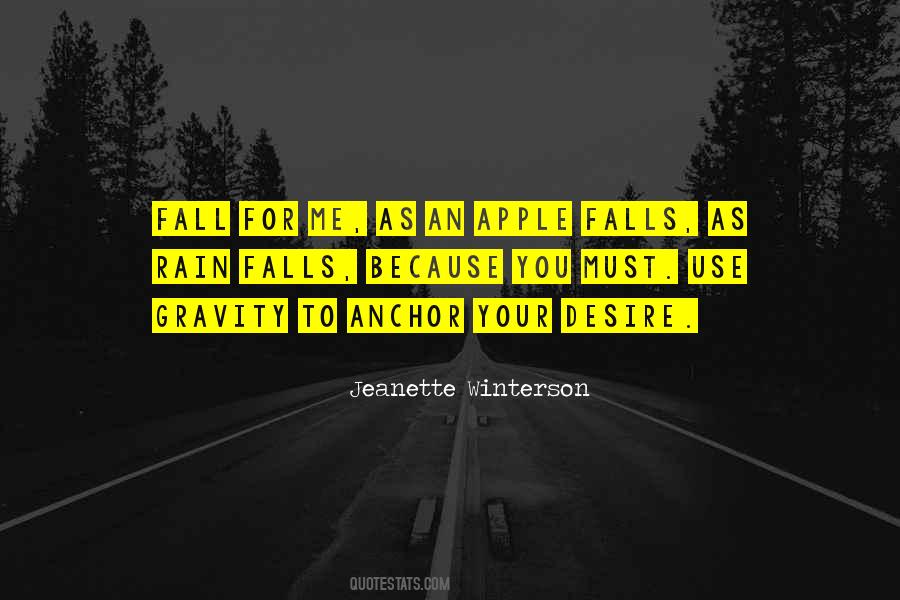 #8. I miss you so much. Maybe if I say your name over and over again, it will eventually feel wrong to me. Like a word you write too many times suddenly doesn't look right anymore. I will try that. - Author: Kate McGahan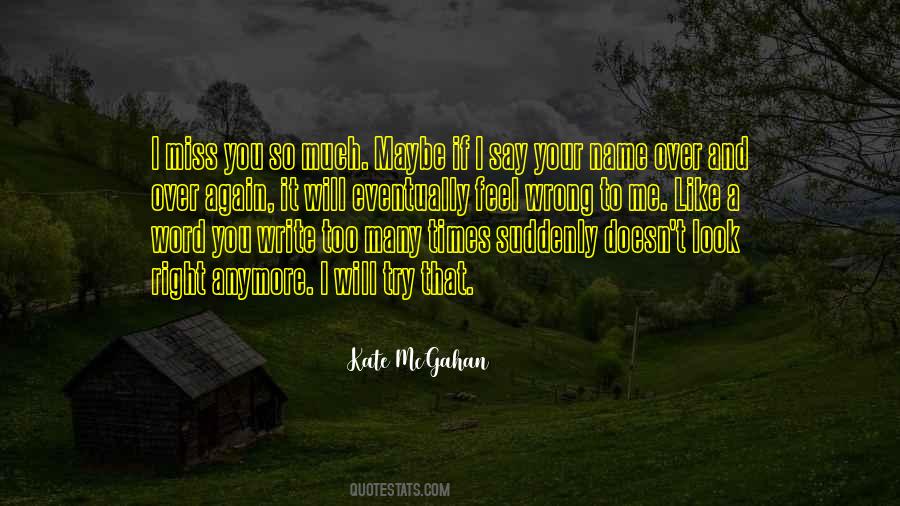 #9. I know some people find the idea of soul mates romantic, or comforting, but to me believing in soul mates means absolving yourself of any responsibility for your own happiness. If a relationship doesn't work out
whoops! It wasn't meant to be. Fuck meant to be. - Author: Anna Jarzab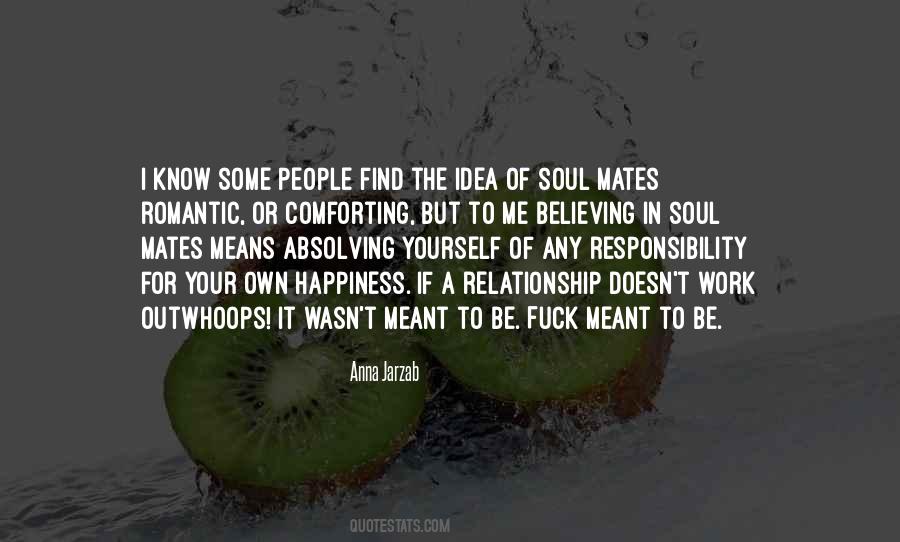 #10. Never give up your day job. I do all sorts of things, but at the end of the day, it all boils down to 'The Today Show,' and I love doing this thing, and they will have to blow me out of here with dynamite before I leave. - Author: Al Roker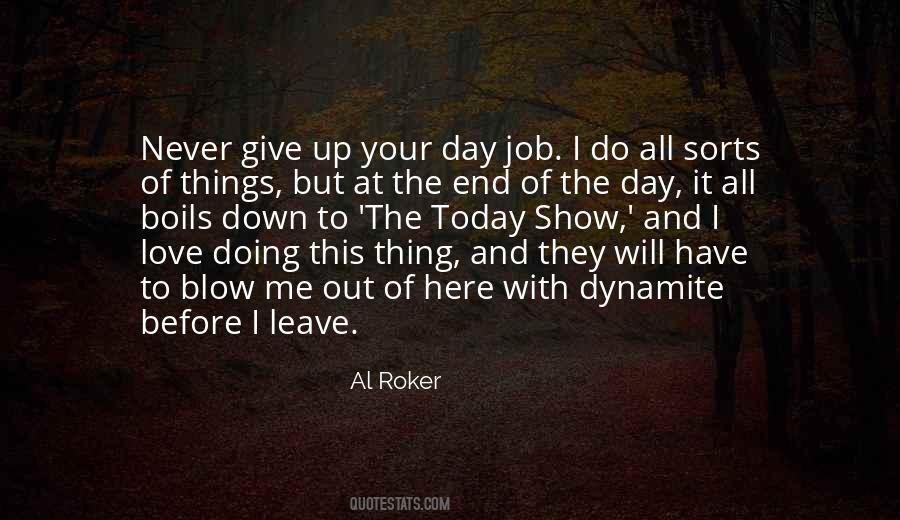 #11. But on the upside, I guess we're getting ready to find out if you really only love me for my jet."
"I might love you for your jet," Gabrielle said, straight-faced.
He smiled a Kat. "What about you?"
"Yeah," Kat said, nodding. "I guess that is the question. - Author: Ally Carter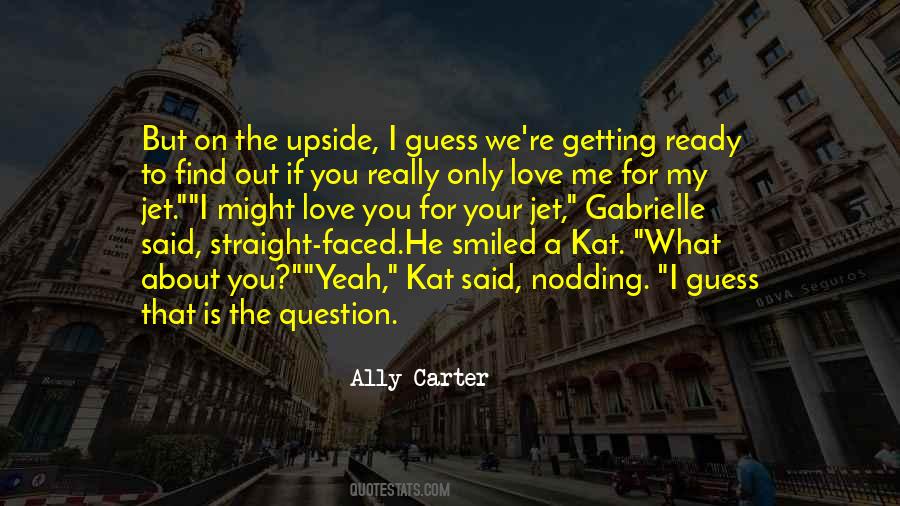 #12. Then let me be your mercy," he said. "I'll never be able to give you smart answers about why we suffer, but I can come into your world and try to be some kind of help to you. - Author: Laura Anderson Kurk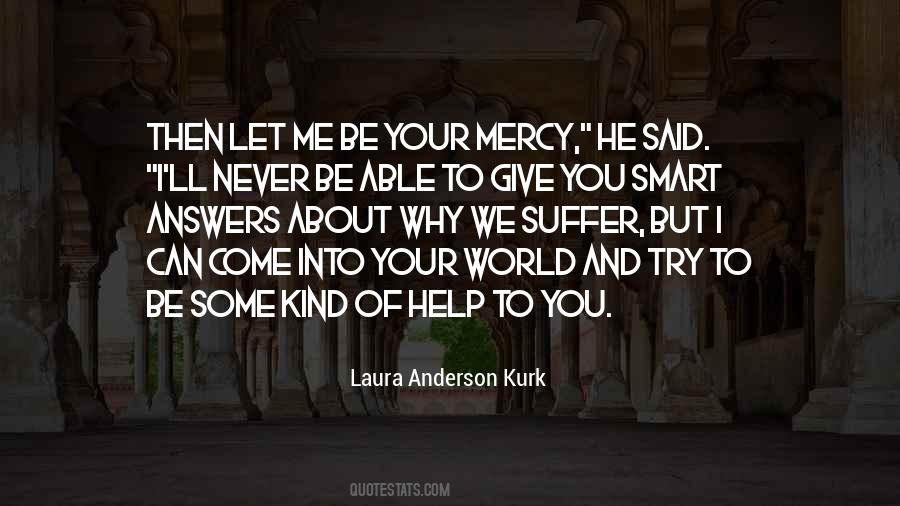 #13. Your love for your friend should be grounded in Me, and for My sake you should love whoever seems to be good and is very dear to you in this life. Without Me friendship has no strength and cannot endure. Love which I do not bind is neither true nor pure. - Author: Thomas A Kempis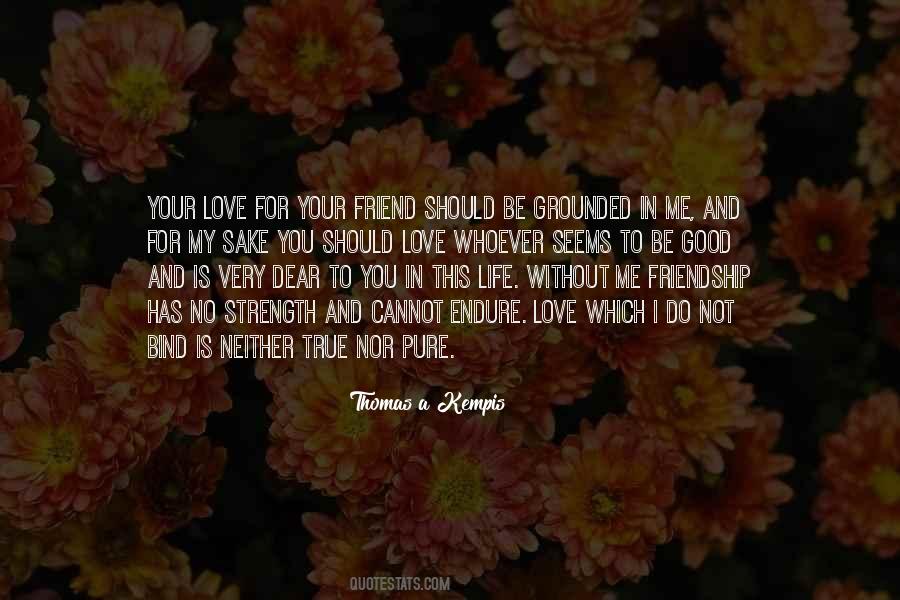 #14. Your thigh? Your shoulder? Is there any part of you that hasn't been hurt yet?"
He seemed to be contemplating my question for a moment and then he nodded. He tapped his chest. "Yeah, my heart." He looked over at me. "But its feeling mighty vulnerable these days, so who knows. - Author: Tess Oliver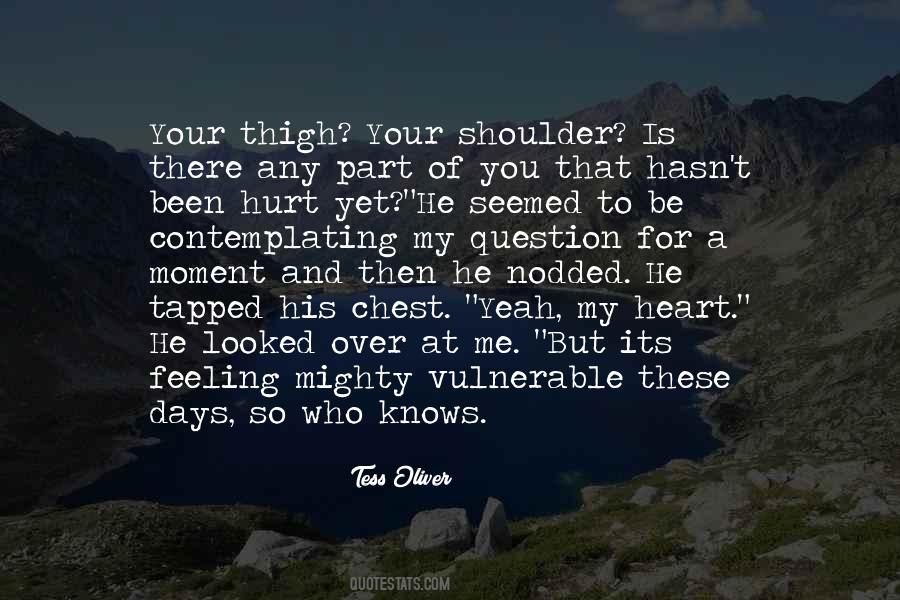 #15. Probably the most profound thing in the Bible is 'Love your enemies, do good to those who hate you.' This is what, to me, is the essence of Christianity. - Author: Dave Brubeck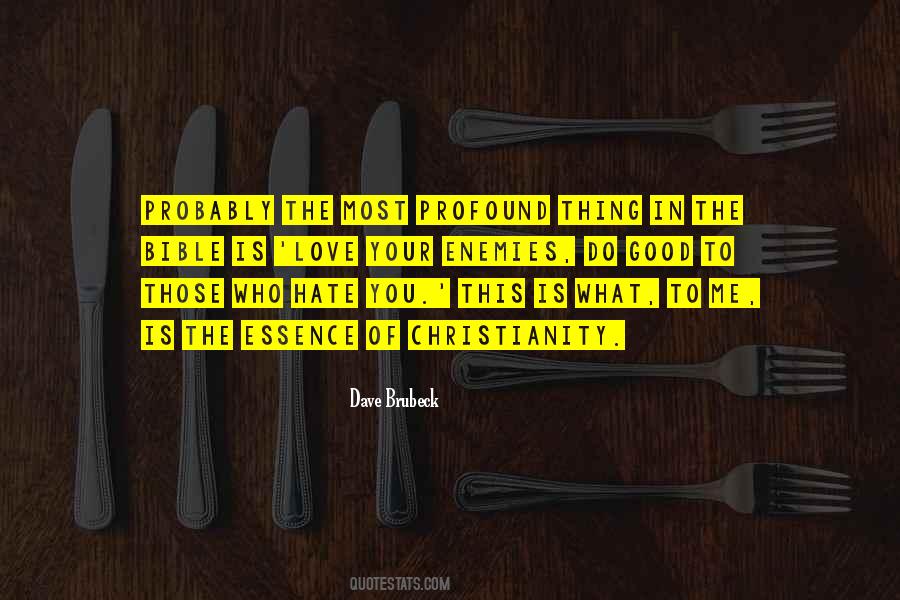 #16. You'll never have to feel me touch you again, Emily. You'll never have to hear my voice. You'll never have to wake up to me by your side again. Tell me right now that you don't love me, and I'm gone . . . forever. - Author: Gail McHugh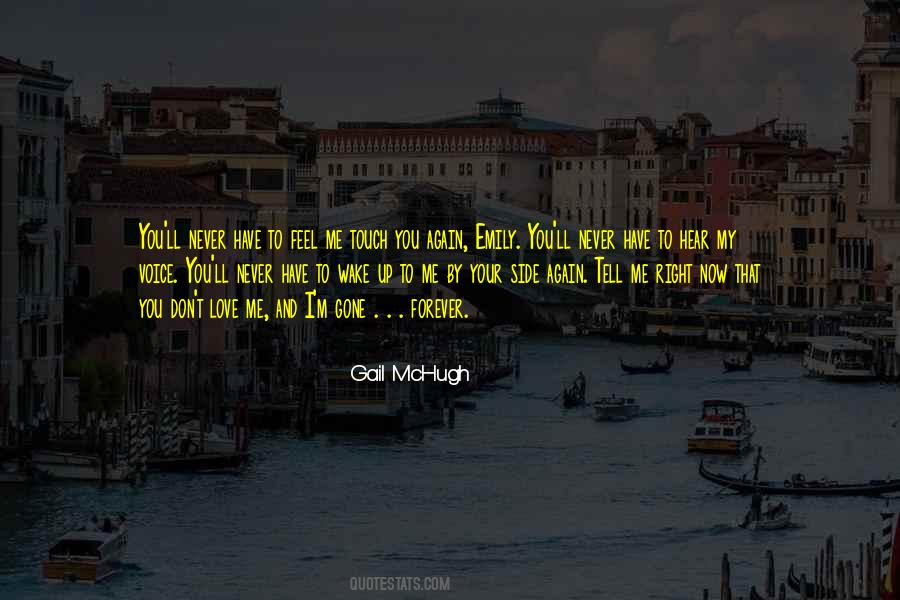 #17. I'm so single. It's funny. I'm usually a relationship girl. I love being in love and having a partner in crime. But it's good to be your own partner in crime. God, that makes me sound like I have multiple-personality disorder. - Author: Brittany Snow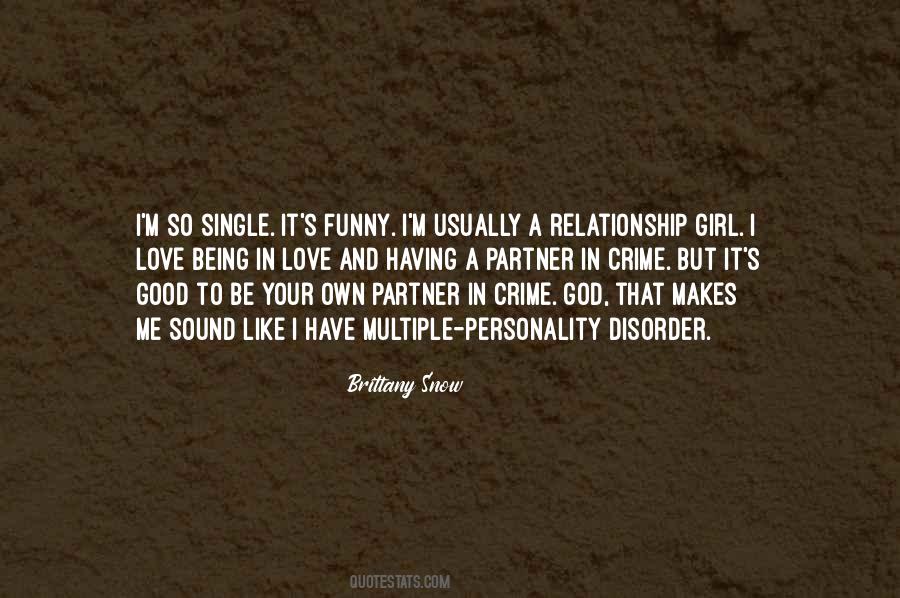 #18. For nobody else, gave me a thrill - with all your faults, I love you still. It had to be you, wonderful you, it had to be you. - As sung by Frank Sinatra - Author: Cecily Von Ziegesar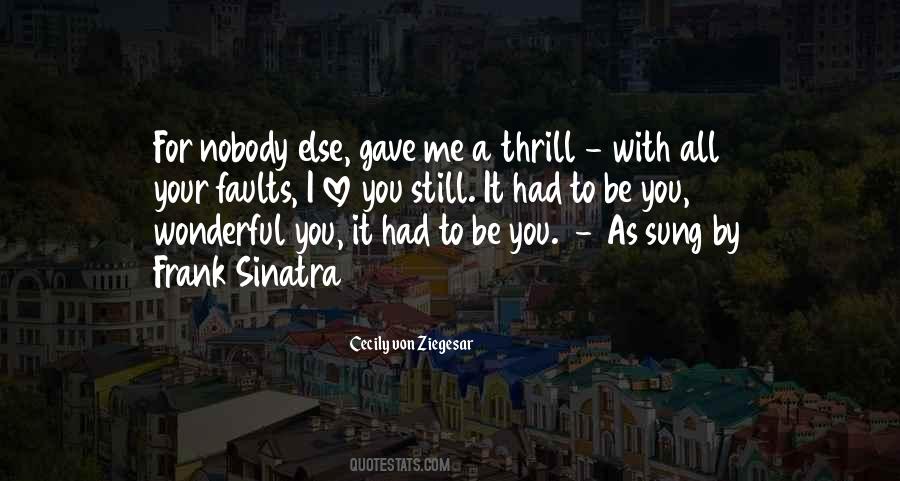 #19. Let me ask you, when it comes to Obamacare, do you hate Obamacare more than you love your country? - Author: Thomas Roberts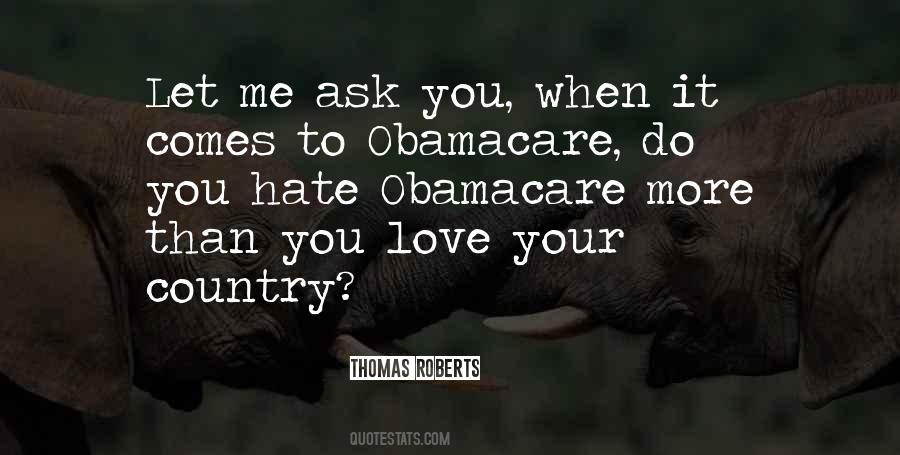 #20. All I want from you is to trust me with what little you can, and grow in loving people around you with the same love I share with you. It's not your job to change them, or to convince them. You are free to love without an agenda. - Author: Wm. Paul Young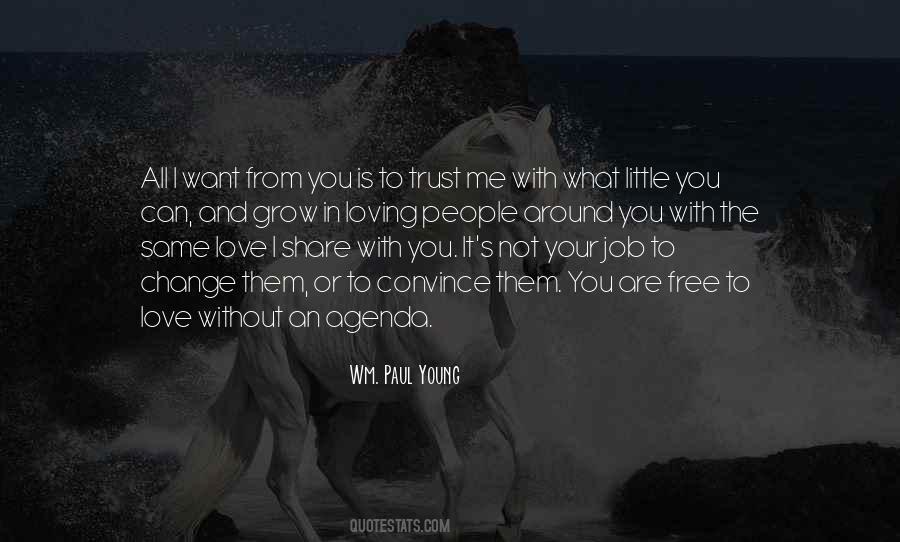 #21. When you switch your focus from the "we" to the "me", the goal from "team" to "self", you upset the balance of the whole. Consequentially, that redistribution of effort impedes success. - Author: Carlos Wallace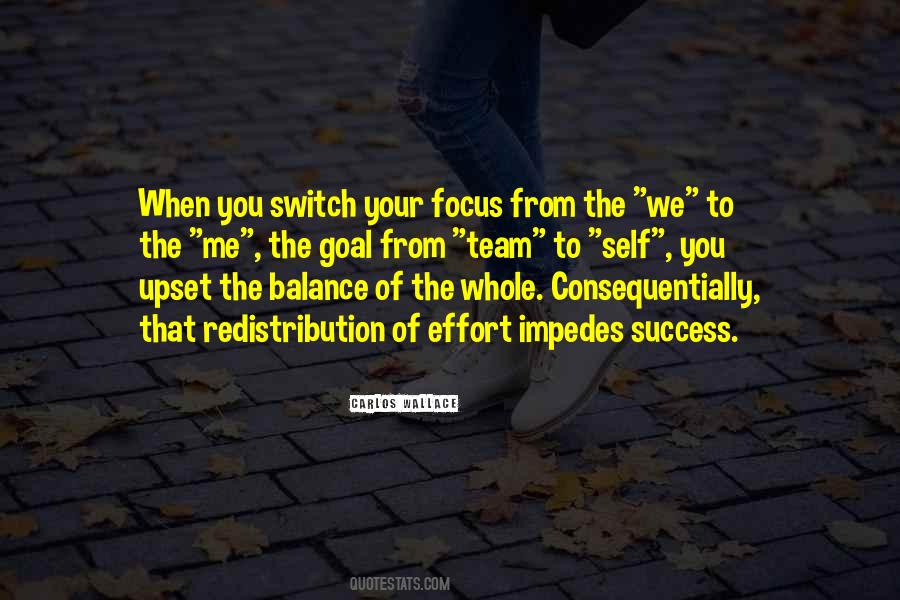 #22. I loved them too and while you might lay a greater claim to them, I defy you to miss your wife any more than I'll miss my best friend or your child, who was every inch a son to me. - Author: Fiona McIntosh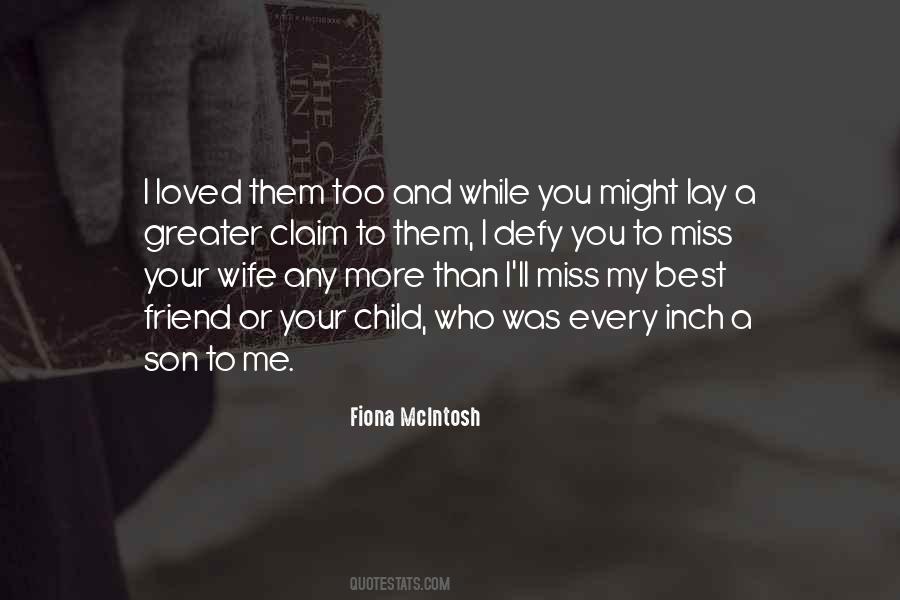 #23. You'll always be my girl. You were from the first moment I saw you. You were sitting in church with your brothers. You were eight years old, and I was twelve, and I thought, I hope she waits for me. Lucia, I'll wait forever if I have to. - Author: Adriana Trigiani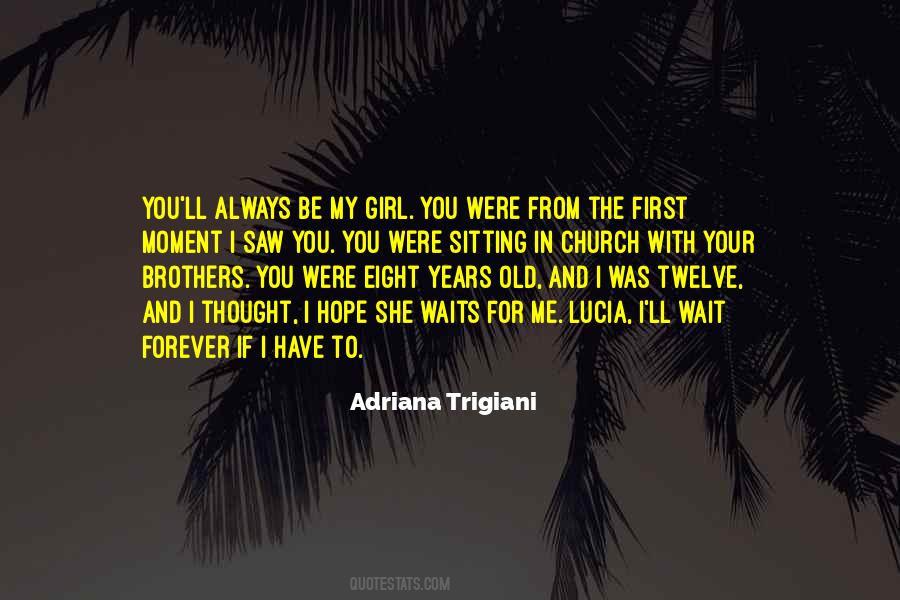 #24. I know you don't love me. But I'm going to fight for your love. There are some things in life that are worth fighting for the end. You are worth it. - Author: Paulo Coelho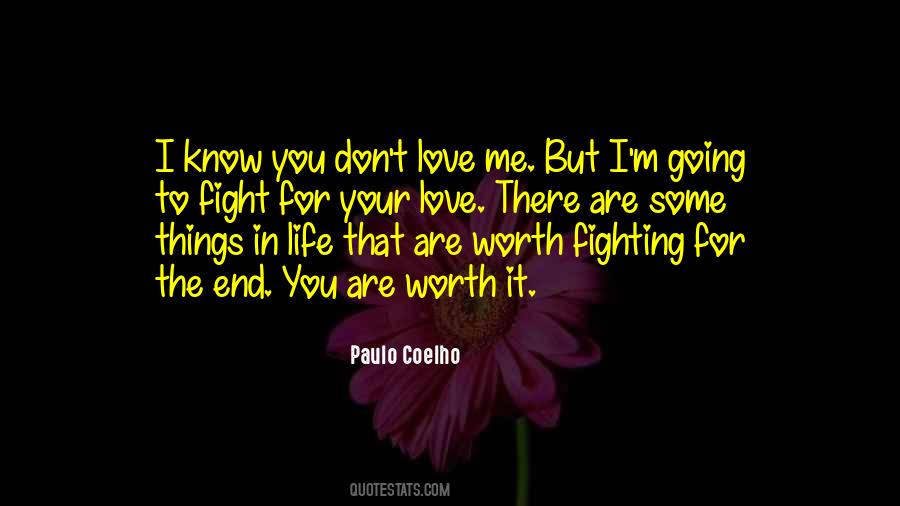 #25. I already fell - a little too hard if you ask me. Now it's your turn."
"My turn for what?"
"To say you love me so I can close my eyes and fall all the way. - Author: Ella Maise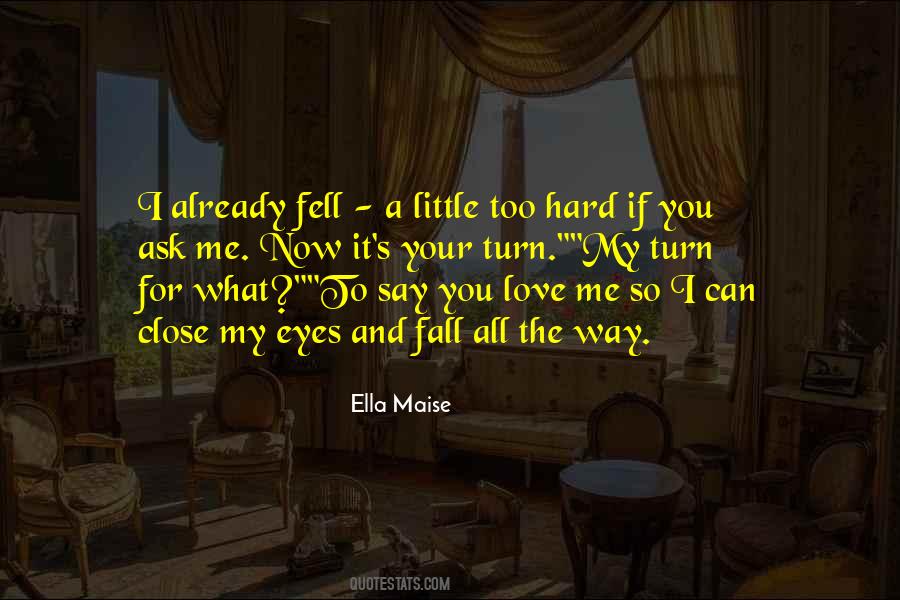 #26. Your greatest achievement is to love me. - Author: Prince Charles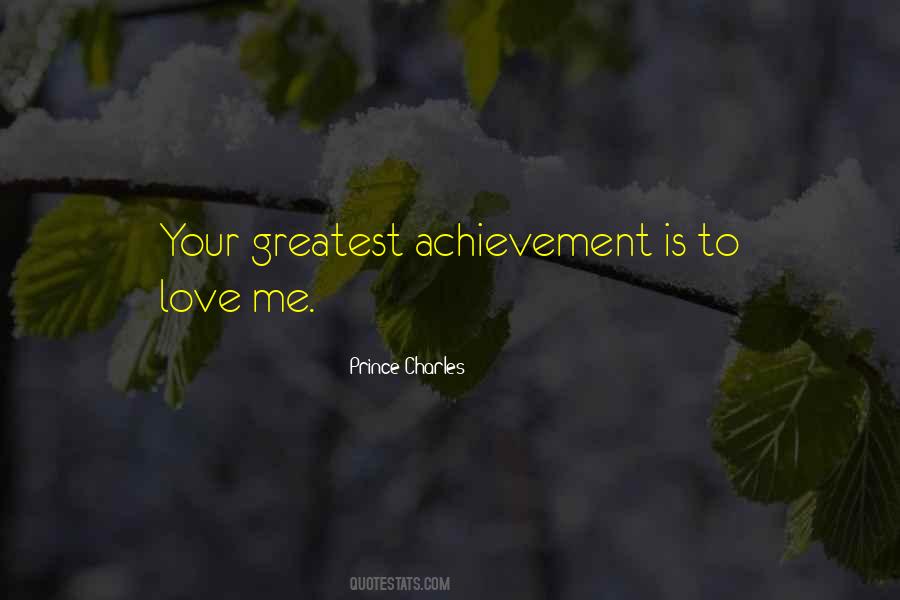 #27. You let Mal come back for me. After you gave me your vow."
"He broke away," said Tamar.
I lifted a brow. The day Mal could break Tolya's hold was indeed a day of miracles.
Tolya hung his head and heaved his huge shoulders. "Forgive me," he said. "I couldn't be the one to keep him from you. - Author: Leigh Bardugo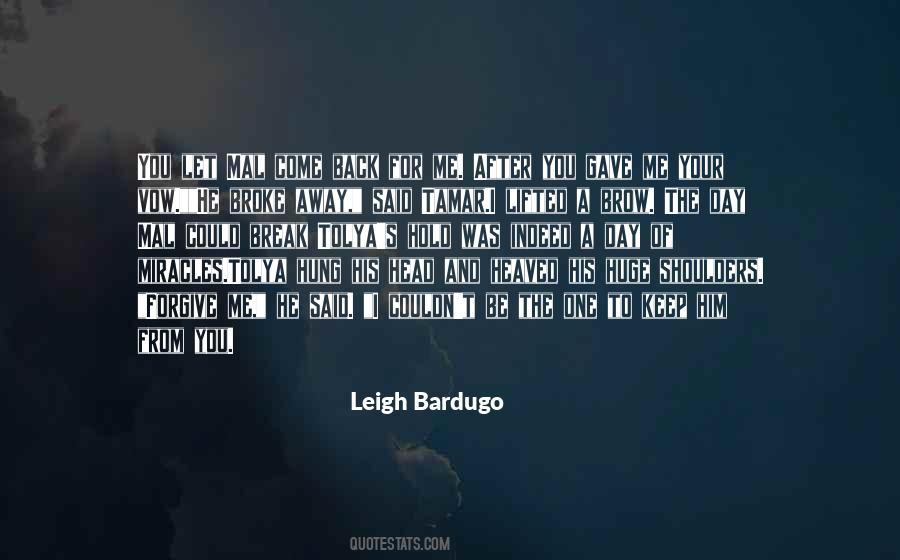 #28. Love is not an equation, as your father once wanted me to believe. It's not a contract, and it's not a happy ending. It is the slate under the chalk and the ground buildings rise from and the oxygen in the air. It is the place I come back to, no matter where I've been headed. - Author: Jodi Picoult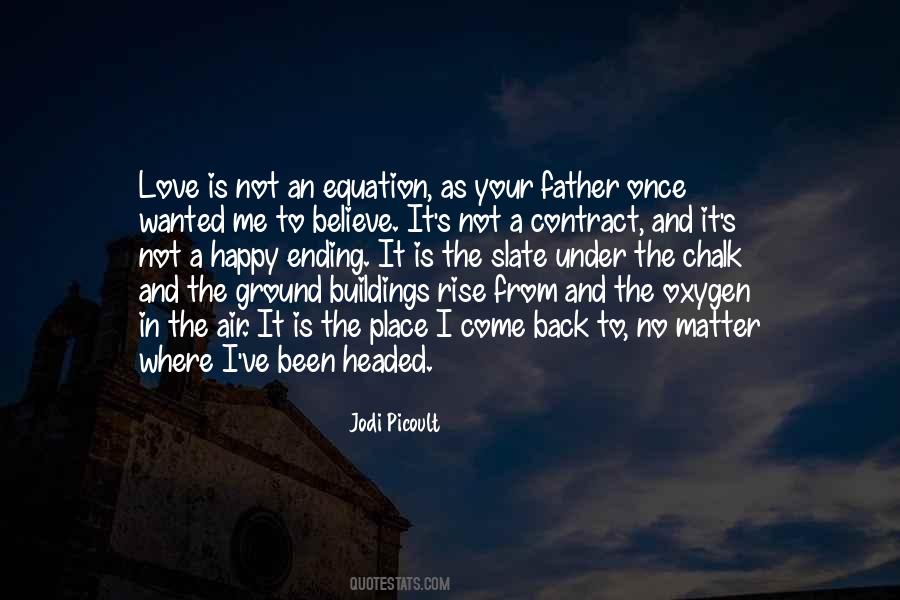 #29. To all my fans, thank you for your time and your love and your positive energy. It lifts my spirit and it means the world to me that I mean anything to you, so thank you. - Author: Camile Velasco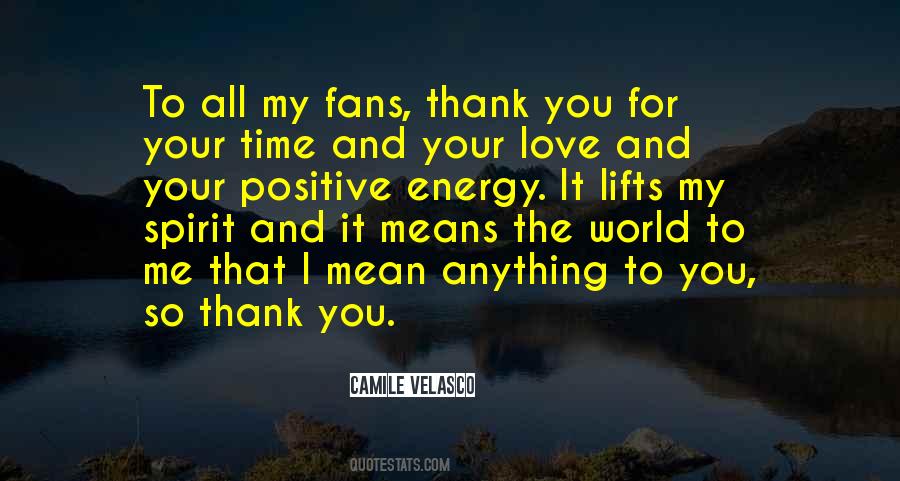 #30. I've made a dozen films in the English language. But then, for love, for my family and friends, I returned to Europe ... I annoyingly - looking back - turned down films like 007, 'For Your Eyes Only,' written specially for me. - Author: Ornella Muti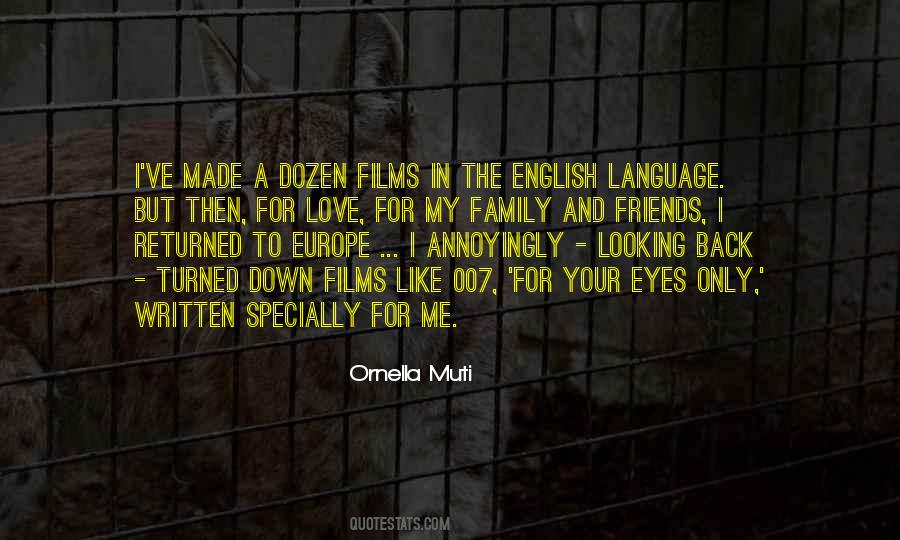 #31. Yet I will make you all love me and I will punish myself to spite your love. - Author: Joyce Carol Oates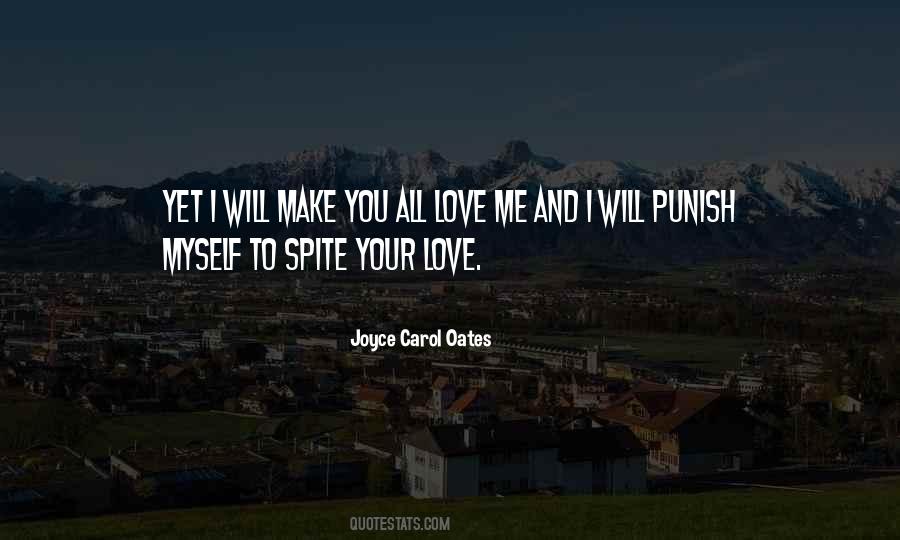 #32. Ultimately, when he held your treasonous letter in his hand and saw how you had lied to him, the choice between me and you was the choice between someone who loves him and someone who didn't. - Author: Marie Rutkoski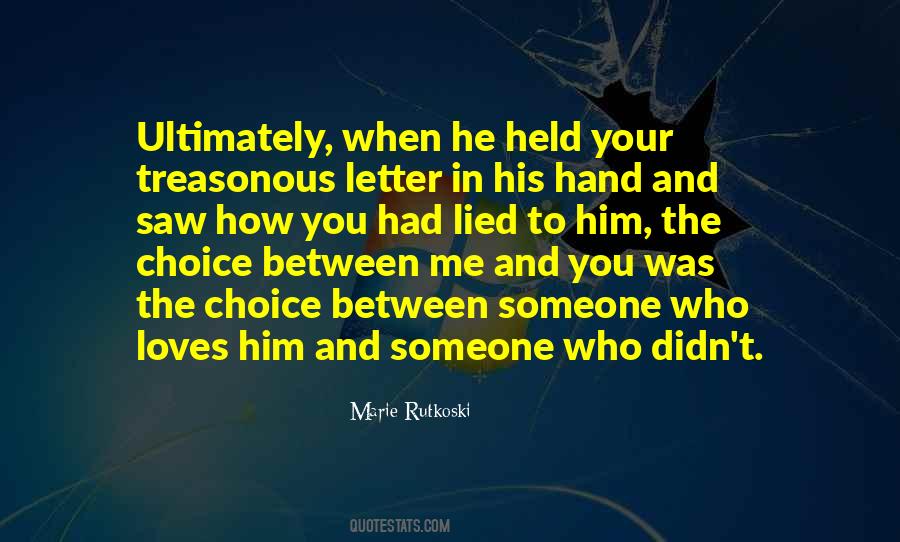 #33. Aithinne smiles. "You know," she says thoughtfully, "your hair rather looks like an octopus." Then, as if to reassure me: "I love octopi."

And Aithinne is obviously a bit barmy, but nobody's perfect. - Author: Elizabeth May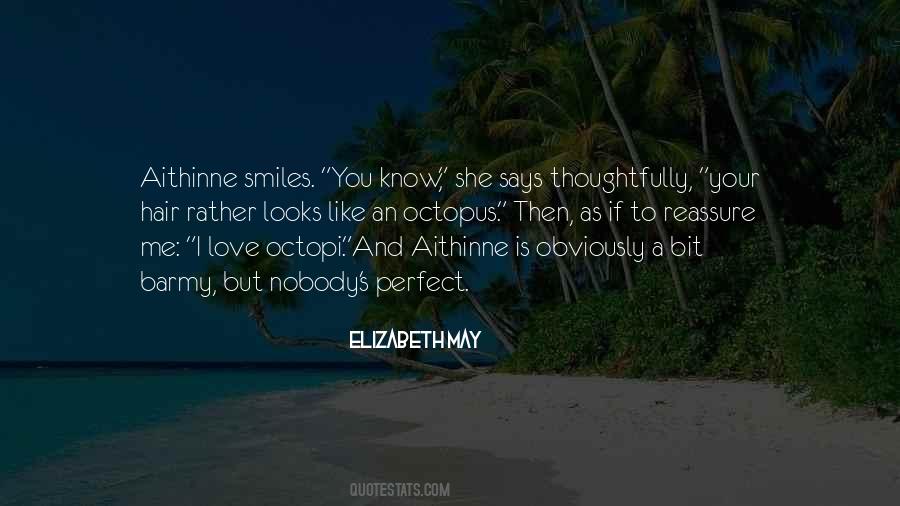 #34. Julie smiled a tight little smile and shook her head at her own foolhardiness.
But I did it because I love him, she told herself. I love him still. God help me. So this is how it feels to have your break ... - Author: Jennifer Wilde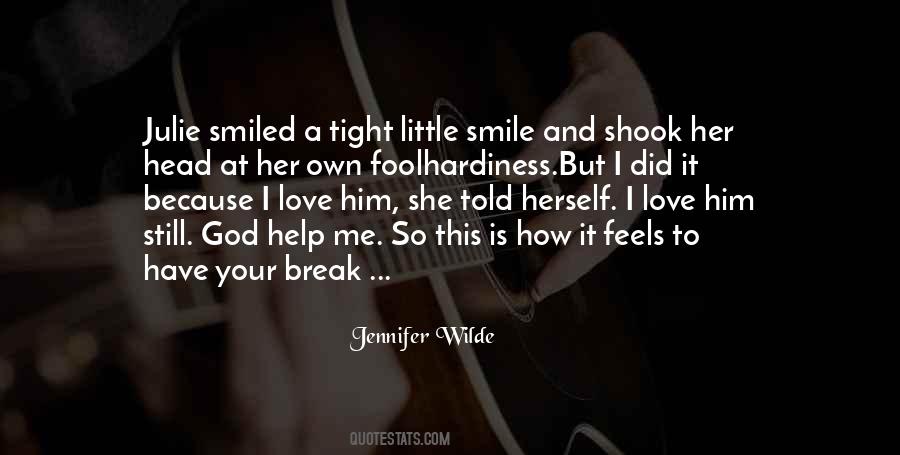 #35. -I would die for you
-You lie
-If I lie, why do I stand here before and beg on my knees to get you back?
-Because you're feeling alone
-If need your love
-You don't need me, you only need a person
-And you're that person
-No I'm not
-But I love you
-That what I do - Author: M..
#36. The opposite is best. Whenever you're angry with someone, apply this maxim. I means doing the exact opposite of what your body's telling you to do. Believe me, it works miracles. Titus in Love in Lowercase - Author: Francesc Miralles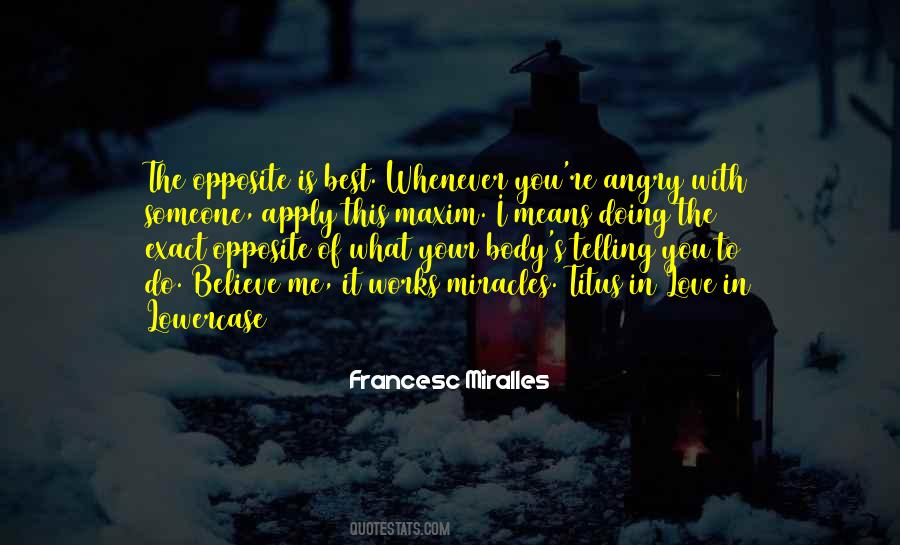 #37. My mother told me to be a lady. And for her, that meant be your own person, be independent - Author: Ruth Bader Ginsburg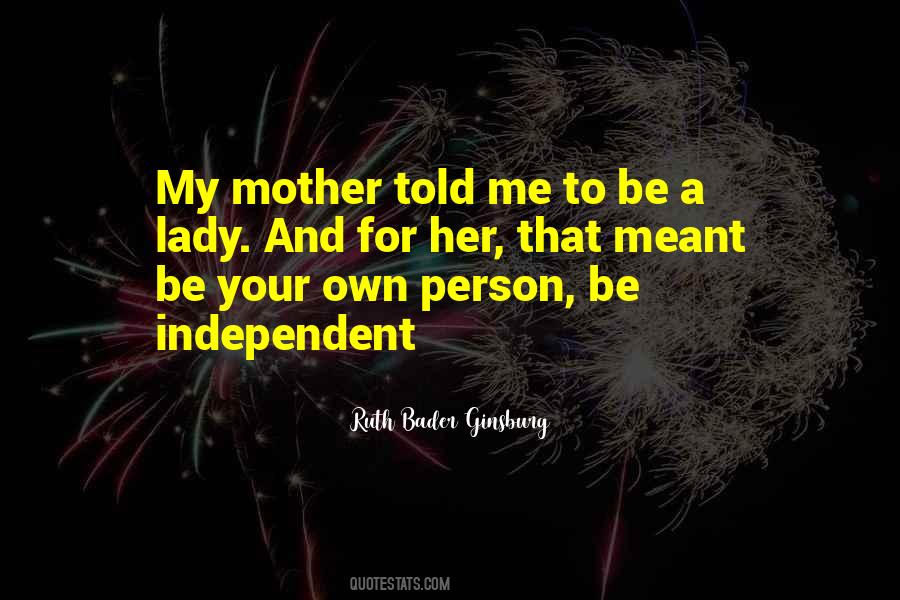 #38. I love Pixar films; I think they're the greatest filmmakers in the world. I love Disney films. 'Tangled,' was great. I loved 'How to Train Your Dragon,' the Dreamworks film. But it's not for me. I don't want to make a film for families; I want to make adult films. - Author: Bill Plympton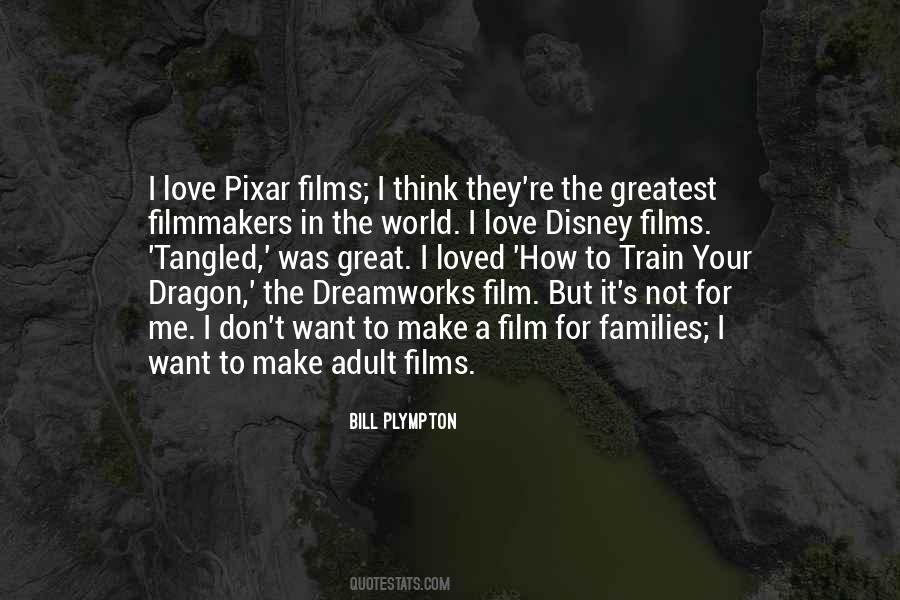 #39. You never meant me to be the guy you'd settle down with. Not the safe guy you'd love, but the dangerous one who makes your pulse race. - Author: Renee Rose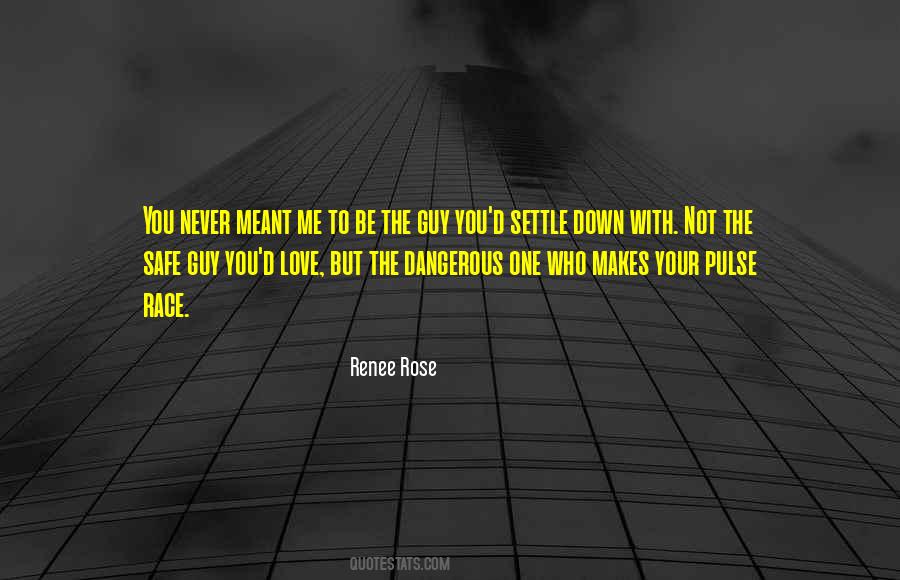 #40. So what I'm trying to say is you should text me back. Because there's a precedent. Because there's an urgency. Because there's a bedtime. Because when the world ends I might not have my phone charged and If you don't respond soon, I won't know if you'd wanna leave your shadow next to mine. - Author: Marina Keegan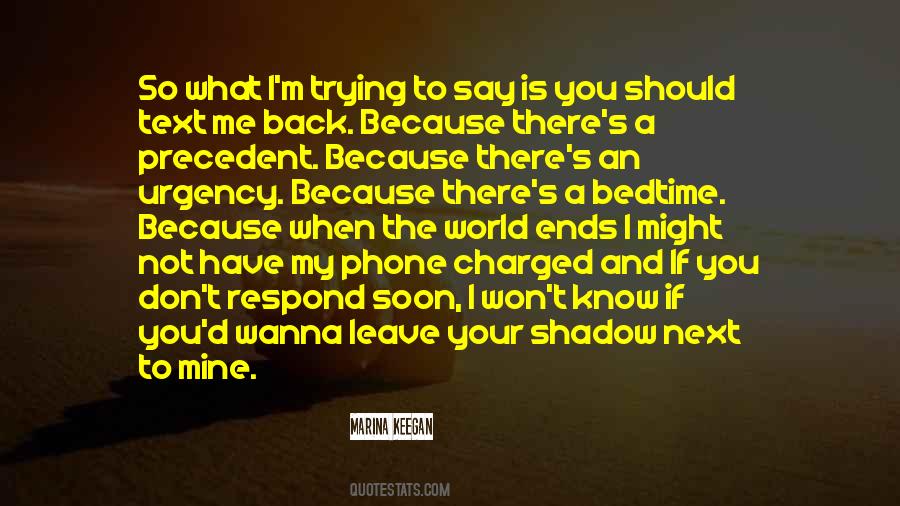 #41. Love solves nothing, but your love made me appear to myself. - Author: Forrest Gander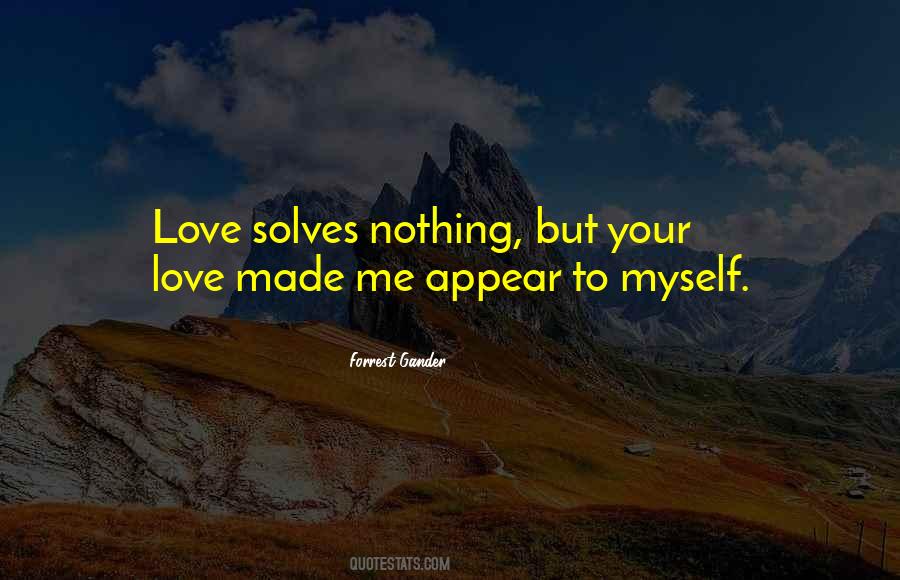 #42. There's definitely a dangerous feeling when you're in love-it's giving your heart to someone else and knowing that they have control over your feelings. I know for me, who always tries to be so tough, that's the dangerous thing. - Author: Beyonce Knowles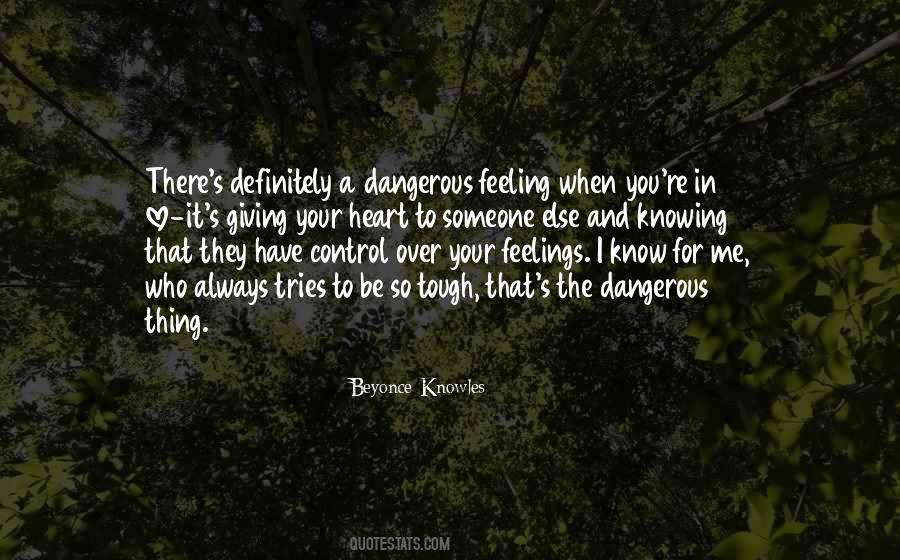 #43. It's amazing how sudden the effect is - it must be the result of a deep atavistic mating urge buried inside us. A glance and you think: 'Yes, this is the one, this one is right for me.' Every instinct in your body seems to sing in unison. - Author: William Boyd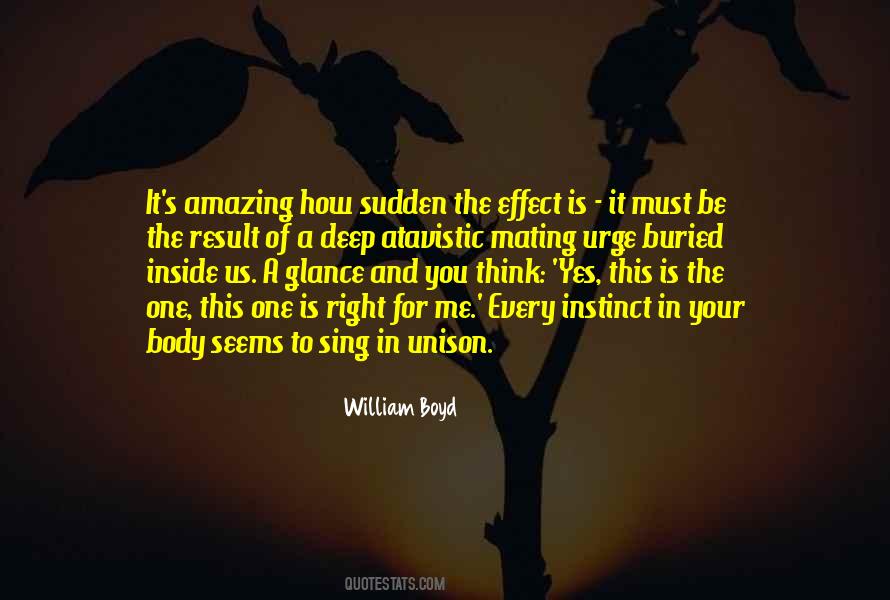 #44. The only way I could get you to say you love me was by telling you to lie to me." He speaks through the bullet hole I shot through his heart. "There's nothing left. I can't pull on your heartstrings when they're no longer attached to anything. - Author: E.K. Blair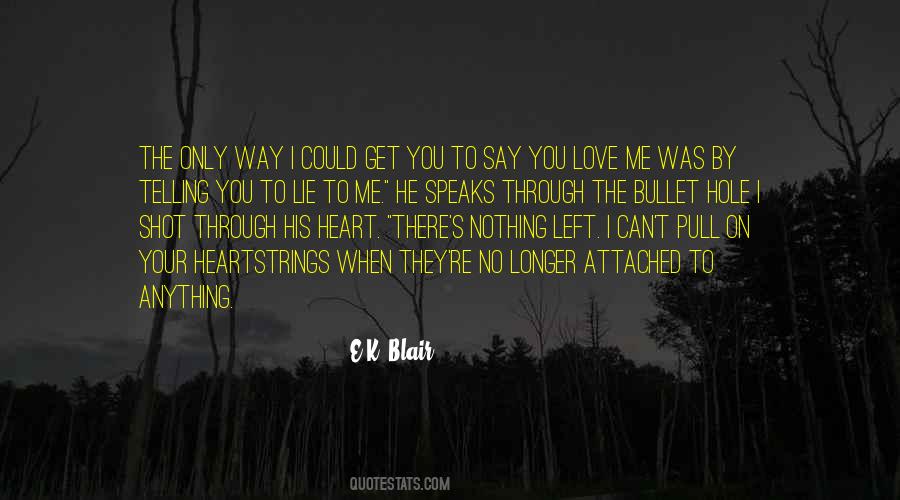 #45. Your love to me was like an unread book. - Author: Countee Cullen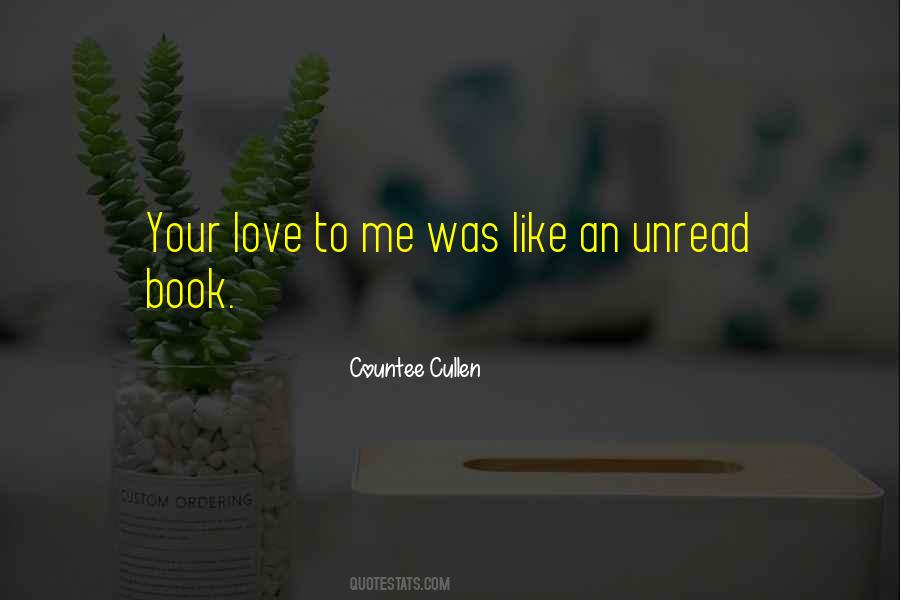 #46. It doesn't have to be this way, Charlie. You're allowed to love me, despite what your father says. You're allowed to be happy. What you can't allow is for negativity to choke you until we no longer breathe the same air. - Author: Colleen Hoover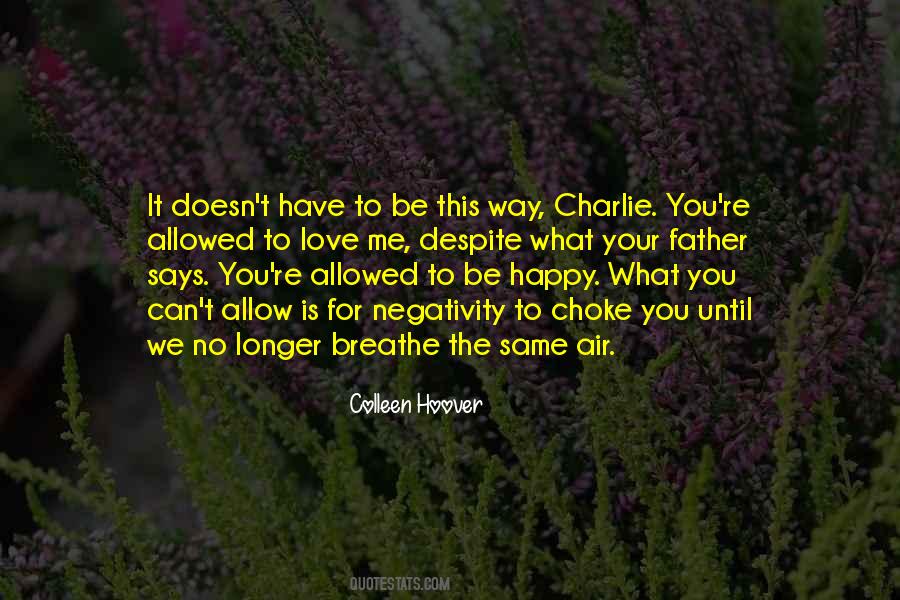 #47. You asked me to go out with you. I know you probably changed your mind. But you should know, the answer was yes. It's always been yes when it comes to you. - Author: Sarah Dessen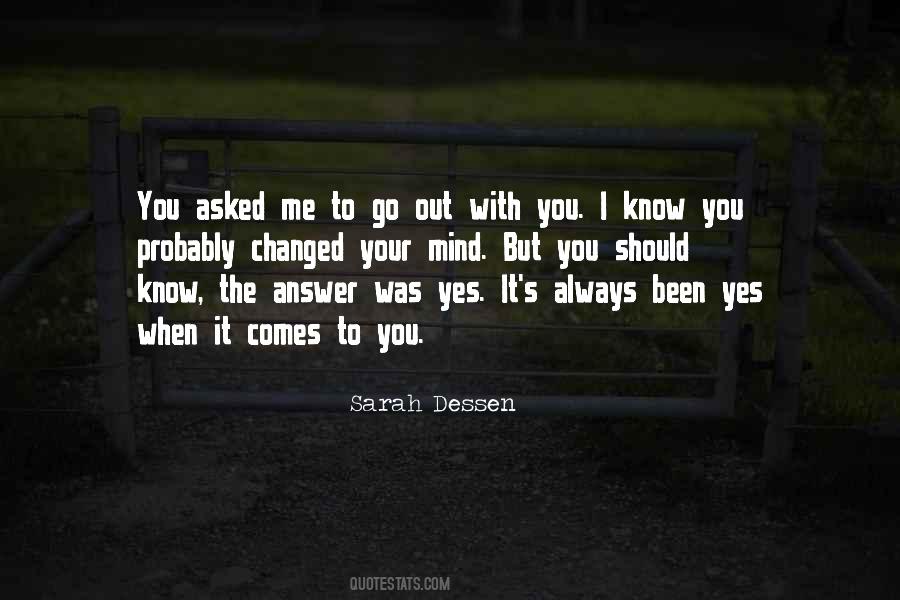 #48. You're not Corbin," he mutters.
"No. I'm not. But I am your new neighbour, and from the looks of it, you're about to owe me at least fifty cups of sugar. - Author: Colleen Hoover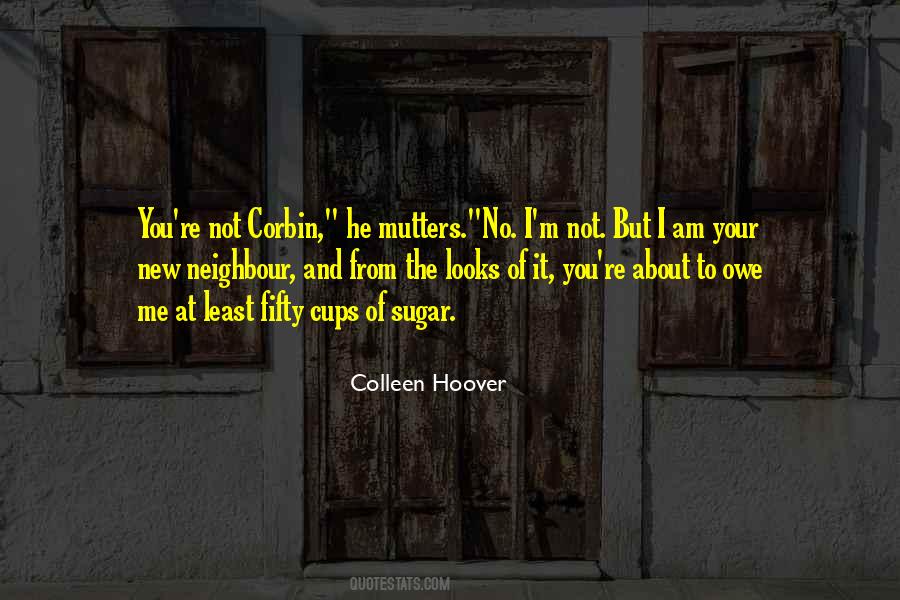 #49. But I do, little one. Your kisses last night told me everything, I needed to know. In every way that matters, no man has peeled back the many layers that make up the flower that is you, Laura, and dipped his tongue into the centre of you mouth, as I did last night. - Author: Suzi Love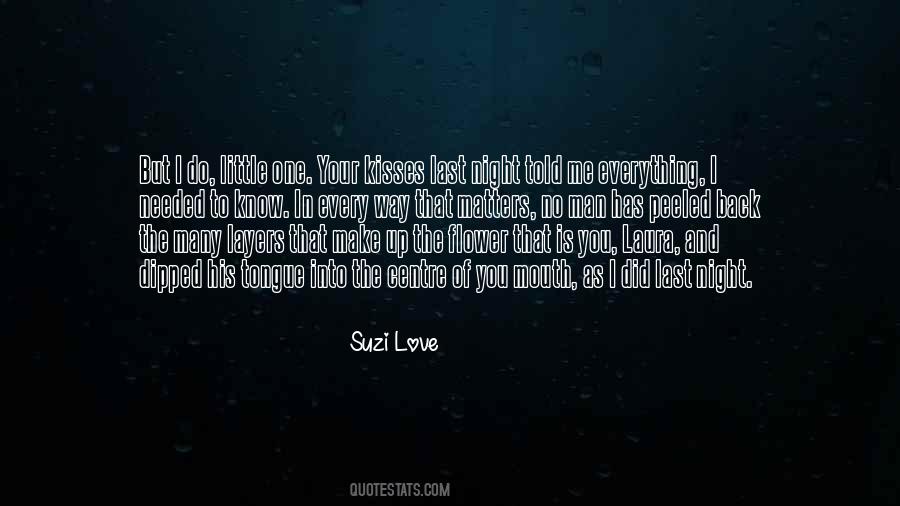 #50. I still let myself be a fan of music and that motivates me to want to be better than certain people or just getting the same love. Nothing is new under the sun so you cant be afraid to take things from others and try to flip them and make them your own at the end of the day. - Author: Kid Ink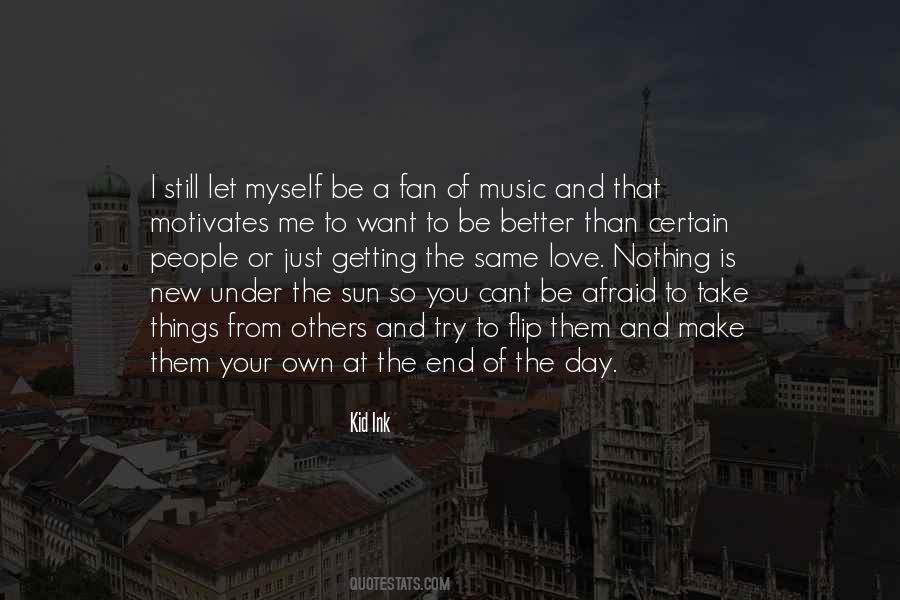 #51. I love you, that is important to me. You love me or not its your matter. Remember I can control only myself, not you at all. - Author: Debasish Mridha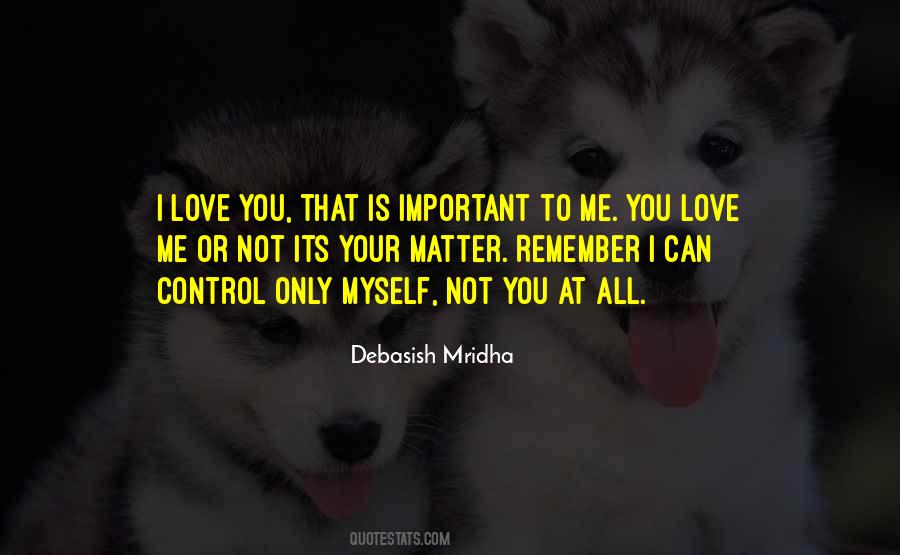 #52. Your lines, I maintain it, are poetry, and good poetry ... Friendship ... had I been so blest as to have met with you in time, might have led me - God of love only knows where. - Author: Robert Burns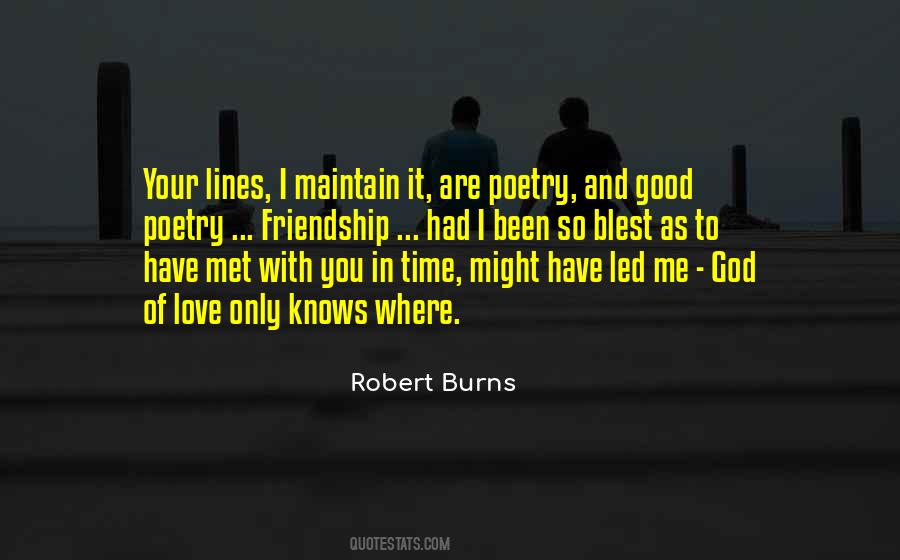 #53. Aw, naw, ain't sayin that. You do what you need an ain't try telling you no, but ... takin you to bed, want you there, not just your body. An want you knowin it's me. Love you, Chess. Dig? - Author: Stacia Kane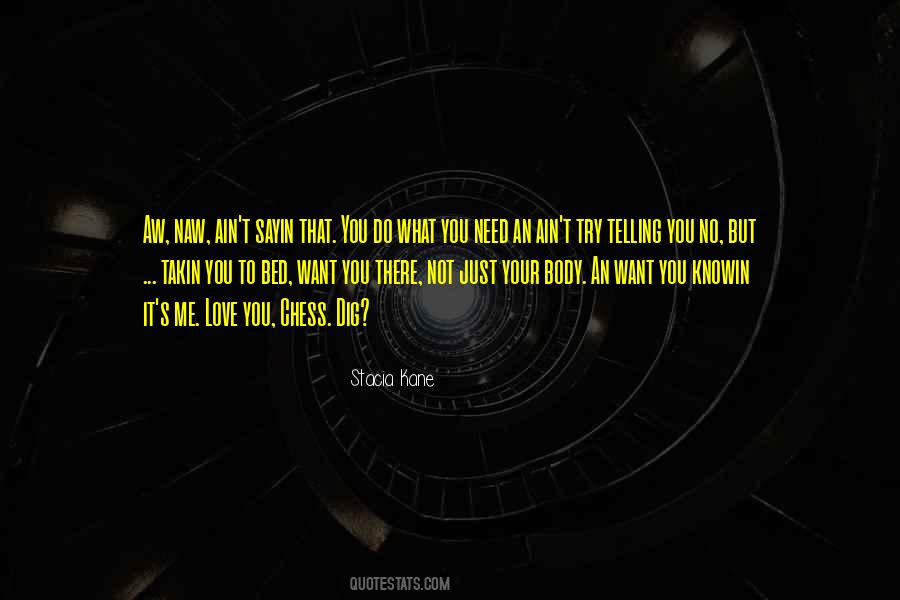 #54. Hugo, child, have I ever said that I loved you? Do you know that your fists are clenched? You aren't going to strike me-' She had smiled. Then he had burst into tears. He had never mentioned love either, but it had not occurred to him that it might not be identical with what they had enjoyed. - Author: Glenway Wescott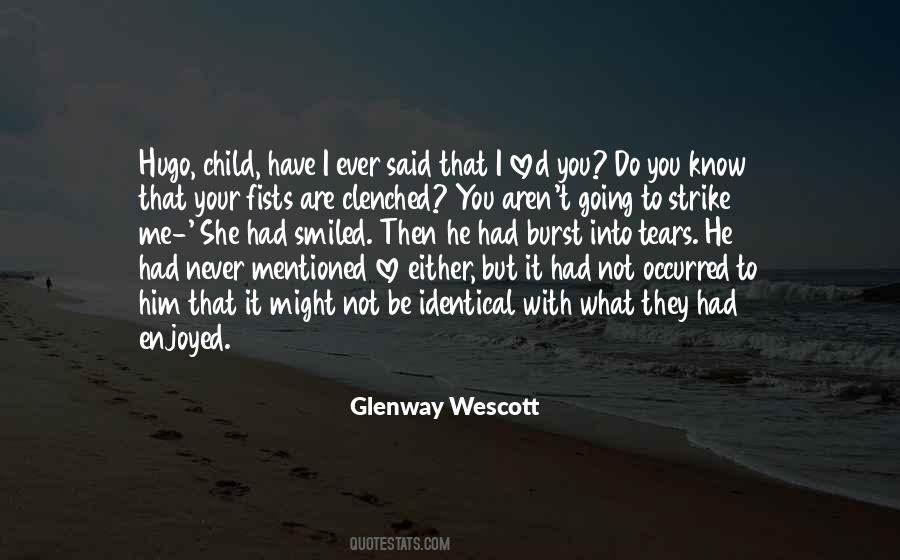 #55. Tira begins to sing "I'm No Angel" to him as the screen fades: Baby, I can warm you with this love of mine. I'm No Angel. Aw, let me feel my fingers running through your hair, I can give you kisses ... - Author: Mae West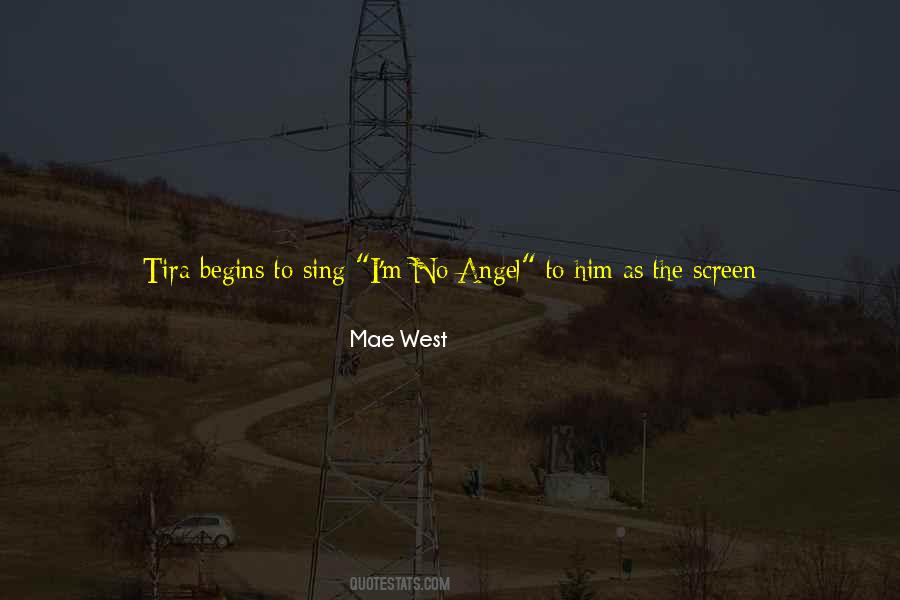 #56. And forgive me if this is harsh, but I don't want you getting it into your head that the love you have for Ridge will be enough to hold you over until the day Maggie dies. Because Maggie isn't dying, Sydney. Maggie's living. She'll be around a lot longer than Ridge's heart could ever survive you. - Author: Colleen Hoover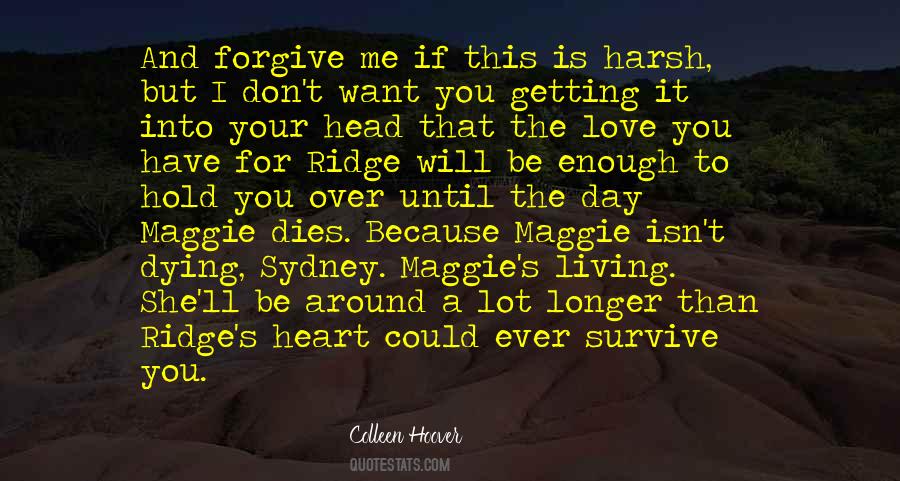 #57. Dear God, I surrender this relationship to you," means, "Dear God, let me see this person through your eyes." In accepting the Atonement, we are asking to see as God sees, think as God thinks, love as God loves. We are asking for help in seeing someone's innocence. - Author: Marianne Williamson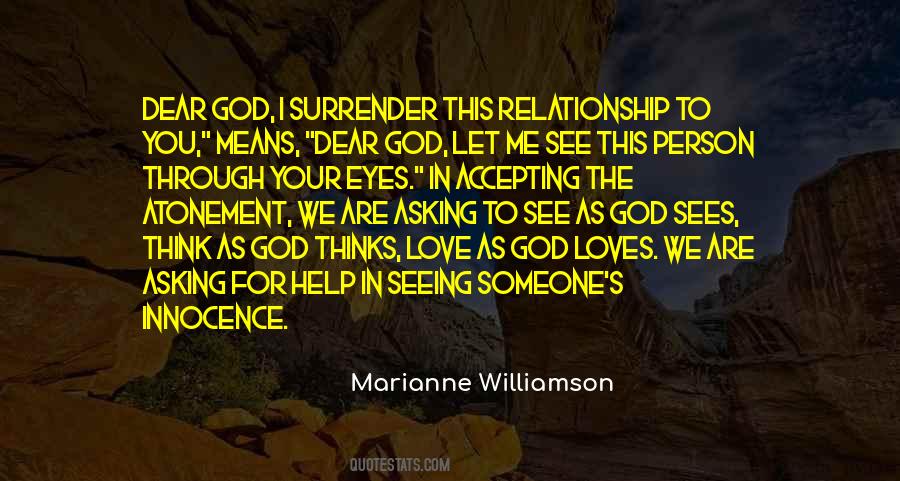 #58. I love that I can stay connected with my fans and be able to tell them what's going on - their opinions are so important to me. But at the same time, it's very weird. I think the Internet can be a great thing but also really evil. Something can instantly hurt your feelings. - Author: Selena Gomez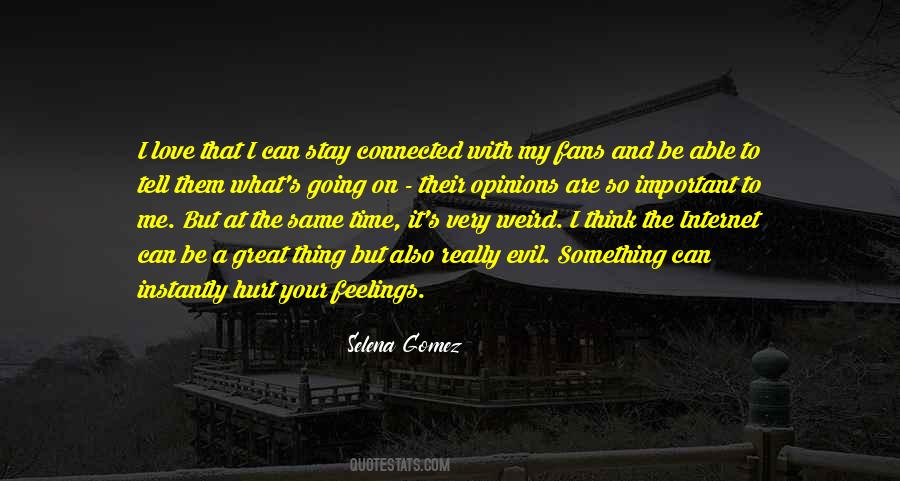 #59. Elli-" Neve lies down next to him. "It is not easy being friend with someone who has depression. Not because it's a burden, but because you love them. So their pain becomes your own." She rests her hand on his chest. "You really expect me to just sit by and do nothing ? - Author: Nelou Keramati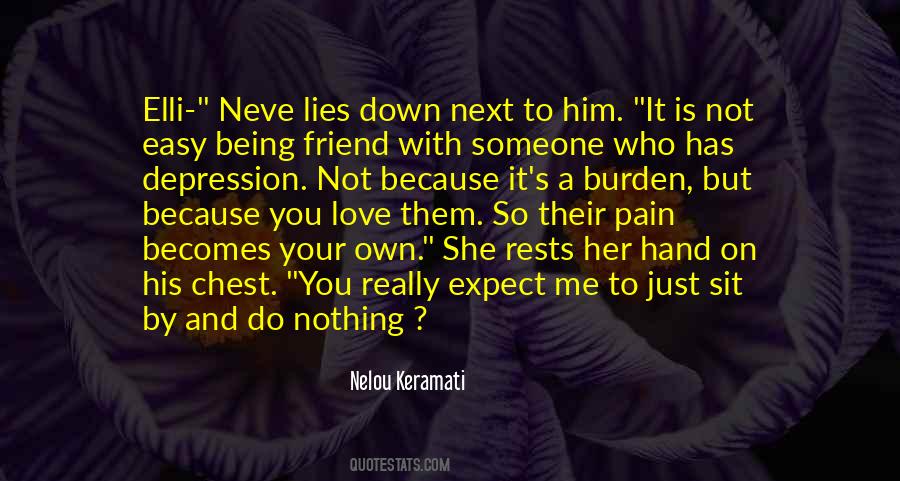 #60. But when I touch you, your aura ... it smolders. The colors deepen, it burns more intensely, the purple increases. Why? Why, Sydney?" He used that hand to pull me closer. "Why do you react that way if I don't mean anything to you?" There was a desperation in his voice, and it was legitimate. - Author: Richelle Mead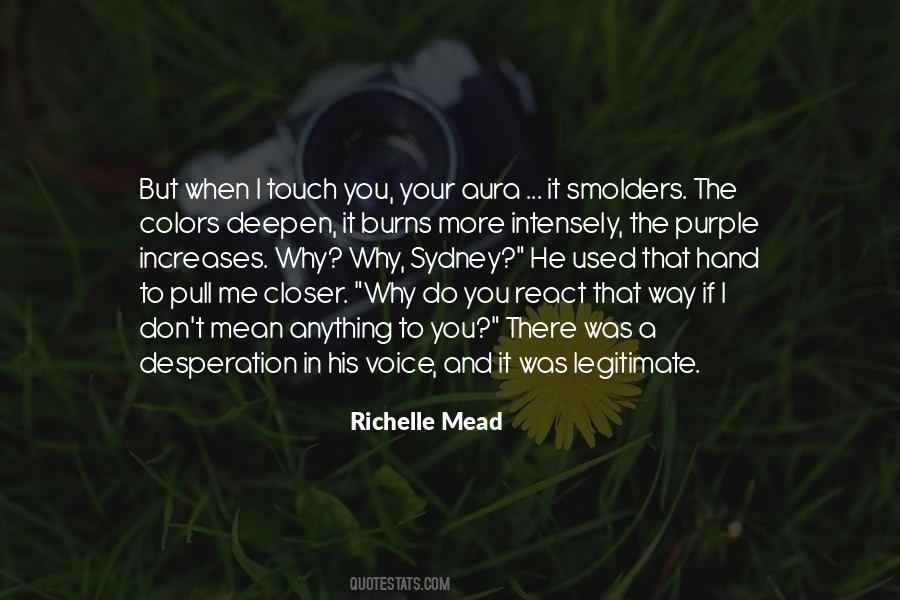 #61. My father, my mother, and then my father was always on top of me - 'Keep your nose clean. Do you love what you're doing?' 'Yes.' 'Then be aware, or you're going to lose it.' - Author: Paul Anka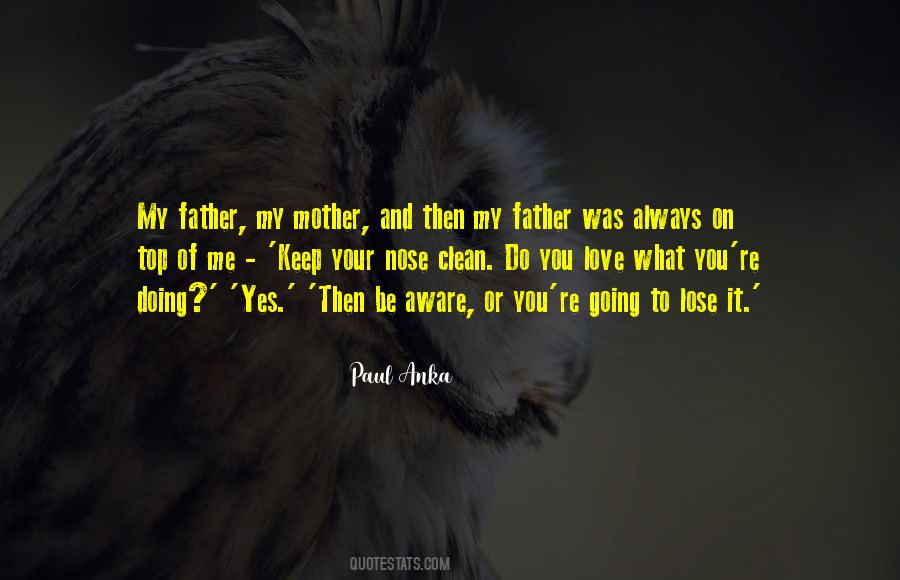 #62. Long after you have reached the end of your natural span, part of you will dwell within me . . . as I shall be in you to the last of your days and even after. - Author: Bruce Lee Bond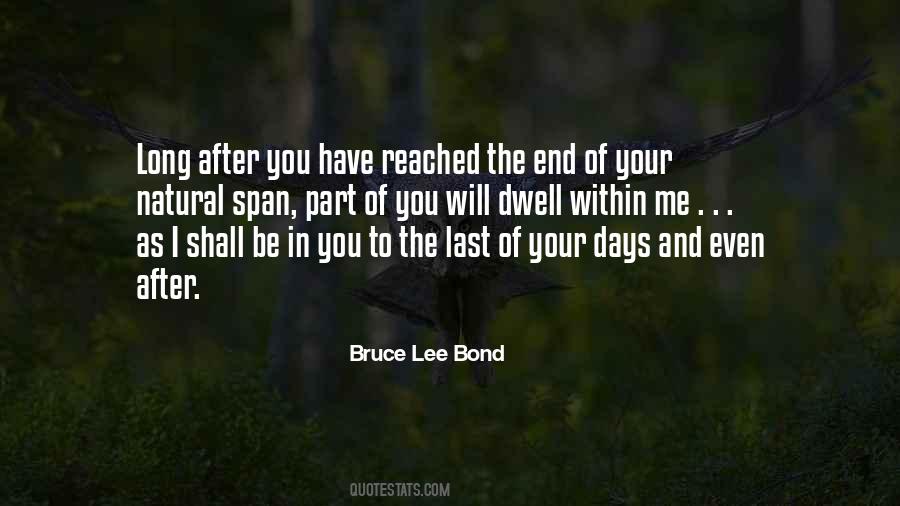 #63. There are different kinds of love, Sarah. I feel one kind of love for your father. A special kind. Another kind for Warren. And still a different kind for you children.' She smiled at me. 'Heaven rue the day we can't feel love for one another. I wouldn't want to live in such a world, would you? - Author: Ann Rinaldi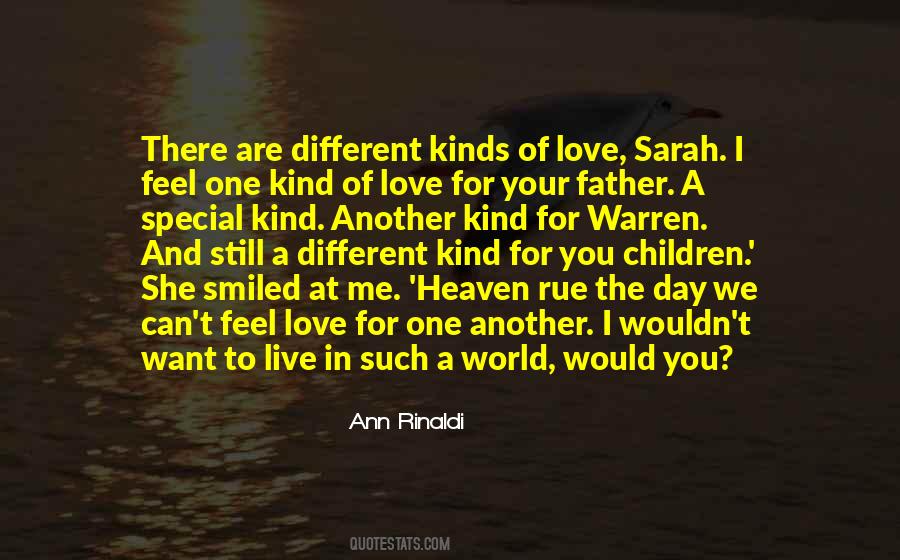 #64. To say "I love you," Yanomami Indians of the Amazon say, "Ya pihi irakema," meaning "I have been contaminated by your being" - a part of you has entered me, and it lives and grows. - Author: David Servan-Schreiber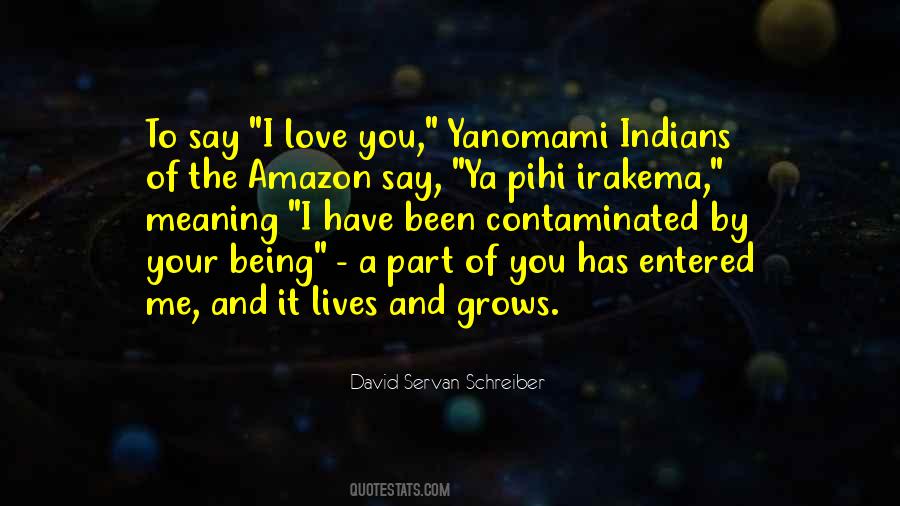 #65. To douchebags!" he said, gesturing to Brad. "And to girls that break your heart," he bowed his head to me. His eyes lost focus. "And to the absolute fucking horror of losing your best friend because you were stupid enough to fall in love with her. - Author: Jamie McGuire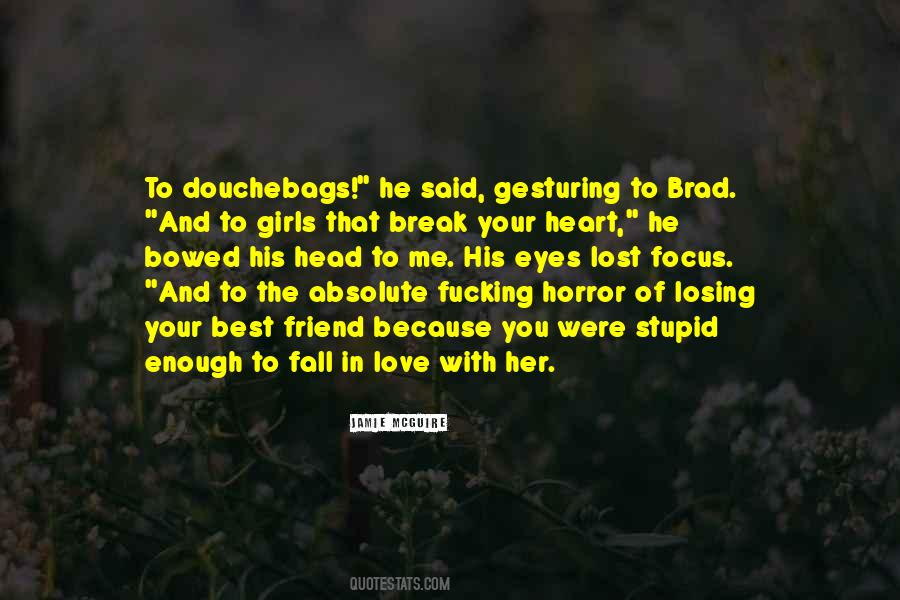 #66. His hands framed her face again, his amber eyes alive with love, with tenderness. "I want to make a vow to you. I'll love you with everything in me. I'll bring you as much happiness as I can give you. But I cannot allow your death, not at my hands. You're more important than I am. - Author: Christine Feehan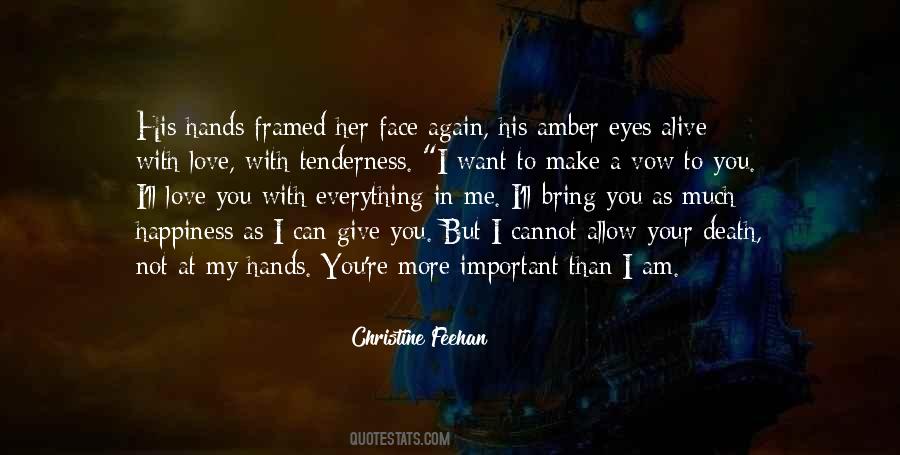 #67. No!
I don't love you!
I just like you, a little.

Your lips are sweet,
and your eyes are precious to me.

No!
I don't love you!
I just like you, a little.
... - Author: Zorica Savron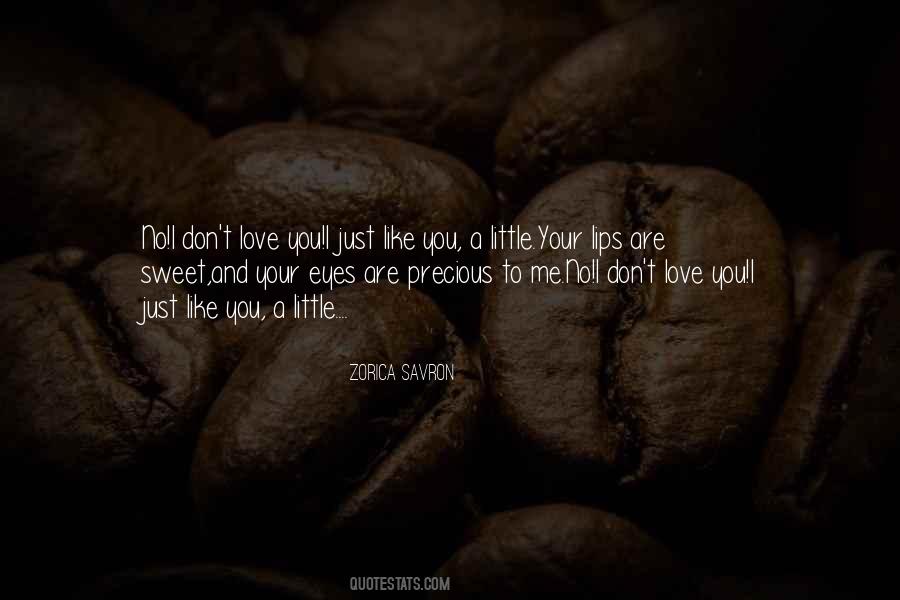 #68. God didn't make me to make movies, flex muscles, buy gold. What you love the most becomes your God ... If I never make another dollar, my life is complete. - Author: Mr. T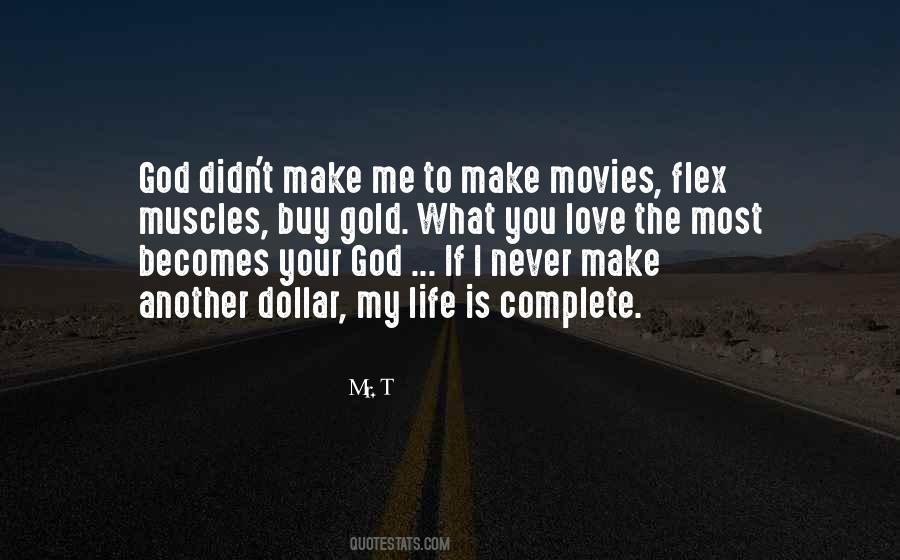 #69. Did not we vow that we would neither of us be either before or after the other even in travelling the last journey of life? And can you find it in your heart to leave me now? - Author: Murasaki Shikibu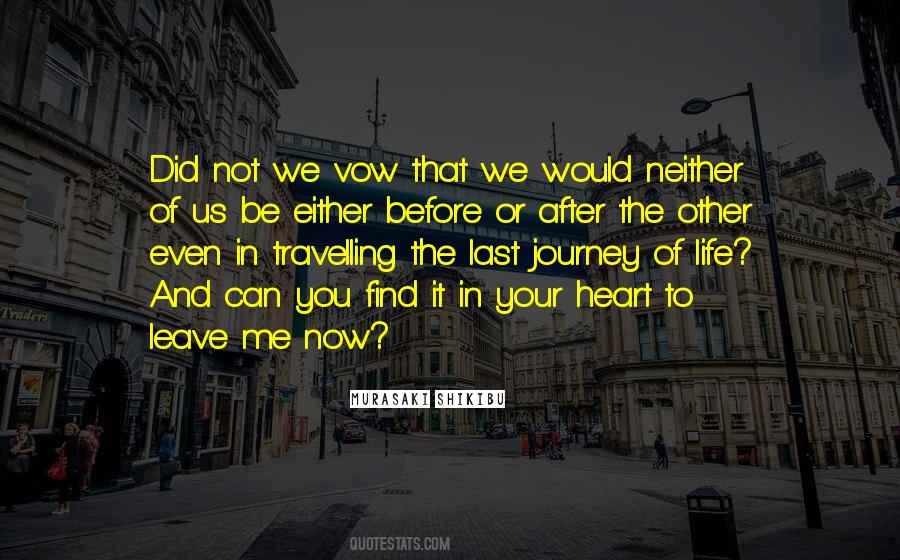 #70. And your people tried to kill my best friend, so you'll forgive me if I'm not overly keen on learning the secret handshake."
She shook her head sadly. "You should be going on dates and hanging out at the mall. Not wearing stakes on your belt."
I shrugged one shoulder. "The mall sucks. - Author: Alyxandra Harvey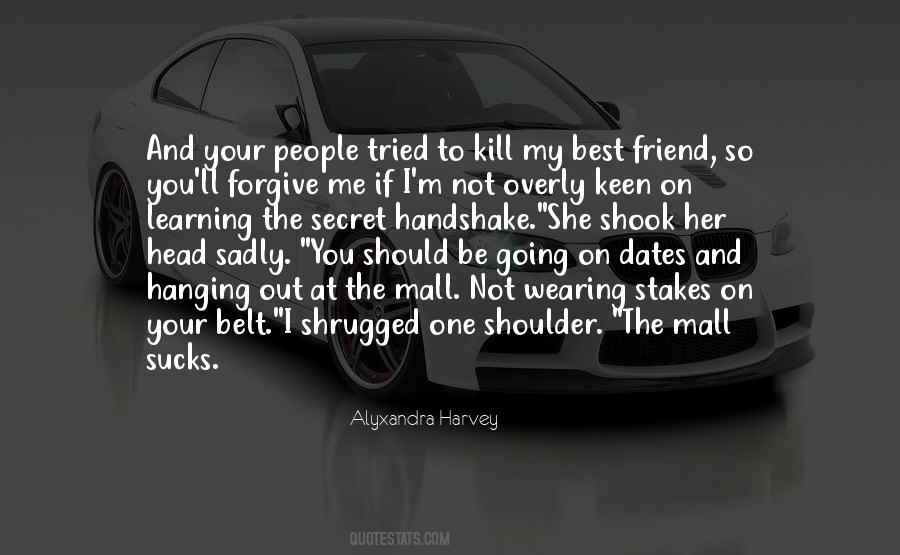 #71. Try not to kill me with your love,
try not to break a glass wall
seeing everything,
but going unheard,
the words feel unspoken.

Crystals gleaming at our feet,
innocently joined by red fists
and a kiss. - Author: Megan Hutchinson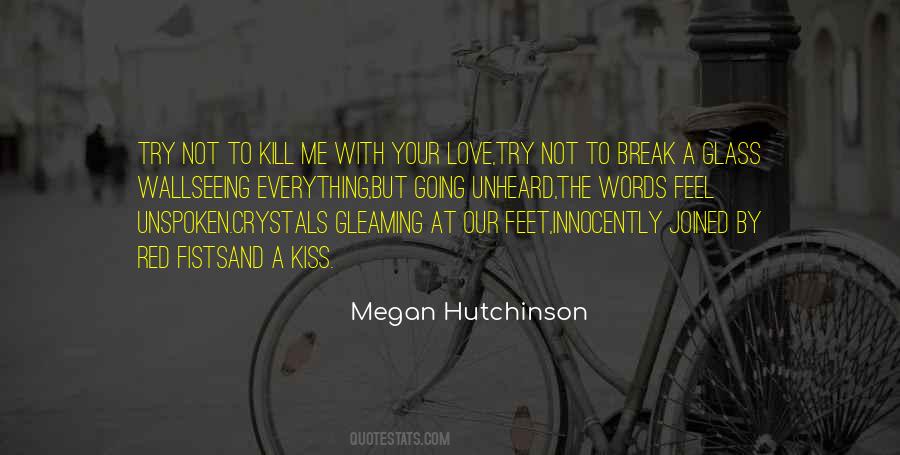 #72. For your sake I have braved the glen, and had to do with goblin merchant men. Eat me, drink me, love me. Hero, Wolf, make much of me. With clasping arms and cautioning lips, with tingling cheeks and fingertips, cooing all together. - Author: April Genevieve Tucholke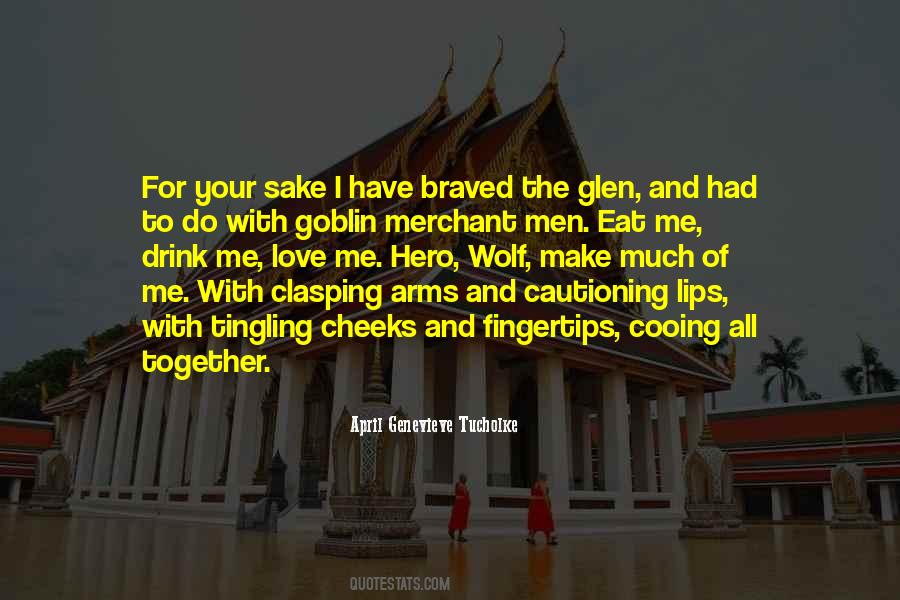 #73. Accepting death doesn't mean you won't be devastated when someone you love dies. It means you will be able to focus on your grief, unburdened by bigger existential questions like, "Why do people die?" and "Why is this happening to me?" Death isn't happening to you. Death is happening to us all. - Author: Caitlin Doughty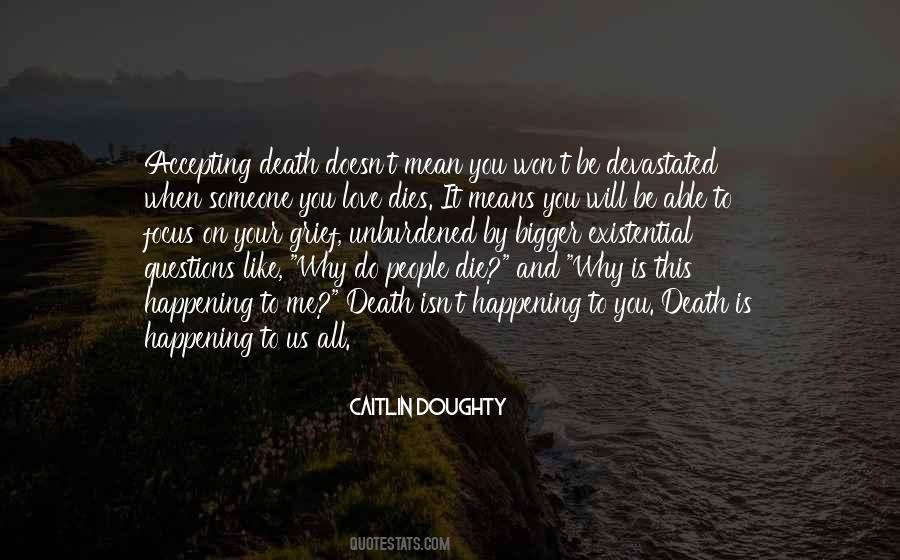 #74. Take it from me, anyone who lives with you is occasionally going to wonder who your liver might taste, and not because they are hungry. It comes with being a teenager - you inspire violence in the hearts of those who love you. It mostly goes away when you hit twenty. - Author: Patricia Briggs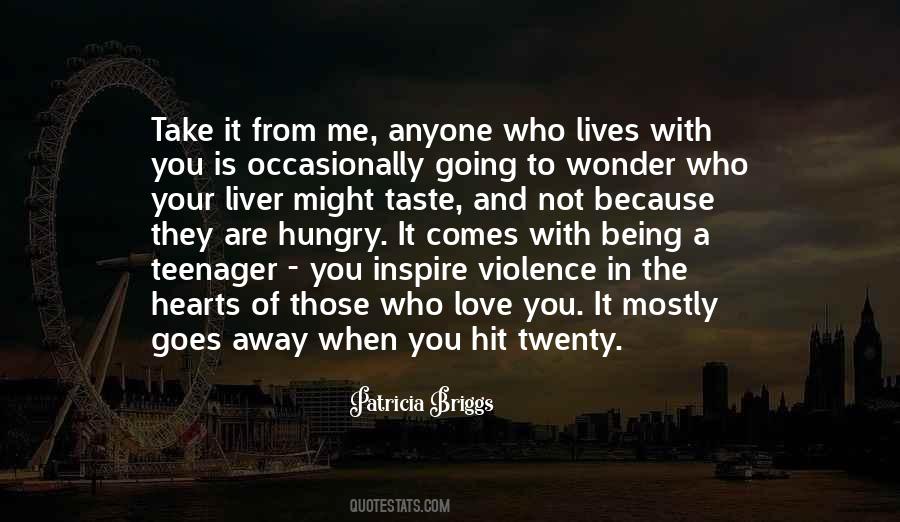 #75. If anyone tells me I'm fat, I say, - That's because every time I make love to your wife, she gives me a biscuit - Author: Clement Freud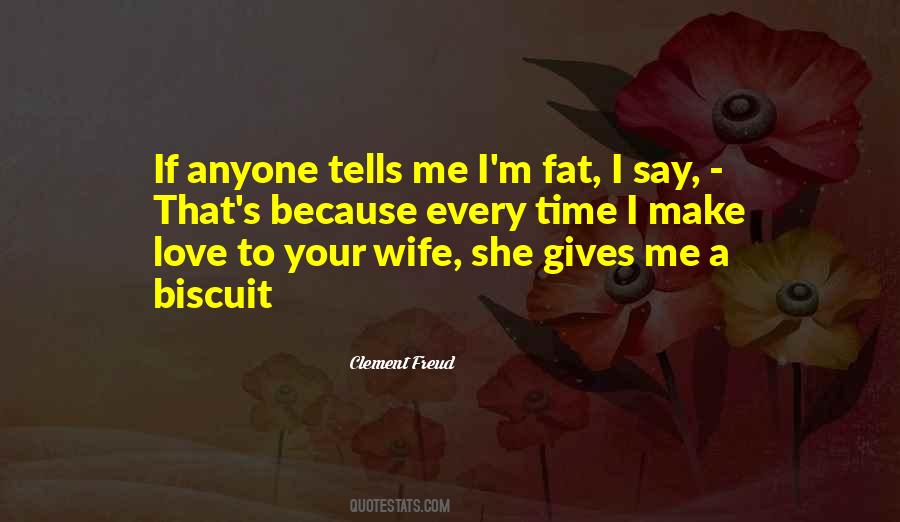 #76. You love me?"
He smiled. "Fuck yeah."
"I'm glad, because it's rare for one-sided relationships to work out well."
His smile widened. "Is that your very poor way of telling me you love me?"
"It was pretty poor, wasn't it? - Author: Suzanne Wright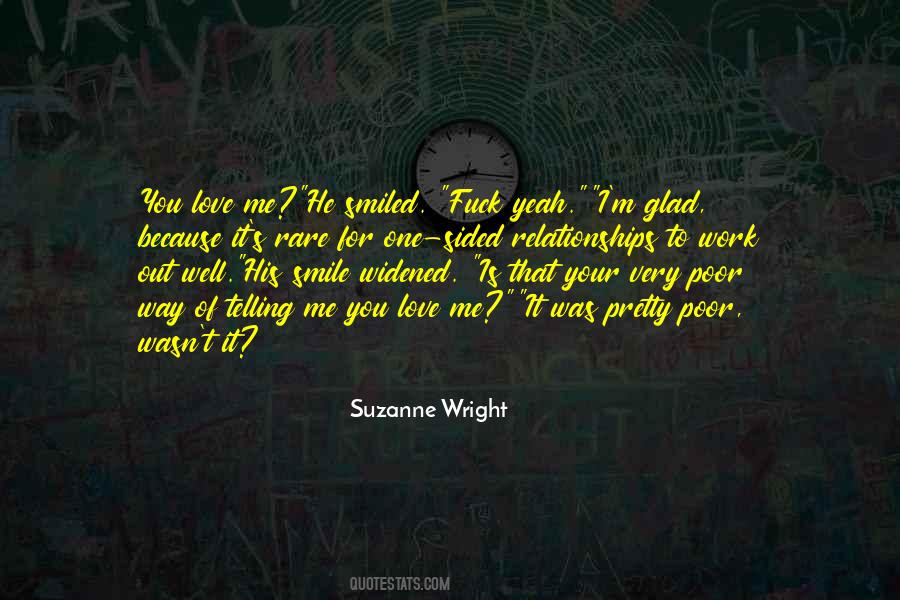 #77. My inner voice told me at that point,
"you shouldn't be caring about her, just move on! You have to improve your life and live apart from her"

But my absurd heart was pleading,
"you love her, you idiot. She is your life sphere, one more try at least for the sake of kindness. - Author: Qalandar Nawaz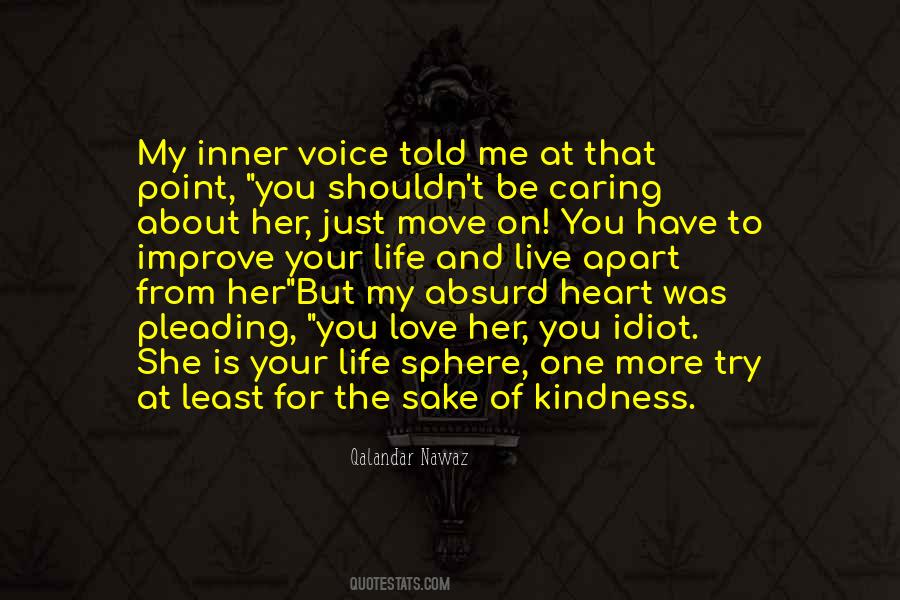 #78. Lead me to the cross
Where Your love poured out
Bring me to my knees
Lord I lay me down
Rid me of myself
I belong to You
Lead me, lead me to the cross. - Author: Brooke Fraser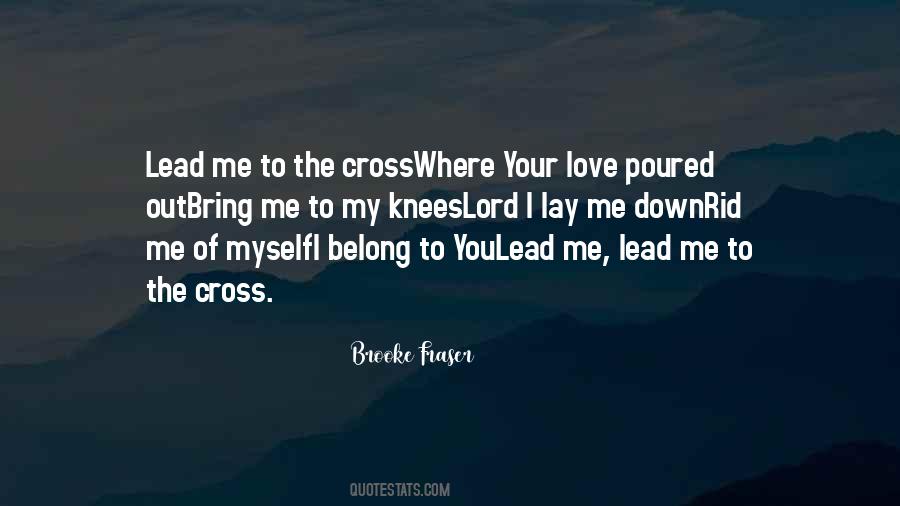 #79. When spreading your wings do not fear, the people who love you will always pick you back up when you fall, and on the day that you learn to soar the ones who love you will be your biggest cheerleaders. - Author: Me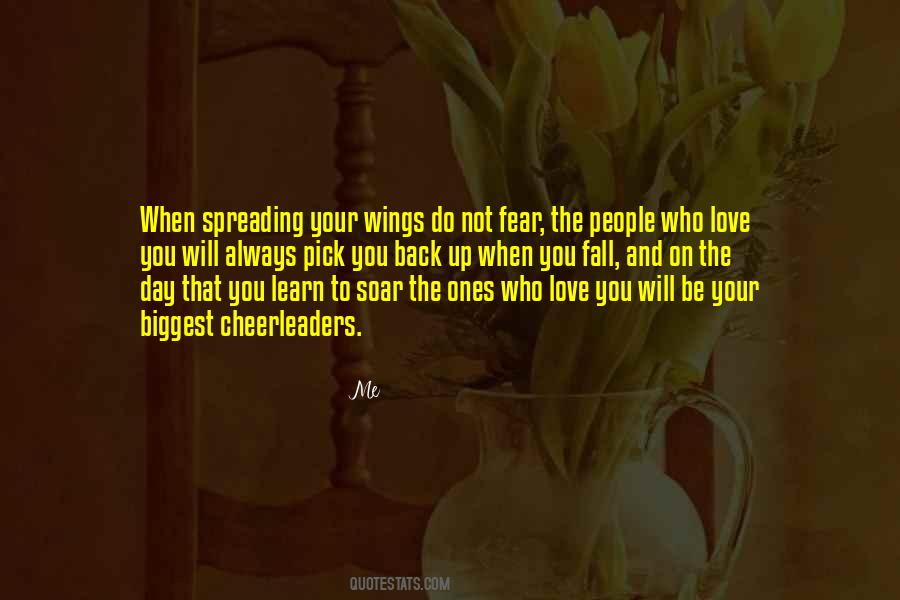 #80. At Night
Love said, "Wake still and think of me,"
Sleep, "Close your eyes till break of day,"
But Dreams came by and smilingly
Gave both to Love and Sleep their way. - Author: Sara Teasdale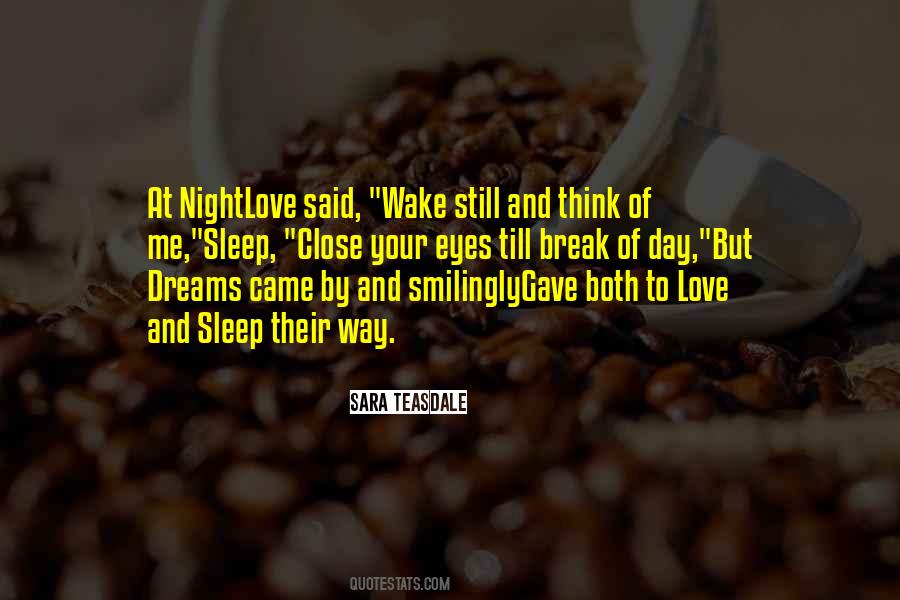 #81. DEDICATED TO: YOU.
In the beginning, we didn't hit it off, did we? but then I reaslised the truth about you and I fell in love.
Thank you for letting me see through your eyes and walk awhile in your boots.
you are just so ... beautiful. - Author: J.R. Ward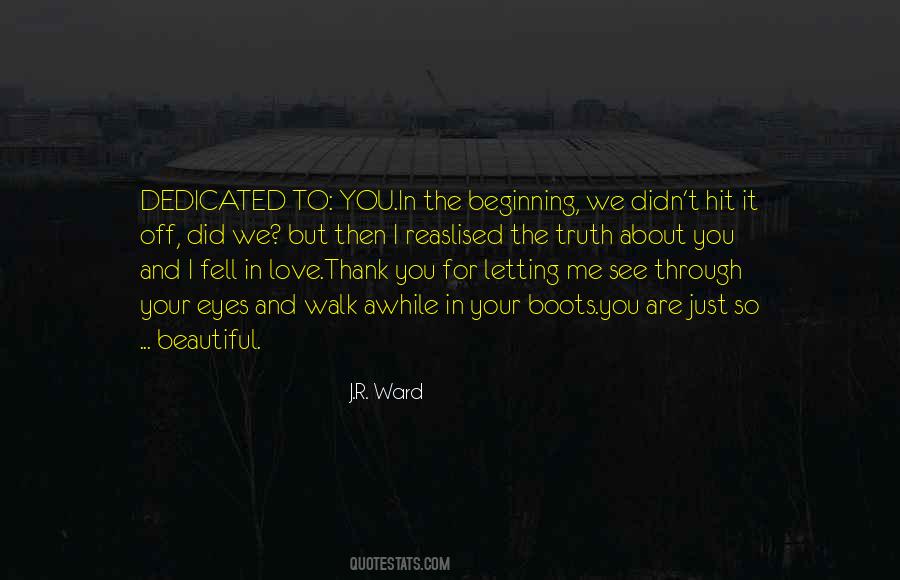 #82. Me? You are laughing at me. Put your hand here. This has no theology.' I mocked myself while I made love. I flung myself into pleasure like a suicide on to a pavement. - Author: Graham Greene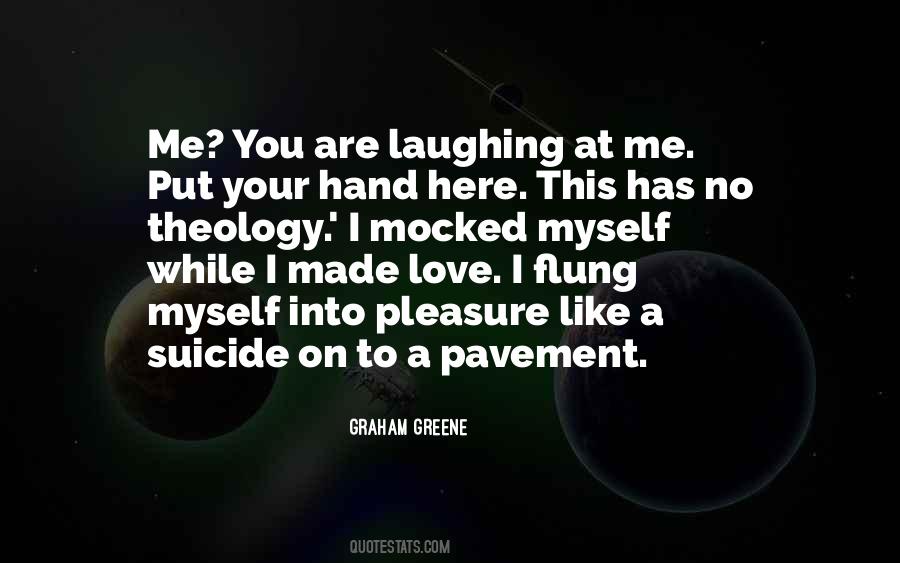 #83. I literally had a very articulate, though highly impaired, homeless man say to me, "Smokey! I love you! What's happening with Jacob?" Here's a guy living on the street, but he finds a way to watch Lost! And I'm looking at him, thinking, Your priorities are completely ass-backward! - Author: Titus Welliver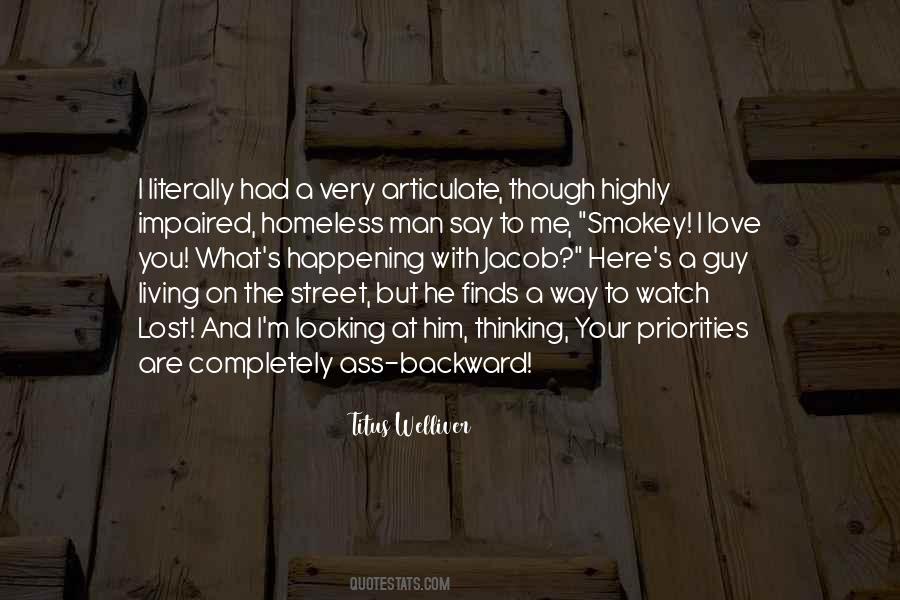 #84. Give me a reason, to end this discussion, to break with tradition, to fall and divide. So let's not get carried, away with the process, of healing relations, I don't want to waste your time! - Author: Aurelien Budynek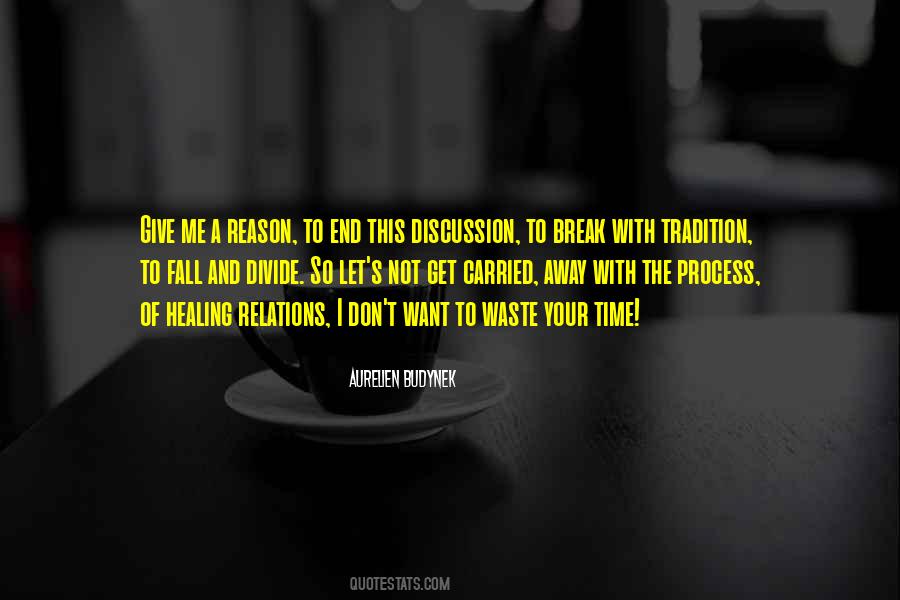 #85. I love directing, It means so much to me to direct stories about subject matter that I care deeply about. I can act in many things, and you can try to experience different characters, but to direct is years of your life and you have to really love it and believe in it. - Author: Angelina Jolie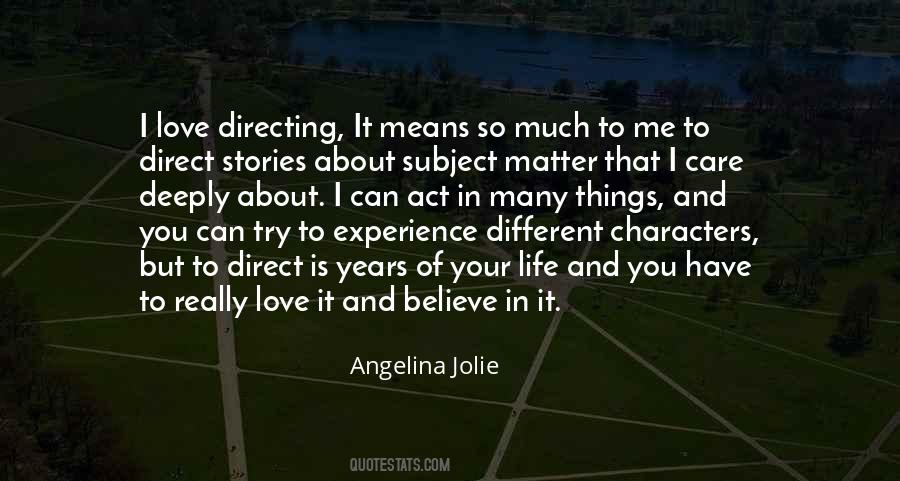 #86. No, I'm not mistaken. I know you don't love me. But I'm going to fight for your love. There are some things in life that are worth fighting for to the end. You are worth it. - Author: Paulo Coelho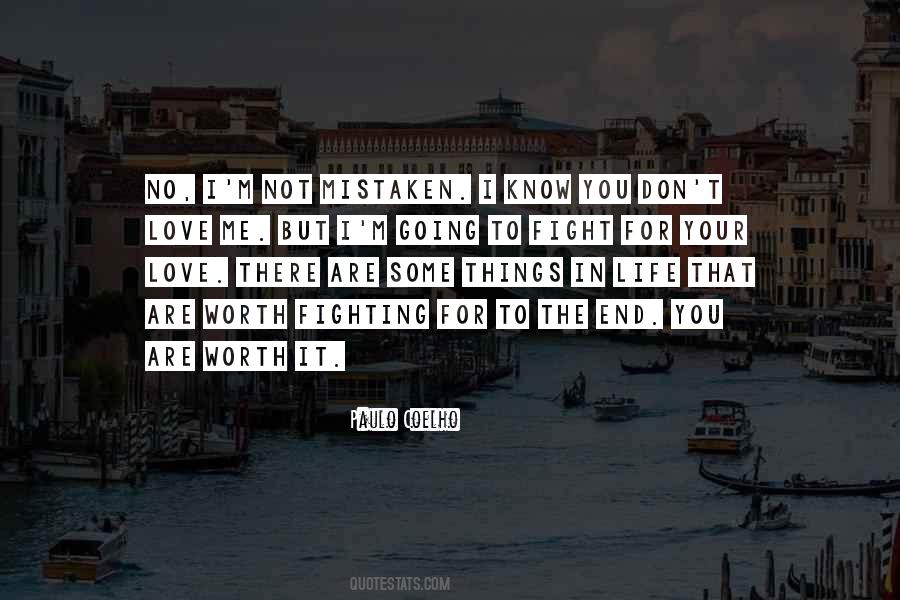 #87. Precious Savior, why do I fear your scrutiny? Yours is an examen of love. Still, I am afraid ... afraid of what may surface. Even so, I invite you to search me to the depths so that I may know myself - and you - in fuller measure. - Amen. - Author: Richard J. Foster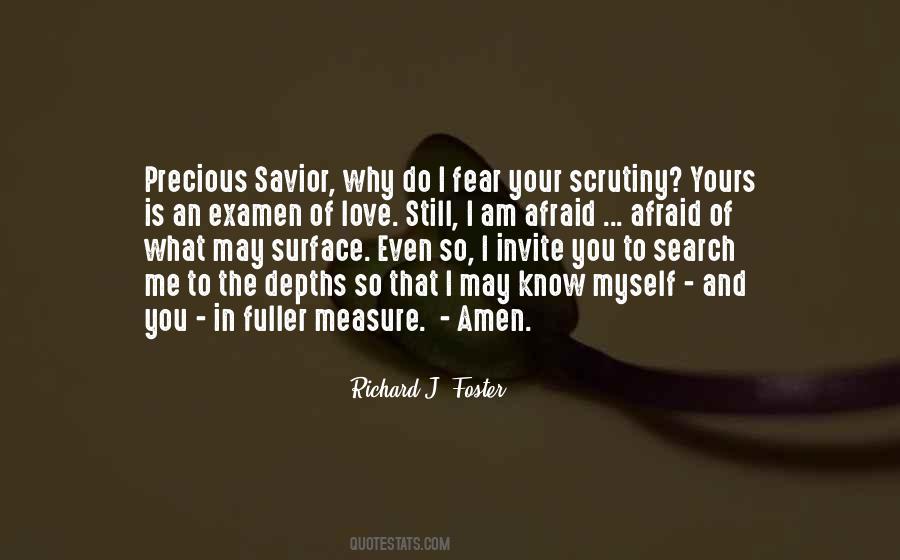 #88. You made me face something I should have faced a long time ago. I'm grateful. And I should have never asked you to leave. You don't ask someone you to love to walk out of your life - Author: Jaci Burton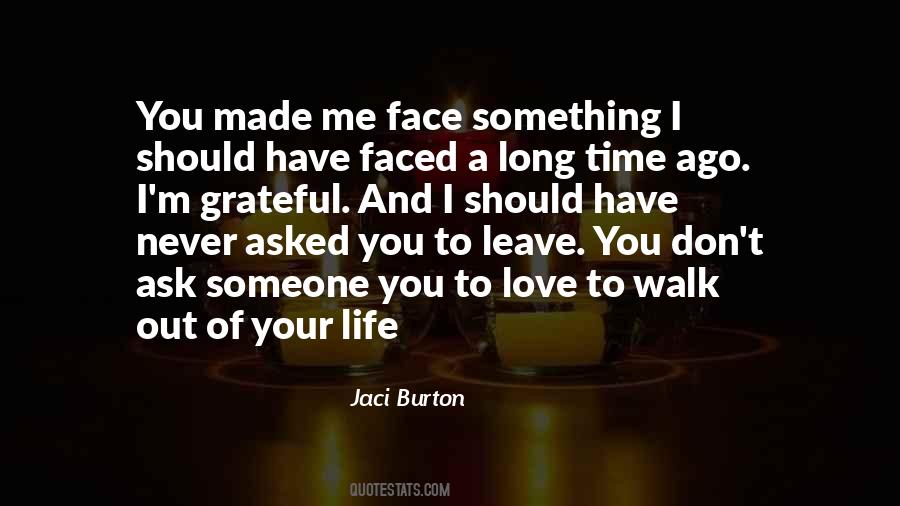 #89. I'll ruin everything if you touch me. I'll ruin us. I'll ruin this. I'll ruin you, just like you said. I'll ruin you and I'll ruin your life. And I love you too much to ruin you. So I'm leaving. - Author: J.A. Huss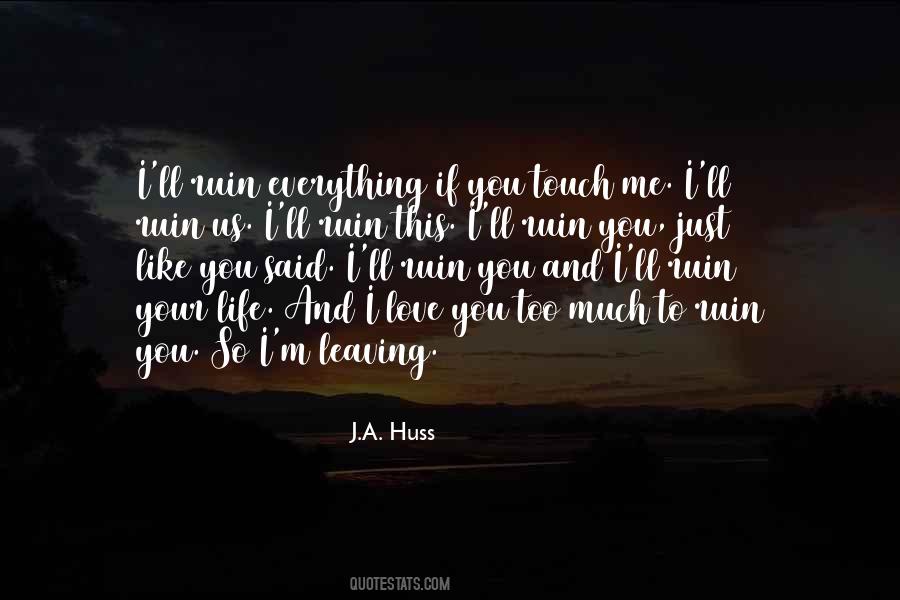 #90. Mom ... In my next life I have to be your son again. Then, I will definitely be a kind-hearted son that you love I love you, mom. I love you, mom. There has never been a moment that thoughts of you left my mind. Mom. That you gave birth to me. Thank you. - Author: Kang Min-hyuk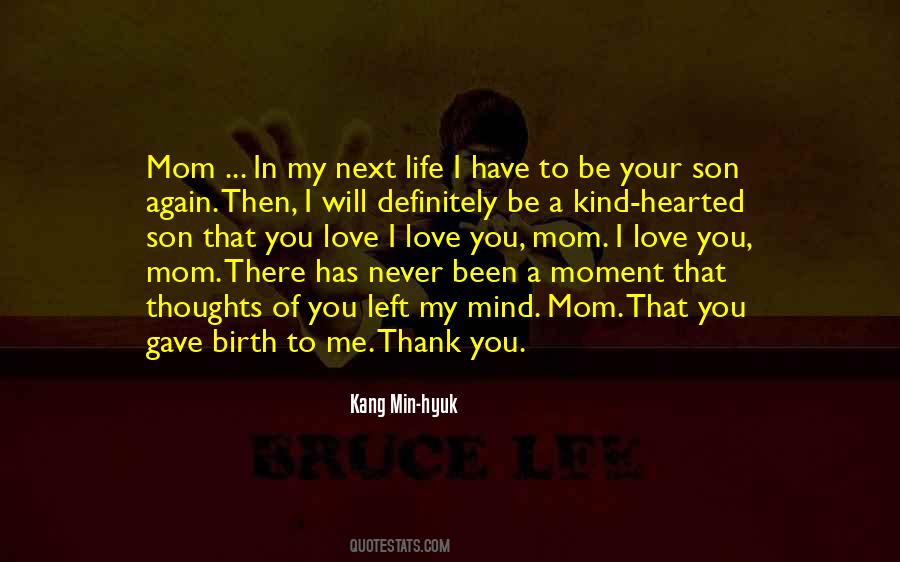 #91. If I could touch anything in the world right now, it would be your heart. I want to take that piece of you and keep it with me. - Author: Jessica Verday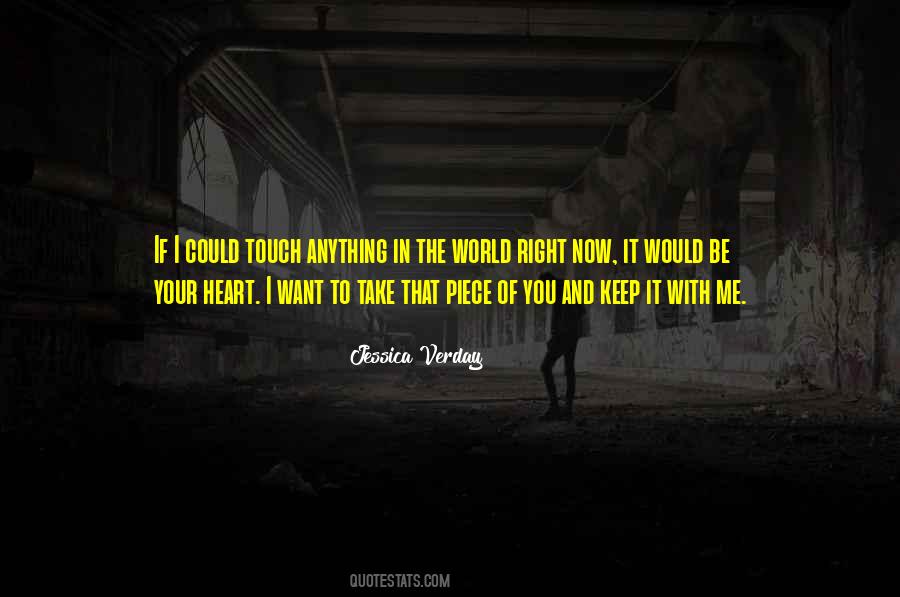 #92. Never tell. Not if you love your wife ... In fact, if your old lady walks in on you deny it. Yeah. Just flat out and she'll believe it: "I'm tellin' ya. This chick came downstairs with a sign around her neck 'Lay On Top Of Me Or I'll Die.' " I didn't know what I was goin' to do ... - Author: Lenny Bruce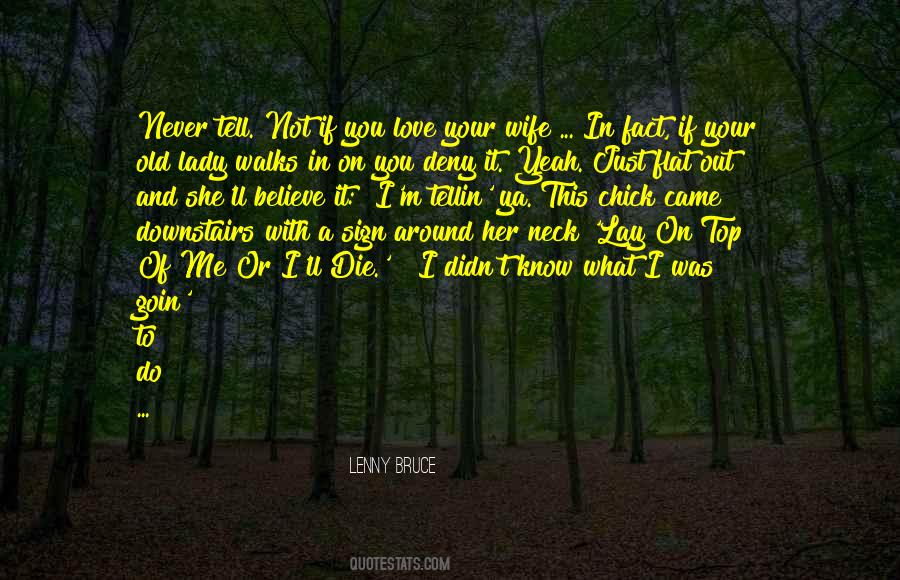 #93. Millions and millions of years would still not give me half enough time to describe that tiny instant of all eternity when you put your arms around me and I put my arms around you. - Author: Jacques Prevert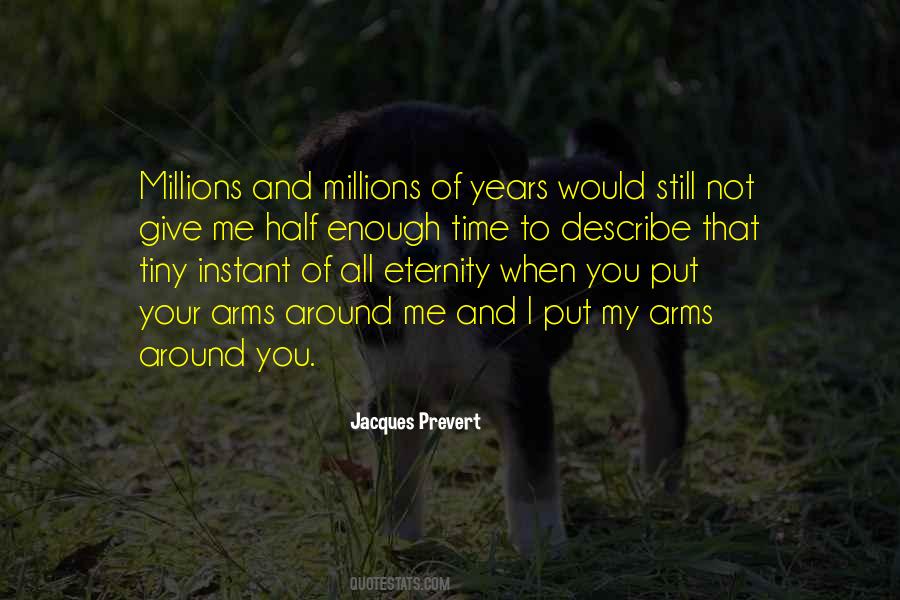 #94. You. Are. Amazing. Meg, I love a woman who looks like a woman. I don't want to be worried that I'll snap you in half, and when I lay on your stomach, I don't want your ribs poking me in the face. - Author: Kristen Proby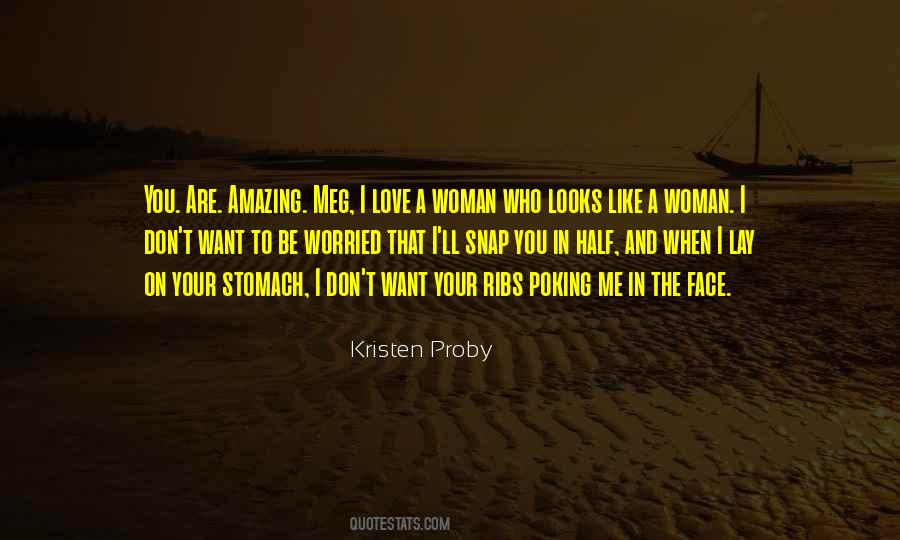 #95. Light is easy to love. Show me your darkness. - Author: R. Queen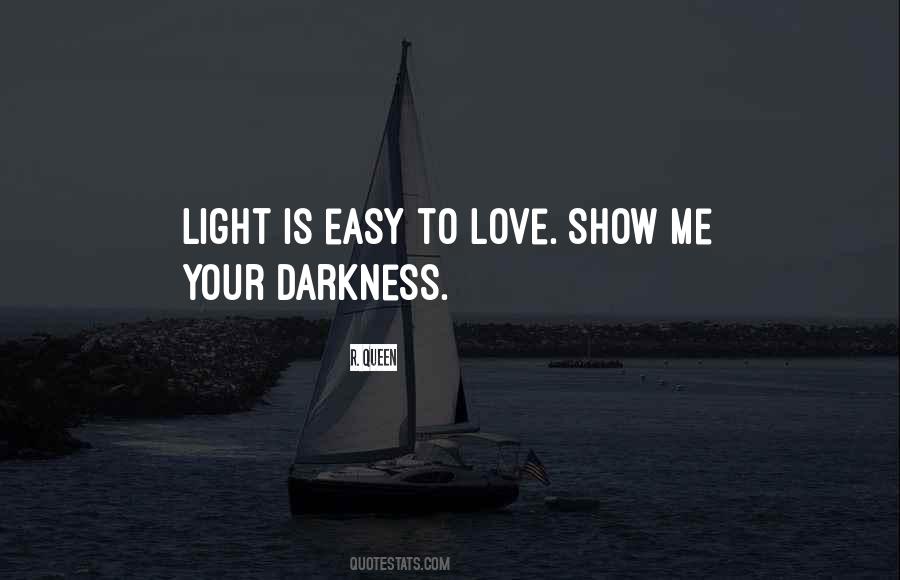 #96. If I was drowning you would part the sea
And risk your own life to rescue me ... - Author: Jamie McGuire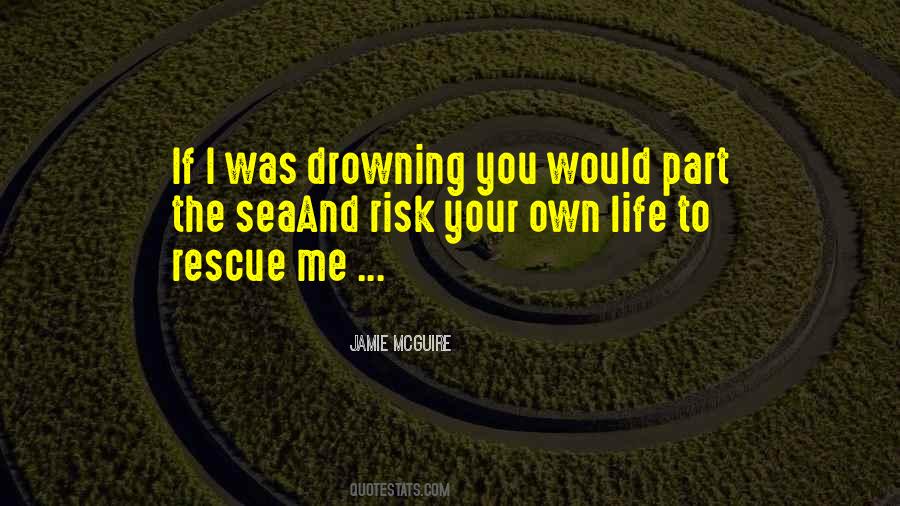 #97. You don't have to date me, just don't date her. Please, as your friend, I'm begging you not to date someone who doesn't appreciate you. - Author: Cammie McGovern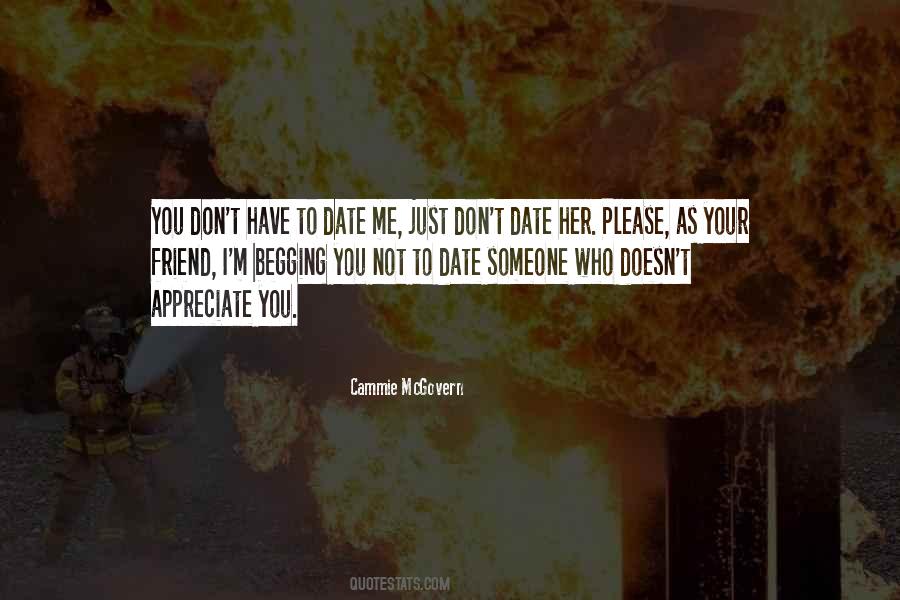 #98. I love when you stand close to me. I can feel your breath fall against my neck and it sends chills and fire all over my body. (Jack) - Author: Kinley MacGregor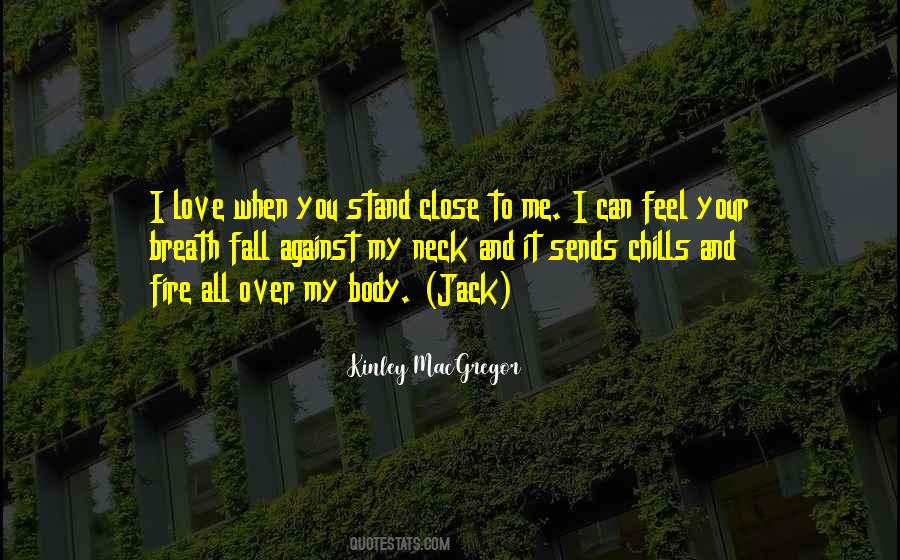 #99. The whole point of love is to trust someone with your heart and pray they don't break it. It's about faith in each other. I gave you my heart when I told you I loved you which means I'm giving you power over me. - Author: Belle Aurora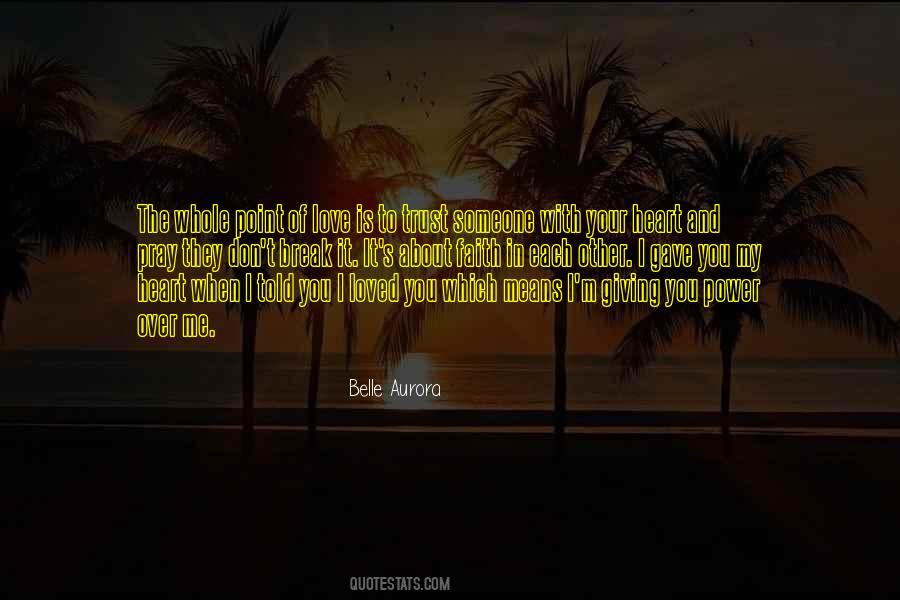 #100. I feel a little like the moon who took possession of you for a moment and then returned your soul to you. You should not love me. One ought not to love the moon. If you come too near me, I will hurt you. - Author: Anais Nin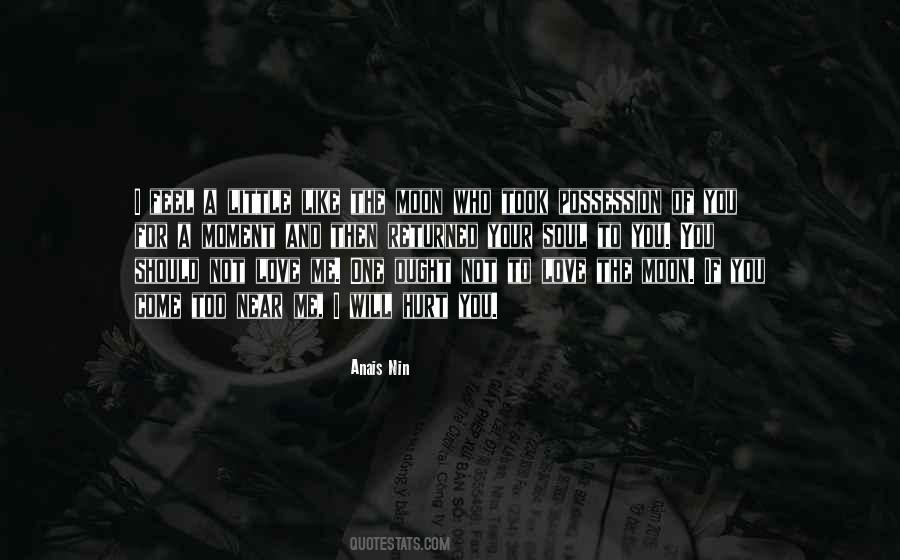 Famous Authors
Popular Topics