You'll Never Forget Me Famous Quotes & Sayings
List of top 100 famous quotes and sayings about you'll never forget me to read and share with friends on your Facebook, Twitter, blogs.
Top 100 You'll Never Forget Me Quotes
#1. I want you to fuck me like you have a goddamn point to prove and you never, ever want me to forget it. - Author: Kim Holden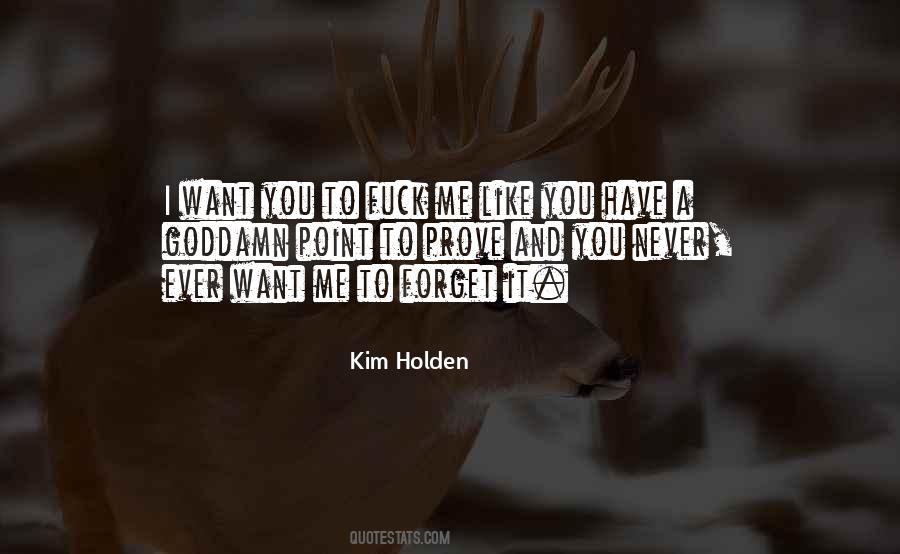 #2. There's not a man on Earth who doesn't wish he was me right now. Your mind and your body will never forget the things I'm going to do to you tonight. Every ... single ... inch of your body is going to feel me."
"Oh my God."
"Yes. - Author: Gail McHugh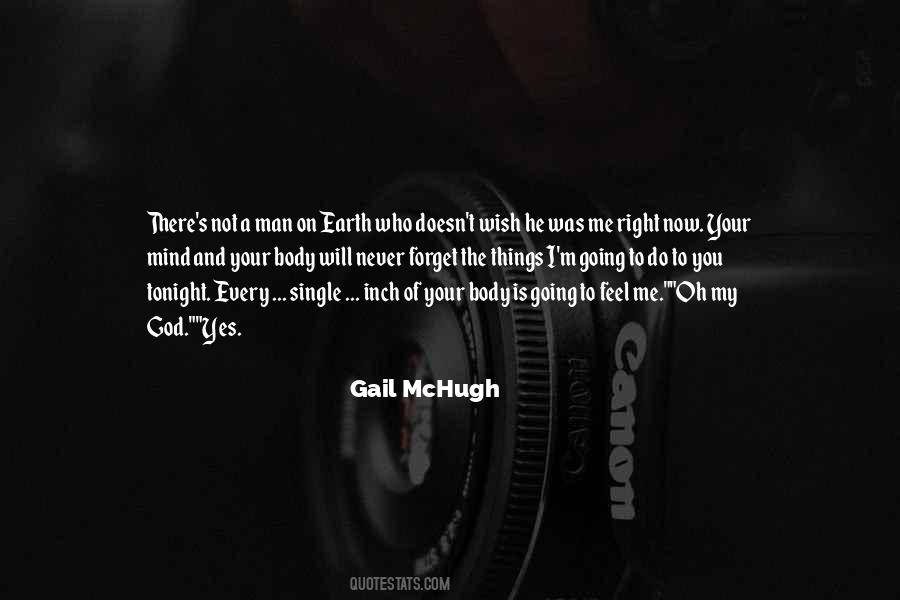 #3. Never forget the nine most important words of any family-
I love you.
You are beautiful.
Please forgive me. - Author: H. Jackson Brown Jr.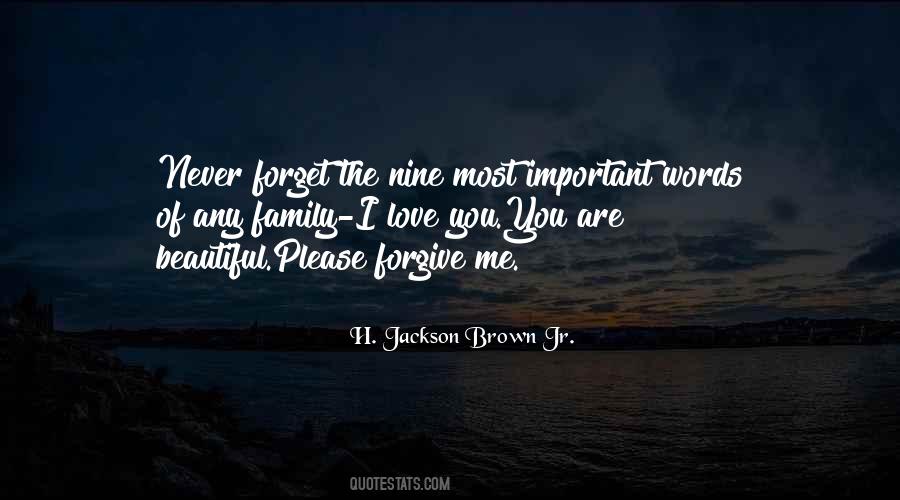 #4. Do you think that an eyeful of breast and buttocks will have me so besotted that I will forget all my principles? I'm a virgin, Mrs Farleigh. Not an innocent. I've never been an innocent. - Author: Courtney Milan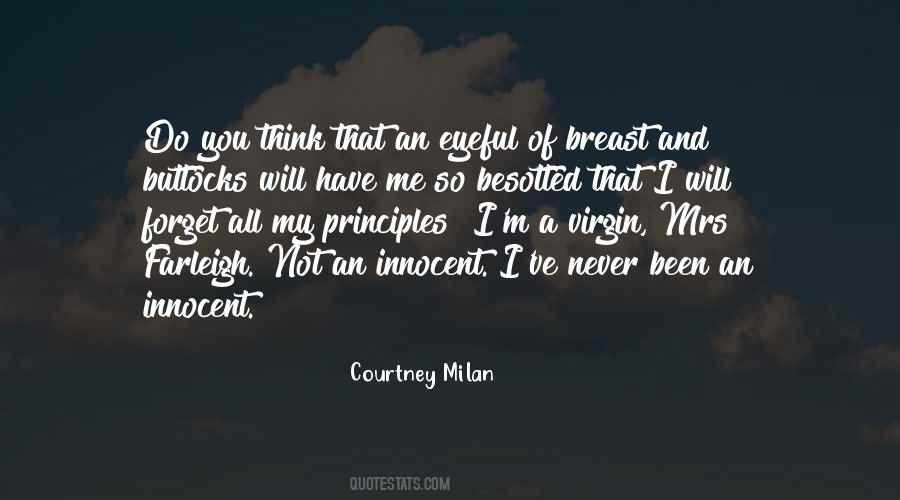 #5. Don't be shy to say "I am sorry"; Never feel too big to say "Please forgive me"; Don't think it's unnecessary to say "thank you"; Never feel bad to admit "I am wrong"! That's a good tactics is communication! - Author: Israelmore Ayivor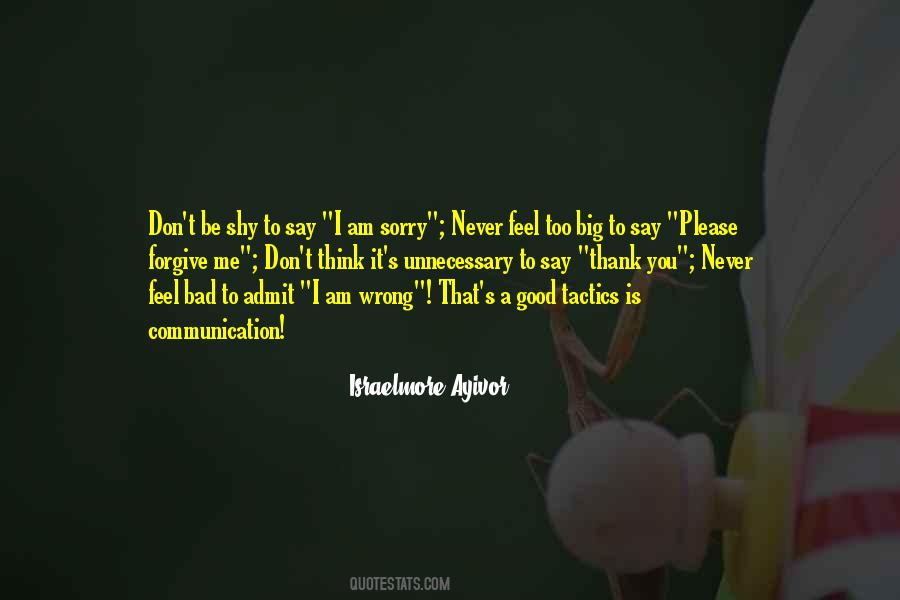 #6. You once said you loved me. Do you still?"
My sister is watching this exchange between us. She smiles warmly at me, giving me the strength to tell him the truth. "I never stopped loving you. Even when I tried desperately to forget you. I couldn't. - Author: Simone Elkeles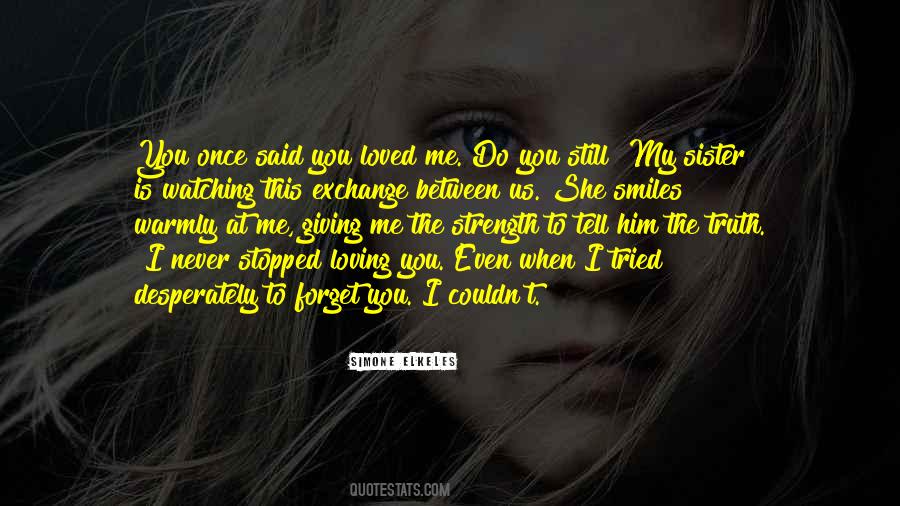 #7. When I mount the scaffold at last these will be my farewell words to the sheriff: Say what you will against me when I am gone, but don't forget to add, in common justice, that I was never converted to anything. - Author: H.L. Mencken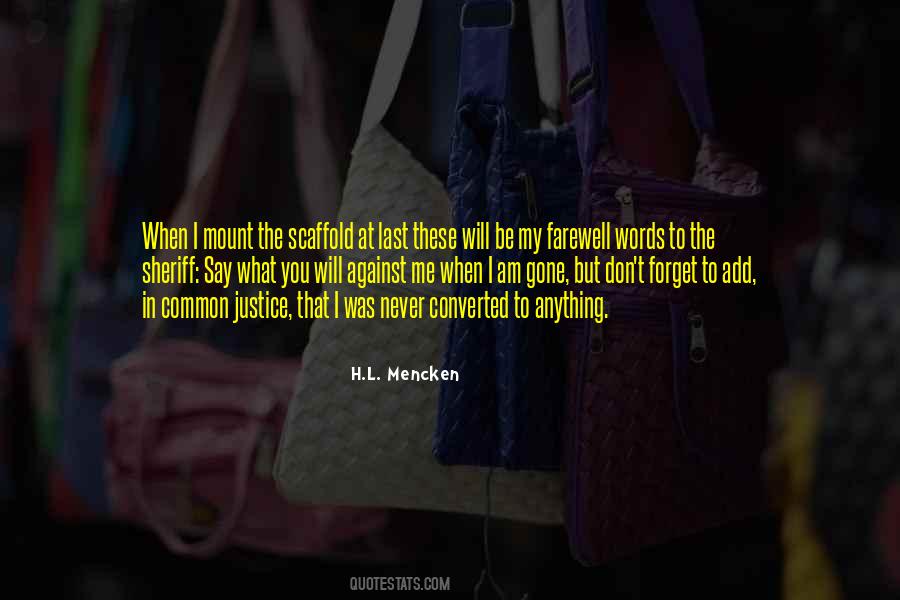 #8. I will forget what you said, but I will never forget how lively, joyful and grateful you made me feel. - Author: Debasish Mridha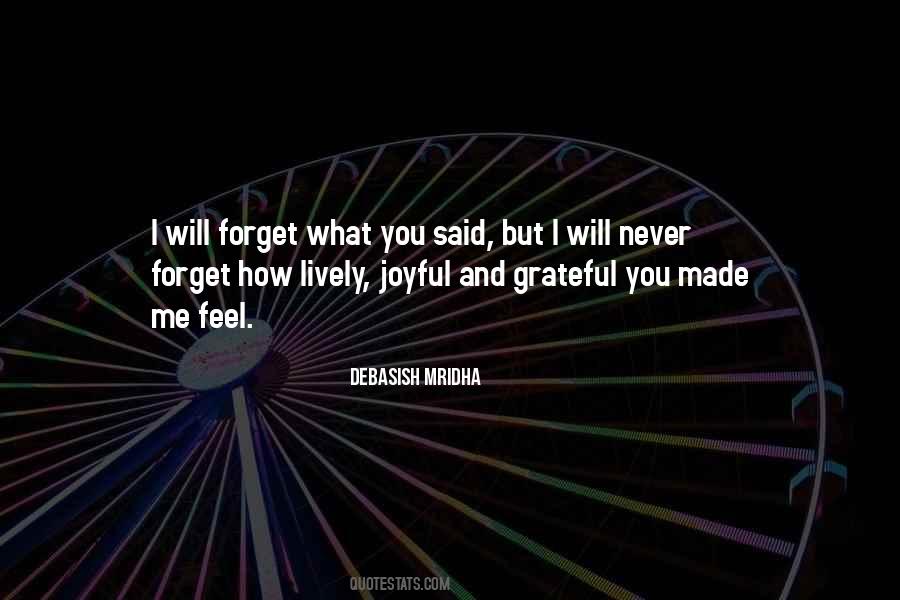 #9. Kiss me in a way I'll never forget. Kiss me in a way that will stay with me until see you again. - Author: Becca Fitzpatrick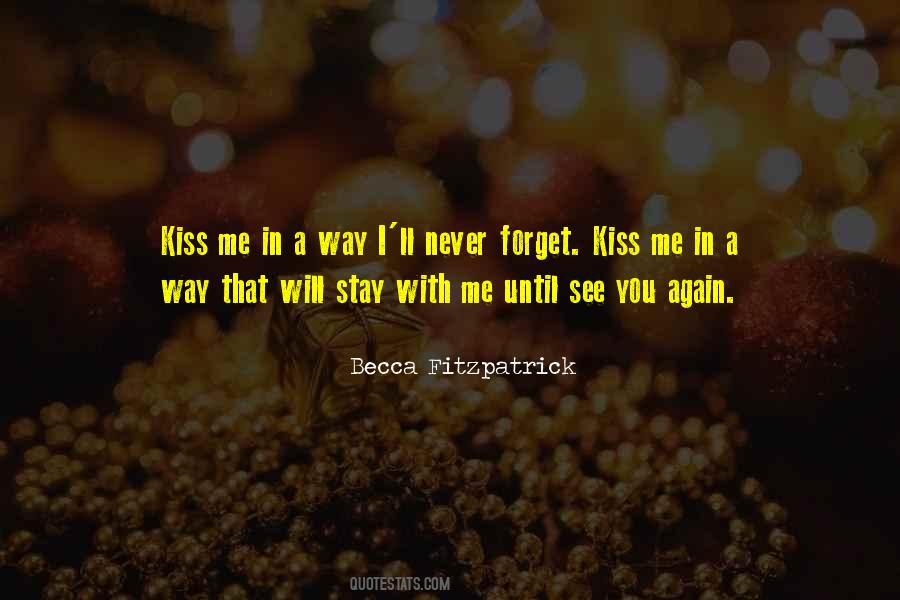 #10. Bad boy stopped her, placing a hand on her knees. "Tell you what, if you don't have a guy worshiping you by this time next year, come find me. I'll show you a weekend you'll never forget. - Author: Eden Summers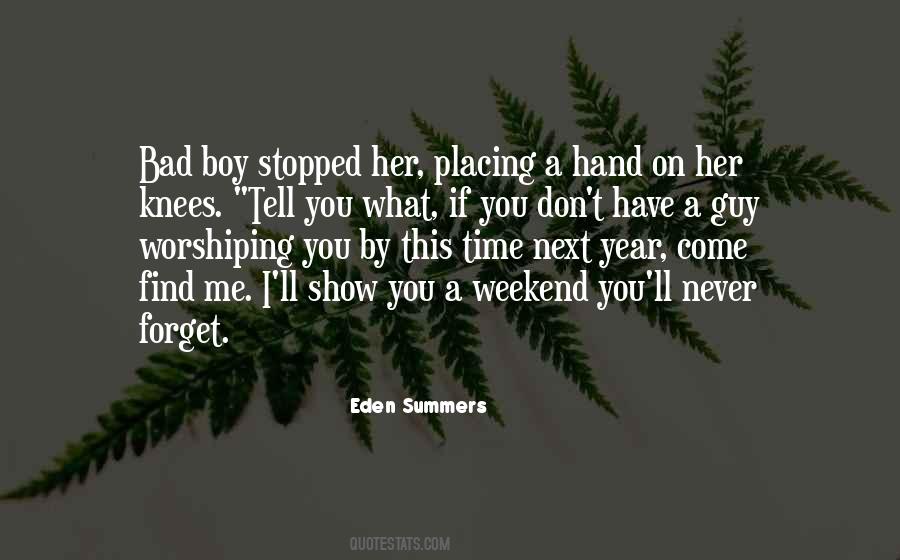 #11. Forget the names because names lie but remember me because when you look at me I remember myself.

Remember me because I will never forget you. - Author: Jordan Weisman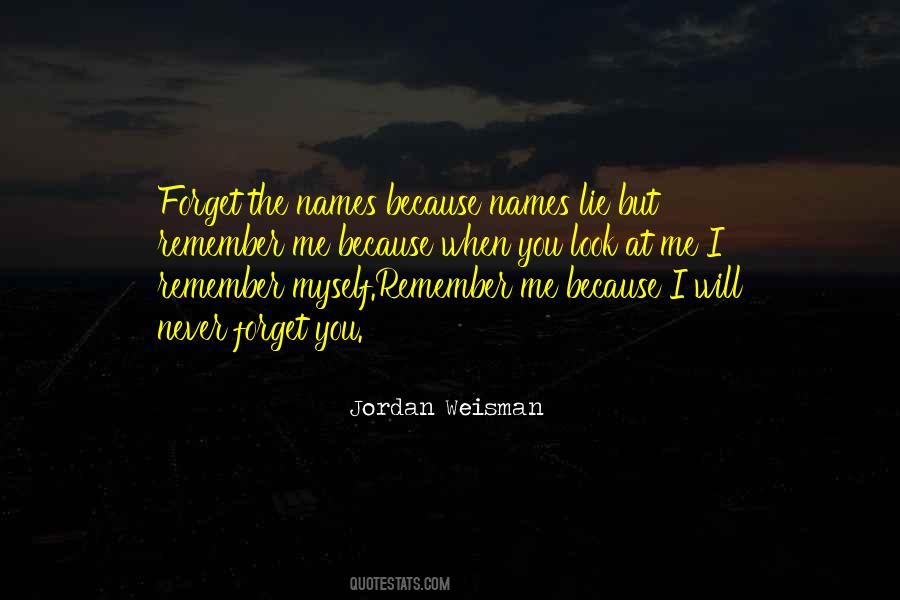 #12. I know you never met me, and I know you don't know my name, but I am from you, and I just wish you could see me. I wish you could see that someone knows who you were and what you did, and I won't let anybody forget you, not ever again. - Author: Ryan Littrell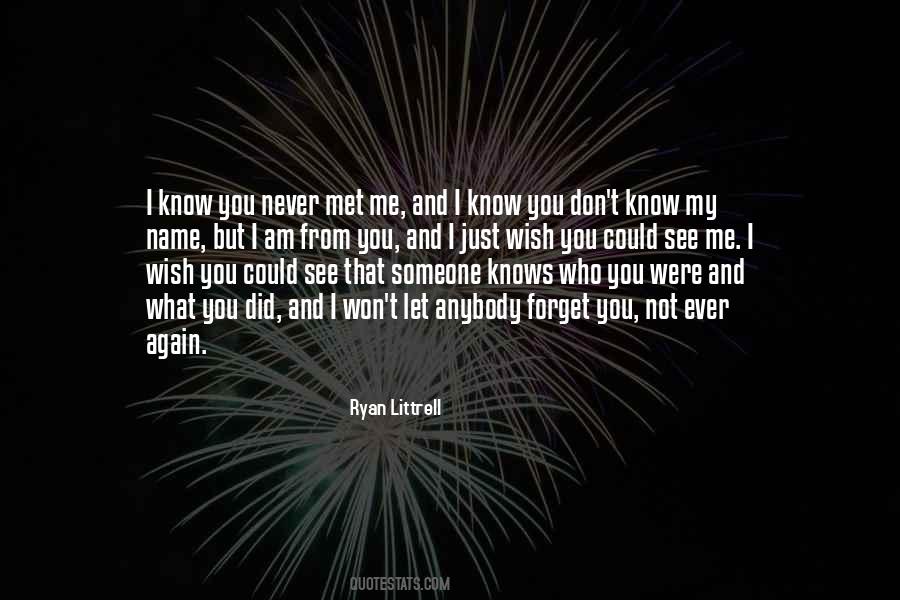 #13. An I'll never forget the smile on my face
cos I knew where you would be
An if you're in the Crown tonight
Have a drink on me
But go easy...step lightly...stay free
-- "Stay Free - Author: Mick Jones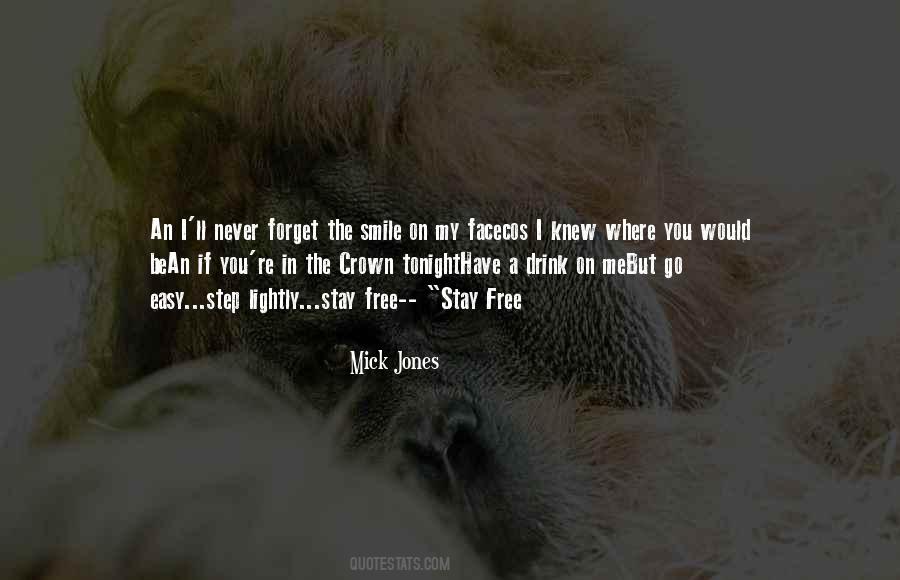 #14. Nino?" When Johnny didn't answer, the Don went on. "Friendship is everything. Friendship is more than talent. It is more than government. It is almost the equal of family. Never forget that. If you had built up a wall of friendships you wouldn't have to ask me to help. - Author: Mario Puzo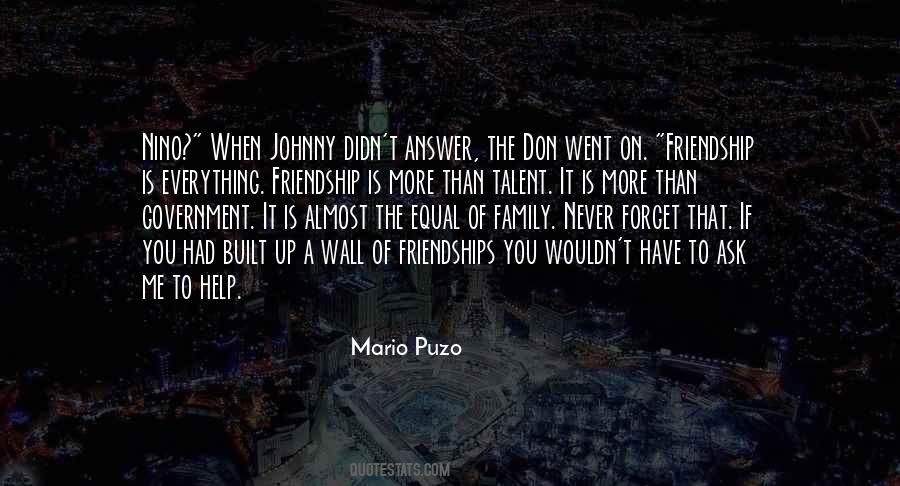 #15. Never forget what took me a life time to learn;
you have only one heart,
be true to it." ~ Sarah - Author: Caspian Tredwell-Owen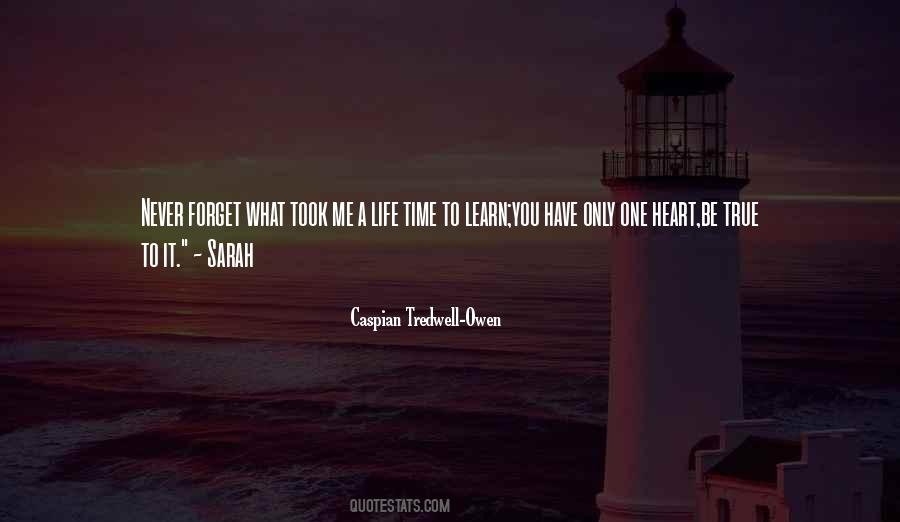 #16. You can forget me now because I was never welcome. - Author: Mike Shinoda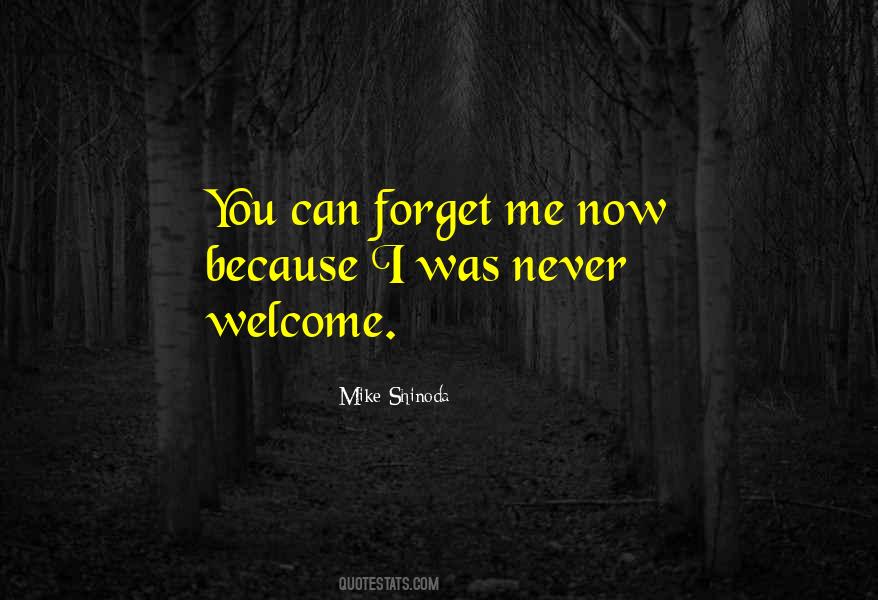 #17. Take it from me - every vote counts. In our Democracy, every vote has power. And never forget - that power is yours. Don't let anyone take it away or talk you into throwing it away. And let's make sure that this time every vote is counted. - Author: Al Gore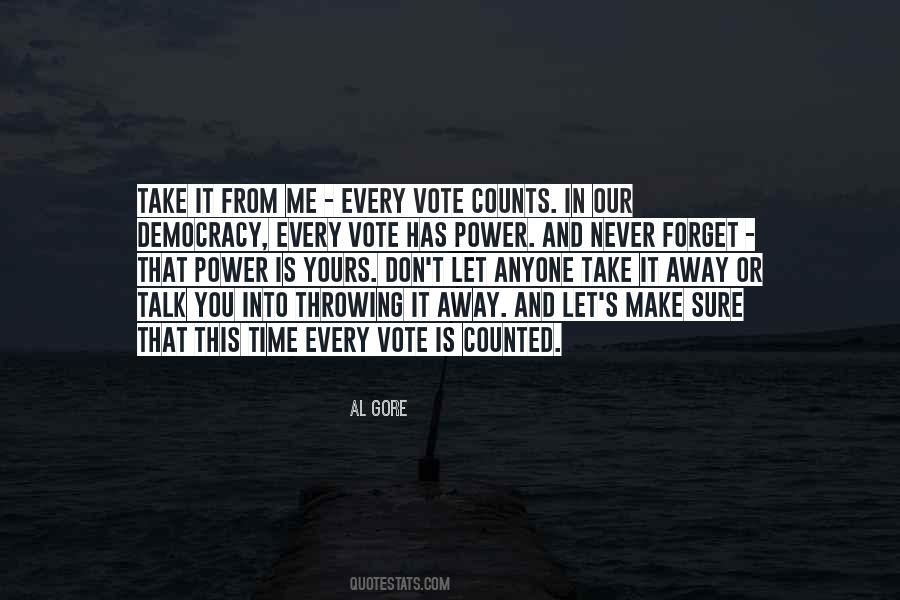 #18. For I love the empress of my soul. I love and I cannot but love. You yourself see the whole of me. I shall fly to her, fall down before her: you were right to walk past me.. farewell and forget your victim, never trouble yourself more! - Author: Fyodor Dostoyevsky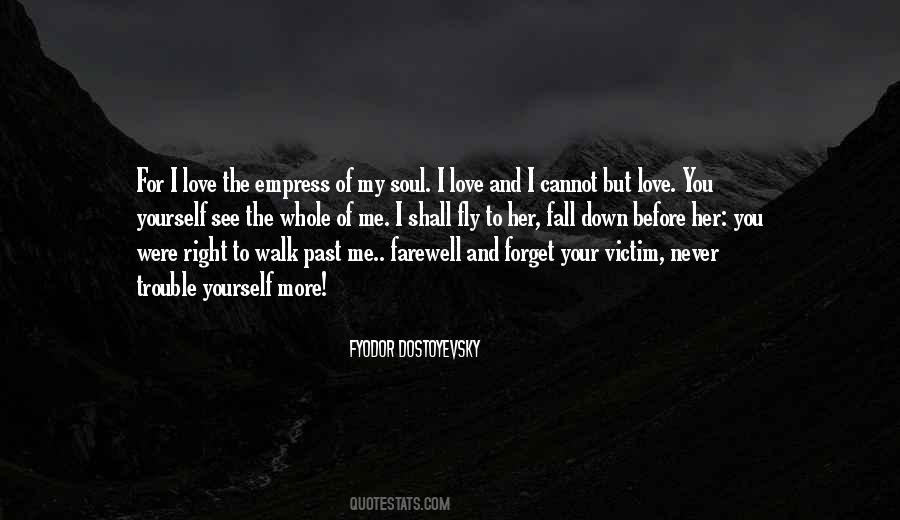 #19. Oh, friend, forget not, when you fain would note
In me a beauty that was never mine,
How first you knew me in a book I wrote,
How first you loved me for a written line ... - Author: Edna St. Vincent Millay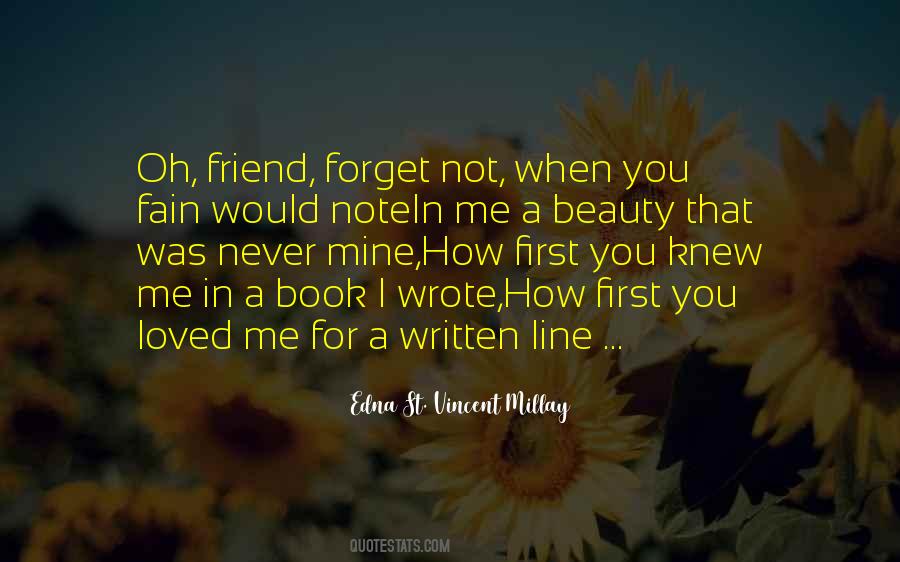 #20. My album was recorded in Nashville. It used to be all about "We're from Texas, forget Nashville," well you'll never hear me say that. Nashville isn't bad as long as you're true to yourself. - Author: Cody Johnson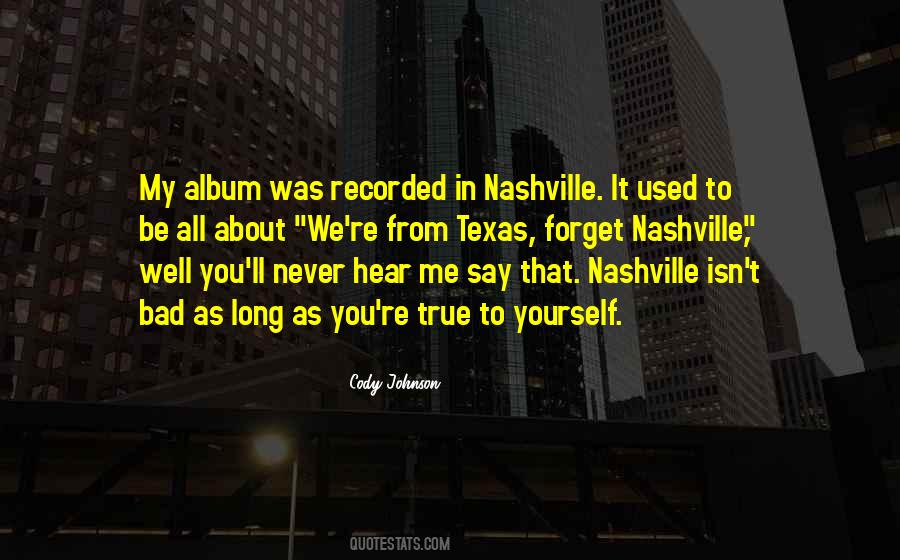 #21. You make a first impression and people never forget it. If people want to think of me as the wacky 'Juno' lady forever, I could think of worse ways to be labeled. - Author: Diablo Cody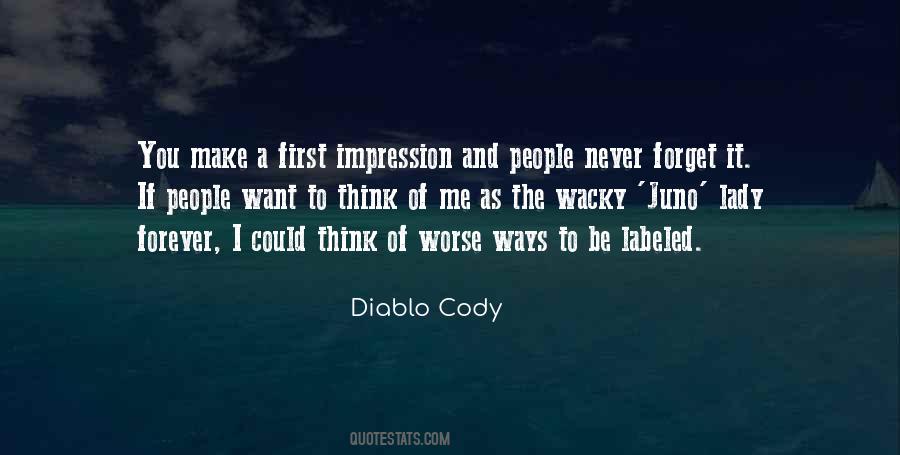 #22. Friendship is more than talent. It is more than government. It is almost the equal of family. Never forget that. If you had built up a wall of friendship you wouldn't have to ask me to help. - Don Corleone - Author: Mario Puzo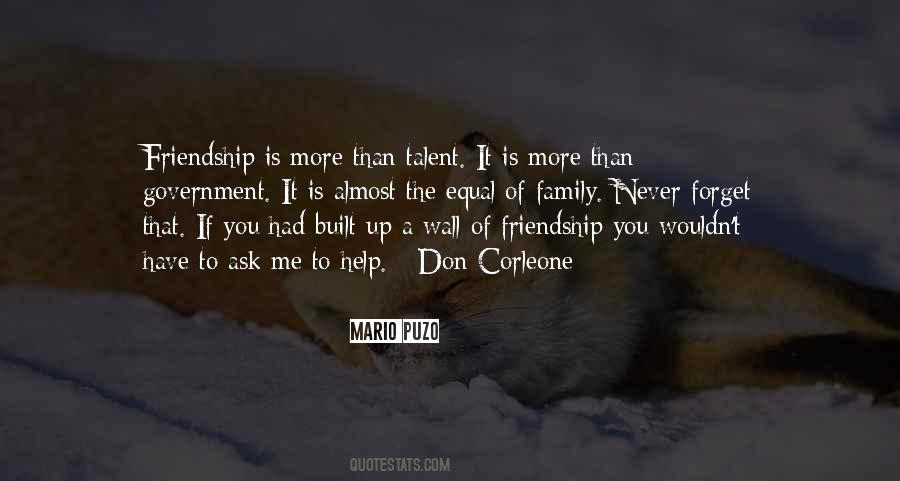 #23. I will know how to hold you just by the look in your eye, I will never forget - not even on the day that I die. This is a promise of my passion for you, smile at me and make it true. - Author: Diana Lynn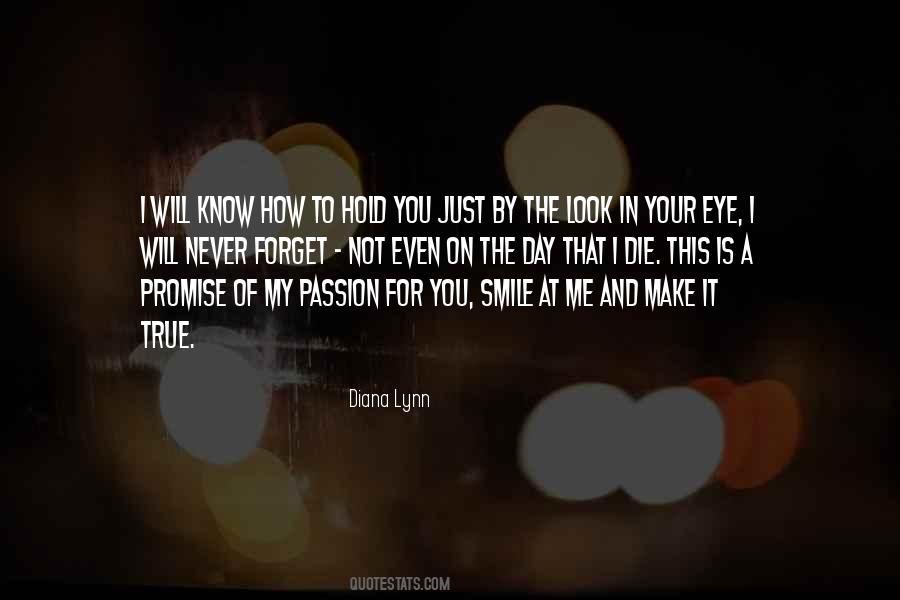 #24. You are a name, not a number. Never forget that name, whatever they tell you here. You will always be Chaya - life - to me. - Author: Jane Yolen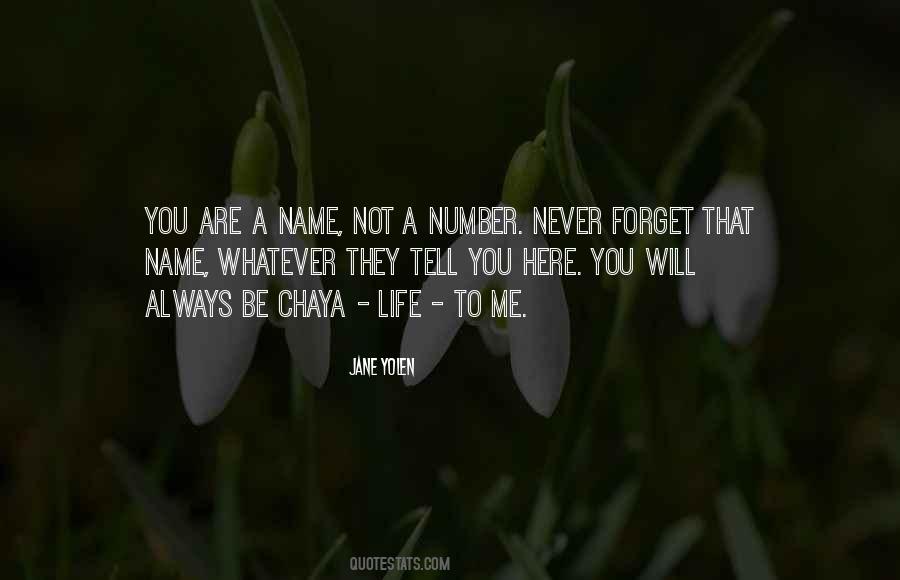 #25. To me, beauty is looks you can never forget. A face should jolt, not soothe. - Author: John Waters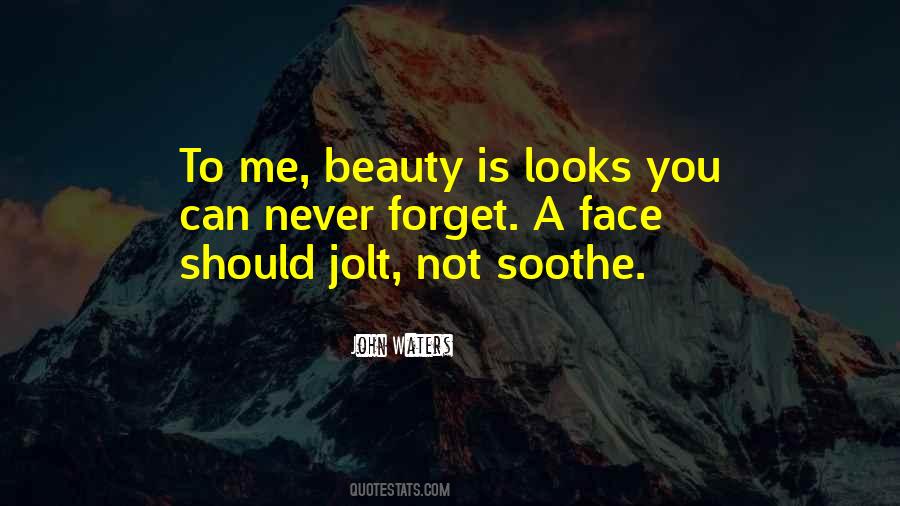 #26. I love you. Never forget that. Never forget...me. - Author: Larissa Ione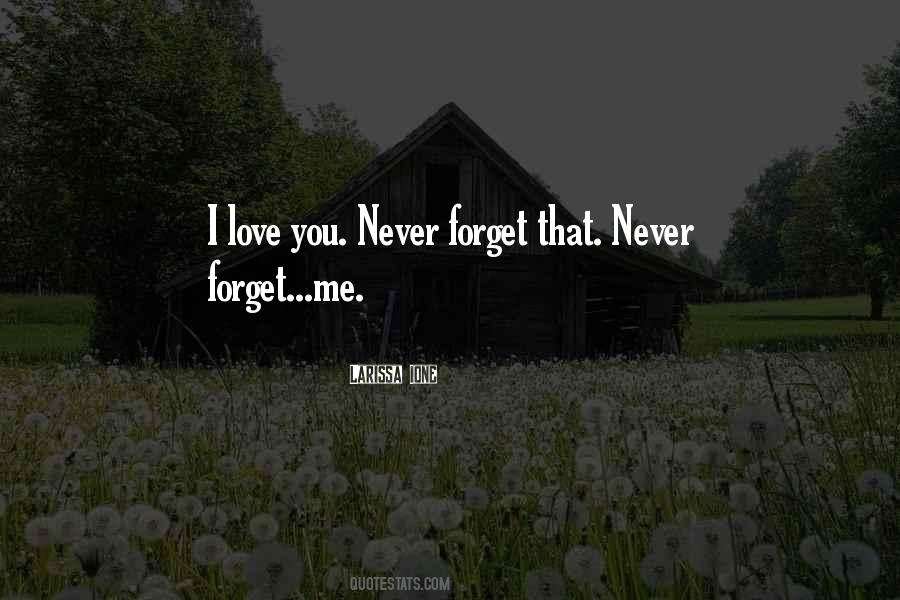 #27. George Foreman is easier and has the bigger name and have you noticed that Foreman never calls me out or ever mentions my name? He is afraid of me like most fighters are and most people want to forget about Larry Holmes, like he never ever existed. - Author: Larry Holmes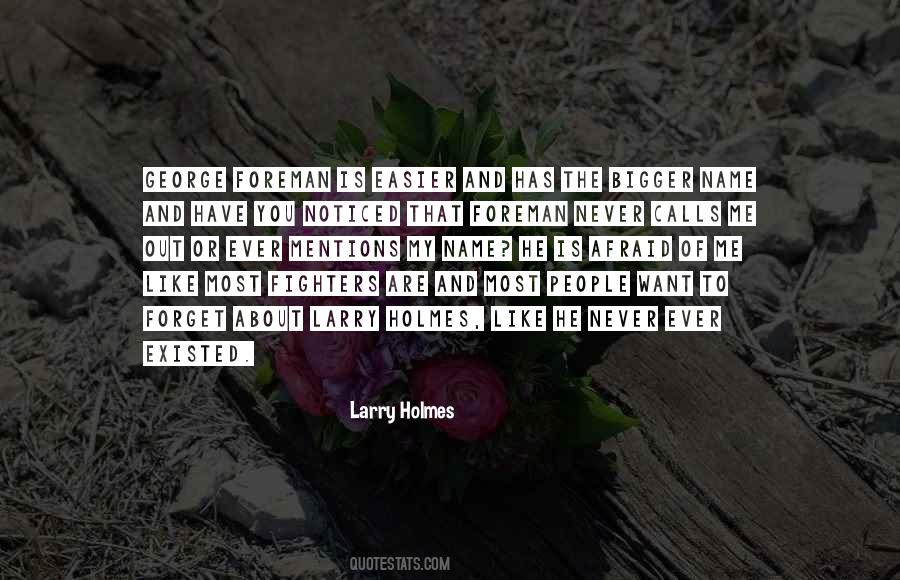 #28. I thought you'd forgotten," she said, legitimately surprised. it had never left her mind
especially in light of recent developments
but she'd thought it had slipped his.
"I don't forget anything," he teased. "Especially something like that. Wait for me, and we'll talk. - Author: Richelle Mead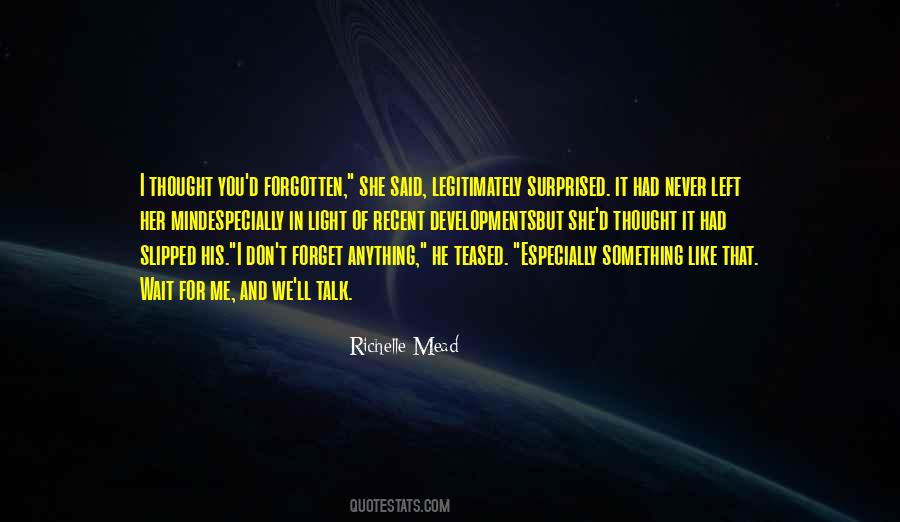 #29. We've no use for intellectuals in this outfit. What we need is chimpanzees. Let me give you a word of advice: never say a word to us about being intelligent. We will think for you, my friend. Don't forget it. - Author: Louis-Ferdinand Celine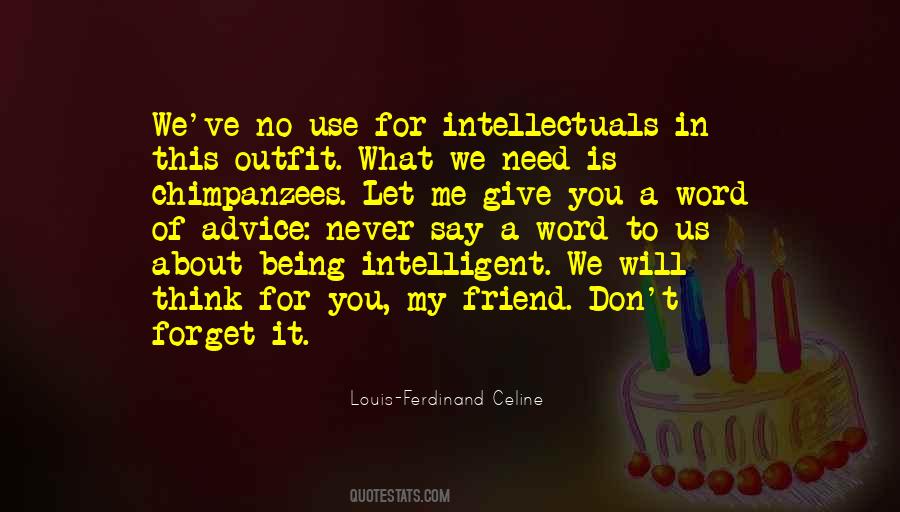 #30. In my eyes you're perfect, until you lie to me. Betraying my trust is something I can forgive, but never forget. Stay perfect. - Author: D.C. Akers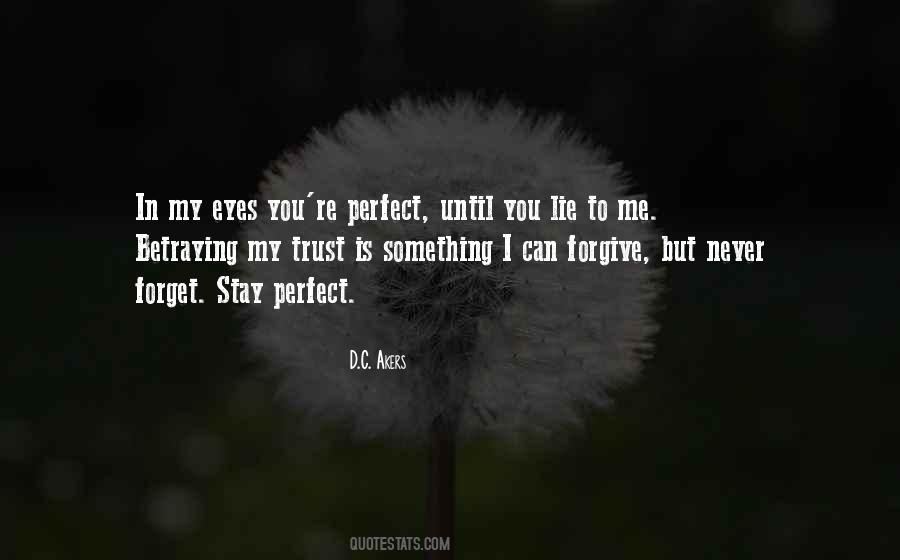 #31. You'll never forget how it feels when I touch you." He pinched me, wrenching a breathy moan from my lips."Never." His teeth graced over my breast. "You'll never forget how it feels when I taste you." I smashed my face into a pillow as he sucked greedily. "Never. I promise. I promise forever. - Author: Pepper Winters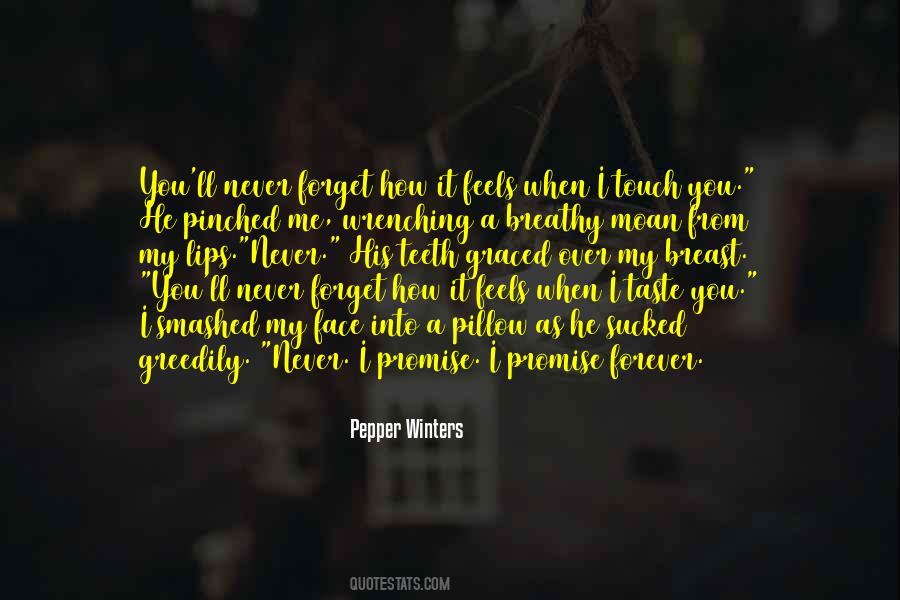 #32. The fiery tickle of outrage burned up her throat. "How the hell would you know that when you never gave me a chance?"
Something dark and scorching flickered behind his eyes. "Because no other girl has ever made me want to forget all my own rules for them. - Author: Airicka Phoenix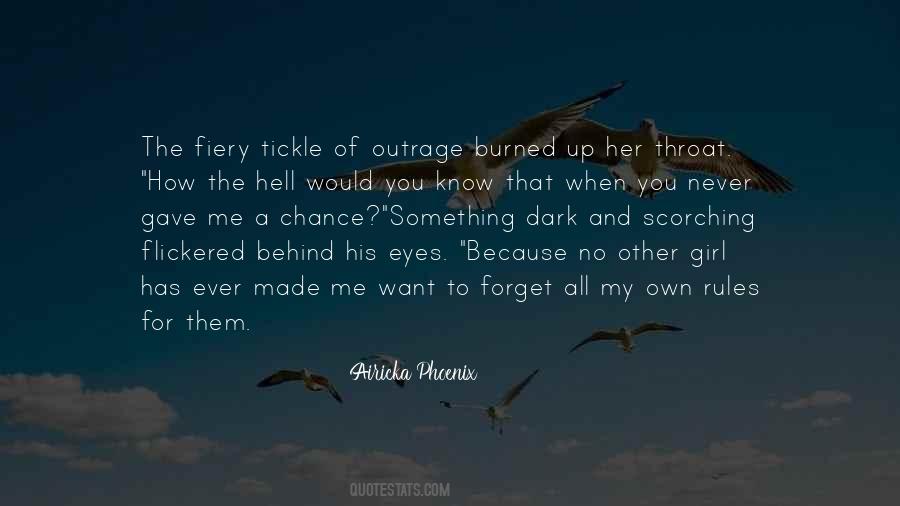 #33. You've changed me forever. And I'll never forget you. - Author: Kiera Cass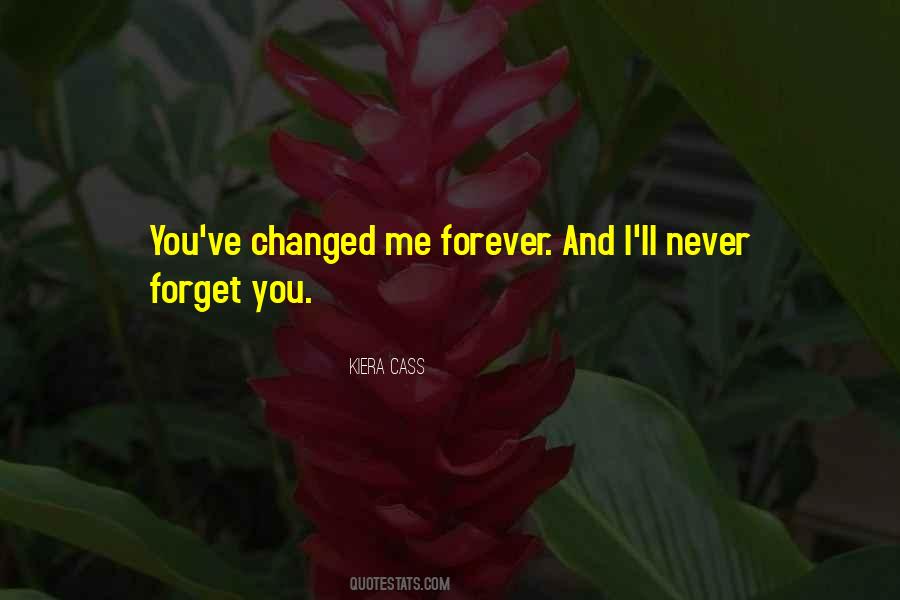 #34. There is more beauty inside you than in anyone I have ever met. These pictures don't lie. I won't ever forget you. Or stop loving you. You can ask me to. You can tell me to move on. But I won't. And I never will. Just don't forget how beautiful we were. How beautiful we can still be.
Please. - Author: A Meredith Walters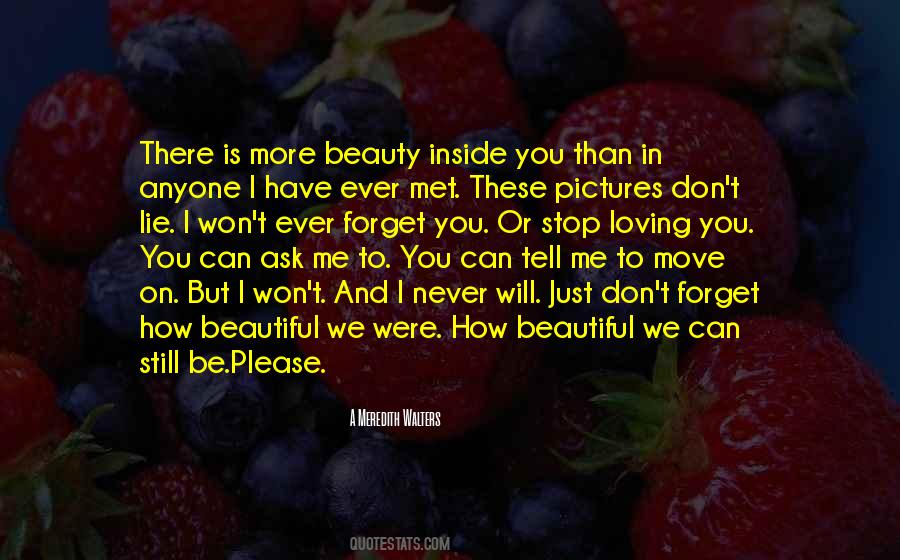 #35. Forget them, Wendy. Forget them all. Come with me where you'll never, never have to worry about grown up things again.
Never is an awfully long time. - Author: J.M. Barrie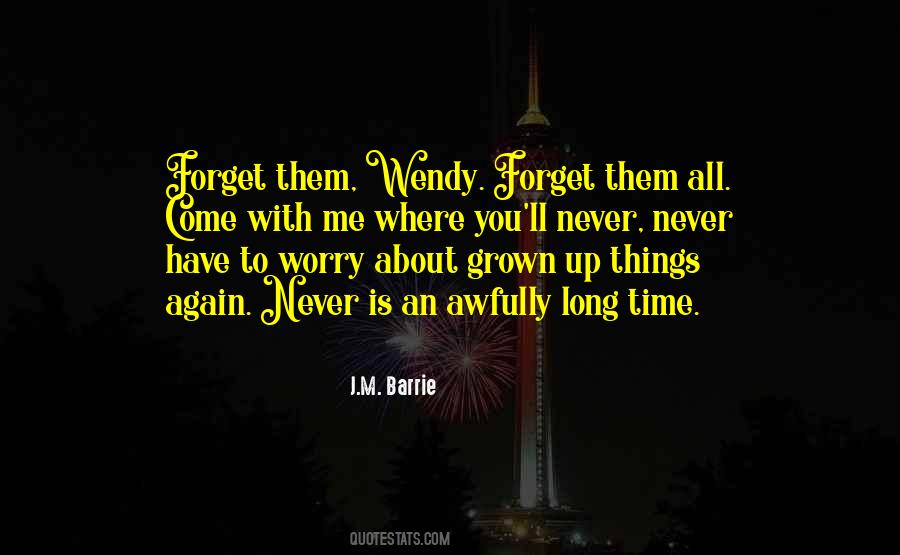 #36. Books opened up a whole new world to me. Through them I discovered new ideas, traveled to new places, and met new people. Books helped me learn to understand other people and they taught me a lot about myself. ... Some books you never forget. Some characters become your friends for life. - Author: Judy Blume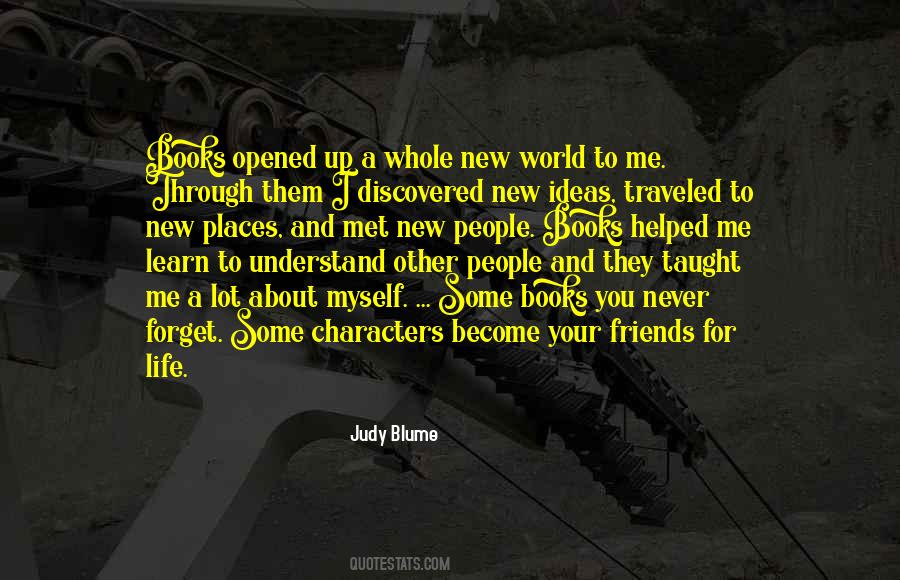 #37. Promise me you'll never forget me because if I thought you would, I'd never leave. - Author: A.A. Milne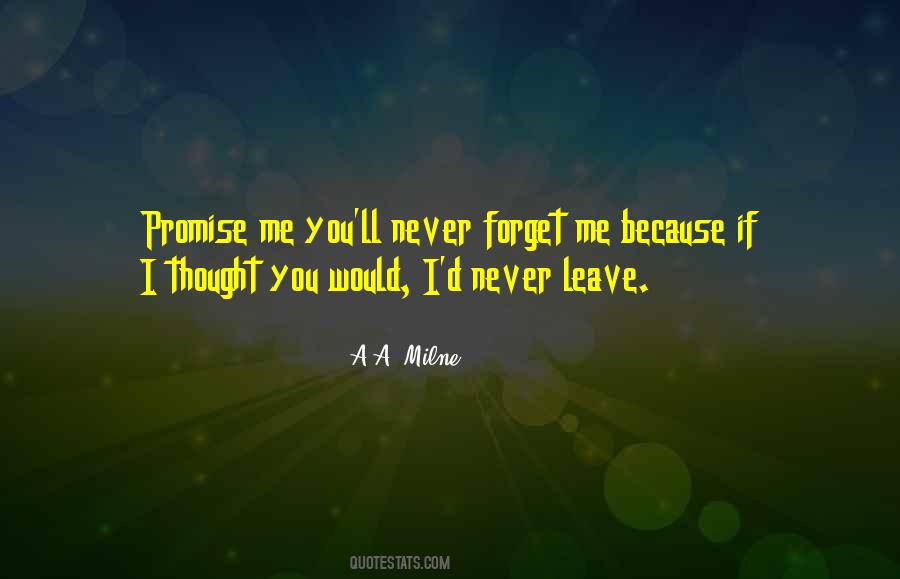 #38. Now that you've met me, you'll never be able to forget me. That's something. - Author: Kristin Hannah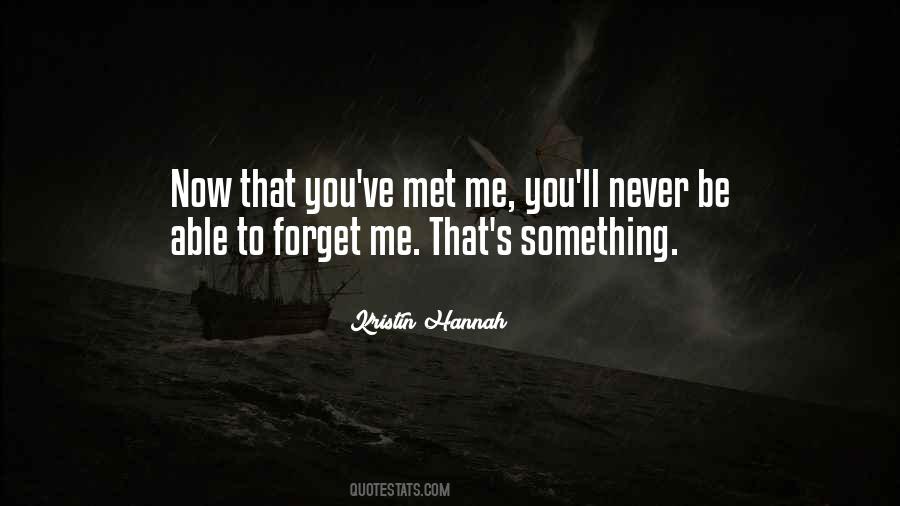 #39. If you forget everything else about me, please remember this. I walked down that street and I never looked back and I love you. I love you. I love you so much that I shall hate you for ever for today. - Author: John Fowles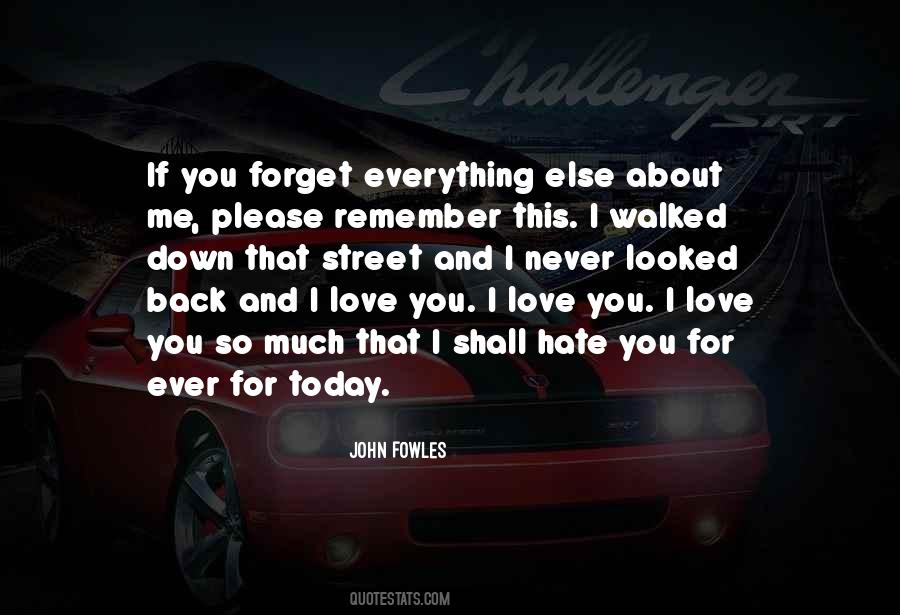 #40. I didn't want you to forget me. I'll never forget you. - Author: S.C. Stephens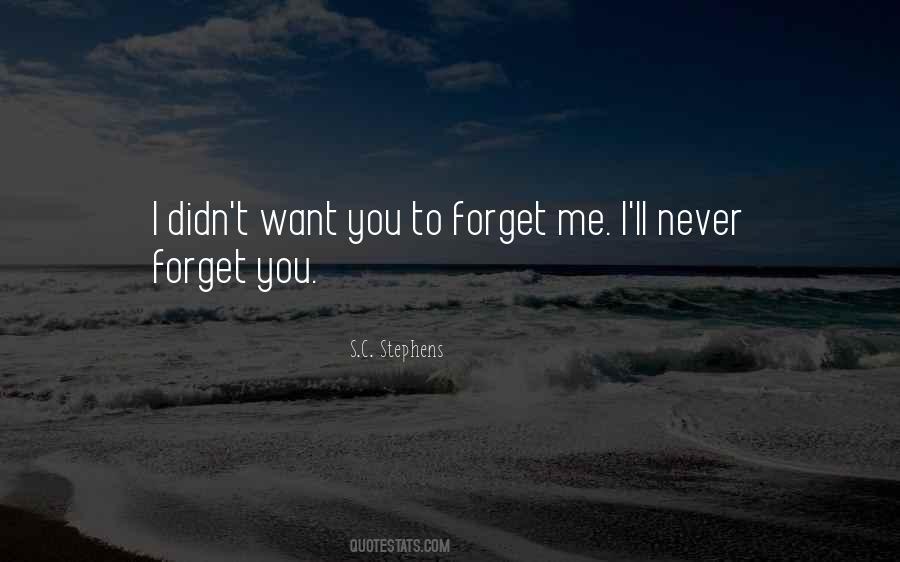 #41. If you'll trust me, I'll give you a week you'll never forget. - Author: Cathryn Fox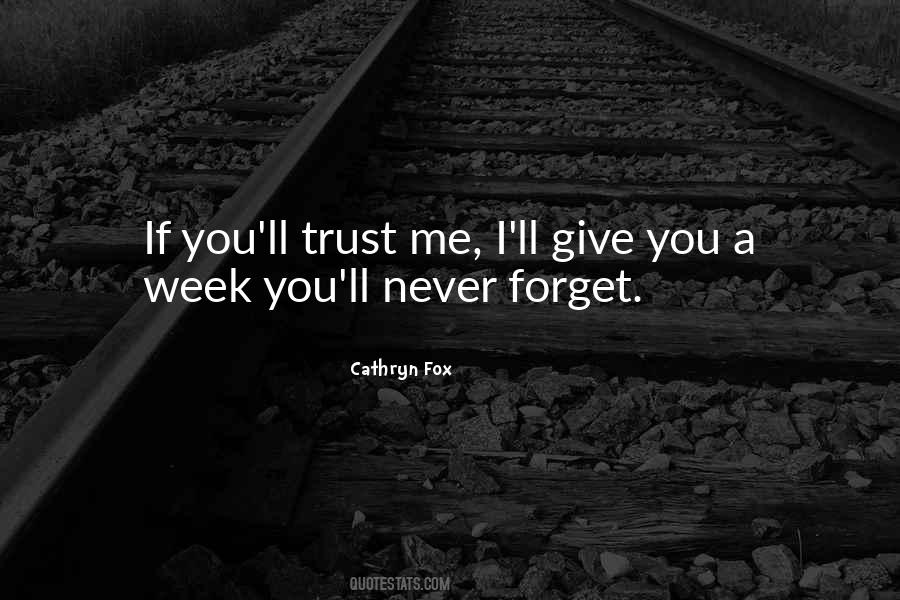 #42. Whatever you want to be, it is okay with me as long as you never forget to be happy. - Author: Debasish Mridha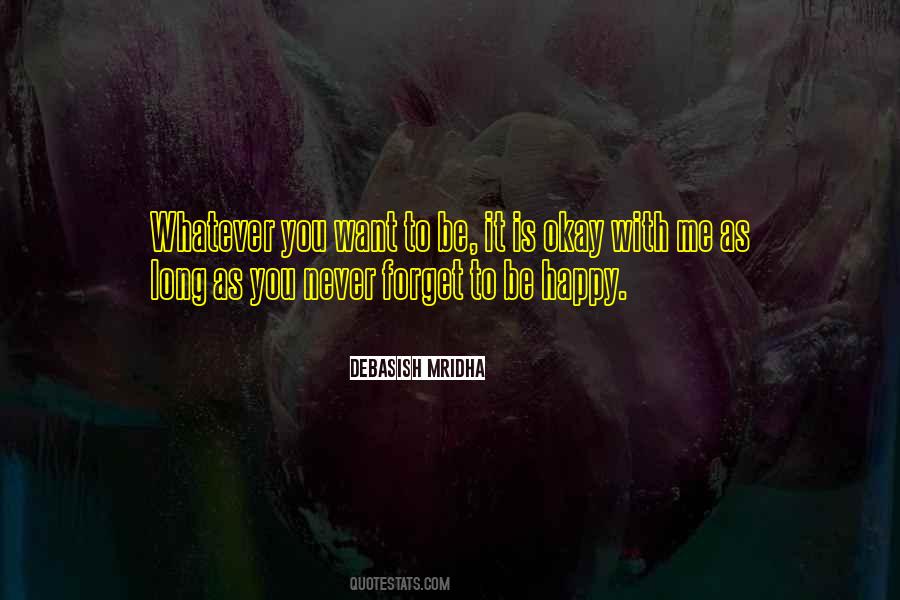 #43. Yeah, cause that would be a smart choice. So, I should just forget about the whole lying to me thing when you pronounce you will never do it again?"
"Yes."
"You'd have a better chance getting a donkey to shit gold. - Author: Elizabeth J. Kolodziej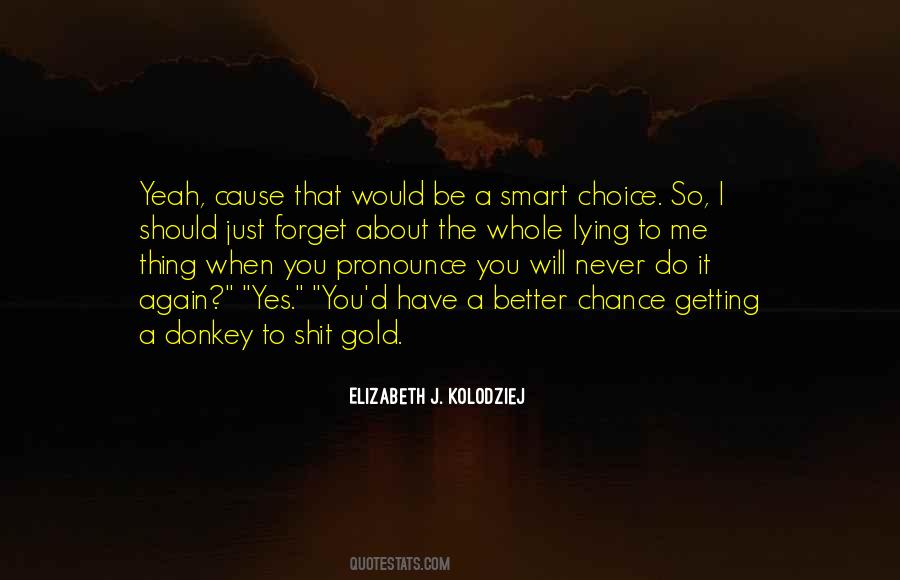 #44. Thank you, Wanda. My sister. I will never forget you.
Be happy, Mel. Enjoy it all. Appreciate it for me. - Author: Stephenie Meyer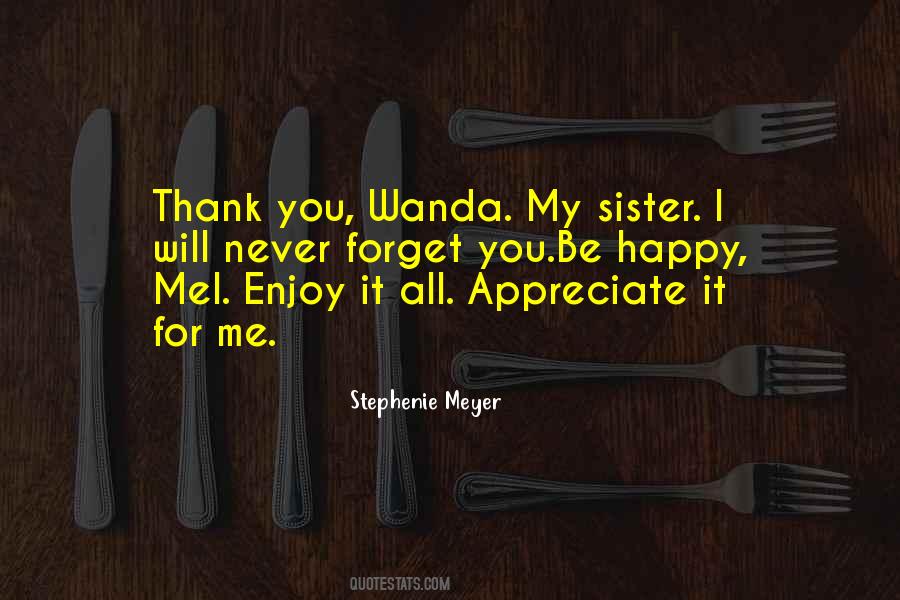 #45. His gaze slammed into hers. 'I love you. Never forget that. Never forget ... me.'
He loved her. Emotion bubbled up in her throat, leaving her voice completely wrecked. 'Never,' she rasped. - Author: Larissa Ione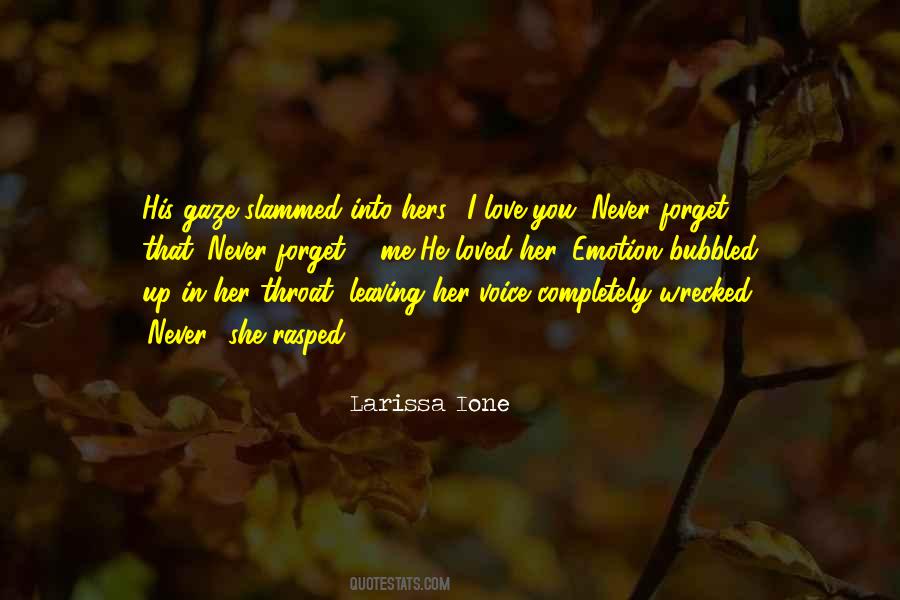 #46. I feel a pull on my arm, stopping me. Kyan slowly moves to stand in front of me. His eyes look deep into mine as if he's looking into my soul, burning himself into it, and ensuring that it will never forget him. "I love you, Calla." He swallows. "I have for a while now. So fucking much. - Author: Victoria Ashley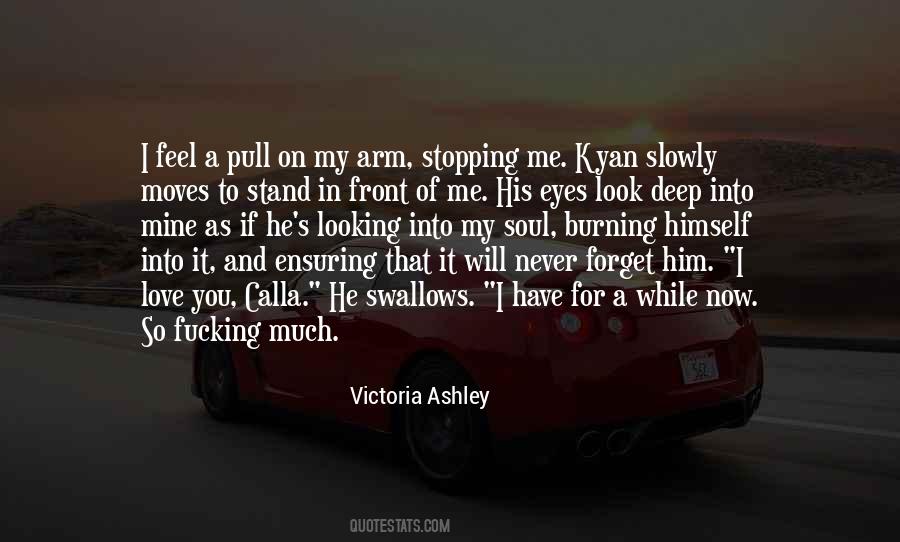 #47. Whatever the outcome of the day I shall never forget that you hit me when I wasn't even looking! - Author: Terry-Thomas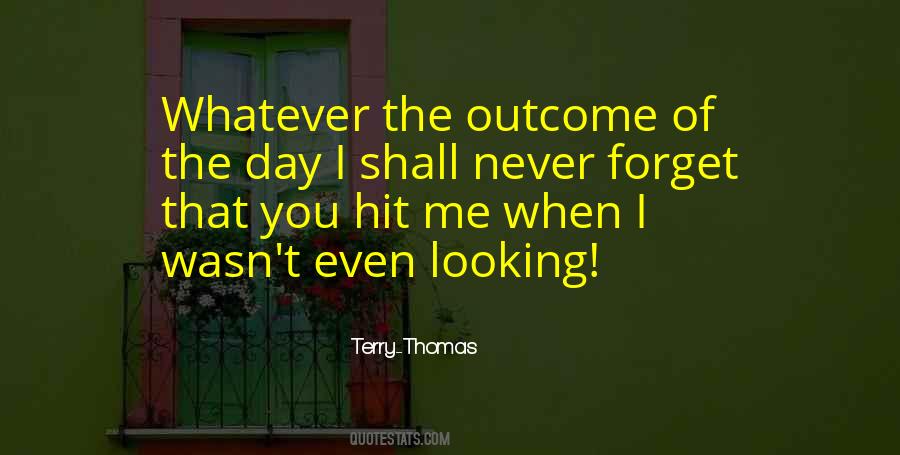 #48. Never," Max said, again ignoring me. "Never did I walk into a room and see her dressed to go out and forget how to breathe like I did when I saw you before we went to The Rooster." I felt my eyes grow wide at this admission and I, too, forgot how to breathe. - Author: Kristen Ashley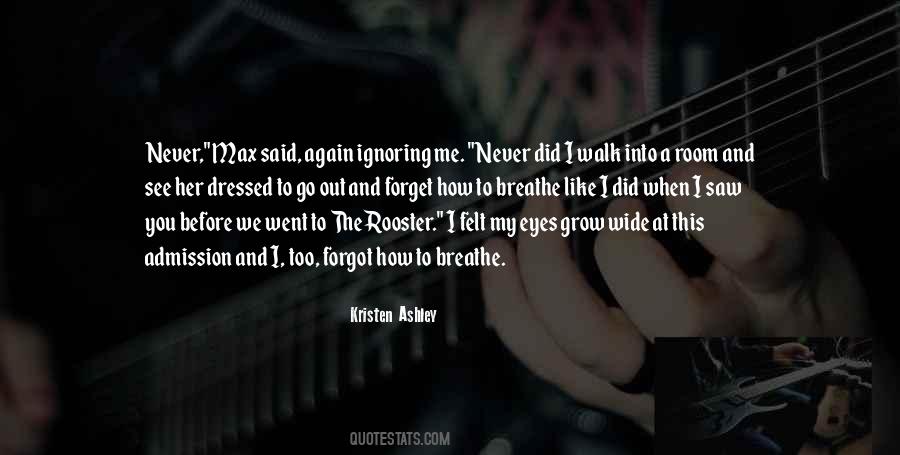 #49. I wish I could tell you what happened, but I can't. Someday I will, but I can't right now and I need you to accept that. Please. And I'm not apologizing to you,because I don't want you to forget what happened and you should never forgive me for it. EVER. Never make excuses for me, Sky. - Author: Colleen Hoover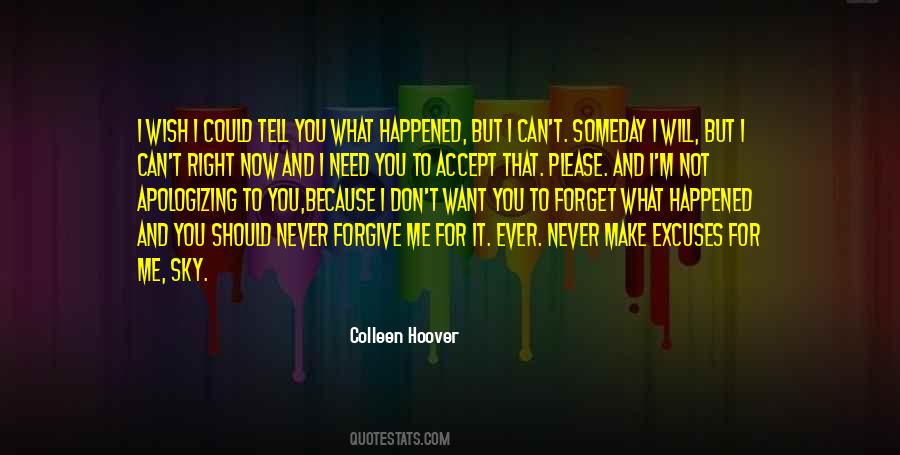 #50. I set goals, take control, drink out my own bottle, I make mistakes but learn from every one, And when it's said and done, I bet this brother be a better one, If I upset you don't stress, Never forget, that God isn't finished with me yet - Author: Tupac Shakur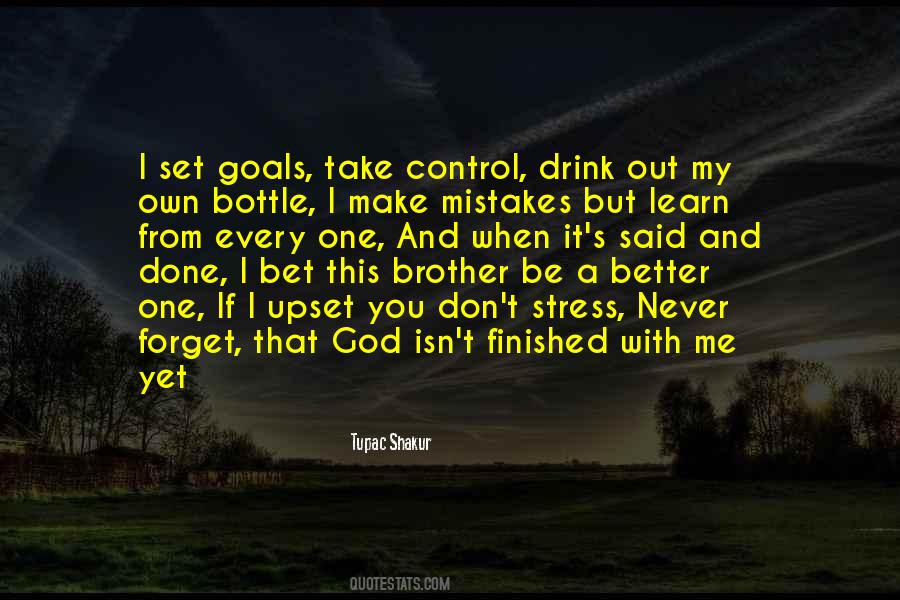 #51. Never forget the days I spent with you. Continue to be my friend, as you will always find me yours. - Author: Ludwig Van Beethoven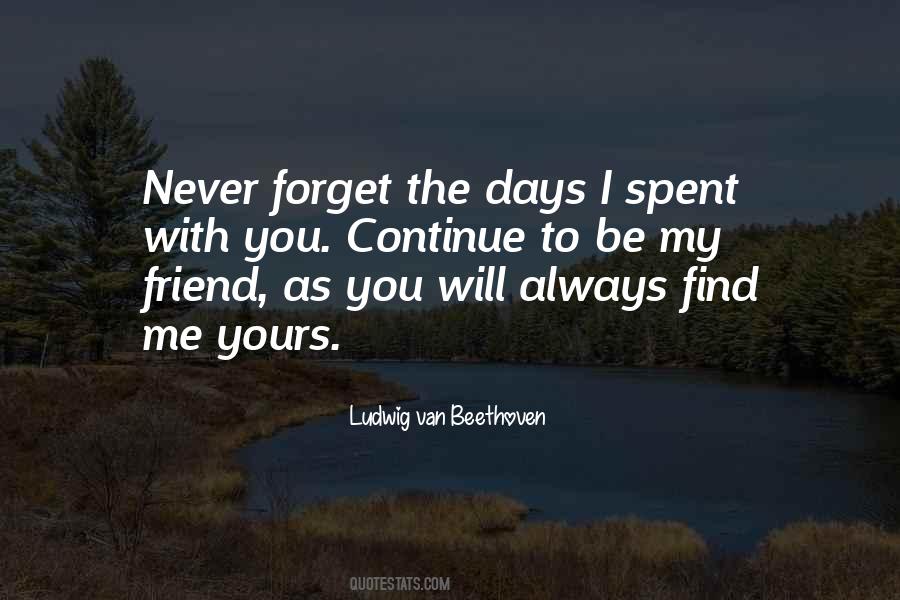 #52. You can forget ya keys or ya wallet, the first girl ya kissed, hell- even my birthday, but you'll never forget me. - Author: Brian Azzarello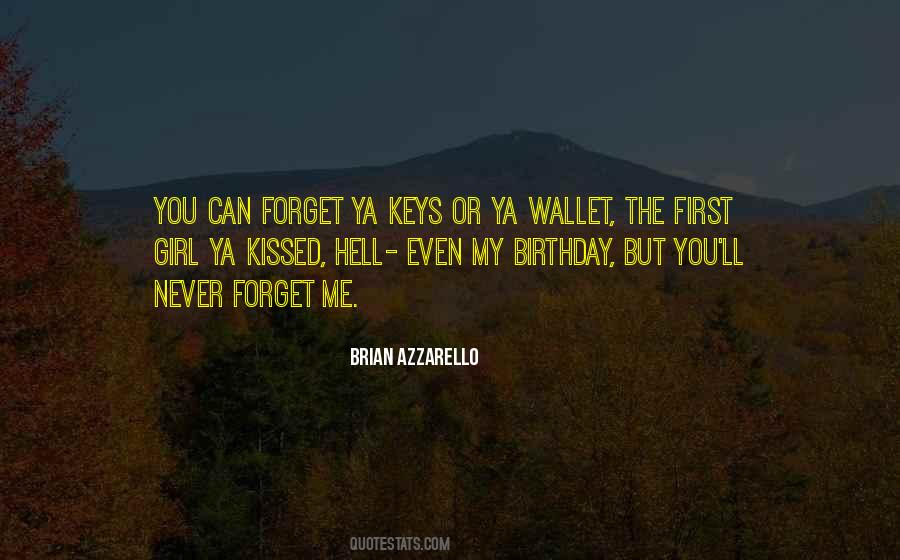 #53. You've made your mark. You made your mark on me. No matter what happens between us now or in the future, I will never forget you. You're inside me. Always will be. - Author: Samantha Young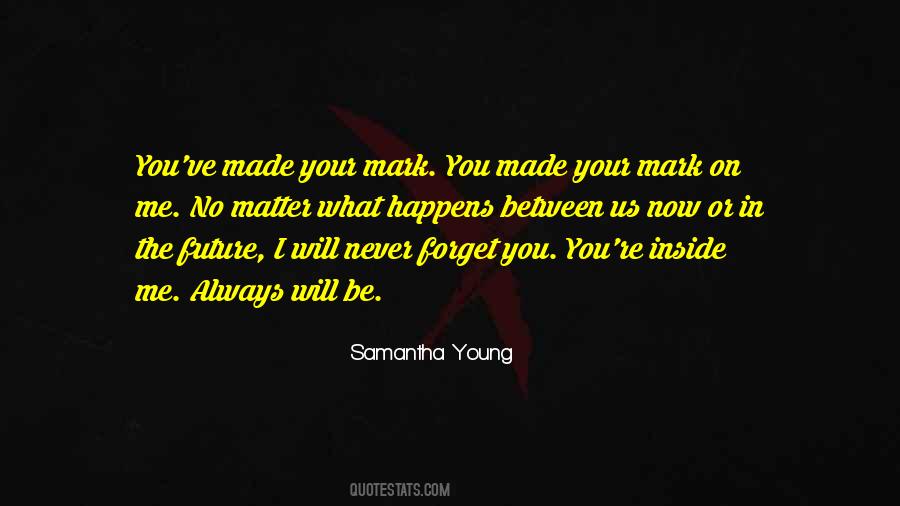 #54. It suits here now to forget last year, but she'll never make me forget last year, not if I live to be a hundred. I didn't know much then. I know now that there's people like her who want to be friendly for what you do, not what you are. - Author: K.M. Peyton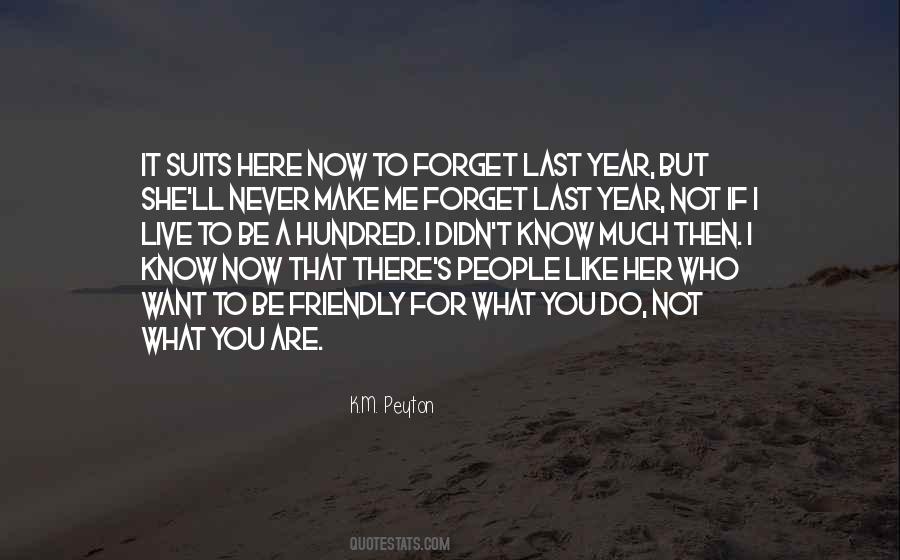 #55. Katherine, how quickly you forget that I never give up when I want something. And right now, I've decided what I want is you. I want you next to me twenty-four-seven, at least until I've sated the desire you left me with. Then, I may actually let you sleep. -Joseph - Author: Melody Anne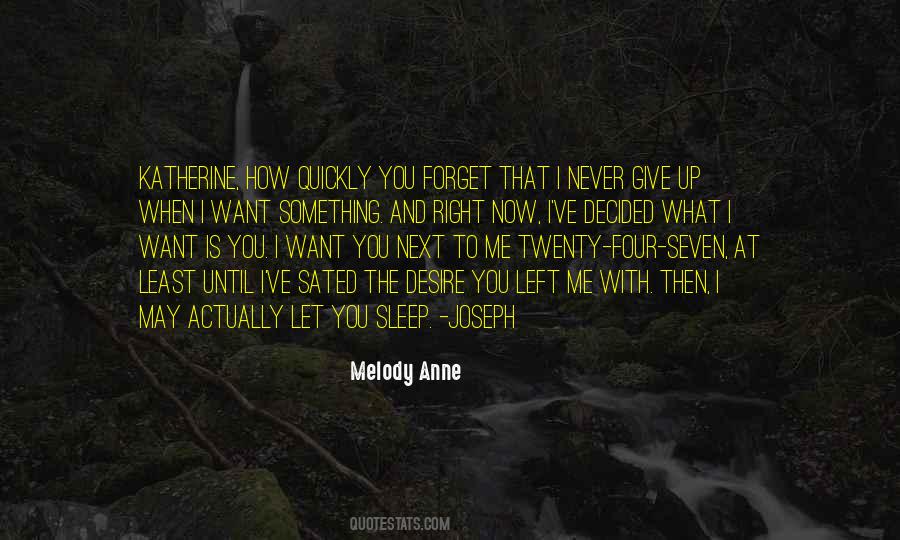 #56. NINA
Think of me sometimes.
TRIGORIN
I shall never forget you. I shall always remember you as I saw you that bright day
do you recall it?
a week ago, when you wore your light dress, and we talked together, and the white seagull lay on the bench beside us. - Author: Anton Chekhov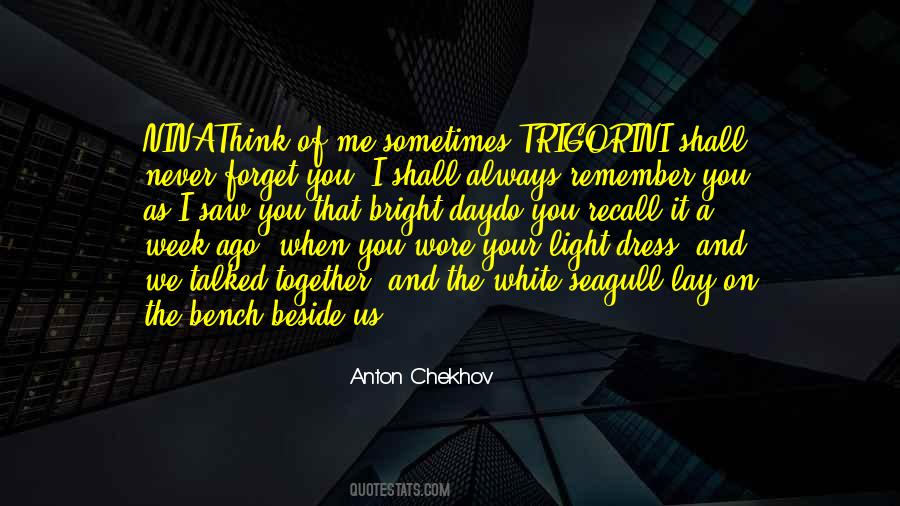 #57. No. I didn't say you could talk yet.You made me feel like crap. I didn't fit into your little definition of perfect and you never let me forget it. I can assure you there is nothing. Nothing that would ever make you worth the air you breathe. - Author: Nyrae Dawn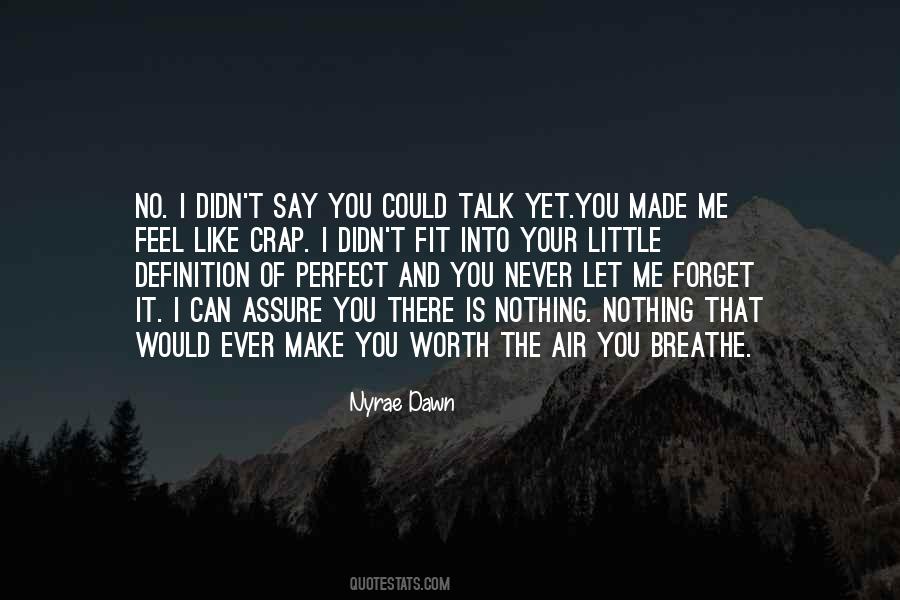 #58. If I upset you, don't stress. Never forget
That God isn't finished with me yet.
I feel His hand on my brain ...
When I write rhymes, I go blind and let the Lord do His thang. - Author: Tupac Shakur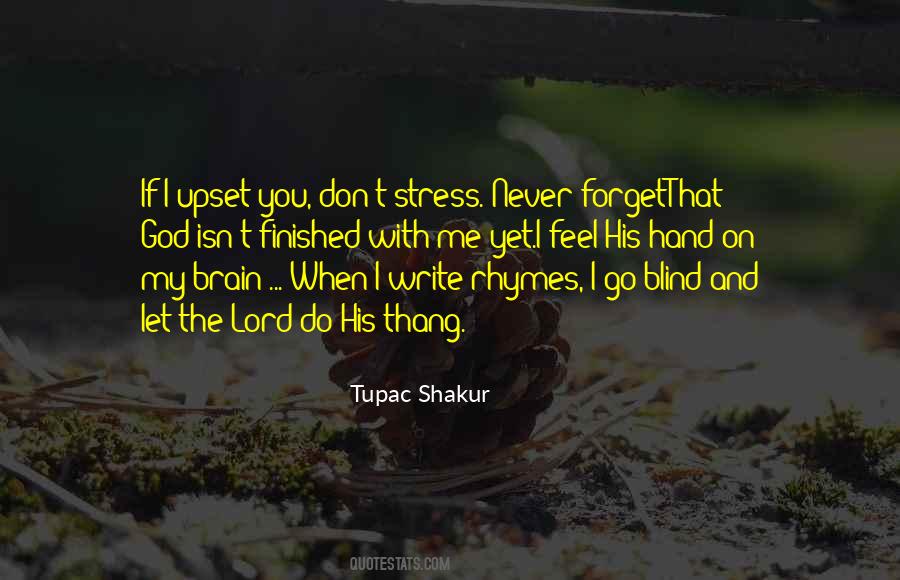 #59. She stares at me for a moment, and then she bursts out laughing. "You haven't seen his perfect little wife and his perfect little girls. Believe me, Oliver, I'm not the great love of his life, the one he'll never forget."
"You are to me," I say. - Author: Jodi Picoult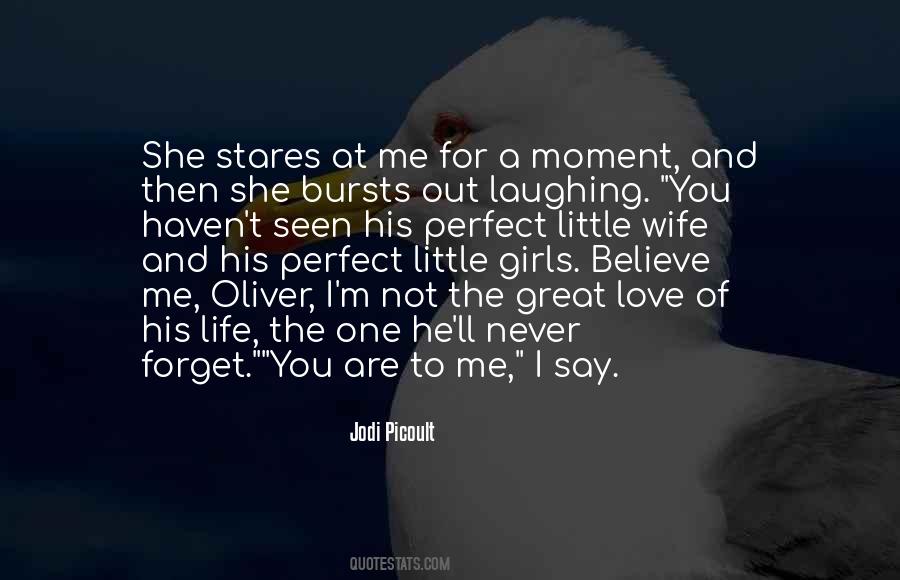 #60. Time cast a spell on you but you won't forget me, I know I could have loved you, but you would not let me. I'll follow you down 'til the sound of my voice will haunt you, you'll never get away from the sound of the woman that loves you - Author: Stevie Nicks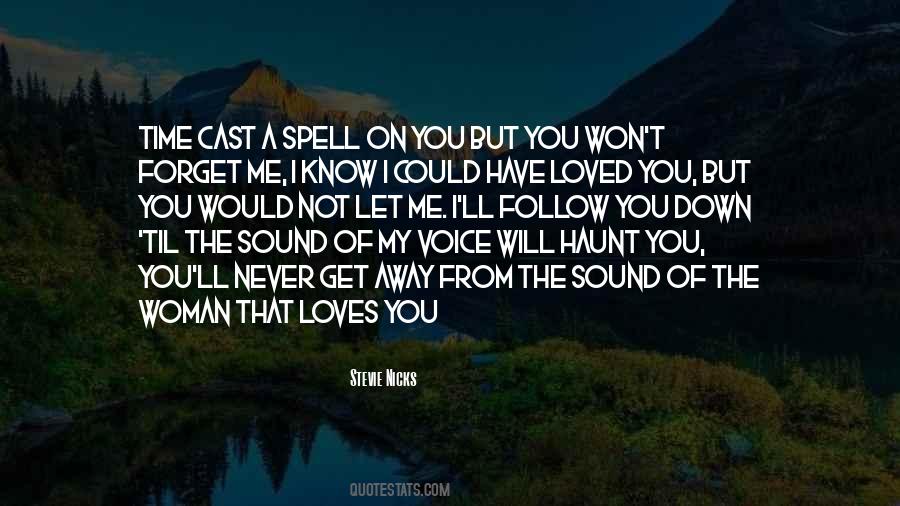 #61. Oh my darling one, how long you wander from me, how weary I grow of waiting and looking, and calling for you; sometimes I shut my eyes, and shut my heart towards you, and try hard to forget you because you grieve me so, but you'll never go away, oh you never will. - Author: Emily Dickinson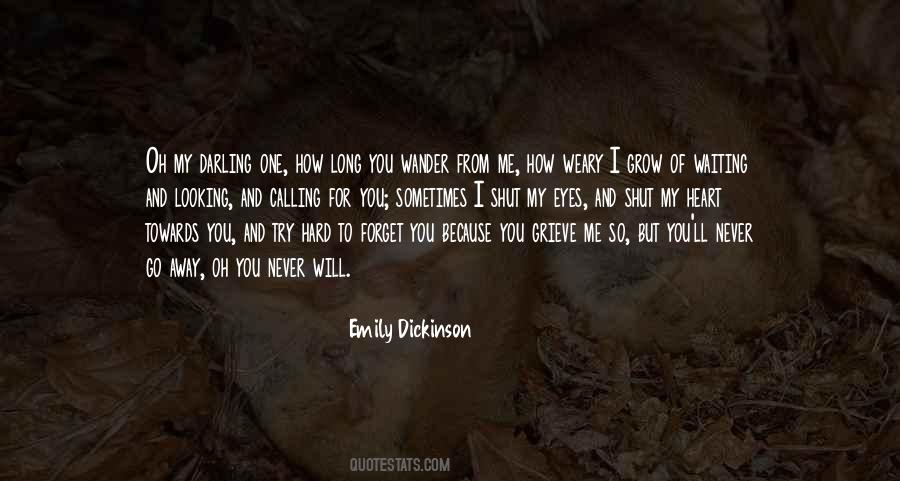 #62. Never forget," I say, quietly now, "that if I wanted your job, I could have it. And never forget that the man you so eagerly serve is the same man who taught me how to fire a gun when I was nine years old. - Author: Tahereh Mafi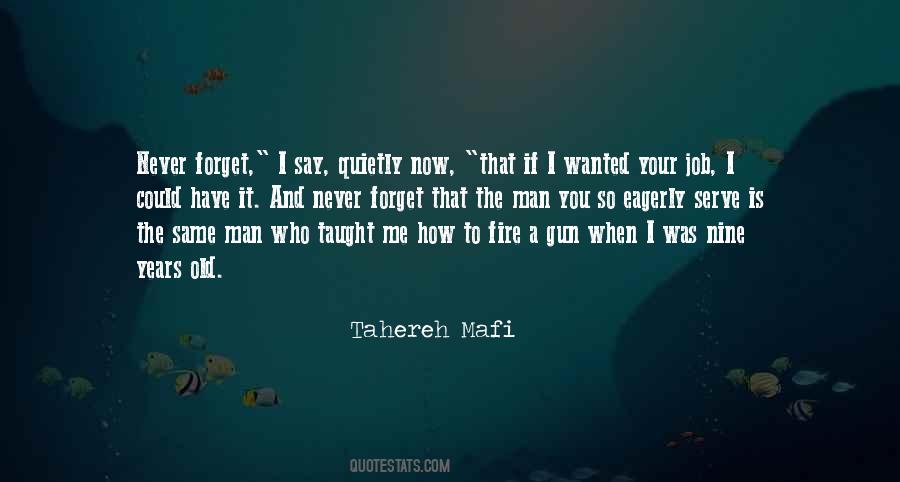 #63. So do you remember this place?"
"Hard to forget." he snorted. "This is where you tried to kill me. You were so nervous, you kept blushing. Never had someone try to stake me who blushed so much. - Author: Jeaniene Frost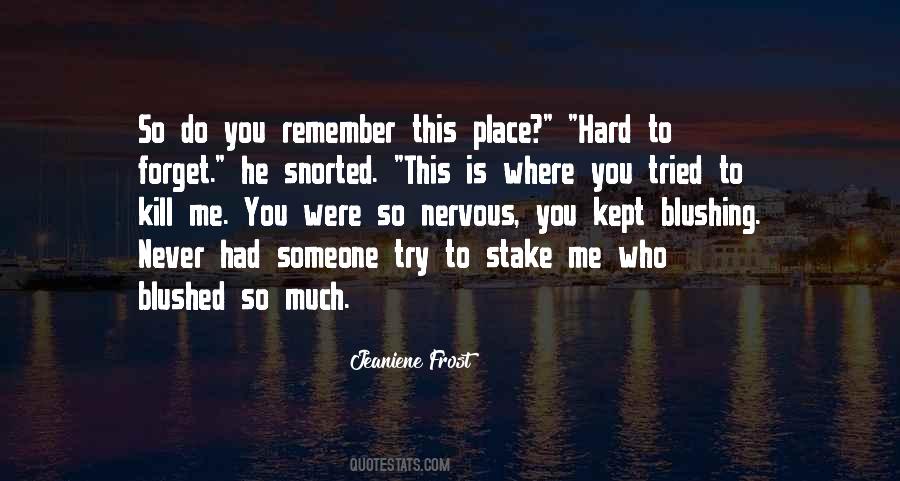 #64. Smile is God's gift but the Man who smiles is his creation. Never forget God when you are happy. - Author: Me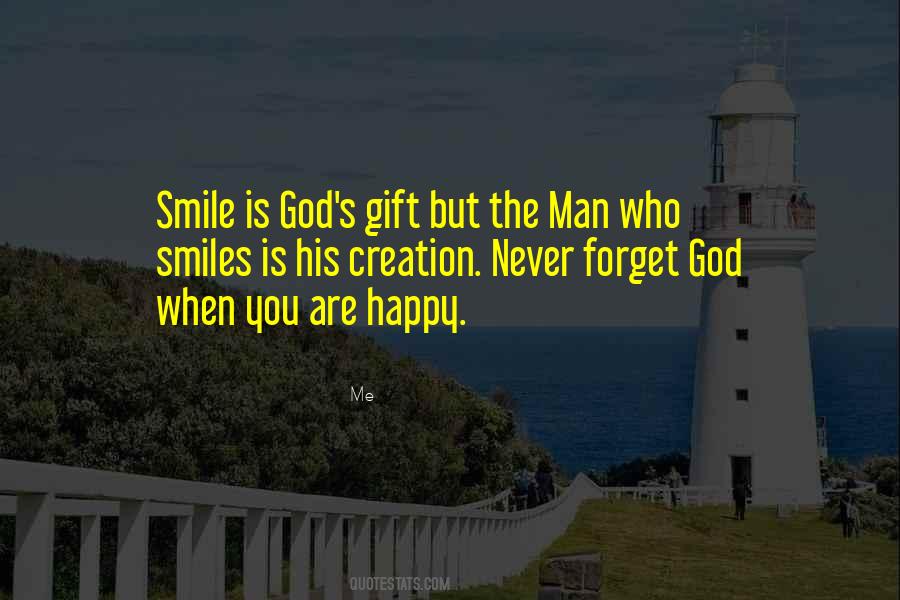 #65. I don't mind if you forget me.
Having learned my lesson,
I never left an impression on anyone. - Author: Morrissey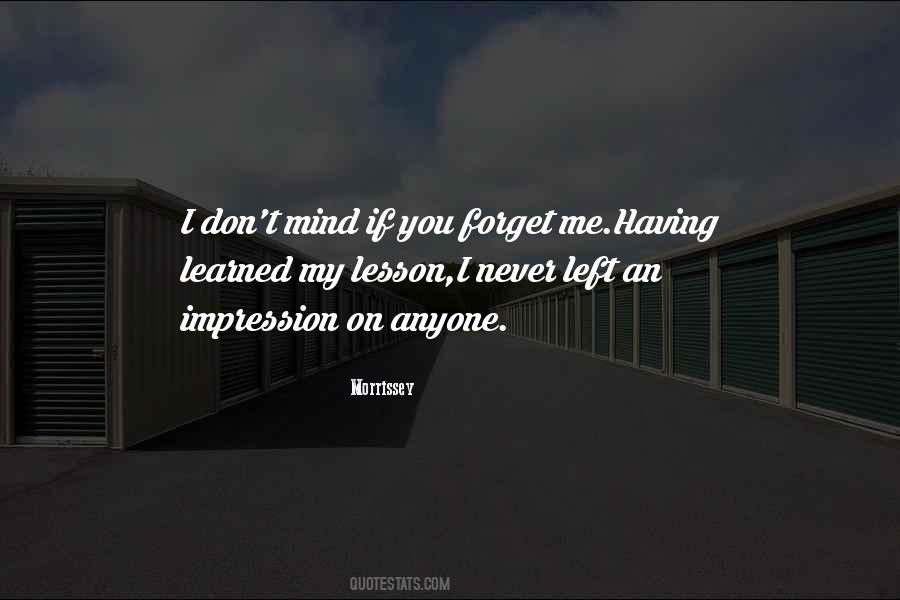 #66. Taught me a lesson I should have known all along. What you do to children matters. And they might never forget. She's got a big-time job in California but she don't call or visit anymore. She sends me money and stuff every now and then, but I ain't seen her in I don't know how long. - Author: Toni Morrison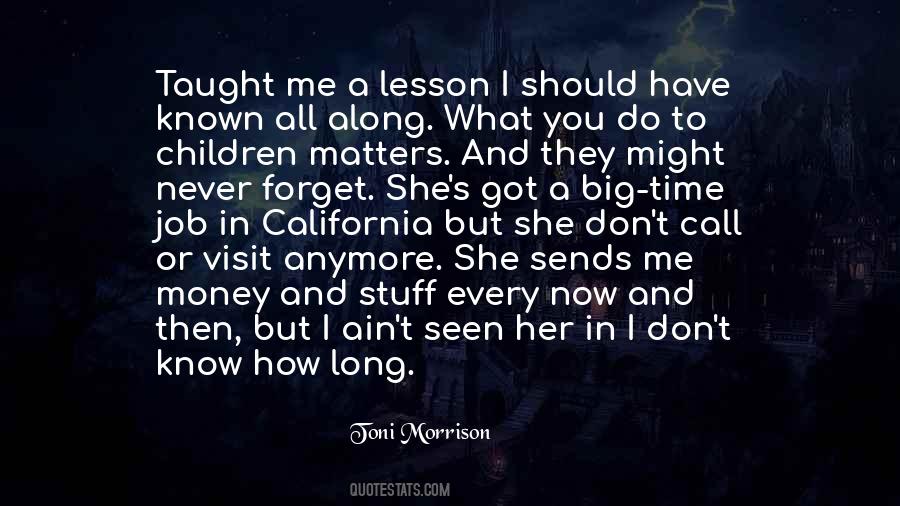 #67. I'll never forget the things you said to me. Not because they mattered, but because they made me feel like I did. - Author: Monica Murphy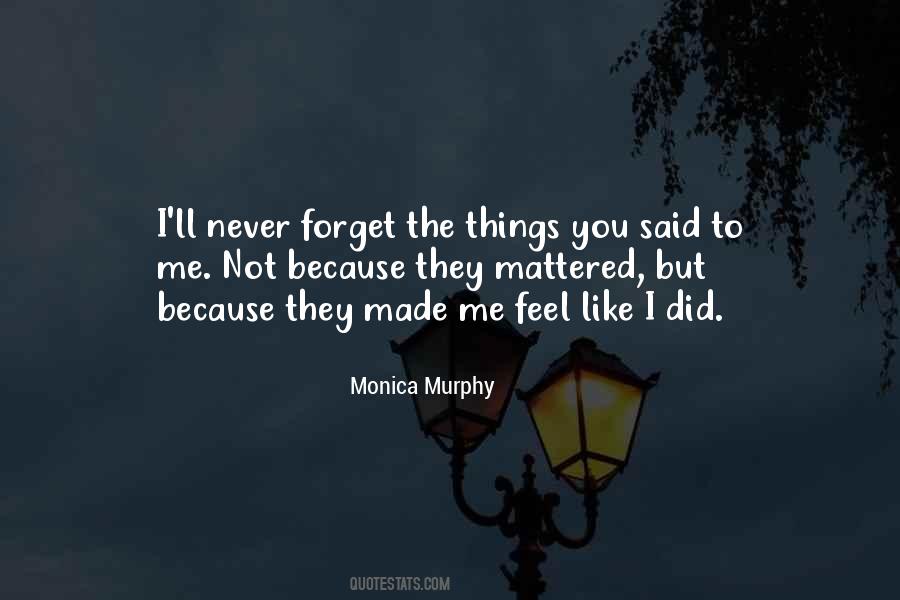 #68. The best ideas are those that really affect me emotionally - those are the ones you never forget. You think to yourself, 'I want to write that book', for years; those are the ideas that I love to work with, and 'The Bone Garden' was one of them. - Author: Tess Gerritsen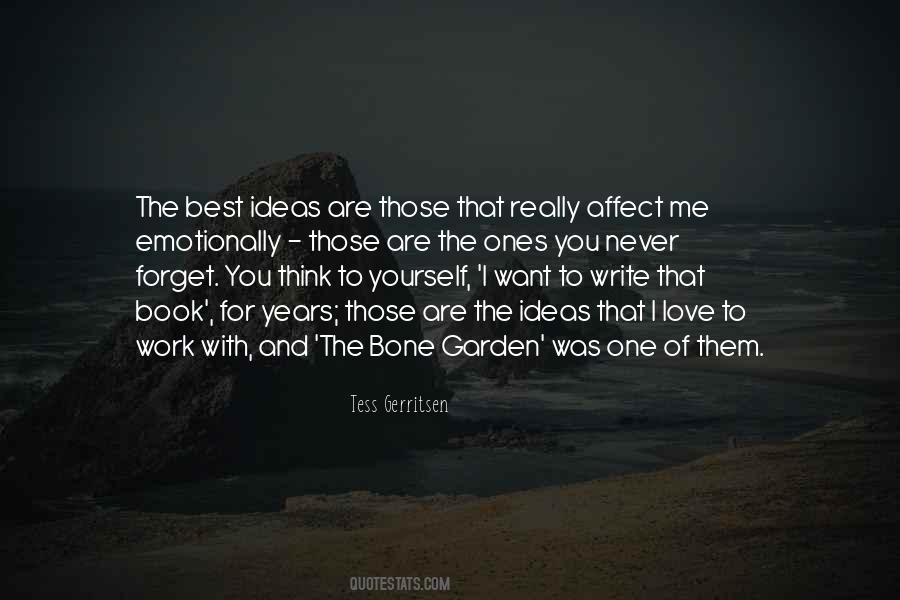 #69. You go to a show, and there's no food at all, so if you're doing shows back to back, you can forget eating. I remember standing up in the bath one day, and there was a mirror in front of me, and I was so thin! I hated it. I never liked being that skinny. - Author: Kate Moss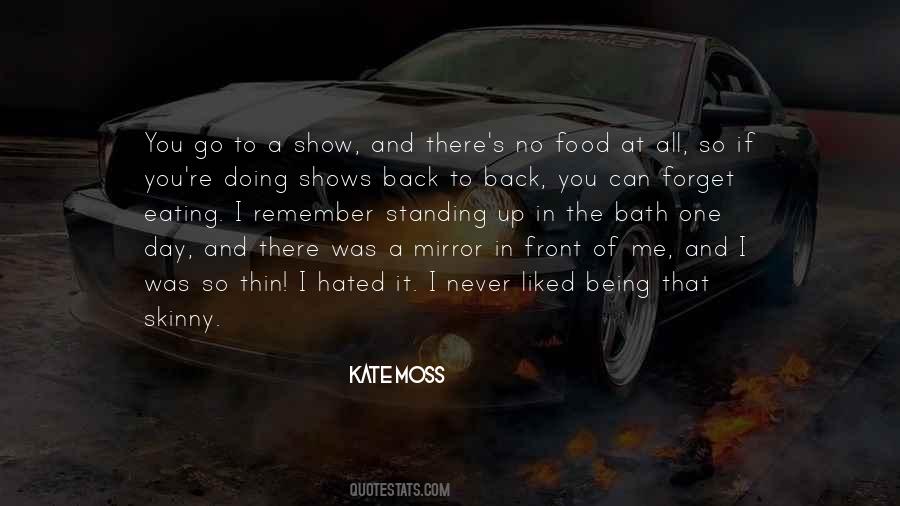 #70. You will live in me always. Your words, your heart, your soul are all part of me. My heart is full of your memories. Thank you for the gift of your life. I will never forget you. - Author: Amy Eldon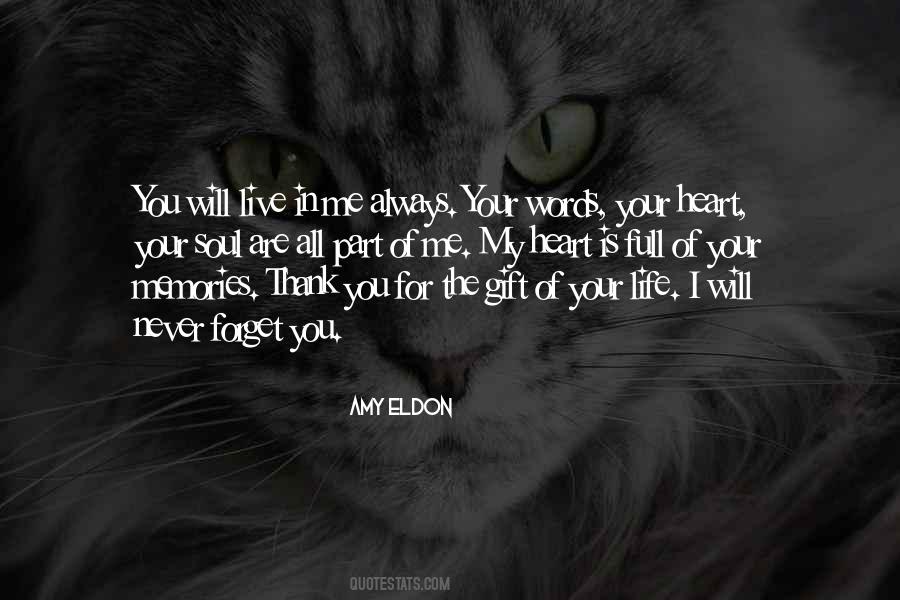 #71. Sorry about that."
"You didn't hear me complaining."
I raised an eyebrow and said, "Forget about it. You will never see me in that skirt."
"Never? Is that a challenge, love?"
"It's a promise. - Author: Cora Carmack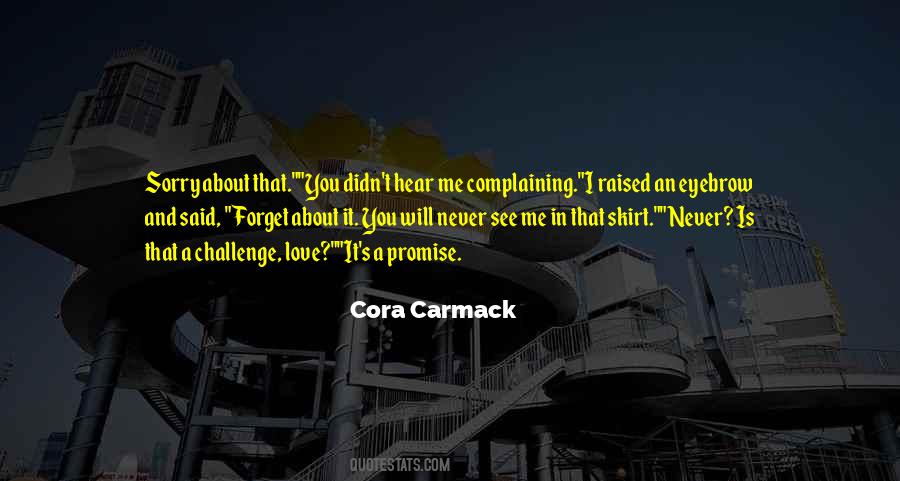 #72. hurt, Hannah prayed to the Lord and wept with many tears. 11 Making a vow, she pleaded, "Lord of Hosts, if You will take notice of Your servant's affliction, remember and not forget me, and give Your servant a son, I will give him to the Lord all the days of his life, and his hair will never be cut. - Author: Anonymous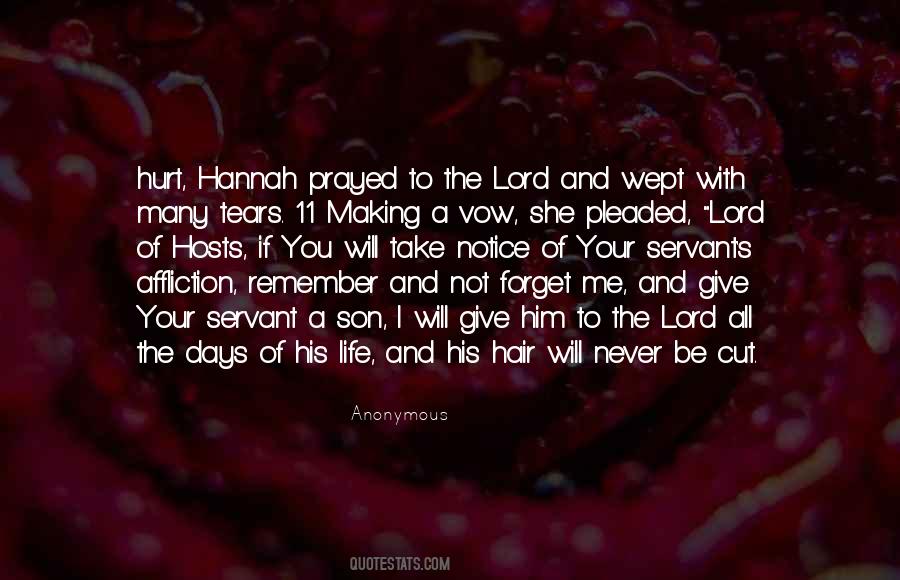 #73. There's always someone bigger and badder who can knock you off your perch - even if you're me. Never forget it and you don't have to worry about corruption. You'll be too afraid with watching your own back.
Alexandria "Dria" McAndrews - Author: C.J. Ellisson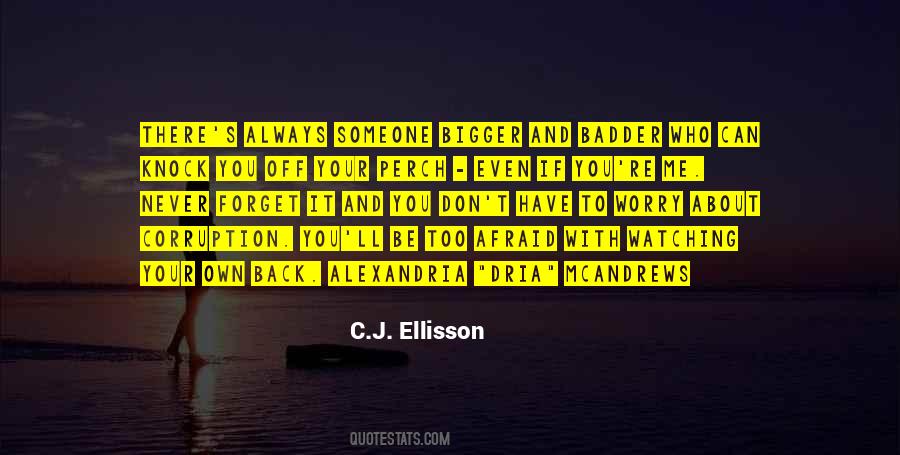 #74. Having you close like this makes me forget the reasons why this won't work. We will never work. - Author: Abbi Glines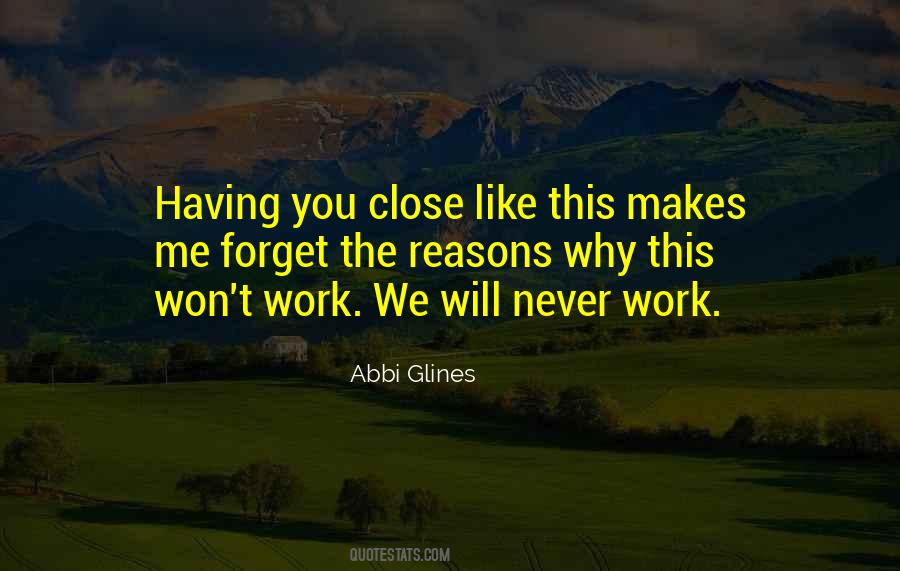 #75. Why do you cal me 'Petal'?"

"Because a petal is on every flower, and every flower reminds me of you. Everywhere I go, I'l never forget you, - Author: Sam Crescent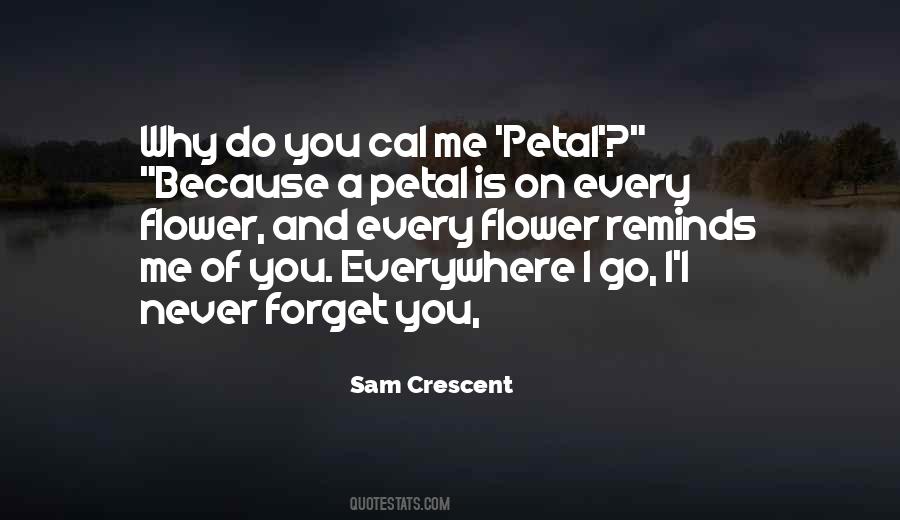 #76. I'm not good at this. I never have been. But, there's something about you that makes me just want to forget about everything else and only focus on you. No one has ever made me feel like that - Author: Bernadette Marie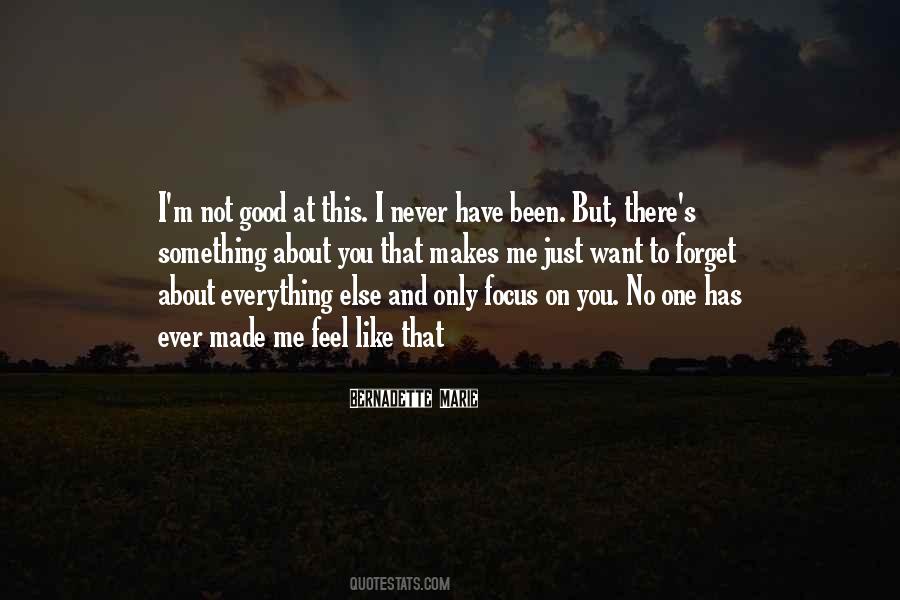 #77. Pulling me into his arms, he trailed light kisses from my ear to my neck, almost making me forget how late I was running.I pushed him away. "You better stop that, or we're never getting out of here.""My thoughts exactly. - Author: Alyssa Rose Ivy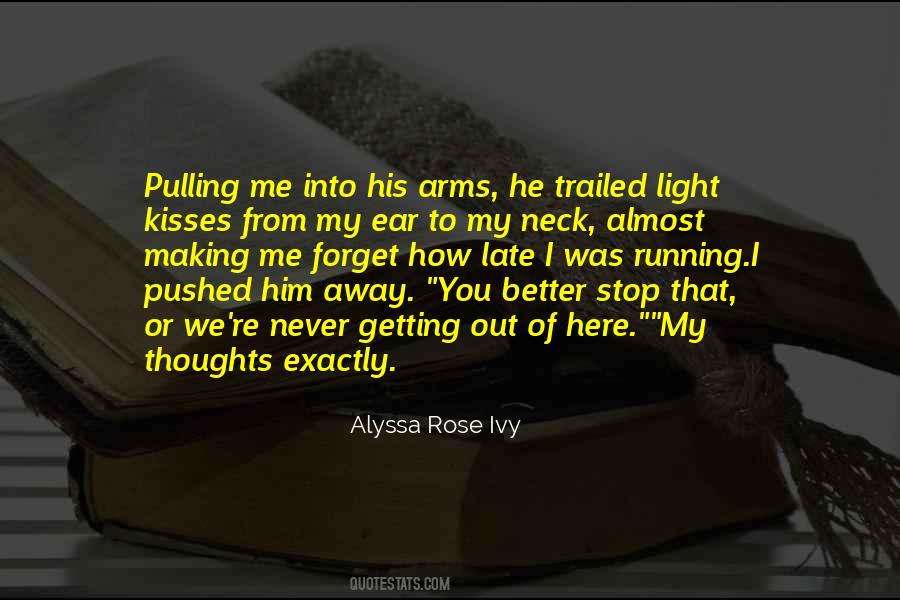 #78. I'm your enemy, meghan. never forget that. if Mab tells me to kill you in front of the entire court, it's my duty to obey. - Author: Julie Kagawa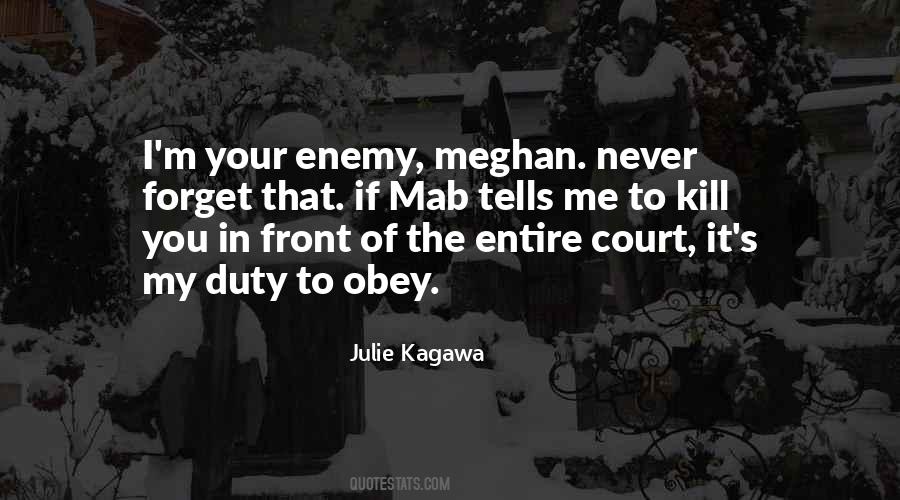 #79. I'll never forget the day when a woman came up to me and said, 'No, you could never be on a magazine cover. Your face features don't work; your eyes are small, you have a small face but a big nose.' I was only 14 and I had never noticed any of that stuff, you know? - Author: Gisele Bundchen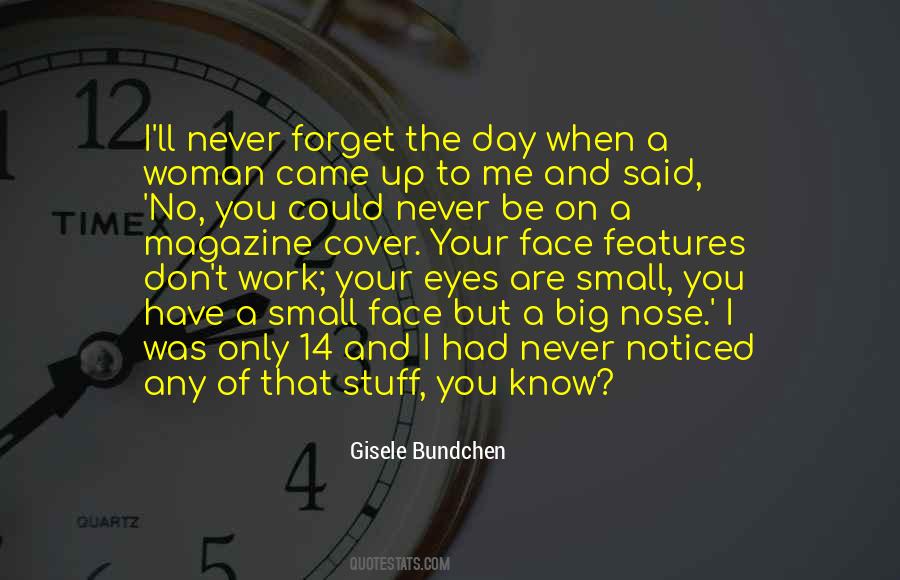 #80. It is never too late to get into tennis! While I started playing at the age of 8 when my parents gave me a tennis racquet for Christmas, tennis is a lifelong sport that can be enjoyed by people of almost any age. It's also something you never forget once you learn. - Author: Samantha Stosur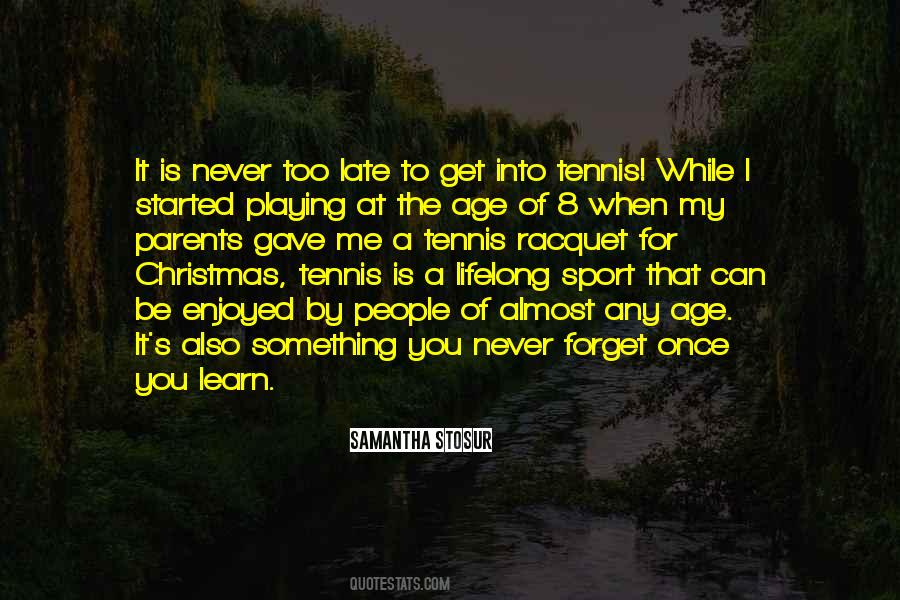 #81. You're the world to me," I whisper onto
her lips. "I hope you never forget that."
"I'll never forget," she whispers back.. "But if I ever do, for
whatever reason, I hope you'll always find a way to remind me."
... "Always. - Author: J.A. Redmerski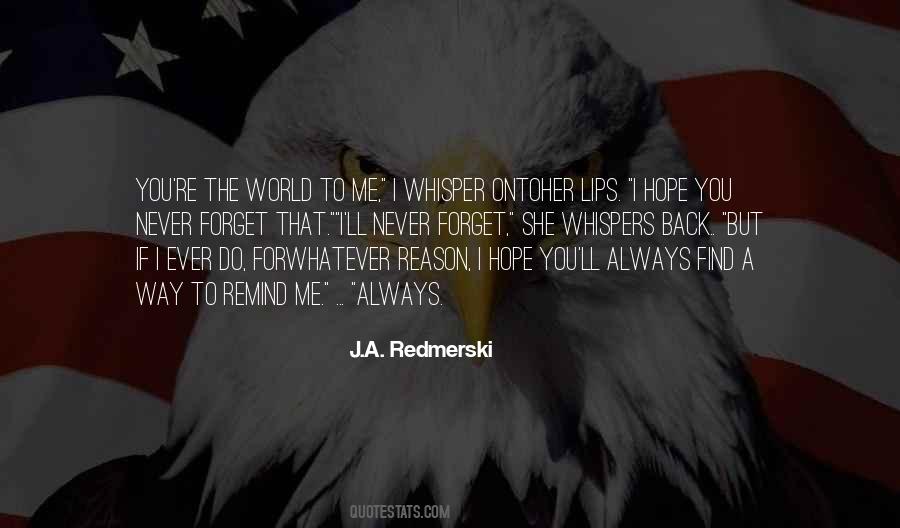 #82. Everyone doesn't have to do everything," she told me. "People forget you can also express yourself by what you choose to admire and support. I've had so much pleasure from beautiful and challenging things created by other people, things I could never make or do. I wouldn't trade that for anything. - Author: Will Schwalbe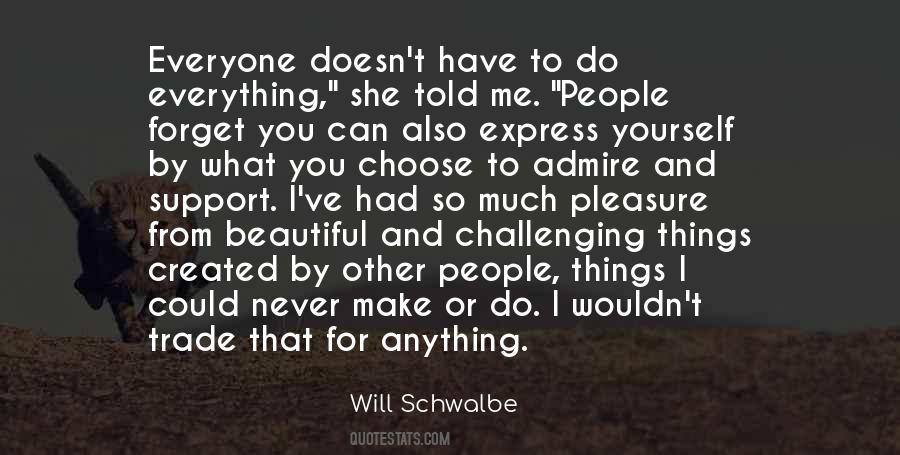 #83. Never forget that I was your first real kiss. Never forget that you'll be my last. And never stop loving me between all of them. - Author: Colleen Hoover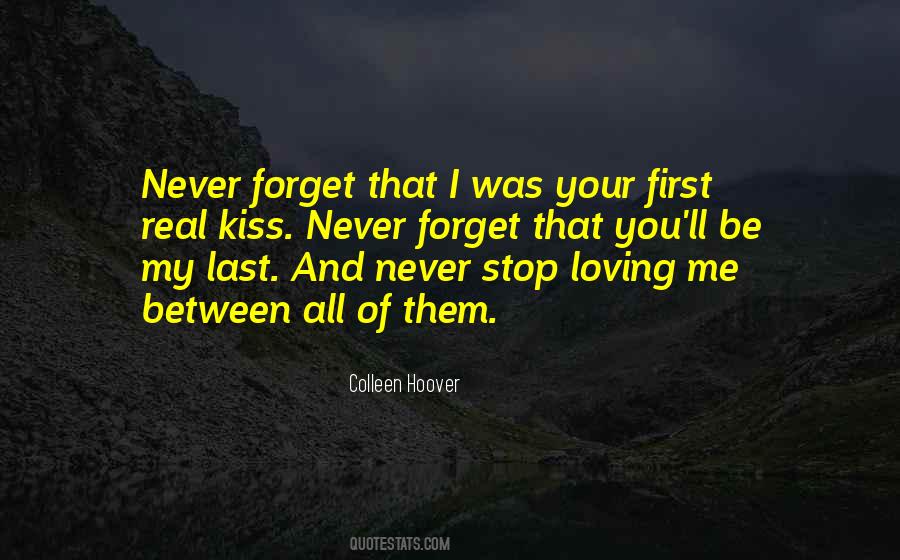 #84. You made me see that friendship is a farce and trusting anyone other than myself is the biggest mistake I could make. It was a lesson I had been learning my whole life up until that point. But you tattooed it on my soul in a way I could never forget. - Author: Aly Martinez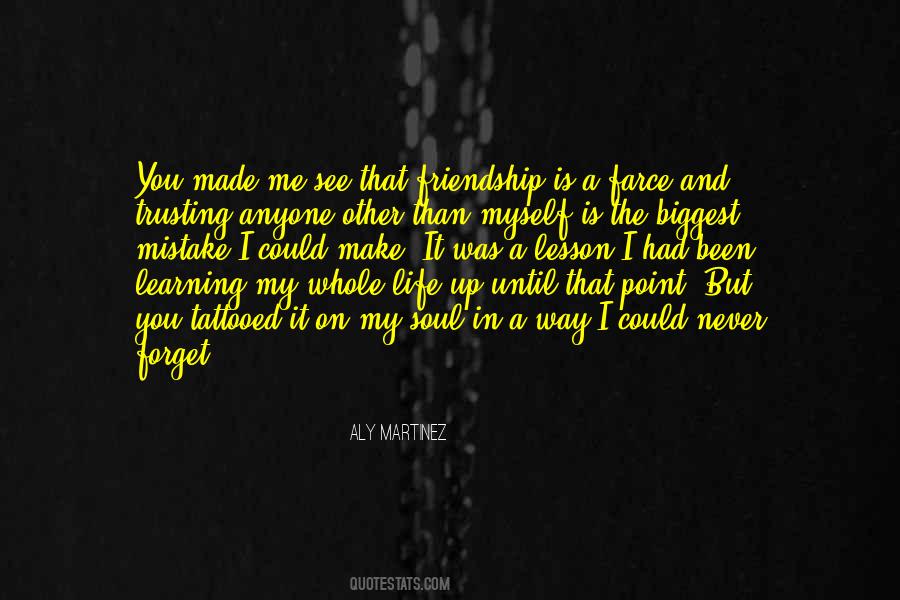 #85. Forget not, never forget that you have promised me to use this silver to become an honest man ... Jean Valjean, my brother: you belong no longer to evil, but to good. It is your soul that I am buying for you. I withdraw it from dark thoughts and from the spirit of perdition, and I give it to God! - Author: Victor Hugo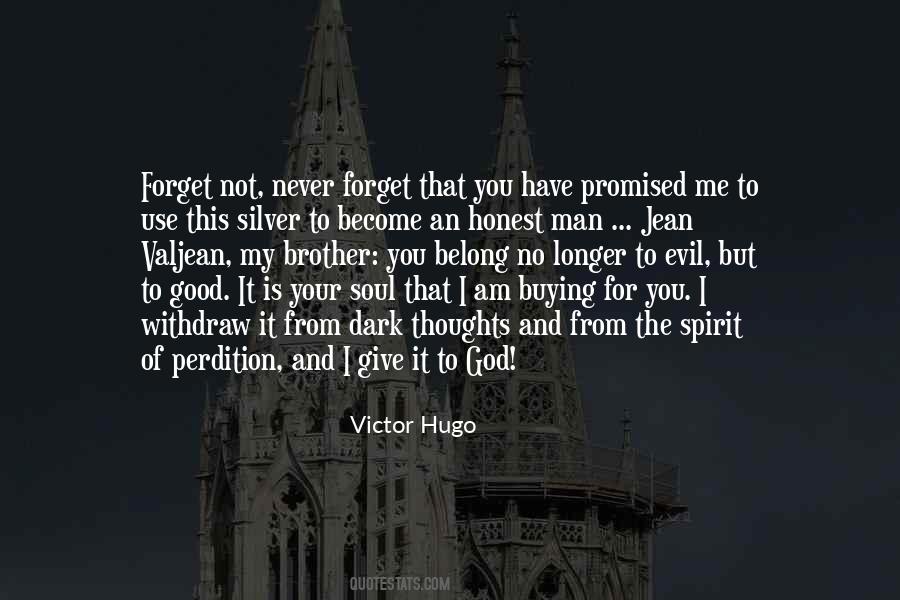 #86. Cupping her face, I brushed her lips with my thumb. "You're medicine for my soul, Bailey. Never forget that."
Her naughty gaze shifted into something softer. "Thank you for being brave enough to love me."
Despite her earnest expression, I laughed. "Like I had a choice. - Author: Bijou Hunter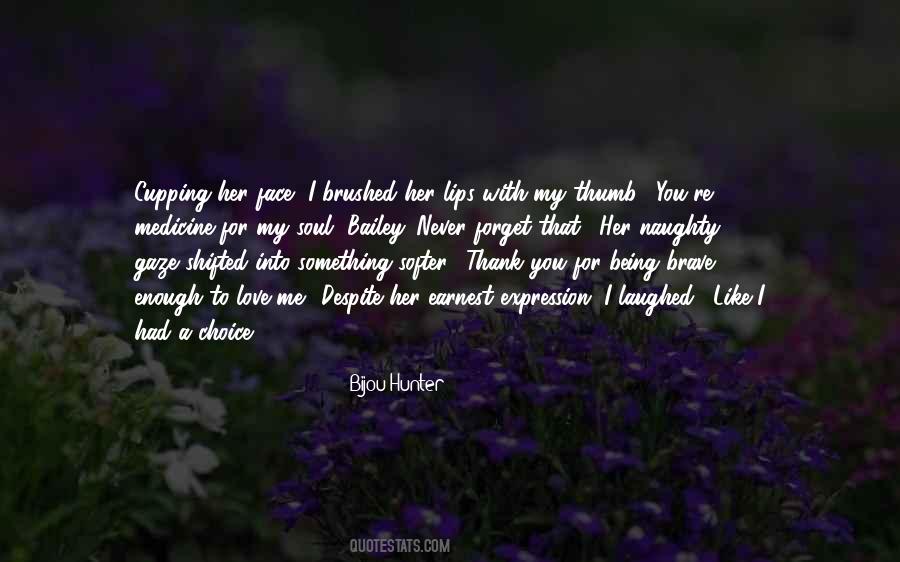 #87. What moves me is watching young men bond together and tap into the magic that arises when they focus with their whole heart and soul on something greater than themselves. Once you've experienced that, it's something you never forget. - Author: Phil Jackson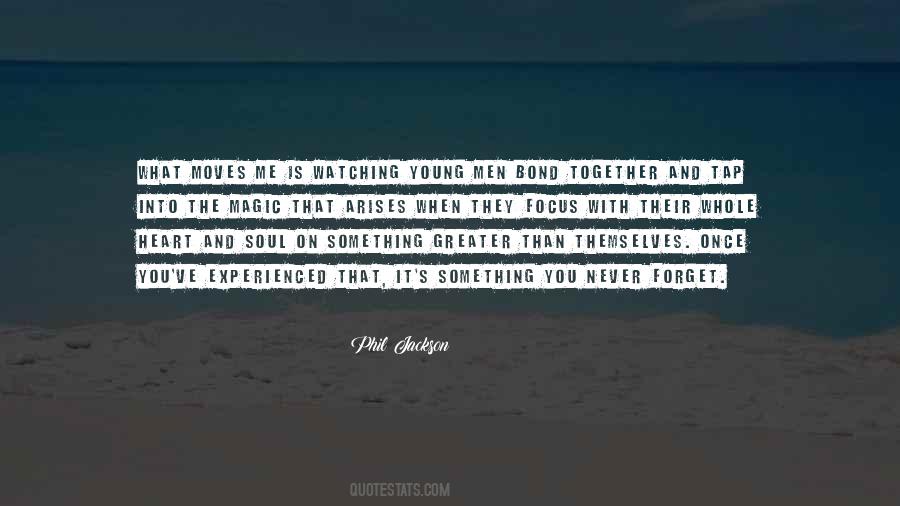 #88. Let's get something straight. I'm supposed to be the bad guy. I will always disappoint you. Your parents will hate me. You should not root for me. I am not your role model. I don't know why everyone seems to forget that. I never do. - Author: Kami Garcia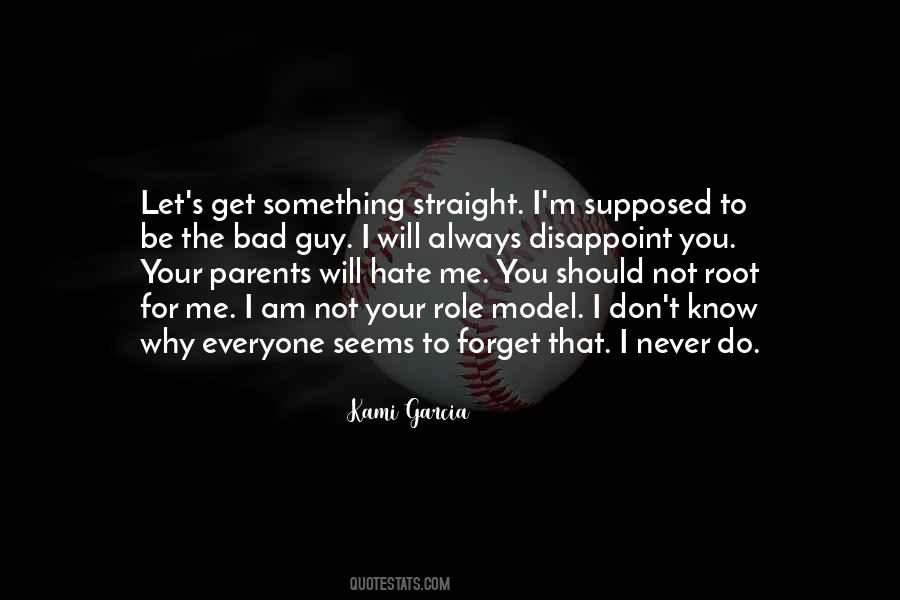 #89. He was the only man I killed with my bare hands, but it affected me all right, that one. You never forget it, never. A memory is lodged in the mind but a feeling inhabits the whole body. And I have carried the feeling of that night with me for the last seven decades. - Author: Denis Avey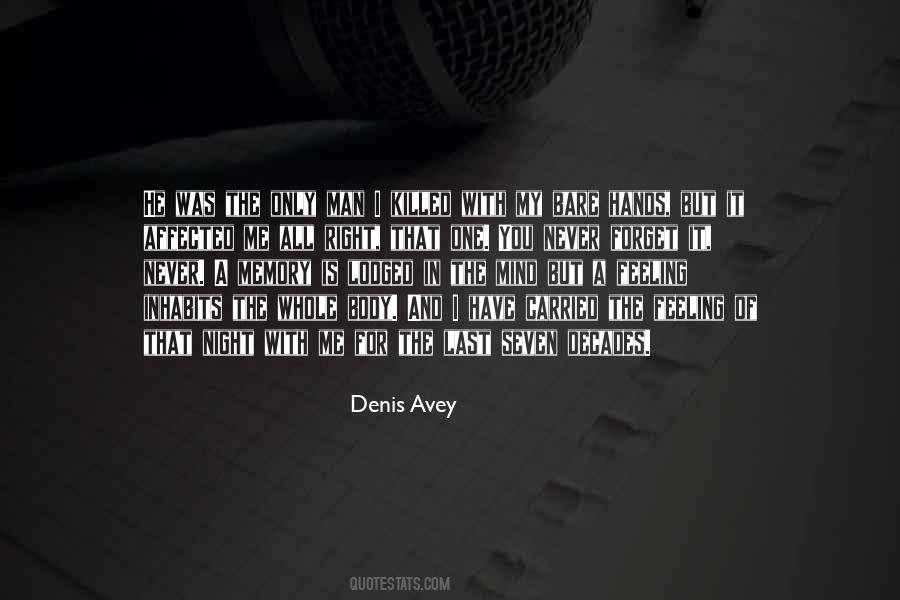 #90. You're mine," I growl, possession crashing through me. "Never forget it, JJ. You've always been mine. - Author: Roxy Sloane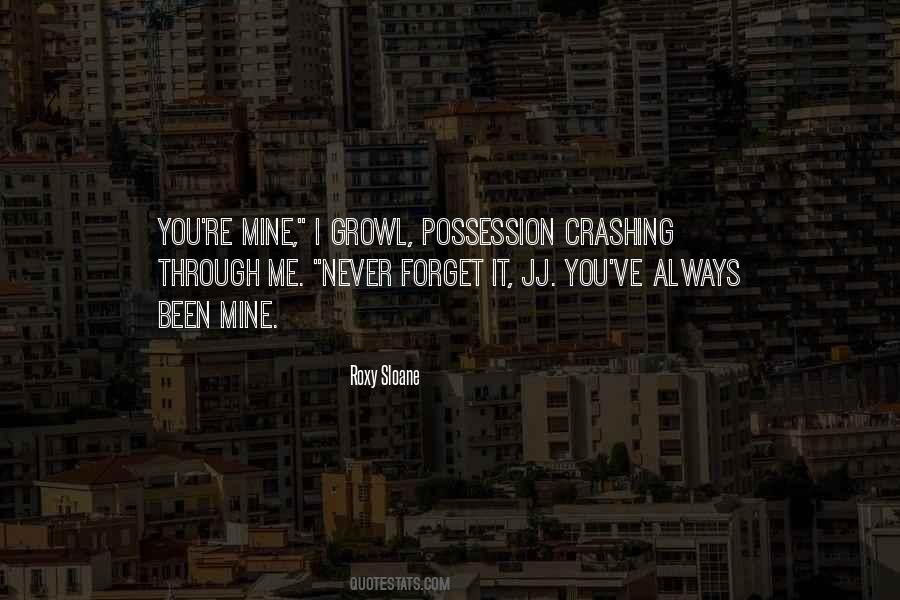 #91. I know what you are known as ... but to me, you will always be Tom Riddle. It is one of the irritating things about old teachers. I am afraid that they never quite forget their charges' youthful beginnings. - Author: J.K. Rowling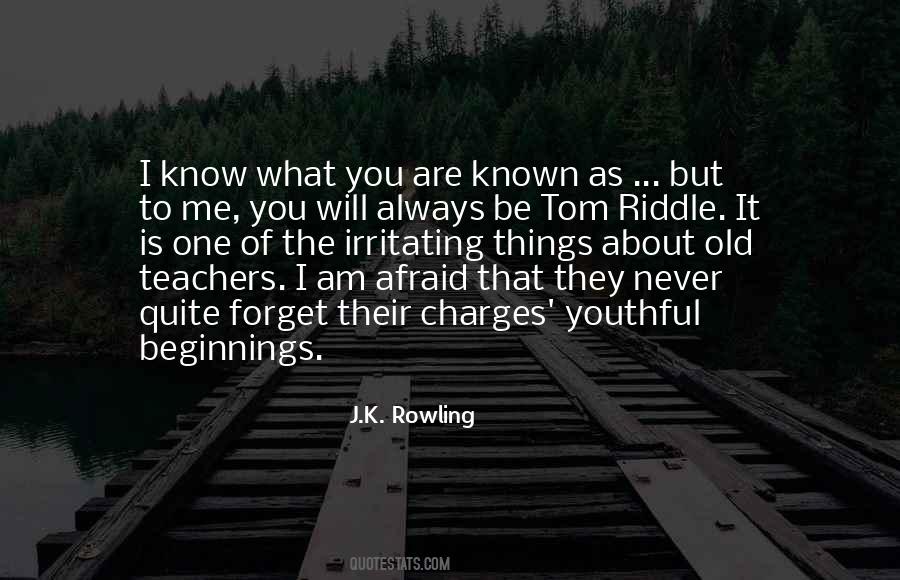 #92. I remember everything about you and I remember all the reasons why I loved you. Never could forget even when I tried."
..
"Who knows, baby? We had all that time together, I coulda got used to it, learned to take it for granted." His arms gave me a squeeze. "Now, that'll never happen - Author: Kristen Ashley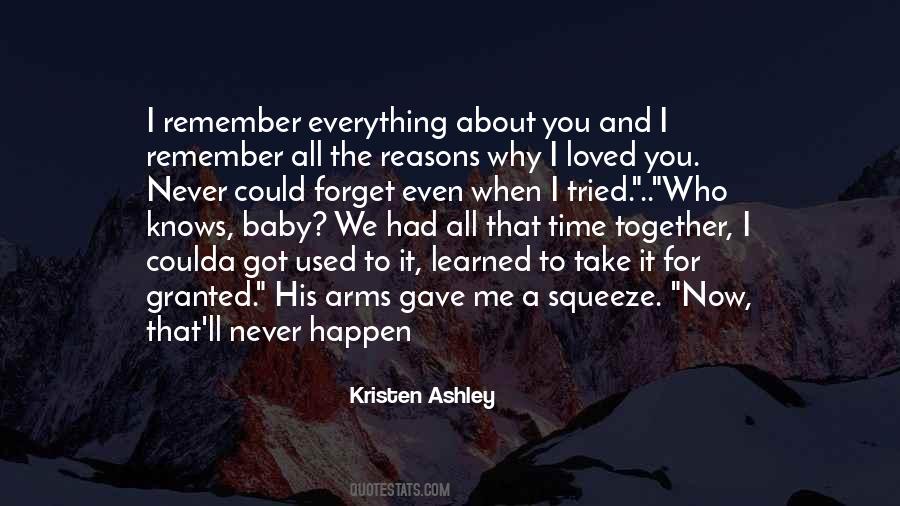 #93. I haven't forgotten what you did for me, River. I'll never forget."
"I'd do it again. A thousand times over. - Author: K.A. Tucker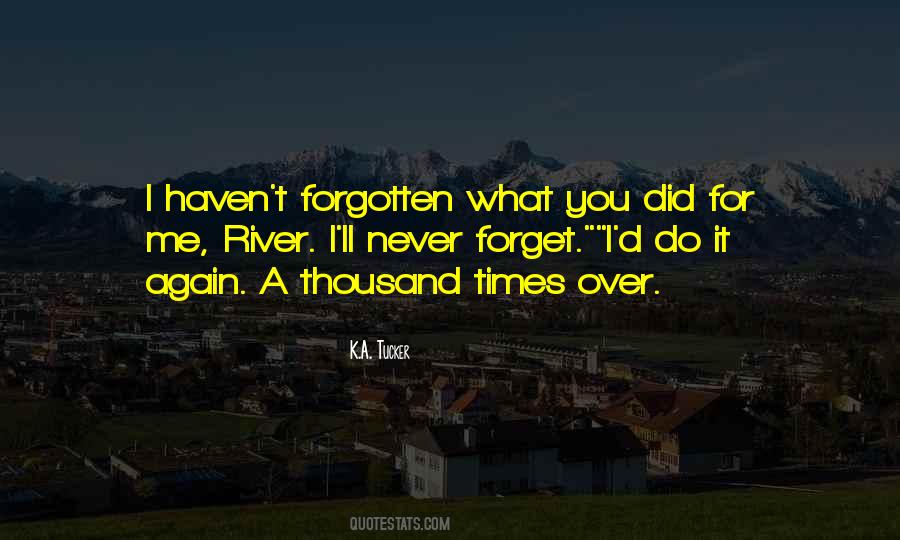 #94. Hollywood does not write parts for people like me, an elderly gentleman, and when they find out you're crippled, forget about it. No, I'll never work again. - Author: Ricardo Montalban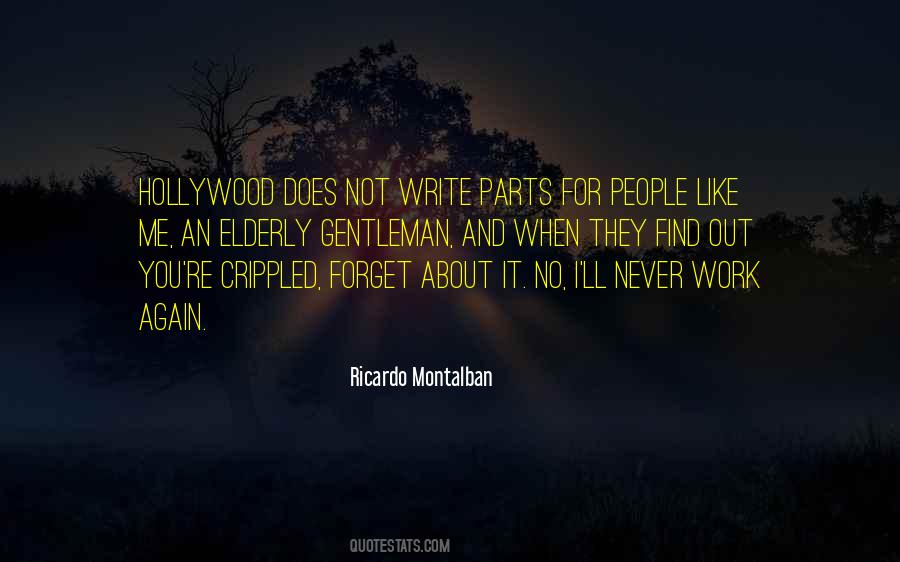 #95. I carried you to the Explorer and you couldn't even hold your head up. You passed out in my lap after you told me there was no one to care if you woke up. I live to be a hundred, mamita, I'll never forget it. Not one fuckin' second of it. - Author: Kristen Ashley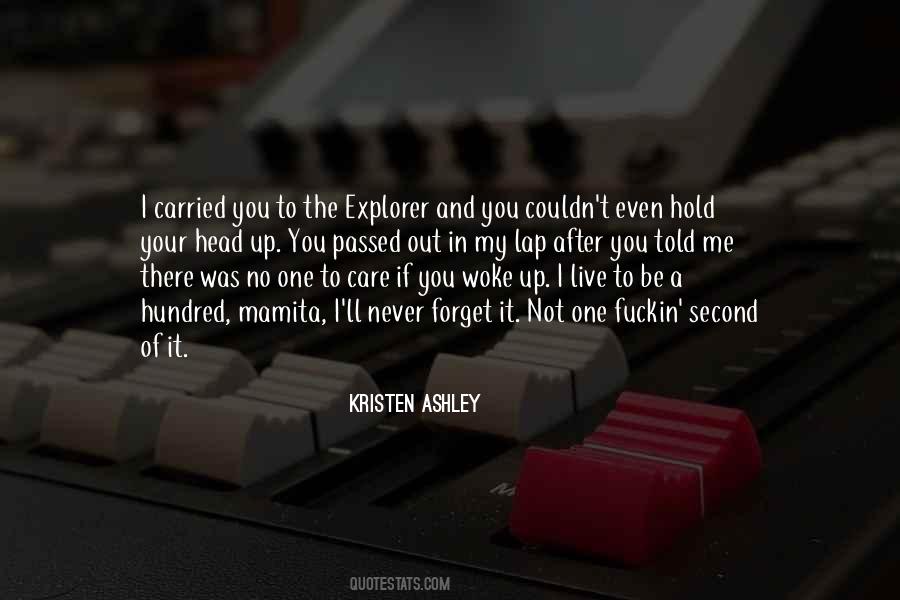 #96. And if anybody asks me is it easy to forget
I'll say it is easily done,
you just pick anyone,
and pretend that you never have met - Author: Bob Dylan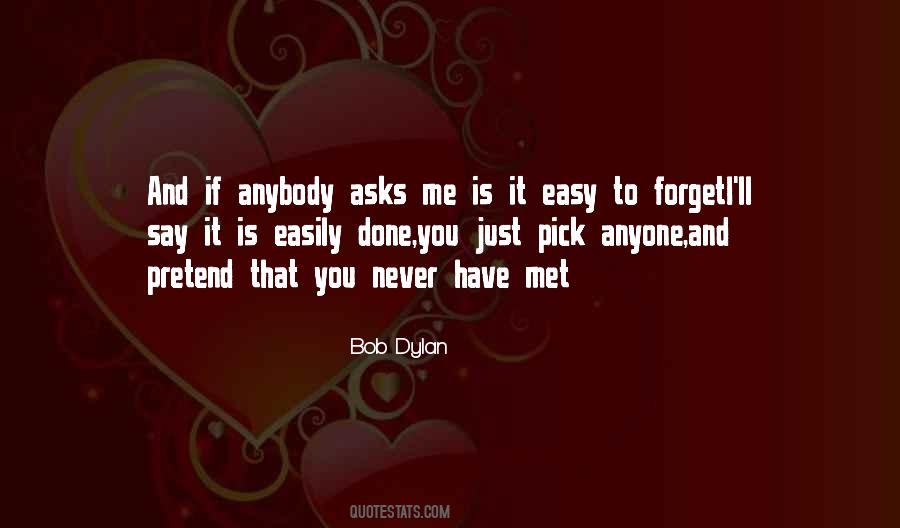 #97. I'll never forget one of those things that my father said to me. My father said: 'You know what? We have had so many amazingly positive experiences that we would have never had because you're famous. We can stand to have a couple negatives ones, too.' - Author: Rob Lowe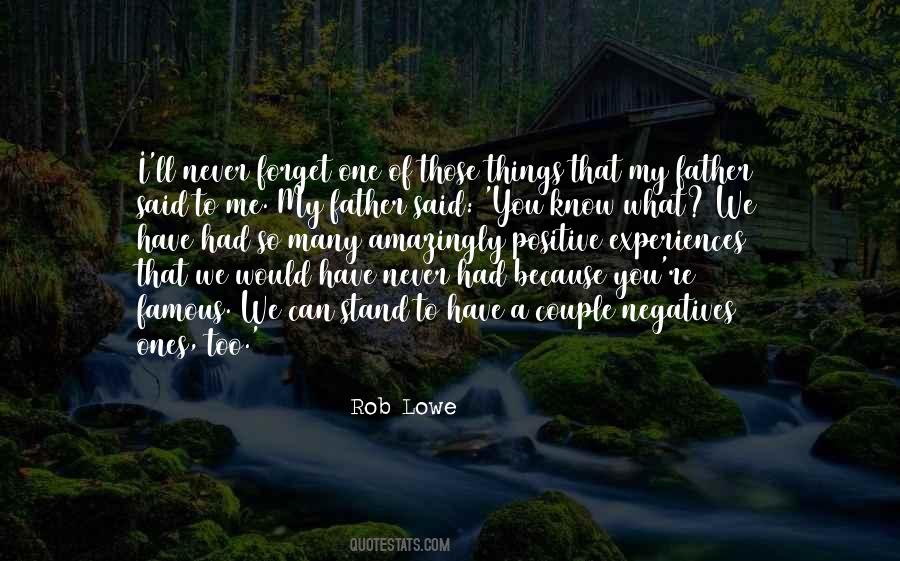 #98. I'm trying to forget just as much as you probably are. Look, I'm not stupid. I know that we can never be the same. But I still wouldn't change anything. It was the plan and it worked. You're not dead and that's worth it to me. Maybe you'll forgive me someday. - Author: James Dashner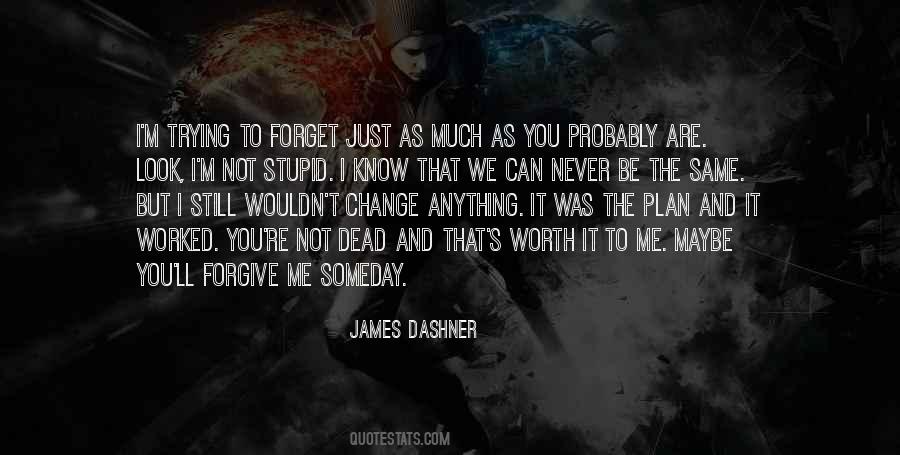 #99. You were the light in my dark world that gave me a path different from the one set by my father. I'll never forget that, and I'll always love you. - Author: Elizabeth Isaacs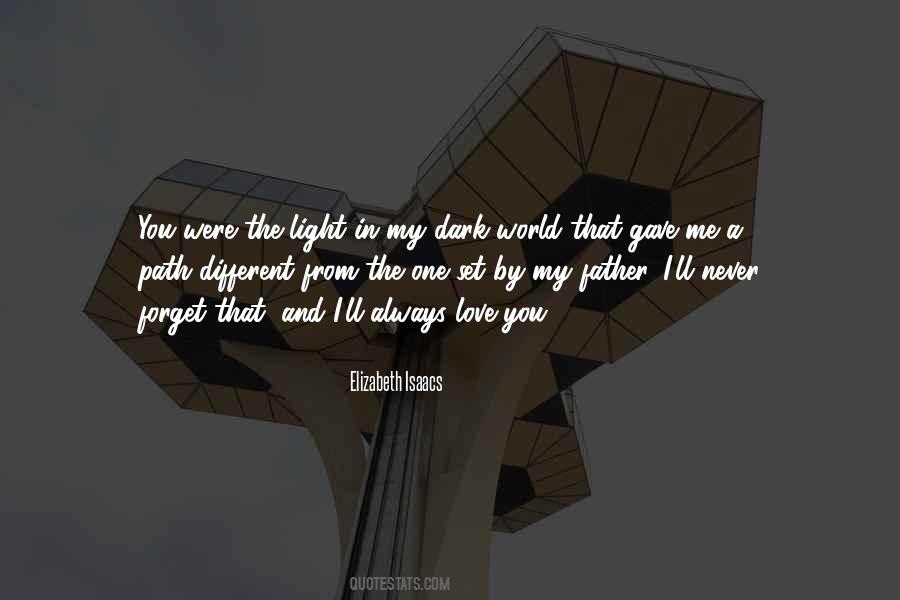 #100. I'll never forget one time a fan came up to me crying, and told me, 'You really inspire me to be me. I feel OK to be myself now.' - Author: Becky G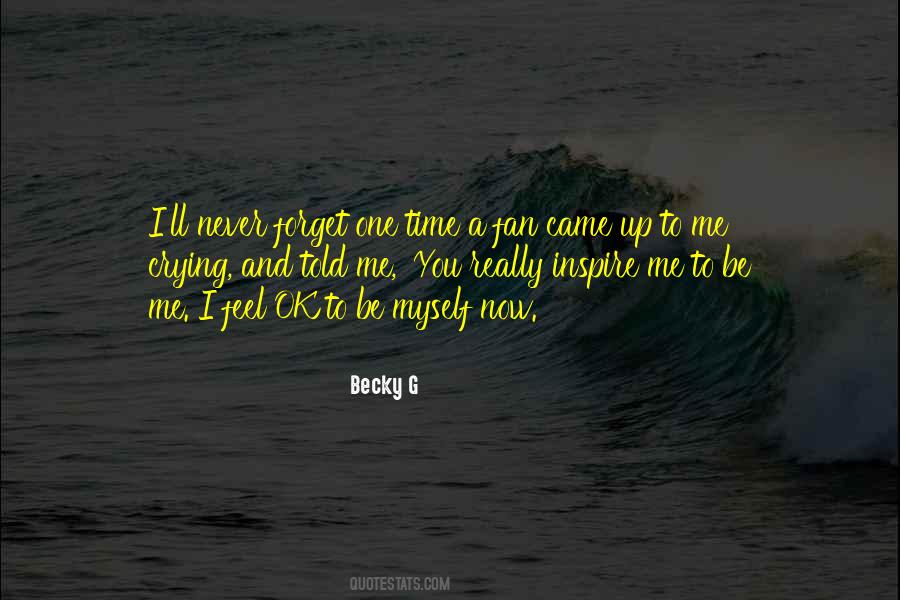 Famous Authors
Popular Topics