World Of Hate Famous Quotes & Sayings
List of top 100 famous quotes and sayings about world of hate to read and share with friends on your Facebook, Twitter, blogs.
Top 100 World Of Hate Quotes
#1. Bush sees the evil as out there in the wider world, residing in people who 'hate freedom'. Look at his immediate response to the pictures of prisoner abuse; this is not what Americans do, these are not our values. - Author: Peter Singer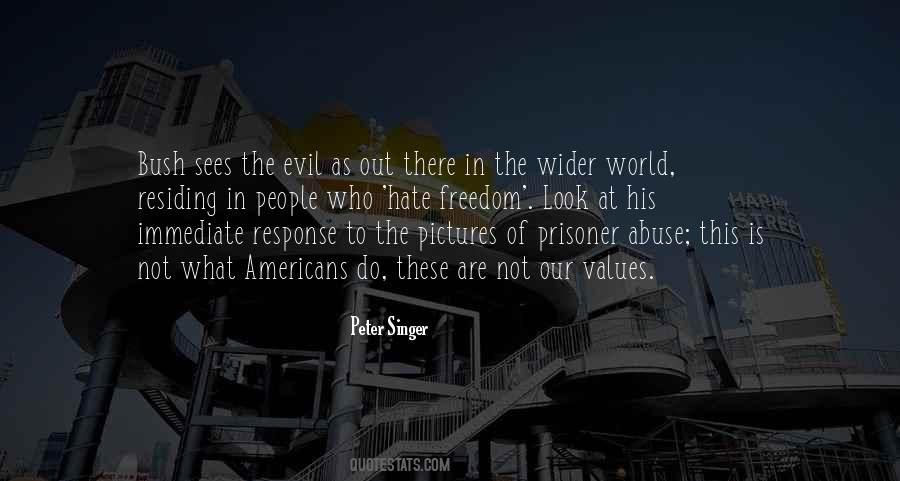 #2. And finally - he was neither able nor willing to prevent it - the self-loathing dammed up inside him spilled over and gushed out, gushed out of glaring eyes that grew ever grimmer, angrier, beneath the rim of his cap, flooding the outside world as perfect, vulgar hate. - Author: Patrick Suskind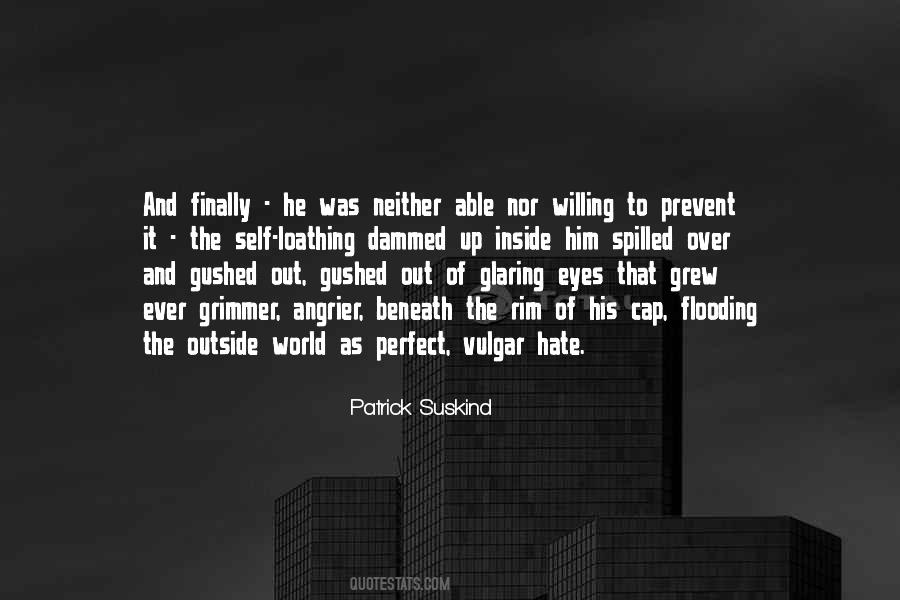 #3. I hate seeing fat girls on TV or in movies, because the only way the world seems to be okay with putting a fat person on camera is if they're miserable with themselves or if they're the jolly best friend. Well, I'm neither of those things. - Author: Julie Murphy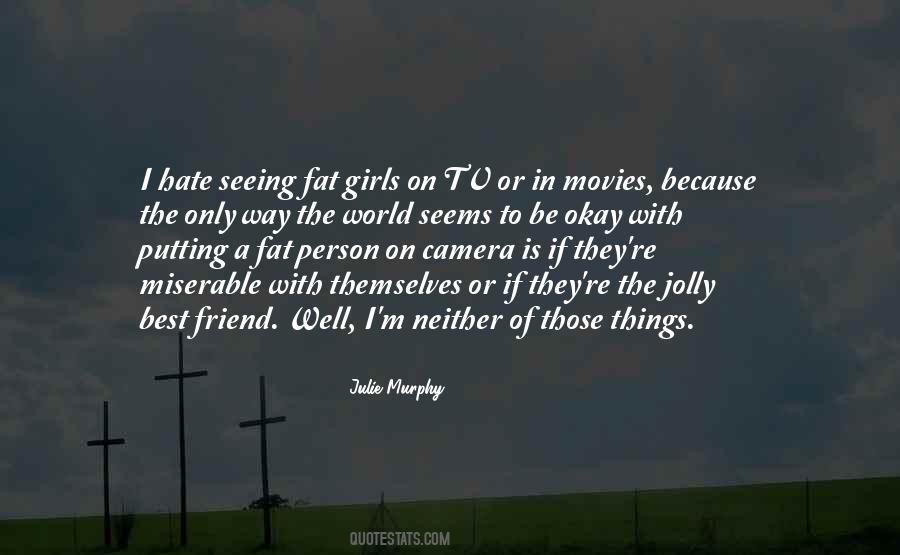 #4. He thinks men like me weak. He thinks me dumb, feeble, subhuman. I was not raised in palaces. I did not ride horses through meadows and eat meals of hummingbird tongues. I was forged in the bowels of this hard world. Sharpened by hate. Strengthened by love. He is wrong. None of them will survive. - Author: Pierce Brown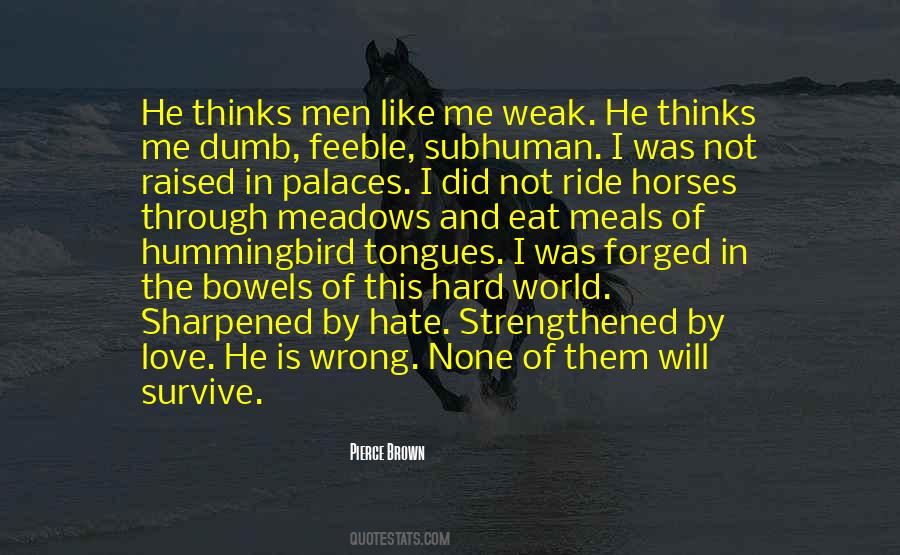 #5. I could deal with hate and fear, but for the love of all that's right in the world, don't fake like me. Life was too short to waste energy faking anything. - Author: Donna Augustine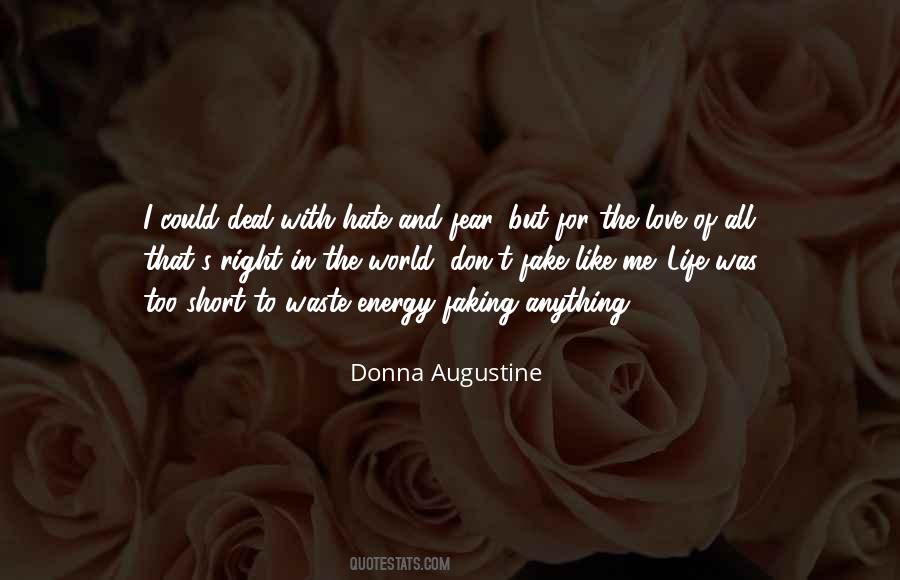 #6. I enjoy being Jewish, but I'm an atheist ... I hate fundamentalism in all its forms. Jews, Catholics, Baptists, I think they are all potty and capable of destroying the world. - Author: Warren Mitchell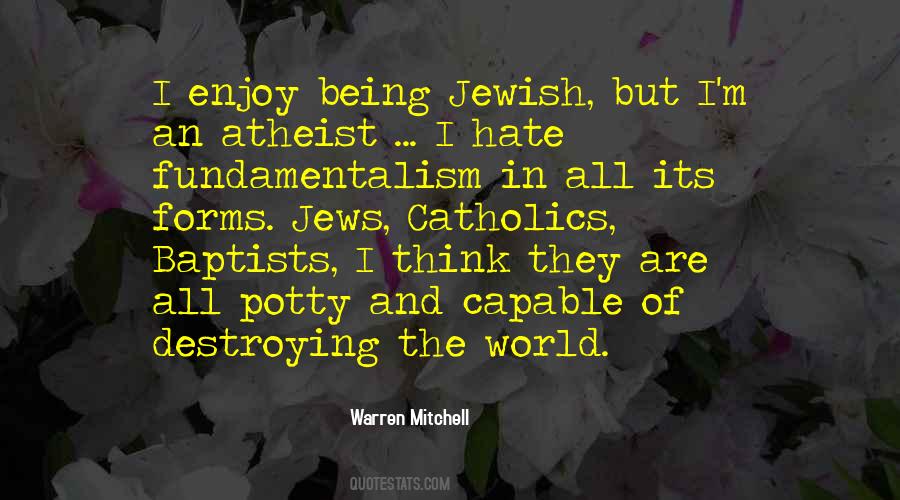 #7. I choose to surround myself with happy human beings. I went through the angsty period. I think every single person does. I think it's a rite of passage to hate the world and feel like the victim. - Author: Shailene Woodley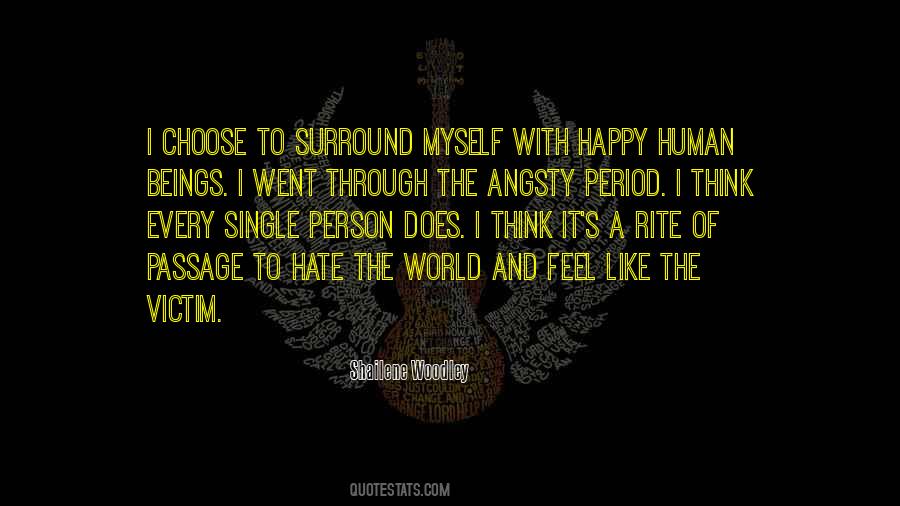 #8. I hate it because of the monstrous injustice of slavery itself. I hate it because it deprives our republican example of its just influence in the world. - Author: Abraham Lincoln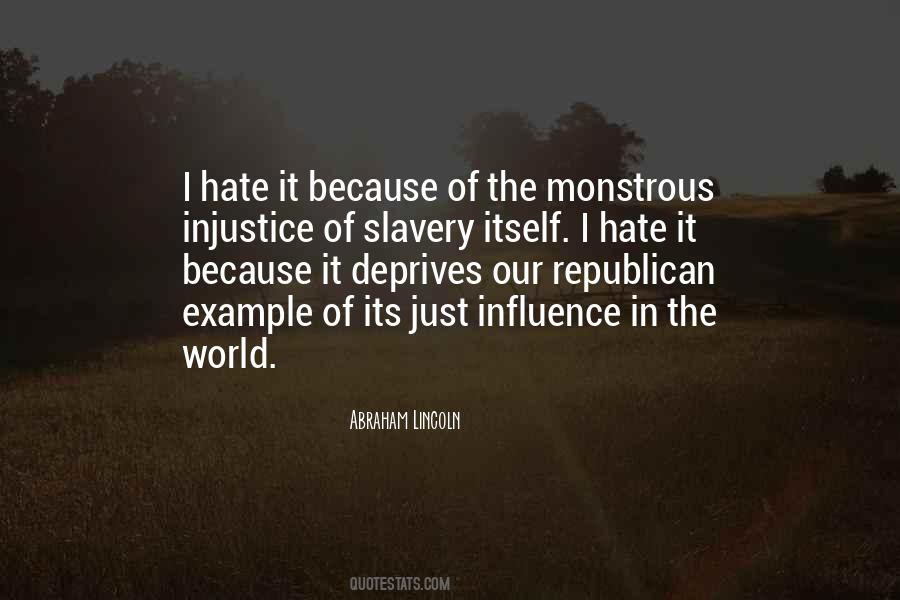 #9. The most useless job in the world is that of the critic. That is a prejudiced statement. I admit it. I'm prejudiced. I hate critics ... And now, as the saying goes (yesterday, I couldn't even spell critik), and now I are one. - Author: David Gerrold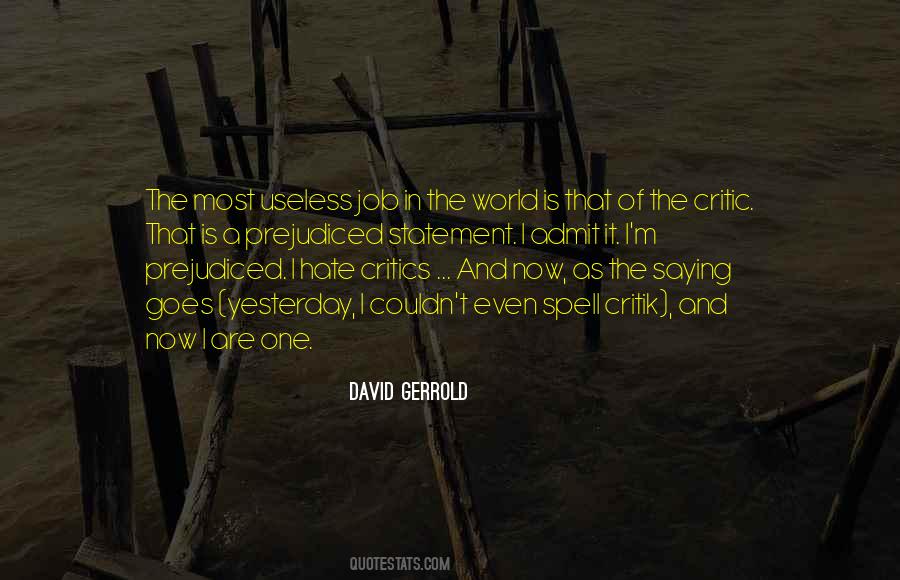 #10. We are the new "barbarians", forged in iron hardness in the fires of their hate and persecution. All over the world, we wait to pounce ... - Author: George Lincoln Rockwell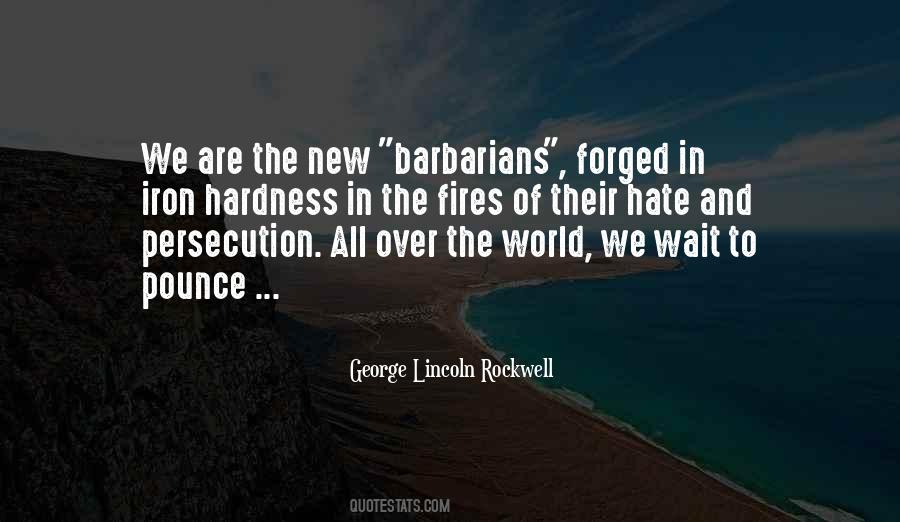 #11. We think the whole world's going to change, and forget that human beings are still human beings; we have the same five senses, we still interact the same way, we still love and hate the same way, but marketers lose track of that. But then it comes down to earth. - Author: Michael K. Powell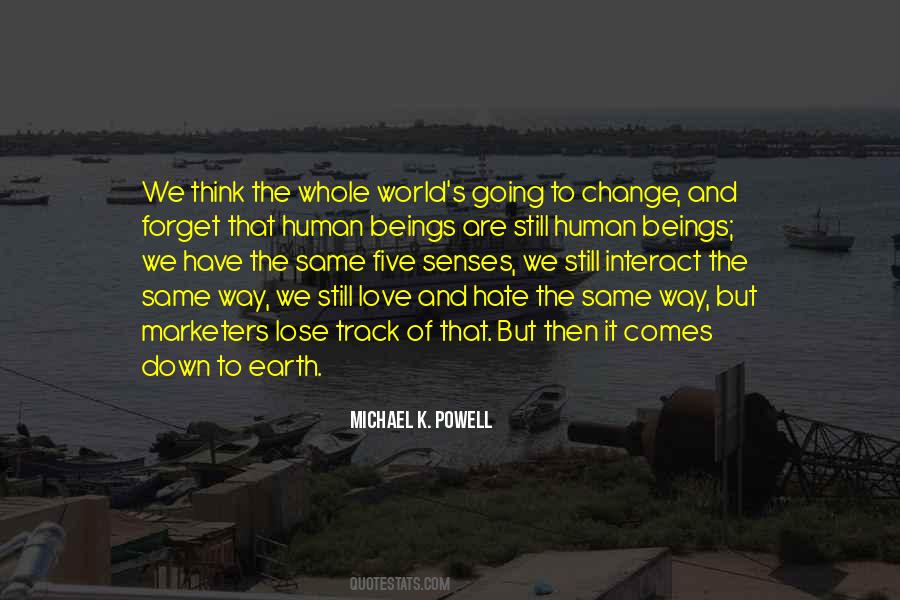 #12. I hate the very noise of troublous man
Who did and does me all the harm he can.
Free from the world I would a prisoner be
And my own shadow all my company. - Author: John Clare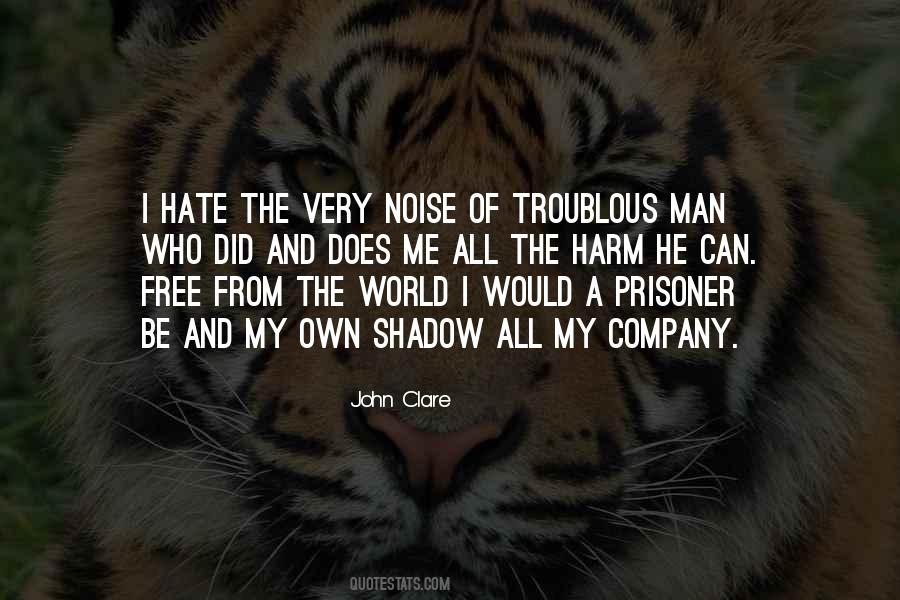 #13. I hate the sound of the world outside. Because everybody here can't wait to come and say goodbye ... - Author: Dulara Perera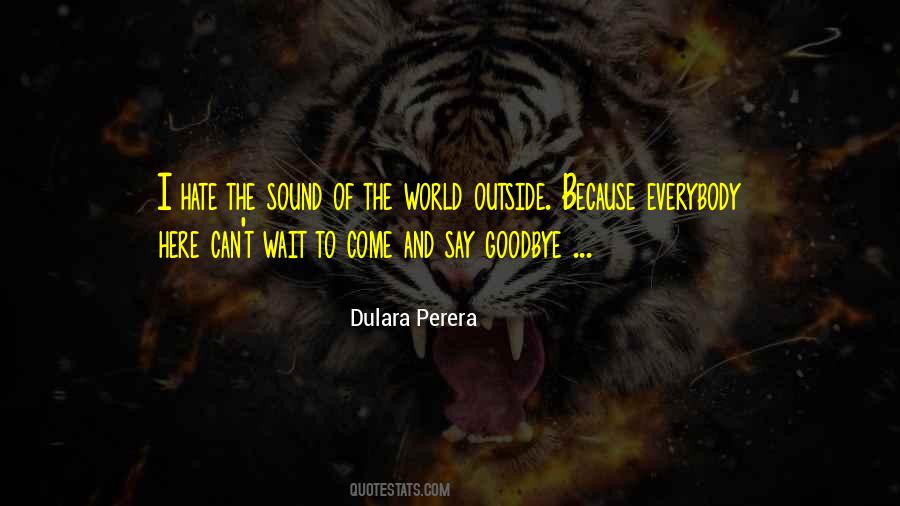 #14. When you think of the number of men in the world who hate each other, why, when two men love each other, does the church split? - Author: Tony Benn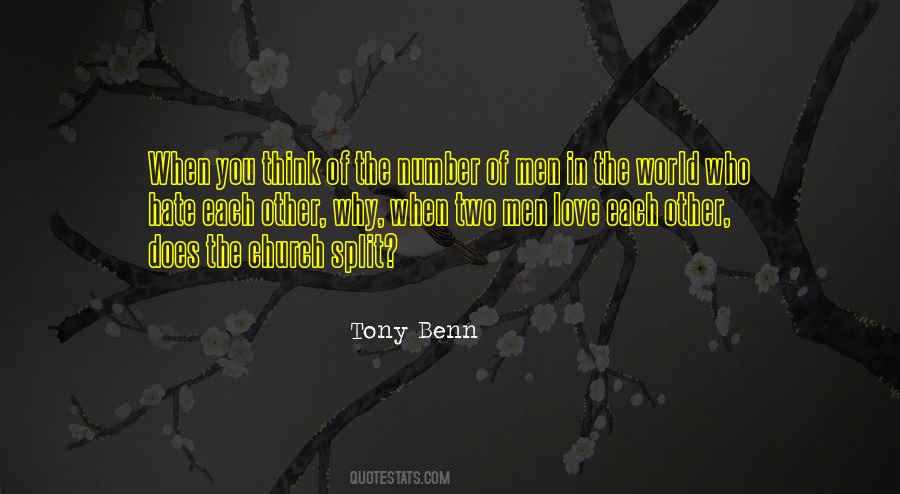 #15. Some say the world will end in fire,
Some say in ice.
From what I've tasted of desire,
I hold with those who favor fire.
But if it had to perish twice
I think I know enough of hate
To say that for destruction ice
Is also great
And would suffice. - Author: Robert Frost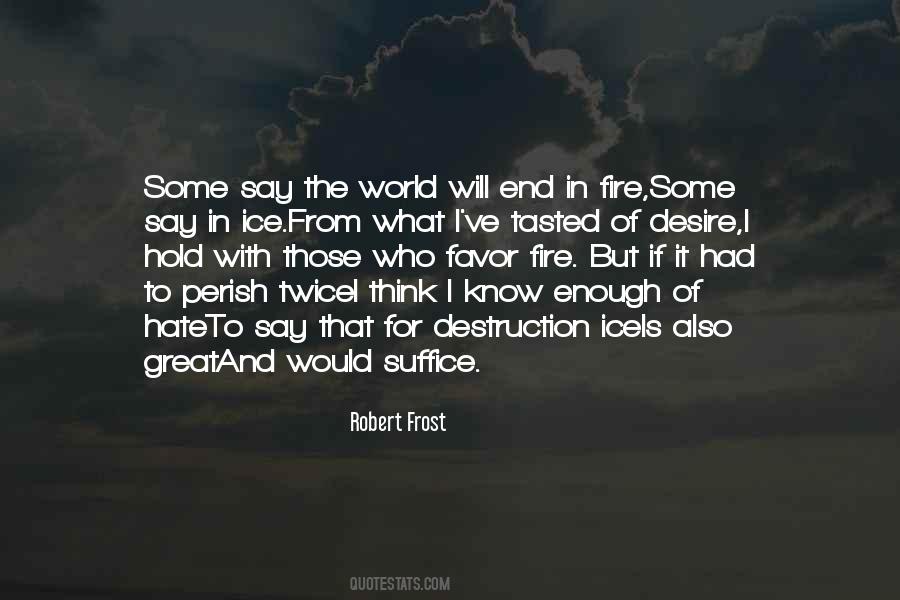 #16. I seem to be the only person in the world who doesn't mind being pitied. If you love me, pity me. The human state is pitiable: born to die, capable of so much, accomplishing so little; killing instead of creating, destroying instead of building, hating instead of loving. Pitiful, pitiful. - Author: Jessamyn West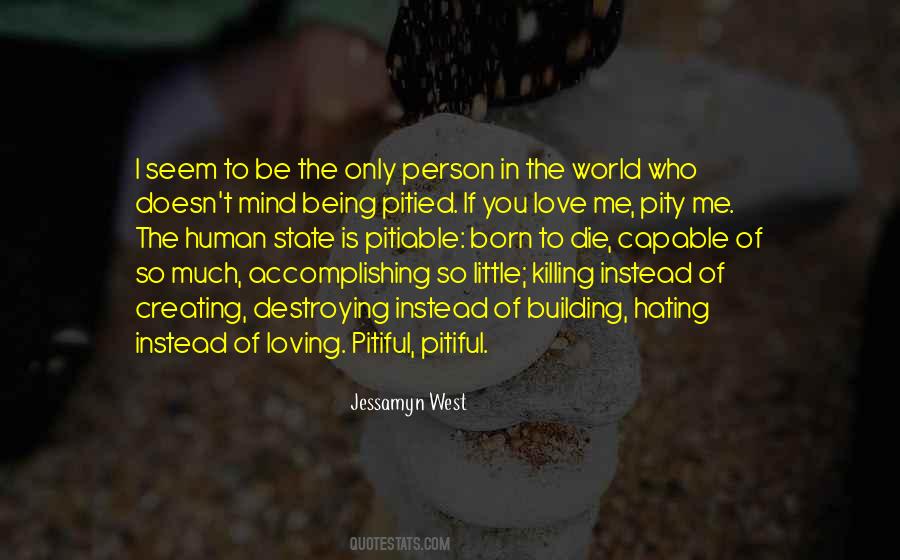 #17. We were alone and starved for love. Kids that lived in a world full of hate. - Author: Masashi Kishimoto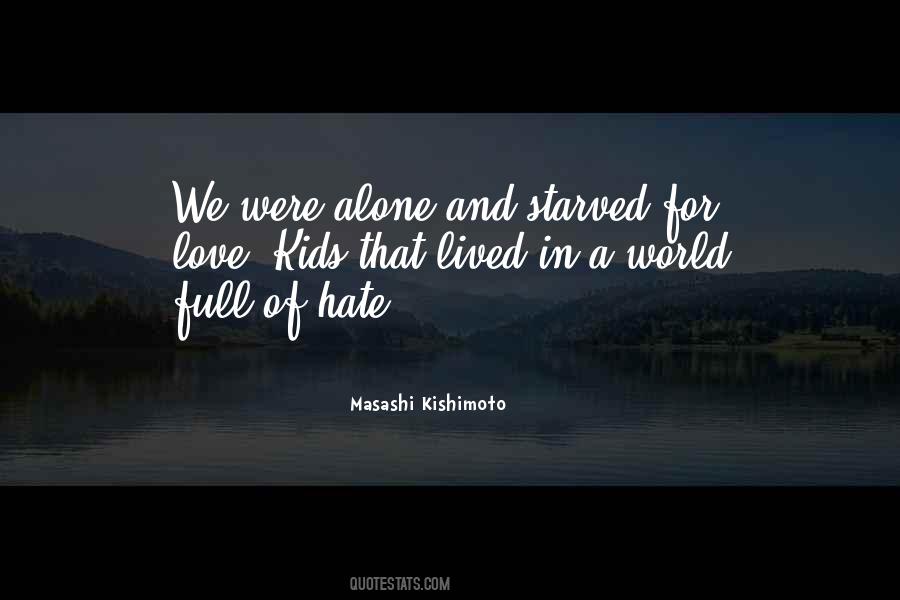 #18. MEANEY: Do you ever miss having that being-out-in-the-world job environment? ELLIS: God, no. Have you ever been out in the world? It's full of fucking people. If there's one thing I hate, it's people. - Author: Patrick Meaney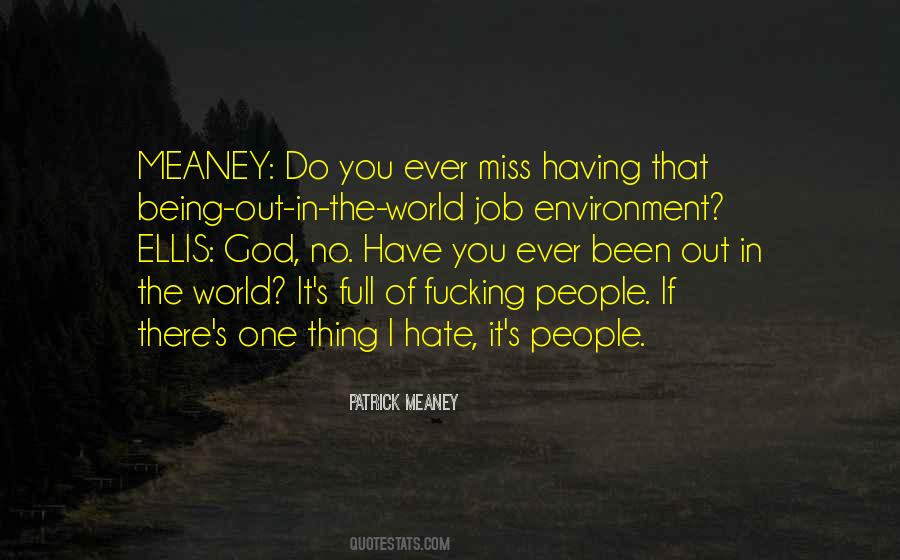 #19. Modern civilisation is complicated and artificial. Simple folk live in a world of love and peace. Let no one hate another or harm another. - Author: Sivananda Saraswati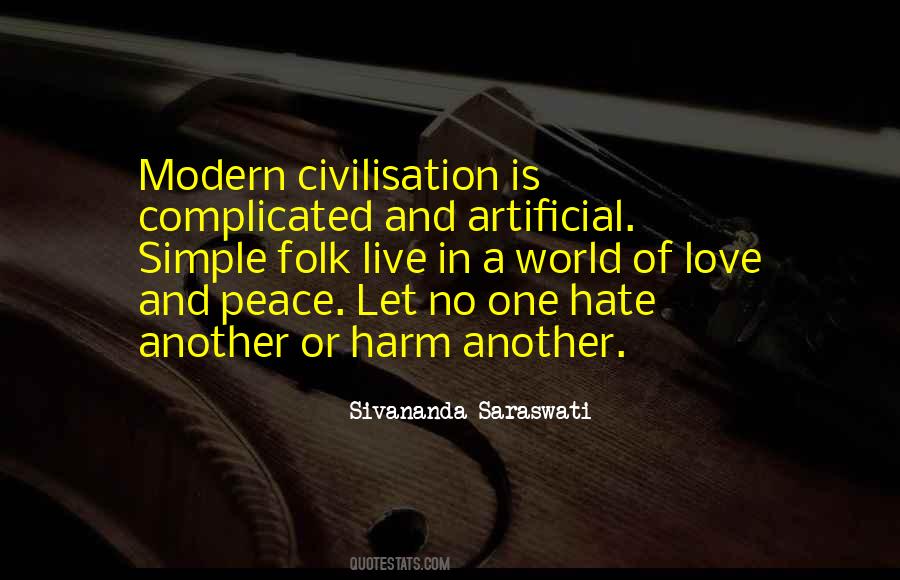 #20. Just by living, people hurt others without even realizing it. So long as humanity exists, hate will also exist. There is no peace in this cursed world. War is just a crime paid for by the pain of the defeated... - Author: Masashi Kishimoto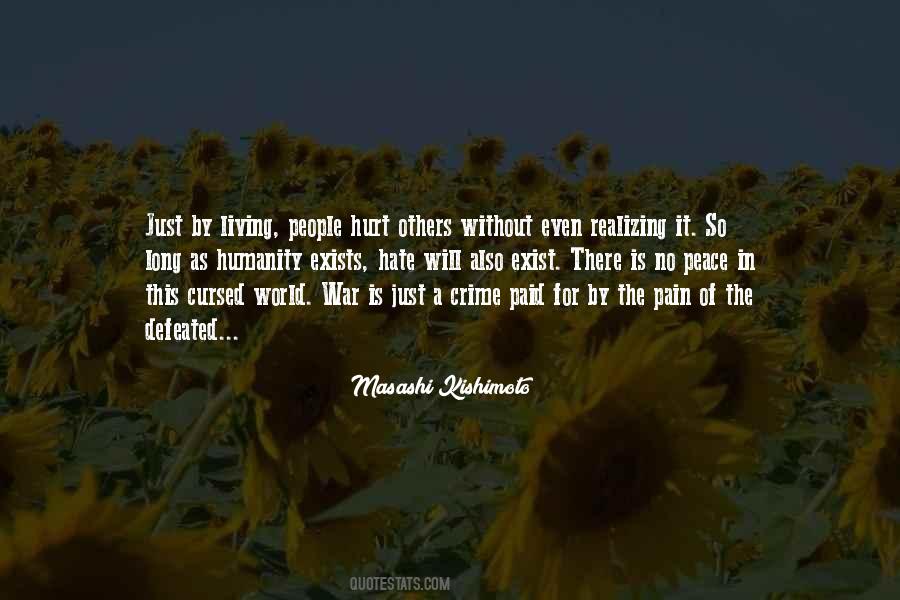 #21. Plenty of people detested Michael Jackson before his death wiped away the world's collective memory. Timberlake was originally dismissed as just another boy-bander. Legions have joined in a 'Hate Anne Hathaway' movement. Elvis, the Rolling Stones, Kristen Bell, even Mozart had haters. - Author: Kurt Eichenwald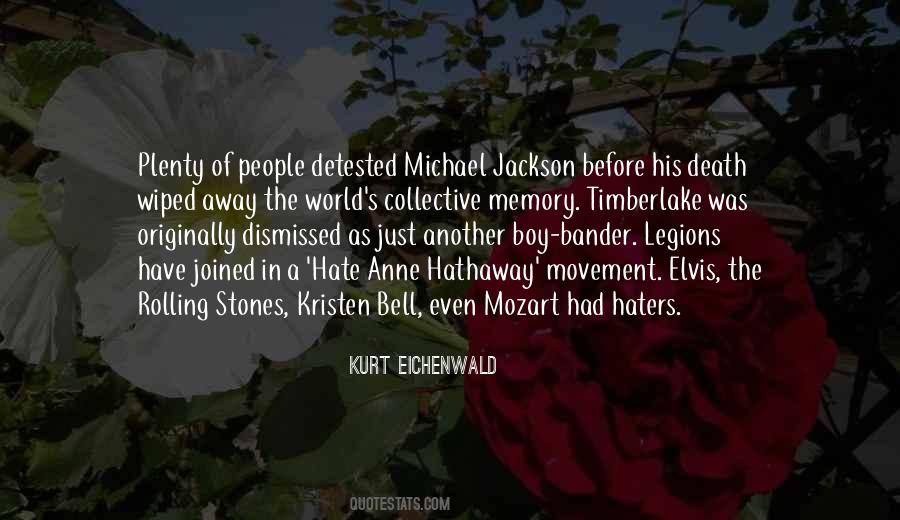 #22. Hate, it has caused a lot of problems in the world, but has not solved one yet. - Author: Maya Angelou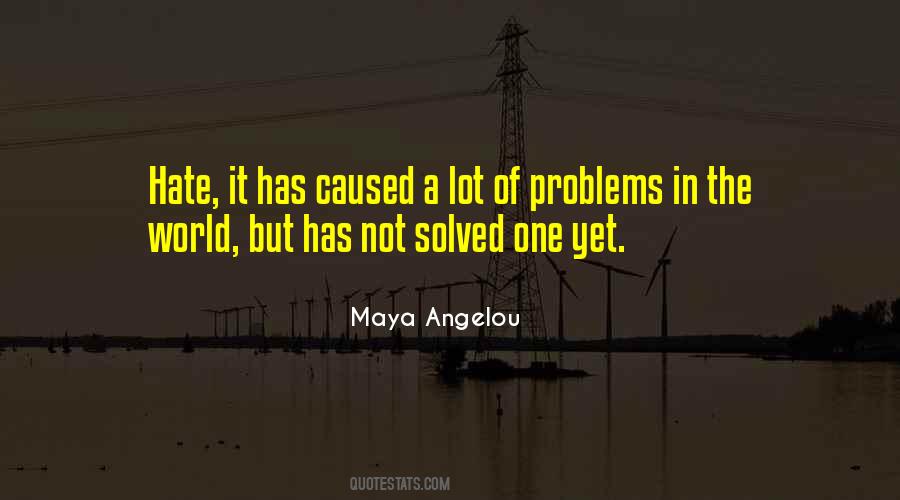 #23. Hate is just a form of criticism. You can never truly grow as a person until you've taken everything the world can throw at you. Sometimes you just have to let it hit you and move on - Author: John O'Callaghan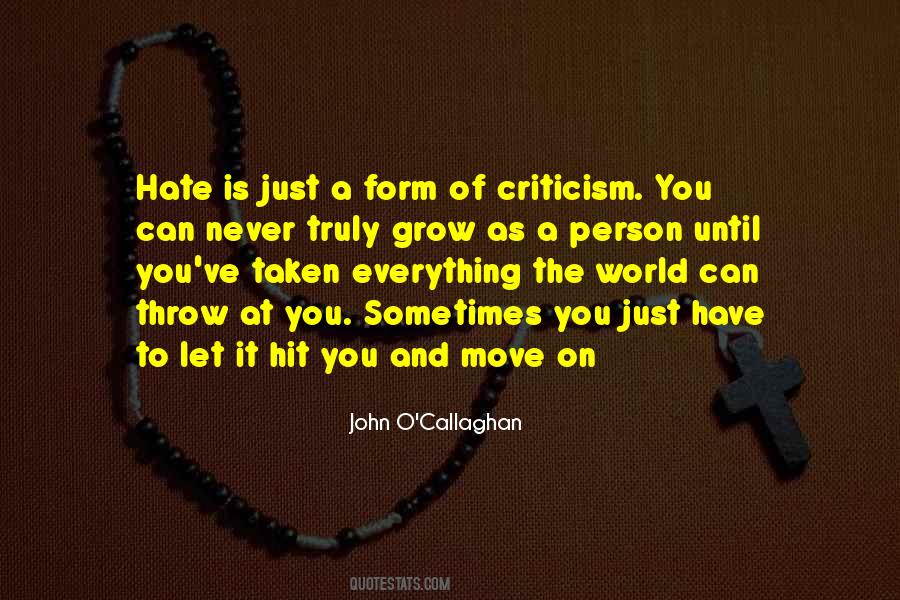 #24. In this world of hate there has to be a light Be that light and spread some love Maybe this day the youth can make a difference, No more hate! - Author: Christofer Drew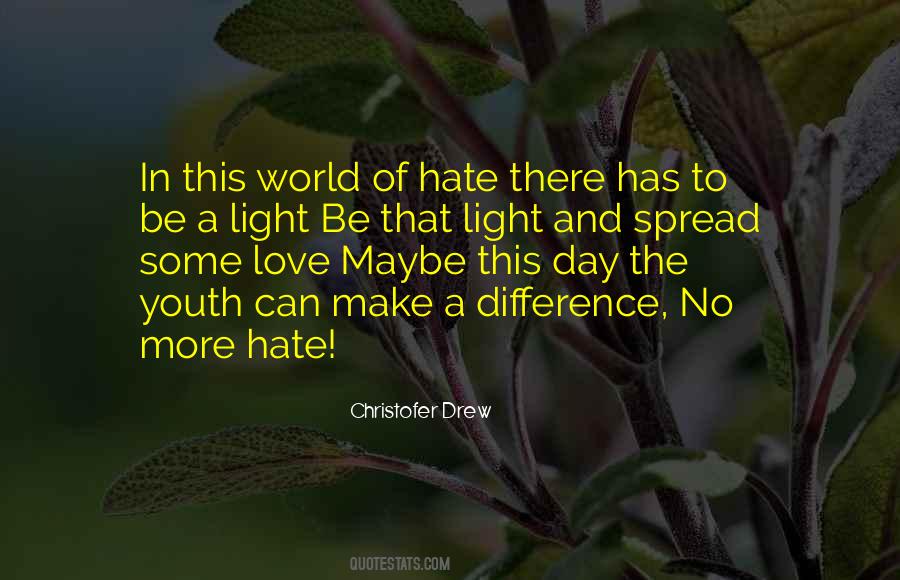 #25. Let us make this world a house of love and peace.
Let us forget and forgive all hate and prejudice.
Let us break all the walls of pride and prejudice.
Let us open our door to welcome joy and peace. - Author: Debasish Mridha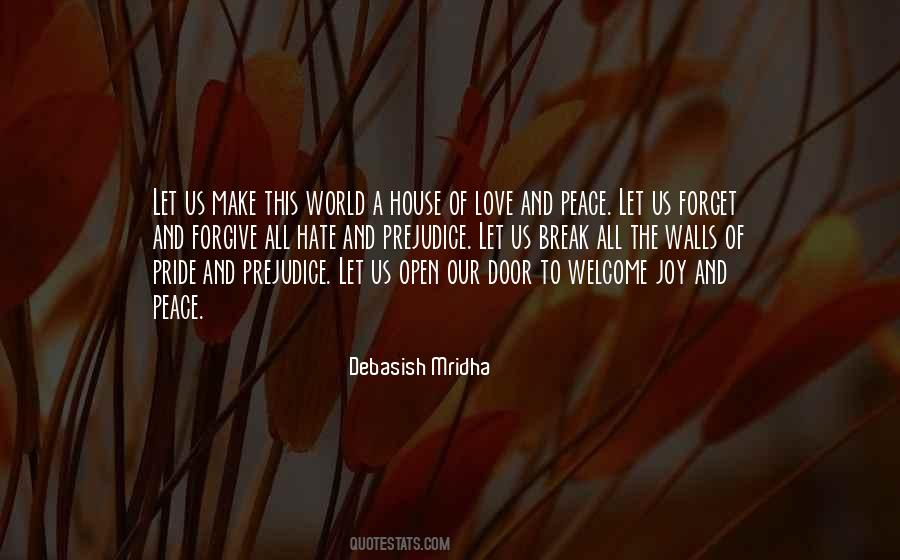 #26. Of all the preaching in the world, I hate that preaching which tends to make the hearers laugh, or to move their minds with tickling levity and affect them as stage plays used to, instead of affecting them with a holy reverence for the name of God. - Author: Richard Baxter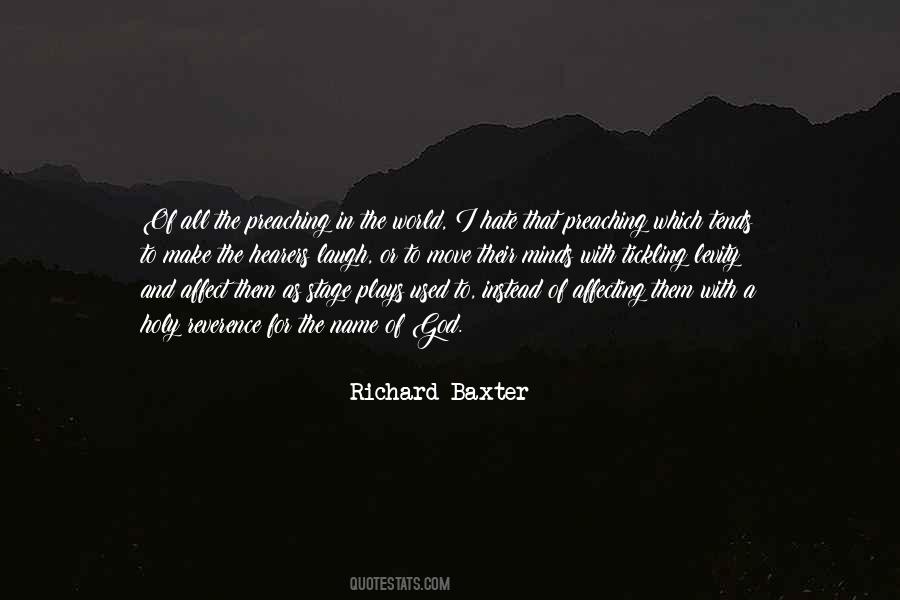 #27. But my dad said it was no excuse.
"But I love him!" I had never seen my sister cry that much.
"No, you don't."
"I hate you!"
"No, you don't." My dad can be very calm sometimes.
"He's my whole world."
"Don't ever say that about anyone again. Not even me." That was my mom. - Author: Stephen Chbosky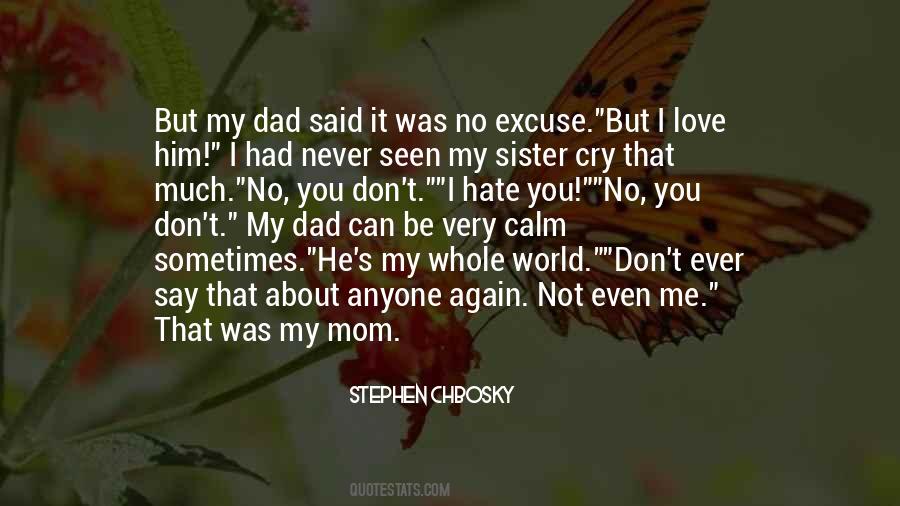 #28. It goes on, he thought. The internecine hate. Perhaps the seeds are there, in that. They will eat one another at last, and leave the rest of us here and there in the world, still alive. Still enough of us once more to build and hope and make a few simple plans. - Author: Philip K. Dick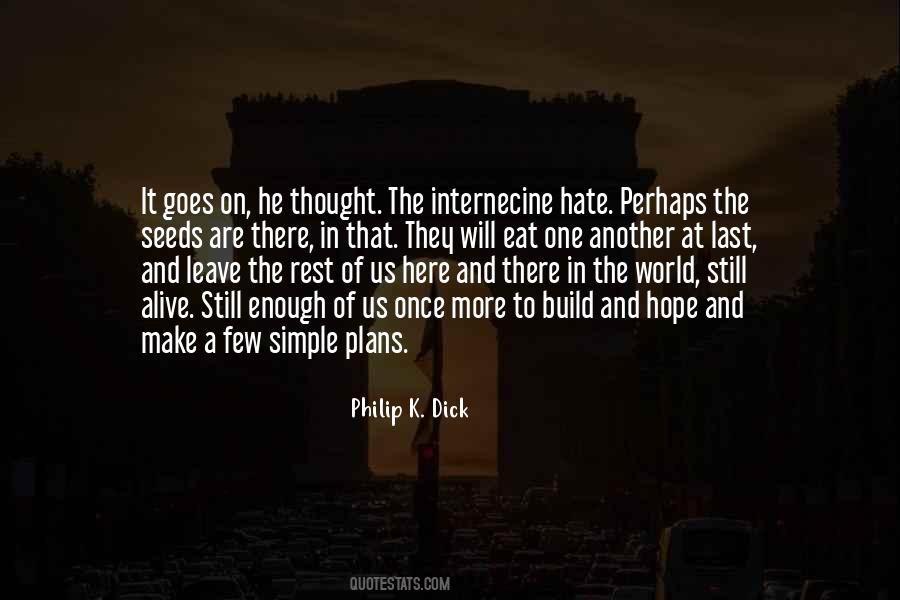 #29. We can react with bitterness and hate God, as some do, or we can accept suffering as a natural part of life and a condition that comes with living in this world. We cannot avoid suffering, but we can determine our response to it. - Author: Billy Graham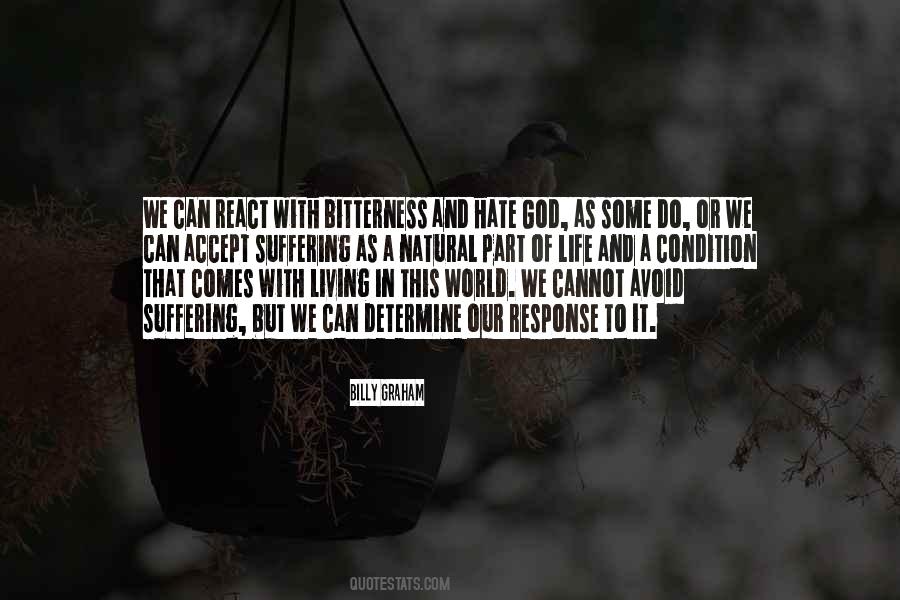 #30. I'd hate for you to waste away into nothing. It'd be a shame to lose the most beautiful woman in the world so soon into her immortal, wicked life. - Author: Sarah J. Maas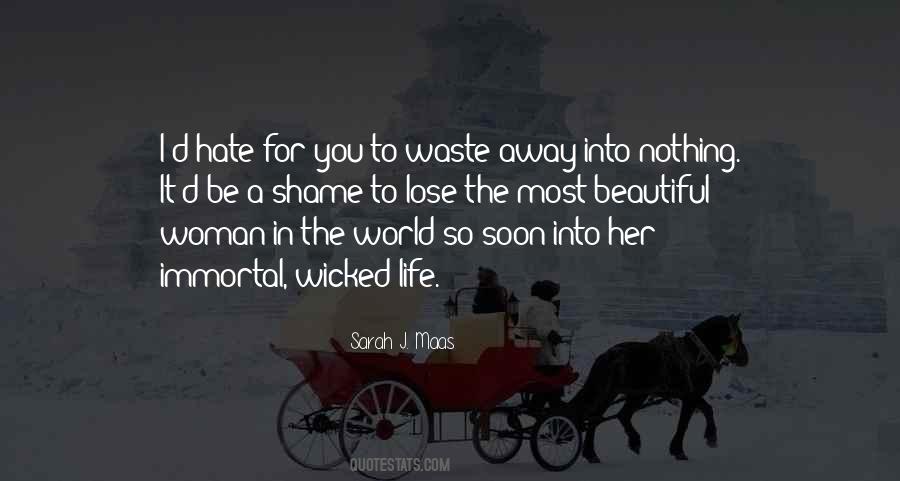 #31. I didn't have the luxury of taking reality for granted. And I wouldn't say I hated people who did, because that's just about everyone. I didn't hate them. They didn't live in my world.

But that never stopped me from wishing I lived in theirs. - Author: Francesca Zappia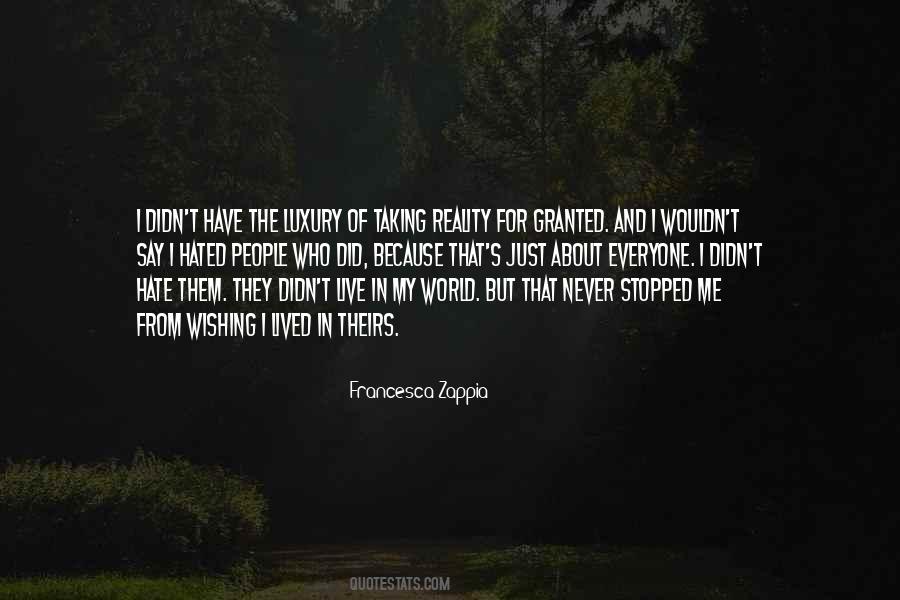 #32. I've done a pretty good job of curating a Twitter feed that doesn't make me hate the world. - Author: Timothy Simons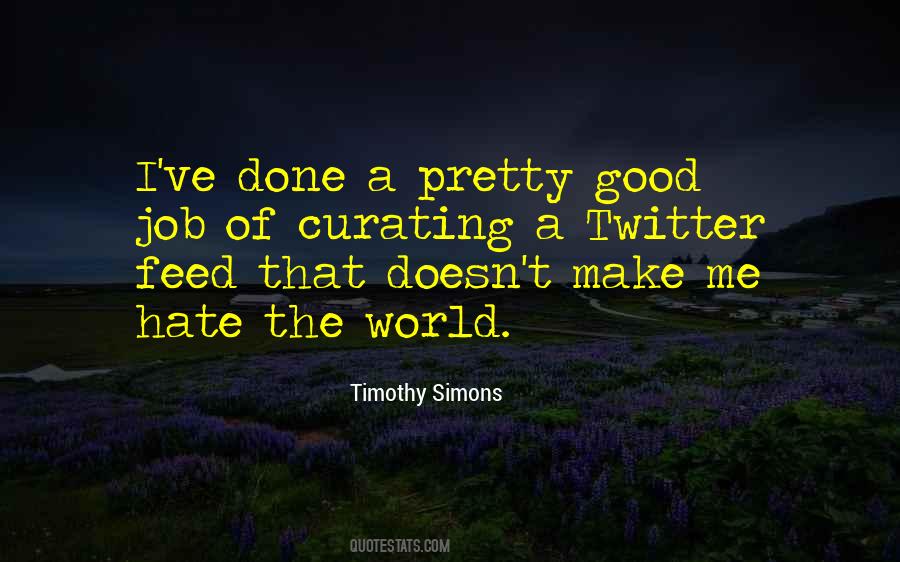 #33. You behave like an unknown stranger to the loved ones and to the outer world, you portray to be the nicest-bestest-calmest-well-behaved-EST , This-EST and That-EST..
Yes, You're earning the appreciation of others but how much your near and dear ones hate you.. you cannot count,my dear! - Author: Himmilicious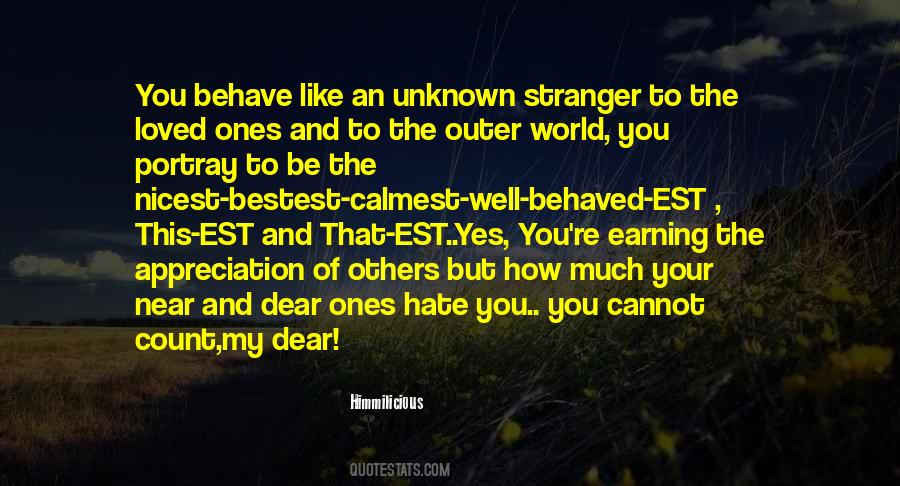 #34. Democrats hate America being a world power because world power gives power to the nation instead of to Democrats. - Author: P. J. O'Rourke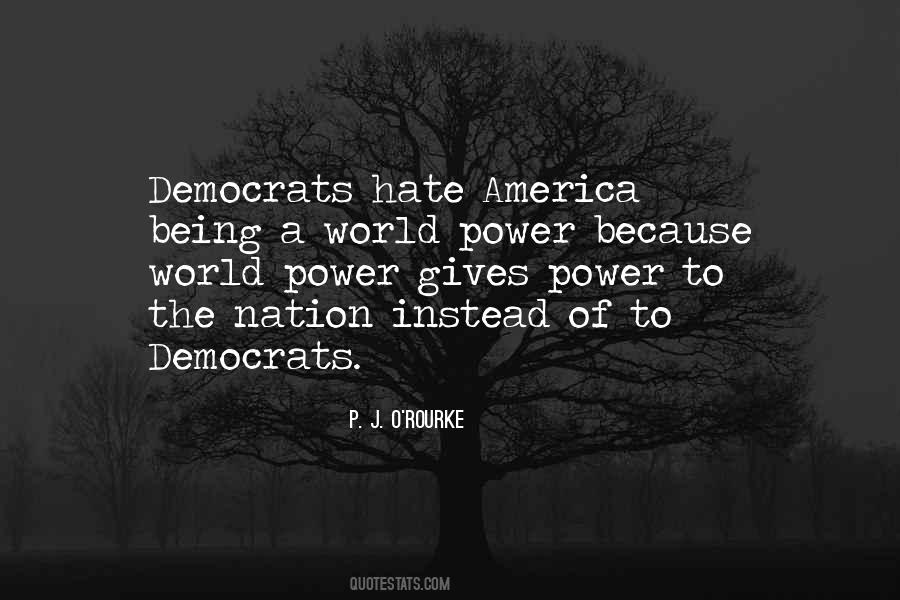 #35. What we need is not the cold acceptance of the world as a compromise,
but some way in which we can heartily hate and heartily love it.
We do not want joy and anger to neutralize each other and produce a
surly contentment; we want a fiercer delight and a fiercer discontent - Author: G.K. Chesterton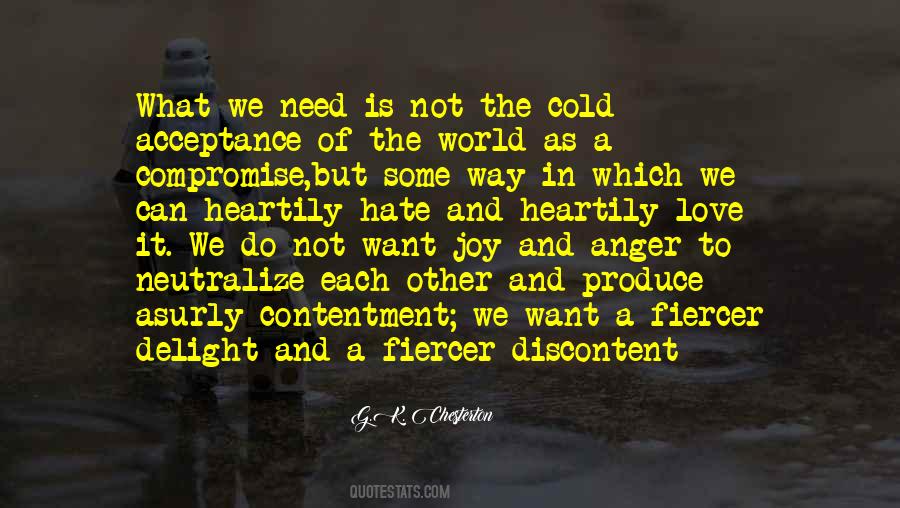 #36. We live in a world of guns, bombs and terror. To conquer hate seems a nigh-impossible task. - Author: Theodore Bikel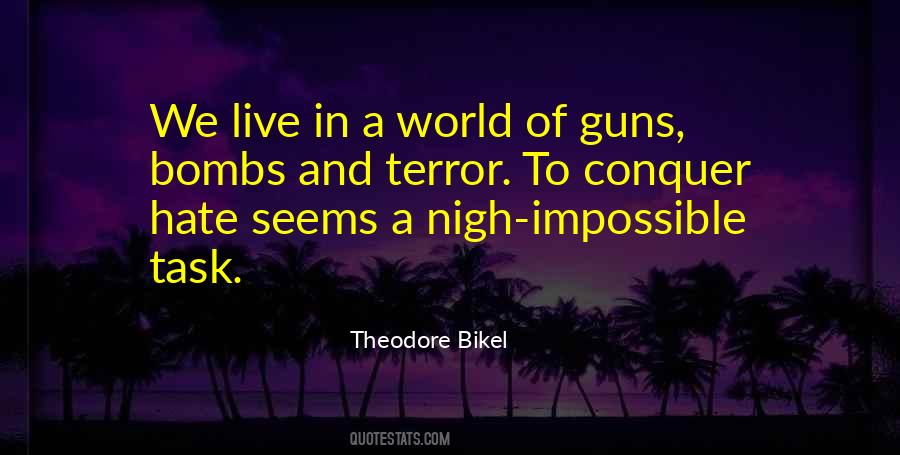 #37. Every other person in the world would have looked at it and thought, Max would hate this. It was girly. It was beautiful. It wasn't made of titanium and black leather with spikes on it. But it seemed exactly right, in a weird, heart-fluttery kind of way. And I really loved it. - Author: James Patterson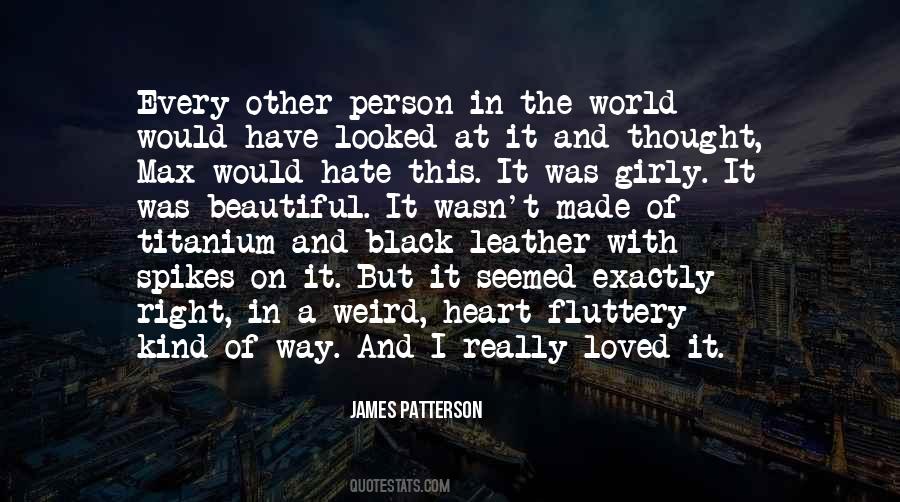 #38. Britain still has the most reliably beautiful countryside of anywhere in the world. I would hate to be part of the generation that allowed that to be lost. - Author: Bill Bryson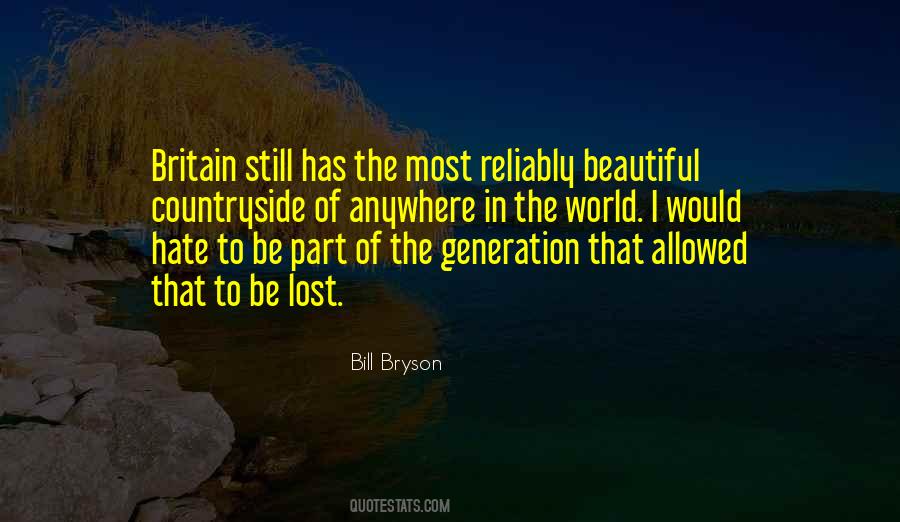 #39. Anyone can battle for pride, power, vanity, greed, or hate, but war should always be approached with an equal measure of wisdom and strength. It's not just enough to know when to fight, but to know when to lay down the sword and negotiate. Not everything in the world is worth fighting for. - Author: Sherrilyn Kenyon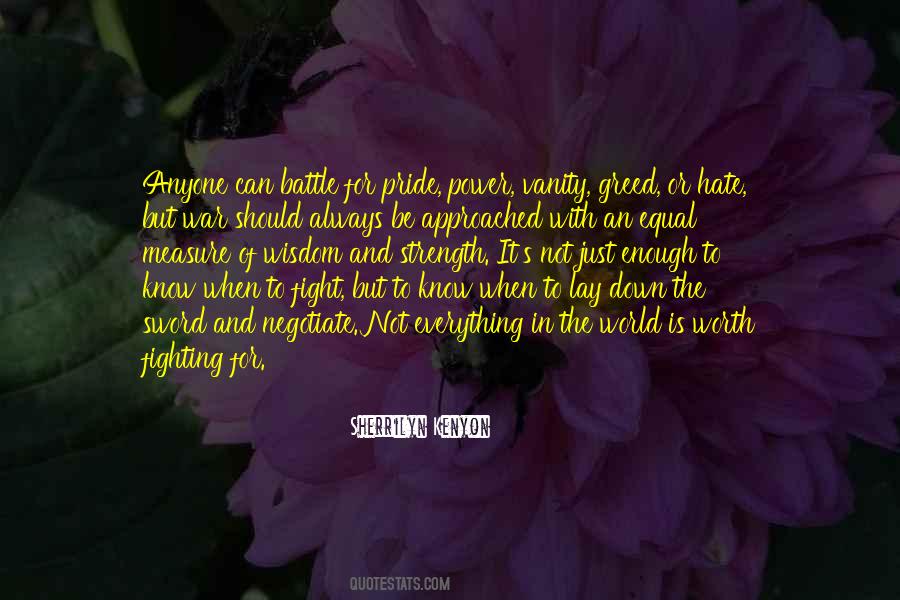 #40. I hate idiots. There's a difference. It's not my fault a great majority of them in this world happen to be male. - Author: Sara Wolf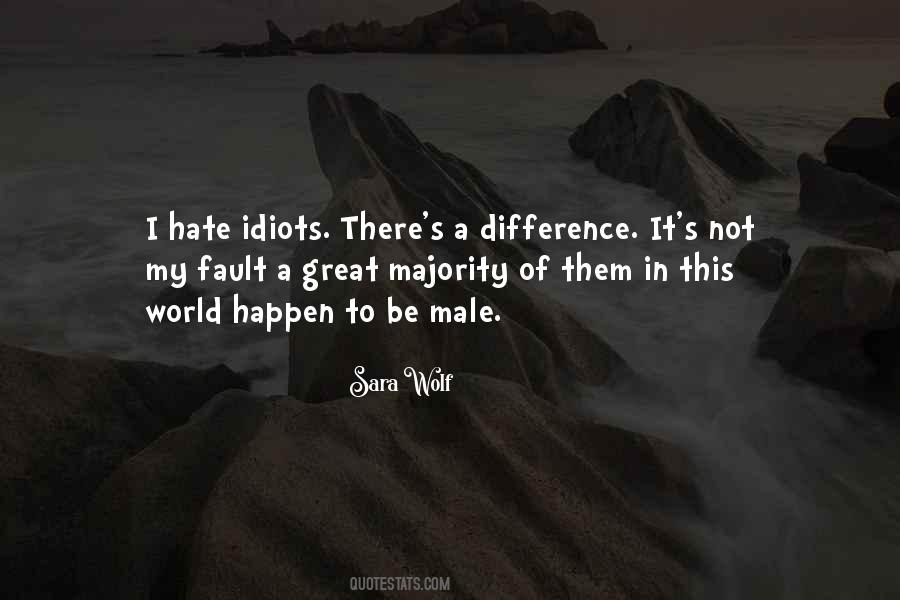 #41. We live in a world with an ever-growing population. Personal space these days is at a premium. Physically, we are practically tripping over our fellow man. Mentally and spiritually, the divide among us seems to widen. - Author: Carlos Wallace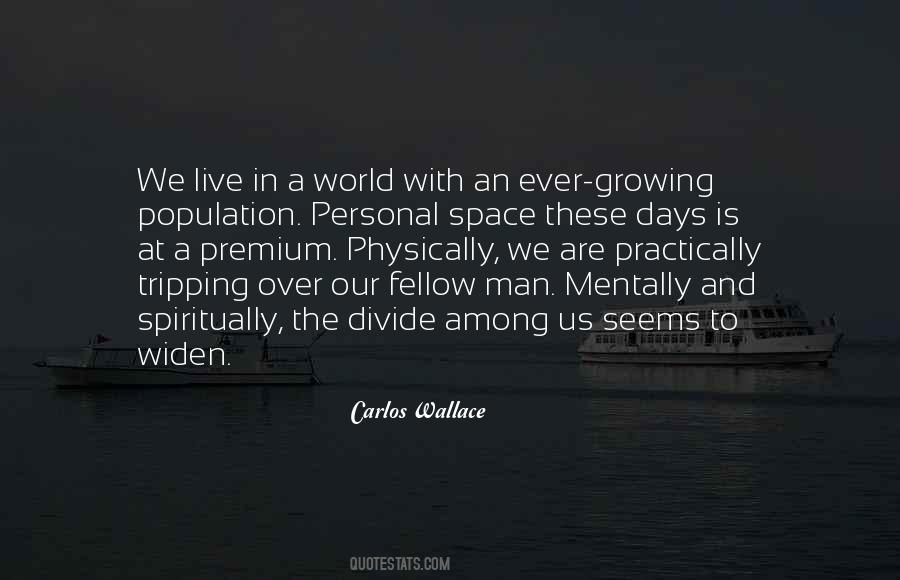 #42. I hate the world sometimes," Anthea said. "The unfairness of it. I won't force you to see me if you don't want to - but nobody can stop me loving you, and I'll wait for you all my life if I have to. - Author: Kate Saunders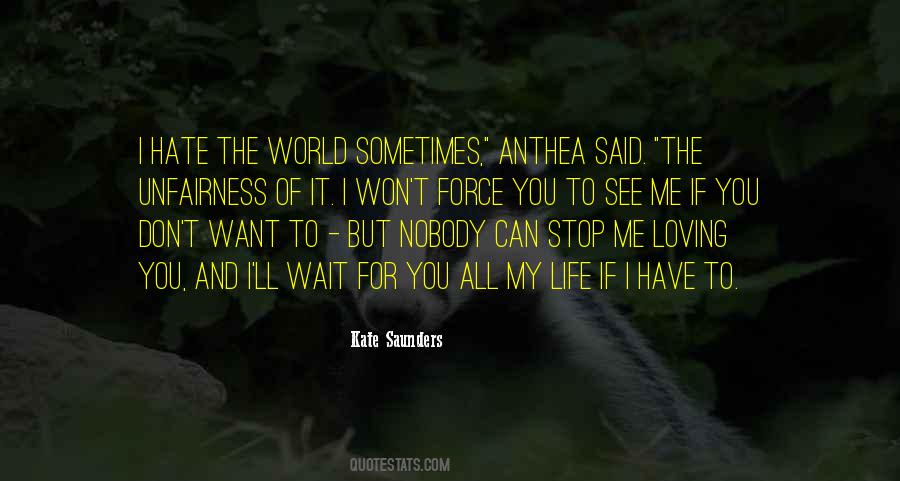 #43. Abortion and gay marriage are the political hot-buttons of the day. There are lot of things going wrong in the world, hate is running amok, so why just focus on these two hot-buttons and not everything else? - Author: Robert Hood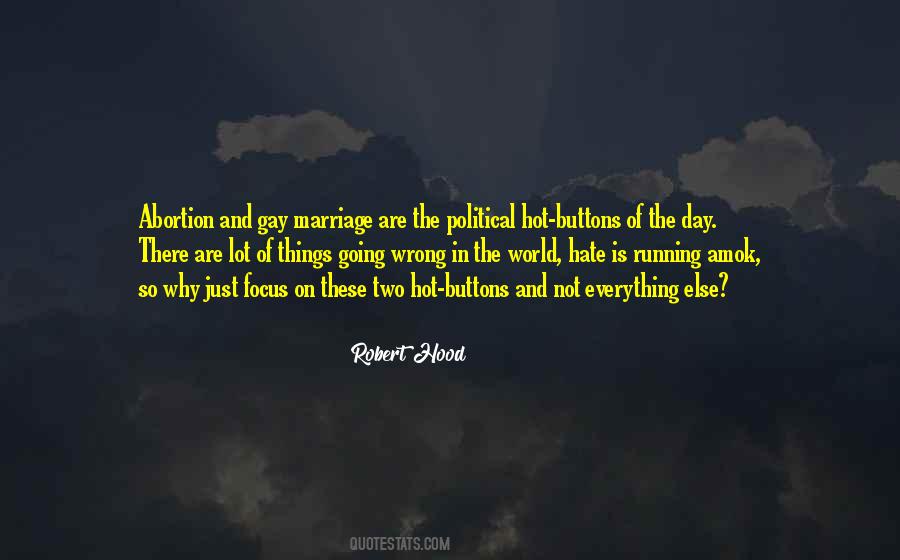 #44. Growing up in a home of abuse, you struggle with the notion that you can love a person you hate, or hate a person you love. It's a strange feeling. You want to live in a world where someone is good or bad, where you either love or hate them, but that's not how people are. - Author: Trevor Noah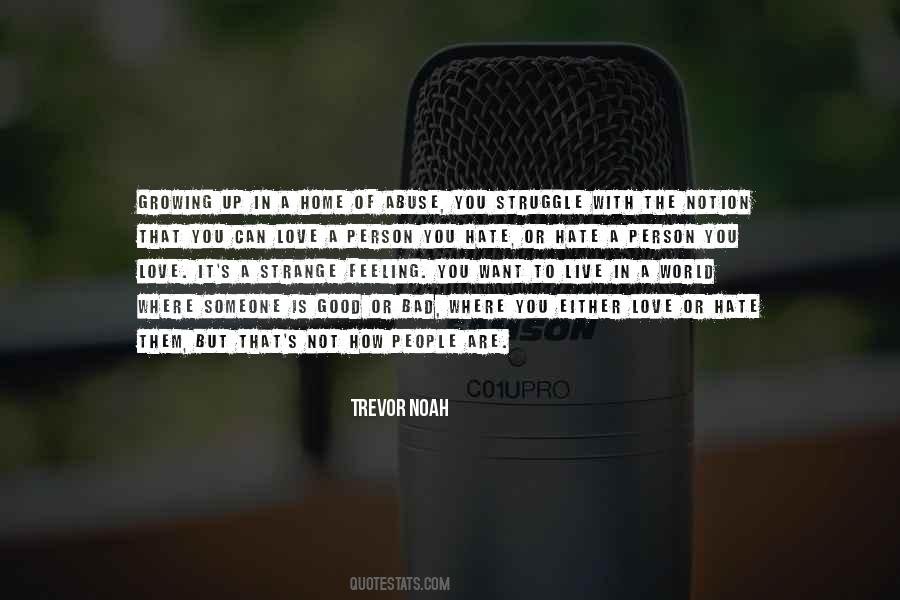 #45. I find it rather depressing that the people you love most in this world can also be the same exact people you hate with fervor. But it can happen, trust me.
It was the f***ing story of my life. - Author: Christina Channelle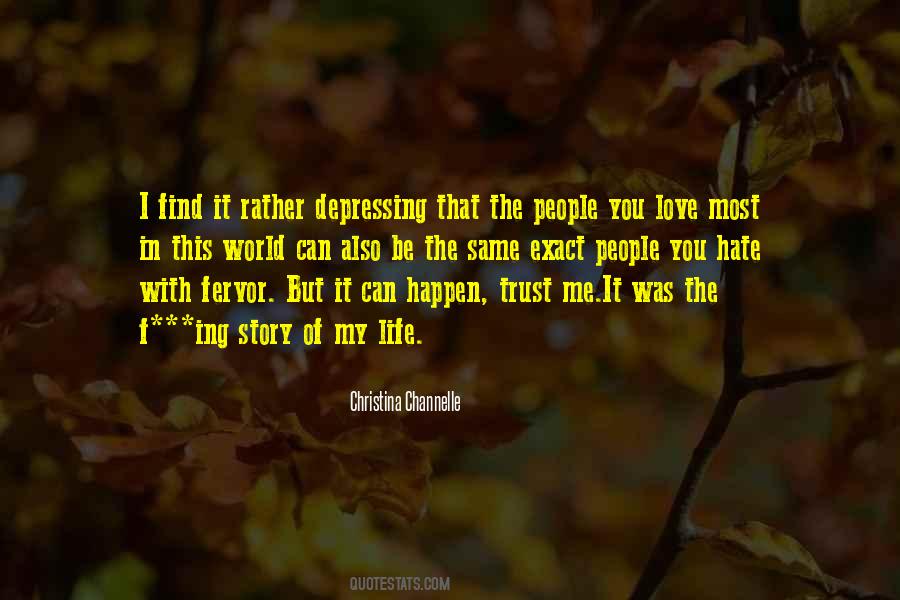 #46. Let us fight to free the world - to do away with national barriers - to do away with greed, with hate and intolerance. Let us fight for a world of reason, a world where science and progress will lead to all men's happiness. - Author: Charlie Chaplin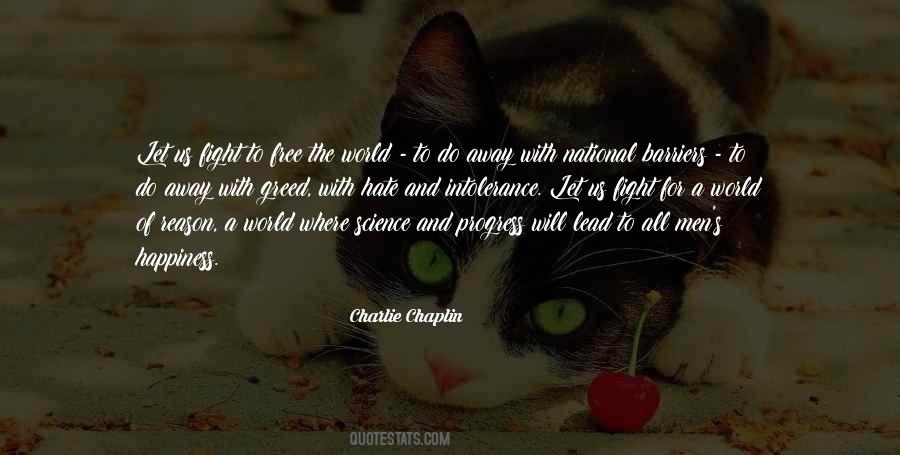 #47. I'm going to become bitter and distrustful of people because one person betrayed me. I'm going to hate those who have found their treasure because I never found mine. And I'm going to hold on to what little I have, because I'm too insignificant to conquer the world. - Author: Paulo Coelho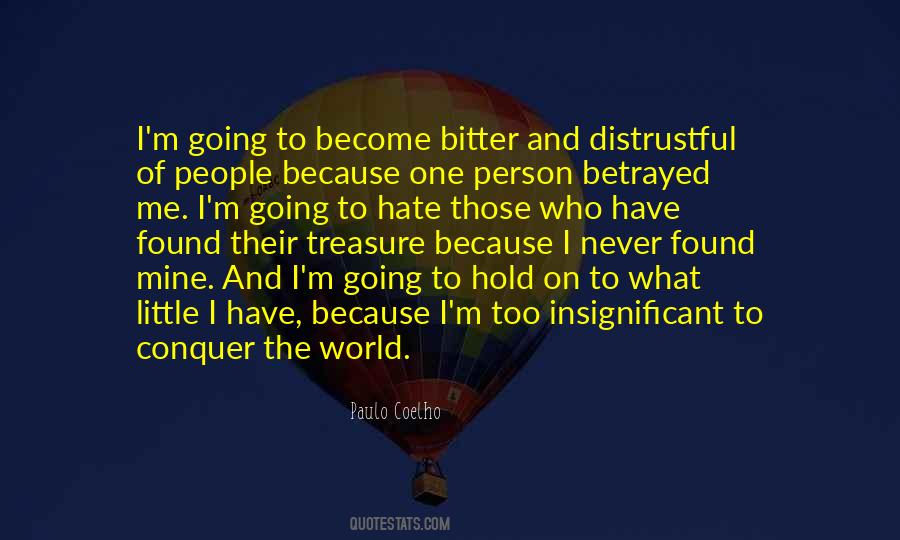 #48. Wow, a trifecta: Murder, Madness and Magic, the three things you hate most of anything in the world. - Author: Chris Dee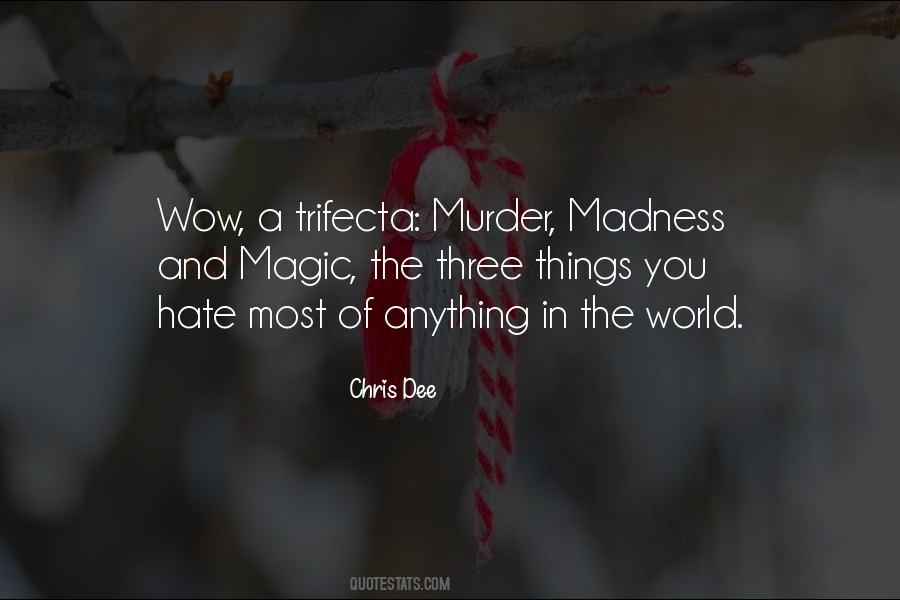 #49. If every man, ... ceased to hate and blame every other man for his own failures and shortcomings, we would see the end of every evil in the world, from war to backbiting. - Author: Grace Metalious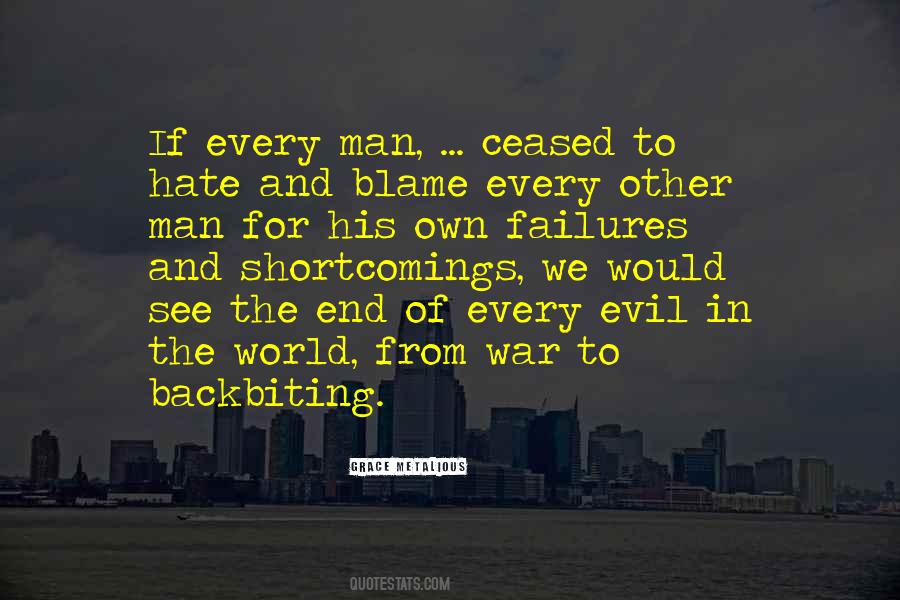 #50. How can it fail to smash and shatter the petty provincialism and narrow nantionalism ... making of this world a tragic mosaic of hostility and hate? How can this fabulous new force in the sky fail to serve the hope of teh world and the peace of the world? - Author: Juan Trippe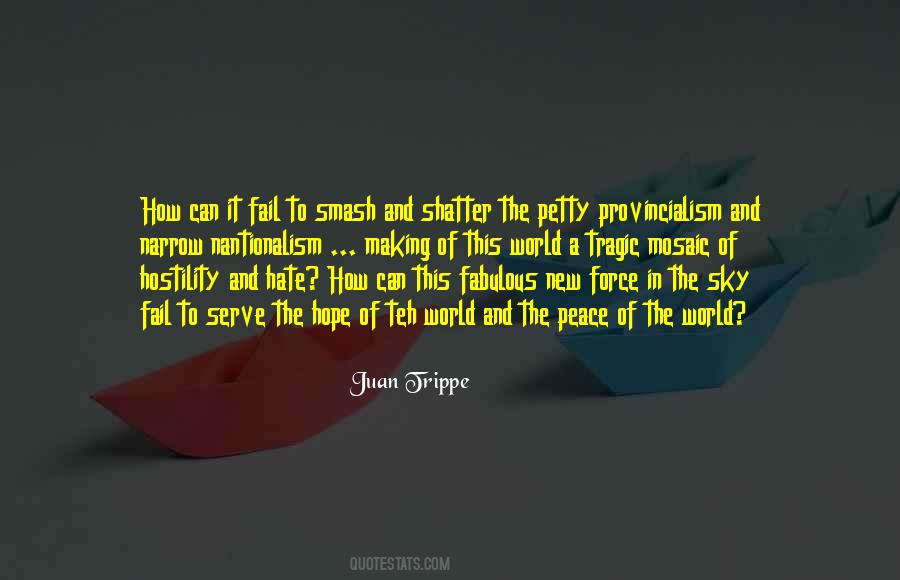 #51. Neither prosperity nor empire nor heaven can be worth winning at the price of a virulent temper, bloody hands, an anguished spirit, and a vain hatred of the rest of the world. - Author: John Milton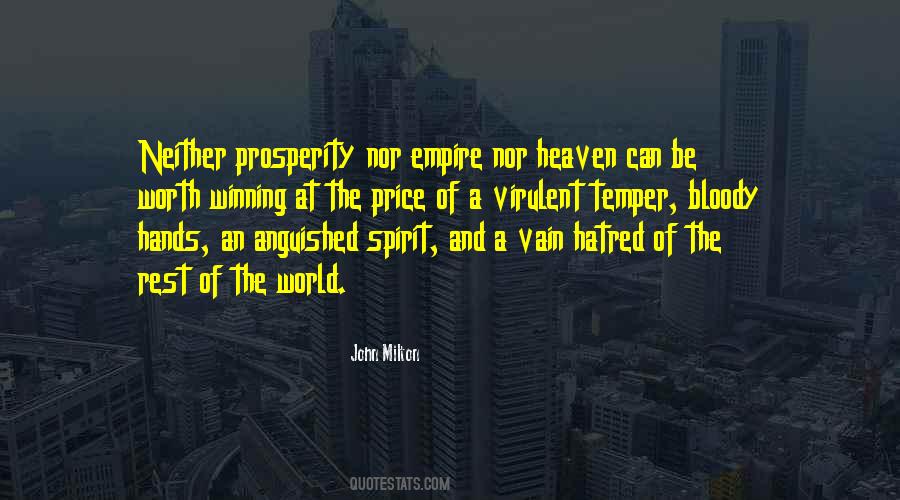 #52. The point I make is simply that cruelty and hate and intolerance are the monopoly of no particular race or creed or time. They have been with us since the world began and are still with us, in every country in the world. - Author: Alistair MacLean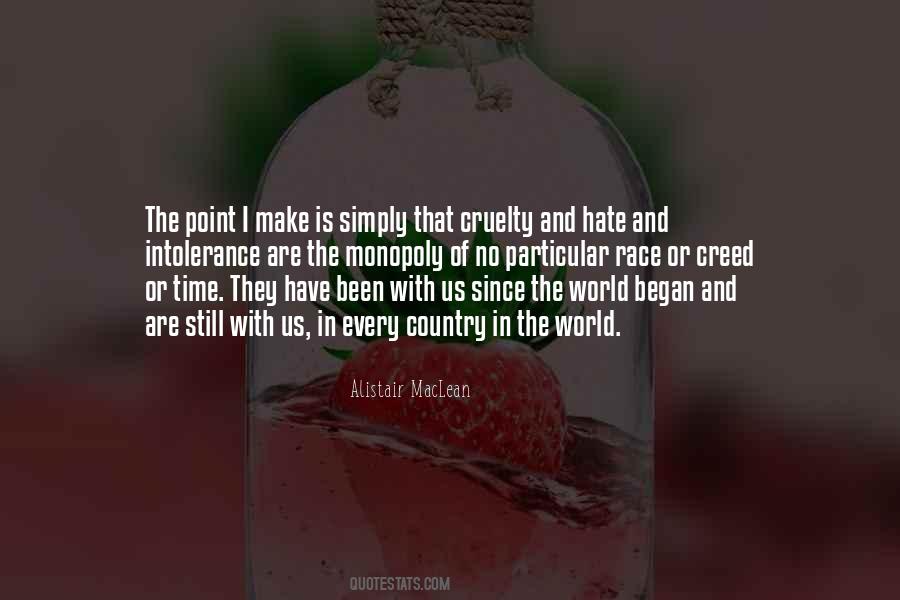 #53. There is no tragedy more woeful than the victory of hate, nor any attainment so hopelessly barren as the sterility of that achievement; for hate is finality, and finality is the greatest evil which can happen in a world of movement. - Author: James Stephens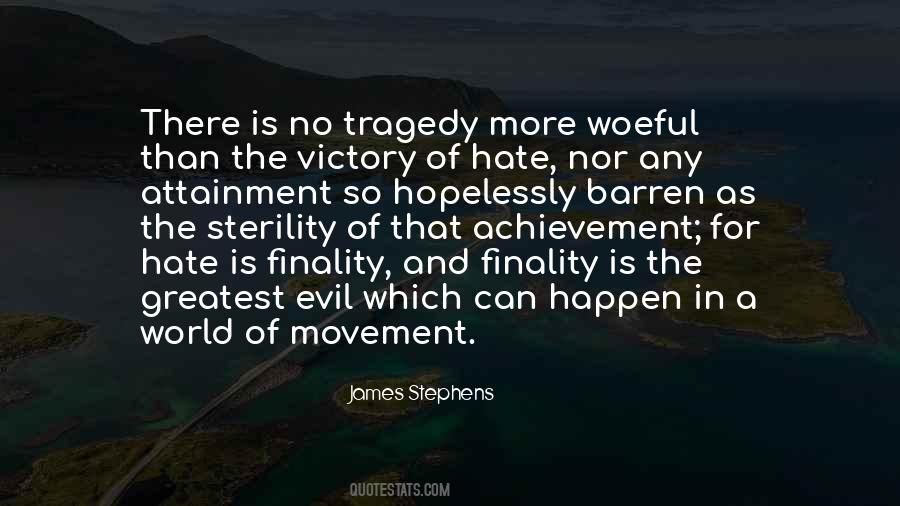 #54. Hateful bitch of a world, it wouldn't ever last. - Author: Jack Kerouac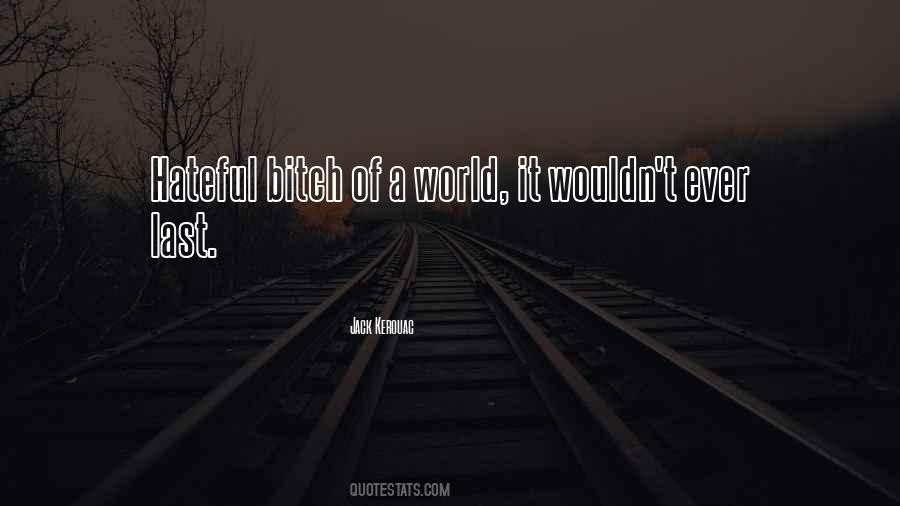 #55. Let judgment be in the courts. This isn't about politics, or faith, or even race. It's about the right to be free from hate. I am convinced that the world doesn't break in the face of its worst possible deed. The world mends itself. - Author: James Patterson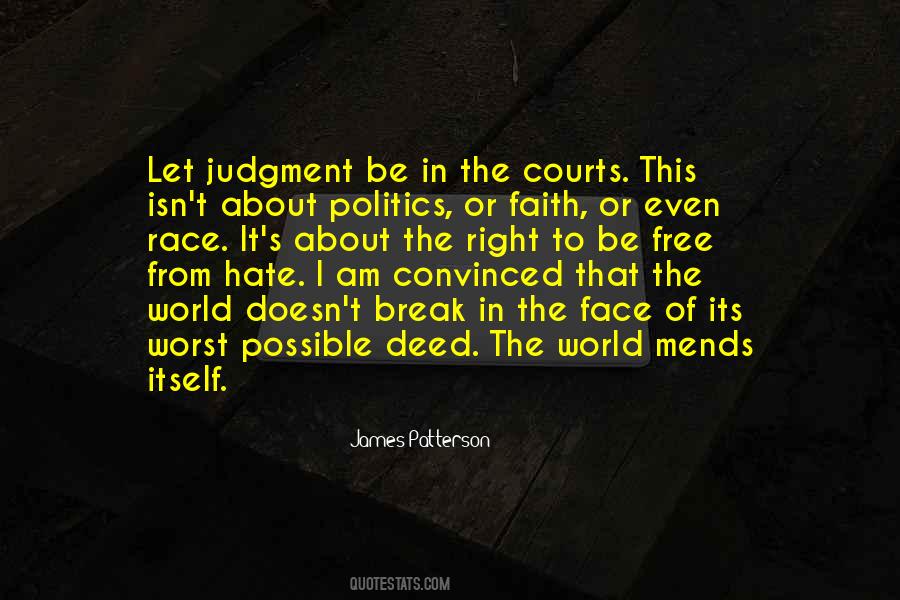 #56. The conviction that the world and man is something that had better not have been, is of a kind to fill us with indulgence towards one another. - Author: Arthur Schopenhauer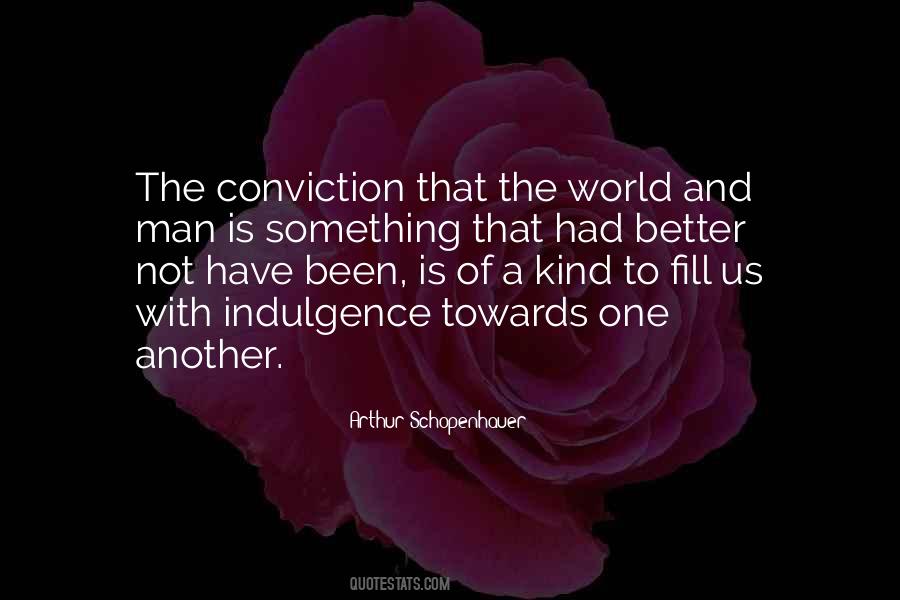 #57. Why do they murder and why do they hate us? Because all of them ... 80 years of history, they all want to conquer the world, they all rejected Jesus and they're all famous for murder. Nazis, Shintoists, Communists and the Mohammedists. Every one of them the same way. - Author: Phil Robertson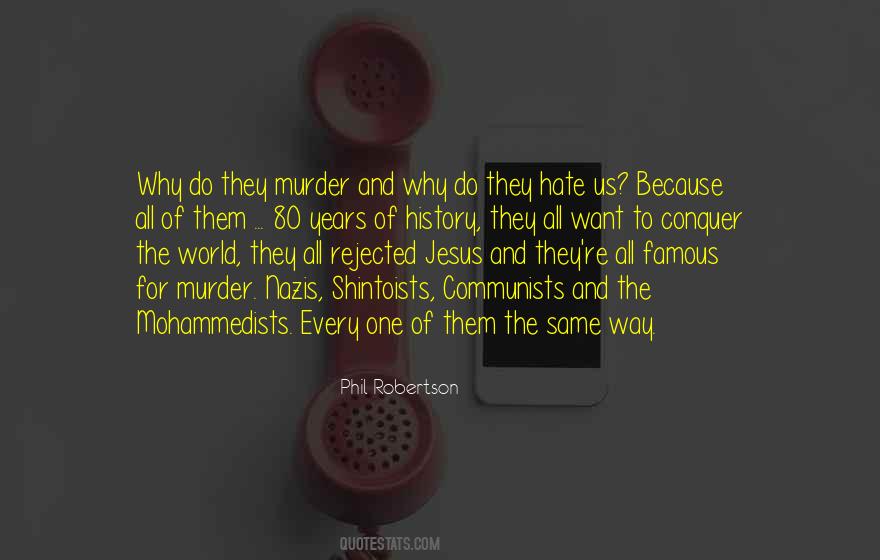 #58. Lots of men hate women now-a-days ... It was a man-made world, and now we're asking to go shares in the making. - Author: Phyllis Bottome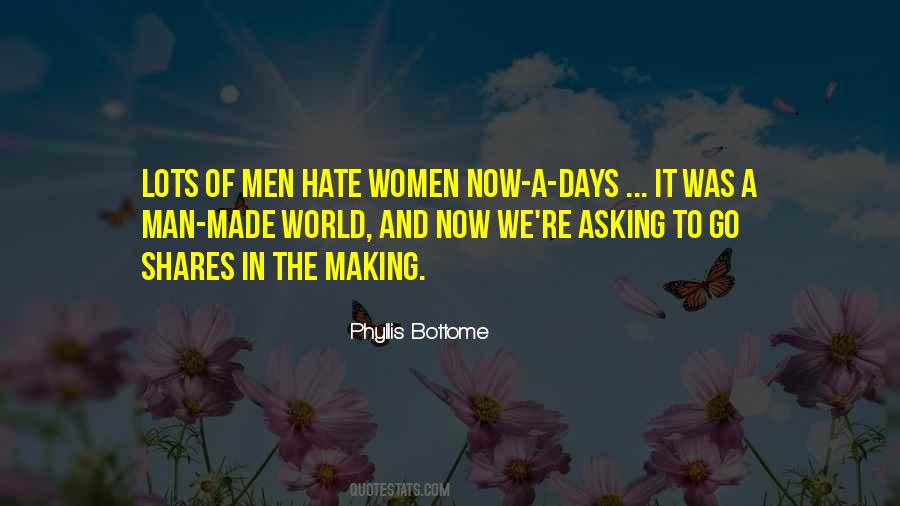 #59. Conviction is possible only in a world more primitive than ours can be perceived to be. A man can achieve a simply gnomic conviction only by ignoring the radical describers of his environment, or by hating them, as convinced men have hated, say, Darwin and Freud, as agents of some devil. - Author: John Ciardi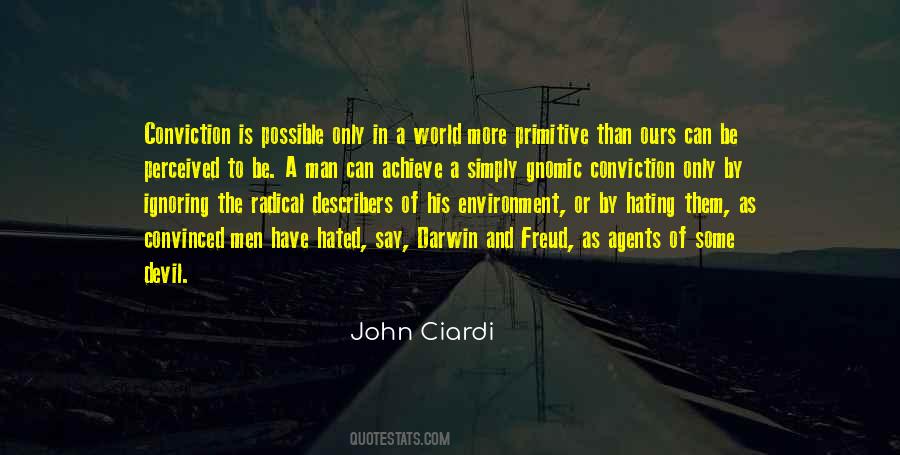 #60. We're allowed to go on living happy, healthy lives because tens of thousands of animals like this chimp sacrifice their lives. But all people do is kill and hate and do whatever they please. I guess they forgot that nature is what keeps us all alive. - Author: M..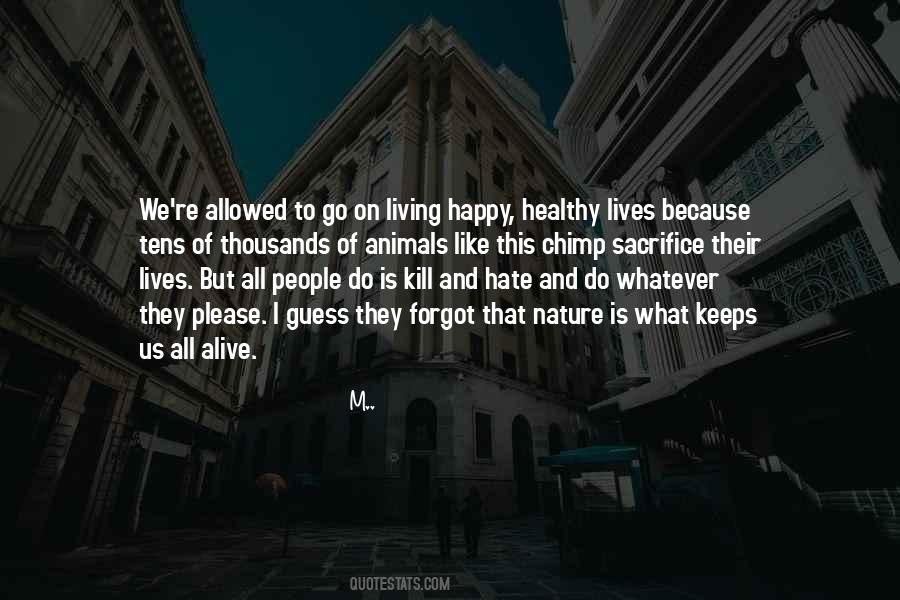 #61. I opened my mouth to exclaim about the puppies. They were beauty and joy and innocence made of flesh and fur, in an ugly time when fear and sadness and mistrust hung over the world like a sickly green tornado sky. - Author: Kelly Milner Halls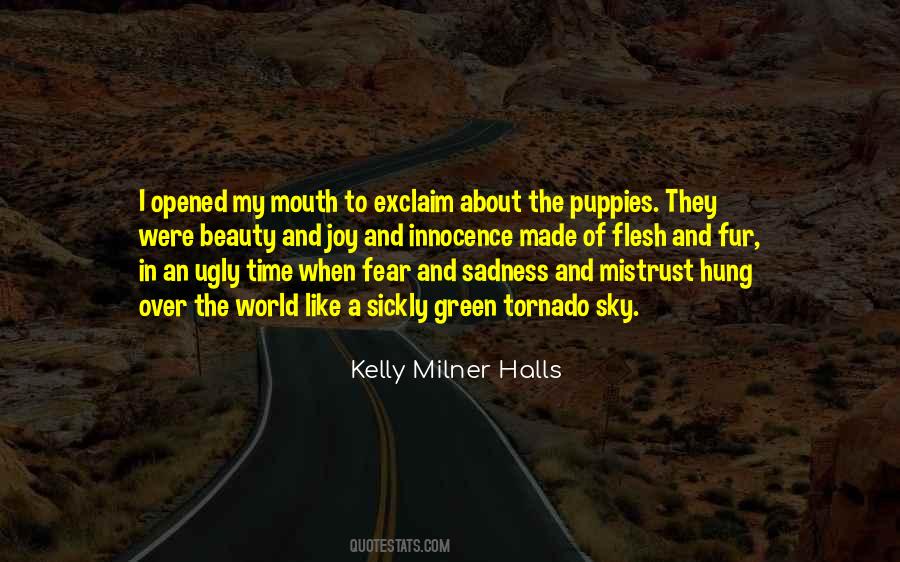 #62. There's a lot of hate in the world. - Author: Elton John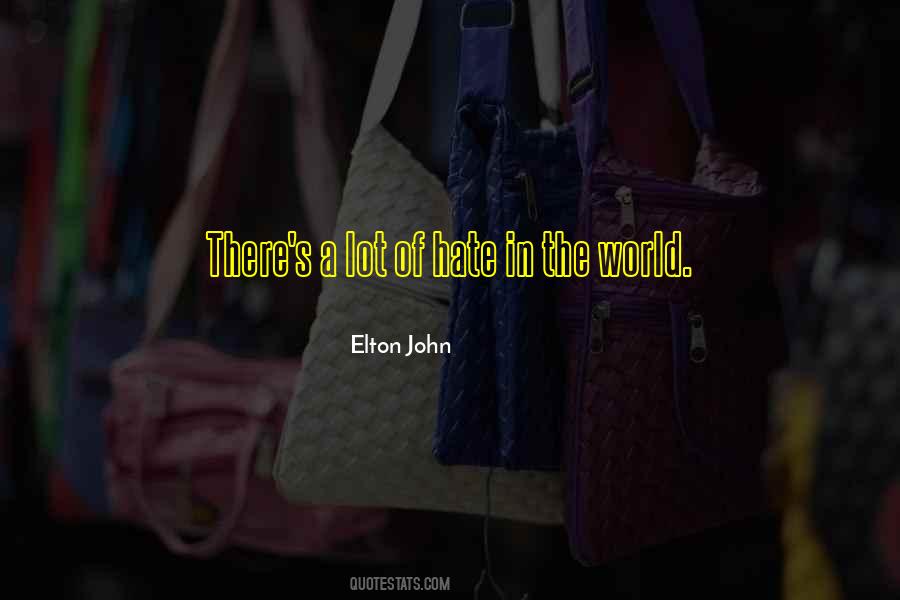 #63. I hate the loss of diversity in the world, even though I sometimes get a little worn out by being that diversity. - Author: Andrew Solomon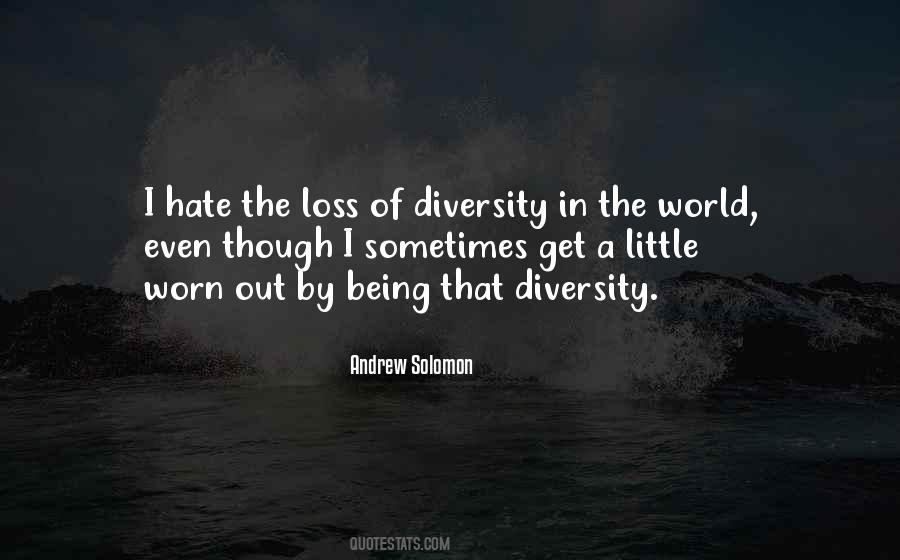 #64. I want to make it clear: it's not that I hate mainstream cinema. It's perfectly fine. There are a lot of people who need to escape, because they are in very difficult situations, so they have the right to escape from the world. But this has nothing to do with an art form. - Author: Michael Haneke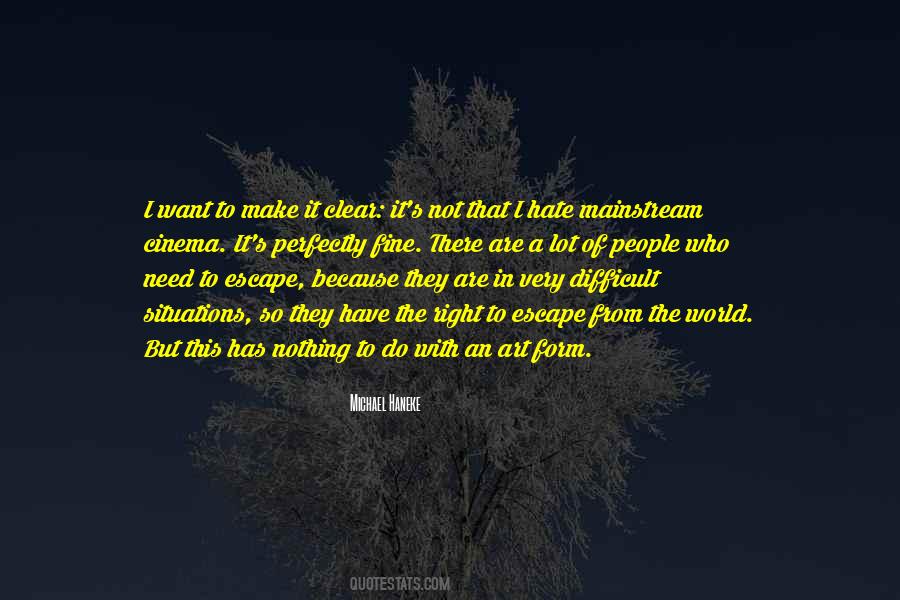 #65. All I can say to people who hate their mothers for giving birth to them is "get the fuck out of your scaredy shells and kiss the world". - Author: Jay Woodman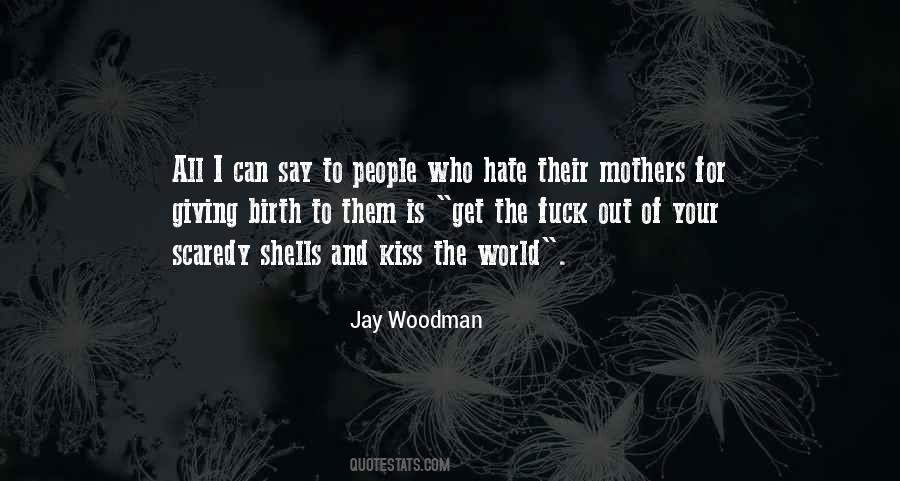 #66. When I was young I used to have this thing where I wanted to see everything I used to think 'How can I die without seeing every inch of this world?' - Author: Leonardo DiCaprio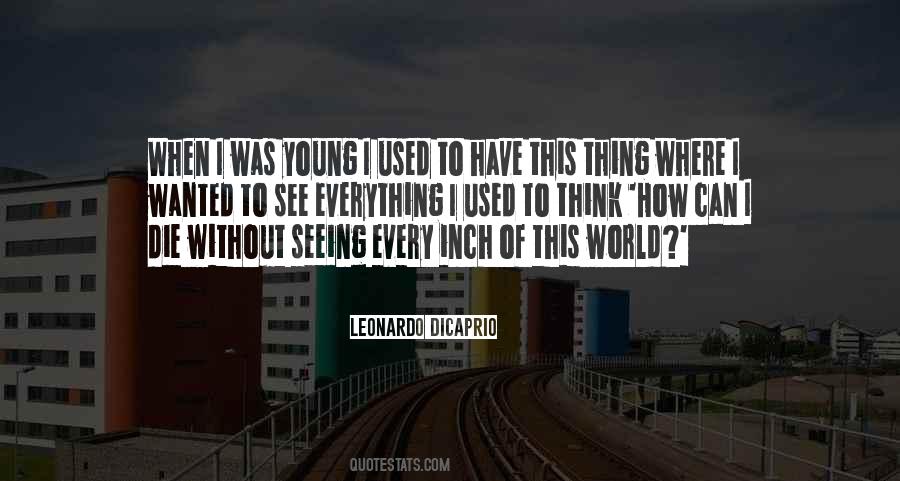 #67. I think we get the world we deserve. People who love get love back, and people who hate, or fear, they get those back too."
"Huh. Which kind of person are you?"
"Both. We all are, at different times. - Author: Jeri Smith-Ready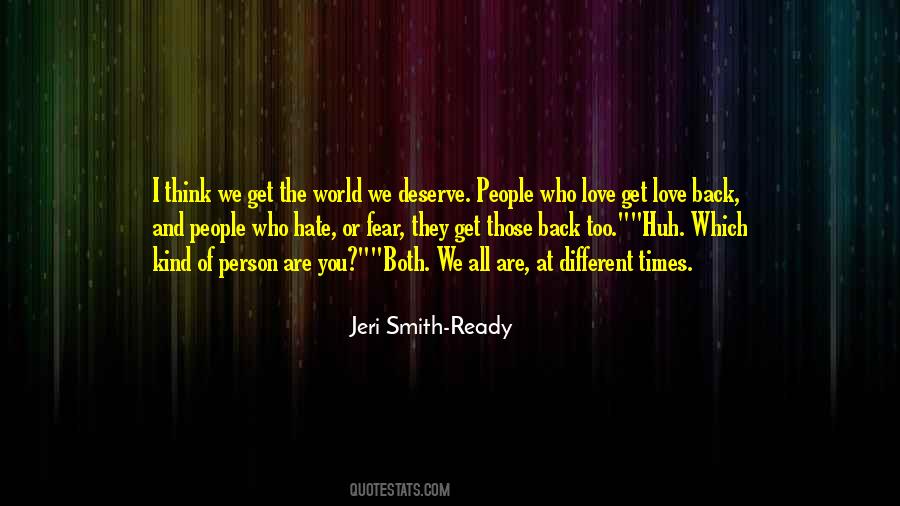 #68. The world will rightfully be upset over so much inhumanity, and a hate will burn that can never be extinguished. How long will this reign of terror continue? - Author: Friedrich Kellner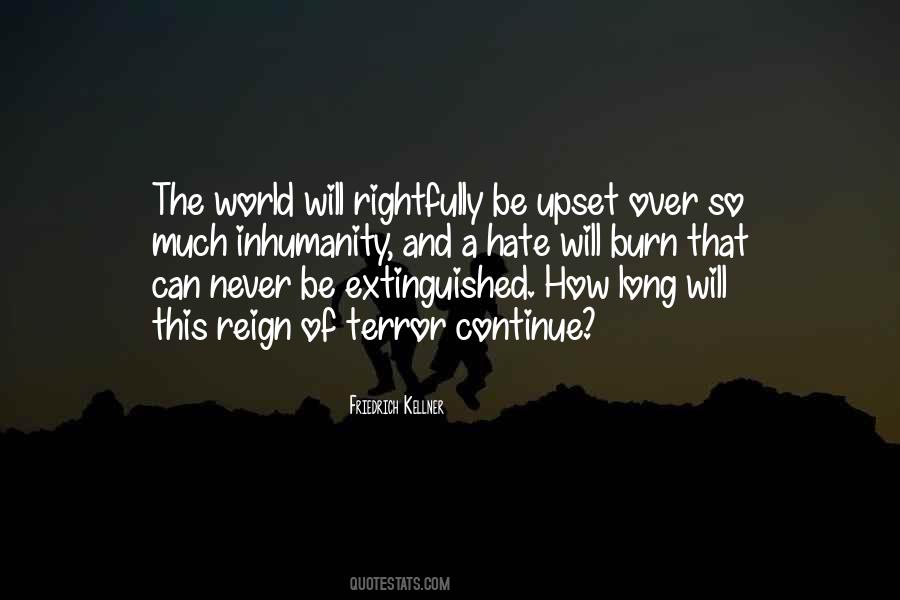 #69. This philosophy of hate, of religious and racial intolerance, with its passionate urge toward war, is loose in the world. It is the enemy of democracy; it is the enemy of all the fruitful and spiritual sides of life. It is our responsibility, as individuals and organizations, to resist this. - Author: Mary Heaton Vorse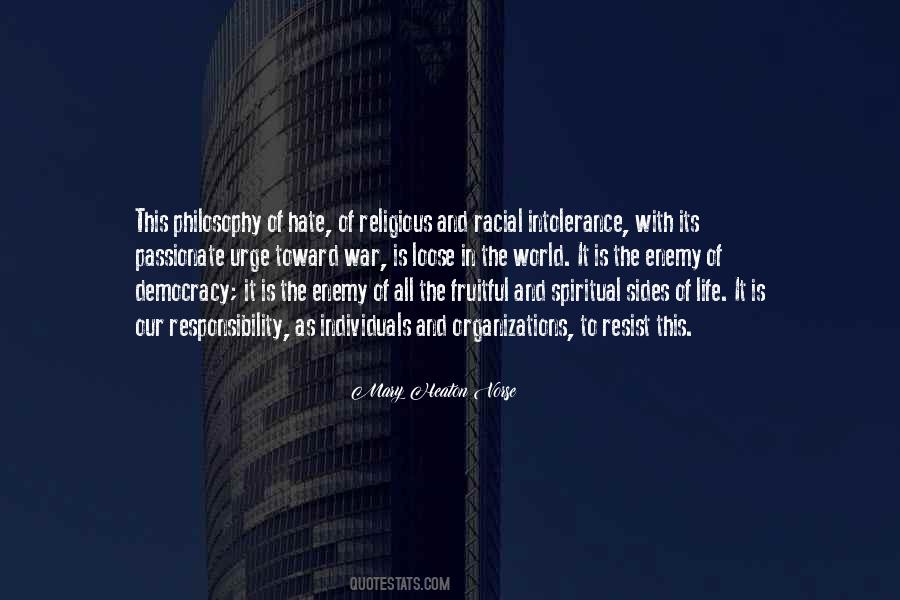 #70. Explain it to me. God says he loves me but dumps me into a world of pain. You, so full of hate, so ignorant, he leaves alone. Self-righteous bigots he doesn't even touch. Explain that to me! - Author: Greg Bear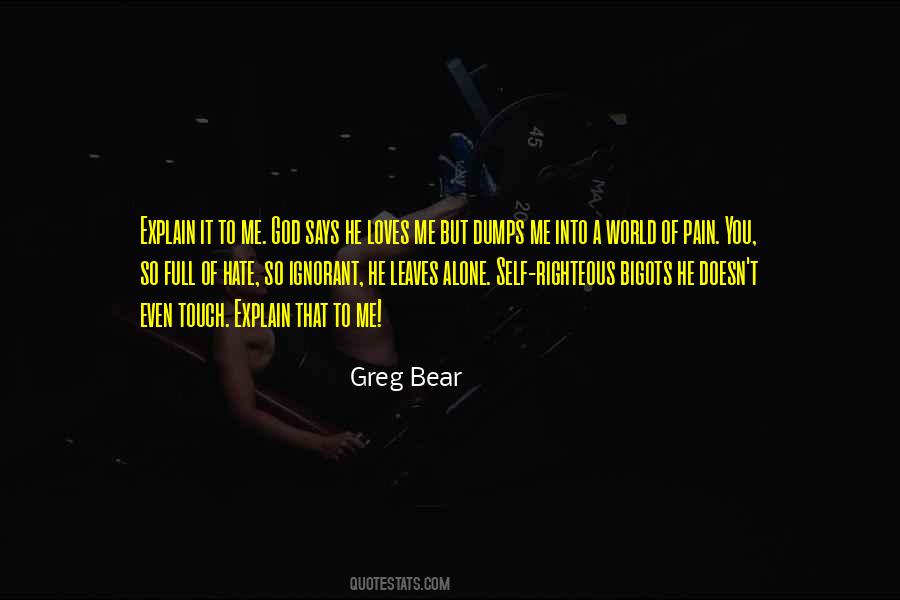 #71. At university (then, though still, I understand, today), things are the opposite of the ways of the normal world: it isn't the sons who hate the fathers, but the fathers who hate the sons. - Author: Umberto Eco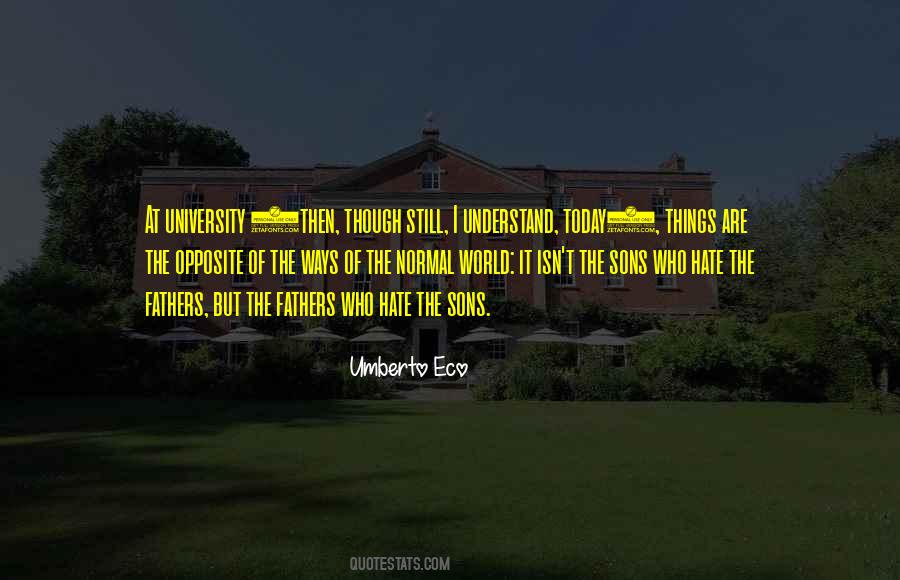 #72. The lovers of the world are the ones who matter. Forget the rest. Jesus was a lover. He doesn't hate anyone. - Author: Scylar Tyberius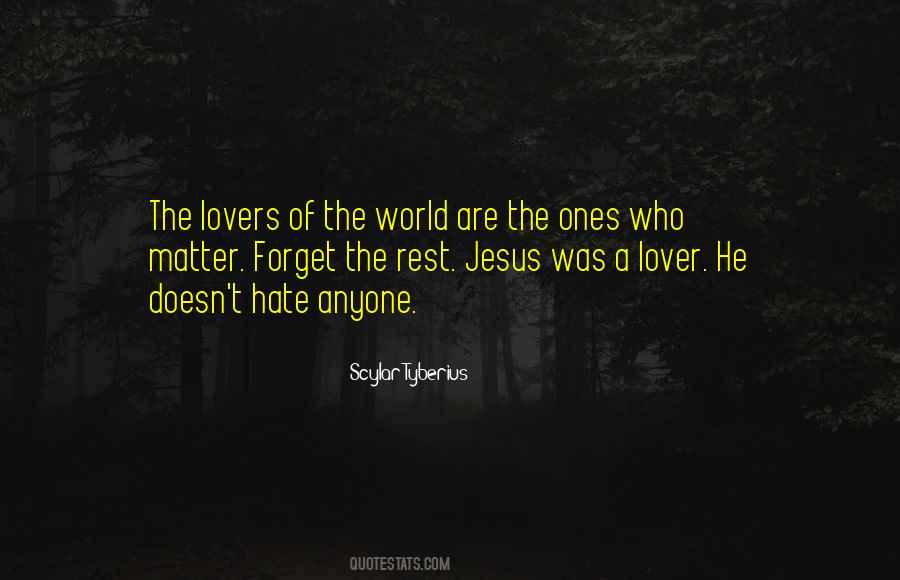 #73. I hate that our world makes it look like everyone is perfect but you. Each and every one of us is human. Why are all the flaw that we all have hidden like they're not real? - Author: Audrey Regan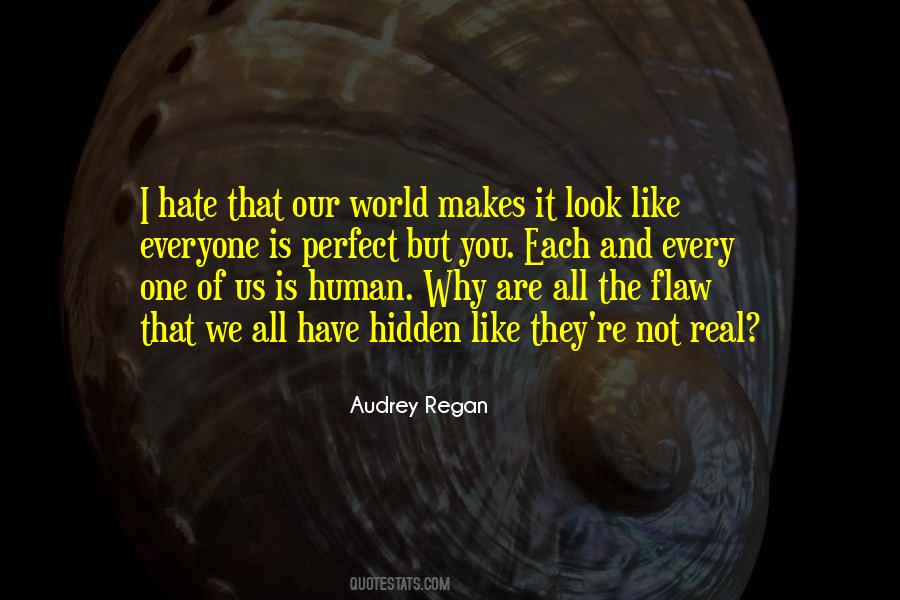 #74. Doing the things you hate is living in a world of sin. Hell is staying in the place Jesus saved you from. That is, to live on your own, without God. - Author: J.R. Rim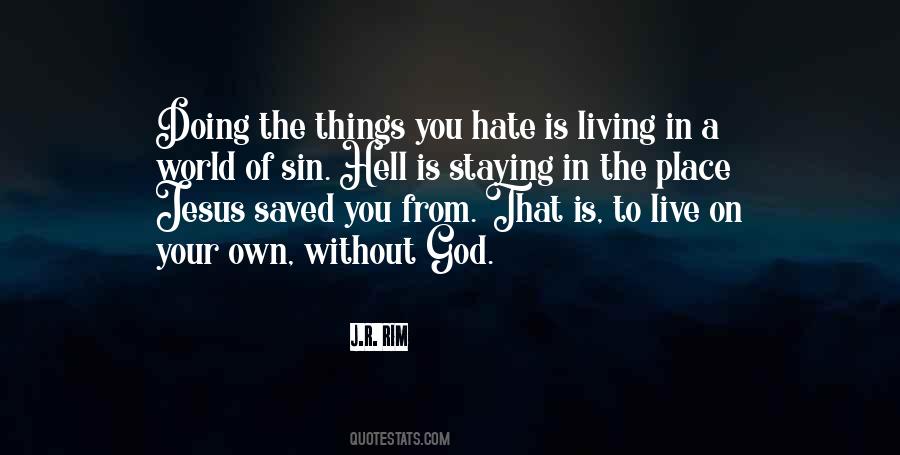 #75. I knew then that Jocelyn would never come back to me, because of you. You are the only thing in the world she ever loved more than she loved me. And because of that she hates me. And because of that, I hate the sight of you - Author: Cassandra Clare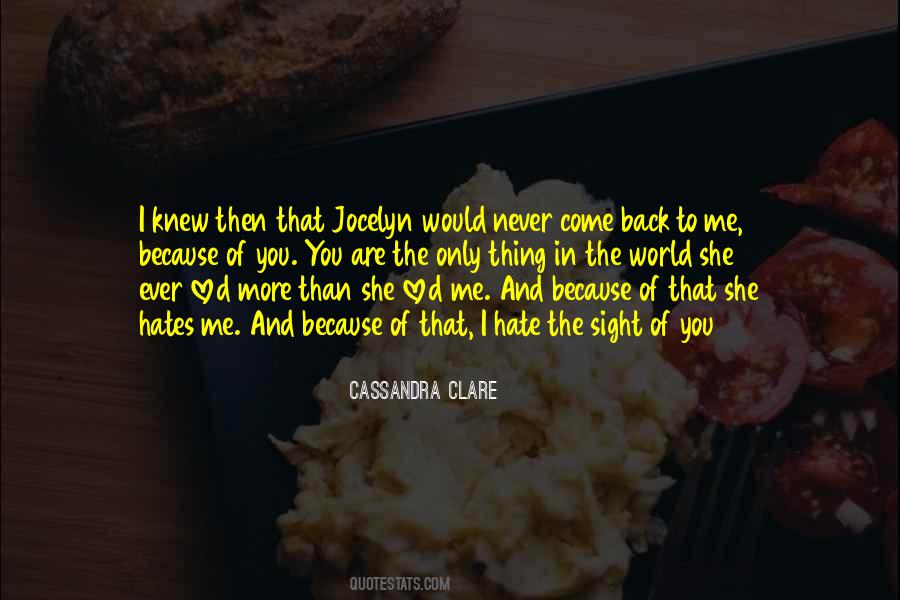 #76. Money rules the world, and doubtless also, here and there, the bit of love within it, and when love turns to hate, one remembers unpaid board. - Author: Robert Walser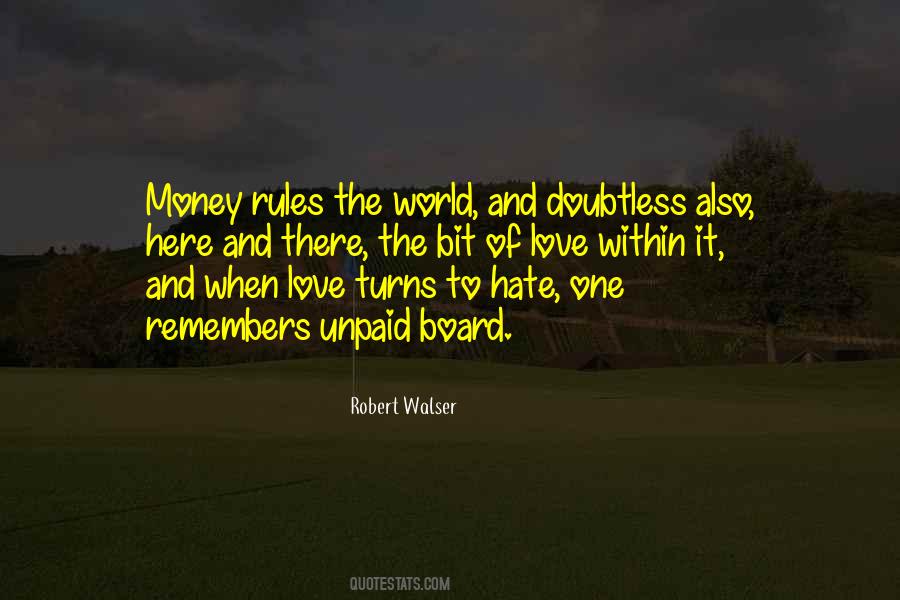 #77. Of all preaching in the world, (that speaks not stark lies,) I hate that preaching which tendeth to make the hearers laugh, or to move their mind with tickling levity, and affect them as stage-players use to do, instead of affecting them with a holy reverence of the name of God. - Author: Richard Baxter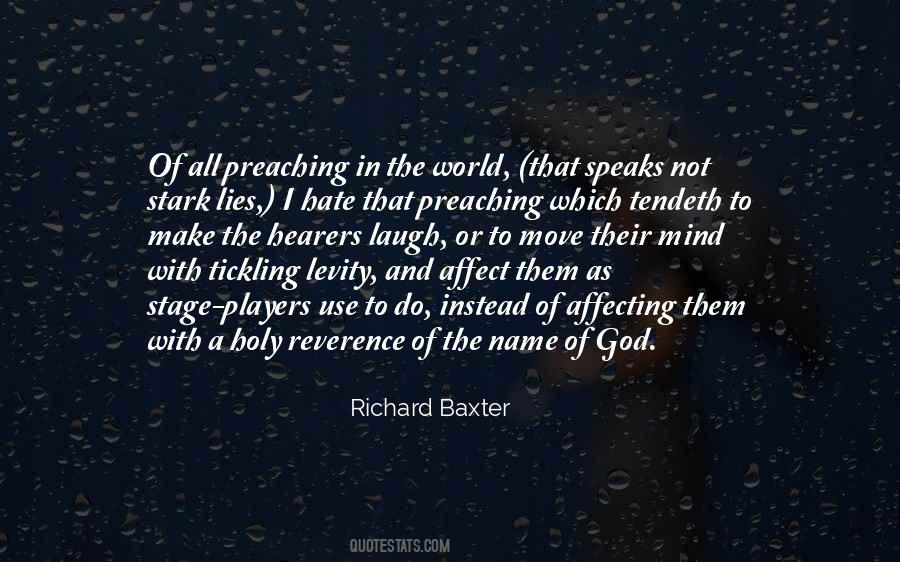 #78. Are "people in the world", I wonder, creatures that spend their whole lives greeting each other in stiff, formal patterns, being cautious about each other, then growing tired of each other? I hate meeting people. - Author: Osamu Dazai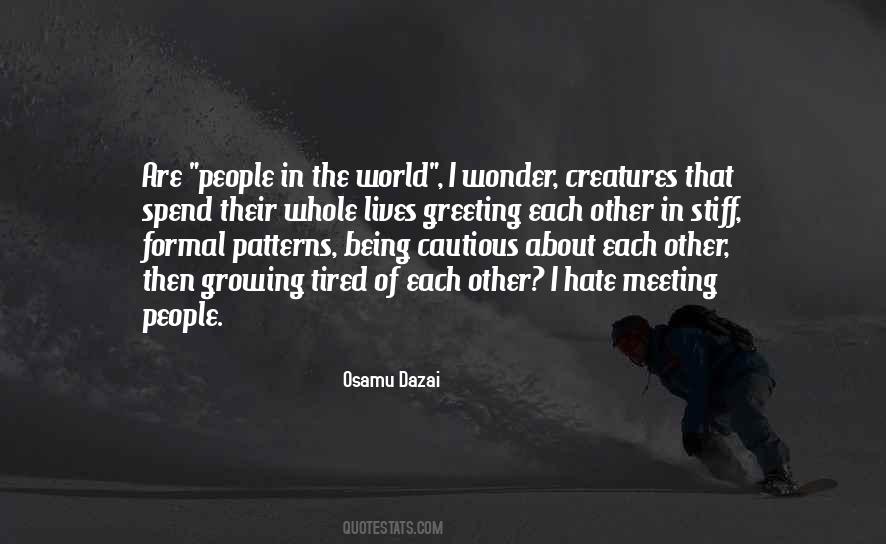 #79. So, those who hate, those who are violent in nature, live in a world of hate and fear and violence inside themselves, inside their minds, inside their awareness. - Author: Frederick Lenz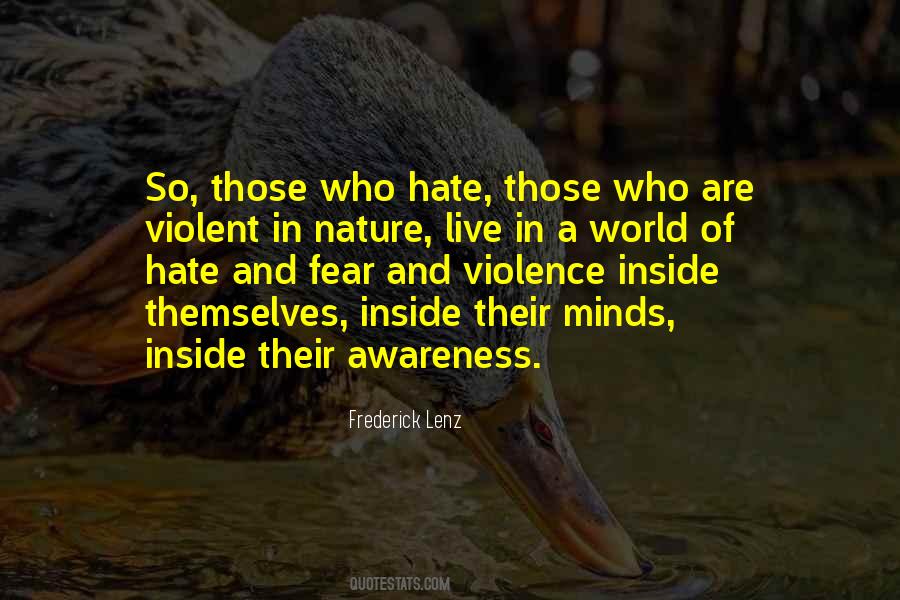 #80. If we want world peace, we must break the vicious circle of violence and reprisal, of an eye for an eye, of endless hate. - Author: Alfred-Maurice De Zayas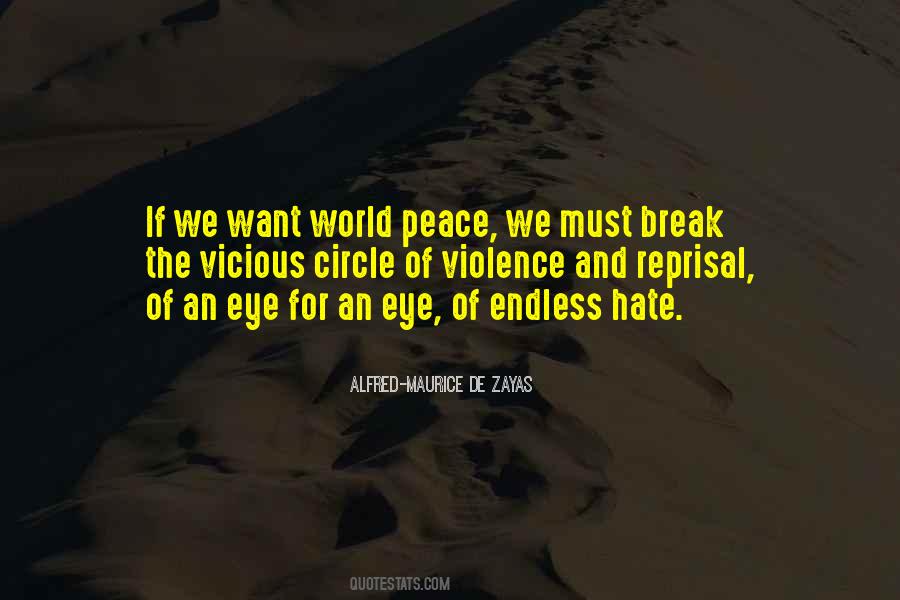 #81. He has outsoared the shadow of our night; envy and calumny and hate and pain, and that unrest which men miscall delight, can touch him not and torture not again; from the contagion of the world's slow stain, he is secure. - Author: Percy Bysshe Shelley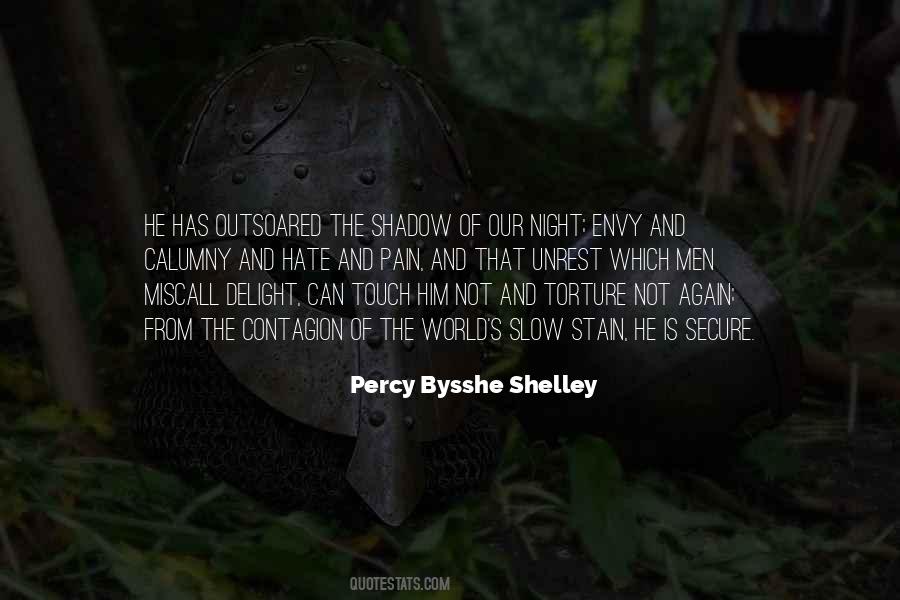 #82. I tell you, the one thing I hate is an absolutist. I hate absolutist ideologies, I hate absolutist aesthetics, I hate absolutist theologies, they're the burden and bane of this world. - Author: Tobias Wolff
#83. In Serbia a lot of people hate me because they want to westernize, not understanding that the western world is bipolar, with very good things and very bad things. - Author: Emir Kusturica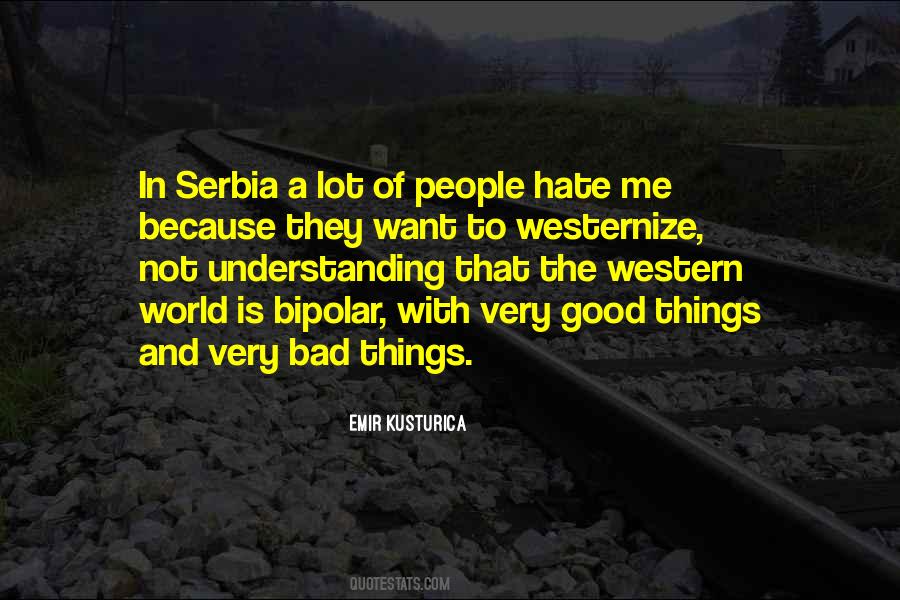 #84. I love man-kind, but I hate the institutions of the dead unkind. Men execute nothing so faithfully as the wills of the dead, to the last codicil and letter. They rule this world, and the living are but their executors. Such foundation too have our lectures and our sermons, commonly. - Author: Henry David Thoreau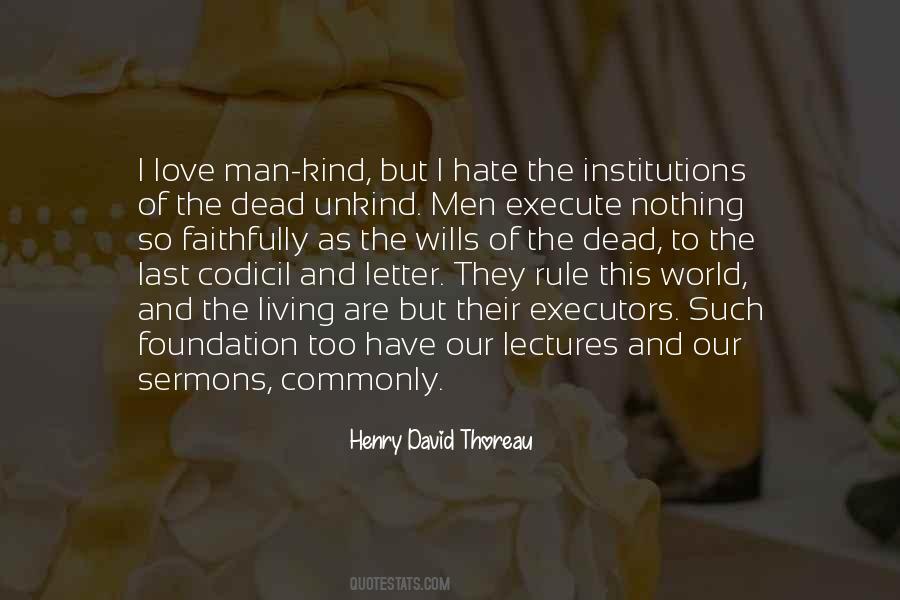 #85. Sometimes I often wonder: What would happen in our world, if all of humanity's children threw a revolution of love & kindness instead of war, hate & violence? - Author: Timothy Pina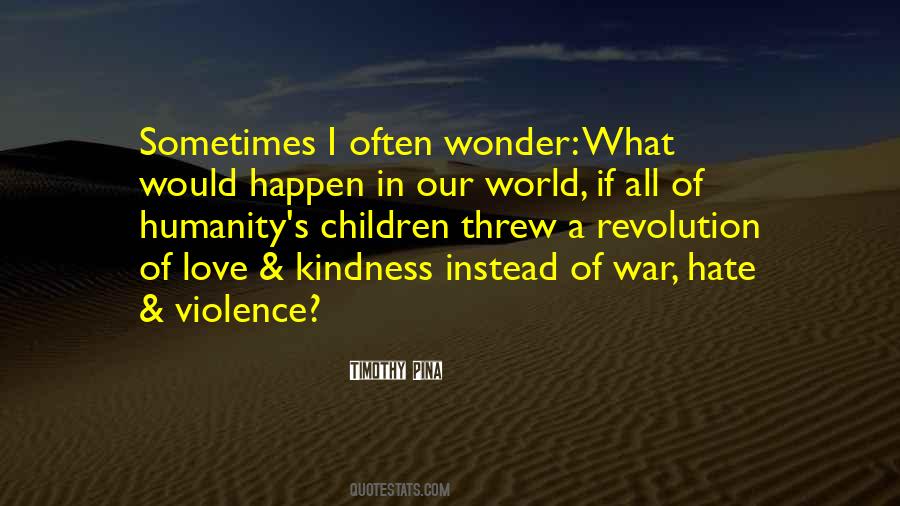 #86. You know I hate, detest, and can't bear a lie, not because I am straighter than the rest of us, but simply because it appals me. There is a taint of death, a flavour of mortality in lies - which is exactly what I hate and detest in the world - what I want to forget. - Author: Joseph Conrad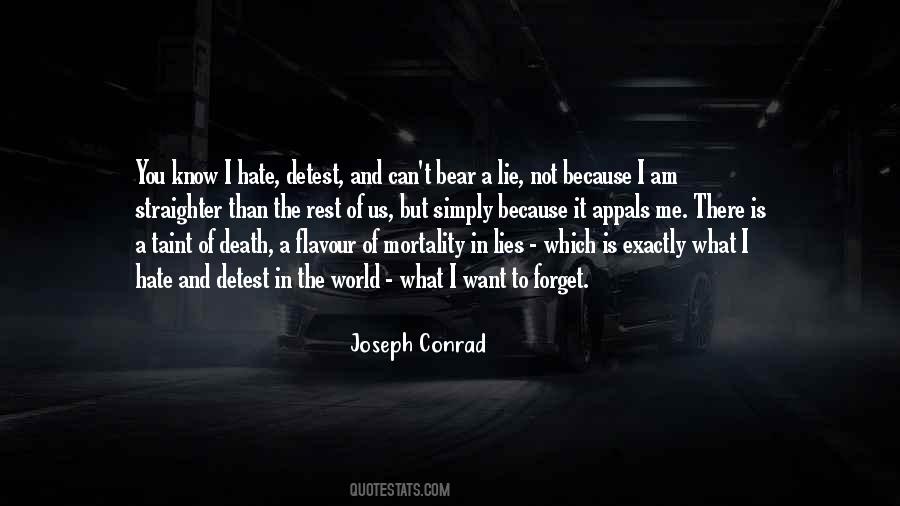 #87. Some men are friends with the whole world in their hearts, and there are others that hate themselves and spread their hatred around like butter on hot bread. - Author: John Steinbeck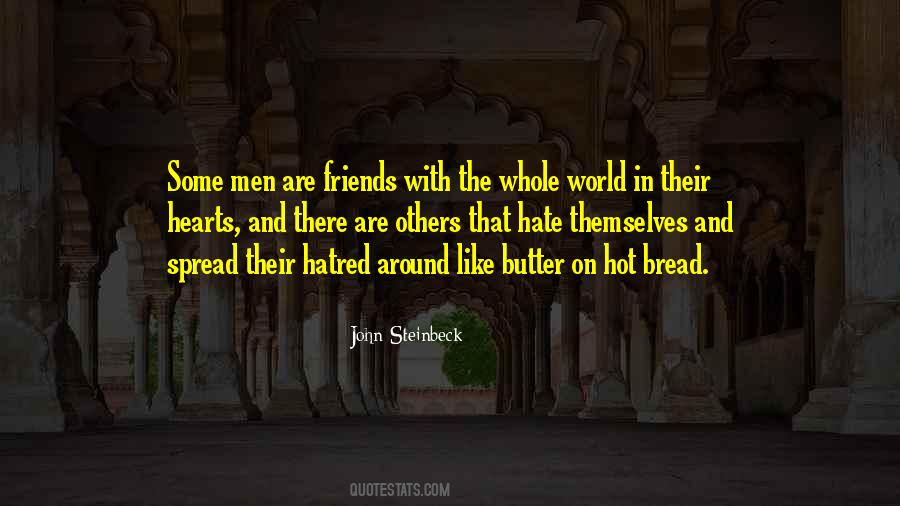 #88. It is the only thing we can do. ... Each of us must turn inward and destroy in himself all that he thinks he ought to destroy in others. And remember that every atom of hate added to this world makes it still more inhospitable. - ETTY HILLESUM29 - Author: Matthieu Ricard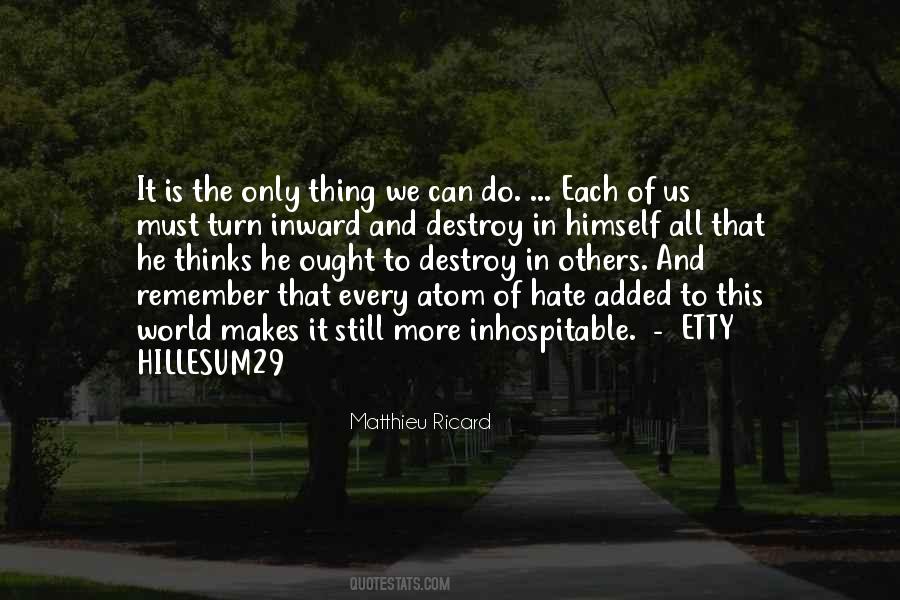 #89. Being a woman writer, I would be deceiving myself if I said I write completely through the eye of a man. There's nothing bad in it, but that does not make me a feminist writer. I hate that name. The tag is from the Western world - like we are called the Third World. - Author: Buchi Emecheta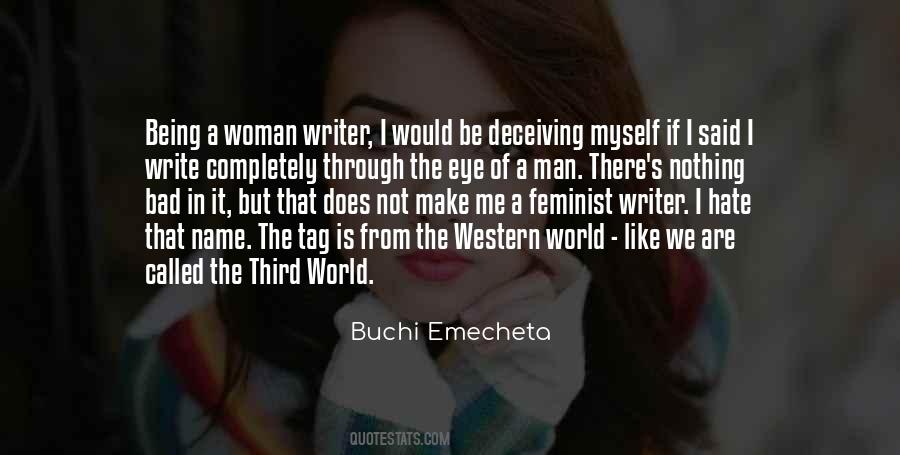 #90. You cannot have Liberty in this world without what you call Moral Virtue, and you cannot have Moral Virtue without the slavery of that half of the human race who hate what you call Moral Virtue. - Author: William Blake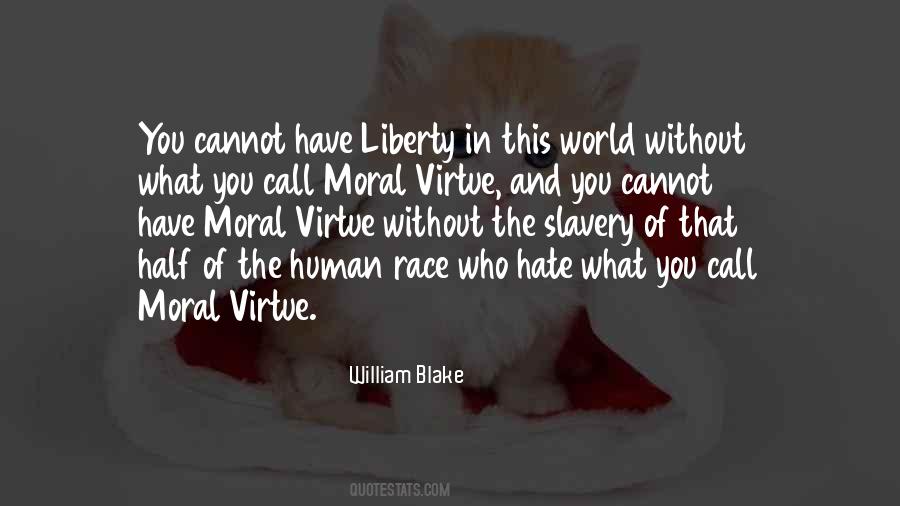 #91. Hate blows a bubble of despair into
hugeness world system universe and bang
-fear buries a tomorrow under woe
and up comes yesterday most green and young - Author: E. E. Cummings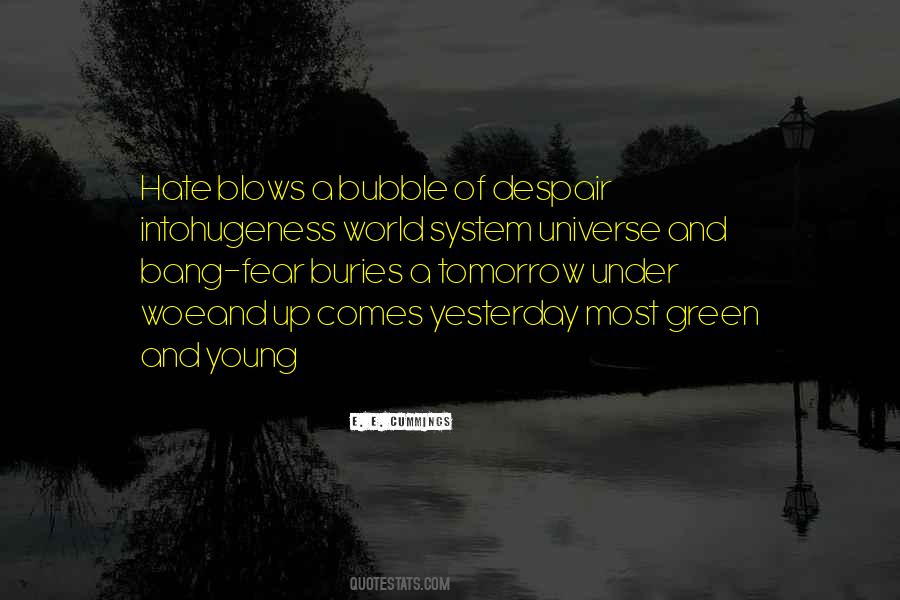 #92. O cease! must hate and death return, Cease! must men kill and die? Cease! drain not to its dregs the urn Of bitter prophecy. The world is weary of the past, Oh, might it die or rest at last! - Author: Percy Bysshe Shelley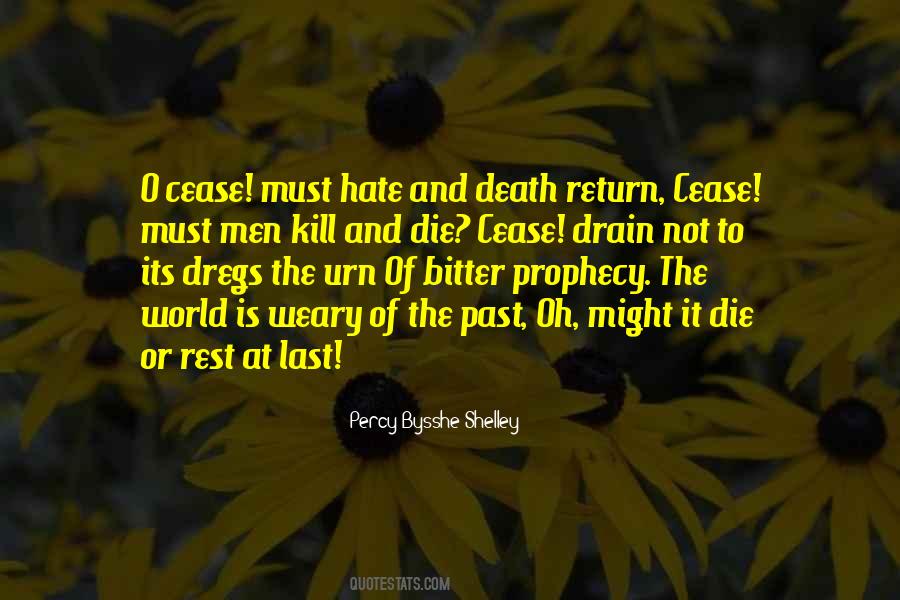 #93. I hate to sound self absorbed, but I'm just going to cast out this pearl of wisdom, if I could give the whole world cancer and kill them and be the last man on earth it would be a sign that god loves me especially. - Author: Thom Yorke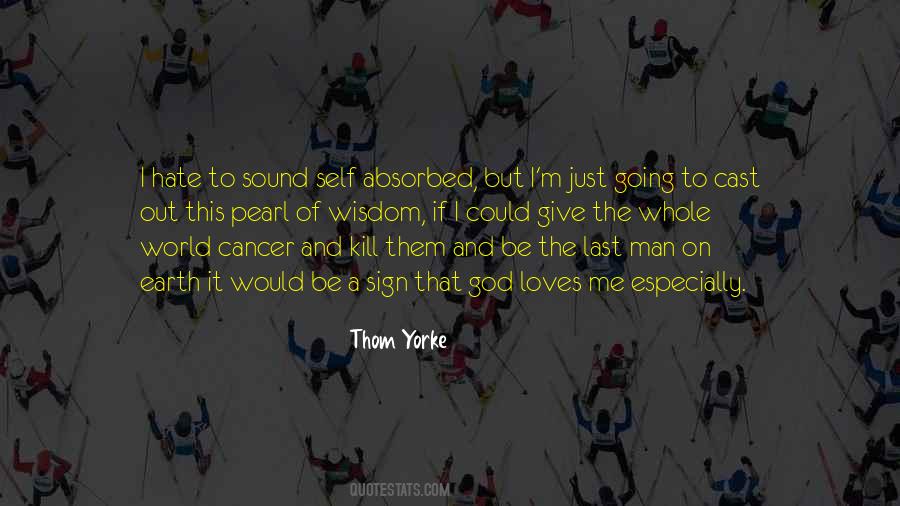 #94. I've organised for the last years, since I got the Nobel Prize actually, Anatomy of Hate Conferences all over the world, what is hate. Didn't help but at least they explored it. - Author: Elie Wiesel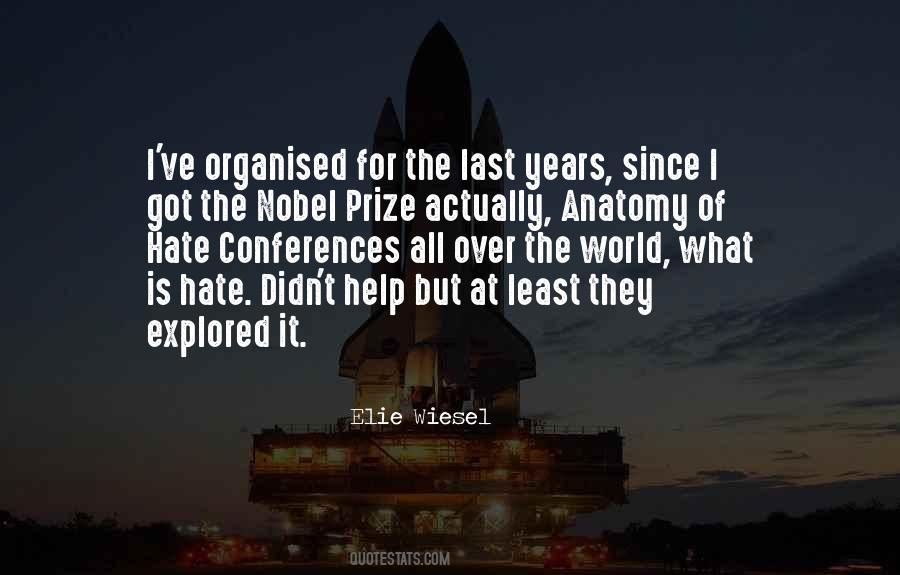 #95. The world will never be long without some good reason to hate the unhappy; their real faults are immediately detected; and if those are not sufficient to sink them into infamy, an individual weight of calumny will be super-added. - Author: Samuel Johnson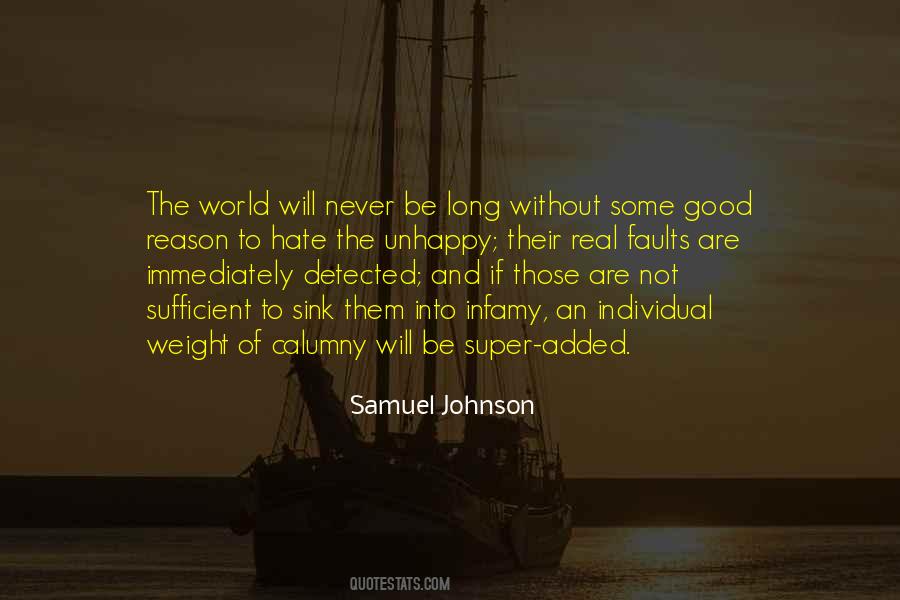 #96. Why is there such madness in our world? Why can't we stop it? Why do we hate others? Tolerance, harmony, compassion, and kindness are the beauty of life. - Author: Debasish Mridha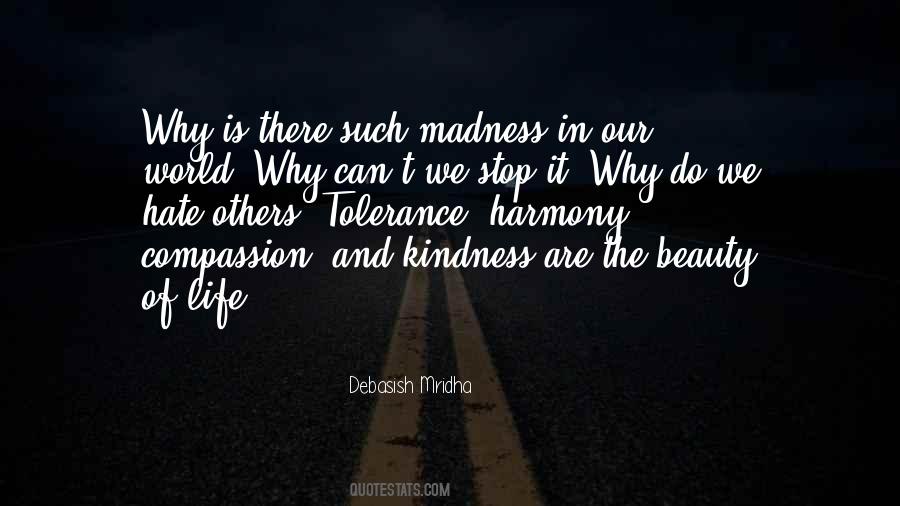 #97. A lot of the time I hate acting. It has a lot to do with the way I was brought up in a world where showing your emotions is frowned upon. It's just not manly. I don't do anything in life because I love doing it. It's because I want to be good at it. - Author: Matthew Fox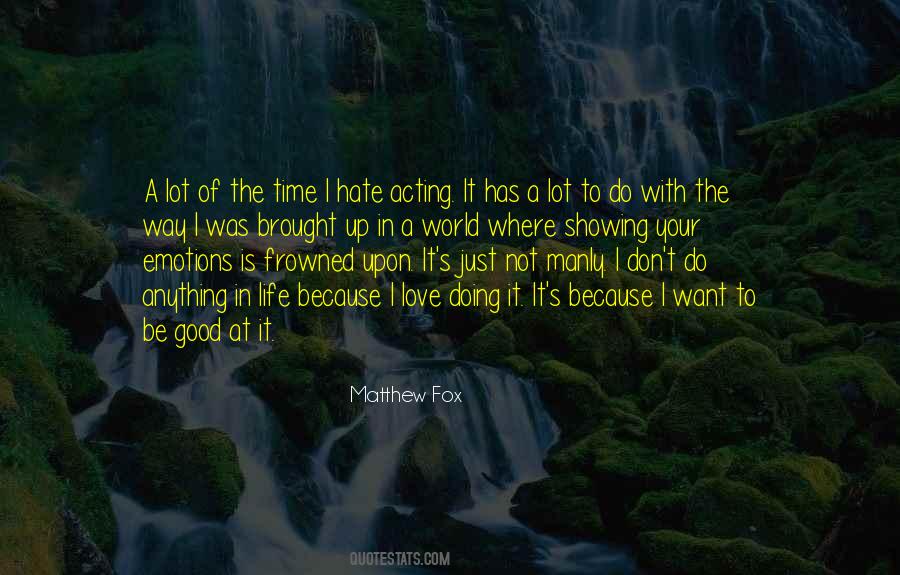 #98. The thing I find about the movie industry is that 99 percent of the people are absolute scum. They're horrible people, they really are. Very nasty killer rabbits who hate movies. But the other 1 percent are really the greatest, most wonderful people in the world. - Author: Lloyd Kaufman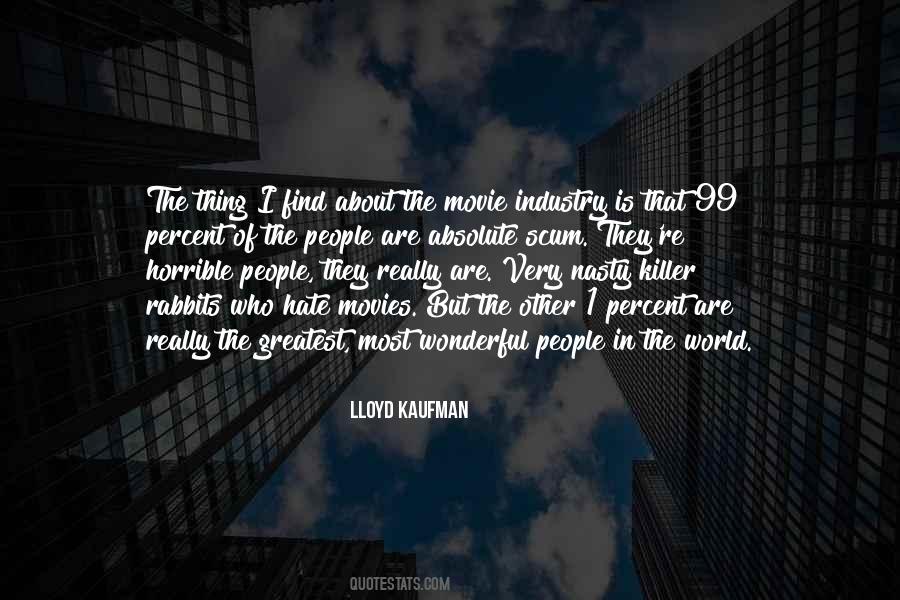 #99. There's only two things I hate in this world. People who are intolerant of other people's cultures and the Dutch. - Author: Michael Caine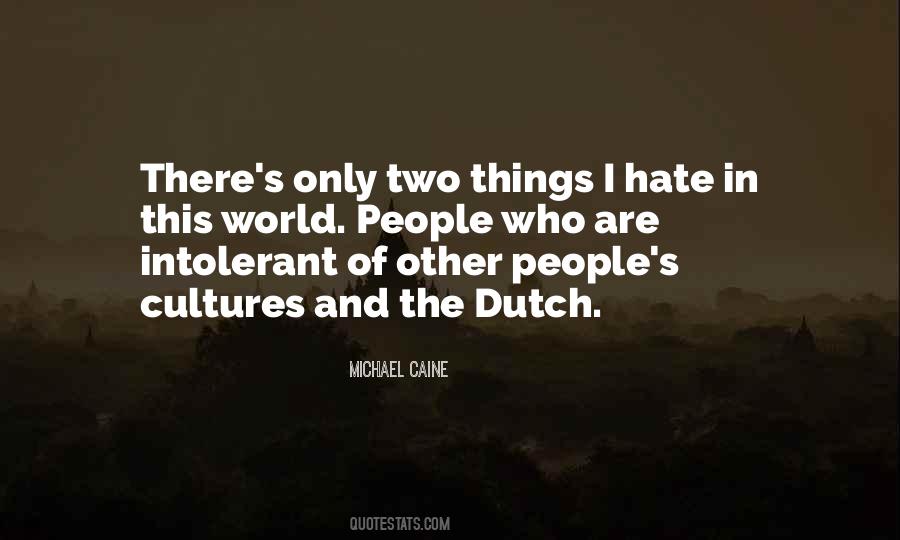 #100. What I hate is the thought of being under a man's thumb," I had told Doctor Nolan. "A man doesn't have a worry in the world, while I've got a baby hanging over my head like a big stick, to keep me in line. - Author: Sylvia Plath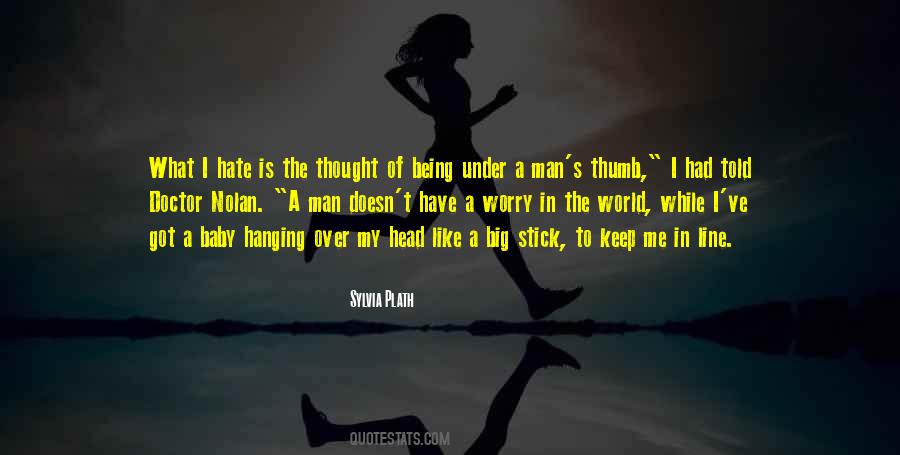 Famous Authors
Popular Topics