Woman Behind Man Famous Quotes & Sayings
List of top 48 famous quotes and sayings about woman behind man to read and share with friends on your Facebook, Twitter, blogs.
Top 48 Woman Behind Man Quotes
#1. Behind every successful man you'll find a woman who has nothing to wear. - Author: Harold Coffin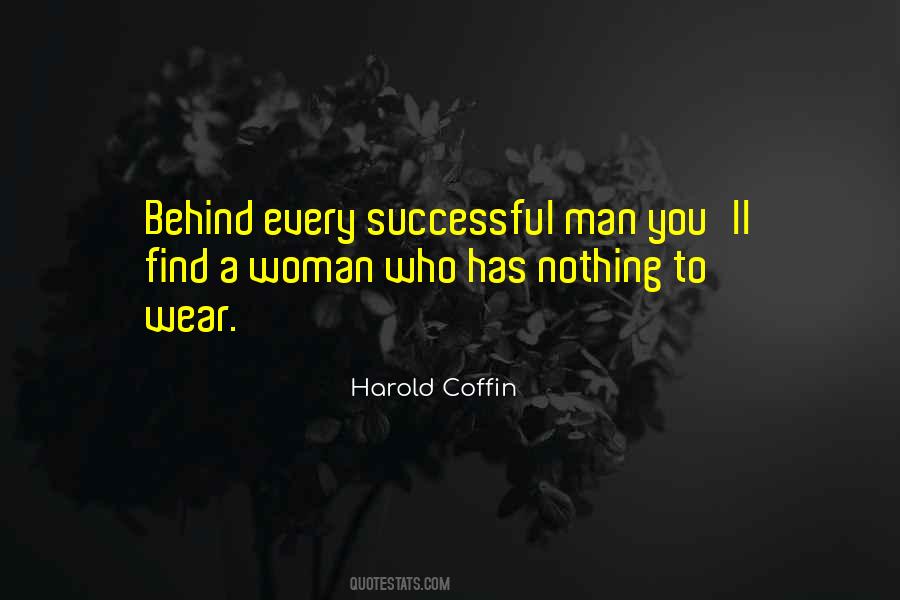 #2. The trouble with a woman standing behind her man is that she can't see where she is going! - Author: Johnnetta B. Cole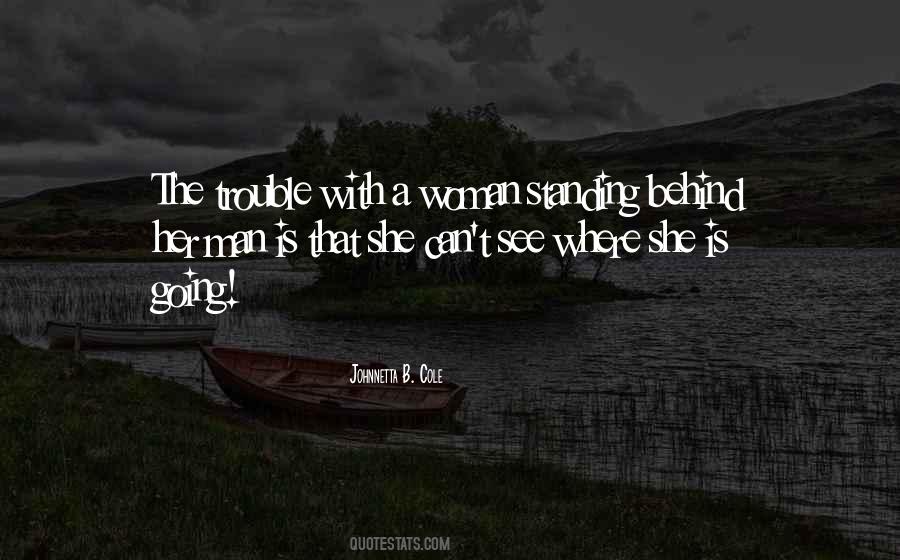 #3. The left-wing thinkers and intellectuals have been more misogynist with me than the army. They can't accept that a young woman is able to think, and they underestimate the intellectual work and study I might have done. They ask who is the man behind me. - Author: Maria De Medeiros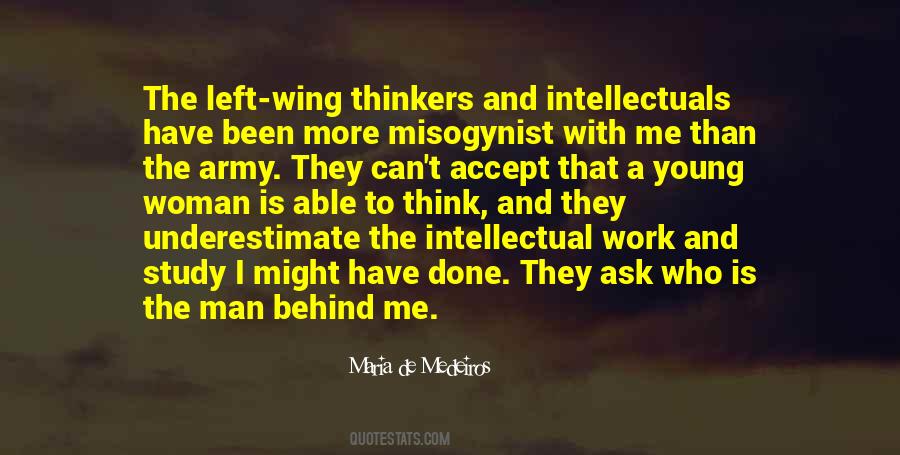 #4. Behind every crazy woman is a man sitting very quietly, saying 'What? I'm not doing anything. - Author: Jade Sharma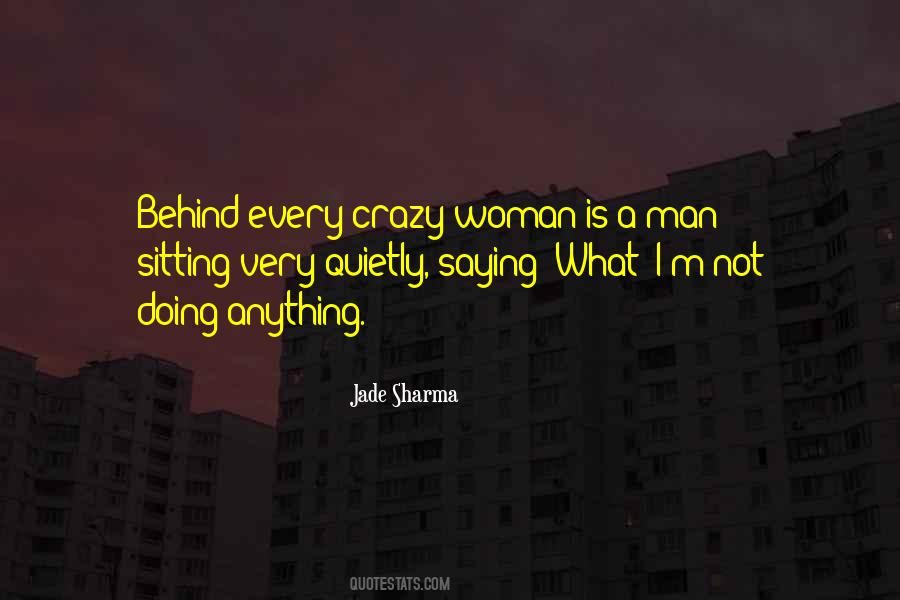 #5. You know how they say behind every great man there's a great woman? My mother would say, No, the woman is three steps ahead. - Author: Renee Carlino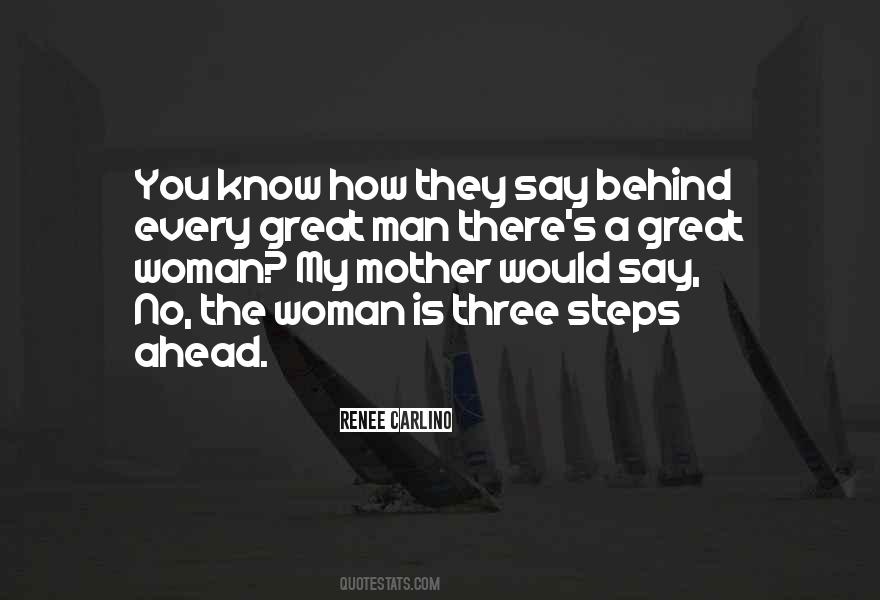 #6. What's that saying? Behind every gorgeous woman, there's a man sick of screwing her? Well, it works both ways. No one mentions that part. - Author: Taylor Jenkins Reid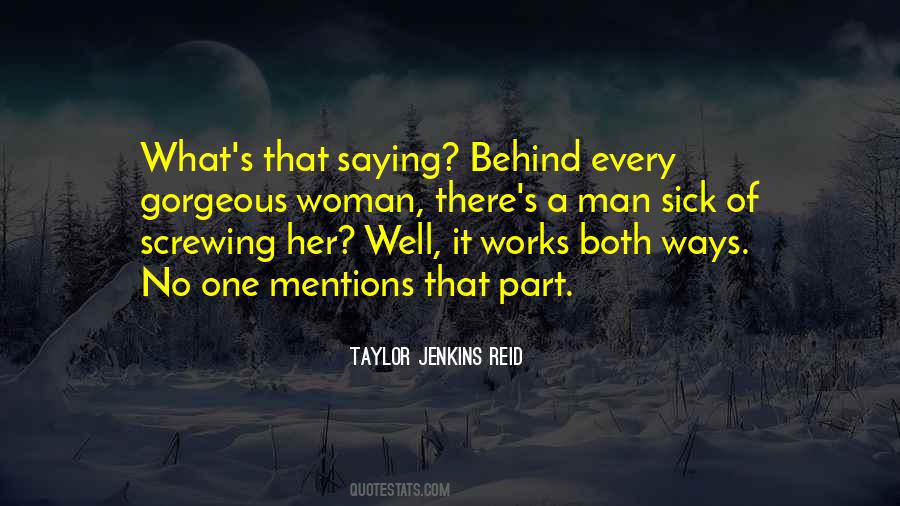 #7. Behind every strong man is a strong woman?" he guessed.
"Beside," Ghost corrected. "She's beside him. - Author: Lauren Gilley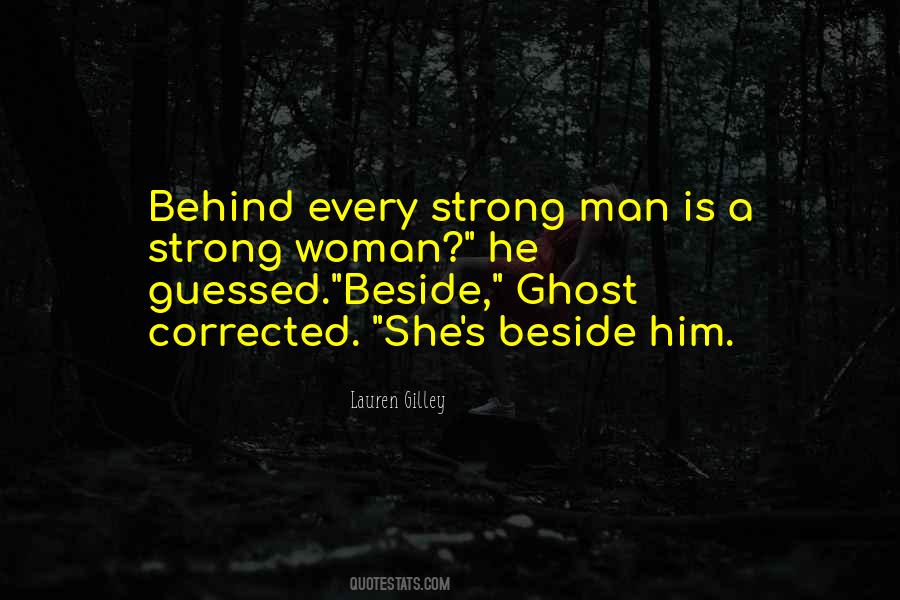 #8. To my mind, there are no unattractive women; only those who haven't been awakened by love ... A woman is often like a strip of film-obliterated, insignificant-until a man puts the light behind her. - Author: George Hamilton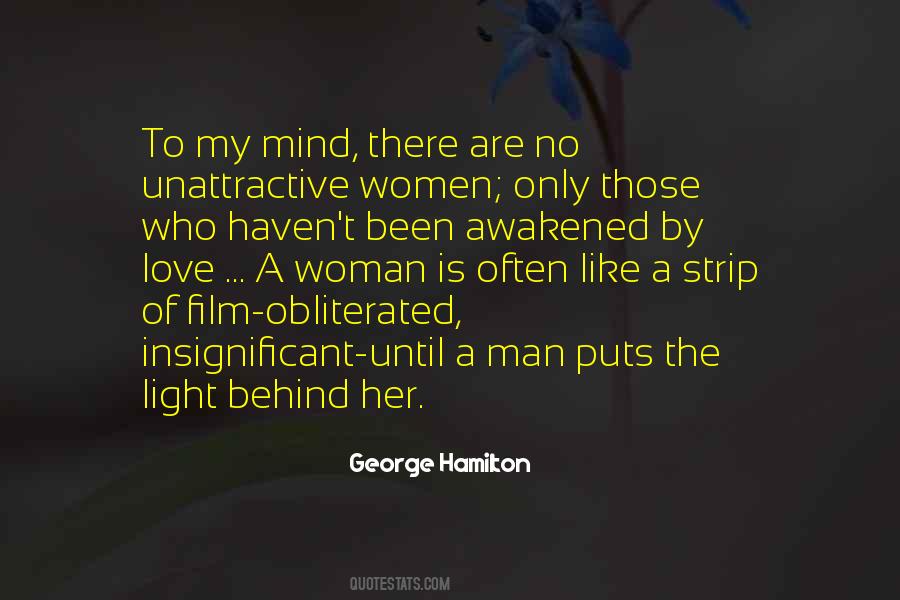 #9. But trust me, men are never worth it. Behind every great man is a woman who gave up on greatness and tied herself into an apron. Romance is for saps, Abbie. You're sharp and you've got pluck. Don't waste it. - Author: William Ritter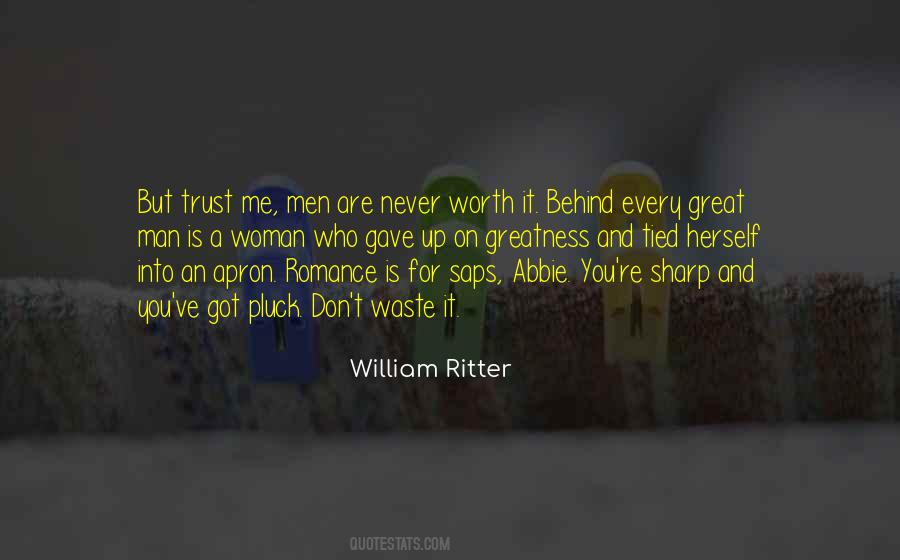 #10. The secret behind every godly man and woman is their belief in the truth that they have been forgiven ... Even when they say the wrong thing, do the wrong thing, or have a wrong thought, they continue to be forgiveness-conscious. - Author: Joseph Prince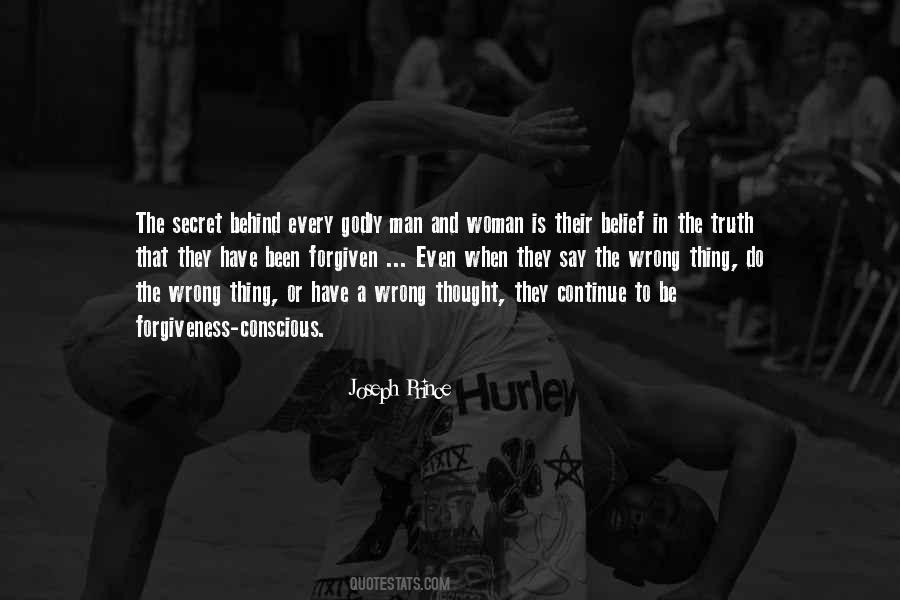 #11. There's nothing honerable in a man who hides behind a blue woman's hanky. - Author: John Flanagan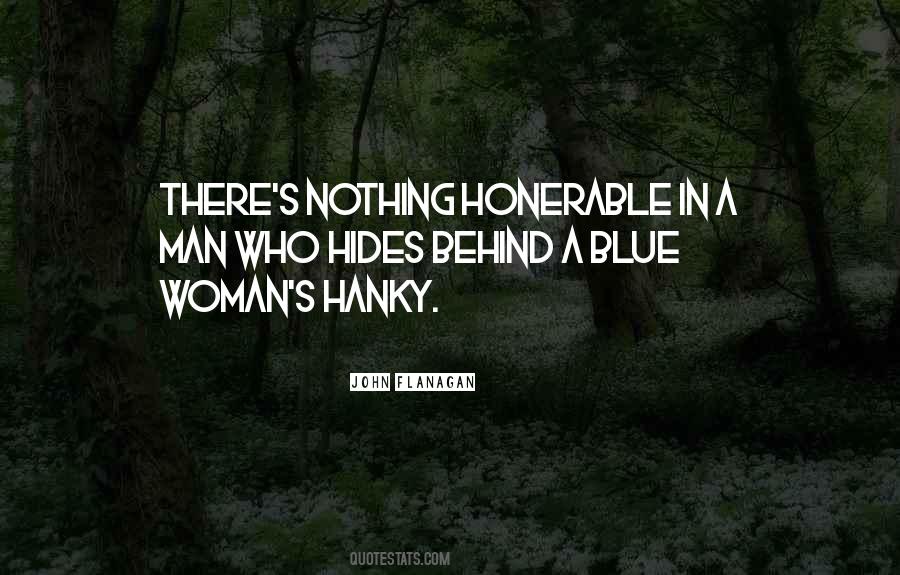 #12. Behind every great woman is a great behind! - Author: Rhonda Shear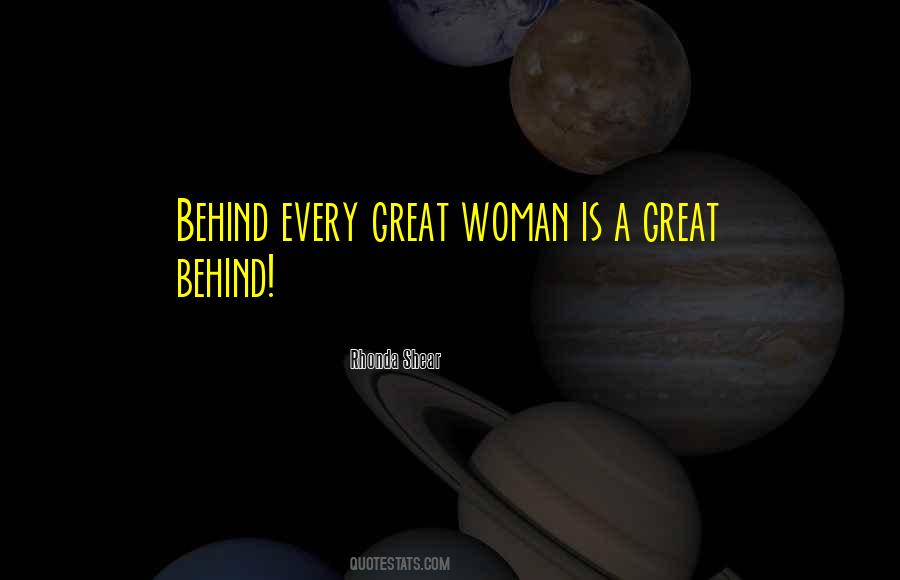 #13. Behind every great man there is a woman rolling her eyes. - Author: Jim Carrey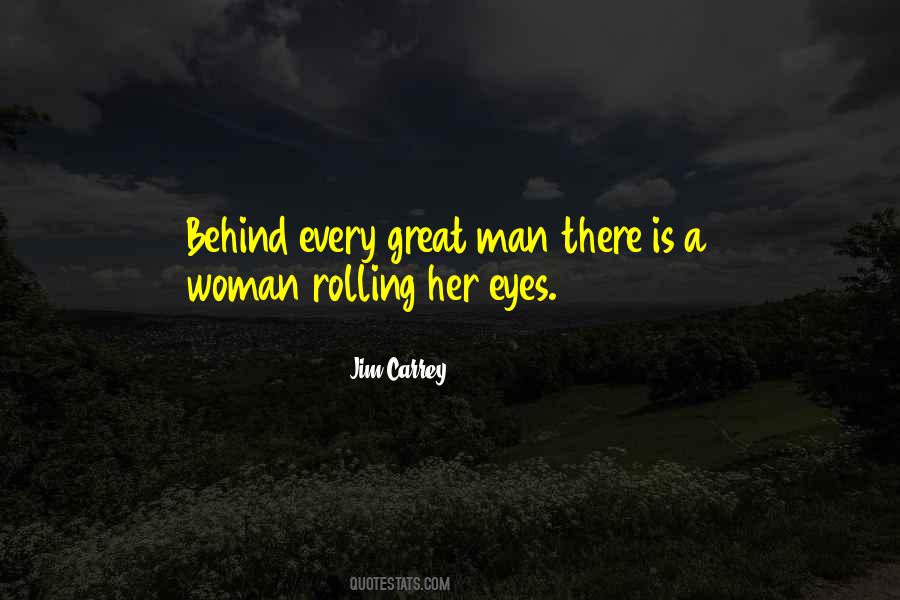 #14. Man, that woman was quick when she wanted to be. But put her behind the wheel of a Buick ... - Author: Darynda Jones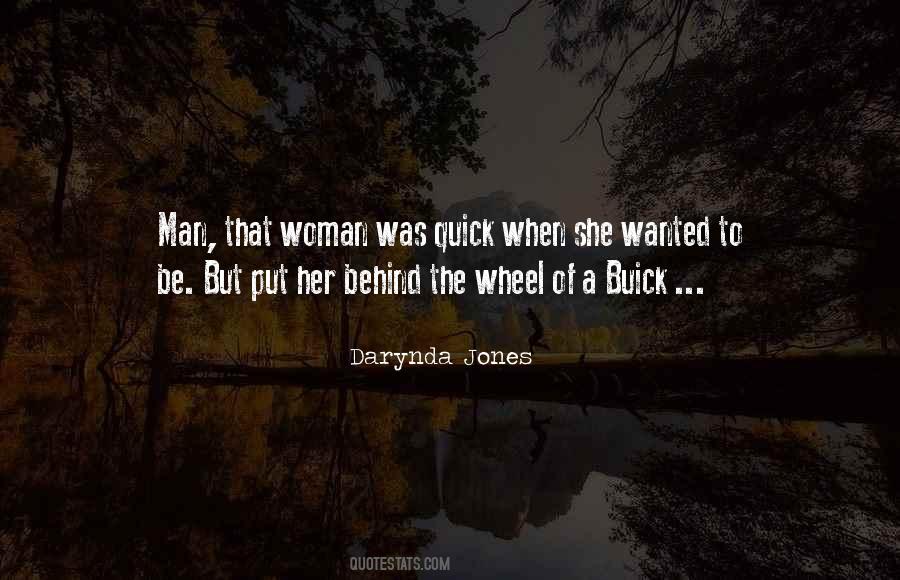 #15. Behind every successful woman is a hungry man. - Author: Ljupka Cvetanova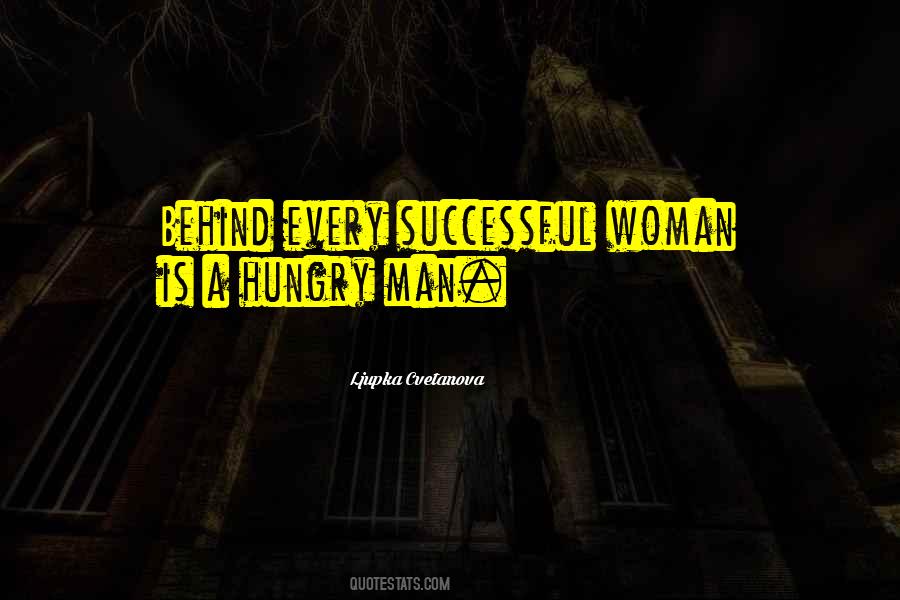 #16. No man succeeds without a good woman behind him. Wife or mother, if it is both, he is twice blessed indeed. - Author: Godfrey Winn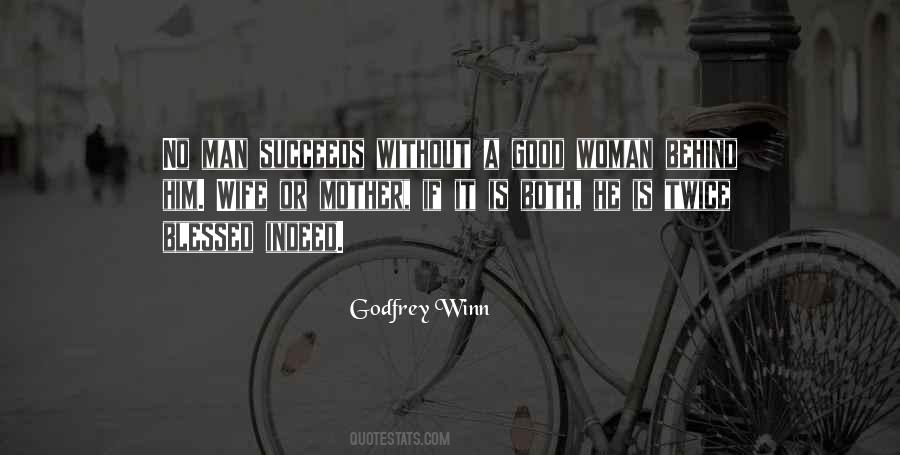 #17. The woman, in a battle of fists or guns, may not be as great a power as a man; but a woman behind a vote is every bit as useful as a man. - Author: Irene Parlby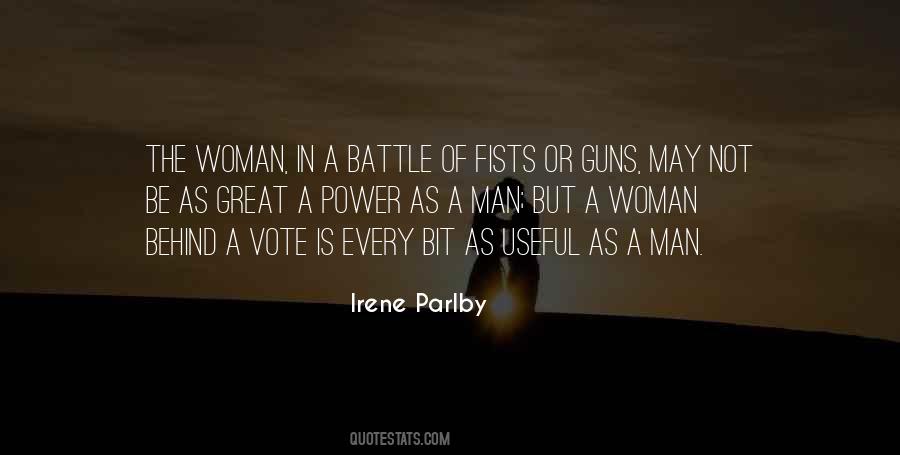 #18. Behind every great man is not a woman, she is beside him, she is with him, not behind him - Author: Tariq Ramadan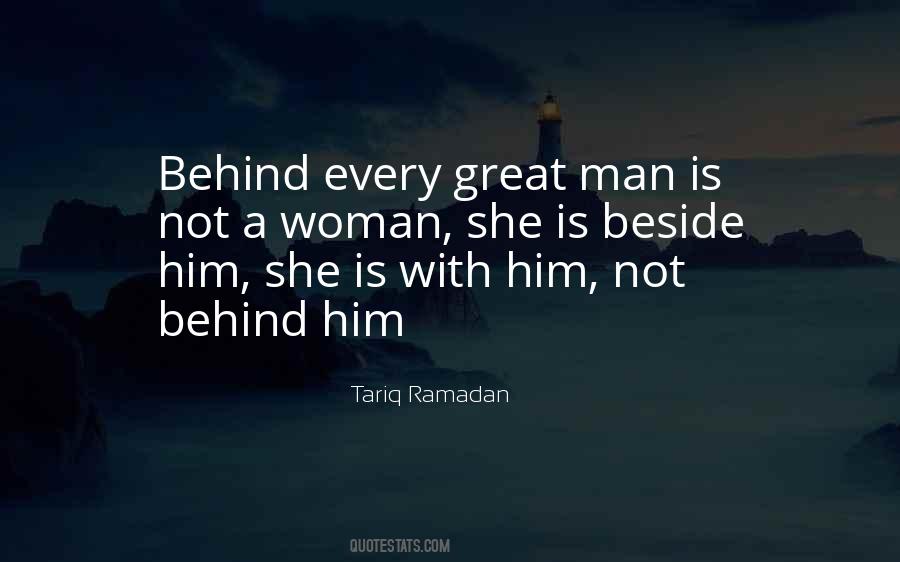 #19. Behind every great man there is a surprised woman. - Author: Maryon Pearson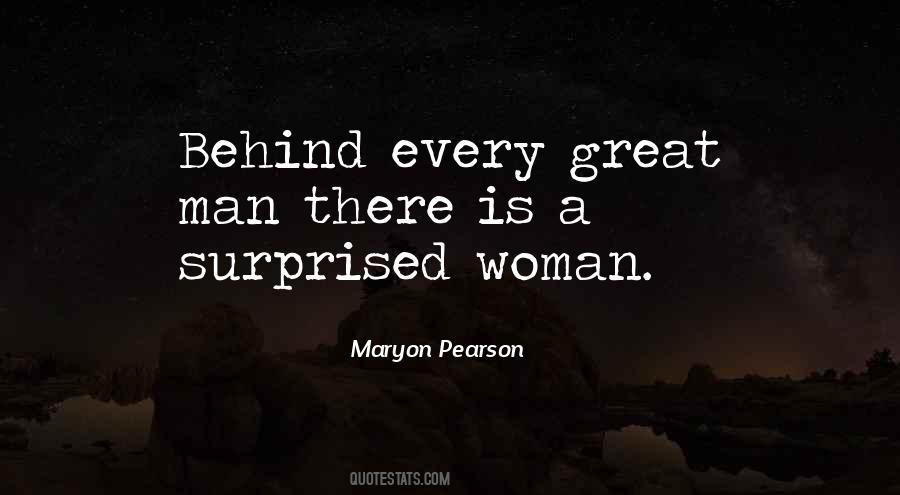 #20. I think behind every great man there's got to be a great woman, whether she's your wife, your girlfriend or not. I'm not gonna say that there's not that special girl out there. But I'm in the music biz, and I'm focused on the music. - Author: Prince Royce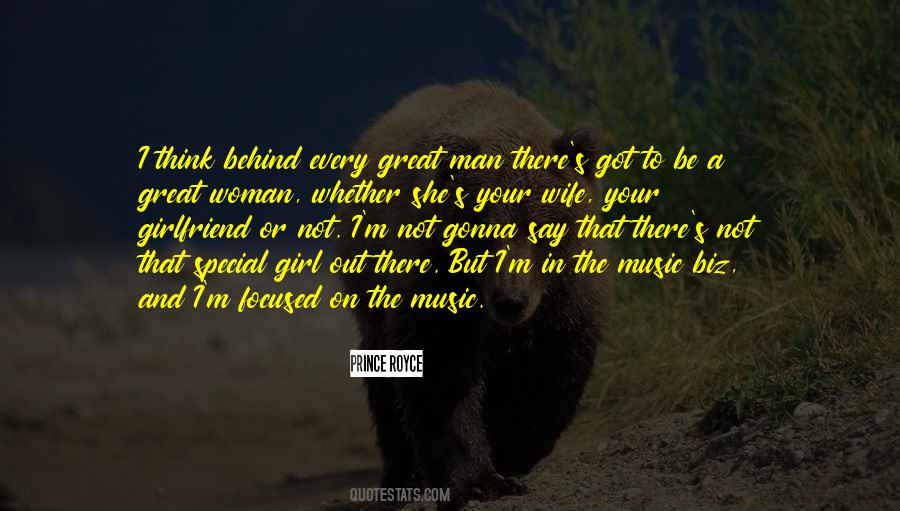 #21. As the saying goes, behind every great man is an even greater woman. I guess playing Hera [in Wonder Woman] means that I'm, well, not only Queen of the Gods, I'm better than he is! - Author: Marg Helgenberger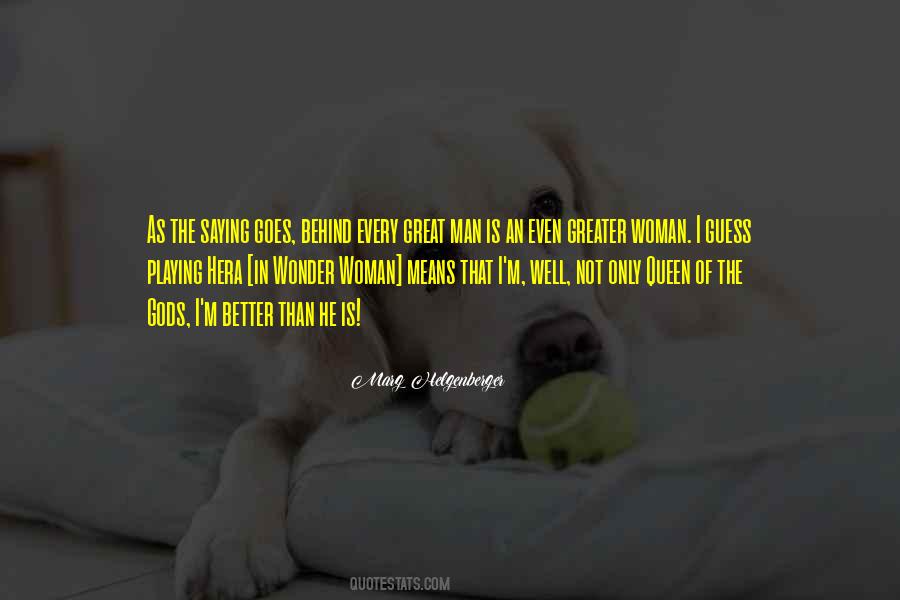 #22. Behind every great man there is a suprised woman. - Author: Maryon Pearson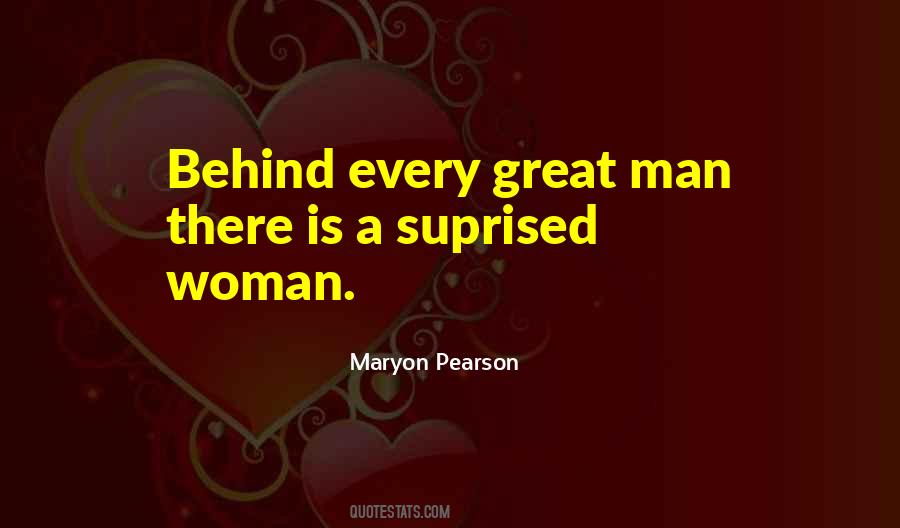 #23. Me big strong man. Me take woman from behind. - Author: Claire Kent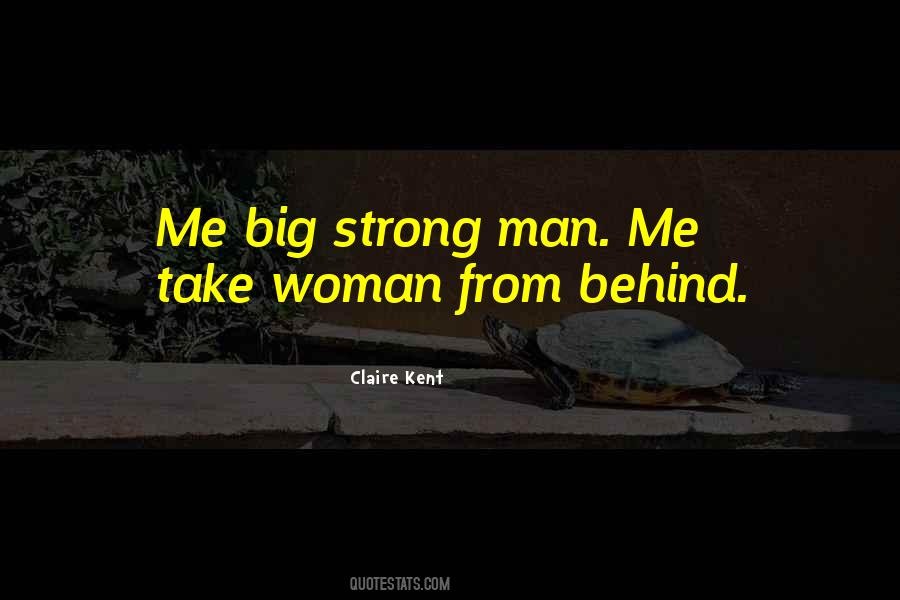 #24. The harsh truth is, most red-haired men look like blondes who've spoiled from lack of refrigeration. They look like brown-haired men who've been composted out behind the barn. Yet that same pigmentation that on a man can resemble leaf mold or junkyard rust, a woman wears like a tiara of rubies. - Author: Tom Robbins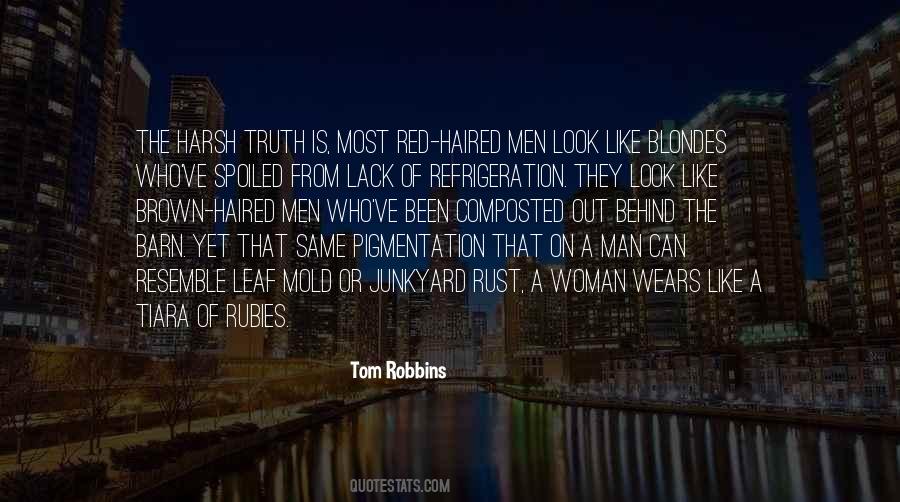 #25. A young man rarely gets a better vision of himself than that which is reflected from a true woman's eyes; for God himself sits behind them. - Author: J.G. Holland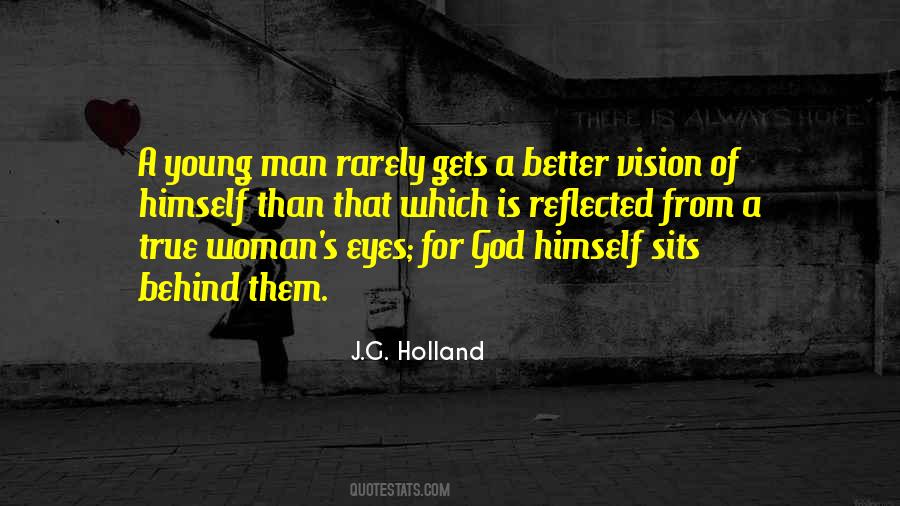 #26. Behind every good man, there's a good woman reminding you I knew you when you didn't have nothing. - Author: Coretta Scott King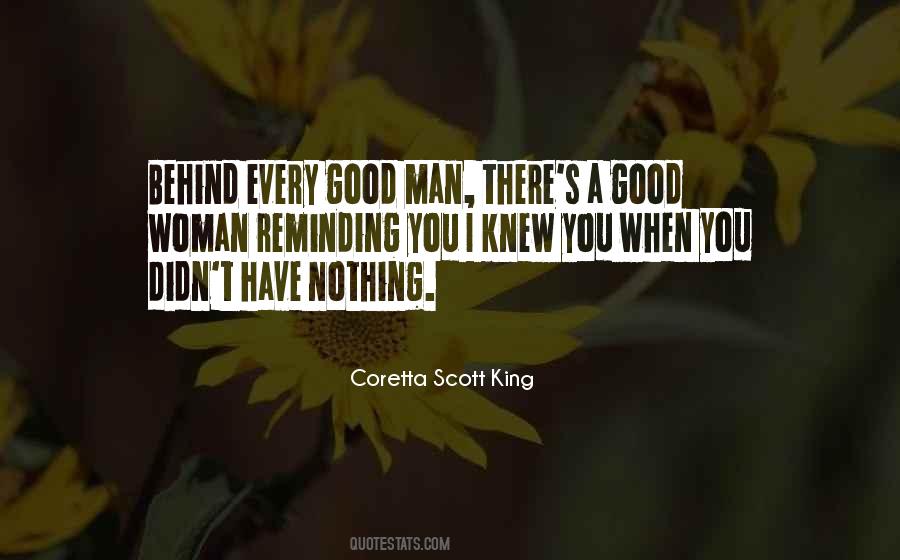 #27. Behind every great man is a woman. Telling him he's not so hot. - Author: Harrison Ford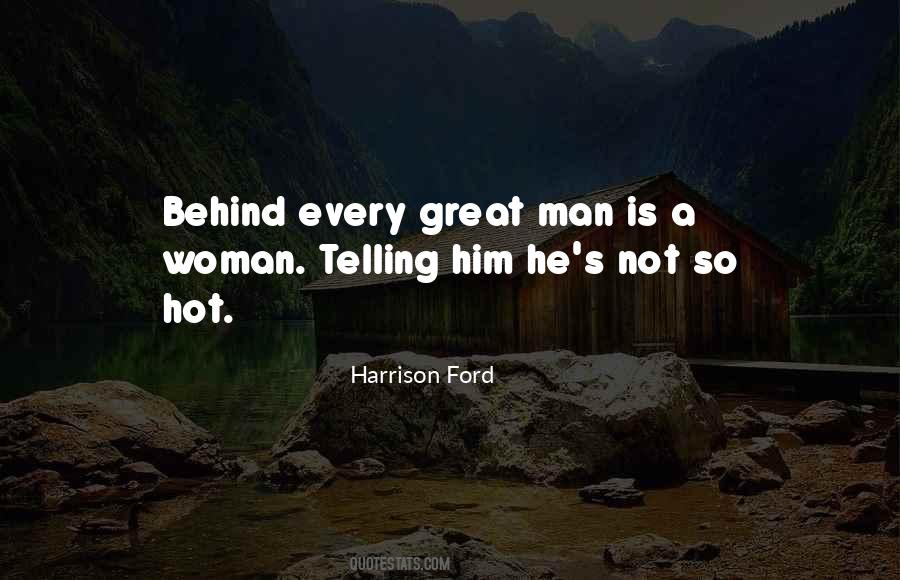 #28. death was a natural phenomenon, albeit a sorrowful one for those left behind, but one that every man and woman must accept as the price we pay for life. - Author: John Boyne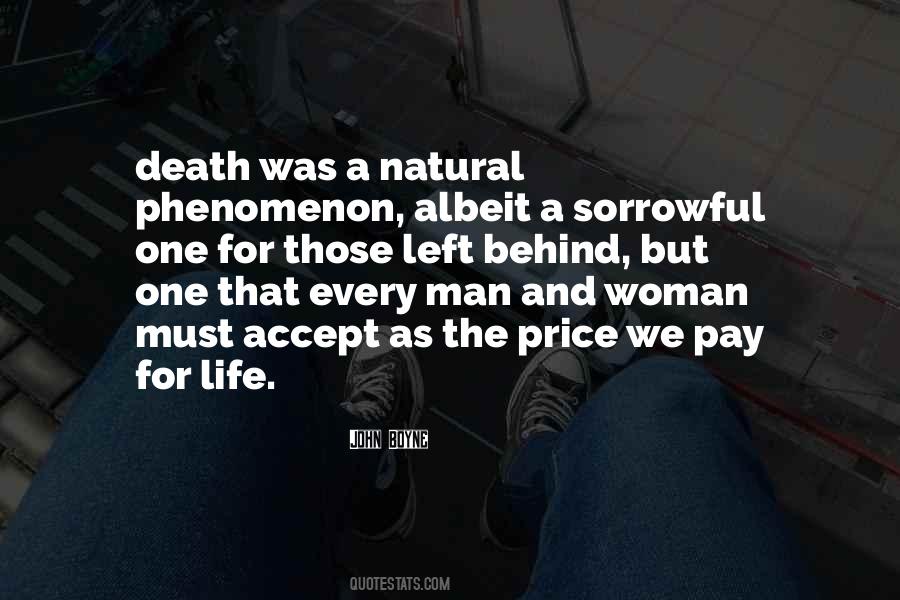 #29. To see the man that I love pursue another woman was heartbreaking. Usually men do this shit behind your back. However, since we were in the lifestyle, I guess he thought it was okay to do it in my face. "I told you that there were - Author: Jessica N. Watkins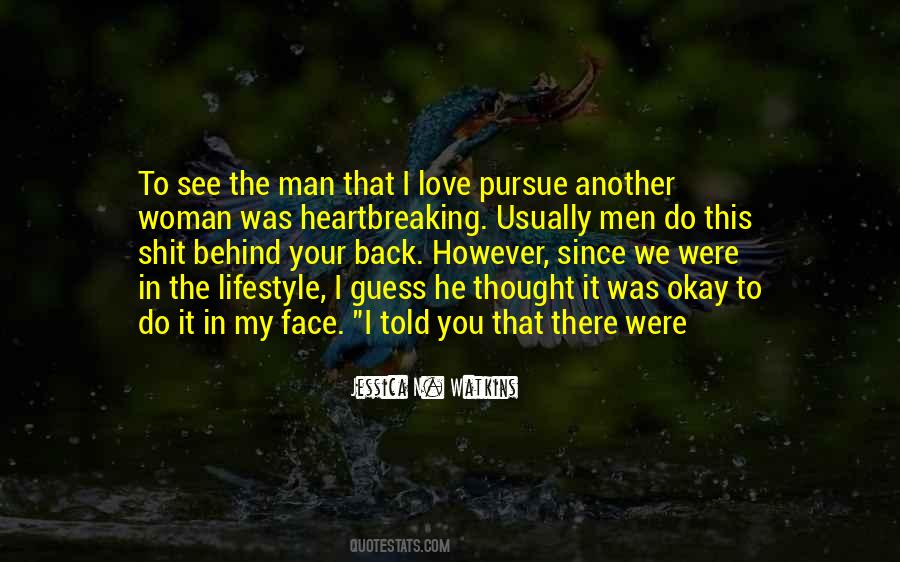 #30. Behind every powerful man is a woman who knows how to push his buttons. Good - Author: Robert Bryndza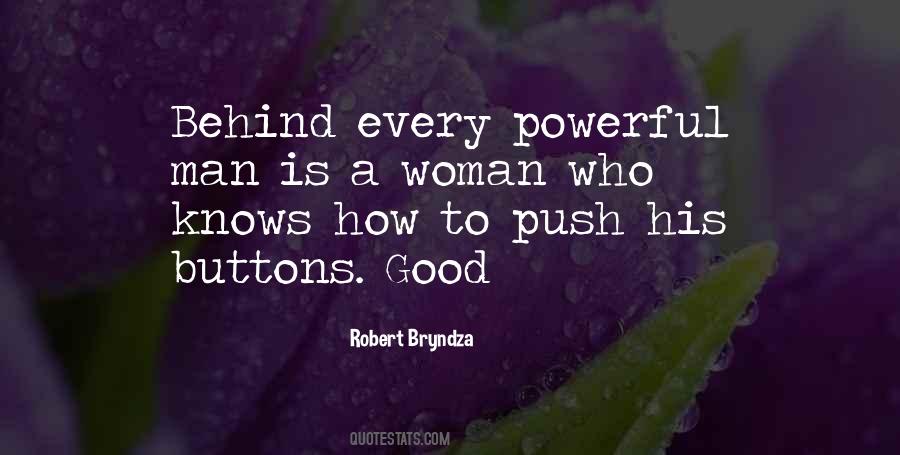 #31. The old saying is true, behind every good man theres an incredible woman. - Author: Robert Downey Jr.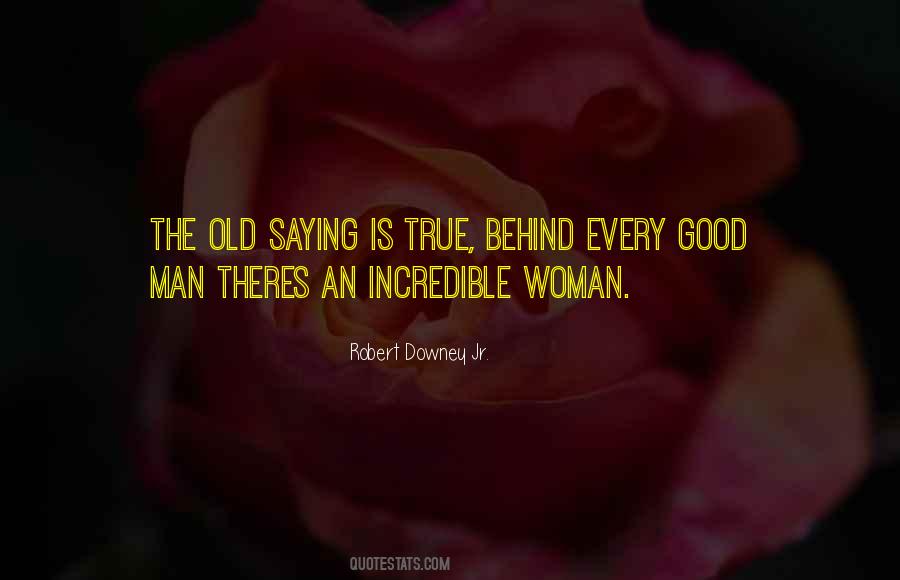 #32. Every great man has a woman behind him ... And every great woman has some man or other in front of her, tripping her up. - Author: Dorothy L. Sayers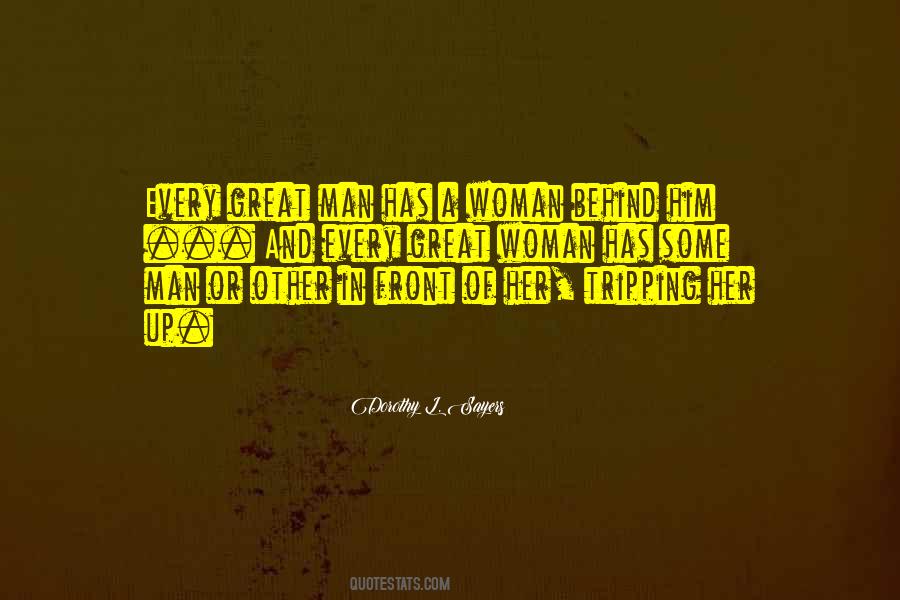 #33. Behind every successful man is a woman but few of us realize that behind most successful women is a man too; her father. - Author: Shahla Khan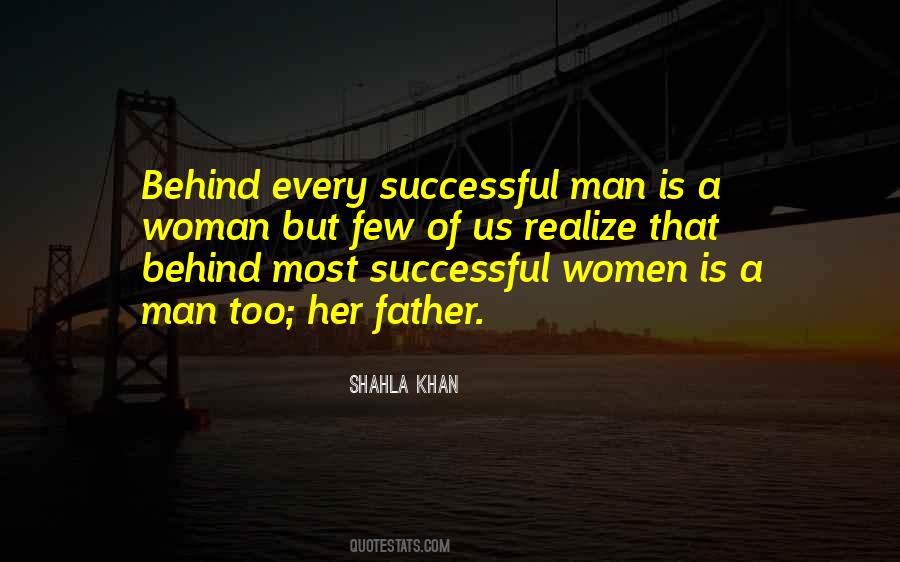 #34. It really was true that behind every great man is an even greater woman, which stood true for wolves as well. - Author: Quinn Loftis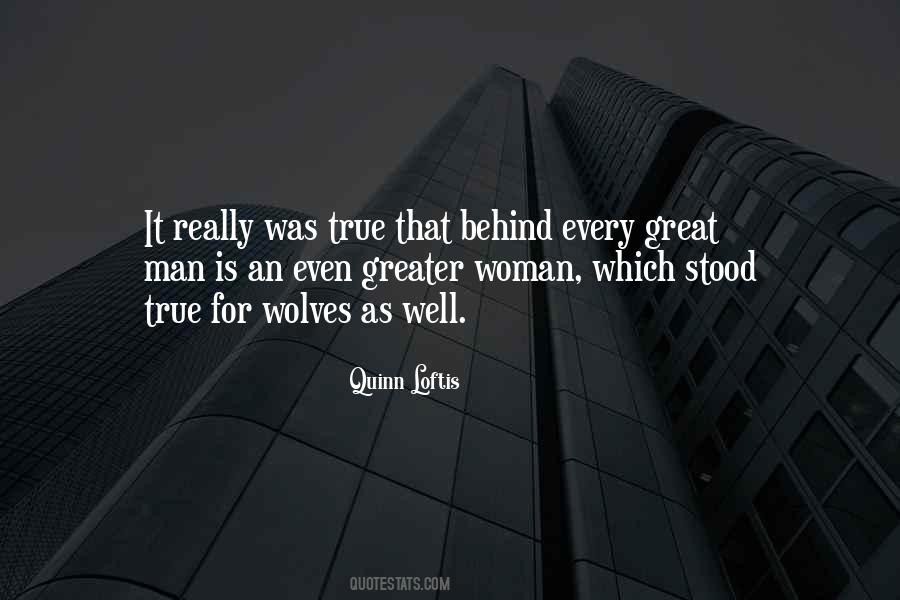 #35. One of the things I have always said about the man-woman relationship is that I don't want anybody to walk ahead of me and I don't want anybody to walk behind me. I want a man who will walk along beside me. And that's how I feel about equal rights. - Author: Cicely Tyson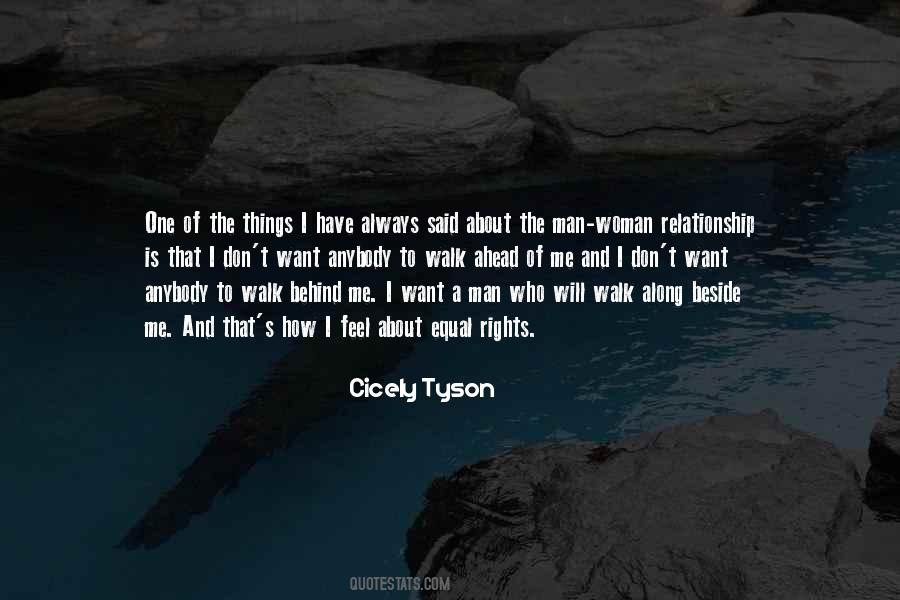 #36. Behind every great man is a great woman' but in front of every great man should be a spectacular woman - Author: Josh Stern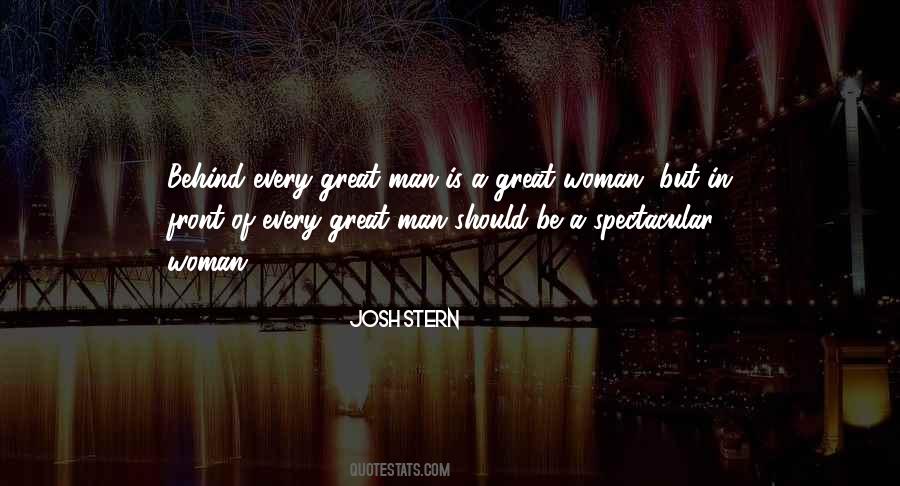 #37. The motivating factor behind God's redemptive plan for every man and woman is His love for us. He not only loves us, He so loves us! - Author: O. S. Hawkins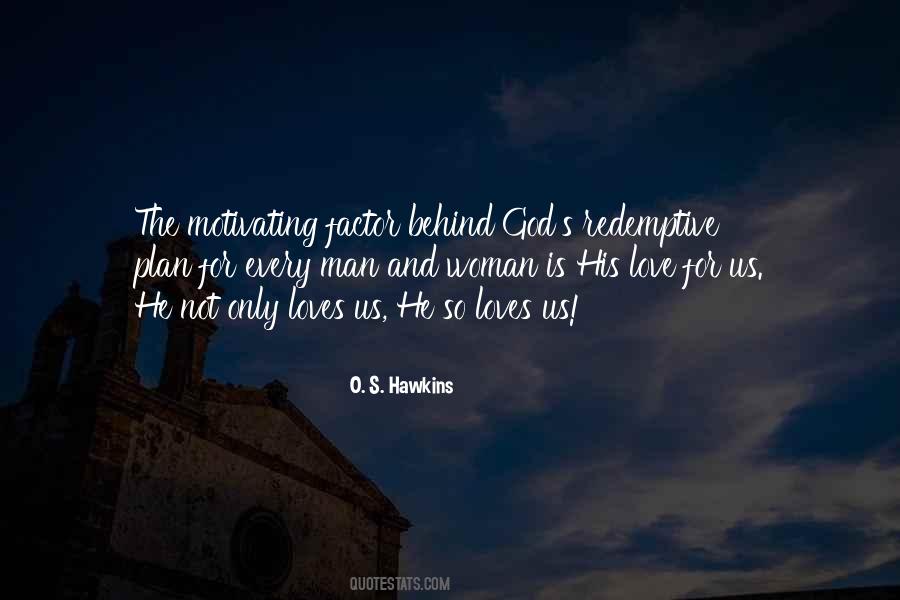 #38. When people speak admiringly of a butch, what I see is someone who has taken on the best gendered characteristics of both woman and man, left a lot of the stuff born of misogyny and heterosexism behind, and walked forward into the world without apology. - Author: S. Bear Bergman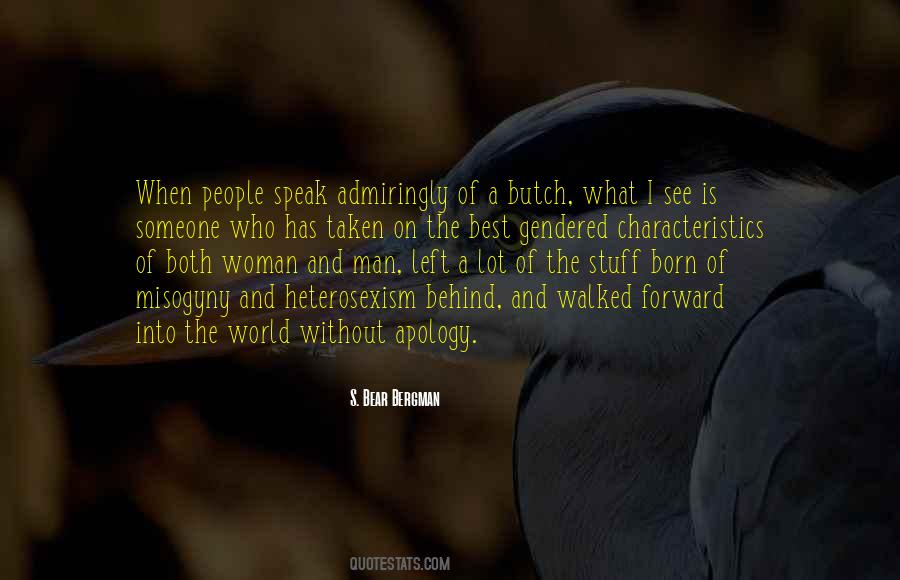 #39. Every good man's place is behind a woman?"
"The only reason for a man to be behind a woman is because he's checking out her very fine ass."
"Haven't had any complaints so far, Country...And...uh...there are many more places I'd prefer a man to be - Author: K. Bromberg
#40. Behind every great man is a woman rolling her eyes. - Author: Jim Carrey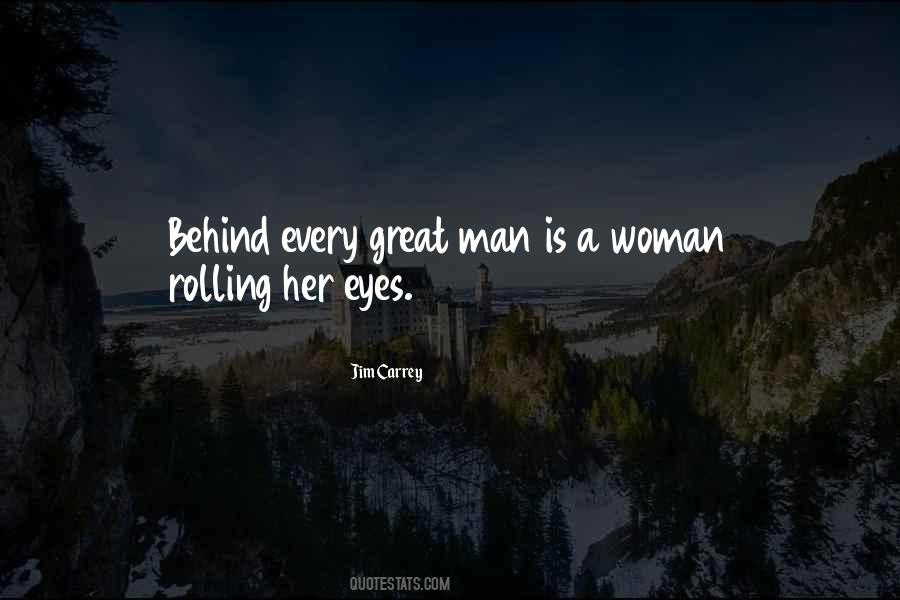 #41. Behind the man is the Tree of Life, bearing twelve fruits, and the Tree of the Knowledge of Good and Evil is behind the woman; the serpent is twining round it. - Author: A. E. Waite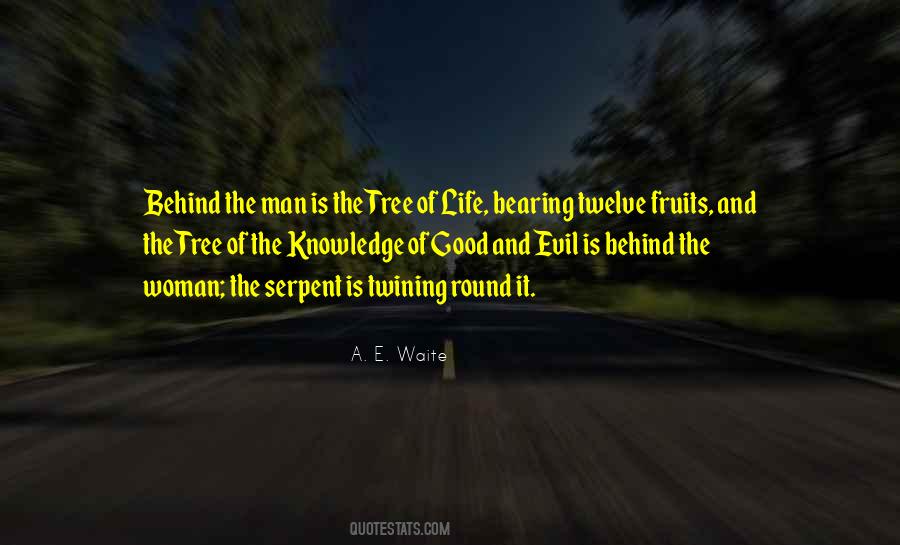 #42. A high-powered, successful woman doesn't necessarily have the same support behind her that a man in that position would. Plus, she's expected to be a domestic goddess, as well as the best wife, mother, friend, and lover. But it's not just in politics: you see it in acting, too, and in journalism. - Author: Raquel Cassidy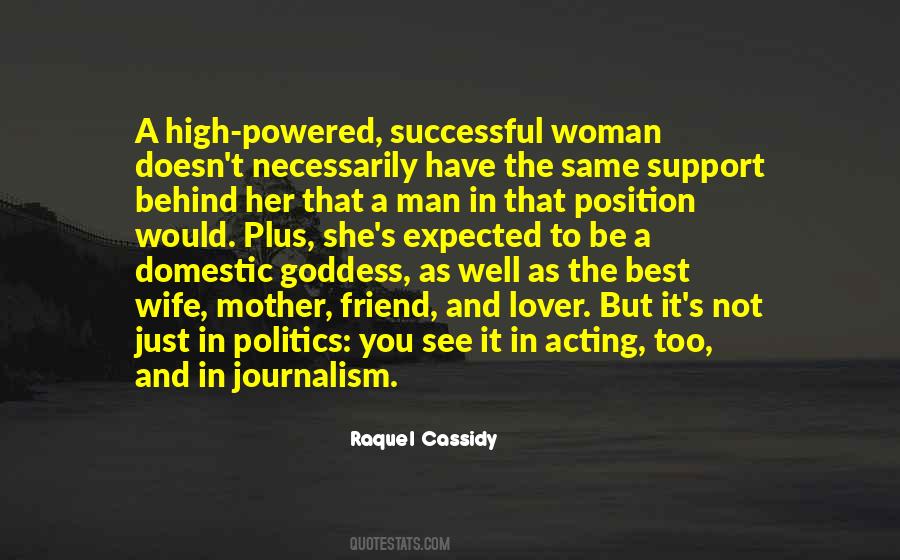 #43. I'm never going to be the woman behind the man. - Author: Stephanie Zimbalist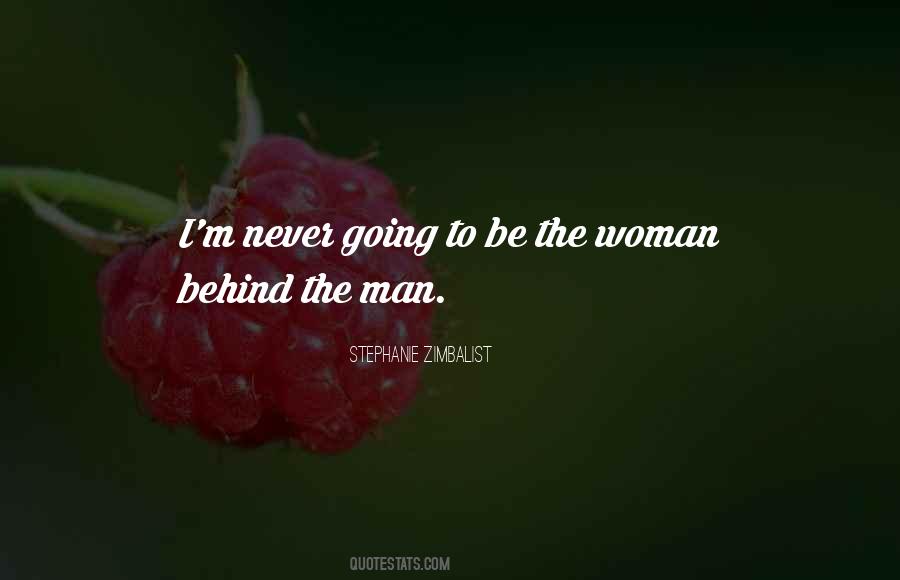 #44. Always remember that when a man goes out of the room, he leaves everything in it behind ... When a woman goes out she carries everything that happened in the room along with her. - Author: Alice Munro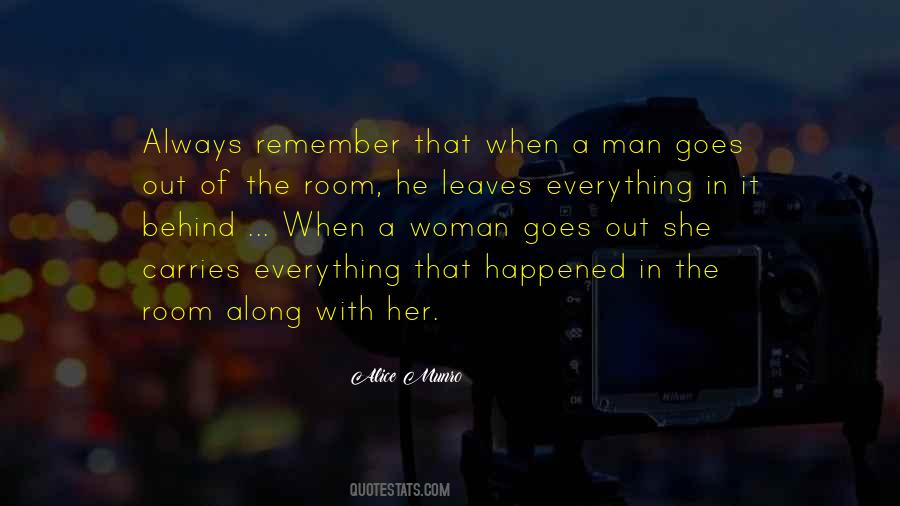 #45. Behind every successful man, there is a woman - And behind every unsuccessful man, there are two. - Author: Mark Twain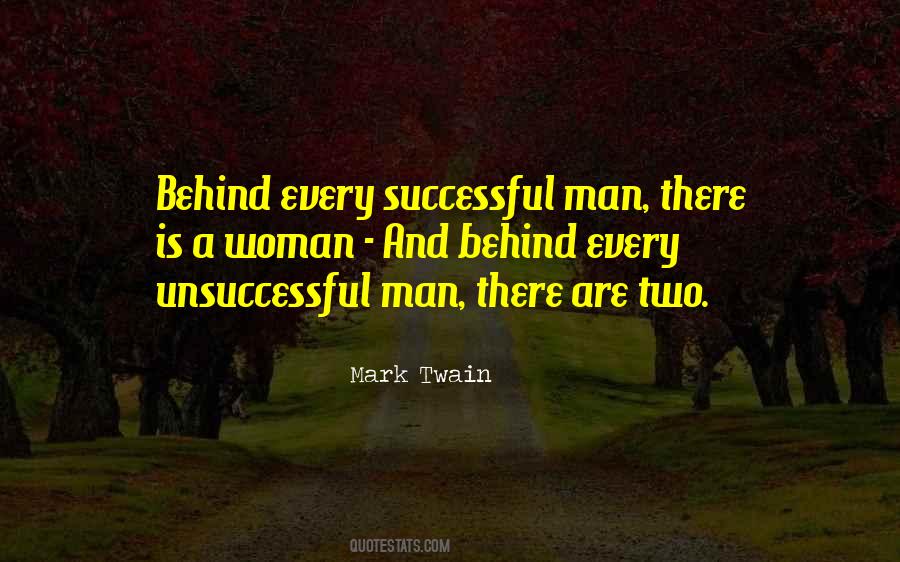 #46. Behind every clever man is an even cleverer woman. - Author: Matshona Dhliwayo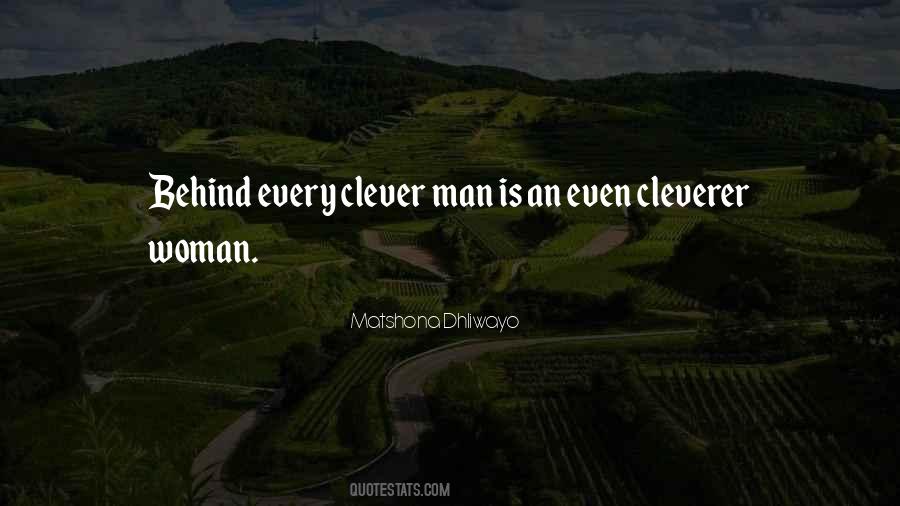 #47. She was a ghost in a strange house that overnight had become immense and solitary and through which she wandered without purpose, asking herself in anguish which one of them was deader: the man who had died or the woman he had left behind. - Author: Gabriel Garcia Marquez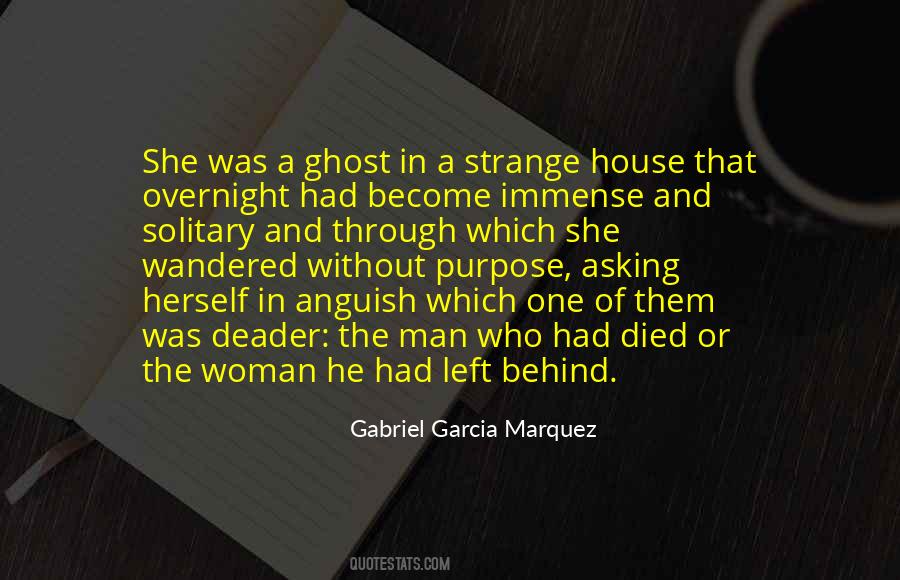 #48. When a person does something, it has the man or woman look about it. It drips with humanity. You can follow the logic of it and see the meaning behind it. - Author: Charles R. Swindoll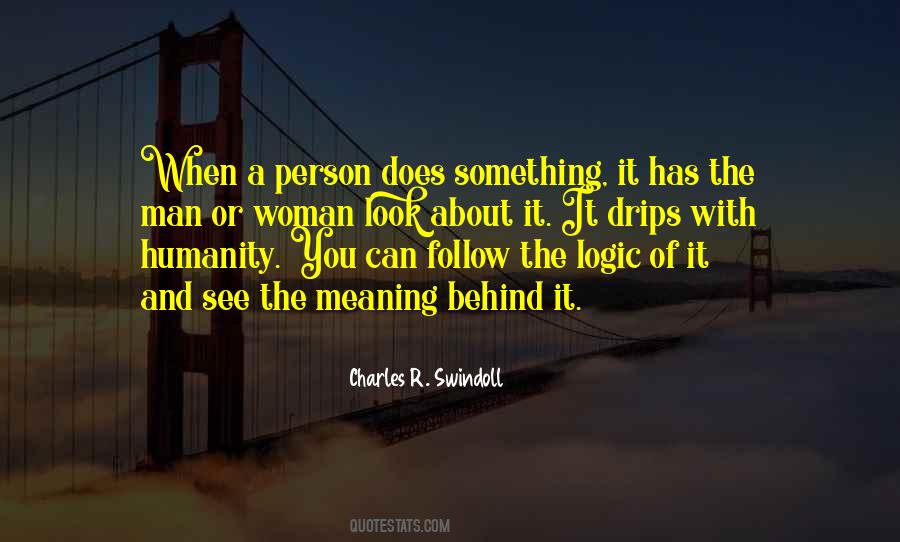 Famous Authors
Popular Topics