Will Always Care Famous Quotes & Sayings
List of top 100 famous quotes and sayings about will always care to read and share with friends on your Facebook, Twitter, blogs.
Top 100 Will Always Care Quotes
#1. Creation is not a property, which we can rule over at will; or, even less, is the property of only a few: Creation is a gift, it is a wonderful gift that God has given us, so that we care for it and we use it for the benefit of all, always with great respect and gratitude. - Author: Pope Francis
#2. People are always saying: 'They'll take care of it. The government will. Don't worry, they will'. They who? It starts with us. It's us. Or else it'll never be done. - Author: Michael Jackson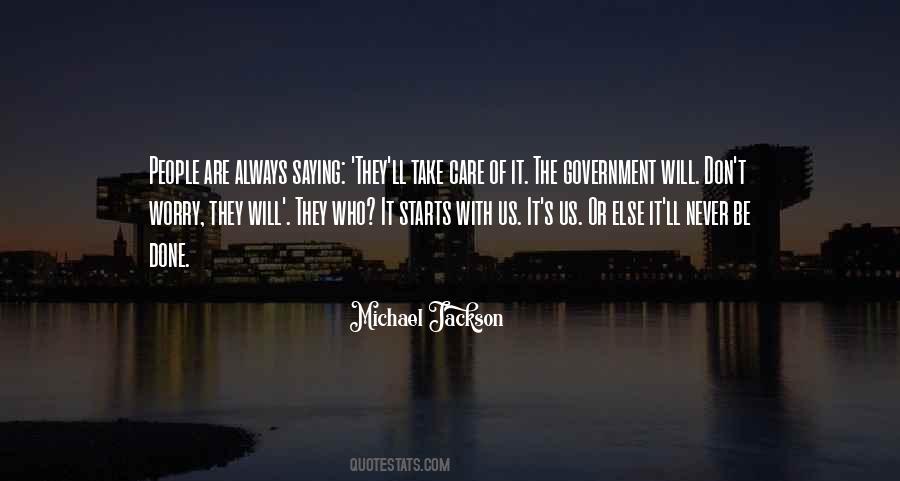 #3. I will always believe in love and I don't care what happens to me or how many times I get my heart broken, or how many breakup songs I write, I'm always going to believe that someday I am going to meet somebody who is actually right for me and he's going to be wonderful and it's going to work out. - Author: Taylor Swift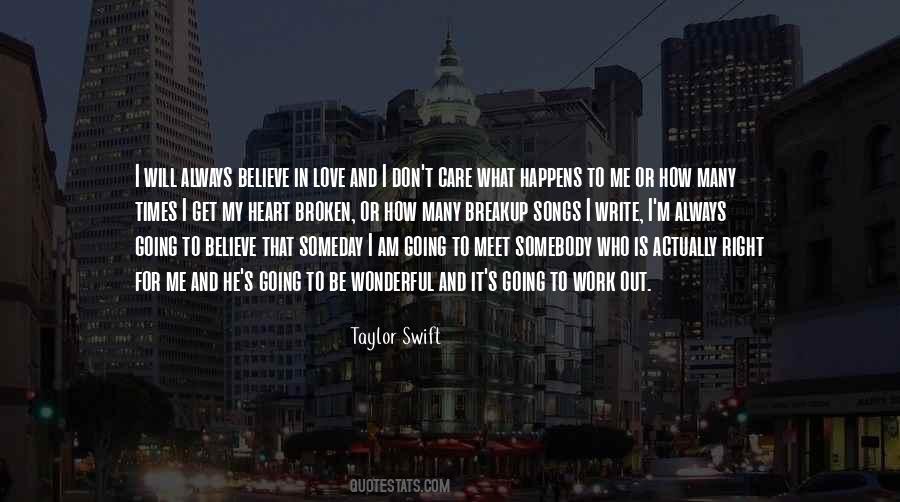 #4. I think one great tip is that you should always love yourself. If you don't love yourself, take care of yourself, cater to yourself and that little inner voice, you will really not be very worthy of being with someone else, because you won't be the best version of you. - Author: Kimora Lee Simmons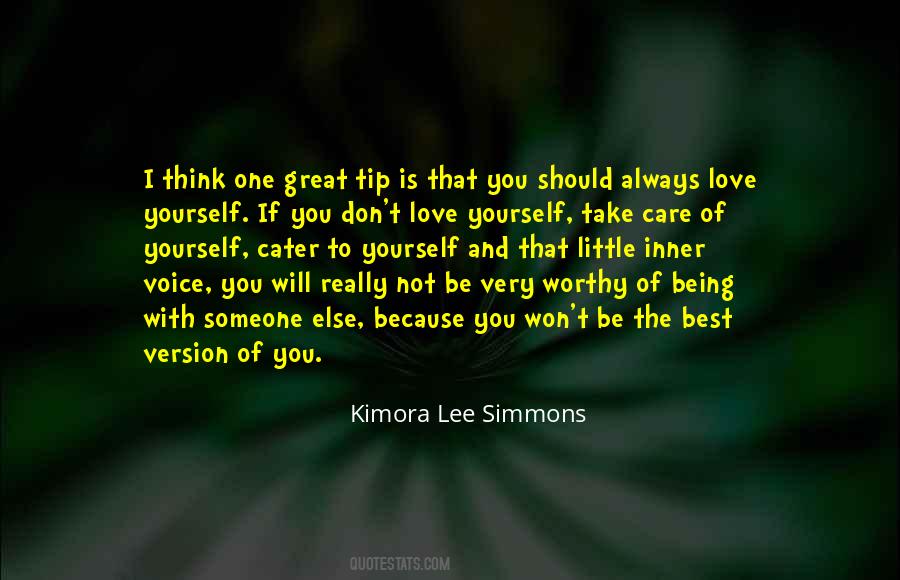 #5. I always say to my guys, 'The most important day of your life is today. This very minute is the most important of you life. You must win this minute. You must win this day. And tomorrow will take care of itself. - Author: John Chaney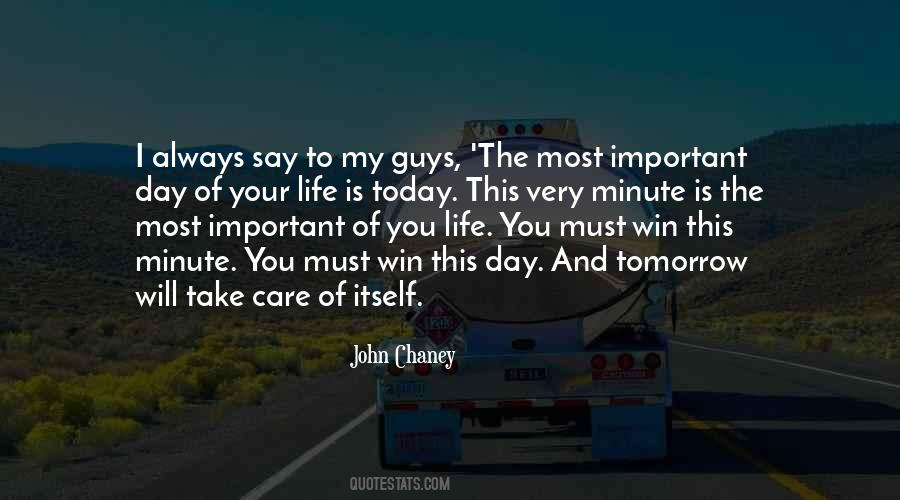 #6. Alexandra sighed. I have a feeling that if you go away, you will not come back. Something will happen to one of us, or to both. People have to snatch at happiness when they can, in this world. It is always easier to lose than to find. What I have is yours, if you care enough about me to take it. - Author: Willa Cather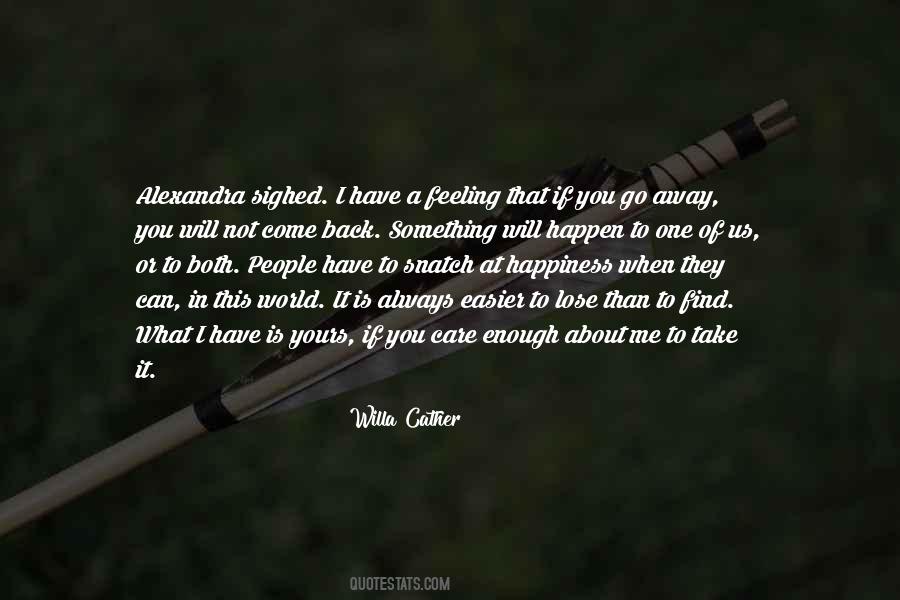 #7. The case, however, is, that the Bible will not bear examination in any part of it, which it would do if it was the Word of God. Those who most believe it are those who know least about it, and priests always take care to keep the inconsistent and contradictory parts out of sight. - Author: Thomas Paine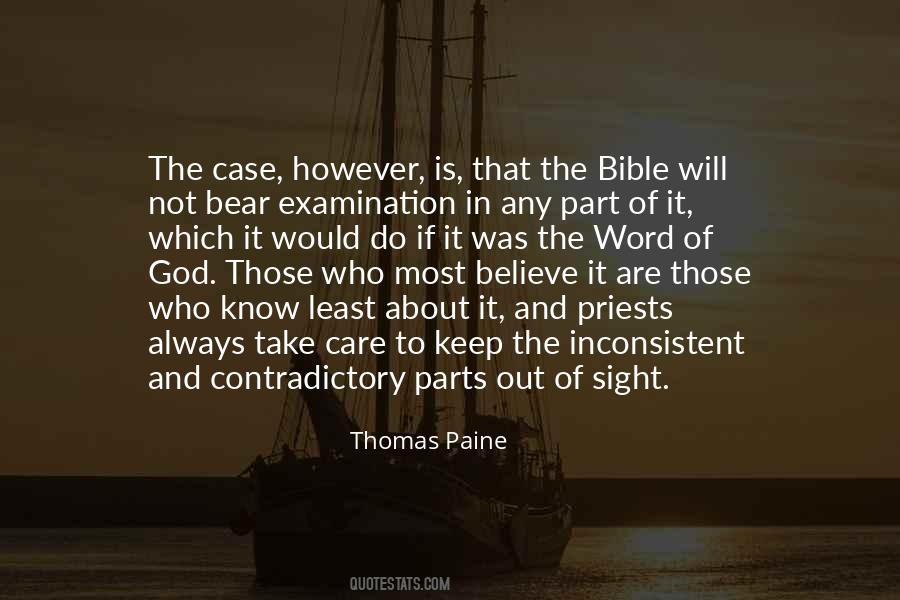 #8. I always desired to marry someone who loves me for who I am. Someone, who does not love me just because I'm rich ... one who will love me and care for me till the end of time. And that man is you, Aryan - Author: Rohit Sharma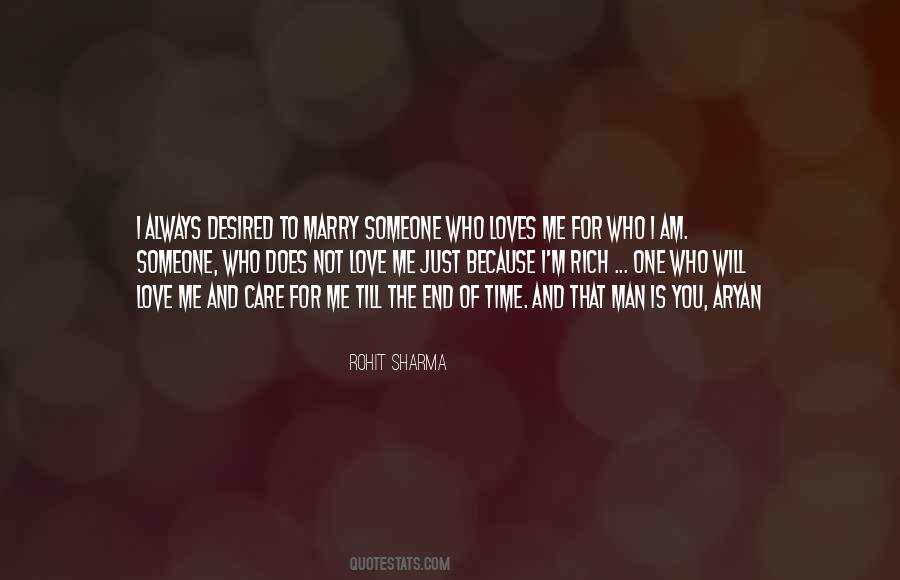 #9. The truth is, the Universe will always take care of you. - Author: Esther Hicks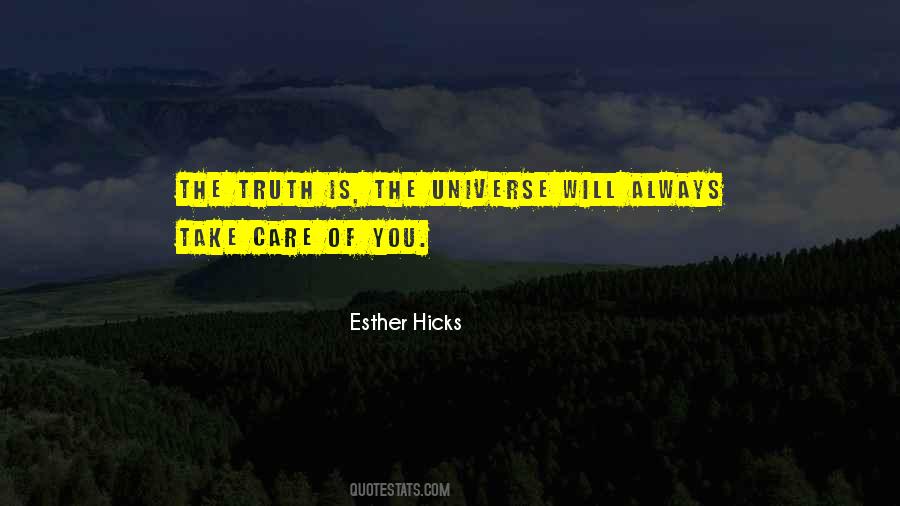 #10. Are you upset little friend? Have you been lying awake worrying? Well, don't worry ... I'm here. The flood waters will recede, the famine will end, the sun will shine tomorrow, and I will always be here to take care of you. - Author: Charles M. Schulz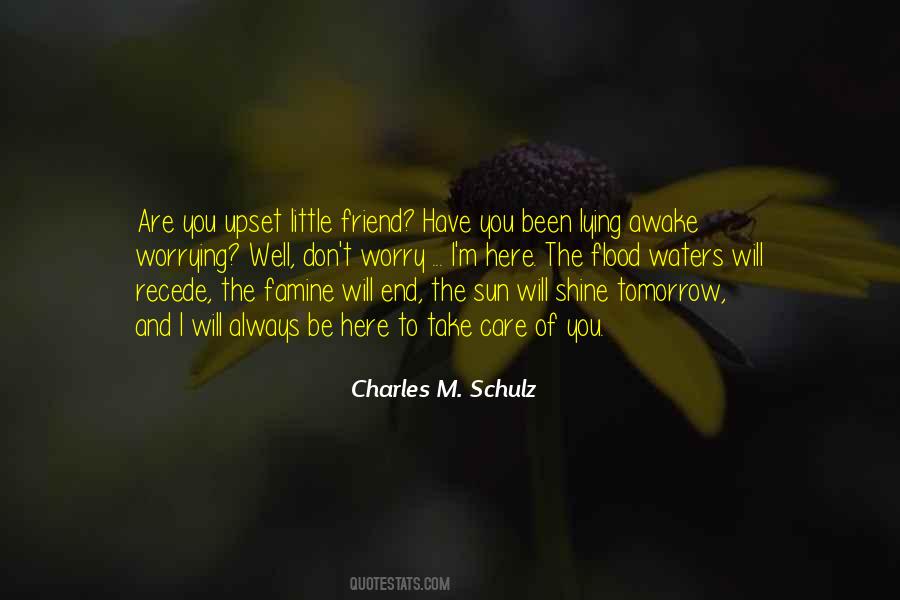 #11. You can always find hope in the truth that our God reigns & He will take care of His own. - Author: Jim George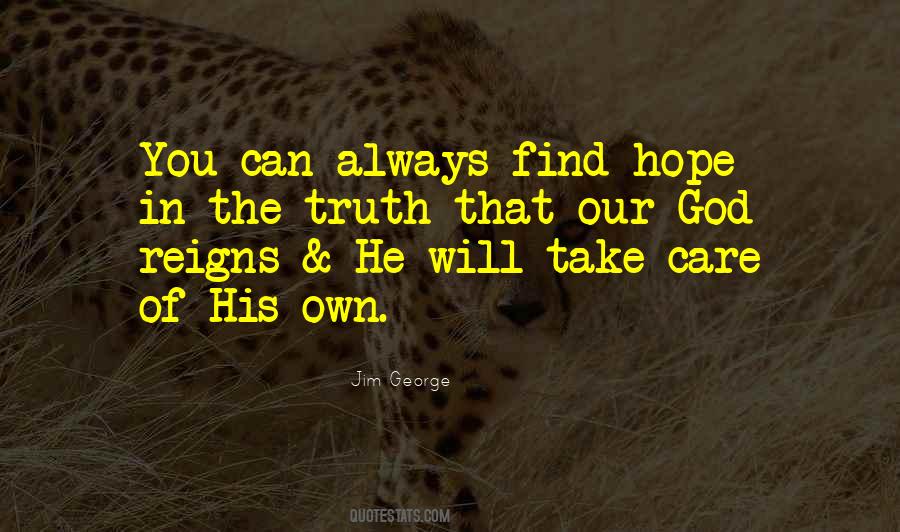 #12. Tell me why you care," I said.
He put his hands on the windowsill. "Because it's you. Despite what you think of me, your pain will always be my pain. - Author: Brodi Ashton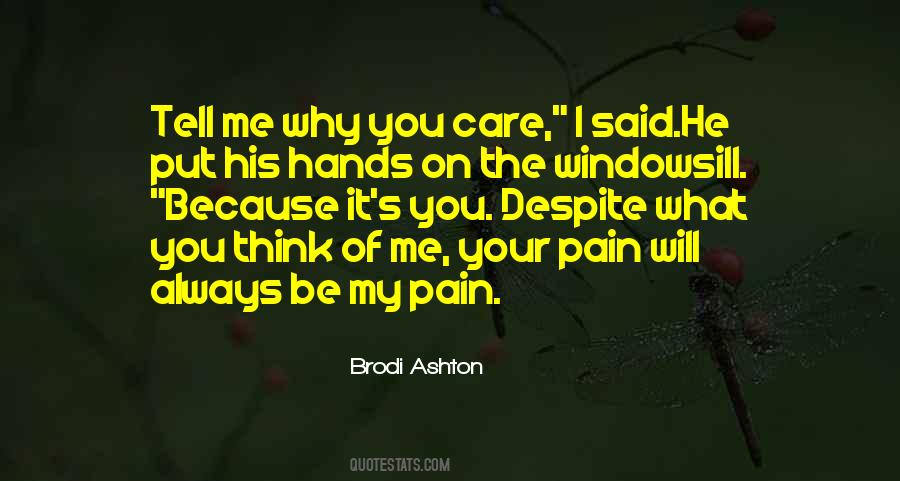 #13. You can't manage Wall Street. Wall Street has its own viewpoints on everything. I have always believed, if you manage your business correctly, Wall Street will take care of itself. - Author: Ross Levinsohn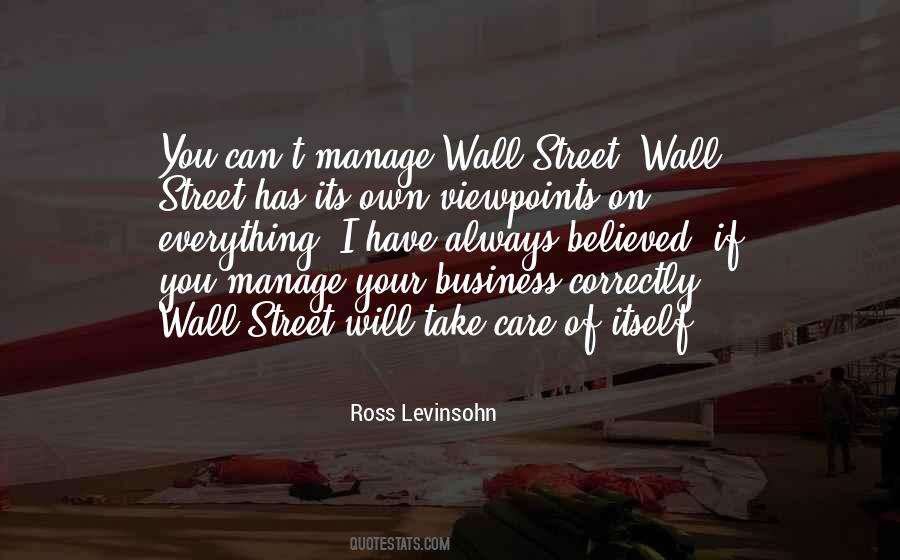 #14. Today, you always know whether you are on the Internet or on your PC's hard drive. Tomorrow, you will not care and may not even know. - Author: Bill Gates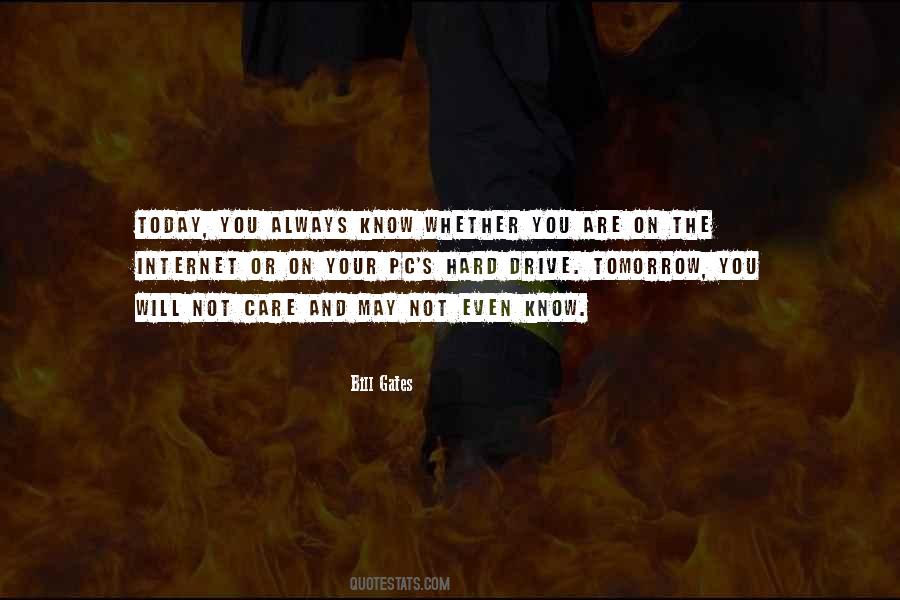 #15. I would never be part of anything. I would never really belong anywhere, and I knew it, and all my life would be the same, trying to belong, and failing. Always something would go wrong. I am a stranger and I always will be, and after all I didn't really care. - Author: Jean Rhys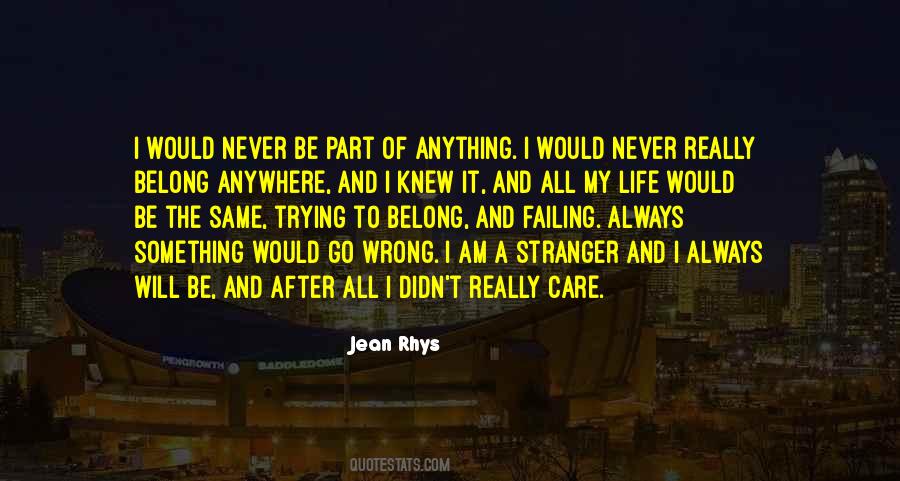 #16. Your enemy will always plan to destroy you in any way possible thus take care of your friends, he may use them. - Author: Auliq Ice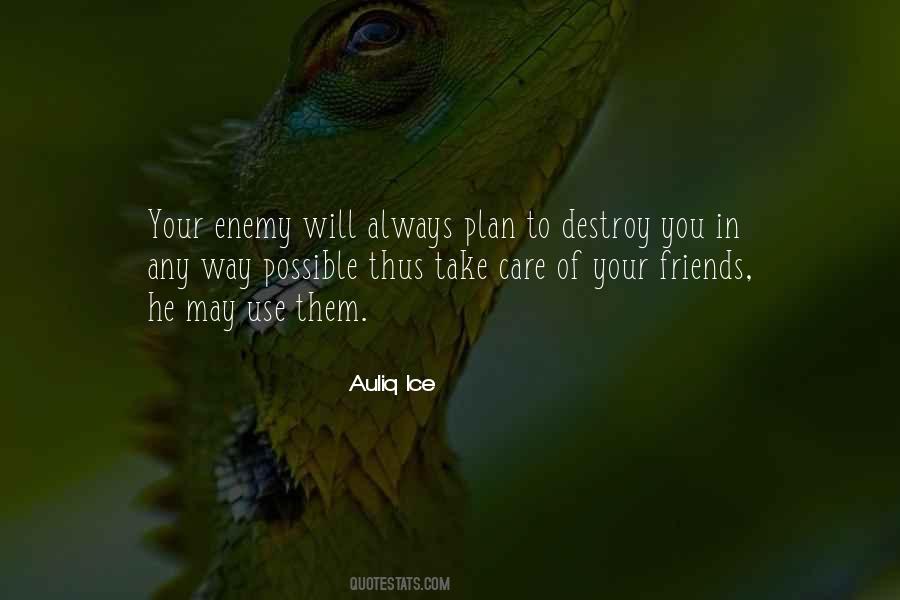 #17. Happiness will bloom
With fragrance and beauty
If you plant the seeds of love
With a deep driving desire
in the garden of hope
And nurture with tenderness,
Compassion, and care;
If you are always eager to share. - Author: Debasish Mridha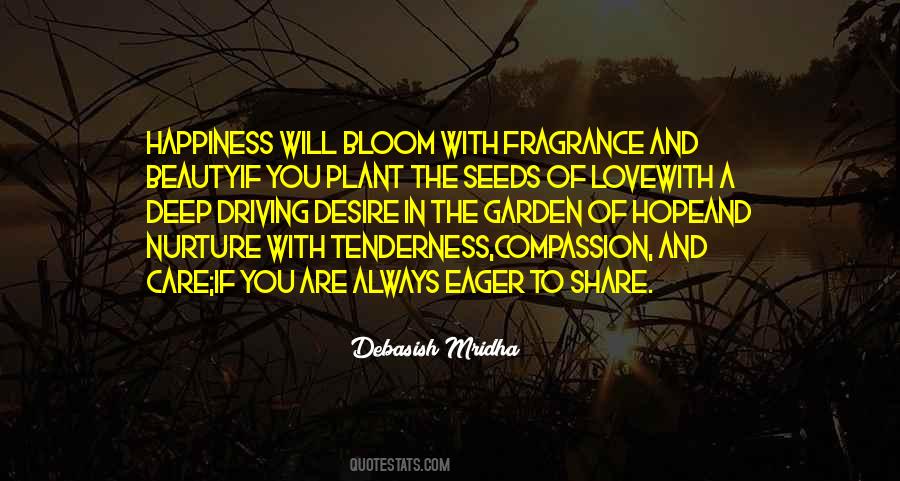 #18. Care about what other people think and you will always be their prisoner. - Author: Lao-Tzu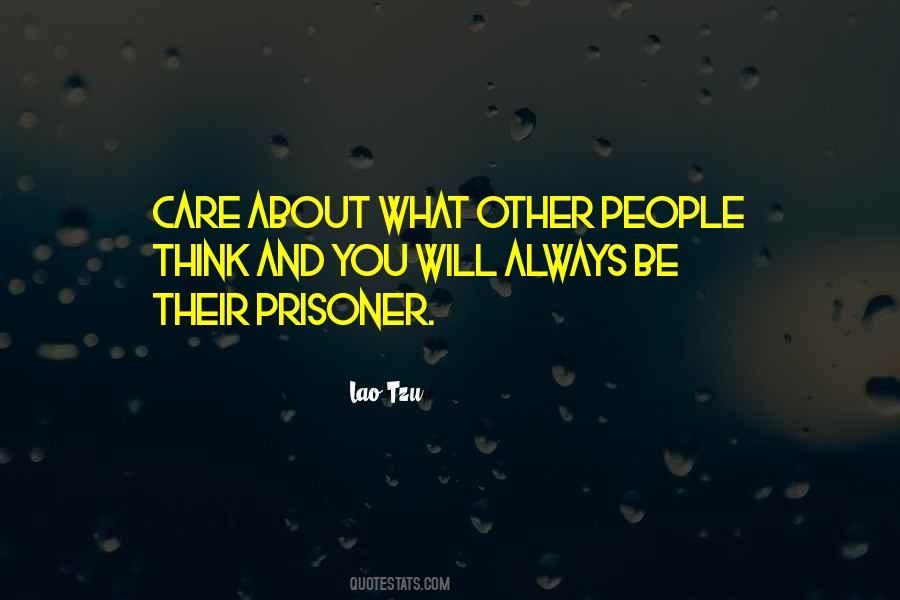 #19. Recovery is not only fun, it is simple. It is not always easy, but it is simple. It is based on a premise many of us have forgotten or never learned: Each person is responsible for him- or herself. It involves learning one new behavior that we will devote ourselves to: taking care of ourselves. - Author: Melody Beattie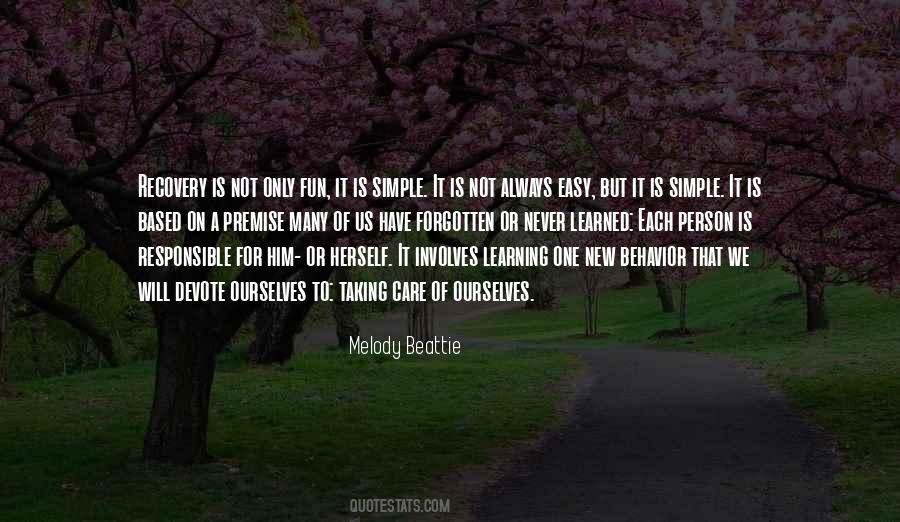 #20. If you are always looking for an impact, a legacy, and success, you will not take the time to care for the things that matter. - Author: Michael S. Horton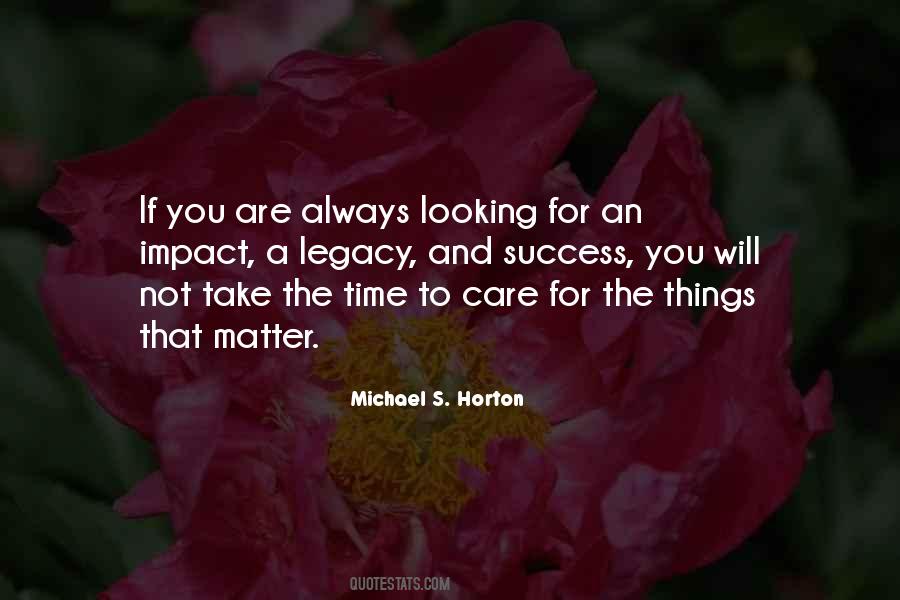 #21. Our true beauty lies in the eyes of the people who love us, who care about us. Beauty is ephemeral, true love is not. Old and wrinkled, or with a hundred extra pounds, you will always stay perfect to the ones who love you. - Author: Priyanka Naik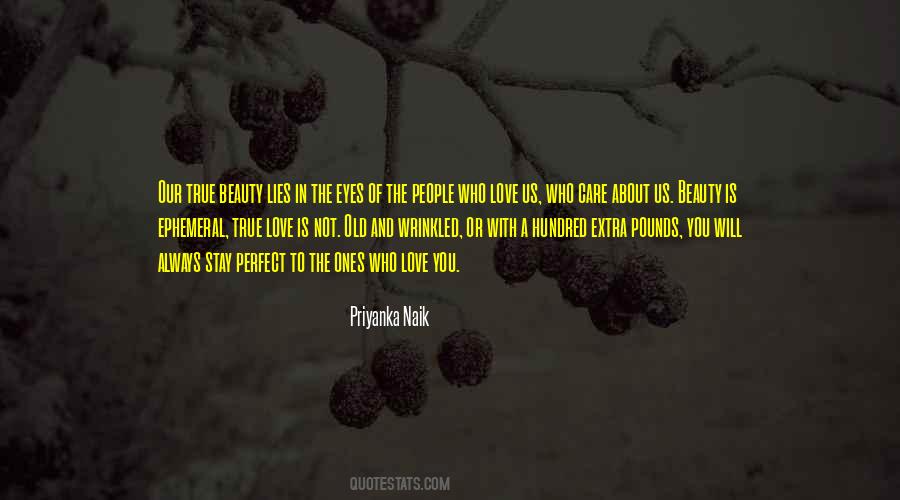 #22. For me, it's always Christ first and playing the right way for Christ. If I do that, everything else will take care of itself. When I stay focused on that, there's no pressure to worry about. - Author: John Salmons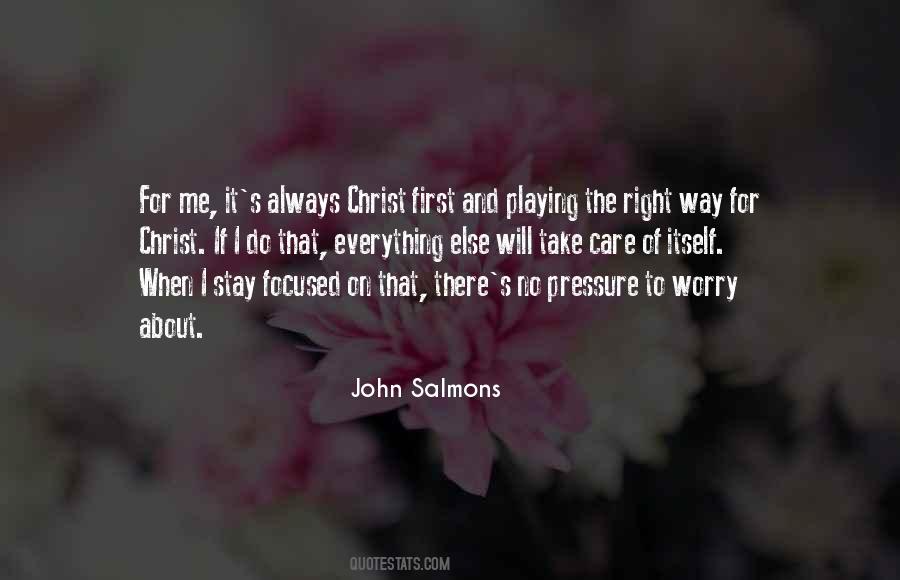 #23. I worry because I care. Gods help me, I know I shouldn't, but I do. So I will always tell you to be careful, because I will always care what happens. - Author: Sarah J. Maas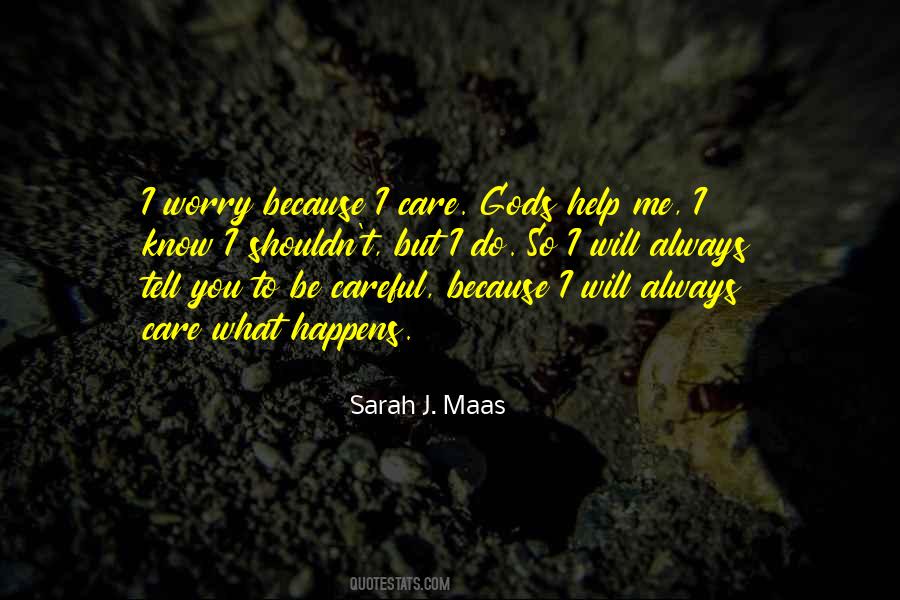 #24. I always had a philosophy which I got from my father. He used to say, 'Listen. God gave to you the gift to play football. This is your gift from God. If you take care of your health, if you are in good shape all the time, with your gift from God no one will stop you, but you must be prepared.' - Author: Pele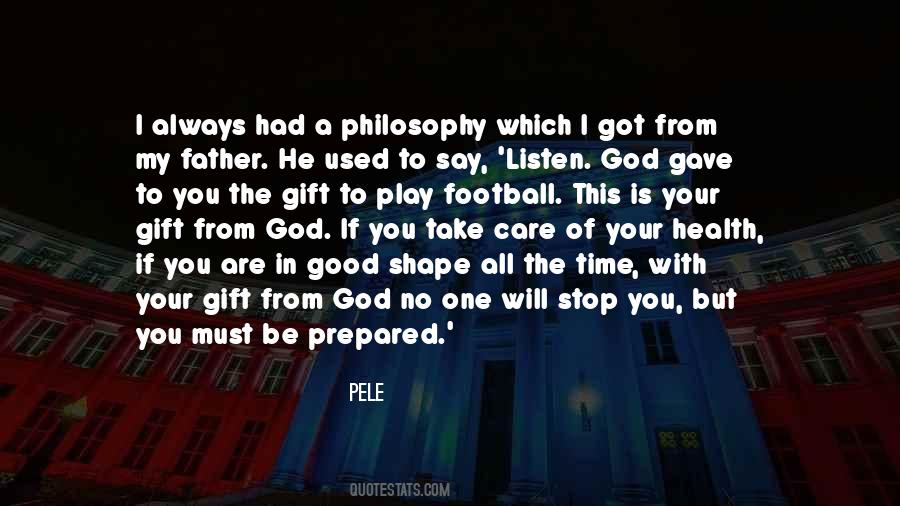 #25. I have tried to be a generous narrator and care for my girl as best I can. I cannot help that readers will always insist on adventures ... - Author: Catherynne M Valente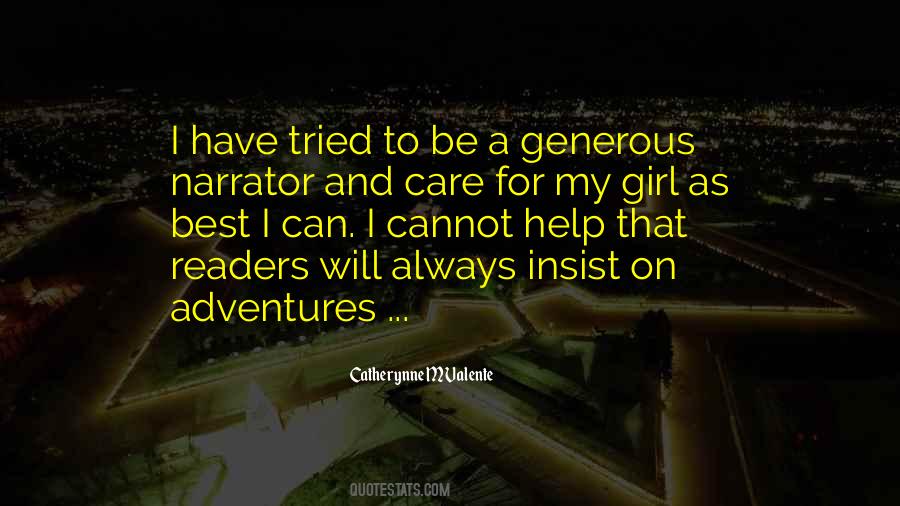 #26. I always take care to have interesting chord progressions, because you can have the best sound design in the club, and you'll kill it in the club, but in five years, kids will have better sound design. But if your music is good, you'll always be able to listen to it, even in 20 or 50 years. - Author: Zedd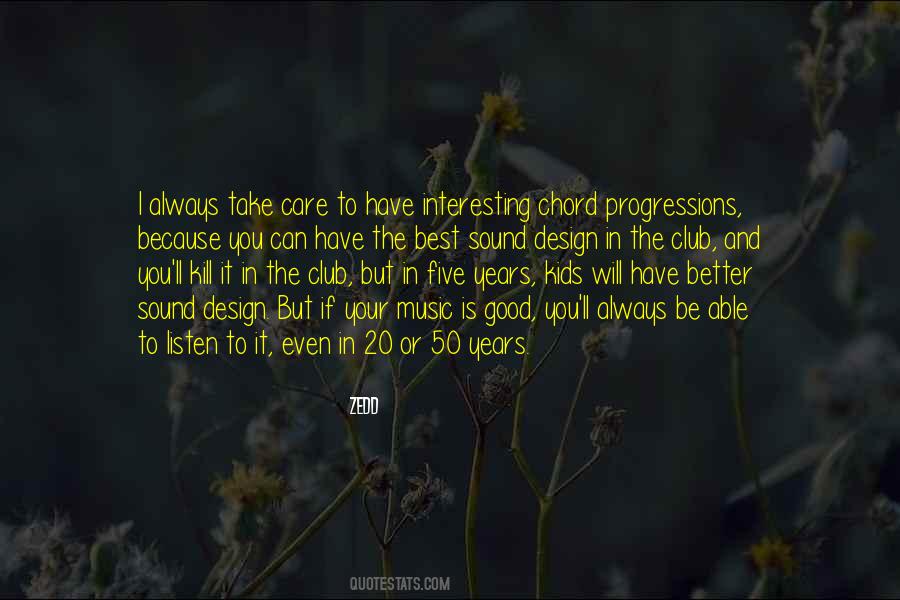 #27. Its easy to have kids, people try to scare you into thinking "oh its hard to have kids" Its not. I have two, and I have no idea where they are right now. Kids are adorable, someone will always take care of them. - Author: Dan Cummins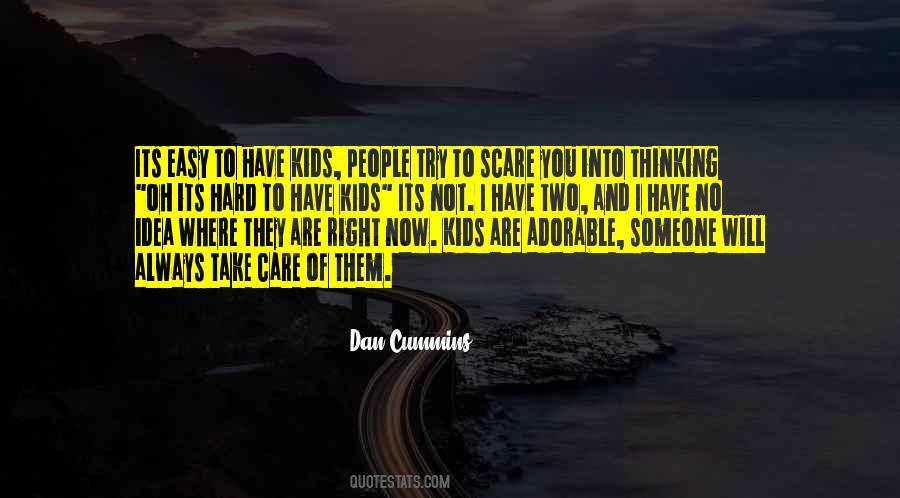 #28. I'm a far cry from politically correct, because I don't really care what the political views are. I don't care what the people say. I'll say my opinion. That will always make you controversial. - Author: Ice-T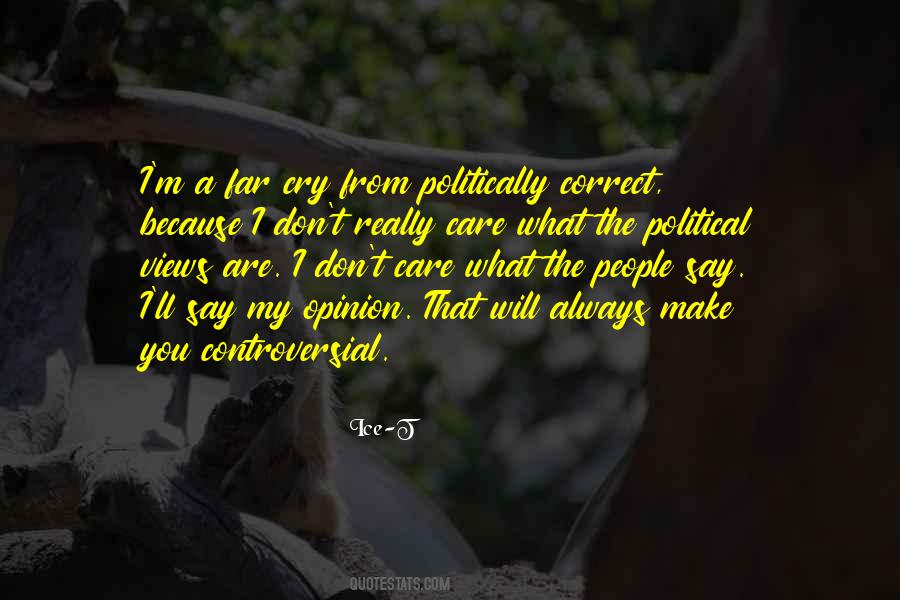 #29. I told you before; I know you're the dragon instead of the knight. And I don't care. At your best or at your worst, I will always love you, Vlad. - Author: Jeaniene Frost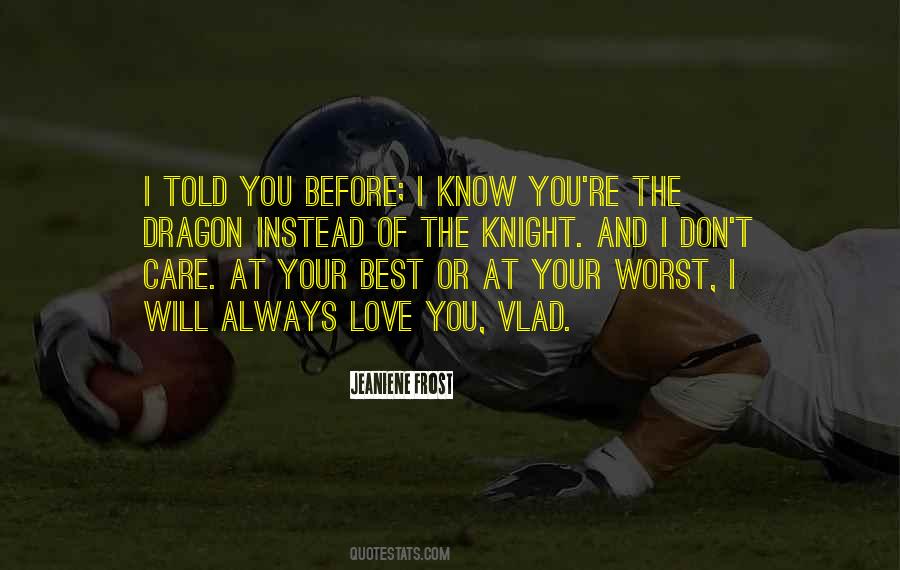 #30. I still have the first bottle opener I made on my MakerBot. Things you fabricate are things you care more about. I think there will always be people who go and buy crap at the dollar store. But I think it is cool when people craft things themselves. - Author: Bre Pettis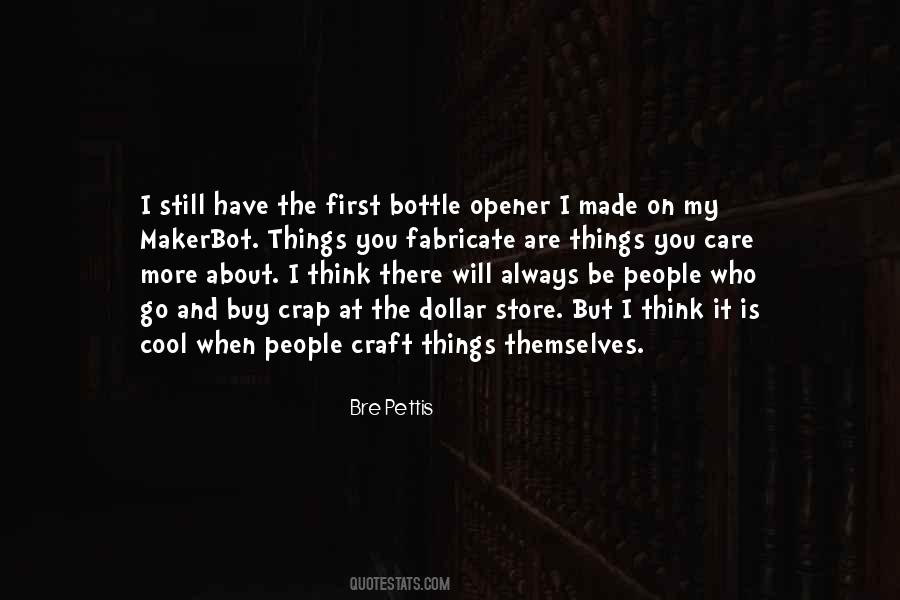 #31. And I would do it again. I love you, Jace Wayland-Herondale-Lightwood-whatever you want to call yourself. I don't care. I love you and I will always love you, and pretending it could be any other ways is just a waste of time. - Author: Cassandra Clare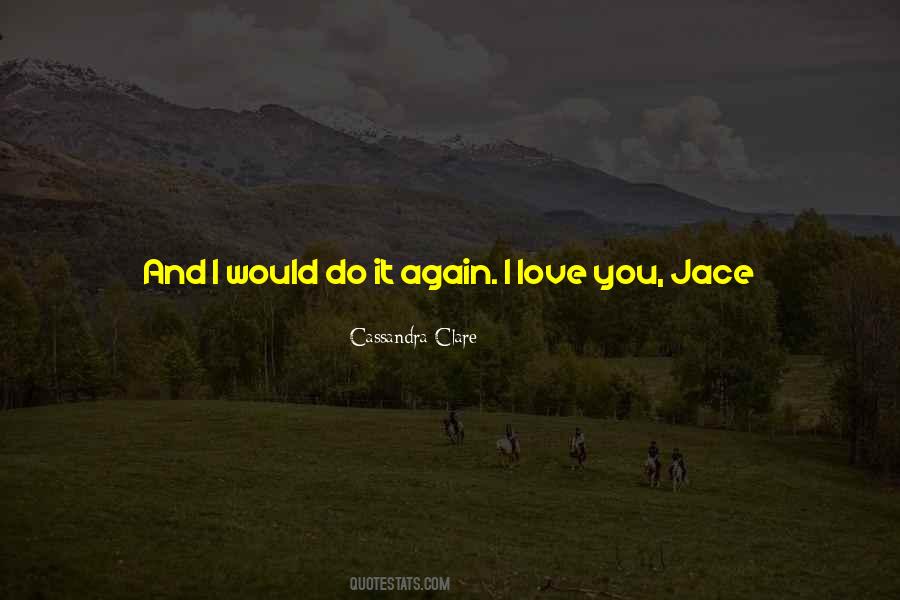 #32. People who care will always be at the mercy of people who don't. - Author: Scott Meyer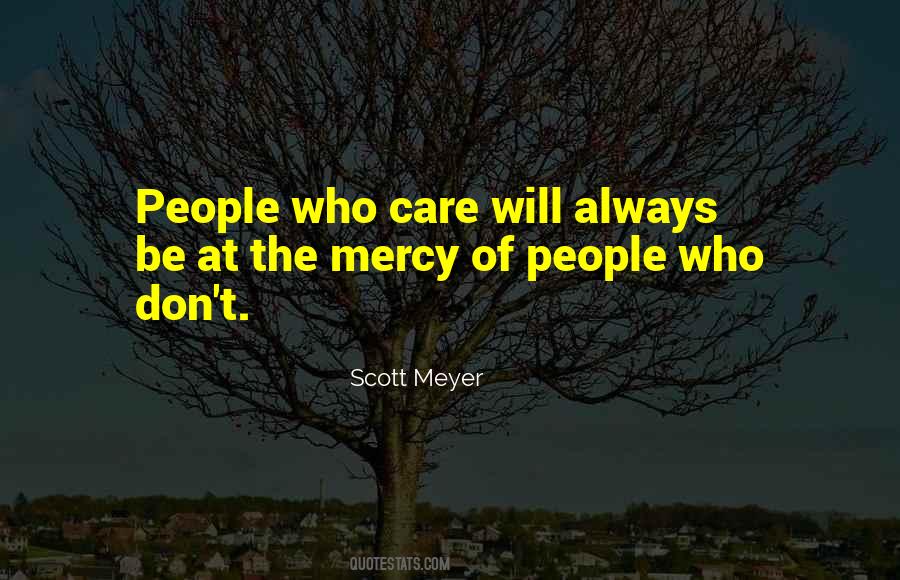 #33. I don't care how old you are, or what background you come from, there are two universal truths. We will always laugh at ... gas if it happens at the wrong time, and we are always curious about what goes on in other people's bedrooms. - Author: Alice Clayton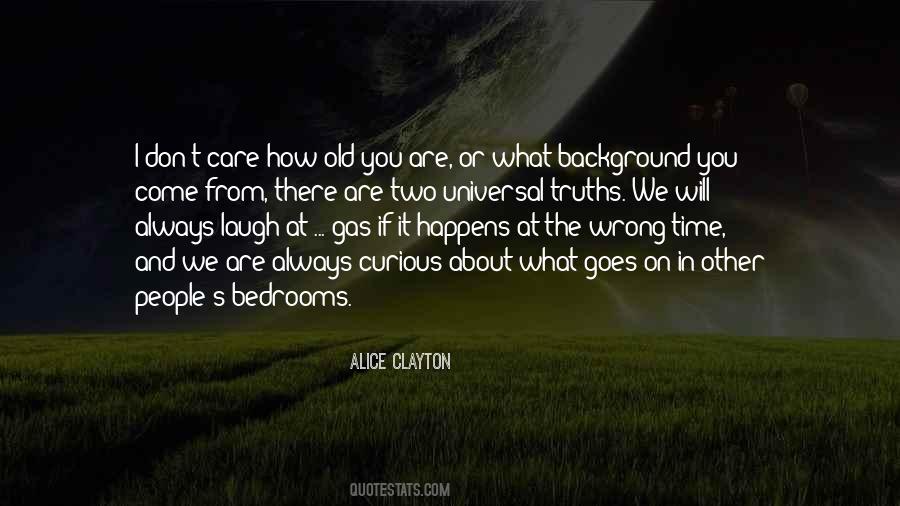 #34. Photographs are facts, but not necessarily true ... The present always surpasses the past, and the future will not care about today. - Author: Ai Weiwei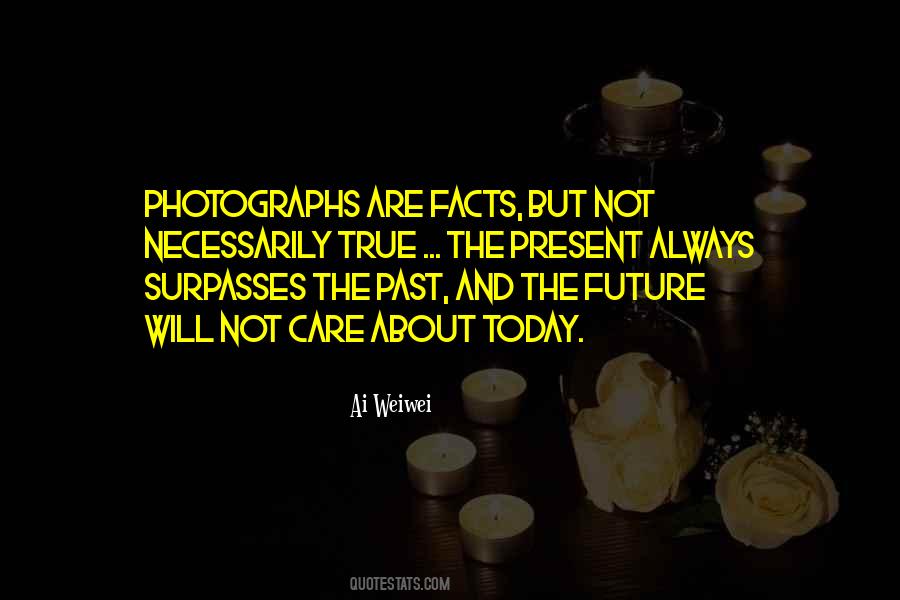 #35. Ten years from now, no one is going to care how quickly the books came out. The only thing that will matter, the only thing anyone will remember, is how good they were. That's my main concern, and always will be. - Author: George R R Martin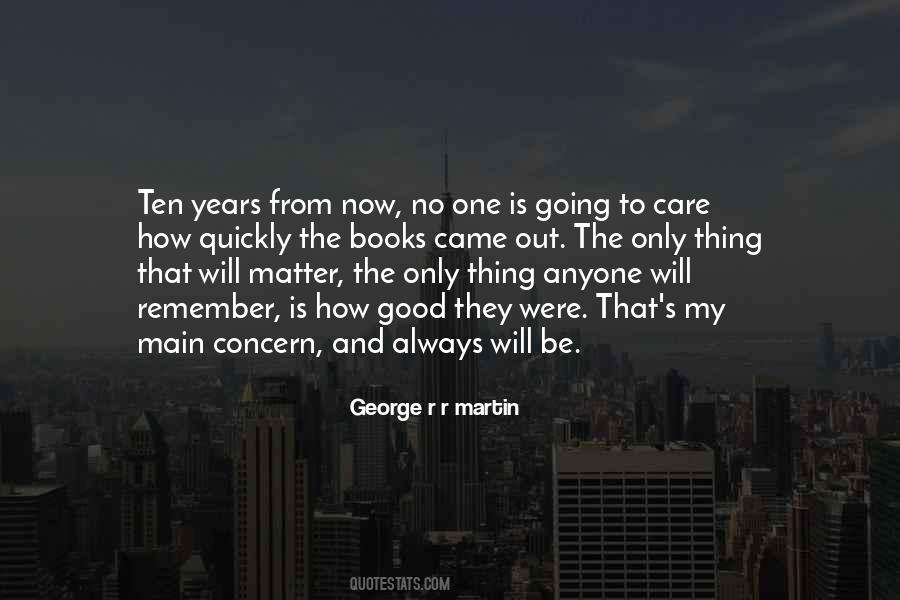 #36. Whatever is in your hands, you keep that in perfect condition; then what is beyond you will anyway happen. But people are always trying to work at what is beyond them, not taking care of what is in their hands. - Author: Sadhguru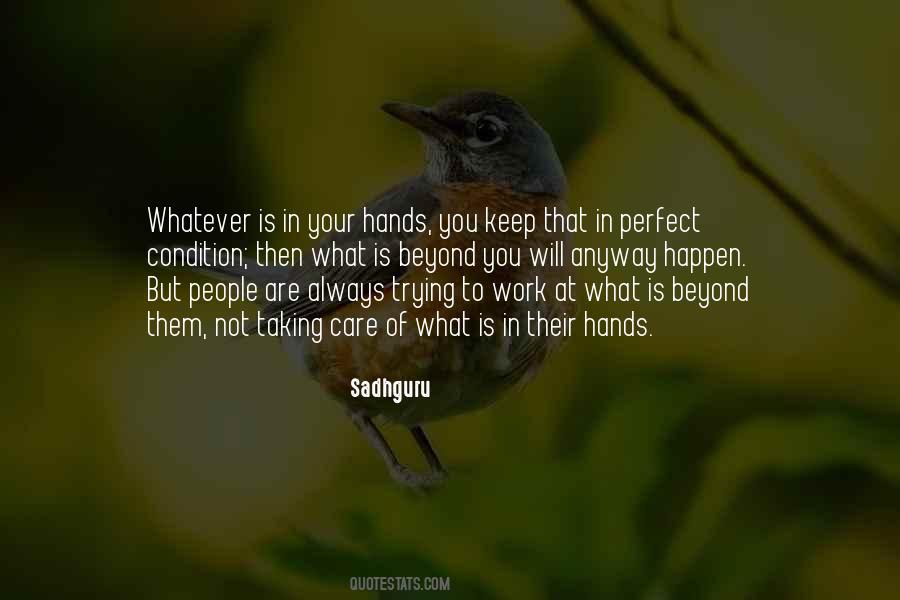 #37. I'm always more interested in trying things that will push me, and I don't care if I fall flat on my face doing it. - Author: Marc Almond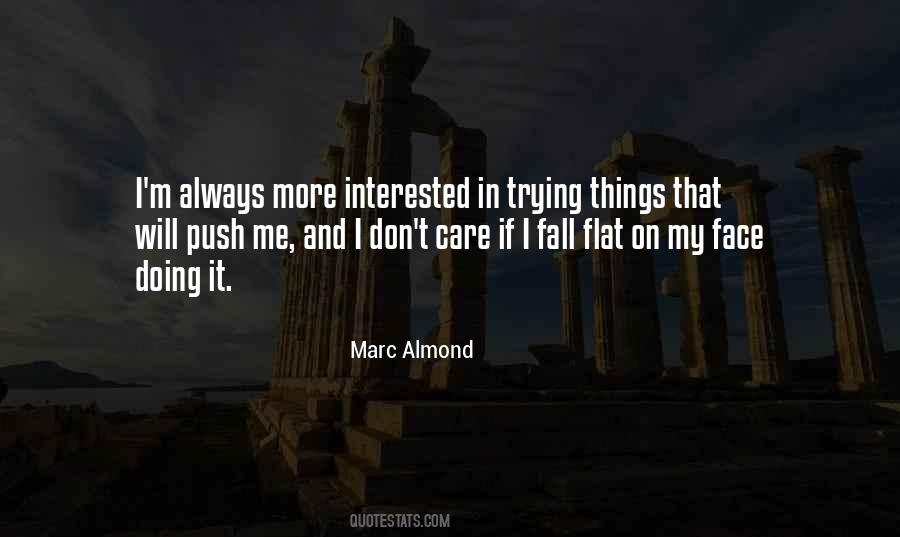 #38. There will always be a part, and always a very large part of every community, that have no care but for themselves, and whose care for themselves reaches little further than impatience of immediate pain, and eagerness for the nearest good. - Author: Samuel Johnson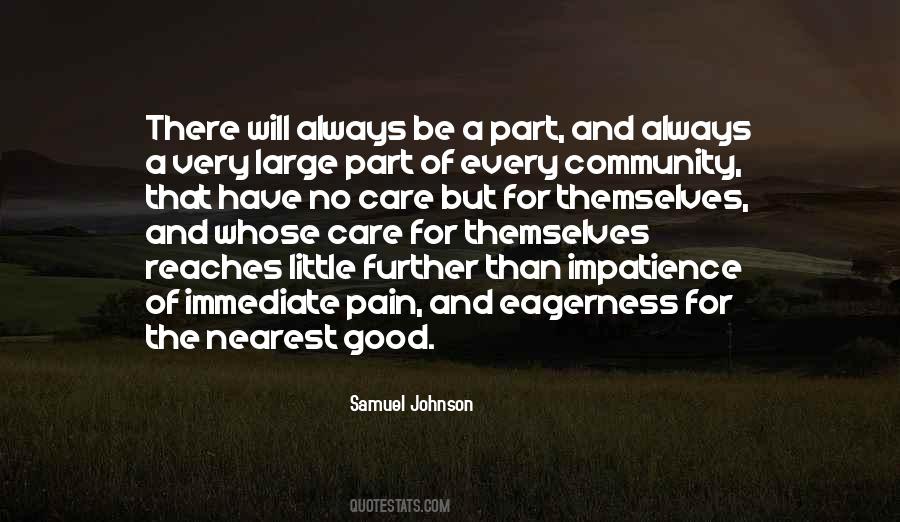 #39. People who don't know any better will always be in the dark because the power lies in the hands of men who take good care that ordinary folk don't understand, in the hands, that is, of the government, of the clerical party, of the capitalists. - Author: Cesare Pavese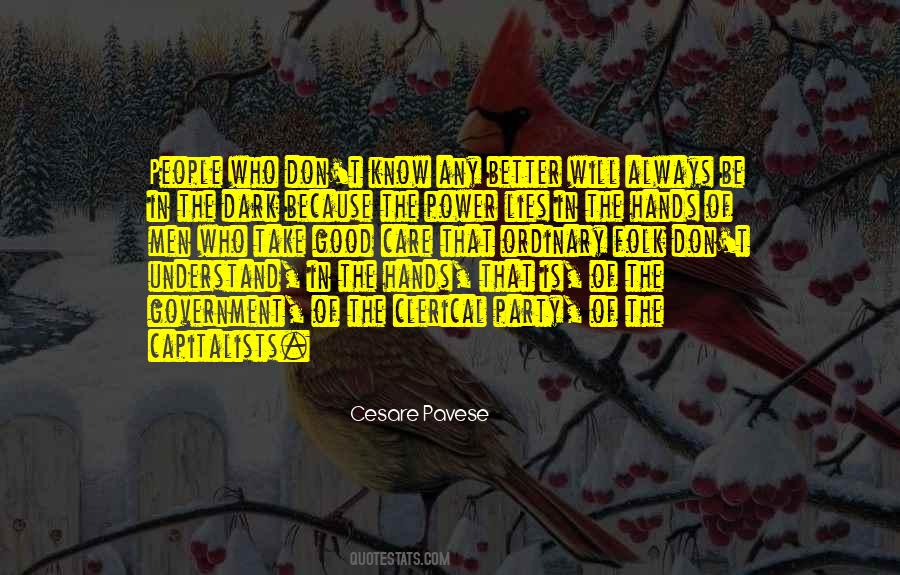 #40. One always has to worry when capitalism has a role in health care. If you're just using health care to make money, you will treat the wrong diseases. Capitalism has its limits. There is a role for governments, and this is one where they should be involved. - Author: Richard J. Roberts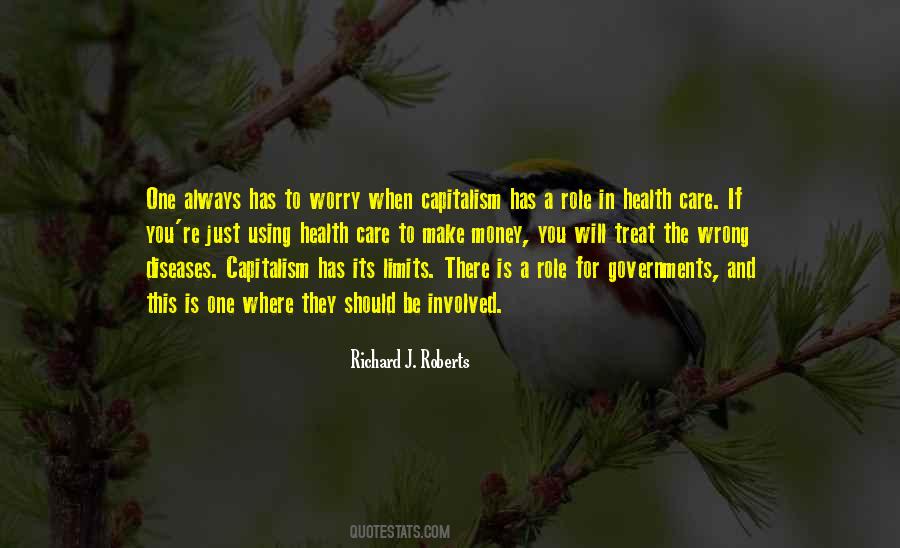 #41. Let us fear the worst, but work with faith; the best will always take care of itself. - Author: Victor Hugo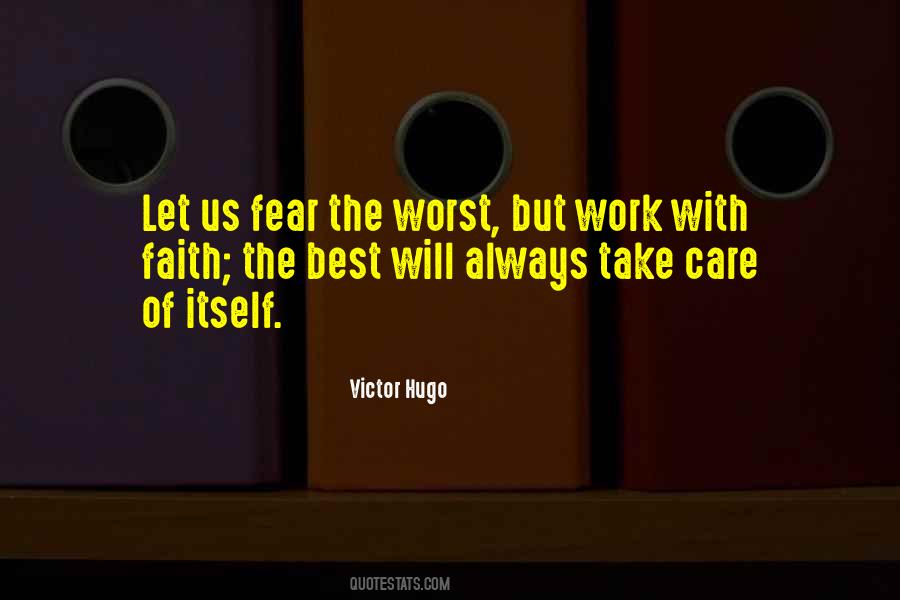 #42. No matter what happens ... there will always be a string tying you to me. I'll never not worry about you. I'll never not care about what you do. You'll always be something to me. - Author: Kiera Cass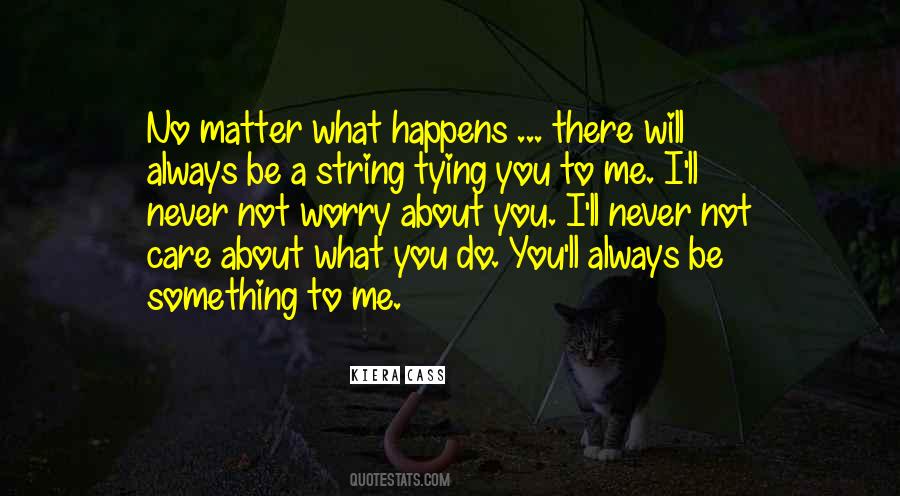 #43. But I don't care. I don't care. I still want you. I will always want you, and I know you want me too. We just made mistakes. We can get past this and be together ... - Author: Angela Richardson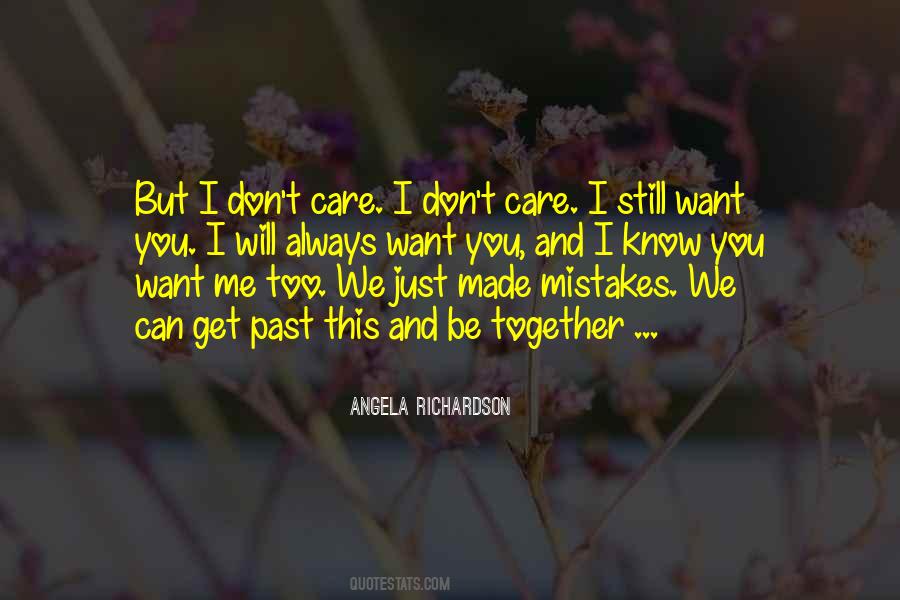 #44. I don't know how long it will all last either, and for now I don't care. Today it is thus, we both agree, and with you it is always today. - Author: Andres Neuman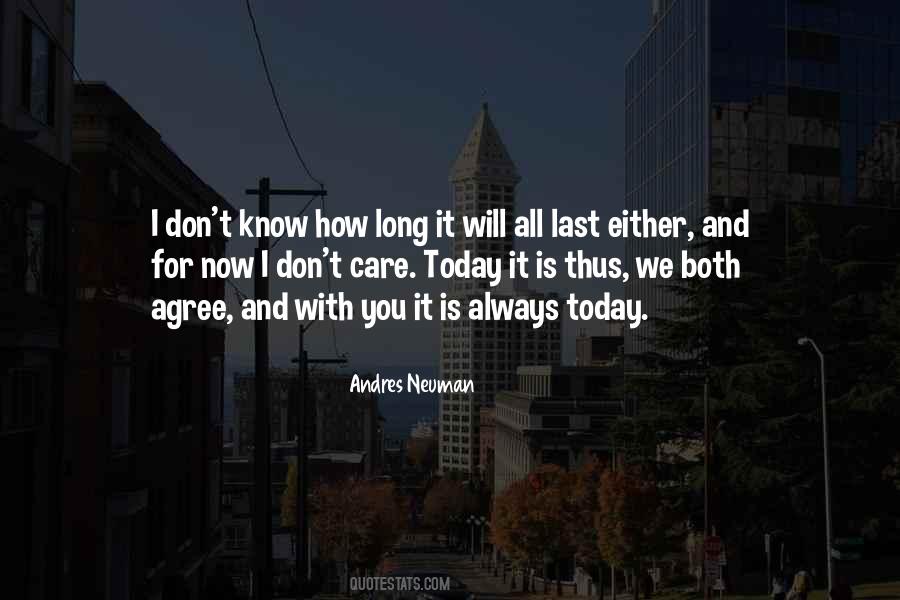 #45. I was shaking when our lips parted and he leaned his forehead against mine, his fingers carding through my hair, my hands on his face.
"I won't let them," Rafael said. "I won't let anyone take you away. I'll protect you. I'll always protect you. I don't care how. I just will. - Author: Rose Christo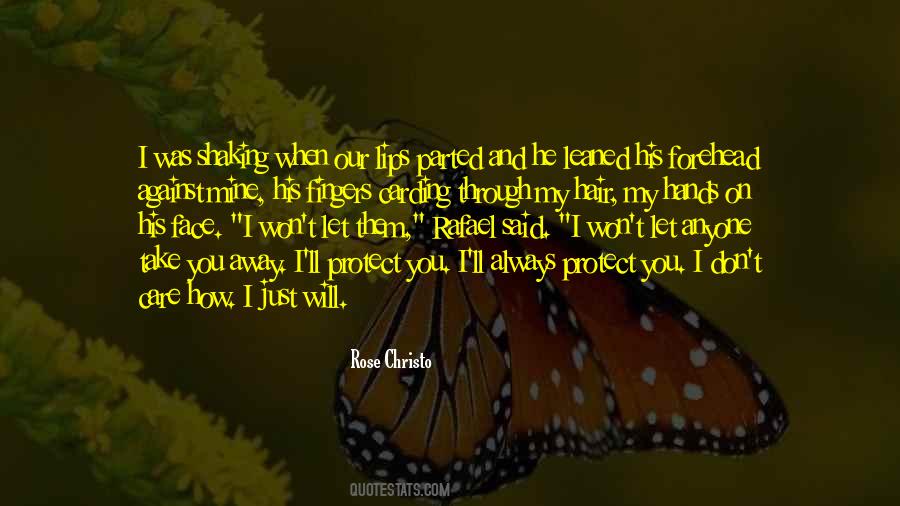 #46. Stop caring what people think about you. People will always have their opinions. Don't worry about it. What you think about you (and what God thinks about you) is all that matters. You can never please everyone, so stop trying so hard to please people. - Author: Lisa Bedrick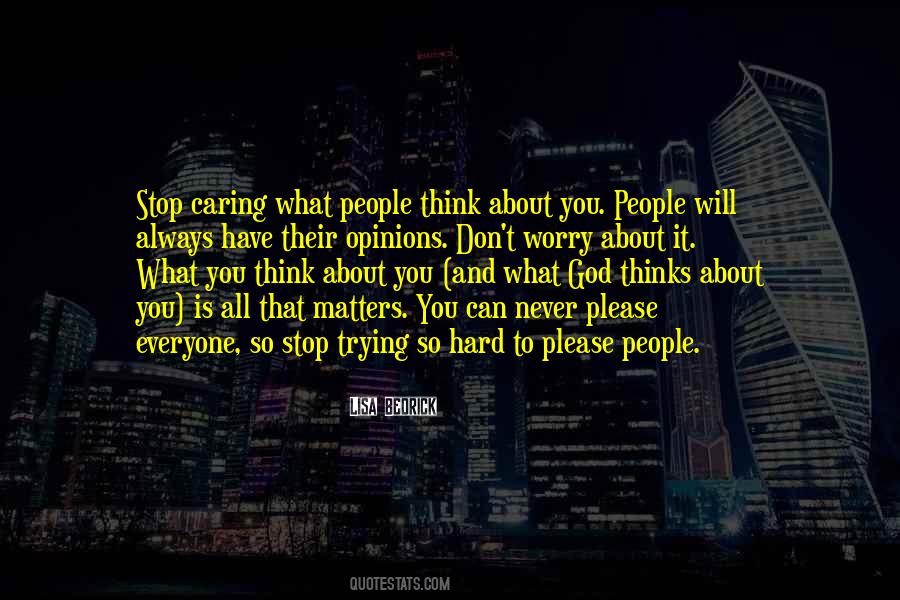 #47. You and me, we look out for each other. But I will take care of you a little extra, because I am your person, and you will always be my special horse. - Author: Megan Shepherd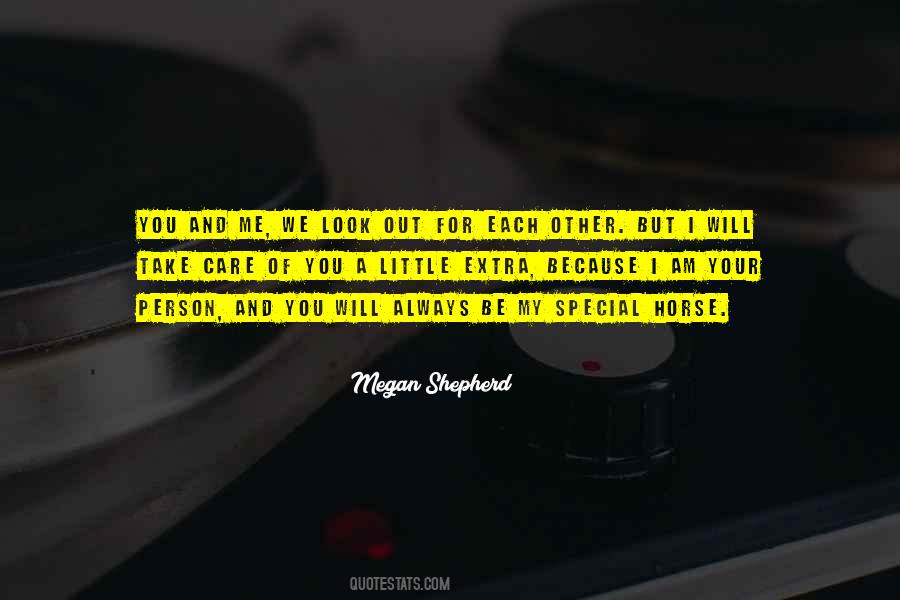 #48. I went to Maui to stay a week and remained five. I never spent so pleasant a month before, or bade any place goodbye so regretfully. I have not once thought of business, or care or human toil or trouble or sorrow or weariness, and the memory of it will remain with me always. - Author: Mark Twain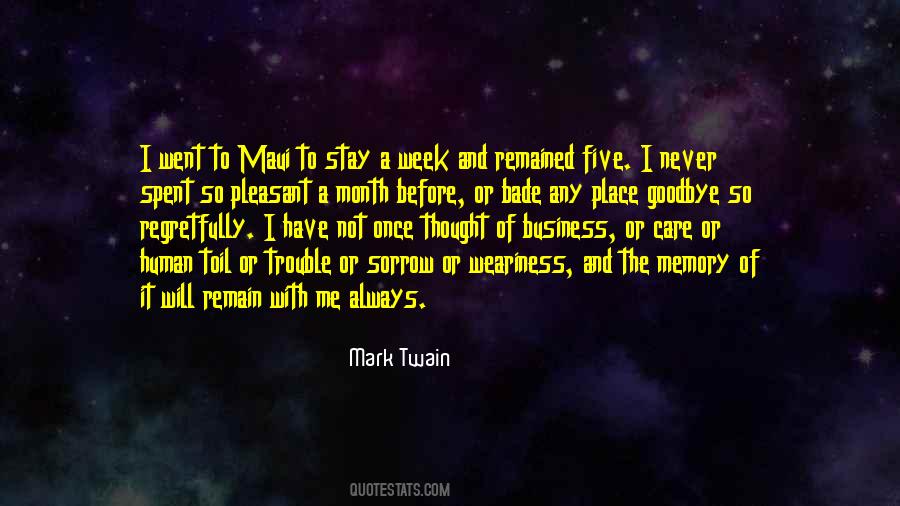 #49. If you care for your mind, if you nurture it and if you cultivate it just like a fertile, rich garden, it will blossom far beyond your expectations. But if you let the weeds take root, lasting peace of mind and deep inner harmony will always elude you. - Author: Robin S. Sharma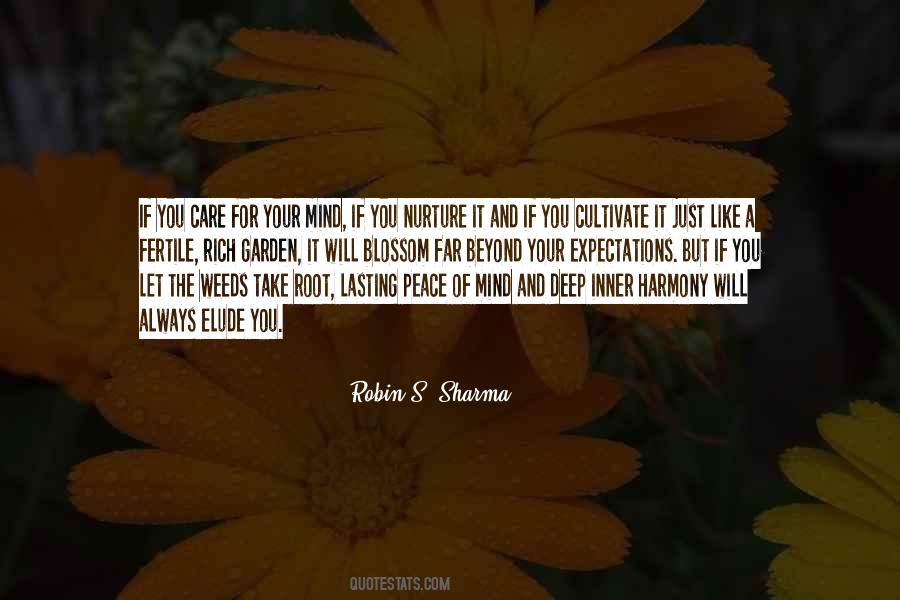 #50. Always bring your "A" game and god will take care of the rest. - Author: Jason Black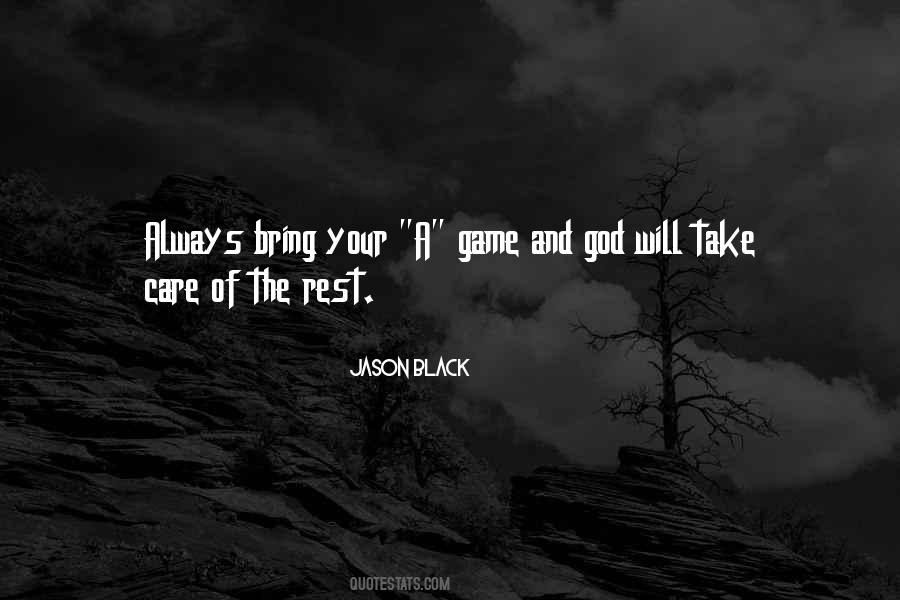 #51. ... life is as fragile as a butterfly win and we must carry it lightly. Sometimes it will sit happily in our hands, sometimes it will fly away from us, but in the end
no matter the distance or the complications in between
the things we truly care for will always come back to us. - Author: Hazel Gaynor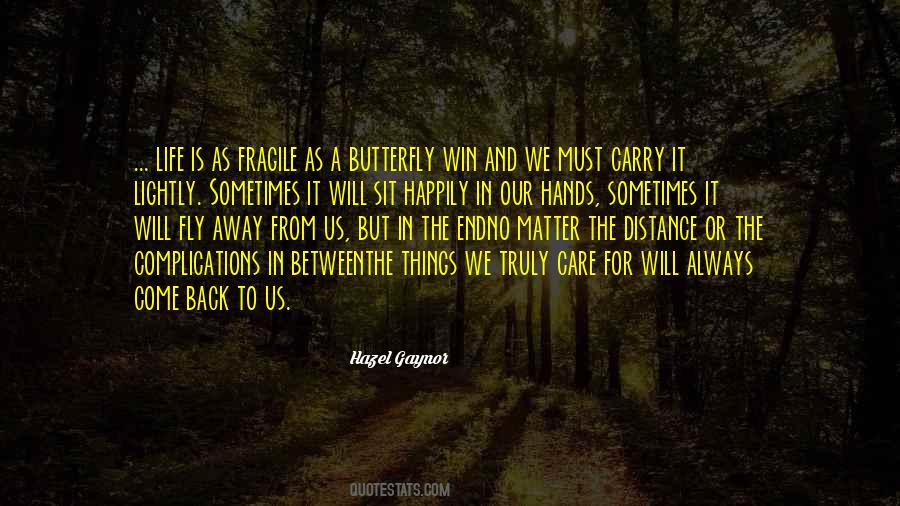 #52. Your dreams will always be more important to you than anyone else, you can want something as much as you want but at the end of the day your mum doesn't care if your arms are 24 inches or not, but that doesn't mean you give up, chase your dreams. - Author: Kai Greene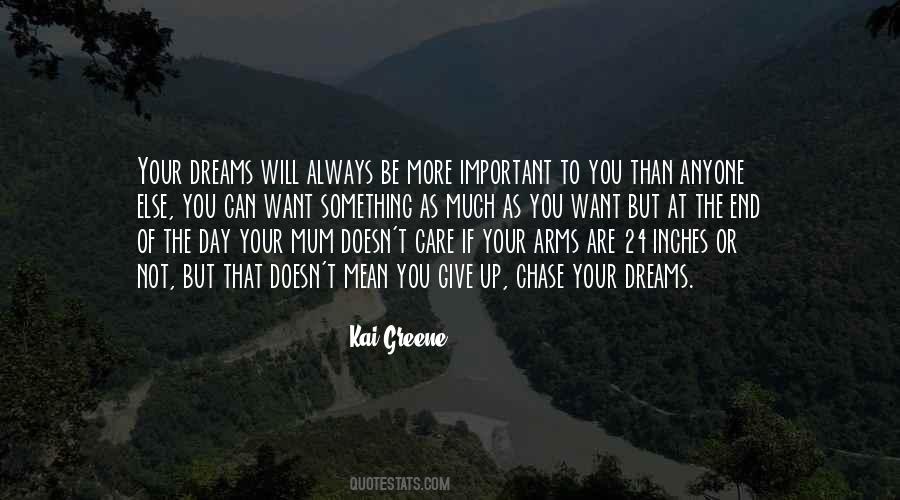 #53. You should find the same joy in one condition as in the other and thereby be free of care, that is all. But now, when the things that happened along take their leave, you cease to be joyful. From this point of view, though you have joy, it will always be fated for destruction. - Author: Zhuangzi
#54. I don't care what people are saying about me, good or bad, in blogs or on Twitter or in the media. There will always be people who don't like you and don't like your books. Ignore them. - Author: J.A. Konrath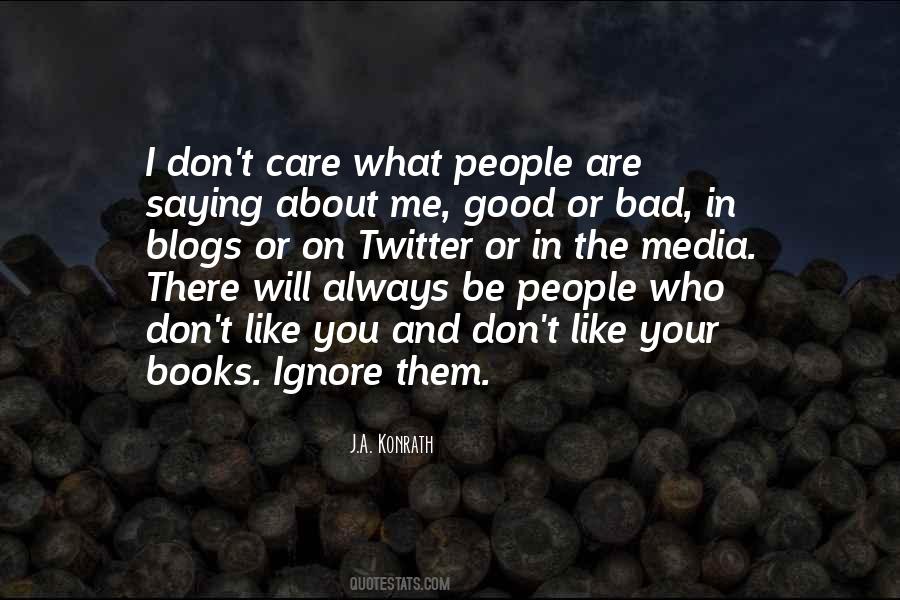 #55. Do women always care about the size of their stomachs?"
"Til the day they die, son."
"Will they ever know that we don't really care?"
"Do men always think everything is about them?" she mocks.
"Til the day they die, Gram." I wink at her. - Author: Allie Brennan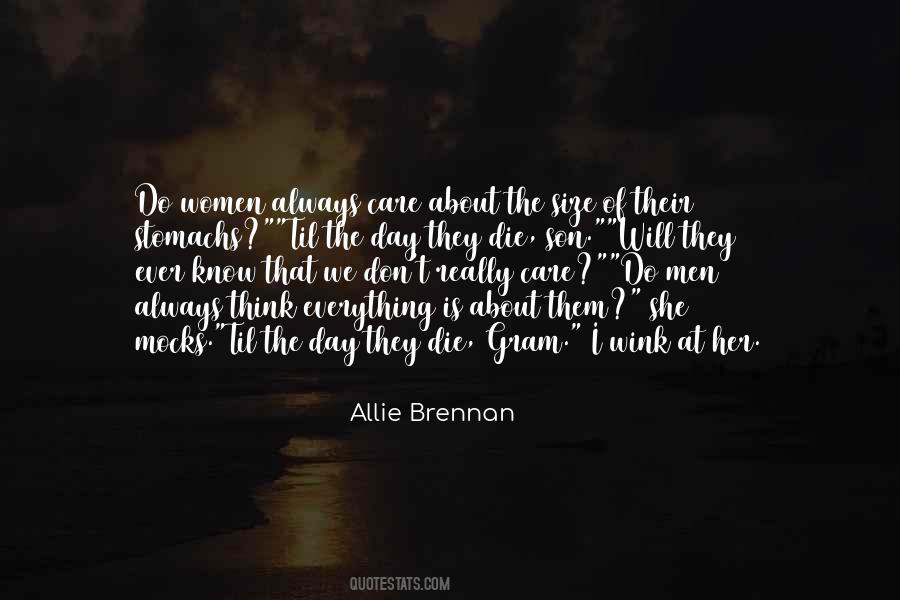 #56. The first day ofschool was always so exciting because you get new shoes and a new backpack, but by the last day of school, you're like, "I don't care. I will wear sweats. Am I done yet?" - Author: Meaghan Martin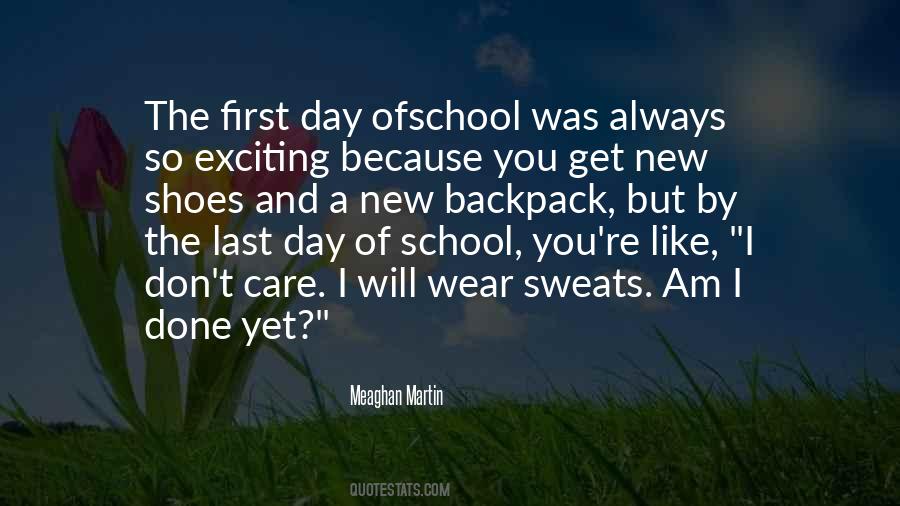 #57. If you care too much about what other people think, you will always be their prisoner. Lao Tzu - Author: Avan Jogia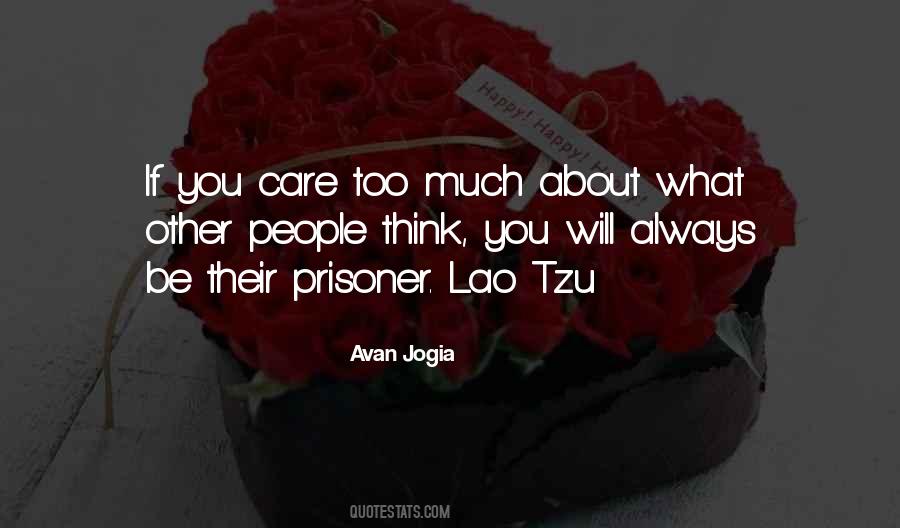 #58. I have always looked after the little things of my business; weightier matters will take care of themselves. - Author: Collis Potter Huntington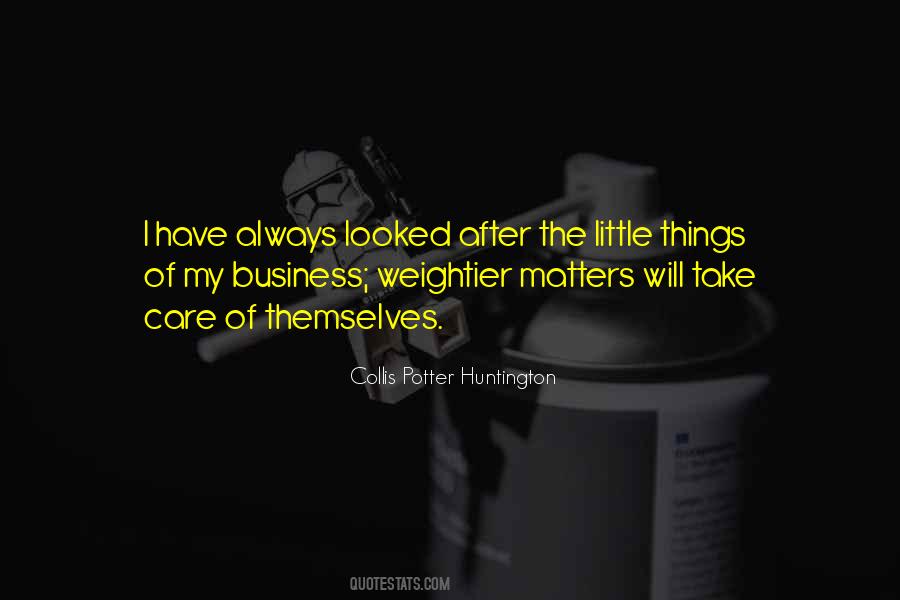 #59. Somebody says, 'Well, I can't be concerned about other people. About the best I can do is to take care of myself' Well, then you will always be poor. - Author: Jim Rohn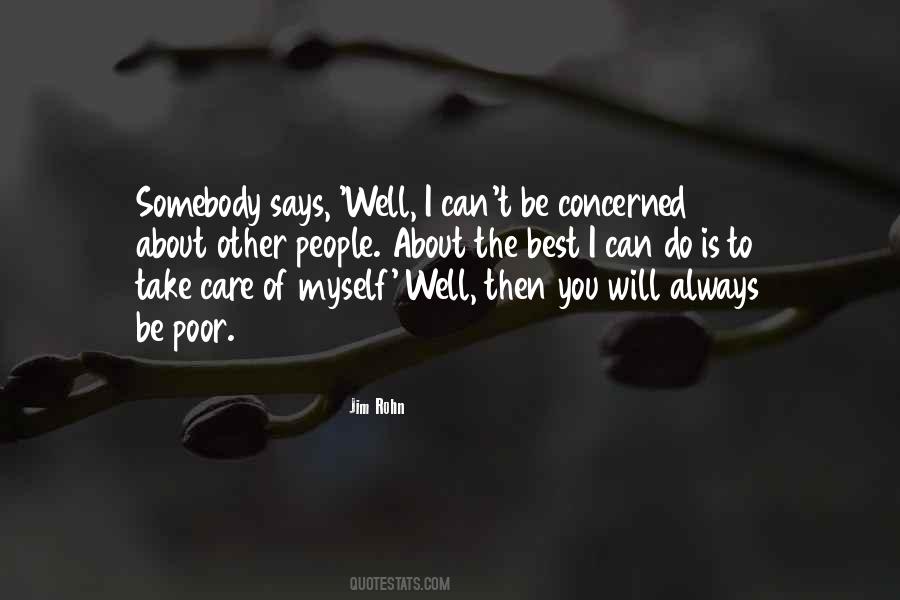 #60. As long as karma exists, the world changes. There will always be karma to be taken care of - Author: Nina Hagen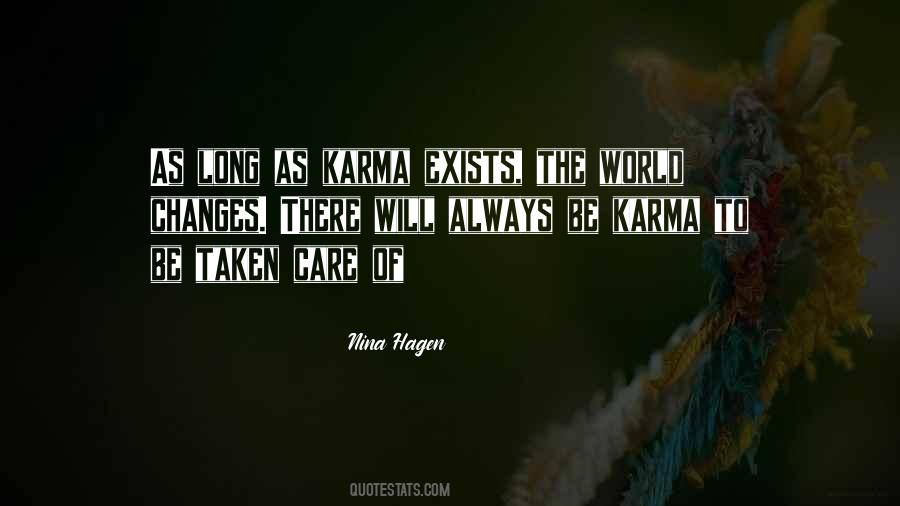 #61. Dear Augustus:
I will take care of Hazel if your you take care to Tris.
- Love always Tobias. - Author: John Green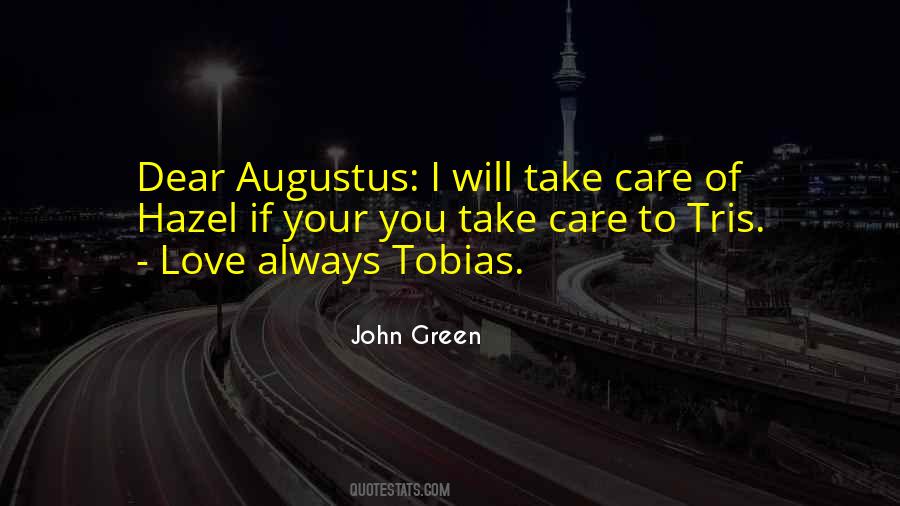 #62. The best work in literature is always done by those who do not depend upon it for their daily bread, and the highest form of literature, poetry, brings no wealth to the singer. For producing your best work also you will require some leisure and freedom from sordid care. - Author: Oscar Wilde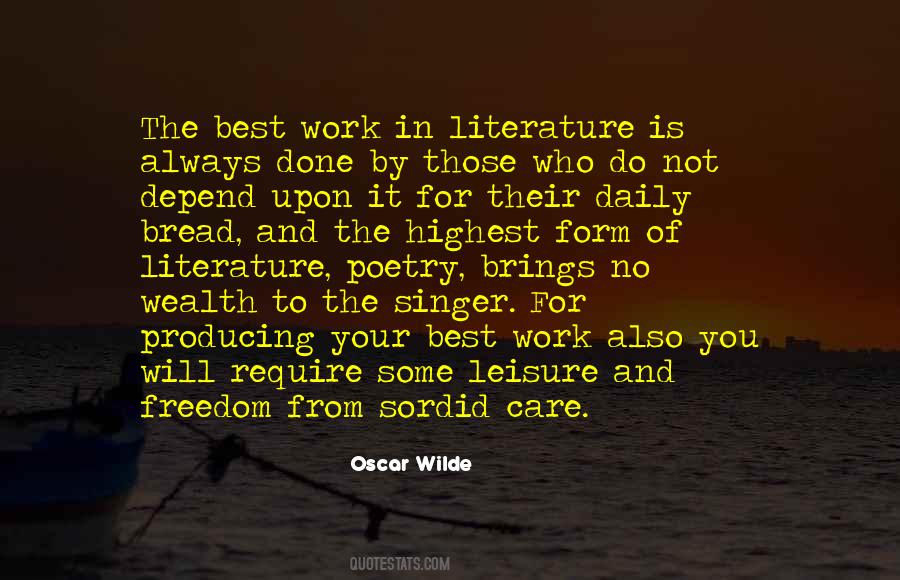 #63. The people who really love and care about you will always surface in time and stay in your life. Always - Author: Jessie J.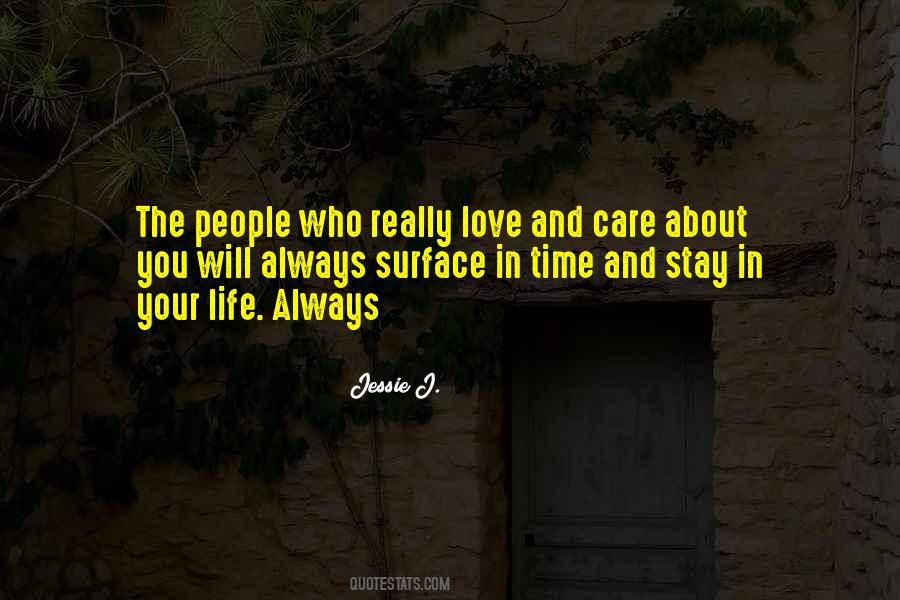 #64. I probably always will be. But I've been mad all my life, and I finally figured out that I couldn't keep carrying that with me. It's too heavy and I'm too tired. Time will take care of it, like it does everything else. - Author: Ayana Mathis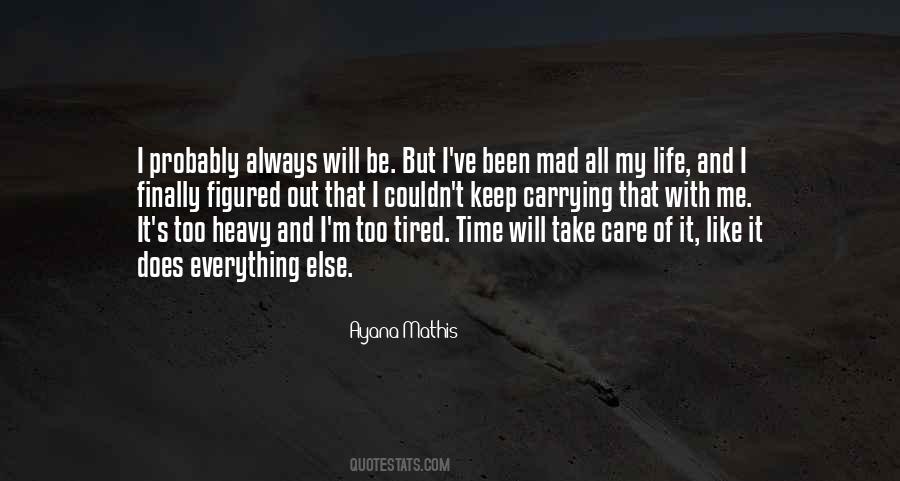 #65. I know how strong you are, but even the strongest sword needs a steady hand in battle. I swore to stand by your side, through all life's challenges, and I meant it. I don't care what me father, or anyone else, thinks. I will always be there for you when you need me. I love you, Trevelyan. - Author: Sherrilyn Kenyon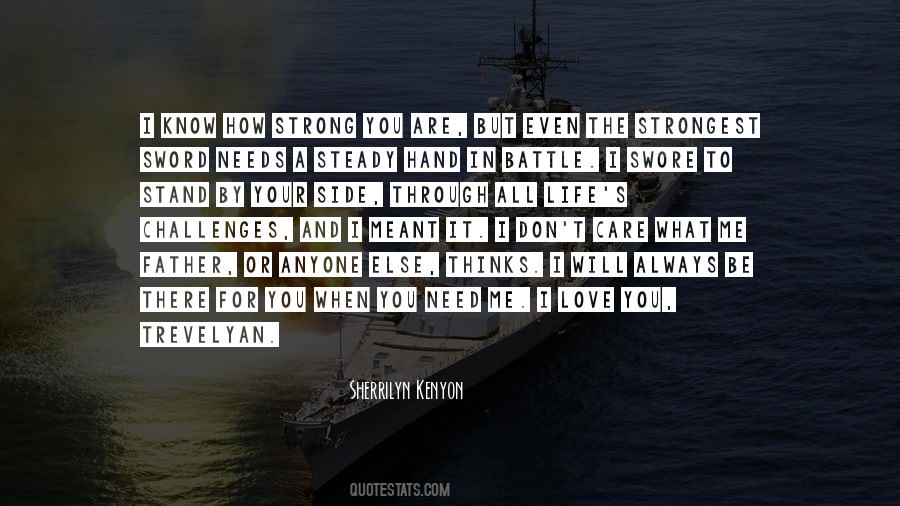 #66. The waiter has to come from a place of concentration, subjugation, and complete, limitless service. Nothing is too much trouble. The customer is always right, even when he is wrong. There is no limit to what you will do to serve while that person is in your bar and in your care. - Author: Stuart Wilde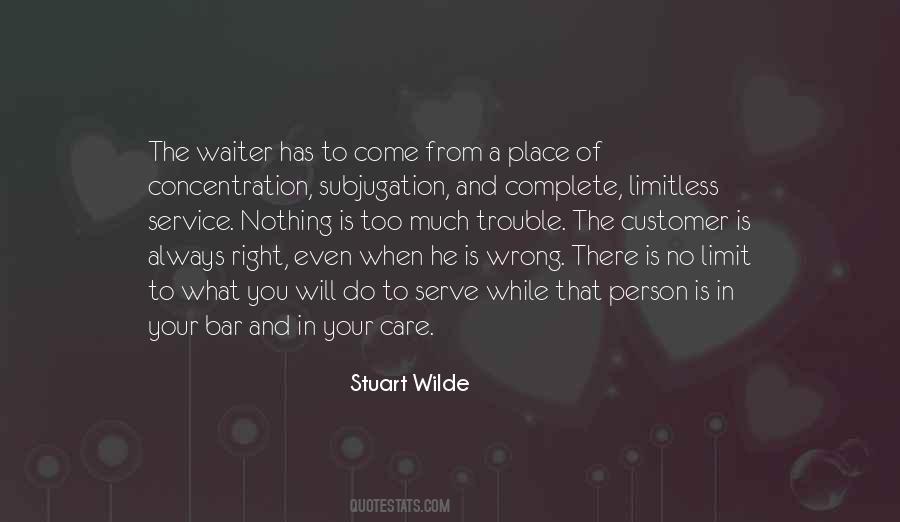 #67. I don't care what the weather is, I will always wear my coats. I am always freezing, so it works out perfectly for me! - Author: Kim Kardashian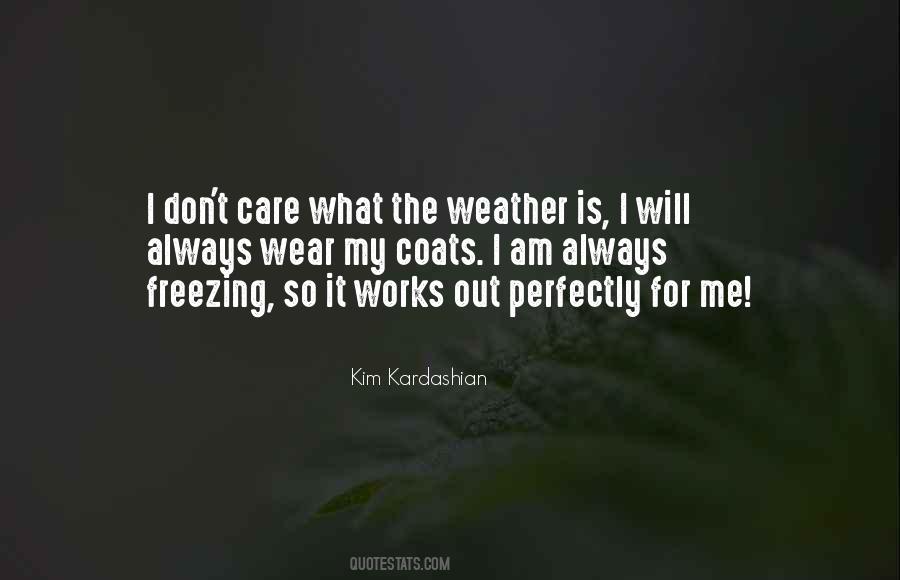 #68. The oligarchs do not care what justice is, only what seems just. They do not care what mercy is, only what appears merciful. Thus justice and mercy will always escape them. - Author: Catherynne M Valente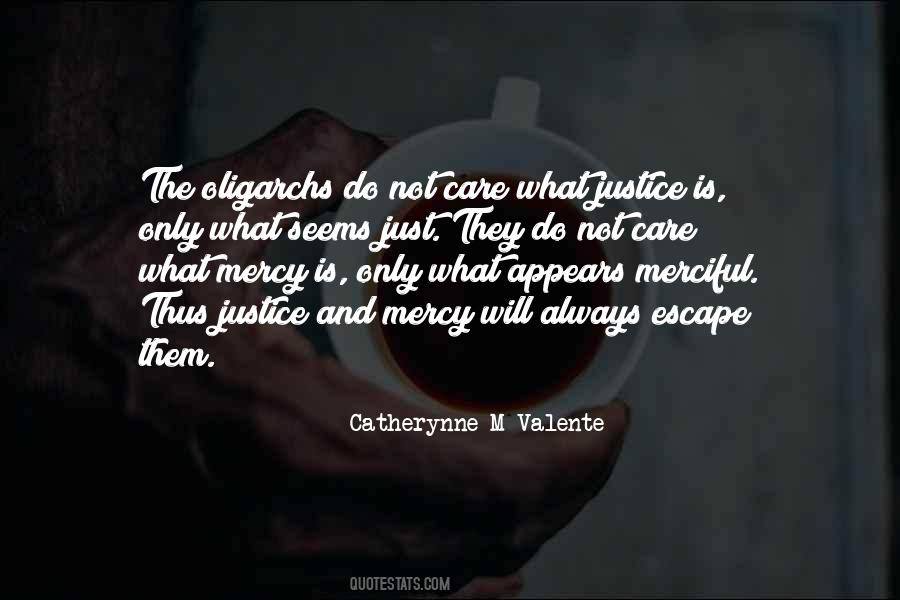 #69. I always say my God will take care of me. If it's my time I'll go, and if it's not I won't. I feel that He really has a lot of important things for me to do. And He's going to make sure that I'm here to do them. - Author: Joycelyn Elders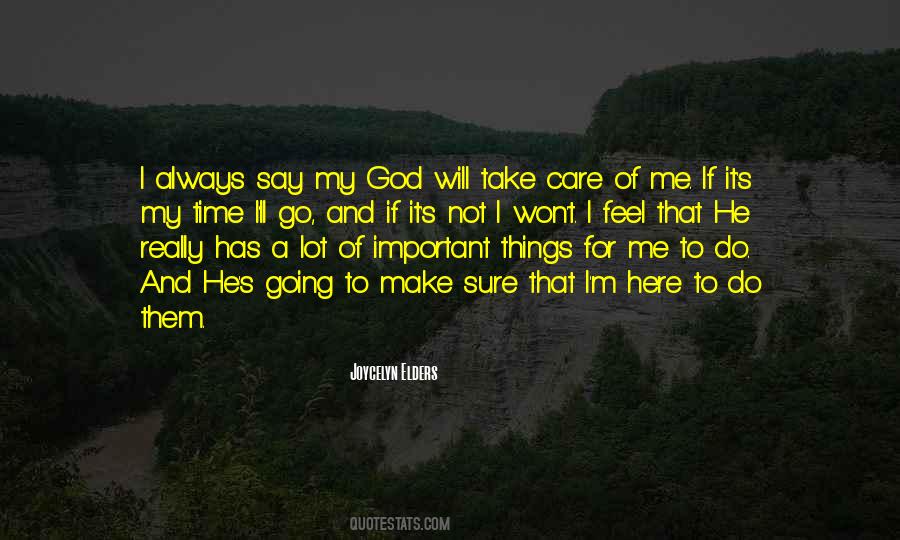 #70. Health insurance needs to be affordable and available for everyone, not just the wealthy. I will always fight to improve the access, level of care, and affordability of health care. - Author: Alma Adams
#71. If you care about what others think of you, then you will always be their slave. - Author: James Frey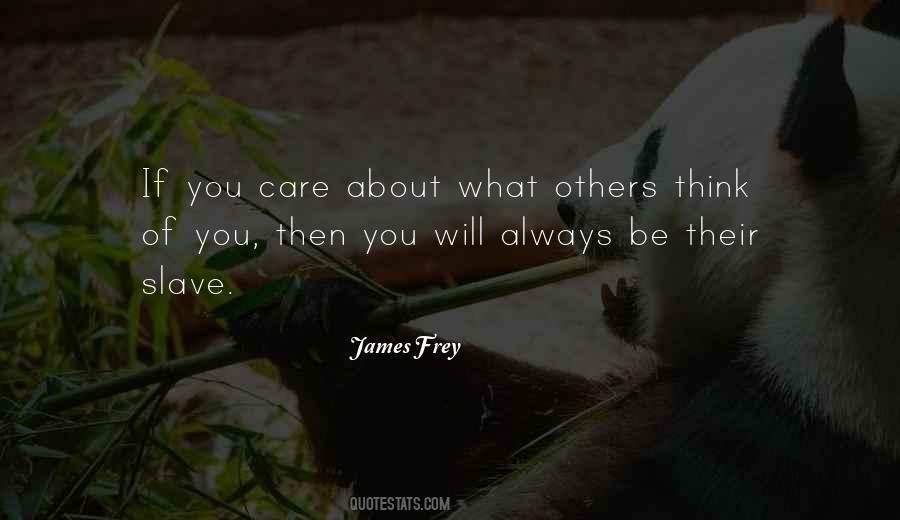 #72. This may sound a little harsh, but I don't care about my career. Really, I don't like actors who are always planning what they're going to do next or always worrying about doing something that will go against the image they've created. To me, that's almost like an attack of narcissism. - Author: Antonio Banderas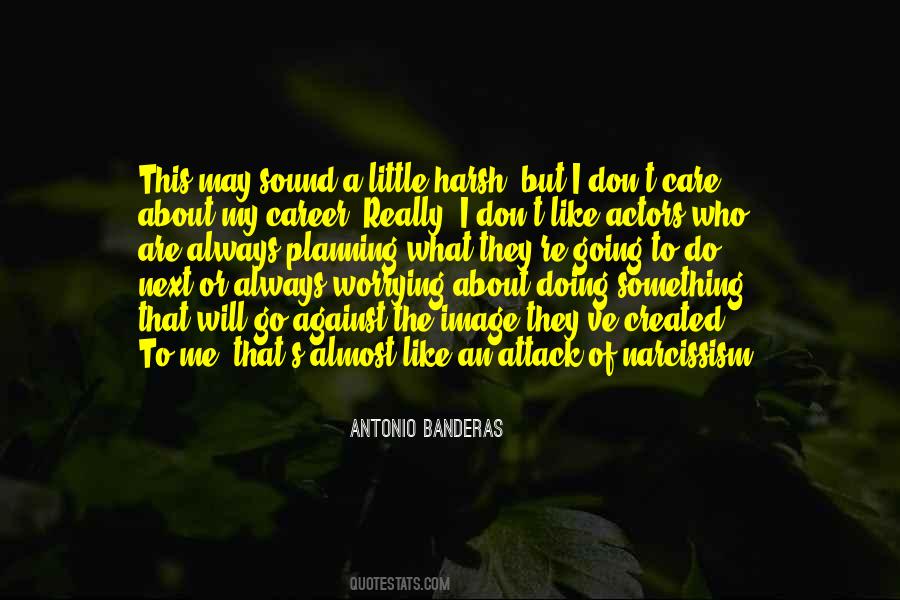 #73. We will always take the most care of that which we value most deeply. - Author: John Ortberg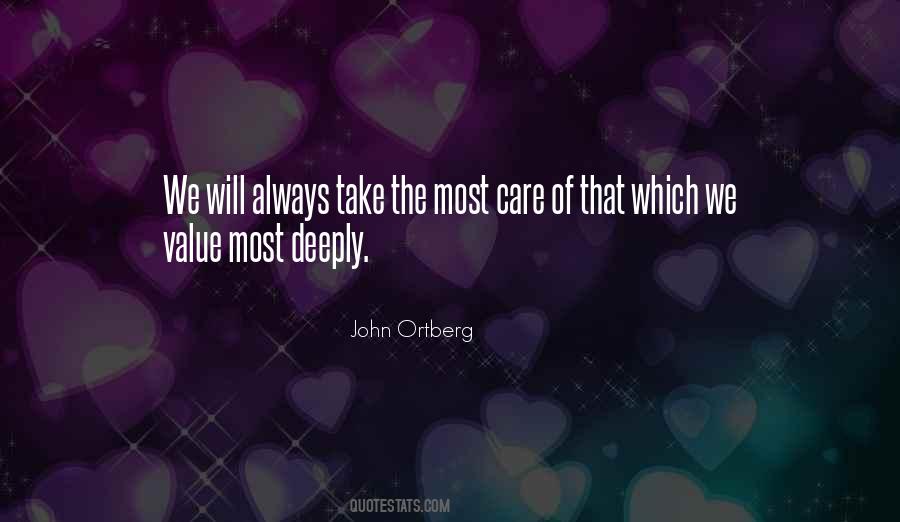 #74. The issue of providing women all forms of preventative health care has been and remains very important. The, the importance of protecting religious liberties in this country has been important to the president and will always be. - Author: Jacob Lew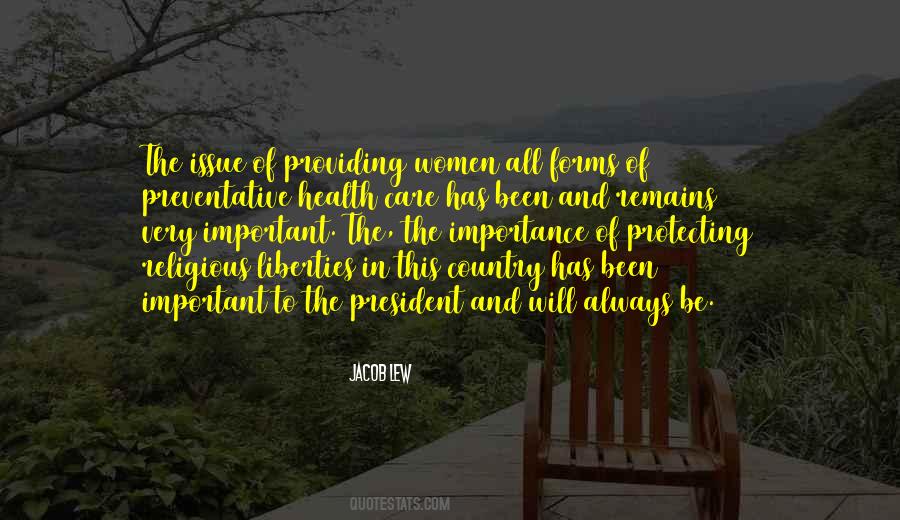 #75. To my mind, a president should care about all people, and he didn't, which is why I will always feel Reagan lacked soul. - Author: Helen Thomas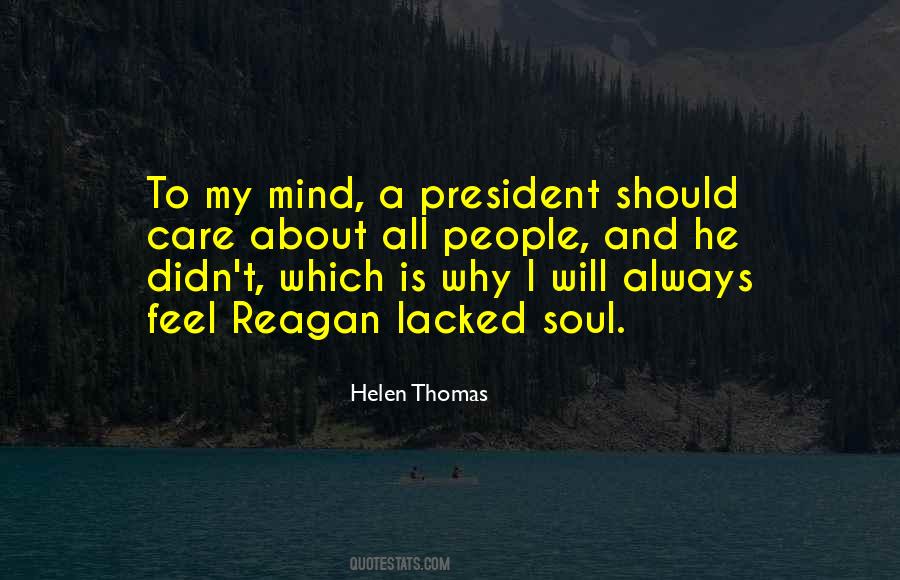 #76. I can imagine in years to come that my papers and memorabilia, my journals and letters, will find themselves always in the company of people who care about many of the things I do. - Author: Alice Walker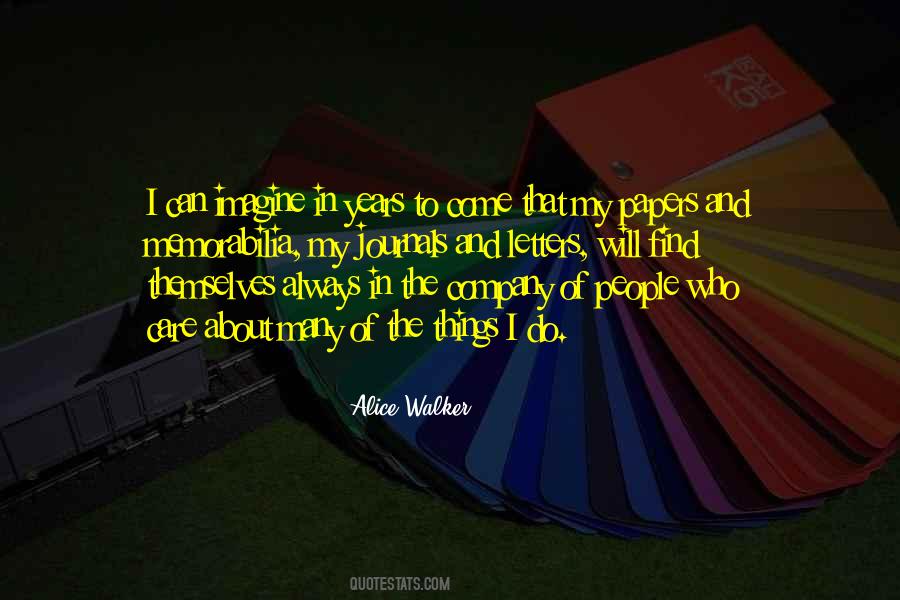 #77. A dog doesn't care if you are rich or poor, educated of illiterate, clever or dull. Give him your heart and he will give you his. It was really quite simple, and yet we humans, so much wiser and more sophisticated, have always had trouble figuring out what really counts and what does not. - Author: John Grogan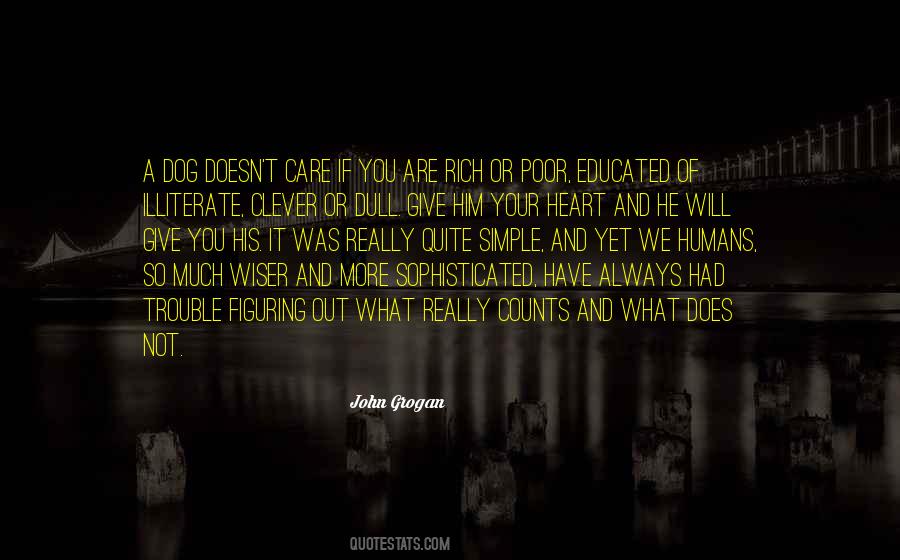 #78. Doesn't sound like she's alone anymore" ...
"She's not. She never will be. I'll always be there for her. I'll keep her safe. I'll take care of her. She will always have me. - Author: Abbi Glines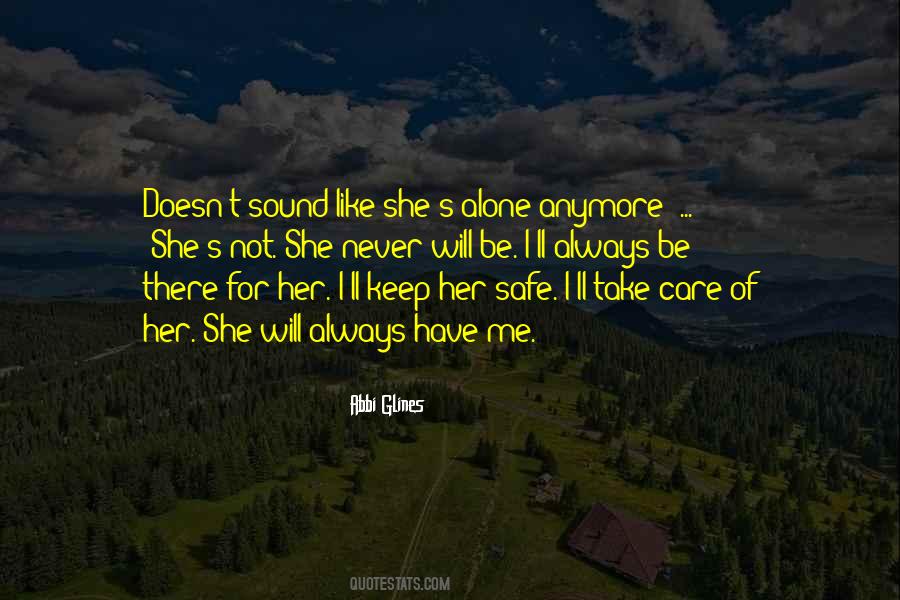 #79. Music will always be a part of my life. I love music and I don't care how many units I sell. - Author: Alanis Morissette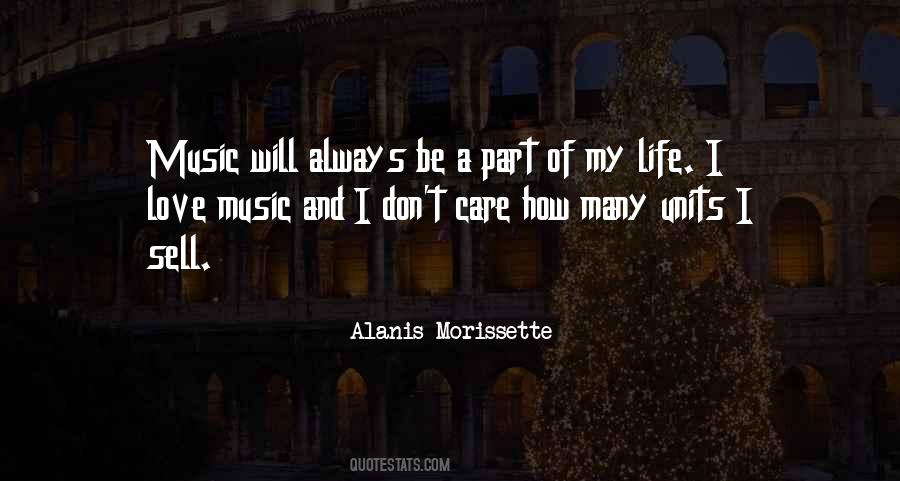 #80. I will always have a career. I believe in working. I don't believe that taking care of your house and children is enough for a woman. You don't feel complete. - Author: Joan Chen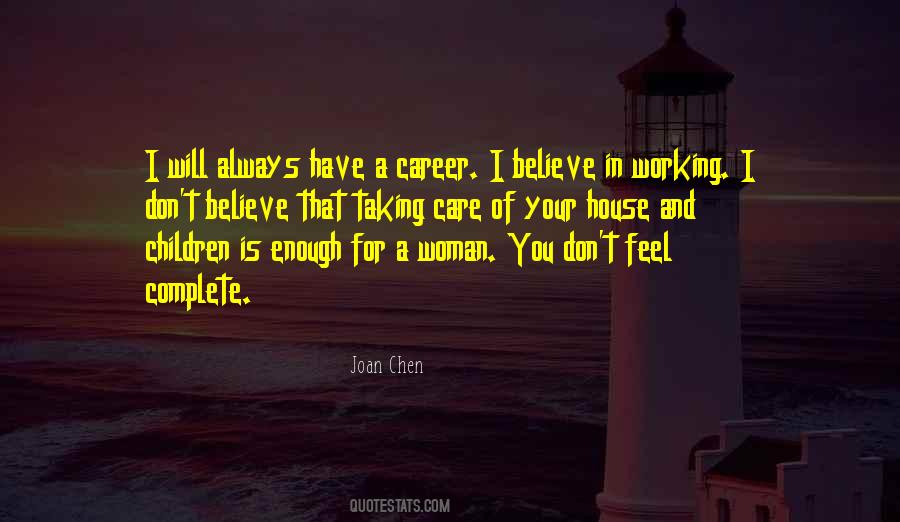 #81. Whether we make our own money or rely on someone else, many of us would rater pretend our financial matters don't exist. Or we hope they'll just take care of themselves somehow. My ex-husband was like that. He always said, "I bank by prayer. I go to the ATM and pray that money will come out. - Author: Nancy Levin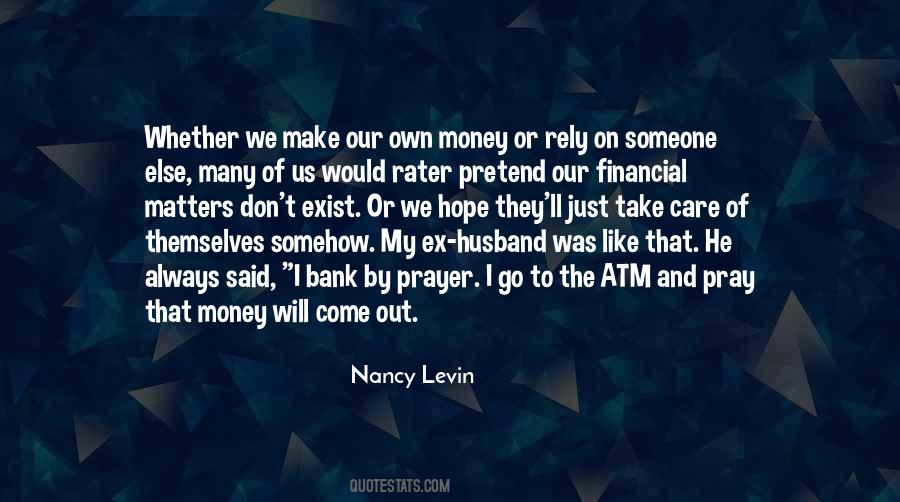 #82. We never care for anyone for their own sake. We train them for the system. No one matters for their own sake. No one acts for their own sake. The system will always be bigger than you. - Author: E.J. Koh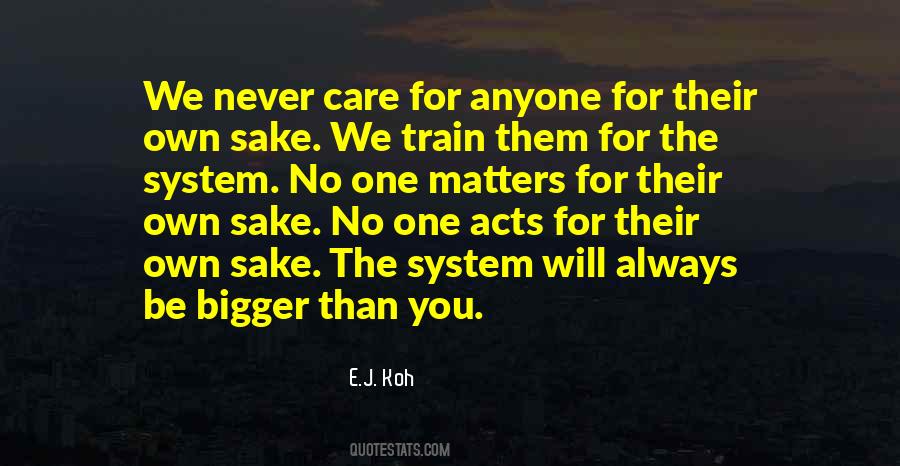 #83. read your Bible, go to church, say your prayers, and ask God to take care of you; then you need never fear dreams or anything else, for you must always remember that God has more power than the devil, and always will have. - Author: Walter Hubbell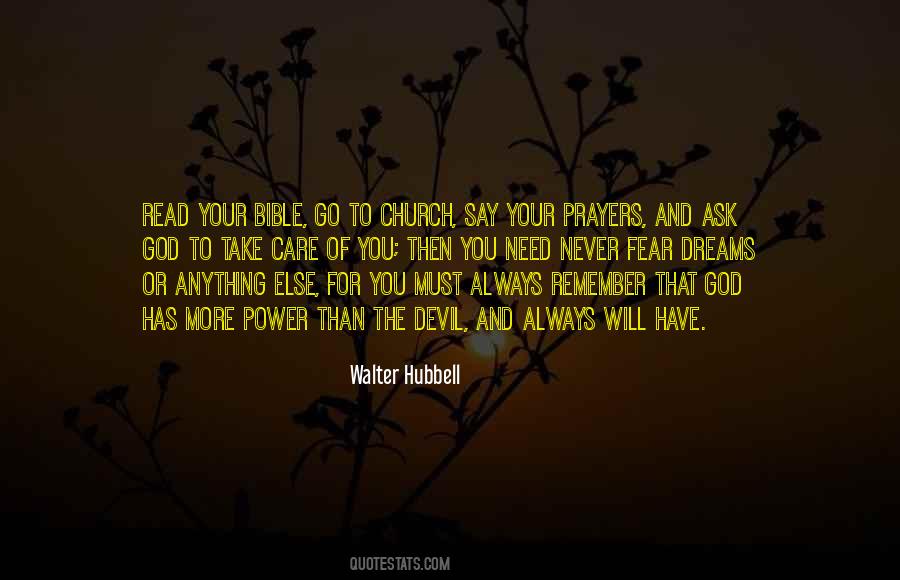 #84. When two people really care about each other, they will always look for a way to make it work, no matter how hard it is. - Author: Bharat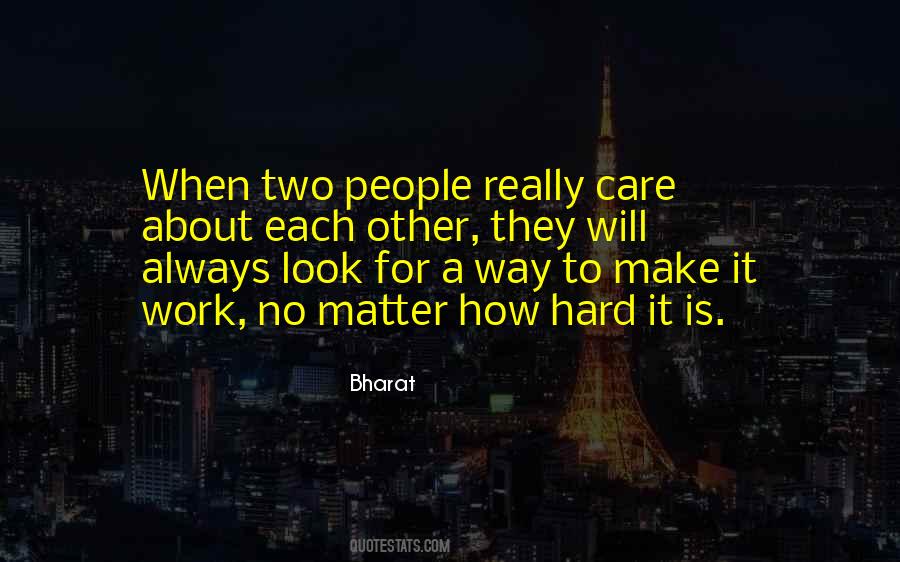 #85. There is bound to be someone driven mad by love who will give you the chance to study the effects of gold cyanide on a cadaver. And when you do find one, observe with care, they almost always have crystals in their heart - Author: Gabriel Garcia Marquez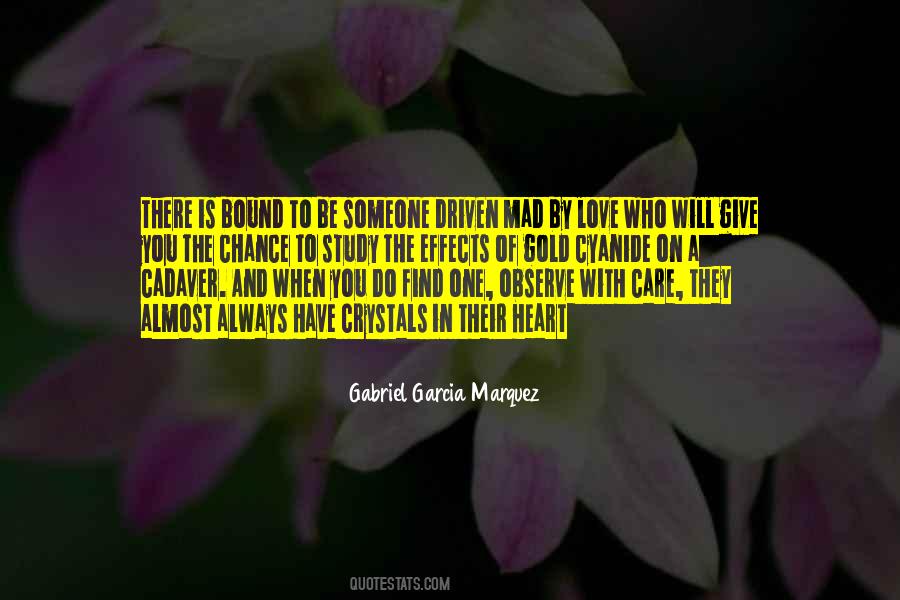 #86. You will always be a puppet on someone else's line if you don't care enough about the big picture to let your tiny voice be heard. When it is combined with the tiny voices of millions of others that is the real power. - Author: Kenneth Eade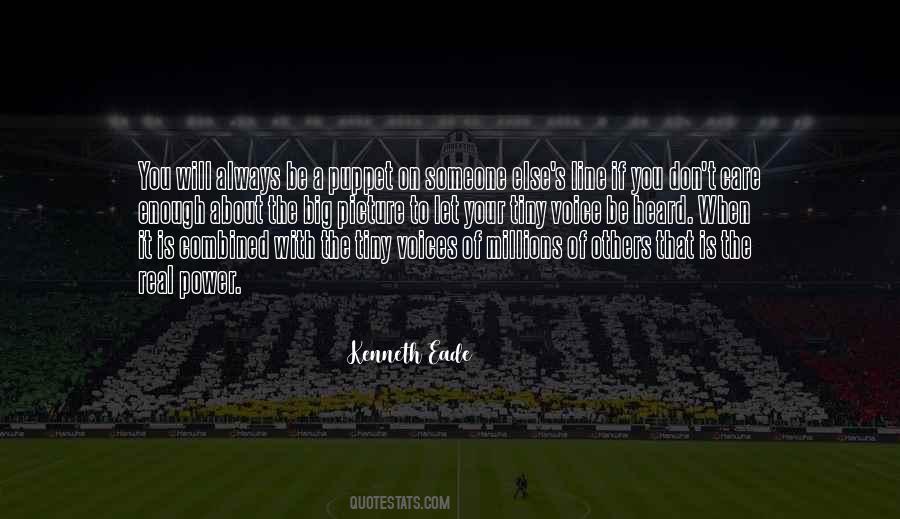 #87. I love you," he said. "I want you more than life itself. Forever." He brushed a hand across her cheek. "And I will take care of you always. - Author: Chelsea Fine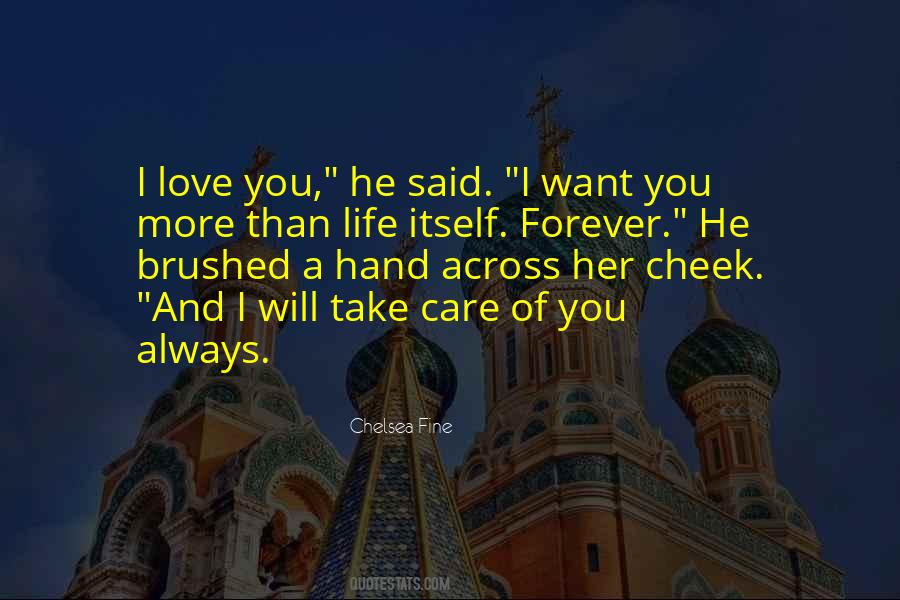 #88. The world may never know and Jesse may never care. But when my world falls apart like it always does, someone will know my story.
-Danny - Author: Roxanne Greening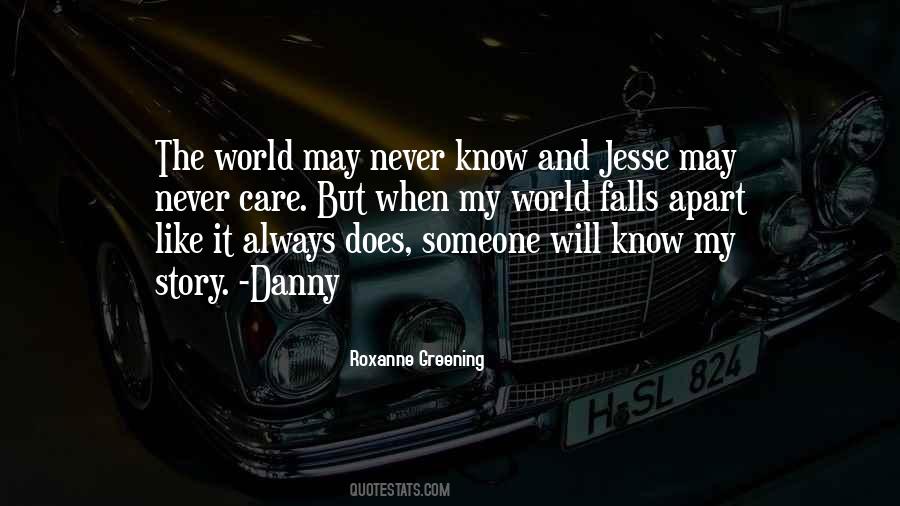 #89. I don't care how loyal you think you're going to be Dink. It's not in you. You're a brat and you always will be. So admit what a lousy follower you are and go ahead and LEAD.
-Petra - Author: Orson Scott Card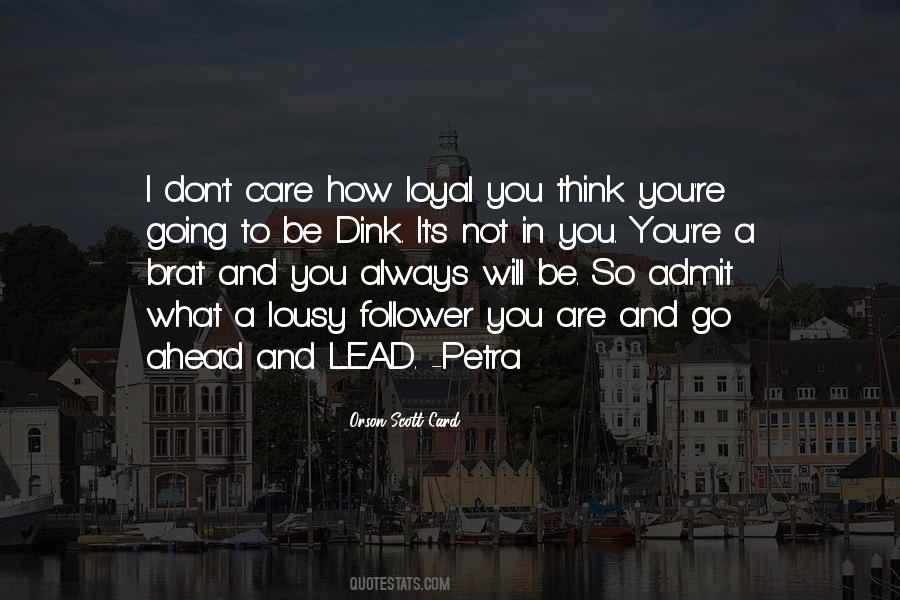 #90. Never stop learning, and always be ready to teach yourself things you don't know. The only things you will remember are things you care about. - Author: Jonathan Tepper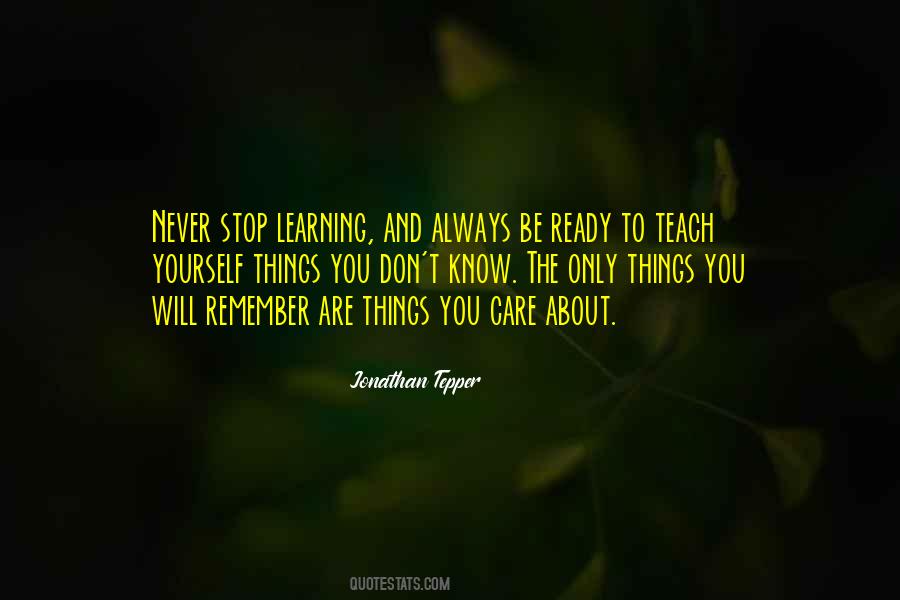 #91. I think there are people who really always have and always will care about the quality of music in general, about the sound of the music, things like that. - Author: Daryl Hall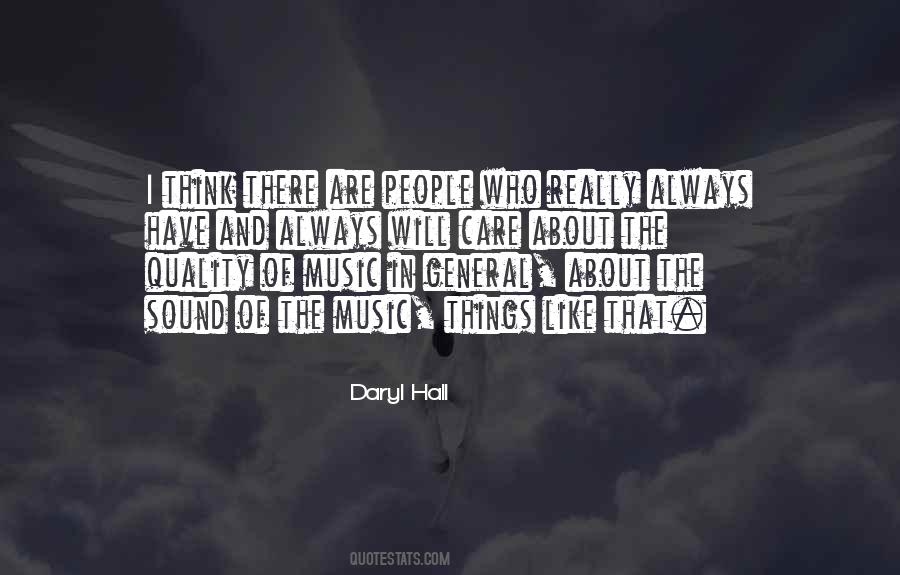 #92. You can always care [about what others think]. You probably always will care. But don't let it dictate your choices and what you want and what you want to accomplish and who you want to be. Don't let anyone get in the way of that. That's being yourself. - Author: Jenna Marbles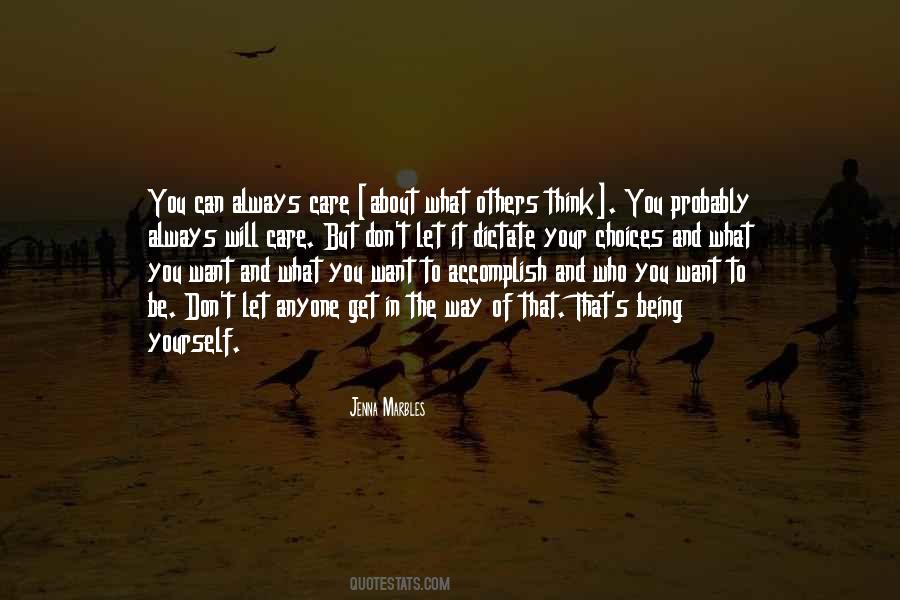 #93. I've always said to my men friends, If you really care for me, darling, you will give me territory. Give me land, give me land. - Author: Eartha Kitt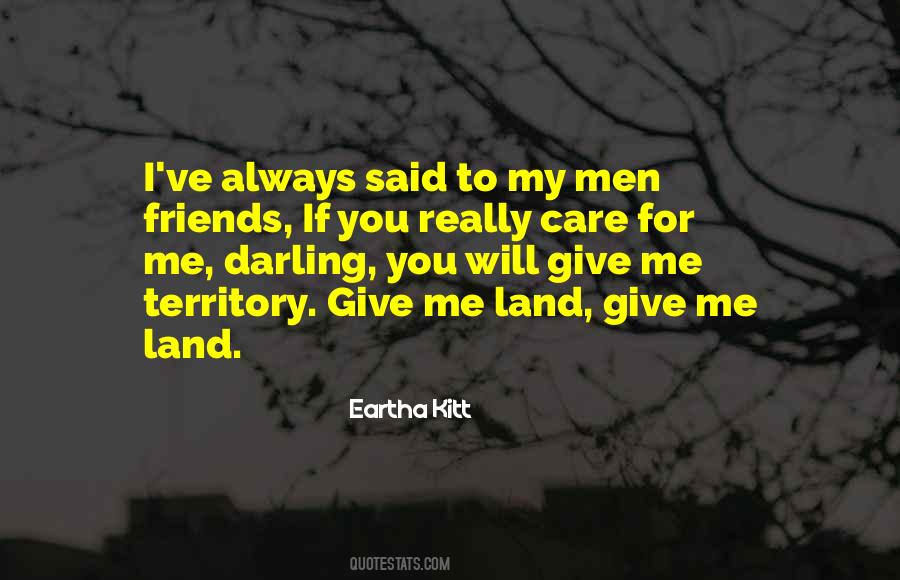 #94. Families will always have their trials; be living examples of love, forgiveness, and care - Author: Pope Francis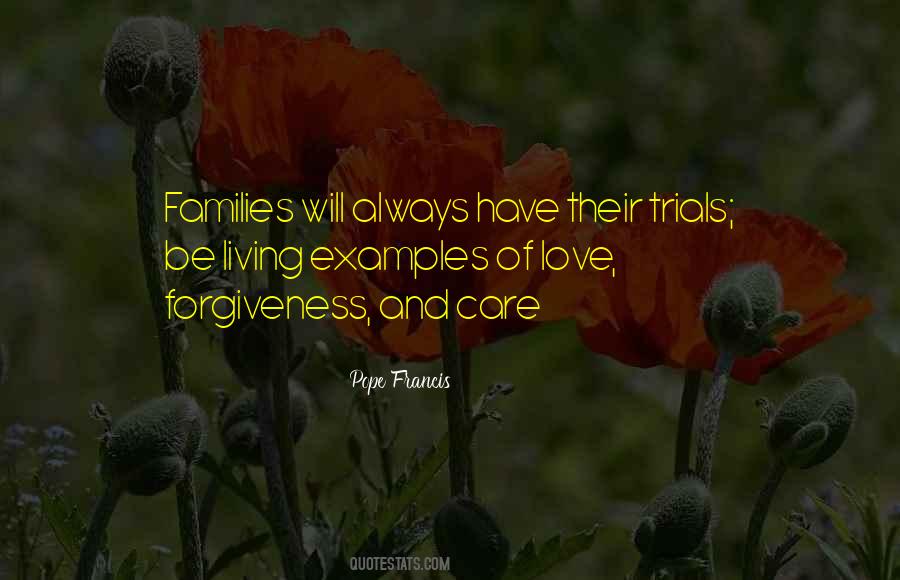 #95. Please tell me you don't go around saying crap like that to everyone. No wonder no one in town ever talks to us. Wealthy families always have a crazy person or two. Is that really the role you want to play, Vi?"
"We're not wealthy anymore. Remember? So if I'm crazy, no one will care. - Author: April Genevieve Tucholke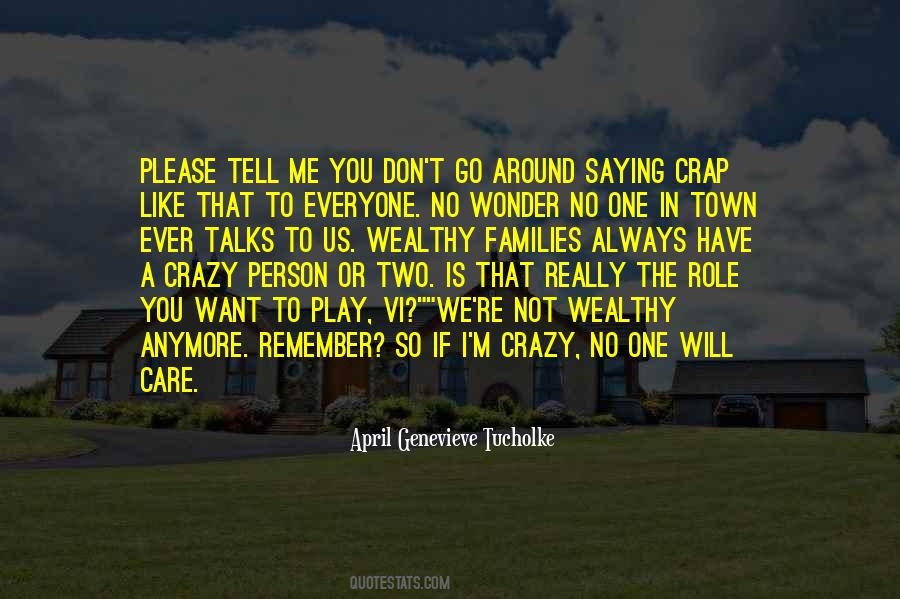 #96. The best sounds a kid will get is in a movie theater, with huge speakers, turned up loud. I always mix my music really loud. I don't care if you don't hear all the dialogue. The audience are not idiots. - Author: John Hughes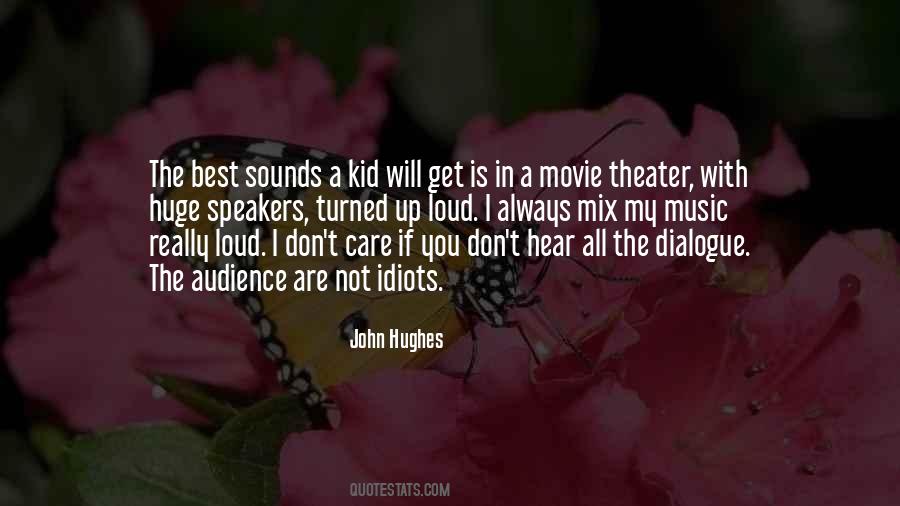 #97. I'll always be there
I'd give anything and everything
And I will always care
Through weekness and strength
Happiness and sorrow
For better or for worse
I will love you
With every beat of my heart. - Author: Shania Twain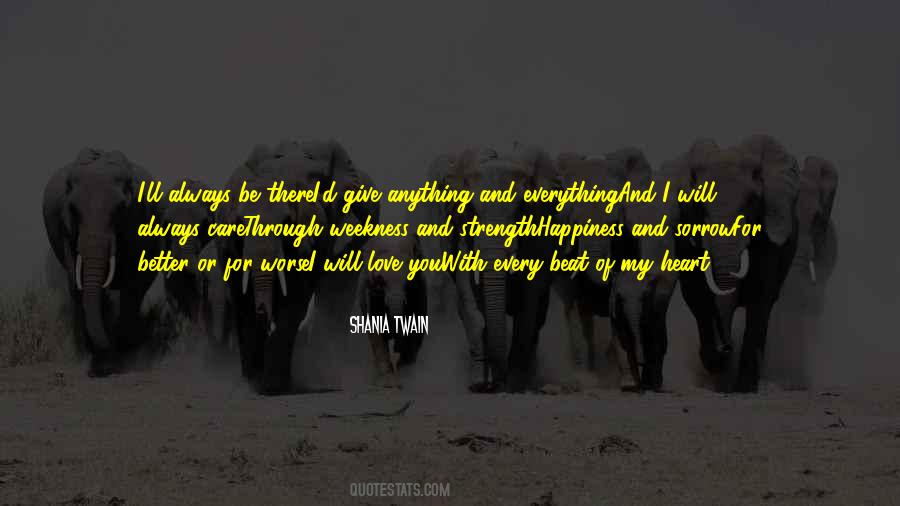 #98. You are a Bridgerton. I don't care who you marry or what your name becomes when you stand up before a priest and say your vows. You will always be a Bridgerton, and we behave with honor and honesty, not because it is expected of us, but because that is what we are. Eloise - Author: Julia Quinn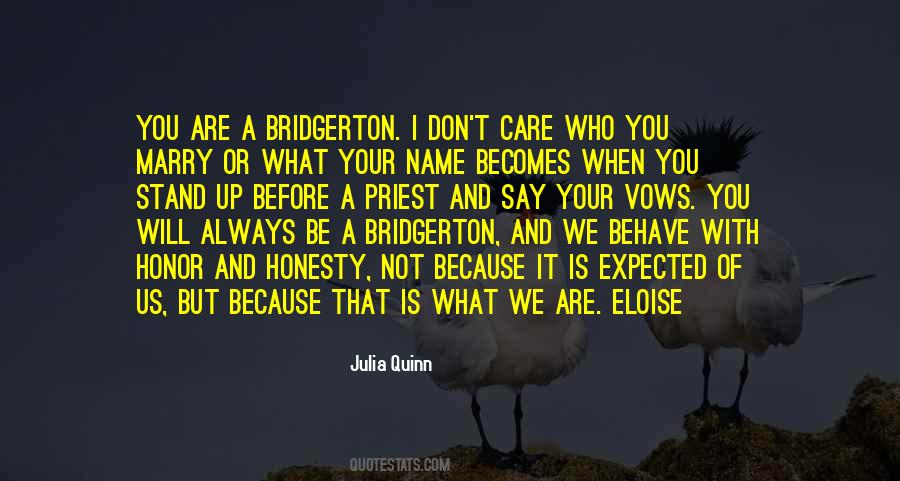 #99. I will always care for you, even if we're not together and even if we're far, far away. - Author: Tom McNeal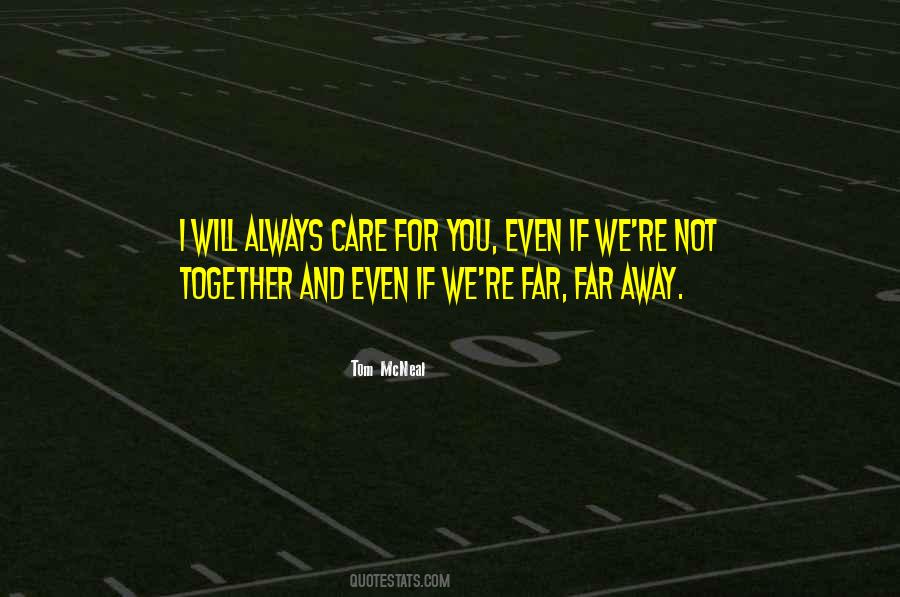 #100. I don't care how busy I am - I will always make time for what's most important to me. - Author: Kevin Hart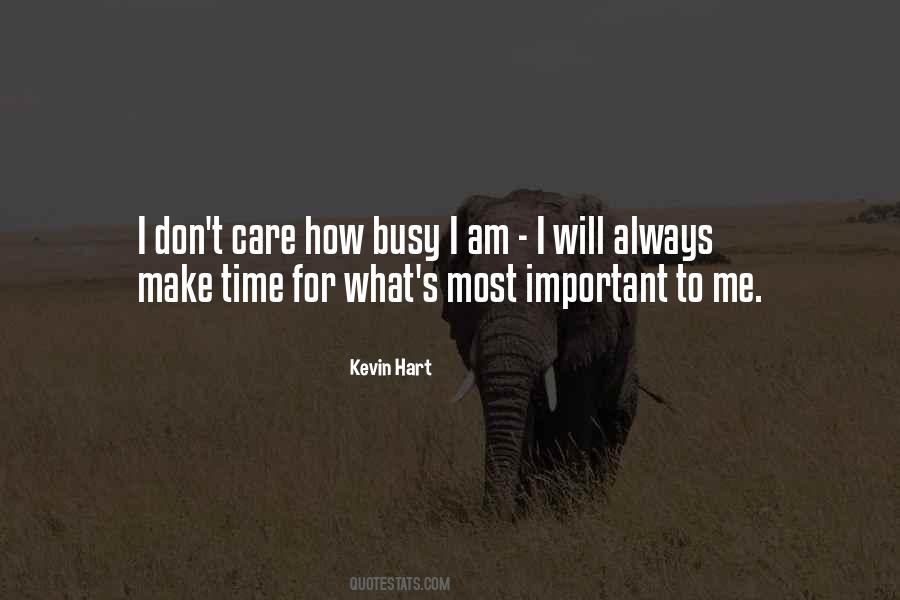 Famous Authors
Popular Topics