We Could Be Together Famous Quotes & Sayings
List of top 87 famous quotes and sayings about we could be together to read and share with friends on your Facebook, Twitter, blogs.
Top 87 We Could Be Together Quotes
#1. I never thought my marriage could be stronger, or I could be closer to Bill. We prayed on our own, but now we prayed together and you'll never know how much that means until you do it. - Author: Giuliana Rancic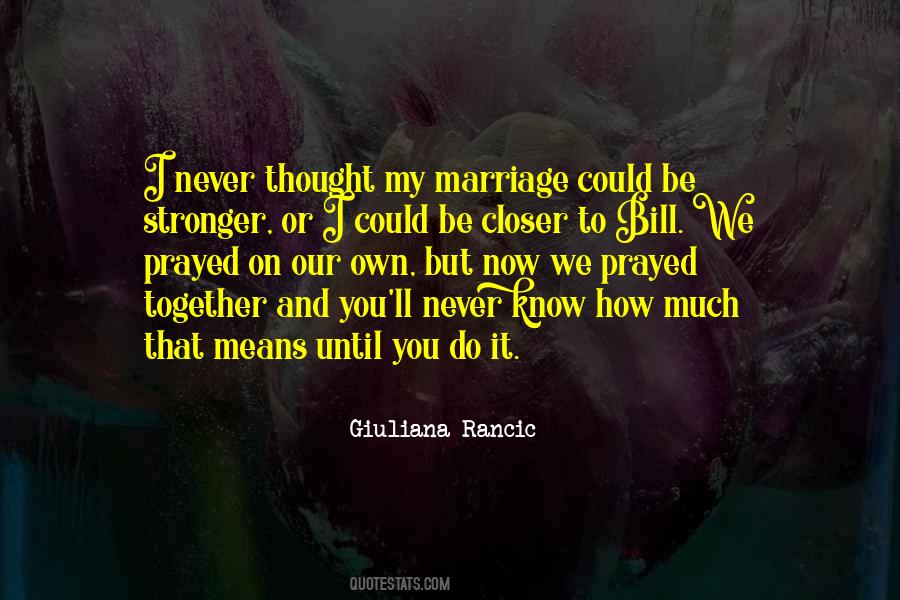 #2. We were battered and dinged, both well past the weight limit in personal baggage. And, like the rest of humanity, it would be our destiny to be tossed and torn by events unseen and unplanned. But that didn't stop me from hoping we could somehow navigate it together. - Author: Paula Garner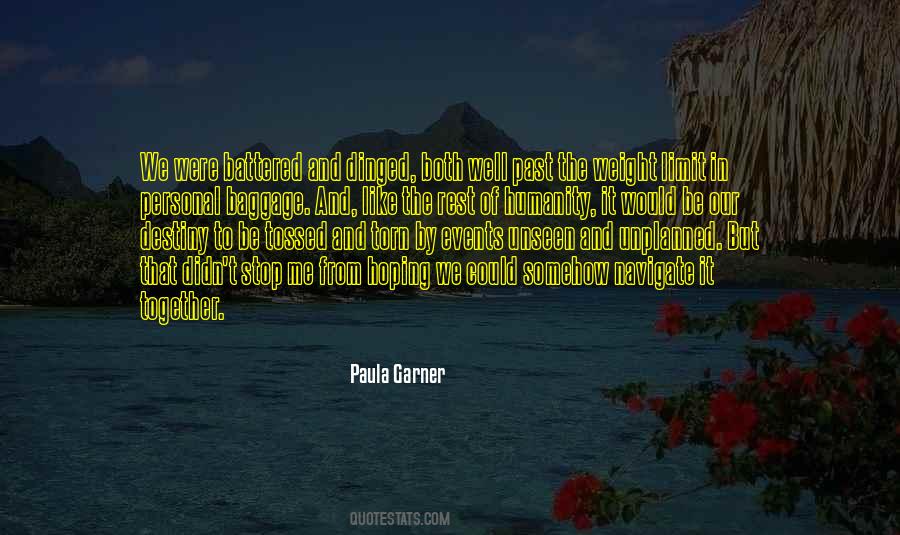 #3. Our friend and we were invited aboard on a party of pleasure, which is to last forever. His chair was ready first, and he has gone before us. We could not all conveniently start together; and why should you and I be grieved at this, since we are soon to follow, and know where to find him. - Author: Benjamin Franklin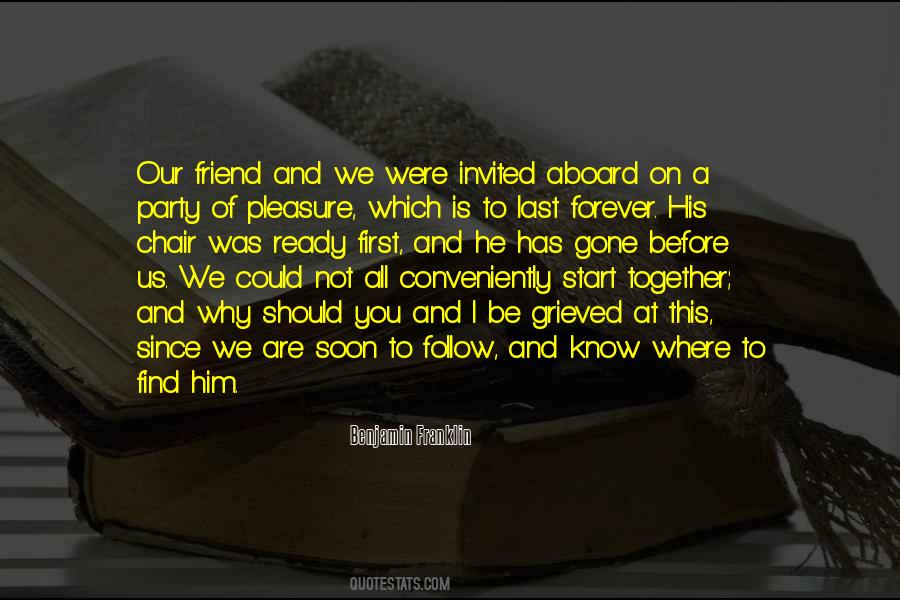 #4. You are the best person I've met in years, and if I'd met you in a year's time, or maybe even a few months, I know we could be happy together, but I can't give you what you need. - Author: Jane Green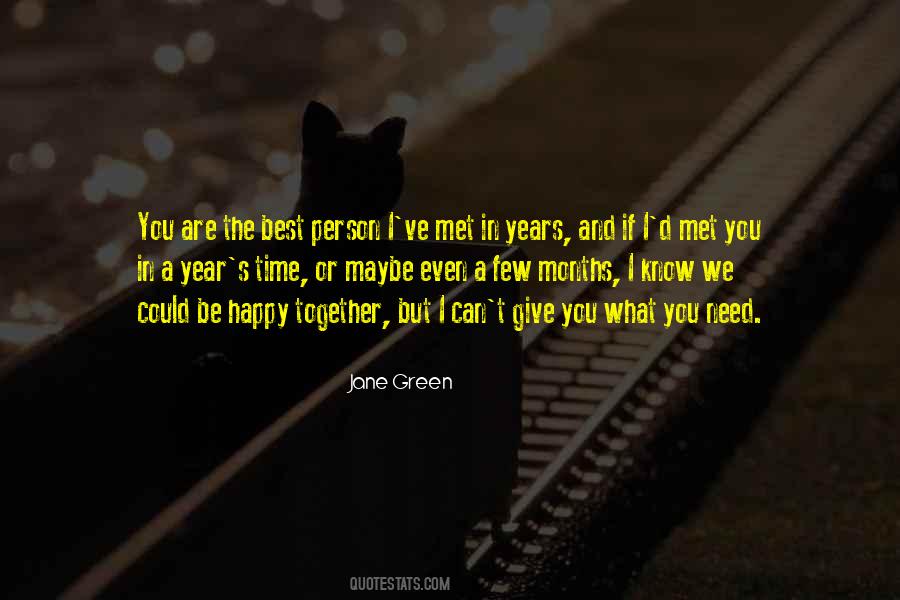 #5. Reed kissed her softly. Live for now. Find your way. We can still be together. Forever. Don't think about the unknown and what could happen when we don't even know what is happening. - Author: Carrie Ann Ryan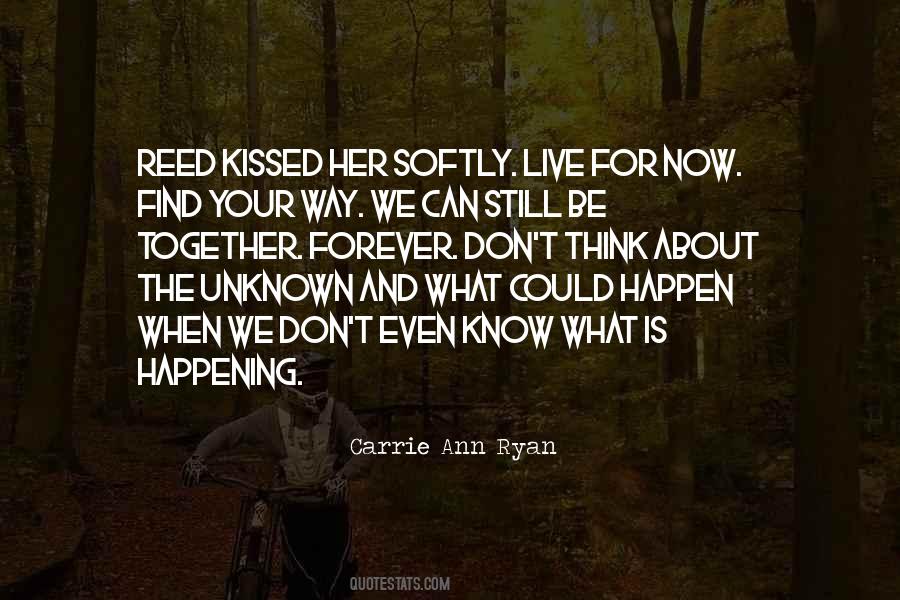 #6. So, what now? We're friends?
Yeah. If friends could be in love, but not together. In sync, but out of touch. Willing to die for each other, but unable to trust. - Author: Rachel Vincent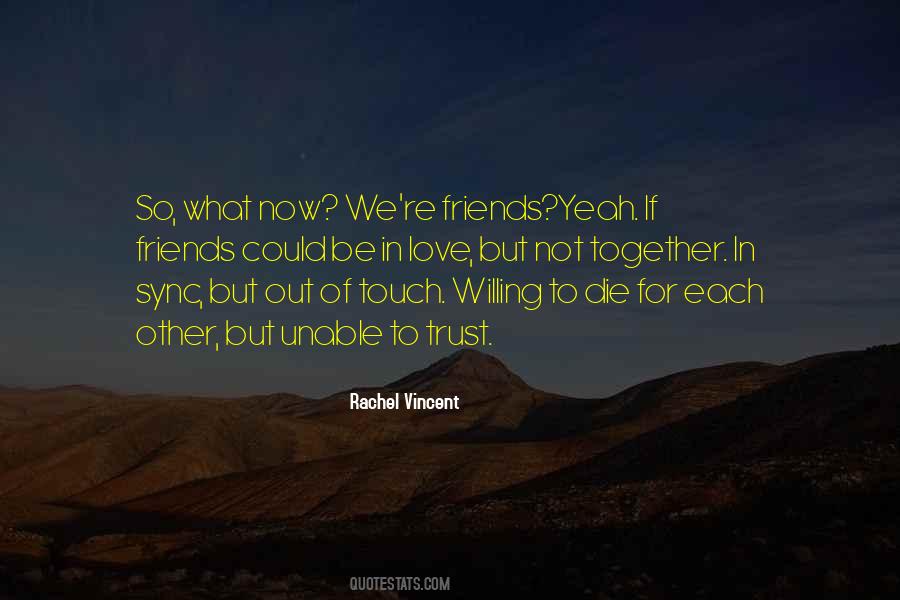 #7. I keep trying to get rid of this thing, but somehow it keeps finding its way back to me. What made you keep it?" "It occurred to me that if I could find the cyborg that fit this foot, it must be a sign we were meant to be together. - Author: Marissa Meyer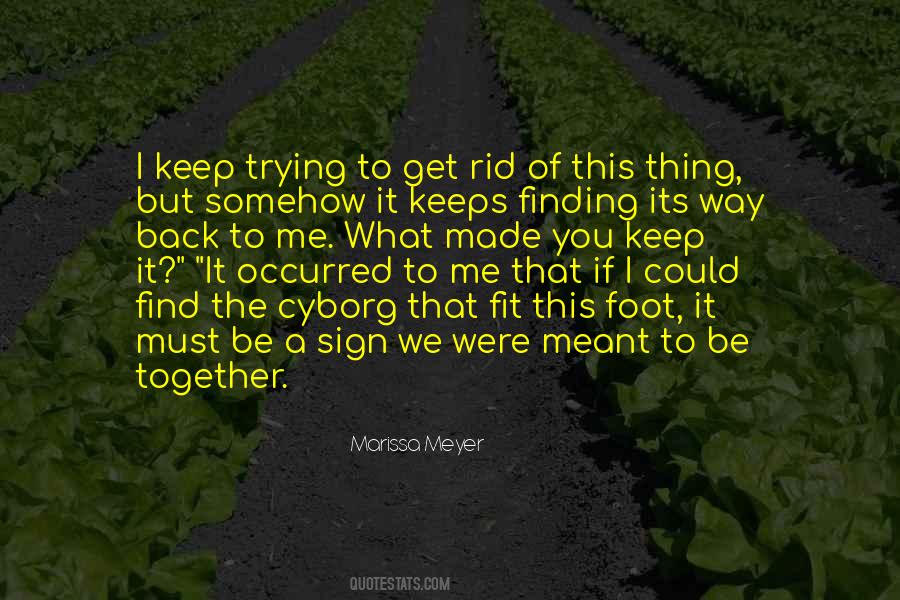 #8. We were all so different, temperamentally from one another, it's impossible to believe that we were together for so long. The cast and crew. How could we be more different from one another? It's difficult to imagine. But something lovely came of it. - Author: Madeleine Stowe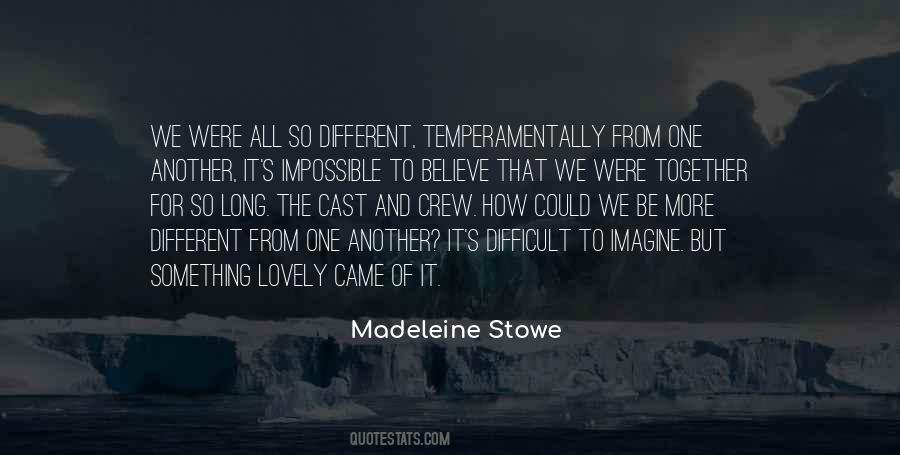 #9. With Geoffrey, it was the first time we did music together, we understood that everything could be well, and without any problem. And we didn't need to rehearse too much. - Author: Victoria De Los Angeles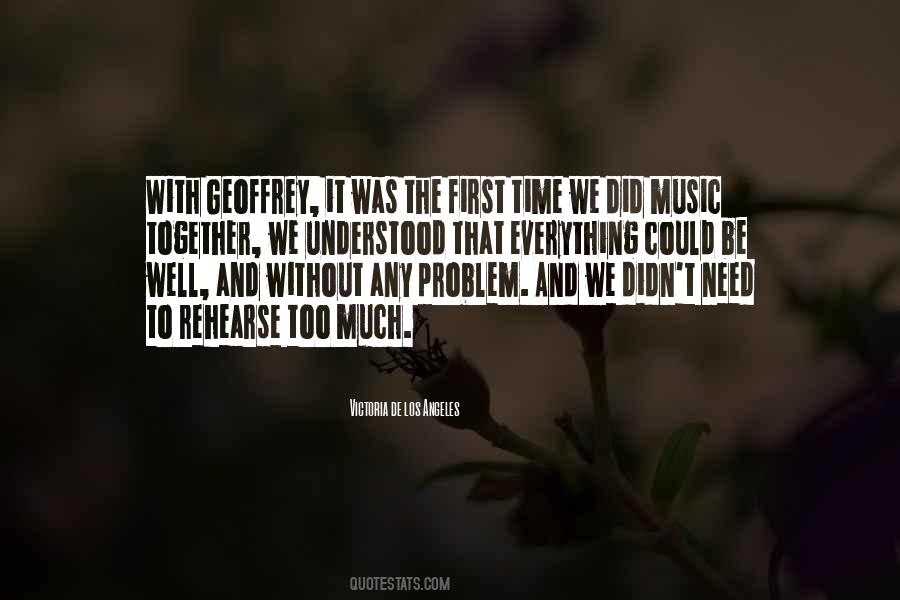 #10. It would be lovely if we could gather up all the evil people and put them together on one island, leaving them to self-destruct in their collective sinfulness. - Author: Matthew Kelly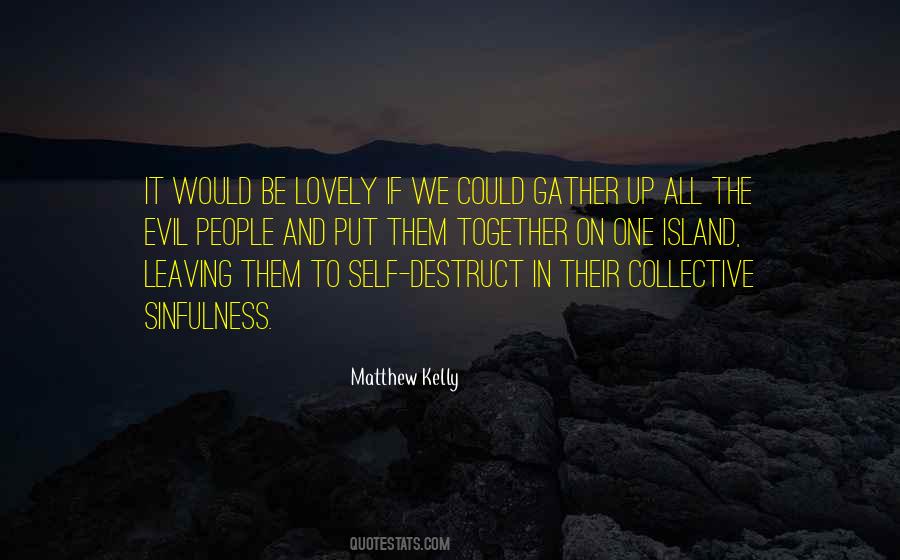 #11. There was nothing we could do; we were just a couple of powerless, poor kids, so desperate to find a way to be together. - Author: Renee Carlino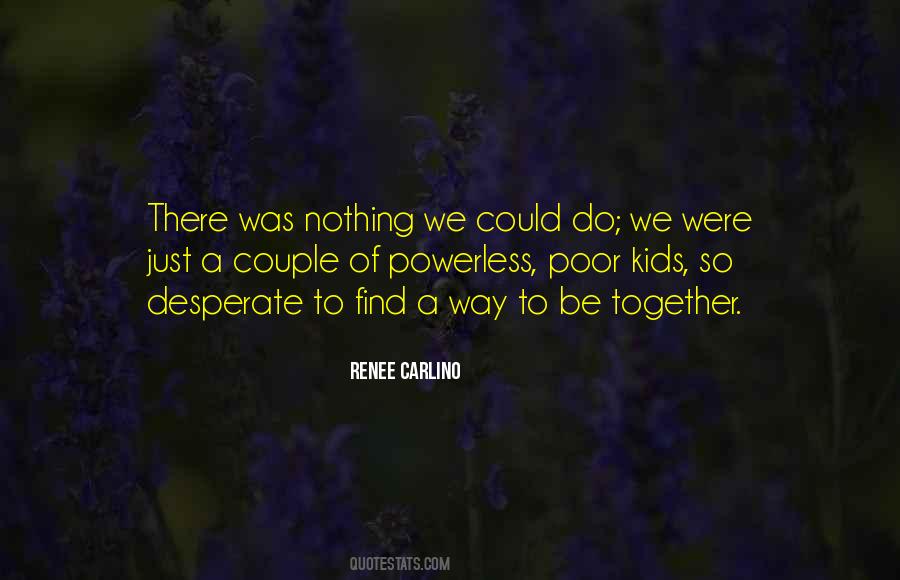 #12. We are what we are forever, unchanging - you are everything all at once, past and present and future all rioting together. I pity you terribly, I could never bear to be like you, but I wonder and wonder about you. - Author: Peter S. Beagle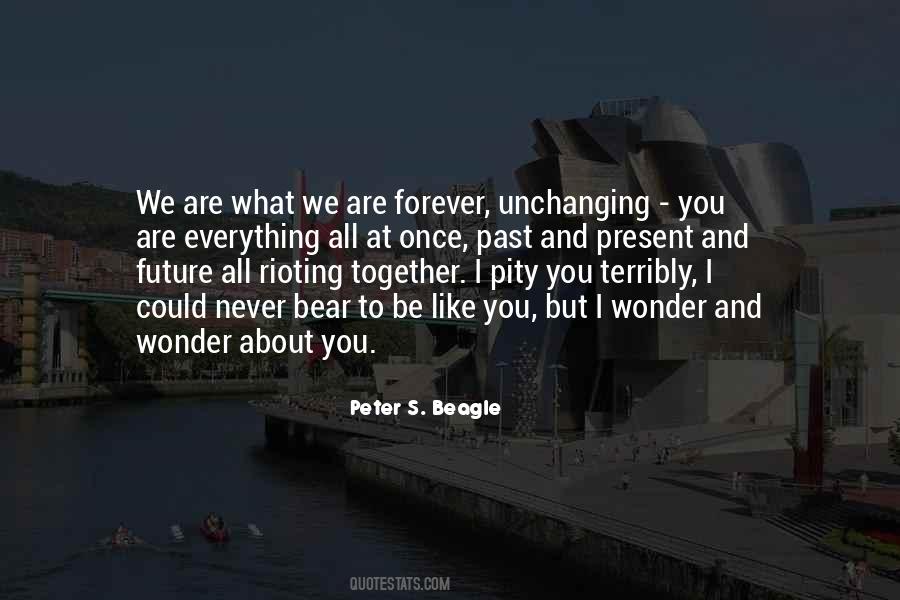 #13. We were watching a sitcom, I don't remember which. There were many of them at the time that all could be lumped together under the title of Funny Minority and the White Guy. - Author: Jeff Lindsay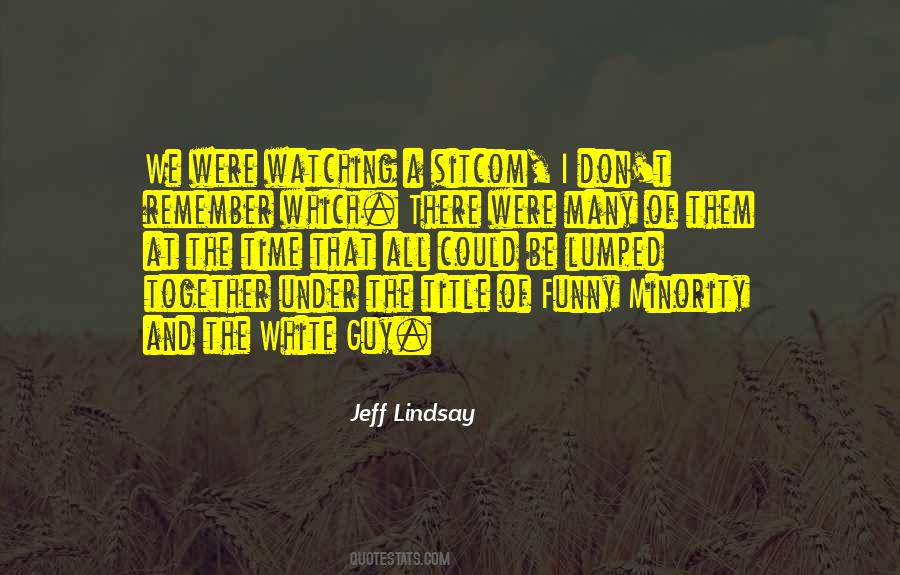 #14. 12-27-10
Palace Hotel, San Francisco- Over Christmas
In bed, lights out:
O: 'Oh, oh, oh...!'
I: 'What was that for?'
O: 'I found your fifth rib.'
In the middle of the night: 'Wouldn't it be nice if we could dream together?' O whispers. - Author: Bill Hayes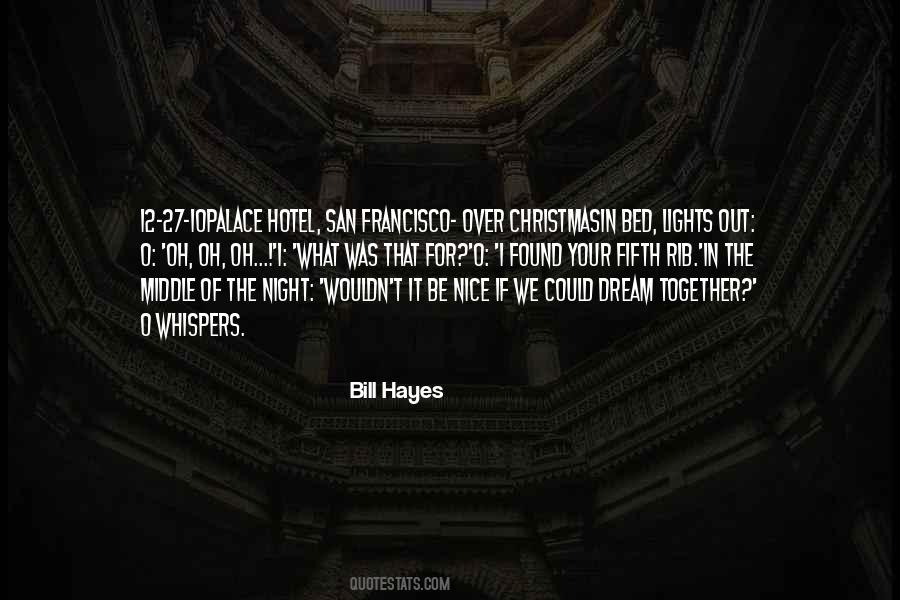 #15. I went back to my thoughts of Lia. How could I tell her that I knew in my gut from almost the beginning that we were meant to be together? That I had seen myself growing old with her. That a gift I wasn't even sure she really possessed had told me her name long before I ever laid eyes on her. - Author: Mary E. Pearson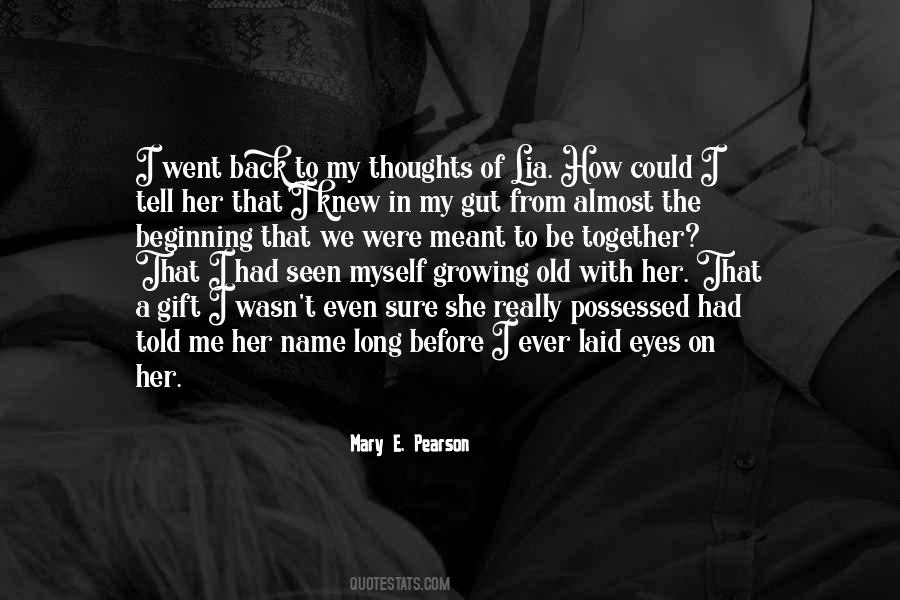 #16. It does not make sense that everybody should duplicate efforts when we could be working together. - Author: Theresa May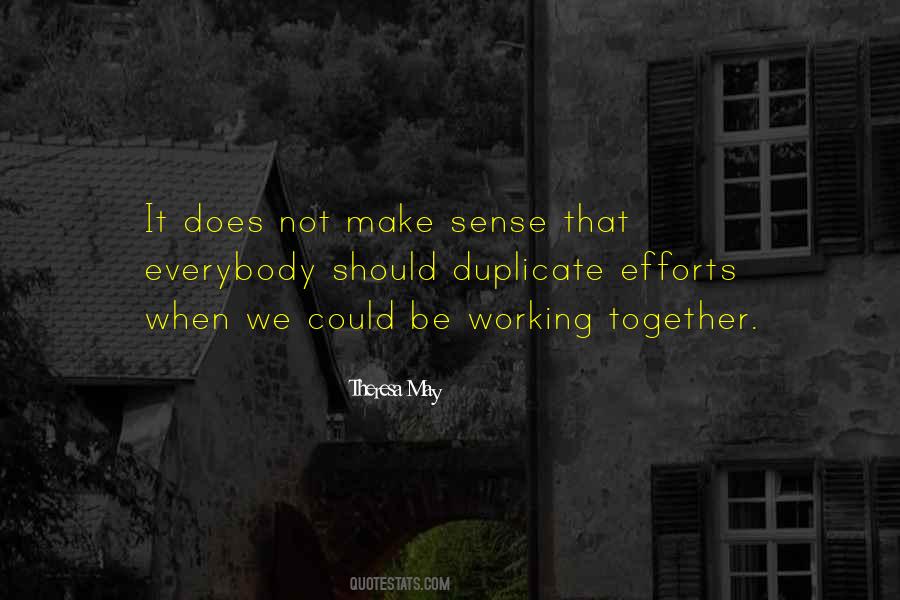 #17. I threw everything we had together - the strong roots and stems and leaves and beautiful soft blossoms of sisterhood - into the earth with you. And I was left standing on the edge, so diminished by the loss that I thought I could no longer be there. - Author: Rosamund Lupton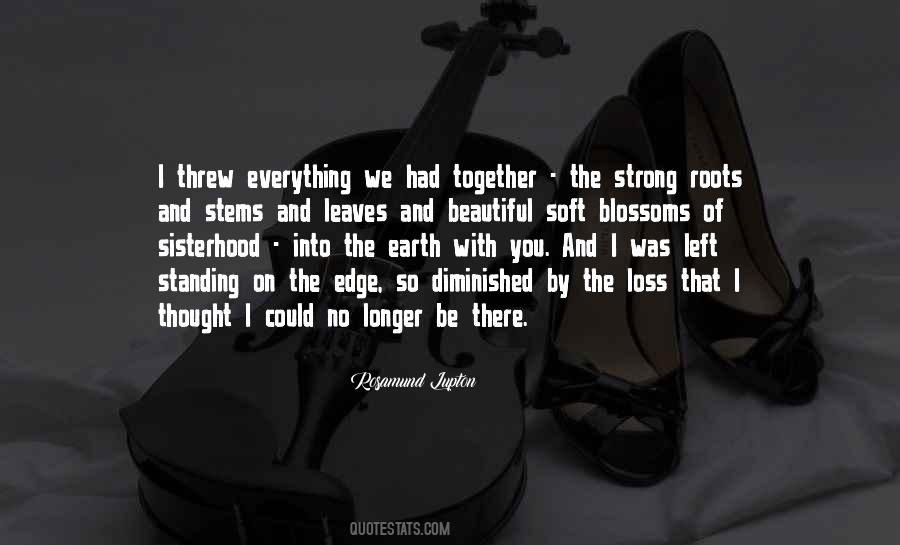 #18. We could be silent for a while because we'd
know we had the rest of our lives together for conversation. - Author: Paulo Coelho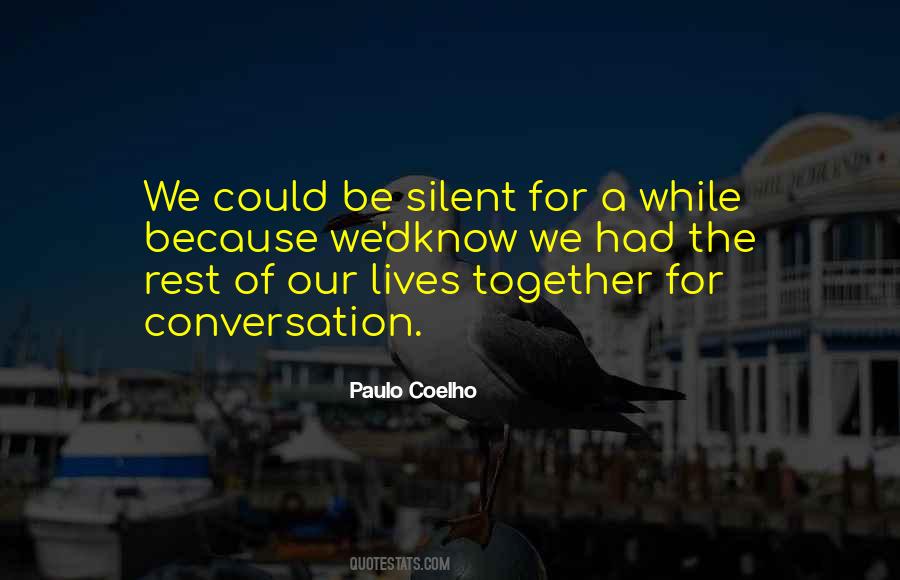 #19. God Sophie ... If there were any chance we could be together ... If there were any woman I'd want to be the mother of my ... Shit, this is so hard."
"No, Hunt, it's simple. If right now is all we have, if this is all we get, then I'll grab it with both hands and take all I can. - Author: Pamela Clare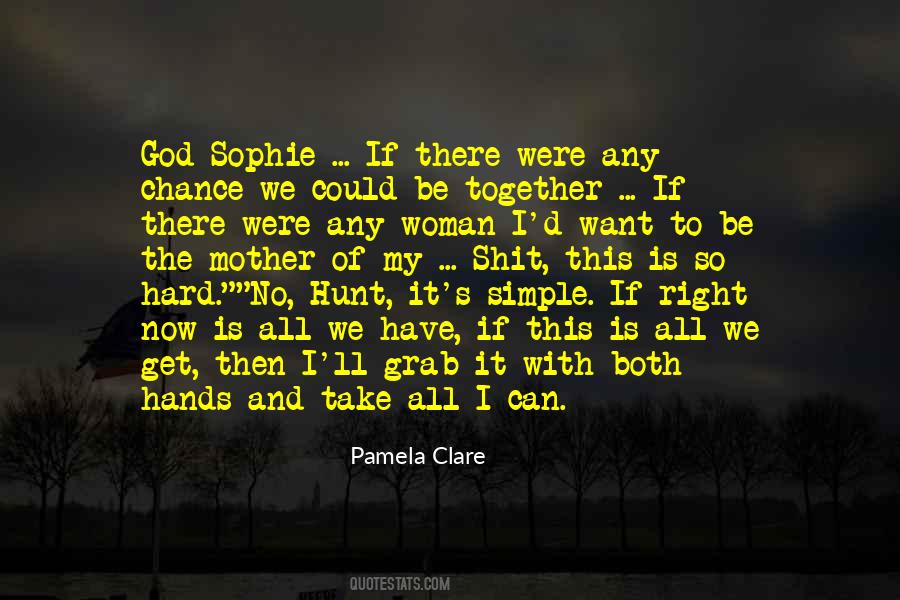 #20. I had to tell him we were like a collage. Pieces that could be put back together in a new way, a better way. If I didn't say it now, I never would. - Author: Heather Demetrios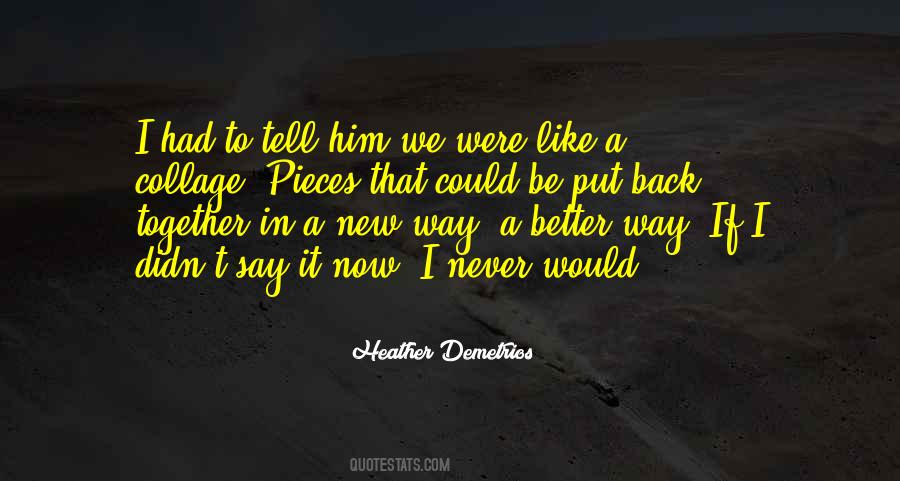 #21. I would hope to get together with the Latino community, if I could ever have them talk to me without screaming and threatening me. So I hope to get together with the community and try to explain what we do, so that's going to be one of my missions coming up. - Author: Joe Arpaio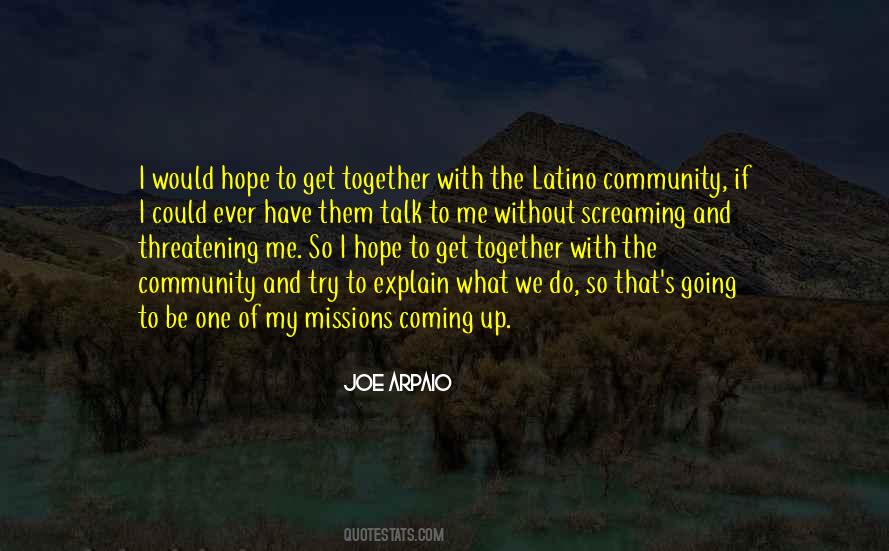 #22. The two of us could form a new kind of union; we could be free together. - Author: Consuelo De Saint-Exupery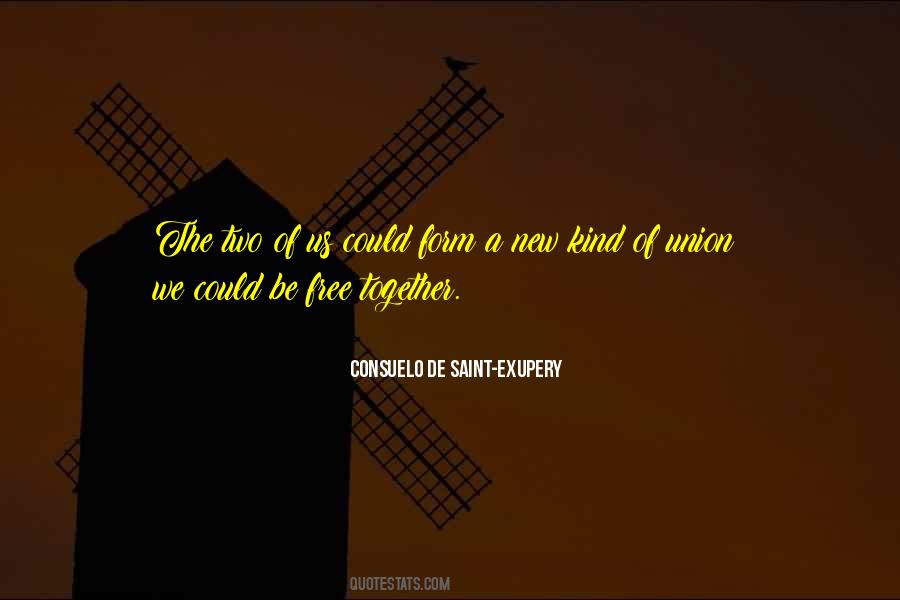 #23. I guess there are very few actors that I've worked with that I would like to work with again. You never think you'll have that chance and, if we didn't do Italian Job together, there wouldn't be another one that could be right. - Author: Charlize Theron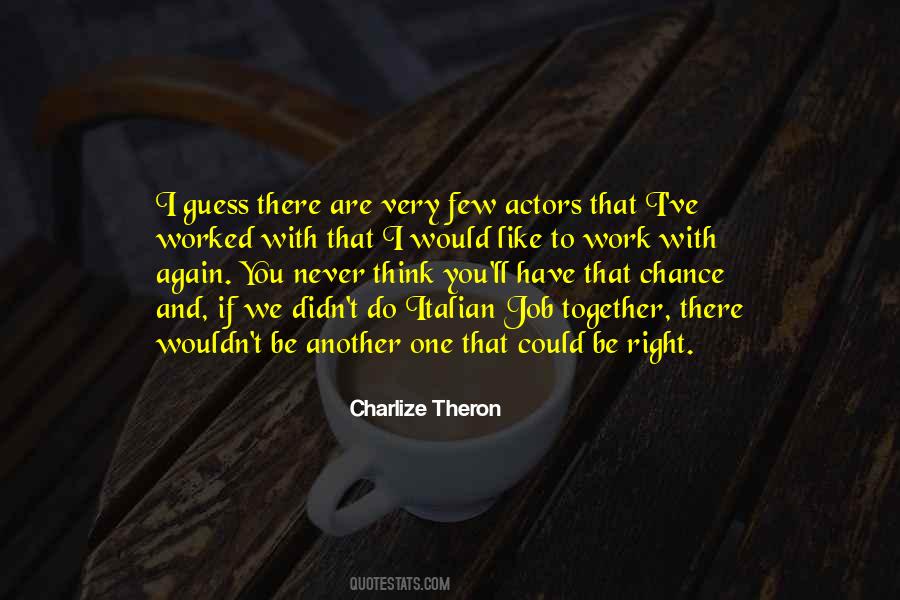 #24. I wasn't just fucking Ani. It never could have been that, and I was an idiot for assuming it could. Our lives were intertwined. I cared too much before we'd started sleeping together. There was no way I was going to be able to shut that off once I'd been inside her. - Author: Nicole Jacquelyn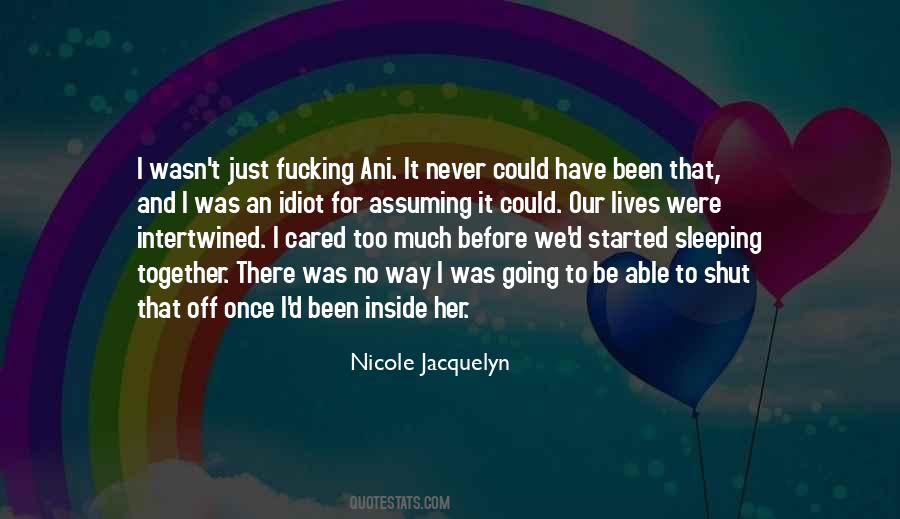 #25. I was in high school. A couple of my friends and I decided we had to be in a class together where we could fool around, and drama was it because we'd do improvs, beating each other up. They left a year later, and I stayed in and got a knack for it, and enjoyed the whole process. - Author: Adam Beach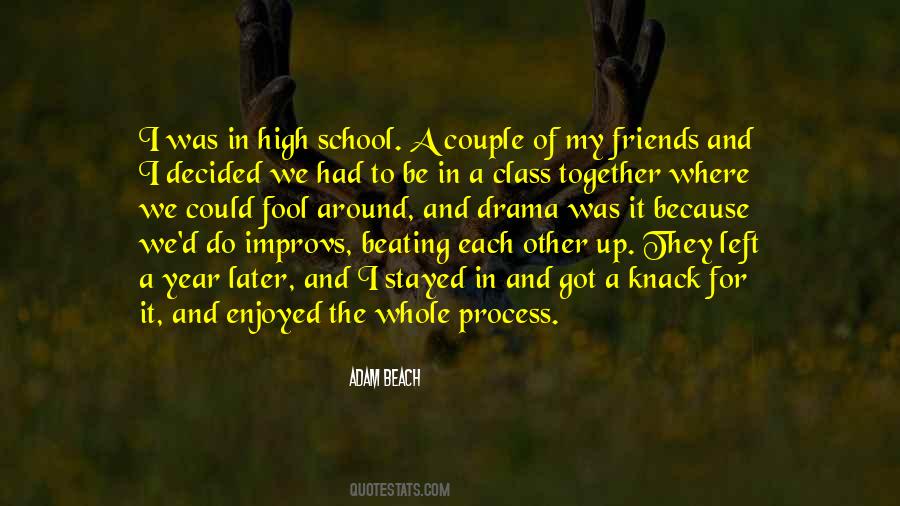 #26. The one thing that could never die or be buried was my loyalty to Cameron for everything he'd done for me and what we'd been through together, even if that loyalty was a ghost. - Author: Sara Zarr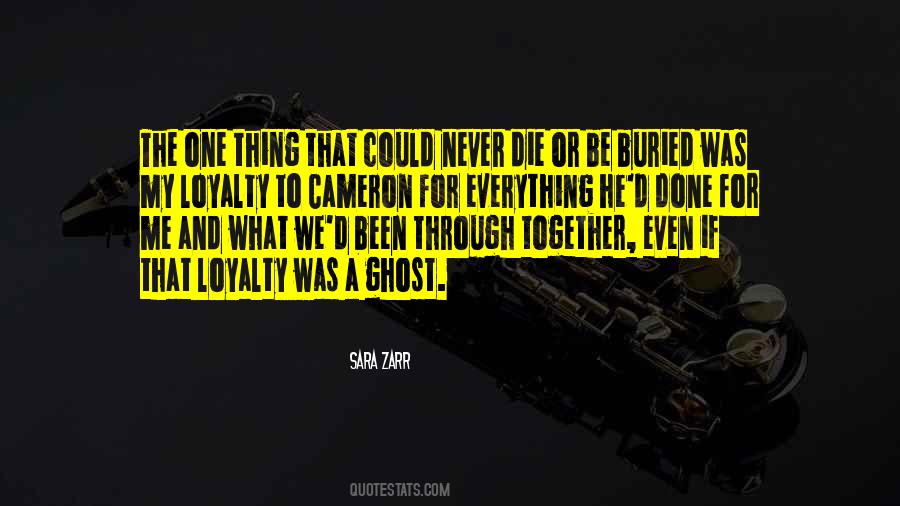 #27. He shushed her. "Goodnight. We're trapped together in a small, dark space. For the moment, we're getting on as well as could possibly be expected. I don't think this is the time to remind me of my many valid reasons to resent your presence and despise everything you stand for. - Author: Tessa Dare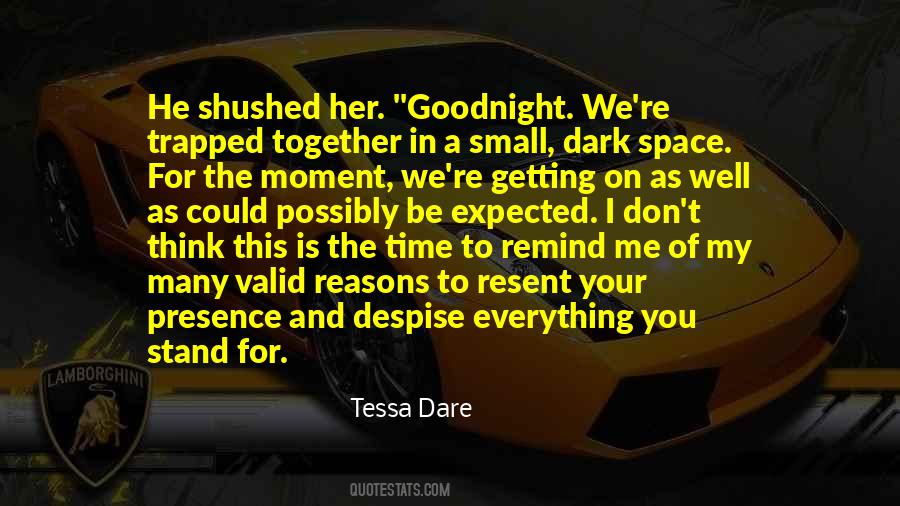 #28. But I remember the way Jin Ling made her wishes. How she said I wish we could be together forever with the bite of a tigress. Nothing would be impossible enough to keep her wishes from being fulfilled. Not even the walled City. - Author: Ryan Graudin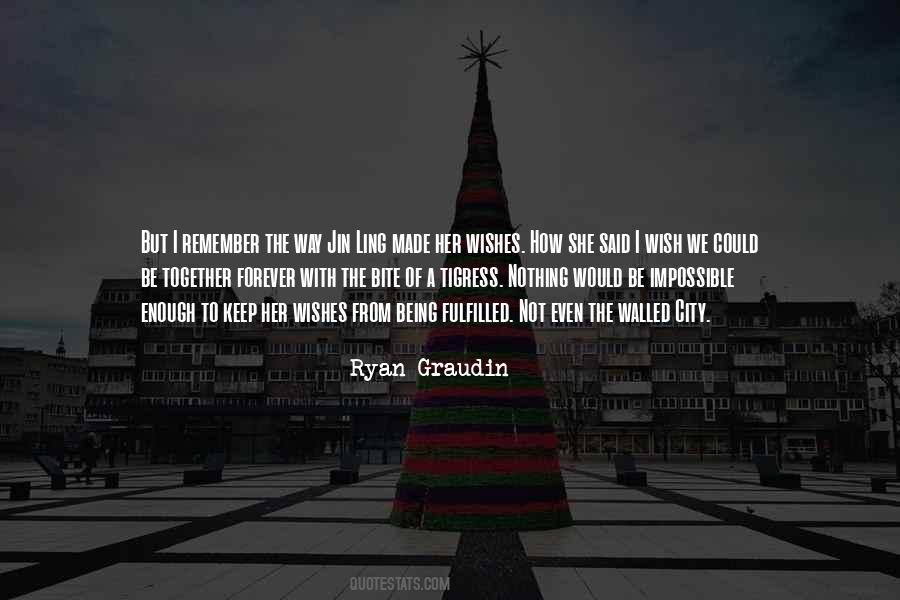 #29. She's different and we could be something different together. Something astounding. Something you encounter once in a lifetime, if that. - Author: J. Saman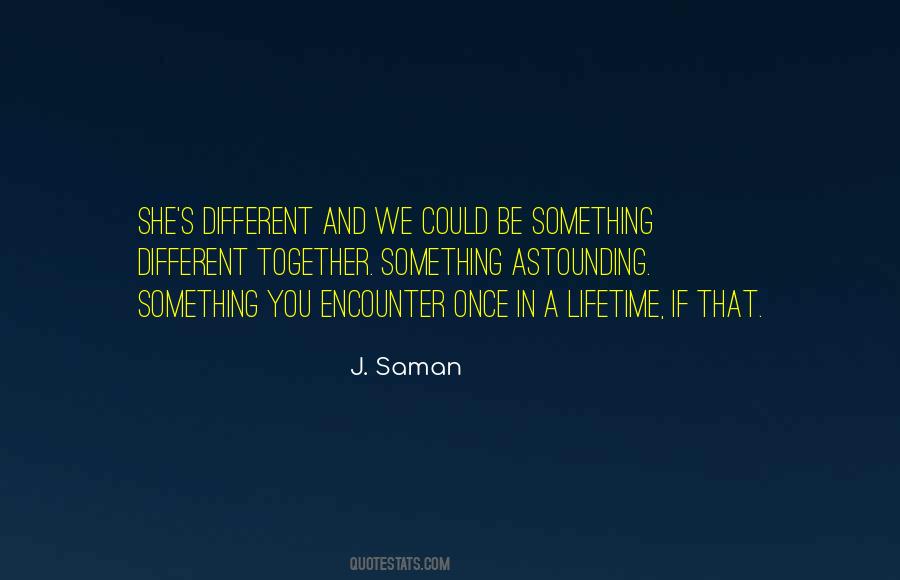 #30. If Isabelle Reagan can take a guy like me and turn him into someone worthy of respect then it's mind blowing to think what she can do for the rest of the world. What we could do for it together. We might be able to change it. - Author: Melyssa Winchester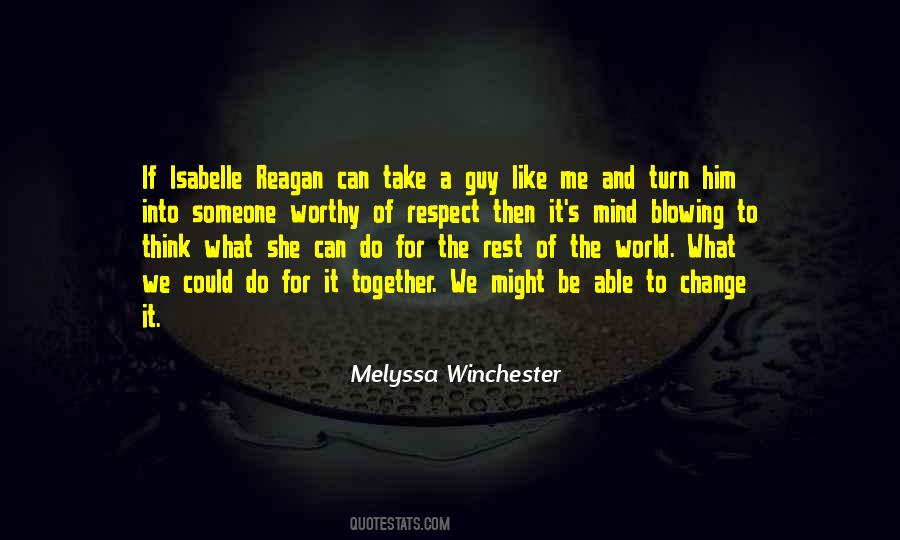 #31. We could be like a father determined to provide everything for his family. He devotes every energy to that end and succeeds; only then does he discover that what they needed most, to be together as a family, has been neglected. And he reaps sorrow in place of contentment. - Author: Boyd K. Packer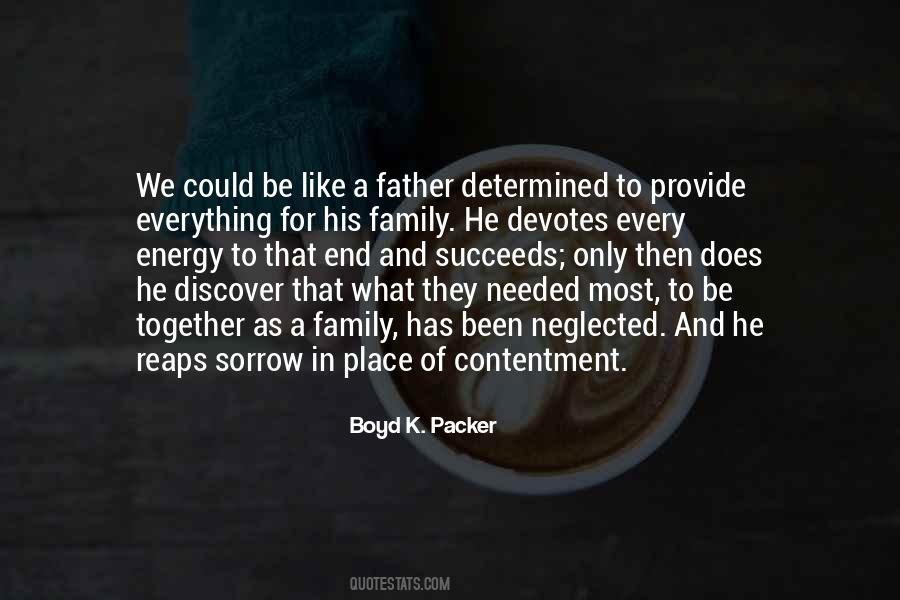 #32. You can be more effective together than apart. In a truly healthy relationship, we enable each other to accomplish more than we could have done alone. This was His plan. - Author: Francis Chan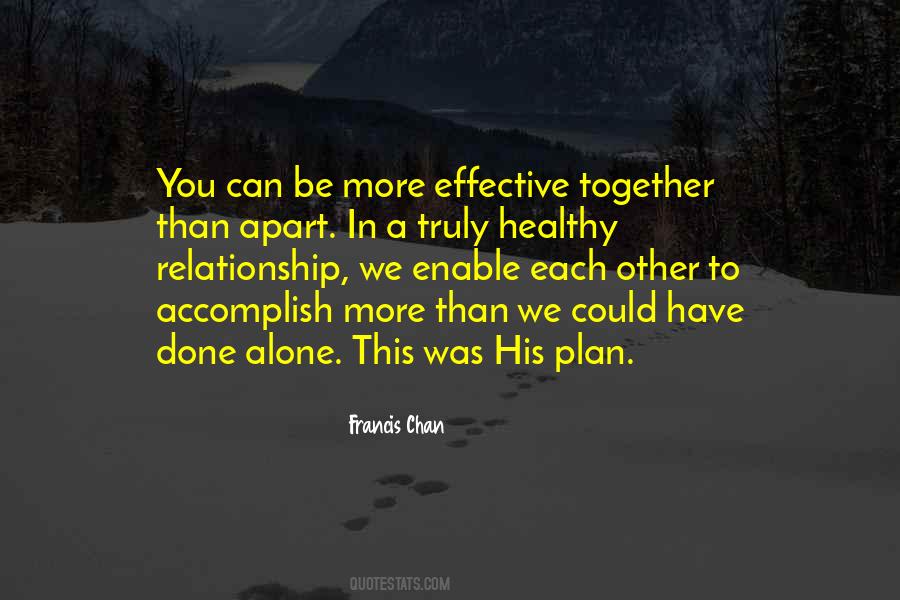 #33. I want you to look at me and see no other than the man you love. I want you to feel a start of pure joy when you awaken in the morning and find me beside you. I want you to wish you could rush the sunset so that we can be together sooner. - Author: Susan Wiggs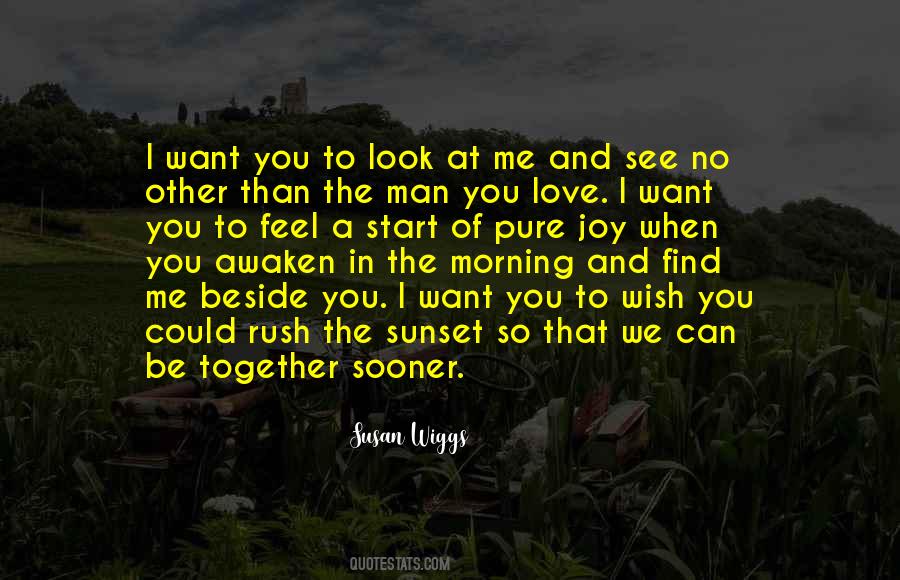 #34. Being here with him is safety; it's a cave, where we huddle together while the storm goes on outside. This is a delusion, of course. This room is one of the most dangerous places I could be. - Author: Margaret Atwood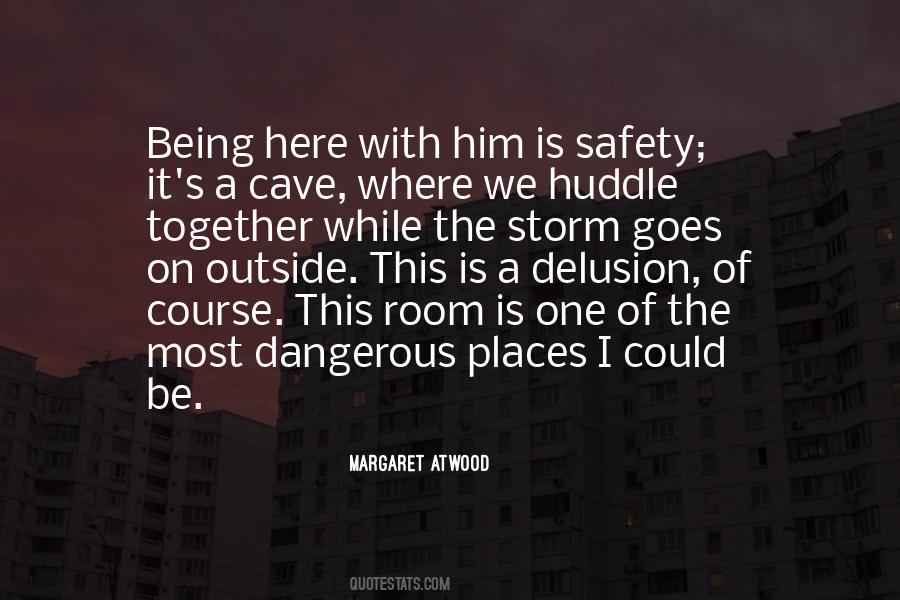 #35. You found you were saying yes when you meant no, and "We've got to be together in this thing" when you meant the very opposite ... and then you were face to face, in total darkness, with the knowledge that you didn't know who you were. And how could anyone else be blamed for that? - Author: Richard Yates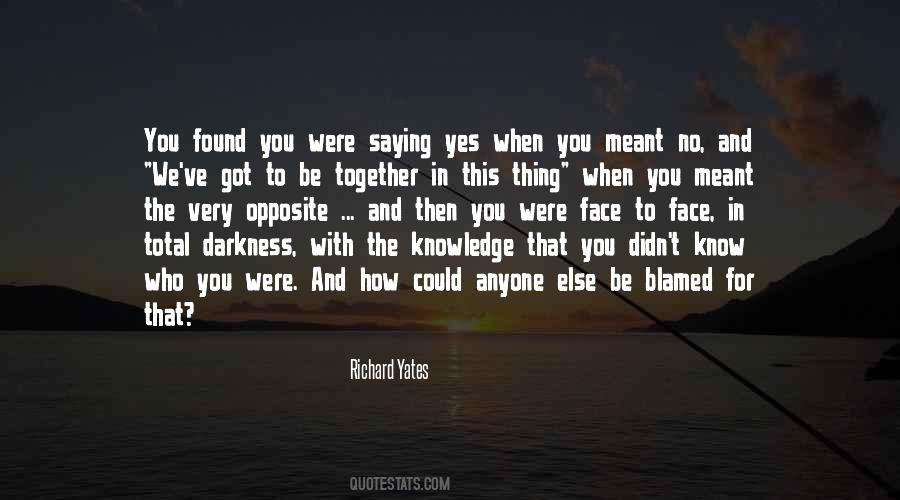 #36. We had pathetically simple dreams:
to do meaningful work that we could be proud of, to be together, and to be happy. - Author: Tiffanie DeBartolo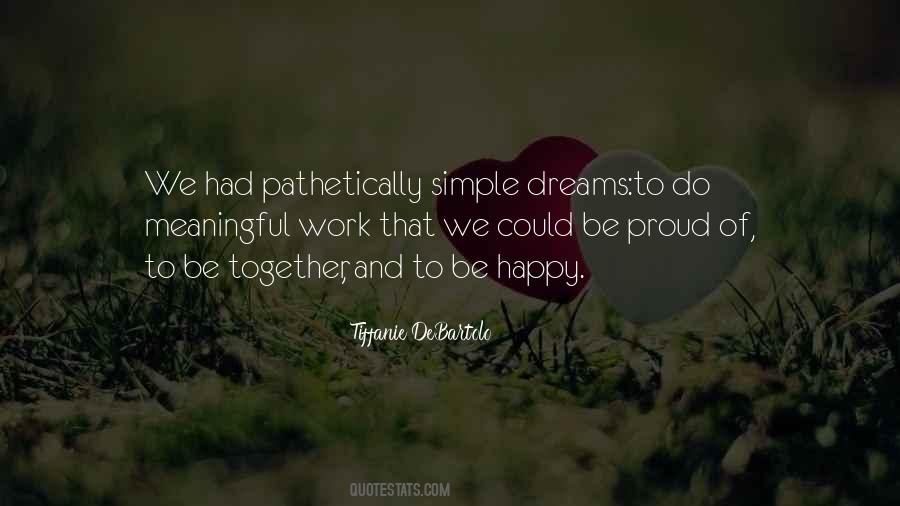 #37. I understand it, but I don't like it. I wish we could all be together like before: best friends, not heartbroken strangers. - Author: Amy Plum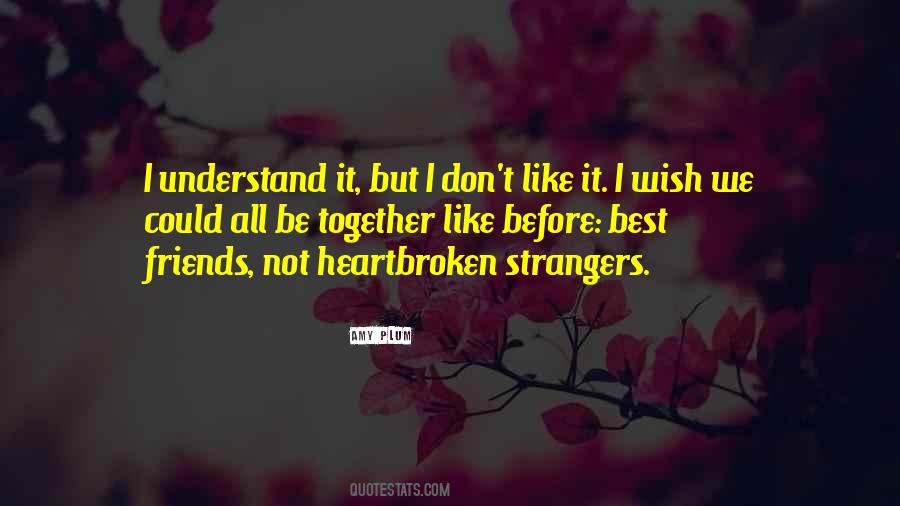 #38. Once we thought, journalists and readers alike, that if we put together enough 'facts' and gave them a fast stir, we would come up with something that, at least by the standards of short-order cooks, could be called the truth. - Author: Melvin Maddocks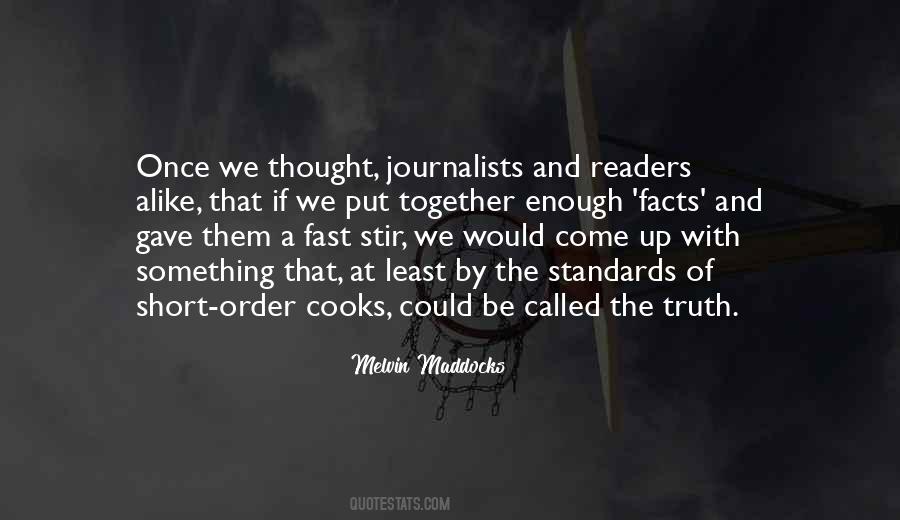 #39. We had a lot of rehearsals for the original Twilight to get the family to learn each other and experience each other, so we could all be like a family. We spent a lot of time together. - Author: Peter Facinelli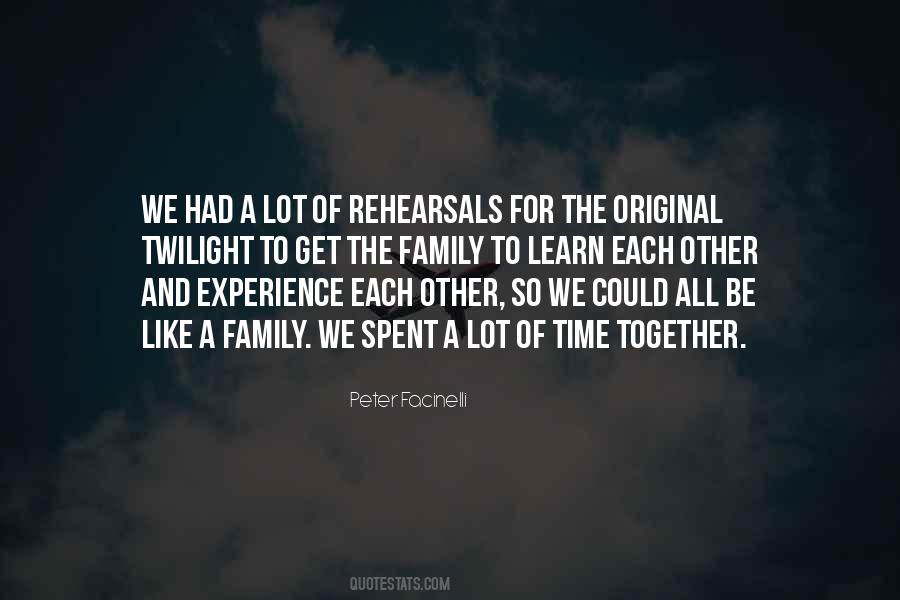 #40. On Memorial Day we come together as Americans to let these families and veterans know that they are not alone. We give thanks for those who sacrificed everything so that we could be free. And we commit ourselves to upholding the ideals for which so many patriots have fought and died. - Author: Barack Obama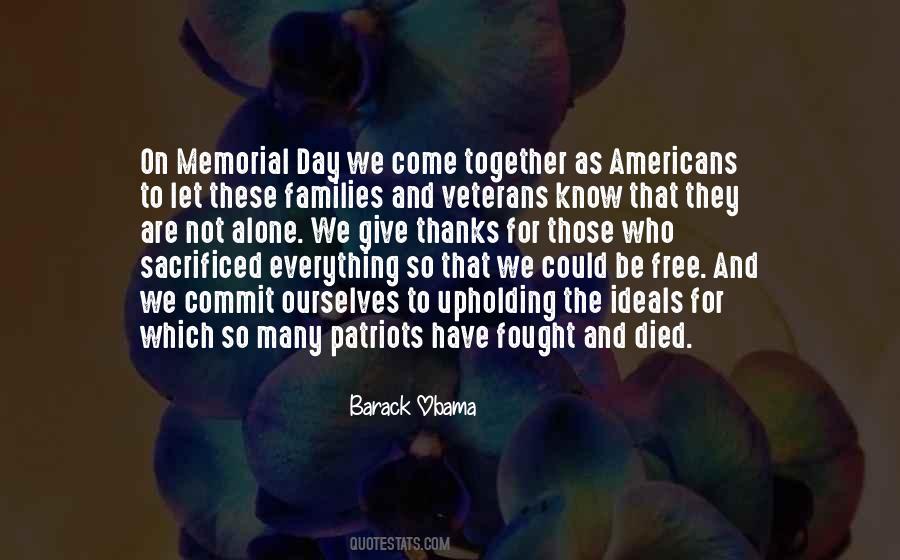 #41. Girl Scouts offered a wonderful group of girls where common concerns and interests could come together. We could learn, be challenged, and support one another. It was a very positive aspect of my life and played an important role in shaping who I am today. - Author: Judy Woodruff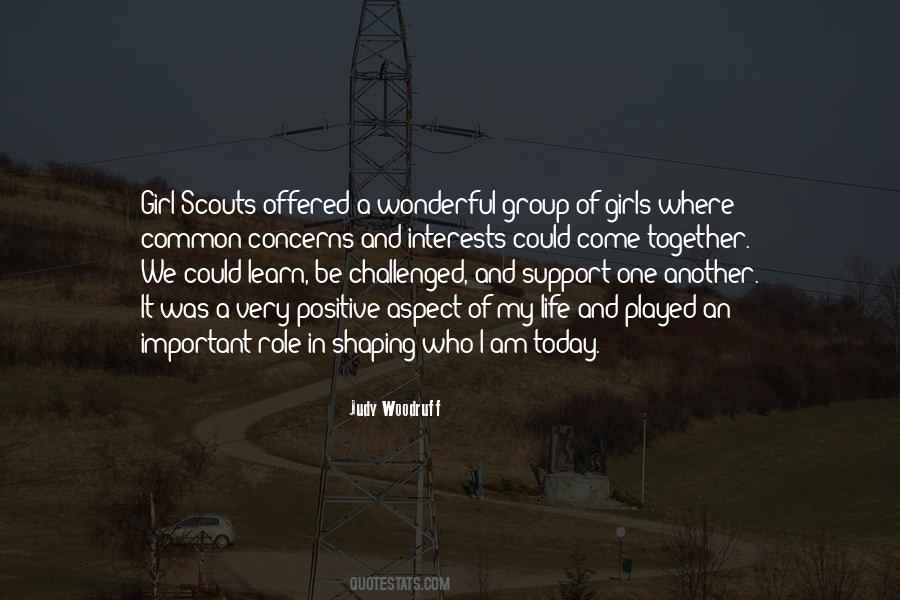 #42. I knew we were together, at least for now. And right then, while I still could, it was exactly where I wanted to be. - Author: Sarah Dessen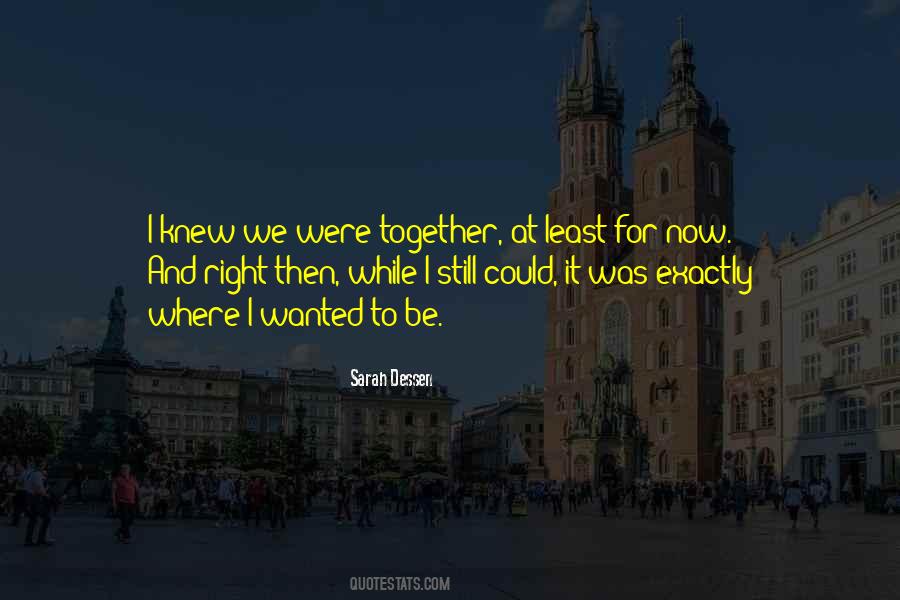 #43. Yes, Roza. I did want you. I still do. I wish ... we could be together. -Dimitri to Rose on their relationship - Author: Richelle Mead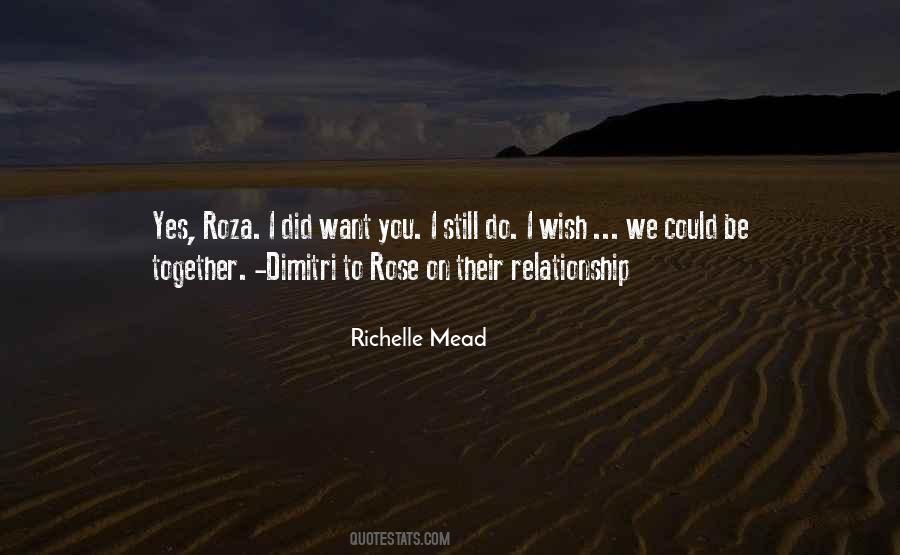 #44. Sometimes we would be staked out in the middle of the river, several barges tied together. So we could party. - Author: Terry Southern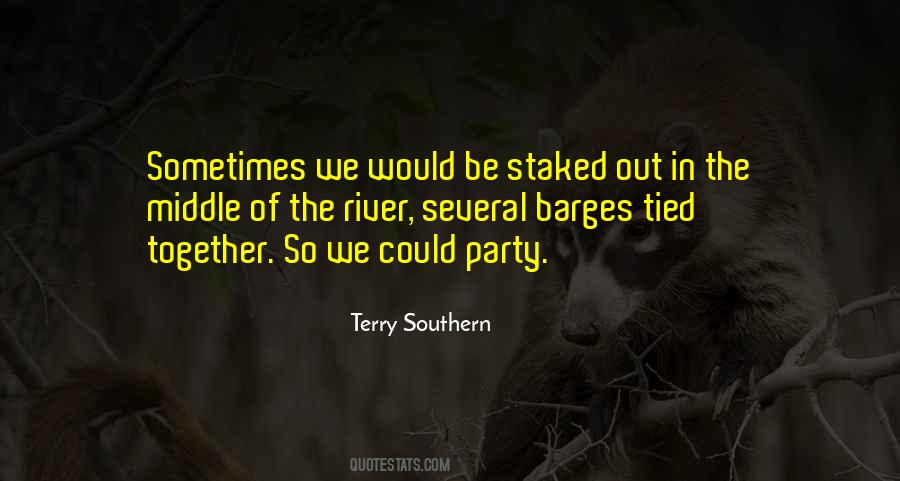 #45. My parents would always have us, as many times as we could, sit together for dinner and talk about what was happening in our lives, and so we created a great recipe where I could be completely honest with my mother and to an extent my father, being an attorney. - Author: Ryan Seacrest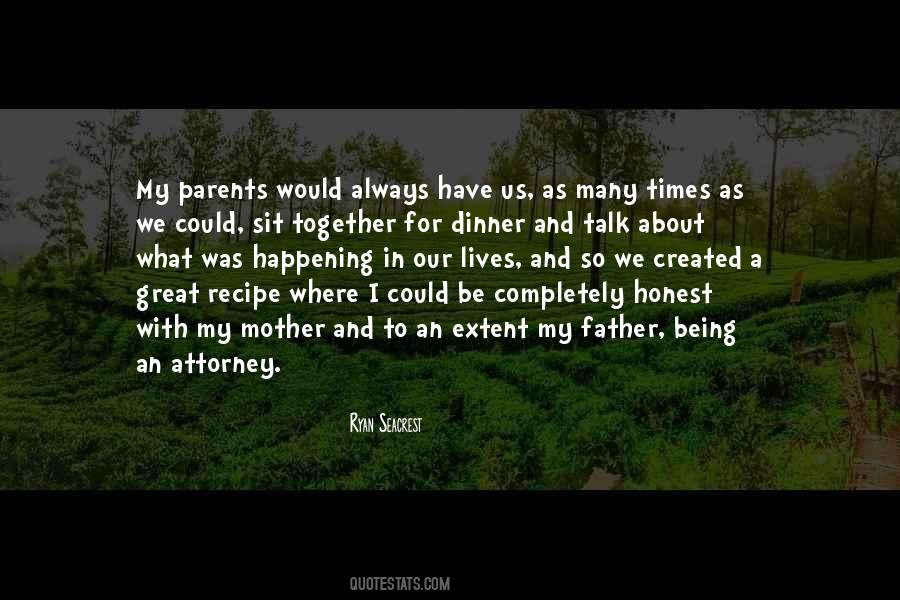 #46. It was only when we were in that bed, high above the world - then I thought the birds could have been circling around our bodies circled around each other - that we made our world totally separated from everything else. It was the only way we could be together. - Author: Kathy Acker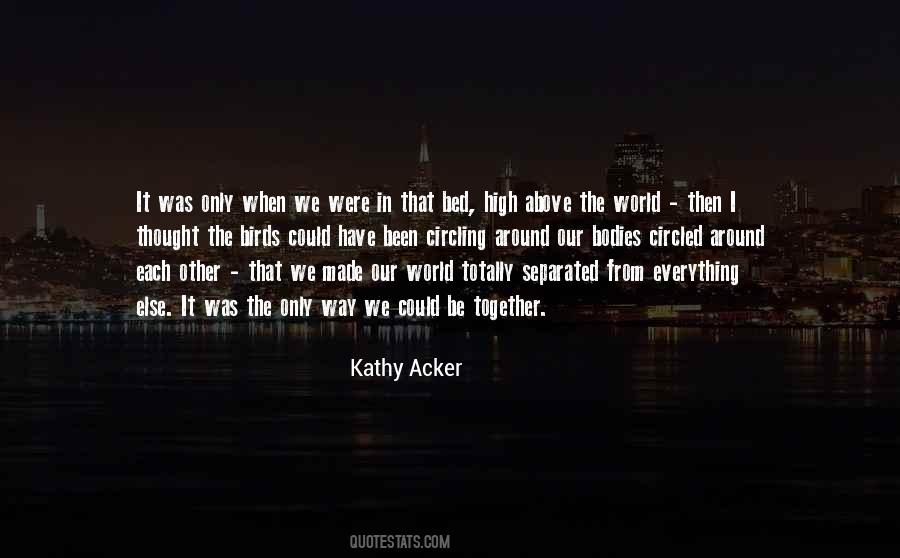 #47. Being together ... it will never be right. Thought it sure as hell feels like it could. We'd result to train wrecks. We'd cause whirlwinds. We'd start wildfires. - Author: Nessie Q.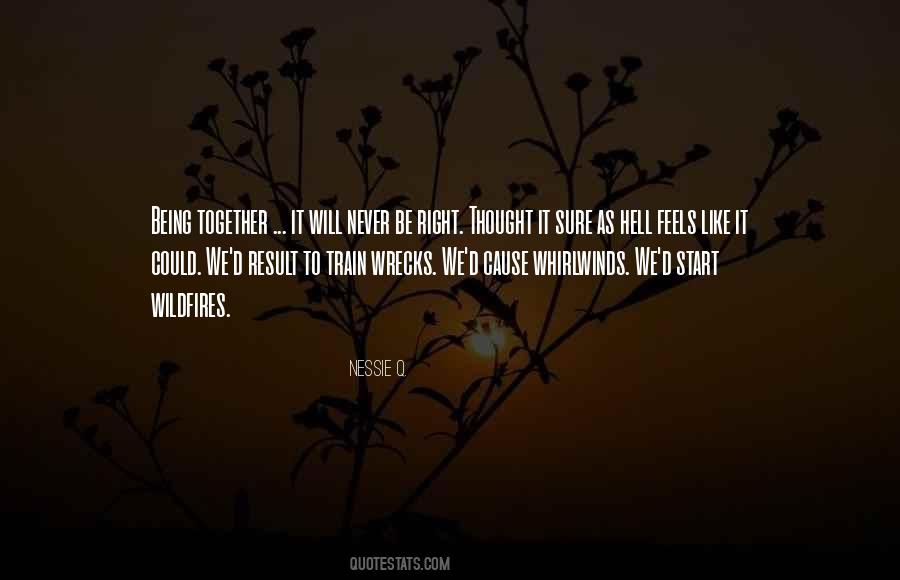 #48. It used to be that Democrats and Republicans would disagree, but they could be social to each other. There were times during the year that we acted together in the good of the country. - Author: Ed Rendell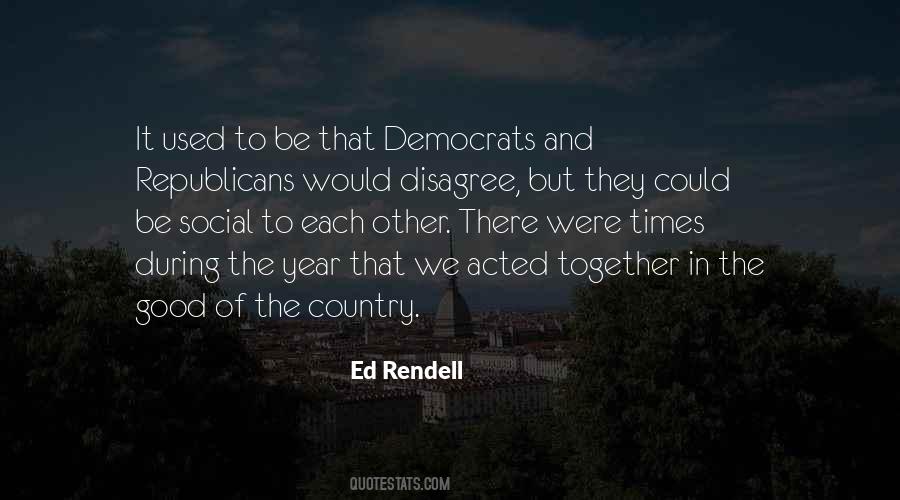 #49. Evie winked at Sam and he whispered low in her ear, making her neck tingle. Sister, together, we could be a hell of a team. - Author: Libba Bray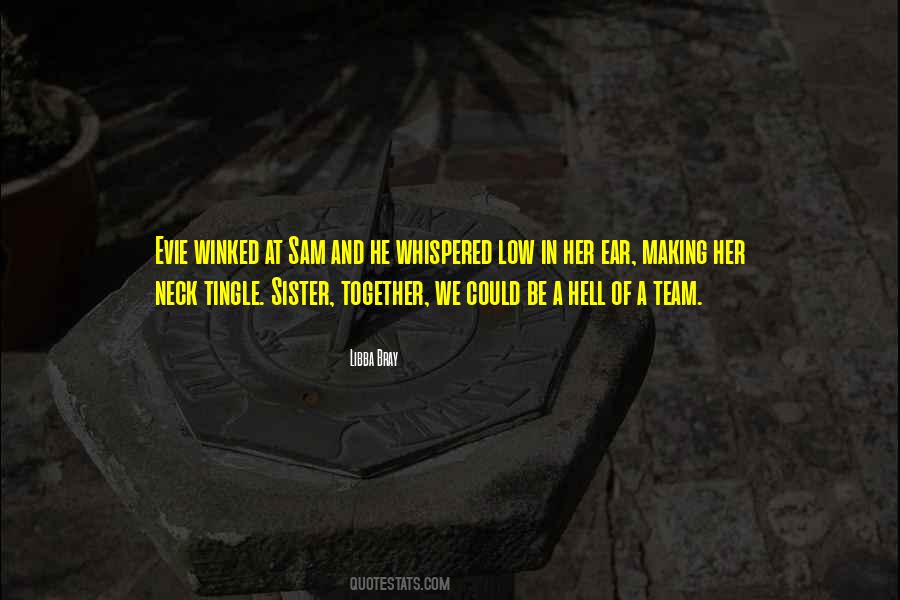 #50. But as I guided her to my belt and then laid her down on the bed, I knew which way our path would go. We would be together forever. We had to be. There was no way that all these feelings between us could ever dim or be defeated. - Author: Richelle Mead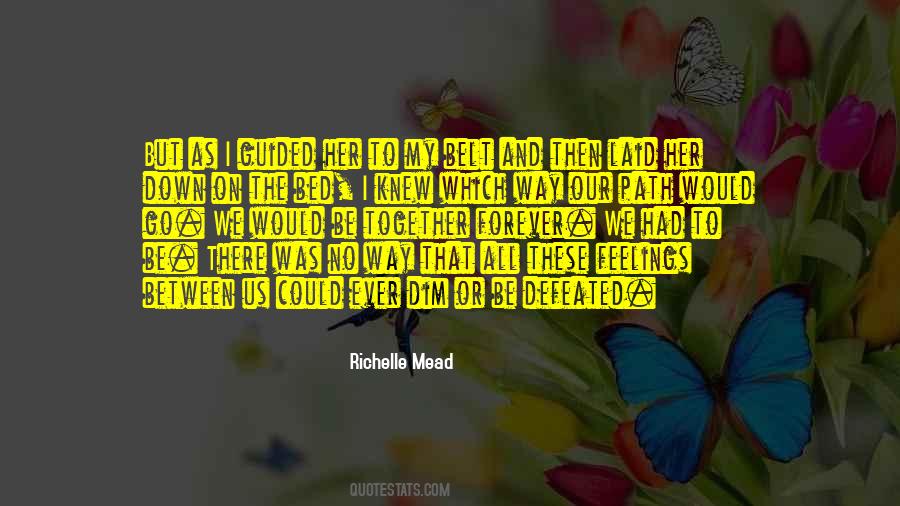 #51. This thought, this truth, it highlighted the distance between us. We lived in different timeframes. A reminder that, even right now, we didn't share the same moments. We could never truly be together. - Author: P.I. Alltraine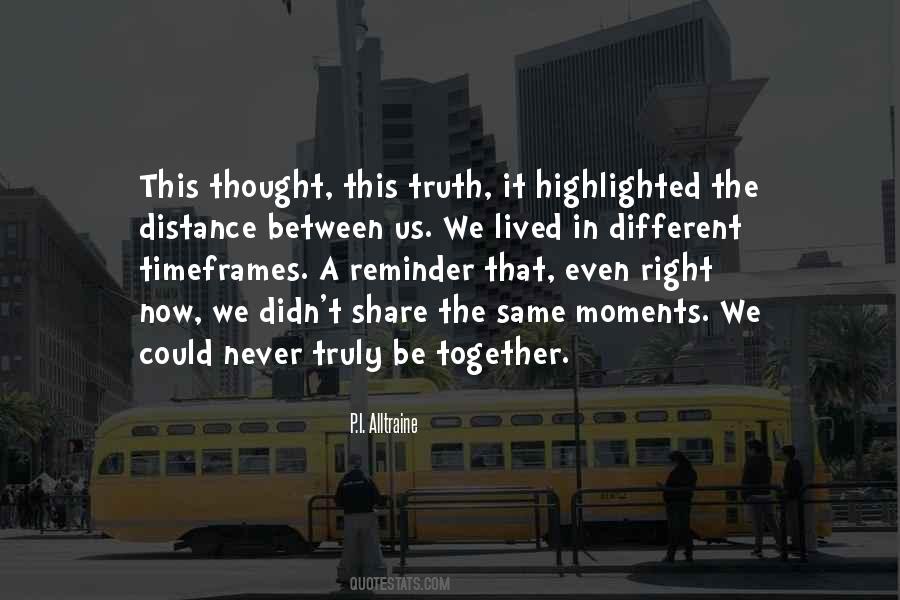 #52. My first love, I'll never forget, and it's such a big part of who I am, and in so many ways, we could never be together, but that doesn't mean that it's not forever. Because it is forever. - Author: Rashida Jones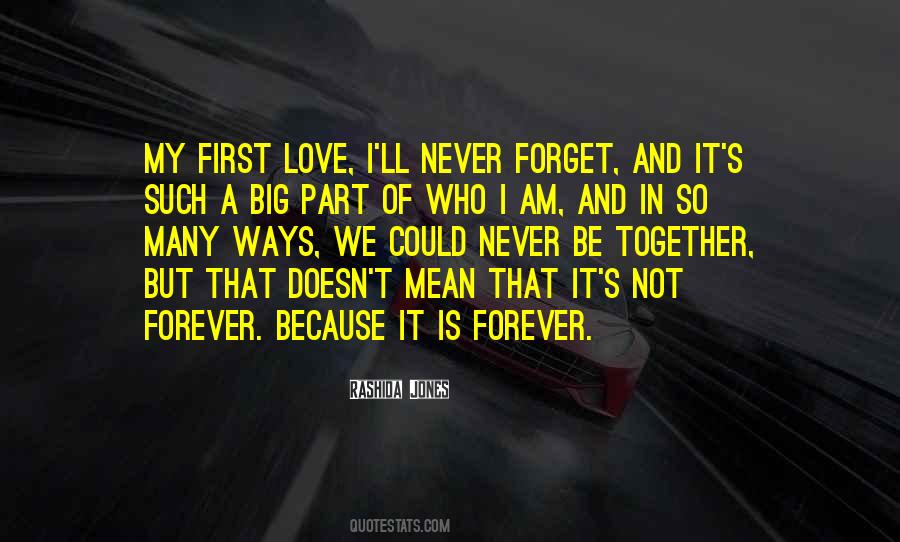 #53. Julia, we will be together. I'd give anything if you could be with me all of the time, now ... but it will happen eventually. - Author: Kahlen Aymes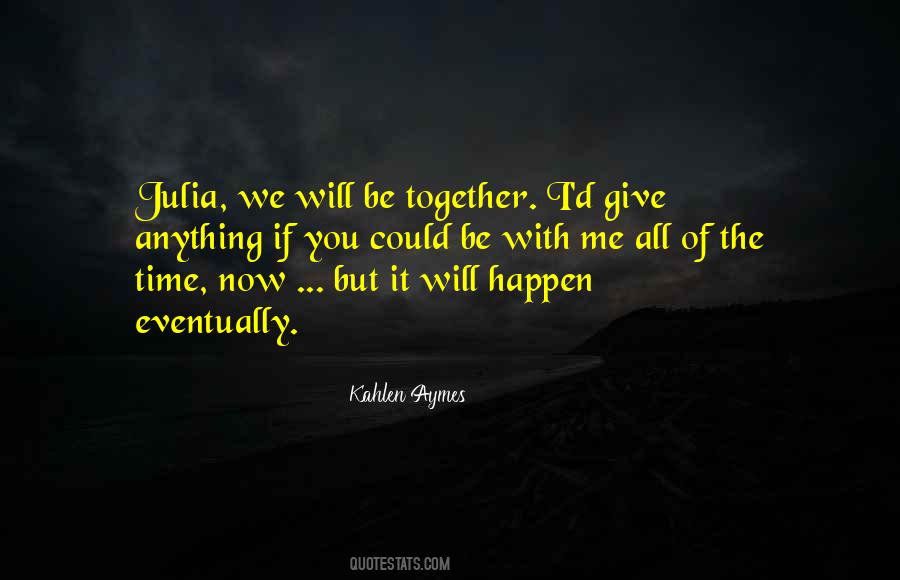 #54. His, but instead we were together in some invisible and tenuous third space that could only be visited on the phone. "Okay," he said after forever. - Author: John Green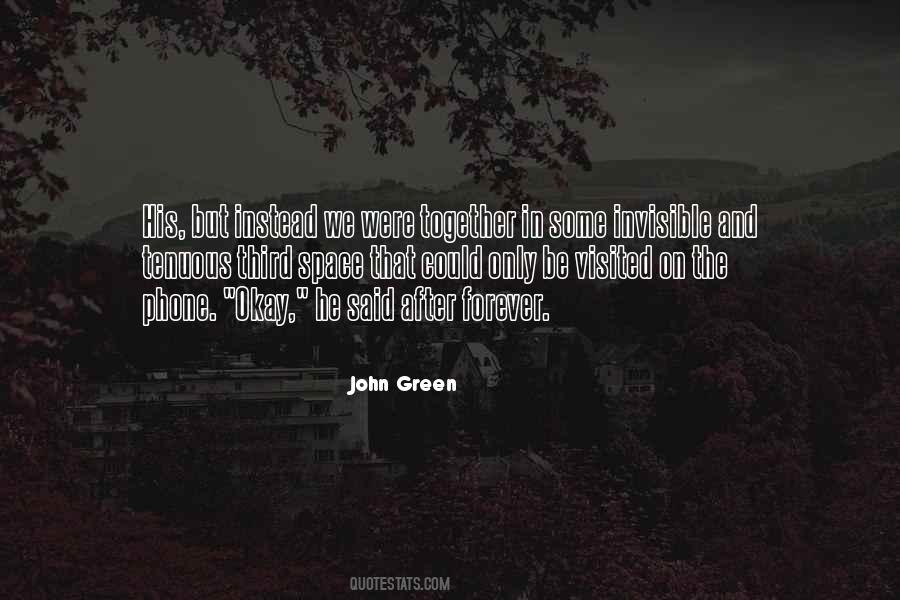 #55. Girl I don't wanna share you
We could be together, but you scared to
I ain't gonna leave you
My people tell me I should
And when I blow I hope you know
That I could have any girl I choose
But as time goes by, baby all I'm gonna want is you - Author: Mac Miller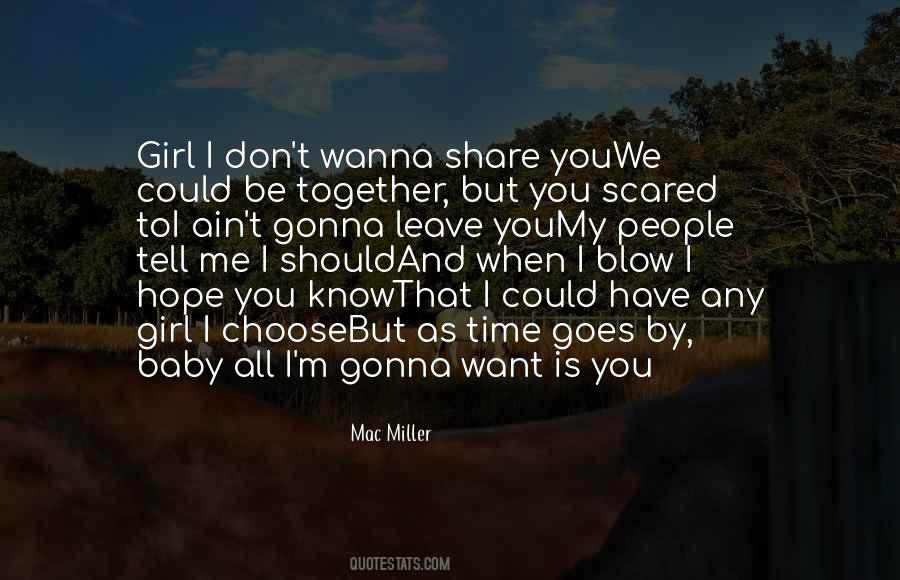 #56. We didn't want to be presidents, or astronouts, or Bill Gates. We had pathetically simple dreams: to do meaningful work that we could be proud of, to be together, and to be happy. That certainly wasn't too much to ask. Or was it? - Author: Tiffanie DeBartolo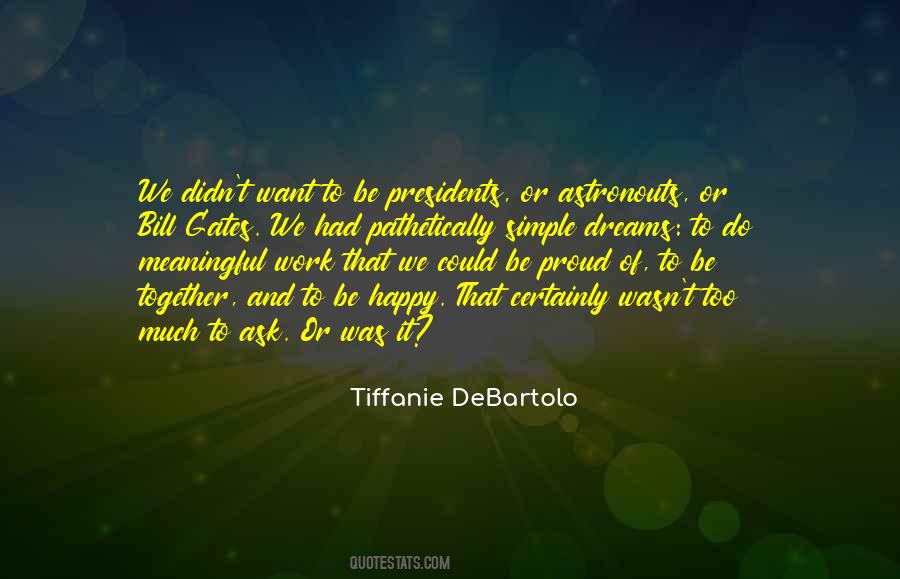 #57. What had happened would always be part of us, but we'd survived it. We were still here. The curtain would fall ons us eventually, but I would fight to keep it up as long as I could. For now it was just us, together, and there was nothing in our way. - Author: Michelle Hodkin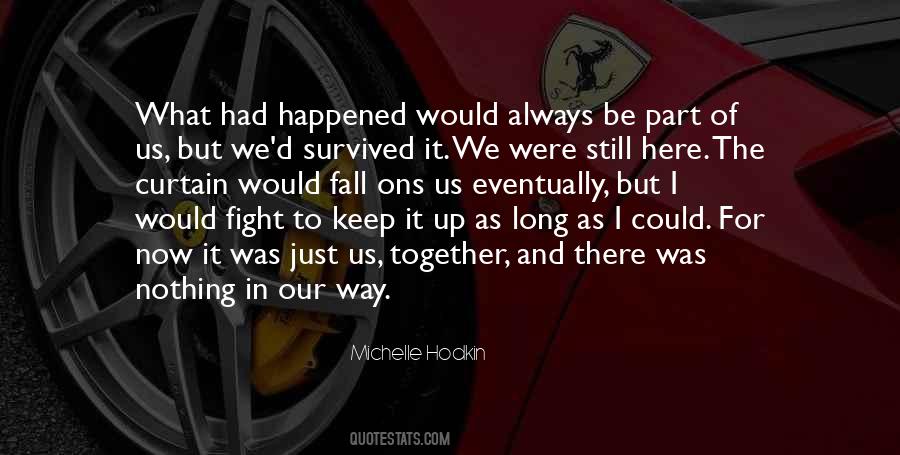 #58. Aristotle Onassis rescued me at a moment when my life was engulfed with shadows. He brought me into a world where one could find both happiness and love. We lived through many beautiful experiences together which cannot be forgotten, and for which I will be eternally grateful. - Author: Jackie Kennedy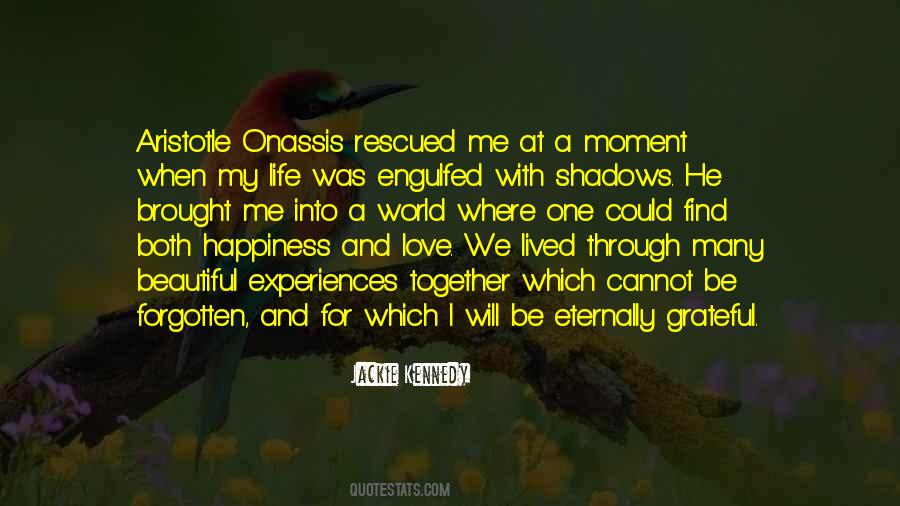 #59. Livvy and me together in an elevator for four hours..and we're good. To some eyes the fact that we're both alive could be viewed as a minor miracle. - Author: Michael D. Beil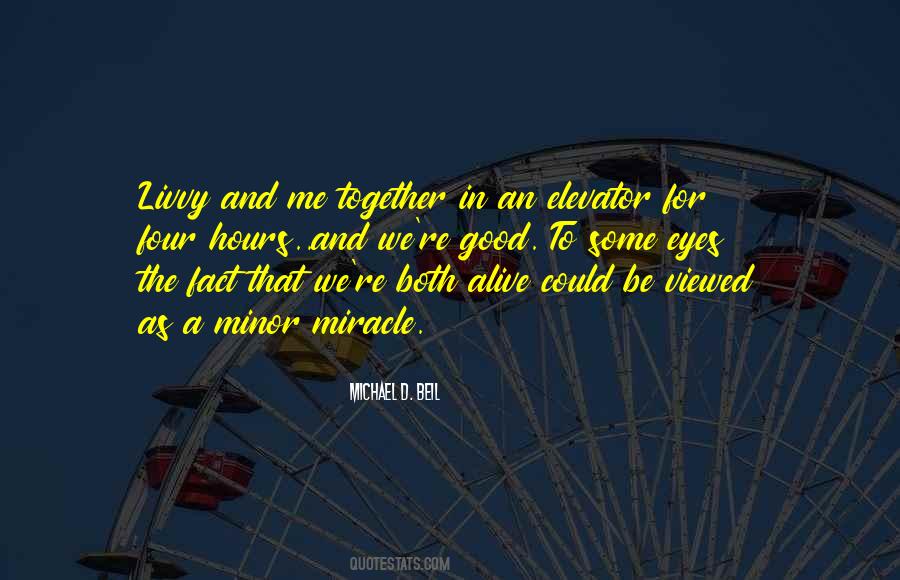 #60. The smell made it really hard to be friends with you."
"Probably why we stuck together. No one else could handle my stink or your attitude. - Author: Victoria Aveyard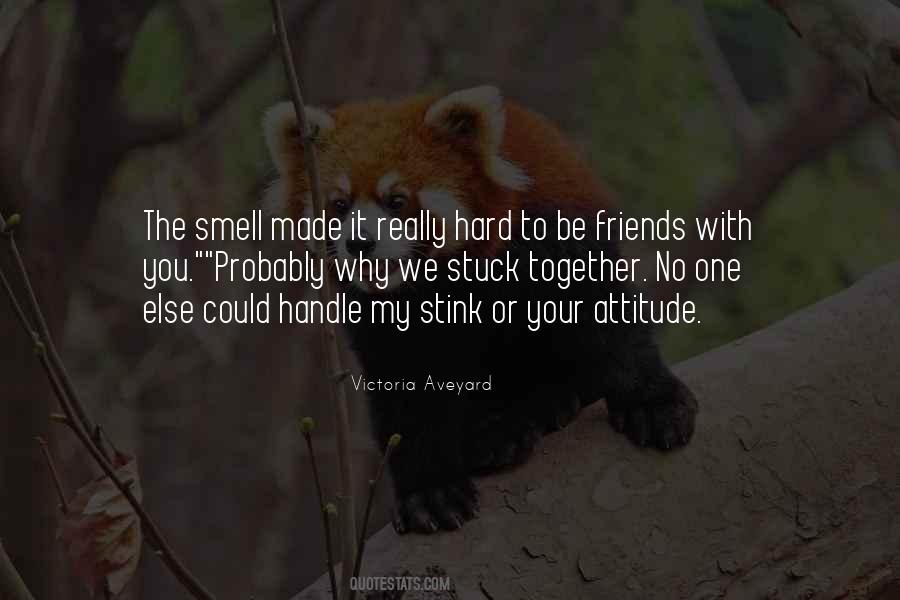 #61. Together, we looked down at the tiny house, the sole thing on this vast, flat surface. Like the only person living on the moon. It could be either lonely or peaceful, depending on how you looked at it. "It's a start," I said. - Author: Sarah Dessen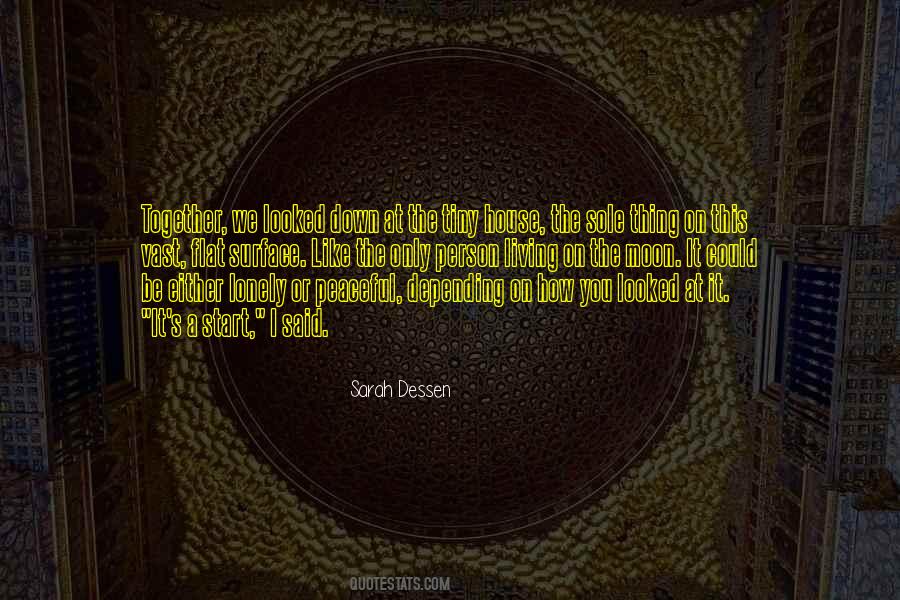 #62. I could stand on my head and flick the bean right there at the dinner table and my mom would be all, "Honey, Christmas is family time, we should be together" and make me finish in front of everyone. - Author: Christopher Moore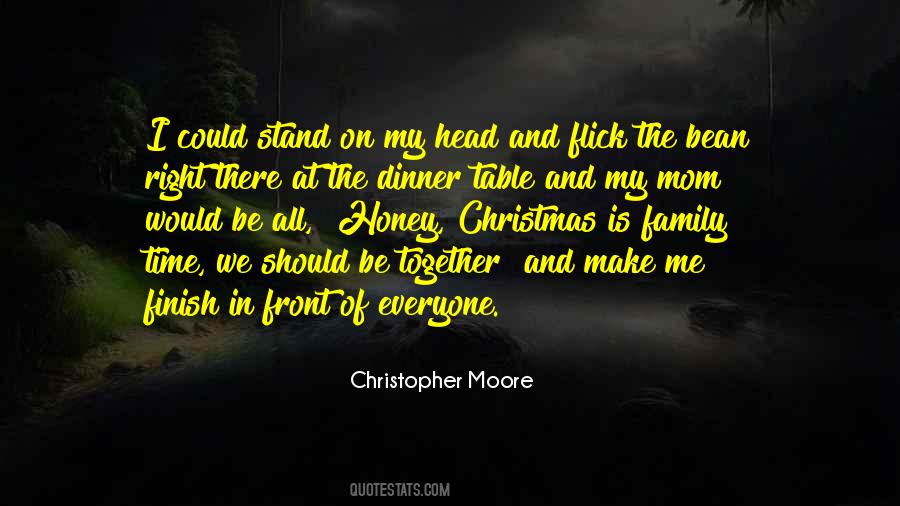 #63. I wish I could anticipate some of the stories and lies that will be told. It's going to be great to get everyone together so we can tell all of the families, all of the wives and children, just how good we were because they never got to see us play. - Author: Larry Conley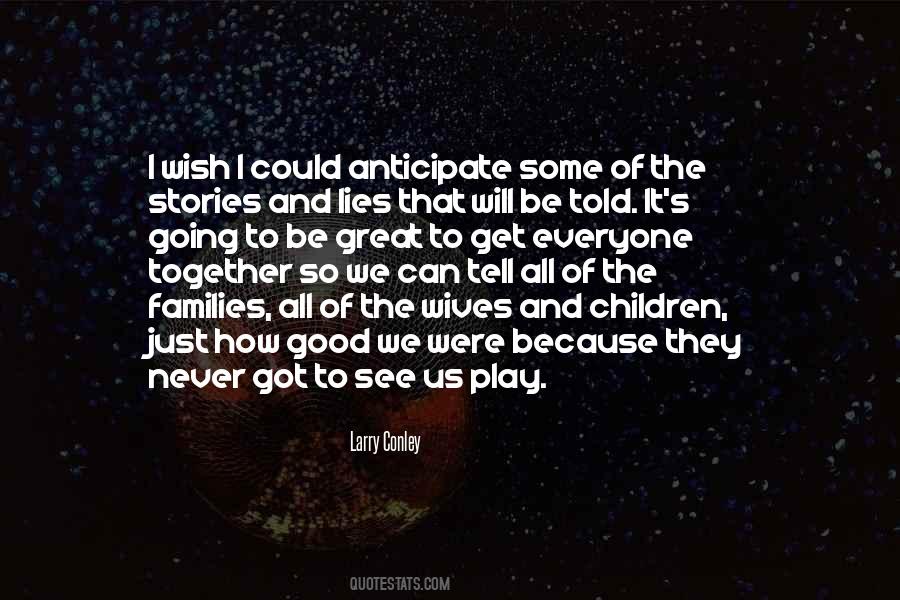 #64. I had to be different ... so I would not be inferior. We could not occupy the same space together. Like horses in a race, I was tired of jostling for position and losing. I chose a different course so that losing would not be an option. - Author: Julianne Donaldson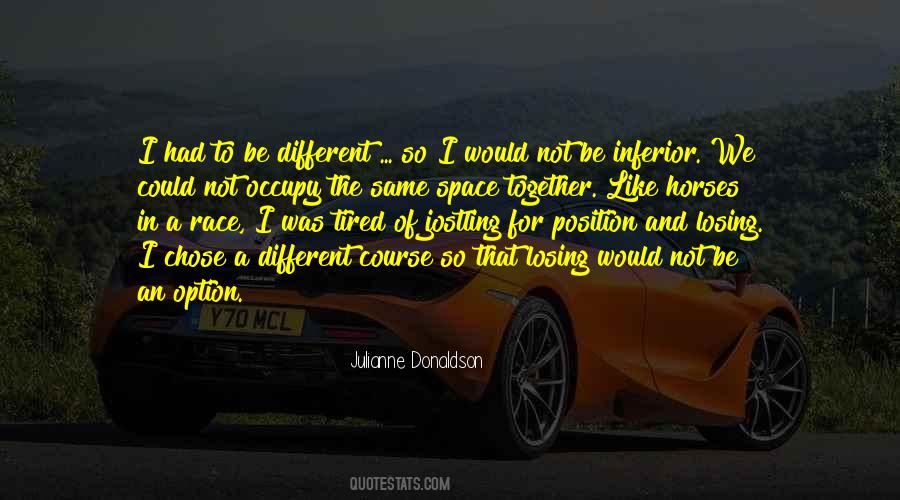 #65. We will only begin to forgive when we can look upon the wrongdoers as ourselves, neither better nor worse. We need to remember that we coexist as mortals in the world, together, the wronged and the wrongdoer, and that, in our common humanity, the situation could readily be reversed. - Author: Leo Buscaglia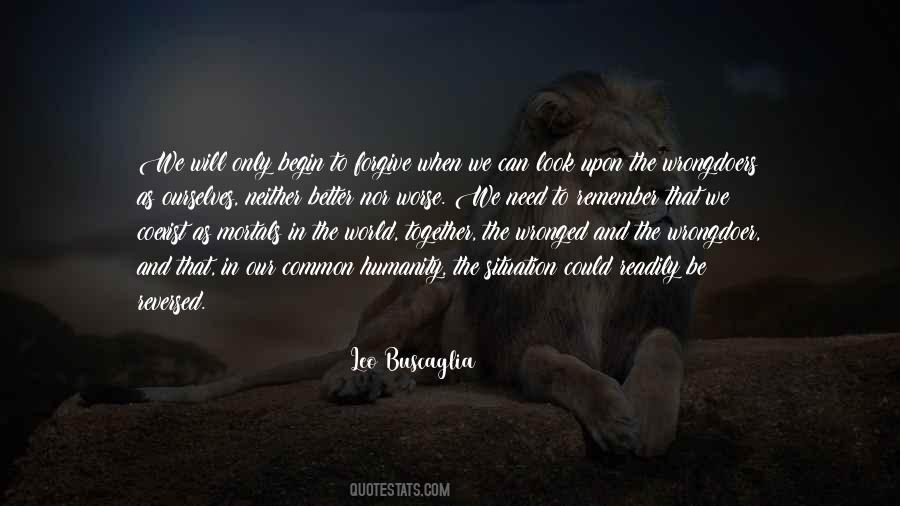 #66. Together we could be so strong, but the gun has made us individuals. - Author: Marieke Nijkamp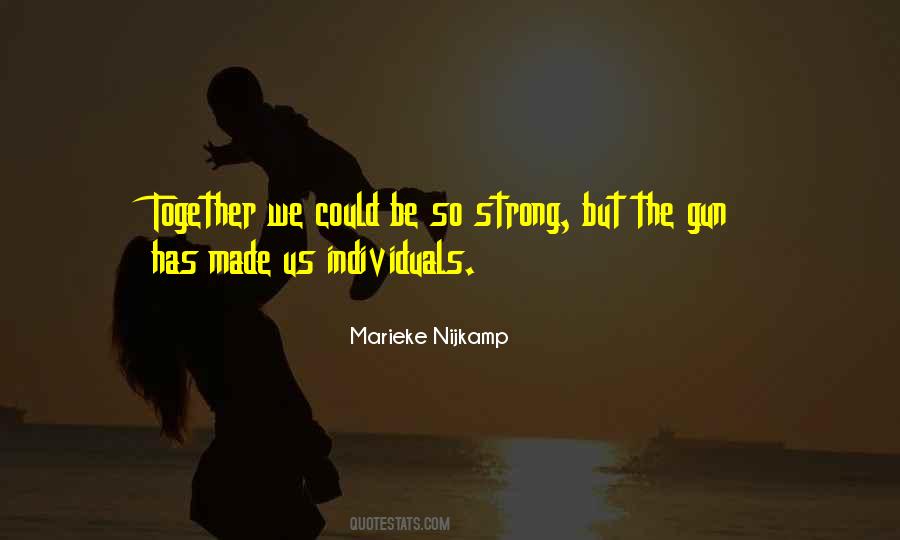 #67. It would be easier to forget you," he says to me, "and these past few weeks we've had together. It would be easier if I could hate you. But the sad truth is, I will more than likely love you for the rest of my life. - Author: Amy Ewing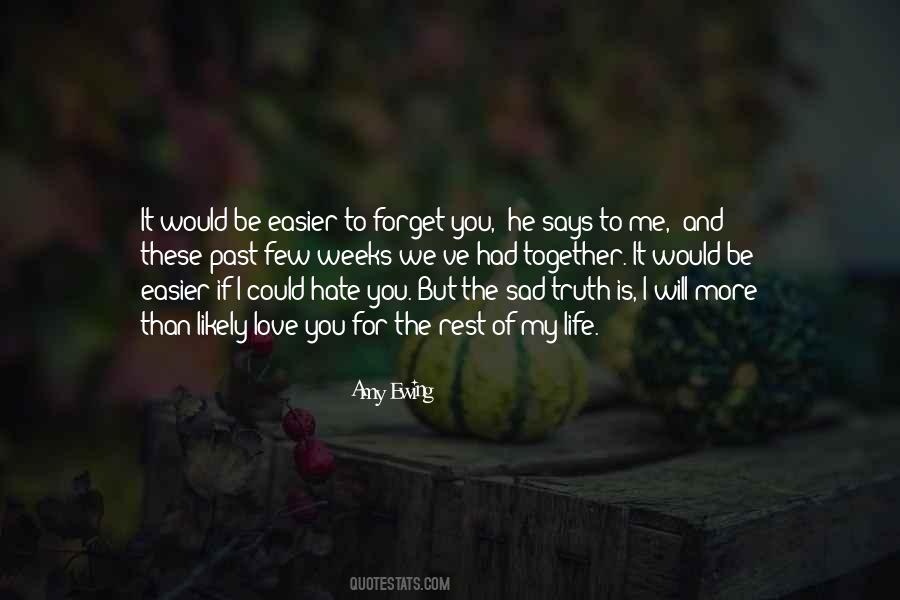 #68. My father and I rarely saw eye to eye when I was growing up. We saw the world differently. It was only when we were both adults that we were able to share spectacles. However, football, and particularly the World Cup, was when we, enemy combatants, could traverse trenches and be together. - Author: Rabih Alameddine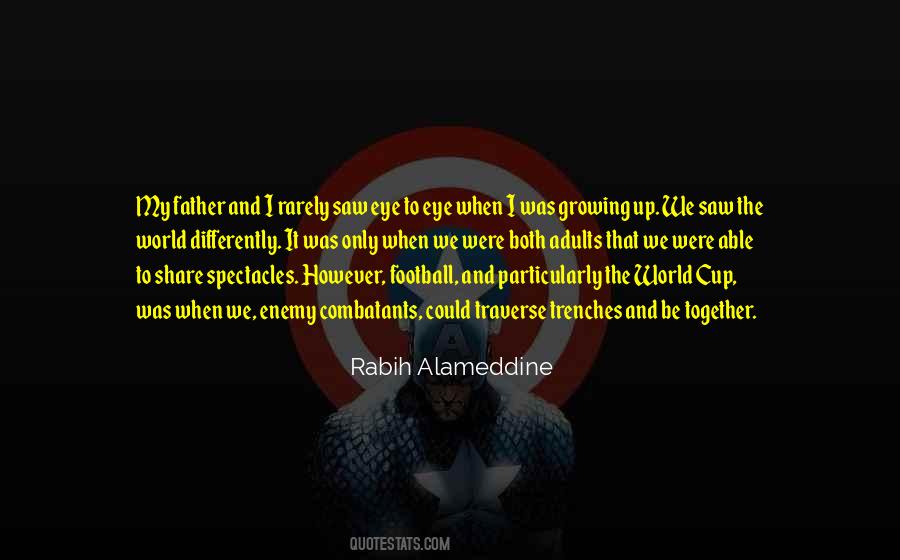 #69. We thought that the Internet was going to connect us all together. As a young geek in rural Maine, I got excited about the Internet because it seemed that I could be connected to the world. What it's looking like increasingly is that the Web is connecting us back to ourselves. - Author: Eli Pariser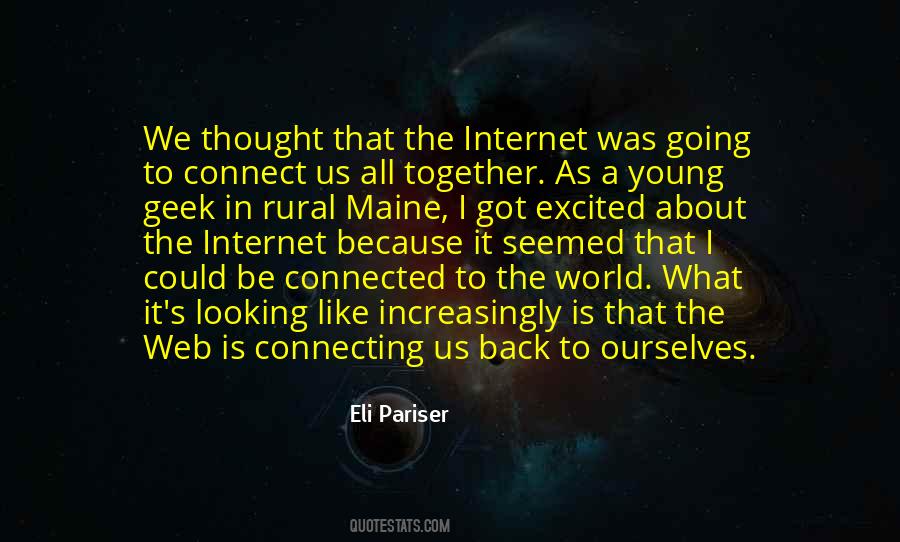 #70. I know I'm not supposed to argue with you when you talk about dying. And yes, you could die, Neil. But I could get hit by a bus and die tomorrow. Either we need to live every single day together like it's our last, or we need to be comfortable with the fact that some times are just sucky times. - Author: Abigail Barnette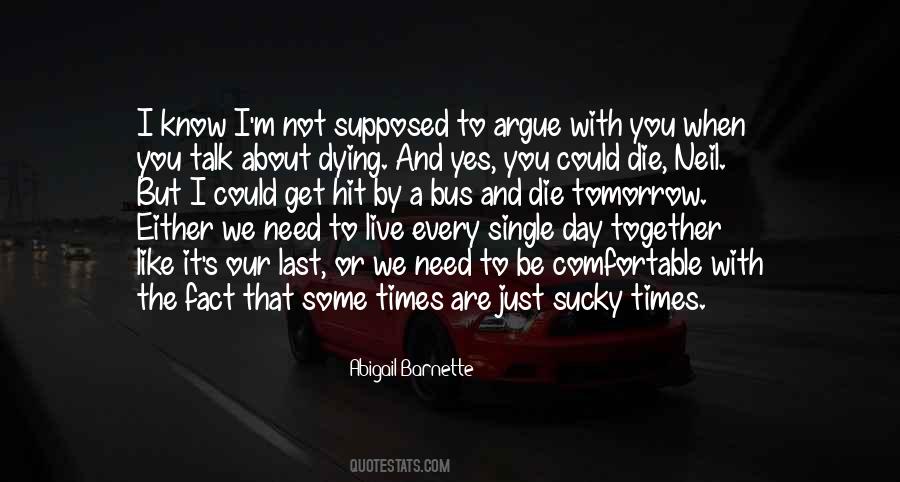 #71. We were just us, broken and bruised, fucked-up and messy, and together we were everything we never thought we could be. - Author: T.M. Frazier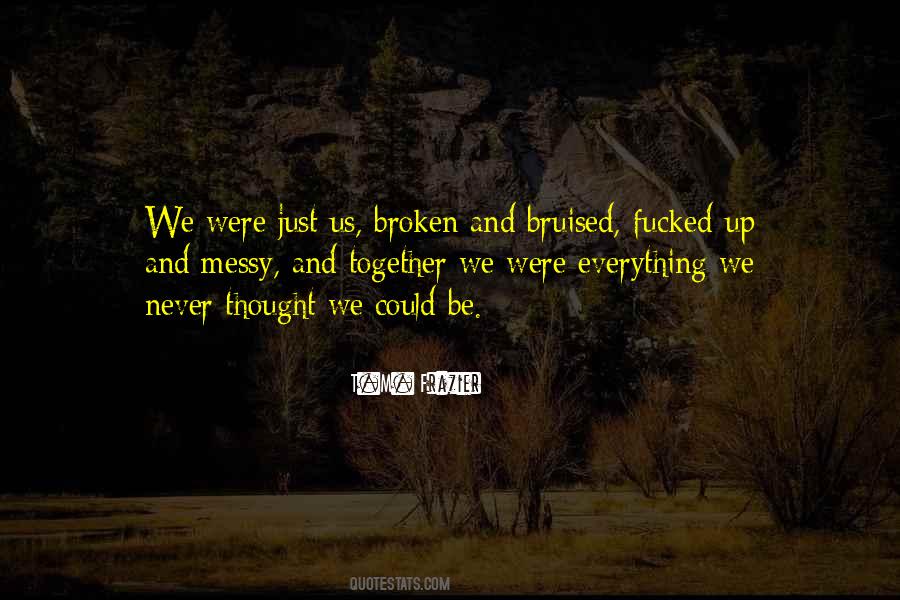 #72. We laughed and laughed, together and separately, out loud and silently, we were determined to ignore whatever needed to be ignored, to build a new world from nothing if nothing in our world could be salvaged. - Author: Jonathan Safran Foer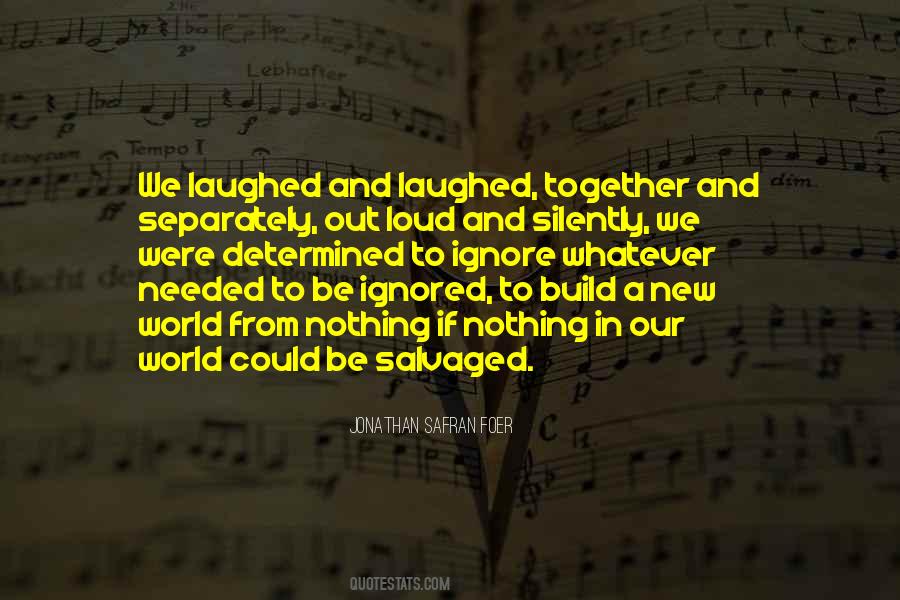 #73. We can't impose our will on a system. We can listen to what the system tells us, and discover how its properties and our values can work together to bring forth something much better than could ever be produced by our will alone. - Author: Donella H. Meadows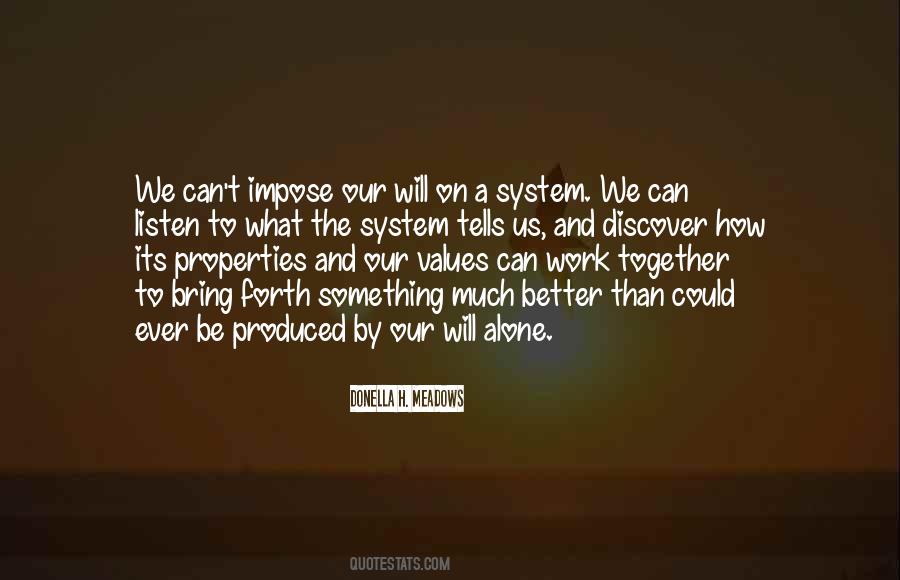 #74. I felt ravaged, and with both hands in a fantasy I reached out for her figure as we ran together through the meadow which belonged only to us and to which these others could never be admitted.
"Oh, inocent love," she said even as she drank from me, "oh, innocent innocent love. - Author: Anne Rice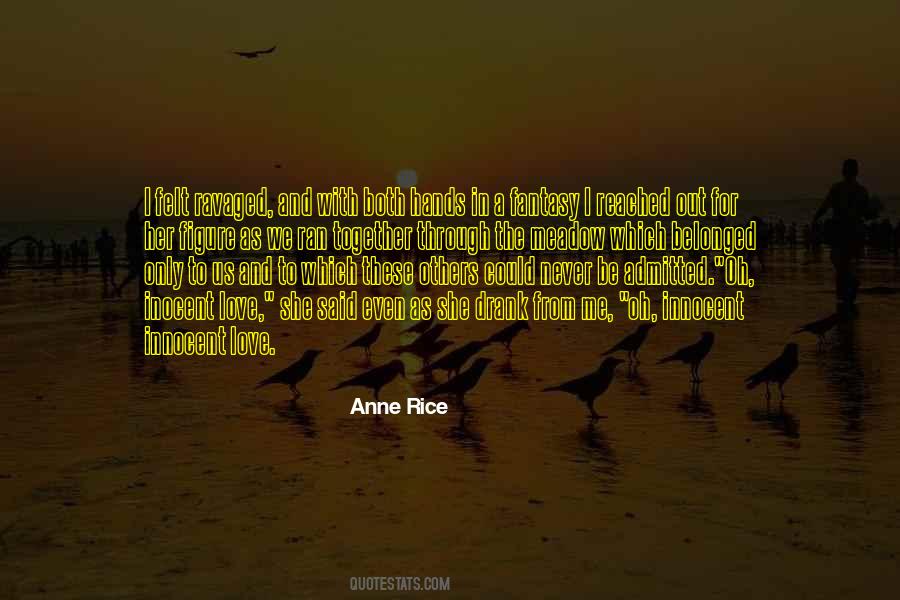 #75. That's how I spent the next day and night - dividing my time between my girls. I felt like the go between until the three of us could be together. It was as if I were carrying a piece of one to the other, making them whole, as if we were part of the same soul. - Author: A.L. Jackson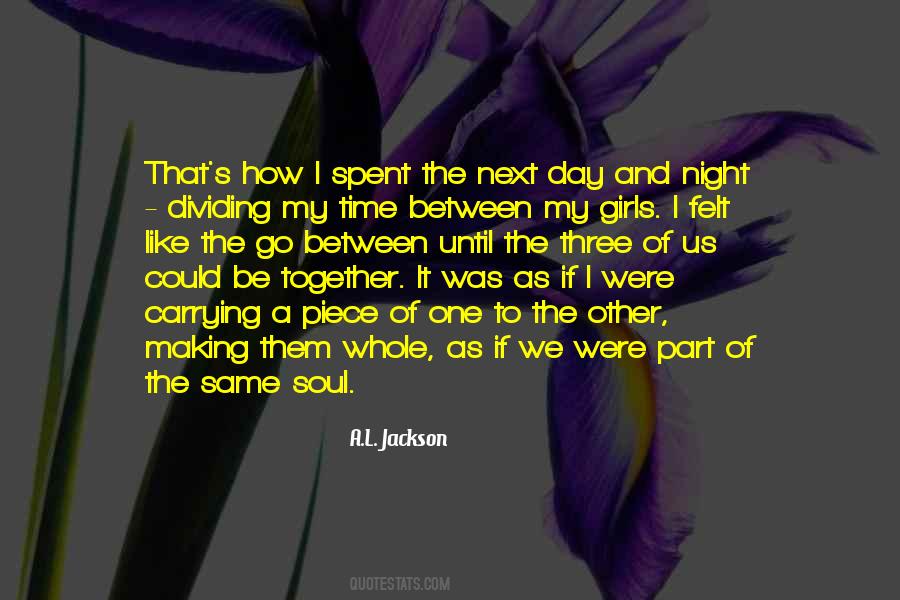 #76. I would do anything I could to go back to that time when we could have been together and change the way I acted. I'd change it, because we were fated to be together however brief, however unbelievable, however painful, however flawed.- Jack Howard - Author: K.A. Linde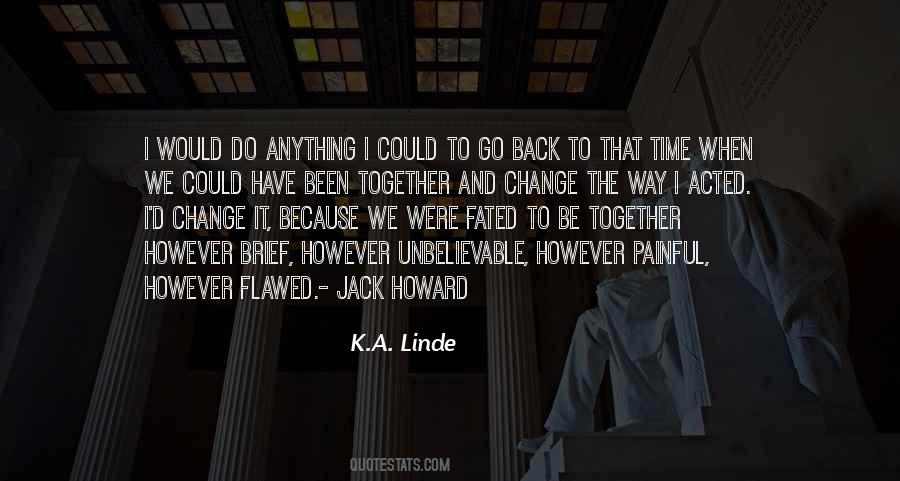 #77. I had 13 weeks off and I would pack up the family and drive to some mountain retreat where we could be together and fish all day. I loved it. I needed it. - Author: Perry Como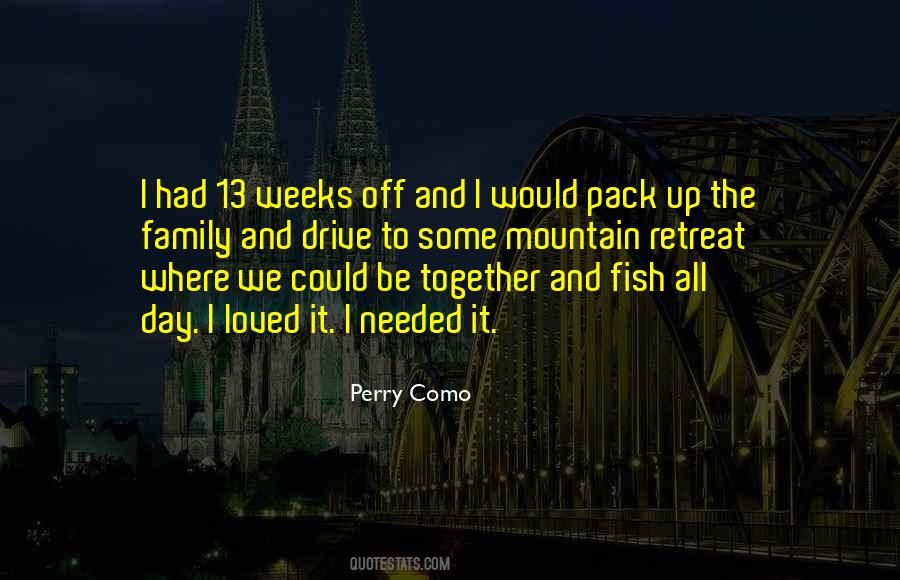 #78. Where we would be together and have our books and at night be warm in bed together with the windows open and the stars bright. That was where we could go. - Author: Ernest Hemingway,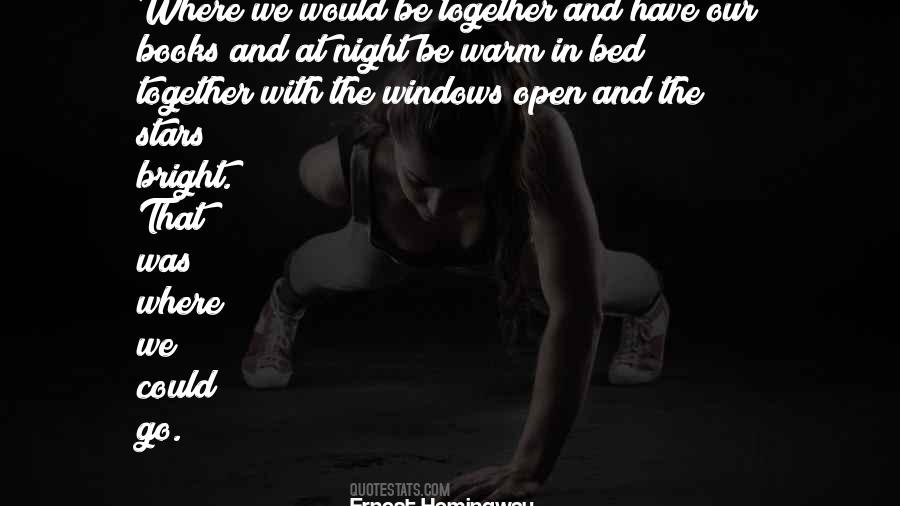 #79. I wish, peevishly, that he didn't know anything about how soldiers sleep, how they protect their fellow soldiers. It would be nicer if I could share the cloaks warmth with him, if we could lie with our faces together, whispering into the night. - Author: Margaret Peterson Haddix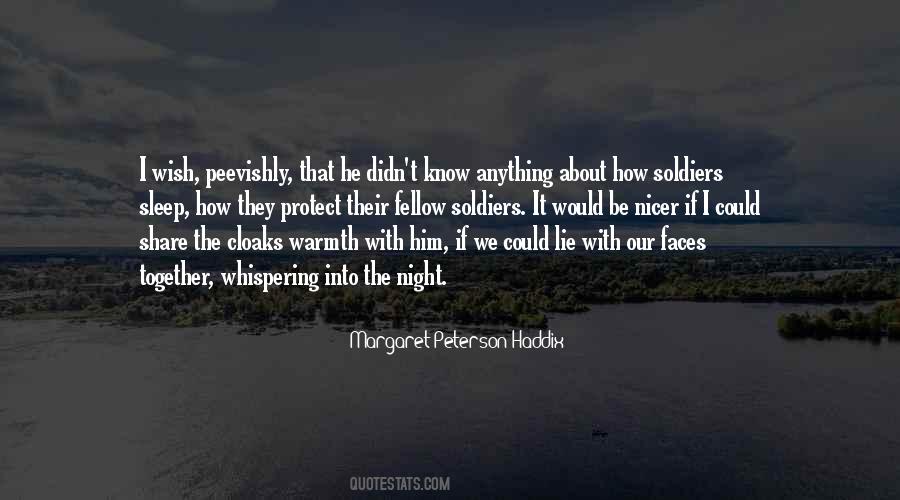 #80. Until I was ready, until I could let go of my past, we both knew that we could never really be together. - Author: Bella Forrest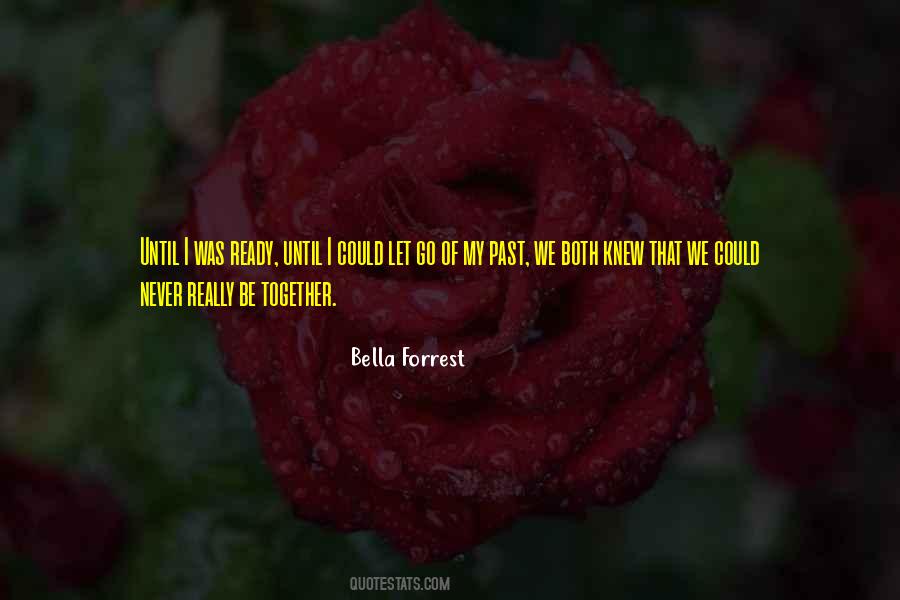 #81. If African countries can unite and pull resources together, then that will be the best thing we could ever do for the problems in Africa including AIDS. - Author: Ziggy Marley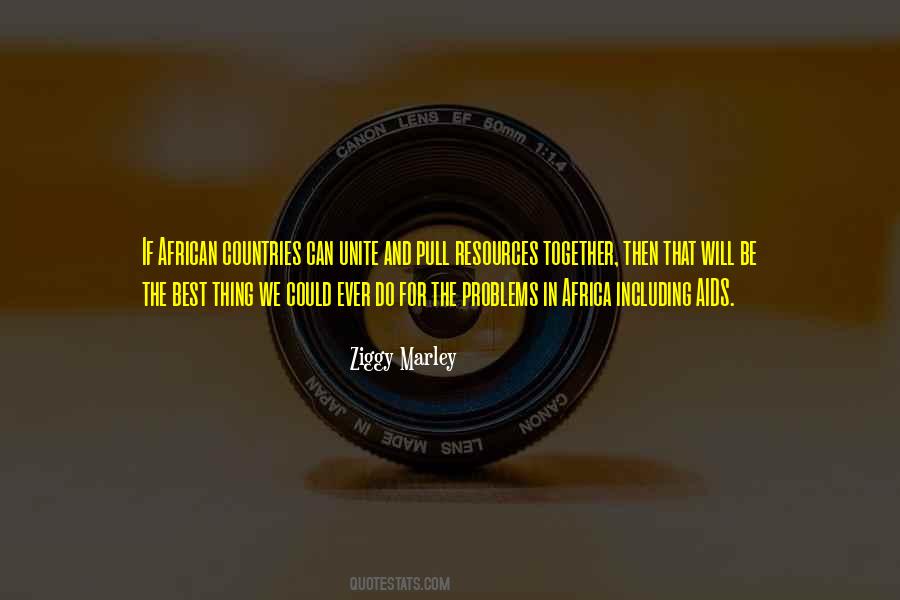 #82. We aren't some casual fuck, and we never were. Not from the first night. Not from the first time I laid eyes on you. You were built for me. I denied it as long as I could, but we were meant to be together. You are the sea under my sky. We're bound at the horizon. - Author: C.D. Reiss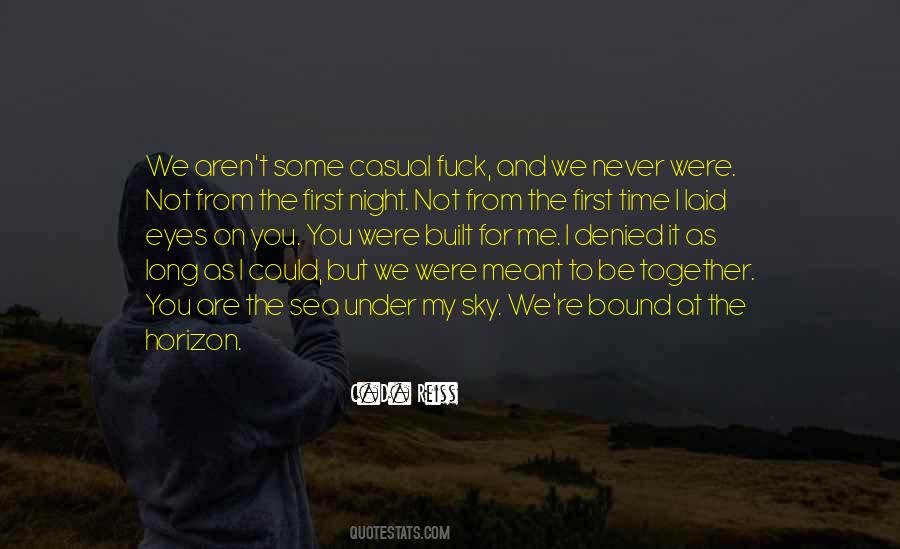 #83. And then the line was quite but not dead. I almost felt like he was there in my room with me, but in a way it was better, like I was not in my room and he was not in his, but instead we were together in some invisible and tenuous third space that could only be visited on the phone. - Author: John Green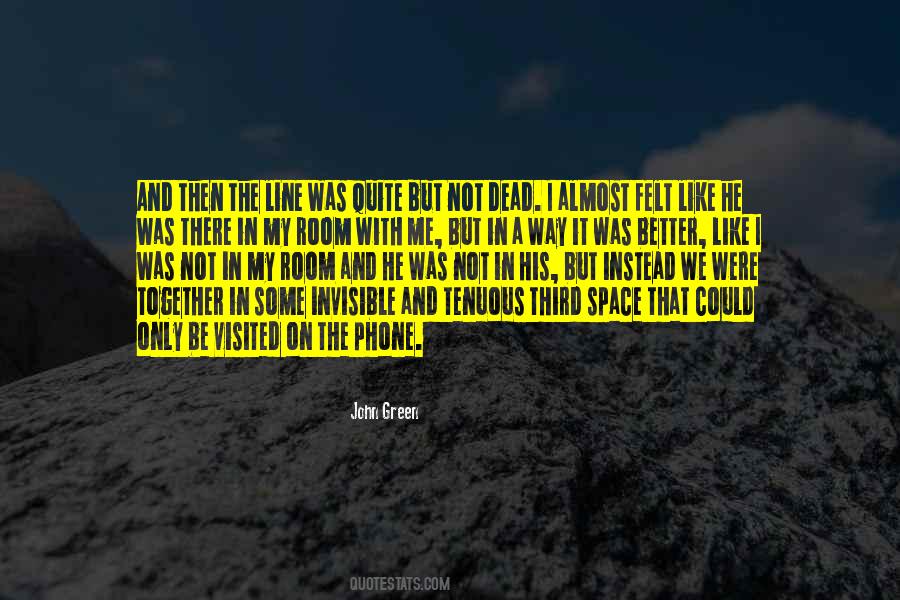 #84. Sometimes it made him [Degas] furious that he could not find a chink in my armor, and there would be months when we just could not see each other, and then something I painted would bring us together again. - Author: Mary Cassatt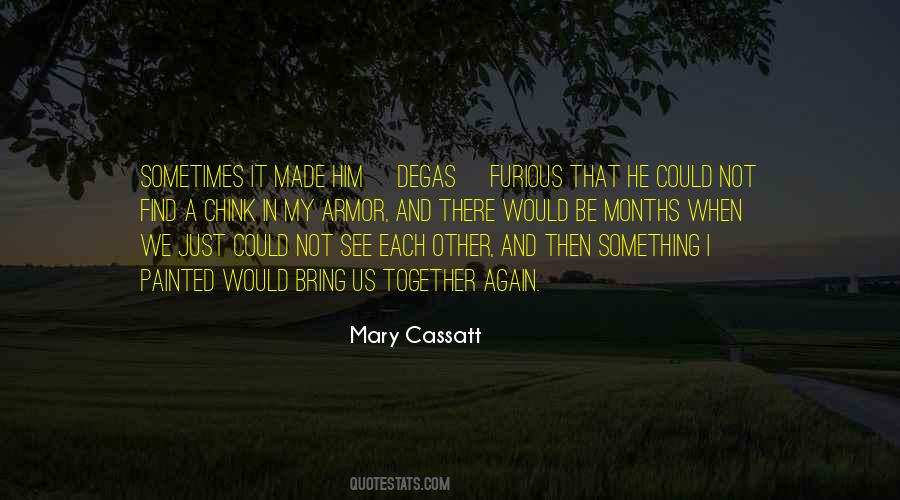 #85. Before all hope died I used to have this stupid dream that shit could be saved, that we would be in bed together like the old times, with the fan on, the smoke from our weed drifting above us, and I'd finally try to say the words that could have saved us. - Author: Junot Diaz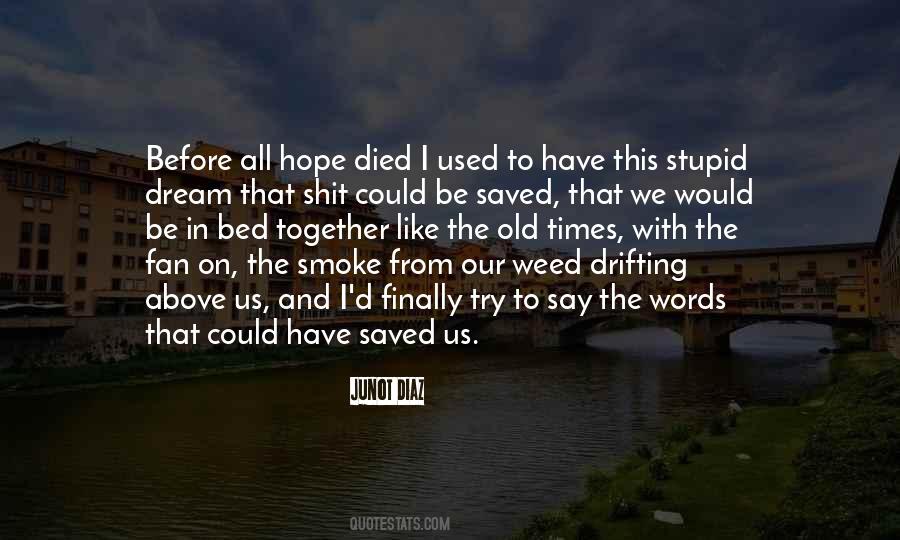 #86. How could I ever be disappointed in you, Regan? You're a little damaged. So am I. Maybe we're both a little more fucked-up than normal, but we'll be nice and fucked-up together. - Author: Jessica Clare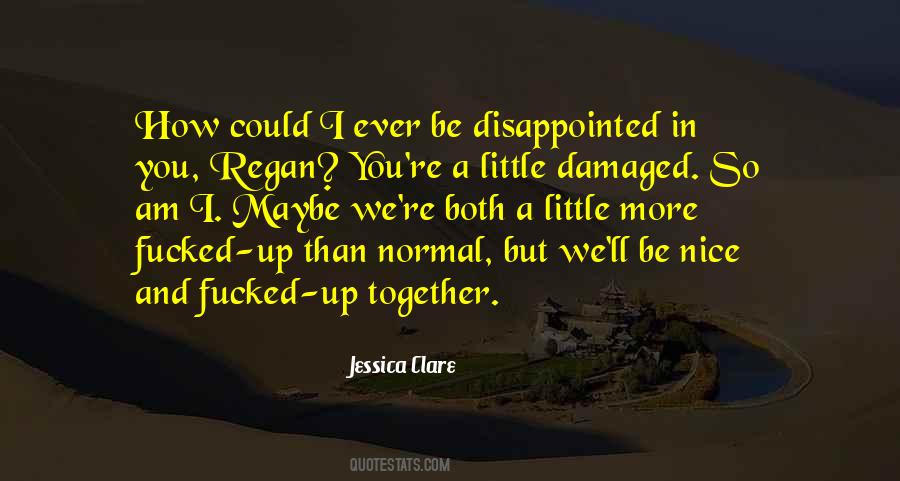 #87. My heart yearned for Aiden like he was the very air I needed to breathe, but at the same time I understood - really understood - that, even if Aiden had loved me in return, we could never be together. - Author: Jennifer L. Armentrout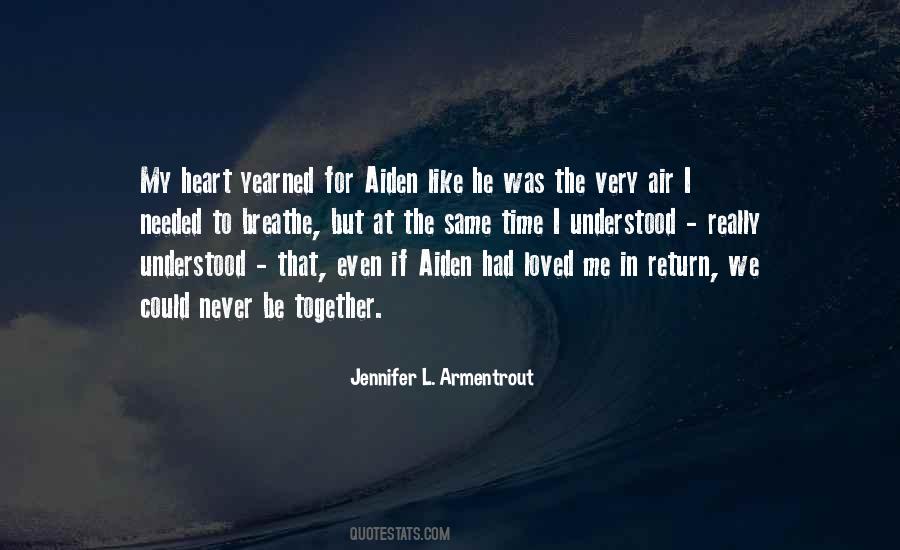 Famous Authors
Popular Topics