The Stuff Of Thought Famous Quotes & Sayings
List of top 82 famous quotes and sayings about the stuff of thought to read and share with friends on your Facebook, Twitter, blogs.
Top 82 The Stuff Of Thought Quotes
#1. I always thought when I was doing more melodramatic stuff like Everwood that the directors were constantly reeling me in and stopping me from being funny. I've always tried to find a funny angle on things, and 99 percent of the time, it just doesn't work. - Author: Chris Pratt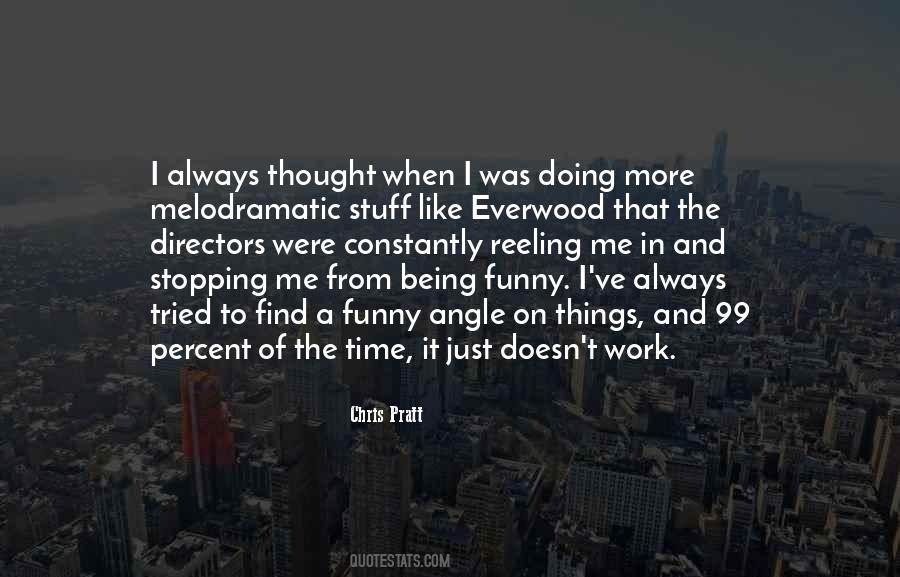 #2. In 'Law & Order,' your main job is to stay out of the way of the plot. On another show you'd receive your script and see stuff that seems challenging and feel excited that the writers thought highly enough of you to write it for you. - Author: Jeremy Sisto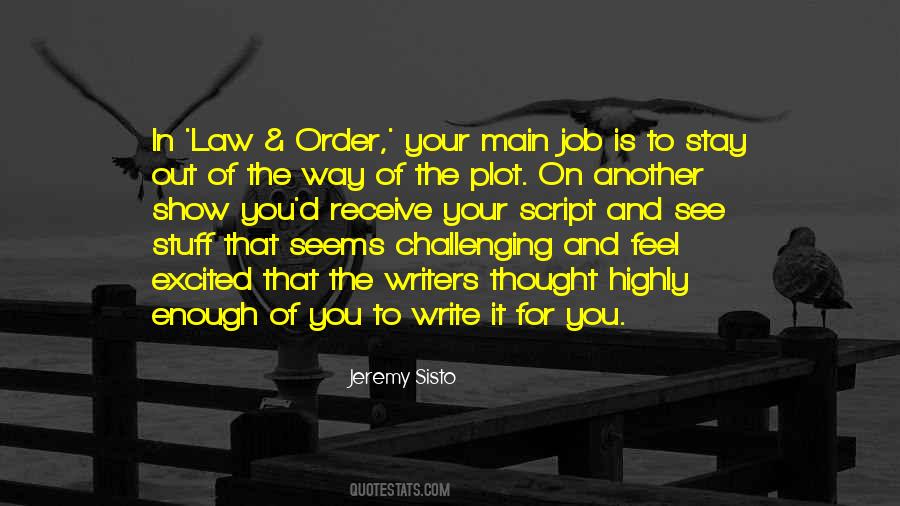 #3. Can I just tell you the truth? I get asked to do a lot of stuff. And all of the years that people have asked me to do things for the film festival, I couldn't. And so this year, I thought, "Oh, my god, I don't have a day job. If somebody ask me to do something, I'm going to do it." - Author: Oprah Winfrey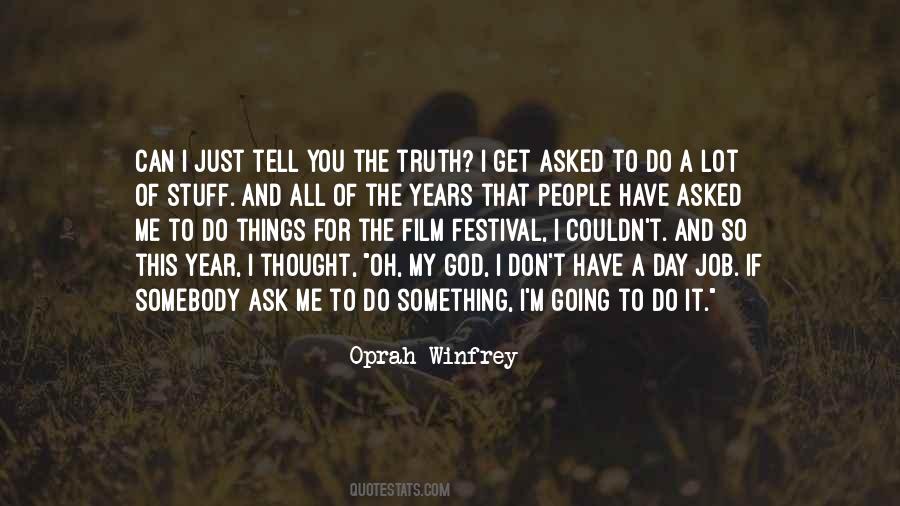 #4. Looked at again and again half consciously by a mind thinking of something else, any object mixes itself so profoundly with the stuff of thought that it loses its actual form and recomposes itself a little differently in an ideal shape which haunts the brain when we least expect it. - Author: Virginia Woolf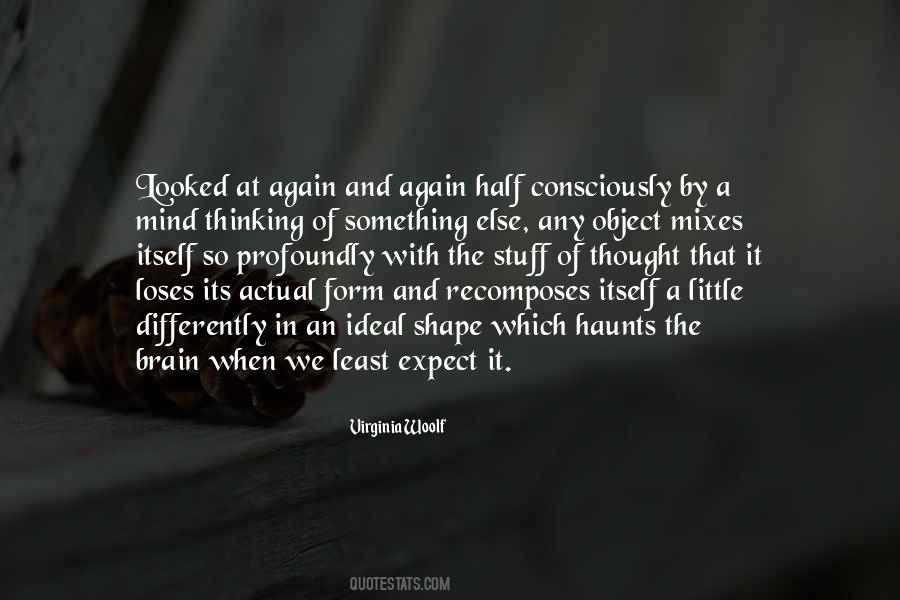 #5. A five-week sand blizzard?" said Deep Thought haughtily. "You ask this of me who have contemplated the very vectors of the atoms in the Big Bang itself? Molest me not with this pocket calculator stuff. - Author: Douglas Adams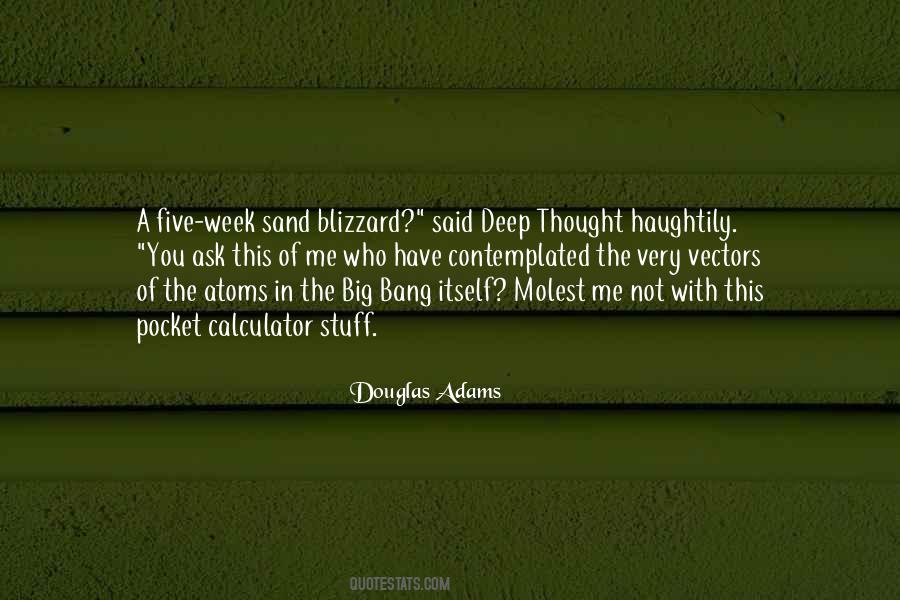 #6. The collective human unconscious can't stand it, the thought of stuff going on forever, so has decided (collectively, unconsciously) to bring the planet to an end. Eco-apocalypse isn't accident, it's deep species strategy. - Author: Glen Duncan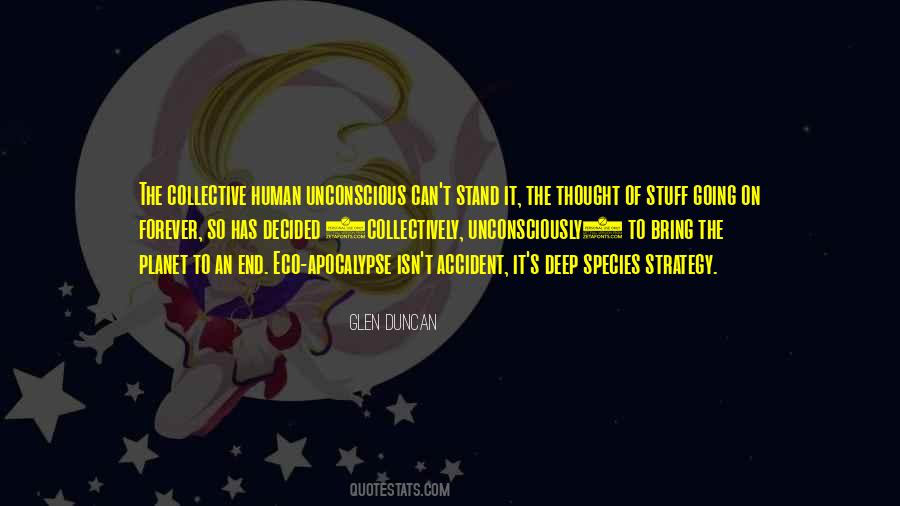 #7. I've actually been looking at plays, and I have read a bunch of stuff. I would love to do it. I have thought about theatre on and off over the years, but other things kept getting in the way. Maybe now's the time. - Author: Jerzy Jeszke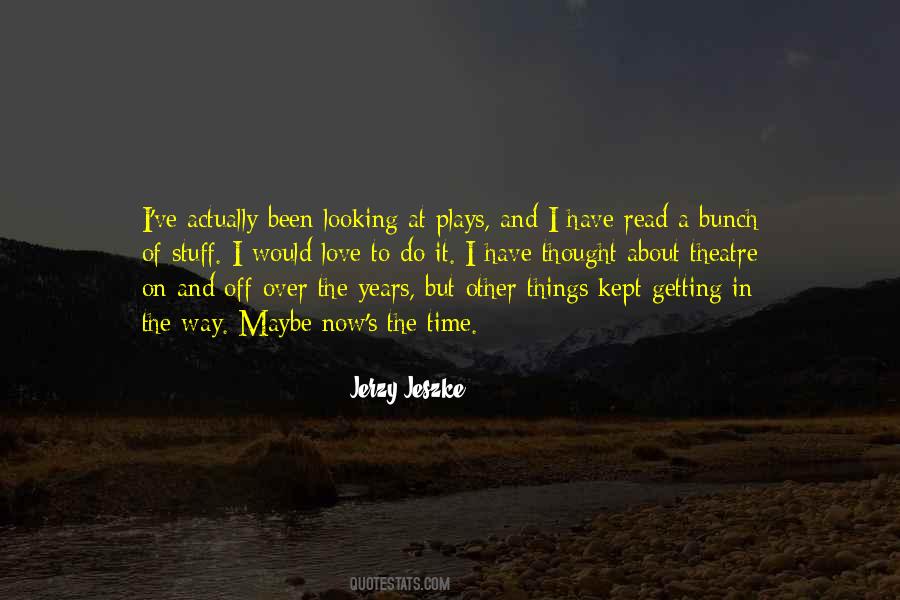 #8. I thought with all this freedom and self-discovery and expression of our love stuff that we could finally stop with the whole Zen master wisdom and practical advice crap. - Author: Richelle Mead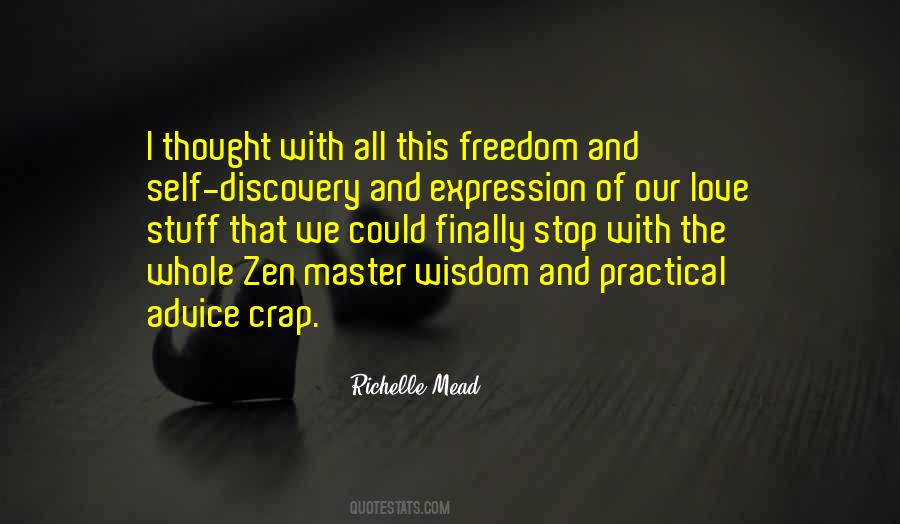 #9. The very first film I ever saw was a pirate movie called 'The Black Swan' with Tyrone Power. And I thought that was great stuff. Of course, in those days, Technicolor was really Technicolor; there was no such thing as desaturation. Everybody looked super suntanned. - Author: Ridley Scott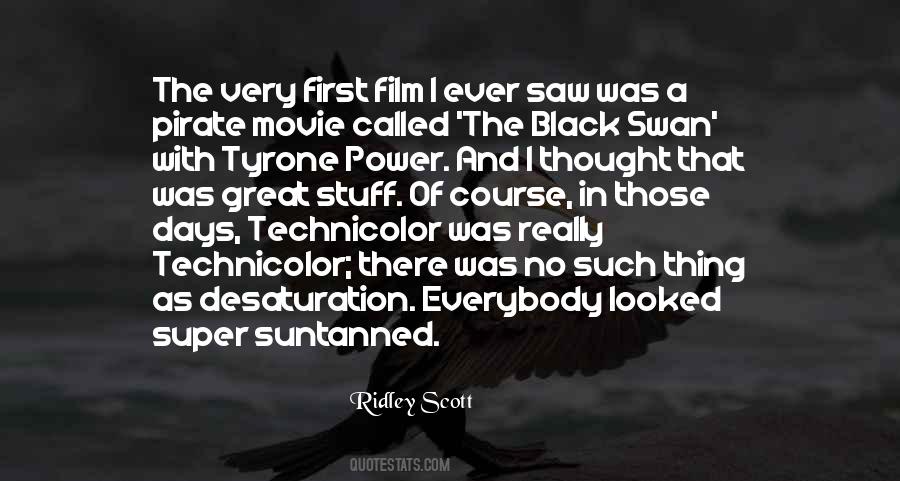 #10. I cut a lot of cringy sex stuff and a lot of stuff I thought was too personal. I think secret gardens are very special. I think we all have to have them. I think the secret of memoirs is keeping those parts of yourself off the page, which makes what you do share more valuable. - Author: Damian Barr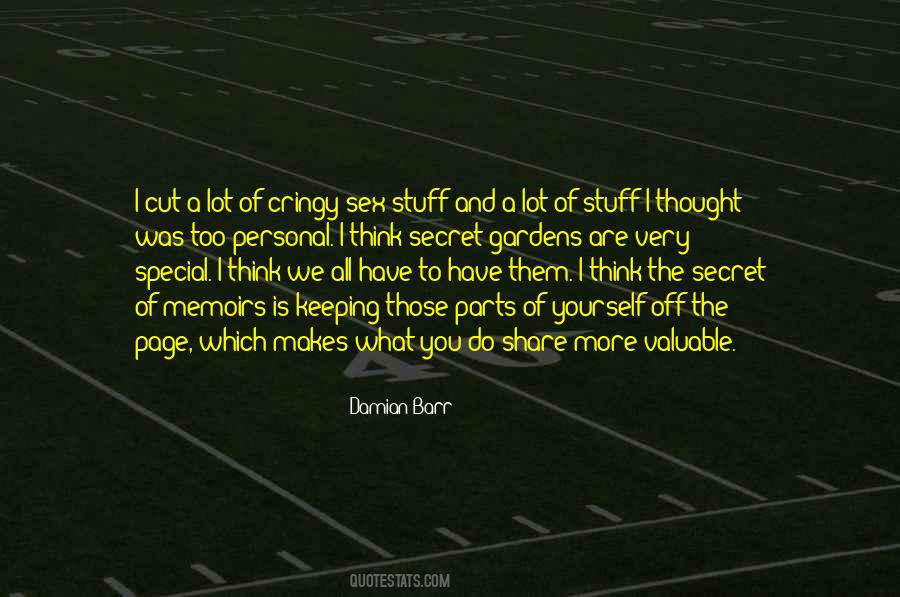 #11. I never really thought in terms of the concept of being a rock star - being around people like that just seemed like normal day-in-the-life stuff to me. Those were just the surroundings I grew up in. - Author: Anthony Kiedis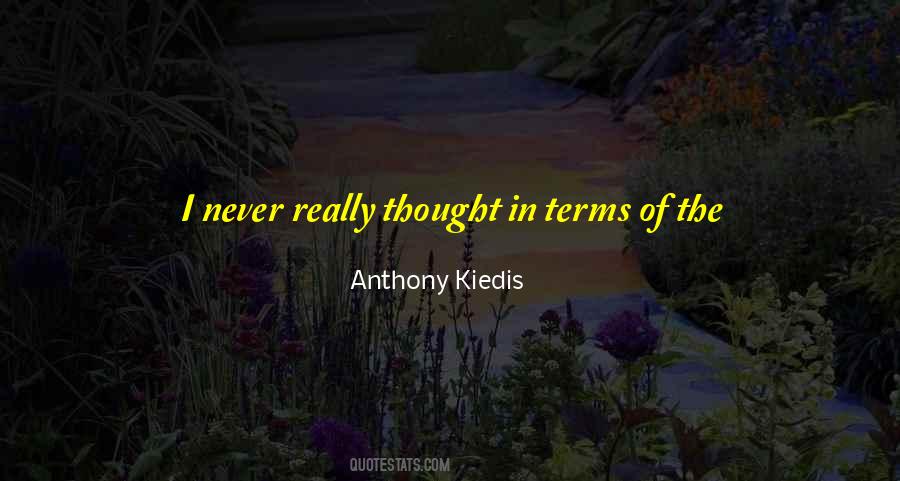 #12. Risk the stuff. It's worthless anyway. But don't make the insane choice of sacrificing your happiness for stuff. - Author: Steve Pavlina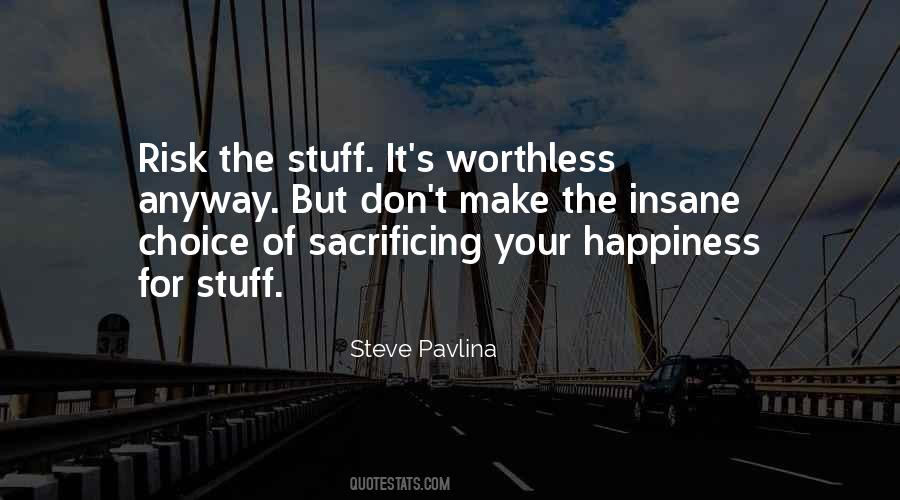 #13. I'd thought about the stuff we'd already done. None of it was dirty, exactly, but a lot of it was wild and out of control so I wondered what dirty would entail.
"Maybe you should explain dirty," I suggested.
"More fun to show you. - Author: Kristen Ashley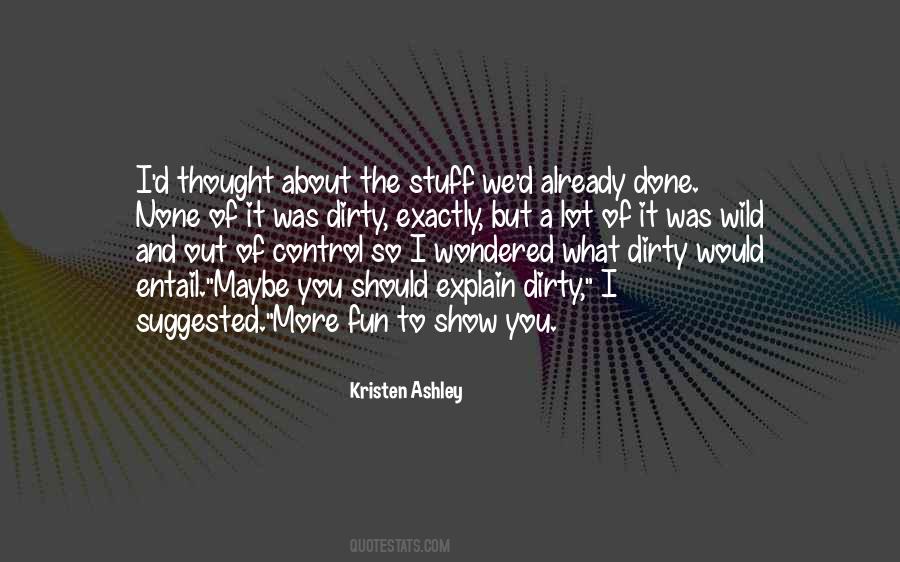 #14. There's a certain power in vague language, but I started to get more into the idea of really trying to have a discrete thought in the lyrics and to have songs that were about stuff - to try to make things more coherent. - Author: David Longstreth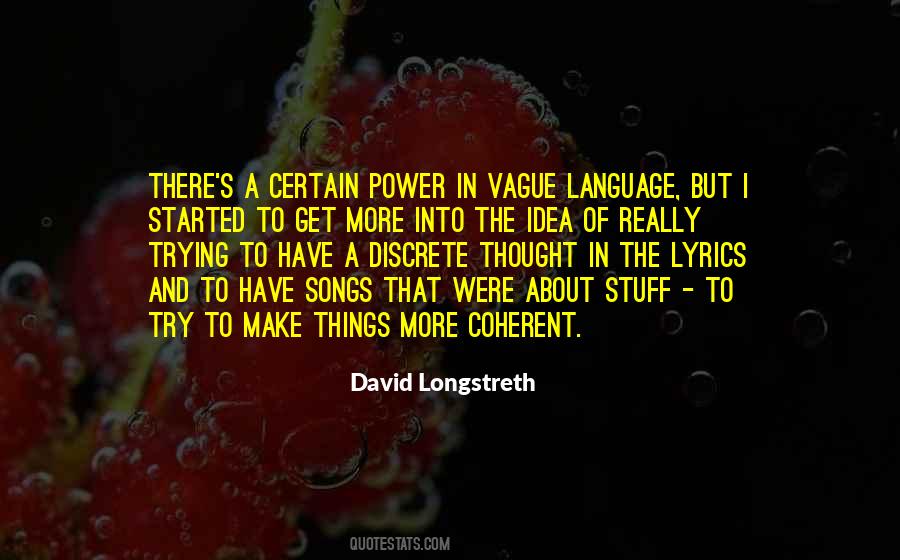 #15. I never really thought I went away because I've written all of the movies and I'm produced them all and certainly provided services about and beyond the average producer on two and three. I was on set most of the films and called action and cut a lot of times and did all that good stuff. - Author: Paul W. S. Anderson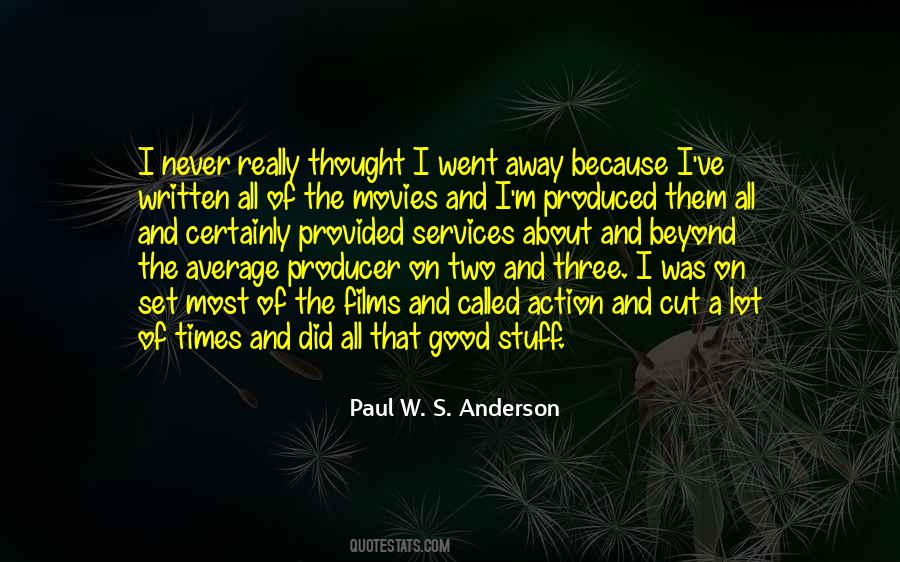 #16. Sam, she was smart as hell. And she knew stuff. Lots and lots of stuff. She also felt stuff. Oh, man, could Sam feel. Sometimes I thought she was doing all the thinking, all the feeling, and all the living for both of us. - Author: Benjamin Alire Saenz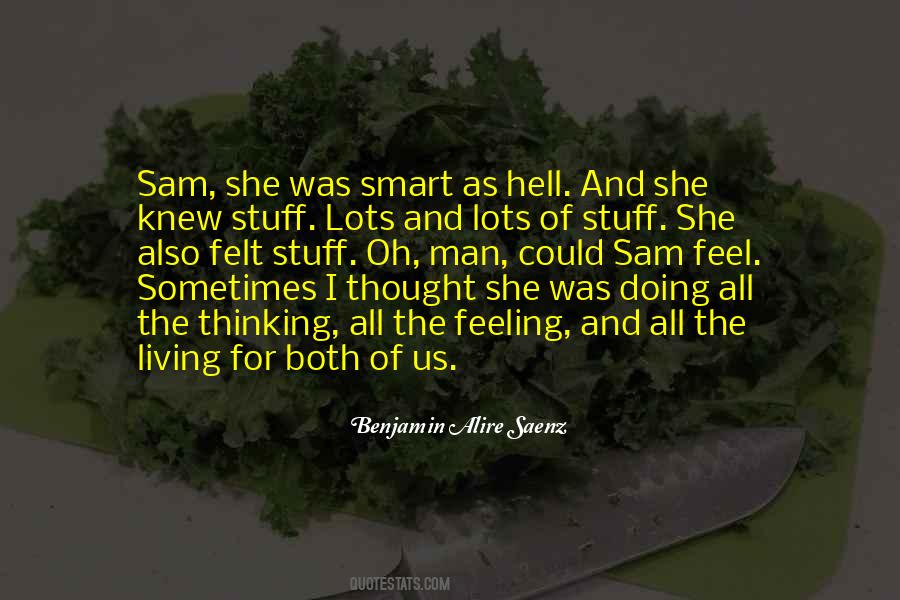 #17. I've never looked through his stuff and I can't explain exactly why it is I'm so incurious. I suppose there are clues about his life there in the shut-up-and-locked room, perhaps even some traces of my mother, but better to be content with ignorance, I've always thought, than haunted by the truth. - Author: Sara Baume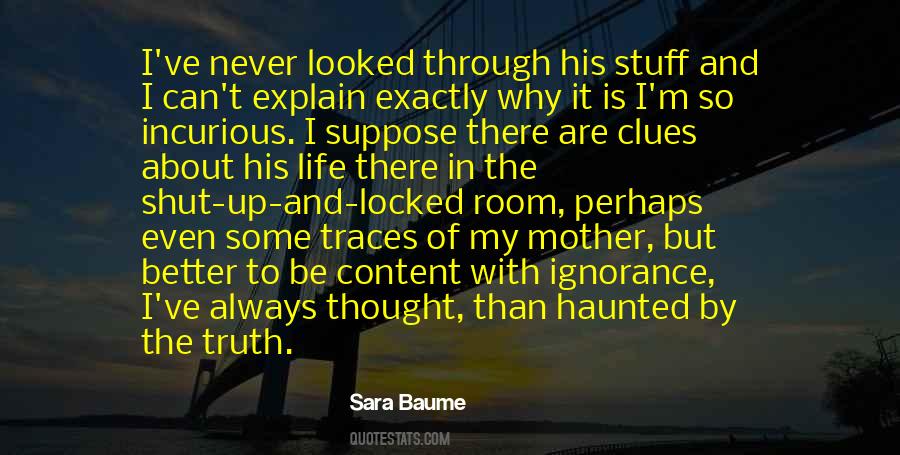 #18. Though in the trade of war I have slain men,
Yet do I hold it very stuff o' the conscience
To do no contrived murder: I lack iniquity
Sometimes to do me service: nine or ten times
I had thought to have yerk'd him here under the ribs. - Author: William Shakespeare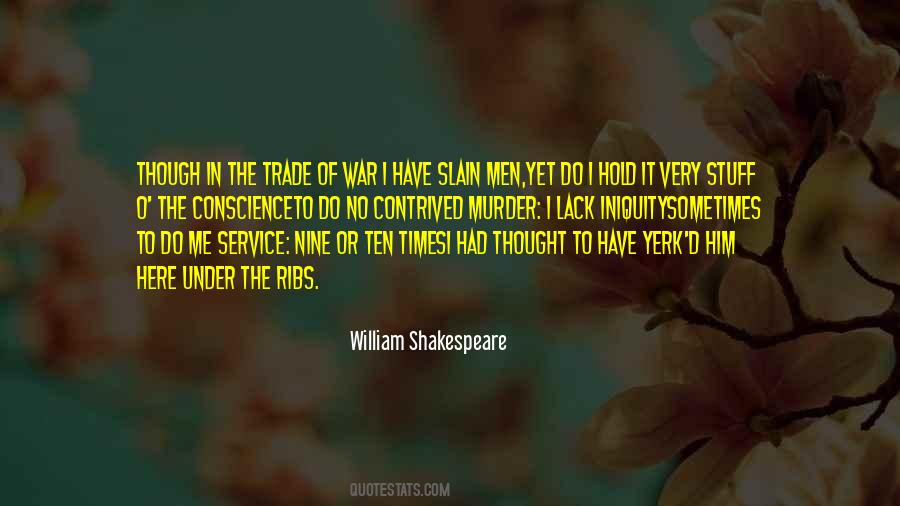 #19. I grew up in England, went to a nice public school, then didn't want to go to university, so I thought I would wander around. I did a season skiing, a bit of sailing, typical spoilt brat stuff. I ended up in the Caribbean. I was having a blast. - Author: Marc Koska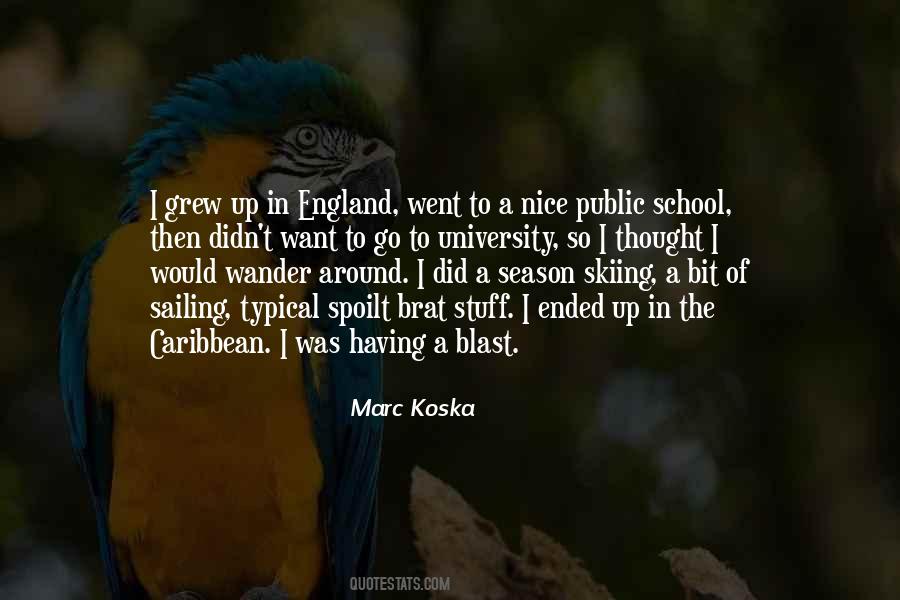 #20. I thought I had to show all my stuff and I almost tore the boards of the grandstand with my fastball. - Author: Cy Young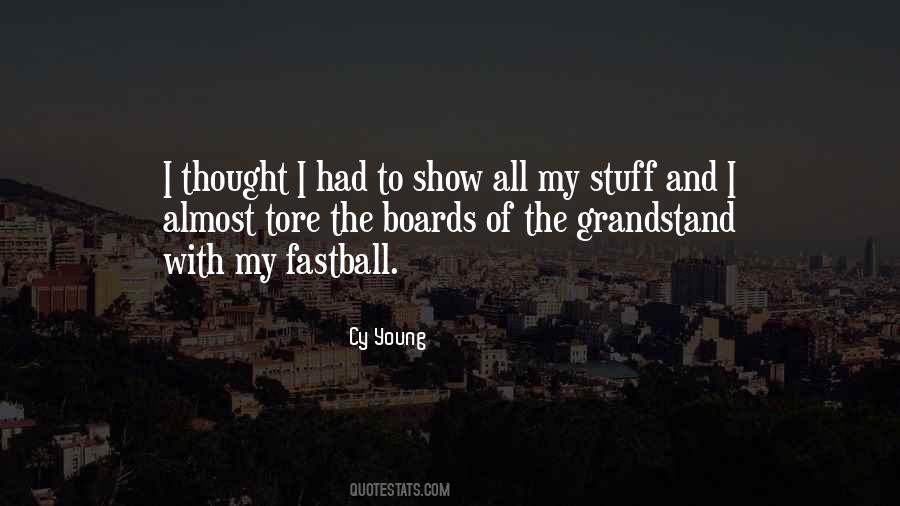 #21. I thought it was possible that O.J. could have done something. It crossed my mind. I was thinking about the events of everything and going, Why did I hear that? I was going, No, it can't be, and just all that stuff was adding up. - Author: Kato Kaelin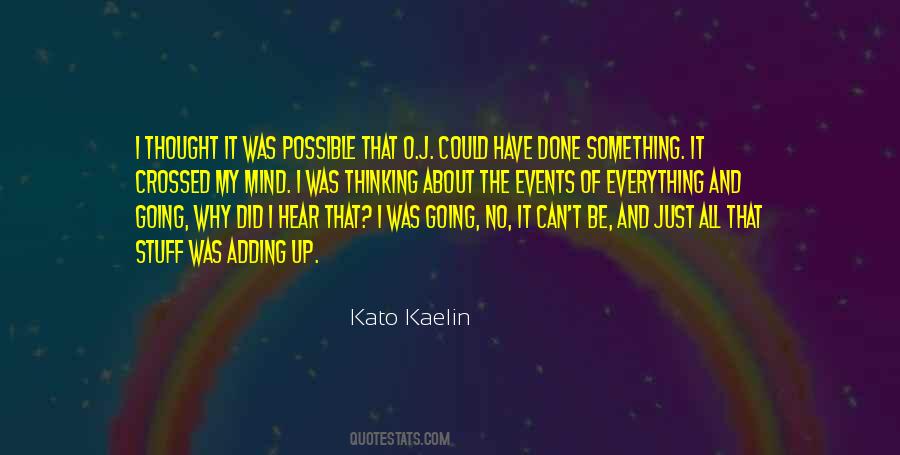 #22. Each of us had all the troubles we could carry. They rained down on us from the sky, and we raced around in a frenzy to pick them up and stuff them in our pockets. Why we did that stumps me, even now. Maybe we thought they were something else. - Author: Haruki Murakami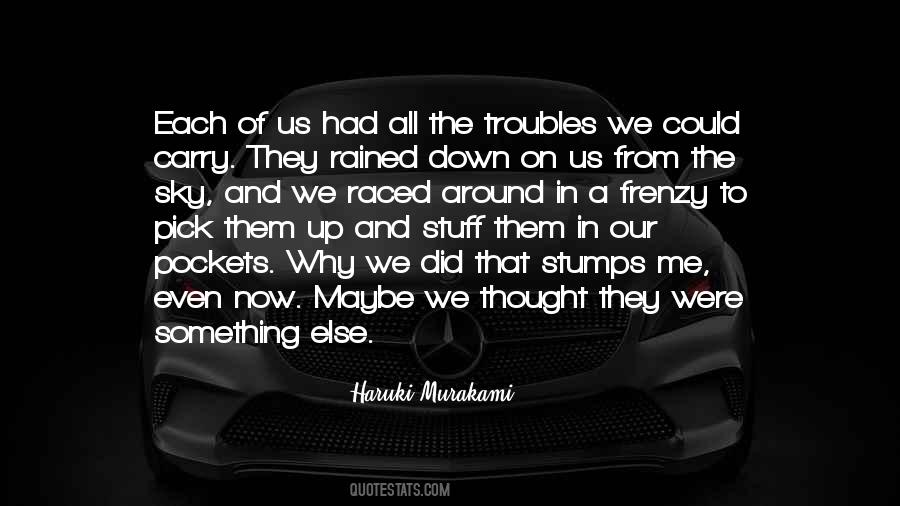 #23. Is there a lot of stuff you don't understand? she said & I said pretty much the whole thing & she nodded & said that's what she thought, but it was nice to hear it anyways & we sat there on the porch swing, listening to the wind & growing up together. - Author: Brian Andreas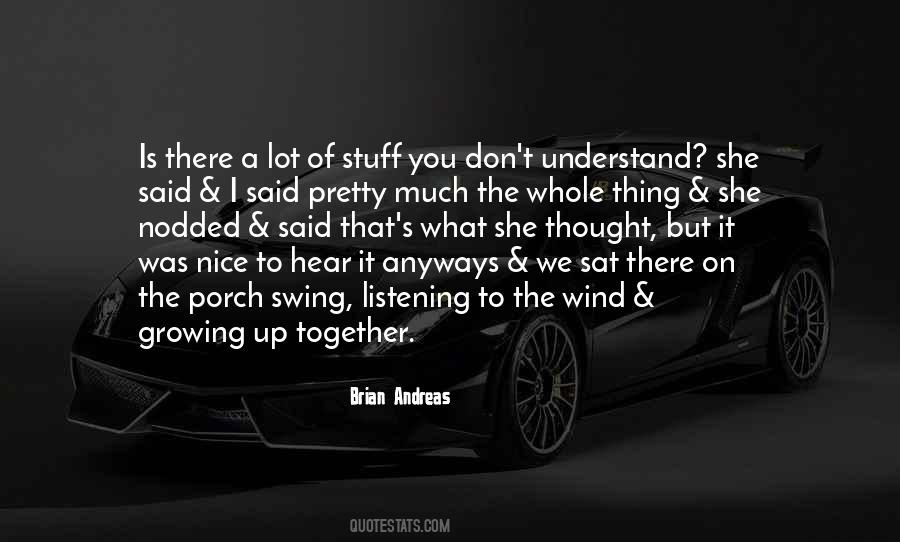 #24. The programmer, like the poet, works only slightly removed from pure thought-stuff. He builds his castles in the air, from air, creating by exertion of the imagination. Few media of creation are so flexible, so easy to polish and rework, so readily capable of realizing grand conceptual structures. - Author: Frederick P. Brooks Jr.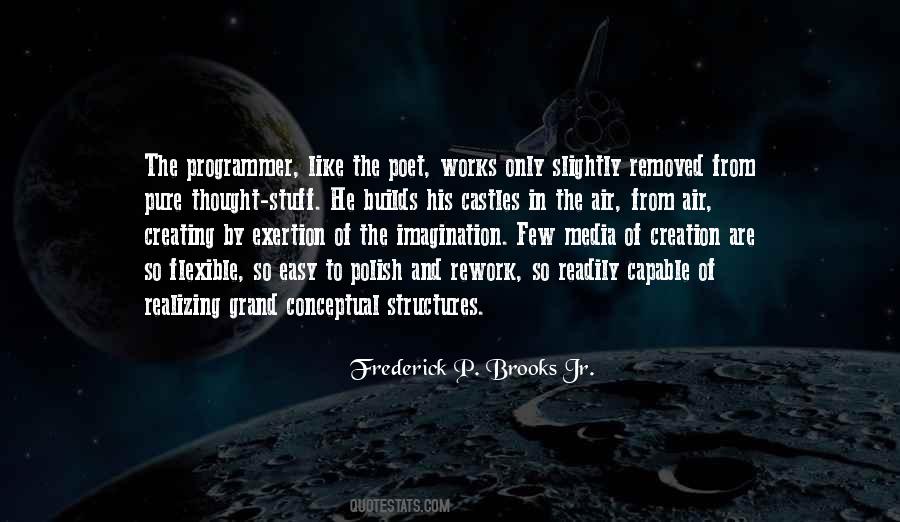 #25. I'm kind of the model that everyone thought would always be the Guess, 'Sports Illustrated' girl. Then, when I started to do high fashion stuff ... people were like, 'Oh, so we can have a girl with, like, thighs and a butt in a Tom Ford campaign. Cool.' - Author: Gigi Hadid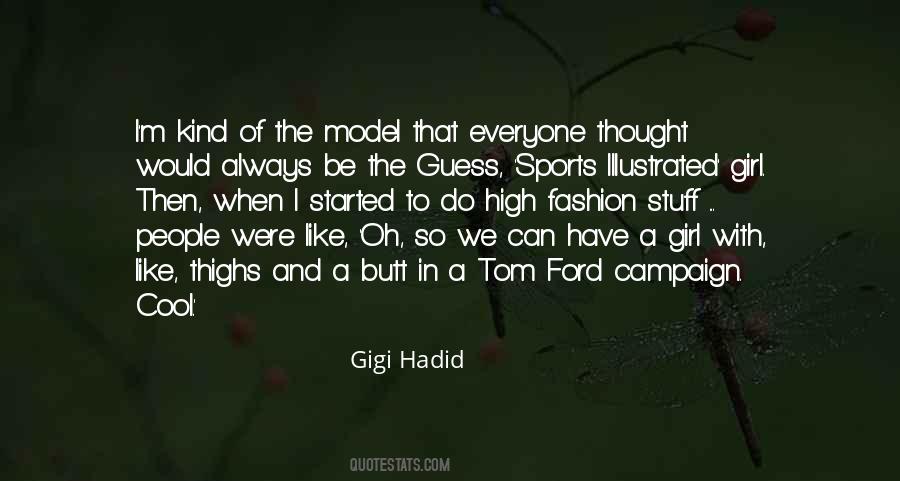 #26. A lot of the stuff I've accumulated over the last few years of touring I thought was really interesting. Like sounds, sound bites, and beats even, but they weren't good dance beats they weren't ones anyone would want to rap over or anything. - Author: Eric San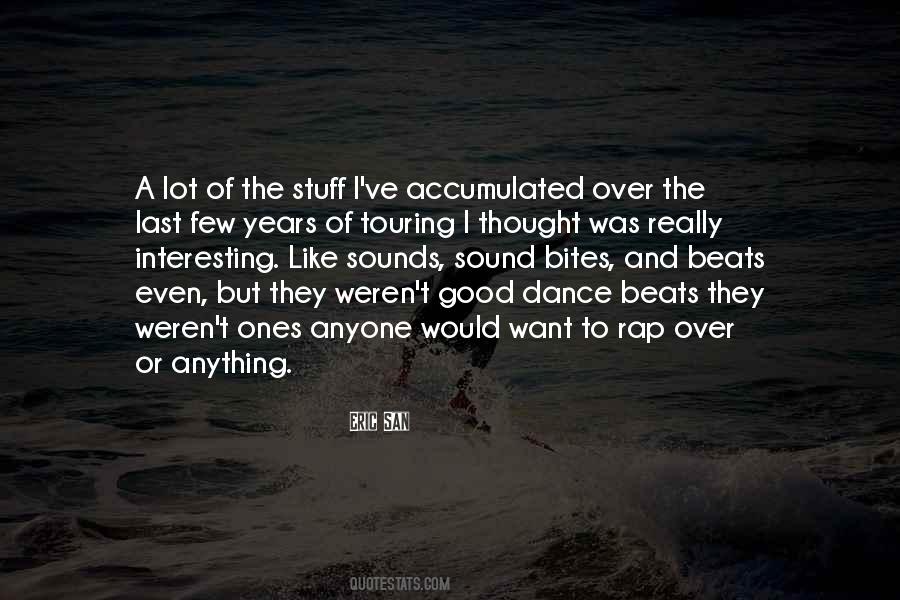 #27. What stuff is the man made of who is not coexistent in our thought with the purest and sublimest truth? - Author: Henry David Thoreau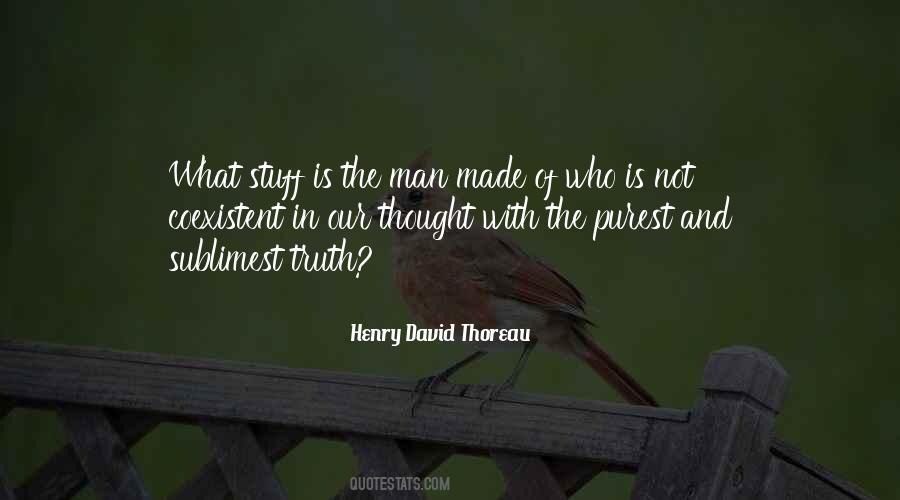 #28. The biggest challenges are in the same vein. It's about retaining all that stuff. Also, the physical stuff is not as easy as we originally thought. I play a lot of sports and I remember saying, "Oh, I'll be fine, running around or doing anything." - Author: Steven Yeun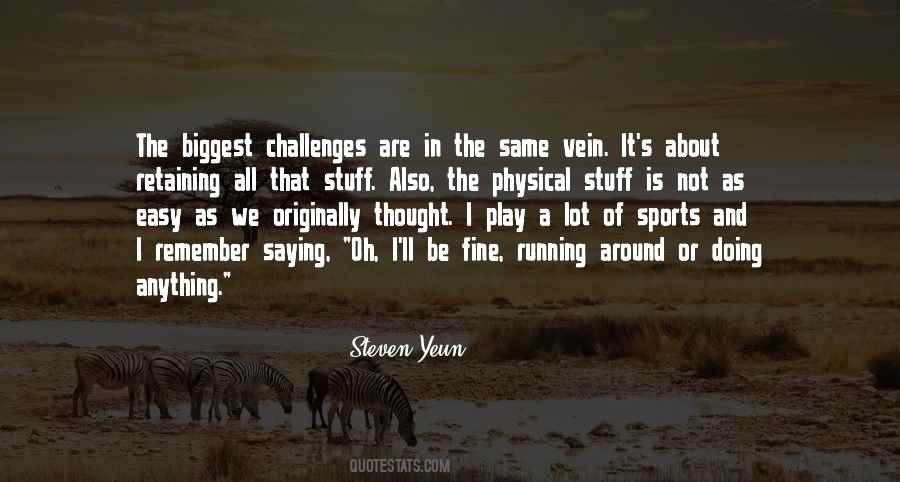 #29. I was of the "When life gives you lemons, make lemonade, then wonder why life didn't give you freaking sugar so you could drink the stuff" school of thought. - Author: Cate Tiernan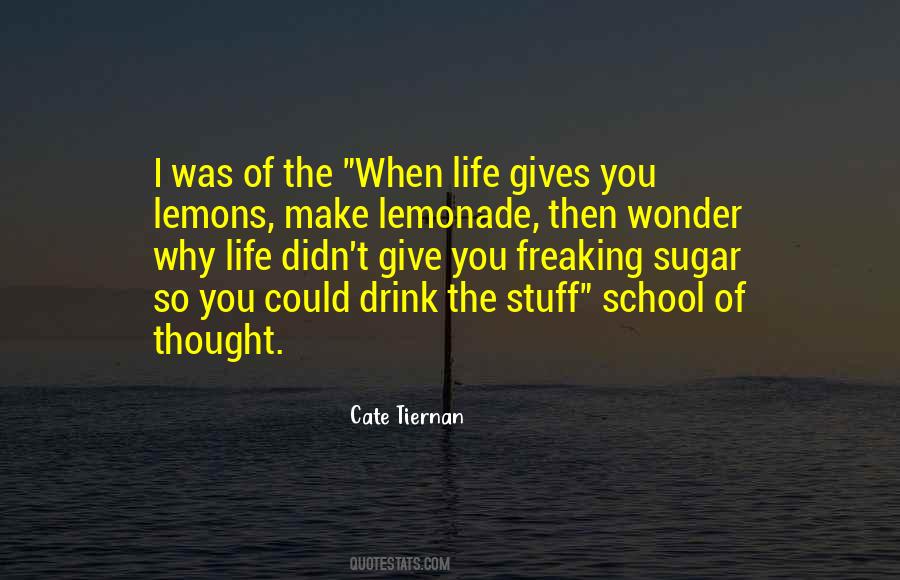 #30. Most of my stuff before CSI was kind of the jerk boyfriend, so I thought this was one of those deals, where these two have a thing going on, so we had a scene where they make out. - Author: George Eads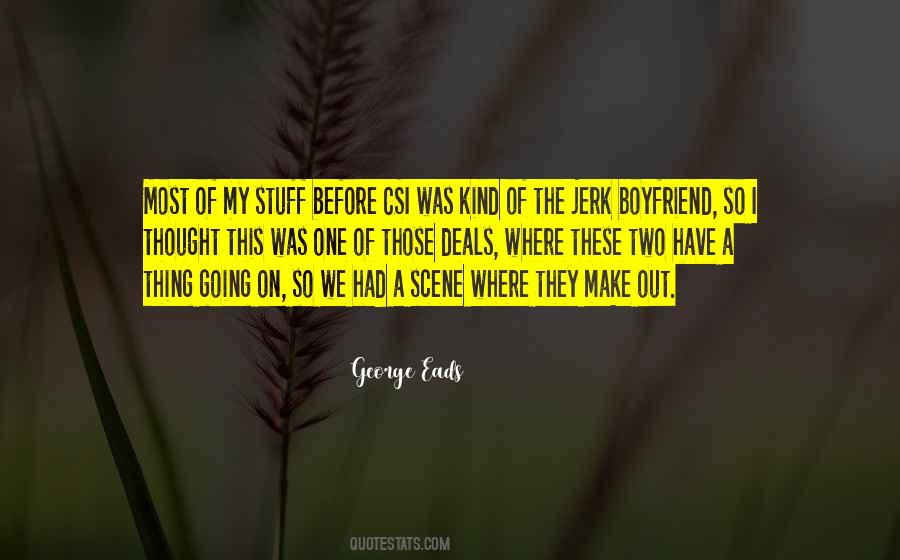 #31. I never thought I would work in mainstream superhero comics or Valiant or Marvel. I just set out to make the kinds of stories I wanted to make, which at the beginning was small personal stuff like 'Essex County.' - Author: Jeff Lemire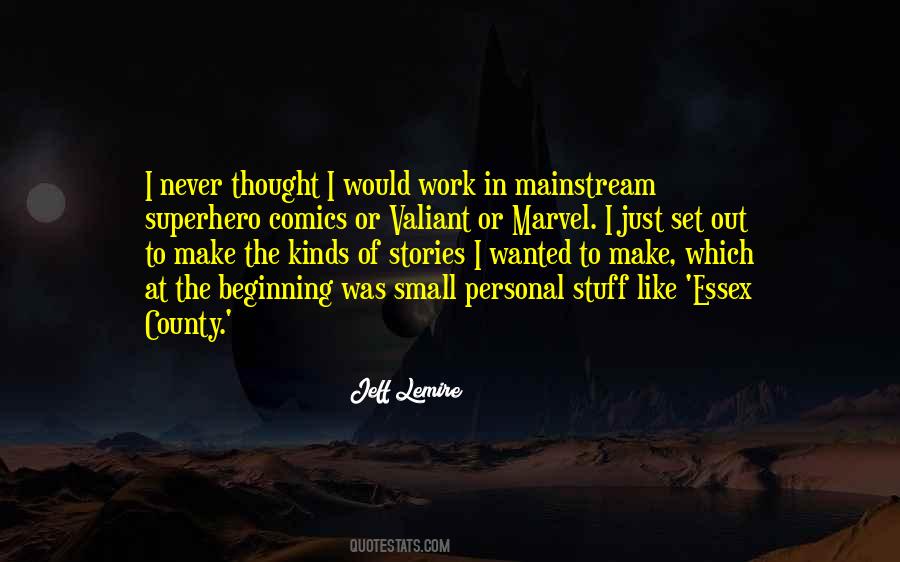 #32. I've always thought that good teaching is about illumination. Sure, we teach things kids might not know, but a lot of the time, we're just shedding light on the stuff they already know. - Author: R.J. Palacio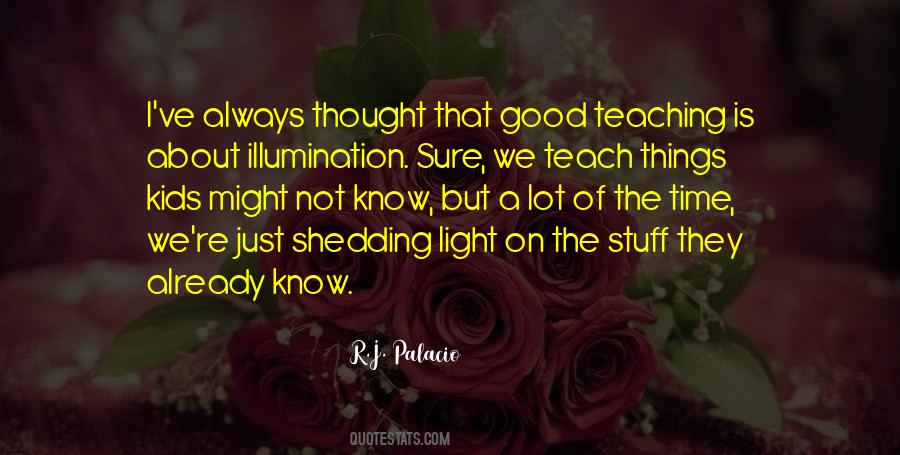 #33. If I'd been asked to make a list of what I could do without, I'd never have managed it. But by putting the thought in my head that really none of it's important, I find myself wondering if I can't just shed all my things, my stuff, like an old skin. Maybe - Author: J.P. Delaney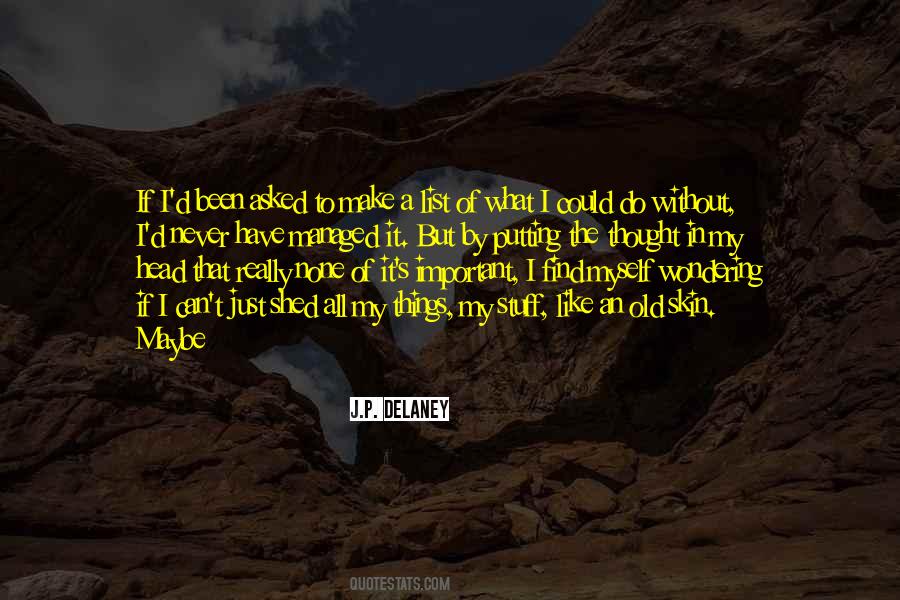 #34. Pippin chooses love and finds a greater sense of himself at the end of all the madness. I relate to him in many ways. I have been through stuff, thought I knew best, and often been proven wrong. - Author: Matthew James Thomas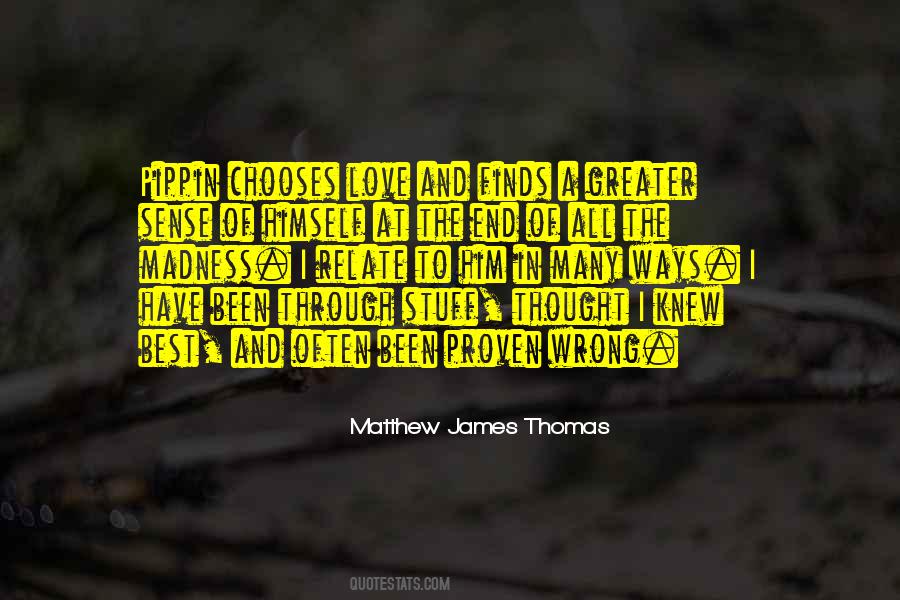 #35. I've lived a little bit and traveled the world and experienced a lot of things that I can play any role, and I think I can get into stuff that people never thought I would ever do because of my experiences and growth as a person. - Author: Chris Tucker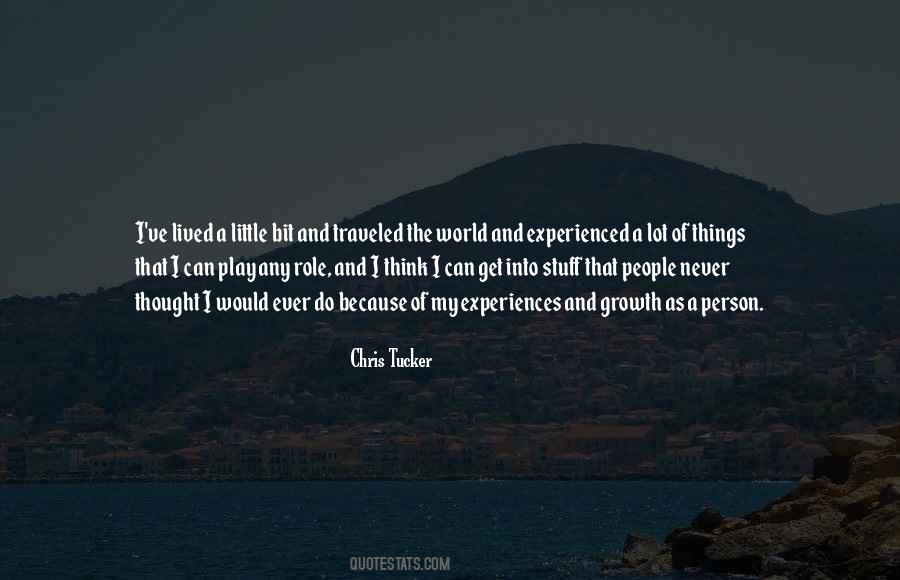 #36. I always thought I'd look corny in the type of rap video in the club with girls and all that type of stuff. I just didn't think I could really pull that off. We always think it's more fun and better just to go outside the box and to use our videos to show cool concepts. - Author: Mac Miller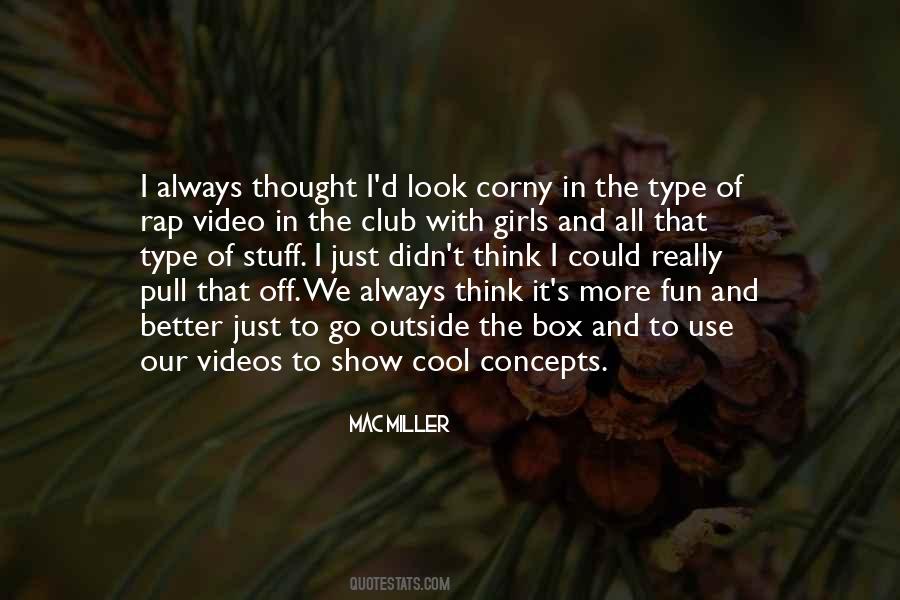 #37. I get really excited about collaborating because by the end of the day you have something that you never thought you'd have. I was really happy about writing "Bad News" and a bunch of other stuff on the record that came out so well. - Author: Orianthi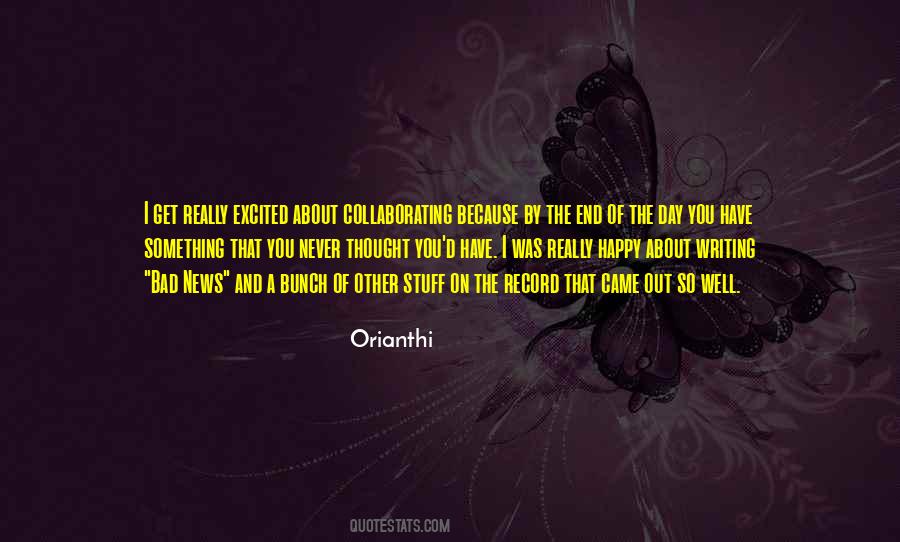 #38. When I started to realise how important the film was to people I thought there is a lot of negative stuff going on in the world, maybe they need these two people - Author: Jim Carrey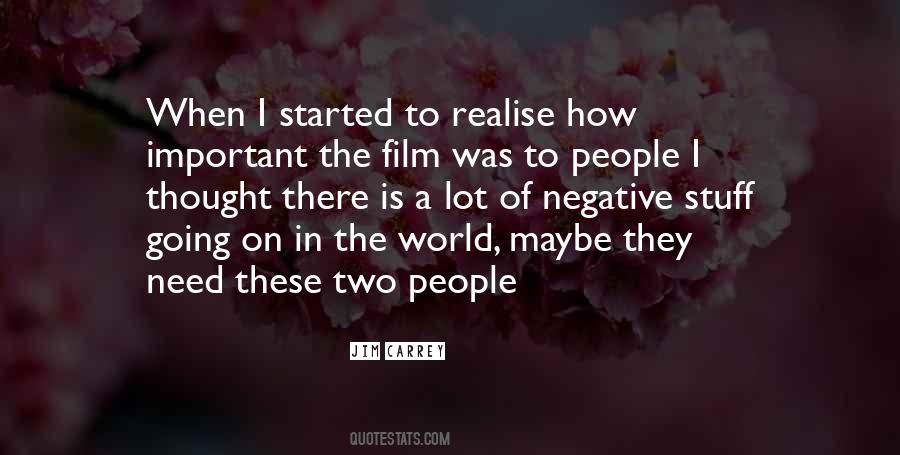 #39. As a little girl, I thought I'd like to get married on the beach. But I'm not the quintessential girl who had these sort of fantasies about that stuff. - Author: Mandy Moore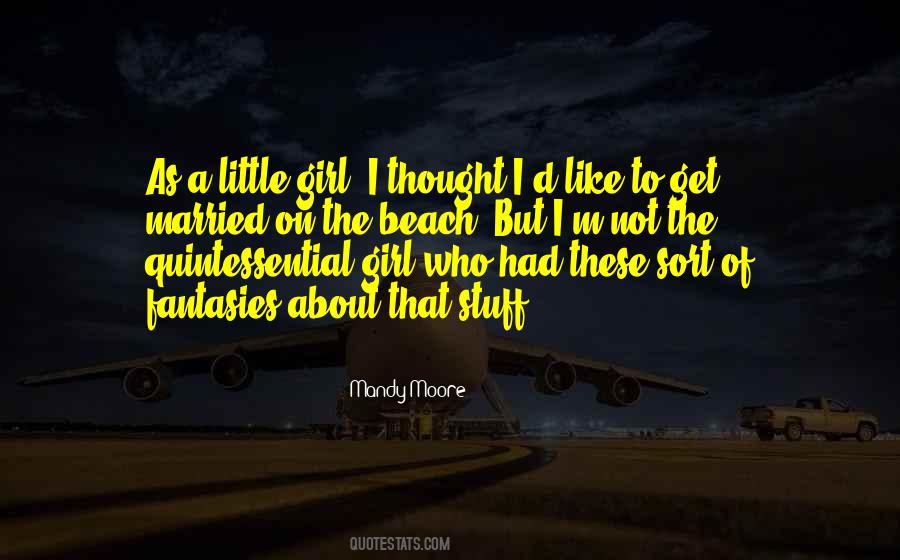 #40. I did some pretty crazy stuff that I never thought I would do, for the sake of a movie, like surfing in eight-foot waves in pitch-black darkness, where I can't see anything. That still haunts me, kind of, in my nightmares, but it was worth it, it was fun. - Author: Leven Rambin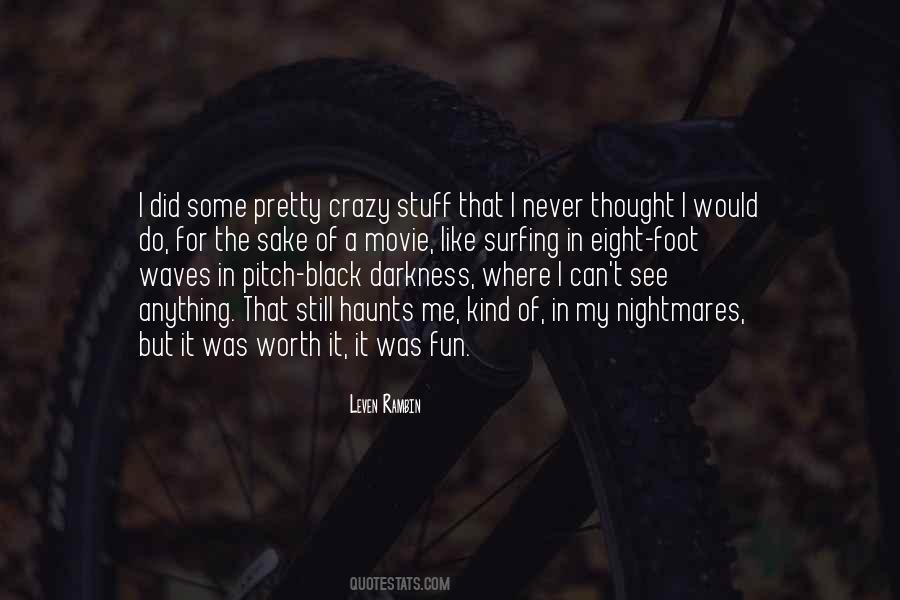 #41. It just seemed like Buddhism, especially Tibetan Buddhism - because that's mainly what I've been exposed to - was a real solid organization of teachings to point someone in the right direction. Some real well thought out stuff. But I don't know, like, every last detail about Buddhism. - Author: Adam Yauch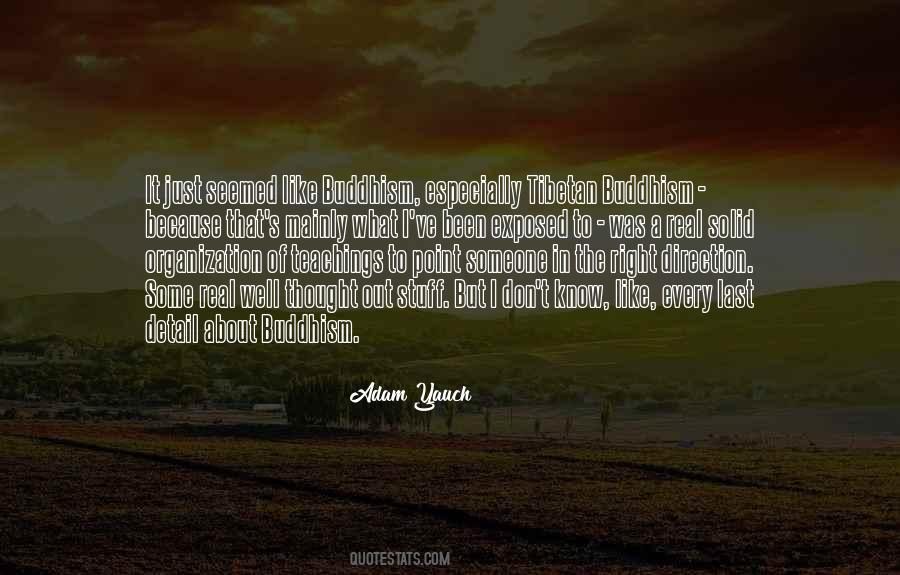 #42. When I was released from prison everybody thought I'd go back to doing the same things I did before, but I had no desire to do any of that anymore. That stuff steals, kills, and destroys your life and robs you of all the blessings that God has for you. - Author: Christian Hosoi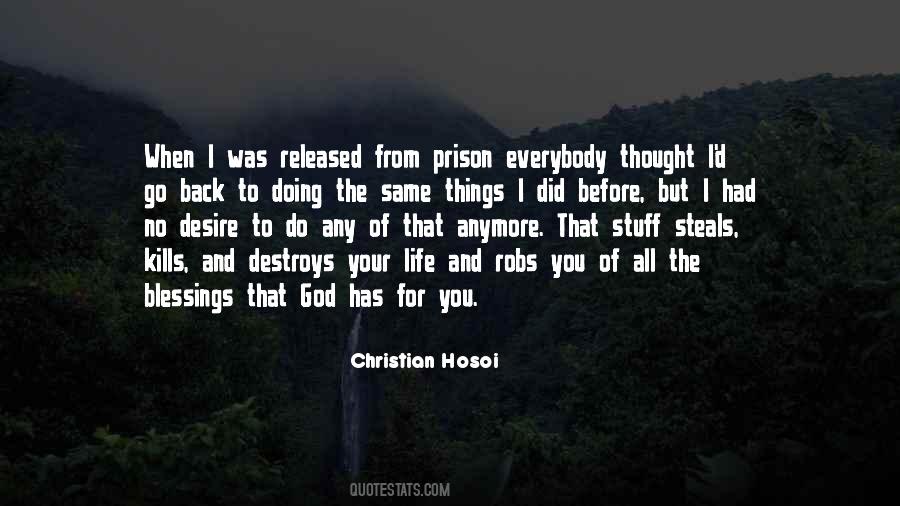 #43. I never thought about being a cop. I'm kind of sensitive. I don't know if I could handle that job. It's hard to go home every day and be able to still live your own life because some of the stuff you see really affects you. - Author: Missy Peregrym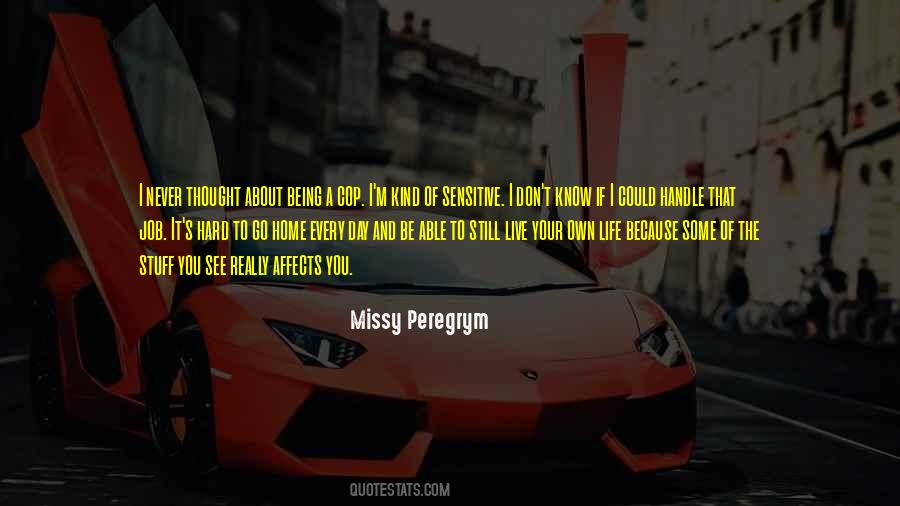 #44. I thought my family was really funny. Everybody in my family was funny. My mom and dad both have great senses of humor and really saw the funny in stuff, so I think that's probably where it came from. I always try to see the funny in things. - Author: Christine Ebersole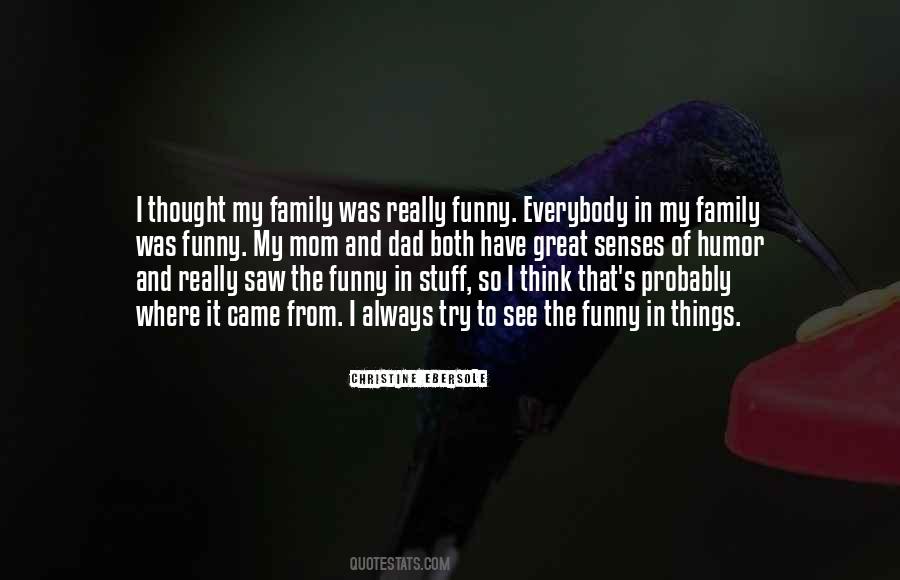 #45. The stuff of thought is the seed of the artist. Dreams form the bristles of the artist's brush. As the eye functions as the brain's sentry, I communicate my innermost perceptions through the art, my worldview. - Author: Arshile Gorky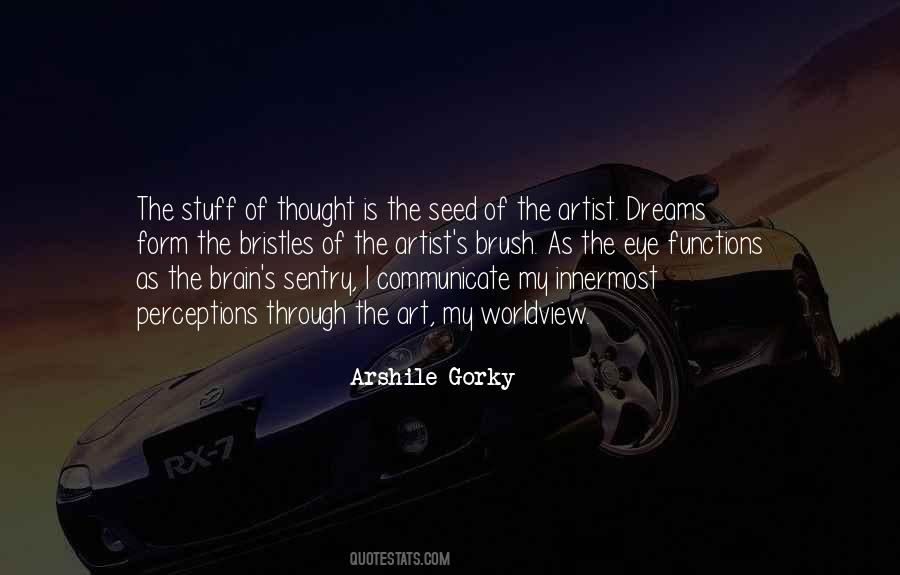 #46. I was tops at the Scarlet O'Hara school of emotional distancing. I always thought about the uncomfortable stuff tomorrow, and, as everyone knows, tomorrow never comes. - Author: Karen Chance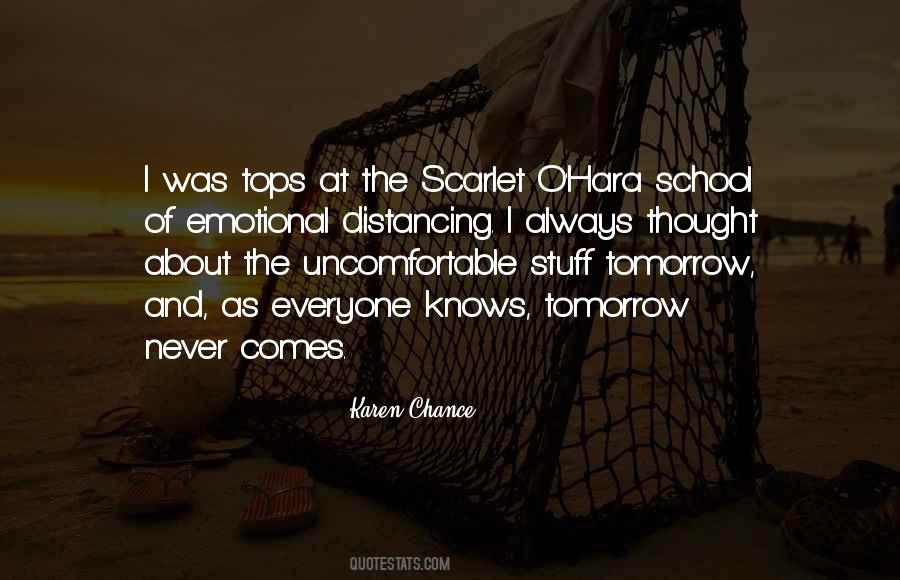 #47. I have never even idly thought for a single passing second that it might make my life nicer to have a small rude incontinent person follow me around screaming and making me buy them stuff for the rest of my life. - Author: Tim Kreider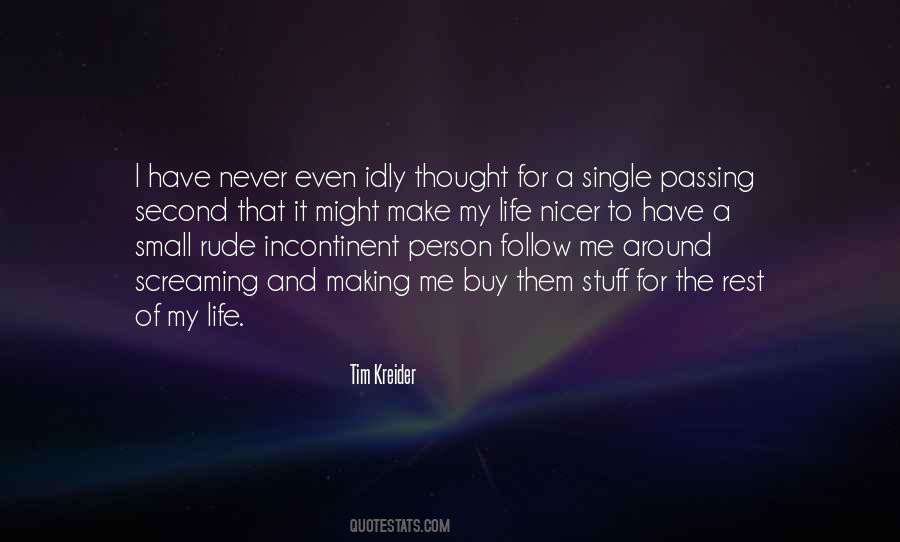 #48. As a comic, I think I'm very verbally oriented about a lot of the stuff that I've written or thought up and how I say it. - Author: Demetri Martin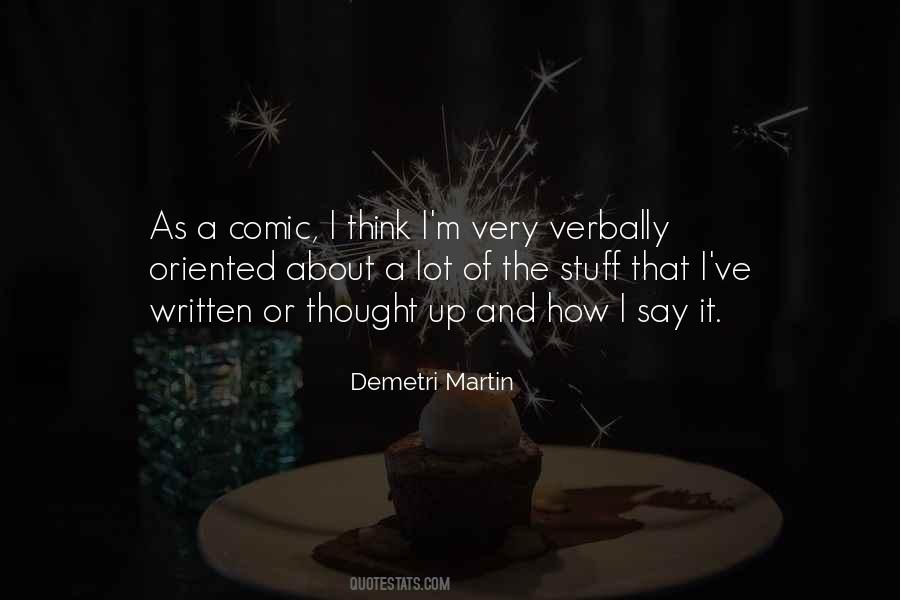 #49. I got you a present."
"Did you?"
"It's a book of poetry
romancy stuff. I thought, 'How schmaltzy is that,' so it seemed like the thing. Then I screwed up and left it in my desk at work - Author: J.D. Robb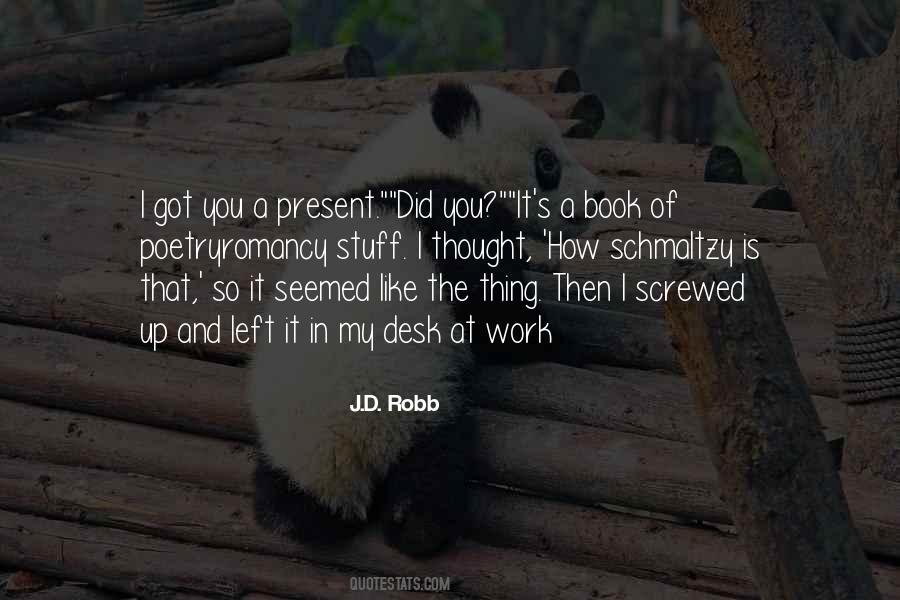 #50. Life is like a book. Some of the pages you want to rip out and others you want to keep. I've been ripping out a lot of pages lately, getting rid of the ugly stuff. The stuff that's left behind isn't as bad as I thought it was. - Author: R.K. Ryals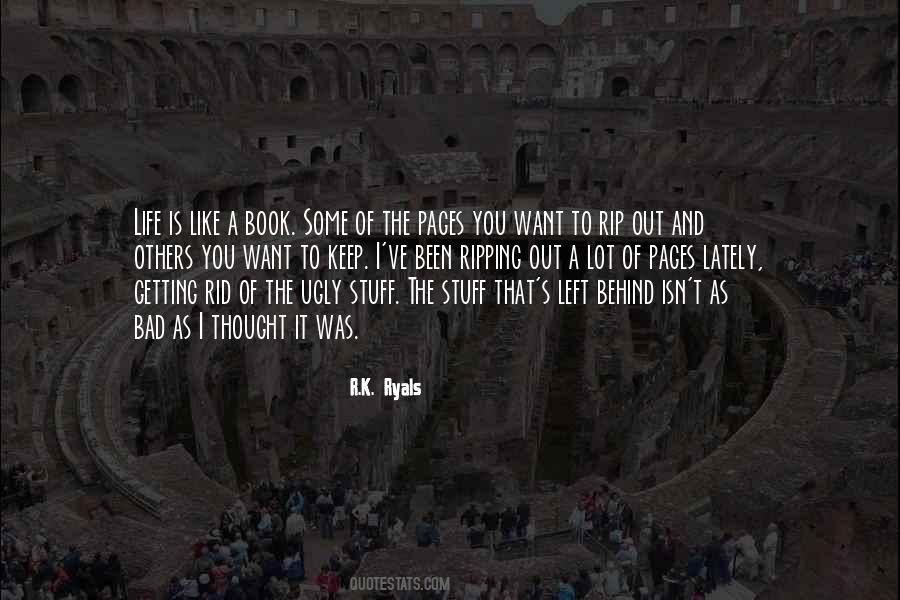 #51. We did 'Jack & Bobby' in the middle of the Kerry/Bush election. It hurt it a little bit. No matter what we did, everyone thought we were advocating for one person over the other. The stuff I work on is more about the people. - Author: Greg Berlanti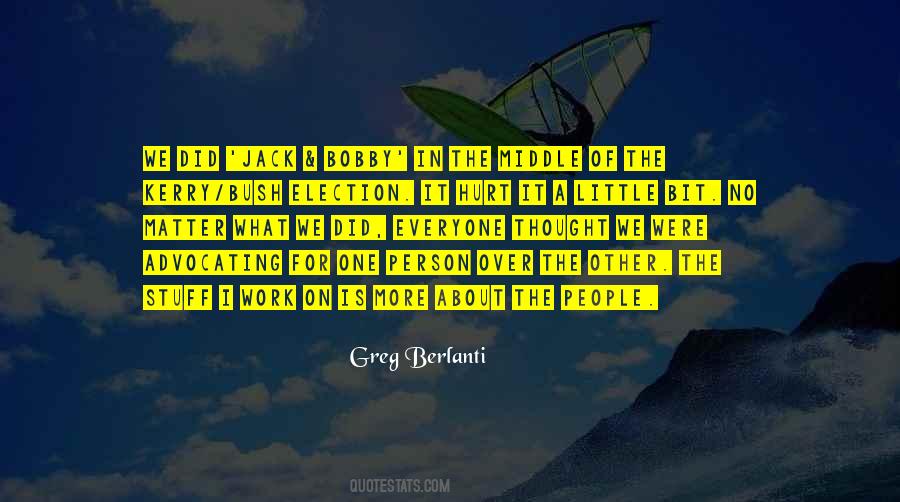 #52. A lot of modernism does seem to come out of a fear of being thought an ordinary storyteller. So they tell it backwards and they tell it in the present tense and they cut loose the pages and shuffle them around - all that kind of stuff. - Author: Philip Pullman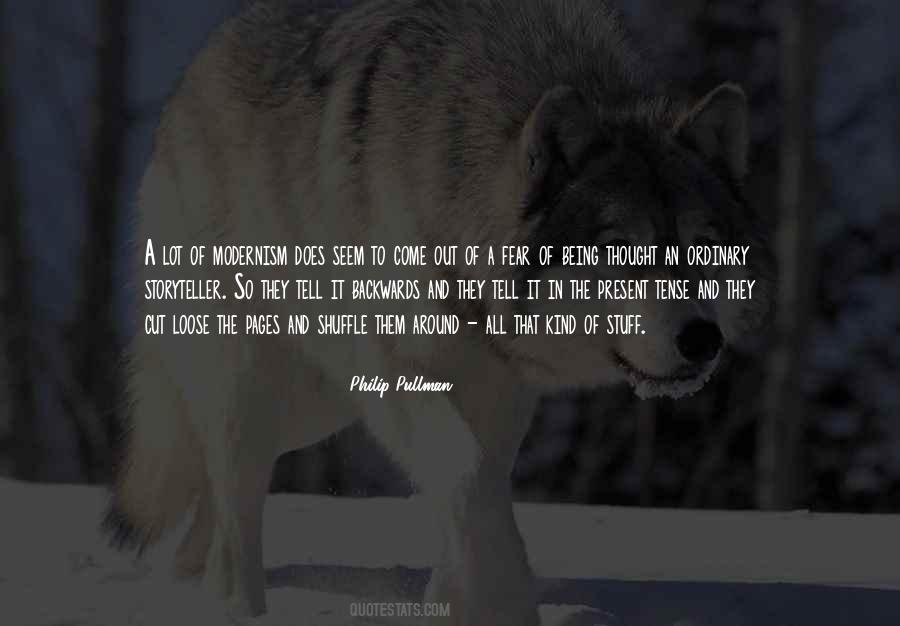 #53. I thought of the idea of Summly in March or April 2011. I was 15 years old and I was revising for some kind of history exam. The problem was I was trying to find information that was useful to me. When you type into Google an esoteric term, you get quite a lot of stuff that's not relevant. - Author: Nick D'Aloisio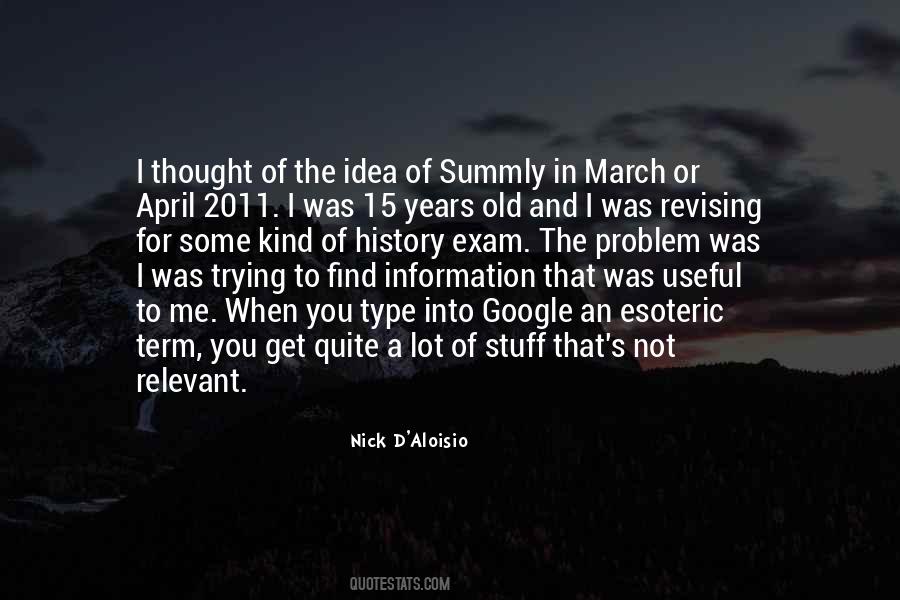 #54. This was, I thought, the language of shy men, men too much alone with their reading and their ideas - politics, war, distant countries, tyrants. Men who would bury their heads in such stuff just to avert their eyes from a woman's simple heartache. - Author: Alice McDermott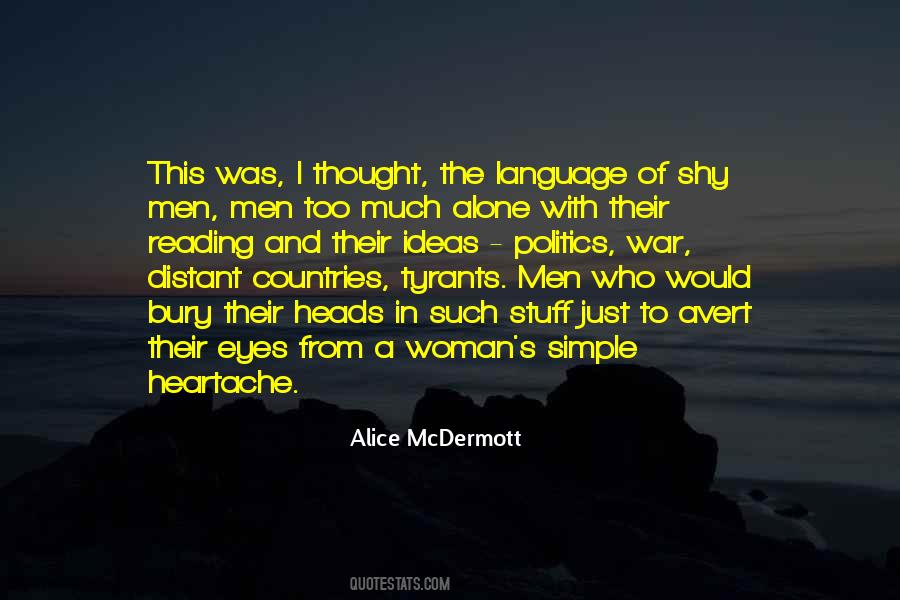 #55. Honestly, everything else aside, I like finding stuff out about her. I mean, that I didn't know before. I had no idea who she really was. I honestly never thought of her as anything but my crazy beautiful friend who does all the crazy beautiful things. - Author: John Green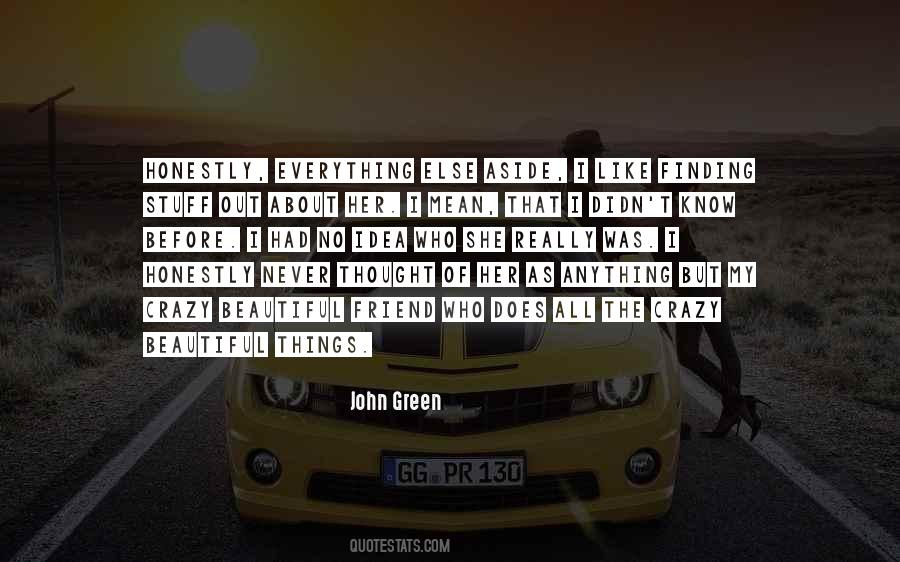 #56. He thought the ancient Babylonians knew the truth of existence, knew things that were lost later on. Lost or destroyed. Not just the usual stuff about wisdom. - Author: Jonathan Aycliffe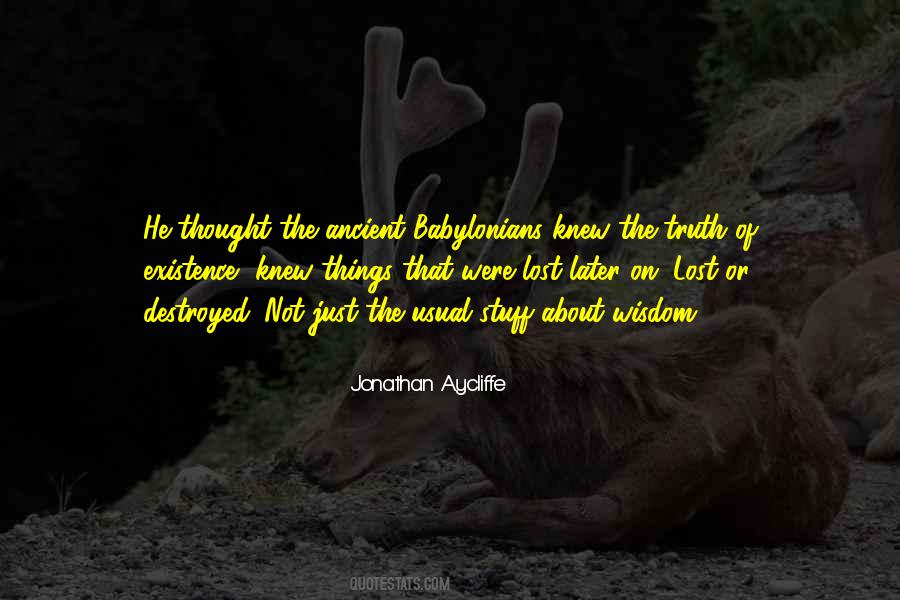 #57. When I first moved out to Los Angeles I was thinking, you know, I wanted to be an actor but I didn't really know what acting was about. I thought if I could be a model, or even do commercials and stuff like that for the rest of my life, I'd be happy. - Author: Michael Biehn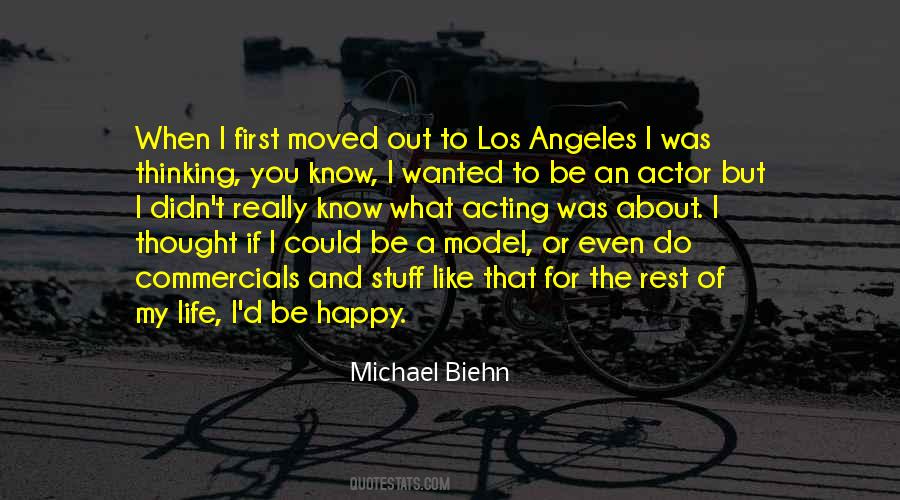 #58. He pushed the thought into a mental closet. It was a thing he was good at. There was all sorts of stuff in that closet. - Author: Stephen King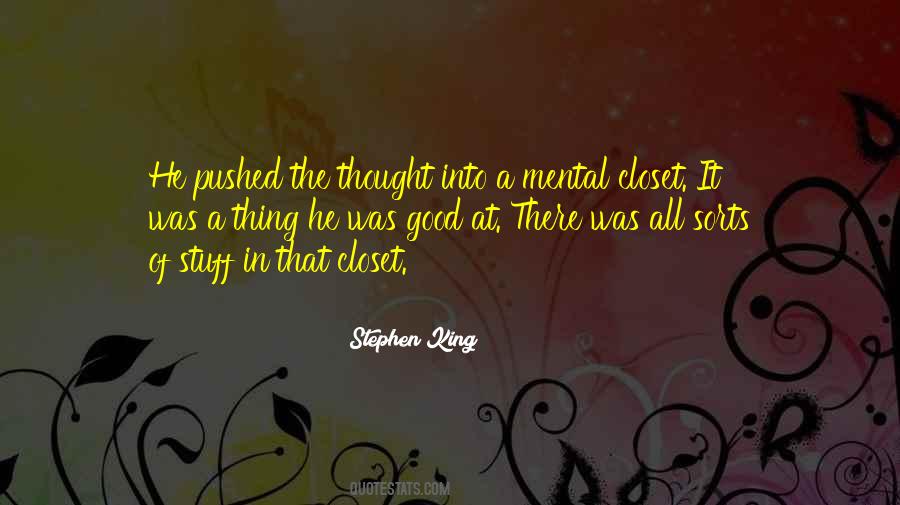 #59. Do you think I'll ever have a real life?"
"Define real."
"You know ... a job, a family, a house, stuff like that."
"Is that what you want?"
"I don't know. I used to think the idea of normal was awful, but maybe that was just because I never thought I could have it. - Author: Dianne Sylvan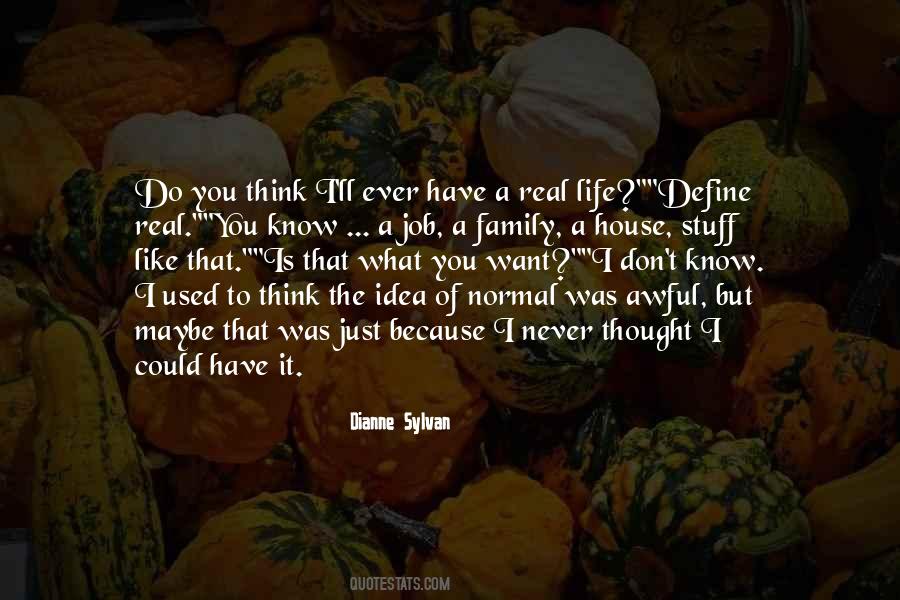 #60. A lot of times we associate Greenpeace and climate change and shrinking polar caps with heavy-handed, weighty material. It's somber stuff. But with Funny Or Die we thought we could put an interesting take on it. Make it a little more palatable, especially for young people who tune into the website. - Author: Alexander Skarsgard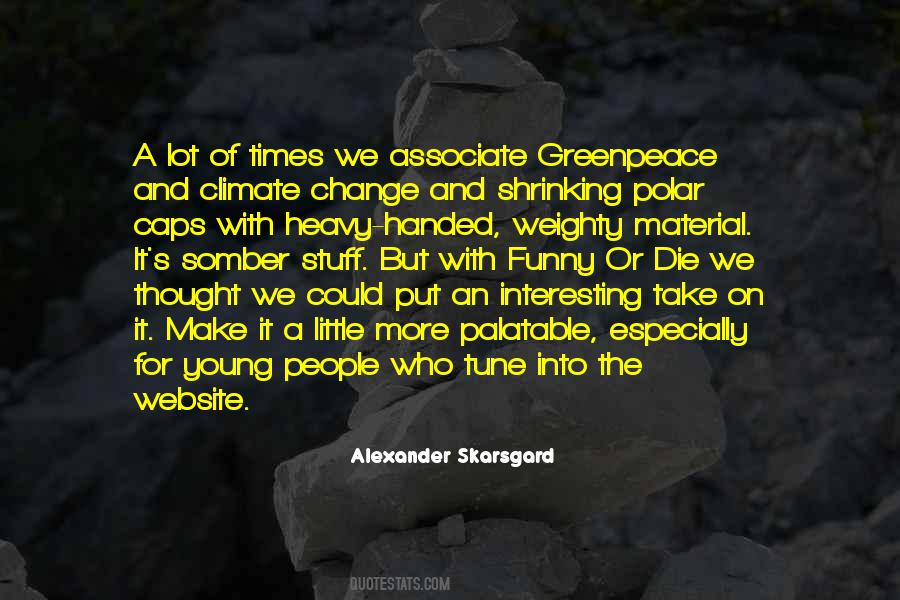 #61. The proper stuff of fiction' does not exist; everything is the proper stuff of fiction, every feeling, every thought; every quality of brain and spirit is drawn upon; no perception comes amiss. - Author: Virginia Woolf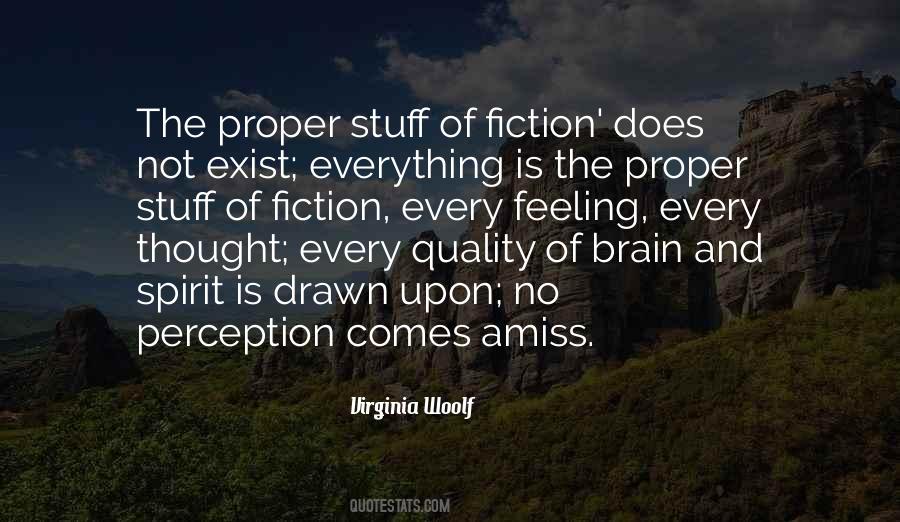 #62. I never thought I was finished when people said I was finished, or any of that stuff. I always had this undying belief that even if I was in a wheelchair and I could only move my finger, somehow I would become the guy who does the amazing thing with his finger. - Author: Jim Carrey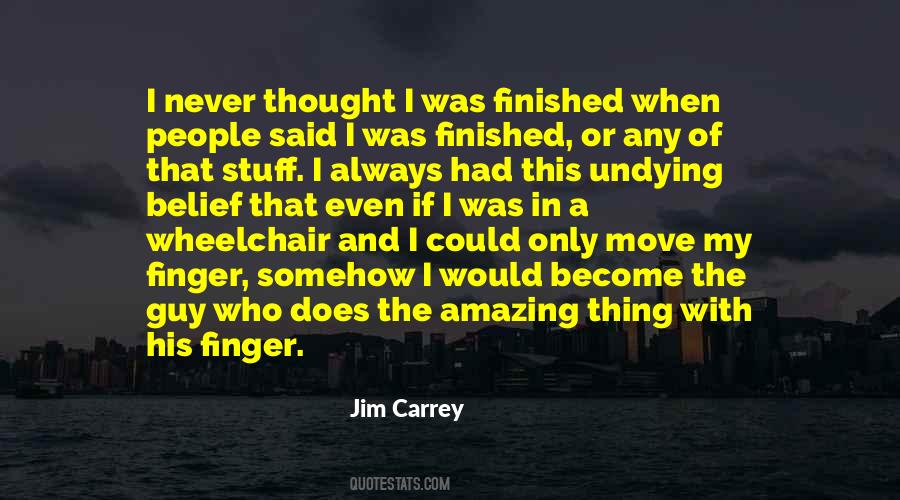 #63. Assimilation of the fruits of each past life takes place before the spirit descends to rebirth, and consequently, the character generated is fully formed and readily expressed in the subtle, mobile mind-stuff of the Region of Concrete Thought, where the archetype of the coming dense body is built. - Author: Max Heindel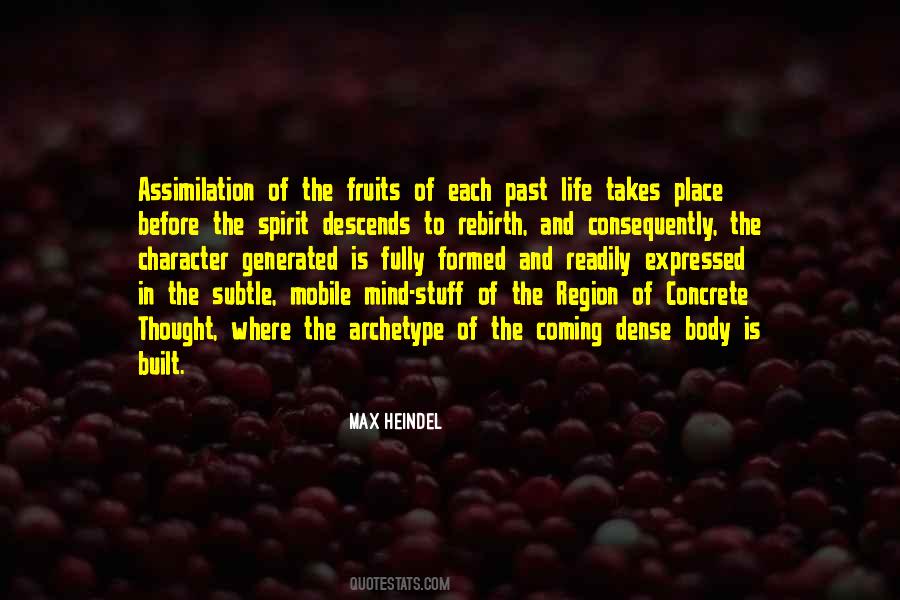 #64. We deal with all the production headaches and all that stuff. They just have to come here and be super funny. And it's worked out well. I mean, literally, every day they're all saying things I'd never thought I'd hear before and just some of the funniest discussions I've ever heard. - Author: Jeff Schaffer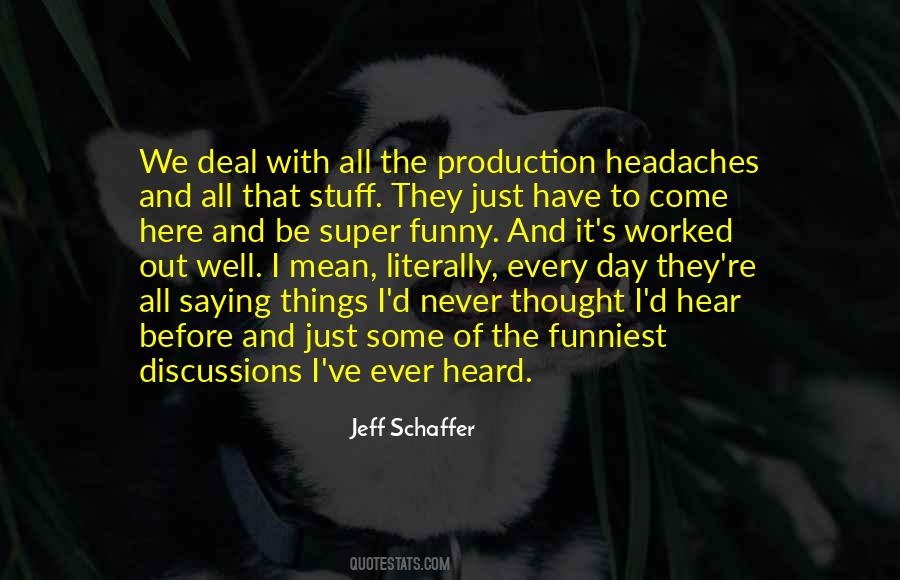 #65. I would just like to say that Ritchie Blackmore did a bunch of great stuff guitar - wise. I'm happy to play the solo from 'Highway Star'. I always thought it was one of the most exciting guitar solos I'd ever played ... - Author: Steve Morse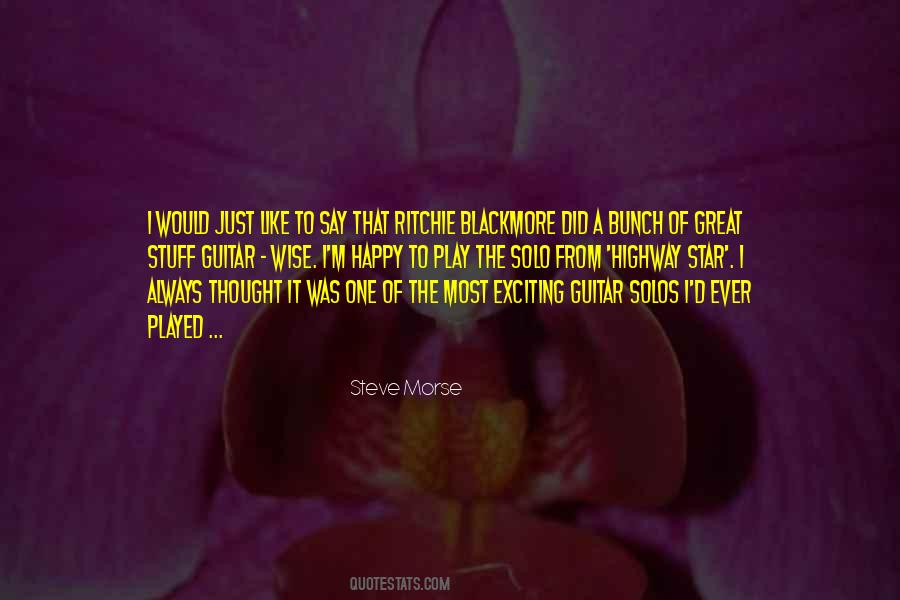 #66. Truth is, something that I thought was perfect was taken away from me, and I never wanted perfect again. I wanted middle of the road, stuff I didn't care about so that I couldn't lose anything I really loved ever again. - Author: Cecelia Ahern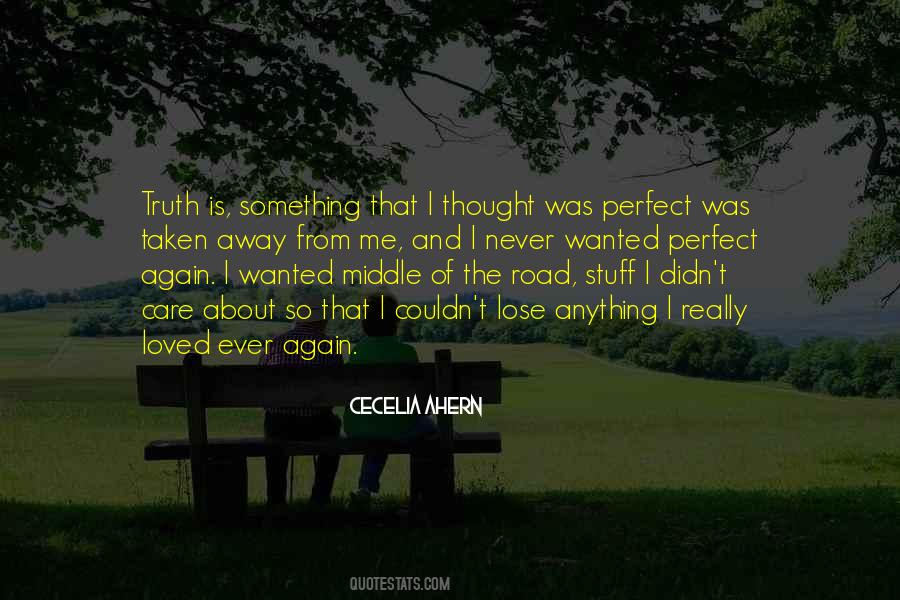 #67. Faithfulness." She thought of her second fiance, the bastard. "Life's too short to waste it on someone you can't trust. You should be able to depend on the man you love not to lie to you or cheat on you. If you have that as a base, you can work on the other stuff. - Author: Linda Howard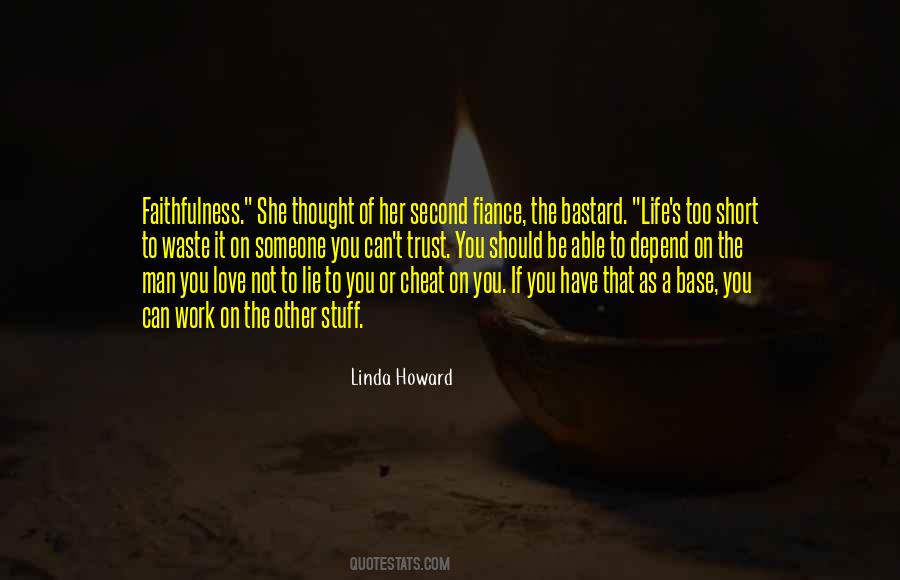 #68. A lot of the stuff you do as an actor - or I do, because I can't speak for everyone - is not always consciously thought out. A lot of the time, for me, it's actually just feeling stuff, and it happens all in the moment and your body reacts. - Author: Henry Cavill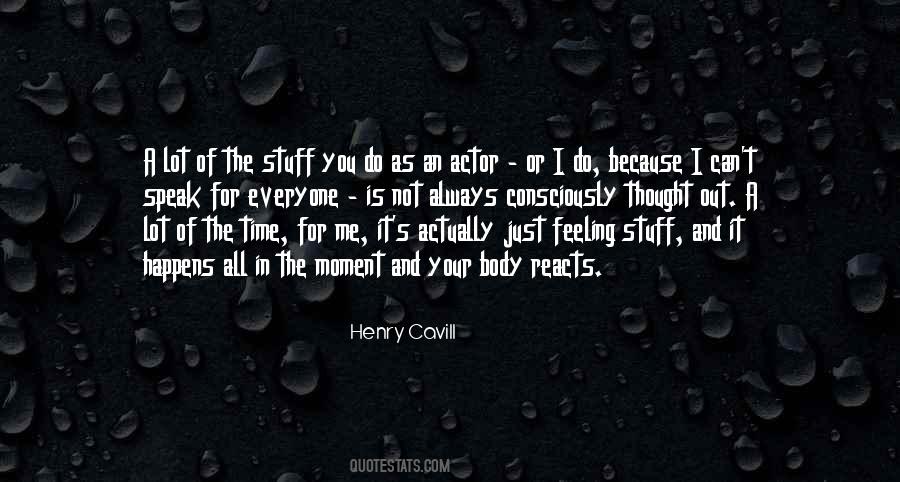 #69. I just thought it made sense to call a book 'Not Garbage,' even though the majority of it was going to be the scraps from people's studios; like newspaper clippings, weird drawings and stuff they might not necessarily show as artists. - Author: Leo Fitzpatrick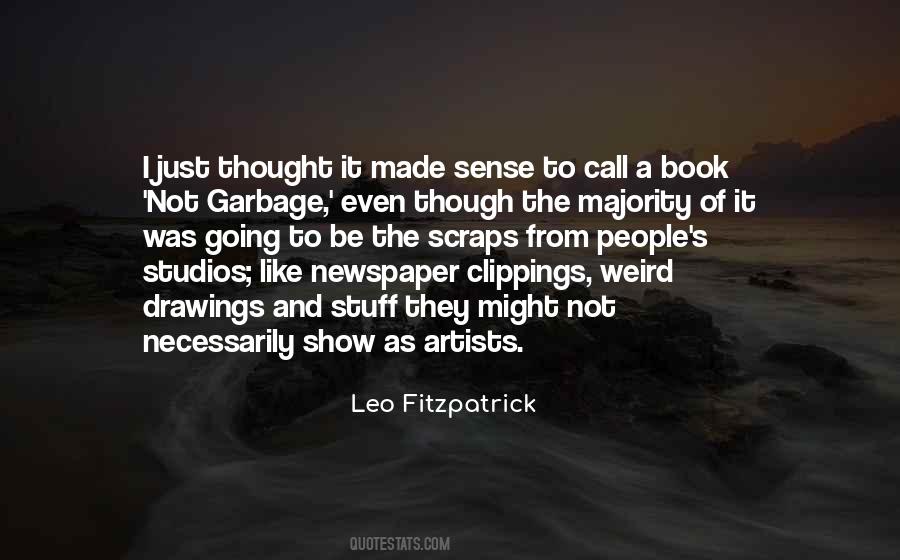 #70. The Creator has not thought proper to mark those in the forehead who are of stuff to make good generals. We are first, therefore, to seek them blindfold, and then let them learn the trade at the expense of great losses. - Author: Thomas Jefferson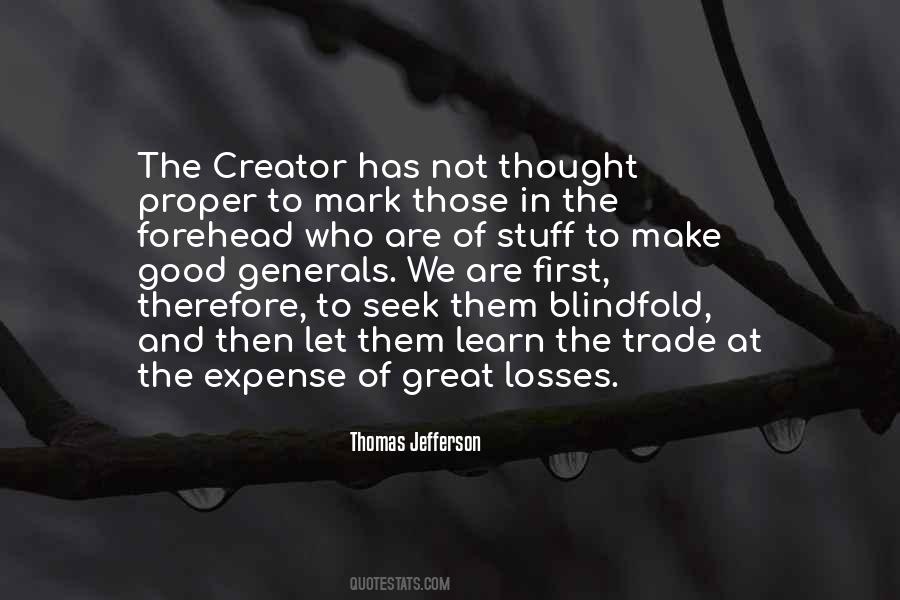 #71. Speak what is in your mind,' Pandit Baba commanded. What insolence, Ahmed thought. There are two categories of things in my mind, he should say, the stuff people like you have fed into it and my own reactions to that stuff. The result is cancellation, so I have nothing in my mind. - Author: Paul Scott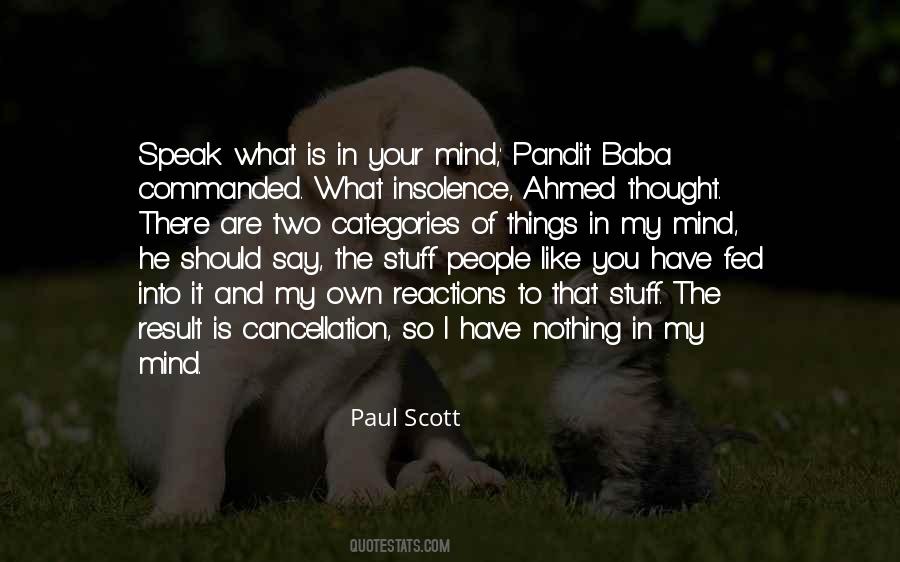 #72. I thought everything in the world was already discovered. Already in my books. A lot of dead stuff that put me to sleep. That was the day I understood the world is still living. - Author: Barbara Kingsolver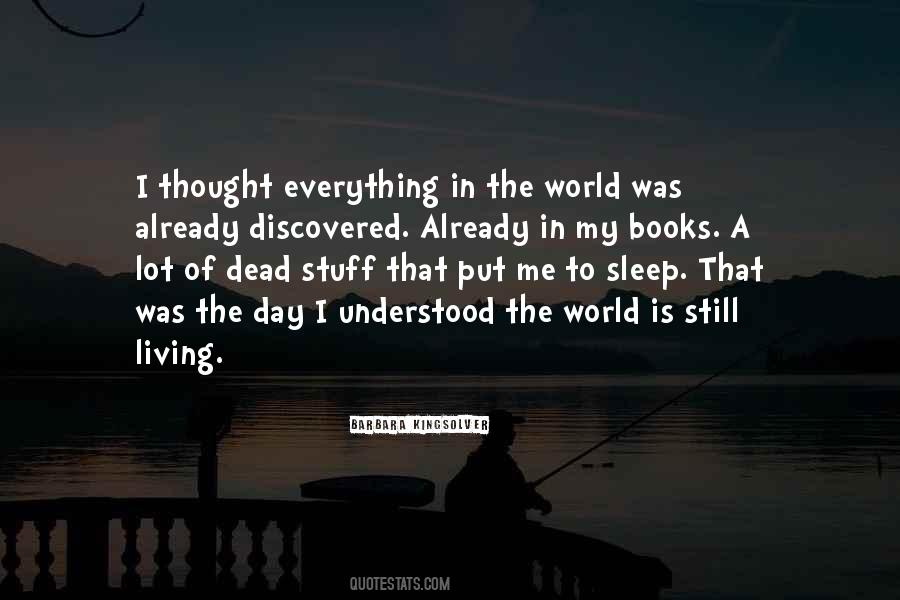 #73. I guess I was the most unbohemian of all bohemians. My bohemianism consisted of not wanting to get involved with the stupid stuff that I thought people wanted you to get involved with - ... namely America ... Dwight Eisenhower, McCarthyism and all those great things. - Author: Amiri Baraka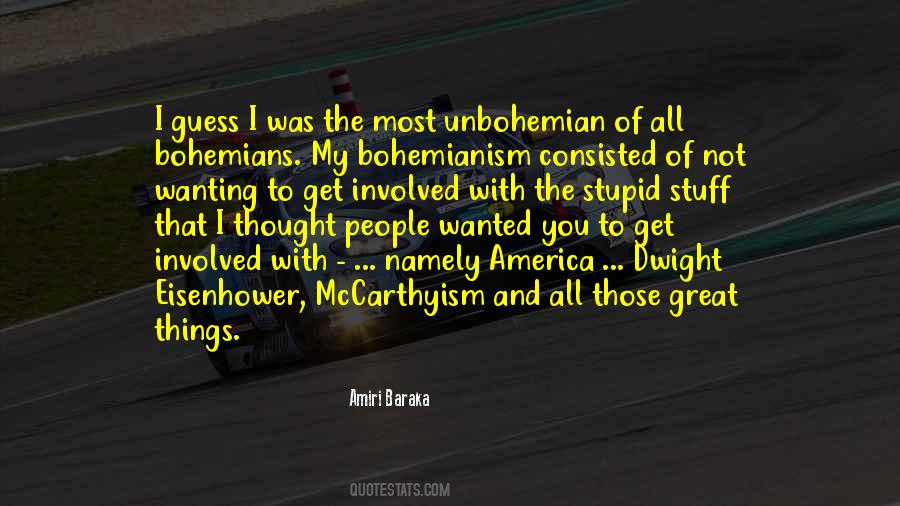 #74. Since I was very young, probably two or three, I had really good memorization skills. I would memorize stuff from TV and perform it for my family. I was the little performer for most of my early life. So eventually, my mom caught onto that and thought I might want to get into acting. - Author: Nathan Kress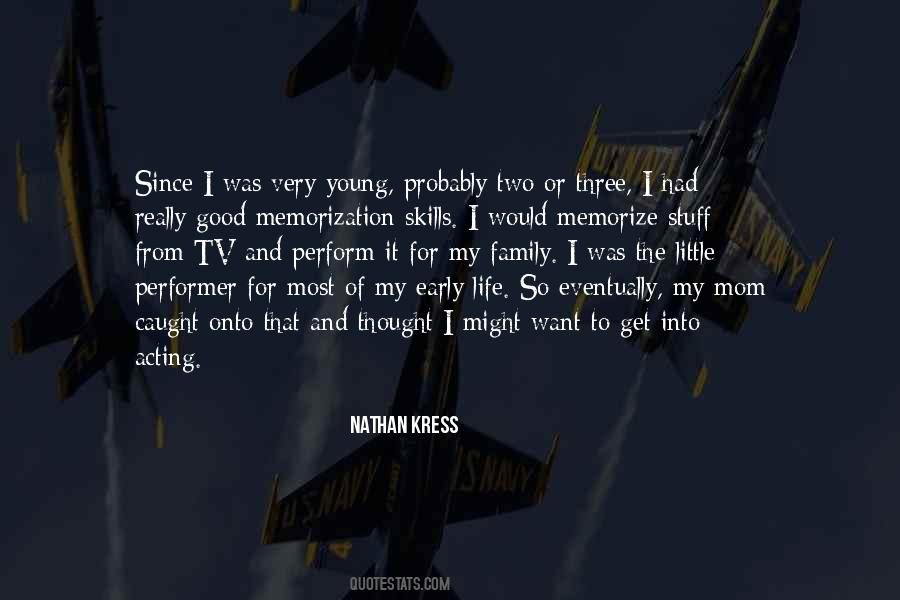 #75. I've always felt a bit of an outsider. It used to worry me that, in terms of TV, I did not look like 'the girlfriend' or 'the daughter'. That pushed me to write my own stuff, as I thought no one else was going to write me a lead in the sitcom. - Author: Miranda Hart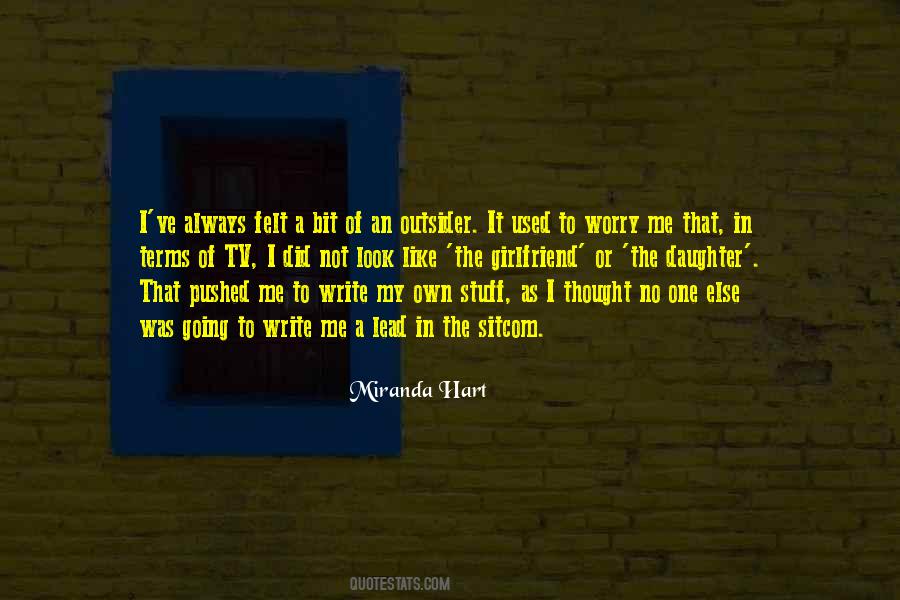 #76. You've been through my stuff. I bent over and let one of you stick the world's longest finger up my ass. If a prostate check is an exam, that was a motherfucking safari. I was scared to look down. I thought I'd see that guy's fingernail sticking out of my cock. - Author: Stephen King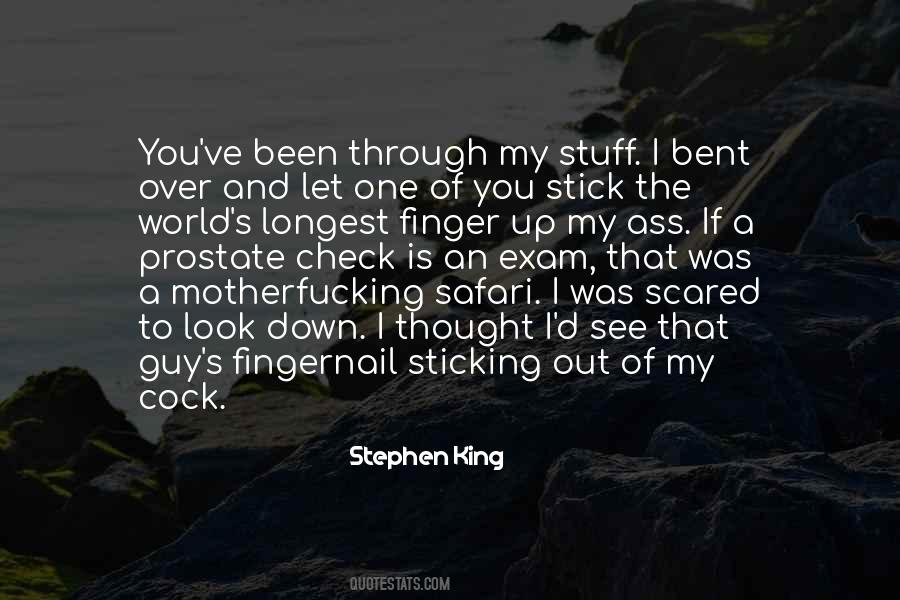 #77. The things that I'm talking about not knowing, they're not mysteries of the universe; it's just stuff I thought I would know by the time I was thirty-nine. - Author: Jeff Foxworthy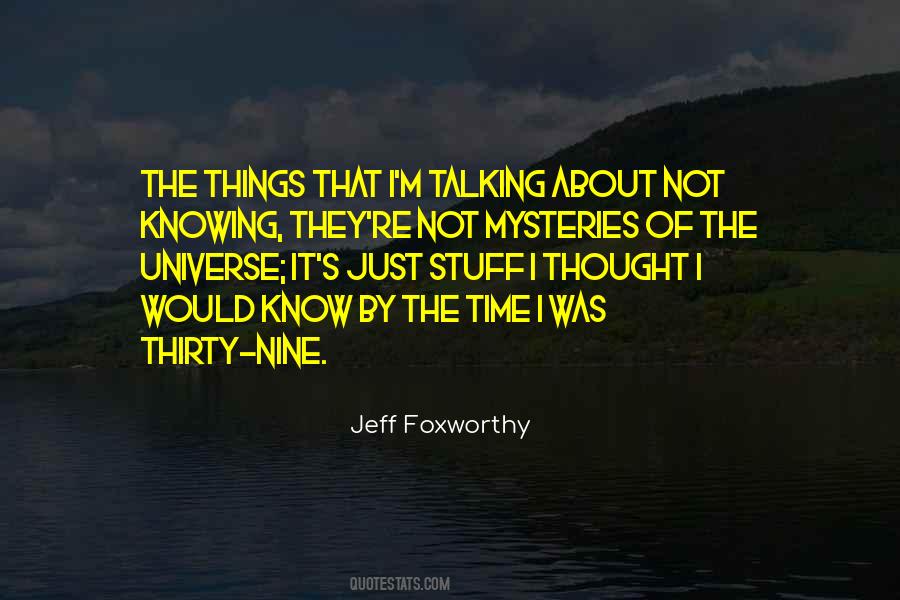 #78. I always thought I was going to be an artist. All I ever did was draw. I only ever turned to writing because I couldn't find somebody to write the kind of stuff I wanted to do. That just spiraled out of control. - Author: Jonathan Hickman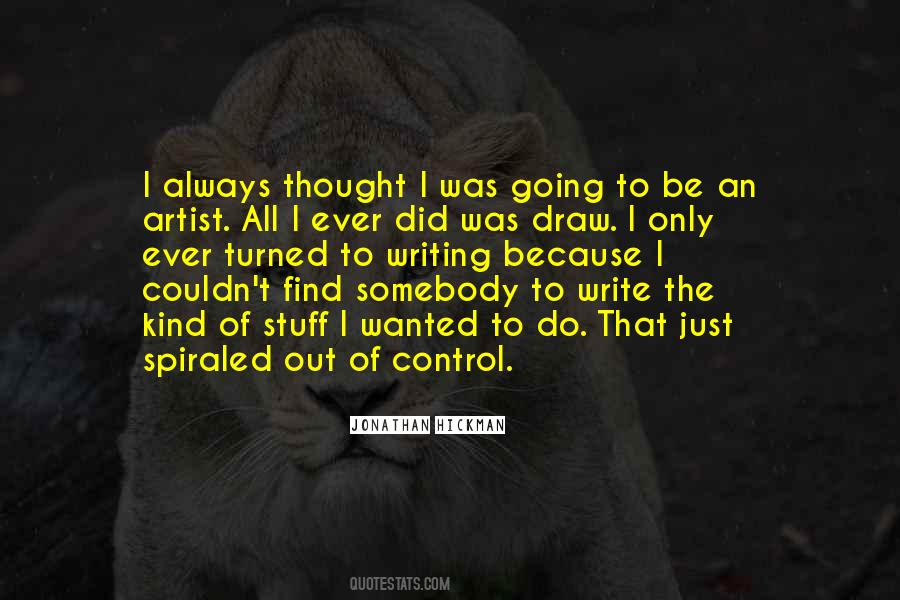 #79. I thought maybe, just by never preaching, never doing any of that stuff because it doesn't work. By just maybe the power of example and some laughs, maybe somebody might go take a walk. - Author: Liza Minnelli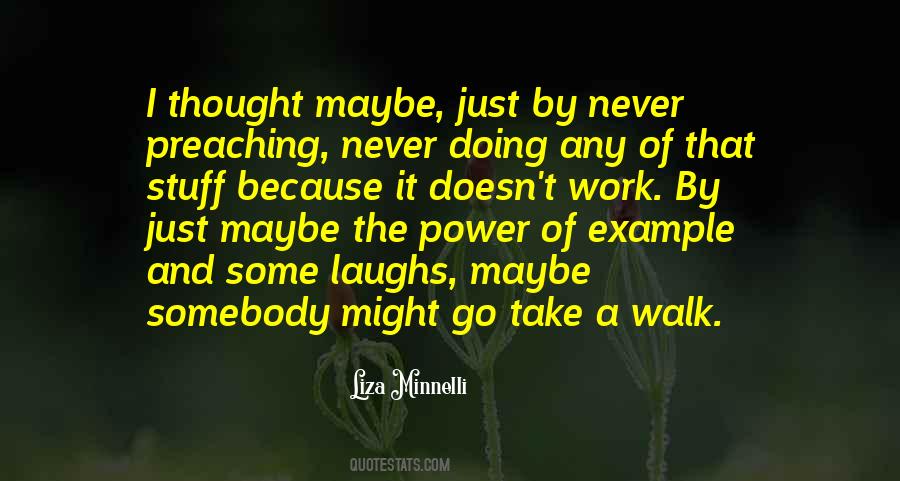 #80. I thought we would have at most an audience of 5,000 devotees because I made the decision to stick to craft, not to gossip, not to be interested in any of the juicy stuff that they talk about on other shows, but stick to the question of craft. - Author: James Lipton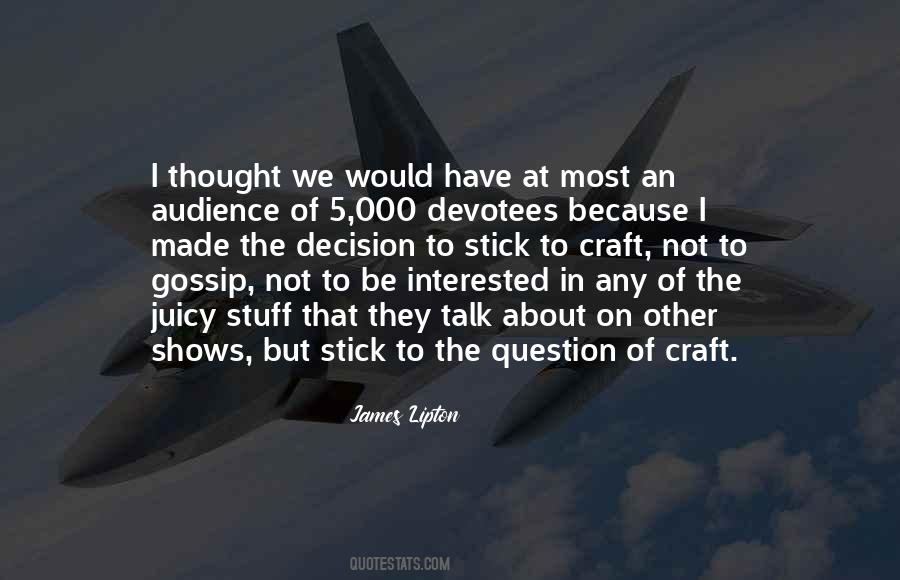 #81. I've always been a spontaneous singer. And all the stuff that you hear on the end of the songs, what they call the ad libs - that just comes out of my head. That's not thought out at all. I have the verses and the choruses, and then after that it's total improvisation. - Author: Daryl Hall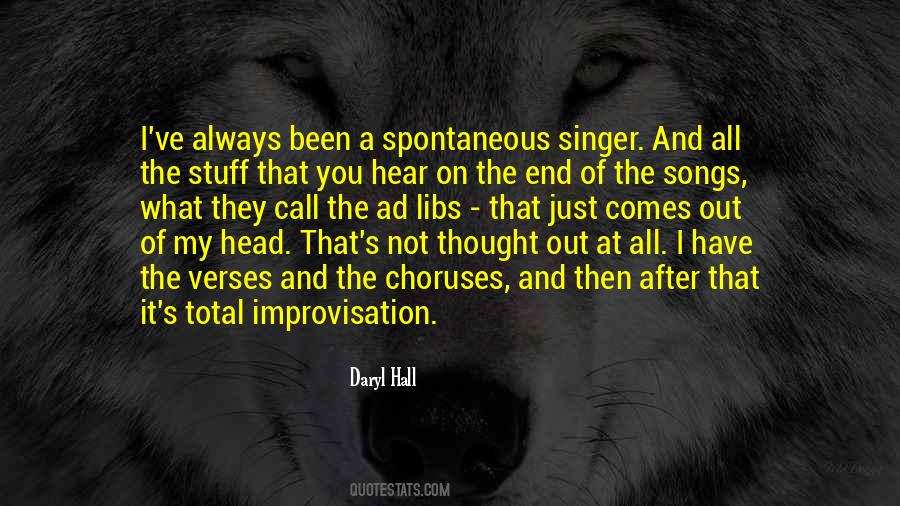 #82. We're not responsible, he thought. This planet is a temporary affair. It's whizzing with all kinds of other ones, a whole range of planetary stuff, toward a star in the Milky Way. On that kind of a planet we're not responsible, he thought. - Author: Bertolt Brecht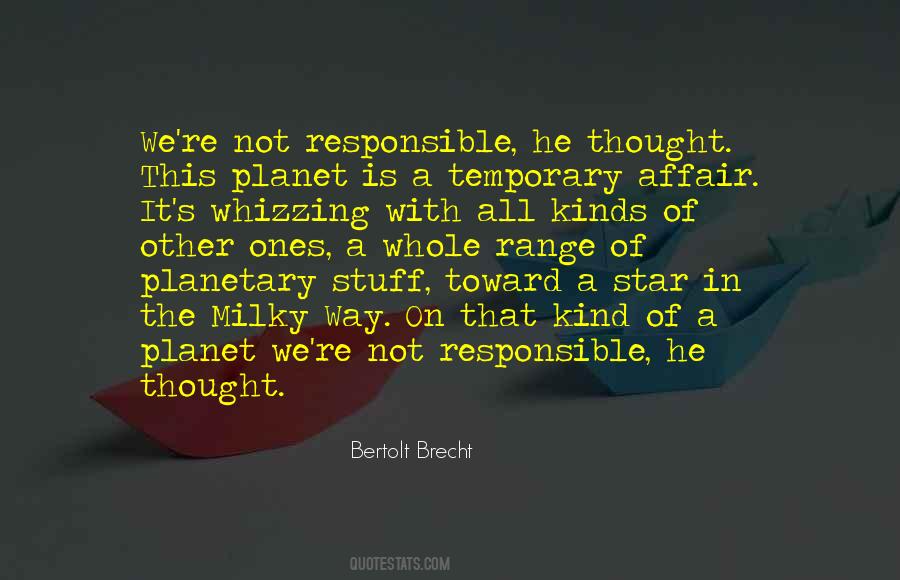 Famous Authors
Popular Topics