The Best Artist Famous Quotes & Sayings
List of top 100 famous quotes and sayings about the best artist to read and share with friends on your Facebook, Twitter, blogs.
Top 100 The Best Artist Quotes
#1. I just try and get the best out of an artist - we all have a responsibility to fill the world with awesome songs! - Author: Matt Squire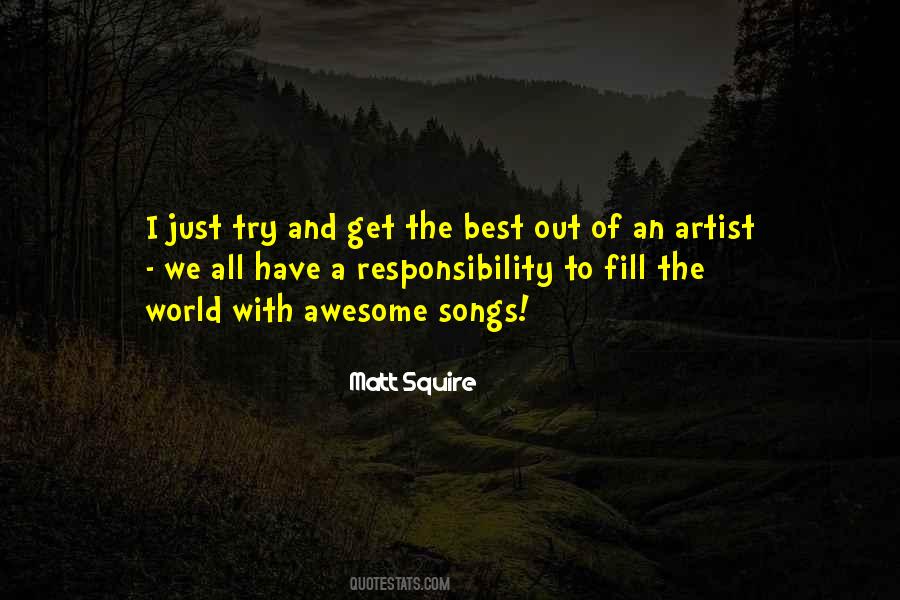 #2. I don't think music can be held. I don't think artists can be put into boxes or places. It's all about creating and making the best music you can. - Author: Trey Songz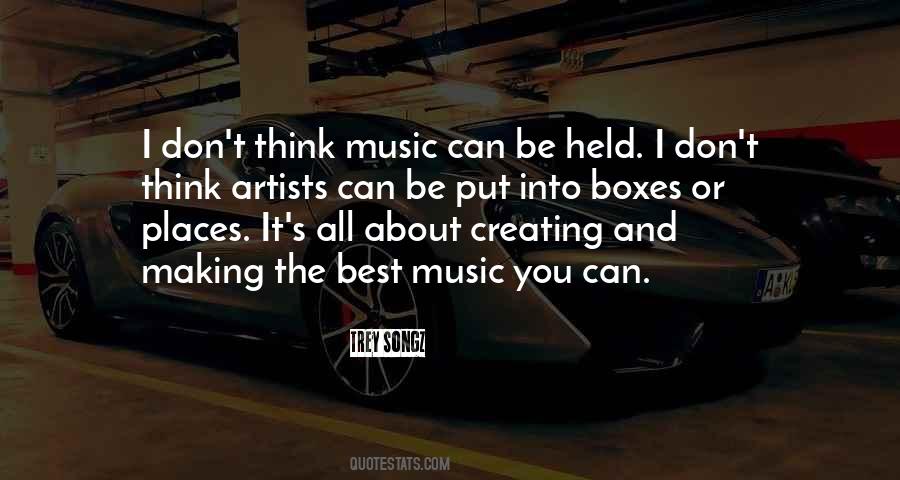 #3. Through all the world there goes one long cry from the heart of the artist: Give me a chance to do my best. - Author: Karen Blixen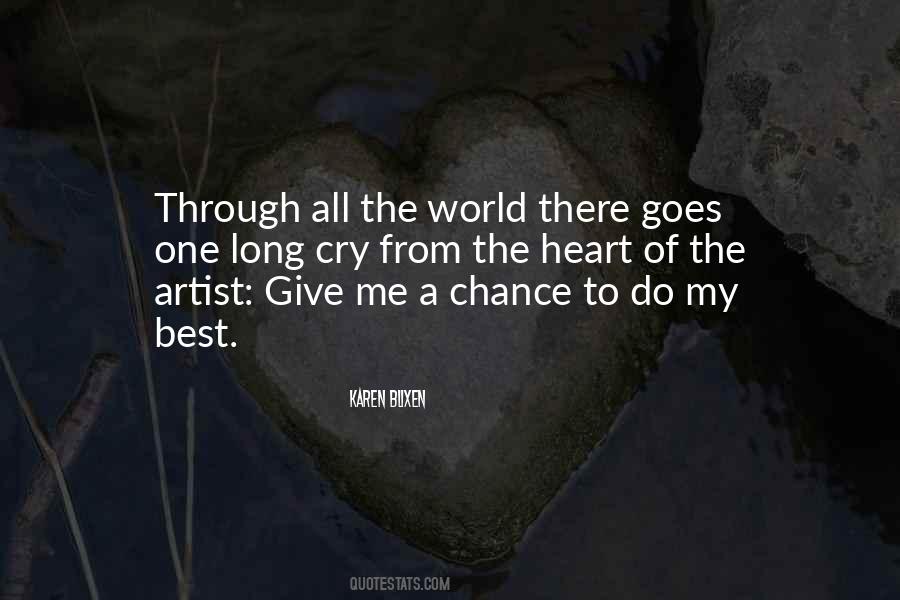 #4. My child has to be an artist,
because conceiving her will be the best art
my body has ever accommodated. - Author: Nomthandazo Tsembeni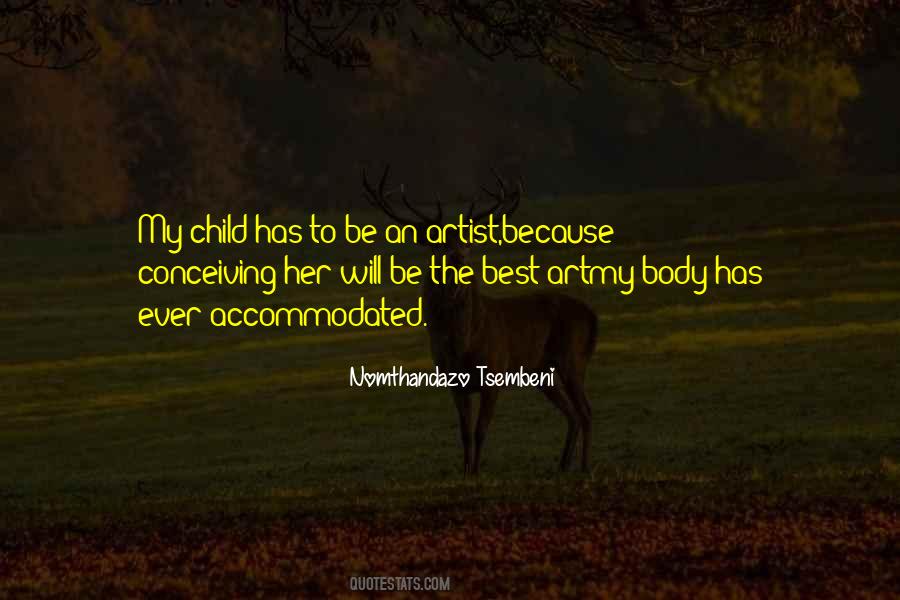 #5. This Classic Rock 'n Blues Tour / Hippiefest roster promises a once-in-a-lifetime opportunity to see some of the best, legendary artists of our lifetime. I can't wait to be a part of it. - Author: Rick Derringer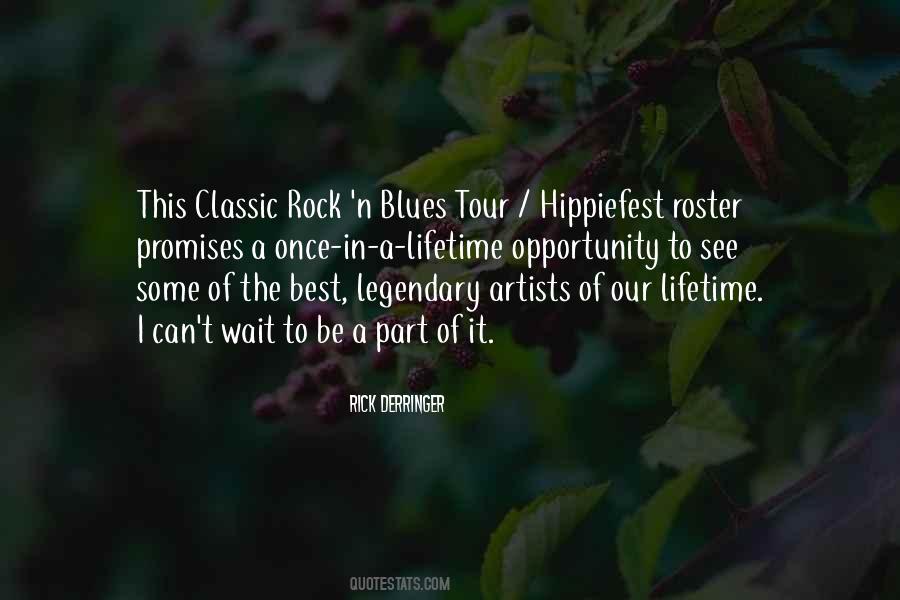 #6. I always figured it was best if I write my songs, take them to my publisher and just lay back. There used to be so many things going on - getting to the artist, getting to the publishers - you know, politics. I just didn't want to get mixed up in all of that. - Author: Otis Blackwell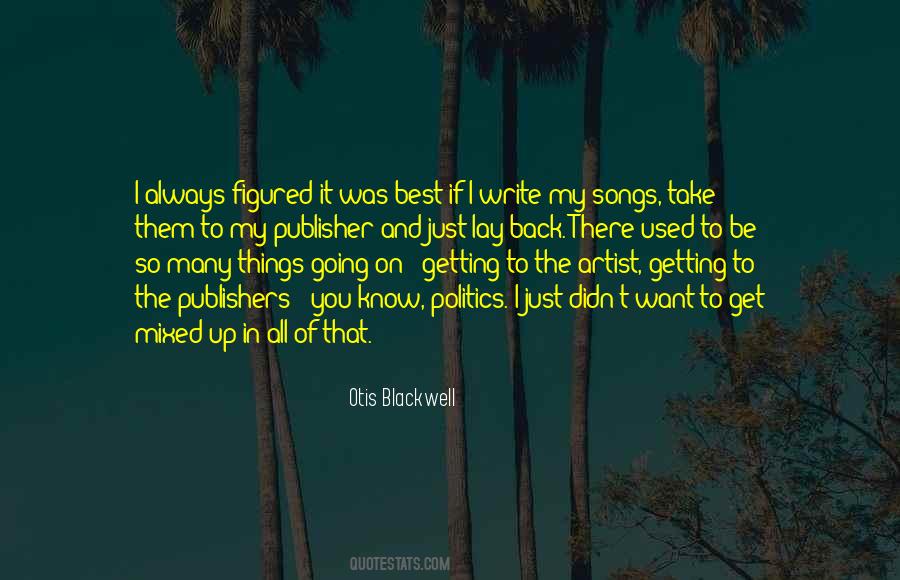 #7. I have the best fans. I know every artist says that but I really do. I love my fans for how much they know about me, how much they learn about me, and how much they really pay attention. - Author: Jay Sean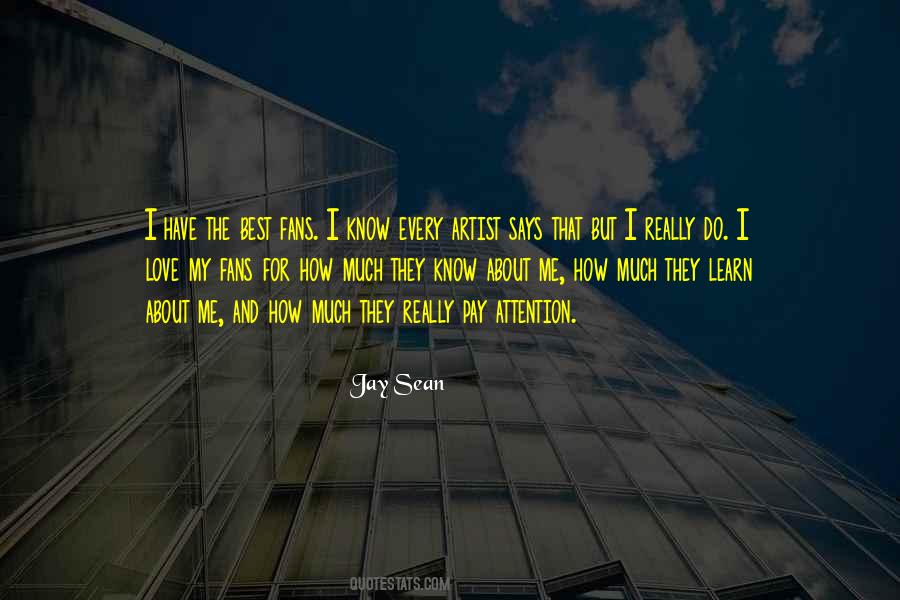 #8. The best artists are people who don't consider themselves artists, and the people who do are usually the most pretentious and annoying. They've got their priorities wrong. They're just doing it to be artists rather than because they want to do it. - Author: Aphex Twin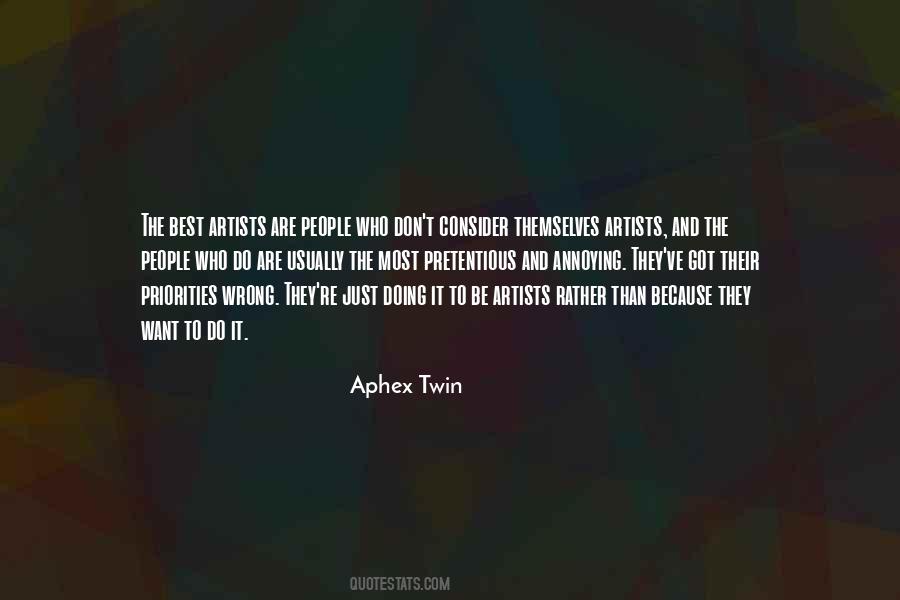 #9. At school, I always felt the art room was the place where you could sit and talk. It was a place of solace. I wasn't the best artist at school by a long shot; it was more the understanding and the support that came from that room. - Author: Sam Taylor-Wood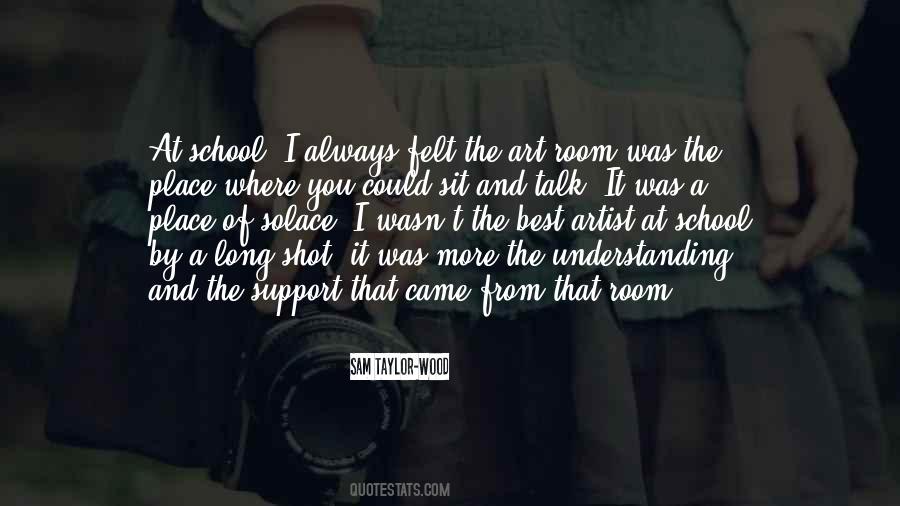 #10. The artist can't give you an answer that's satisfying to the dreadful reality of your existence. So the best you can do is maybe entertain people and refresh them for an hour-and-a-half. - Author: Woody Allen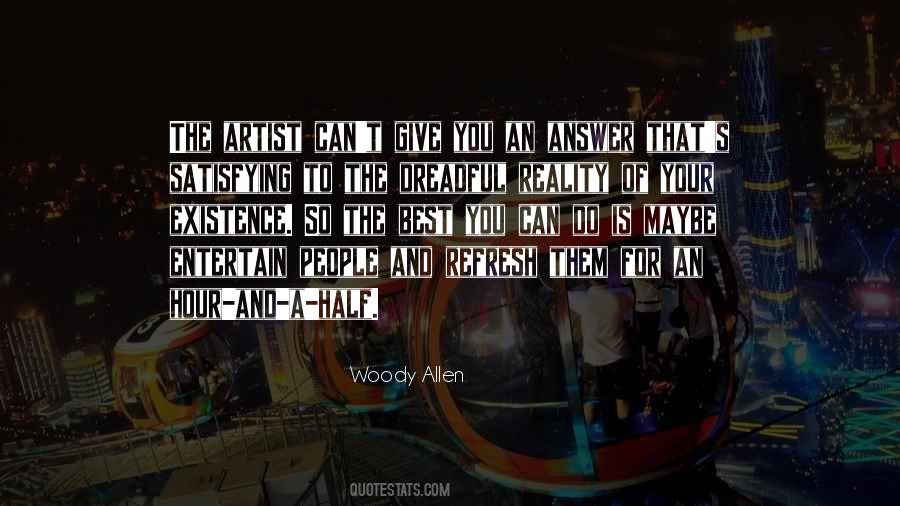 #11. People do support themselves as artists and writers, so there's no need to be all doom and gloom about it. You just have to push forward. You have to follow your vision and hope for the best. You have to write for love. - Author: Cheryl Strayed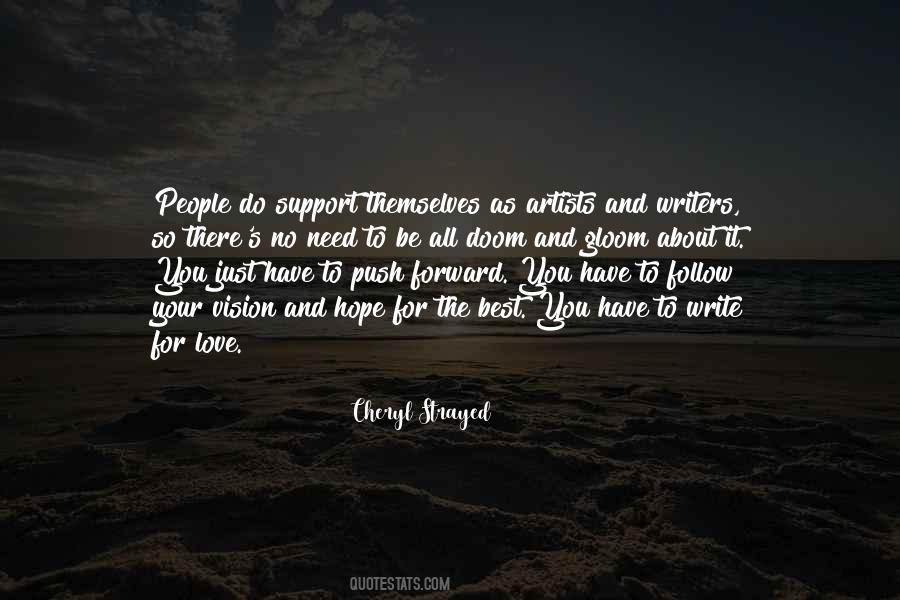 #12. The aim and end of the artist is not truth exactly, much less fact; it is effect ... There is no doubt he [the photographer] best gets his effect by way of truth, but he uses it as he would a servant, not a master. - Author: Henry Peach Robinson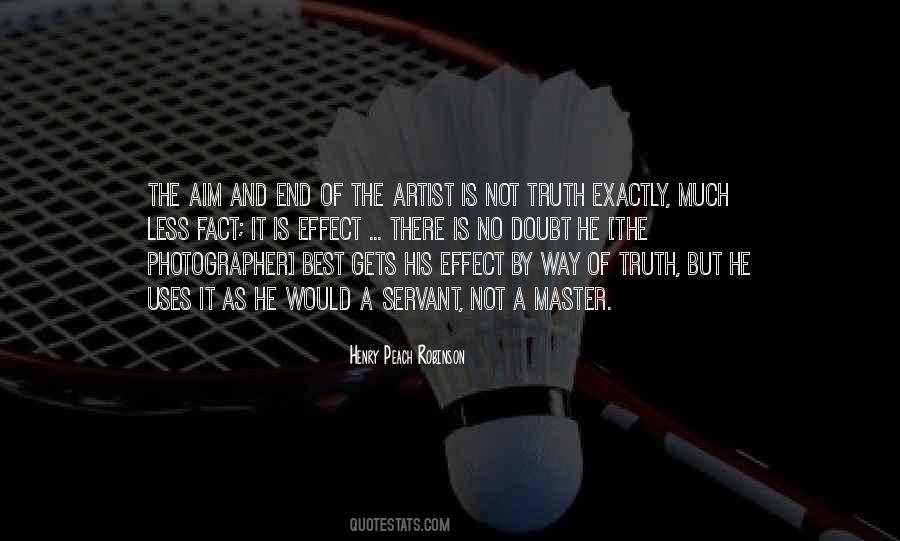 #13. I loved buildings that had grown silently with the centuries, catching the best of each generation while time curbed the artist's pride and the philistine's vulgarity and repaired the clumsiness of the dull workman. - Author: Evelyn Waugh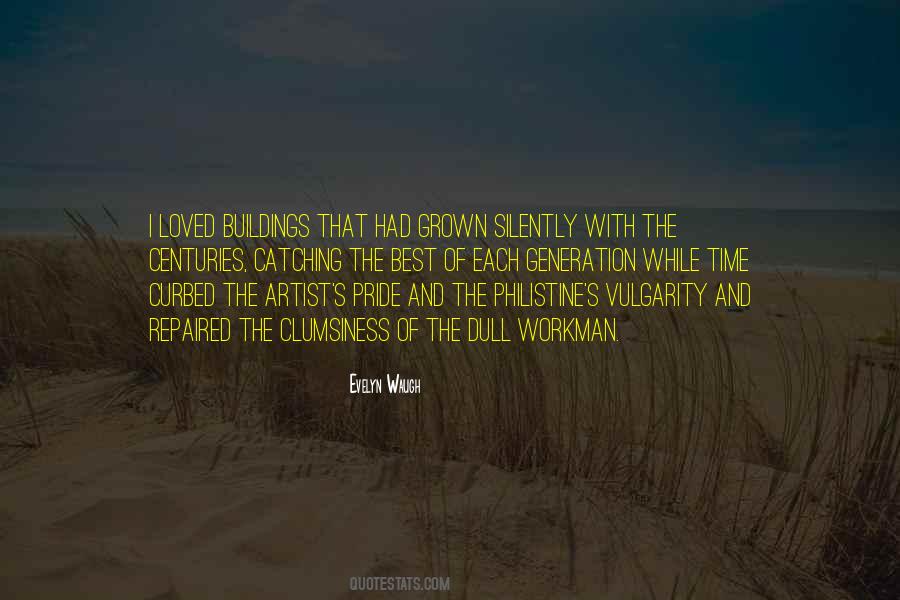 #14. No art is any good unless you can feel how it's put together. By and large it's the eye, the hand and if it's any good, you feel the body. Most of the best stuff seems to be a complete gesture, the totality of the artist's body; you can really lean on it. - Author: Frank Stella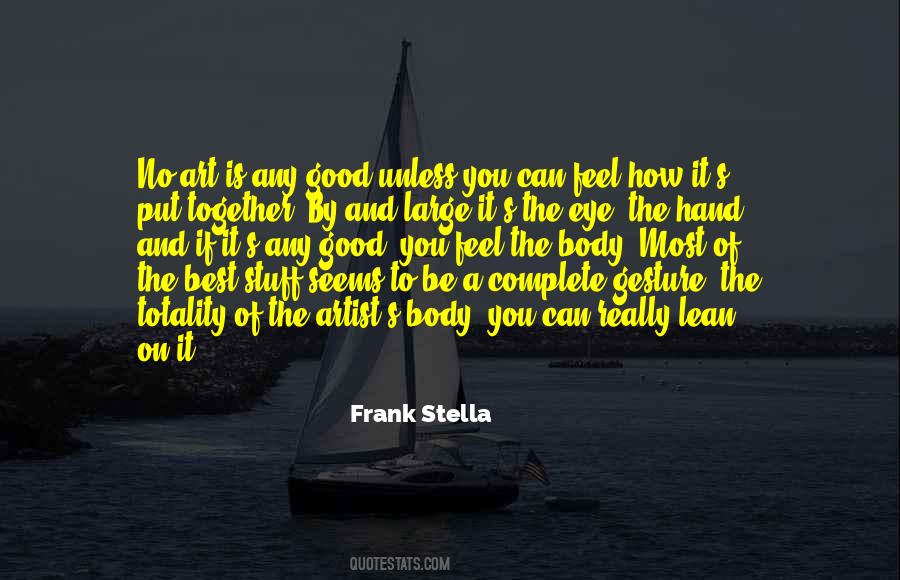 #15. Societies never know it, but the war of an artist with his society is a lover's war, and he does, at his best, what lovers do, which is to reveal the beloved to himself and, with that revelation, to make freedom real. - Author: James Baldwin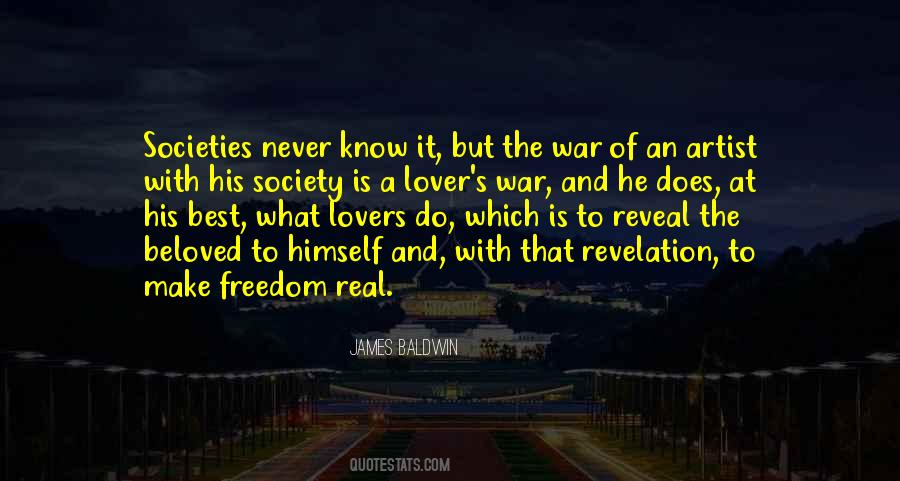 #16. All 48 of my fights have been hard. None have been easy. All played a major key. It's the 'Mayweather Era.' I feel that every fighter is an artist and they all take pictures their own way. I'm just one of the very best artists. - Author: Floyd Mayweather Jr.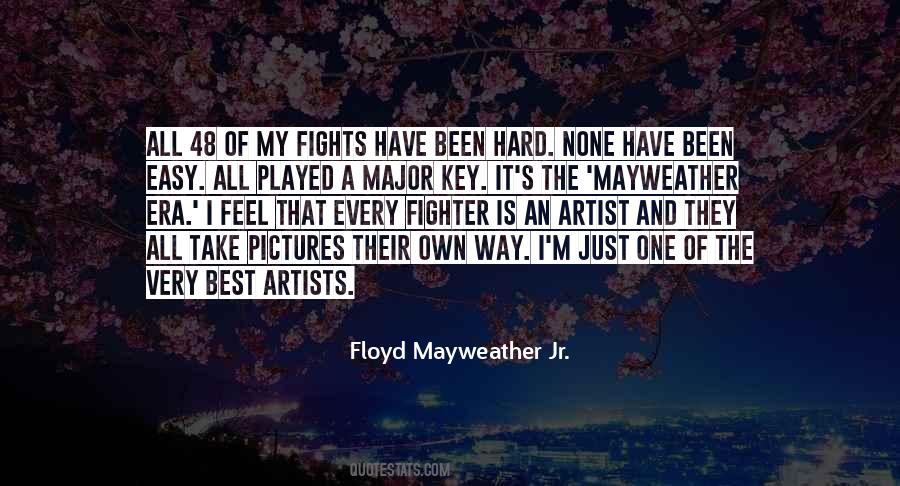 #17. Life direct ... is what Flaubert and Joyce have convinced themselves the man may never get quite clear of but the artist has nothing to do with. What they can't admit is that t is overrated: which artists, faking and fumbling it together out of spit and toothpicks, should know best of all. - Author: Marvin Mudrick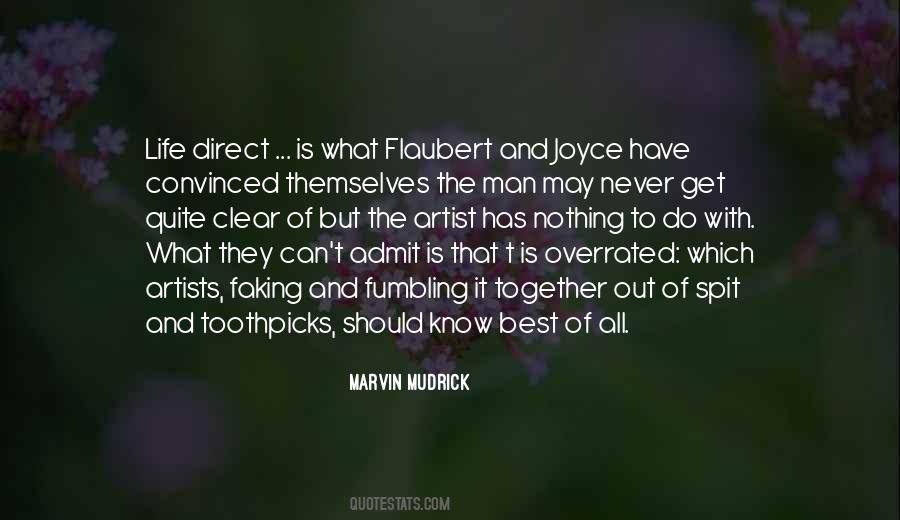 #18. My priciple is, the artist shall put forth, humbly & lovingly, without bitterness, the very best & highest that is within him,utterly regardless of contemporary criticism. - Author: Sidney Lanier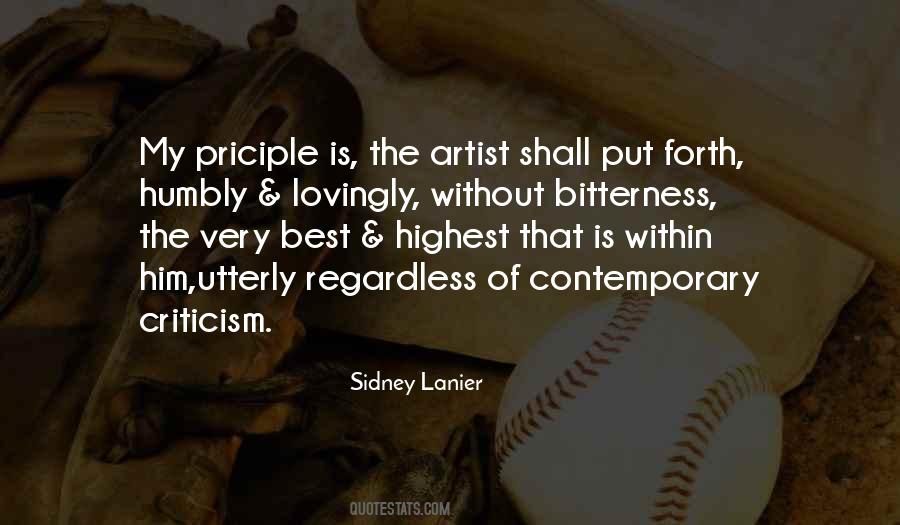 #19. An age is best revealed by its artists of the second rank. - Author: Geoffrey Wolff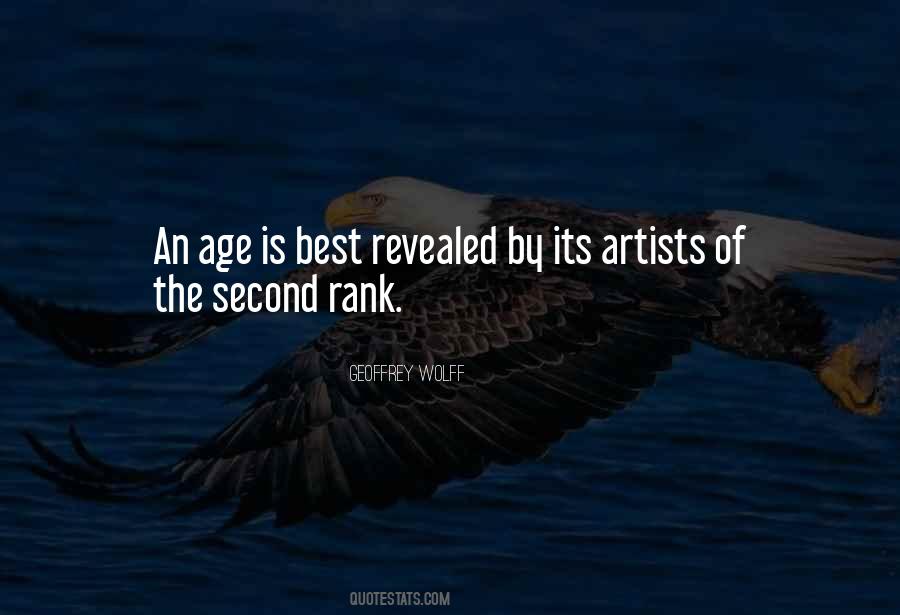 #20. The best of artists hath no thought to show which the rough stone in its superfluous shell doth not include; to break the marble spell is all the hand that serves the brain can do. - Author: Michelangelo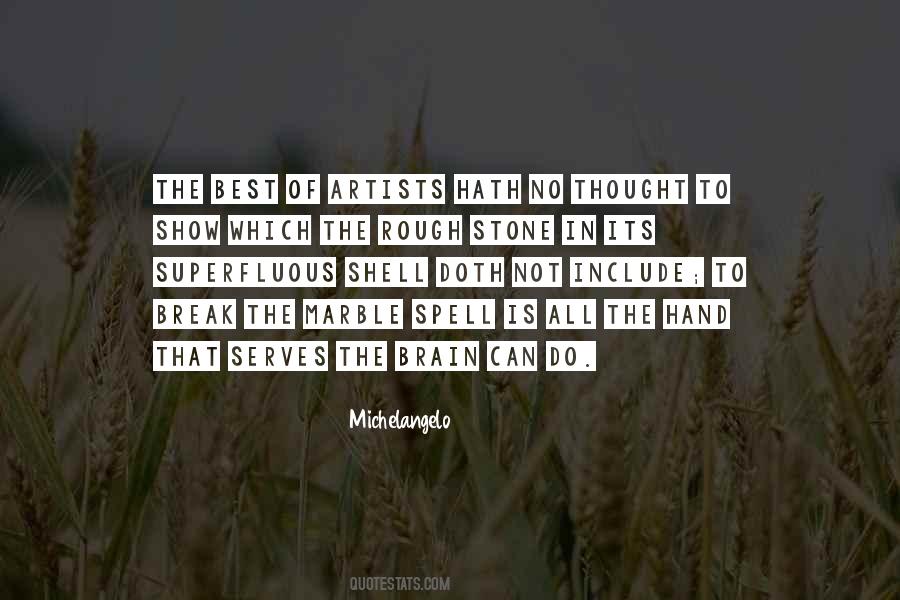 #21. To be honest with you, I don't have one track that I consider better than the next because all I'm trying to do is still grow as an artist. I got way better since the early nineties, as far as putting words together. My best energy probably was the '90s, because I was new. - Author: Raekwon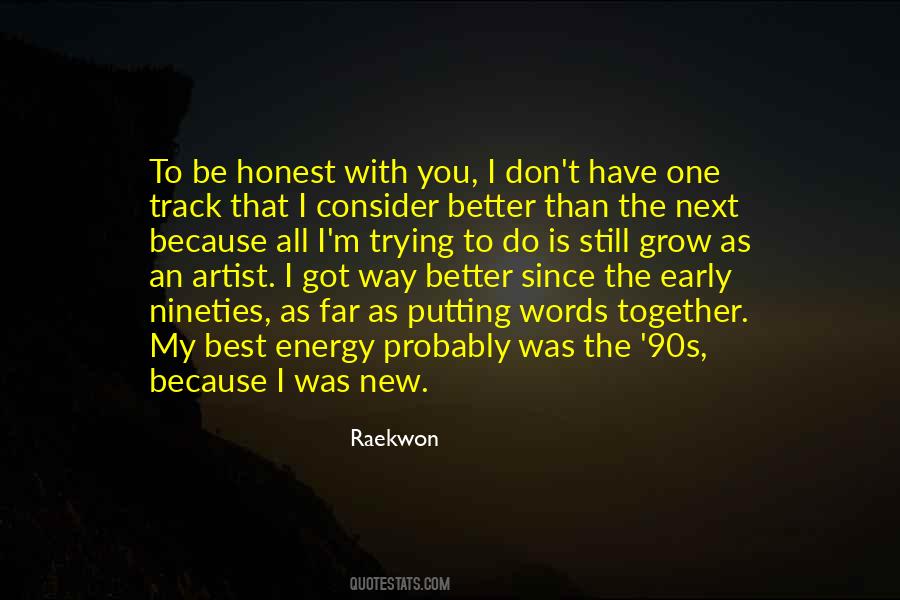 #22. I think everybody wants to be the best at what they do and for me I was never really there, plus it was in a time that just preceded the insanity of internet promotion around 2005 and 2006. Obviously through the digital revolution things have moved very quickly and a lot of artists got left behind. - Author: Doc Brown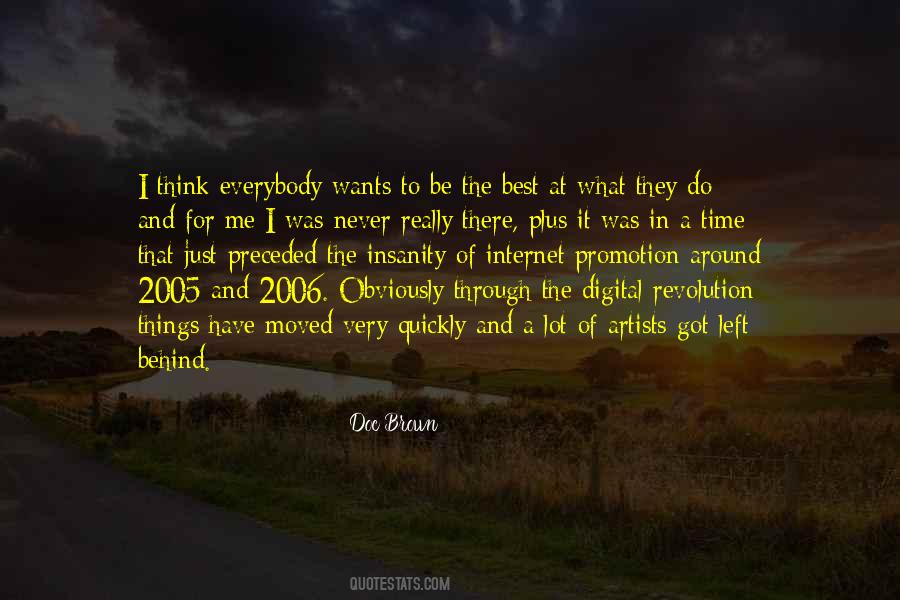 #23. I think one artist to another artist, the best compliment you can pay one another, because the part of you that is inspired or creates something, to write a joke or a song, that's like the God-like part of a person. - Author: Dave Chappelle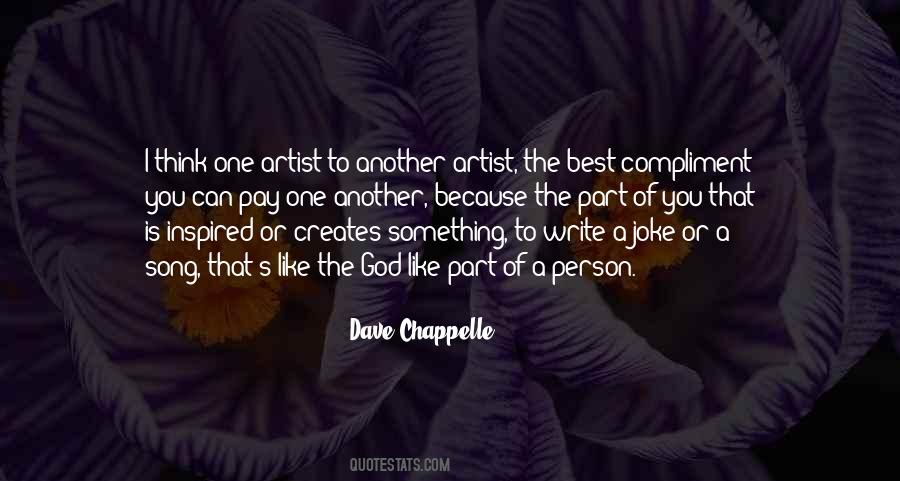 #24. It would be mistaken to suppose that any of the best photography is come at by intellection; it is like all art, essentially the result of an intuitive process, drawing on all that the artist is rather than on anything he thinks, far less theorizes about. - Author: Helen Levitt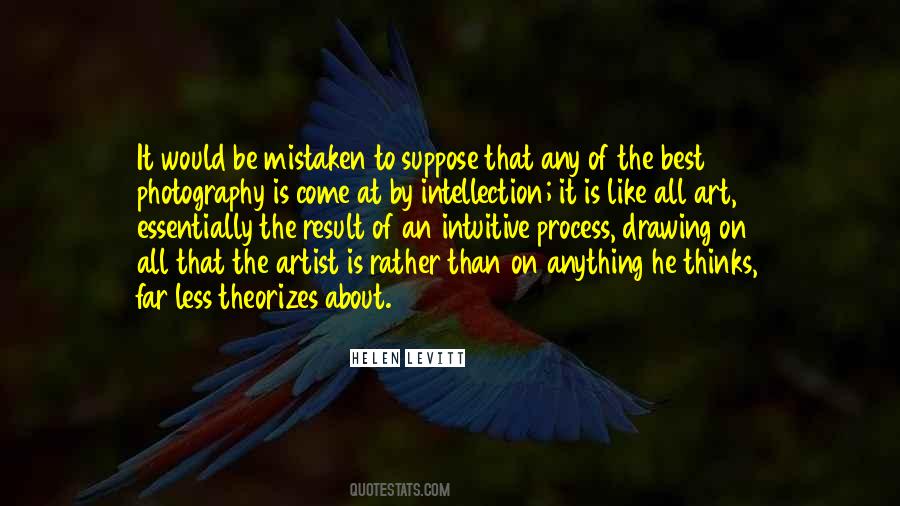 #25. I'm just following my own art, and I just think that the only thing I can do to be a great artist is do the best job I can in whatever movie I do. - Author: Justin Chon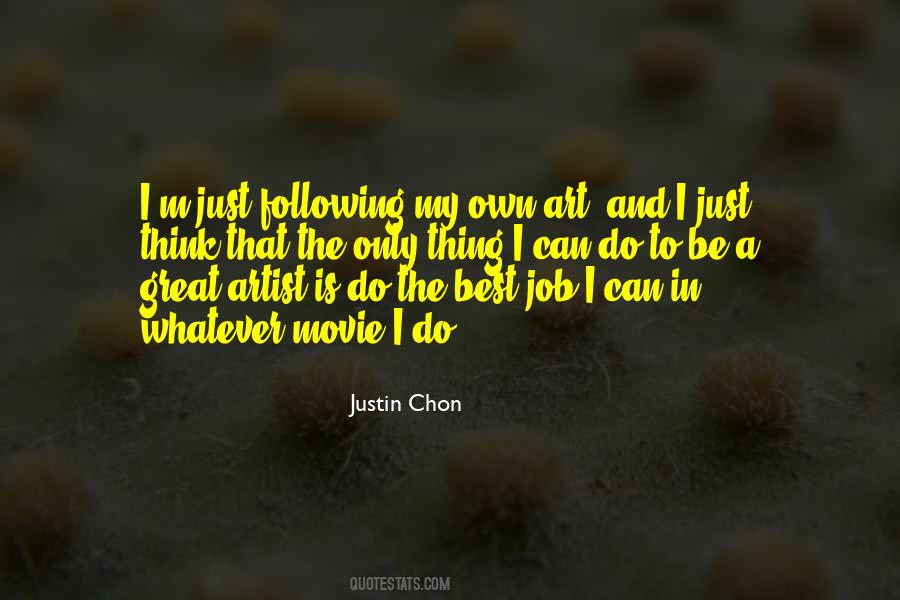 #26. It is just the little difference between the good and the best that makes the difference between the artist and the artisan. It is just the little touches after the average man would quit that makes the master's fame. - Author: Orison Swett Marden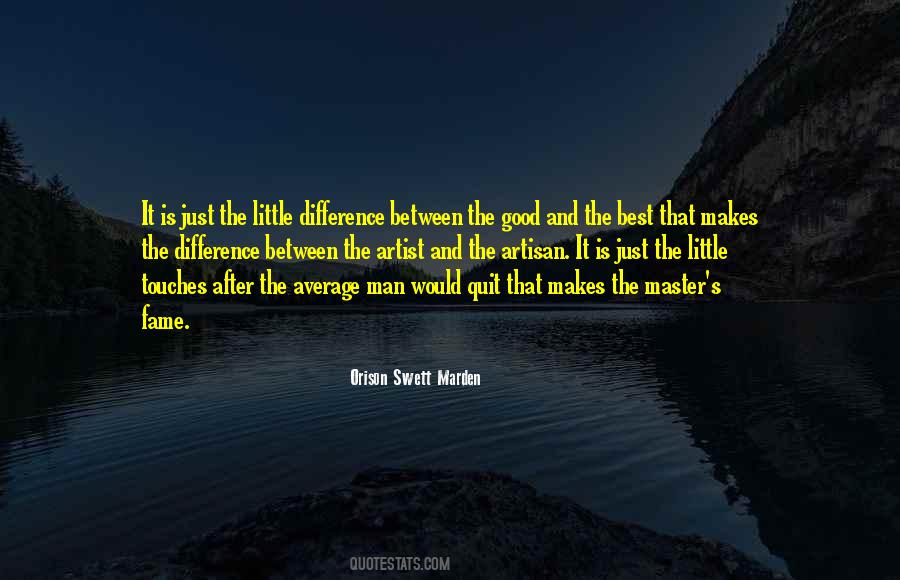 #27. The artist labors while he may, But finds at best too brief the day; And, tho' his works outlast the time And nation that they make sublime, He feels and sees that Nature knows Nothing of time in what she does, But has a leisure infinite Wherein to do her work aright. - Author: Henry Abbey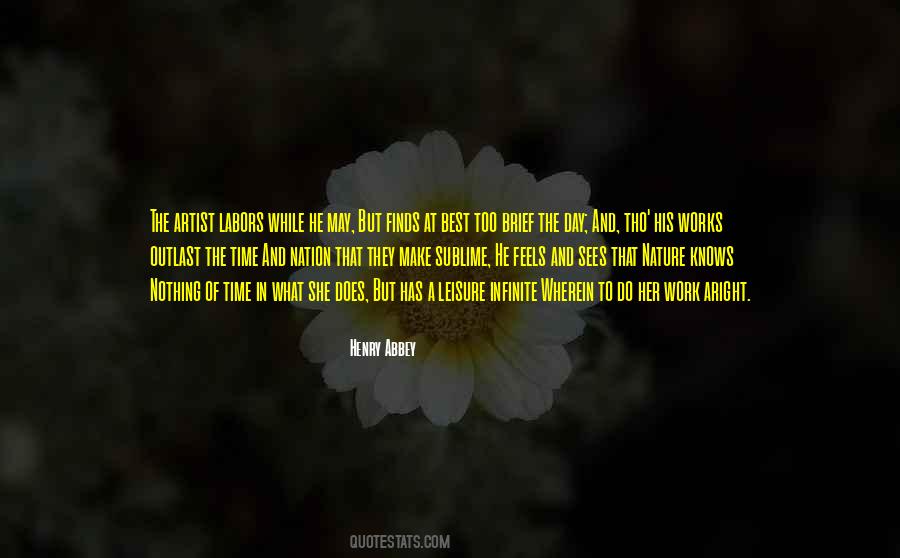 #28. The goal is just to try to get better and better, and the only way that makes sense to do that is to work with the best people. Surround yourself with the best artists and learn from them, and try to sink your teeth into the best material possible. - Author: Jon Bernthal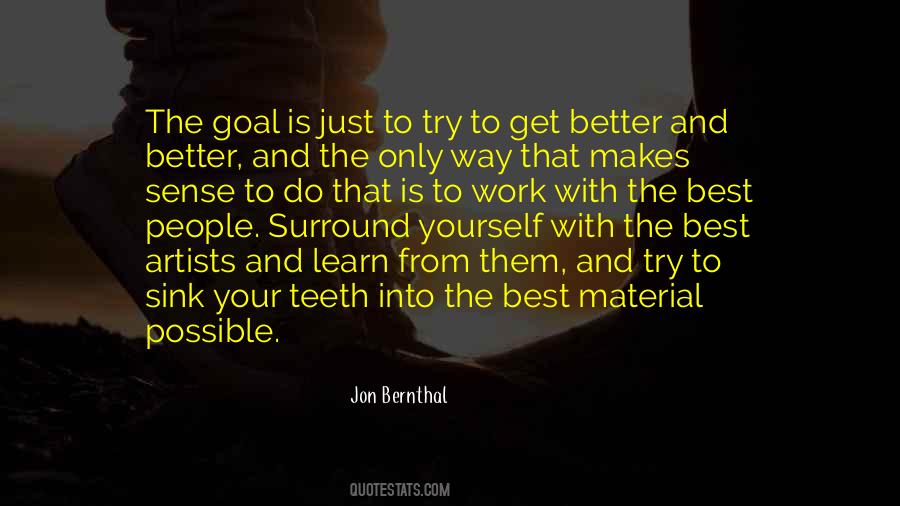 #29. We're committed to giving the independent artists we support the best stage to share their mind-blowing work with audiences. - Author: Jane Rosenthal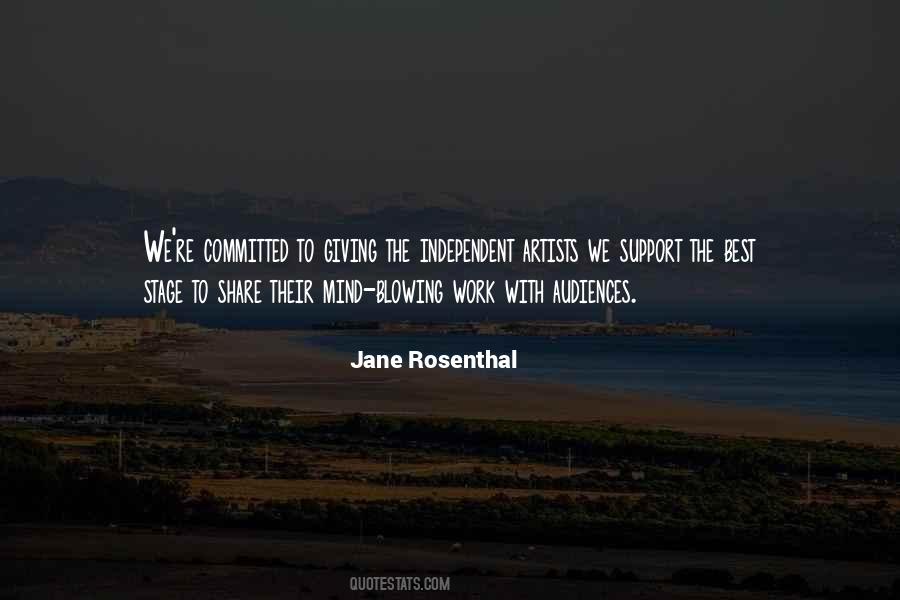 #30. You have to be narcissistic to be an artist. You have to think you are the centre of the whole thing; otherwise, why do you create? The only thing is to recognise it, and then you make the best of it. - Author: Marjane Satrapi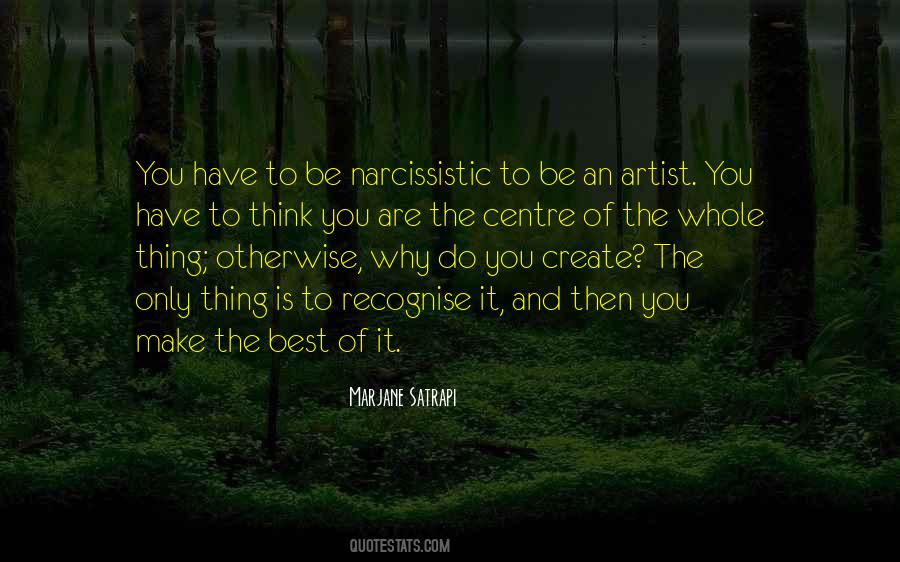 #31. Yeah, the industry has always been both the enemy and the best friend of the artist. They need each other. That's the bottom line. - Author: Chrissie Hynde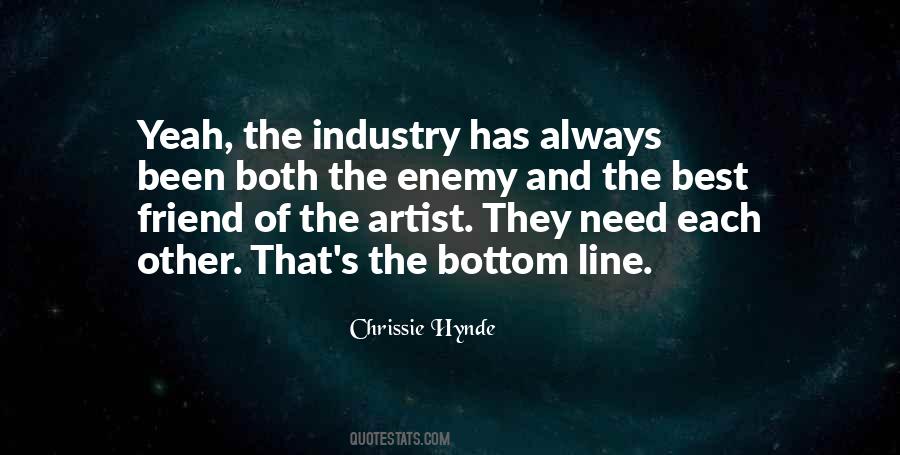 #32. Scott Medlock is the 'Top Gun' of sports artists. He truly is the best of the best. - Author: Jim Hill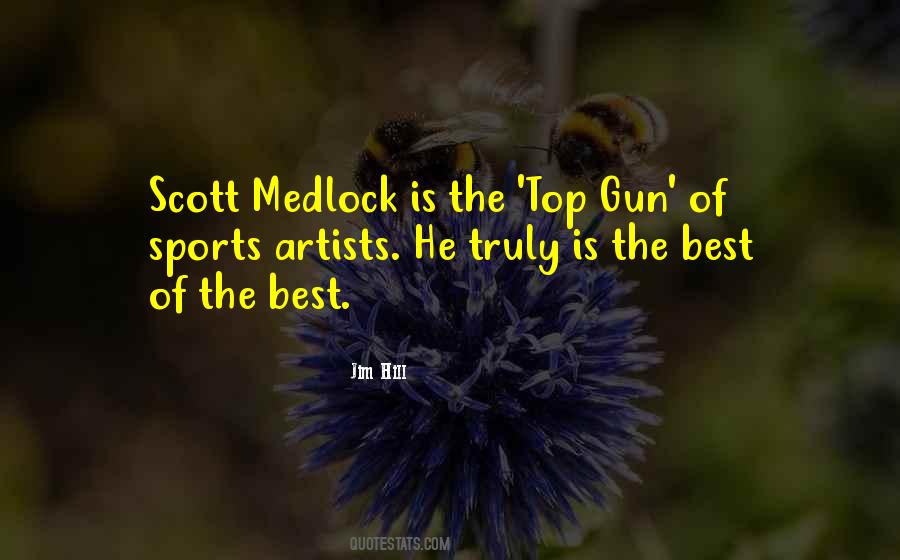 #33. The best artists transcend nationality and identity. - Author: Rula Jebreal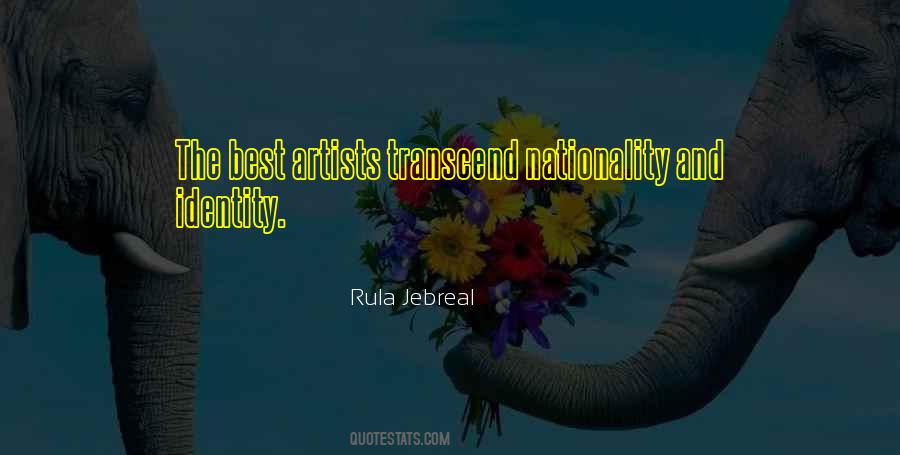 #34. For the artist, fulfillment of self consists not in marching in the ranks of the liberators but in being entered in the roll of the Masters. The artist tends to find himself in the position of a deserter from his social group or, at best, one who collaborates, with secret reservations. - Author: Harold Rosenberg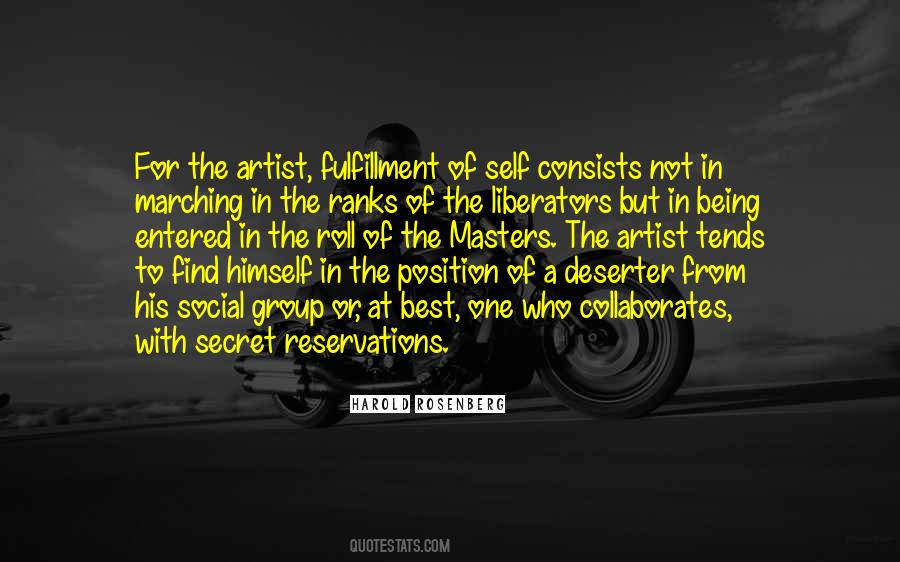 #35. The record company doesn't know what to do with me, because I'm not a Lily Allen, but I'm not really an indie artist, either. All the best artists have been in the middle. - Author: Bat For Lashes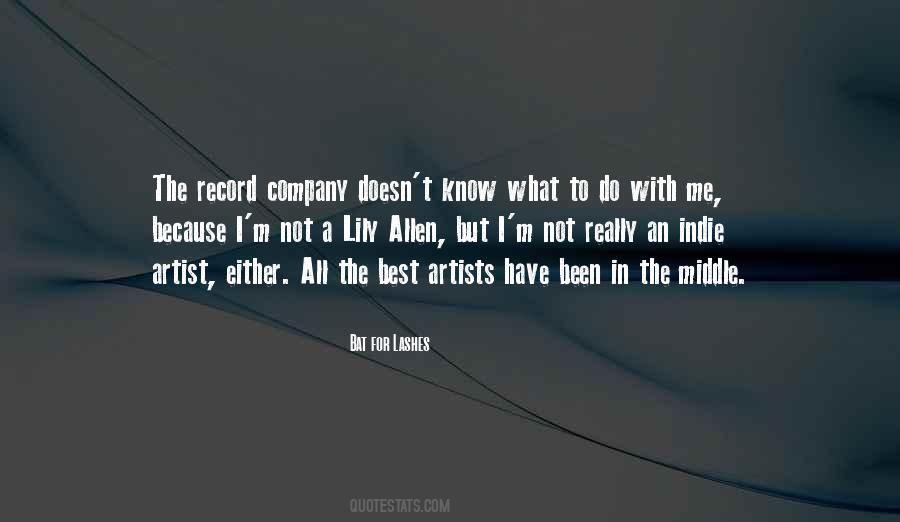 #36. Part of the business of being an artist is abetting talent. The best do that. - Author: Faith Sullivan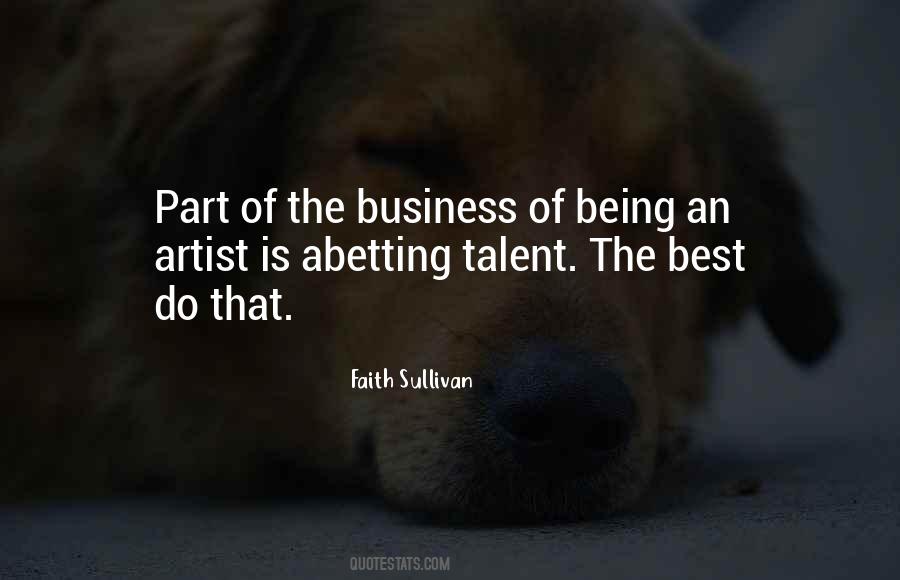 #37. No man is equal to his book. All the best products of his mental activity go into his book, where they come separated from the mass of inferior products with which they are mingled in his daily talk. - Author: Herbert Spencer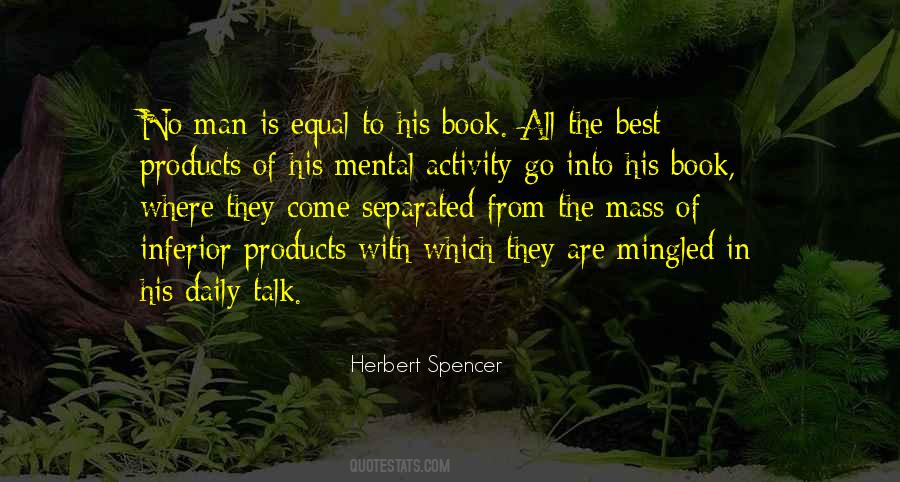 #38. My mother was an artist, and I was fairly good at art as a child. I was always the best drawer in class, except in second grade when an artistic genius passed through our school! - Author: Natalie Babbitt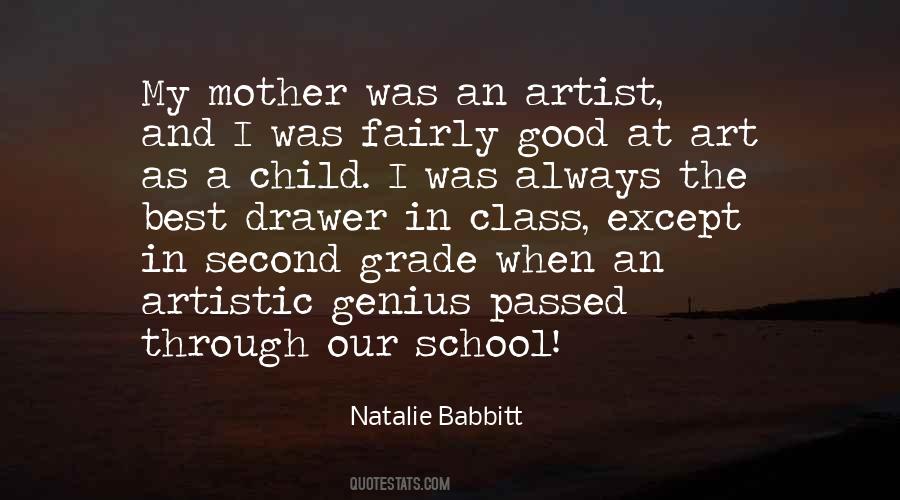 #39. The eye is the best of artists. - Author: Ralph Waldo Emerson
#40. What do artists do? Artists give people something they didn't know they were missing: a dance, a piece of music, a painting, a piece of sculpture. Catering to that need is the best business strategy. - Author: Daniel H. Pink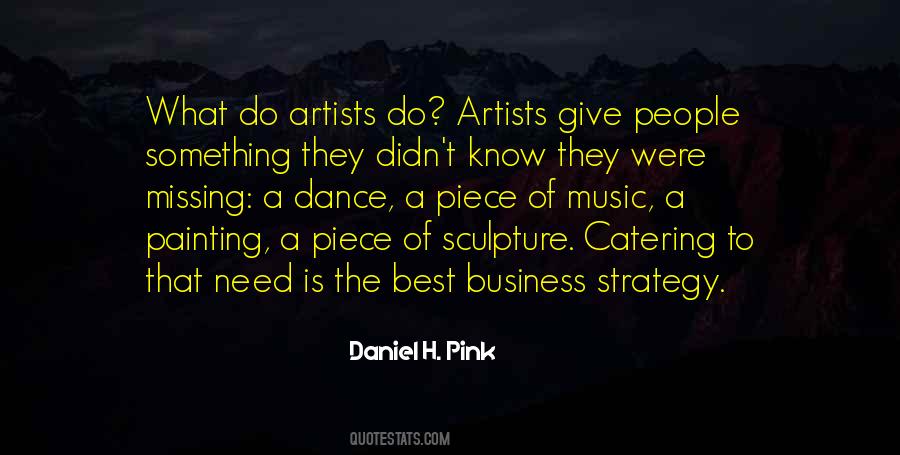 #41. You have to keep doing it,
Even if no one is watching.
The best artists, are those
Who live from their expressions,
Not chasing the impressions. - Author: Nikki Rowe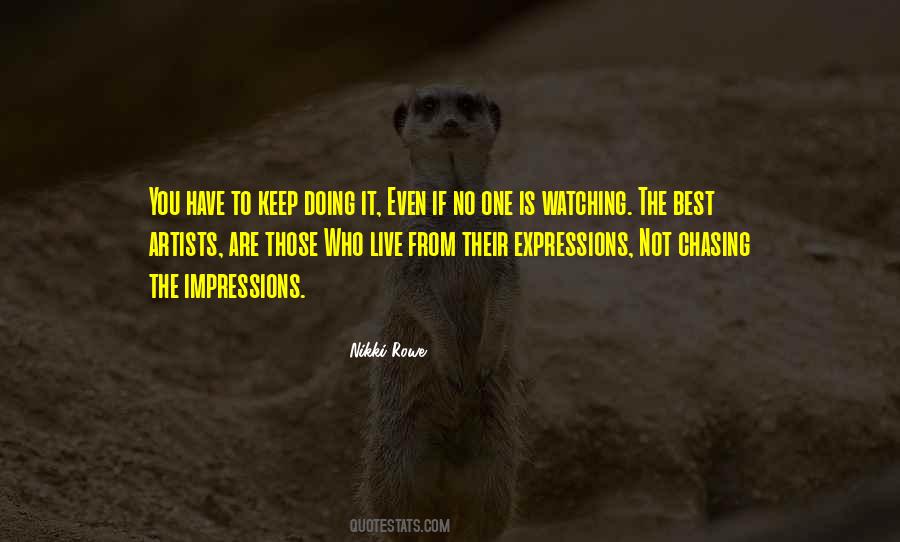 #42. My day will come, but until then, I patiently continue moving forward.
-Never allow yourself to become stagnant- - Author: Andrea L'Artiste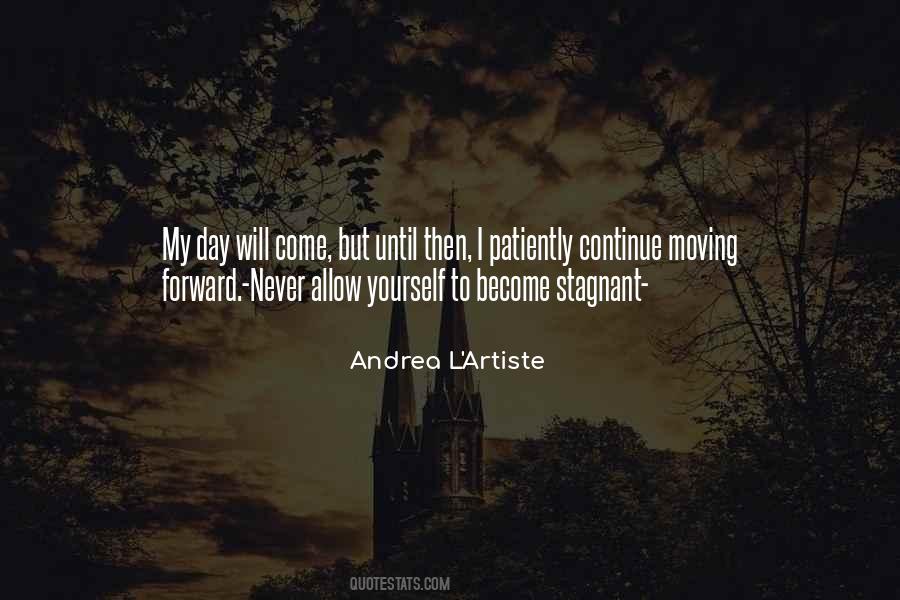 #43. You tend to find the best in yourself as an artist when you're challenged. - Author: Jay Kristoff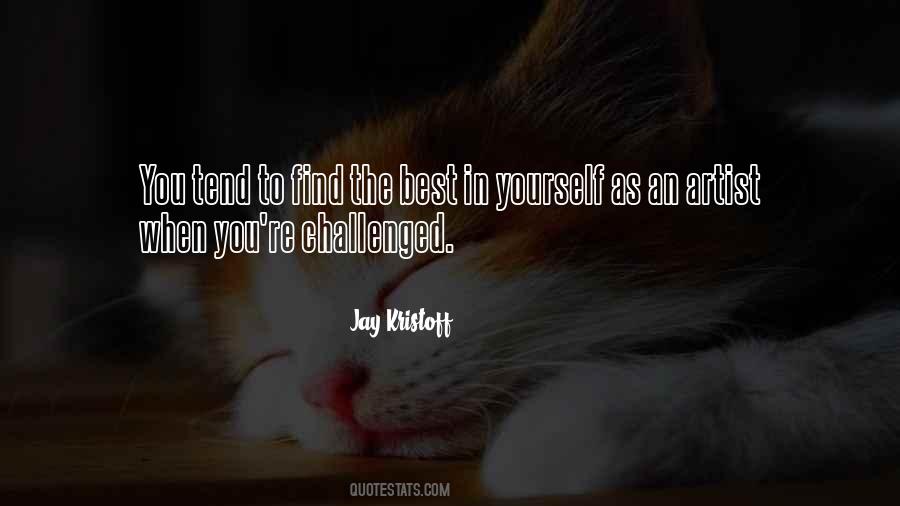 #44. The Jackass movies are honestly some of the best movies I've ever seen. I laugh so hard at them. Those guys are geniuses. If they had grown up with a different group of people, they could've been performance artists at Bard College, and people would be writing papers about them. - Author: Louis C.K.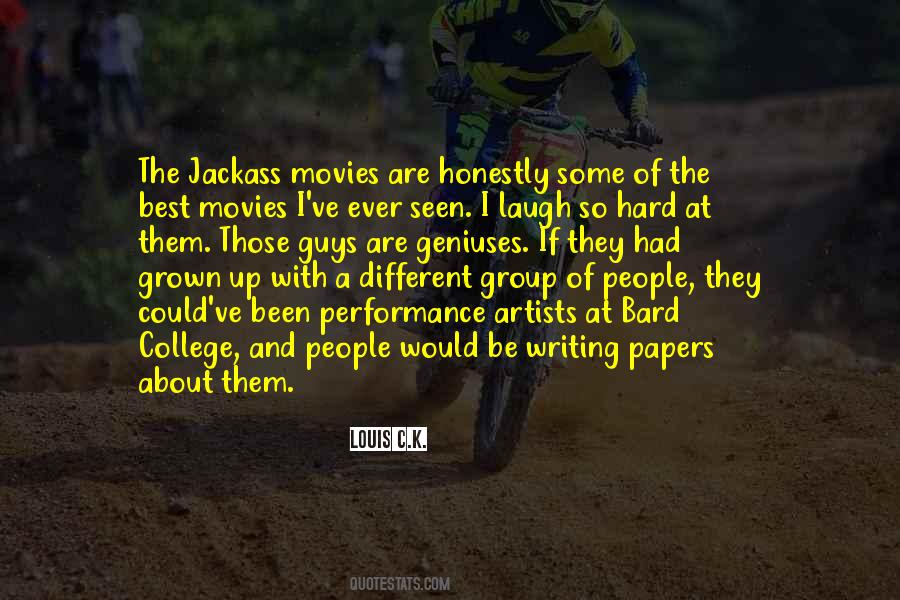 #45. I'm an artist because that's what I was best at as a kid. It was fun ... I continue to be an artist ... for the freedom that an art career can bring. I don't need an alarm clock and I am my own boss. - Author: Mark Kostabi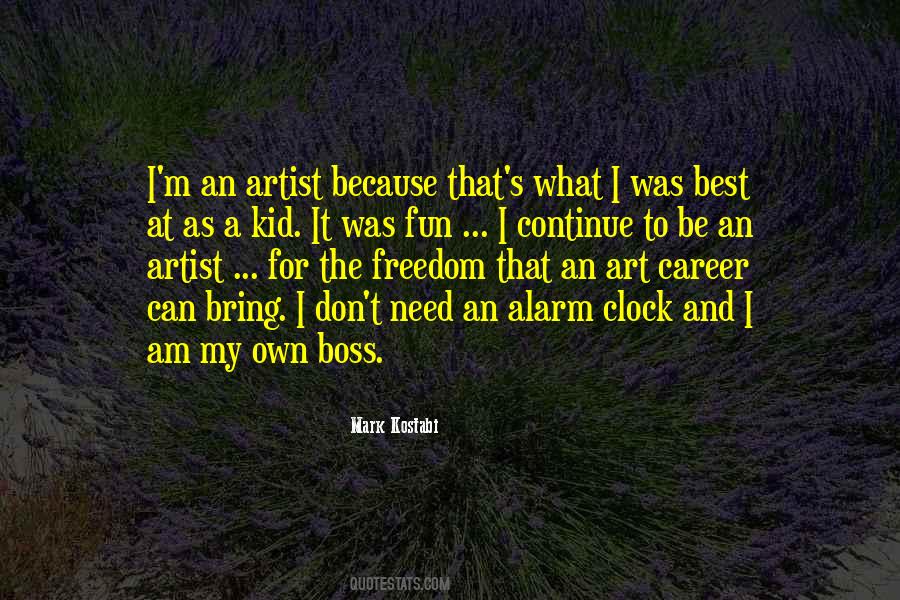 #46. All you can do as an artist is just strive to make the best record you can and ride the rollercoaster as it goes up and down. - Author: Howie Dorough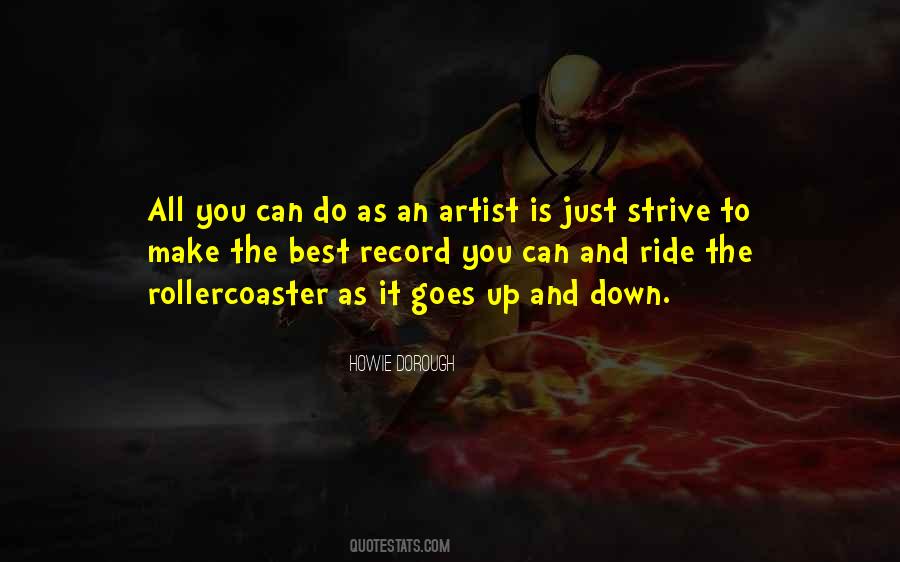 #47. I do all of marketing and promotion - it's the most exhaustive and rewarding part of the process and I wouldn't trade it for anything. The artist should be the person representing their brand because theyre the best person to do so. - Author: Hoodie Allen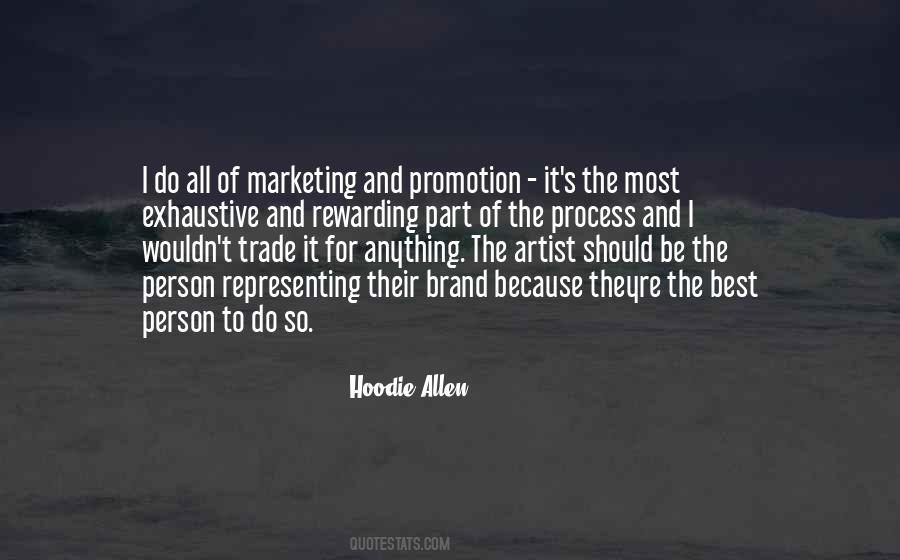 #48. The best incentive for an artist are the harshest criticism - Author: Miguel El Portugues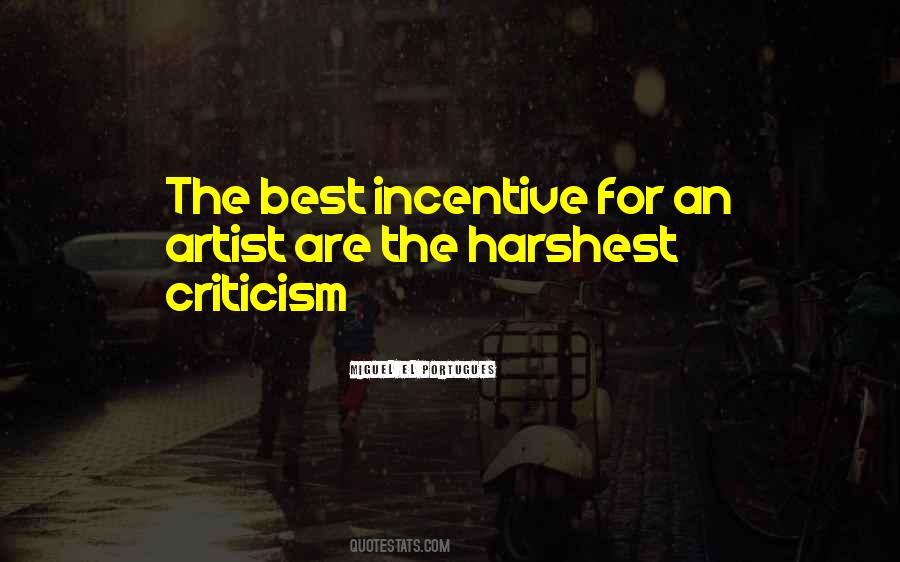 #49. If you're convinced as an artist of what you're doing, the only move is to, no matter what people say or what management says or your best friends say or people on Facebook, do what you do, and people will find their way to it. - Author: Zedd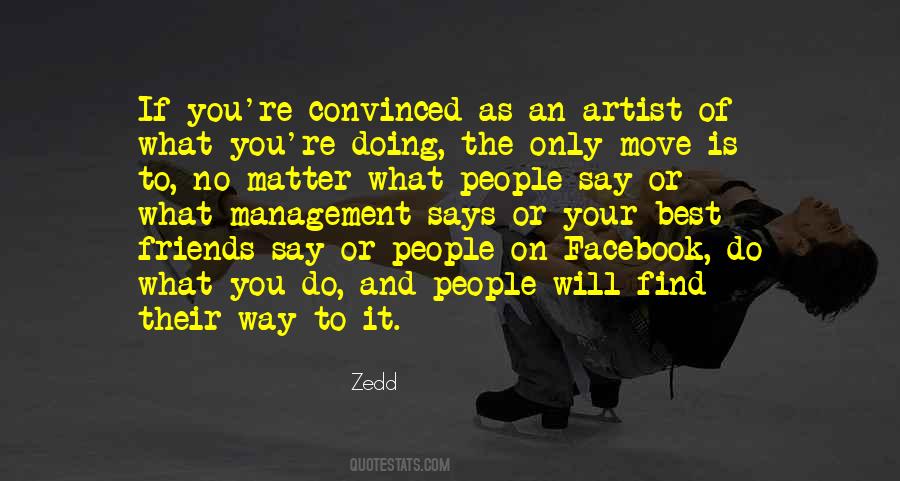 #50. If you're a baker, making bread, you're a baker. If you make the best bread in the world, you're not an artist, but if you bake the bread in the gallery, you're an artist. So the context makes the difference. - Author: Marina Abramovic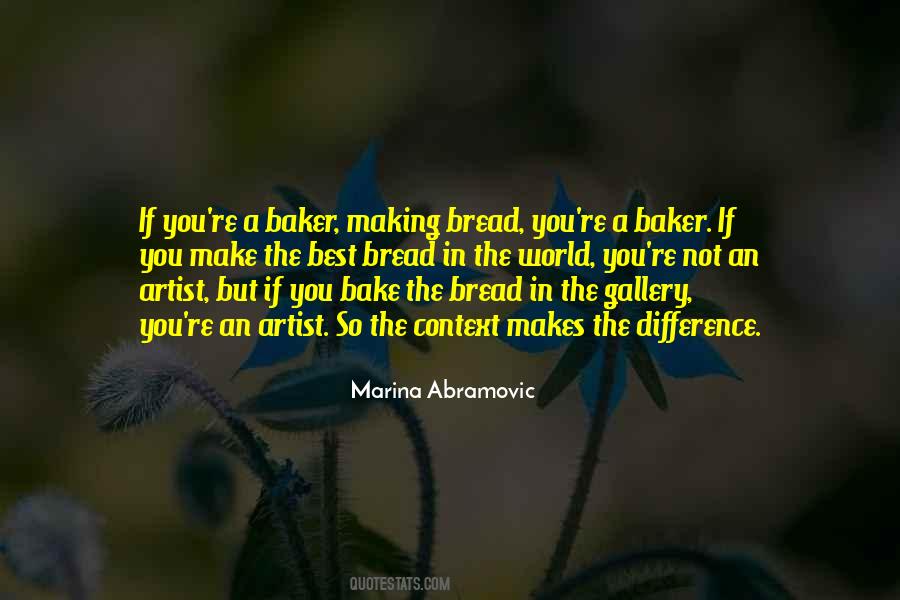 #51. All life is a statue of yourself, so be the best artist to make the statue the most beautiful. - Author: Debasish Mridha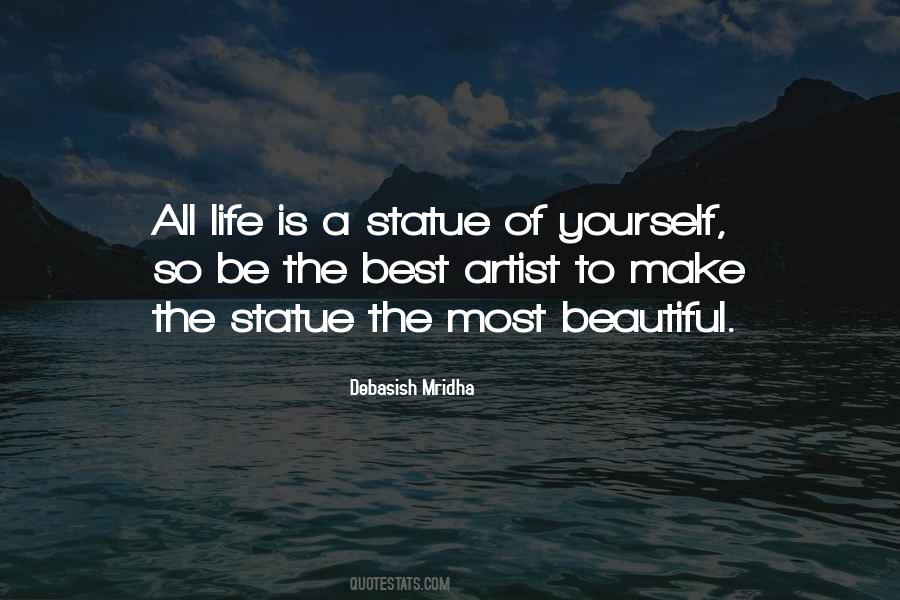 #52. One of the things you have to be able to do, as a comic strip artist, is to draw things repeatedly from a variety of angles, so you need references, and you find the best picture you can. - Author: Dave Gibbons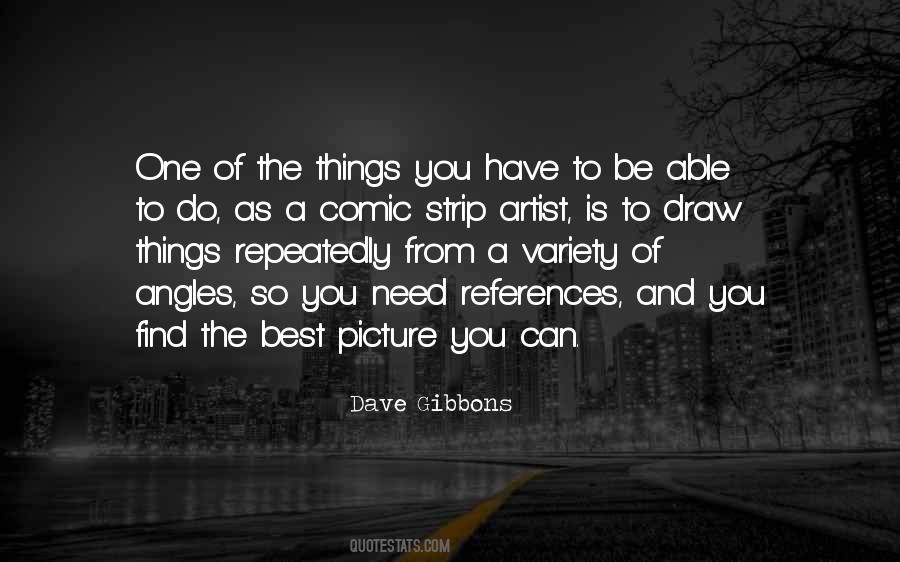 #53. That life has no clear meaning is the best possible news for an artist. - Author: Marty Rubin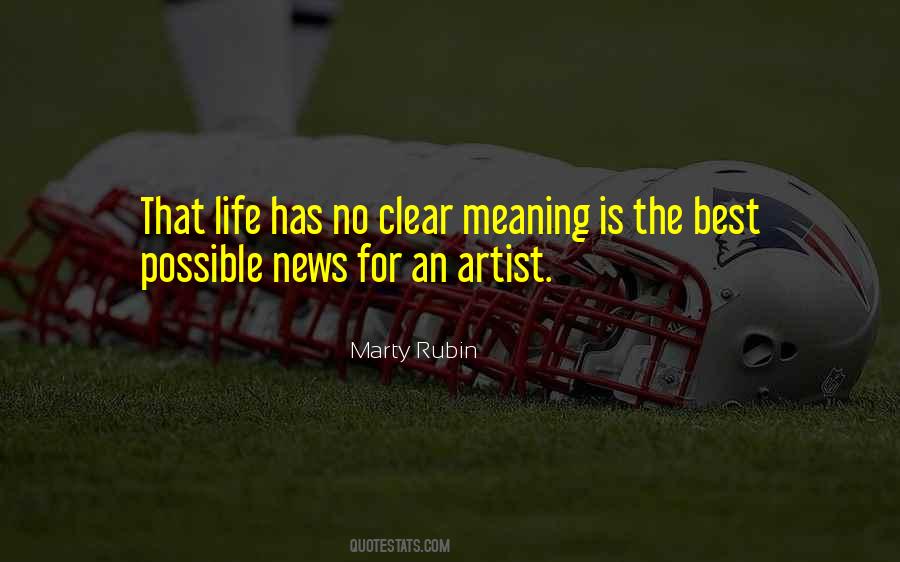 #54. I'm not trying to become a pop artist, and I'm not trying to make sure I stay a country artist. I'm just trying to make sure I make the best music I can, according to my way. - Author: Sam Hunt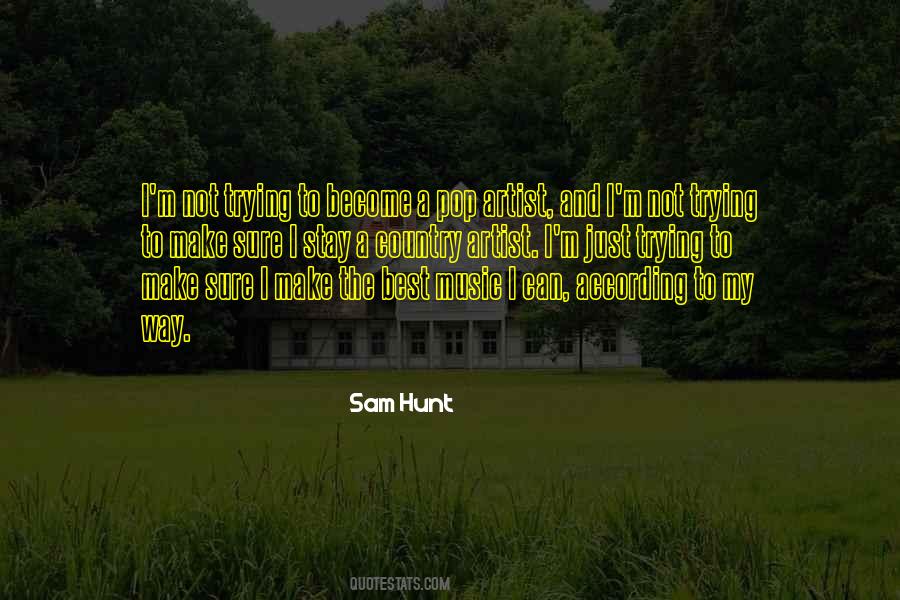 #55. I think as an artist that's the best thing you can have - a personal stamp on something. - Author: Elle Fanning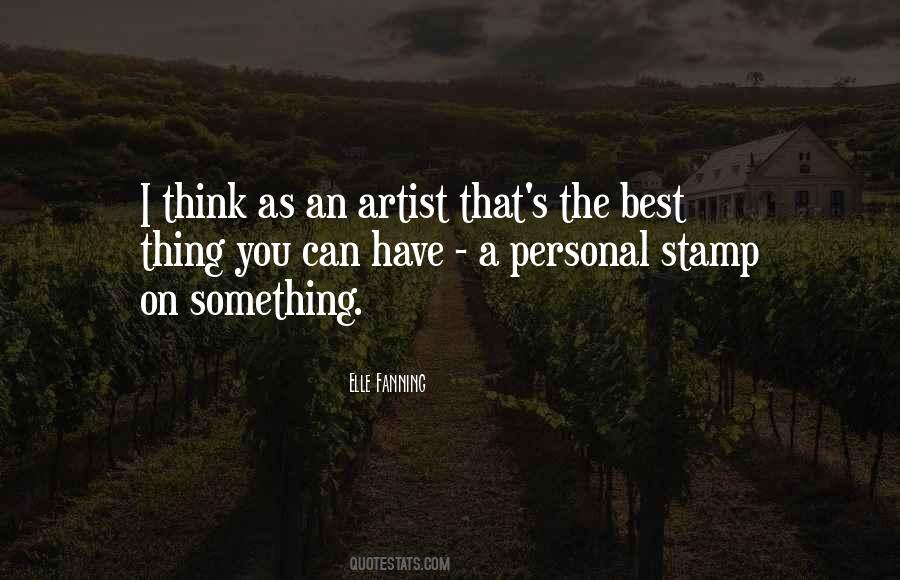 #56. If one can't be a great artist or a great soldier, the next best thing is to be a great criminal. - Author: F Scott Fitzgerald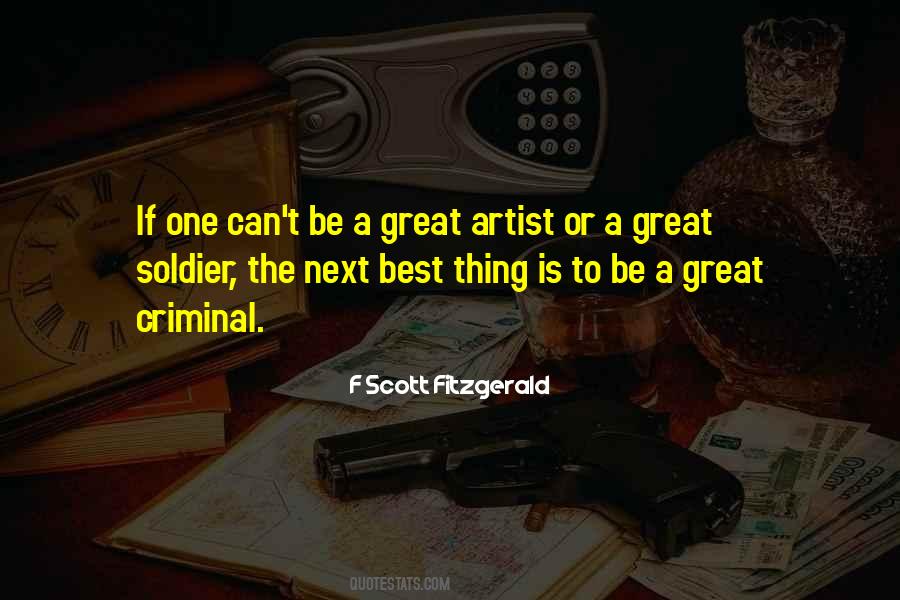 #57. I always try to go where the excitement is, where the best music is. I dont care what kind of music it is. I go with the best artist we can find. - Author: Jimmy Iovine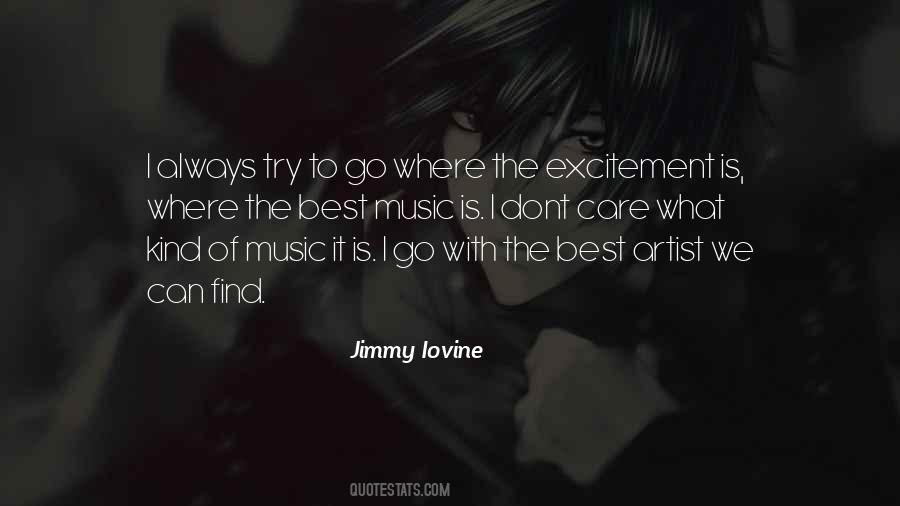 #58. The only problem I had on The Voice, was wishing that we, as artists, could have had a stronger opinion in our own song choices. At the end of the day, it's still a vocal competition show and you want to sing the song that showcases your voice the best. - Author: Curtis Grimes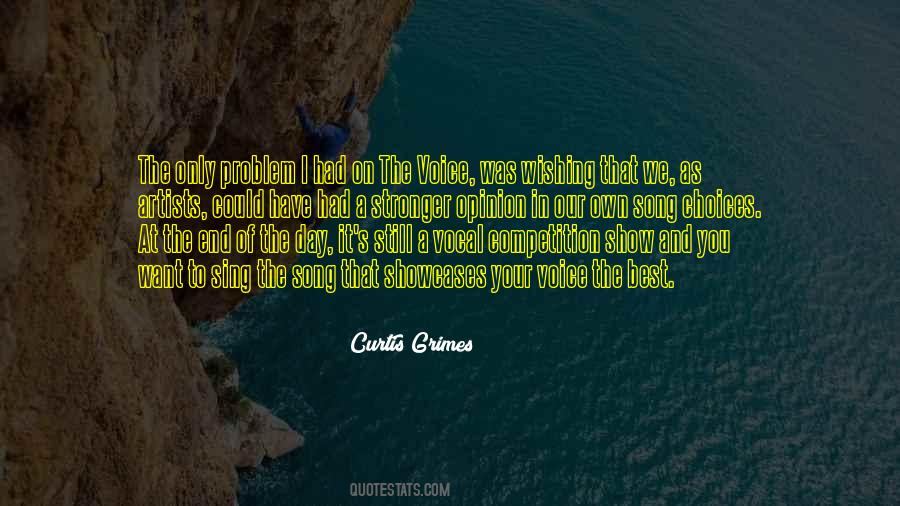 #59. Freedom of speech is, to all Americans, as oxygen is to the human condition. It is a right that has been irreversibly programmed into our hard drive. We are free to speak our minds. An artist's right to express him or herself as best suits their art, is the artist's prerogative and it is guaranteed. - Author: John C. McGinley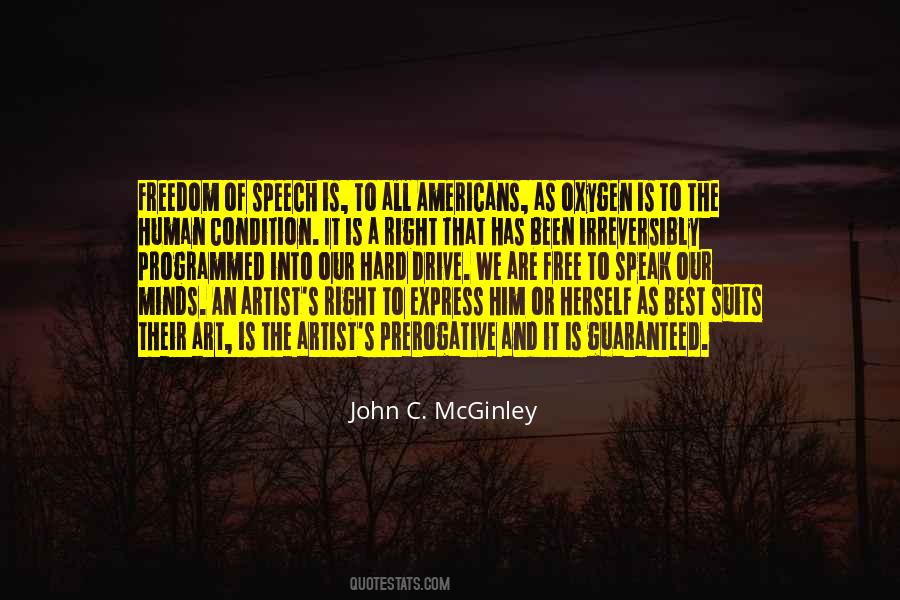 #60. The only thing an artist is useful for, and the only reason why we don't just line 'em up against the wall and shoot them, is because, at their best, they're the reflection of our lives, that most regular people can't even afford to think about. - Author: El-P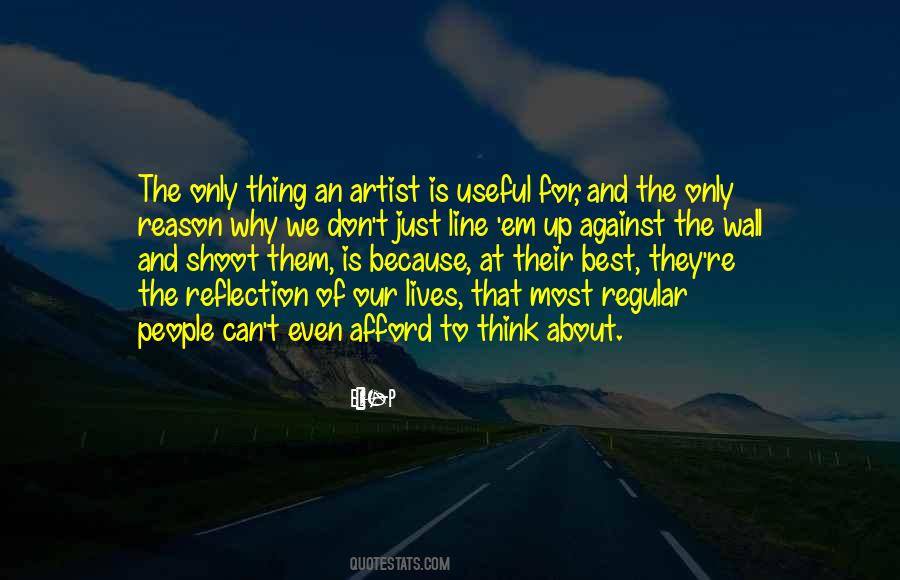 #61. The artist at her best - wild, passionate, rebellious, and human - is often too large and truthful a creature for society's taste. The artist at her most outlandish - profane, eccentric, even a little mad - is at least as disquieting a figure. - Author: Eric Maisel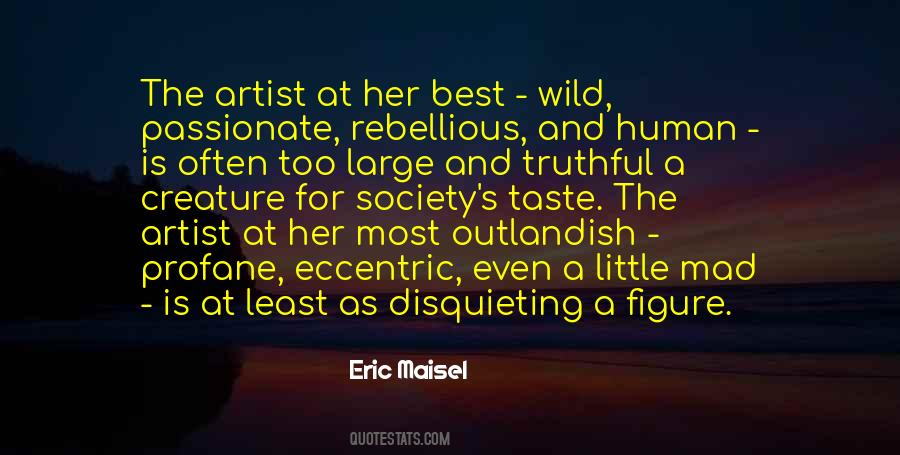 #62. For me, that's one of the best validations as an artist. To have a stranger come up to you and say that something you've created and put out there in the world has had some sort of impact on other people's lives. - Author: Sarah McLachlan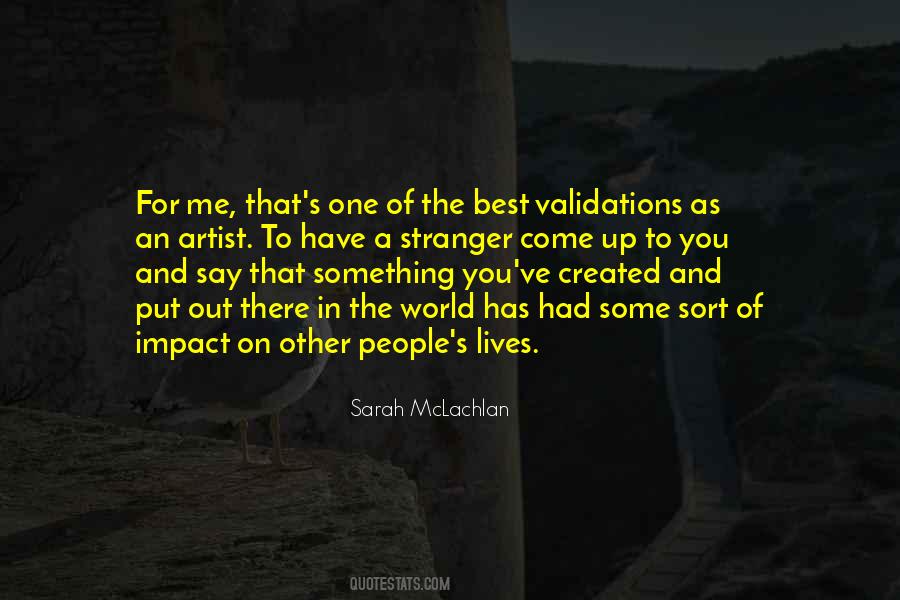 #63. Some artists just go and play, and I have no objections to that - but I don't like to do that. People take their very precious time to come to my concert, and they give me the opportunity to share two hours of their lives. I want to do the best I can, for visuals, sound and everything! - Author: Hiromi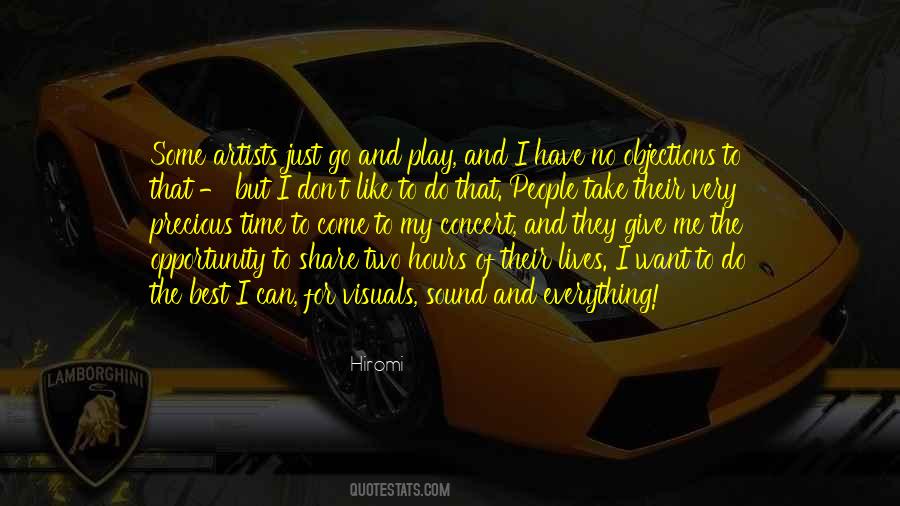 #64. If you're not a makeup artist, and you just try to go for the big looks, it just gets the best of you. - Author: Gigi Hadid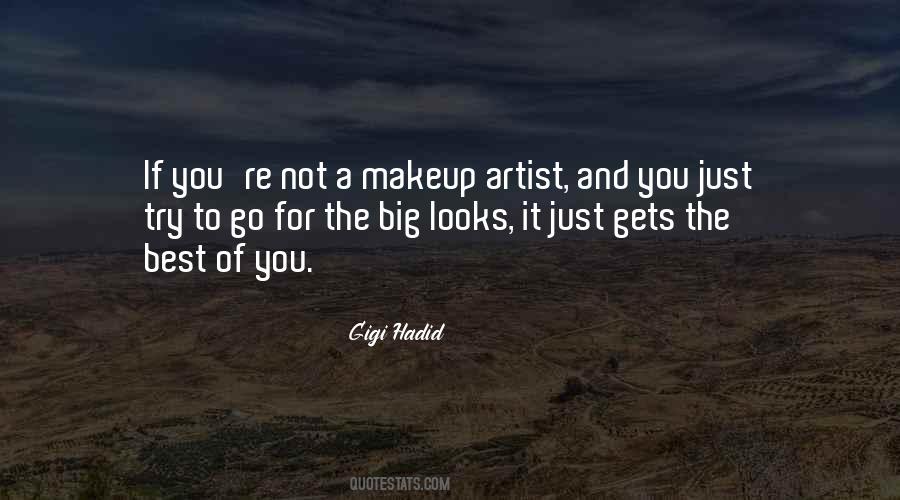 #65. What do great artists do when you see a world around you that's in turmoil? Some of the best artists make you feel good (hah), they look to the future. - Author: Nile Rodgers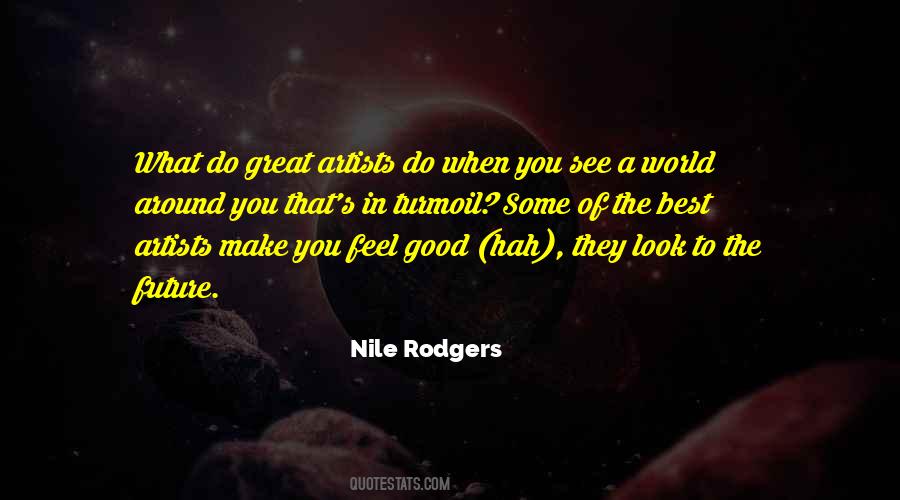 #66. I have a general sense of mission, and I intuitively know when something is influencing that mission. I think this is what I'm supposed to be doing. Doors keep opening. In the end, it's the best use of my skills. I've finally consented to the idea that I'm an artist. - Author: Abigail Washburn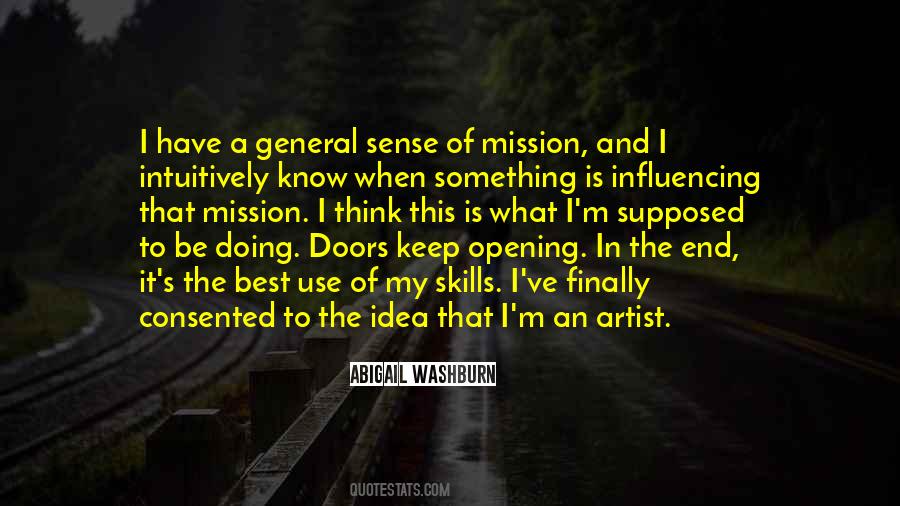 #67. Artists are the best theologians. They feel things that are true before theologians can jargonize them into obscurity. - Author: Tony Campolo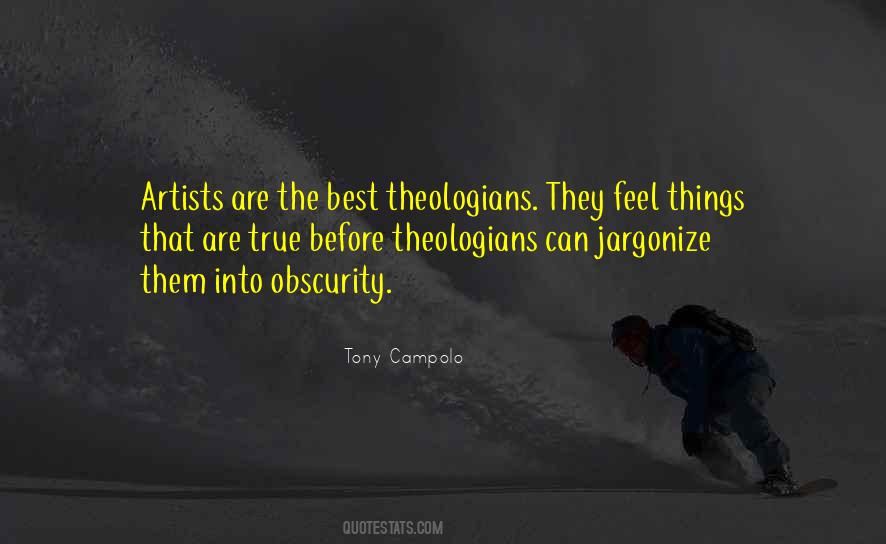 #68. My goal is to tell good stories. And to try as best I can to do something new with acting. To learn from the past and to be a relevant artist. To make stories that are interesting and contemporary and to tell some kind of emotional truth. - Author: Ethan Hawke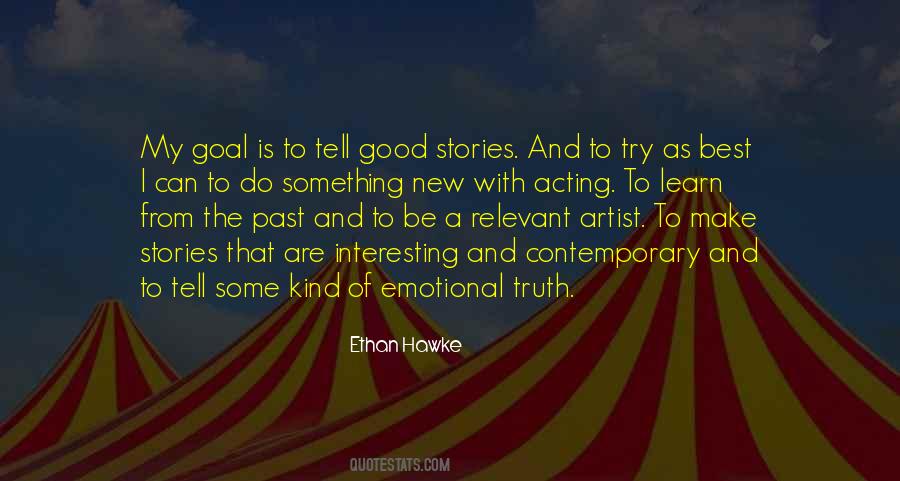 #69. True artists pursue greatness in craft in order to give the Lord the best fruit of the talent He has given them, not to build themselves up. They understand that true greatness is found in the heart of the servant. - Author: Charlie Peacock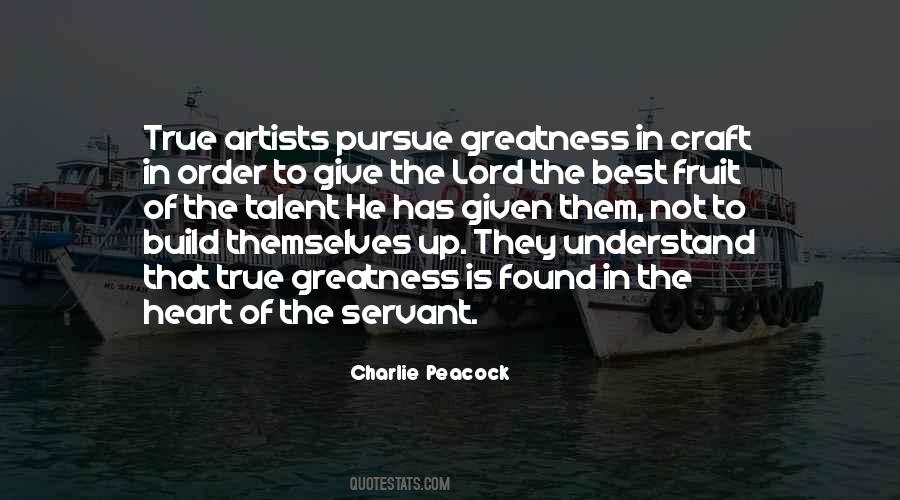 #70. I believe that an artist working for and representing the Kingdom of God should do the best of their ability to show and prove the depth, life, newness, creativity, truth and excitement of their Heavenly Father through the work that is set before them. - Author: Daniel Smith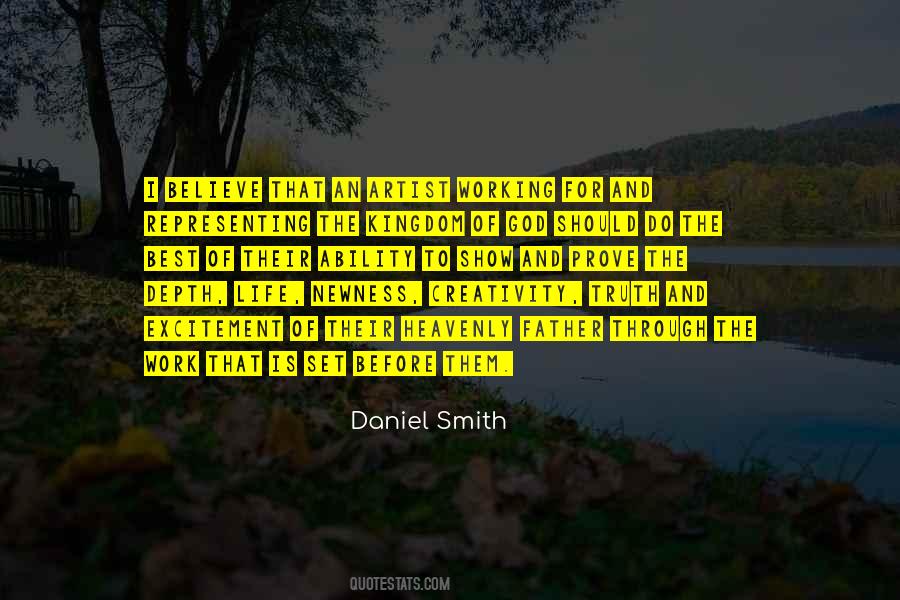 #71. I've learned over the years that the best way to develop as an artist is to make things. So I tell young artists it's not enough to be an actor anymore, you have to be a filmmaker/writer/director. There's no excuse for waiting around for a job. You have to be active and make things. - Author: Liane Balaban
#72. I love natural beauty, and I think it's your best look, but I think makeup as an artist is so transformative. - Author: Marina And The Diamonds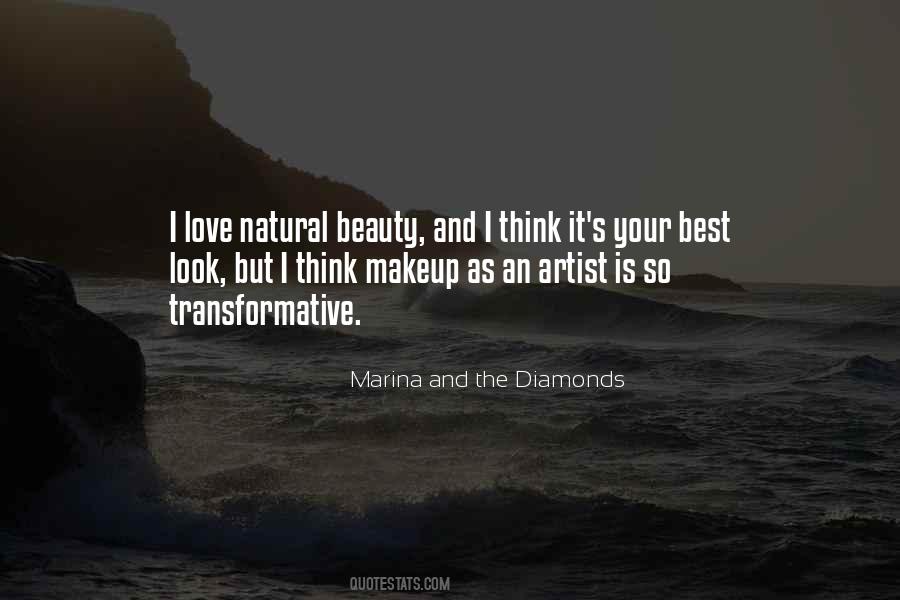 #73. I figure as an artist the best thing you can do is follow your heart - and if your heart is marketable, then you win. - Author: Rodney Crowell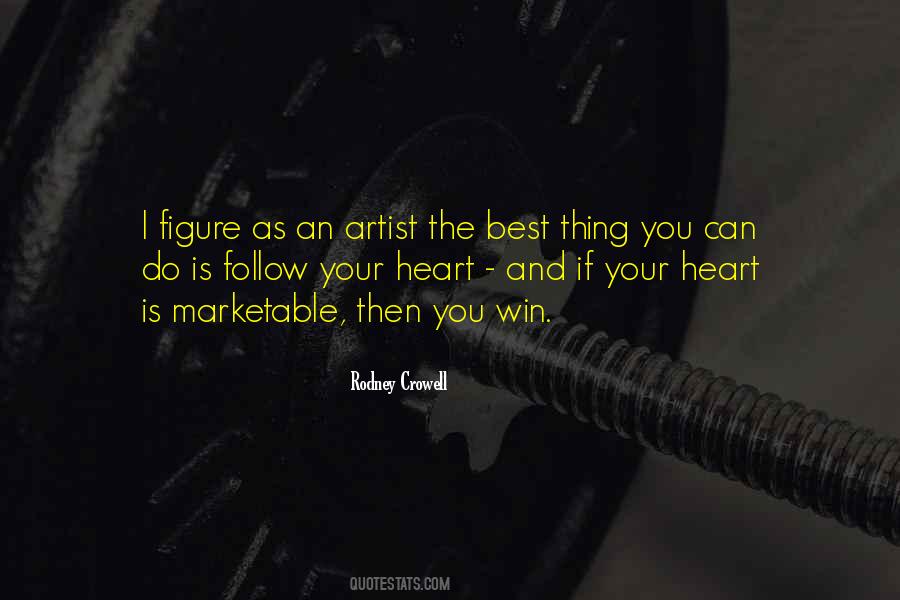 #74. It should be if you're a good singer and a good songwriter, you should have your spot. You get everybody trying to release the prettiest guy, but that doesn't mean they're the best artist. Most of the time the true artists are just normal old dudes. - Author: Randy Houser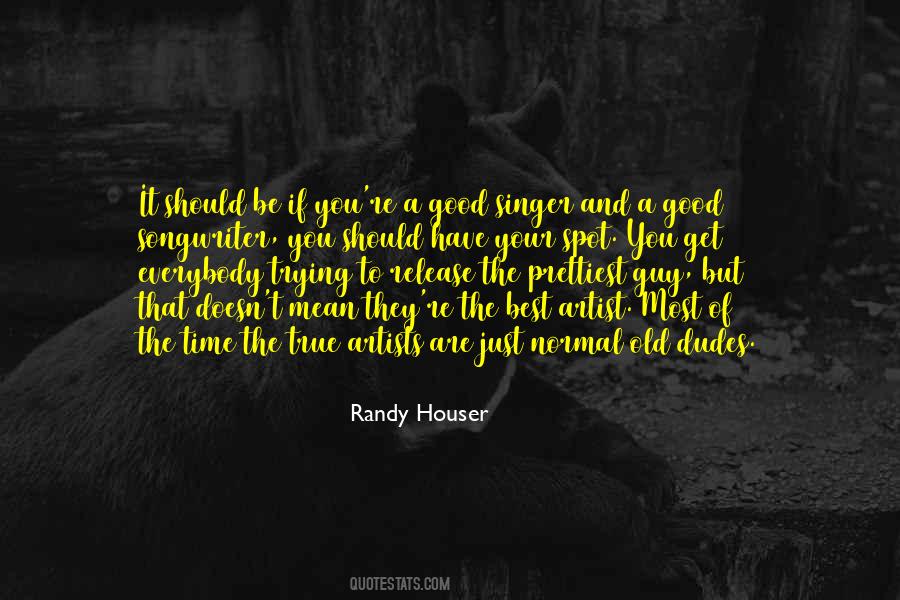 #75. It has been my personal experience that as I allow the painting to speak I become lost, it is delicious and at the same time frightening. The best ones, to me, have a life of their own. - Author: Luther E. Vann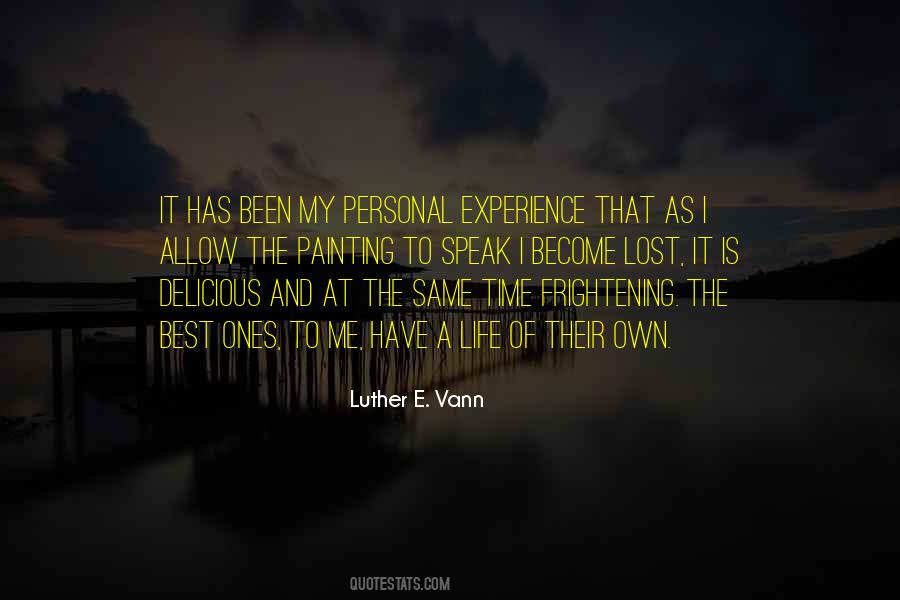 #76. To be a great artist, you need to know yourself as best as you possibly can. I live my life and delve into my own psyche. It's more about exploring how I feel rather than making pale imitations of something that came before. We are unique beings, and the way we look at things is our own. - Author: Bat For Lashes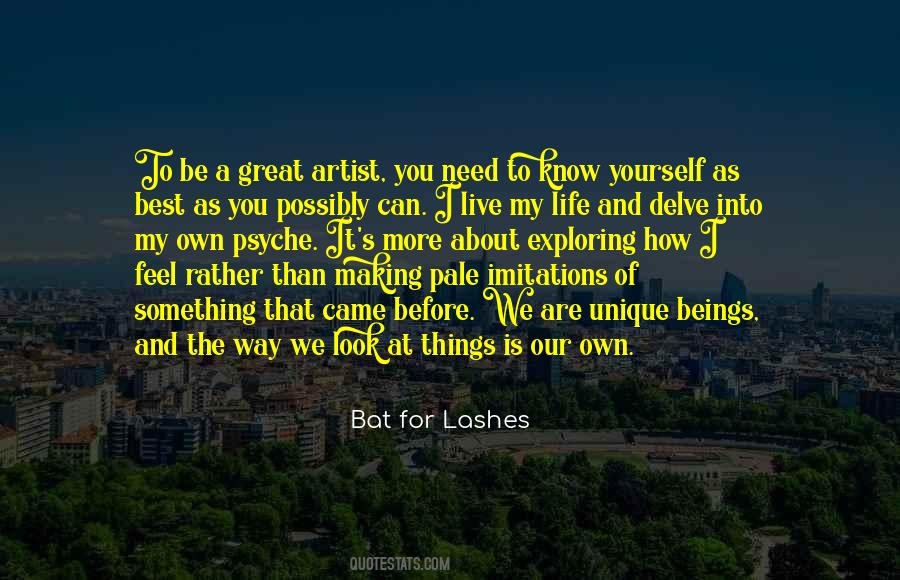 #77. I have always felt the word 'advertising' is either a diminutive or derogatory term that kind of goes with stuff people don't like, and I always felt frustrated because I felt like I was a communication artist or a media artist. The best advertising is one of the art forms of our culture. - Author: Lee Clow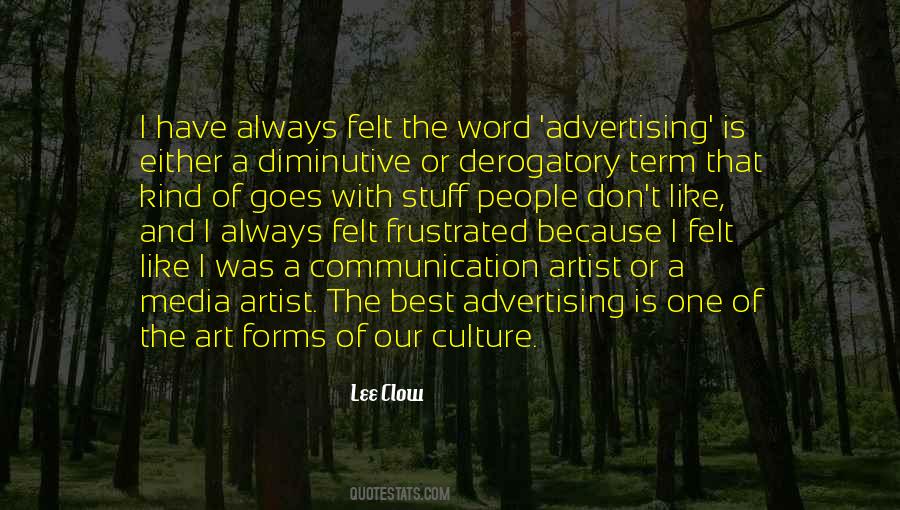 #78. I really tried to work out hard to emulate the look and feel of the character, and did my best to represent the great artists that created him. At the same time, as an actor you have to find what you relate to in the character and make it your own, and hopefully people respond to it. - Author: Daniel Cudmore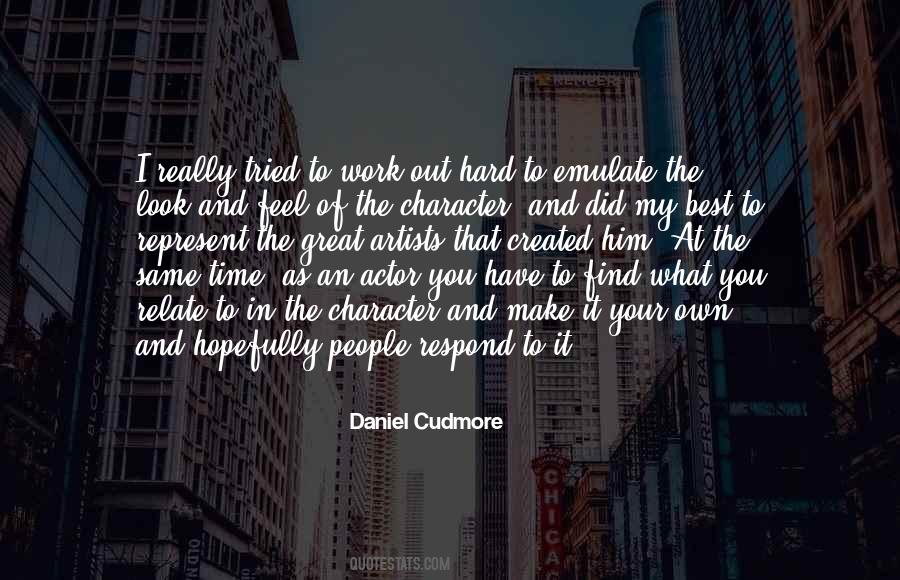 #79. The best thing is to always keep honest people around, because when you have a bunch of yes men around that know that you're making a mistake but let you go on with it, that's when it ruins your mind state as an artist. - Author: Kendrick Lamar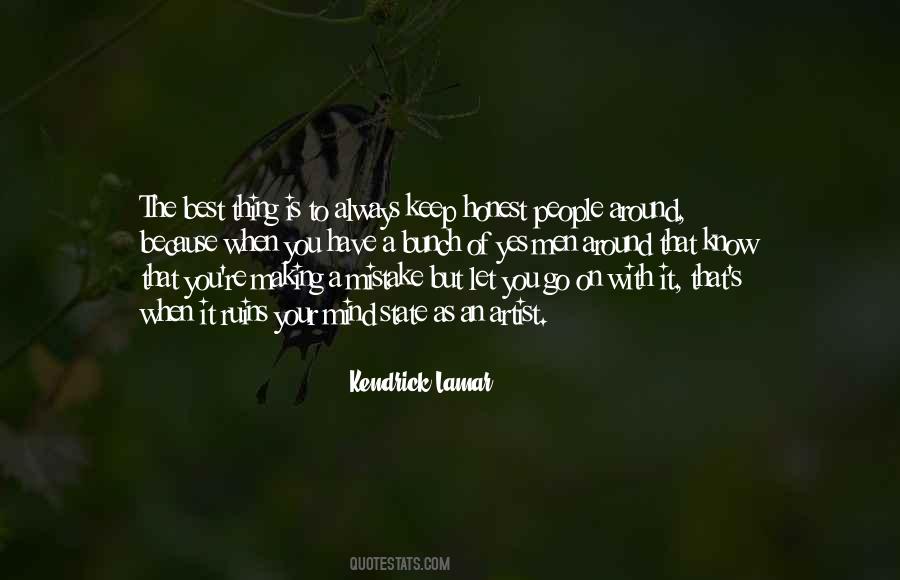 #80. Thank God kids love following an artist. When you get a group who pop, it's the best thing in the world. - Author: Simon Cowell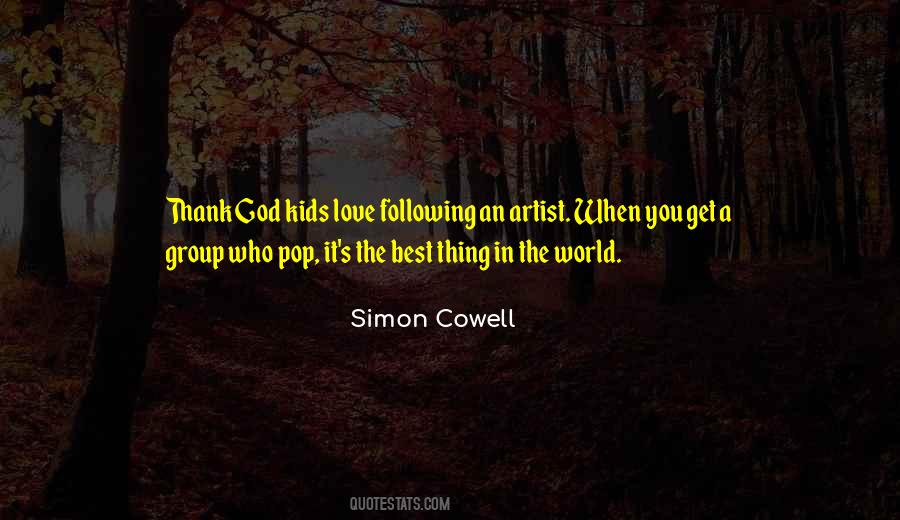 #81. The best thing about being an artist is the free clothing and getting to kiss pretty girls. - Author: James Rosenquist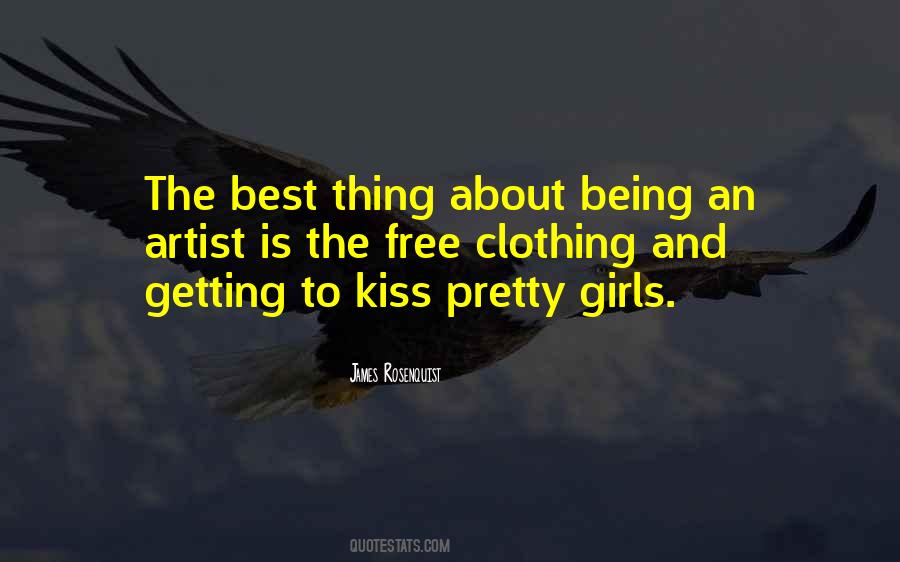 #82. The artist need not know very much; best of all let him work instinctively and paint as naturally as he breathes or walks. - Author: Emil Nolde
#83. I have been influenced by the greatest artists in jazz, pop, reggae, traditional, ballards, pop, and all types of music, taking the best from each to represent my own personality. Whitney Houston, George Michaels, Sade, Phil Collins, and many others have influenced me. - Author: Laura Pausini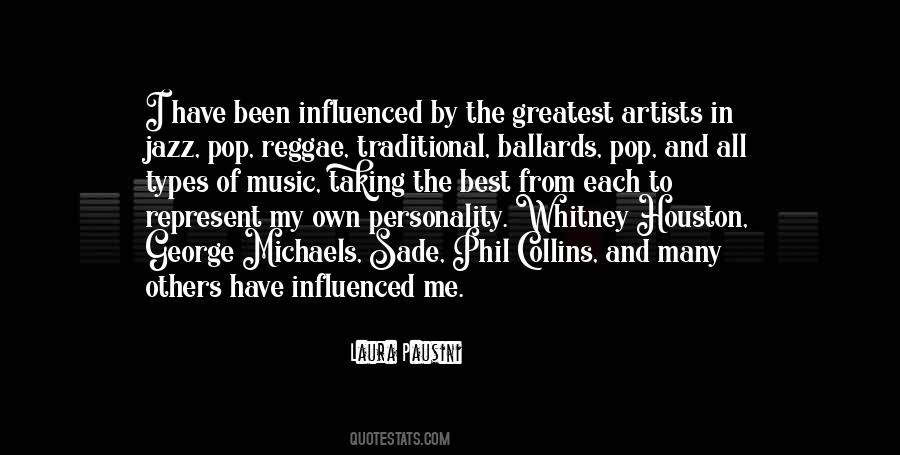 #84. Only the mediocre artist is always at his best. - Author: Victor J. Banis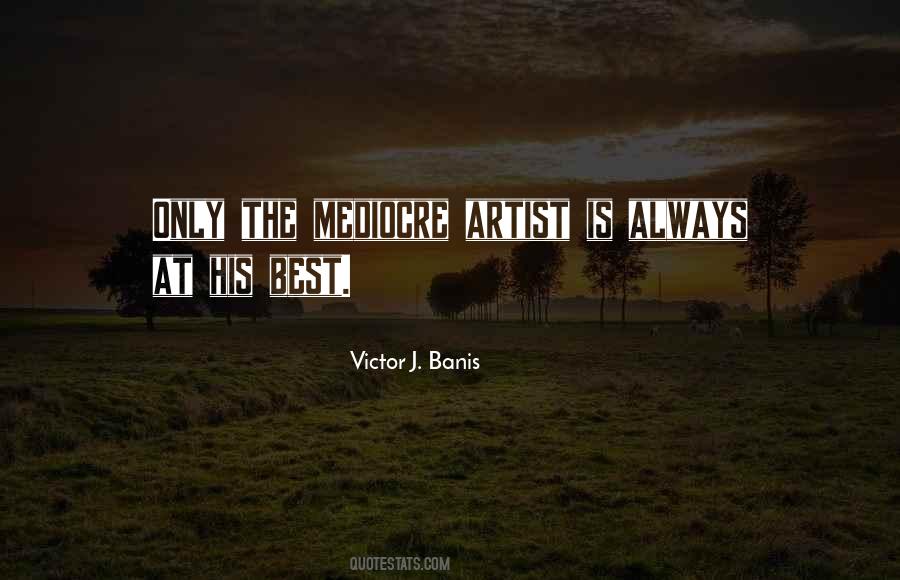 #85. When you have a chance to be an artist with an audience in your lifetime, you have to say thanks to your audience. That's a great thing. That's the best thing that can happen to an artist. - Author: Rokia Traore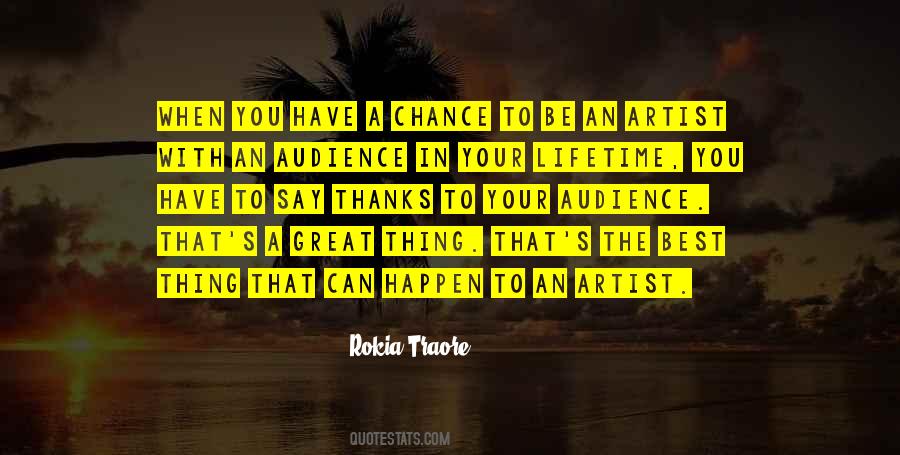 #86. As a woman, and as somebody in the public eye, we always have to be ready for the red carpet and have the nicest outfit, work with the best makeup artist. While all that's nice, we're also human beings. - Author: Sasha Grey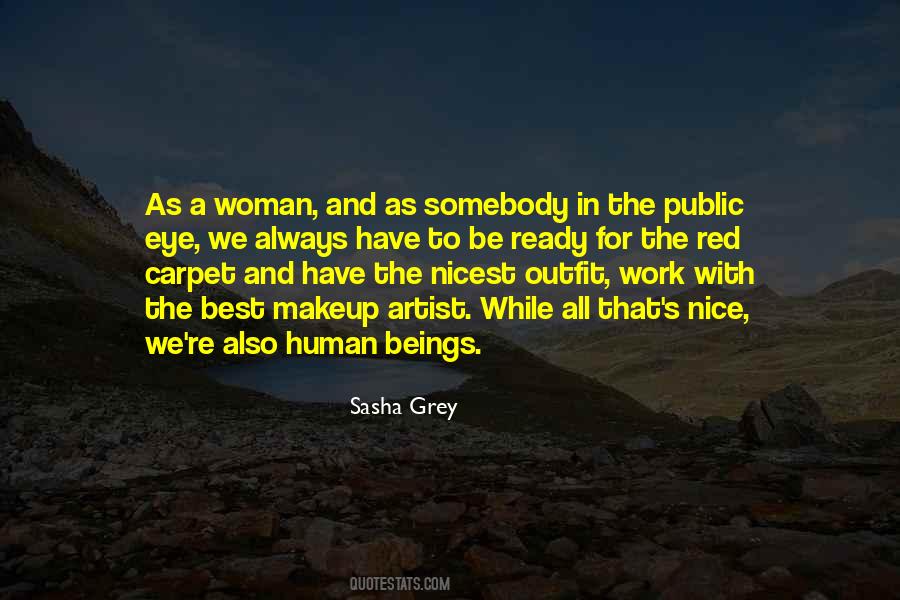 #87. No artist is well served in thinking what will happen to their works. The best one can hope is that they'll enter the mainstream, and people will pull bits and pieces from them. - Author: Twyla Tharp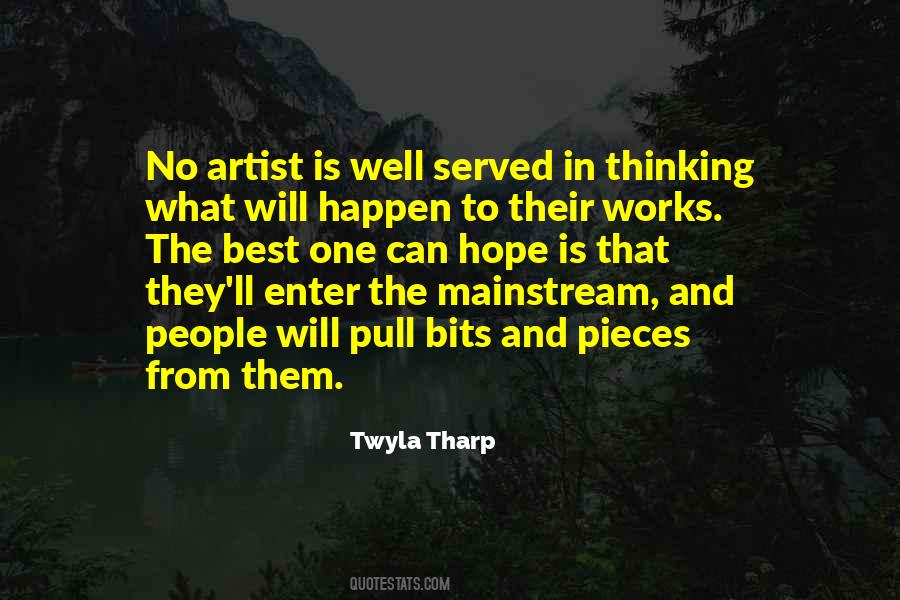 #88. Developmental readings are actually the best part of being an actor for me. I once spent a month doing so many developmental readings at the Roundabout that we all joked that I was an 'artist in residence' there. But to me, it's such a special time to be involved with a new play. - Author: Sarah Steele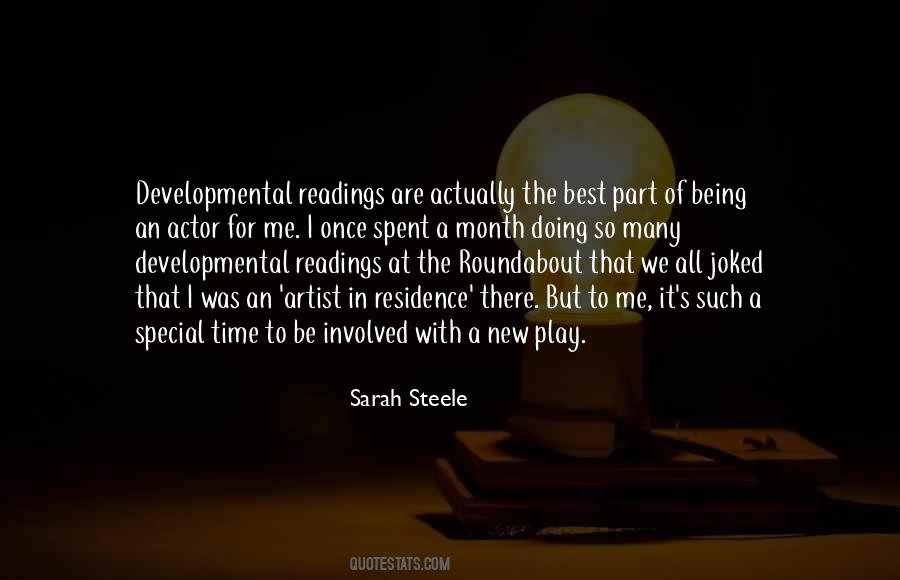 #89. The highest duty of the writer is to remain true to himself and let the chips fall where they may. In serving his vision of the truth the artist best serves his nation. - Author: John F. Kennedy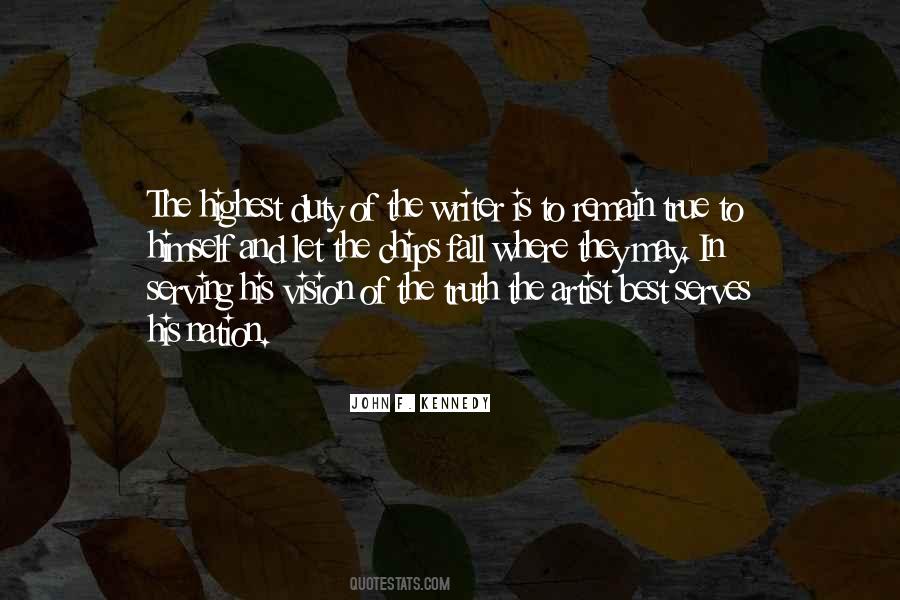 #90. When I'm working, on stage, entertaining people, or watching someone do something amazing, it inspires me to be the best artist that I can be. I enjoy being around art - whether it be a museum, a Broadway show - or even writing a poem. Those are things that make me feel alive and inspire me. - Author: Naturi Naughton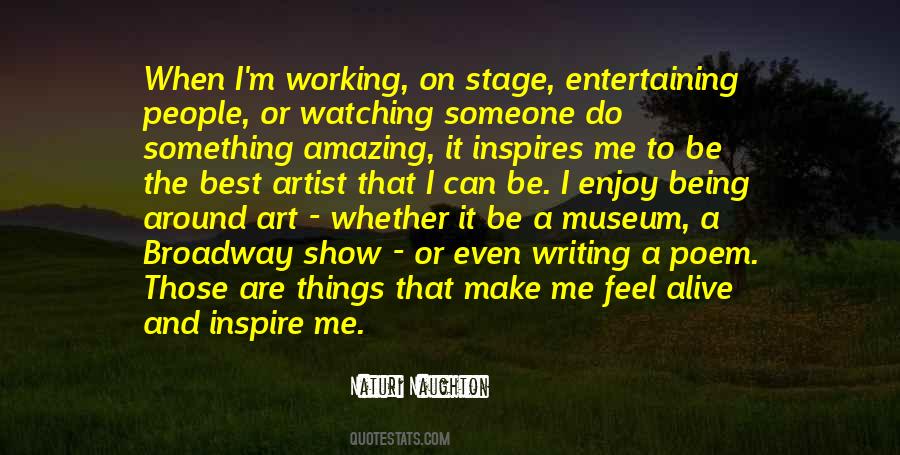 #91. See, if you paint wrong because that's the best you can do, you just a chump. But you do it because you want to? Then you're an artist. - Author: Neal Shusterman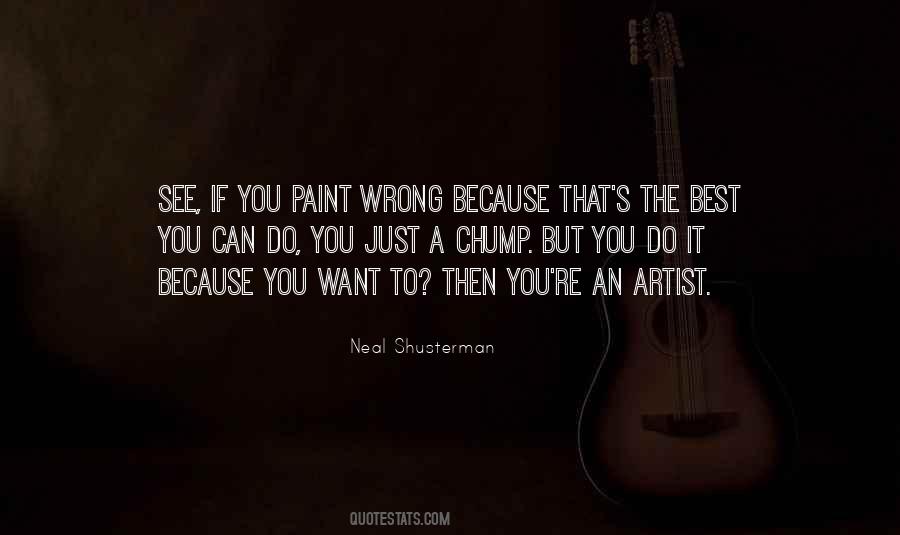 #92. Artists paint pictures. The best artists paint pictures for children's books. - Author: Richard Scarry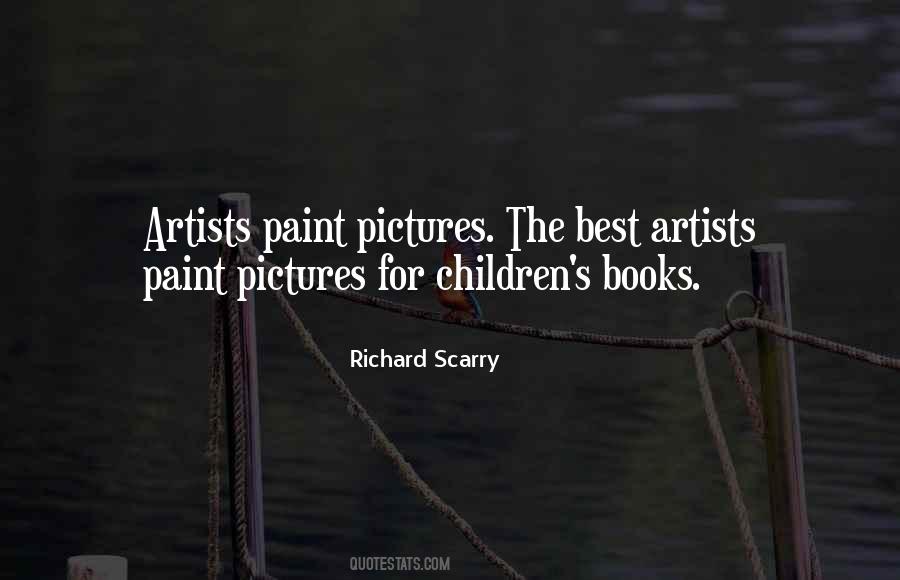 #93. The best job that was ever offered to me was to become a landlord in a brothel. In my opinion it's the perfect milieu for an artist to work in. - Author: William Faulkner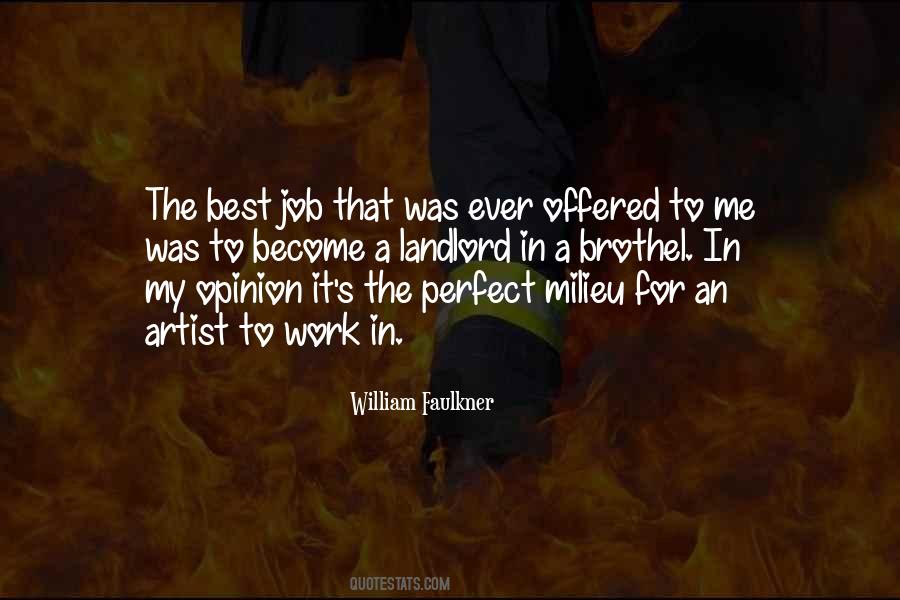 #94. The best artist has that thought alone Which is contained within the marble shell; The sculptor's hand can only break the spell To free the figures slumbering in the stone. - Author: Michelangelo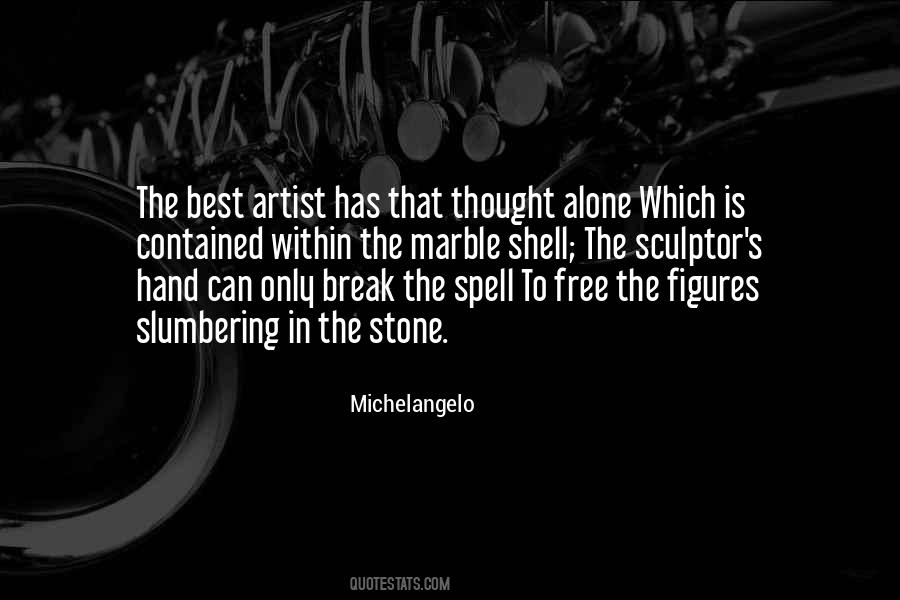 #95. The best work of artists in any age is the work of innocence liberated by technical knowledge. The laboratory experiments that led to the theory of pure color equipped the impressionists to paint nature as if it had only just been created. - Author: Nancy Hale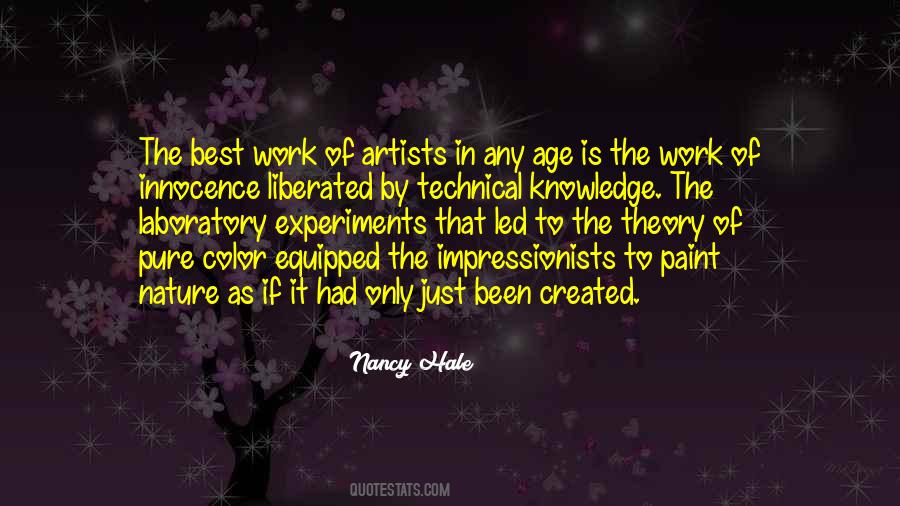 #96. I believe myself to be an artist. That was my calling, to do my work, and what's most important to me is to do the best work I possibly can. And that is what means the most, that is what will endure. - Author: Patti Smith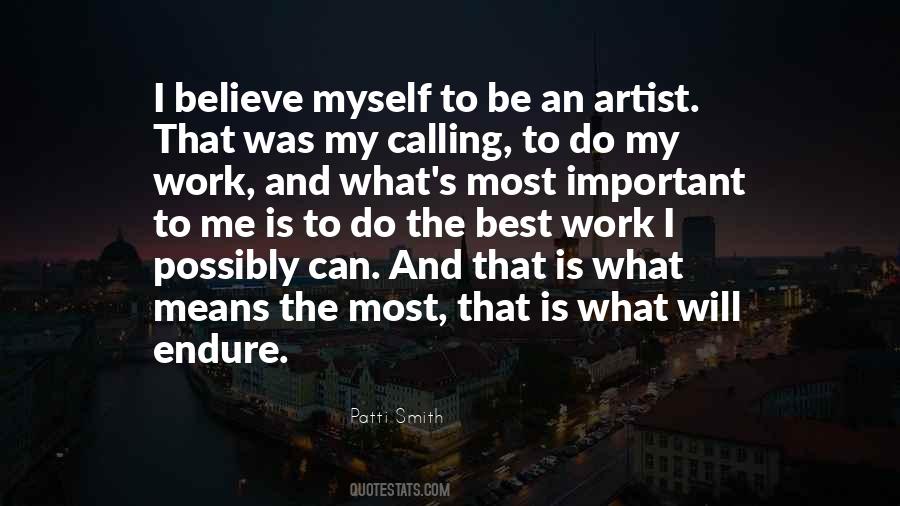 #97. I think of myself as a producer who tries to bring the best out of everyone, whether that be an artist, songwriter or a publicist. - Author: L.A. Reid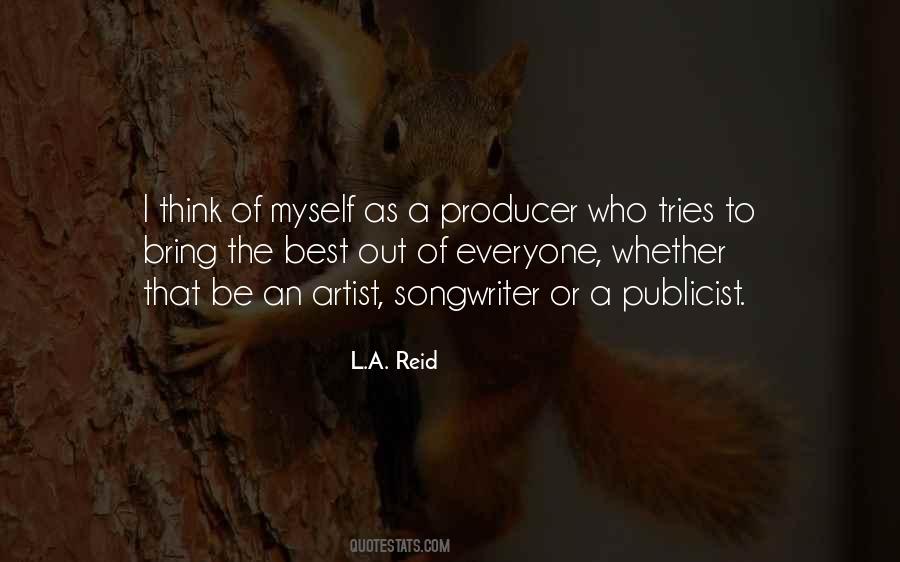 #98. An artist needs the best studio instruction, the most rigorous demands, and the toughest criticism in order to tune up his sensibilities. - Author: Wayne Thiebaud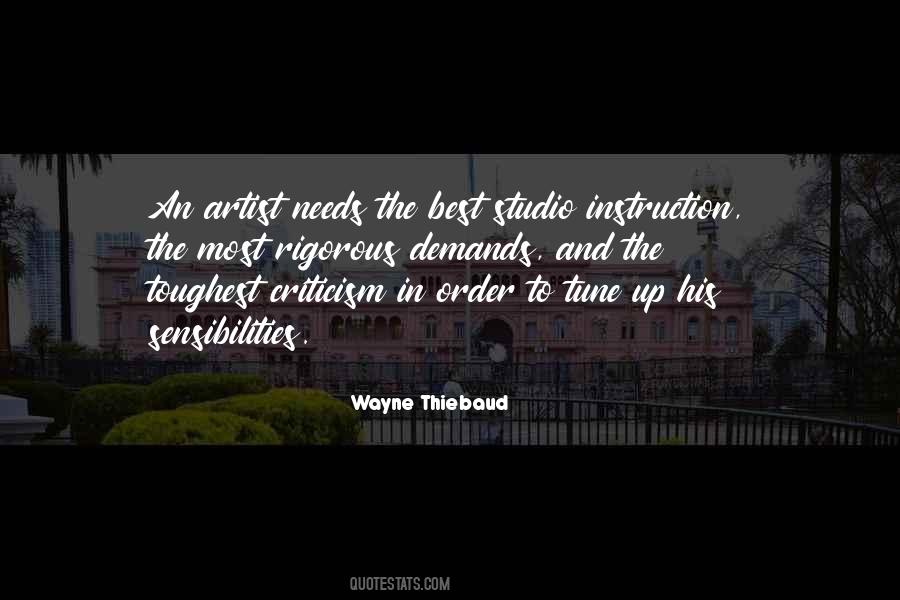 #99. The best picture I got was Bianca Jagger whispering in Mick's ear. I caught them telling a secret, which is sort of rude. - Author: Robert Mapplethorpe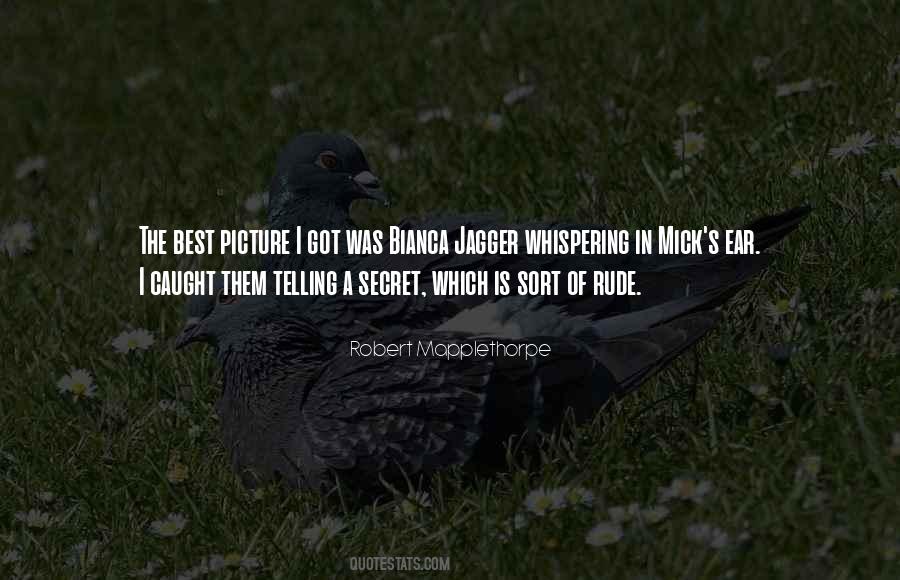 #100. The artist is an educator of artists of the future who are able to understand and in the process of understanding perform unexpected - the best - evolutions. - Author: Saul Steinberg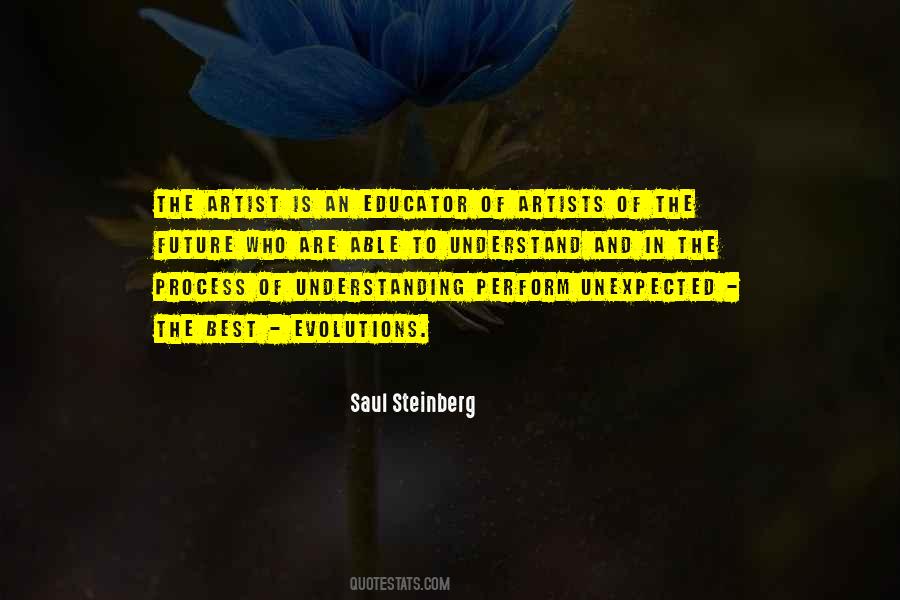 Famous Authors
Popular Topics