That's Not Me Anymore Famous Quotes & Sayings
List of top 100 famous quotes and sayings about that's not me anymore to read and share with friends on your Facebook, Twitter, blogs.
Top 100 That's Not Me Anymore Quotes
#1. It's not like my old self - I'm not in character anymore, I'm me. I'm not hiding behind that anymore. - Author: Damon Albarn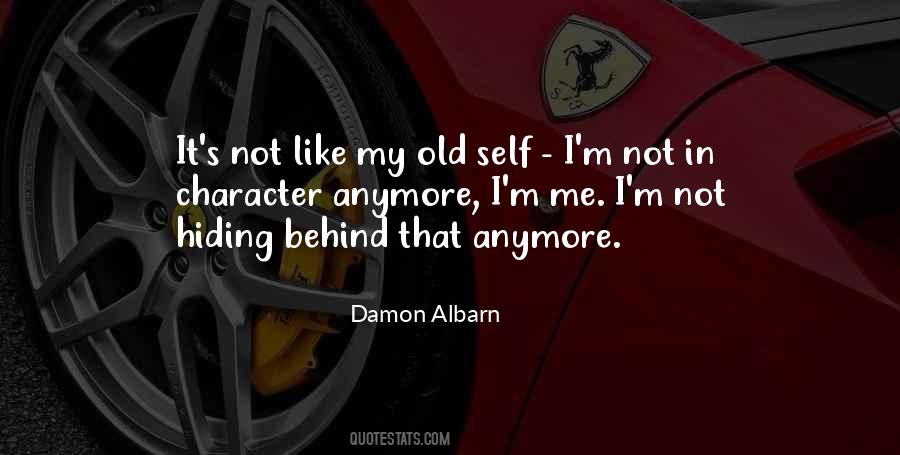 #2. People are very nice to me, and they've been nice as my career has gotten better and I've gotten more jobs. But the reality is that if I decided tomorrow that I didn't want to act anymore, it's not like people are going to be like, 'Please, come back!' - Author: Rashida Jones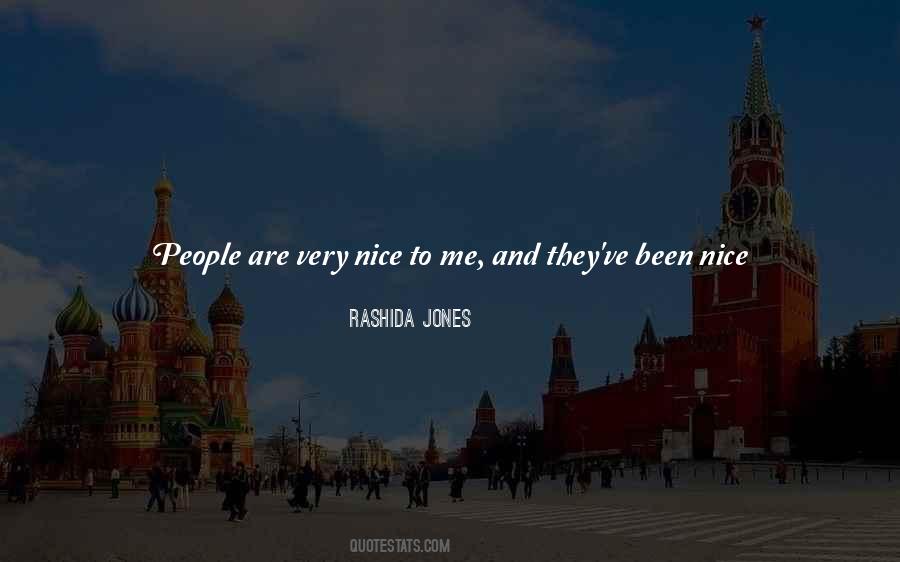 #3. I'm nothing, not a single thing. The only particle I had, the only tiny thing raising me up, is that I was Ed Slaterton's girlfriend, loved by you for like ten secs, and who cares, so what, and not anymore so how embarrassing for me. - Author: Daniel Handler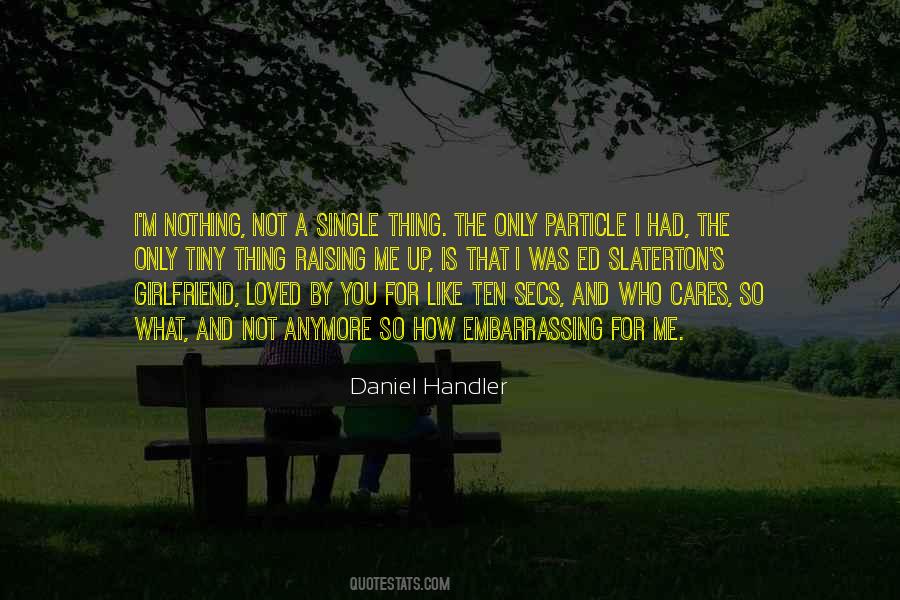 #4. I'm not thinking about me that much anymore. Every time I look, I'm looking for my daughter, you know? If I'm in a store, I'm looking at baby clothes. It's so much cuter to find things for her than to find things for me. - Author: Alessandra Ambrosio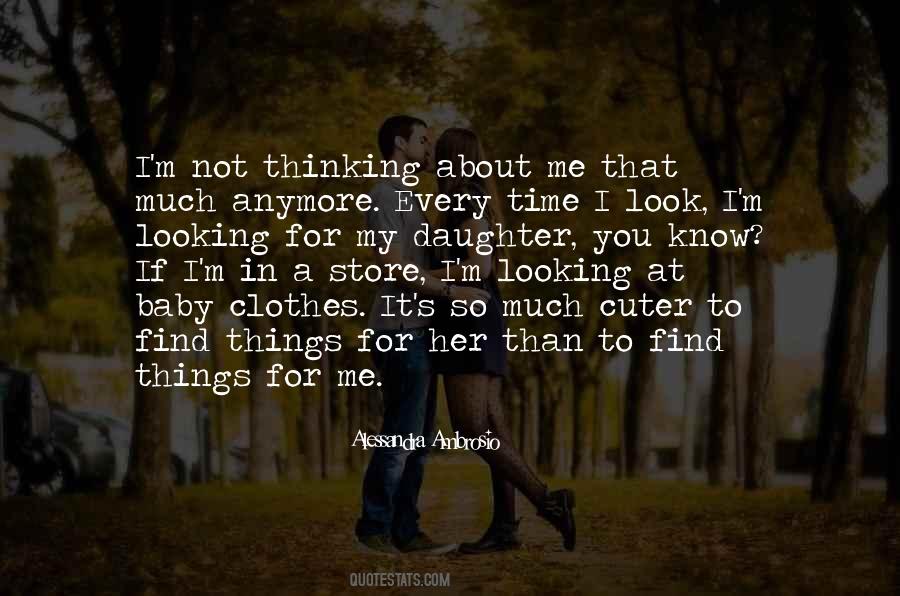 #5. Dance has always just been an extension of music for me. It's about putting my music into motion. It's just another dimension that I tap into with my music that not many artists do anymore. - Author: Tinashe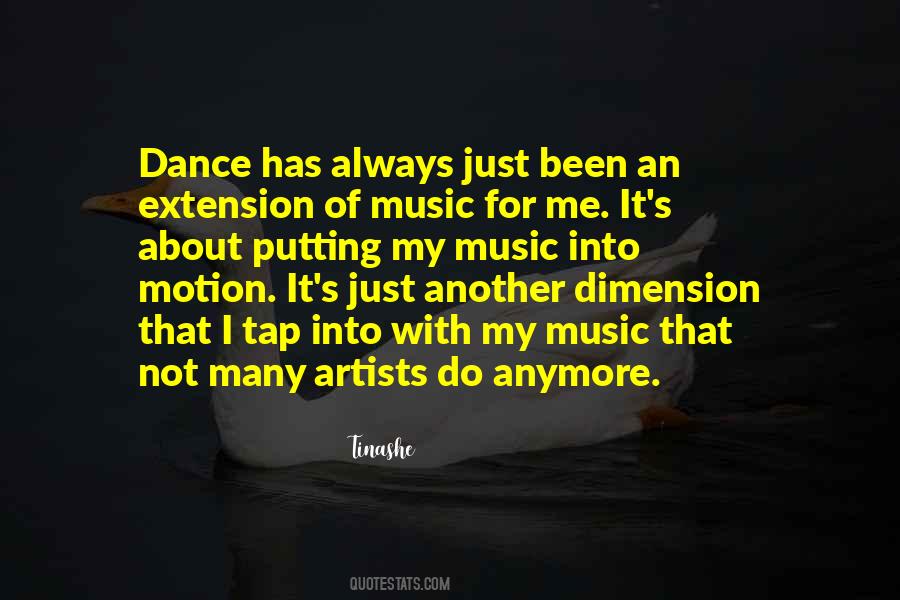 #6. There's no relationship to the narrative anymore. People want their own interpretation of history. We're compartmentalizing, forgetting what came directly before, like it's not a big deal. That, to me, is a crime. - Author: Ariel Pink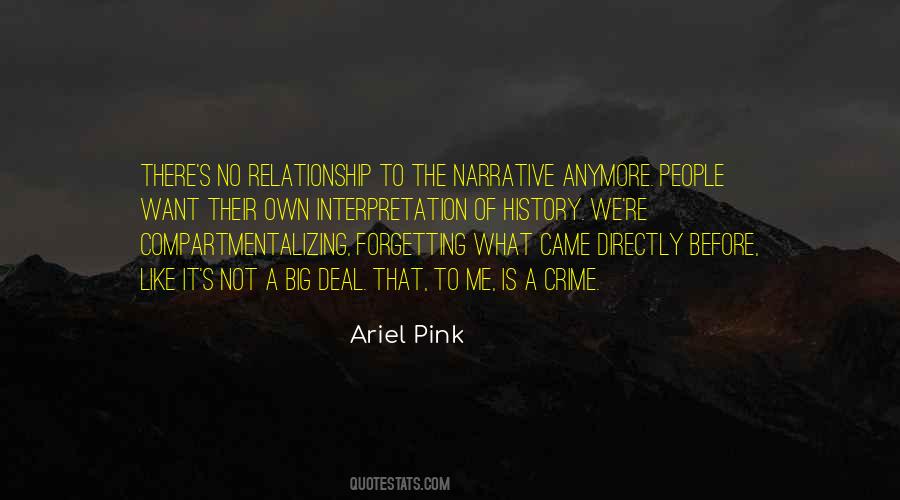 #7. It's important for me to fight for principles. But I am not willing to cope with the nastiness of politics anymore and the endless destructive confrontations that it leads to. - Author: Ingrid Betancourt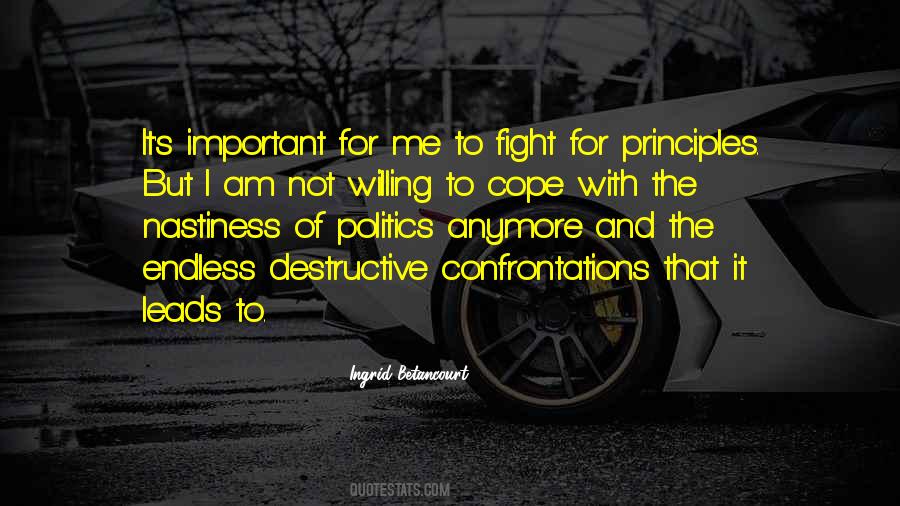 #8. People come to me with their heads held high and announce that they do not eat sugar anymore, as though they have tackled one of life's deadly sins. My response is to ask them how long they have had this problem and if they have considered seeing a psychiatrist. - Author: Emily Luchetti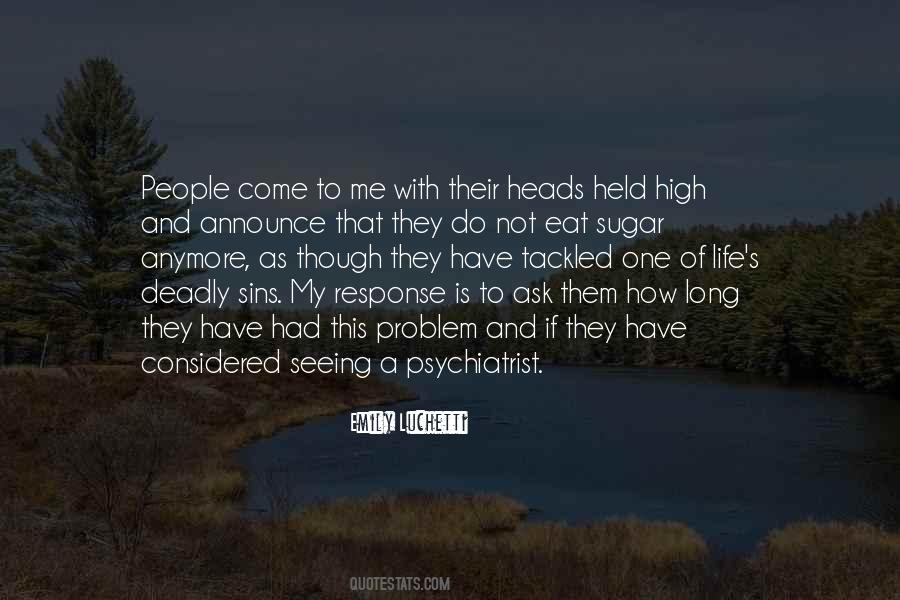 #9. I've always smiled... And matched with everyone around me. But eventually, I realized that there was no one around me anymore. It's not possible to have people like you when you don't even show the real you. - Author: Kozue Chiba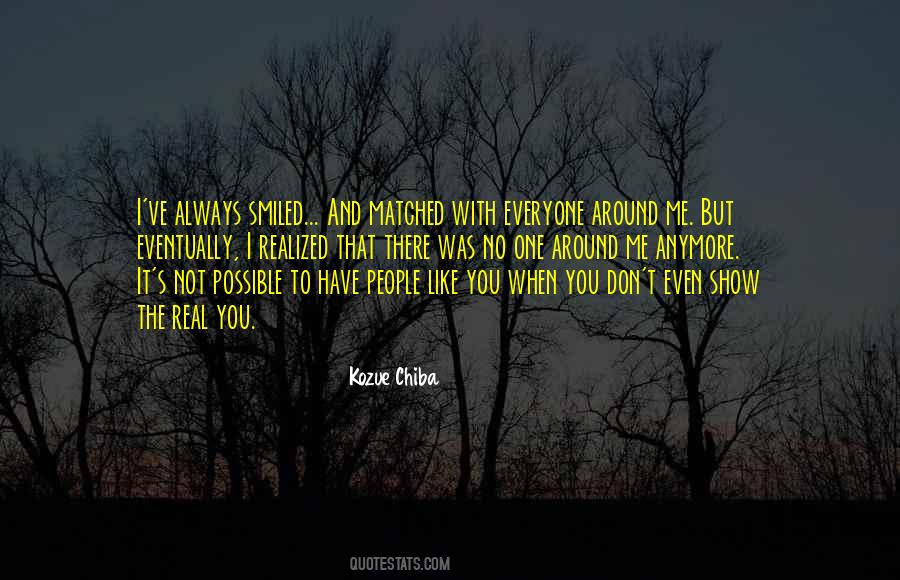 #10. You just ignore it! It's not that you don't care anymore, it's that you stop listening and paying attention to it. Because everybody has an opinion. Talk is cheap - it's free! And I say that like, if you don't like the stuff I have to say, pay me no mind - it will cost you nothing. - Author: Donald Faison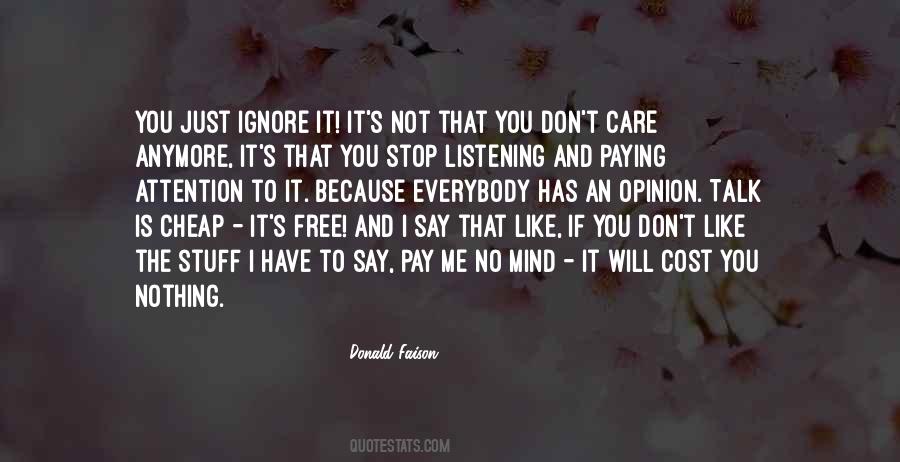 #11. There's so many companies that are spending so much money on 17-year-olds ... I can't compete with that. I'm not that guy anymore, they can't dress me up and roll me out there and make me look good. I am what I am! - Author: Bob Mould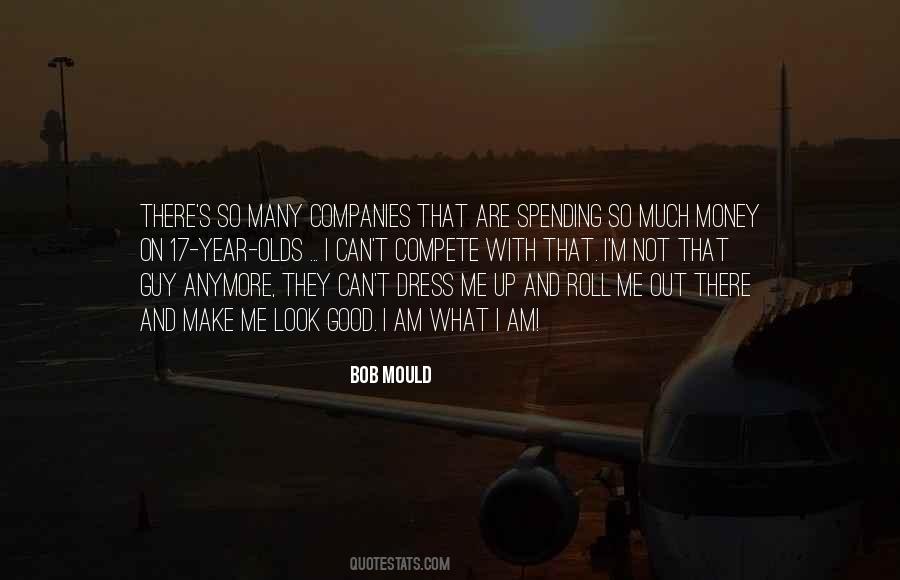 #12. I'm sorry, Hen. I still have feelings for you. It's just that my band needs a real bass player now. We're not a joke band anymore. Okay, sweetie?'
That was how Petra Dostoyevsky fired me. - Author: Daniel Ehrenhaft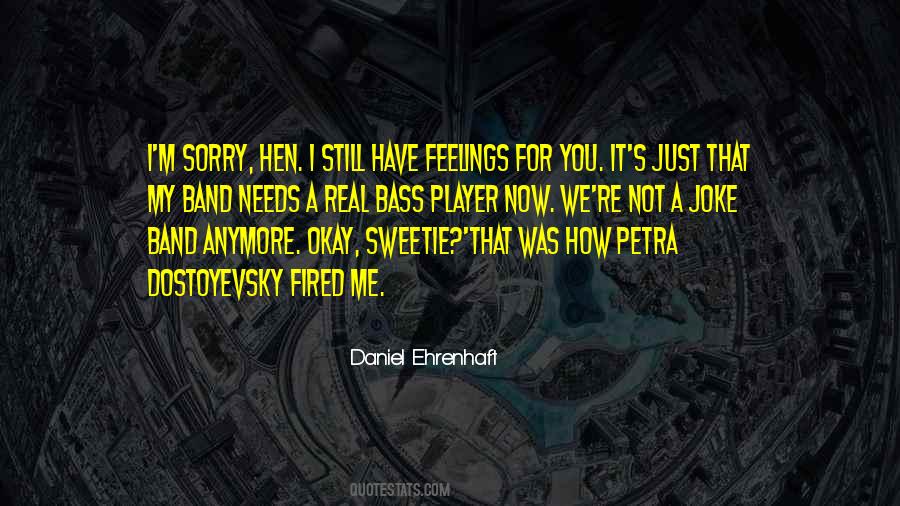 #13. I'm not trying to snowboard for other people anymore. That just kind of comes with age and growing up. That's helped me a lot. Some of that started right after the last Olympics (in Vancouver). - Author: Kelly Clark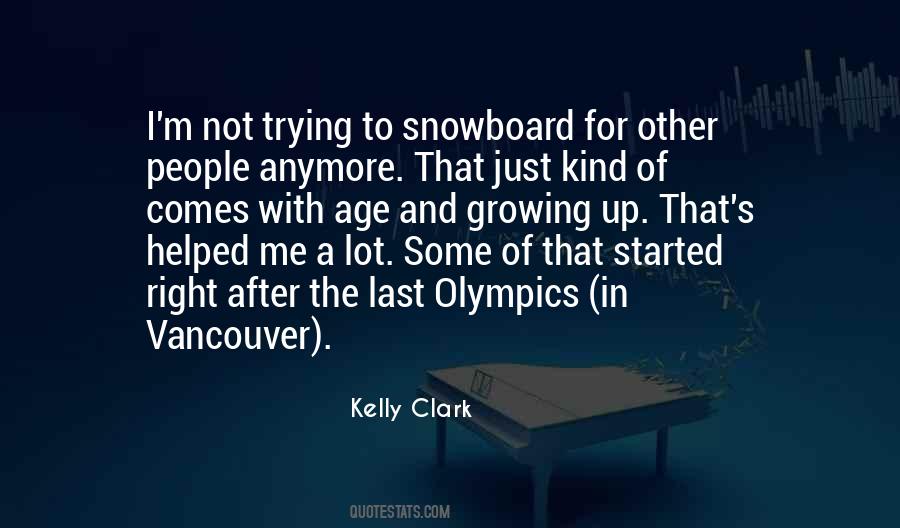 #14. She faces me. "You had sex with me."
"I'm blindingly aware of that ... "
"And you want to have more sex with me."
"Again, I'm positive that's obvious."
Her gaze drops. "But it's not just about sex anymore is it?"
"It's never been just about sex. - Author: Jay McLean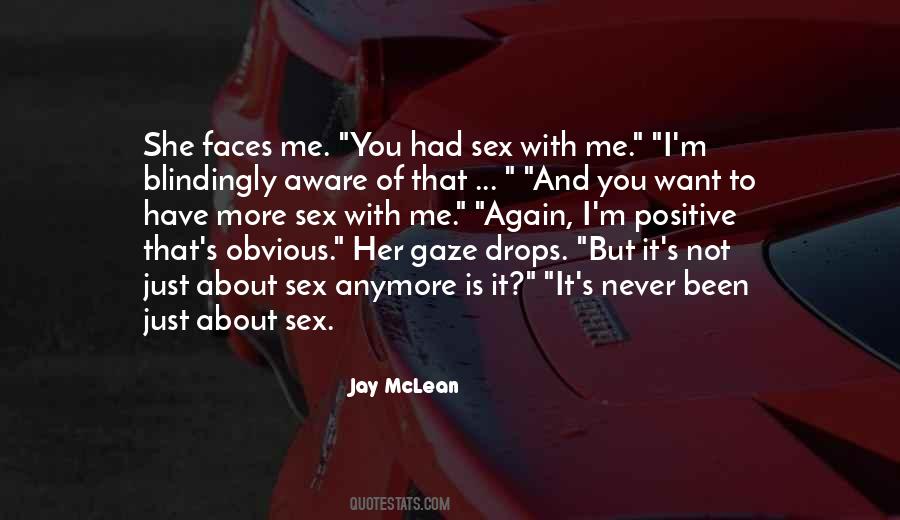 #15. It was awkward at times, especially at first. But I think the reality is they actually saw me with a Razorback on my shirt, and it kind of hit home that, hey, he is over there, he's not at Springdale anymore. - Author: Gus Malzahn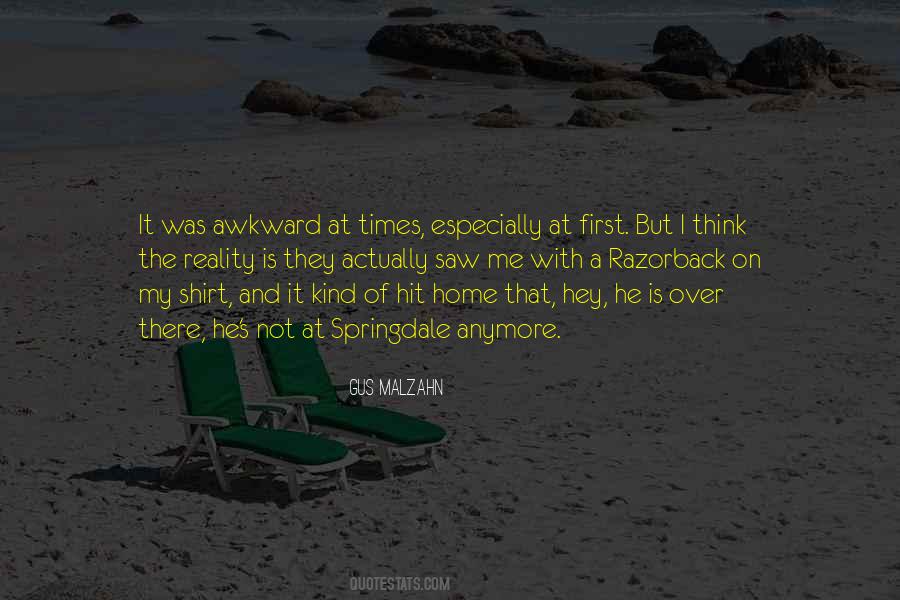 #16. My help - it's not a light switch you can turn on and off. My help starts right now, and after this point you don't get to tell me that you don't want it anymore. Understand? You had a chance to walk away, Alice, and you didn't take it. Now it's time to play the game. - Author: Elle Lothlorien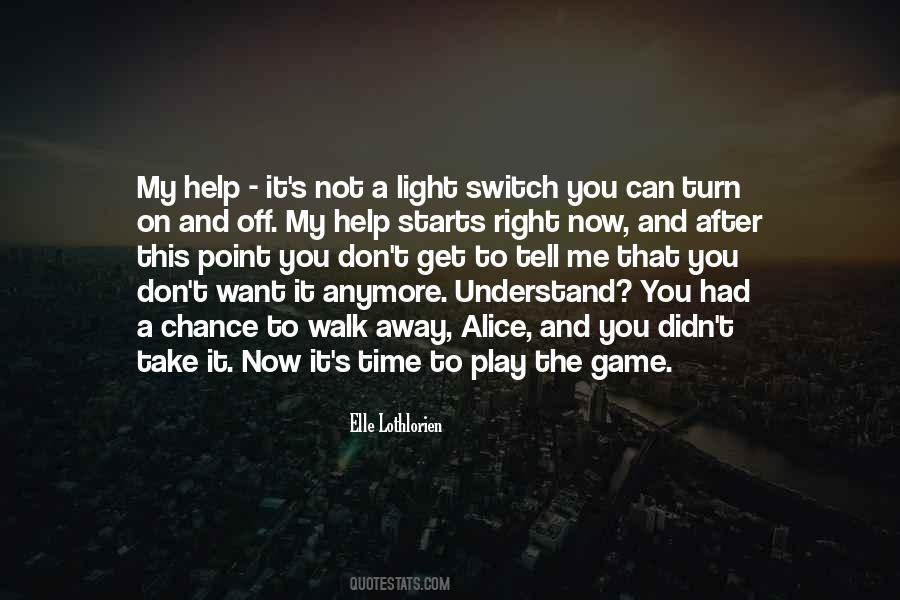 #17. I had always thought that the relationships we make strangers are the hardest and the relationships we have with family the easiest. For me the opposite had been true. The family I was born into was not really my family anymore, while the family I made for myself out of strangers was mine. - Author: Amulya Malladi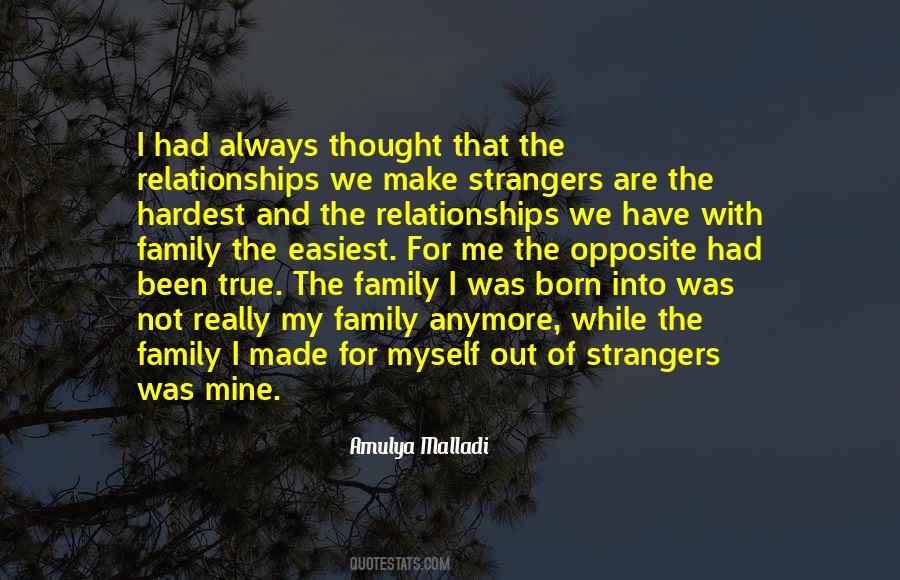 #18. If I had a nickel for every time someone told me apologetically "I don't read fiction," I wouldn't have to write fiction anymore. And I share that fascination with the truth. I'm not looking down my nose at it. - Author: Ron Currie Jr.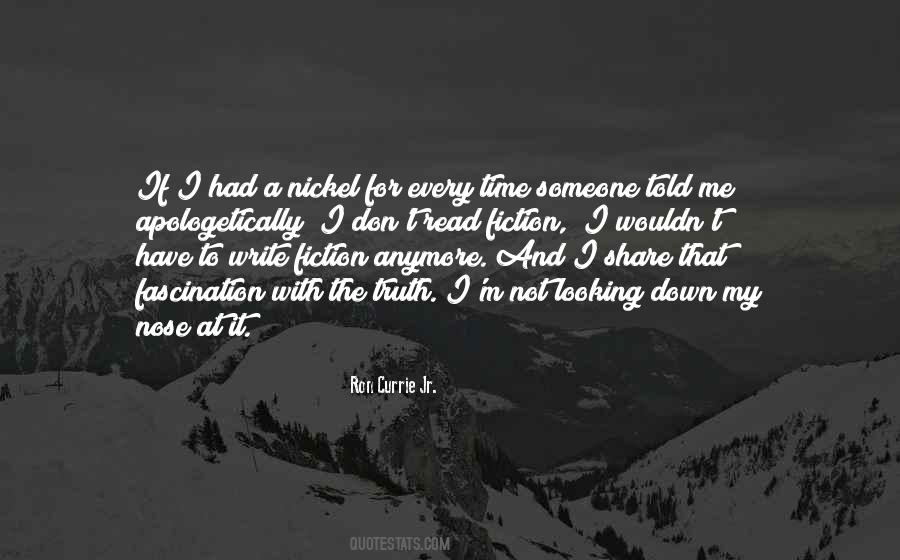 #19. Sometimes in movies, I still have to be the hero, but it's not all that important to me anymore. - Author: Dennis Quaid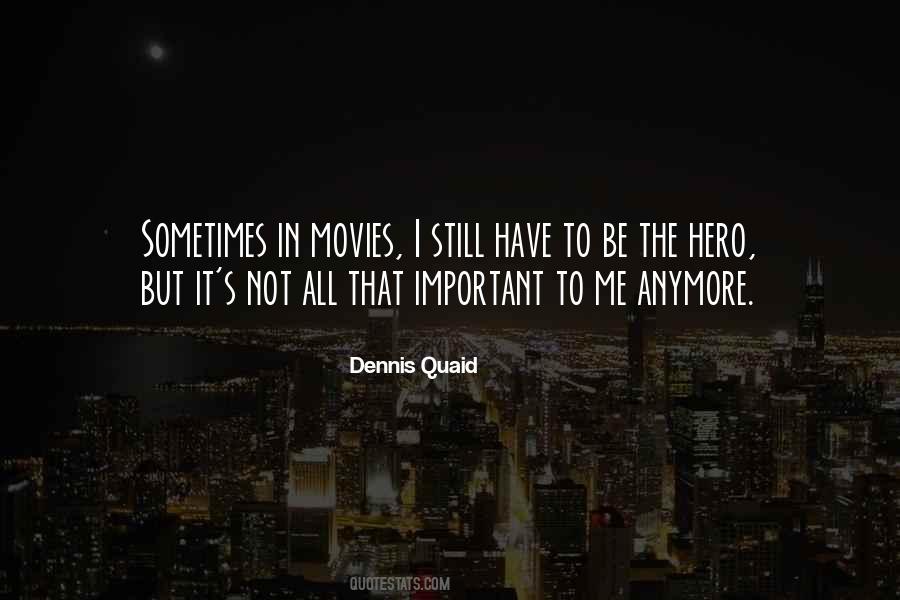 #20. All the fear has left me now, I'm not frightened anymore. It's my heart that pounds beneath my flesh, it's my mouth that pushes out this breath. - Author: Sarah McLachlan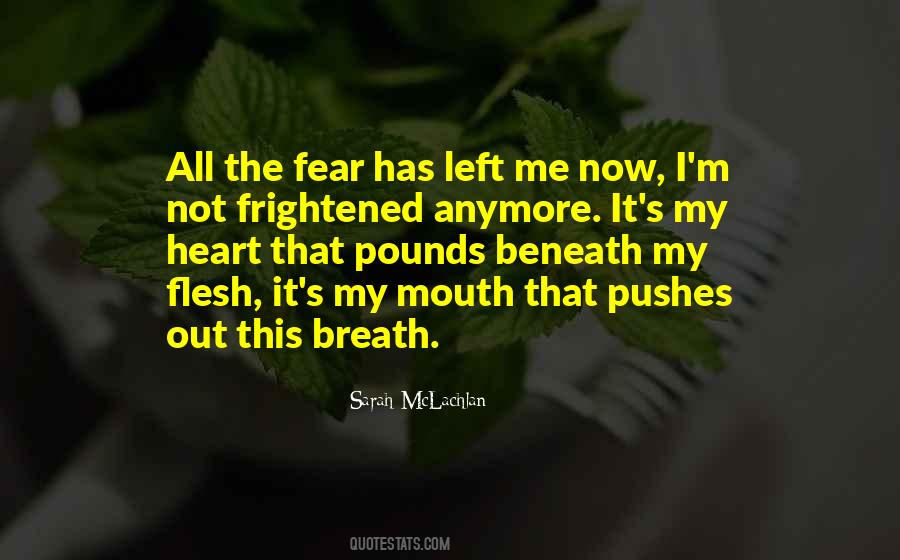 #21. I know his death could have been avoided with a doctor who was really on top of it. He had so much life in him. It was wrong. I played my way through that first show and did "Old Man" for Ben (Keith) at the end. I looked over to my right and he was out there somewhere, but not next to me anymore. - Author: Neil Young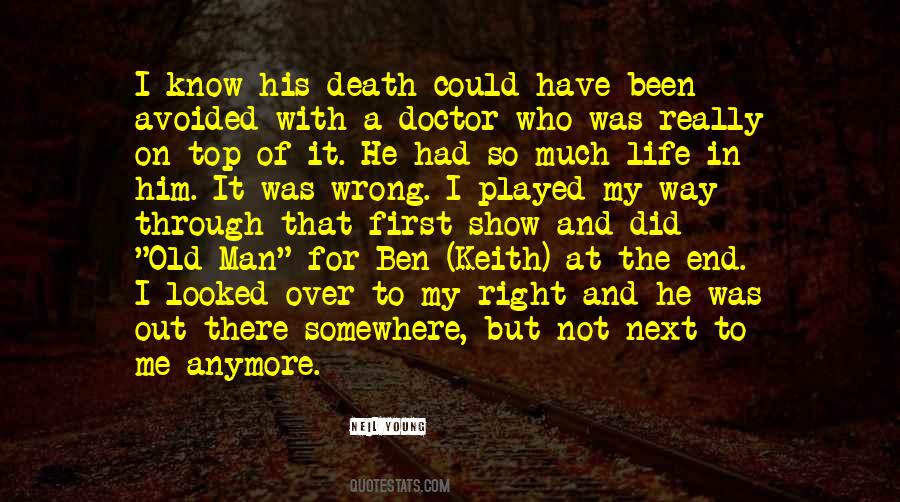 #22. For me, I really feel like if there's not a real, true connection to the material, I don't need to sing it. I don't need to sing songs just because I like them anymore. I've done that. - Author: Billy Porter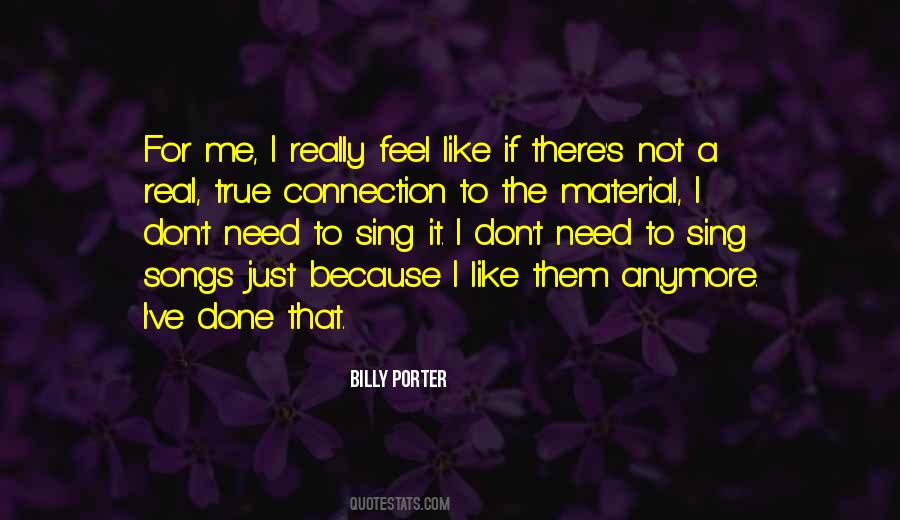 #23. I don't think anymore that my life is about what has happened to me. It's about what I choose to believe. It's not what I can see, but what I think is out there. And in the end, this end, here is what I believe. The heart is a wild and fugitive creature. The heart is a dog who comes home. - Author: Helen Humphreys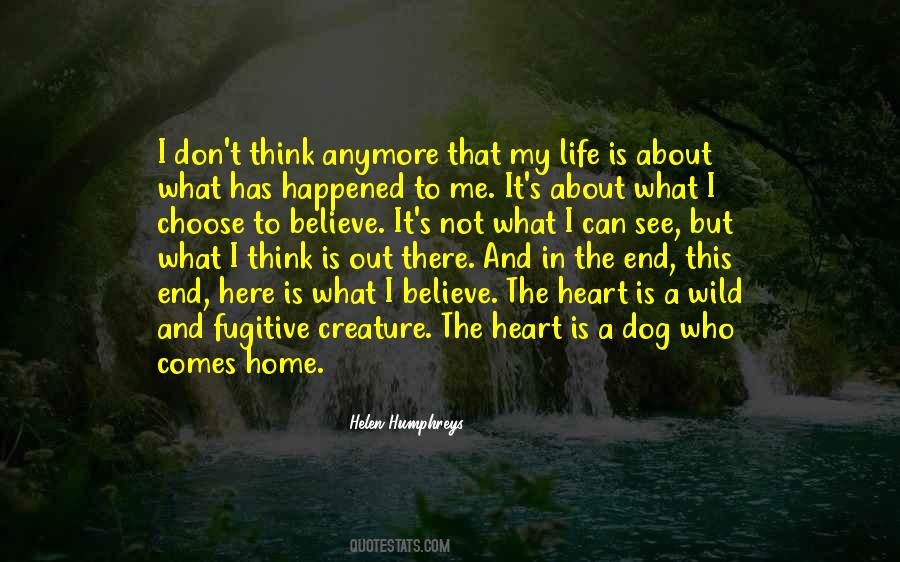 #24. He shook his head. "Uh-uh. That's not going to work anymore. You can be as hard and sarcastic as you want, but we both know you really have a soft spot for me. You just admitted it." "If you tell anyone, I'll deny it. - Author: Sarah Addison Allen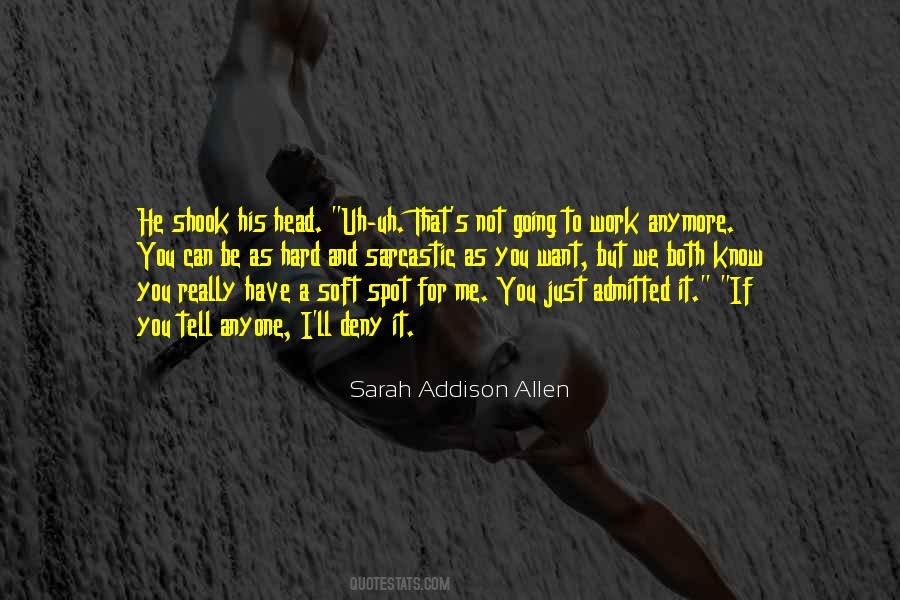 #25. I am finding that vulnerability gives me great strength, because you're not hiding anymore. It's really about being a pioneer for myself, going into the places where I am not being taught. I have to teach myself. - Author: Tori Amos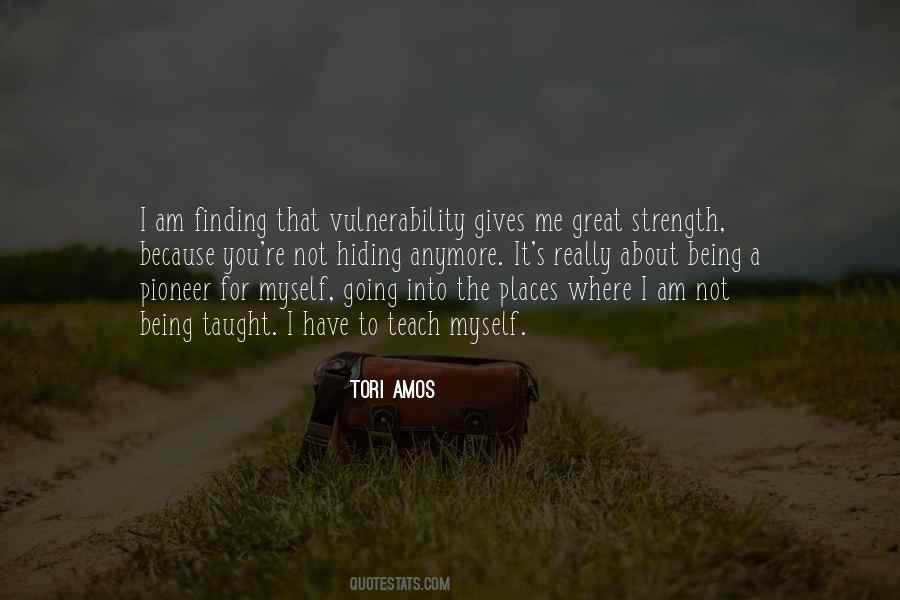 #26. Music will always be my No. 1 passion, but I don't have to be doing it professionally. It's not really about that for me anymore. I feel like I don't have to look at it as a career. I can just rest in it and just be. - Author: Jessica Simpson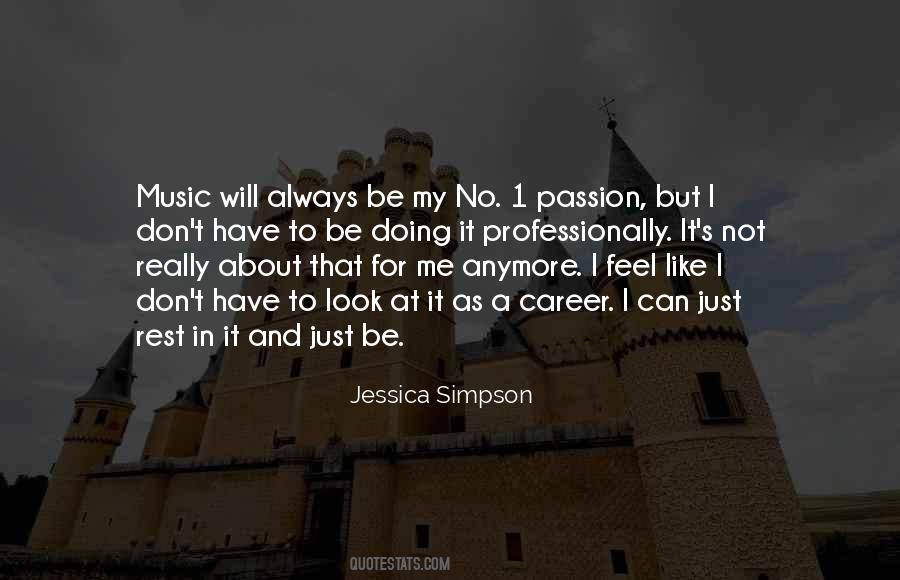 #27. But I don't blame you anymore, that's too much pain to store ... it left me half dead ... inside my head. And boy looking back I see I'm not the girl I used to be. When I lost my mind, it saved my life. - Author: MoZella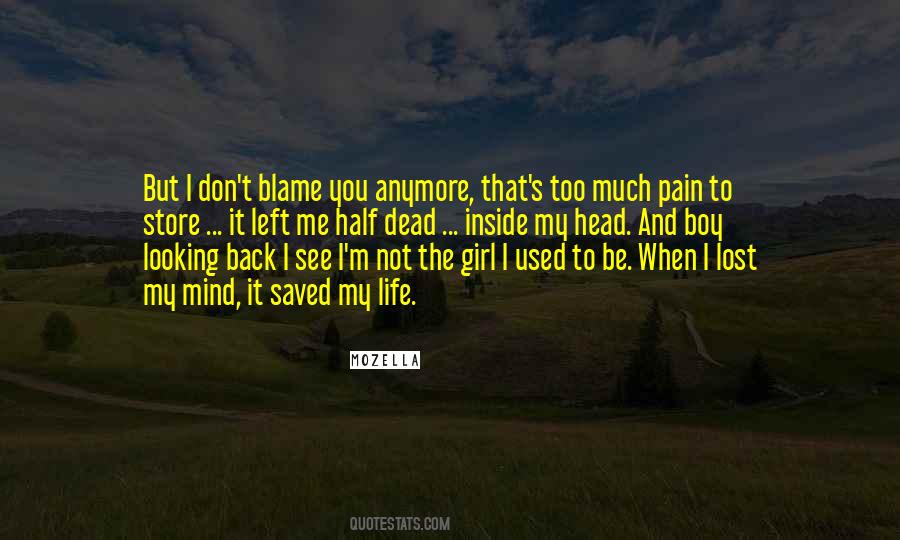 #28. Your heels are damaging my rug. It's an eighty-thousand-dollar rug."
I say, "You like me in heels. Money doesn't signify anymore. And at least I'm not burning holes in it."
"A wiser woman wouldn't remind me of that time. I'm still pissed about it. - Author: Karen Marie Moning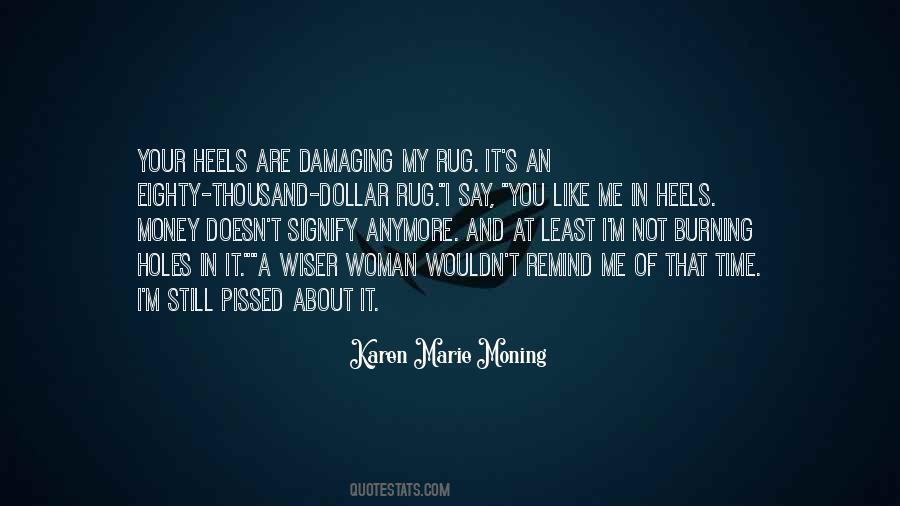 #29. What worries me though, is that after all those victories people don't see me as a human being anymore. I am not a machine, I have a heart beating in my chest -not an engine, there's blood in my veins- not oil. I know pain and fatigue. I can lose but I will strive to win everything. - Author: Evgeni Plushenko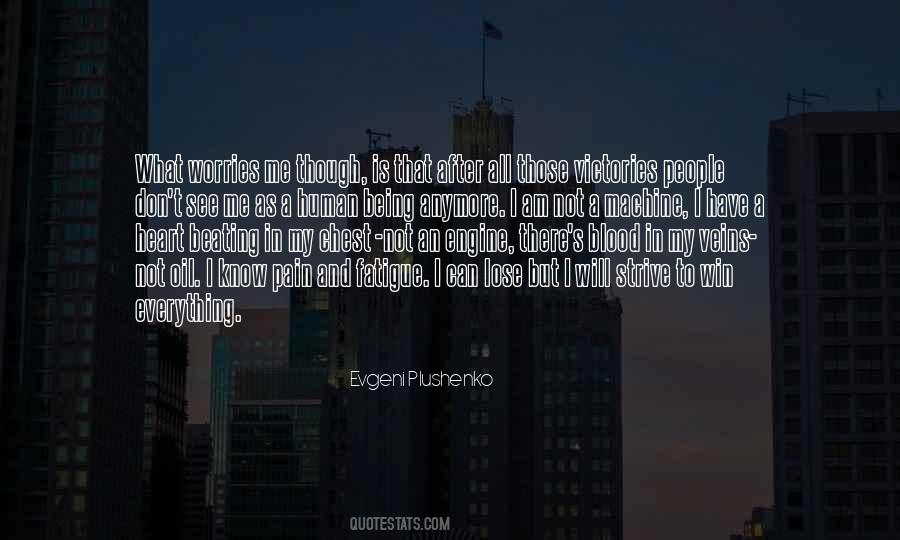 #30. Look, I'm not going to apologise anymore ... Yes, I want to protect you. You're my wife. I'd fucking kill for you, Liv, and if that makes me a possessive bastard of a husband, then fine. That's what I am. I'm not going to change either. I love you too goddamned much. - Author: Nina Lane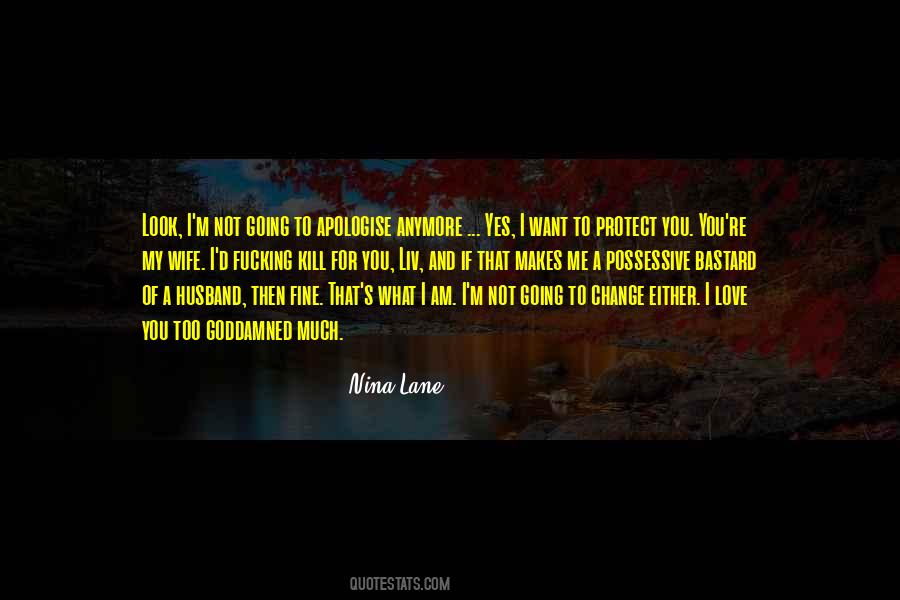 #31. I wish Peeta were here to hold me, until I remember I'm not supposed to wish that anymore. I have chosen Gale and the rebellion, and a future with Peeta is the Capitol's design, not mine. - Author: Suzanne Collins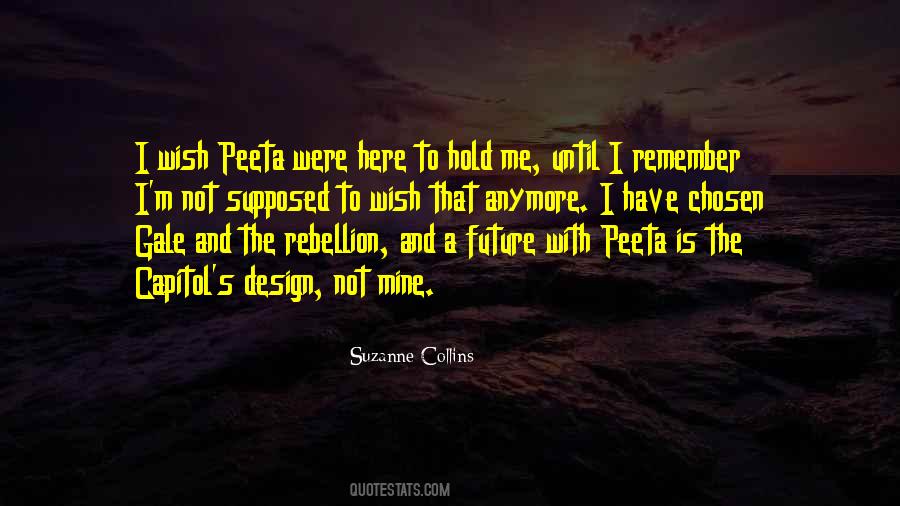 #32. It's my fault too. For a long time, I wanted to be rescued, I realized that. But not anymore. You don't have to protect me all the time now. - Author: Kim Edwards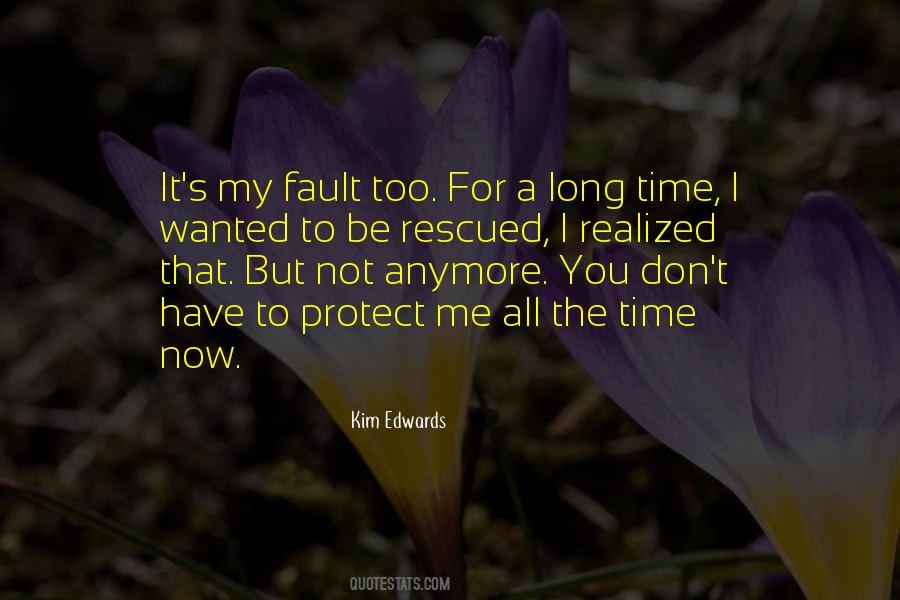 #33. It seems to me that life's moments don't have to be so right or not right anymore, so fraught and weighted with "valve", but just of themselves, what they are ... - Author: Chang-rae Lee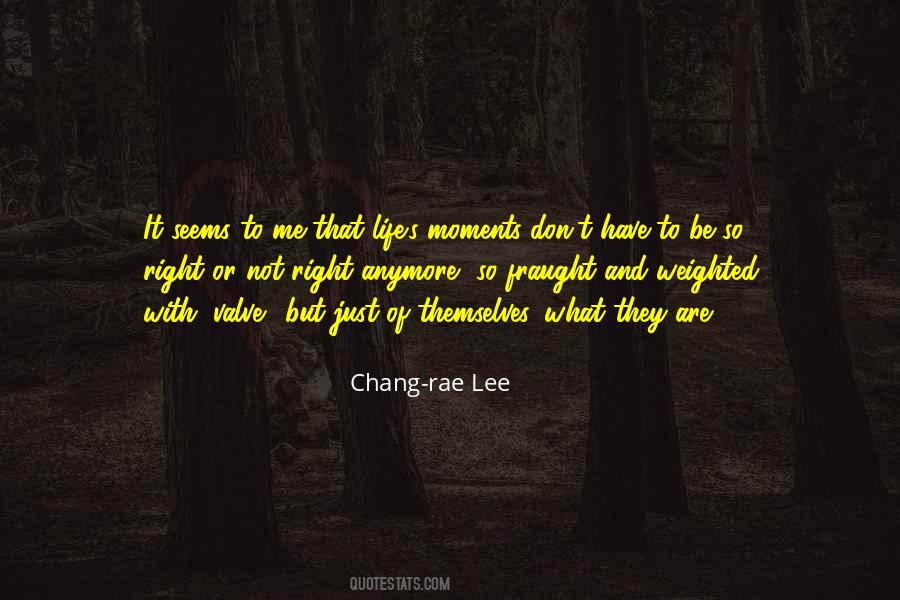 #34. I originated my own cliches, but I'm finding that's not working for me anymore. - Author: Tom Bodett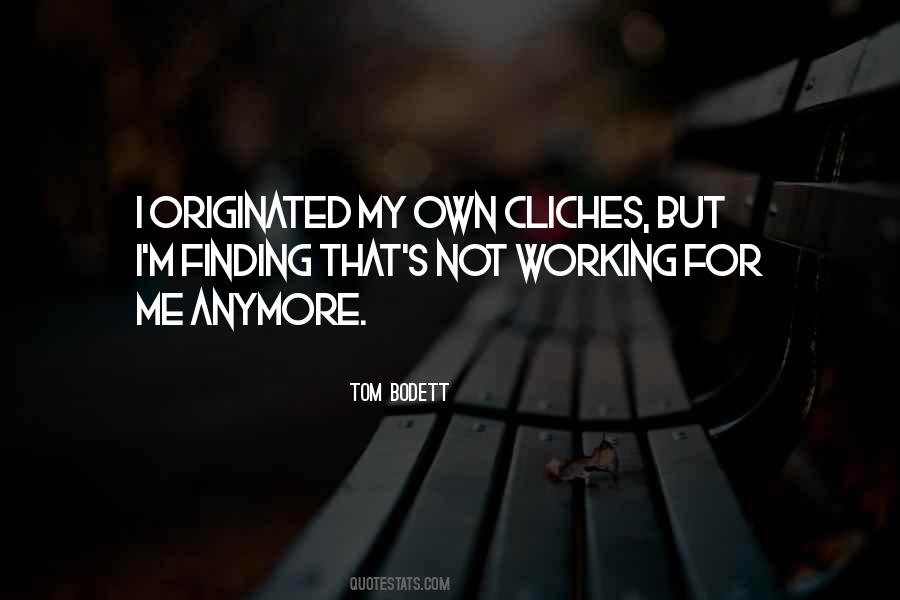 #35. In the beginning, being alone is always a choice. Then it's not a choice anymore. When did it stop being a choice? What is it in me that stopped choosing you, that moved into you instead so that I have to be with you in order to be with myself? - Author: Gunnar Ardelius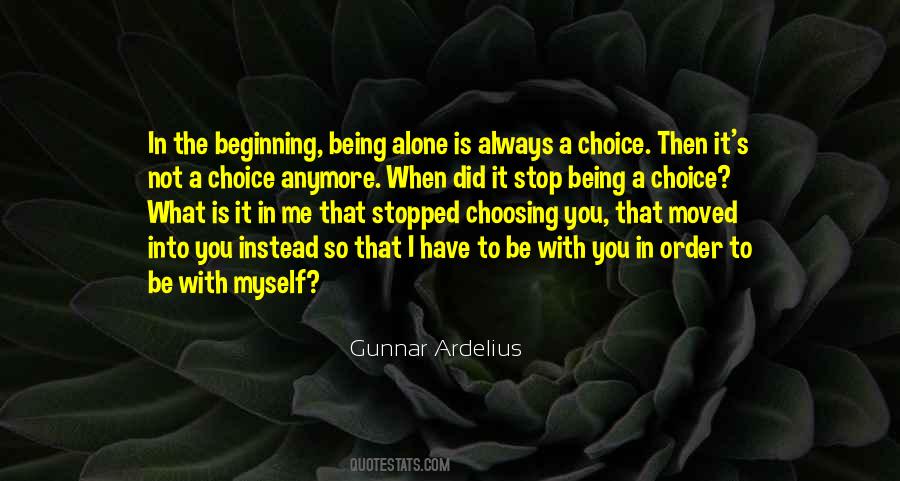 #36. I've tried to be totally present, so that when I'm finished with a piece of work, I'm finished ... The work, once completed, does not need me. The work I'm working on needs my total concentration. The one that's finished doesn't belong to me anymore. It belongs to itself. - Author: Maya Angelou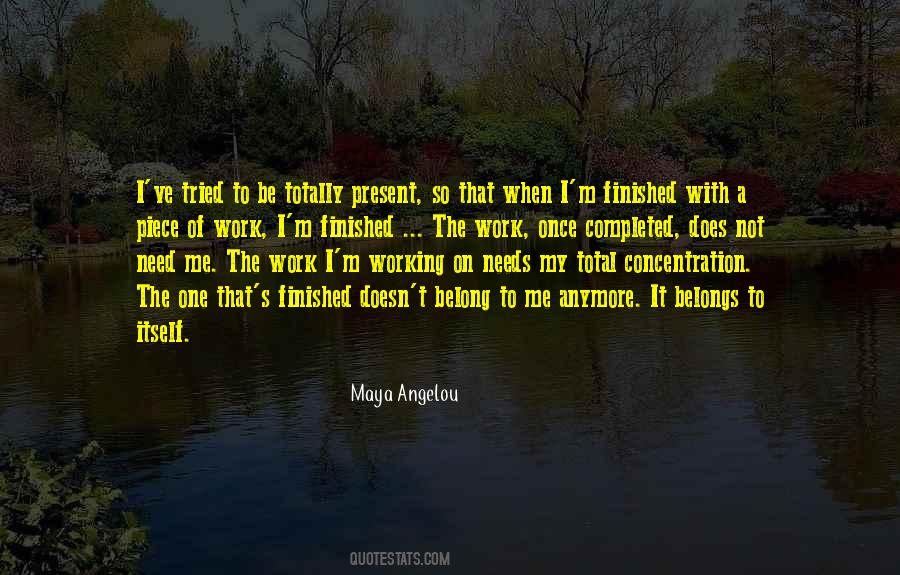 #37. You can't ever approach a book as a complete virgin, certainly not if you're a critic. There is a lot of bad faith out there. That's why I finally trained myself not to look at this stuff anymore, because it doesn't do me any good to see myself either praised or attacked. - Author: Paul Auster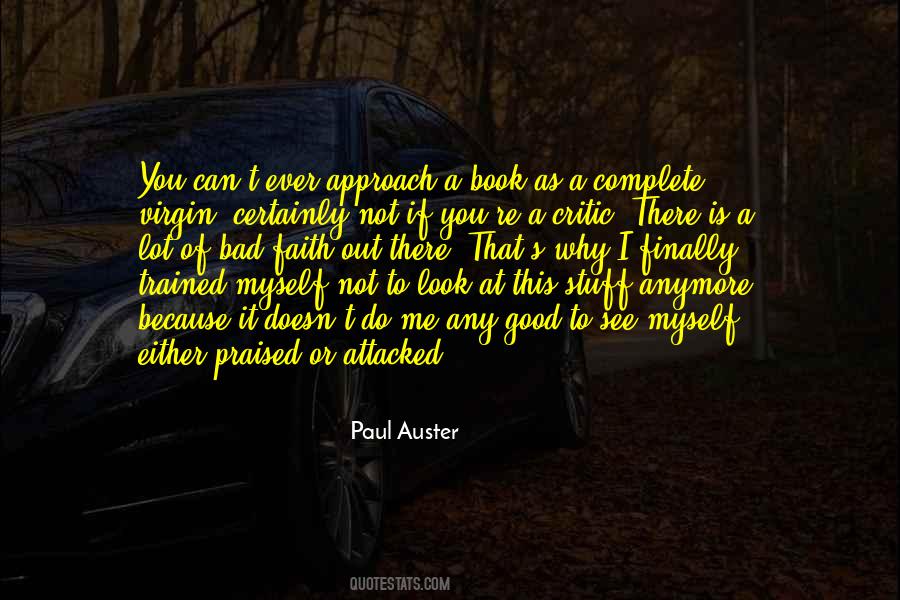 #38. You imagine you can see me, Mother? All you could ever see was your own face in a mirror."
"Who am I, Mother? I'm not you. That's why you wish I were dead. You can't shape me anymore. - Author: Janet Fitch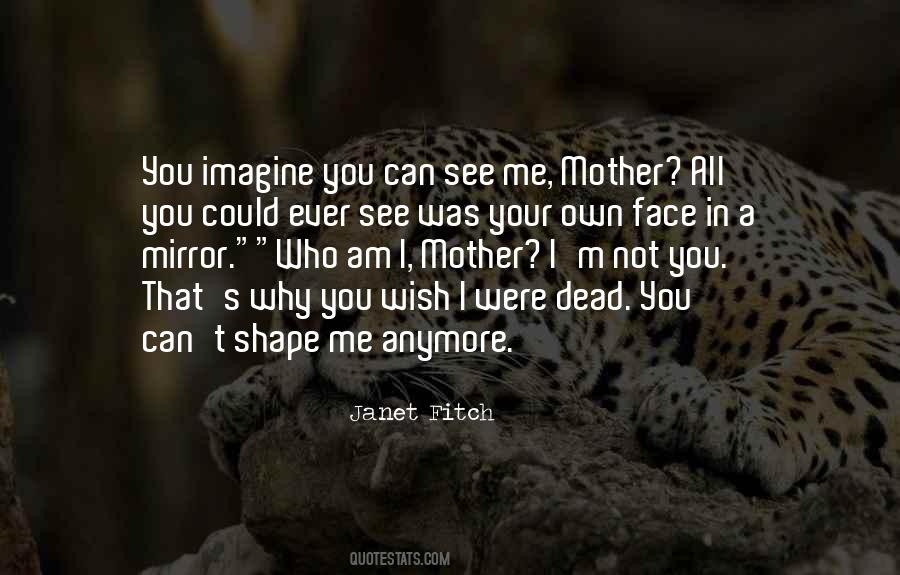 #39. It scares me to think that one day I'm not going to be in school anymore. - Author: Natalie Portman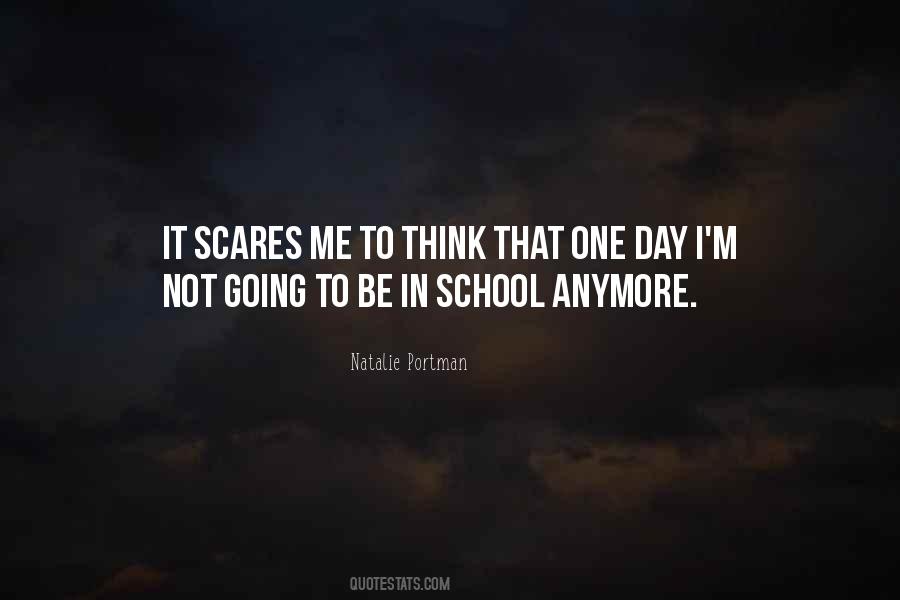 #40. People only look at me as a Beatle, but my friends look at me as a whole person. That's how life works, but it's not bugging me anymore. - Author: Ringo Starr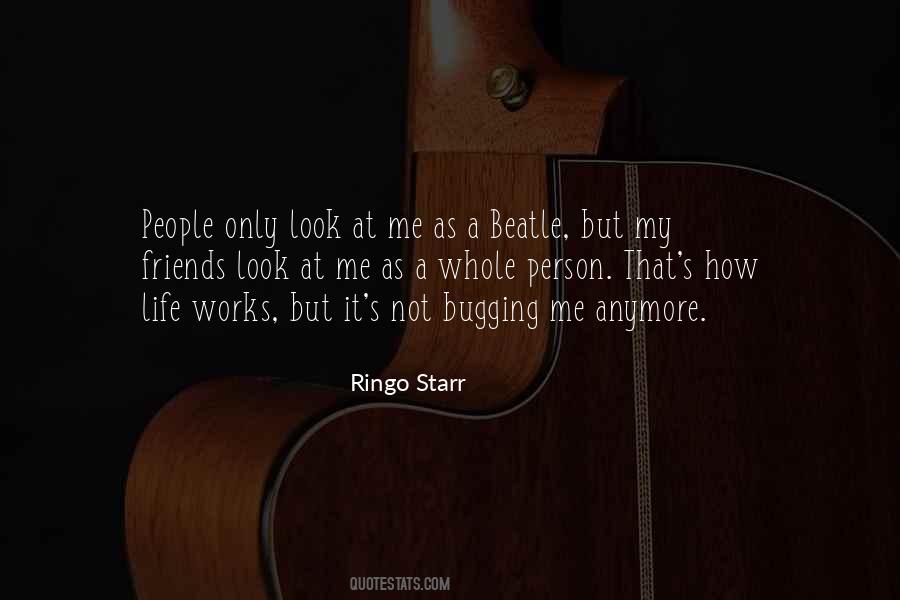 #41. Something like another wave of despair crashes into me. "I'm so heavy." I blink and a tear slides down my cheek.
"Then you lean on us for a while. Let us carry you, Joy, until you're not heavy anymore. That's what family is. - Author: Jolene Perry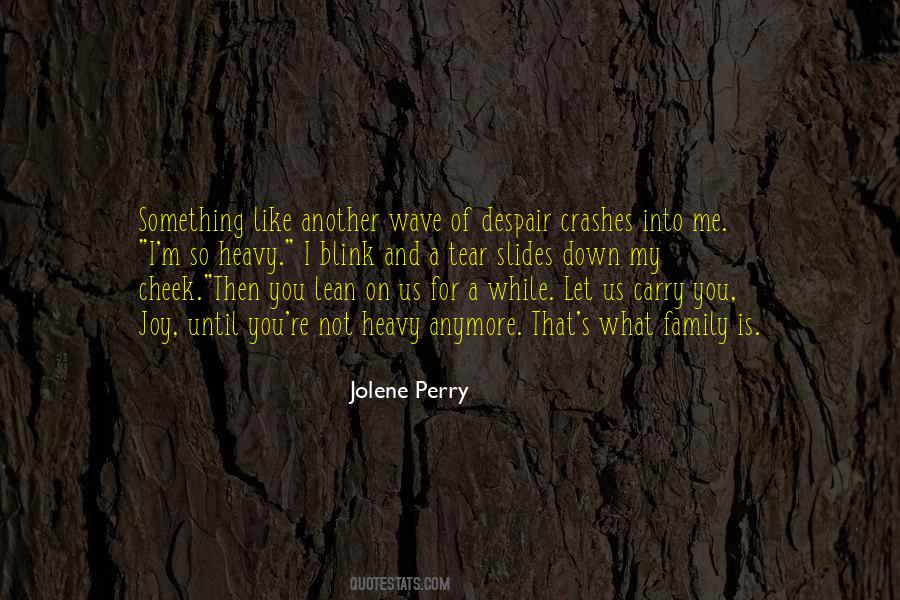 #42. I thought I was leading this kiss, but I'm not anymore, because he's claiming me, tracing his tongue across my top lip, then nipping at the bottom lip, then kissing me so deeply and with so much heat that I shudder. - Author: Lauren Blakely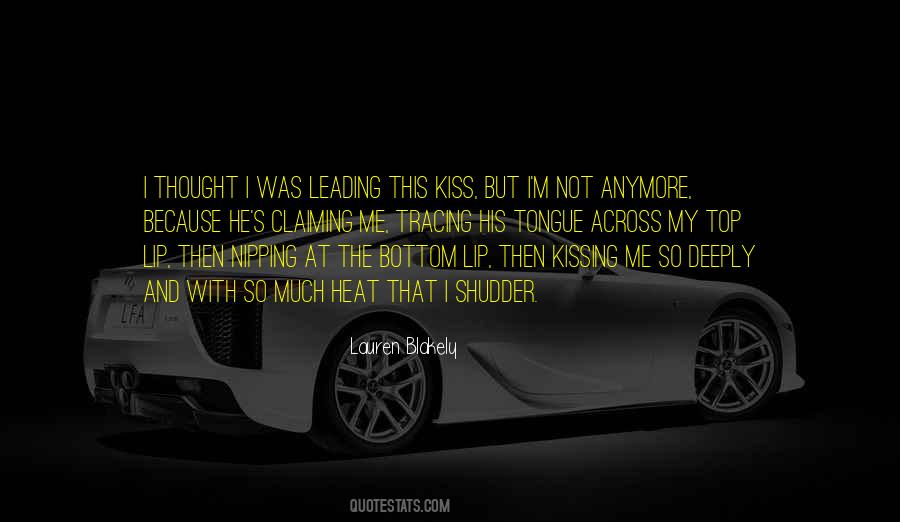 #43. My dad is my dad, but he's not there physically anymore. But she lets me call her 'Dad' - that's the last little piece of Dad I've got. - Author: Kendall Jenner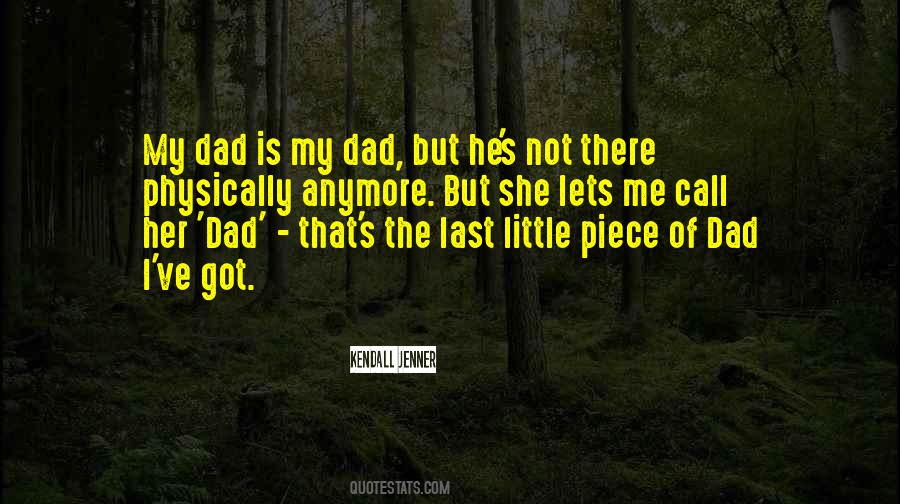 #44. Meditation is helping me learn to sit still. Twenty minutes of meditation in the morning is a nice way to start my day. If you can actually sit still and really get to that place of silence, you realize what's important and what's not important. Little things don't usually get to me anymore. - Author: Ellen DeGeneres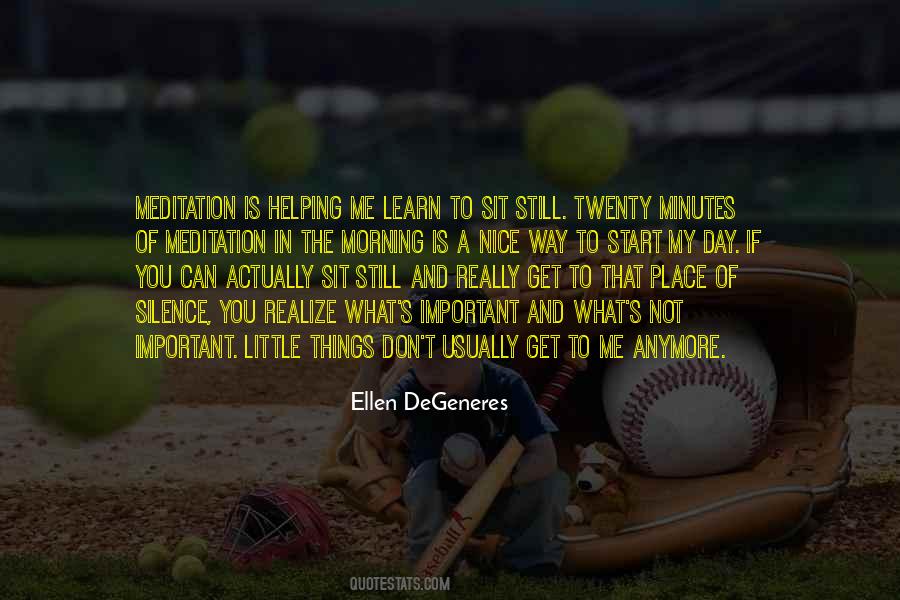 #45. All of a sudden, I sort of started to feel that I was constrained by the characters as opposed to enjoying them. And that remains for me to this day the line that I know where it's like, OK, you're not writing fan fiction anymore. - Author: Naomi Novik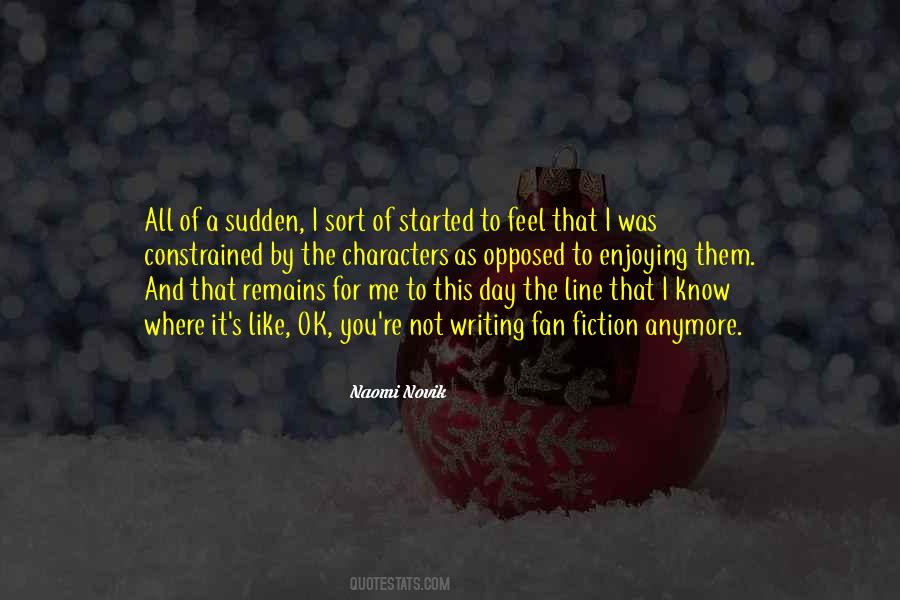 #46. My mother told me one day I walked in to her and said, 'Mom, I'm not going to be sick anymore,' and she said 'Why?' and I said 'Because an angel told me so.' Now, I don't remember saying it; that's just what she told me. - Author: Prince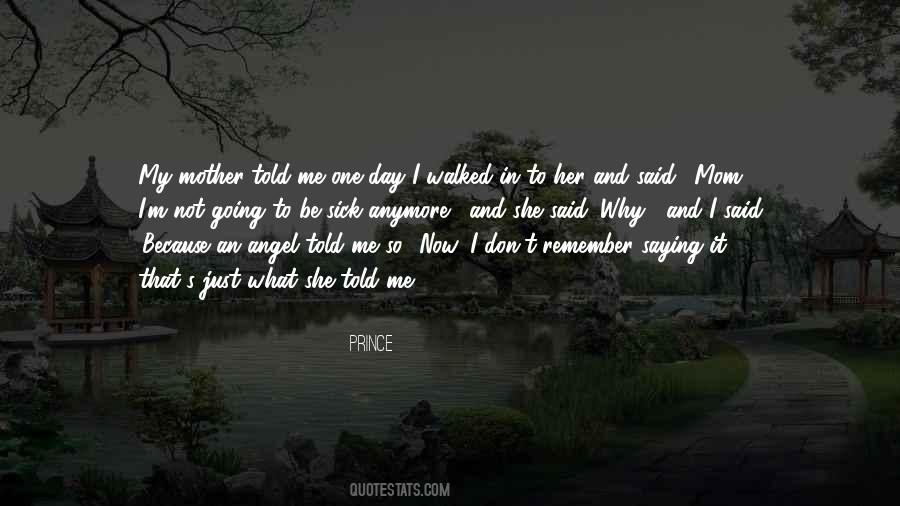 #47. To me, the guitar is a tool for songwriting, and it's fun, too. The day that it's not fun, that's when I'm not gonna play guitar anymore. - Author: Scott Ian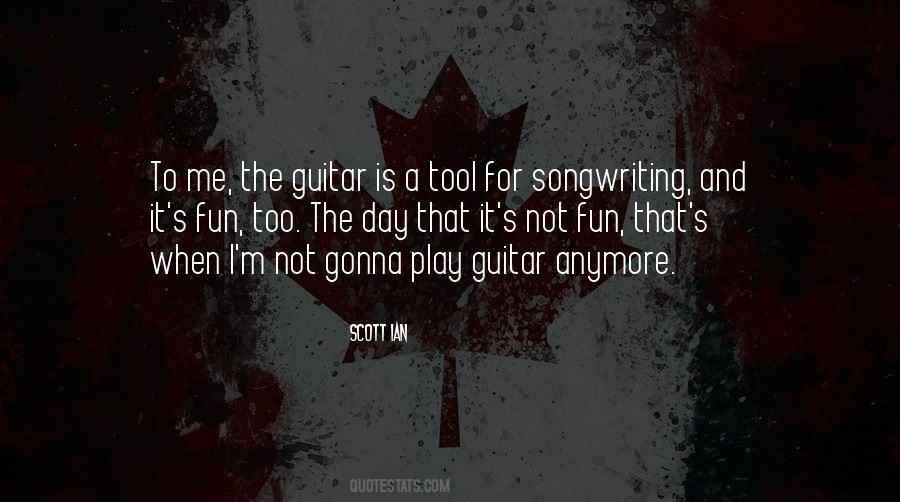 #48. You lent me The Golden Compass! It's full of jinni trickery, and you were angry at me when I told you that made it dangerous! Why do you get mad when religion tells you that the things you want to be true are true?
When it's true, it's not fun anymore. All right? When it's true it's scary. - Author: G. Willow Wilson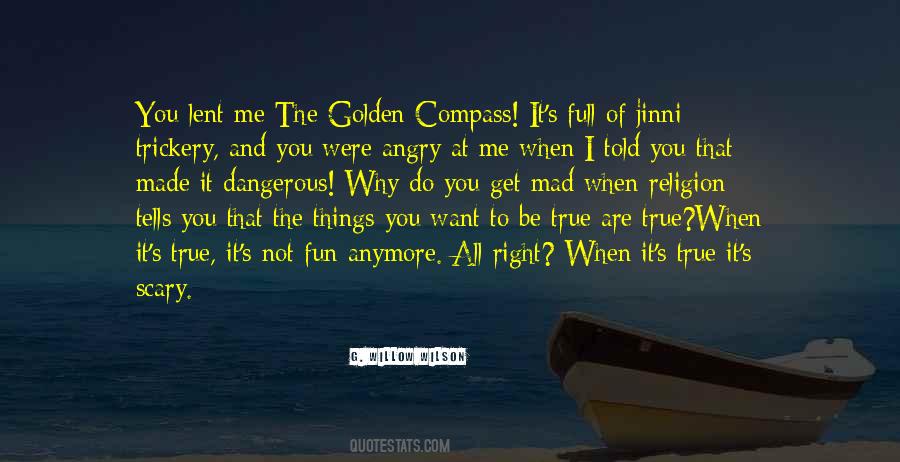 #49. I can't sing a love song
Like the way it's meant to be
Well, I guess I'm not that good anymore
But baby, that's just me - Author: Jon Bon Jovi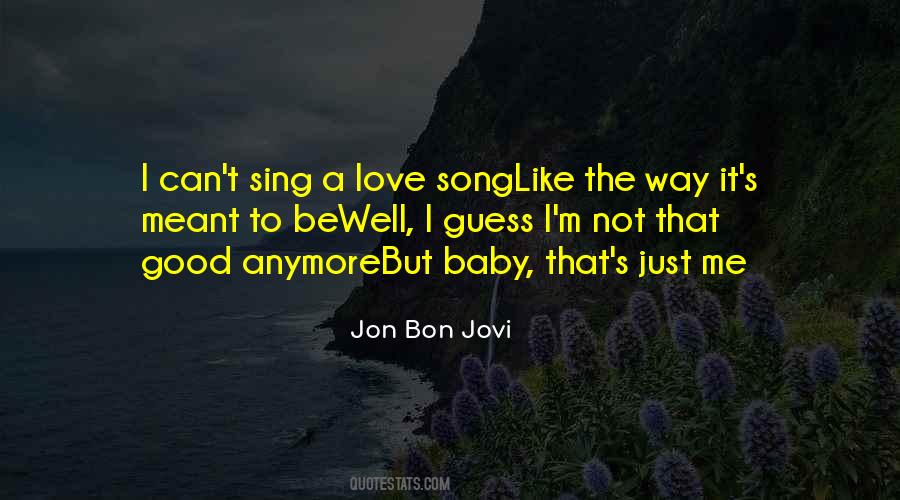 #50. Besides all that, she's hilarious and warm and knows when I need a hug, and just how long the hug needs to be for me to not feel like crying anymore. - Author: Tyler Oakley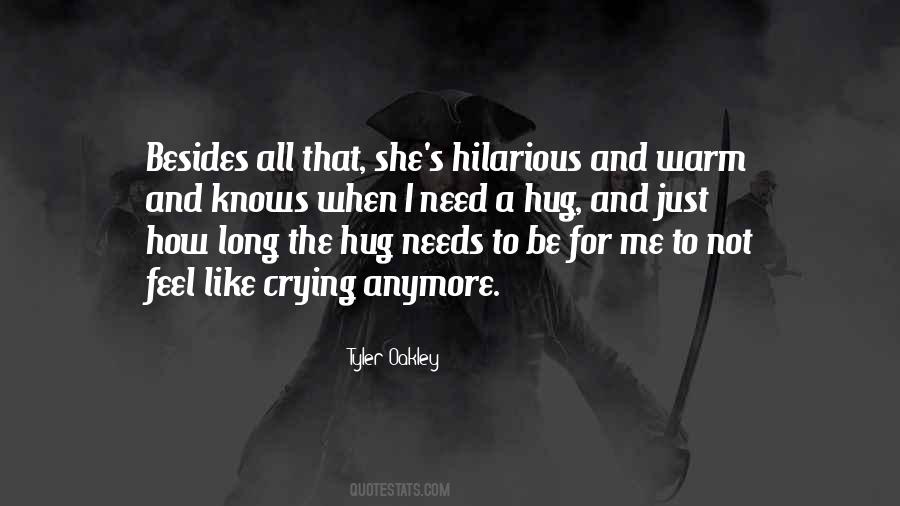 #51. I wasn't into blame. Maybe because I had so much of it directed at me, you know? I guess you can go one of two ways with that. You can reflect it right back out at everybody else, or you can drop out of the whole blame paradigm. I guess I chose not to play the game anymore. - Author: Catherine Ryan Hyde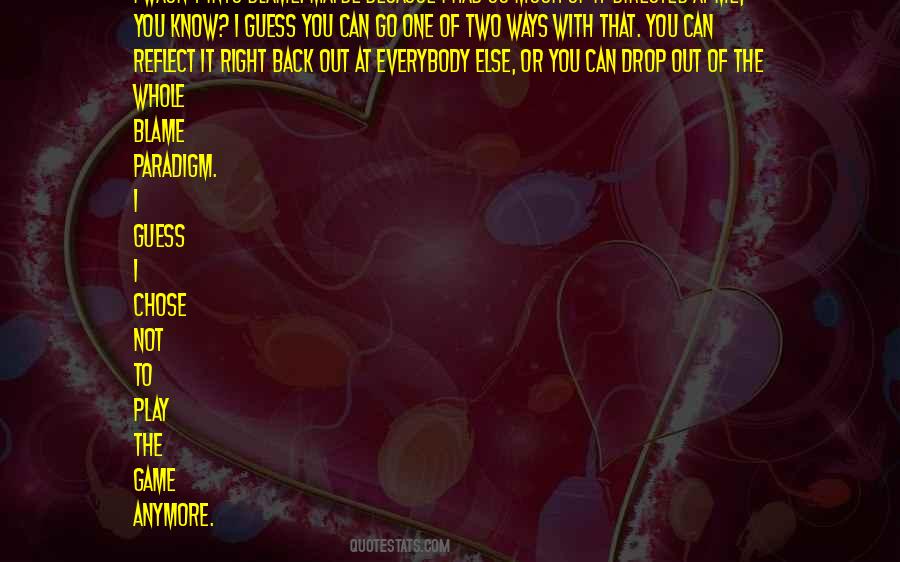 #52. I'm not afraid to fall anymore. The only thing I'm fucking terrified of, is that you won't be there to catch me when I do. - Author: Beth Michele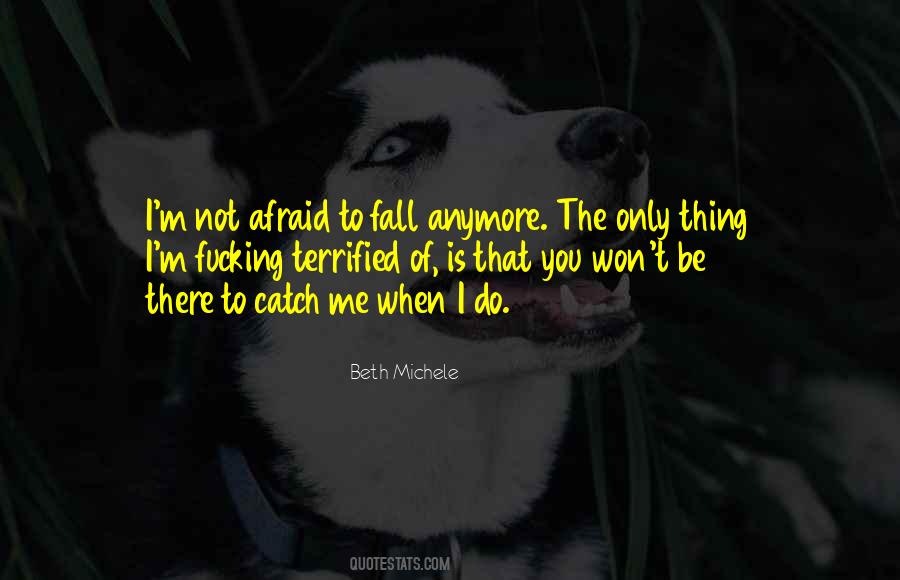 #53. You think you know me, but I'm not sure that even I know who I am anymore. - Author: Nicholas Sparks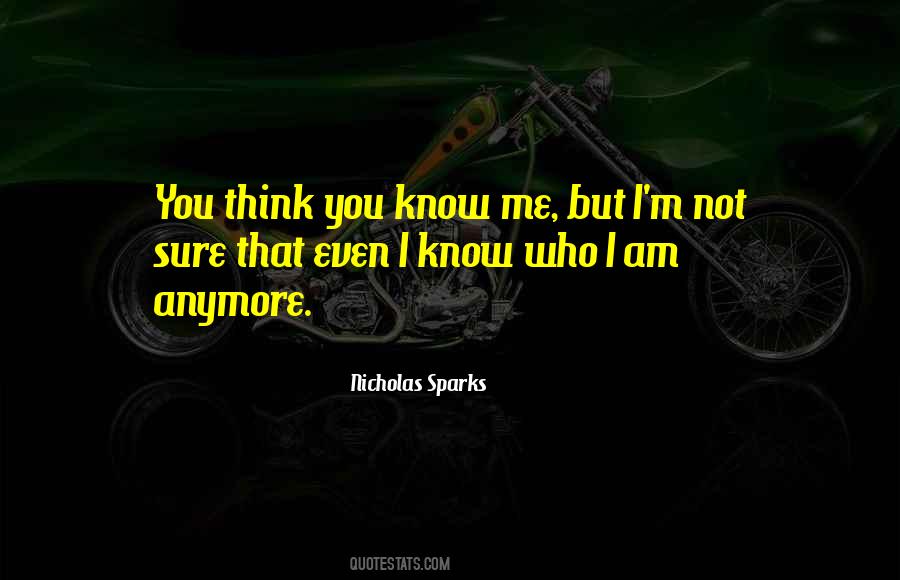 #54. Magnus tells me I was a hero. And I see on your face when you're looking at me that you're searching for that guy. The guy you knew who was a hero, who did great things. I don't remember doing those things. I don't know if that makes me not a hero anymore. But I'd like to try to be that guy again. - Author: Cassandra Clare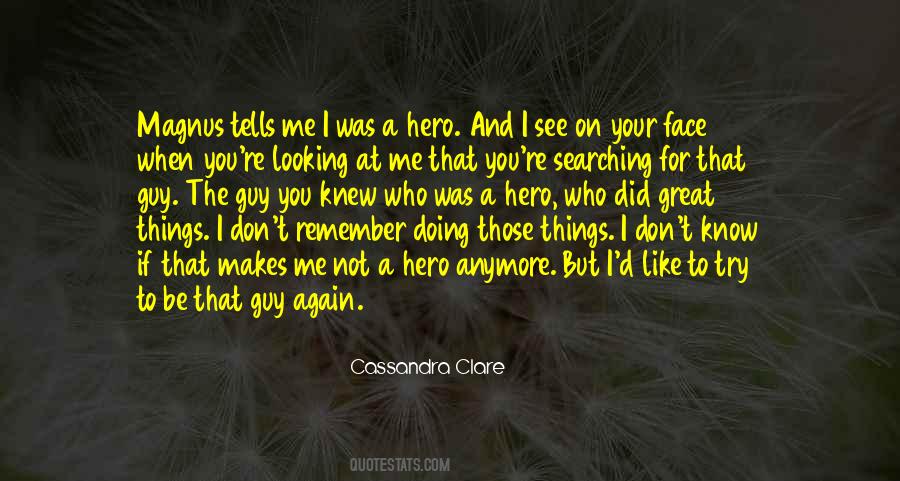 #55. Starting out, they told me: 'You're a good-looking guy. We'll put you in this role, and you can be a conduit for the audience into this side of the story.' But I've grown up, and that's not what I want anymore. My concept of the job I do has evolved. And it is a job, nothing more. - Author: Sam Worthington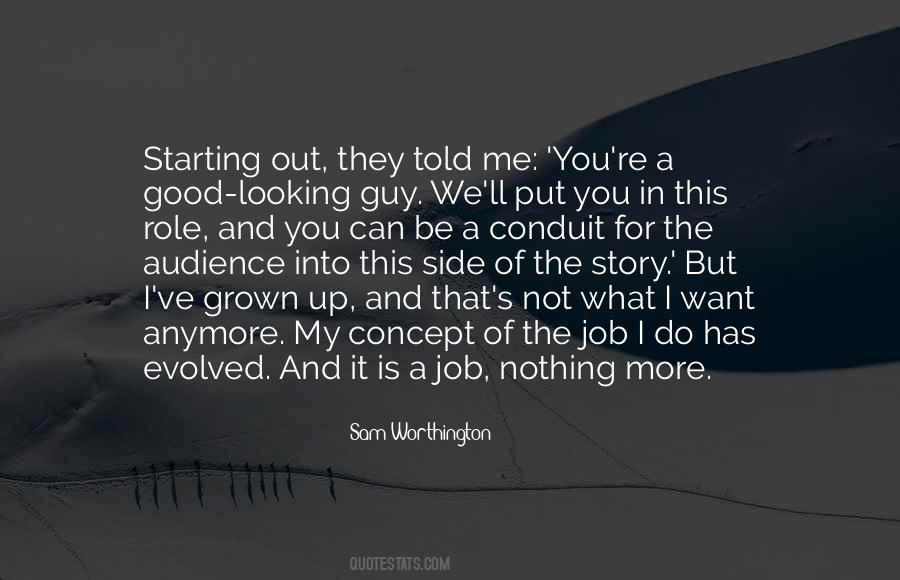 #56. I guess the one thing that people don't know about me is, I had my belly button pierced but not anymore. - Author: Joanne Froggatt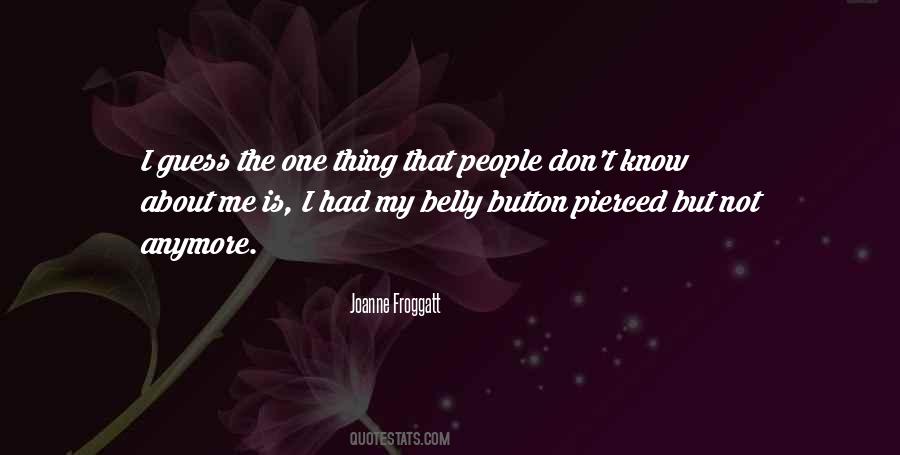 #57. I don't work all the time. That's why I waited to have children until I was ready for that. I try to organise my time according to them because they need me. I don't want to put my work first anymore because it's not as important as my children. - Author: Monica Bellucci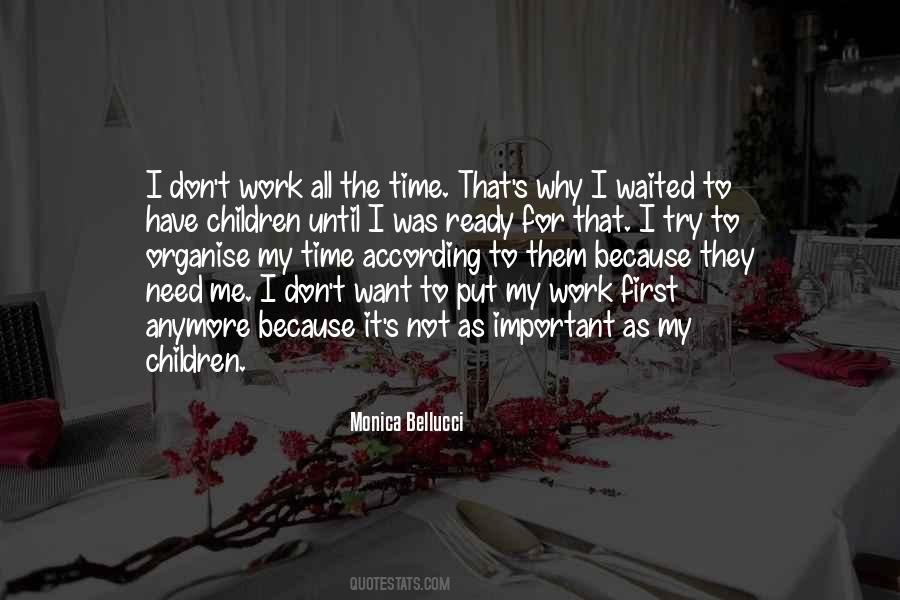 #58. For me, my No. 1 priority in life was to always have a family. If I had not been able to work anymore, then that would have been it. I would definitely choose family over career. It's really great that my field has allowed me to work and let me do things that a woman does naturally. - Author: Heidi Klum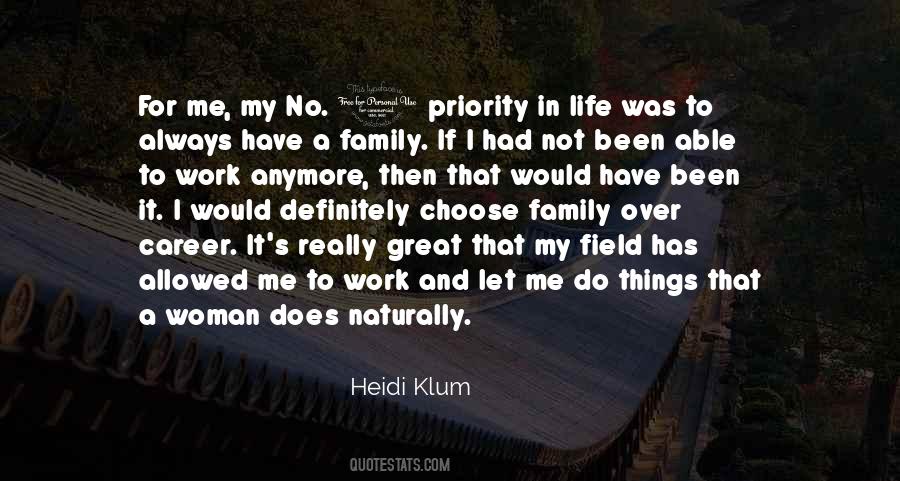 #59. I think there was always that question mark of why am I not in St. Louis anymore? I think everybody had those questions and probably had those perceptions of me. - Author: Kurt Warner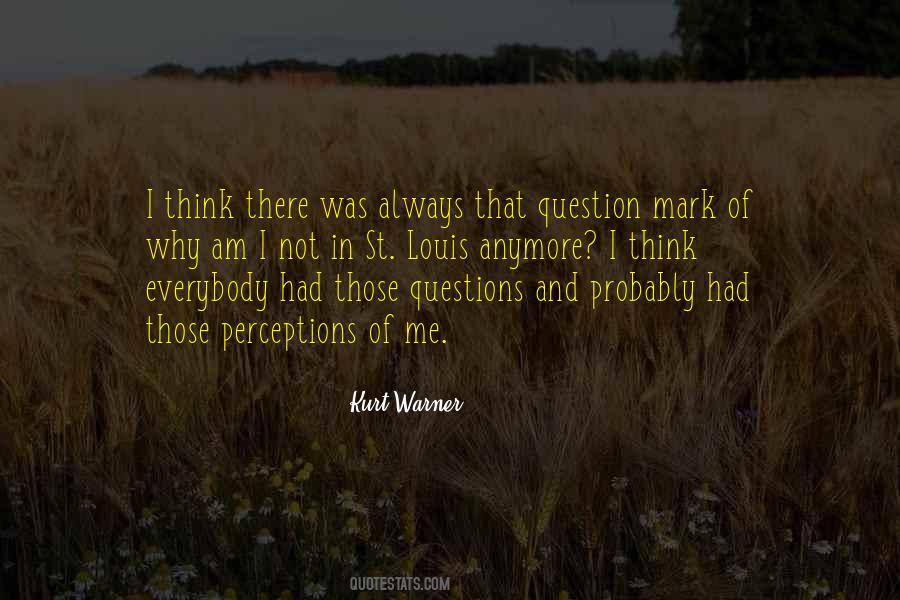 #60. She's still smiling her little smile, and it strikes me that, actually, she is drunk, not on alcohol, but on her St. Louis hopes and dreams. I wouldn't sober her up for anything, but she doesn't need me anymore. She can hang on to her dreams by herself now. - Author: Tim Tharp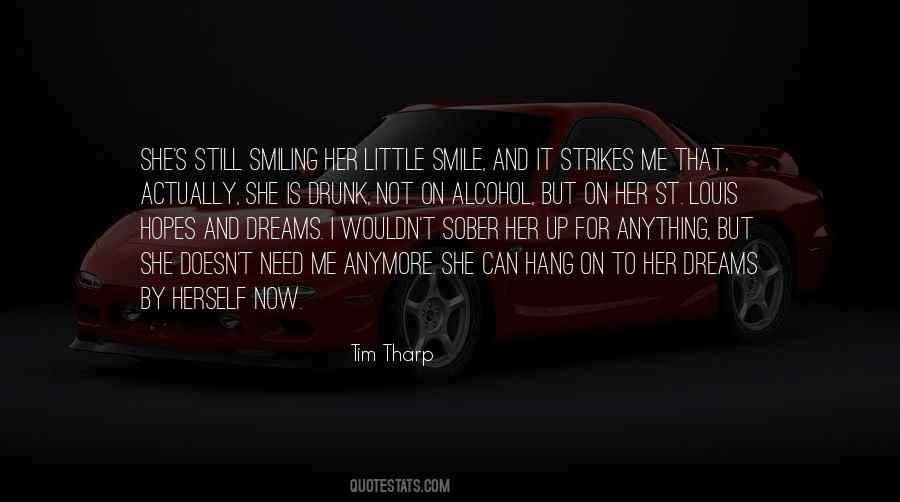 #61. In my latter years I've decided that there's too much to keep track of when you go into the lying game. That becomes stressful and it's not for me anymore. - Author: Max Greenfield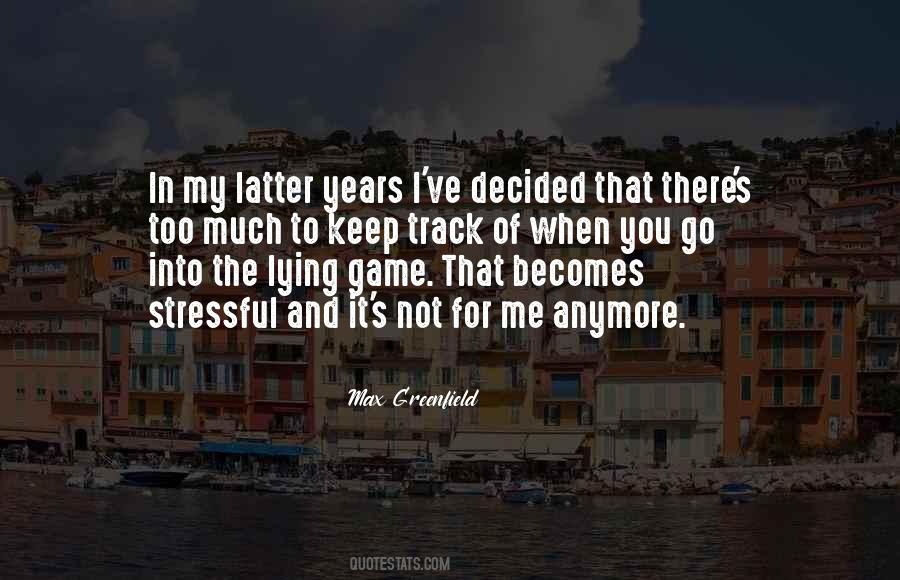 #62. I'm probably not 100 pounds anymore, but around there. I definitely got obsessed with my weight. When I met my husband and realized that he could put on 50 pounds and I'd still love him, I realized that's how he sees me or at least how he should! - Author: Danica Patrick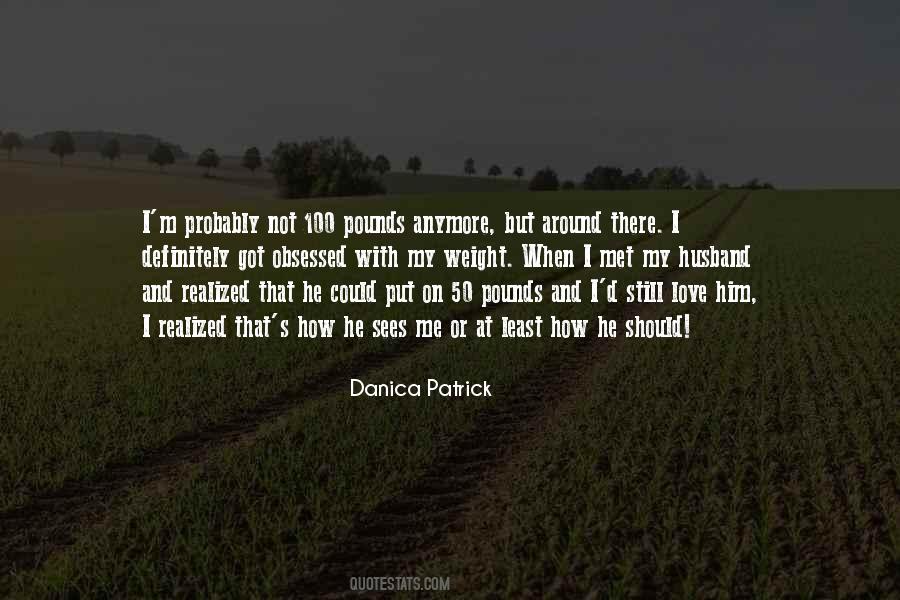 #63. That empty sick feeling came over me again. In a big school it was easy to fade into the background, but I didn't know if that would be possible here. I tried not to think about it anymore. - Author: Dana Michelle Burnett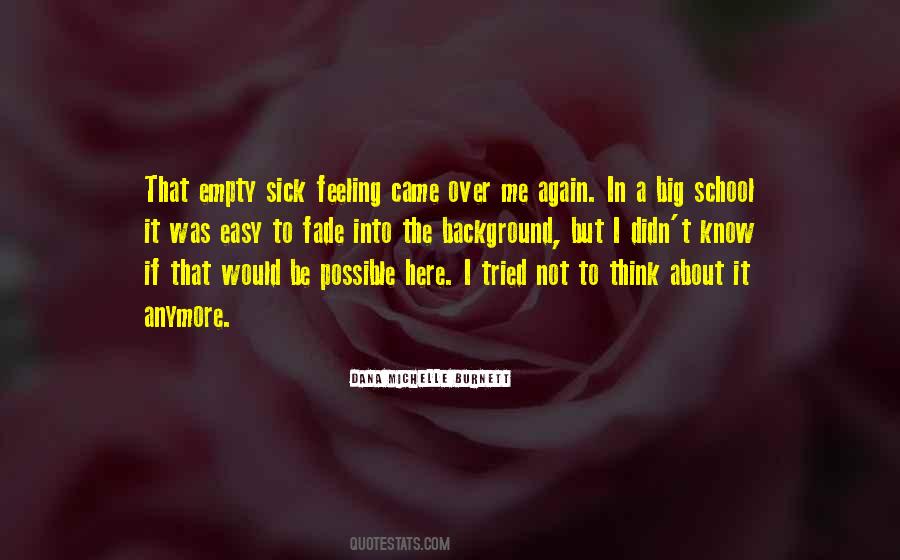 #64. I'm usually very attracted to things that I can't define. If something's too clear, it's very often not inspiring to me anymore. - Author: Raf Simons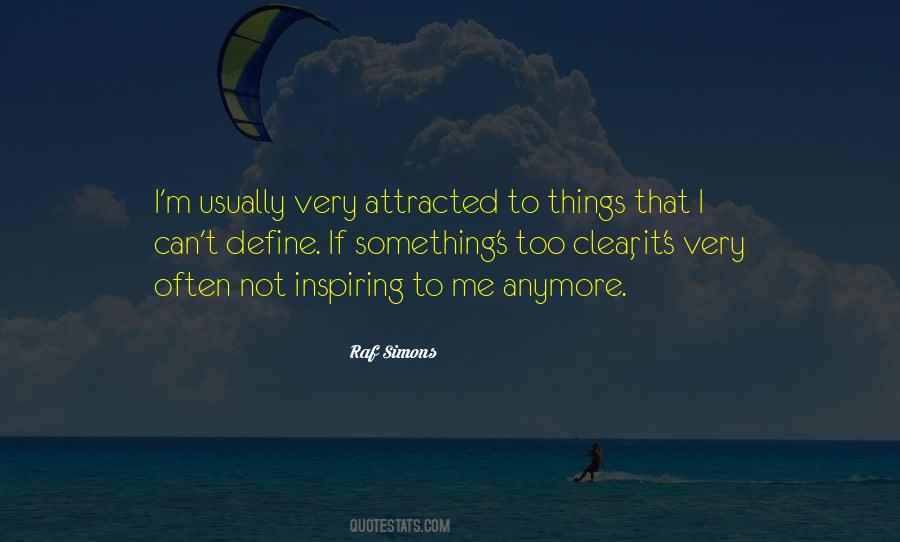 #65. Just making the crowd laugh is not really doing things for me anymore. That's just knowing how to kill; I've learned how to kill - but also learned when a crowd's laughter is meaningful. - Author: Patrice O'Neal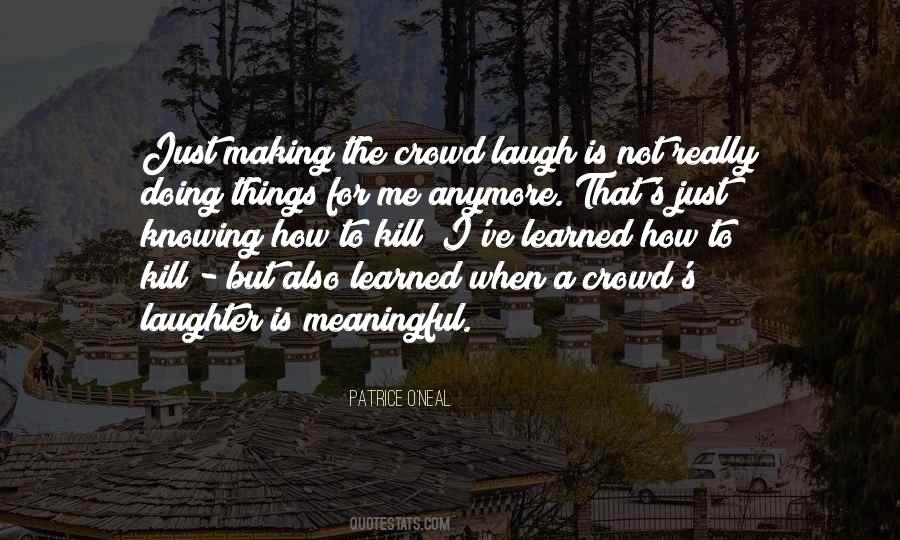 #66. With the whole supermodel thing, even when you're not really modeling anymore, people still call me that. And I'm like ' ... retired.' - Author: Tyra Banks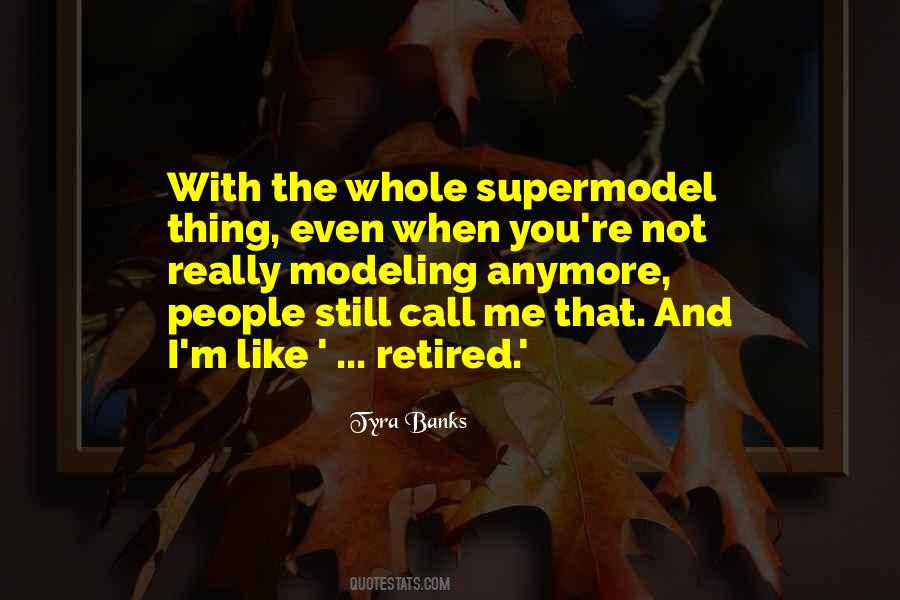 #67. Women are the worst. They zero in on some guy.Oh boy, he's the one, gotta get me that one. So they do. Then they spend the rest of their time trying to figure out how to change him. Then if they manage it, they're not all that interested anymore, because guess what? He's not the one anymore. - Author: J.D. Robb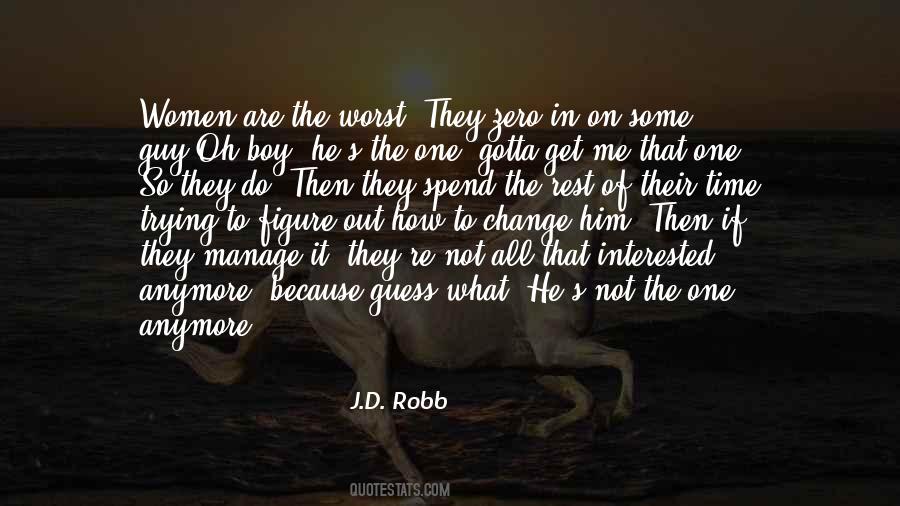 #68. I guess that's my defence, is like - even if people think it sucks - it's not me anymore, you know. - Author: Panda Bear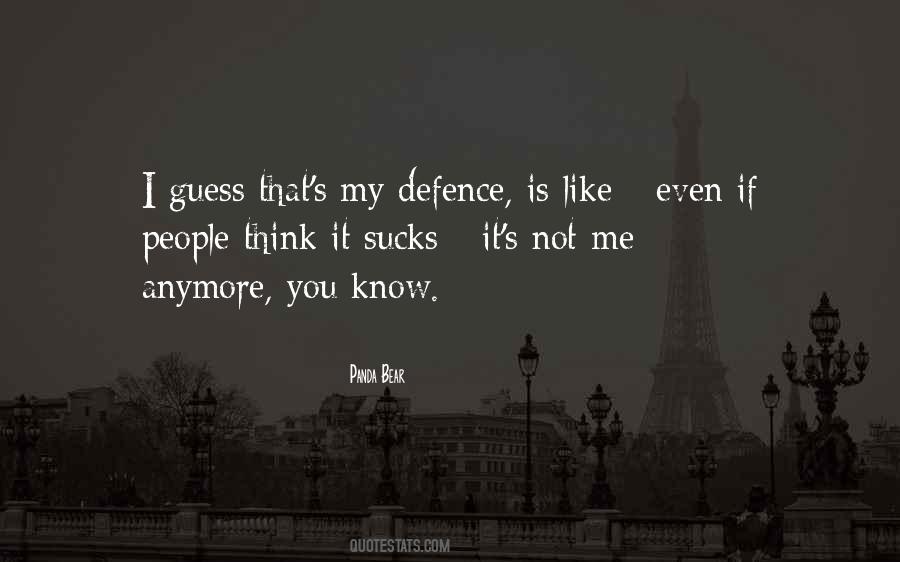 #69. I thought twenty was pretty scary, like, not being able to call myself a teenager anymore, and feeling like an adult - that kind of made me nervous. - Author: Adam Lamberg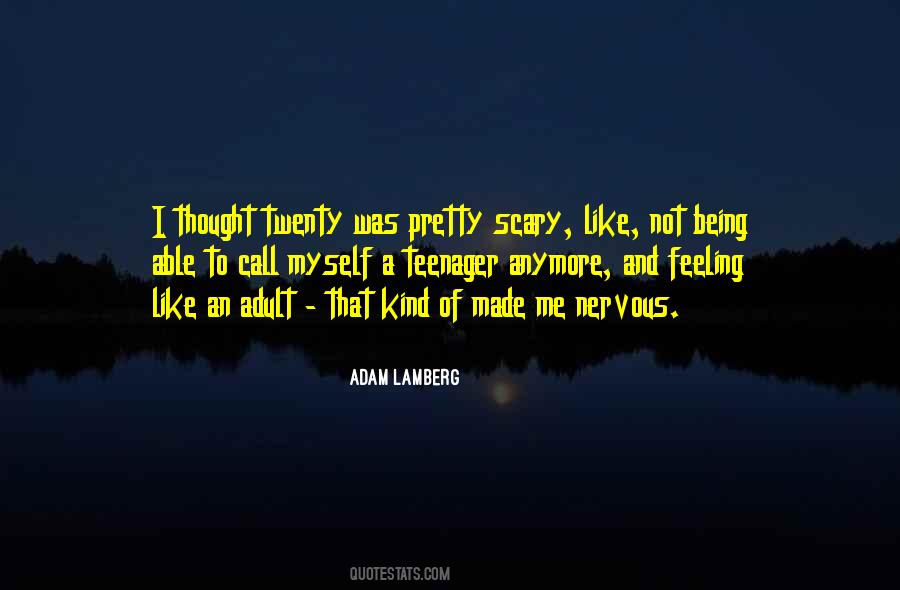 #70. You won't remember me. You won't need me anymore.
You will leave me again.
I forgive you. I forgave you. I will always forgive you.
You should know that for a little while, you were not alone.Not alone.
I loved you when you were pixels on a screen. - Author: Julio Alexi Genao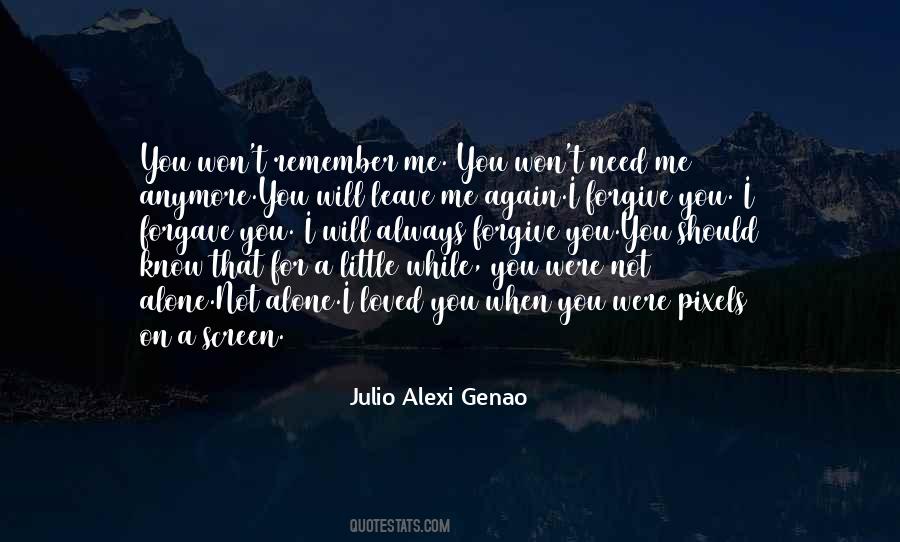 #71. The conundrum that I face on a daily basis is that I have two sons who have grown up watching 'The Simpsons,' so they know exactly what buttons to push. They know how Bart irritates Homer, and they use these lines against me to tell me that I'm not funny anymore. - Author: Matt Groening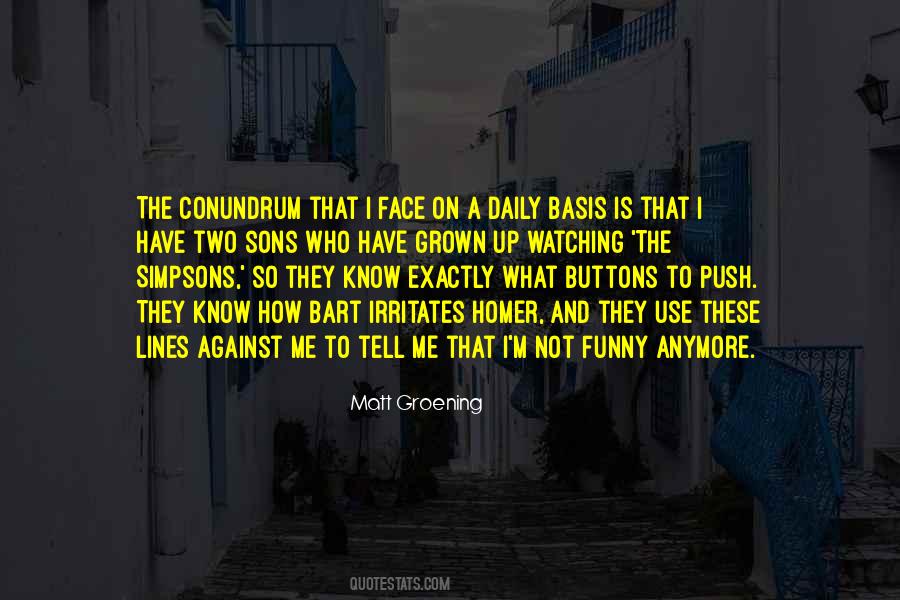 #72. The Men at Work thing is always there, it's always going to be there. It's not something I consciously think that much about anymore. The thing that stays with you is the songs, which is a good thing for me, because the songs are the things that stand the test of time. - Author: Colin Hay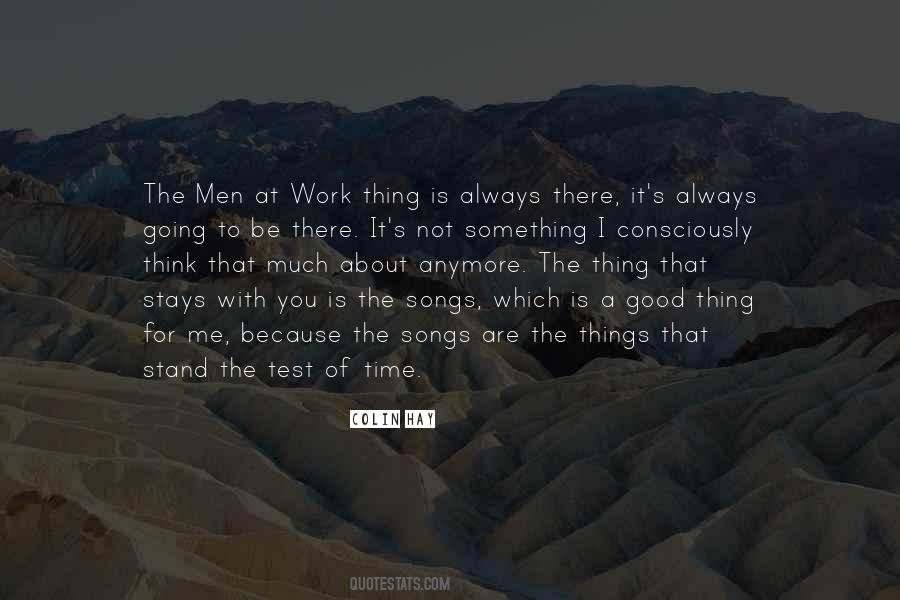 #73. You put your life on hold for me. And really, I get that. I appreciate that. But I'm not a baby anymore. Let go, Mom. - Author: Jaci Burton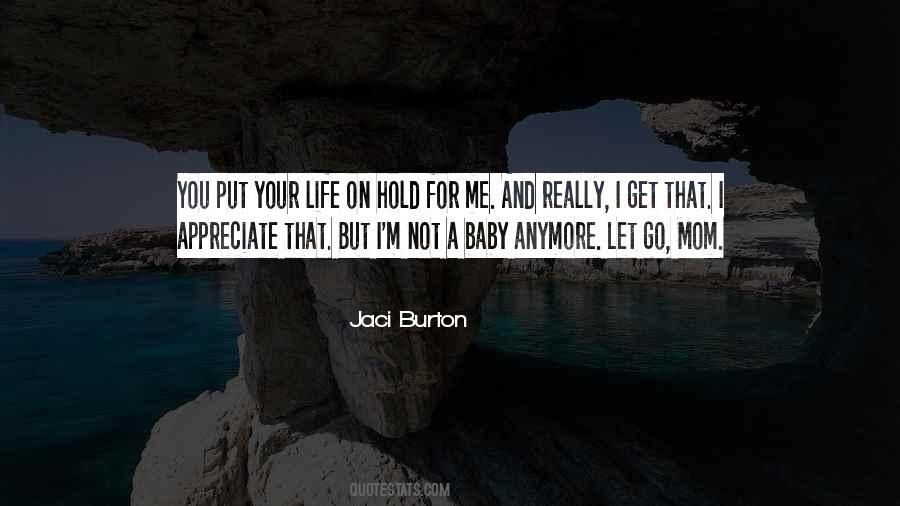 #74. I don't want to have that one year too much, where people actually, behind my back, start smiling at me and pointing fingers at me and go, 'Ah, look, that's Jensie. No, he's not good anymore.' - Author: Jens Voigt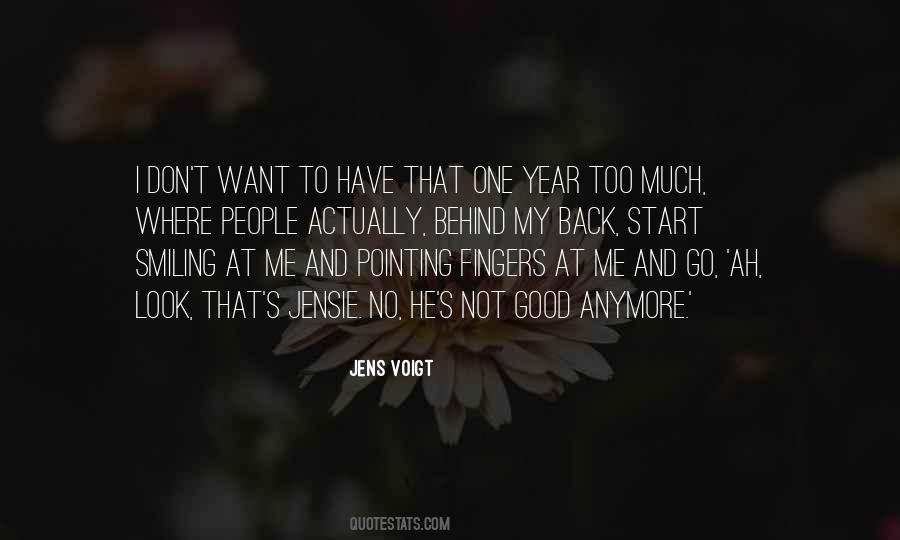 #75. Hindu sages say that you should concentrate while eating. But, we don't have time anymore. Fast food is not quick enough for me. I would like super-fast food in the form of pills. - Author: Thierry Mugler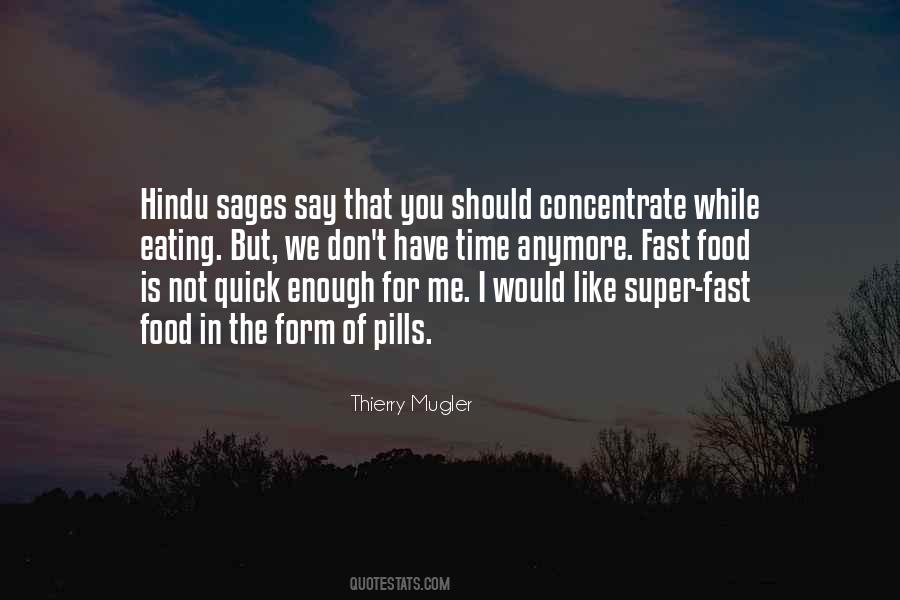 #76. I marveled that people could live so close - that you could literally be surrounded by thousands who were only inches away - and yet be completely isolated. I found it hard to imagine. It's not so hard for me to imagine anymore. - Author: Neal Shusterman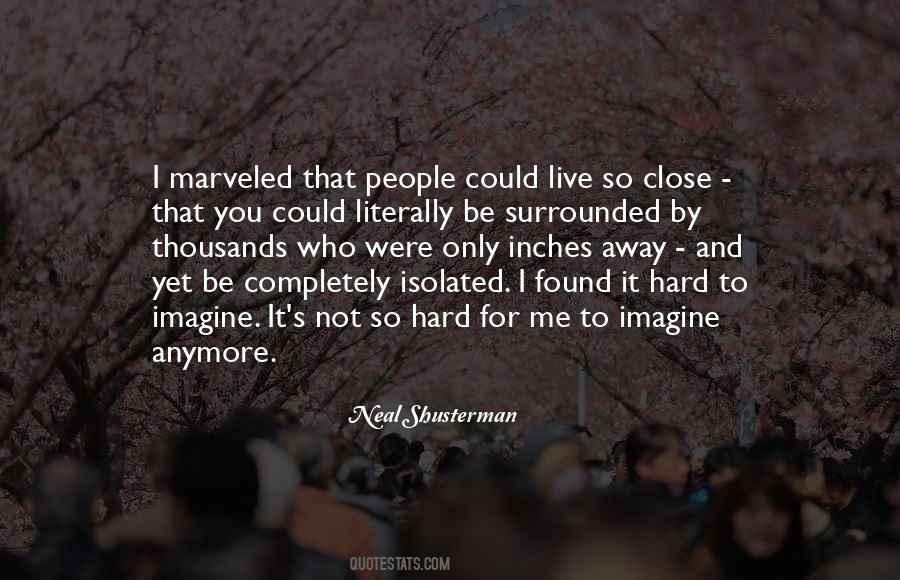 #77. The thing that really gets to me is that countries are in the news only when things get out of hand. That's when it's newsworthy. When the war ends, it's not newsworthy anymore; no one wants to think about it. Actually, the aftermath is the most important part. It's when people have to rebuild. - Author: Ishmael Beah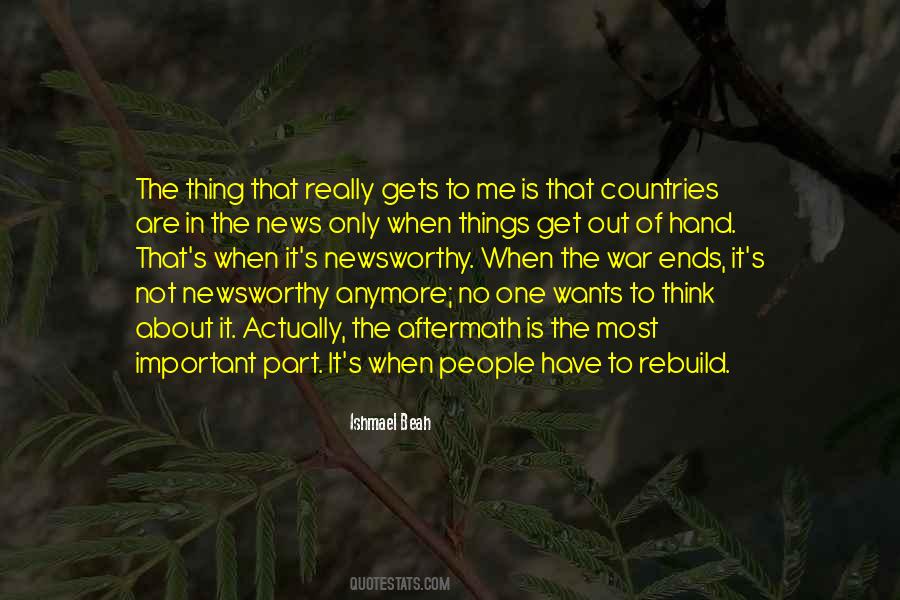 #78. It's been a lifetime of trying to have less beef. Beef comes very naturally to me. I was born with my dukes up, but that's not always necessary anymore. I have to retrain myself. - Author: Kelly Reichardt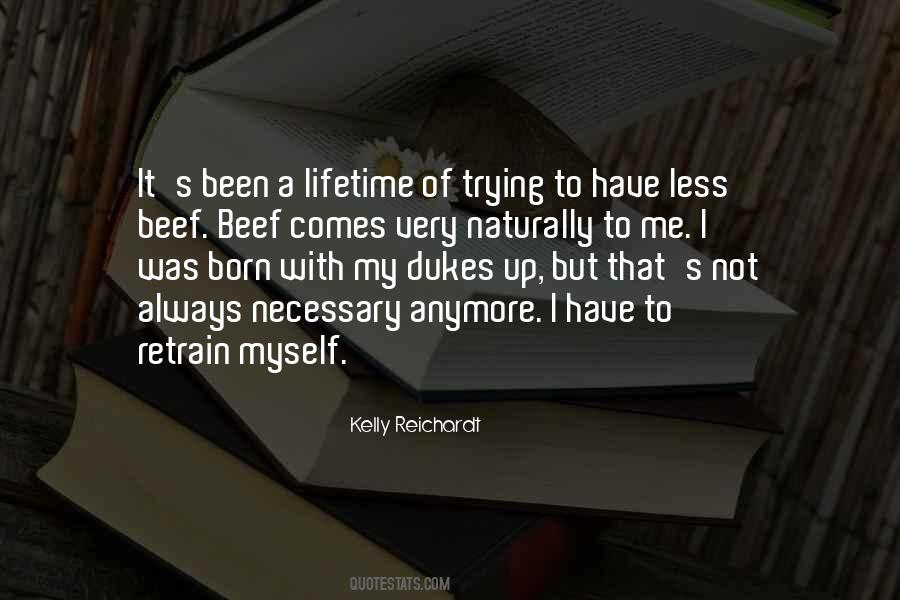 #79. For many years, I shut down that place inside myself that needed to rage, cry, ask questions and basically just express herself. I made a conscious choice when I put (the song) 'Me and a Gun' on the record not to stay a victim anymore. - Author: Tori Amos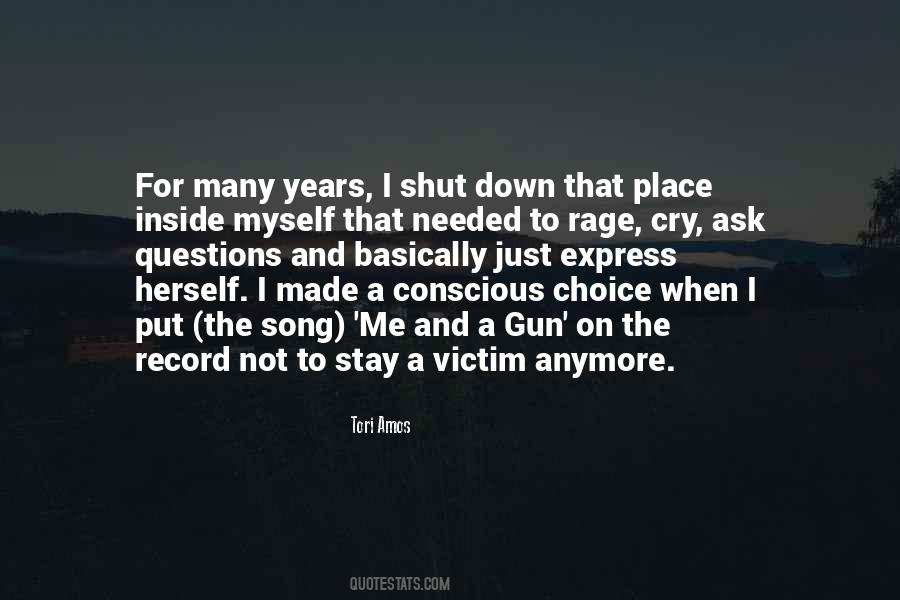 #80. so who cares what she was before you met her?" "Yeah, but a virgin? I want nothing to do with that." "Well, she isn't a virgin anymore." That made Blake stop. "I guess you're right. What good would it do me to send her back? It's not like she didn't know what she was - Author: Melody Anne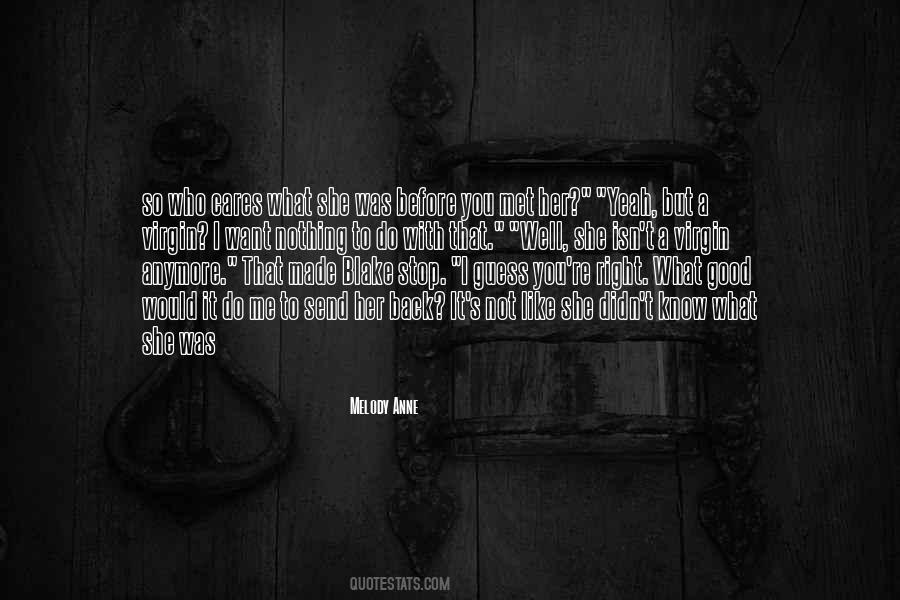 #81. I'm going to make my life work for me. I'm not going to let it whirl round like a kaleidoscope anymore. It's my life, which means I get to choose how it goes. Even if that means wrestling it to the floor and bashing it on the head and saying: Take that, life! - Author: Sophie Kinsella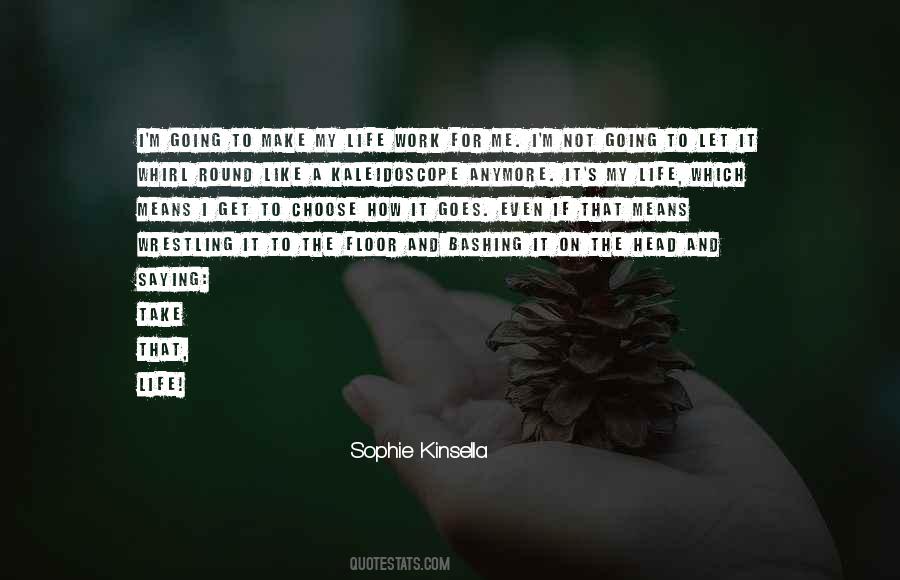 #82. It is not so much the science of snow for me, anymore. I'd rather just look at it. The light, the way it absorbs sound. The way we feel as if the more that falls, the more we are forgiven. - Author: Anthony Doerr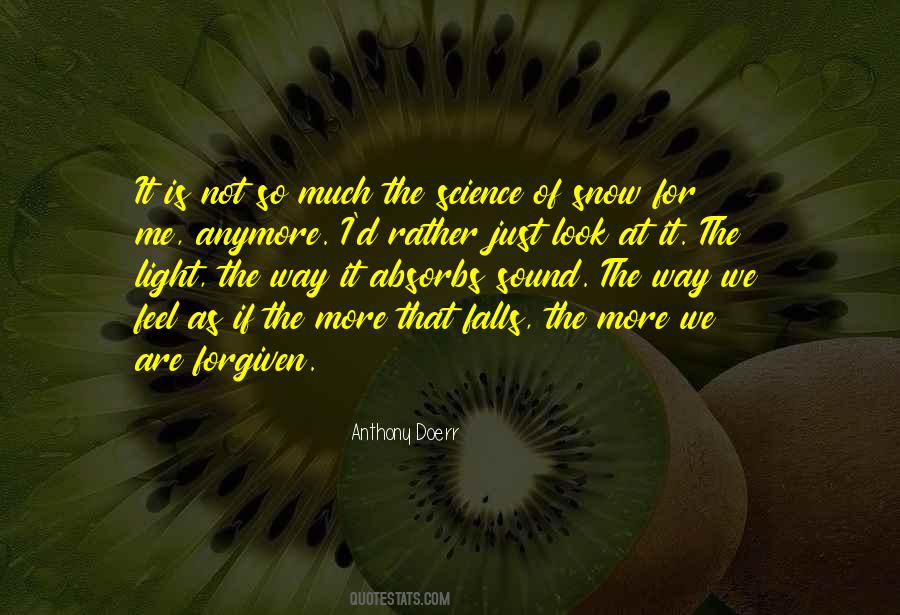 #83. I want to go home,' he muttered as he totered down the road beside me.
'Me, too,' I told him. And yet it was not Buckkeep that came to my mind, but a meadow overlooking the sea, and a girl in bright red skirts who beckoned me. A time, rather than a place. No road led there anymore. - Author: Robin Hobb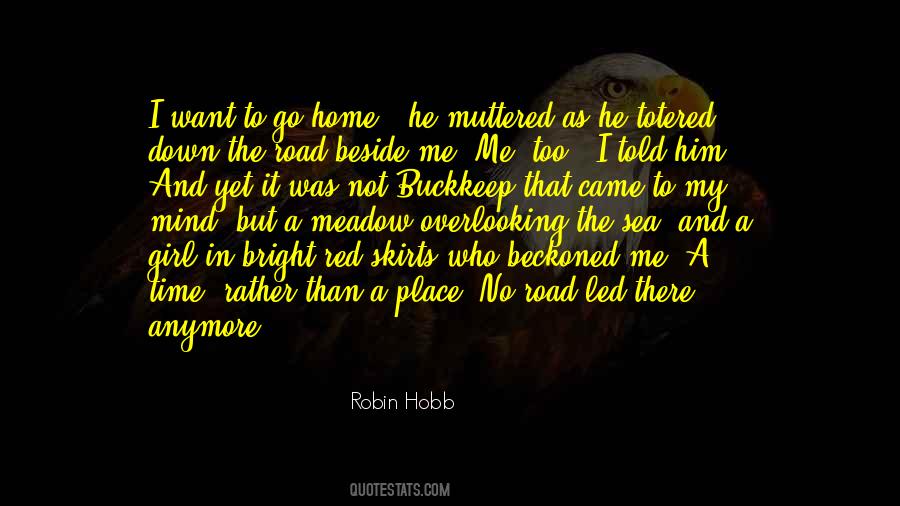 #84. What else do I have to offer? Nothing happens to me anymore. That's the reality of getting old, and I guess that's really the crux of the matter. I'm not ready to be old yet. - Author: Sara Gruen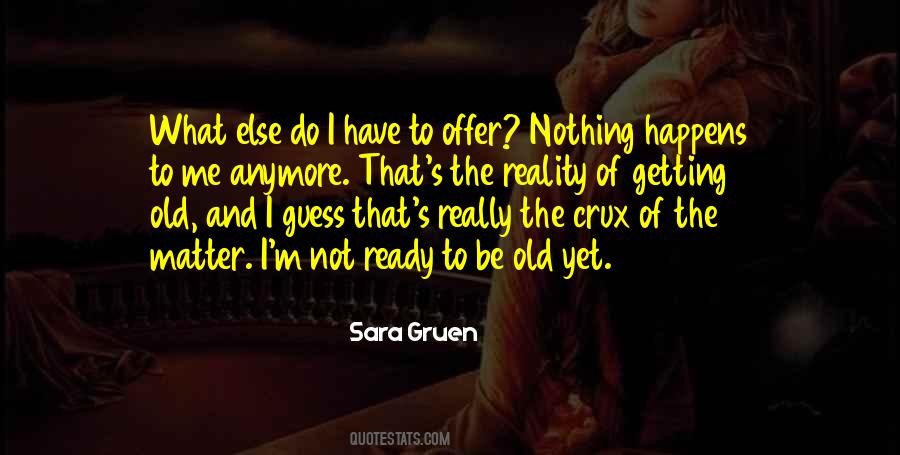 #85. I have this strange feeling that I'm not myself anymore. It's hard to put into words, but I guess it's like I was fast asleep, and someone came, disassembled me, and hurriedly put me back together again. That sort of feeling. - Author: Haruki Murakami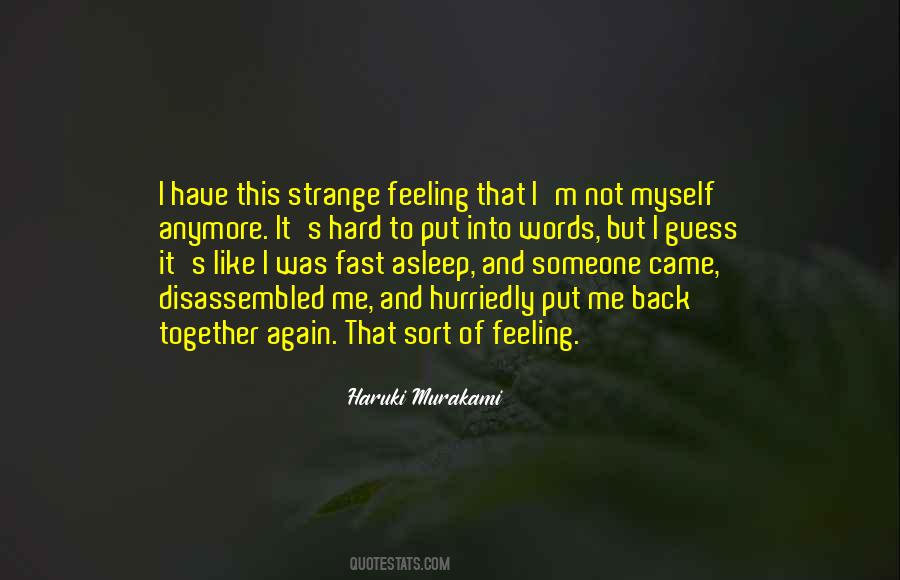 #86. He held his hand out, palm up, watching her with soft, penetrating eyes, deep, dark eyes that called to her the longer she stared at them. "How 'bout you give me the benefit of the doubt every once in a while, hmm? I'd like a chance to prove I'm not that stupid kid anymore. - Author: J.M. Stewart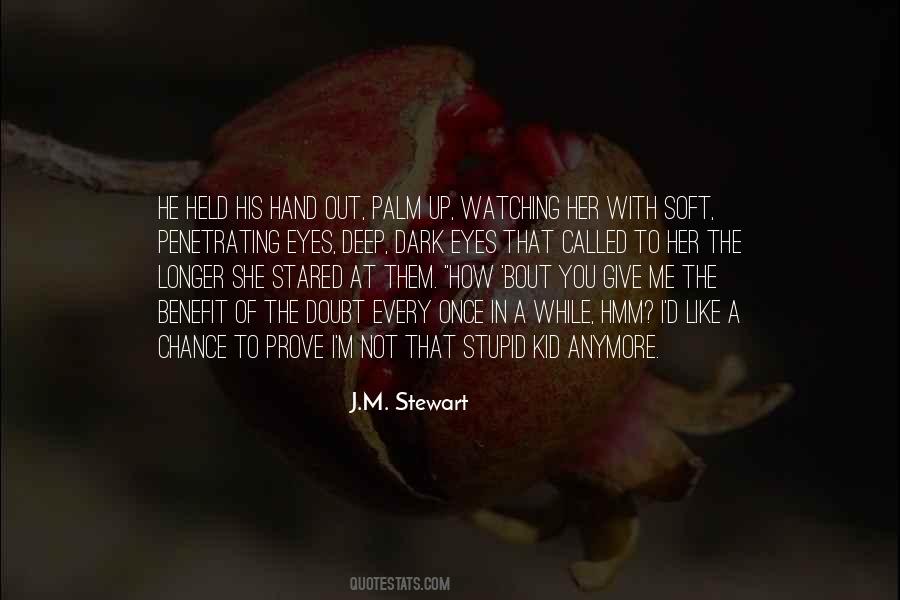 #87. You don't appreciate home until you leave it and, let me tell you, you can't appreciate life till you've almost left it! Some people hope and die with their song still in them. I used to think that happiness resulted when my earnings matched my yearnings! But not anymore! - Author: Patsy Cline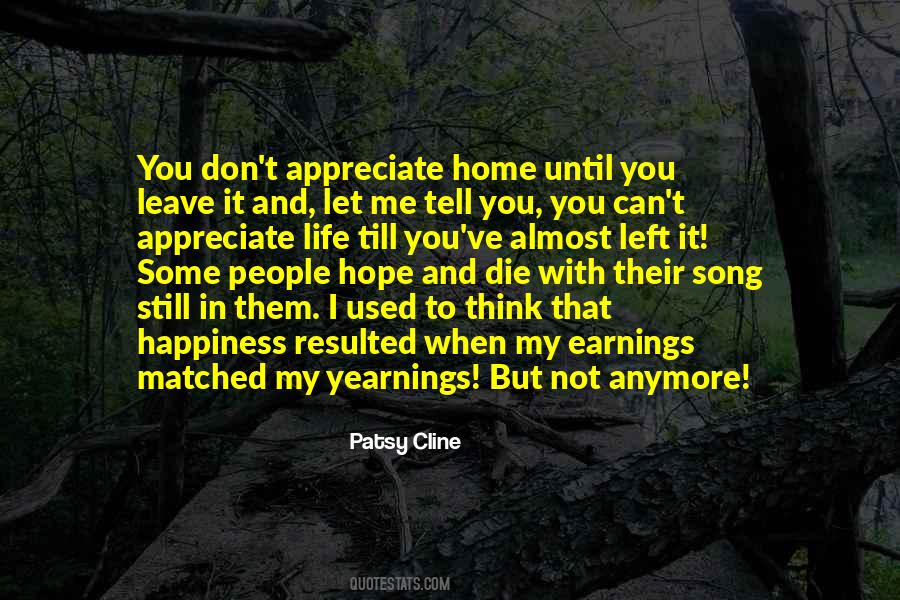 #88. But faith doesn't mean that to me anymore. Now it means someone seeing something in you that you don't, and not giving up until you see it too. - Author: Jessica Knoll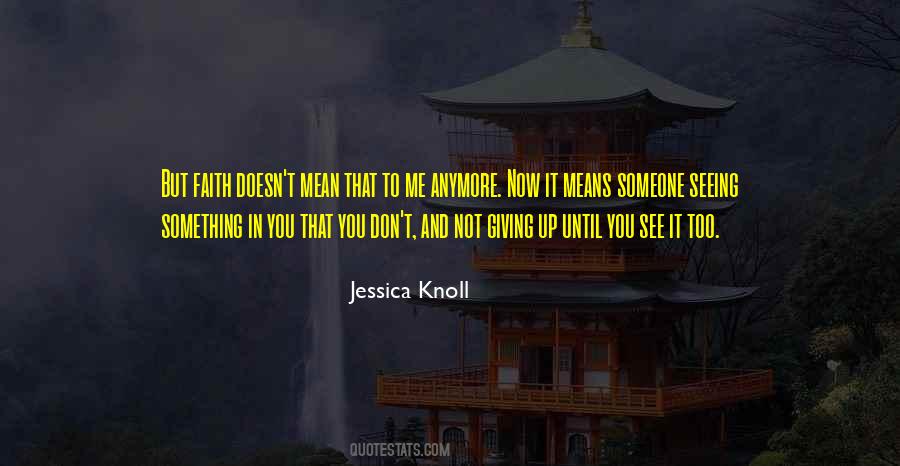 #89. I have told myself you are not allowed to hurt me anymore. That's what hurts the most. - Author: Pleasefindthis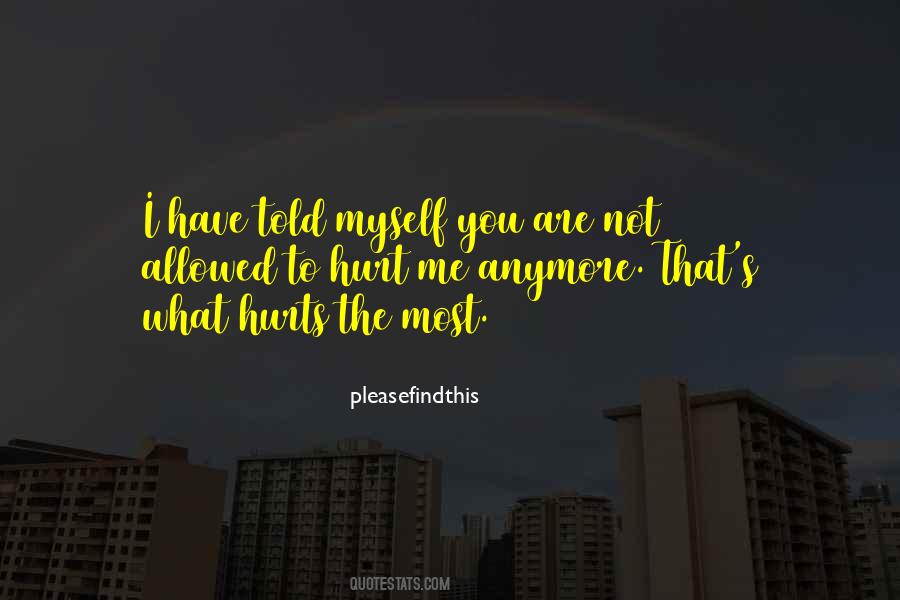 #90. The scars are just something that happened to me. They aren't me. Not anymore. - Author: Amy Engel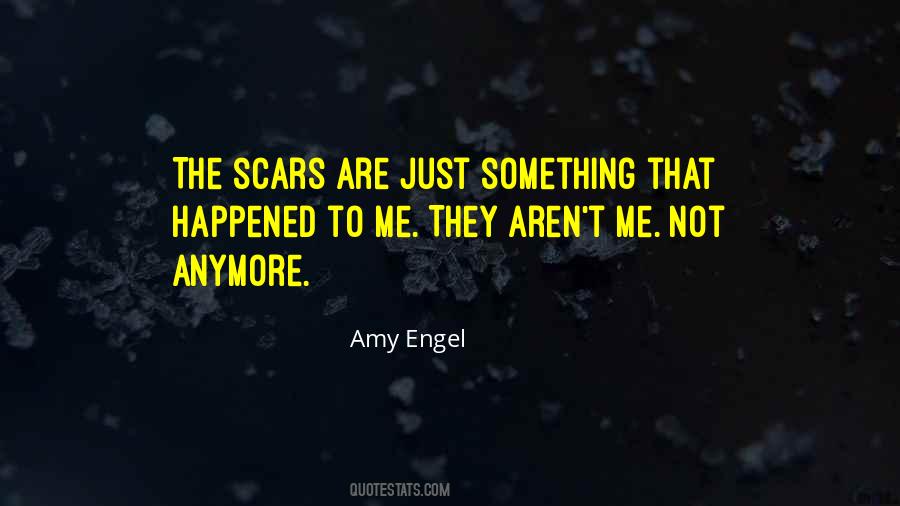 #91. It's not unexpected for me to be in a comedy film anymore; I'm no longer the underdog in that world. - Author: Jonah Hill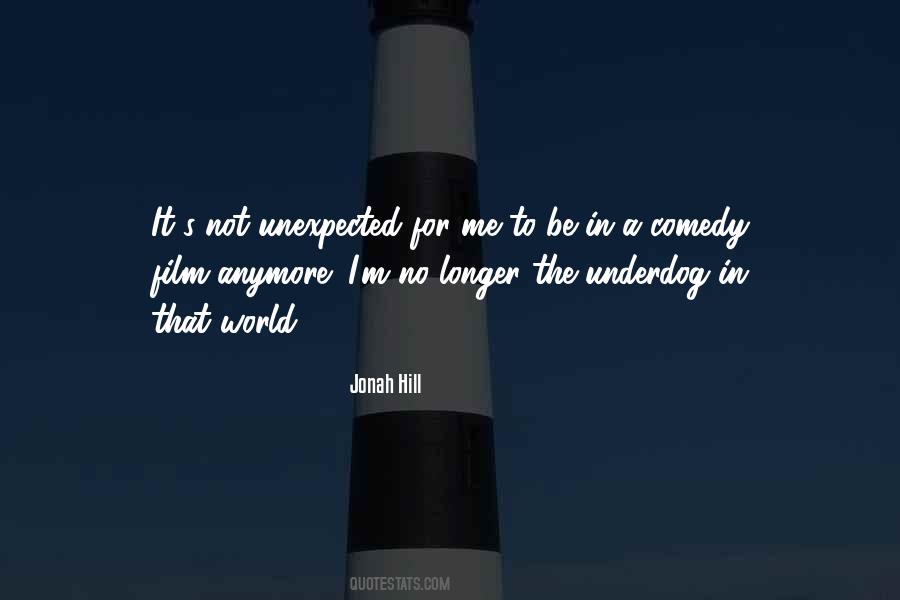 #92. I know a lot of people who are not here anymore, and I wonder why I'm still here ... Not a day goes by that I don't think about Sam Cooke. His presence is so strong and so convincing to me, a true artist, a true talent, who never talked down to people. - Author: Bobby Womack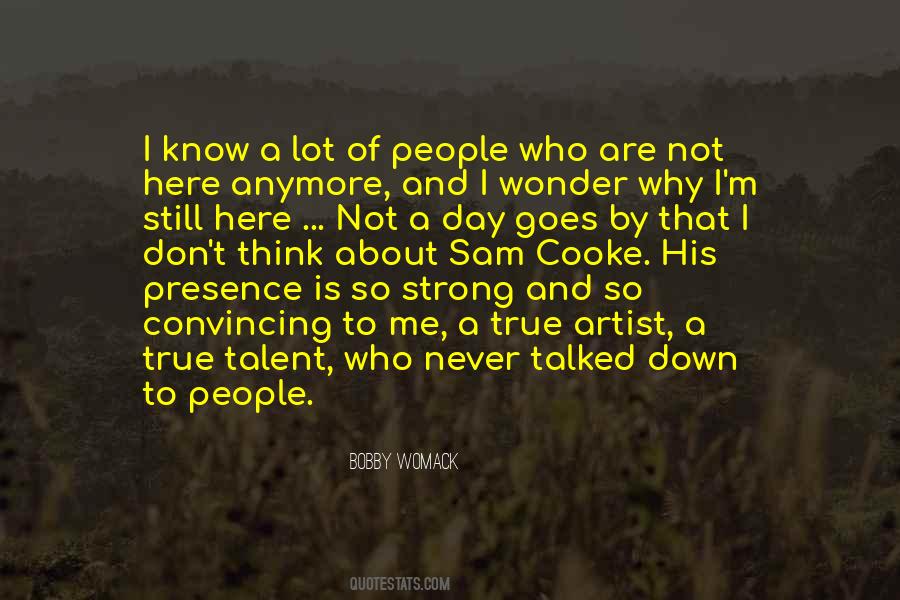 #93. There isn't anybody out there who doesn't have a mental health issue, whether it's depression, anxiety, or how to cope with relationships. Having OCD is not an embarrassment anymore - for me. Just know that there is help and your life could be better if you go out and seek the help. - Author: Howie Mandel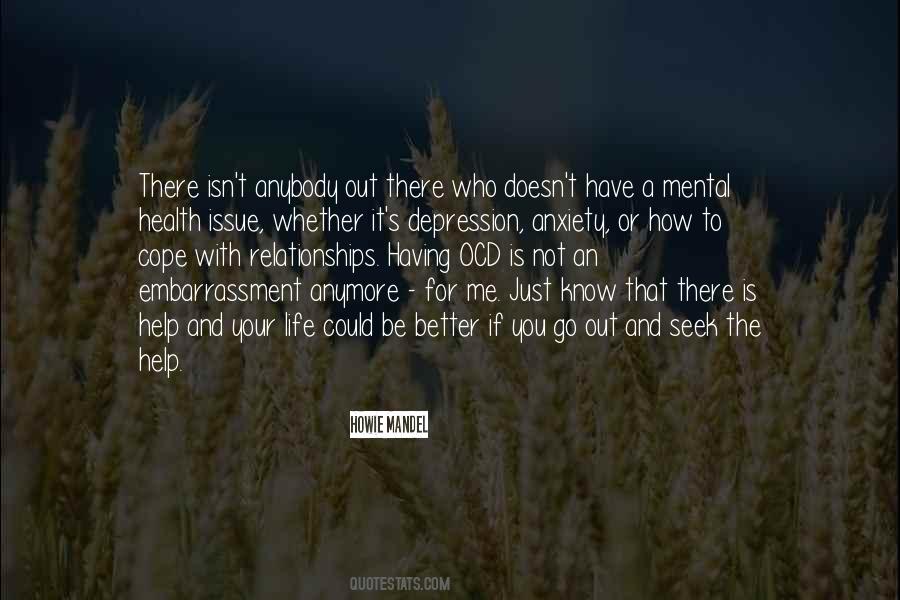 #94. It's innate in me to be a Democrat - a true Southern populist kind of Democrat. There's not a lot of those anymore. I'm not saying I'm right or wrong. That's just the way I feel. - Author: Tim McGraw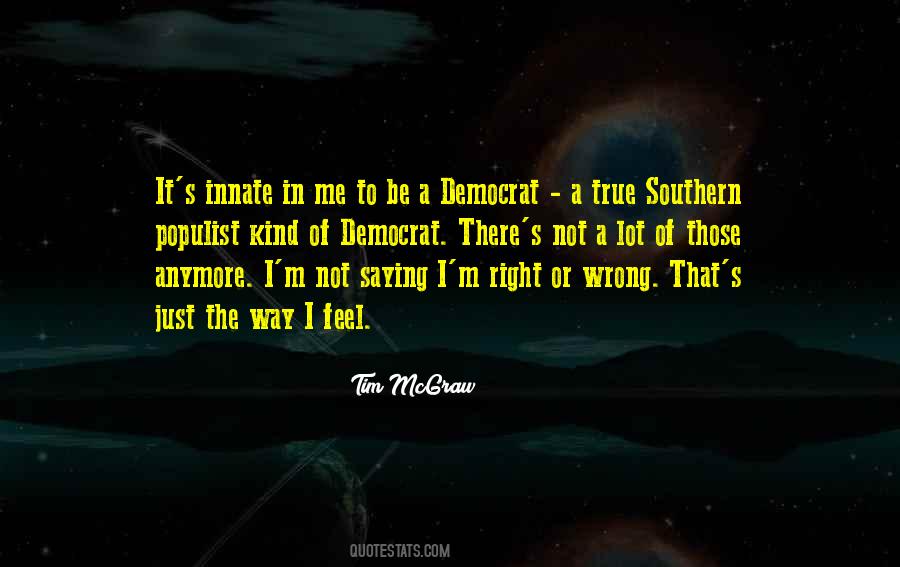 #95. Well, than that solves it. I'm not a faery, so I'll just go back to sleep, and you won't come to see me anymore." It nearly killed her to say it even in a dream.
"I can't let you go," Micala said, shaking his head. "I can't. And I won't."
That's what she wanted to hear. - Author: Terry Spear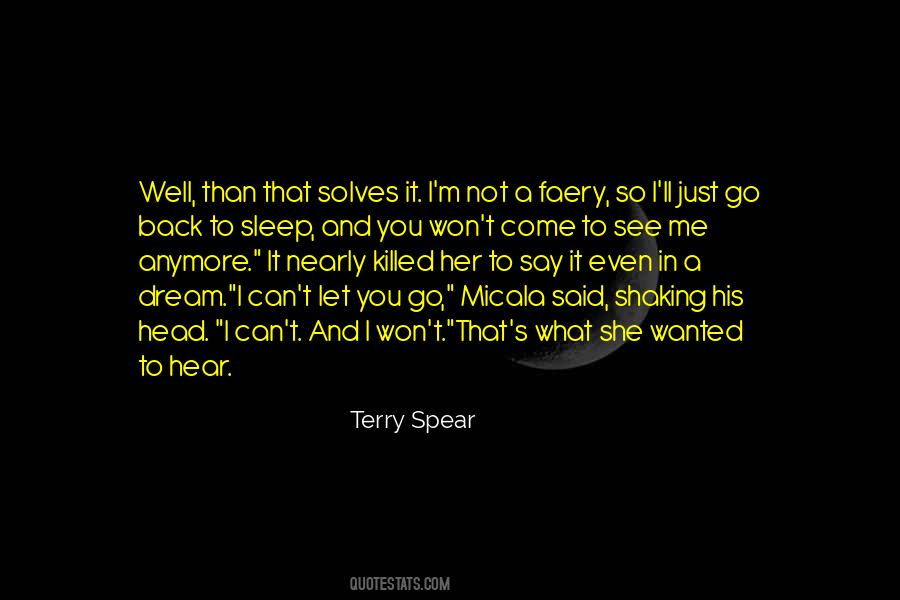 #96. I have had viewers that come up to me, and they're, like, You know, we used to watch ('Breaking Bad') as a family, and once the melted body came falling through the ceiling, my mom was just, like, 'I can't watch this show anymore. This is just way too disturbing for me.' So it's not for everybody. - Author: Aaron Paul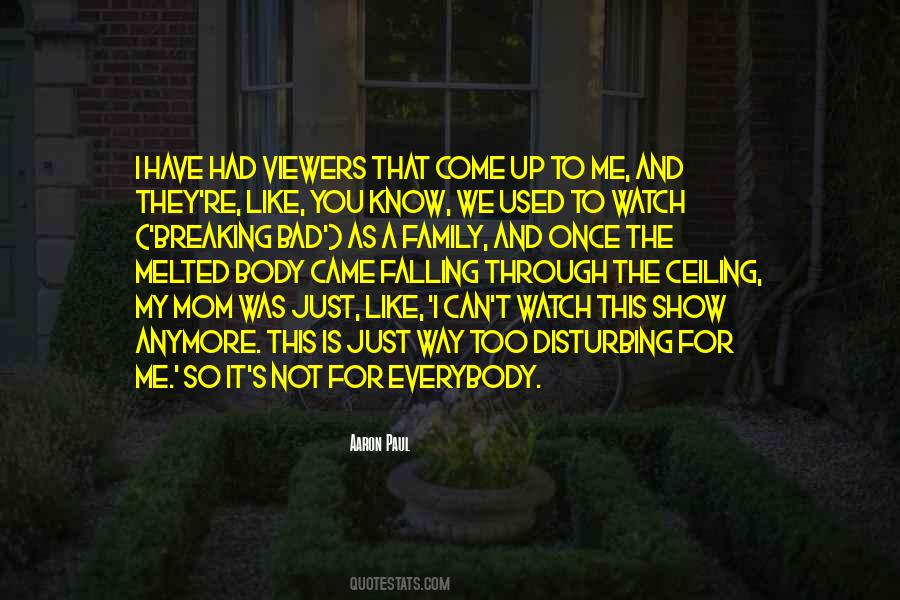 #97. Her words, they're not warm anymore. She might want me to hear them that way, but they're burning me up instead. In my mind. In my heart - Author: Jay Asher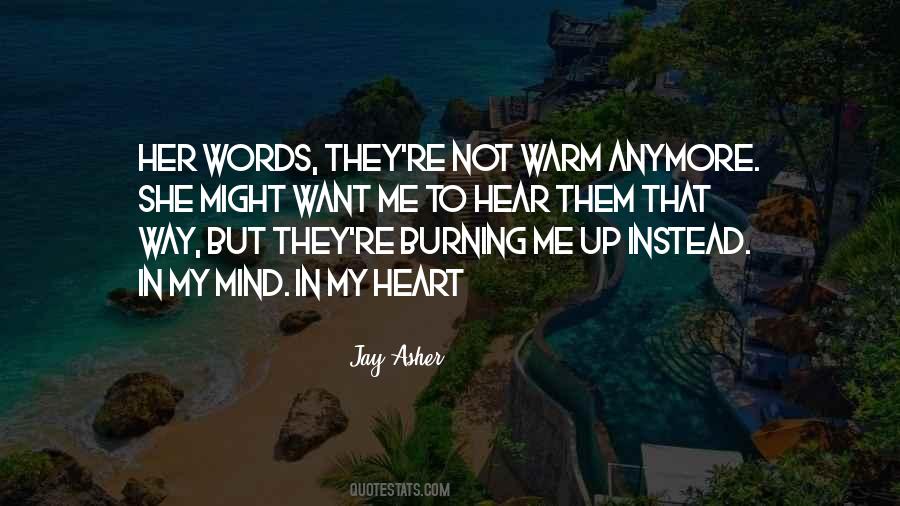 #98. Romantic relationships are the least interesting thing for me to write about. I'm 45, and that's not the most interesting thing in my life anymore. - Author: Kelly Sue DeConnick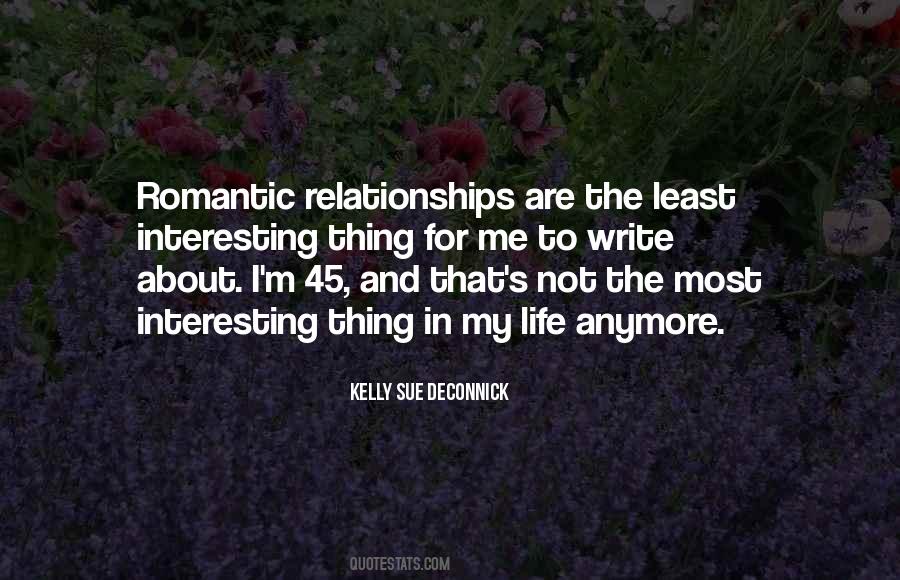 #99. I won't stay," I warned him. "I won't try to fight for you anymore. This is it. If you walk away it's not for me. I won't ever think that. I will always, always blame you for this. For ruining us. - Author: Samantha Young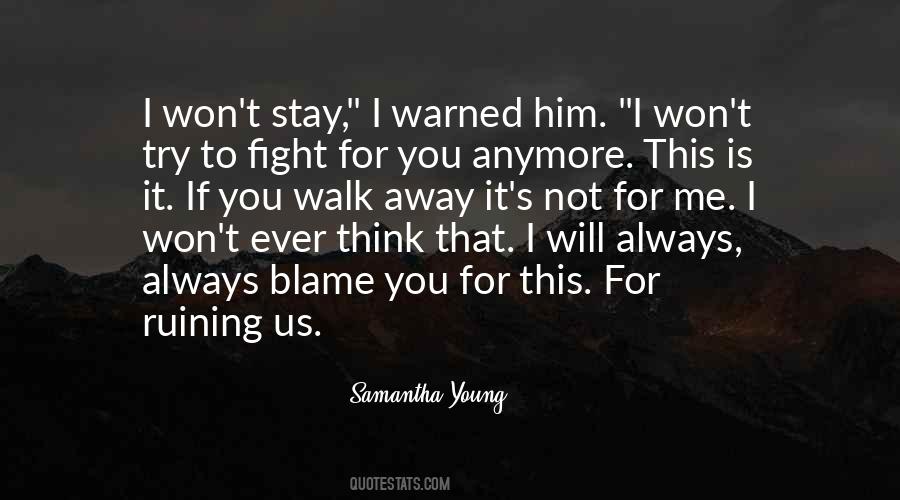 #100. The thought of me not having to clock in for a job anymore is something that I can't really put into words, aside from 'amazing' and 'awesome.' - Author: Leon Bridges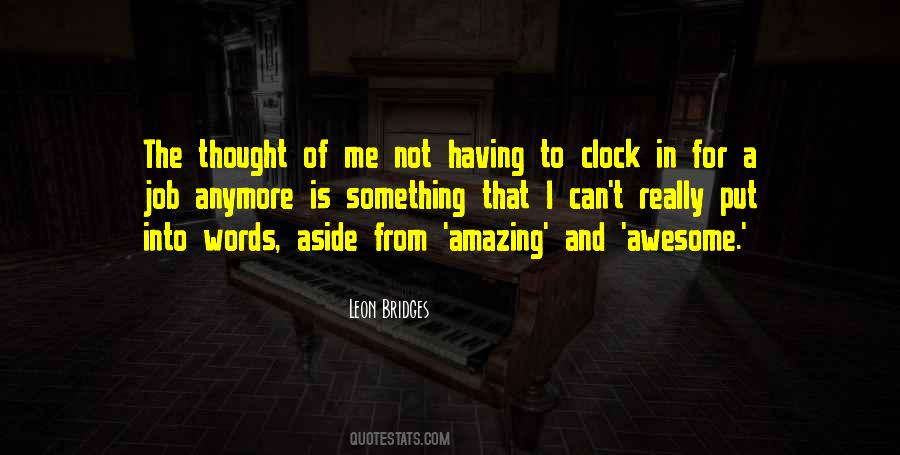 Famous Authors
Popular Topics