Take Every Step Famous Quotes & Sayings
List of top 100 famous quotes and sayings about take every step to read and share with friends on your Facebook, Twitter, blogs.
Top 100 Take Every Step Quotes
#1. Step forward out of your own lingering residual sense of smallness, take up every inch of life that is your blessed inheritance, and DO YOUR THING. - Author: Elizabeth Gilbert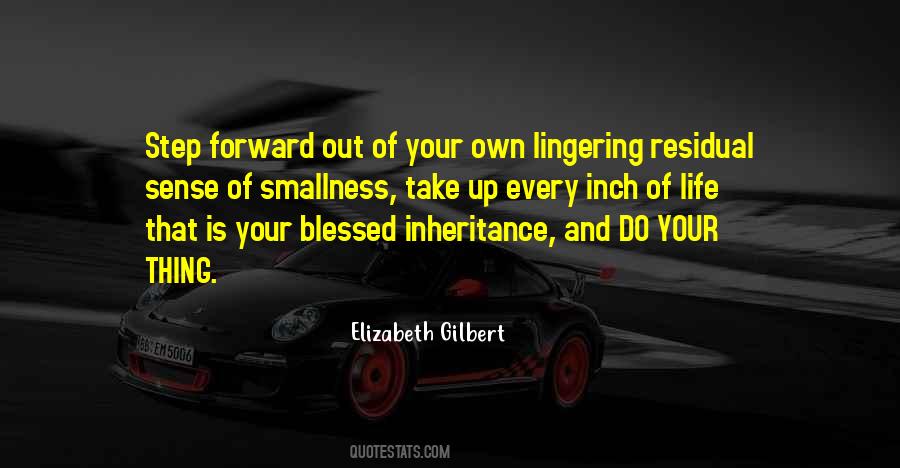 #2. Each step of your current journey will take you to new and interesting worlds of opportunity and as every intrepid explorer knows, when one visits strange new lands one must be aware of their customs. - Author: Chris Murray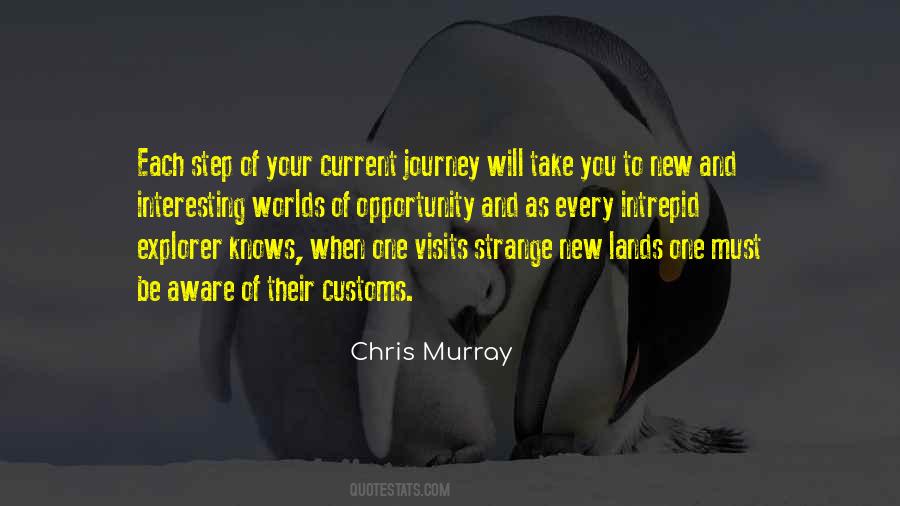 #3. Every breath you take and every move you make
Every bond you break, every step you take
I'll be watchin' you
Every single day and every word you say
Every game you play, every night you stay
I'll be watchin' you - Author: Sting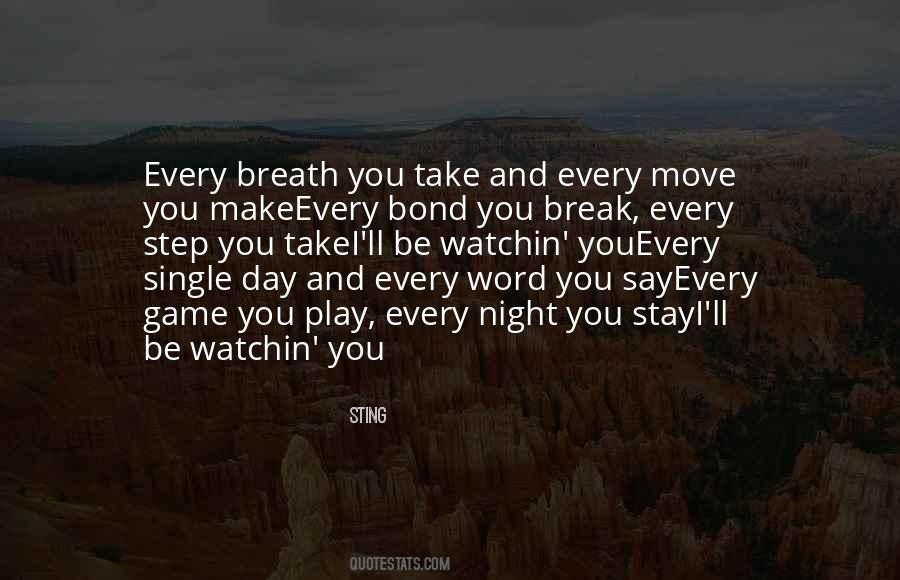 #4. I press my eyes shut and will the thoughts away. But they refuse to comply, and instead, they lodge themselves in the crevasses of my brain, poking out just enough that I know they're still with me, like a tiny splinter in your baby toe that gnaws away at you with every step you take. - Author: Allison Winn Scotch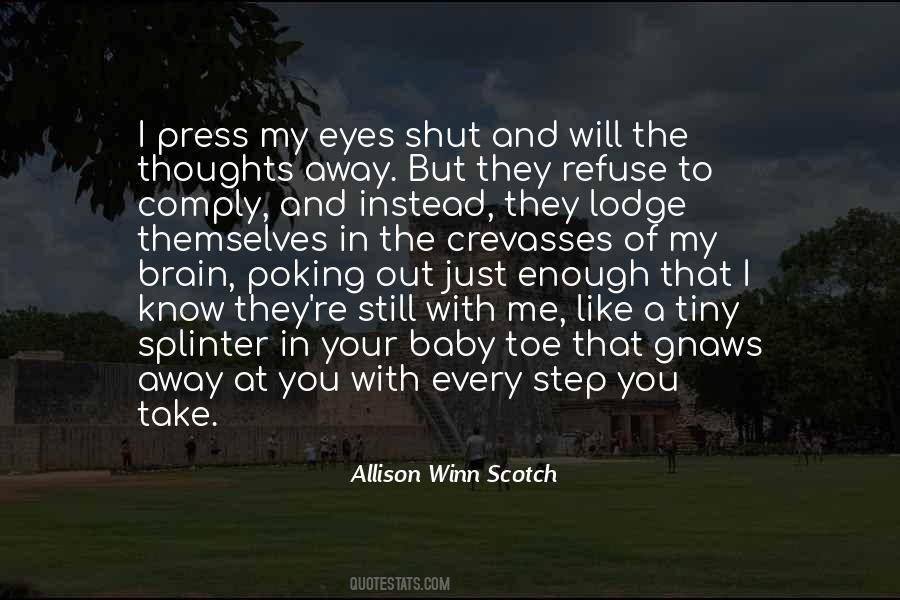 #5. There is but one way in which God should be loved, and that is to take no step except with Him and for Him, and to follow with a generous self-abandonment every thing which He requires. - Author: Francois Fenelon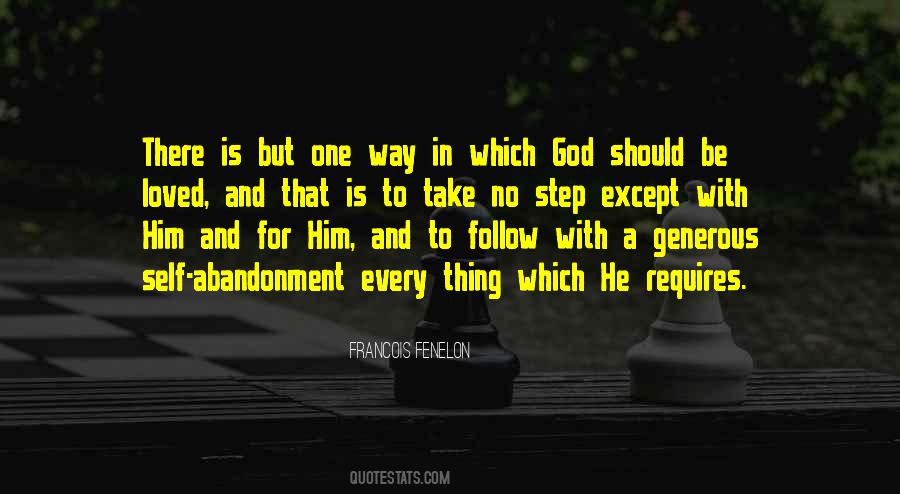 #6. If tomorrow morning by some stroke of magic every dazed and benighted soul woke up with the power to take the first step toward pursuing his or her dreams, every shrink in the directory would be out of business. - Author: Steven Pressfield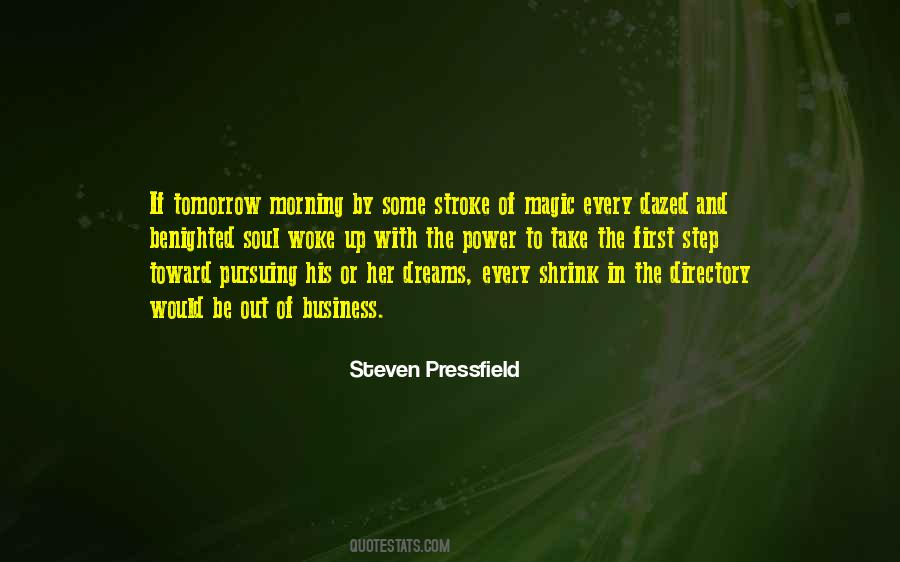 #7. Every step I take, I am alive. I am Life. - Author: Happy Rhodes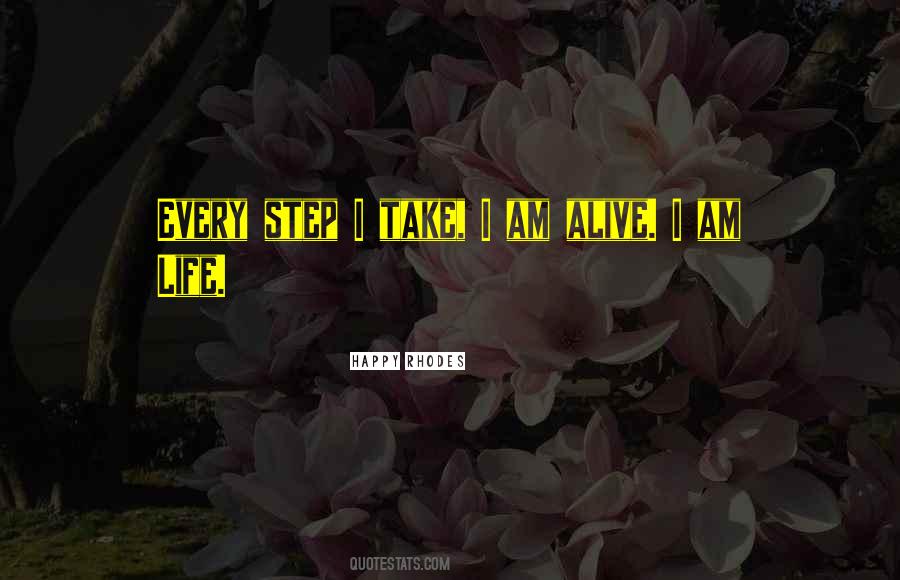 #8. You can ride, you can travel with a friend of your own;
The final step you must take alone.
No wisdom is better than this when known:
That every hard thing is done alone. - Author: Hermann Hesse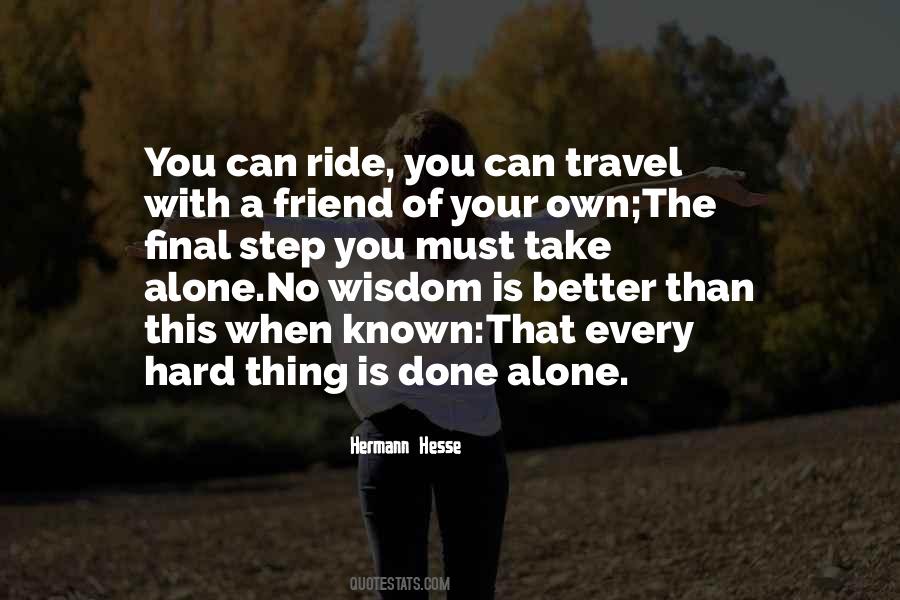 #9. My first love, you're every breath that I take, you're every step I make - Author: Lionel Richie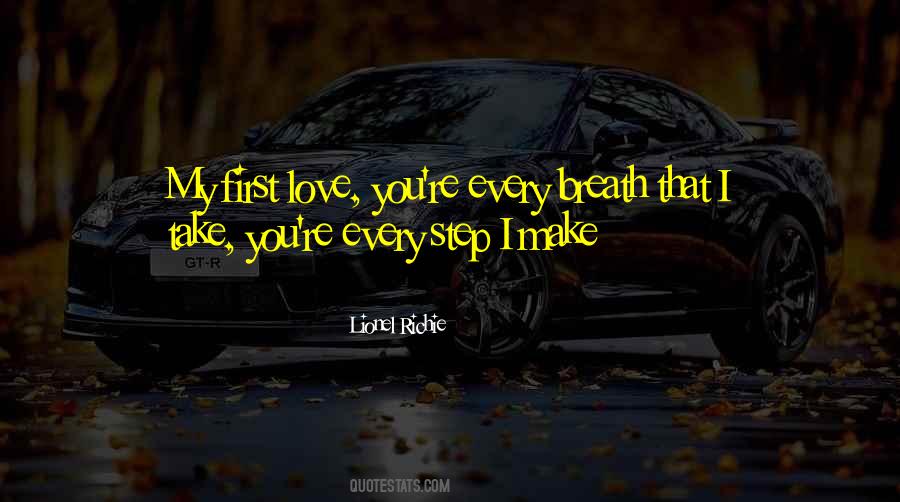 #10. Every breath you take is a step forward toward death.
(Hazrat Ali-As) - Author: Hazrat Ali Ibn Abu-Talib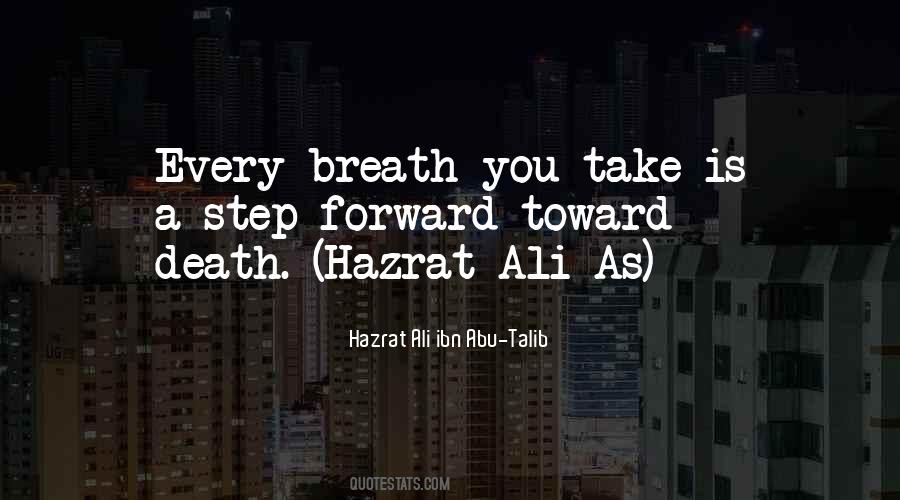 #11. Life is unfolding by each step you take - but, it is fulfilled by every choice you make. - Author: Eleesha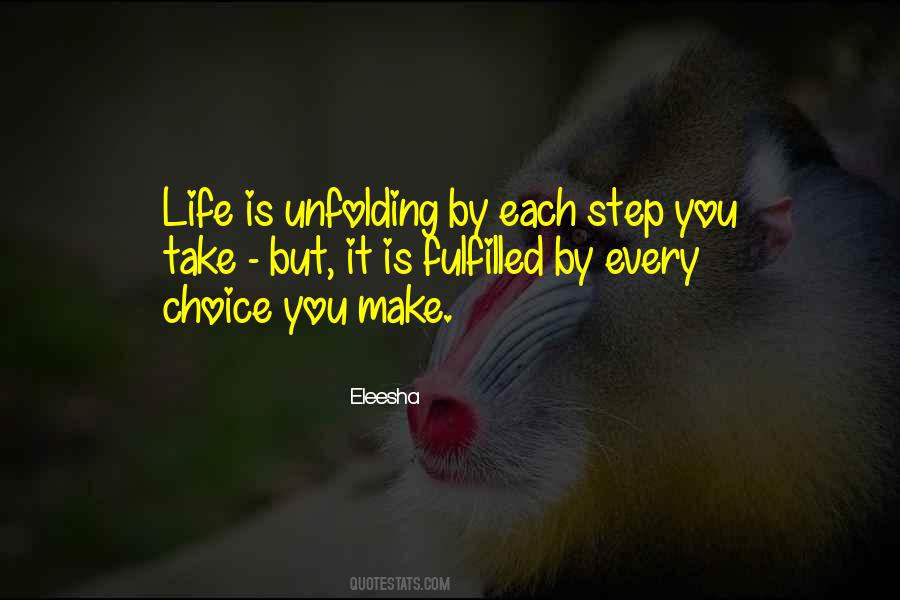 #12. People have to take responsibility for themselves. We need to get the housing industry going again. We don't need government intervening in every step. - Author: Eric Cantor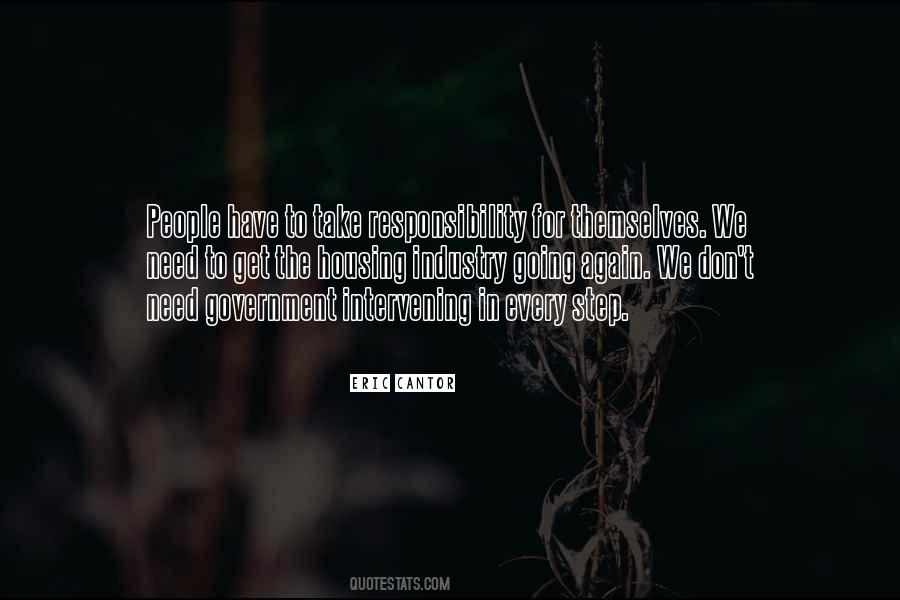 #13. Courage does not take over, it fights and struggles through every word you say and every step you take. It's a battle or a dance as to whether you let it pervade. It takes courage to overcome, but it takes extreme fear to be courageous. - Author: Cecelia Ahern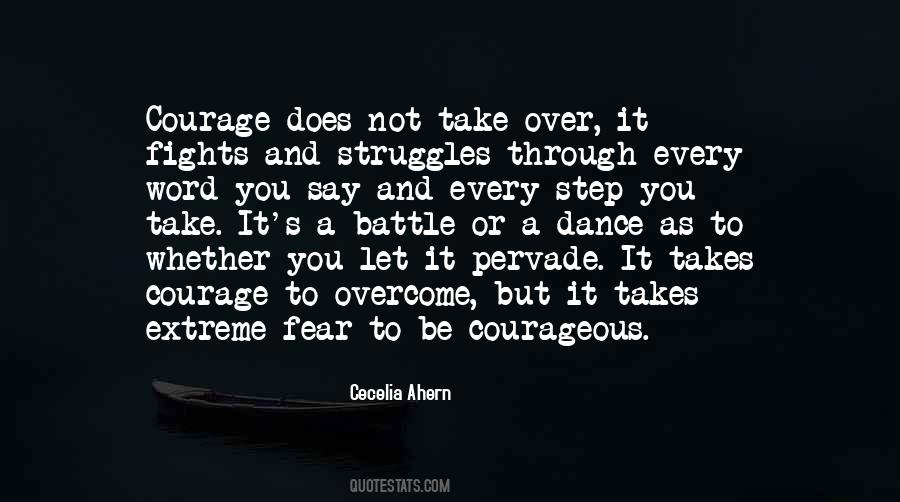 #14. The magic of life is its imprecision, the multiple narratives constantly unfolding before us. Every step we take, every decision we make, reshuffles the deck of our lives and sets a new trajectory of possibility in motion. - Author: Jamie Metzl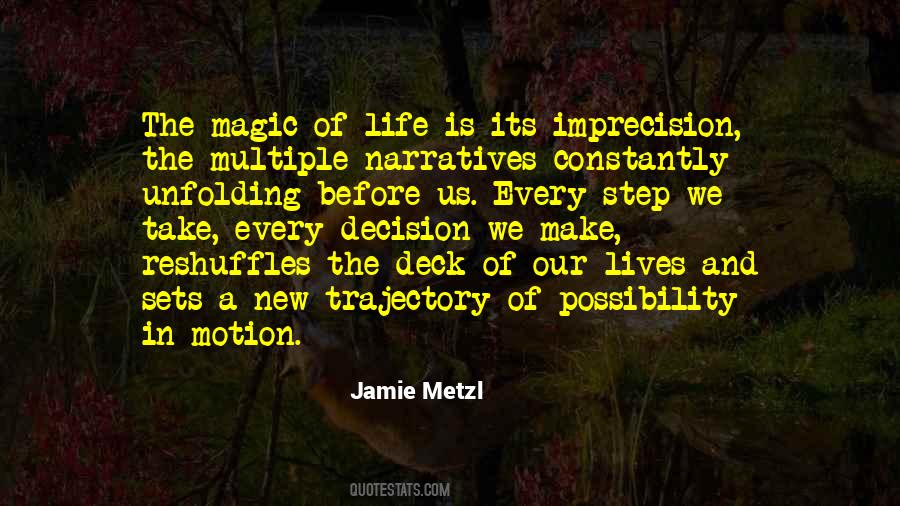 #15. If every hero stopped to think about all the what-ifs in his path, none of us would ever take one step beyond our own doorways. - Author: Esther M. Friesner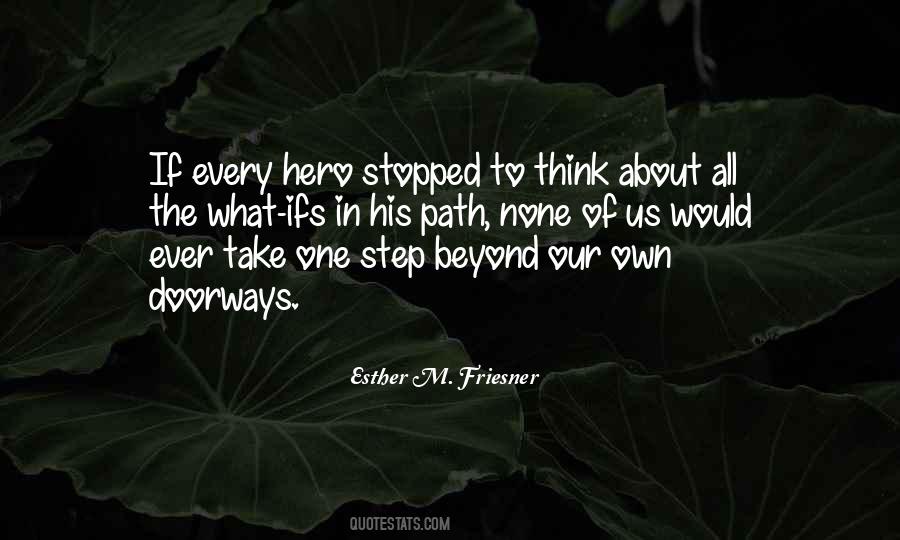 #16. If you can see your path laid out in front of you step by step, you know it's not your path. Your own path you make with every step you take. That's why it's your path. - Author: Joseph Campbell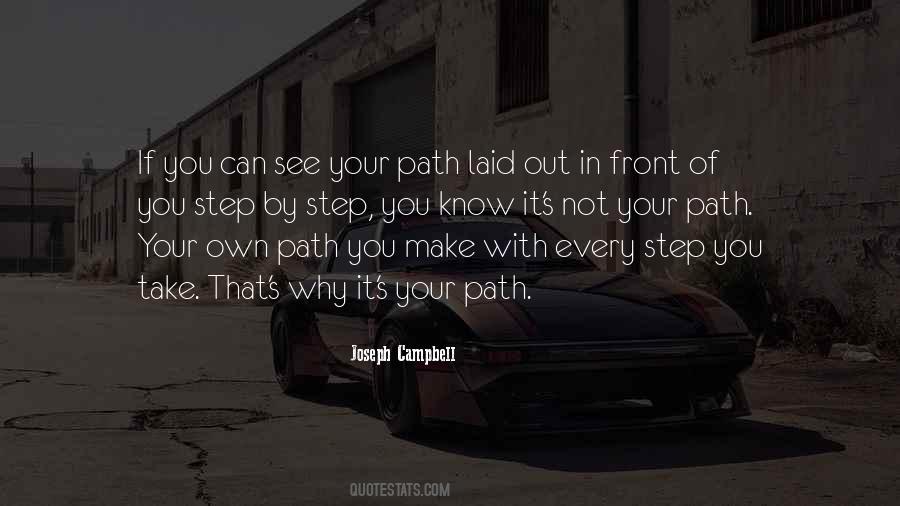 #17. The Lord delights in every little step you take. - Author: Saint Francis De Sales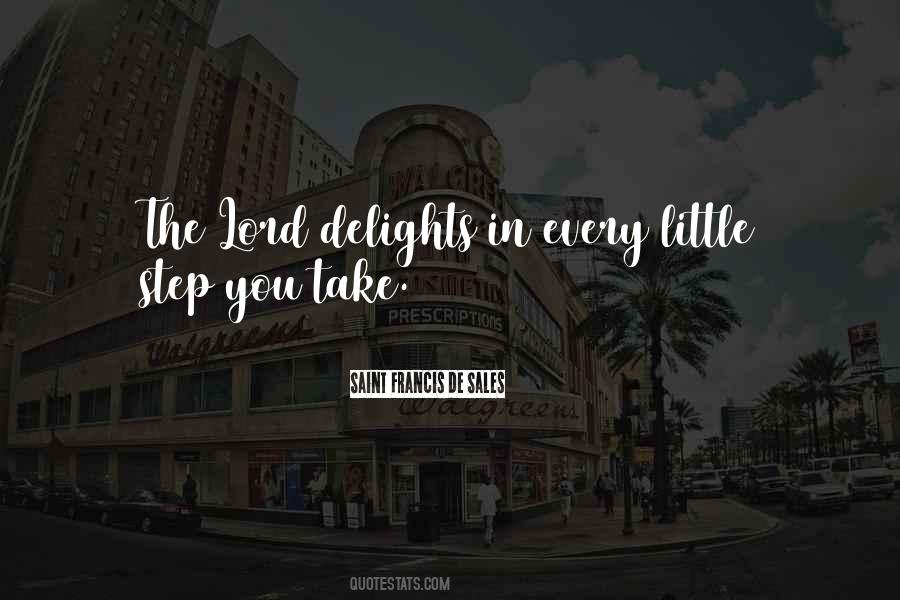 #18. Every step we take leaves a trace. - Author: Jan-Philipp Sendker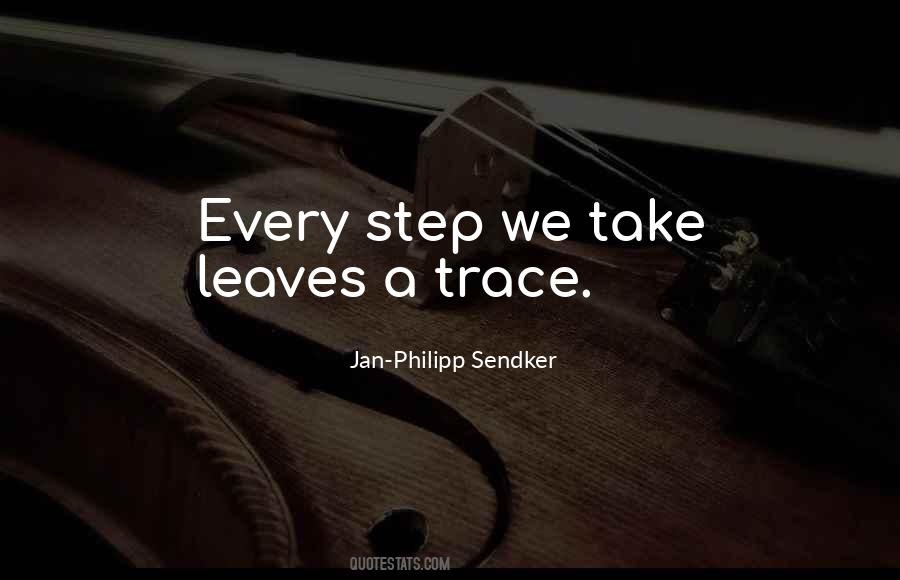 #19. Show your bluebell passion with every step you take. Infuse your corporeal mind, body and spirit with atomic sense of urgency, purpose and apple juice. - Author: Isabel Yosito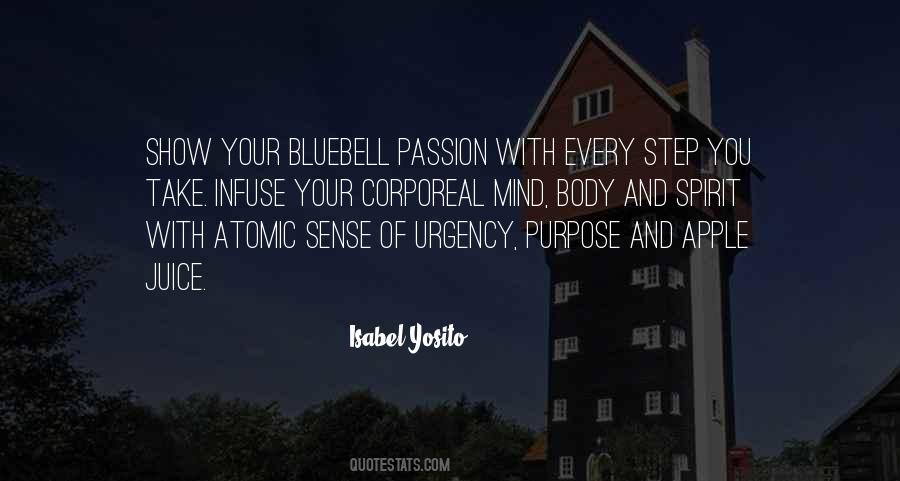 #20. Every day, I come home with a spring in my step. We've got to work together to stop the Obama agenda and take this country back. - Author: Ted Cruz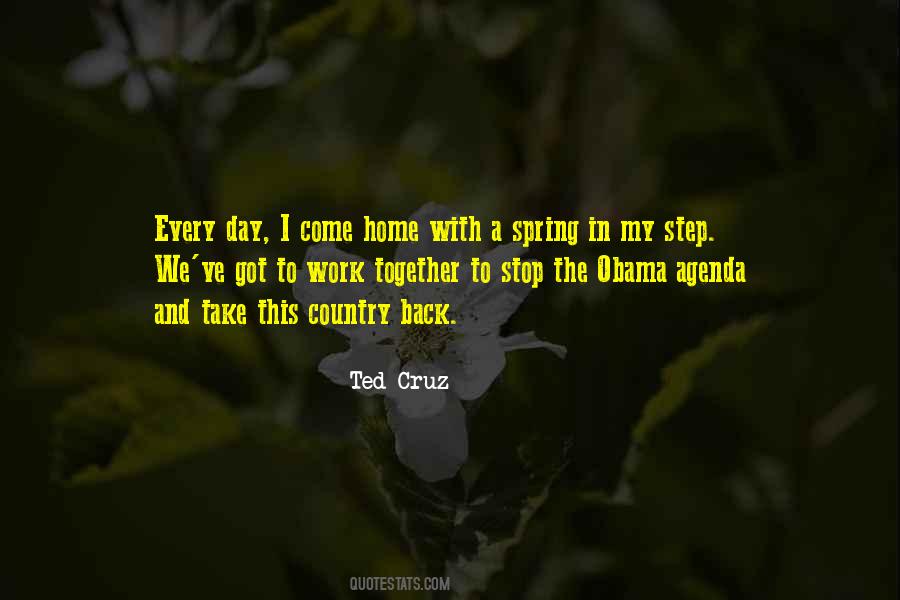 #21. If we are to have the very best Christmas ever, we must listen for the sound of sandaled feet. We must reach out for the Carpenter's hand. With every step we take in his footsteps, we abandon a doubt and gain a truth. - Author: Thomas S. Monson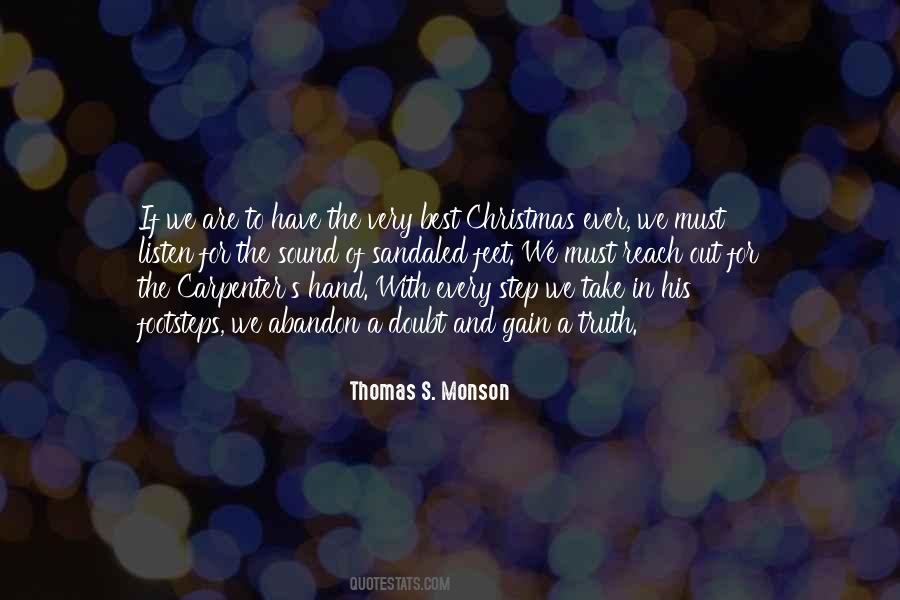 #22. In life, every step you take is an adventure. Never fear to venture and never forget to enjoy. - Author: Debasish Mridha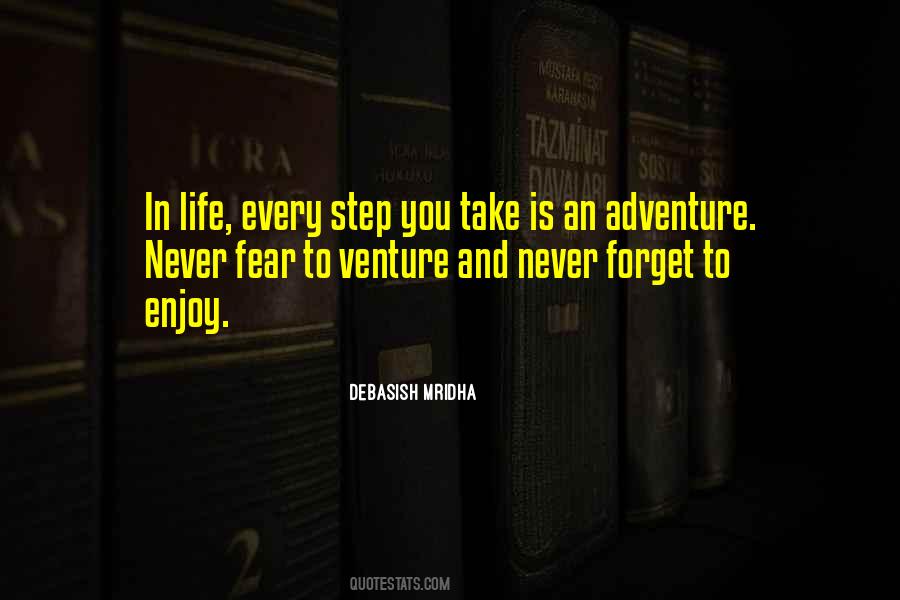 #23. Living is a risk,' I snapped at him. 'Every decision, every interaction, every step, every time you get out of bed in the morning, you take a risk. To survive is to know you're taking that risk and to not get out of bed clutching illusions of safety. - Author: Maria V. Snyder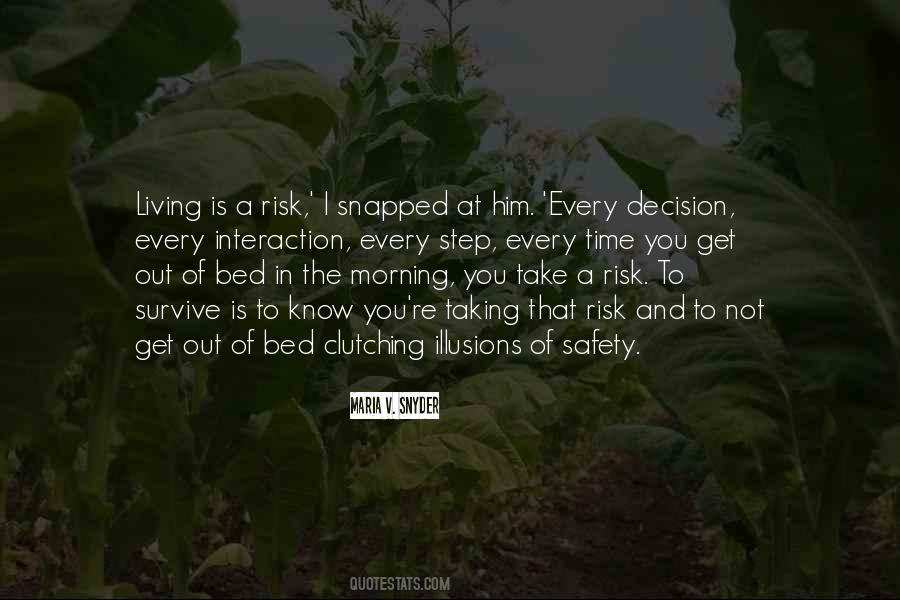 #24. I still follow that model: just go hard every day, and take it one step at a time. - Author: Ace Hood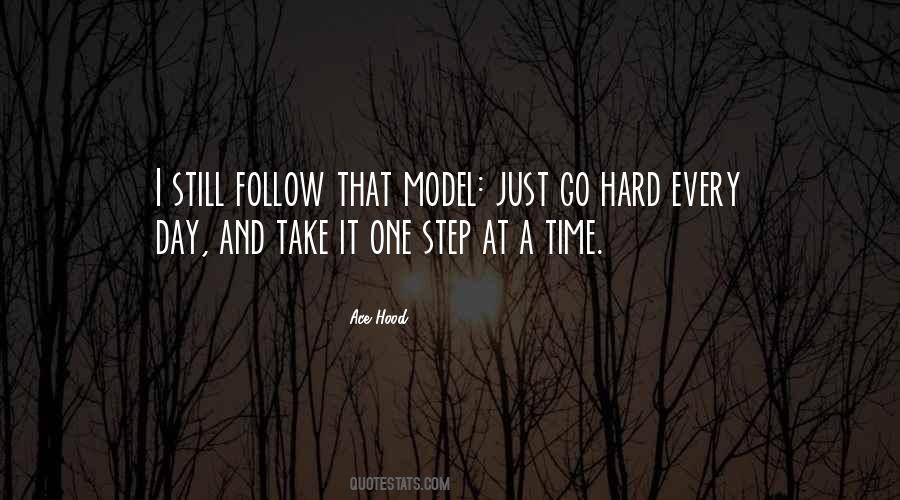 #25. Every time the Catholic Church takes one step forward, it seems to take one giant step back. - Author: Janine Di Giovanni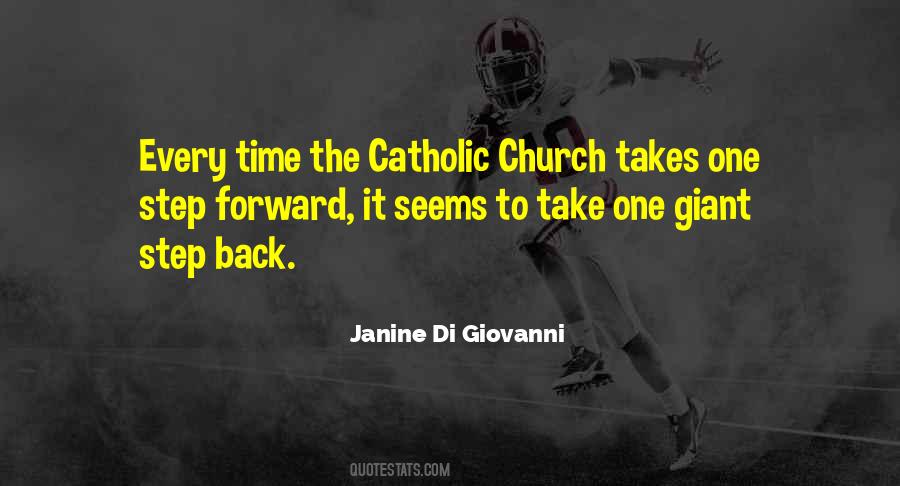 #26. Let go of the idea that the path will lead you to your goal. The truth is that with each step we take, we arrive. Repeat that to yourself every morning: 'I've arrived.' That way you'll find it much easier to stay in touch with each second of your day. - Author: Paulo Coelho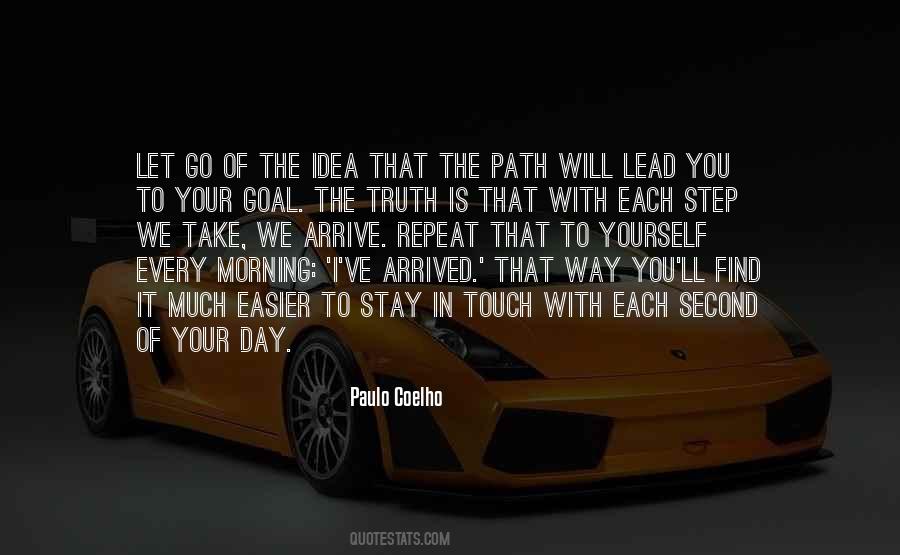 #27. It's emotional for every champion who decides to step down, it's a tough decision. It's probably easier for some, like me. But I'm just going to try to take it in stride. It's part of life. - Author: Ben Crenshaw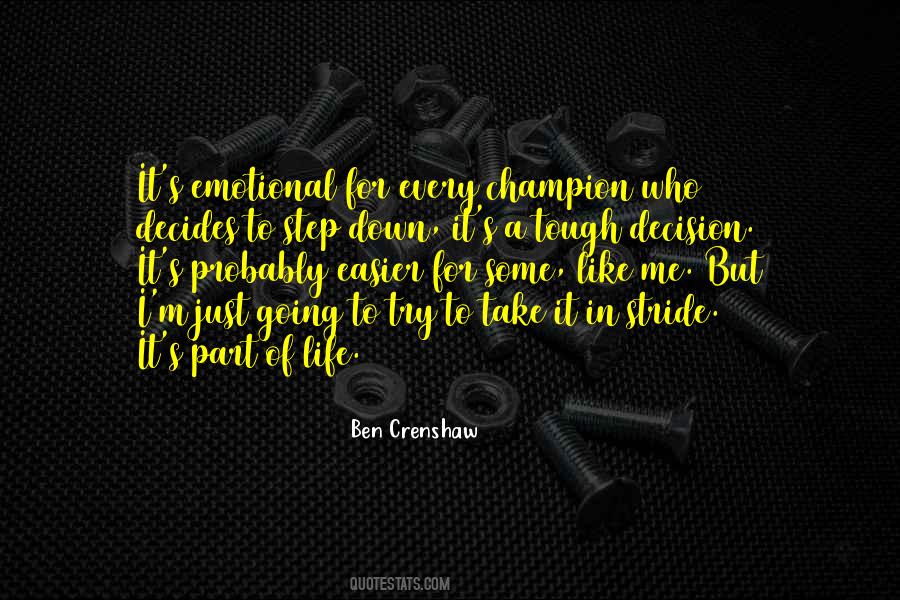 #28. When you are thrown onto the stage at 17 in such an enormous way, it becomes living on the edge because every step you take, every word you speak, every action you do becomes headline news. And it became, for me, life or death. - Author: Boris Becker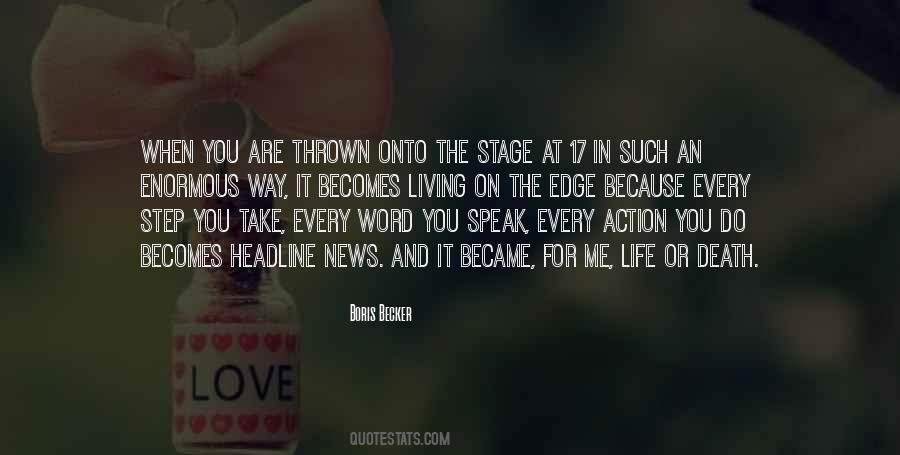 #29. Thank God I have the seeing eye, that is to say, as I lie in bed I can walk step by step on the fells and rough land seeing every stone and flower and patch of bog and cotton pass where my old legs will never take me again. - Author: Beatrix Potter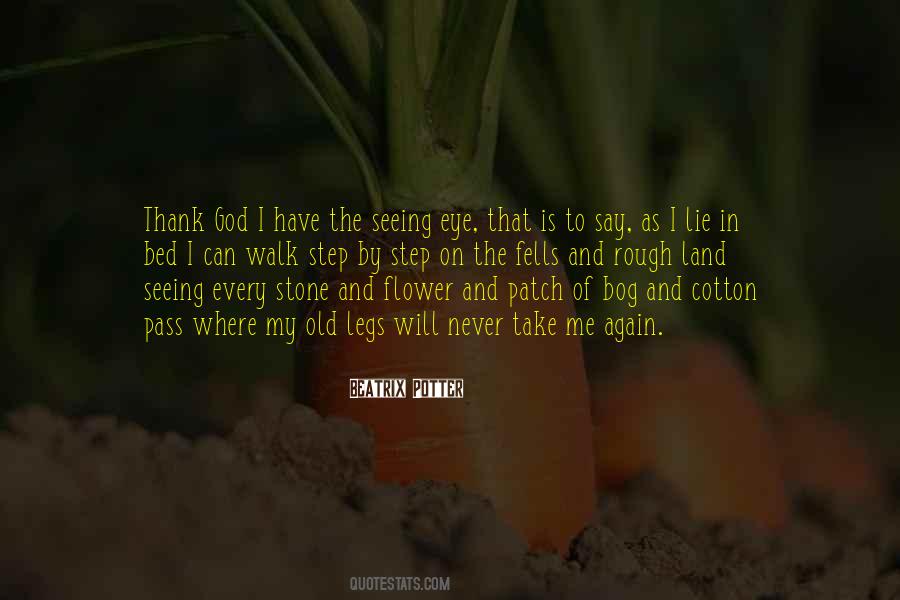 #30. In the moments I get it right, every step I take seems to be matched by a universal mystery, which obligingly, incredibly, creates what I can't. - Author: Martha Beck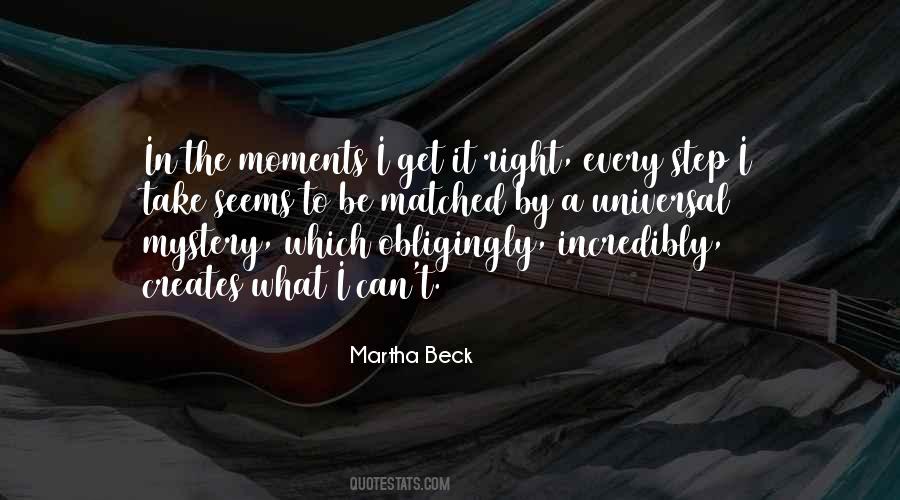 #31. Every time you take a train, step into your car, walk into the shopping mall, go to the airport - every single time, something could happen. That's how terrorism works. - Author: Ayaan Hirsi Ali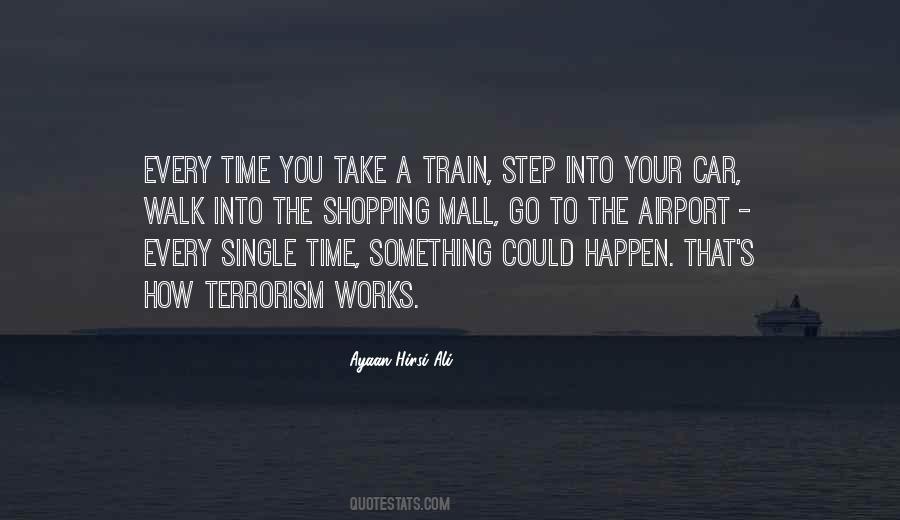 #32. Every time I take a step in the direction of generosity, I know that I am moving from fear to love. - Author: Henri J.M. Nouwen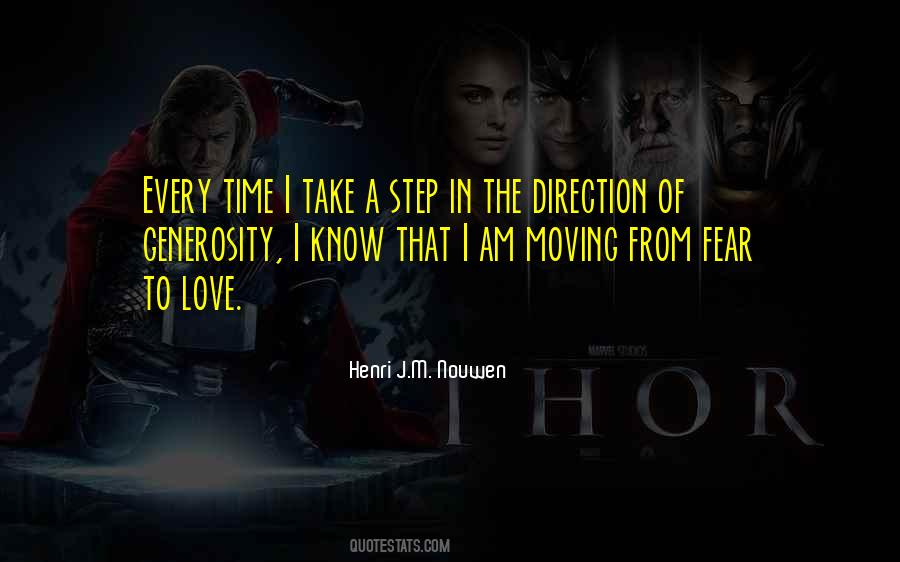 #33. A holistic solution to income inequality is going to take a lot of work, but every time you prove that one of the strands is achievable and that it has a positive impact on people's lives you take another step towards proving the bigger theory of the case. - Author: Bill De Blasio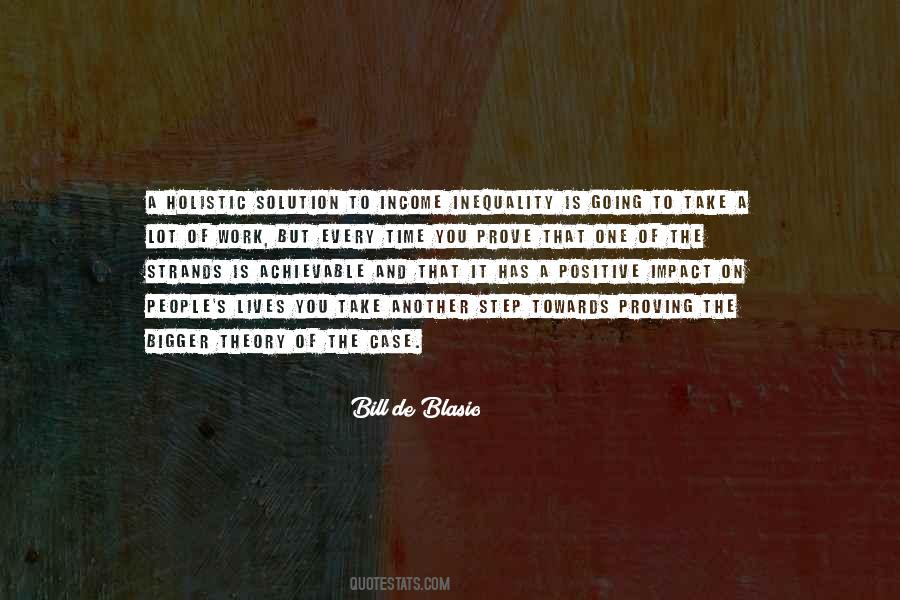 #34. Boston is a tough and resilient town. So are its people. I'm supremely confident that Bostonians will pull together, take care of each other, and move forward as one proud city. And as they do, the American people will be with them every single step of the way. - Author: Barack Obama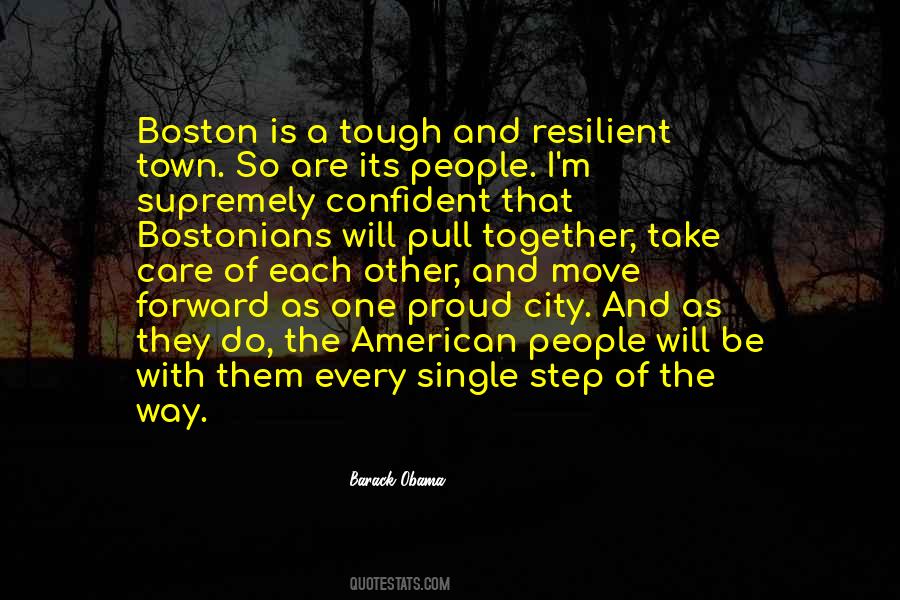 #35. What ever we desire to do should start with authenticity and end with authenticity. This simply means we should be ourselves in every step we take to pursue our dreams. Authenticity is the back bone of every dream that lives inside of us. - Author: Euginia Herlihy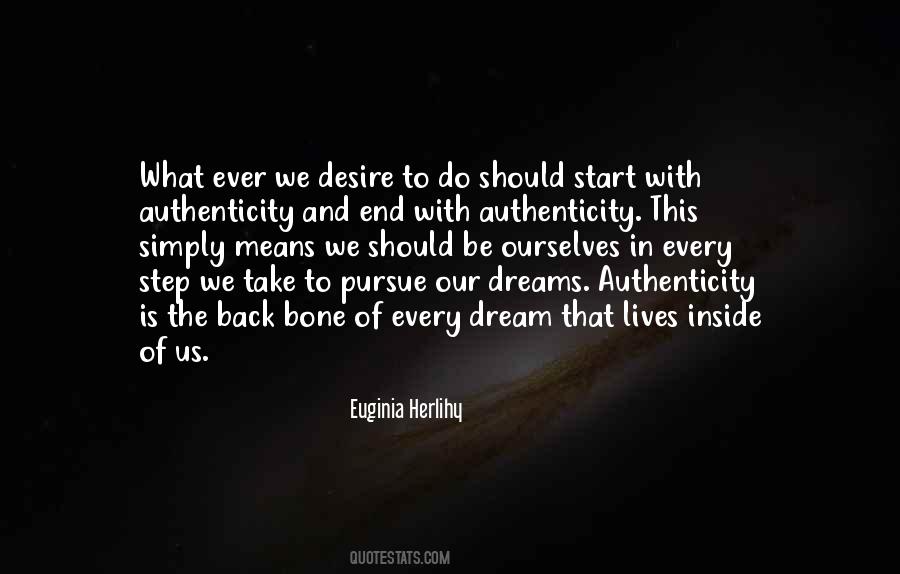 #36. It means that every waking breath you take, every step you take, you don't just take to move your own life forward, but ours. You take it knowing I'm right there with you, irrevocably tied to every decision you make. - Author: Meredith Wild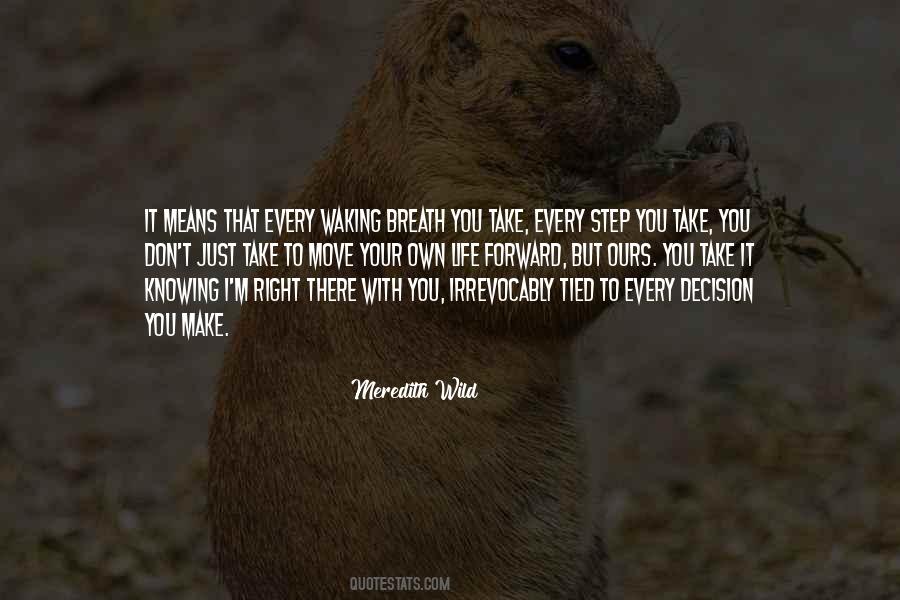 #37. Every step we take towards making the State our Caretaker of our lives, by that much we move toward making the State our Master. - Author: Dwight D. Eisenhower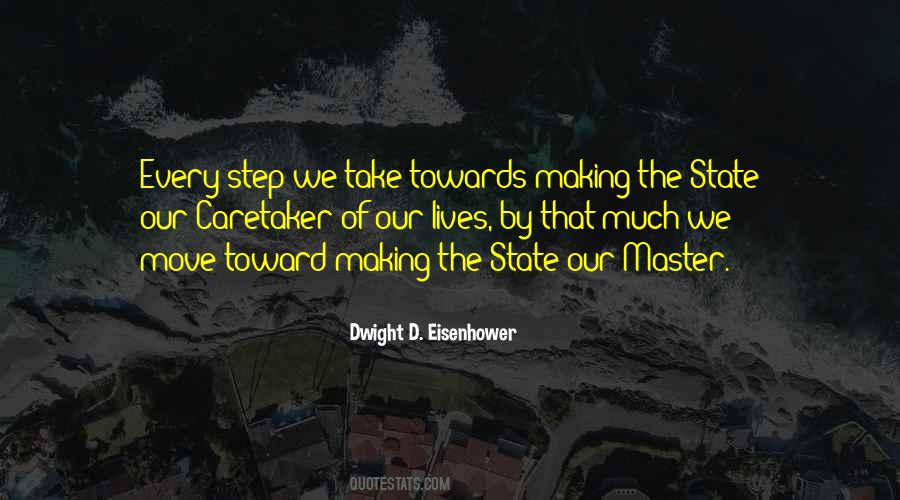 #38. Every great accomplishment starts with a first step. No matter how big your goals are. No matter how great your plans are. No matter how immense your dreams are. It all begins with a single step. Take that step today! - Author: Clifton Anderson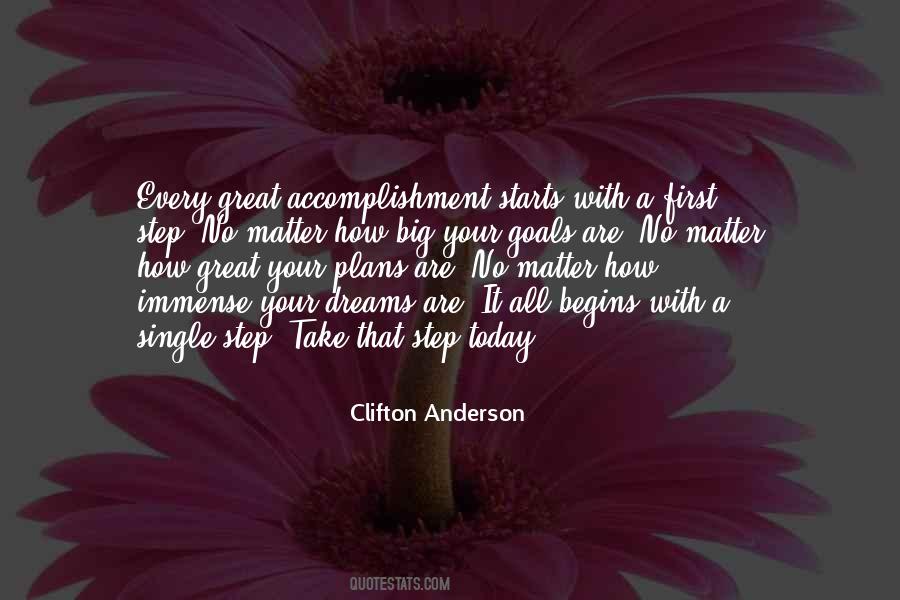 #39. I've titled this book 'Eighty Is Not Enough' not just for the obvious play on words, but as a way of expressing the single idea that has governed my entire life, that every moment of life is precious, that every step we take is an adventure, that every day on earth is a gift from God. - Author: Dick Van Patten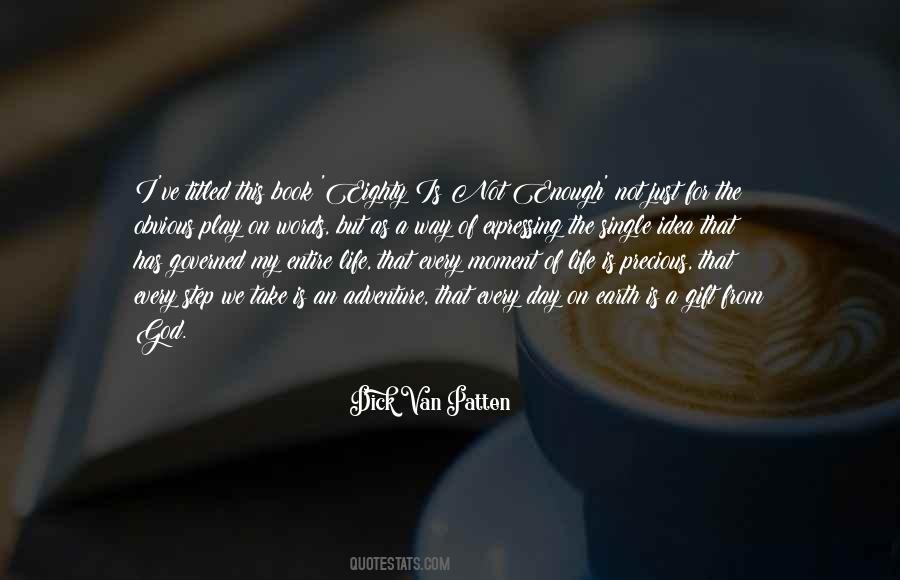 #40. When you live life at altitude and then trip and fall - which we all do every day - you have a long way to fall and you may kill yourself. But if you're standing on the ground, you can fall again and again and simply get up, dust yourself off, and take the next step. - Author: Tami Simon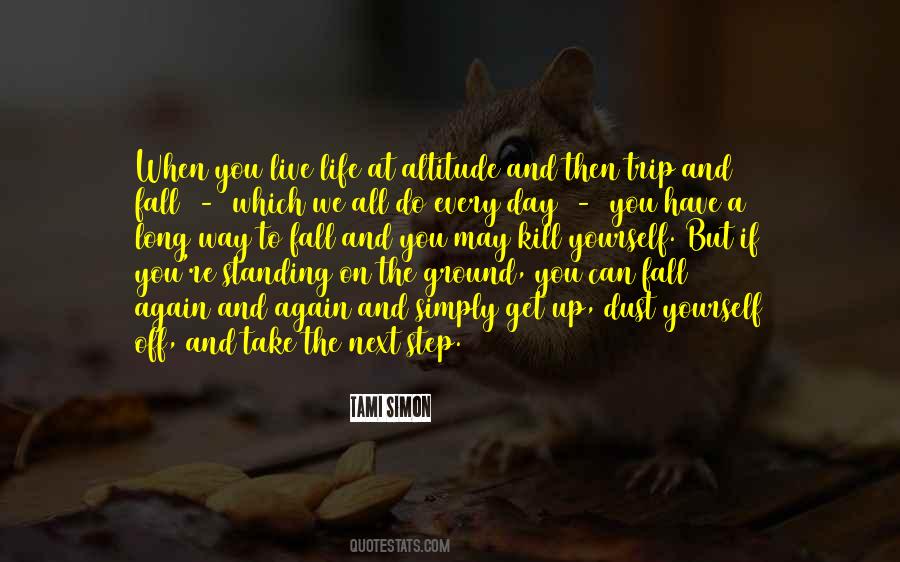 #41. As white snowflakes fall quietly and thickly on a winter day, answers to prayer will settle down upon you at every step you take, even to your dying day. The story of your life will be the story of prayer and answers to prayer. - Author: Ole Hallesby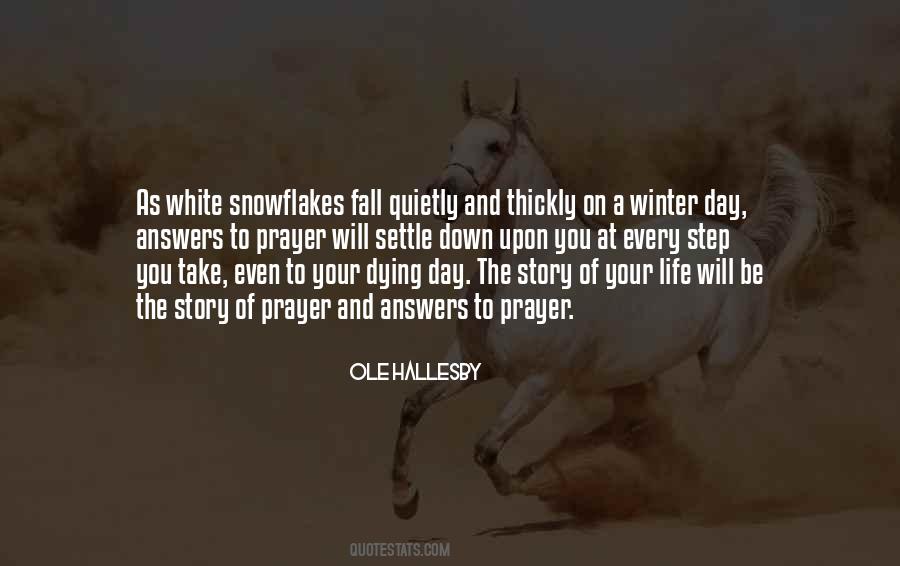 #42. X and Y
the Co-ordinates of
Zen Navigation

X = the limited time you have on the road, in a life
Y = the eternity you have in every hour, every day
Z = Each step you take is a once-in-a-lifetime infinite thing - Author: Vivian Swift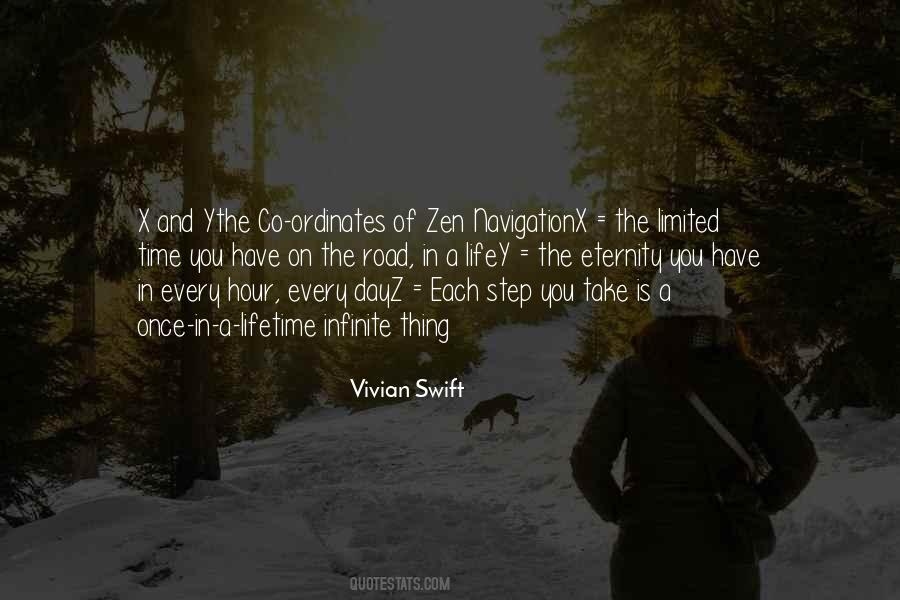 #43. Every step you take - everywhere you stand - the ground beneath your feet is tainted by some kind of casualty. It's an inescapable fact. Nothing is untouched by death. Nothing. - Author: J.M. Darhower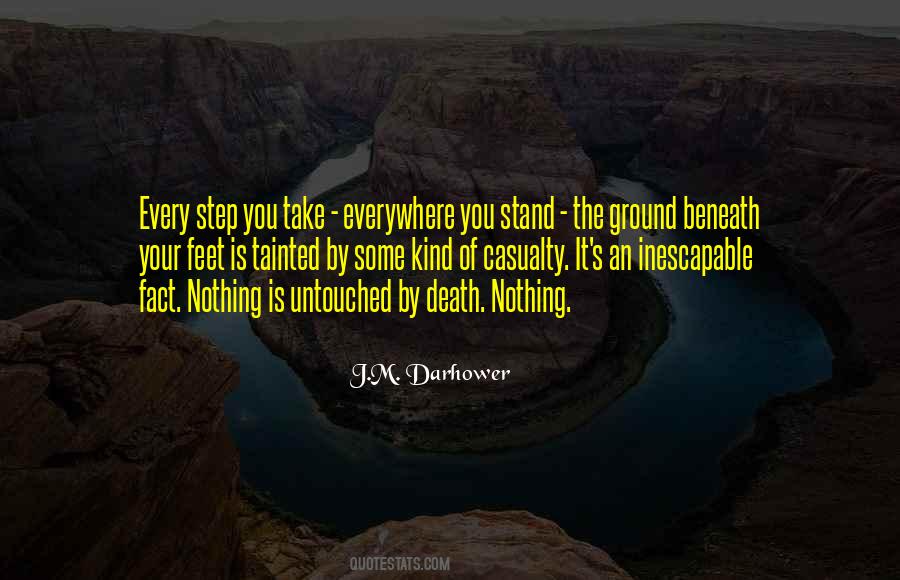 #44. Life demands movement, but we must not take any step at all! We must not take steps to any direction at all for every direction leads somewhere, but not all directions go somewhere! People going somewhere must not just take steps to anywhere! - Author: Ernest Agyemang Yeboah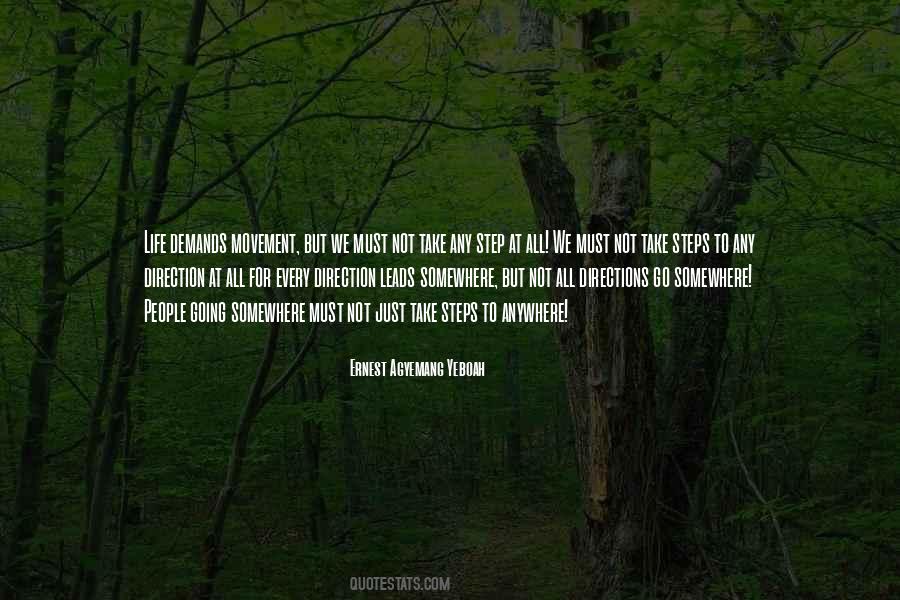 #45. Never give up! With every step you take in your journey, you are forming your dreams. - Author: Dolls Bowman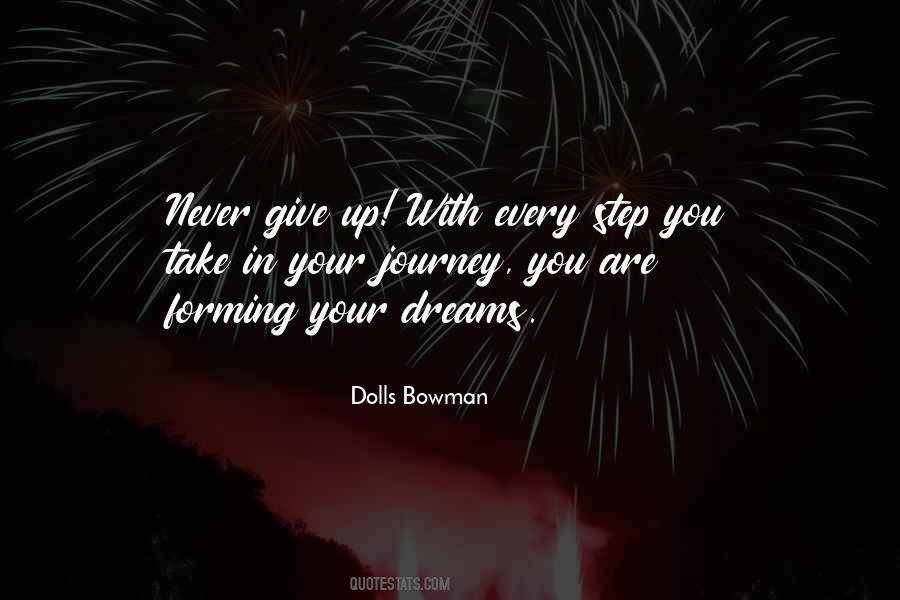 #46. Every breath we take, every step we make, can be filled with peace, joy and serenity. - Author: Thich Nhat Hanh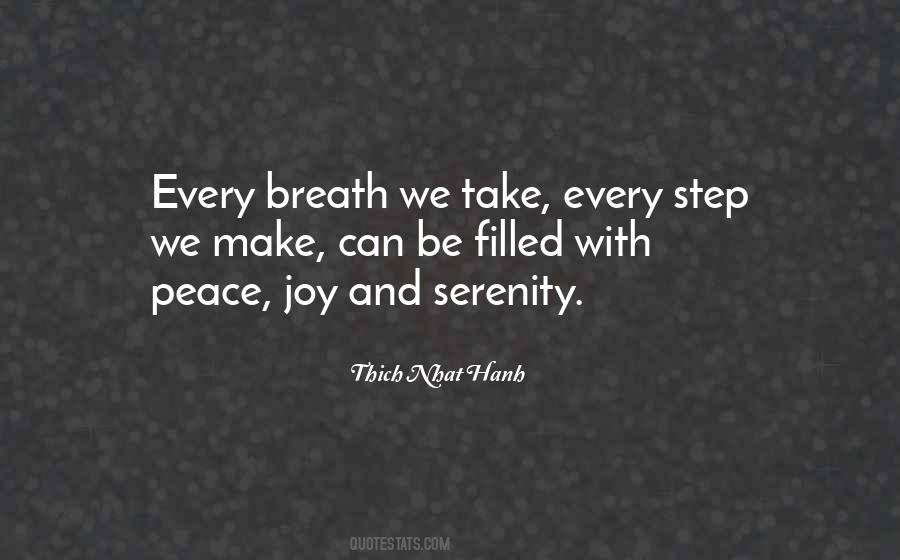 #47. Sometimes your friends take you ten steps backwards for every step you take forward. Sometimes misplaced loyalty ruins your destiny. - Author: Keshia Chante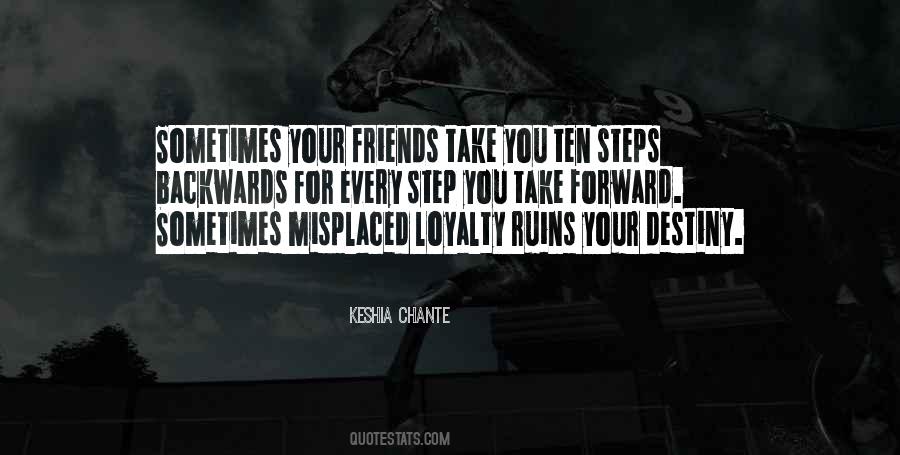 #48. With every step I expected a poltergeist to sail down from the ceiling and take charge of my body or find a zombie hunkered in a corner eating Jerry's flesh. - Author: Elle Klass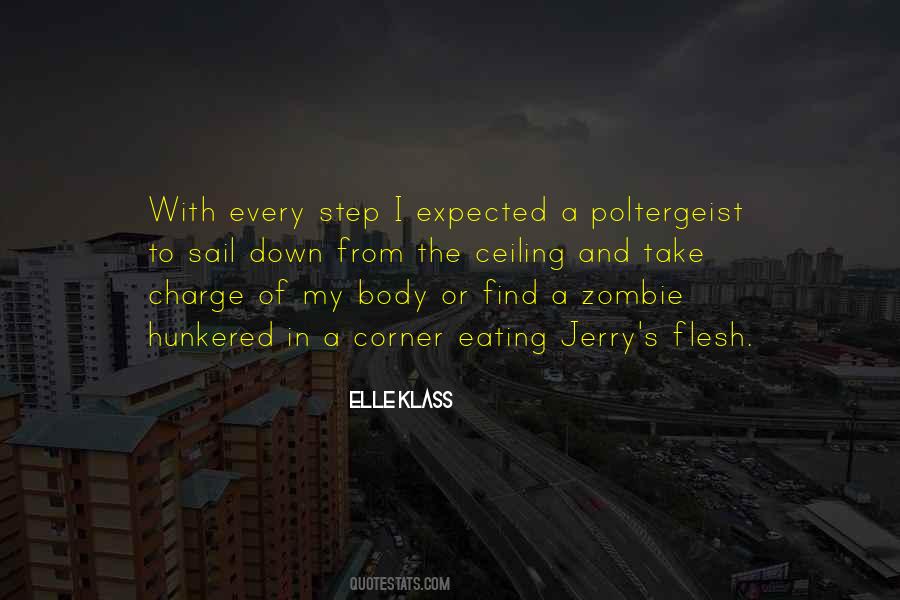 #49. The Holy Spirit's desire is that we become more and more dependent upon Him for every step. That's because He wants to take us to places we've never been before. To heights we can't even imagine! - Author: Stormie O'martian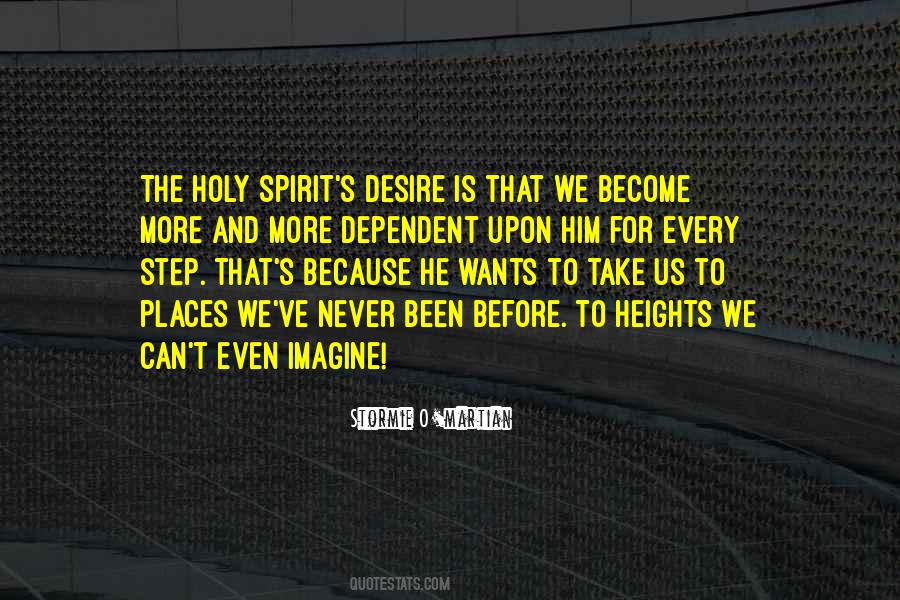 #50. When people don't trust you, they may walk with you but they second guess every step you take- don't believe what you say is what you mean... - Author: Assegid Habtewold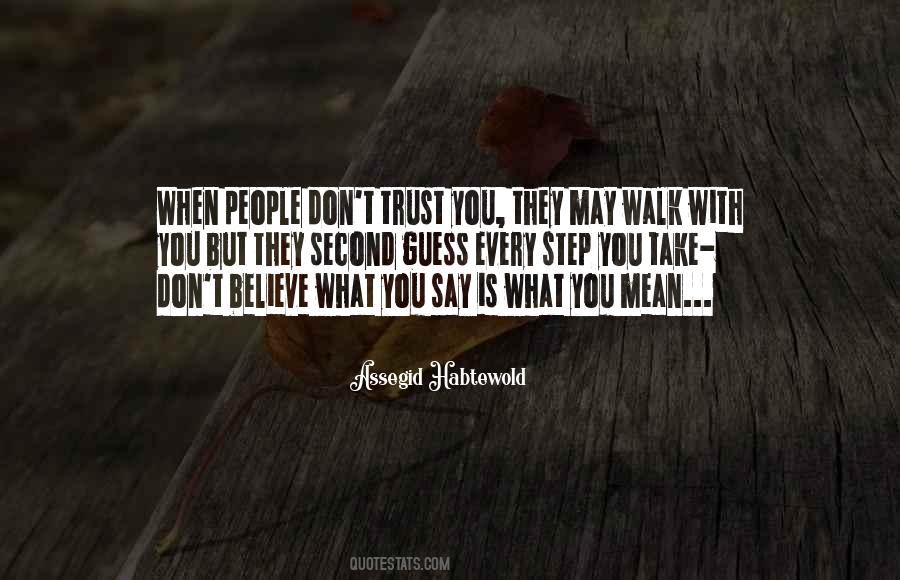 #51. Every single person has leadership ability. Some step up and take them. Some don't. My answer was to step up and lead. - Author: Wilma Mankiller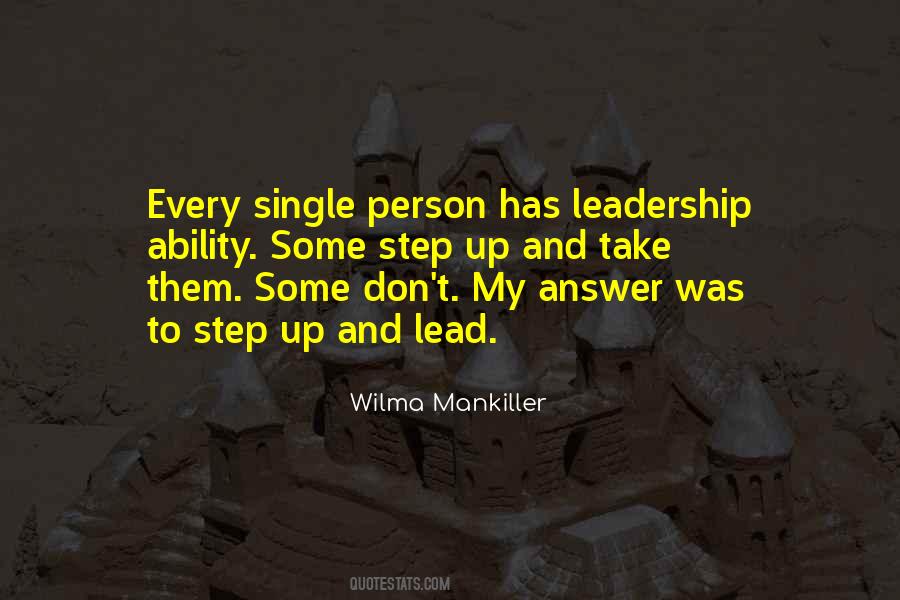 #52. Peace is present right here and now, in ourselves and in everything we do and see. Every breath we take, every step we take, can be filled with peace, joy, and serenity. The question is whether or not we are in touch with it. We need only to be awake, alive in the present moment. - Author: Thich Nhat Hanh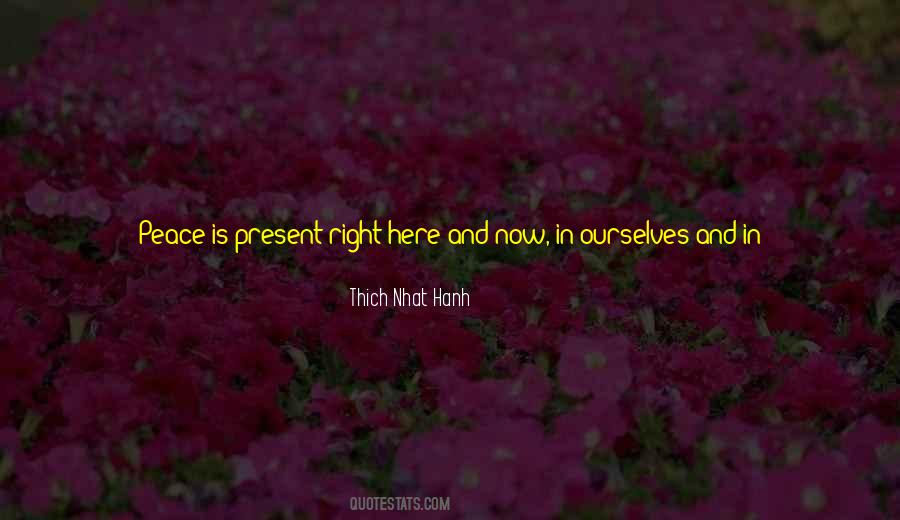 #53. If the ladder is not leaning against the right wall, every step we take just gets us to the wrong place faster. - Author: Stephen R. Covey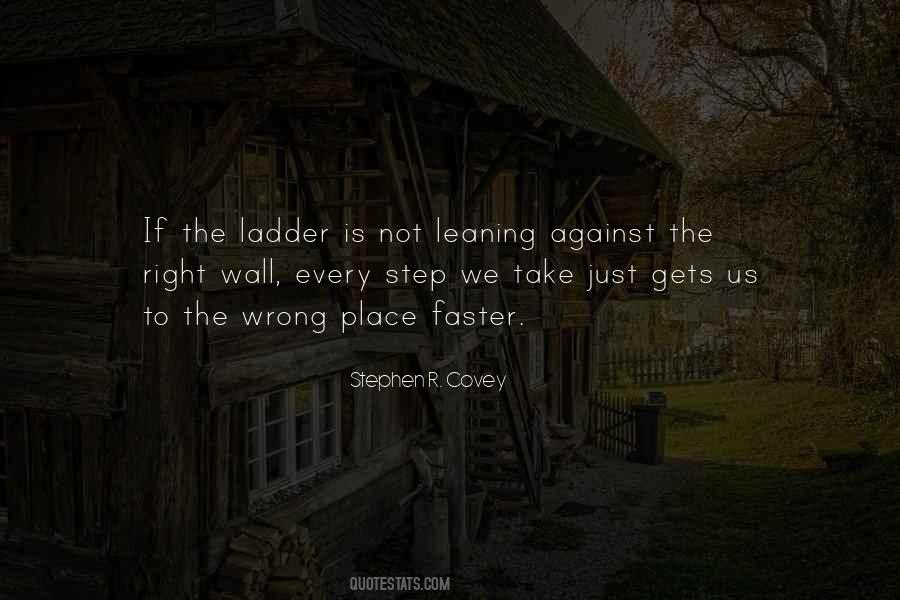 #54. The darkness which clings to every personality is the door into the unconscious and the gateway of dreams, from which those two twilight figures, the shadow and the anima, step into our nightly visions or, remaining invisible, take possession of our ego-consciousness. - Author: Carl Jung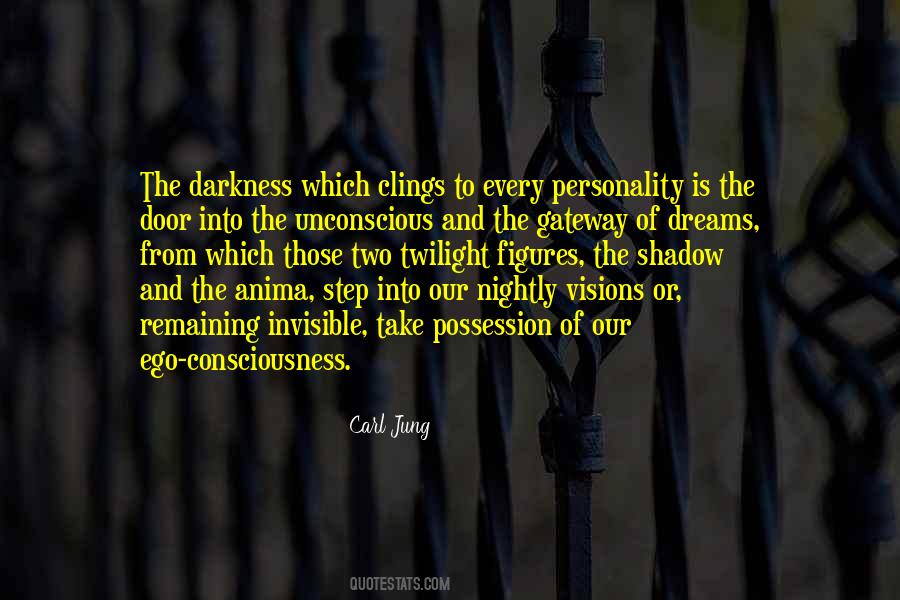 #55. Humanity is a crazy contradiction. I accept us for who we are. We're not that great. Every time we take a step forward we go back to the same primitive behavior. We're meant to be this way. It's not our fault, it's just who we are. - Author: Colin Quinn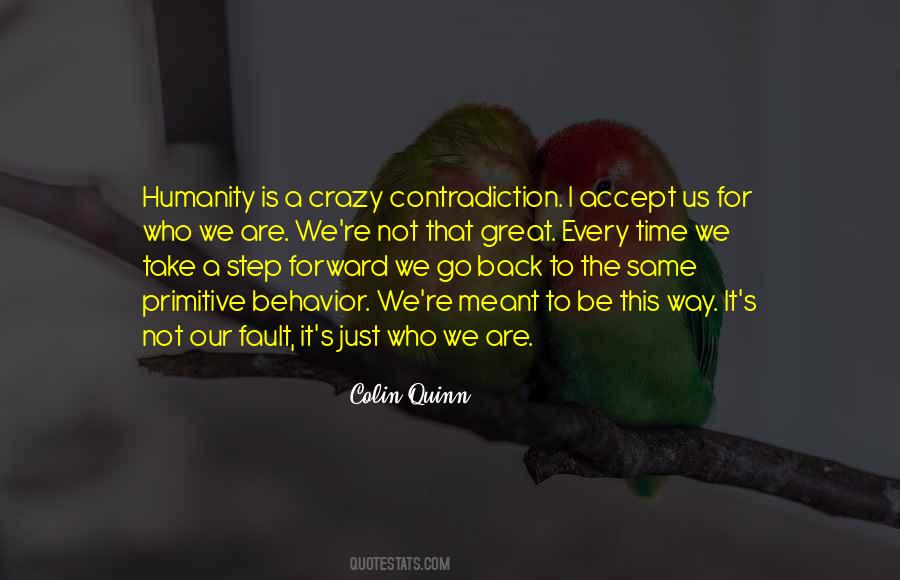 #56. Don't hesitate and second-guess yourself. Just be the best you can be in every step you take toward your goal. - Author: Lorii Myers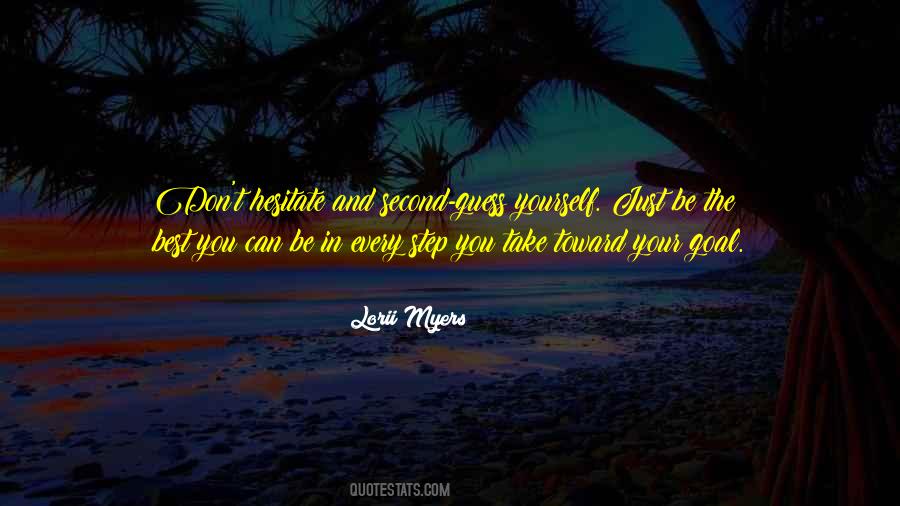 #57. Every time I step onto an airplane, I turn to the right and take a good, hard stare into the maw of the engine. I don't know what I'm looking for. I just do it. - Author: Barbara Kingsolver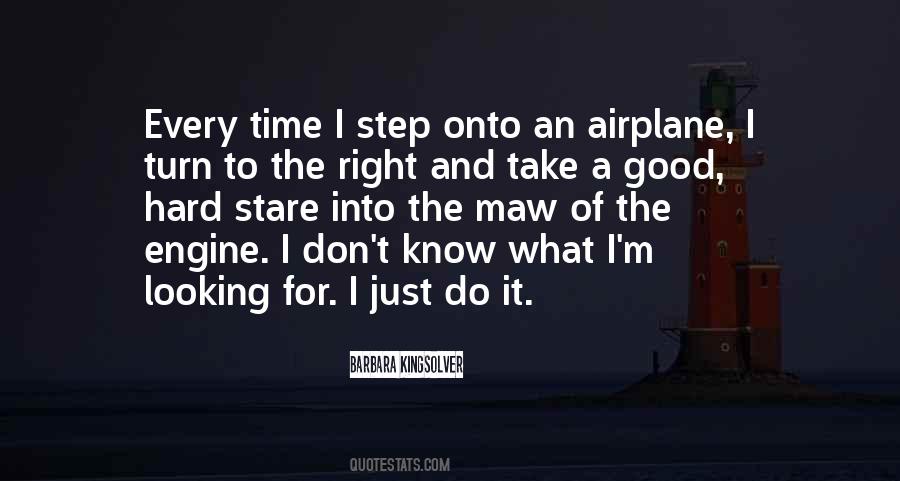 #58. You learn a lot when you're barefoot. The first thing is every step you take is different. - Author: Michael Franti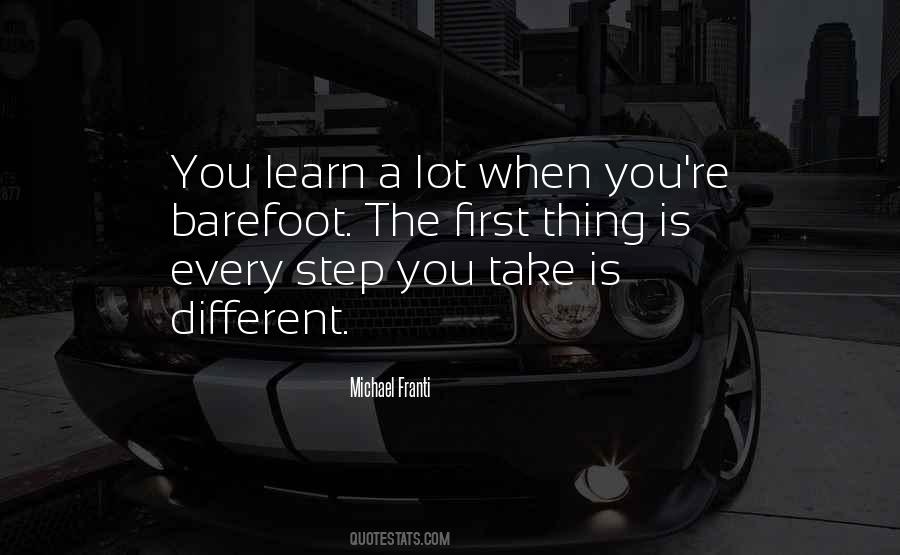 #59. If I wanted to order a ring for myself, the inscription I should choose would be: "Nothing passes away." I believe that nothing passes away without leaving a trace, and that every step we take, however small, has significance for our present and our future existence. - Author: Anton Chekhov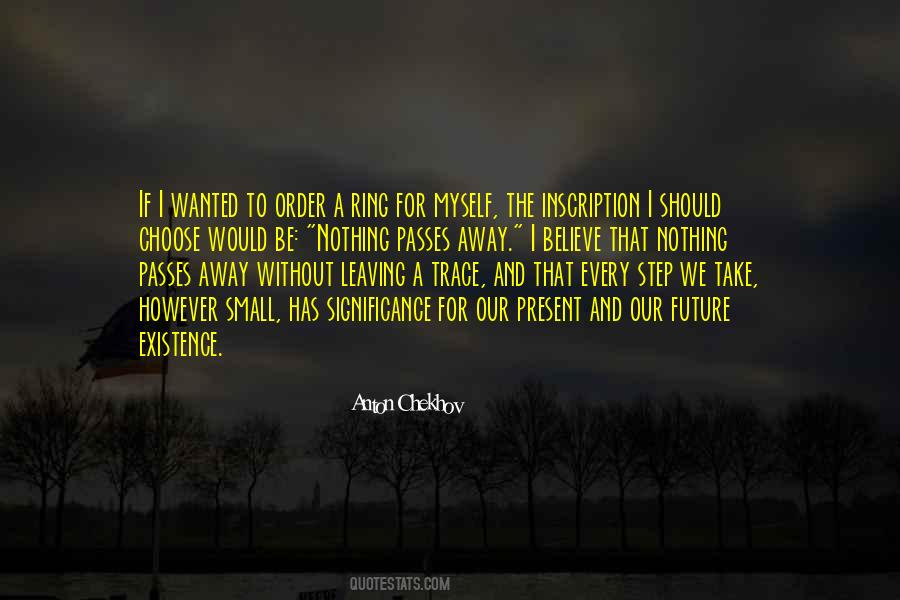 #60. When the gun fires you must concentrate for every second on the way to that finish line. You should know exactly how long it will take you to and think about every step of the race you are about to run. - Author: Maurice Greene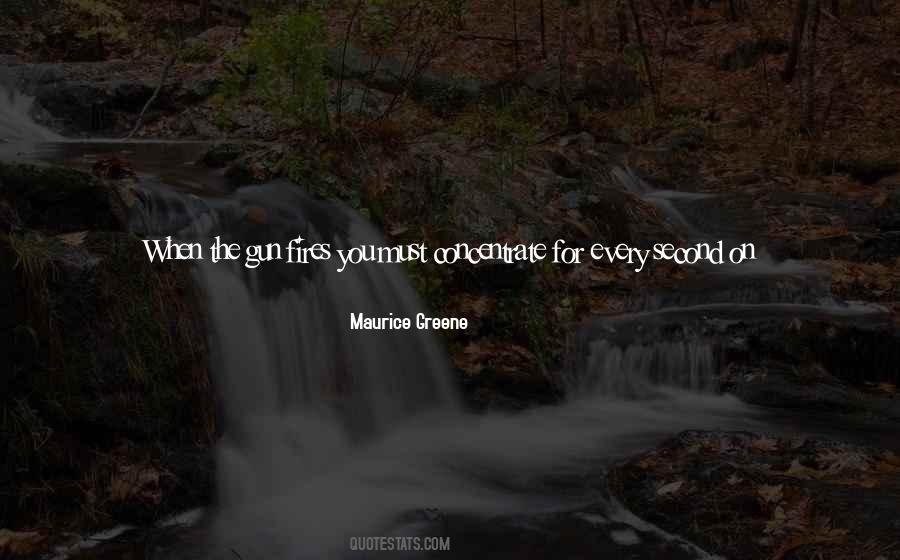 #61. Every religion, every program, every self-help book is about steps you have to take. Jesus is the only One who becomes the step - to take you. - Author: Ann Voskamp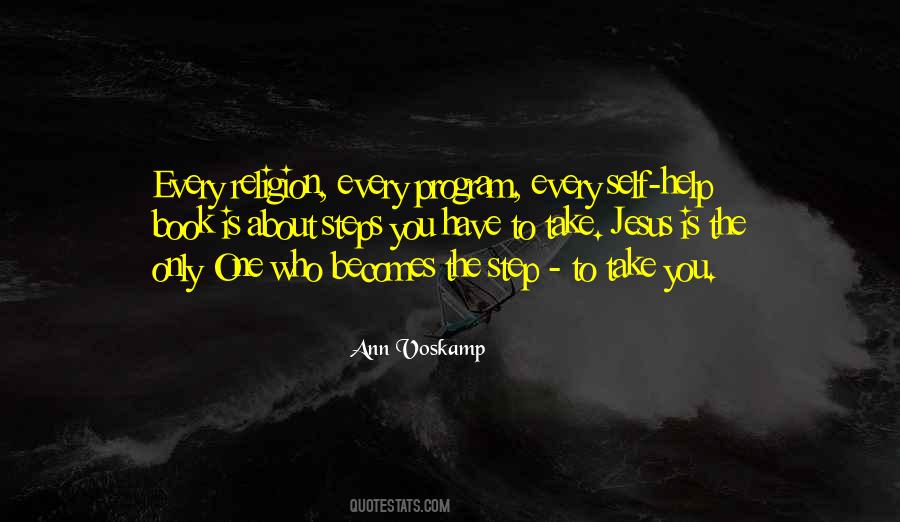 #62. Every person living has made mistakes. Those who proceed with living never waste time licking their wounds. New ideas take them the next step of the way." ~ Raymond Charles Barker from The Power of Decision - Author: Amber Foster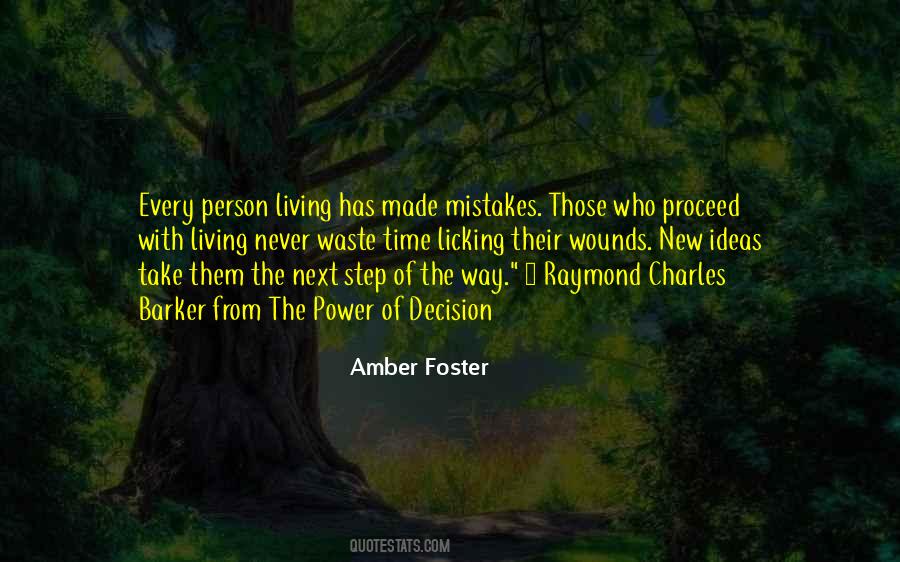 #63. There is joy in every step you take in life by having passion for what life has to offer you. - Author: Michael Bluemling Jr.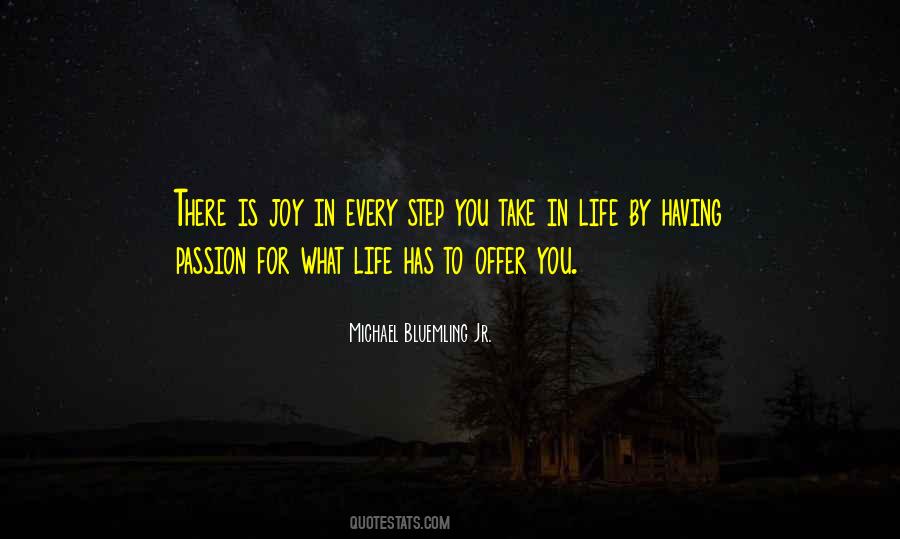 #64. I think it's become much harder because I'm more afraid of every step I take. I'm more aware of its ramifications, I'm more aware of the less creative aspects of music - like the business-side of things for example. - Author: Zach Condon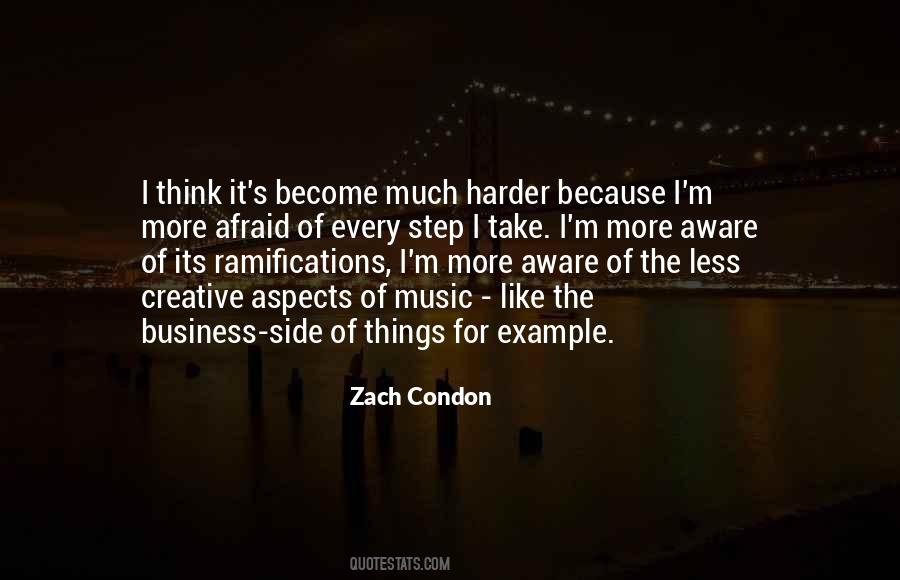 #65. There is a fight to be fought in every step we take and in every level we reach. This fight was started the moment we said 'Hello World' with our first our first baby cry and it will end when we say ' Goodbye World' with our last breath of life. - Author: Euginia Herlihy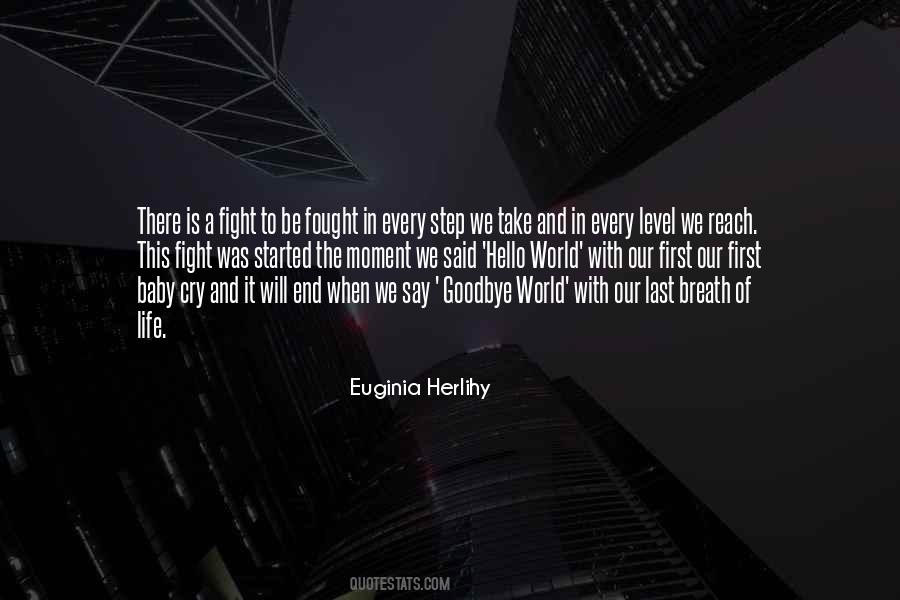 #66. My maxim is always this,' he once told a student, 'consider every step carefully in advance, but then, if you believe you can take responsibility for it, let nothing stop you. - Author: Manjit Kumar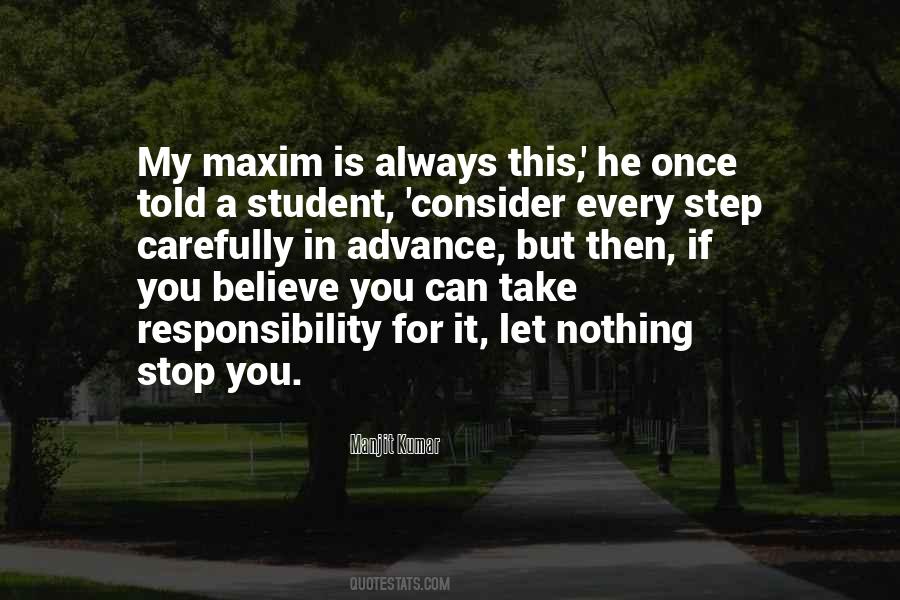 #67. If you want to take it up a step and aim to become a competitive gymnast, you have to be mentally strong and prepared to take on the workload of going to the gym every day, rain or shine. - Author: Shannon Miller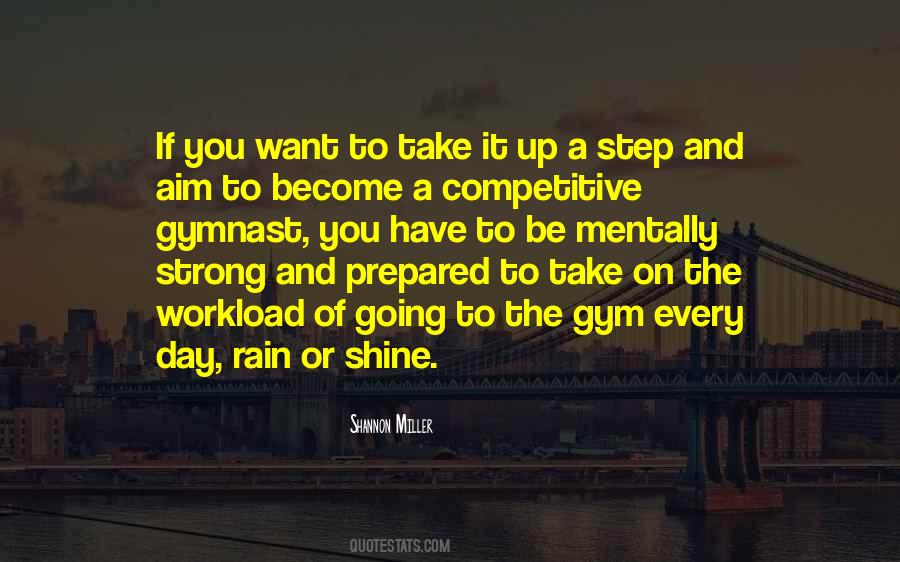 #68. Every step we take is one inch closer to our salvation and one foot closer to our doom. - Author: Sherrilyn Kenyon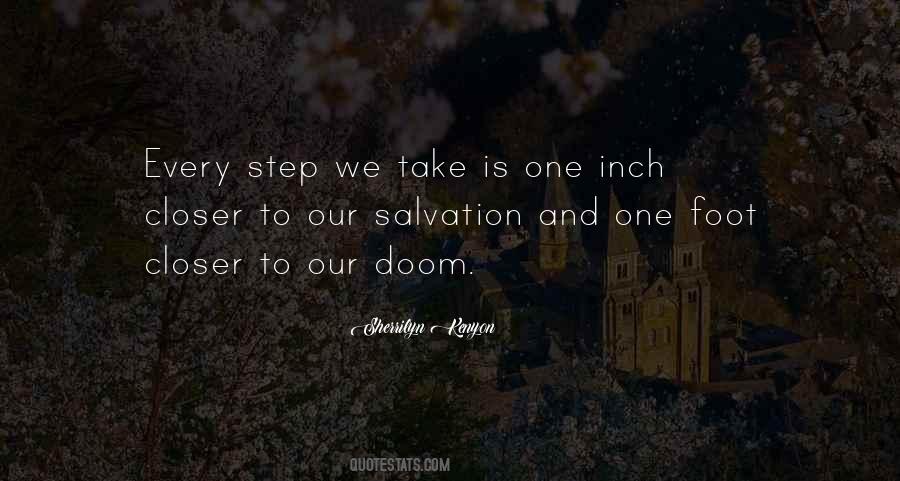 #69. Every time you take a step, even when you don't want to ... When it hurts, when it means you rub chins with death, or even if it means dying, that's good. Anything that moves ahead, wins. No chess game was ever won by the player who sat for a lifetime thinking over his next move. - Author: Ray Bradbury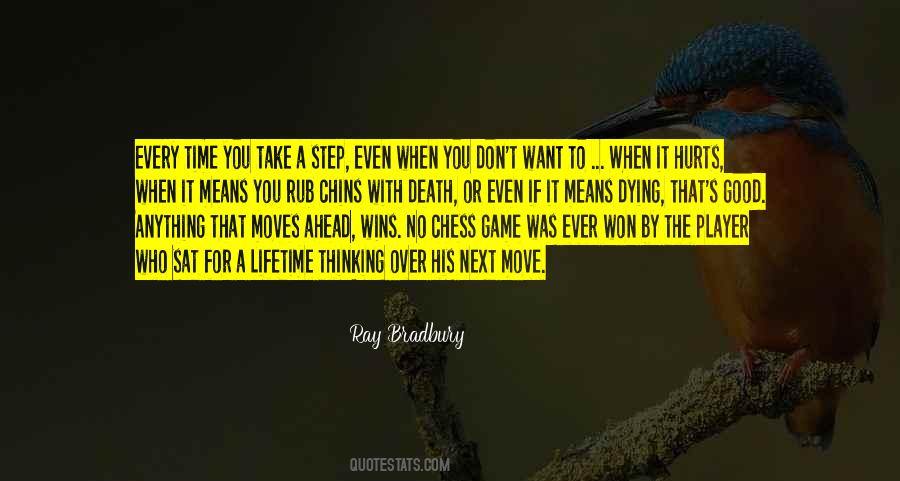 #70. Every step I take is a blessing. - Author: Rumi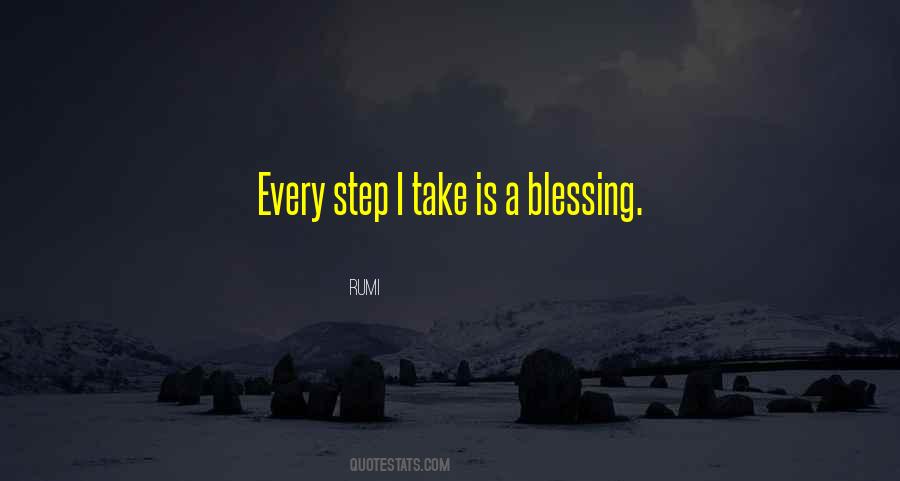 #71. Here is the paradox of the thing we call freedom: the farther we wander from God and the more we try to break free from him, the more enchained we become. Every step we take away from Him leads us farther from the freedom of Jesus and closer to the cruelty of Cain. - Author: Steven James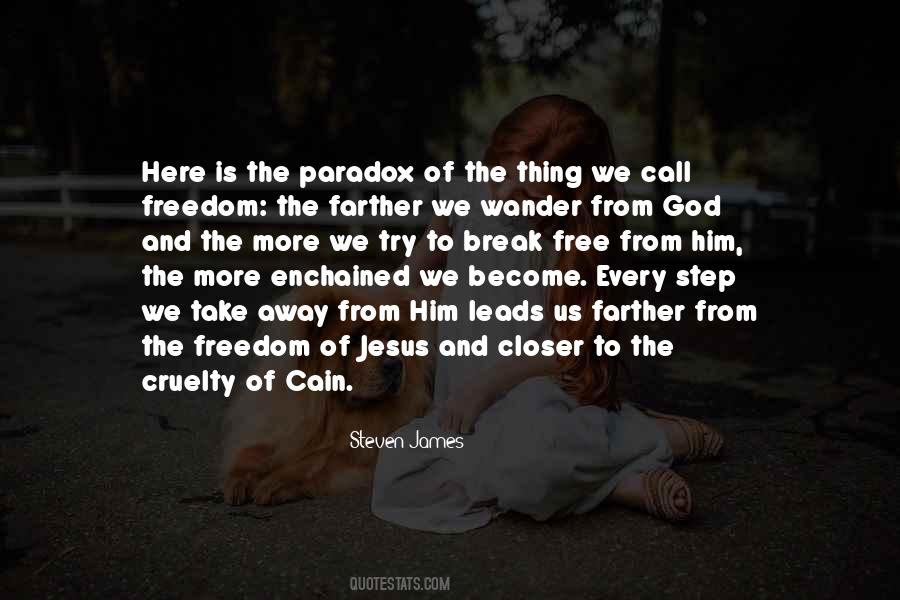 #72. Every breath you take is a step towards death. - Author: Ali Ibn Abi Talib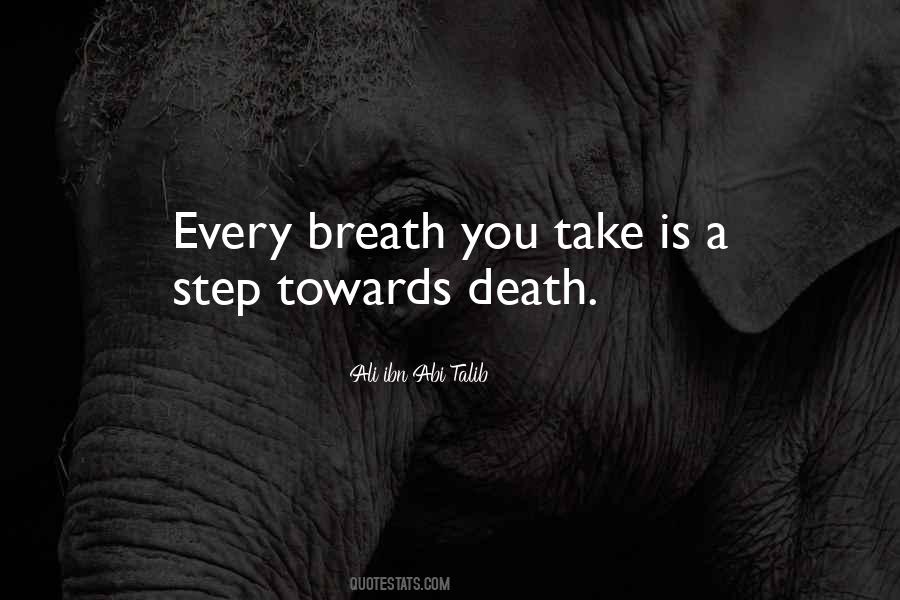 #73. Every modern male has, lying at the bottom of his psyche, a large, primitive being covered with hair down to his feet. Making contact with this Wild Man is the step the Eighties male or the Nineties male has yet to take. That bucketing-out process has yet to begin in our contemporary culture. - Author: Robert Bly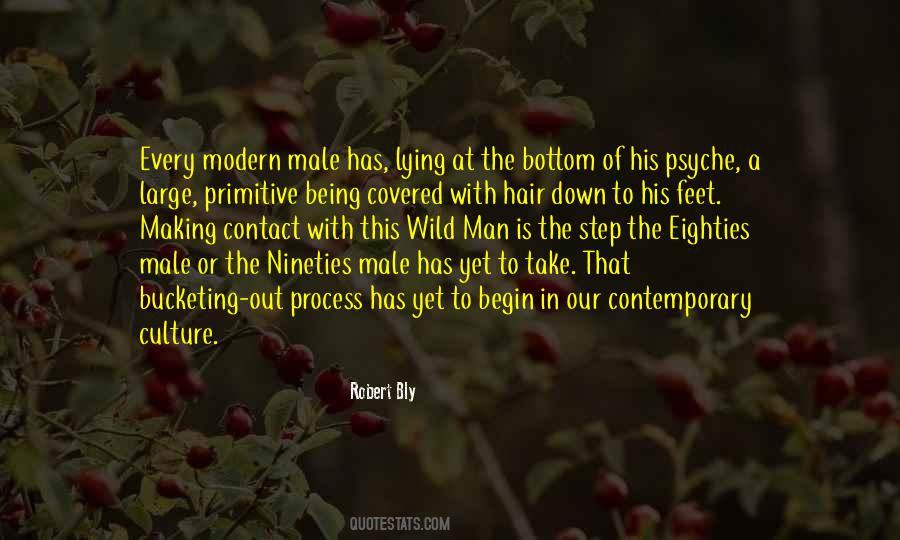 #74. The first thing you have to do is take everything with a grain of salt. You know, you've gotta just look at the goal, focus on what you gotta do and take one step at a time as a whole, as every performance being that's it, that's one objective, and let's just move forward and work on that. - Author: Stefano Langone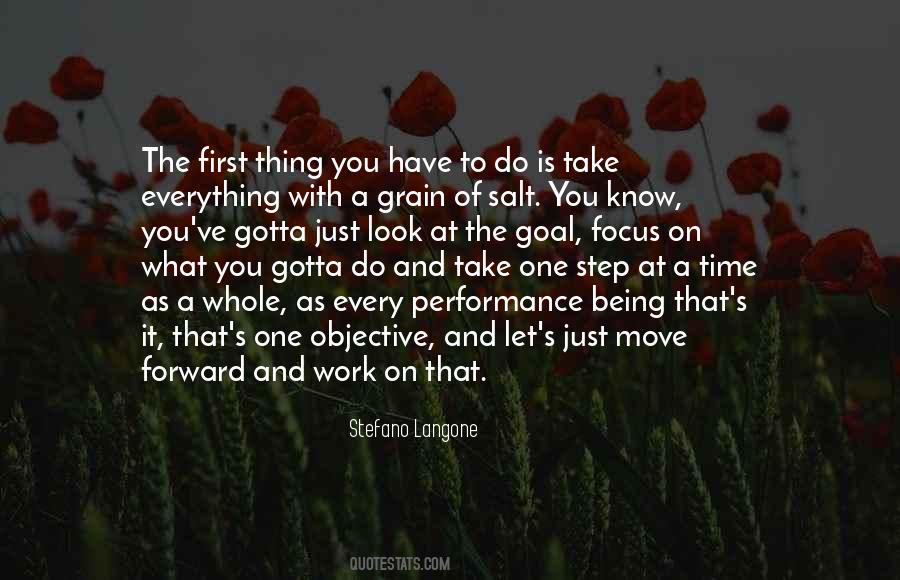 #75. Every advancing step I take toward my goal of comfort is yet another retreating step I take away from God's goal of the impossible. - Author: Craig D. Lounsbrough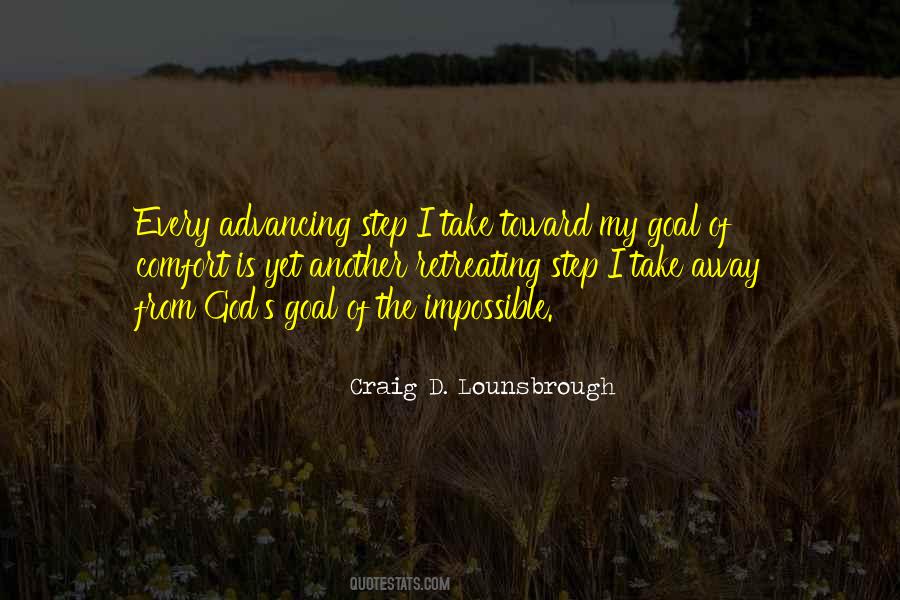 #76. My guys look for me to step up in that magnitude and I take the challenge every time. Sometimes you win and sometimes you lose, but you've got to have a guy that will take those shots and deal with the consequences. - Author: Chauncey Billups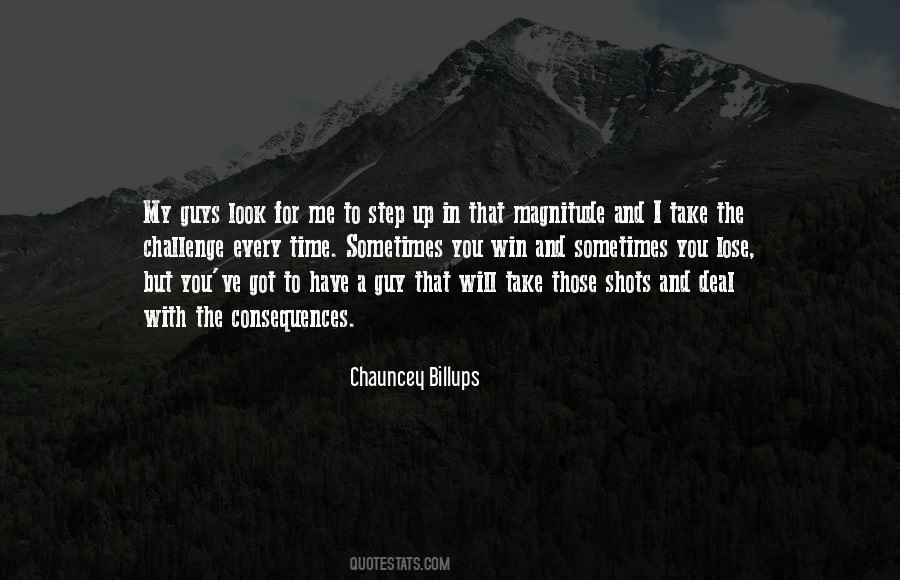 #77. I like to take chances on people, and whenever possible, promote from within - it sends a great message to everyone in the company when someone demonstrates a passion for the job and leadership skills at every step along the way and is rewarded with a leadership role. - Author: Richard Branson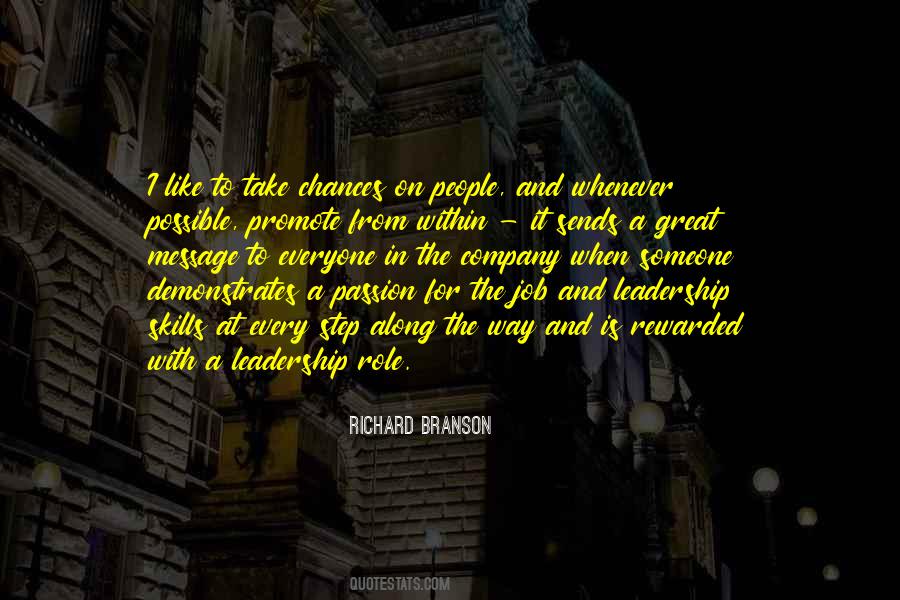 #78. You plan every step of your life, but sometimes you have to let life happen. Change is always unsettling, sometimes scary, but you have to let go. Take a risk. Risk can be fun. - Author: Sarah Morgan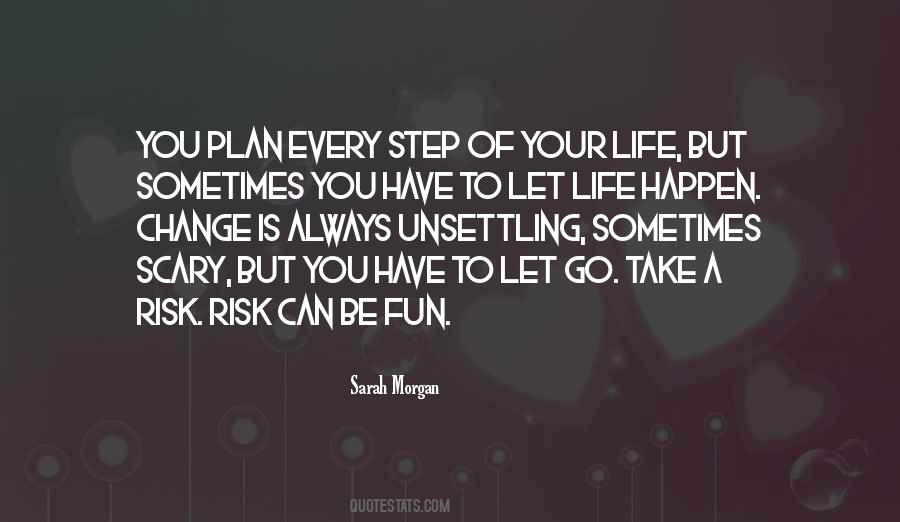 #79. Separate yourself from those who hinder your vision. Make a choice to walk away from the trap set to ensnare you. Realize when someone is pulling you backwards every time you take a step forward. Separate from them and the result of your action will be a life of success. - Author: Amaka Imani Nkosazana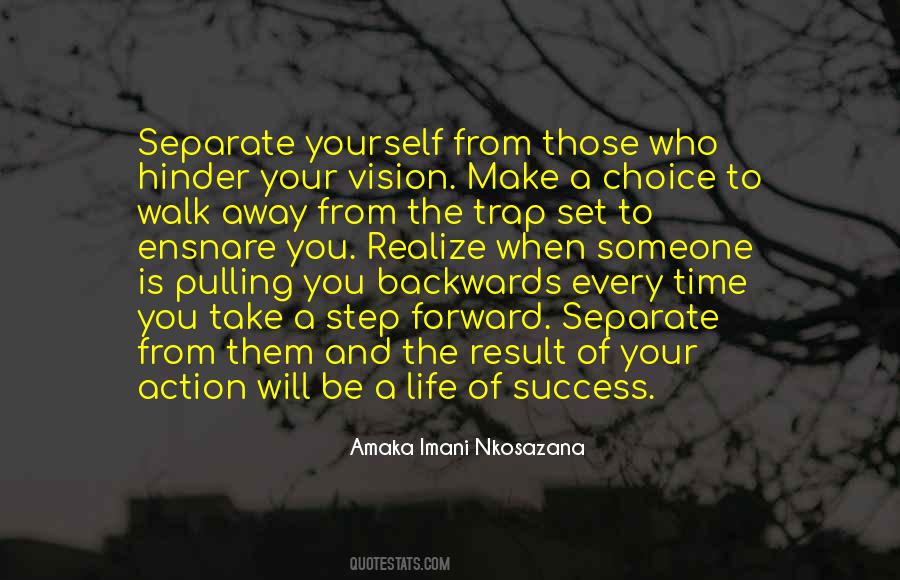 #80. Ty." It was only one word, but a gruff plea that said everything. I lifted my gaze from his lips to his eyes and saw the hurt in them, the miss, the need. Need that I couldn't step away from. Need that I felt in every part of my body. "Take me somewhere, Chase. - Author: Alessandra Torre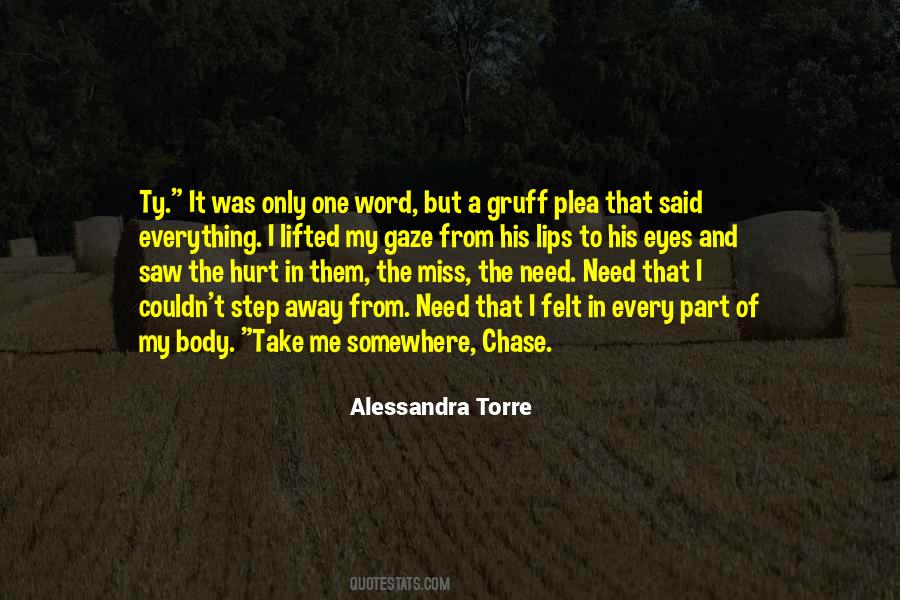 #81. Take it slow, little by little. Remember, every small step you take now is adding to bigger change later. Change builds exponentially, with increasing momentum, multiplying on itself. - Author: Susan Rose Blauner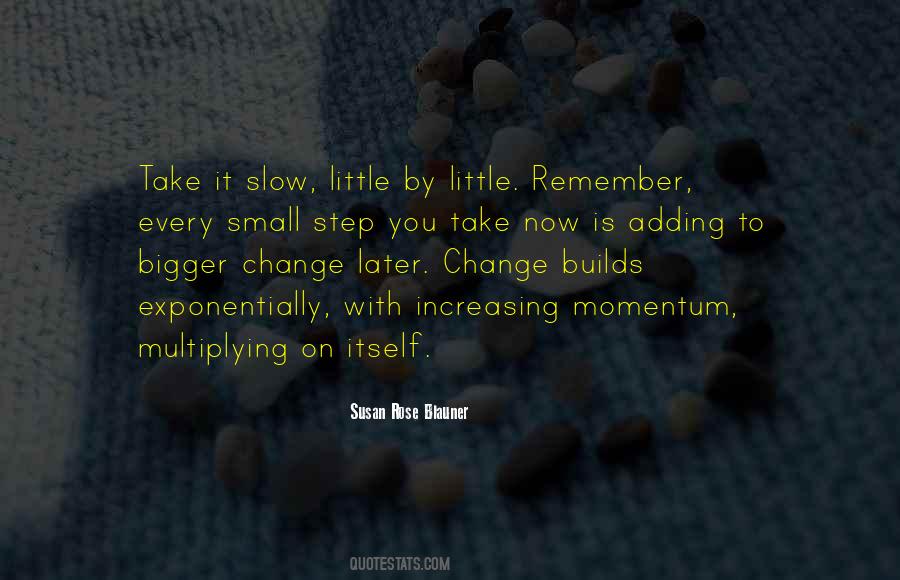 #82. I don't have an agent. I don't take meetings or anything like that, so I don't really know what's out there. I'm not closed off to anything, but I'd just have to ask myself at every step if it's worth it. - Author: Joe Swanberg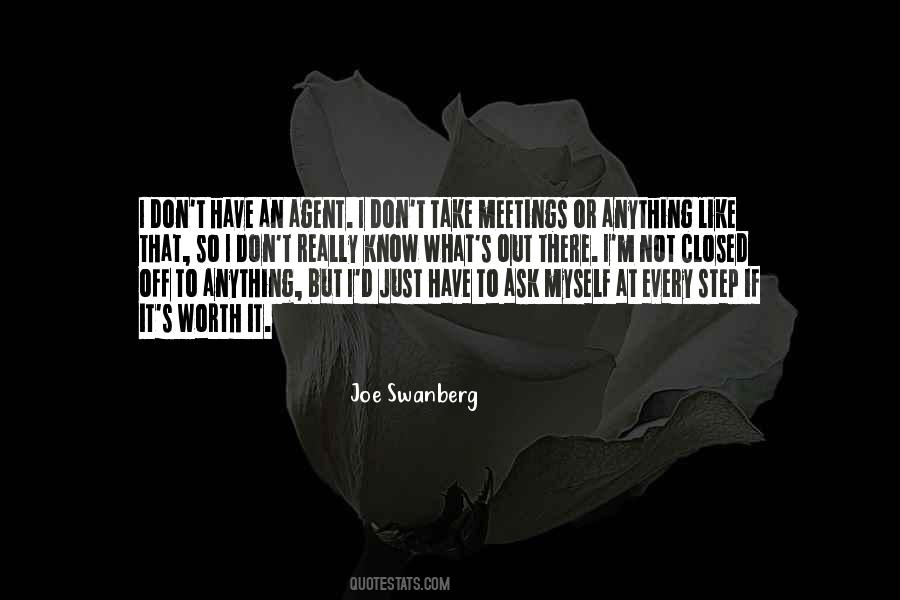 #83. If you are an approval addict, your behaviour is as easy to control as that of any other junkie. All a manipulator need do is a simple two-step process: Give you what you crave, and then threaten to take it away. Every drug dealer in the world plays this game. - Author: Harriet B. Braiker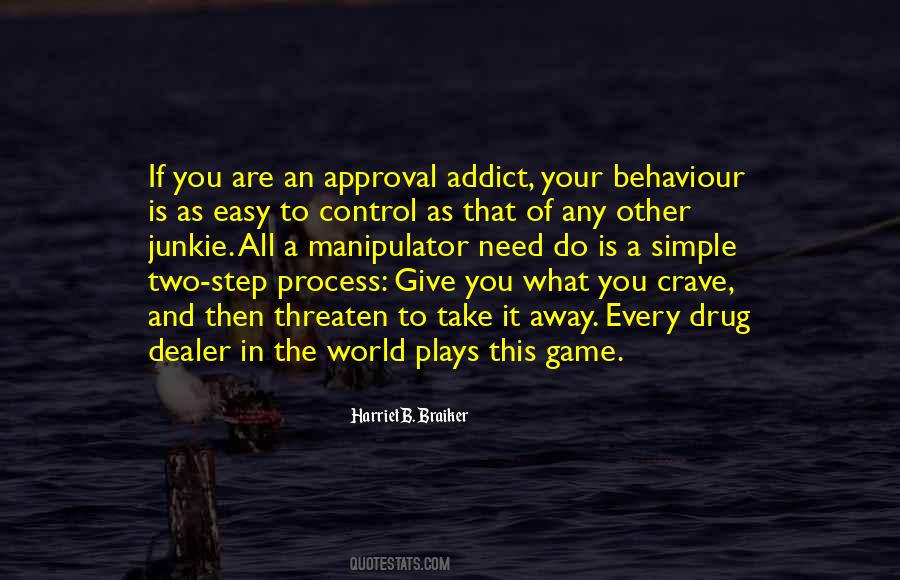 #84. Do it! People who succeed don't just sit and think about what they want to do. They take meaningful, purposeful, directional action consistently and persistently. Every step they take puts them toward the outcome they're looking for. - Author: Phil McGraw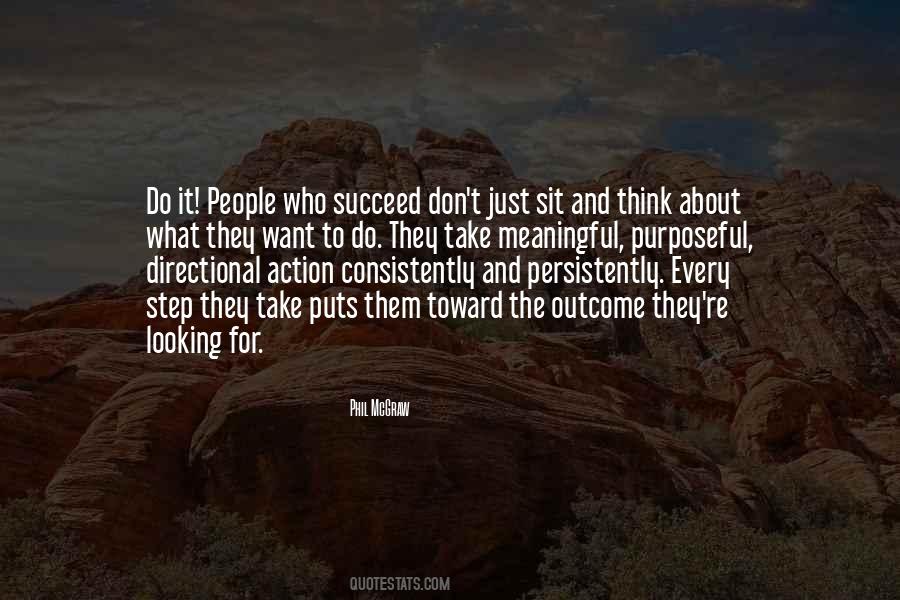 #85. I don't know every step I'm supposed to take. I think Jesus just wants me to take the next step. - Author: Bob Goff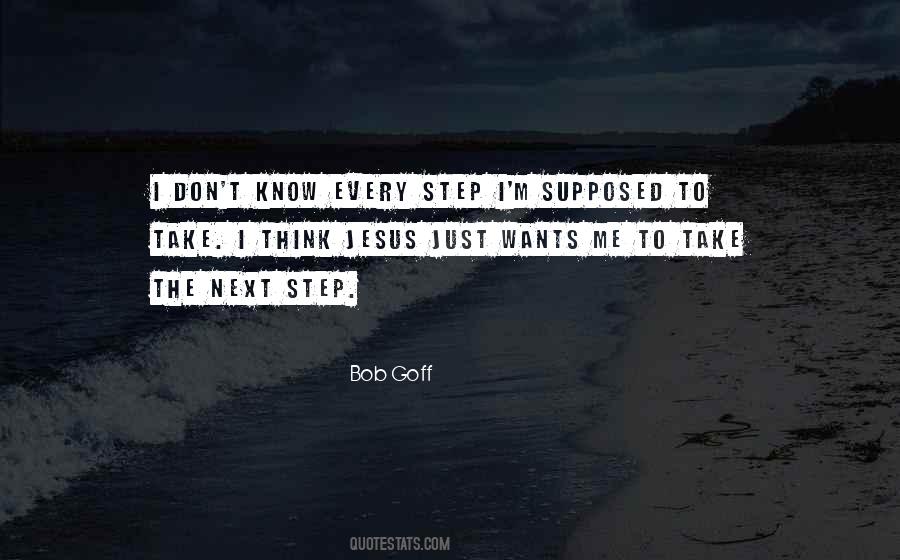 #86. In 2003, he was hit by a subway in Prague and lost both of his legs. It made me realize that we take for granted every step we take, and my brother now has to physically challenge himself to take each step in his prosthetic. - Author: Bianca Kajlich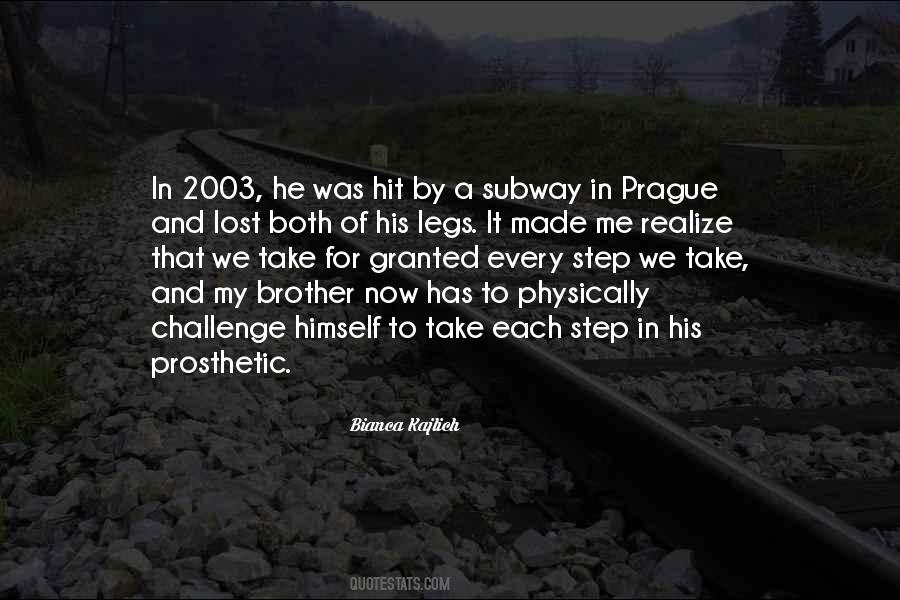 #87. But the magic moment when he walks alone has not yet happened, and I was praying he would do it before I have to leave. Now he will take his first step without me. And every step thereafter, I know. Every step of his life, and me not there to see him walk. - Author: Philippa Gregory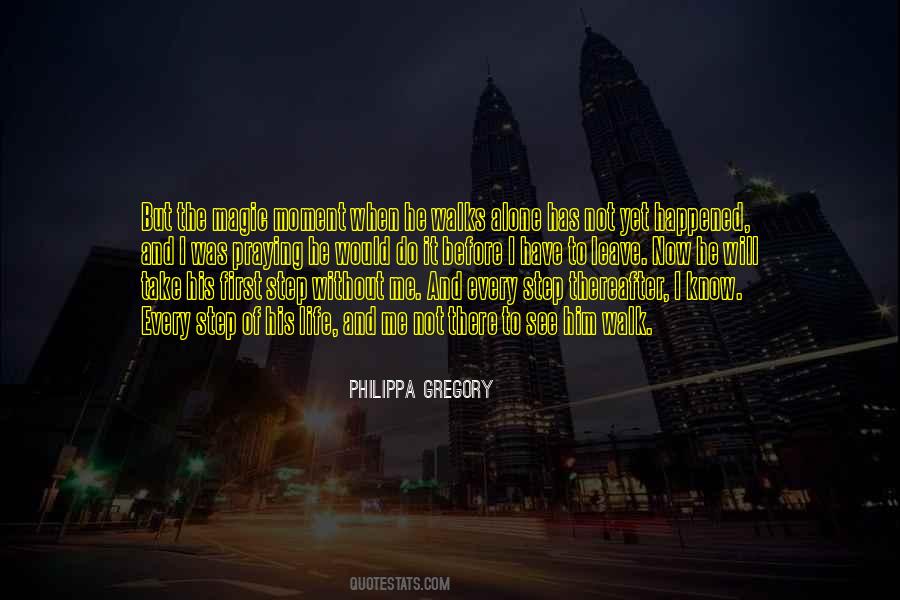 #88. It might be like you are still far from getting there, but remember, you are closer to it than you were yesterday. Every tiny step you take counts a lot! - Author: Israelmore Ayivor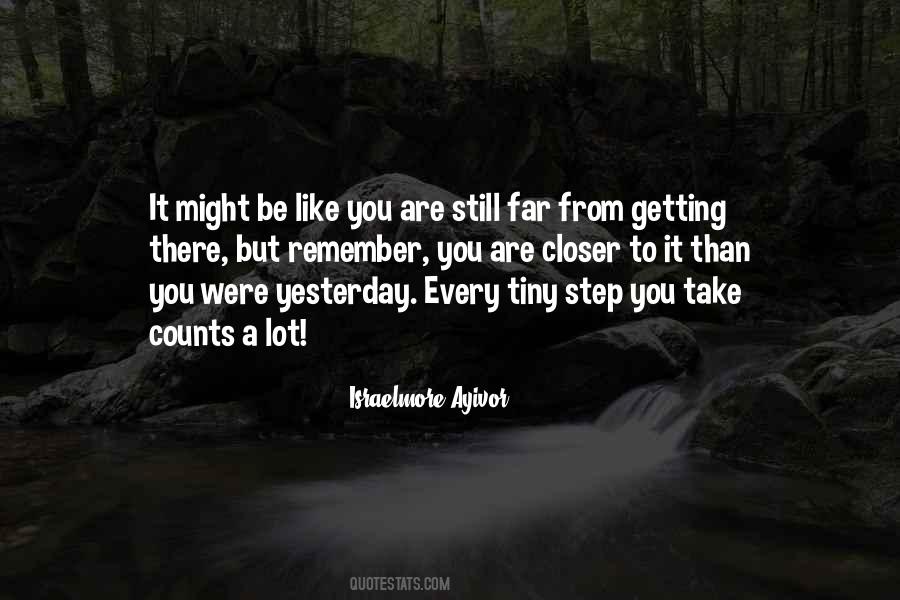 #89. Every step you take is pre-planned by your mind; so never forget to plan your mind. - Author: Debasish Mridha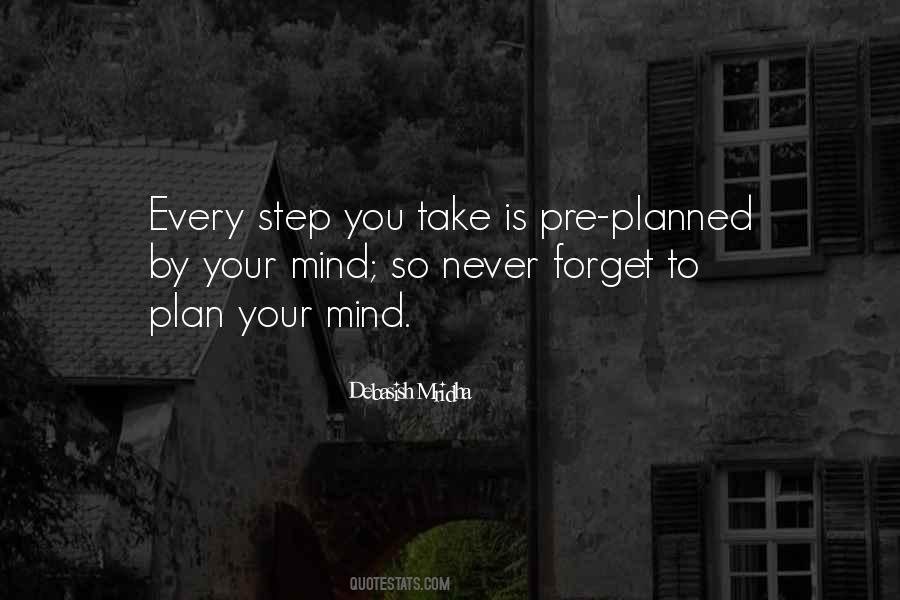 #90. Let every step you take upon the earth be as a prayer. - Author: Black Elk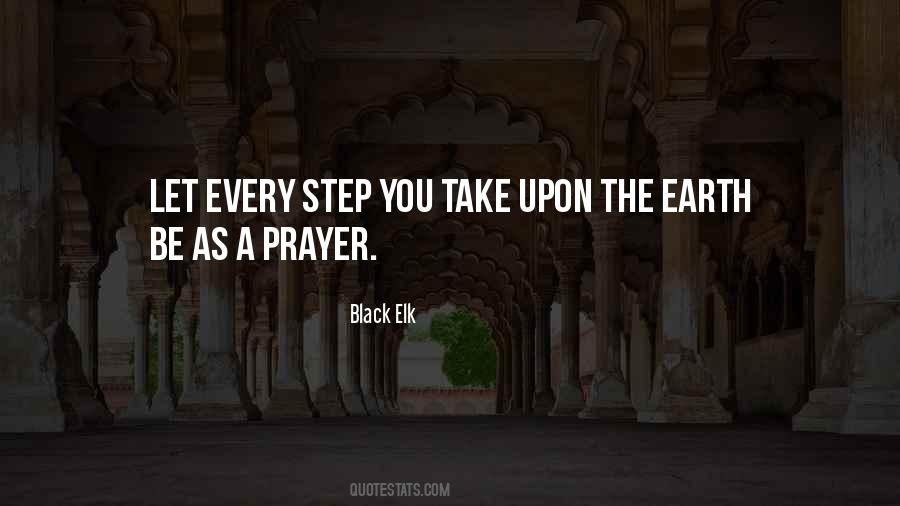 #91. Giving others the freedom to be stupid is one of the most important and hardest steps to take in spiritual progress. Conveniently the opportunity to take that step is all around us every day. - Author: Thaddeus Golas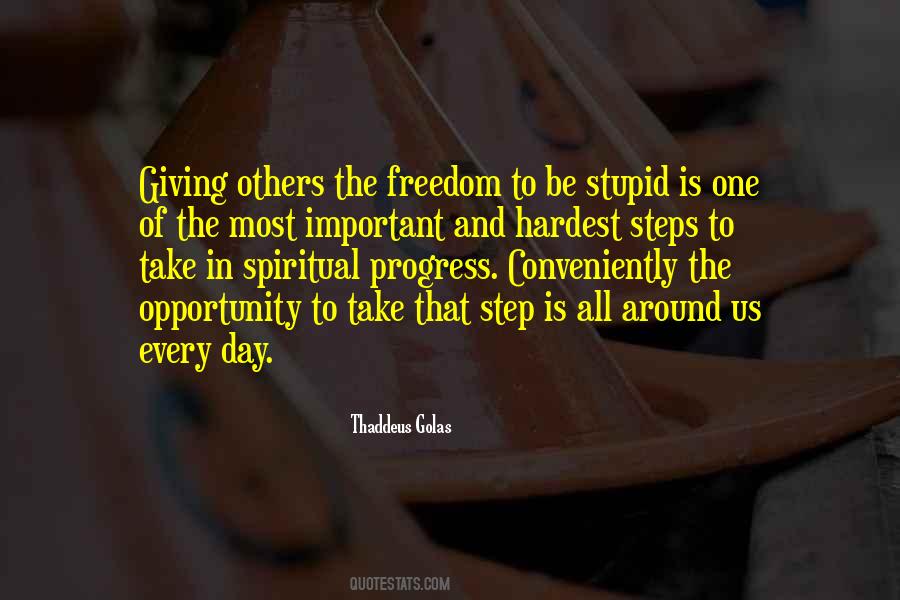 #92. I take pride in working very hard. You need to understand that hard work doesn't instantly pay off. My career grew gradually and taught me a lesson every step of the way. - Author: Trey Songz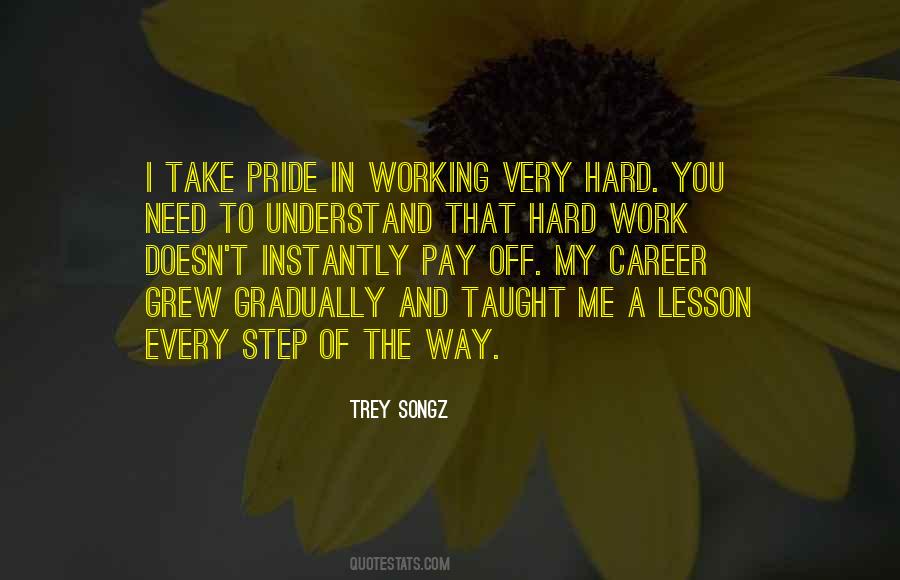 #93. Remember that I am just a woman who is living a very abundant life. Every step I take forward is on a path paved by strong Indian women before me. - Author: Wilma Mankiller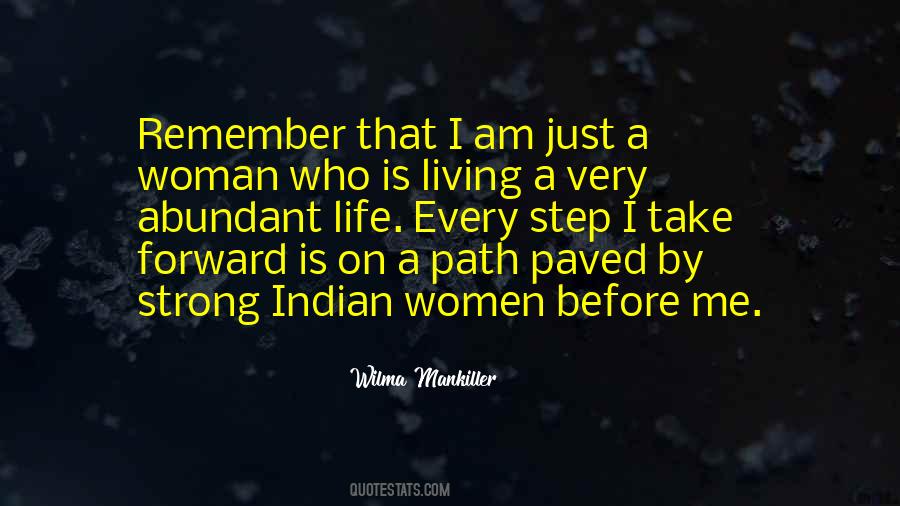 #94. The miracles of our dreams lie beneath our foot soles
in each and every tiny step we take as we journey to the stars ... I reckon the destination isn't the only miracle. - Author: Besa Kosova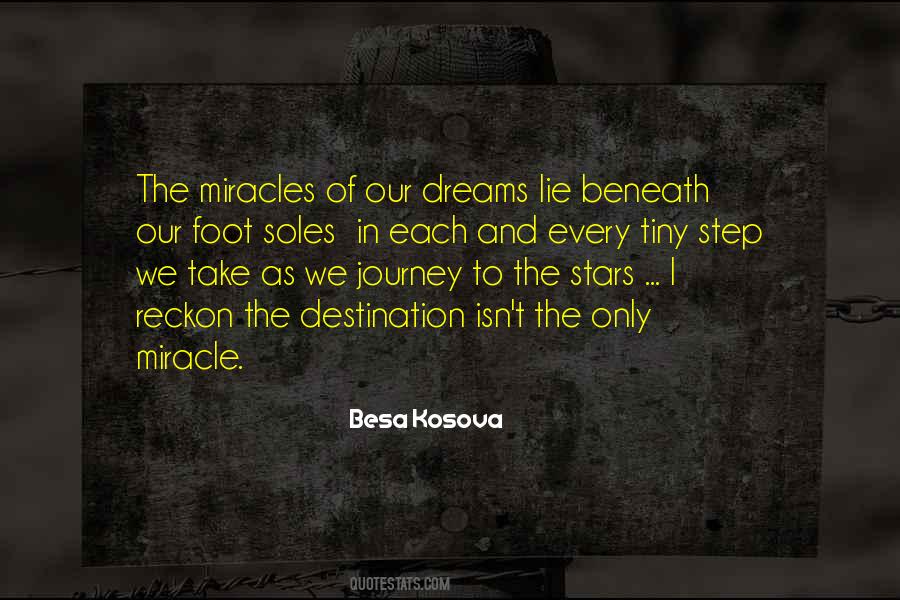 #95. Never forget that life is good when you perceive that it's not.
Take every step forward with love and joy and it will change your perception. - Author: Debasish Mridha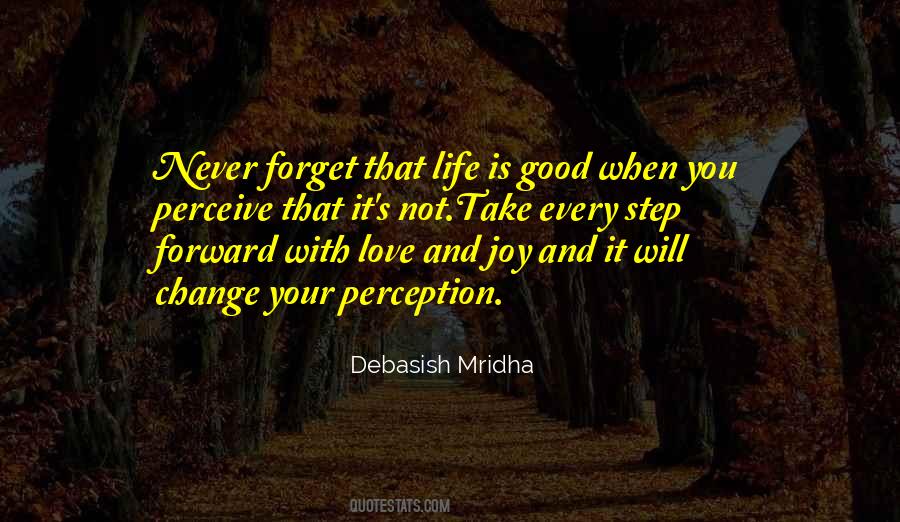 #96. For every year past the age of 27, you need to take another step toward commitment somewhere in your life. Instead of freelancing, you get a staff job. Instead of renting, you buy. Fine, instead of couch-surfing, you rent. - Author: Tracy McMillan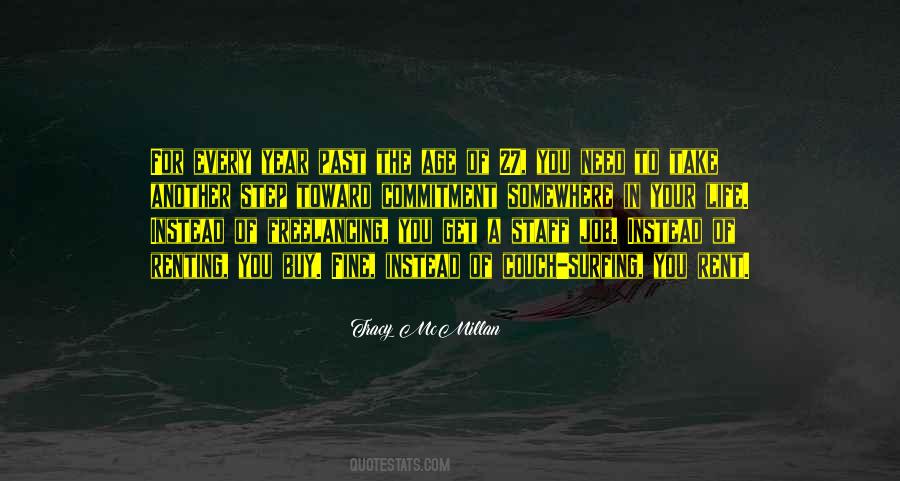 #97. Take a discovery walk today to find what's missing in your life. There's peace in the whisper of the wind, hope in the sun smiling from behind clouds, strength in every step forward. You can do it! - Author: Toni Sorenson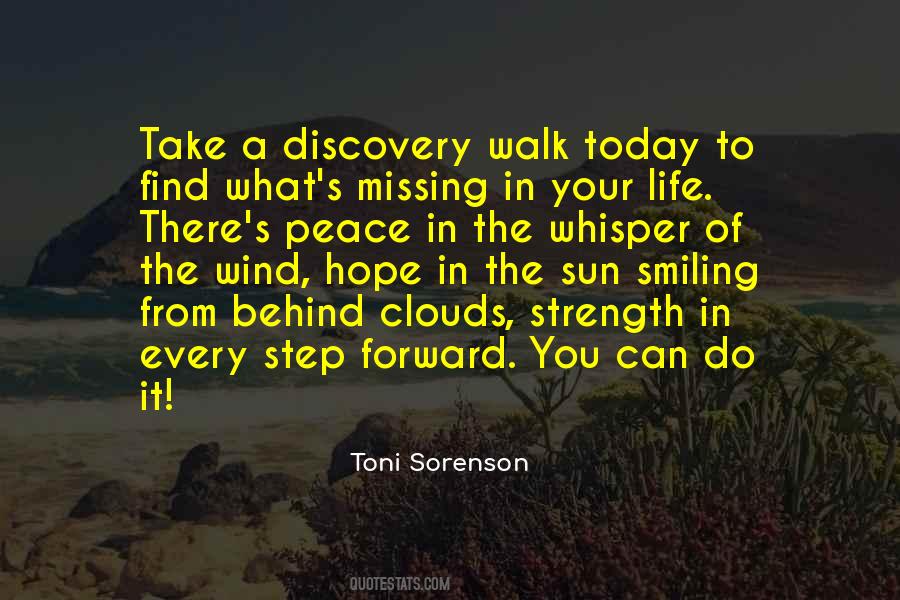 #98. Extraordinary individuals take one step back and two steps forward with most every challenge-and sometimes two steps back to one step forward. They harvest useful lessons and knowledge from what doesn't work, and they display a remarkable resiliency; and ability to bounce back from adversity. - Author: Jerry I. Porras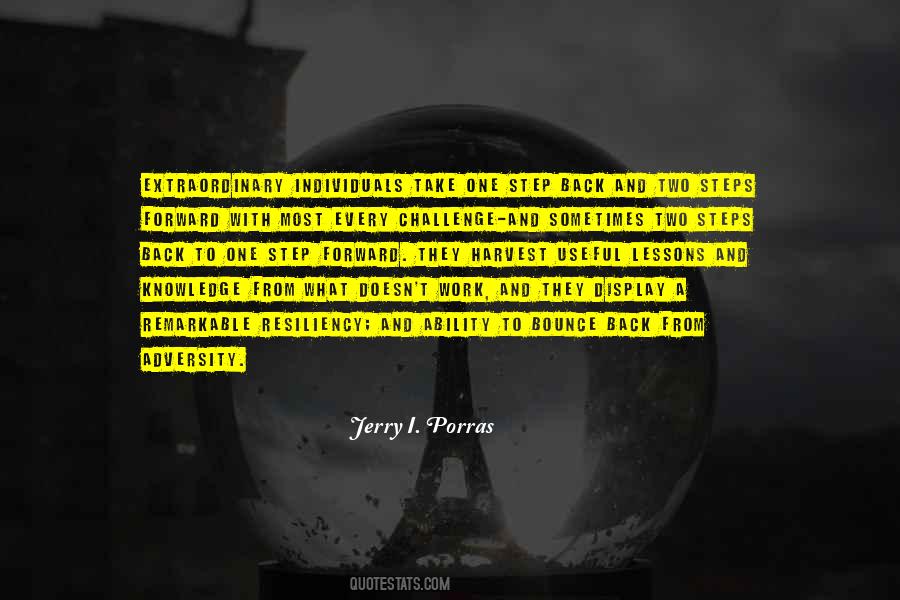 #99. The paths fork and divide. With each step you take through Destiny's garden, you make a choice; and every choice determines future paths. However, at the end of a lifetime of walking you might look back, and see only one path stretching out behind you; or look ahead, and see only darkness. - Author: Neil Gaiman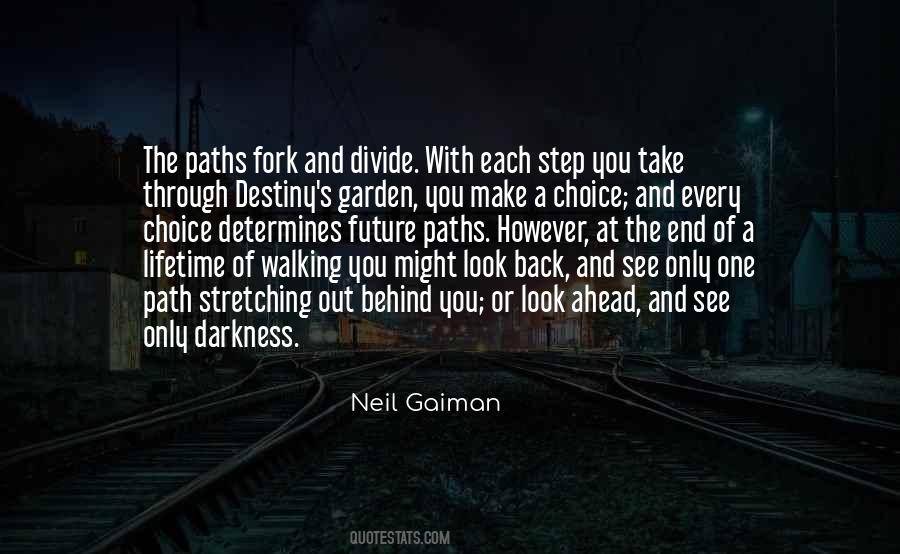 #100. It's not about knowing who you are. It's about thinkin you got there without takin anything with you. Your notions about startin over. or anybody's. You dont start over. That's what it's about. Every step you take is forever. You can't make it go away. None of it. - Author: Cormac McCarthy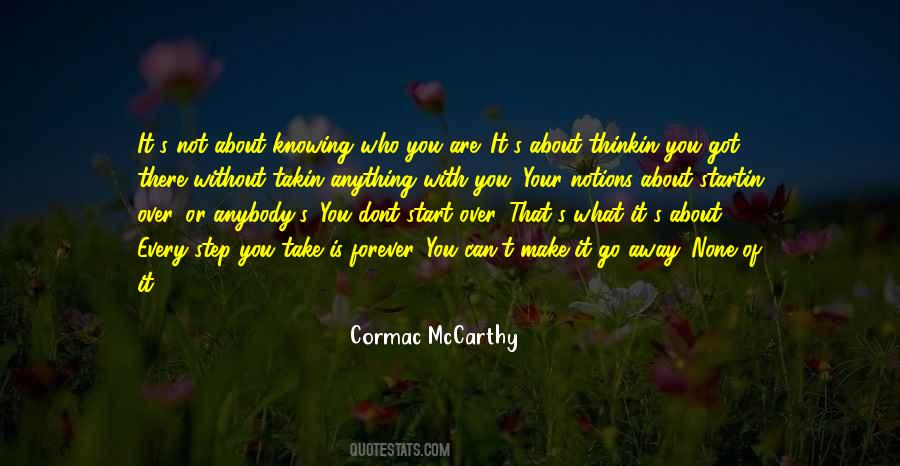 Famous Authors
Popular Topics