Every Step You Take Famous Quotes & Sayings
List of top 51 famous quotes and sayings about every step you take to read and share with friends on your Facebook, Twitter, blogs.
Top 51 Every Step You Take Quotes
#1. Take it slow, little by little. Remember, every small step you take now is adding to bigger change later. Change builds exponentially, with increasing momentum, multiplying on itself. - Author: Susan Rose Blauner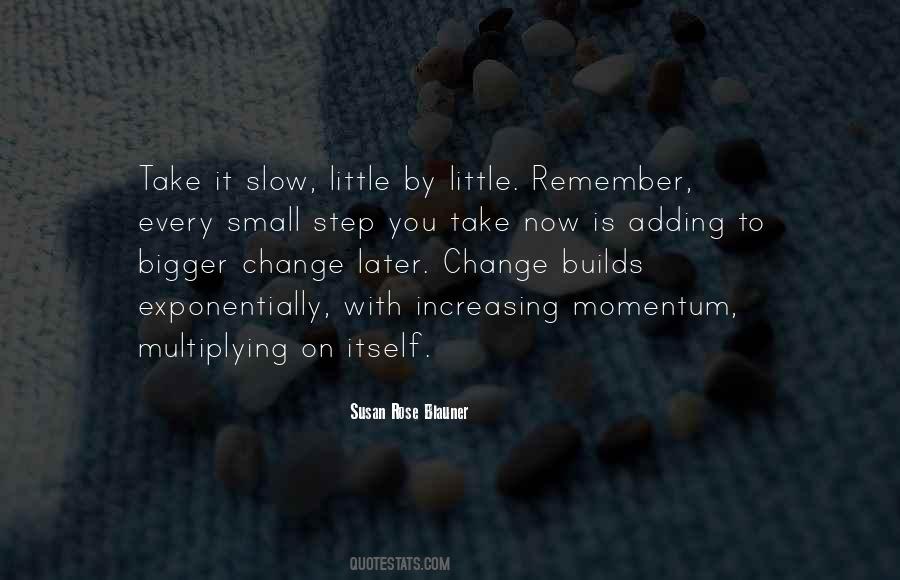 #2. You learn a lot when you're barefoot. The first thing is every step you take is different. - Author: Michael Franti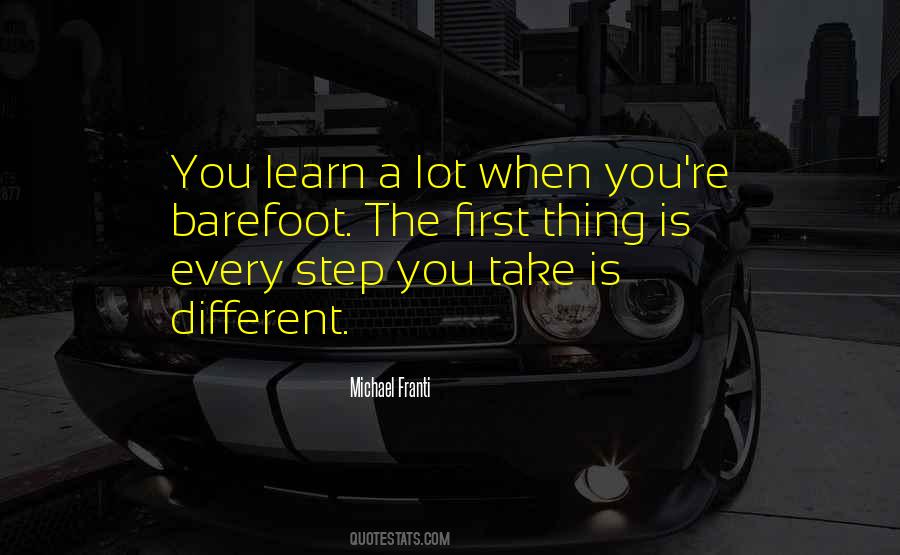 #3. When the gun fires you must concentrate for every second on the way to that finish line. You should know exactly how long it will take you to and think about every step of the race you are about to run. - Author: Maurice Greene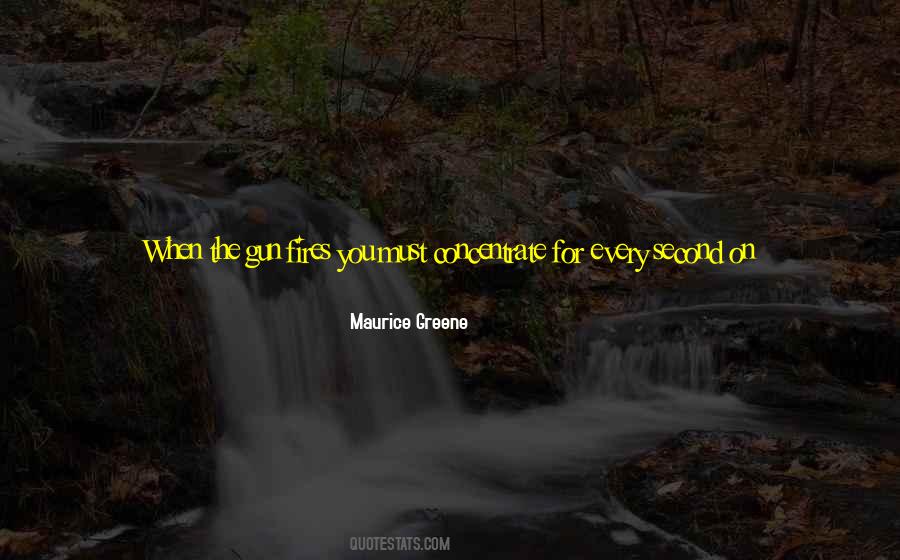 #4. Every religion, every program, every self-help book is about steps you have to take. Jesus is the only One who becomes the step - to take you. - Author: Ann Voskamp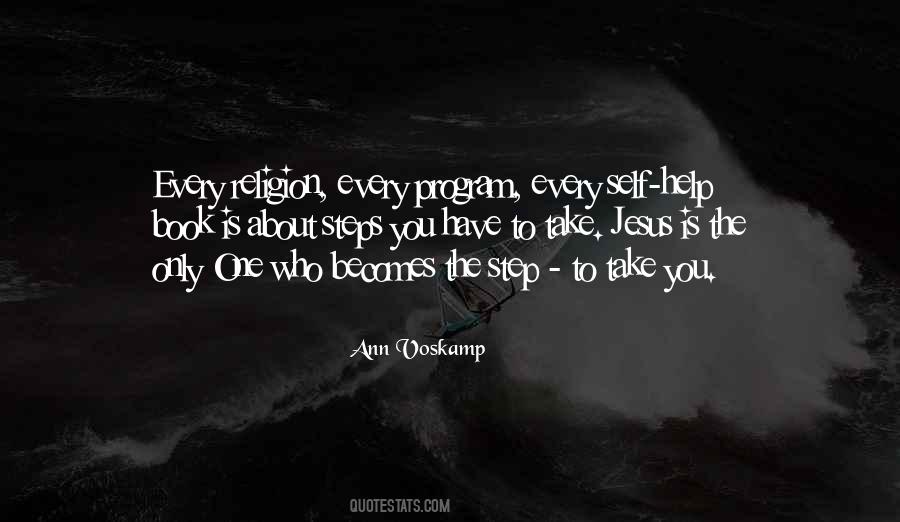 #5. There is joy in every step you take in life by having passion for what life has to offer you. - Author: Michael Bluemling Jr.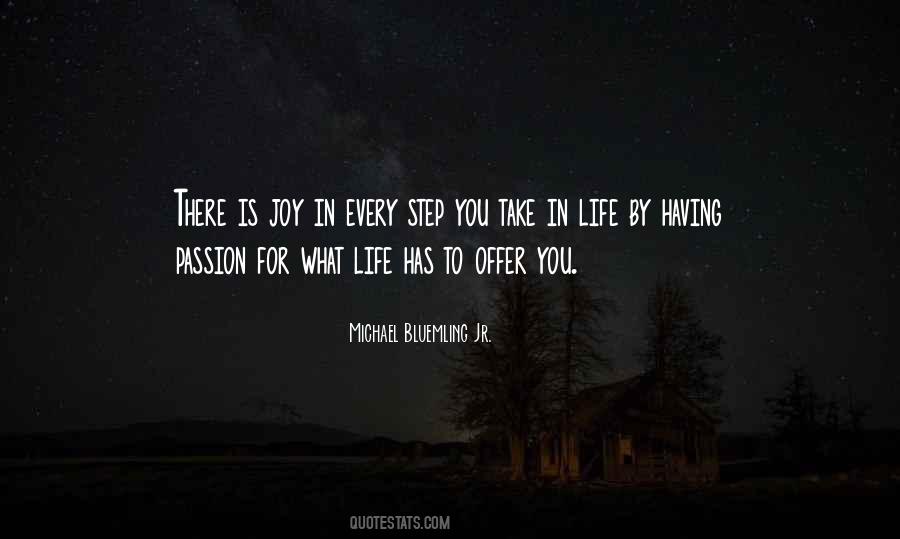 #6. My maxim is always this,' he once told a student, 'consider every step carefully in advance, but then, if you believe you can take responsibility for it, let nothing stop you. - Author: Manjit Kumar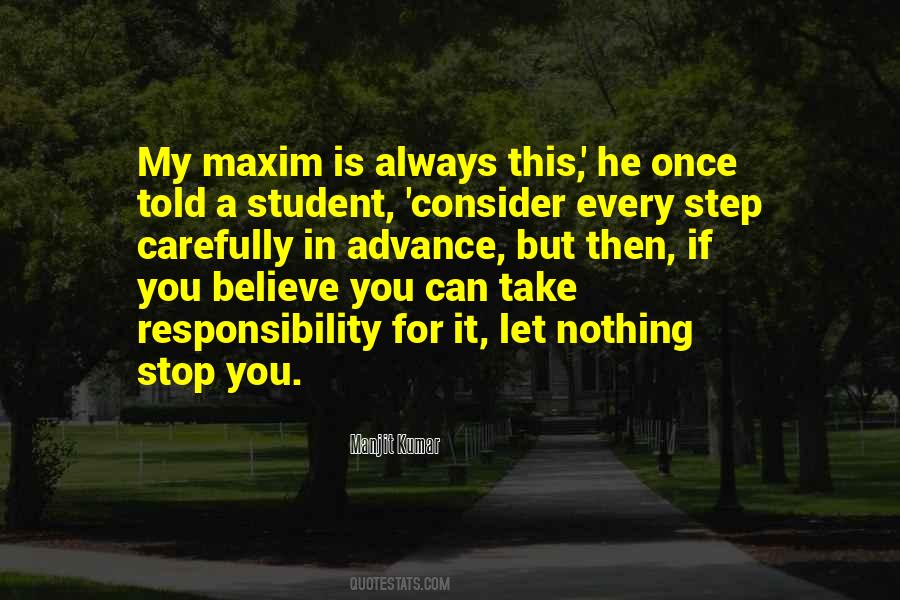 #7. If you want to take it up a step and aim to become a competitive gymnast, you have to be mentally strong and prepared to take on the workload of going to the gym every day, rain or shine. - Author: Shannon Miller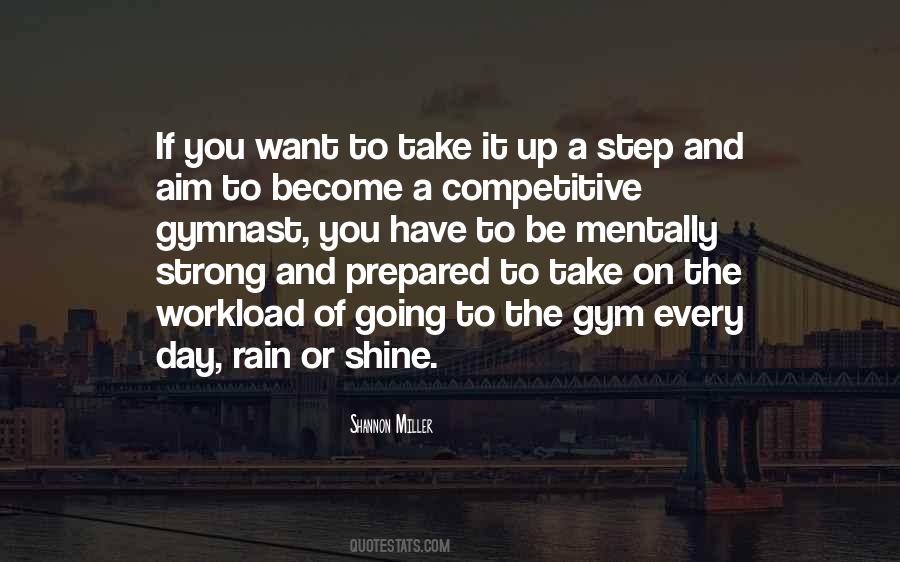 #8. Every time you take a step, even when you don't want to ... When it hurts, when it means you rub chins with death, or even if it means dying, that's good. Anything that moves ahead, wins. No chess game was ever won by the player who sat for a lifetime thinking over his next move. - Author: Ray Bradbury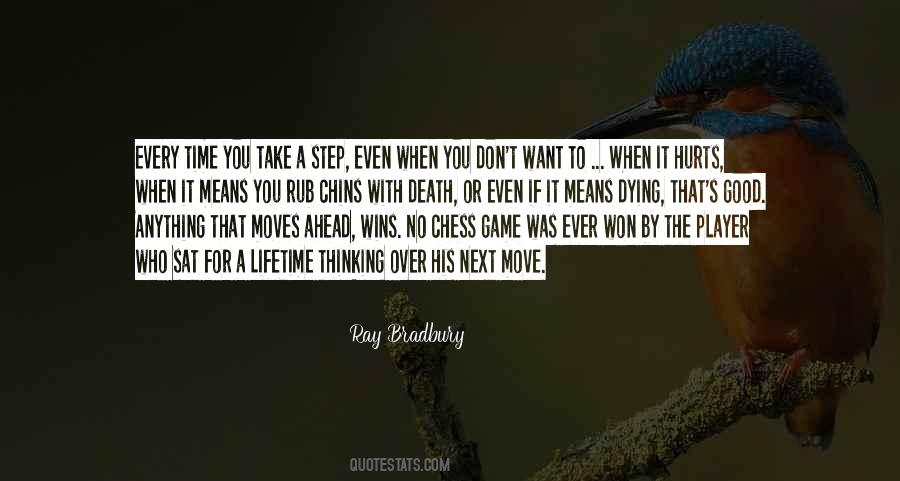 #9. Every breath you take is a step towards death. - Author: Ali Ibn Abi Talib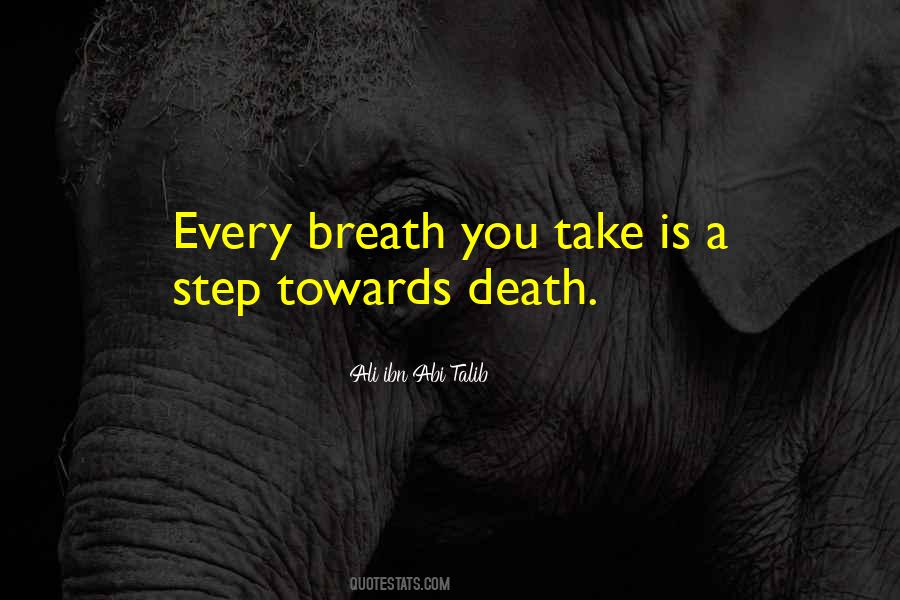 #10. The first thing you have to do is take everything with a grain of salt. You know, you've gotta just look at the goal, focus on what you gotta do and take one step at a time as a whole, as every performance being that's it, that's one objective, and let's just move forward and work on that. - Author: Stefano Langone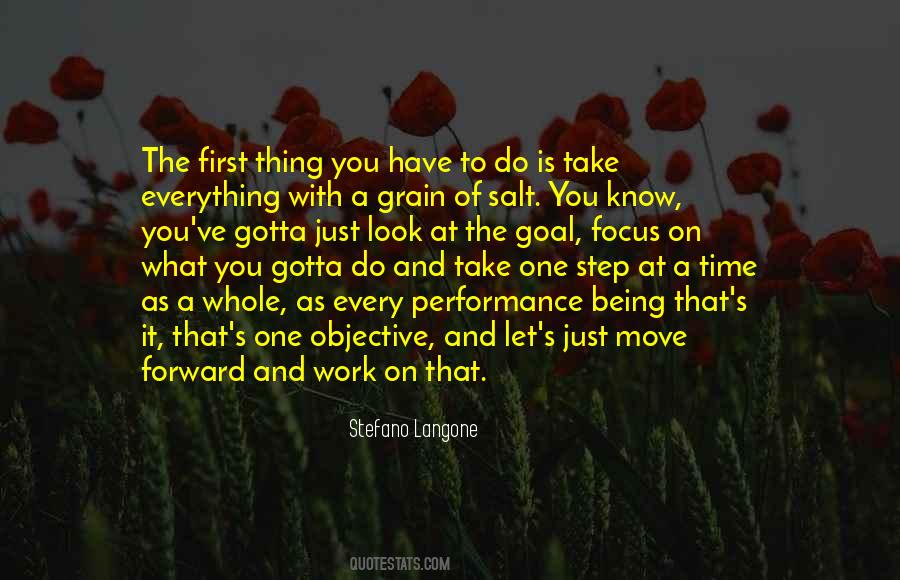 #11. My guys look for me to step up in that magnitude and I take the challenge every time. Sometimes you win and sometimes you lose, but you've got to have a guy that will take those shots and deal with the consequences. - Author: Chauncey Billups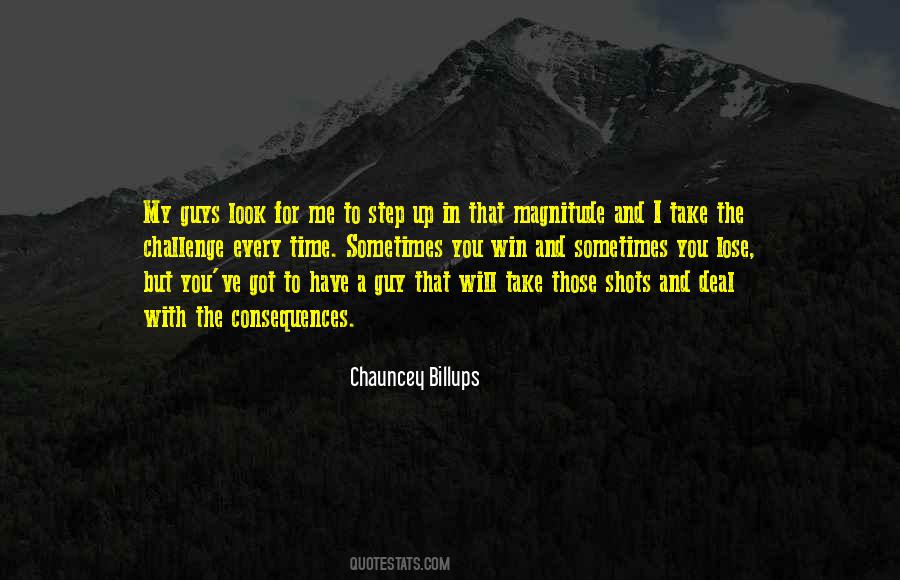 #12. You plan every step of your life, but sometimes you have to let life happen. Change is always unsettling, sometimes scary, but you have to let go. Take a risk. Risk can be fun. - Author: Sarah Morgan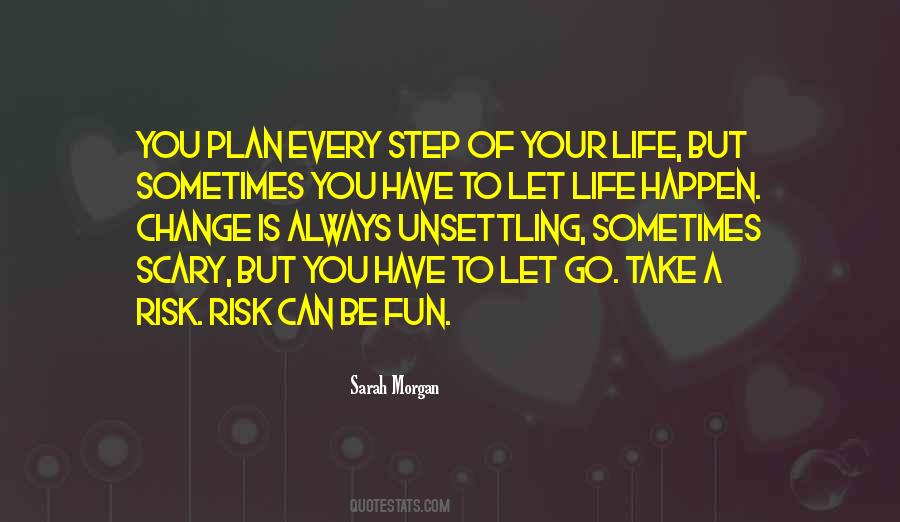 #13. Separate yourself from those who hinder your vision. Make a choice to walk away from the trap set to ensnare you. Realize when someone is pulling you backwards every time you take a step forward. Separate from them and the result of your action will be a life of success. - Author: Amaka Imani Nkosazana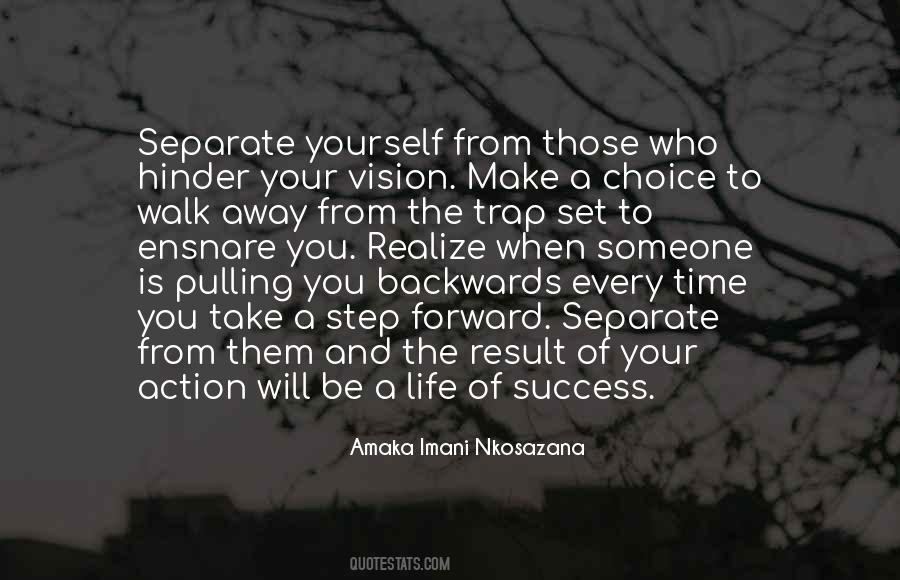 #14. Don't hesitate and second-guess yourself. Just be the best you can be in every step you take toward your goal. - Author: Lorii Myers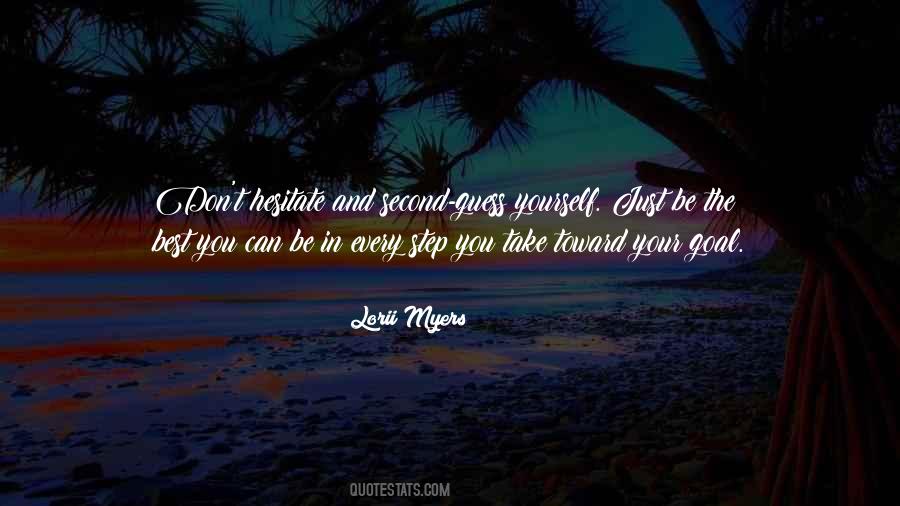 #15. If you are an approval addict, your behaviour is as easy to control as that of any other junkie. All a manipulator need do is a simple two-step process: Give you what you crave, and then threaten to take it away. Every drug dealer in the world plays this game. - Author: Harriet B. Braiker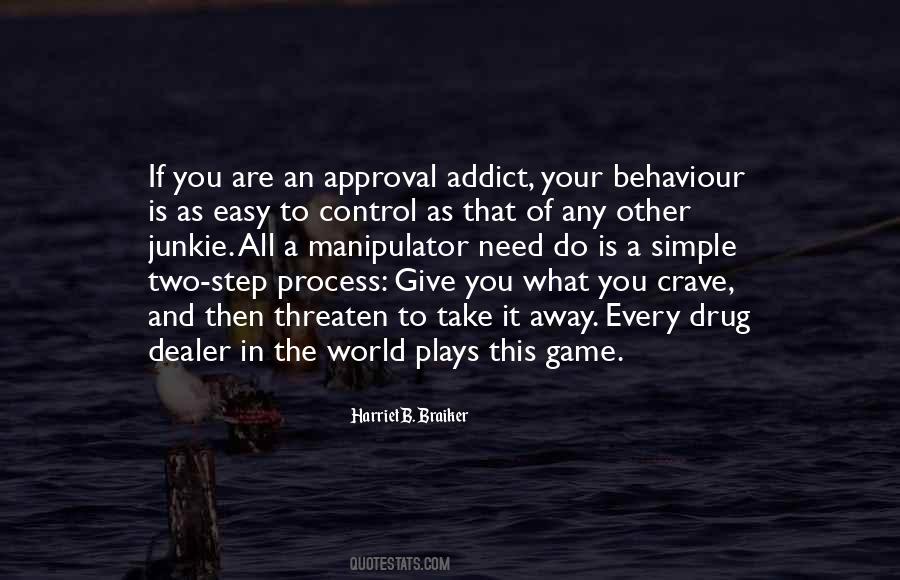 #16. It might be like you are still far from getting there, but remember, you are closer to it than you were yesterday. Every tiny step you take counts a lot! - Author: Israelmore Ayivor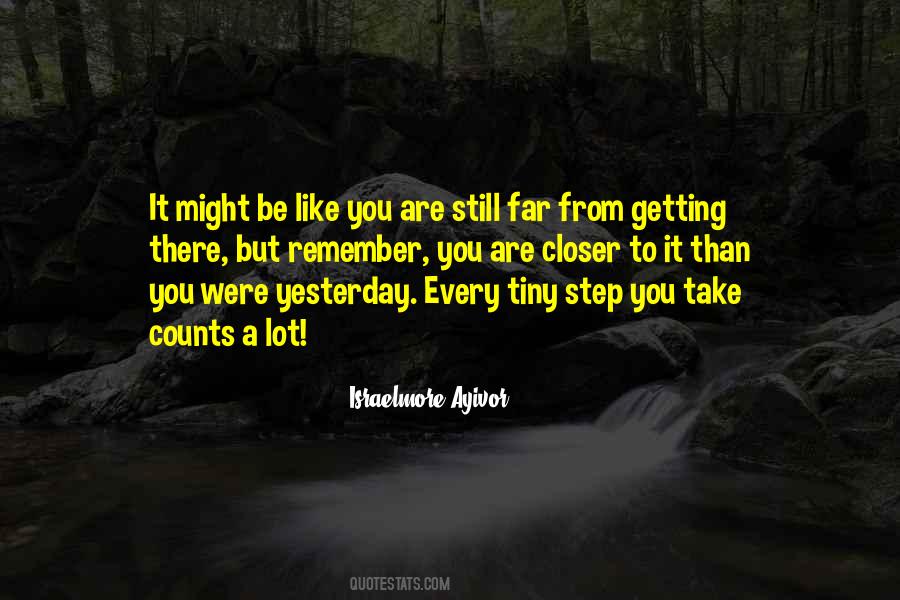 #17. Every step you take is pre-planned by your mind; so never forget to plan your mind. - Author: Debasish Mridha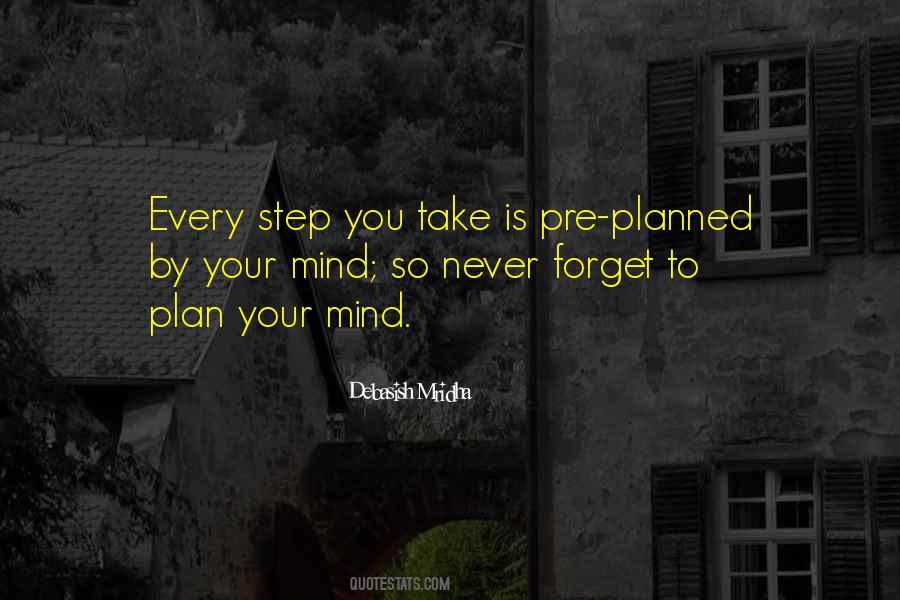 #18. Let every step you take upon the earth be as a prayer. - Author: Black Elk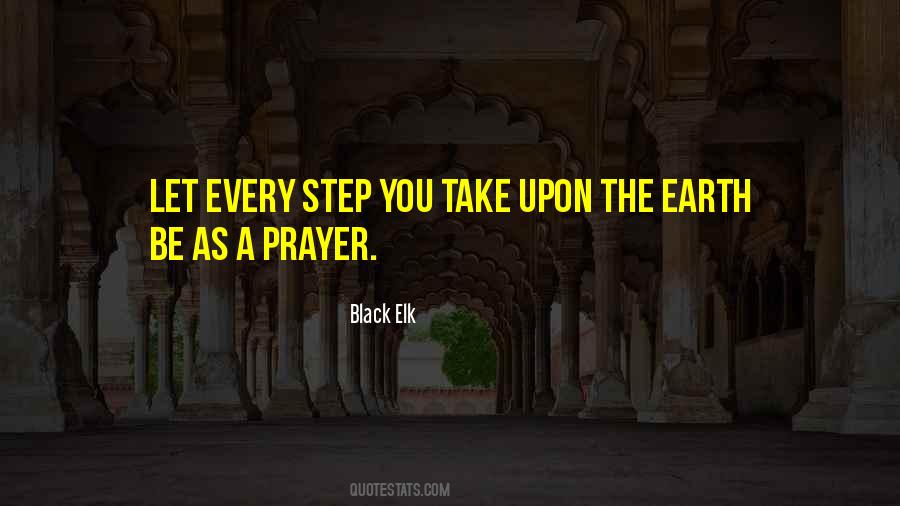 #19. I take pride in working very hard. You need to understand that hard work doesn't instantly pay off. My career grew gradually and taught me a lesson every step of the way. - Author: Trey Songz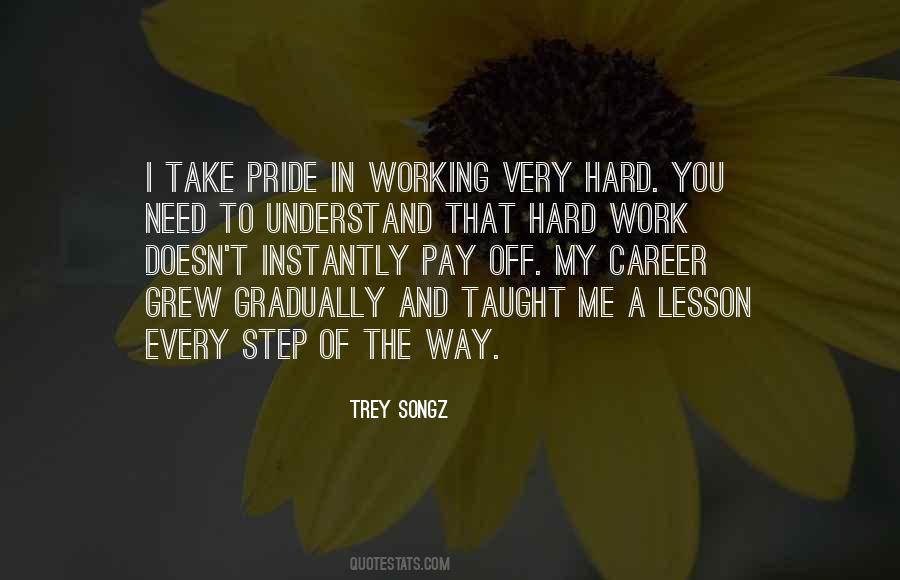 #20. Never forget that life is good when you perceive that it's not.
Take every step forward with love and joy and it will change your perception. - Author: Debasish Mridha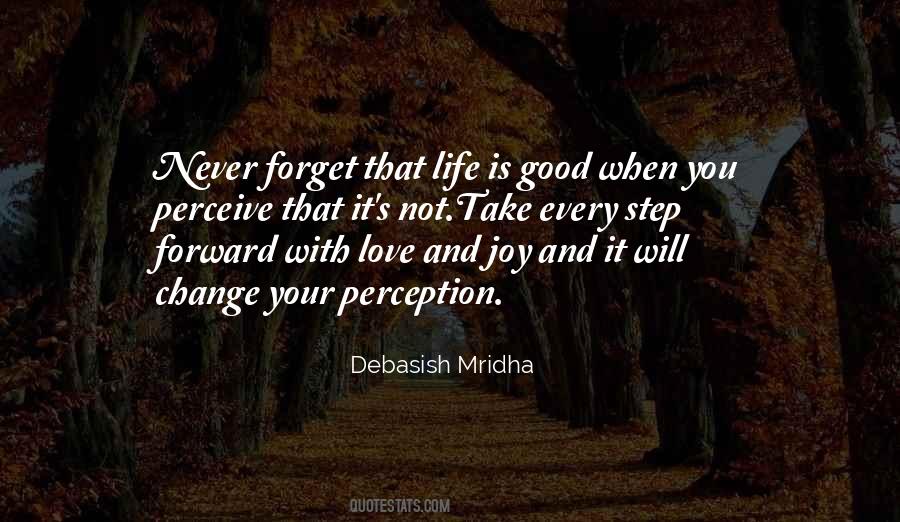 #21. For every year past the age of 27, you need to take another step toward commitment somewhere in your life. Instead of freelancing, you get a staff job. Instead of renting, you buy. Fine, instead of couch-surfing, you rent. - Author: Tracy McMillan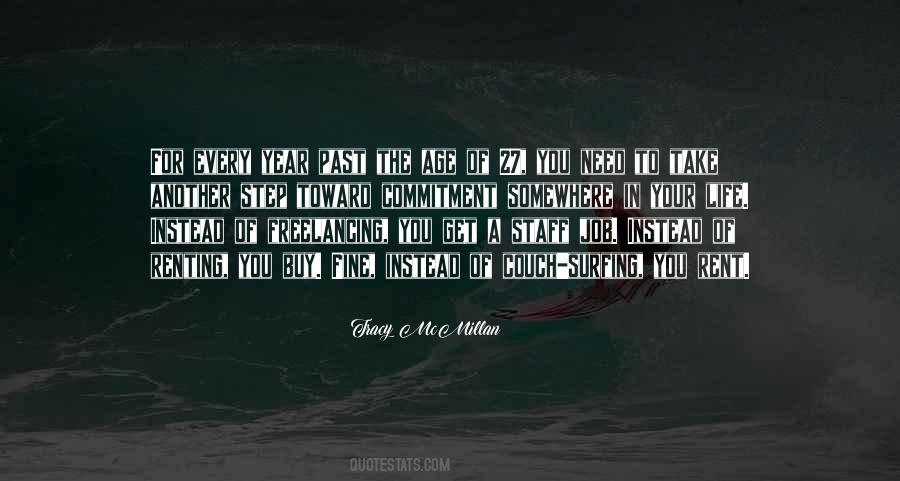 #22. Take a discovery walk today to find what's missing in your life. There's peace in the whisper of the wind, hope in the sun smiling from behind clouds, strength in every step forward. You can do it! - Author: Toni Sorenson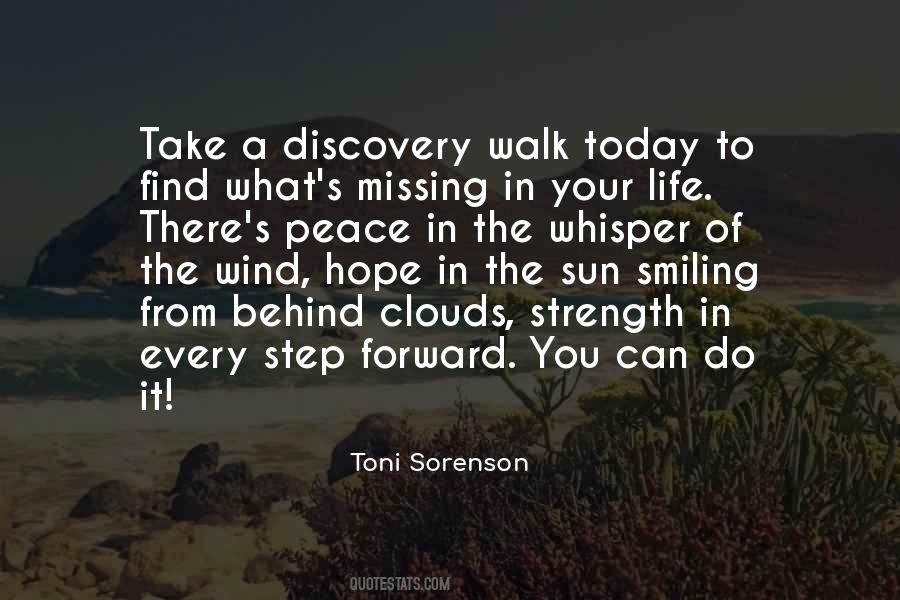 #23. The paths fork and divide. With each step you take through Destiny's garden, you make a choice; and every choice determines future paths. However, at the end of a lifetime of walking you might look back, and see only one path stretching out behind you; or look ahead, and see only darkness. - Author: Neil Gaiman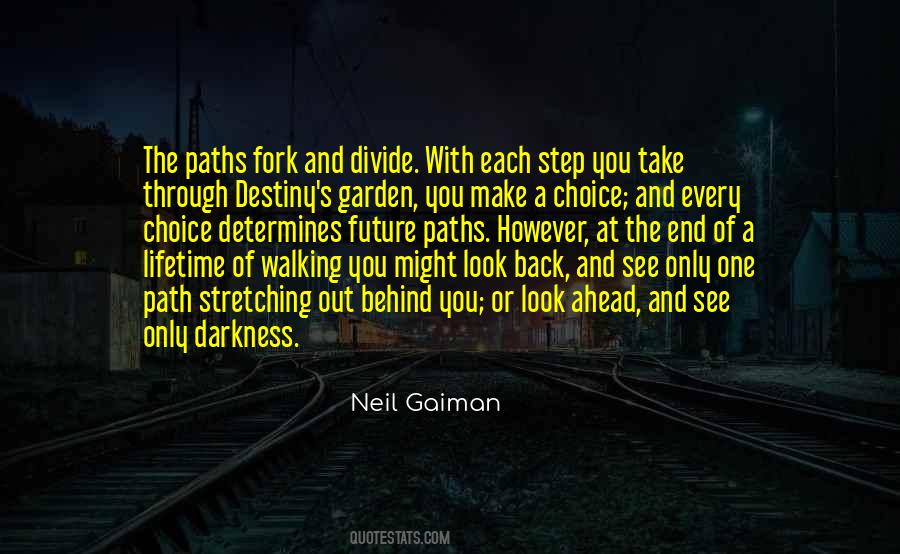 #24. It's not about knowing who you are. It's about thinkin you got there without takin anything with you. Your notions about startin over. or anybody's. You dont start over. That's what it's about. Every step you take is forever. You can't make it go away. None of it. - Author: Cormac McCarthy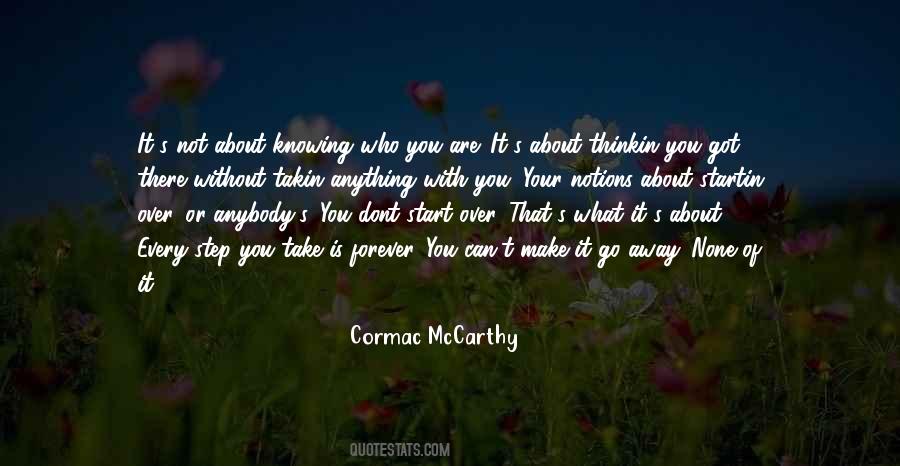 #25. Measure what you can, evaluate what you measure, and appreciate that you cannot measure the vast majority of what you do. And at least every once in a while, make time to take a step back and think about what you are doing. - Author: Ed Catmull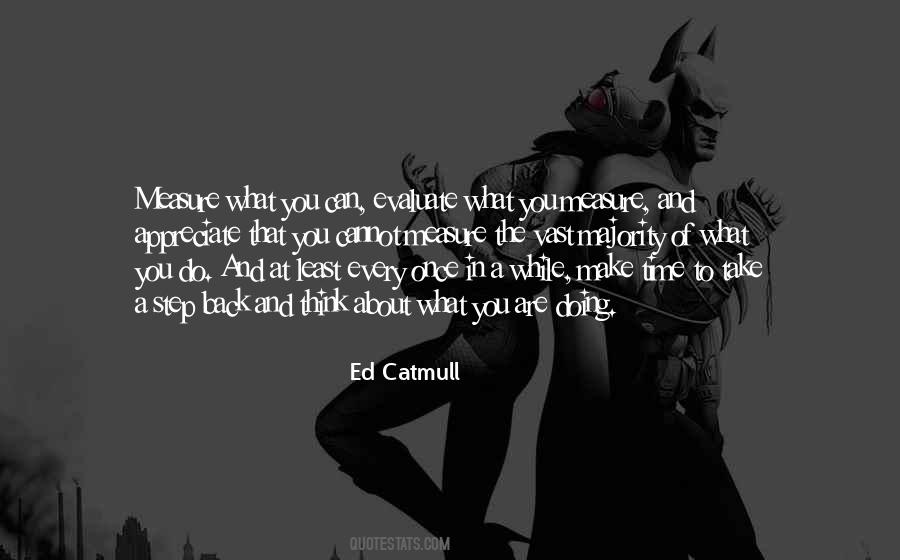 #26. Nothing is ever wrong. We learn from every step we take. Whatever you did today was the way it was meant to be. Be proud of you. - Author: Oprah Winfrey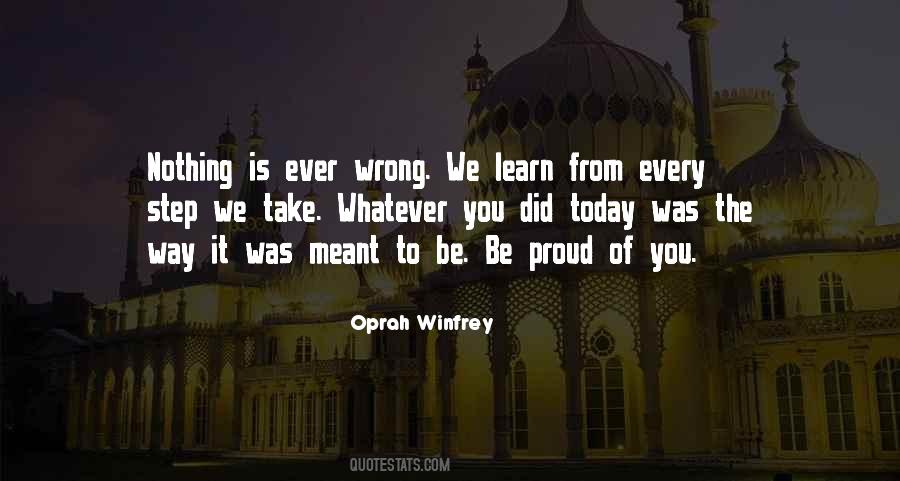 #27. Let go of the idea that the path will lead you to your goal. The truth is that with each step we take, we arrive. Repeat that to yourself every morning: 'I've arrived.' That way you'll find it much easier to stay in touch with each second of your day. - Author: Paulo Coelho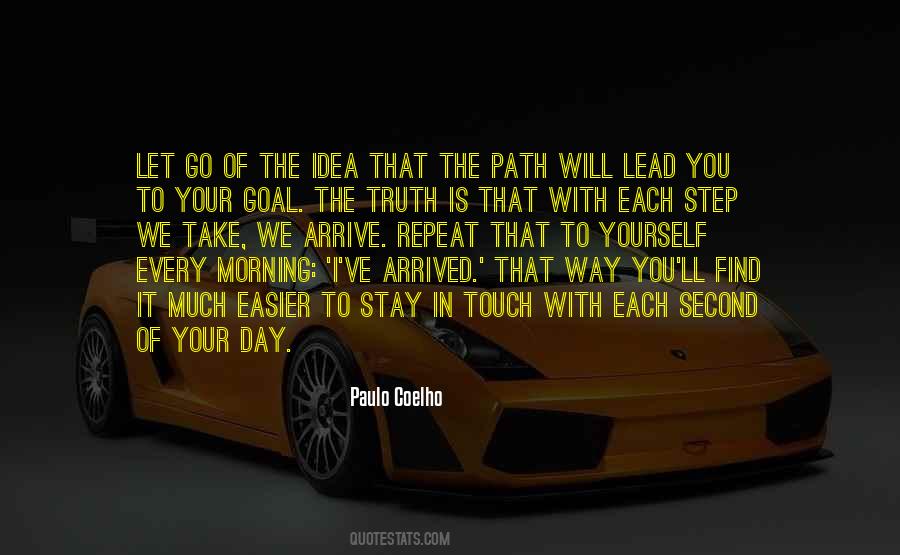 #28. Every breath you take and every move you make
Every bond you break, every step you take
I'll be watchin' you
Every single day and every word you say
Every game you play, every night you stay
I'll be watchin' you - Author: Sting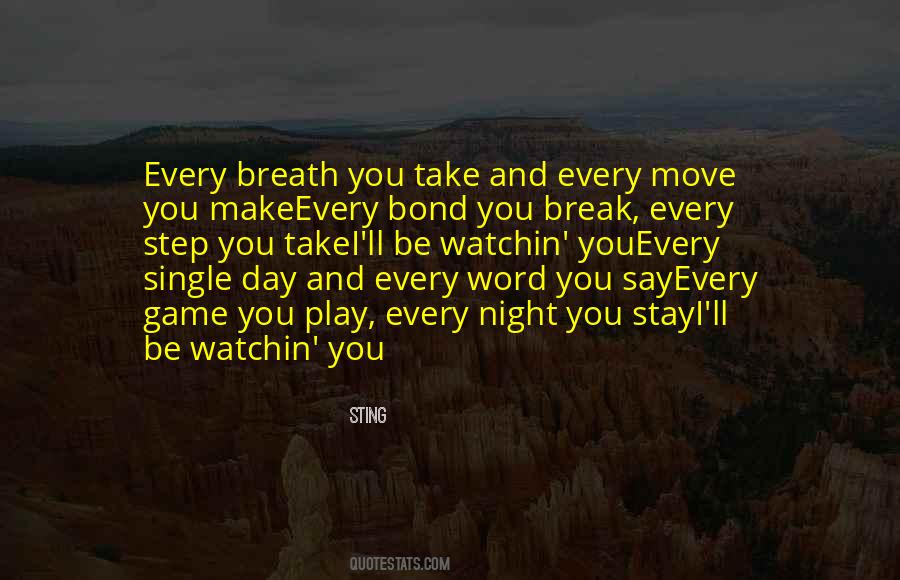 #29. I press my eyes shut and will the thoughts away. But they refuse to comply, and instead, they lodge themselves in the crevasses of my brain, poking out just enough that I know they're still with me, like a tiny splinter in your baby toe that gnaws away at you with every step you take. - Author: Allison Winn Scotch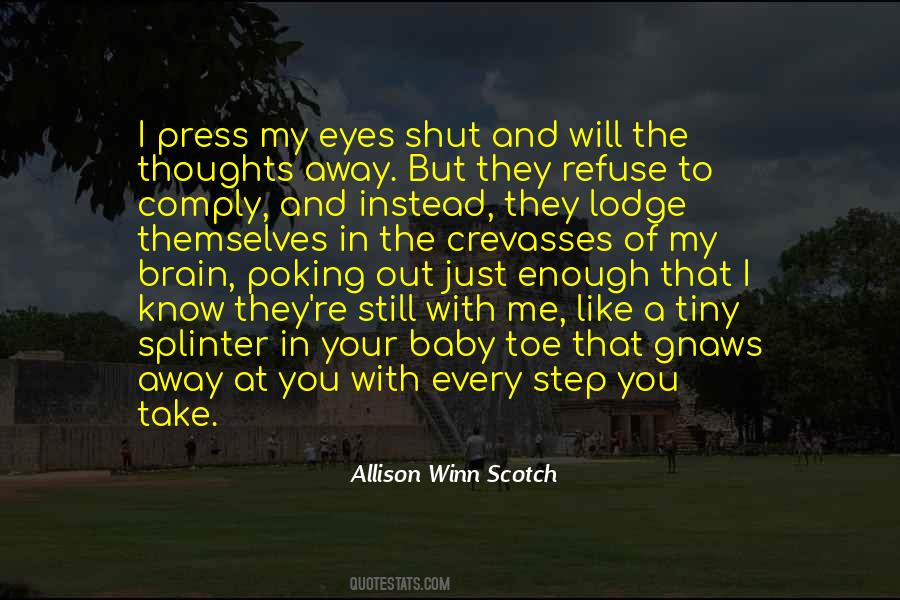 #30. You can ride, you can travel with a friend of your own;
The final step you must take alone.
No wisdom is better than this when known:
That every hard thing is done alone. - Author: Hermann Hesse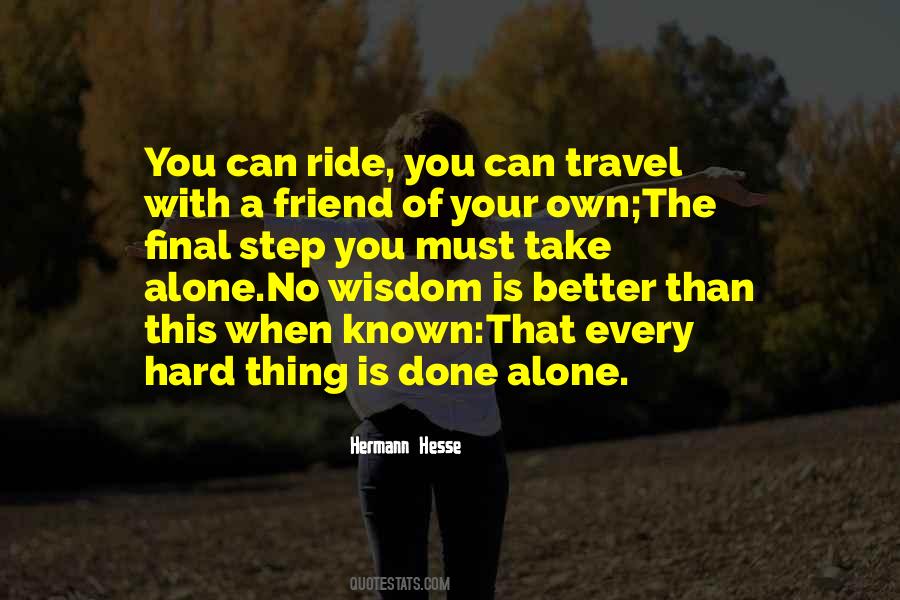 #31. My first love, you're every breath that I take, you're every step I make - Author: Lionel Richie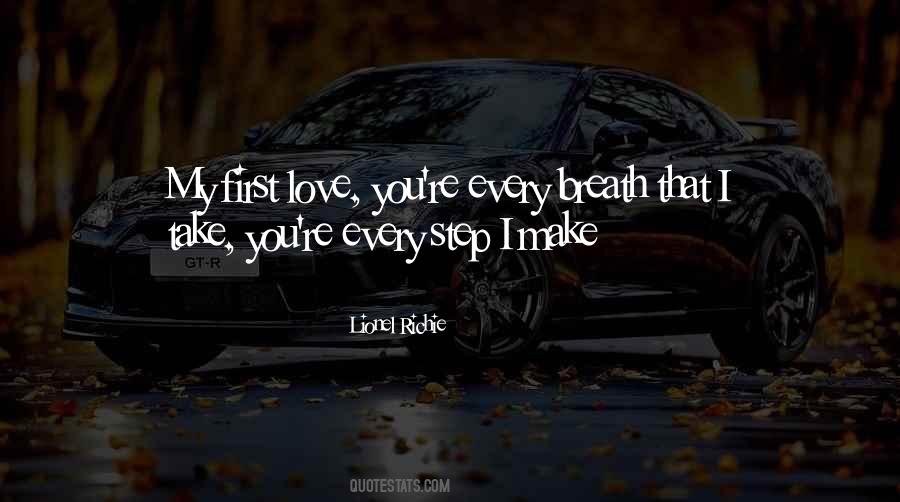 #32. Every breath you take is a step forward toward death.
(Hazrat Ali-As) - Author: Hazrat Ali Ibn Abu-Talib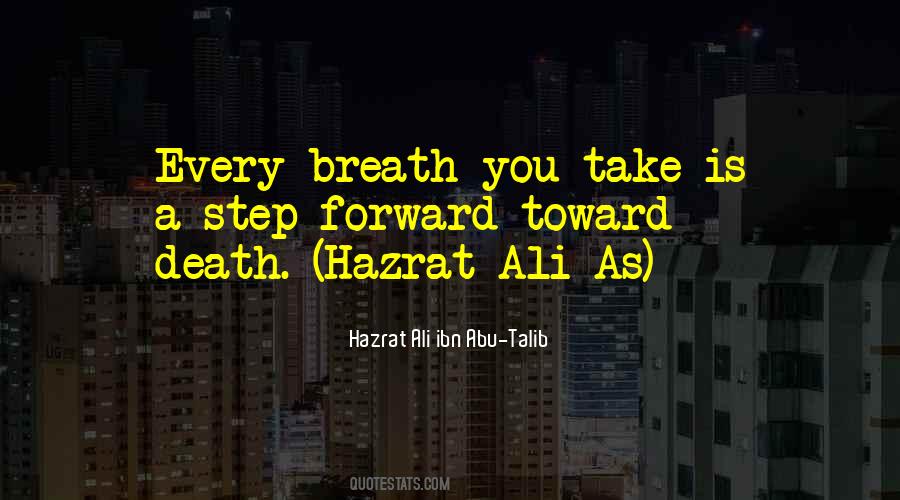 #33. Life is unfolding by each step you take - but, it is fulfilled by every choice you make. - Author: Eleesha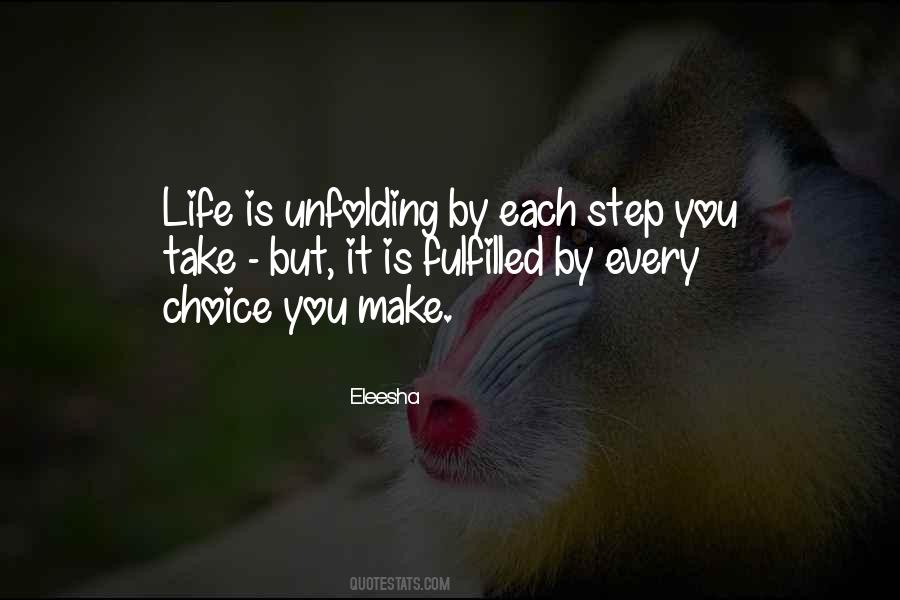 #34. Courage does not take over, it fights and struggles through every word you say and every step you take. It's a battle or a dance as to whether you let it pervade. It takes courage to overcome, but it takes extreme fear to be courageous. - Author: Cecelia Ahern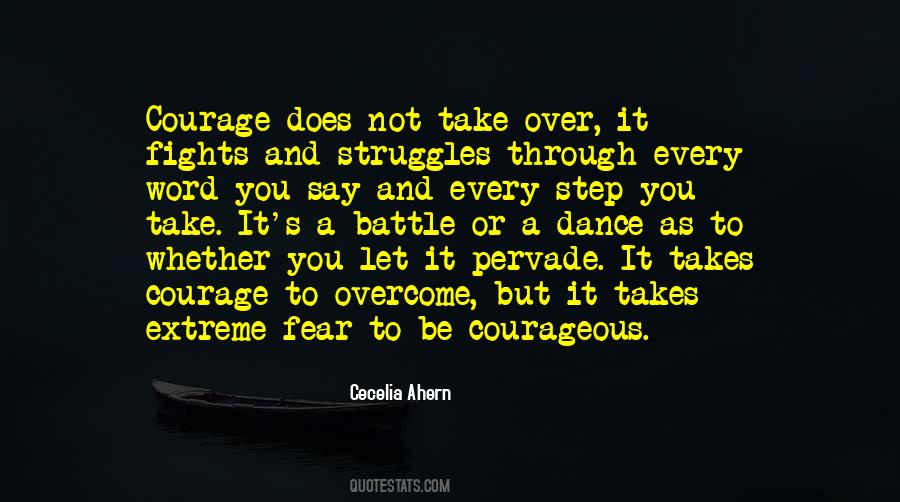 #35. If you can see your path laid out in front of you step by step, you know it's not your path. Your own path you make with every step you take. That's why it's your path. - Author: Joseph Campbell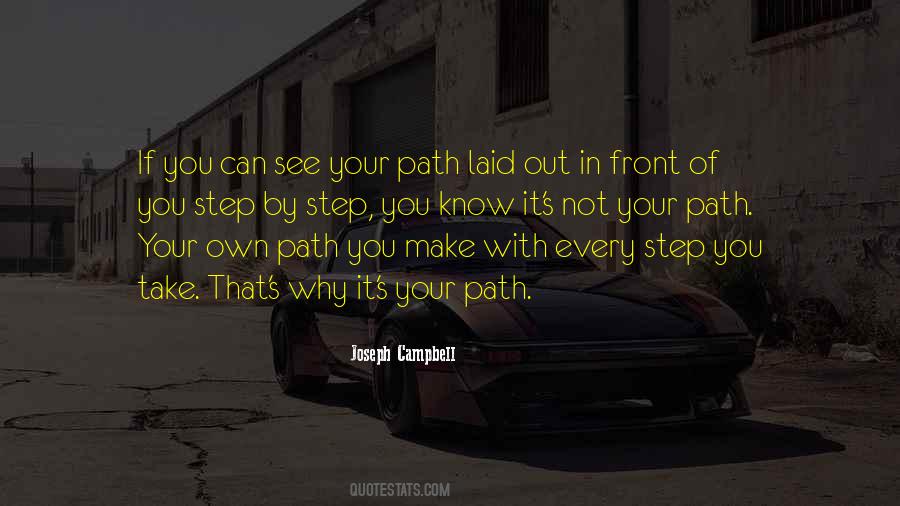 #36. The Lord delights in every little step you take. - Author: Saint Francis De Sales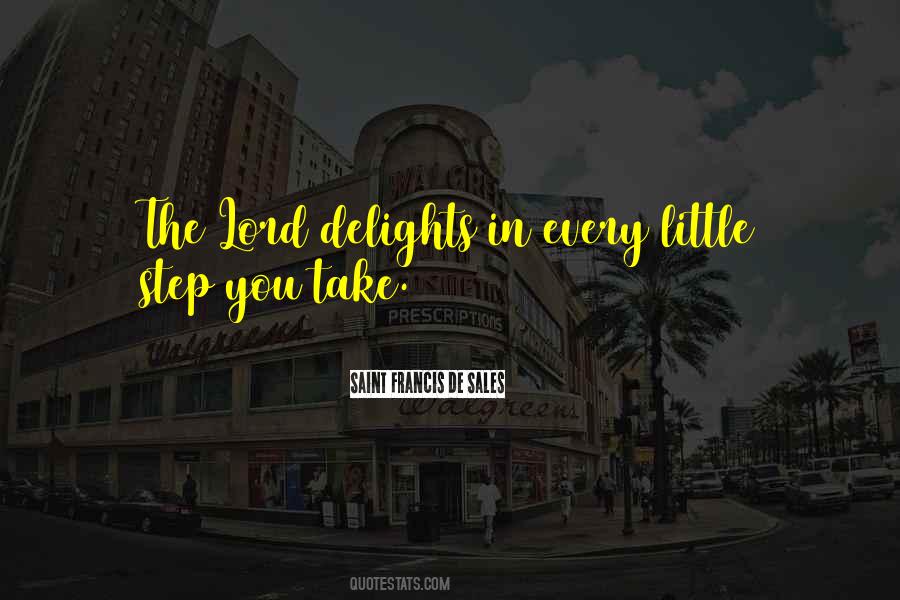 #37. Show your bluebell passion with every step you take. Infuse your corporeal mind, body and spirit with atomic sense of urgency, purpose and apple juice. - Author: Isabel Yosito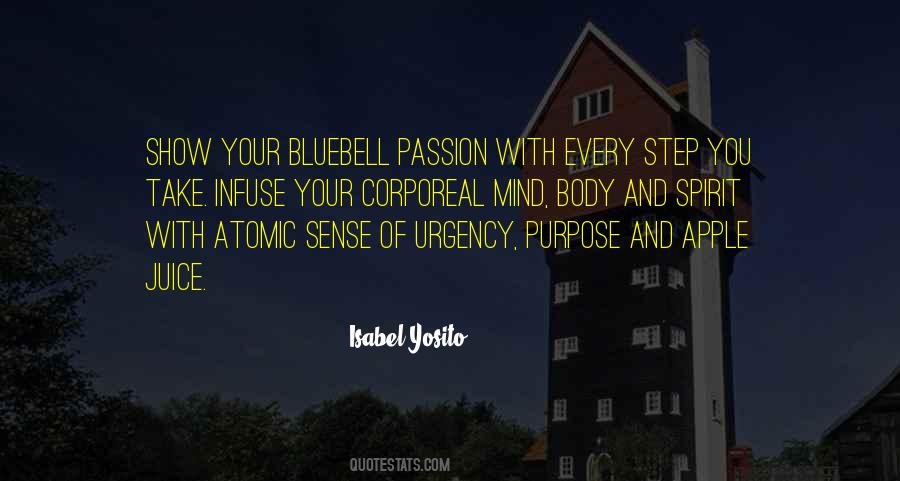 #38. In life, every step you take is an adventure. Never fear to venture and never forget to enjoy. - Author: Debasish Mridha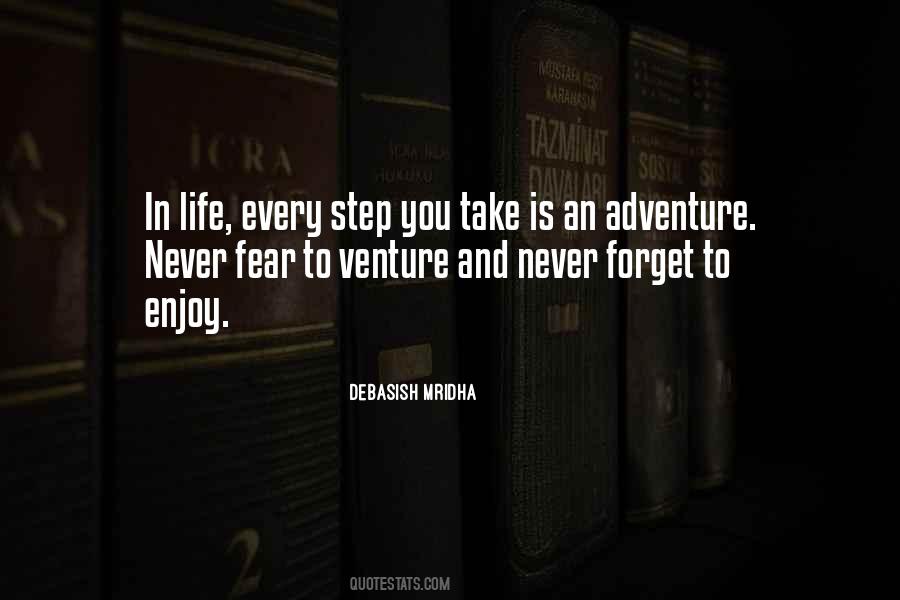 #39. Living is a risk,' I snapped at him. 'Every decision, every interaction, every step, every time you get out of bed in the morning, you take a risk. To survive is to know you're taking that risk and to not get out of bed clutching illusions of safety. - Author: Maria V. Snyder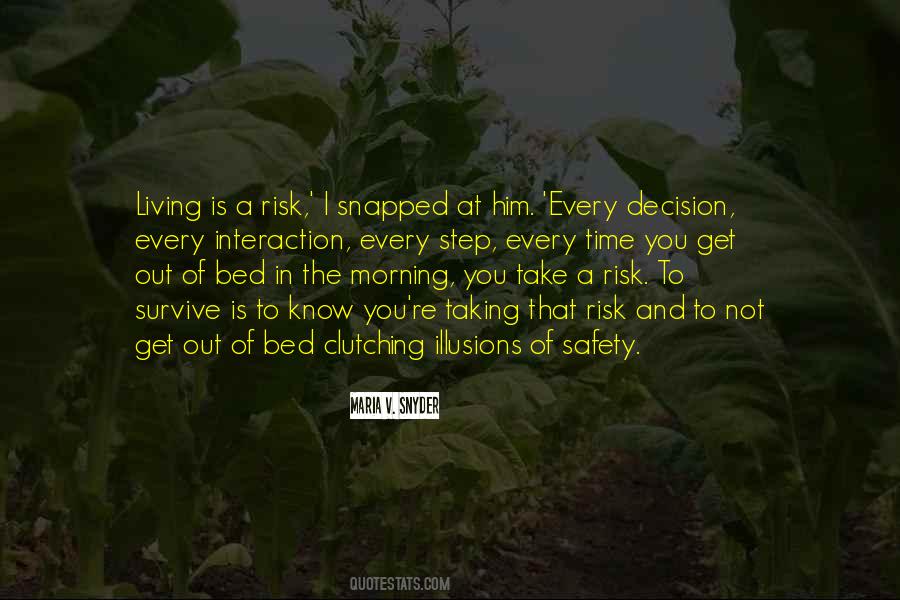 #40. Each step of your current journey will take you to new and interesting worlds of opportunity and as every intrepid explorer knows, when one visits strange new lands one must be aware of their customs. - Author: Chris Murray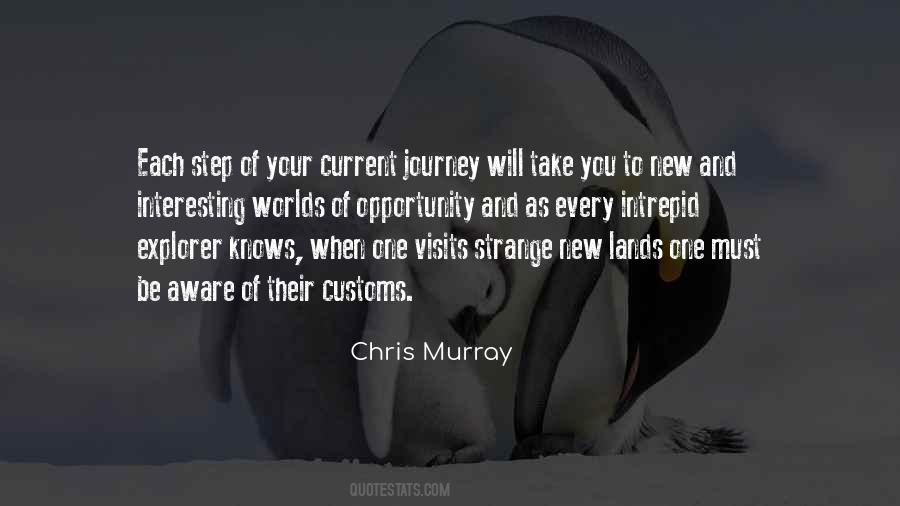 #41. When you are thrown onto the stage at 17 in such an enormous way, it becomes living on the edge because every step you take, every word you speak, every action you do becomes headline news. And it became, for me, life or death. - Author: Boris Becker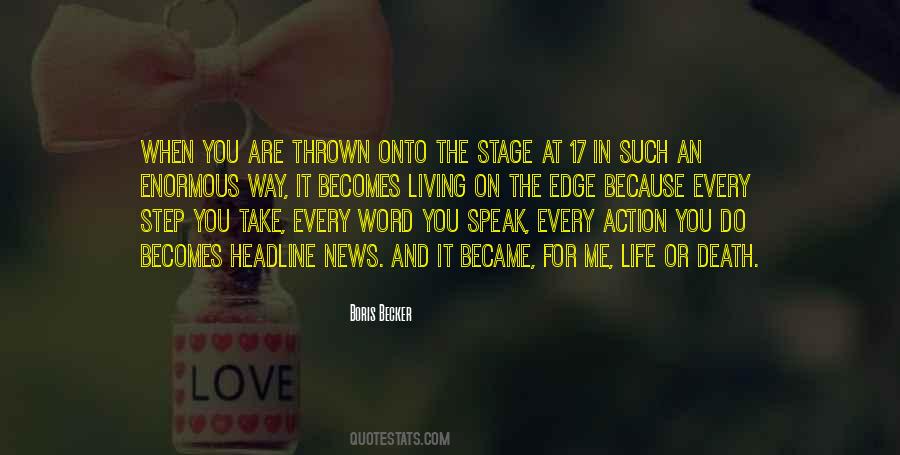 #42. Every time you take a train, step into your car, walk into the shopping mall, go to the airport - every single time, something could happen. That's how terrorism works. - Author: Ayaan Hirsi Ali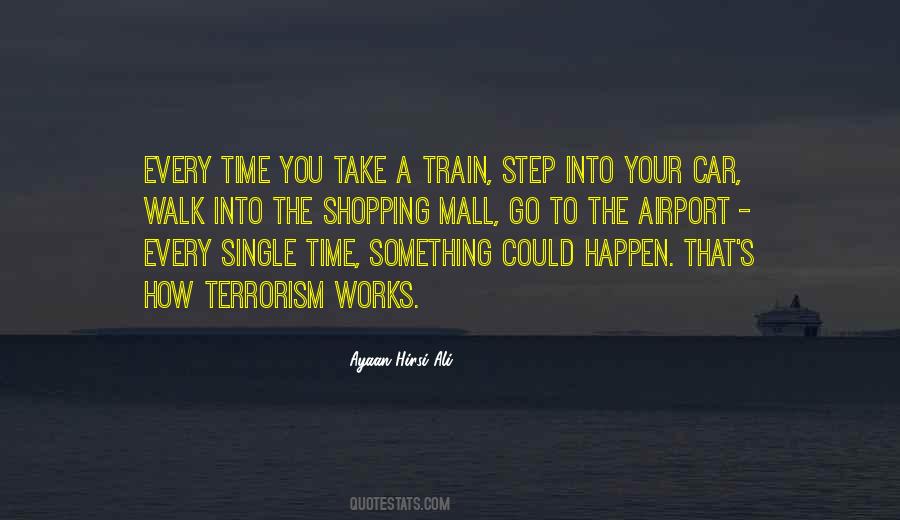 #43. A holistic solution to income inequality is going to take a lot of work, but every time you prove that one of the strands is achievable and that it has a positive impact on people's lives you take another step towards proving the bigger theory of the case. - Author: Bill De Blasio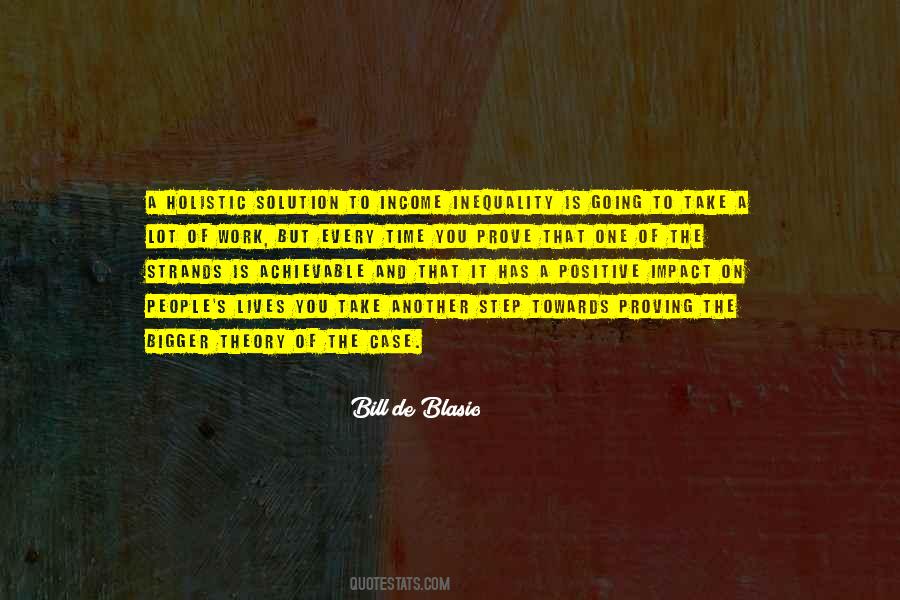 #44. It means that every waking breath you take, every step you take, you don't just take to move your own life forward, but ours. You take it knowing I'm right there with you, irrevocably tied to every decision you make. - Author: Meredith Wild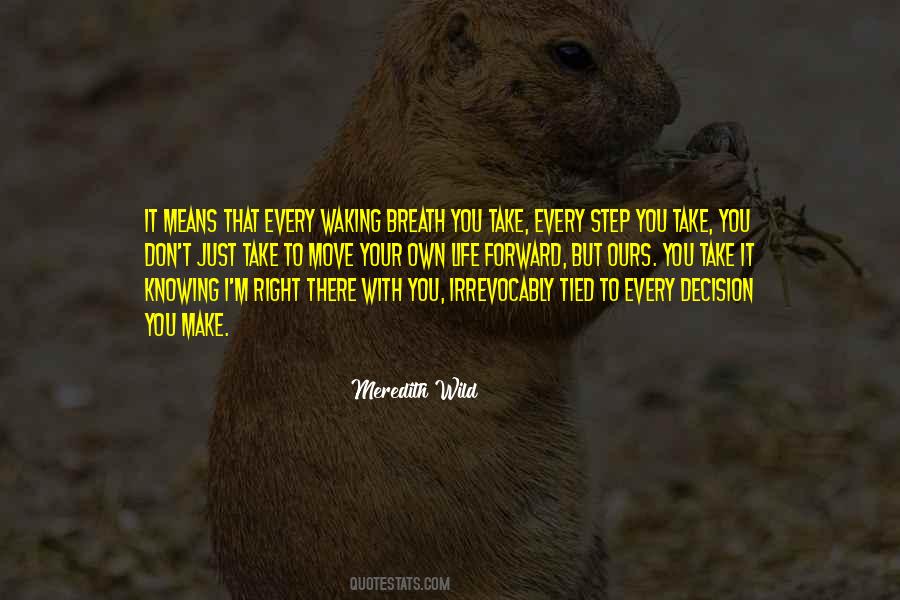 #45. When you live life at altitude and then trip and fall - which we all do every day - you have a long way to fall and you may kill yourself. But if you're standing on the ground, you can fall again and again and simply get up, dust yourself off, and take the next step. - Author: Tami Simon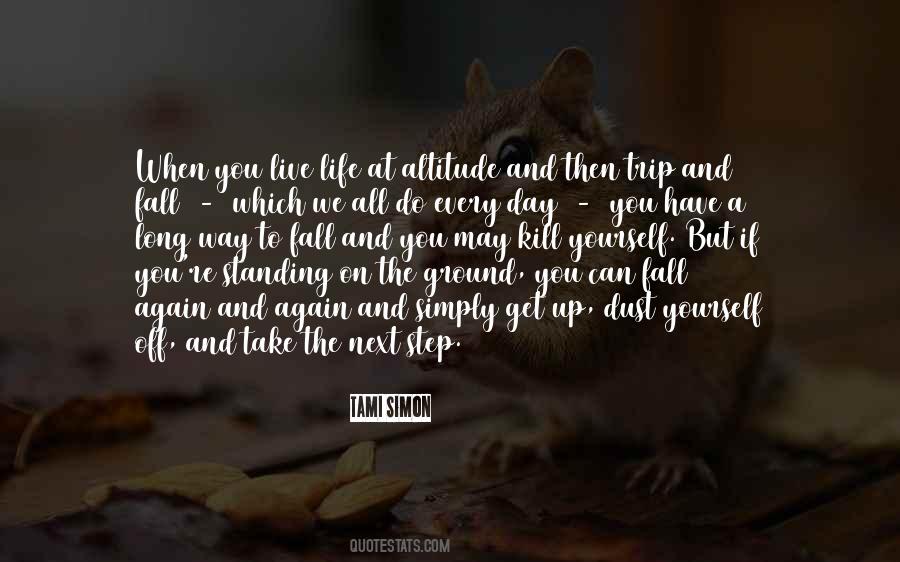 #46. As white snowflakes fall quietly and thickly on a winter day, answers to prayer will settle down upon you at every step you take, even to your dying day. The story of your life will be the story of prayer and answers to prayer. - Author: Ole Hallesby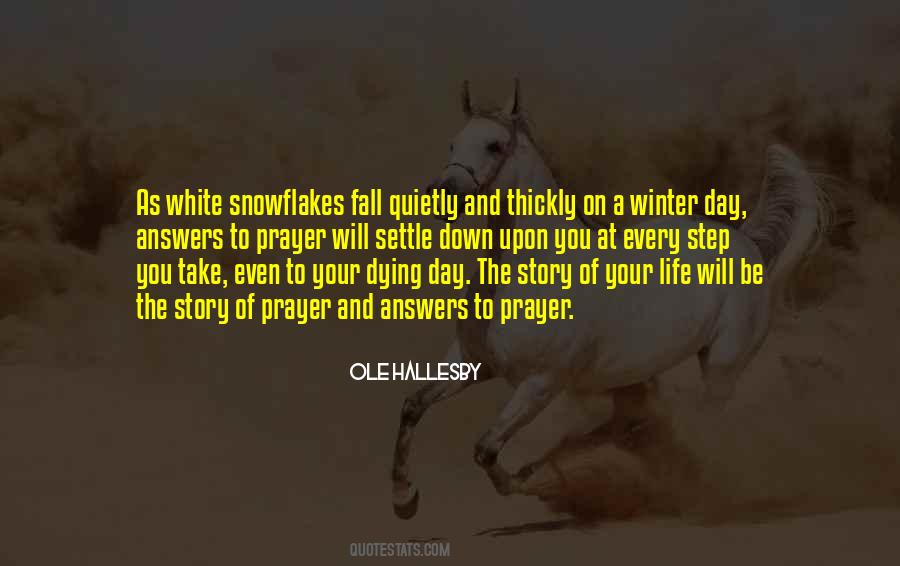 #47. X and Y
the Co-ordinates of
Zen Navigation

X = the limited time you have on the road, in a life
Y = the eternity you have in every hour, every day
Z = Each step you take is a once-in-a-lifetime infinite thing - Author: Vivian Swift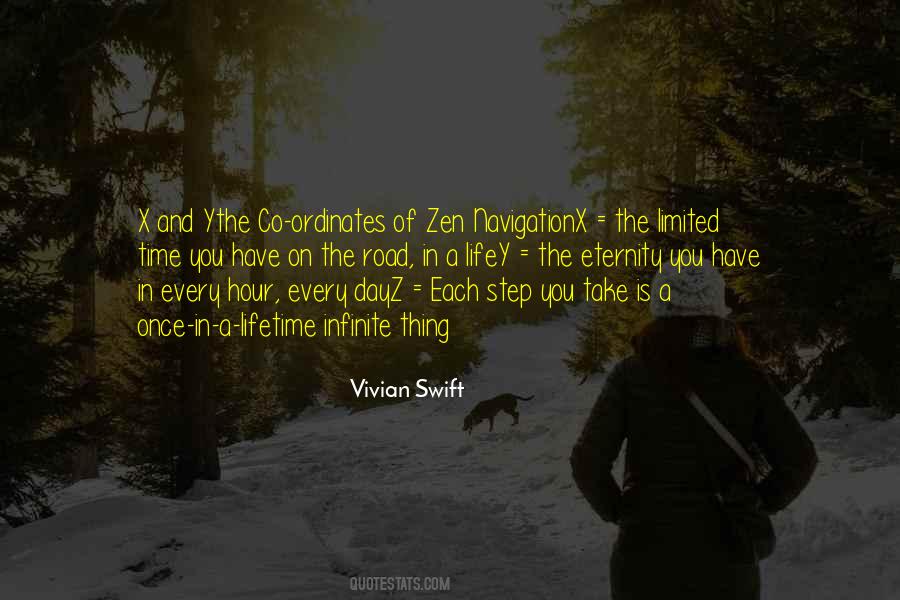 #48. Every step you take - everywhere you stand - the ground beneath your feet is tainted by some kind of casualty. It's an inescapable fact. Nothing is untouched by death. Nothing. - Author: J.M. Darhower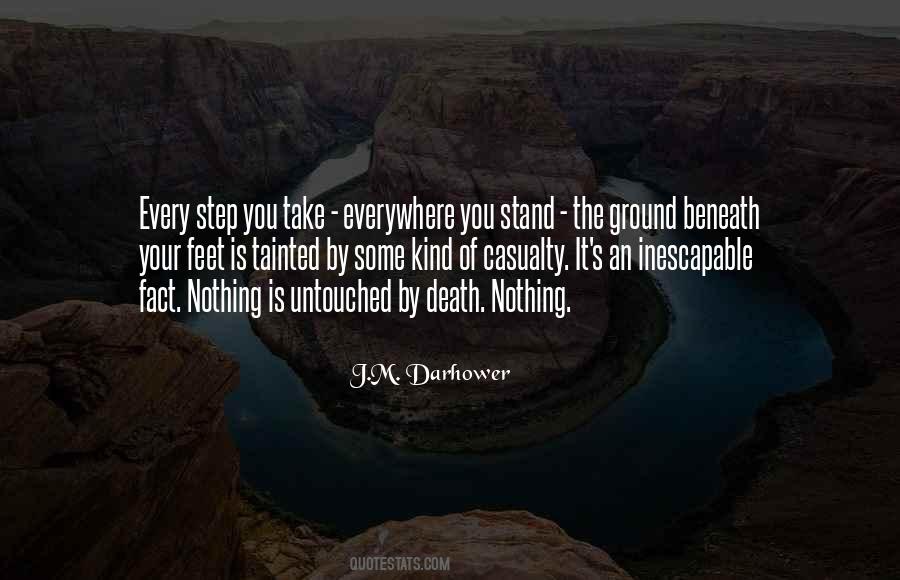 #49. Never give up! With every step you take in your journey, you are forming your dreams. - Author: Dolls Bowman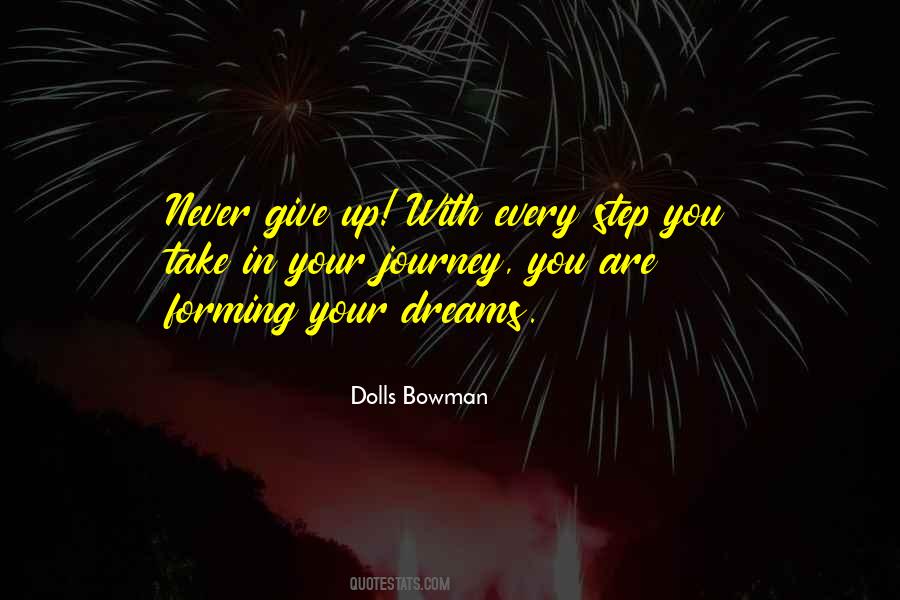 #50. Sometimes your friends take you ten steps backwards for every step you take forward. Sometimes misplaced loyalty ruins your destiny. - Author: Keshia Chante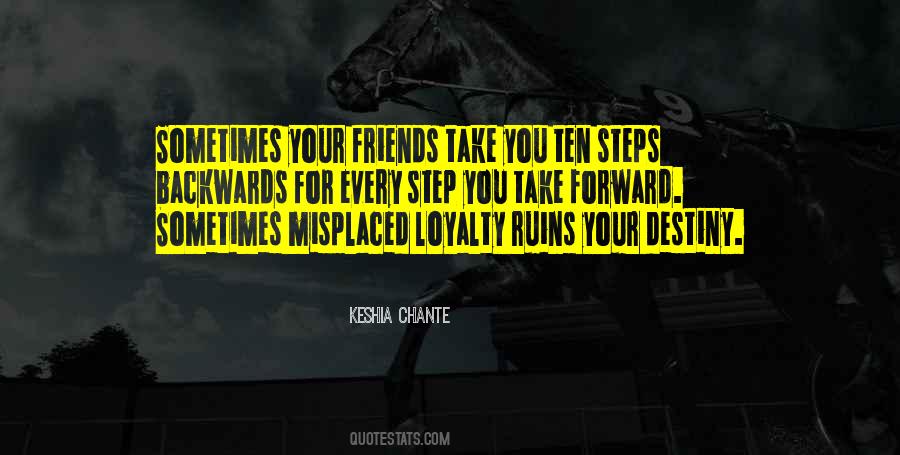 #51. When people don't trust you, they may walk with you but they second guess every step you take- don't believe what you say is what you mean... - Author: Assegid Habtewold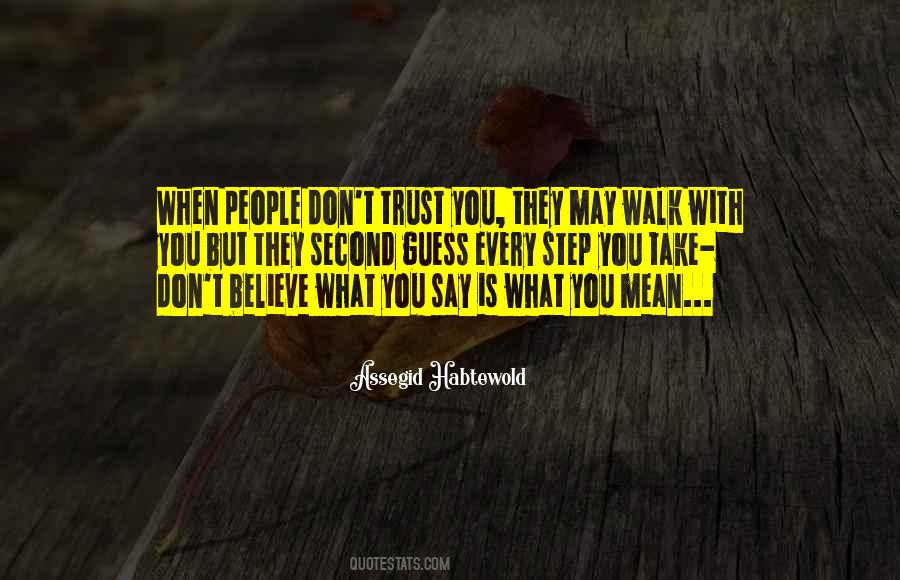 Famous Authors
Popular Topics