Suffer'd Famous Quotes & Sayings
List of top 100 famous quotes and sayings about suffer'd to read and share with friends on your Facebook, Twitter, blogs.
Top 100 Suffer'd Quotes
#1. Happiness does not lie in amusement; it would be strange if one were to take trouble and suffer hardship all one's life in order to amuse oneself - Author: Aristotle.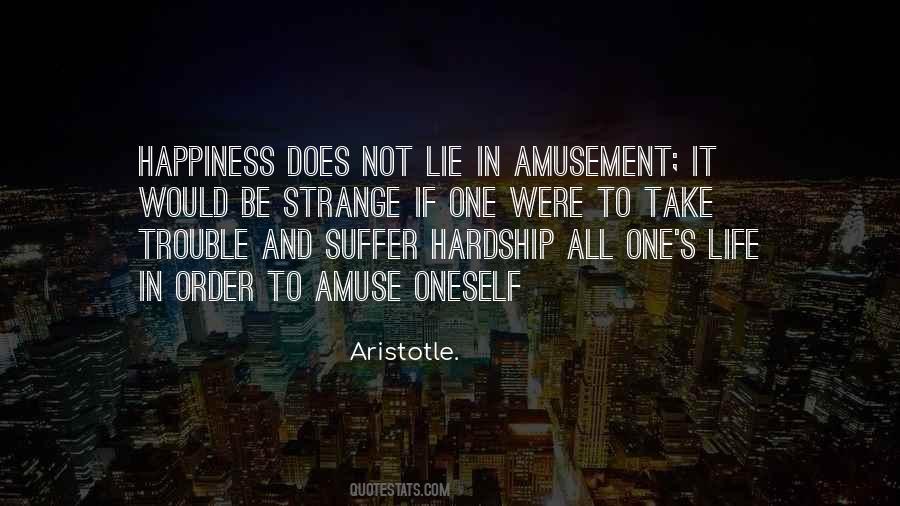 #2. A beggar's mistake harms no one but the beggar. A king's mistake, however, harms everyone but the king. Too often, the measure of power lies not in the number who obey your will, but in the number who suffer your stupidity. - Author: R. Scott Bakker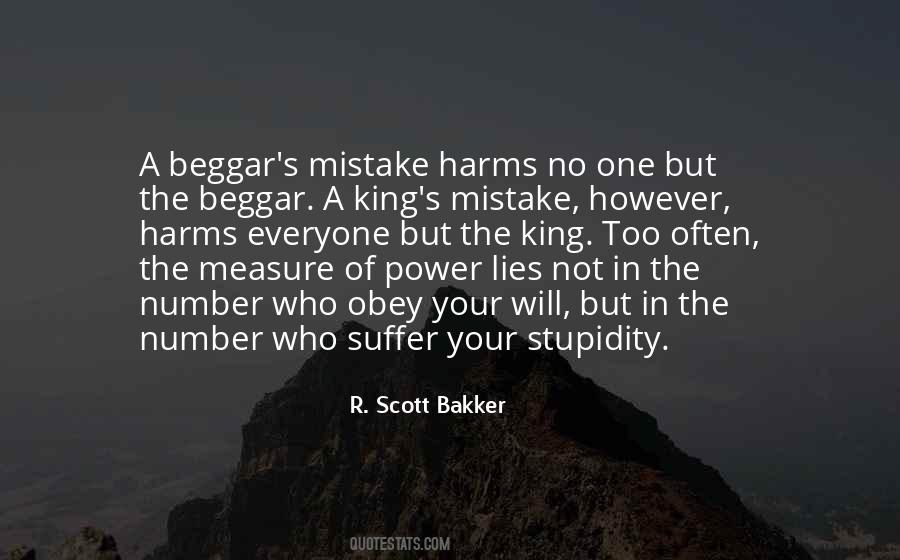 #3. If the world wasn't so full of dead folks maybe those of us that's trying to live wouldn't have to suffer so bad. - Author: James Baldwin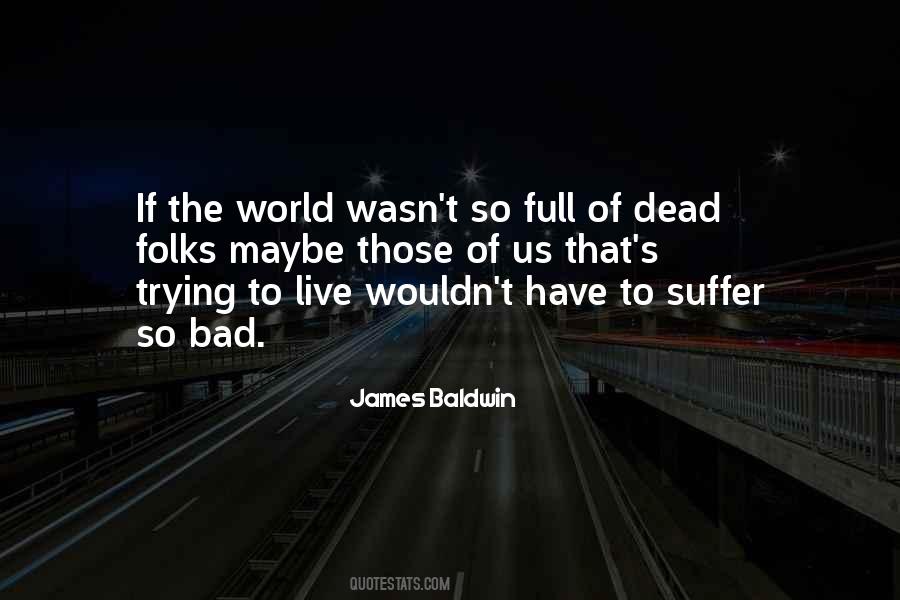 #4. Ah, don't grieve, little falcon,' he said with that tenderly melodious gentleness with which old Russian women speak. 'Don't grieve, little friend: you suffer an hour, you live an age! So it is, my dear. And we live here, thank God, with no offense. There's bad people, and there's good - Author: Leo Tolstoy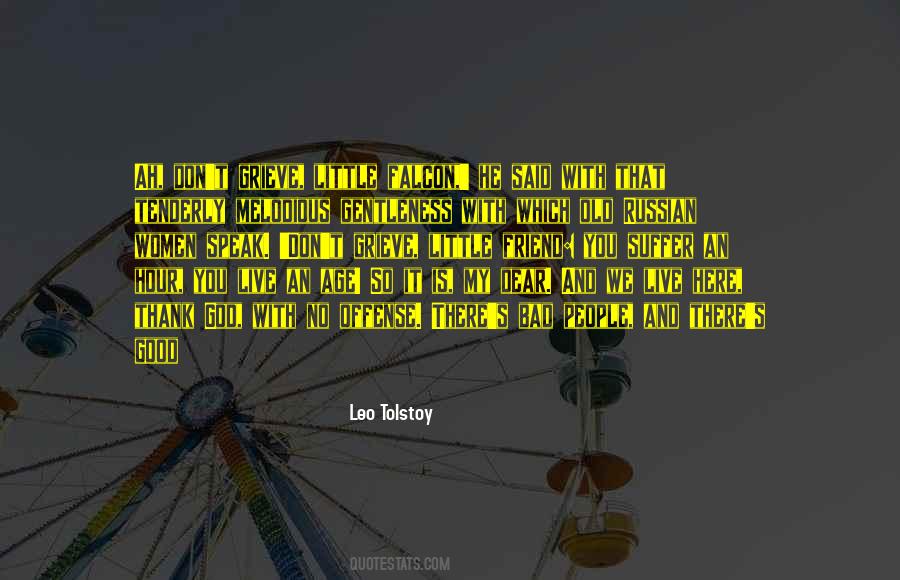 #5. I have found there to be little distance between the unlatching of a chain and the spreading of a woman's legs. As if they can never unbar only a single entrance. It's a disease called hope. Women suffer from it greatly. - Author: Karen Marie Moning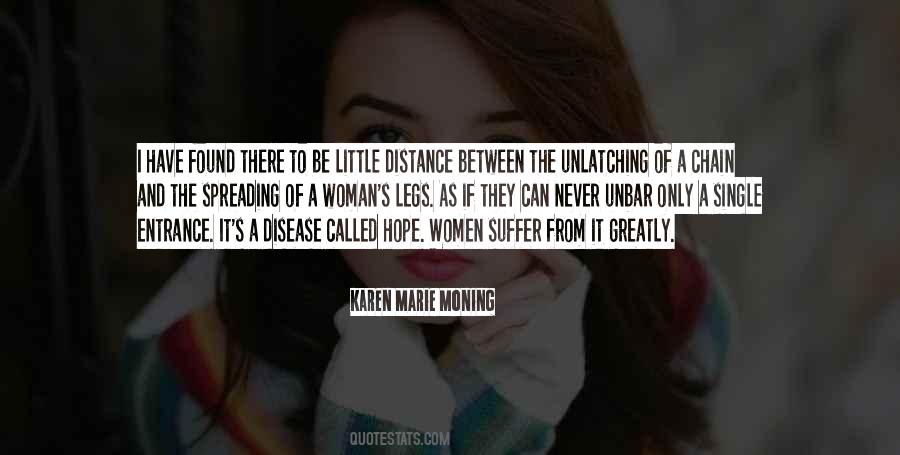 #6. There must be no concealment," she said. "Alas! We have had too much already. And besides there is nothing in all the world that can give me more pain than I have already endured, than I suffer now! - Author: Bram Stoker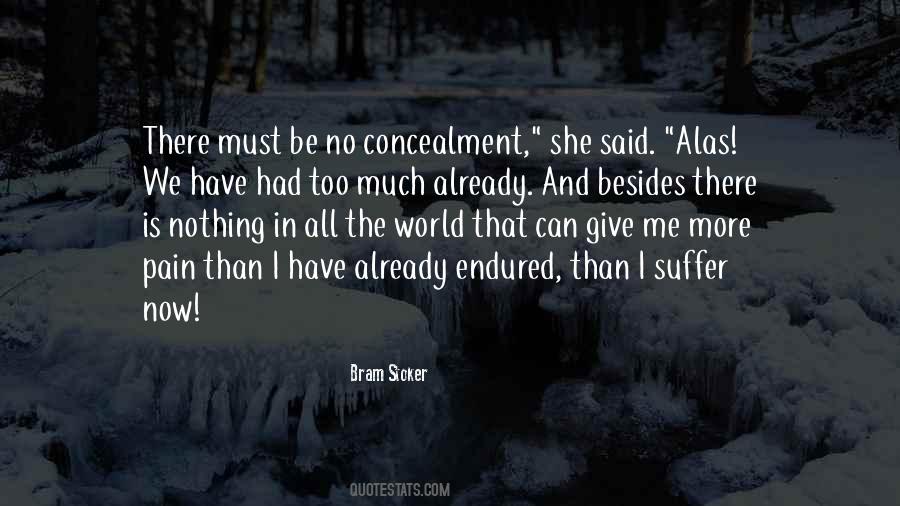 #7. Then I reminded myself that all intelligent children suffer bad dreams. - Author: Grant Morrison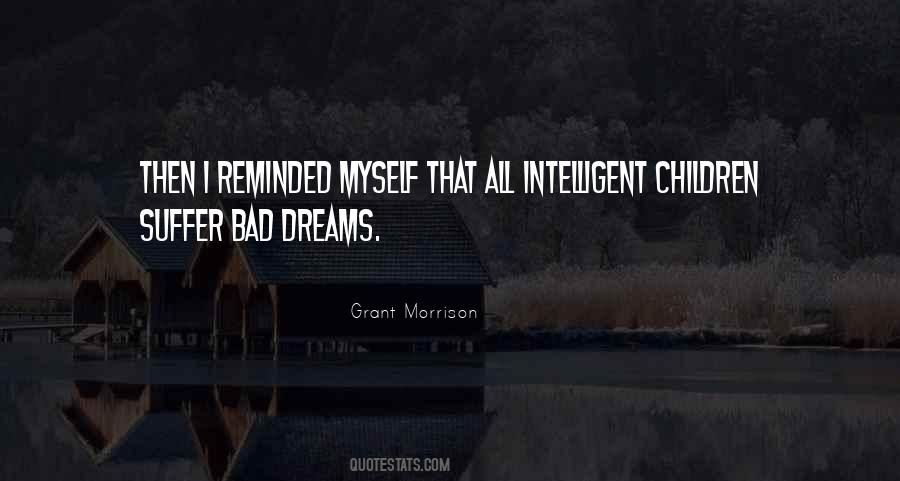 #8. I do not believe I am exaggerating in affirming that the empire of Russia is a country whose inhabitants are the most miserable on earth, because they suffer at one and the same time the evils of barbarism and of civilization. - Author: Marquis De Custine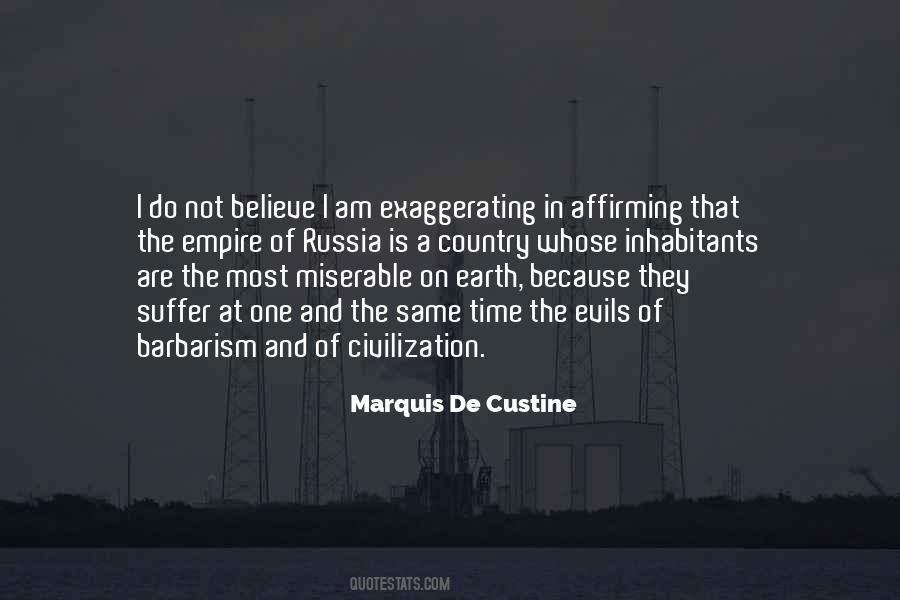 #9. While we are together, I will never suffer a prison again. - Author: Victoria Aveyard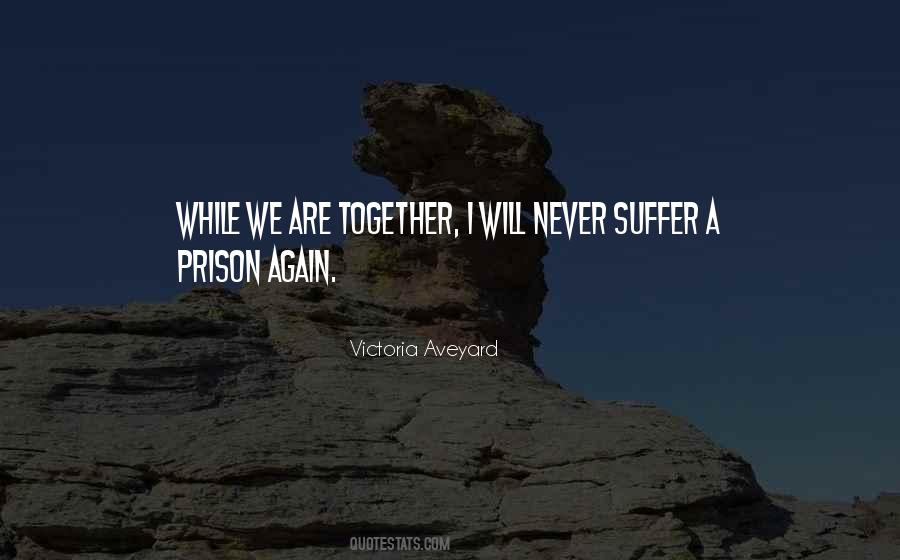 #10. Poverty urges us to do and suffer anything that we may escape from it, and so leads us away from virtue. - Author: Horace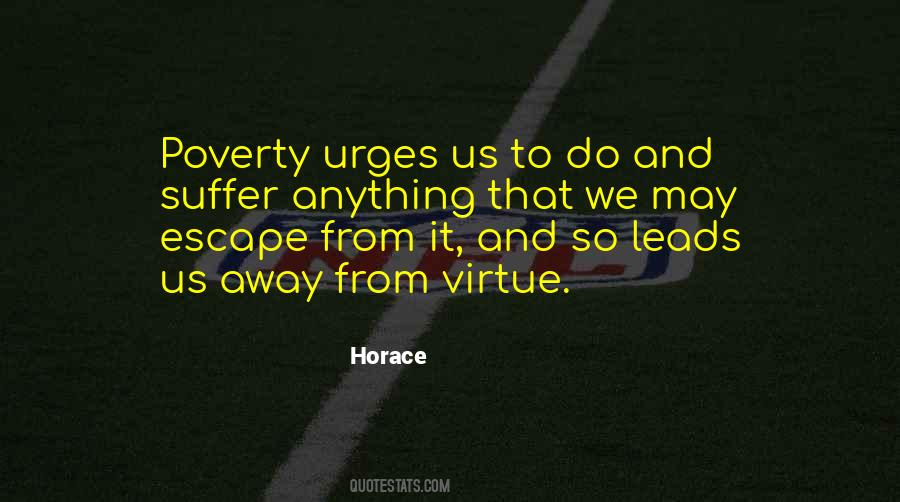 #11. We don't need a point, son. We're juvenile, we're dirty, we don't have girls, we have noses full of snot, throats sore as hell, we've got scabs on us, we suffer bouts of acne, we've got no girls ... What more reasons do we need? - Author: Markus Zusak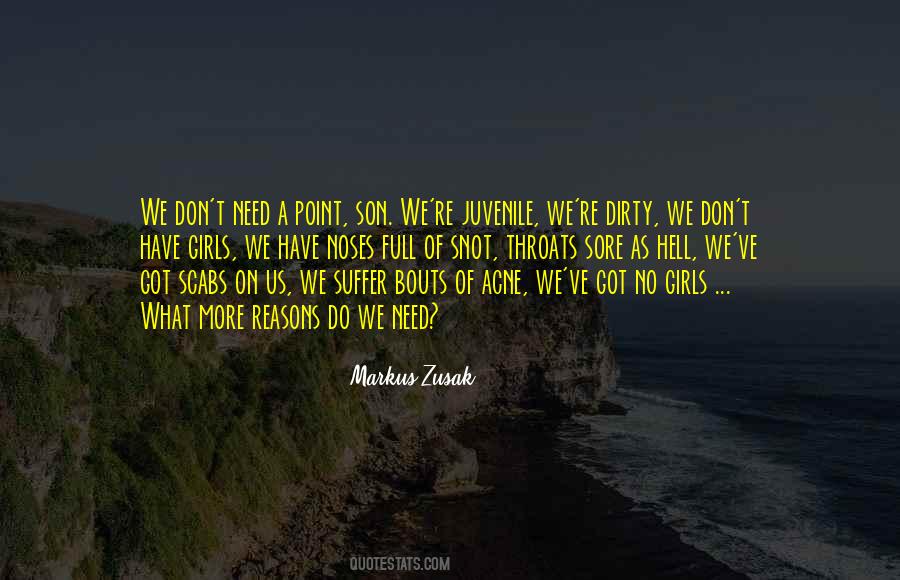 #12. Torture is torture and humiliation is humiliation only when you choose to suffer. - Author: Chuck Palahniuk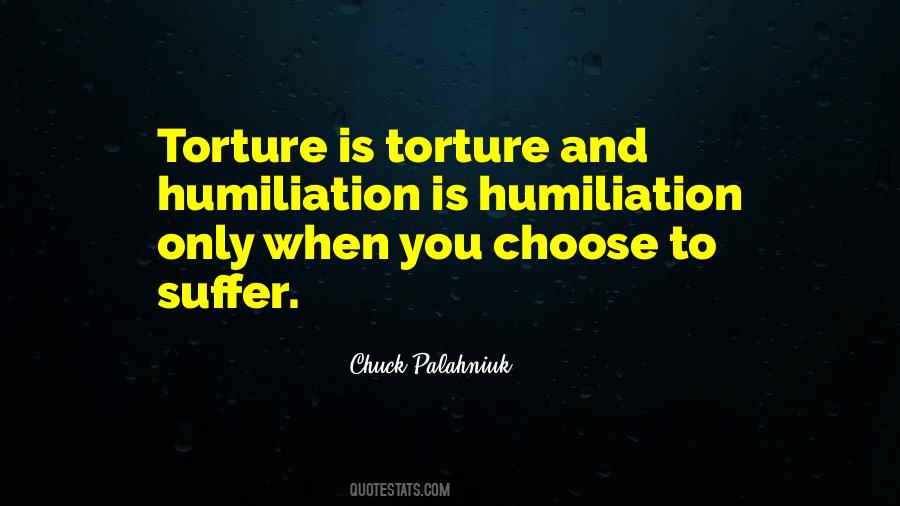 #13. I have been used for a purpose, and there will be a
certain tragic occurrence happening if you don't take my testimony and
somehow vindicate me so my people don't suffer because of what I have
done. - Author: Jack Ruby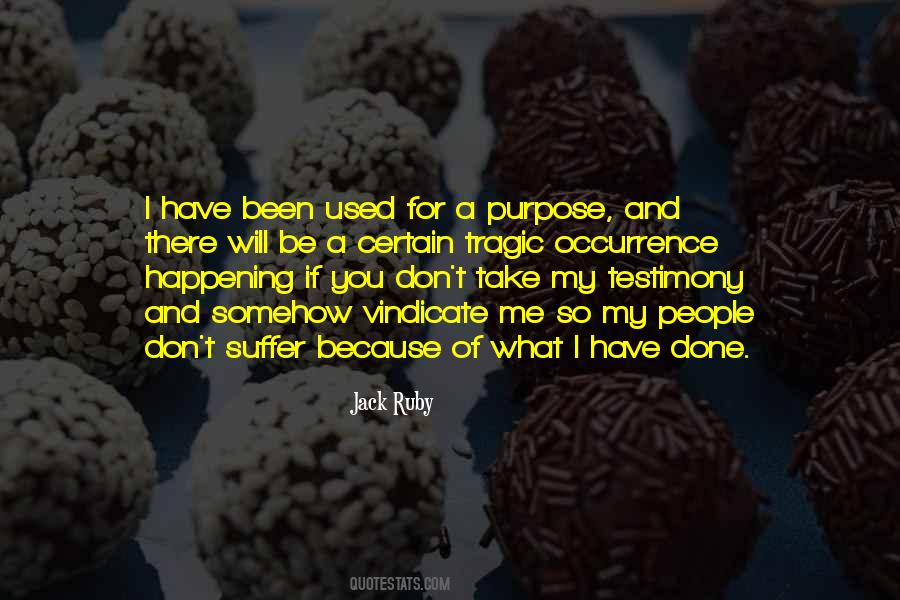 #14. Amputees suffer itches, cramps and even severe pains in a leg that is no longer there. It can be the same with love ... - Author: Jose N. Harris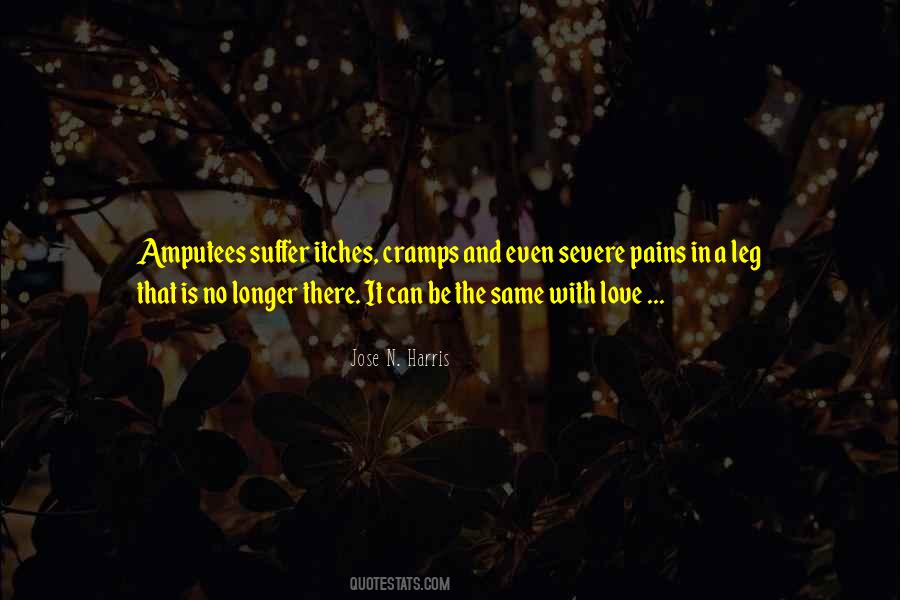 #15. I know what it is like to live every day and every hour by the fruits of someone else's wretched bargain. To see people suffer and know that they suffer because I am loved.
I would not do that to the ones I love. Not for anything in the whole wide world. - Author: Rosamund Hodge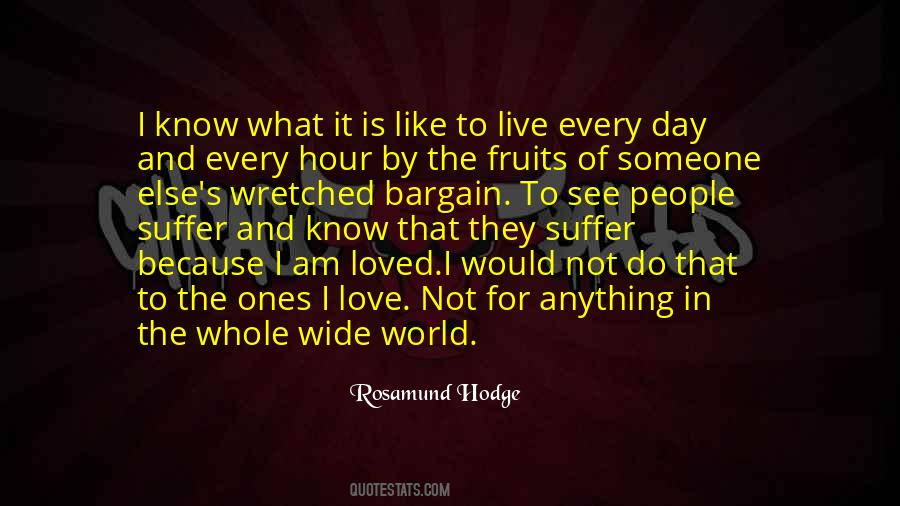 #16. Any experience is profitable if you allow it to be, all actions are profitable, no matter how badly you may suffer from them. - Author: William Goldman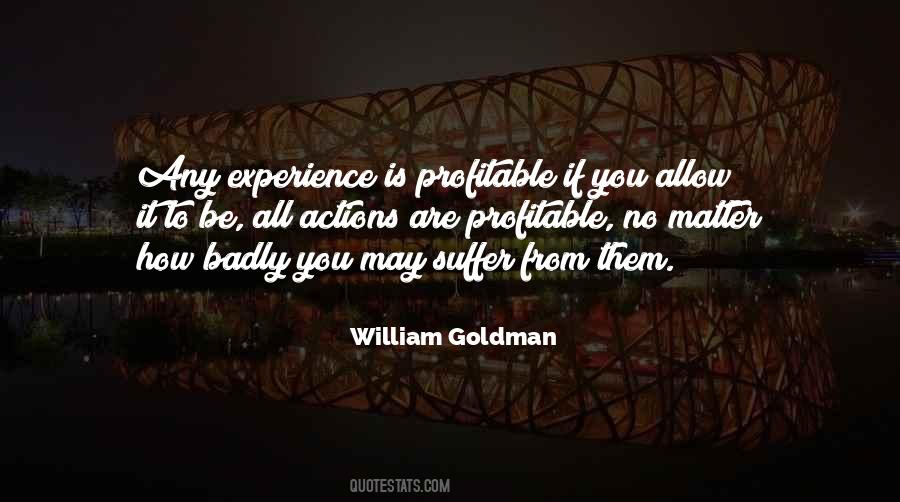 #17. My husband and I have kept a good balance between the work and the rest. I feel so lucky having a job, and I know so may people who focus too much on work, and their home lives suffer. - Author: Jewel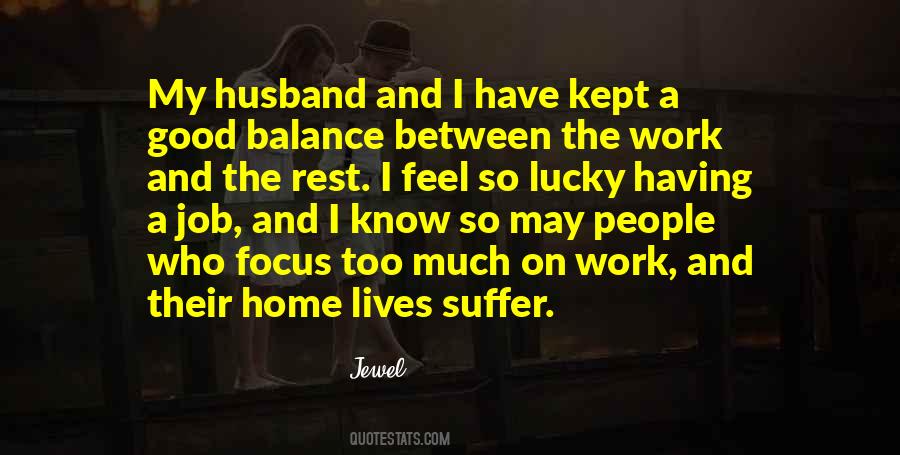 #18. We are most awake to the world and to our own longings and desires when we suffer. - Author: Penny Reid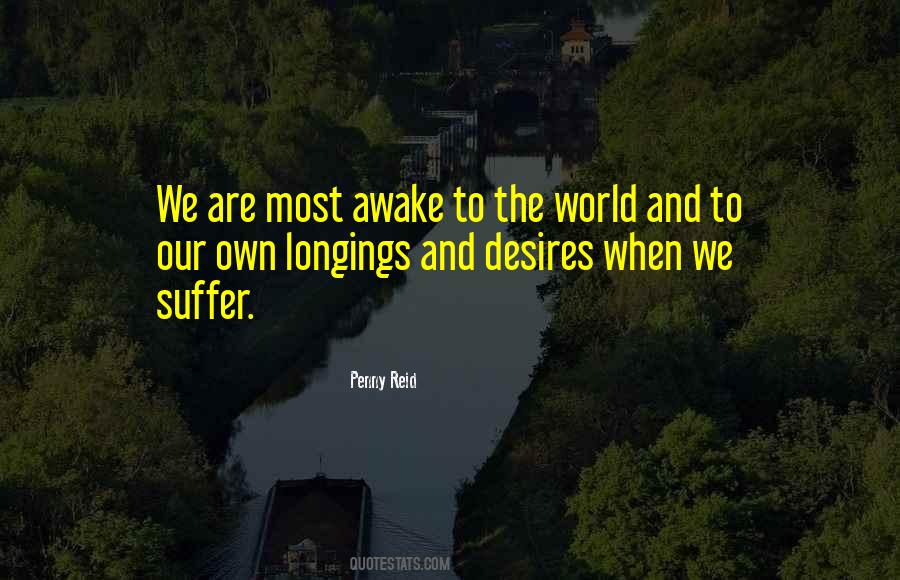 #19. Mom spent the time that she was supposed to be a kid actully raising children, her younger brother and younger sister. She was tough as nails and did not suffer fools at all. And the truth was she could not afford to. She spoke the truth, bluntly, directly, and without much varnish. I am her son. - Author: Chris Christie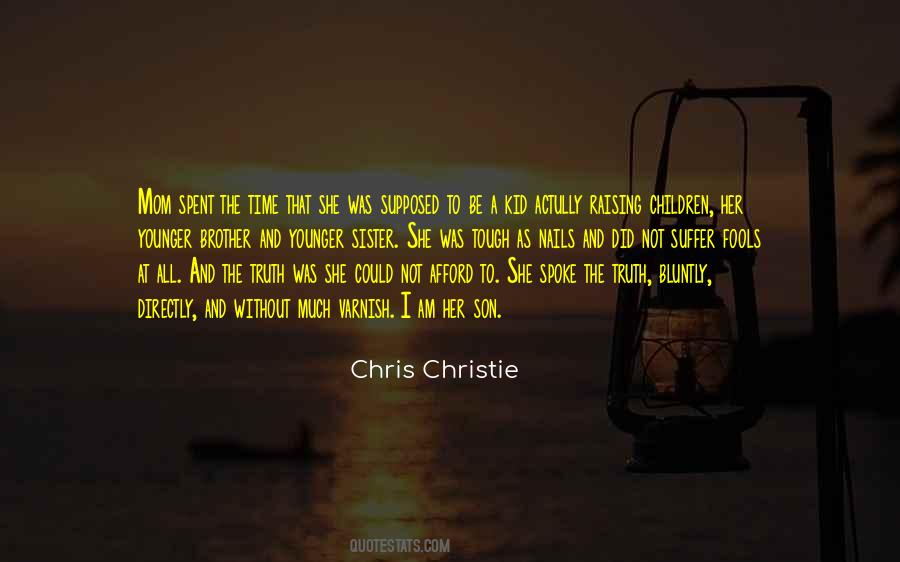 #20. You can be sure you are a man of God if you suffer injustice gladly and in silence. - Author: Josemaria Escriva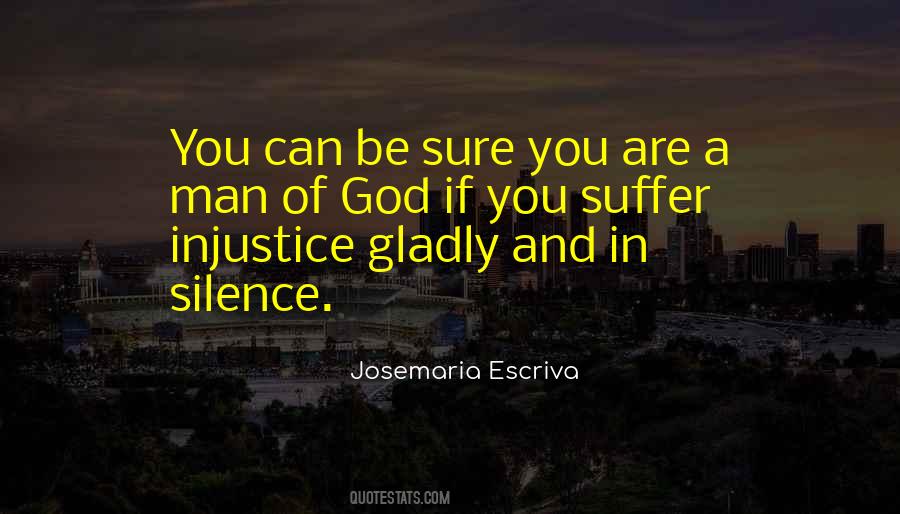 #21. Good night, then - sleep to gather strength for the morning. For the morning will come. Brightly will it shine on the brave and true, kindly on all who suffer for the cause, glorious upon the tombs of heroes. Thus will shine the dawn. - Author: Winston Churchill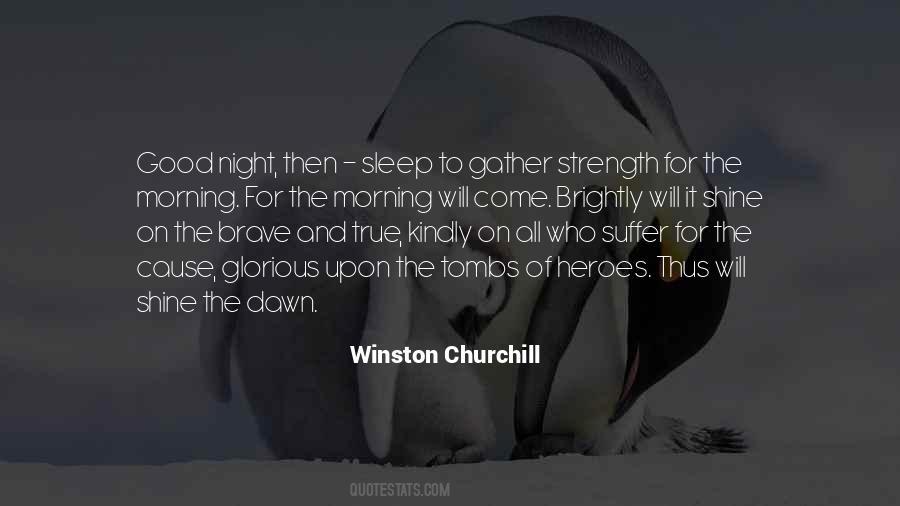 #22. Living in a house where domestic violence goes on every day never feels like home. You don't have to suffer in silence. I'm giving my full support to this website as it will give proper and practical advice about what to do if you feel afraid. Remember, you're not alone. - Author: Beverley Knight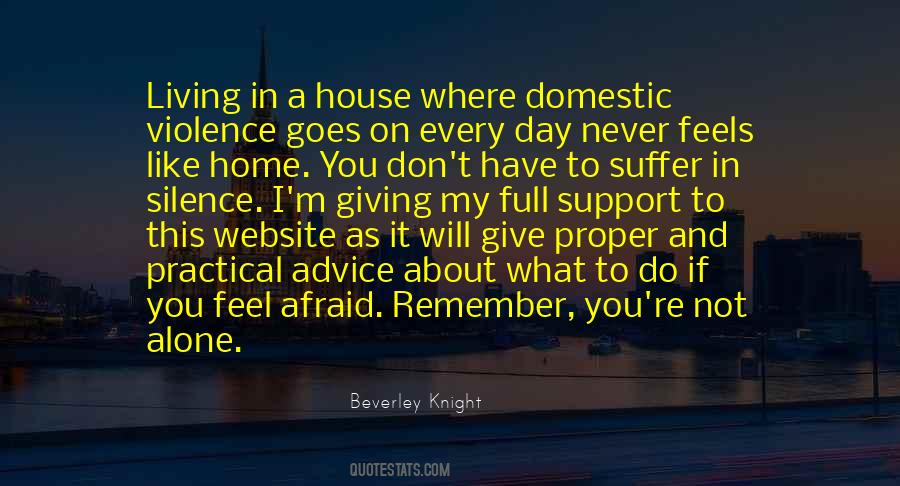 #23. Animals manifestly enjoy excitement, and suffer from annul and may exhibit curiosity. - Author: Charles Darwin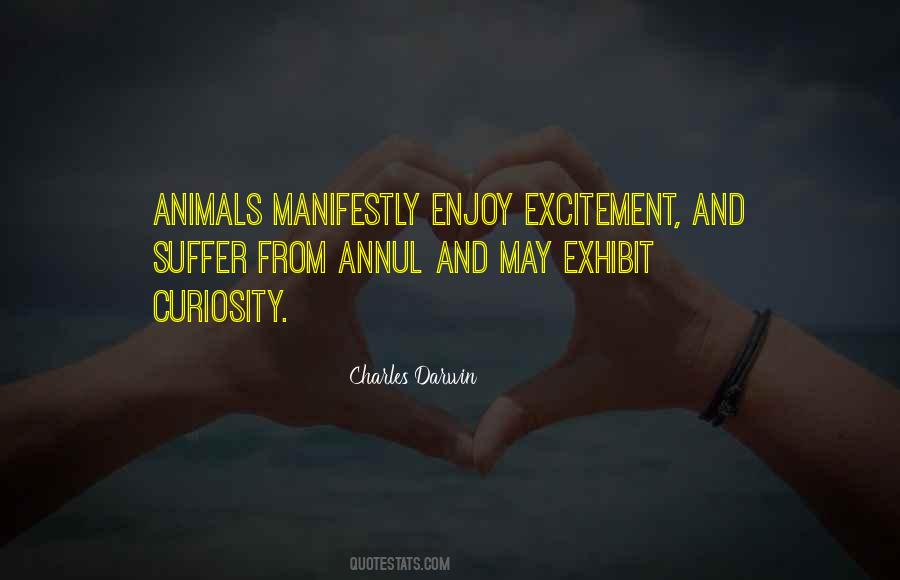 #24. I suffer from an amazing amount of insecurities, and I'm grateful that my body image, it's normally not something I pay attention to. - Author: Callie Thorne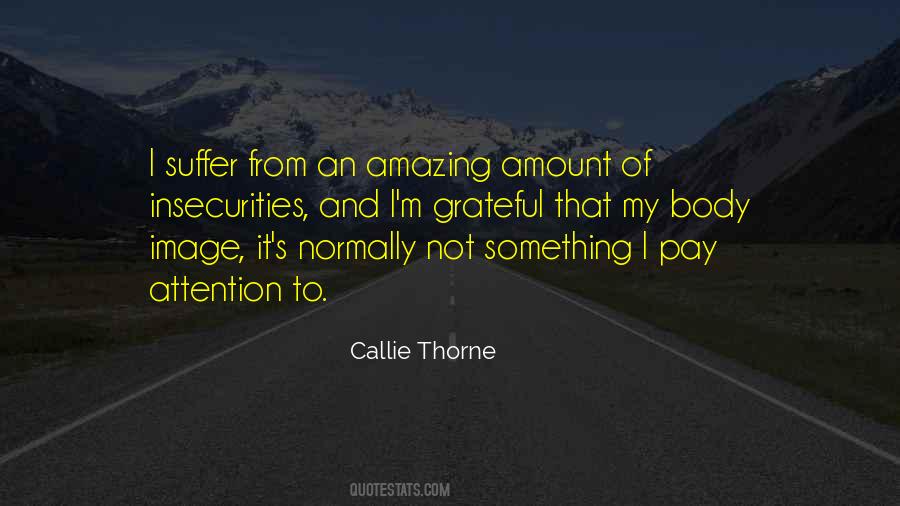 #25. Strong-willed, intelligent, sharp-tongued, doesn't suffer fools gladly ... remind you of anyone?"
"Yes. Gordon."
"Interesting," said the man. "Because those are the exact same words he used to describe you. - Author: Derek Landy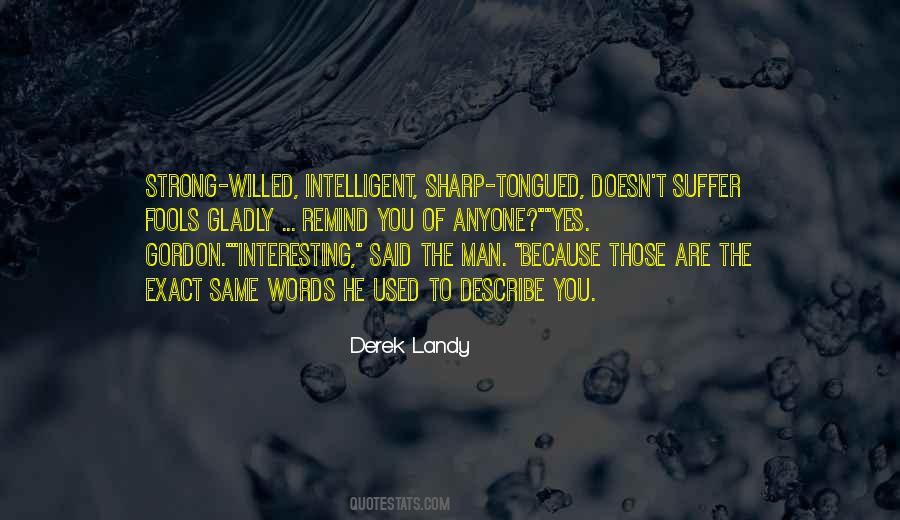 #26. Duty does not consist in suffering everything, but in suffering everything for duty. Sometimes, indeed, it is our duty not to suffer. - Author: Alexandre Vinet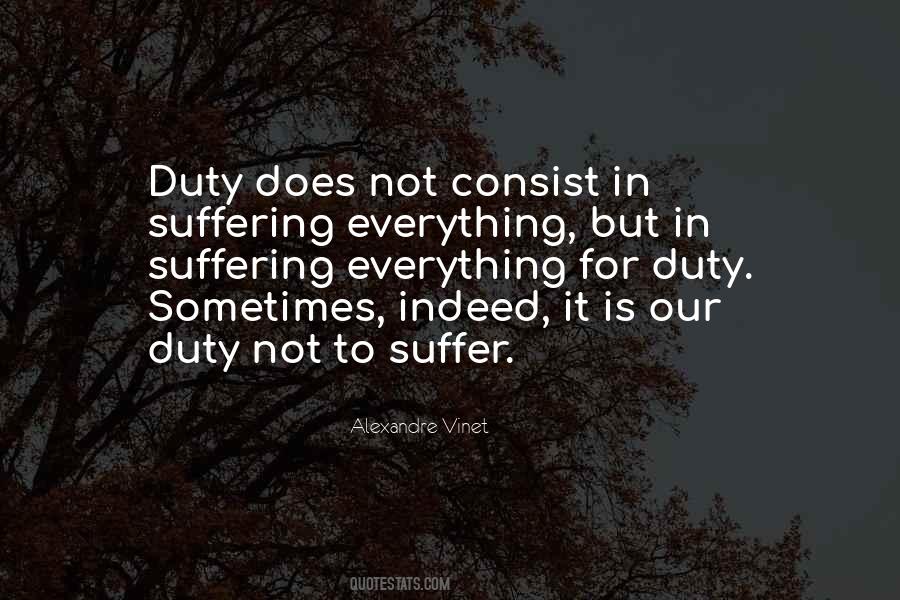 #27. I think we all suffer from guilt at some point in our lives, but for the most part I never really regret, and I try to always remain positive. Yes, I think that those issues are very interesting to play in a character, and they're prominent issues in life, and I think people can relate to them. - Author: Channing Tatum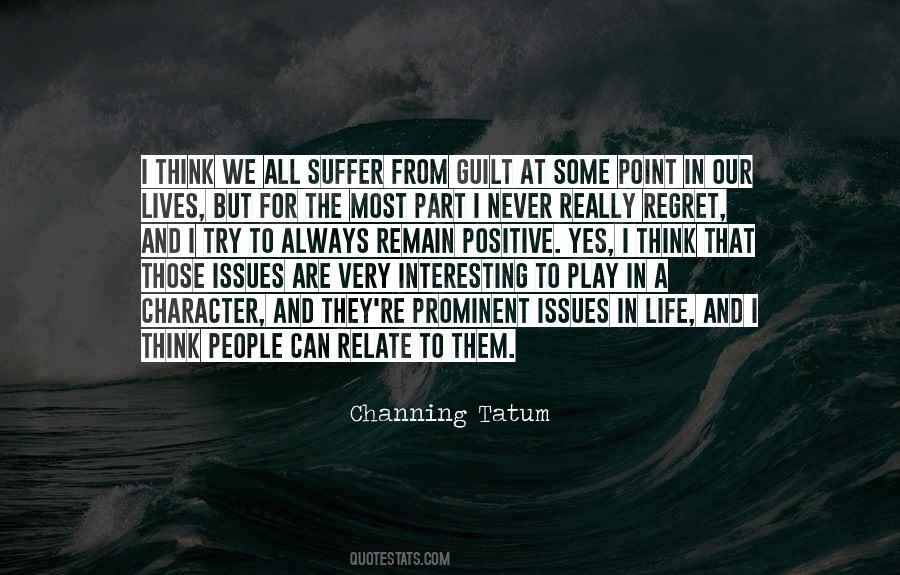 #28. Defeat is real. It is also temporary. We have to understand both. Faced for what it is, absorbed and met without self-deception, defeat can offer wisdom and motivation. Begin even though you know that you will suffer failure and defeat along the way. - Author: Eric Greitens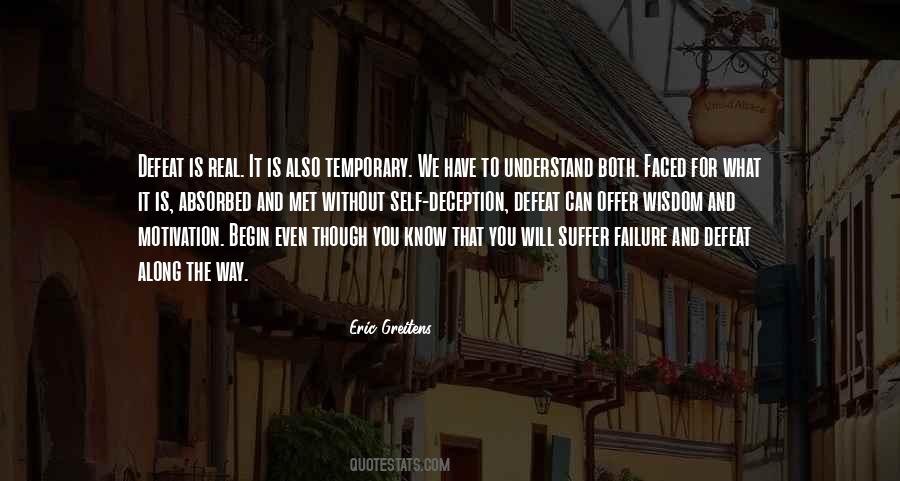 #29. Believe me, you're going to have to do much worse than this
in the pursuit of freedom, the innocents will suffer
and at your hands. - Author: Jasper Fforde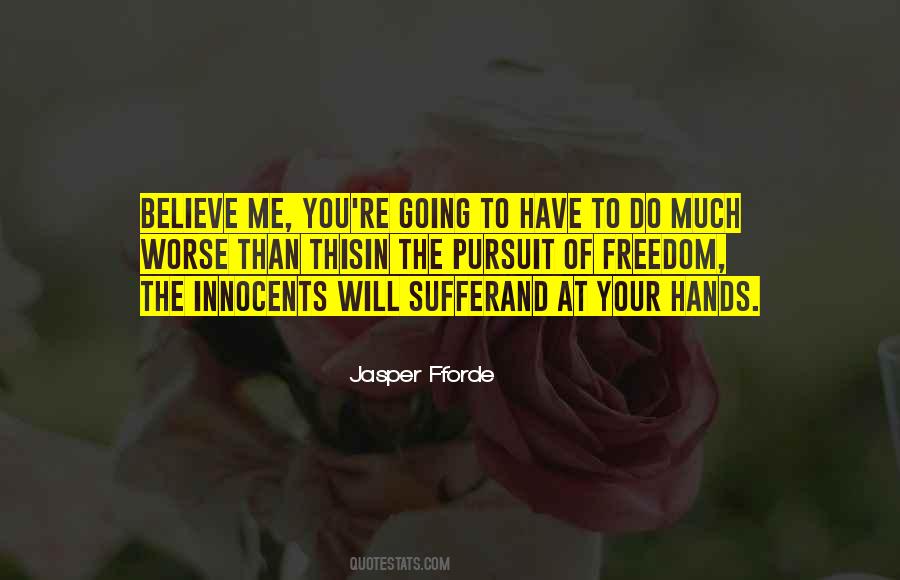 #30. Ahimsa calls for the strength and courage to suffer without retaliation, to receive blows without returning any. - Author: Mahatma Gandhi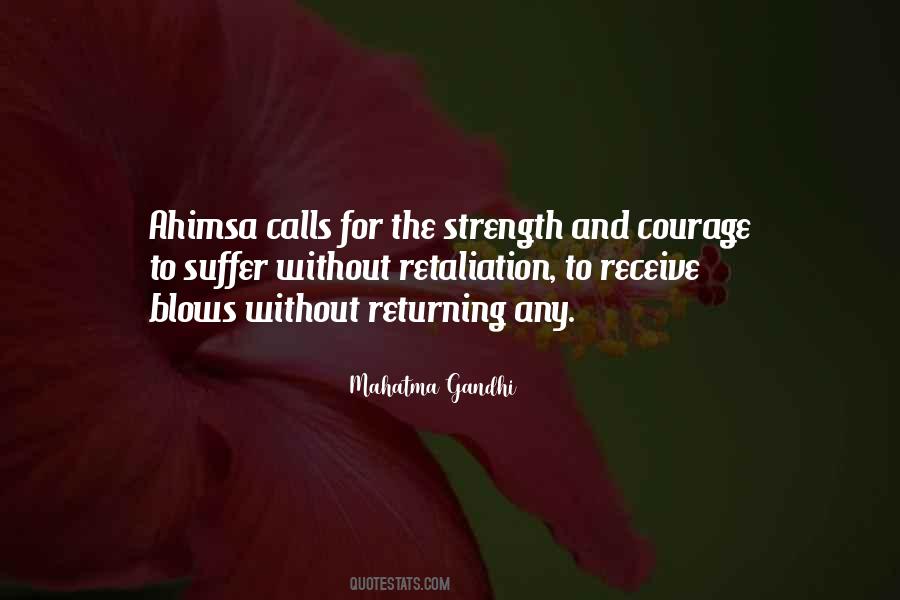 #31. The difference between God an I is that everyday, I too deal with people who don't love but I have no desire to kill them or wish them to suffer for all of eternity for it - Author: Anonymous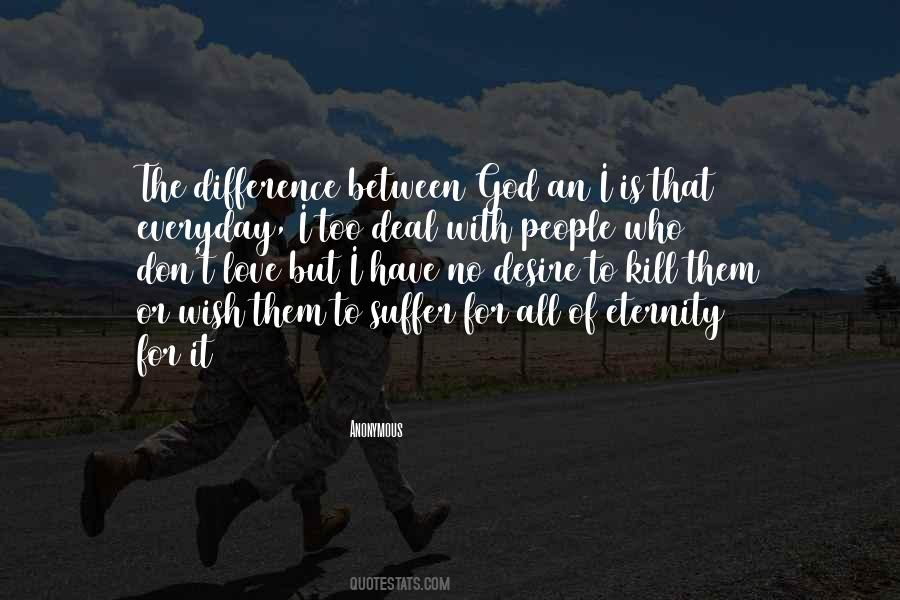 #32. If two people are so unalike, as you and I, they are pleased when they discover points of agreement. But if they are as alike as Nietzsche and I, they suffer from their differences. - Author: H.F. Peters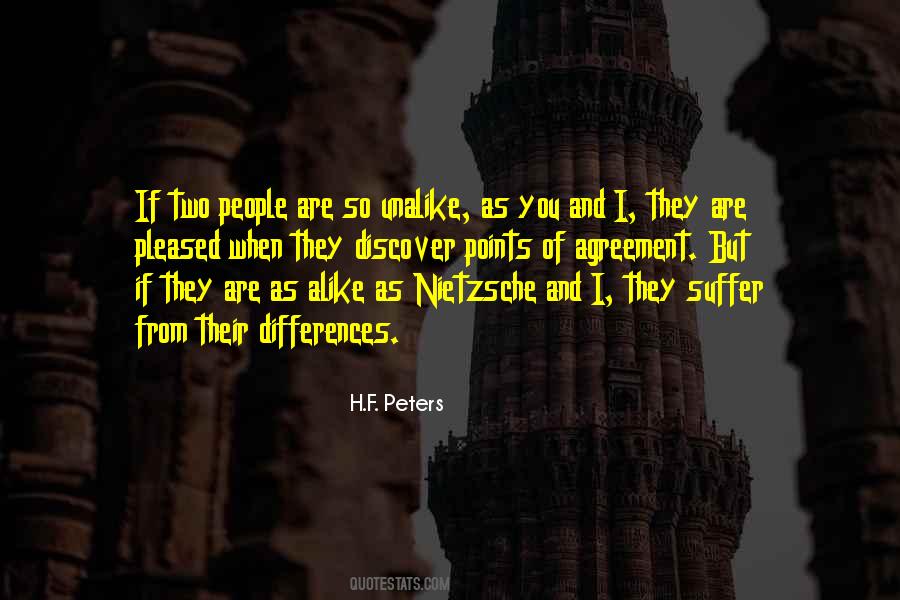 #33. If you don't suffer the pain of hard work now you will suffer the pain of regret and disappointment later. - Author: Unknown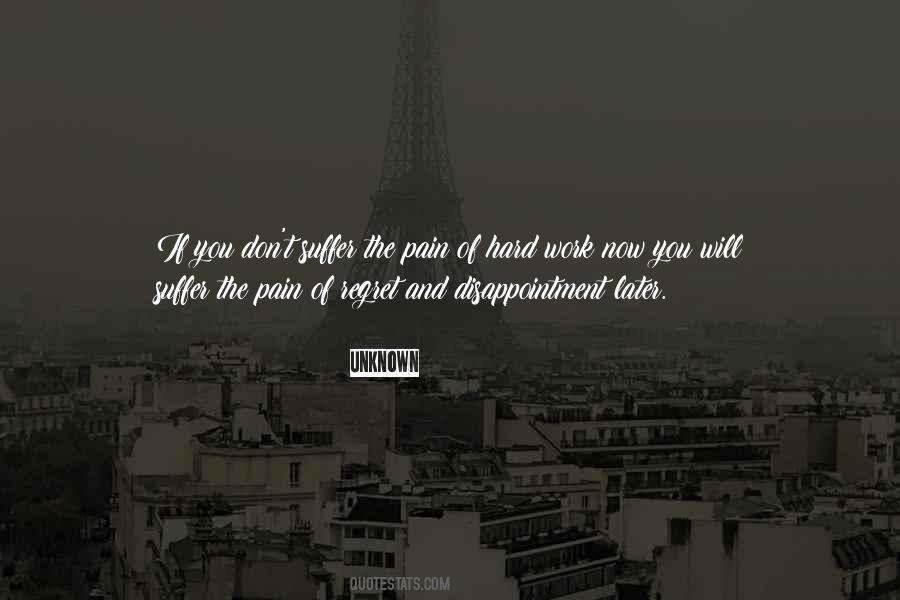 #34. Go and don't come back, you can take the catmint. I have no quarrel with ThunderClan; I don't want to see cats suffer, whatever you might think. Just be careful you don't end up like a bully like your kin, Tigerstar. - Author: Erin Hunter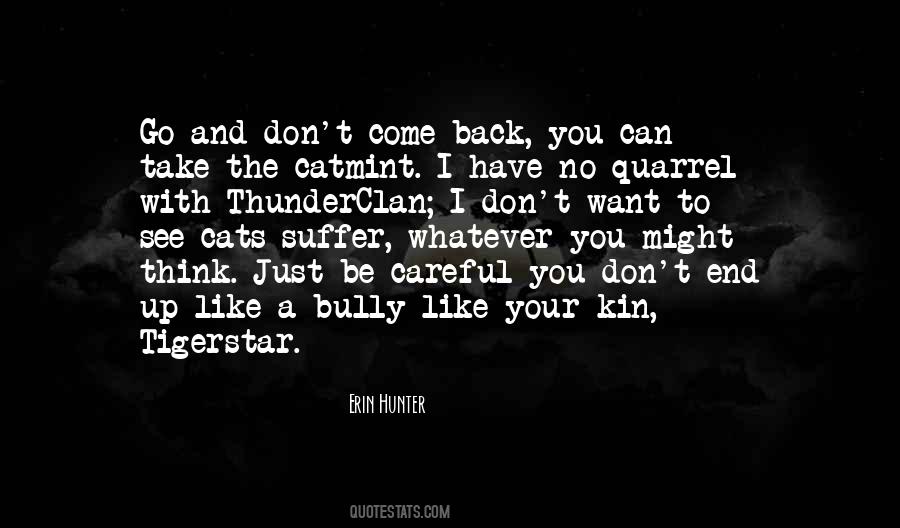 #35. Those who would learn must suffer. In our own despair, against our will, wisdom comes to us. - Author: Aeschylus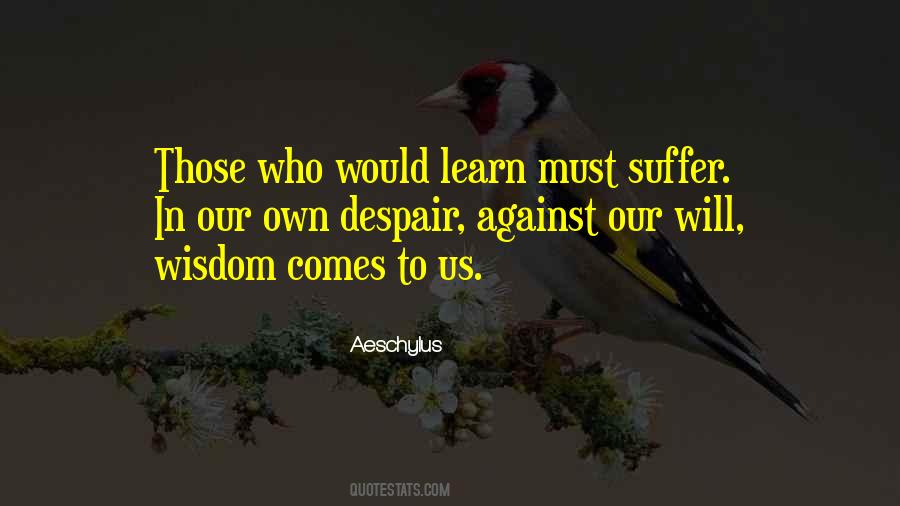 #36. Clinton vetoed the repeal of the marriage tax. I guess Bill figures if he's married, then we all have to suffer. - Author: Jay Leno
#37. Most people have no imagination. If they could imagine the sufferings of others, they would not make them suffer so. - Author: Anna Funder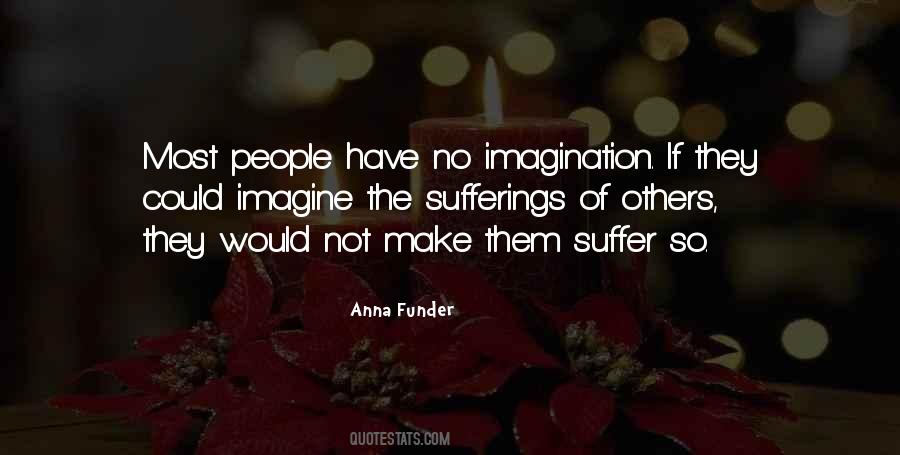 #38. You could put all the talent I had into your left eye and still not suffer from impaired vision. - Author: Veronica Lake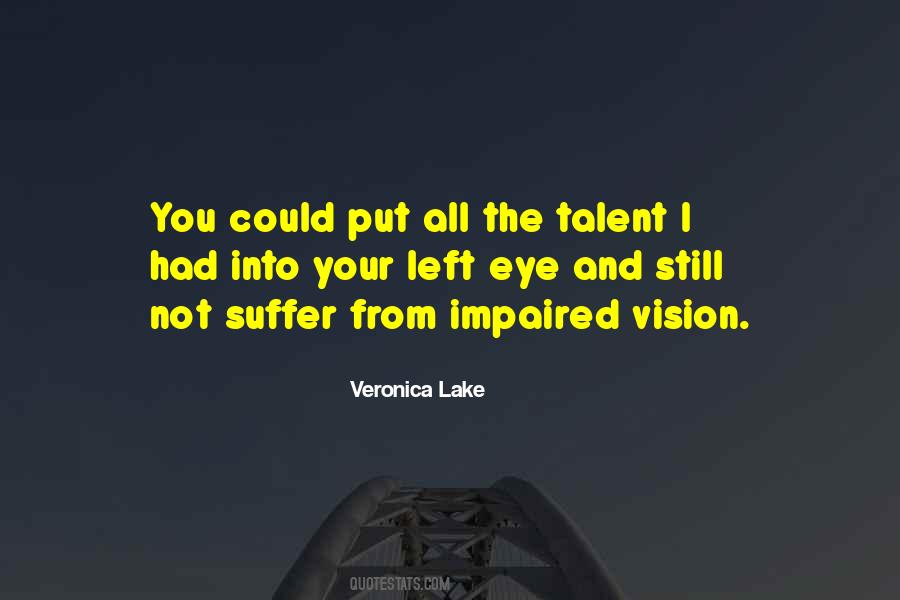 #39. But if you've ever felt love, you'll know how painful it is to suffer for love. - Author: Paulo Coelho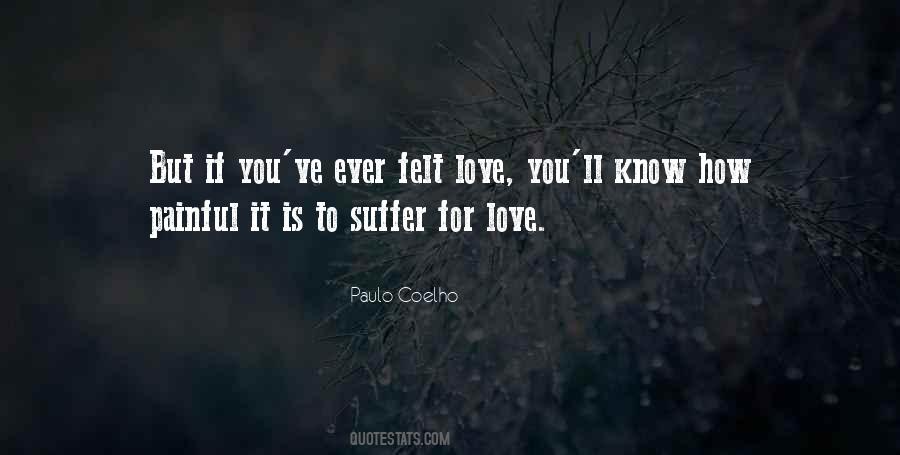 #40. How can one not speak about war, poverty, and inequality when people who suffer from these afflictions don't have a voice to speak? - Author: Isabel Allende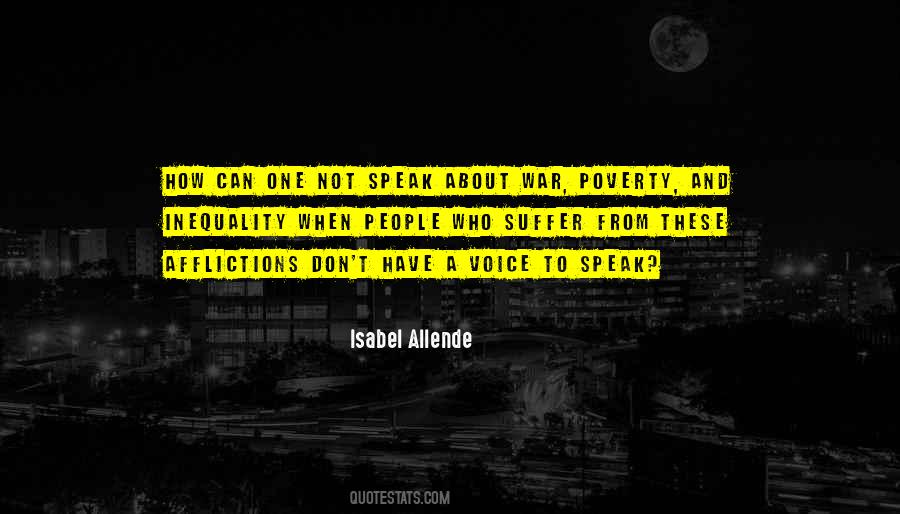 #41. There is nothing to fear on earth but sin. Prison and death are nothing compared to a guilty conscience. If we are destined to suffer unjustly, if all the world forsake us, God will not. Whatever happens, then, let us put our trust in God. - Author: Christoph Von Schmid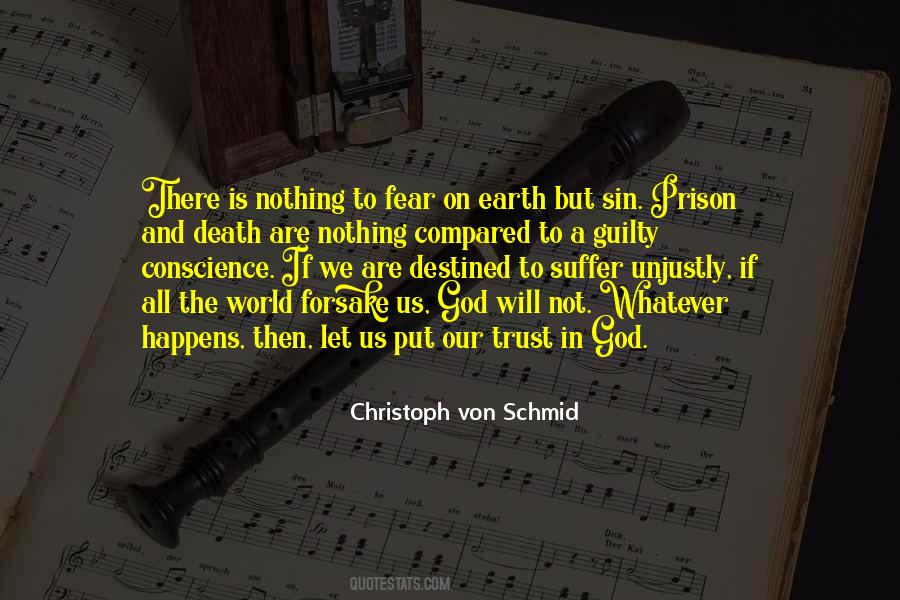 #42. We have to be bigger than the things we suffer. - Author: Shelly Crane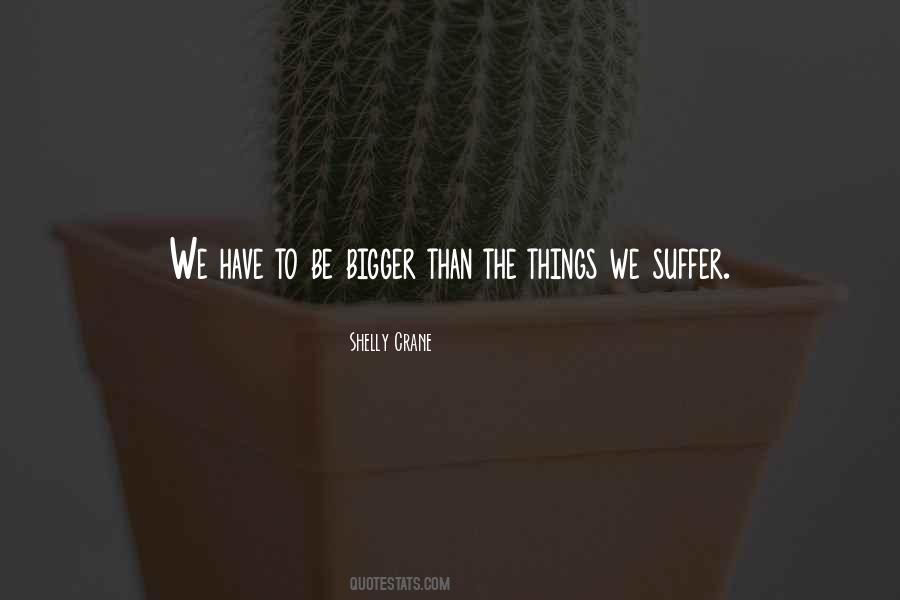 #43. What right had they to make me suffer like that? - Author: Anna Sewell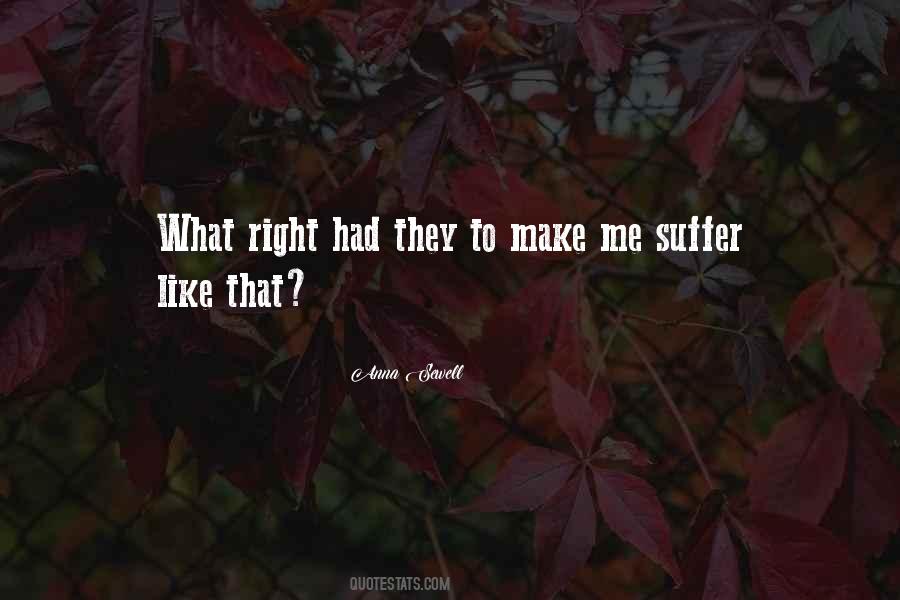 #44. It has always been, and will always be true; those who do the most good suffer more than most do. - Author: Wes Fesler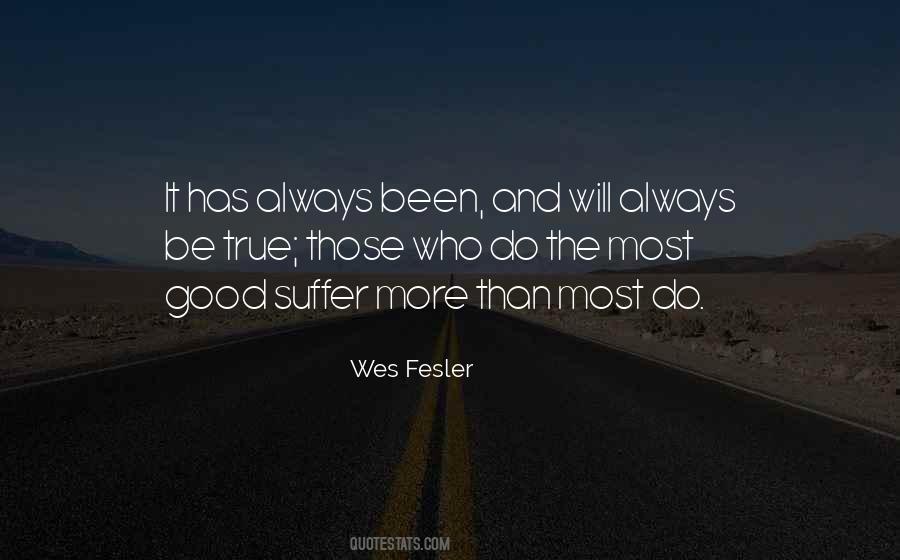 #45. When people talk to me about tyranny, it makes me laugh and gives me the impression that people suffer from amnesia. - Author: Jean-Claude Duvalier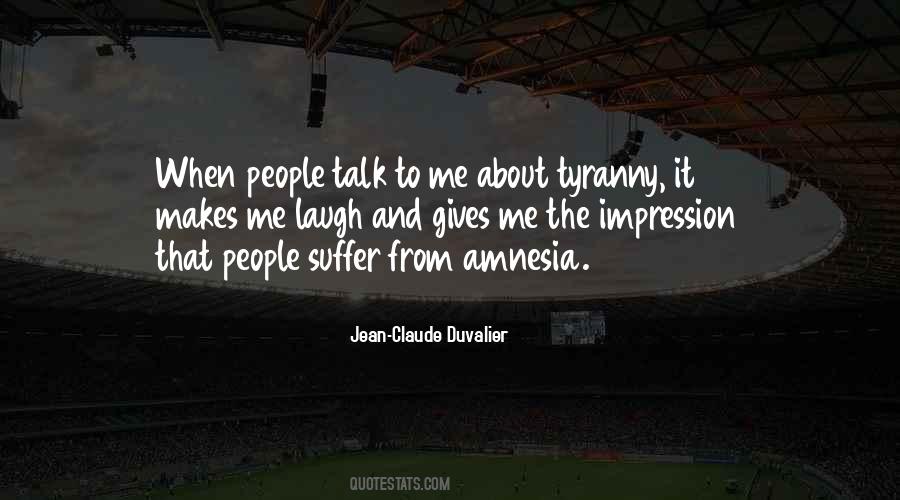 #46. They will be like shadows, they will be like wraiths, gray members of a congregation of nightmare; hark! his long wavering howl ... an aria of fear made audible.
The wolfsong is the sound of the rending you will suffer, in itself a murdering. - Author: Angela Carter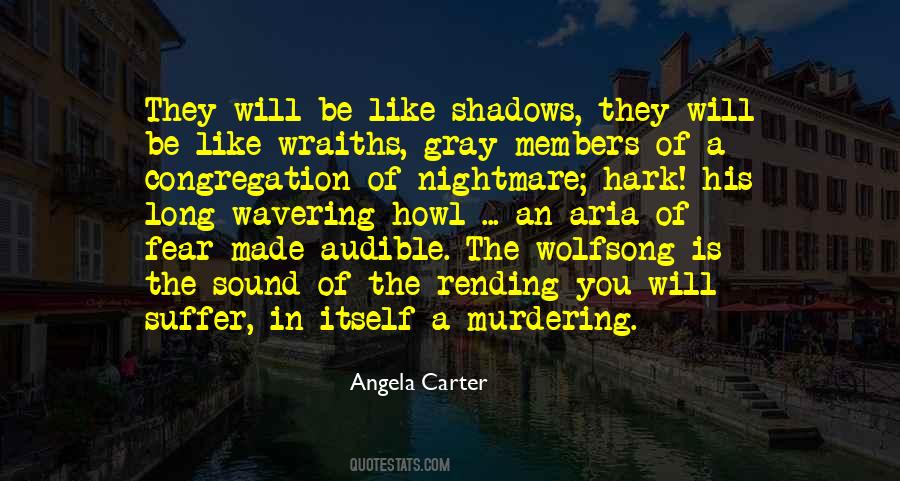 #47. When the sufferers learn to think, then the thinkers will learn to suffer. - Author: Karl Marx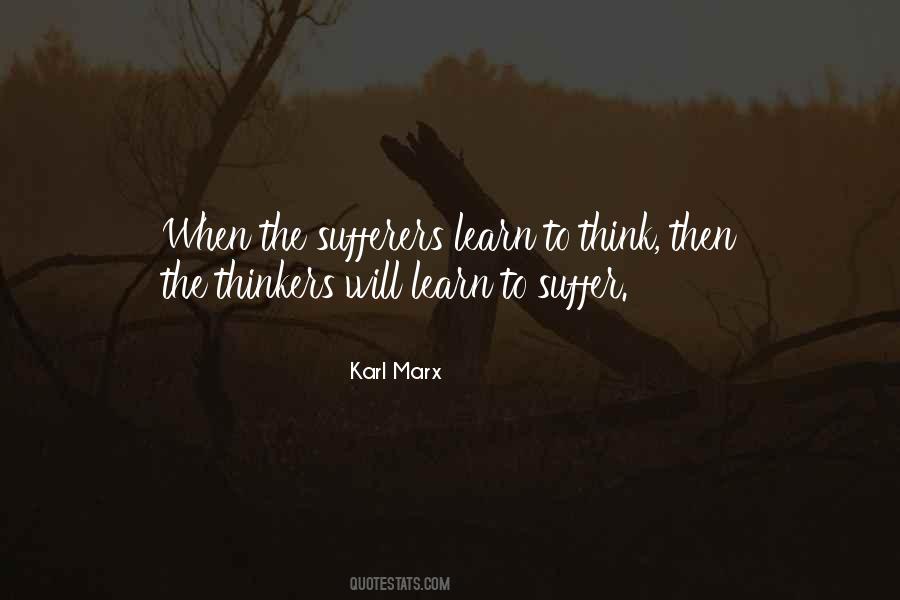 #48. When one has suffered or fears suffering, one pities those who suffer; but when one is suffering, one pities only oneself. - Author: Jean-Jacques Rousseau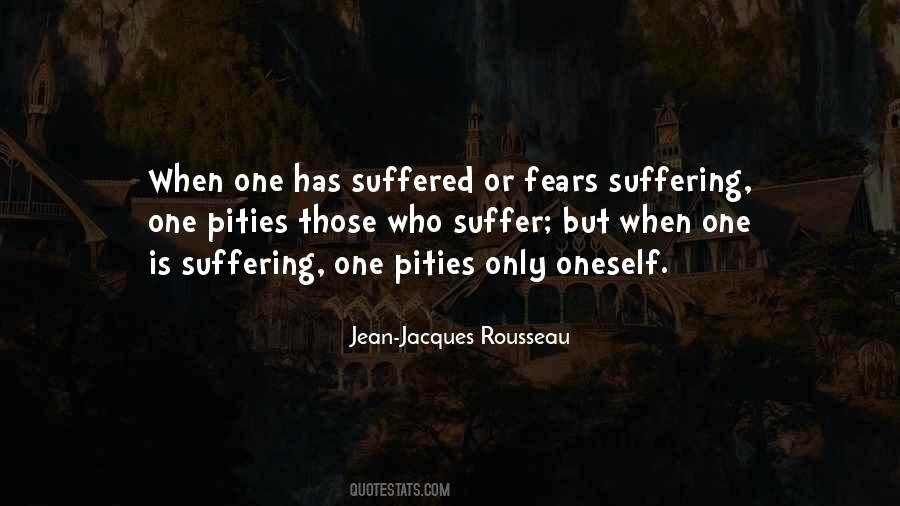 #49. Without individuals we see only numbers: a thousand dead, a hundred thousand dead, "casualties may rise to a million." With individual stories, the statistics become people - but even that is a lie, for the people continue to suffer in numbers that themselves are numbing and meaningless. - Author: Neil Gaiman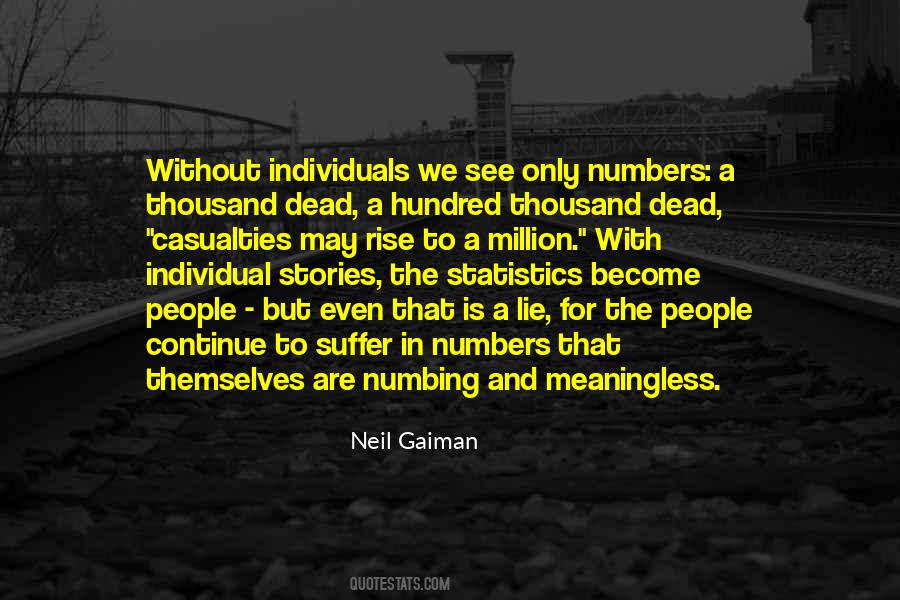 #50. What if it's an art film with subtitles?" "Then I'll suffer in silence. - Author: Nora Roberts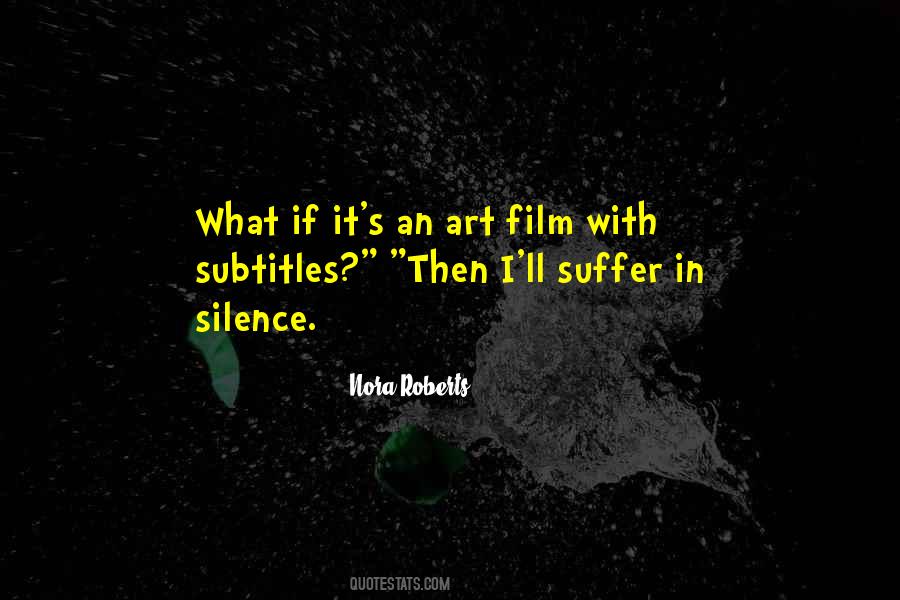 #51. Brazilians need to work on their own national pride. I always think that they suffer from national low-self esteem. It's a lesser-developed country, and they have struggled so much. Sometimes they have an attitude that, if it's Brazilian, it can't be good. - Author: Amy Irving
#52. Everything that burns, everything that rips me apart, I want to suffer with my body. I'd rather have a hundred wounds, whips, poisons - than this kind of suffering in the head, this phantom of suffering, which touches me softly and caresses me without ever really hurting. - Author: Jean-Paul Sartre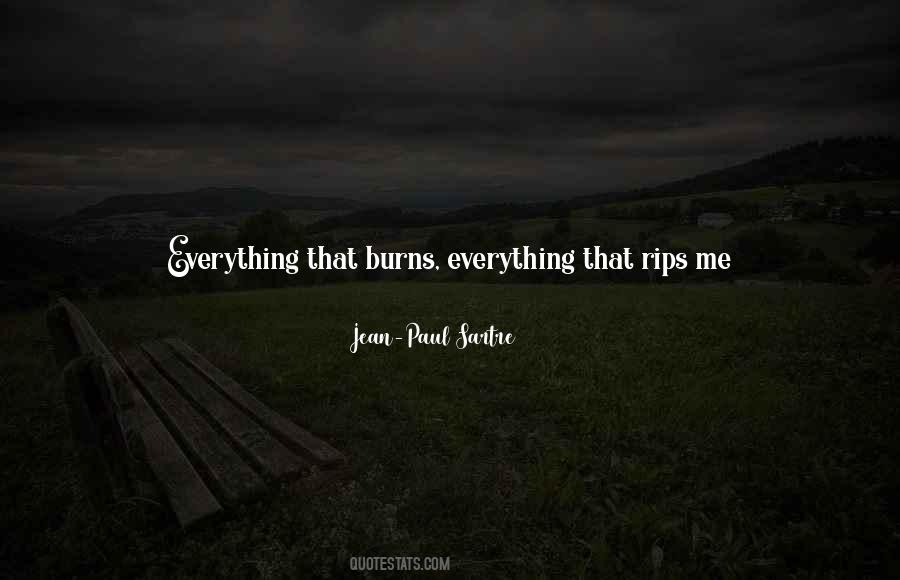 #53. If war should break out between England and Japan, the latter would suffer much more than the former. - Author: Townsend Harris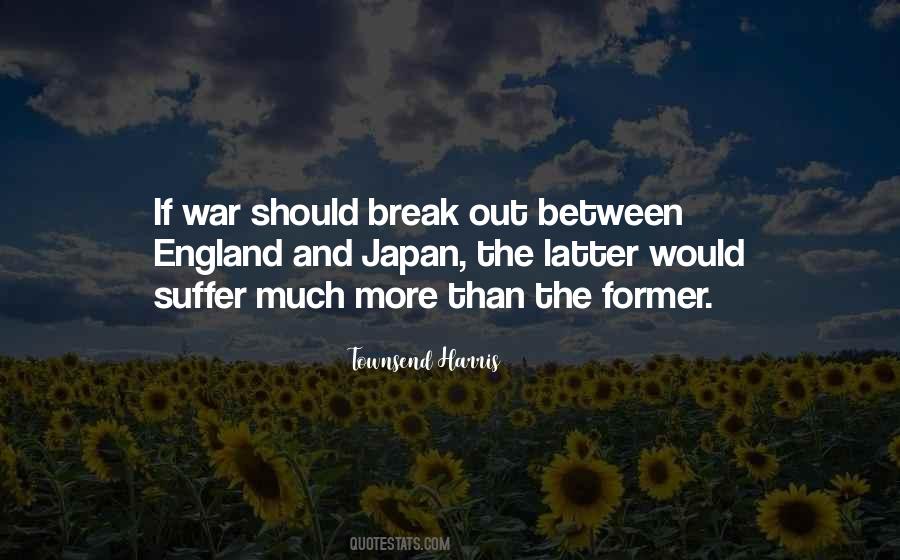 #54. What though I cannot meet my bills?
What though I suffer toothache's ills?
What though I swallow countless pills? - Author: W.S. Gilbert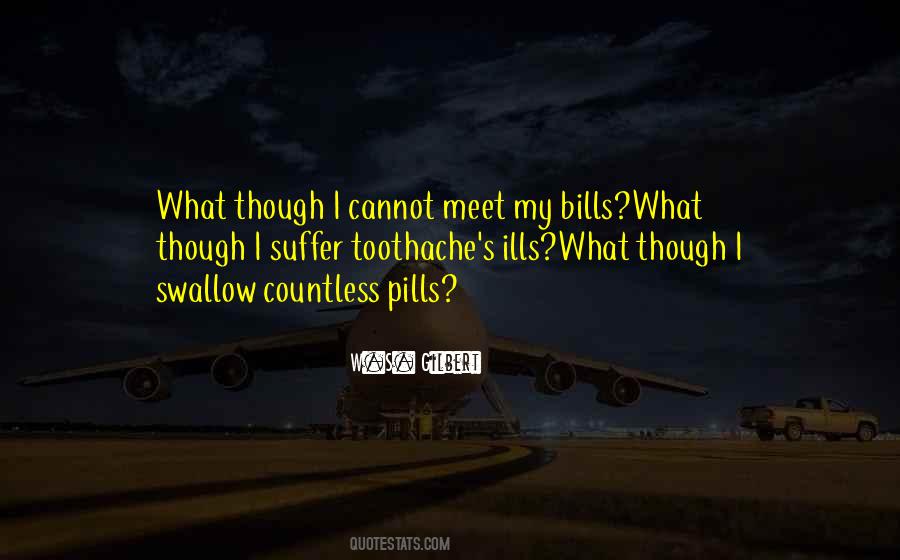 #55. A man ought to be able to be carried away by his feelings, he ought to be able to be mad, to make mistakes, to suffer! A woman will forgive you audacity and insolence, but she will never forgive your reasonableness! - Author: Anton Chekhov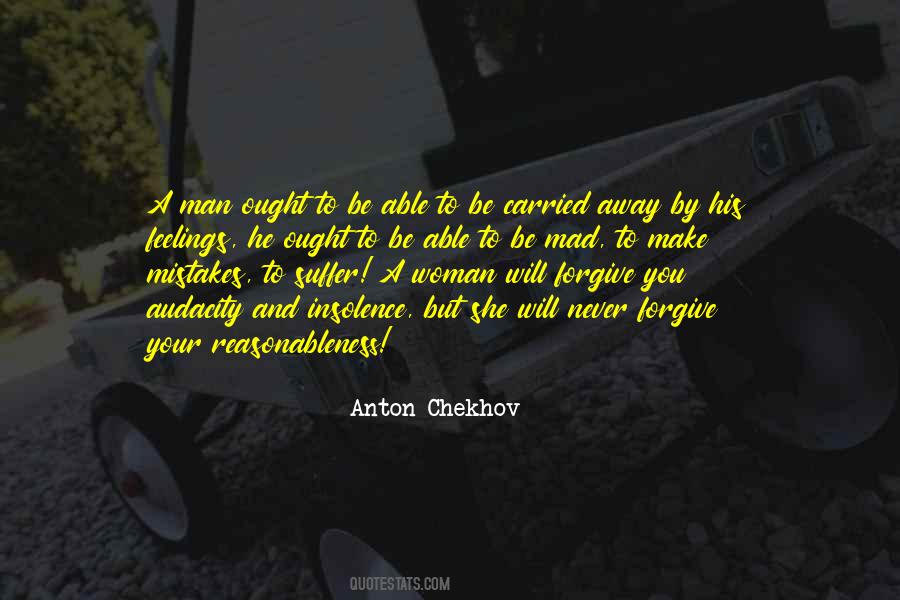 #56. It is the fate of the innocent to suffer. - Author: Virginia Woolf
#57. We must meet reverses boldly, and not suffer them to frighten us, my dear. We must learn to act the play out. We must live misfortune down, Trot! - Author: Charles Dickens
#58. But shall we be happy, to say that we live in the dusk rather than in the full night? Shall we rejoice that we shall only suffer, while your offspring will be the ones to know the torments of the damned? Shall this be why we do not act? - Author: Robin Hobb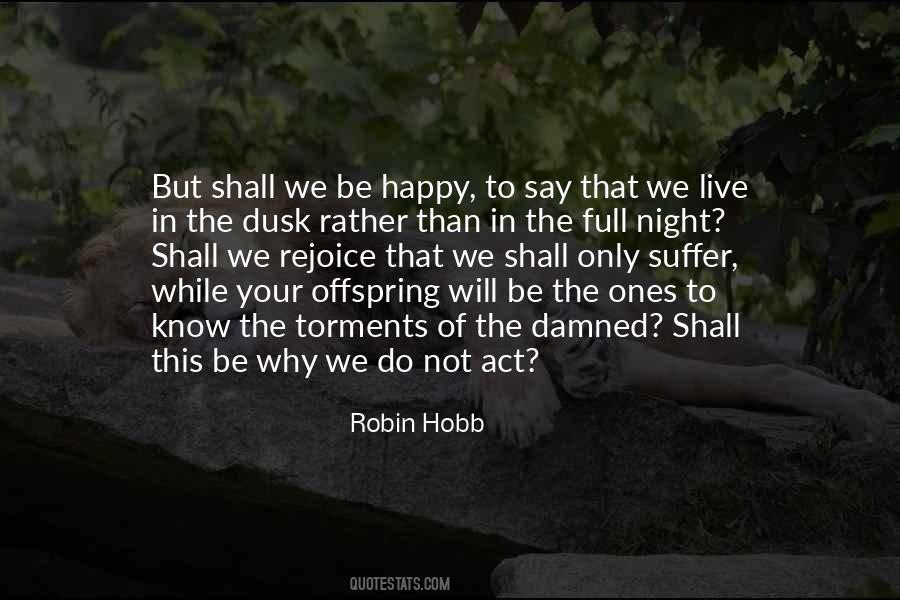 #59. Sustainability is no longer optional. Companies that fail to adopt such practices will perish. They will not only lose cost basis: they will also suffer in recruiting employees as well as attracting customers. - Author: John Replogle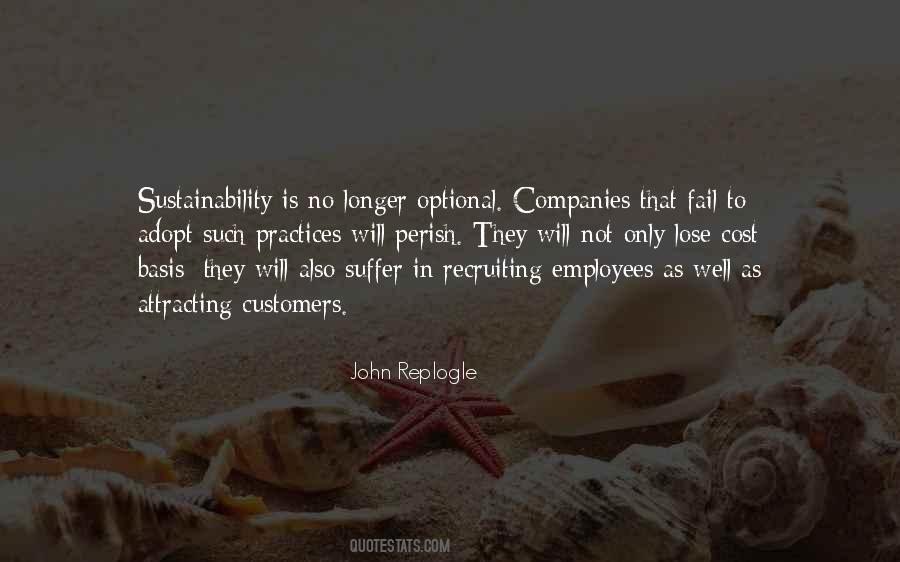 #60. If you make someone suffer today, without any doubt, you will be punished by your conscience. Don't hurt anyone in anyway or form. - Author: Debasish Mridha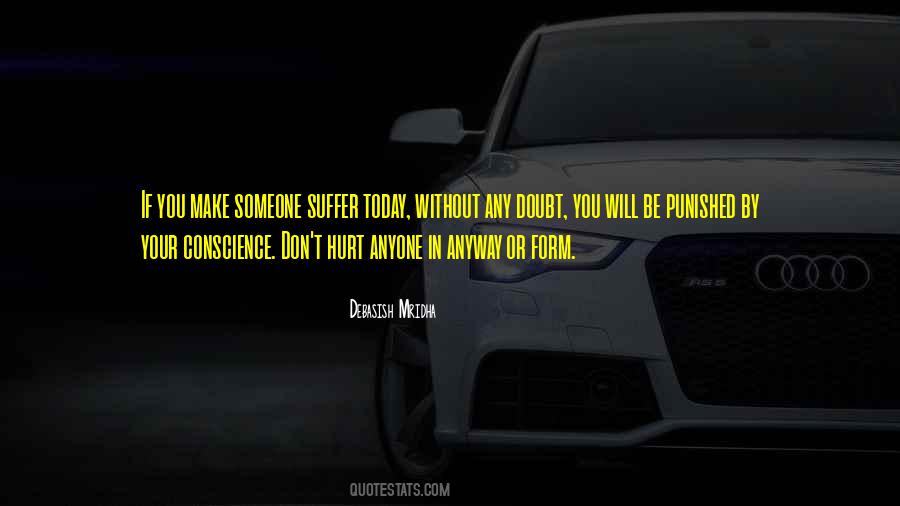 #61. Generally speaking, writers who have been at it for a while, and who are any good at it, suffer from an acute kind of self-knowledge. The unexamined life is not a risk for them. - Author: Mark Slouka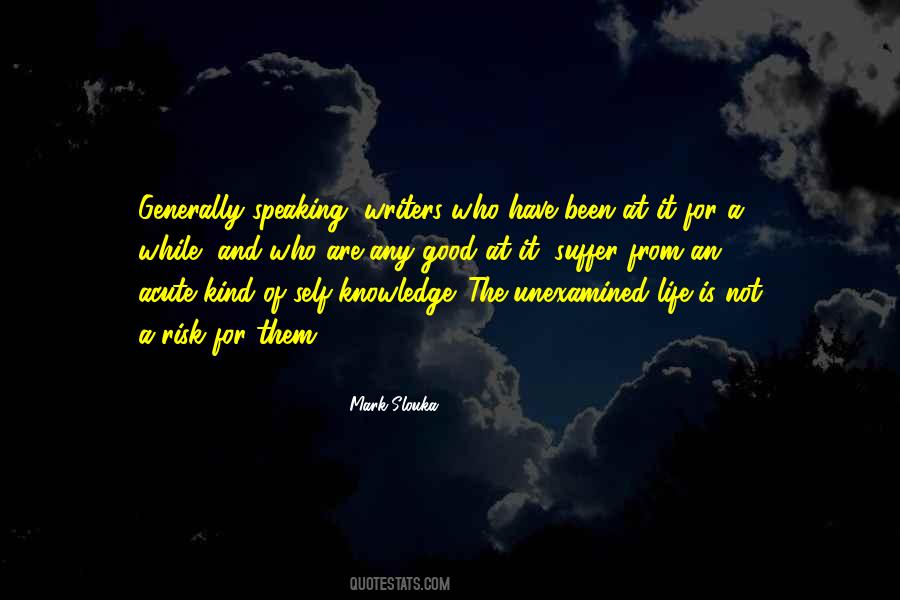 #62. Thus a man will sometimes suffer half an hour of mortal fear with a robber, but once the knife is finally at his throat, even fear vanishes. - Author: Fyodor Dostoyevsky
#63. Even if states sometimes have problems with each other, arts and sports should not suffer from that. Arts and sports are there to bring the people together - and not to divide them. - Author: Vladimir Putin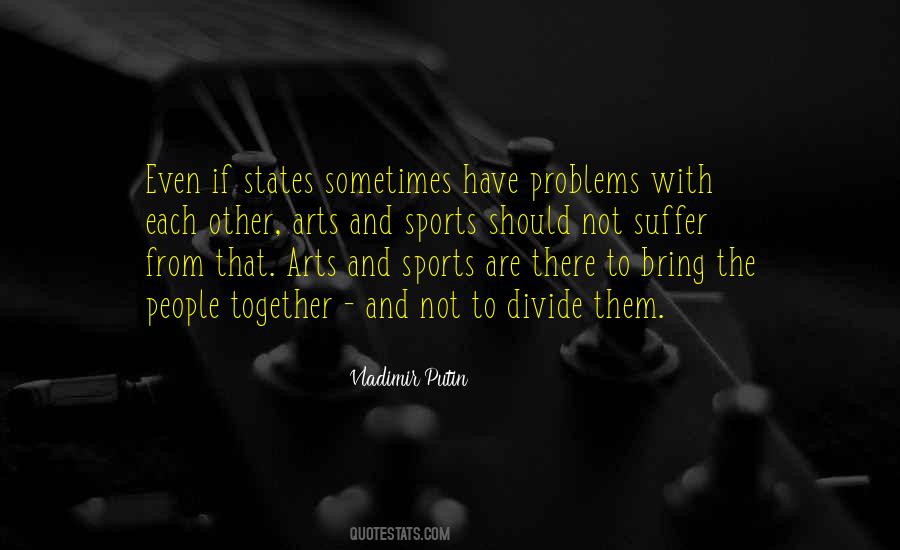 #64. What makes us human is not only the fact that we suffer, but also because we aspire to be happy." - Ashutosh in the Book "Songs of the Mist - Author: Shashi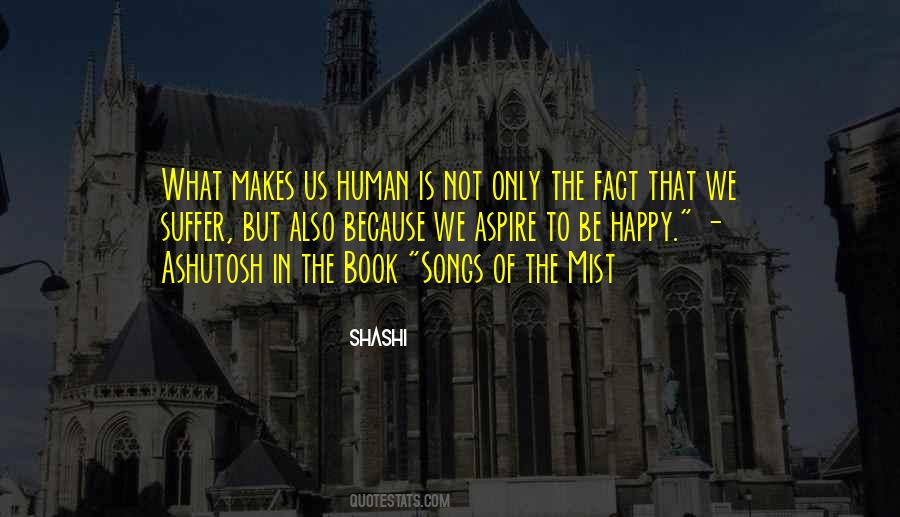 #65. I was raised to be polite, but not to suffer bullshit. - Author: Stephen King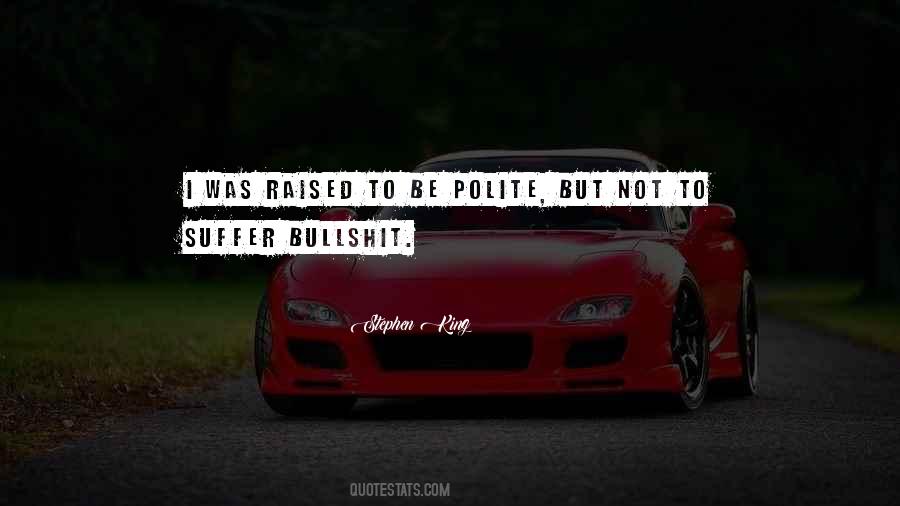 #66. It will not suffer if it doesn't get what it wants. - Author: Jaron Lanier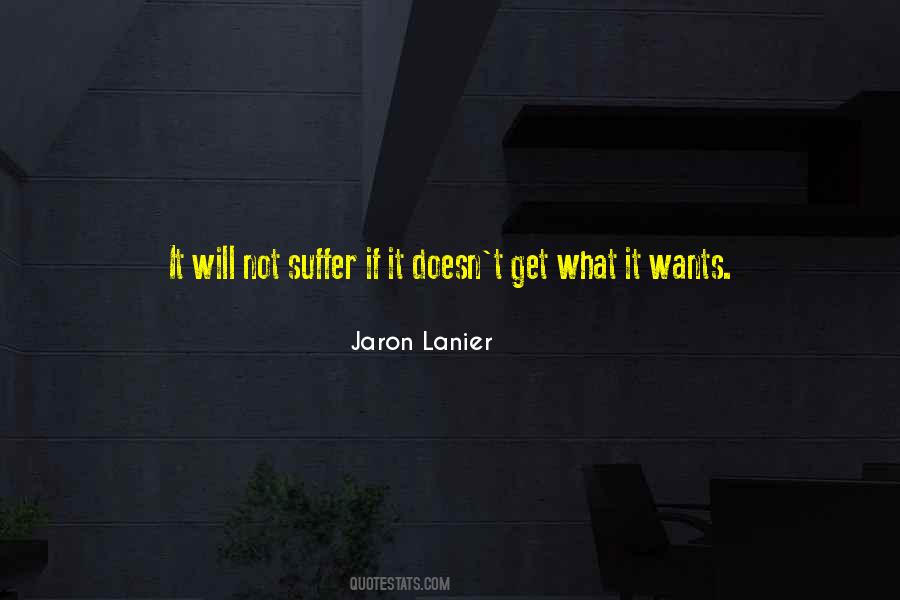 #67. Things hurt.. accepted. Shedding tears.. accepted. Sadness.. accepted.. But to quit and make your work suffer.. not at all accepted.. - Author: Himmilicious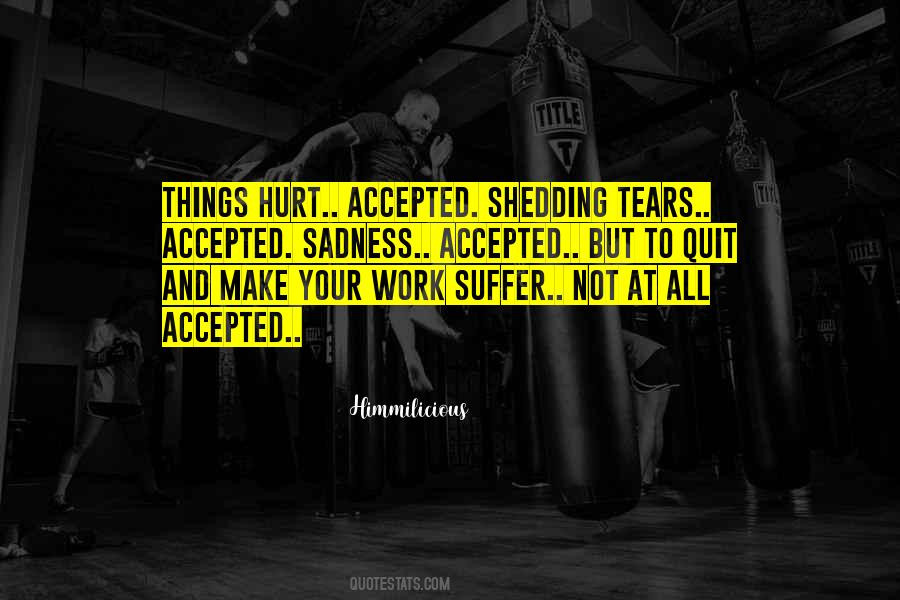 #68. There is not a woman in the world the possession of whom is as precious as that of the truths which she reveals to us by causing us to suffer. - Author: Marcel Proust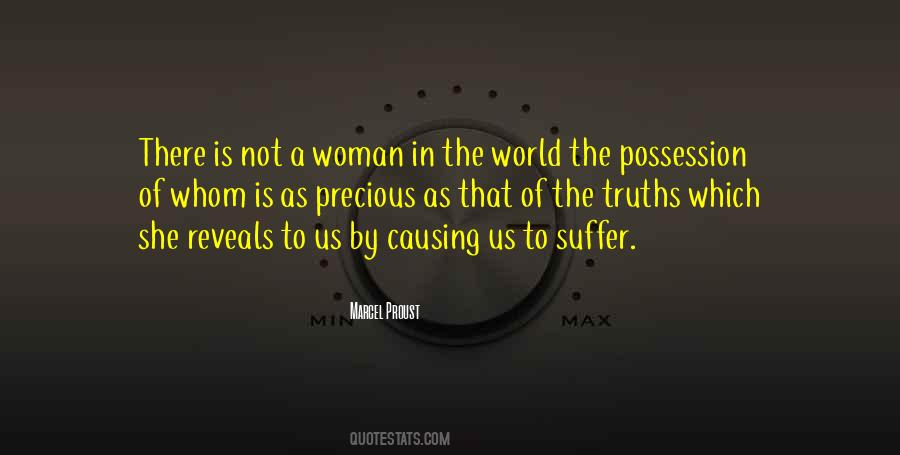 #69. What we think of as our sensitivity is only the higher evolution of terror in a poor dumb beast. We suffer for nothing. Our own death wish is our only real tragedy. - Author: Mario Puzo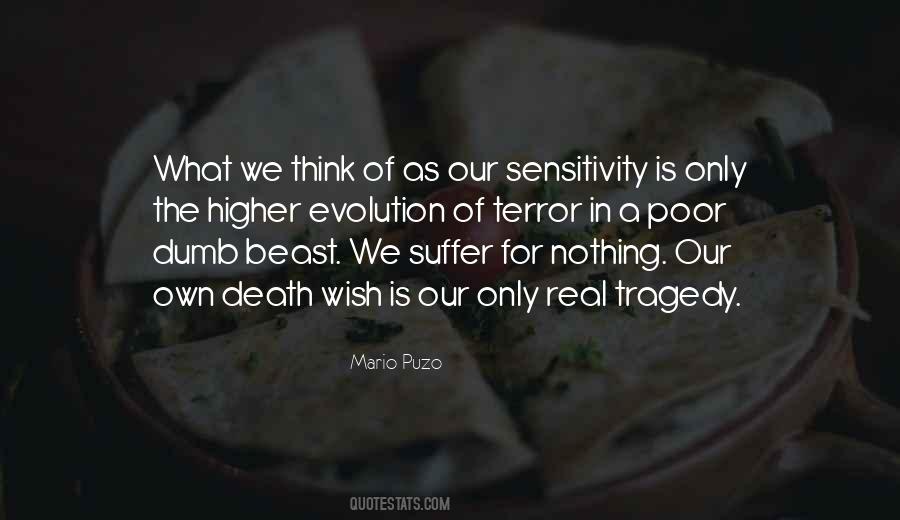 #70. I do suffer from depression, I suppose. Which isn't that unusual. You know, a lot of people do. - Author: Amy Winehouse
#71. Is not all the stupid chatter of most of our newspapers the babble of fools who suffer from the fixed idea of morality, legality, christianity and so forth, and only seem to go about free because the madhouse in which they walk takes in so broad a space? - Author: Max Stirner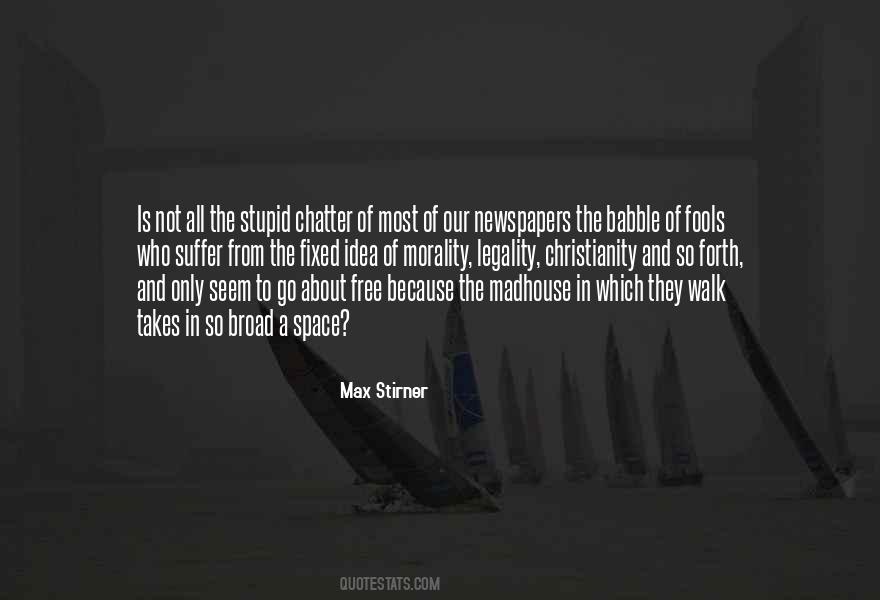 #72. The reason so many intelligent and creative people suffer from depression is that when you take the risk of being fully conscious, you open Pandora's box, and you can't close it again. - Author: Michael Redhill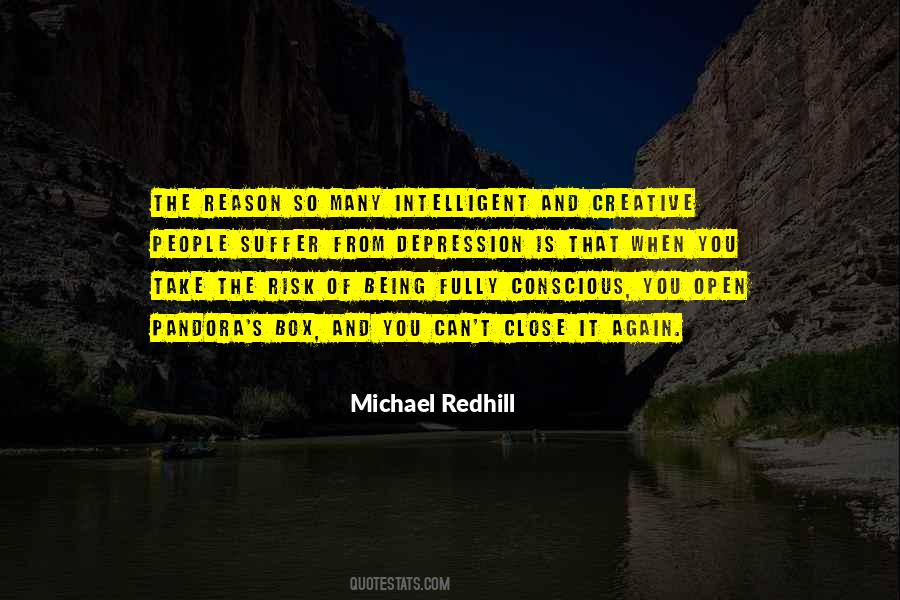 #73. Suffer. You could say it means endure, but that's not exactly right - Author: E. Lockhart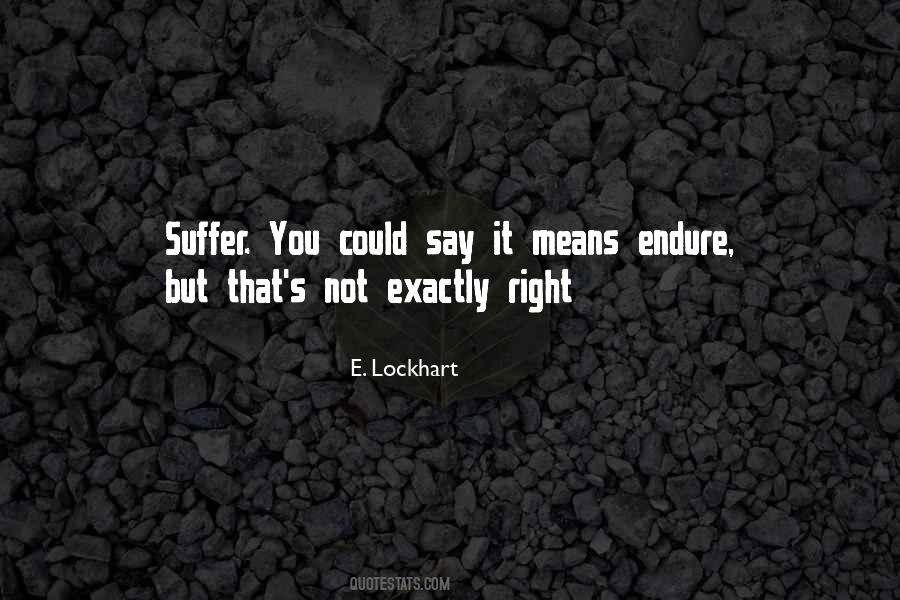 #74. Passion has little to do with euphoria and everything to do with patience. It is not about feeling good. It is about endurance. Like patience, passion comes from the same Latin root: pati. It does not mean to flow with exuberance. It means to suffer. - Author: Mark Z. Danielewski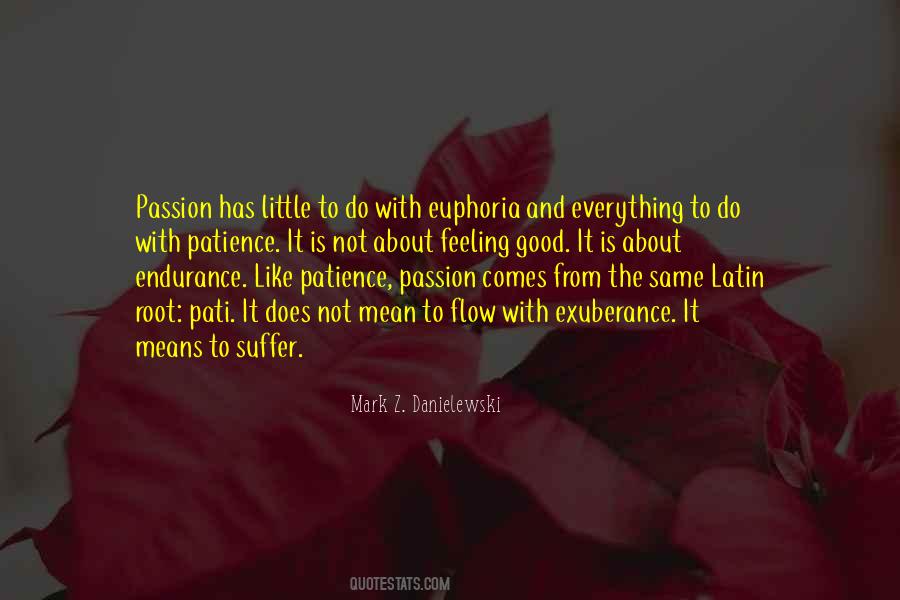 #75. We live in a world of wars and wars alarms, of famines, of oppression. While there are many wonderful people in this world, you'll notice one curious fact about them, they all suffer, they all die, and sometimes those who are the nicest seem to suffer the most. - Author: Frederick Lenz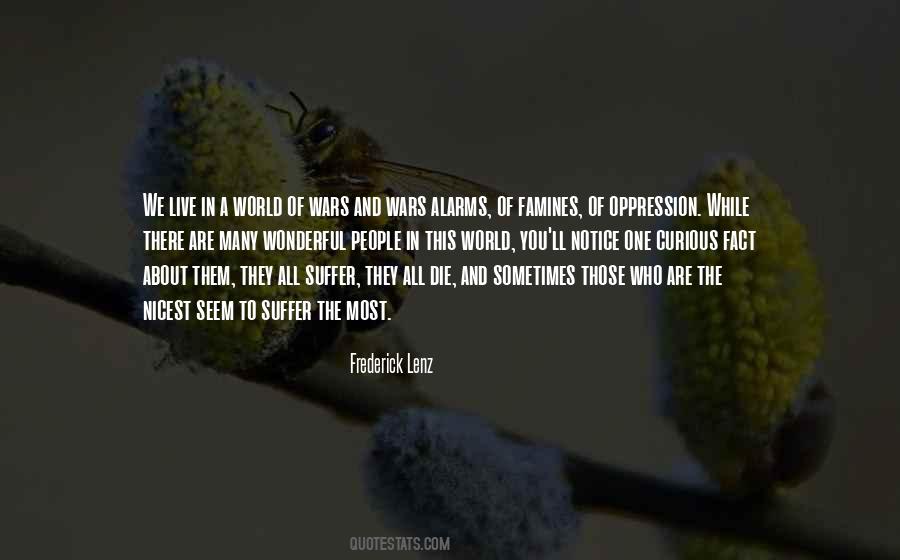 #76. The hope of being relieved gives him the courage to suffer. - Author: Marcel Proust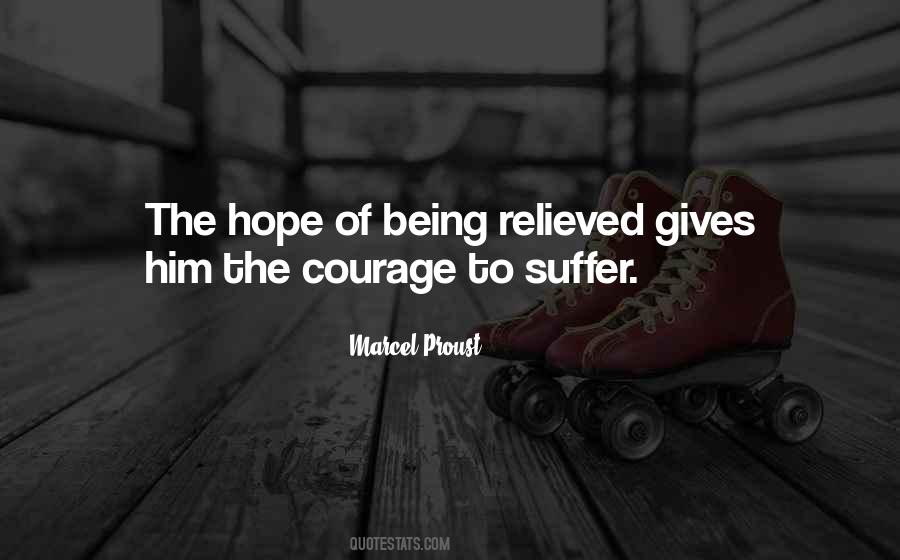 #77. If anything goes wrong, the customer doesn't care whose fault it is. He's the one who's going to suffer anyway. - Author: Jan Carlzon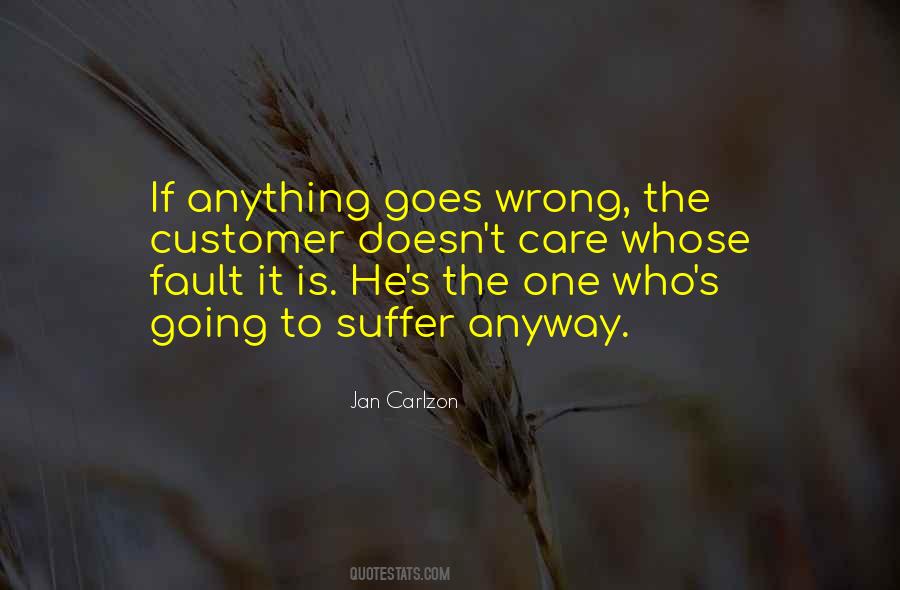 #78. No matter what cause one defends, it will suffer permanent disgrace if one resorts to blind attacks on crowds of innocent people. - Author: Albert Camus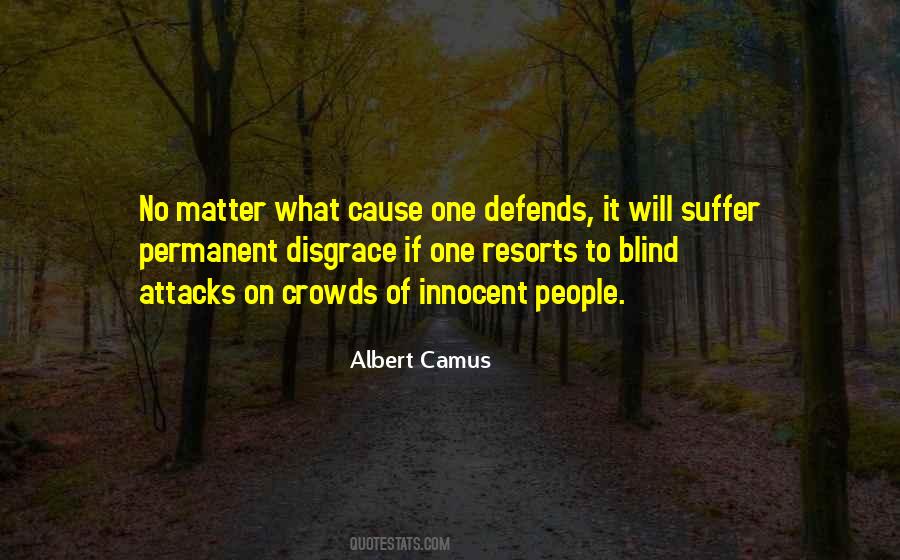 #79. Several people have told me that my inability to suffer fools gladly is one of my main weaknesses. - Author: Edsger Dijkstra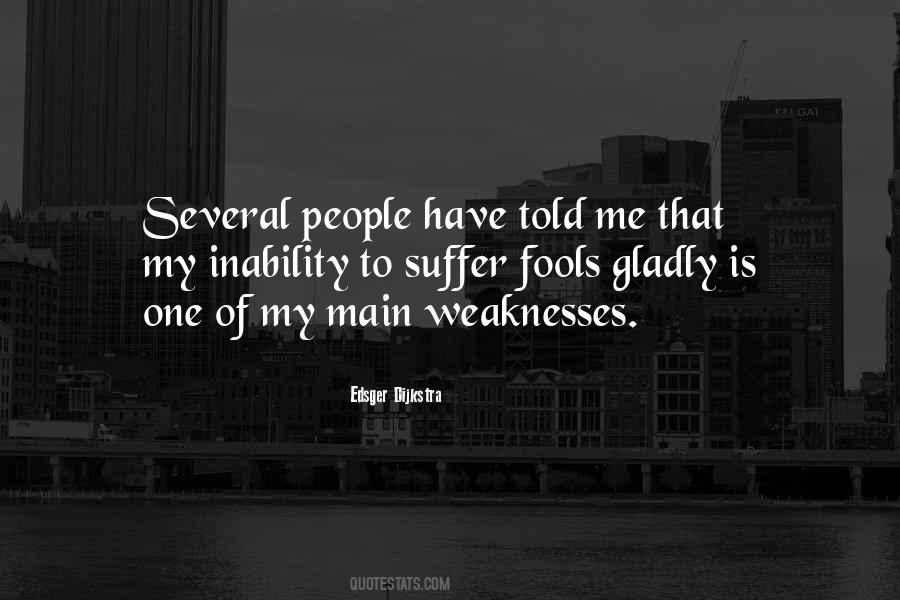 #80. There is nothing in our book, the Qur'an, that teaches us to suffer peacefully. Our religion teaches us to be intelligent. Be peaceful, be courteous, obey the law, respect everyone; but if someone lays a hand on you, send him to the cemetery. - Author: Malcolm X
#81. I do not suffer from Autism, but I do suffer from the way you treat me. - Author: Brad Pitt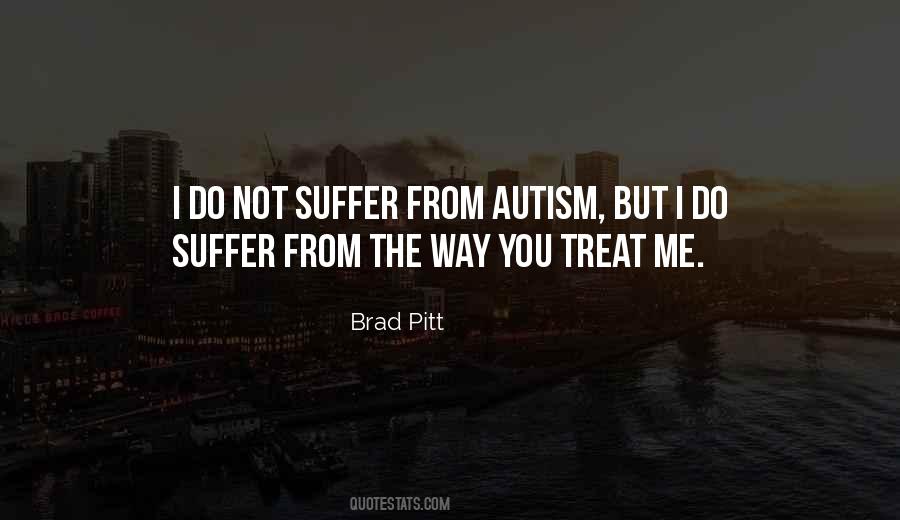 #82. That someone would want another human being to suffer, or would even tolerate the idea, for committing no crime at all but being reasonable, is truly frightening. A religion that breeds such people is a genuine plague upon the earth. - Author: Richard Carrier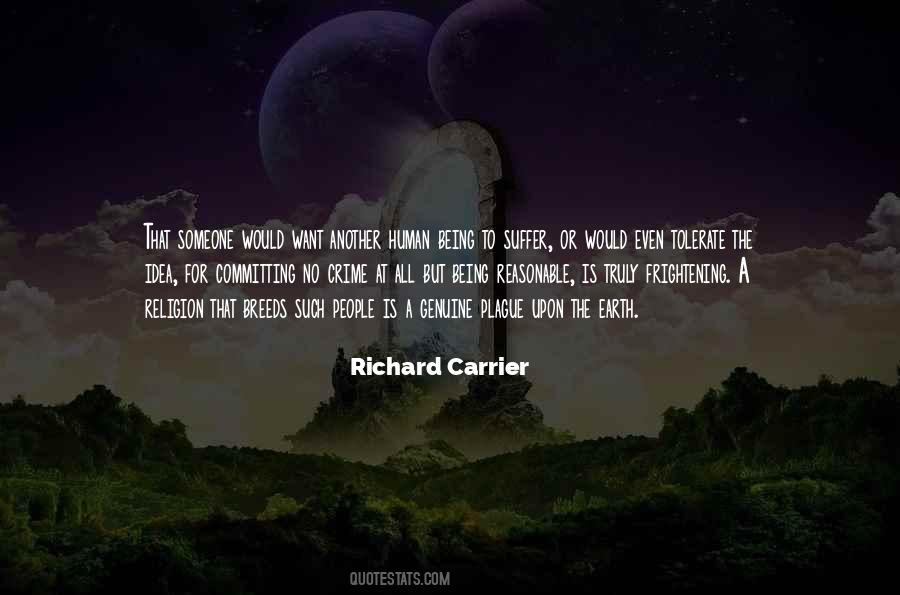 #83. That is, perhaps, the greatest revelation I have had: not that depression is compelling but that the people who suffer from it may become compelling because of it. - Author: Andrew Solomon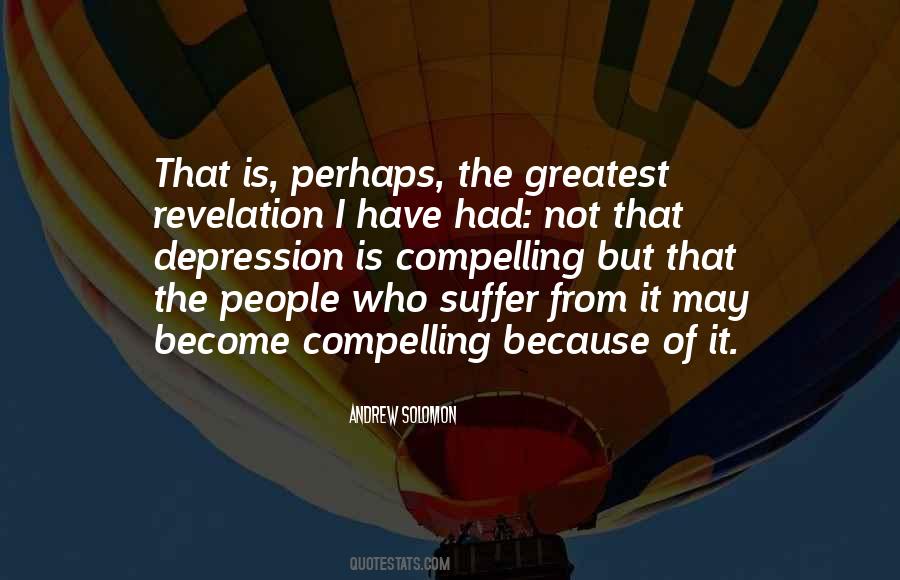 #84. The counsels of the Divine Mind had some glimpse of truth when they said that men are born in order to suffer the penalty for sins committed in a former life. - Author: Marcus Tullius Cicero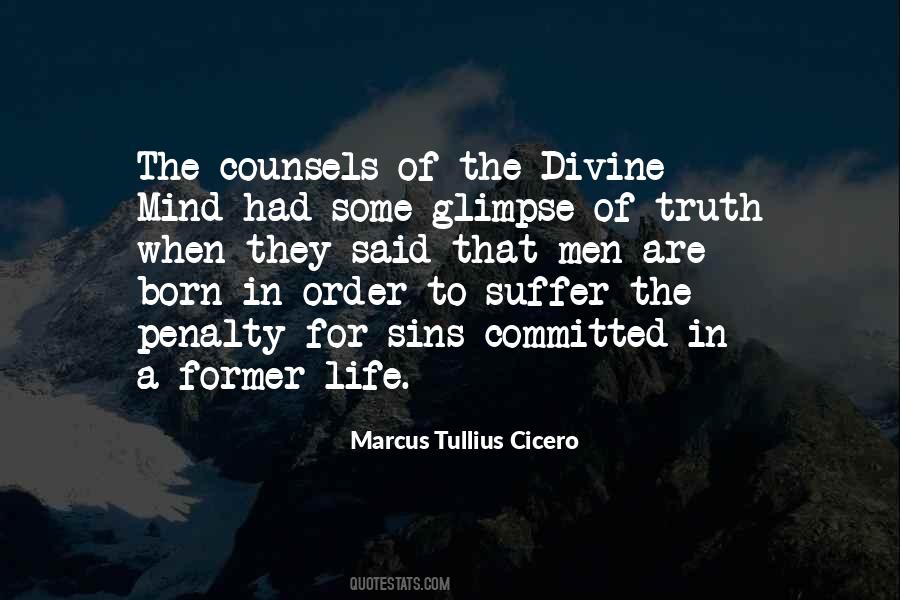 #85. We suffer because we want life to be different from what it is. We suffer because we try to make pleasurable what is painful, to make solid what is fluid, to make permanent what is always changing. - Author: Sakyong Mipham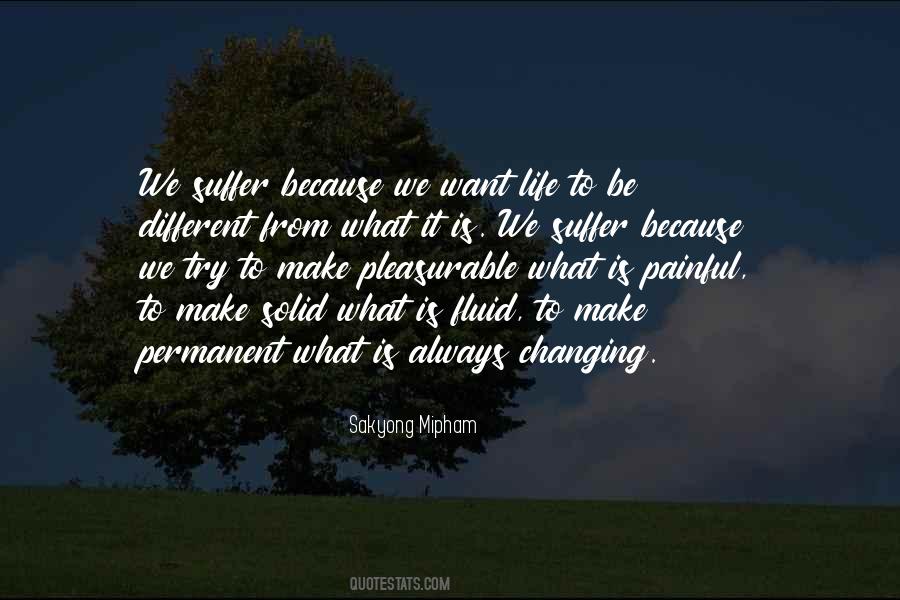 #86. We are not ourselves When nature, being oppressed, commands the mind To suffer with the body. - Author: William Shakespeare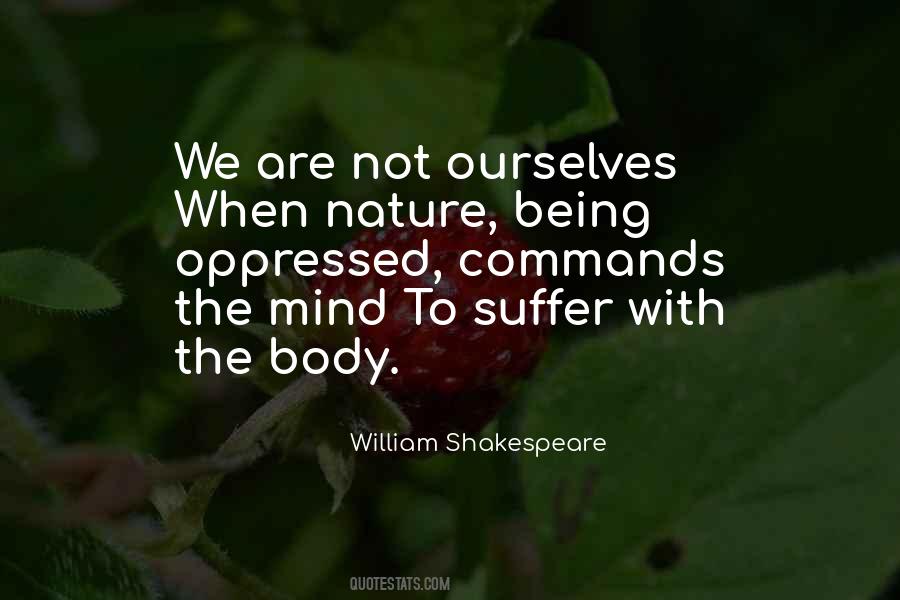 #87. Then let me be your mercy," he said. "I'll never be able to give you smart answers about why we suffer, but I can come into your world and try to be some kind of help to you. - Author: Laura Anderson Kurk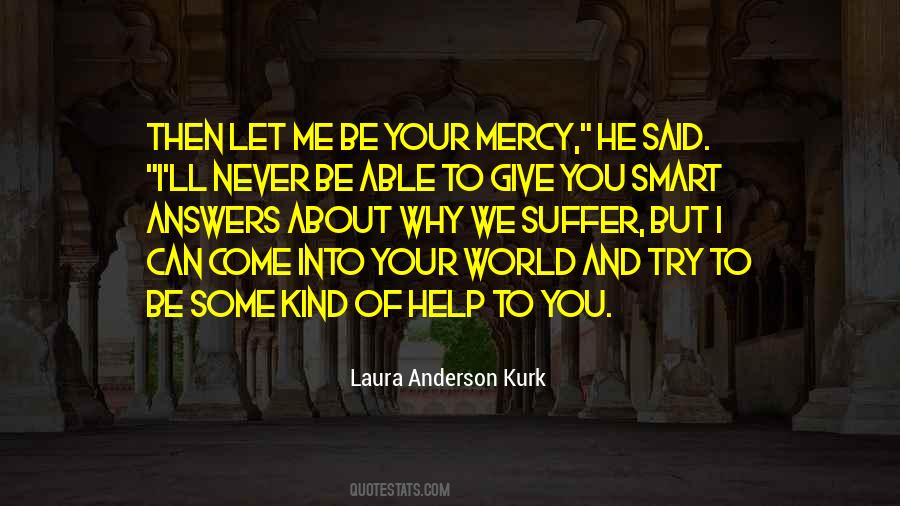 #88. But let the frame of things disjoint, both the worlds suffer,
Ere we will eat our meal in fear, and sleep
In the affliction of these terrible dreams
That shake us nightly. - Author: William Shakespeare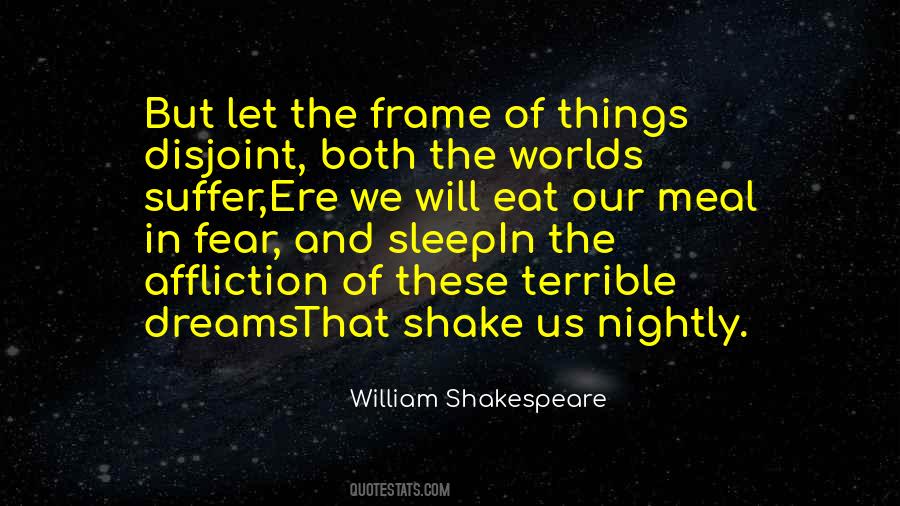 #89. The universe will never force a mindset on you. You have complete free agency to choose fear and suffer unnecessarily if you want to. - Author: Kimberly Giles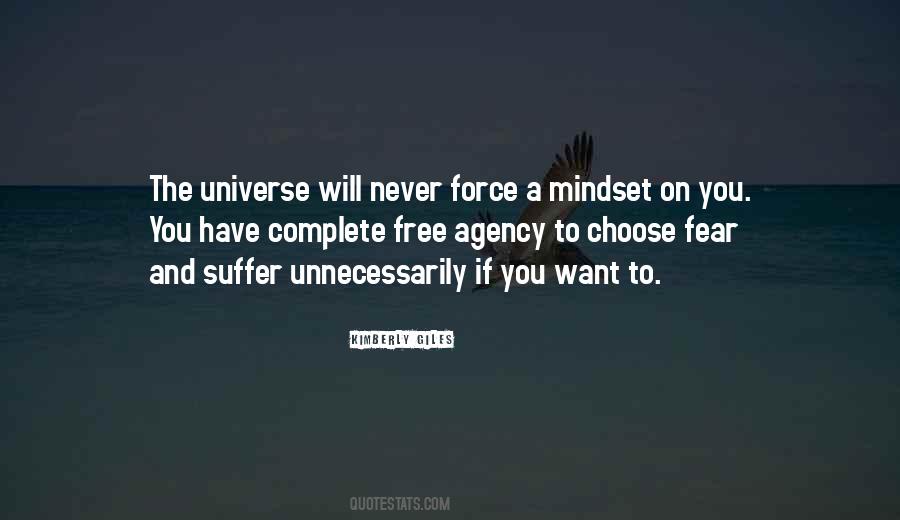 #90. Better to suffer the loneliness of the cold throne room than endure the isolation to be found within the crowds of facile courtiers. - Author: Stuart Hill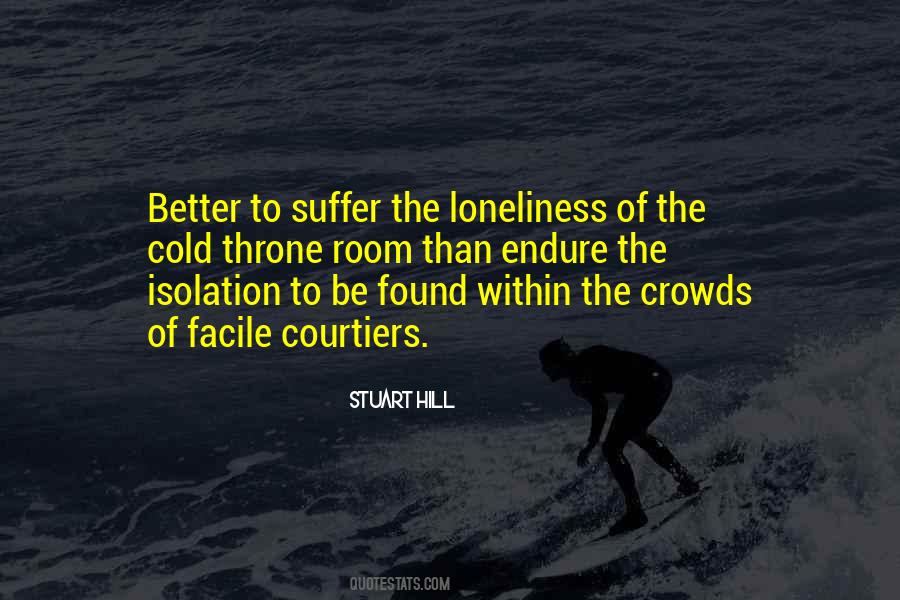 #91. As we sin, so do we suffer, - Author: George R R Martin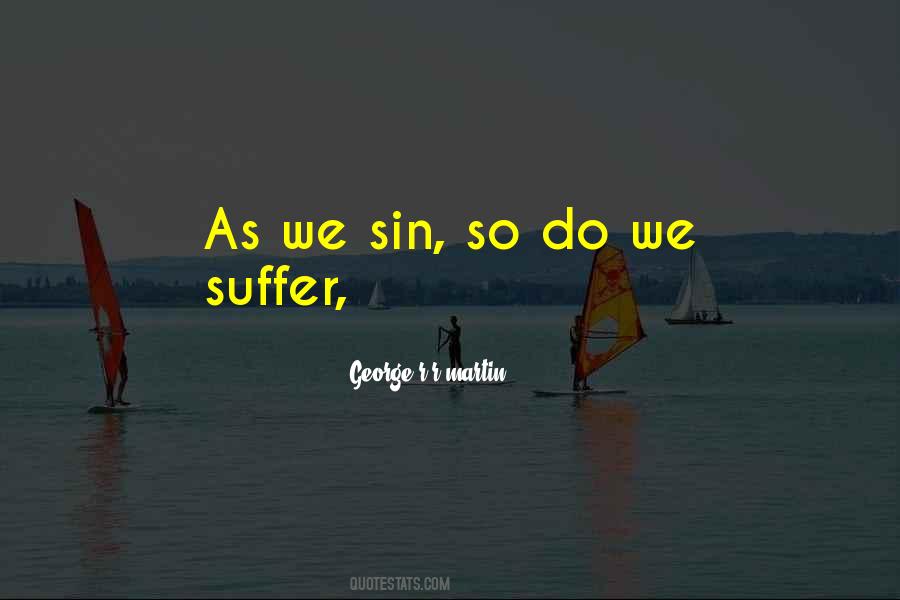 #92. Our prayers are heard, not because we are in earnest, not because we suffer, but because Jesus suffered. - Author: Oswald Chambers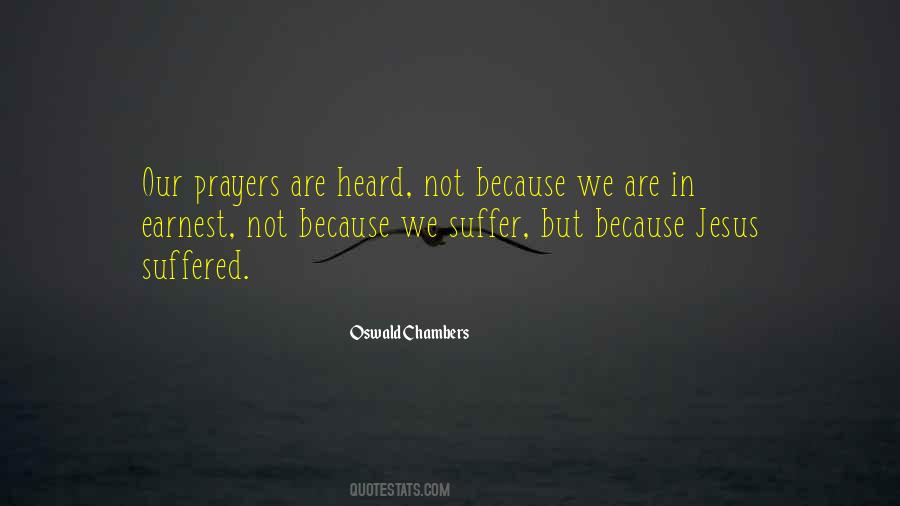 #93. A flash of anger made her turn back. When had he ever known the kind of vulnerability a woman must suffer, when left on her own to face the world? How could he know that a woman might seek any strategy to render herself ineligible, invisible? - Author: Meredith Duran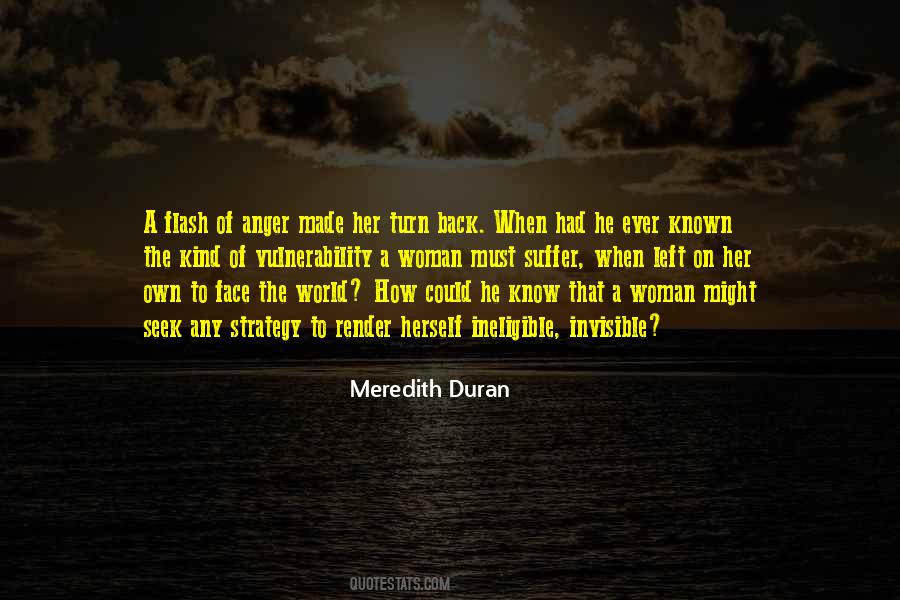 #94. I'm just following the Irish tradition of songwriting, the Irish way of life, the human way of life. Cram as much pleasure into life, and rail against the pain you have to suffer as a result. Or scream and rant with the pain, and wait for it to be taken away with beautiful pleasure ... - Author: Shane MacGowan
#95. VITUPERATION, n. Saite, as understood by dunces and all such as suffer from an impediment in their wit. - Author: Ambrose Bierce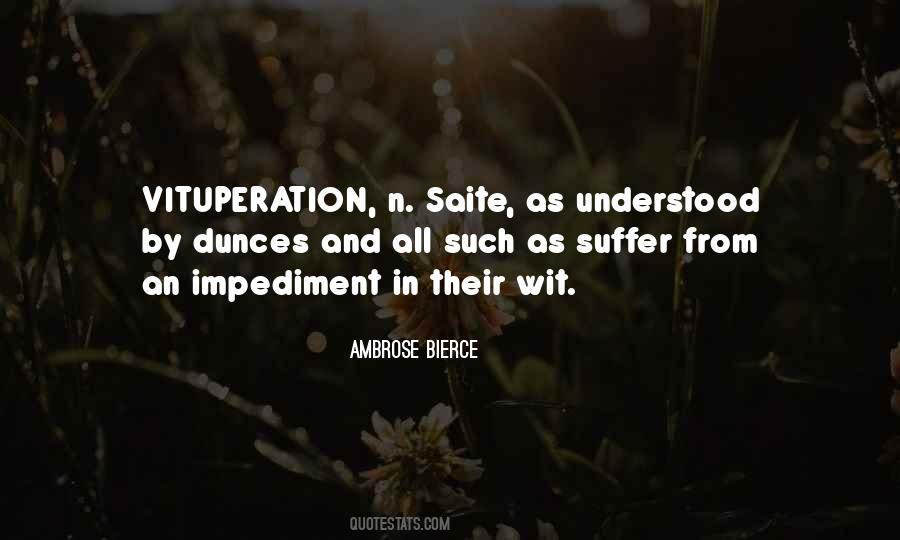 #96. For my daughter I would suffer through a thousand divorces, a million uncomfortable phone calls, a trillion emotionally fraught text messages. - Author: Jeffrey Zeldman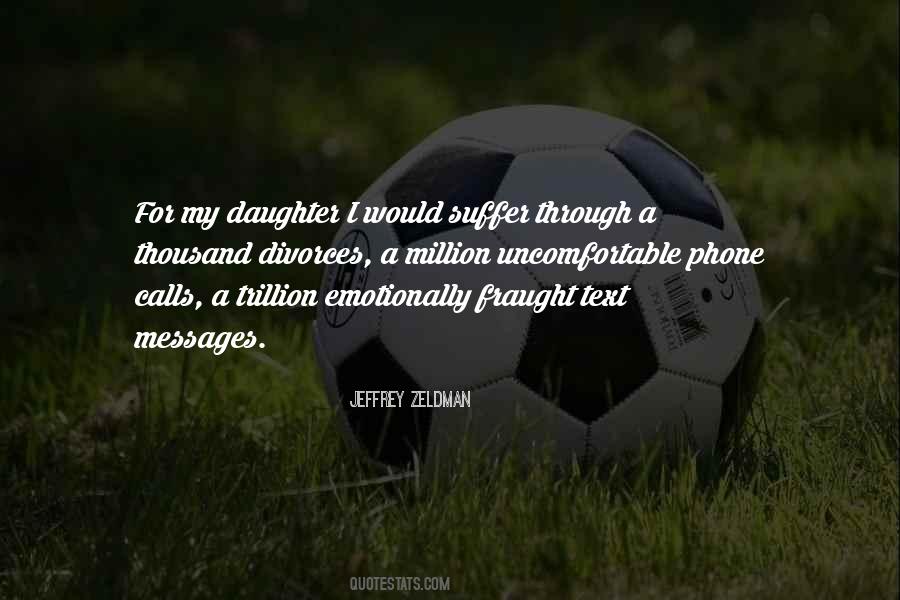 #97. We tend to forget at times that it is the little ones, the children, who do suffer the greatest hurt. If we cannot comprehend why certain sorrows are visited upon us, how on earth can they? - Author: Sharon Kay Penman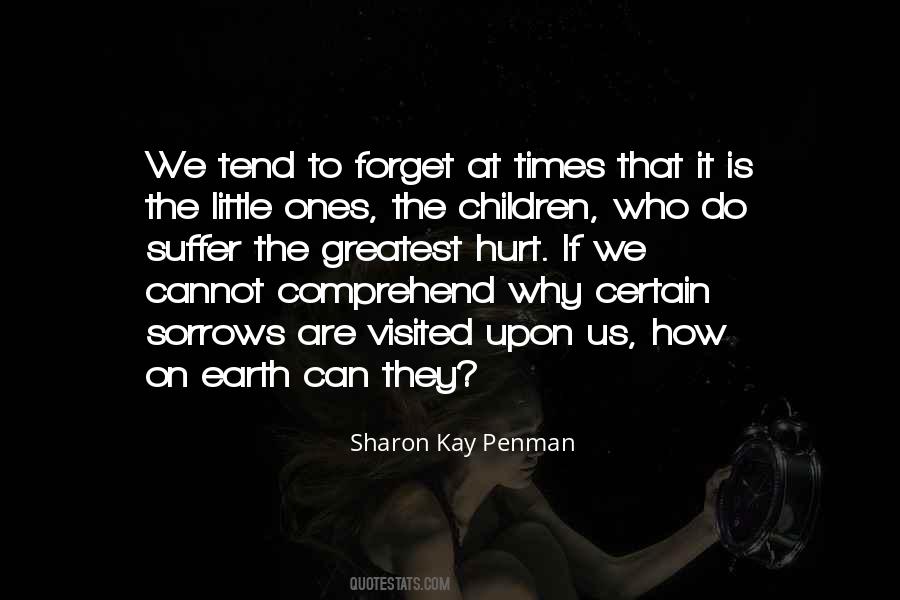 #98. To this military attitude of the soul we give the name of Heroism ... It is a self-trust which slights the restraints of prudence, in the plenitude of its energy and power to repair the harms it may suffer. The hero is a mind of such balance that no disturbances can shake his will ... - Author: Ralph Waldo Emerson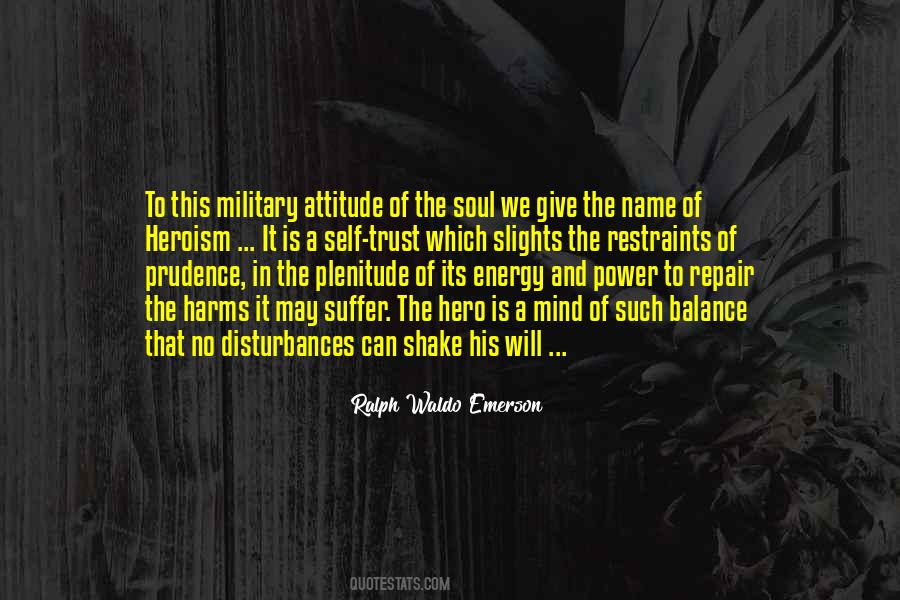 #99. Why, then, even when I advanced, was I so quick to retreat? Why did I always have ready a gracious smile, a happy laugh, when things went badly? Why, sooner or later, did I always find plausible excuses for those who made me suffer? - Author: Elena Ferrante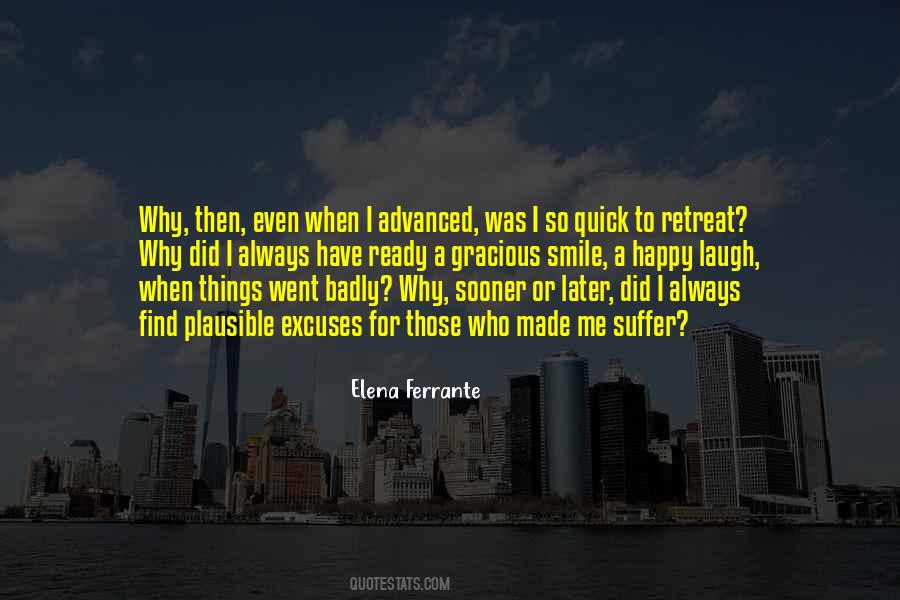 #100. It is the destiny of the people of Haiti to suffer. - Author: Jean-Claude Duvalier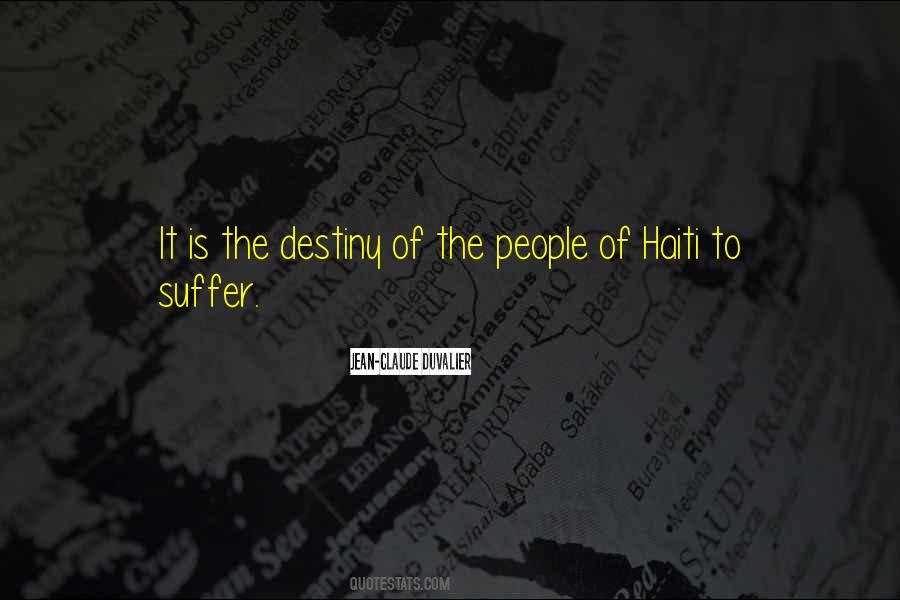 Famous Authors
Popular Topics