Stunt Famous Quotes & Sayings
List of top 100 famous quotes and sayings about stunt to read and share with friends on your Facebook, Twitter, blogs.
Top 100 Stunt Quotes
#1. It's better to find a stunt person who can act. It's easier to do that than to find an actor who can do a stunt. - Author: Doug Liman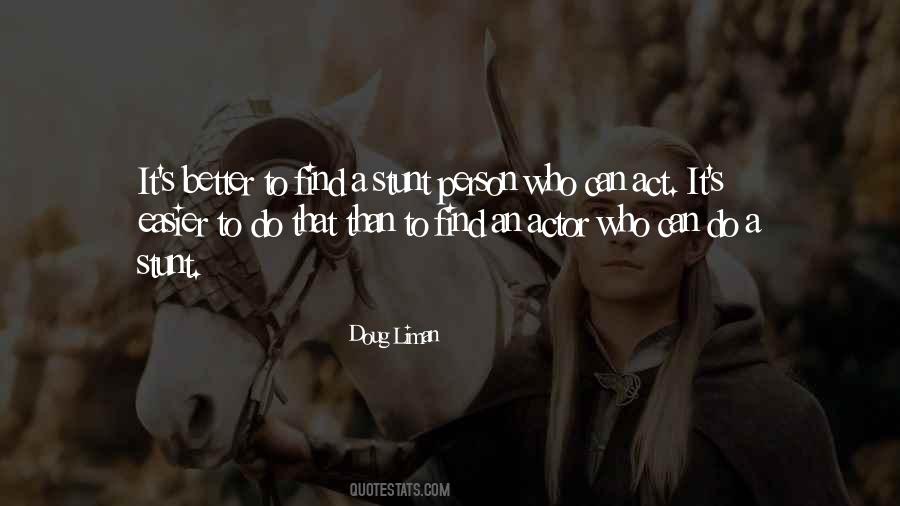 #2. I want to give back. I want to do all the things that will make me feel fulfilled. But whenever I do those things, people think it's a press stunt or something. - Author: Lindsay Lohan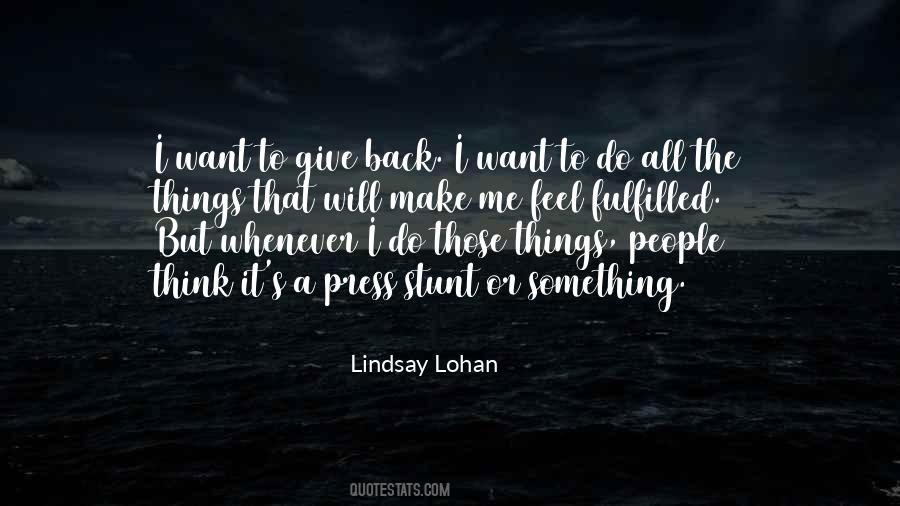 #3. I haven't done a lot of action movies, so it's kind of fun to get to do a lot of stunt work. - Author: Mark-Paul Gosselaar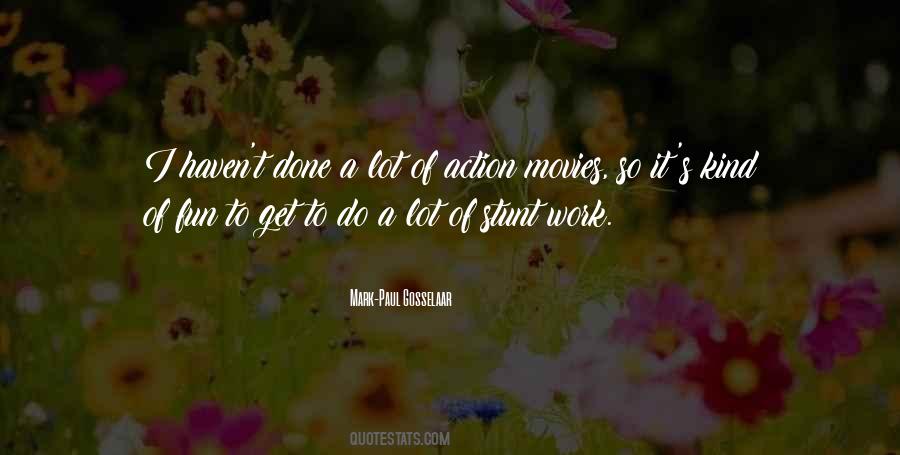 #4. If you were mine, you wouldn't be able to sit down for a week after the stunt you pulled yesterday. - Author: E.L. James
#5. But I loved doing the physical stuff for 'Dredd.' I have to give a shout-out to the stunt team that I worked with. - Author: Olivia Thirlby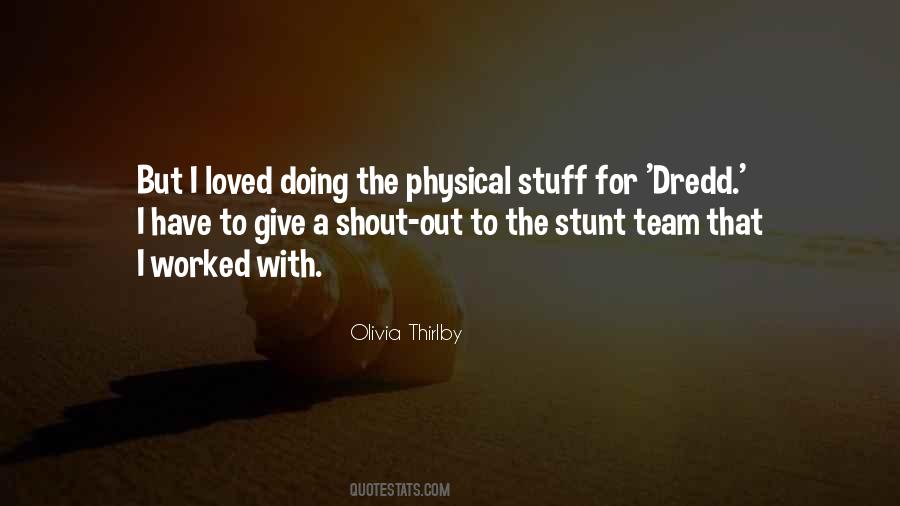 #6. Dining and marriage restrictions stunt Hindu society. - Author: Mahatma Gandhi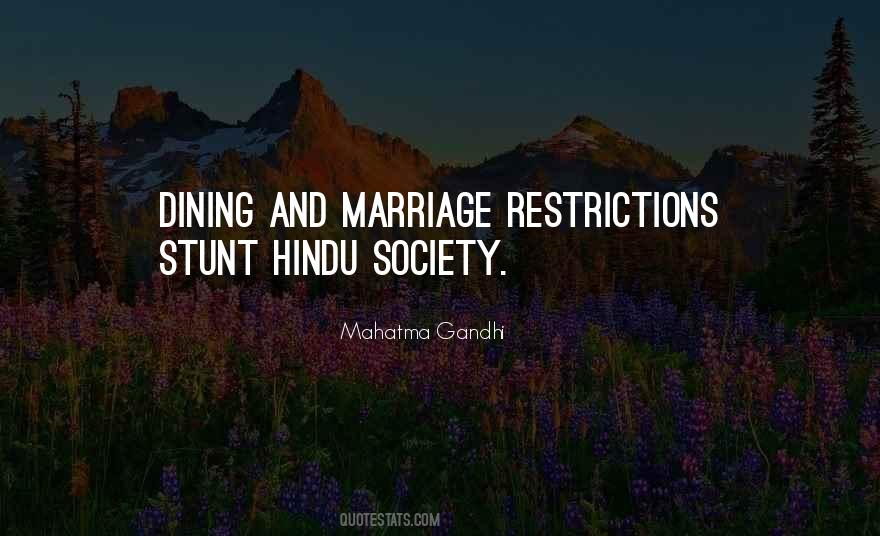 #7. I once said that CGI makes you less inventive. At the time I was bemoaning the loss of the practical stunt. If a stunt can be done practically and safely, I'd rather do it old-style. - Author: Steven Spielberg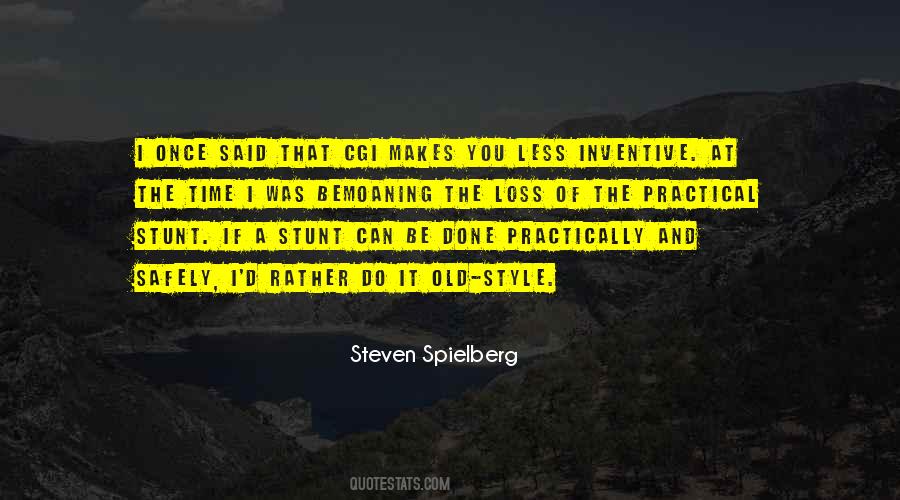 #8. Awards sell tickets, and they're a clever publicity stunt. - Author: Tony Randall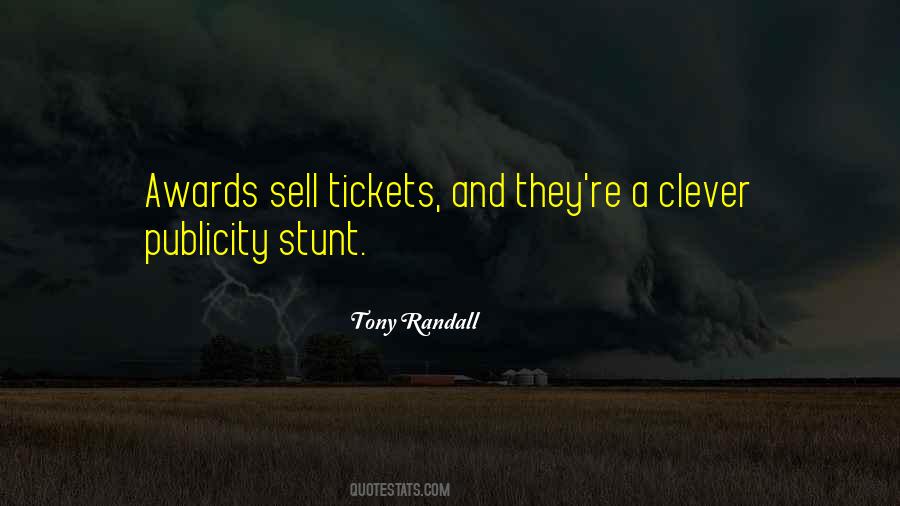 #9. I remember hitting Sarah Michelle Gellar with a right hook during my first week on the job. It was awful. They usually pair actors with stunt doubles to avoid things like that. - Author: Eliza Dushku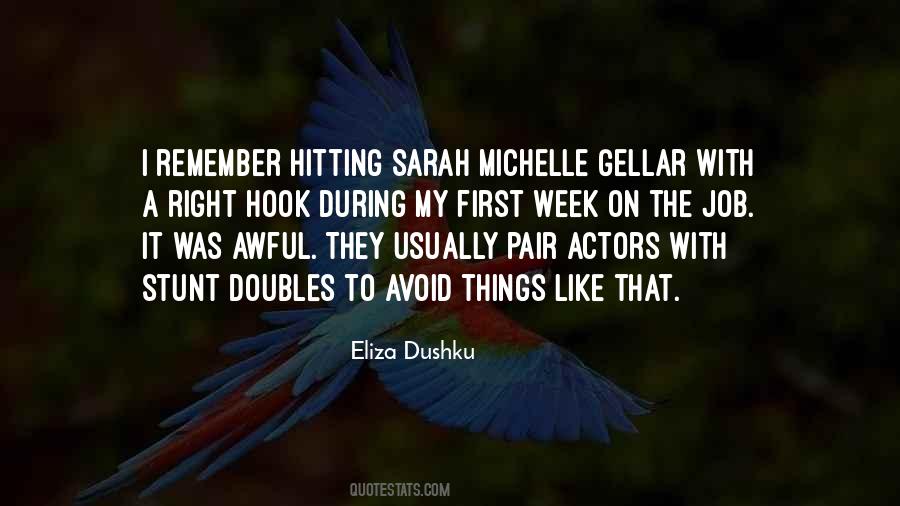 #10. I was proud of 'Robin Hood,' even though critics wrote negative things. But I had to laugh when this big, shaven-headed Hungarian stunt guy first saw me. He said, 'You Jonas? You playing Robin Hood? You need to go to the gym today.' So I thought, 'I'm going to show people.' - Author: Jonas Armstrong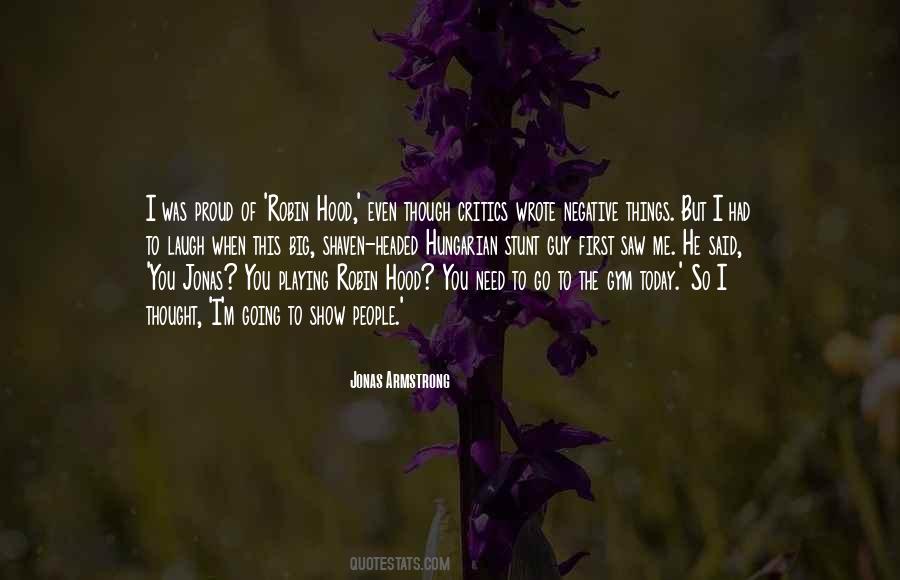 #11. Life is a publicity stunt. A shill. You've been had. - Author: Kate Millett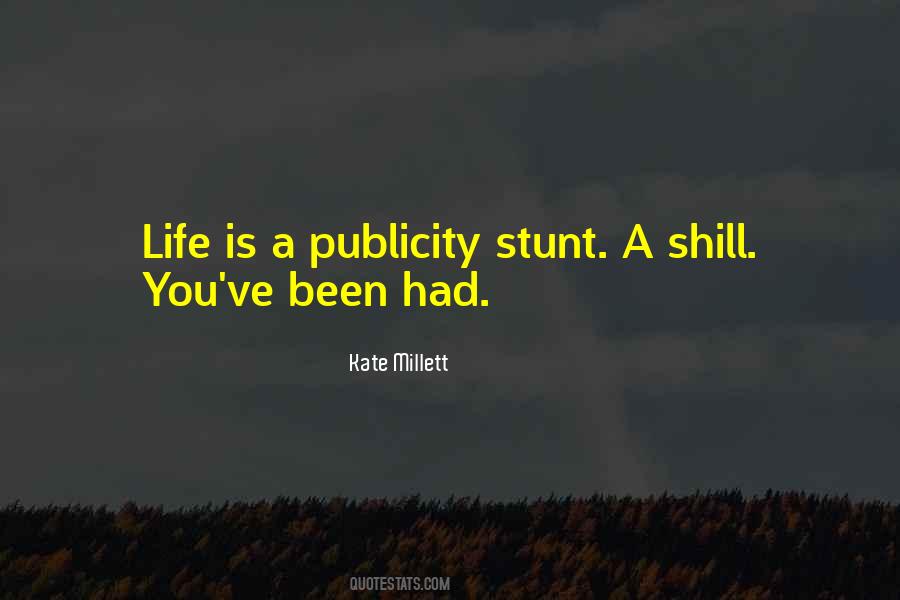 #12. With stunt guys, you can punch them in the face because it's, you know, just part of work. You feel bad about that but not as bad as if you punch another actor. - Author: Maggie Q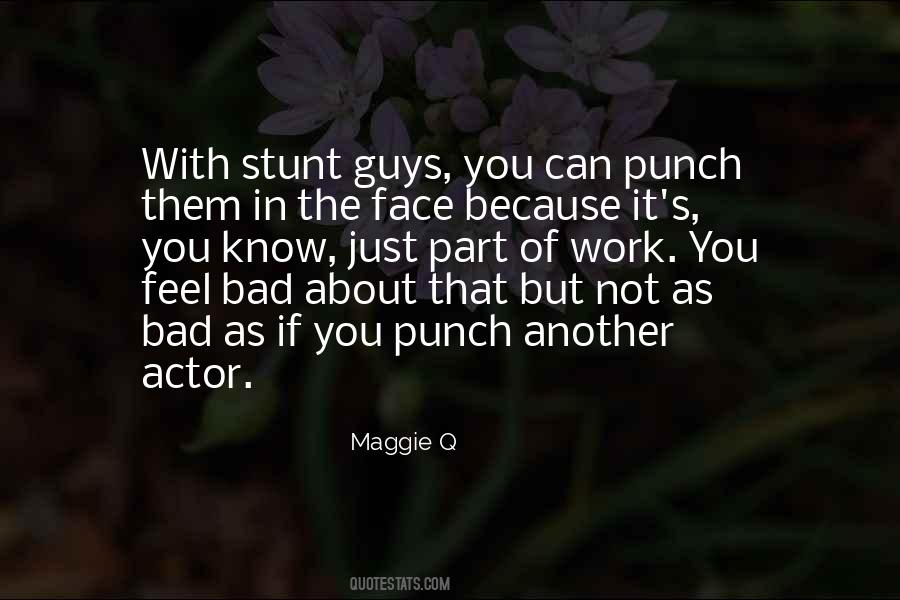 #13. I took a whole stunt course and pretty much got certified as a stunt driver. It's ridiculous how easy it is once you understand the car and know how to do it. - Author: Aaron Paul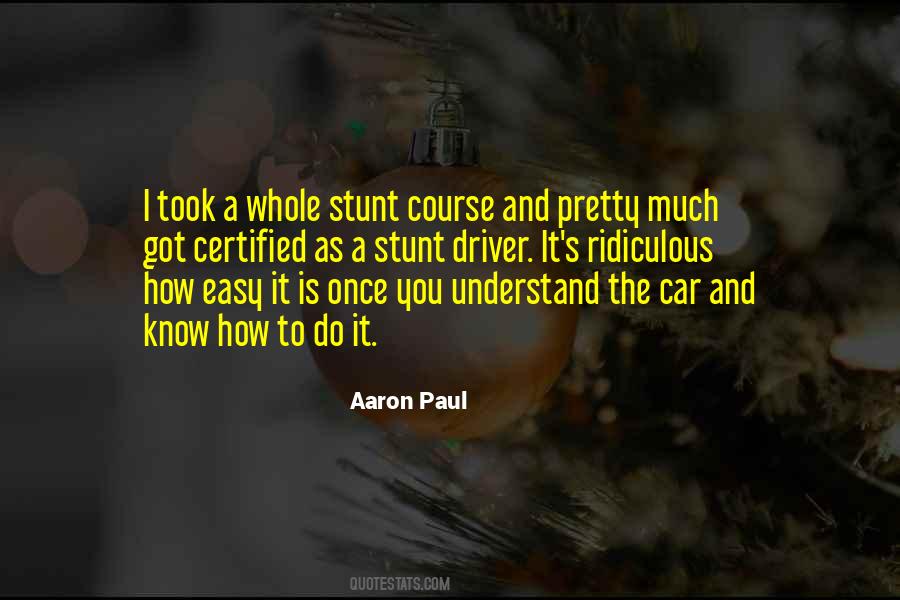 #14. An aesthetic movement with a revolutionary dynamism and no popular appeal should proceed quite otherwise than by public scandal, publicity stunt, noisy expulsion and excommunication. - Author: Cyril Connolly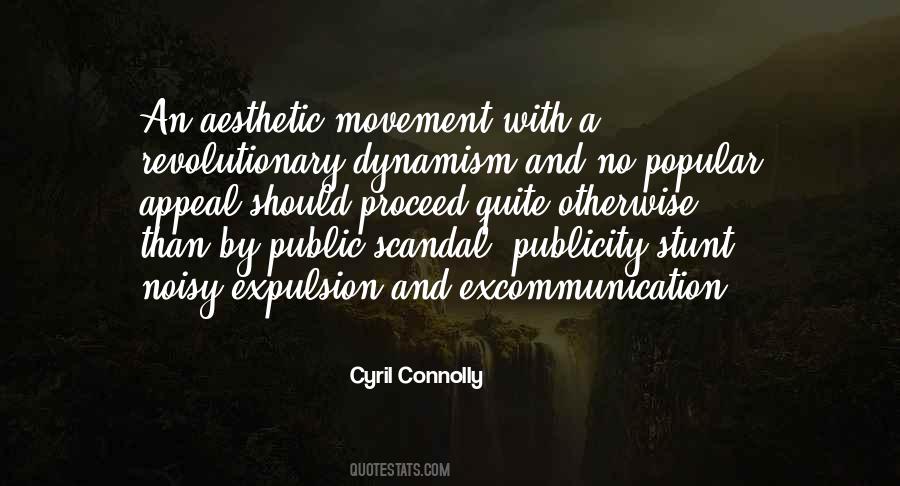 #15. And getting stunt coordinator Dan Bradley and everybody from the whole 'Bourne Supremacy' crew, I think was real cool for our film because we do a bunch of really big jumps in this movie. - Author: Sean William Scott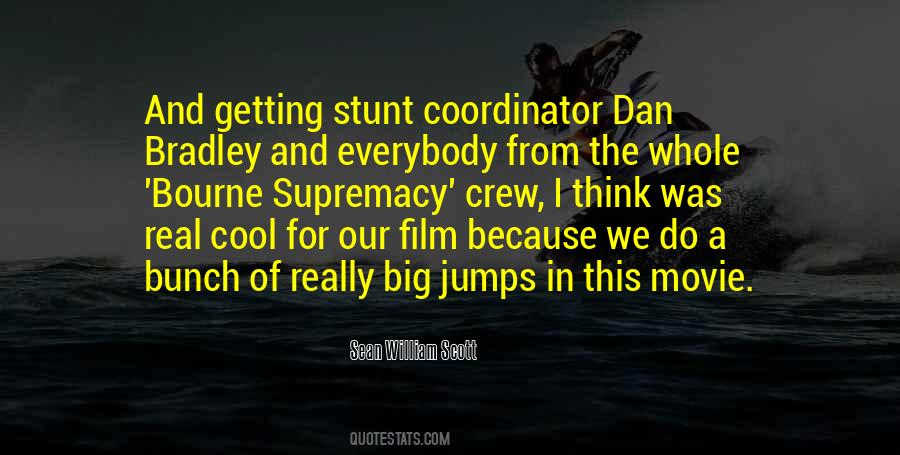 #16. I'm a hard-working girl. I go to the office. I work a normal 9 to 5 job most days. - Author: Petra Stunt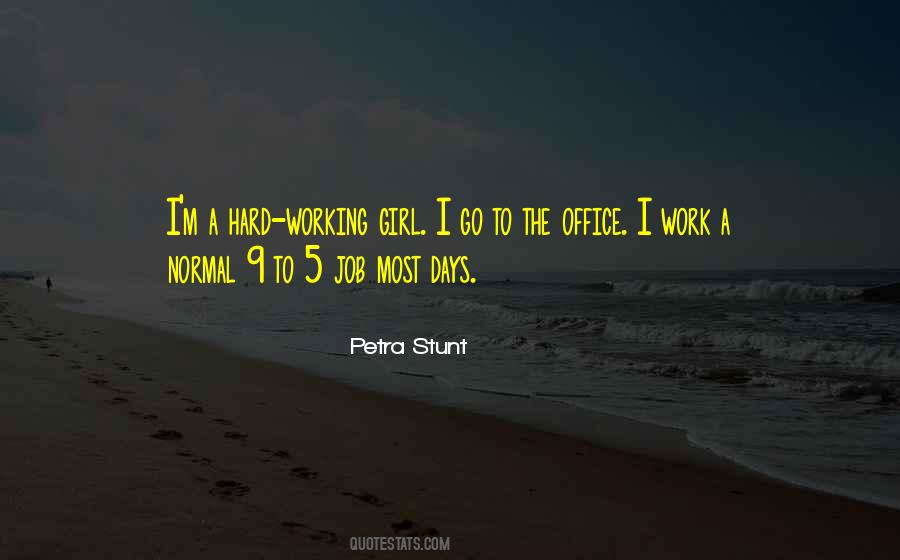 #17. People are like dirt. They can either nourish you and help you grow as a person or they can stunt your growth and make you wilt and die. - Author: Plato
#18. At the end of the day, I don't need to work, and I think it's good that I have the drive and willpower to get up and do something in the morning even though I don't need to. - Author: Petra Stunt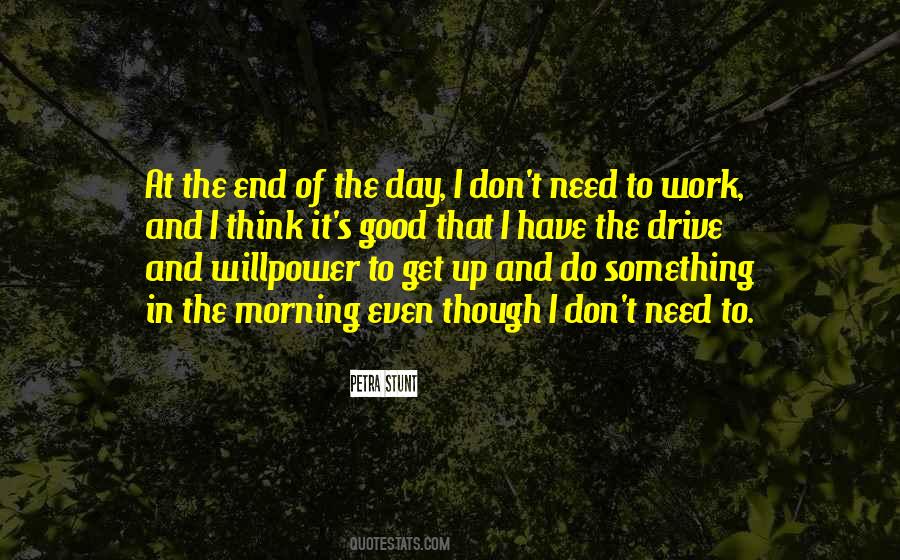 #19. Through the power that memory gives us of thinking, feeling, imagining our way back through time we can at long last finally finish with the past in the sense of removing its power to hurt us and other people and to stunt our growth as human beings. - Author: Frederick Buechner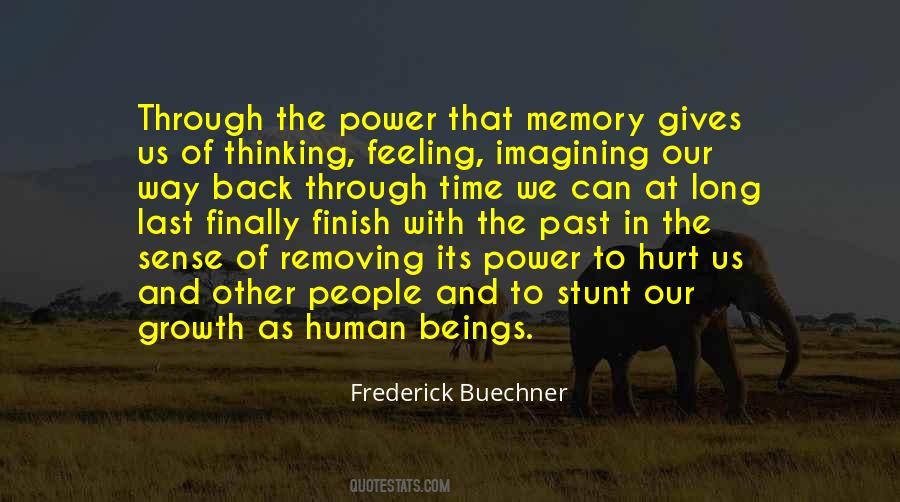 #20. Doing all the rig work and the stunt work has actually been wonderful. It's a whole new skill set that I've learned that I'll get to take onto my next jobs. We get to do that all the time, the fighting and the learning new moves. It's quite exciting. - Author: Dustin Clare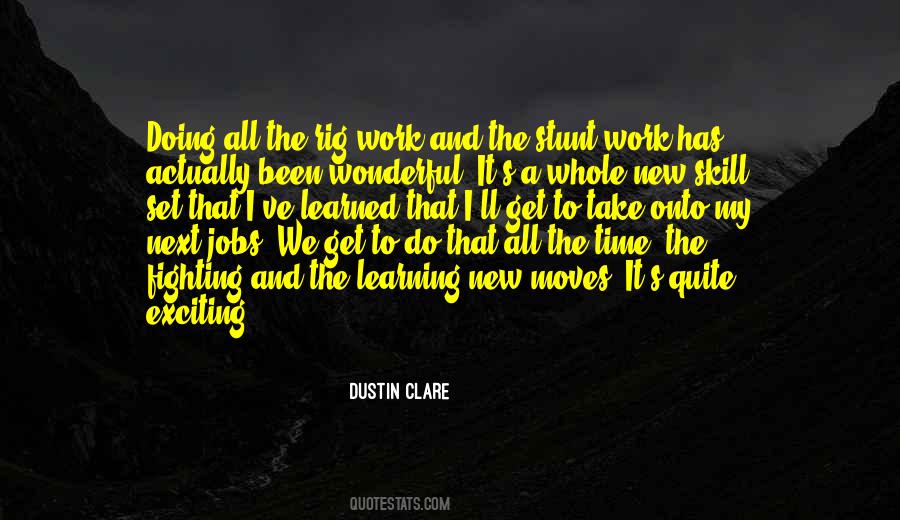 #21. The way you present a stunt is tied in to the way you photograph it, so you're hanging out with the cinematographer. - Author: David Leitch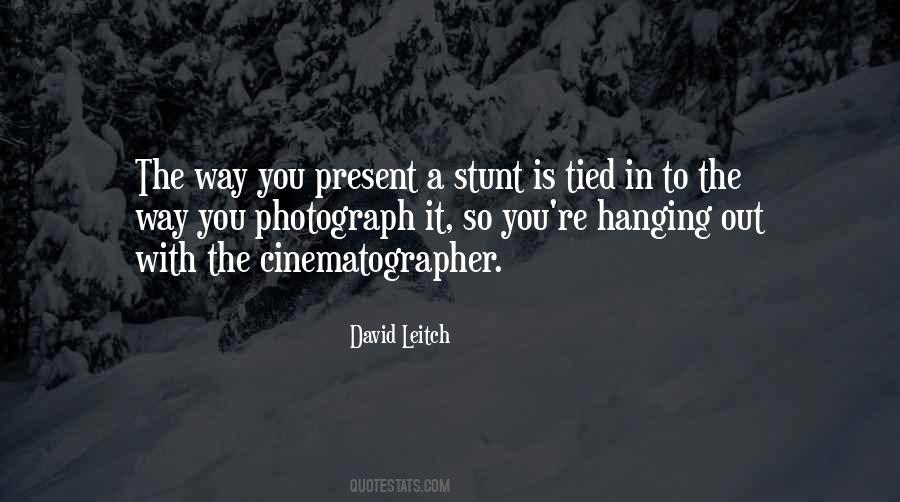 #22. I ball all through the winter and I stunt all through the summer. - Author: Gucci Mane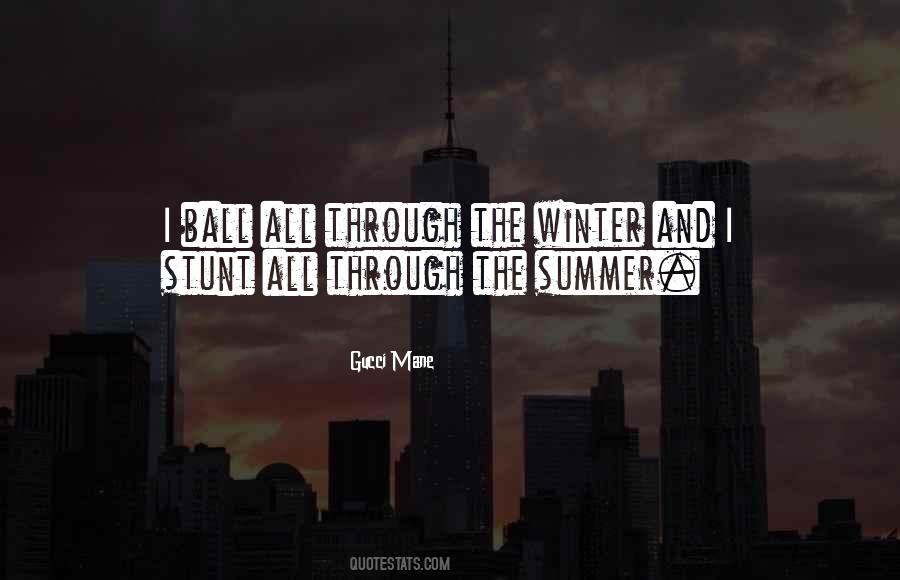 #23. I would never consent to a lame publicity stunt at a time when I already want to hide. - Author: Diablo Cody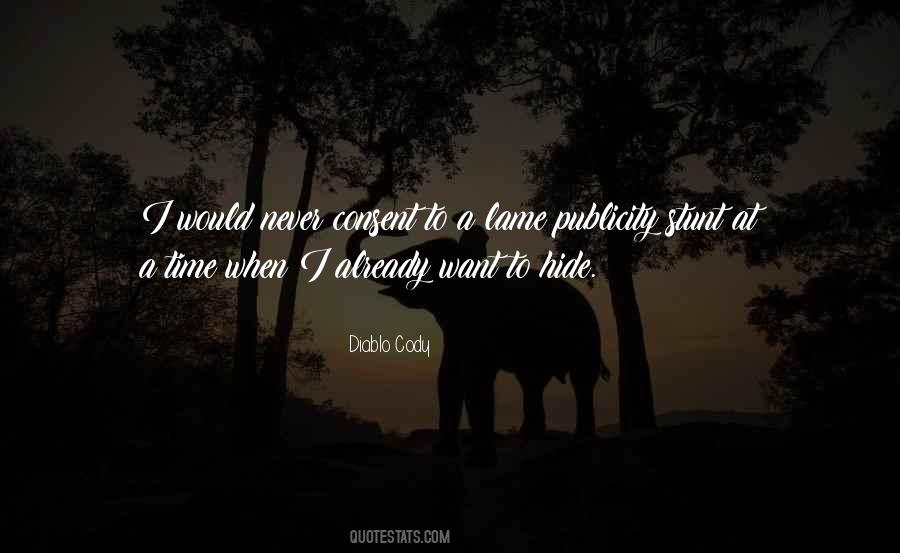 #24. It's all choreographed; it's a routine. So I told everyone I really wanted to try fighting in action films. I had no stunt experience, but I had the dance background, and I was very agile and coordinated. And the best thing about being a newcomer to acting is you can afford to try new things. - Author: Michelle Yeoh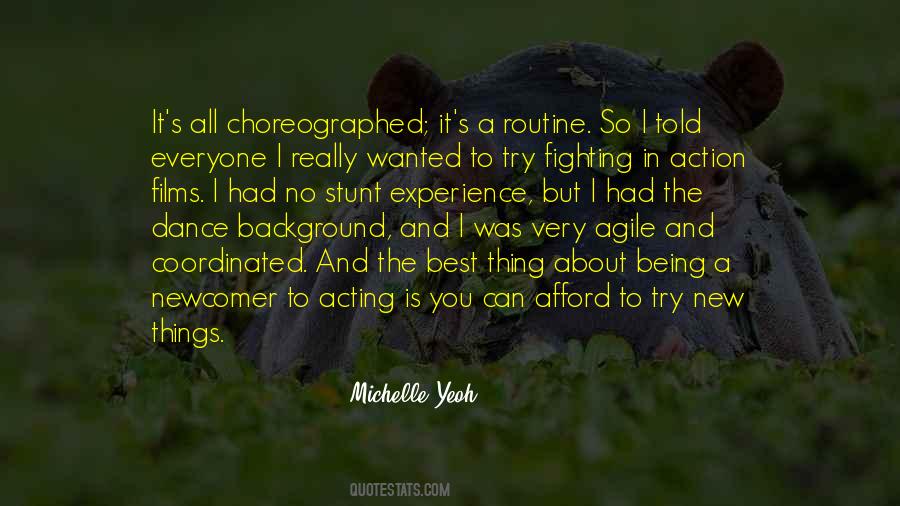 #25. Repetition on things like that becomes quite painful. If you do a stunt sometimes it can look like a stunt. - Author: Marton Csokas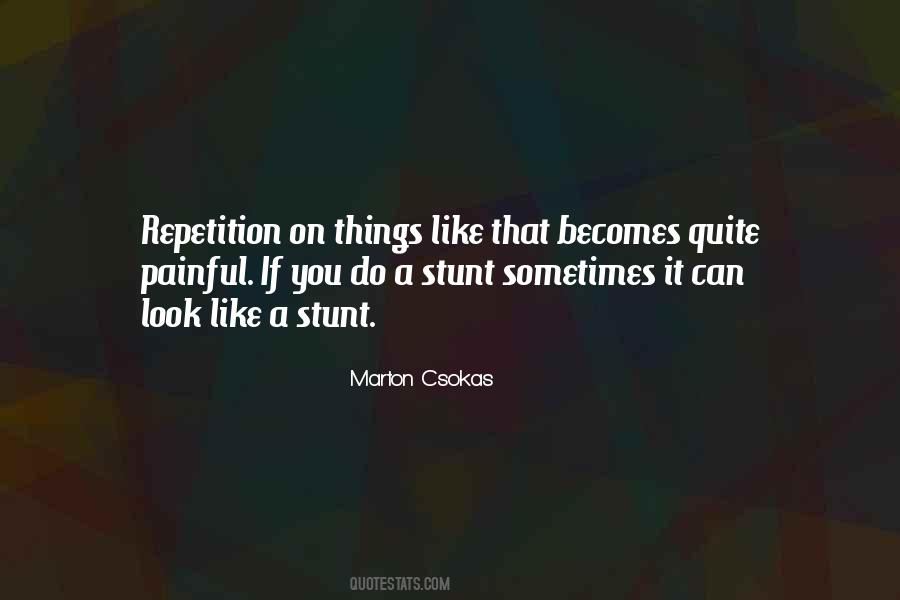 #26. Why should we stunt our ambitions and impoverish our lives in order to be insulted and looked down upon in our old age? - Author: Joseph A. Schumpeter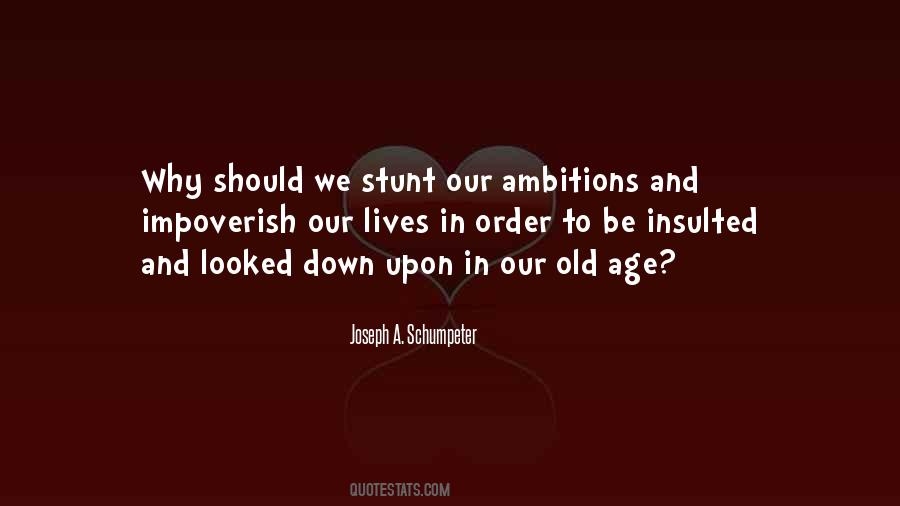 #27. I'm an athlete; I've got an ego when stunt doubles have to come in. Not an ego like that, but when it comes to physical stuff, if I didn't have to have a stunt double, I would always probably do it myself unless the producers were jumping in and stopping me. - Author: Michael B. Jordan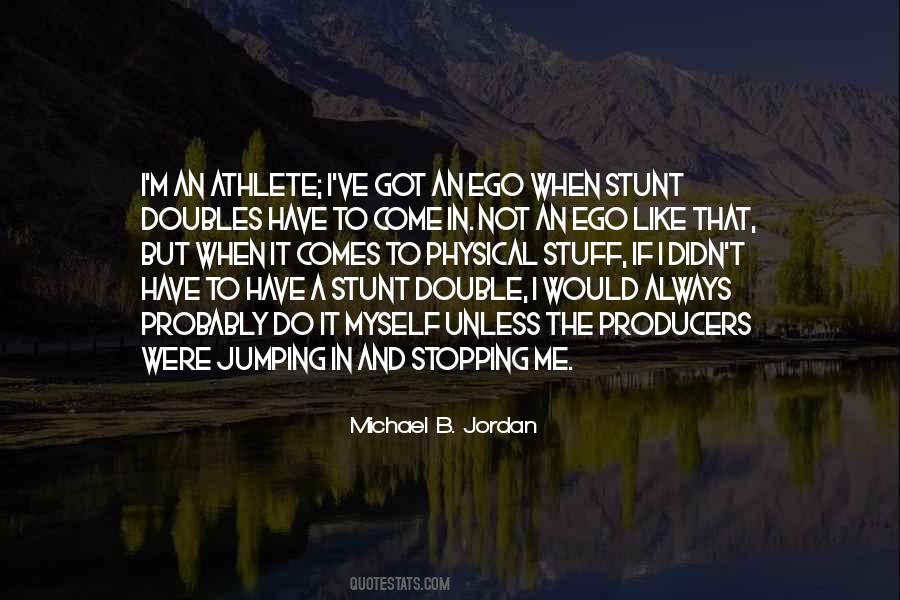 #28. The sensation of writing a book is the sensation of spinning, blinded by love and daring. It is the sensation of a stunt pilot's turning barrel rolls, or an inchworm's blind rearing from a stem in search of a route. At its worst, it feels like alligator wrestling, at the level of the sentence. - Author: Annie Dillard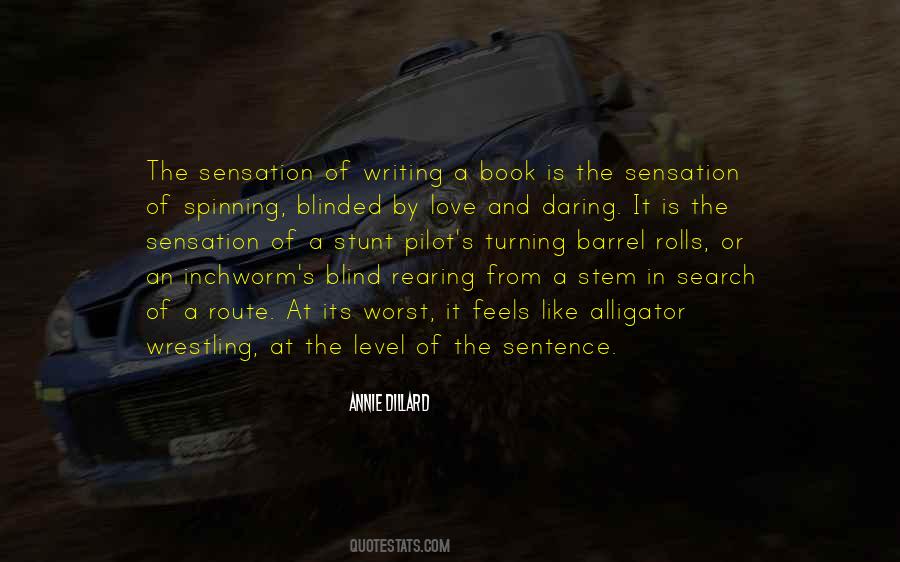 #29. I am very hands on doing my own work, all my own stunt work. - Author: Jodi Lyn O'Keefe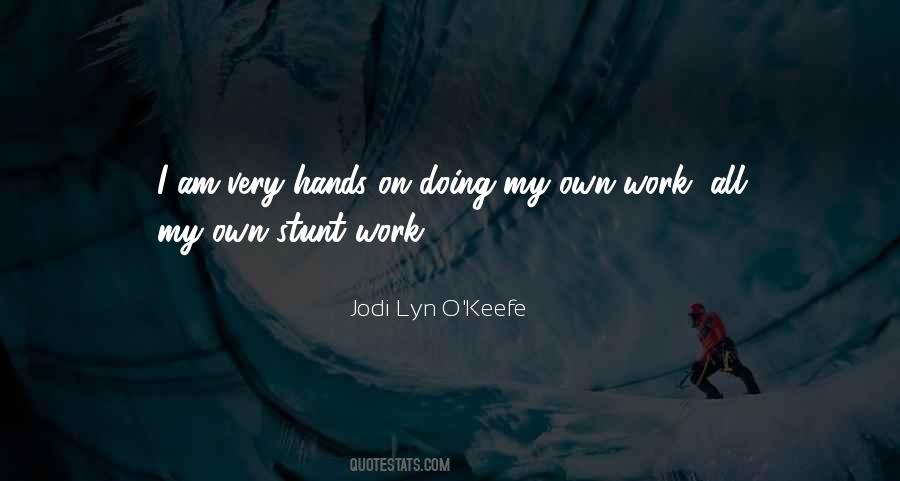 #30. A stunt kite writes on the blue with its pink tail. - Author: David Mitchell
#31. Even though they use stunt doubles, I learn the whole thing, in case maybe they put me in. I'm enjoying it so much. It's so fun, with explosions and shooting. It's cool. I'm 38, but it's like being a child. - Author: Casper Crump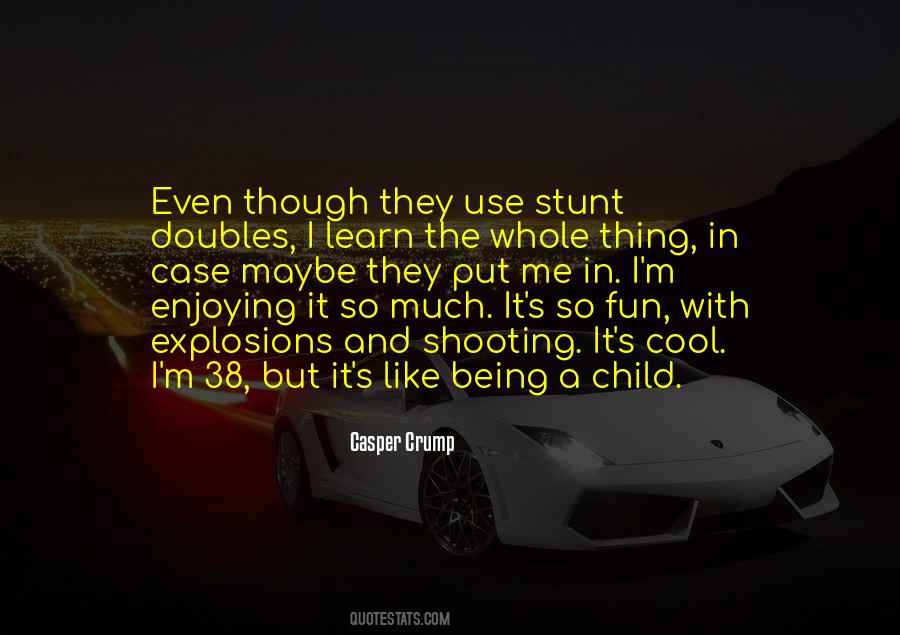 #32. You guys are related to Jonah Wizard?" Jake asked, his lip curled disdainfully. "And the other guy," Dan grumbled. "Vin Diesel's stunt double. - Author: Peter Lerangis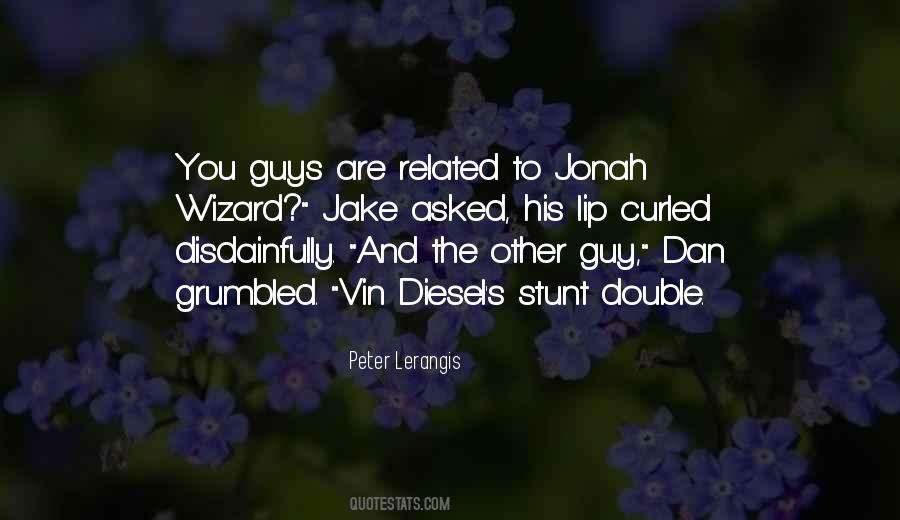 #33. My father got a phone call to bring me in to meet with Spielberg for 'E.T.,' partially because they knew I was a physical kid, and I was known in the business somewhat as a stunt kid, and I could do all the bicycle riding. - Author: C. Thomas Howell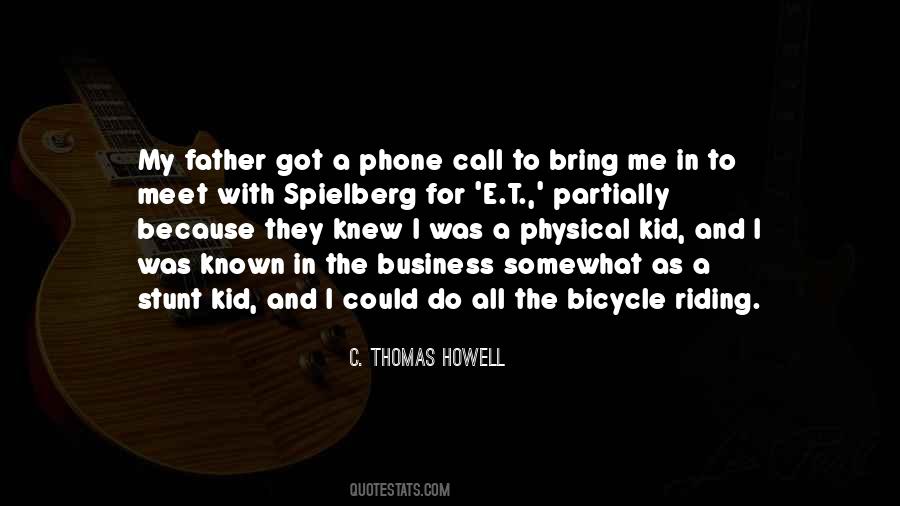 #34. I love doing stunt stuff and action stuff. I'm not flipping off helicopters; that would be insane. - Author: Dylan O'Brien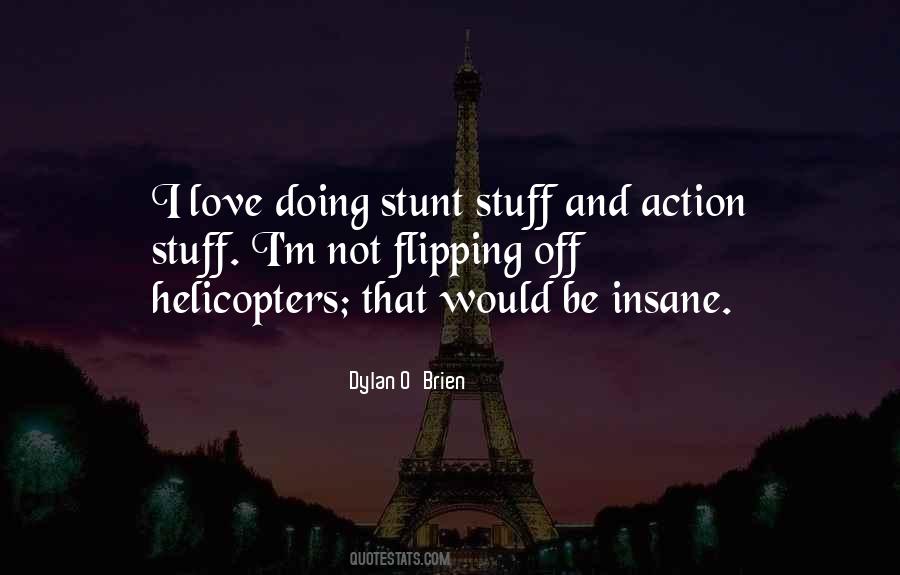 #35. I had the opportunity to go cast for a Hollywood film that was filming in Thailand called 'Mortal Kombat 2.' Out of 100 people, I was cast to be the stunt double for Robin Shou. - Author: Tony Jaa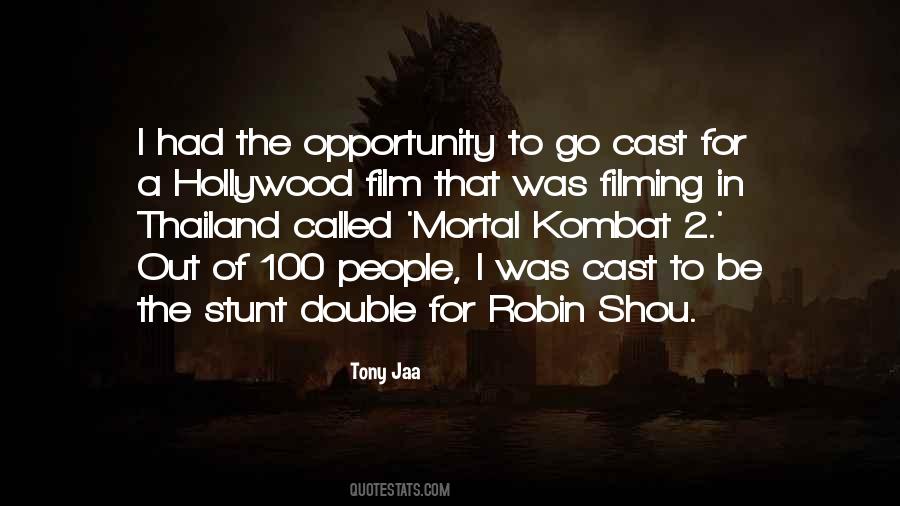 #36. Yakima Canutt was famously John Wayne's stunt double, and in the Western movie 'Stagecoach,' there is a fantastic scene where there are some horses thundering along, pulling a carriage. He climbs out onto the horses and drops down underneath them, so he's being dragged along, and then he lets go. - Author: Steve Truglia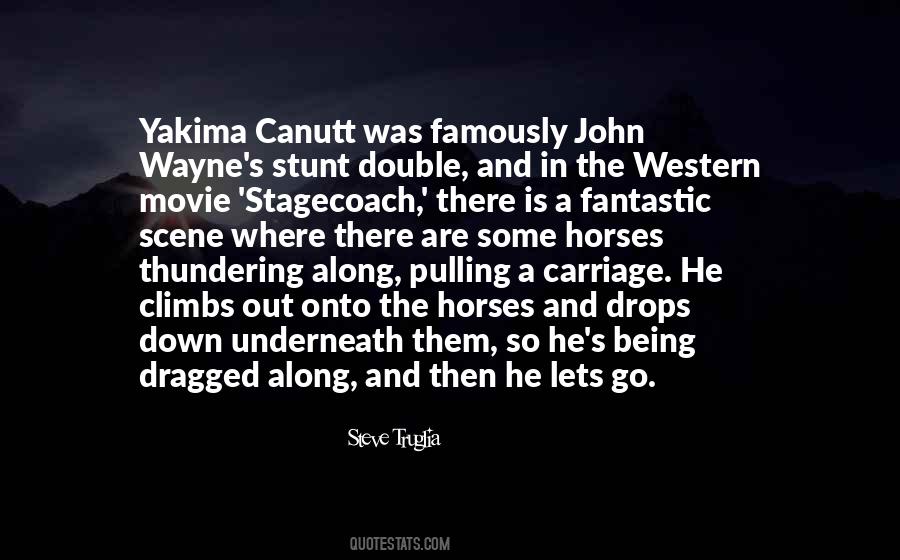 #37. I think if they suddenly cut away and you realize there is a stunt guy, you're out of the movie. - Author: Sam Worthington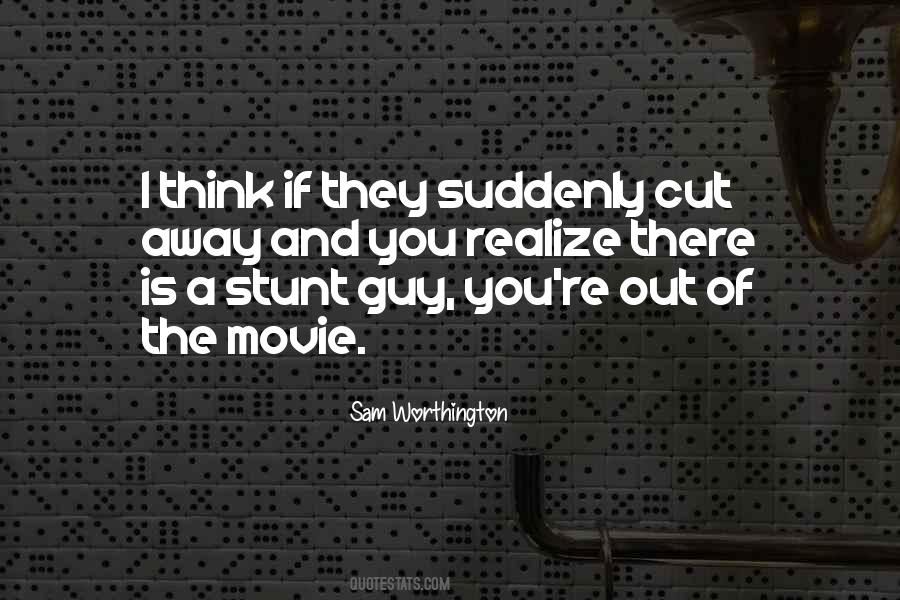 #38. IN GENERAL CANFAB ,TERRORISM IS BREWED AND COUNSELED BY WORLD MATURED MASTER BRAINS. RESULTING ENTIRE GLOBAL CITIZENS BROOKING THE CREAM OF CROP. OBVIOUSLY, POWER FIRE ON LINE LIVE HAS TO BE ENGULFED RIGHT NOW TO CATECHIZE IRON PRESS ON EX-CON WRONG DOER TOUR DE FORCE STUNT FEATS. - Author: Various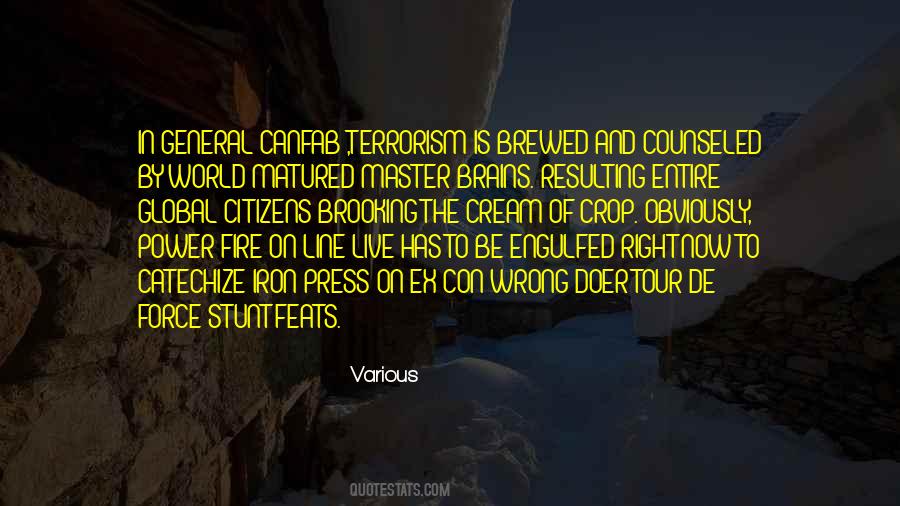 #39. All you do in a [stunt] video game, you can do in real life. If you have a passion, don't be too lazy to do it. I hope kids are inspired to go out and do what they really want to do. - Author: Travis Pastrana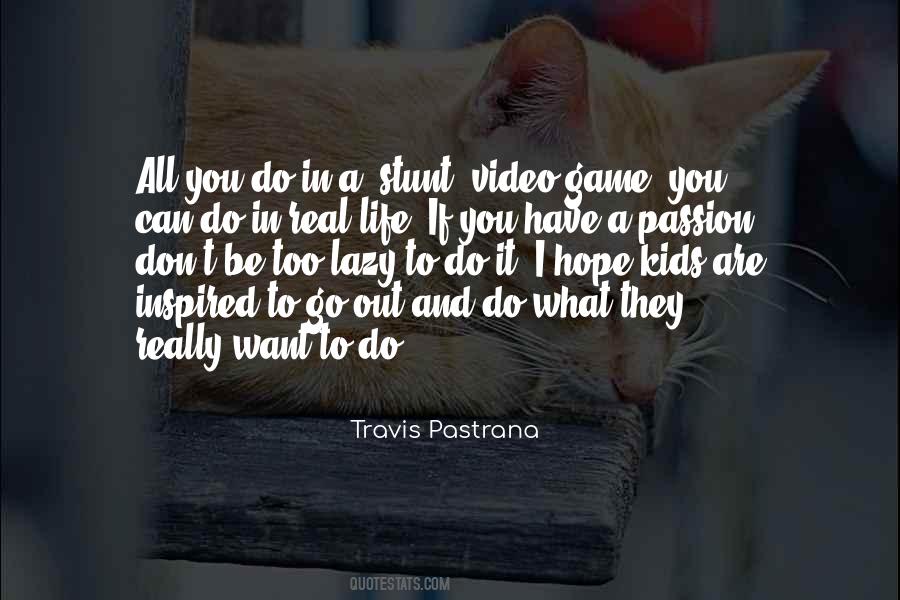 #40. I love the physical roles. I have the utmost respect for stunt people and stunt doubles, but I like to do as much as I possibly can with what's become some pretty significant training. - Author: Eliza Dushku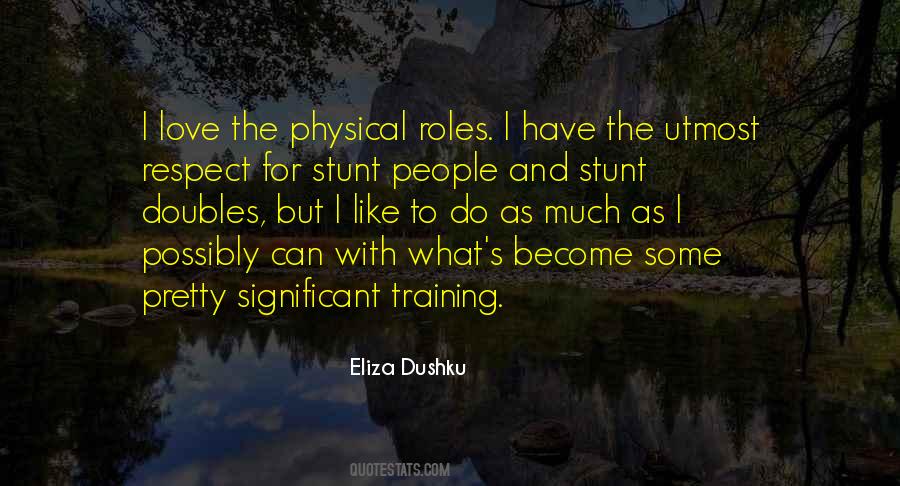 #41. Stunt coordinating is a good training ground for directing because you have exposure to all the departments in film. - Author: David Leitch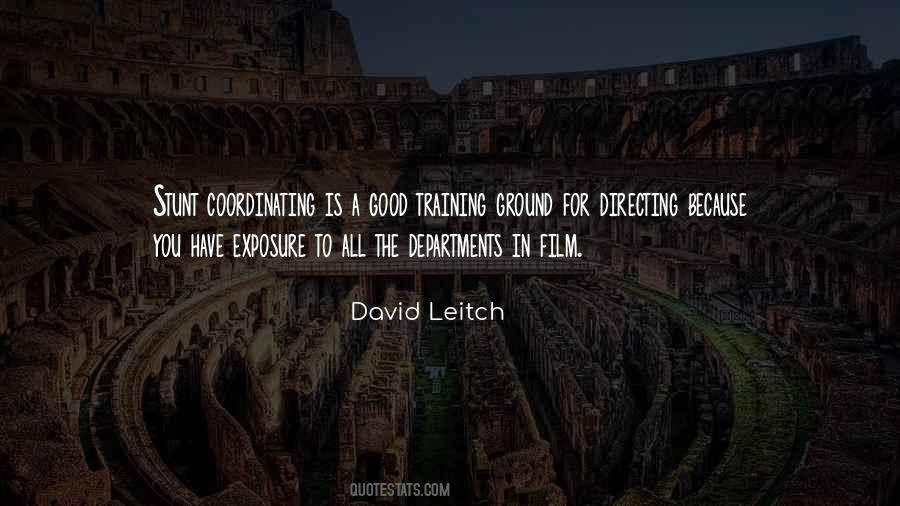 #42. I used to do a stunt in almost every movie. When I became an executive, all the insurance guys freaked out. - Author: Lorenzo Di Bonaventura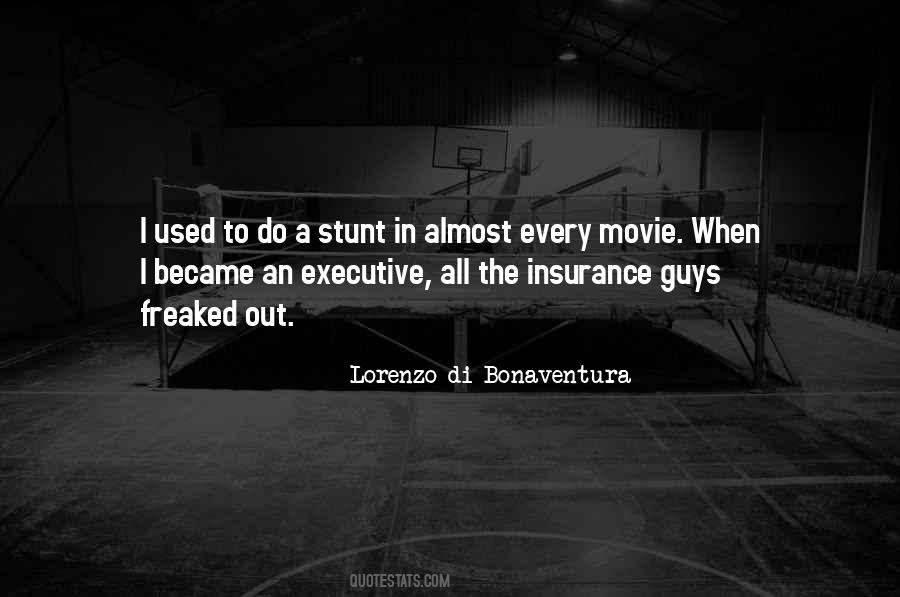 #43. I love accessories. I'm a girl. I love shoes. I love handbags. - Author: Petra Stunt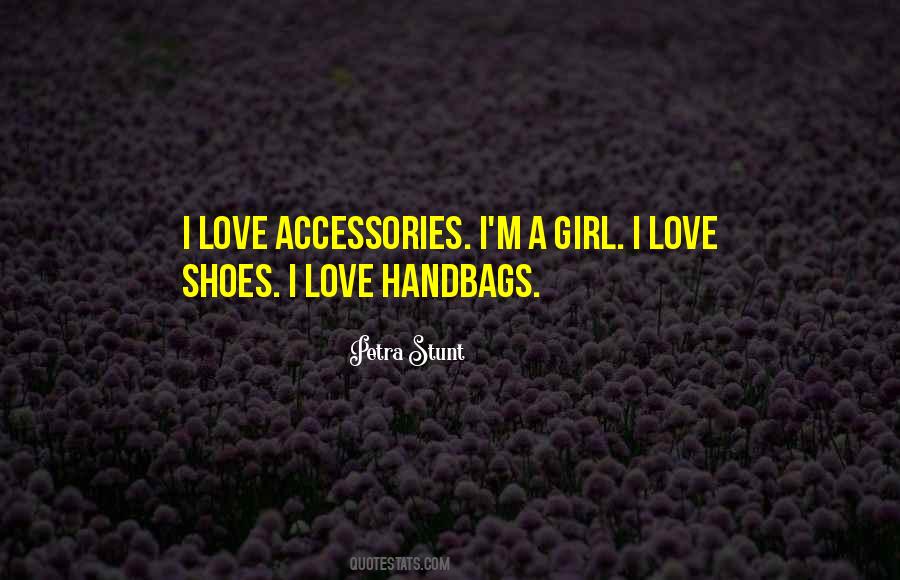 #44. I have talked to stunt drivers all my life, 32 years of talking to stunt drivers. There's a craziness to them. - Author: Bryan Cranston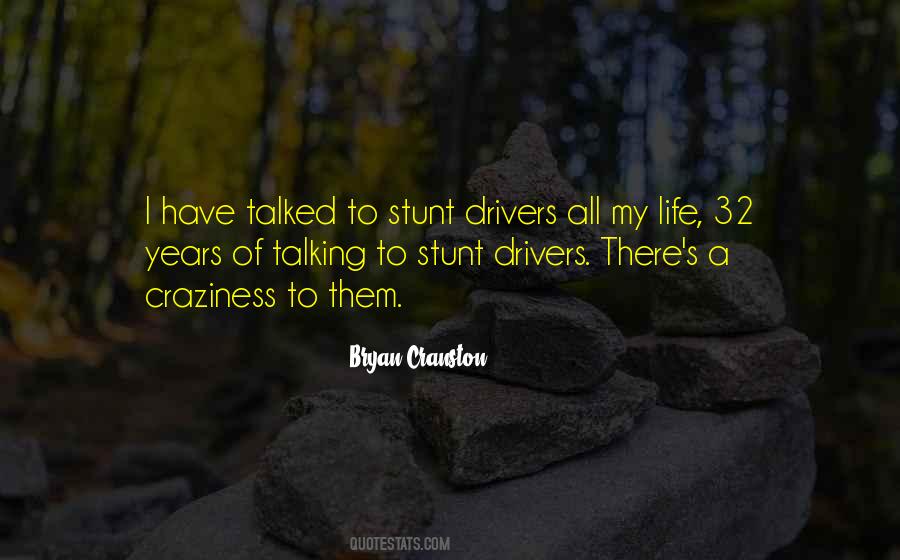 #45. Being a part of the action is just incredible. I loved doing stunt stuff. I loved learning to ride. - Author: Anna Popplewell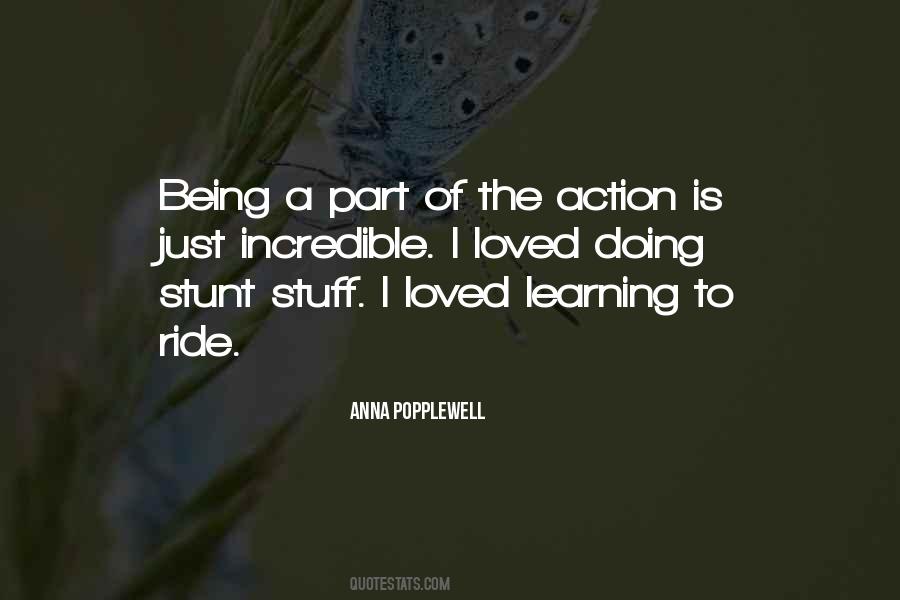 #46. As a stunt guy, you become a mini-director. You're talking to actors about performance. - Author: David Leitch
#47. Stunt dwarf or destroy the imagination of a child and you have taken away its chances of success in life. Imagination transforms the commonplace into the great and creates the new out of the old. - Author: L. Frank Baum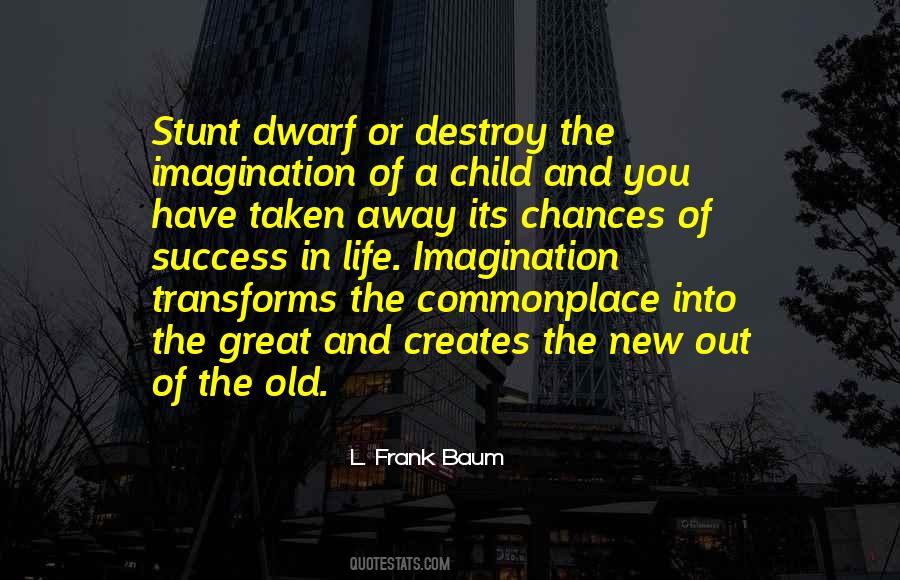 #48. Donald Trump announced that he's running for president. During his speech he told the crowd that if elected he would be 'the greatest jobs president that God ever created.' Then God said, 'Hey, don't drag me into this publicity stunt.' - Author: Jimmy Fallon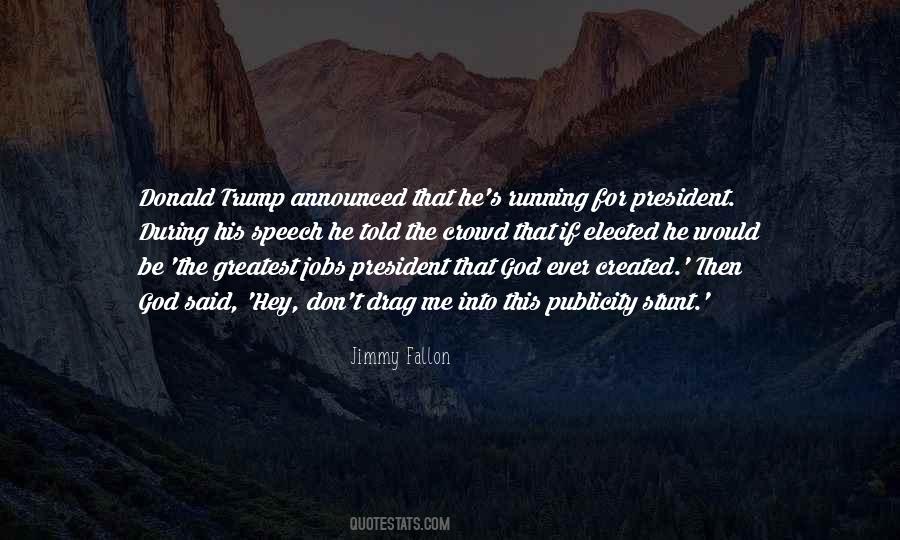 #49. The stunt guys are absolutely brilliant, but all this stuff [a scene] always looks better when you do it yourself. - Author: Dominic Cooper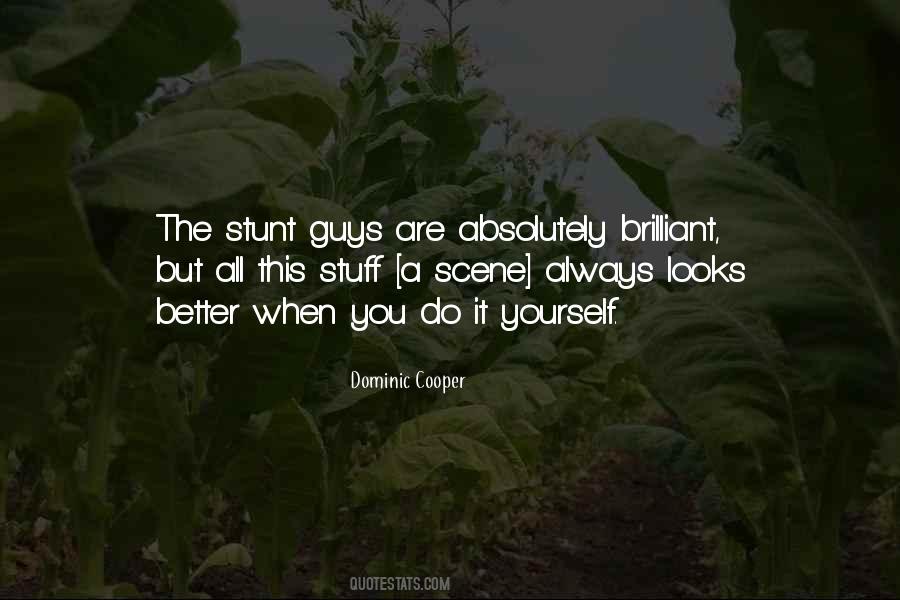 #50. I realize I am very privileged. But there's a difference between being spoiled and privileged. - Author: Petra Stunt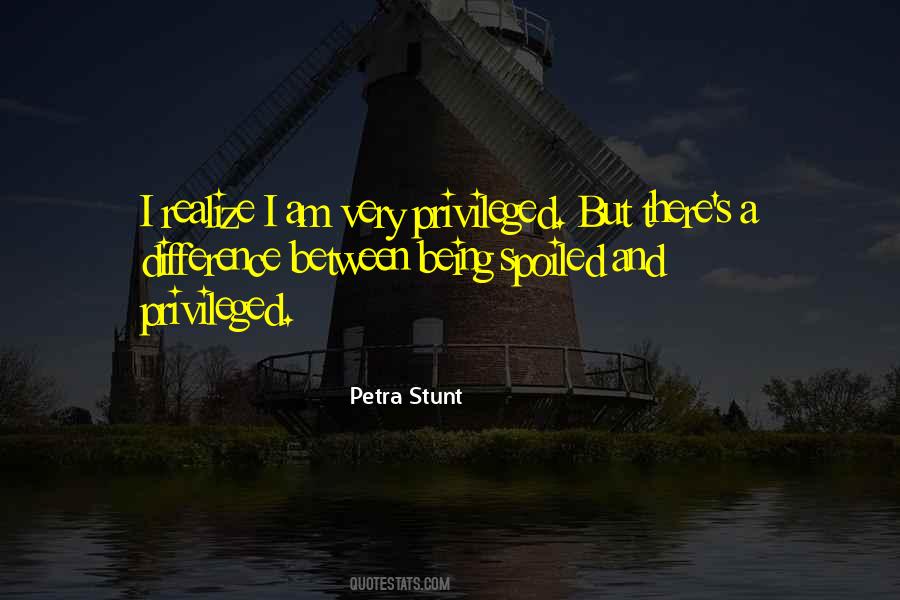 #51. I am a guy who is first of all a businessman. I'm not a stunt man. I'm not a daredevil. I'm - I'm an explorer. - Author: Evel Knievel
#52. The thing about being on a long-running series is that you get to know all the stunt men and the stunt coordinators, and they let you pretty much do everything you want, as long as they trust you. - Author: David Oakes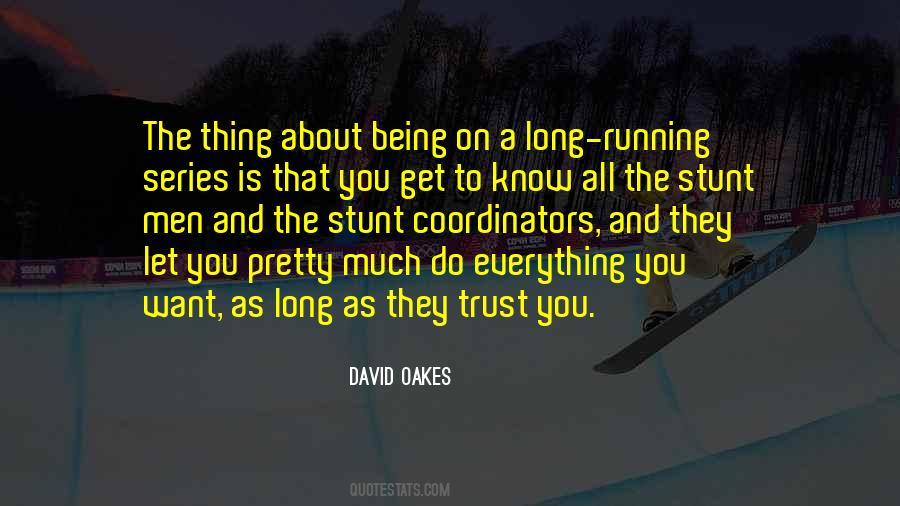 #53. I love getting to work with the stunt coordinator. It's like choreography, like a dance. - Author: Jessica Stroup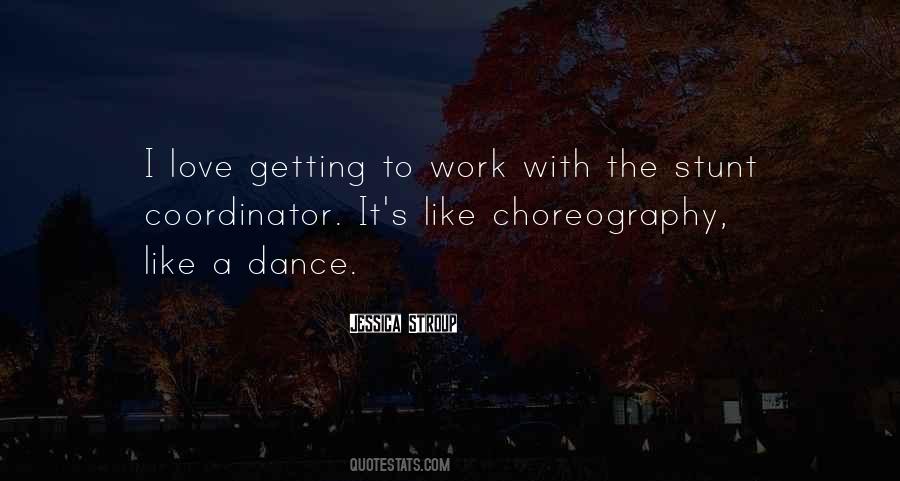 #54. A good choreographer is one that's going to collaborate, teach, guide - everything. The wonderful thing on 'Brotherhood of the Wolf' was that we had Philip Kwok - he choreographed John Woo's 'Hard Boiled,' and in the '70s, he was a martial arts actor, stunt man, fighter, choreographer in Hong Kong. - Author: Mark Dacascos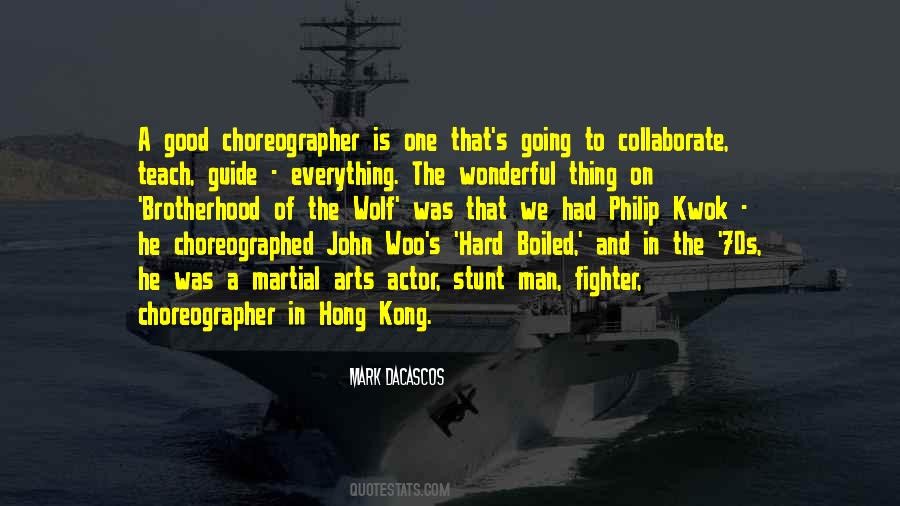 #55. A lot of people ask me when I do a stunt, 'Jackie, are you scared?' Of course I'm scared. I'm not Superman. - Author: Jackie Chan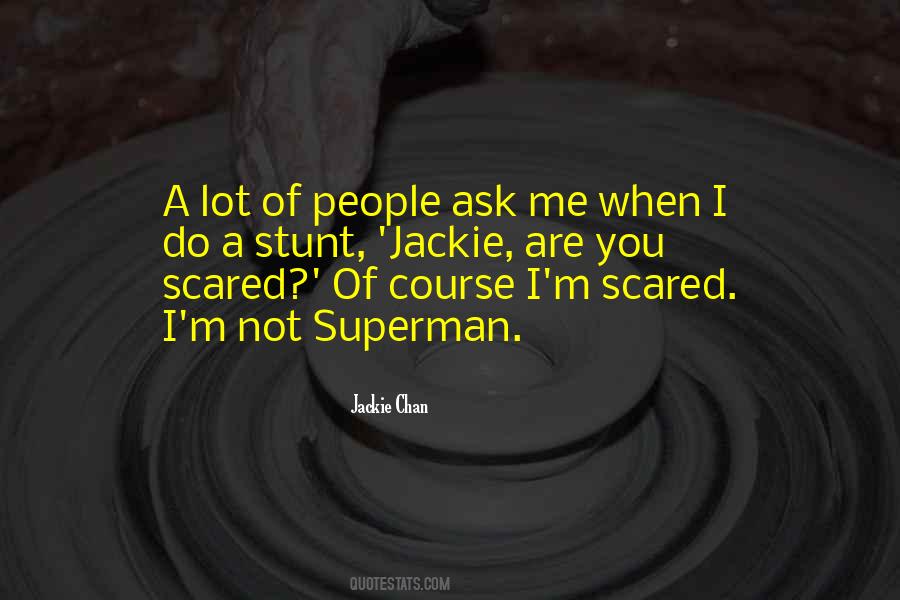 #56. I don't do my own stunts, but I do my own fighting. I don't consider fighting to be a stunt. - Author: Liam Neeson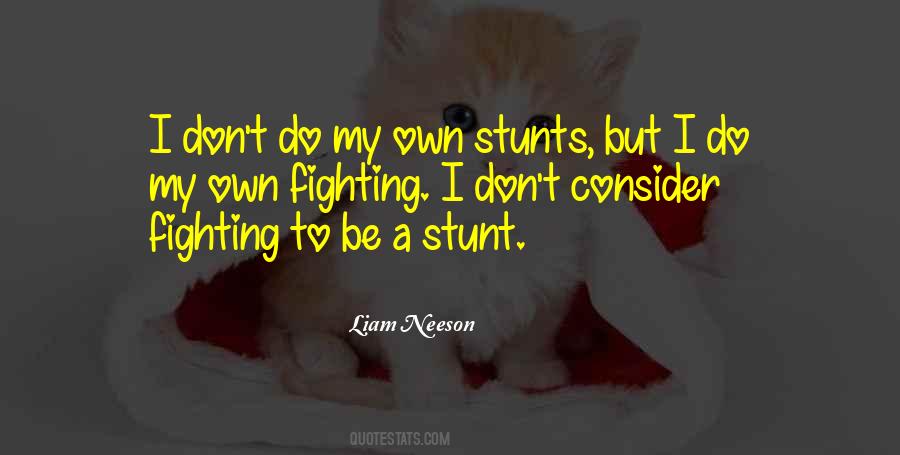 #57. When being a stunt double, my job has always a supportive role, which is interesting, really. Part of what I really like about it is making a situation where people can just come out of their shell and be super bad-ass. That's exciting! - Author: Zoe Bell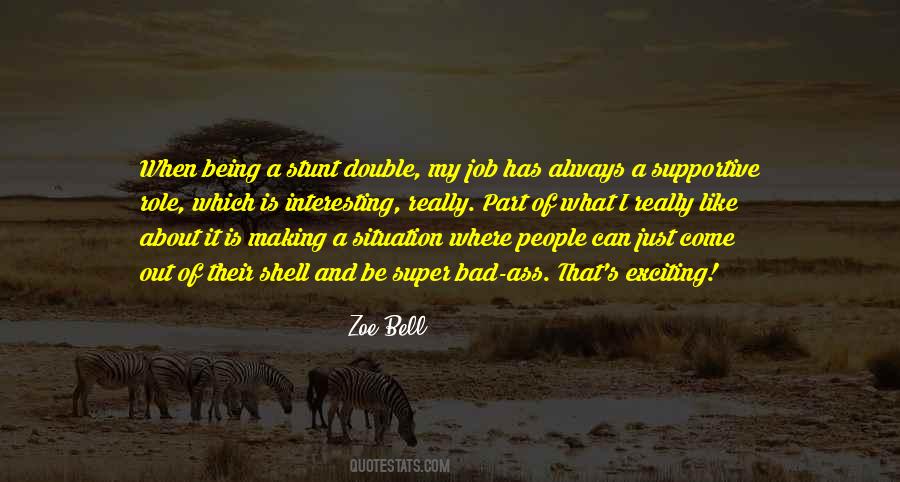 #58. I'd rather stunt forever then stunt for the day - Author: Blanco Vandam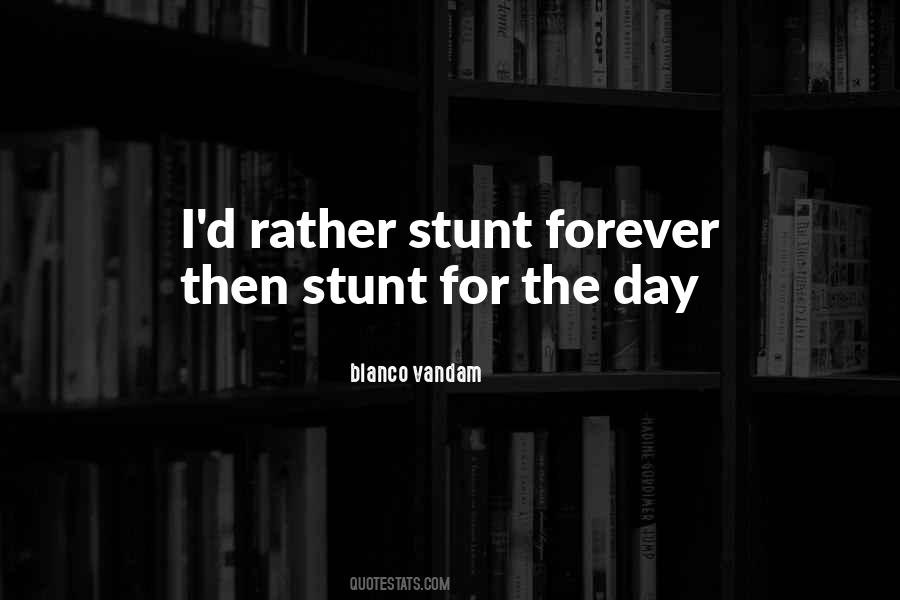 #59. On 'Angel' I got to work a lot with Mike Massa, who was David Boreanaz' stunt double, and Mike would let me do most of my stuff by myself. I did almost all my fight scenes by myself. - Author: Christian Kane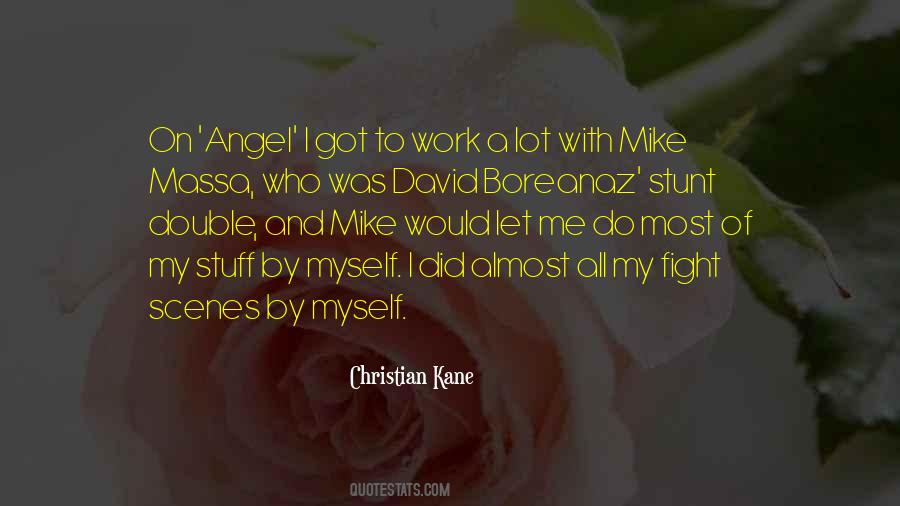 #60. For your own self-respect and sanity, your creative freedom, you have to be careful that you don't rely too much on other people's opinions of what you do because it can stunt and inhibit you. - Author: Luke Evans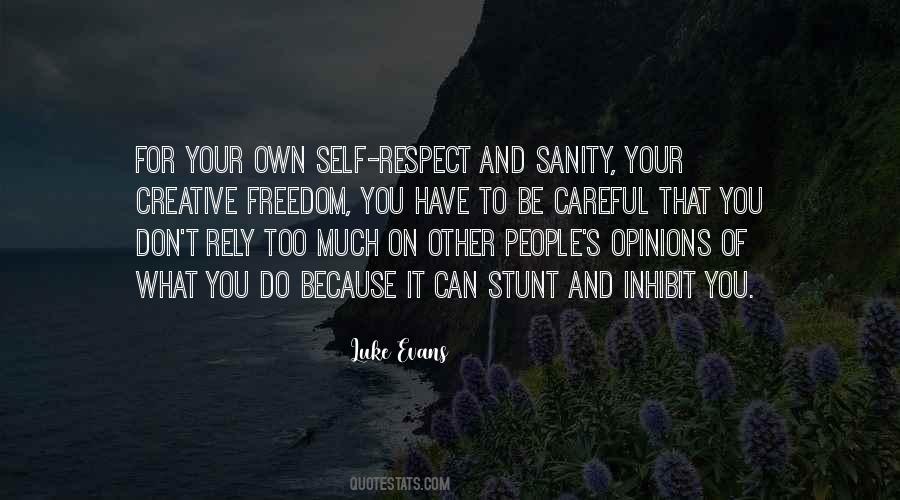 #61. I'm a great believer in stunt doubles. They do an amazing job. - Author: Javier Bardem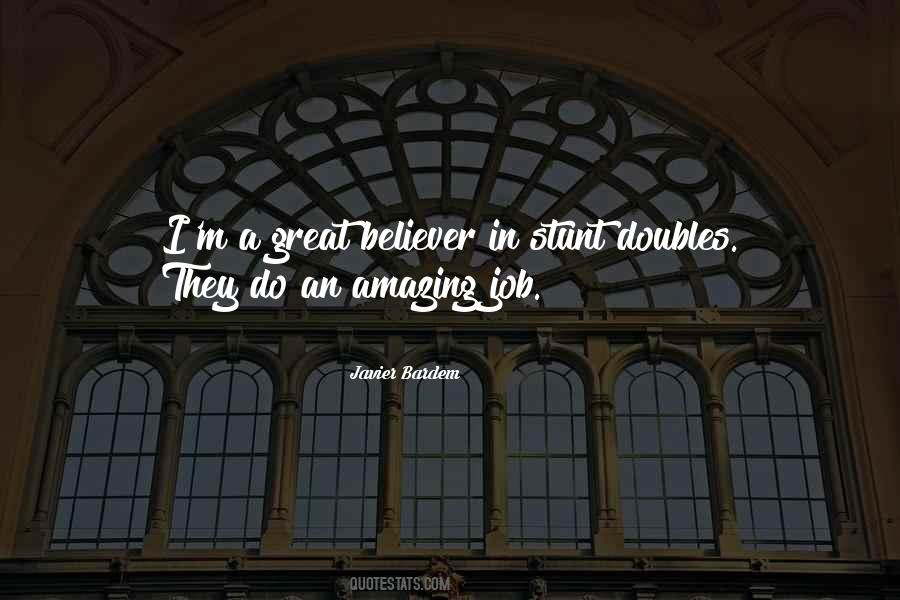 #62. I had professional stunt racers teaching me how to drive. - Author: Devon Aoki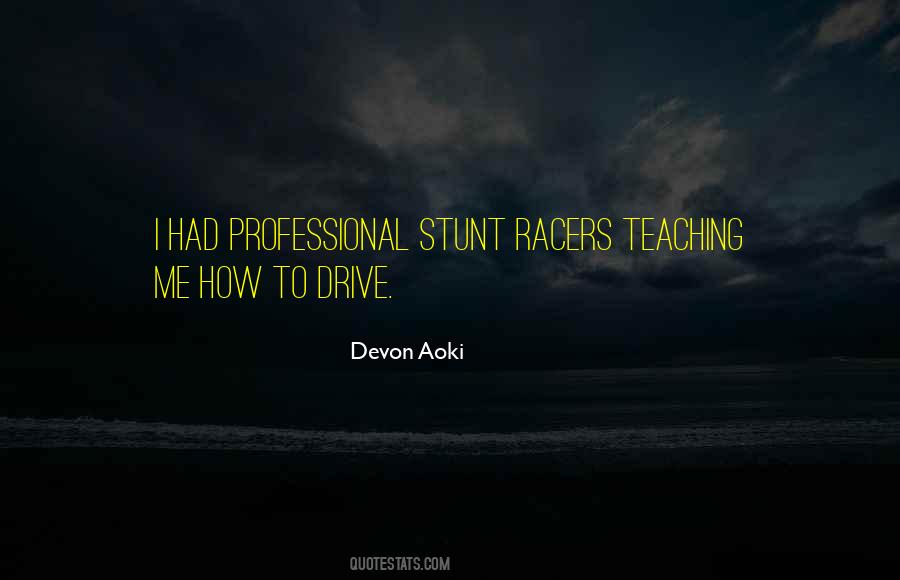 #63. The guys on the stunt team are really fantastic. It's really funny, because for all the aggression they have to display on screen, they're actually really happy, good- natured people. - Author: Miranda Otto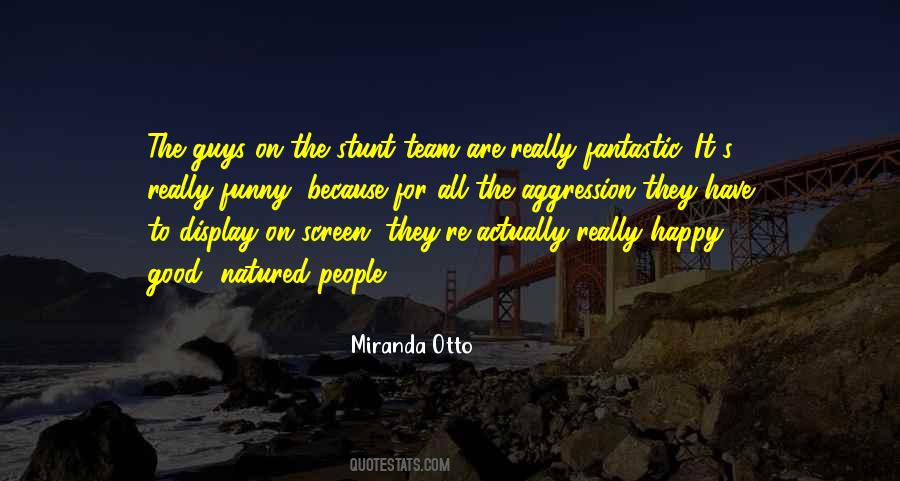 #64. I got a chiropractor to come along to the Patriot shoot, because they can actually stick you back together within 15 minutes. He spent a week and worked on the entire crew. All the stunt guys were like, 'Oh, fix my disc.' The guy's amazing. - Author: Mel Gibson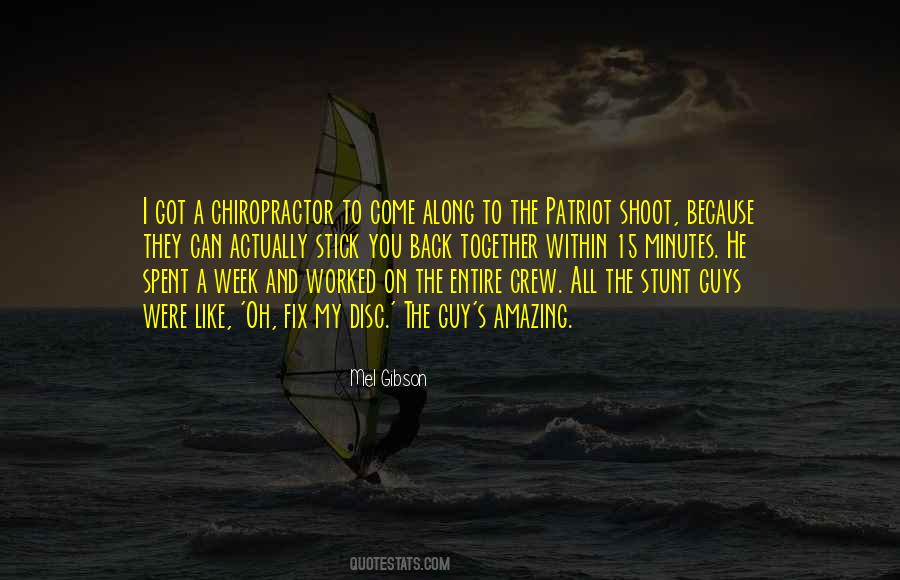 #65. I have a stunt double; his name is Glen Levy, and he has the hardest punch in the world. Seriously, it's actually been recorded by 'National Geographic.' He calls it the Hammer Fist. - Author: Craig Horner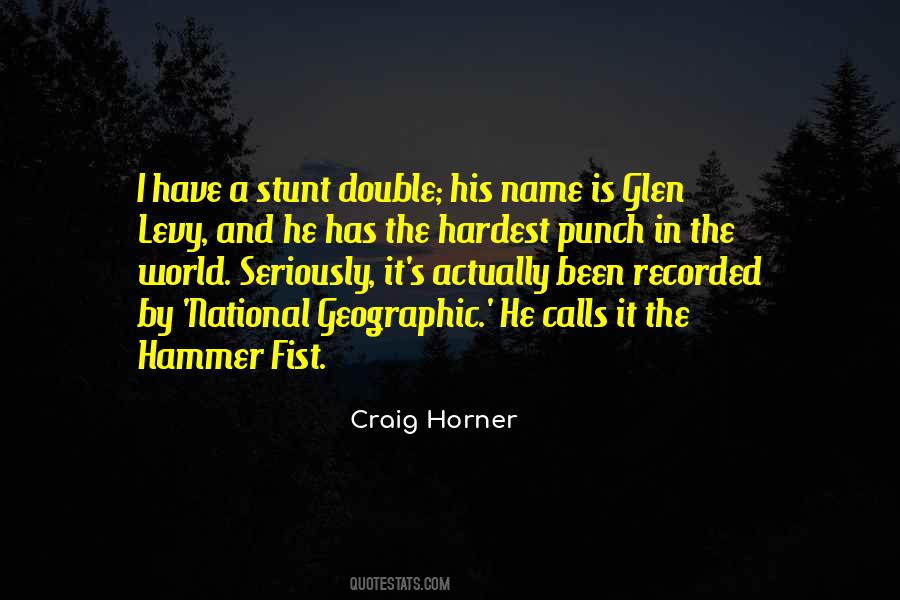 #66. Don't allow the pride, ego and insecurities of others stunt your growth. - Author: Yvonne Pierre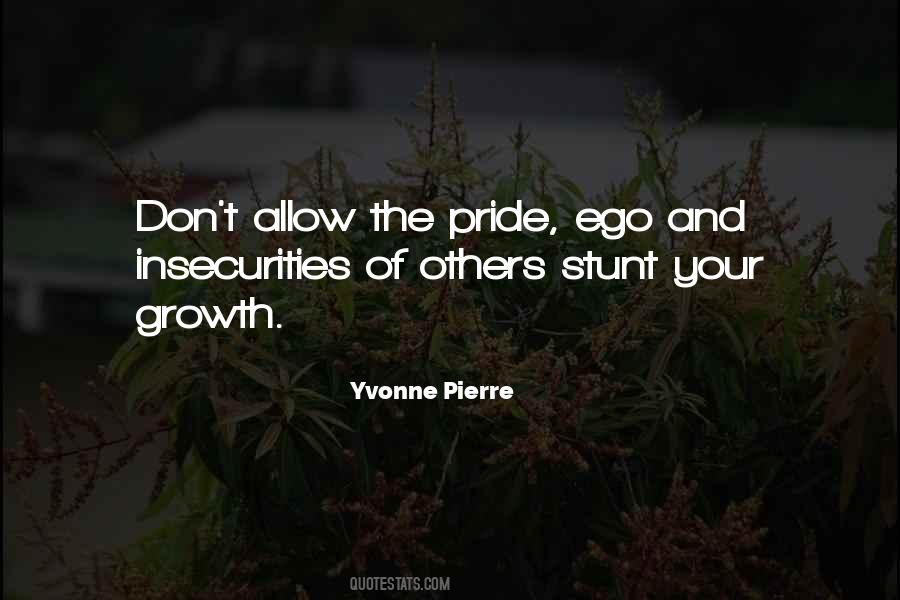 #67. The art of stunt-making is not about falling down; it's about getting the shot. Creating stunts is creating heroes. - Author: Chad Stahelski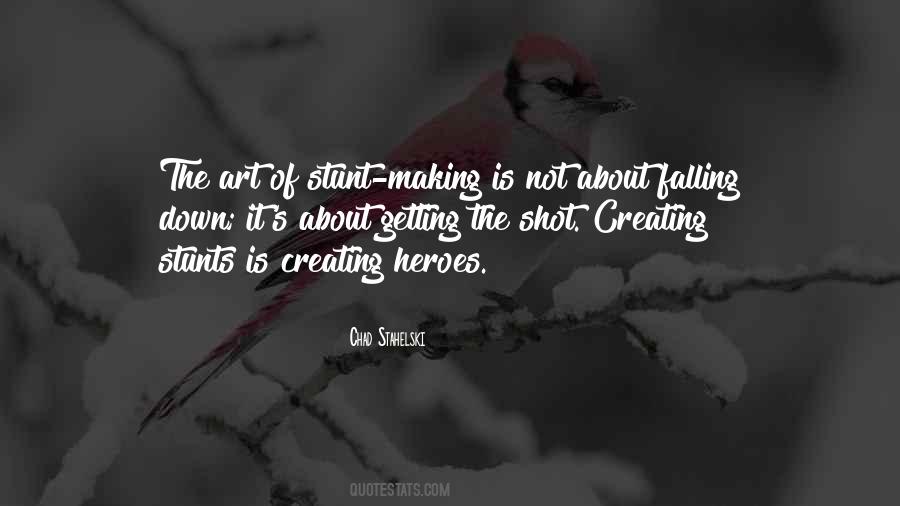 #68. My parents were very well-off, but we didn't have a crazy-huge house. We didn't have thousands of workers and staff; it was just my mum doing the majority of the housework. We didn't have nannies. I wasn't brought up in any sort of extravagant way. - Author: Petra Stunt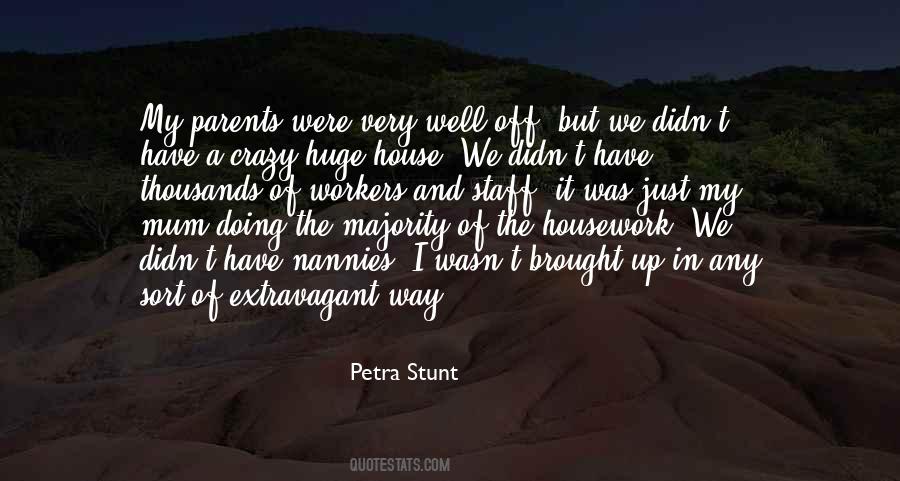 #69. I have to give props to my stunt double, who is the real deal and gets to do all the fun stuff and make me look good. - Author: Matt Barr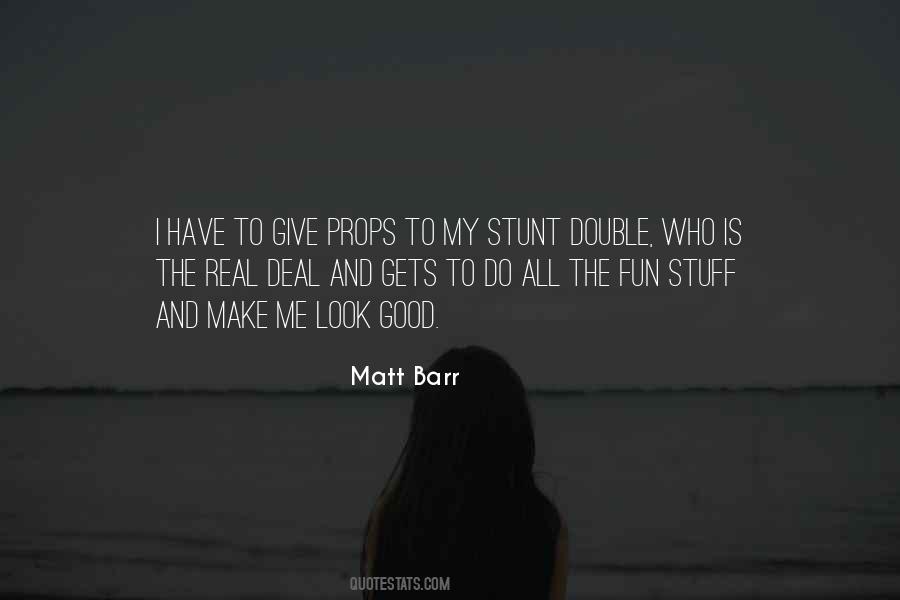 #70. When I was a young stunt guy the director would say: "You're useless ... " But I wanted to be the best, I wanted to be a super stunt guy. That's how I built myself, because of martial arts and everything. - Author: Jackie Chan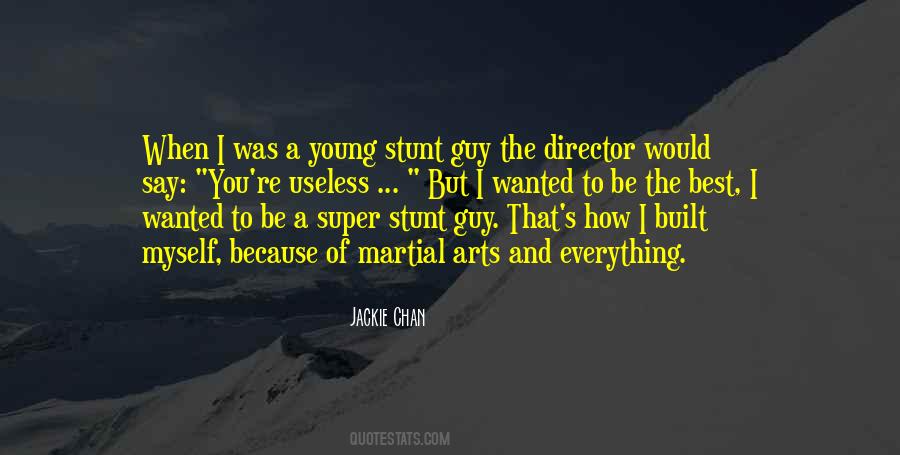 #71. Barefoot and pregnant. After the ruckus last night, I suppose I wouldn't be all that shocked if you managed it," Elijah muttered as Stunt passed him.

Stunt was officially in hell. It was like getting caught by his parents having sex. Worse...kinky sex. - Author: Lyn Gala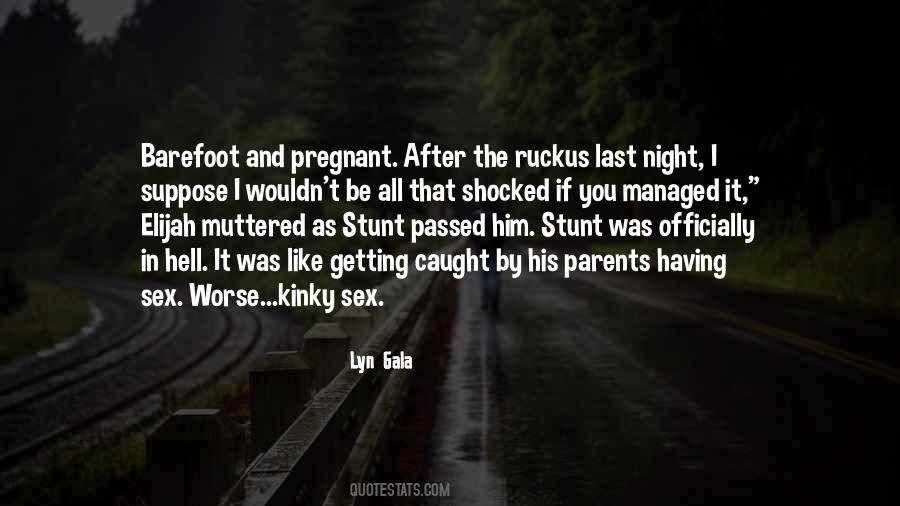 #72. It's much easier to do a fight sequence between two people, if one of the two people in the fight is a stunt person, or you're going to risk somebody getting hurt. - Author: Doug Liman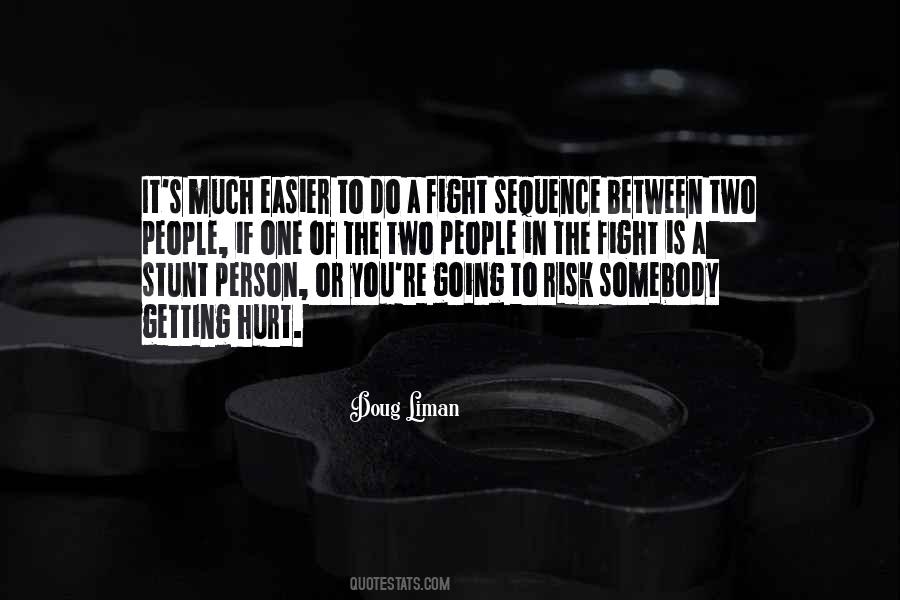 #73. There were a number of people who helped me get there, and the one I always mention is Michael Byrne, the great master swordsman and brilliant stunt double. - Author: Ian McDiarmid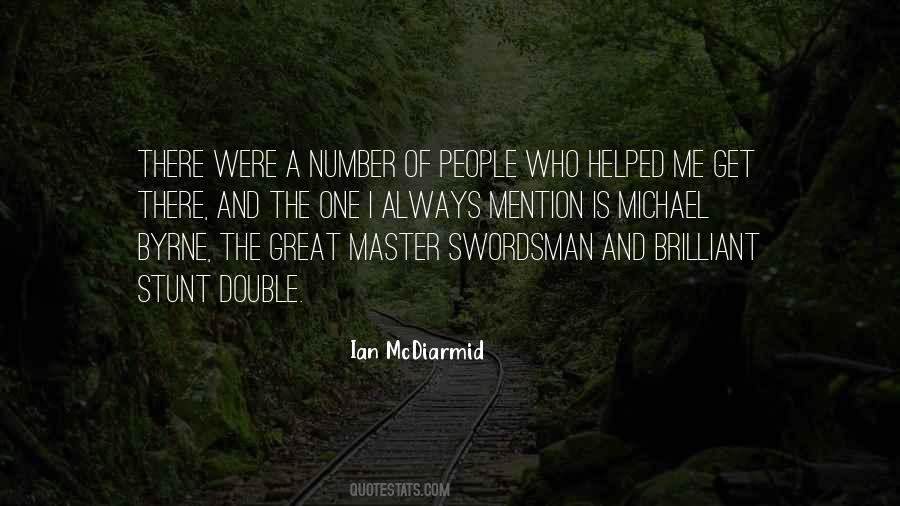 #74. Expectations are emotional signposts that stunt your growth. - Author: Balroop Singh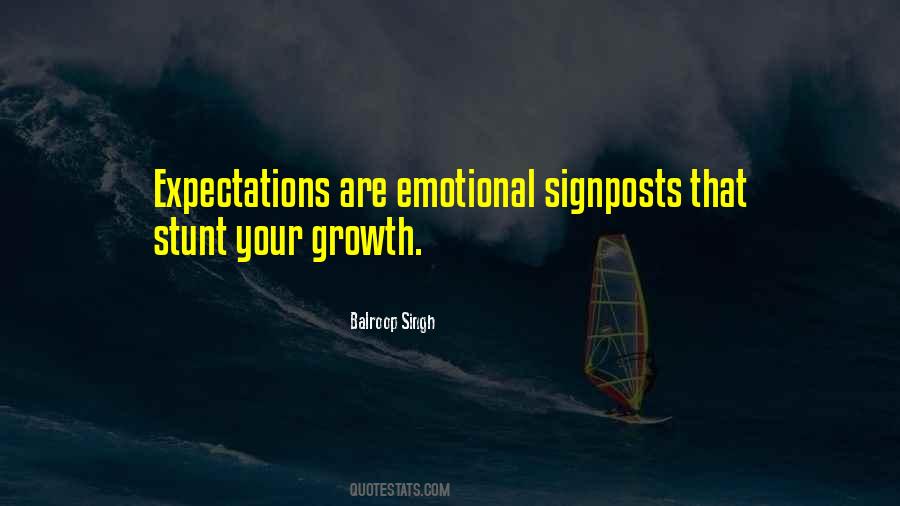 #75. My boy, that was a TV show. I used a stunt double. I always use a stunt double. Except in love scenes. I insist on doing those myself. - Author: William Shatner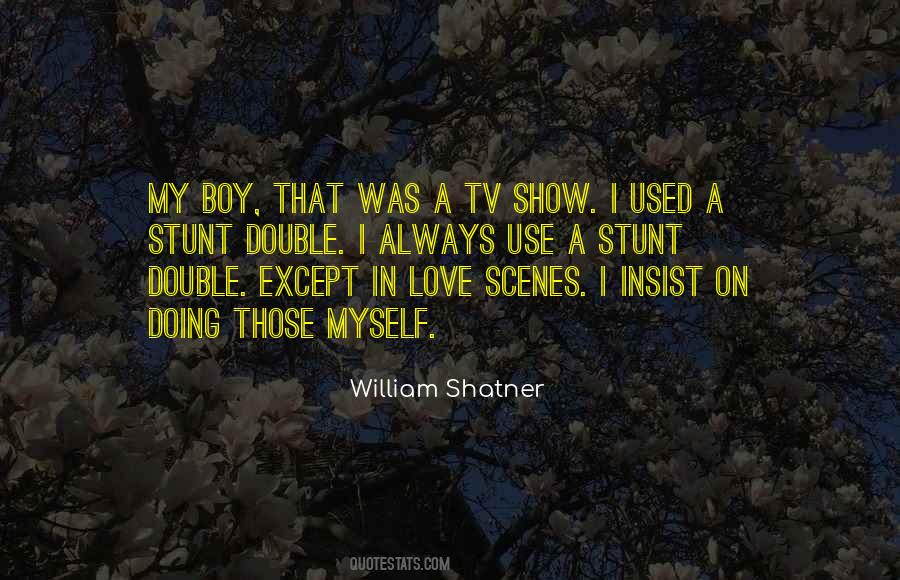 #76. I'm looking for Commander James Bond, not an overgrown stunt man. [on meeting Sean Connery] - Author: Ian Fleming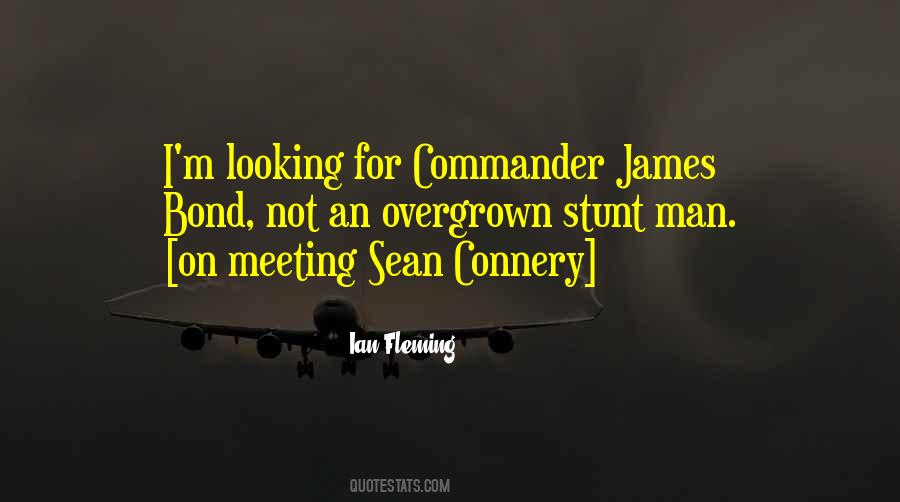 #77. When you're fighting with a stunt person, your intent is to miss. - Author: Victoria Pratt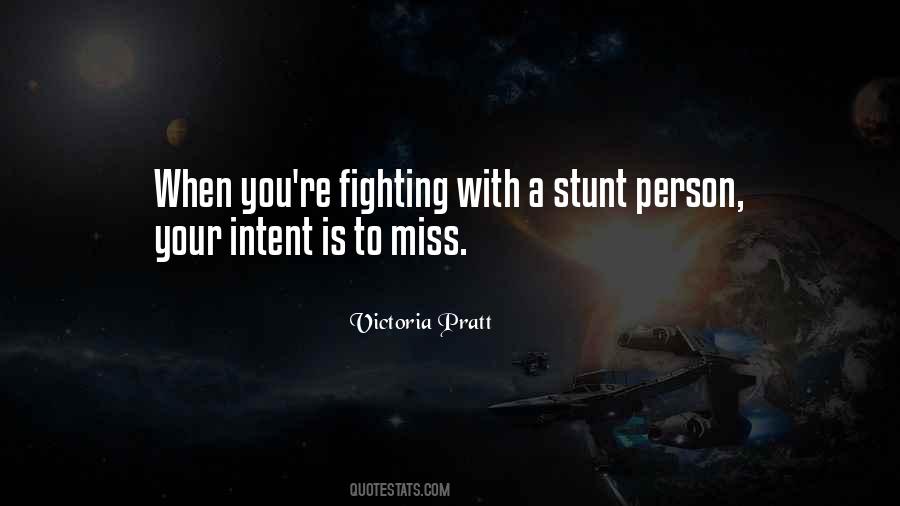 #78. I'm busy gettin rich. I don't want trouble. I made enough for 2 niggas, boy, stunt double. - Author: Drake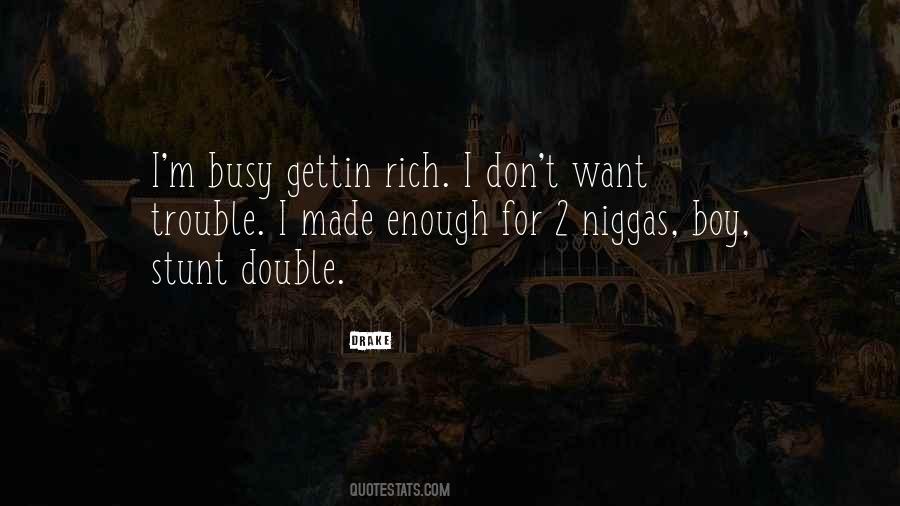 #79. Having been a stunt girl for so long, a big part of my job was to not just make the other person look as cool as they could, but also to act as a support. My job was to make them as safe as they could be, so that they could be as explosive and as emotionally engaged as they could be. - Author: Zoe Bell
#80. He and Helen spent the rest of the winter there, seeing friends and promoting his cigars. He staged one stunt in which he smoked three cigars at one time. - Author: Wilborn Hampton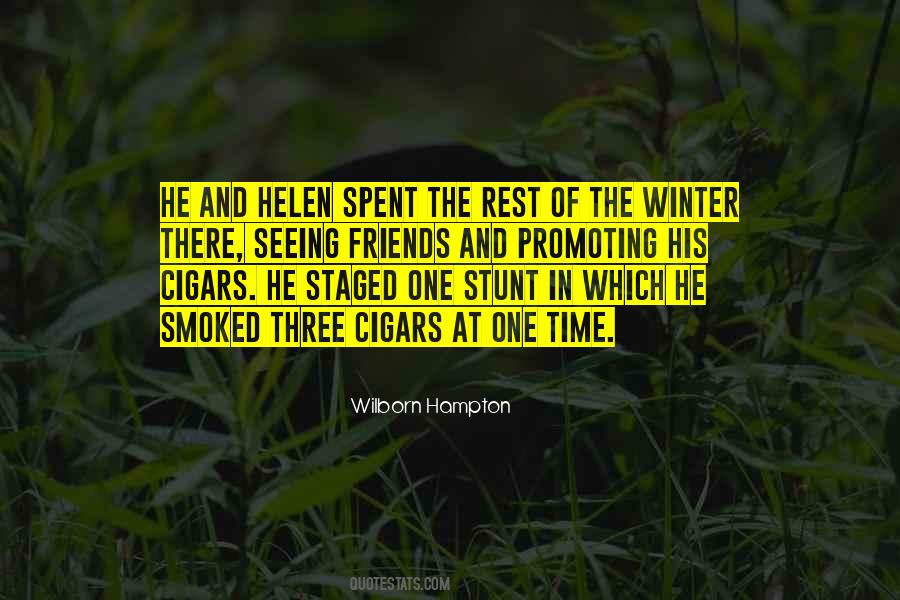 #81. Love is a publicity stunt, and making love, after the first curious raptures, is only another petulant way to pass the time waiting for the studio to call. - Author: Louise Brooks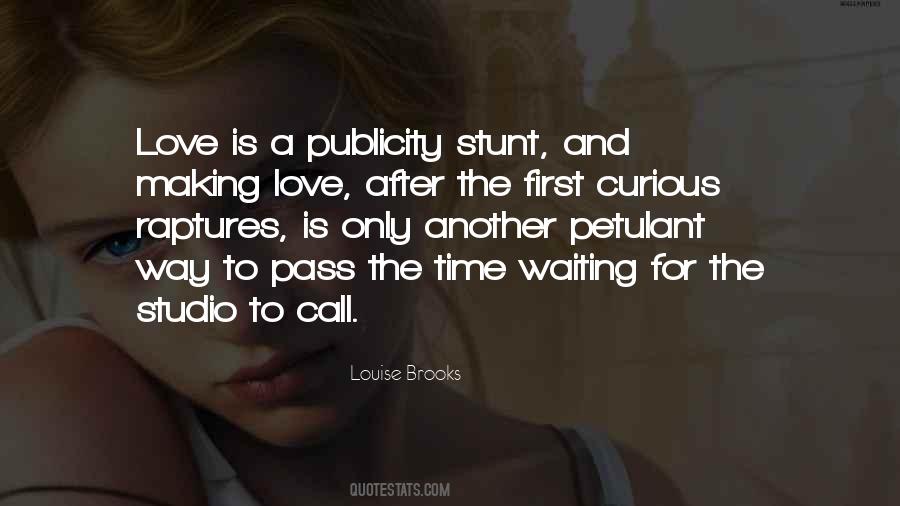 #82. I've been on sets where I broke my ankle on a television show doing a stunt playing Arthur in 'Camelot.' That was because it was really rushed, and it hadn't been thought through properly. - Author: Jamie Campbell Bower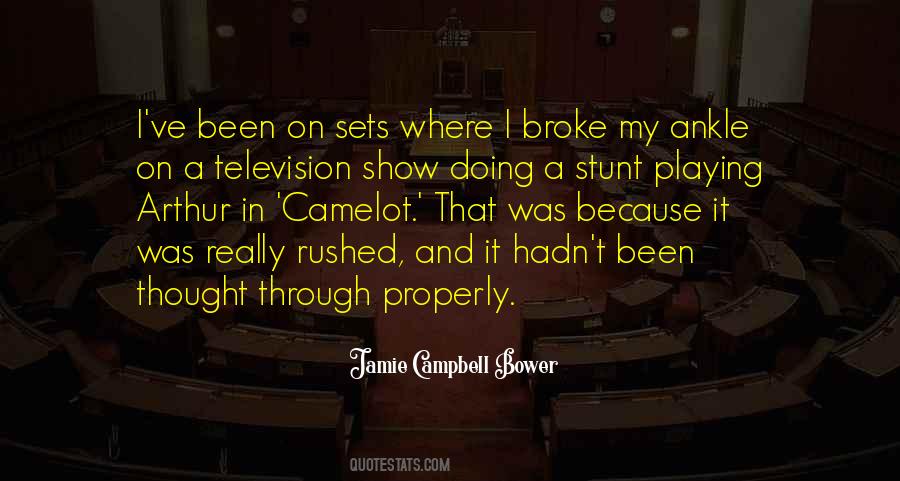 #83. I am a trained, professional stunt driver. I'm a great driver. - Author: Andrea Parker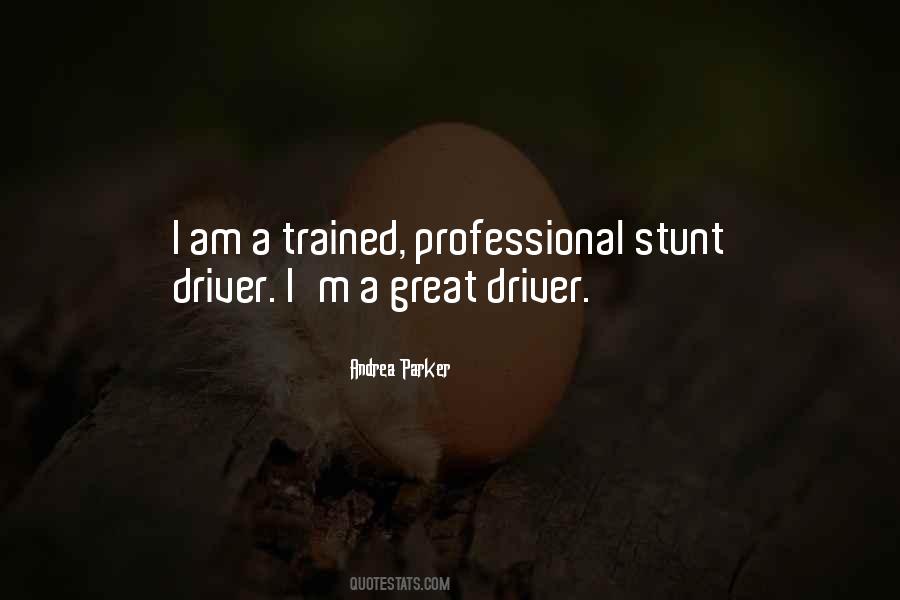 #84. The stunt team were great on 'Defiance.' They were there, every day. - Author: Stephanie Leonidas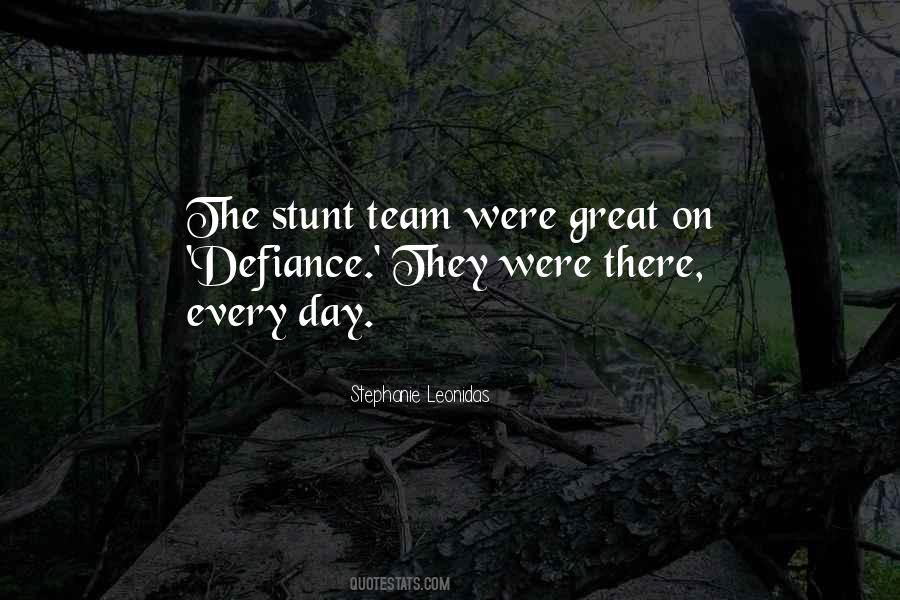 #85. Virtual reality started for me in sort of an unusual place. It was the 1970s. I got into the field very young: I was seven years old. And the tool that I used to access virtual reality was the Evel Knievel stunt cycle. - Author: Chris Milk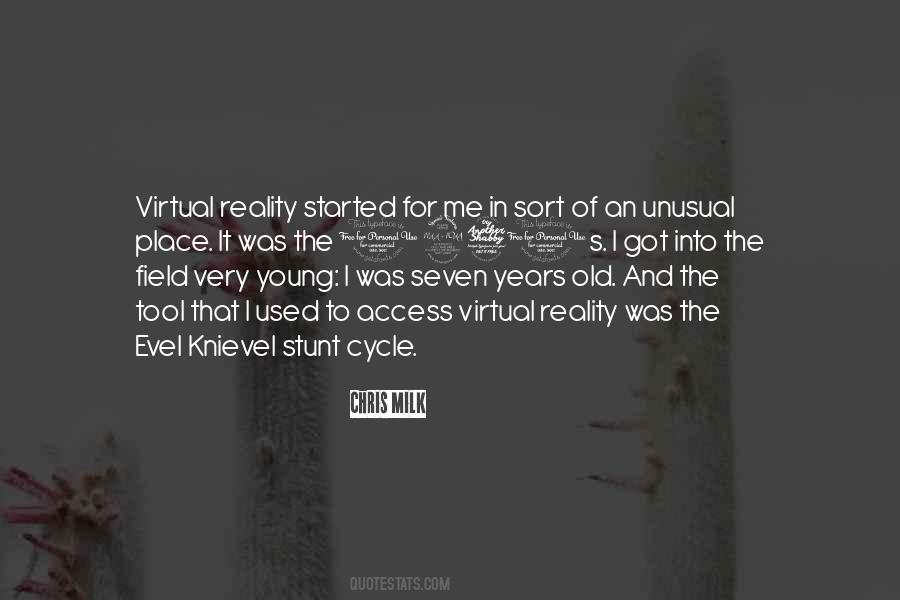 #86. You told me once that too much good in a person's life will stunt their growth. You said pain is necessary, because in order for a person to succeed, they must first learn to conquer adversity. And that's what you do ... you deliver adversity where you see fit. - Author: Colleen Hoover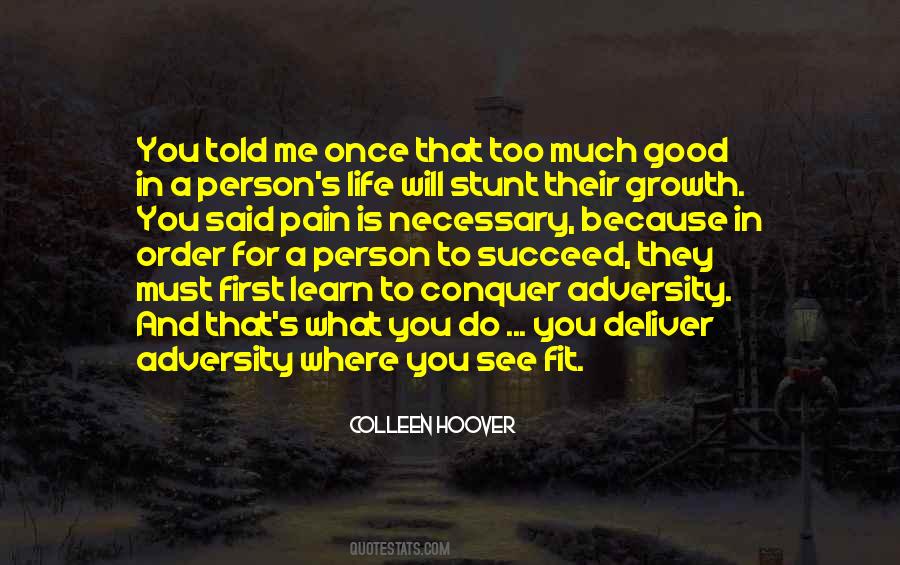 #87. I'll do more than the average actor, but I'm smart enough to know why stunt guys exist. - Author: Bruce Campbell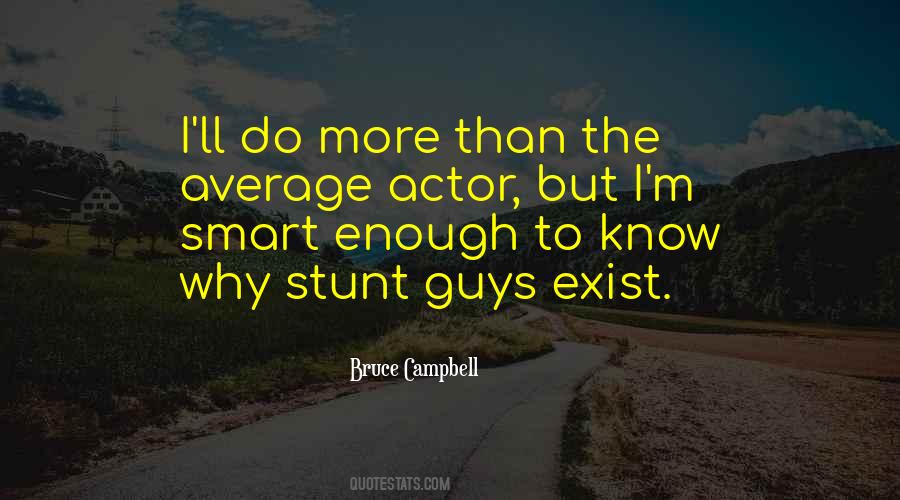 #88. I'm not trying to race the whole men's tour; I just want to race one time. If you know me, which most people on the World Cup do, they know that this is a legitimate goal of mine and not a publicity stunt. - Author: Lindsey Vonn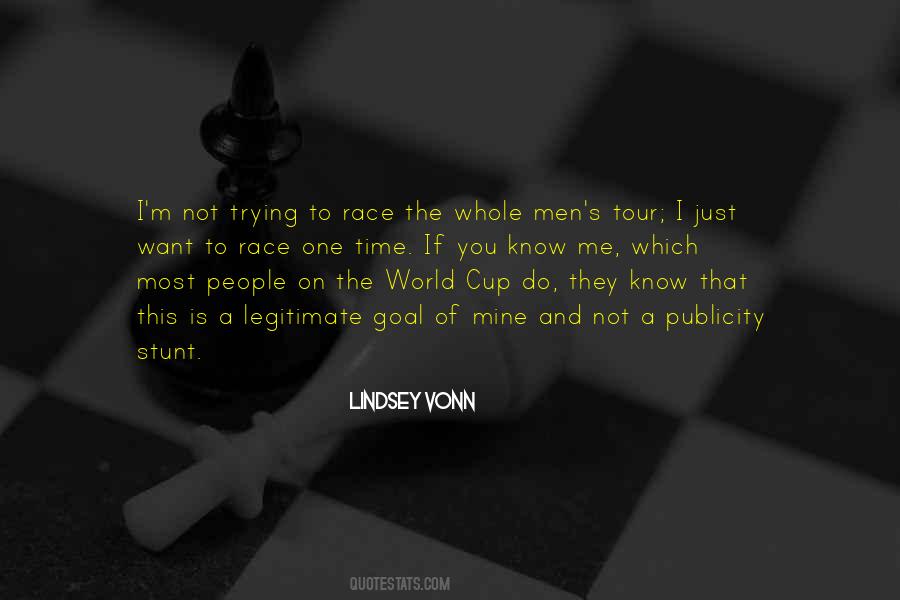 #89. It's a balance. Like, we are shooting the big car chase at the end and it's me with everybody. And I got my stunt coordinator who shot some stuff and I'm like, you are right next to me, why don't we do it together. - Author: George Tillman Jr.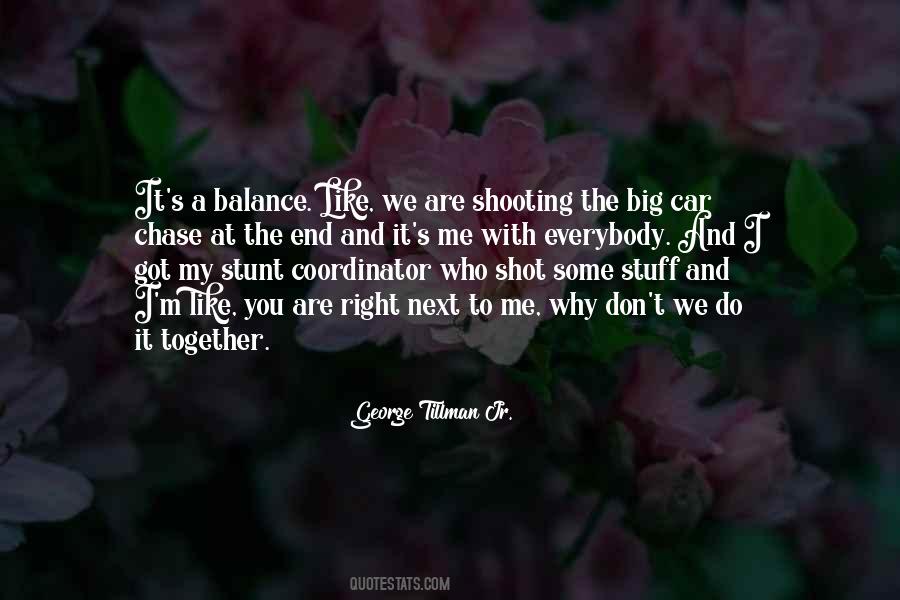 #90. I've done approximately 15 films, and most of the things I've done have either been stunt or costume work. - Author: Verne Troyer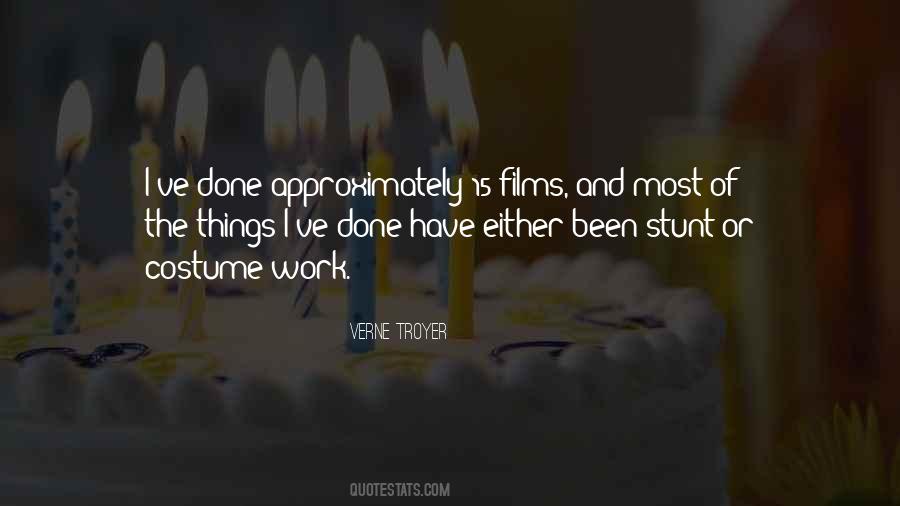 #91. Who are your friends? Do they believe in you? Or do they stunt your growth with ridicule and disbelief? If the latter, you haven't friends. Go find some. - Author: Ray Bradbury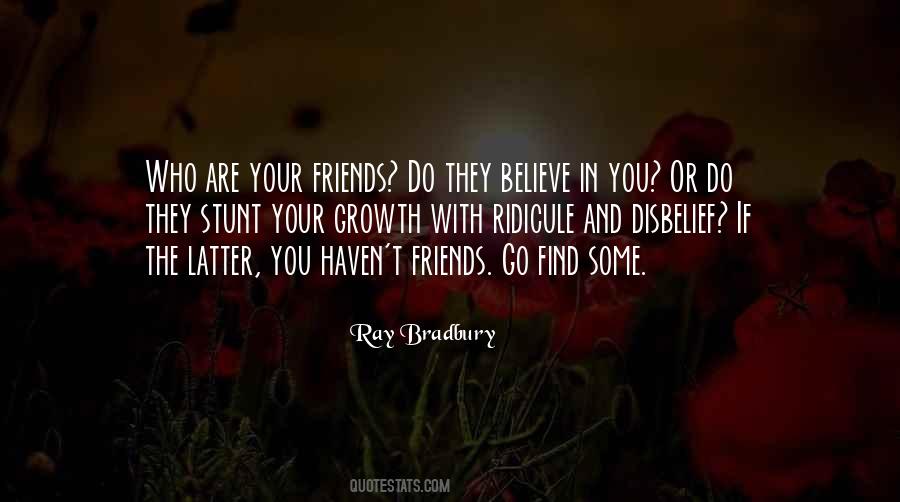 #92. In Montana, when we did 'Return to Lonesome Dove', we rode on the side of a hill at night in the dark; I was afraid my horse would step on one of the actors playing dead. The director said to leave it to the stunt doubles since they got paid for that. - Author: William Sanderson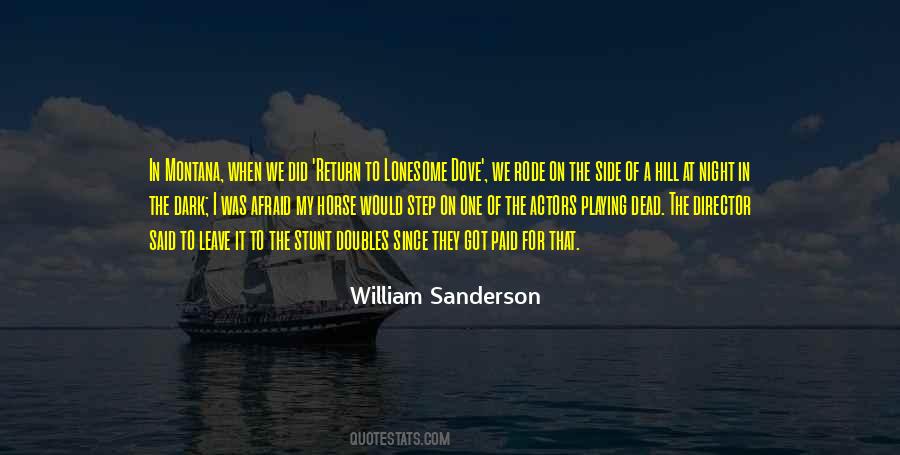 #93. Some people out there think everything I do is a publicity stunt, they think when I go to the bathroom it's a publicity stunt. - Author: Madonna Ciccone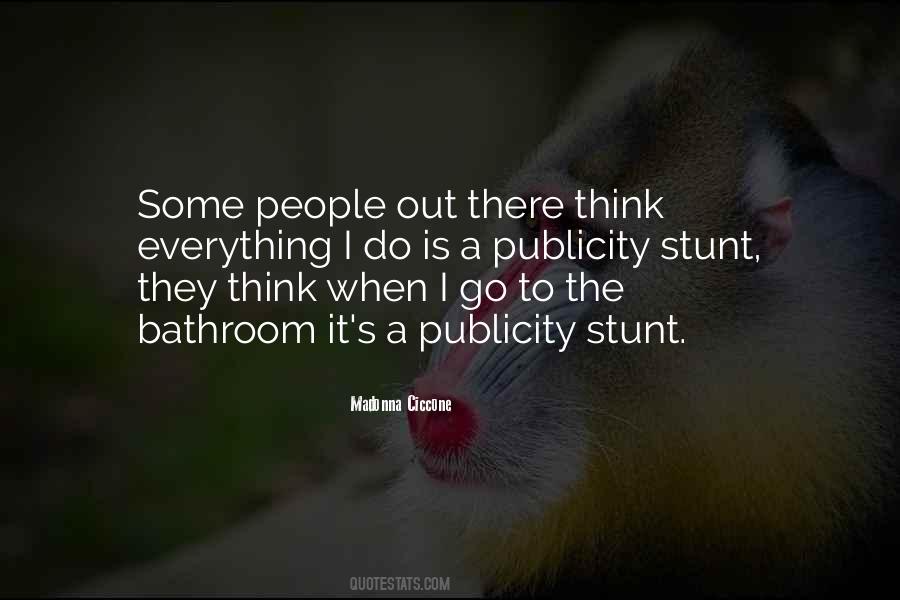 #94. Being a stunt girl is very much my comfort zone, so I had to remove the comfort zone to step fully into the slightly scarier zone. Also, just being perceived as an actor by the outside world, rather than as the stunt girl who does dialogue, has been a part of the challenge in front of me. - Author: Zoe Bell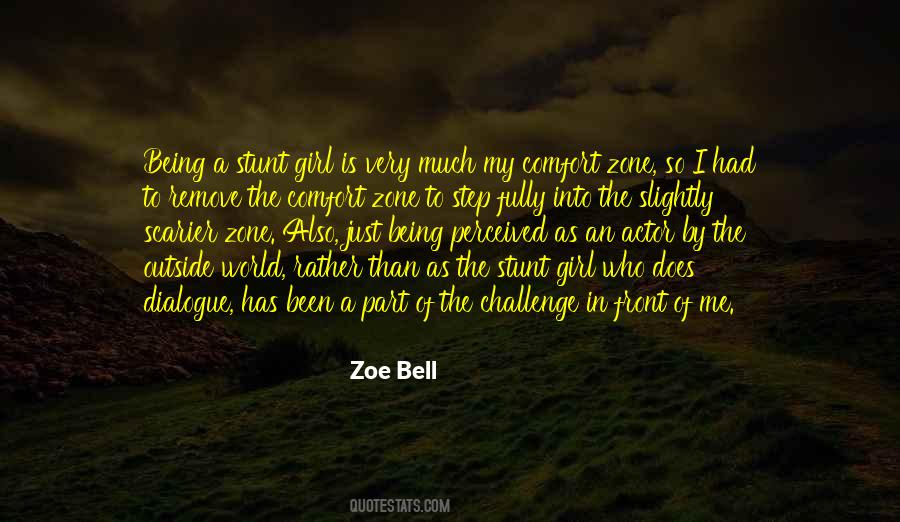 #95. A good stunt has to have both style and substance. It's a combination of impact and notoriety, the element of danger, technical execution, and the skill of the stunt performer. - Author: Steve Truglia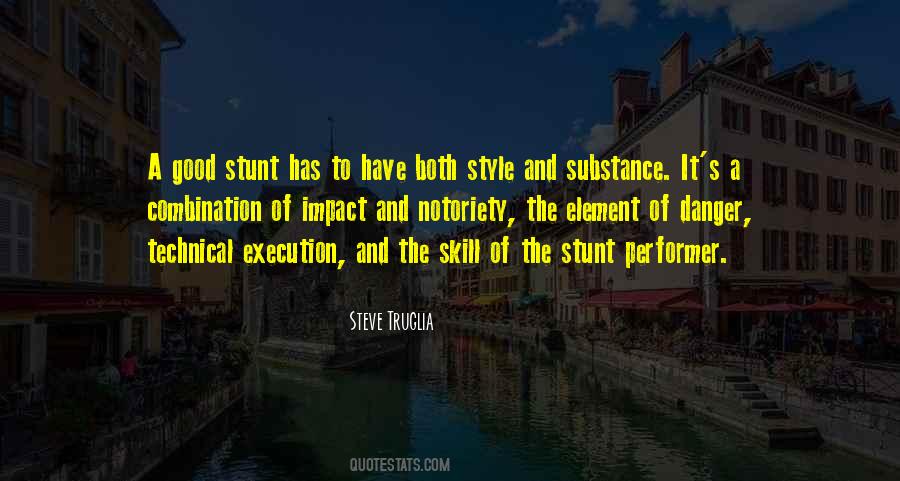 #96. Art is a language. It's not a skill. It's not a stunt. It's not something that you just learn to do and put it down. It comes from the heart. - Author: Wynona Mulcaster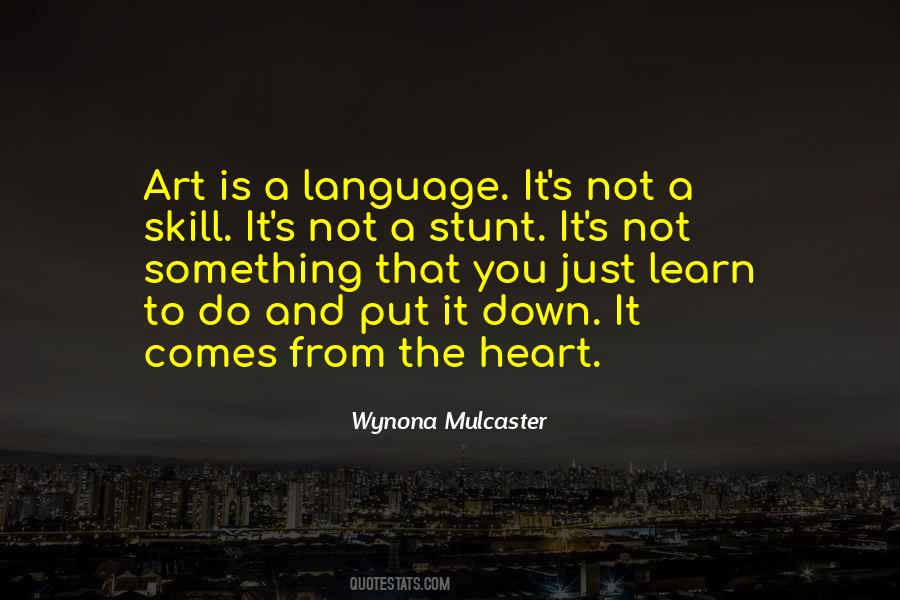 #97. I was Renee Zellweger's fat doppelganger. If she ever played in a movie where she needed to be fat, apparently I could be her stunt double. - Author: Jewel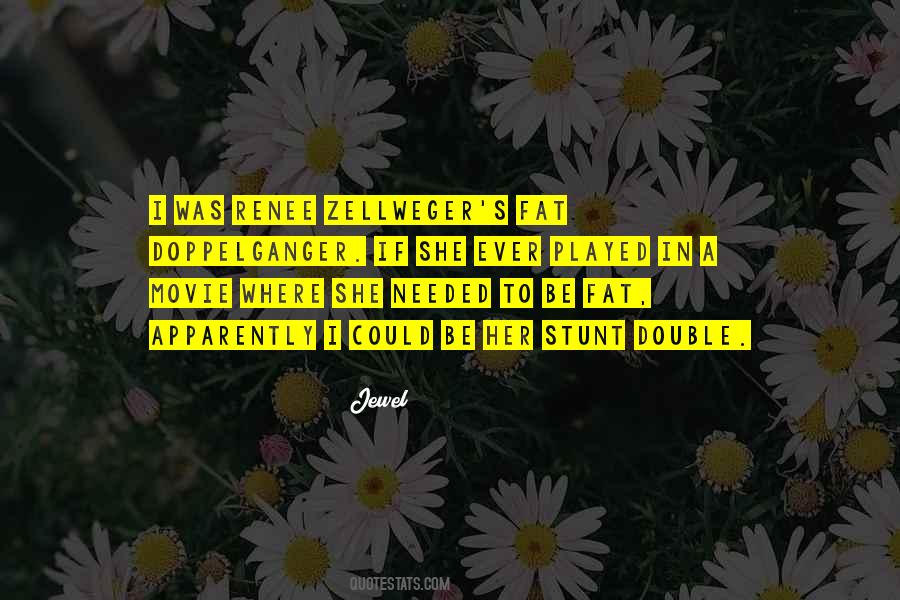 #98. I love Buster Keaton. I was a big fan of the stunt shows at Universal Studios. I'm a huge Cirque du Soleil nut. - Author: Neil Patrick Harris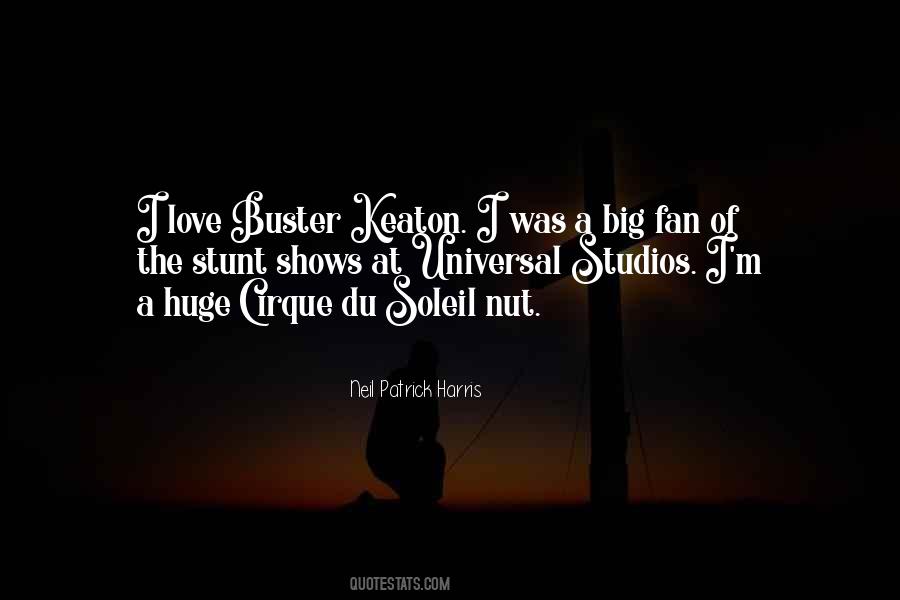 #99. Sending a couple of guys to the Moon and bringing them back safely? That's a stunt! That's not historic. - Author: Buzz Aldrin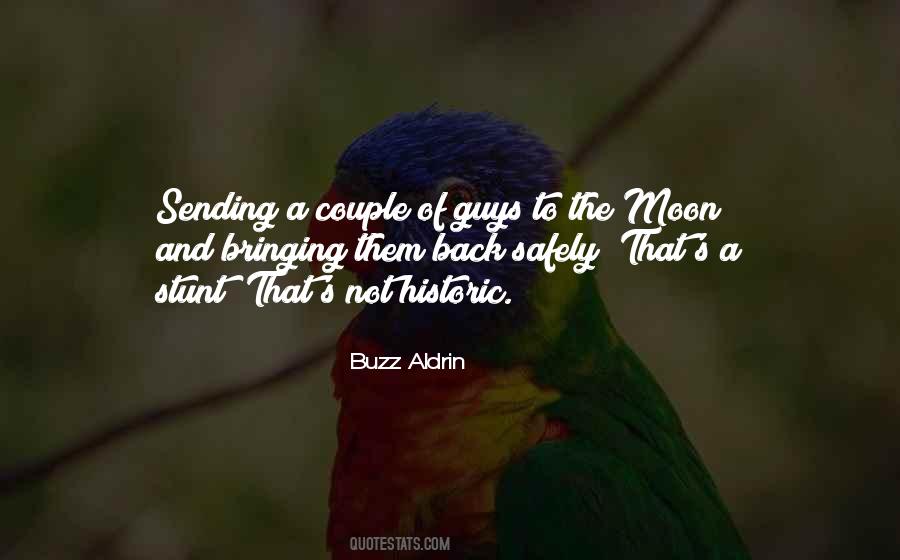 #100. My dad has worked so hard his whole life. He doesn't deserve to see his daughters going out embarrassing themselves and flashing their knickers. I want to make my parents proud. - Author: Petra Stunt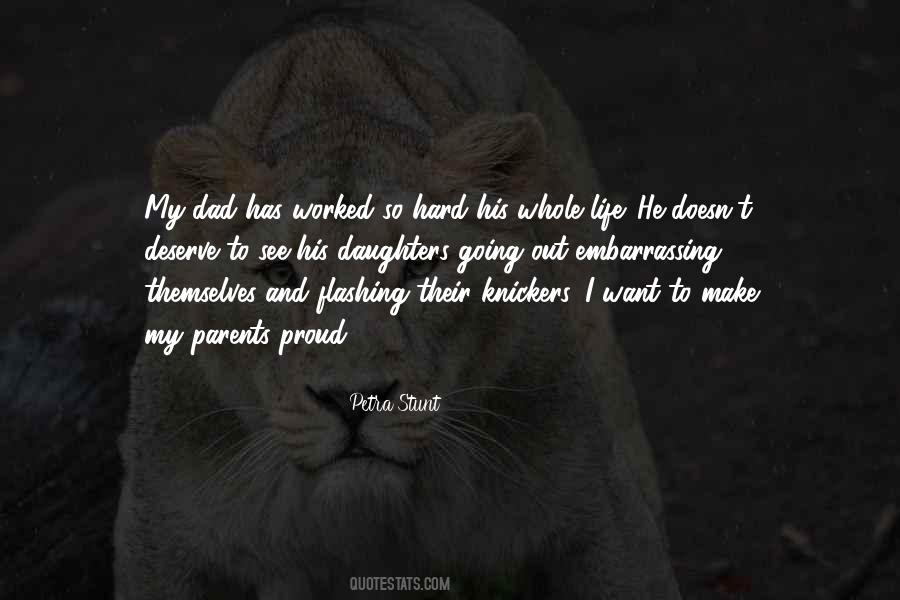 Famous Authors
Popular Topics