Somewhere In The World Famous Quotes & Sayings
List of top 100 famous quotes and sayings about somewhere in the world to read and share with friends on your Facebook, Twitter, blogs.
Top 100 Somewhere In The World Quotes
#1. The spark lies within us, somewhere deep within! Once you find it, that will illuminate the whole path you travel, all lives upon your way and the very purpose of your life. O beloved, know this world is illuminated by people so! - Author: Preeth Nambiar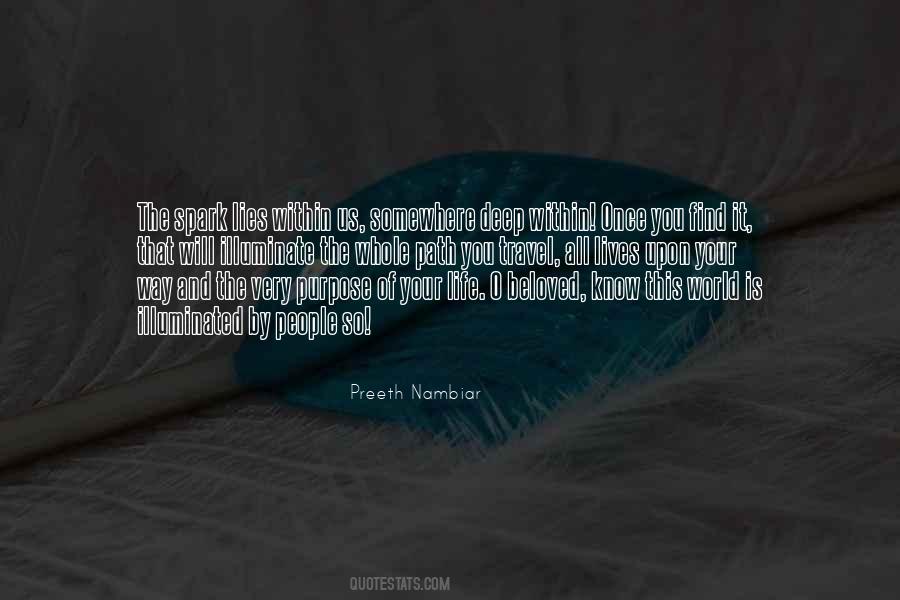 #2. She stays lost in the middle of her own world somewhere. We can't get in and she doesn't come out. Not often anyway, and certainly not for any length of time. But her mind takes her to somewhere kind, I think, to judge by the peaceful, serene look on her face most of the time. - Author: Malorie Blackman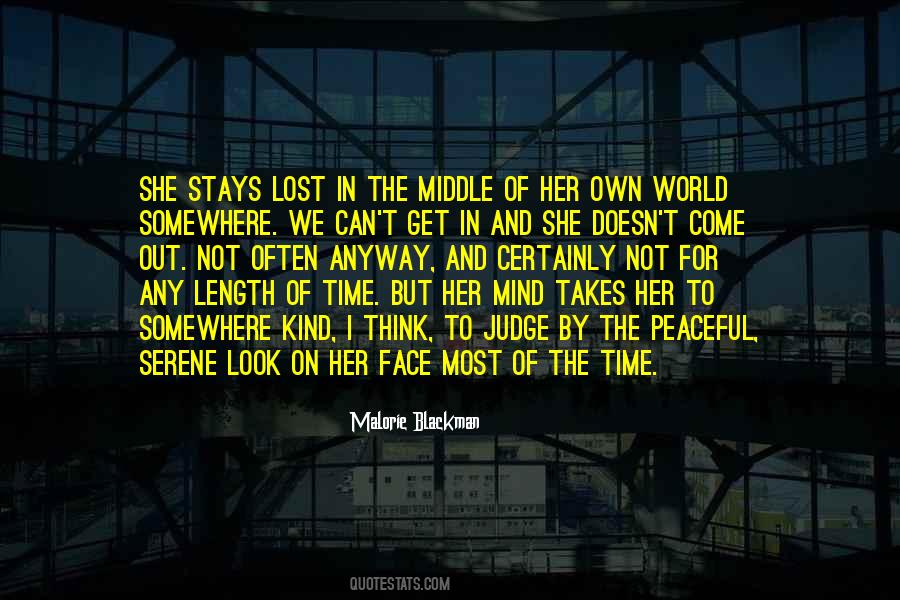 #3. Somewhere in the world is the most invincible man. Just as somewhere is the most vulnerable. - Author: Cormac McCarthy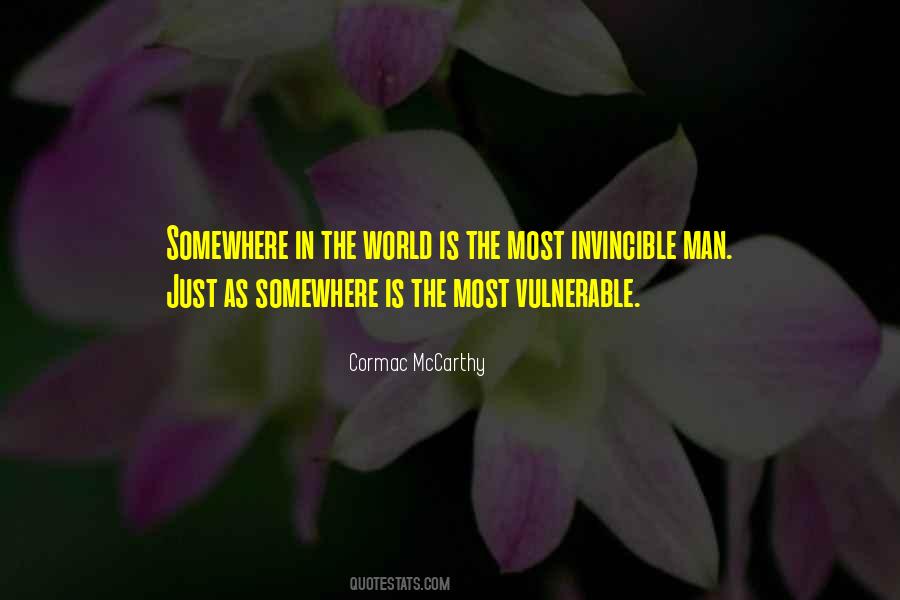 #4. You deny them hope. Any man in this world, Atticus, any man who has a head and arms and legs, was born with hope in his heart. You won't find that in the Constitution, I picked that up in church somewhere. They are simple people, most of them, but that doesn't make them subhuman. - Author: Harper Lee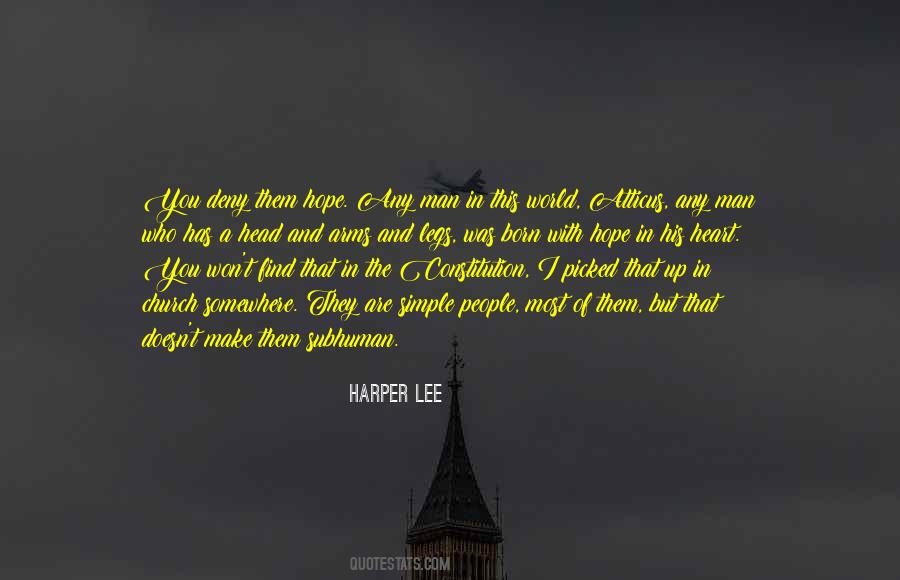 #5. Somewhere back a whiskey or so ago I wrote that thinking was a real thing in the world, just like anything else. I mean that very literally, materially. And it's true about poems, too. - Author: Matthew Zapruder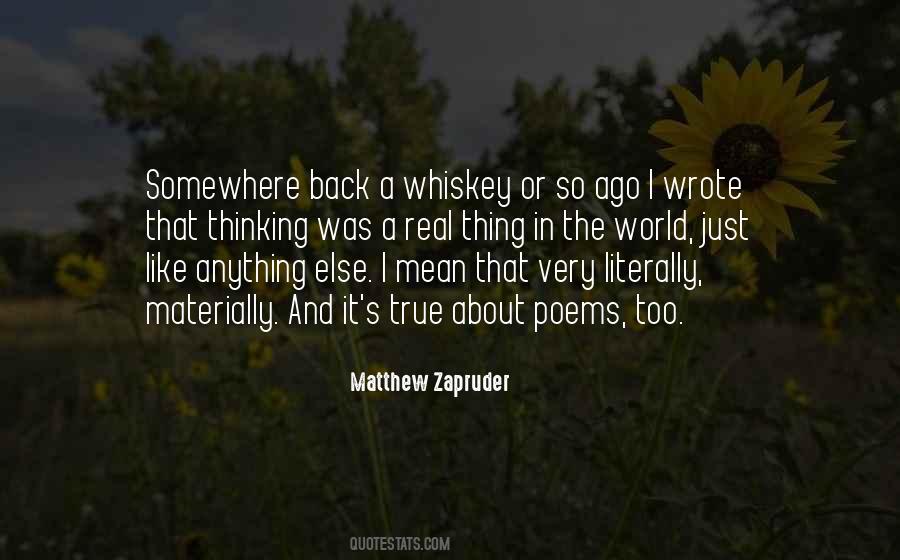 #6. Yes, I loved MASH. As we are sitting here now talking, it's playing somewhere in the world. - Author: Wayne Rogers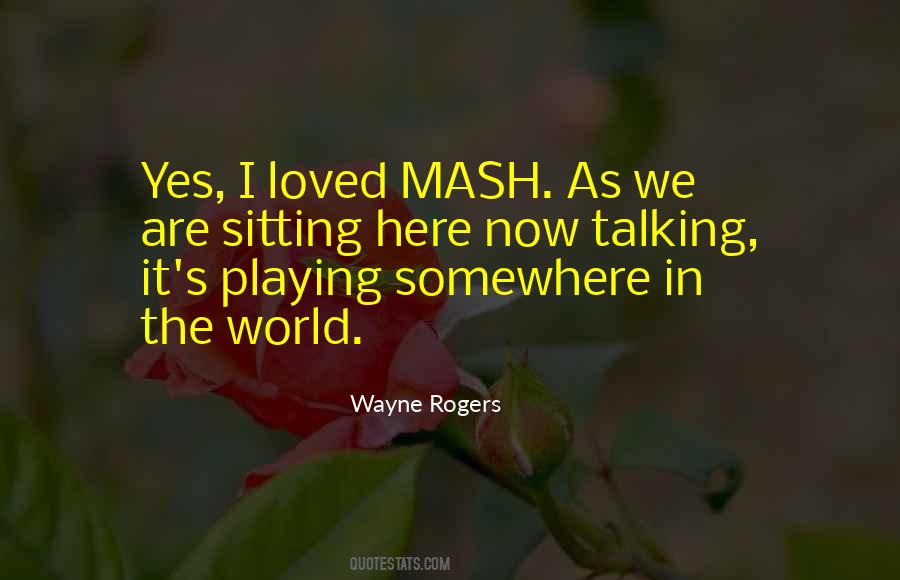 #7. Some humans would do anything to see if it was possible to do it. If you put a large switch in some cave somewhere, with a sign on it saying 'End-of-the-World Switch. PLEASE DO NOT TOUCH', the paint wouldn't even have time to dry. - Author: Terry Pratchett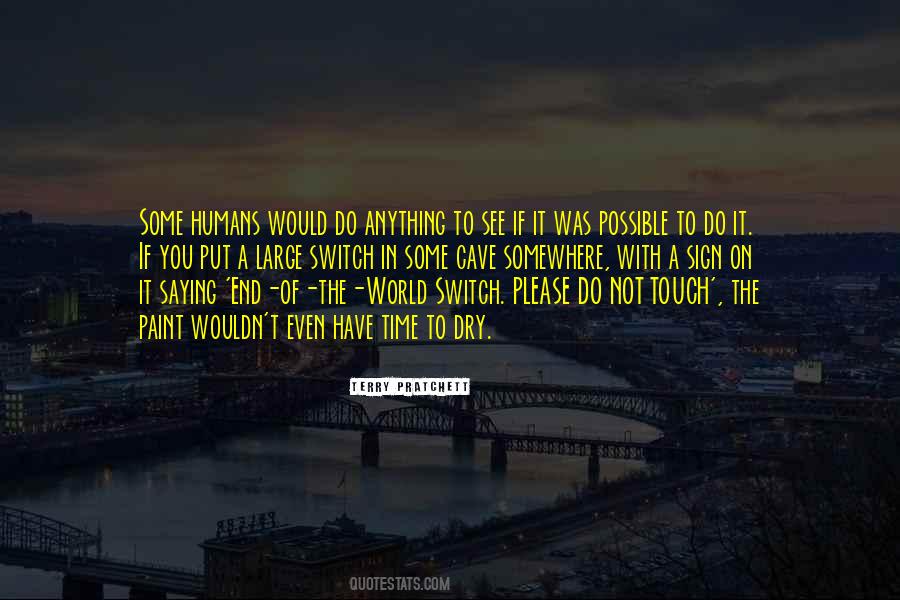 #8. Whether chocolate or vanilla, or you're somewhere in between,
A cappuccino mocha or a caramel queen,
Rejected by the black, not accepted by the white world,
And this is dedicated to them dark-skinned white girls. - Author: MURS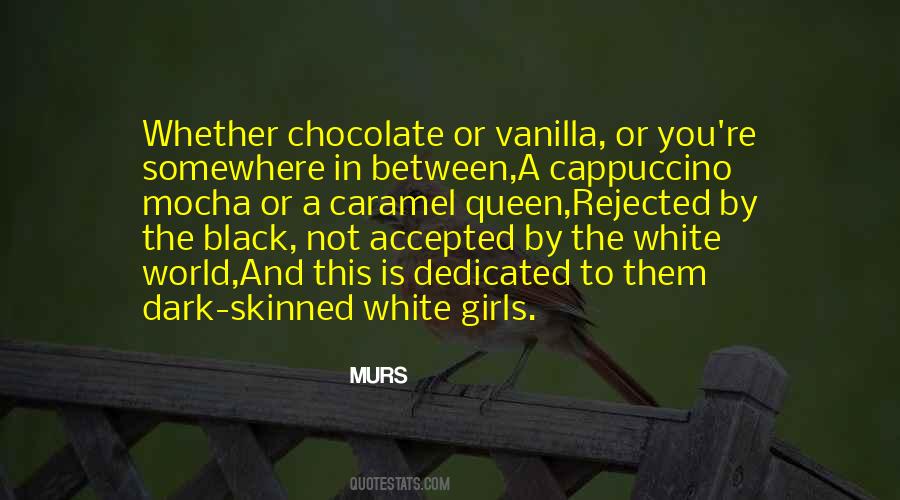 #9. My only hope for survival lies in the knowledge that you are somewhere in this world, under the same sky, the same sun, the same stars. - Author: Amy A. Bartol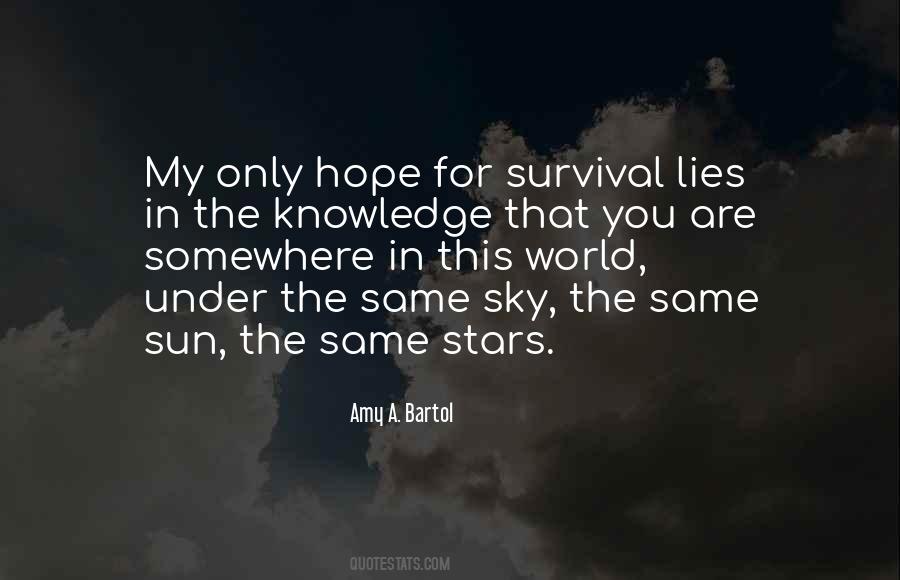 #10. Somewhere in the world is ... The world's worst doctor and he could be yours. - Author: Steve Martin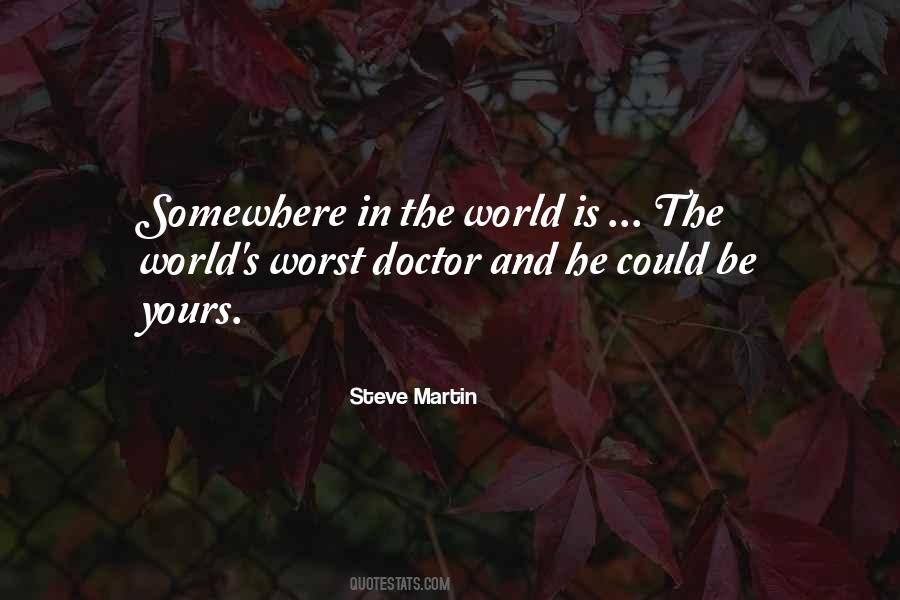 #11. Somewhere in the world there is a defeat for everyone. Some are destroyed by defeat, and some made small and mean by victory. Greatness lives in one who triumphs equally over defeat and victory. - Author: John Steinbeck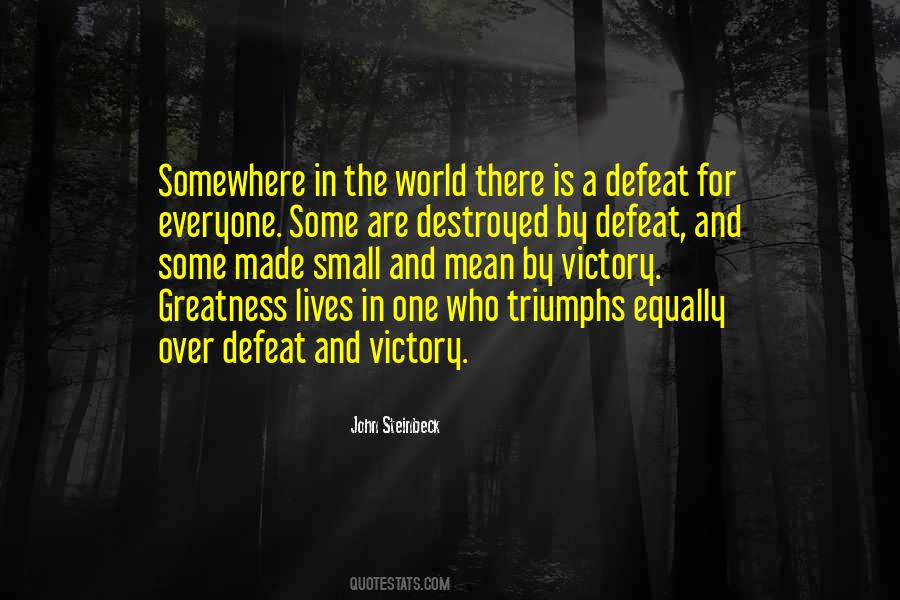 #12. If you think of a work of fiction as a kind of scale model of the world, then the positive valences - where things turn out better than you thought they would - ought to be in there somewhere, too. - Author: George Saunders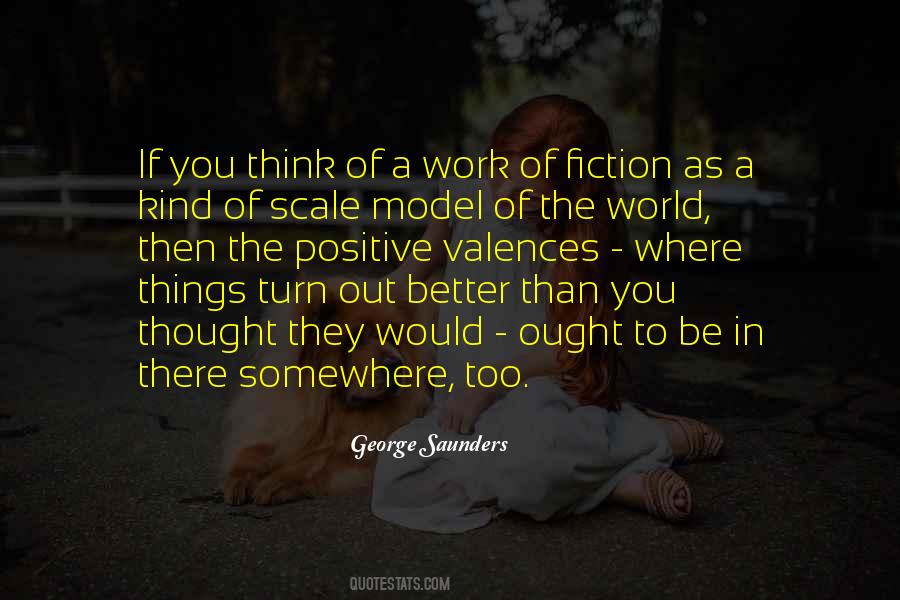 #13. One of the crazies moved into the cone of light beneath a streetlight. It was a black man, high-stepping and making jerking movements with his arms. He made a crisp turn and began moving back into the darkness. He was a trombone player in a matching band in a world somewhere else. - Author: Michael Connelly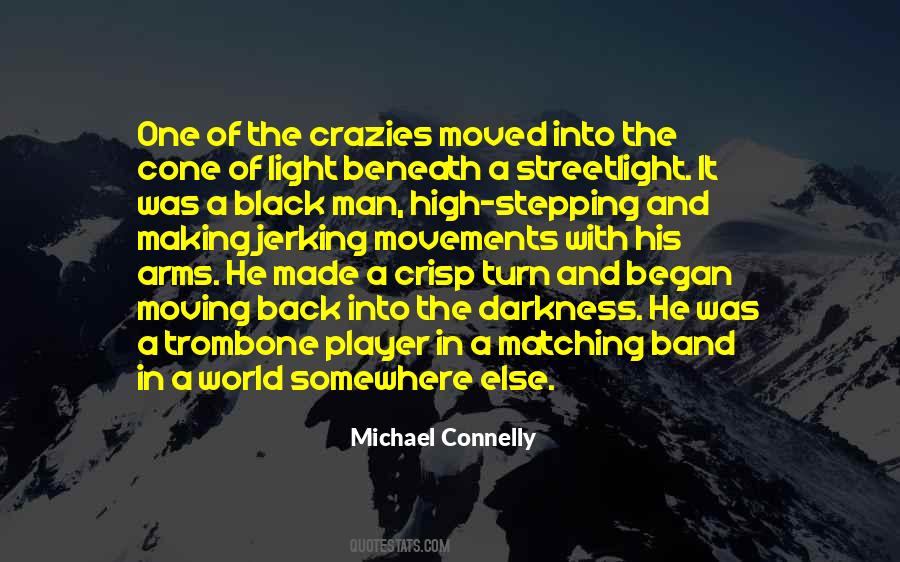 #14. I just love writing. It's magical, it's somewhere else to go, it's somewhere much more dreadful, somewhere much more exciting. Somewhere I feel I belong, possibly more than in the so-called real world. - Author: Tanith Lee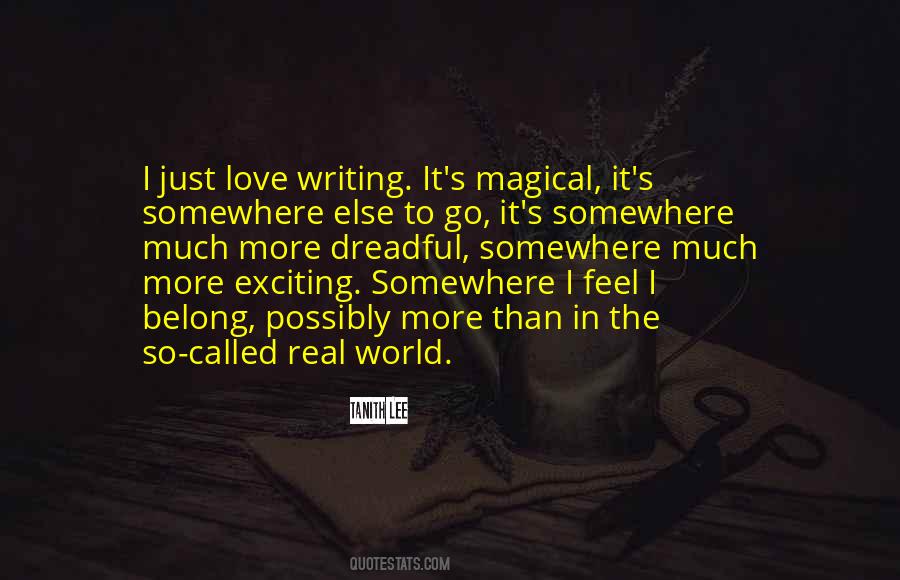 #15. You are meant to be going somewhere, to be headed to a destination. The poorest person in the world is a person without a dream - Author: Myles Munroe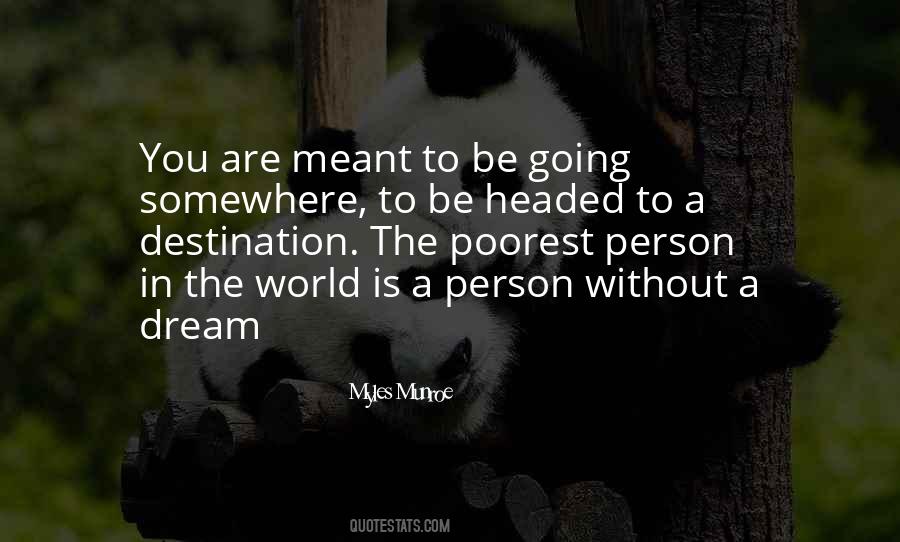 #16. For a staggering number of people in our world the for of the Jesus message has been buried under a massive pile of againsts. Somewhere - Author: Rob Bell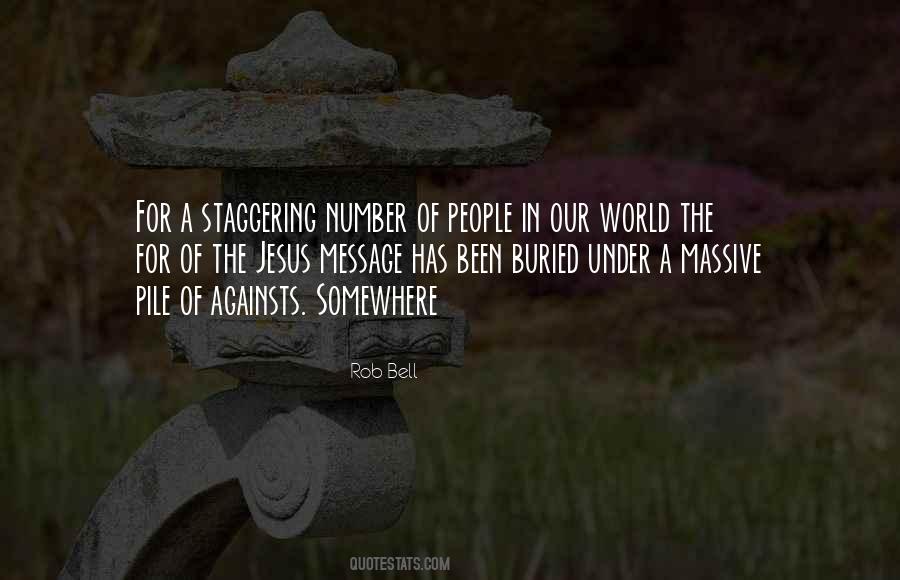 #17. Somewhere along the way in your life, the world and its people will have a problem with you. That's their problem. Not yours. - Author: Lil' Wayne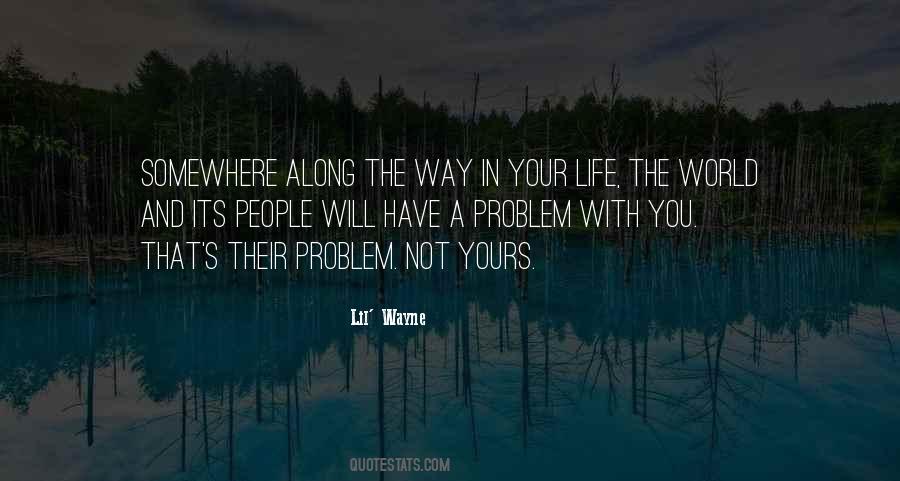 #18. By the time you finish reading this sentence, a Boeing jetliner will take off or land somewhere in the world. - Author: Bret Easton Ellis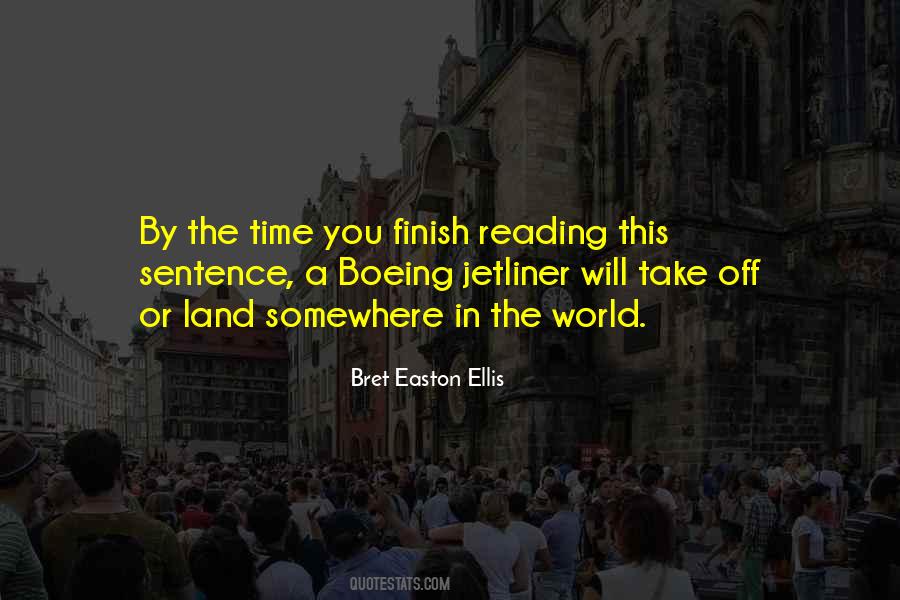 #19. When Jack just rescued her Ma's, just succeeded doing the Great Escape:
"Want to go to Bed."
"They'll find us somewhere to sleep in a little while."
"No. Bed."
"You mean in Room?" Ma's pulled back, she's staring in my eyes.
"Yeah. I've seen the world and I'm tired now. - Author: Emma Donoghue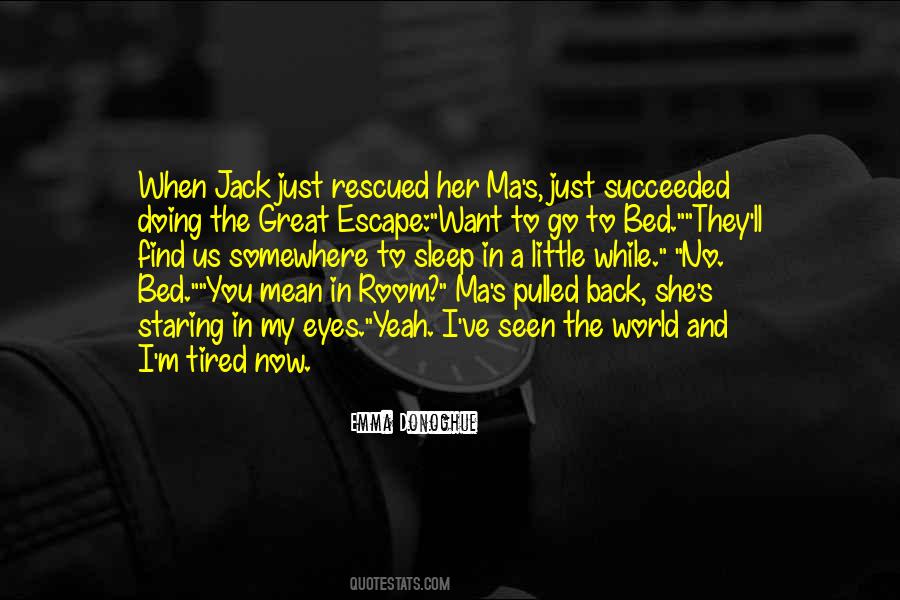 #20. In that moment, the machinery of the world lined up. Somewhere a clock struck midnight, and Hugo's future seemed to fall perfectly into place. - Author: Brian Selznick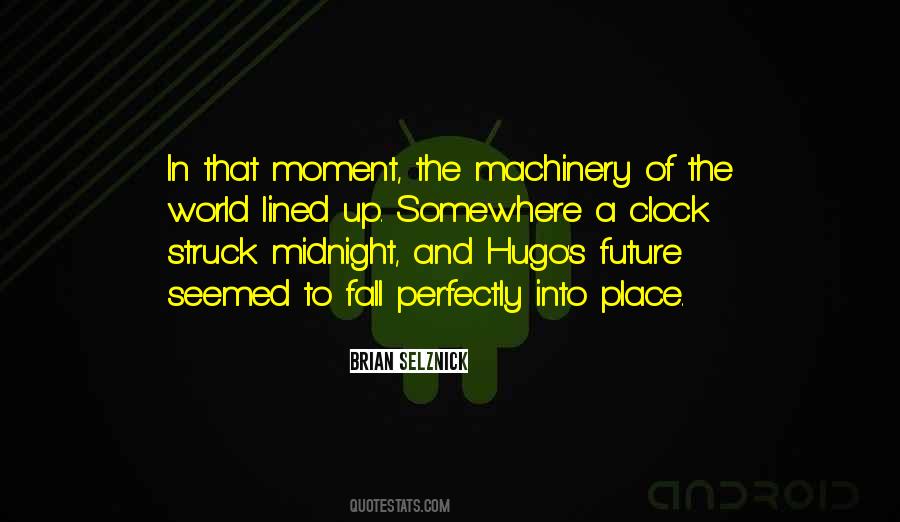 #21. Had he known his death was imminent, he might have gone somewhere else. Instead, he did what we all do. He went about his dull routine as if all the days in the world were still to come. - Author: Mitch Albom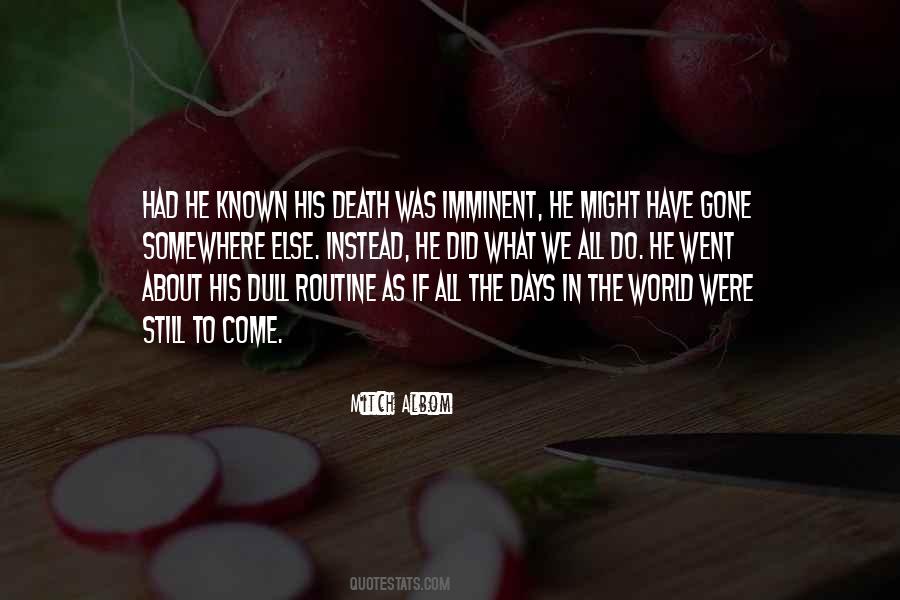 #22. I stare at him, listening to my heart thump inside my chest, to the wind sing, to the sound of someone breaking somewhere in the world. - Author: Jessica Sorensen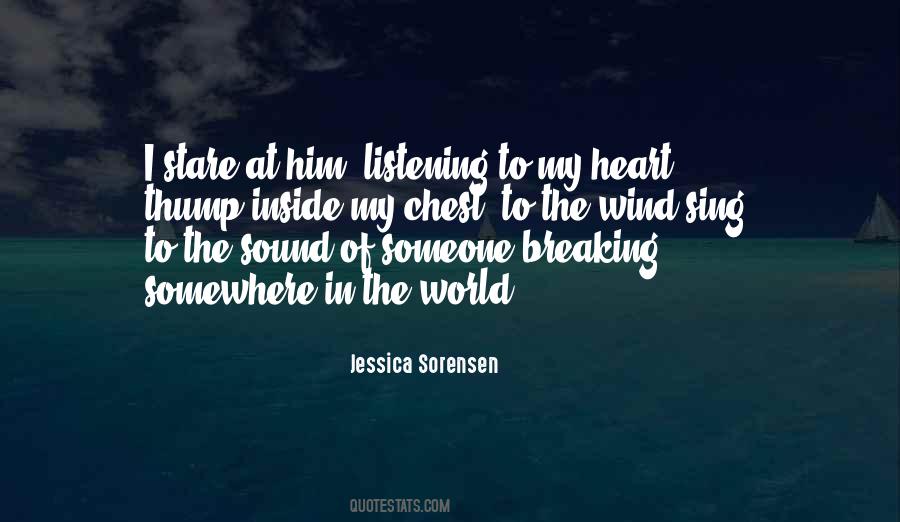 #23. Look, people have an image of Italians. When I go somewhere in the world, I don't care where it is, when they look at me it's not about my intelligence. It's who can I beat up. - Author: Danny Aiello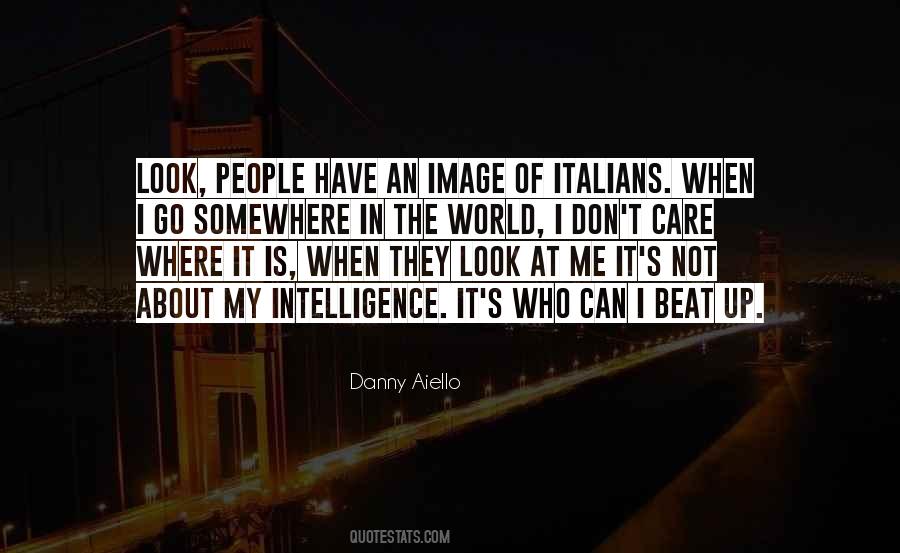 #24. town of Angel Haven lies somewhere in the central United States, its landscape blessed long ago by the Star Witches. A vast forest of majestic trees surrounds the town, creating a natural barricade from the world outside. The trees range from evergreen saplings - Author: Justin Chiang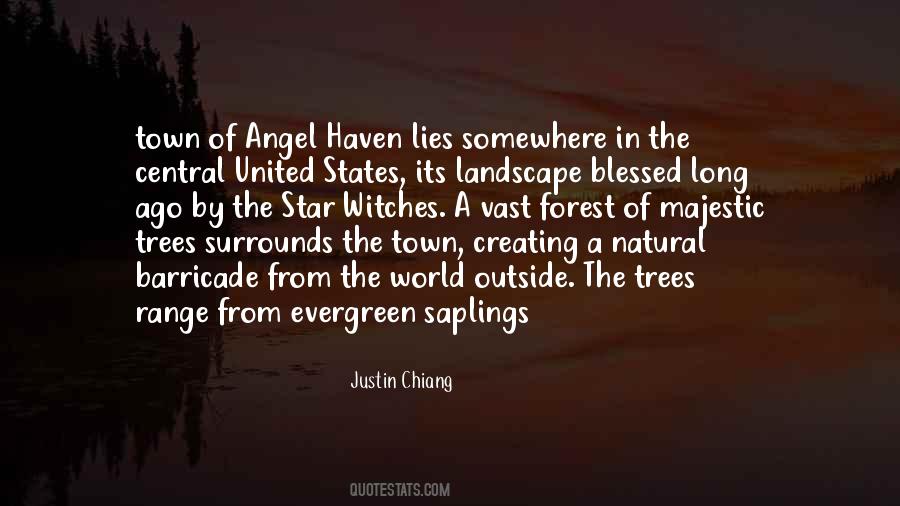 #25. There was a super-8 steel town somewhere, where all the forgotten things in the cruel world ended up eventually, Mandy was sure of it ... this place, she decided, was called Smog City. - Author: Rebecca McNutt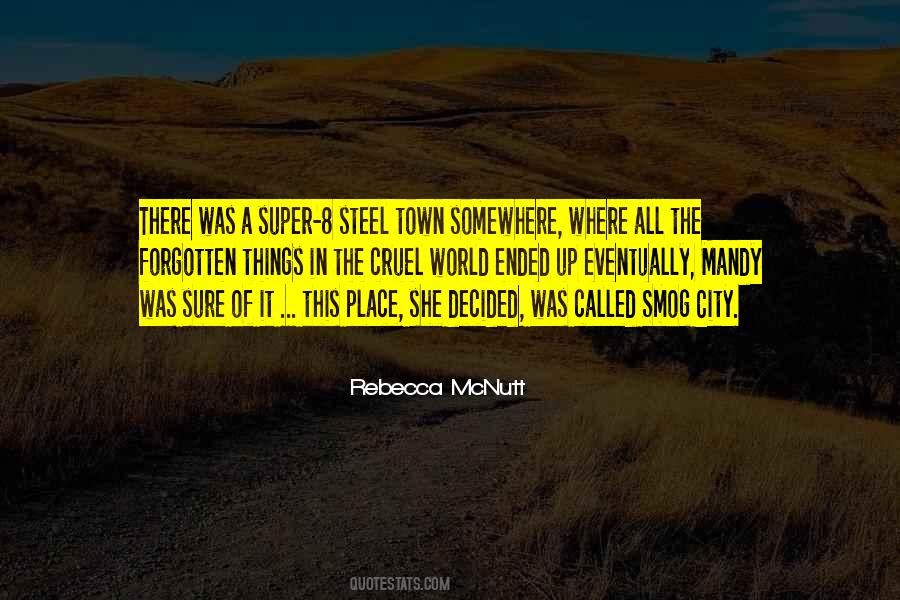 #26. I've learnt that there's a soul mate somewhere in this world. Till you don't find that person, the search goes on. - Author: Preity Zinta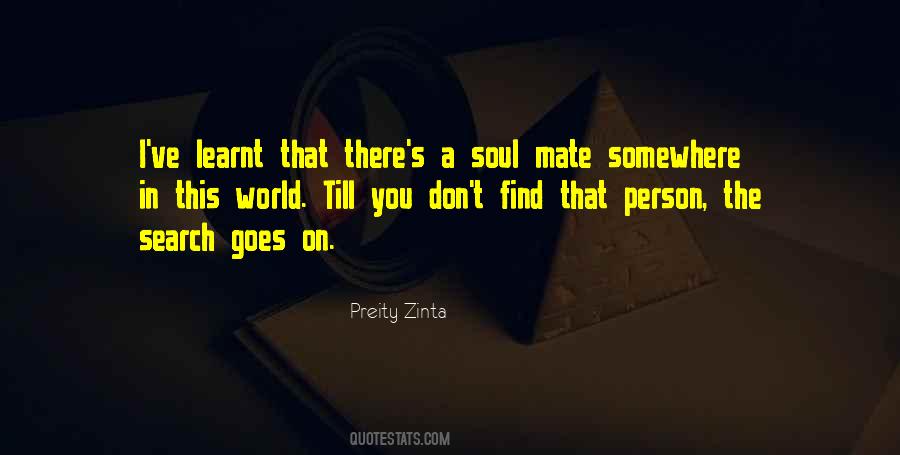 #27. In my family we've always found the world's air hard to breathe; we arrive hoping for somewhere better. - Author: Salman Rushdie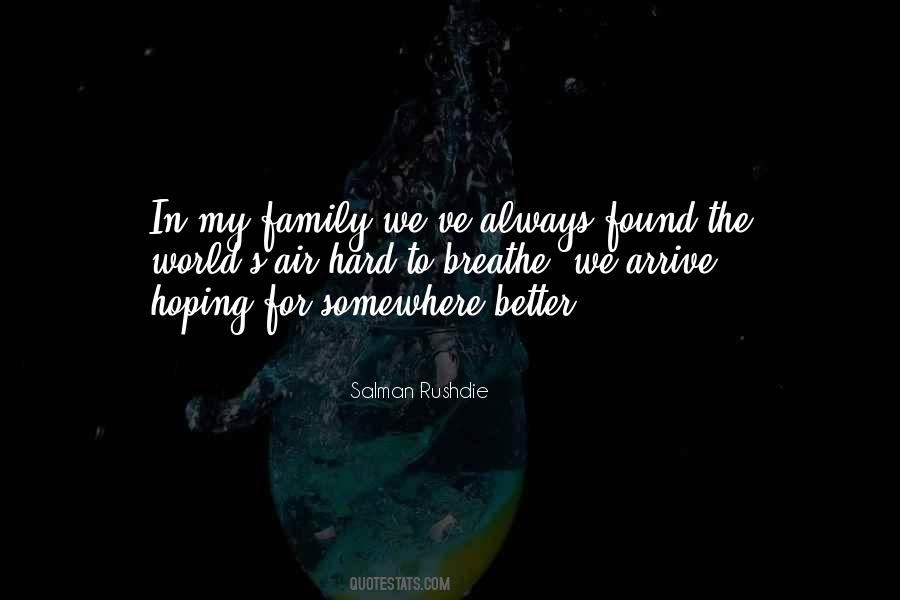 #28. A sucker punch came flying from somewhere in the back. As soon as we can see clearly with our big black eye, we're going to light up your world like the fourth of July. - Author: Toby Keith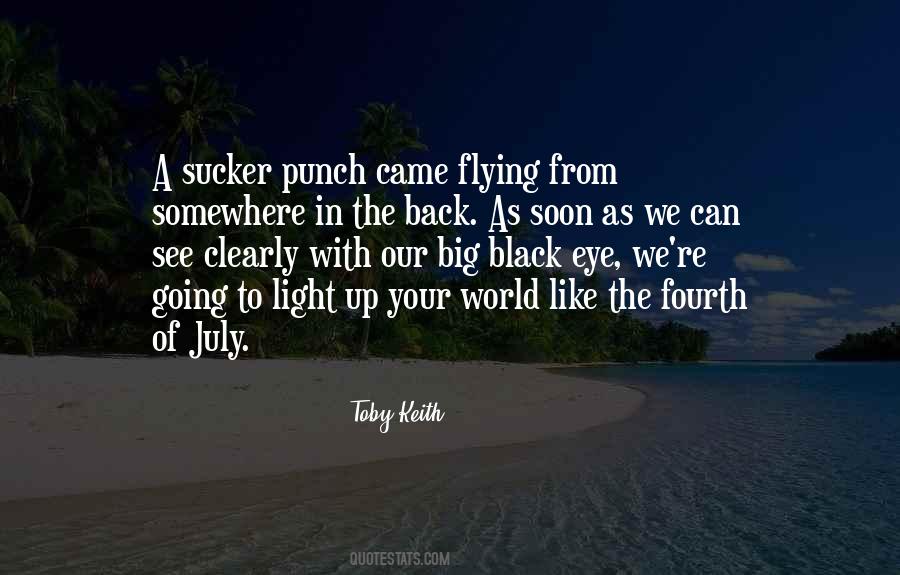 #29. The Loud came before the quiet. That was a Rule of the World, for the bangs and shouts need somewhere to echo, just as bodies need space in which to fall. - Author: Hugh Howey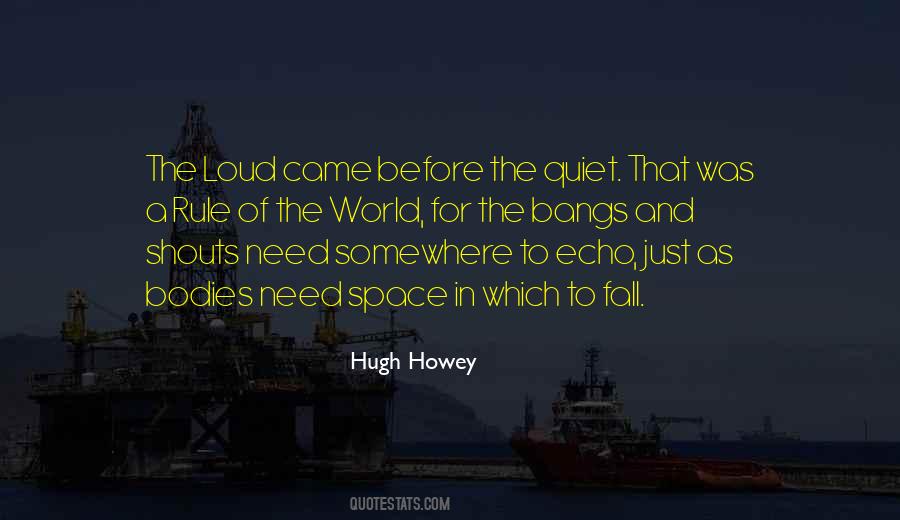 #30. They were both from the real world, their own distinct ones, but I was somewhere in limbo. Set apart, I didn't know how to let either of them in. - Author: Amina Gautier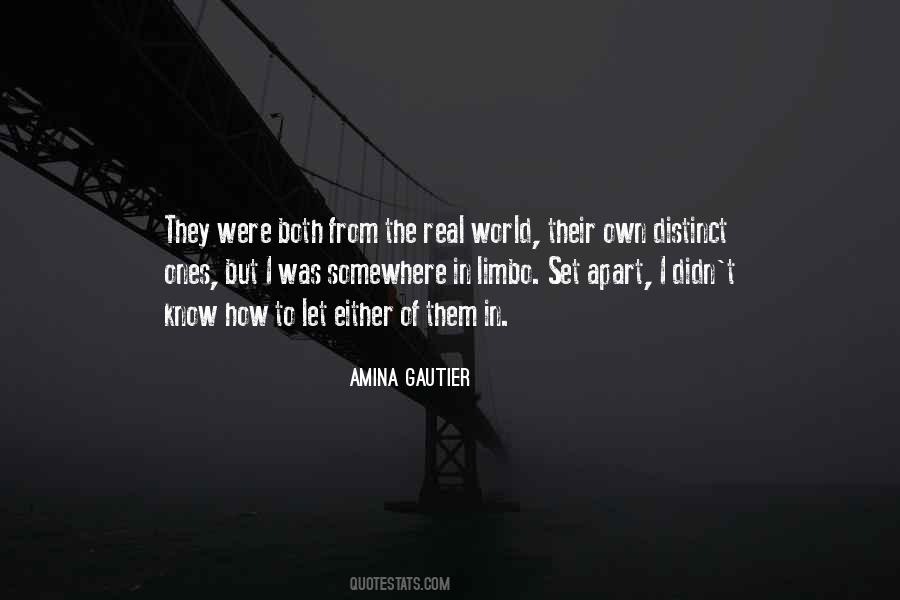 #31. Whenever I write a part, I think there's this person somewhere in the world that this part is specifically for and all I have to do is go searching to find that particular individual. - Author: Asghar Farhadi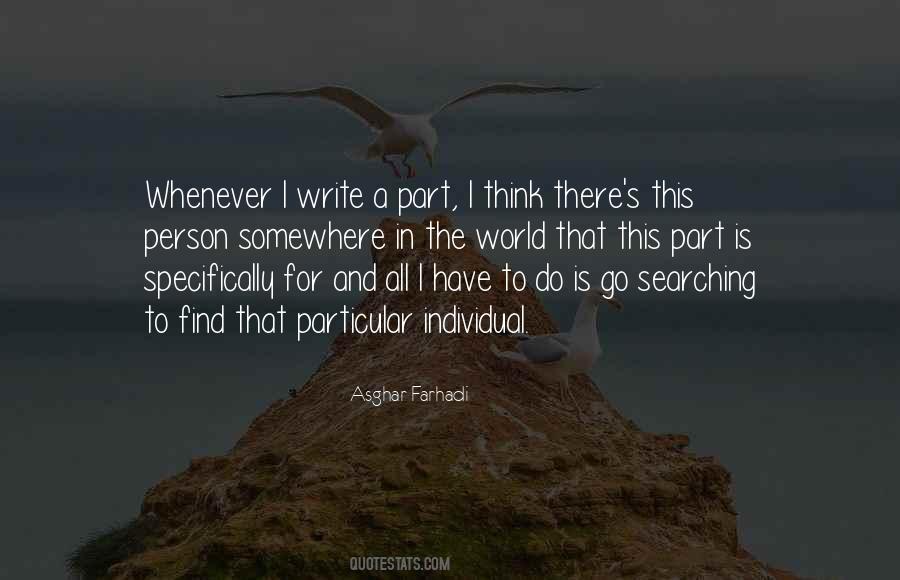 #32. Some people are beams of light in this world. Some are shadows. They don't always feel like they belong, or don't know how, so they stand in the back of the crowd, out of sight and off to the edge somewhere. - Author: David Sayre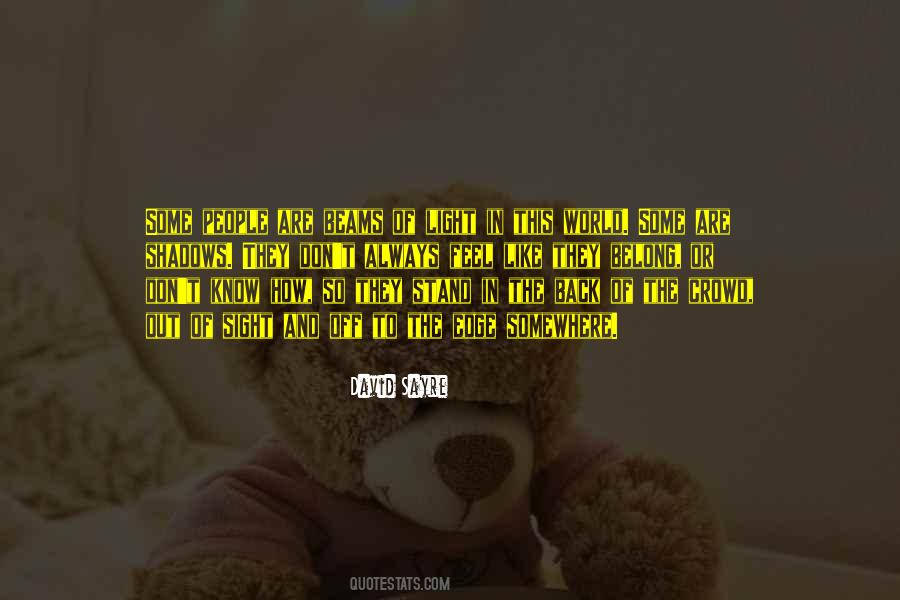 #33. She clued me in to the idea of alternate realities. Like, there are infinite versions of the world. Each a bit different. Existing, I don't know where...somewhere. And an alternate reality is created every time we make a choice. - Author: Aaron Starmer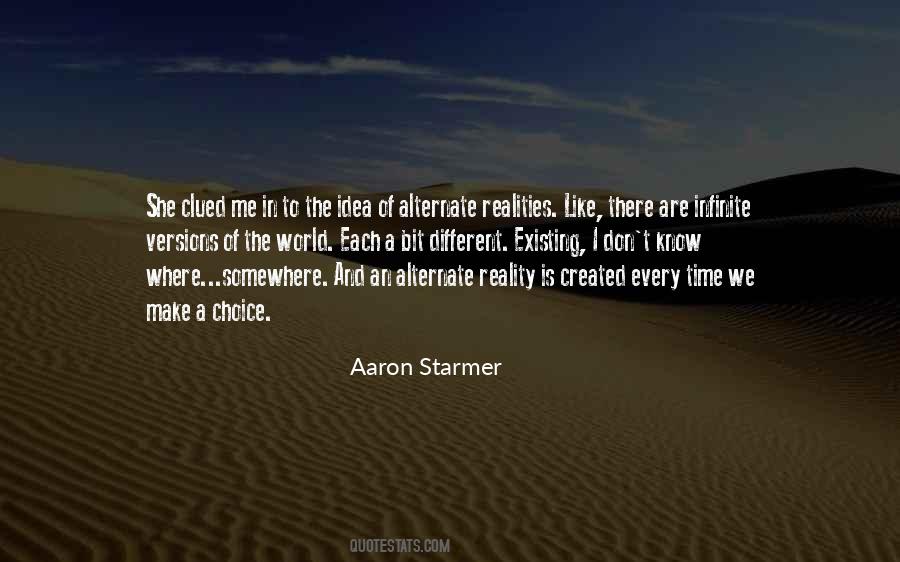 #34. I can be fascinated with very little things. The clouds stimulate my imagination, and sometimes I just sit somewhere and go on dreaming for a long time. Your head is also a computer. When you're dreaming, you are simulating a world in which you are living. - Author: Theo Jansen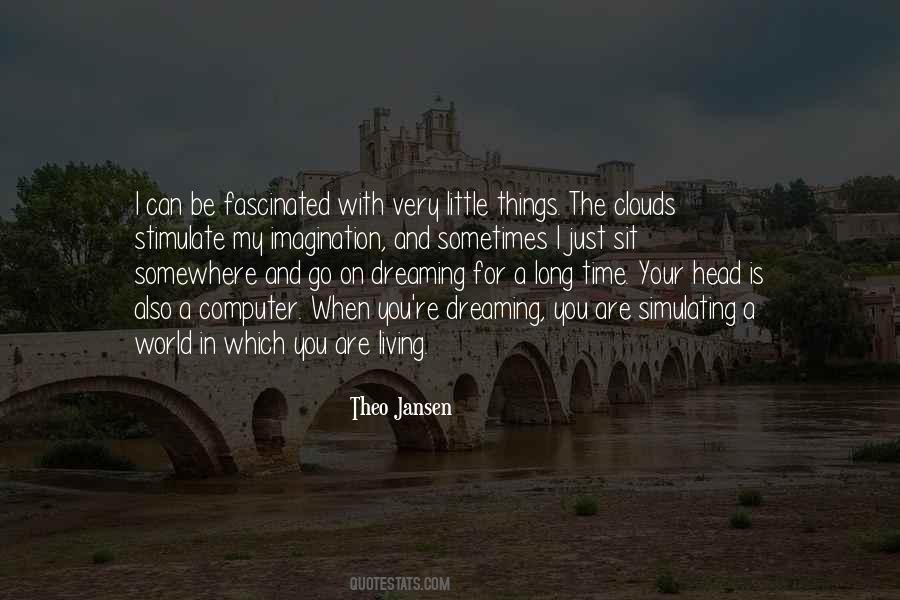 #35. These days there's no time to be bored, happiness has vanished somewhere in the world, and all that's left is dismay. - Author: Roberto Bolano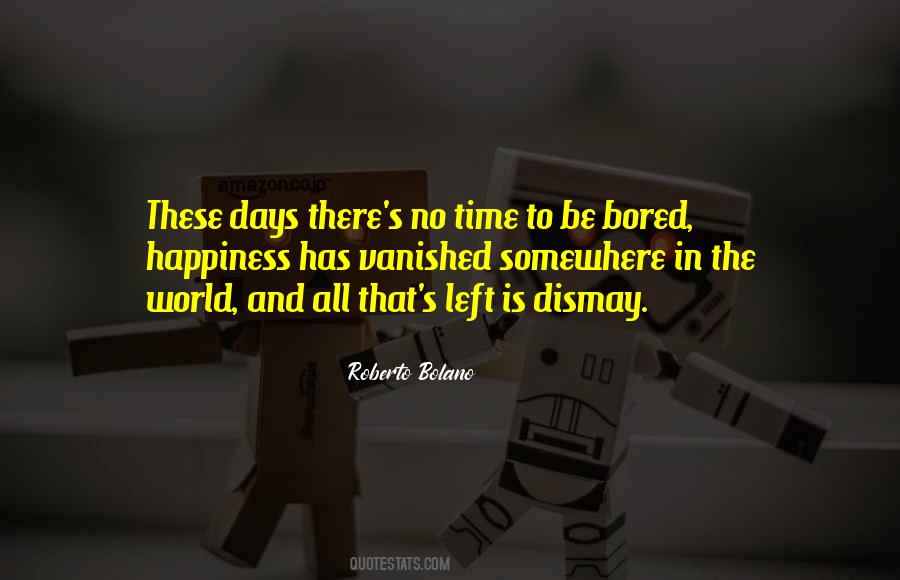 #36. If you could be anywhere in the world right now, where would you be?" I opened my mouth to say San Francisco or maybe Madrid - somewhere exotic. But what came out was, "Here. Right here. - Author: Heather Demetrios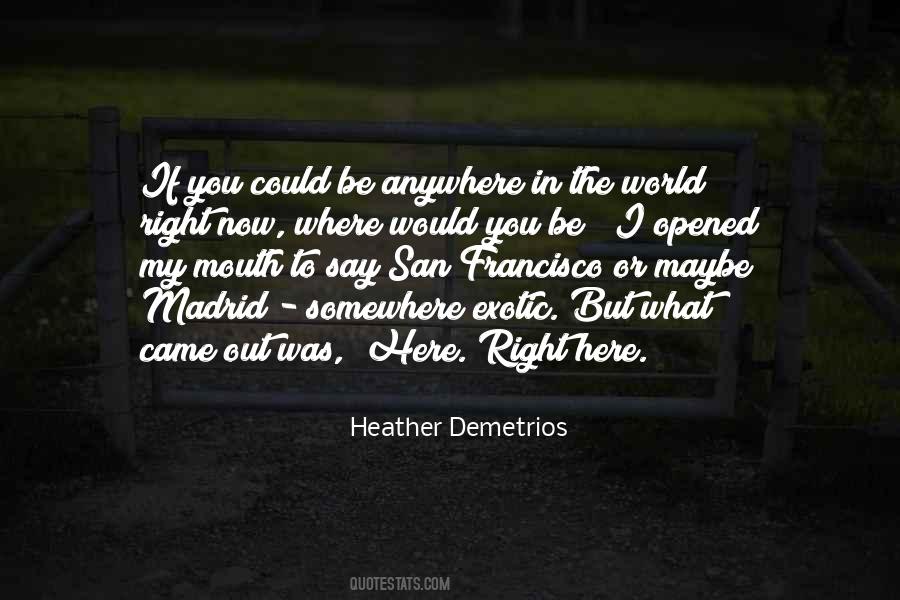 #37. The Garden of Eden was somewhere in present-day Iraq. The turmoil and war [we are witnessing] in that part of the world ... is occurring in the land where God established the first perfect civilization. - Author: Billy Graham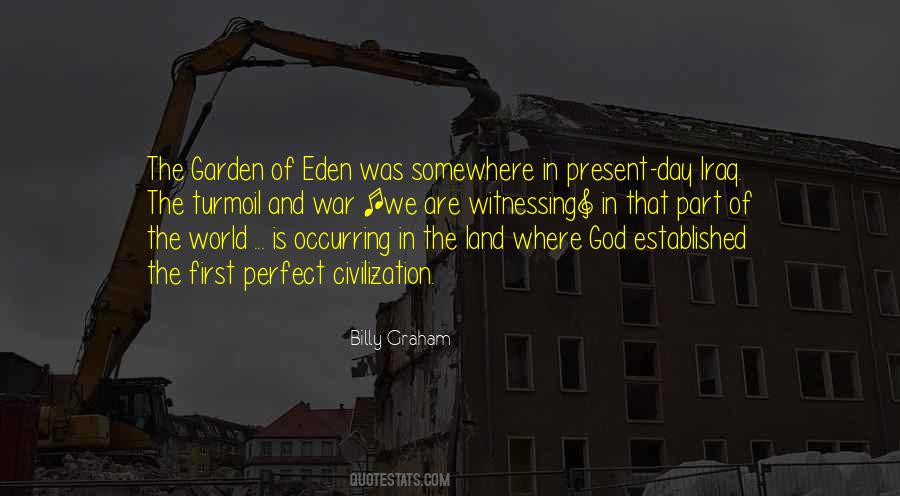 #38. The easiest thing in the world is to succeed. You can't help it if you follow the rules and play the game the best way you know how according to yourself, instead of according to the one next to you, or above you, or somewhere away from you. - Author: George Matthew Adams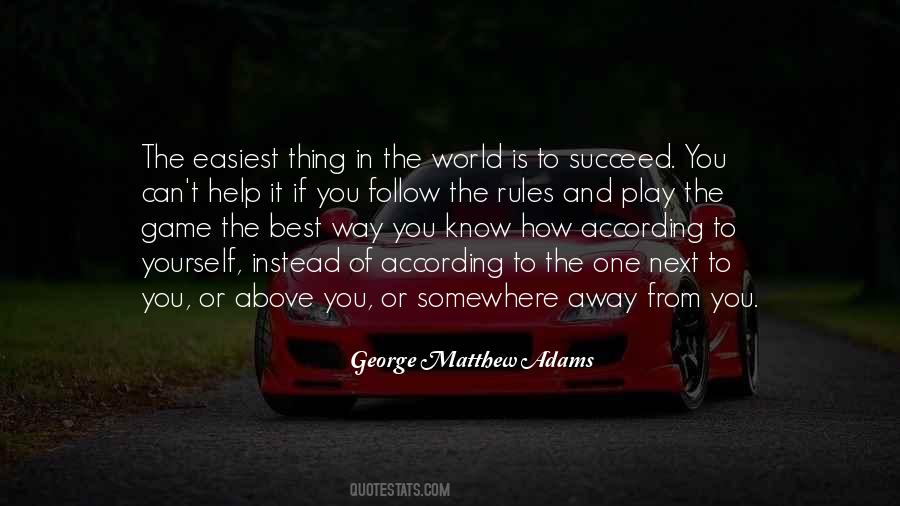 #39. This may sound funny but somewhere in the back of my mind I thought the world would stop for my first day of JH. The day proved me wrong and I've grown to realize that nothing will be quite as I dreamed them up. - Author: Latoya Hunter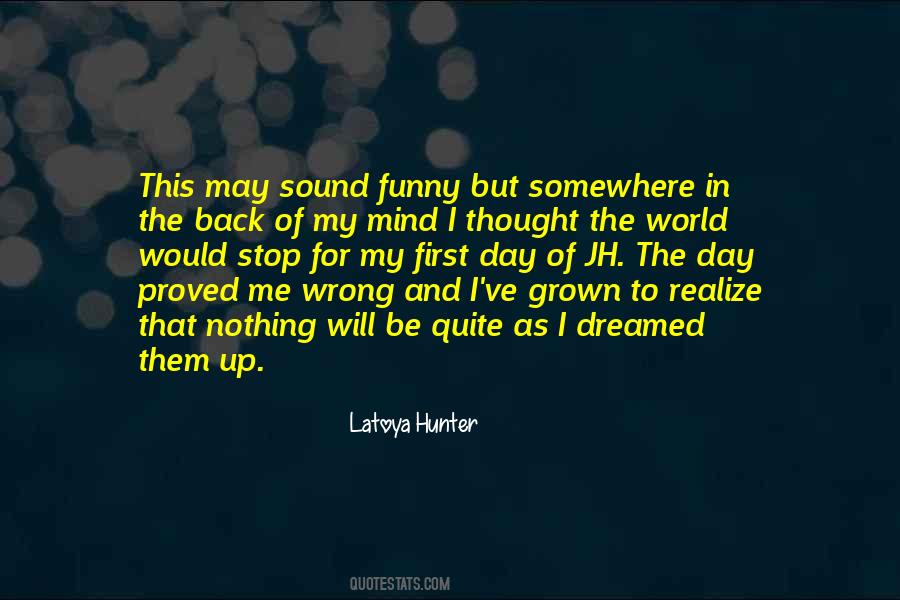 #40. I'll tell you," she says, getting up. "I just need a drink. You want one?"
"Now?" Libby makes a face. "It's only midday."
"It's five o'clock somewhere in the world. - Author: Rebecca James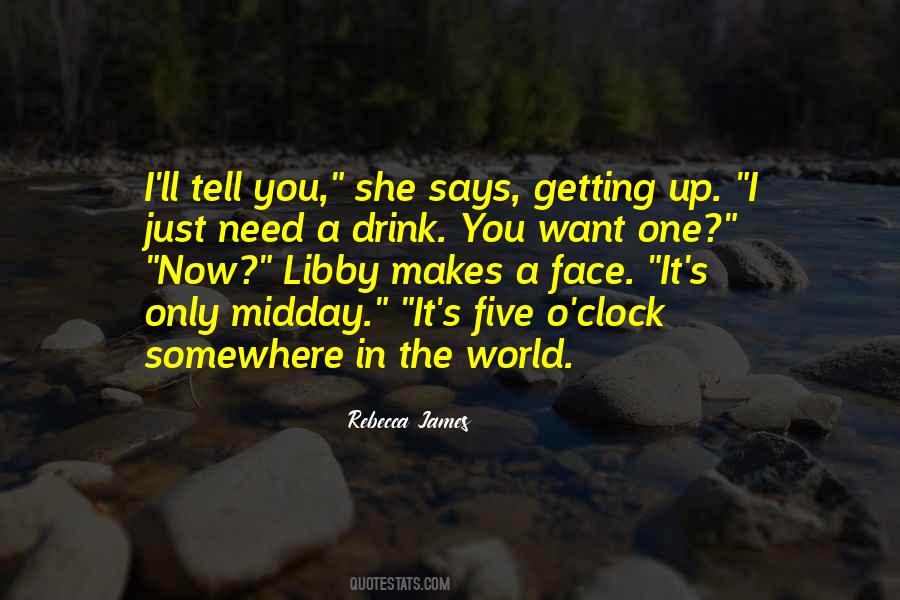 #41. From a very young age, I suspected there was more to my world than I could see: somewhere in the streets of Istanbul, in a house resembling ours, there lived another Orhan so much like me he could pass for my twin, even my double. - Author: Orhan Pamuk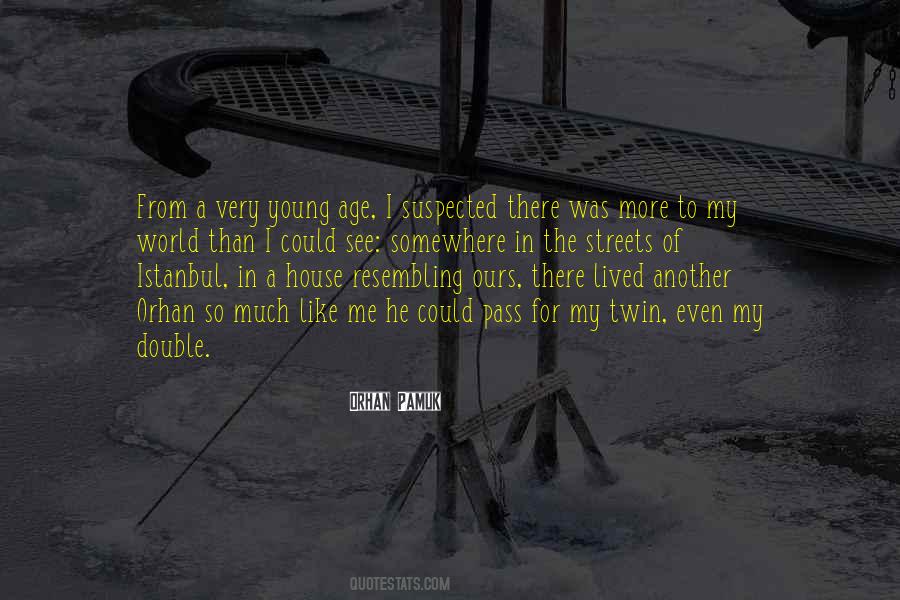 #42. There was a sharp crack from somewhere on the mountain. Then another. It's just a tree falling, he said. It's okay. The boy was looking at the dead roadside trees. It's okay, the man said. All the trees in the world are going to fall sooner or later. But not on us. - Author: Cormac McCarthy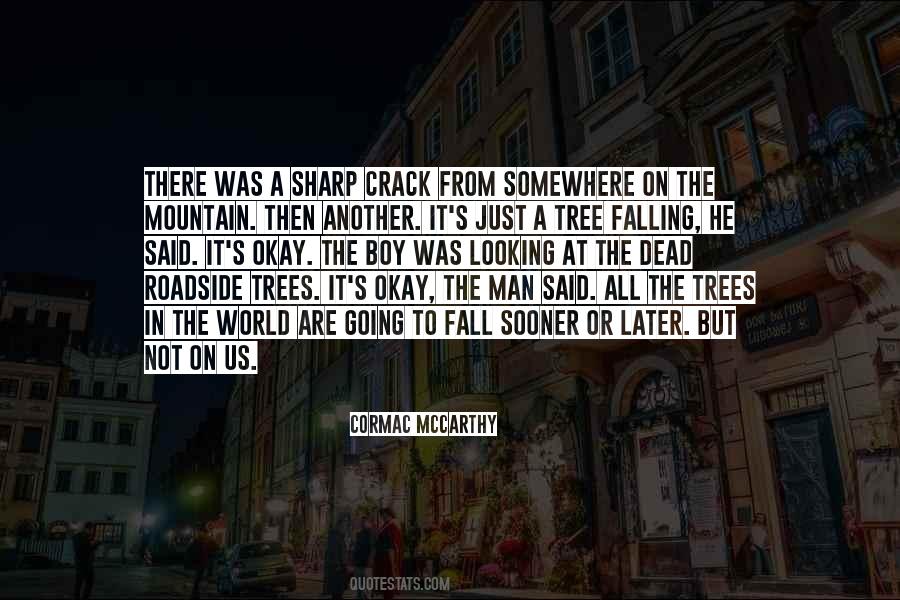 #43. Somewhere in the far north of Canada there wuld be snow, falling soundlessly overy the Beaufort Sea, falling over the Artic without a soul to see it. What kind of weather was that, Samson wondered, and how was one to use this information except as proof that the world was too much to bear? - Author: Nicole Krauss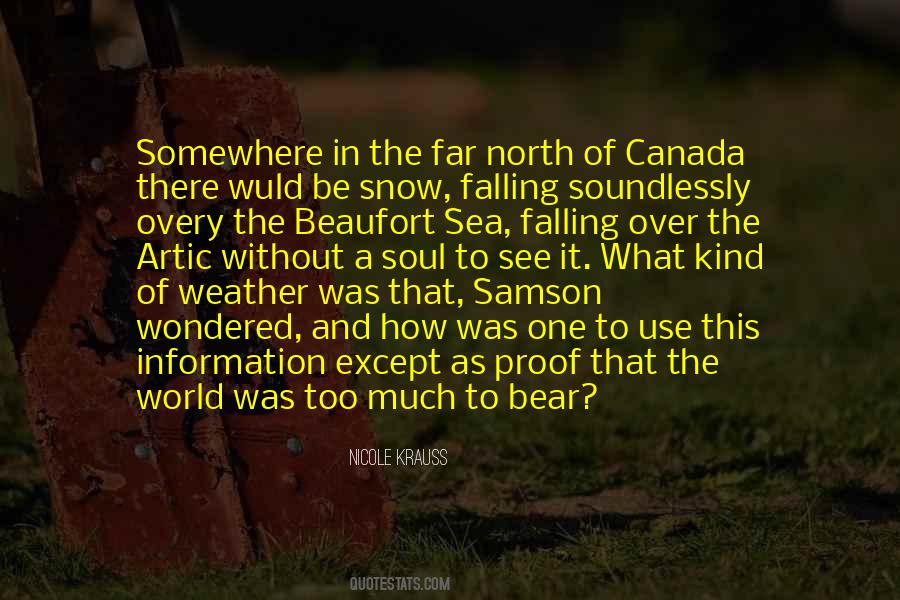 #44. I've been with Semperoper Ballet in Dresden, Germany, for five years - I wanted to escape the competitive dance world and go somewhere where I felt appreciated for my talents. Stateside, it was always kind of a struggle. And the competition? Not into it. - Author: Sarah Hay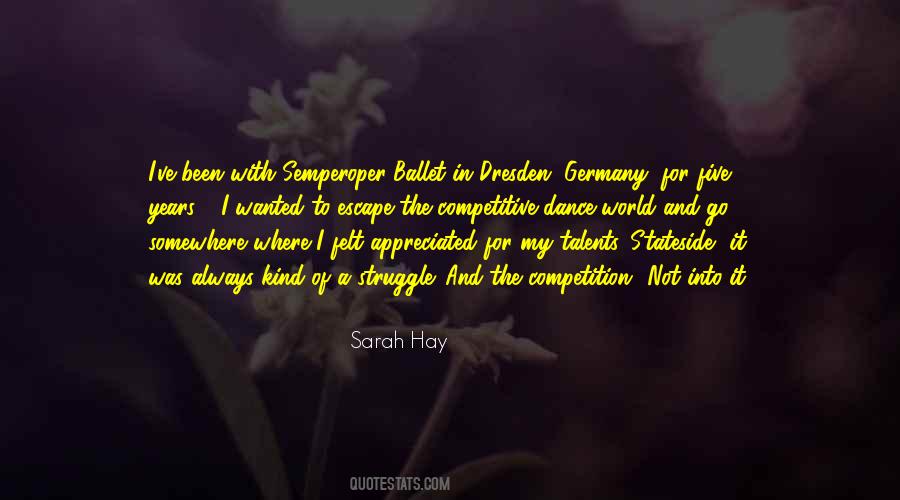 #45. I want to sleep. To find a safe place somewhere, and close my eyes, and rest, like an animal.
That is what I am. An animal. Living from moment to moment, day to day, trying to make sense of the world in which I find myself. - Author: S.J. Watson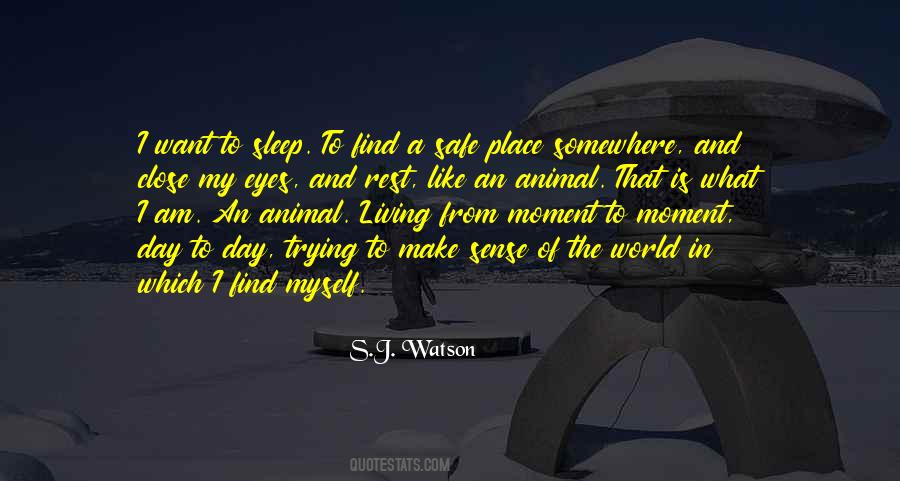 #46. I don't need validation, recognition or praise. What I need are facts and the facts are that one of my books gets sold, somewhere in the world, every second. - Author: Lee Child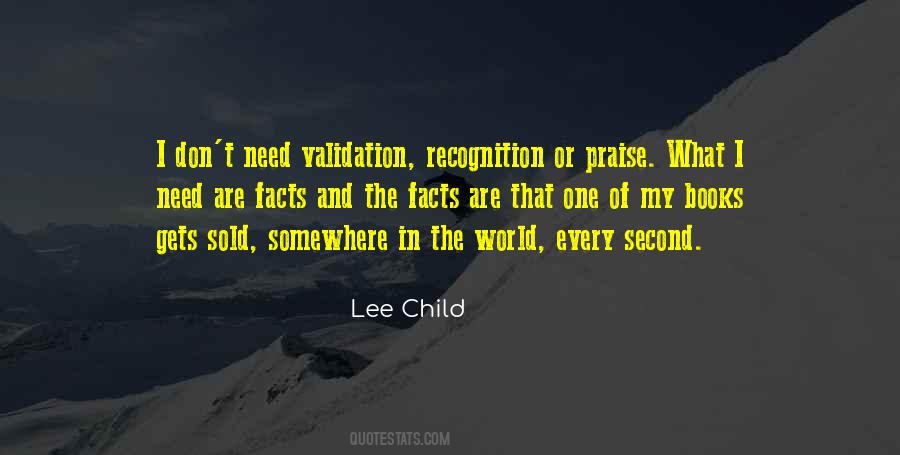 #47. there is something magical and addicting about going somewhere, being alone, and finding yourself in parts of the world you never knew existed, finding parts of yourself you never knew you would find. - Author: AVA.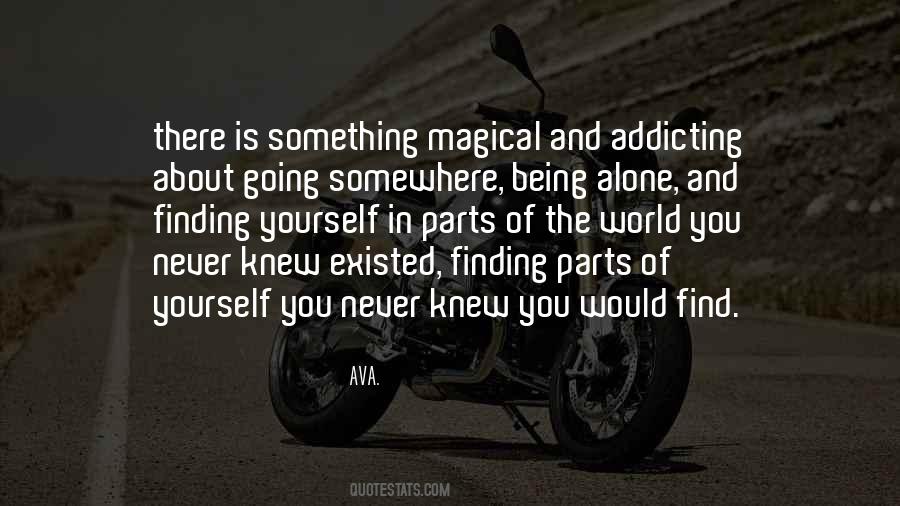 #48. Somebody to predict your move somewhere like in the real world playground or in a game... which means virtual world play ground, isn't it creepy? - Author: Deyth Banger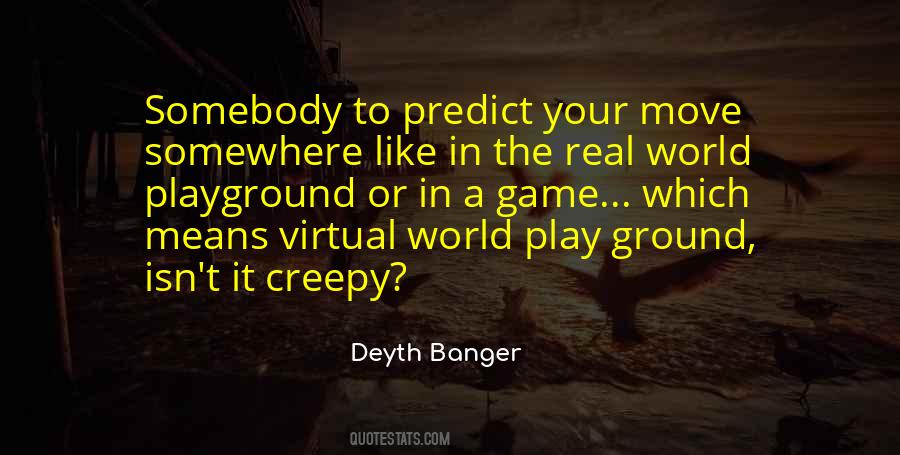 #49. When you're unhappy, I guess everything in the world - reading, eating, sleeping - has something buried somewhere inside it that just makes you unhappier. - Author: Nick Hornby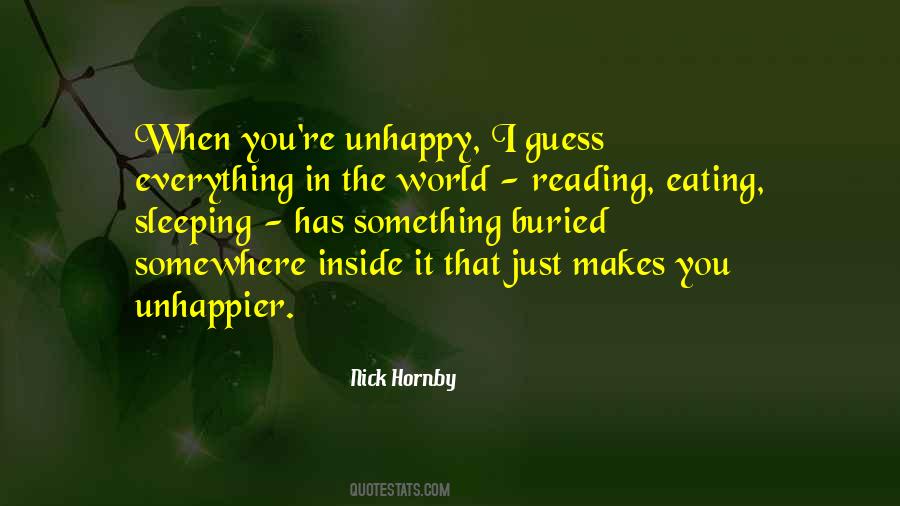 #50. There are people who want to import the dregs of the world into this country in order to cut this country down to size. Do not doubt me on this. I know it sounds hard to believe. Those people will be found somewhere on the political spectrum, and they vote Democrat. - Author: Rush Limbaugh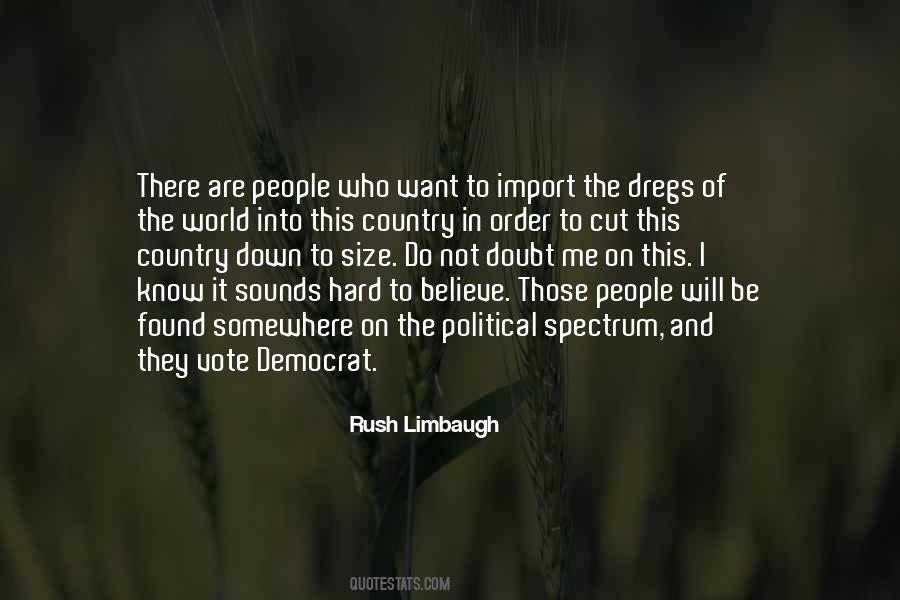 #51. Sweetness, what are you doing? Hank's kind of party is rated XXX and most likely illegal somewhere in the world. I promise you don't want to see that."
Her gray eyes met his. "It's just a drink, Devon. Scared? - Author: Beth Mikell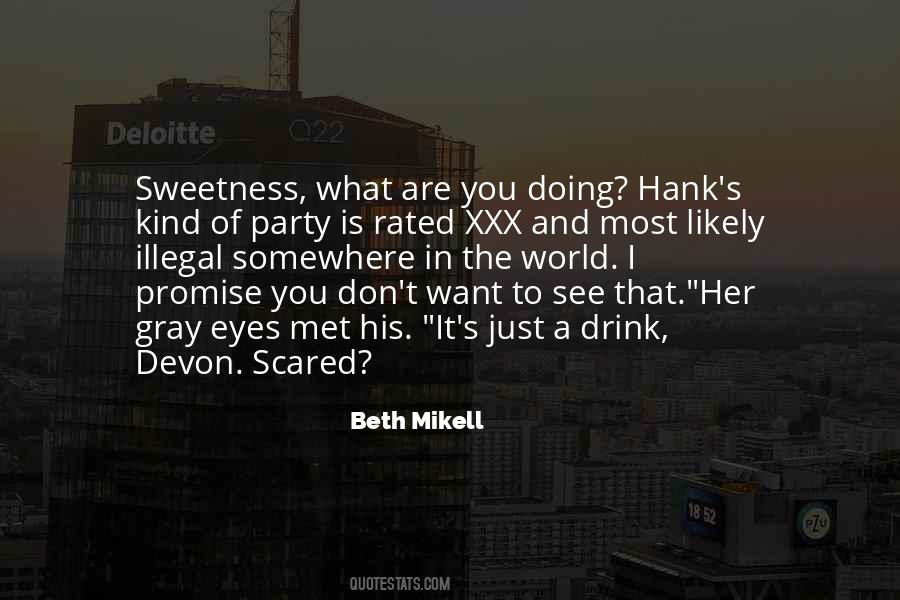 #52. The world was beautiful, the world was particolored, strange and quizzical ... Meaning and essence were not somewhere behind things, they were inside things, in everything. - Author: Hermann Hesse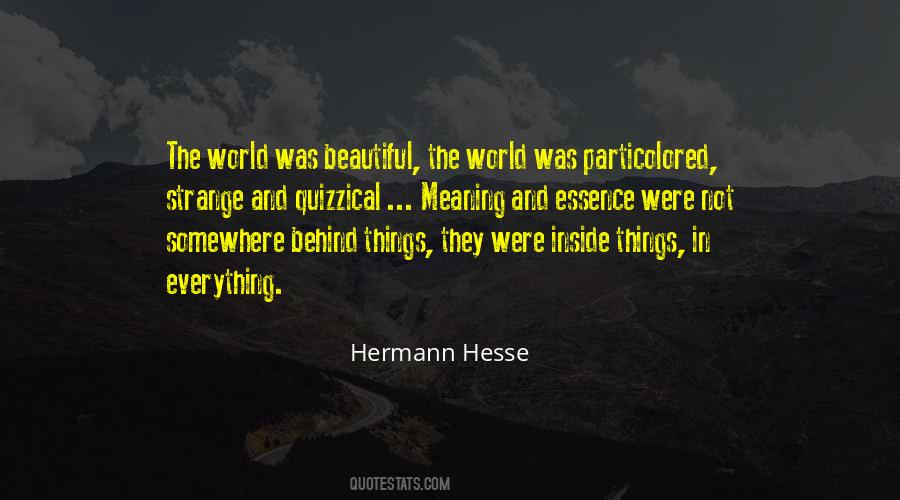 #53. The best way in the world to advertise is to get somebody else to run around with the name of your product on their person or showing it around somewhere and not only that but they're paying for it. - Author: Majel Barrett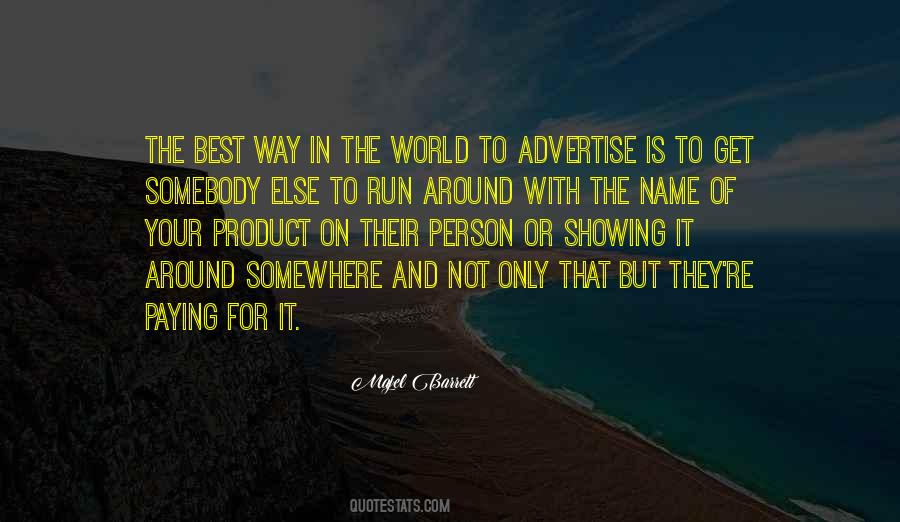 #54. Somewhere inside you is that free person I'm talking about. Locate her and let her do some good in the world - Author: Toni Morrison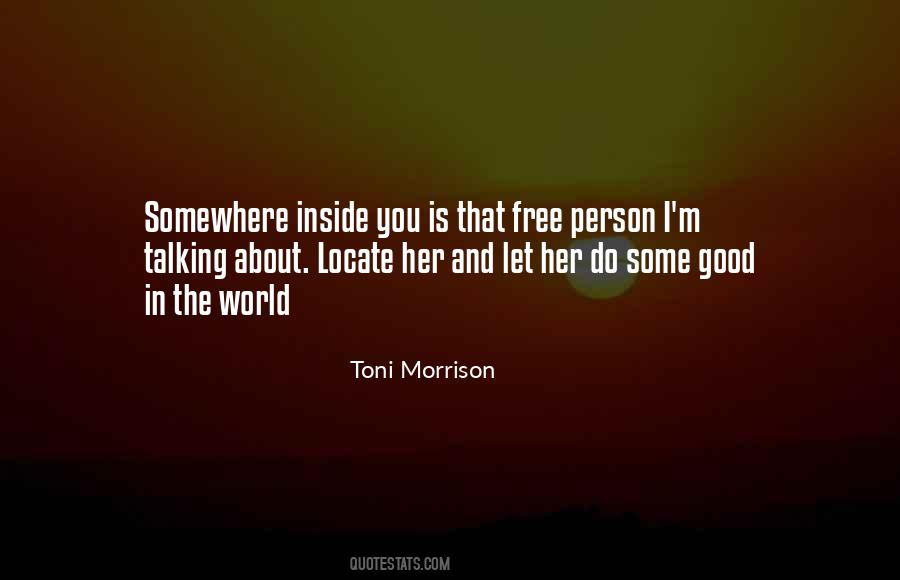 #55. Joy doesn't exist out in the world somewhere. Joy is an inside job. - Author: Lynn A. Robinson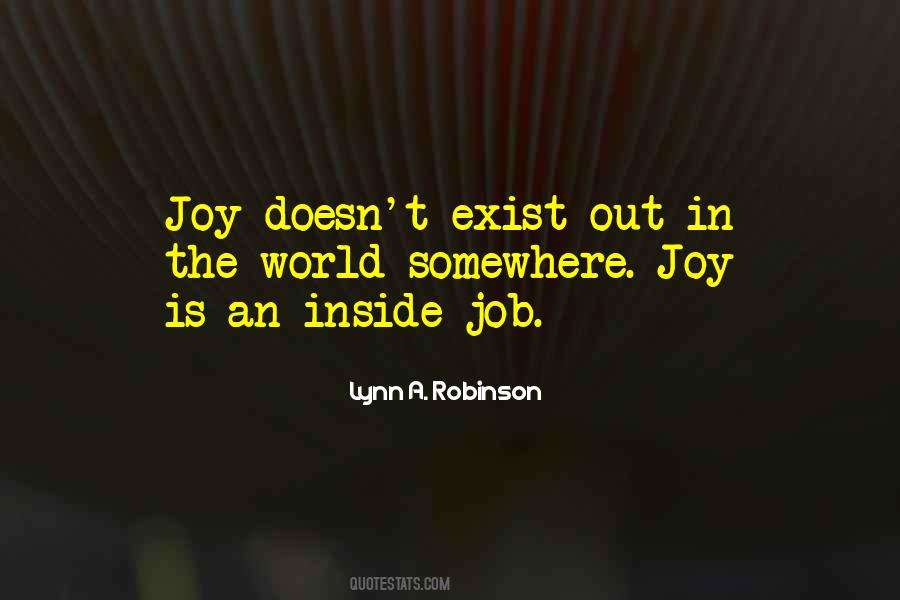 #56. I know deep inside, somewhere between the layers of my heart and soul, somewhere in the middle of my brain, that I love you more than anything in the world. But - Author: Cameron Jace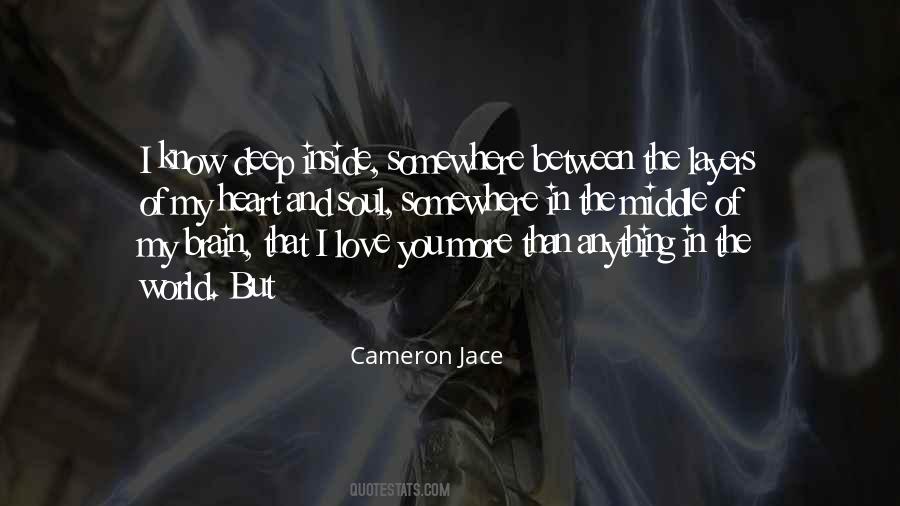 #57. You must take a year off, one of these days, before you're old and tired and weighed down by responsibility. Go away somewhere, and read. Read all the important books. Educate yourself, then you'll see the world in a different way. - Author: Helon Habila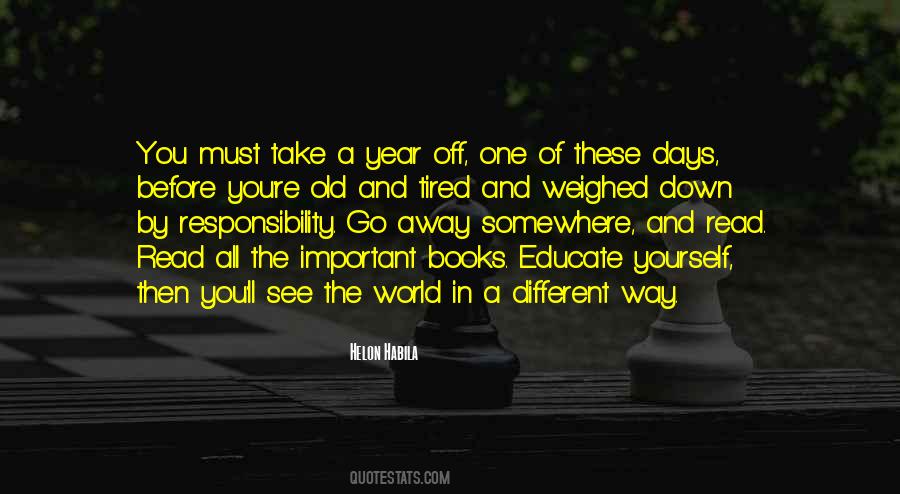 #58. My true place in the world, it turned out, was somewhere beyond myself, and if that place was inside me, it was also unlocatable. This was the tiny hole between self and not-self, and for the first time in my life I saw this nowhere as the exact center of the world. - Author: Paul Auster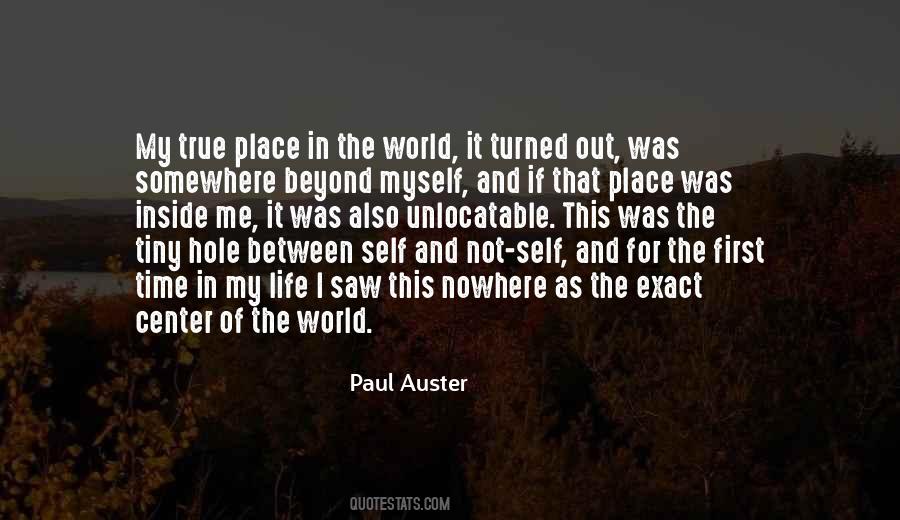 #59. However tight I shut my eyes, there will always be a stray dog somewhere in the world who'll stop me being happy. - Author: Jean Anouilh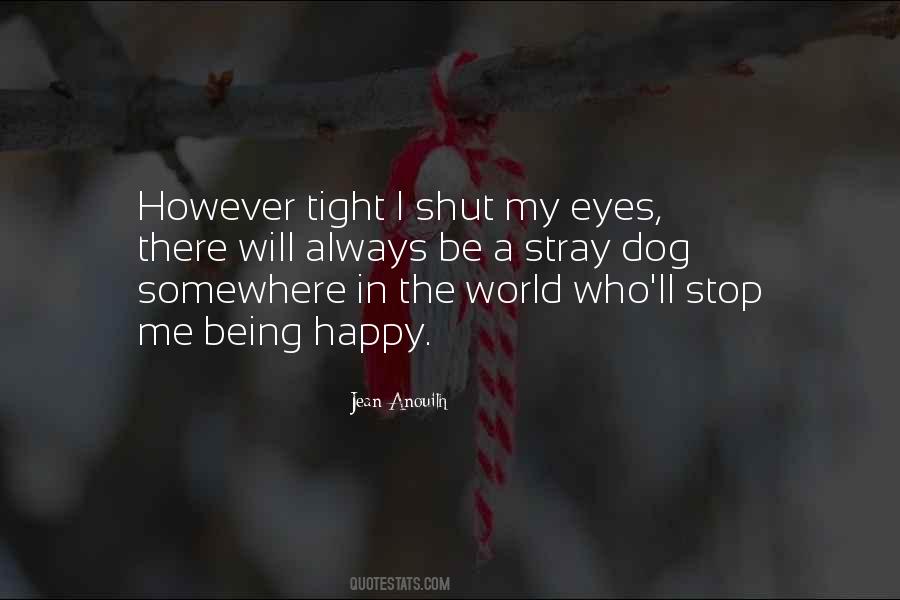 #60. To fit in somewhere in the world, even if there were chains and gates and fences to keep us from running. - Author: Nova Ren Suma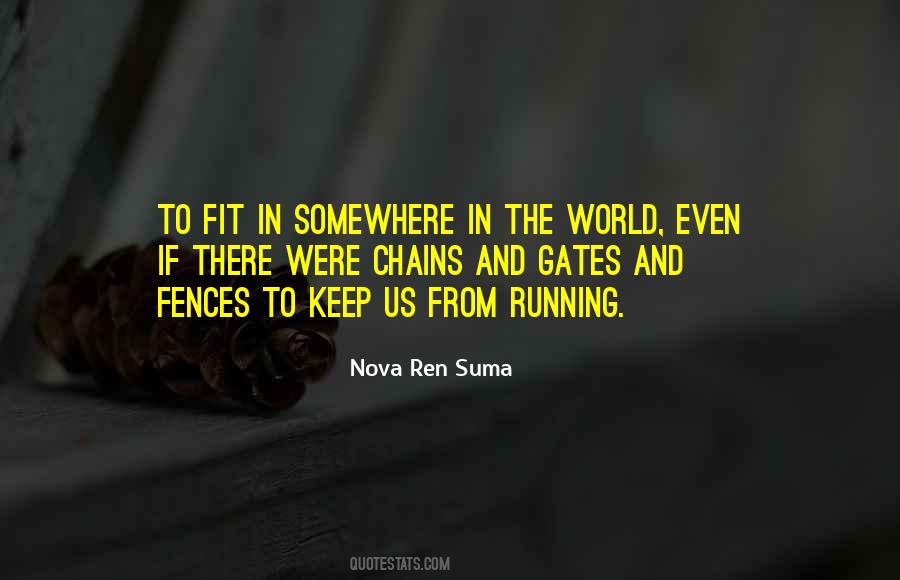 #61. It's a big wide world, after all, and Mattawa, Washington, perched on the edge of it, is somewhere in between Nowhere and Nothing At All. - Author: Elise Forier Edie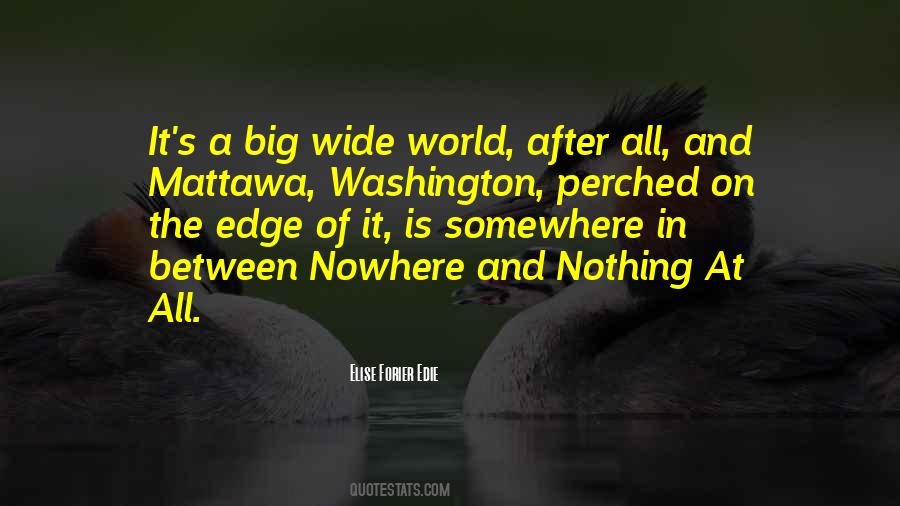 #62. Love is insistent on its own continuation. Every fraction of a second, someone somewhere falls in love, a former enemy becomes a friend, and a newborn baby is born into the world. - Author: Marianne Williamson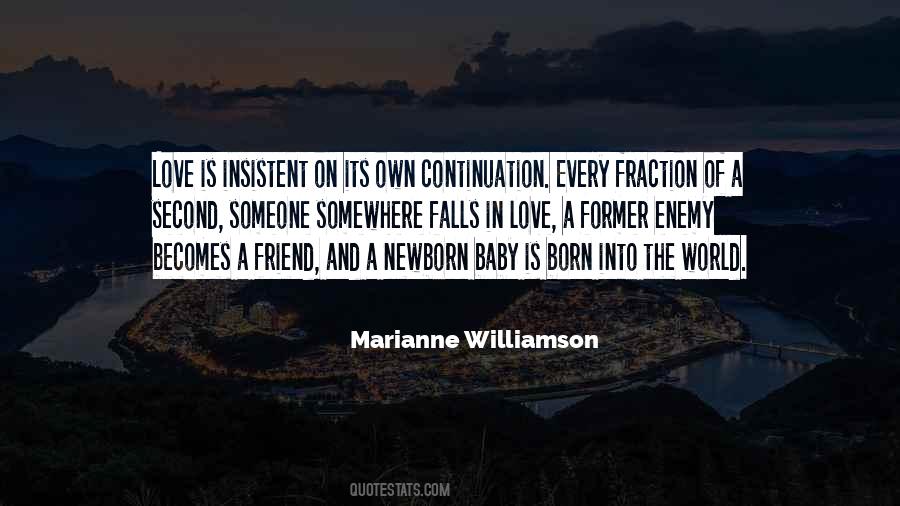 #63. The coma carried me into a world where time and space seemed to vanish; it was a dreamlike existence in which people, places, and situations shifted as quickly as thoughts. I had a profound sense of being at a crossroads, a turning point, somewhere between death and life ... - Author: Hal Zina Bennett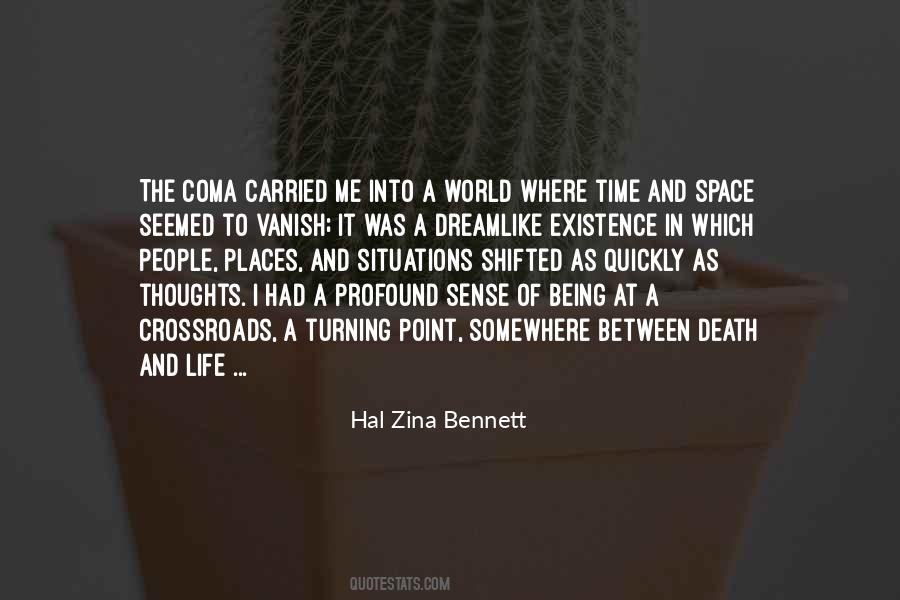 #64. Let us look for secret things somewhere in the world on the blue shore of silence or where the storm has passed rampaging like a train. There the faint signs are left, coins of time and water, debris ,celestial ash and the irreplaceable rapture of sharing in the labour of soitude in the sand. - Author: Pablo Neruda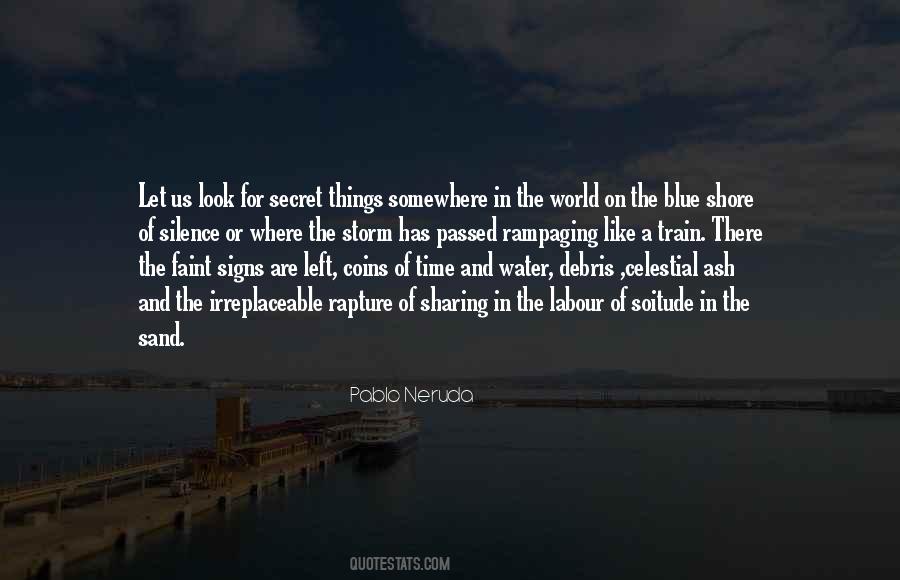 #65. I read somewhere once that you could be whatever you wanted. As long as I could remember, I was determined to make my way in the big world. And that meant New York. - Author: Alan W. Livingston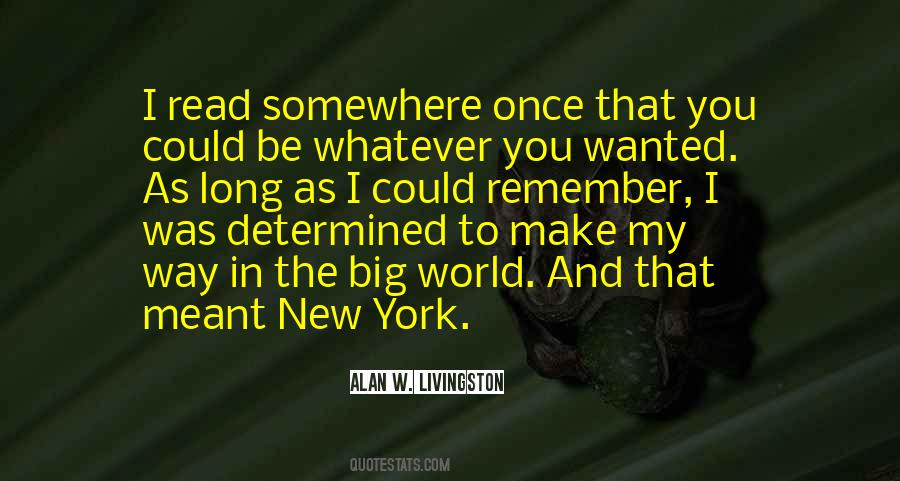 #66. I couldn't have known that Archer Hale existed somewhere in this crazy world, and that he had been made just for me.
And in that moment, I knew. I was falling in love with the beautiful, silent man staring down at me. If I hadn't already fallen. - Author: Mia Sheridan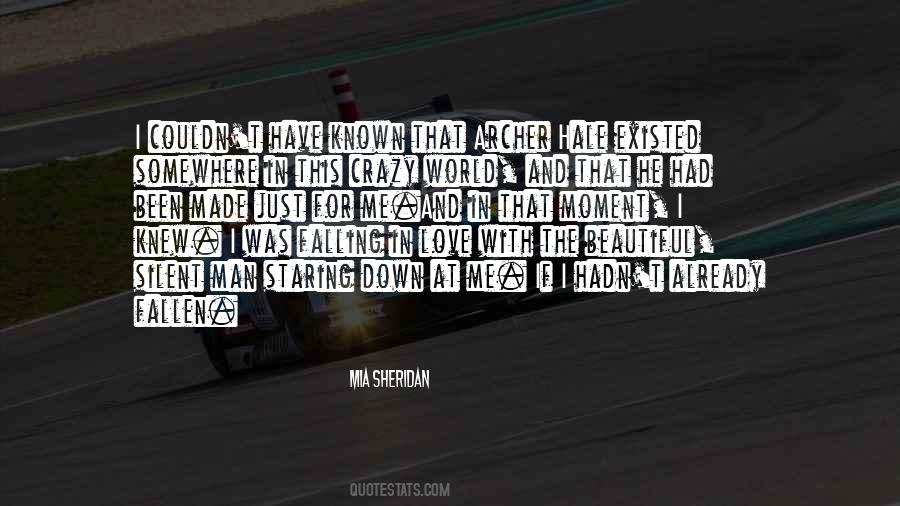 #67. All History is current; all injustice continues on some level, somewhere in the world. - Author: Alice Walker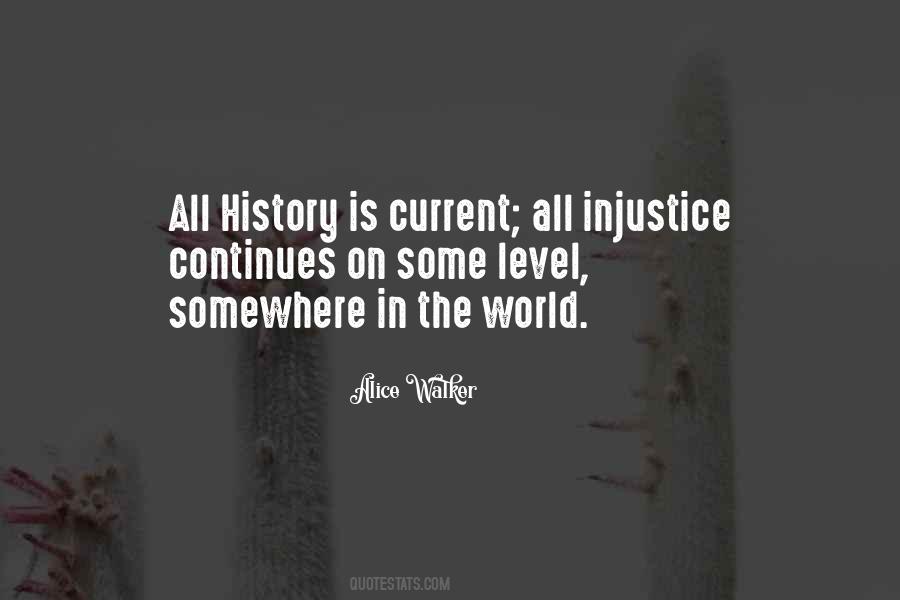 #68. When people argue for the existence of a supernatural God who is somewhere else and reaches in on occasion to do a miracle or two, they're skipping over the very world that surrounds us and courses through our veins and lights up the sky right here, right now. - Author: Rob Bell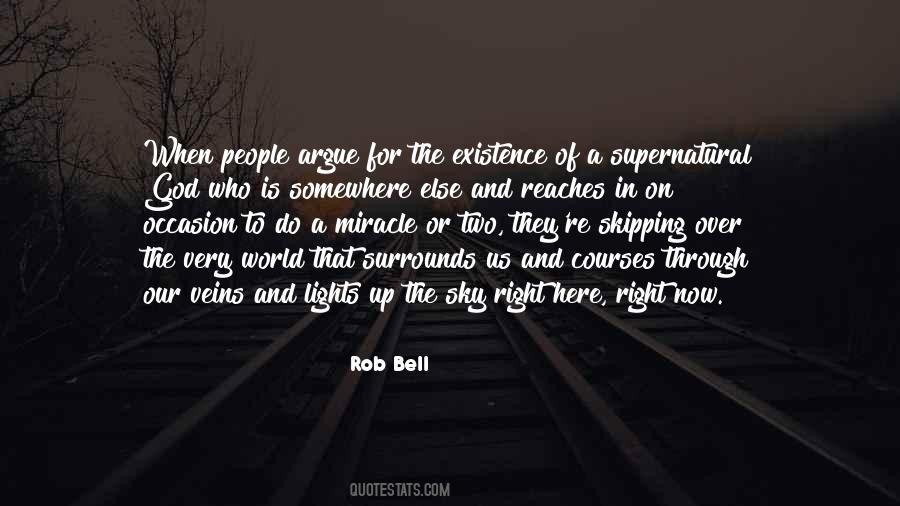 #69. In his dream she was sick and he cared for her. The dream bore the look of sacrifice but he thought differently. He did not take care of her and she died alone somewhere in the dark and there is no other dream nor other waking world and there is no other tale to tell. - Author: Cormac McCarthy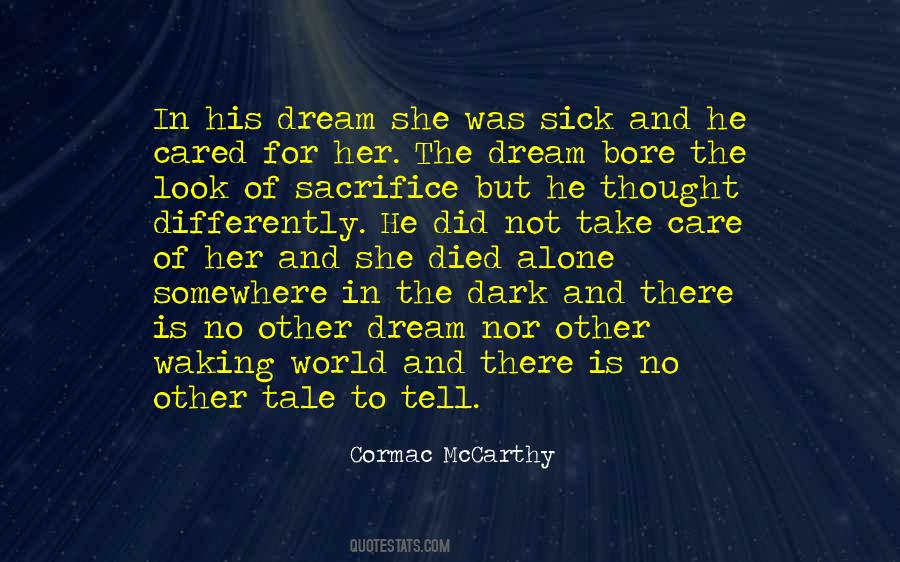 #70. How can we bear this? I asked. (He took the hat from my hands and placed it gently on my head.) Because we have to. Because you will know my heart is somewhere in the world, beating for you. - Author: Beatriz Williams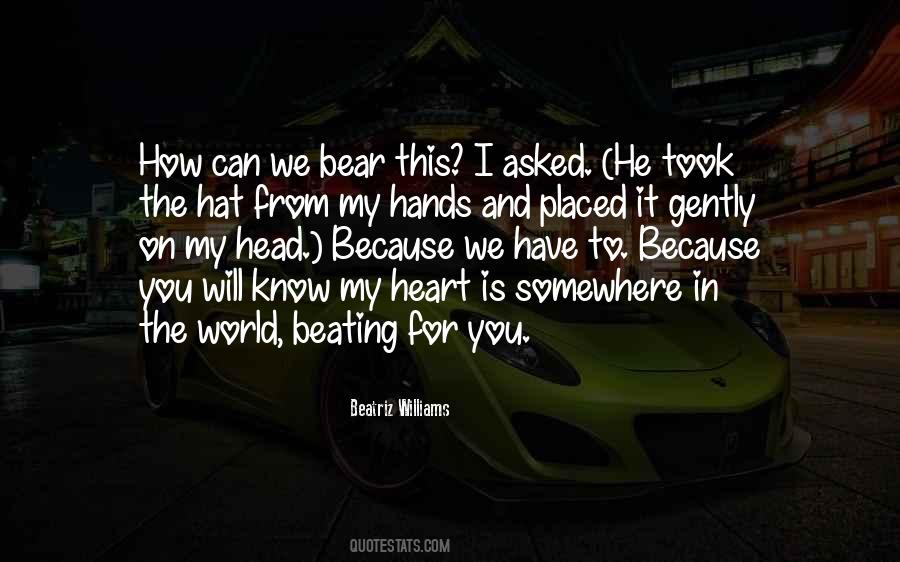 #71. For every human illness, somewhere in the world there exists a plant which is the cure. - Author: Rudolf Steiner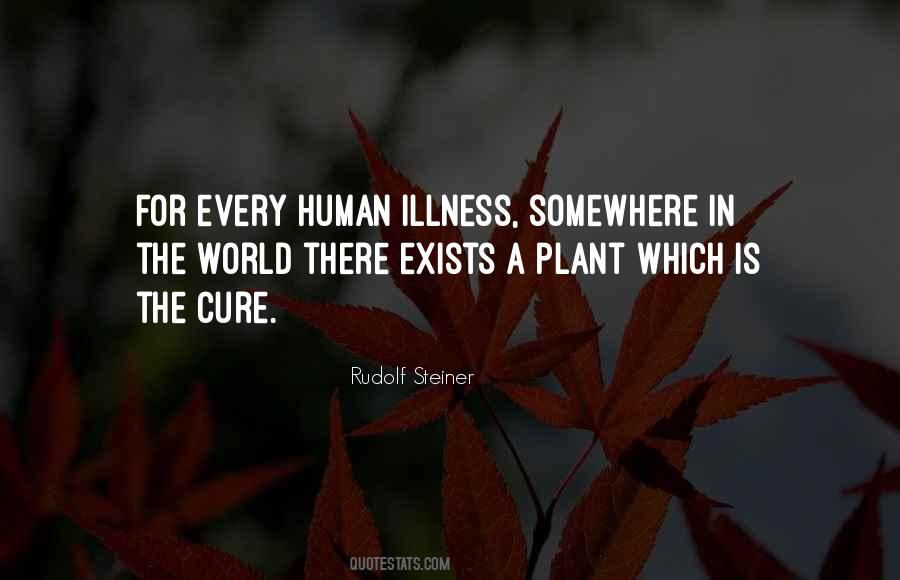 #72. Her laughter seemed to discharge something in the atmosphere. From somewhere at the back of the crowd a single voice started to sing a tune that would have enabled Paul McCartney, had he written it, to buy the world. - Author: Douglas Adams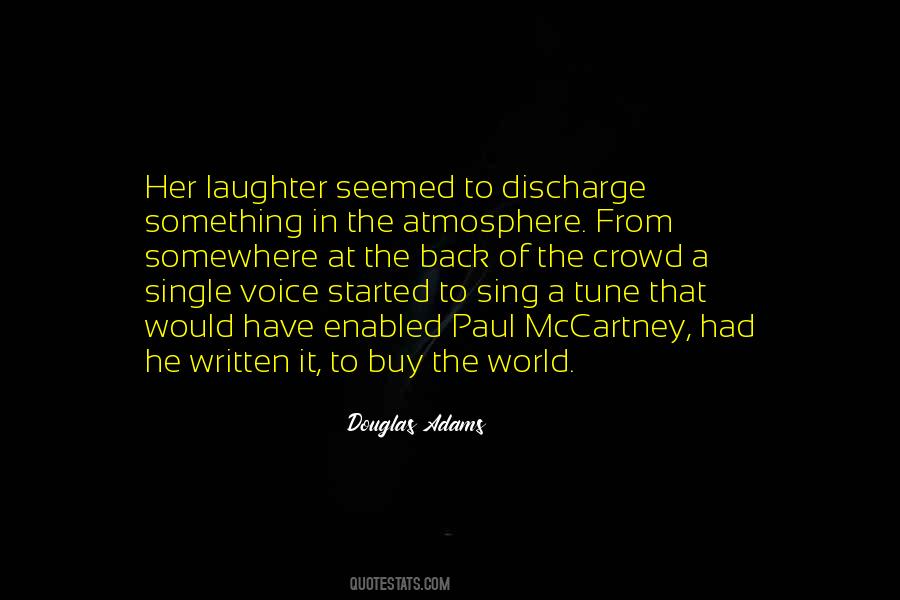 #73. It's written in our DNA somewhere: our children first, the rest of the world second. - Author: Rachel Caine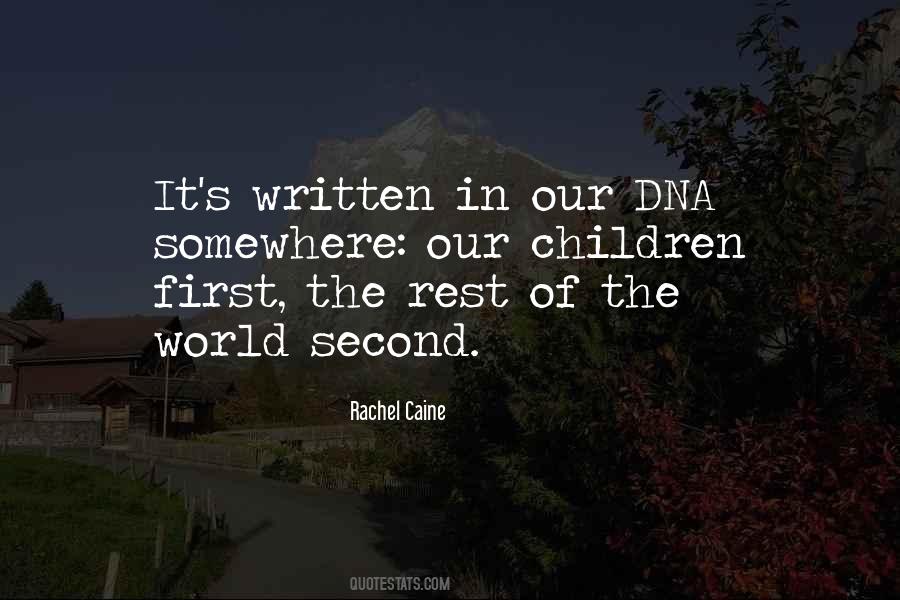 #74. I now believe that there's only a certain amount of good luck in the world, and so if something good happens to me, that means something bad has to happen to somebody, somewhere. - Author: Marshall Brickman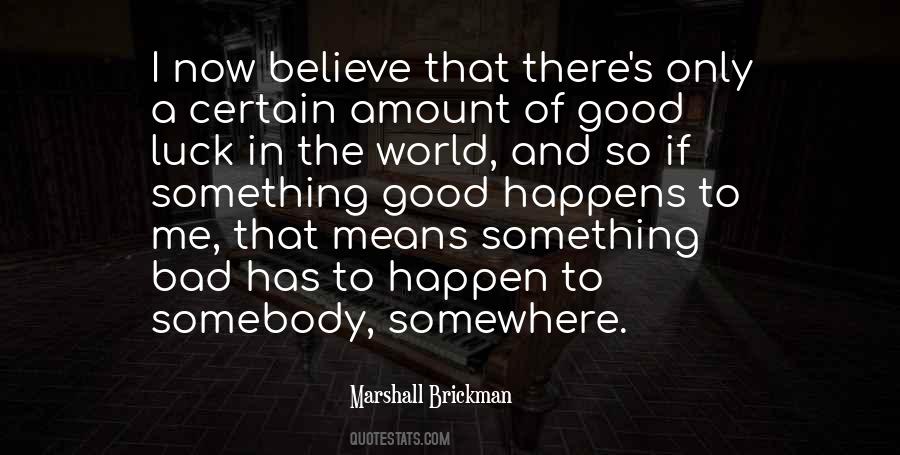 #75. People, feelings, everything! Double! Two people in each person. There's also a person exactly the opposite of you, like the unseen part of you, somewhere in the world, and he waits in ambush. - Author: Patricia Highsmith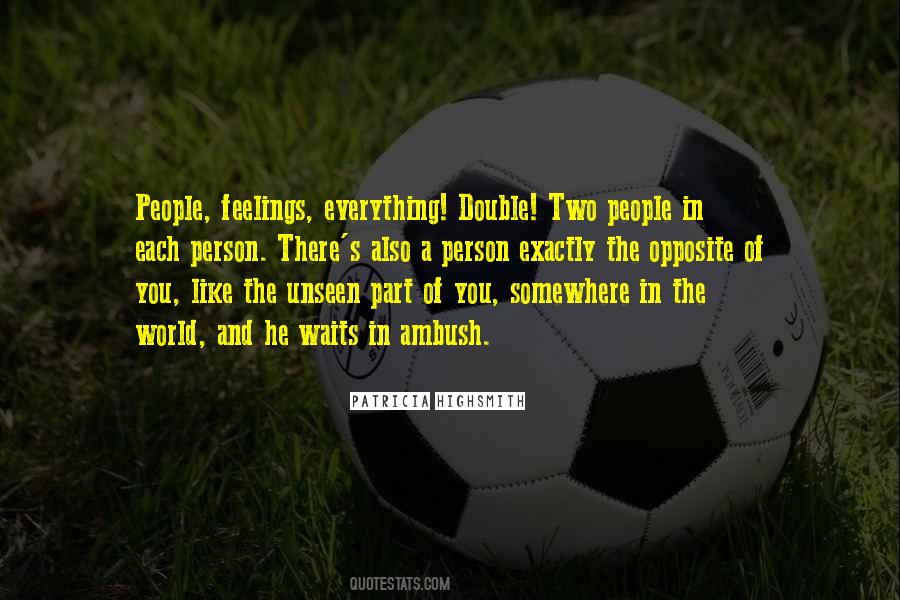 #76. I was sad to leave, but I was also pleased to have met people outside of Sierra Leone. Because if I was to get killed upon my return, I knew that a memory of my existence was alive somewhere in the world. - Author: Ishmael Beah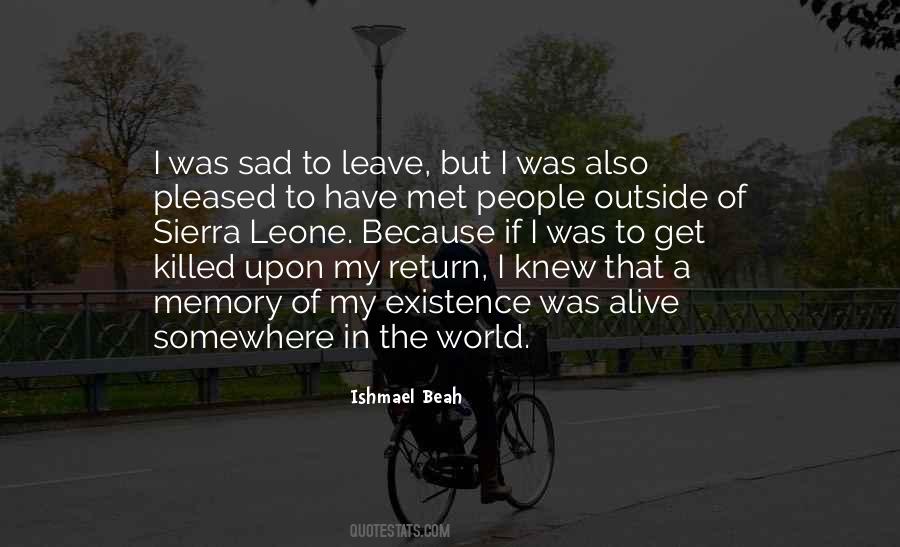 #77. Open your newspaper - any day of the week - and you will find a report from somewhere in the world of someone being imprisoned, tortured or executed because his opinions or religion are unacceptable to his government. - Author: Peter Benenson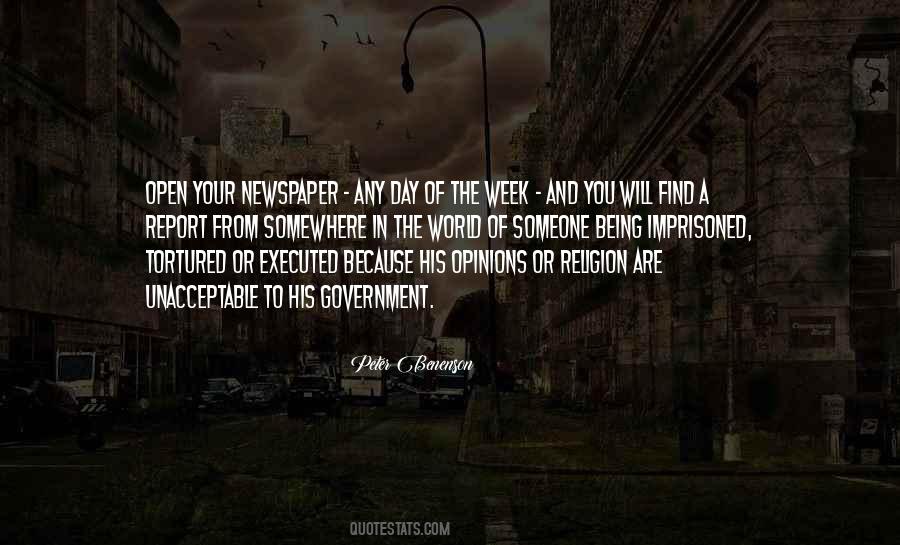 #78. Somewhere in the world there is a person who could ask you the precise question you need to hear in order to catalyze the next phase of your evolution. Do what's necessary to run into that person. - Author: Rob Brezsny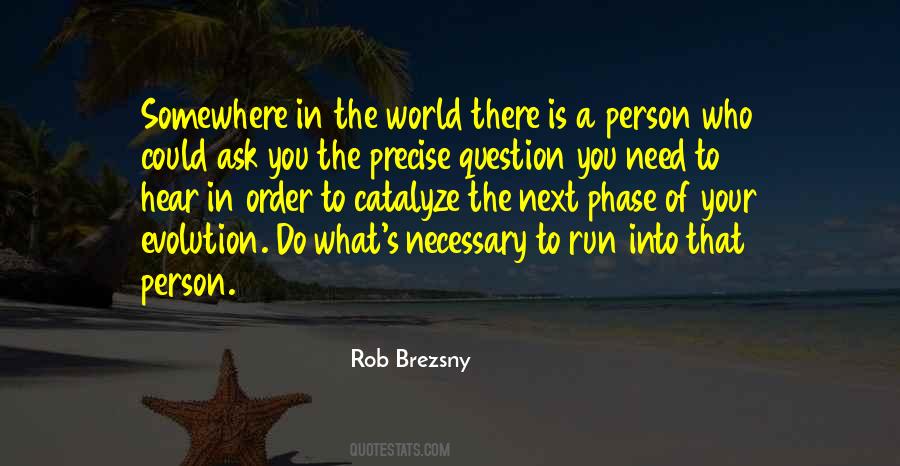 #79. Sufficiently entranced, she will pass the day somewhere else, in a world that understands her unelaborate hopes and grants to the lonely soul of the loveless, graceful peace. - Author: Steve Kilbey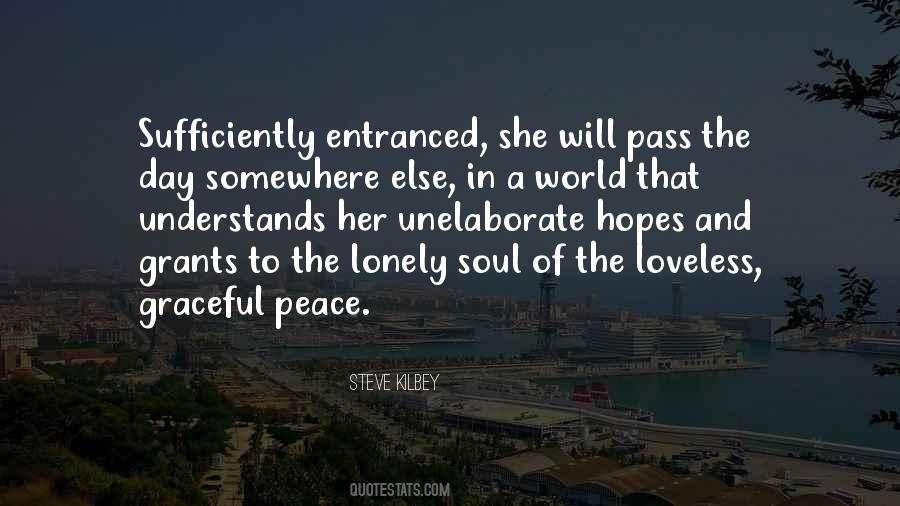 #80. Of course someone would be that stupid. Some humans would do anything to see if it was possible to do it. If you put a large switch in some cave somewhere, with a sign on it saying 'End-of-the-World Switch. PLEASE DO NOT TOUCH', the paint wouldn't even have time to dry. She - Author: Terry Pratchett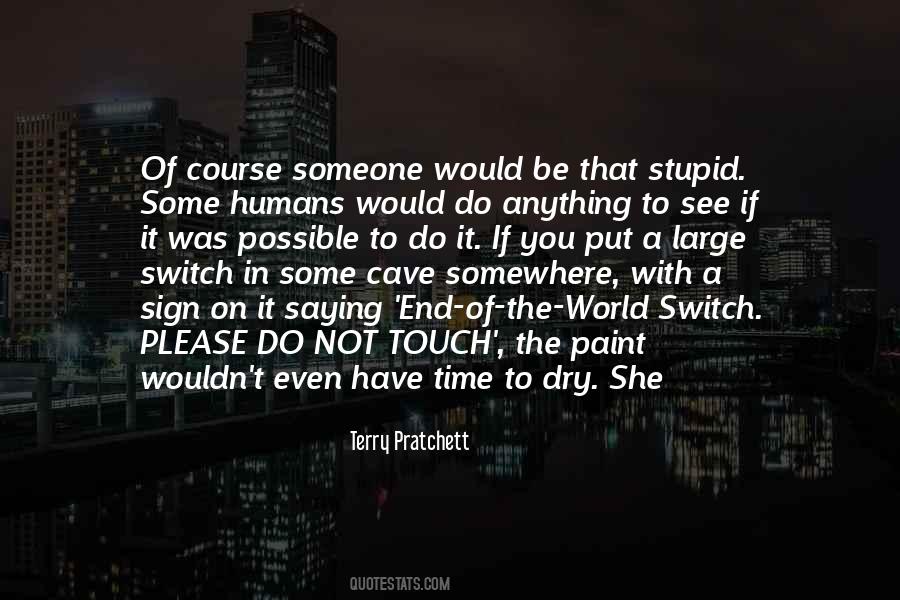 #81. Silence is not the absence of sound. It's a physical place, a
destination with value and meaning in a chaotic world, somewhere
arrived at with difficulty and left with regret. - Author: Kenneth Turan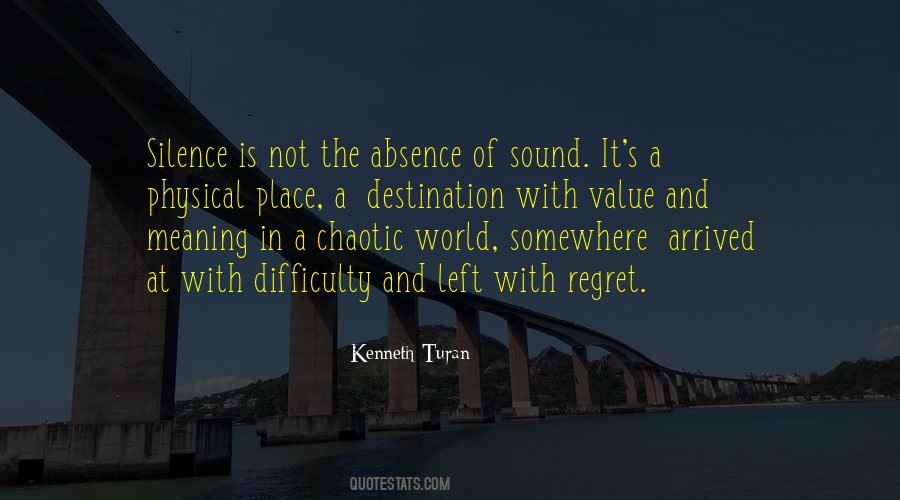 #82. In a perfect world, my tennis game gets better. I have kids and a beautiful wife and live on some hill somewhere that's not in Los Angeles. And the script that Tom Hanks just barely turned down gets in my hands. - Author: Matthew Perry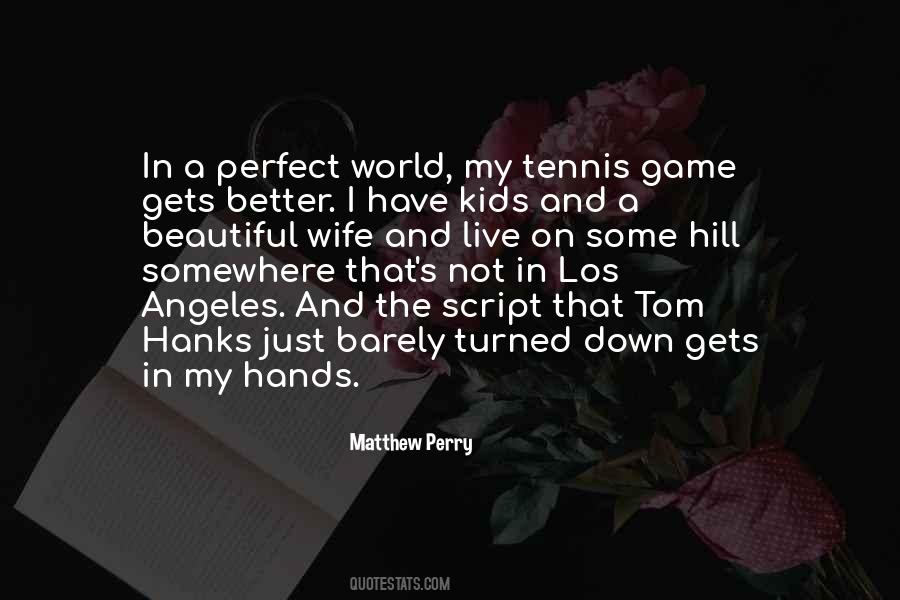 #83. The coyote howled once more. Bosch thought he could hear a dog answering somewhere in the distance. "Are you like him?" she asked. "Who?" "Timido. Alone out there in the dark world." "Sometimes. Everybody is sometimes." "Yes, - Author: Michael Connelly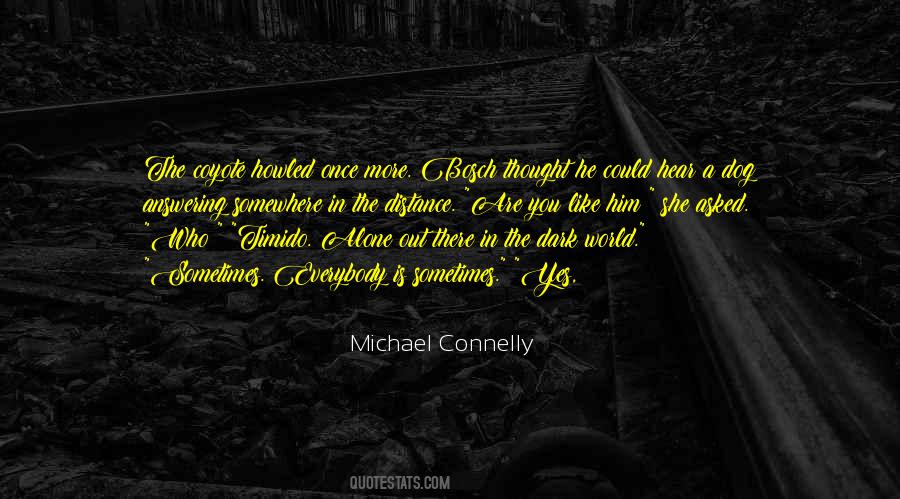 #84. But, you see, it's not what you do that matters really. It's only you."
"Me what?"
"Just you here. Or you in the city. Or you somewhere in the world. I don't know. Just that. - Author: Ayn Rand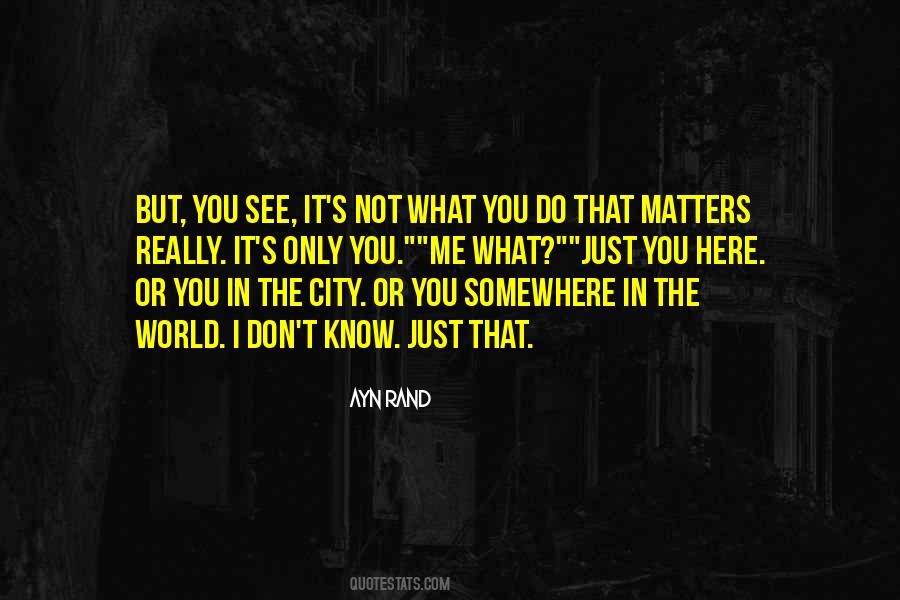 #85. Human beings, Lucretius thought, must not drink in the poisonous belief that their souls are only part of the world temporarily and they are heading somewhere else. That belief will only spawn in them a destructive relation to the environment in which they live the only lives they have. - Author: Stephen Greenblatt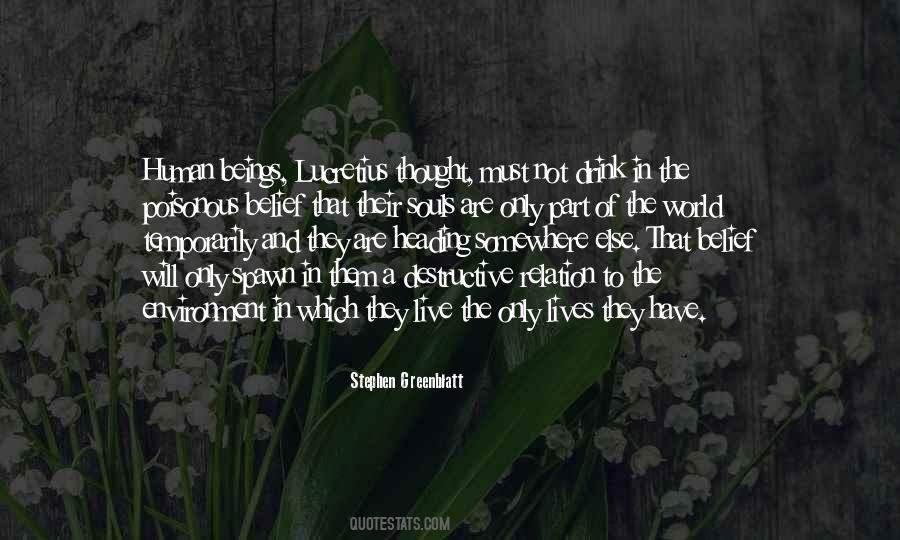 #86. Anna is the sort of woman who writers write about, Tom. Somewhere in the third act, women like her save characters like you and me from ourselves. She's the loveliest literary device in the world. - Author: Matthew Norman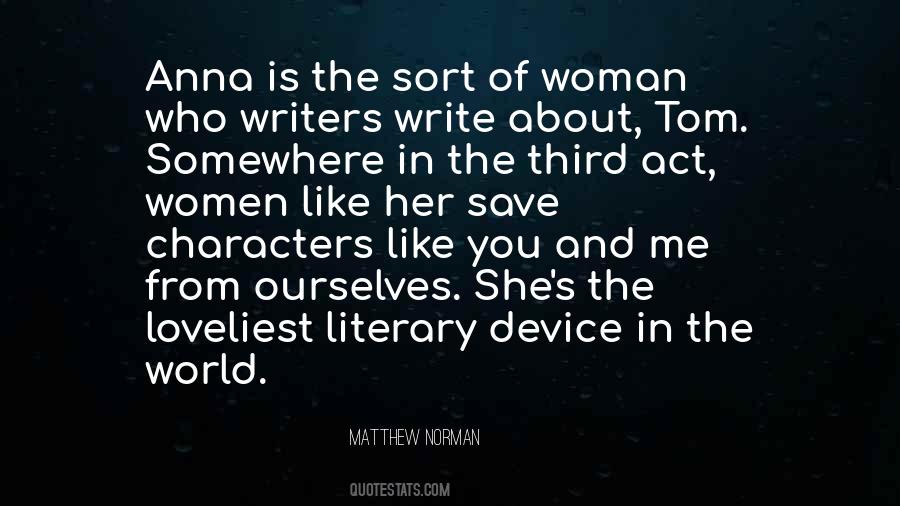 #87. An ideal world in my own home ... I'm not yet sure why the prospect appalls me quite so much, but I do know somewhere in me that (he) is wrong, that a life without hatred is no life at all, that my children should be allowed to despise whom they like. Now there's a right worth fighting for ... - Author: Nick Hornby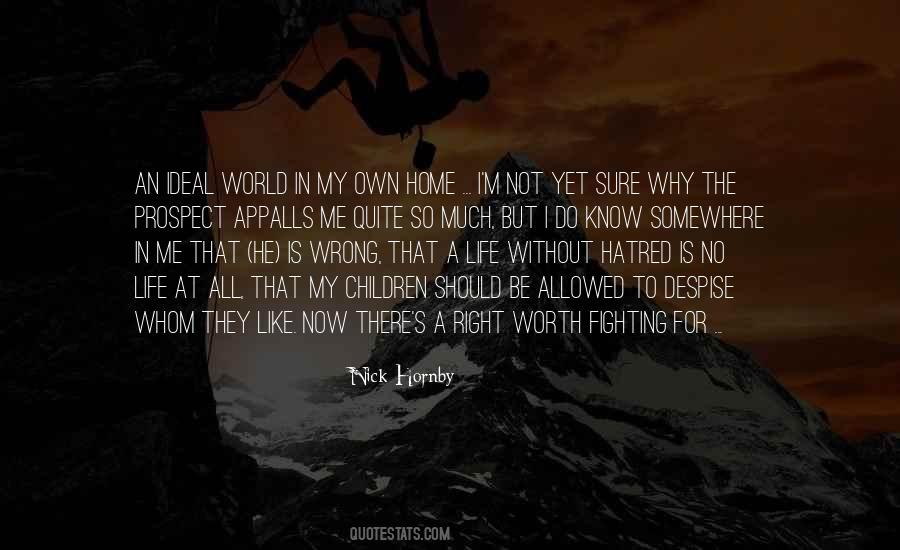 #88. Cuz life is beautiful
Life is wondrous
Every star above is shining just for us
Life is beautiful, on a stormy night
Somewhere in the world the sun is shining bright - Author: Keb' Mo'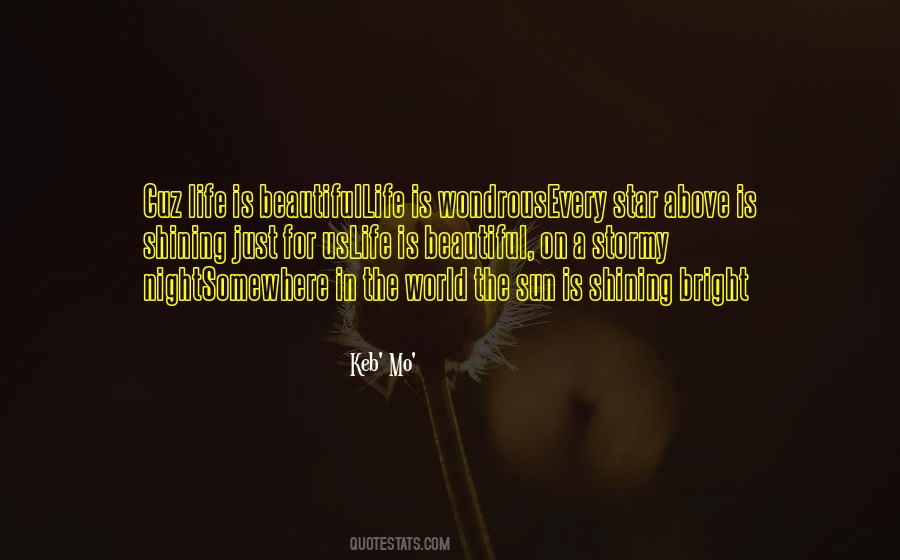 #89. What should I believe? thought Shadow, and the voice came back to him from somewhere deep beneath the world, in a bass rumble: Believe everything. - Author: Neil Gaiman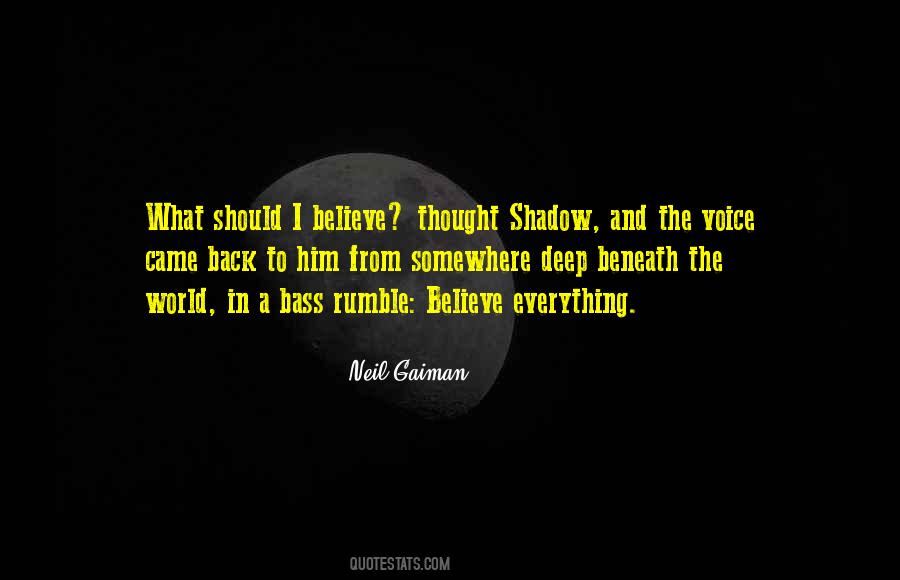 #90. Somewhere in the world is a doctor who is worse than all other doctors ... and someone has an appointment with him in the morning. - Author: George Carlin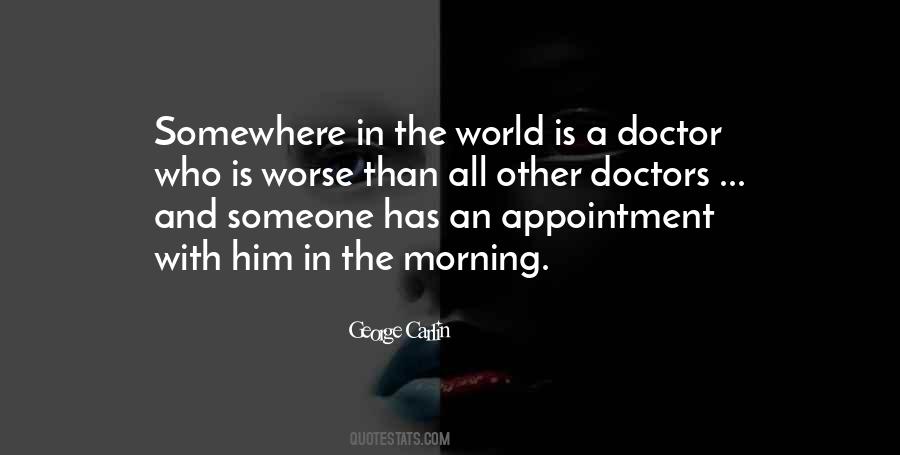 #91. The climate suits me, and London has the greatest serious music that you can hear any day of the week in the world - you think it's going to be Vienna or Paris or somewhere, but if you go to Vienna or Paris and say, 'Let's hear some good music', there isn't any. - Author: David Attenborough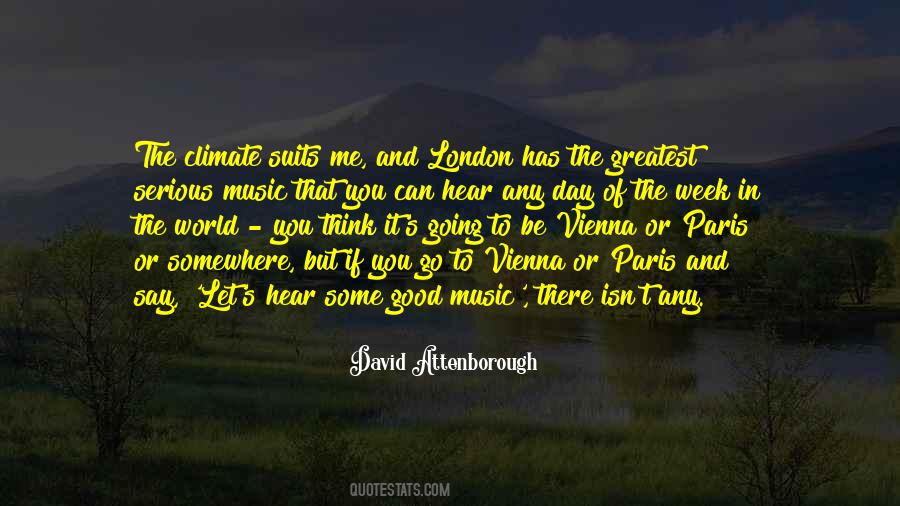 #92. I am operating under the philosophy that I will simply use what I need and the rest - even if I still have it somewhere - is not mine. It is others'. It is for the healing of the natural world. And it is in the process of returning. - Author: Tom Shadyac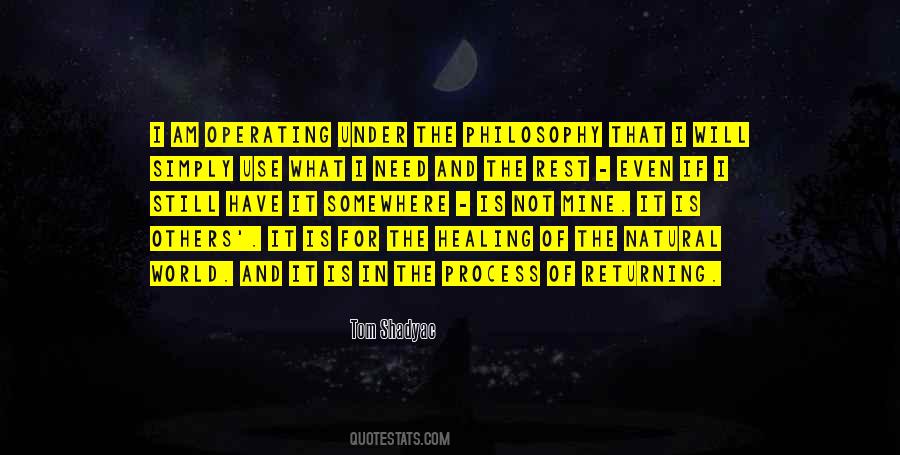 #93. I'll go be the best in the world somewhere else. - Author: CM Punk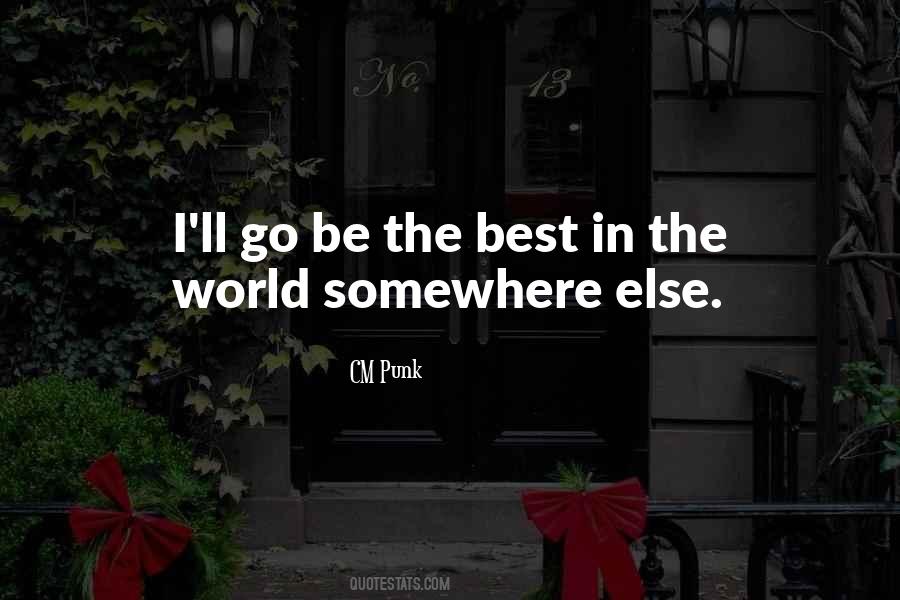 #94. I think that the world ended a long time ago and no one realizes it. We're in a dream somewhere in a vortex of energy that just hasn't realized its nonexistence yet. - Author: Frederick Lenz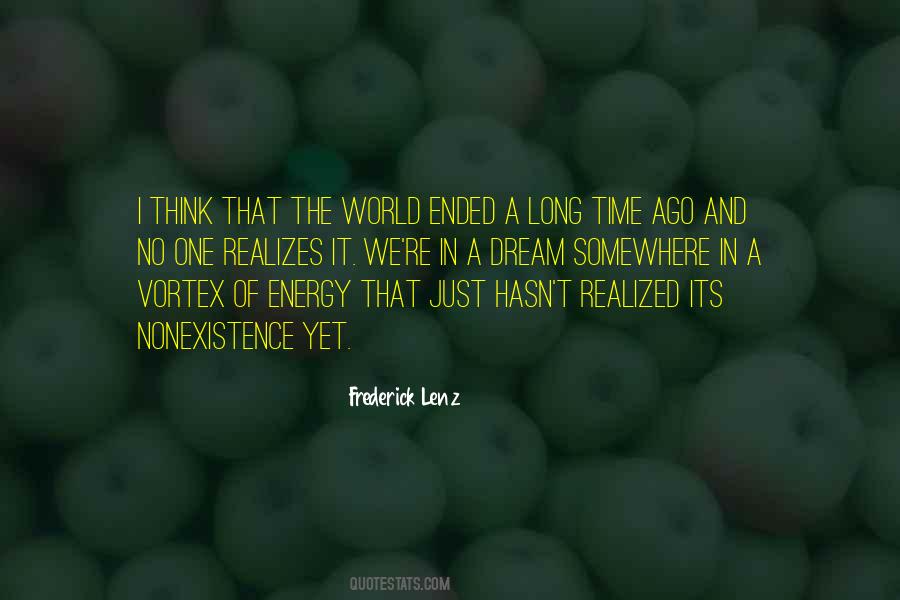 #95. He had done this thing before, somewhere in that other and dimly remembered world, and he was doing it again, now, running free in the open, the unpacked earth underfoot, the wide sky overhead. - Author: Jack London
#96. I never want to sell my soul for something I don't believe in. Because guess what? Somebody somewhere in the world would have believed in that part and should be playing it - who am I to not allow that person that opportunity? - Author: Juno Temple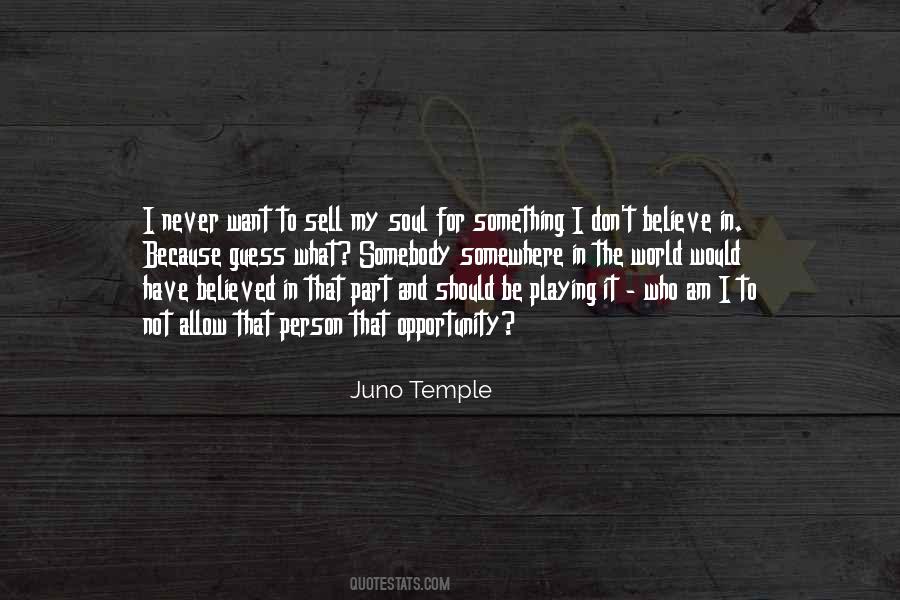 #97. They say (she had read somewhere) that no one ever disappears, up in the atmosphere, stratosphere, whatever you call space
atoms infinitely minute, beyond conception of existence, are up there forever, from the whole world, from all time. - Author: Nadine Gordimer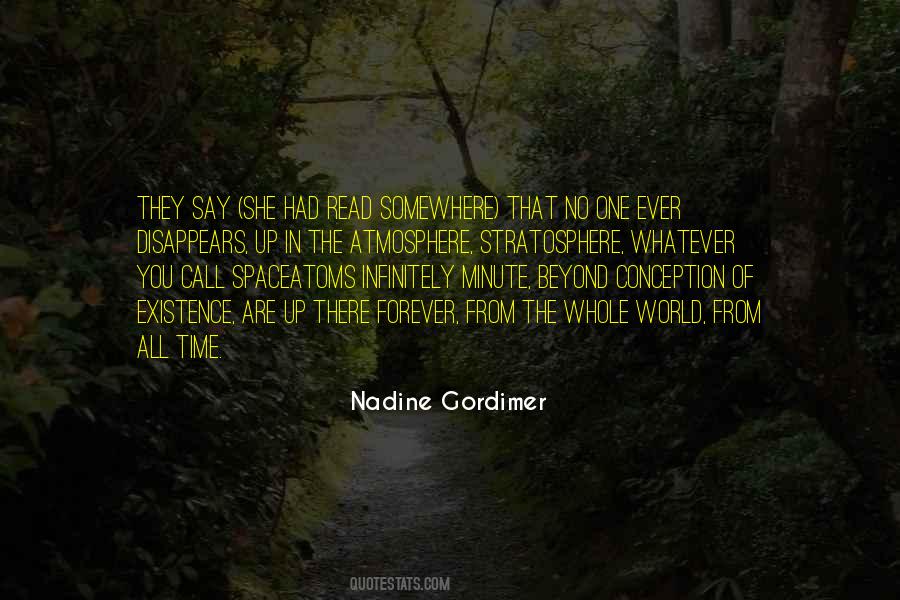 #98. I like life, it's wonderous and chaotic and somewhere in the middle I've created a safe place to do my thing in the world ~ I can't ask for much more & I am already so thankful when everything I got - Author: Nikki Rowe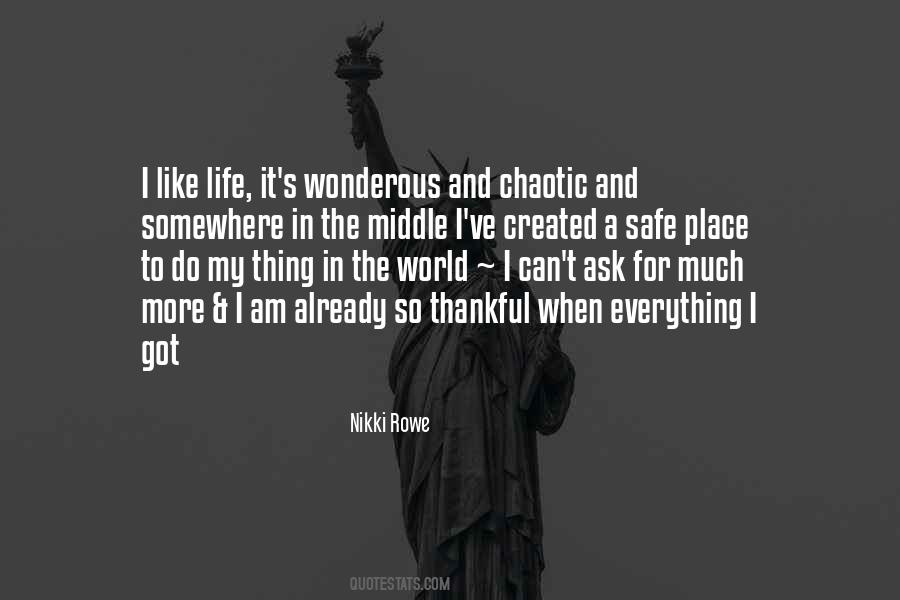 #99. The term 'Erotic Fiction' is interesting to me. The 'Fiction' part. Cuz right now somewhere in the world it's happening just as it's written. - Author: Gregor Collins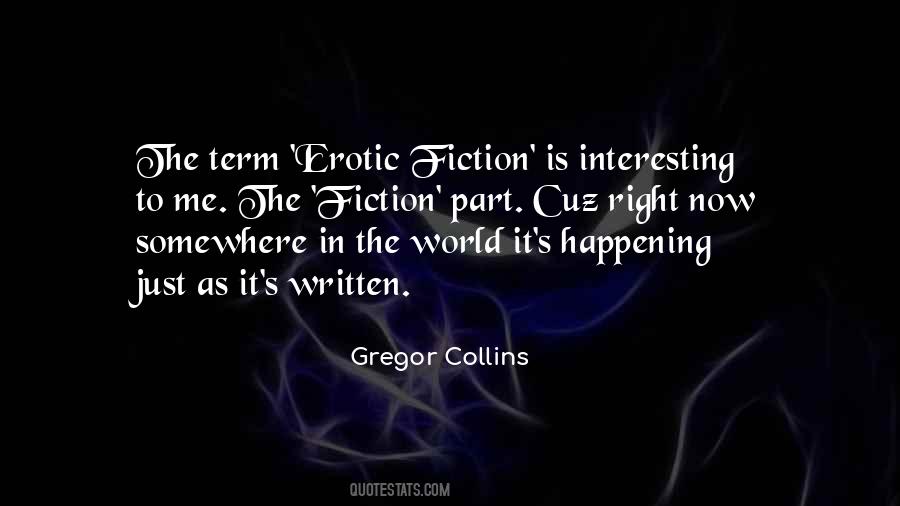 #100. Because maybe, in a way, we didn't leave it behind nearly as much as we might once have thought. Because somewhere underneath, a part of us stayed like that: fearful of the world around us, and no matter how much we despised ourselves for it
unable quite to let each other go. - Author: Kazuo Ishiguro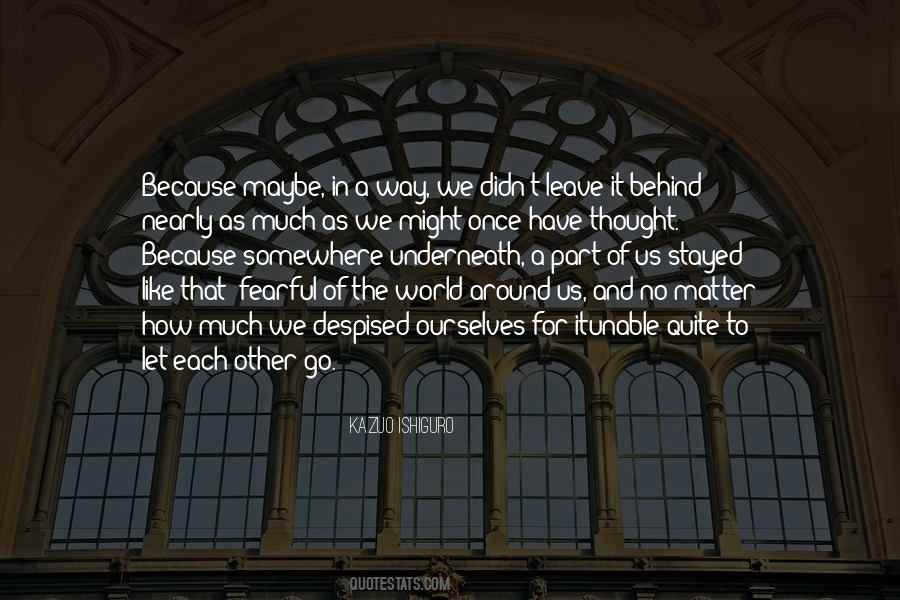 Famous Authors
Popular Topics