See Me Again Famous Quotes & Sayings
List of top 100 famous quotes and sayings about see me again to read and share with friends on your Facebook, Twitter, blogs.
Top 100 See Me Again Quotes
#1. She'd helped me see that the greatest way to honor them was to live the best life I could - to find happiness again. - Author: Sara B. Larson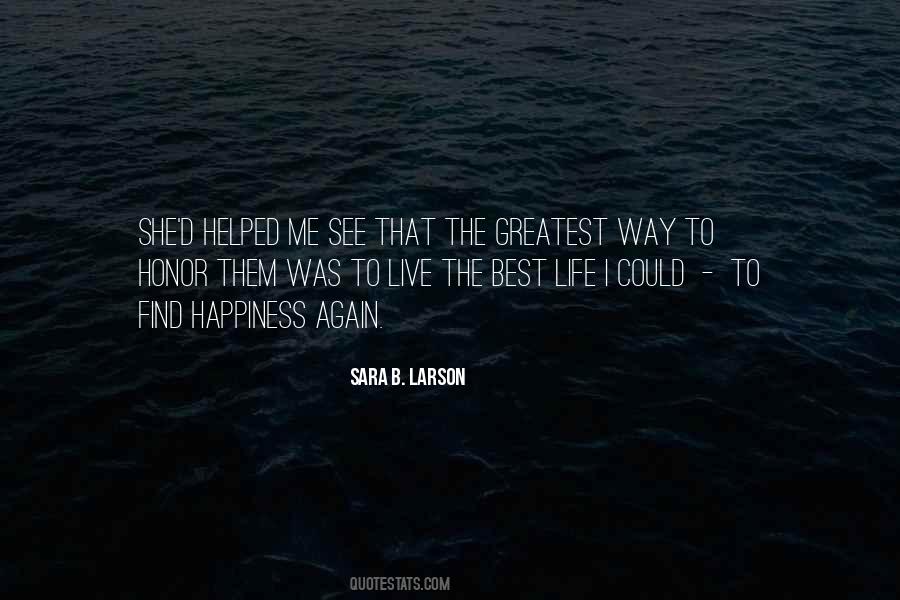 #2. Ryan and Michael didn't deserve you and if I ever see either of them again, they're gonna answer to me for making you feel like your body, your sexuality, wasn't beautiful. - Author: Tricia Best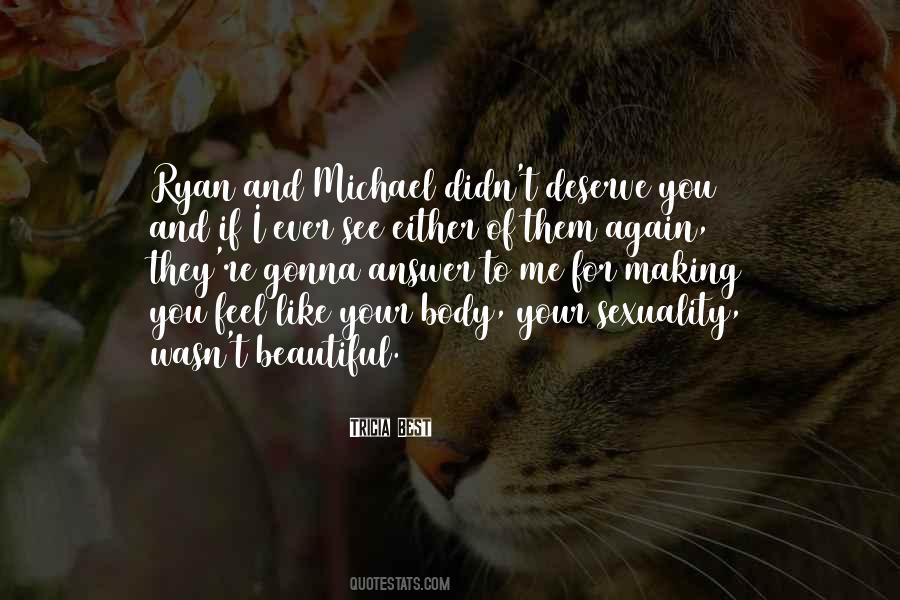 #3. I know I shall probably never see him again, but I cannot bear to think that he is alive in the world and thinking ill of me. - Author: Jane Austen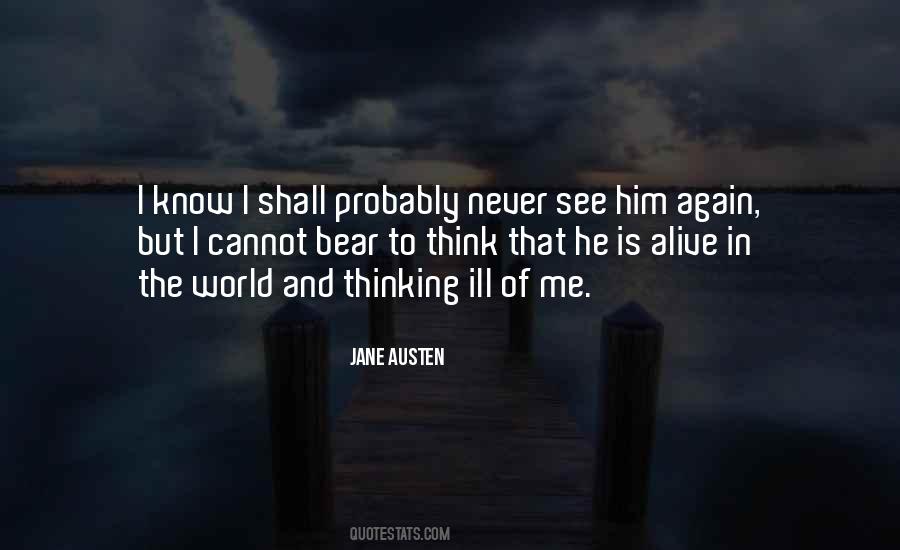 #4. I always tried to learn about the hitters. Anytime someone got a hit off me, I made a mental note of the pitch. He'd never see that one again. - Author: Christy Mathewson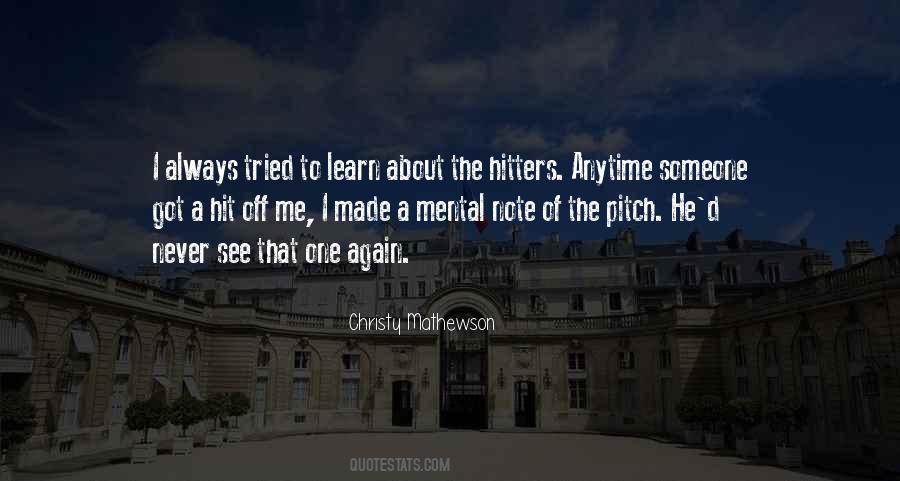 #5. Sisyphus, I. I cling to my rock, you don't have to chain me. Stand back! I roll it up - up, up. And ... down we go. I knew that would happen. See, I'm on my feet again. See, I'm starting to roll it up again. Don't try to talk me out of it. Nothing, nothing could tear me away from this rock. - Author: Susan Sontag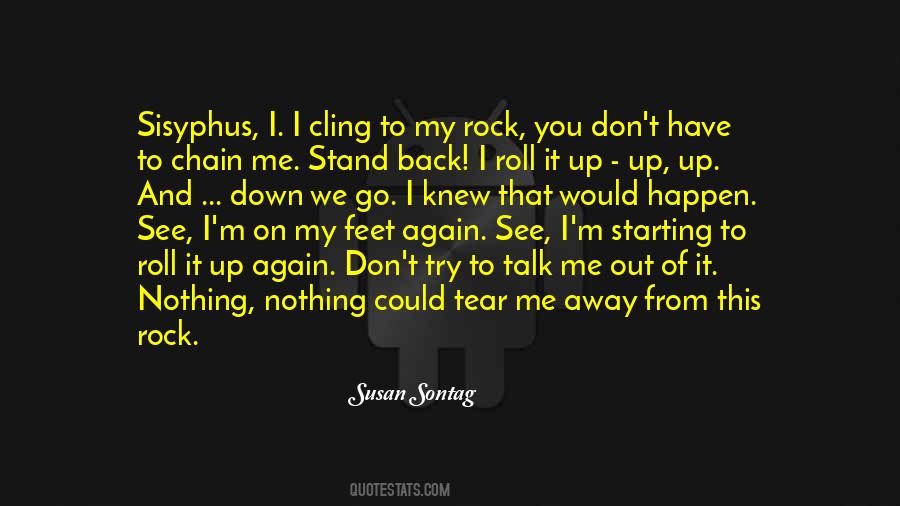 #6. Stop!" said the Irishwoman. "I have one more word for you both; for you will both see me again before all is over. Those that wish to be clean, clean they will be; and those that wish to be foul, foul they will be. Remember. - Author: Charles Kingsley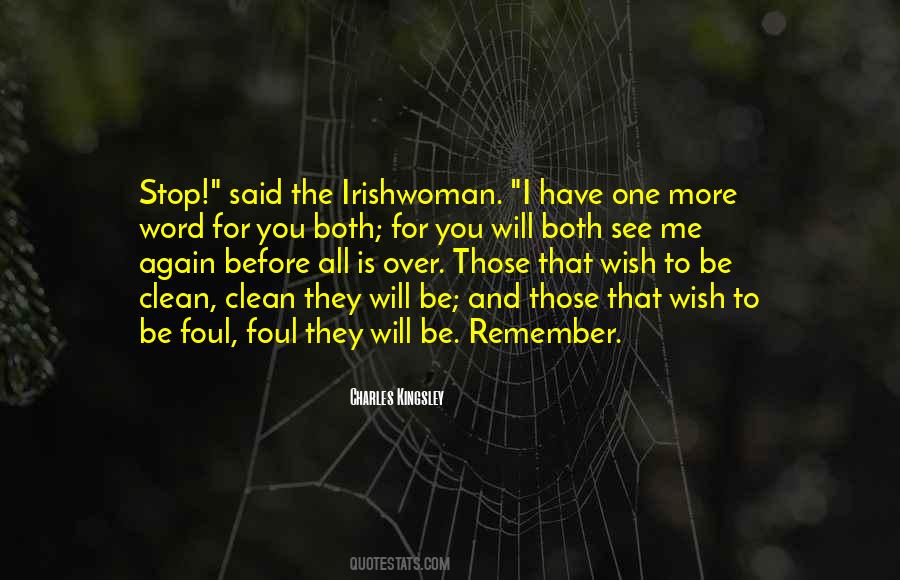 #7. Why do you fight me?" His voice is soft again, as textured as velvet. "Can't you see I'm doing everything I can to help you?"
"Help yourself off the edge of a cliff," she growls. - Author: Nenia Campbell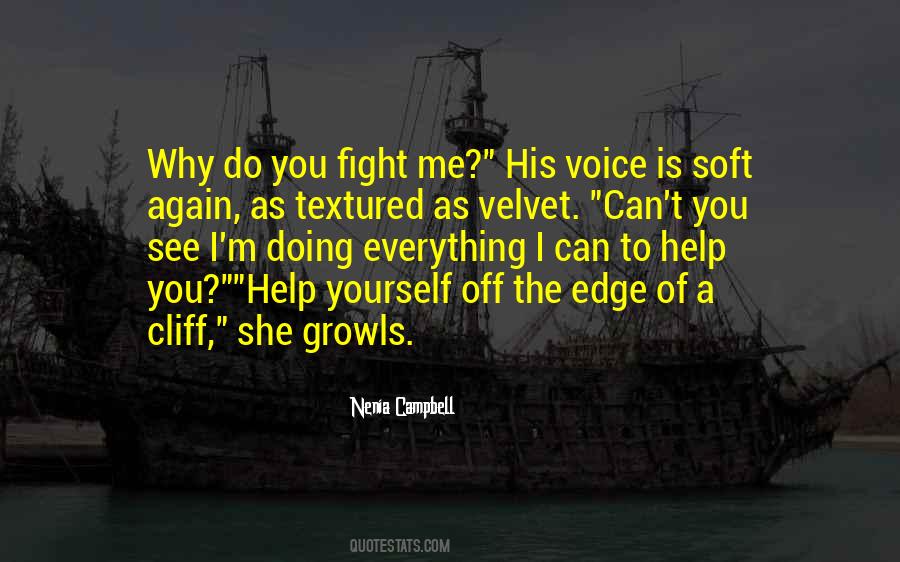 #8. If I could just get my partner to see me how she used to - to fall in love with me all over again - everything would be okay. Every morning I would vow to work harder, and every morning something would go wrong. - Author: Sloane Crosley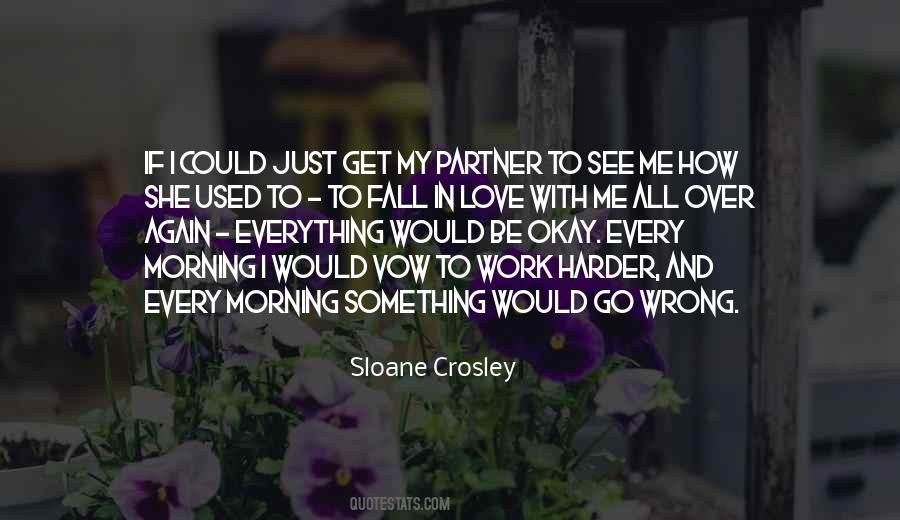 #9. ...I realized that any provisions we had did not ultimately come from me at all, but only from God. Sometimes we can't see that from where we're standing, but time and time again on this journey, God provided for us in ways that I cannot ignore, just as He had before we left. - Author: Ryan J. Pemberton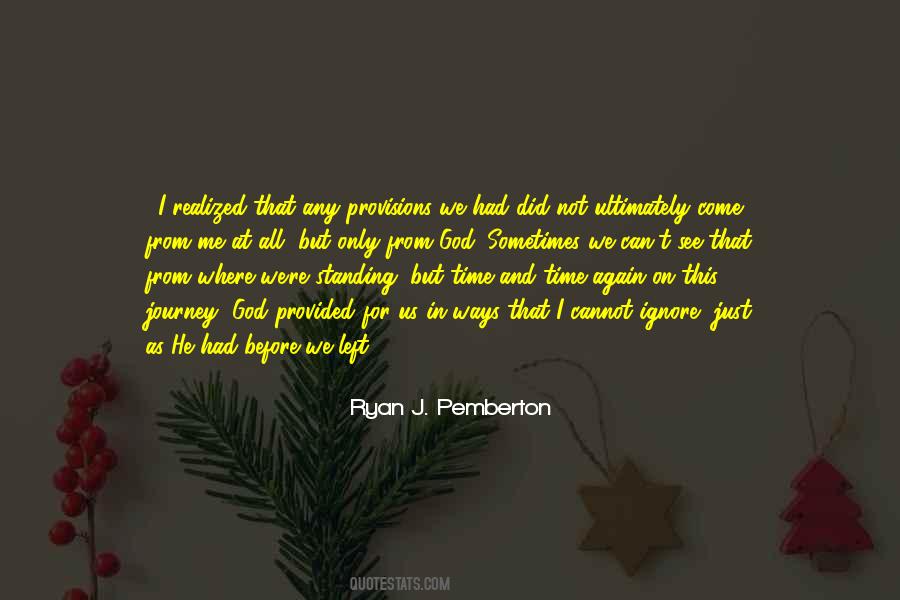 #10. Let me die because I do not want to see the sun again. - Author: Harold E. Hughes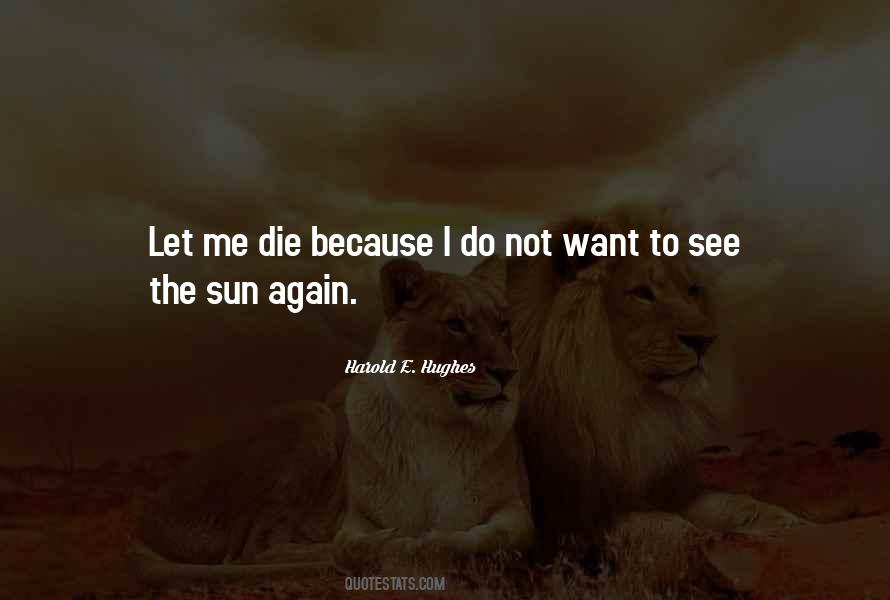 #11. I see Nick's number. I debate whether to assign a name to his number. If I commit to that, then I will truly be heartbroken if he never calls me again; my heart will knot each and every time I use this phone and see his name in there. I would probably end up having to trash the phone entirely. - Author: David Levithan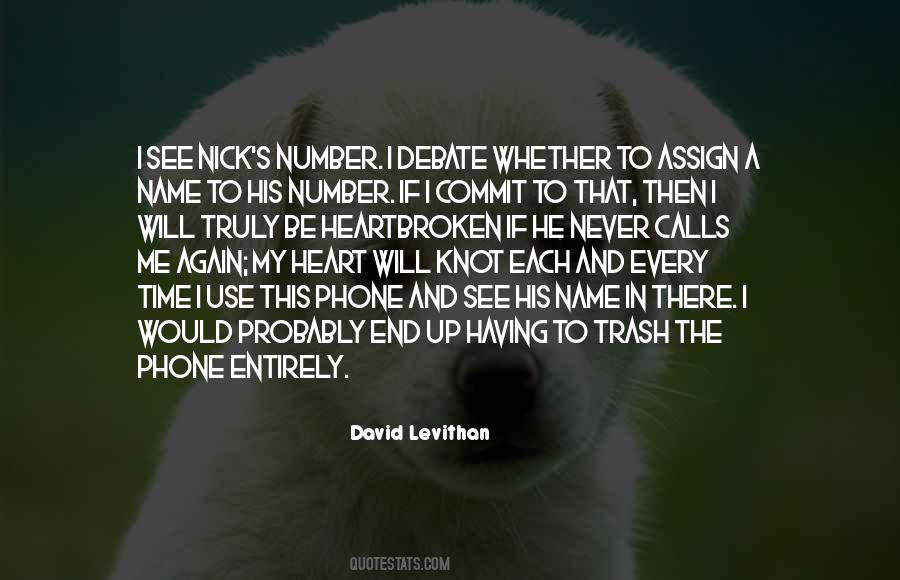 #12. Dear Trixie,
Will you come to Memphis with me?
A) Yes
B) No
C) I'd go anywhere with you because you fuck like a goddamn fire hose.
D) You're an asshole and I never want to see you again.
Circle ONLY ONE and give it back to me when you're done eating.
Love, J - Author: Tiffanie DeBartolo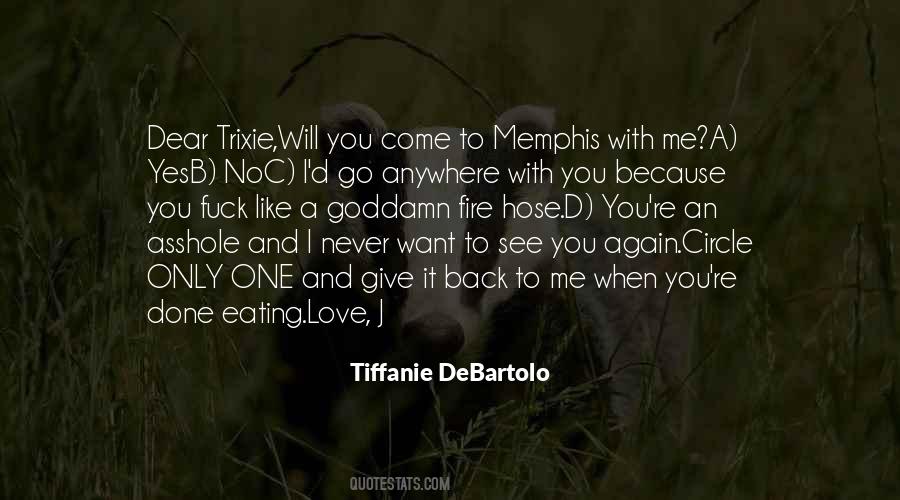 #13. He swore quietly and shook his head. He tried to see some logic in the situation. His deep, angry growl echoed in the room, multiplied by the walls and ceilings. "Damn!" Jatred pounded his fist on his thigh. "She fooled me again. - Author: A.O. Peart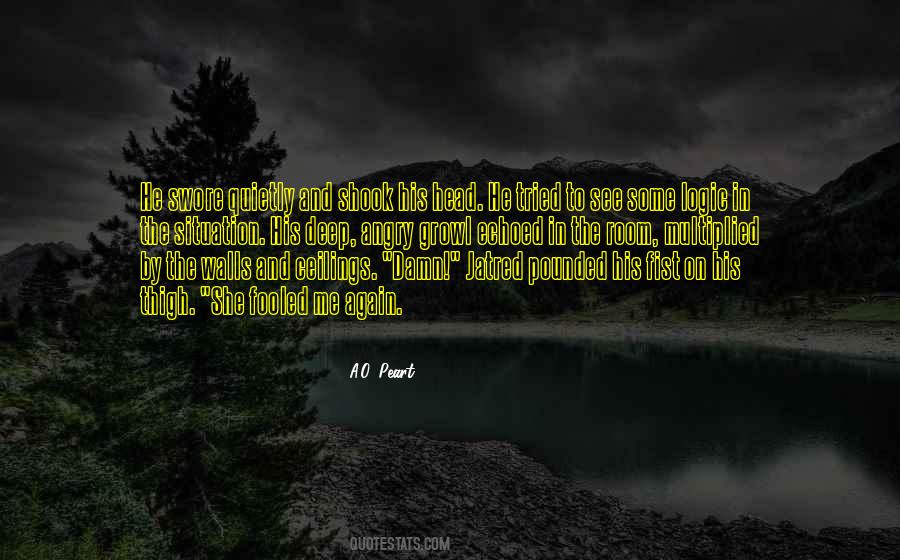 #14. I see myself as a huge fiery comet, a shooting star. Everyone stops, points up and gasps "Oh look at that!" Then- whoosh, and I'm gone ... and they'll never see anything like it ever again ... and they won't be able to forget me- ever. - Author: Jim Morrison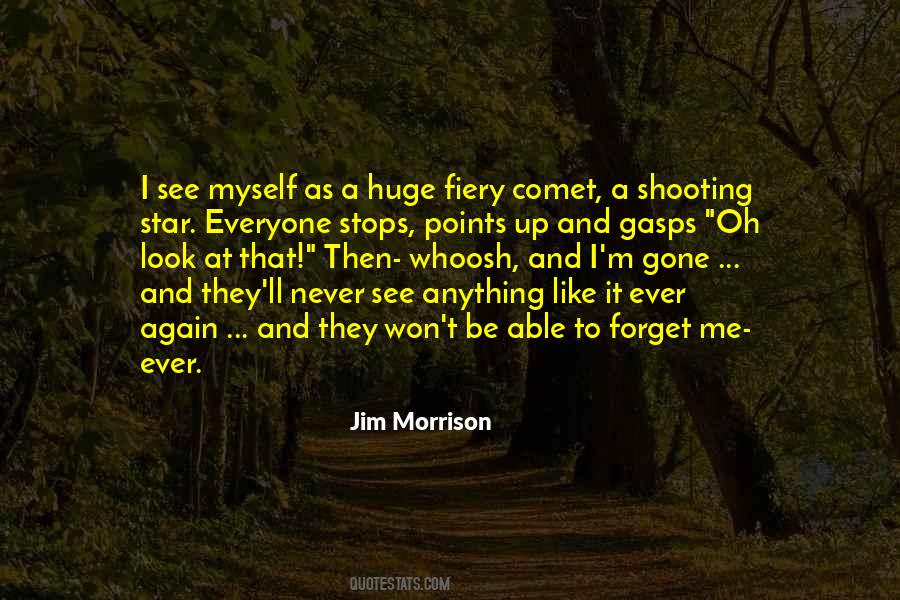 #15. It's a real message. Snapchat has put an antenna [on me] and the whole world has got to see me. You either like it or you don't. I've been blessed with people that like it. Again, I'm just being me. The key is to always be you. That's the key. - Author: DJ Khaled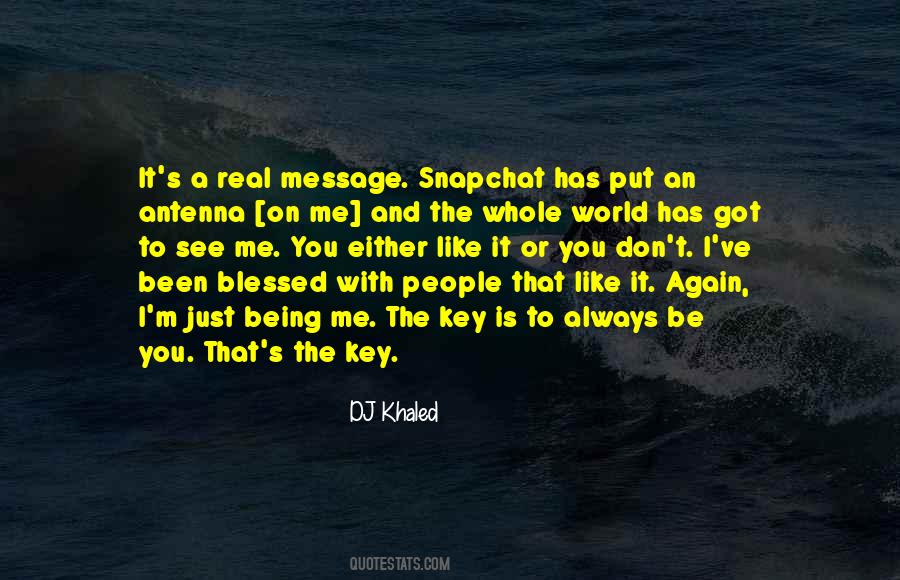 #16. Magnus tells me I was a hero. And I see on your face when you're looking at me that you're searching for that guy. The guy you knew who was a hero, who did great things. I don't remember doing those things. I don't know if that makes me not a hero anymore. But I'd like to try to be that guy again. - Author: Cassandra Clare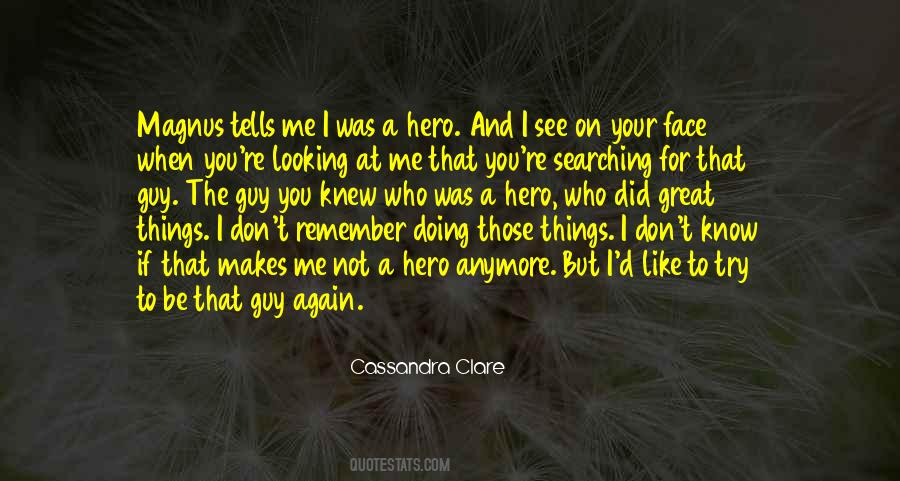 #17. Just so I'm clear, if you make it Tab or my cut, I pick Tab. You'll get my cut and you, personally, will not ever, brother, not ever again see me. - Author: Kristen Ashley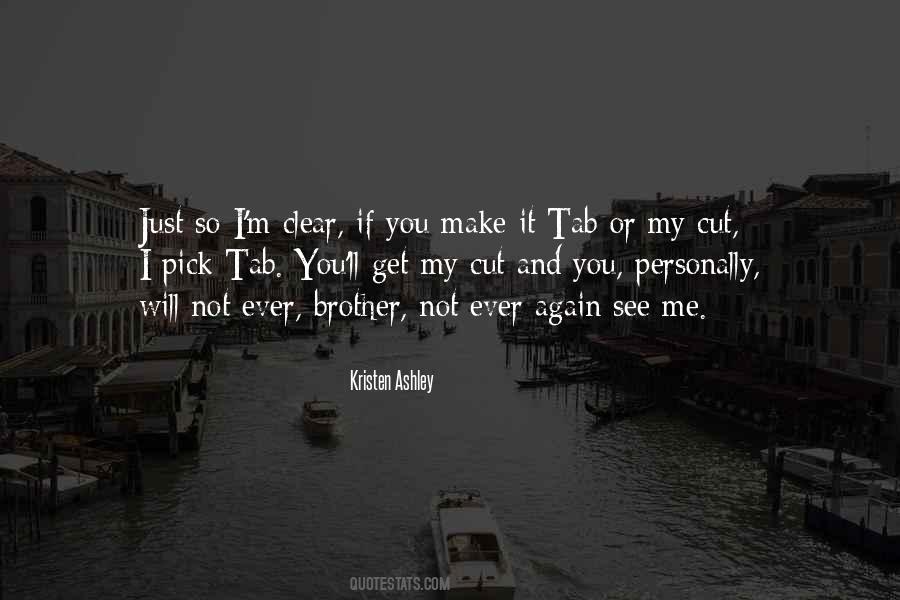 #18. Fritz . . ." Grahm stared up at his man, who was doing a better job of holding Grahm than holding his own emotions together. "I'm glad I could see you again."

"Me, too."

"I love you," Grahm whispered.

"And I love you." Tears fell from Fritz's eyes. "Now, don't die. - Author: Elise Kova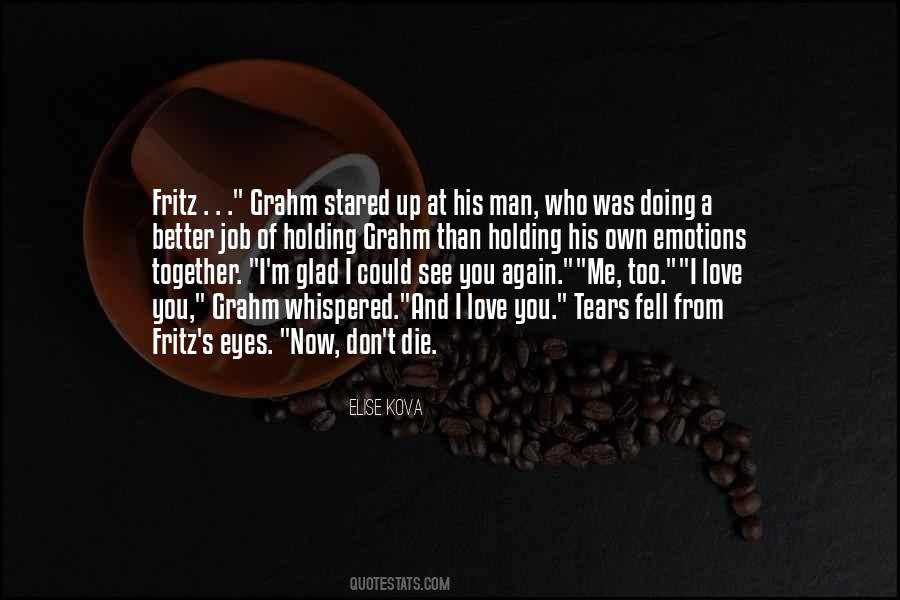 #19. I can't give you what you need right now, but I will promise you that one day I'll give you not only my heart, but my soul. I never want to see the sadness in your eyes, as I do right this moment. Let that fire shine, and one day soon I hope you take a chance on me again. - Author: A.M. Willard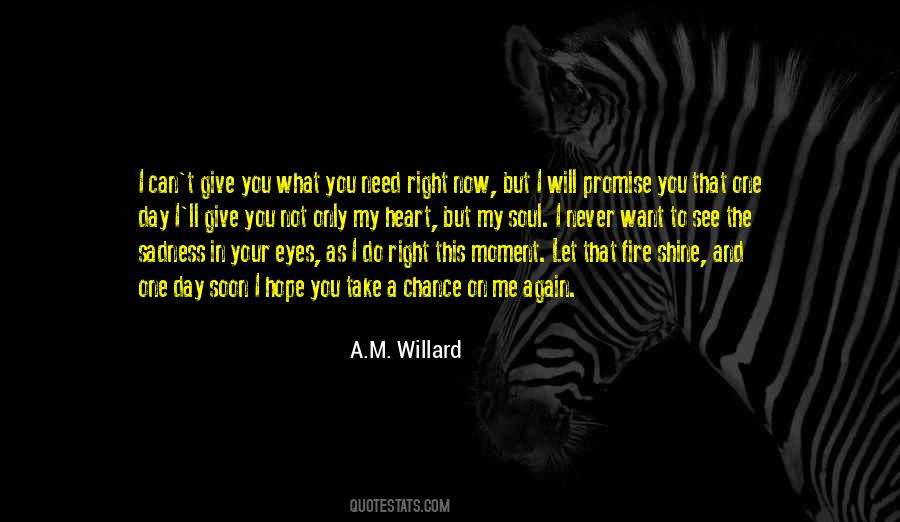 #20. Appledusk, help me!" The pale brown warrior shook his head. "Why should I? It's your fault that these kits are dead. I never want to see you again. - Author: Erin Hunter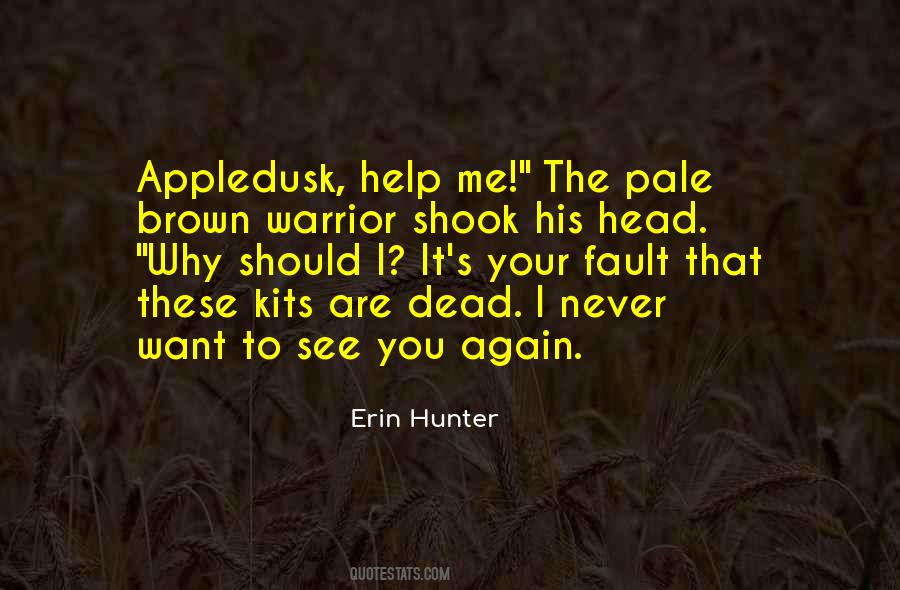 #21. You see, violence merely creates more violence.
It's a cycle that never ends ...
You insult me, I shoot you, you drop dead.
Someone else insults me, I shoot them, they drop dead ...
And it just keeps repeating over and over again.
And for what? lol - Author: Jose N. Harris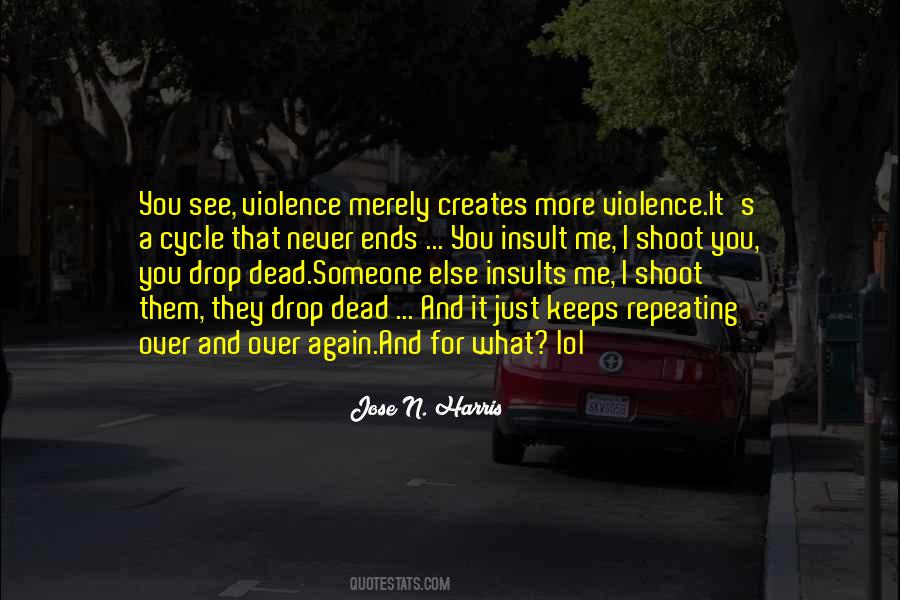 #22. This, let me remind you again, is a love story; you can see it by the imbecility, not a repulsive imbecility, the exalted imbecility of these proceedings, this station in torchlight, as if they had come there on purpose to have it out for the edification of concealed murderers. - Author: Joseph Conrad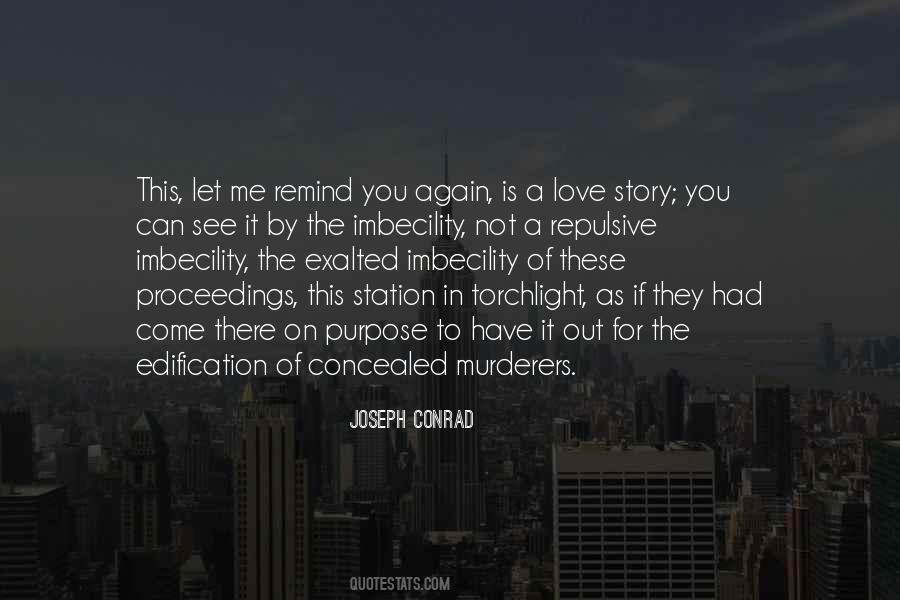 #23. There is a huge trust. I see it all the time when people come up to me and say, 'I don't want you to let me down again.'
- Boston, Mass., Oct. 3, 2000 - Author: George W. Bush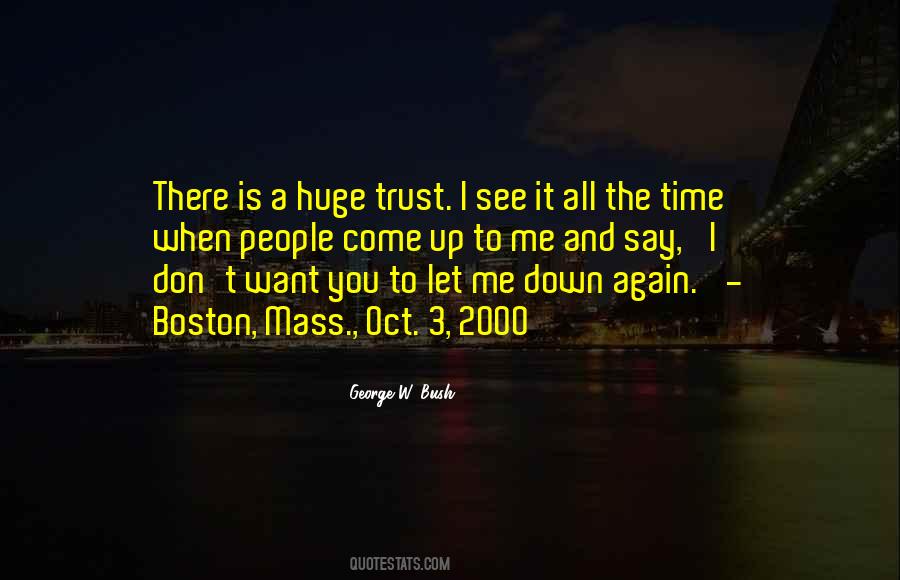 #24. When I was in New York, the whole vibe was really just not matching with me. I was kind of super depressed in New York. It just had this vibe of 'Get out,' you know? I would try to get out, and we'd look back and just see the city and feel like, 'Oh, I have to go back to prison again.' - Author: Gallant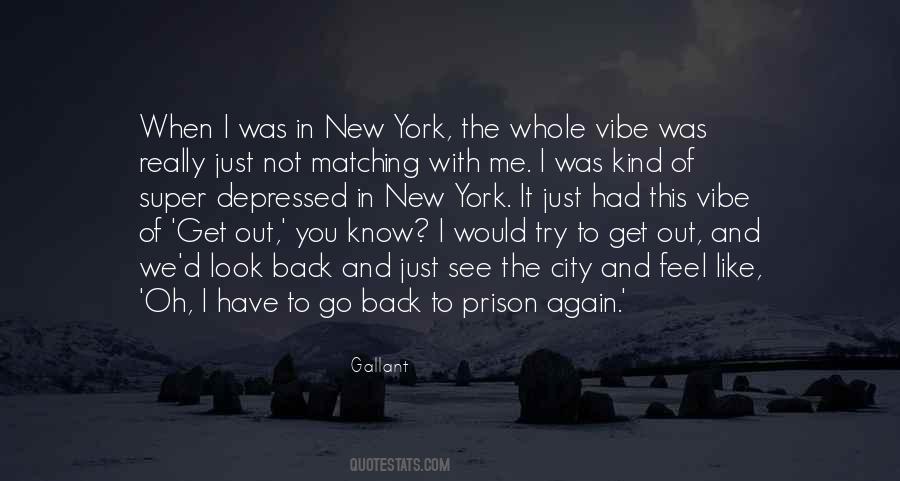 #25. I love you," I tell him again. "I see that," he laughs, kissing me. "Simple words would have sufficed. You didn't need to knock me down with it." I giggle. "Shut up and kiss me. - Author: Courtney Cole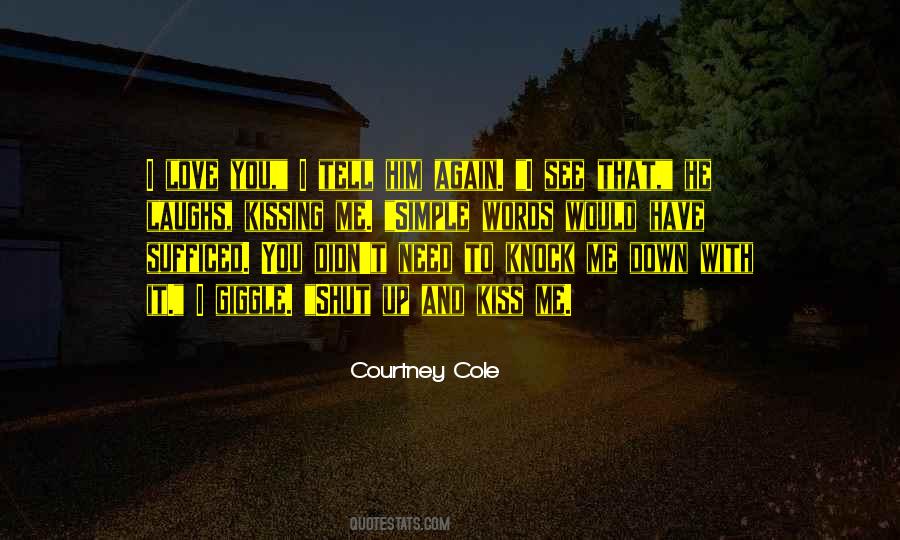 #26. I think people see me definitely as a "gangsta" rapper, and what people love about me is when they meet me and they meet me again later, I'm the same dude they spoke to and ain't nothing changed. - Author: Sheek Louch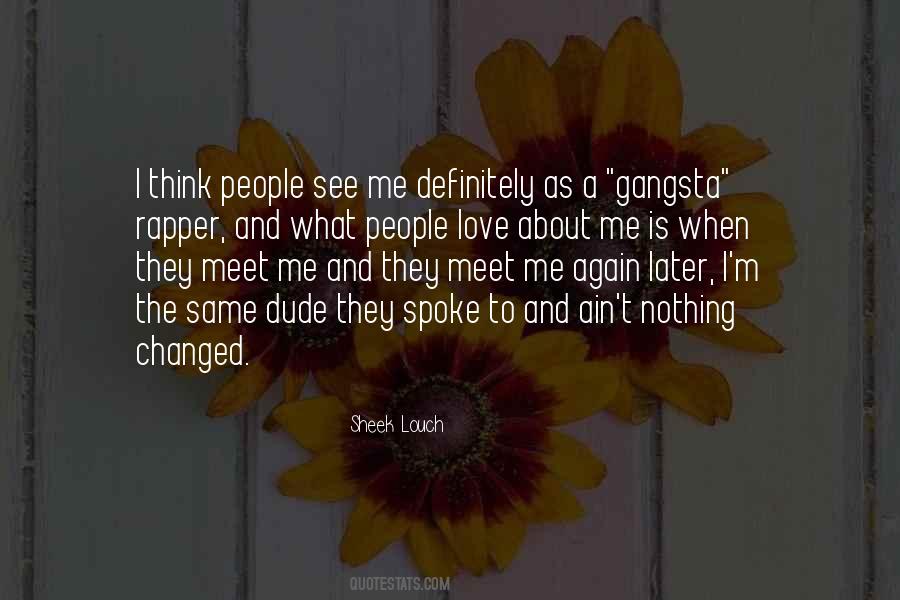 #27. Repentance is shockingly beautiful when we see it not as "I sinned again, I need to repent," but as "I sinned against my God again, but He is calling me back so He can lavish me with His love and forgiveness. - Author: James MacDonald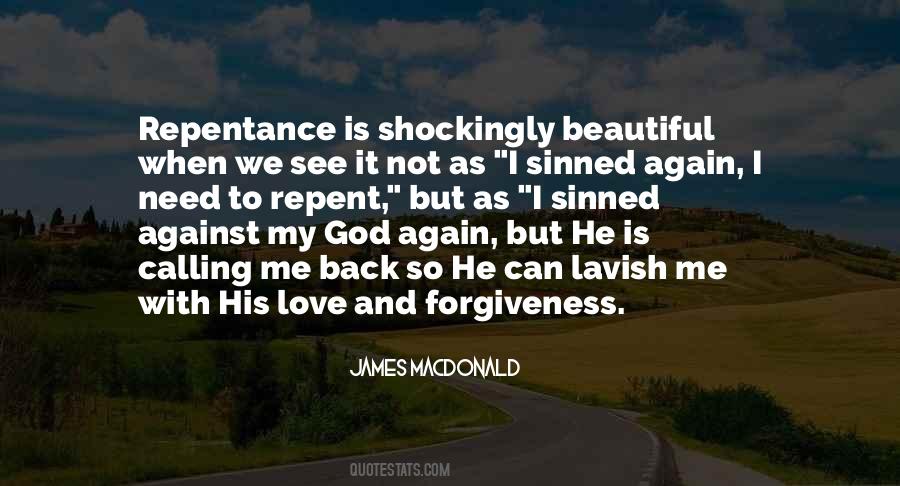 #28. I tried to talk to the ref but it is easier to get to see the Pope. If I'm in London again and I get mugged I hope the same number of people turn up to protect me. There were six police, four stewards and even a UN peace observer out there. - Author: Gordon Strachan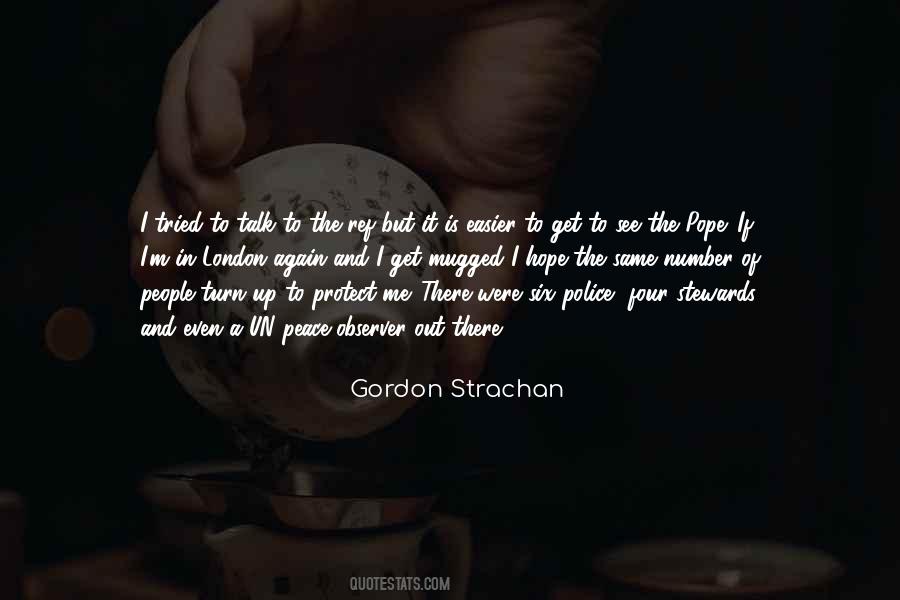 #29. What do you see when you touch me now?" Riff asked, his gaze searching Zed's face. Once again, Zed sensed that electric zing of sexual awareness. Riff Definitely knew what he wanted, "Enough heat to set me on fire. Hunger that matches my own. - Author: Marguerite Labbe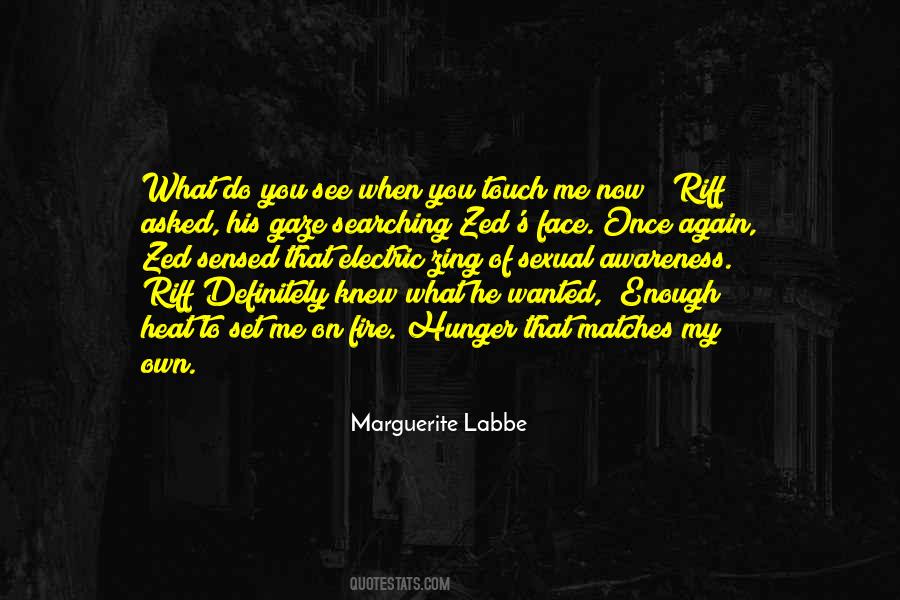 #30. For me, it's always a little sad getting out of bed. Every morning after I get up, I always gaze longingly at my bed and lament, 'You were wonderful last night. I didn't want it to end. I can't wait to see you again. - Author: Jim Gaffigan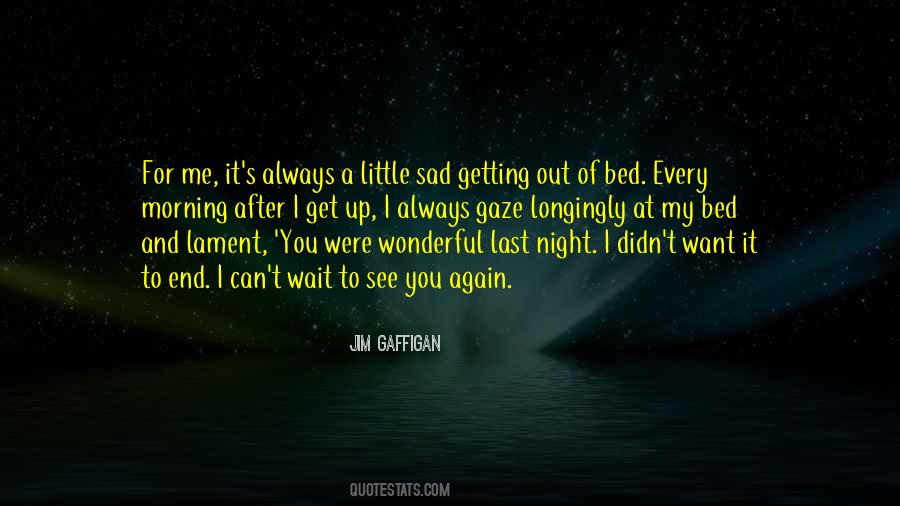 #31. Henry keeps dealing. When all the cards have been separated, I pick up my stack and shuffle my cards again. Then I look up into Henry's eyes, and he's staring back at me, at my tears, and I see all these tiny wrinkles around his eyes-sadness wrinkles. He frowns, biting his lip. - Author: Miranda Kenneally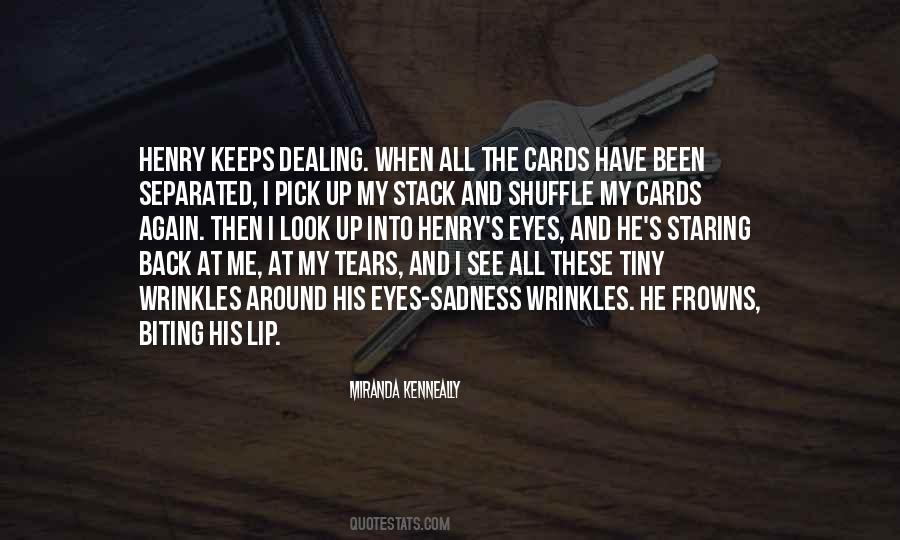 #32. I smelled it before i saw it, and the same unicorn I'd met on a field trip with Jack pranced up, pleased as anyting to see me again. It wasn't mutual.
"It's so cute, isn't it?" Arianna said dreamily.
"Are we seeing the same creature? It's like a demented goat with a bone growth - Author: Kiersten White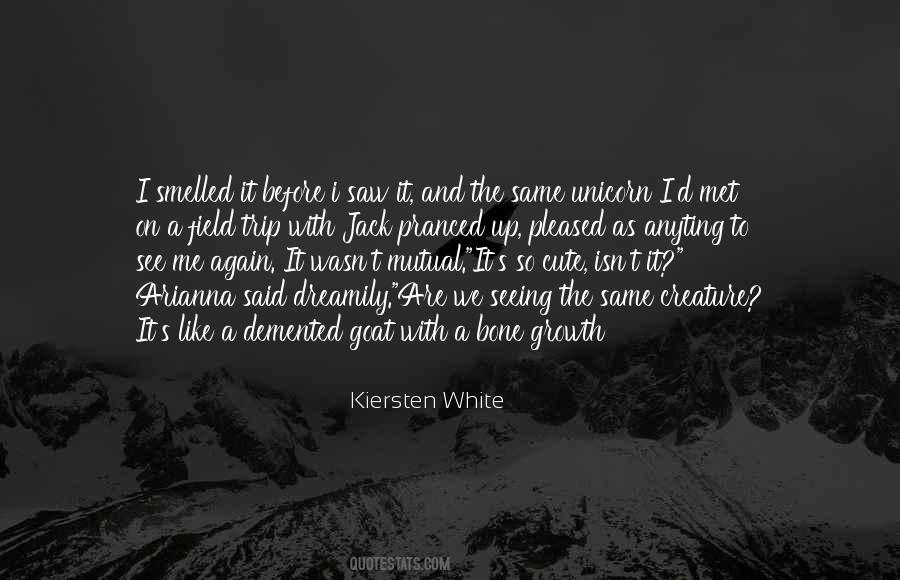 #33. Palmer looked back to see de Lacy still rolling across the muddy road from his fall, the destrier spinning and snorting from its refusal. 'So you've got me, de Lacy?' He faced forward again with another kick for greater speed. And a low-hanging branch slammed him from the saddle. - Author: E.M. Powell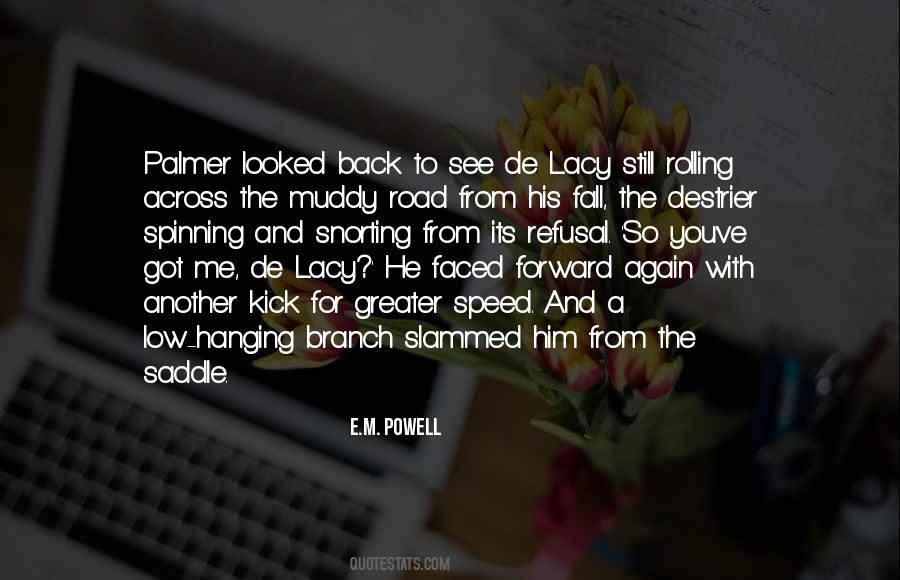 #34. Nestor beckoned to me and I dismounted with care.I handed the reins to the boy with thanks. I do not wish to see that hard-charging bag of bones again, unless it is in my soup. - Author: Tamora Pierce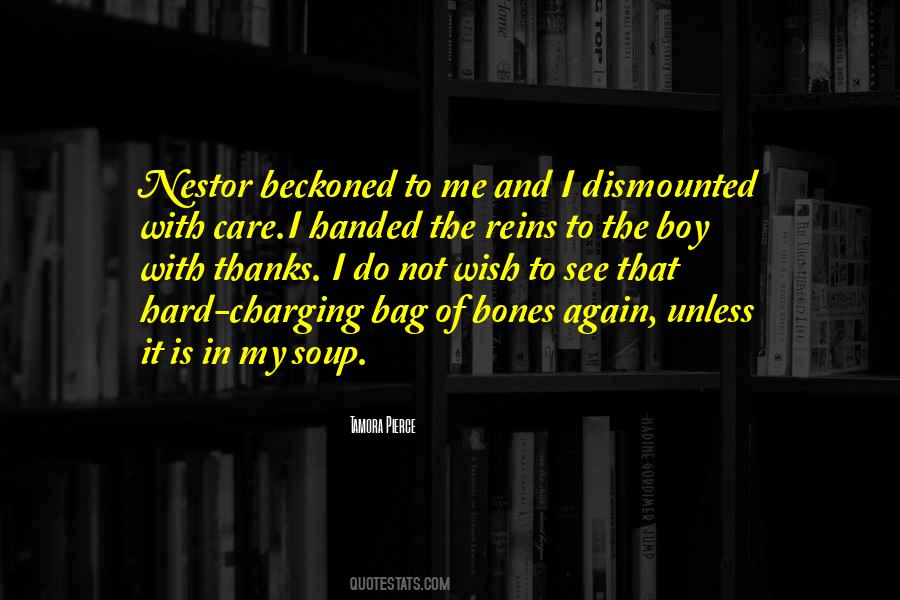 #35. A couple was leaning over the railing, and Lillian could hear the woman say: Even if you don't mean it, just for tonight, say you love me. I won't ever remind you of it; I will not see you again, but just for tonight say you love me, say you love me. - Author: Anais Nin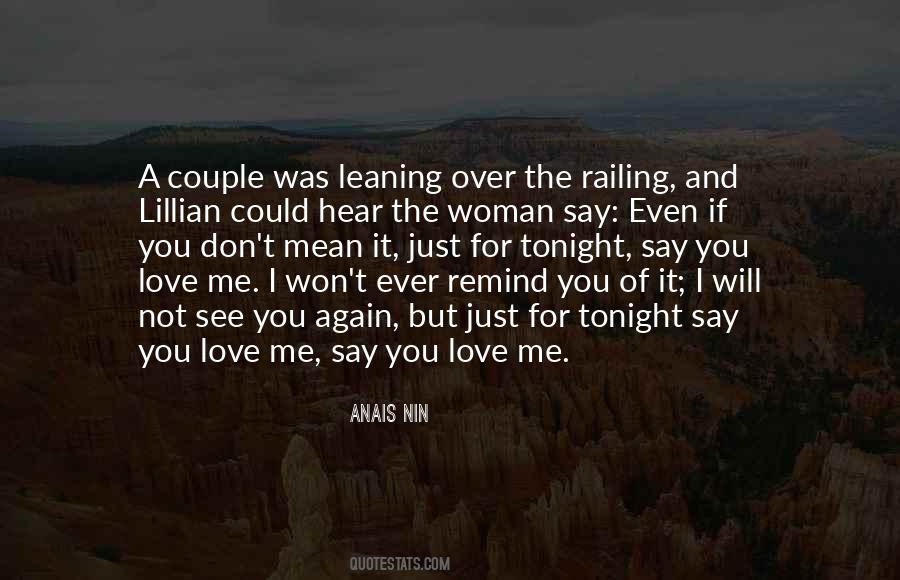 #36. I turned to kiss his fingertips. He stared into my eyes again, those sex sapphires doing their voodoo that made me a puddle of voodoo goo. For him to woo. See what he did to me? - Author: Alice Clayton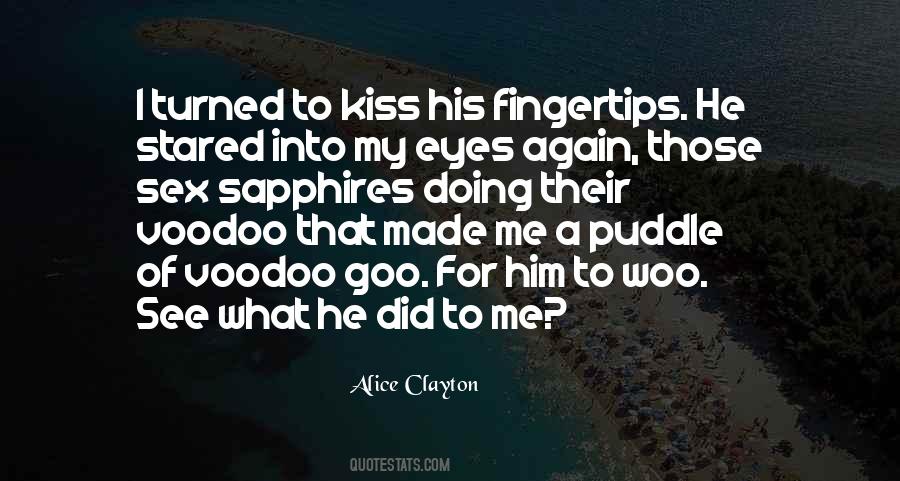 #37. It's better to not think about the night and how badly I want her, so I let it sort of stew there in my mind instead. And when I get her all to myself again, I'll be grateful just to see her smile, just to have her with me.
Even if it's only for one more night. - Author: Amanda Lance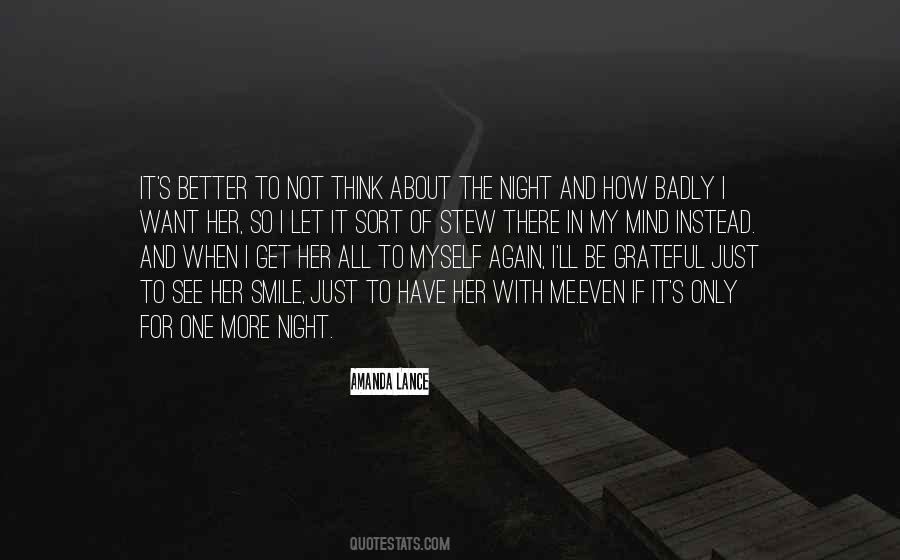 #38. For a few seconds I thought about my little brothers who loved connecting things with rope. I wondered if I'd ever see them again and a torpedo of sadness struck me and moved straight trough my body. - Author: Miriam Toews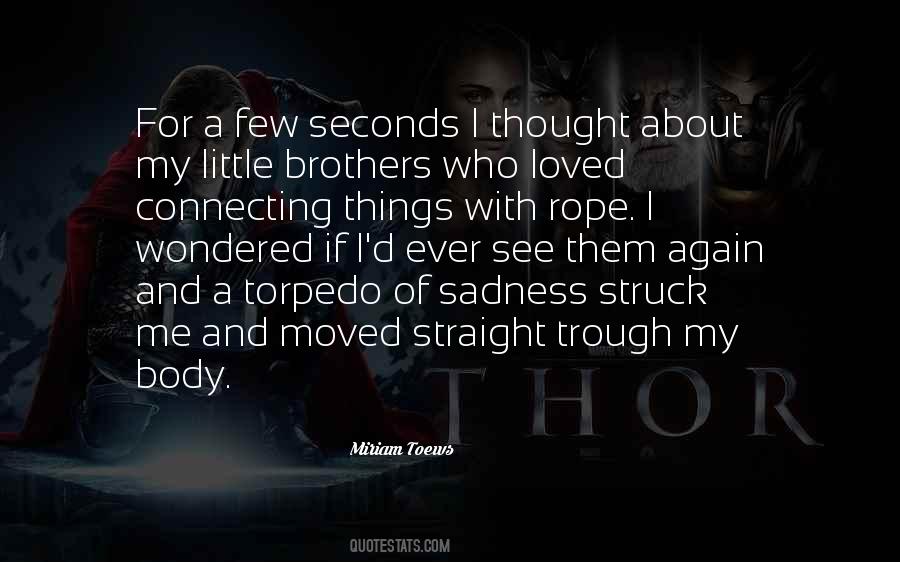 #39. You survived; I survived. We're together again. I once begged the gods to let me see you - if only for a moment. To see you and know you'd made it. Just once; that was all I ever hoped for. - Author: Sarah J. Maas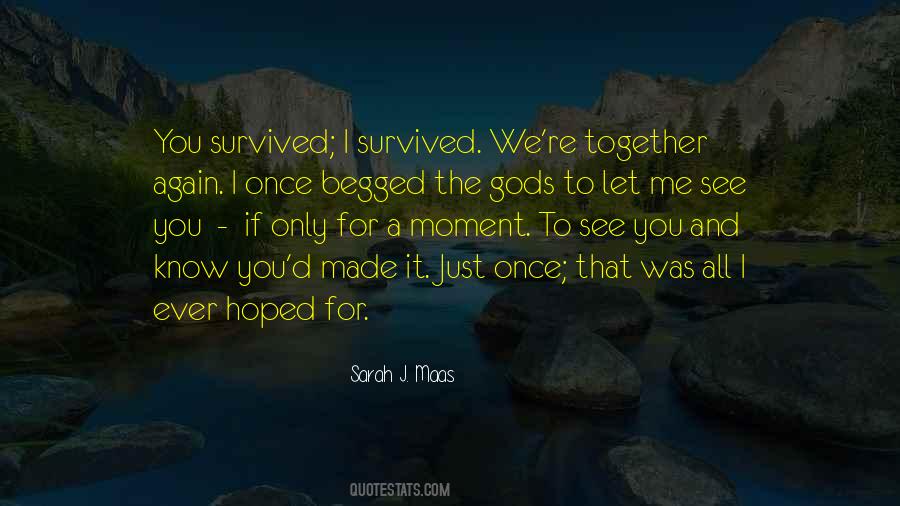 #40. Again, I think of Carlito. The years I tried to serve his sentence with him, and how he let me. Maybe it was wrong of me, but sometimes I hoped that he'd see in my eyes how I'd stopped living for anything and anyone but him, and that he would tell me not to come back. - Author: Patricia Engel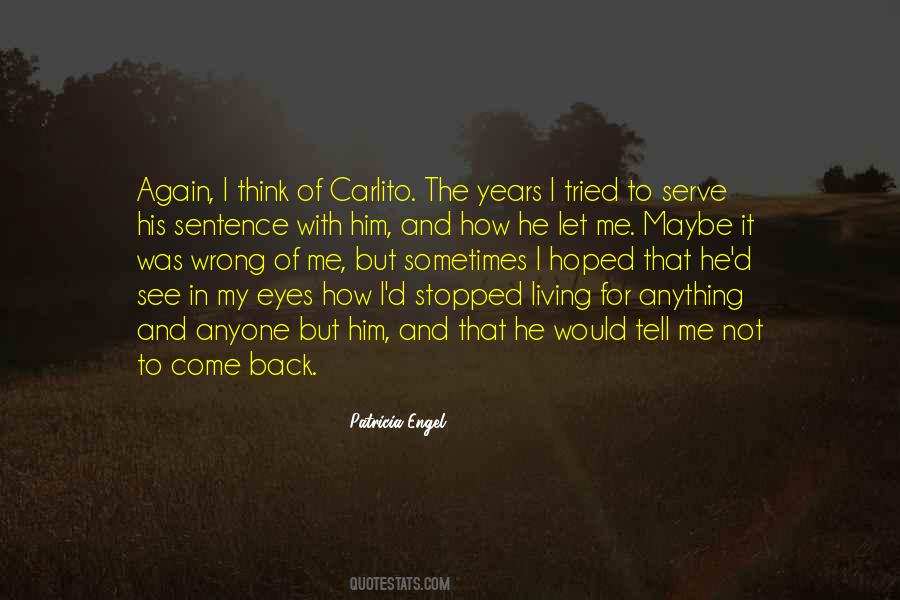 #41. Into The Woods was ... a lot of running around in the woods! I can't wait to see the show again. People didn't realize it back then, but kids still come up to me-young people-and they talk about it. It really made its mark. - Author: Bernadette Peters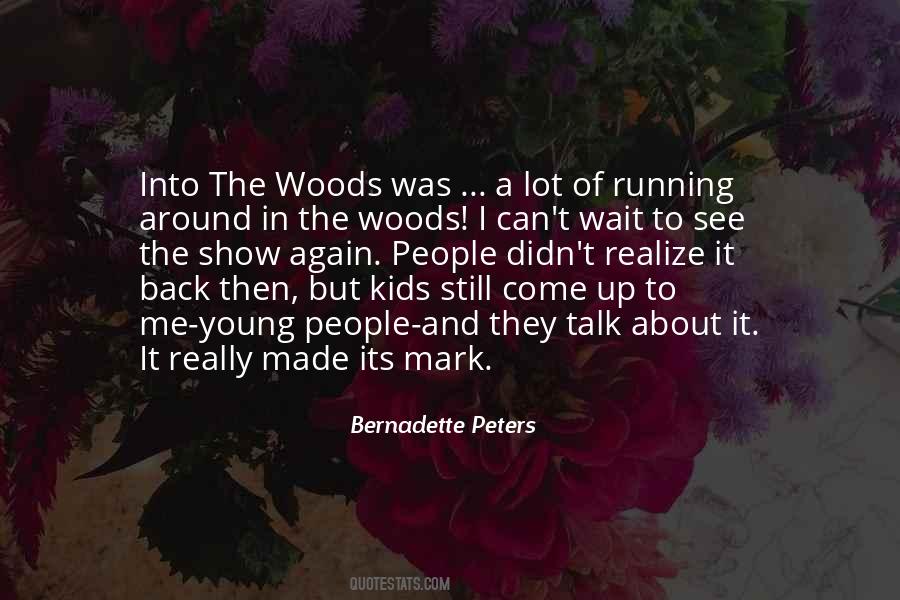 #42. So I wait for you like a lonely house
till you will see me again and live in me.
Till then my windows ache. - Author: Pablo Neruda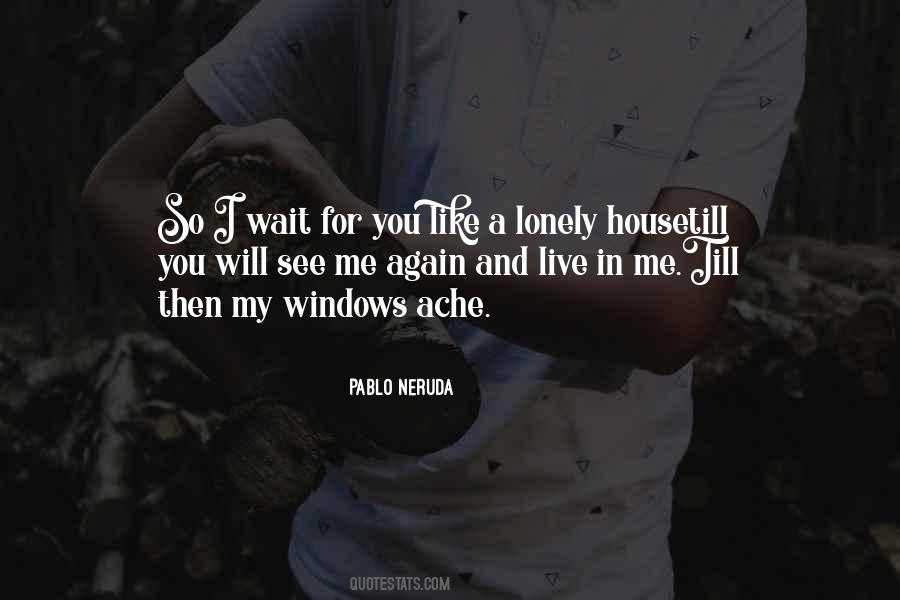 #43. When I run, I always pretend I am running toward Nikki, and it makes me feel like I am decreasing the amount of time I have to wait until I see her again. - Author: Matthew Quick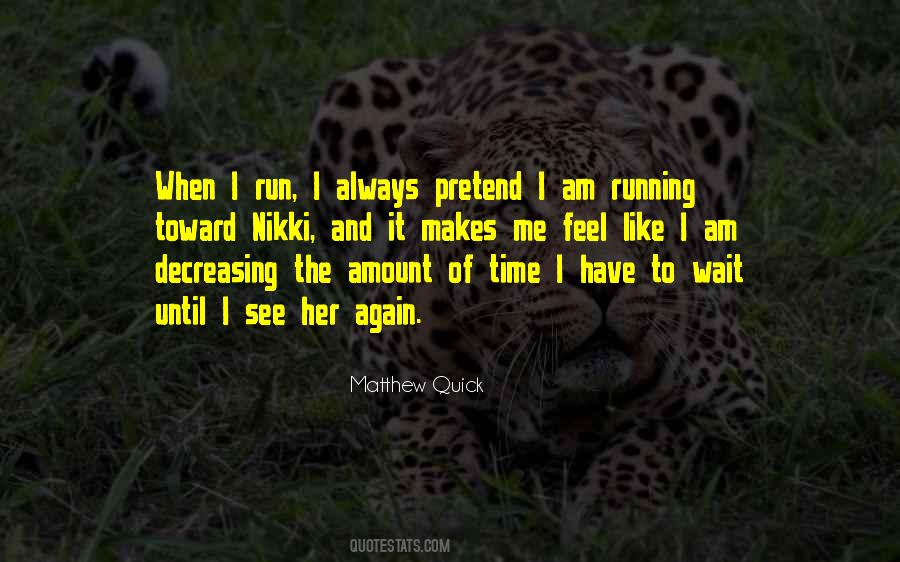 #44. A little voice in my head reminded me that I might never see anything quite like this again, and that immersing myself in my current situation, experiencing it, and learning everything there was to know might be the way to live life, now and always. - Author: Piper Kerman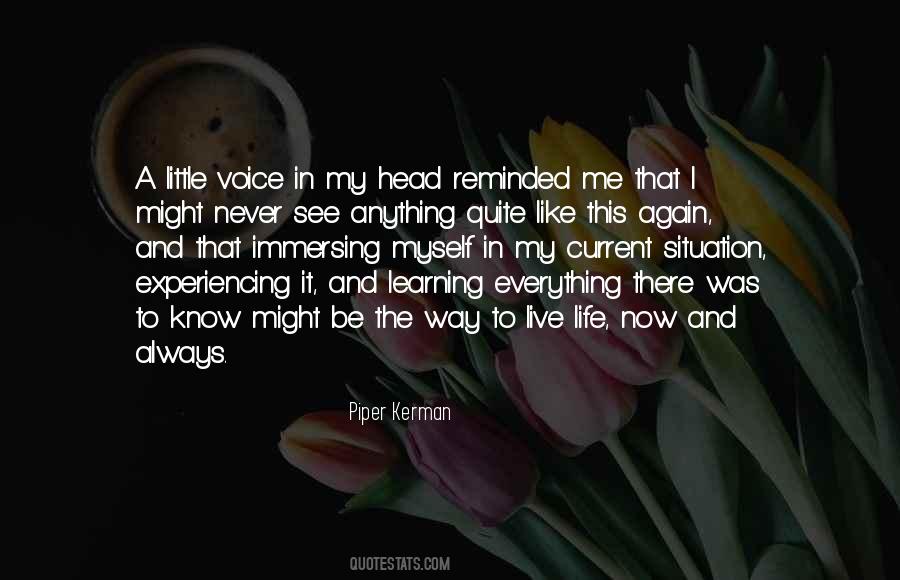 #45. I know ... I will never see or meet her again, because she is just a ghost from my dreams. In spite of this, she remains with me as a spark of hope. Because when she throws herself desperately into my arms and my hands embrace her, for the first and last time in my life I feel true love. - Author: Alexandar Tomov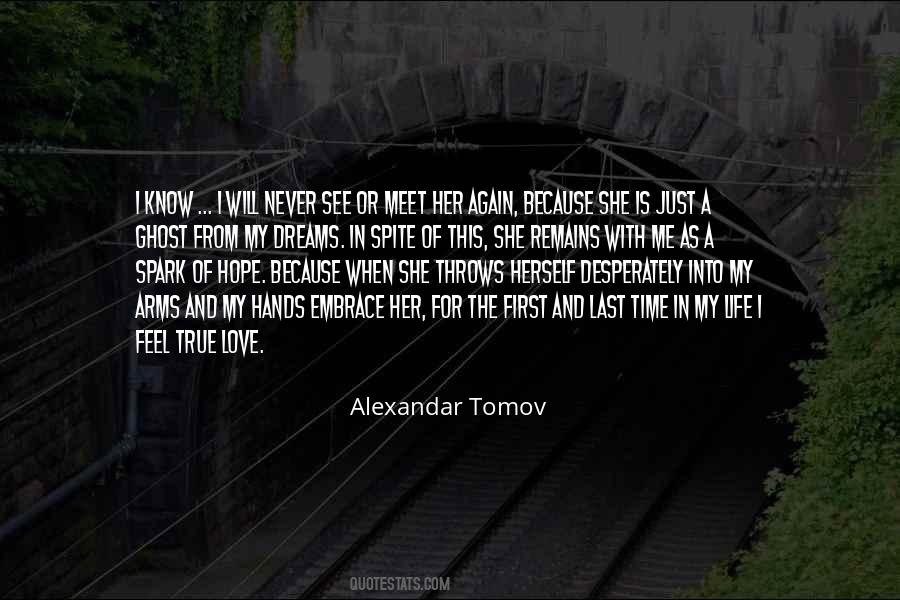 #46. Do you remember when you came in and got me out of the harvesting room at Dakiti? I hadn't expected to ever see you again, and you just said--"

"Of course I came back, you idiot. - Author: E.J. Fisch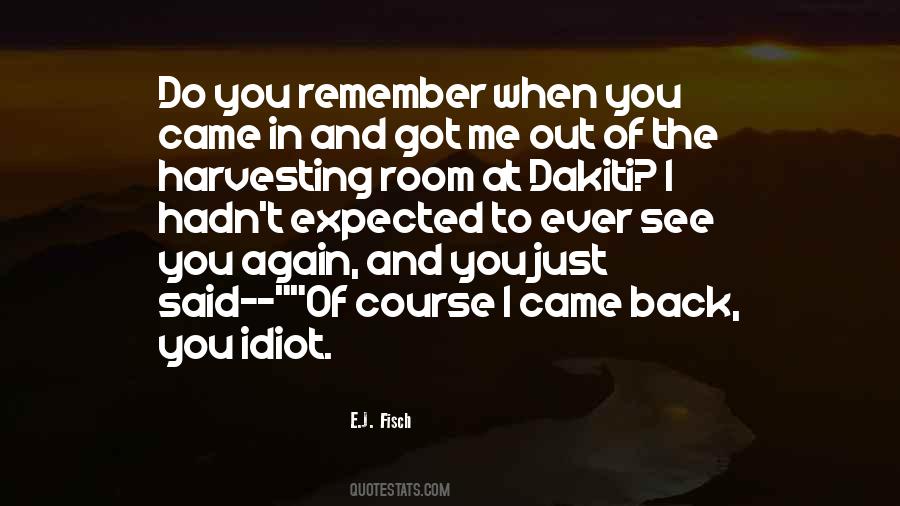 #47. Living a happy life is my main priority. You guys may think I am selfish for "wasting my talent" by staying away from events for a bit, but I am finally at a comfortable place where I can honestly say, if you guys see me out on tour again it's because I am there to win, and I'm going to go 100%. - Author: Andy Irons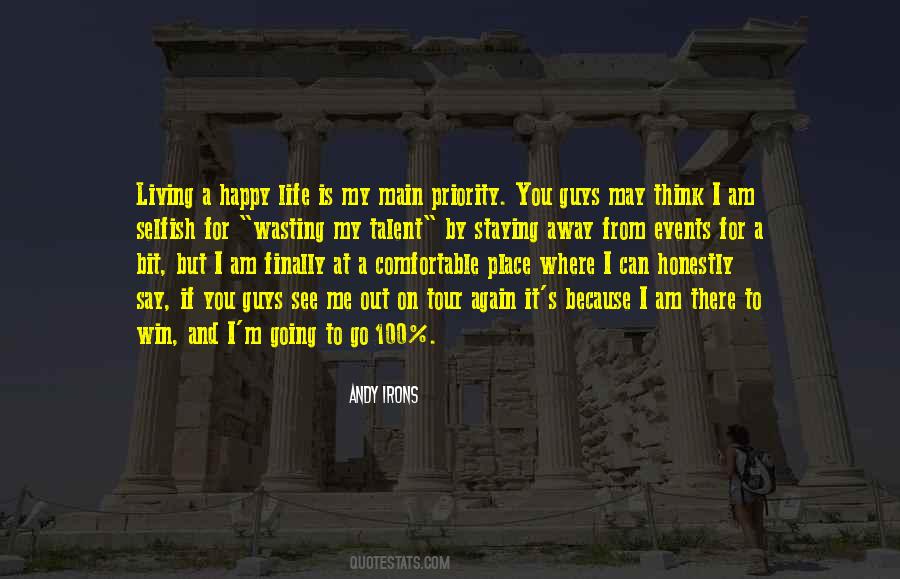 #48. You're very insightful, Mr. Capeletti," Matt said, tugging the string again from the hole in his jeans.

"See, you can love me for my mind and my body," Julian said before standing and placing a kiss on Matt's forehead. - Author: Jaime Reese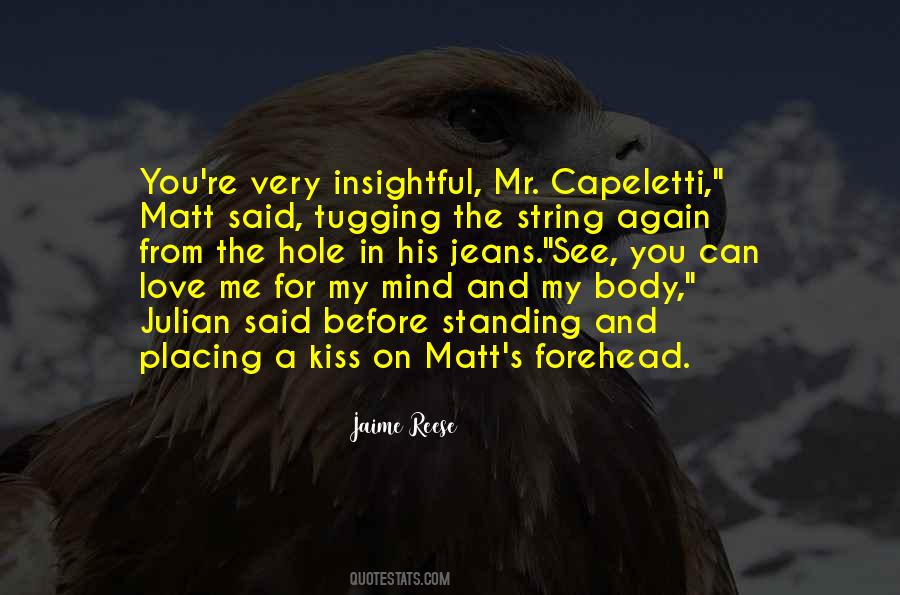 #49. Of course, old man, I only saw the kid once, and then only for a moment, but - but it was an ugly sort of kid, wasn't it, if I remember rightly?'
'As ugly as that? '
I looked again, and honesty compelled me to be frank.
'I don't see how it could have been, old chap. - Author: P.G. Wodehouse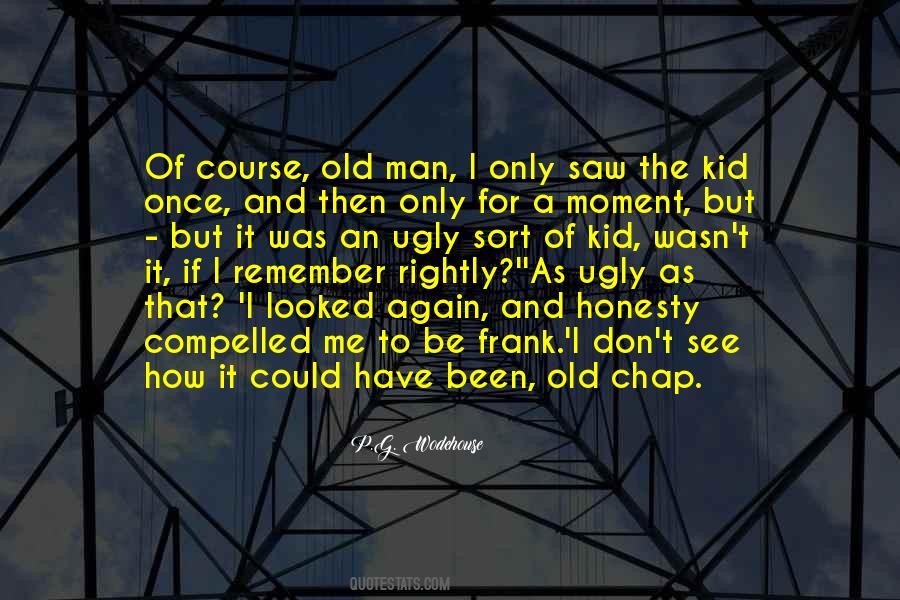 #50. I like it when people come to see me again, but you end up playing to that person only. You know there's other people out there, but you also know that the person who came to see you again is there. You're like, "I hope he's happy again." - Author: Mitch Hedberg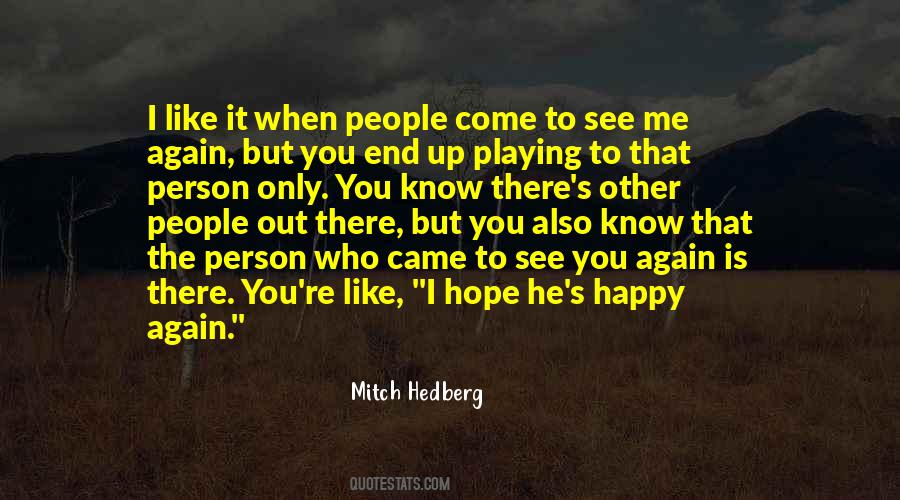 #51. I'll be glad to get out on the water again, and gladder still to see Divvytown. I knew it was my home port that first time I saw it.'
'The pirate town? Sa save us all. Does someone wait for you, dearie?' Ophelia asked.
Jek laughed aloud. 'They all wait for me. They just don't know it yet. - Author: Robin Hobb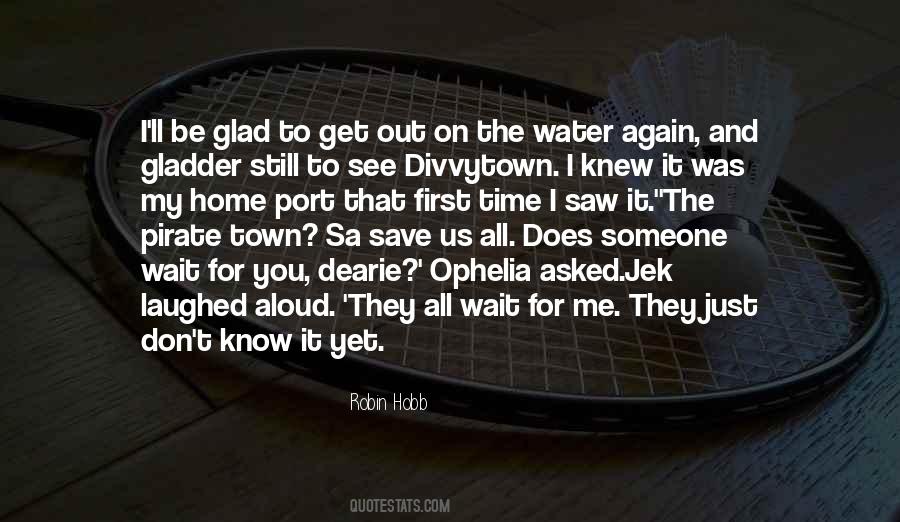 #52. I though it was weird to see people sleeping. It scared me to see them with their eyes closed. Like they might never wake up again. - Author: Kyung-Sook Shin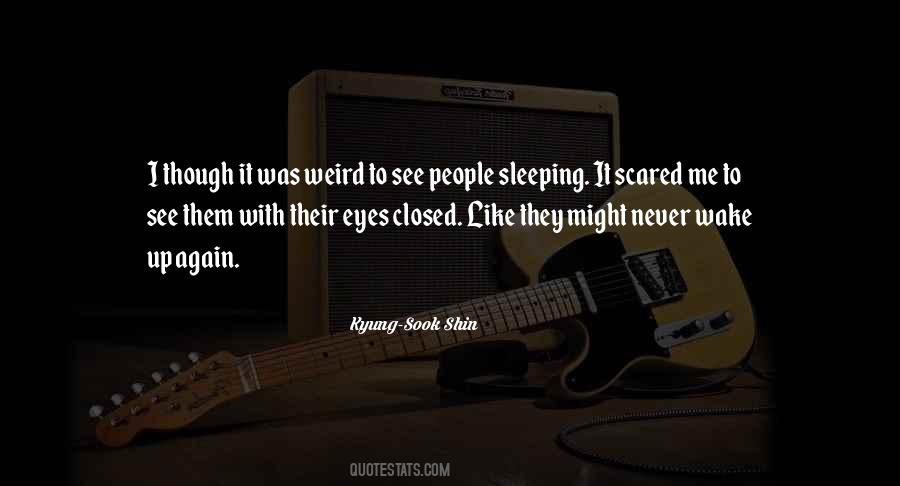 #53. Every tune I came to the end of a block and stepped off the goddam curb, I had this feeling that I'd never get to the other side of the street. I thought I'd just go down, down, down, and nobody'd ever see me again. - Author: J.D. Salinger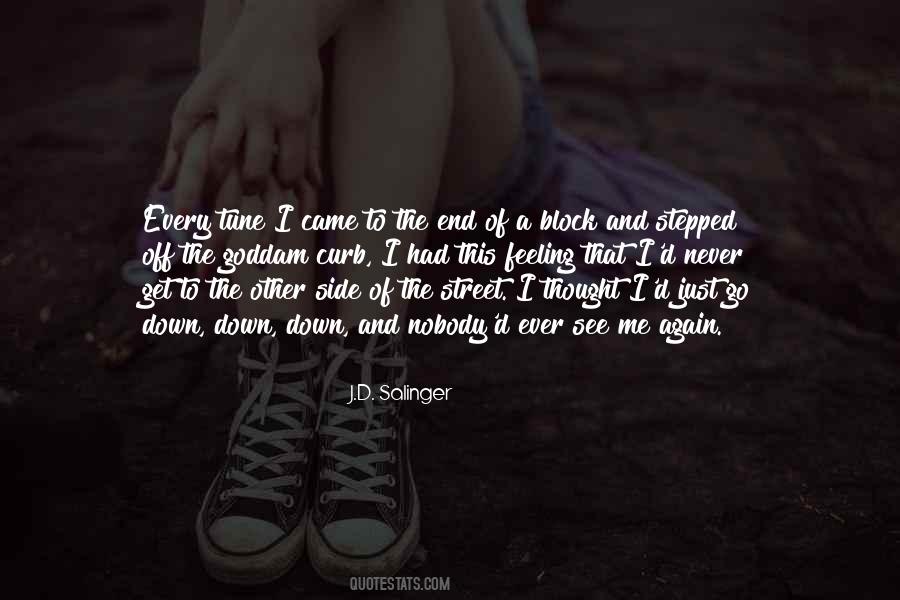 #54. I'd once again see that bob of blonde hair back on my pillow, that pink hot smile beaming toward me as I heroically win her heart in some kind of Count of Monte Cristo or Great Gatsby-esque gesture ... you know minus the long imprisonment or swimming pool death! - Author: Tom Conrad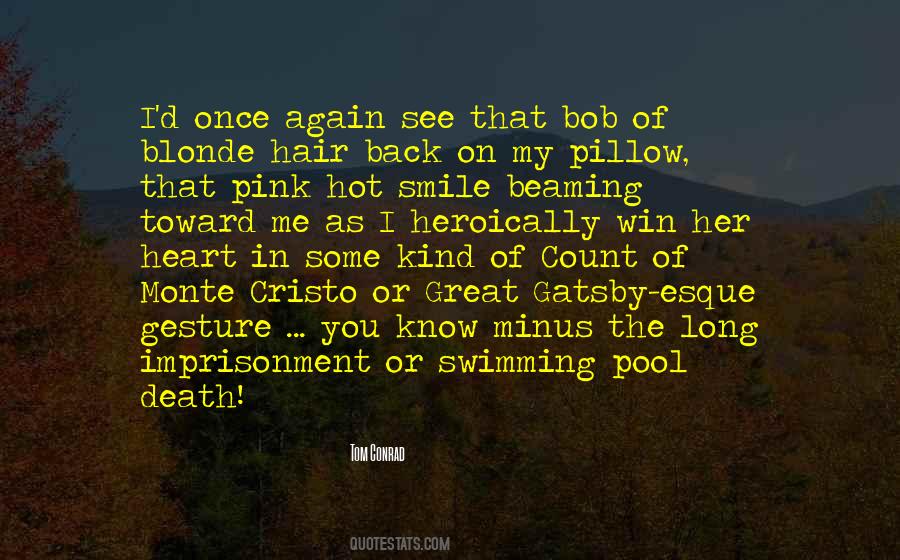 #55. I see you try to hurt me bad. Don't know what you're up against. Maybe you should reconsider; come up with another plan. Cause you know I'm not that kinda girl. I'll just get back up again. - Author: Pink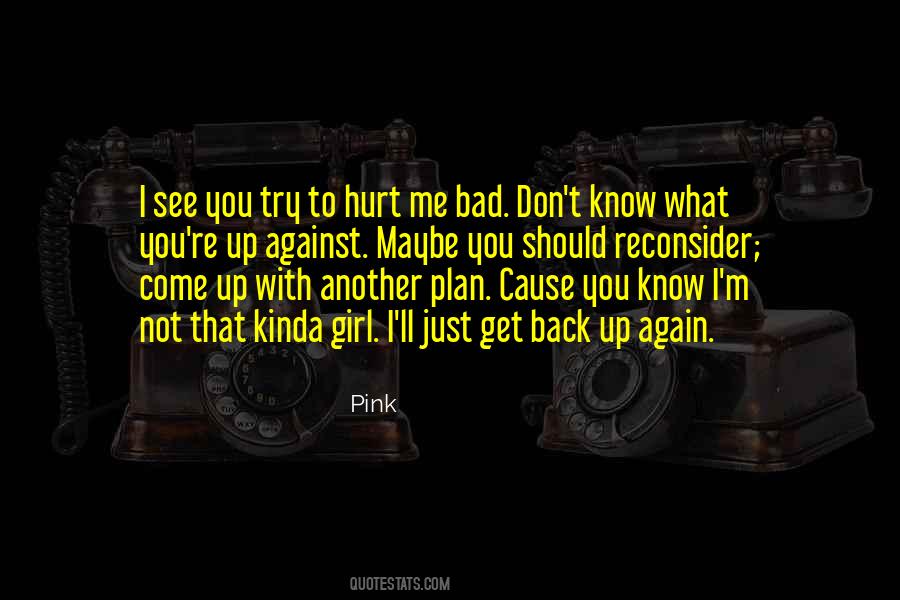 #56. Then, a life was ending. Here, one was about to begin. I didn't believe in signs. But it was hard to ignore the fact that someone, somewhere, might have wanted me to go through this again and see there was another outcome. - Author: Sarah Dessen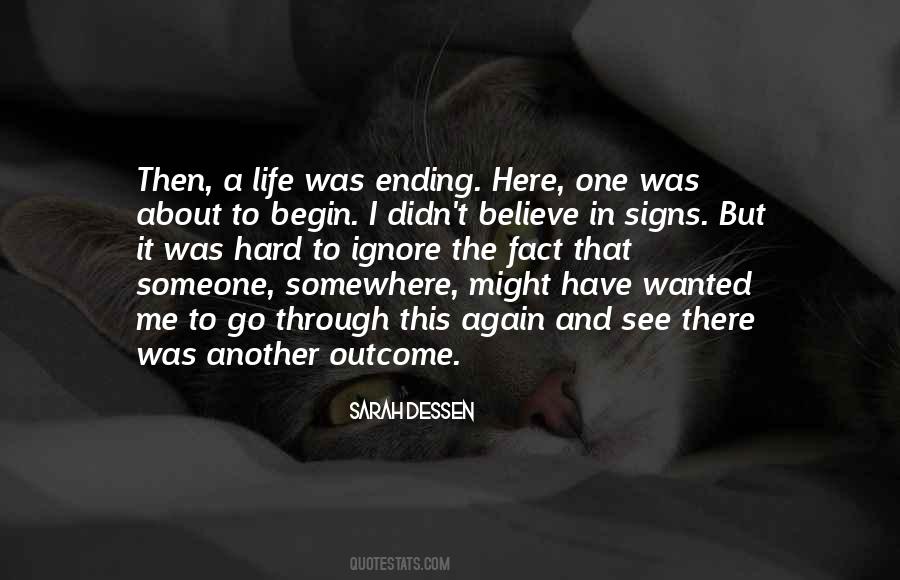 #57. Saving You
The darkness takes him over,
the sickness pulls him in;
his eyes - a blown out candle,
I wish to go with him.
Sometimes I see a flicker
a light that shone from them;
I hold him to me tightly,
before he's gone again. - Author: Lang Leav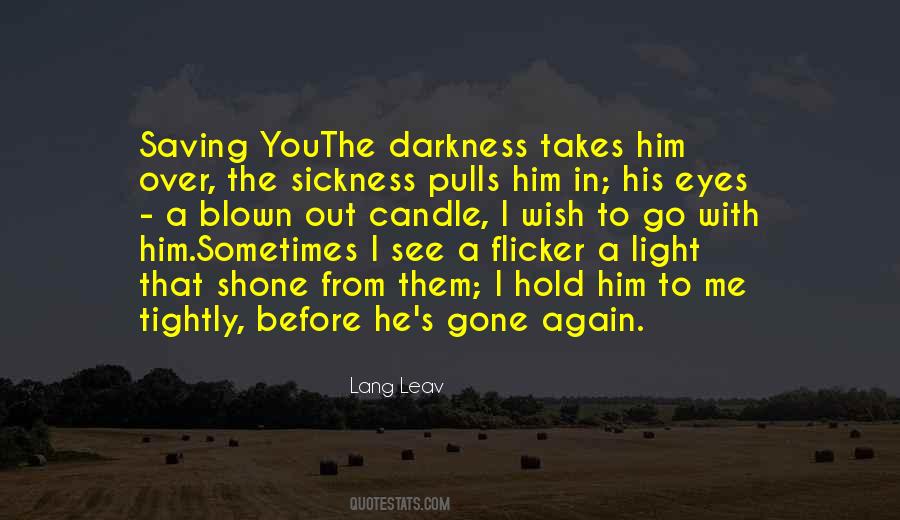 #58. I knew it was bad. I knew it was bad because Braden didn't say anything. He seared me into my walls with a look I never wanted to see in his eyes again, and then he spun on his heel and slammed out of my room.
No argument. No discussion. - Author: Samantha Young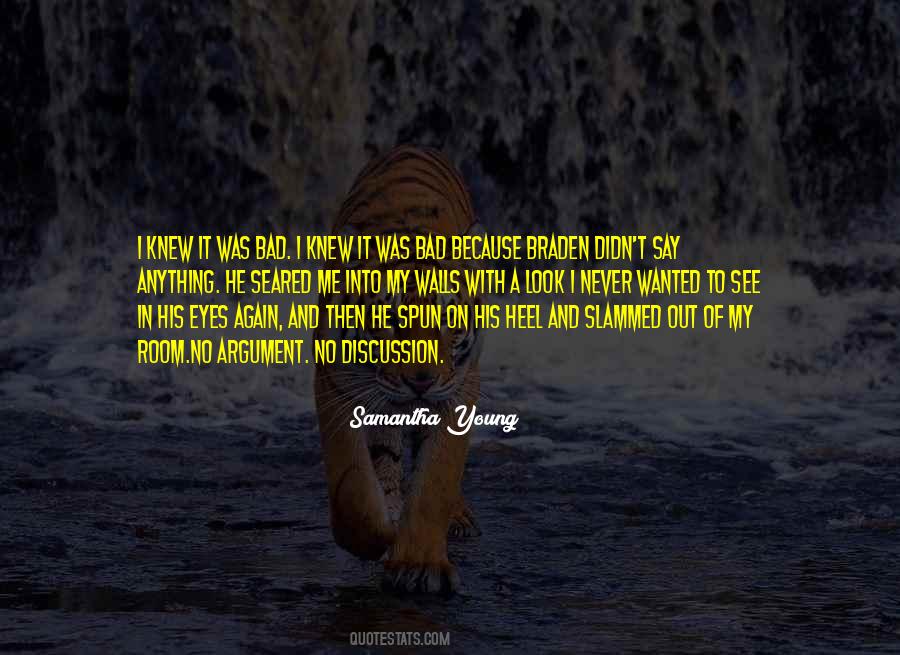 #59. Think you've seen it all? Think again. Outside those doors, we might see anything. We could find new worlds, terrifying monsters, impossible things. And if you come with me ... nothing will ever be the same again! - Author: Steven Moffat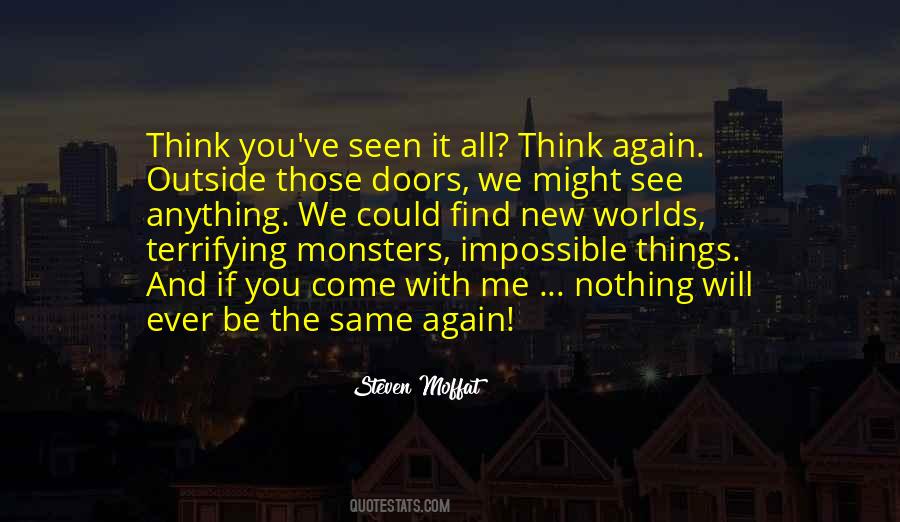 #60. I wanted to see you again, touch you, know who you were, see if I would find you identical with the ideal image of you which had remained with me and perhaps shatter my dream with the aid of reality.
-Claude Frollo - Author: Victor Hugo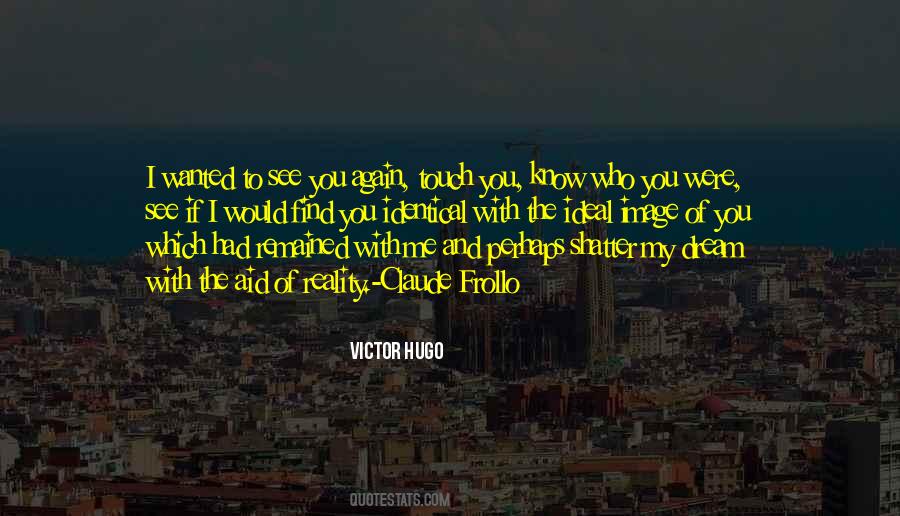 #61. I never want to play a show where it feels overly programmed, processed, and all that. For anybody that comes to one of our shows, the goal for me is to make sure that's their show. That nobody else is going to see that show ever again. You know what I mean? I try to make it different every day. - Author: David Cook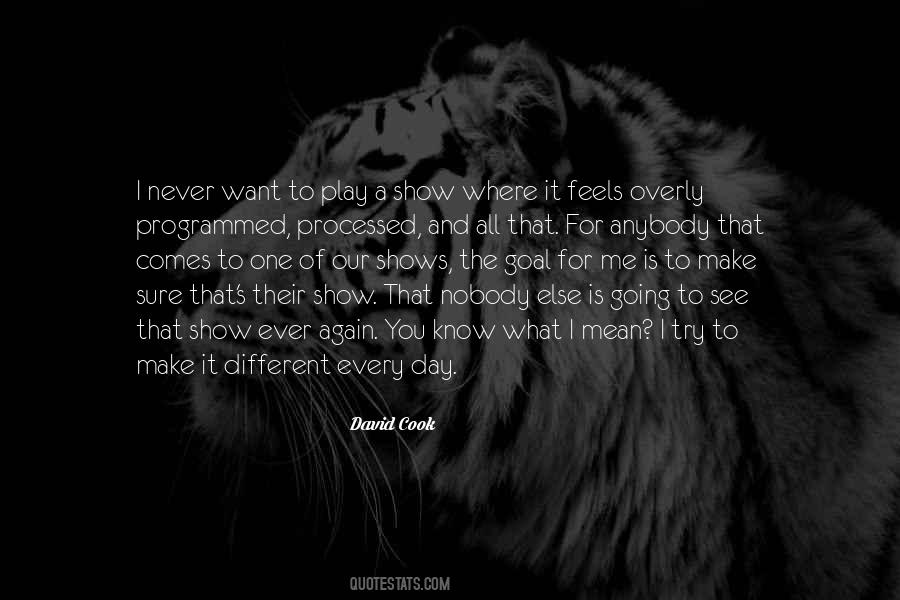 #62. I think it's just a gash. Hurts like bloody hell, though. Remind me ... to never try to rescue you again."
"I can't believe the timing, that you stepped in just when I was thrusting. I didn't see you."
"I didn't see the knife, so we're even. - Author: Lorraine Heath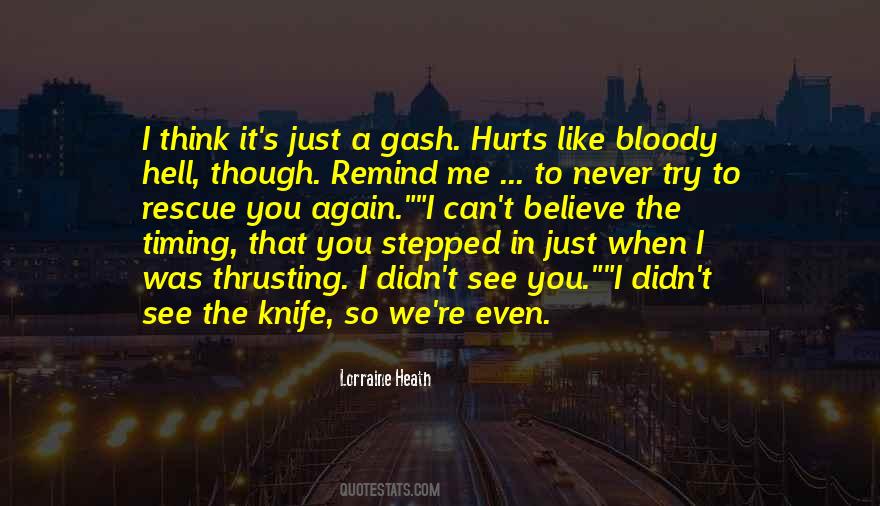 #63. It's interesting to see how acoustic guitars are emerging as a primary instrument once again ... reminds me very much of what Jim Messina and I were doing back then. You can't get too far away from an acoustic guitar - Author: Kenny Loggins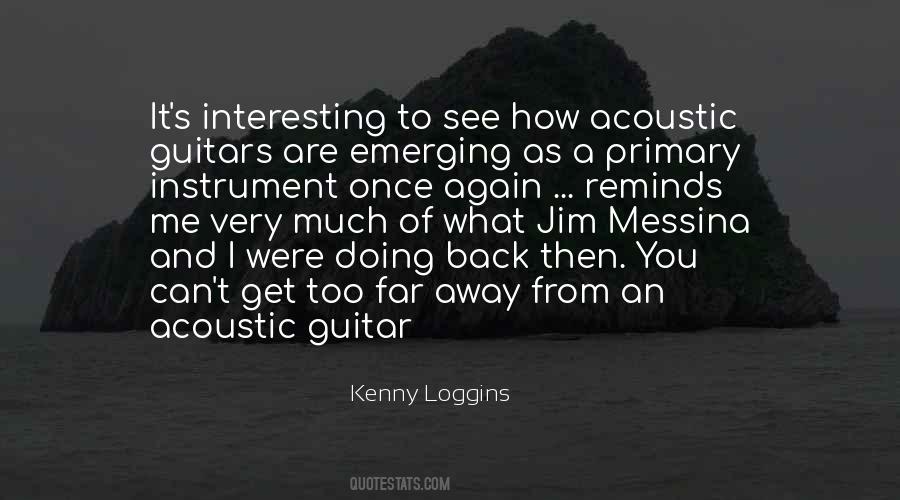 #64. Kiss me in a way I'll never forget. Kiss me in a way that will stay with me until see you again. - Author: Becca Fitzpatrick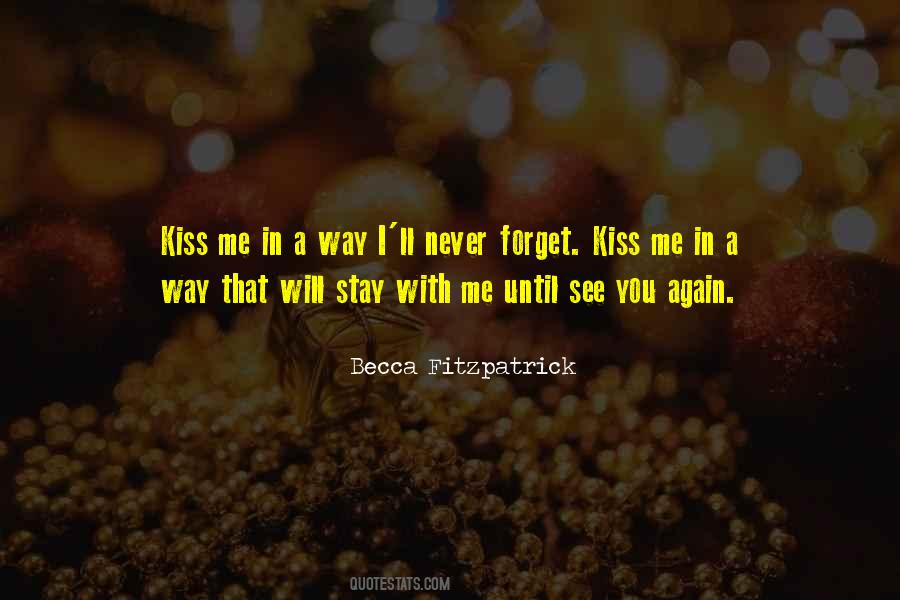 #65. One time, my mother told me that I always eat like I'll never see food again. And I said, "I won't unless I bring it home." That shut her up. - Author: Suzanne Collins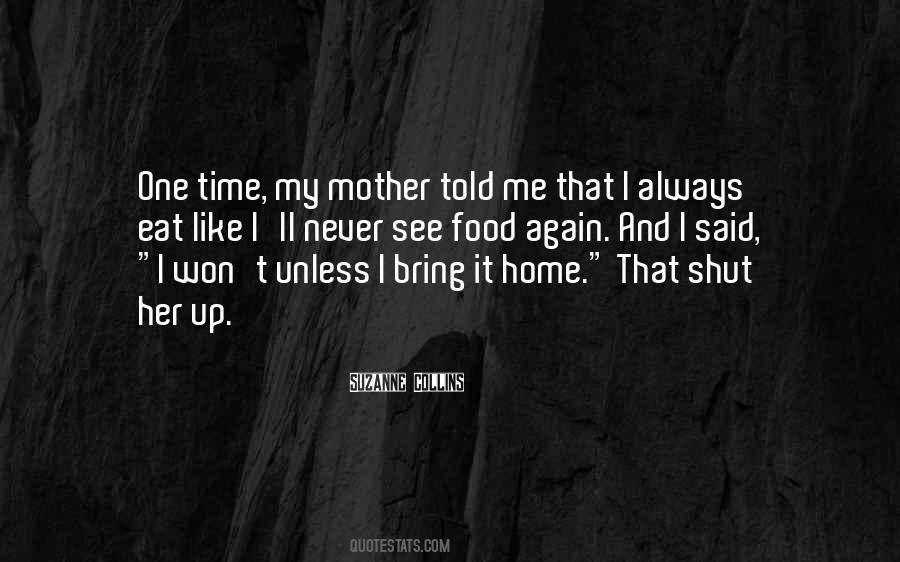 #66. If Mr. Selwyn calls again, show him up; if I am alive I shall be delighted to see him; and if I am dead he would like to see me. - Author: Henry Fox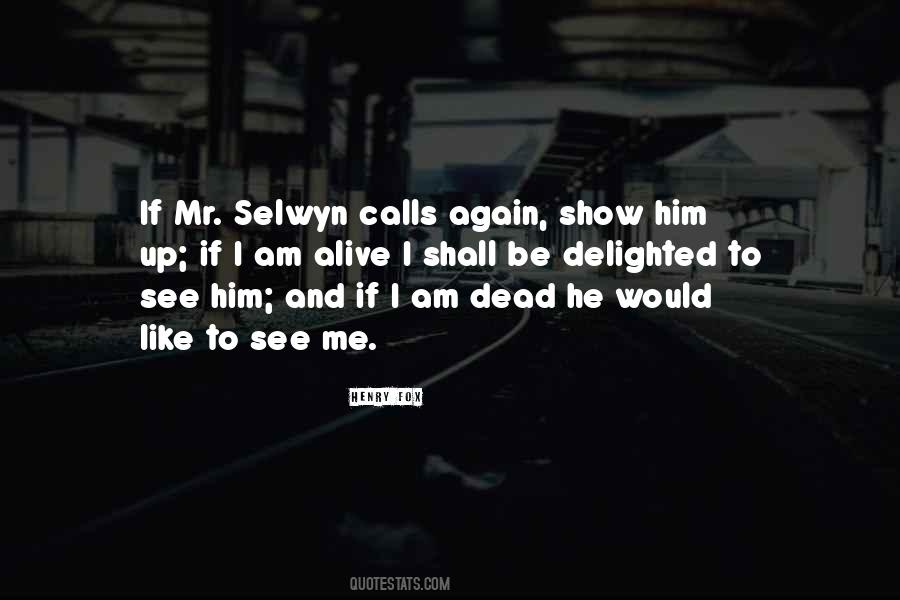 #67. I was adopted when I was a baby. My mother carried me for nine months and she held me for one hour, and didn't see me again. - Author: Michael Franti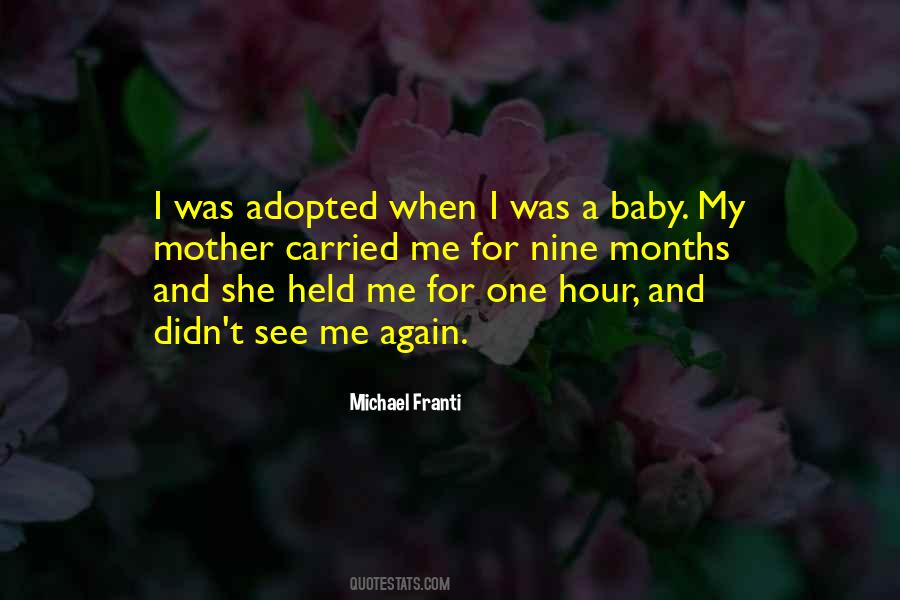 #68. When I see the full blue sky, with all its vastnesss, its as if He is telling me 'All this is yours and all of this comes back to me. Please take care of all of this, because I want to use it again and again and again. But while you are here, it is yours. Please enjoy it. - Author: Jose N. Harris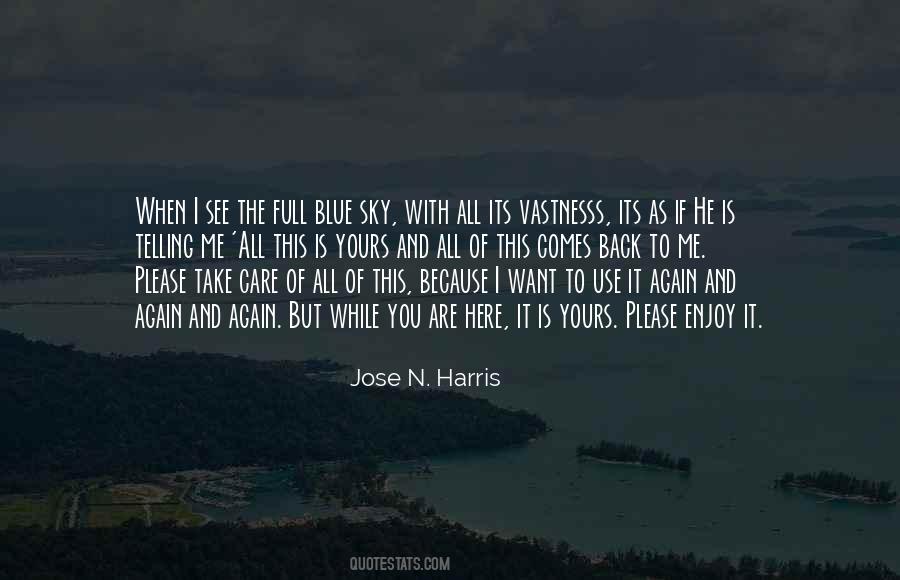 #69. I'll see you later Roza."
"At our next practice?" I asked. "We are starting those up again, right? I mean you still have things to teach me."
Standing in the doorway, he looked over at me and smiled. "Yes. Lots of things. - Author: Richelle Mead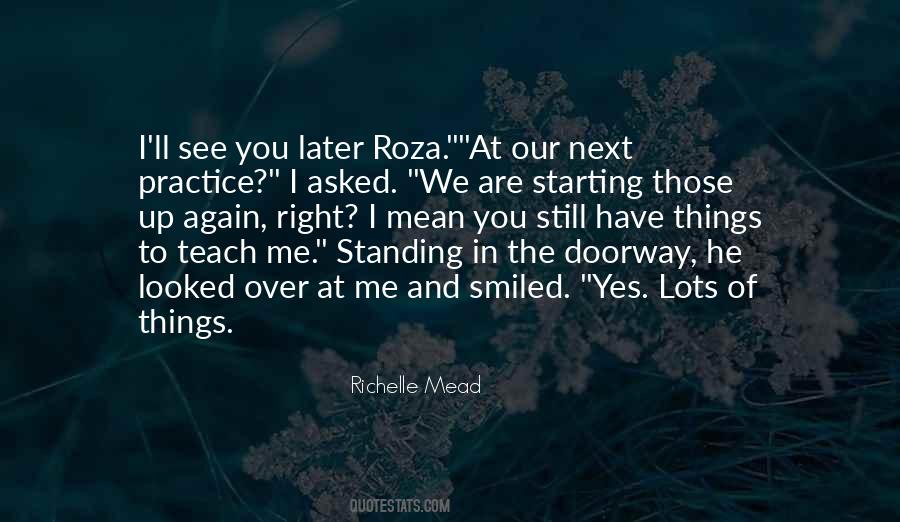 #70. I like you, Mark, and I hope you'll come see me again. You're a nice guy and you have an old soul. I hope we can be friends. - Author: T.A. Webb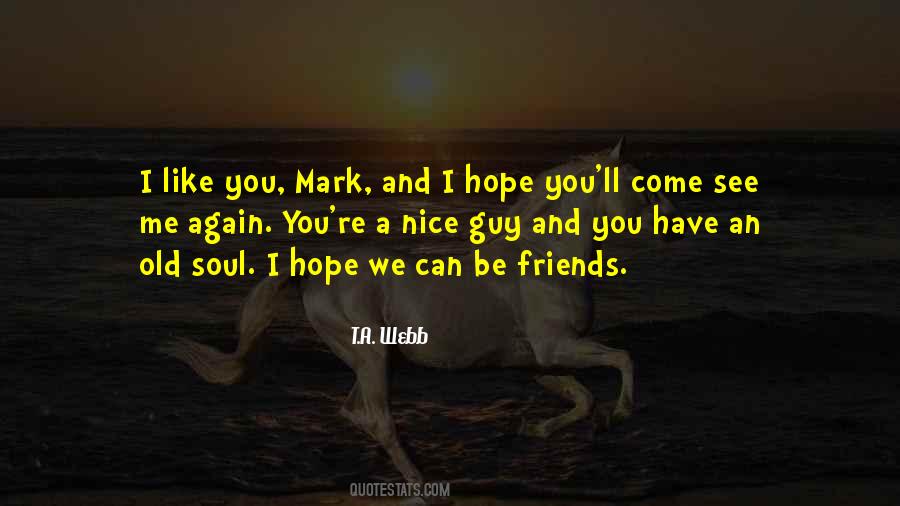 #71. I'll never see you that way again. Because Before this, I didn't know you were essential for me to feel alive. - Author: Ella Frank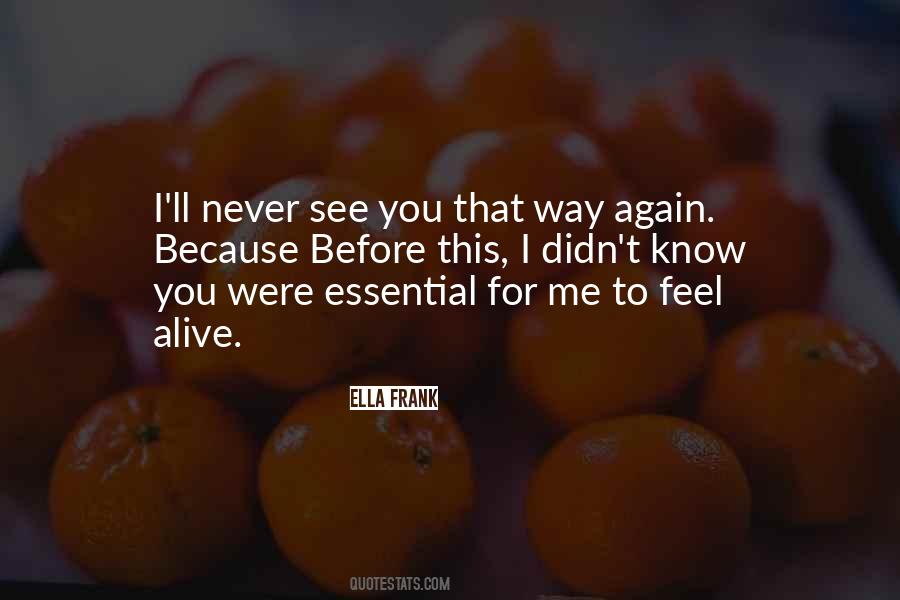 #72. Levi watched her carefully again, his gaze roaming over her face, as if he was trying to see into her mind. "You're not lying. Why are you doing this?"
"Because if I try to shut you out you'll cause me more problems than I want to deal with. And I don't want to kill you. - Author: Katie Reus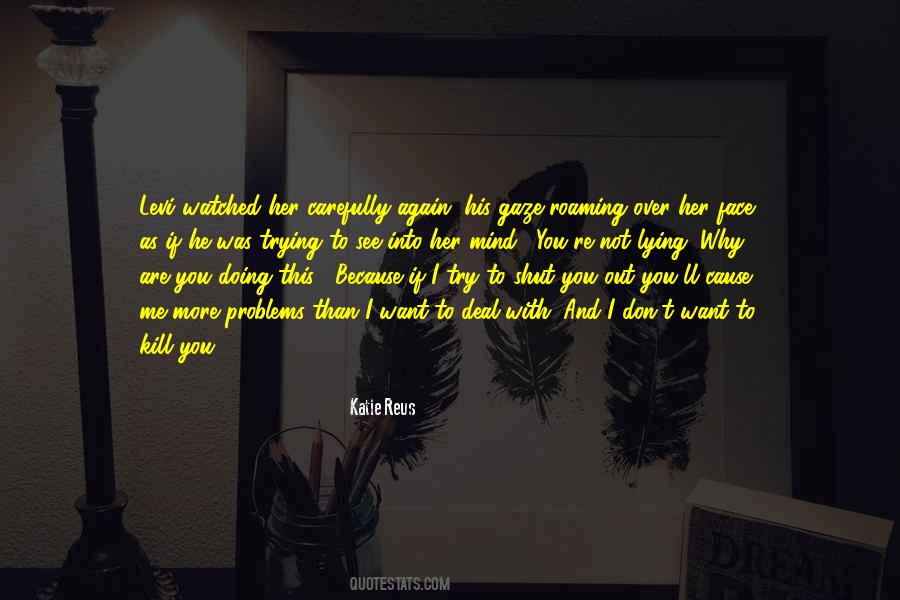 #73. You're not going to see me in a bikini again, that's for sure. I was horrified to wear that. I was mortified. I was like, "Danny, can you put me in a one-piece?," and he gave me that red bikini. I was like, "That's not a one-piece. That's a two-piece with a string." - Author: Maggie Q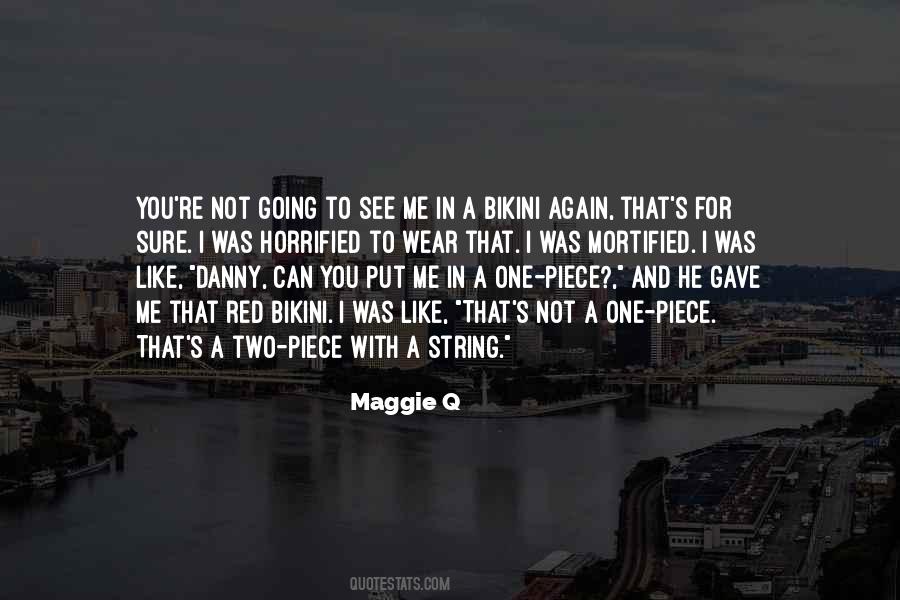 #74. This is the biggest mistake I could think would save me. I wanted to give up the idea that I had any control. Shake things up. To be saved by chaos. To see if I could cope, I wanted to force myself to grow again. To explode my comfort zone. - Author: Chuck Palahniuk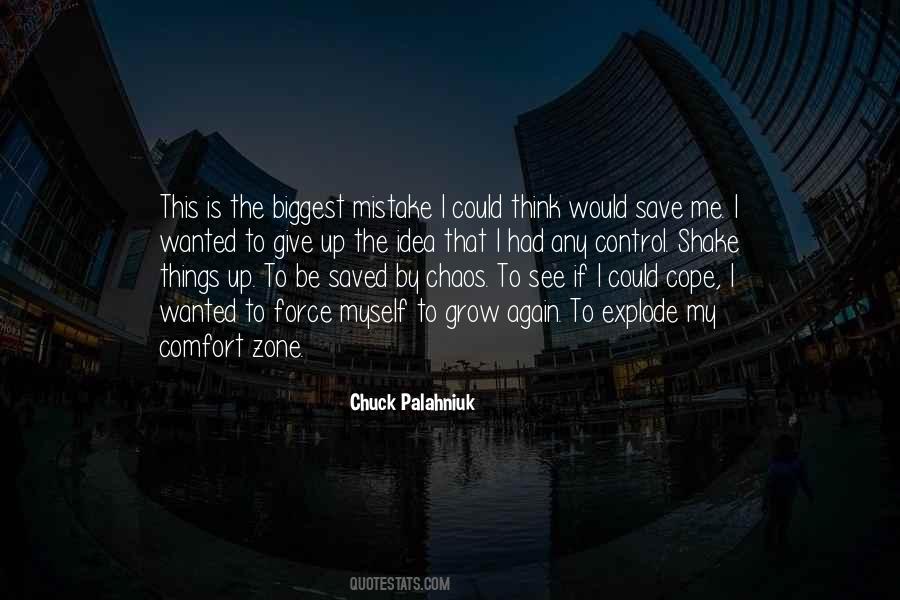 #75. God, help me. Help me to be wise and full of courage and sound judgment. Harden my heart to the sights that I must see so soon again, grant me only the power to think clearly, boldly, resolutely, no matter how unnerving the peril. Let me not fail them. - Author: Anton Myrer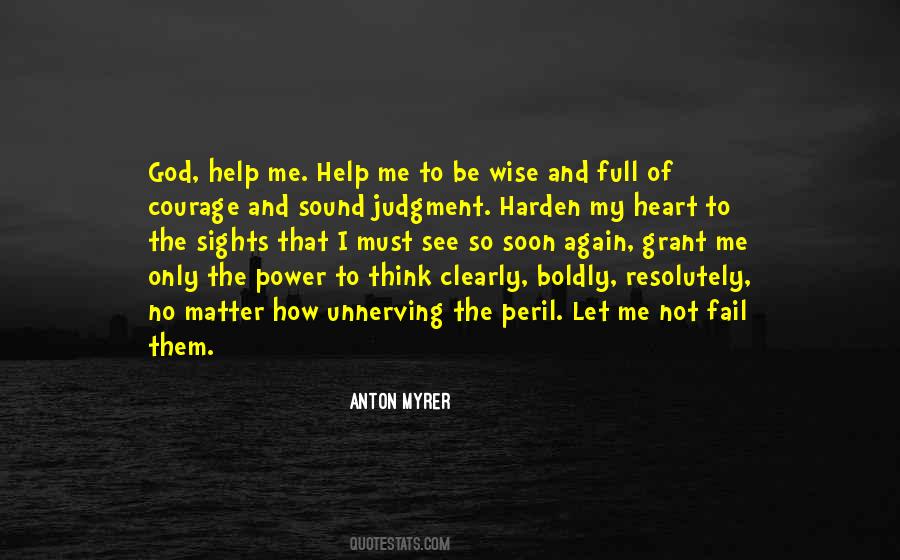 #76. Looking at the horizon again, I saw a lone figure coming toward me, but I wasn't frightened because I was sure it was my mother. As I got closer to the figure, I could see that it wasn't my mother, but still I wasn't frightened because I could see that it was a woman. - Author: Jamaica Kincaid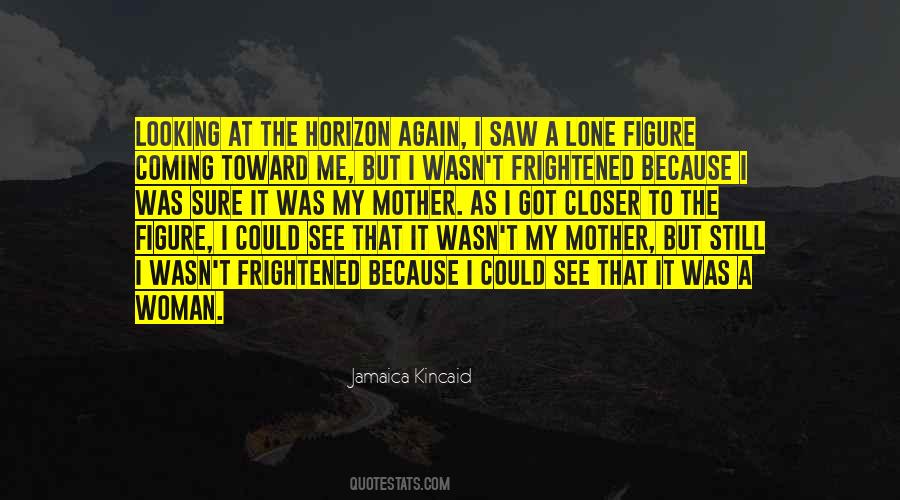 #77. You shouldn't be around me anymore. You shouldn't want to, Lex. Because all I see when I look at you is the woman I love, the woman I want to take home with me, the woman who I've spent damn near ten years messing things up with. And you should stay away because I know I'd do it all over again. - Author: K.A. Linde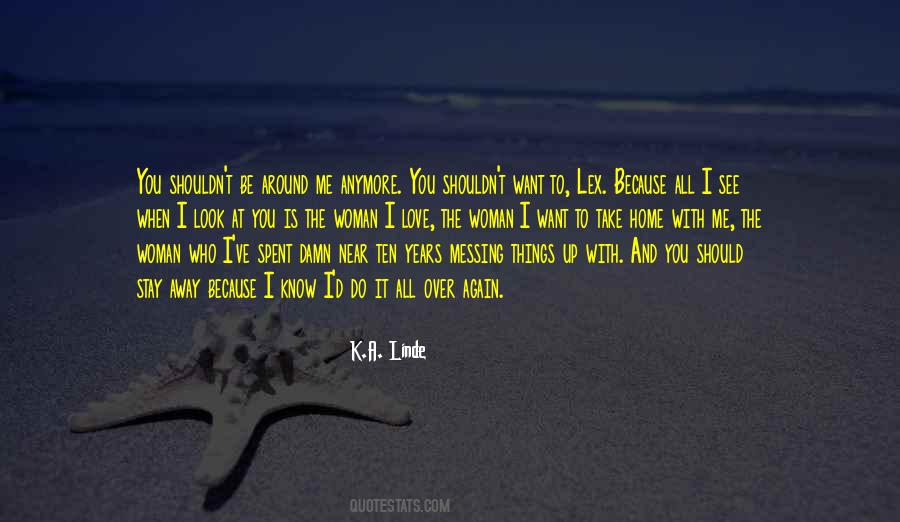 #78. You think I'm defeated. You think you've passed your judgement and that's the end of it. Oh, you think it's as simple as that. Well you are wrong. I shall never have vengeance for this moment, but you will see me again. You will see me again. - Author: Anne Rice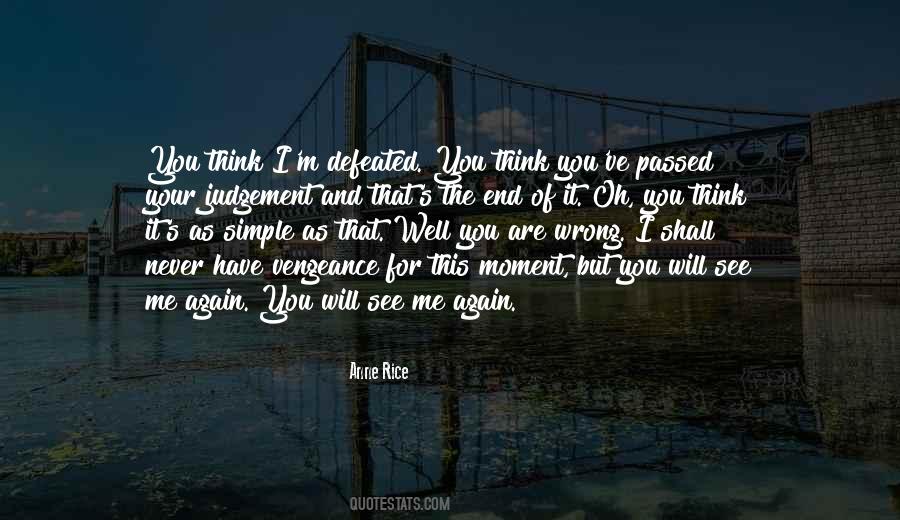 #79. I fought in many guises, Many names, but always me. And I see not in my blindness What the objects were I wrought, But as God rules o'er our bickerings It was through His will I fought. So forever in the future, Shall I battle as of yore, Dying to be born a ... fighter, But to die again, once more. - Author: George S. Patton Jr.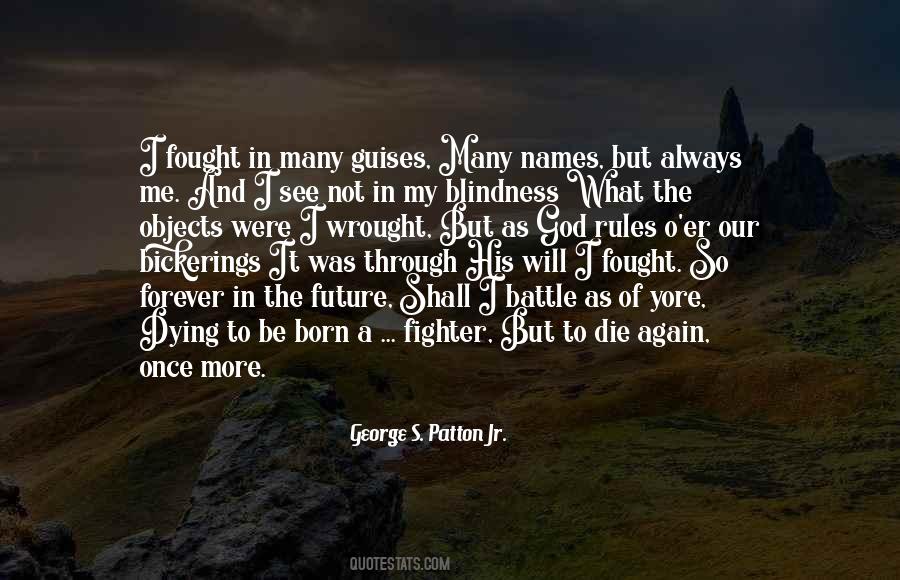 #80. For often I have wished to see a person again without realising that it was simply because that personal recalled to me a hedge of hawthorns in blossom, and I have been led to believe, and to make someone else believe, in a renewal of affection, by what was no more than an inclination to travel. - Author: Marcel Proust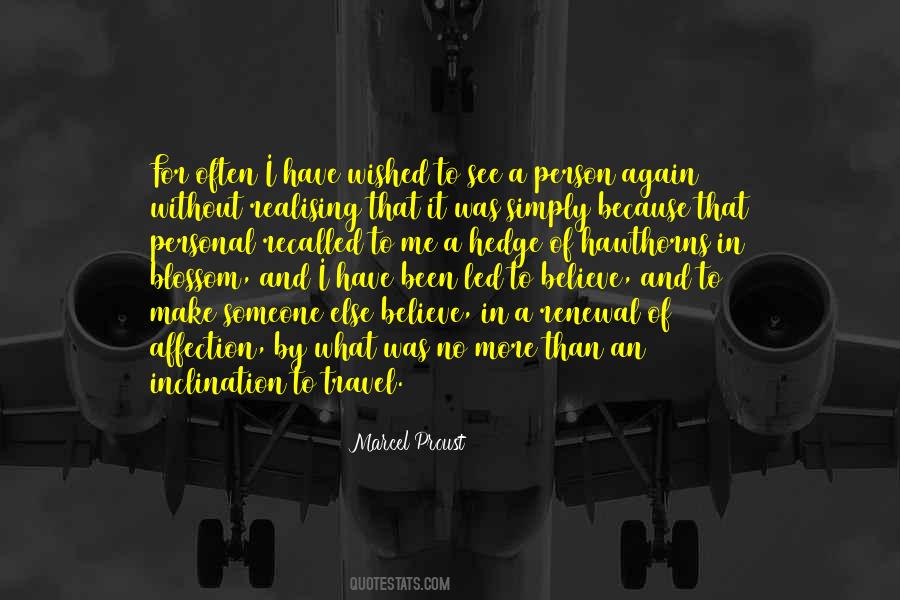 #81. And wished with all her power to wish anything, that the woman would simply continue her last words and say, "Are you really so glad to have met me? Then why can't we see each other again? Why can't we even have lunch together today?" Her voice was so casual, and she might have said it so easily. - Author: Patricia Highsmith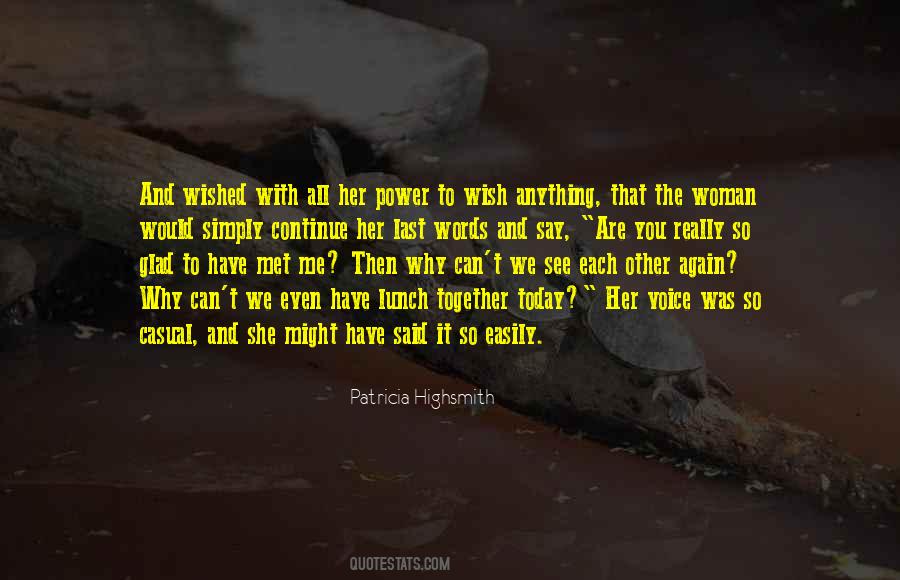 #82. You have every right to hate me for this lifetime and many others. You have every right to never see me again. To spit on my grave. But tonight, now, I'm not going to give up on you or," his voice fell with weight, "die trying. - Author: Karina Halle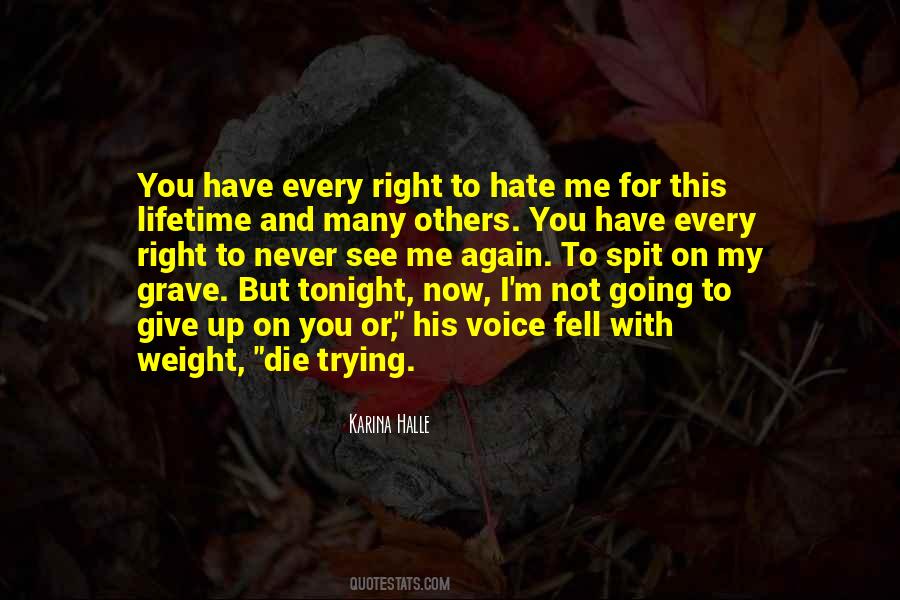 #83. You belong to me, even if I should never see you again. - Author: Franz Kafka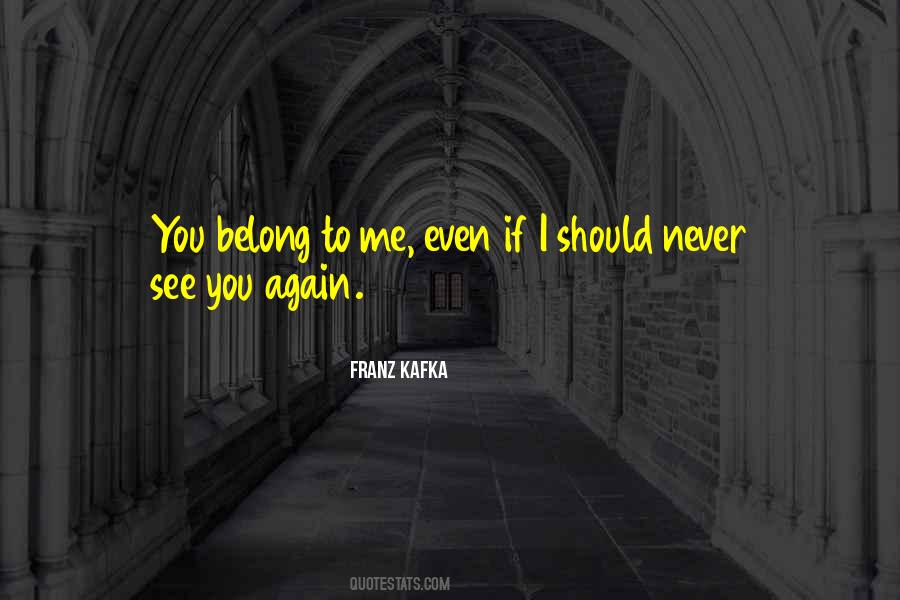 #84. I pointed to the wound. "It's missing," I said.
My grandmother smiled, and that was all it took for me to stop seeing the scar, and to recognize her again. "Yes," she said. "But see how much of me is left? - Author: Jodi Picoult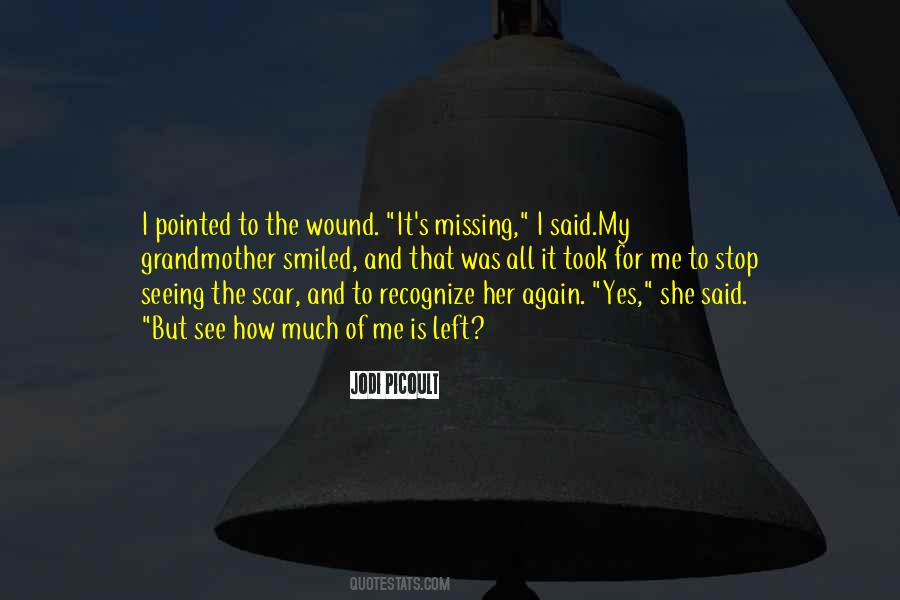 #85. Love me like today is the last day we can see stars in the sky, let us sleep under them and throw ourselves into the oblivion and never again reach out for reality. - Author: Akshay Vasu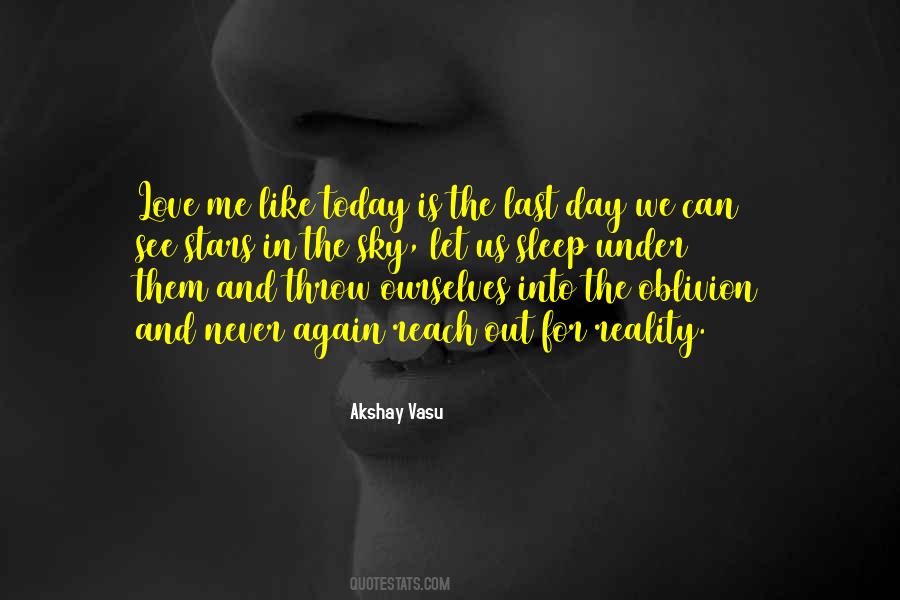 #86. So why don't you tell him you're sorry?" Gaby suggested.
"Uh ... because he probably never wants to speak to me again?"
"How do you know? Do you have a fifth sense too?"
Scarlett sighed. "No. And I think that's sixth sense."
"No, I don't see dead people. It's different. - Author: Lauren Conrad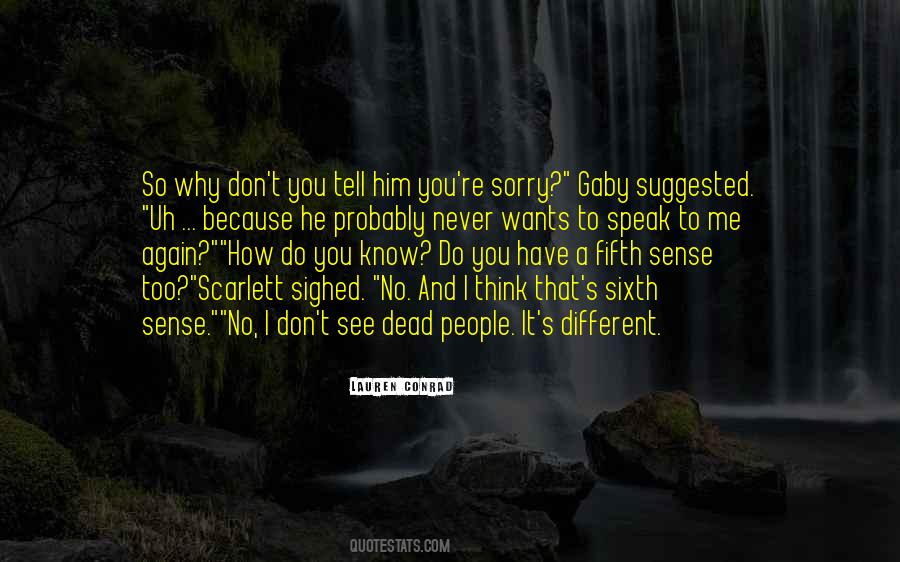 #87. I took off my glasses while you were yelling at me once more than once so as not to see you see me react. Should've put 'em, should've put 'em on again
so I could see you see me sincerely yelling back. - Author: Fiona Apple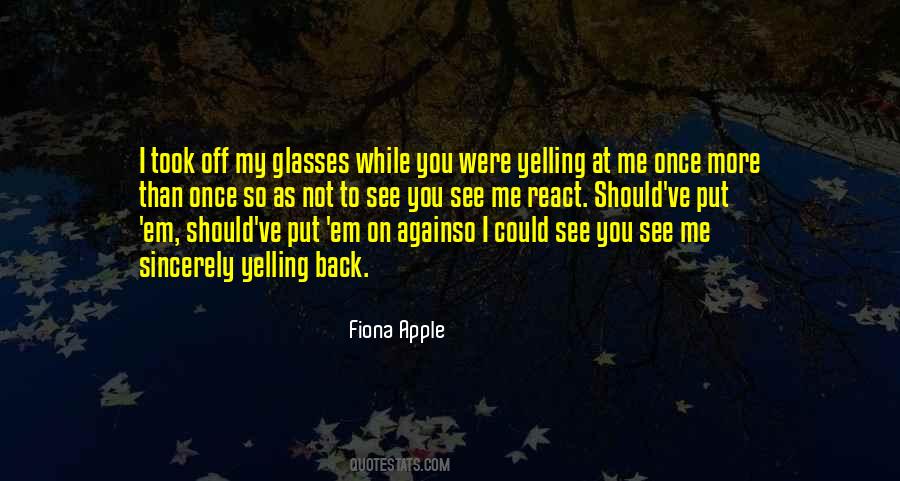 #88. I thank the Lord for having the kind of a career that doesn't happen very often to an individual. A lot of times when I was playing, I pinched myself to see if it was really me and if it was really happening. If I had to do it all over again, I wouldn't change anything. - Author: Lou Boudreau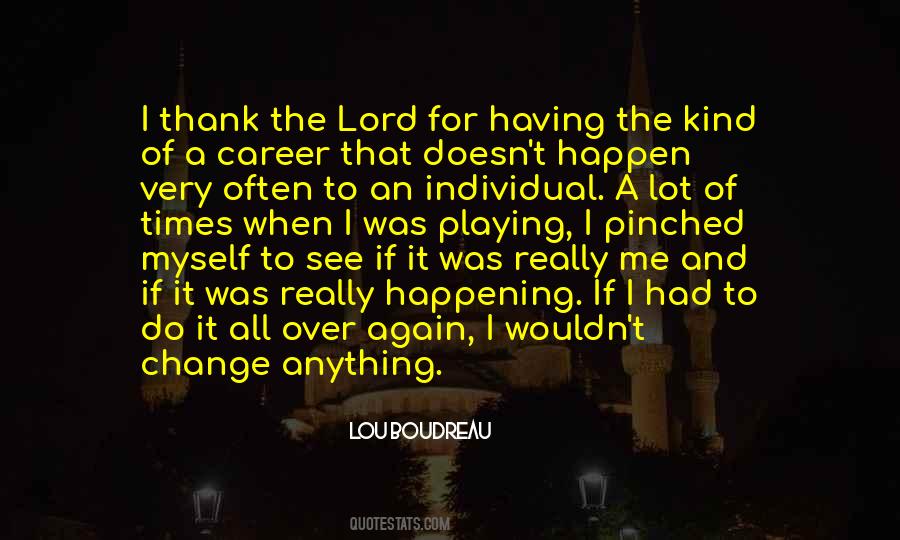 #89. There are moments when I feel like giving up or giving in, but I soon rally again and do my duty as I see it: to keep the spark of life inside me ablaze. - Author: Etty Hillesum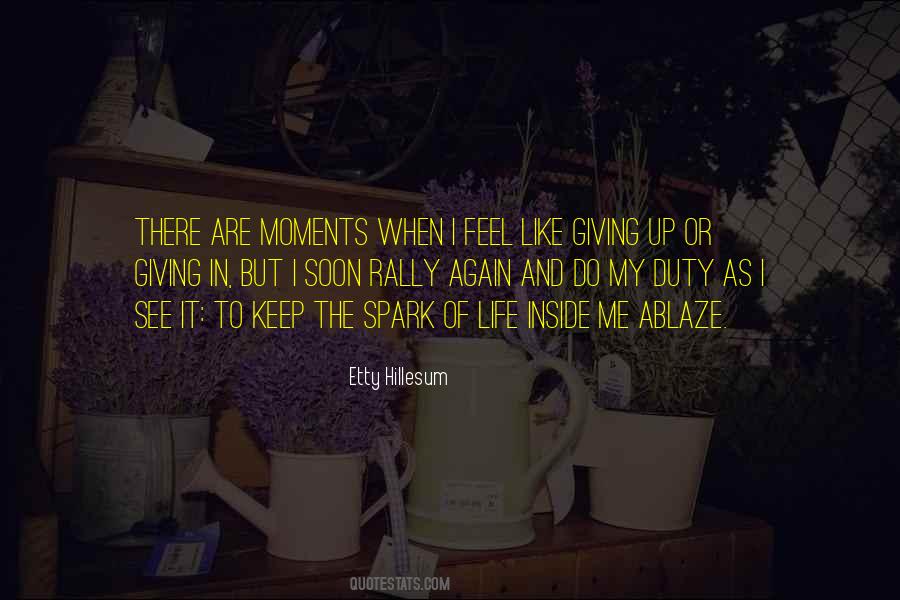 #90. I do, indeed, close my door at times and surrender myself to a book, but only because I can open the door again and see a human face looking at me - Author: Martin Buber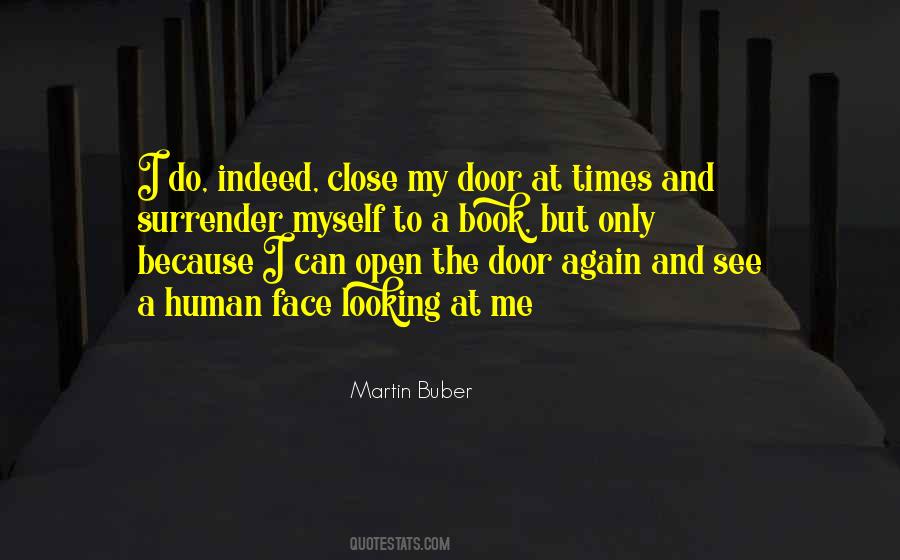 #91. Everywhere you turn, you see me in a movie, and I'm sorry. At this point, people must be saying, 'God, Biggs again? Can't we get away from this guy?' - Author: Jason Biggs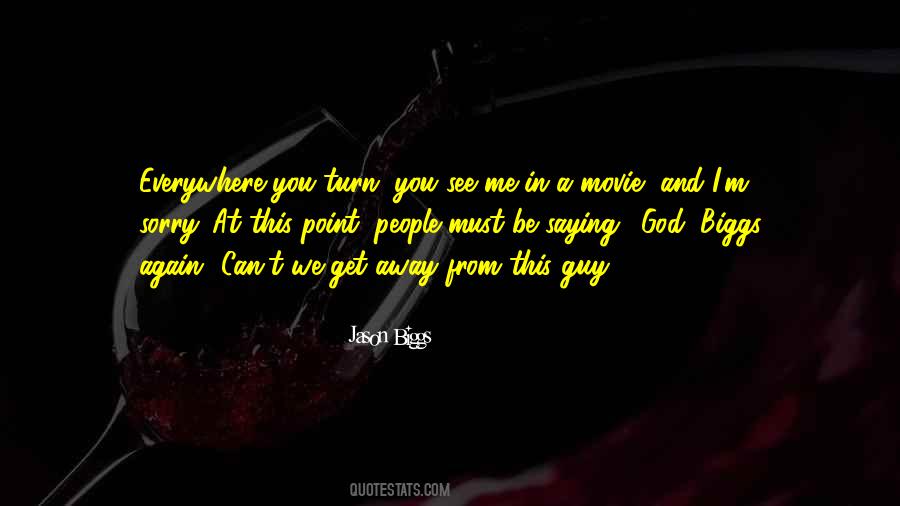 #92. Bye," he whispered to me.
"Bye."
Neither of us moved.
"Seriously? This isn't the Titanic, you'll see each other again," Bethan said to us. - Author: J.J. McAvoy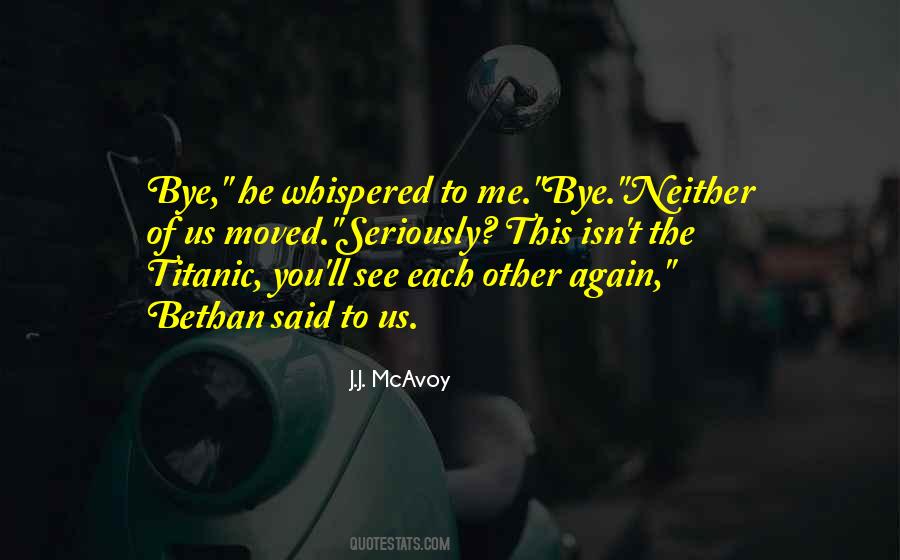 #93. It doesn't matter to me. I'm just worried. It's the first time I've see Teach like that. He said he had two regrets ... Once, 20 years ago. And once when you hurt your wrist. He said he didn't ever want to regret again. I wonder what that means. - Author: Kim Su-mi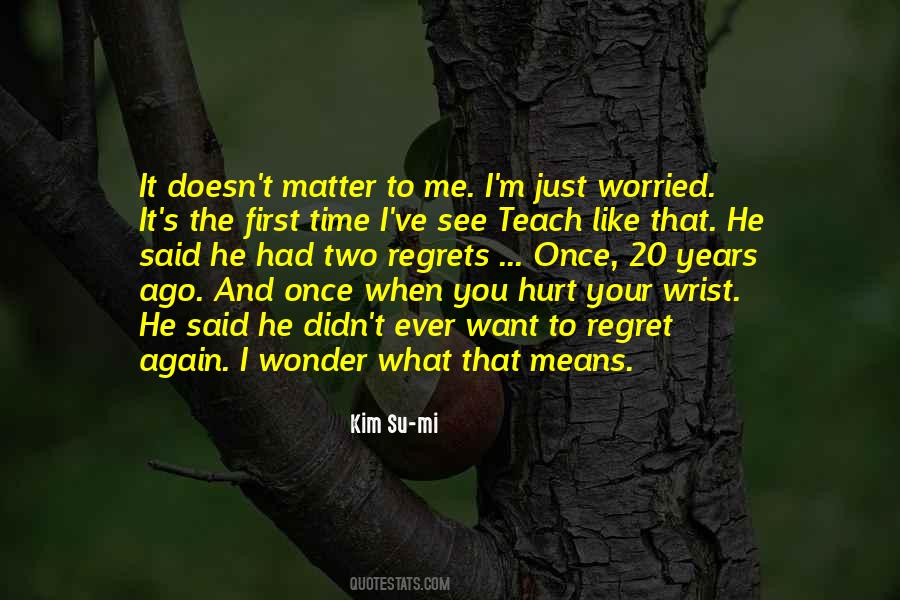 #94. Liberals should not overplay this weapons of mass destruction card, because you want me to tell you the truth? Most of us are not going to care if they don't find these weapons of mass destruction. It's enough for a lot of us to see those kids smiling on that street again. - Author: Dennis Miller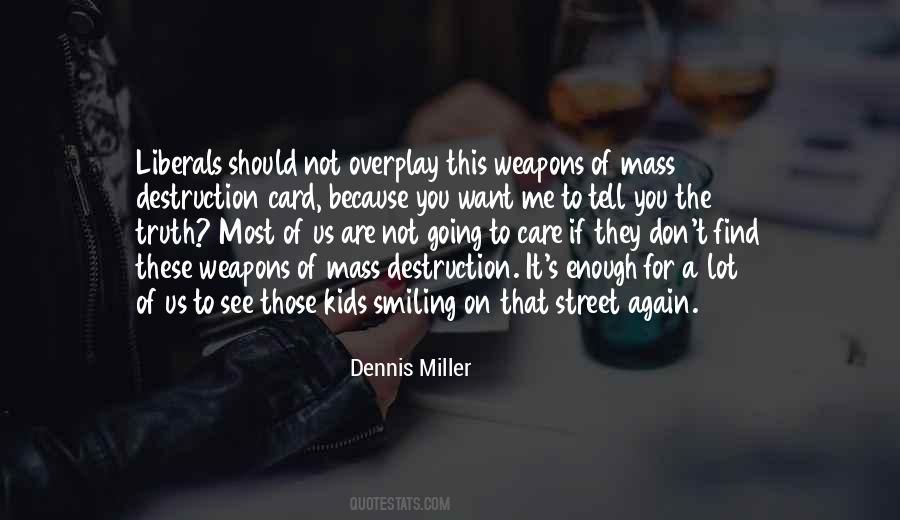 #95. Maybe someday we'll see each other again, Charlie. For real I mean. Until then, save me a seat, okay?
-Solo - Author: Trish Doller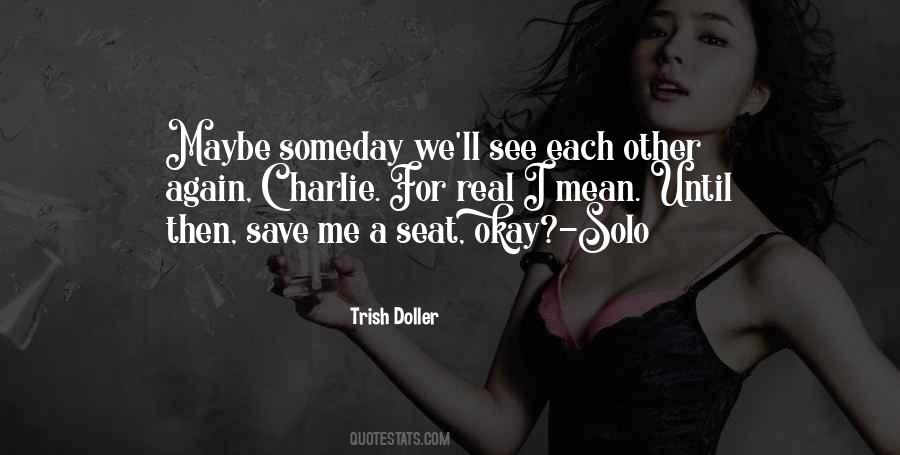 #96. The thought I may never see her again streaks through me. The time's all wrong. We only have twenty minutes before we head out. But right now, I don't give a damn. I grab her and push her against the door. No time to do anything except in the most primal of ways. I kiss her hard... - Author: Magda Alexander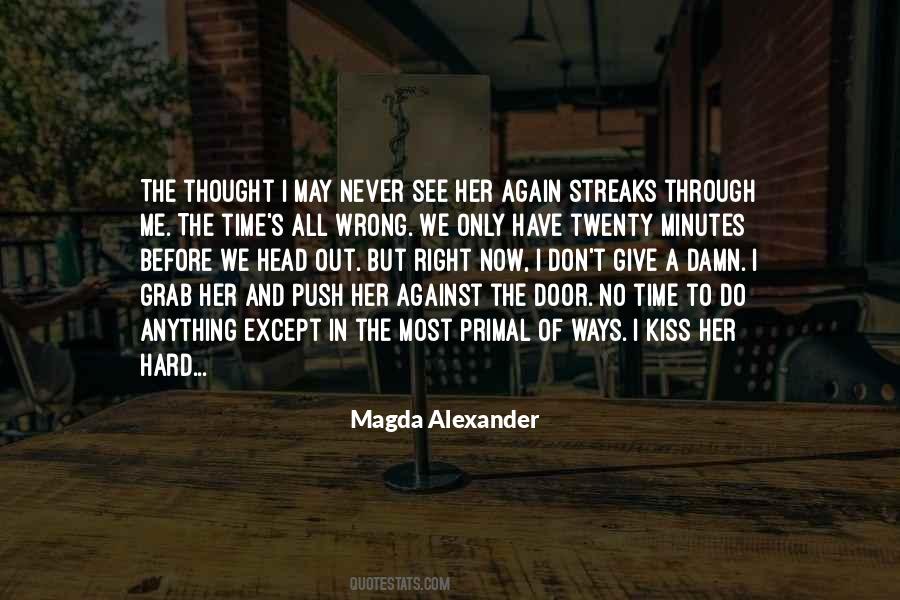 #97. See?" I crowed. "I know what I'm doing. Two weeks, tops, and you'll be begging to dip your fries in my shake."

"You think?"

It took me about a second before I realized I'd done it again. My mouth seriously needed a chaperone. - Author: Elise Allen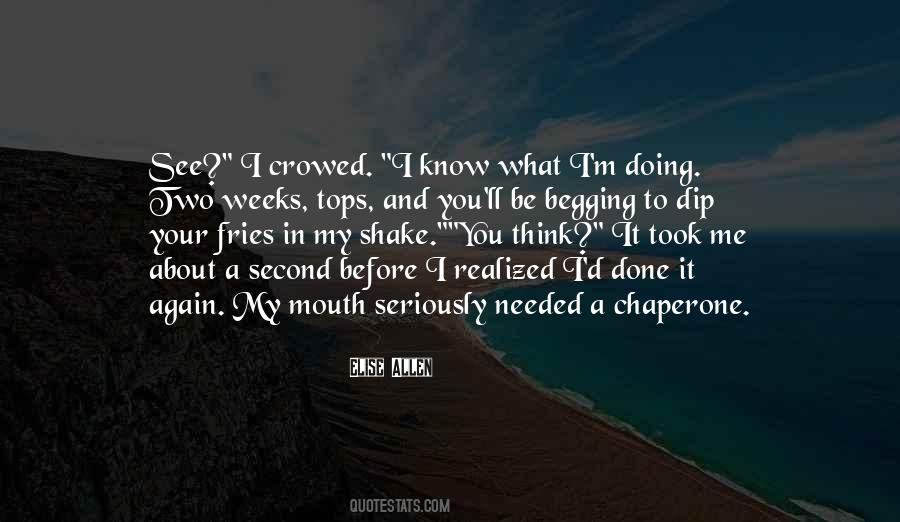 #98. I know you never met me, and I know you don't know my name, but I am from you, and I just wish you could see me. I wish you could see that someone knows who you were and what you did, and I won't let anybody forget you, not ever again. - Author: Ryan Littrell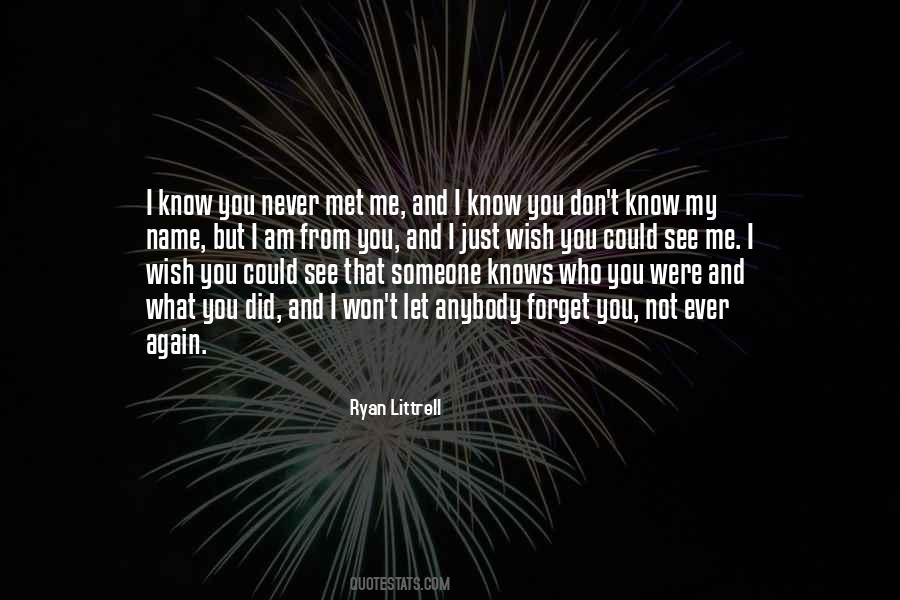 #99. I'm stuck somewhere between hating him so much, I never want to see him again and never, ever wanting to him to let me go. - Author: Jessica Love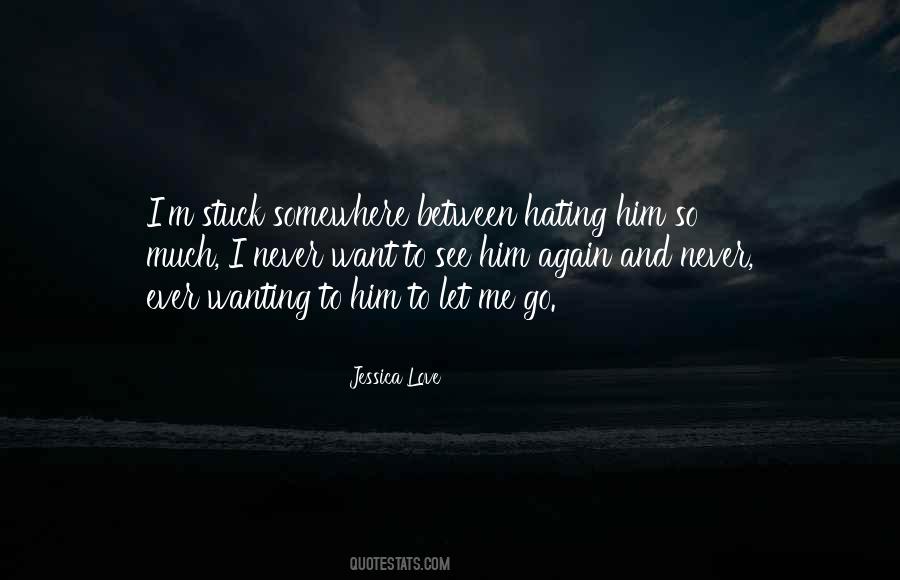 #100. What is on that memory stick, if you don't mind me asking?"
She was following him back into his apartment when he asked, and realized she still clutched it.
"Something I never want to see again. - Author: Pixie Lynn Whitfield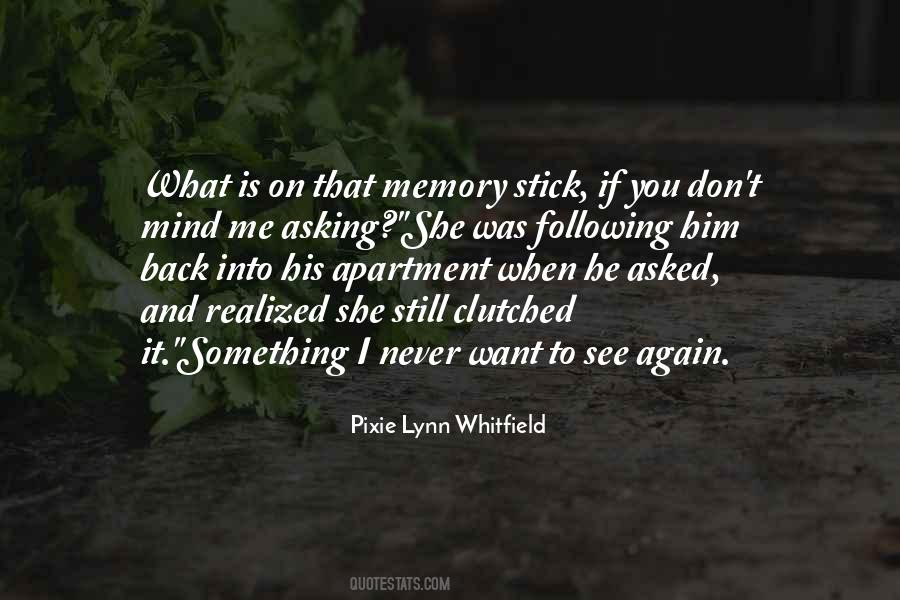 Famous Authors
Popular Topics