See In The Mirror Famous Quotes & Sayings
List of top 100 famous quotes and sayings about see in the mirror to read and share with friends on your Facebook, Twitter, blogs.
Top 100 See In The Mirror Quotes
#1. I've had all types of beautiful girls tell me that they ugly when they look in the mirror, as if it's someone else's reflection they see. - Author: Lee Daniels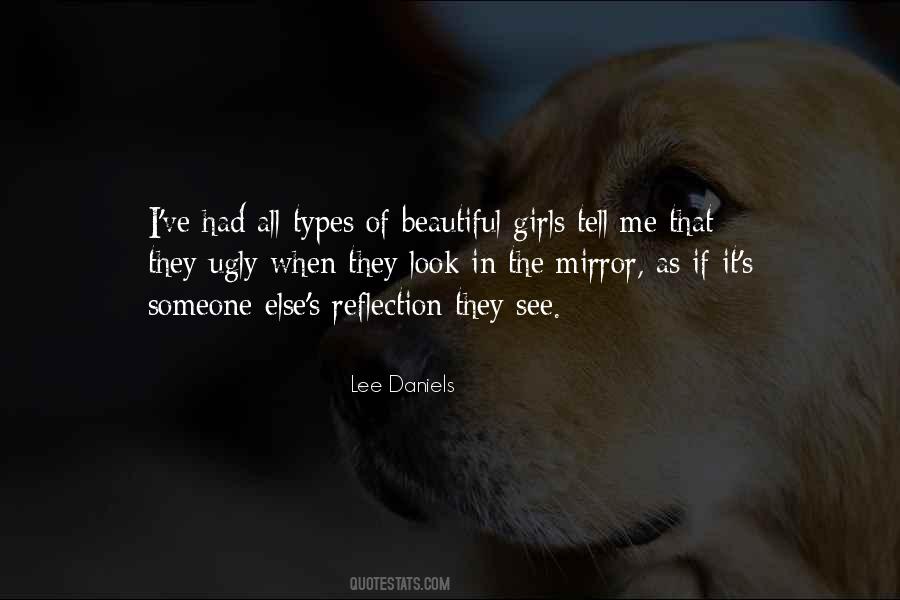 #2. Look at mirror! What do you see in you? Do you see someone who can't amount anything in life or do you see a unique human being that was born to dream and conquer the world. - Author: Euginia Herlihy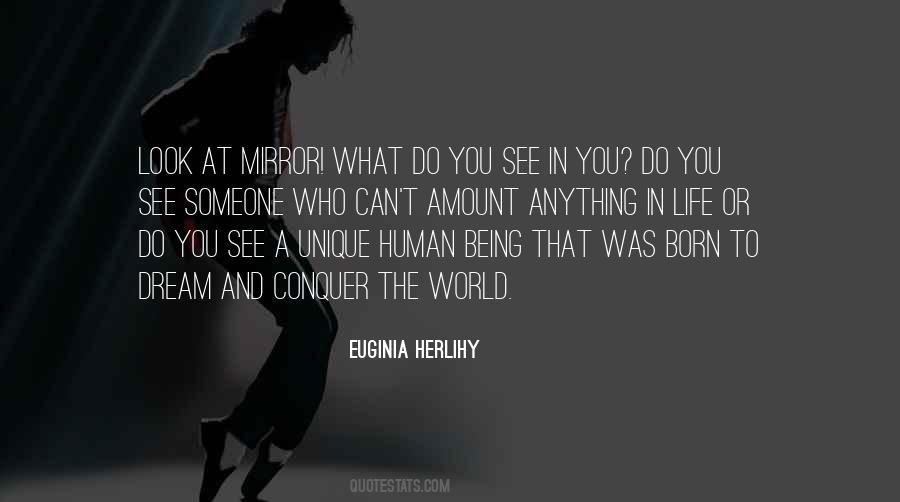 #3. His invitation lingers. So does my question. Why me? I don't know the answer. When I look at myself in the mirror, all I see is a starving, stunted bird who never grew wings and lost all reason to sing. - Author: Julie Anne Peters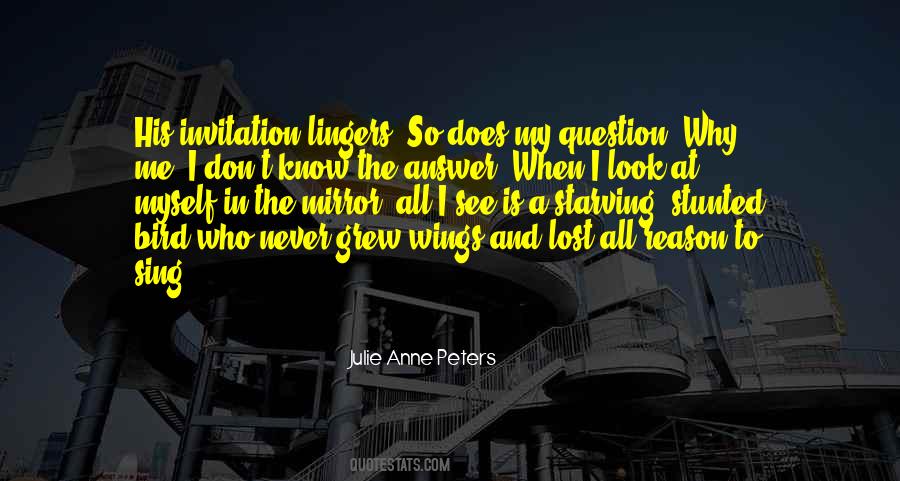 #4. But Clara's father believed that nations never see themselves clearly in the mirror, much less when war preys on their minds. He had a good understanding of history and knew that the future could be read much more clearly in the streets, factories, and barracks than in the morning press. - Author: Carlos Ruiz Zafon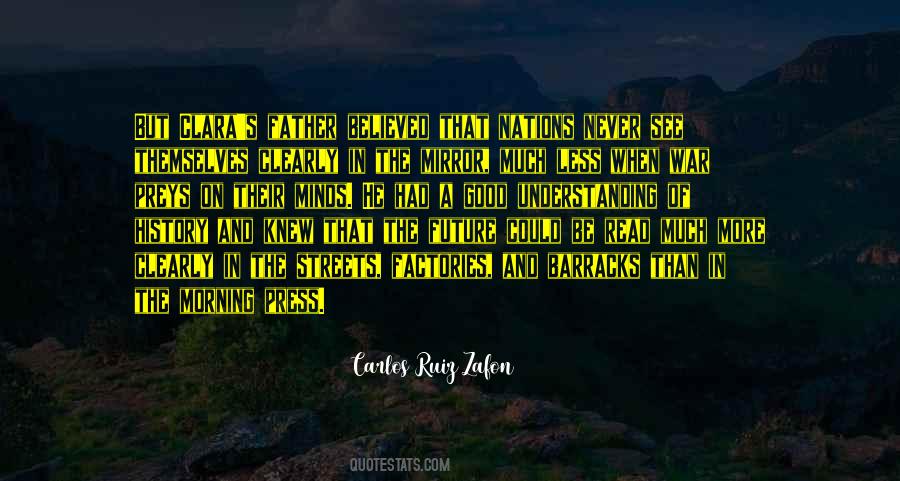 #5. Let me see if I have this quite correct", said Tessa after a pause. "Jessamine found youth the invitation in your hand, so you struck her over the head with a mirror and tied her to her bed?"
Sophie nodded.
"Good Lord, - Author: Cassandra Clare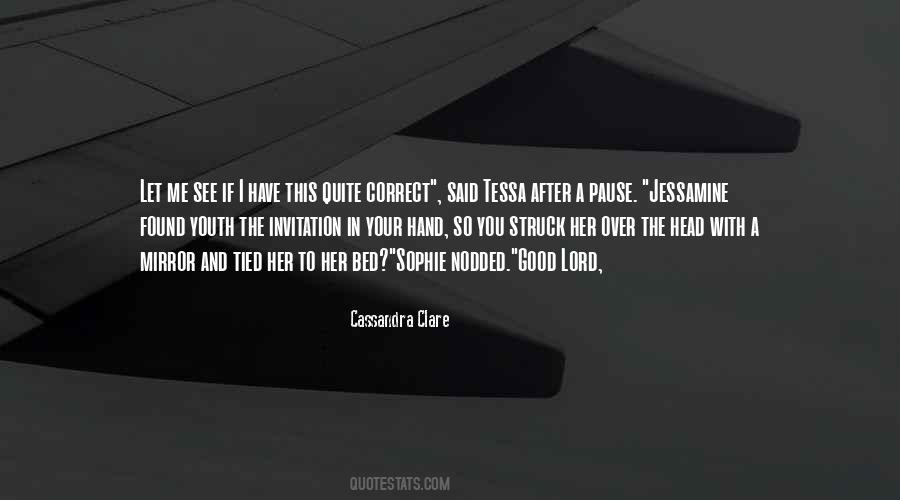 #6. We see in part, and thus is the mirror of prophecy darkened." There are other worlds, gunslinger, and other demons. These waters are deep. Watch for the doorways. Watch for the roses and the unfound doorways. - Author: Stephen King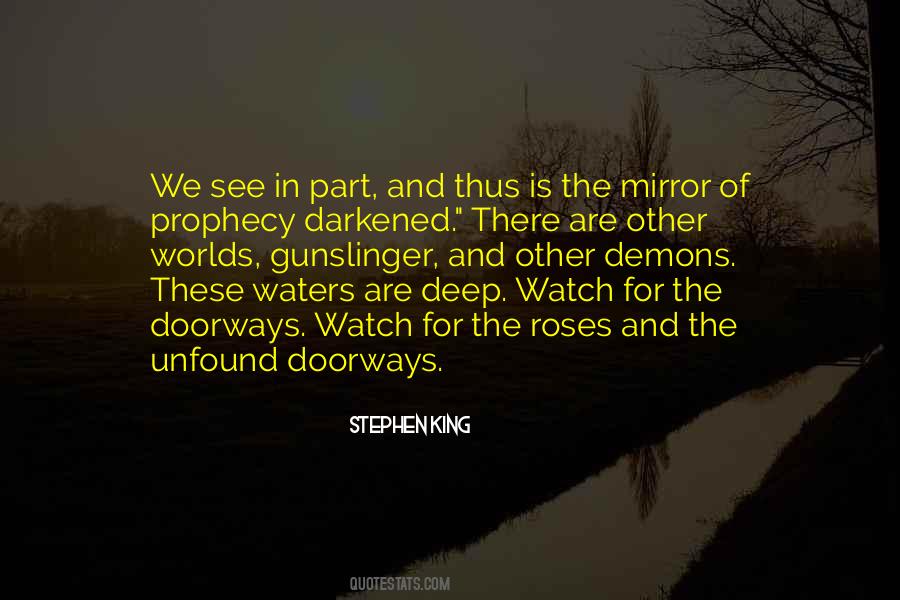 #7. I see my face in the mirror and go, 'I'm a Halloween costume? That's what they think of me?' - Author: Drew Carey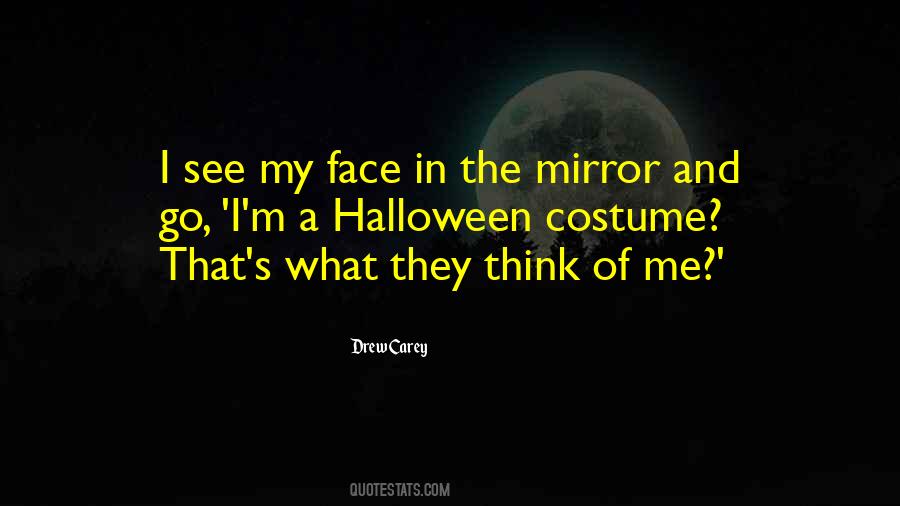 #8. My purpose is to create a mirror for the reader to see themselves, to create a light for people to see themselves in the characters, pictures, and stories. So they resonate. - Author: Kadir Nelson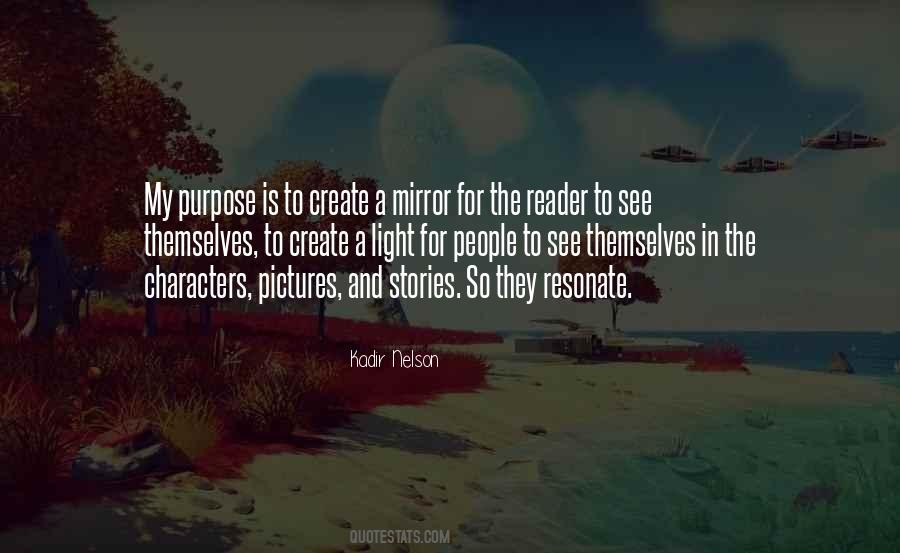 #9. Anything in the entertainment business, there's sharks coming around. It's about staying true to yourself and making sure that, when you look in the mirror, you're happy with what you see. - Author: O'Shea Jackson Jr.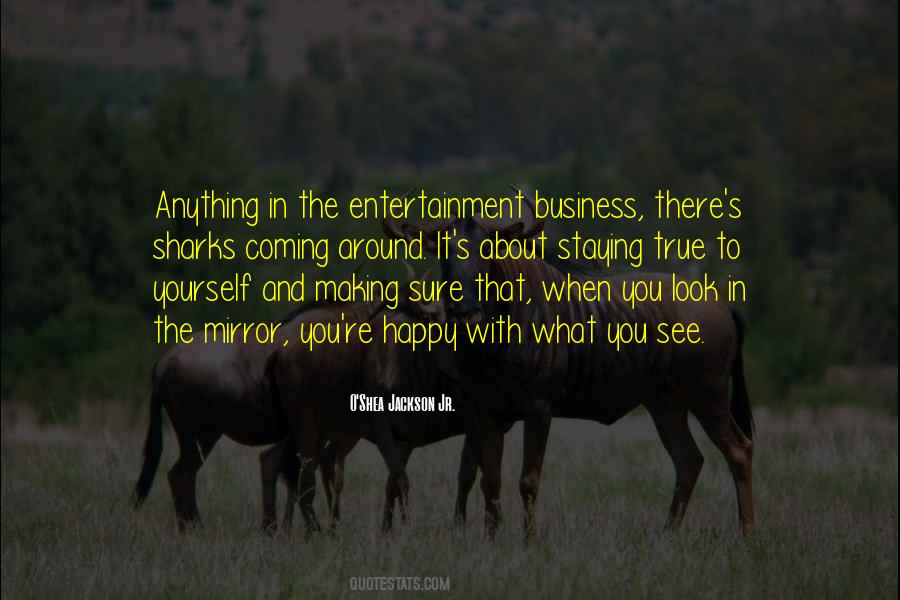 #10. Take your focus off how others see you. Cease being obsessed with the need to impress your friends and your foes. Keep your concern on the vision you see in the mirror. Don't allow the approval of others to obstruct your view of you. - Author: Tavis Smiley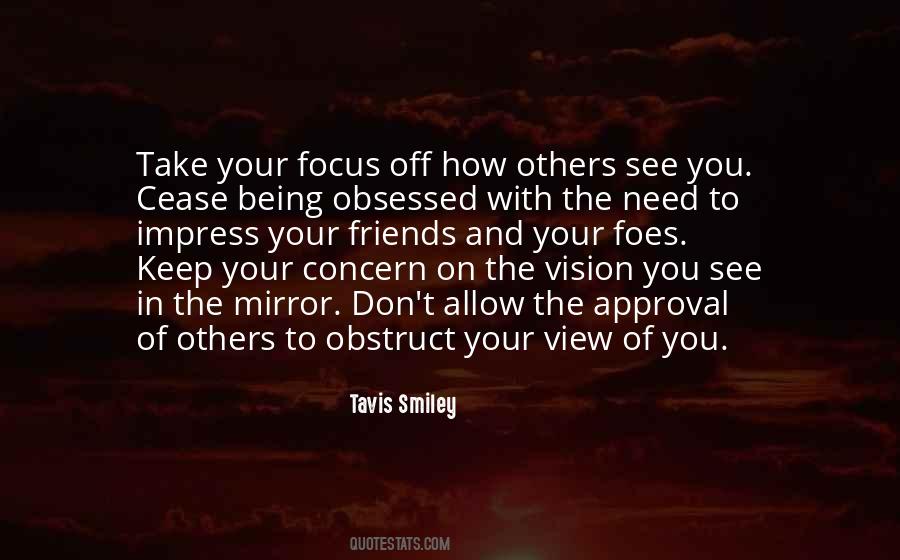 #11. Learn to see that it is not things that bother us, that we go out to bother them. See the world as a mirror. It is all a reflection of the mind. When you know this, you can grow in every moment, and every experience reveals truth and brings understanding. - Author: Ajahn Chah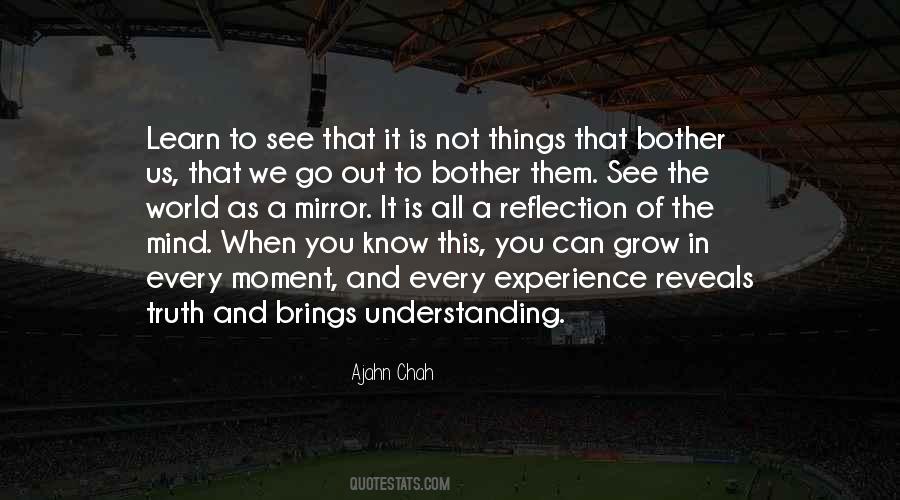 #12. In the mirror you see the reflection of your face. In the world you see the reflection of your thoughts. - Author: Debasish Mridha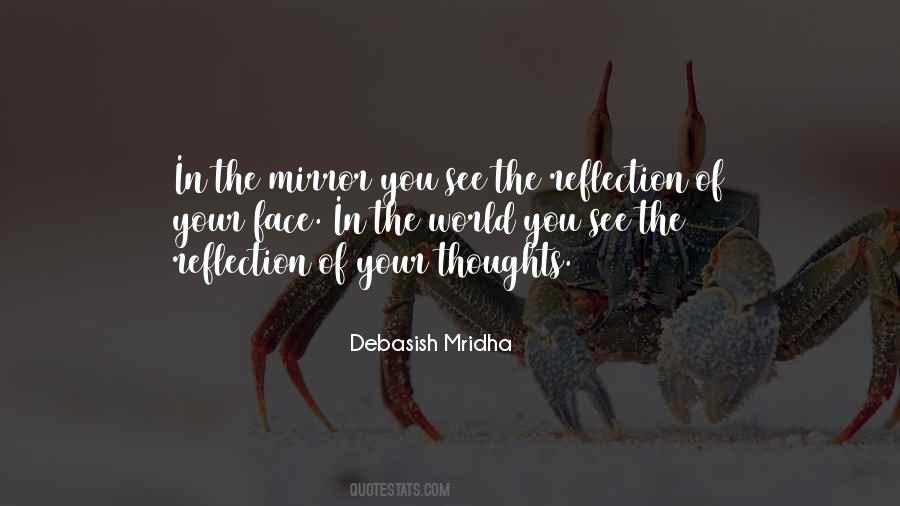 #13. Telling a woman that you will be unable to climax unless you are looking at her in a mirror is, in my experience, an excellent way to ensure the only place you will ever see her again is in depressing memories. - Author: Stephen Moles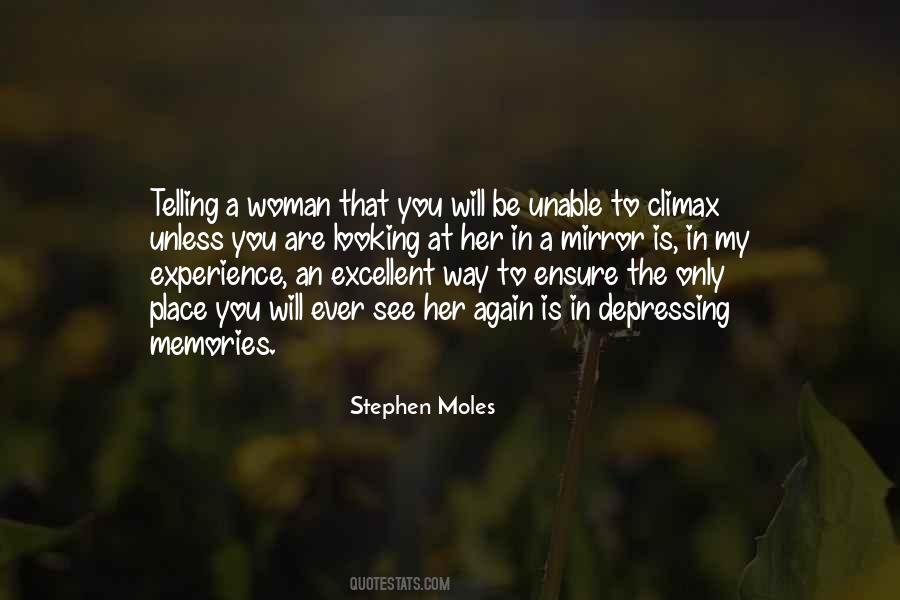 #14. Courage is the vision that lets us see ourselves in the mirror of our fears. - Author: Debasish Mridha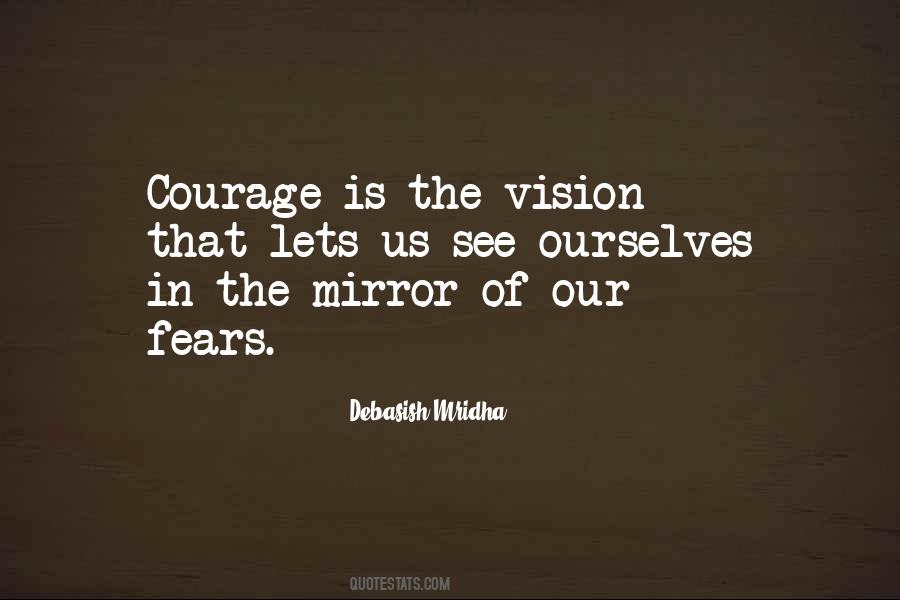 #15. One day, you look in the mirror, & see gray hair. One day, you realize there is less of your life left than what you've already lived. And you think, "how did this happen so fast"? - Author: Jodi Picoult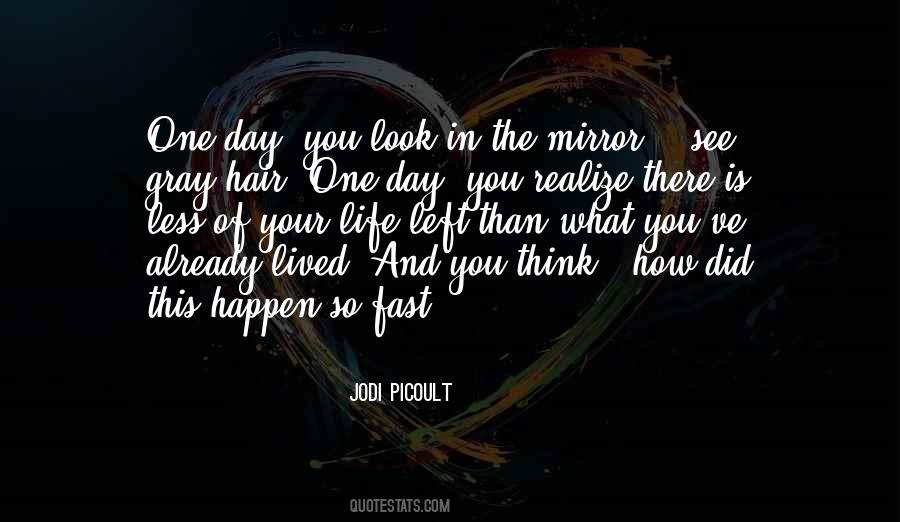 #16. Your decision to open the Bible every day to look into the mirror and see truth from God makes you a light in a world filled with much darkness. - Catherine Martin - Author: Diane Stortz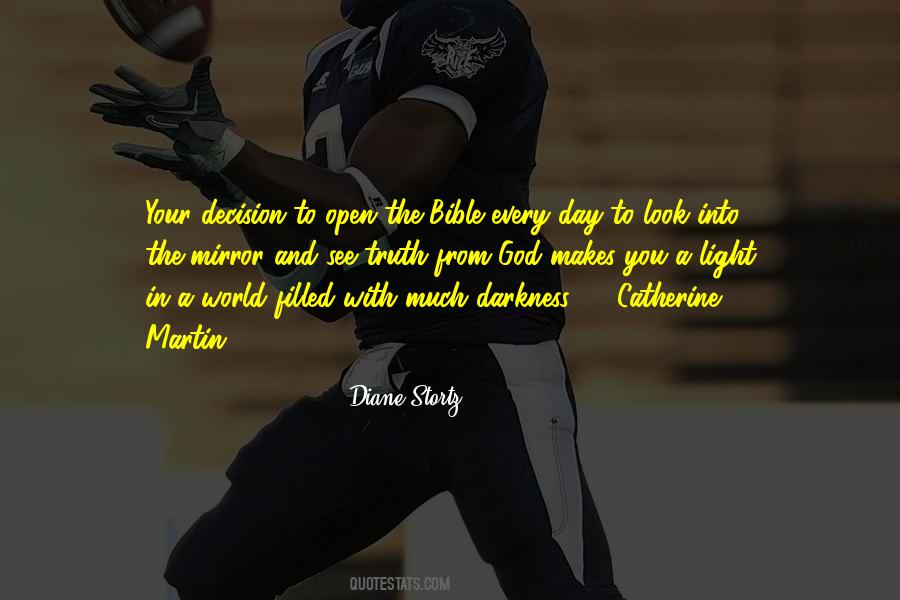 #17. Sometimes you can only understand why things happen when you see them in the rearview mirror. - Author: Ron Hall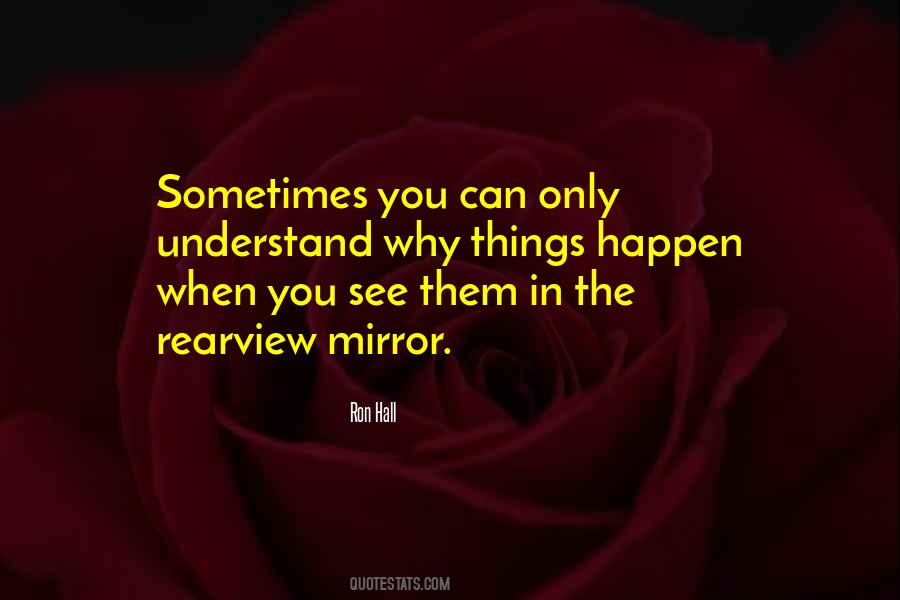 #18. Other people teach us who we are. Their attitudes to us are the mirror in which we learn to see ourselves, but the mirror is distorted. We are, perhaps, rather dimly aware of the immense power of our social enviornment. - Author: Alan W. Watts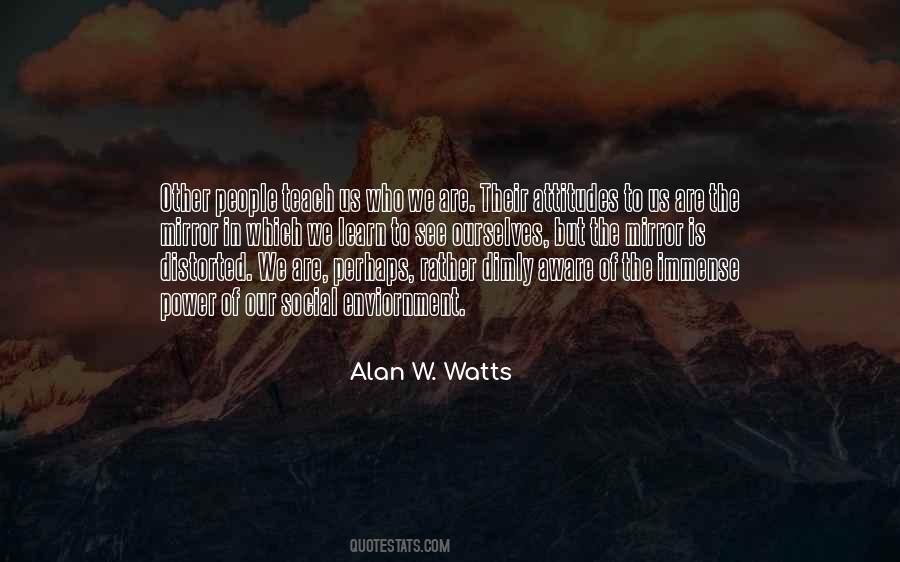 #19. This morning look at yourself in the mirror and tell yourself you're going to have a great and positive day, you will see the difference. - Author: Christopher J. Gambino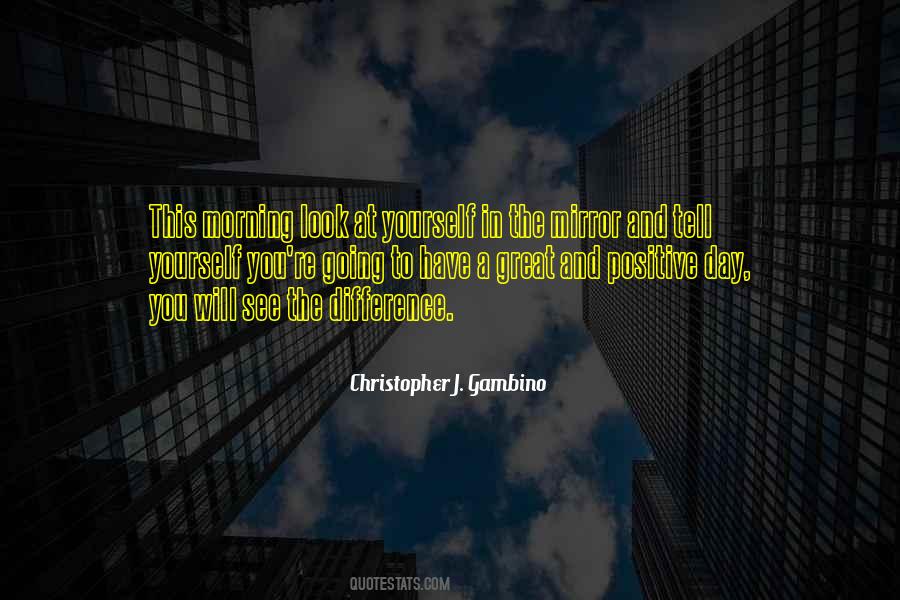 #20. I mean one of the things about being alone is that you've no people to define yourself off, I mean, people are like all-round mirrors, because let's face it, we don't often see ourselves all round in a mirror anyway, do we. - Author: Diana Wynne Jones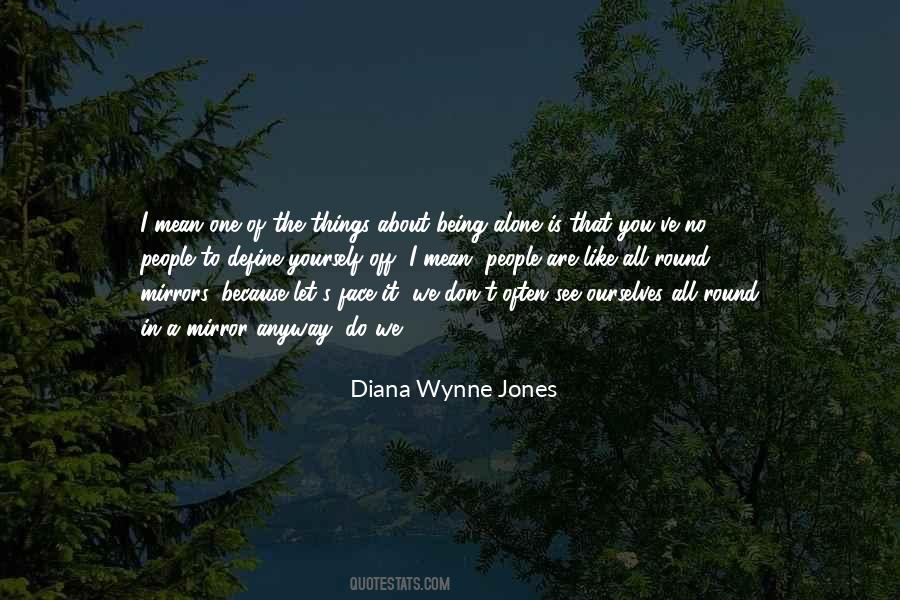 #21. I am really proud of the development of the people on my team as they grow in purpose; they like what they see in the mirror. - Author: Les Wexner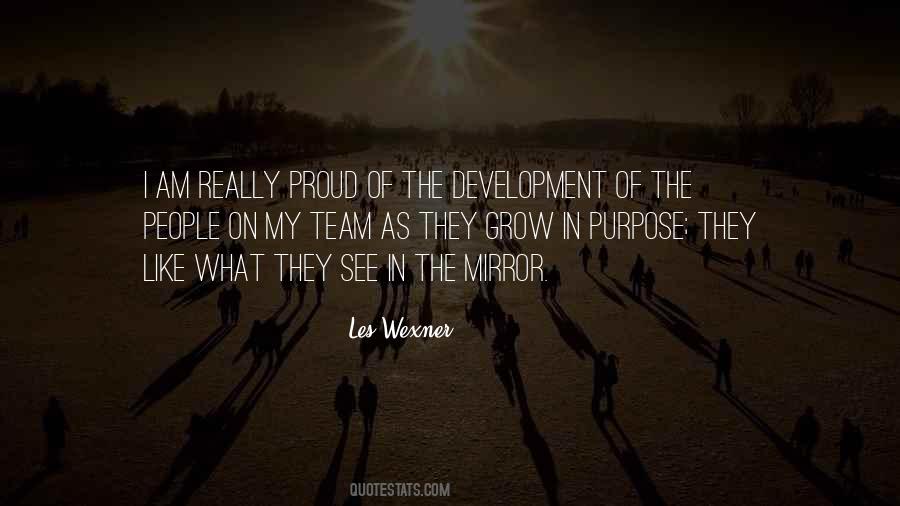 #22. You look in the mirror everyday and you see the same thing. As an entertainer, you wanna see something new. - Author: Andre Benjamin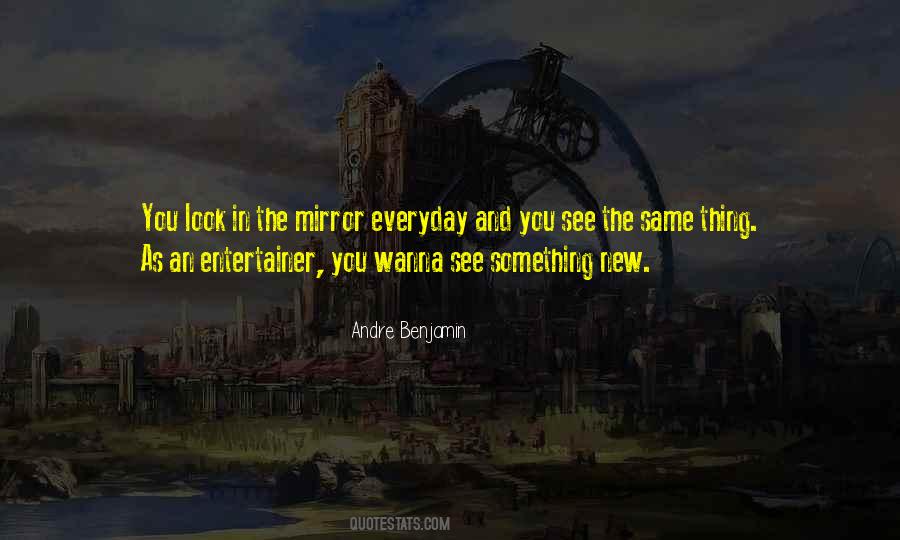 #23. To look into the mirror is to see the future, in blood and rubies. - Author: Gregory Maguire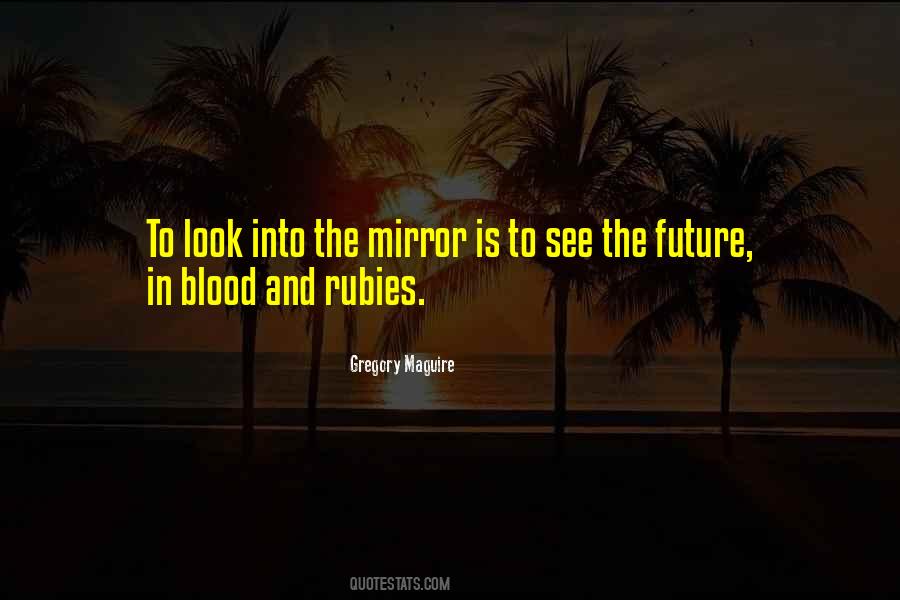 #24. Seems like the only one who doesn't see your beauty is the face in the mirror looking back at you. - Author: Taylor Swift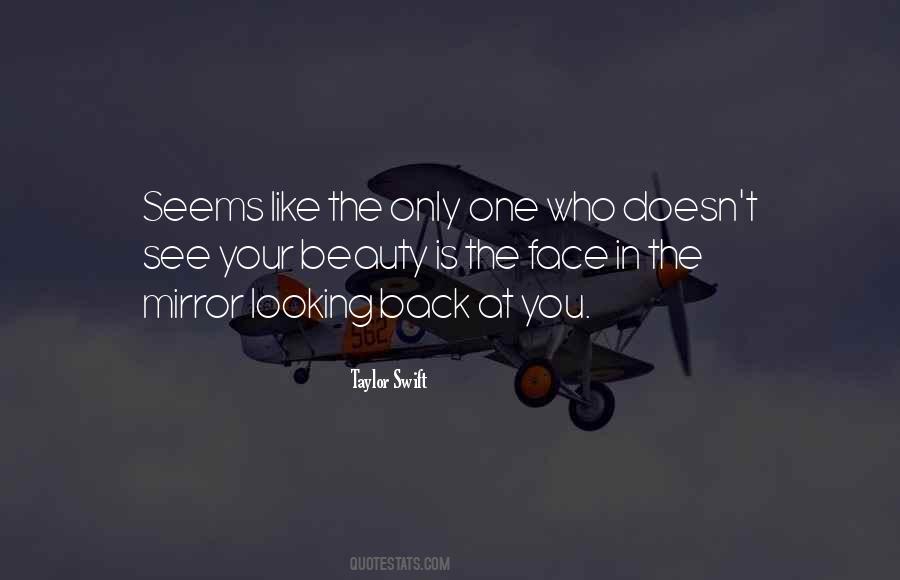 #25. I want to confess as best I can, but my heart is void. The void is a mirror. I see my face and feel loathing and horror. My indifference to man has shut me out. I live now in a world of ghosts, a prisoner in my dreams. - Author: Ingmar Bergman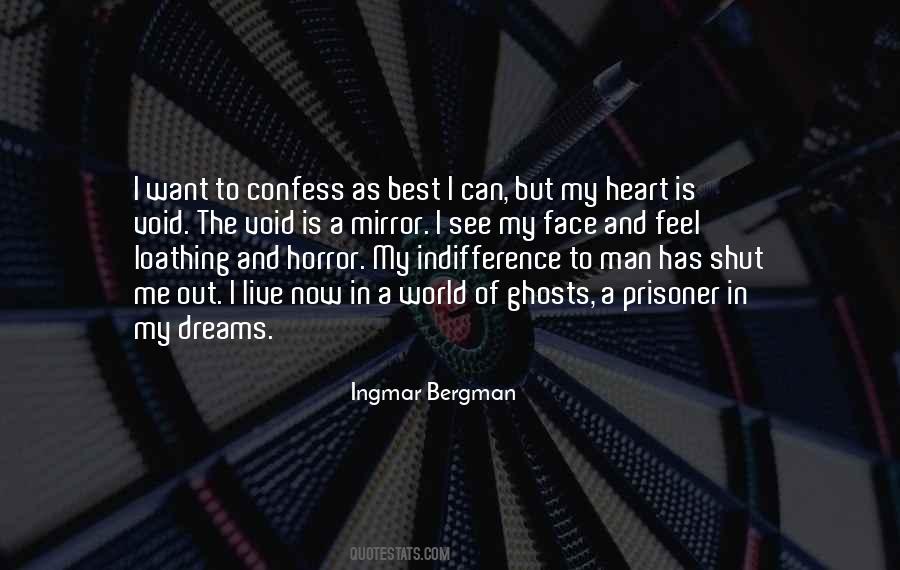 #26. Even a broken mirror isn't broken if it allows you to see who you really are - cracked down the middle in your duality. - Author: Jarod Kintz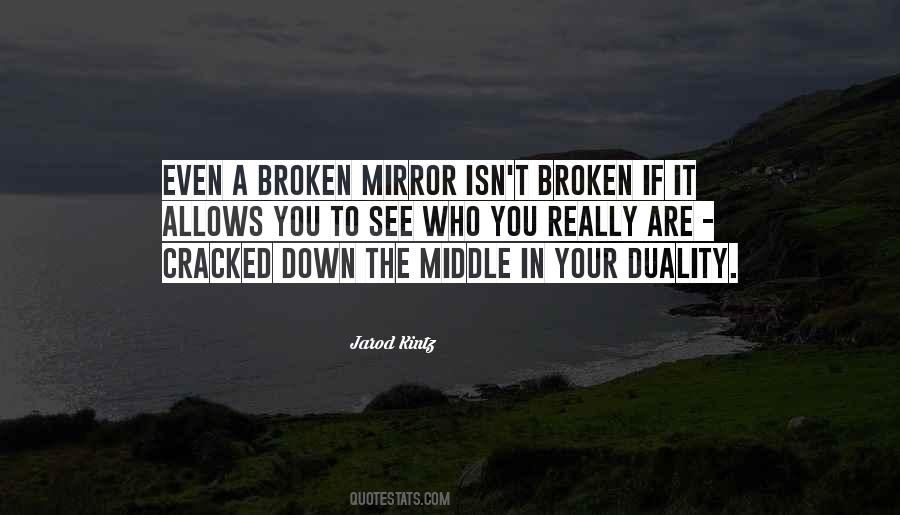 #27. Honestly, I am always shocked when I see myself in the mirror because I feel exactly the same as I did when I was 18 getting off the plane to go to Juilliard in New York. - Author: Elizabeth McGovern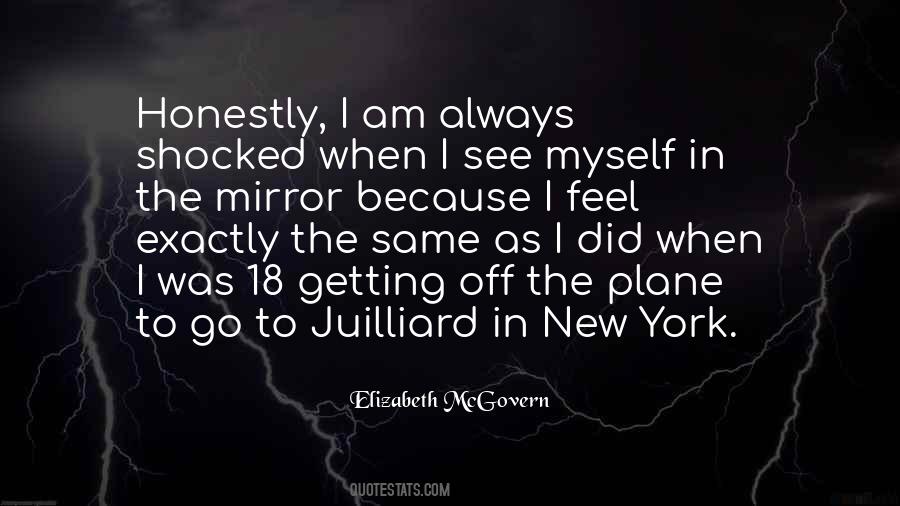 #28. I have been affected by gossip and I know people who have been, too. I've seen marriages destroyed by gossip. It is cruel. At the end of the day, all that matters is: Do you love what you see when you look in the mirror? That is it, baby. - Author: Jada Pinkett Smith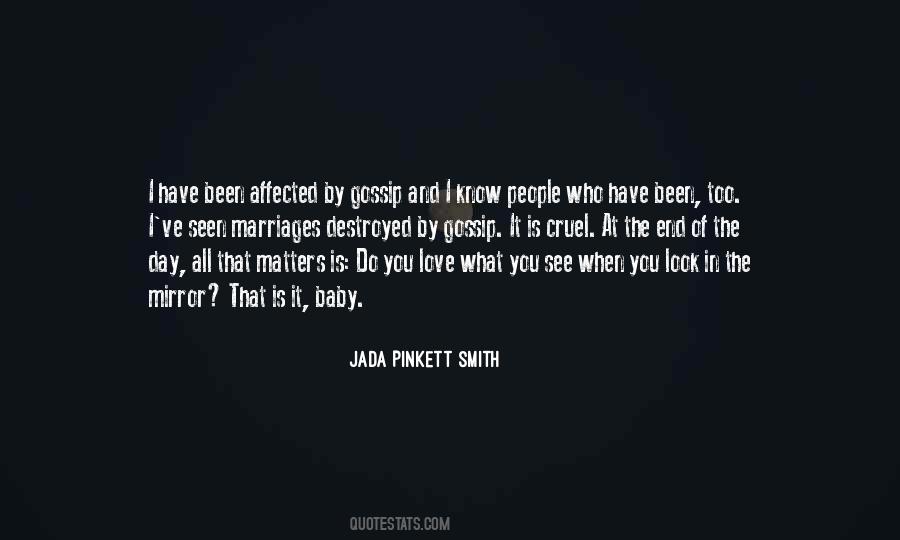 #29. If you don't want to see the biggest fool in your life; break your bedroom mirror. - Author: Sharon Osbourne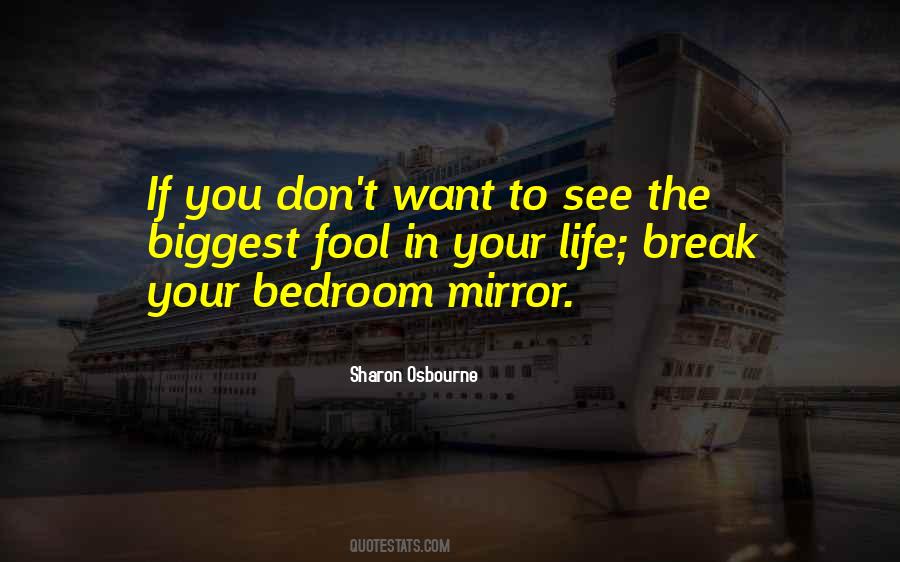 #30. Fear is a beautiful mirror reflecting the reality of great things with false illussions. After all, images in the mirror ain't real at all, they're just virtual. So, keep ballin' without checkin mirrors coz u may see an image that proves it's hard
ya, u never know it's hard till u've done it!!! - Author: Mphezulu Xetho Dainamyk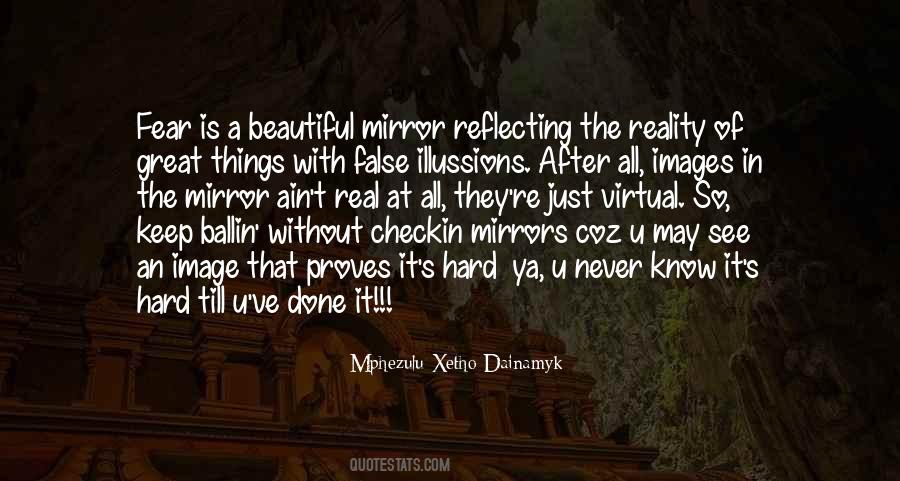 #31. I judge when I need a top-up of Botox by looking in the mirror to see if I can move more than half my forehead. - Author: Trinny Woodall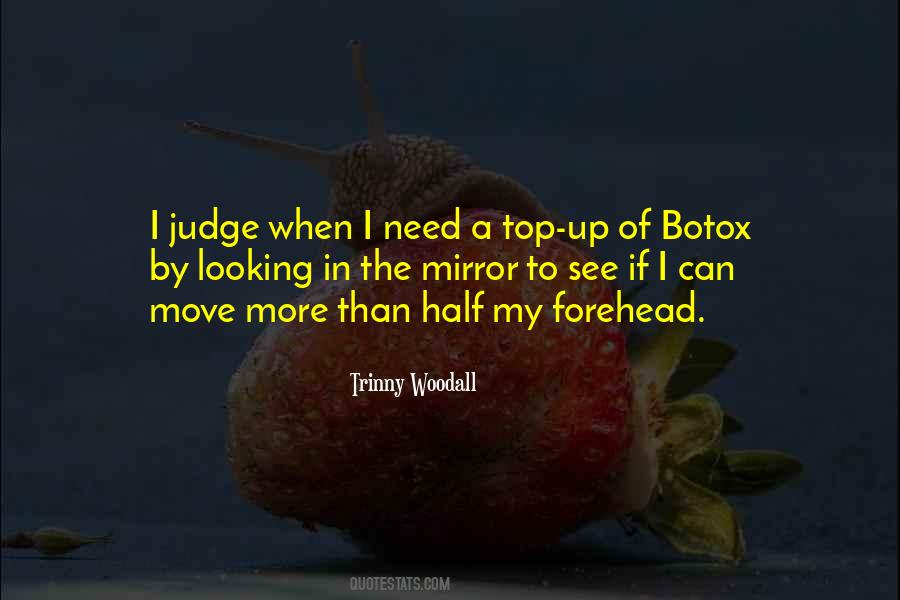 #32. Really?"
"Yeah. I see that asshole every day when I look in the mirror. I don't need a picture of him."
"Thank you," she said enthusiastically. - Author: J.M. Darhower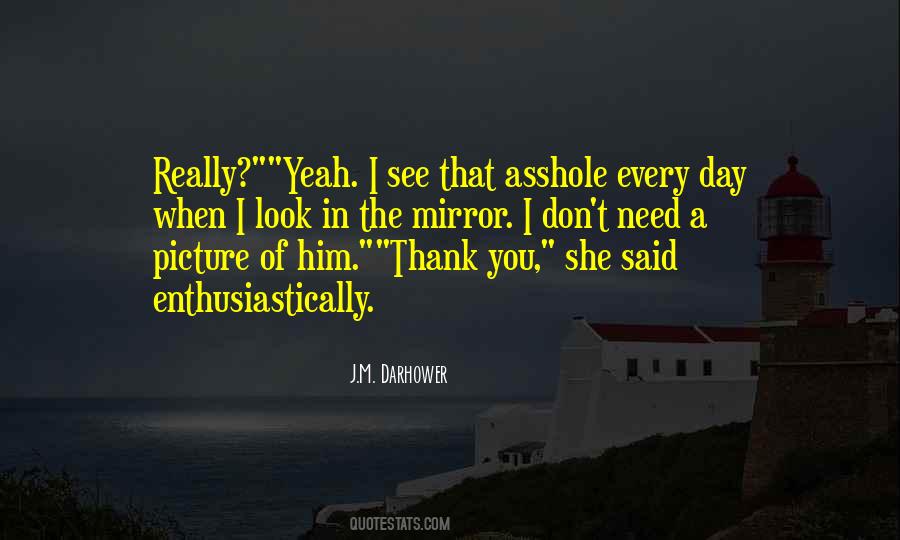 #33. You imagine the carefully pruned, shaped thing that is presented to you is truth. That is just what it isn't. The truth is improbable, the truth is fantastic; it's in what you think is a distorting mirror that you see the truth. - Author: Jean Rhys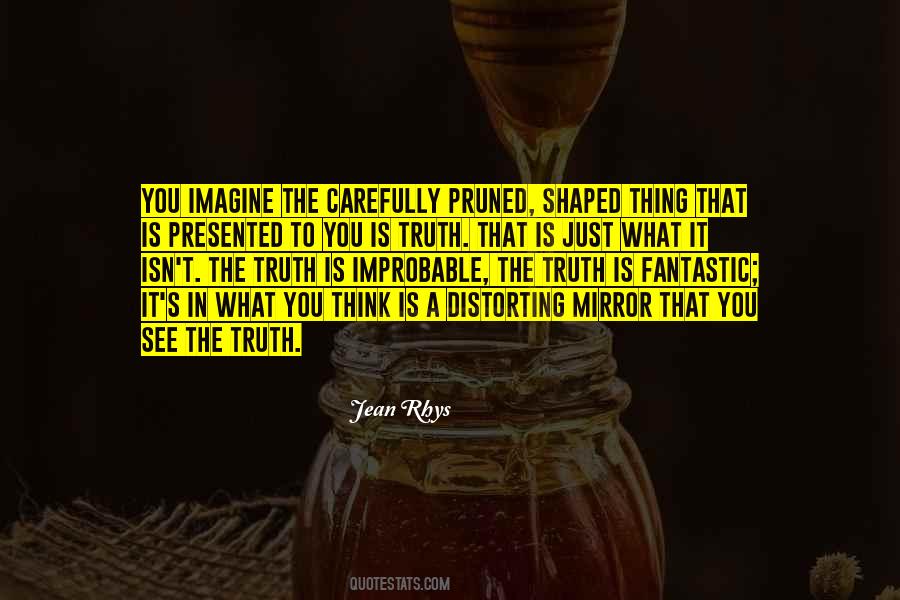 #34. I had a dream about you. You were on a bike going 70 miles an hour, I could see you approaching my car in the mirror. You were trying to say something so, I jumped on the brakes as hard as I could, I guess I forgot I had tied your bike on my bumper. - Author: Georgia Saratsioti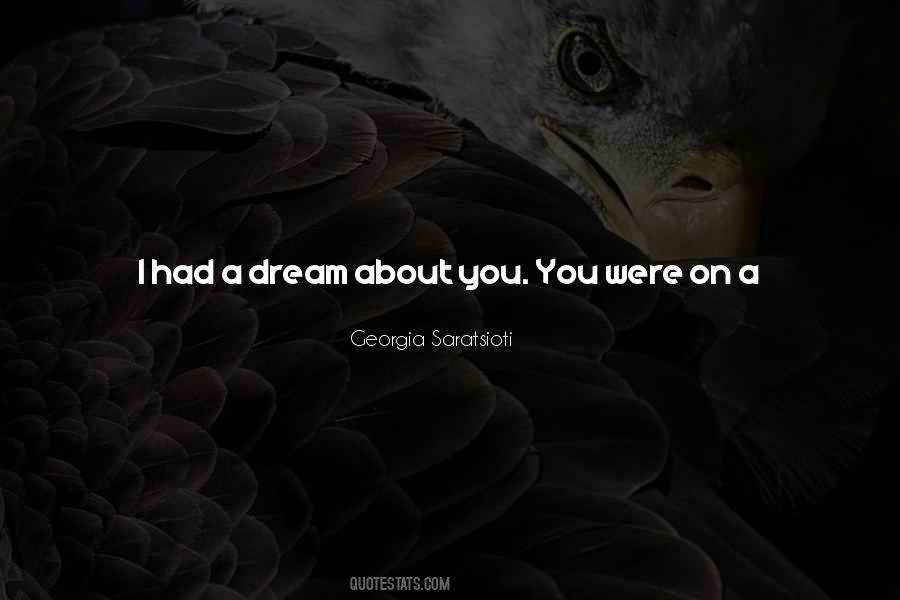 #35. One day you look in the mirror and you see your parents' sadness in your eyes. - Author: Hannah Lillith Assadi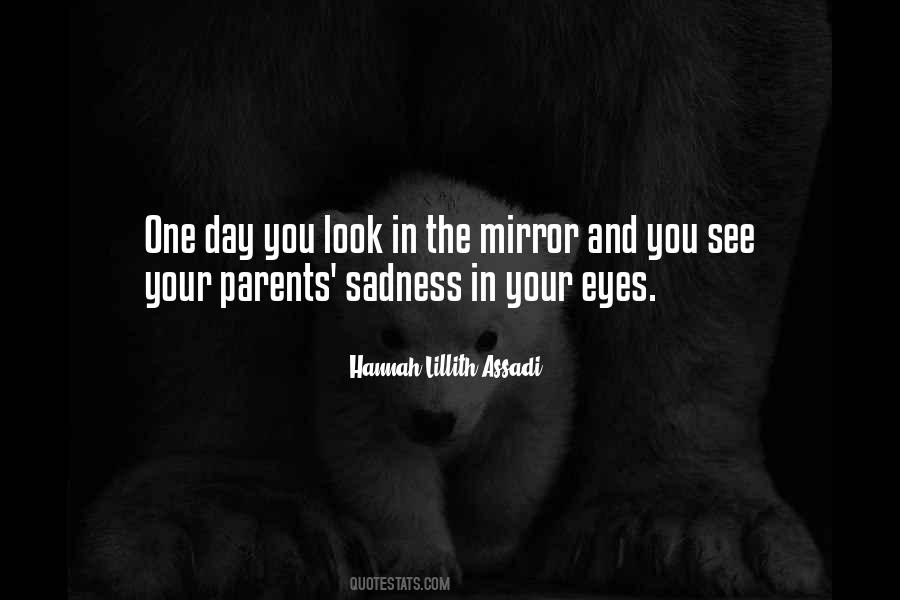 #36. Look in the mirror and one thing is sure: what we see is not who we are. - Author: Richard Bach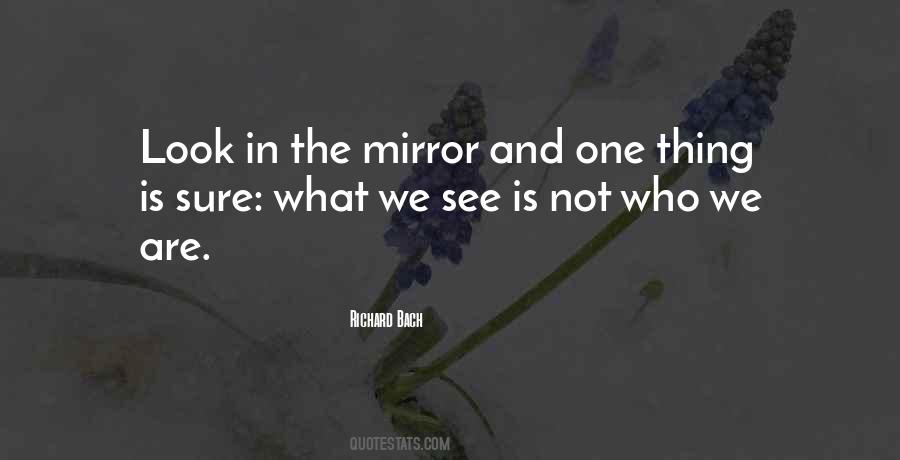 #37. Relationship is the mirror in which we see ourselves as we are. All life is a movement in relationship. There is no living thing on earth which is not related to something or other. - Author: Jiddu Krishnamurti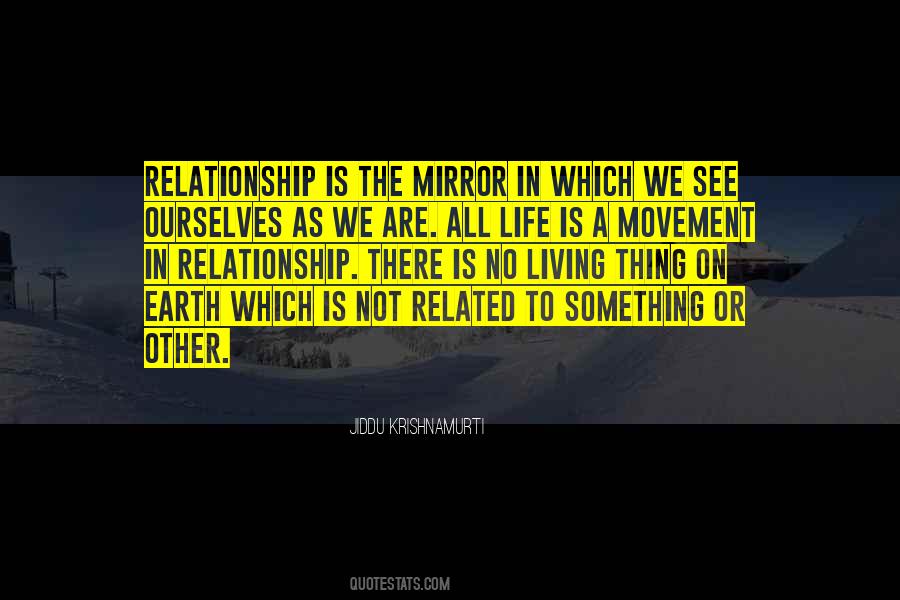 #38. To see yourself do not look in the mirror,but look to the eyes of the people - Author: Mohammed Sekouty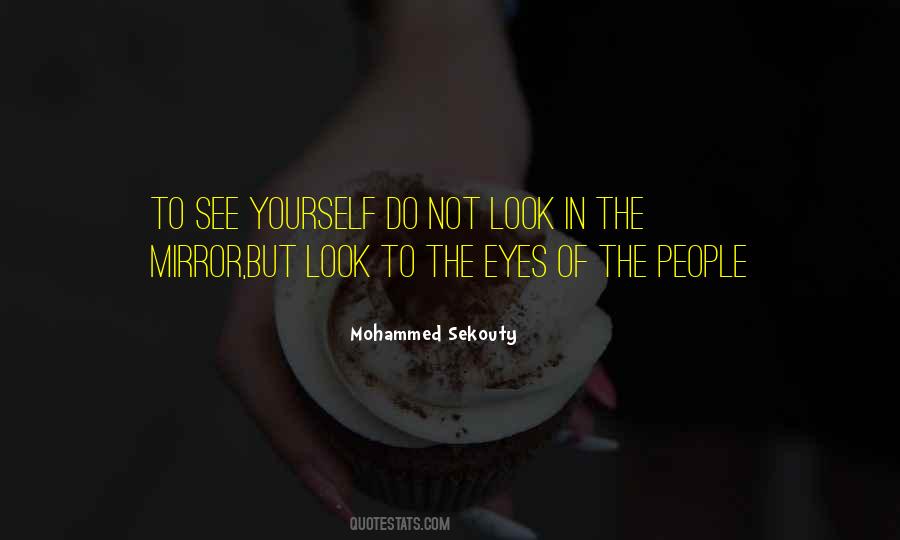 #39. My face hasn't matured as I've grown up, and neither has my sense of humour. In the mirror, I see an older version of myself as a child, although I do have more wrinkles and freckles. - Author: Jasmine Guinness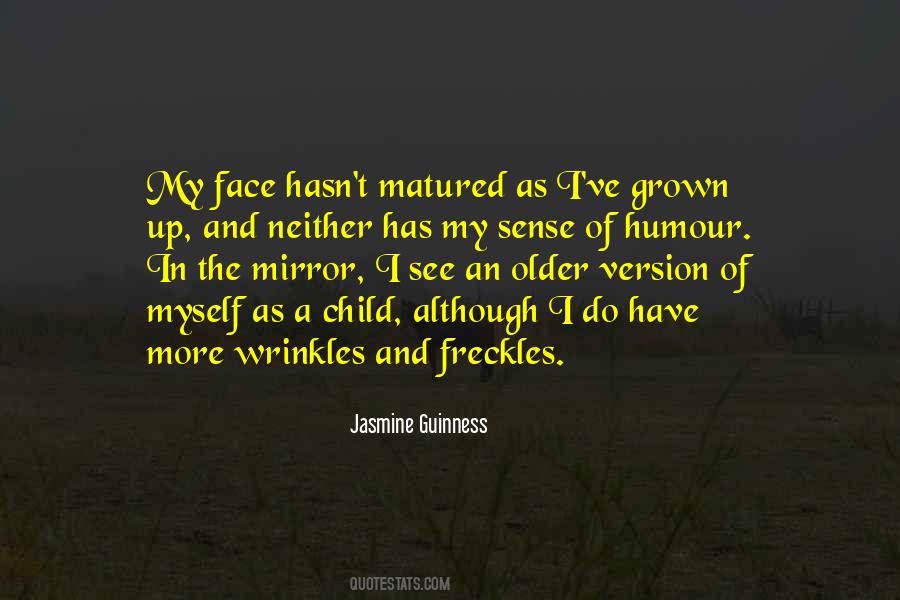 #40. I regard everything with irony, including the face I see in the mirror when I wake up in the morning. - Author: Sam Peckinpah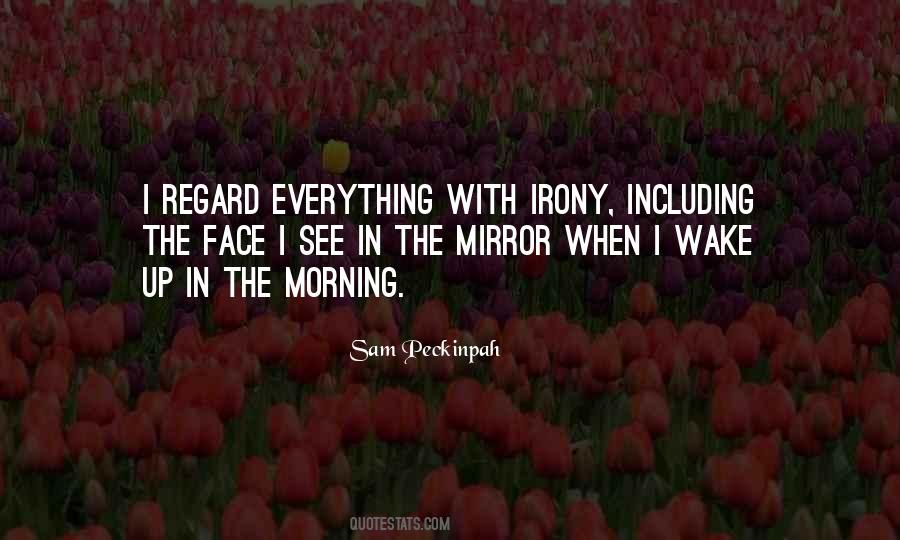 #41. Baby brother, you've got a heart of gold, you always have. I just wish you could remember that and see past the reflection in the mirror. - Author: Ottilie Weber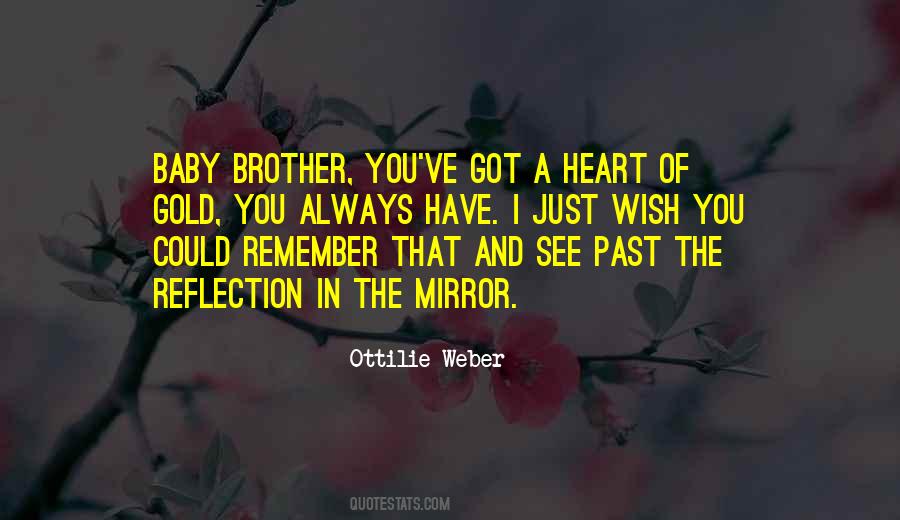 #42. Learning to love my inner and outer beauty wasn't an easy road. I still don't always love the reflection I see in the mirror, but I have learned that my outer appearance does not define me. - Author: Katherine Schwarzenegger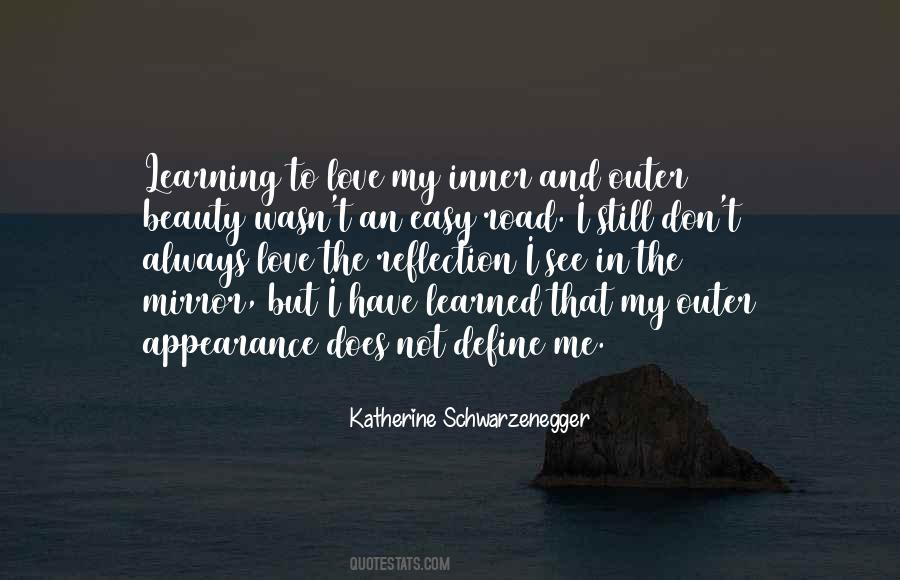 #43. My soul was a lot more battered than my body, but I couldn't see it in the mirror. Hopefully no one else could either. - Author: Patricia Briggs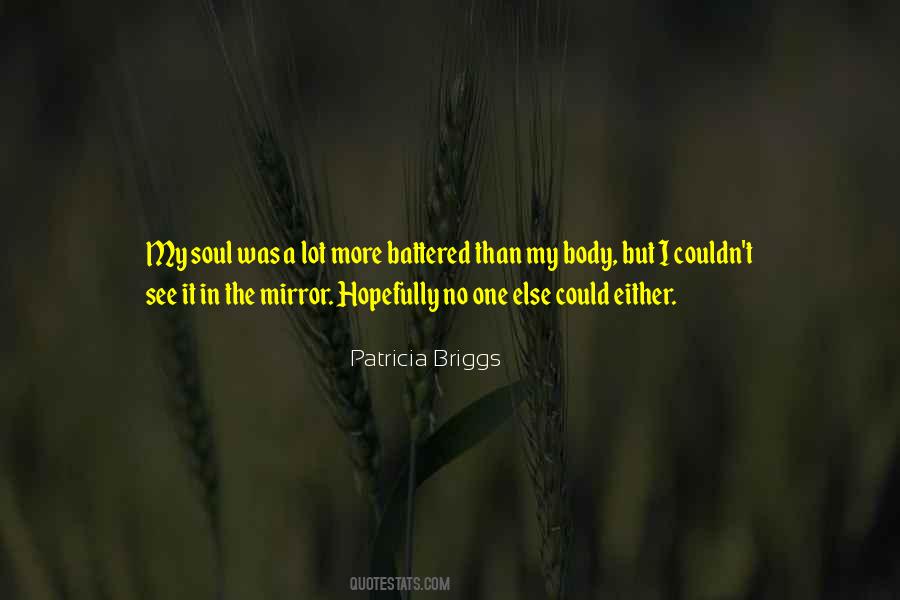 #44. You've looked in the mirror long enough.
See everything as if it were narrated by another. - Author: John-Talmage Mathis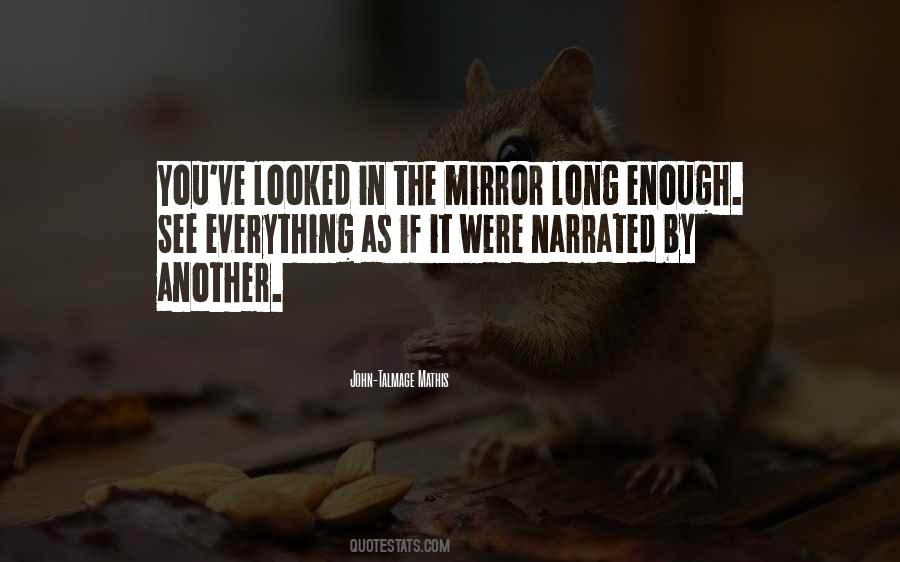 #45. If I were a lame only just for a week. I'd look at myself in the mirror and shoot the first thing I see. - Author: Wiz Khalifa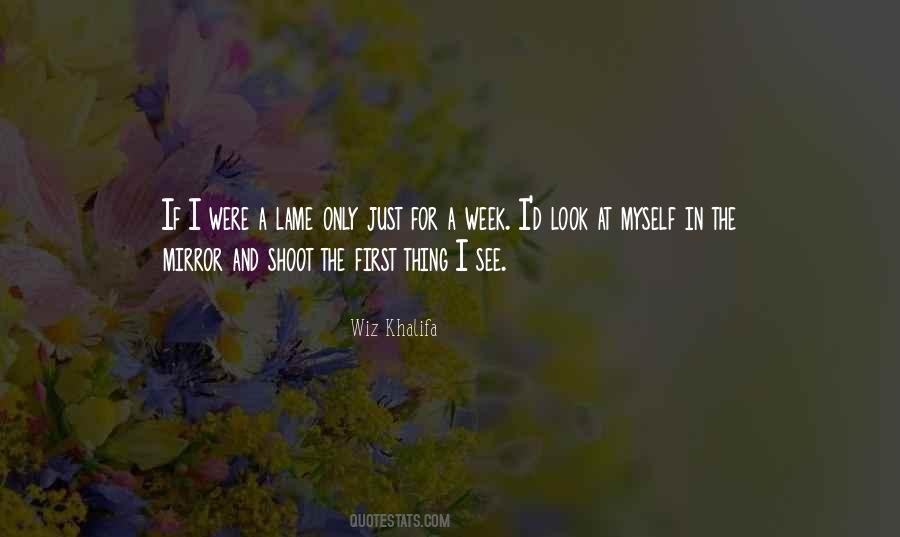 #46. Pope Francis is not only changing the face of the Catholic Church, he's challenging us to be the face of God in the world by seeing the face of God in the person we least expect to see it, including the person in the mirror. - Author: Regina Brett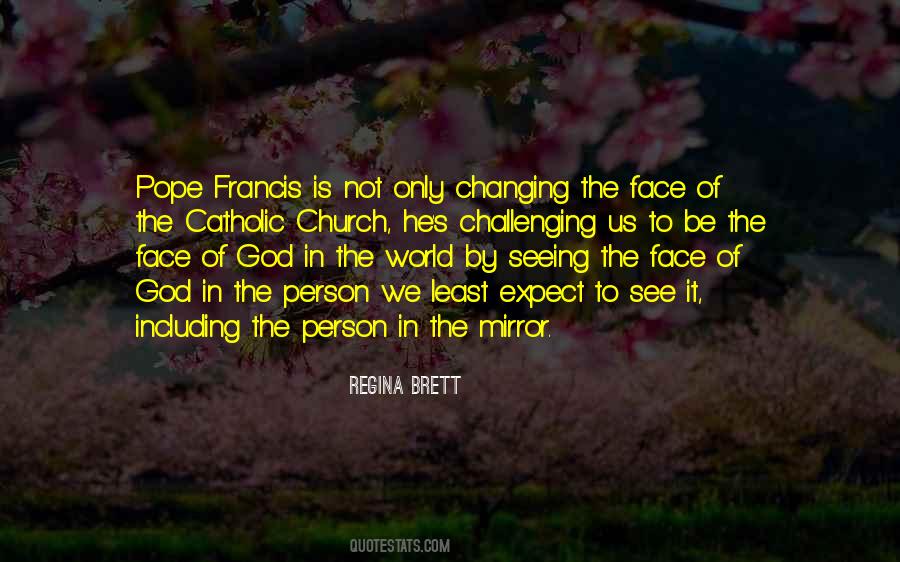 #47. Justice is expensive in America. There are no Free Passes ... You might want to remember this, the next time you get careless and blow off a few Parking Tickets. They will come back to haunt you the next time you see a Cop car in your rear-view mirror. - Author: Hunter S. Thompson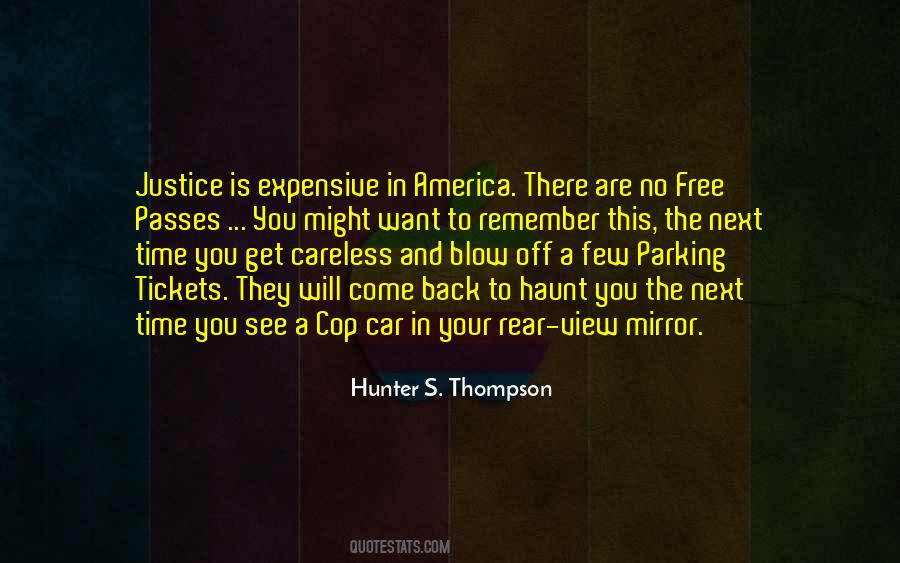 #48. Every time I look in the mirror, I see that kid from Louisville, Kentucky, staring back at me. His name was Cassius Clay. - Author: Muhammad Ali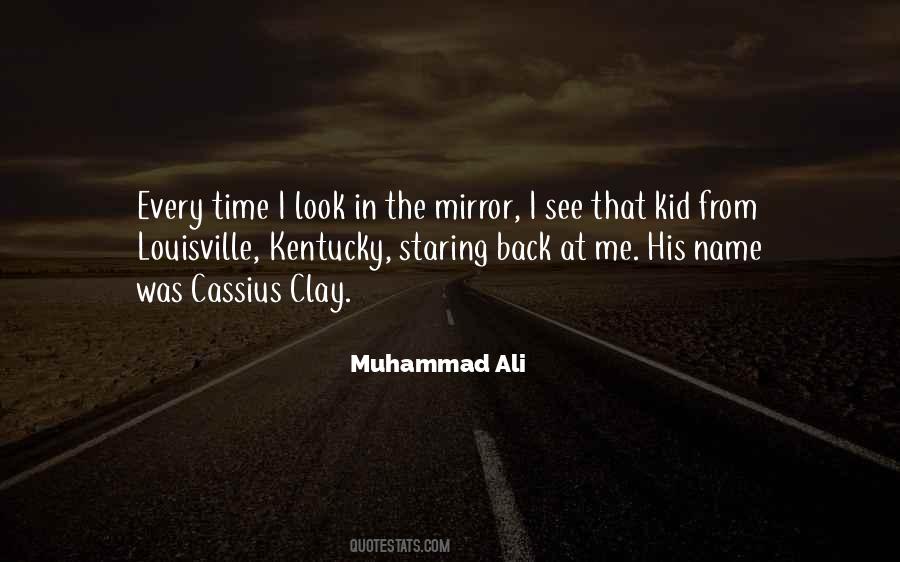 #49. How is he so rich and hot and normal?"
I shake my head, "He's rich and hot, but he's not normal. I see a sickness in his eyes. They're broken like mine. Like a mirror with cracks in it but none of the glass has fallen out of the frame. - Author: Tara Brown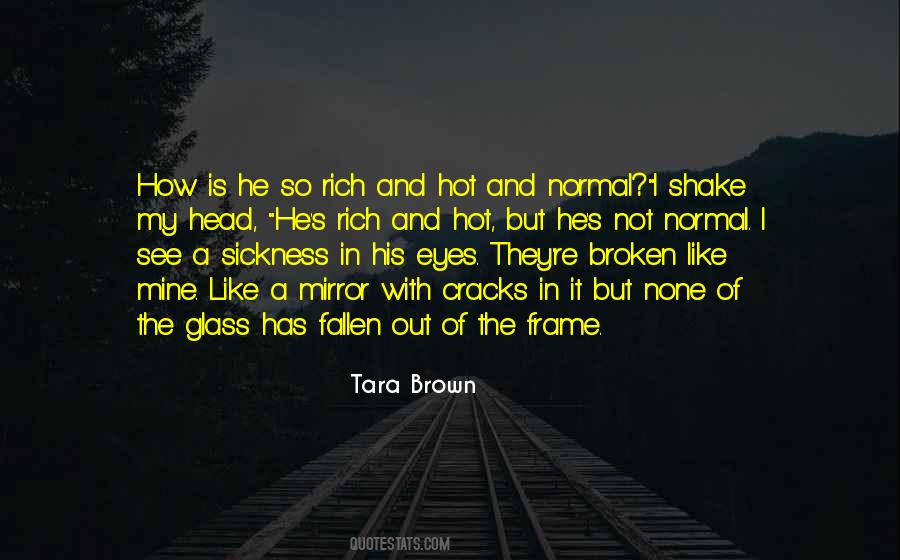 #50. Day after day I look in the mirror and I still see something - Author: Andy Warhol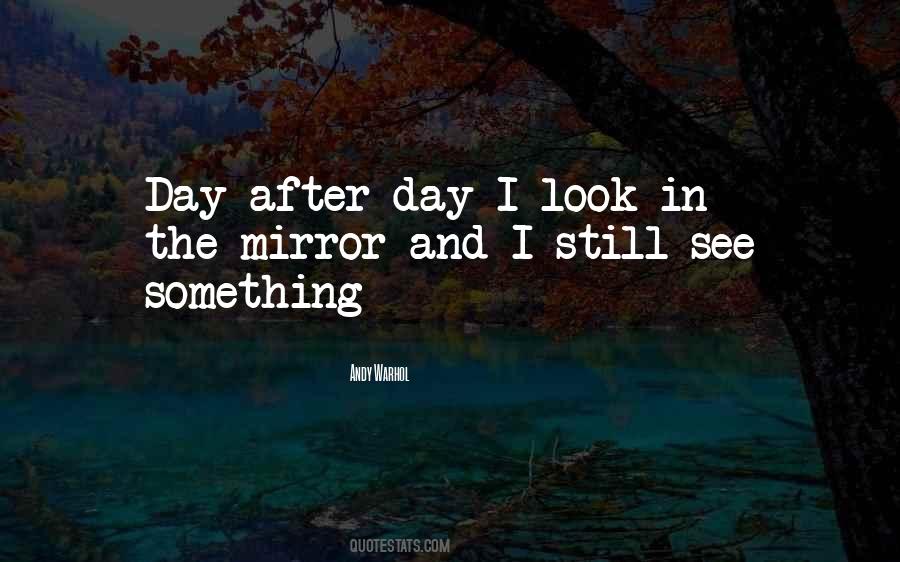 #51. This Narcissus of ours
Can't see his face in the mirror
Because he has become the mirror. - Author: Antonio Machado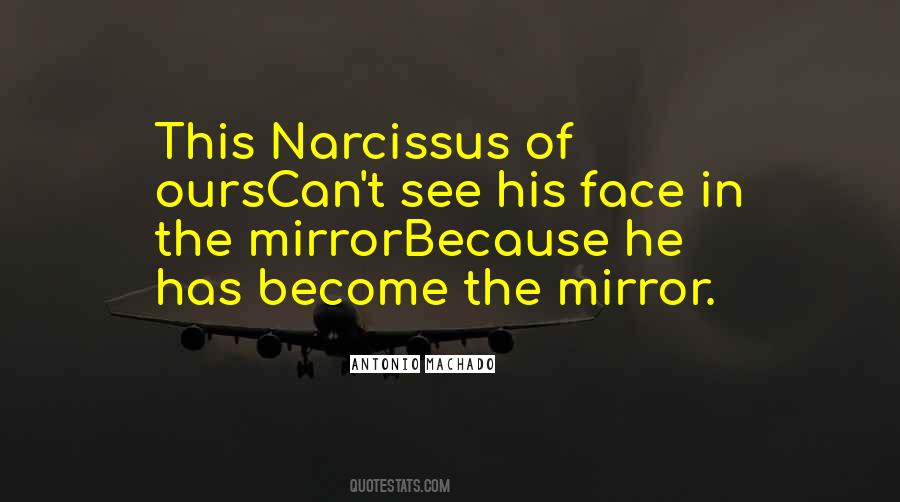 #52. It's always nice to look in the mirror at the end of the day and see that you helped somebody's life ... even if only a little bit. - Author: Tito Ortiz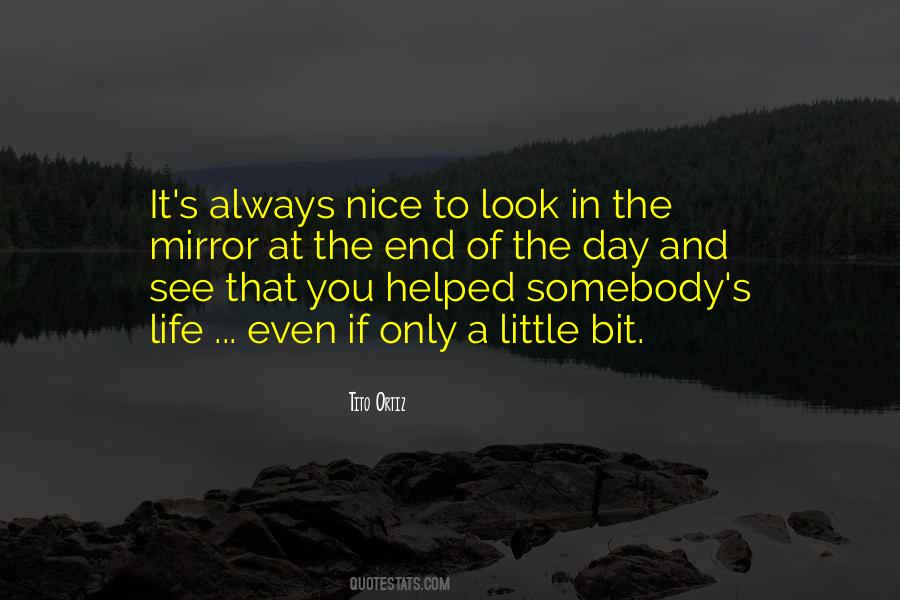 #53. Staring into the mirror, I was surprised to see a haunted look in my brown eyes. There was pain there, pain and loss that even the nicest dress and makeup couldn't hide. - Author: Richelle Mead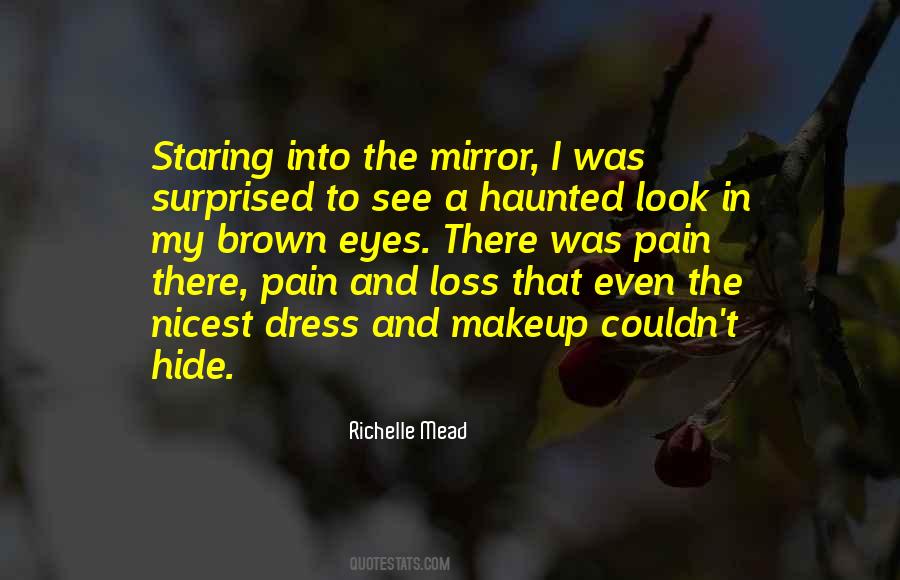 #54. It's very difficult to feel contempt for others when you see yourself in the mirror. - Author: Harold Pinter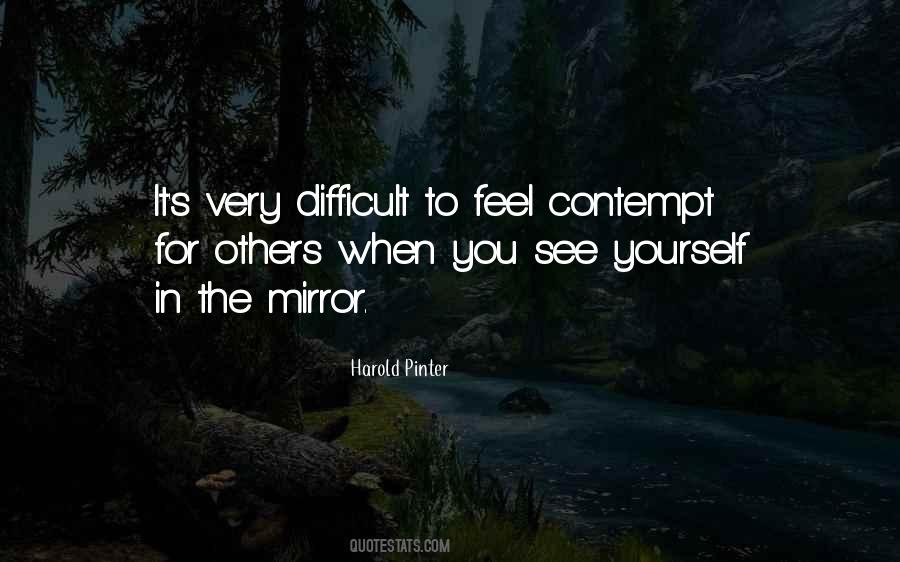 #55. I'm afraid to look in the mirror. I'm afraid I'm going to see an old lady with white hair, just like the old ladies in the park. Alittle bundle in a black shawl just waiting for the coffin. - Author: Paddy Chayefsky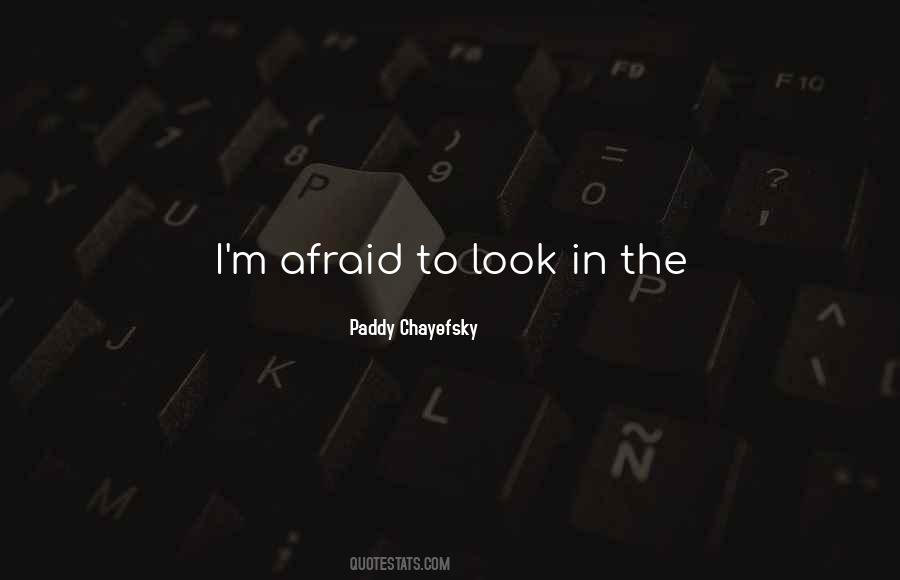 #56. Hekate smacked the mirror down. "I'd never fancy you," she retorted to Hermes. "And if you ever try to kiss me, I'll
I'll keep a snake hidden in my clothes and make it bite you. On the lips. And on both ears."
"See, your threats are still age twelve," Hermes said. "I'll help you work on that. - Author: Molly Ringle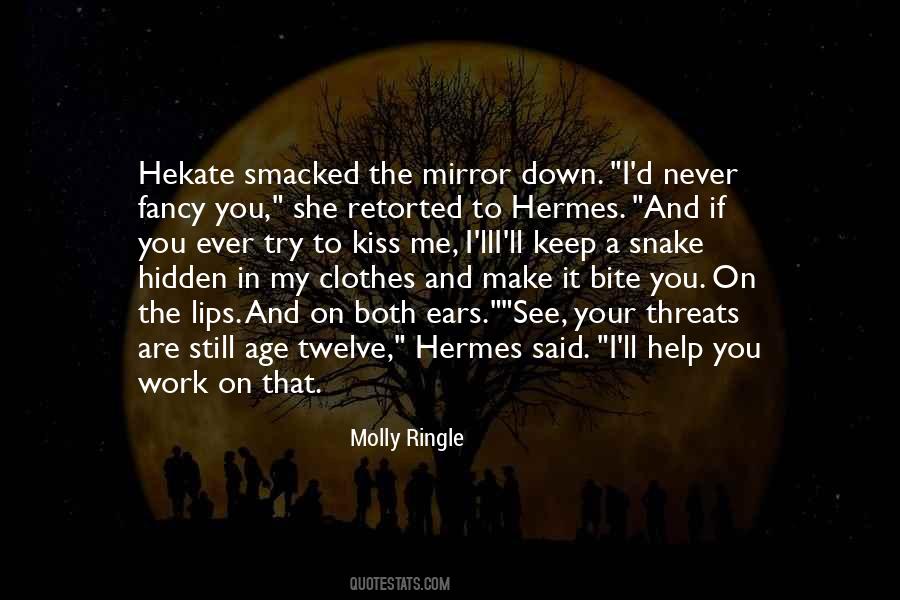 #57. What would it be like to look in the mirror and actually accept what you see? Not loathe the reflection, or despise it, or be resigned to it? But to like it? - Author: Justina Chen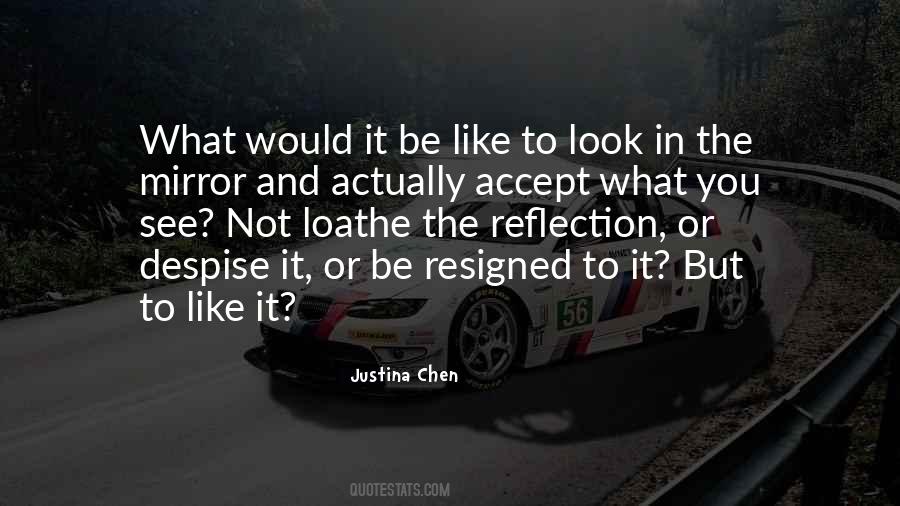 #58. Before we ask where the leaders are, we should look in a mirror and ask the person we see "Why are you not leading"? - Author: Carlos Wallace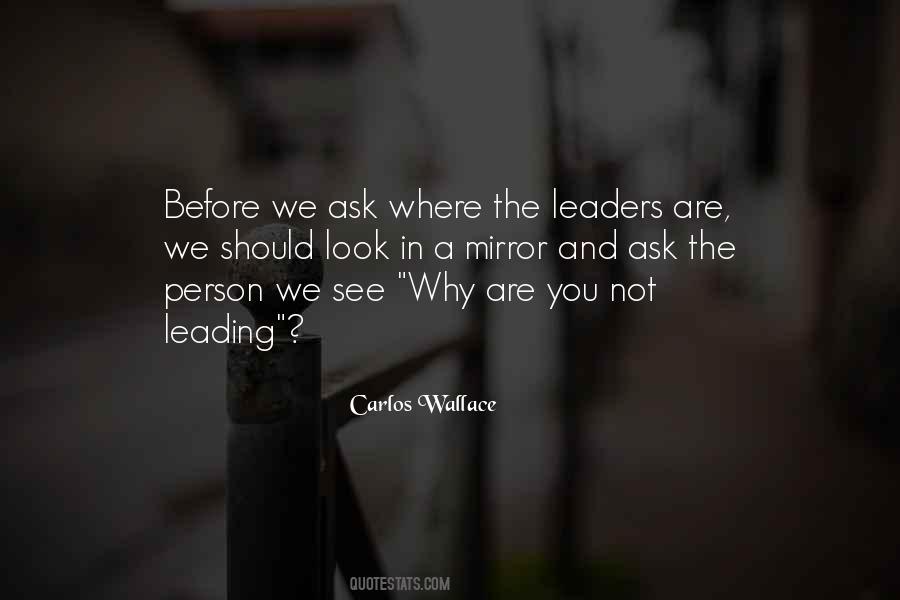 #59. I don't look in the mirror and think that I have flaws. I actually look in the mirror and see me. I see a lot of different characters and a lot of different things. - Author: Elisha Cuthbert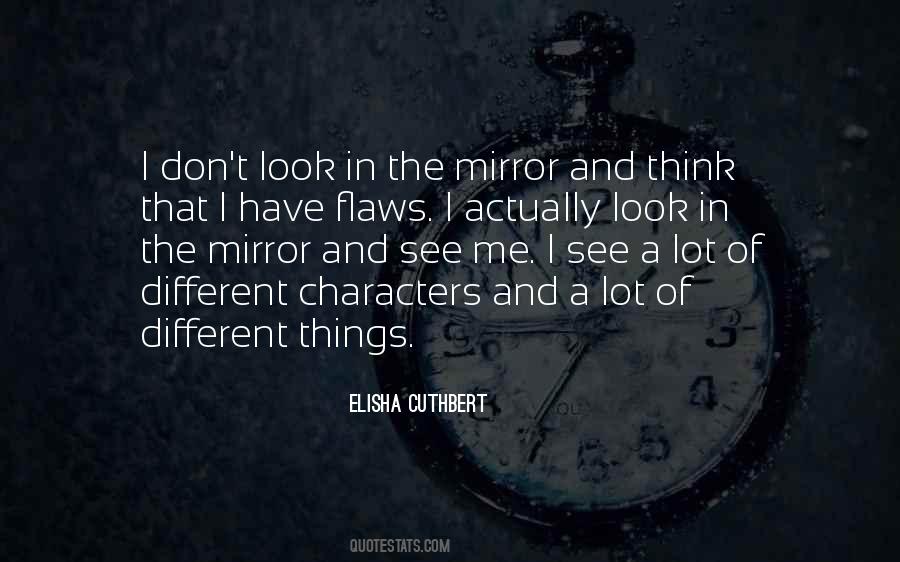 #60. It's not fun to see myself in the mirror. - Author: Diane Keaton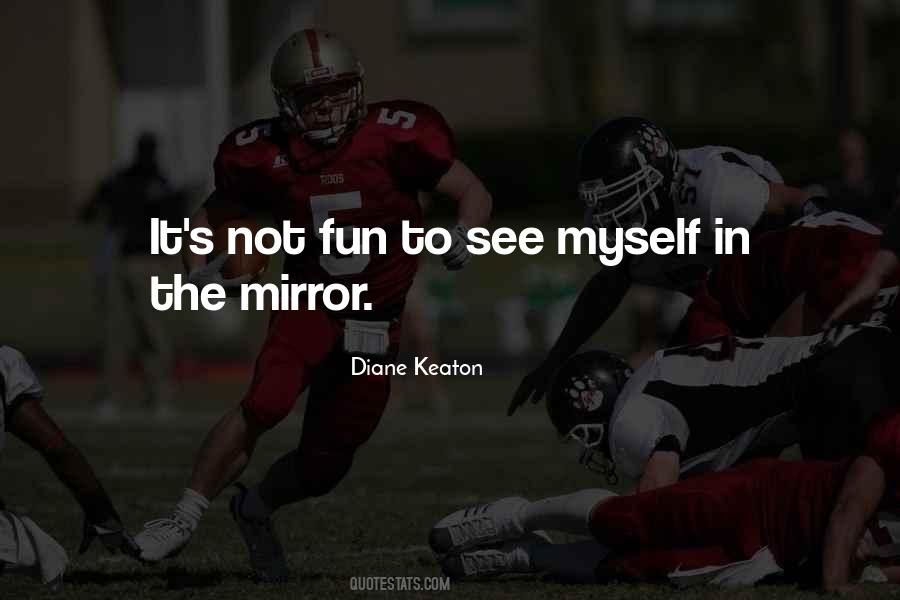 #61. Trust is like a mirror, you can fix it if it's broken, but you can still see the crack in that mother fucker's reflection. - Author: Lady Gaga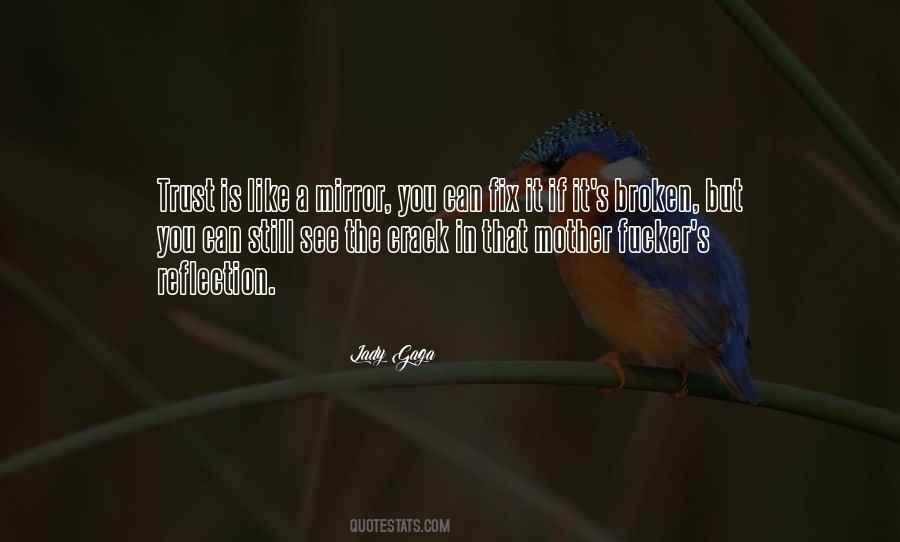 #62. When you look in the mirror, remember that who you see looking back at you is a piece of your highest self, the Divine. - Author: Alice Hocker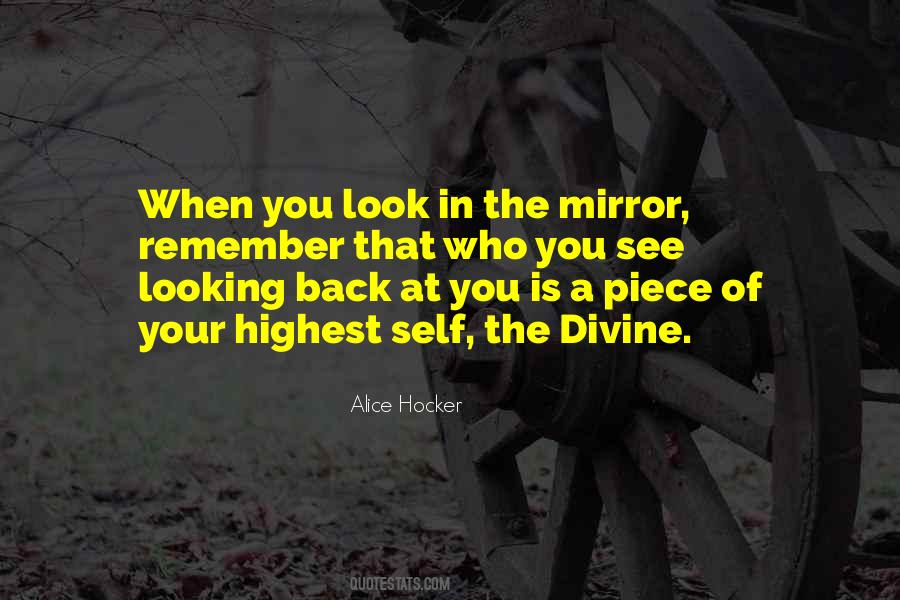 #63. I think I'm the only senator who does not see a president when I look in the mirror. - Author: Jim DeMint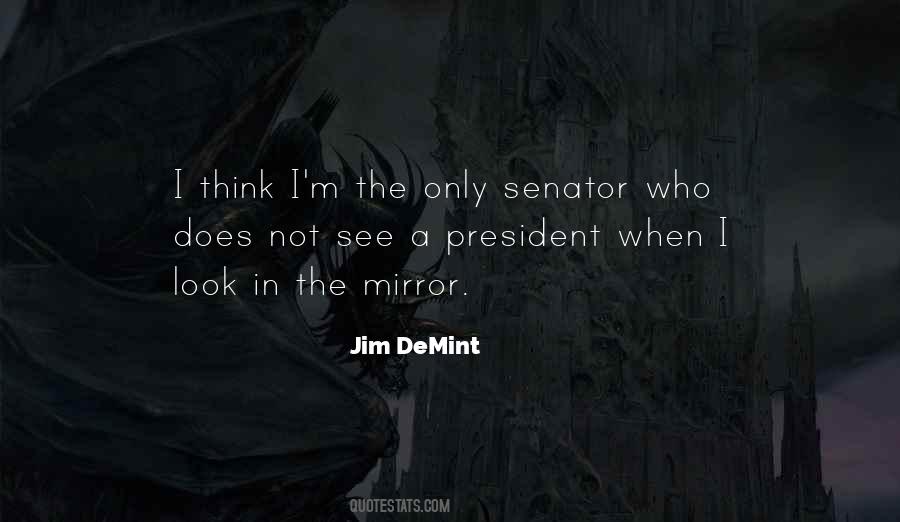 #64. Looking at a pure heart is like looking in to a mirror. All you will see is your own reflection. If you are corrupt, you will see corruption. If you are pure, you will see purity. But don't blame the mirror, all you are seeing is yourself.
- Kambiz Mostofizadeh - Author: Kambiz Mostofizadeh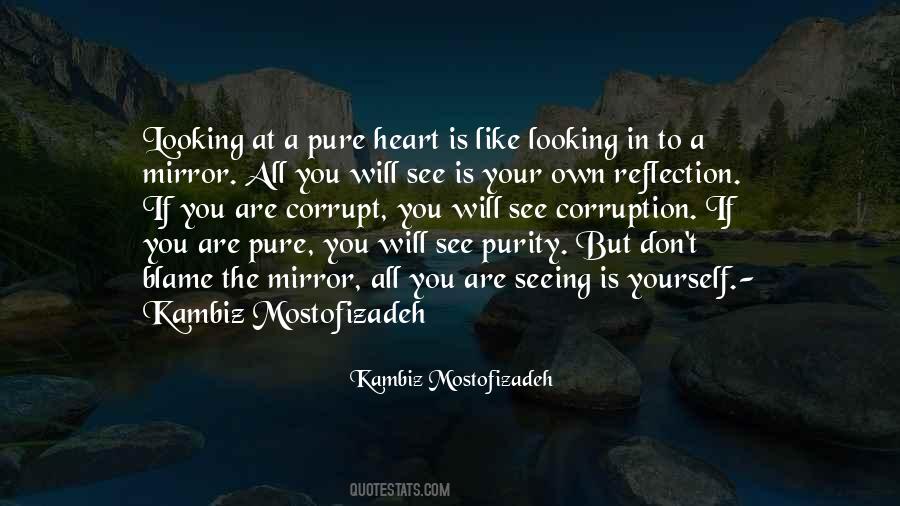 #65. Live life to the fullest, love deeply and laugh a lot. Be proud of what you see in the mirror and you will have no wrinkles! - Author: Barbara Post-Askin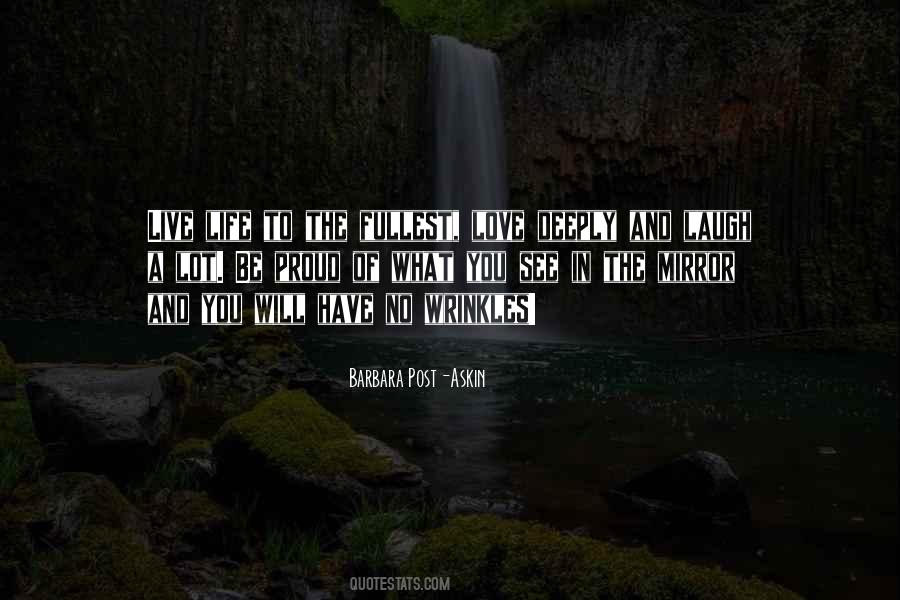 #66. I was twenty one years old and I thought, here I am my health is at risk, my life is going to go down hill from here and I really had to have a look in the mirror to see what the cause was of that and the cause of that was me. - Author: John Assaraf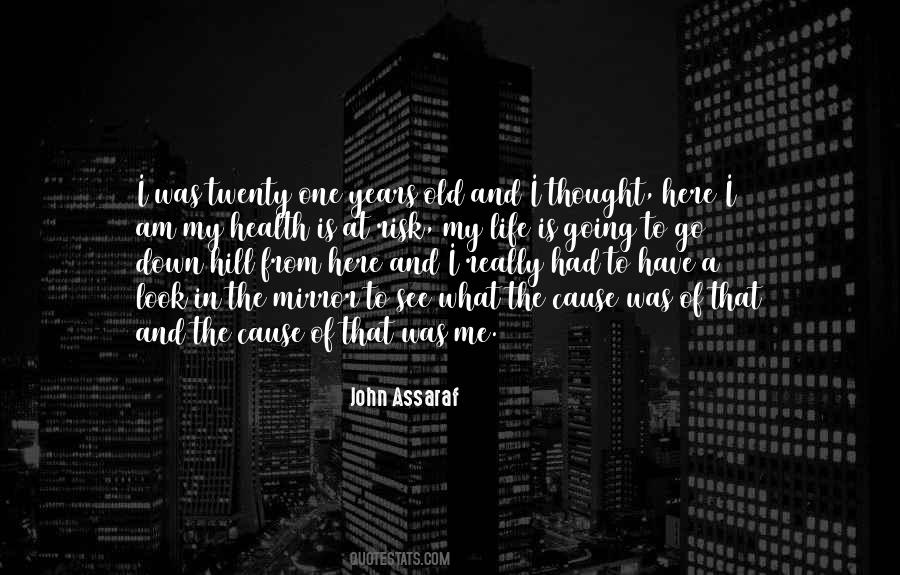 #67. Be a mirror of life. Let everyone see their own astonishing beauty in your mirror. - Author: Debasish Mridha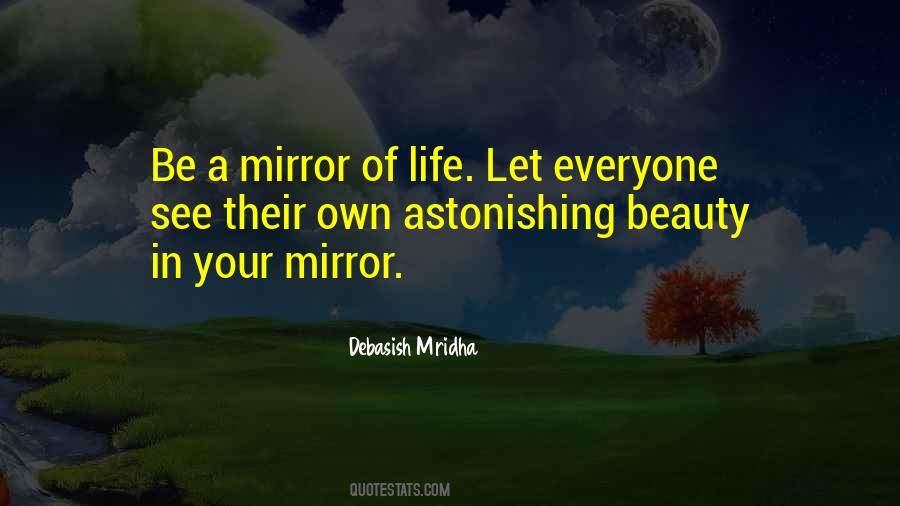 #68. Not everything has a name. Some things lead us into the realm beyond words ... It is like that small mirror in the fairy tales - you glance in it and what you see is not yourself; for an instant you glimpse the Inaccessible, where no horse or magic carpet can take you. And the soul cries out for it. - Author: Vernon Sproxton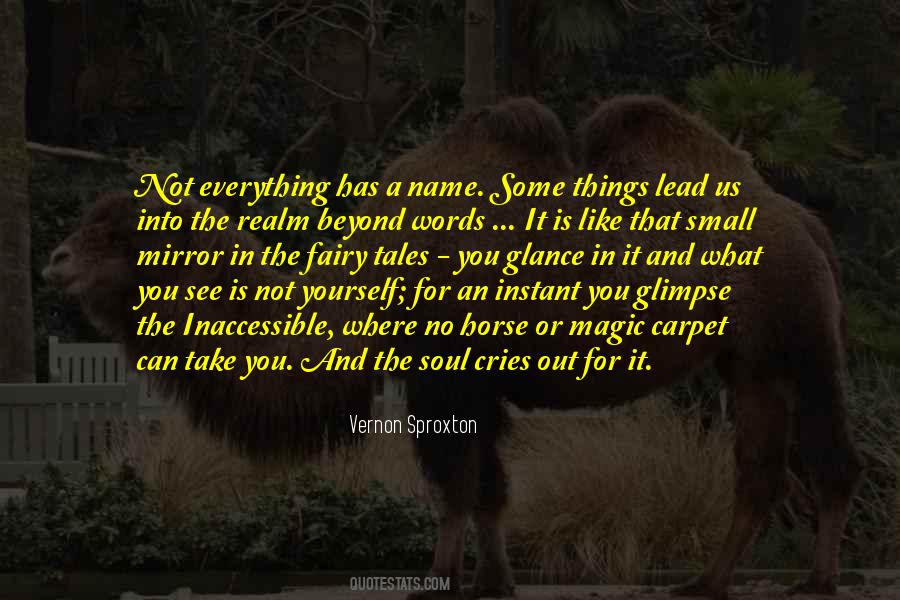 #69. I remember his eyes. They are just like mine. Every time I look in the mirror I see him. I try not to look at my self too much. - Author: Ida Lokas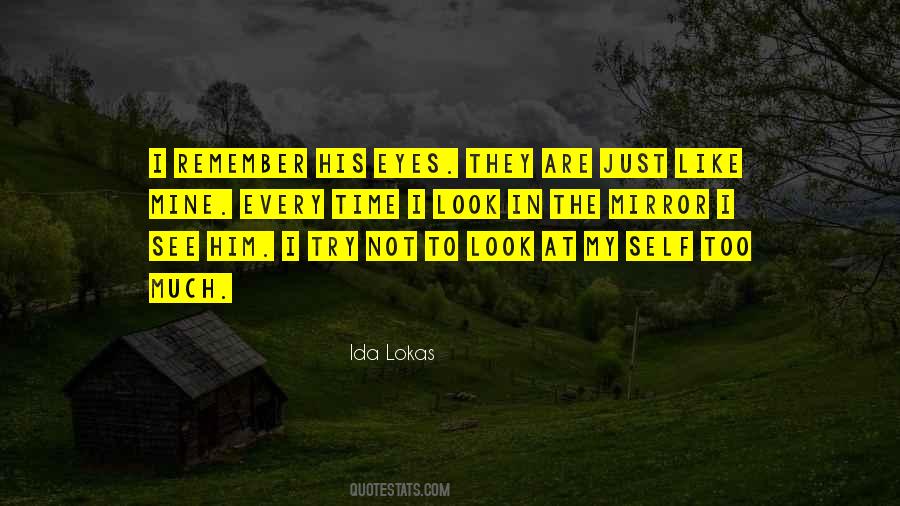 #70. I always check in the mirror to make sure nothing is see-through. - Author: Scarlett Johansson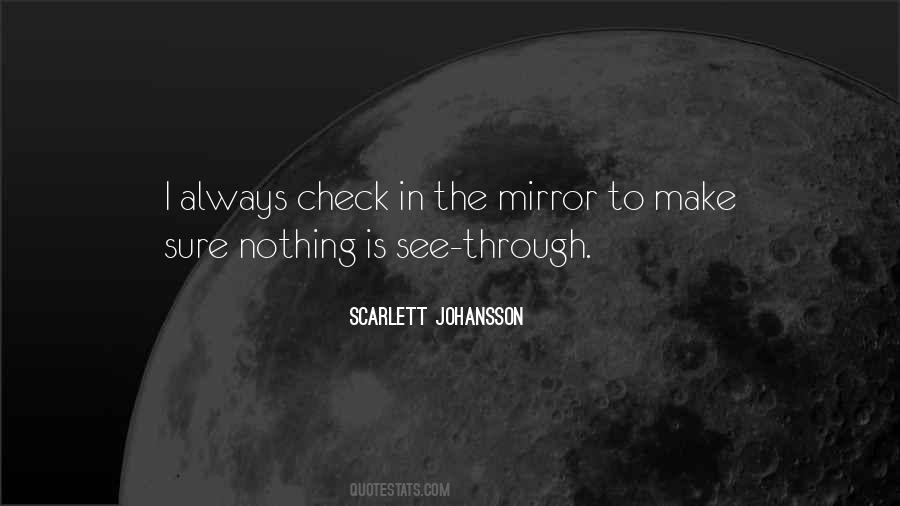 #71. How frustrating to think you can be lost to yourself. And yet how often it is that a stranger stares back at you from the mirror. Maybe in truth we never see ourselves as clearly as the thousands of eyes that daily take us in. - Author: Richelle E. Goodrich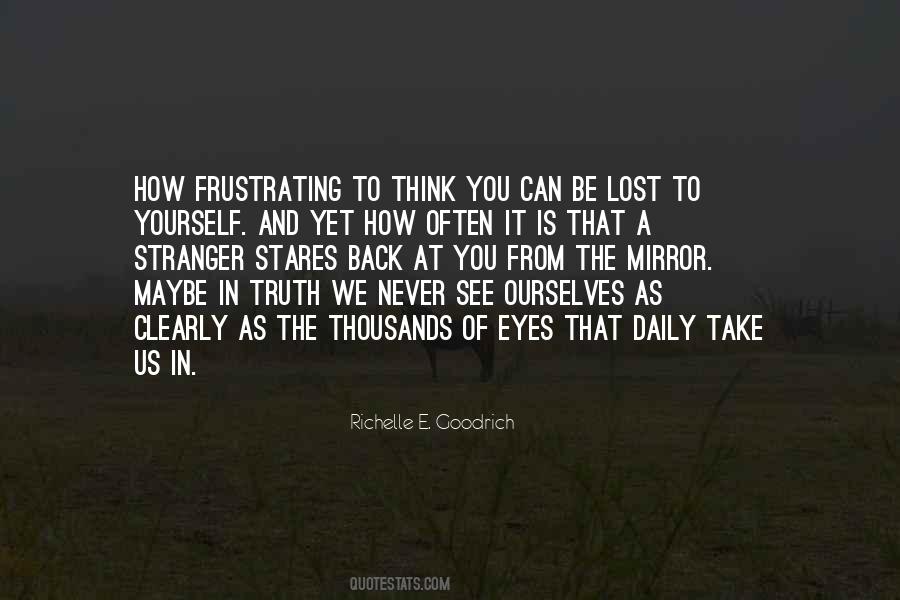 #72. Is it a bad sign when you see the person you're dating and get the same feeling as if you just saw police lights in you're rear view mirror? - Author: Dov Davidoff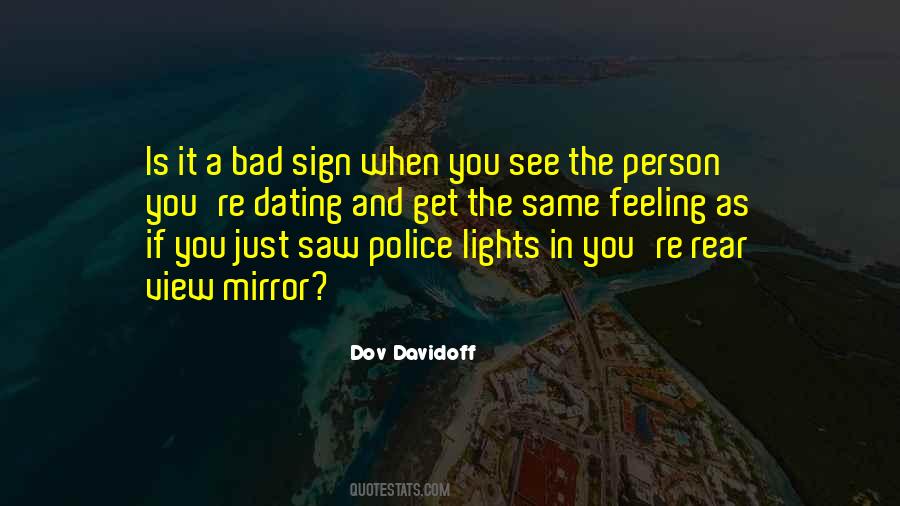 #73. Pretension is a poor joke that you play on yourself. Snap out of it. Recognise your strengths, work on your weaknesses. Real achievement is liking what you see in the mirror every morning. - Author: Virat Kohli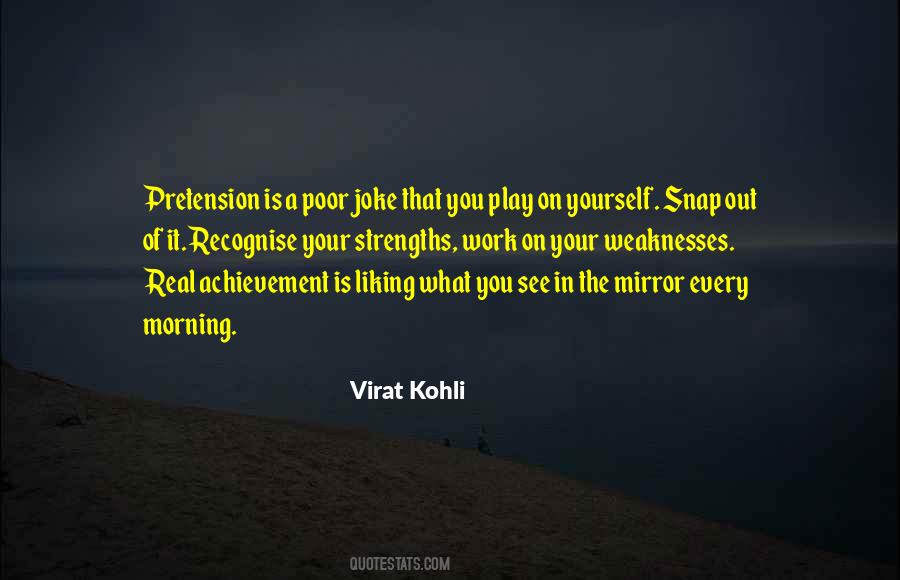 #74. The problem with looking in the mirror is that you never know how you will feel about what you see. Sometimes, when my hormones are out of sync, I have no interest in the mirror, and if I do look I think everything is all wrong. Other times, I am quite pleased with what I see. - Author: Chimamanda Ngozi Adichie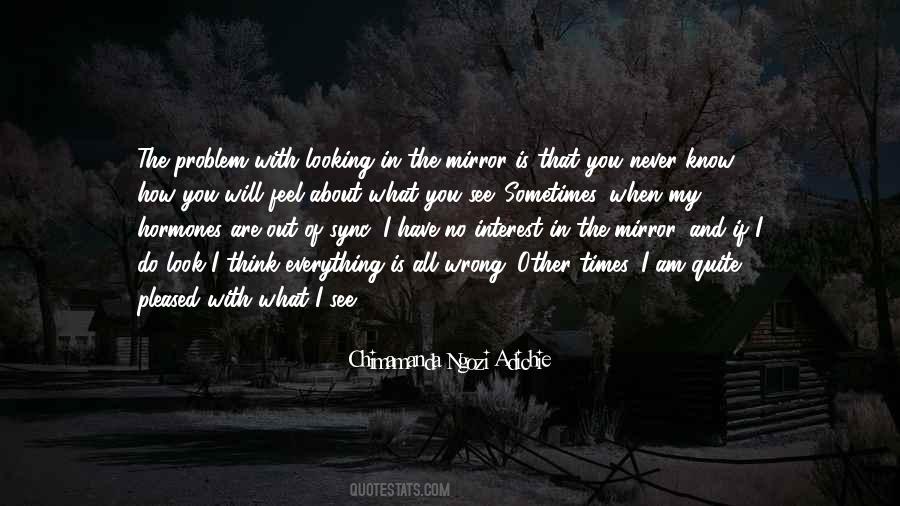 #75. I hold up a mirror to life and what I see in it, I freely report; the good, the bad, and the ugly. - Author: Michael Parlee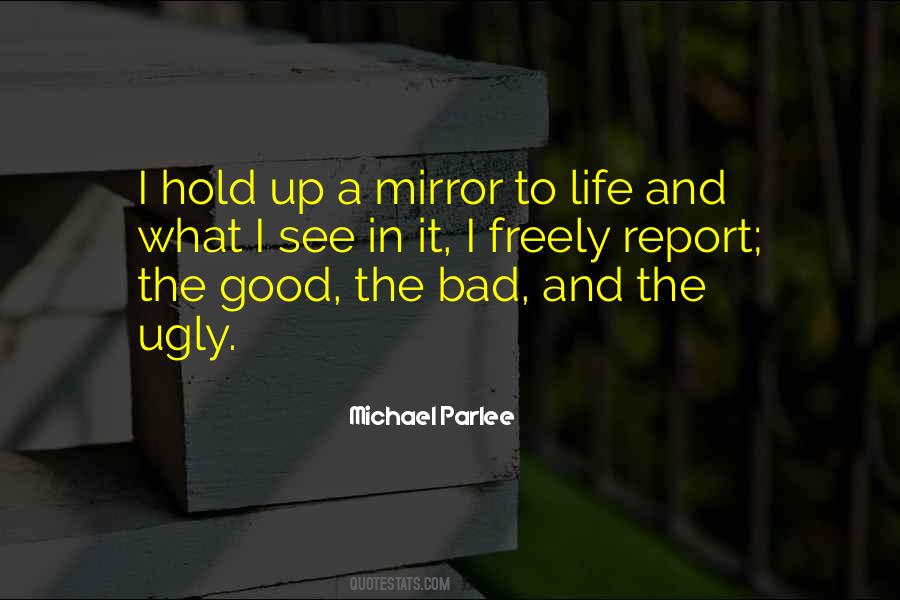 #76. Let somebody insult you and see that that you do not answer back. Just see it, not to get into temper. Try that your ego doesn't react. That can be achieved very easily if you try in the mirror, look at yourself and laugh at yourself, make fun of yourself. - Author: Nirmala Srivastava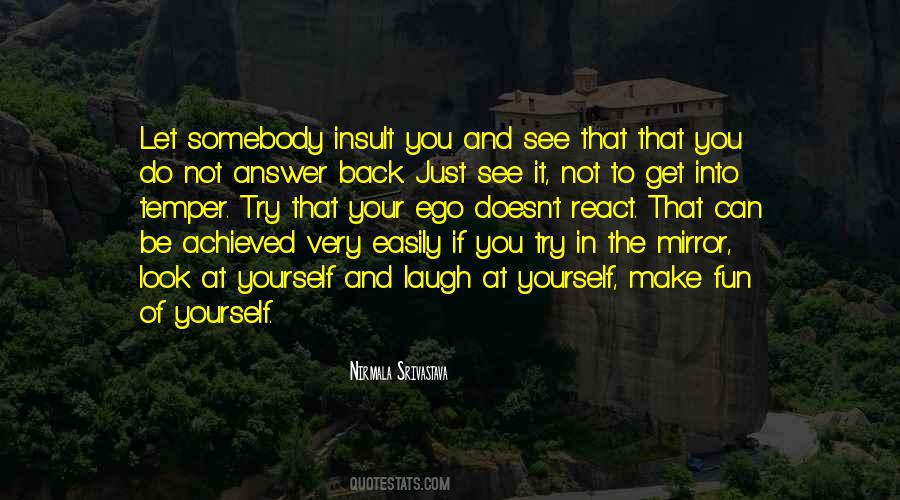 #77. The only test is what you see when you look in a mirror. - Author: Steve Backley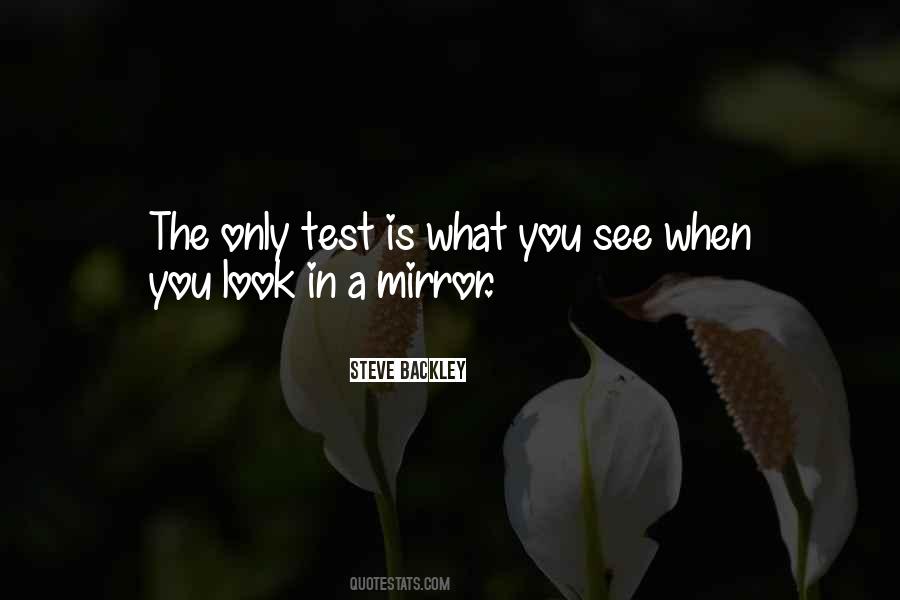 #78. But the thing is that I'm in love with Rafael's story. I think I understand when Adam says that all our stories are different but in some ways our stories are all the same. I never really got that. But when I start to read Rafael's journal, it's as if I can see myself. It's better than a mirror. - Author: Benjamin Alire Saenz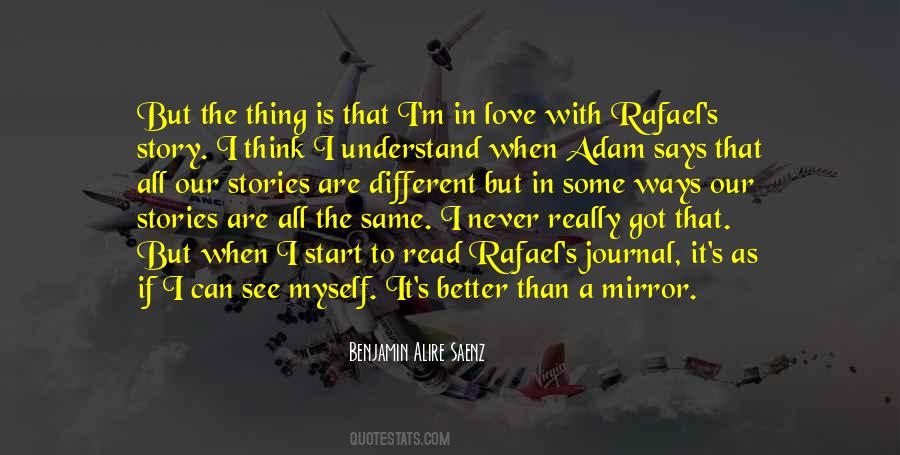 #79. I don't want women to hold themselves back. I think there are too many women who are self-conscious about the way they look - the way they see themselves in the mirror. - Author: Ashley Graham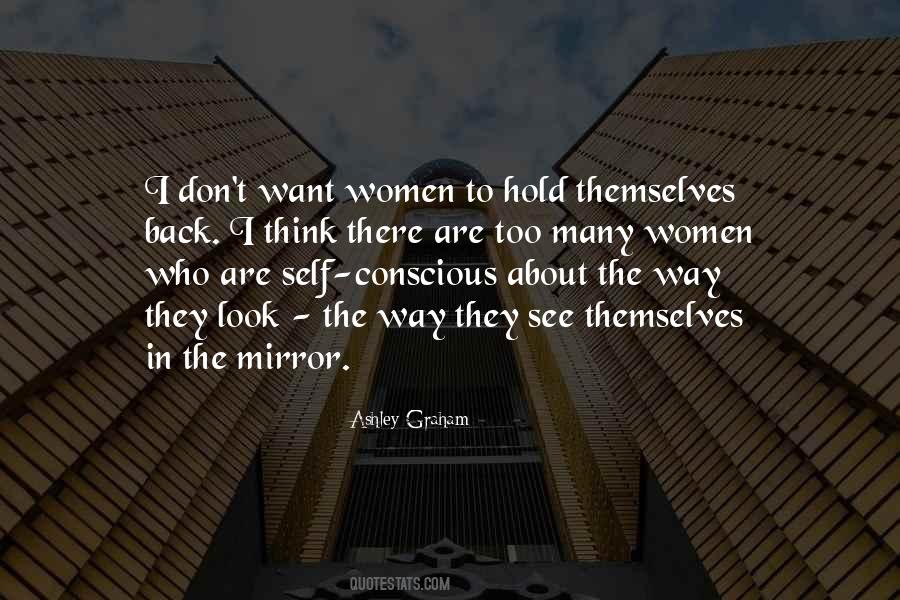 #80. I had a very hard time accepting myself as a character actress because I wanted to be glamorous and a leading lady like everybody else. I looked in the mirror and thought I looked pretty good, but casting didn't ever see me that way. - Author: Beth Grant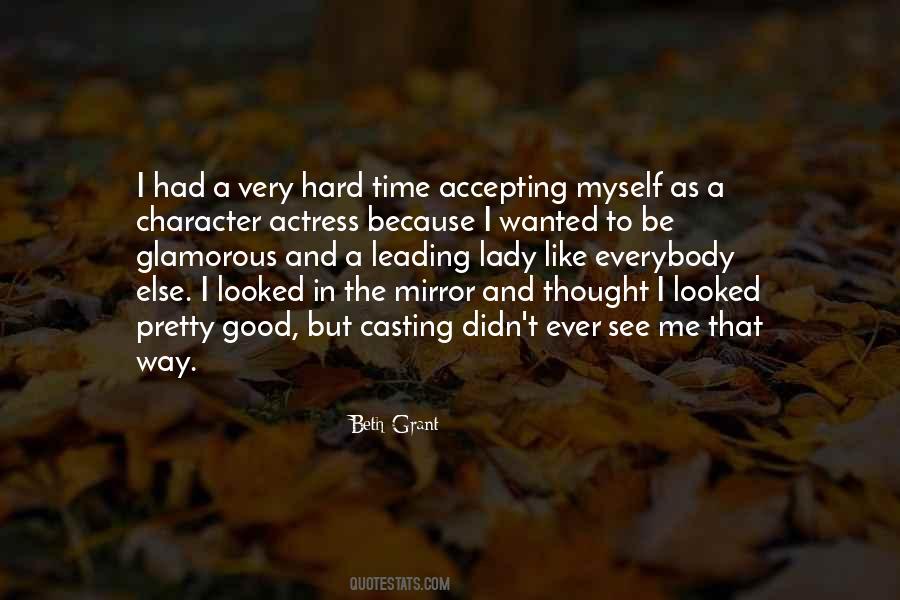 #81. I love looking in the mirror and feeling good about what I see. - Author: Heather Morris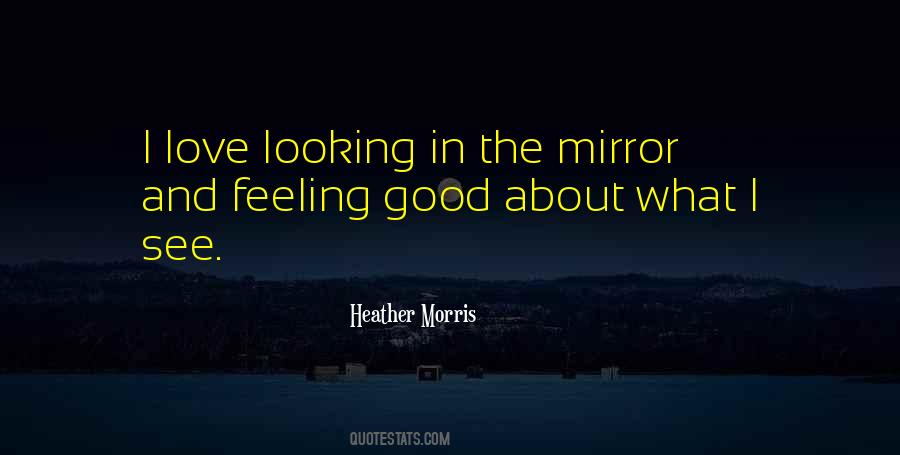 #82. Hypocrites in the Church? Yes, and in the lodge and at the home. Don't hunt through the Church for a hypocrite. Go home and look in the mirror. Hypocrites? Yes. See that you make the number one less. - Author: Billy Sunday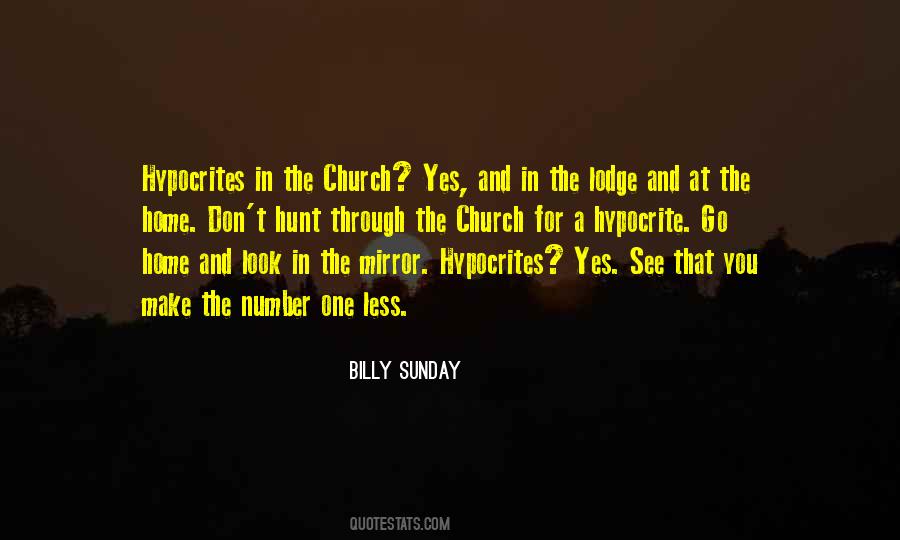 #83. Sometimes the picture someone else paints of us is a more accurate portrayal than a reflection. What we see in the mirror is always reversed. A portrait not only allows us to see our own faces, but how it looks to others. - Author: Megan Hart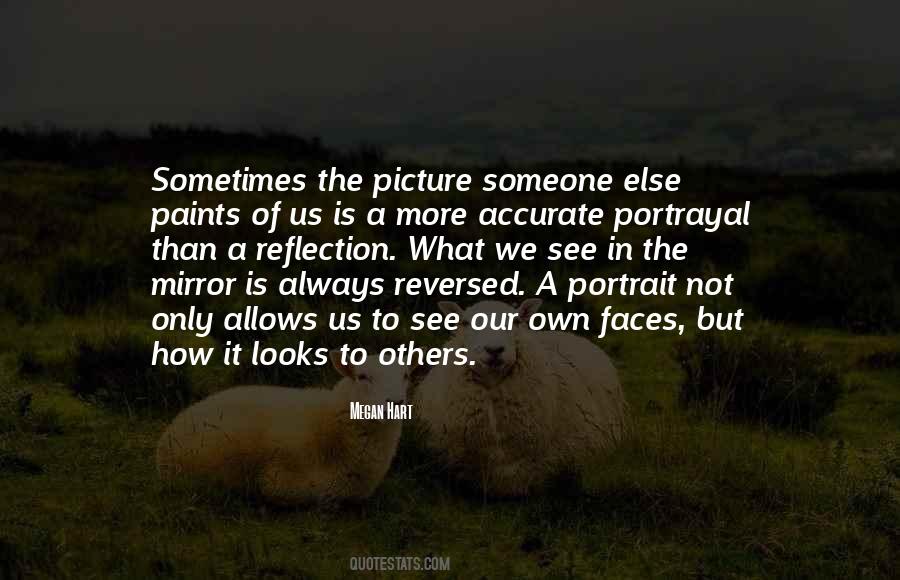 #84. If you could see your perfect image in the mirror it would remove all your fear. - Author: Stanley Victor Paskavich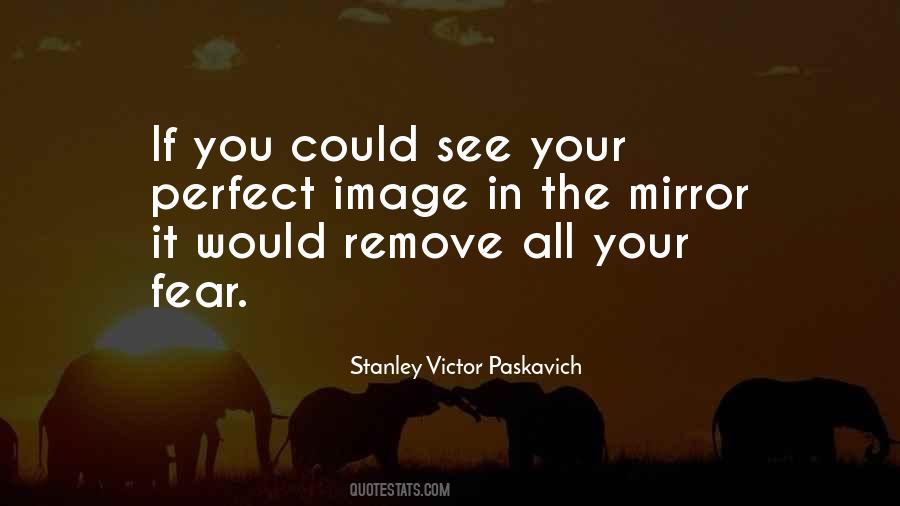 #85. The problem is that many bitter people don't know they are bitter. since they are so convinced that they are right, they can't see their own wrong in the mirror. And the longer the root of bitterness grows, the more difficult it is to remove. - Author: Craig Groeschel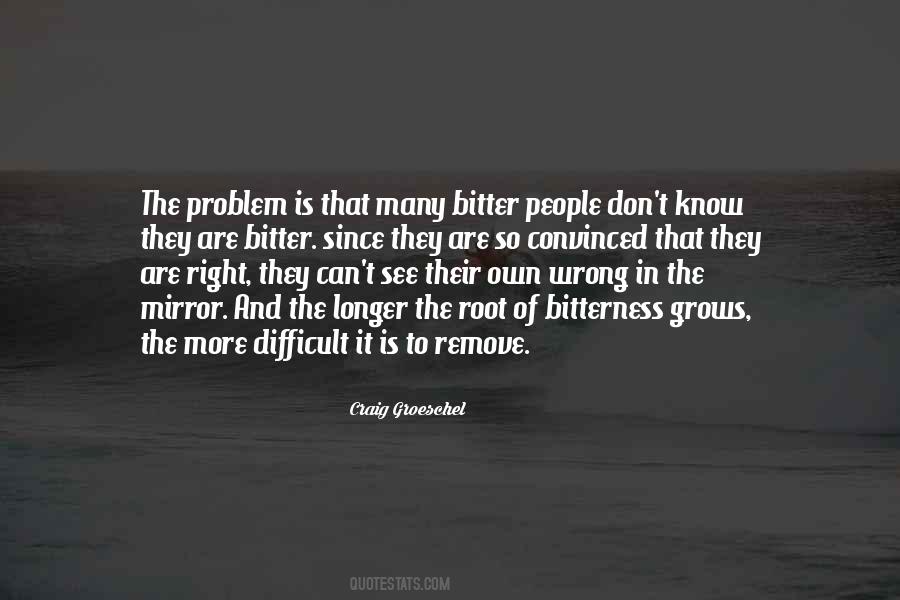 #86. It was my mother who taught me the one worthwhile thing: when they ask if you like what you see in the mirror, pretend that what they mean is what's behind you
the shower curtain, the tile, the wallpaper, whatever's there. - Author: Gary Lutz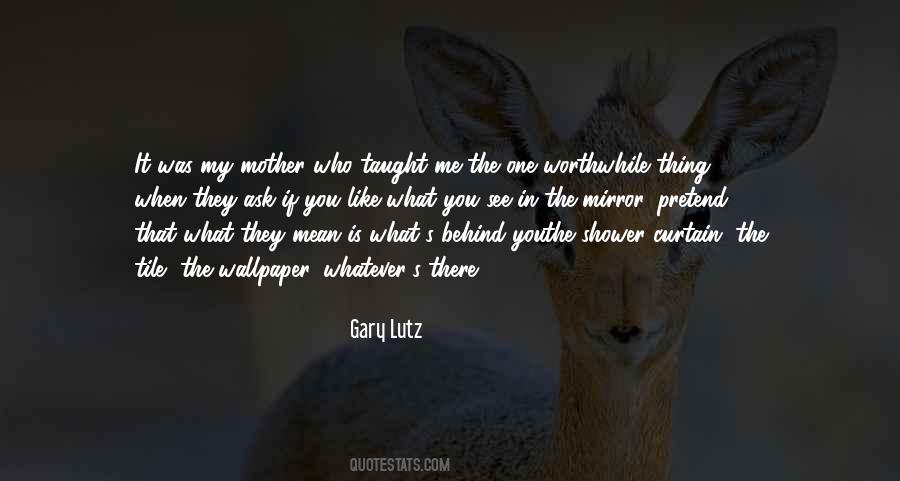 #87. Close your eyes and visualize the person you really want to be, who fits your own concepts of self-respect. If you can see the person clearly in the mirror of you mind, you surely will become that person. - Author: Denis Waitley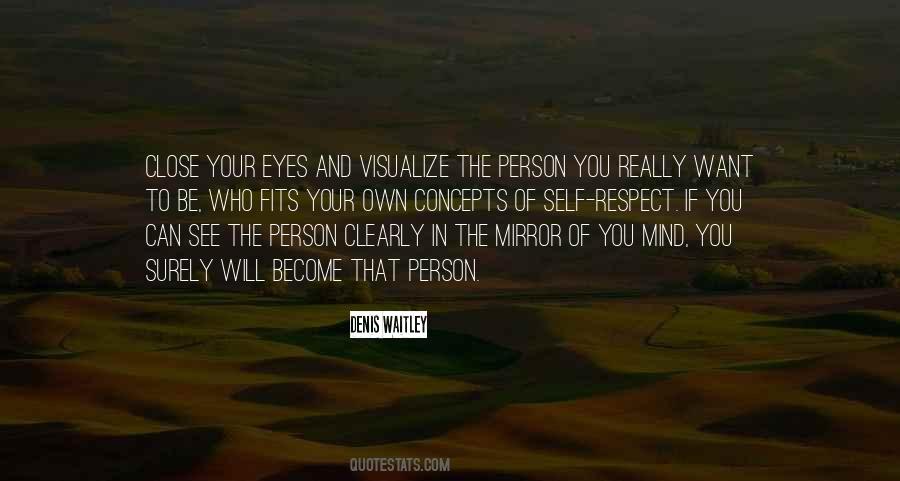 #88. You know, like when you look in the mirror and the thing you see is not the thing as it really is. - Author: John Green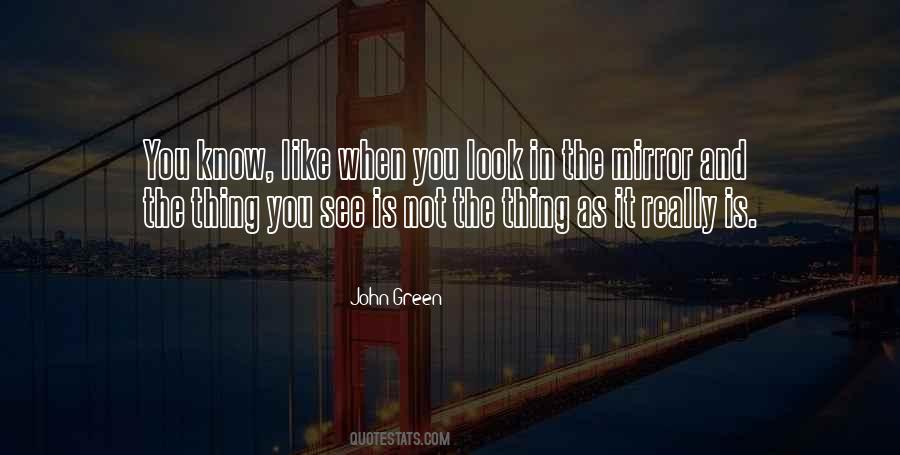 #89. As art reveals the artist more than the world, so you see yourself and what you are not in the mirror of another culture. - Author: Jennifer Stone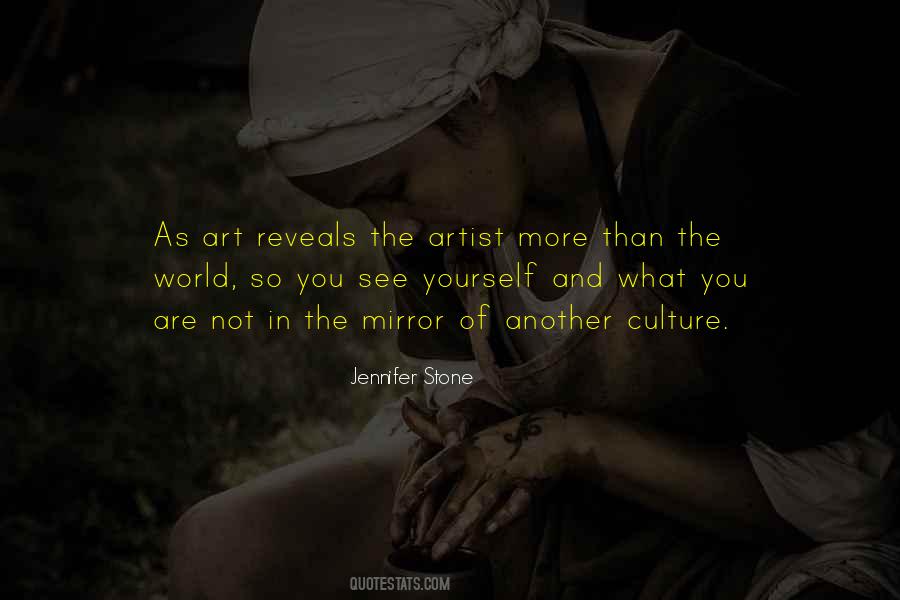 #90. You rebel against your parents until you become them. One day you look in the mirror and you see your father's face. - Author: Pico Iyer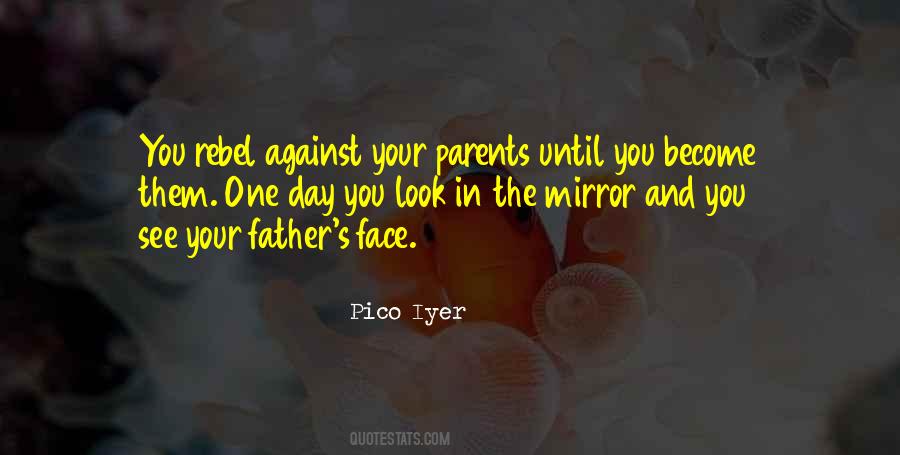 #91. It was in that small lack of movement that Poet could see true horror. A mirror held up to the human race and how it can be manipulated. Ruined. - Author: Suzanne Young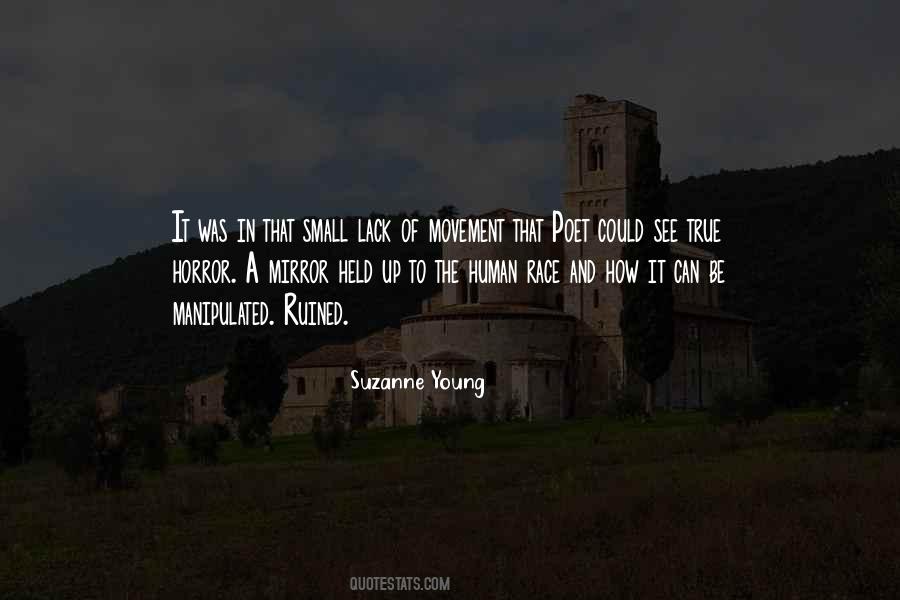 #92. People should just be allowed to look in the mirror and see all kinds of possibilities. - Author: M-E Girard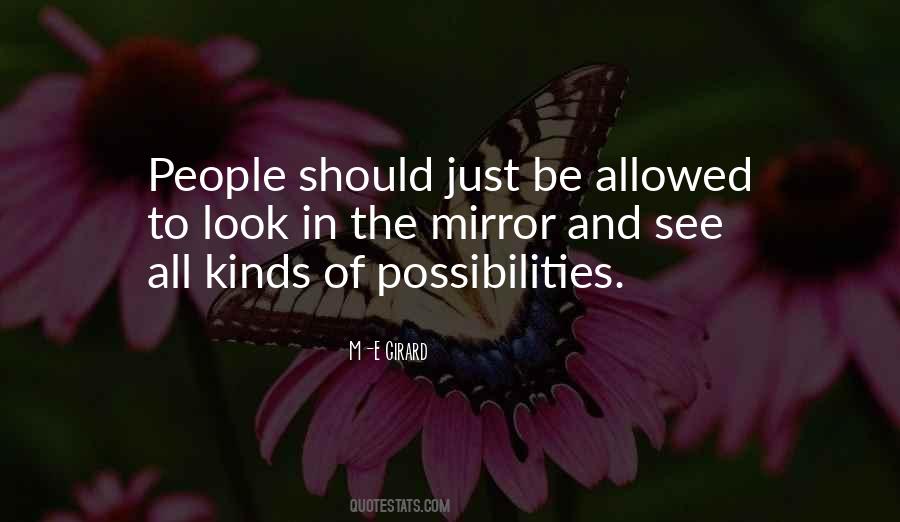 #93. Ty's moans were sexy but not half as sexy as the eyes staring back at her; wishing it was him. Torrin winked his eye and then lowered the rear view mirror so she could see his thick black dick standing straight in the air. - Author: Mesha Mesh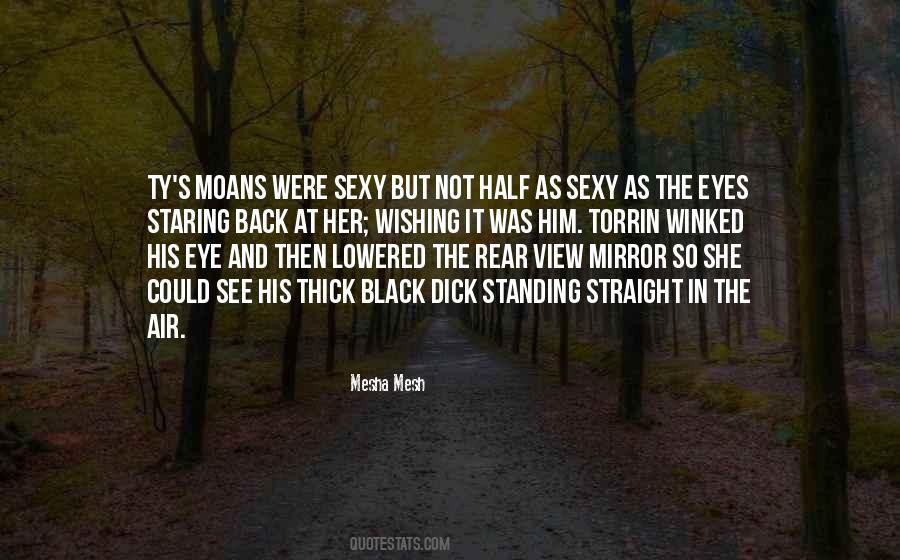 #94. I look in the mirror and see a few scars, but I like myself. - Author: Steven Adler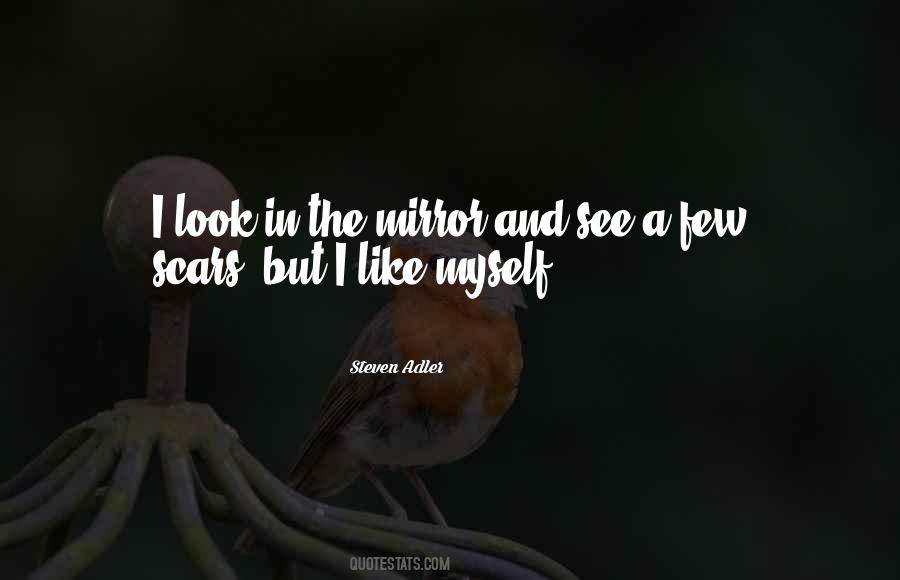 #95. I look in the mirror and I don't see a sex symbol. I just see a guy who looks like he's been beaten with a baseball bat. I mean, is this the face of a sex symbol? They say that because I work in the movies. - Author: Javier Bardem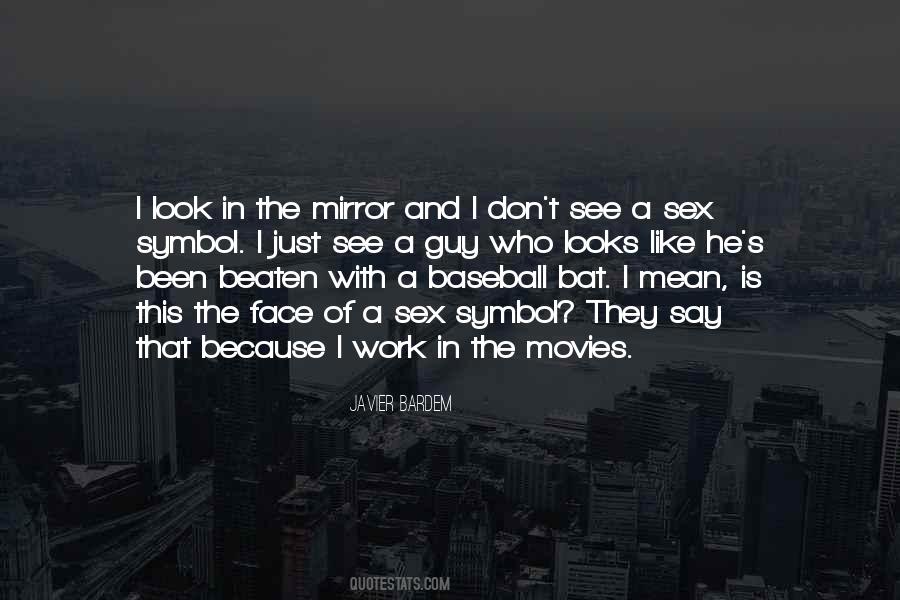 #96. When I look in the mirror and the only one there is me
Every freckle on my face is where it's suppose to be
And I know my creator didn't make no mistakes on me
My feet, my thighs, my Lips, my eyes, I'm loving what I see - Author: India.Arie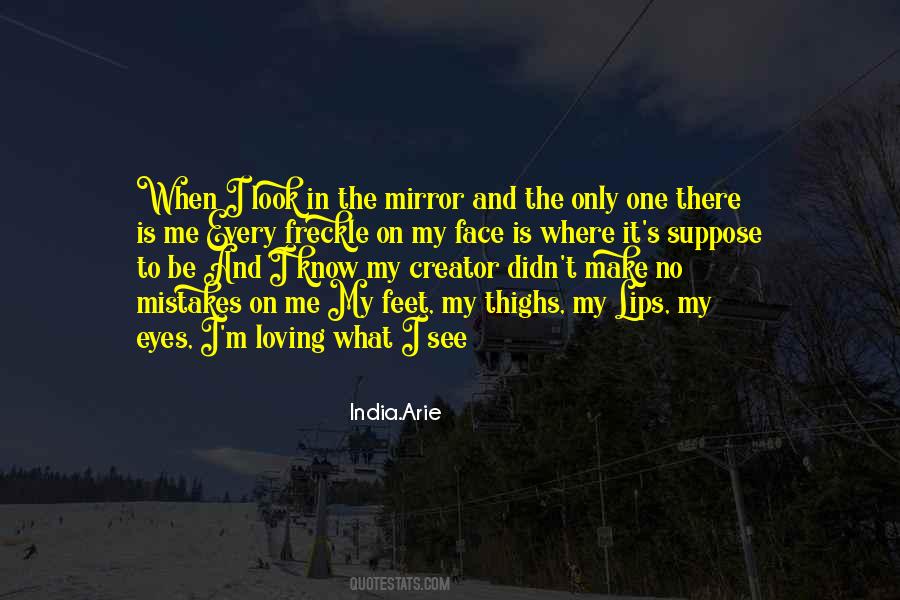 #97. A mystic is one who has dropped all dreams, who has thrown away this mirror of the mind and who looks directly into life, without any medium interfering. Then he sees the eternal progression, then in a single moment he sees all eternity, and in a single atom he can see the whole reflected. - Author: Osho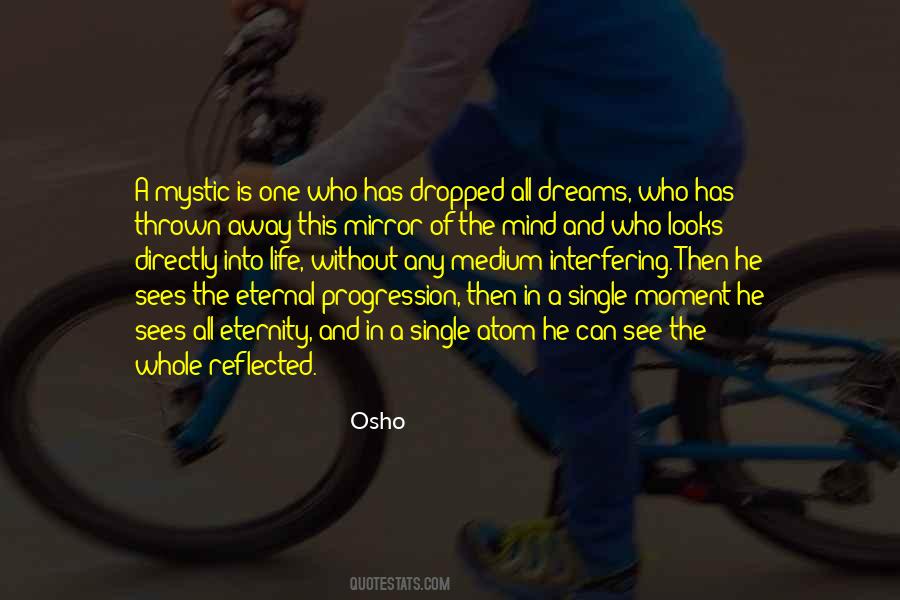 #98. Perhaps a child, like a cat, is so much inside of himself that he does not see himself in the mirror. - Author: Anais Nin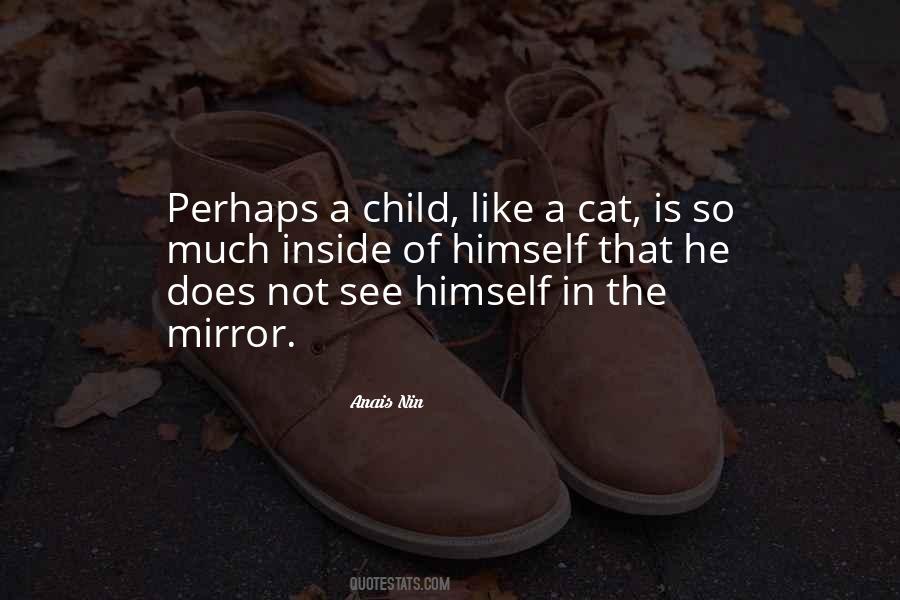 #99. Did you ever look in the mirror And see a stranger standing there? Did you ever drive for miles and miles And wonder how on earth you got yourself there? - Author: Justin Hayward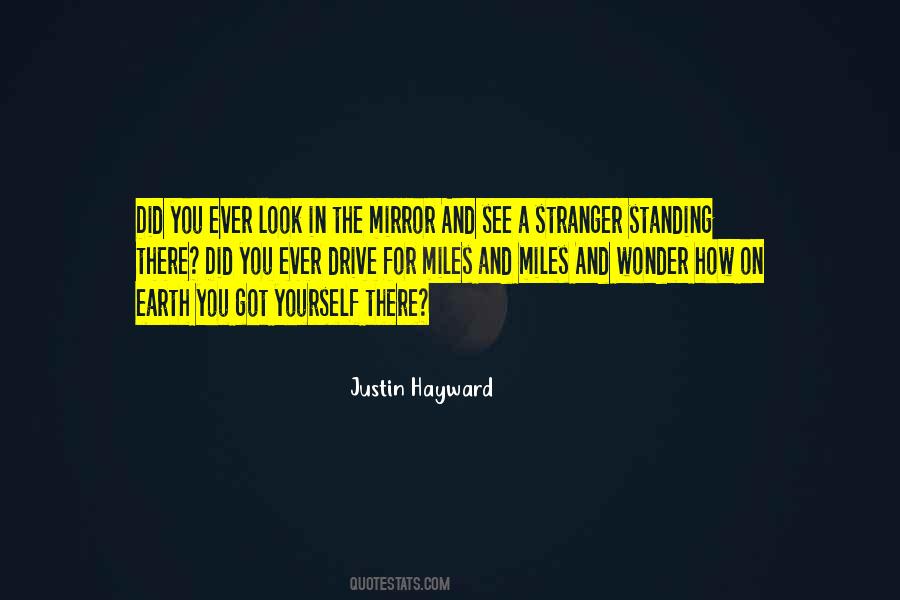 #100. If you want to see the greatest threat to your financial future, go home and take a look in the mirror. - Author: Jonathan Clements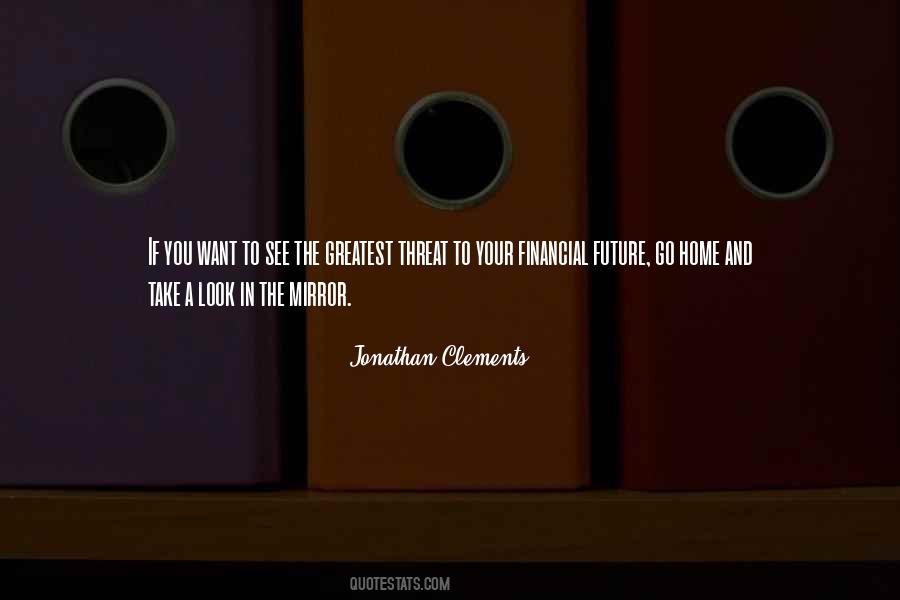 Famous Authors
Popular Topics