School Started Famous Quotes & Sayings
List of top 100 famous quotes and sayings about school started to read and share with friends on your Facebook, Twitter, blogs.
Top 100 School Started Quotes
#1. I'm older than my sister so I started writing first. I started writing at school. I was always top of my class in composition, essays, English Lit and all of that. - Author: Joan Collins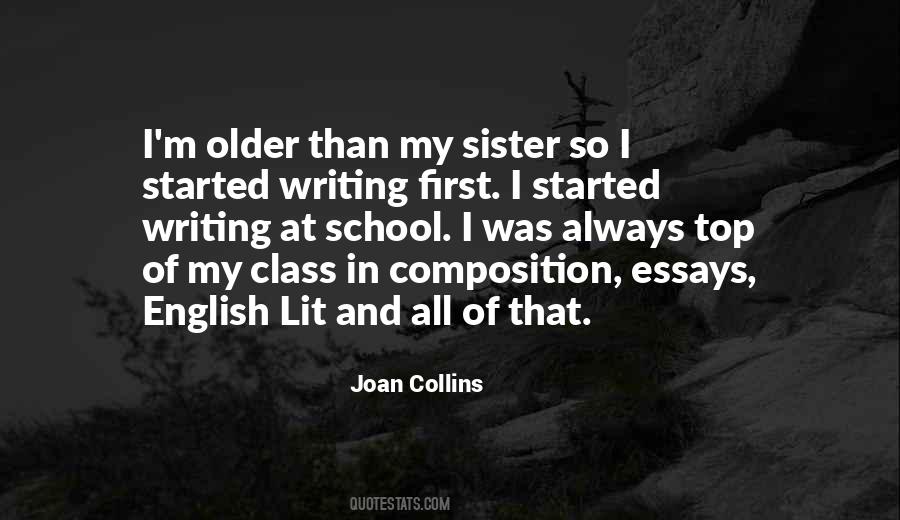 #2. I never went to acting school. I started in the circus, music hall, I was in a group, did kids' bits. I've always had this kind of insecurity being uneducated. - Author: Rupert Graves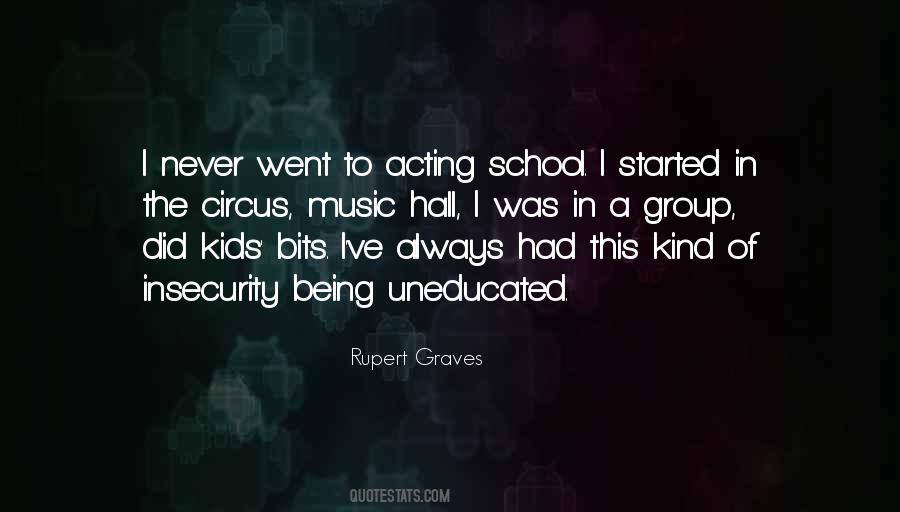 #3. I've always been attracted to ensembles. When I started doing plays in high school and in college, I always loved the community aspect of it. I loved these little families that would develop. - Author: Josh Radnor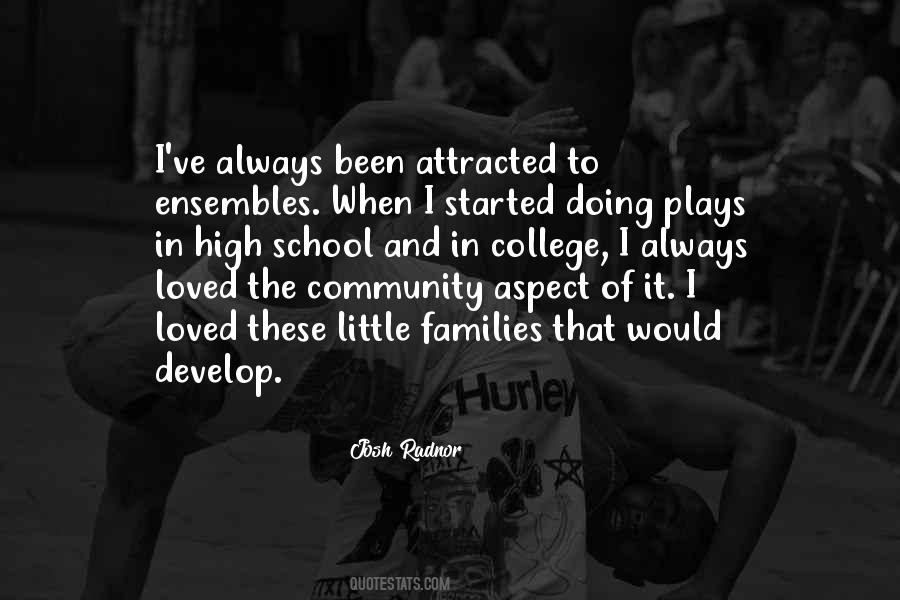 #4. ...the bad thing was that Ollie started crying. It was this basic rule of middle school that if someone messed with you, you were supposed to just take it like a psychopath. Only Ollie wasn't one. - Author: Brenna Yovanoff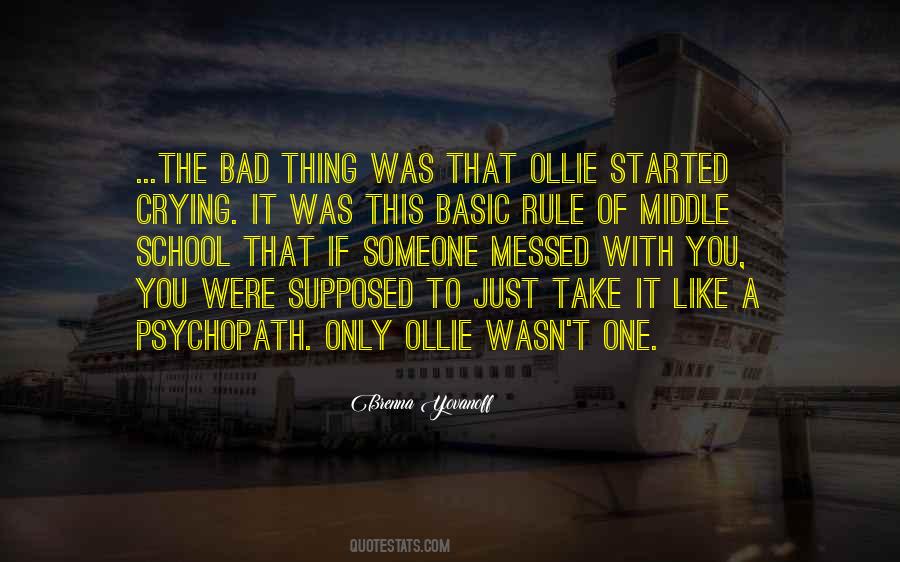 #5. My deep relations with fashion started in Paris in 1980s, when I was appointed head of The Fashion History course at French Esmod fashion school, the biggest and the best in those years in Paris. - Author: Alexander Vassiliev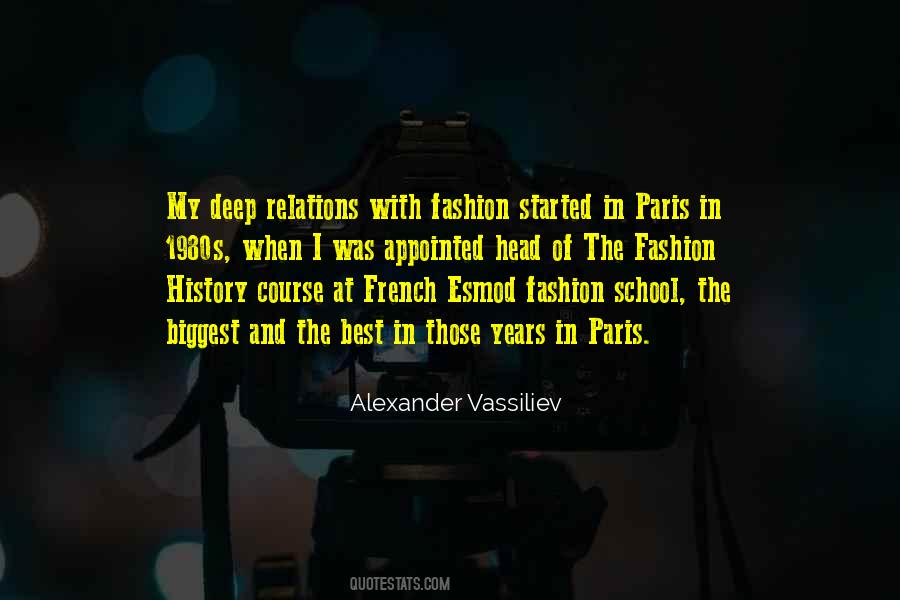 #6. I had started law school at Florida State University as a part-timer. I would go two quarters, and they allowed me to drop out to play baseball, and then I'd get readmitted in September. I was convinced I was going to be a lawyer and was using my baseball salary to pay my way through school. - Author: Tony La Russa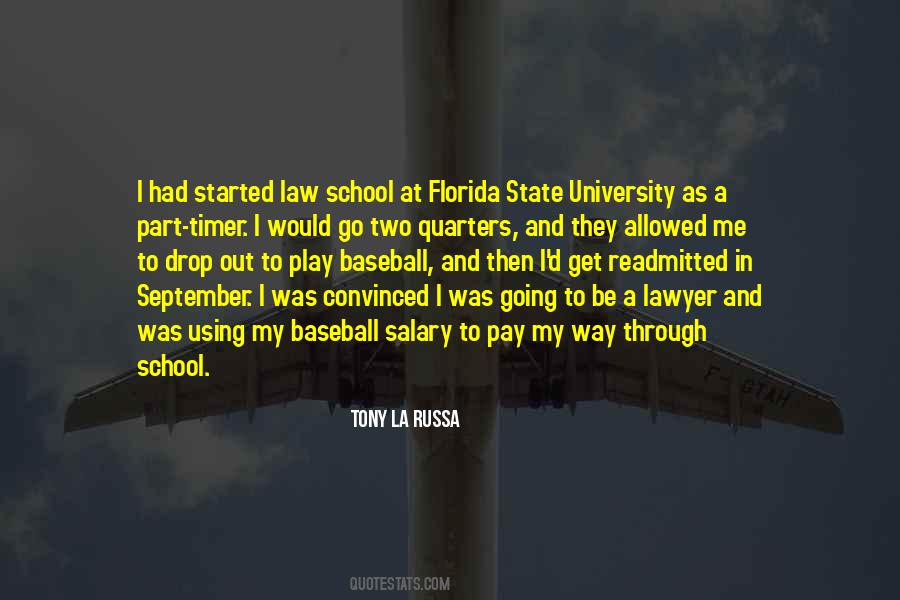 #7. I started Rooney in high school. These were guys I went to high school with and guys I knew from L.A. - Author: Robert Coppola Schwartzman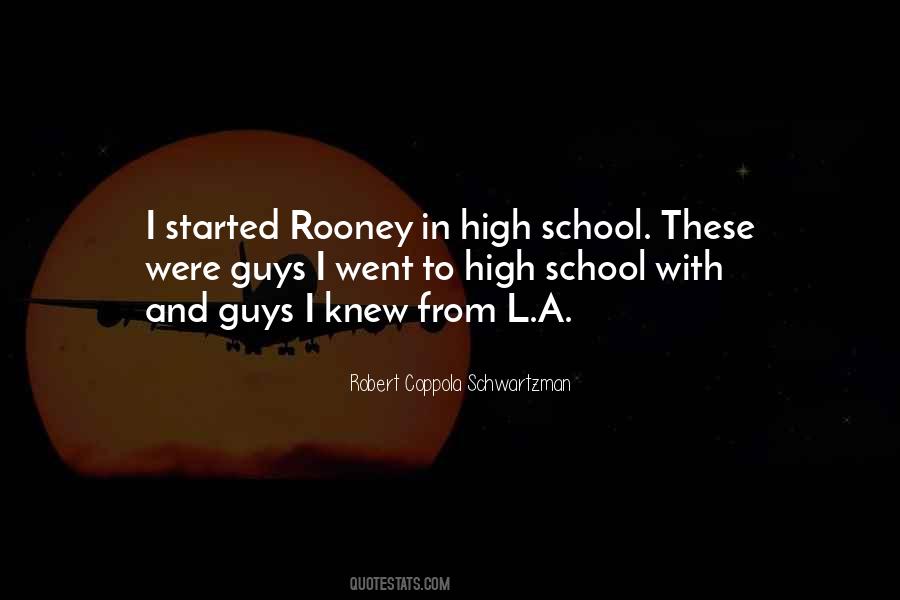 #8. Toward the end of school I started watching movies. Got a job in a movie theater in Brookline, Massachusetts. - Author: Jim McKay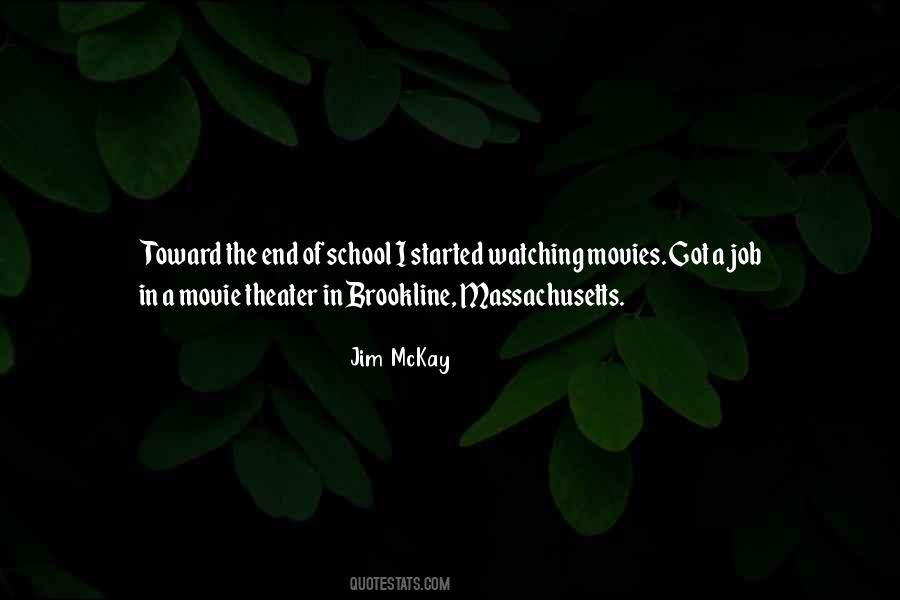 #9. On a September morning, just after school started, I'd gotten Diane's .44 Magnum and held it, babylike, in my lap for hours. What an indulgence it would be, to just blow off my head, all my mean spirits disappearing with a gun blast, like blowing a seedy dandelion apart. - Author: Gillian Flynn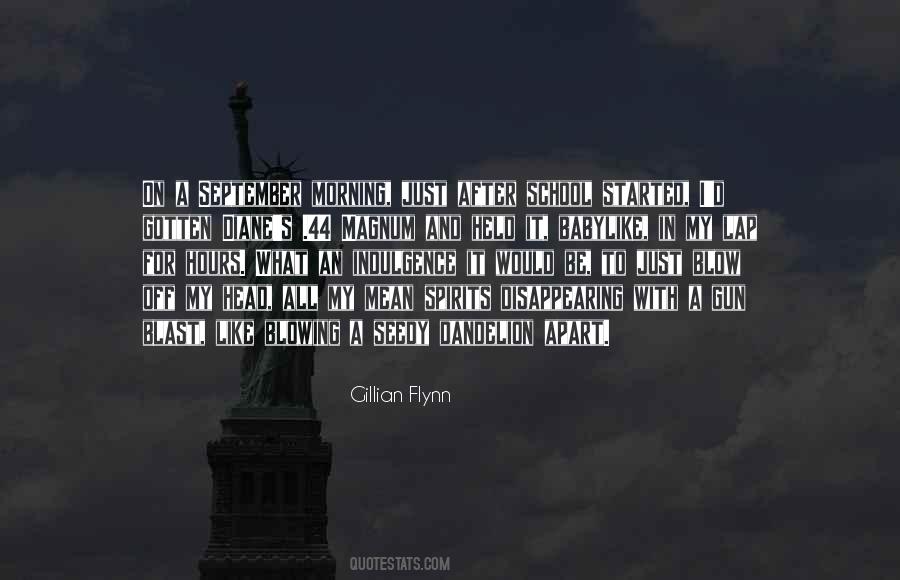 #10. I started writing poetry in high school because I wanted desperately to write, but somehow, writing stories didn't appeal to me, and I loved the flow and the feel and sense of poetry, especially that of what one might call formal verse. - Author: L.E. Modesitt Jr.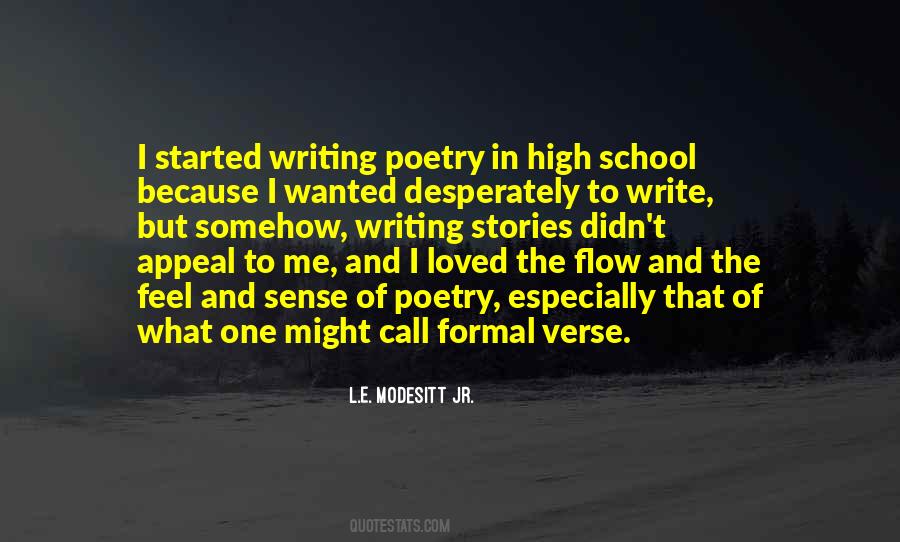 #11. My brother Leon started it all. He played the piano. In school they made me leader of the orchestra because I played the violin, but I followed Leon and the boys in his jazz band around. - Author: Louis Prima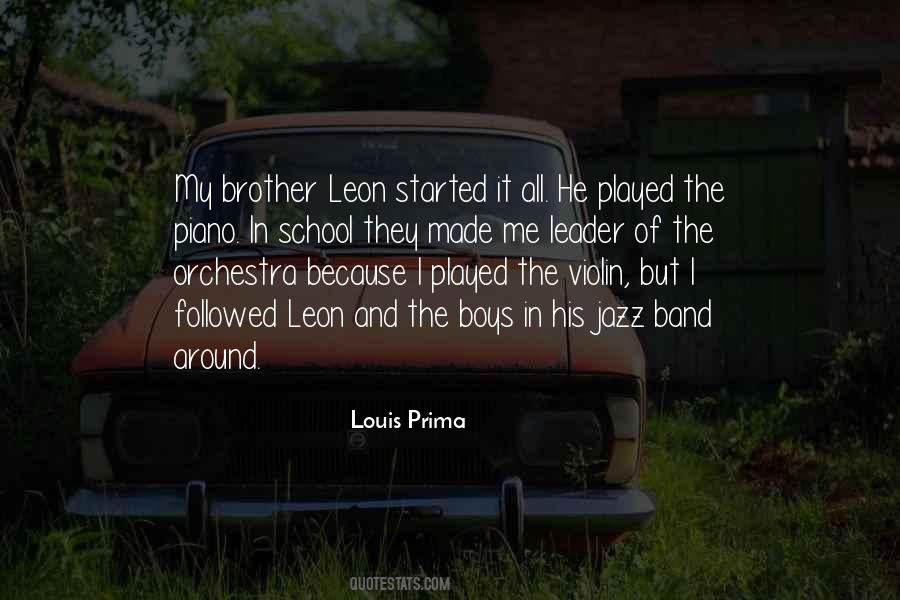 #12. I feel like I was born to do this ... I started working professionally as soon as I could, doing weddings and things like that in high school, while everyone else was having keg parties. I just felt destined to do it and really committed and driven; it was something that just felt right all my life. - Author: Idina Menzel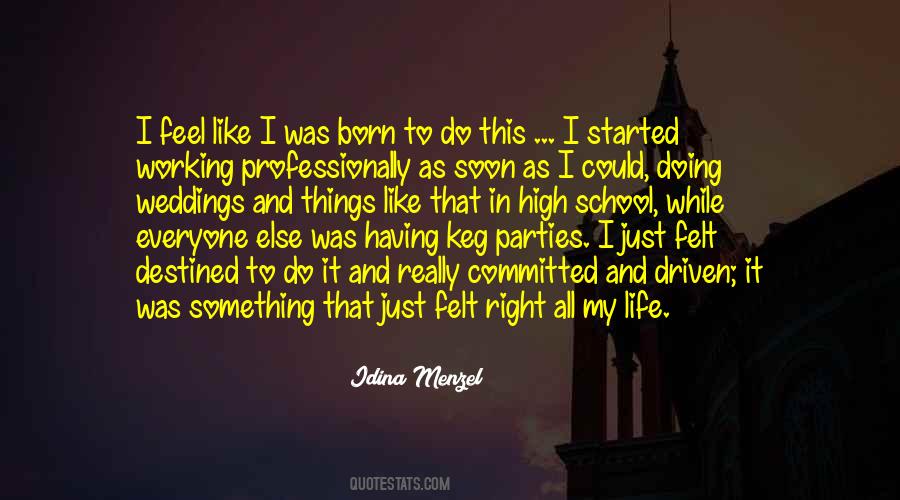 #13. In real life, I first started sleep walking in high school because that was when this concept of getting into college first appeared. I had this moment of, 'Oh! This is going to affect the rest of my life.' - Author: Mike Birbiglia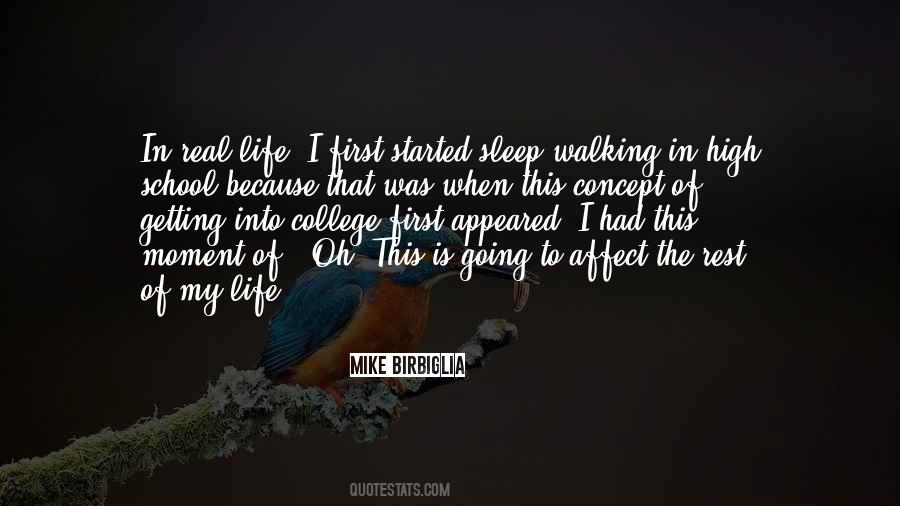 #14. I was who I was in high school in accordance with the rules of conduct for a normal person, like obeying your mom and dad. Then I got out of high school and moved out of the house, and I just started, for lack of a better term, running free. - Author: Iggy Pop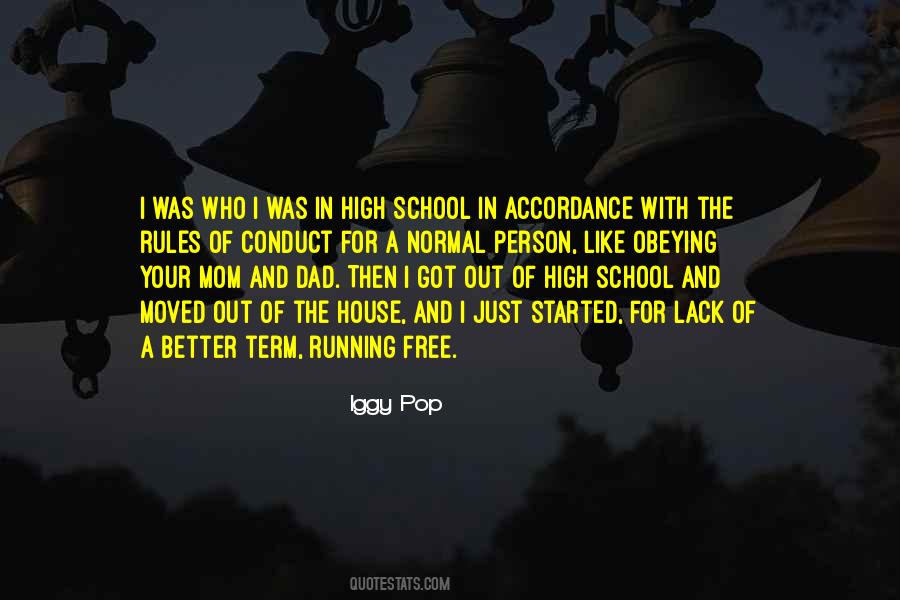 #15. When I came back to India after Harvard Business School, I started as a lawyer and as a trade union leader. - Author: P. Chidambaram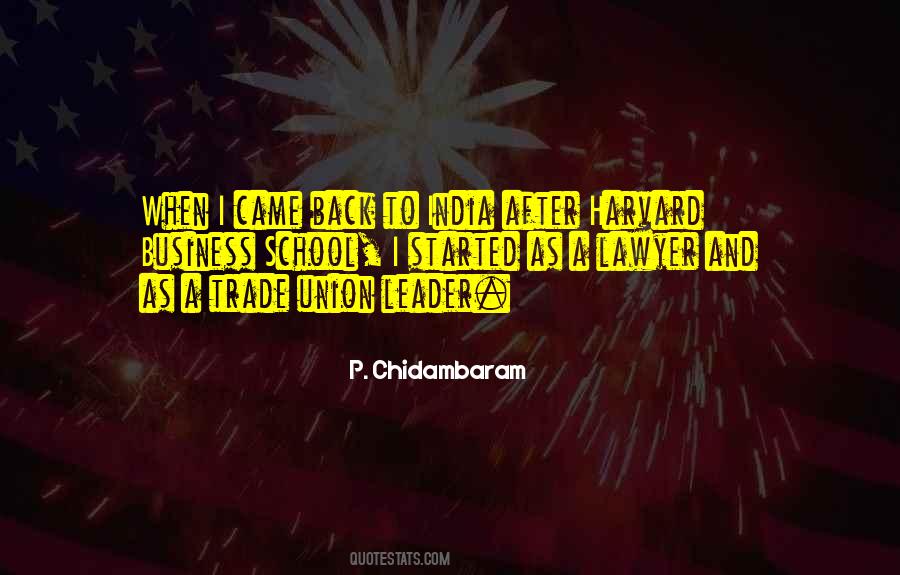 #16. I learned English at school, or at least that's how it started. Also, in Holland - as opposed to some other European countries - we don't dub anything, so as a kid growing up, always watching English and American movies in their original language really helped. - Author: Michiel Huisman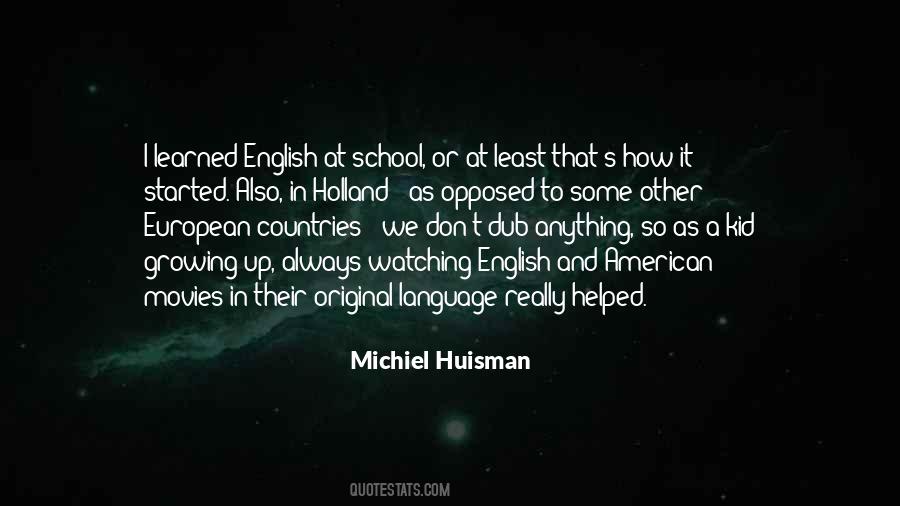 #17. My life has been a kind of mystery to me. By all my logical, linear thinking I started out in school as a little boy, I didn't have a clue about anything. What they were talking about in school, couldn't play sports, couldn't learn, and I was bottom of the class. - Author: Anthony Hopkins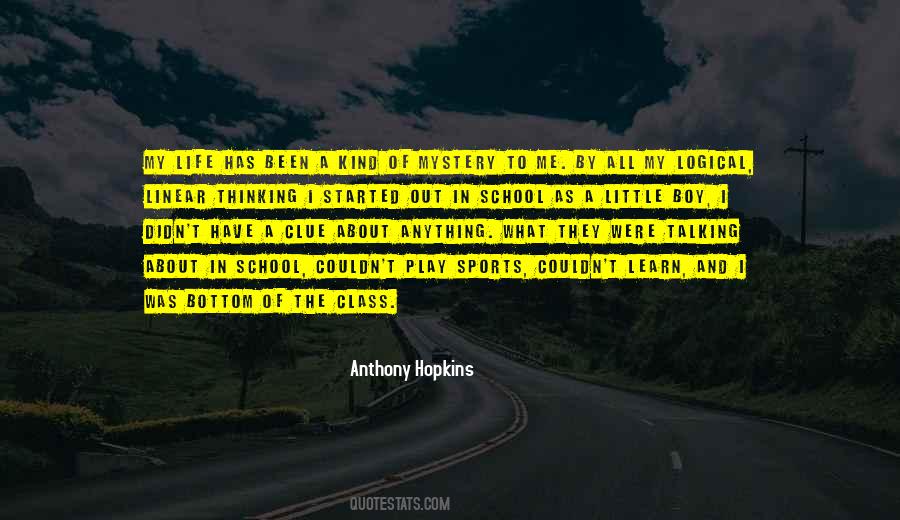 #18. I always sang. I wanted to be in a band with my sister, and I was, at 11. At 12, I started writing seriously, and that was my pacifier all through high school - that and painting. - Author: Cyndi Lauper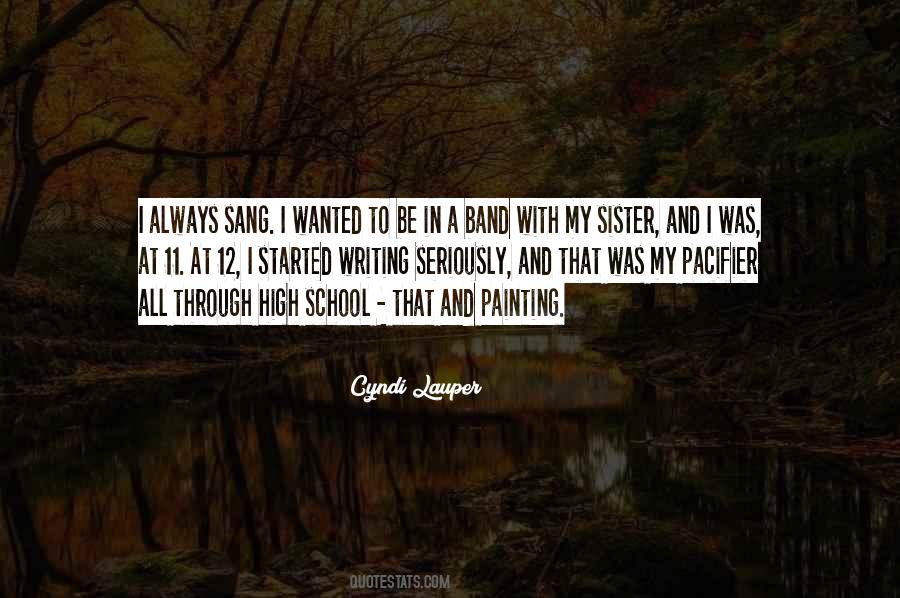 #19. But, neither of these educational scenarios worked for us, so when we started a family, we wanted a different school for our children. And the other founders felt the same way. - Author: Daniel Greenberg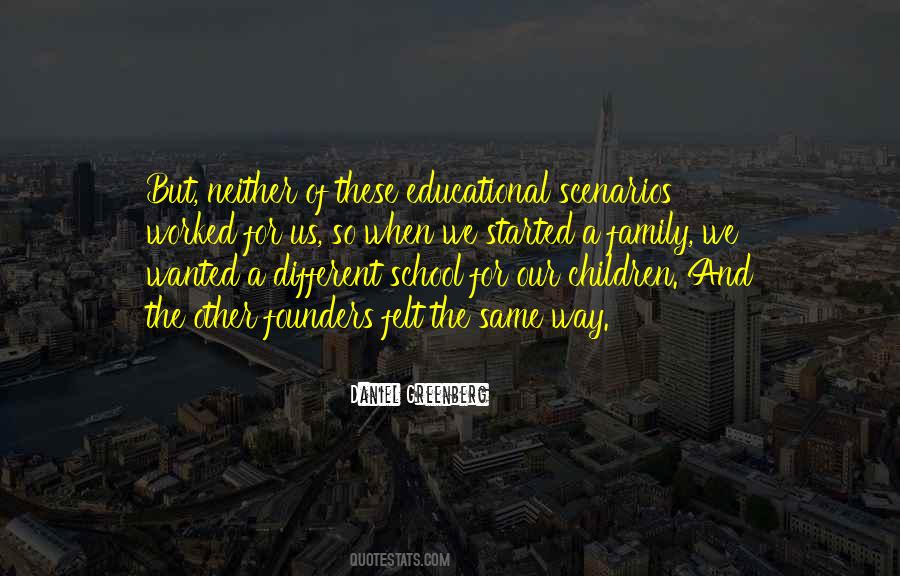 #20. I loved doing school musicals [as a kid], I even started at an early age to write little plays for the school to perform. I was not just keen on that, it was during that time, during the school period then from an early age, that I began to dream about acting. - Author: George Ogilvie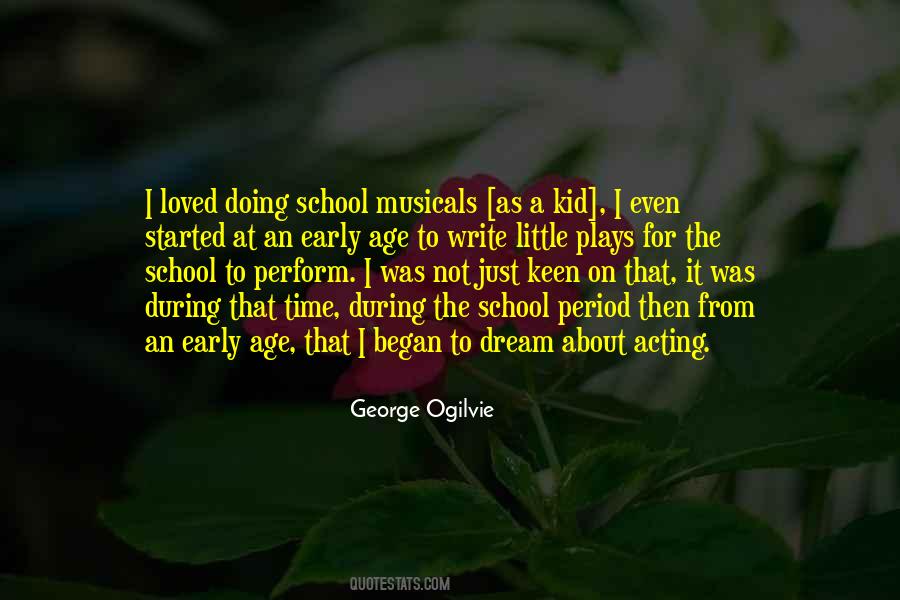 #21. I started to wear the sunglasses all the time at school, hiding behind them ... I'd walk down the hallways, practically hugging the wall, dragging my head against it like I was crazy. - Author: R. Kelly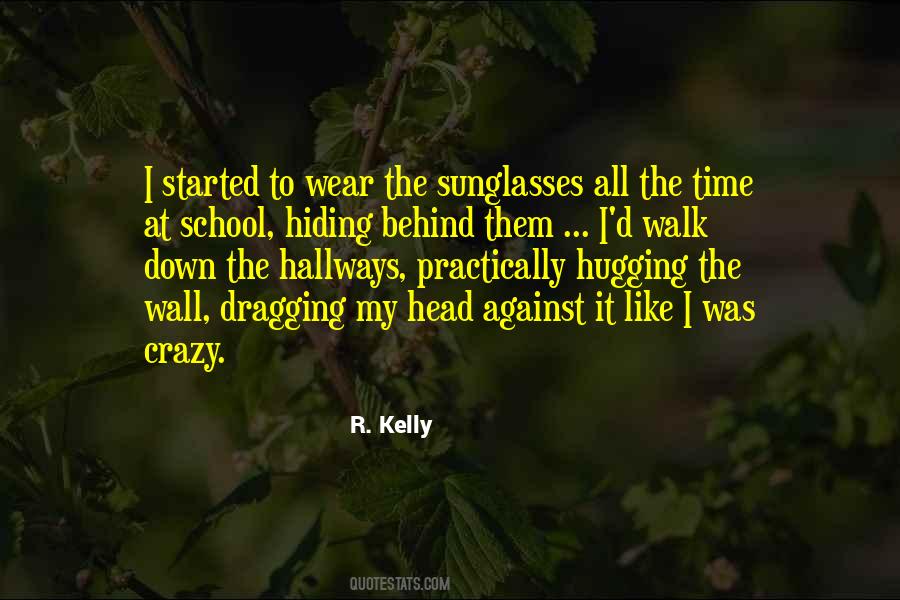 #22. I always loved doing productions in school. In college, I started getting a little more serious. - Author: Peter Jacobson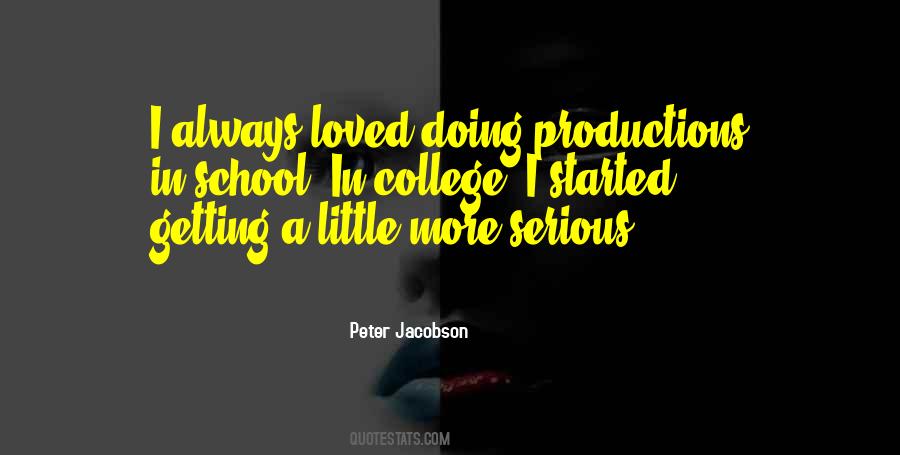 #23. All I had was a CD with beats. I wrote to every beat on that CD, and when I got off punishment, I put out my first mixtape. I passed it out all around school. I started going to the studio. I started doing shows. - Author: Dreezy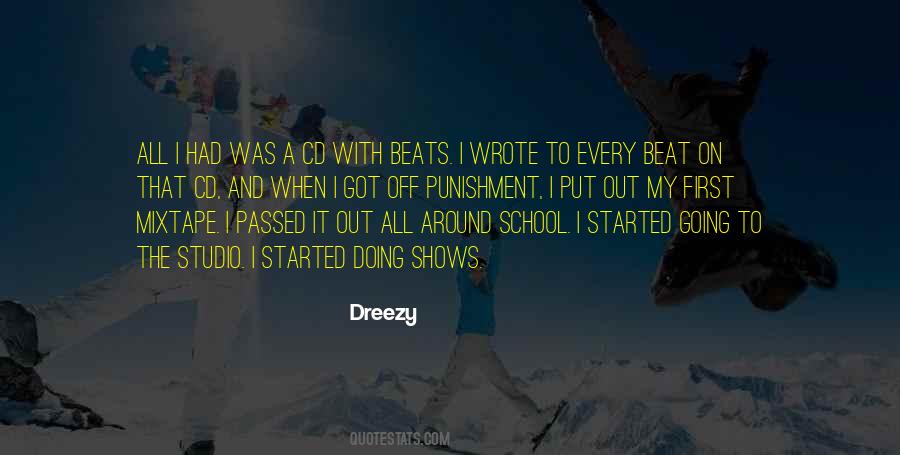 #24. I started running in high school. I found out if you run fast then you can get girls. - Author: Kim Collins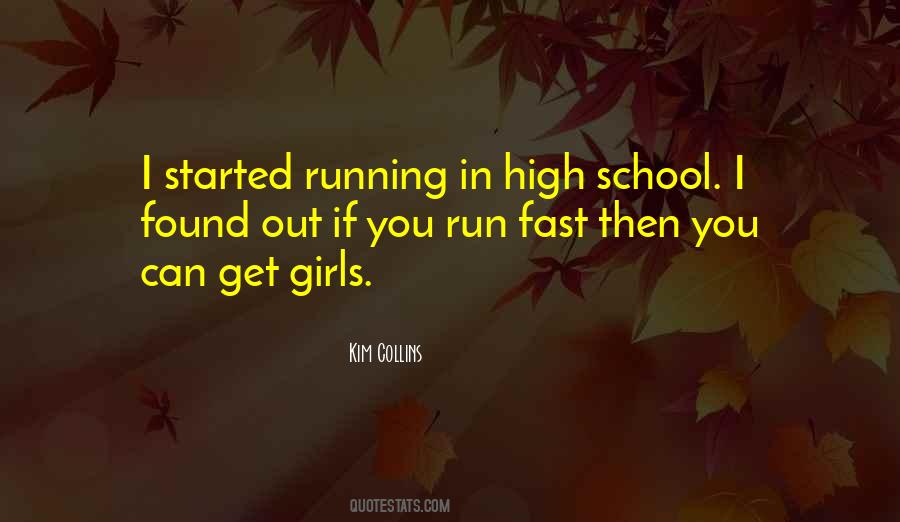 #25. On time for us was thirty minutes before actually started, because the half hour before the first bell was the highlight of our social calendars: standing outside the side door that led into the band room and just talking. - Author: John Green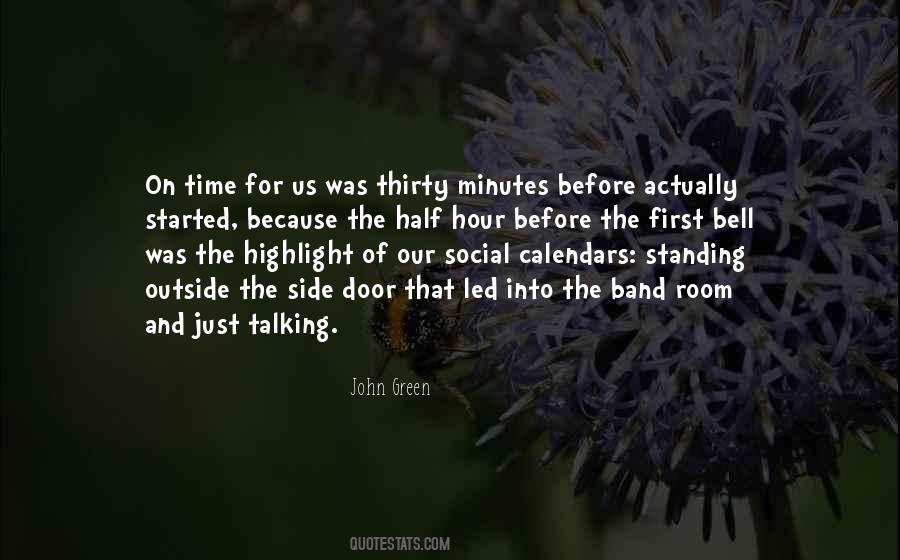 #26. I went to art school, and that's how I got the internship, and then I started a band. But I always missed comics, I always wanted to do them. - Author: Gerard Way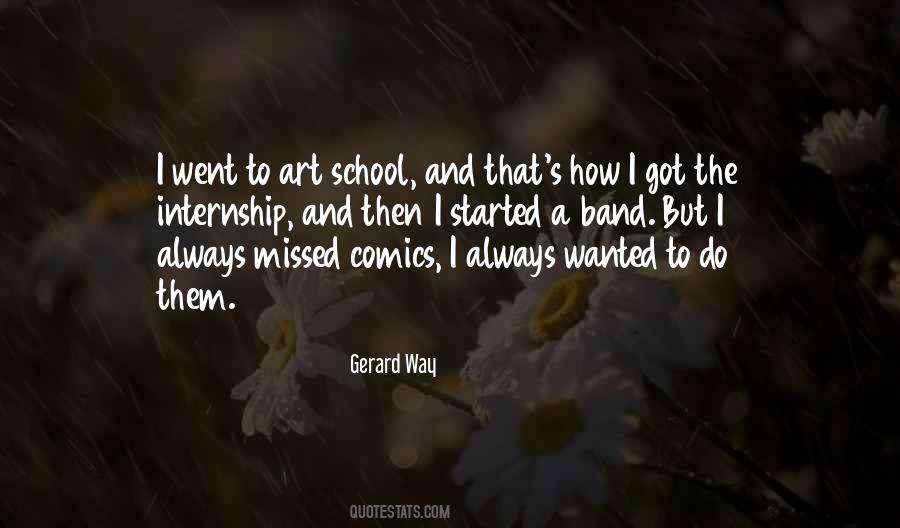 #27. I first tried a novel when I was 14. First finished one when I was 16. First started working on stuff that had a chance of being salable in my early 20s, then didn't write much fiction at all because I was in grad school. - Author: Harry Turtledove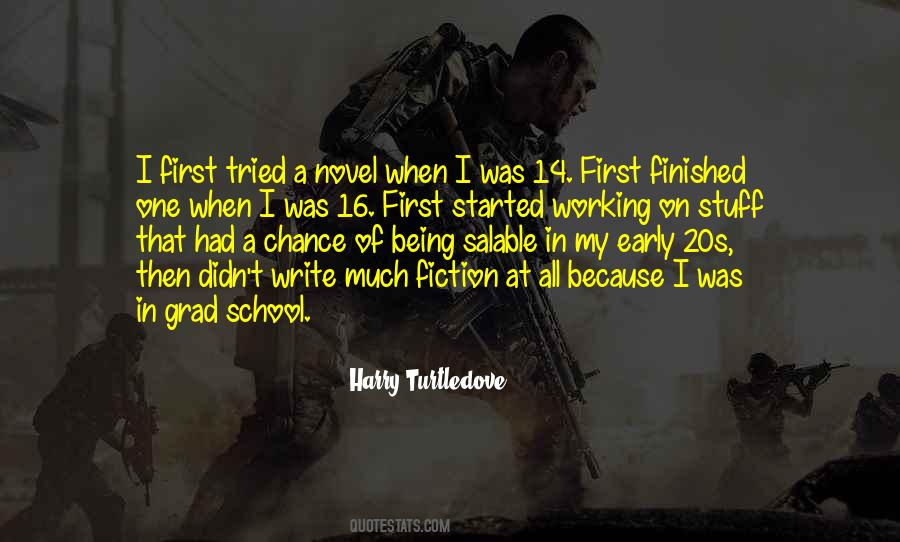 #28. I consider myself a 'local' actor in France. I started out in France, I went to drama school in France and the French film community was very welcoming to me when I was a young actress. - Author: Diane Kruger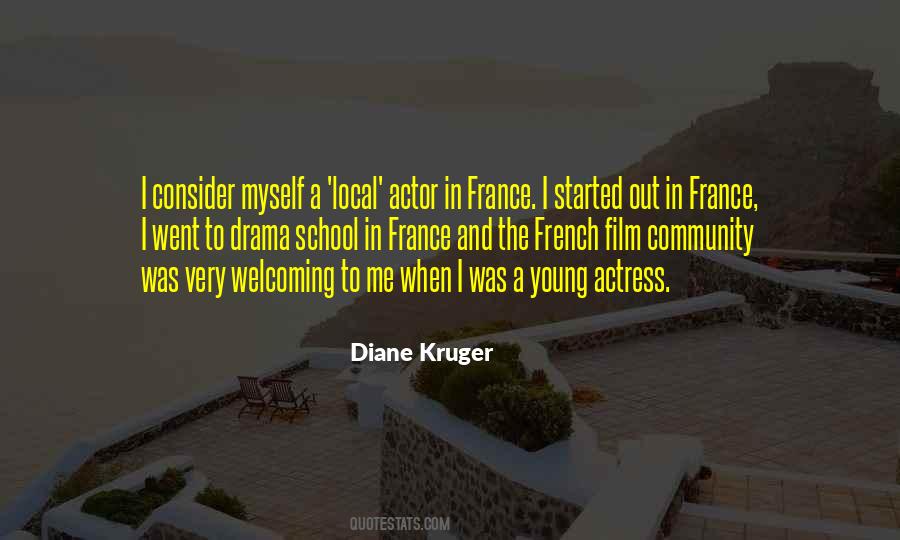 #29. I always wanted to be a filmmaker, but I started acting when I was 9 years old. I looked a certain part that I wasn't, really. I played, you know, a high school jock with a lot of attitude or a spoiled rich kid, and I was neither of those things. I was from a very working-class family in Van Nuys. - Author: Steve Antin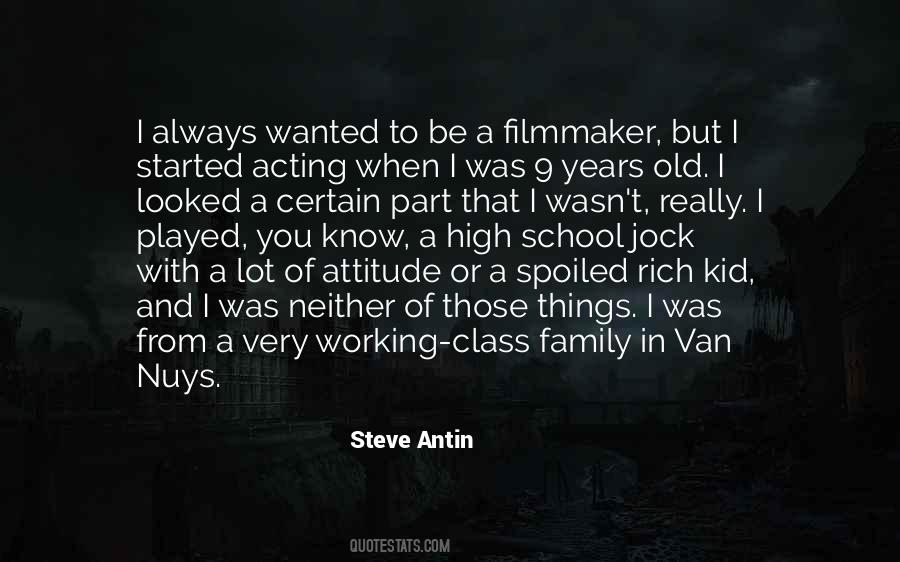 #30. As we returned to Argentina, I started seriously to work towards a doctoral degree under the direction of Professor Stoppani, the Professor of Biochemistry at the Medical School. - Author: Cesar Milstein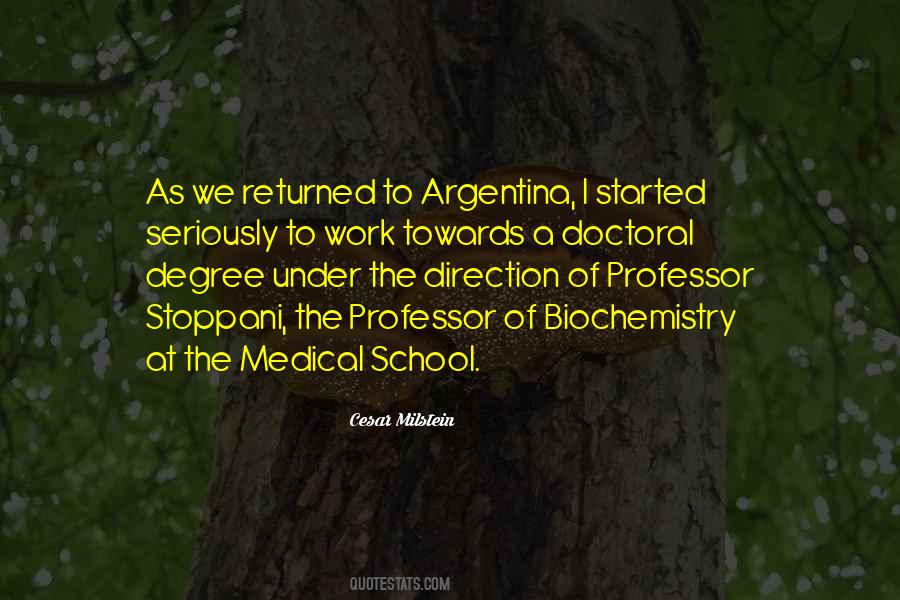 #31. I was at the Apollo Theater all the time, skipping school, and I worked in a barbershop. That's how I started with doo-wop. Now I've come full circle. I did all kinds of music. I used to work on Broadway and Tin Pan Alley. - Author: George Clinton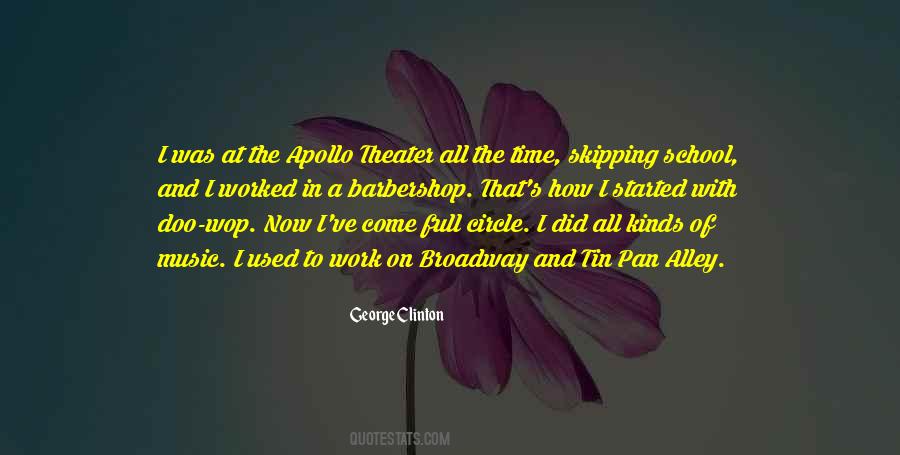 #32. In high school, my two older brothers ran track. They'd come home sweaty and mud-covered, and I could tell they enjoyed it. So I started running - I ran a mile down the road and back again - and I haven't stopped since. - Author: Mika Brzezinski
#33. My education started with Latin taught at home by a governess, I can't imagine why, and for some reason I attended the Infants Department of the Oxford High School for Girls before moving to the Dragon School at the dangerous age of 8 or so. - Author: Tim Hunt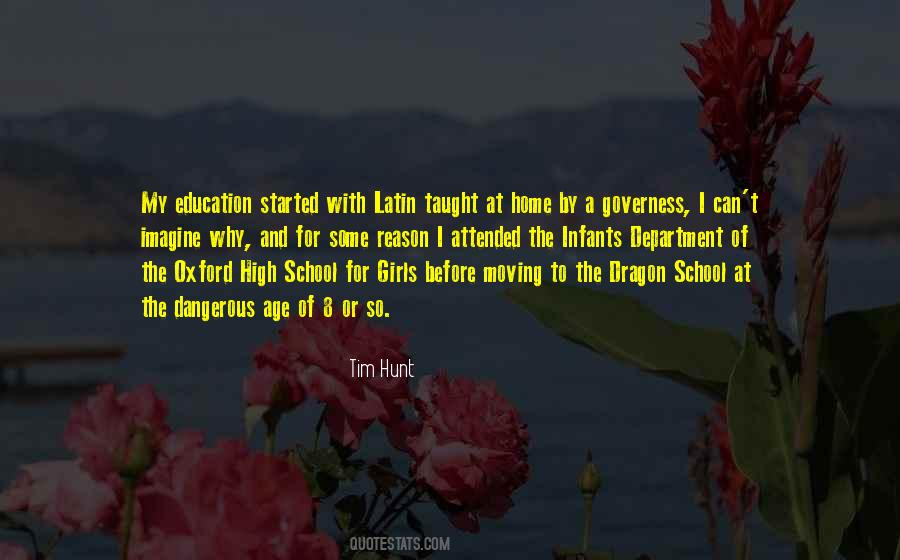 #34. When I was 16, I started publishing all kinds of things in school magazines. - Author: Margaret Atwood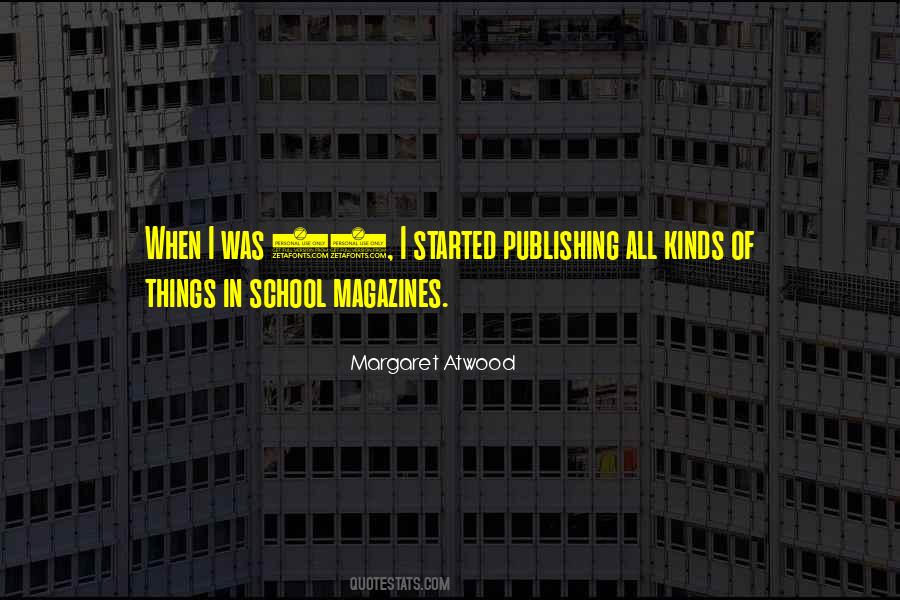 #35. I started understanding William Blake and George Orwell more and more. It's amazing how we go to school when we're so young, read all of these books, just trying to memorize them. When you start to live, you don't have to memorize anything. - Author: Benjamin Clementine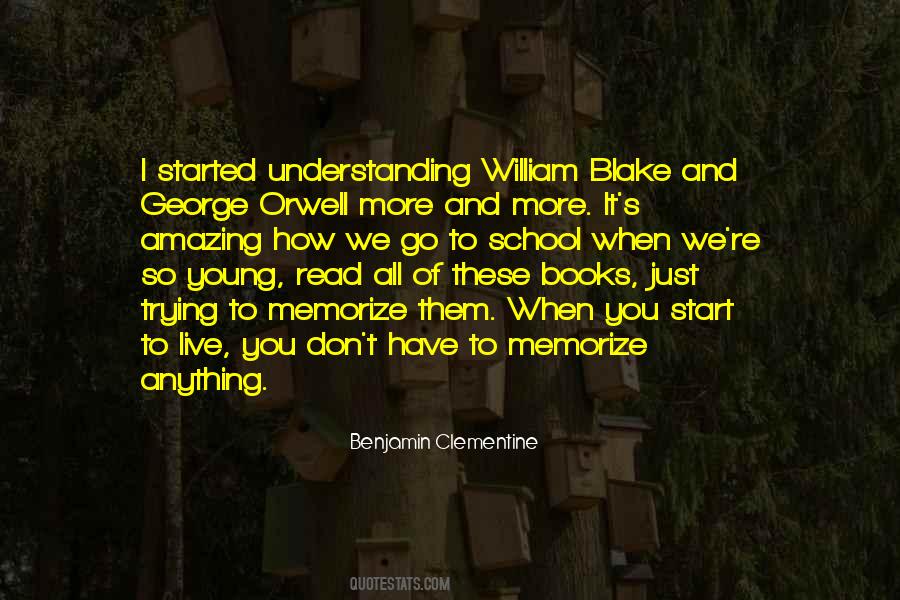 #36. I graduated from school for graphic design, and I started to get into acting class just to get over severe fright. I was an extremely shy person. I could barely say hello to anybody. - Author: Trevor Donovan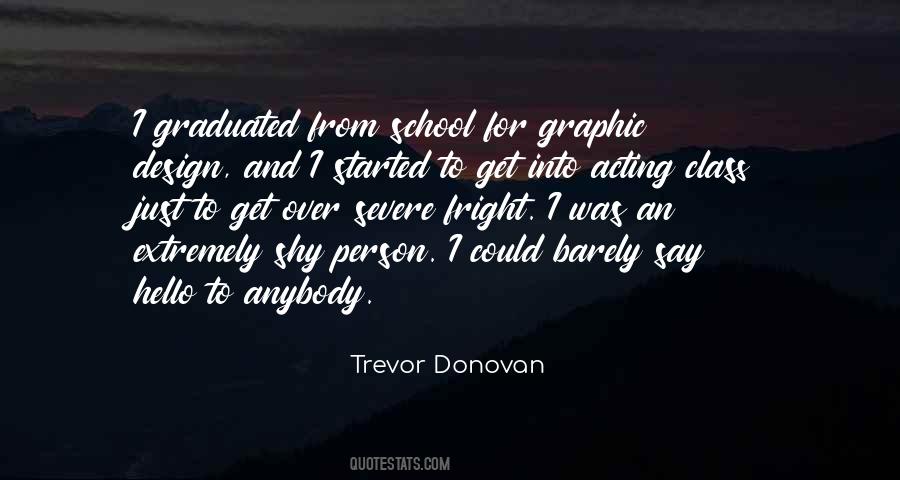 #37. I started at home as a kid putting on shows and lip-syncing Michael Jackson for the grown-ups. Then, in musicals and plays in school. At 17, I was performing in coffee shops and in parking lots at Phish shows. At 18, I had a band that played local shows in the Northwest. - Author: Matisyahu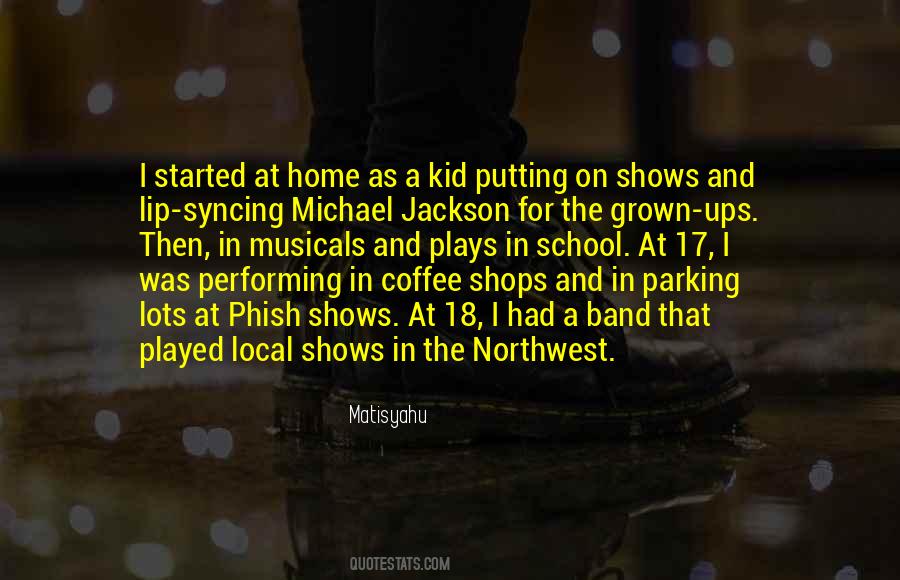 #38. When I was 13, I started working in a nightclub with Ray Charles. That's the greatest school in the world, the school of the streets. Ray taught me how to read in Braille. He was only two years older than me, but it was like he was 100 years older. - Author: Quincy Jones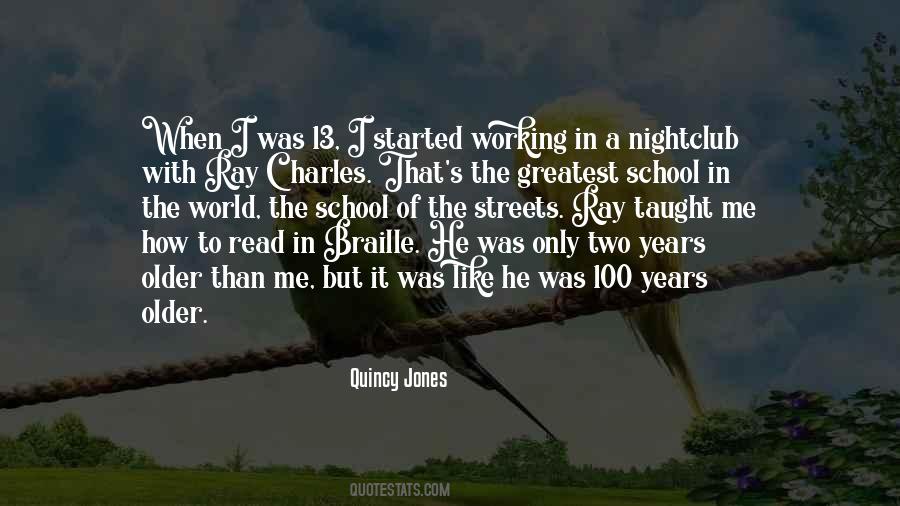 #39. I started studying theater in school, and then I got into drama school at, like, 19, and it was a national drama school in Montreal, and so it was just you and nine other students for three years, and it was really intense. - Author: Francois Arnaud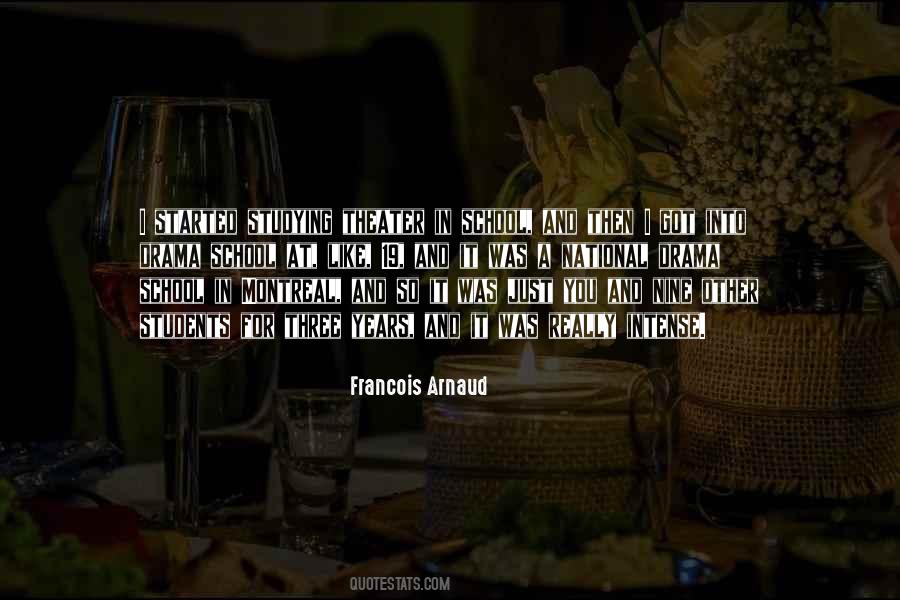 #40. I started quite young at school, compering a charity event at an old people's home. I would do stand up and impressions and enjoyed the laughter. It's very addictive. It's a lovely sensation to say something and hear a whole room laugh. - Author: Armando Iannucci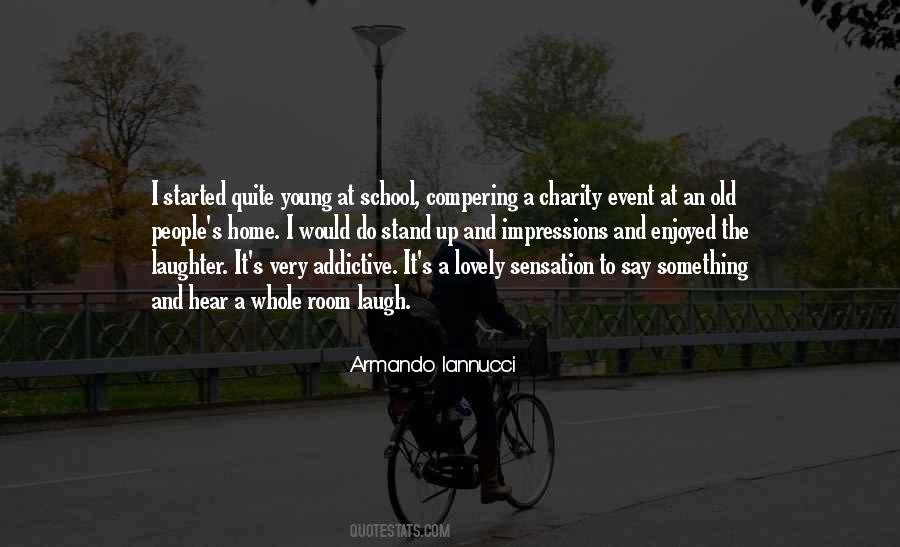 #41. I never read detective novels. I started out in graduate school writing a more serious book. Right around that time I read 'The Day of the Jackal' and 'The Exorcist'. I hadn't read a lot of commercial fiction, and I liked them. - Author: James Patterson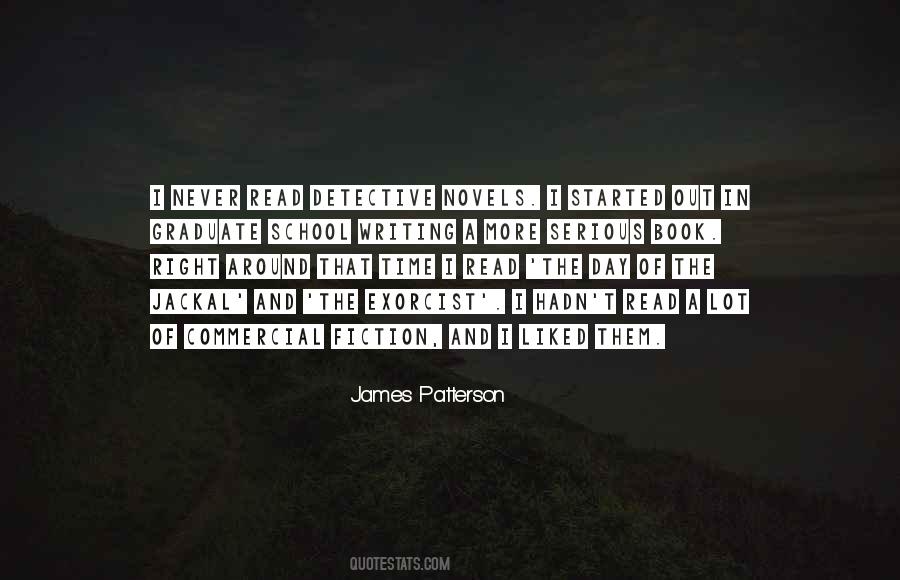 #42. I wanted to be a doctor when I was a kid, but I started doing theater in high school because it was a requirement. At first, I was completely irritated. But I ended up loving it. - Author: Sophia Bush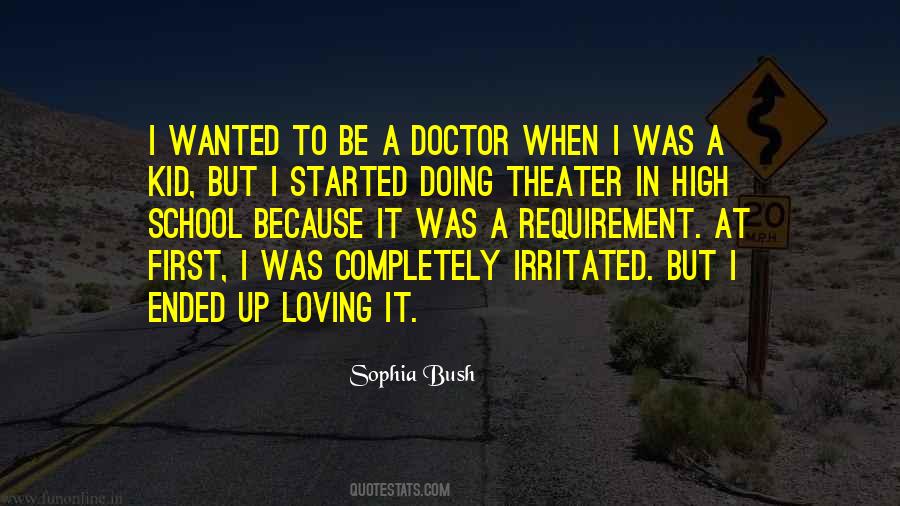 #43. I couldn't fight, and I wasn't particularly interested in the academic. So I started doing satiric bits in the school bathroom. Guys would cut class to come and see me. - Author: Freddie Prinze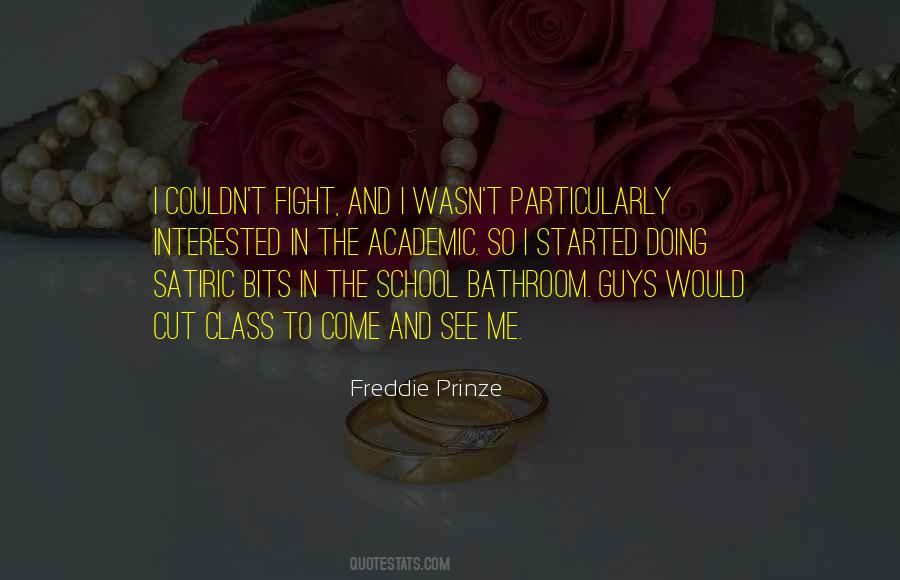 #44. Well, I design costumes because I started with the theater in Chicago, but somehow a few lines just sort of fell to me to do it. And I studied it in school and I always liked it. - Author: John Malkovich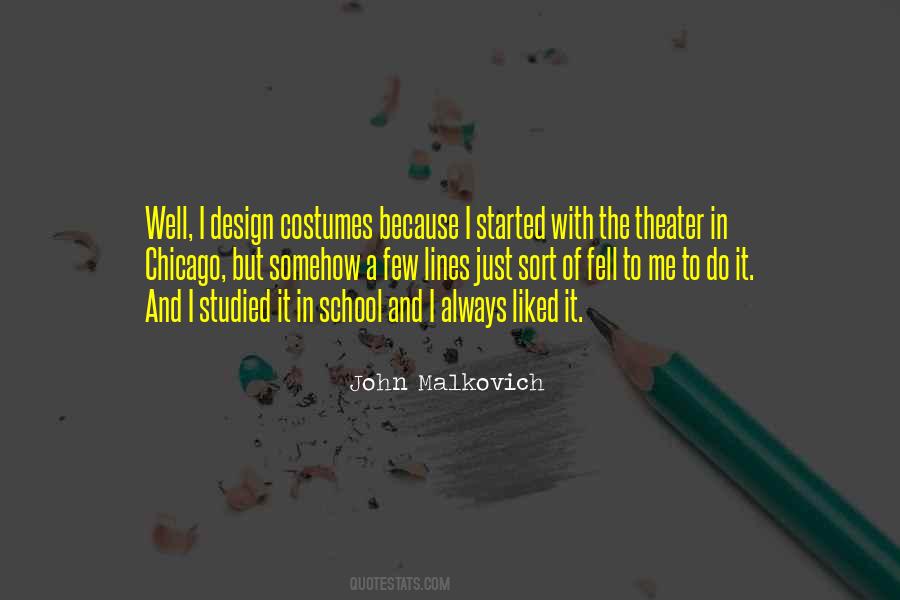 #45. A woman gave my dad $400 so we could get an apartment. We were living in a park. That's how we got started: Four hundred bucks, and look at me. When I donate a computer to a school, I never know what's going to come out of it. - Author: Gilbert Arenas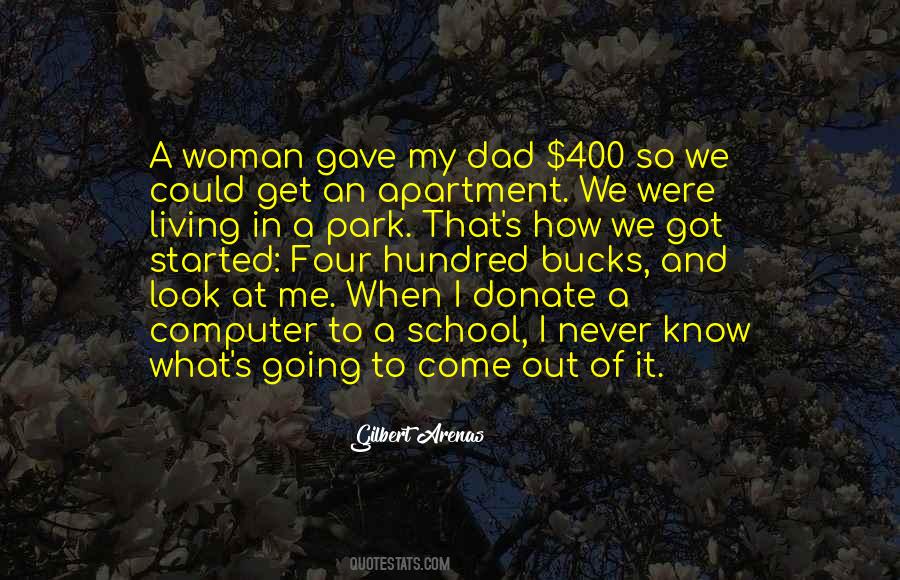 #46. I started out singing in high school in the choir and in a garage band. - Author: Stark Sands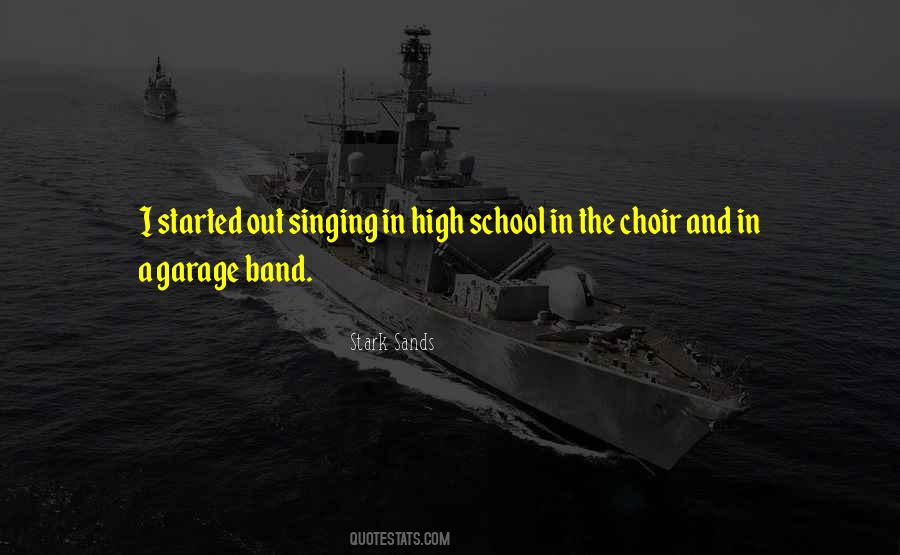 #47. THE AWARD CEREMONY is held at a high school in Hyannis. Though it's just a gymnasium (the scent of balls of both varieties is still palpable) and the ceremony hasn't started yet, everyone speaks in hushed tones, like it's church. Something important and literary is about to happen here. - Author: Gabrielle Zevin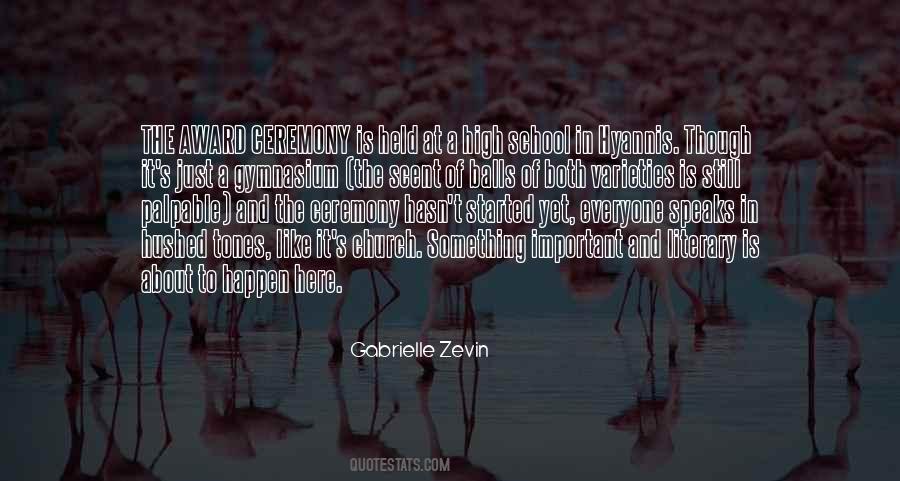 #48. 'The Glass Menagerie' by Tennessee Williams is a great play. I had to read it for school when I was younger, but I started writing scripts after that. That's what got me into writing. - Author: Jake T. Austin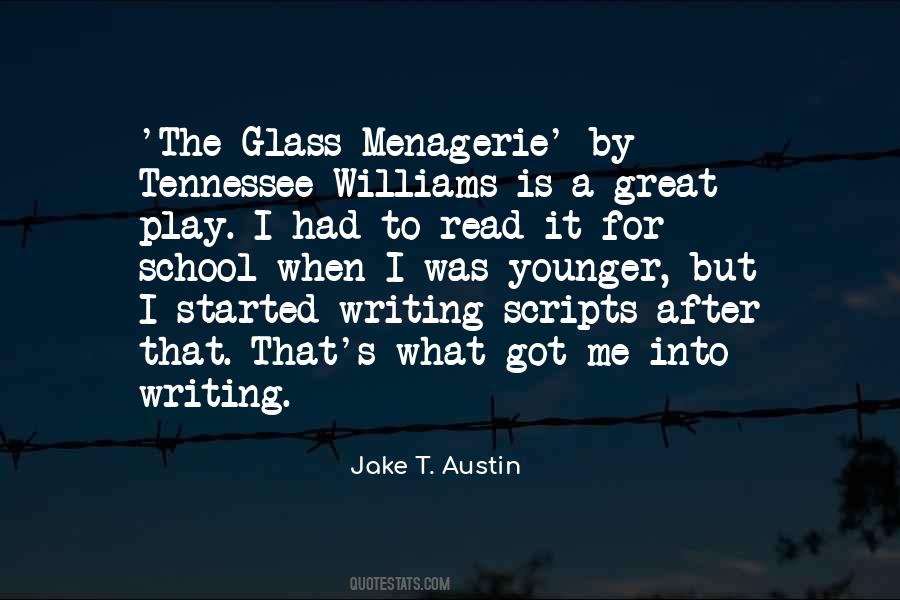 #49. I started painting when I was in high school. - Author: James Best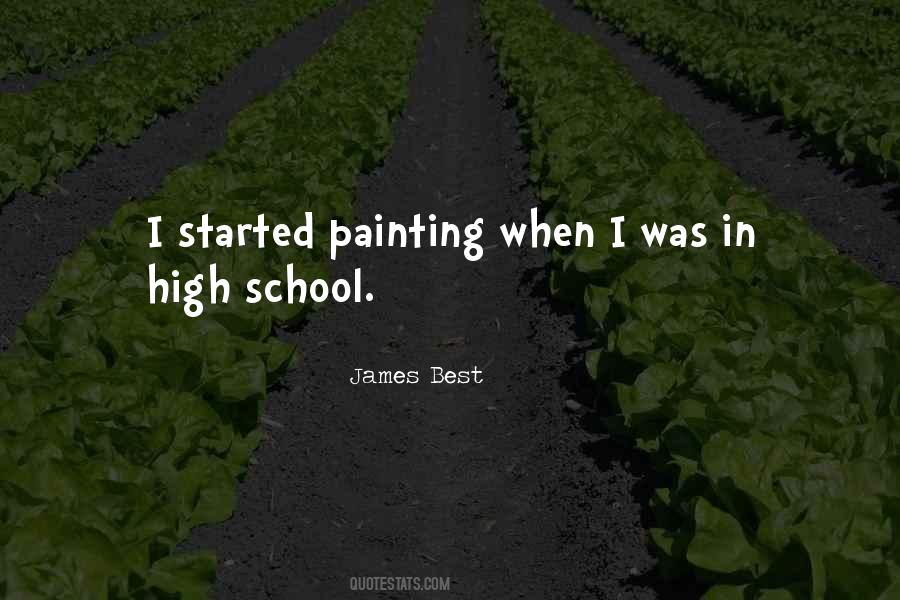 #50. Thanks to the comic book publishers. Batman and Captain Marvel were responsible for my learning to read at least a year before I showed up at school. They got me interested in writing. Started my first novel at about eight. The title: 'The Canals of Mars.' - Author: Jack McDevitt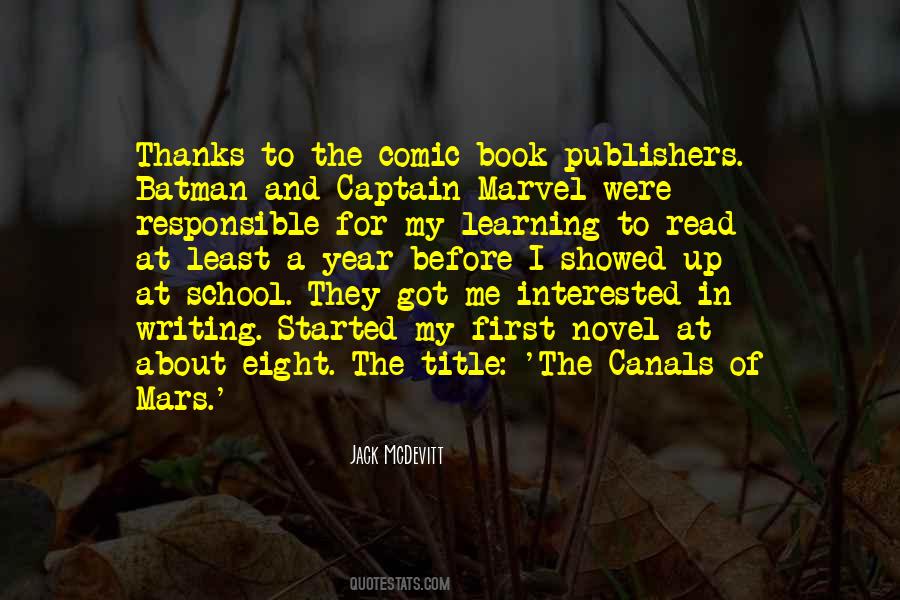 #51. There was no theater program or anything where I'm from. So junior year in high school I started the theater program. - Author: Jeffrey Donovan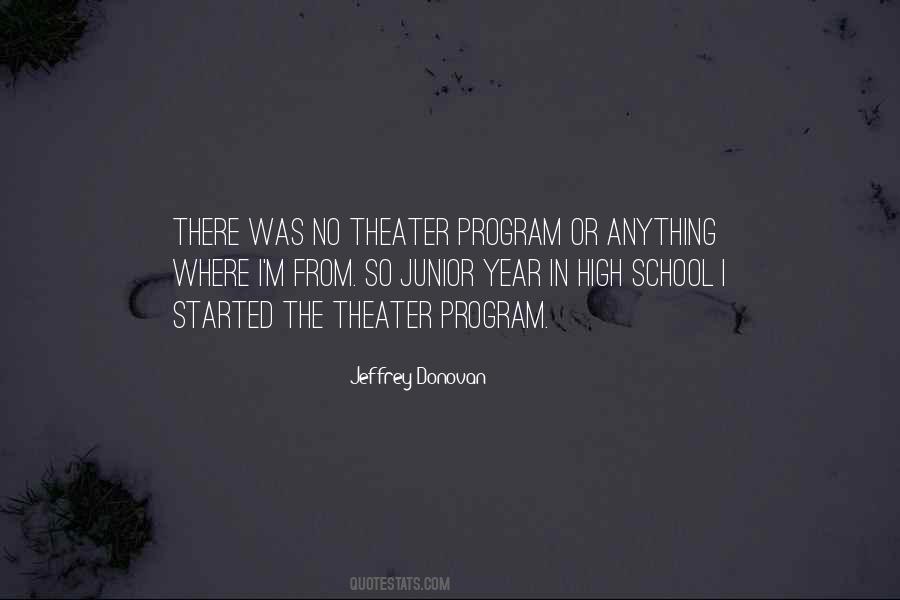 #52. Sobel was Jewish, urban, with a commission from the National Guard. Hester had started as a private, then earned his commission from Officer Candidate's School (OCS). Most - Author: Stephen E. Ambrose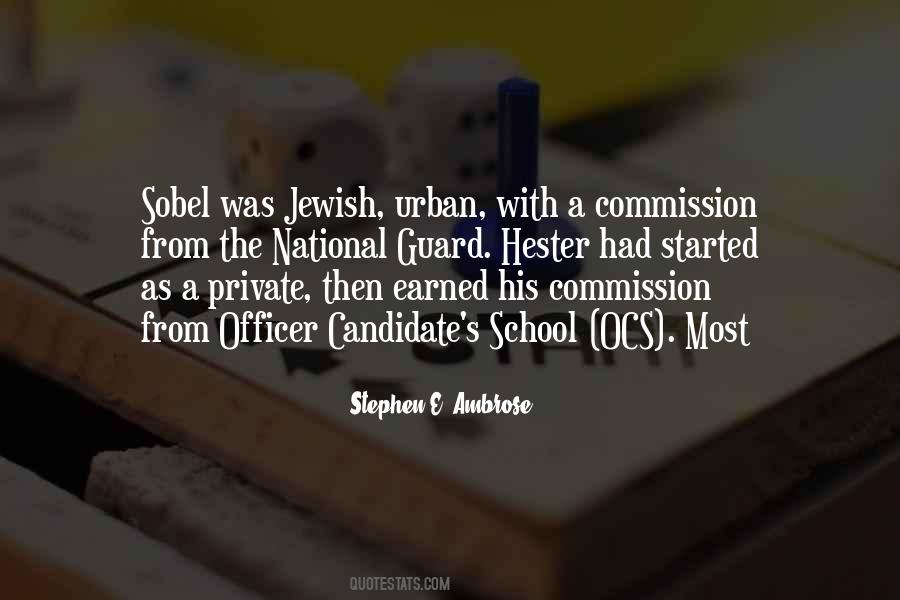 #53. I went to school in Gainesville because it was a huge punk and folk town. So I went to class twice a week, and then I went to shows and wrote. I did a lot of music writing before I actually started playing music. - Author: Benjamin Booker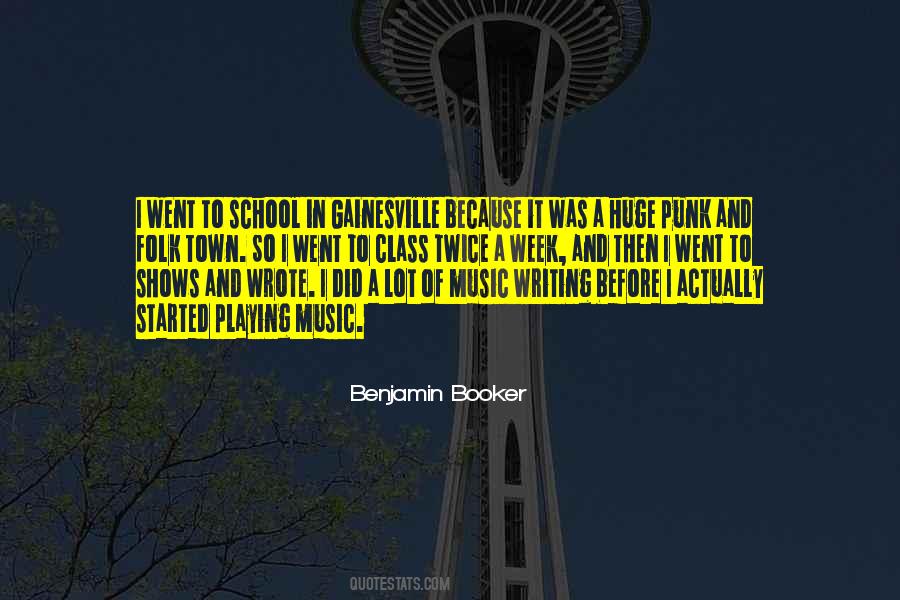 #54. I started to learn Greek when I was in high school, the last year of high school, by accident, because my teacher knew Greek and she offered to teach me on the lunch hour, so we did it in an informal way, and then I did it at university, and that was the main thing of my life. - Author: Anne Carson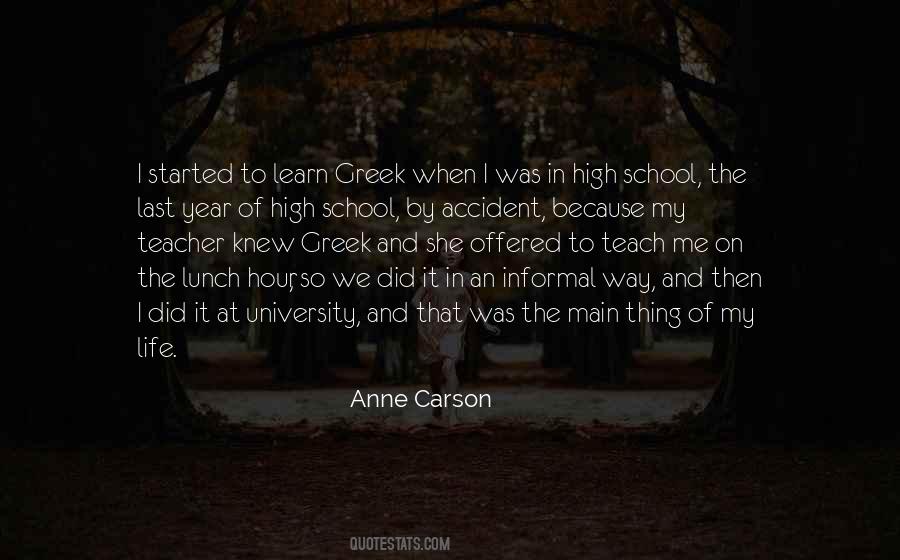 #55. I didn't love school because I wanted to disguise that I was poorer than everybody else. So when I was a teen I reached out in a wrong way. I started to be a mugger, to rob people in the streets, just to supply for my needs. - Author: George Foreman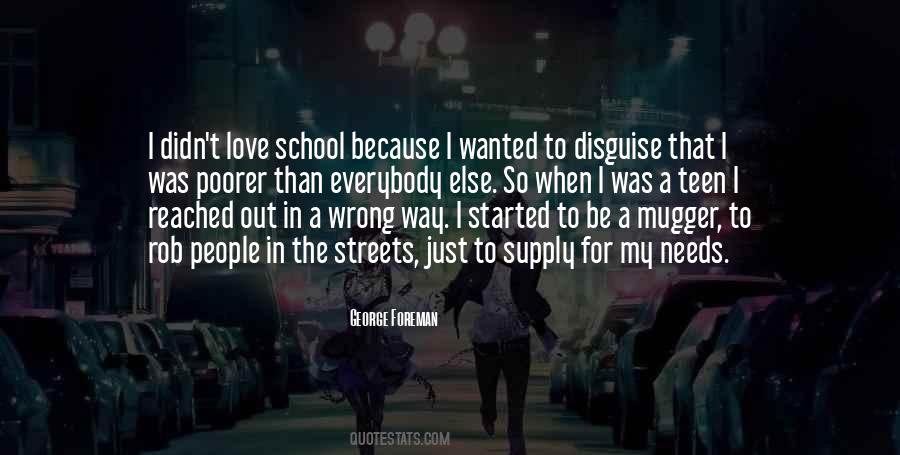 #56. I fantasized about being a psychology major when I first started school, and I took a handful of Psych 101 classes. - Author: Claire Danes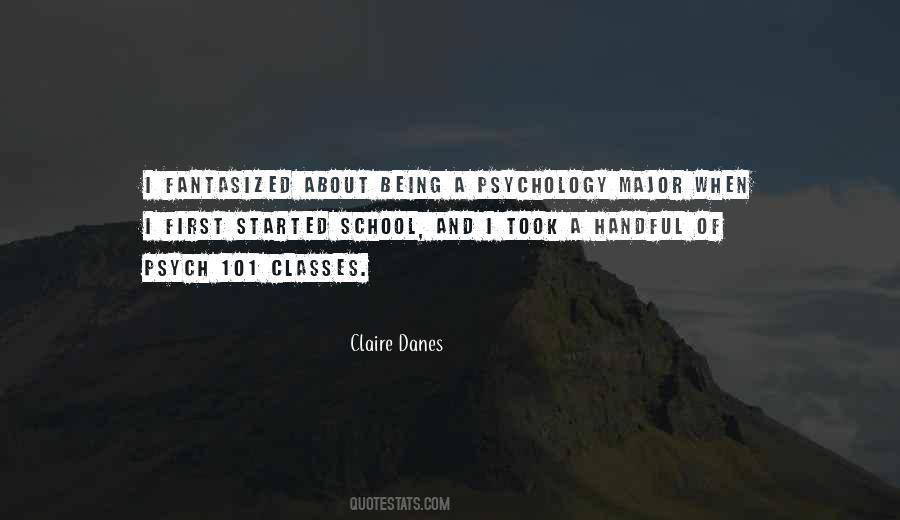 #57. I kind of wanted to tell them that. Like, it's okay, I know I'm weird-looking, take a look, I don't bite. Hey, the truth is, if a Wookiee started going to the school all of a sudden, I'd be curious, I'd probably stare a bit! - Author: R.J. Palacio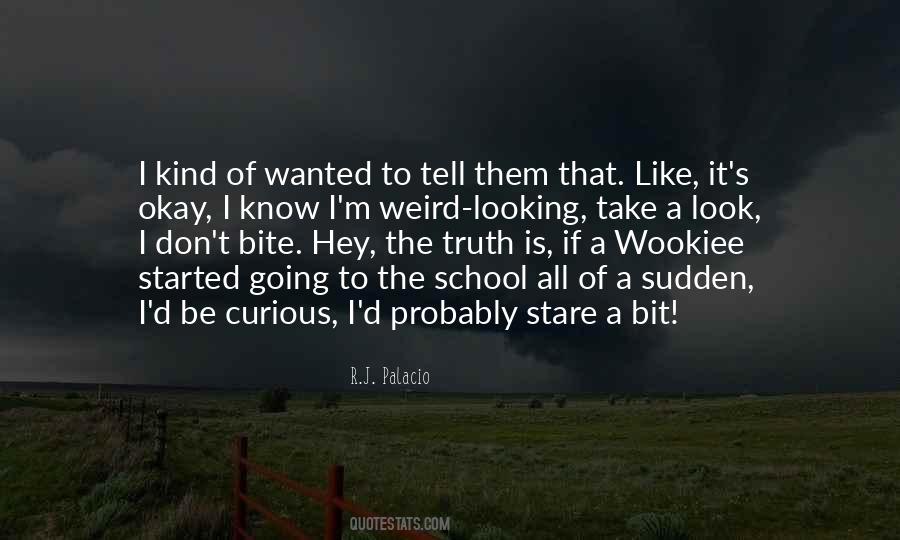 #58. I had forgotten how thrilling a snow day is until my son started school, and as much as he loves it, he swoons at the idea of a free day arriving unexpectedly, laid out like a gift. - Author: Susan Orlean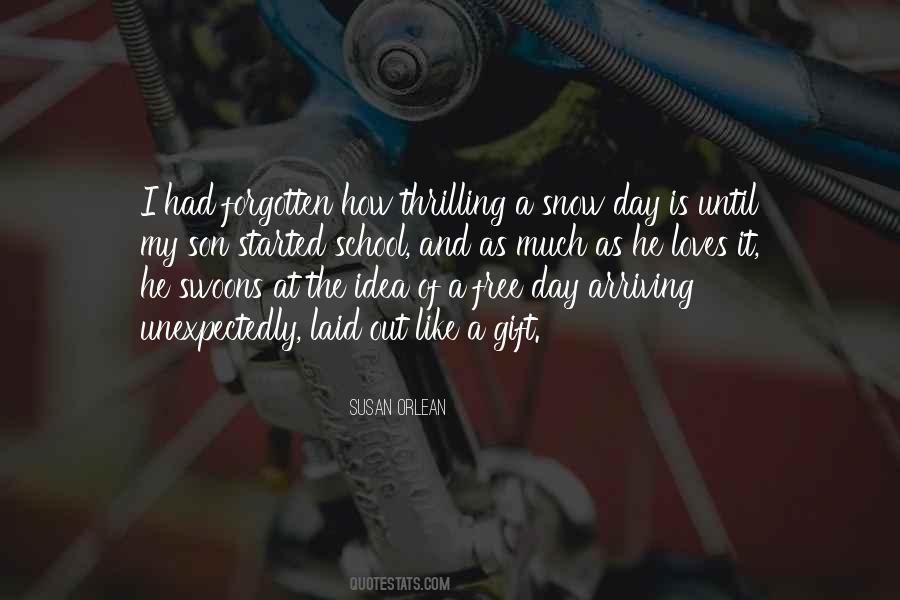 #59. I really do believe some people are naturally novelists and some people are short story writers. For me, when I was in middle school or high school, I started with novels. - Author: M.K. Hobson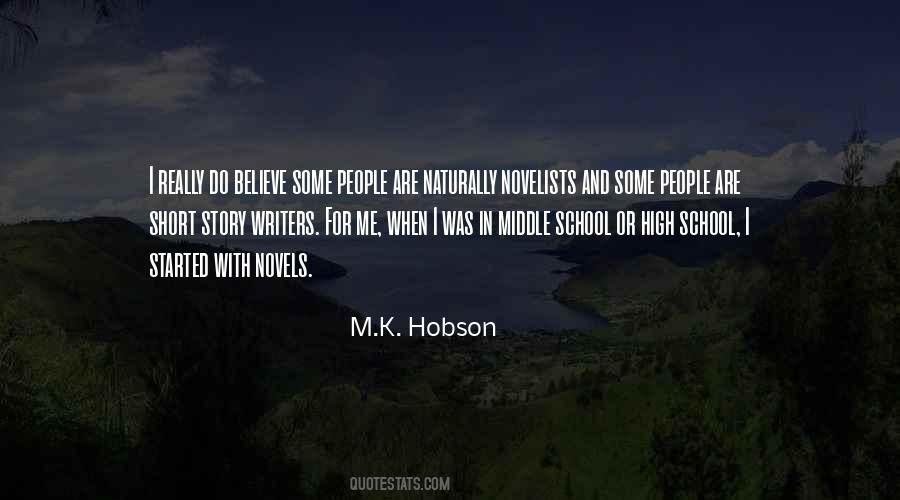 #60. Mac [Barnett]and I both had times when we moved, started new schools, and we know how hard that was, figuring out your identity and who you're going to be at the new school. - Author: Jory John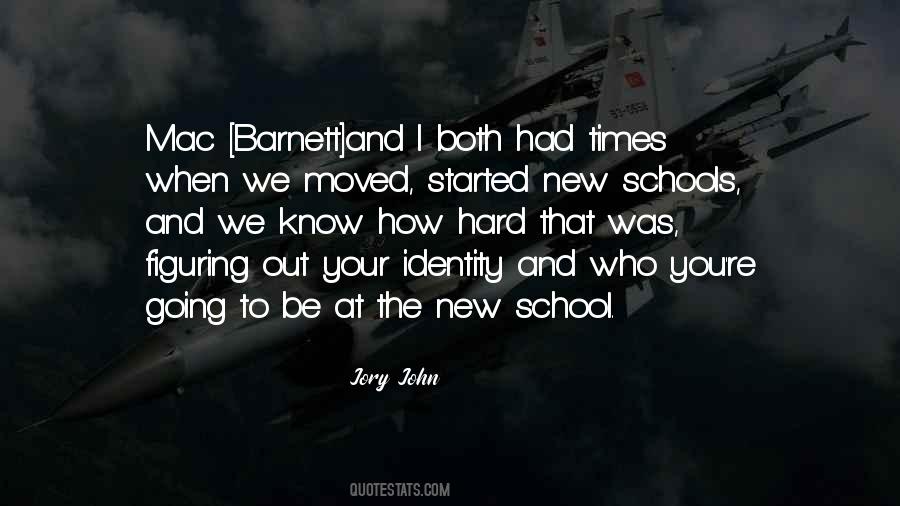 #61. the following September I started at the grammar school. This was in a red-brick building of the kind beloved by Victorian optimists. In - Author: Sebastian Faulks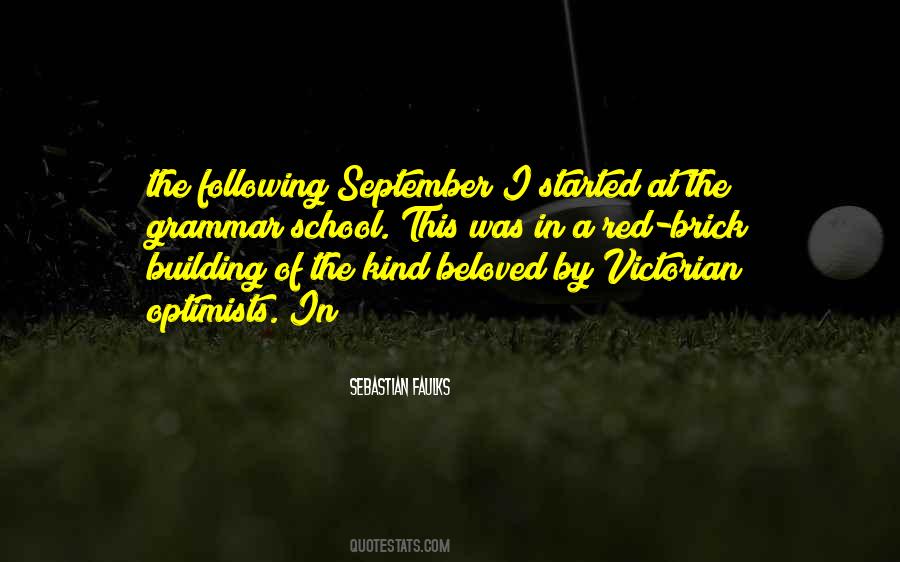 #62. I started making little short films with friends, and then I decided I wanted to get into the school play in high school. - Author: Bill Hader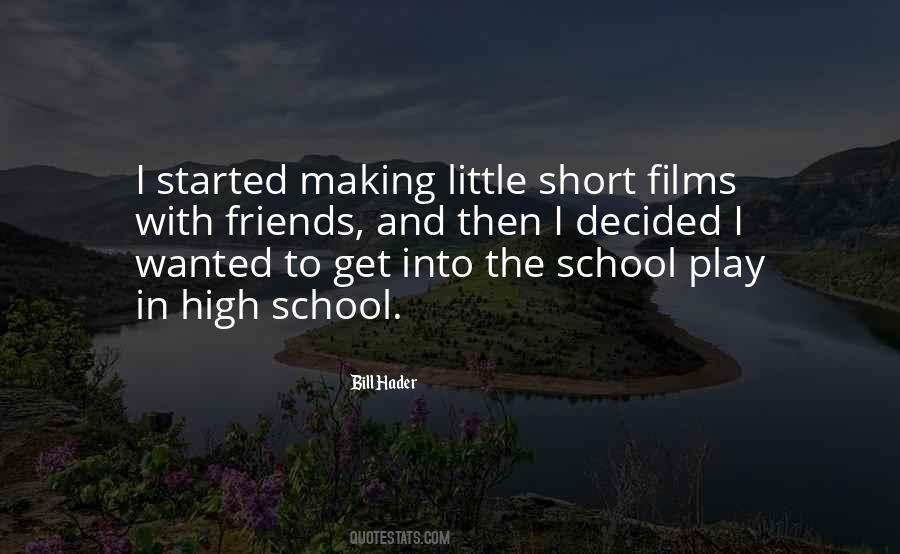 #63. I actually was the captain of the football team. I went to Catalina Foothills High School, and I played football all four years. I started on Varsity my sophomore year, and senior year I was captain. - Author: Parker Young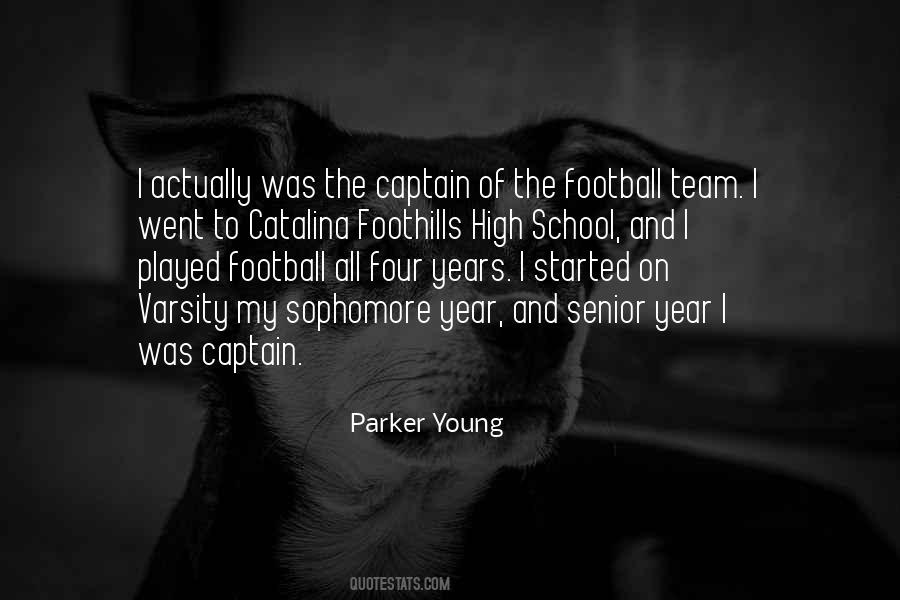 #64. In middle school, I started to draw, and my pencil sketches were huge. They were these 4ft by 3ft drawings, and I got a lot of attention for that, so that was very validating. But I didn't start cartooning until I was in college. - Author: Jeff Kinney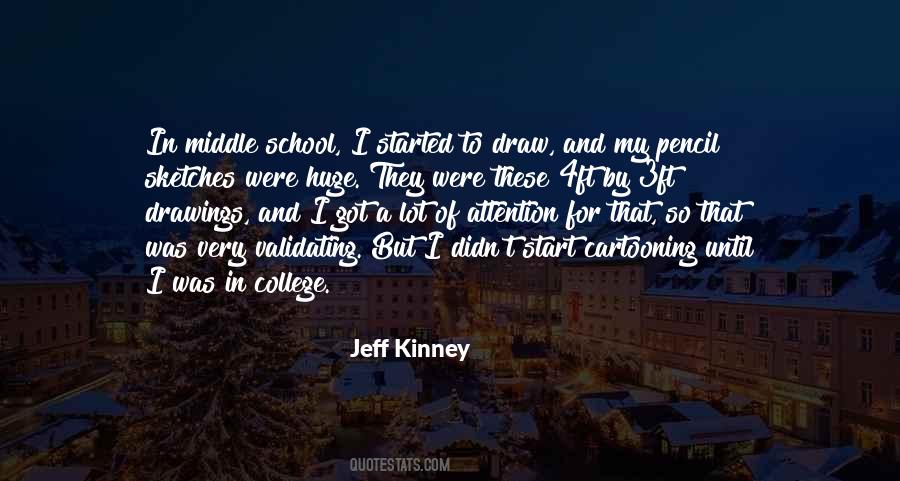 #65. I left school and couldn't find acting work, so I started going to clubs where you could do stand-up. I've always improvised, and stand-up was this great release. All of a sudden, it was just me and the audience. - Author: Robin Williams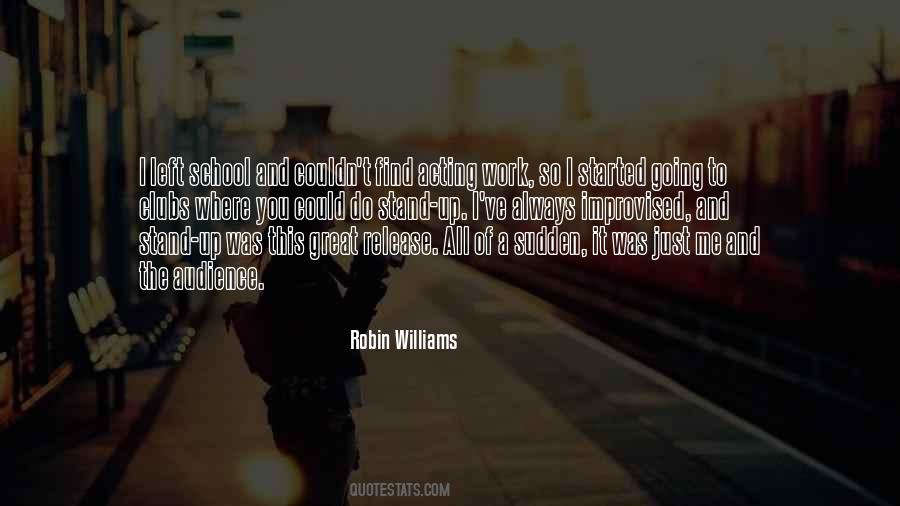 #66. None of our family businesses were focused on technology. It was '93 when I came out of law school, and the Internet was taking hold. So I started New World Ventures. - Author: J. B. Pritzker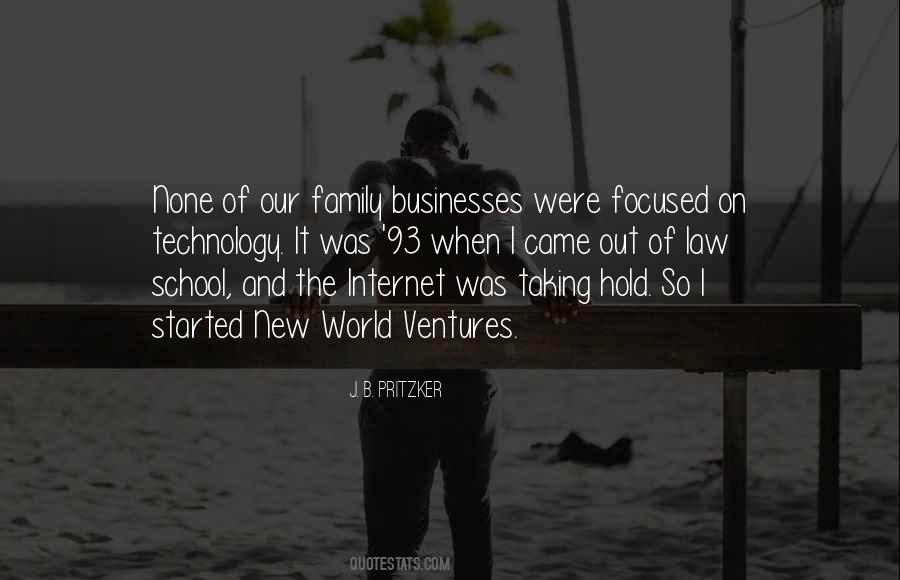 #67. I just started playing guitar and started singing and started working on this act that I would call 'Don McLean' when I was probably in high school. - Author: Don McLean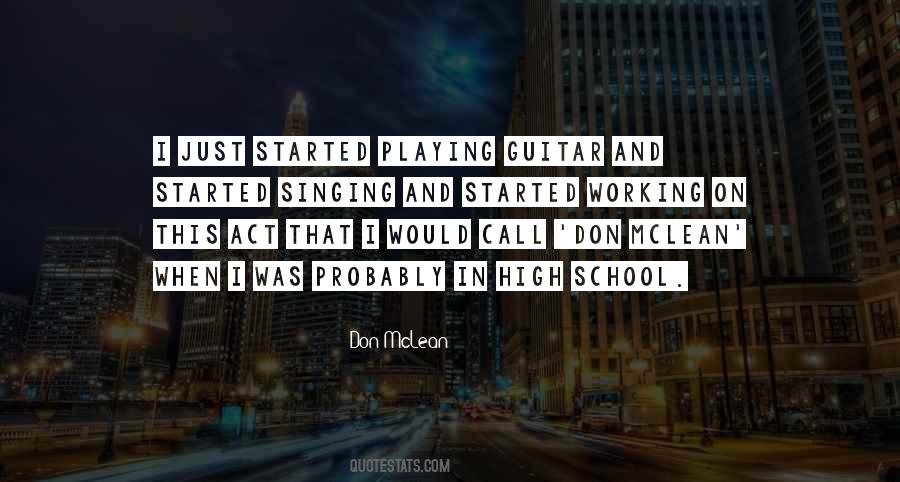 #68. Then one day in school, I turned round to the others and said, 'Dude, what if we started a band like All Time Low? - Author: 5 Seconds Of Summer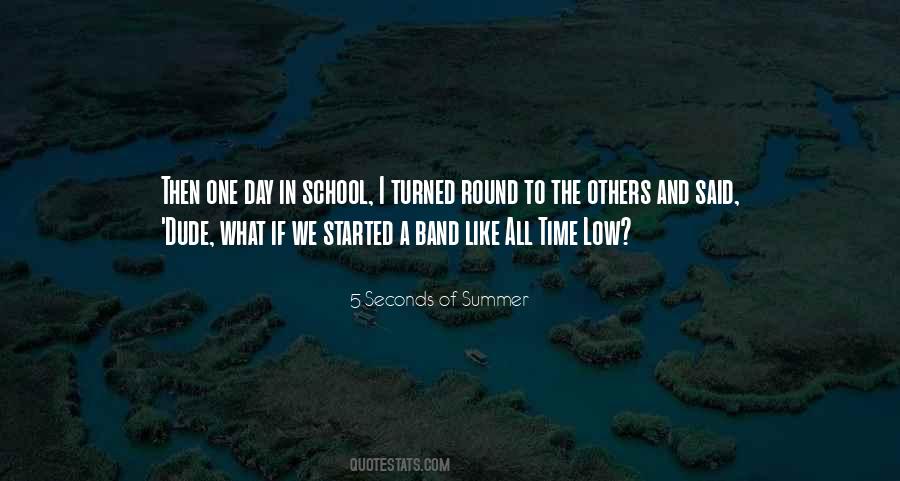 #69. I never really acted at school. It was doing small parts on TV that really got me started. - Author: Freddie Highmore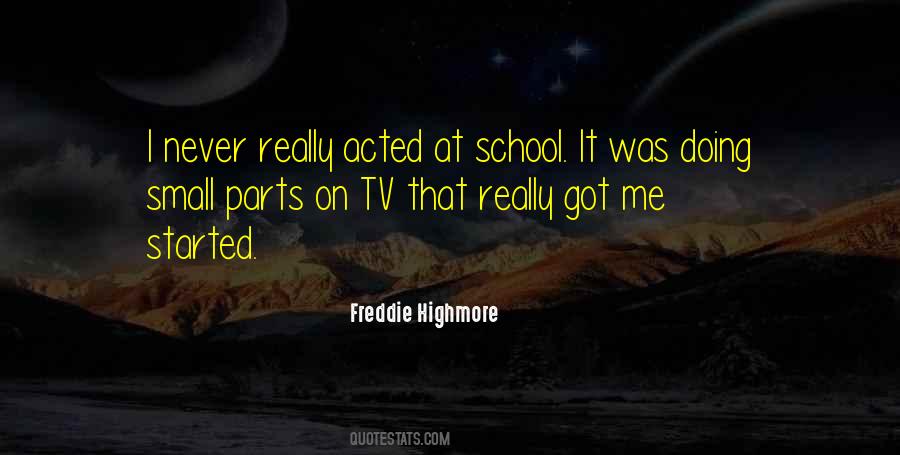 #70. My father ended up starting the Kilimanjaro Christian Medical Centre, which is on the slopes of Kilimanjaro. My mother started a school. - Author: Greg Mortenson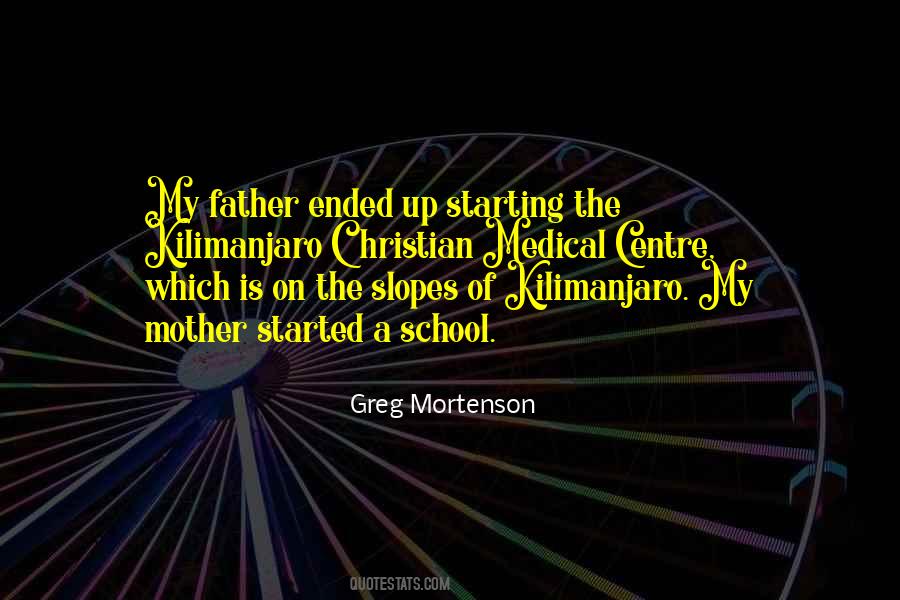 #71. By the time I was about ten, I had started to lose faith with church ways. I was educated in some ways by my high school government and history teachers. - Author: Ronee Blakley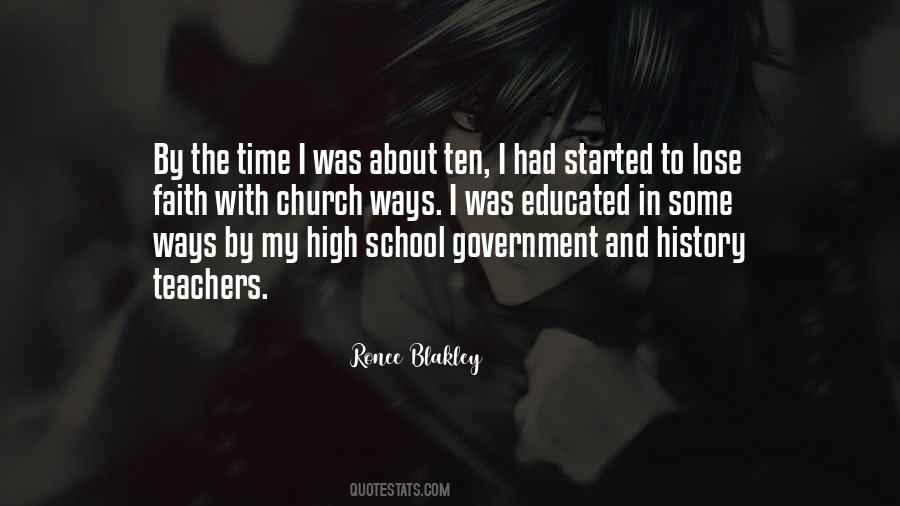 #72. I'm a little top heavy, so I have to pay attention to that area. I think it was from my years of swimming in school when I was a kid and it just overdeveloped my upper body. In fact, when I started modeling, my back was so developed, I could not fit into any dresses. - Author: Rebecca Romijn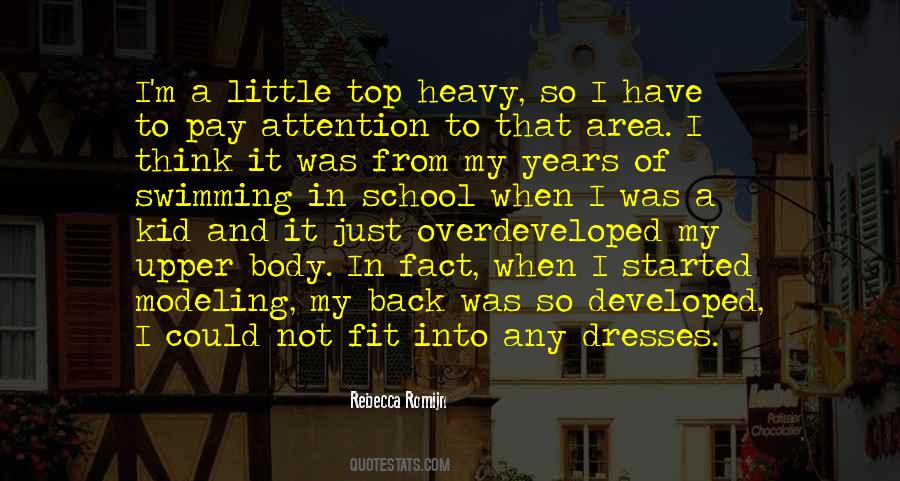 #73. Art history became an A-level option at my school the year I started sixth form. This happened because another student and I cajoled and bullied the head of the art department into arranging it with the examination board. - Author: Sarah Hall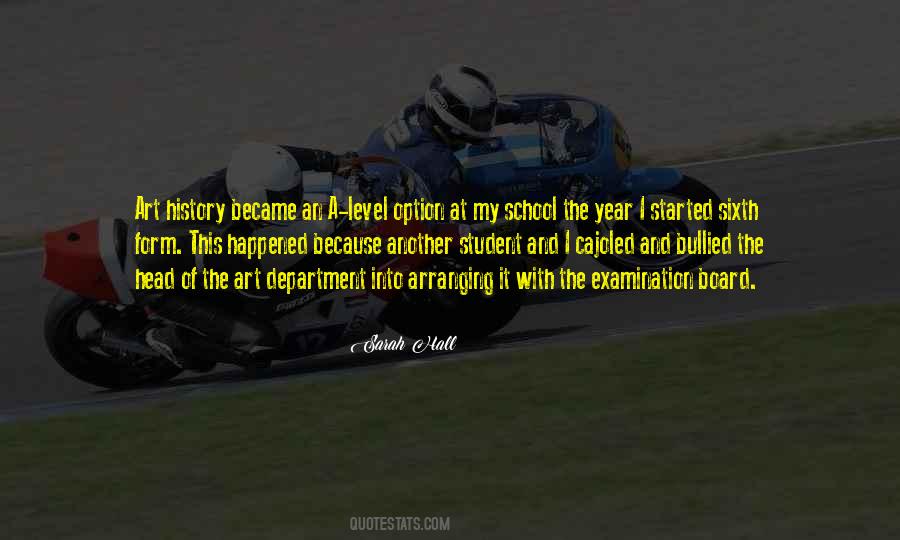 #74. My odyssey to become an astronaut kind of started in grad school, and I was working, up at MIT, in space robotics-related work; human and robot working together. - Author: Michael J. Massimino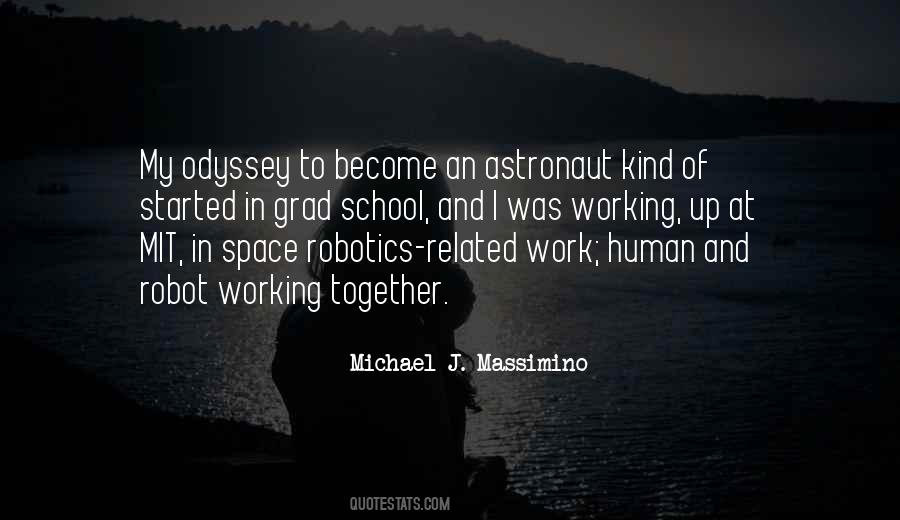 #75. A great advantage I had when I started The Body Shop was that I had never been to business school. - Author: Anita Roddick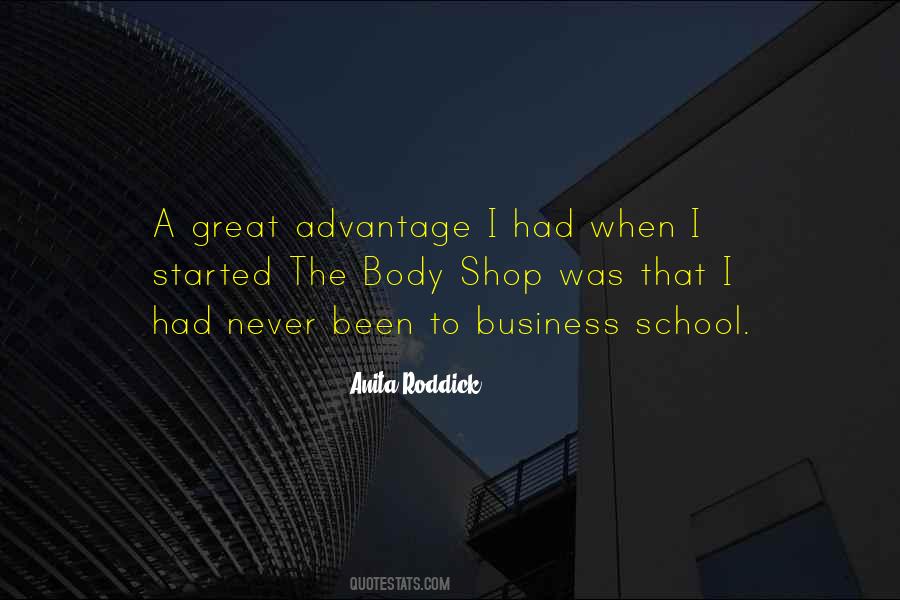 #76. My interest in theatre started in high school, mostly because my dean forced me to do it. I was creating trouble in the hallways, so he demanded that I do something with my spare time. - Author: Michael Weston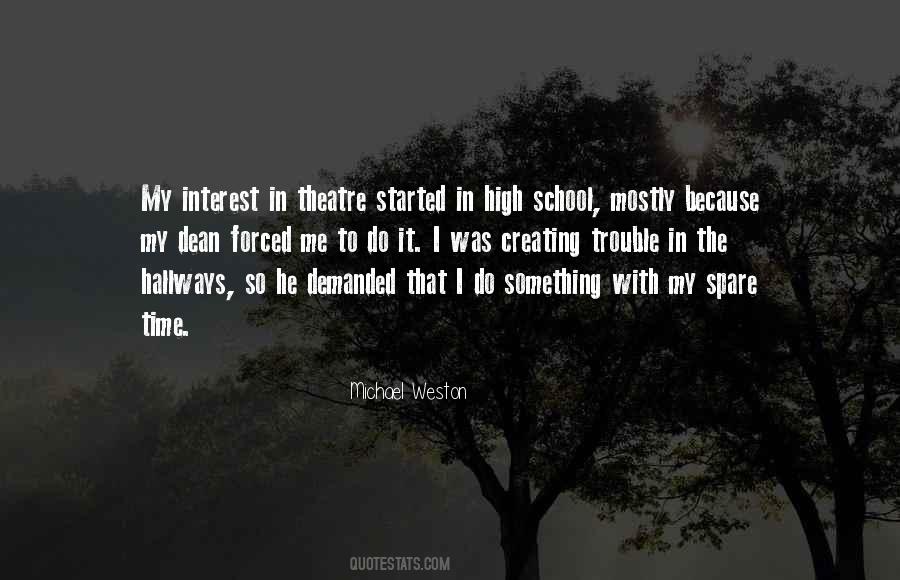 #77. I had hoped to go to law school, but the war started, and because of the strong feeling that I did not want to kill anybody, I joined the Merchant Marine when I graduated from Berkeley. - Author: Douglass North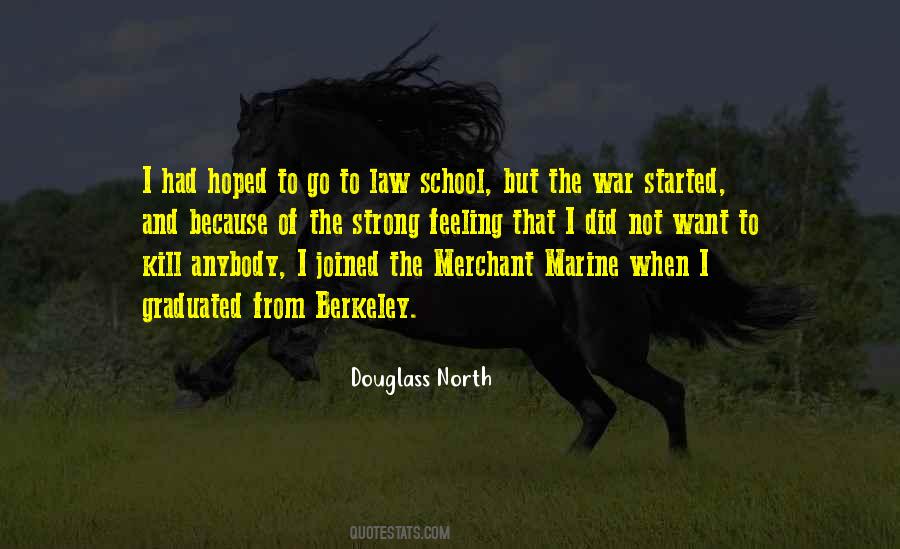 #78. I had a really hard time when I was 16, 17, 18. I started with the eating disorder in high school. - Author: Zoe Kravitz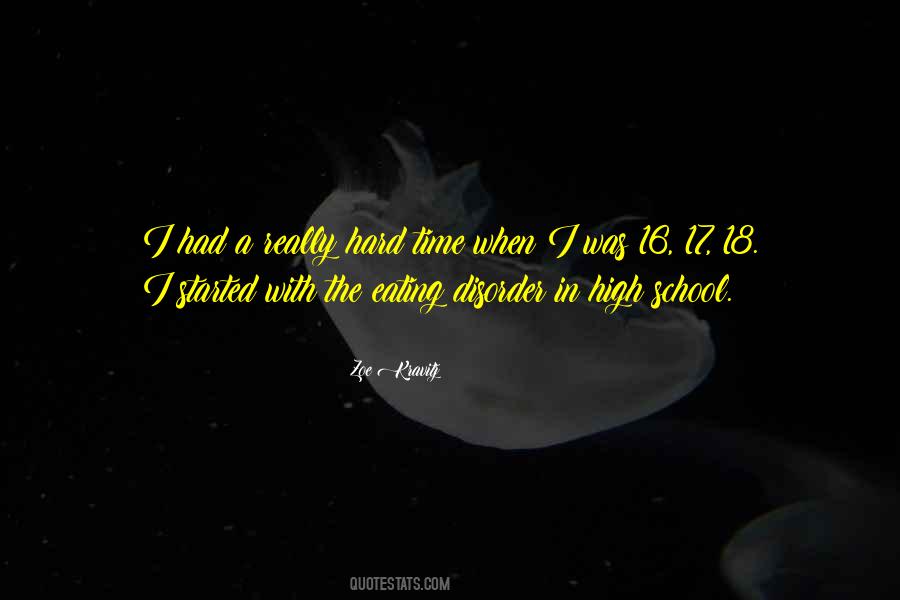 #79. I loved school. But when I started 'Party of Five' in the fifth grade, I was taken out of school and tutored on the set. - Author: Lacey Chabert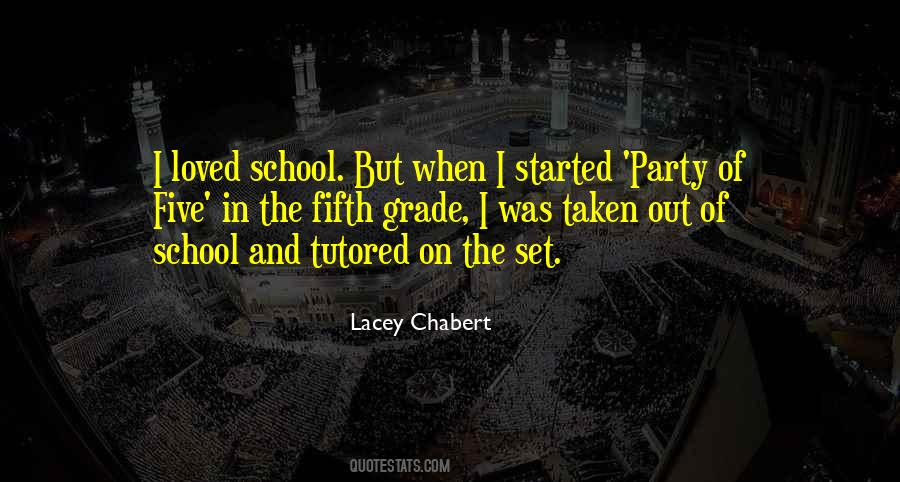 #80. When I came into the industry I started with acting and I did drama during junior high and high school. I fell into dancing as a hobby, but whenever you need work, you try out different things. So I booked a lot of jobs for dancing and it kept rolling and rolling. - Author: Harry Shum Jr.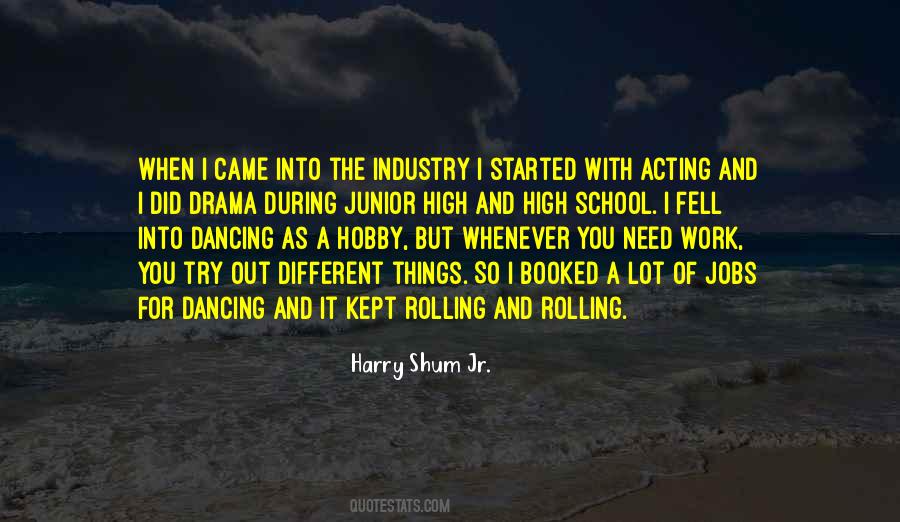 #81. I'm proud to say that I've never had a normal job. I started doing stand-up when I was in high school, purely as a measure to never get a proper job. - Author: Seth Rogen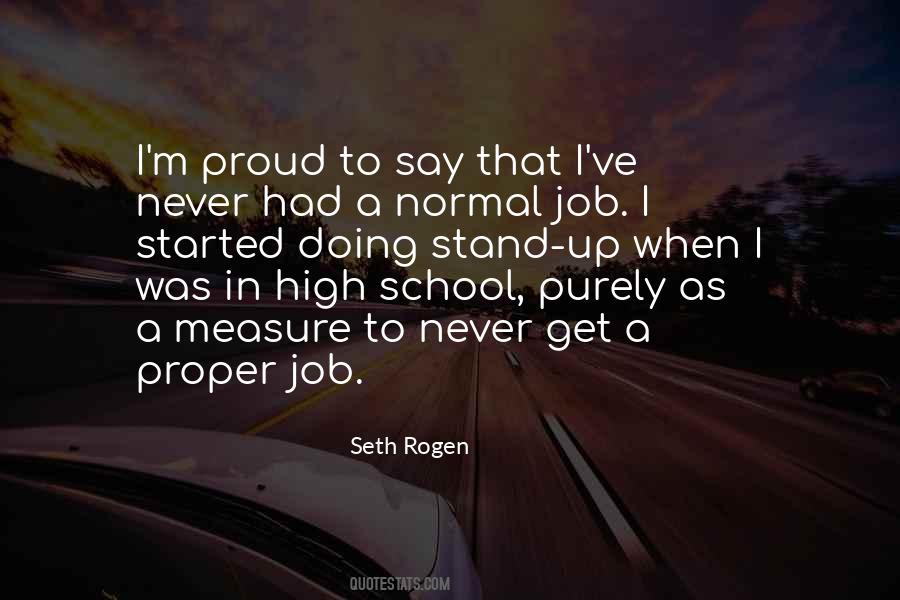 #82. I remember hearing in first grade, 'Oh, why does she get to skip school?' It wasn't like I suddenly started feeling different. I always knew that I was. I never felt I missed out. - Author: Hayden Panettiere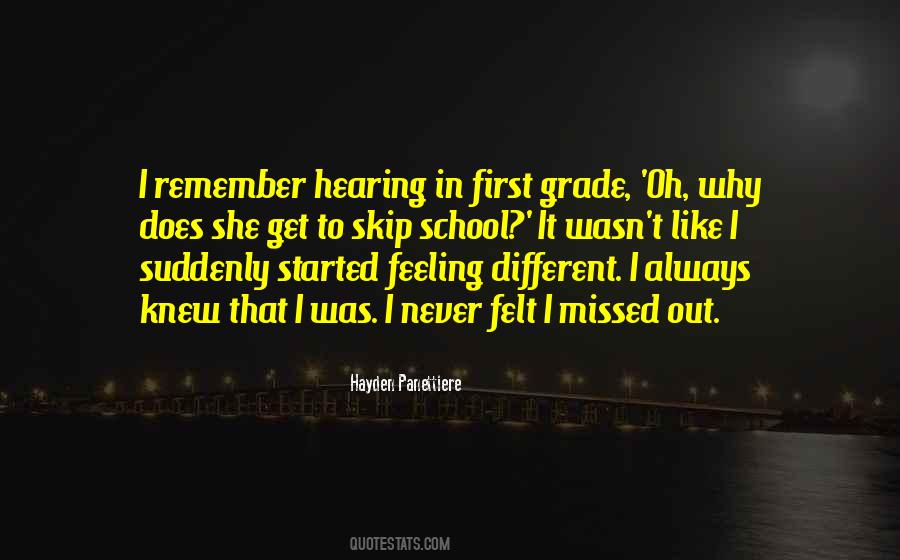 #83. When we first started 'The Big Bang Theory,' I would get incredibly nervous because it's such a big show and I was just out of graduate school. I'd come in and have this huge responsibility for the one line that everyone hopes will bring down the house. - Author: Kunal Nayyar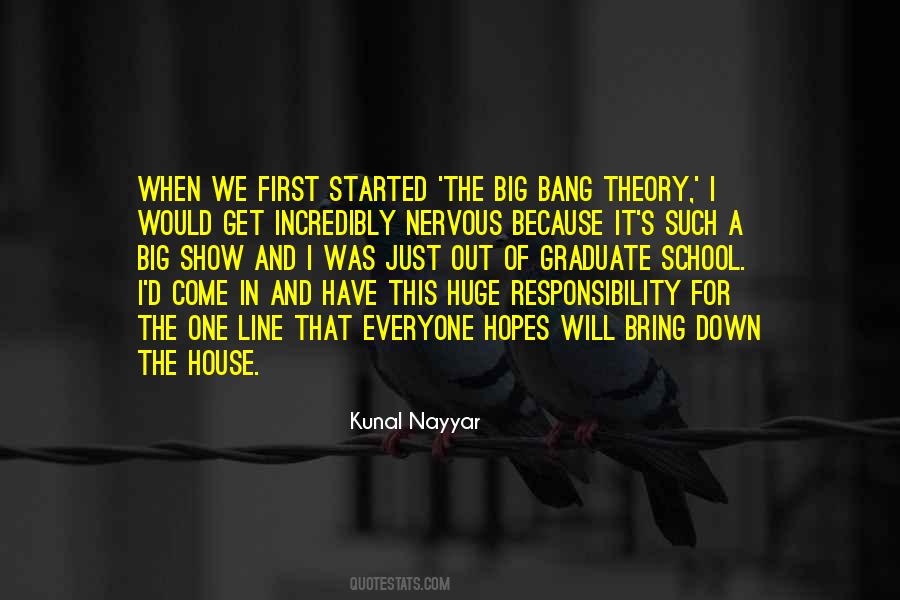 #84. I started drawing when I was about 2, mostly pictures of my mother and my sister. When I got into school, instead of taking the notes that I should have been taking, I was drawing in all of my notebooks. It was an artwork thing for me at first. - Author: Megan Fox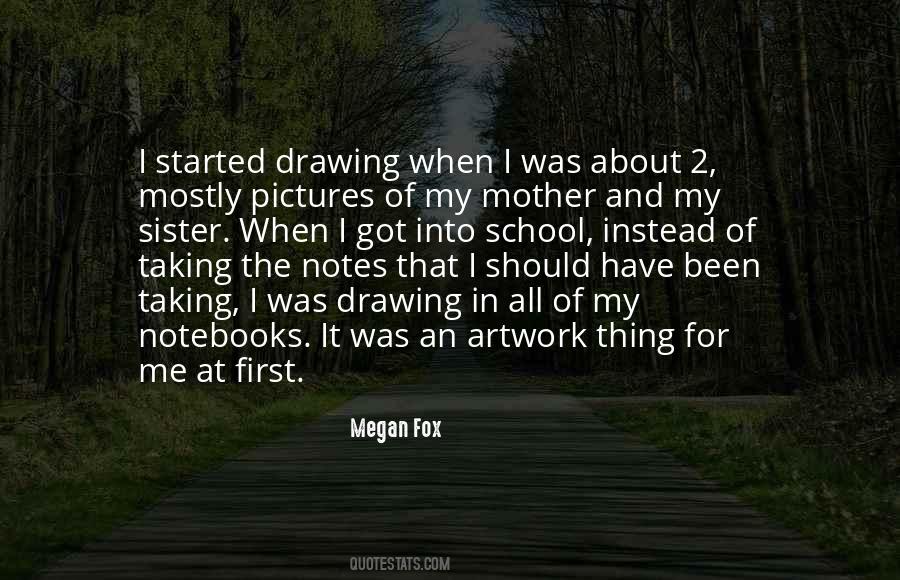 #85. My father was a really good athlete, so his pop-ups really were sky high. Eventually I learned how to judge them properly and catch them well. It was great training for when I started to play on teams, which I did all through school. - Author: Artie Lange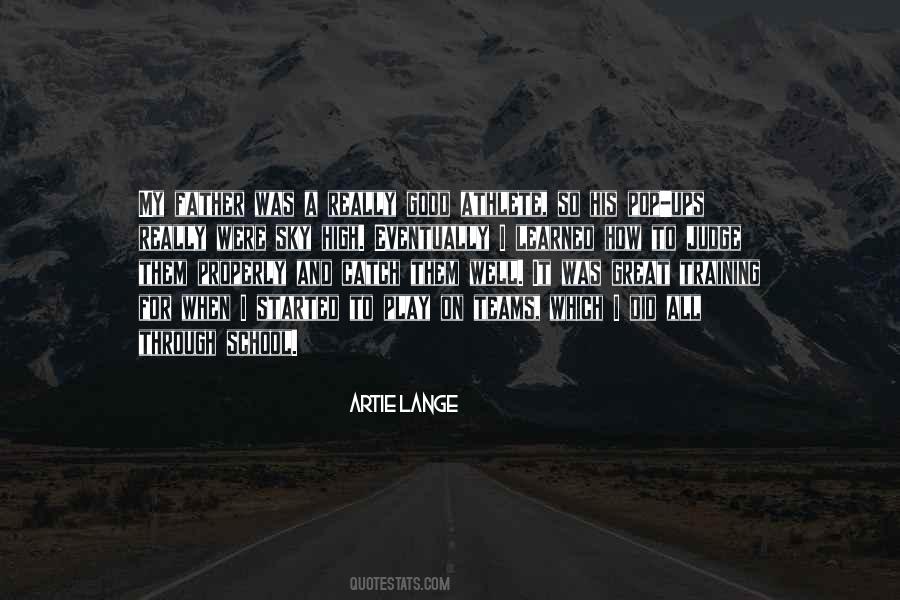 #86. Putting together philosophy and children would have been difficult for most of history. But very fortunately for me, when I started graduate school there was a real scientific revolution taking place in developmental psychology. - Author: Alison Gopnik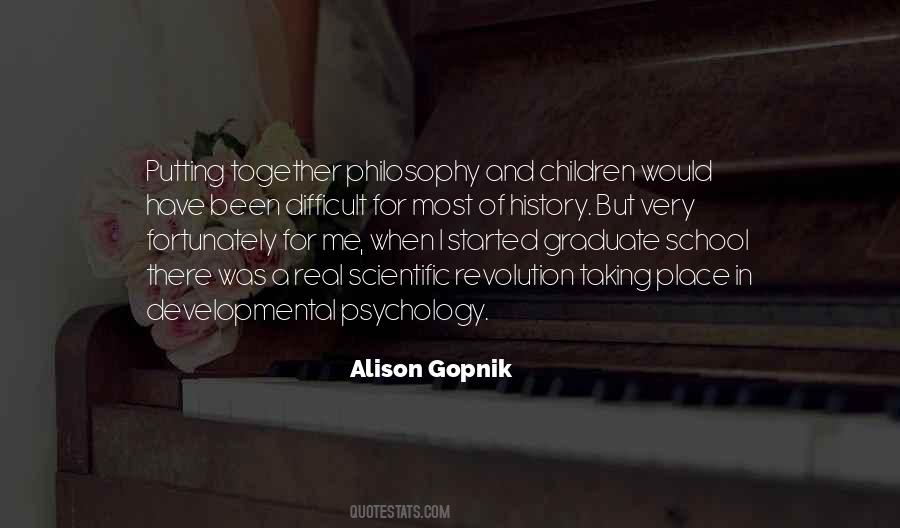 #87. I started my own martial arts school at 16. And by the time I was 21, I had three different schools. - Author: Katheryn Winnick
#88. When I was at 'Newsweek' magazine - which, you know, this really sounds like I walked four miles in the snow to school - but I started at 'Newsweek' magazine in 1963, which was before the Civil Rights Act of 1964. So it was actually legal to discriminate against women, and 'Newsweek' did. - Author: Ellen Goodman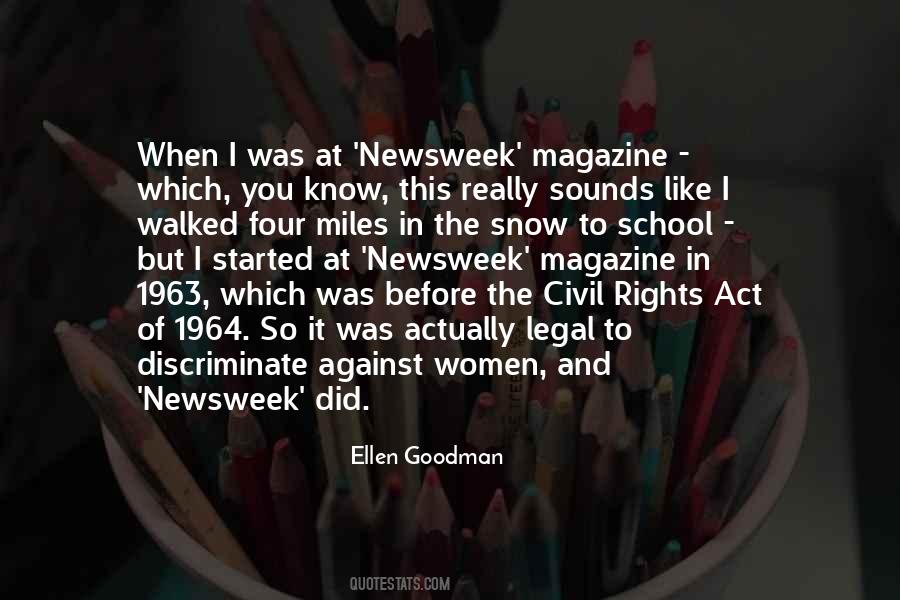 #89. Everybody that I was in school with had an uncle or father in the law, and I started to realize that I was going to end up writing briefs for about ten years for these fellows who I thought I was smarter than. And I was kind of losing my feeling for that. - Author: John Wayne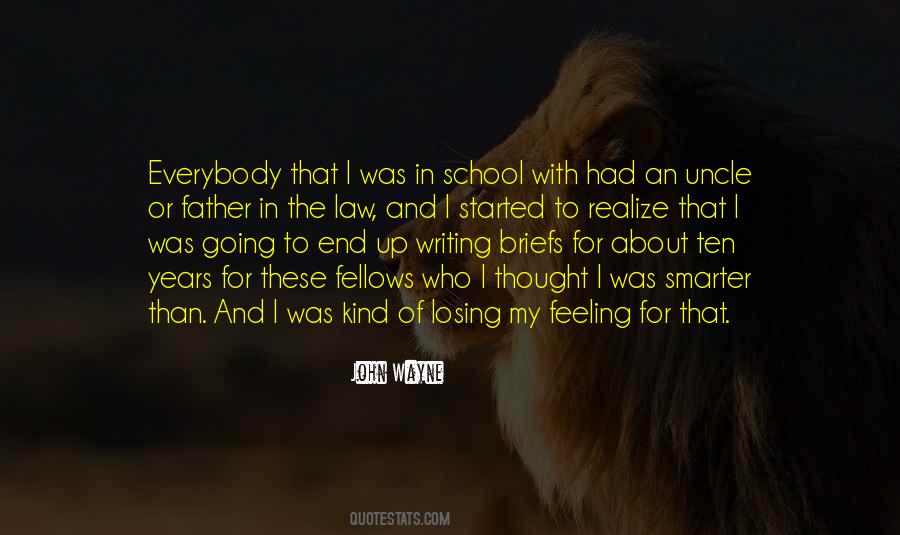 #90. I guess I was always a ham, and I was anxious to try doing different things. I started doing impressions to make friends at school. I would do them during recess. Maybe some of the kids thought I was being weird, but everyone seemed to have a good time. - Author: Vesta Williams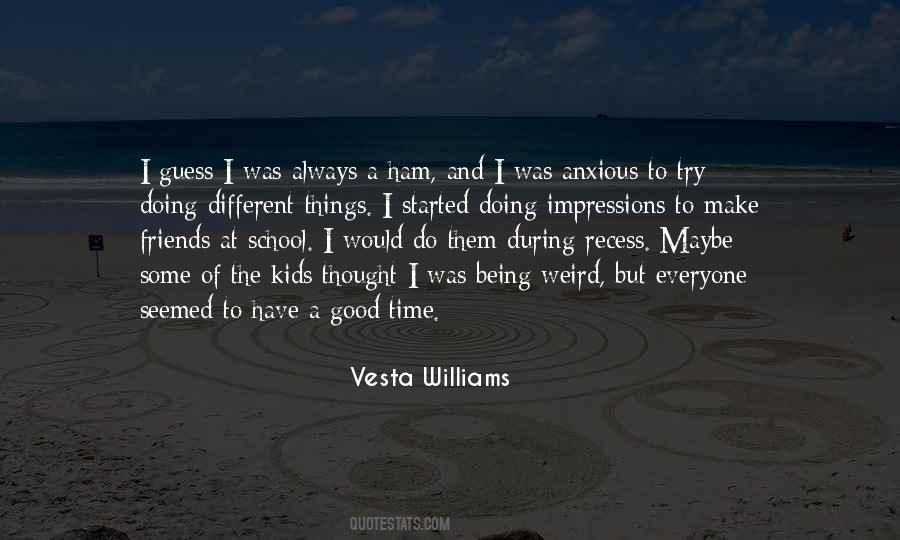 #91. I always had two or three jobs at the same time. I started doing yard work when I was 7 or 8. When I was 13, I got my first state job doing road construction. Between working, sports and school, I hardly ever had free time. - Author: Breaux Greer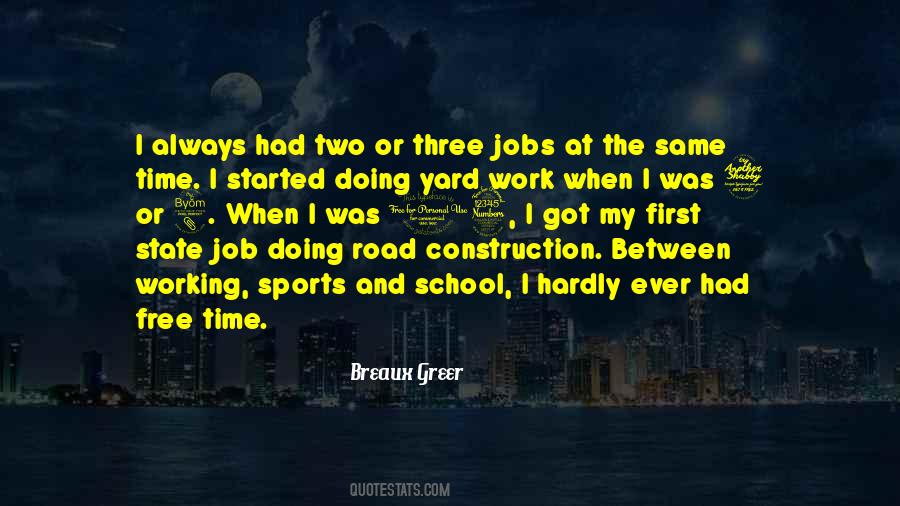 #92. I had a stammer through adolescence. Any fun I'd had performing in school plays disappeared and only came back at 18, when the stammer started to go. Then I thought: 'Well, perhaps I can show off now.' - Author: Charles Dance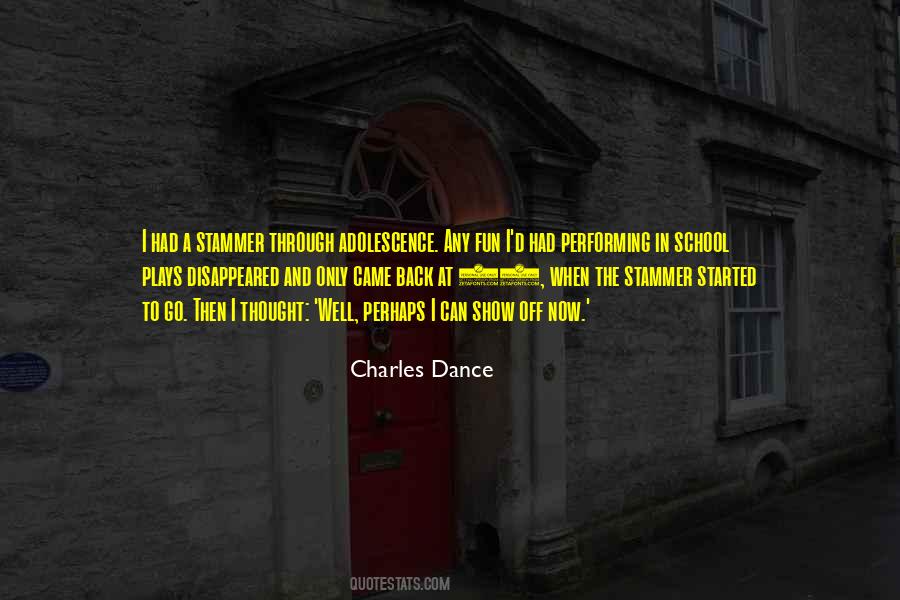 #93. I started my business with my best friend from high school. - Author: Dave Goldberg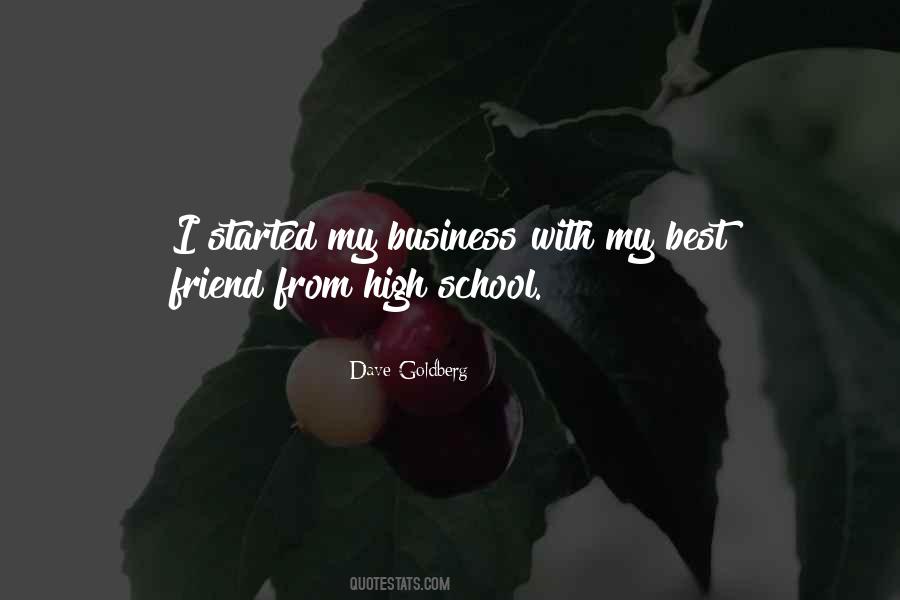 #94. When I was 5, I started taking singing lessons, and then, after 'School of Rock,' I started taking guitar lessons. I would always write songs and play them for my friends, and I would play my guitar on the set a lot. - Author: Miranda Cosgrove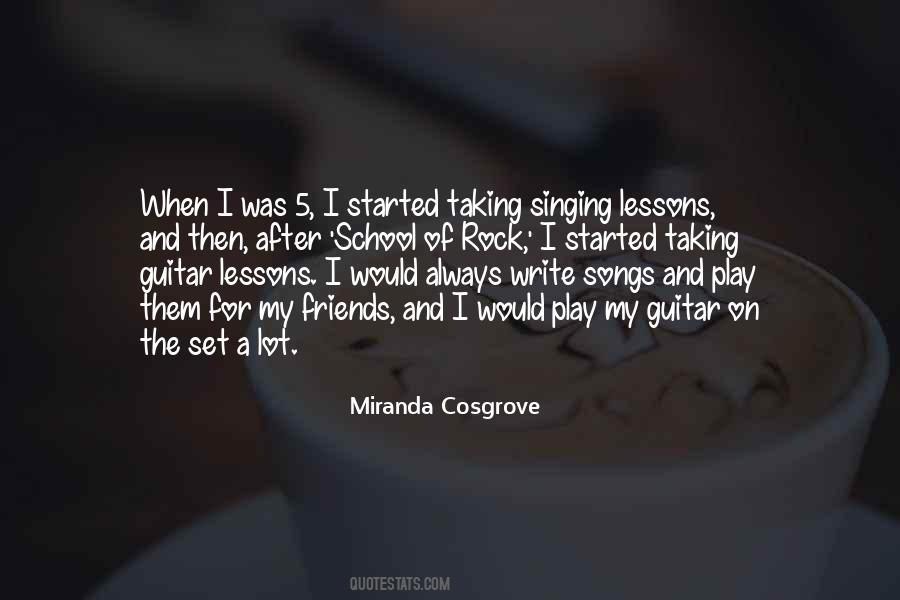 #95. My interest in chemistry was started by reading Robert Kennedy Duncan's popular books while a high school student in Des Moines, Iowa, so that after some delay when it was possible for me to go to college I had definitely decided to specialize in chemistry. - Author: Wallace Carothers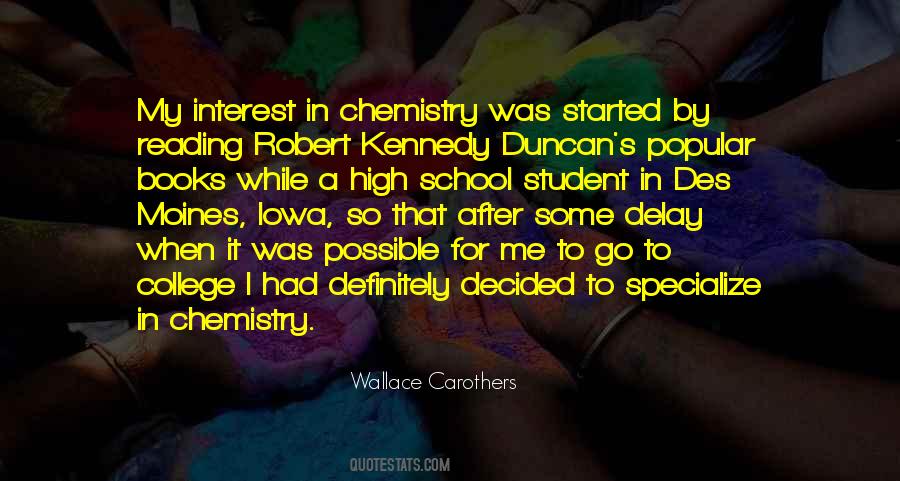 #96. By the time school started again, I had almost forgotten what I was missing. I wasn't lonely anymore; I was just alone. - Author: Danielle Evans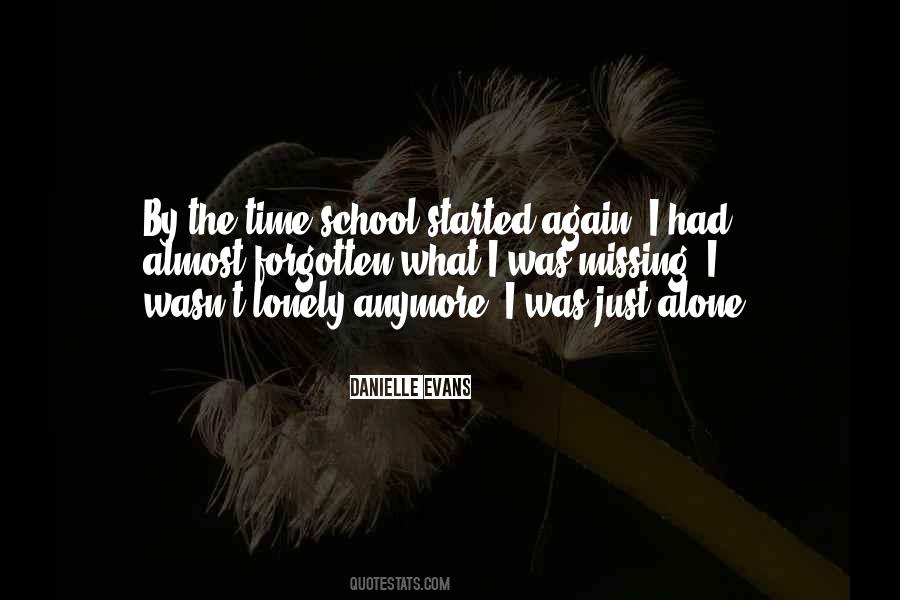 #97. I do home schooling. I went to regular school until fifth grade, and then I started doing home schooling, which it's completely different. I have a teacher on set with me and I just work with her, one-on-one. - Author: Miranda Cosgrove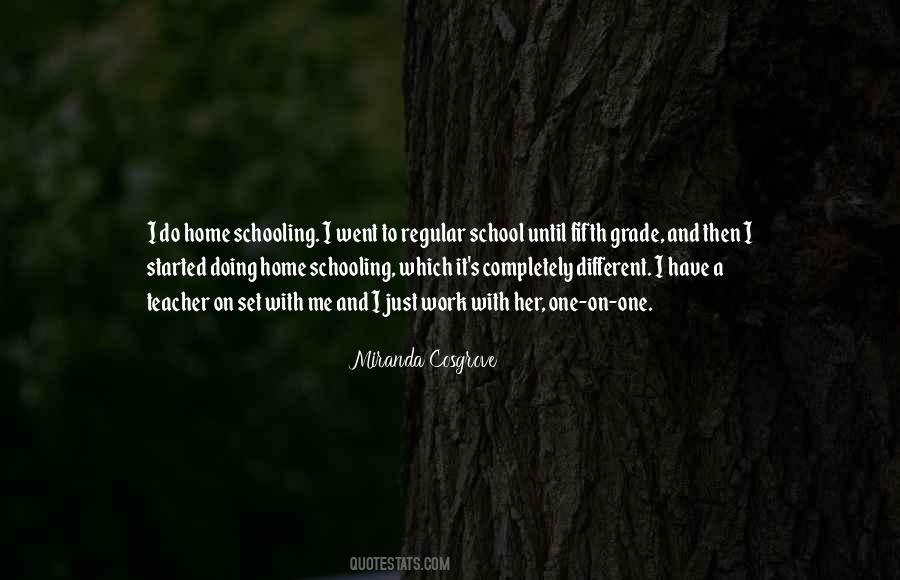 #98. My father had not even completed high school when he started as an office boy working for the Metropolitan Life Insurance Company, and I am not sure that my mother completed high school. - Author: Douglass North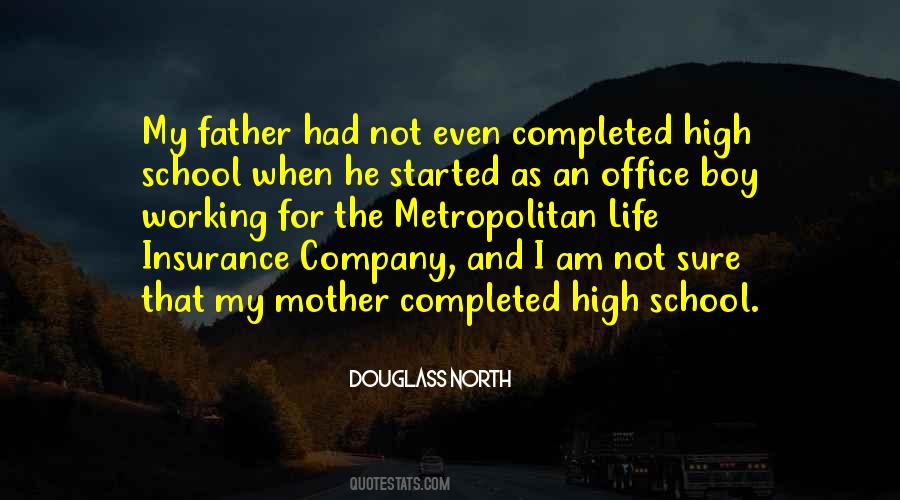 #99. I started out as a Cold Warrior, even my last years in grade school. - Author: Alexander Haig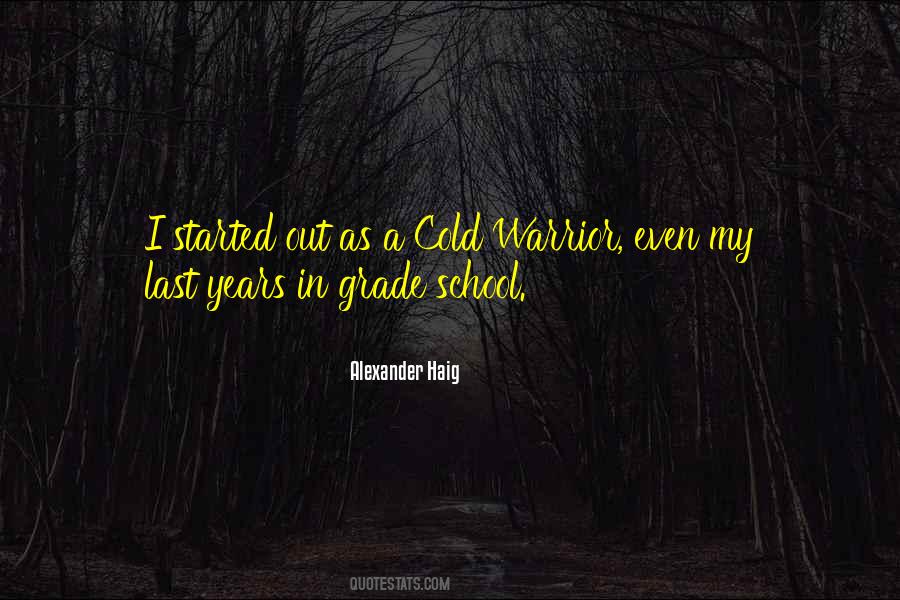 #100. When I started writing seriously in high school, English was the language I had at my disposal - my Spanish was domestic, colloquial, and not particularly literary or sophisticated. - Author: Daniel Alarcon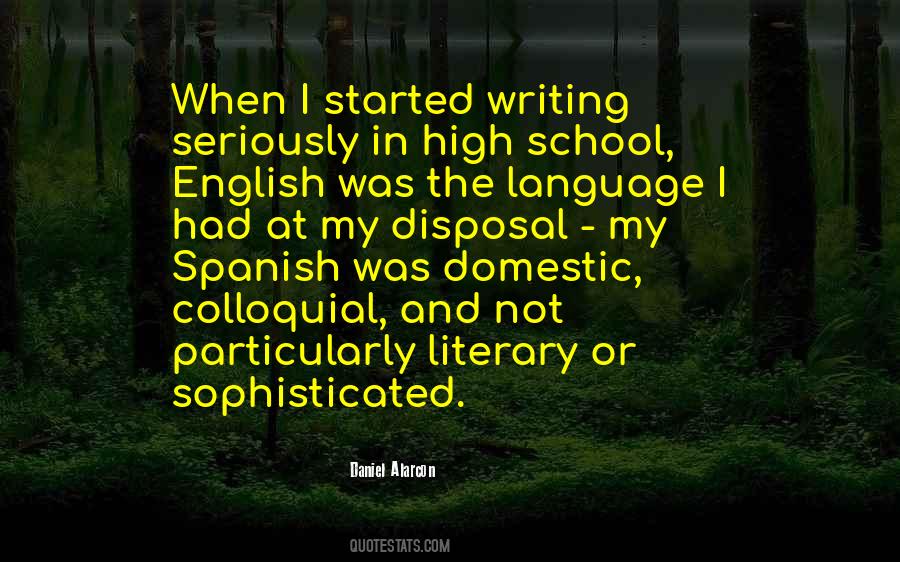 Famous Authors
Popular Topics