Getting Tired Famous Quotes & Sayings
List of top 100 famous quotes and sayings about getting tired to read and share with friends on your Facebook, Twitter, blogs.
Top 100 Sayings About Getting Tired
#1. If a Christian is not willing to rise early and work late, to expend greater effort in diligent study and faithful work, that person will not change a generation. Fatigue is the price of leadership. Mediocrity is the result of never getting tired. - Author: J. Oswald Sanders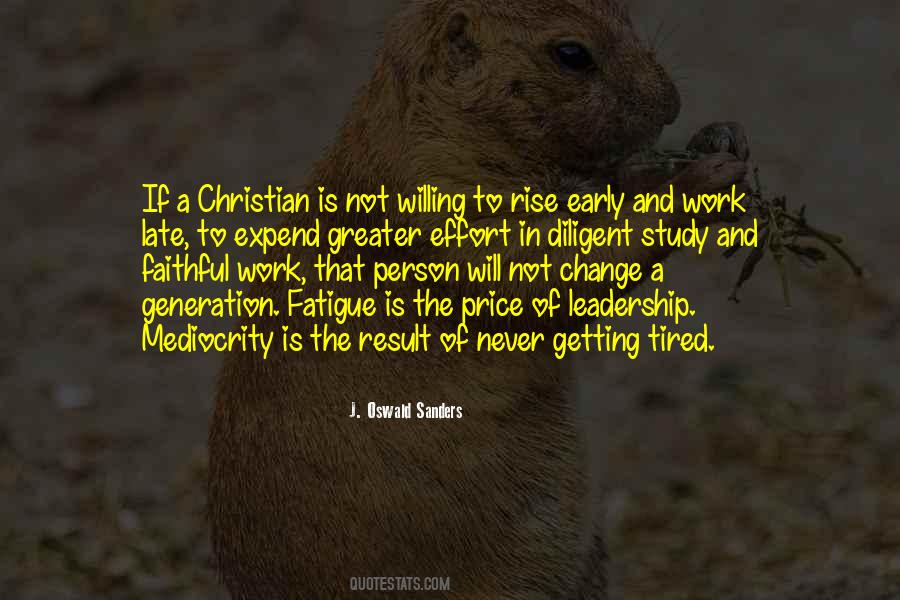 #2. It's so important to realize that every time you get upset, it drains your emotional energy. Losing your cool makes you tired. Getting angry a lot messes with your health. - Author: Joyce Meyer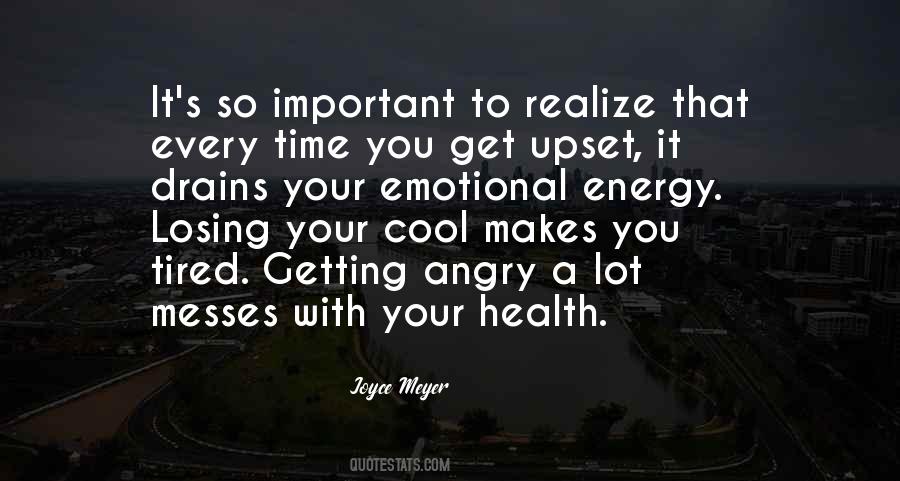 #3. And I'm here to tell you, the reaction that I'm getting around the country, people are sick and tired of this word in Washington, compromise. This is why nothing ever gets done. - Author: Herman Cain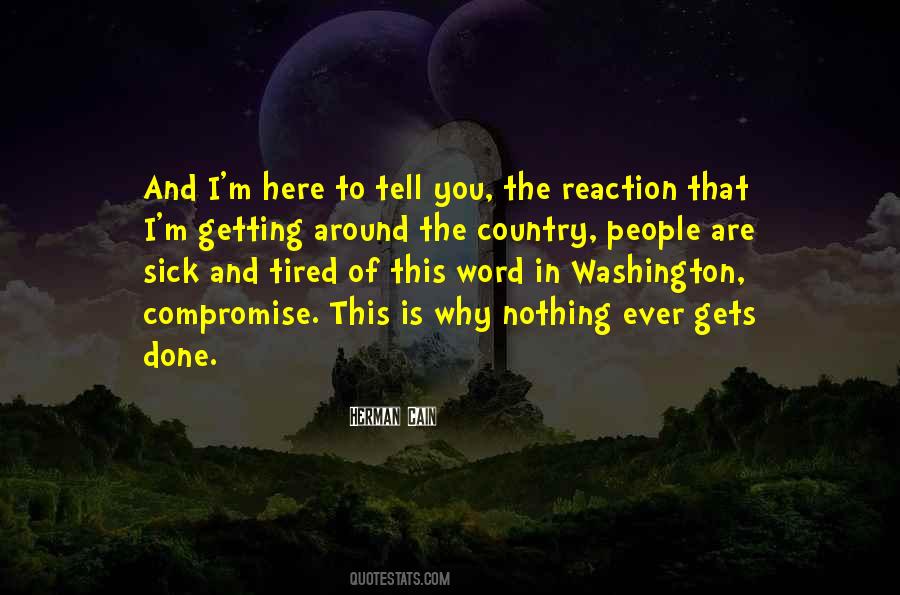 #4. The thing I sort of get tired of hearing is if I don't hit home runs or don't get hits, that the pressure of the media is getting to me. Absolutely not. Believe me, it's not getting to me. - Author: Mark McGwire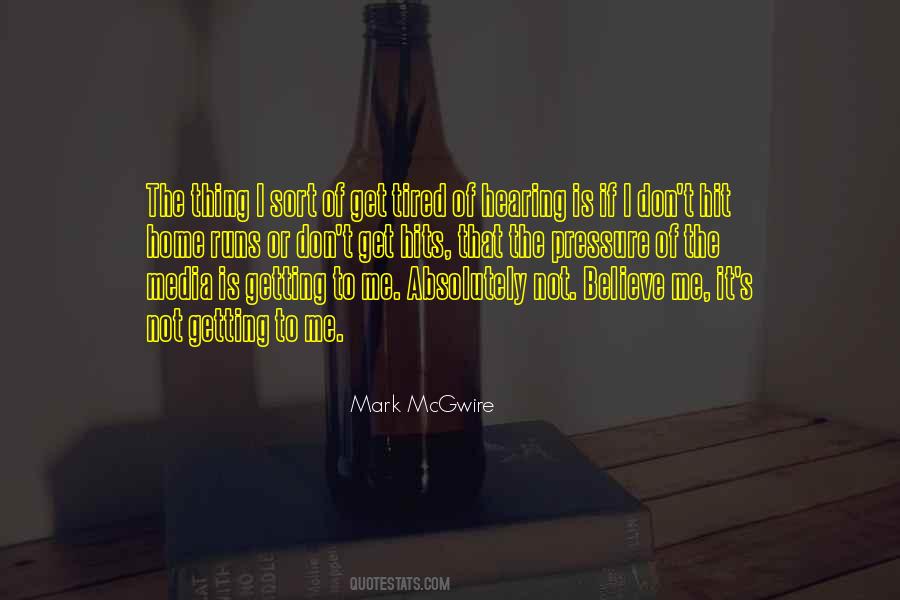 #5. You're selfish and you're cold, and I'm tired of getting frostbite when I touch you. (Acheron) - Author: Sherrilyn Kenyon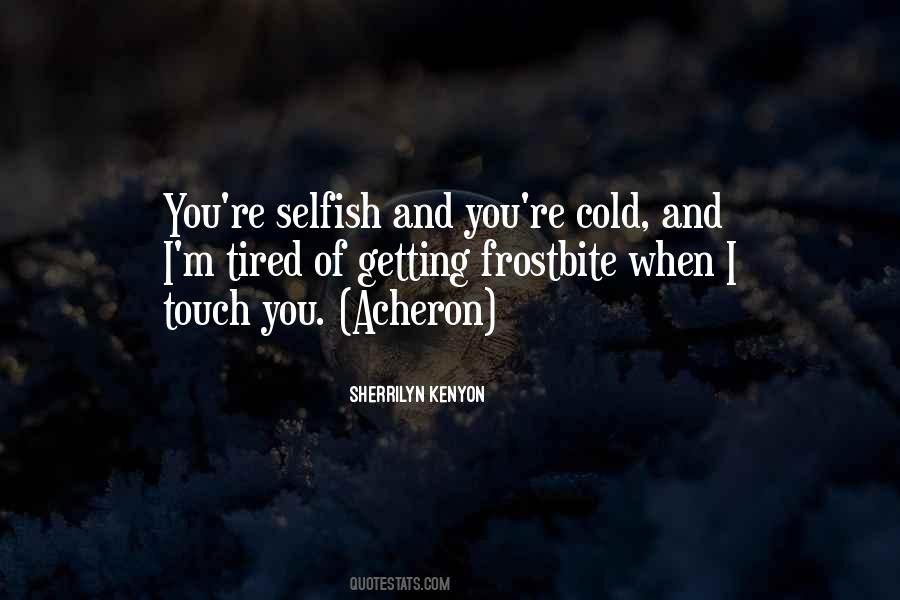 #6. Did you have a good nap?" Emil asked.
"Yeah, I guess I was tired. I need to practice resting when I go on vacations instead of getting stressed out."
"Why are you stressed?" Emil Asked, perplexed. This question confirmed it for me, guys really are idiots. - Author: Angela Corbett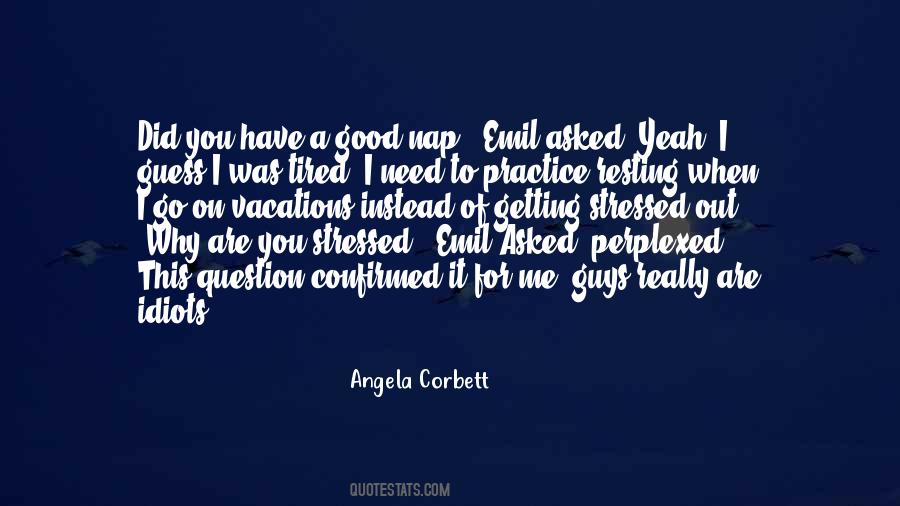 #7. A person gets tired. The mind or the soul or whatever word we have for whatever is not just the body gets tired, and this, I have decided, is - usually, mostly - nature helping us. I was getting tired. I think - but I don't know - that he was getting tired too. - Author: Elizabeth Strout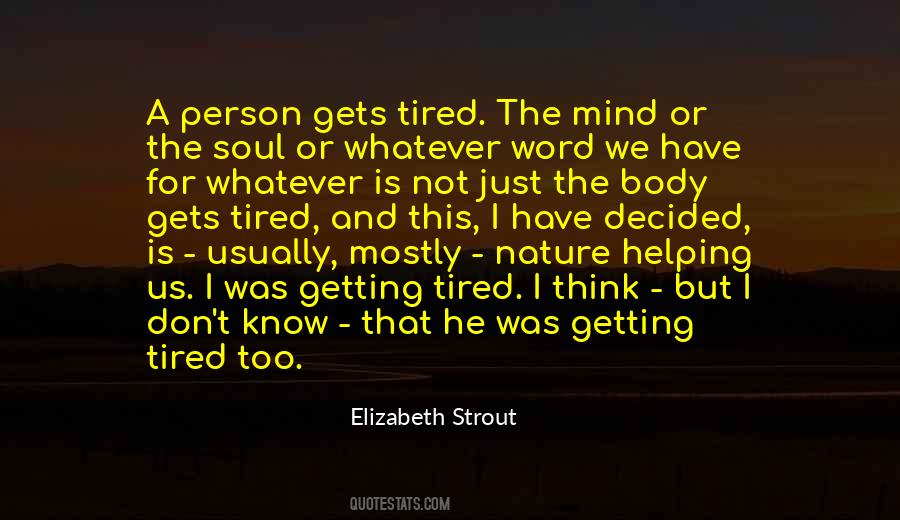 #8. When you have heart disease, you start to be tired of everything. It's like getting older. You become more white, and after that, grey. You have no feeling for anything. - Author: Gerard Depardieu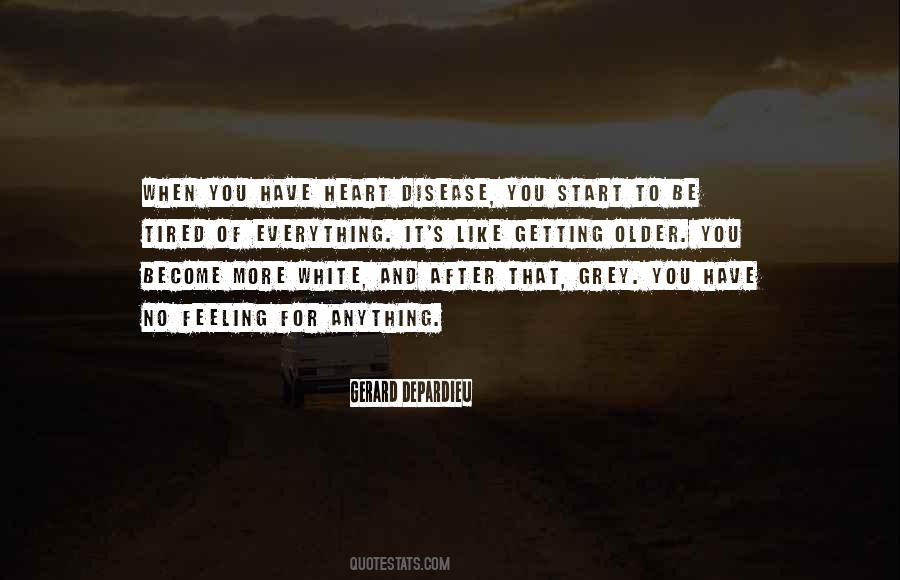 #9. What was wrong with her? Why did things like this keep happening to her? Love wasn't supposed to hurt, yet it felt like all she knew when it came to love was pain. Every time she opened her heart, she just got burned. Or, in this case, frozen. And she was getting sick and tired of it. - Author: Elizabeth Rudnick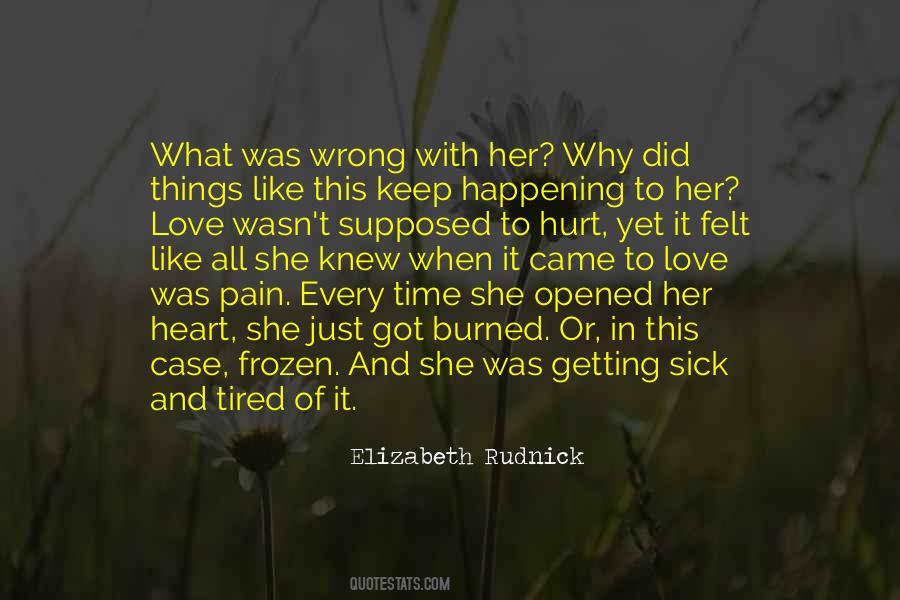 #10. In the days before automobiles, people in horse-drawn wagons used to sleep if they were tired. They didn't worry about getting lost, because the horse knew the way home. Your heart knows the way to your gifts. You can trust it to take you to them. - Author: Barbara Sher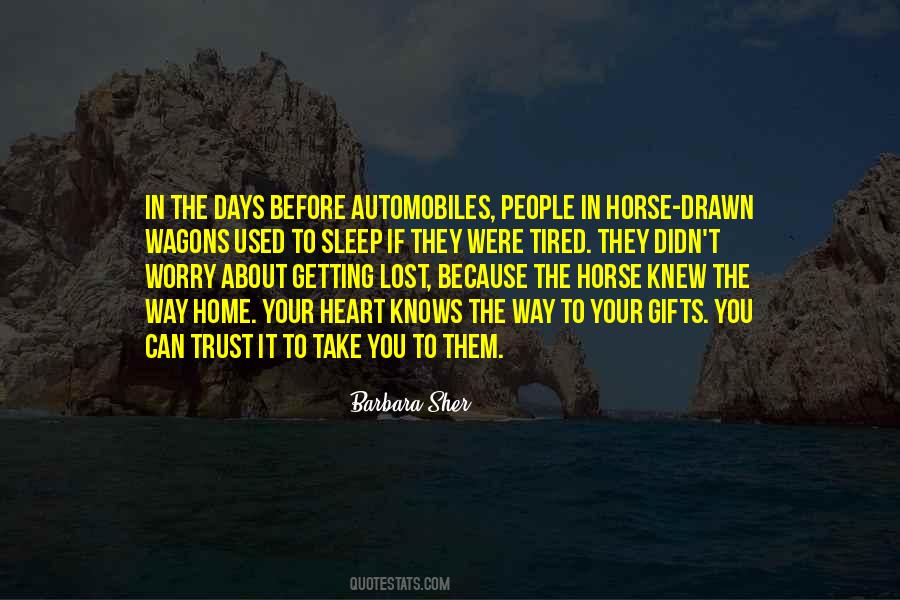 #11. I do not believe in old age. I do not believe in getting tired. - Author: Maxine Hong Kingston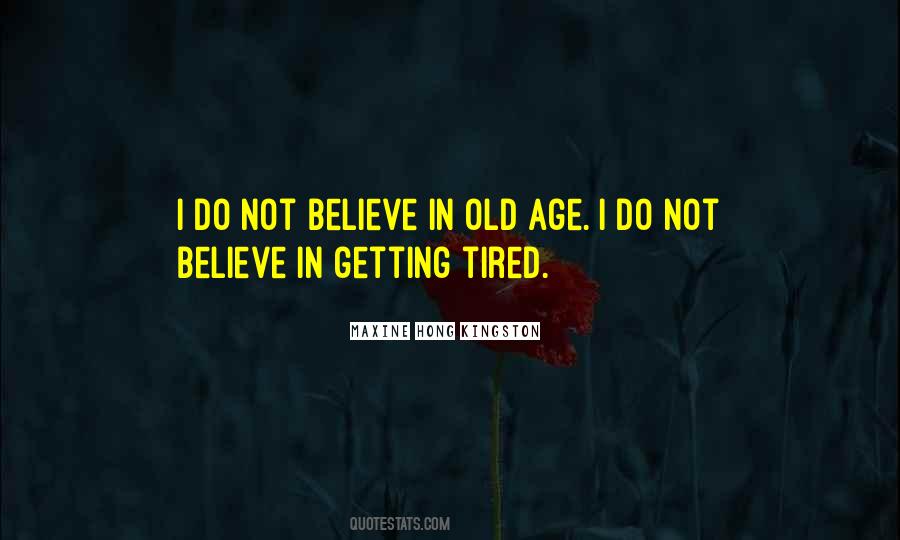 #12. We've had science fiction novels where China is dominant; we've had novels where India is dominant, and I suppose it's all about getting away from that cliched old tired idea that the future belongs to the West. - Author: Alastair Reynolds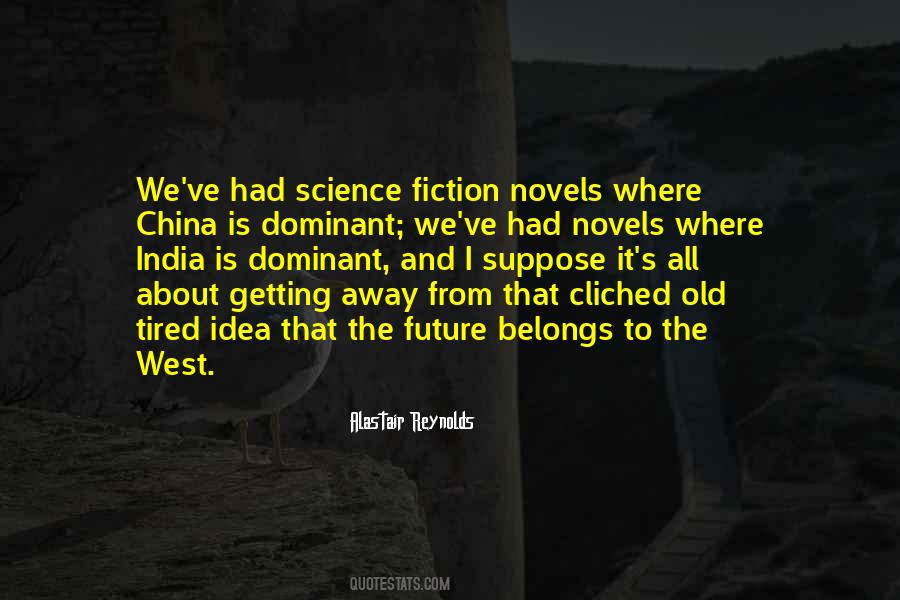 #13. Every bed I've ever slept in never felt like my own. There were always strange sheets, strange smells - and just when I thought I'd be getting used to it, we'd have to leave. I got so tired of running."

Then stay. You don't ever have to run again. - Author: Felice Stevens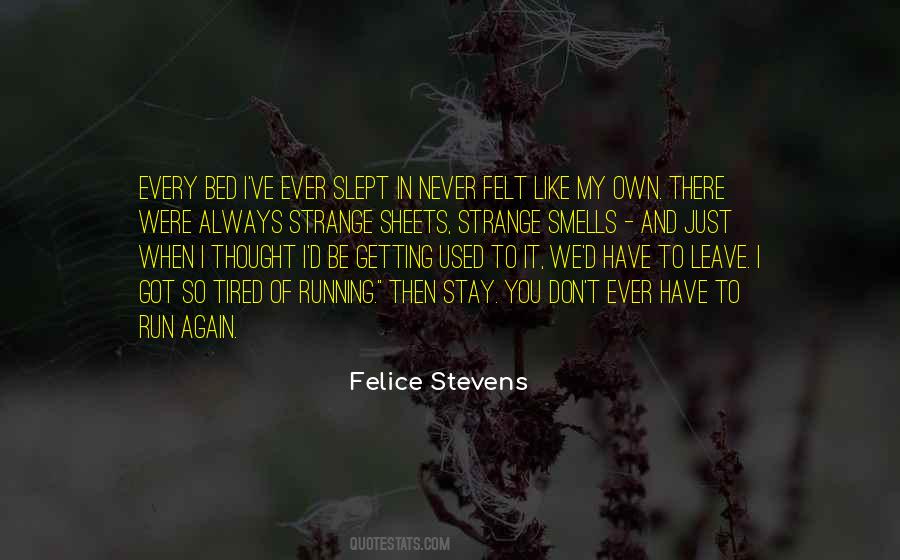 #14. I'll be damned if I am not getting tired of this. It seems to be the profession of a President simply to hear other people talk. - Author: William Howard Taft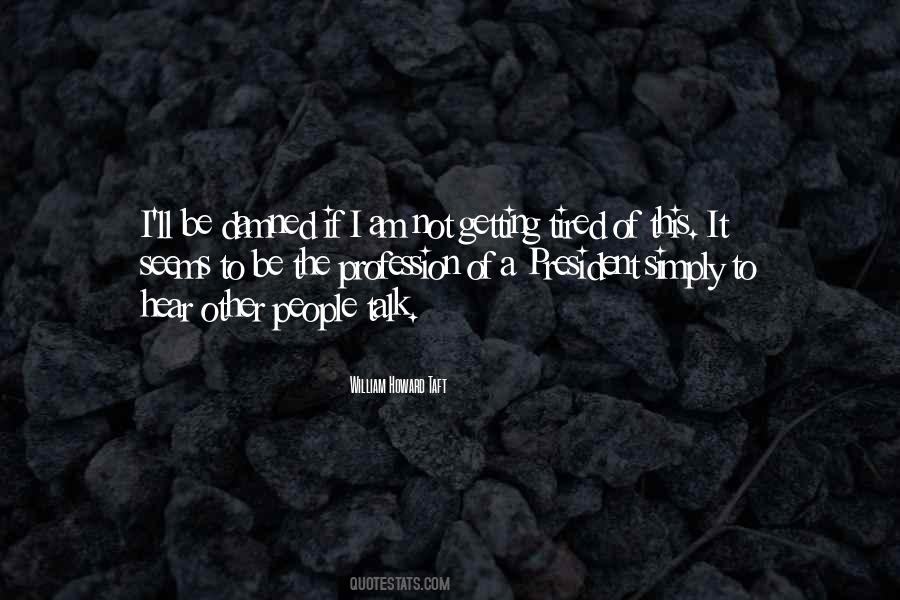 #15. I don't worry about getting tired. I try not to let it guide me as far as how much I'm going to play. I play with my heart. - Author: Champ Bailey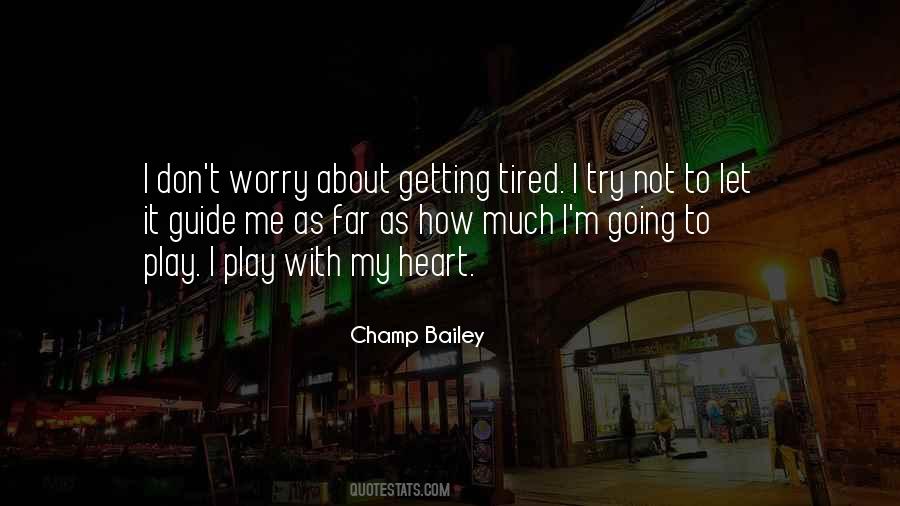 #16. People fascinate the hell out of me. I never get tired of watching people, listening to people. The best part is not getting up in front of people but meeting people. - Author: Andre Dubus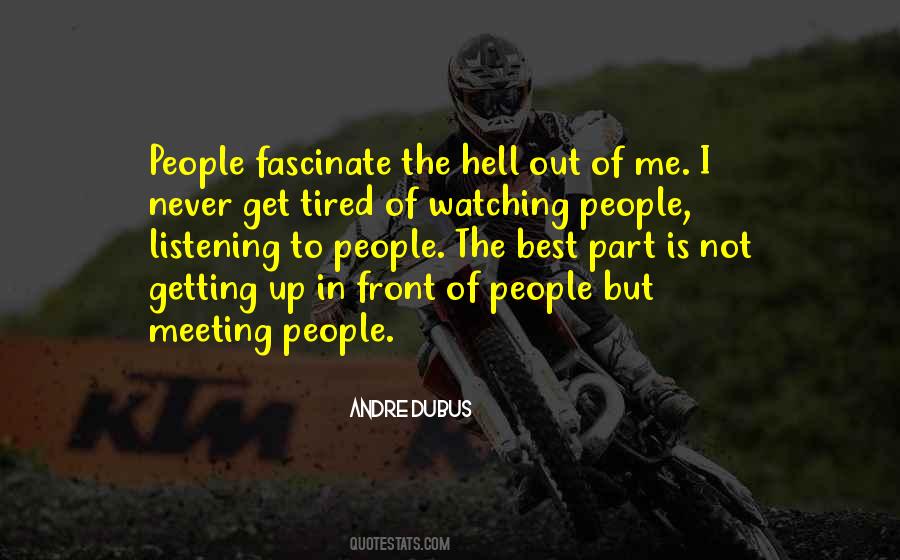 #17. Oh simple thing, where have you gone? I'm getting old and I need something to rely on So tell me when you're gonna let me in I'm getting tired and I need somewhere to begin - Author: Bil Keane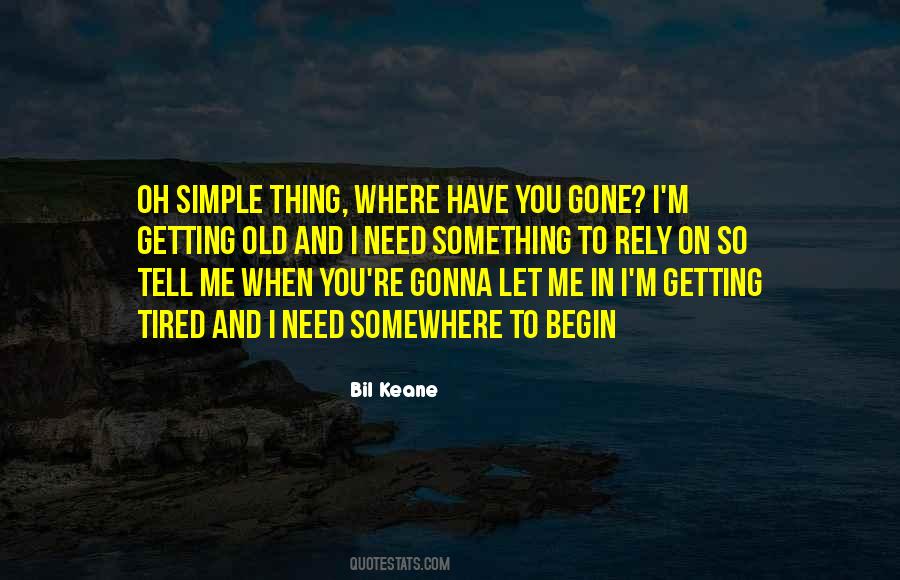 #18. I have a terrifying long list of fears. Literally everything - diseases, spiders ... and people getting tired of me. - Author: Taylor Swift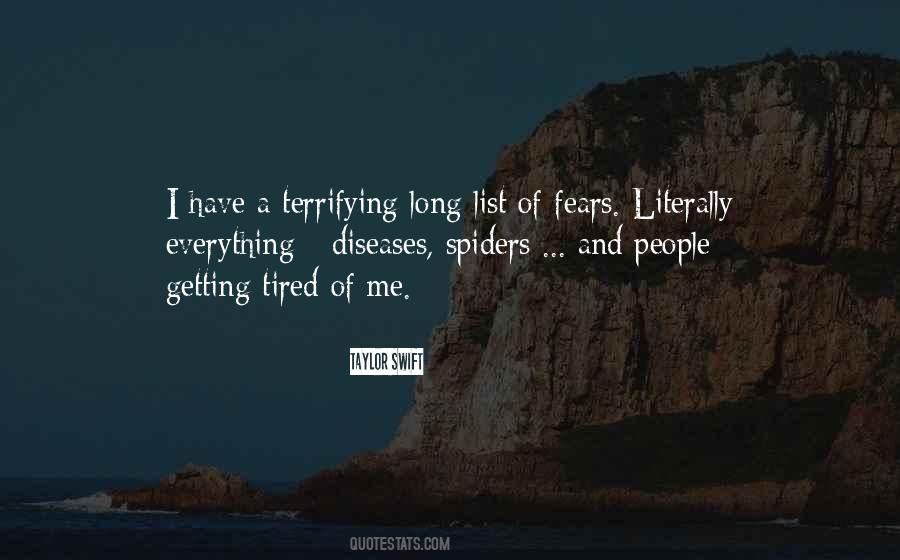 #19. As a basketball fan, I get sick and tired of people talking about numbers. To me, the world is getting too materialistic. - Author: Shaquille O'Neal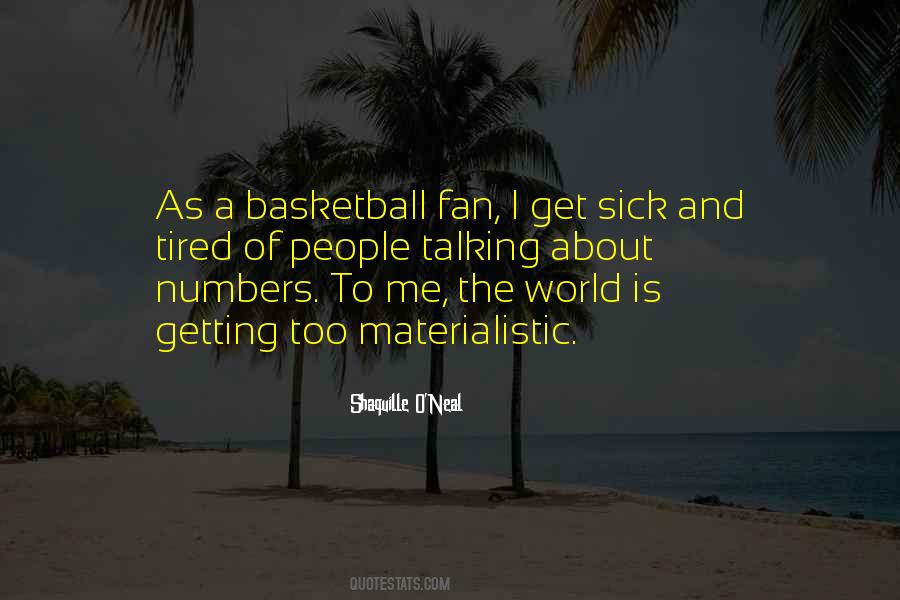 #20. Where the hell is your guard?" She shouts.
Damn if she doesn't sound like Haley. "I'm tired."
"Do I look like I care? You're getting the hell pounded out of you. If you want to tap out, then tap out, but don't stand there and let him win. - Author: Katie McGarry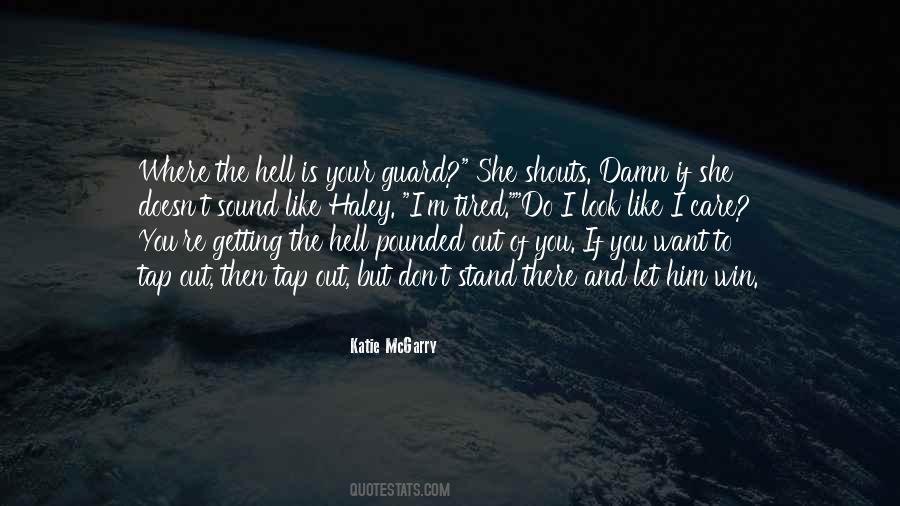 #21. Love is a flame. It's when you get to know each other again. It's the fights that will follow your first. It's you finding another reason to fall in love with each other. It's both of you never getting tired of swaying to your first dance's song. - Author: Nessie Q.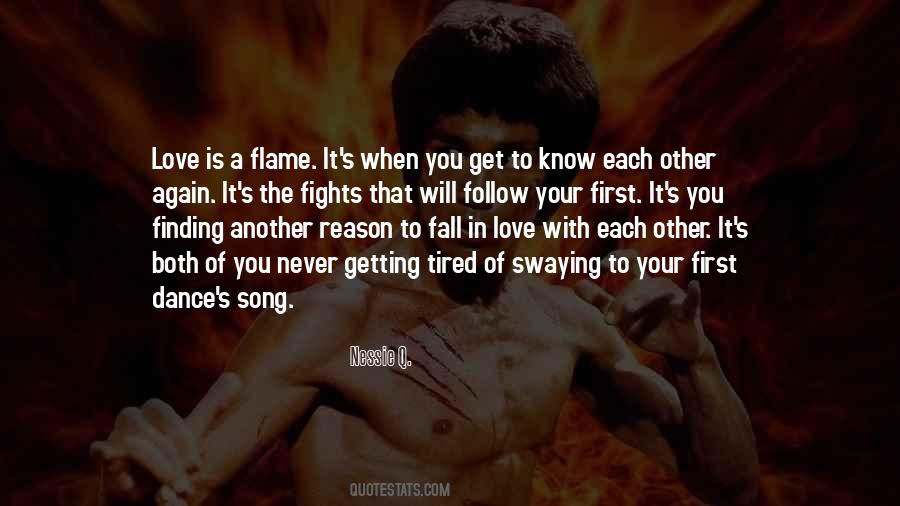 #22. Many a person who started out to conquer the world in shining army has ended up just getting along. The horse got tired, the army rusty. The goal was removed and unsure. - Author: Robert A. Cook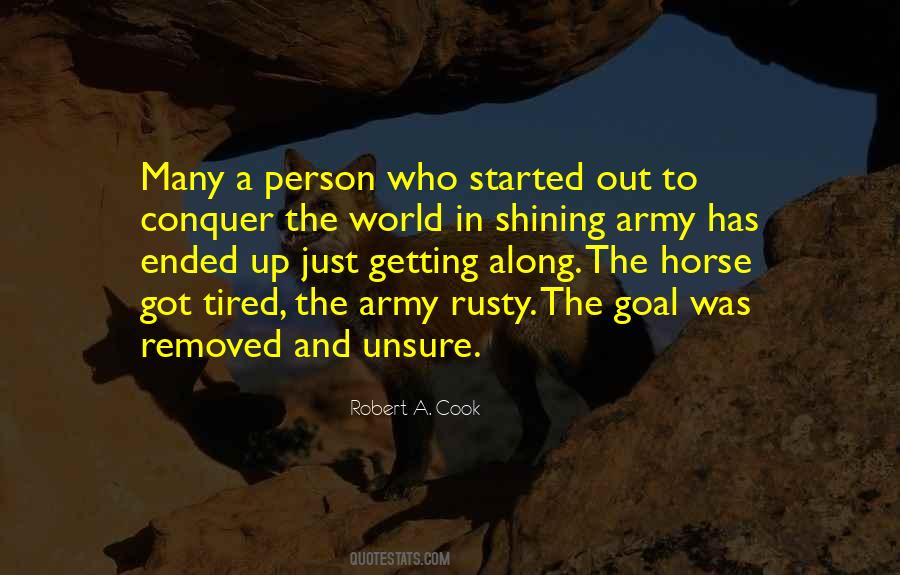 #23. I can't risk getting hurt. I have to be smart about what I'm doing. But the competitor in you wants to try it, wants to see how you would do. But at the same time, after a few rounds I'm so tired, and my arms are so tired after punching. It's a whole different monster. - Author: Cullen Jenkins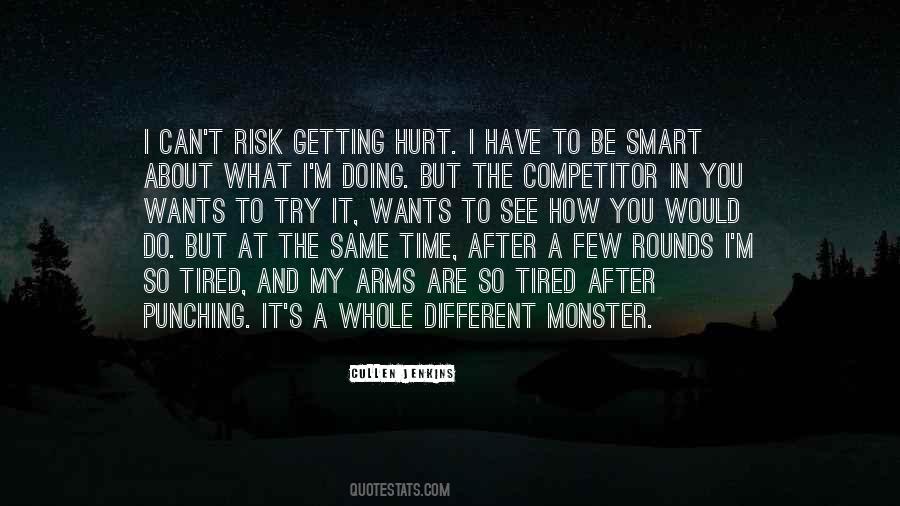 #24. I got tired of seeing otherwise innocent young kids from all walks of life getting criminal records for, in effect, doing nothing more than millions of other people in society were doing with alcohol. - Author: Ron Clarke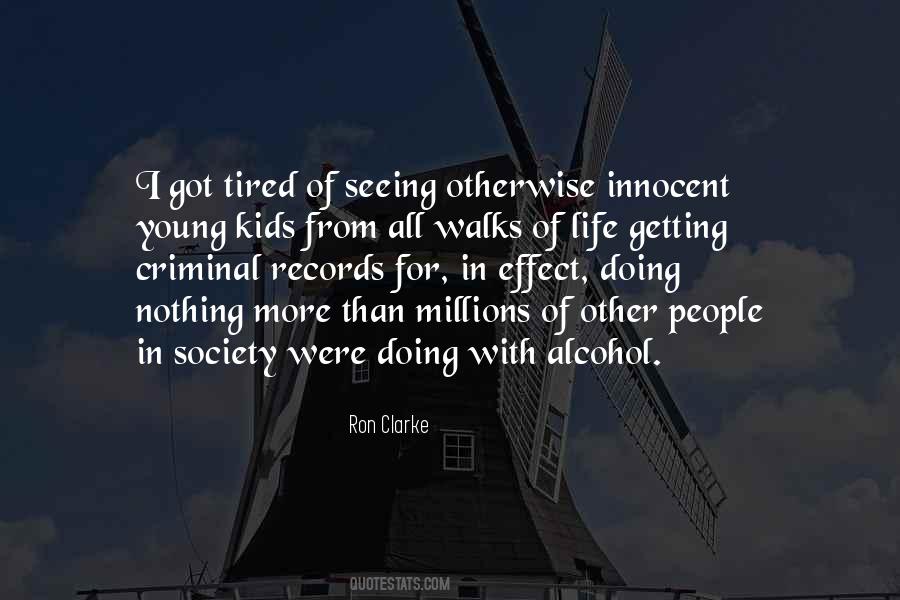 #25. Getting tired of sitting, staring at my computer screen, day after day, where everyone is two-dimensional, reduced to an avatar photo, status updates, or maybe some carefully curated vacation photos. There's something exhausting about that after a while. I found myself wanting to hear voices. - Author: Brad Listi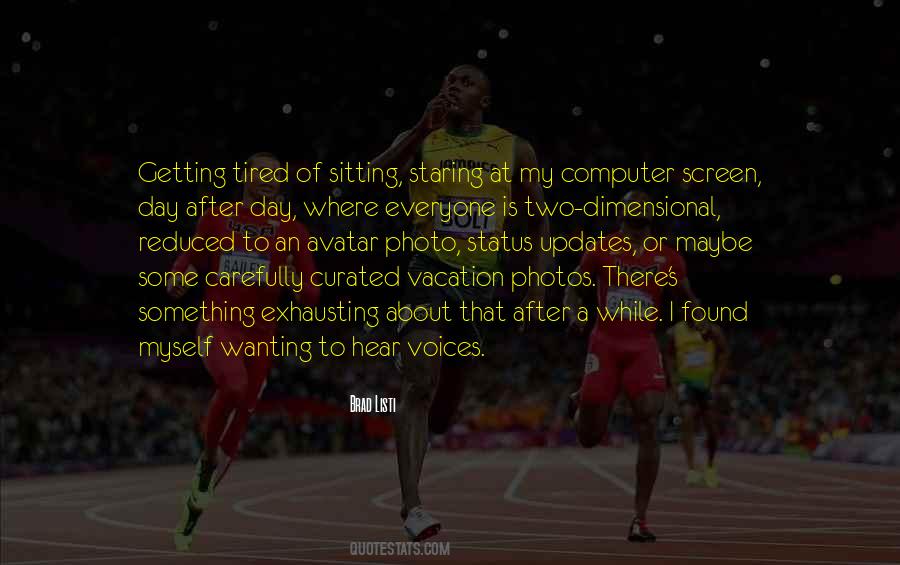 #26. I've been to Disneyland, like, 10 times. I'm getting really tired of Disneyland. - Author: Elon Musk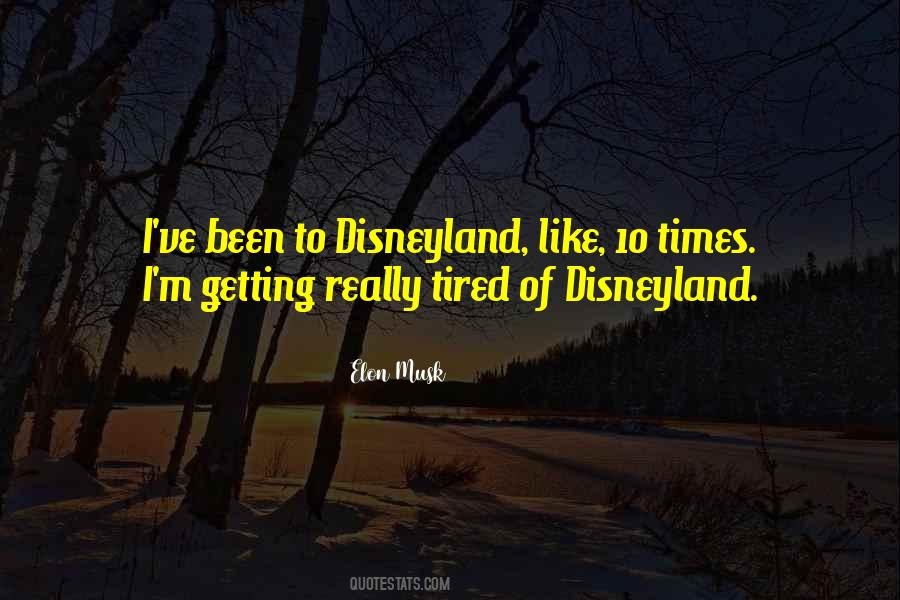 #27. I was tired of her getting away with being so young. - Author: Margaret Atwood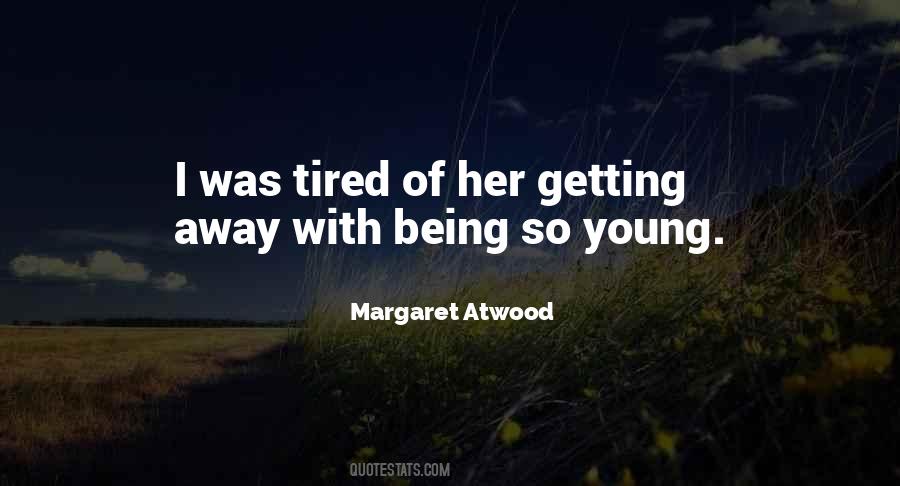 #28. I'm tired and angry at me. For letting myself get smaller and smaller in the hopes that he would notice me more. But how can someone notice you if you keep getting smaller? - Author: Kathleen Glasgow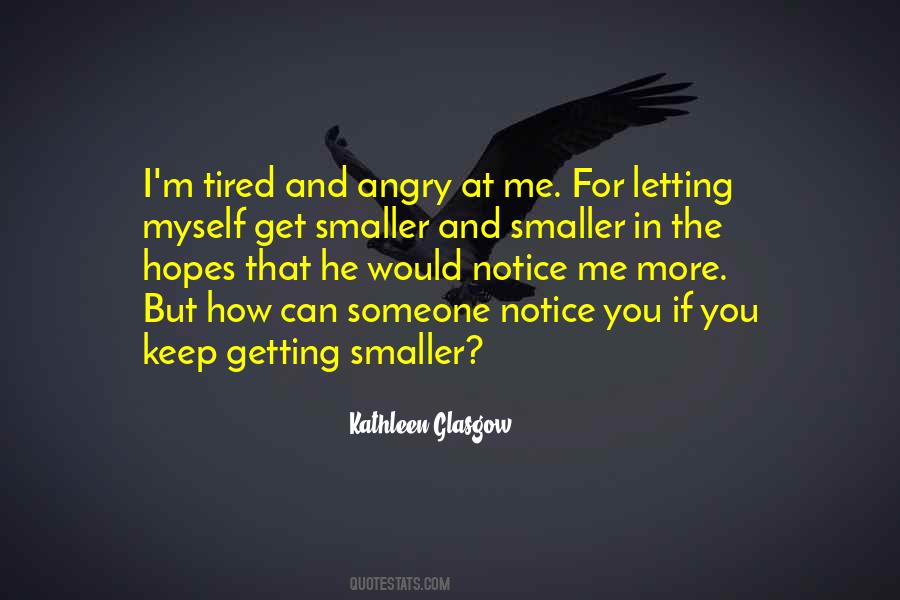 #29. Fatigue is the price of leadership. Mediocrity is the price of never getting tired. - Author: J. Oswald Sanders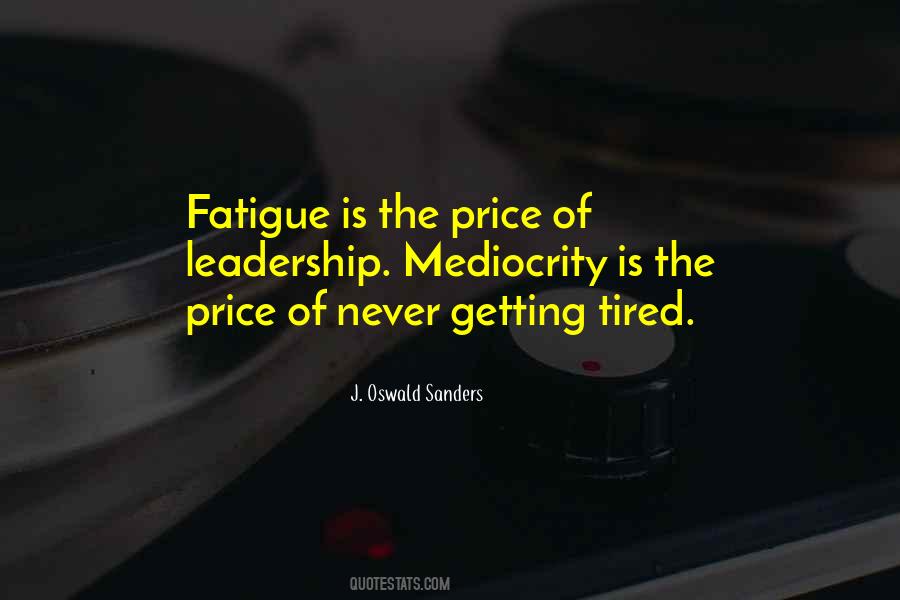 #30. Maybe it's whiner's fatigue, but I'm getting tired of hearing about how hard it is to start a company and be a CEO. It's not that hard. - Author: David Ulevitch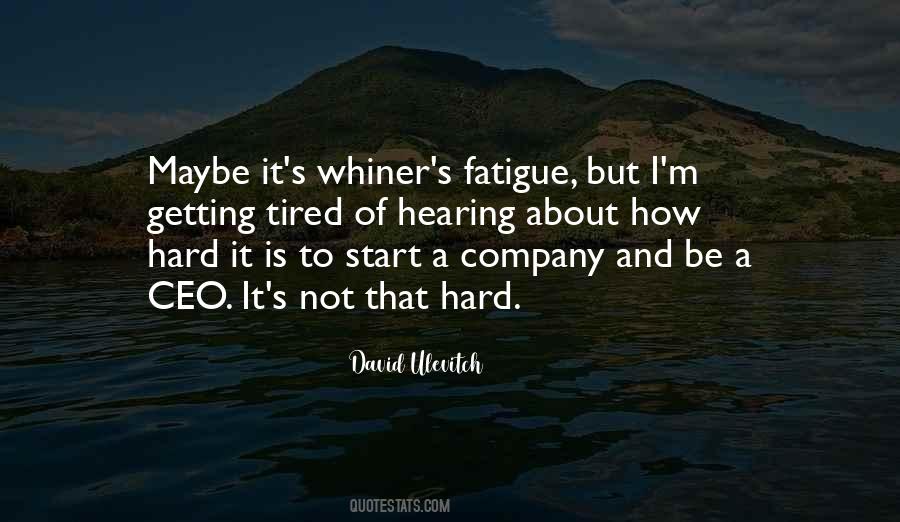 #31. I think my immediate reaction was, "I'm so tired. I need a little more time." But, it was very quickly followed up by excitement. It's very flattering, and it's a wonderful vote of confidence. We dream of getting to do what we do. - Author: Jenji Kohan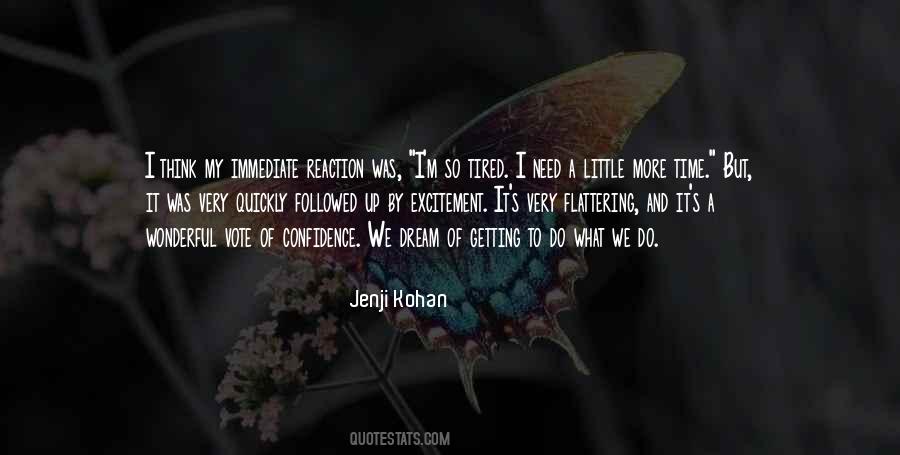 #32. I'm getting a little tired of everybody quoting Ronald Reagan. - Author: Michael Reagan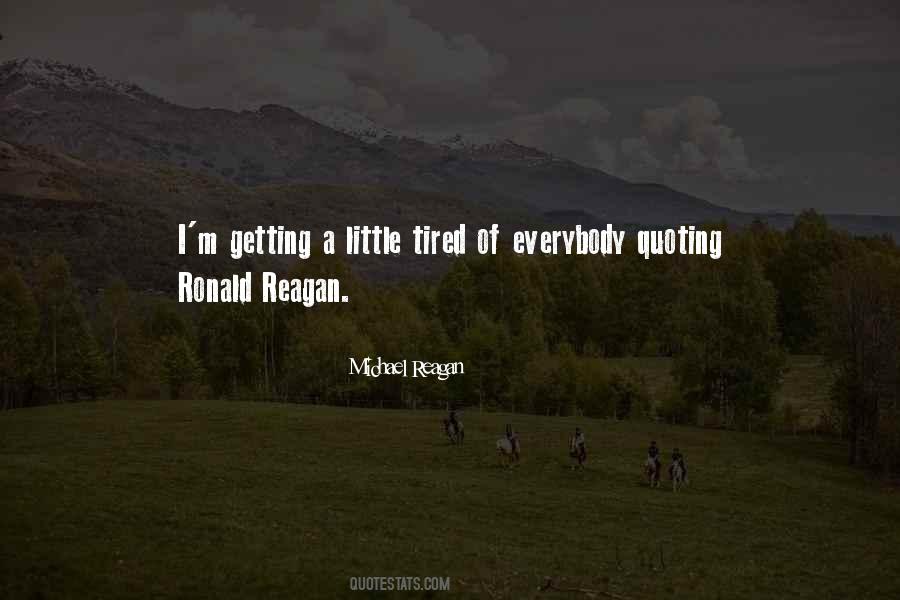 #33. Felix believed that the answer to every problem involved penguins; but it wasn't fair to birds, and I was getting tired of teleporting them back home. Somewhere in Antarctica, a whole flock of Magellanic penguins were undergoing psychotherapy. - Author: Rick Riordan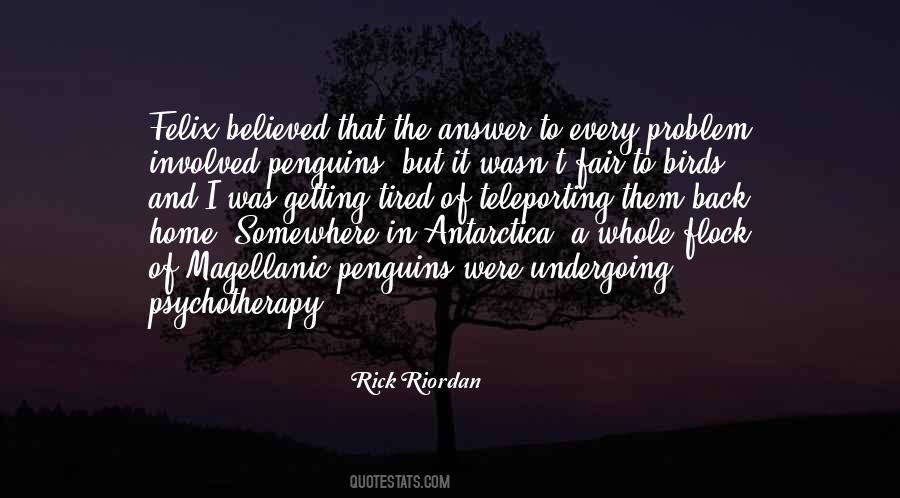 #34. Life is one long process of getting tired. - Author: Samuel Butler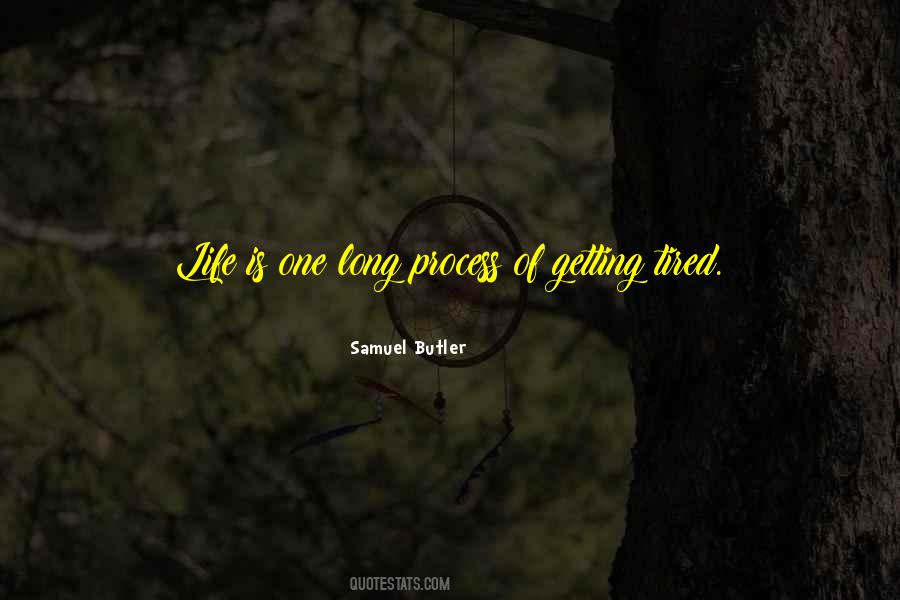 #35. I was getting sick and tired of being lectured by dear friends with their little bottles of water and their regular visits to the gym. All of a sudden, we've got this voluntary prohibition that has to do with health and fitness. I'm not really in favor of health and fitness. - Author: Barbara Holland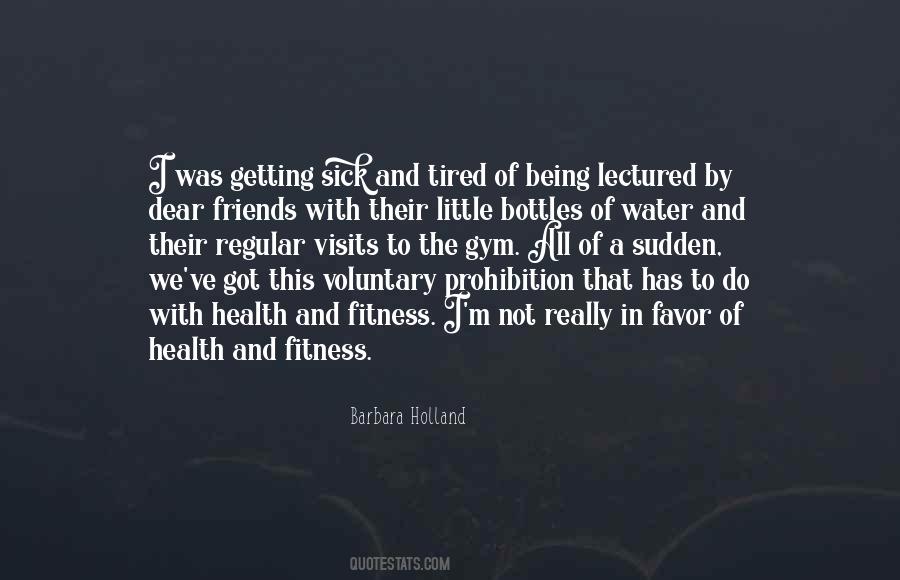 #36. What is the use of a violent kind of delightfulness if there is no pleasure in not getting tired of it. - A substance in a cushion - Author: Gertrude Stein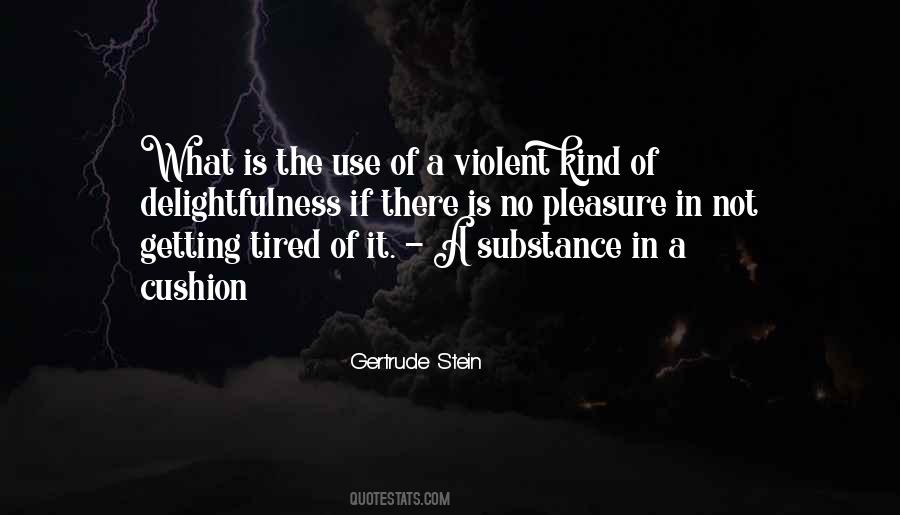 #37. Mountain climbing was my original sport ... and I've never tired from the satisfaction of getting to the top of a mountain. - Author: Steve Fossett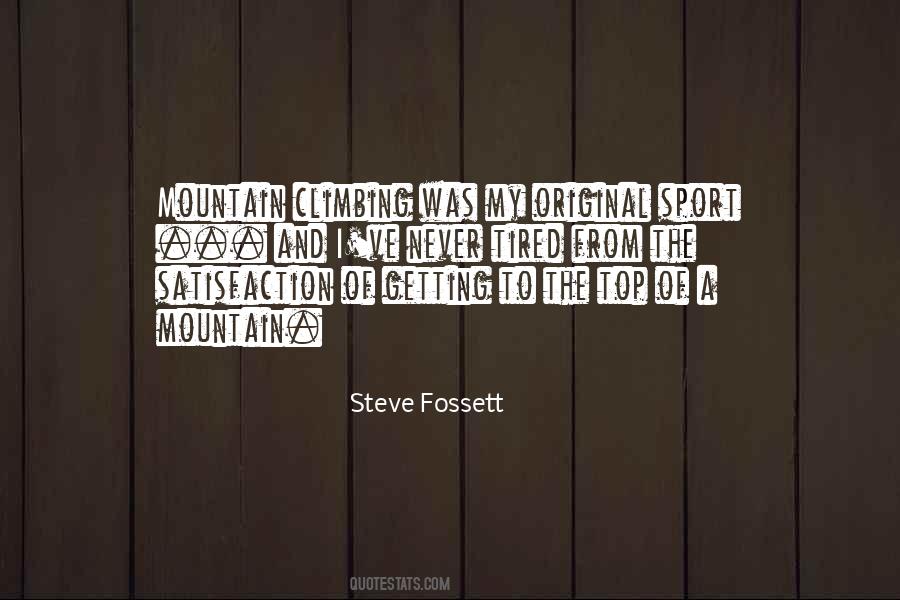 #38. Everyone is sinning, so it's no longer rebellious to sin. You're just a conformist if you're drunk; and naked; driving around in a loud motorcycle; smoking cigarrettes; breaking commandments; getting pregnant out of wedlock. Everyone's done that. That's so tired! - Author: Mark Driscoll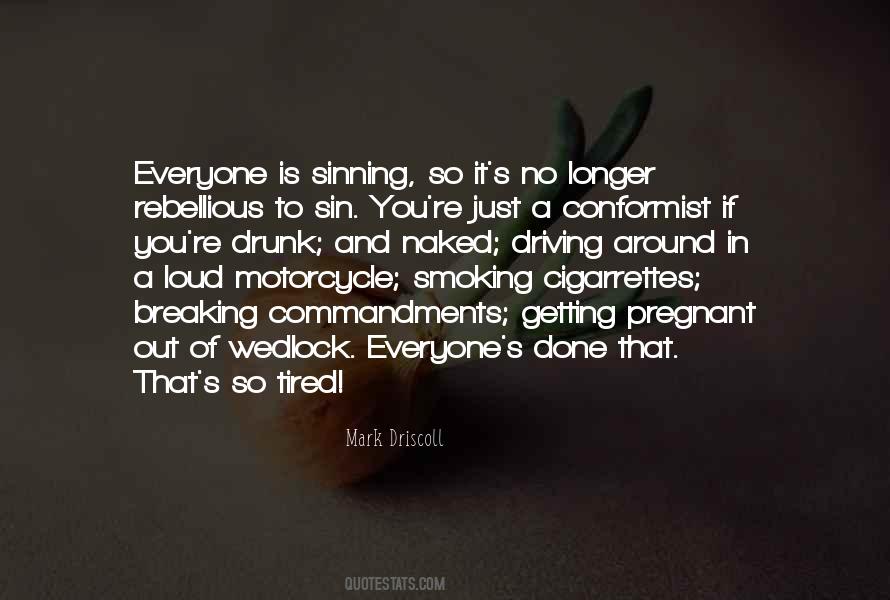 #39. Aren't you getting tired of people hating one another? What do they think they get out of it? - Author: Roger Ebert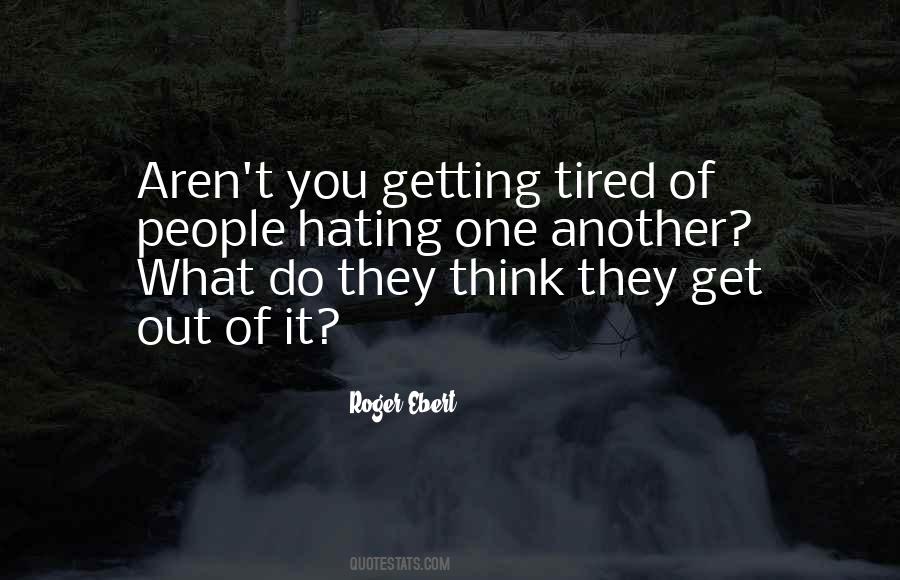 #40. I am getting so tired of these melodramatic exits! - I muttered. - Don't goddesses ever use the door? - Author: Jen McConnel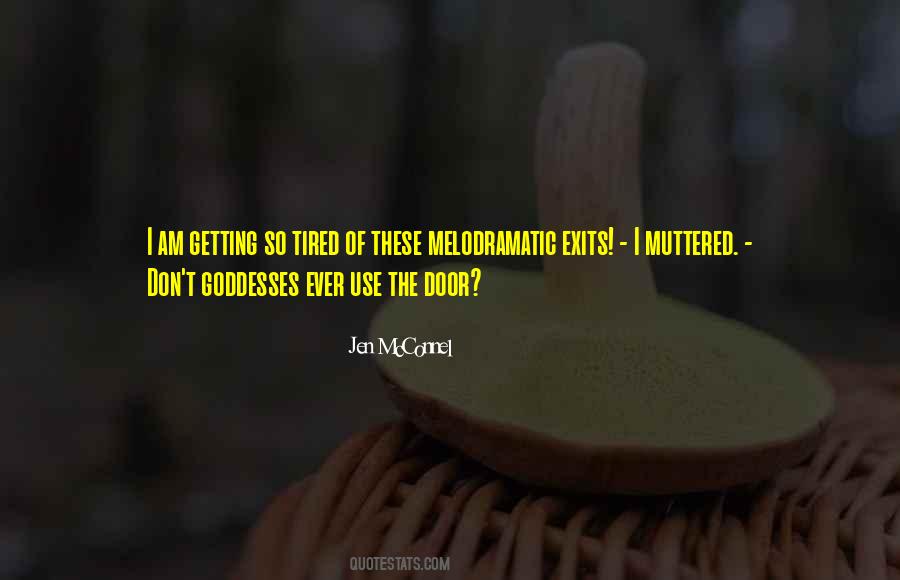 #41. People have been born in refugee camps and they are getting tired of that. - Author: Javier Bardem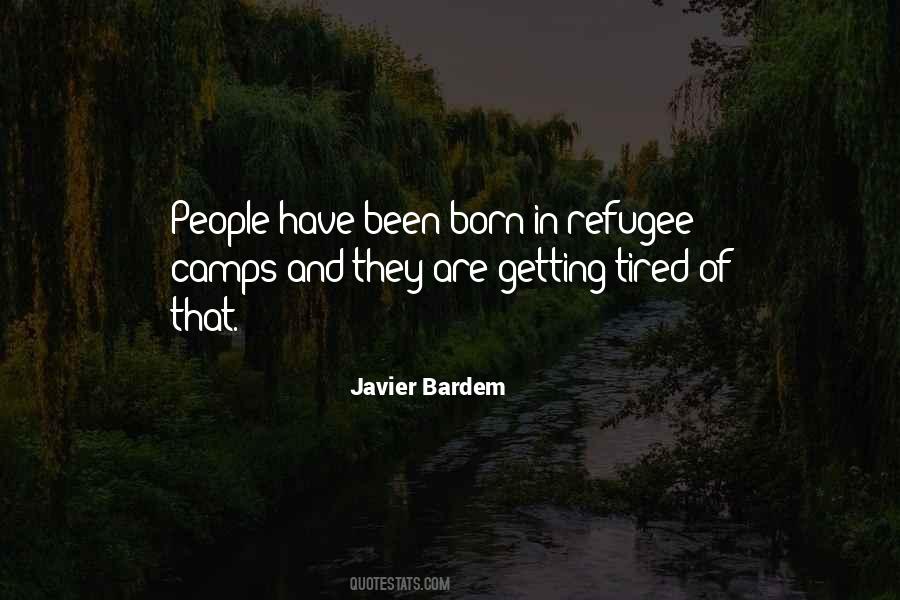 #42. Any instructions?" Carpenter said. "Yeah," Shane said. "Shoot anybody who looks at Agnes funny. And anybody else you don't like. I'm getting tired of this shi*." "Somebody needs a hug," Carpenter said. "Humor," Shane said. "Har. - Author: Jennifer Crusie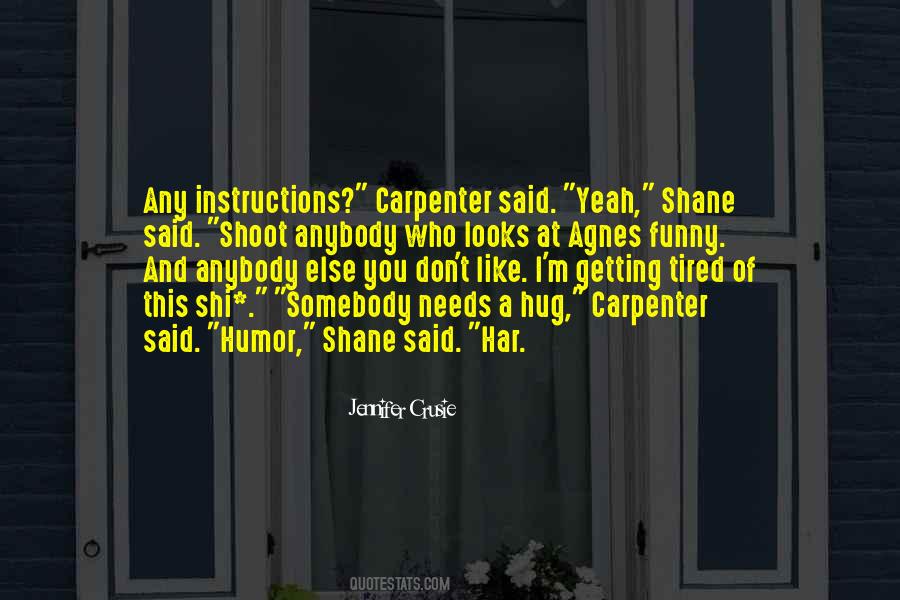 #43. I got worries by the ton, getting cancer's only one. Over taxed and alimonied, tired of eating fried baloney. - Author: Neil Diamond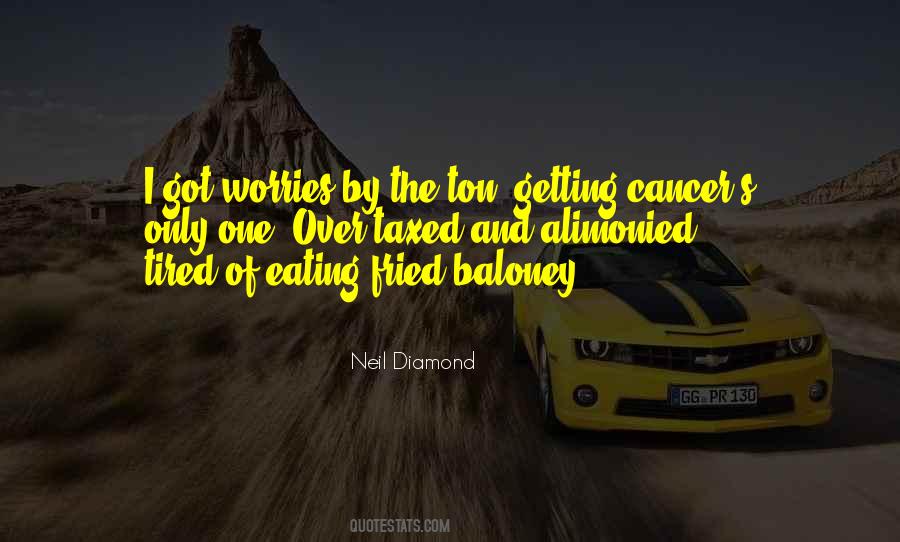 #44. I was delighted to be able to do the movie [Terminator: Genisys ]without getting exhausted or feeling old or tired or anything like this. I felt I was in great shape and I felt really young. - Author: Arnold Schwarzenegger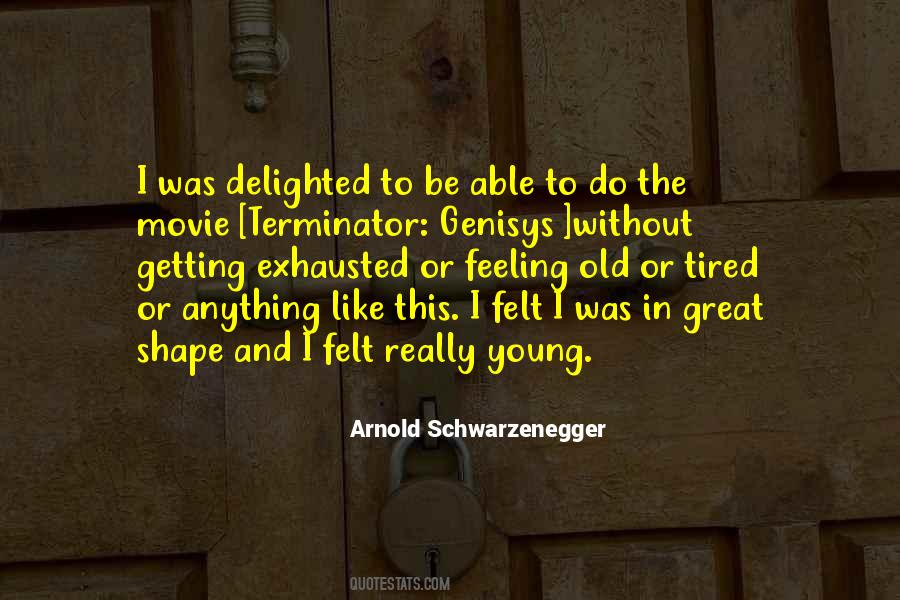 #45. Hand me a shovel, he thought. I'm getting tired of digging this hole for myself with my bare hands. -Ben - Author: Nora Roberts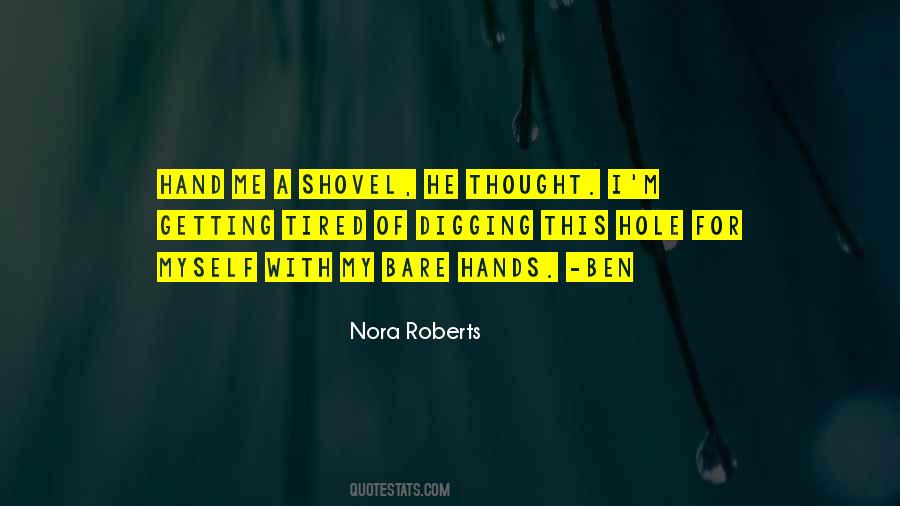 #46. Percy looked at his friends. I'm getting tired of this guy's shirt. - Author: Rick Riordan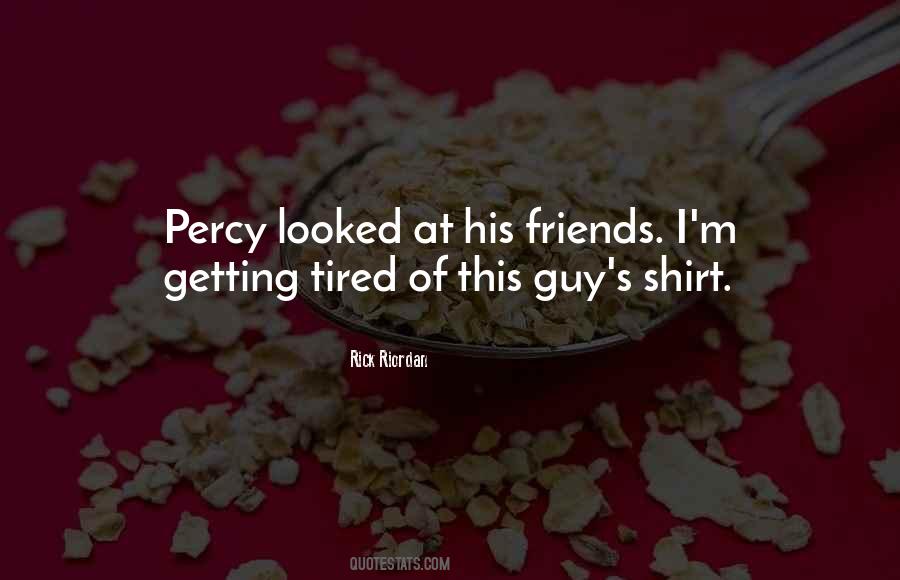 #47. I wish you would thrash him. He deserves it."
She looked back at him. "I will one day, sir. I'm getting tired of falling down. - Author: Tamora Pierce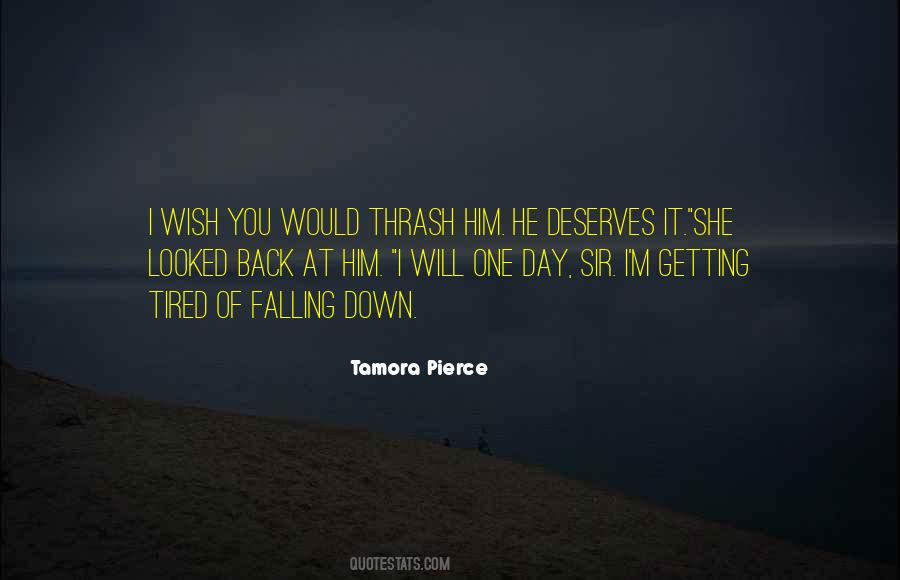 #48. In this very special self-hypnotic state there can be no question of getting out of touch with on[e]self and floating into a normal sleep (unless you are very tired at the start) - Author: Vladimir Nabokov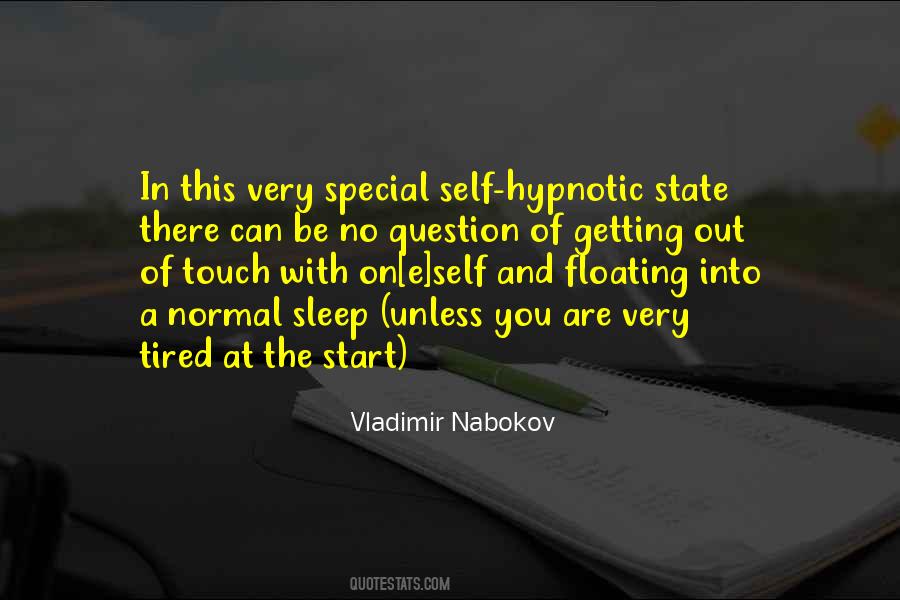 #49. Do not think that love in order to be genuine has to be extraordinary. What we need is to love without getting tired. Be faithful in small things because it is in them that your strength lies. - Author: Mother Teresa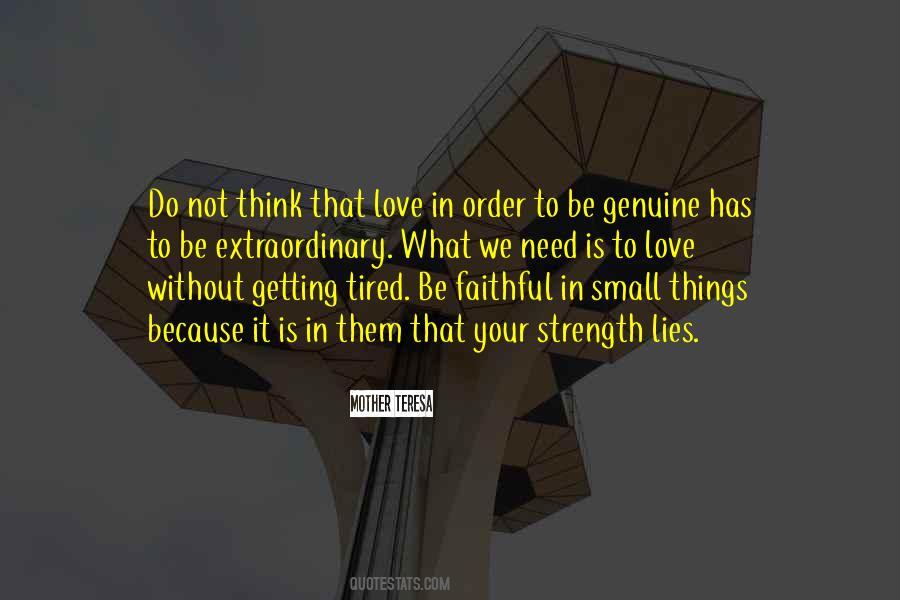 #50. Are you tired of lyrical liars, passing fliers,
Wannabe MC's, but really good triers,
Tripping over mic cords, getting you bored,
A total fraud, this kind of thing I can't afford! - Author: KRS-One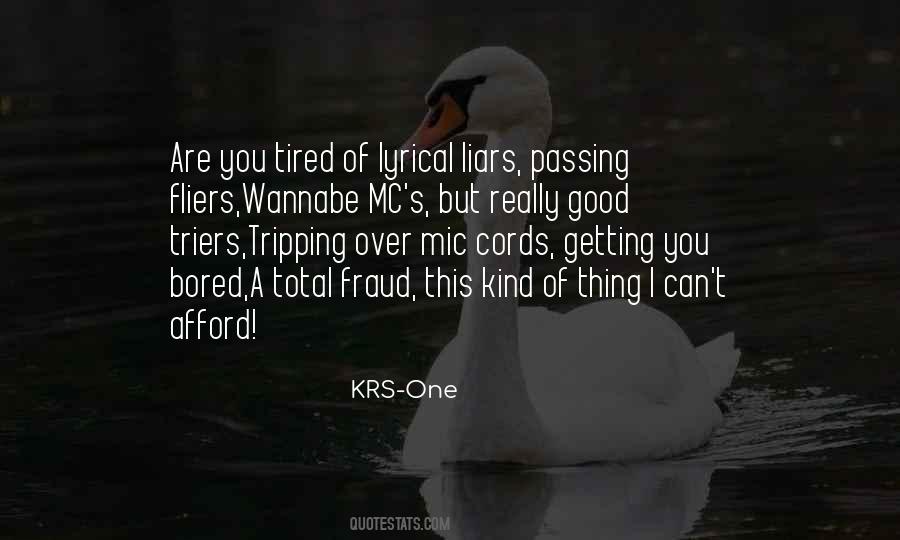 #51. Nigel hit his button again. "I need security." "No, you don't," Taggart said, his mouth curling up in a deeply gruesome approximation of a grin. "You just need to give me five minutes with him." "Ian, you promised you would stop killing people. I'm tired of getting blood out of your clothes. - Author: Lexi Blake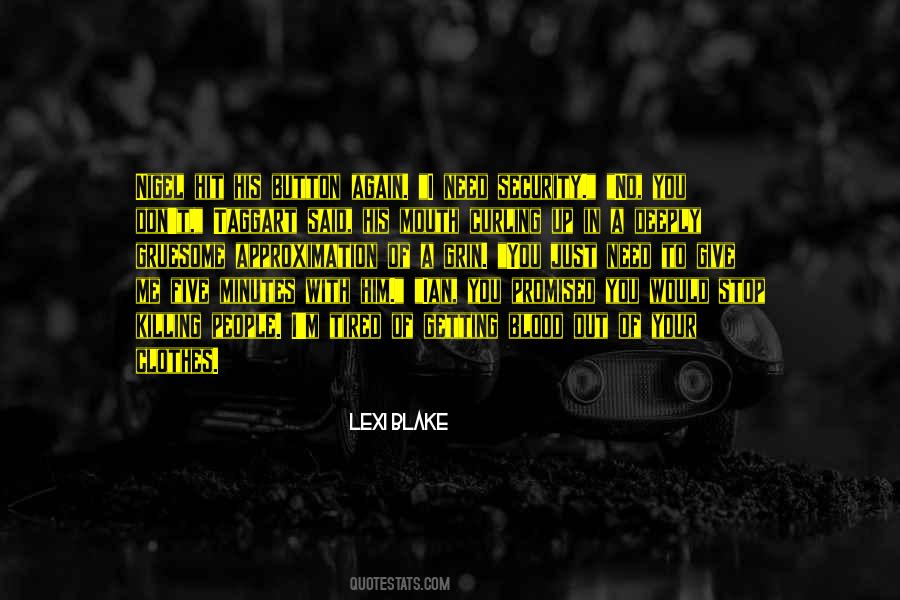 #52. You know I'm getting a little tired of waiting for you to catch on. - Author: Veronica Roth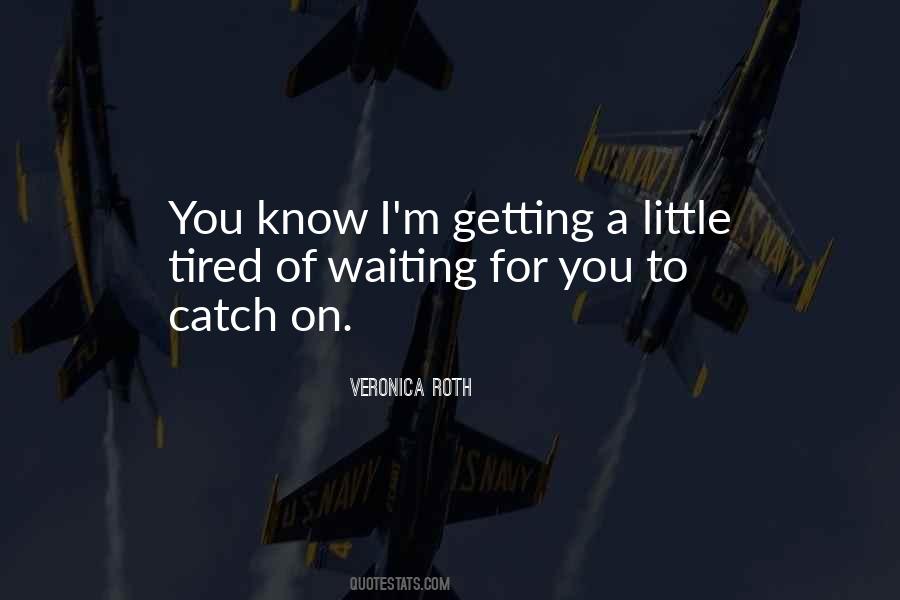 #53. If I don't take care of myself and be kind to myself, then I can't take care of anyone else. I think when my son was a baby I got used to not getting enough sleep, rushing and skipping meals, and feeling tired a lot of the time. - Author: Beth Riesgraf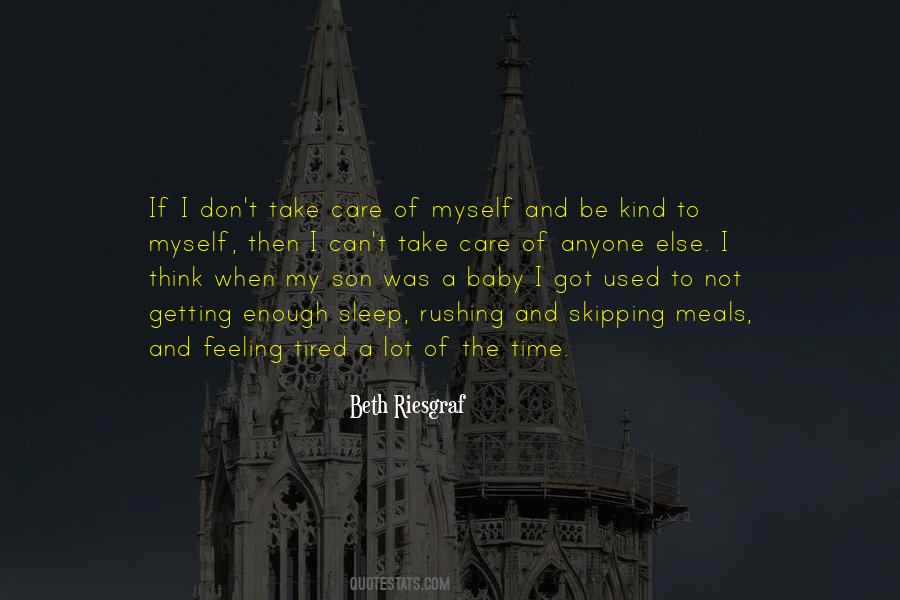 #54. Somebody has been cashing checks, and they've been bouncing back on us. And these people, the poor class of Negroes and the poor class of white people, they're getting tired of it. - Author: Howlin' Wolf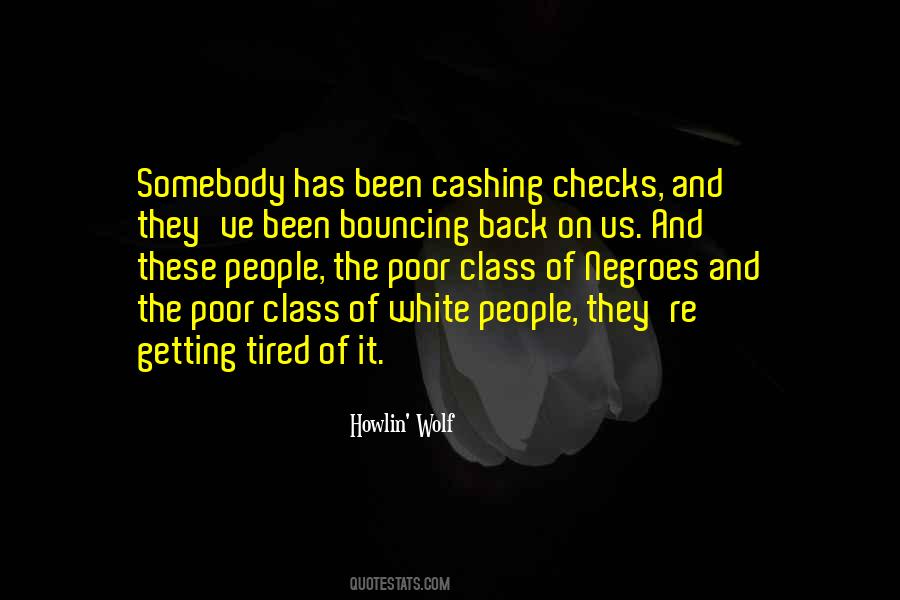 #55. I wasn't enjoying golf much. I was kind of getting a little bit tired, I was getting a little bit moody, and I was constantly getting angry. That's not me. And when I saw that I knew I had to change. - Author: Paula Creamer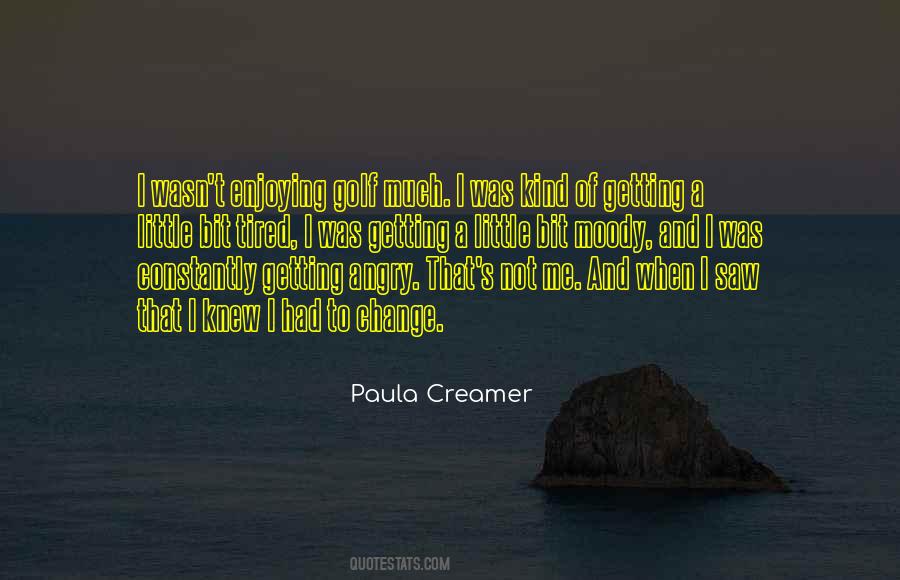 #56. Don't count me out ... I have been built and strengthened by life's battles. When you think I'm tired; I'm just getting started. When you think I'm dead; that's when I'm most alive. - Author: Steve Maraboli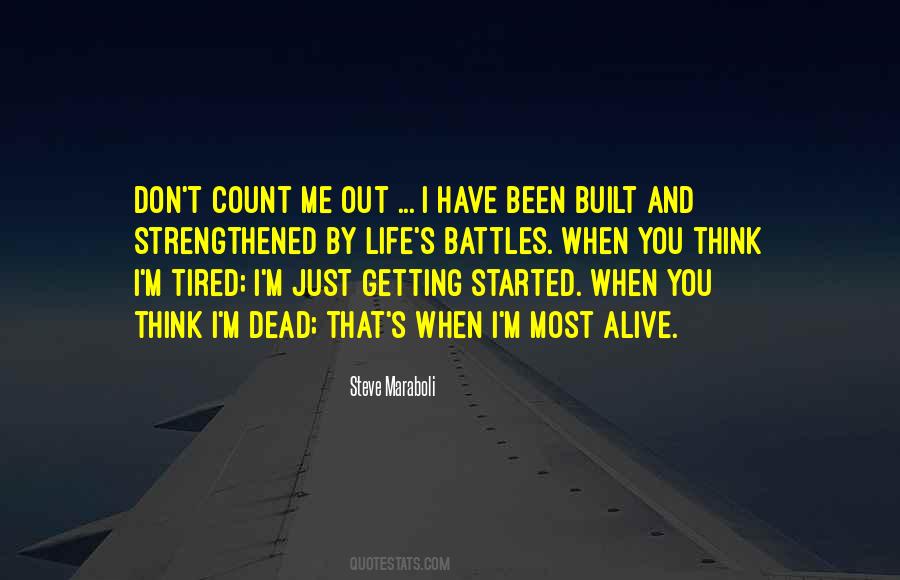 #57. I don't like getting pushed around for being a Jew, and I don't think Christians like getting pushed around for being Christians. I think people who believe in God are sick and tired of getting pushed around, period. - Author: Ben Stein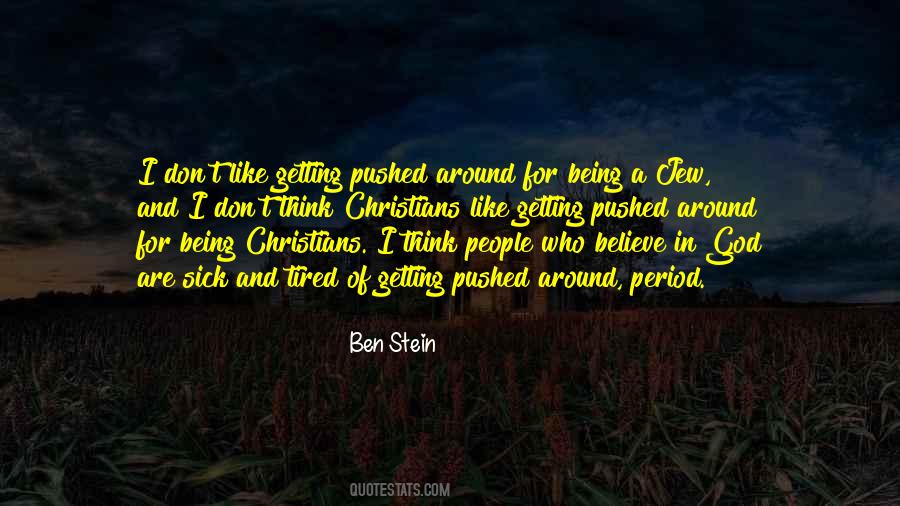 #58. I was so getting tired of fighting for my life in the library. - Author: Jennifer Estep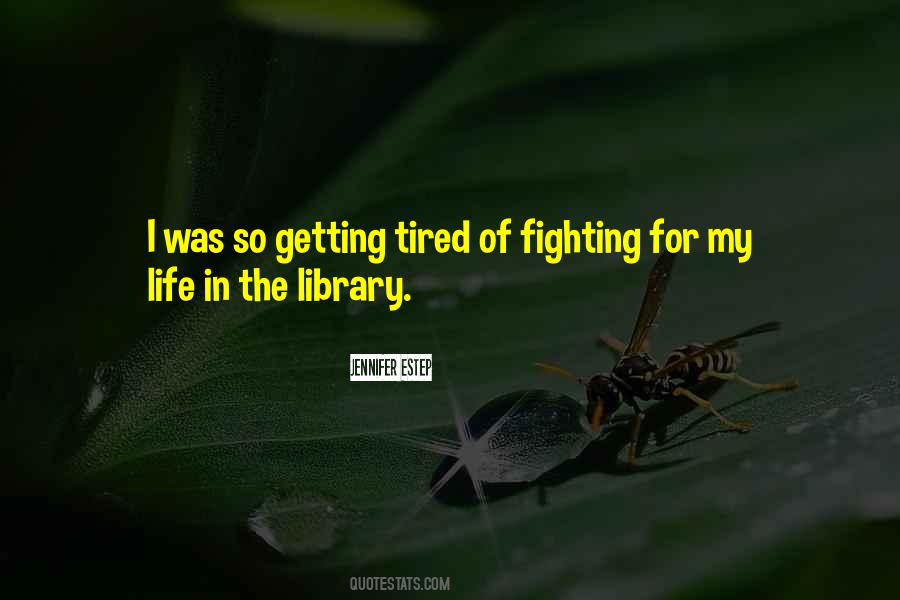 #59. I'm tired of getting made fun of. - Author: Geraldo Rivera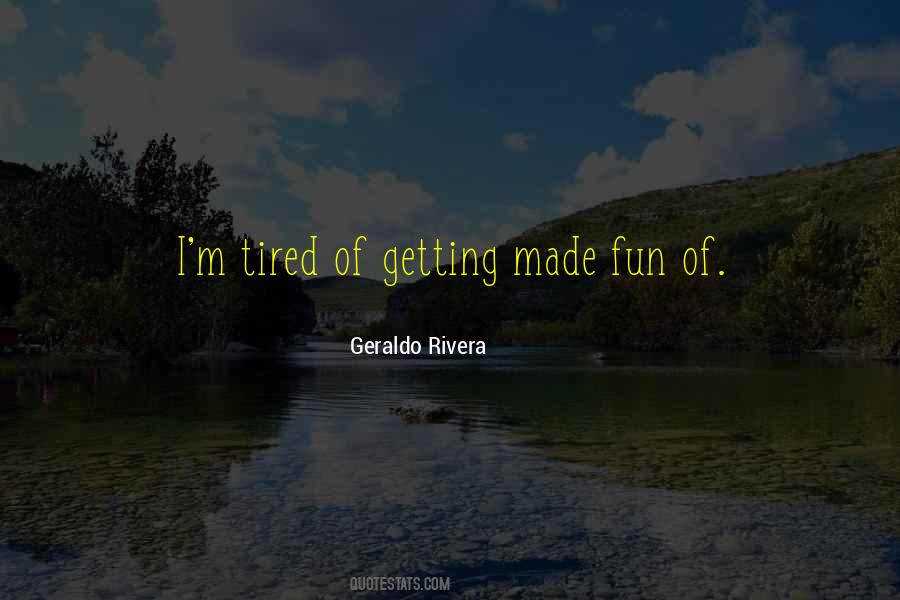 #60. Arik passed another smug look to Brian, then to
Megeara. He was getting tired of her mistrust - not that he
didn't deserve it. It was merely causing him aggravation - an
interesting emotion that. He didn't like it. It was too
aggravating. - Author: Sherrilyn Kenyon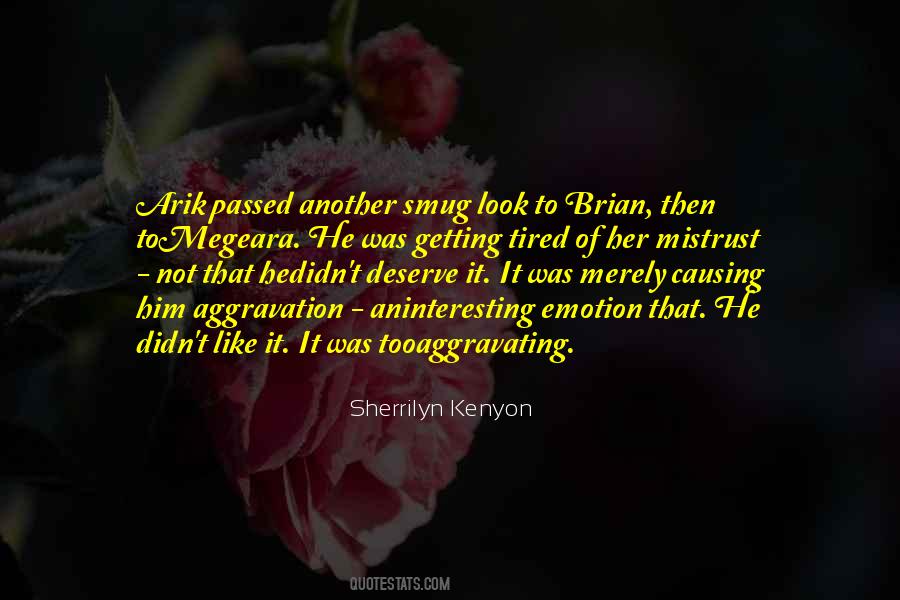 #61. Many of the people I work with that are half my age complain that they feel tired all the time. I tell them: 'Look at what you're eating, how much you are exercising, and how much sleep you are getting.' - Author: David H. Murdock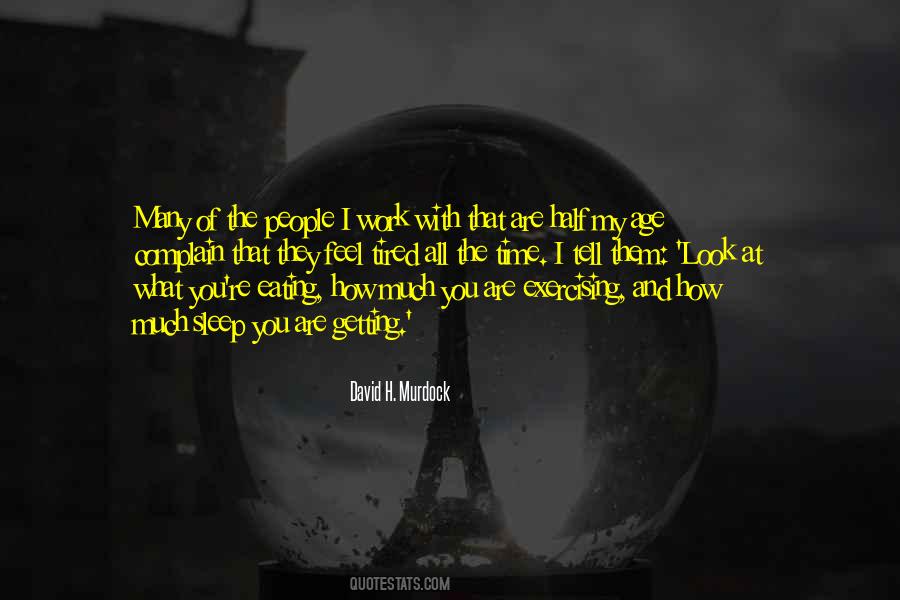 #62. Then I'd say that I'm fucking sick and tired of getting in the way of myself. - Author: Autumn Doughton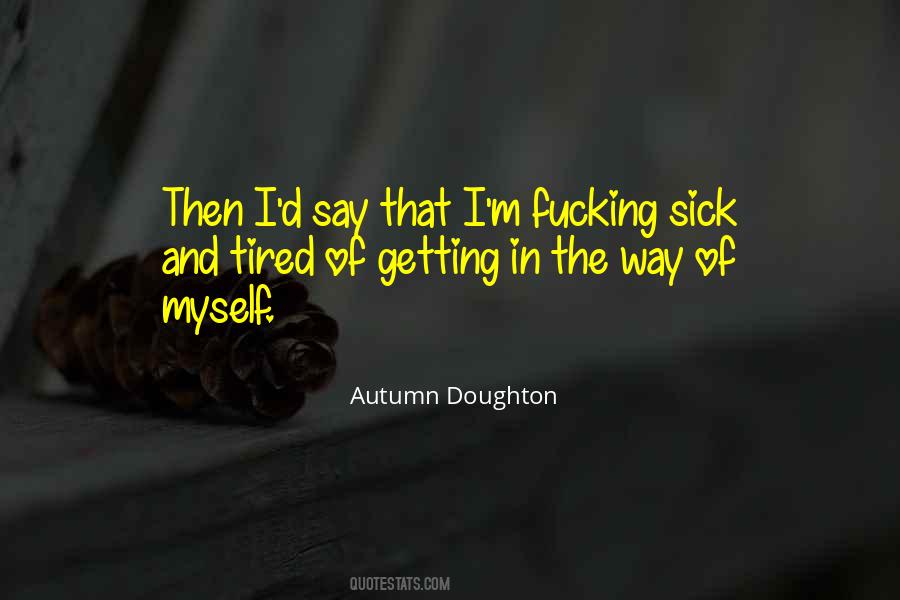 #63. What do I most love to do? (I love it so much I can do it for long stretches of time without getting tired or bored.) - Author: Gay Hendricks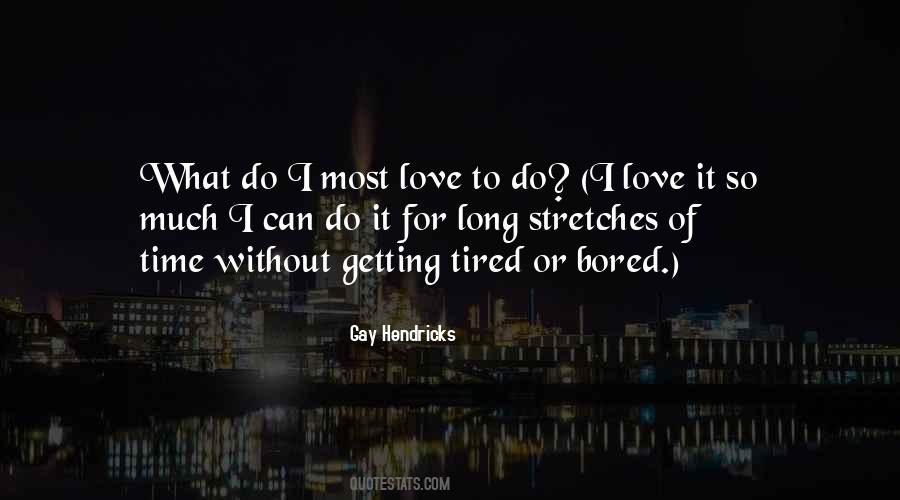 #64. I don't want you to write about what you know, because you don't know anything. I don't want to hear about your boyfriend or your grandma ... I'm getting a little tired of 'my life story as fiction'. Please don't tell me about your little life - is there nothing larger? More important? - Author: Toni Morrison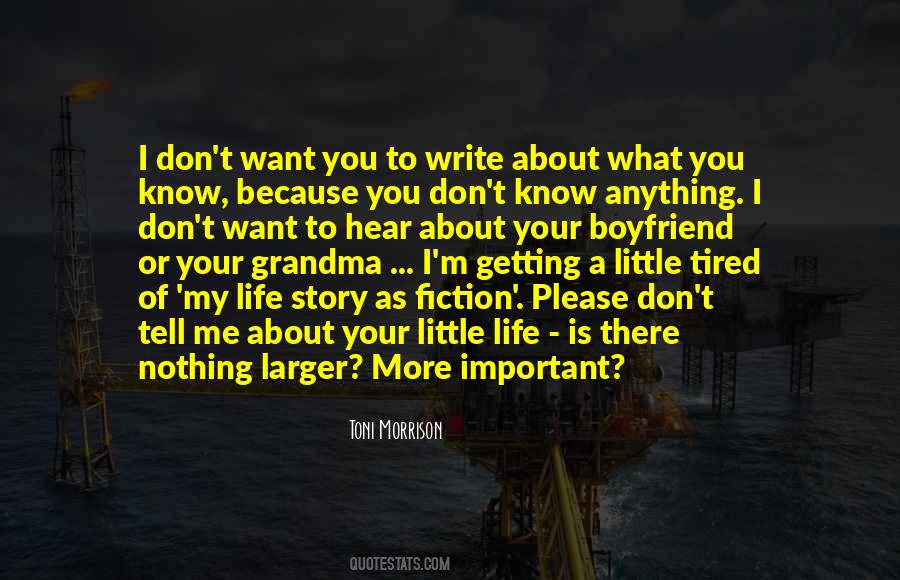 #65. I'm tired of people disturbing the peace, getting on the radio and sounding a hot mess. If I can tell what the note really is, why let them go to the note they think it is? I've got that mama vibe. I don't look at it with an ego. - Author: Betty Wright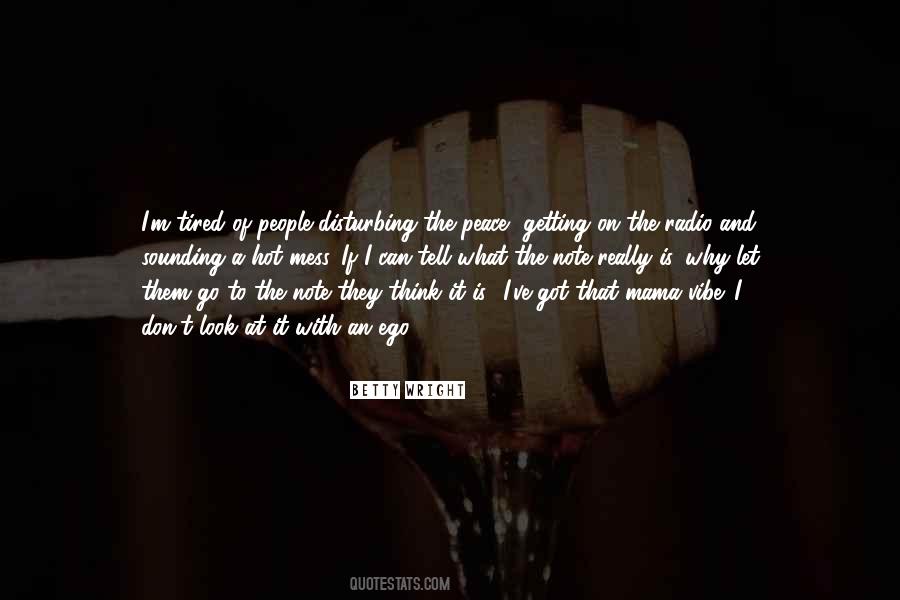 #66. I'm prone to getting dark circles under my eyes when I'm tired, so I l use cover-up and instantly feel more confident. - Author: Bridgit Mendler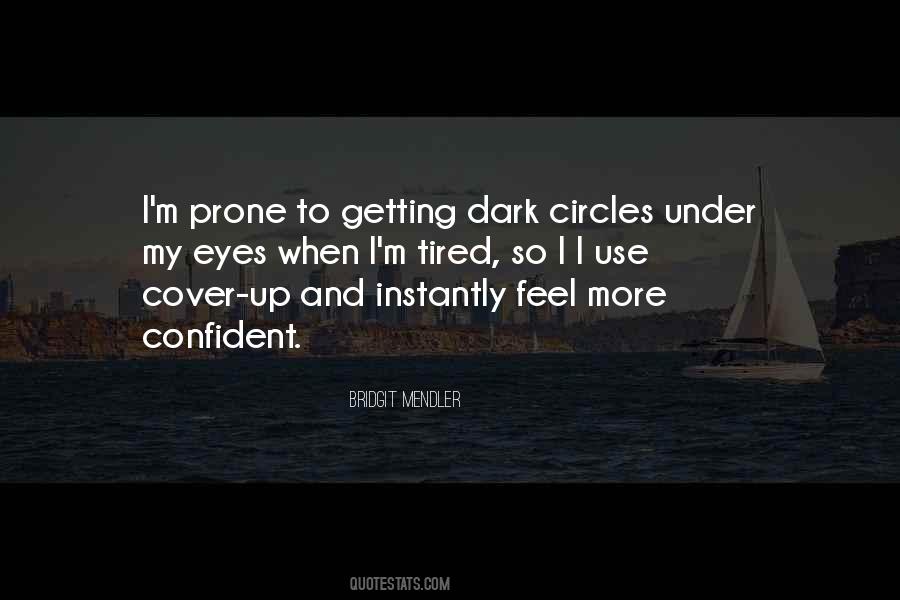 #67. I'm getting sick and tired of doing anything half-way. - Author: Knute Rockne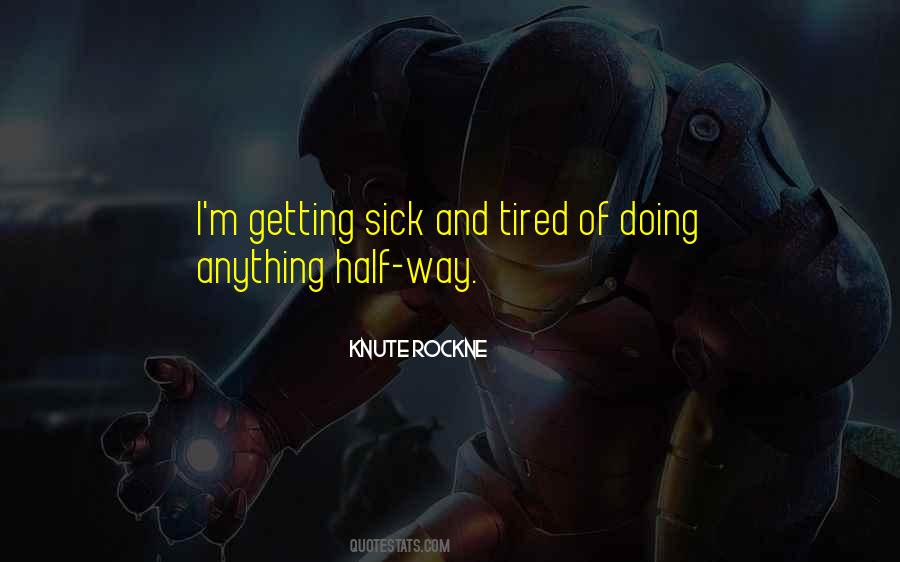 #68. I enjoy the oohs! and aahs! from the gallery when I hit my drives. But I'm getting pretty tired of the awws! and uhhs! when I miss the putt. - Author: John Daly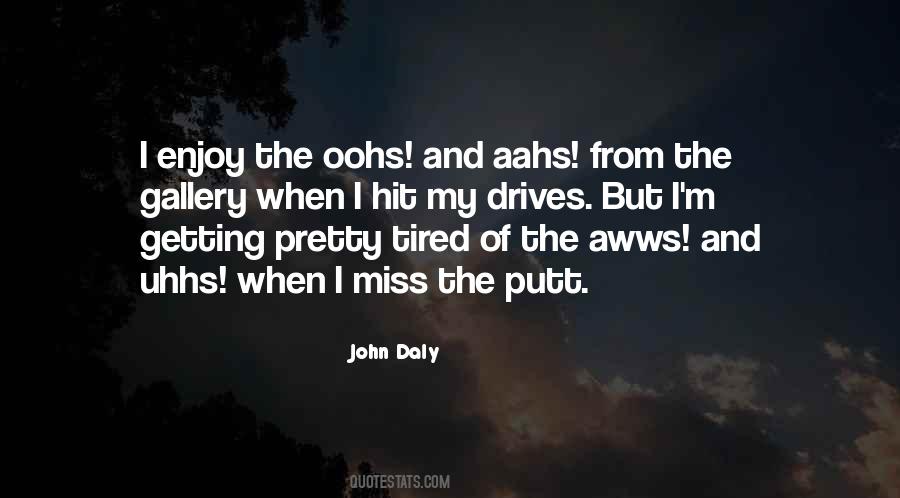 #69. I was tired. I hadn't slept eight hours in two, three years. I lived on four, five hours of sleep. You can do it during a campaign because thousands are screaming for you. You're getting adrenaline shots each day. Then the campaign ends, and there are no more shots. - Author: George McGovern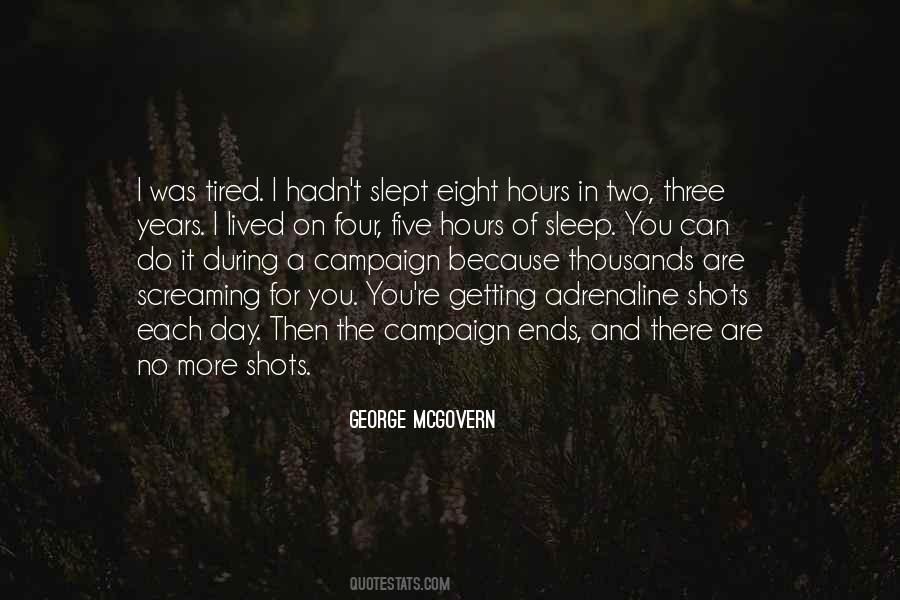 #70. I'm getting really tired of bleeding. Someone stop the world, I want to get off. - Author: Lilith Saintcrow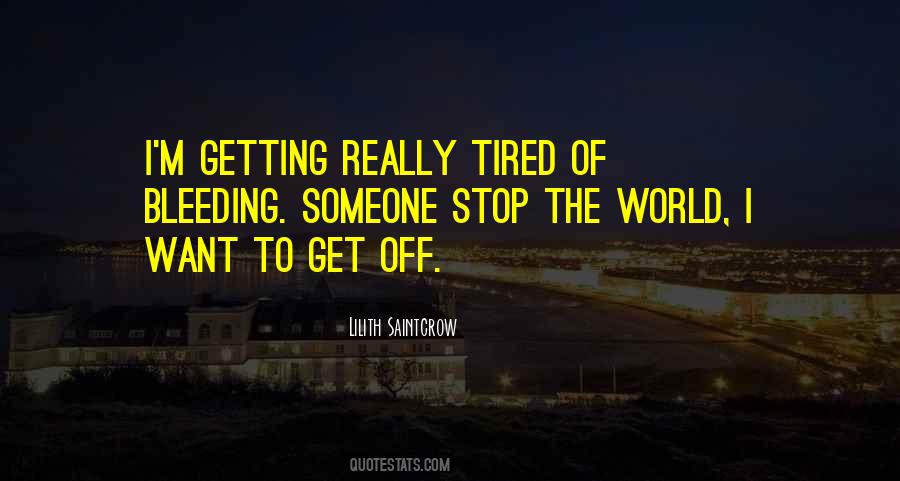 #71. I get really tired of getting painted up all the time. Basically, I'm a bum. - Author: Morgan Fairchild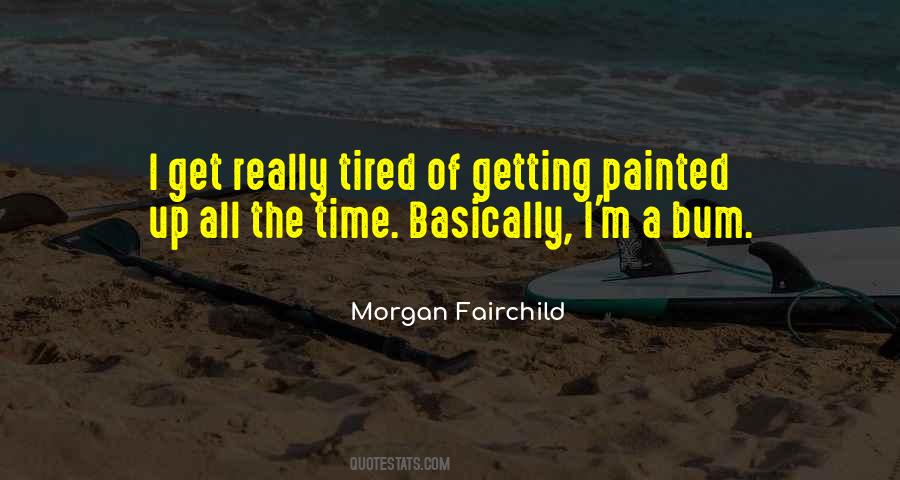 #72. I struggled with being a broke college graduate, and while all my friends were getting career jobs, I was working horrible part-time jobs. That's why now, even when I get tired, I think, 'This is what I asked for.' - Author: J. Cole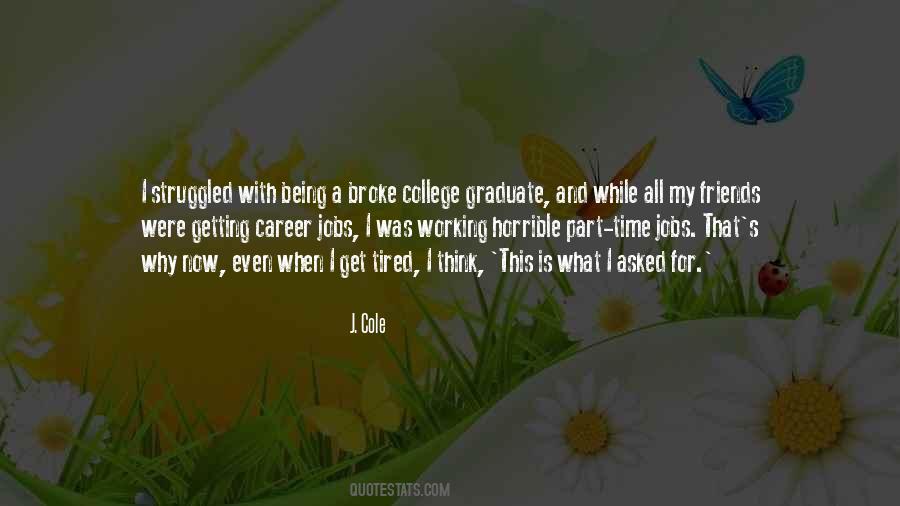 #73. This guy was making me tired. "Thanks for the afternoon's entertainment," I said. "I'll flush a copy of my bill down the toilet. You should be getting it in a couple of days. - Author: John Swartzwelder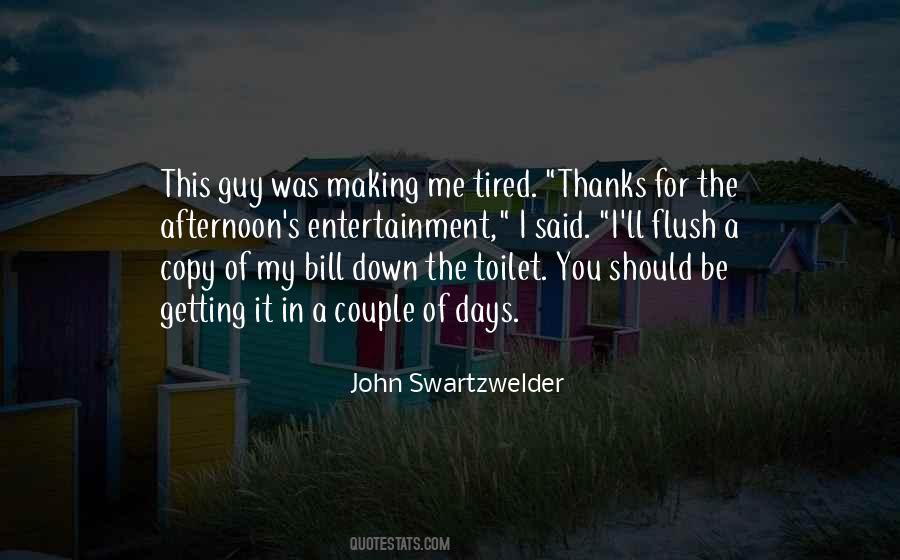 #74. The players don't play the position game as much as we used to play. A lot of young guys go up and down, shoot the puck, go for the rebounds. You're getting tired quicker because the body has to react where the puck is going to go. You cannot read it, because you don't have the puck on your stick. - Author: Jaromir Jagr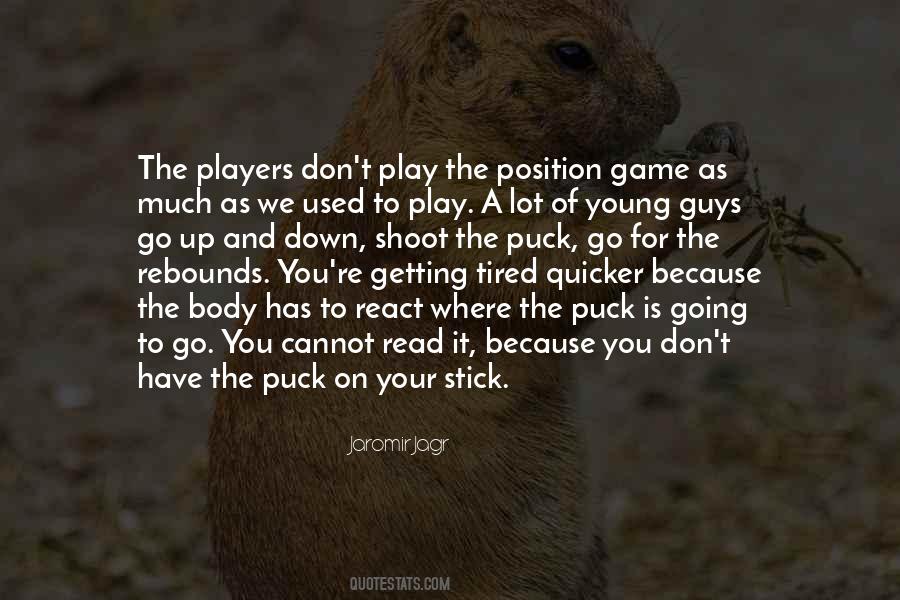 #75. TV's not the problem, and I'm tired of it being posed as this antithesis to creativity and productivity. If TV's getting in your way of writing a book, then you don't want to write a book bad enough. - Author: Andrea Seigel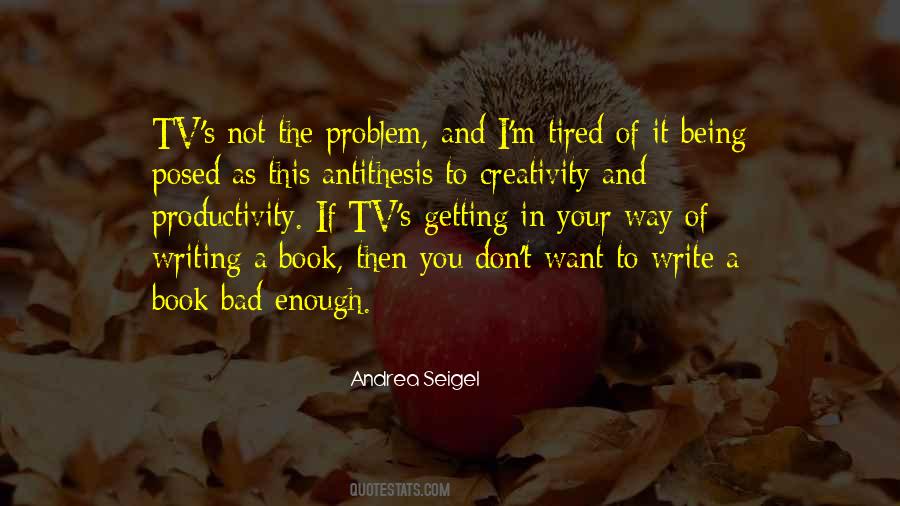 #76. We are all getting tired of the Village Explainers. Explanations don't seem to be explaining very much anymore. Authoritative accounts have a way of looking like official lies, which in their solemnity start to sound funny. - Author: David Shields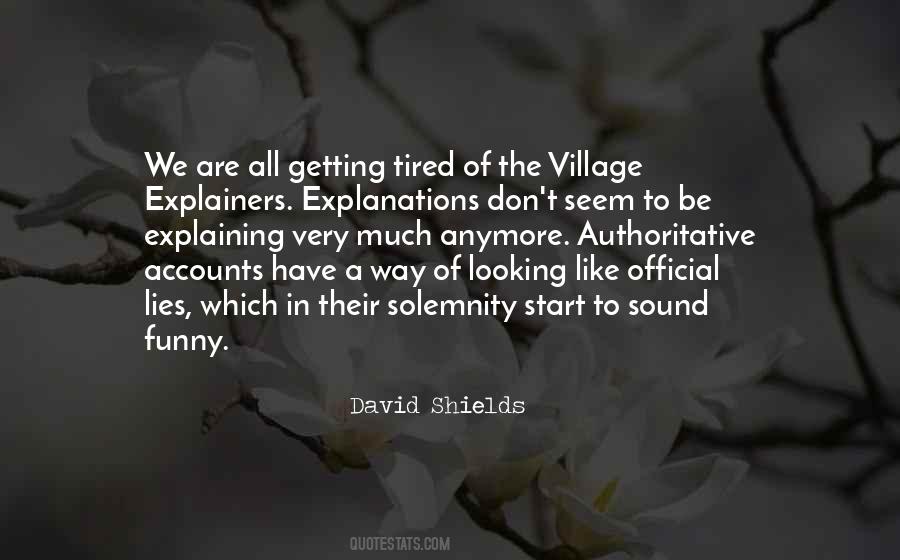 #77. I honor God that much in the way I play. That's why I never believe in getting tired. I don't even know what that word means. - Author: Ray Lewis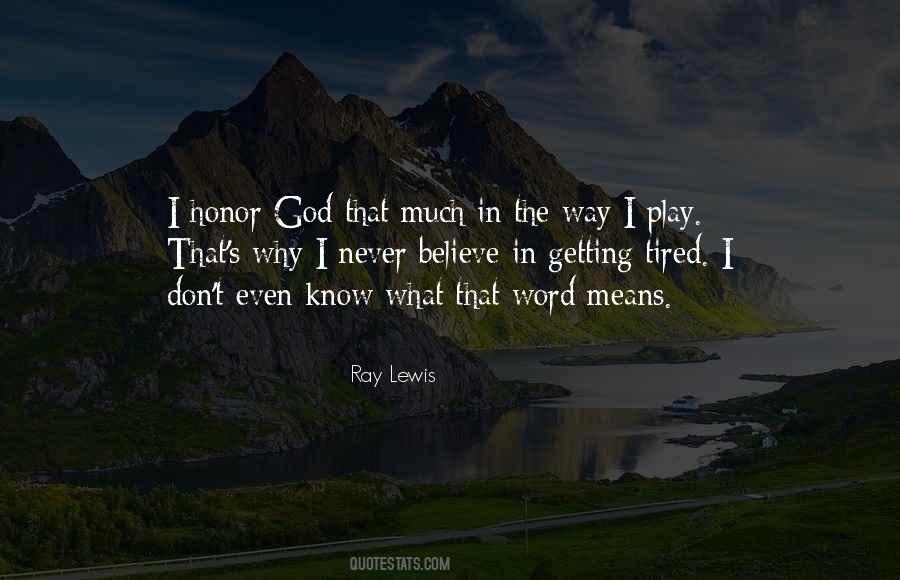 #78. We grown-ups always try to take the easy way out, the laziest way. We seem to have a great fear of getting tired, as if any energy depleted is lost forever. We want to plan our fatigue the same way we plan everything else. - Author: Twinkle Khanna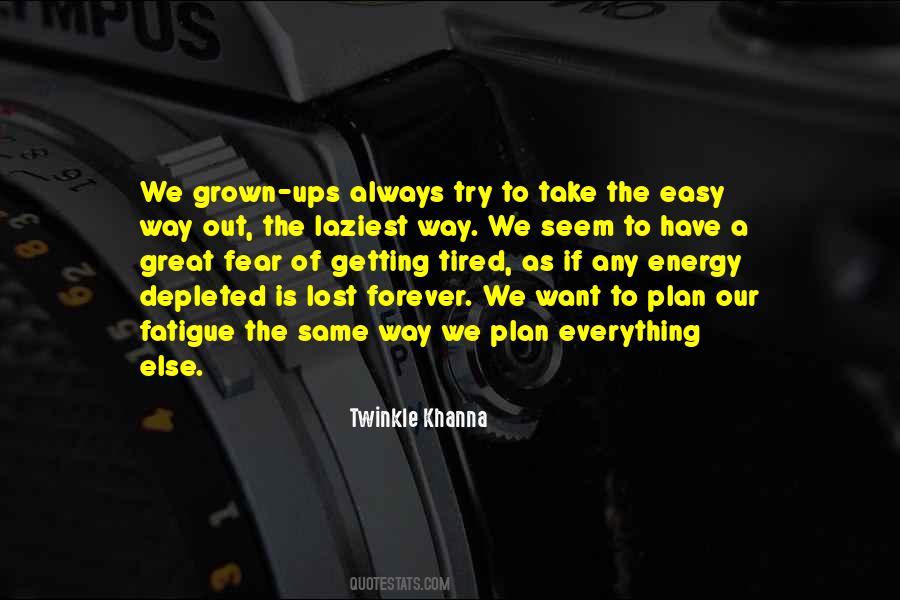 #79. One day it was about getting married that mother talked with me, and I said I was so glad that when you didn't like being married, or got tired of your husband, you could get Unmarried. - Author: Eleanor Porter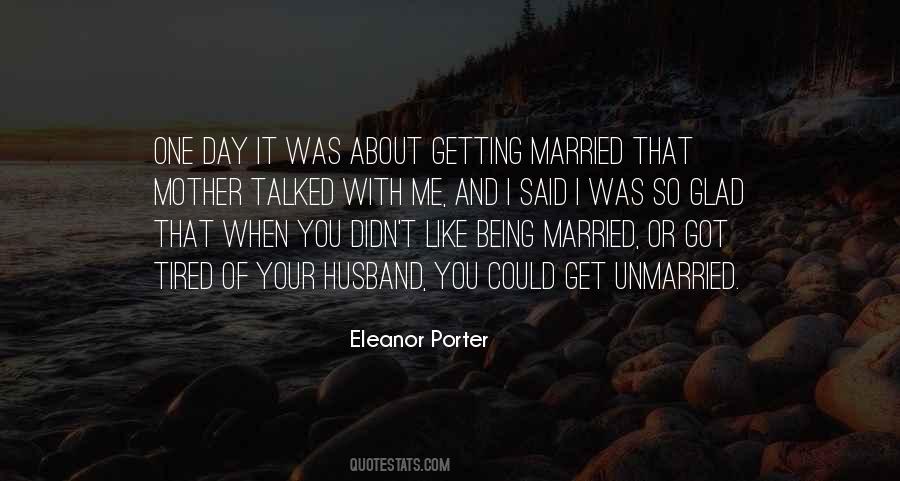 #80. In entertainment, zombies are so played out. I have a gut sense that people are getting tired of apocalyptic scenarios. - Author: Jamais Cascio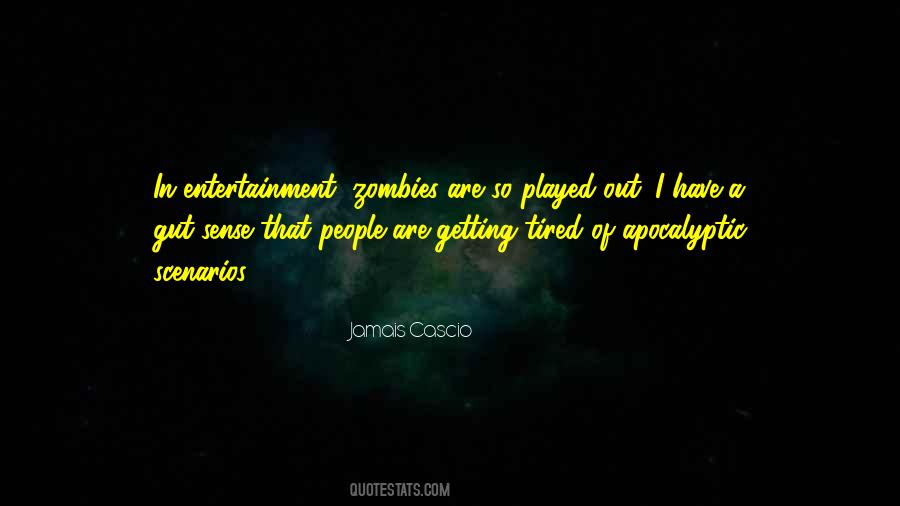 #81. You need to be sharp the whole race, and eventually you start getting mentally tired and make little mistakes over and over. - Author: Joey Logano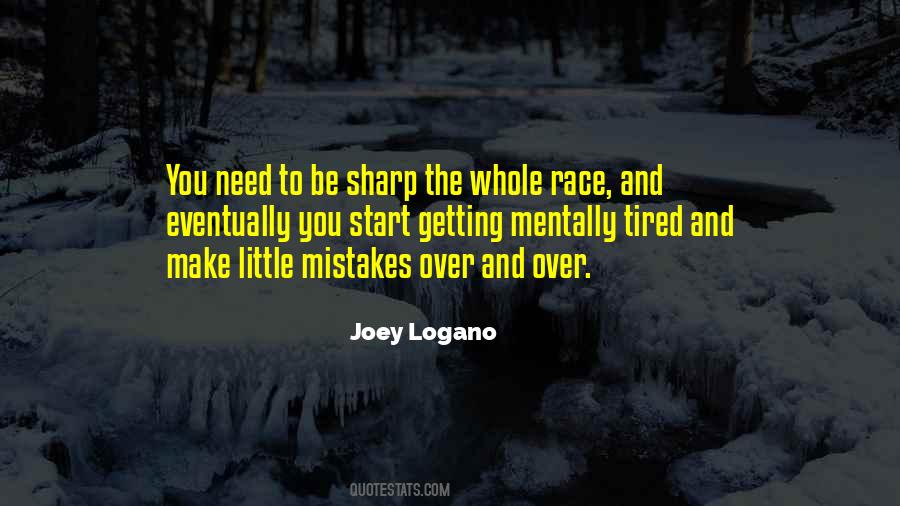 #82. It was fine. I'm getting real tired of that word. It's a nothing word, and when people say it, it never really means what it's supposed to. - Author: Leah Rae Miller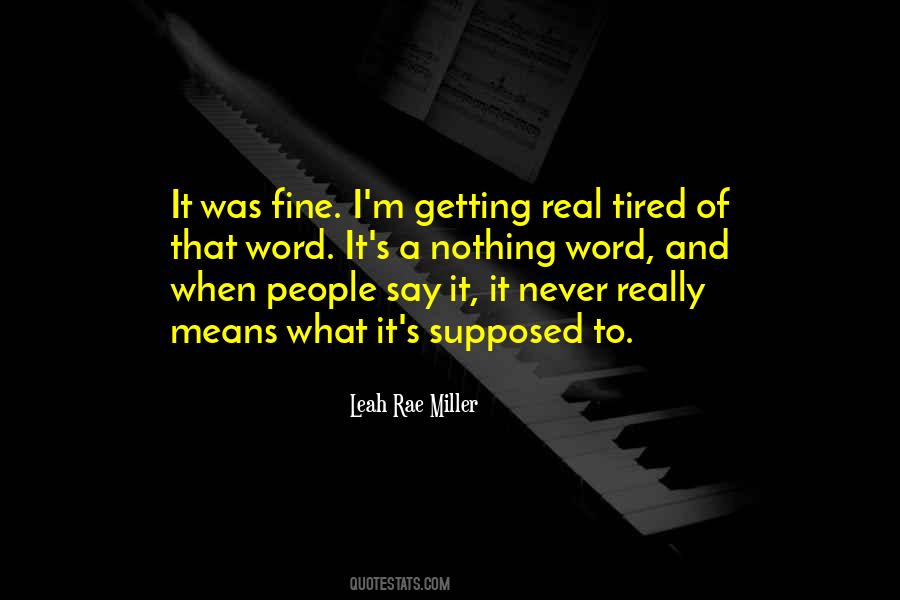 #83. I just got tired of being sick and tired and feeling down. Unfortunately, you don't realize this until you're getting sober but the reason why you're depressed all the time is it's the drugs that are depressing you. - Author: Steven Adler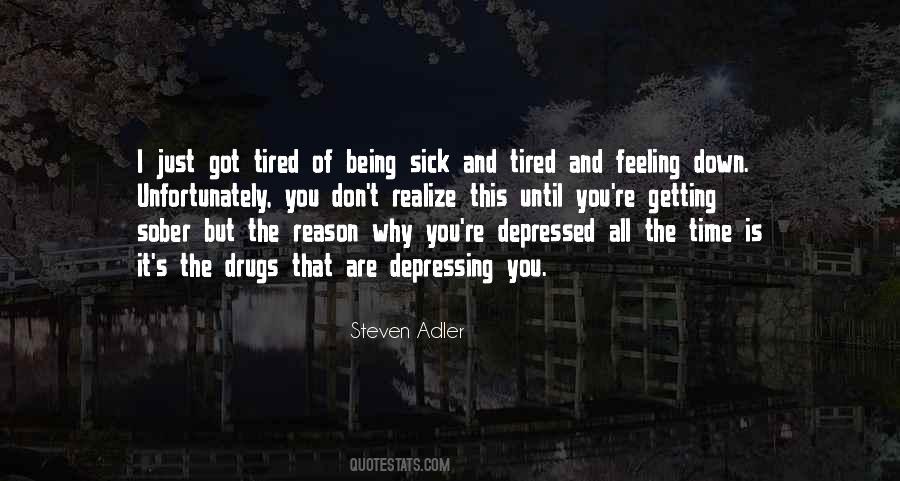 #84. It's a sex swing. I figured you were getting tired. This will make my mad sex skills easier on your body. - Author: Olivia Cunning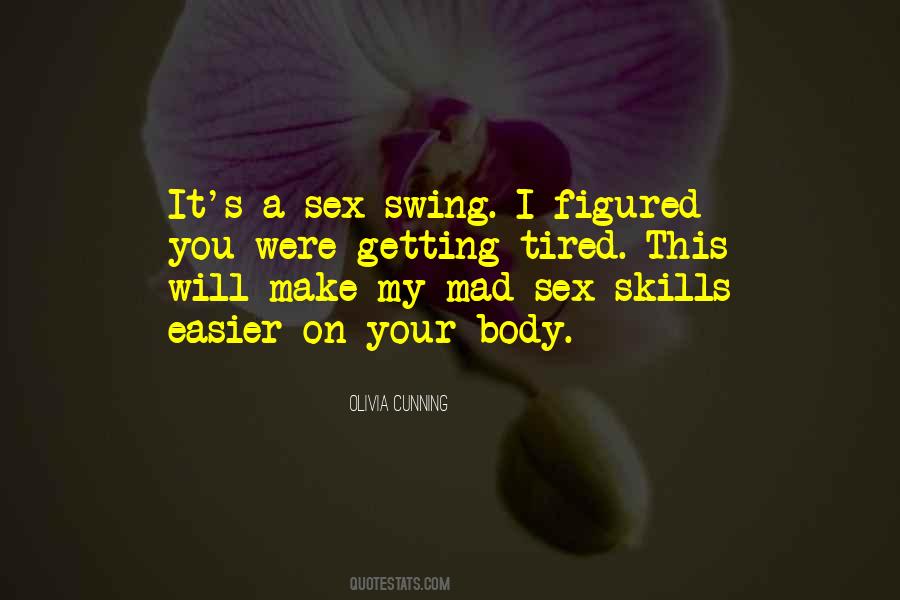 #85. The high spot of my day has always been getting home to have my dinner with my family. It still is: to have my dinner with Helen. It's a cocktail and dinner. I know I'm a tired old geezer, but there you are. - Author: Terry Wogan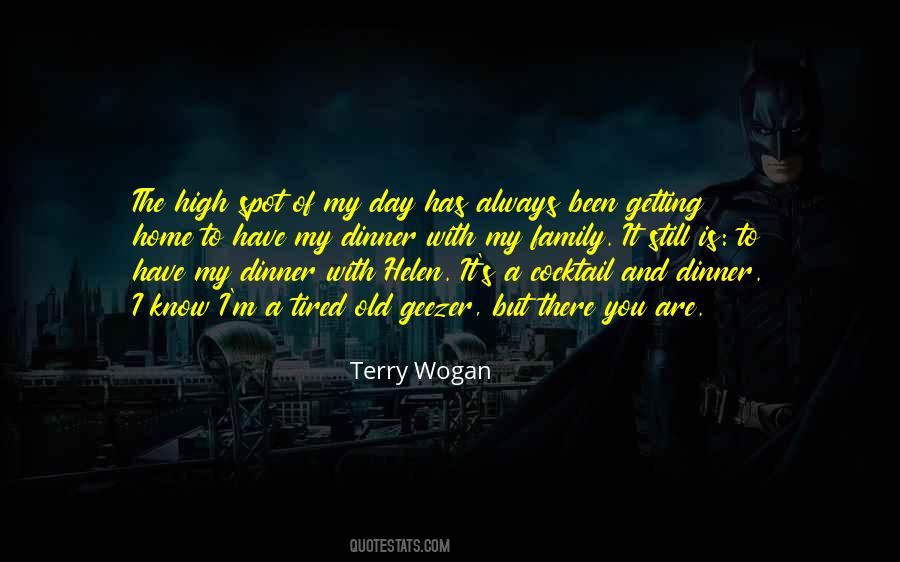 #86. Not that my arms are getting tired or anything, but ... how much longer is the hugging phase going to last? - Author: Robin Wasserman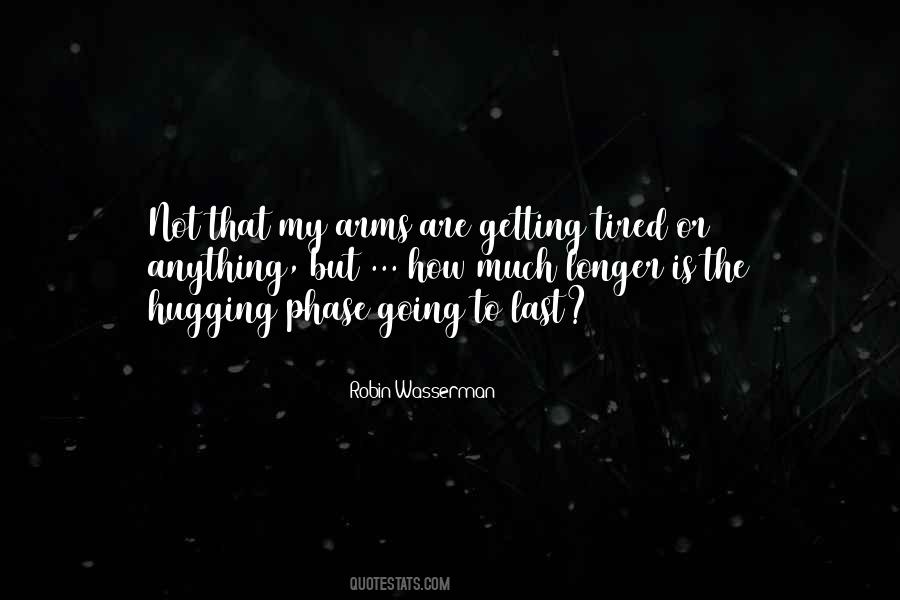 #87. I was getting tired of being in an endless succession of things called "the fight of a lifetime." Just once, I'd like to have the fight of a Tuesday afternoon. - Author: Seanan McGuire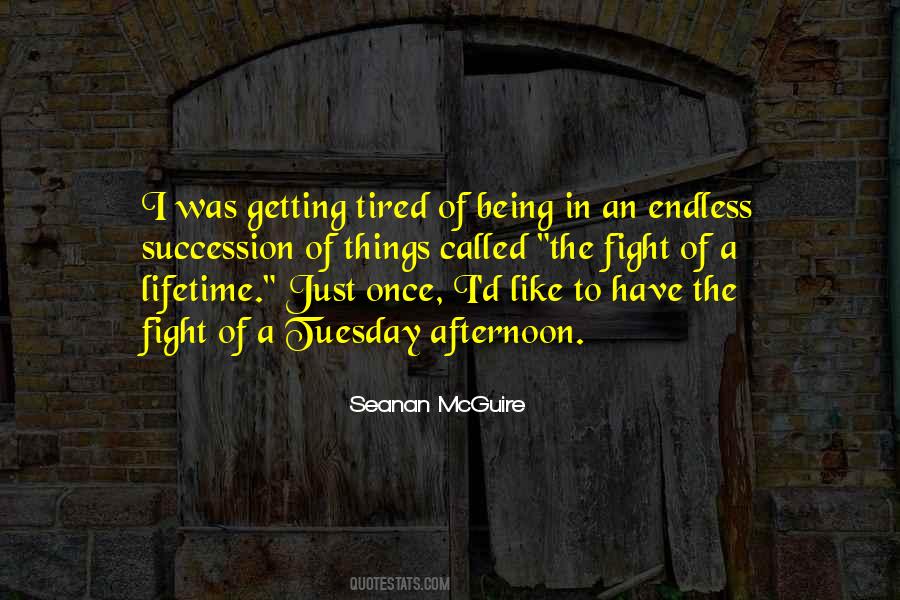 #88. Maybe you're getting tired of existing on the whim of people. - Author: Neil Gaiman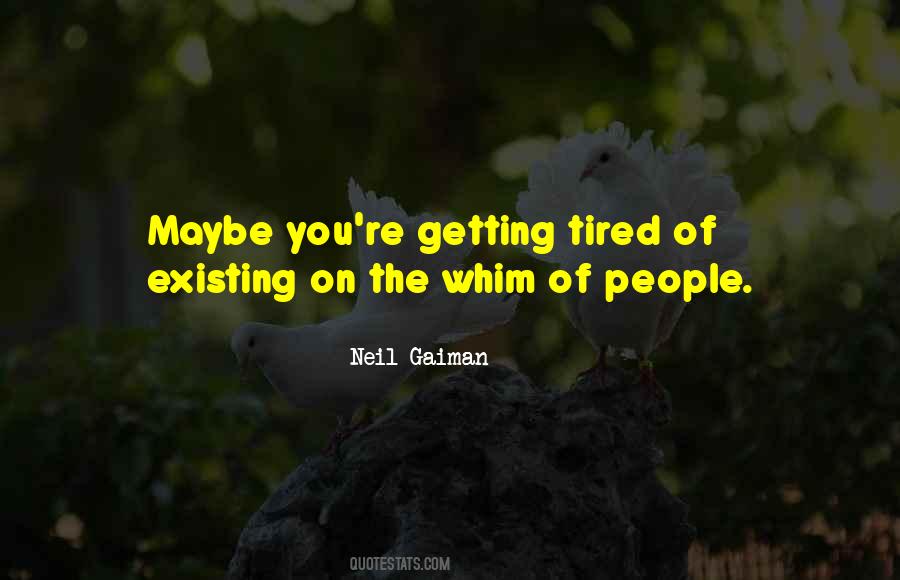 #89. It's funny when I hear people complain - particularly about the most fabulous parts of being a designer, like when you're getting ready to work on a show. I don't even know that I'm tired. I could stay up for six days straight! No drugs, no coffee, no nothing. I'm just so excited. - Author: Michael Kors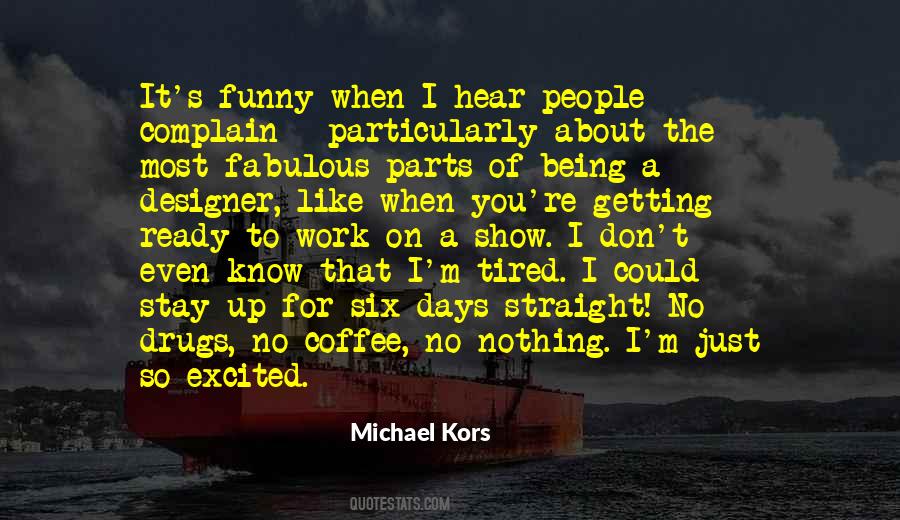 #90. Cats are good at keeping clean [ ... ] Dogs are good at running forever without getting tired. And I think that pigs are good at being optimistic and not giving up even when things are really bad. So today we're going to do things the pig way, okay? - Author: Chris Kurtz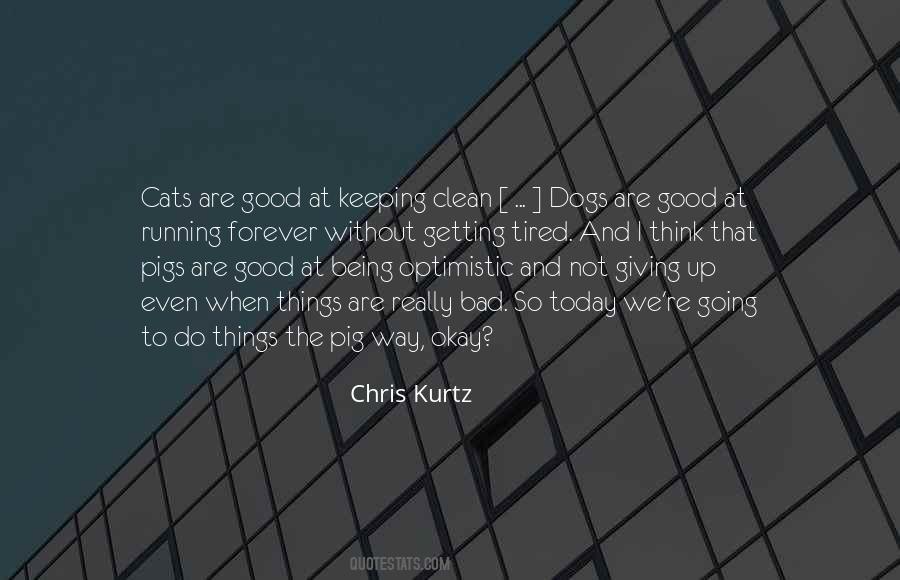 #91. I've never seen any life transformation that didn't begin with the person in question finally getting tired of their own bullshit. - Author: Elizabeth Gilbert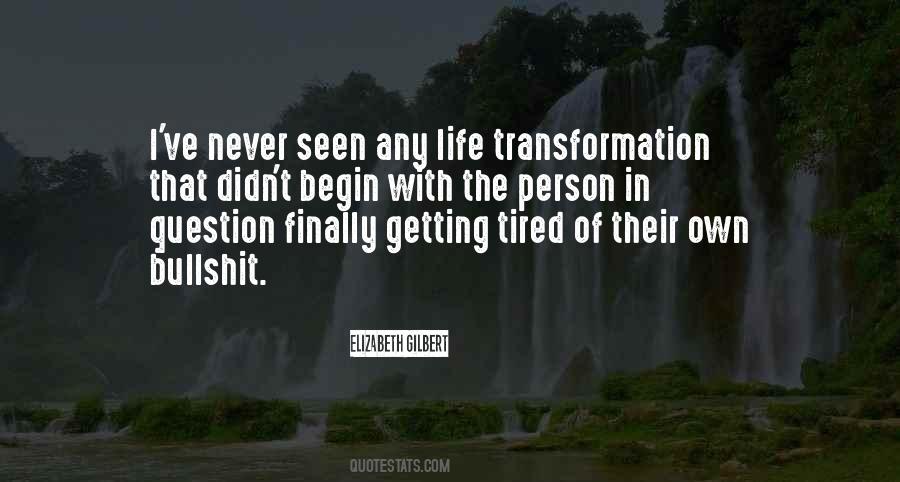 #92. So if you're really unhappy down there, and if all kinds of people are telling you that you're suffering from severe perceptual disorders, look for your own way of getting here, and when you find it, could you please bring some cards, 'cause we're getting pretty tired of the marbles. - from Pipes - Author: Etgar Keret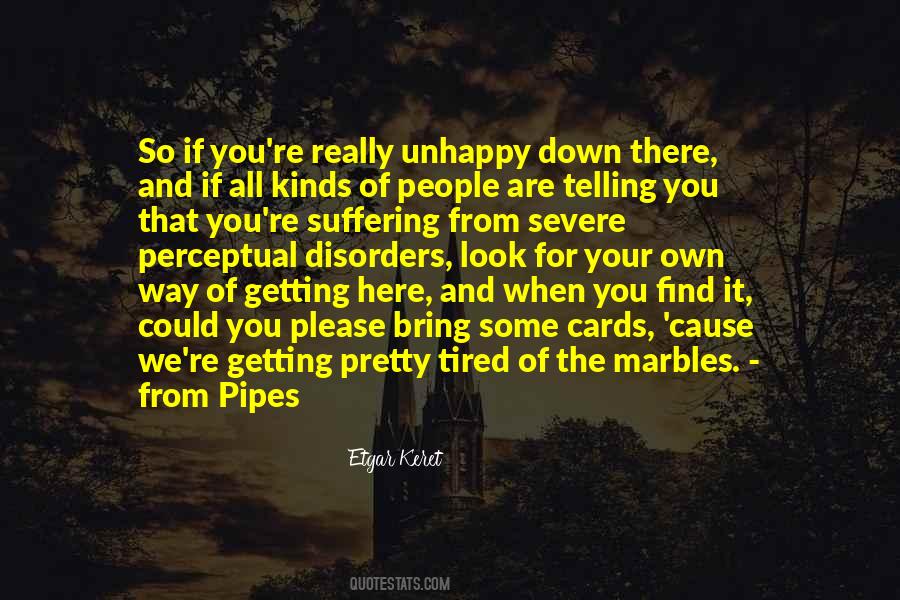 #93. We are tired out in making complaints and getting no redress. - Author: Joseph Brant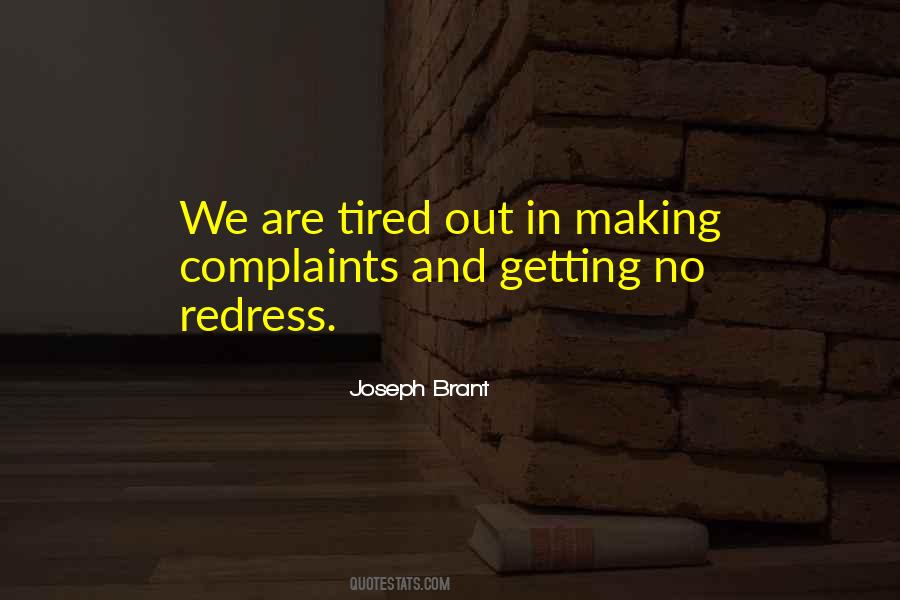 #94. You get tired of always wondering anew why life has to take the place of youth. - Author: Gary Lutz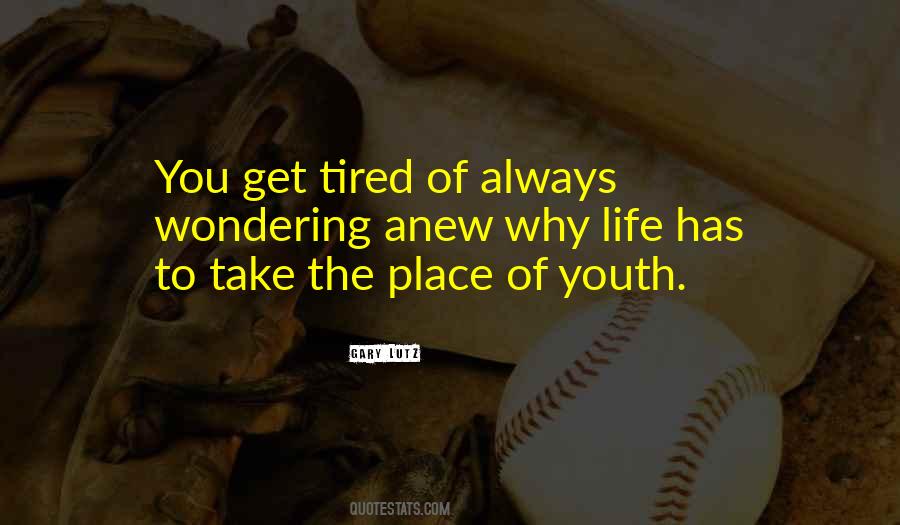 #95. I was getting tired of hearing the complaint, 'My kid could do this,' and 'We don't get it. What's modern art? Blah, blah, blah.' And I wondered what would really happen if you gave people what they wanted, something they always look at. - Author: John Baldessari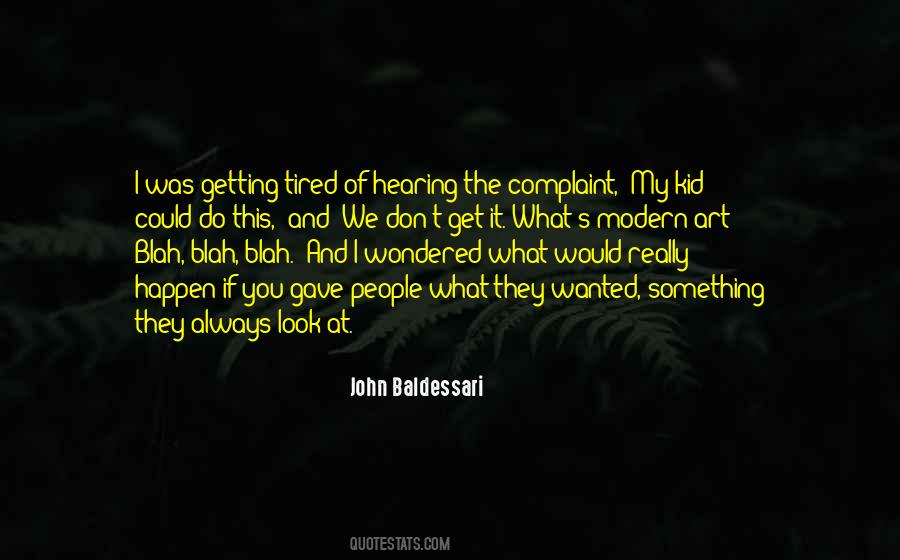 #96. One way to define spiritual life is getting so tired and fed up with yourself you go on to something better, which is following Jesus. - Author: Eugene H. Peterson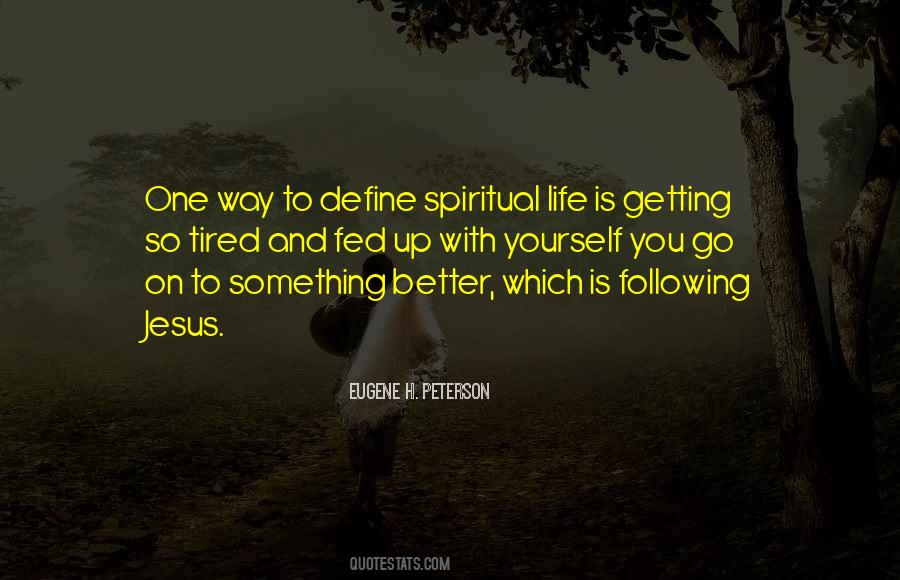 #97. Now, if you don't mind, send one my way. Bob is getting tired."
"Who's Bob? You've not told me about a Bob," Sophie said, a little hurt.
"I have too," Claire said and gave her a little shove in the arm. "Bob is Battery Operated Boyfriend, B.O.B. - Author: Donna Grant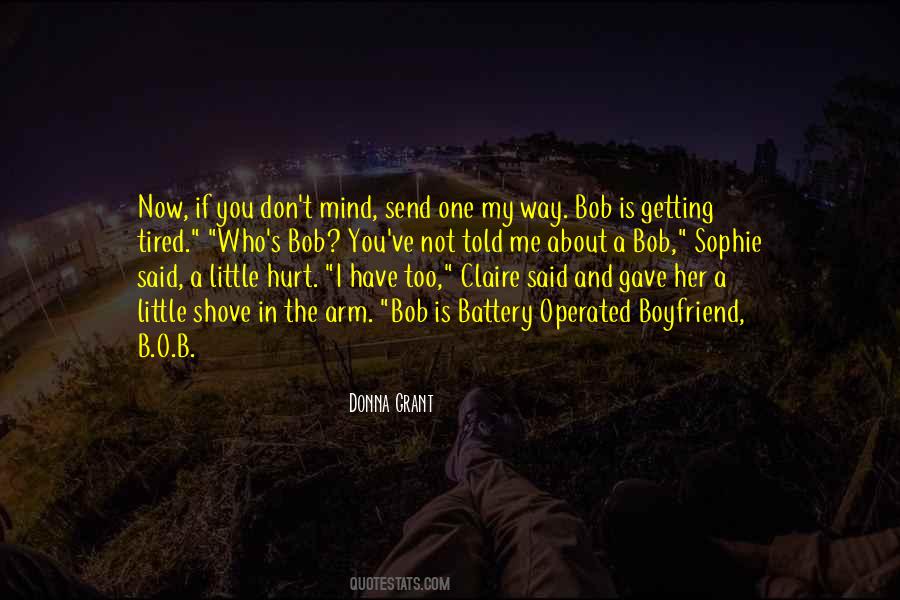 #98. What we need is love without getting tired. - Author: Mother Teresa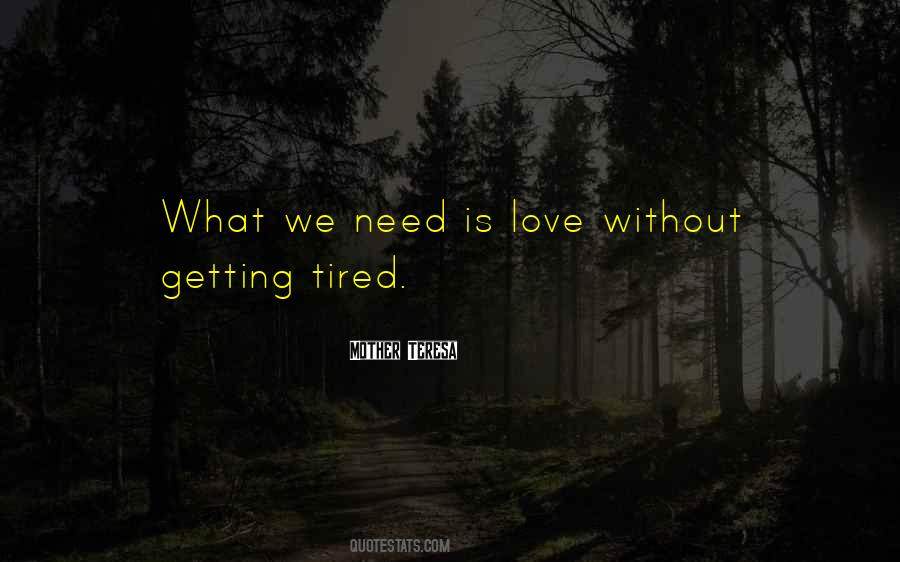 #99. I'd like this to become my principal activity: to make films about animals. Of course it's always interesting to model, but it depends who you are working with. I will continue to make acting, too, but I'm old - I'm getting tired of it. - Author: Isabella Rossellini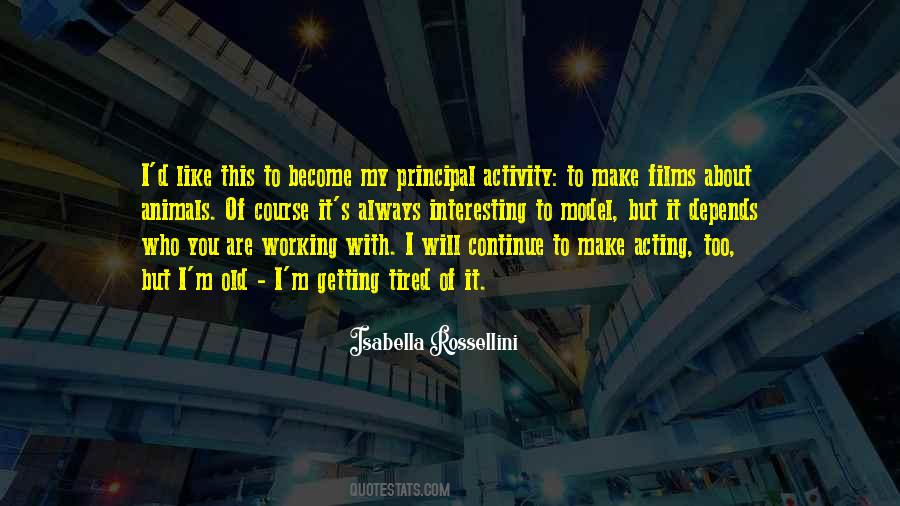 #100. Hey," Shayne said through the door. "You going to stay in there all night, because we're getting tired of trying to eavesdrop from out here. Can't hear a damn thing. - Author: Jill Shalvis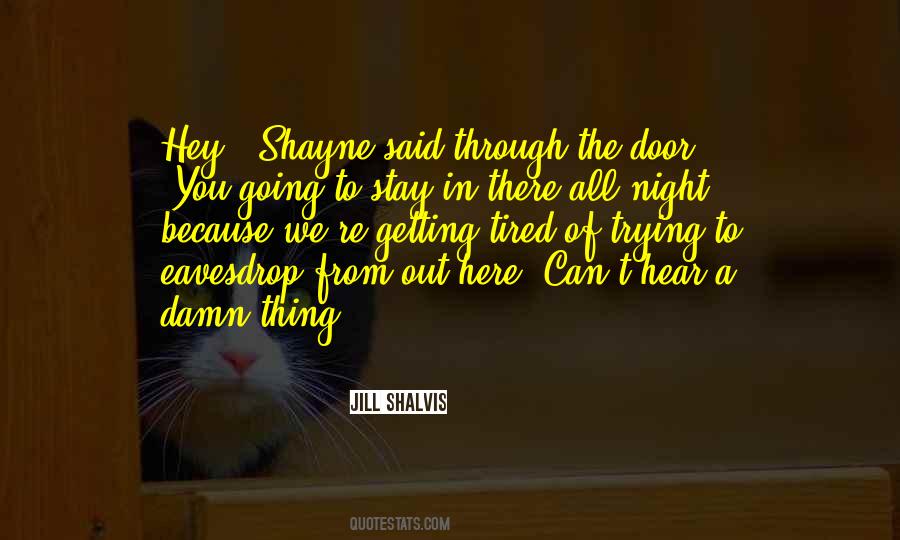 Famous Authors
Popular Topics