Fashion Sense Famous Quotes & Sayings
List of top 97 famous quotes and sayings about fashion sense to read and share with friends on your Facebook, Twitter, blogs.
Top 97 Quotes On Fashion Sense
#1. Conformism is a potent statement, and as much as we do talk about individuality in fashion, there's a sense that people are fearful of not conforming and not being part of action. - Author: Erin O'Connor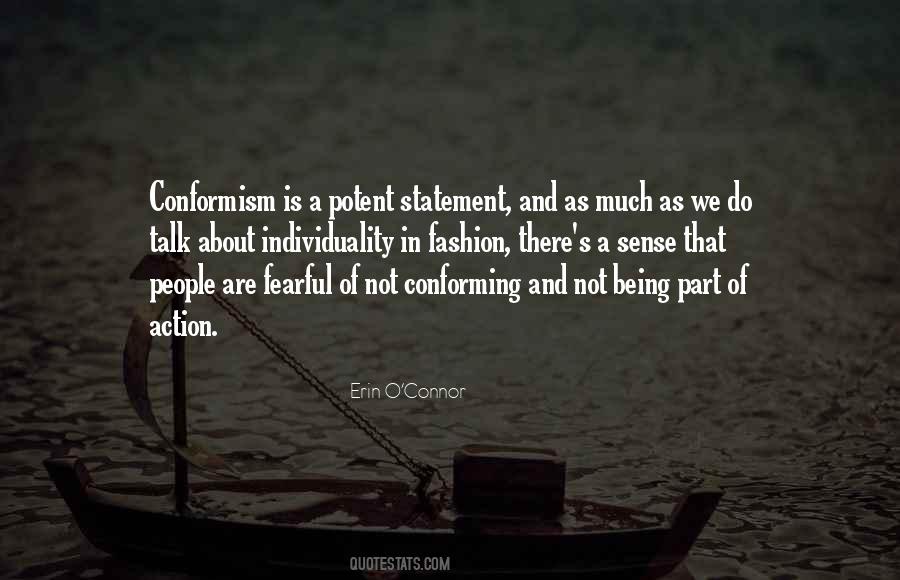 #2. He might have lost his mind, but never his fashion sense. - Author: Gail Carriger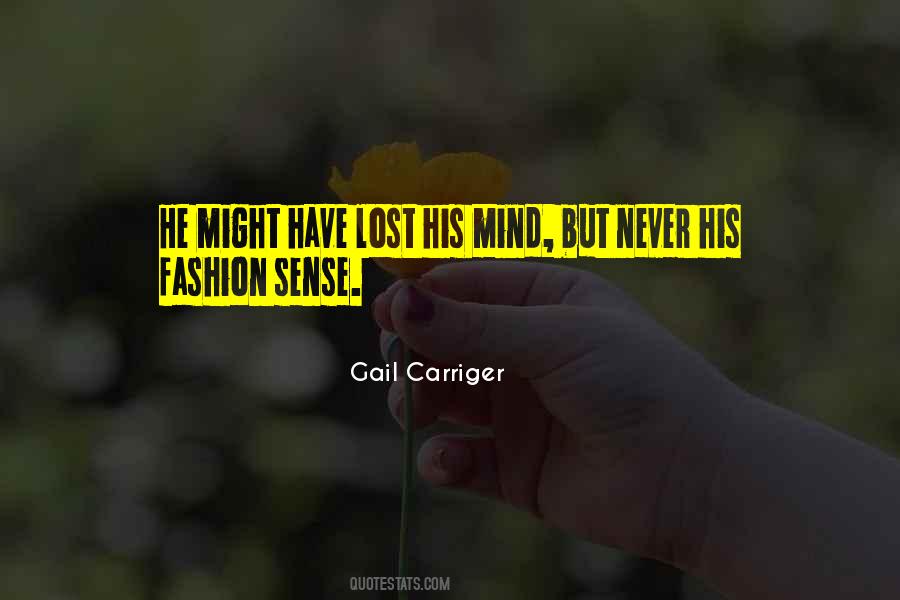 #3. I have heard with admiring submission the experience of the lady who declared that the sense of being well dressed gives a feeling of inward tranquility which religion is powerless to bestow. - Author: Ralph Waldo Emerson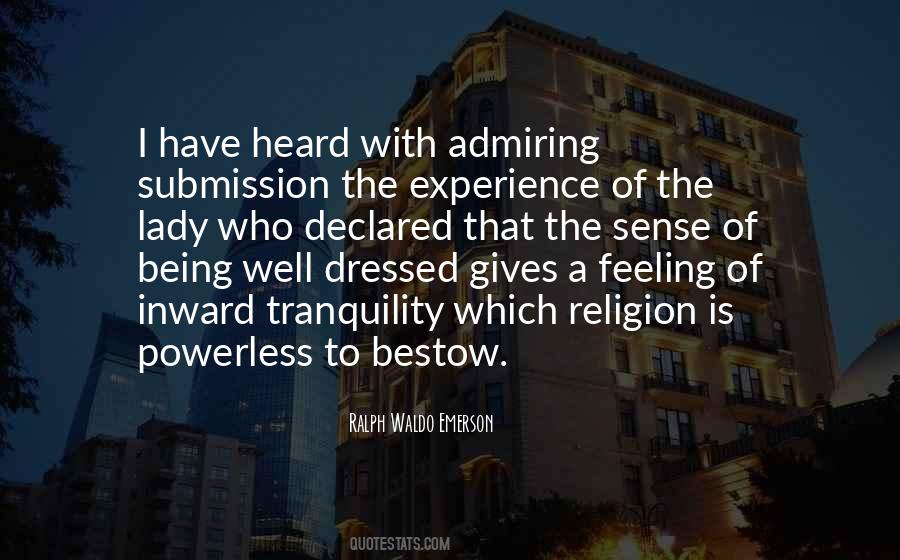 #4. It's just past eight and I'm feeling young and reckless. The ribbon on my wrist says "Do not open before Christmas." Only liars, but we're the best. Only good for the latest trends. Only good cuz you can have almost famous friends, besides we've got such good fashion sense. - Author: Fall Out Boy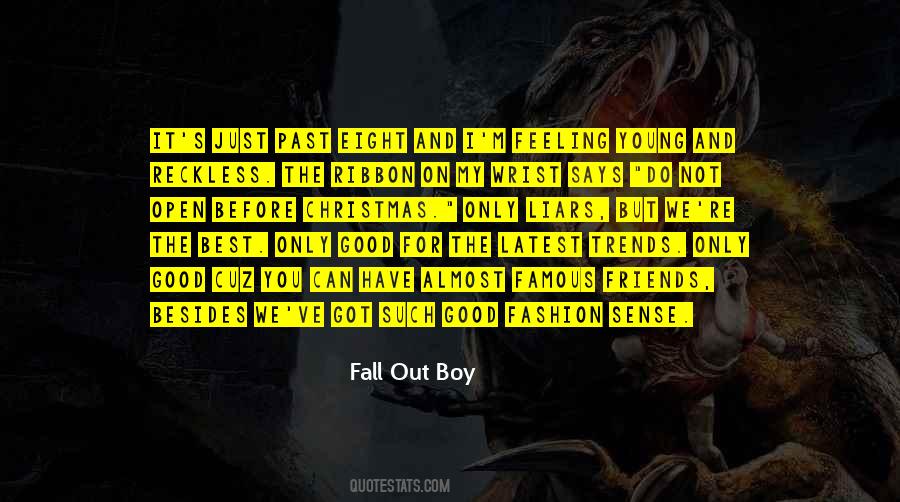 #5. We are really living the American dream, to be a successful brand in the States and in Europe and to steep ourselves in our heritage. But we do it with a sense of humor. We don't take ourselves too seriously in fashion. - Author: Tommy Hilfiger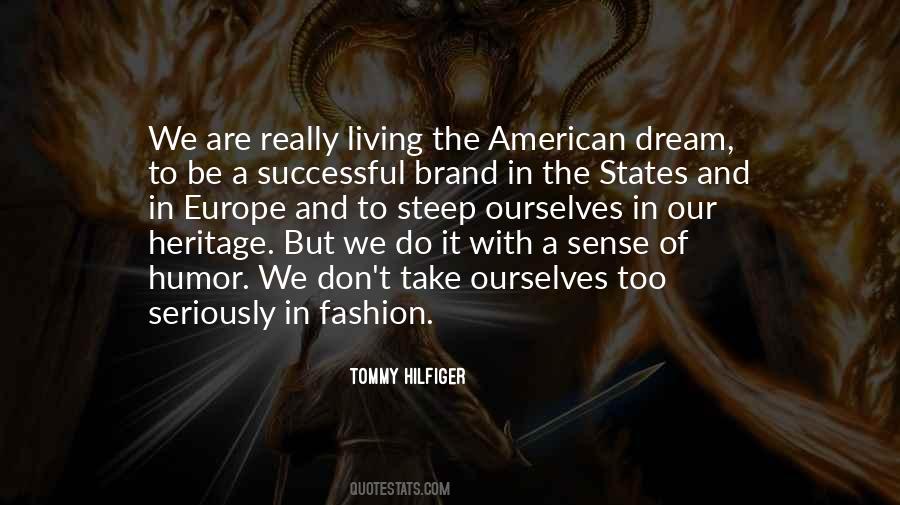 #6. I wear things that aren't in fashion. I wear colors that aren't in fashion. And as a result of that, I kind of bring it back. I feel like nothing really ever goes out of style. It's just what the media and what people tell people to wear. I think having your own sense of fashion is important. - Author: Ryan Potter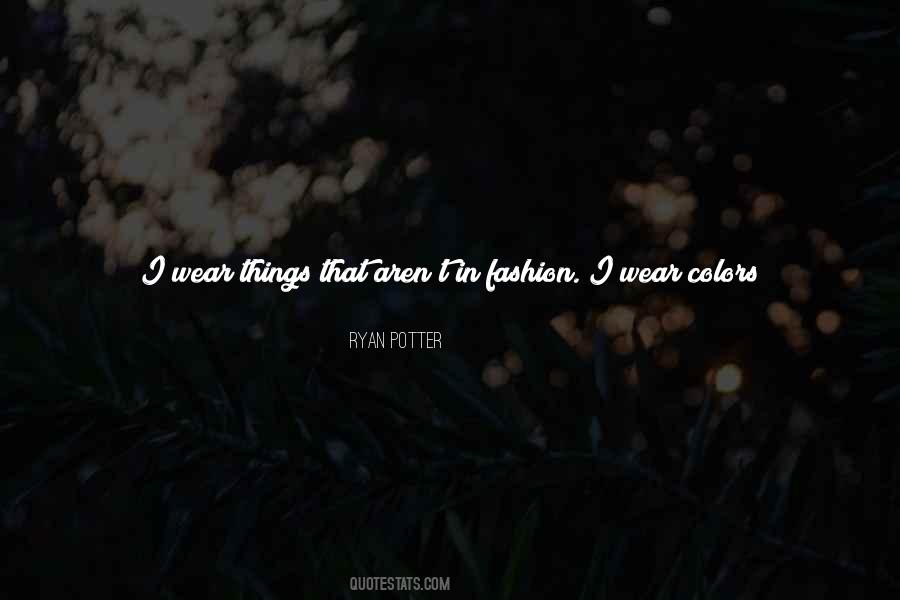 #7. The thing that I really love about the 80s is, there was a sense of hand made-ness about the fashion then. You could have a pair of jeans and dump some bleach on them, and make them something that was really trendy for that era. - Author: Alyssa Milano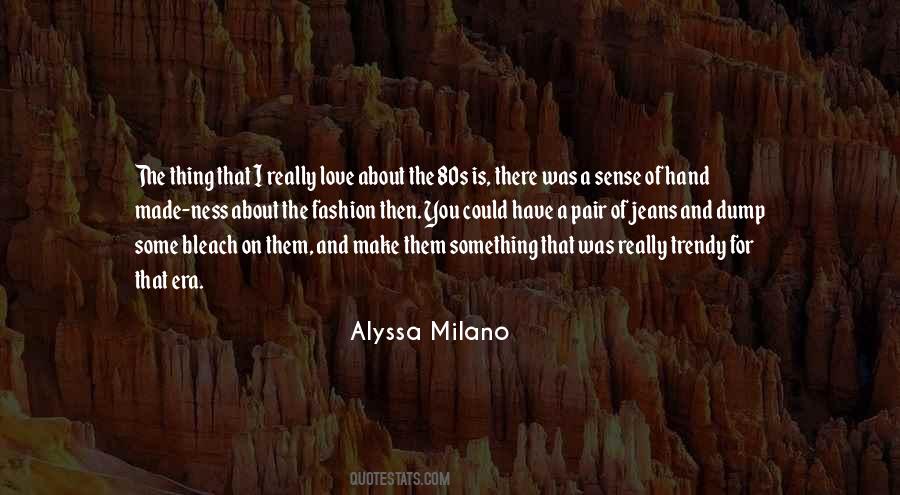 #8. Never,ever confuse what happens on a runway with fashion. A runway is spectacle. It's only fashion when a woman puts it on. Being well dressed hasn't much to do with having good clothes. It's a question of good balance and good common sense. - Author: Oscar De La Renta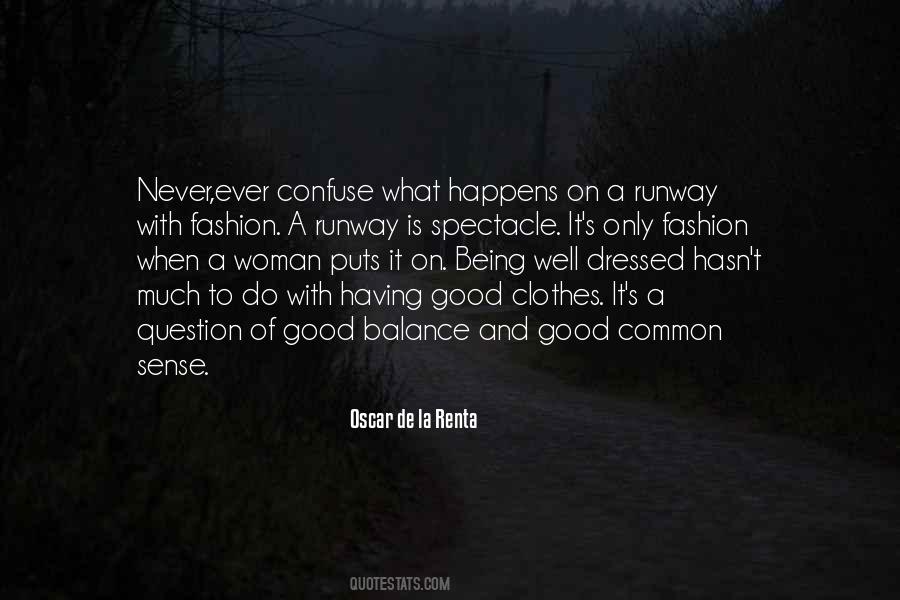 #9. I love Thandie Newton. I love her fashion sense as she is just really classic. - Author: Leona Lewis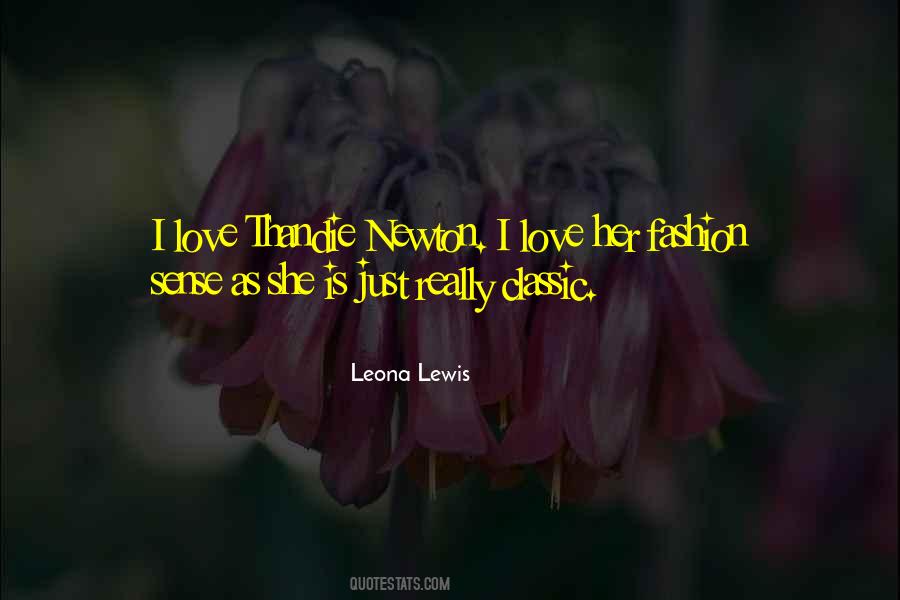 #10. Nudists have no fashion sense. - Author: Peter Kunkel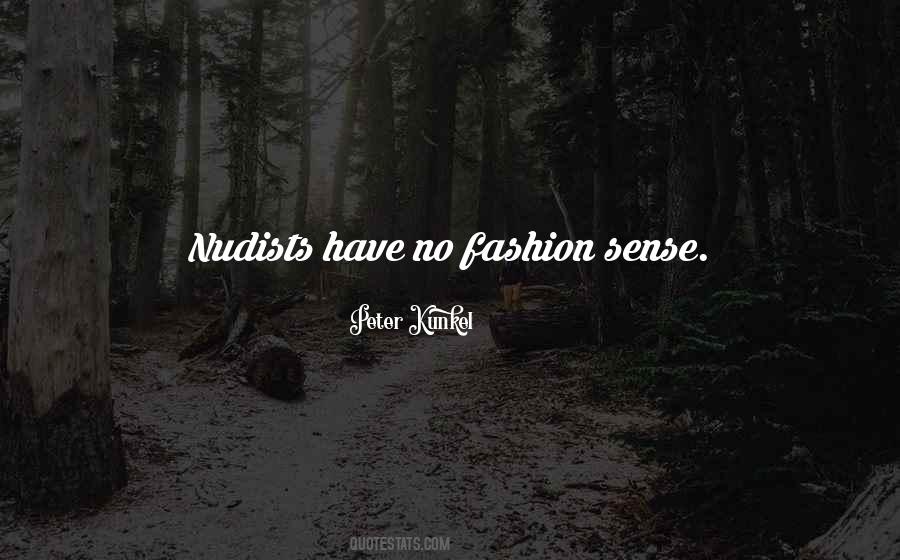 #11. I think it is really important to have a sense of business. As a designer you can get so wrapped up in the design and fashion side that you forget the business side. - Author: Tommy Hilfiger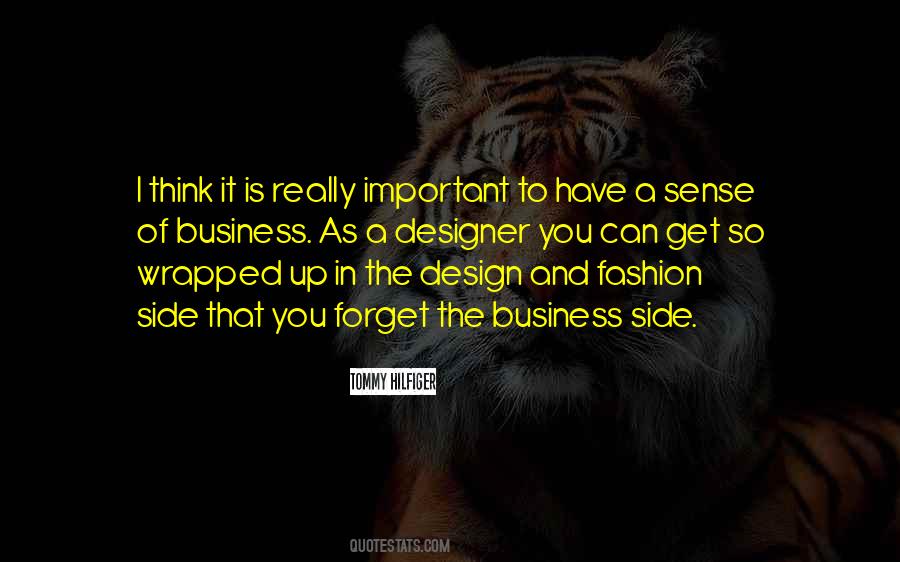 #12. I seem to be stuck in the '60s, and my favorite music, cars, and women's fashion come from that era. And the sense of social rebellion. It was a good time for a lot of things. - Author: Amber Heard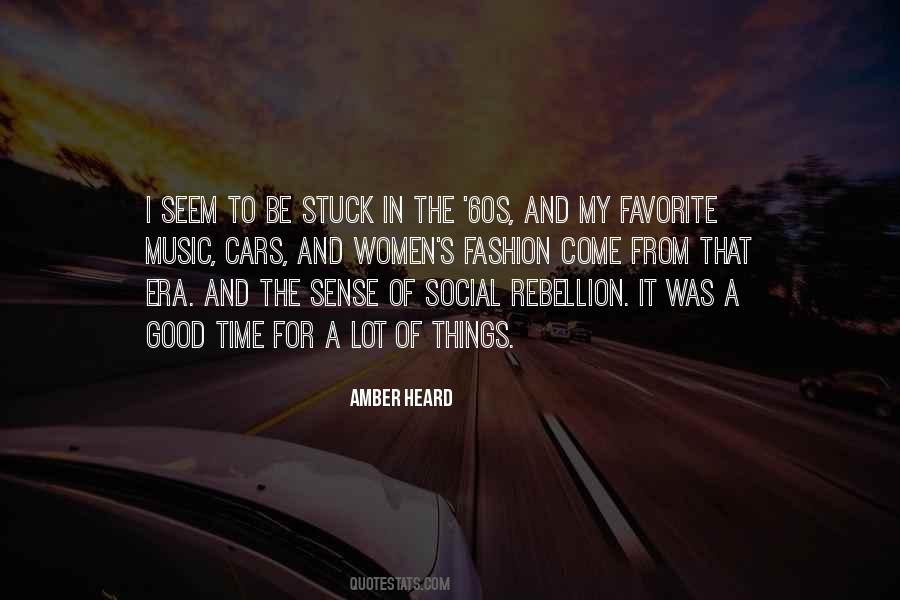 #13. London Fashion Week is so different from any of the others. Compared to the strictness in New York, London seems freer from commercial constraints. Truer to the process, to street style, to a sense of humour. - Author: Alexa Chung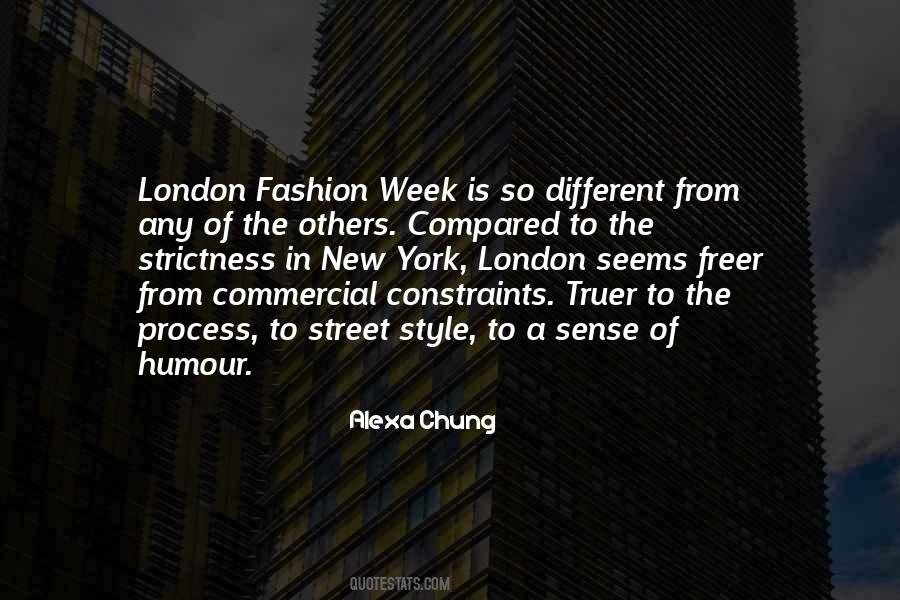 #14. She has a strange, not unpleasant sense of disconnection from everyone, as if she is floating somewhere high above her head and operating her body by remote control. Stretch lips to smile. Fold palms of hands around pram handle. Tip head towards child in motherly fashion. - Author: Liane Moriarty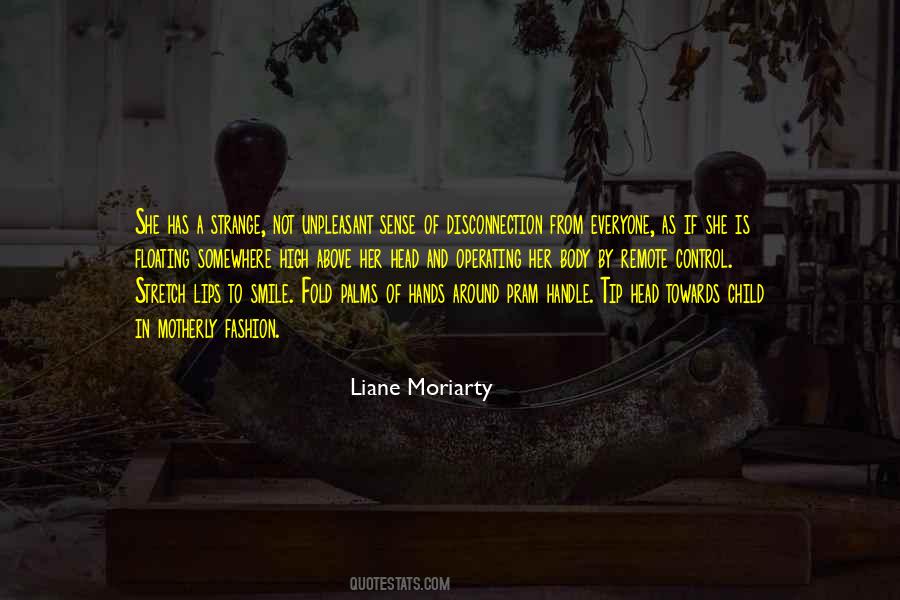 #15. Loud laughter is the mirth of the mob, who are only pleased with silly things; for true Wit or good Sense never excited a laugh since the creation of the world. A man of parts and fashion is therefore often seen to smile, but never heard to laugh. - Author: Lord Chesterfield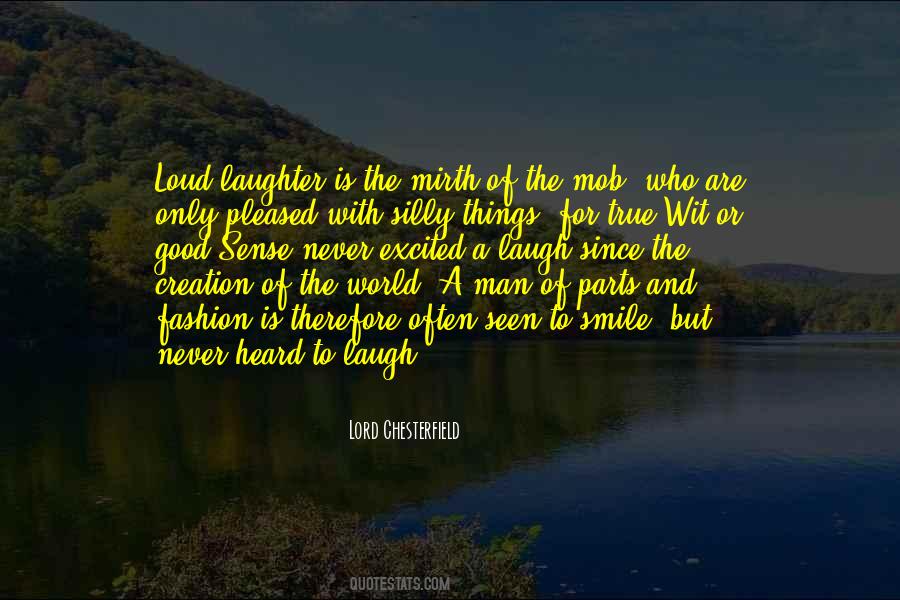 #16. I have a soft spot for cashmere - even though that is not a particularly sustainable fabric, I do invest in quality, so it is sustainable in the sense that it is not just throwaway fashion and I keep it for a long, long time. - Author: Suzy Amis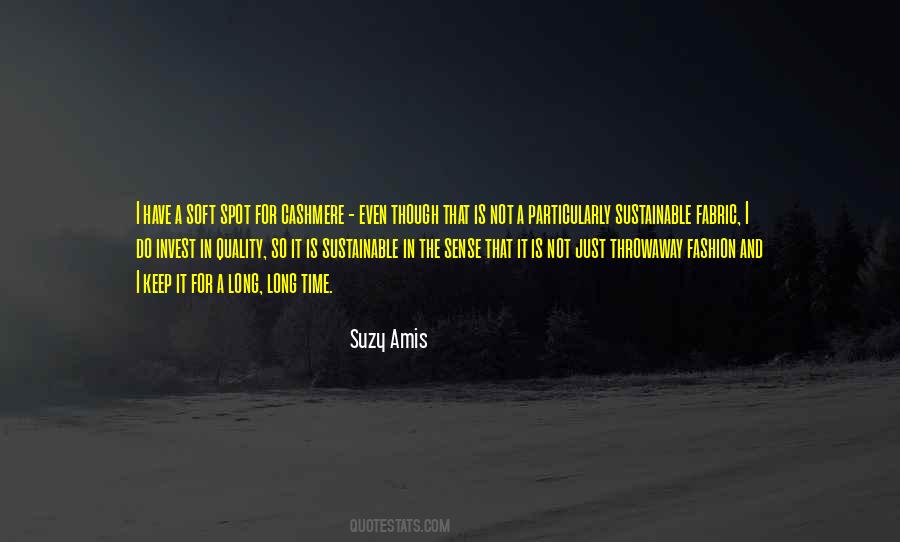 #17. I am the type of girl with zero fashion sense, but I am getting into it now. It's becoming important for me. I saw a lot of girls were beginning to notice what I wear, and I feel a kind of responsibility because there aren't any women in Hollywood my size and age. - Author: Rebel Wilson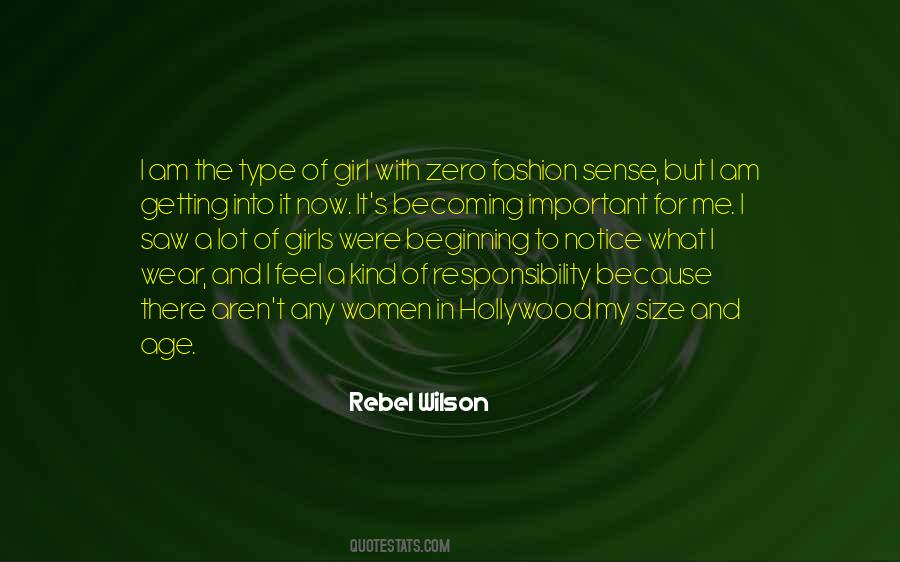 #18. Anna, you do have decent fashion sense. But I've seen your outfits, and you don't have anything to wear on a date. Jeans, capris, geeky tee shirts, and more jeans. - Author: J.M. Richards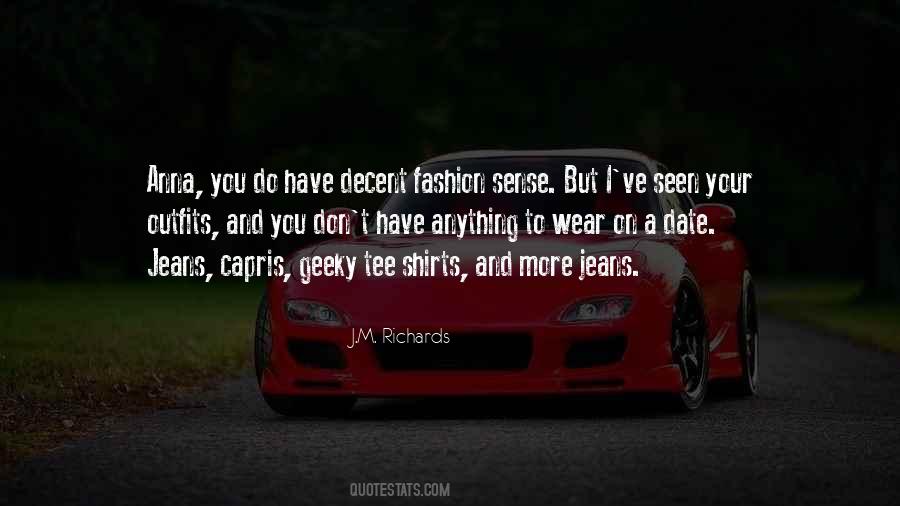 #19. All I can tell you about fashion and style is this: buy and wear what makes you happy. - Author: John Jannuzzi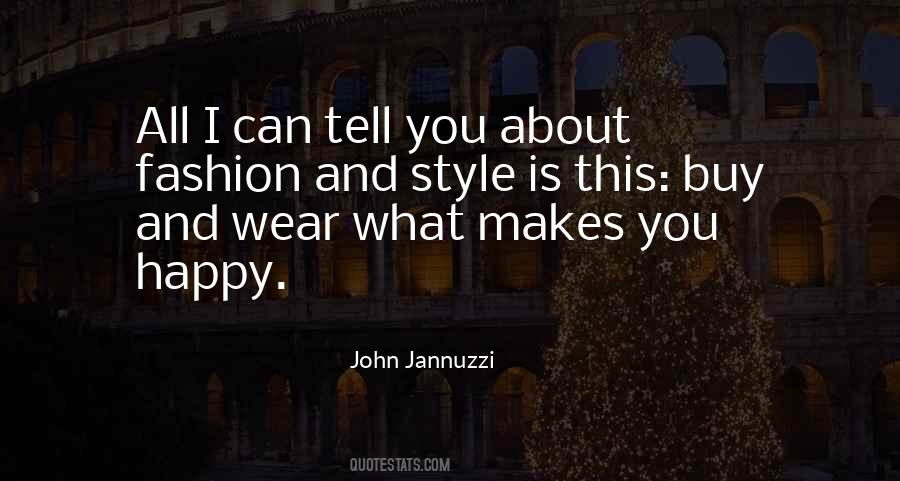 #20. As far as I can tell, common sense hasn't been in fashion for a long time. - Author: Anita Diamant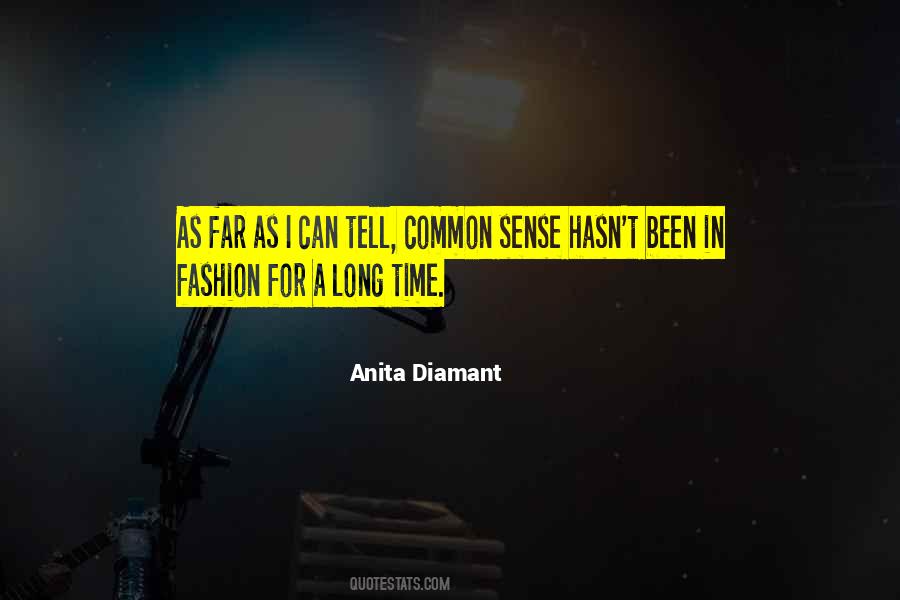 #21. I have my own little sense of style. As far as image goes today for a new artist, you'll find that fashion is really important. I wouldn't want to show up for a performance in something that is absolutely the opposite of who I am as an artist. - Author: Miranda Lambert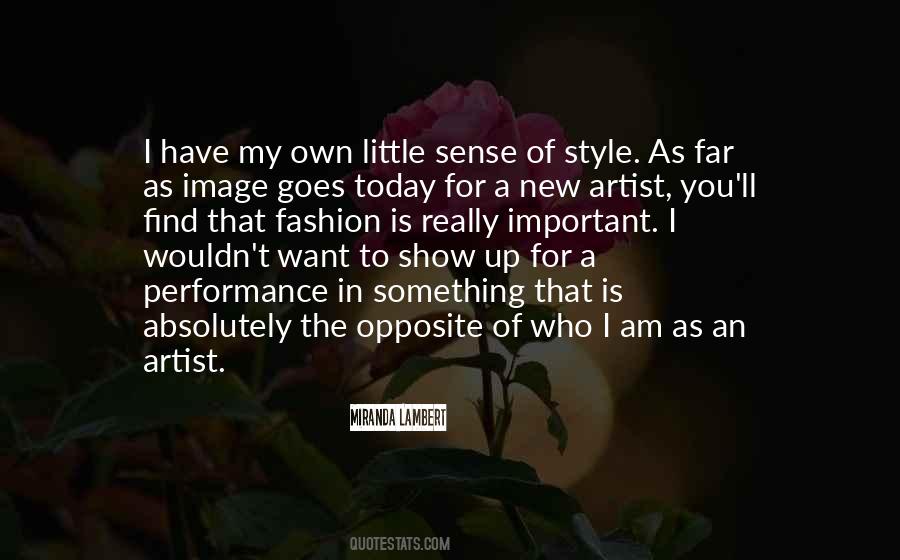 #22. He winks at me.
Then, before Calliope can cheer my statement, or tell him to go, he says, "Lily has no sense of fashion."
"Hey," I cry. "You're supposed to say something nice. - Author: Tera Lynn Childs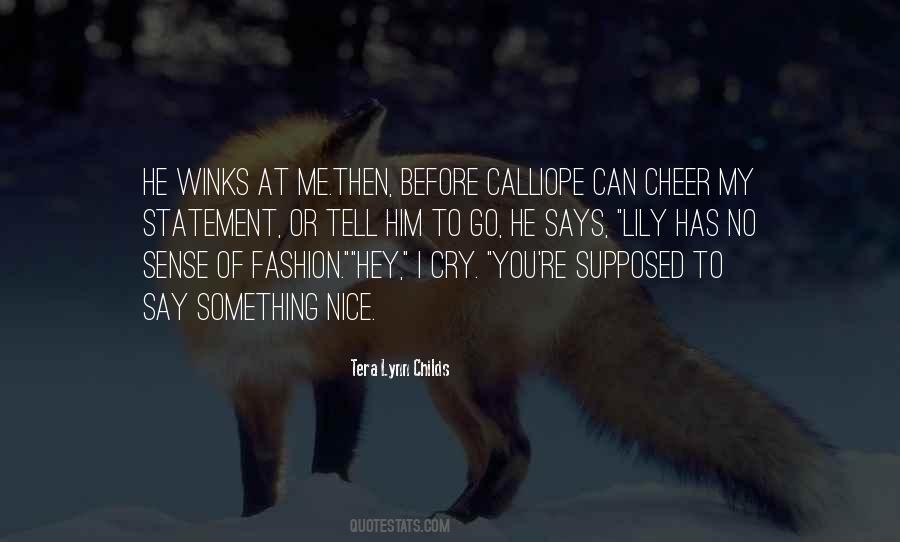 #23. I love Italian fashion - the sense of style that Italians have as part of their DNA. Nobody is like them. - Author: Sonam Kapoor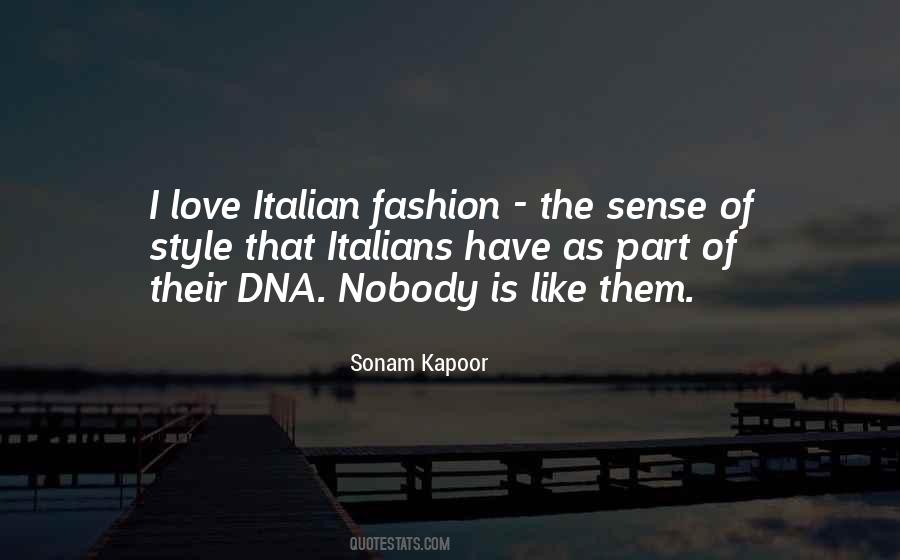 #24. My own fashion sense has been influenced by 'We'll Take Manhattan.' It's gotten a little better. - Author: Karen Gillan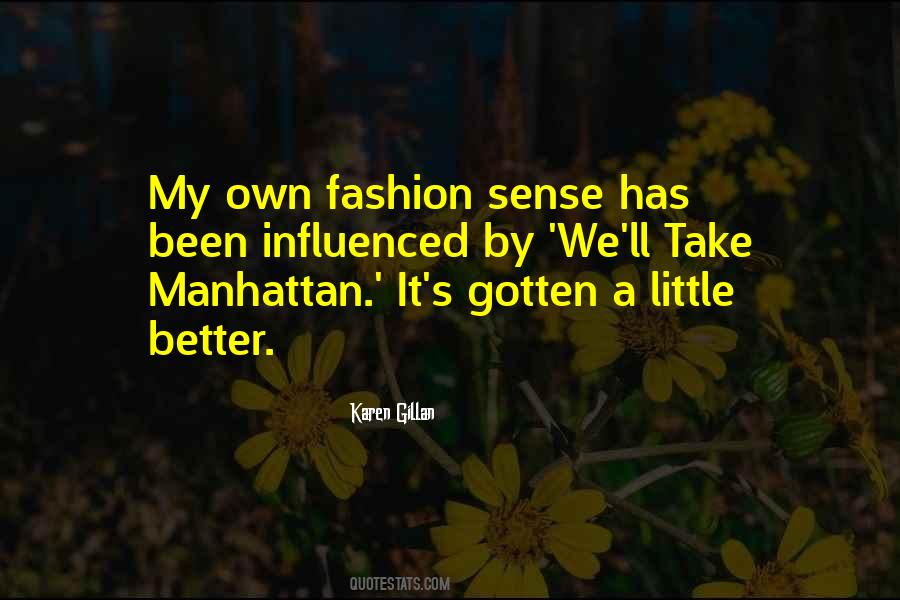 #25. Fashion excuses common sense? - Author: K.F. Breene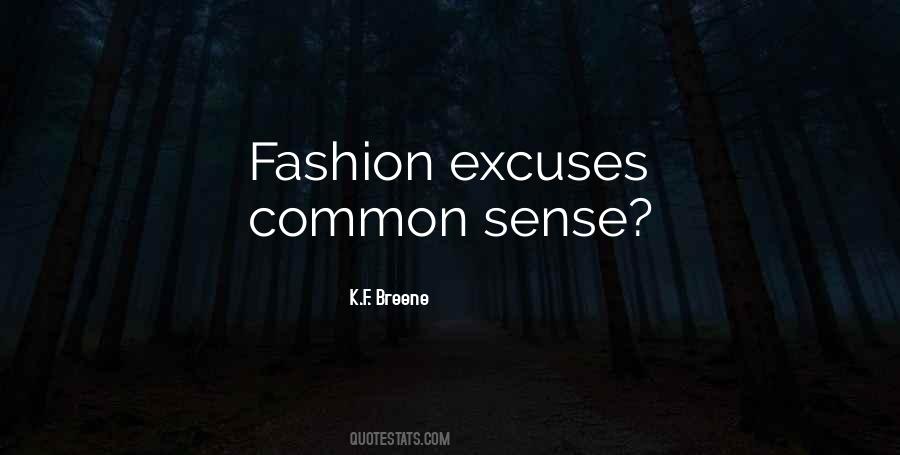 #26. Have you finally grown so jealous of my impeccable fashion sense that you've decided to have me disposed of? - Author: Brandon Sanderson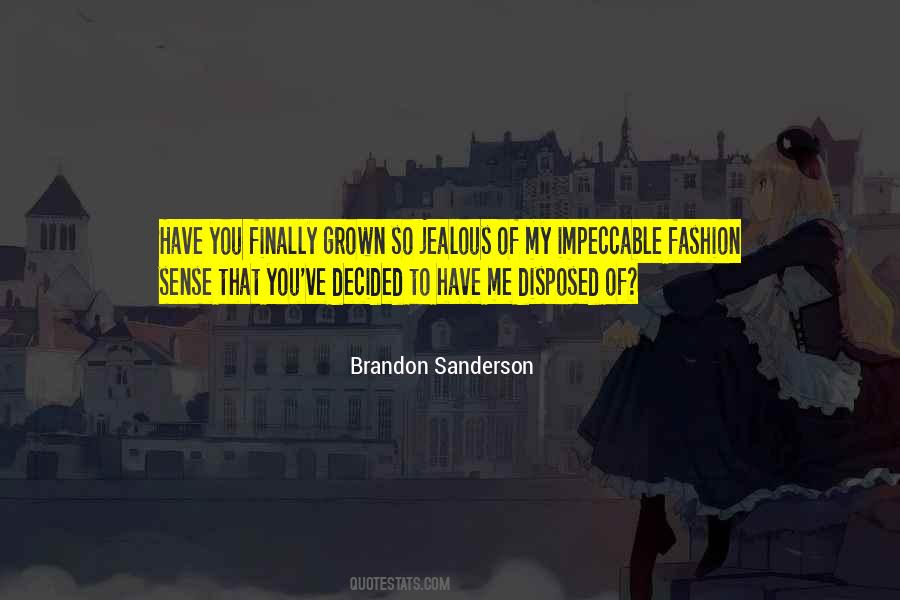 #27. I'm a real Londoner. We have very grey weather in London, and I think it encourages a very eclectic and crazy fashion sense. I mix high-street stuff with more high-end fashion, and I love vintage. - Author: Emma Watson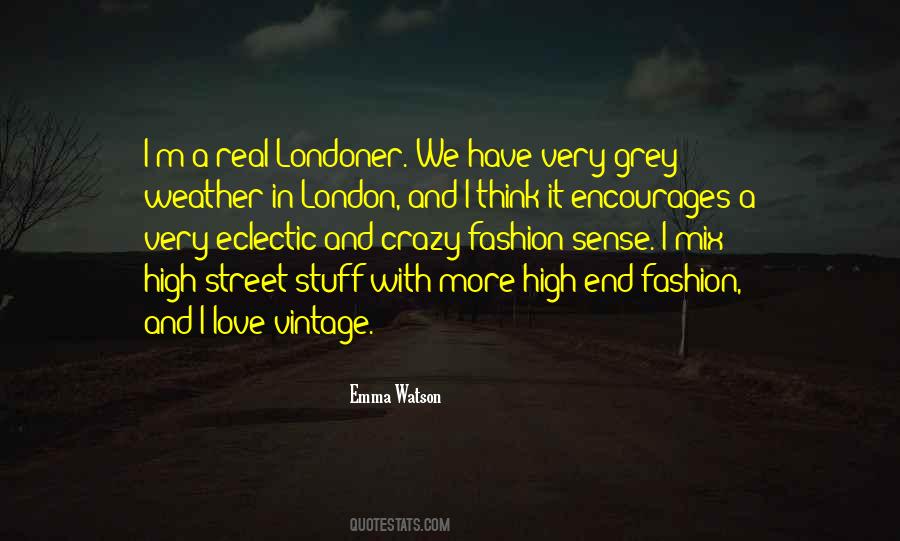 #28. Now you look like someone who is trying not to be someone, as opposed to nobody not managing to be anybody. - Author: Robert Bryndza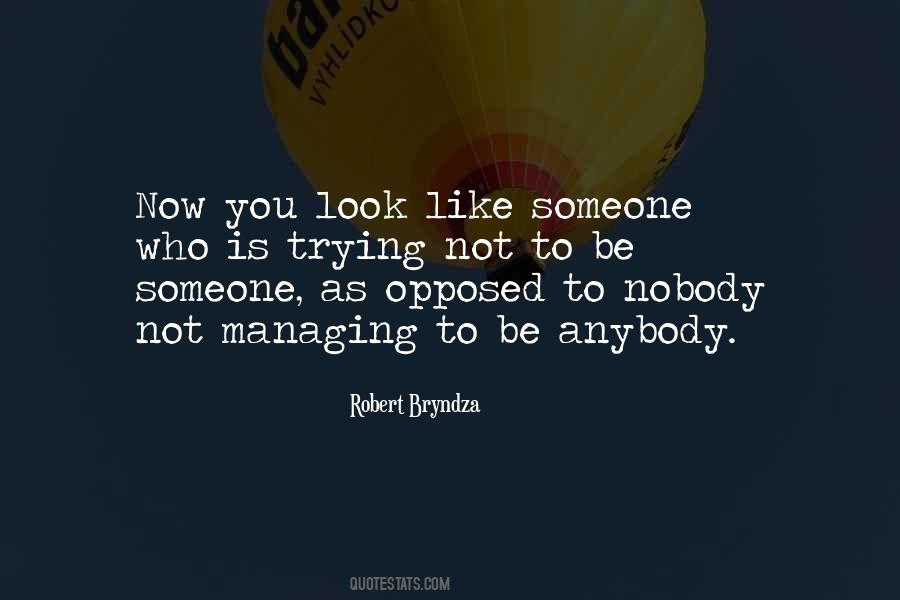 #29. Much to my dismay" - and that rang clear in the irritably flat tone of his voice - "I find I have a sudden taste for stubborn, lithe brunettes with horrible fashion sense. - Author: Chloe Neill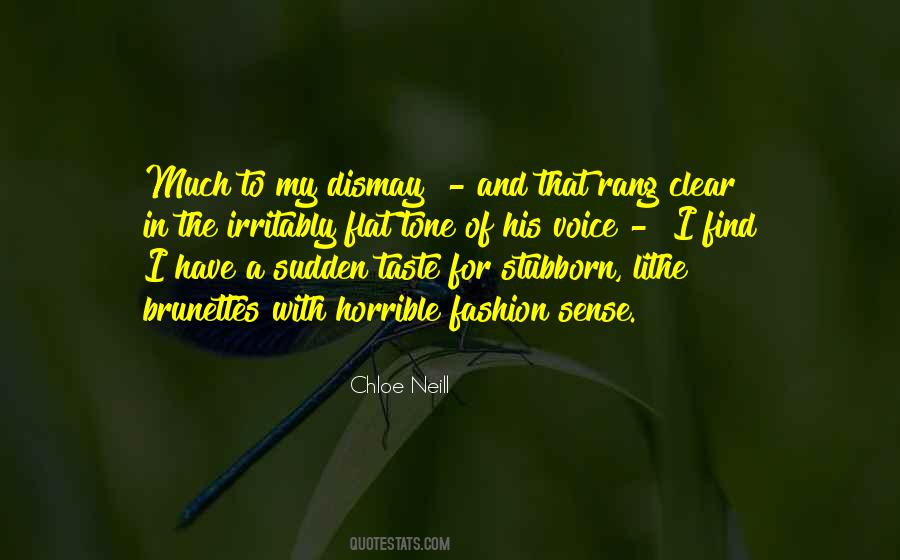 #30. Is a chameleon a coward because it can change its color? No. It's evolved and awesome. I like to think of myself in a similar fashion. There is nothing wrong with having a strong sense of self-preservation. - Author: Penny Reid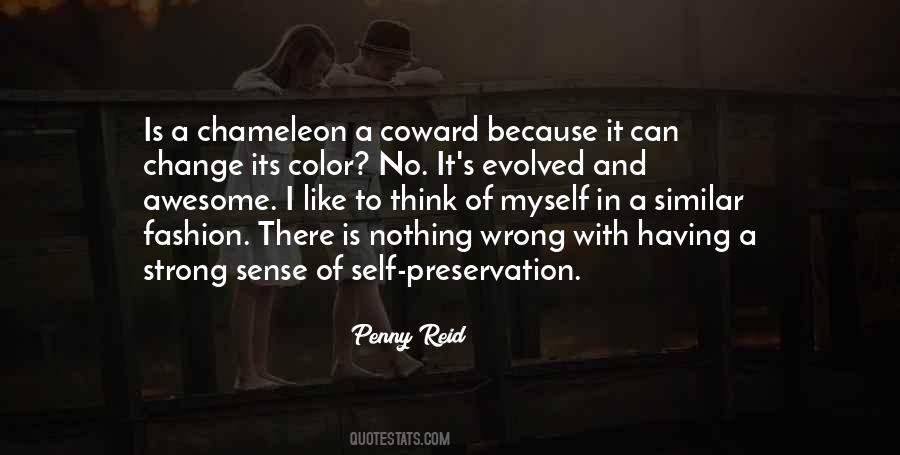 #31. I could never be in a cult. For starters, they never accessorize properly. David Koresh had no fashion sense, Jim Jones wore leisure suits, and I don't care how charismatic Osama bin Laden was, an AK-47 and an insulin drip do not take the place of drop earrings or a well-placed brooch. - Author: Joan Rivers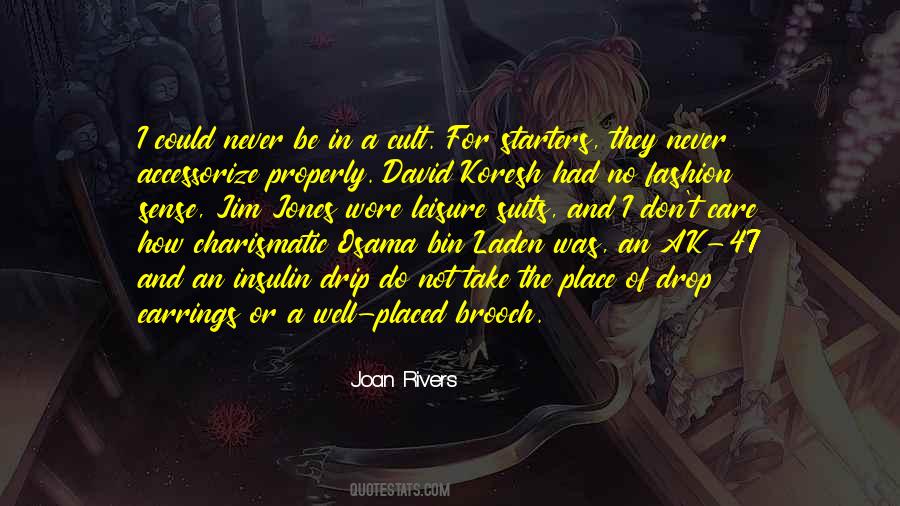 #32. I'm drawn to the 1950s for lots of reasons - everything from the fashion to the increasing sense of freedom and modernity that builds throughout the decade. - Author: Sara Sheridan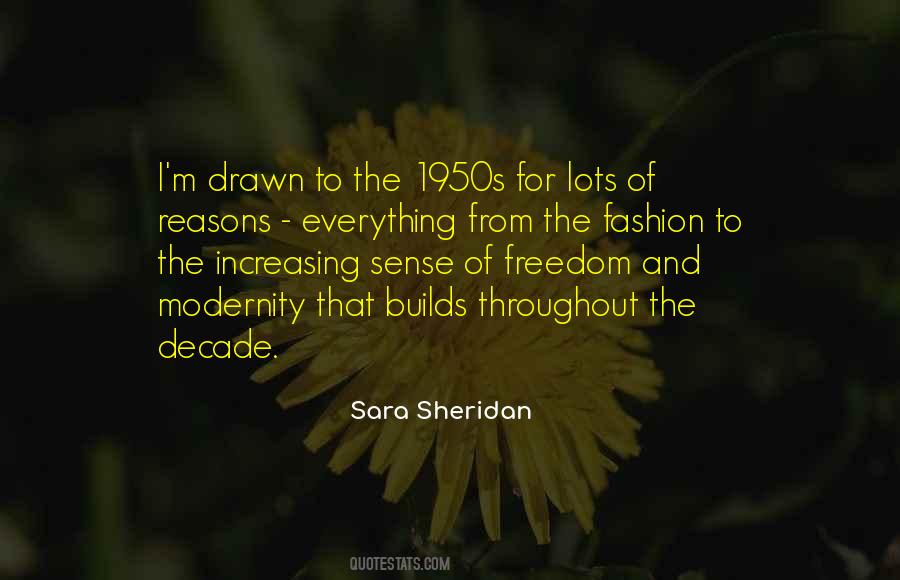 #33. So I suppose this slightly mature fashion sense happened because of what I had. - Author: Carly Simon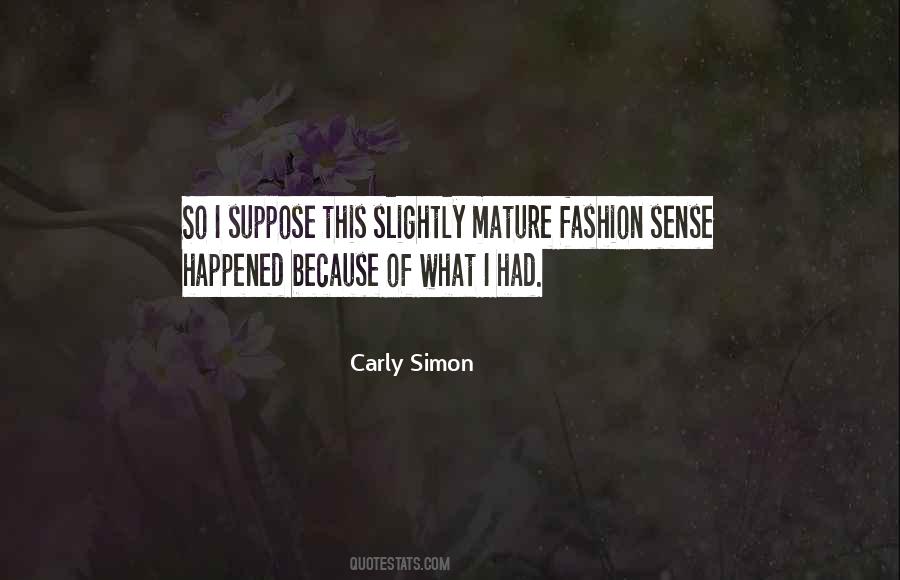 #34. Insofar as one can talk of a Vionnet school, it comes mostly from my having been an enemy of fashion. There is something superficial and volatile about the seasonal and elusive whims of fashion which offends my sense of beauty. - Author: Madeleine Vionnet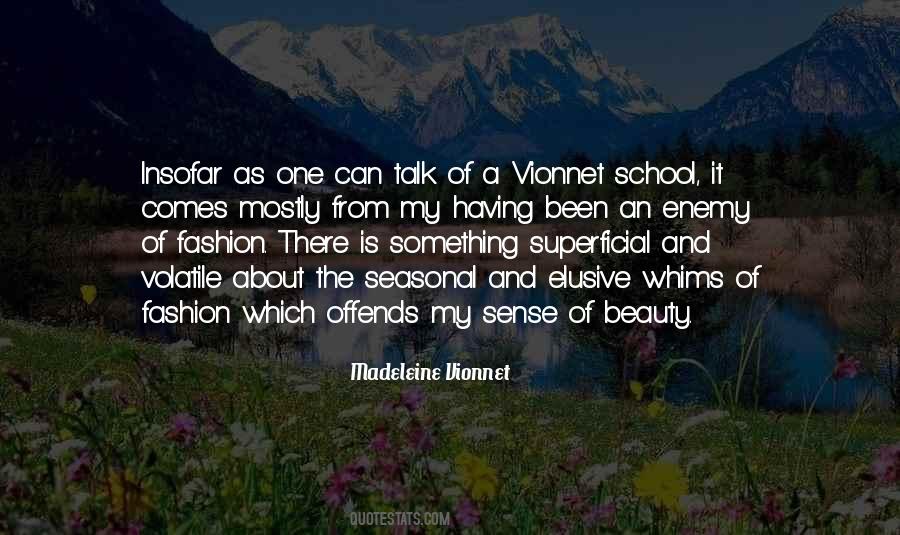 #35. You're going to love him. The two of you share the same fashion sense. - Author: Becca Fitzpatrick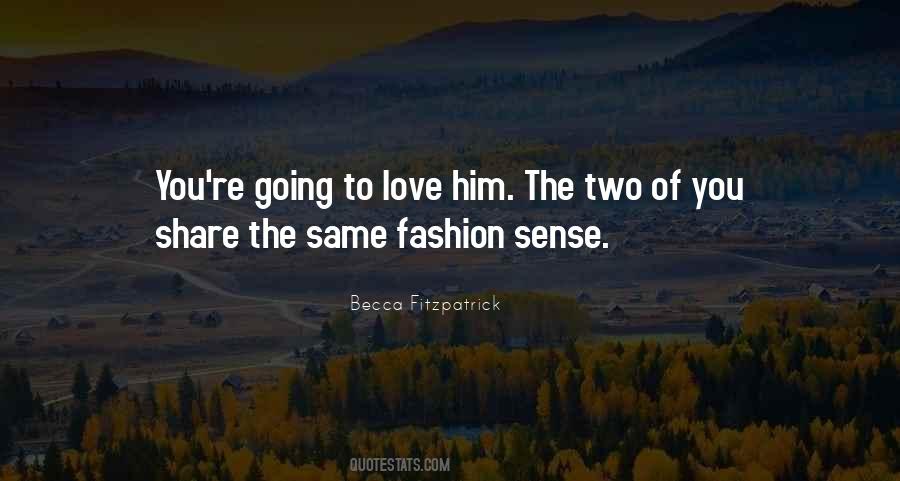 #36. Work is wholesome, and there is plenty for everyone. It keeps us from ennui and mischief, is good for health and spirits, and gives us a sense of power and independence better than money or fashion. - Author: Louisa May Alcott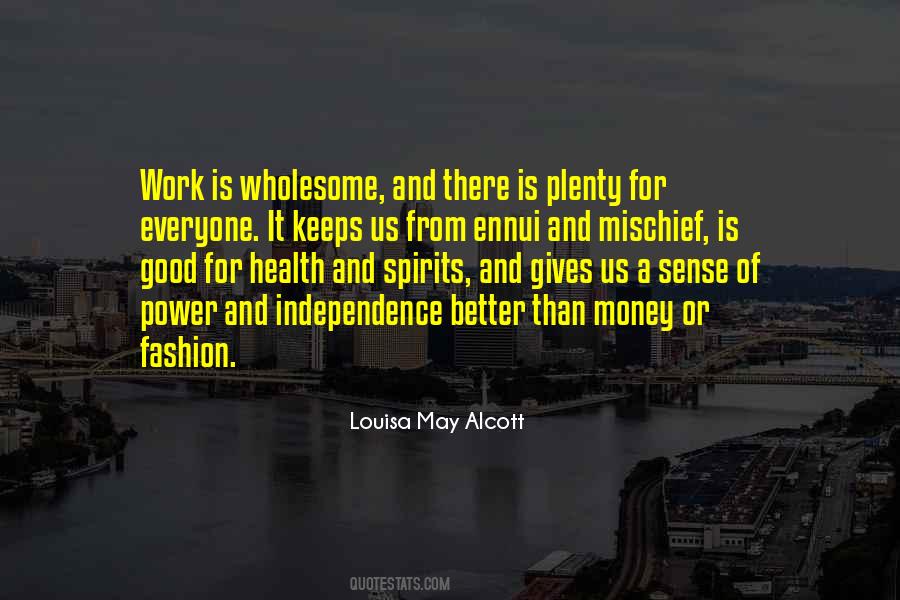 #37. I always loved fashion and clothes. Not because I think that's a woman's place, but because I care about aesthetics. I like art; I like going to art museums, and to me, these things are just manifestations of one's aesthetic sense. - Author: Leila Janah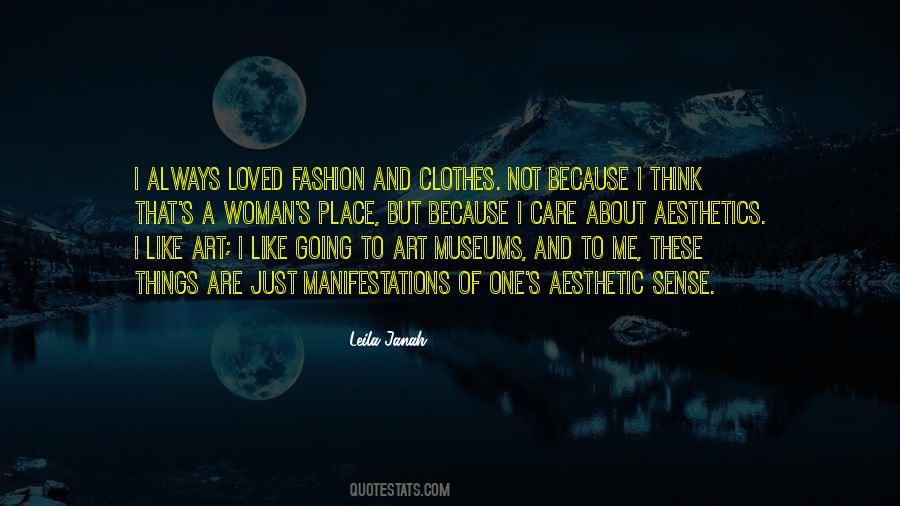 #38. I can spot someone with similar fashion sense to me a mile off. - Author: Martin Freeman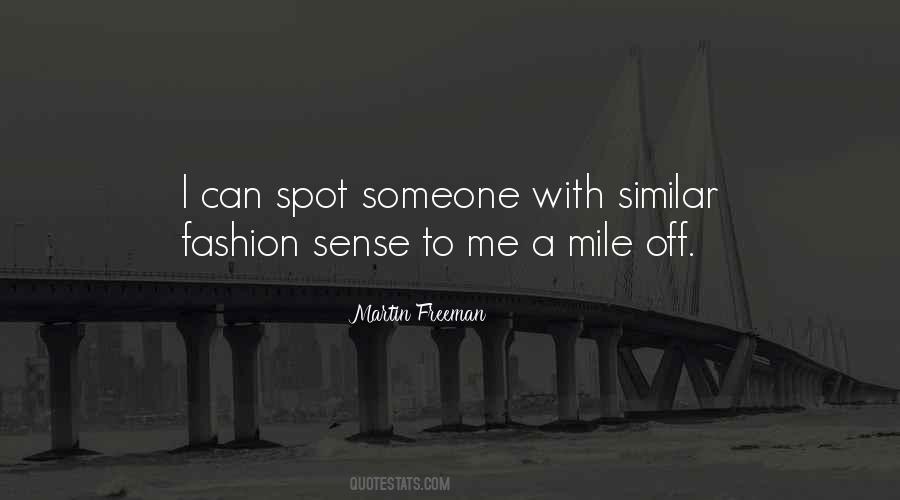 #39. I don't think that there is one "authentic" element of American style to identity - it's about a sense of freedom, individuality, and embracing personal style. Fashion also has a bit of mystery, which is part of the allure, and yet anyone can partake. - Author: Thakoon Panichgul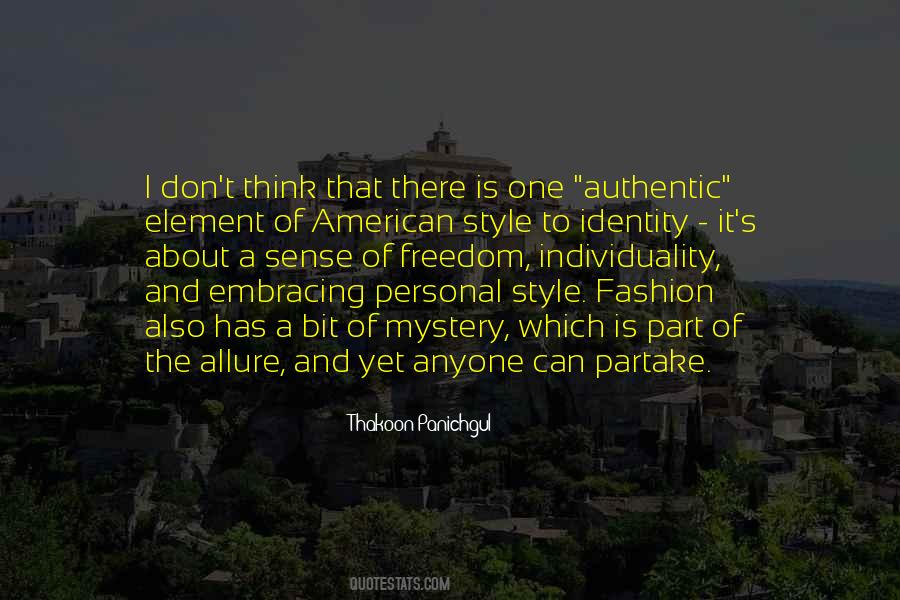 #40. No, the hippies are not gone. Their movement has just become mainstream. If you support the environment, reject racism, sexism, war, are sexually open-minded, and are inherently suspicious of the government, then you're already a hippie - regardless of your fashion sense or how you wear your hair. - Author: Tyler Starry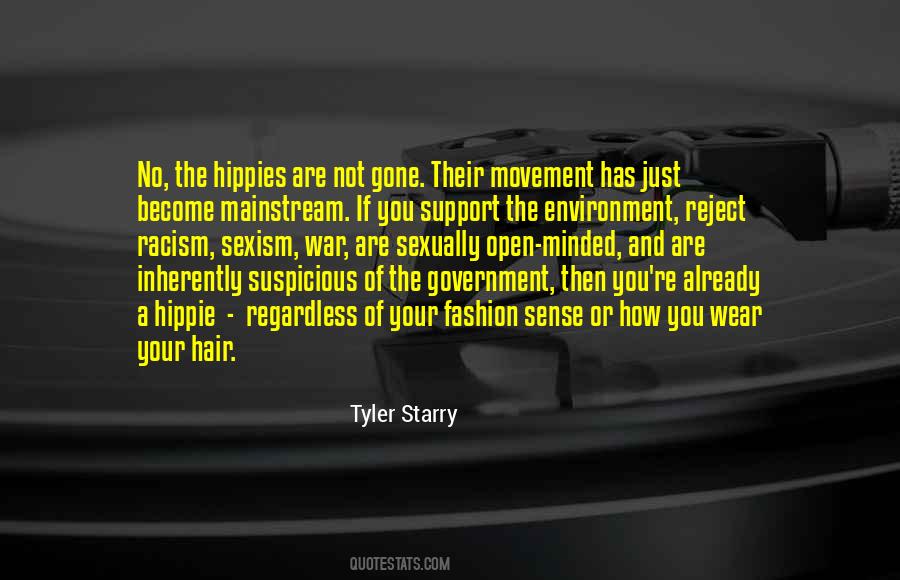 #41. Whenever I see people with their collars up, I'm tempted to point it out to them like you would for someone who has a food stain on their shirt or food in their teeth, as if to say, 'Your fashion sense is so offensive I'm assuming it's some sort of accident you'll want to fix. - Author: Stephan Pastis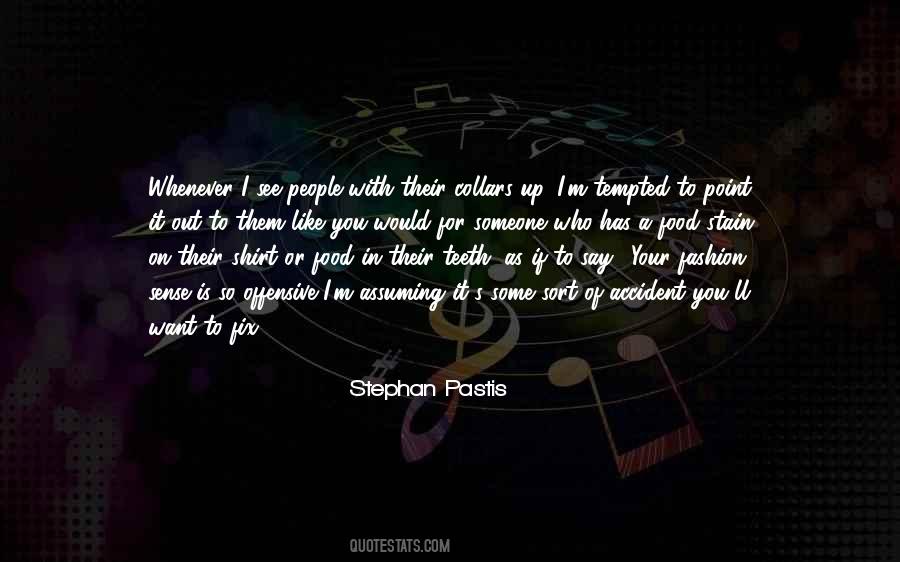 #42. Take warning then by them: choose your pleasures for yourself, and do not let them be imposed upon you. Follow nature and not fashion: weigh the present enjoyment of your pleasures against the necessary consequences of them, and then let your own common sense determine your choice. Were - Author: Philip Dormer Stanhope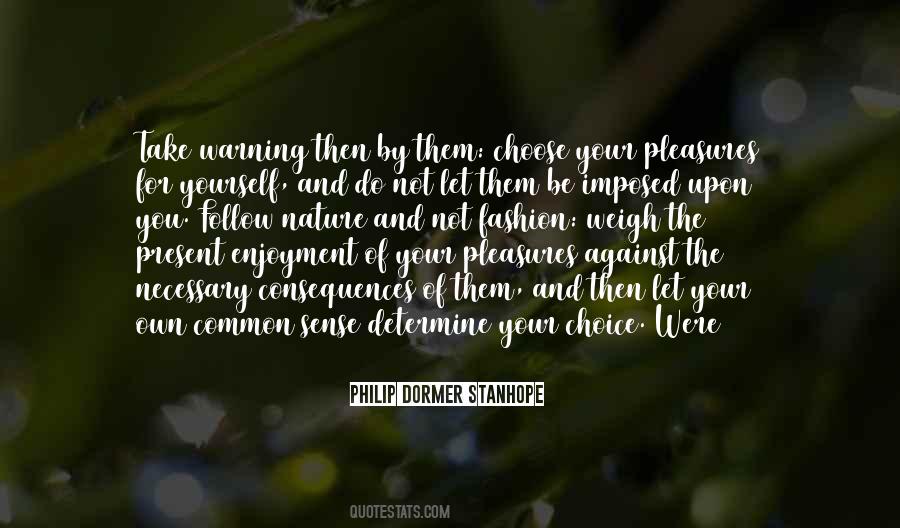 #43. I love the silhouettes of the '50s that were feminine and womanly without being too revealing. I've always gravitated towards that kind of sense of style and fashion. - Author: Emmy Rossum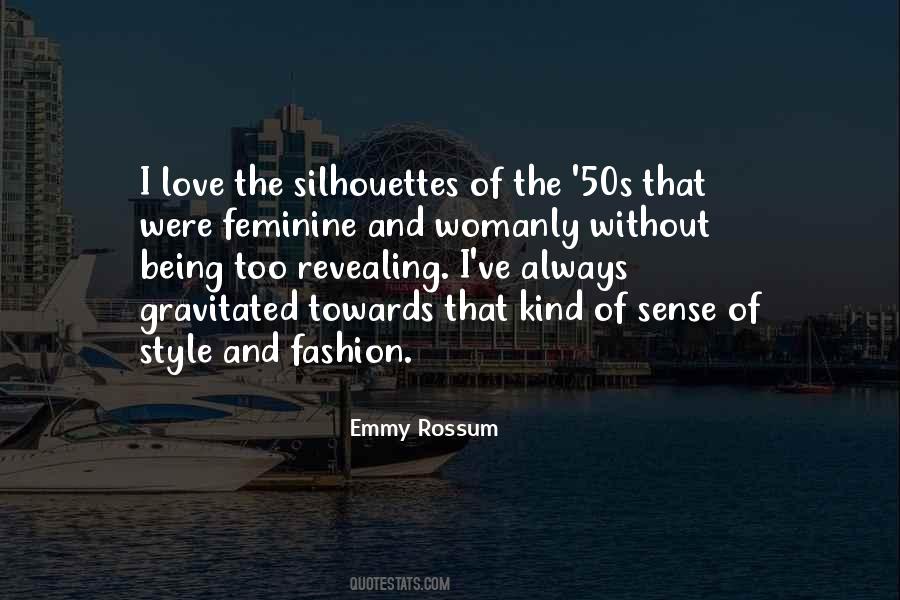 #44. Fashion isn't something you can buy; you need to have the sense of it, and most people don't. - Author: Carine Roitfeld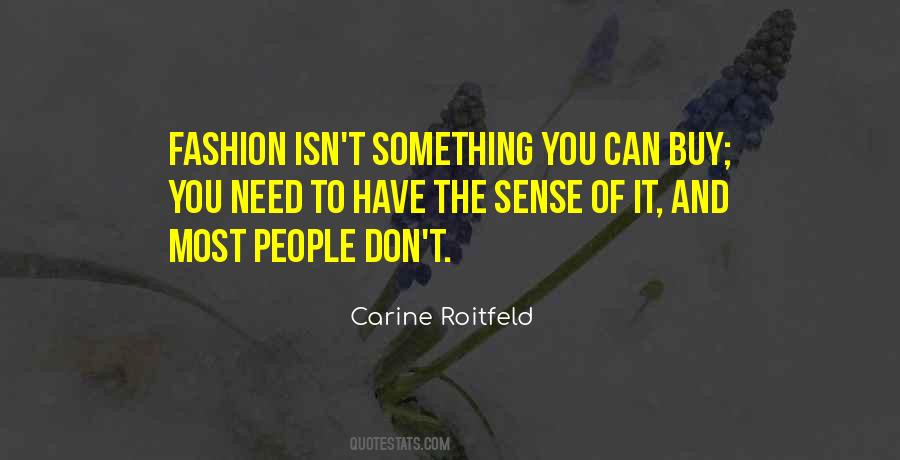 #45. I had a vague memory of being that ridiculous at one time. Let he who hath never worn parachute pants cast the first stone. - Author: Jim Butcher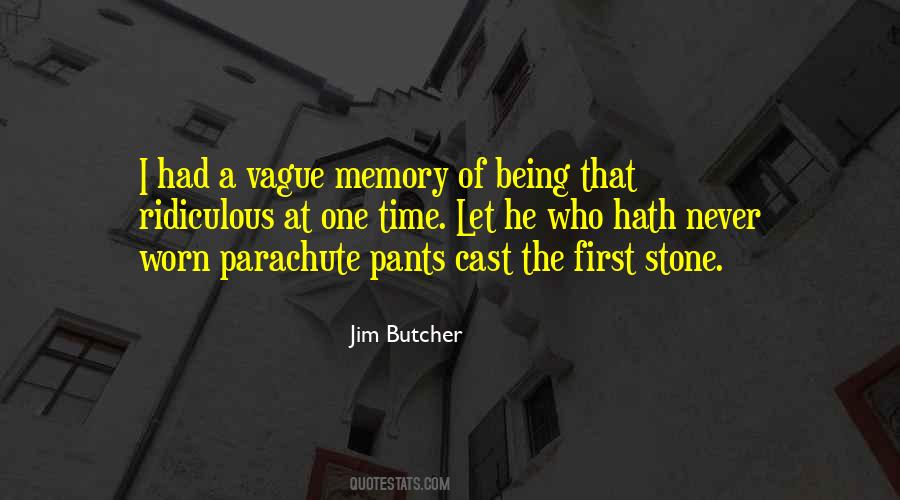 #46. Arguing, in the sense of attempting to convince others, has gone out of fashion with conservatives. - Author: P. J. O'Rourke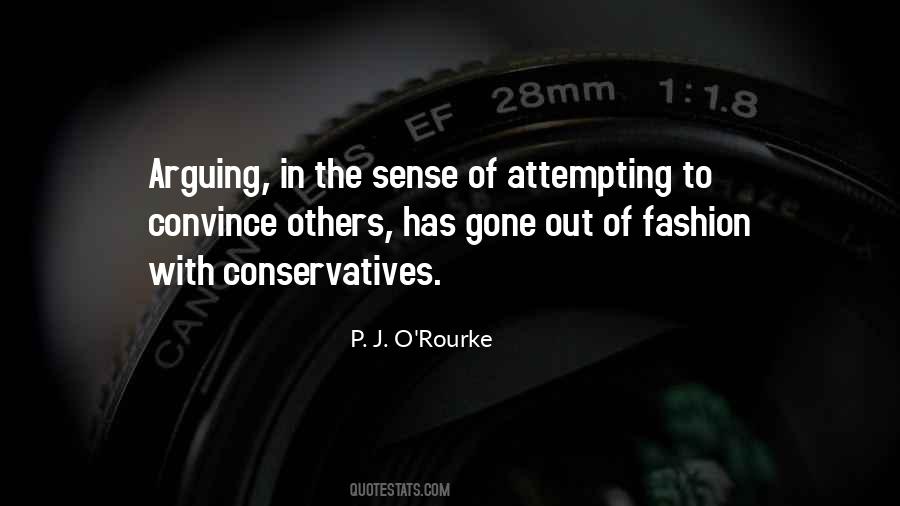 #47. I would certainly rather the industry not go broke, but if that's what it takes for everyone to acquire some values and lose that sense of entitlement, maybe a little belt-tightening wouldn't be so tragic. - Author: Tim Gunn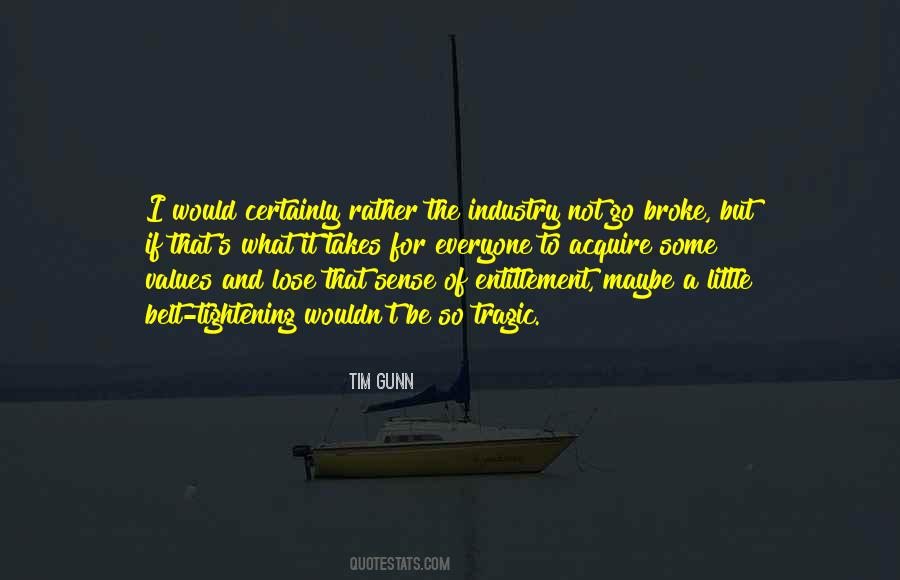 #48. I find my dress sense tends to be a bit of a mixture between high fashion and unique vintage pieces with a little bit of street trends. For example, I might find a really nice, suede dinner jacket that I'd wear with a basic plain white shirt and some chinos and a pair of Nike trainers. - Author: Tinie Tempah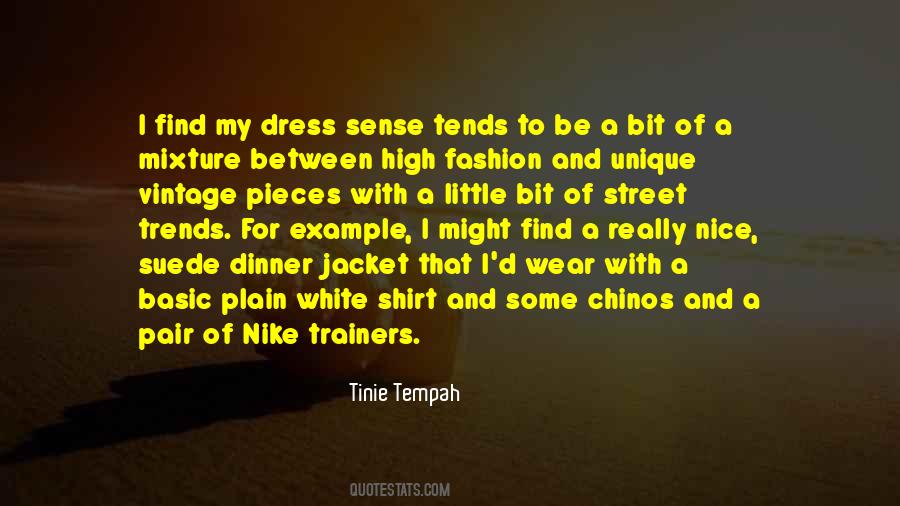 #49. But I was always much more interested in reading fashion magazines than I was music magazines when I was a teenager. Just that sense of romanticism and escapism and the dream of it has always been quite alluring to me, as well as that sense of becoming a character through clothes. - Author: Florence Welch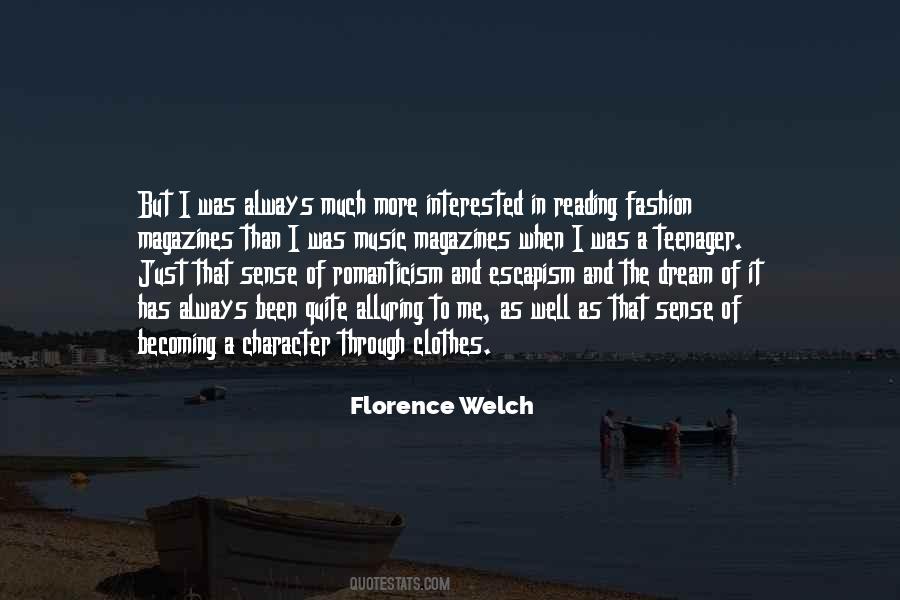 #50. What's the matter, suddenly develop a fashion sense? - Author: Devon Monk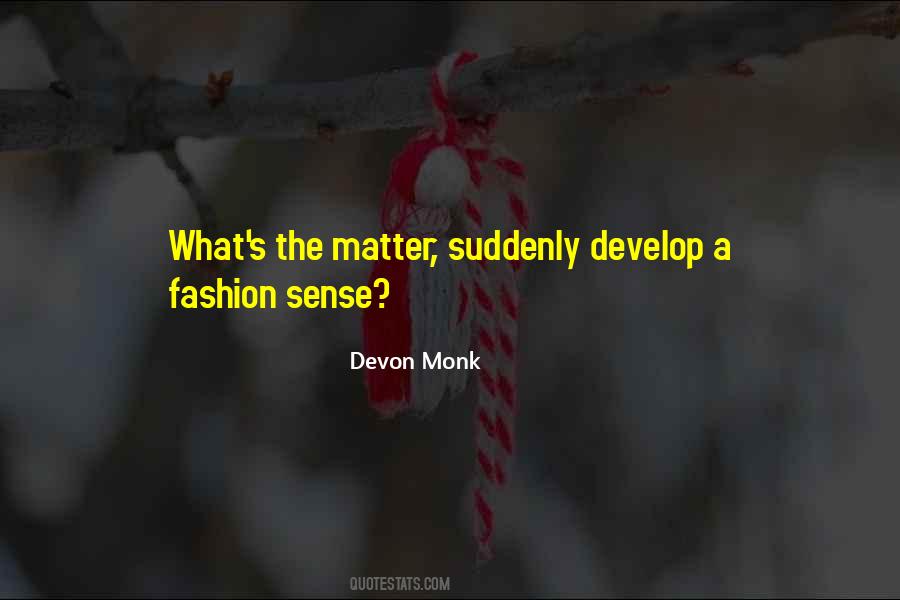 #51. I have a Rolex, but no diamonds. Rappers wear diamonds to compensate for a lack of fashion sense. I don't even have pierced ears - I'm not into that; it's too much. - Author: ASAP Rocky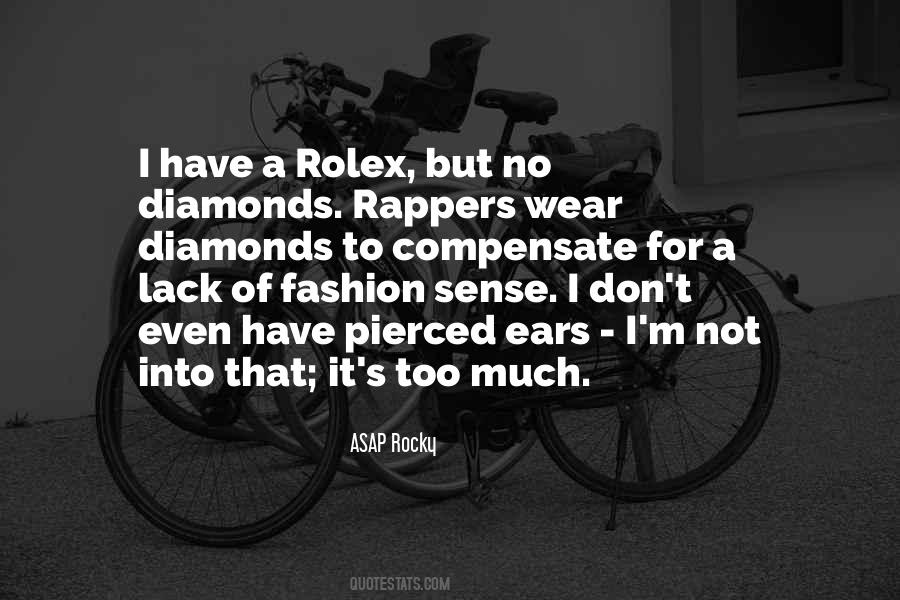 #52. I would rather carry around a plastic bag with five thousand Euro inside, than carry around a Louis Vuitton/Gucci/Prada bag with only one hundred Euro inside! - Author: C. JoyBell C.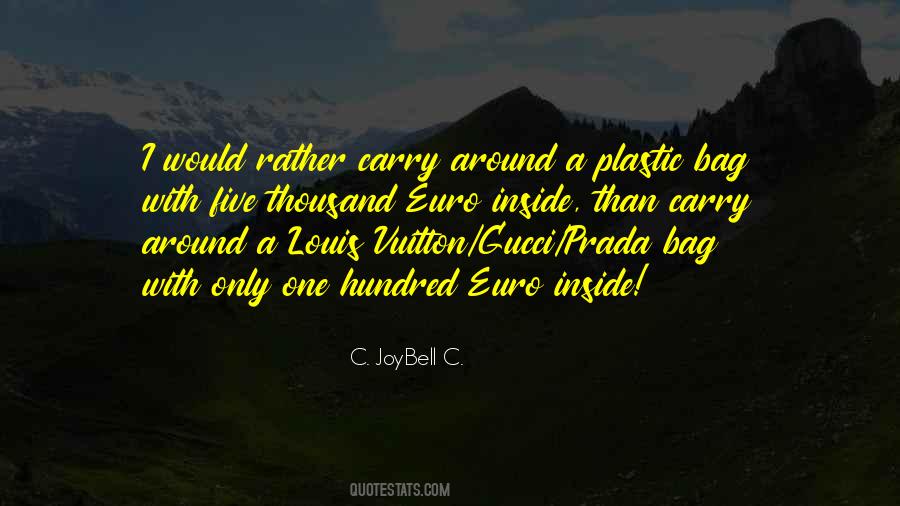 #53. I'm good at my job for a midwestern American. Maybe it's because people in fashion often mistake common sense for genius. I mean, some model walks down the runway in an impossible outfit, and I state the obvious ? no one is going to wear that ? and people are like, you're brilliant!. - Author: David Wolfe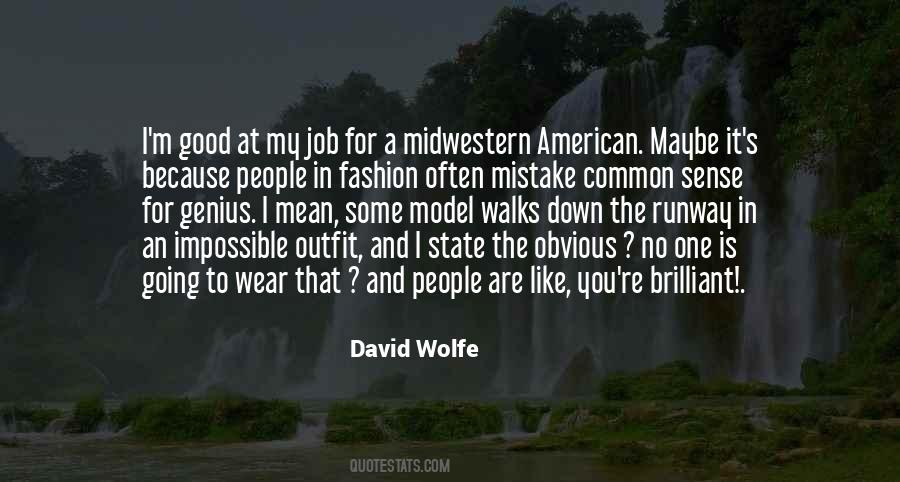 #54. I've never felt that I've had some great fashion sense of my own - I tend to wear what my wife tells me to wear. - Author: Alessandro Nivola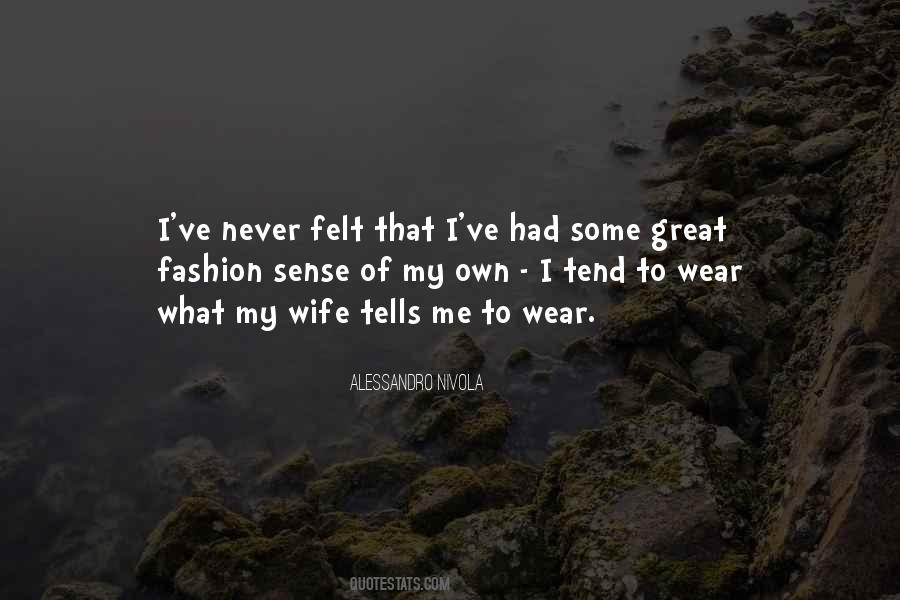 #55. I was eager to see what Swedish design had to offer and get a sense of its fashion culture, and Altewai Saome was the perfect introduction. - Author: Aslaug Magnusdottir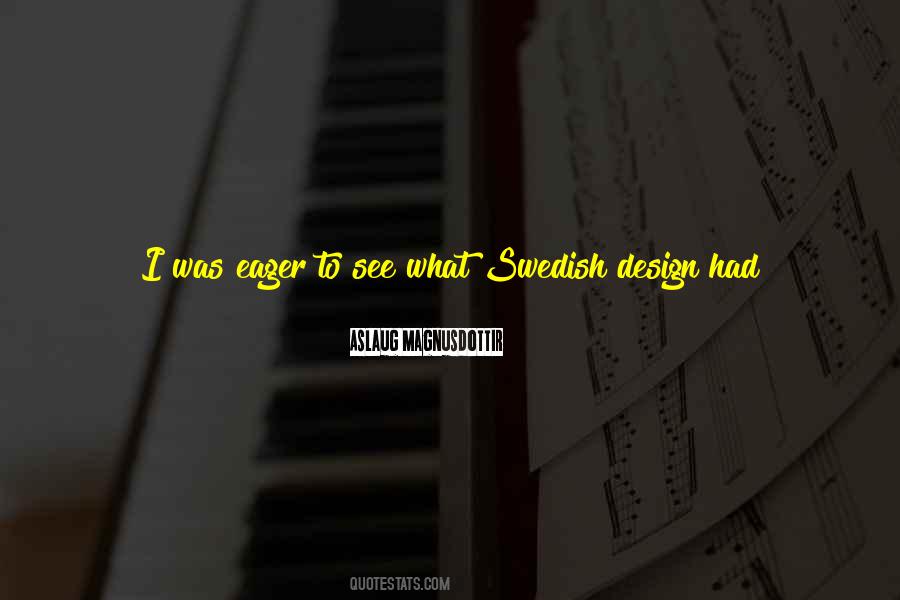 #56. Sometimes there's a sense of closing yourself off on a shoot, and I try not to do that. Sometimes you have to, like when you're in a studio and you're doing fashion shooting, but I don't even do it then. - Author: Bruce Weber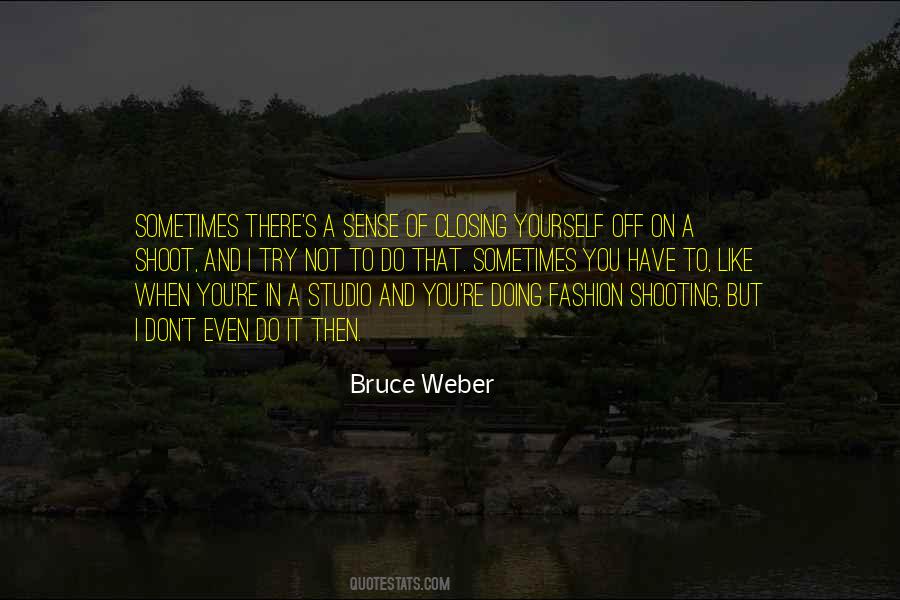 #57. I've always been interested in fashion, the clothes, but I'm not that familiar with the fashion industry; for me it just comes out of quite an innocent sense of style. - Author: Lenora Crichlow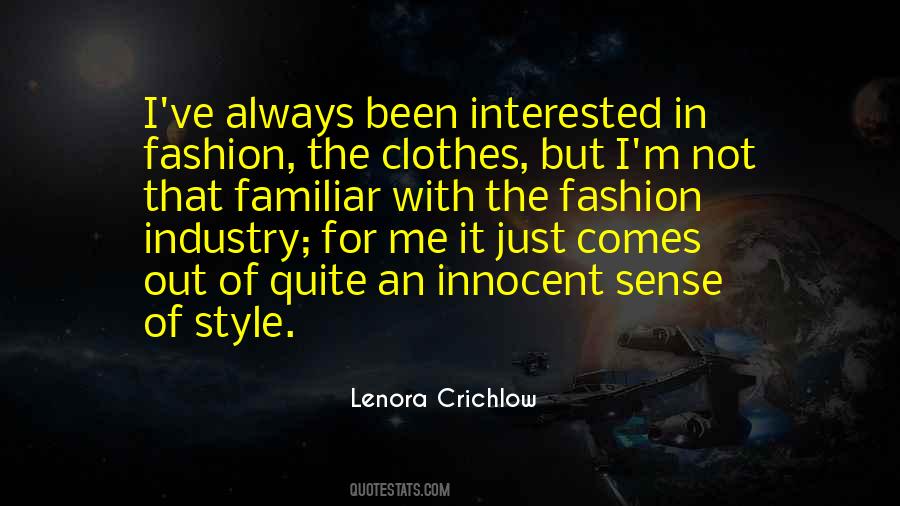 #58. A man without a sense of fashion is a man without a soul. - Author: Donna Leon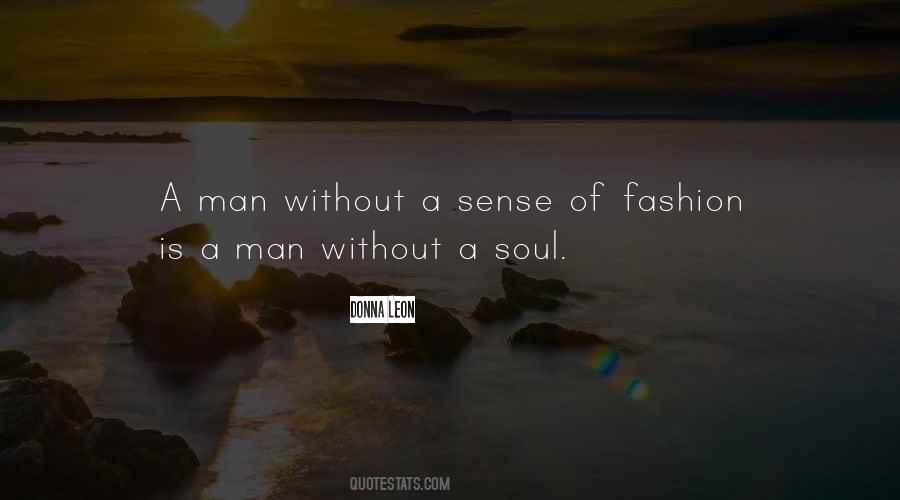 #59. I have the greatest love for the rituals of organised religion - the sense of community and belonging it can confer to people. But me, I'm more a questioner than a follower; not by whim or fashion, but as a decision painfully arrived at after much, much thought. - Author: Kabir Bedi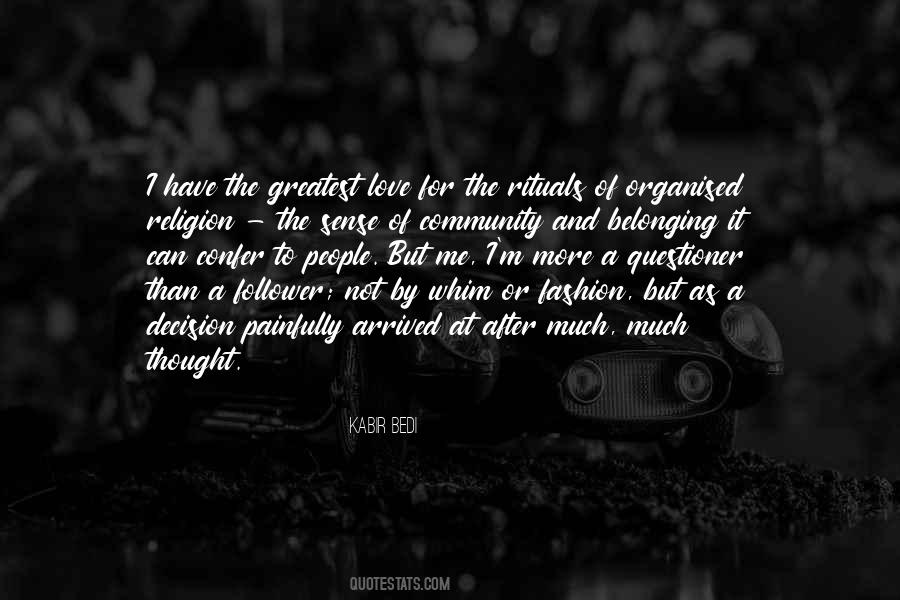 #60. As a longtime fashion enthusiast and the architect of the YMCMB lifestyle, it makes perfect sense to partner with the esteemed Bravado and move into fashion and launch my apparel brands. - Author: Birdman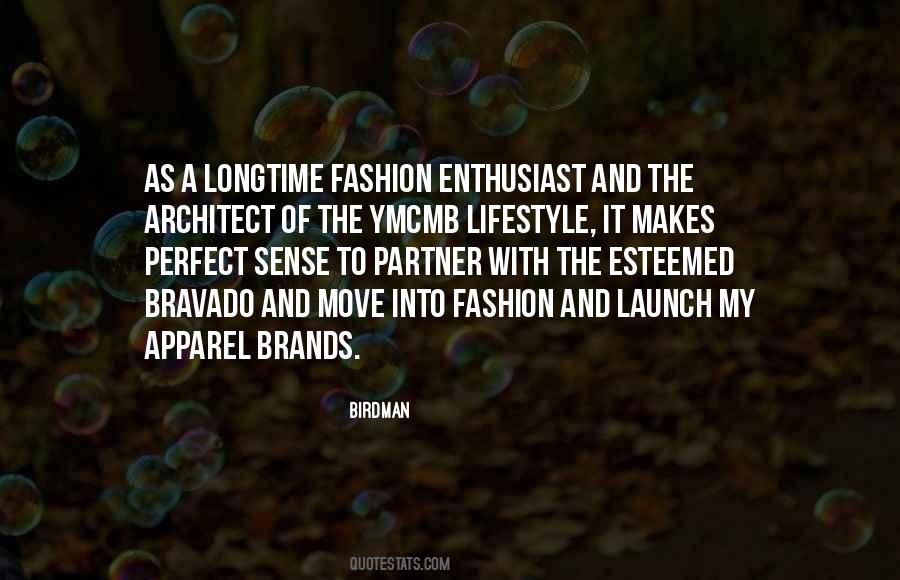 #61. True merit does not depend on the times or on fashion. Those who have no other advantage than courtly manners lose it when they are away from court. But good sense, knowledge, and wisdom make their possessors knowledgeable and beloved in all ages and in all times. - Author: Madeleine De Souvre, Marquise De ...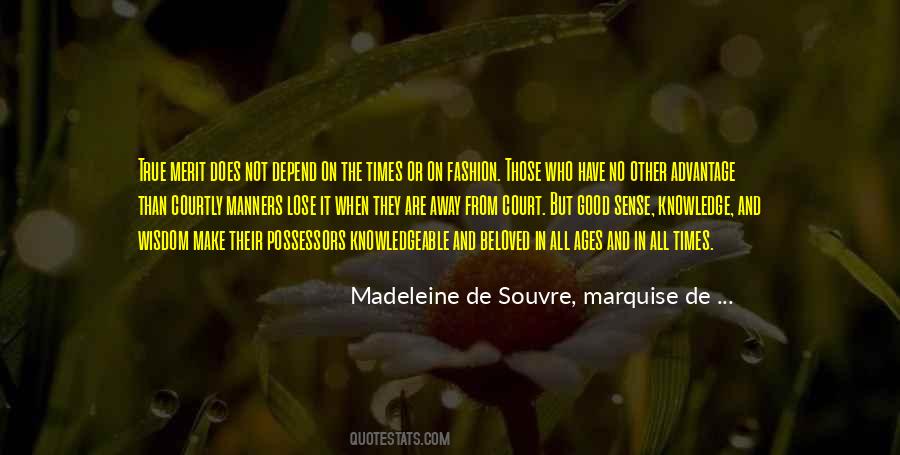 #62. When I design and wonder what the point is, I think of someone having a bad time in their life. Maybe they are sad and they wake up and put on something I have made and it makes them feel just a bit better. So, in that sense, fashion is a little help in the life of a person. But only a little. - Author: Miuccia Prada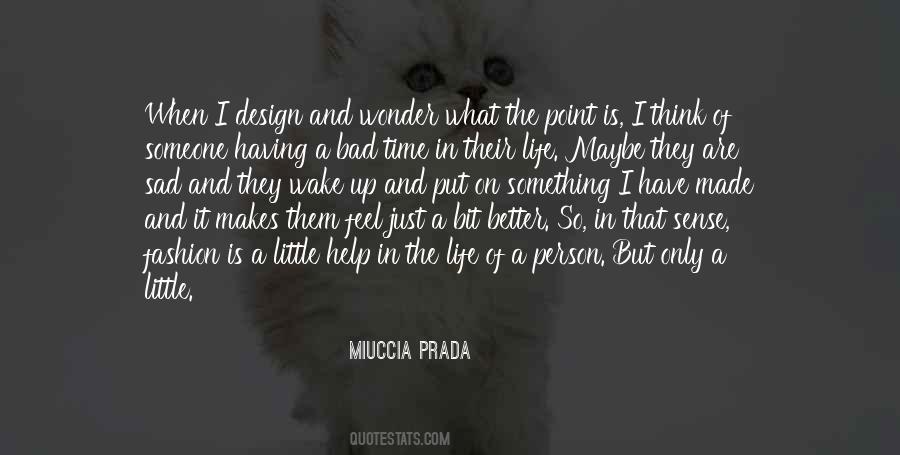 #63. At 20, I didn't know what suited me. I had terrible fashion sense and awful make-up. - Author: Samantha Fox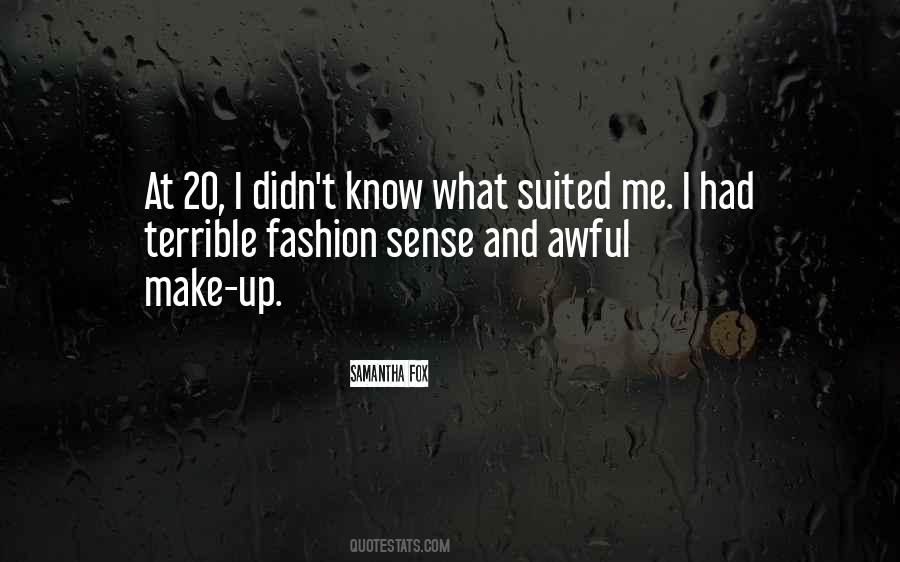 #64. Look at us! Are we not proof that there is no good, no evil, no truth, no reason? Are we not proof that the universe is a drooling idiot with no fashion sense - Mr Nobody on the fundamental philosophy of the Brotherhood of DADA - Author: Grant Morrison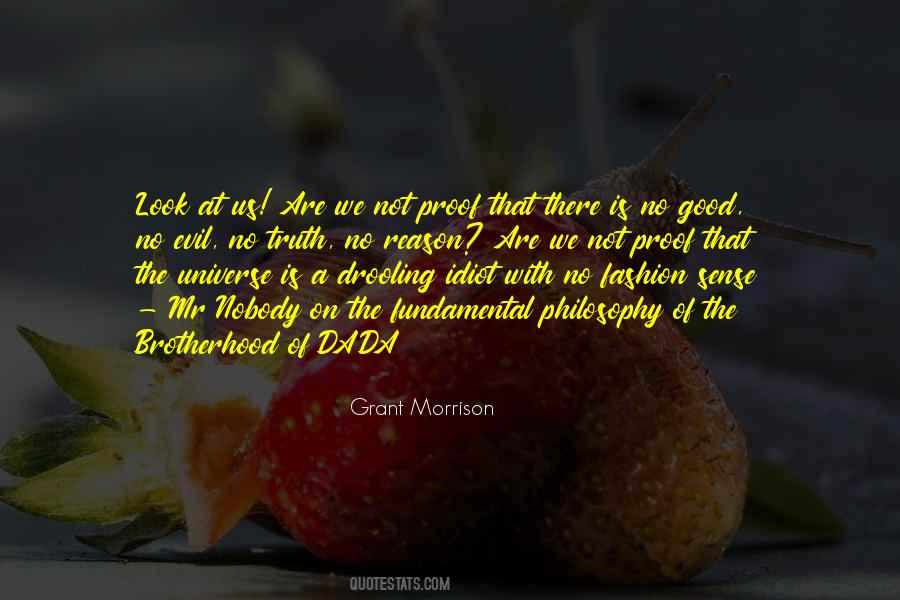 #65. With fashion, my mother was an icon, but she never lived it in the sense that she was never obsessed with fashion. When I was a young girl, my sister wasn't doing fashion, so I started fashion thinking, 'I'm going to do something that they haven't done yet.' That was my silly scheme at the time. - Author: Lou Doillon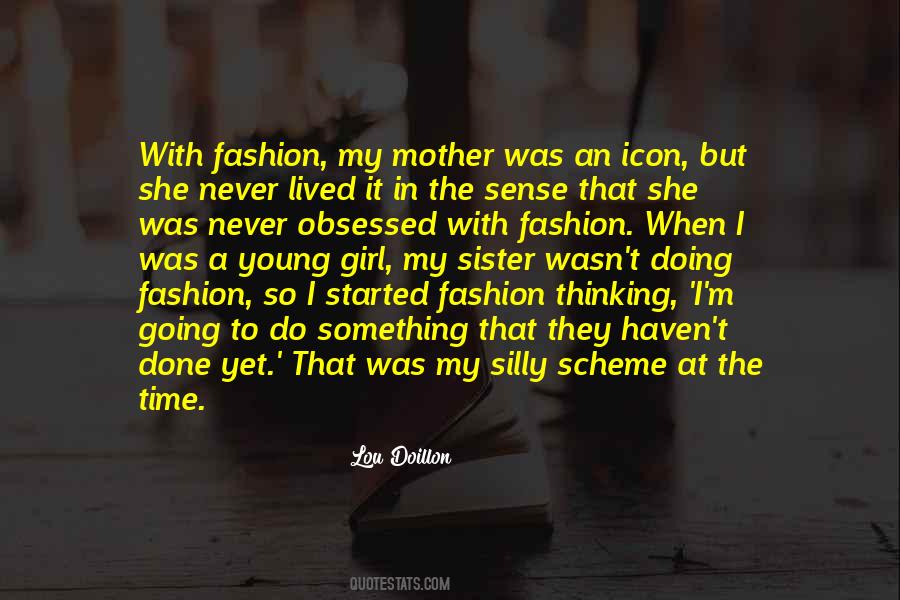 #66. Hey, I'm a good software engineer, but I'm not exactly known for my fashion sense. White socks and sandals don't translate to 'good design sense'. - Author: Linus Torvalds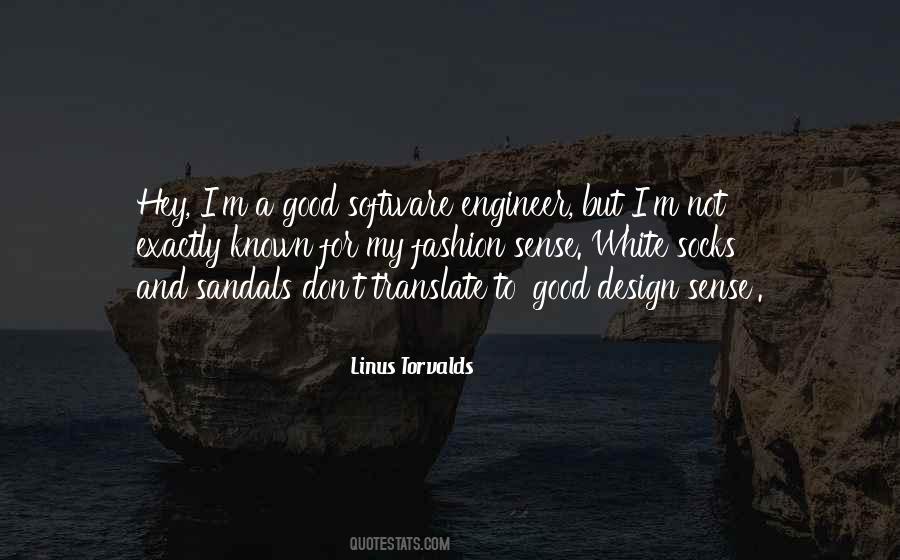 #67. The biggest lesson that I've learned is that fashion is this tightrope where you have to be consistent but inconsistent. You need the connective thread but at the same time you need a sense of surprise. - Author: Michael Kors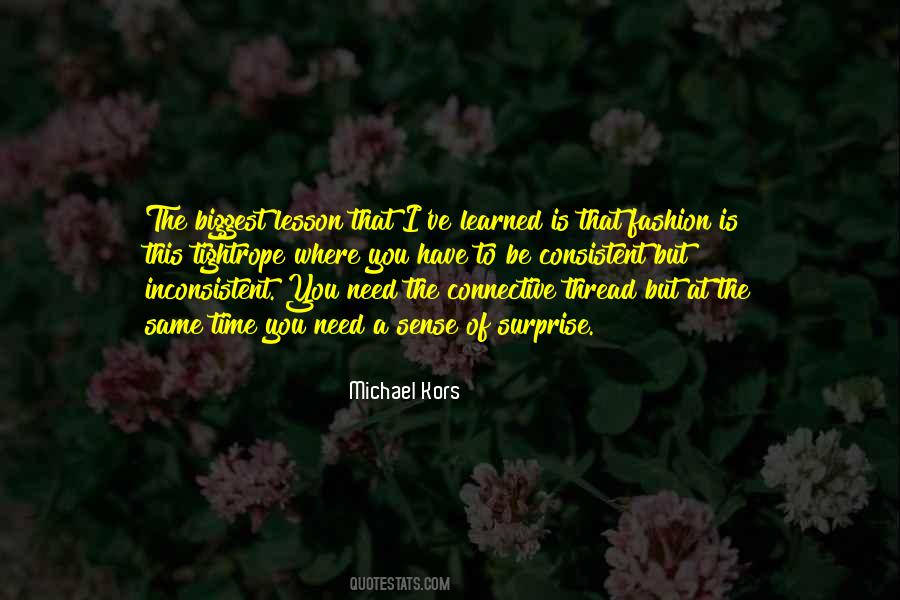 #68. I'm so happy that I finished college. Going into this crazy vortex of scrutiny is tough. If I was younger than I was now and I was going to fashion shows, I might have this distorted sense of self. I might rely on those cameras. Because when I was 18, I was half-baked. - Author: Allison Williams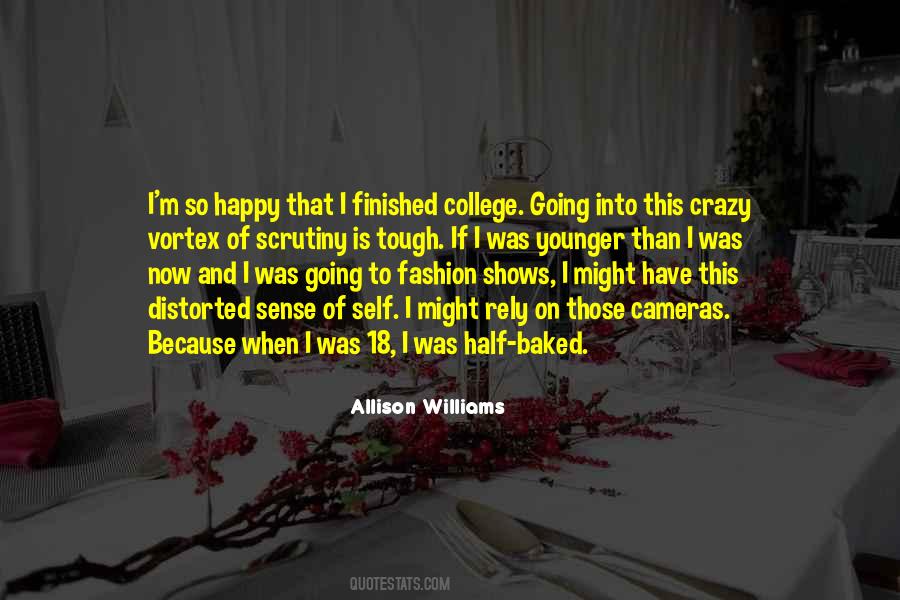 #69. Let's not get started on their uniforms. Superman's stretchy spandex has nothing on Batman's sculpted pecs."
He glared at her. "You cannot bring fashion sense into a superhero discussion!"
"If they wear it, it's fair game." She folded her arms on the table. - Author: Alisha Rai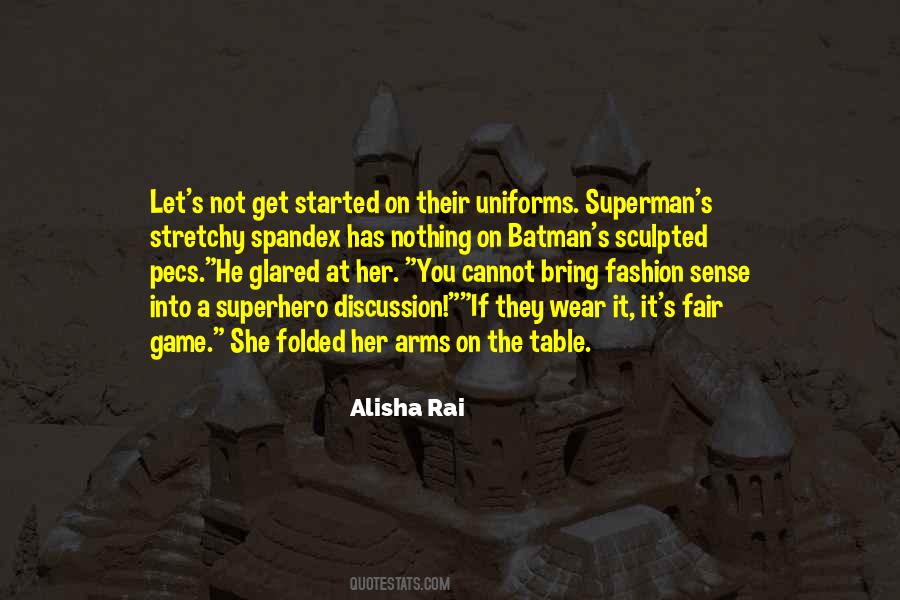 #70. Gary Numan had a huge influence on both my music and my style. He had his own unique fashion sense - that futuristic space style. It was out there. - Author: Mayer Hawthorne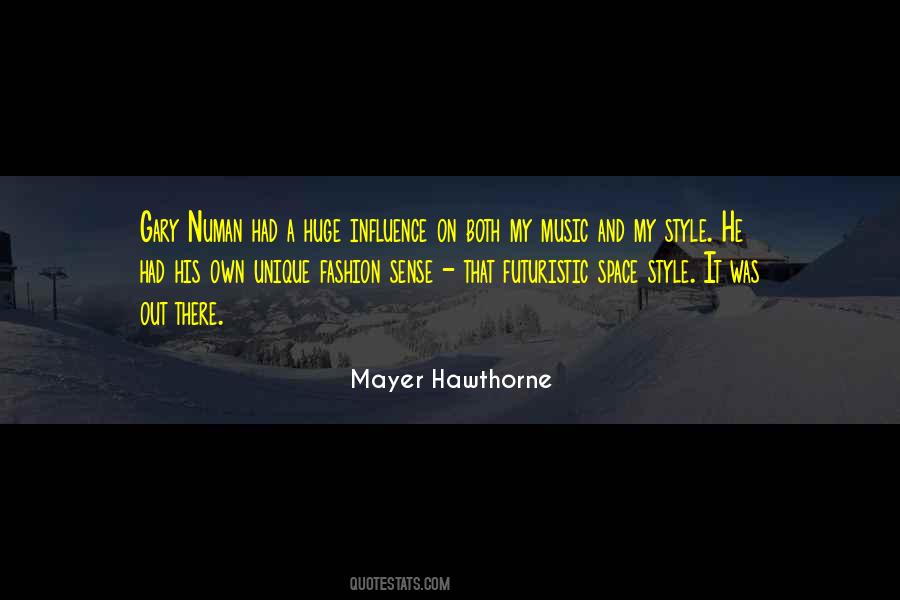 #71. Being an individual takes effort. Most people are pretty lazy. And that's OK! I mean, there are more important things than fashion. If it's going to stress you out to have a sense of style, don't do it. The important thing is to be comfortable so you can get on with your life. - Author: Iris Apfel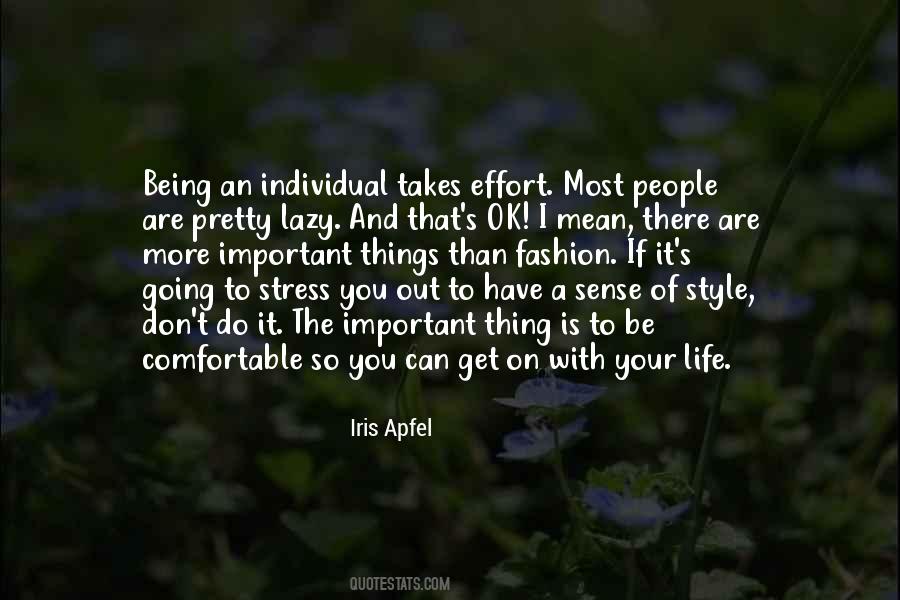 #72. I'm a practical person. Most fashion people live in the clouds, and they're full of it. I live like a human being - or, I try to - and I have to be intelligent; I have to be practical. I'm a great believer in common sense, and the older I get, I see that common sense is not that common. - Author: Iris Apfel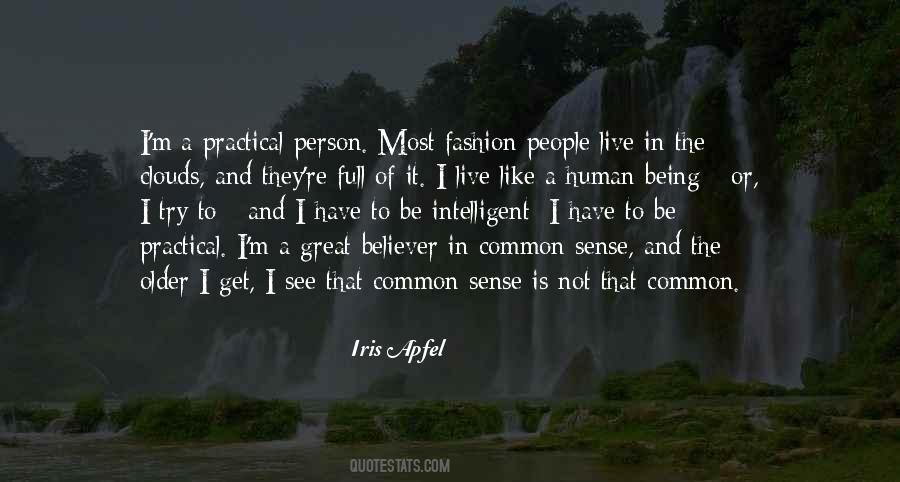 #73. I don't know where my fashion sense comes from, exactly. I've always been interested in, not necessarily being unique, but not necessarily sticking to the preexisting paradigm - whether it be clothes or music or whatever. - Author: Sam Hunt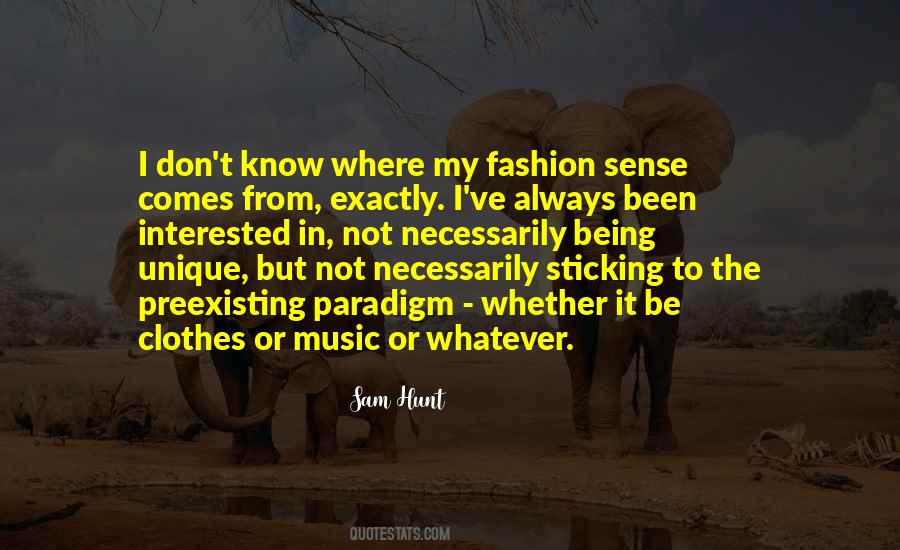 #74. Breckin shrugs. "I'm new here. And if you haven't deducted from my impeccable fashion sense, I think it's safe to say that I'm ... " he leans forward and cups his hand to his mouth in secrecy. "Mormon," he whispers. - Author: Colleen Hoover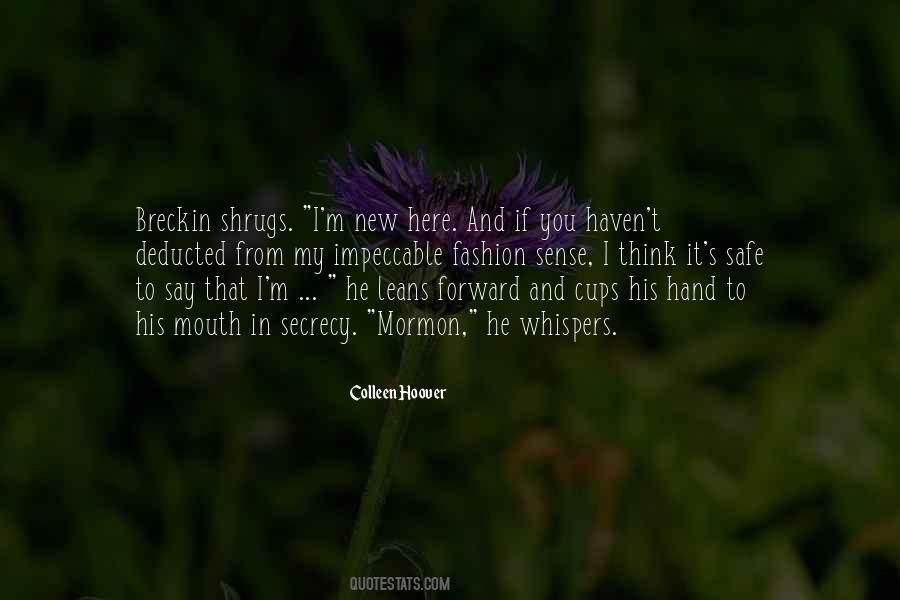 #75. She wore tight corsets to give her a teeny waist - I helped her lace them up - but they had the effect of causing her to faint. Mom called it the vapors and said it was a sign of her high breeding and delicate nature. I thought it was a sign that the corset made it hard to breathe. - Author: Jeannette Walls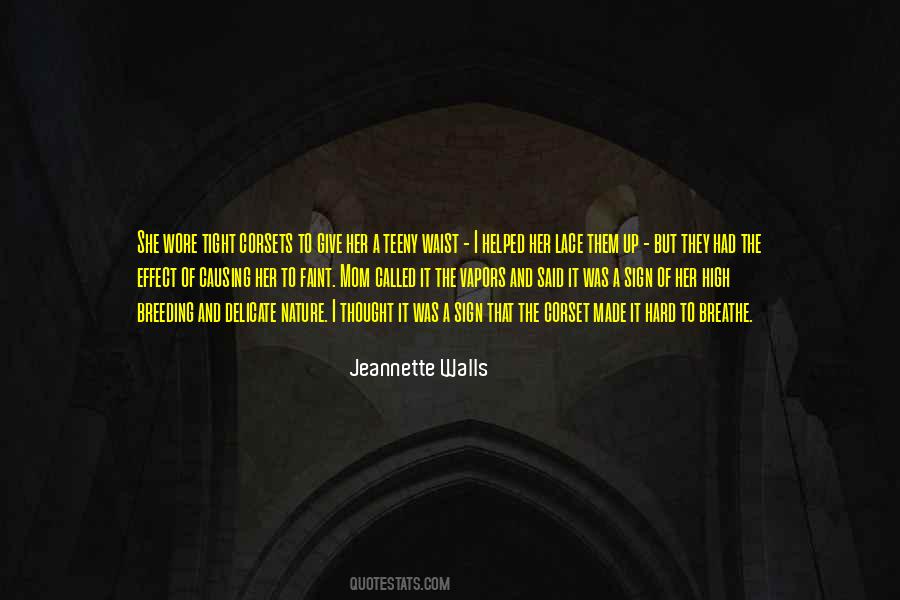 #76. Uncommon things that are attractive in women: a gap between the teeth ... a unique fashion sense ... In MEN ... a unique nose ... or accents ... - Author: Emmy Rossum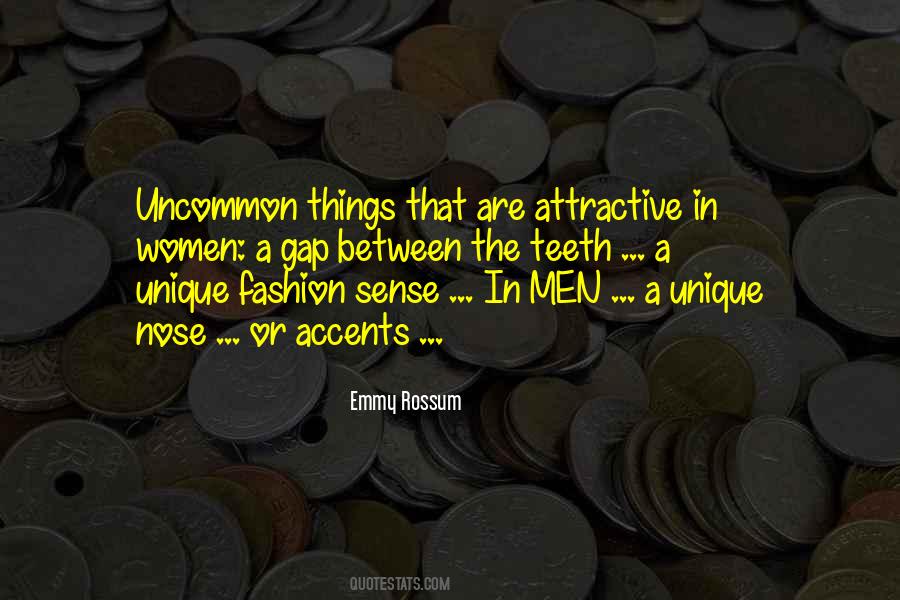 #77. To sum up my idea of on-ice costume fashion sense, it's probably that too much is never enough. - Author: Johnny Weir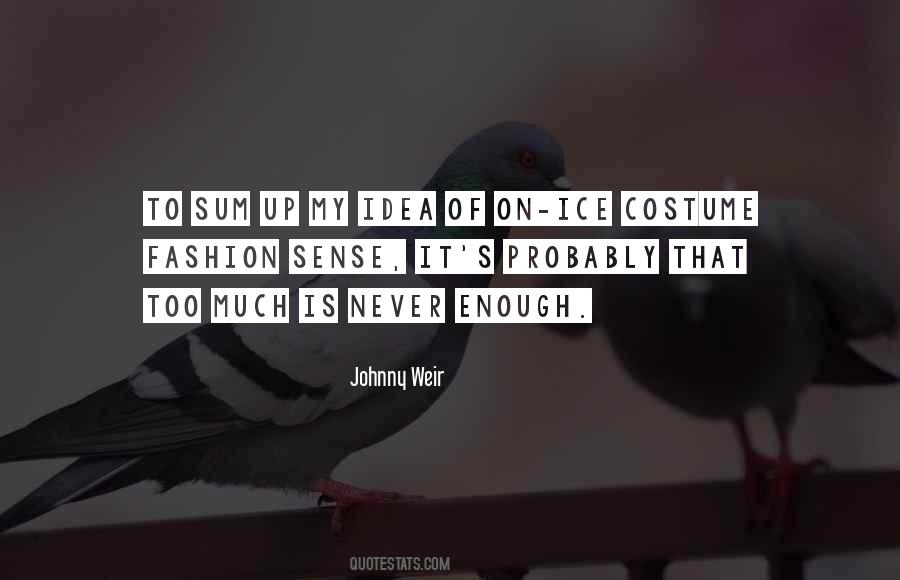 #78. If Mad Men had taken place in the '90s it would have been just as believable. But the fact is that was the perfect storm and with the fashion and the sets and the writing and the actors it just all made sense and it just was one of those things that you can't explain. - Author: Christina Hendricks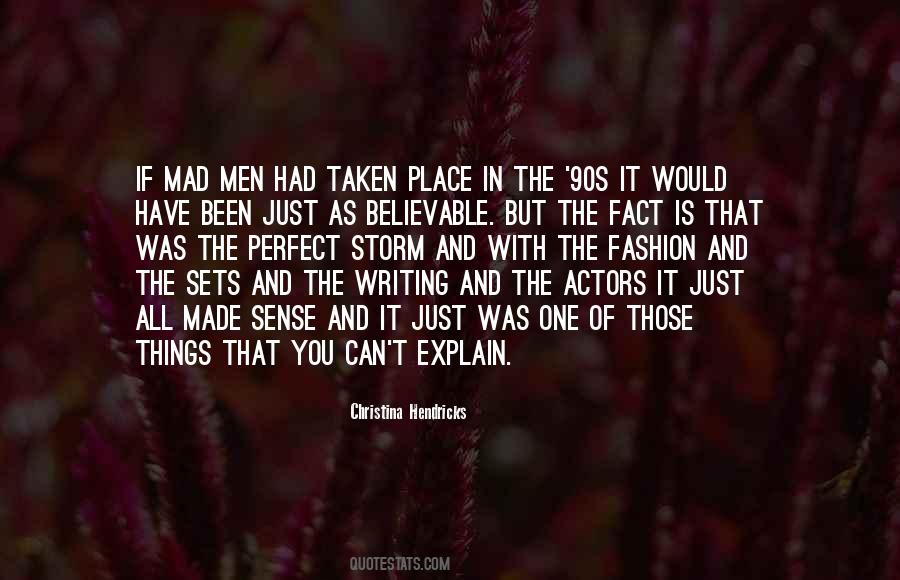 #79. Putting on a beautifully designed suit elevates my spirit, extols my sense of self, and helps define me as a man to whom details matter. - Author: Gay Talese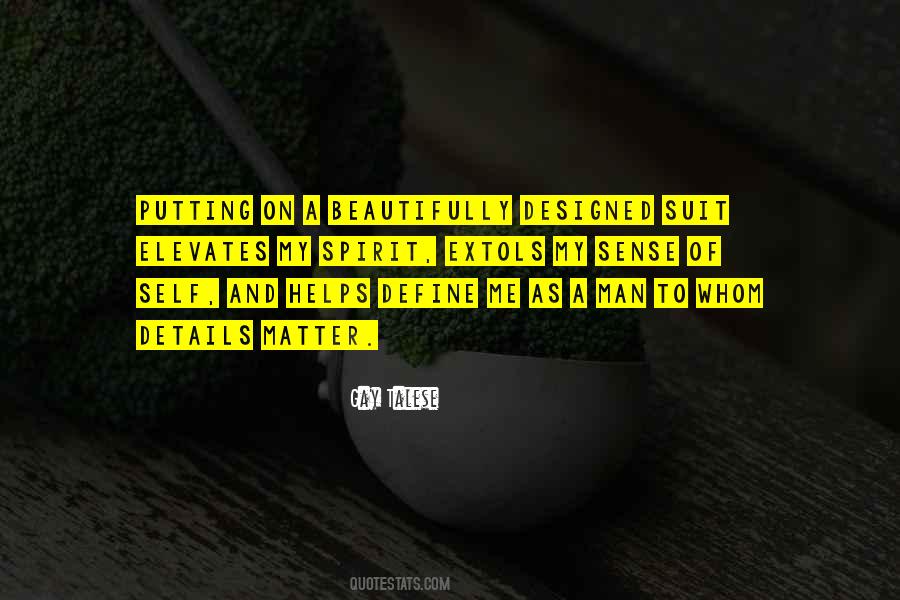 #80. Fashion is always silly, for, before it can spread far, it must be calculated for silly people; as examples of sense, wit, or ingenuity could be imitated only by a few. - Author: Horace Walpole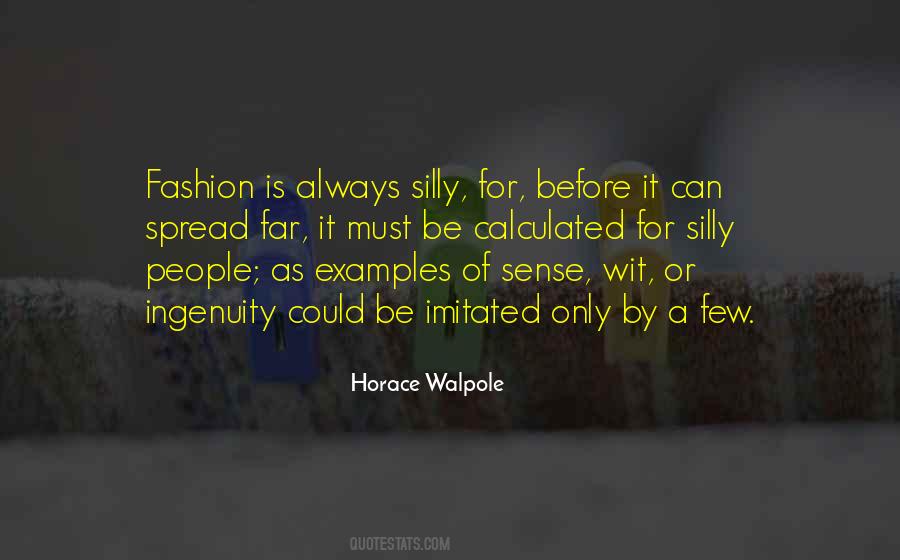 #81. Forgive me for speaking frankly, but after the past quarter-hour's conversation, I am unconvinced that any of you possess the sense or sensitivity to impart the news in any respectful fashion - Amelia - Author: Tessa Dare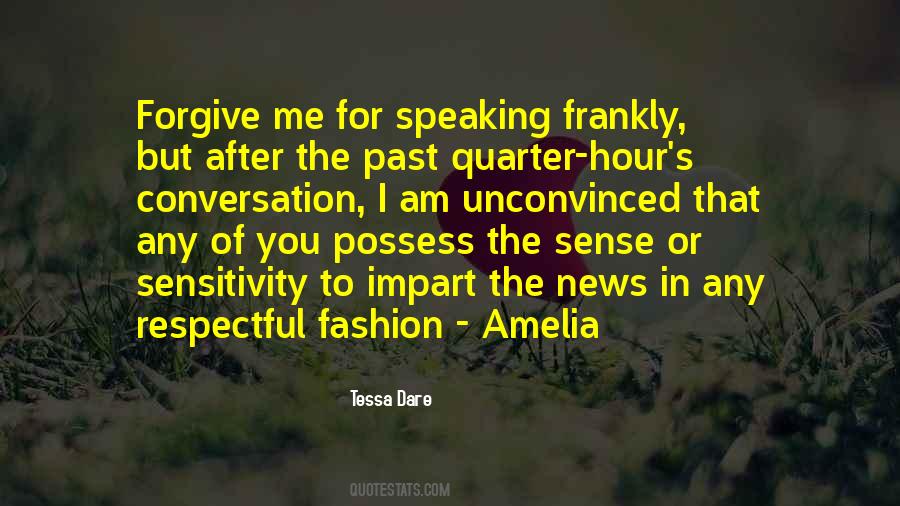 #82. Suddenly reminded, she clapped a hand over her mouth. "Oh- Simon!"
"No, I'm Jace," he said patiently. "Simon is the weaselly little one with the bad haircut and dismal fashion sense. - Author: Cassandra Clare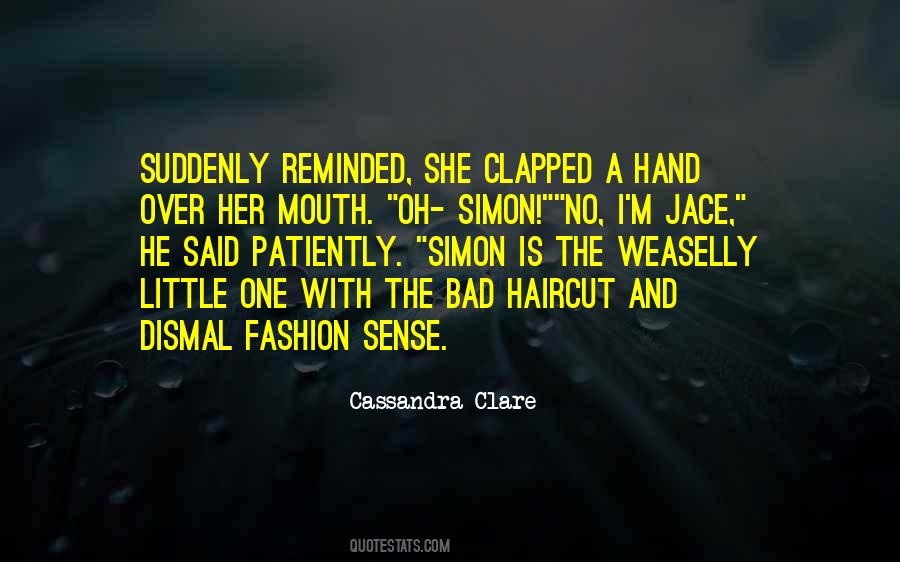 #83. Growing up in Atlanta I always had a sense of what fashion was, a sense of style - my parents always talked about the importance of making a first impression and that's stayed with me. - Author: Cam Newton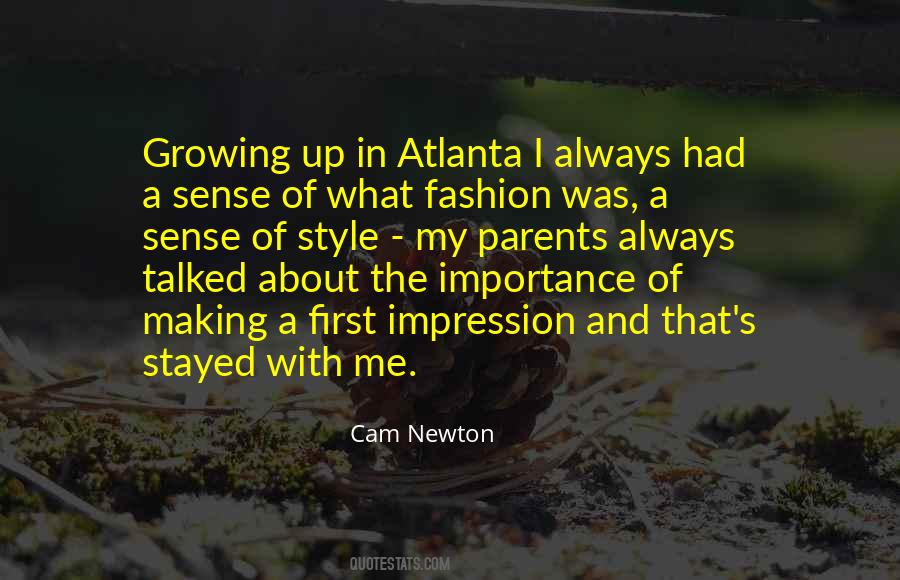 #84. Some people have no business attending a dignified tea. Gawking as if I belong in a zoo, when they're the ones who have all the manners and the fashion sense of a monkey. - Author: A.G. Howard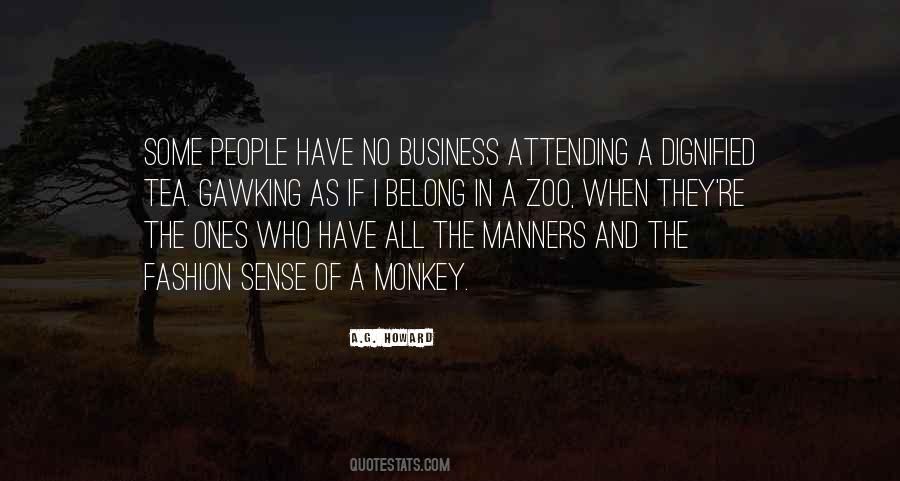 #85. Thus the State never intentionally confronts a man's sense, intellectual or moral, but only his body, his senses. It is not armed with superior wit or honesty, but with superior physical strength. I was not born to be forced. I will breathe after my own fashion. - Author: Henry David Thoreau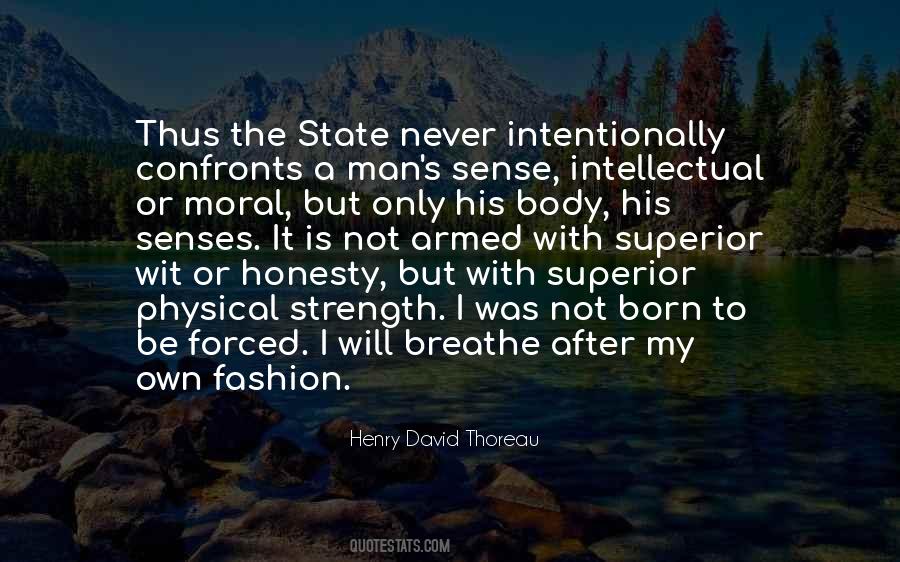 #86. Fashion only seems to make sense if it's rooted in some dimension of history or if it feels like a continuation of an idea. - Author: Douglas Coupland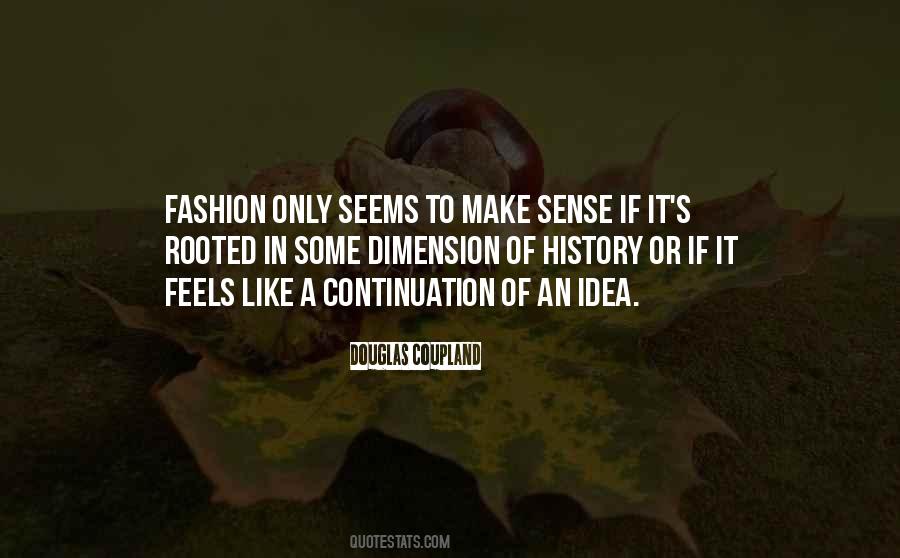 #87. I like fashion, whether or not it's overpriced, because it creates a sense of the sublime with relatively few means. - Author: Rem Koolhaas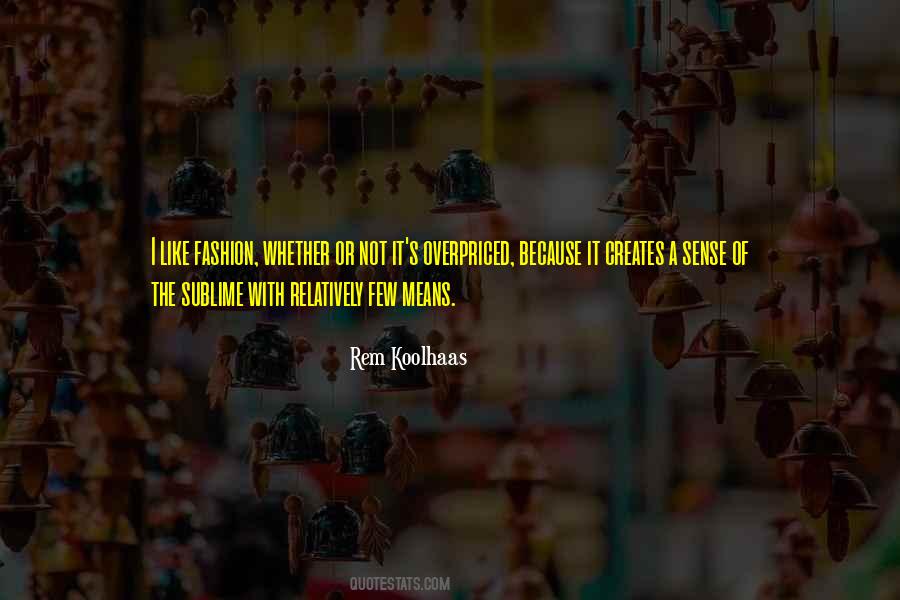 #88. In fashion, women have more sensitivity, more sense of the body, so they know how things fit and feel. Yet there are not many women who study fashion. It's ridiculous. - Author: Donatella Versace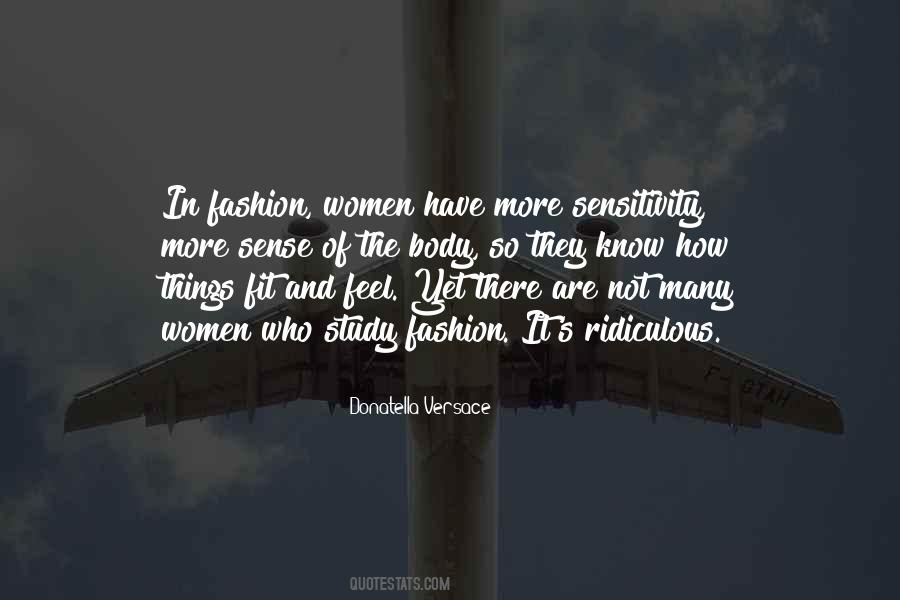 #89. I feel like my art is very eclectic. I have taken my favorite things - be that costume designing, fashion sense, music and video editing - and I threw them all into one big clump. And that's what I do. - Author: Lindsey Stirling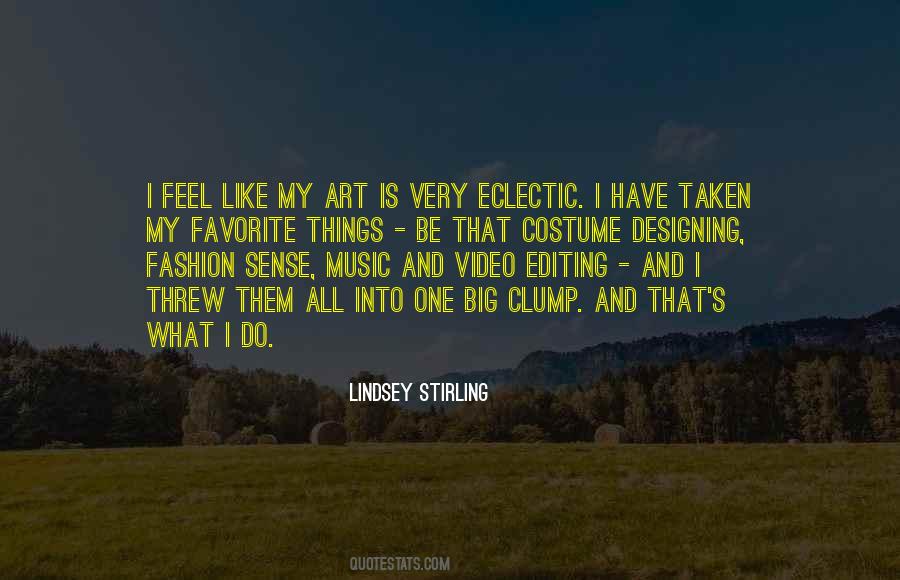 #90. (Of course there are gay Betas: the Beta Male boyfriend is highly prized in the gay community because you can teach him how to dress yet you can remain relatively certain that he will never develop a fashion sense or be more fabulous than you.) - Author: Christopher Moore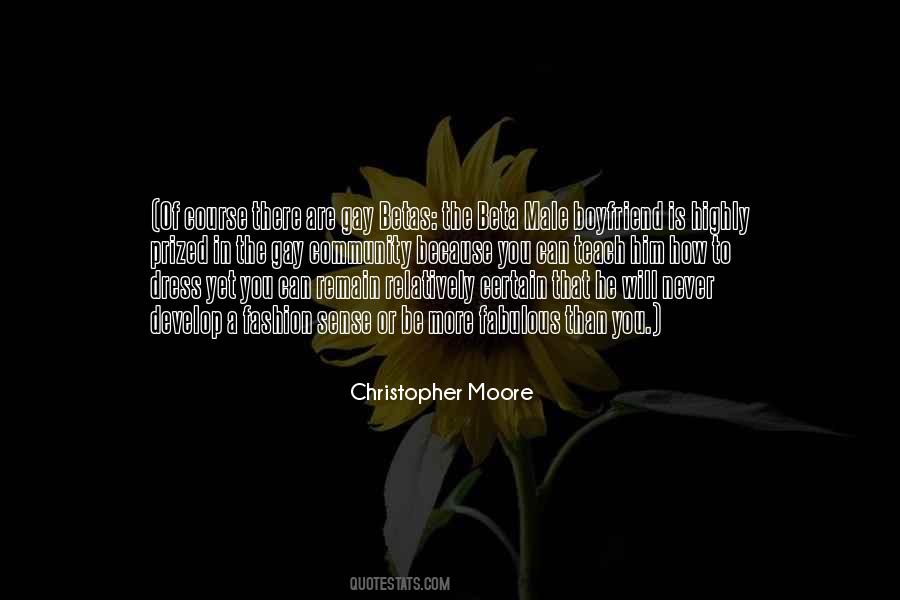 #91. As we read the school reports on our children, we realize a sense of relief that can rise to delight that thank Heaven nobody is reporting in this fashion on us. - Author: J.B. Priestley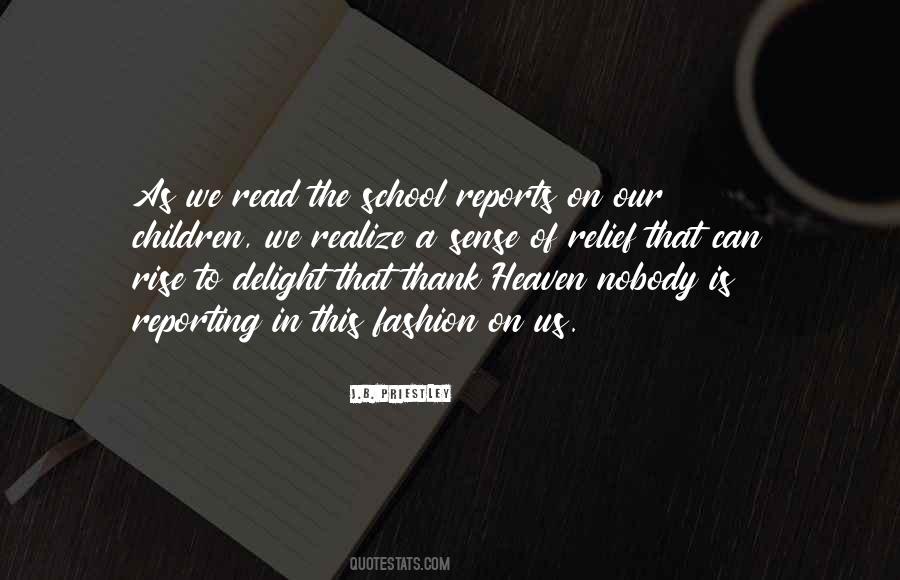 #92. An appreciation for high fashion does not preclude possession of common sense. - Author: Tasha Alexander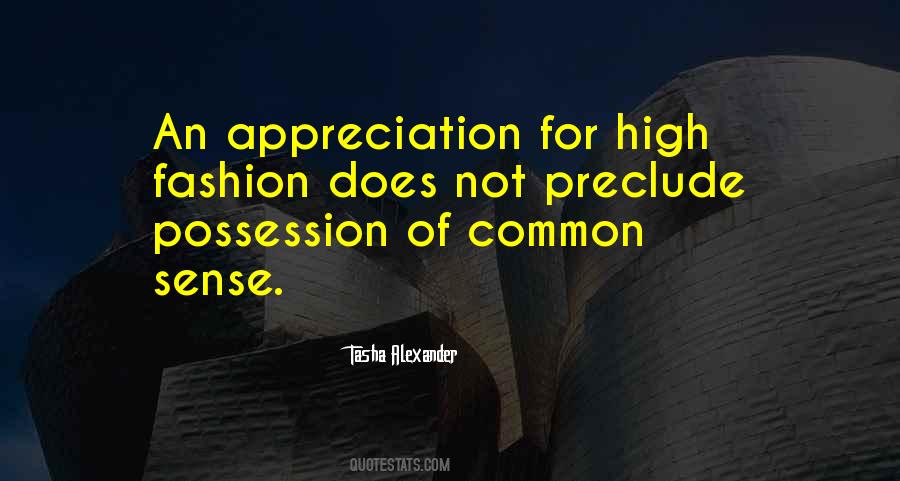 #93. An audible gasp went up from a nearby clutch of women whose fashion sense bound their thinking tighter than a whalebone corset. - Author: Bob Larranaga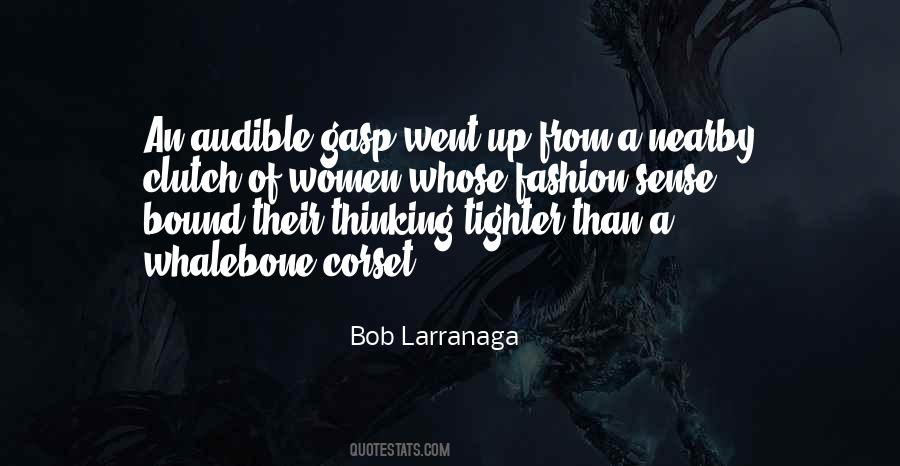 #94. There really is no sense in pretending to be normal. Just be you because the moment you do, weirder things happen. Crazy comes back into fashion and every woman has to go out and find her some. - Author: Shannon L. Alder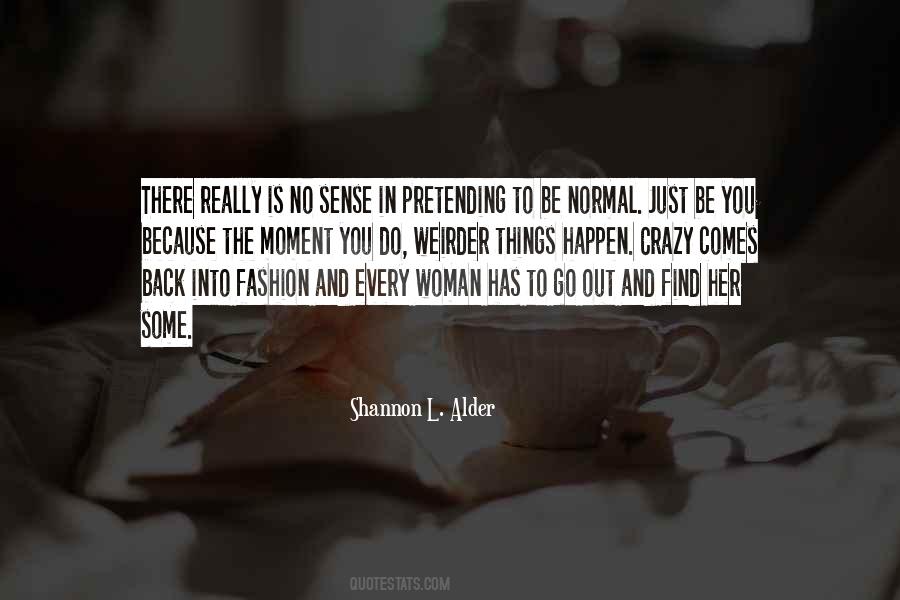 #95. I would definitely trade clothes with Lucy Hale. Her fashion sense is right on point, and I feel like she's never afraid to take risks with her clothes. - Author: Olivia Holt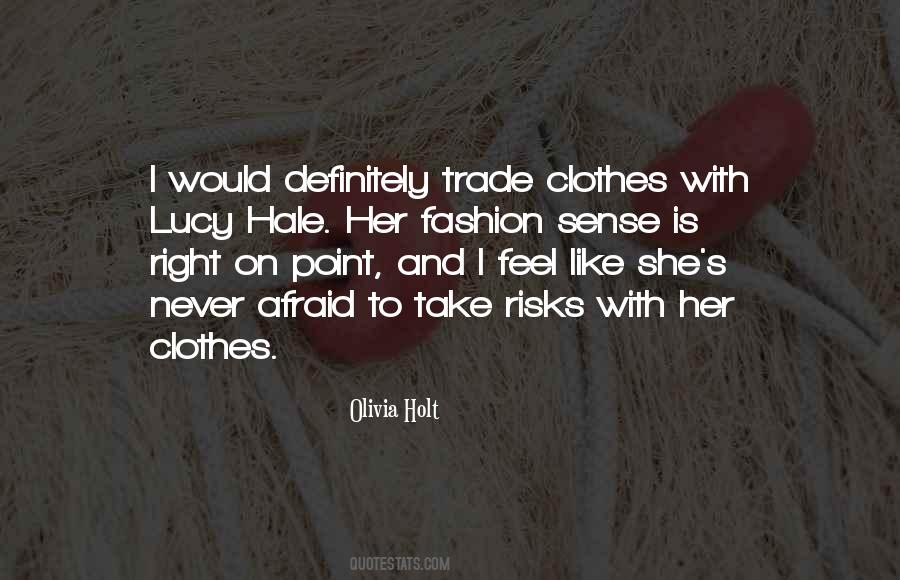 #96. I'm the most unlikely person when it comes to fashion. I don't really have much sense of it. - Author: Travis Fimmel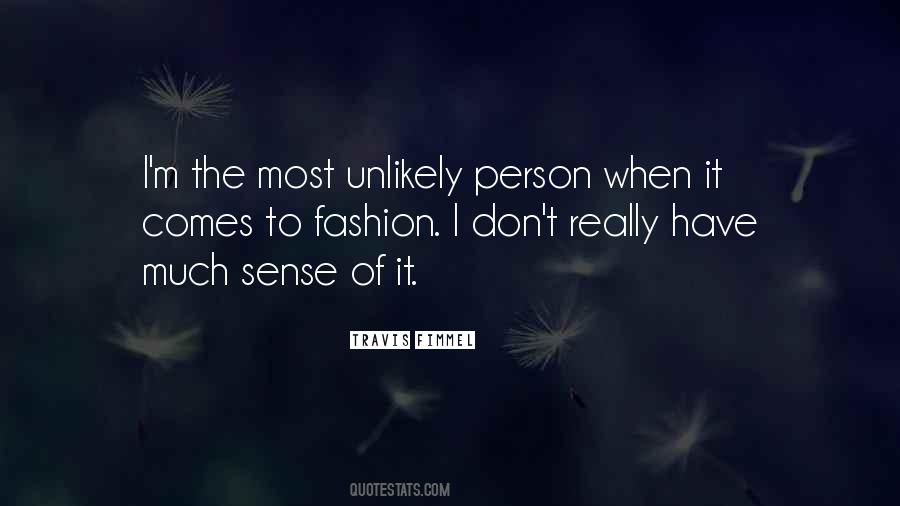 #97. There are people I've worked with who have never understood how fashion works. They keep saying they love fashion, yet they've never actually grasped that this isn't yoghurt or a piece of furniture - products in the purest sense of the term. - Author: Nicolas Ghesquiere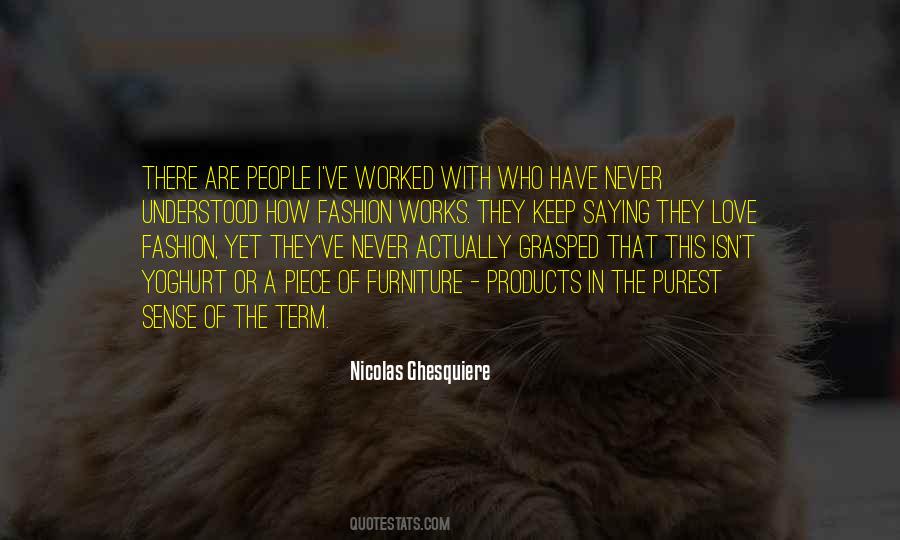 Famous Authors
Popular Topics