Yin And Yang Famous Quotes & Sayings
List of top 75 famous quotes and sayings about yin and yang to read and share with friends on your Facebook, Twitter, blogs.
Top 75 Quotes About Yin And Yang
#1. The kitchen. The bathroom. The yin and yang of the household. - Author: David C. Holley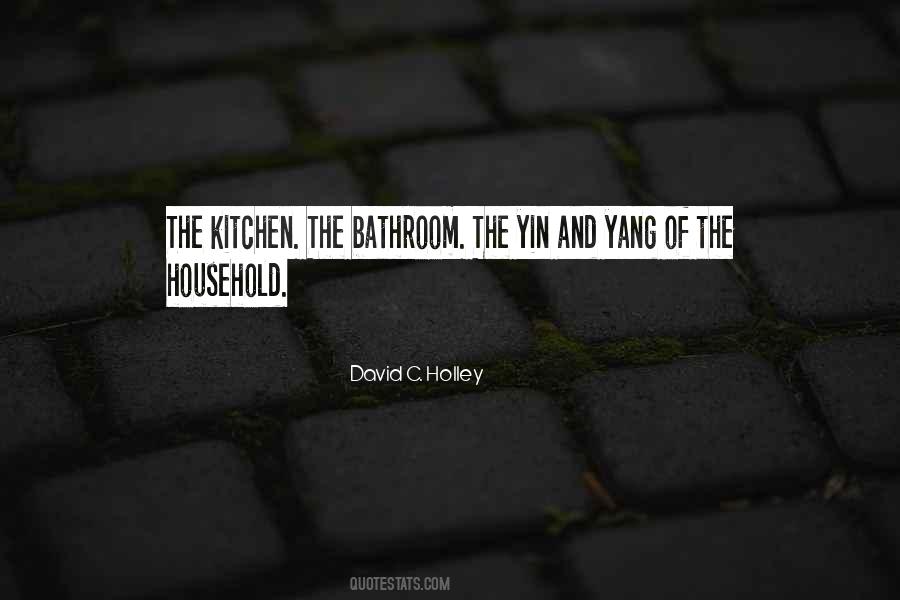 #2. There is no life without death. That is the true meaning of yin and yang - Author: Lisa See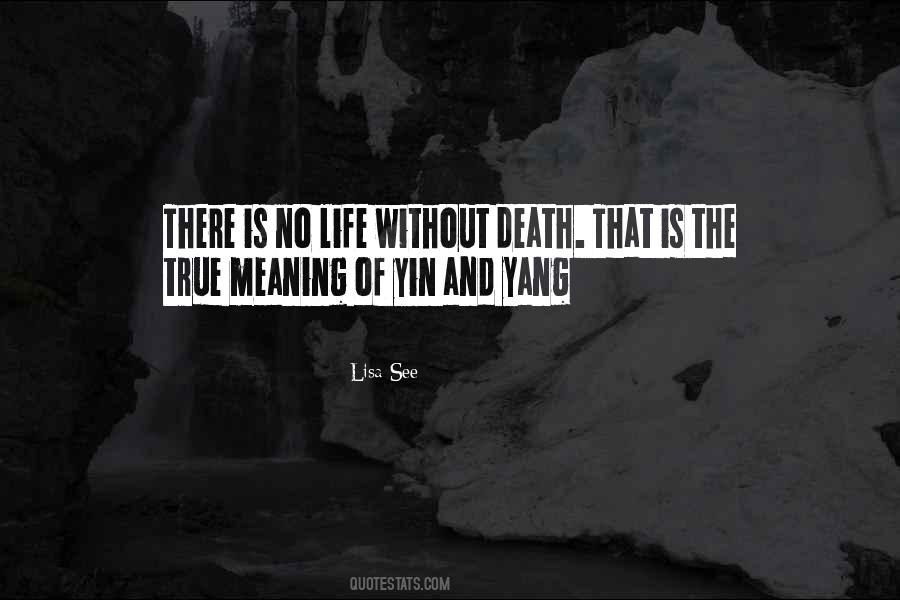 #3. The division yin and yang pervades all culture, history, economics, nature itself; modern Western versions of sex discrimination are only the most recent layer. - Author: Shulamith Firestone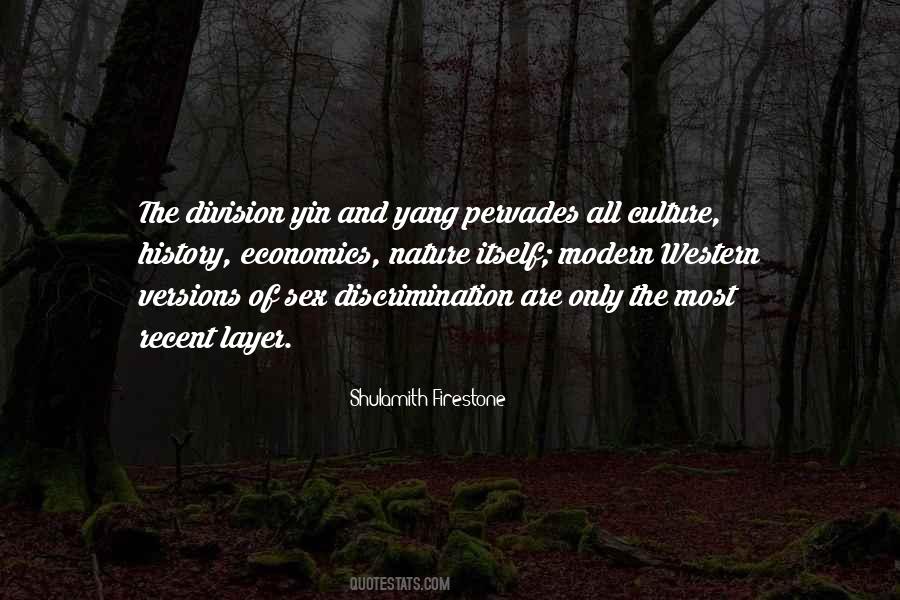 #4. If it were me, I'd be flying off the handle and freaking out. But he's not. He's as calm as can be. We're like yin and yang. Perfect opposites. - Author: Courtney Cole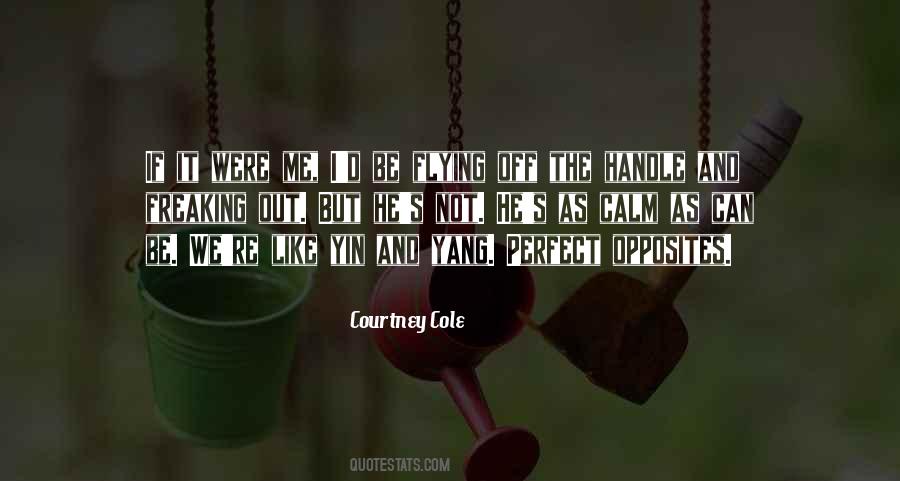 #5. However smart and determined you are, your life is always going to consist of light and darkness, joy and sadness, good or bad, up and down, yang and yin. - Author: Gary Hayden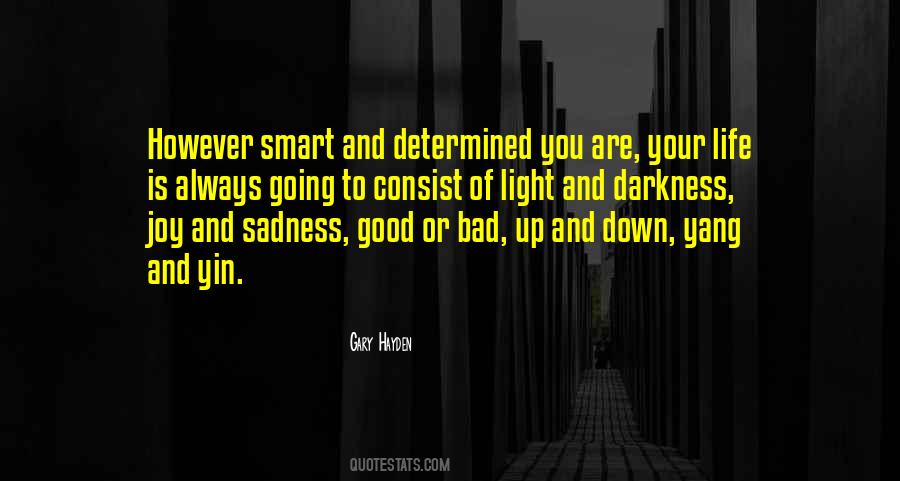 #6. Said the man to the sun, "How I wish you could shine your light on every day of my life!"
Said the sun to the man, "But only with the rain and the night could you recognize my light."
---Domaccan poem, translated by Chevalle - Author: Marie Lu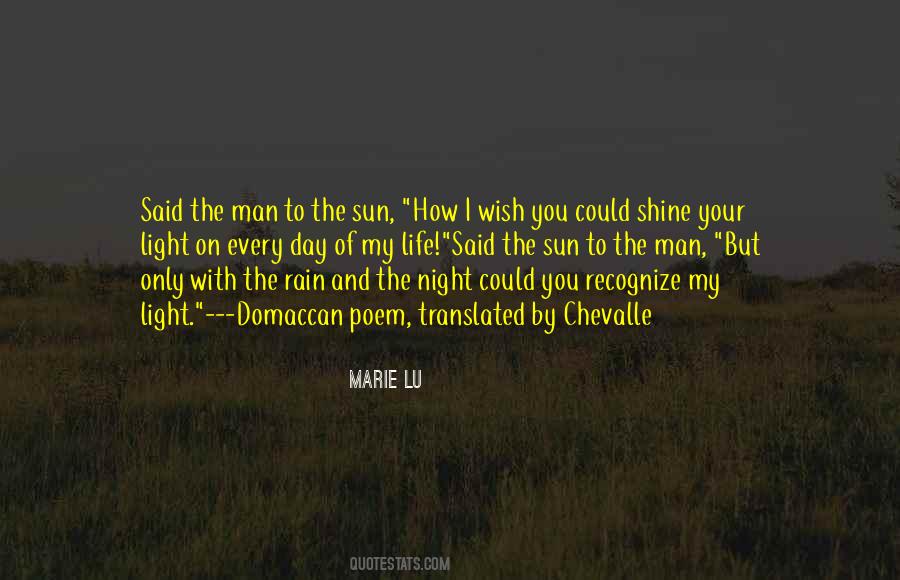 #7. Sex is life: The act of creation in pleasure, the loss of oneself in another, the coming together of opposites in a temporary union of yin and yang, that creates something other than either. What is life if not this? - Author: Frederick Lenz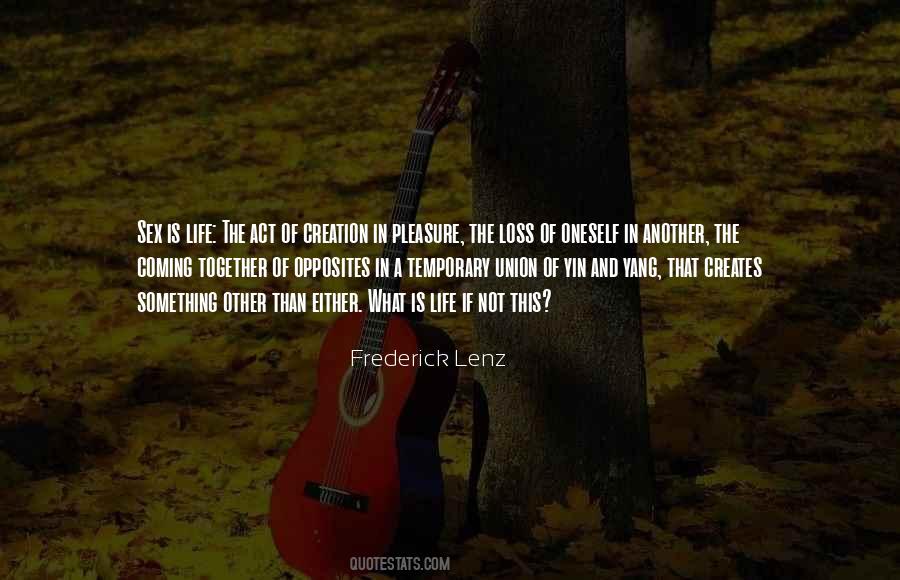 #8. Bad chemicals and bad ideas were the Yin and Yang of madness. - Author: Kurt Vonnegut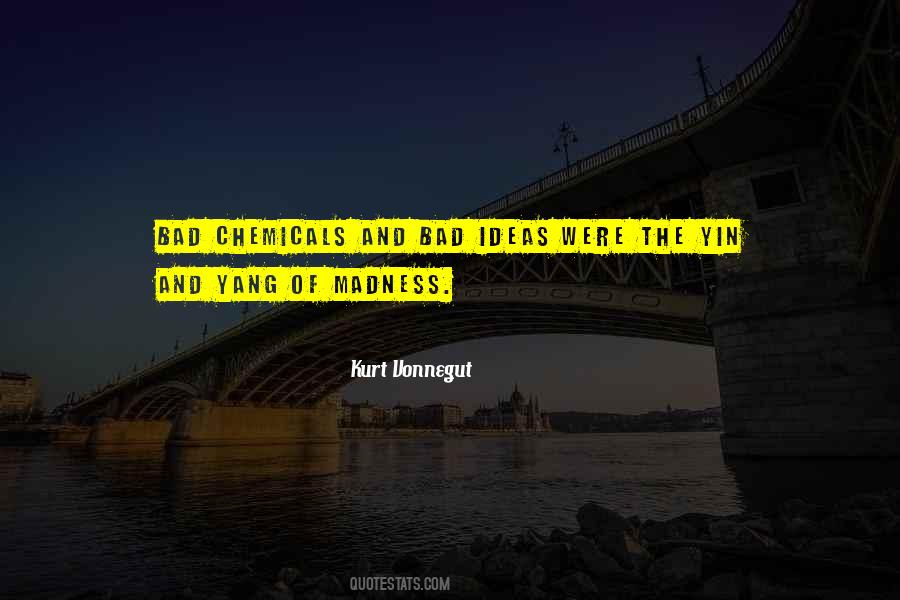 #9. In the West when you talk about yin and yang, people normally think of yin and yang as something that's linear. But in the east we tend to think of yin and yang as circles. They're two circles that actually can lie on top of each other, yet they remain separate. - Author: Frederick Lenz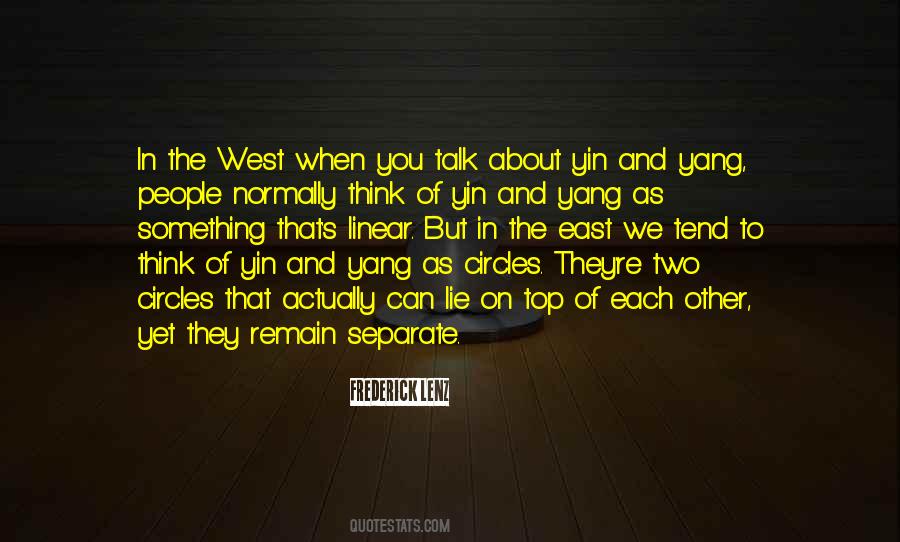 #10. I saw darkness in her beauty, and she saw beauty in my darkness. Yin and yang. Black and white. Beauty and scars; fury and forgiveness. She should've been my nemesis, but in her, I found something I didn't know I was looking for. - Author: Keri Lake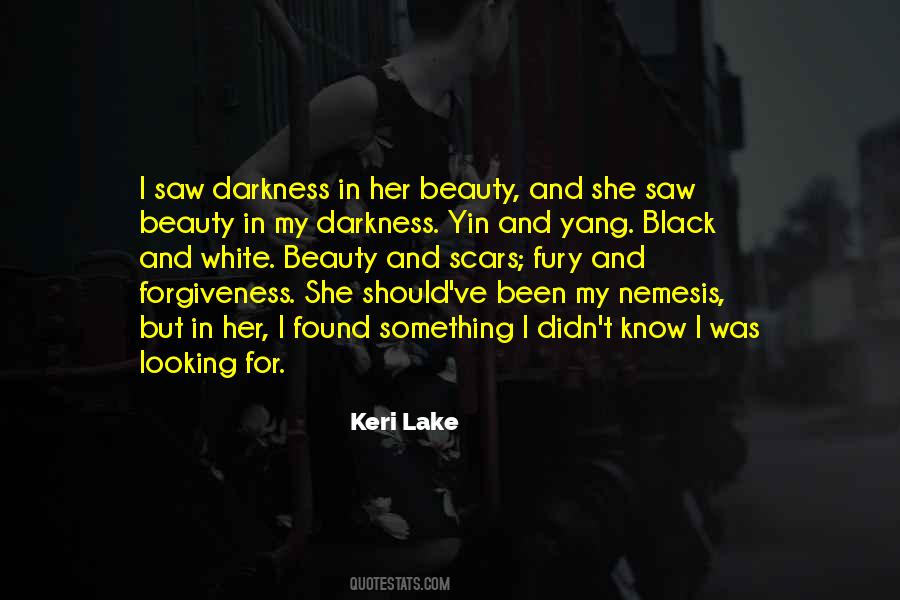 #11. Yin and Yang are one vital force
the primordial aura. - Author: Wang Yangming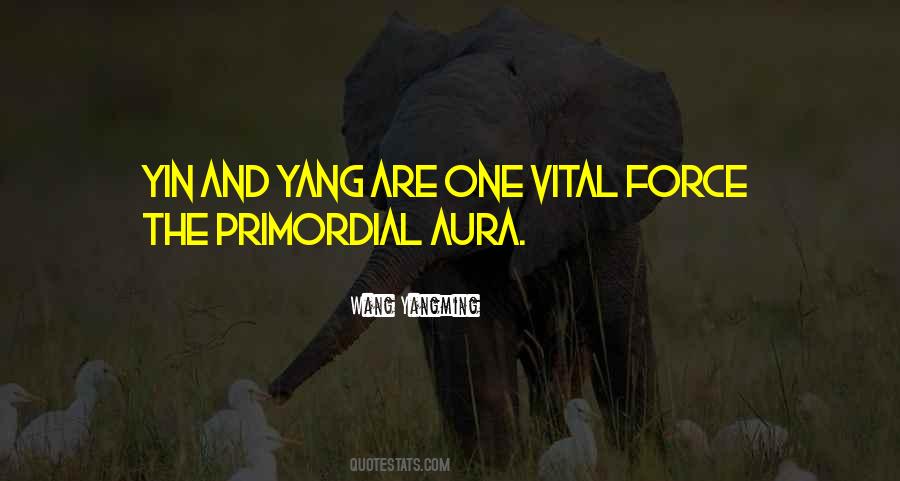 #12. Taoist philosophy is essentially monistic. Matter and energy, Yang and Yin, heaven and earth, are conceived of as essentially one or as two coexistent poles of one indivisible whole. - Author: Bruce Lee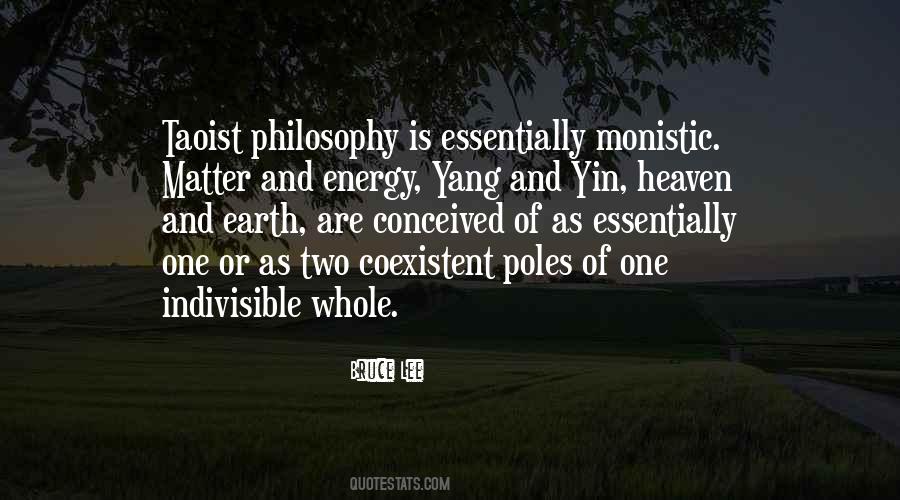 #13. Accept your dark side, understanding it will help you to move with the light. Knowing both sides of our souls, helps us all to move forward in life and to understand that, perfection doesn't exist. - Author: Martin R. Lemieux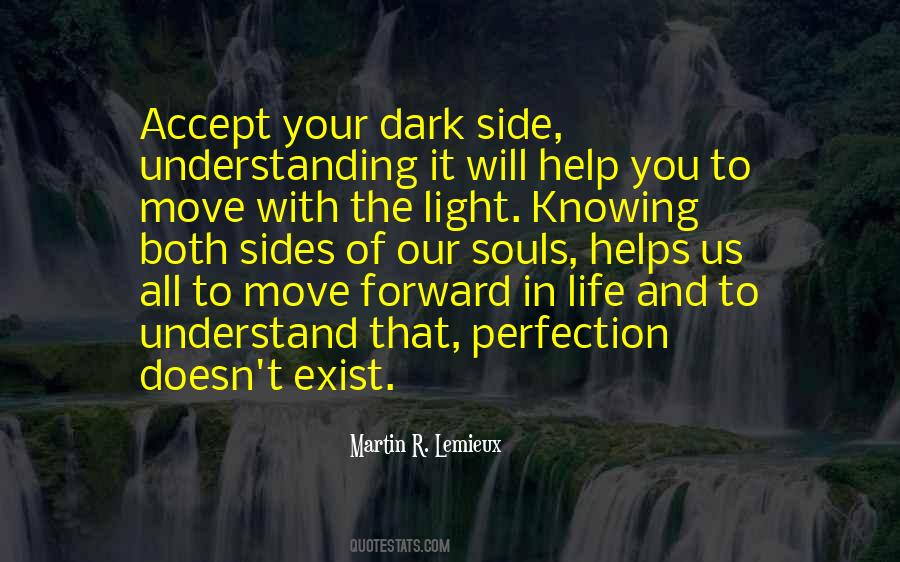 #14. To confront those fears, in a controlled environment, where there's 300 people around you going through the same thing, it's this weird sort of yin and yang. - Author: Adam Arkin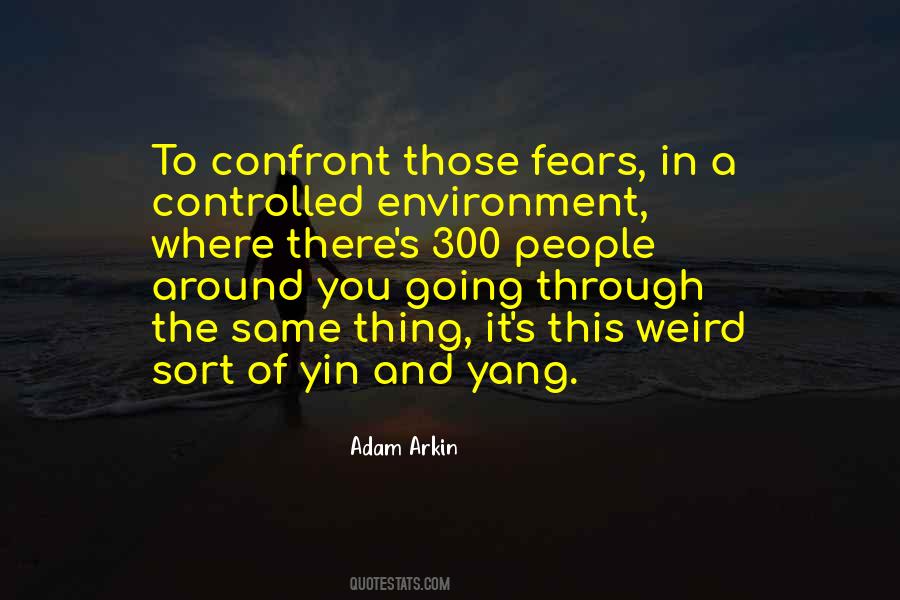 #15. All things carry yin and embrace yang. They reach harmony by blending with the vital breath. - Author: Laozi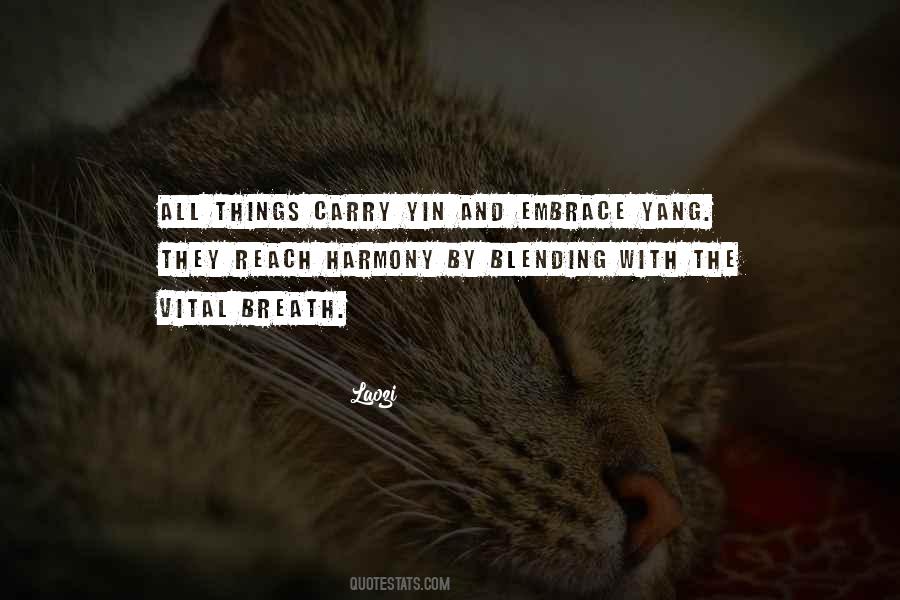 #16. Spiritual balance is tai chi. It is the center of things. It is the place where yin and yang meet. In the chakras, it is considered the heart chalkra, anahata. - Author: Frederick Lenz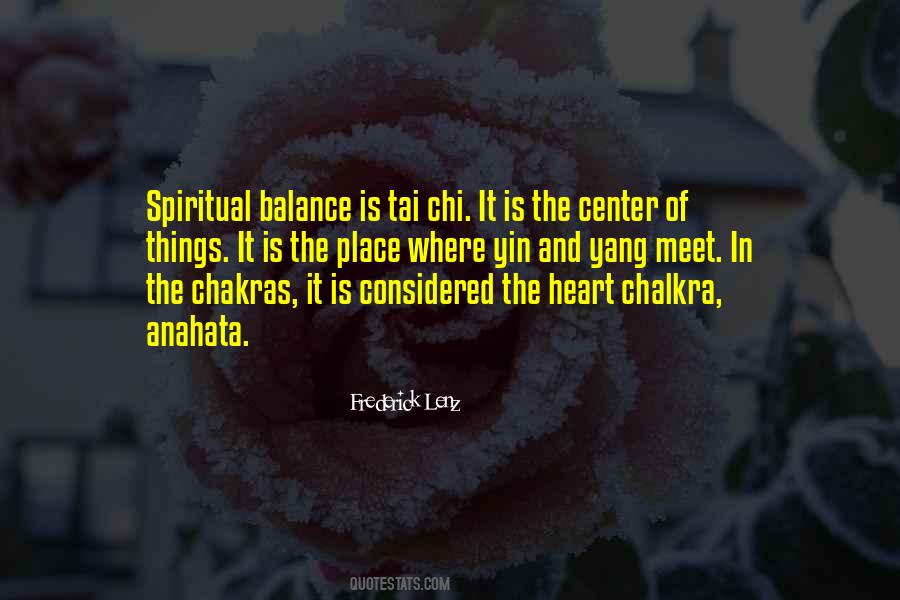 #17. There are no greater adversaries than yin and yang, because nothing in Heaven or on Earth escapes them. But it is not yin and yang that do this, it is your heart that makes it so. - Author: Zhuangzi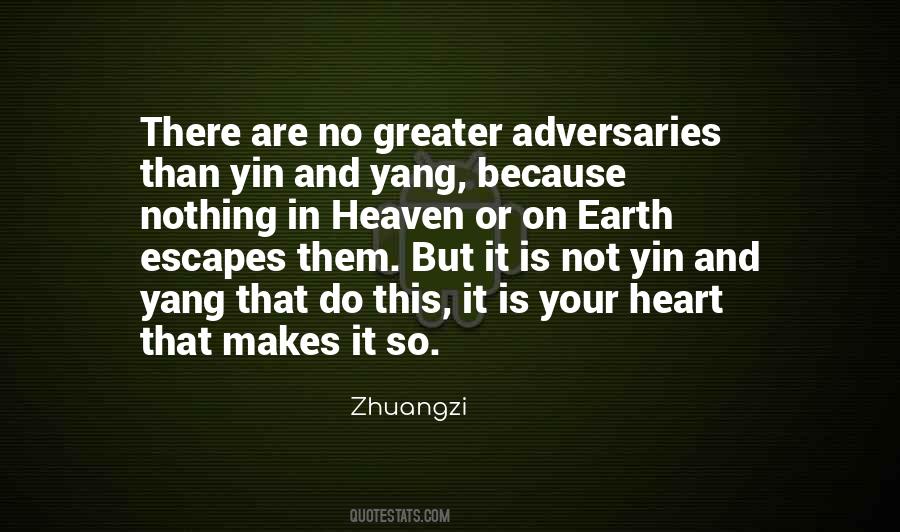 #18. What we are seeking is the nexus of all possible worlds and states of mind, which is within us. The source of yin and yang is within you. - Author: Frederick Lenz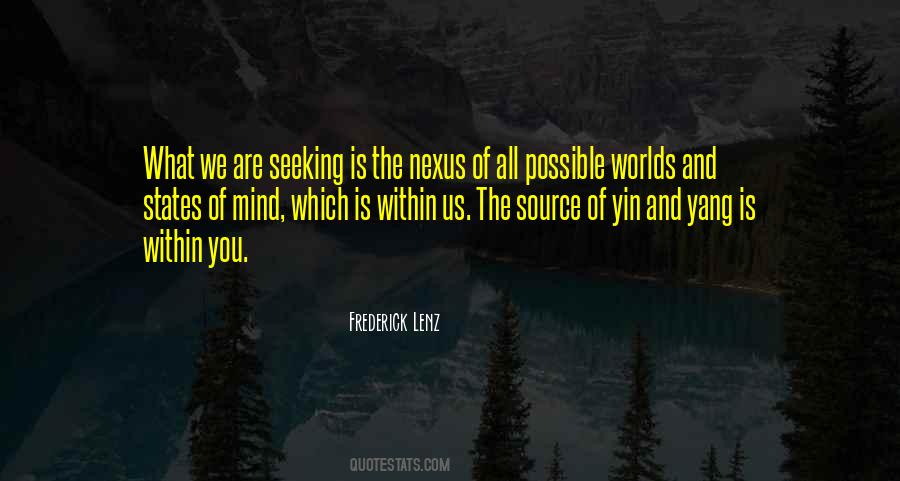 #19. When you expect something, when you aim at something, right there you dilute your energy; you split your energy, you split your attention and it becomes more than the place of yin and yang. You do not only divide, but you create the problem. - Author: Taizan Maezumi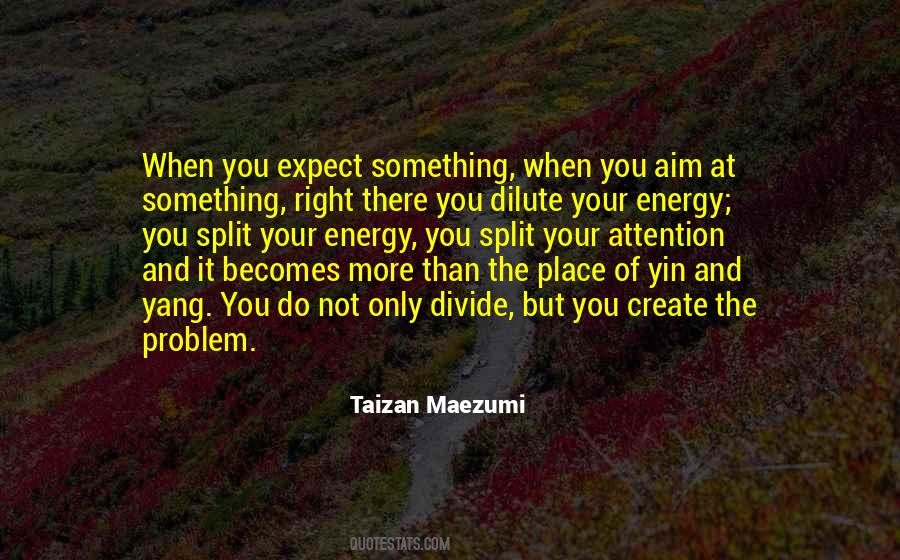 #20. We are a product of love, so why stop loving ourselves and others. - Author: Vishwas Chavan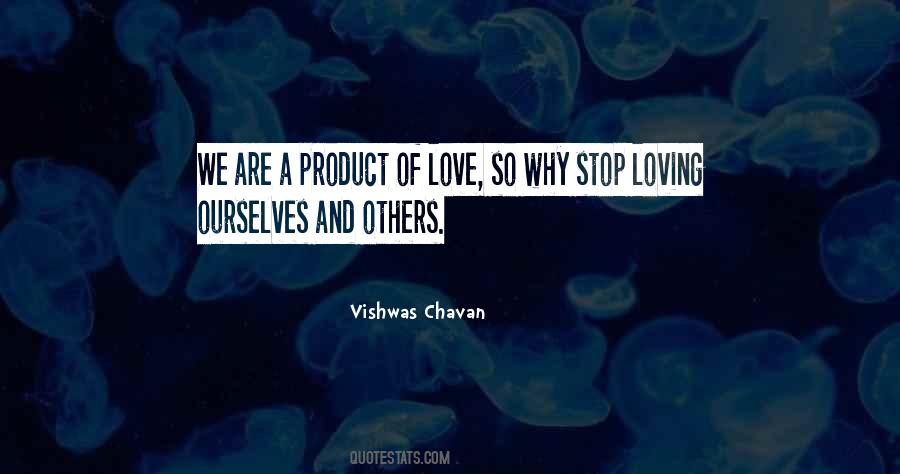 #21. But greatness is in the act of creation and not necessarily in the finished product. Creating is the yin to the yang of our consumption and the doorway to beauty that we all want to walk through. Creating is how I tell the world I love it. I - Author: Kevin Hearne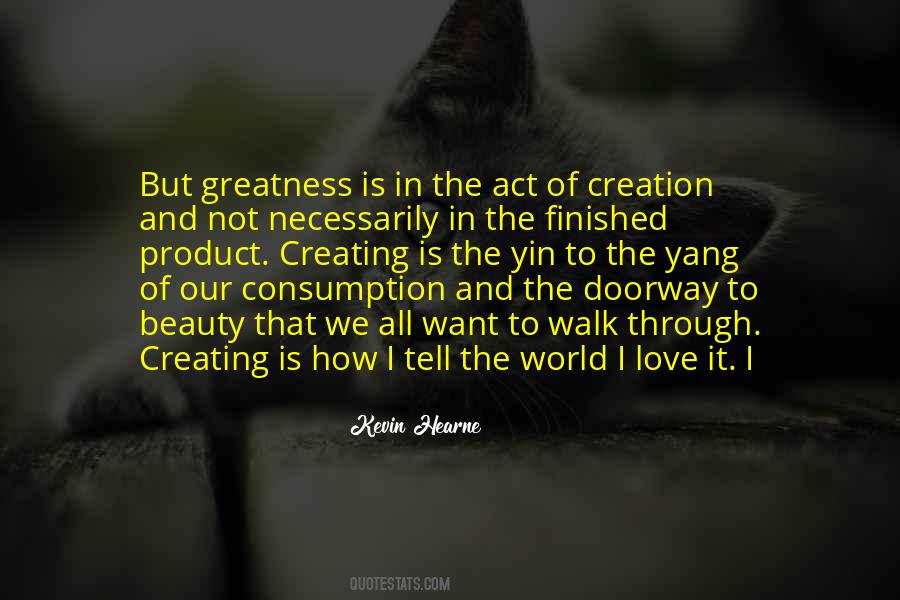 #22. I am jewelry and objects together. This is the Elsa Peretti name to me. It is a very good balance for me to try and create with the person in mind or with the space in mind - to imagine a bowl of fruit or something for water. It is a little bit yin and yang. - Author: Elsa Peretti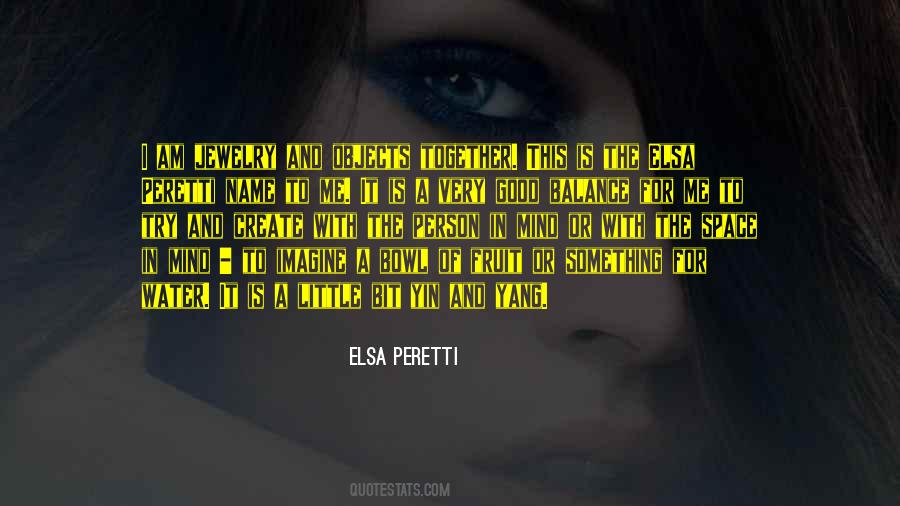 #23. 'Six Feet Under' was about repressing our deepest, most primal impulses, and 'True Blood' is about giving full sway to them all the time. In a way they are like yin and yang. - Author: Alan Ball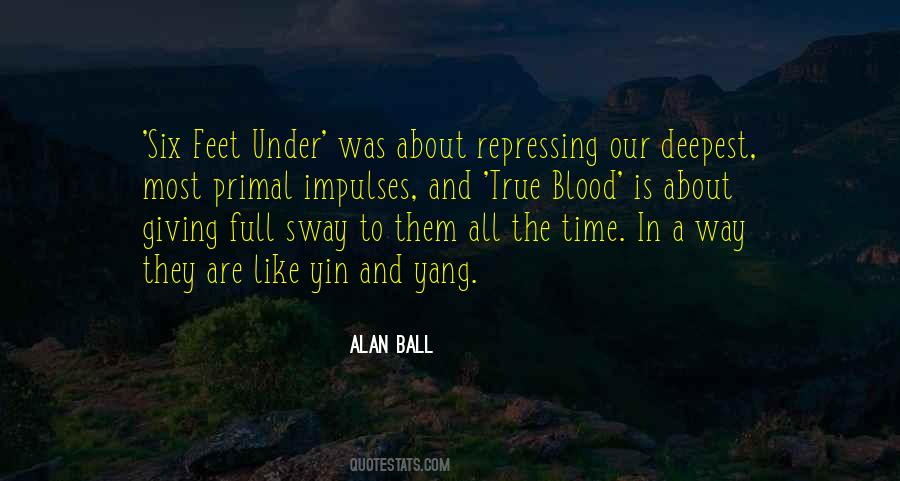 #24. Yin and yang, male and female, strong and weak, rigid and tender, heaven and earth, light and darkness, thunder and lightning, cold and warmth, good and evil ... the interplay of opposite principles constitutes the universe. - Author: Confucius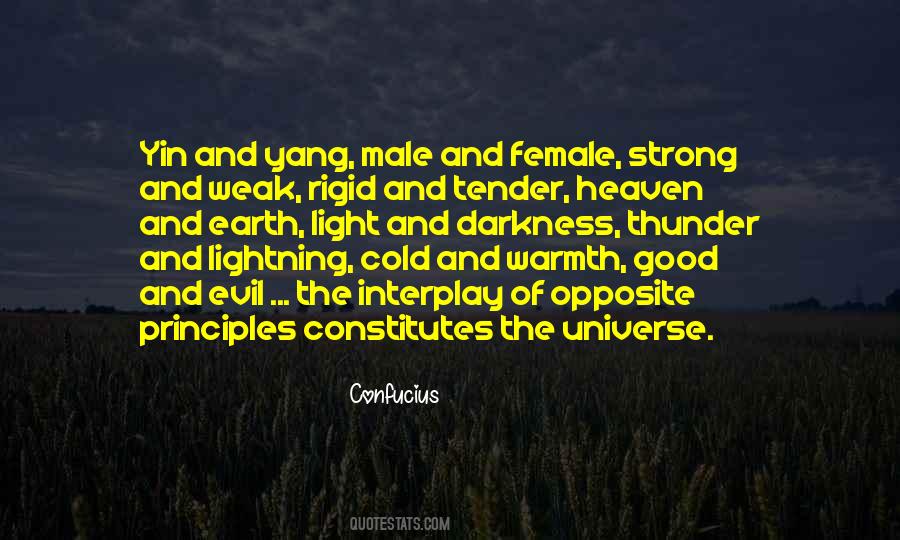 #25. I like the yin-yang of a cop's life, where he's part fascist and part saint. That's where the good dramas are. - Author: Clark Johnson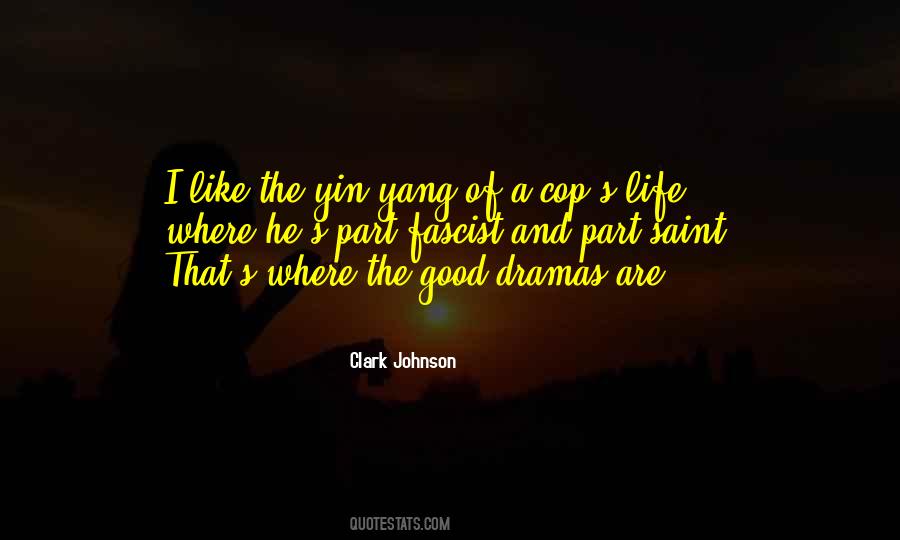 #26. It is yin and yang. Light is the left hand of darkness ... how did it go? Light, dark. Fear, courage. Cold, warmth. Female, male. It is yourself ... both and one. A shadow on snow. - Author: Ursula K. Le Guin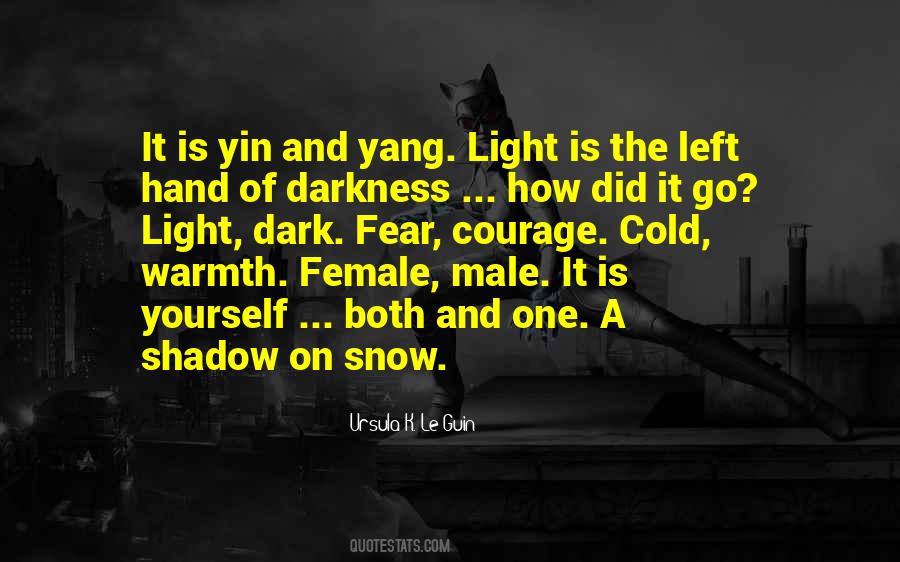 #27. Ribbing, moss, seed, and garter are all balanced and combine the yin and yang of knitting - Author: Stephanie Pearl-McPhee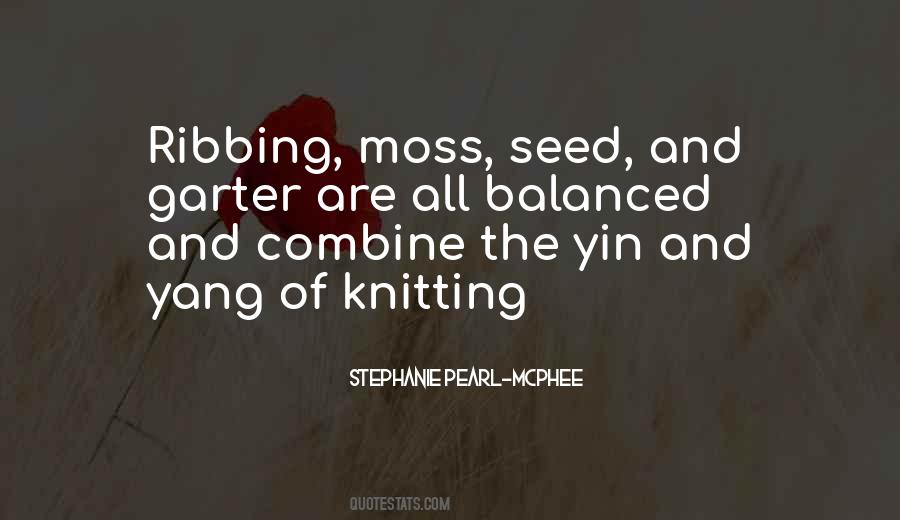 #28. We are the yin and the yang of the creative process. - Author: Cynthia Weil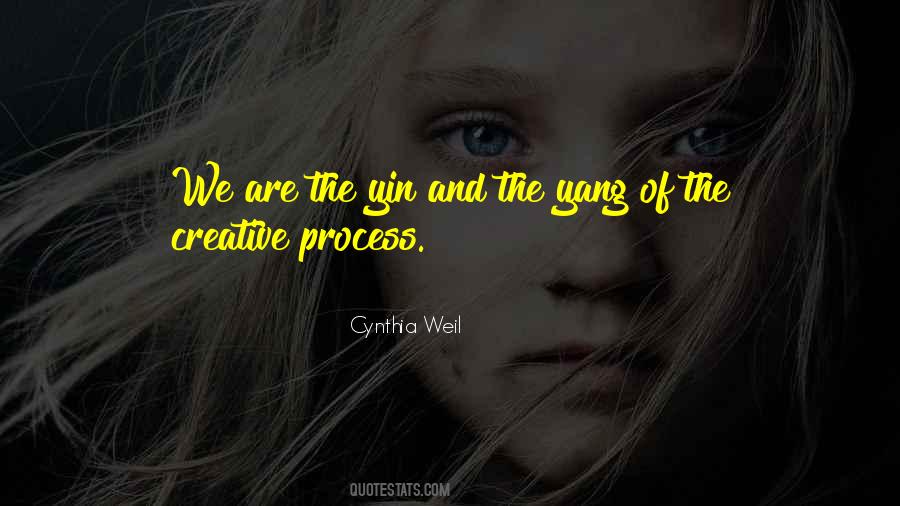 #29. All in the eye of the beholder - Some of the most destructive forces in the world (Fire & Water), can also have the power of beauty. - Author: Martin R. Lemieux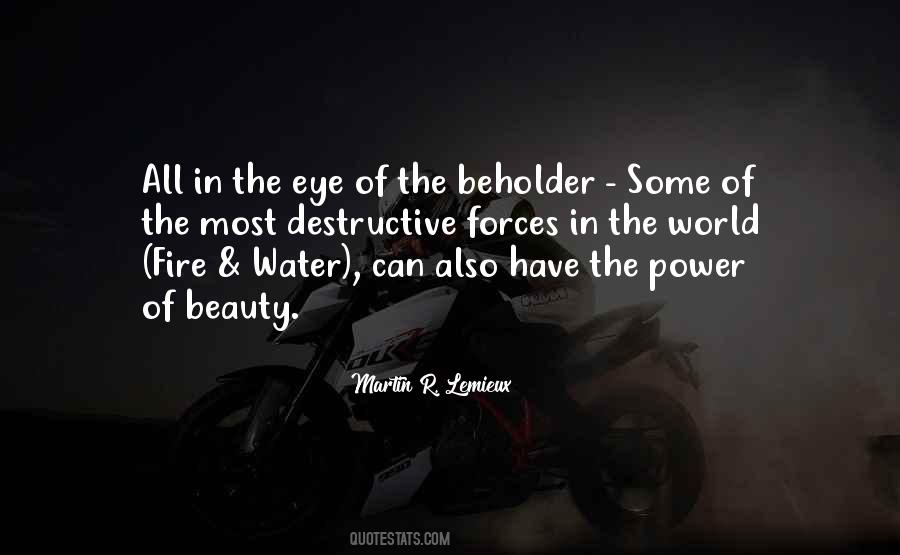 #30. The dense Yin Organs of the Liver, Heart, Spleen, Lung, and Kidney store the essential and potential energy derived from substances; the hollow Yang Organs of the Gallbladder, Small Intestine, Stomach, Large Intestine, and Bladder process the substances of the external environment. - Author: Harriet Beinfield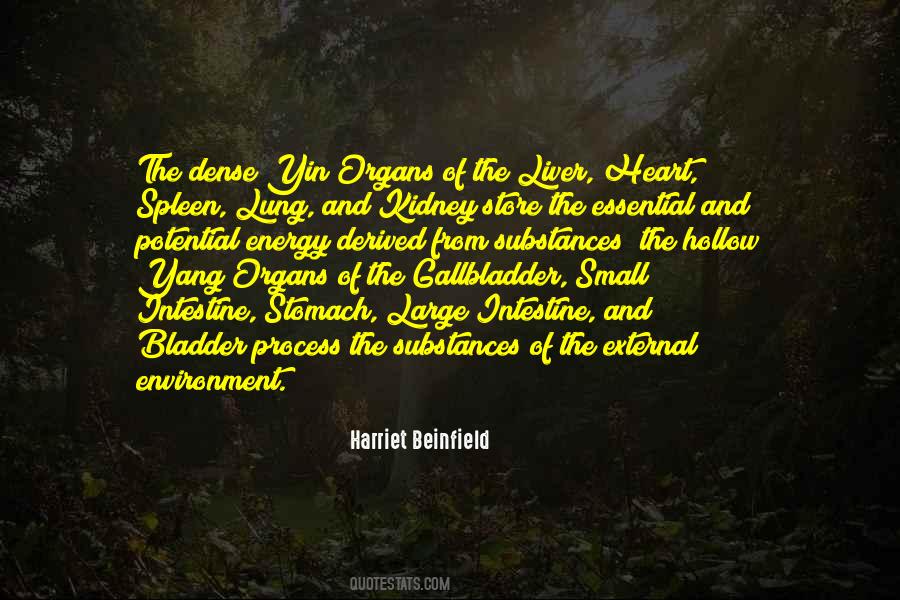 #31. The most basic principle of Yin and Yang is that one cannot exist without the other," I stated, stepping towards her. "There can be no light without the dark, no good without evil, and no you without me; we are complementary opposites that balance each other. - Author: Meka James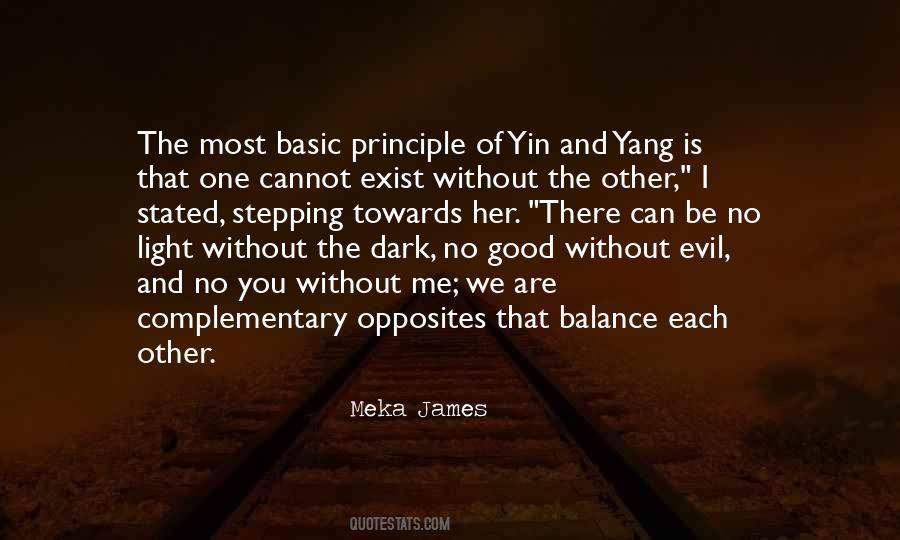 #32. Whenever you're making a dark comedy, you're always looking for the yin and yang in an actor. - Author: Jamie Babbit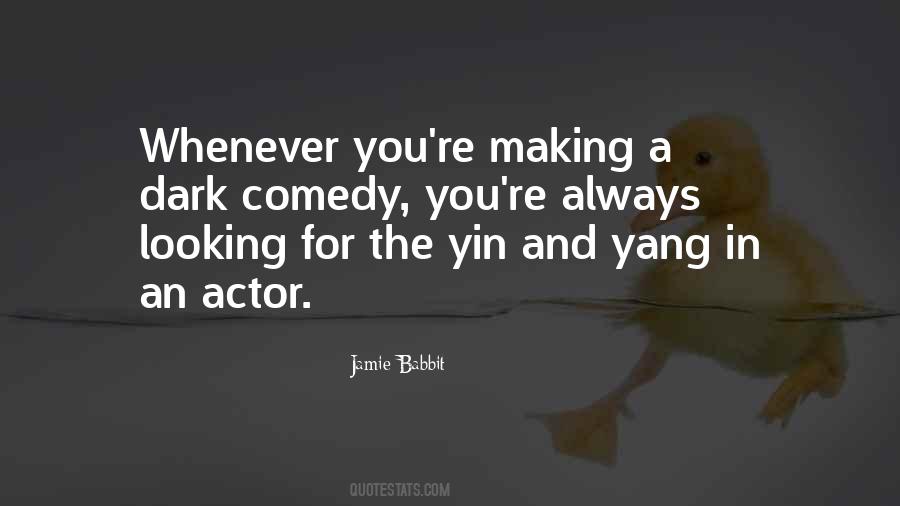 #33. The world is, was, will always be filled with good and evil, because good and evil is the yin and yang of the human condition. - Author: Philip Zimbardo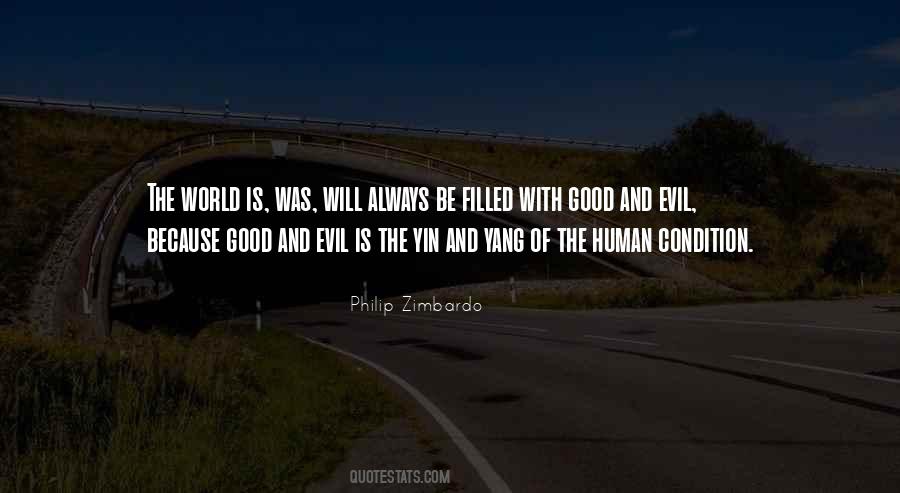 #34. Your greatest attribute, that which allows you to accomplish most in life and the most treasured aspect of your being will often be the source of your greatest suffering. - Author: Chris Matakas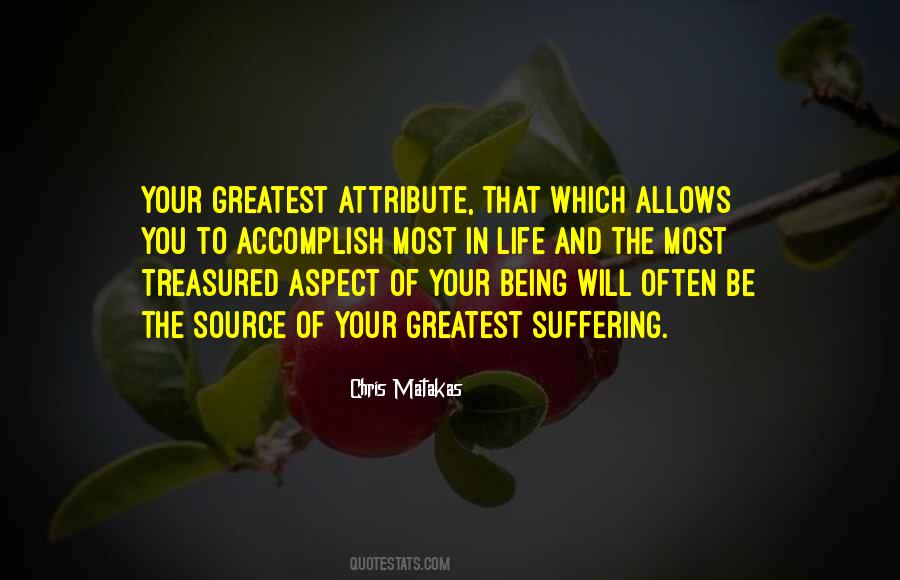 #35. The Pentacle - The ancients envisioned their world in two halves - masculine and feminine. Their gods and goddesses worked to keep a balance of power. Yin and Yang. When male and female were balanced, there was harmony in the world. When they were unbalanced there was chaos. - Author: Dan Brown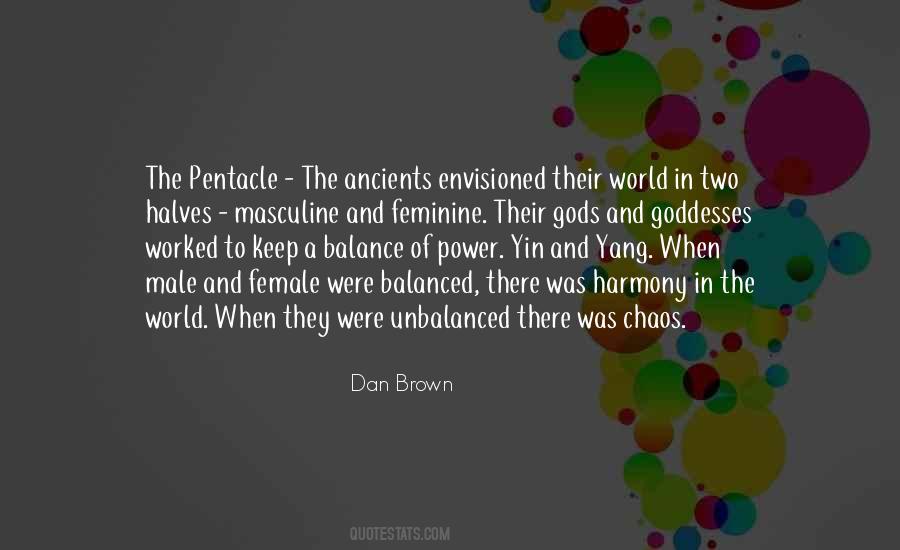 #36. When you read about the real history of where feminism comes from, it came from a very political point of view. I don't believe in bringing any politics to an idea like feminism. I love the idea that women should be celebrated, but I also believe men should be, too. We need both - yin and yang. - Author: Michelle Phan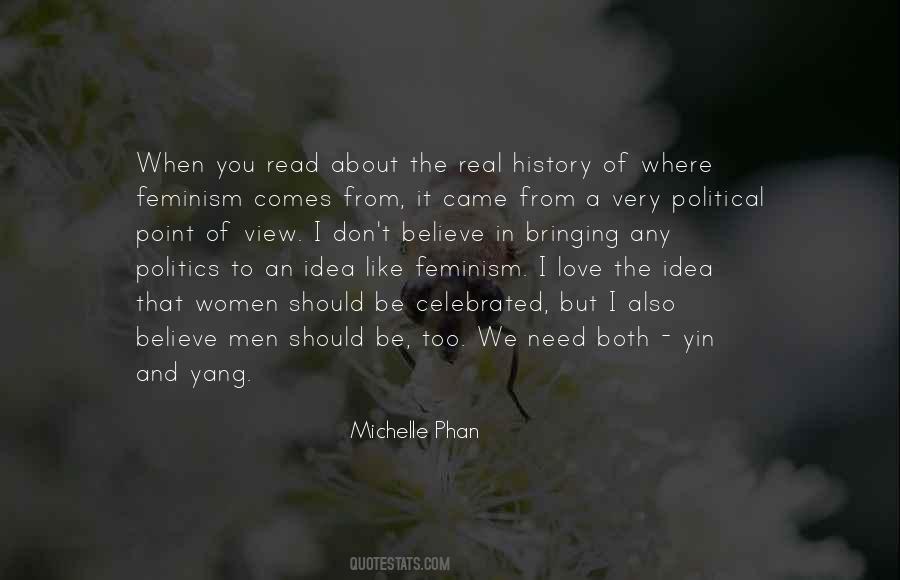 #37. For woman is yin, the darkness within, where untempered passions lie. And man is yang, bright truth lighting our minds. - Author: Amy Tan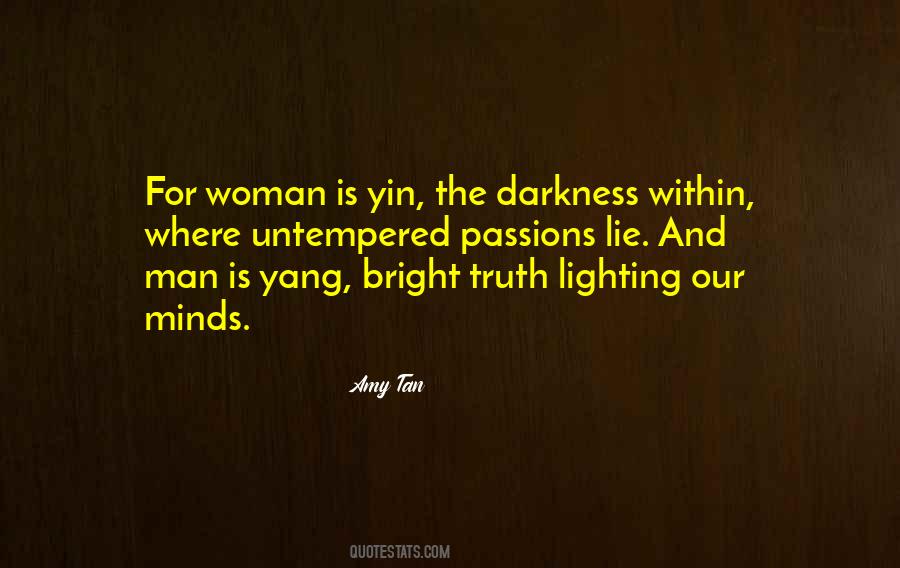 #38. I see a design similar in nature to the yin-yang symbol. The yin or dark side represents the female and the yang, which is the light side, represents the male. These two sides are in perfect balance and harmony with one another. - Author: Colleen Houck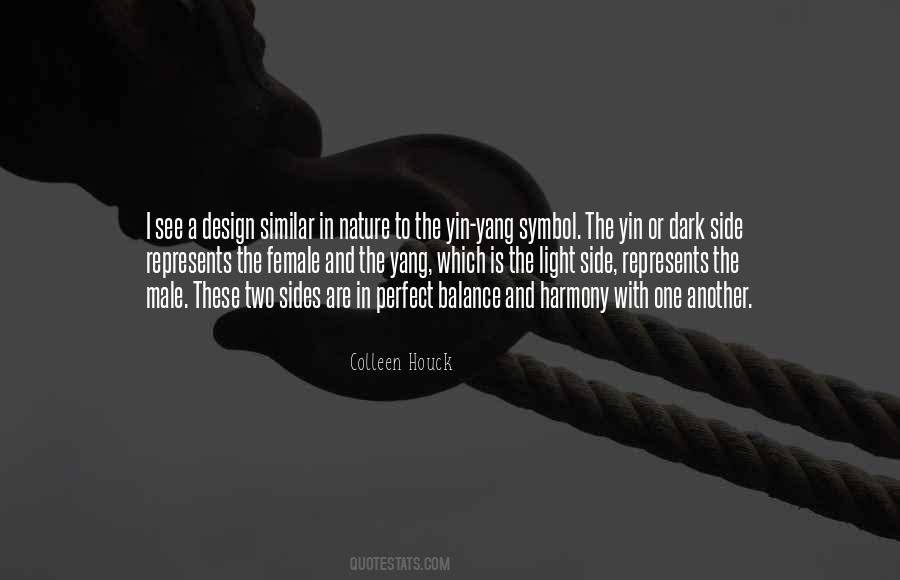 #39. How I spend my time is my right
but in the end, it still affects those I don't leave time for. There's a yin and yang in life. But people seriously don't ever realize it until it's too late. - Author: Rachel Van Dyken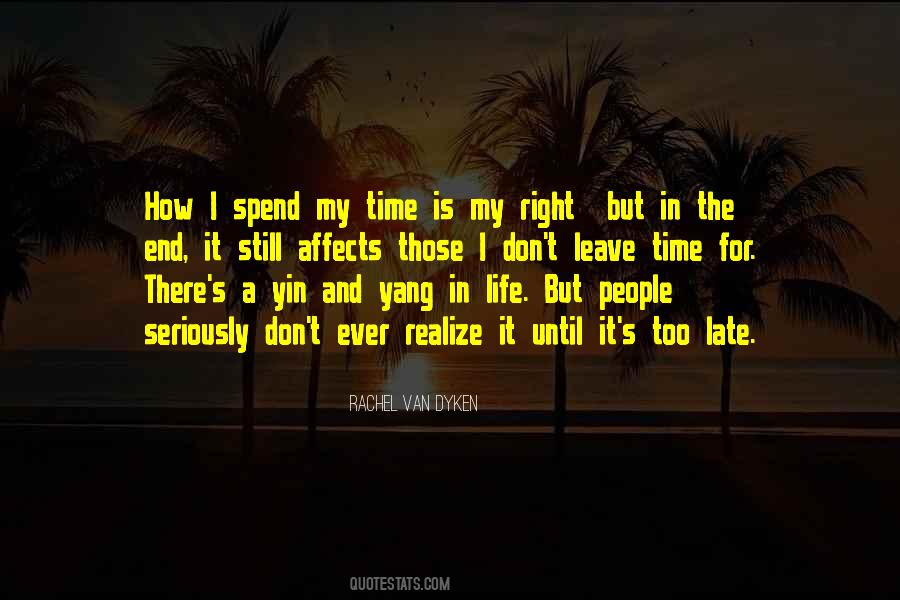 #40. There's eternal opposition between yin and yang.
No third party at all, but treason occurs sometimes. - Author: Toba Beta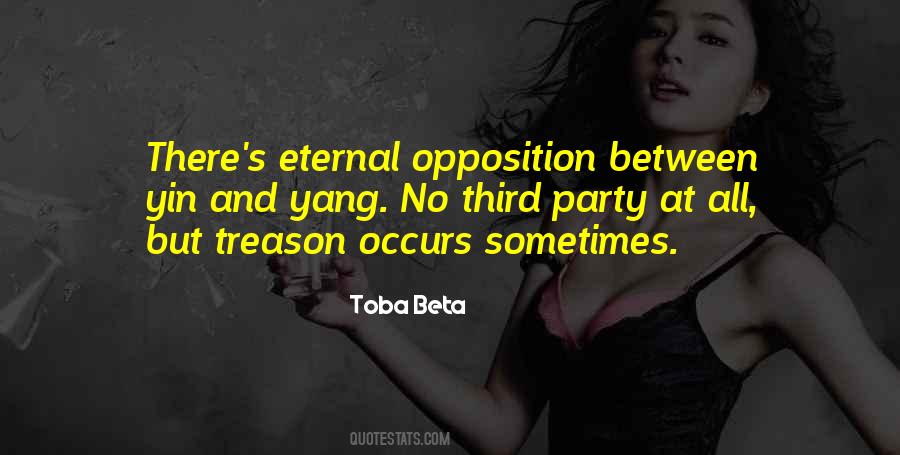 #41. We are only different because there exists something to be different from, and it is this difference that bonds us. - Author: Chris Matakas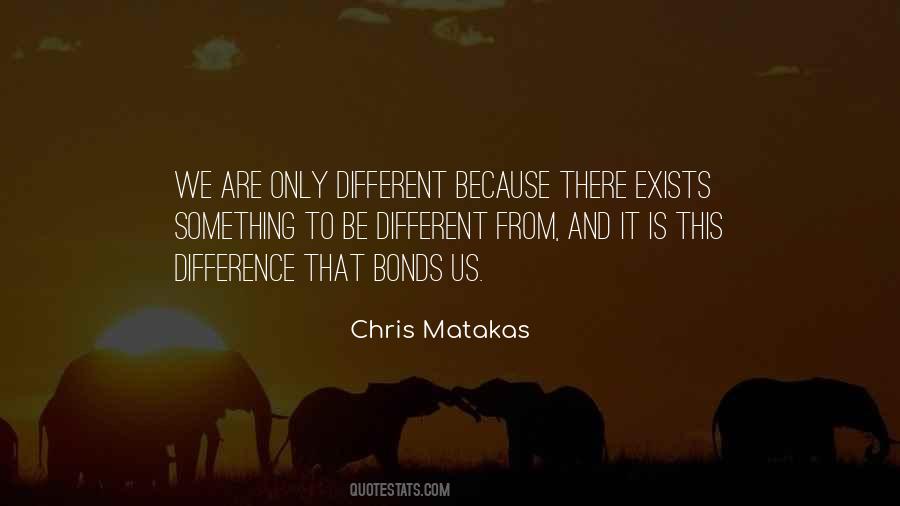 #42. Stillness and action are relative, not absolute, principles. It is important to find a balance of yin and yang, not just in qigong, but in everyday life. In movement, seek stillness and rest. In rest, be mindful and attentive. - Author: Ken Cohen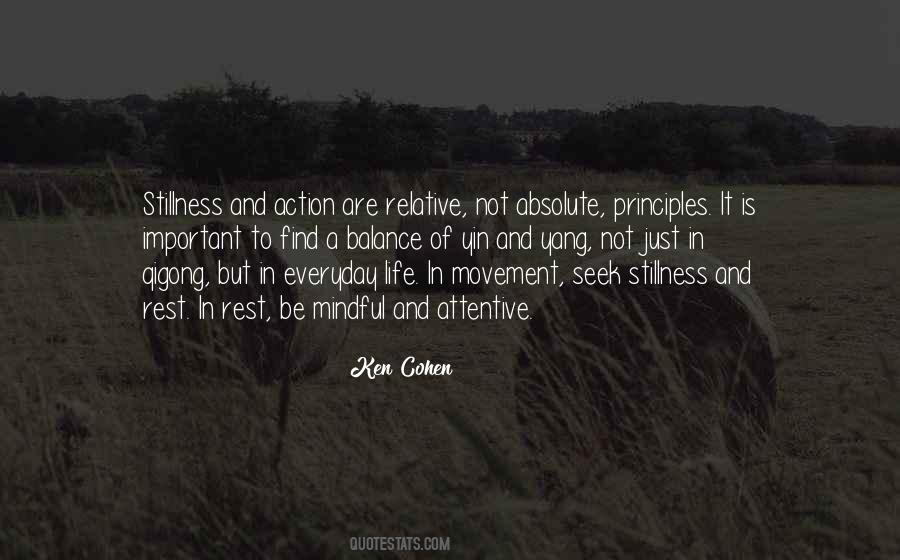 #43. Growing up, me and my brother, we were kind of exact opposites. We were completely yin and yang. He was more rough and tumble, and I just wanted to play with my girlfriends. - Author: Candis Cayne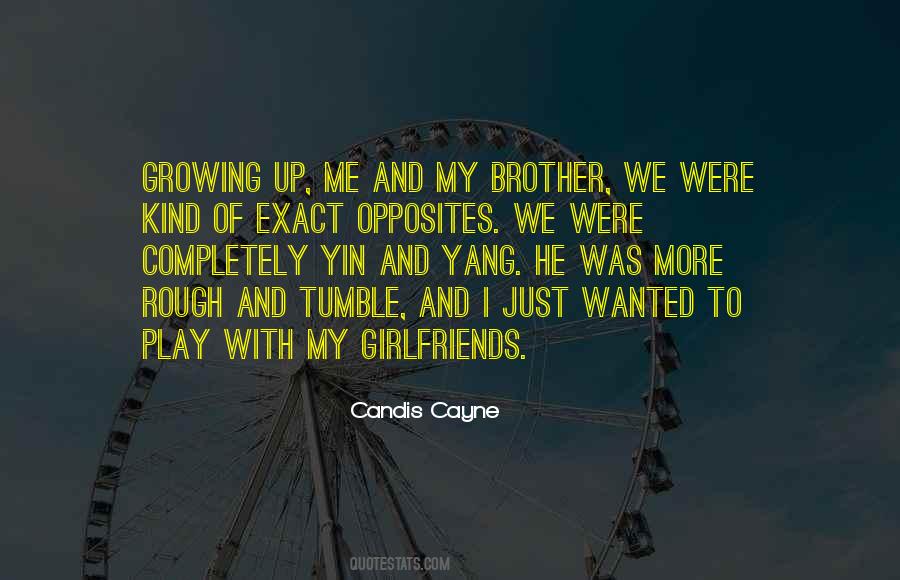 #44. Yin and yang are descriptive terms that are used to describe all levels of phenomena. Yin is the stable, unmoving, hidden aspect of an object. Yang is the changing, moving, revealing aspect of an object. - Author: Paul Grilley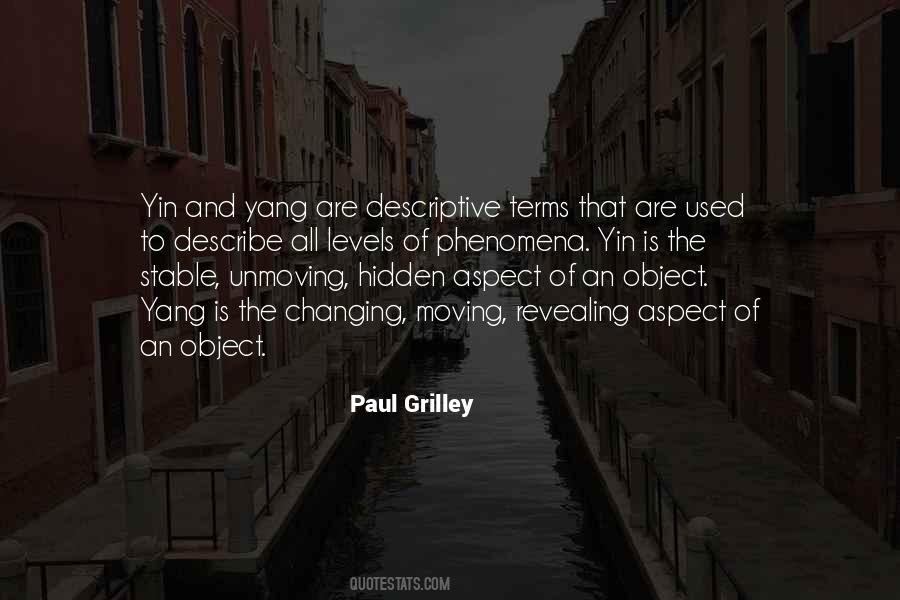 #45. Often, the truly great and valuable lessons we learn in life are learned through pain. That's why they call it "growing pains." It's all about yin and yang. And that's not something you order off column A at your local Chinese restaurant. - Author: Fran Drescher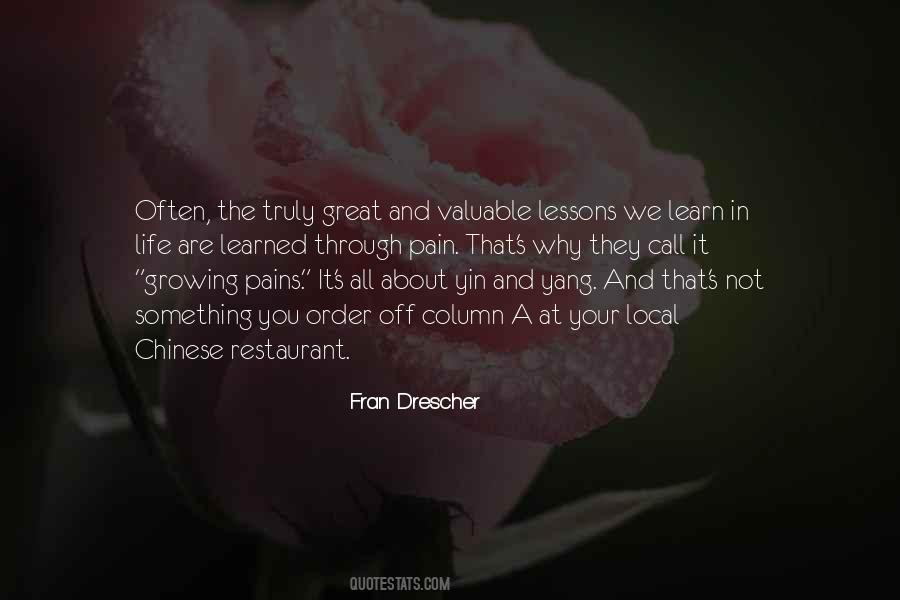 #46. Now, I know I am not a craftsmen... but greatness is in the act of creation and not necessarily in the finished product. Creating is the yin to the yang of our consumption and the doorway to beauty that we all want to walk through. Creating is how I tell the world I love it." ~ Atticus - Author: Kevin Hearne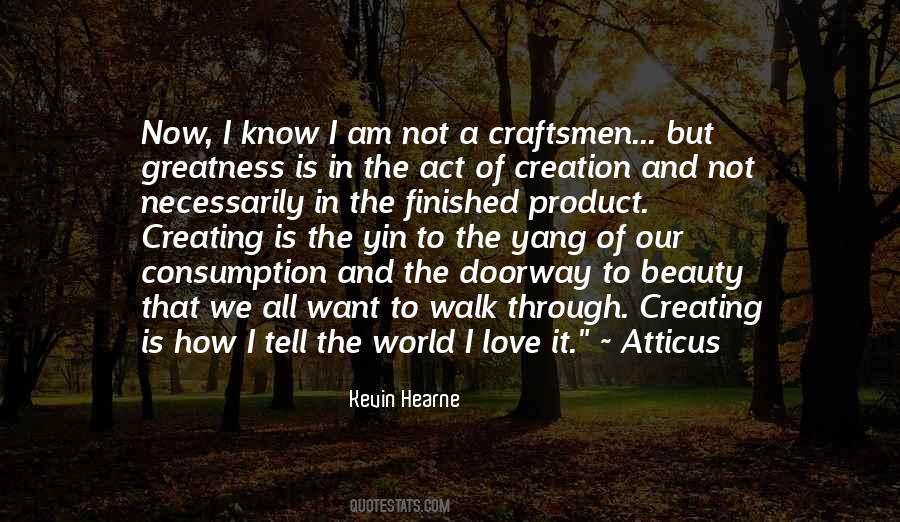 #47. There is a difference between a good society and a society that fakes goodness. - Author: Kirtida Gautam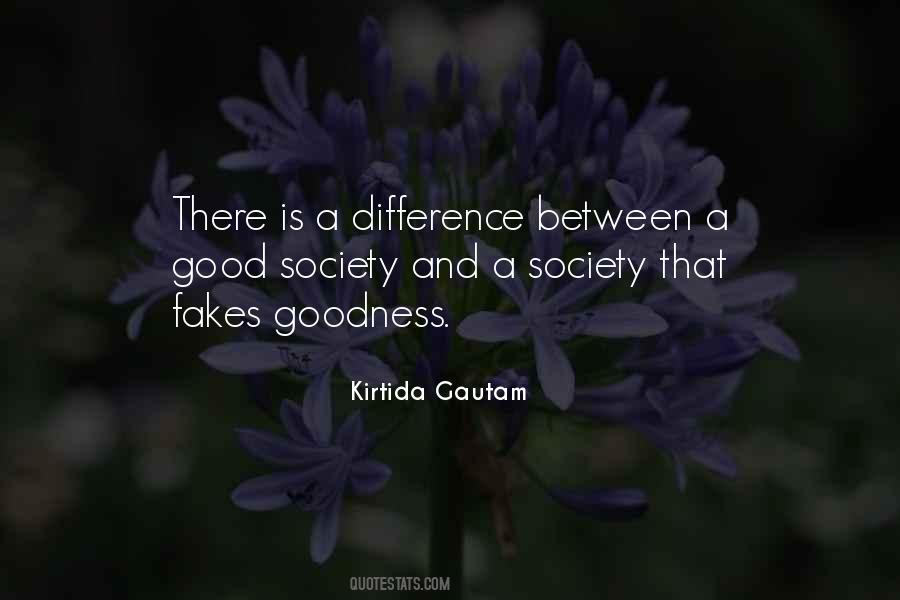 #48. Eating organic for good health and spending your day sitting down using a wireless computer that is next to a WiFi router is a classic case of Yin & Yang. - Author: Steven Magee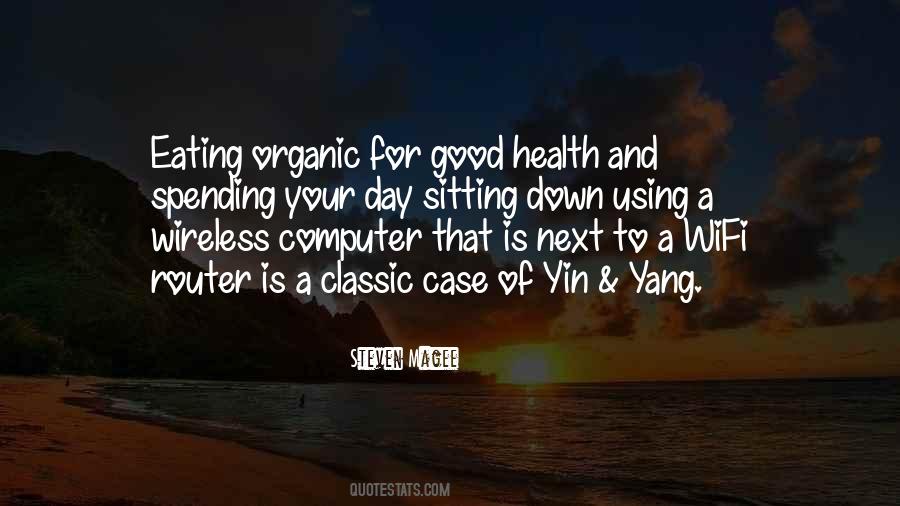 #49. I'll believe it if I see it" for dogs translates to "I'll believe it if I smell it." So don't bother yelling at them; it's the energy and scent they pay attention to, not your words. - Author: Cesar Millan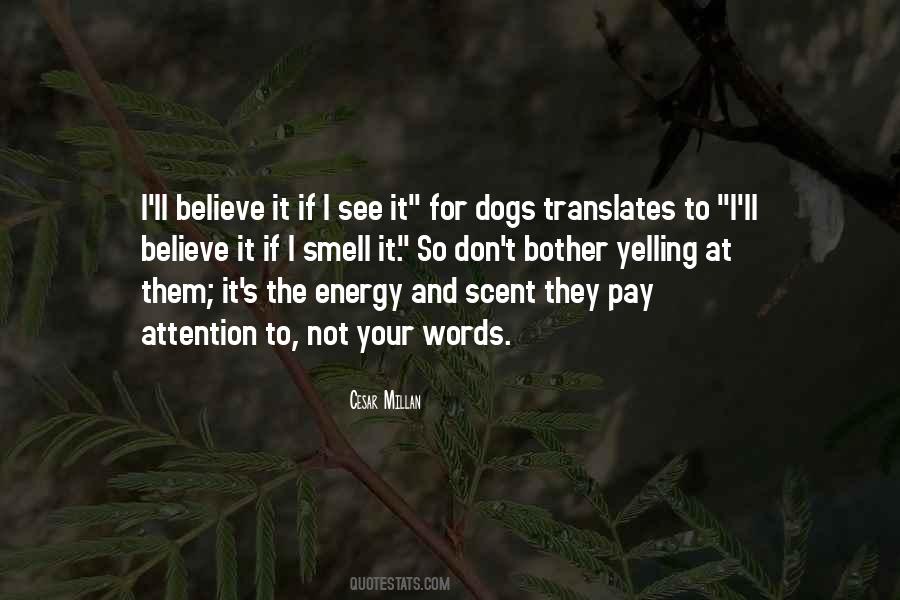 #50. When I saw that combination of grace and power, the fast and the soft, the yin and the yang, that's what I'd been looking for. - Author: Lou Reed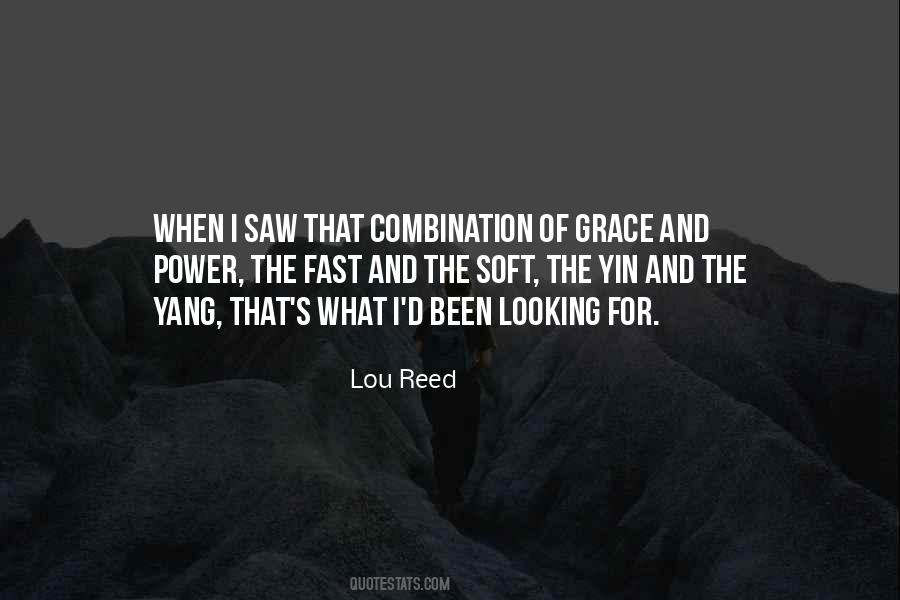 #51. When we practice sacred sexuality we are working with cosmologically rooted principles, balancing the heavenly yang (male energy) of the universe with the all-knowing, life-giving yin (feminine energy) of the earth within ourselves. - Author: John Maxwell Taylor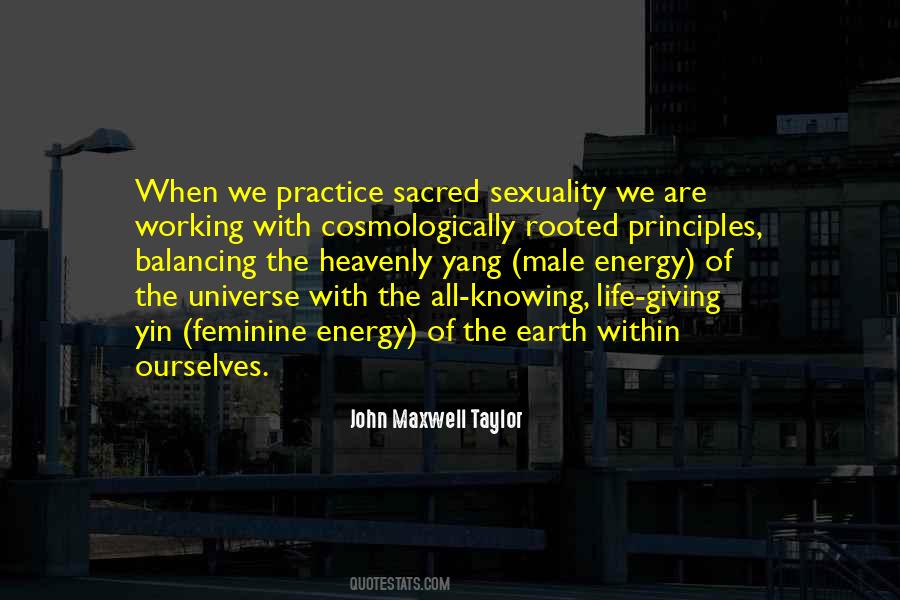 #52. All that we do is governed by the law of opposites in which every so-called positive act is exactly and equally balanced by its opposite.; - Author: Tony Parsons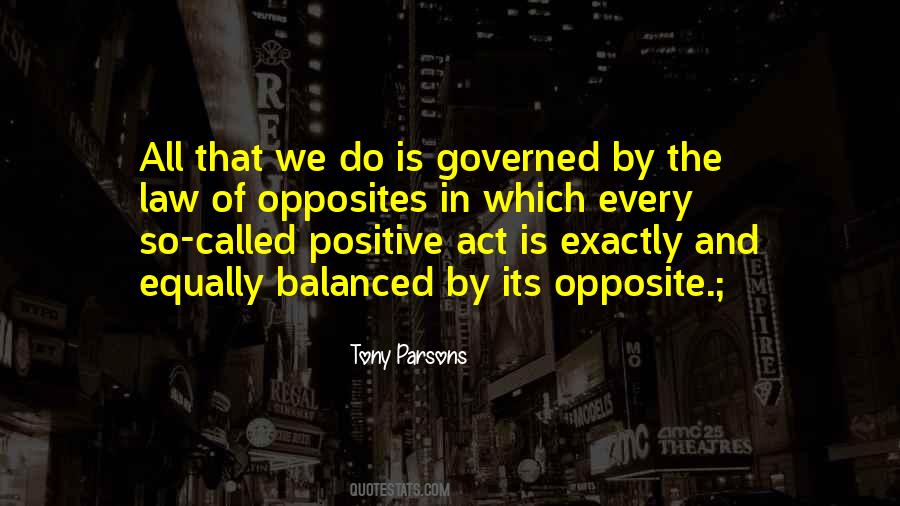 #53. I don't know why we work, my husband and I. We just do. We are black and white - yin and yang. - Author: Heidi Klum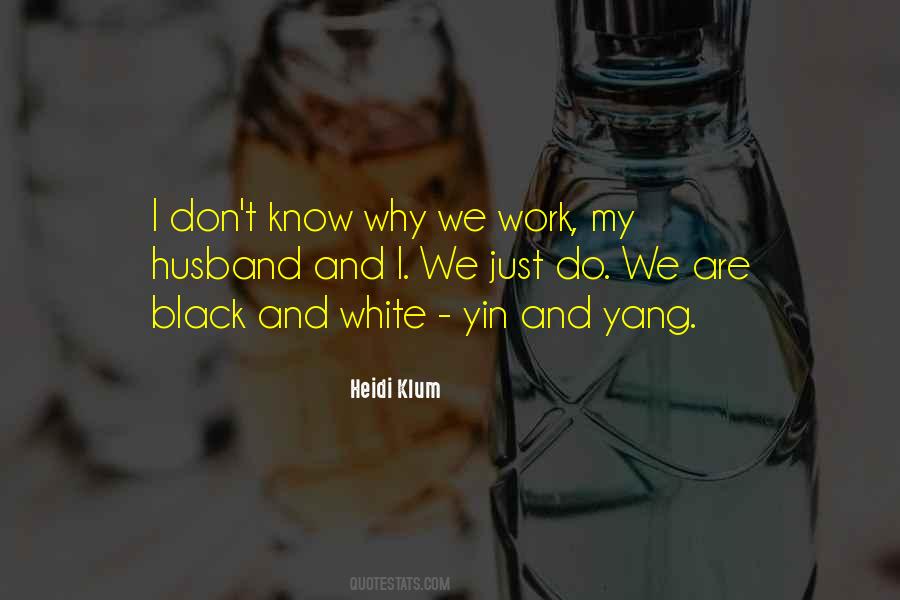 #54. Qi gong therapy, as well as other branches of Chinese medicine, can be reduced to two simple principles: the cleansing of meridians to achieve harmonious energy flow, and the restoration of yin-yang balance. - Author: Wong Kiew Kit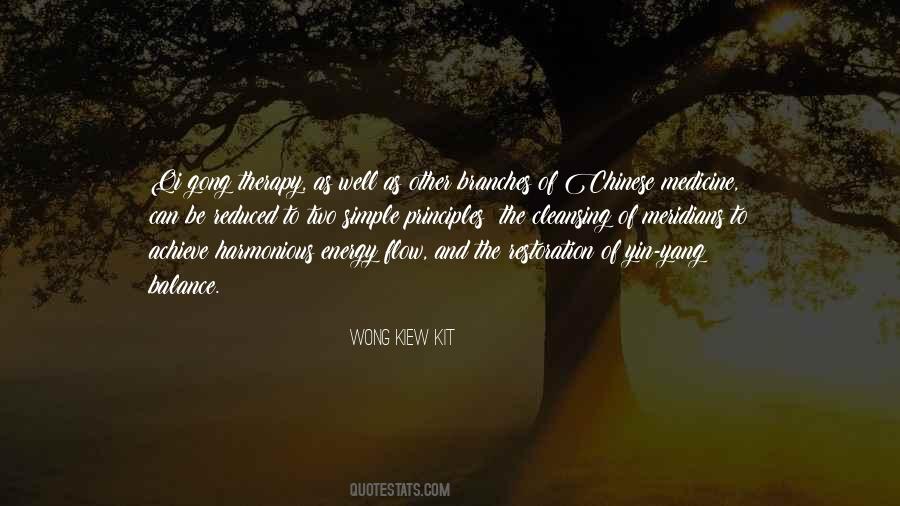 #55. If we sometimes lie and sometimes tell the truth, no one can be certain what they are hearing at any given time. Like yin and yang, truth and lies are inseparable, each containing a seed of the other, no words are ever entirely true or entirely untrue. - Author: Chloe Thurlow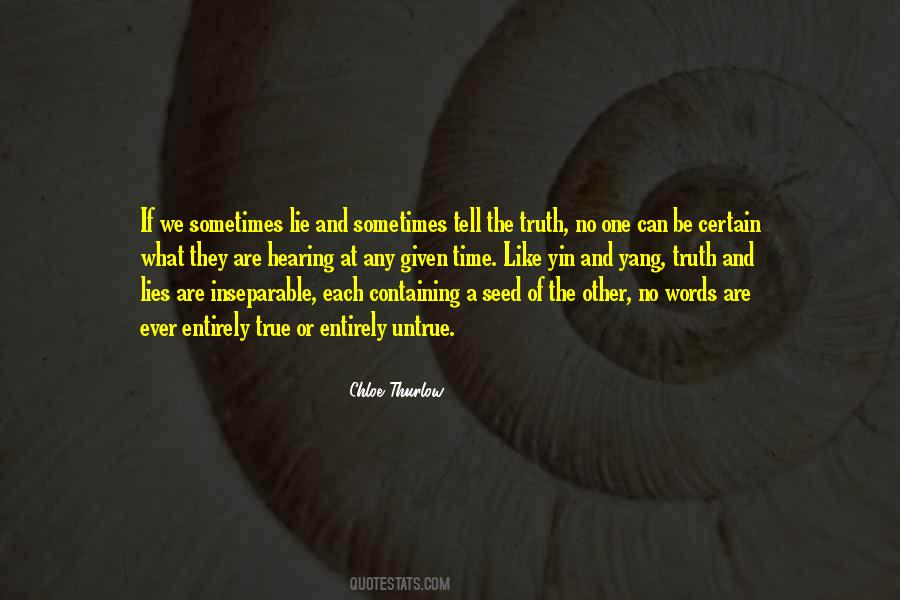 #56. Good and evil," Nick said. "Yin and yang. Male and female. Life and death. The dualities that make us human. As though our lives play out on an immense balance scale - move one way, the scale tips to the left, but move the other, and it swings around to the right. - Author: Abramelin Keldor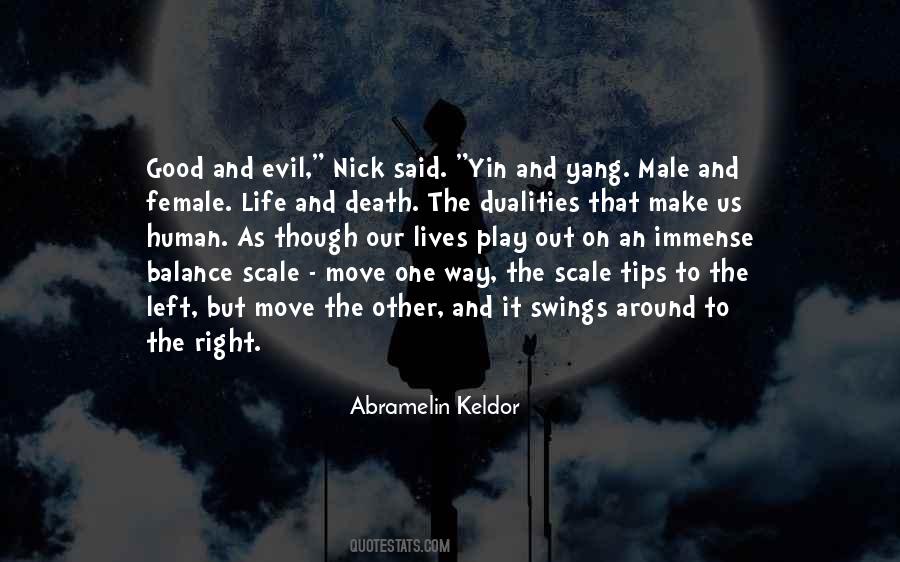 #57. Good necessitates evil and the two sides of that disk are not always clearly marked. - Author: Ann Leckie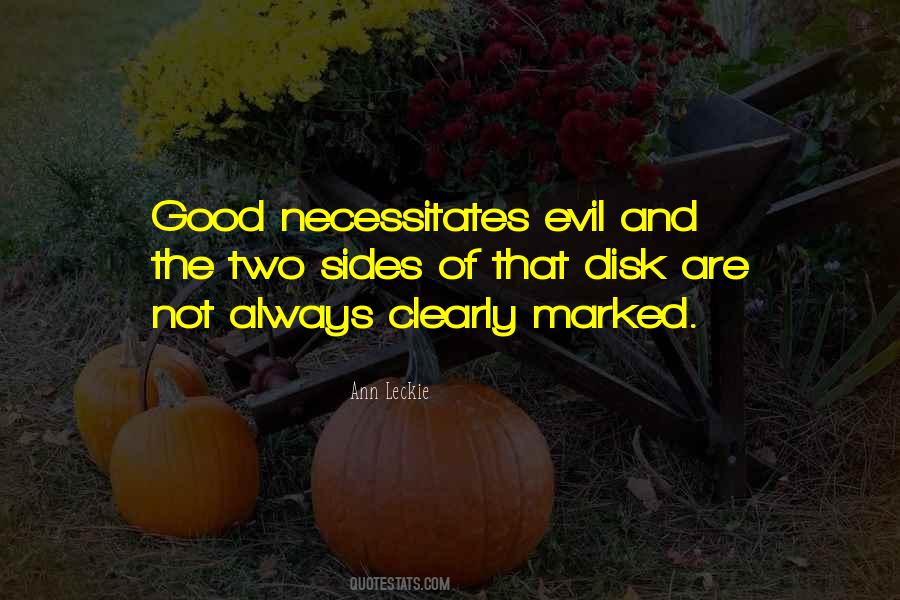 #58. Nature is about balance. All the world comes in pairs - Yin and Yang, right and wrong, men and women; whats pleasure without pain? - Author: Angelina Jolie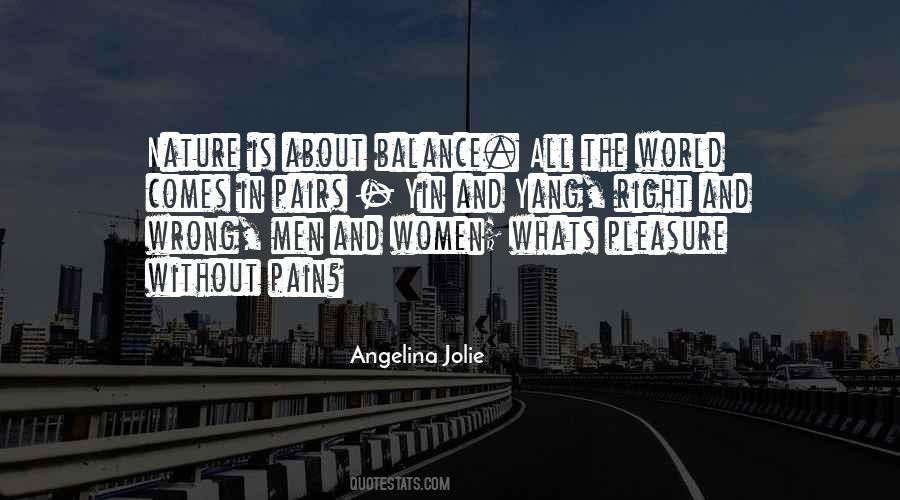 #59. Will and I are yin and yang. He's all sky, vast and bright and soaring, and I'm all earth. I'm here to ground him, and he's here to help me fly. - Author: Jada Pinkett Smith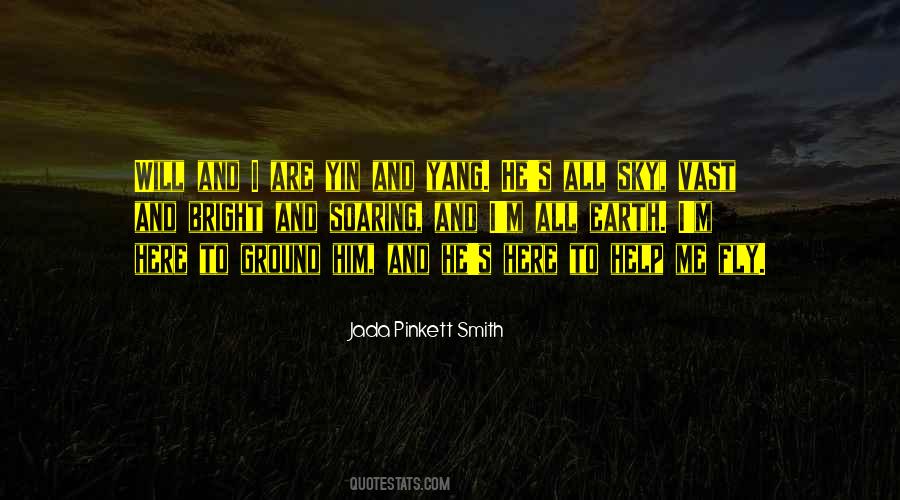 #60. The heart of a human being is no different from the soul of heaven and earth. In your practice always keep in your thoughts the interaction of heaven and earth, water and fire, yin and yang. - Author: Morihei Ueshiba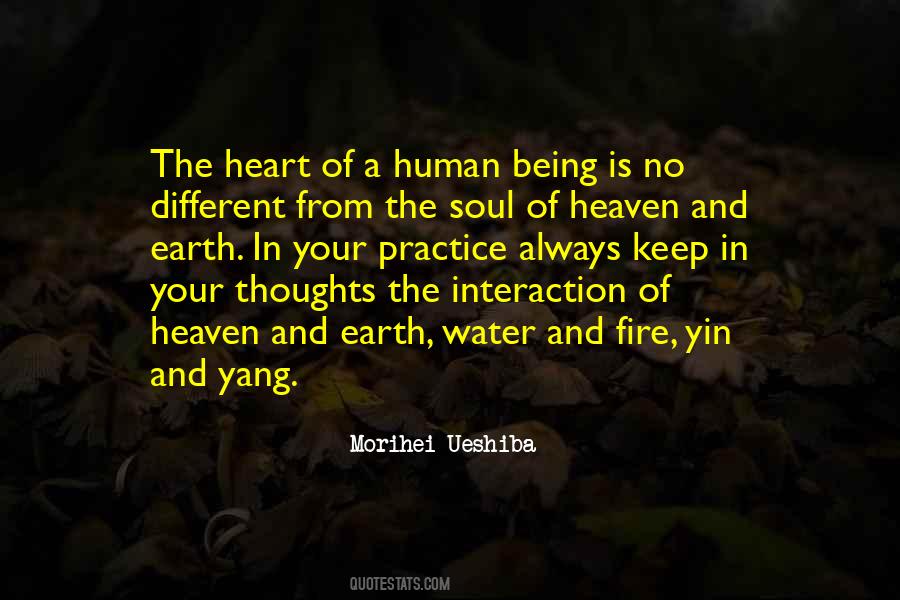 #61. They seemed like a team. And I think it is fair to say that Roosevelt was the consummate politician and that Eleanor was the socially conscious activist. It gave them a nice combination of yang and yin, which they took advantage of. And I think it worked very well for them politically. - Author: William A. Rusher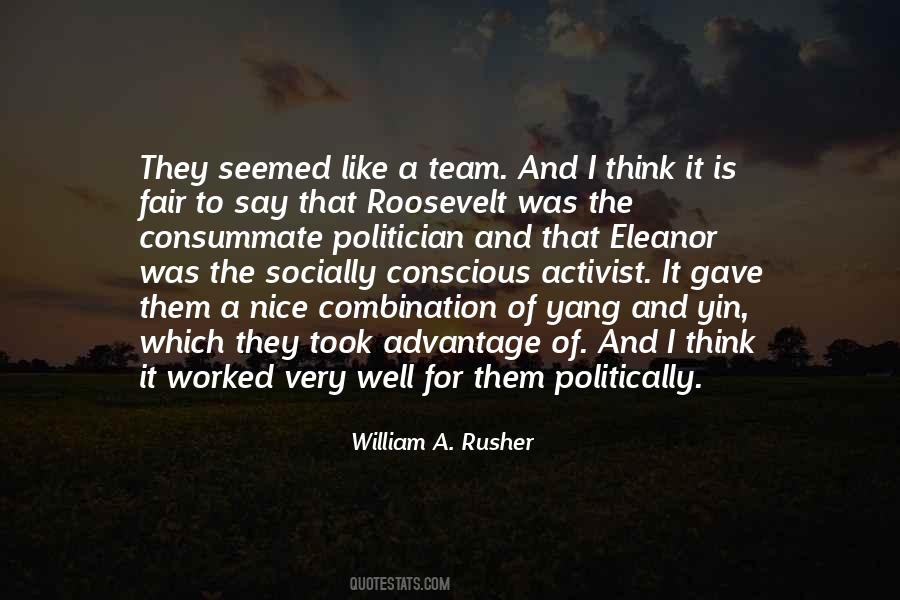 #62. Words and pictures are yin and yang. Married, they produce a progeny more interesting than either parent. - Author: Dr. Seuss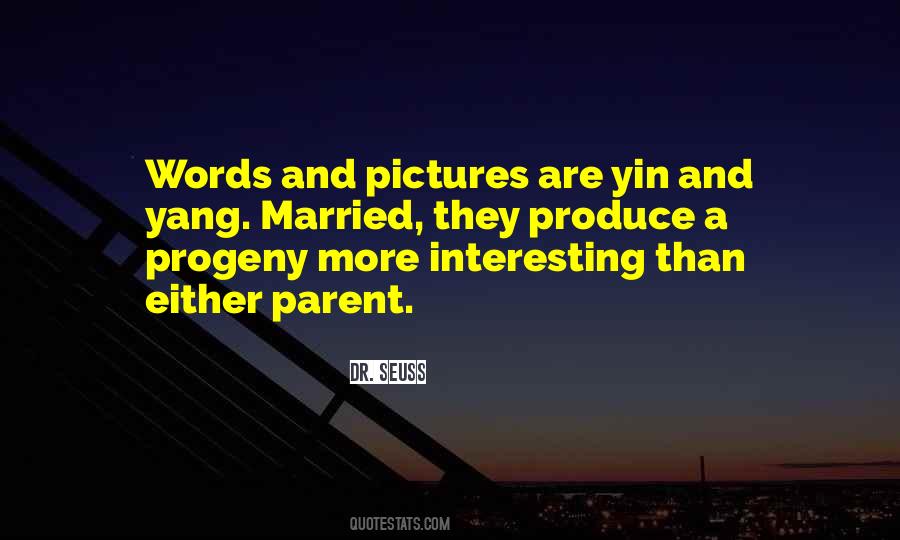 #63. You spoke your words as though you denied the very existence of the shadows or of evil. Think, now: where would your good be if there were no evil and what would the world look like without shadow? - Author: Mikhail Bulgakov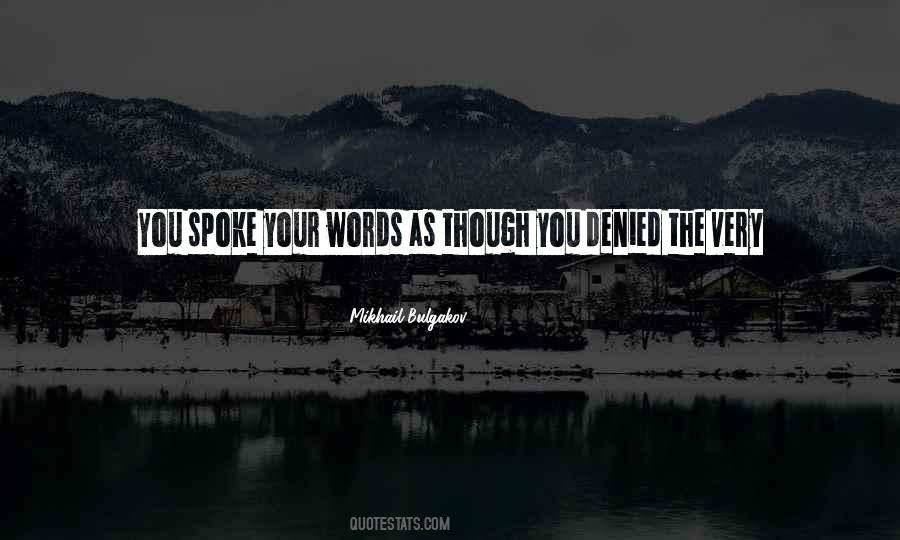 #64. I feel like I always had a yin and yang experience with music. I've always been able to rock out, and then I've always had to take piano lessons, too. - Author: Son Lux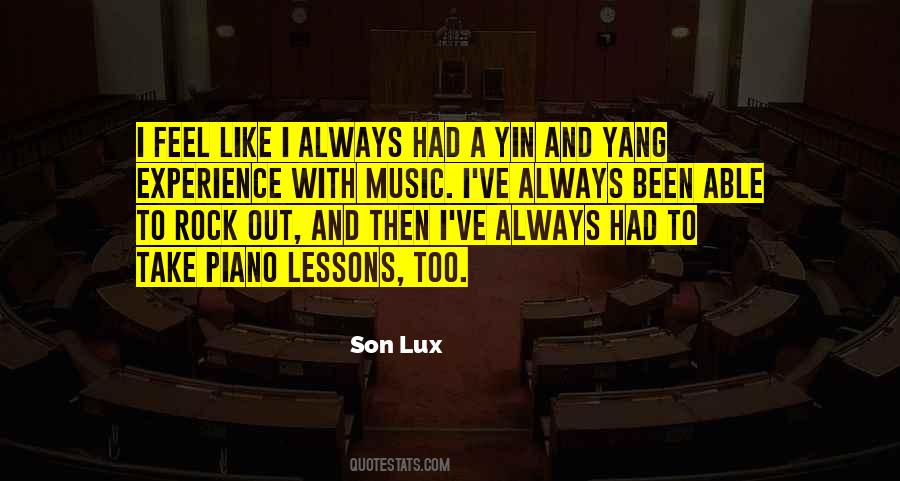 #65. If it were any other way, it would be easy. And if it were any other way, everyone would do it and your work would ultimately be devalued. The yin and yang are clear: without people pushing against your quest to do something worth talking about, it's unlikely it would be worth the journey. Persist. - Author: Seth Godin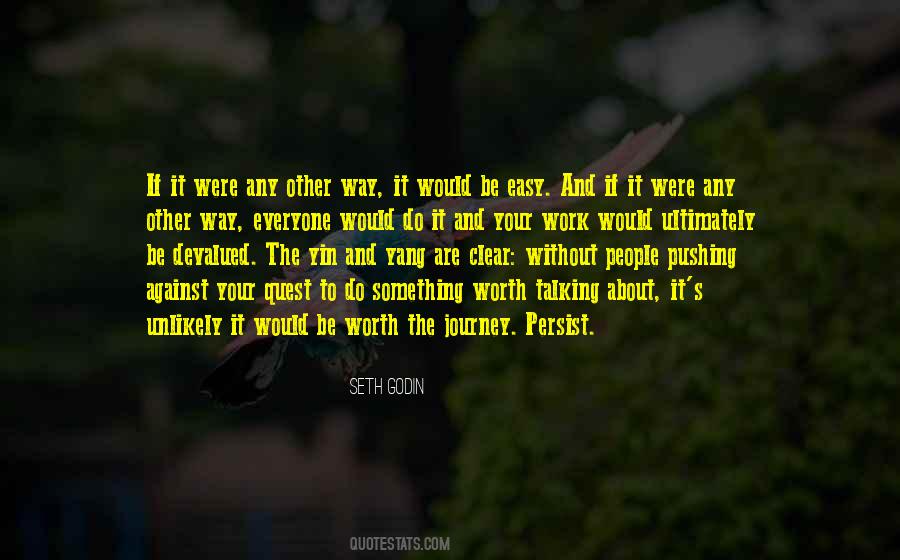 #66. Body of yin, soul of yang. Metal and fire unified. The outer and inner; microcosmos in my palm. - Author: Philip K. Dick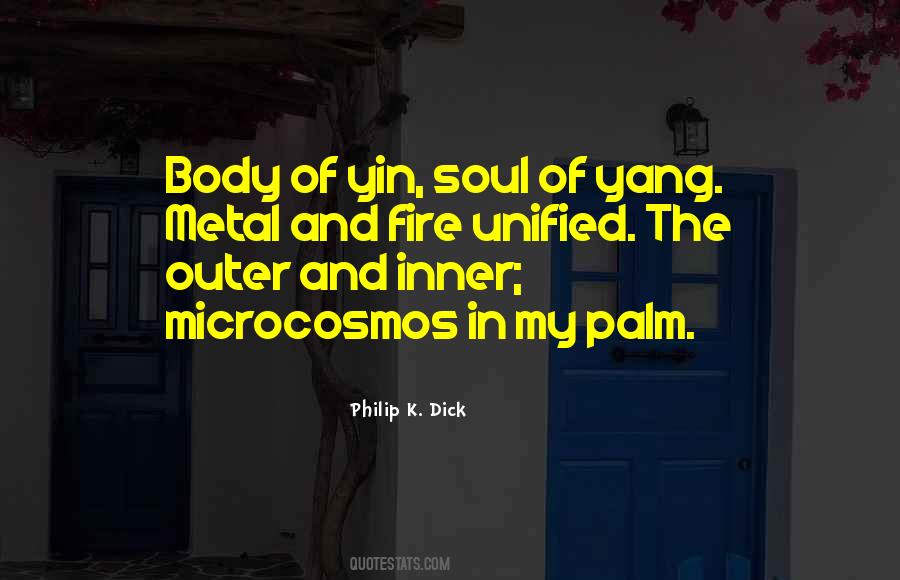 #67. So it is said, for him who understands Heavenly joy, life is the working of Heaven; death is the transformation of things. In stillness, he and the yin share a single Virtue; in motion, he and the yang share a single flow. - Author: Zhuangzi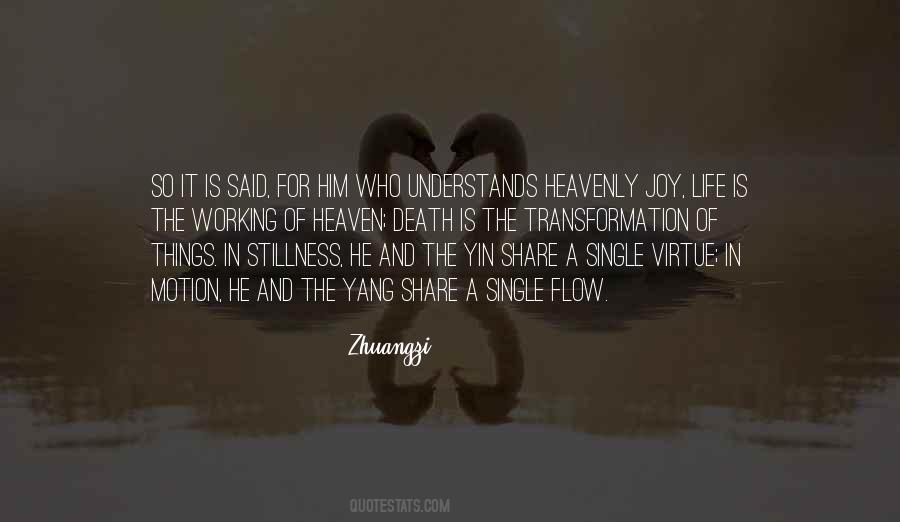 #68. Sasuke is always in the corner of my mind. Naruto and Sasuke progress as a pair. So when I write about Naruto, I always have to think about Sasuke. They are on opposite sides of the spectrum, like yin and yang. - Author: Masashi Kishimoto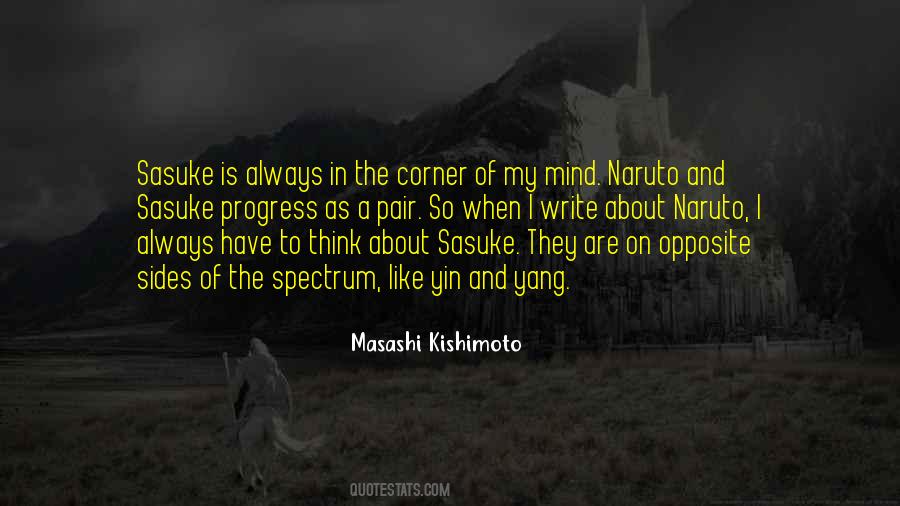 #69. Nothing is easy, and life can be extremely tough, but there's always a yin to the yang, so to speak. It's up to you to seek it out, embrace it, and live happily ever after. No matter how bad the hand you've been dealt may seem, there's always a way to play it. - Author: Alex Gaskarth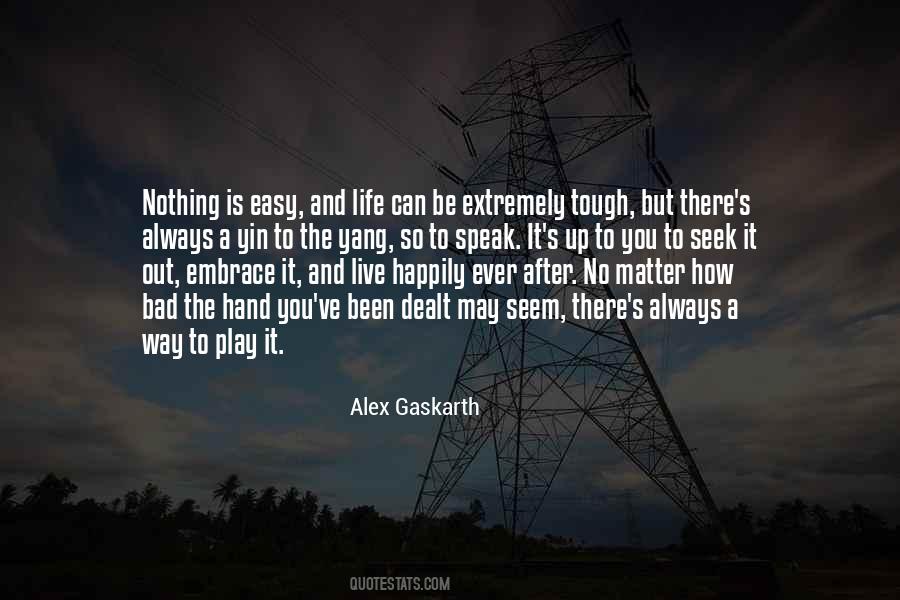 #70. Yin and Yang control man's actions, and both extremes are a natural reaction. - Author: Ray Davies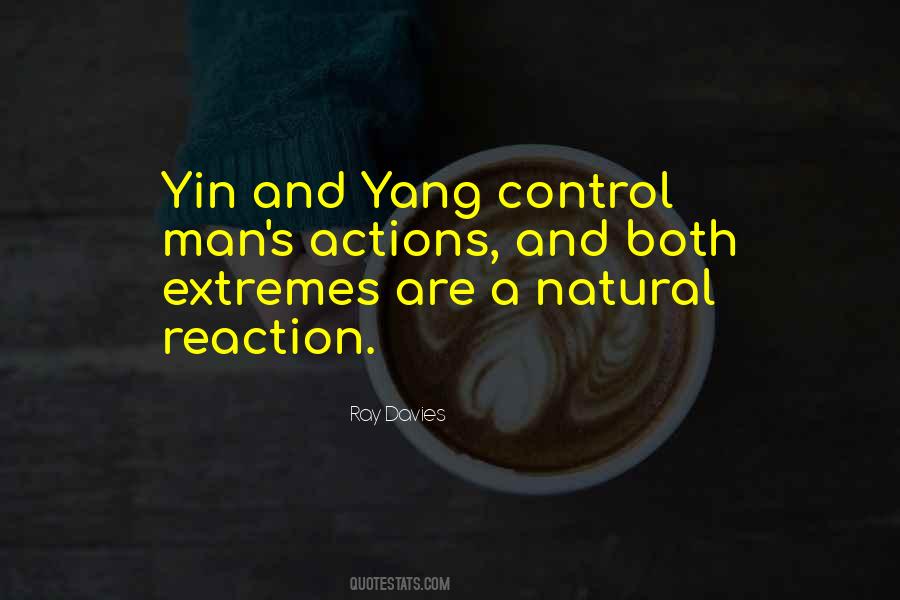 #71. You make sexiness strong by balancing it out: something familiar with something unfamiliar, something masculine with something feminine, something streamlined with something rococo. It's a Yin and Yang. Women are made of layers, your mood shifts, no one is neither one extreme nor the other. - Author: Michael Kors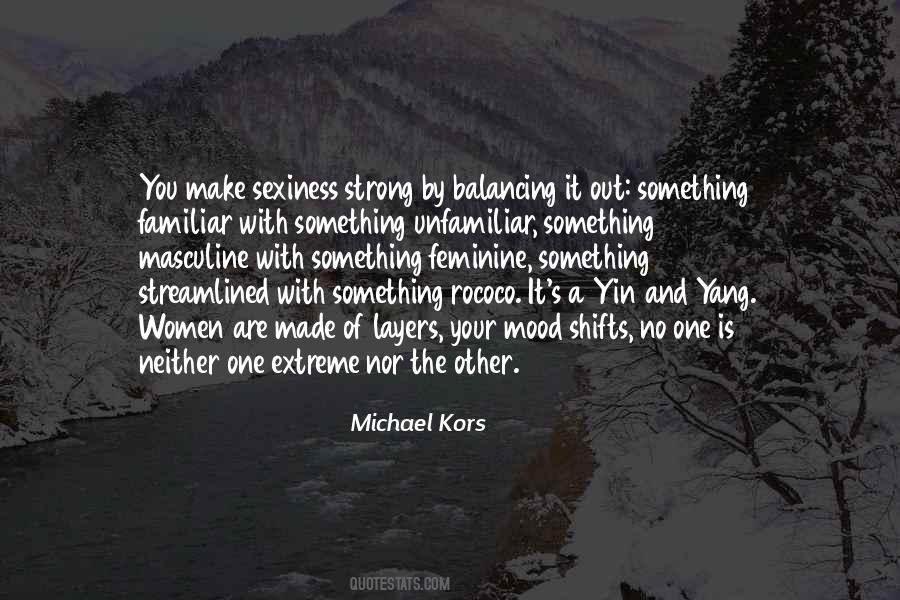 #72. Countless words
count less
than the silent balance
between yin and yang - Author: Lao-Tzu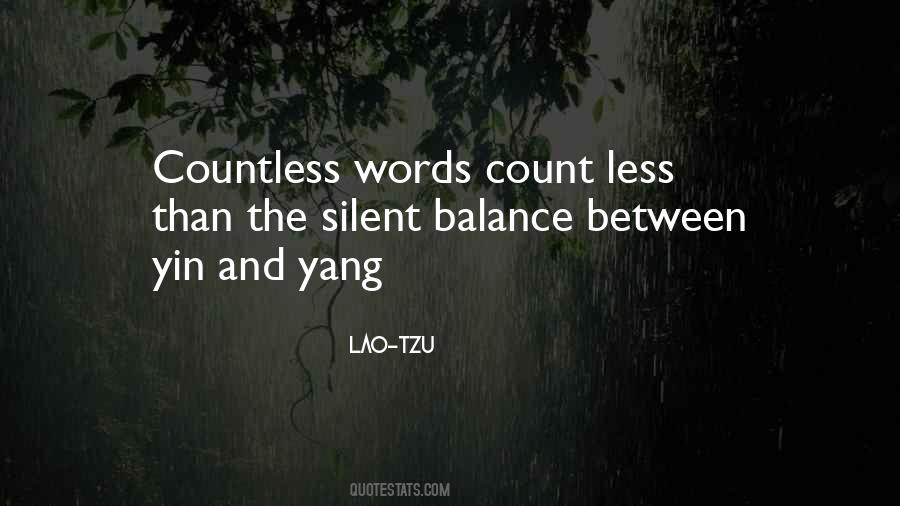 #73. The feminist anti-pornography movement, no less than the feminist movement of a century ago, encourages the assumption that male and female sexuality, and possibly morality, are as unlike as yin and yang. - Author: Barbara Ehrenreich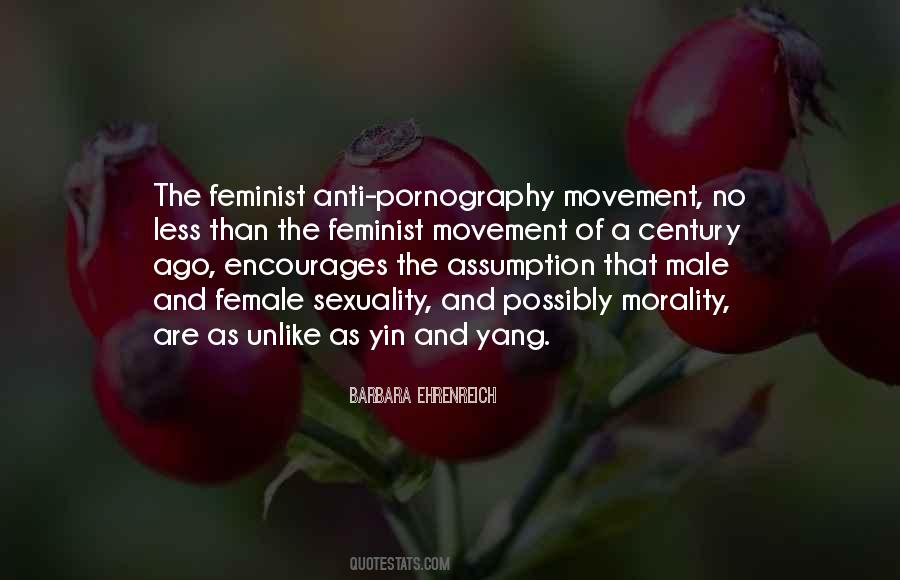 #74. The dance between darkness and light will always remain - the stars and the moon will always need the darkness to be seen, the darkness will just not be worth having without the moon and the stars. - Author: C. JoyBell C.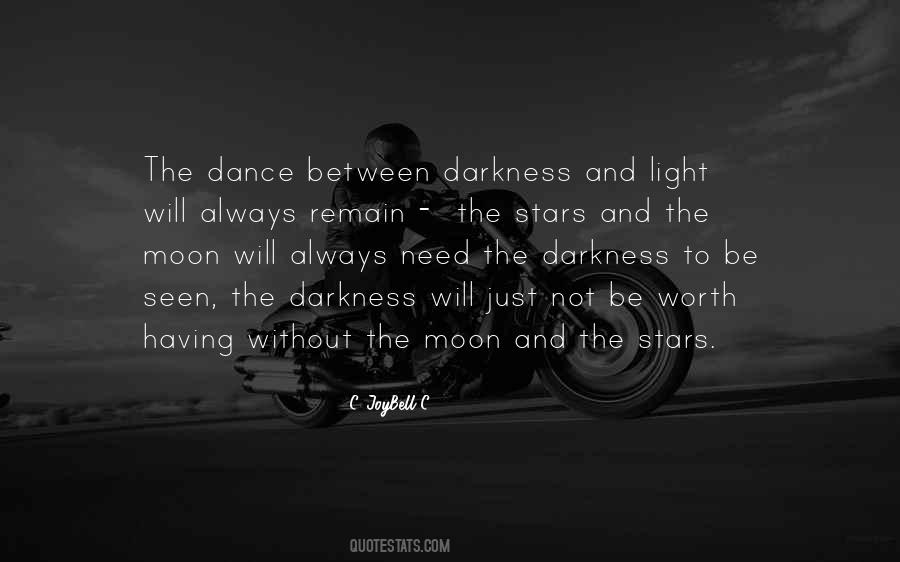 #75. Your mission, should you choose to accept it, is to avoid the force of the attack upon your body, mind, or emotions, and apply your response to the weak point. In other words, yield to the yang and push on the yin. - Author: Jan Kauskas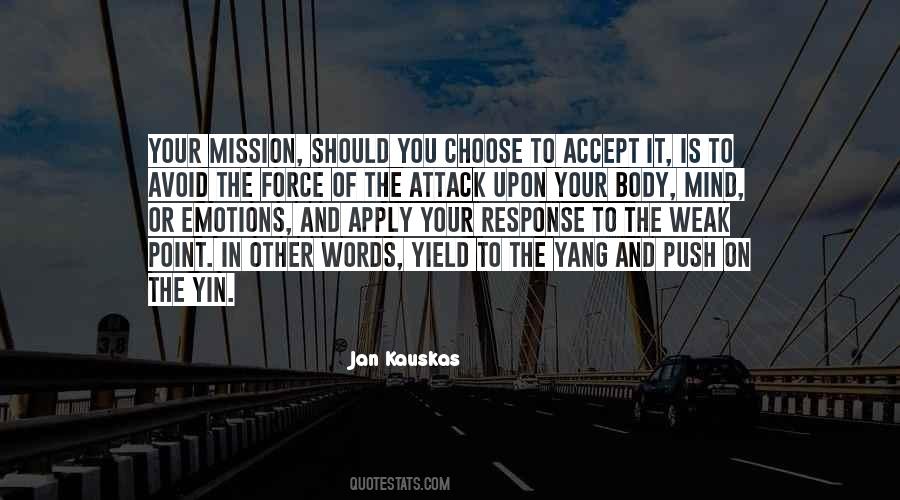 Famous Authors
Popular Topics