Walking In Faith Famous Quotes & Sayings
List of top 31 famous quotes and sayings about walking in faith to read and share with friends on your Facebook, Twitter, blogs.
Top 31 Quotes About Walking In Faith
#1. A life of faith is not a life of one glorious mountaintop experience after another, like soaring on eagles' wings, but is a life of day-in and day-out consistency; a life of walking without fainting (see Isaiah 40:31). - Author: Oswald Chambers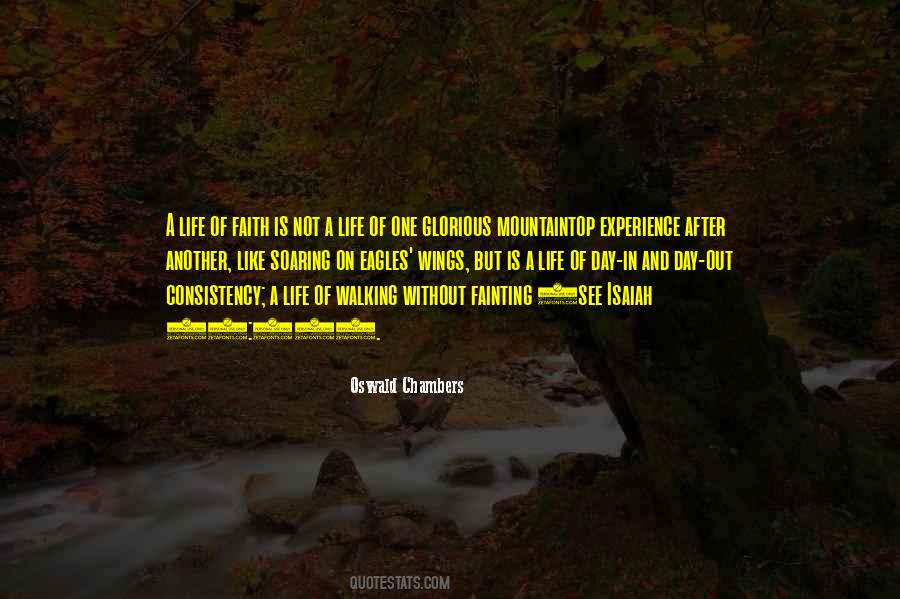 #2. All this impressing, talking, sitting, walking, and getting up together takes the investment of time. The day in and day out living the life of faith. - Author: Jamerrill Stewart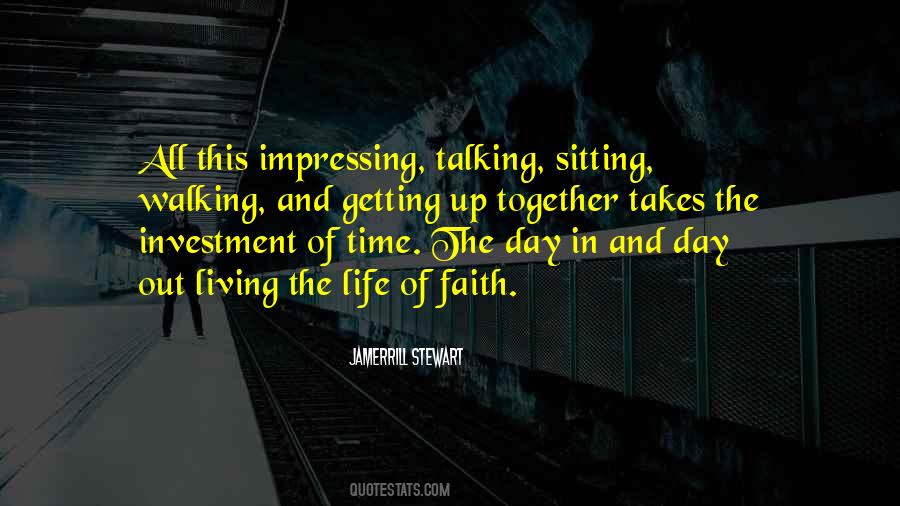 #3. Christian oftentimes meant walking through dark places in the journey and living only on an unseen, unfelt faith. - Author: Karen Kingsbury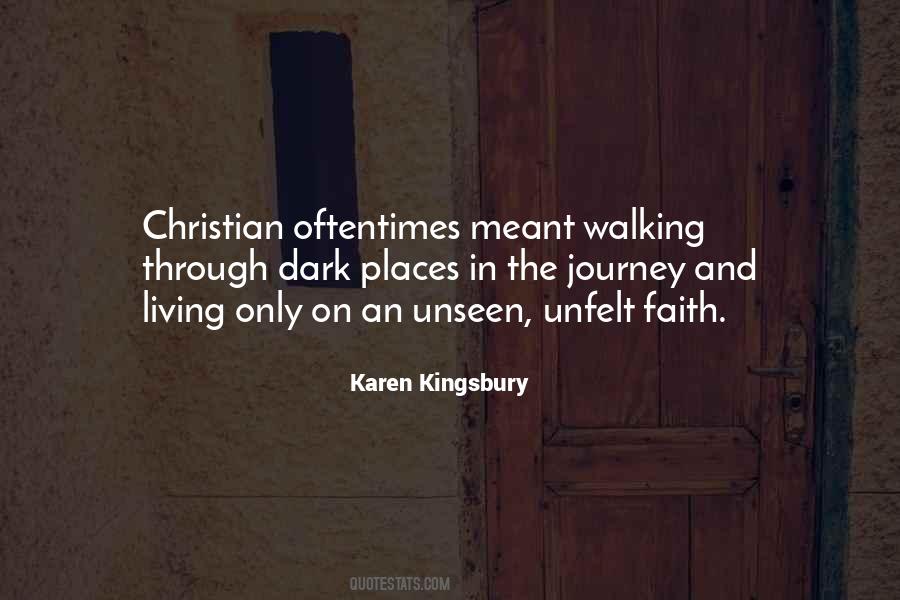 #4. Faith says not, 'I see that it is good for me, so God must have sent it,' but, 'God sent it, and so it must be good for me.' Faith, walking in the dark with God, only prays Him to clasp its hand more closely. - Author: Phillips Brooks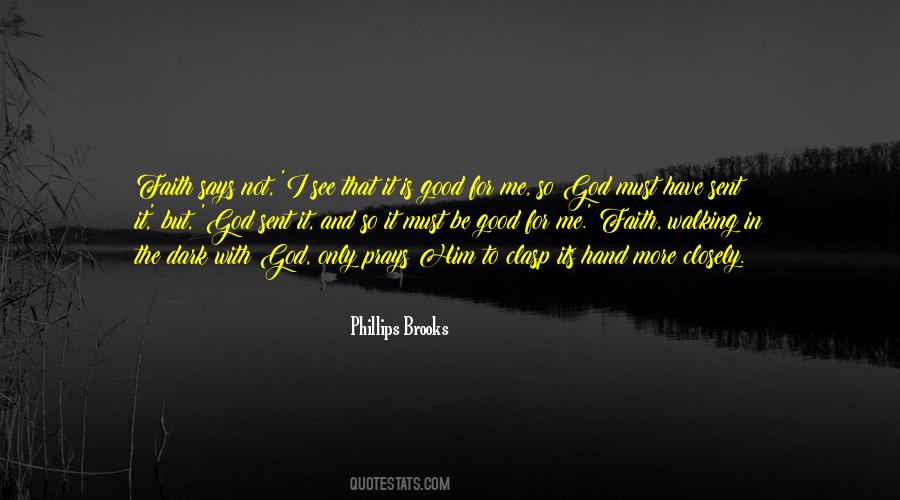 #5. Faith is belief in what you cannot see or prove or touch. Faith is walking face-first and full-speed into the dark. - Author: Elizabeth Gilbert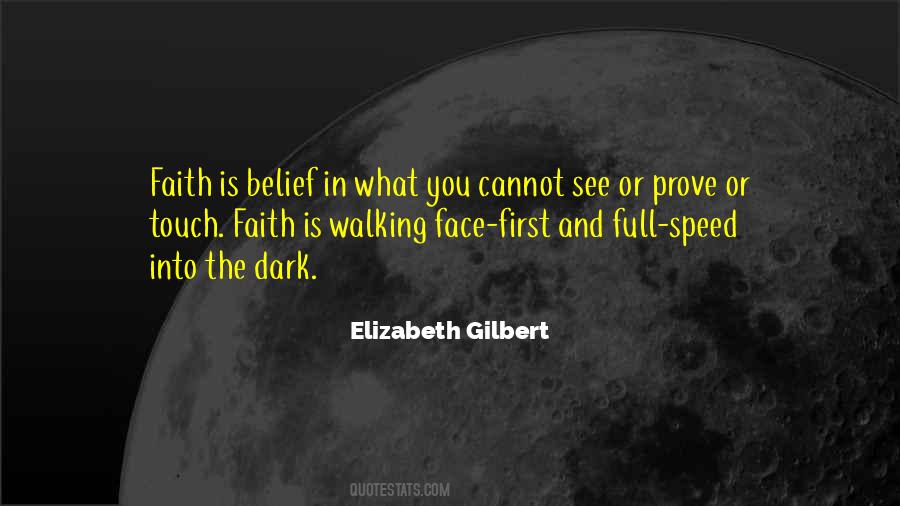 #6. I have tremendous faith in theuniverse. I feel at home on this planet. Even though it's a very big world out there, I plan on walking right through the middle of it unharmed. - Author: Marion Ross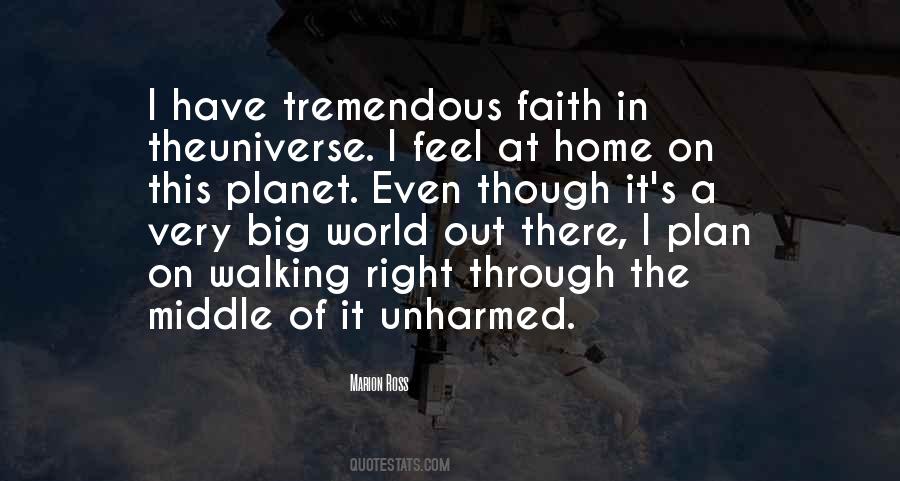 #7. That's how I think of God: infinitely creative and imaginative, waiting to place us in some truly awesome scenarios. - Author: Bonnie Lyn Smith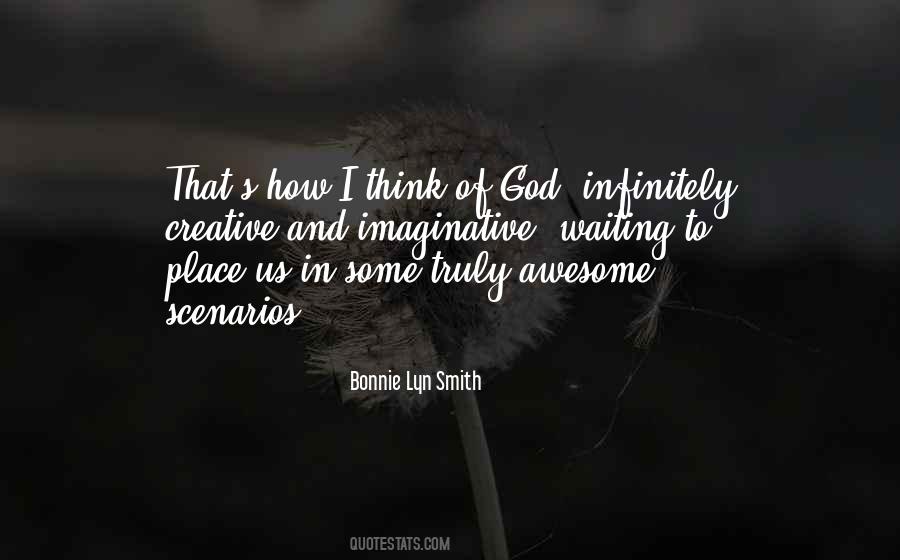 #8. Religion is what gives a person hope to keep walking even in the darkest times. - Author: Abhijit Naskar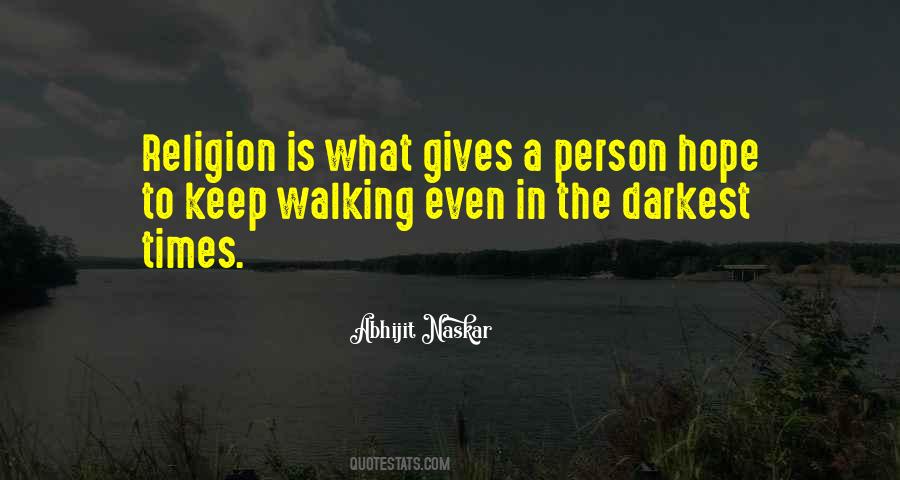 #9. Science means constantly walking a tightrope between blind faith and curiosity; between expertise and creativity; between bias and openness; between experience and epiphany; between ambition and passion; and between arrogance and conviction - in short, between an old today and a new tomorrow. - Author: Heinrich Rohrer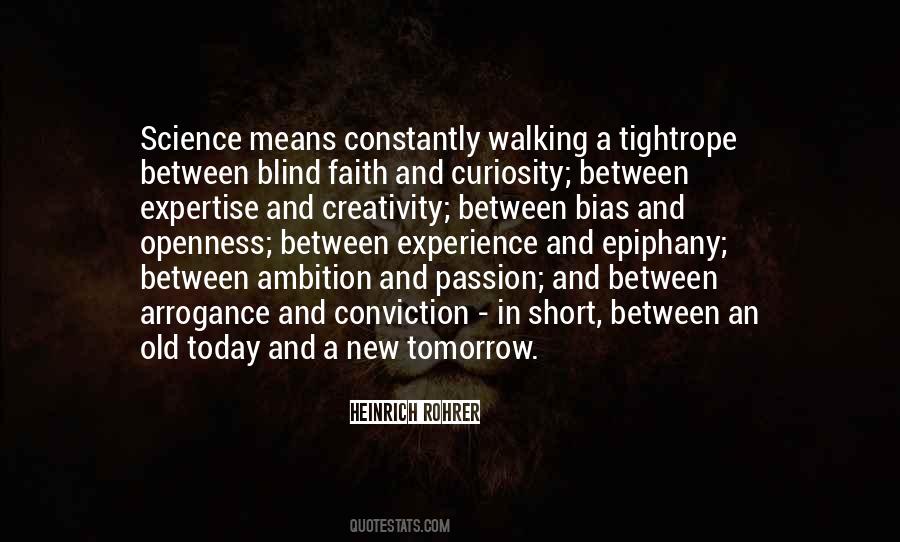 #10. When you step out on faith, and keep walking in it, God will put you in the places where he wants you to thrive. - Author: Brandy Butler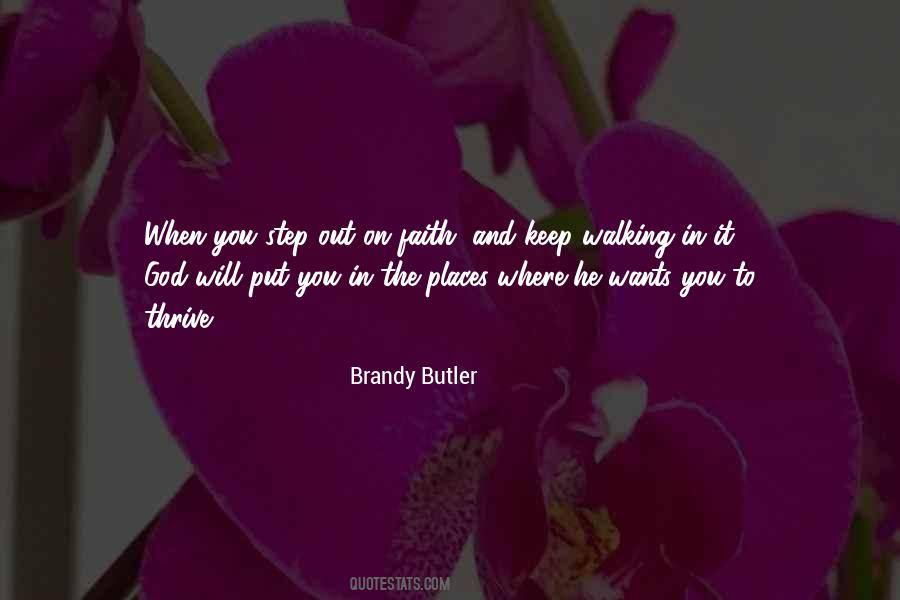 #11. The United States started to go downhill when it changed from a round designed to kill the enemies of our glorious republic to one designed to piss them off," Faith said, shooting a zombie five times, then walking up and shooting the still-thrashing infected in the head. "Seriously, just die, okay? - Author: John Ringo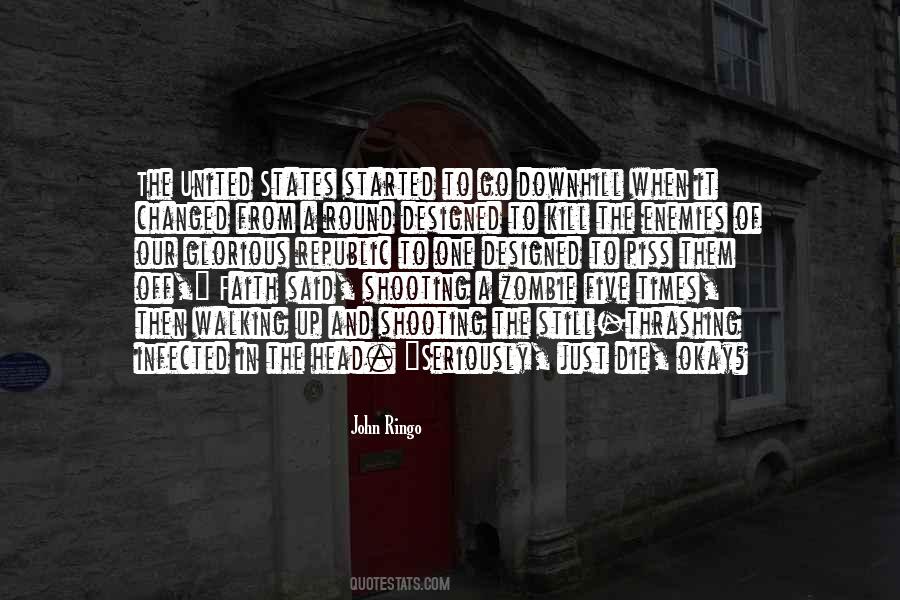 #12. By walking in his spiritual life, the Christian will experience growing in his faith, becoming a holy person, understanding more the Word of God, being able to love one's neighbour more, to do acts of mercy and experience more the light of God. - Author: George Calleja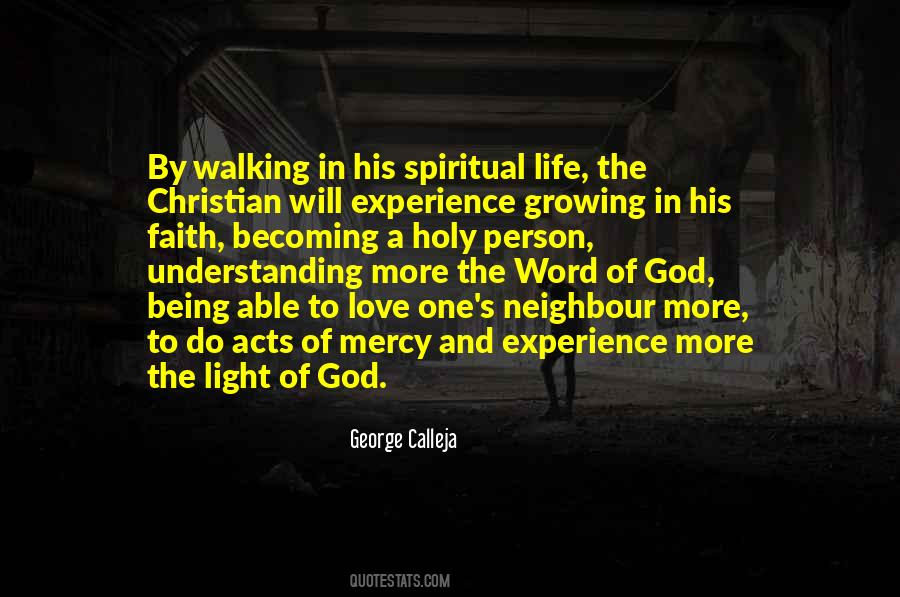 #13. I was not in the church, but we claim, like so many people, 'Yeah, I grew up in the church.' Well yeah, I grew up in the church and went to church, but I knew nothing about the Lord. I had no idea what it meant about walking in faith. - Author: Lou Brock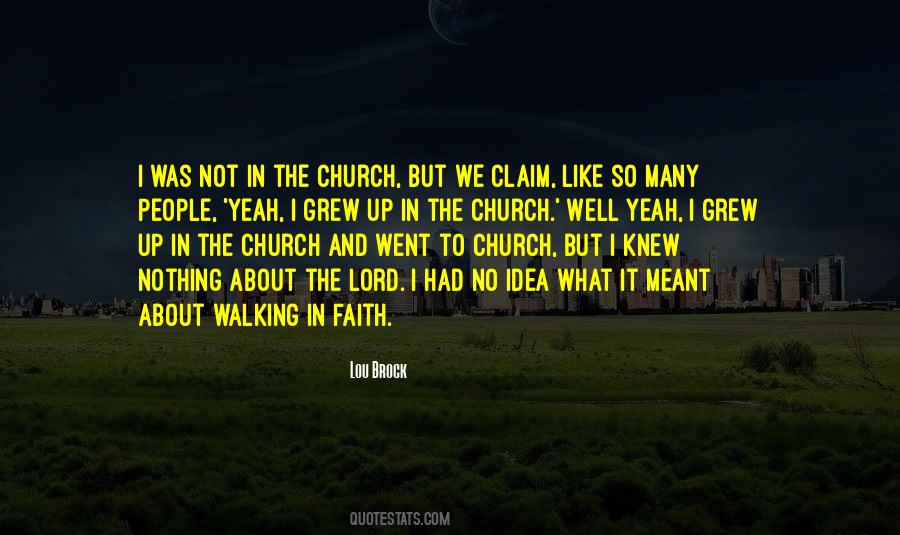 #14. We like to control the map of our life and know everything well in advance. But faith is content just knowing that God's promise cannot fail. This, in fact, is the excitement of walking with God. - Author: Jim Cymbala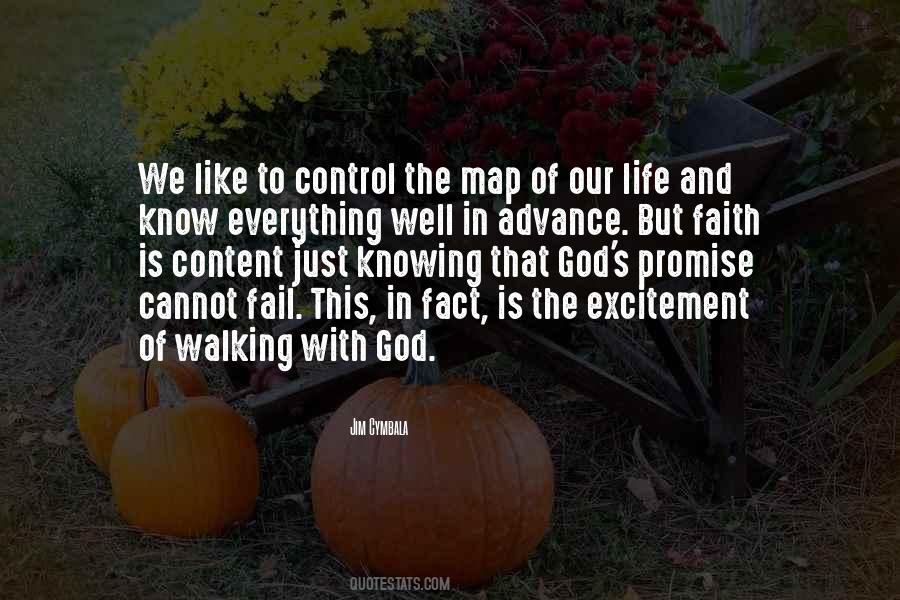 #15. Smile and Know, Thank and Know, became my mantra as I went about my days smiling and knowing when I could. As I did so, I was walking in complete faith, which left me naturally wanting to thank as well. - Author: Bronnie Ware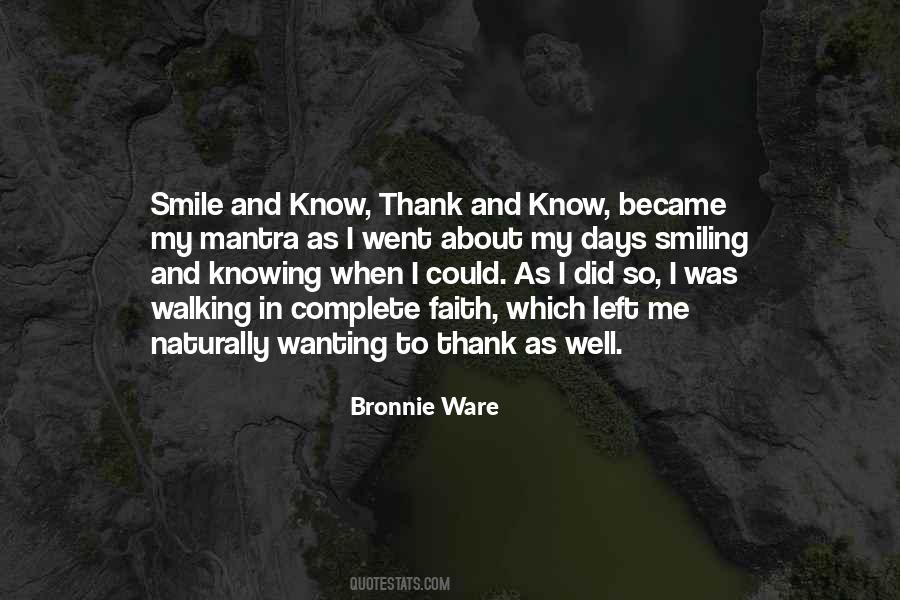 #16. Sometimes, he thought of himself as an elephant walking through the china store, breaking everything in his path and still expecting people not to be angry with the damage he made, but rather to admire his strength and his endurance. - Author: Stevan V. Nikolic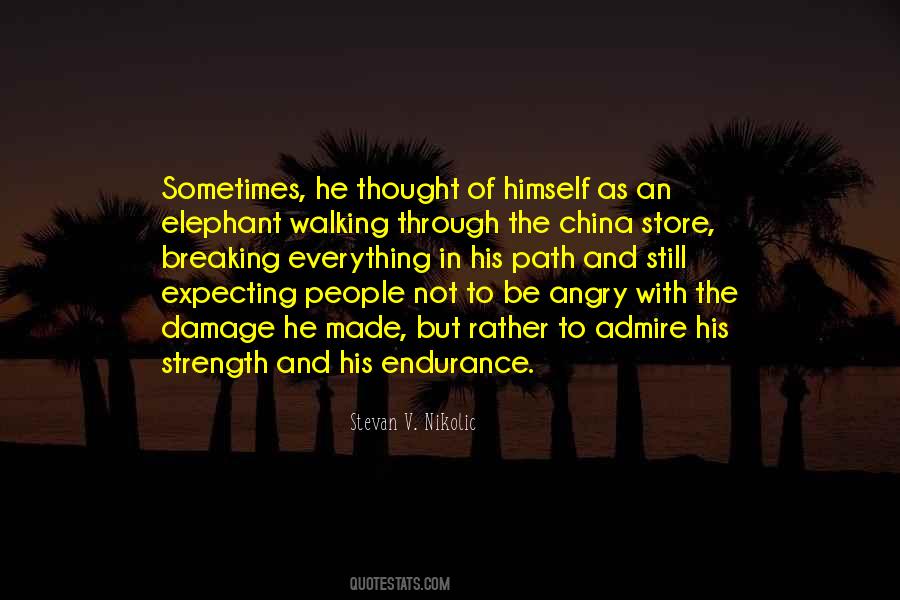 #17. Joy is not a requirement of Christian discipleship, it is a consequence. It is not what we have to acquire in order to experience life in Christ; it is what comes to us when we are walking in the way of faith and obedience. - Author: Eugene H. Peterson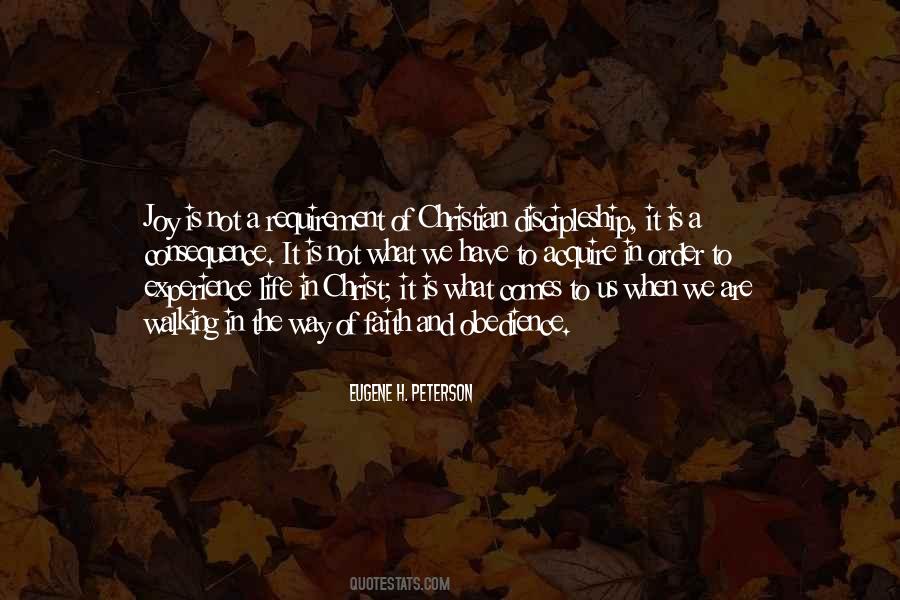 #18. I have learned in my journey of faith that, the closer I am walking with God, the more likely the devil will be working to make me stumble. - Author: Tracie Miles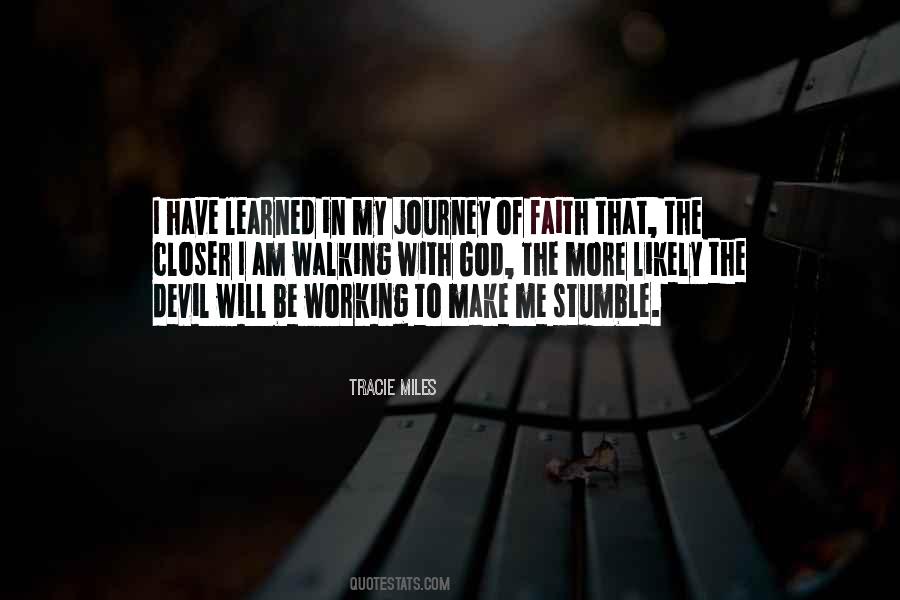 #19. When angels carry you they leave no footprints in the sand. - Author: Maria Dorfner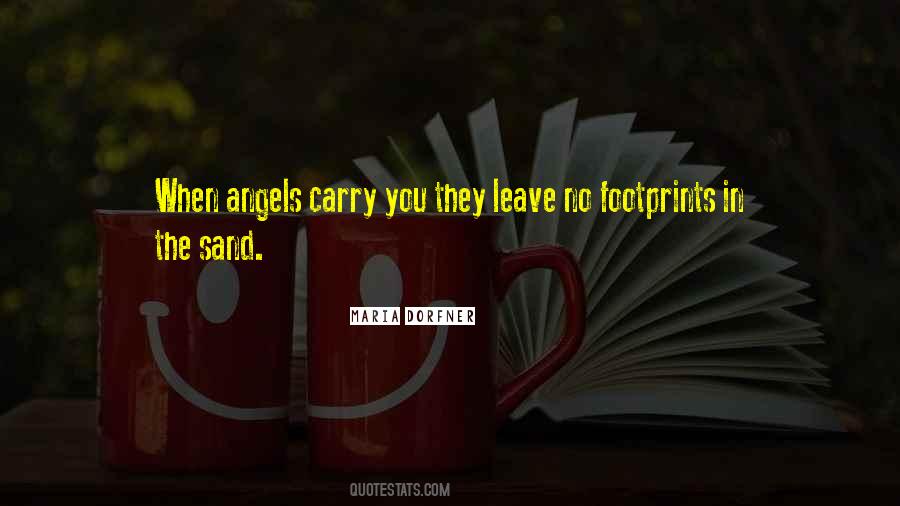 #20. Faith is carrying your pain and problems to the invisible altar of God, laying them down and walking away, knowing that now they are in hands capable of doing what you could never do. - Author: Toni Sorenson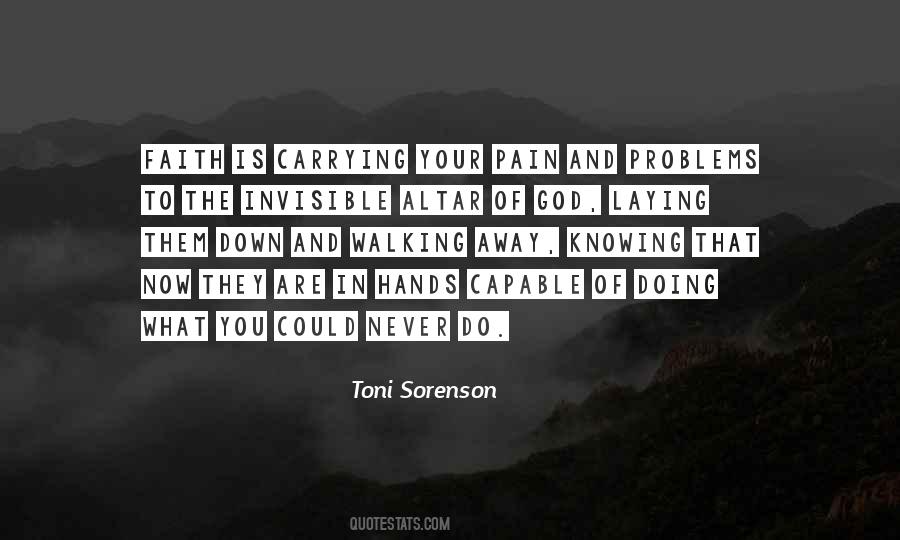 #21. We may not understand the pathways God lays out before us. We may not even like walking the journey. But even in failure, we can trust that He'll do more than we expect. - Author: Mary E. DeMuth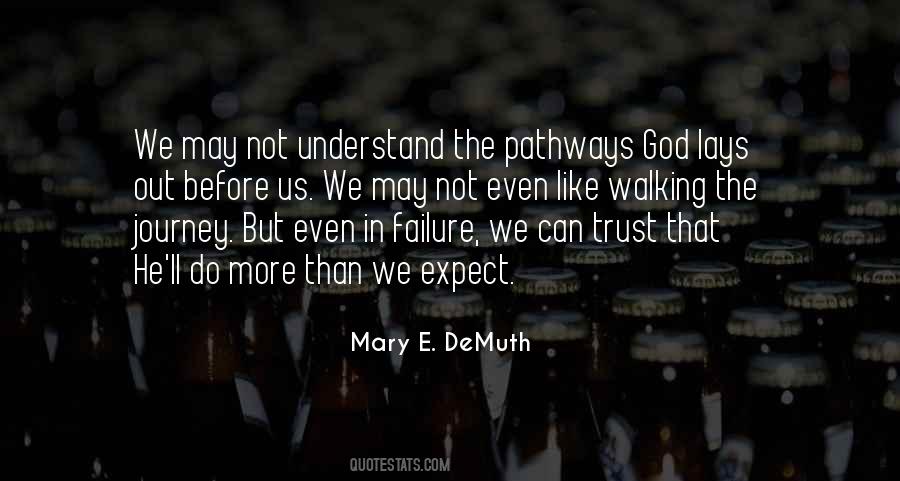 #22. God is here, right now, at our side. We can see him in this mist, in the ground we're walking on, even in my shoes. His angels keep watch while we sleep and help us in our work. In order to find God, you have only to look around. - Author: Paulo Coelho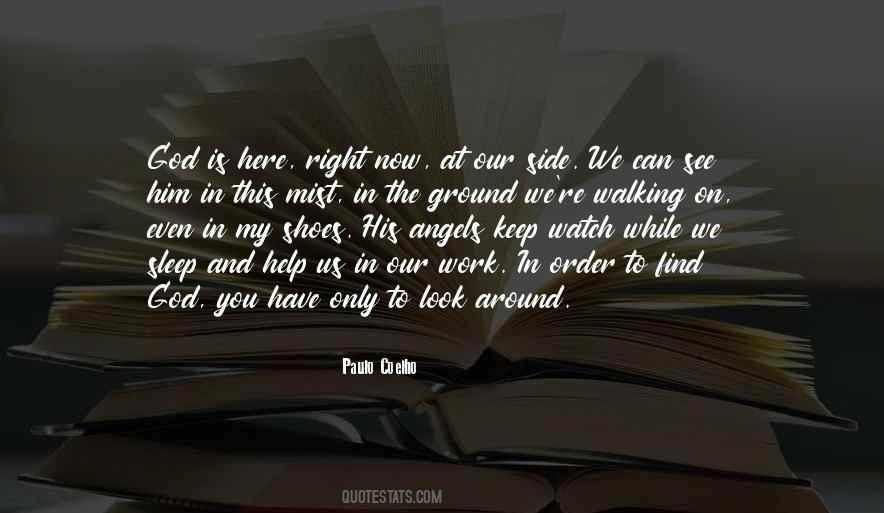 #23. True faith and suffering frequently go hand-in-hand ... Living for Christ, walking in His way, will not be an easy path. - Author: Billy Graham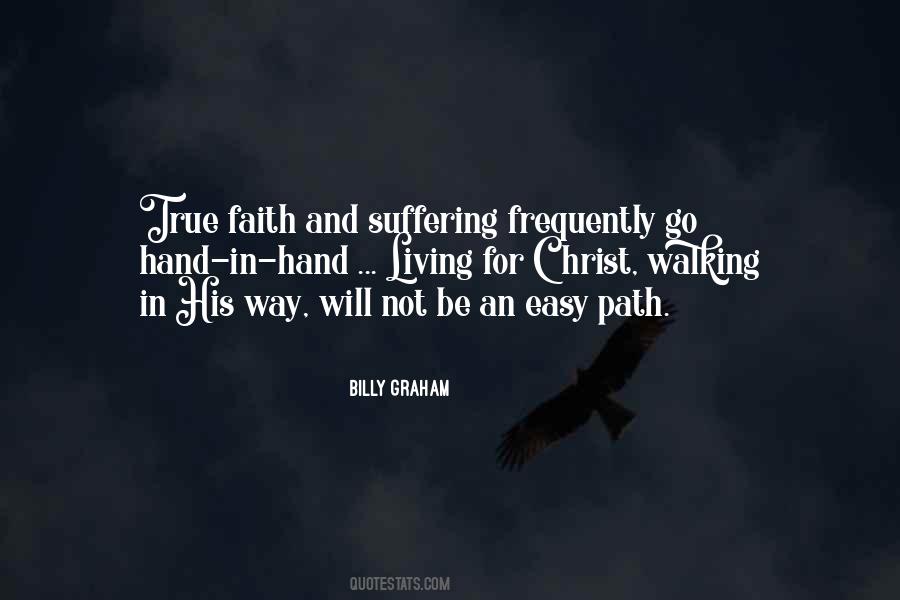 #24. When a man is walking in his purpose there is only room for one woman to walk with him. - Author: Stephan Labossiere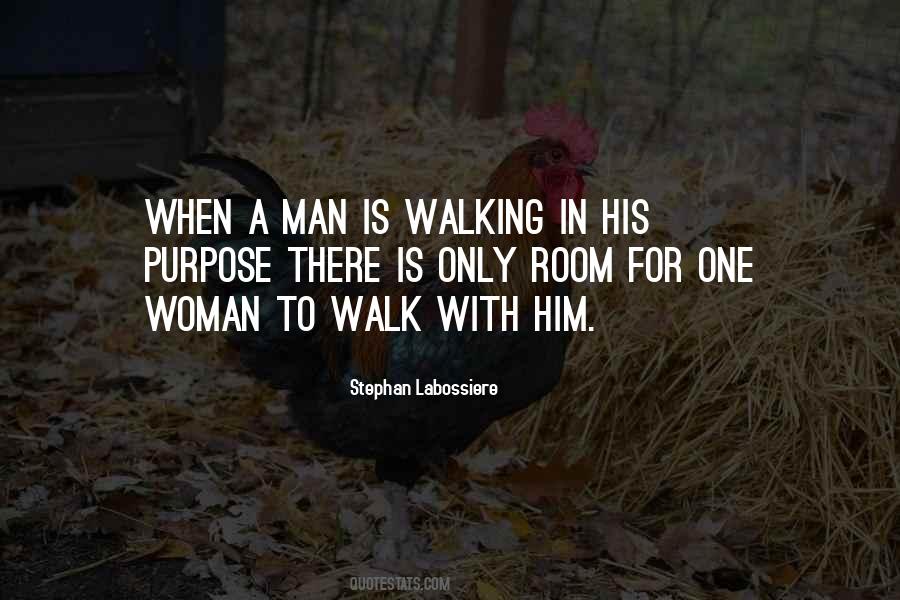 #25. Faith is catching a glimpse of a beacon piercing the fog of life and walking toward it, never knowing if heading in the right direction, but pressing onward. - Author: Tom Hallman Jr.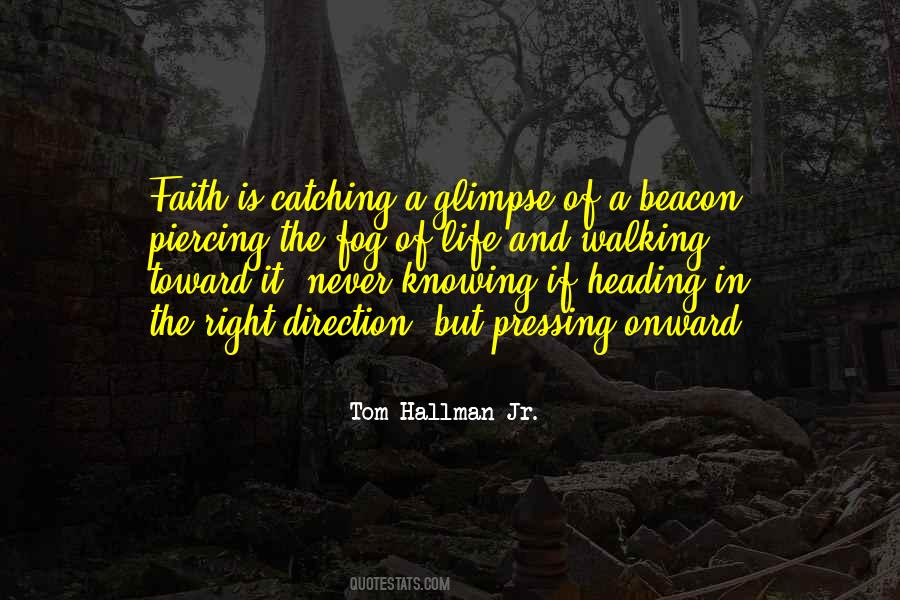 #26. A whole lot of us believers, of all different religions, are ready to turn back the tide of madness by walking together, in both the dark and the light - in other words, through life - registering voters as we go, and keeping the faith. - Author: Anne Lamott
#27. Never give up on walking right. Something you have to remember is that God's fulfilled promises take patience and faith! Having faith believes in not what you SEE but what you BELIEVE. - Author: Chloe M. Gooden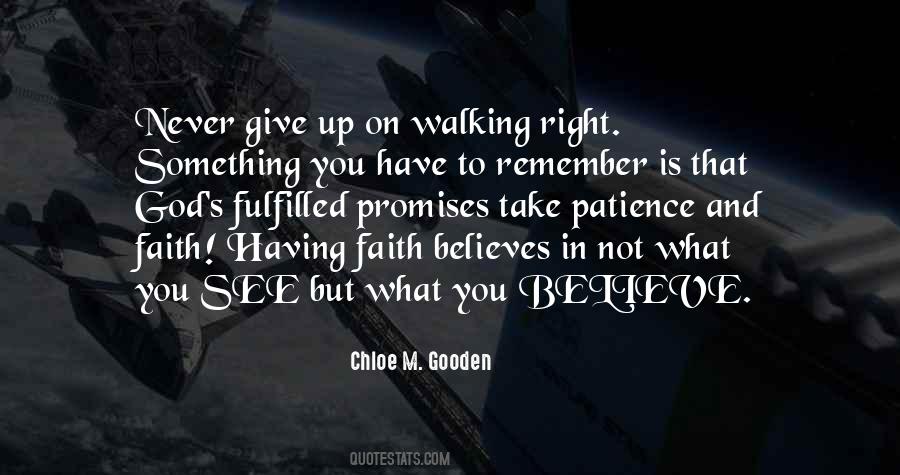 #28. I'll go walking in circles
While doubting the very ground beneath me
Trying to show unquestioning faith in everything - Author: David Sylvian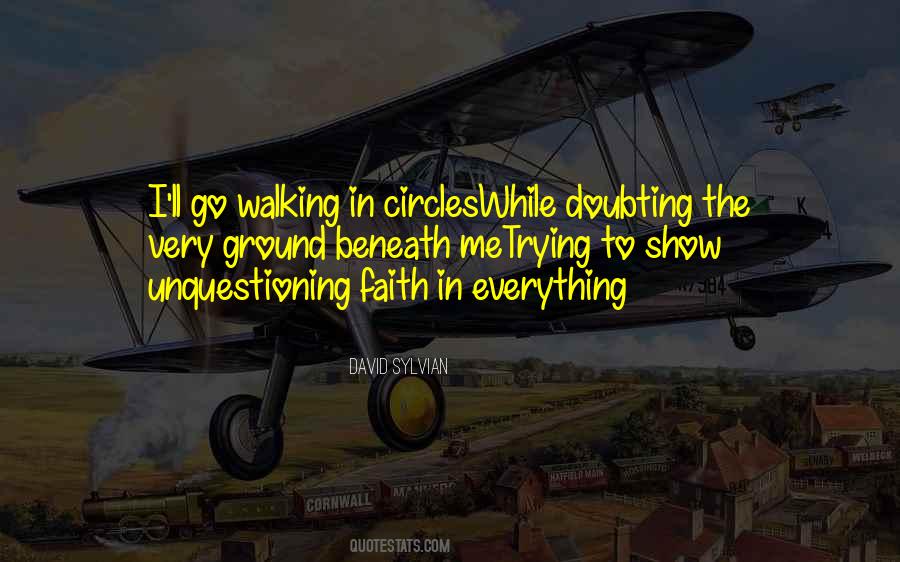 #29. God hasn't called you to walk in someone else's shoes (purpose). He wants you to walk in the shoes that fit you, for which He made you. You aren't going to succeed walking in another woman's shoes. - Author: Beth Moore Jones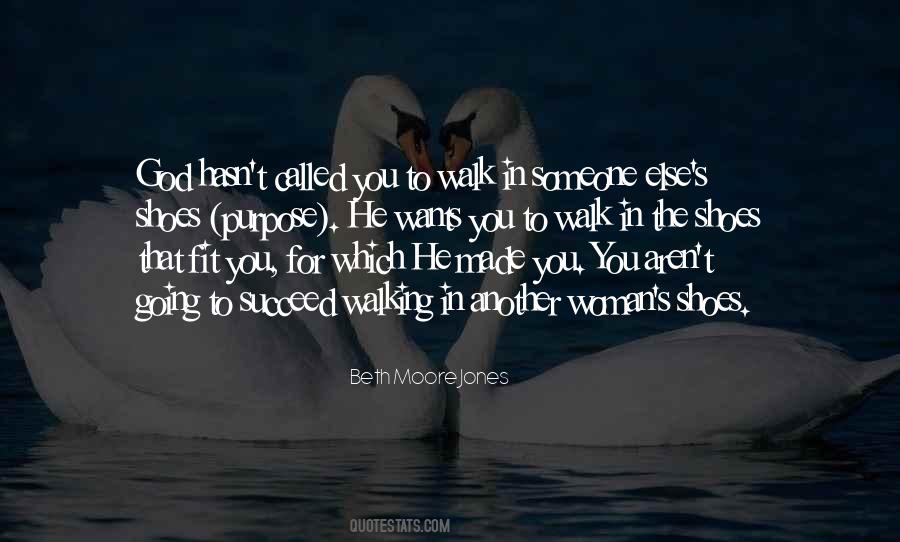 #30. Crawl in faith, and you will end up walking.
Walk in faith, and you will end up jogging.
Jog in faith, and you will end up running.
Run in faith, and you will end up sprinting.
Sprint in faith, and you will end up soaring. - Author: Matshona Dhliwayo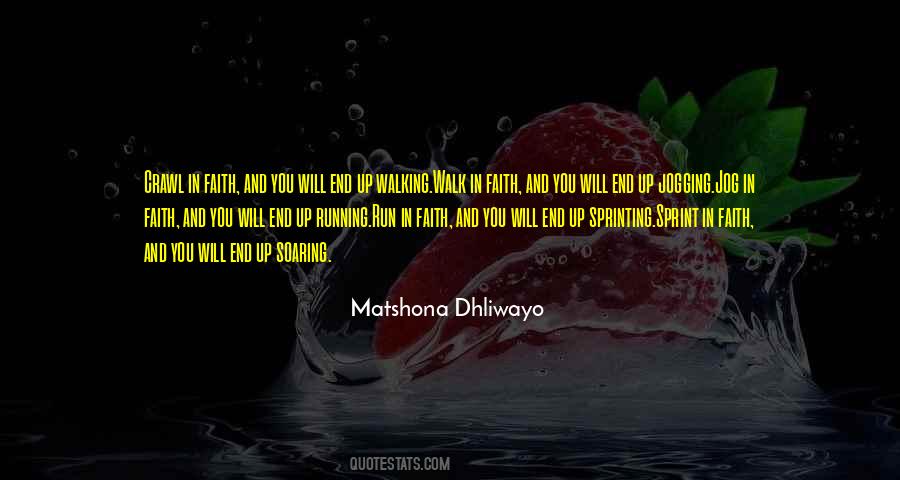 #31. In the end, it is not by knowledge that we make our journeys but by hope and faith: hope that our walk will be worthy of our steps and faith that we are going somewhere. And only when we come to the end of our journeys do we truly understand that every step of the way we were walking on water. - Author: Richard Paul Evans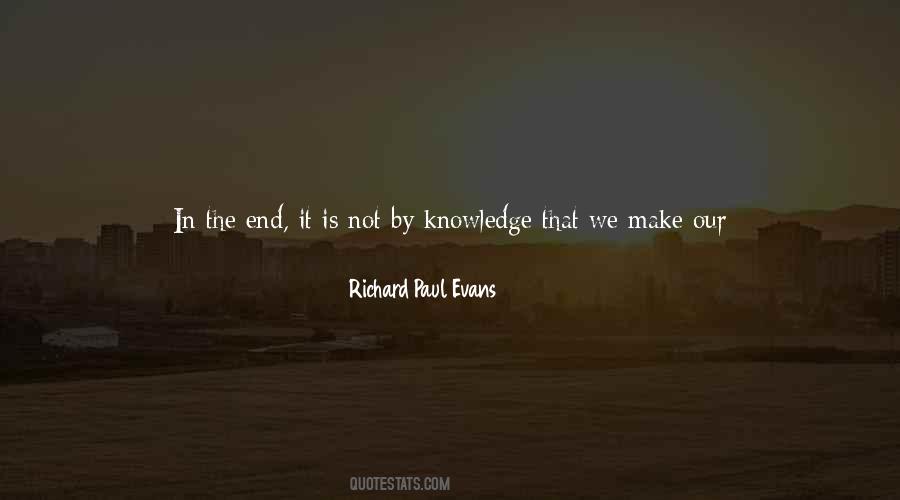 Famous Authors
Popular Topics