Voting For Me Famous Quotes & Sayings
List of top 60 famous quotes and sayings about voting for me to read and share with friends on your Facebook, Twitter, blogs.
Top 60 Quotes About Voting For Me
#1. Every time you choose a perfume, you are voting. And, of course, I hope you vote for me. Not only for my ego, but for my pocketbook. The more you buy, the more money I make. - Author: Oleg Cassini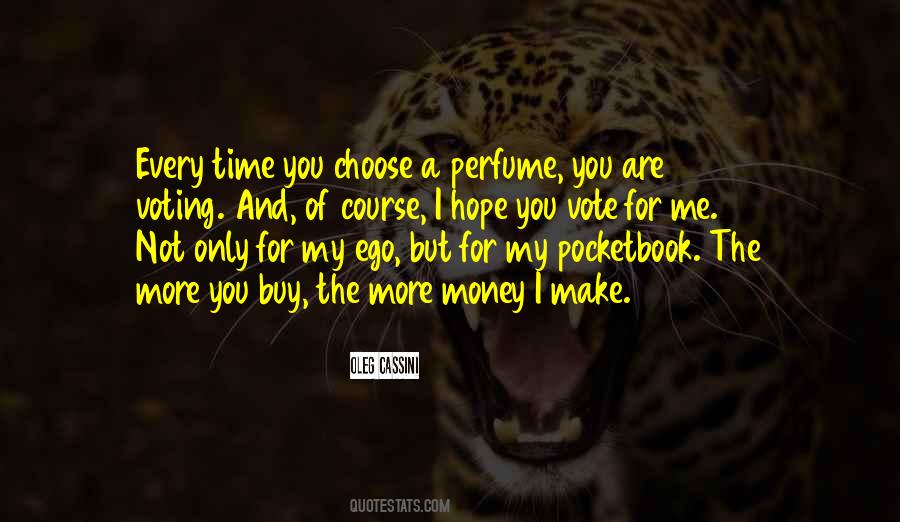 #2. I was the second-best player in high school. I was the second pick in the draft. I've been second in the MVP voting three times. I came in second in the Finals. I'm tired of being second. I'm not going to settle for that. I'm done with it. - Author: Kevin Durant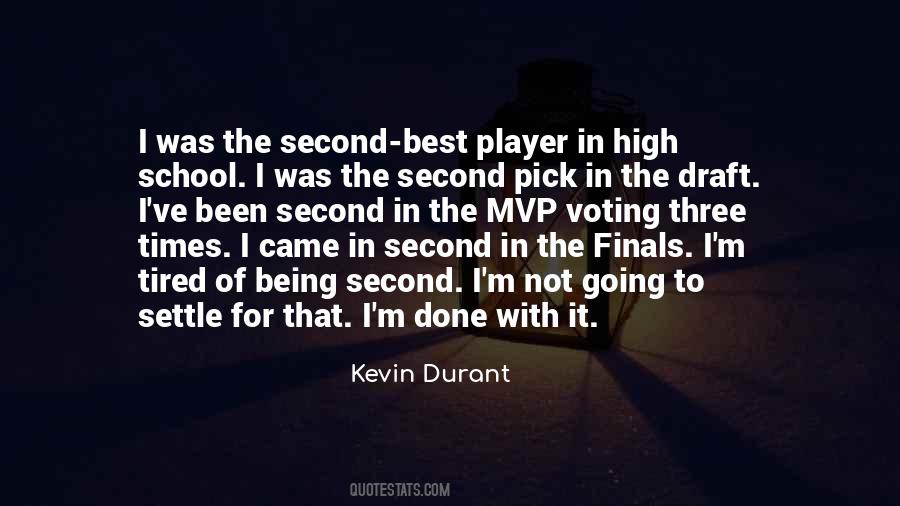 #3. The recession is everywhere. We need to be heard. Wouldn't it be great if there could be more referendums so we could have regular voting on specific points? - Author: Joss Stone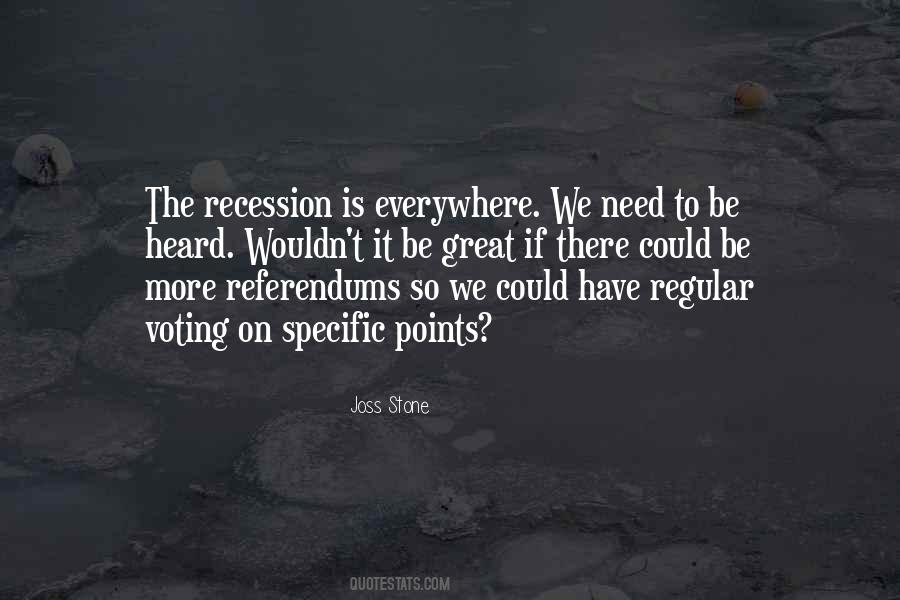 #4. I was guided by Allah (God) to give a yardstick to the voting public, particularly Black people as to what will set that candidate apart from others. - Author: Louis Farrakhan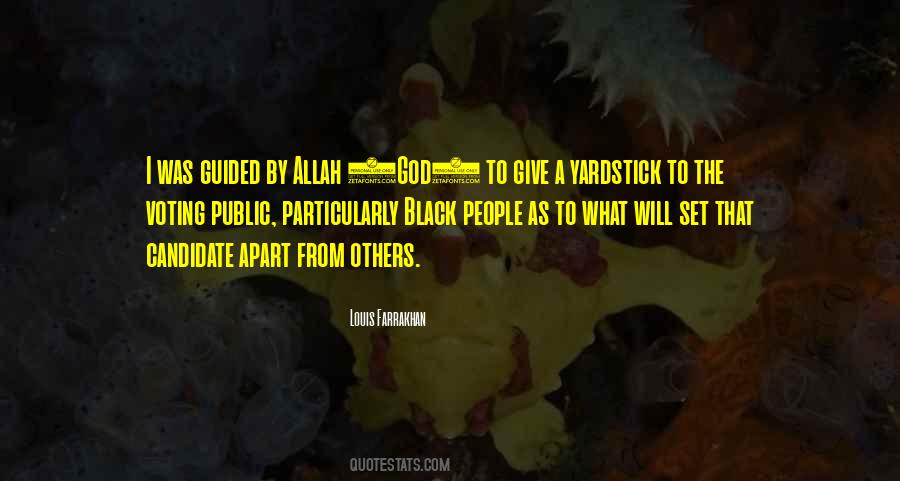 #5. Racial discrimination in elections in Texas is no mere historical artifact. To the contrary, Texas has been found in violation of the Voting Rights Act in every redistricting cycle from and after 1970. - Author: Ruth Bader Ginsburg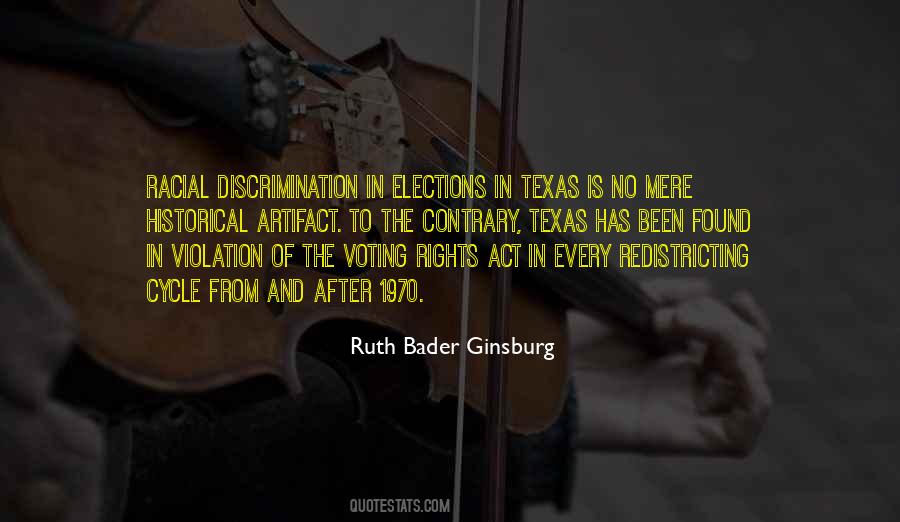 #6. Republican primary voters, whether they're close primaries or open, are voting for anybody but candidates attached to the Republican establishment. - Author: Rush Limbaugh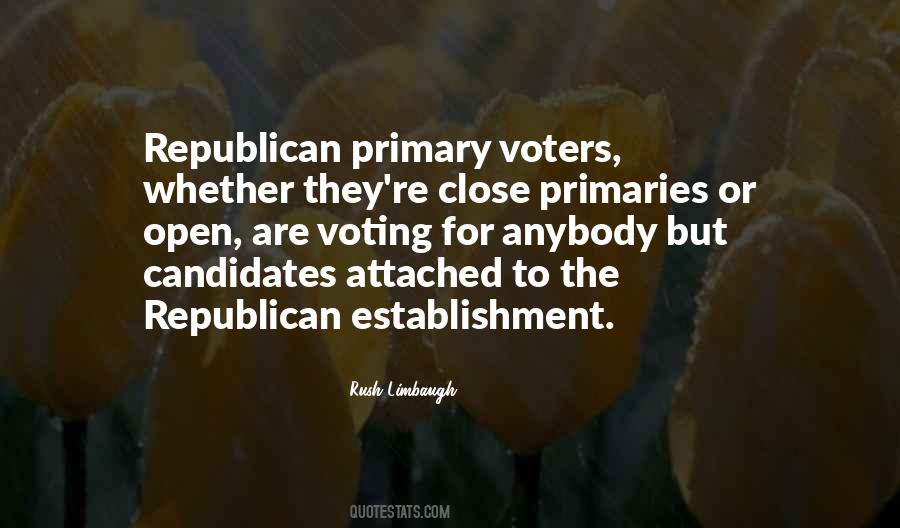 #7. The executive, in our government is not the sole, it is scarcely the principle, object of my jealousy. The tyranny of the legislature is the most formidable dread at present and will be for many years. That of the executive will come in its turn, but it will be at a remote period. - Author: Thomas Jefferson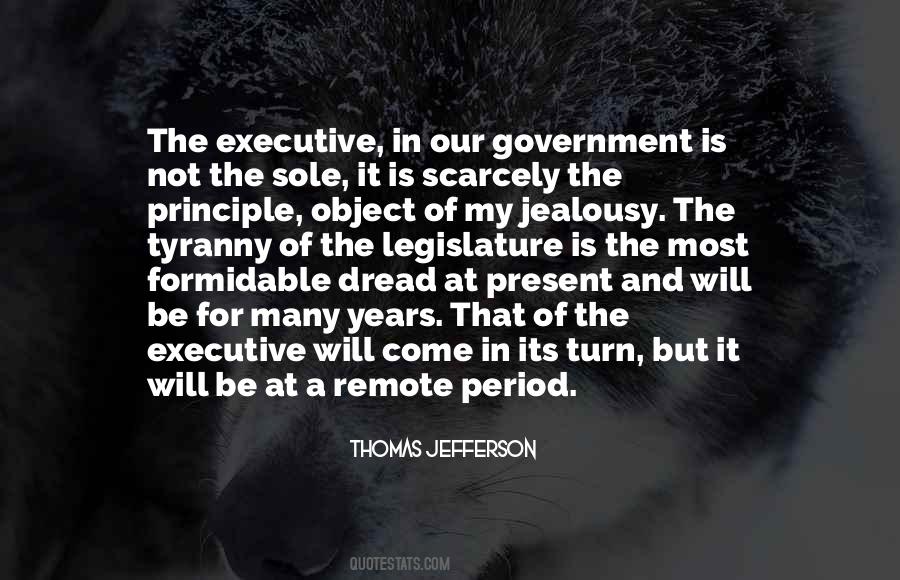 #8. When people don't know whom to vote, it is just waste of time and money. - Author: M.F. Moonzajer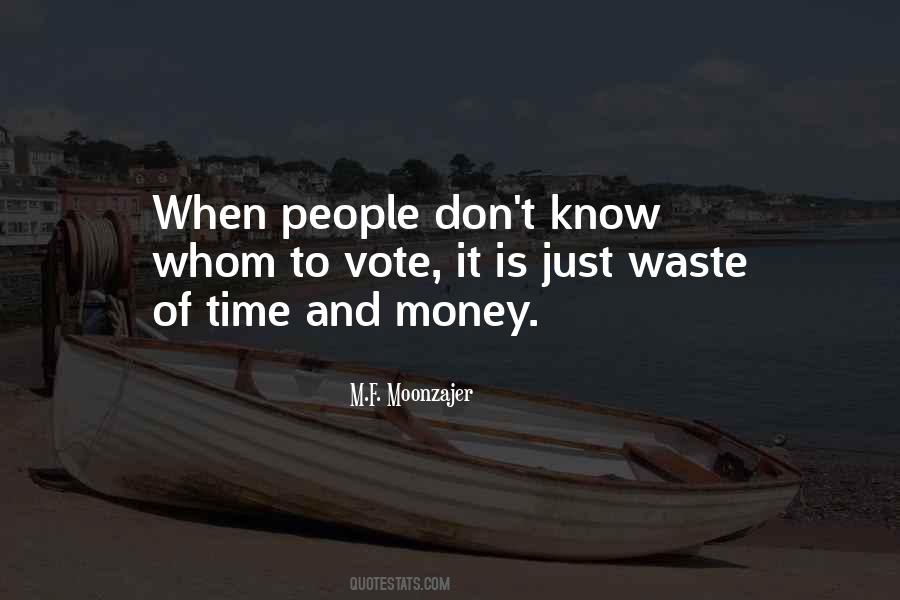 #9. The minute you take away somebody the public's voting for, you're screwing with the program. There's no logic to it. - Author: Nigel Lythgoe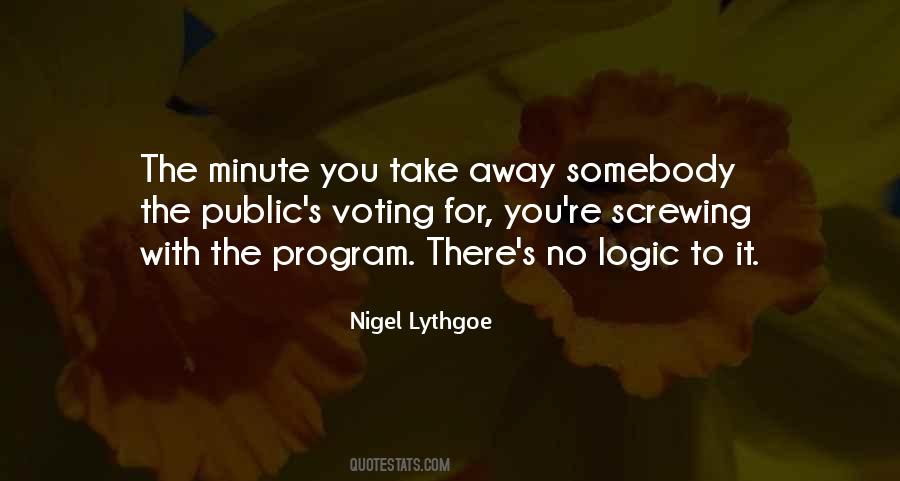 #10. All over this country you have progressive communities like Madison and Burlington, but we've got to go well, well, well outside of those communities. We've got to go to the rural areas. We've got to go where a lot of working people are voting Republican. - Author: Bernie Sanders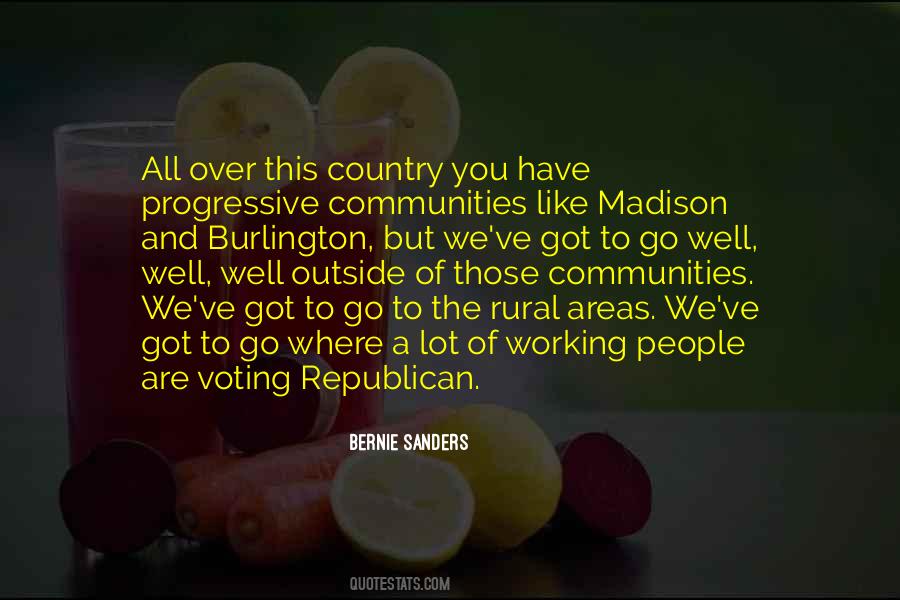 #11. Democrats are the only reason to vote for Republicans - Author: Will Rogers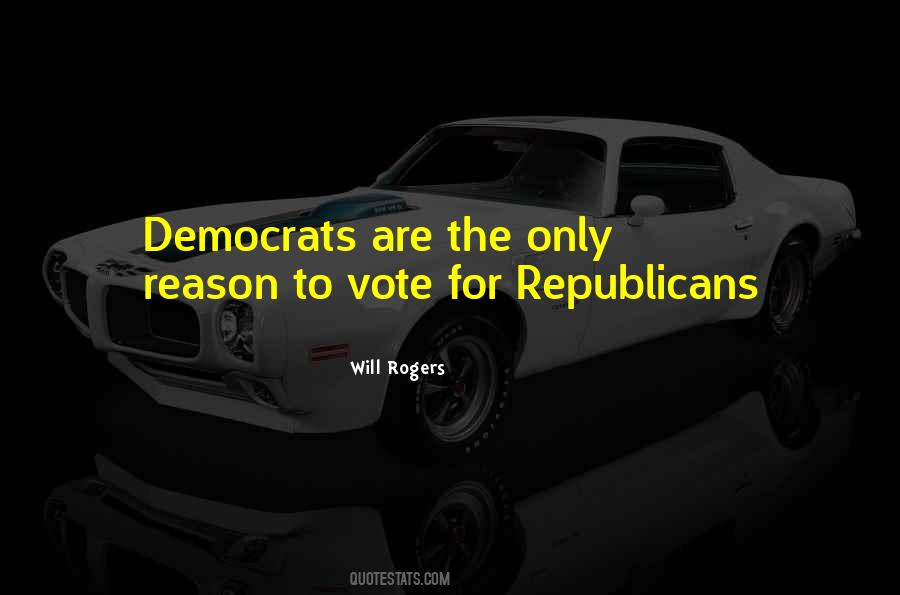 #12. I mean to live my life an obedient man, but obedient to God, subservient to the wisdom of my ancestors; never to the authority of political truths arrived at yesterday at the voting booth. - Author: William F. Buckley Jr.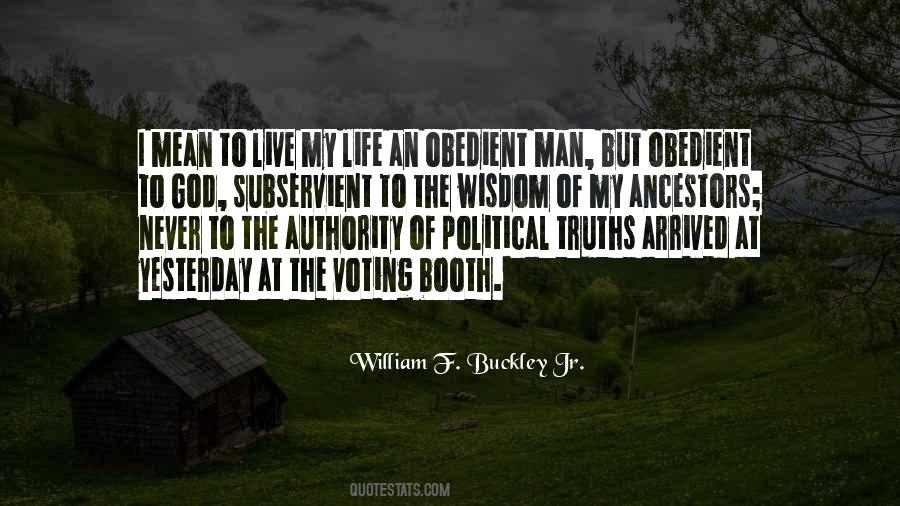 #13. My vote is my secret. - Author: Desmond Tutu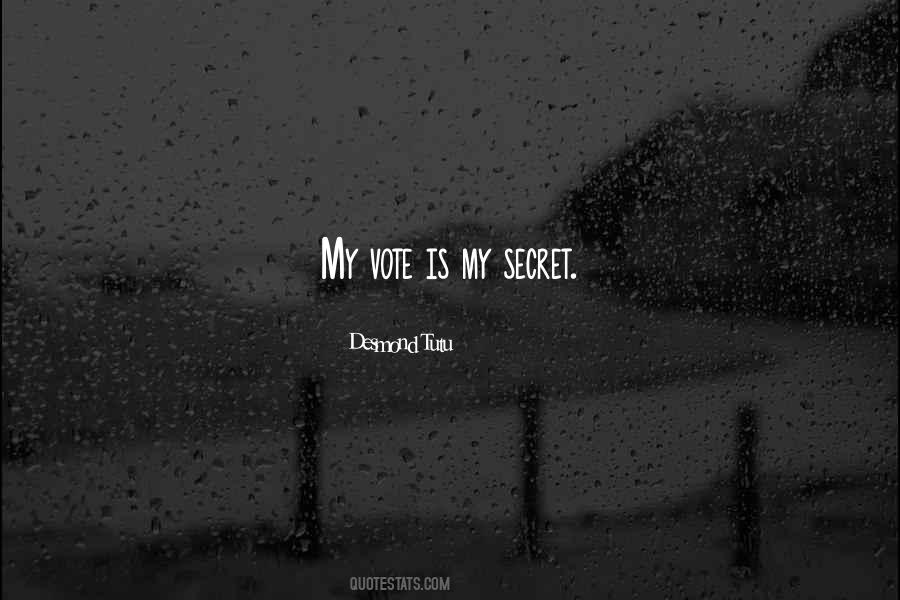 #14. Majority rule must stop at our unalienable rights. Without that, pure democratic rule is a terrible thing. It's like two wolves and a lamb voting to see what's for dinner. - Author: LaVoy Finicum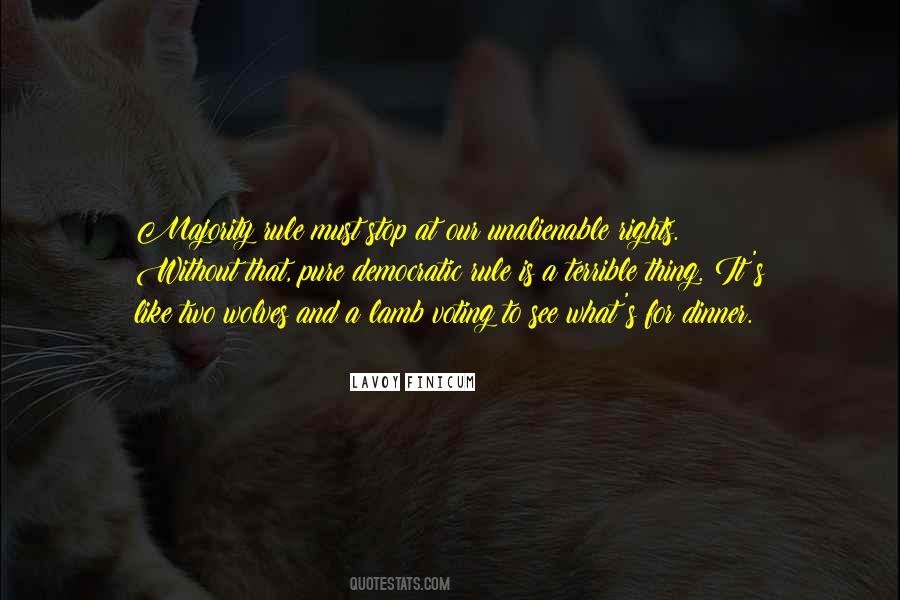 #15. A citizen of America will cross the ocean to fight for democracy, but won't cross the street to vote in a national election. - Author: Bill Vaughan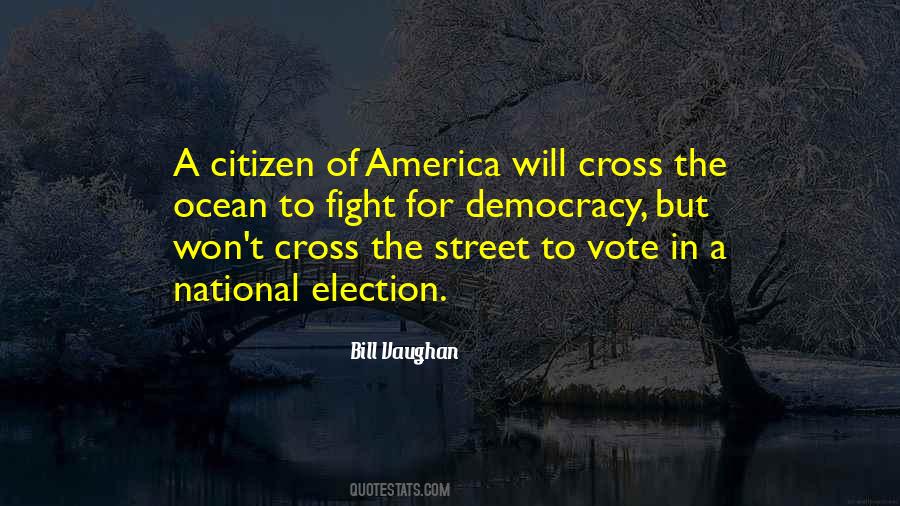 #16. The apathy of the modern voter is the confusion of the modern reformer. - Author: Learned Hand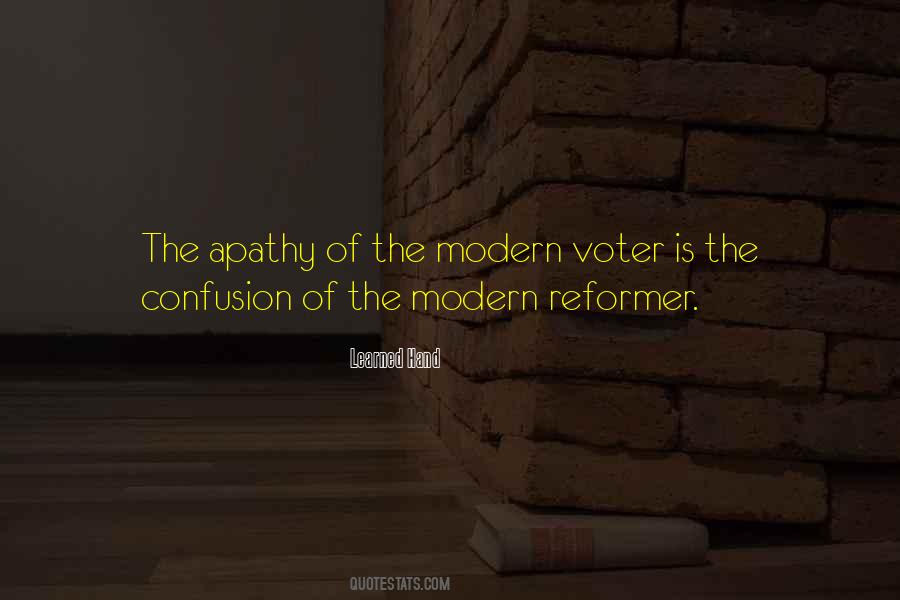 #17. Do not tell me that I have not shown courage in standing up to the gun people, in voting to ban assault weapons, voting for instant background checks, voting to end the gun show loophole and now in a position to create a consensus in America on gun safety. - Author: Bernie Sanders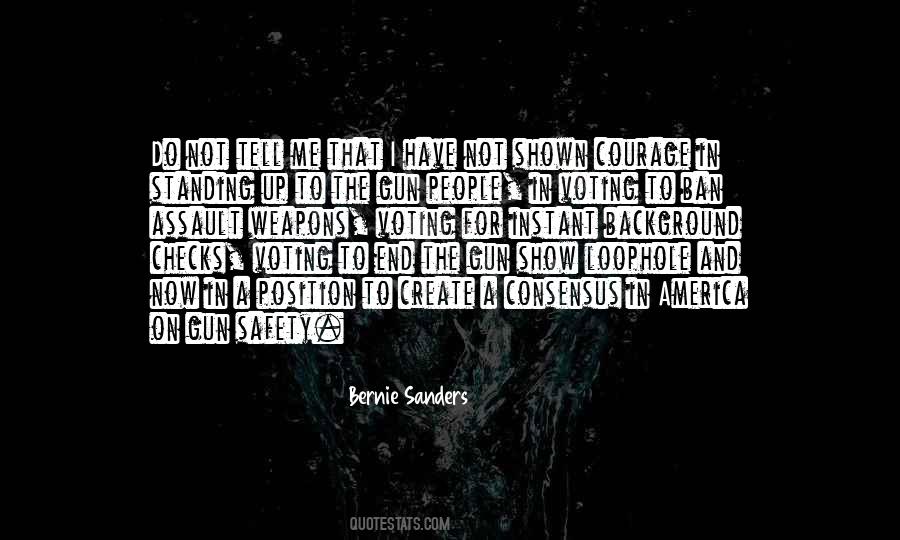 #18. I love seeing on Twitter when someone says I'm gay, and I say, 'So what does it matter if I am? So be it. I hope you are not voting for me because you are making the presumption that I'm straight.' - Author: Cory Booker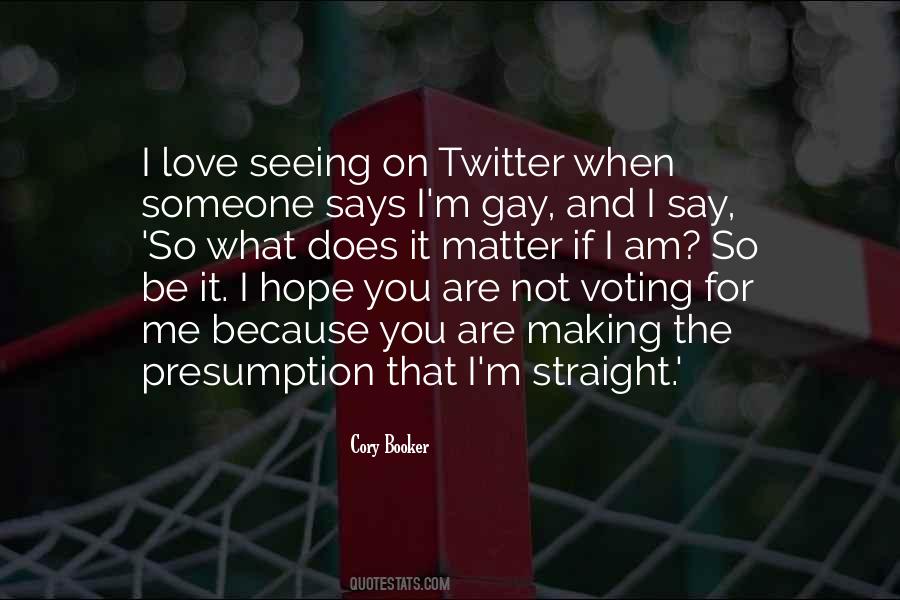 #19. I found that a whole series of people opposed me simply on the grounds that I was a woman. The clerics took to the mosque saying that Pakistan had thrown itself outside the Muslim world and the Muslim umar by voting for a woman, that a woman had usurped a man's place in the Islamic society. - Author: Benazir Bhutto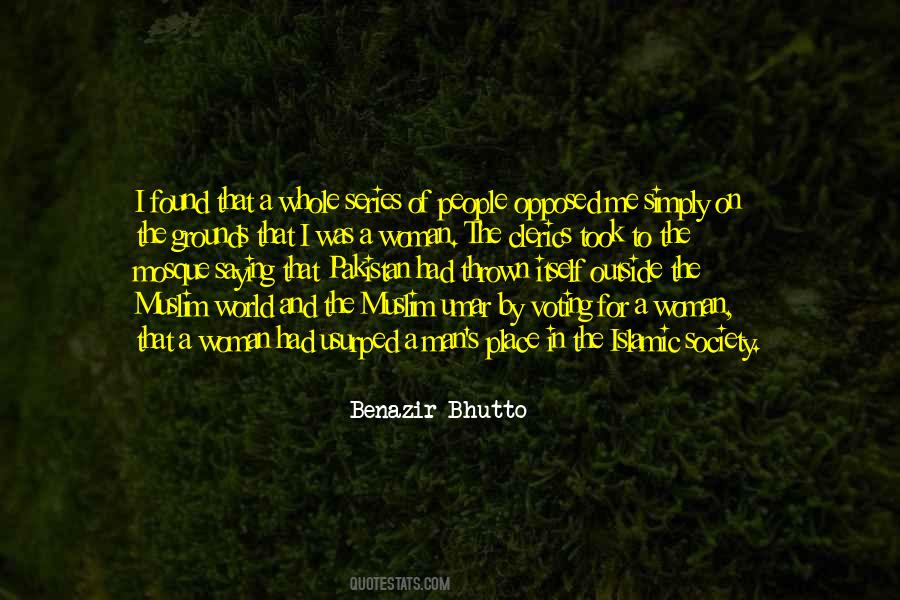 #20. Every vote for a governing office is an instrument for enslaving me. - Author: M. E. Lazarus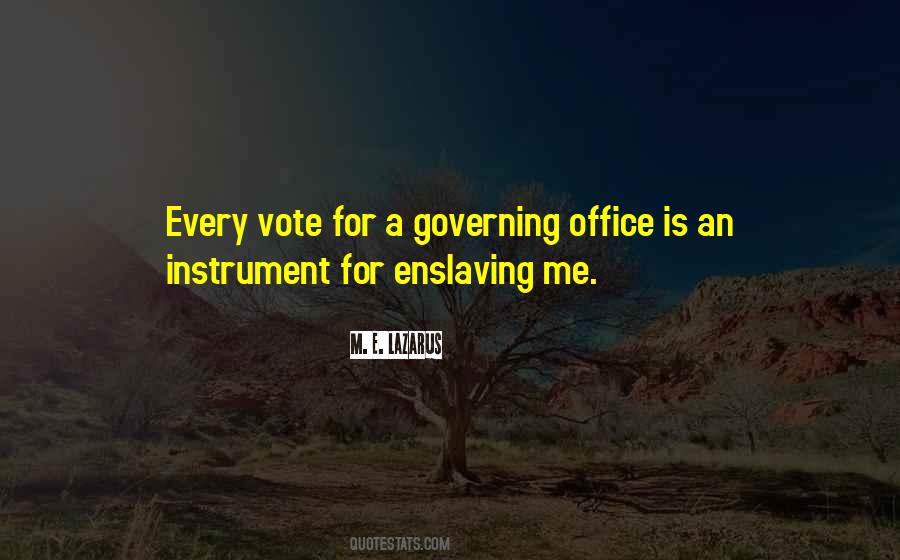 #21. Thank you to the readers of the 'Huffington Post' for voting me the 'Hottest Freshman' of the 111th Congress. It's about time politicians from Illinois were known for something other than bad haircuts or having the ability to walk on water. - Author: Aaron Schock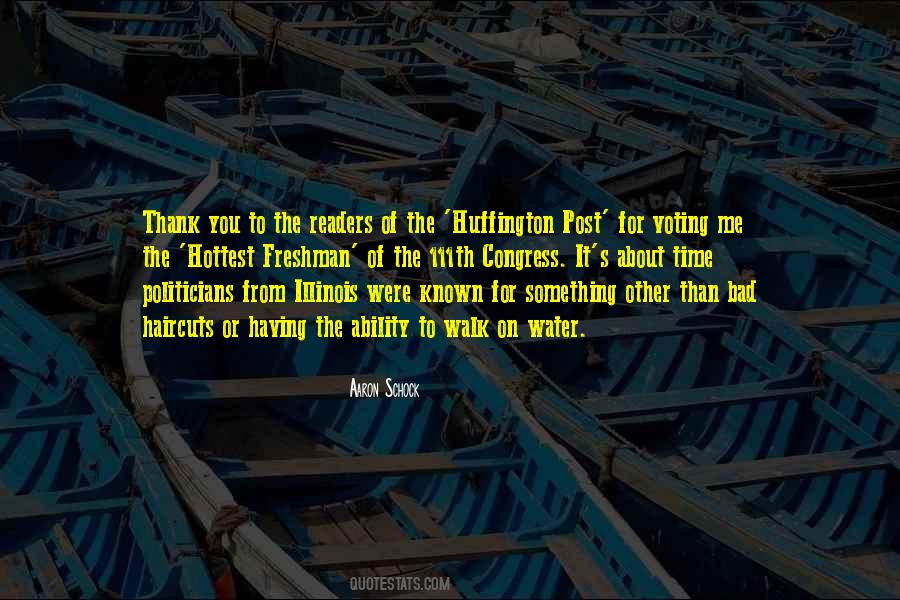 #22. Something that I've struggled with for awhile is looking at our country voting on sound bites, and to me, character is really important. - Author: Taya Kyle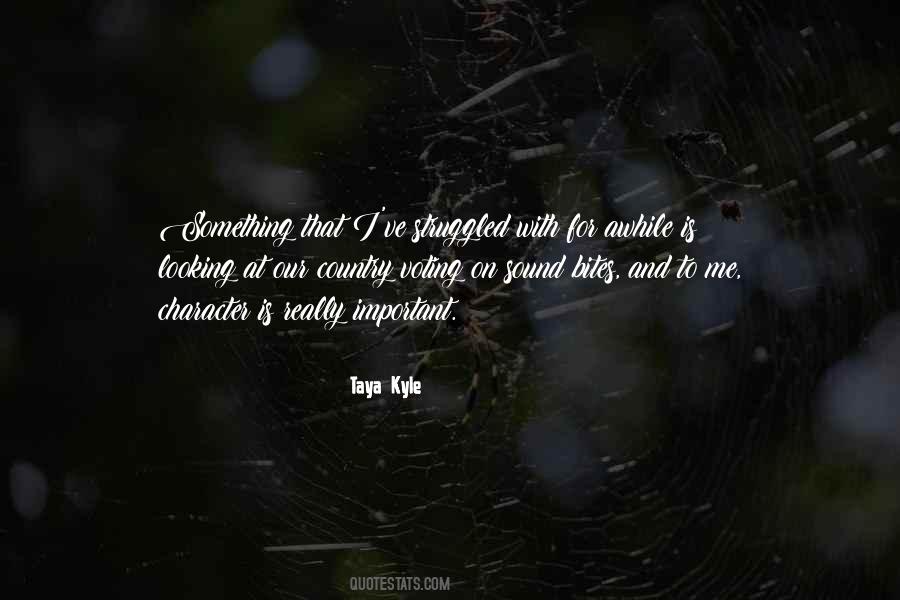 #23. I'm elected. I don't report to any politician. I report to the people. If I had to report to any politician, I'd quit tomorrow. I'm not tall, dark and handsome. They don't vote for me because I look like a movie star. I can't get that vote. People keep voting for me because they like what I do. - Author: Joe Arpaio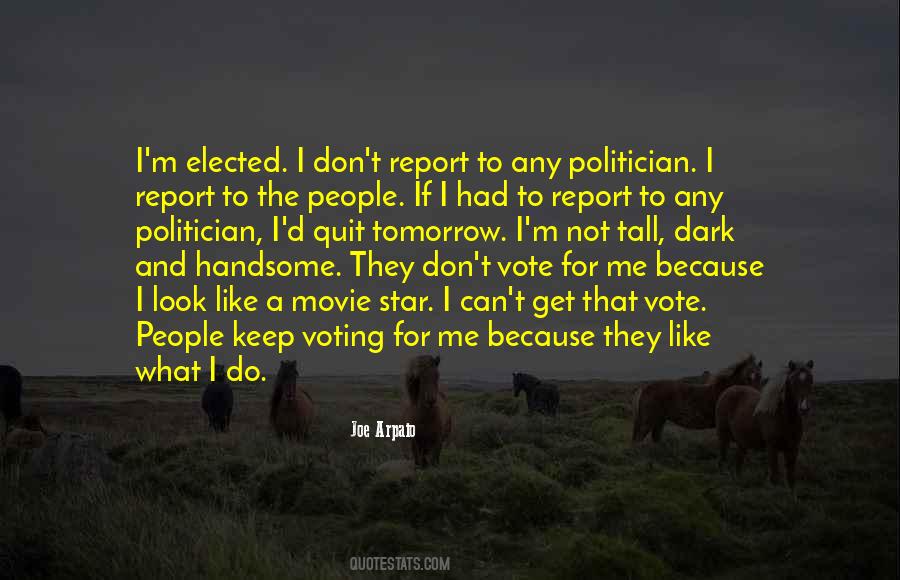 #24. I hope that no American will waste his franchise and throw away his vote by voting either for me or against me solely on account of my religious affiliation. It is not relevant. - Author: John F. Kennedy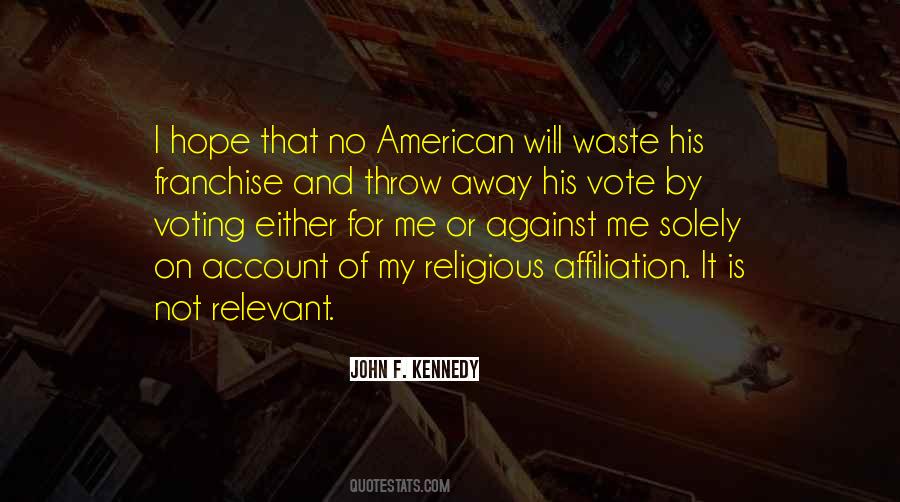 #25. Voting has not been tough for me, for the most part, because there's guideposts about what will bring about the greatest amount of happiness for the greatest amount of people. - Author: Michele Bachmann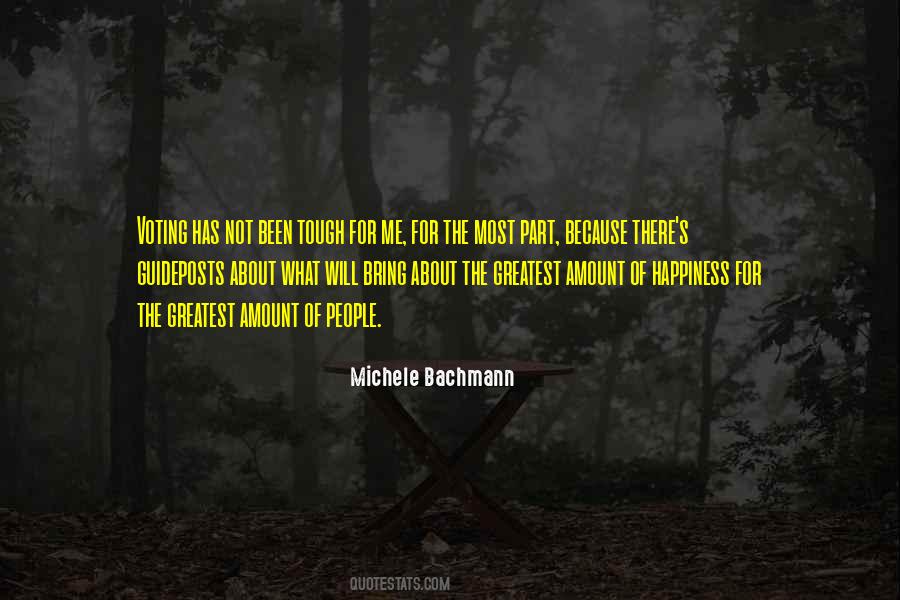 #26. Don't listen to me. I'm not a politician. I know nothing about politics. But people are cheering when something very bad happens to him [Donald Trump]. So that's got to make you think before voting for him. - Author: Sacha Baron Cohen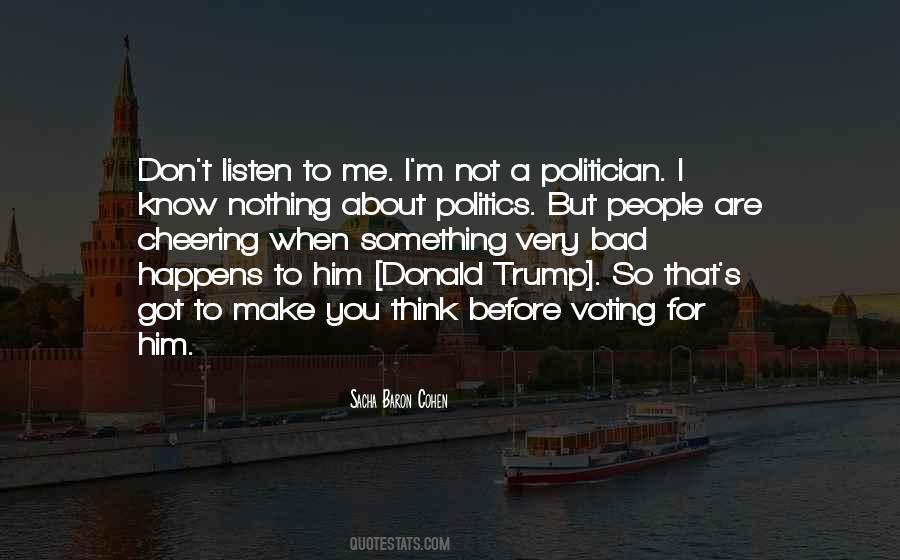 #27. A lot of people voting for Pat Buchanan say they are doing so to send a message. Apparently that message is, 'Hey, look at me, I'm an idiot.' - Author: Dennis Miller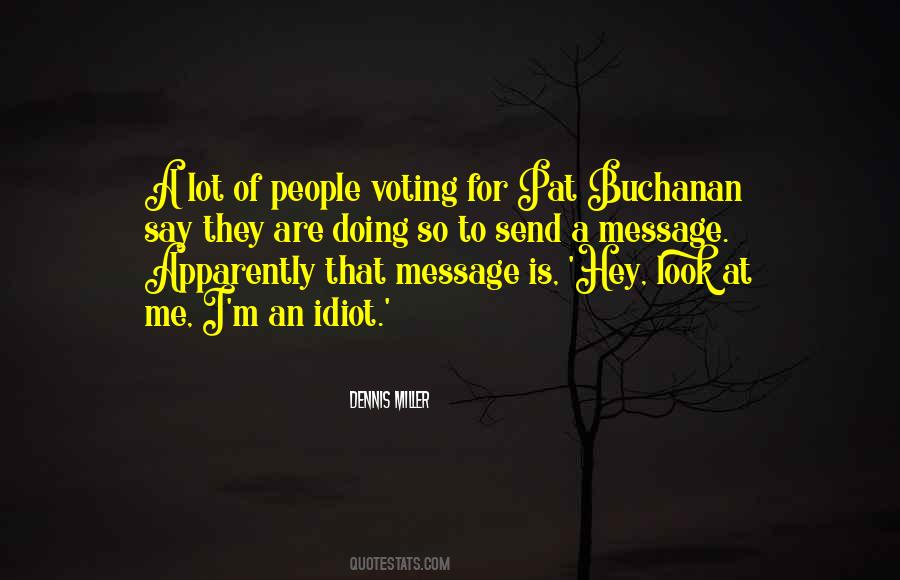 #28. If the colored people made a mistake in voting for me, they ought to correct it. - Author: Woodrow Wilson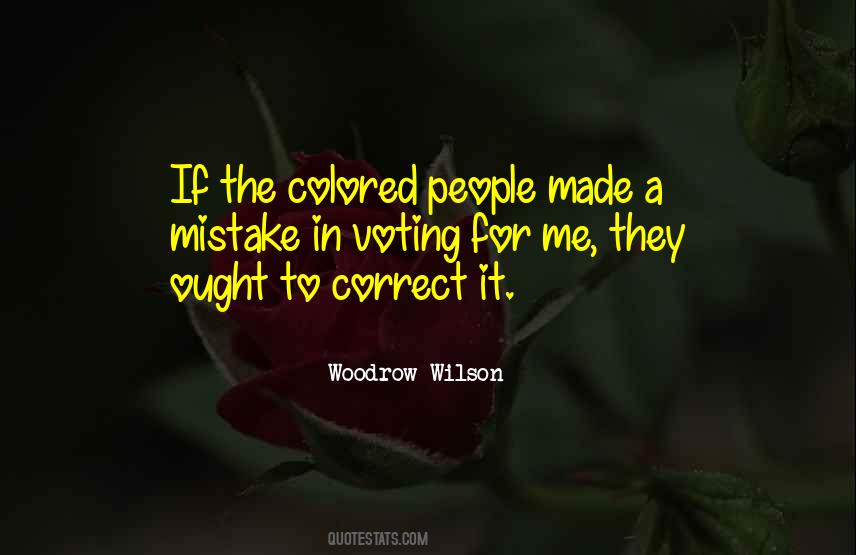 #29. I enjoyed my new position as vice president, but it took me a while to get used to the fact that I no longer had the voting privileges I had enjoyed for 10 years as a senator. - Author: Harry S. Truman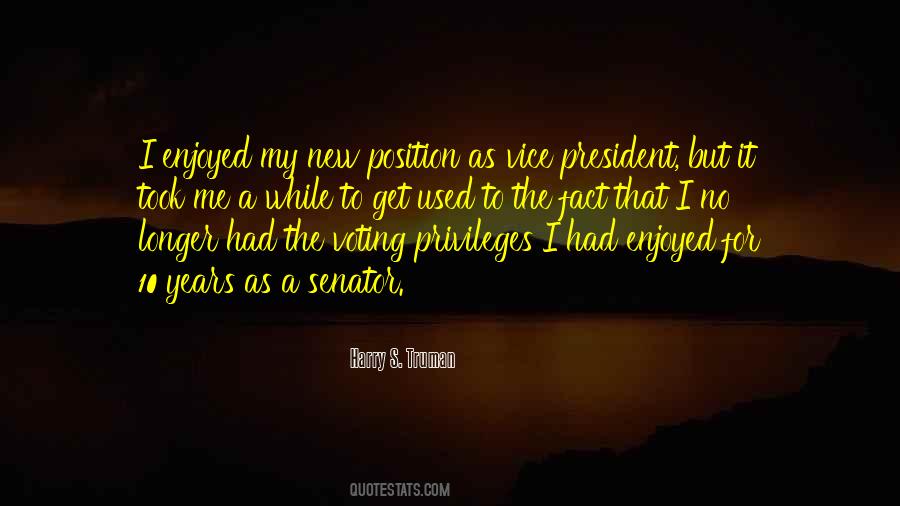 #30. That's incredible ... I don't know
okay, well, you know, nobody's probably voting for me. I mean, I'm not Richard. I haven't gone out of my way to be responsible or anything. - Author: Rachel Caine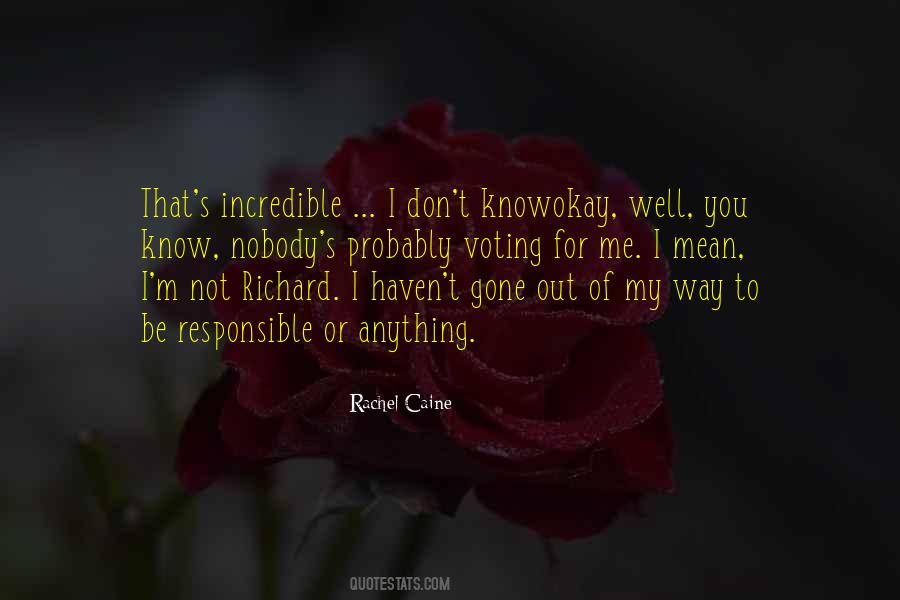 #31. A laconic Texas lawmaker declined to use his considerable influence to intervene in a loud dispute between his colleagues. When asked why not, he said, They're not voting. If they're not voting, they're not passing any laws. If they're not passing any laws, they're not hurting anybody. - Author: Robert A. Caro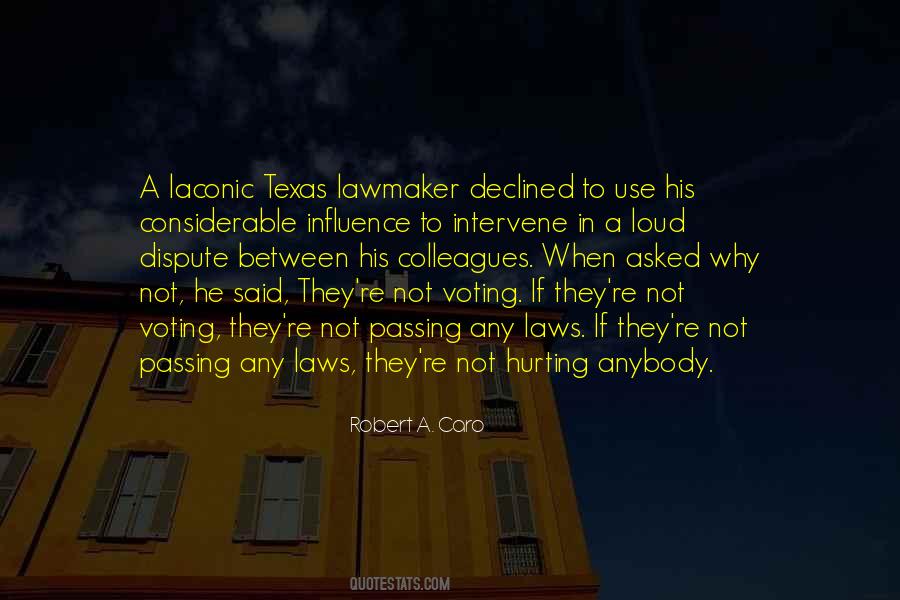 #32. If voting changed anything... I'd still laugh! - Author: Matt Paradise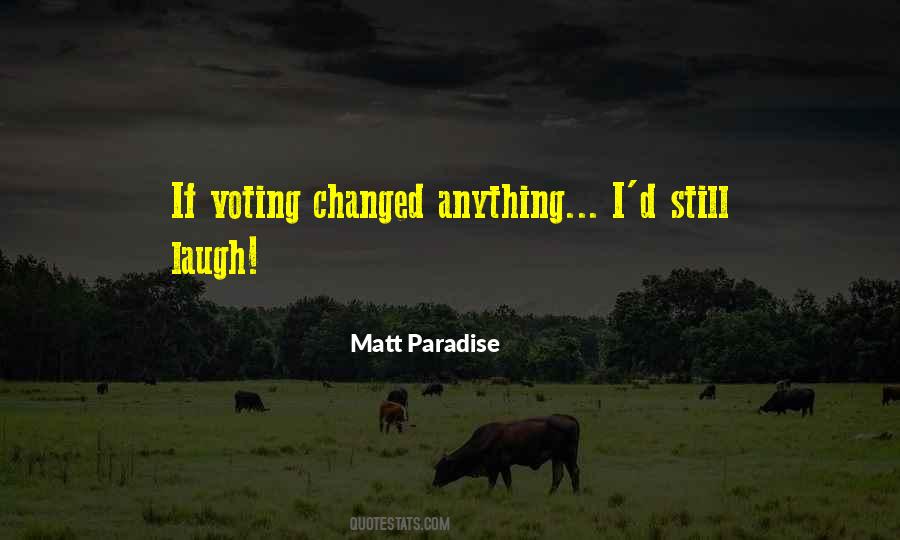 #33. By voting, we add our voice to the chorus that forms opinions and the basis for actions. - Author: Jens Stoltenberg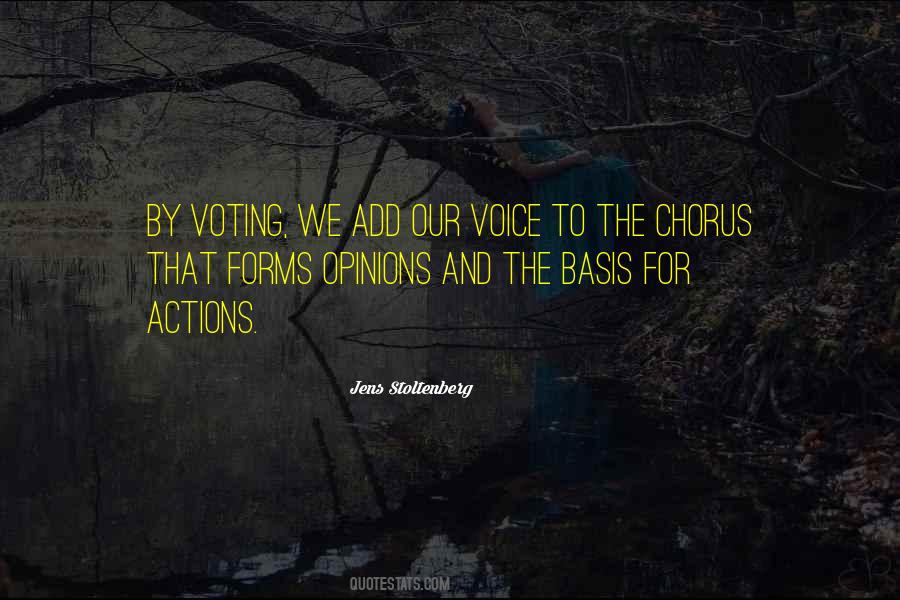 #34. Listen, Peaches, trickery is what humans are all about," said the voice of Maurice. "They're so keen on tricking one another all the time that they elect governments to do it for them. - Author: Terry Pratchett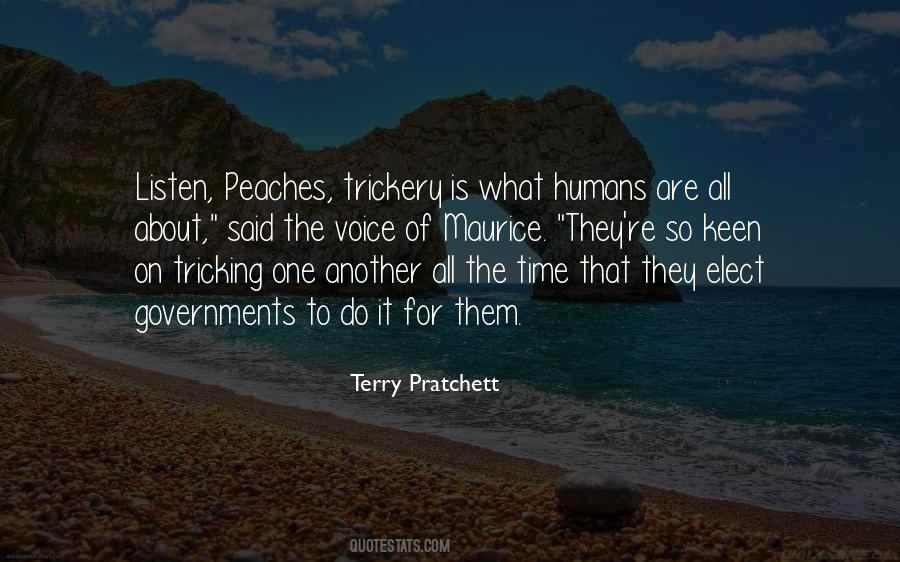 #35. At the bottom of all the tributes paid to democracy is the little man, walking into the little booth, with a little pencil, making a little cross on a little bit of paper-no amount of rhetoric or voluminous discussion can possibly diminish the overwhelming importance of the point. - Author: Winston Churchill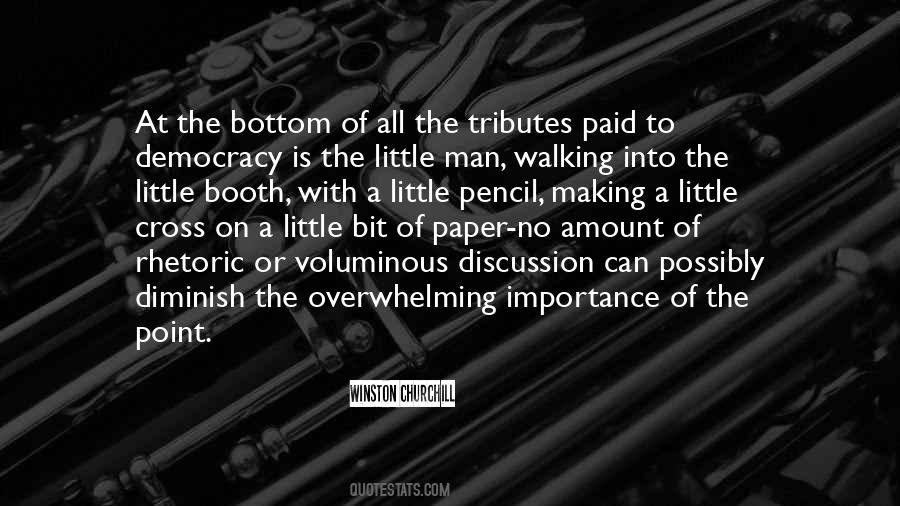 #36. We must continue to have voting rights in the state, not to politicize this, but they must have a voice in the rebuilding effort in the community from which they have been displaced. - Author: Marc Morial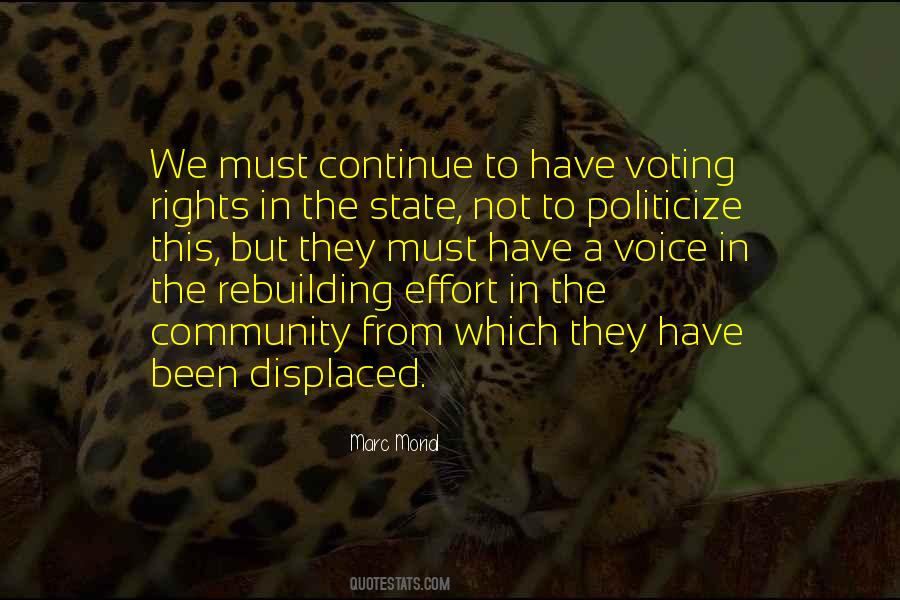 #37. I think it's difficult for members of Congress to be as independent as they need to be in their voting. - Author: Jim Moran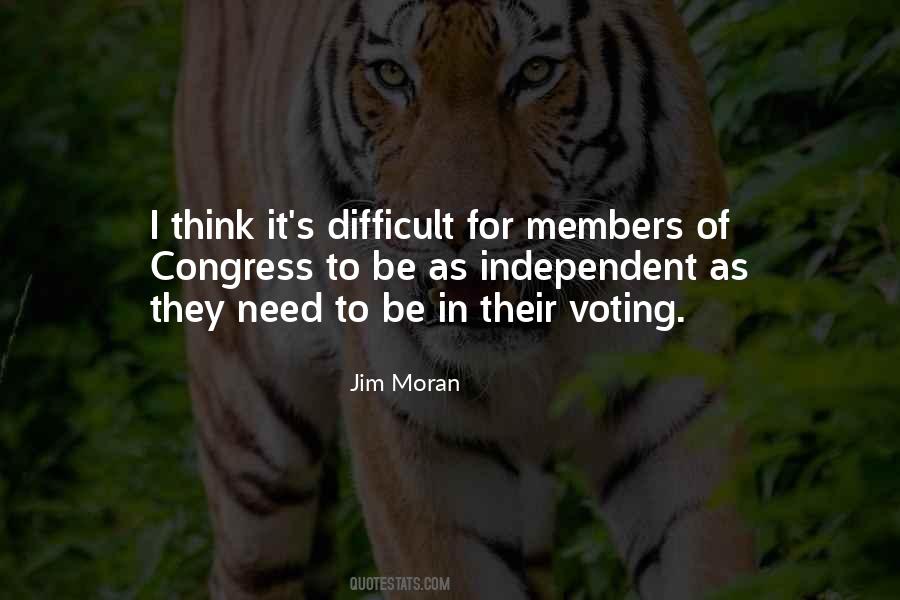 #38. I'm a conservative. I believe in the idea of freedom and liberty, but more importantly, look at my voting background. I voted against bailing out Wall Street. I voted against, never voted for, a tax increase. - Author: Kevin McCarthy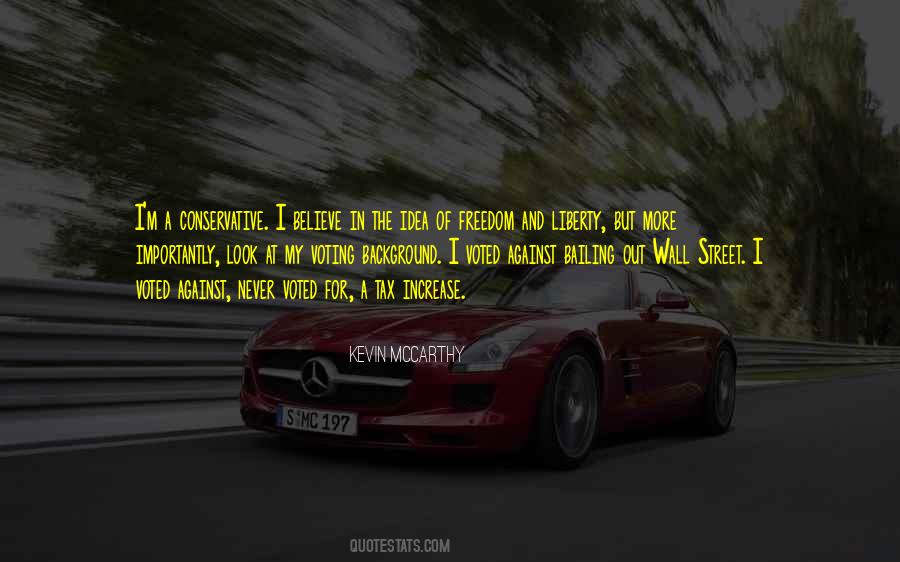 #39. Scoundrels will be corrupt and unconcerned citizens apathetic under even the best constitution. - Author: William Earl Maxwell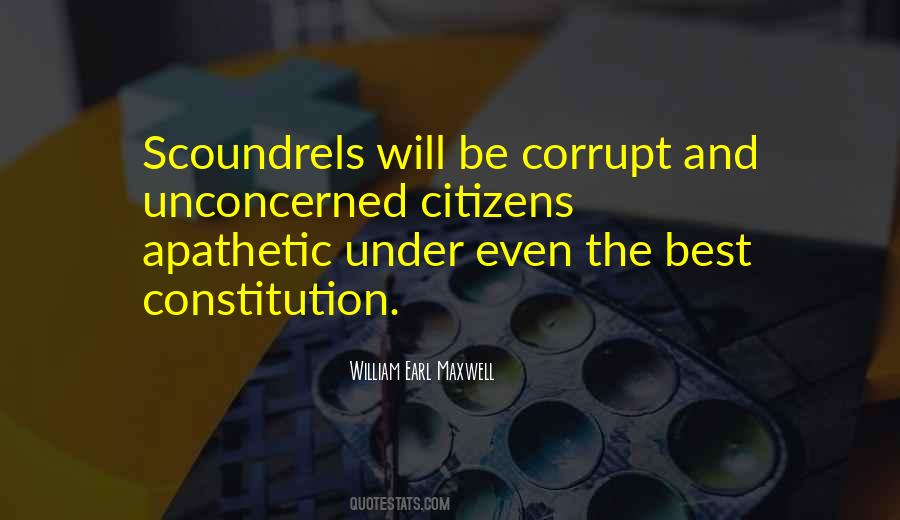 #40. As a senator from the only true swing district in the Texas Senate, I've been targeted by the GOP for my outspoken criticism of their extremist attacks on public education and voting rights, to name just two examples. - Author: Wendy Davis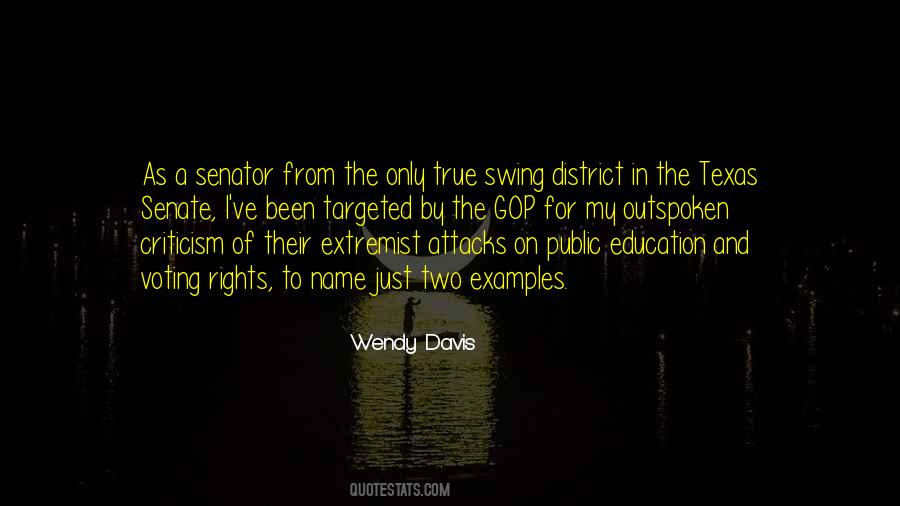 #41. But a voting-machine that human ingenuity can not pervert, human ingenuity can not invent. That - Author: Ambrose Bierce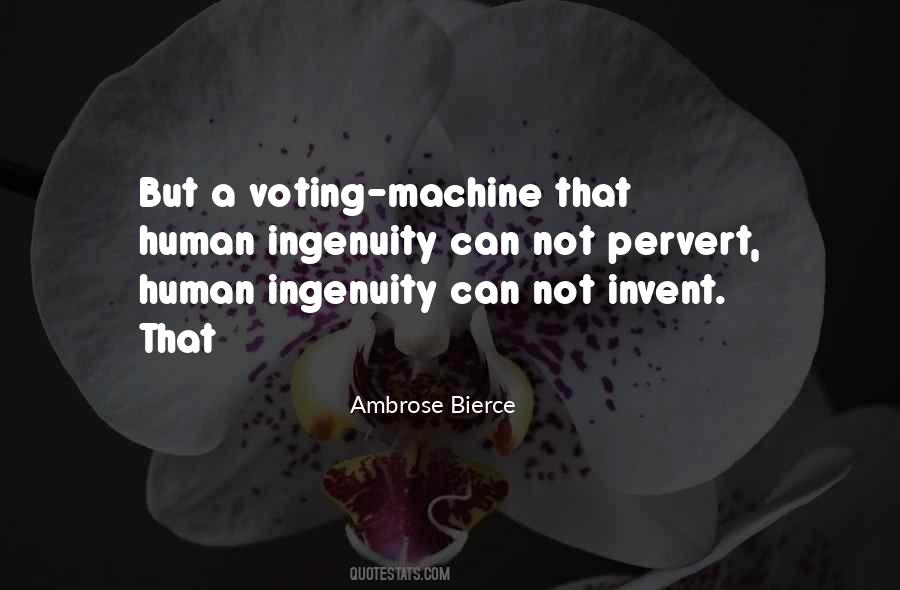 #42. The right of voting for representatives is the primary right by which other rights are protected. To take away this right is to reduce a man to slavery, for slavery consists in being subject to the will of another, and he that has not a vote in the election of representatives is in this case. - Author: Thomas Paine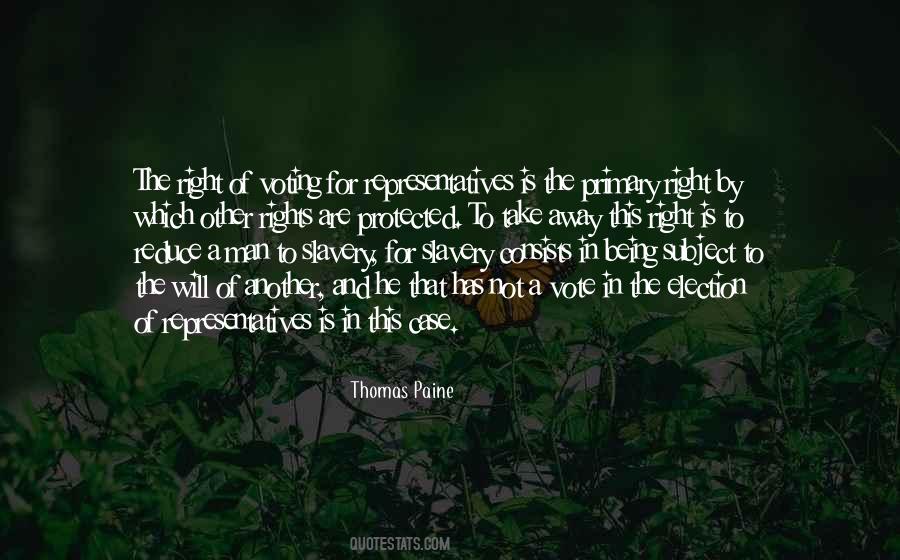 #43. Organizations worried about the potential for e-voting problems have long-advocated for audit procedures by which votes cast by e-voting machines could be verified through audit trails. - Author: Bob Barr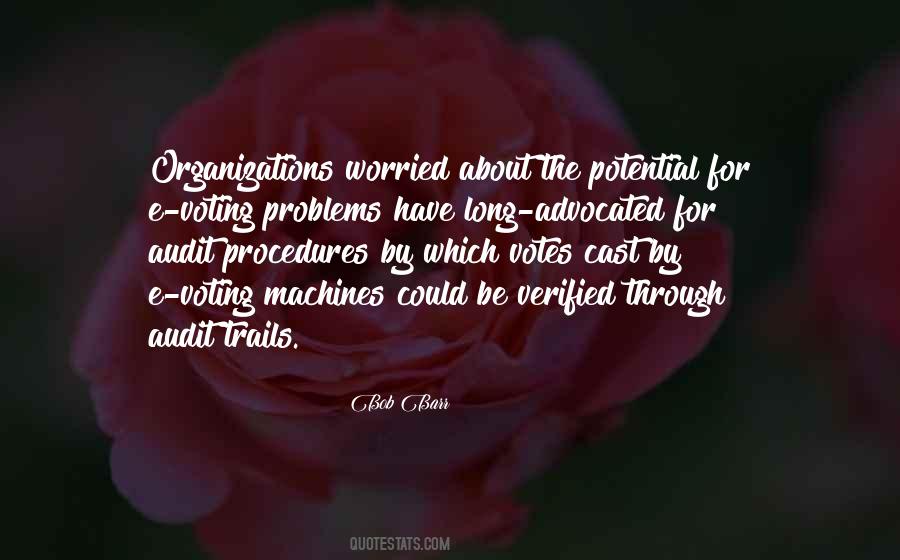 #44. When you vote, you play Russian Roulette with a magazine fed pistol. - Author: Tom Wallace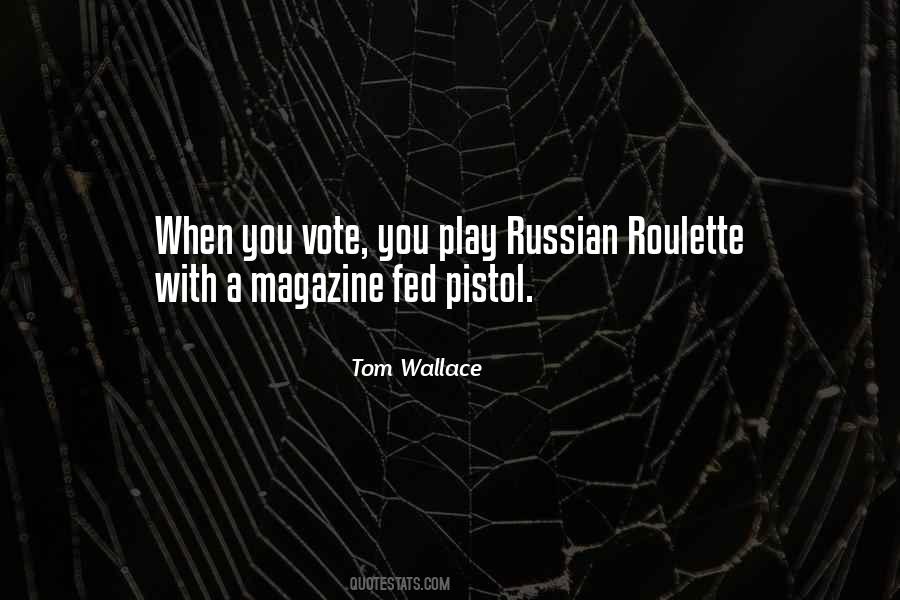 #45. Raising the standard of the work, not complaining about somebody not voting. - Author: Denzel Washington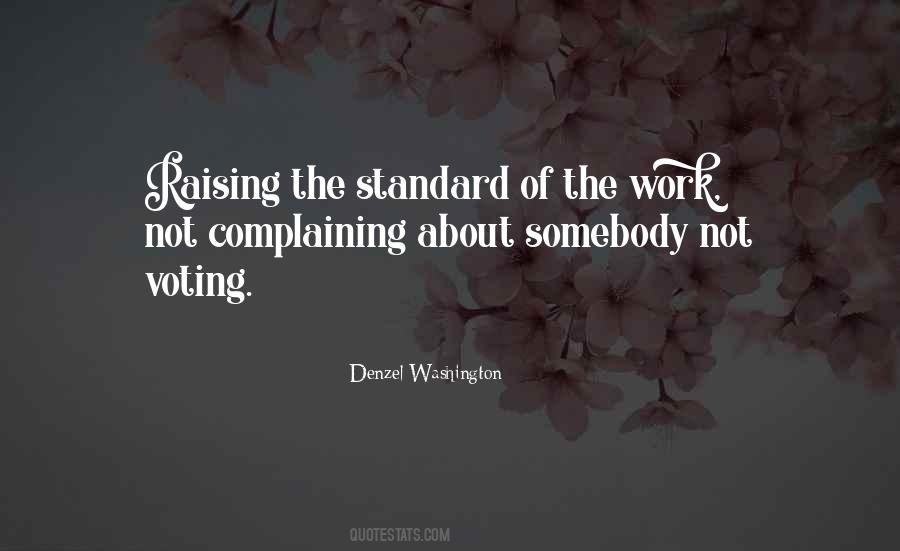 #46. What gets lost is that the Republican Party has always been the party of civil rights and voting rights. - Author: Rand Paul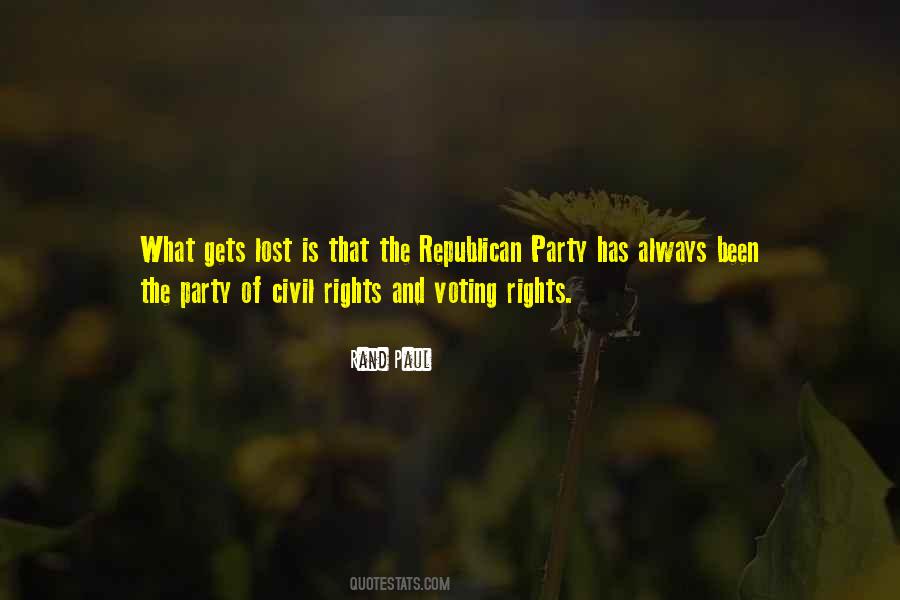 #47. ... gay marriage rights coming and going, always being an issue for the voting public when it should be an individual's private choice. - Author: G.A. Hauser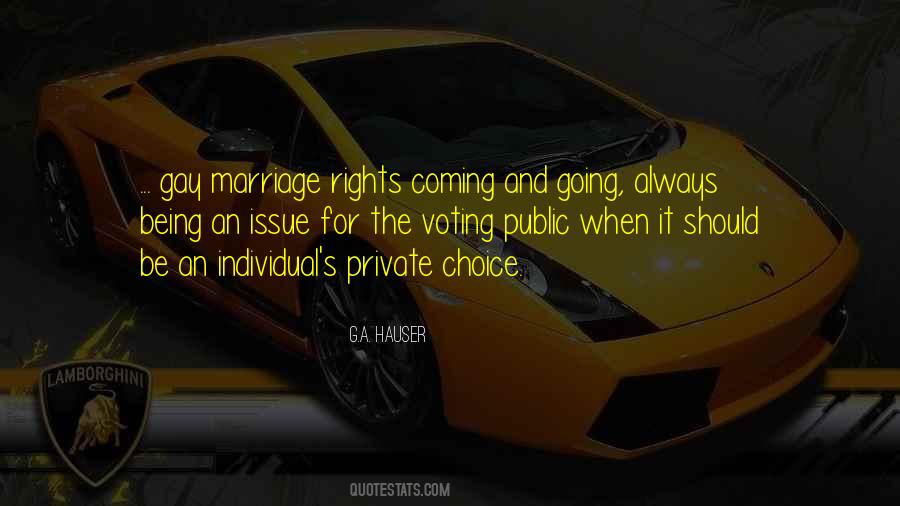 #48. Majority rule only works if you're also considering individual rights. Because you can't have five wolves and one sheep voting on what to have for supper. - Author: Larry Flynt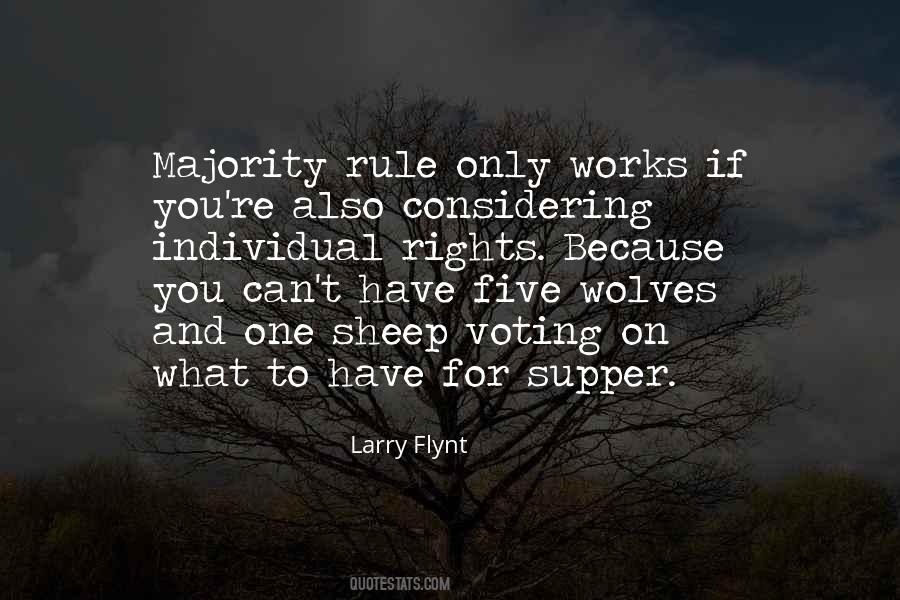 #49. Vainly you talk about voting it down. When you have cast your millions of ballots, you have not reached the evil. It has fastened its root deep into the heart of the nation, and nothing but God's truth and love can cleanse the land. We must change the moral sentiment. - Author: Frederick Douglass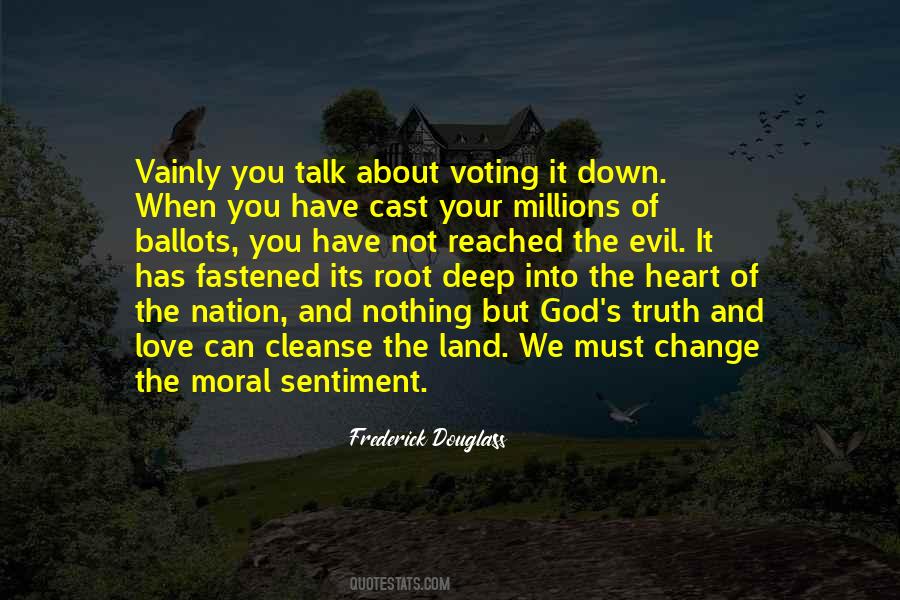 #50. Voting's important," Corrado said, pausing at the cellar door. "People like to feel like they actually have a say in what happens, even if it's just an illusion. - Author: J.M. Darhower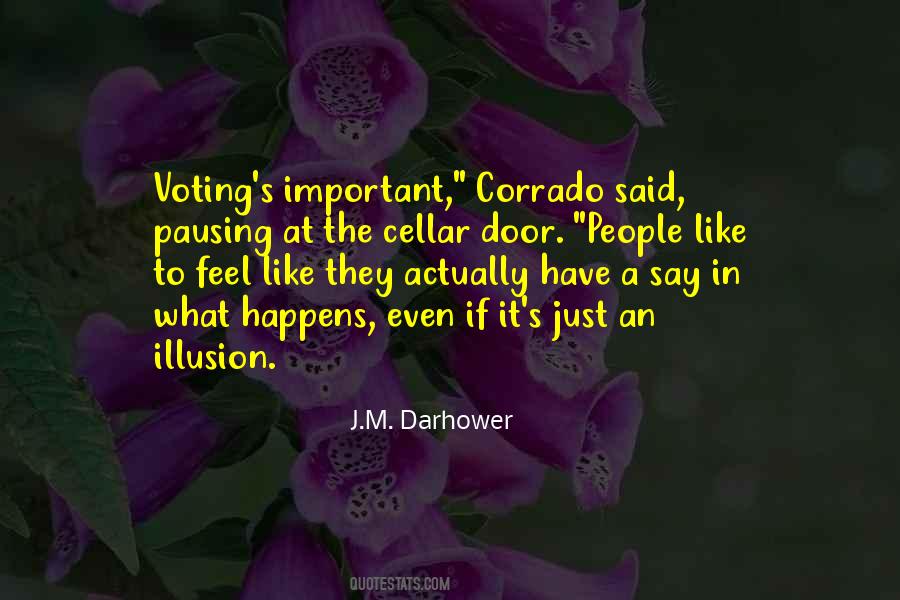 #51. Every citizen of this country should be guaranteed that their vote matters, that their vote is counted, and that in the voting booth, their vote has a much weight as that of any CEO, any member of Congress, or any President. - Author: Barbara Boxer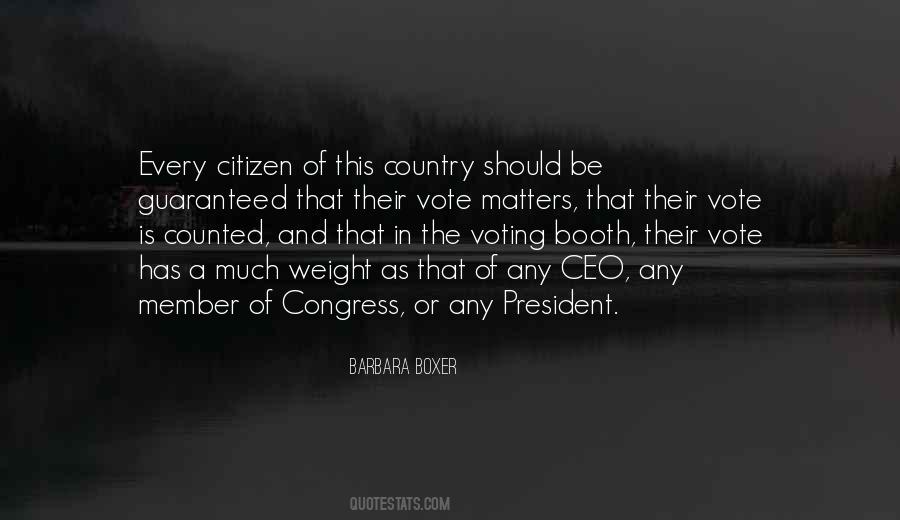 #52. You can milk a cow the wrong way once and still be a farmer, but vote the wrong way on a water tower and you can be in trouble. - Author: John F. Kennedy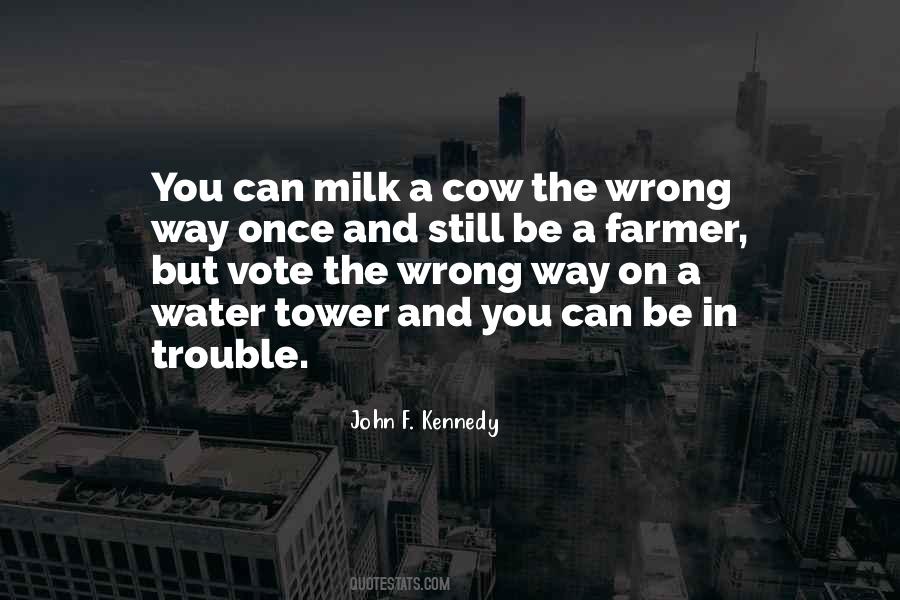 #53. Something is clearly wrong with Kansas and the rest of Middle America when it comes to letting economic self-interest guide their voting. - Author: Howell Raines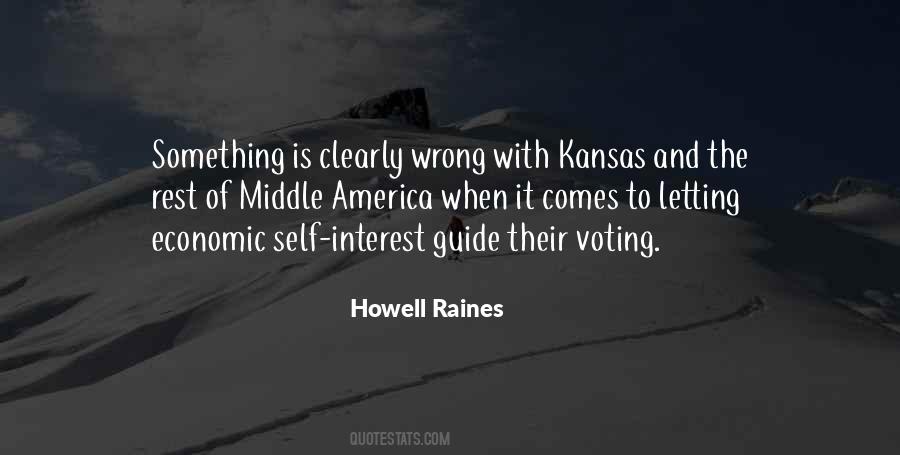 #54. Quit voting me down before you even think about what I'm saying. - Author: James Dashner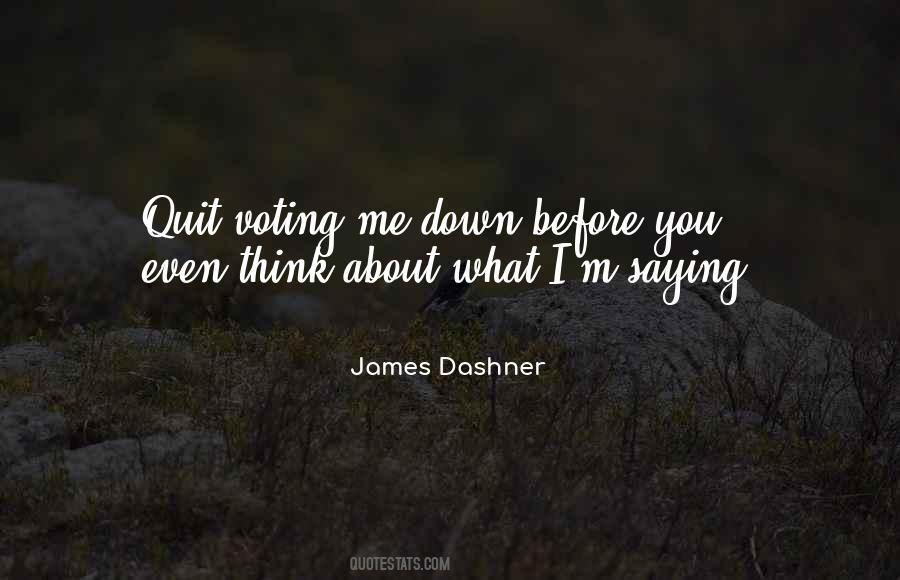 #55. We live in a country where voting rights get gutted but Sharknado gets a sequel. - Author: John Fugelsang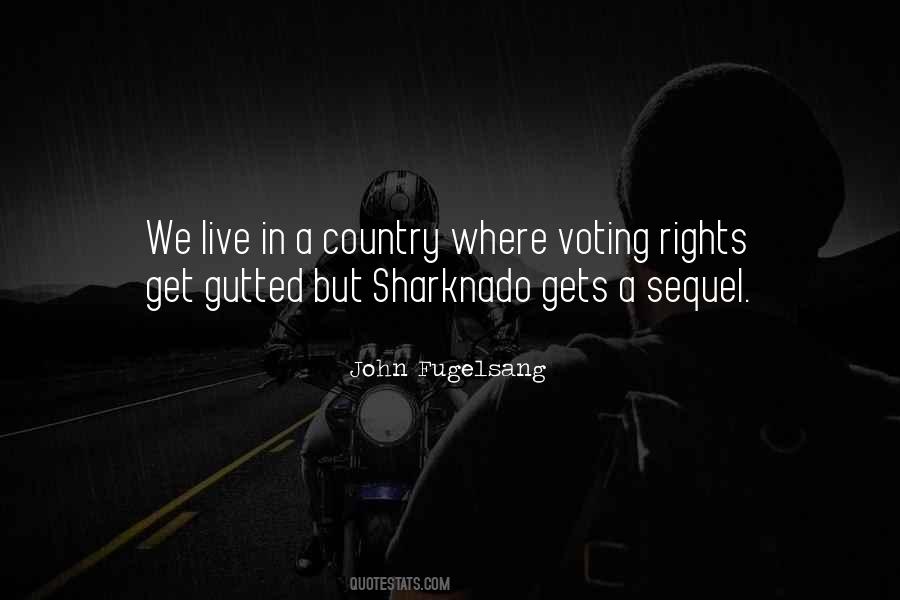 #56. Well, I've been a Republican for all of my voting life. - Author: Carly Fiorina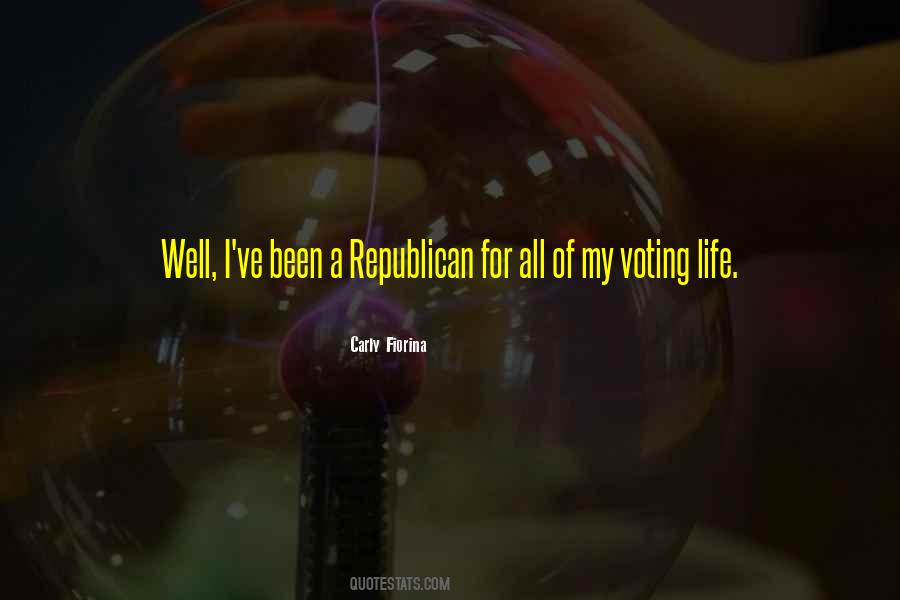 #57. Out of love and hatred, out of earnings and borrowings and leadings and losses; out of sickness and pain; out of wooing and worshipping; out of traveling and voting and watching and caring; out of disgrace and contempt, comes our tuition in the serene and beautiful laws. - Author: Ralph Waldo Emerson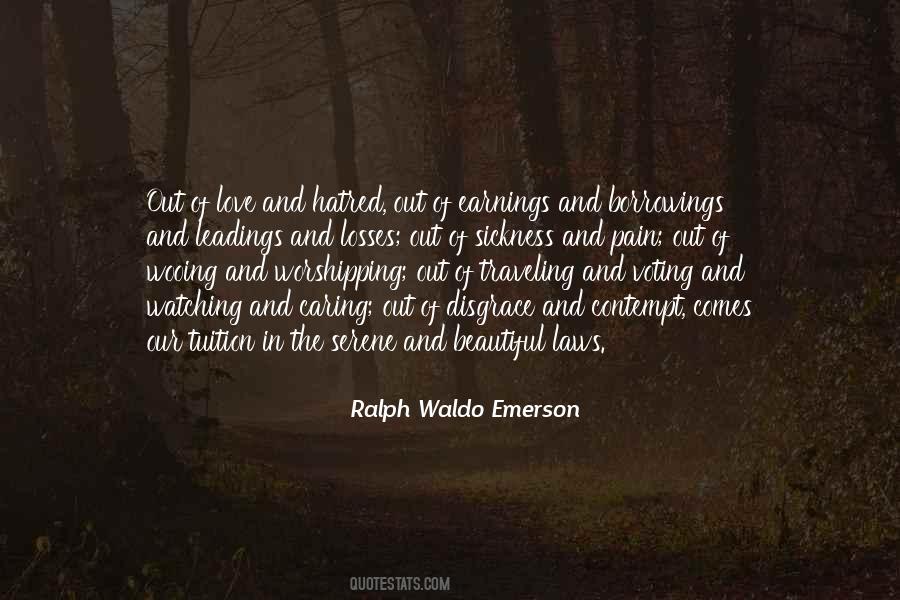 #58. Voting is no substitute for the eternal vigilance that every friend of freedom must demonstrate towards government. If our freedom is to survive, Americans must become far better informed of the dangers from Washington
regardless of who wins the Presidency. - Author: James Bovard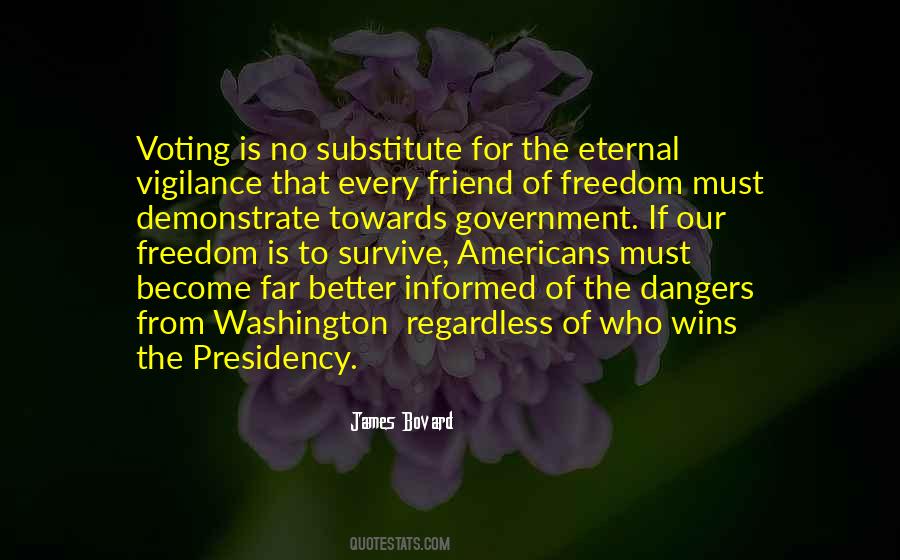 #59. A man without a vote is a man without protection. - Author: Lyndon B. Johnson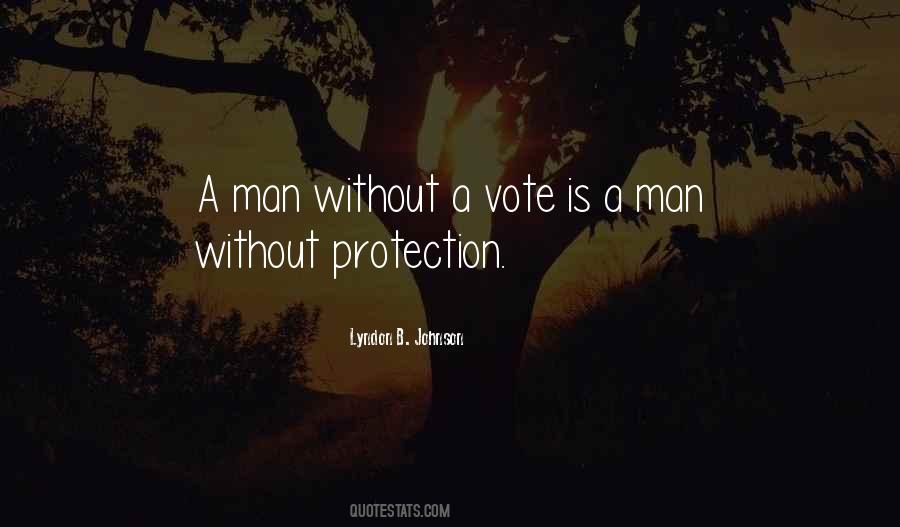 #60. People are voting for Conservatives in greater numbers, but it's not translating into Conservative seats. - Author: Allan Gregg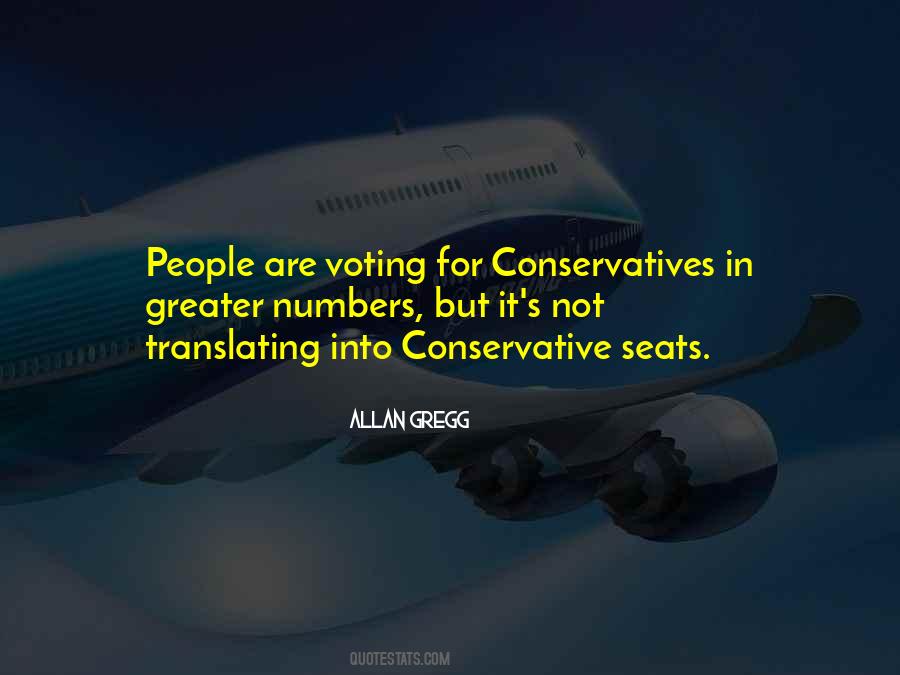 Famous Authors
Popular Topics