Two Souls Famous Quotes & Sayings
List of top 100 famous quotes and sayings about two souls to read and share with friends on your Facebook, Twitter, blogs.
Top 100 Quotes About Two Souls
#1. Our two souls therefore which are one, Though I must go, endure not yet A breach, but an expansion, Like gold to airy thinness beat. - Author: John Donne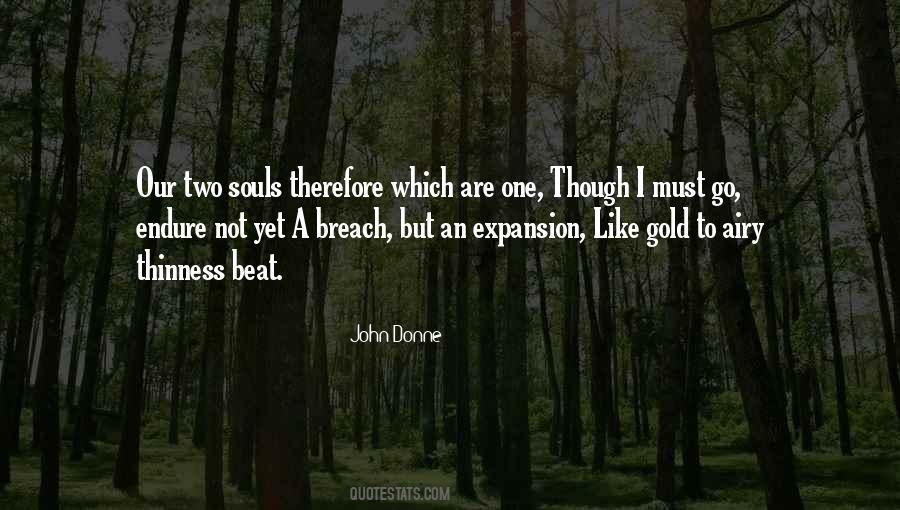 #2. Relationship ties
heart of two souls
eager to fly freely
soaring to sky feats
in full-fledged wings
unrestrained passions
to a realm in which
both remain invisible. - Author: Rajesh Nanoo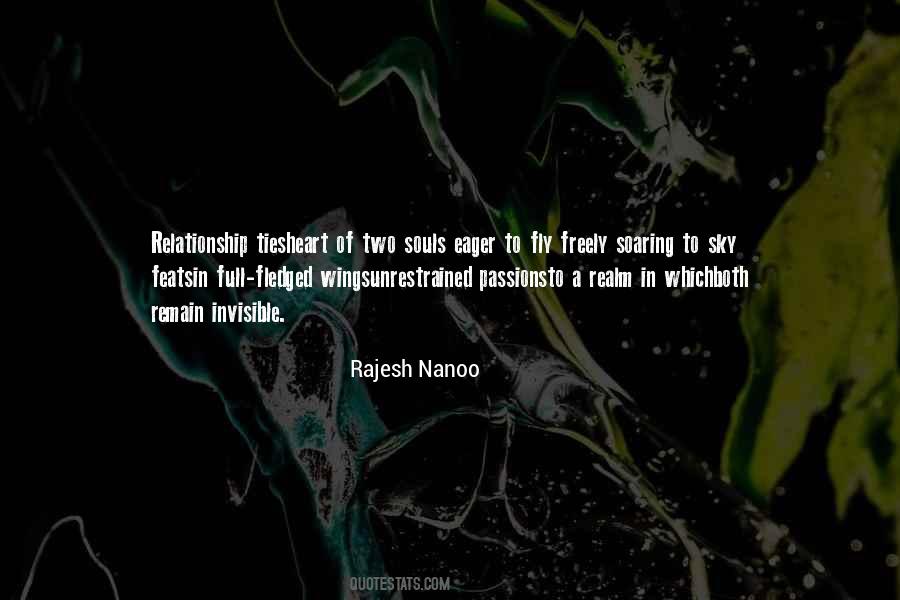 #3. Marriage is more than joining the bonds of two people. It's the uniting of two souls already attuned to each other. - Author: Sophie Monroe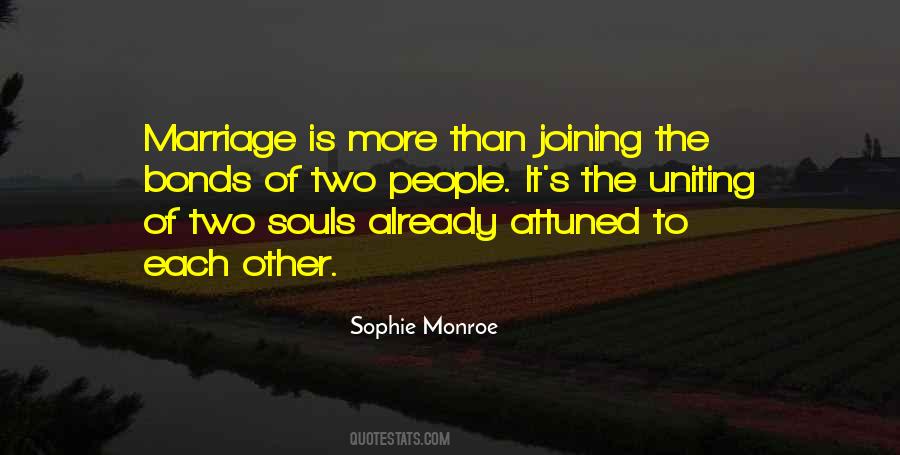 #4. It may be glorious to write Thoughts that shall glad the two or three High souls, like those far stars that come in sight Once in a century. - Author: James Russell Lowell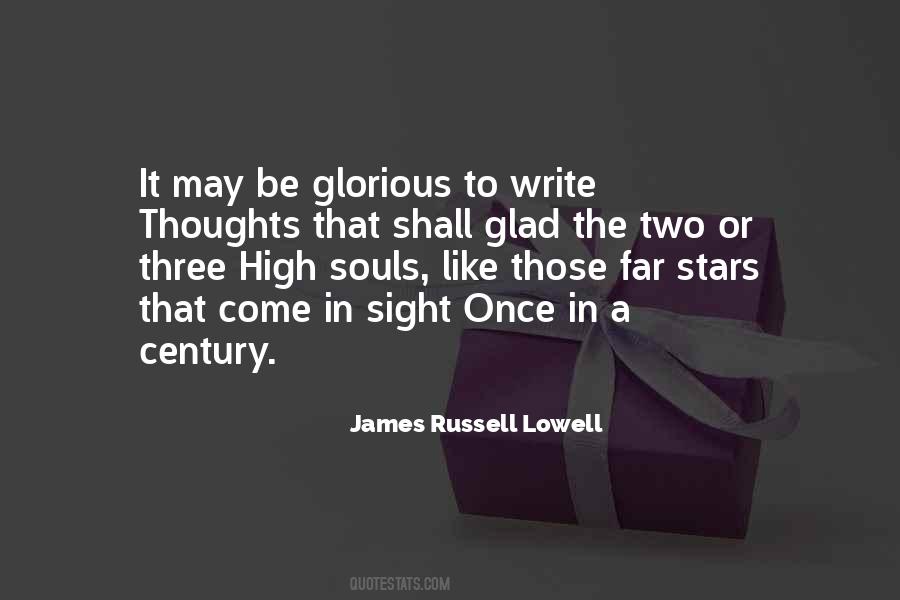 #5. But certain souls cohere. It's rare but possible. But it takes two powerful wills to make it so. - Author: Ann Brashares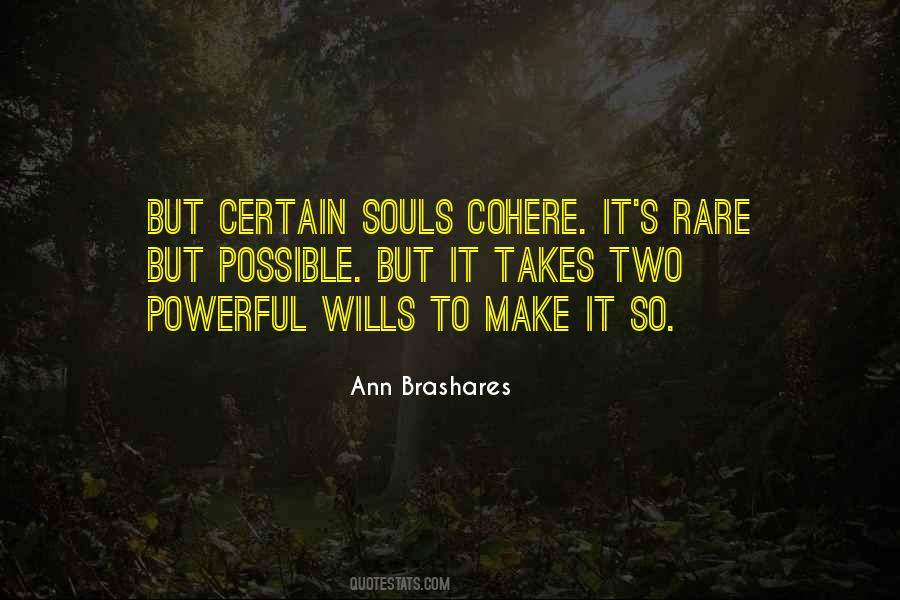 #6. There was only the two of them standing on top of the world, the rest of their lives waiting silently at their feet.
They eased apart, still touching with their eyes, their hands, their souls. (Girl Descending) - Author: Jenny O'Brien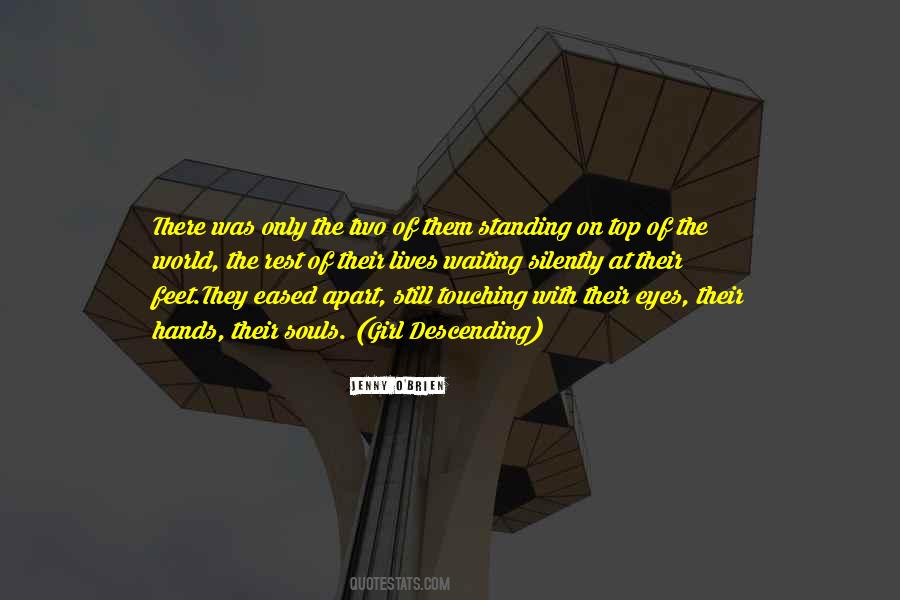 #7. Faust complained about having two souls in his breast, but I harbor a whole crowd of them and they quarrel. It is like being in a republic. - Author: Otto Von Bismarck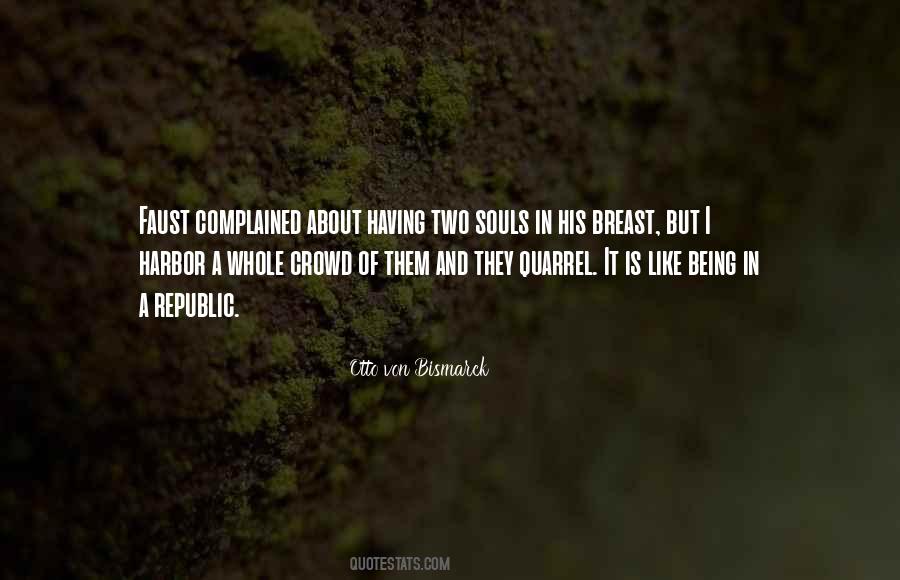 #8. Two souls, alas, are housed within my breast,
And each will wrestle for the mastery there. - Author: Johann Wolfgang Von Goethe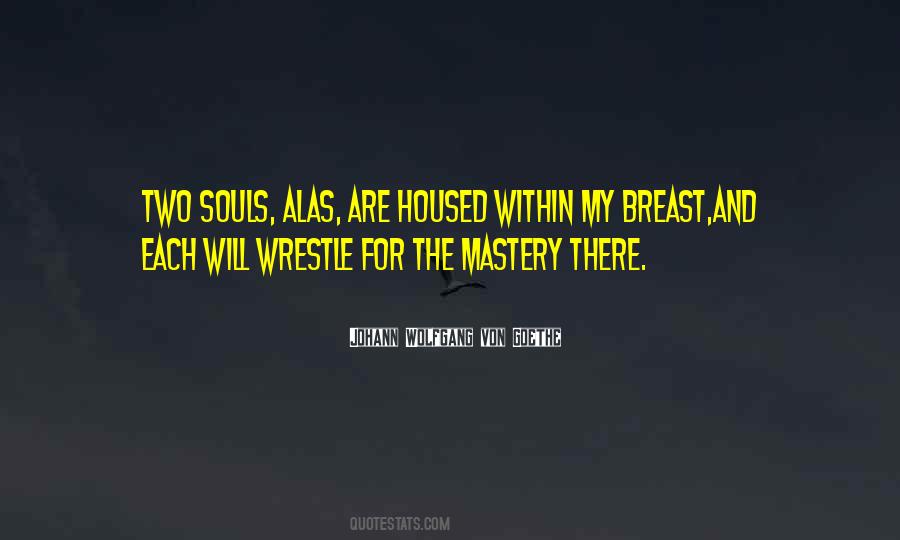 #9. It was a sort of peace I have rarely enjoyed since. As if we were the only two souls on earth - all of nature ours to enjoy. I wondered why a creator who had dreamt such beauty would have slandered it with such evil. Such grief. Why He had not been content to leave it unspoilt. I still wonder. - Author: Seth Grahame-Smith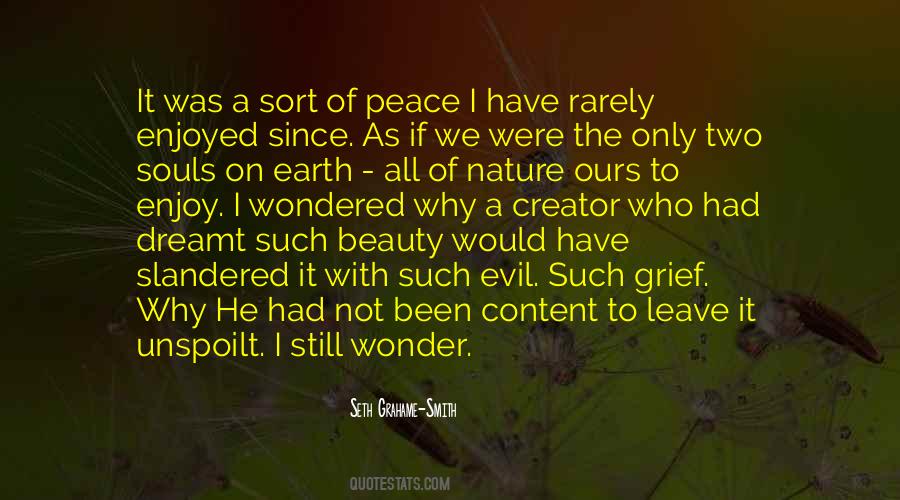 #10. All I'm saying is that your happiness is in your hands and those of your nearest and dearest. And if you think I'm going to show up two decades or so down the line to collect your soul in my moldy old pocketbook, you'd better think again. The souls of humans have become poor and transparent things. - Author: Stephen King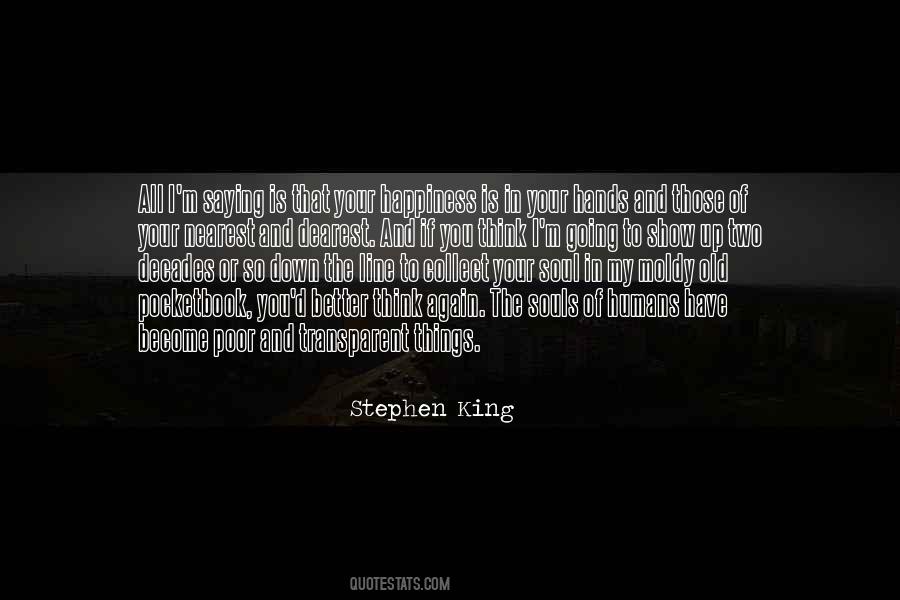 #11. Maybe the consequences of someone's unreason can be remedied only with a new unreason? - Author: Igor Eliseev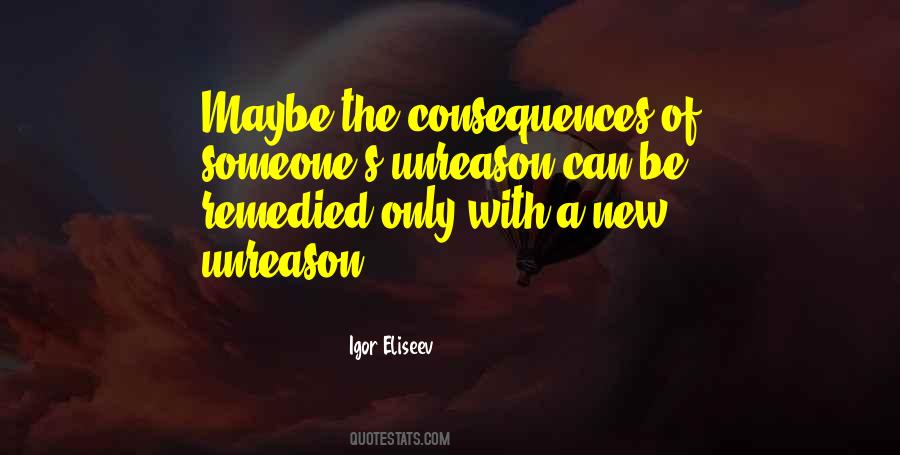 #12. And the souls in Plato riding up to heaven in a two-horse chariot would go in a Ford car now,' she - Author: D.H. Lawrence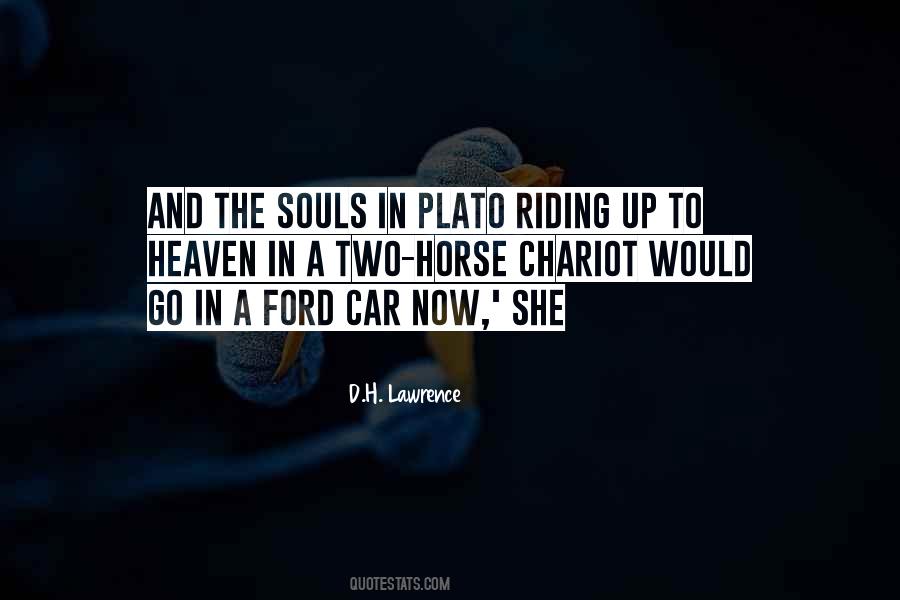 #13. Misery is a scar on the soul, that if it begins in childhood, it lasts the whole lifetime. I understand that no two scars are alike, but I also ask myself; even if these scars are not alike, aren't these things engraved on our souls signed by which we know each other?Aren't we also alike? - Author: Bahaa Taher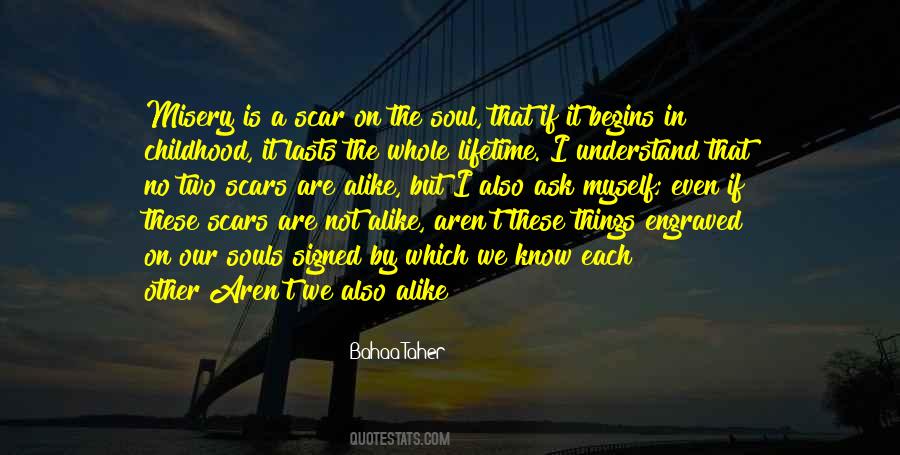 #14. my lovers had only ever tended to their own needs. I didn't know that romance and sex were different creatures - one of the soul, one of the body. I had no idea that two souls can feel as if they are joined in one body, as it were, no matter the shape of the bodies involved. Clara - Author: Kelly Gardiner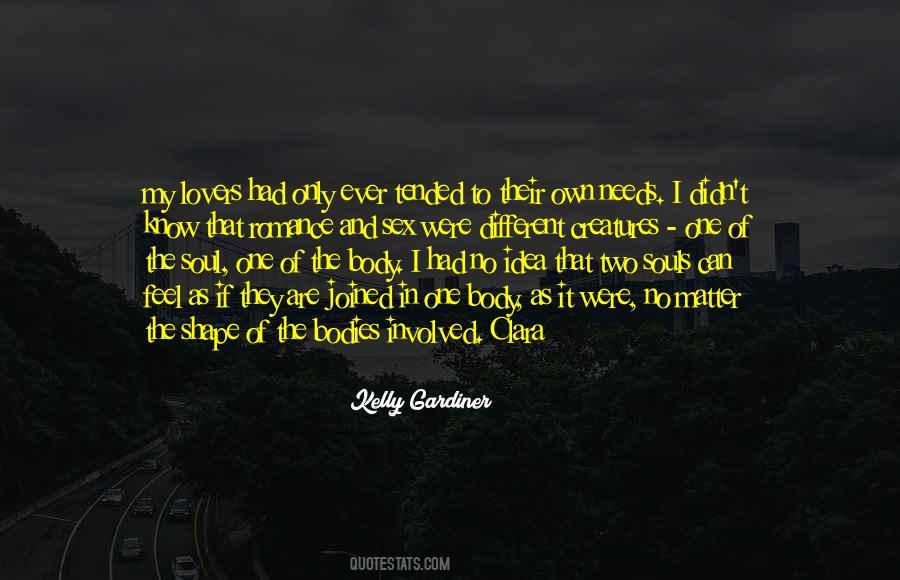 #15. Like two lost souls, we fall in each other's arms, hoping to find ourselves again. - Author: Jalpa Williby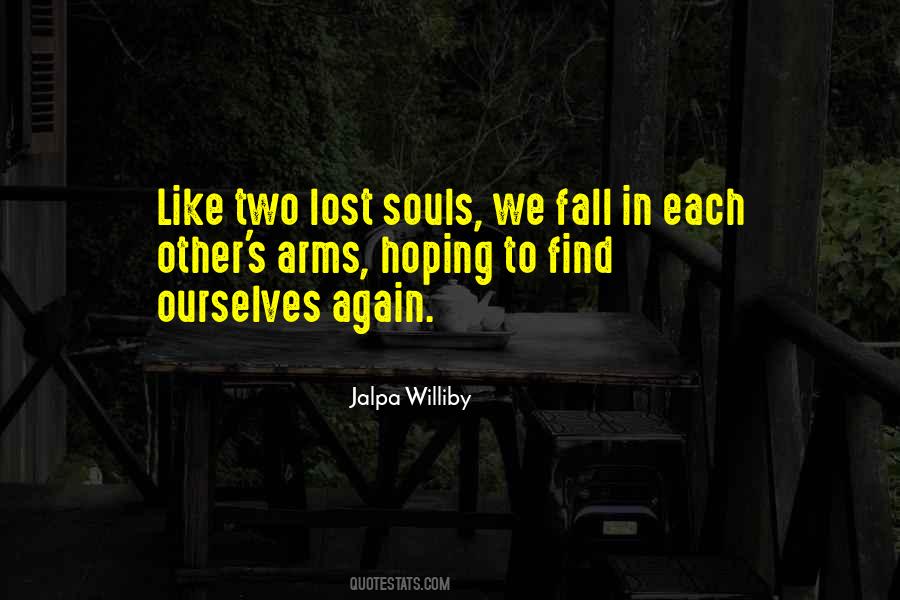 #16. They say distance makes old friendships fade away. They say with time and distance lovers forget one another. I find it quite the opposite. Distance, time, they all enhance the aroma of every moment two close souls once spent together, they magnify every little shared pleasure. - Author: Carol Vorvain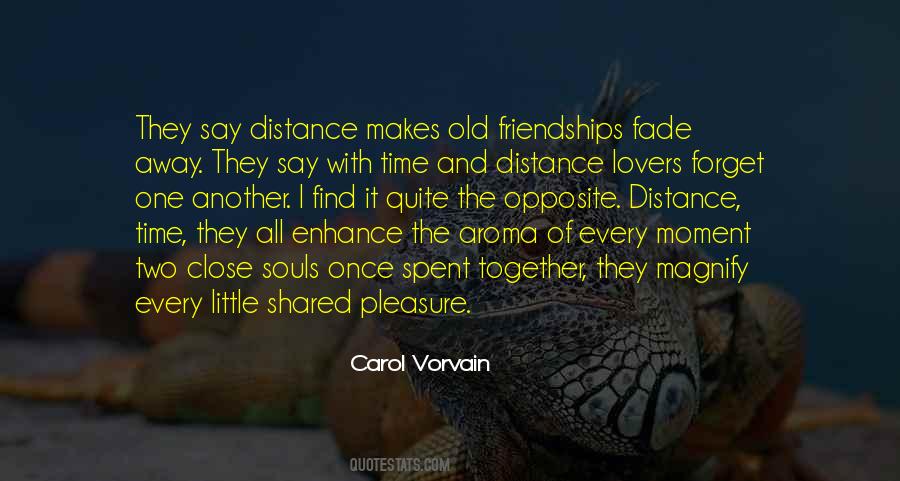 #17. The Browning love story? It is an ideal, all too rare, and yet I hardly think it strange. It would have been far stranger had the fates allowed those two brilliant passionate souls to beat themselves out in silence. - Author: Marie Corelli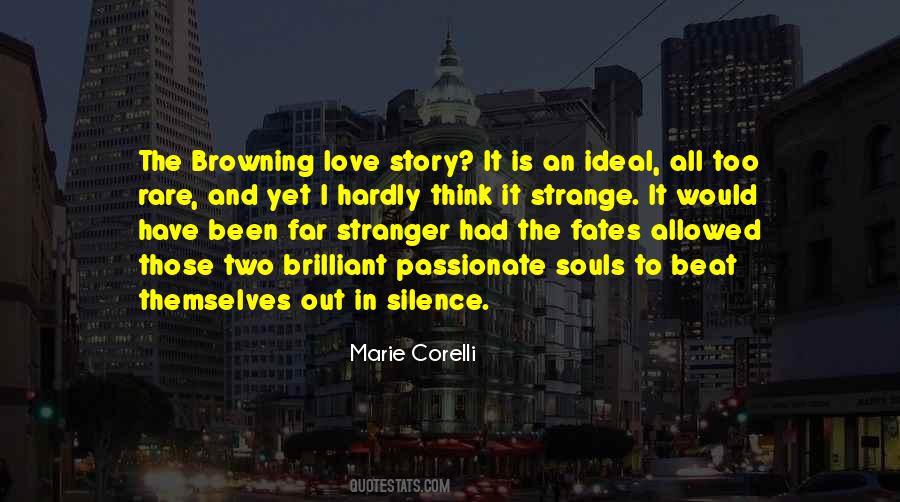 #18. I clearly saw us from outside, like in a picture: we are not people, we are a road sign warning: "Stop and thank luck because such fate didn't befall you as befell us, and only then keep going your way". - Author: Igor Eliseev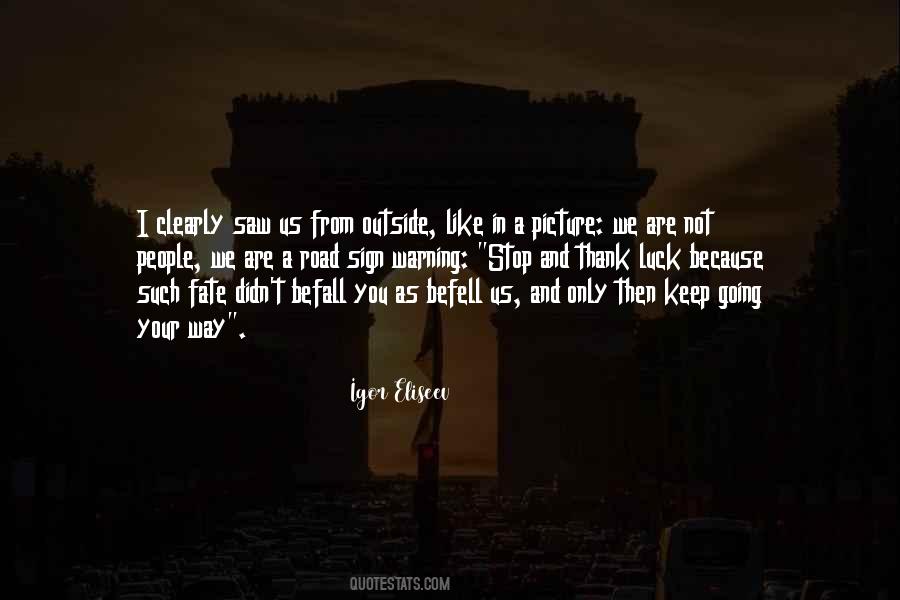 #19. Socrates and Jesus, two teachers of virtue and love, were executed because of the unsettling, threatening power of their souls, which was revealed in their personal lives and in their words. - Author: Thomas Moore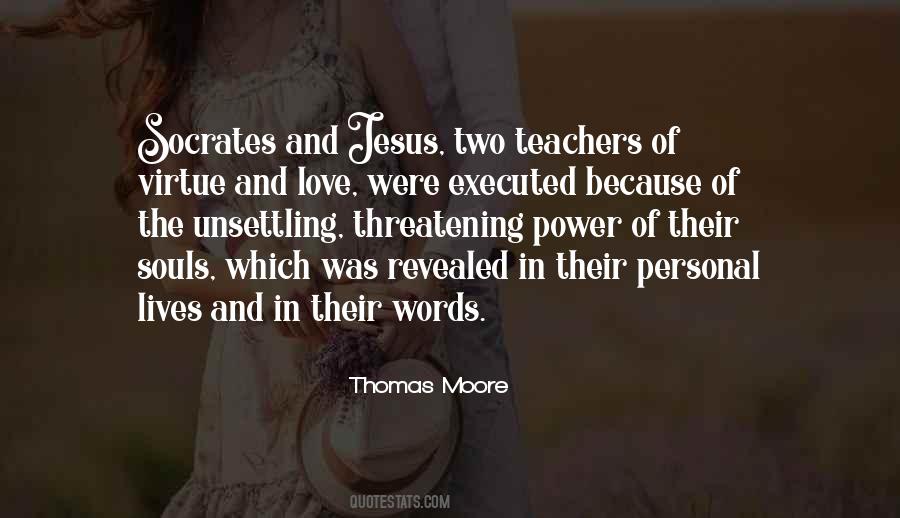 #20. among a people hurried and busy and preoccupied, some in the pursuit of riches, some in the pursuit of pleasure, and some, the majority, in the struggle for existence, there arise in every generation, here and there, one or two great souls - men who - Author: Oliver Lodge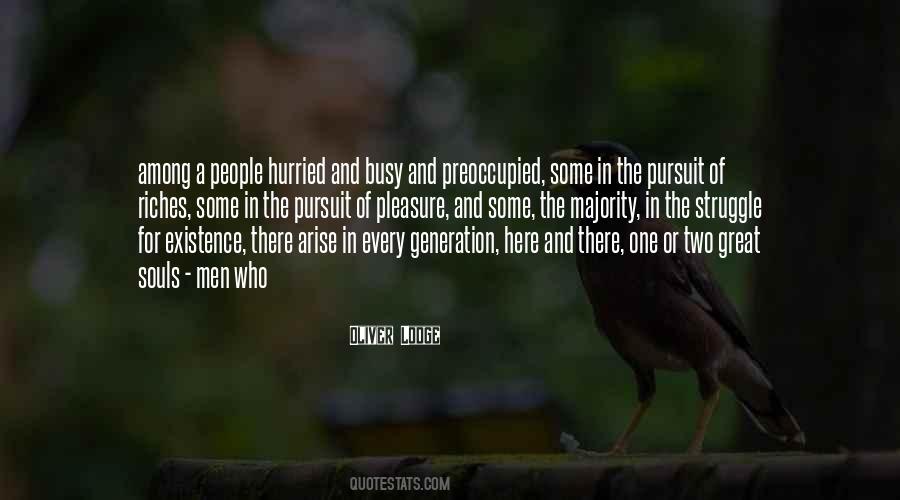 #21. Ego, being love's kryptonite; two souls must be on the same page of humility. - Author: T.F. Hodge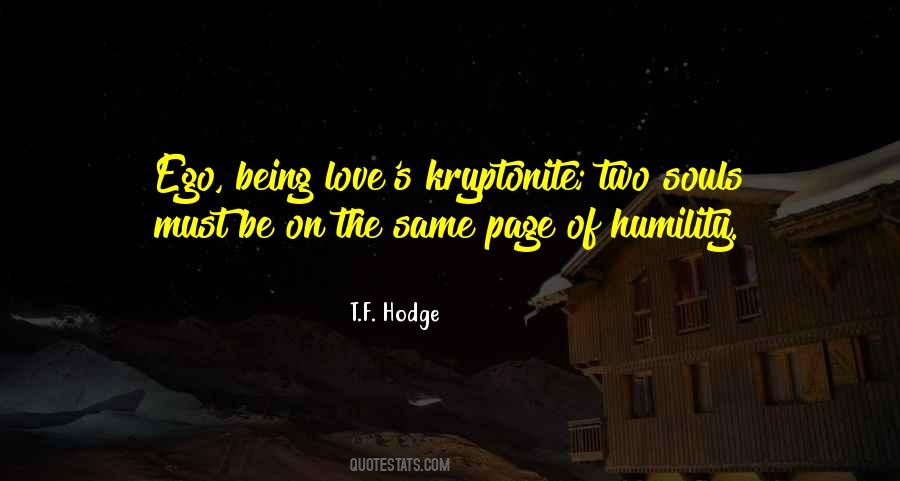 #22. Life, a spirit roused, two souls rejoined, marking it the most significant moment in my life as she became one with me. - Author: A.L. Jackson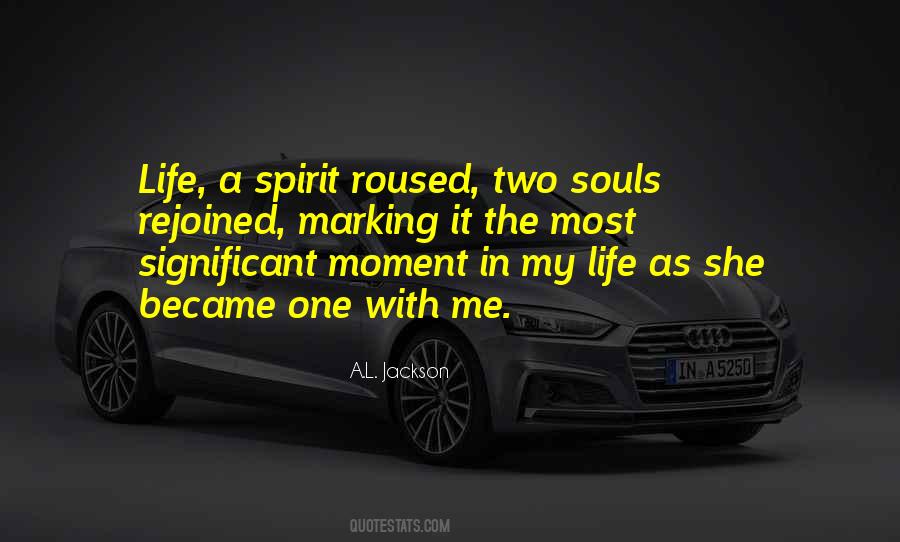 #23. He educated Maurice, or rather his spirit educated Maurice's spirit, for they themselves became equal. Neither thought "Am I led; am I leading?" Love had caught him out of triviality and Maurice out of bewilderment in order that two imperfect souls might touch perfection. - Author: E. M. Forster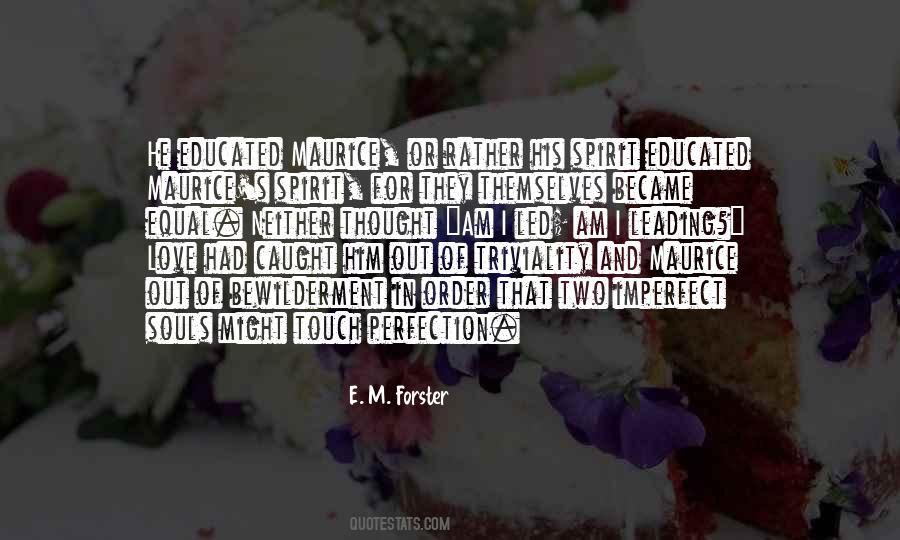 #24. They say love is just two souls recognizing each other. - Author: Cassia Leo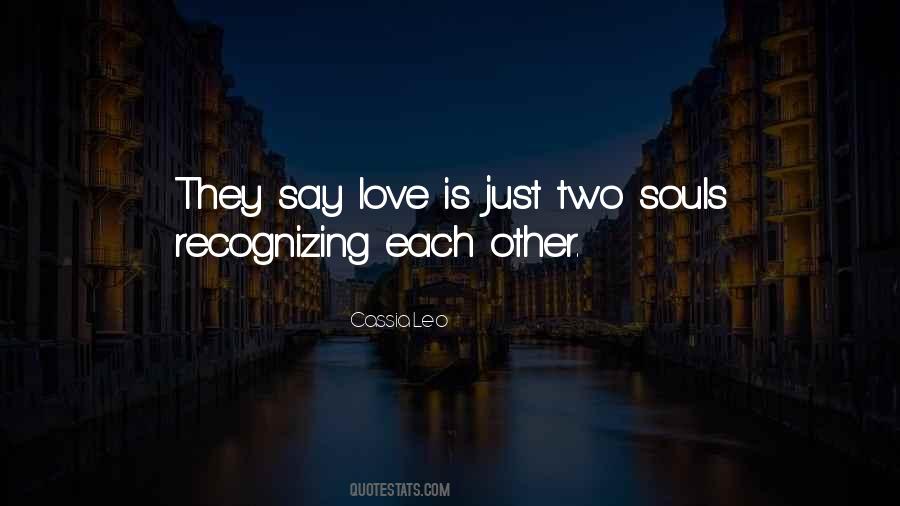 #25. But it is my understanding that the health of the planet is affected by the health of every individual on it. As long as even two souls are locked in conflict, the whole of the world is contaminated by it. - Author: Elizabeth Gilbert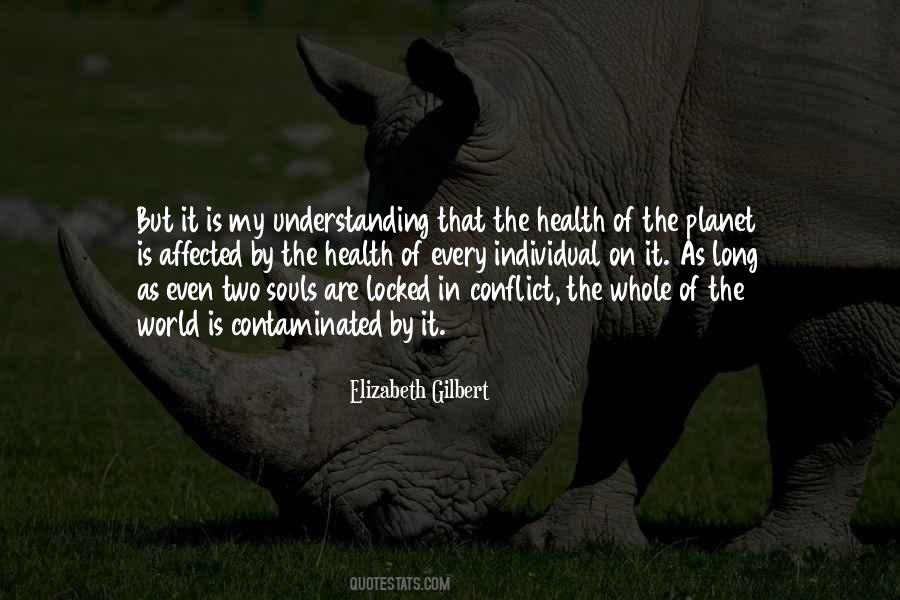 #26. When two souls are as one, they stay together on the Wheel. I was born into this world to love you, and I will love you in the next life, and the one after that." ~Jem Carstairs - Author: Cassandra Clare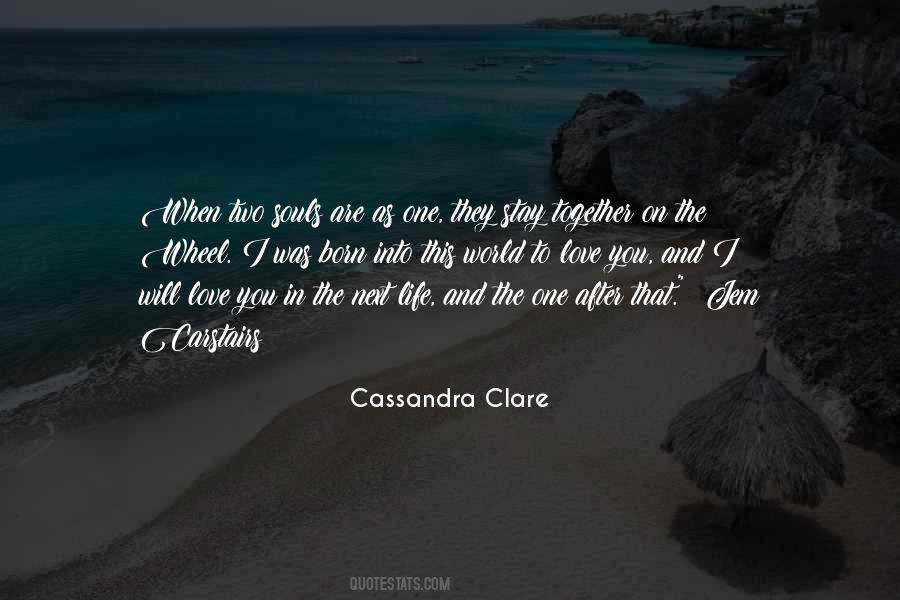 #27. There is no respect between the souls of two individuals if their minds can't trust each other and there is no trust between them if their hearts can't accept the truth of each other. - Author: Anuj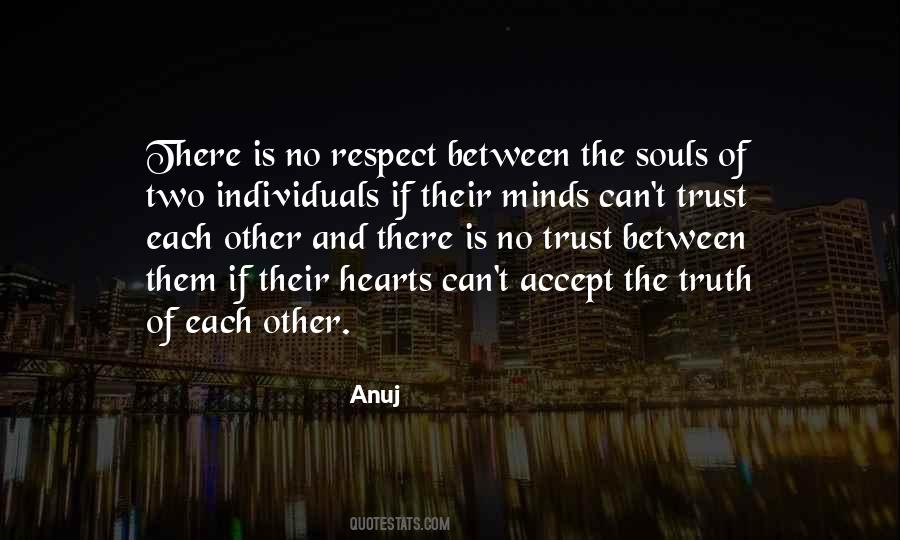 #28. And if you eat enough of those souls, they begin to corrupt you until you become one of them. Everyone knows that. (Kat)
Only if you're stupid. I'm two hundred years old and I haven't turned yet. You just have to learn to hum a lot so you don't hear their bullshit echoing in your head. (Damien) - Author: Sherrilyn Kenyon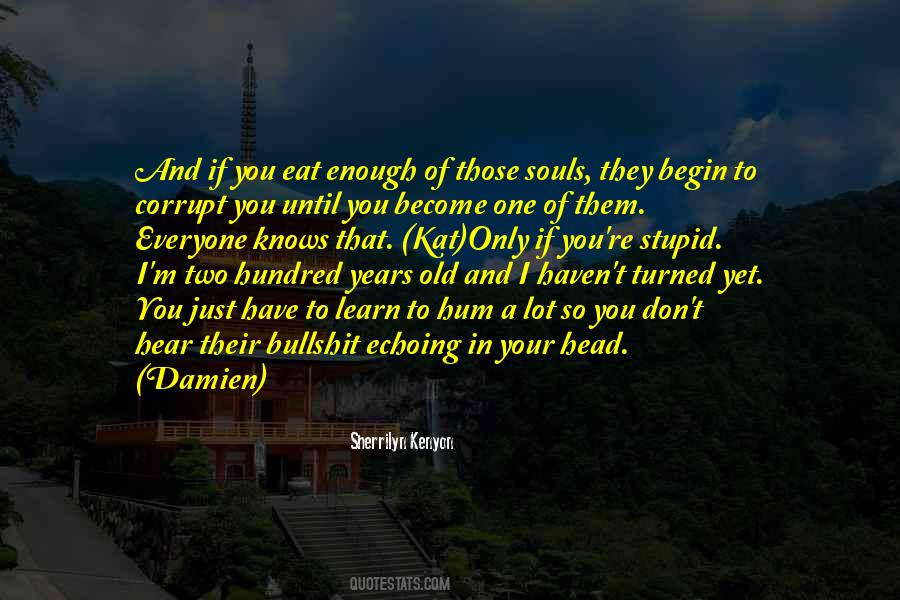 #29. Maia pulled on a braid. "I ran into Eric of all people. He told me what happened and that you'd backed out of Millenium Lint's gigs for the past two weeks because of it."
"Actually, they changed their name," Jordan said. "They're Midnight Burrito now. - Author: Cassandra Clare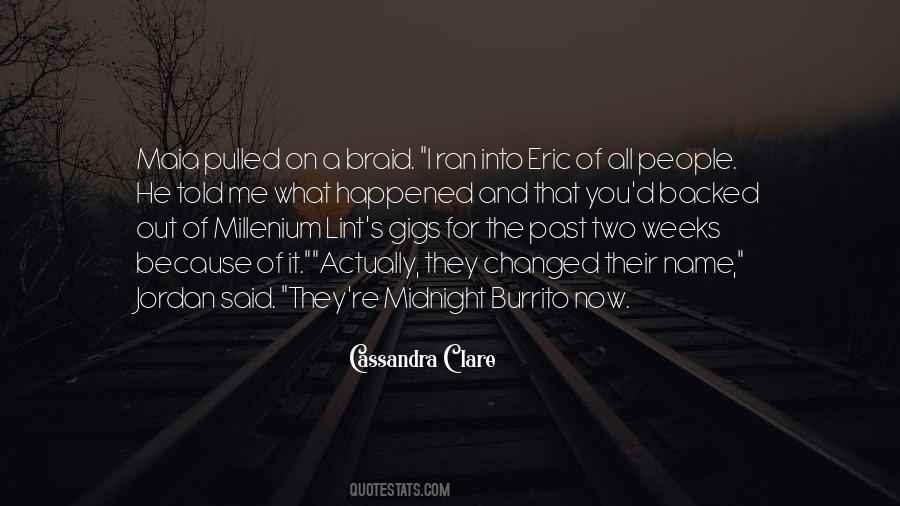 #30. Destiny brought two souls, Jeremiah and Lailah Akita, to light the world with love. - Author: Lailah Gifty Akita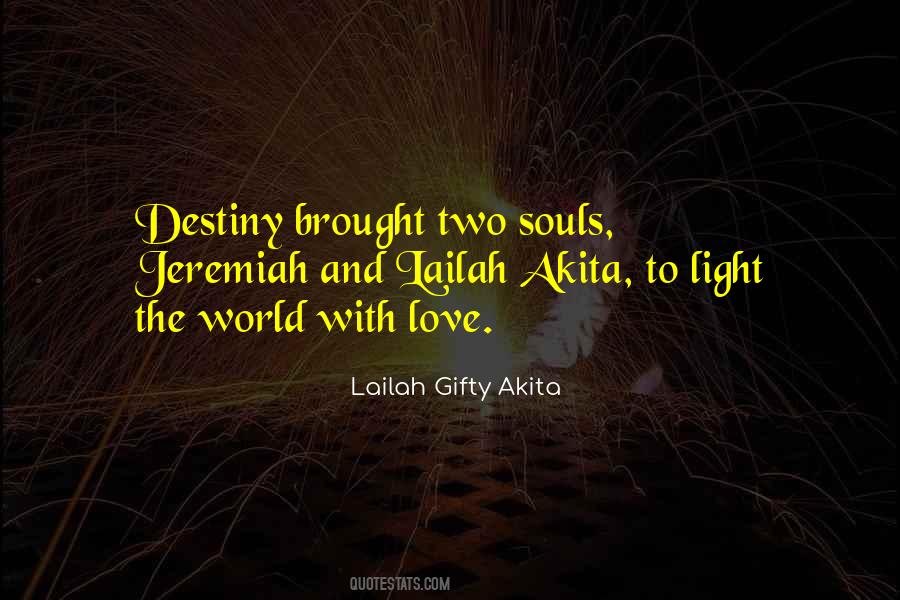 #31. Our two hearts,
they have bloomed in the garden -
there
where our souls;
in red roses originate. - Author: Kristian Goldmund Aumann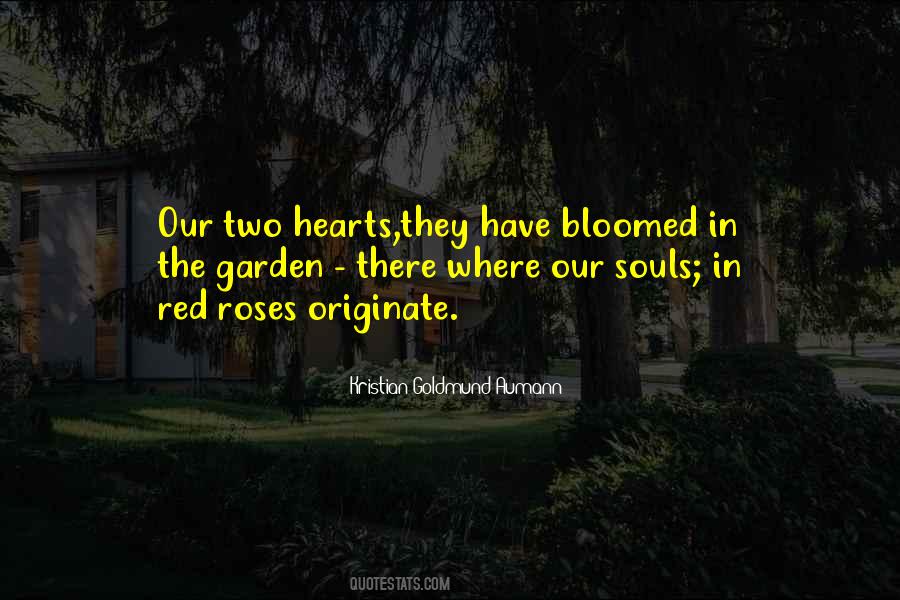 #32. True love is not a potion one person can swallow and another refuse to drink. It happens only when the souls of two join together to form one - Author: P.C. Cast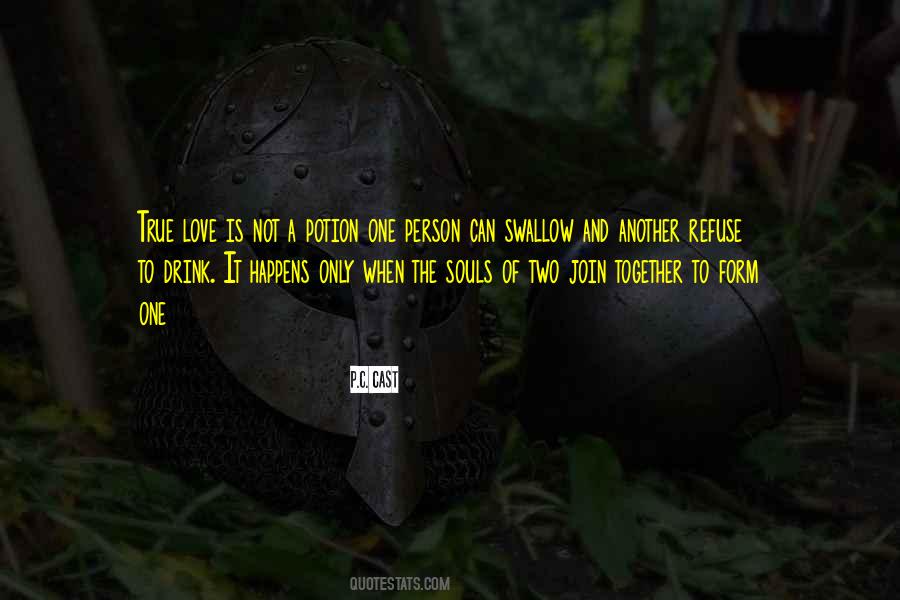 #33. Love is the most mysterious force in the universe.
It locks two souls together across space and time.
Once that spark is ignited it consumes all else.
It was that shard of light that transformed a dark soul forever.
Now let that love burn bright like a sun for eternity ... - Author: Kion Ahadi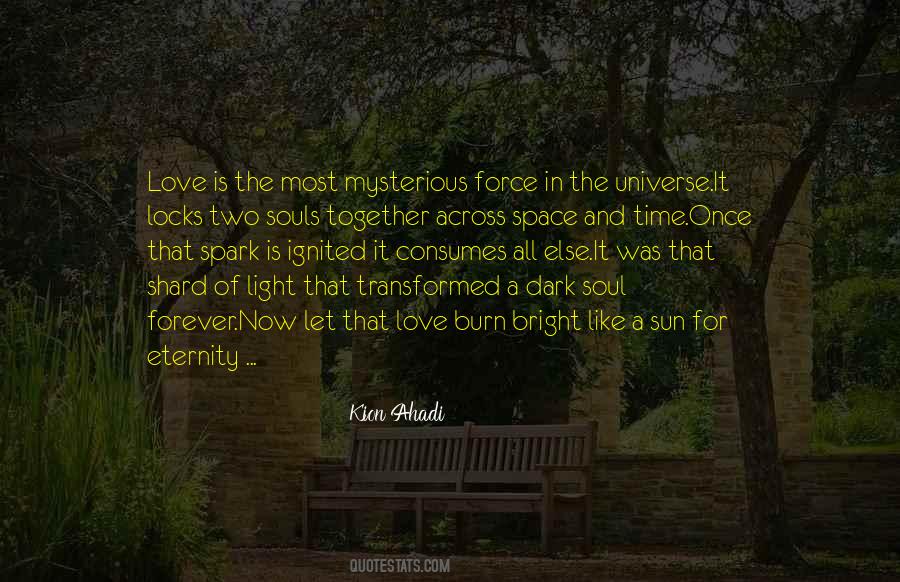 #34. Although from you I far must roam, do not be broken hearted. We two, who in the souls are one, are never truly parted. - Author: Margaret Atwood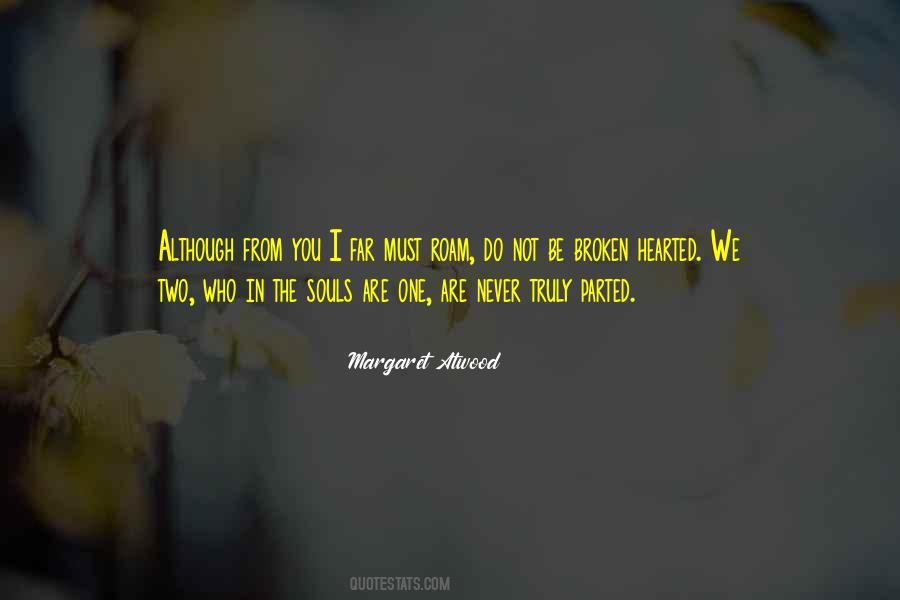 #35. Shared emotions experienced by two souls,empathy on unequivocal level which Davey believed would change entire species of mankind if only secret of empathy could be telepathically shared with humanity,one soul after another, until every soul understood true meaning of love. - Author: Christina Westover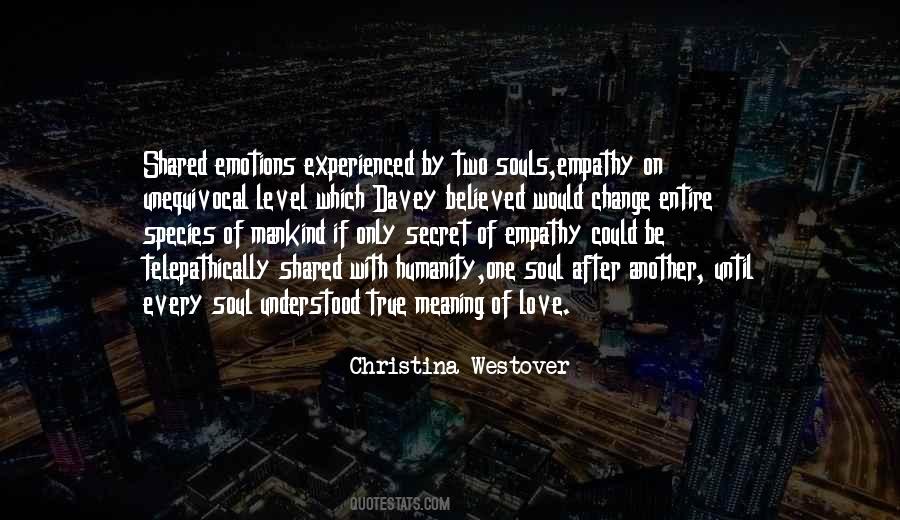 #36. When you forgive, you free your soul. But when you say I'm sorry, you free two souls. - Author: Donald L. Hicks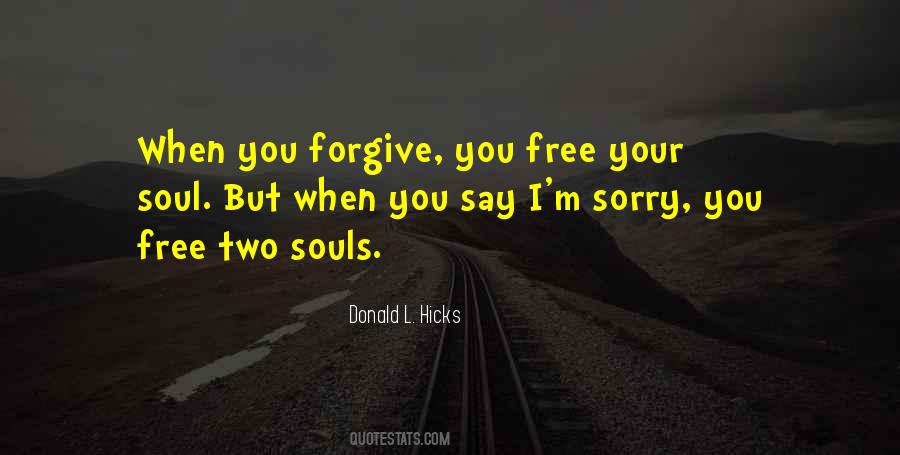 #37. If you think you're too far from Allah to return, and your 'past' continues to own you, just remember that Malik ibn Dinar (RA) was an alcoholic, and Omar (RA) was on his way to assassinate the Prophet (pbuh) before they became two of the greatest souls to walk the earth! - Author: Yasmin Mogahed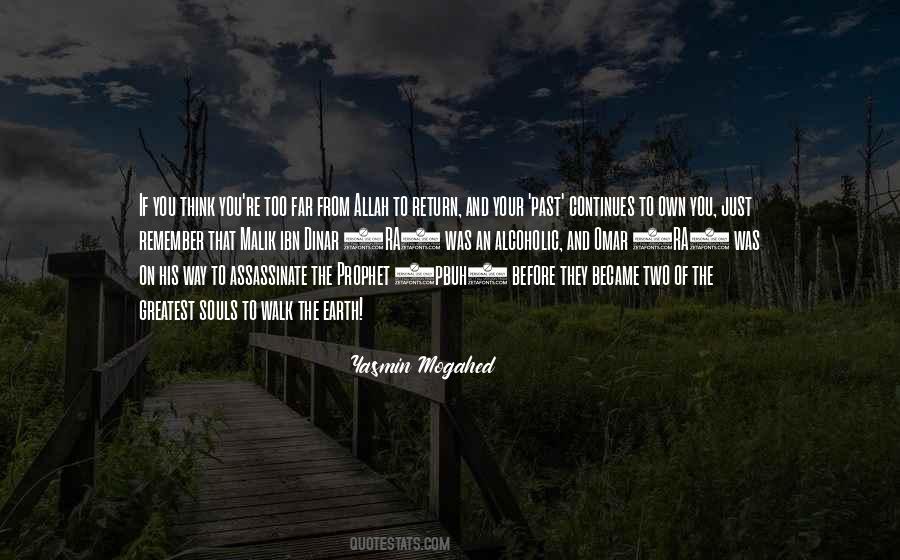 #38. How is love between two people a sin? Love isn't about gender; it's about two souls uniting. - Author: Alex Sanchez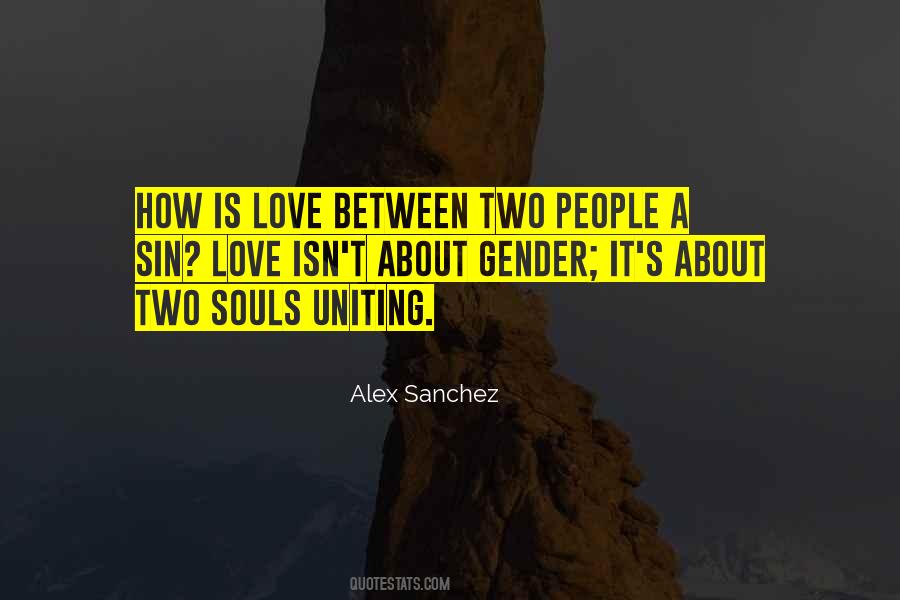 #39. Cole shut the bedroom door and gazed at Kyle. His eyes said he'd married his salvation, and Kyle knew what he meant. Two souls in need had finally found resolution with I do. - Author: Debra Anastasia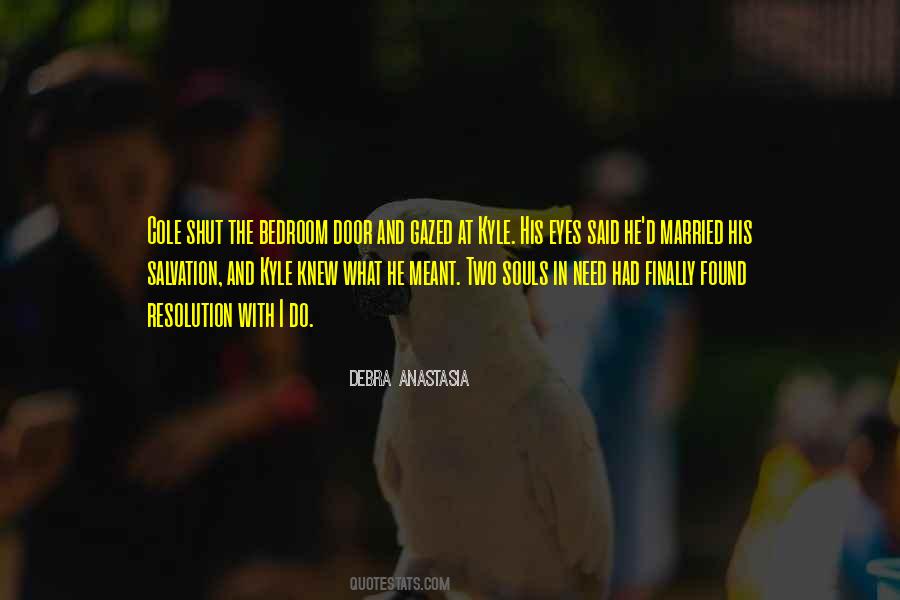 #40. True love has nothing to do with physical contacts. True love is bound with the souls of two lovers. There are no meetings or partings when two hearts are beating in love. The distance between them fades away and what remains is the nearness of the souls. - Author: Farzana Zahid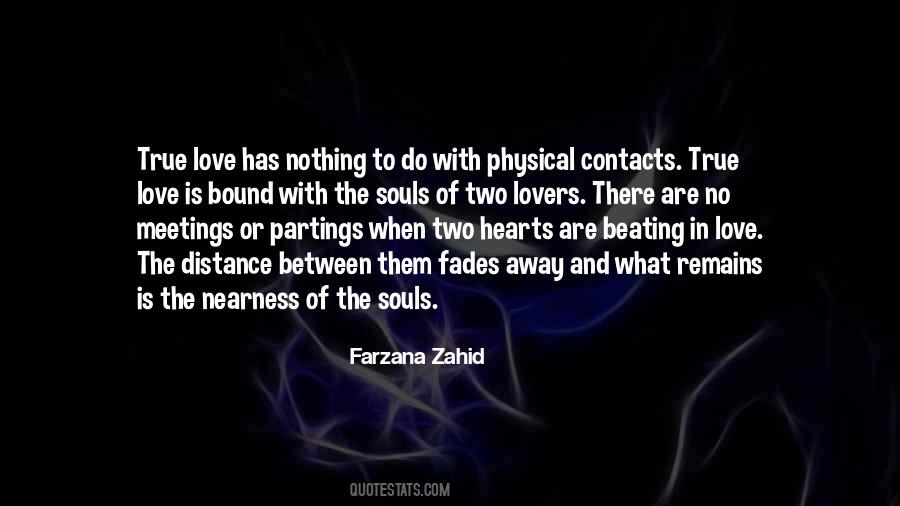 #41. As all souls are equal before their Maker, a two inch putt counts the same as a 250 yard drive. There is a comedy in this and a certain unfairness even, which makes golf an even apter mirror of reality. - Author: John Updike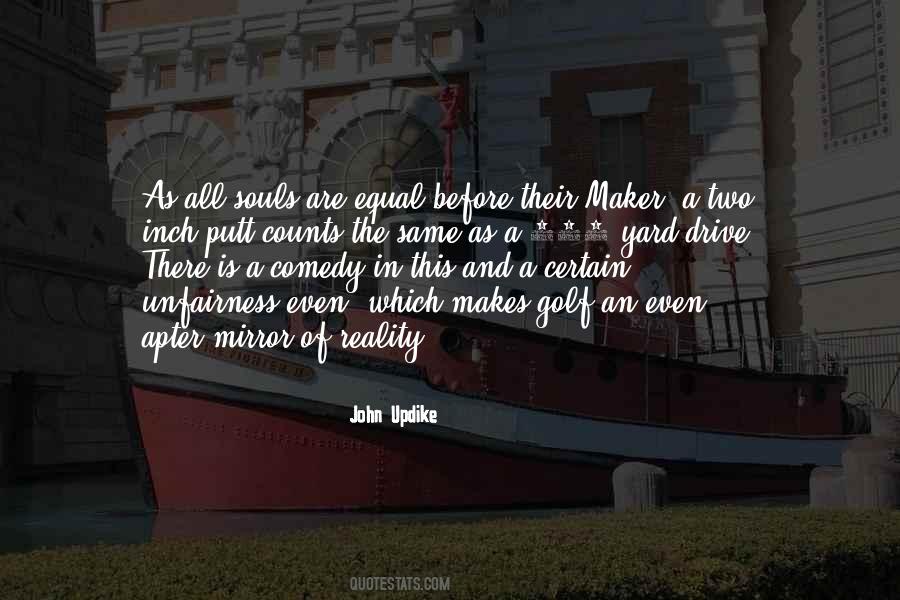 #42. Everything melts away. All that I know is this kiss; all that I feel is his lips pressing into mine. I become dizzy from want, need, and the lack of oxygen. Our lips, our bodies, our souls, have always fit perfectly together - like two pieces of a puzzle.

Alexia Grant
More Layers - Author: T.L. Alexander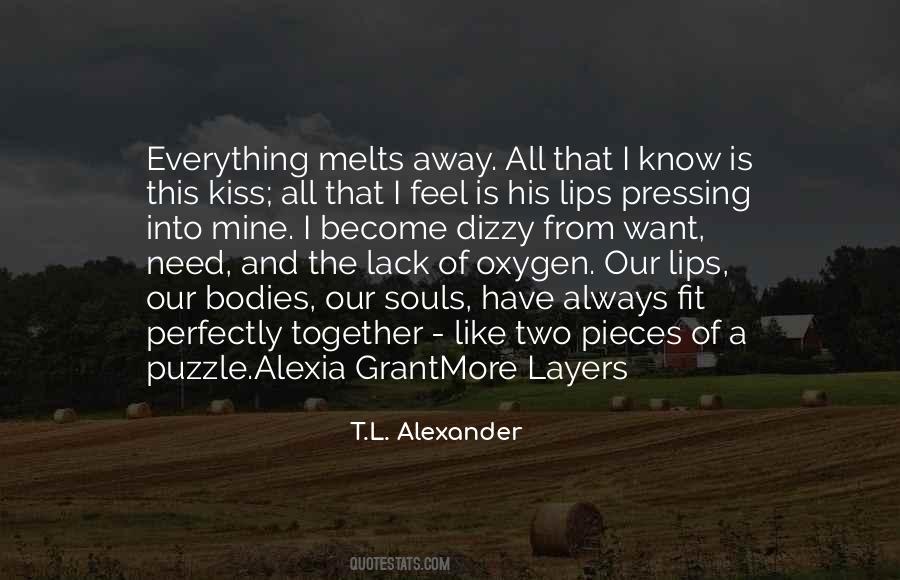 #43. The Christian gospel is a two-way road. On the one hand, it seeks to change the souls of men, and thereby unite them with God; on the other hand, it seeks to change the environmental conditions of men so the soul will have a chance after it is changed. - Author: Martin Luther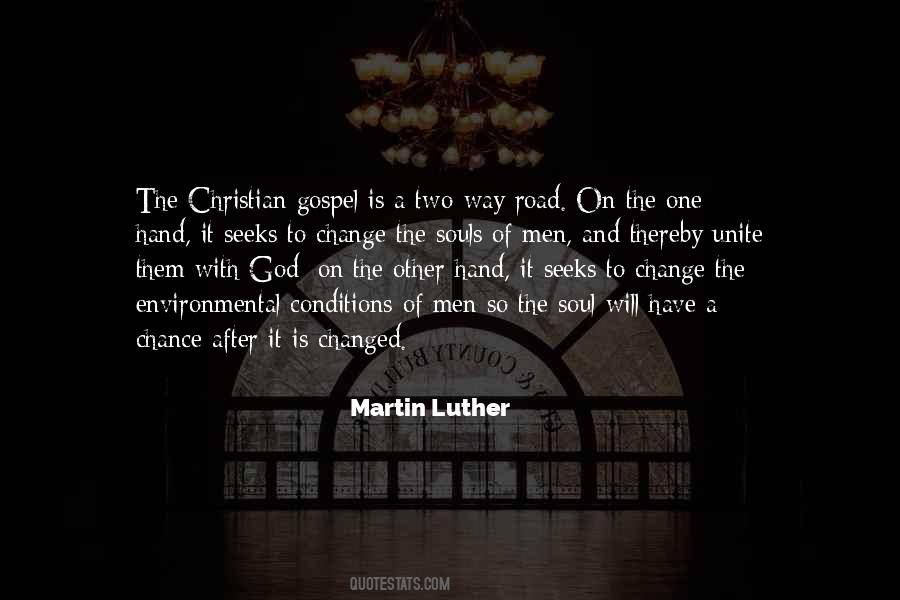 #44. I think love is caramel. Sweet and fragant; always welcome. It is the gentle golden colour of a setting harvest sun; the warmth of a squeezed embrace; the easy melting of two souls into one and a taste that lingers even when everything else has melted away. Once tasted it is never forgotten. - Author: Jenny Colgan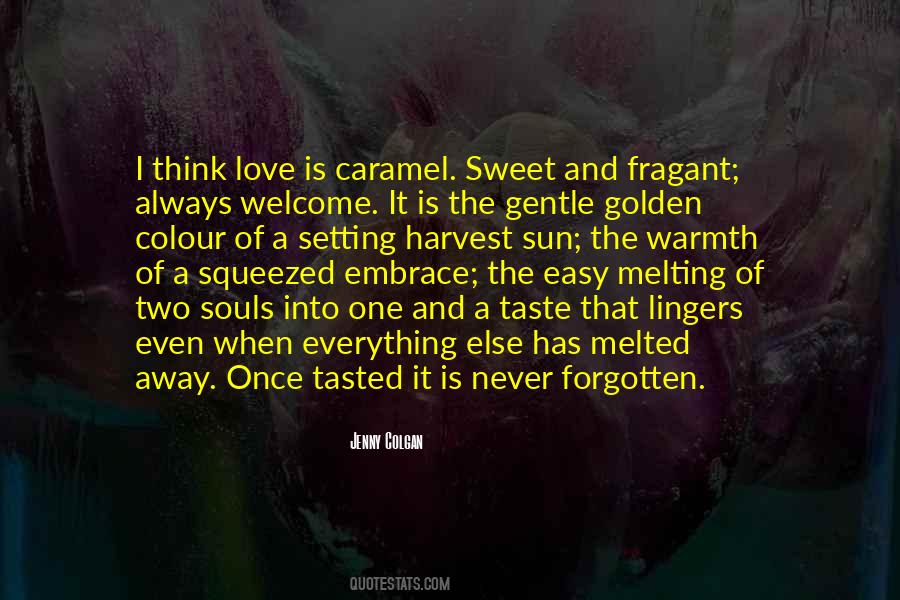 #45. Marriage helps young couples to raise themselves towards God. The bond of marriage unites two souls so firmly that though they are physically two separate entities, their souls are merged into one harmonious whole. - Author: Dada Vaswani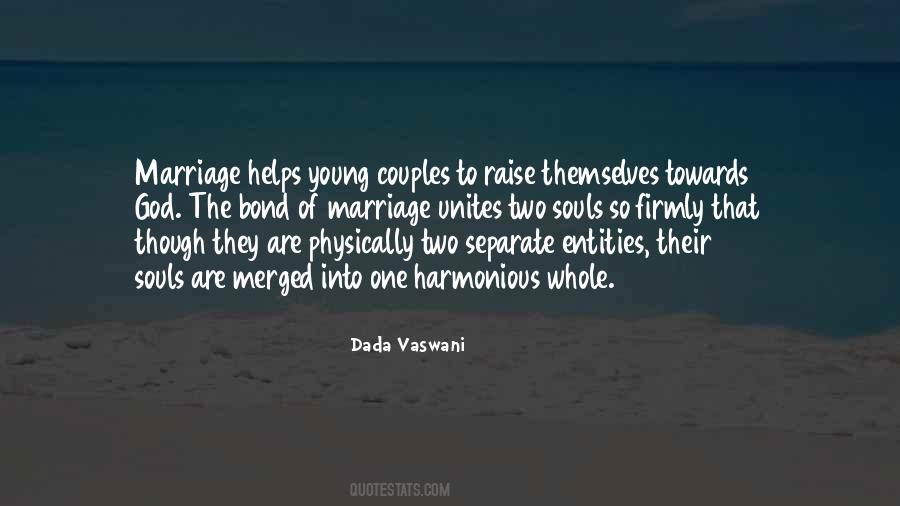 #46. There are two Souls, whose equal flow
In gentle stream so calmly run,
That when they part - they part? - ah no!
They cannot part - those Souls are One. - Author: George Gordon Byron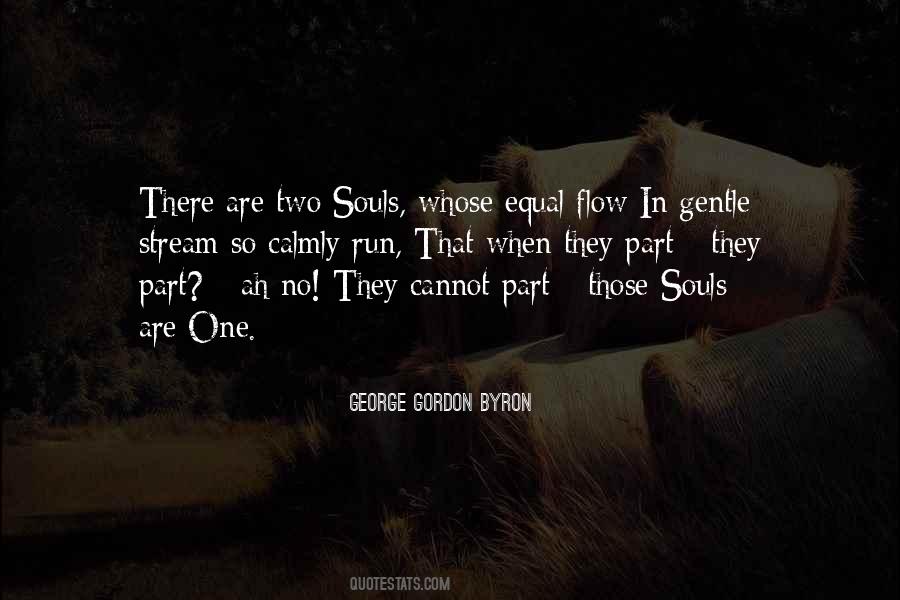 #47. Nothing is more real than those great seismic shocks that two souls give each other in exchanging that spark. - Author: Victor Hugo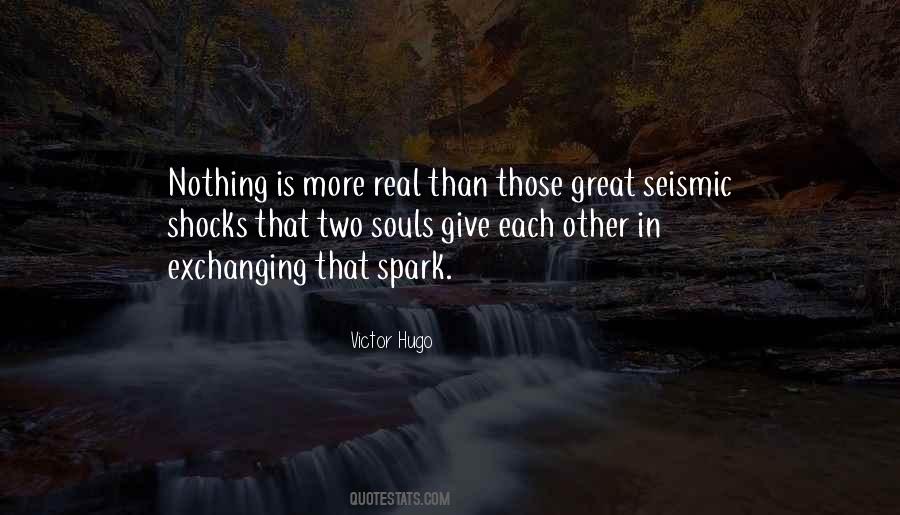 #48. True Love is a spiritual force that binds two hearts, and two souls, together as one. - Author: Ellen J. Barrier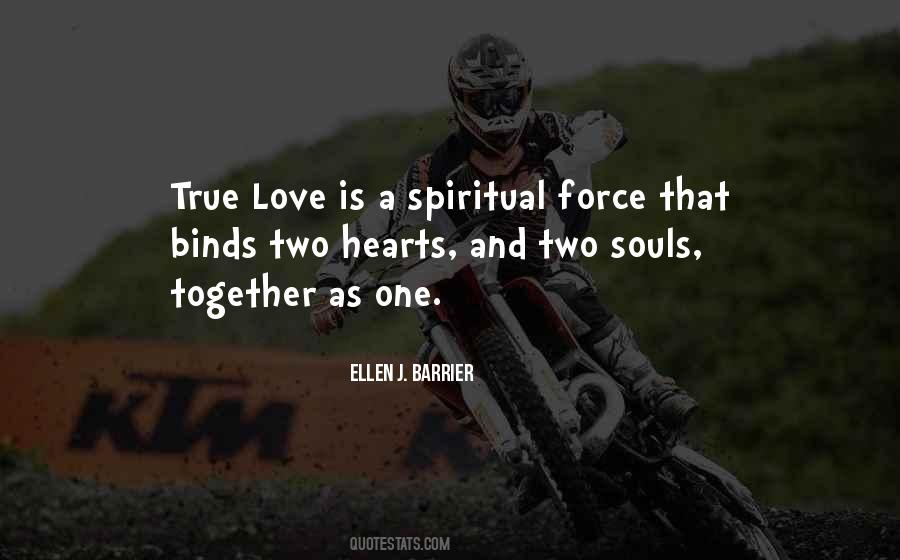 #49. It becomes an energy, when two similar souls, combine together - Author: Rajasaraswathii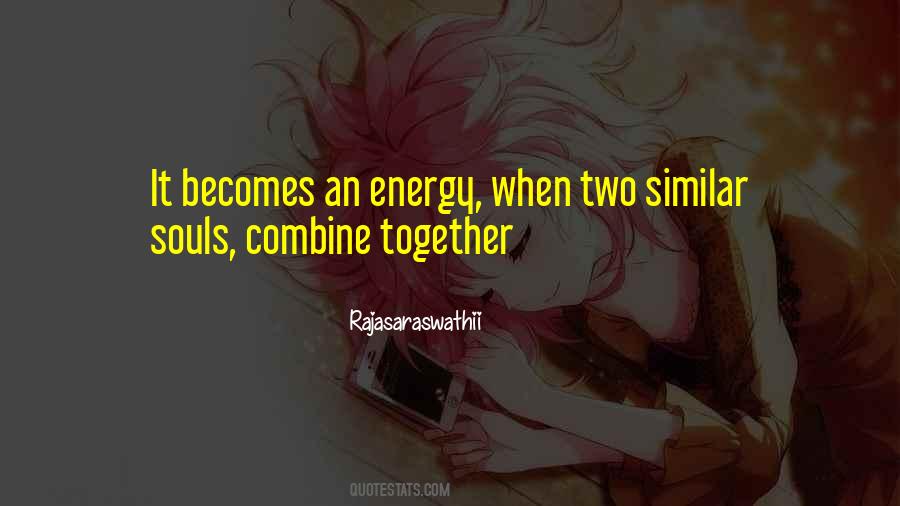 #50. We wished our two souls
might return like gulls
to the rock. In the end,
the water was too cold for us. - Author: Robert Lowell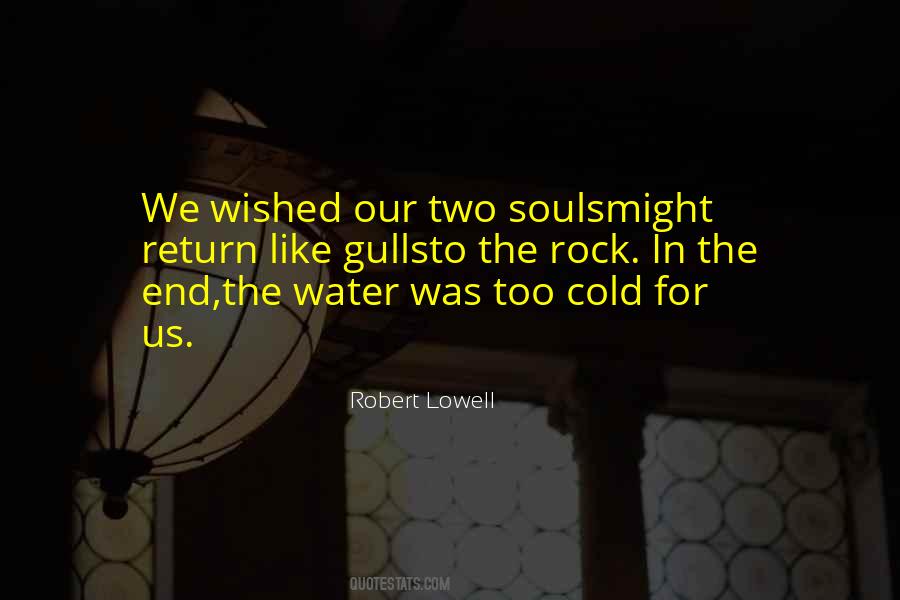 #51. We're all divided souls, we've got two natures in us, You measure schizophrenia not by the fact that you're divided but how well the divisions speak to one another. - Author: Norman Mailer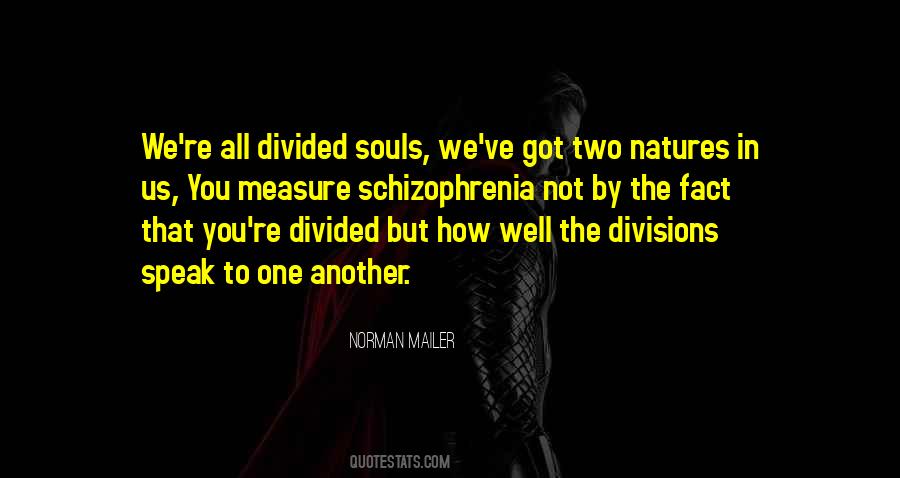 #52. I once wondered if two broken souls could heal one another, I hoped the answer was yes. - Author: T.M. Frazier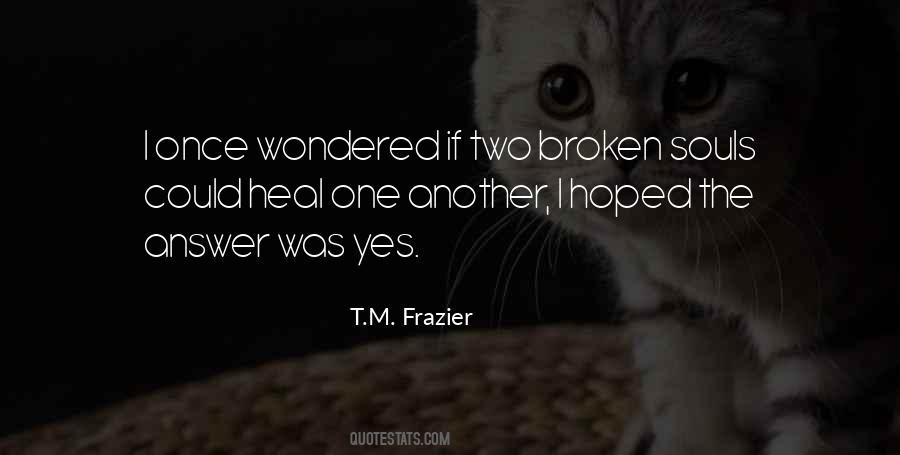 #53. We meet With few utterly dull and stupid souls: the sublime and transcendent are still fewer; the generality of mankind stand between these two extremes: the interval is filled with multitudes of ordinary geniuses, but all very useful, and the ornaments and supports of the commonwealth. - Author: Jean De La Bruyere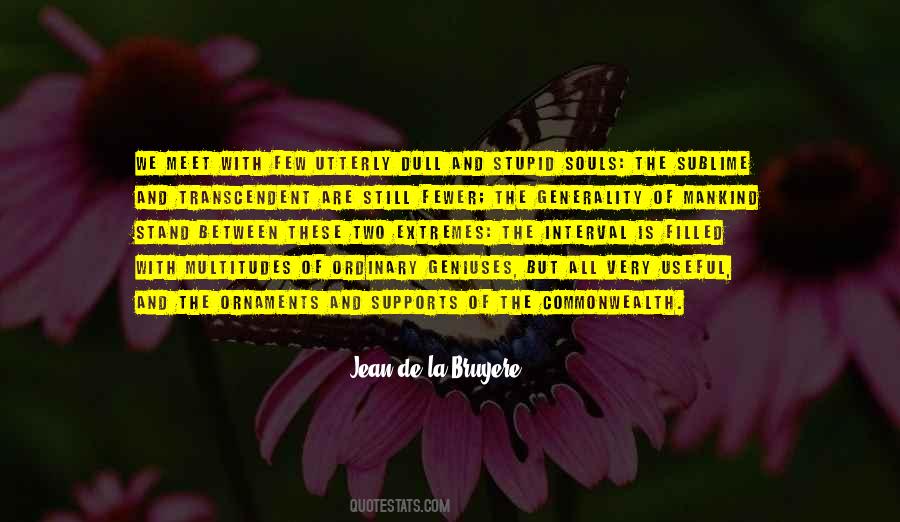 #54. In order that two imperfect souls might touch perfection. E. M. Forster - Author: Kimberly McCreight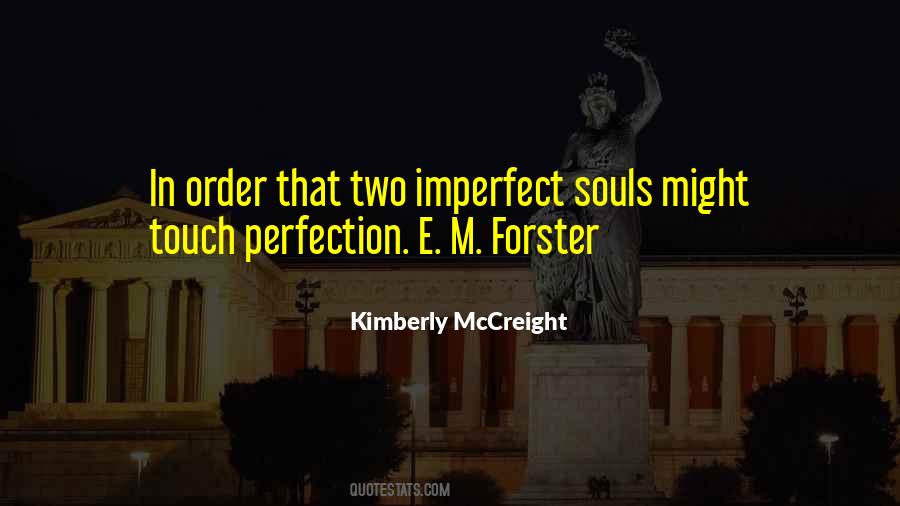 #55. She will fight for light, and he for dark,
Battling through the ages for loves sweet spark.
Wherever two souls adore truly, you will find them, lo,
The brave Juliet and the wicked Romeo. - Author: Stacey Jay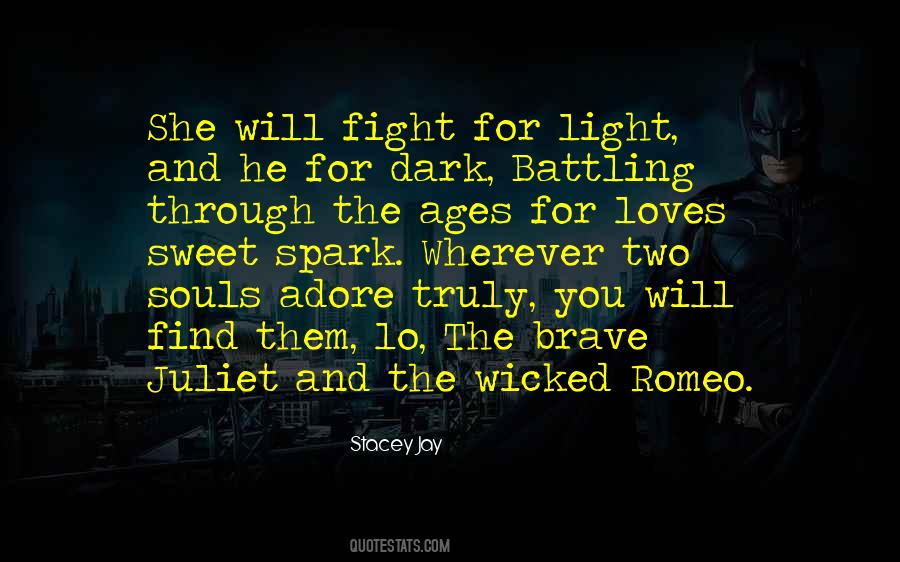 #56. The artist speaks with inspiring tools of creativity. Thinkers challenge with the weapons of choice. These two forces are necessary to move souls beyond limitation. - Author: T.F. Hodge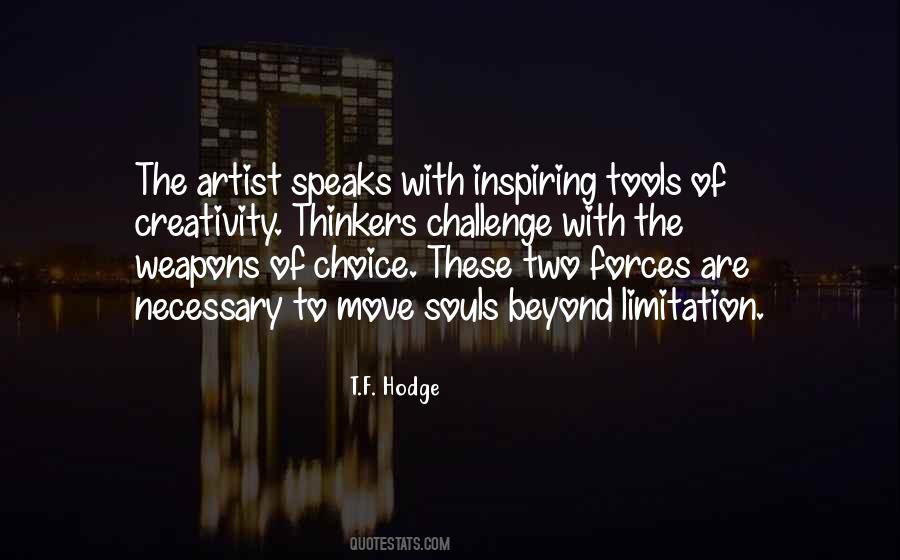 #57. I Can't Live without You. expresses the full meaning of true love. It is a beautiful and powerful emotion, words can never express, nor can the mind comprehend its connection within two souls. - Author: Ellen J. Barrier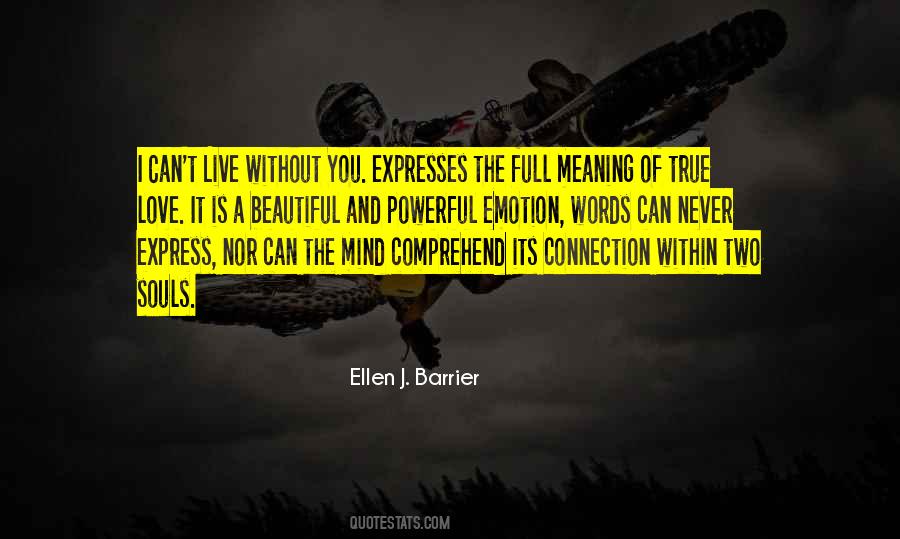 #58. Like two lost souls, we fall asleep in each other's arms, hoping to find ourselves once again. - Author: Jalpa Williby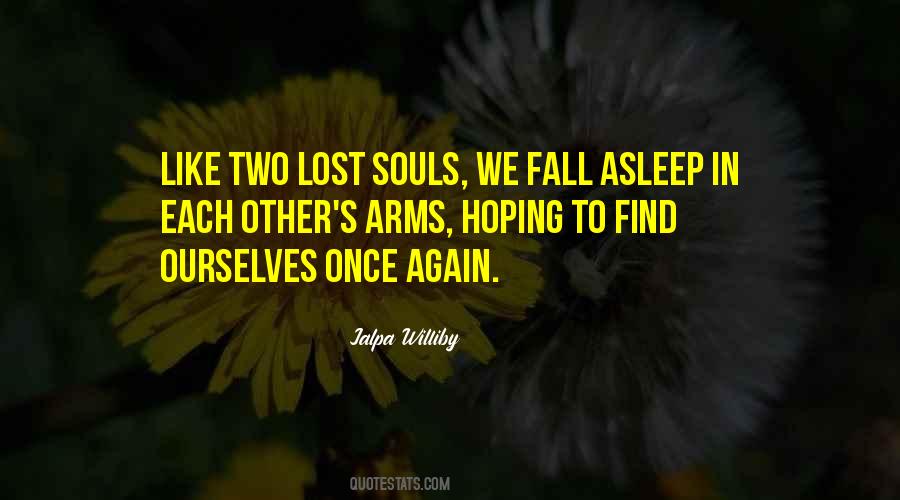 #59. It is worthy of note that killing oneself and killing someone is not the same. For the former, one should lose one's faith, for the latter, one should never have any. - Author: Igor Eliseev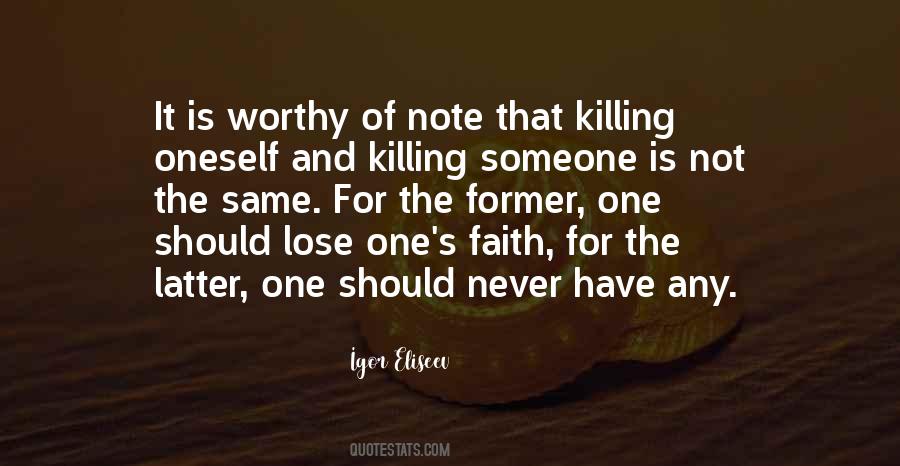 #60. In a health relationship, it should always be about them. Two people are involved. And both of them are risking their hearts, their souls, in order to stay together. If both parties don't support and appreciate the individuality of the other, the relationship won't work. - Author: Lisa S. Lewis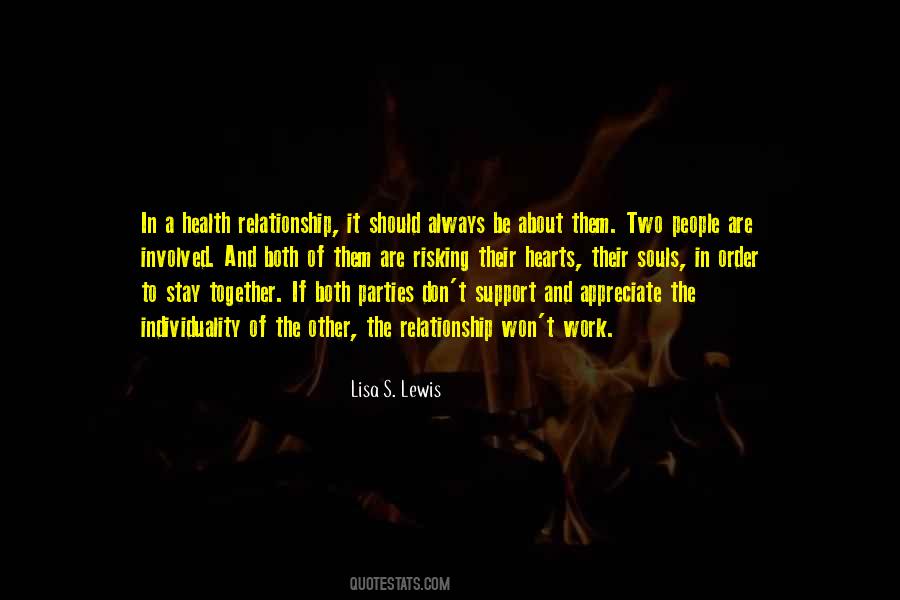 #61. So, so, break off this last lamenting kiss, Which sucks two souls, and vapors both away. - Author: John Donne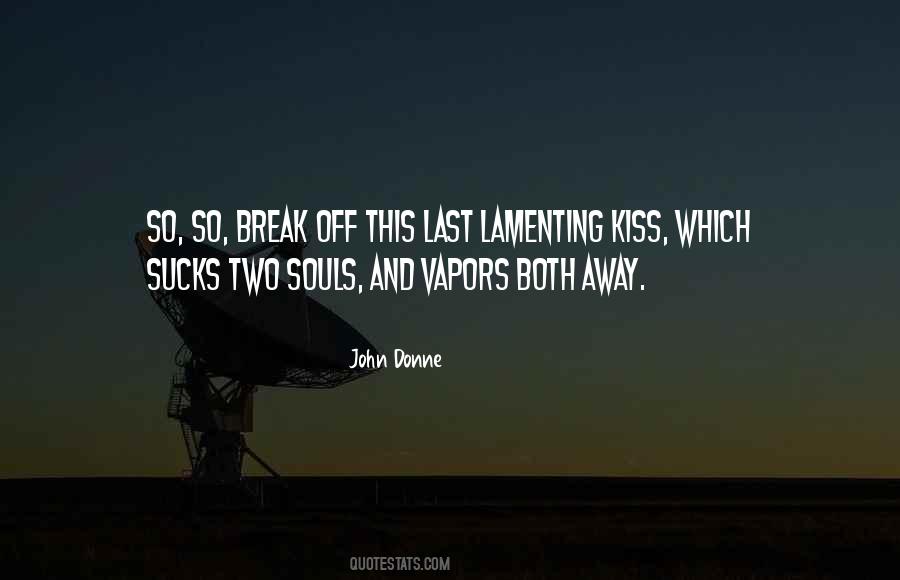 #62. Love is a seed that has to be watered with effort and consistency. Lack thereof will cause the fire that once existed between two souls to burn out. - Author: Pierre Alex Jeanty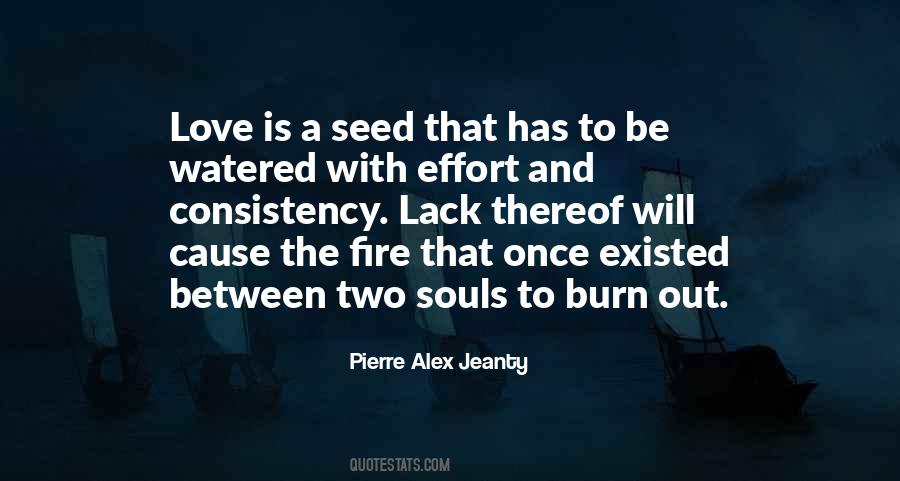 #63. No human relation gives one possession in another - every two souls are absolutely different. In friendship or in love, the two side by side raise hands together to find what one cannot reach alone. - Author: Kahlil Gibran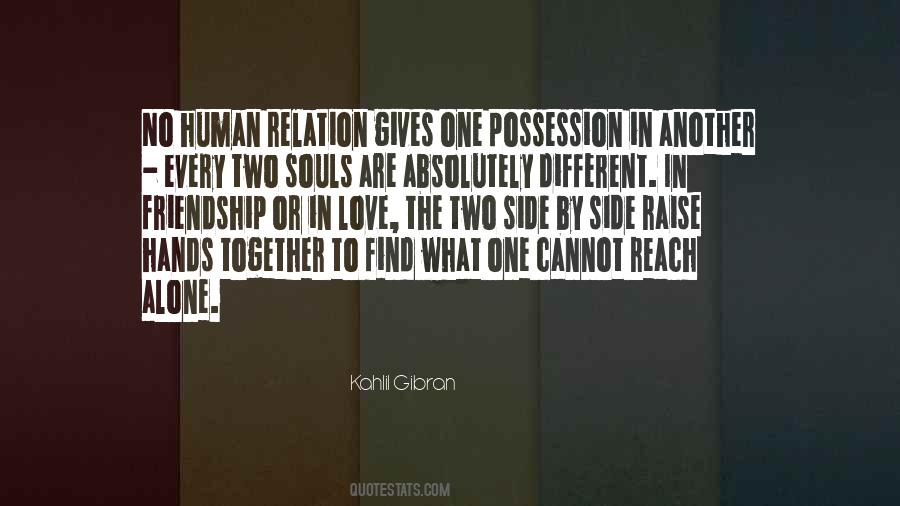 #64. Mother says that two souls are sometimes created together and
and in love before they're born. - Author: F Scott Fitzgerald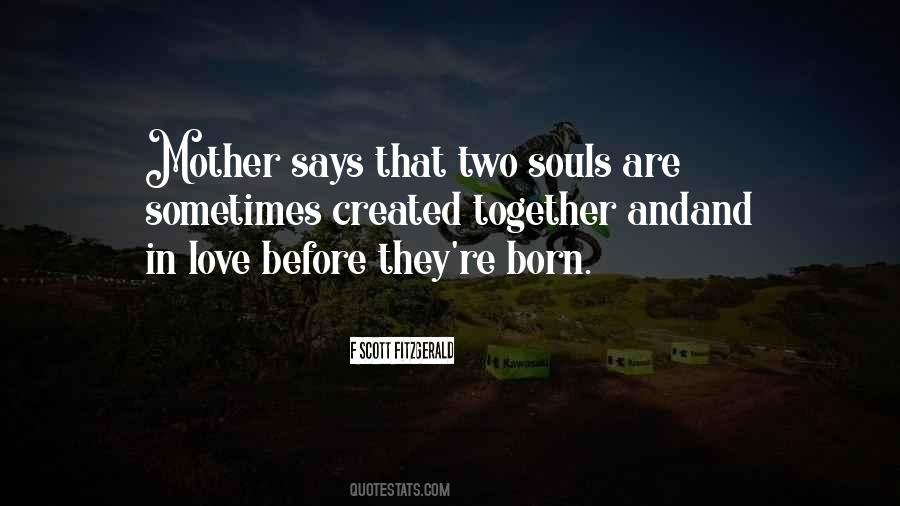 #65. At times it is so enjoyable to mire your neighbor into the filth you already got stuck in long ago! - Author: Igor Eliseev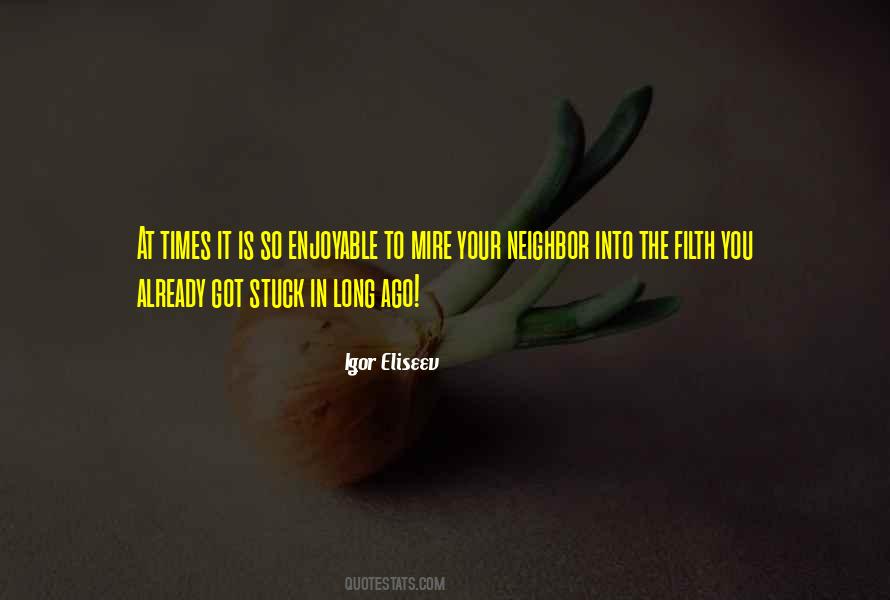 #66. There are two births: the one when light, First strikes the new awakened sense; The other when two souls unite, And we must count our life from thence, When you loved me and I loved you, Then both of us were born anew. - Author: William Cartwright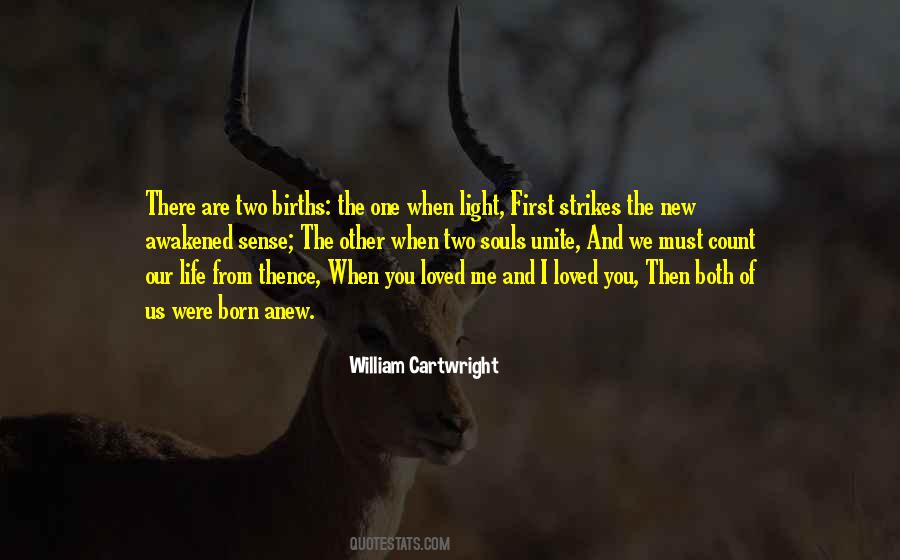 #67. Music fills the infinite between two souls - Author: Rabindranath Tagore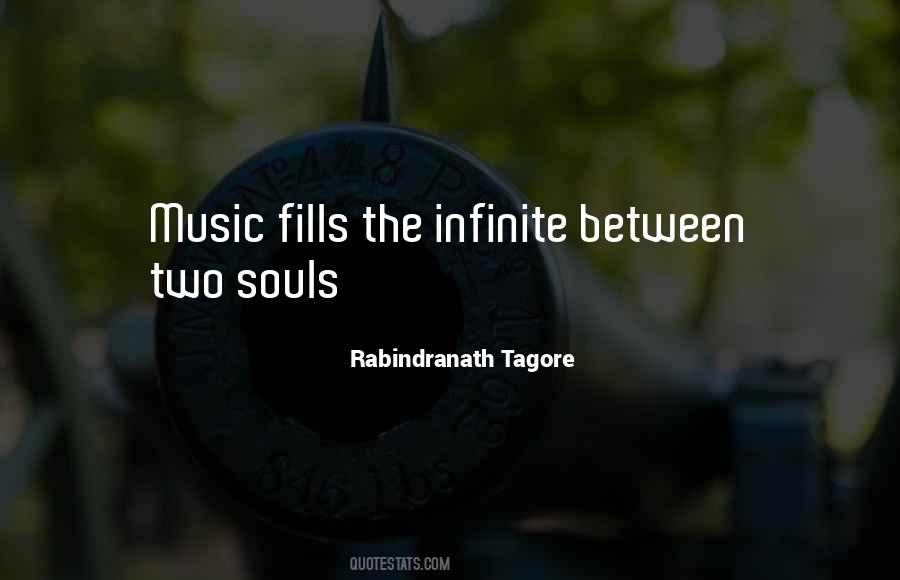 #68. Sex is a sacred act which sadly, over the past few decades, has been demeaned and demoralized until it means almost nothing to most people. Veray few still appreciate the emotional and spiritual connection that can and should take place when two bodies and souls are joined together. - Author: Karen Amanda Hooper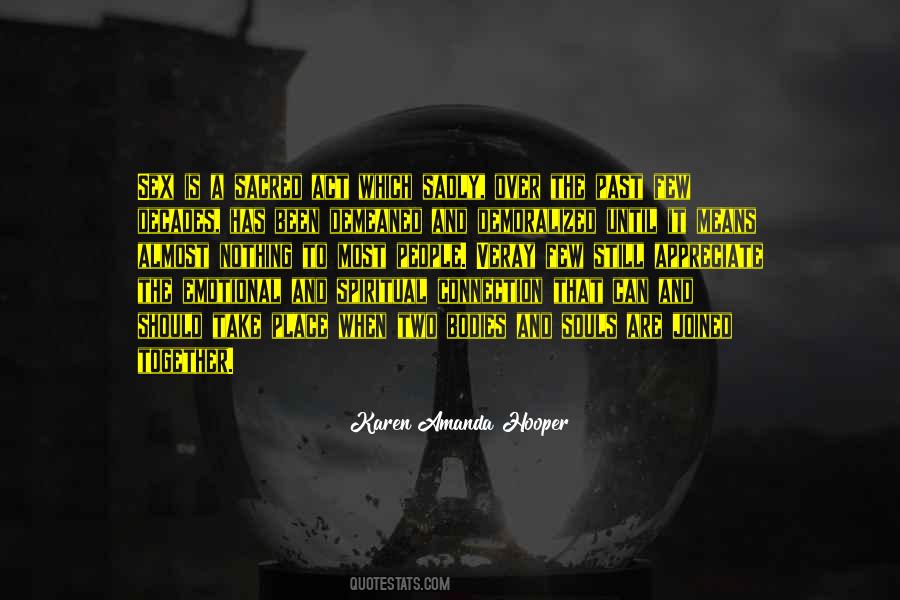 #69. For two days I went about my business. I travelled the globe as always, handing souls to the conveyor belt of eternity. - Author: Markus Zusak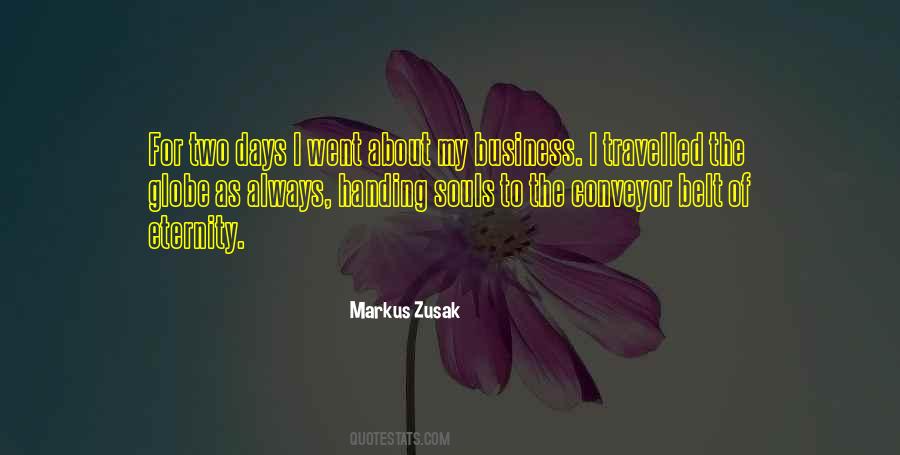 #70. We are gathered here tonight to join these two lives, these two hearts, these two souls, in marriage. If there is anyone present here today who objects to this union, please take it up with the two armed federal agents who are getting hitched." Zane - Author: Abigail Roux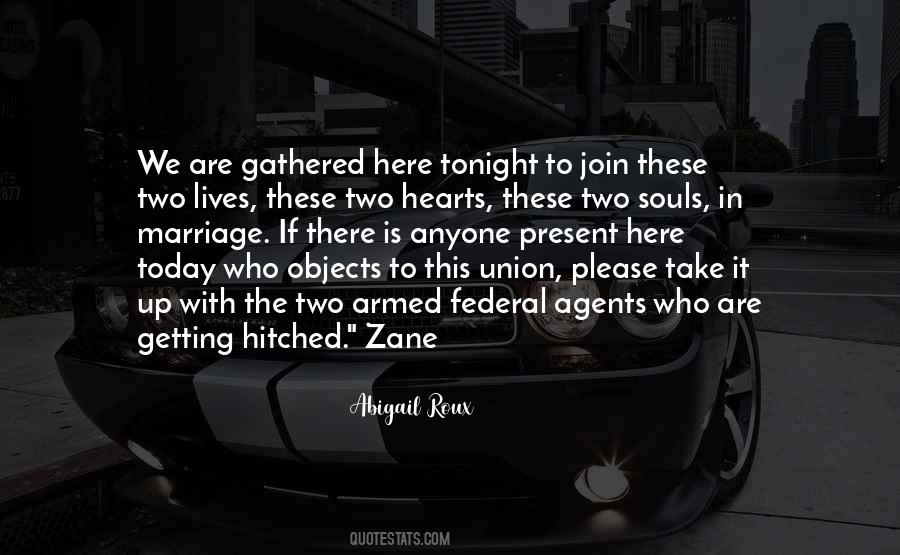 #71. Friendship is two souls inhabiting one body. - Author: Aristotle.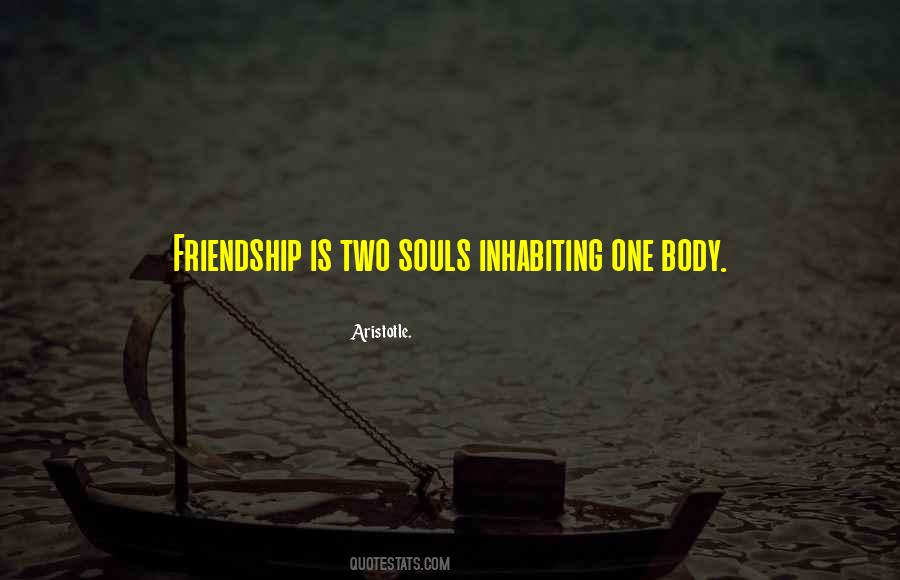 #72. If words could break souls, my words just broke his in two. - Author: Colleen Hoover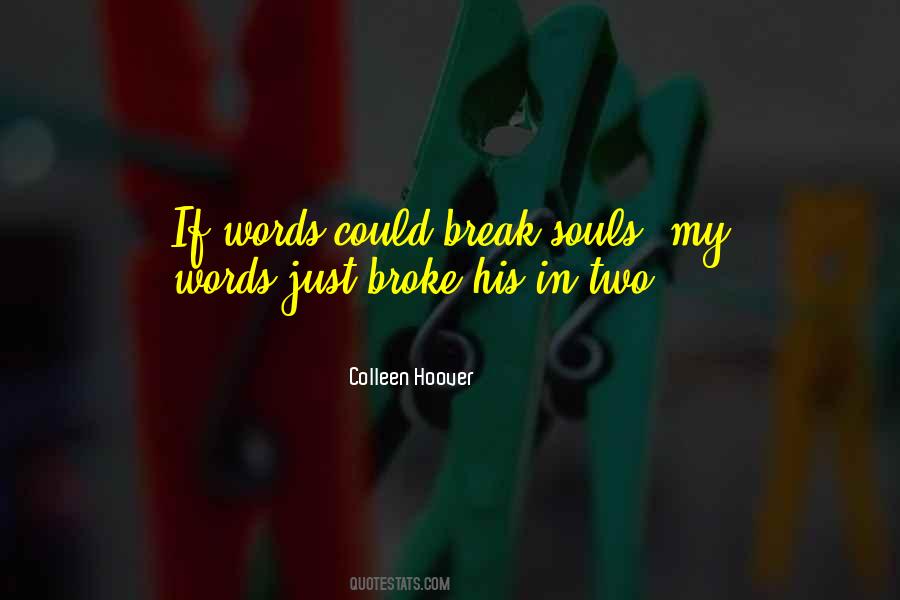 #73. Neither of us wanted to say it first. But our two souls had become one in a realm no one else could venture into. The immortal coil of passion had wrapped around us forever. It had begun with lust and attraction and blossomed into so much more. Fear of rejection kept us from declaring it. - Author: Sherry Soule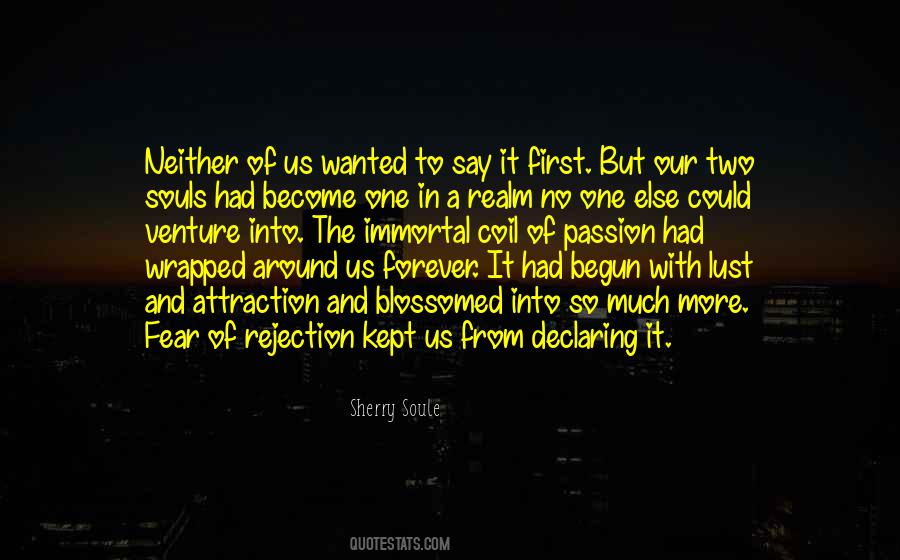 #74. He knew her, and she knew him. He had no idea if the images he saw came from past or future, or both, but he knew her. Their souls were bound, had always been bound, and always would be. They were two with one soul between them, perfectly joined, perfectly fitted. - Author: Ann Marston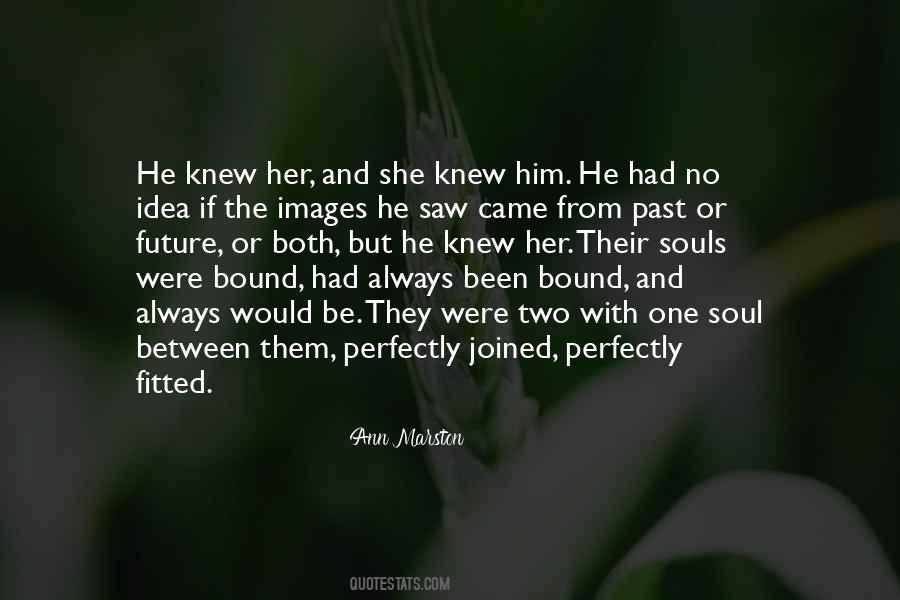 #75. I can tell you that she changed my life, and I think, somehow, I changed hers. We're good for each other, Never and me. Just two tortured souls tangled together for life. Just two, tortured fucking souls in love. - Author: C.M. Stunich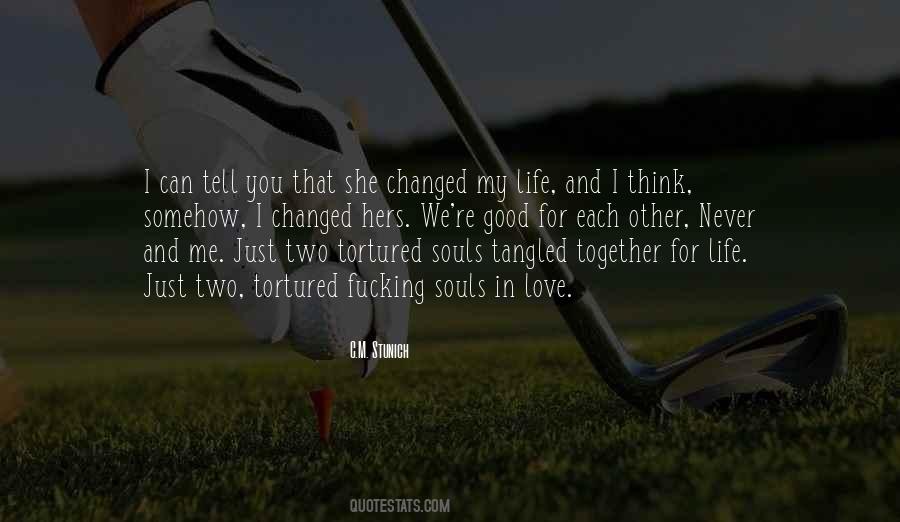 #76. Pride and curiosity are the two scourges of our souls. The latter prompts us to poke our noses into everything, and the former forbids us to leave anything unresolved and undecided. - Author: Michel De Montaigne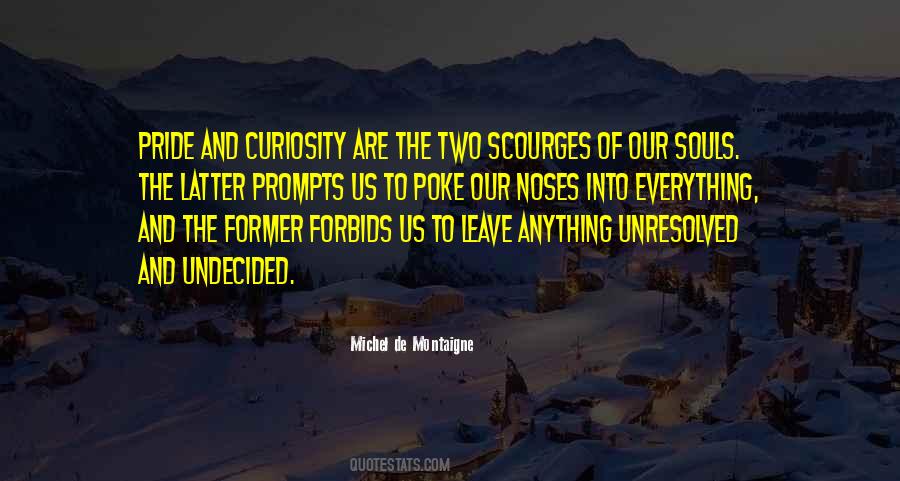 #77. Gentle souls!
You play your love on the violin.
The crude ones play it on the drums violently.
But can you turn yourselves inside out, like me
And become just two lips entirely? - Author: Vladimir Mayakovsky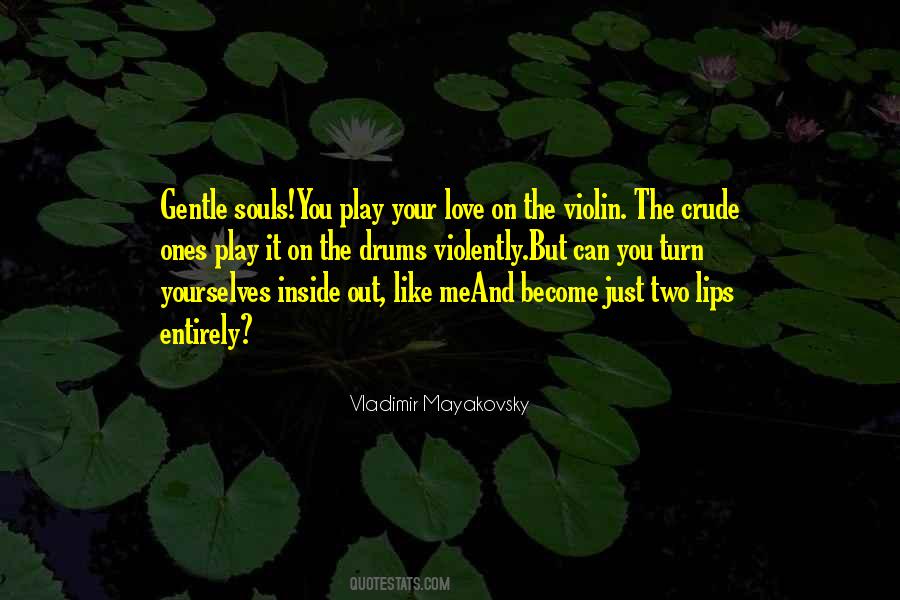 #78. We were two halves to a whole. Water, the mother of creation. Land, the father who supported it. We were forever joined, our souls tethered. In this moment, the truth came to life: Whether the gate closed or not, I would never be whole without this man by my side. - Author: Denise Grover Swank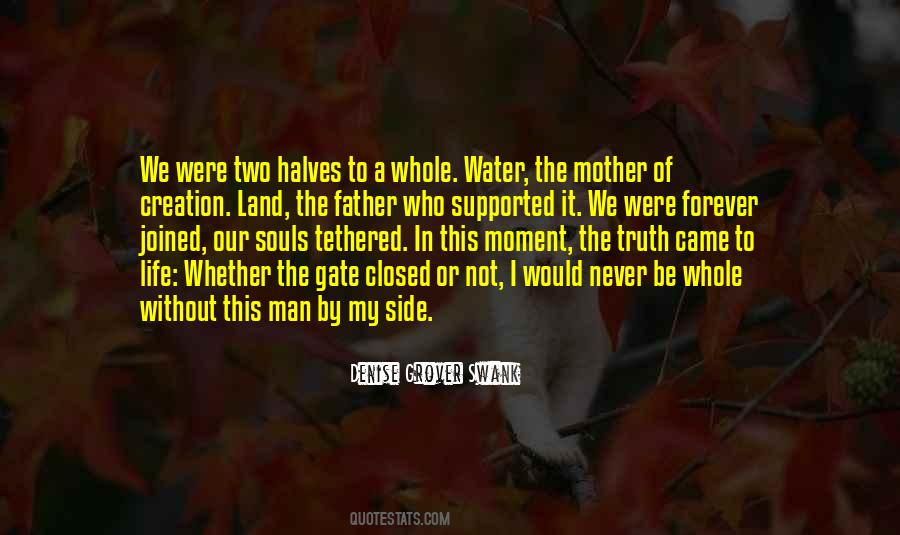 #79. Distance and time might keep people apart, but the heart and mind will always stay connected by memories, miracles and the power of two unlikely souls that were destined to meet. - Author: Shannon L. Alder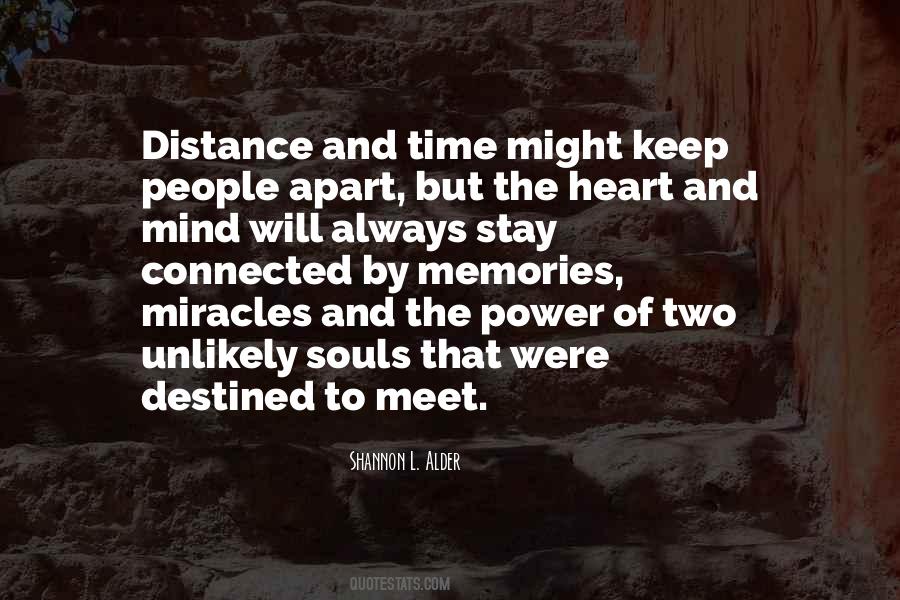 #80. Nothing is more true, more real, than the primeval magnetic disturbances that two souls may communicate to one another, through the tiny sparks of a moment's glance. - Author: Victor Hugo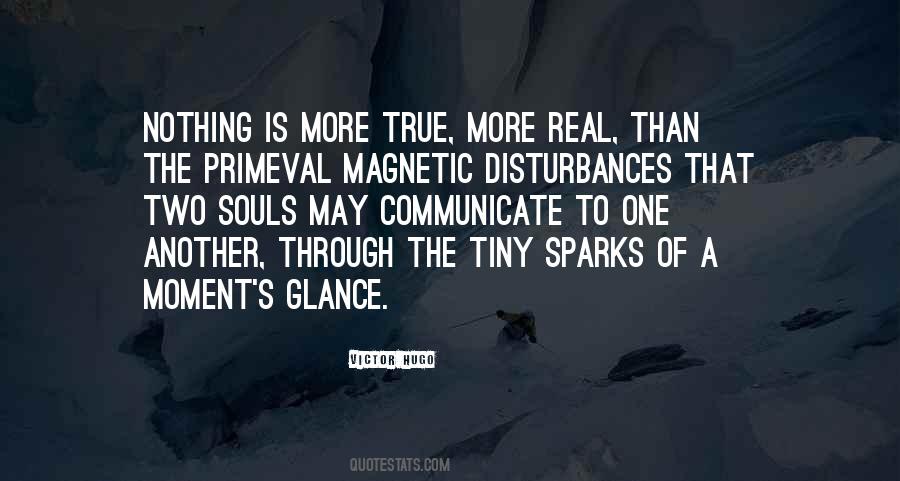 #81. aryaputra, a 'gentleman', and the aryaputri, a 'lady', a prototypical human partnership of two strong individuals, who didn't compete for exact equality but were complementary, completing each other. Two souls that were dependent on each other, giving each other purpose; two halves of a whole. - Author: Amish Tripathi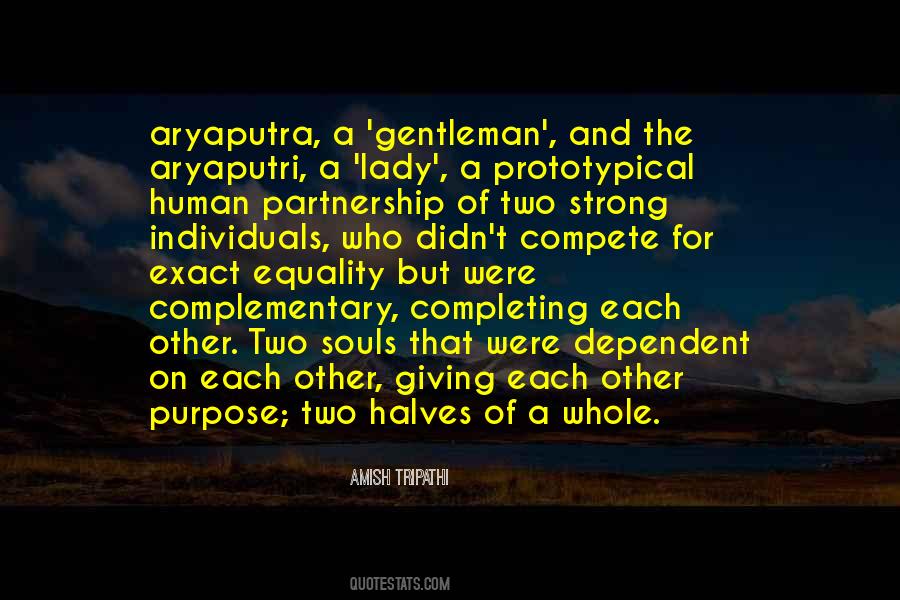 #82. Is it so hard to offer your help and sympathy to somebody in grief? It takes a little to make one step, but, in an inexplicable manner, it stretches into thousands of kilometers. All of us are full of empathy and consolation but always prefer to express it from a distance. - Author: Igor Eliseev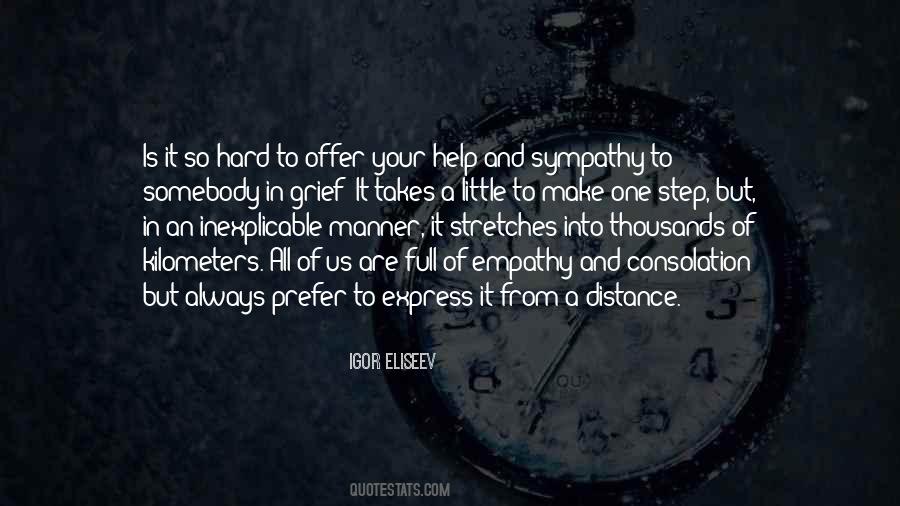 #83. So two things, on our part, are required to receive God's saving grace: repentance from sin and faith in God Who saves us (by grace, in Christ). Both are free choices, and both are necessary to allow grace to enter our souls. - Author: Peter Kreeft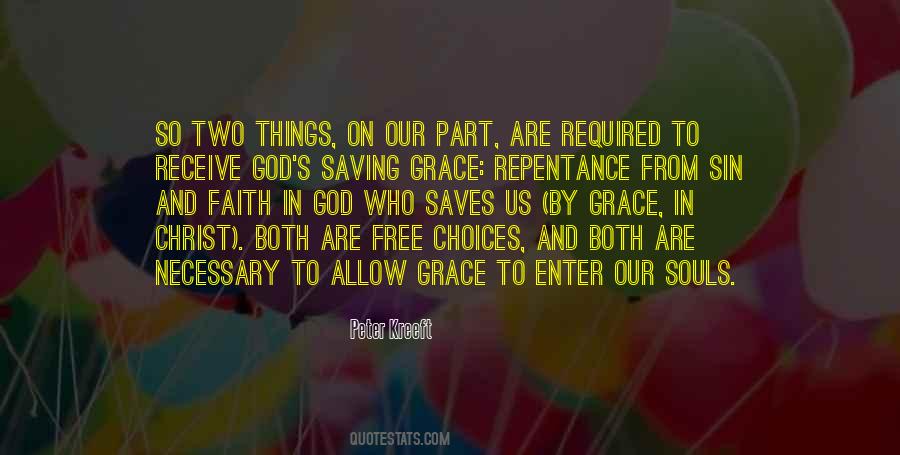 #84. White bridal dresses stunning and pure, bringing promises, binding two souls together, life forces connected, holding the same vision. - Author: Jennifer Lynch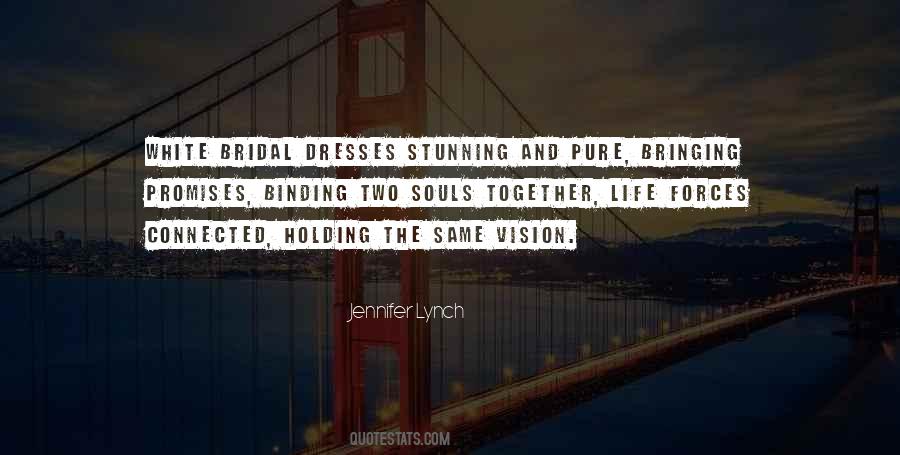 #85. It always turns out this way: at first people idolize you, swear to be your faithful friend forever and then spit in your tea and in your soul, too. - Author: Igor Eliseev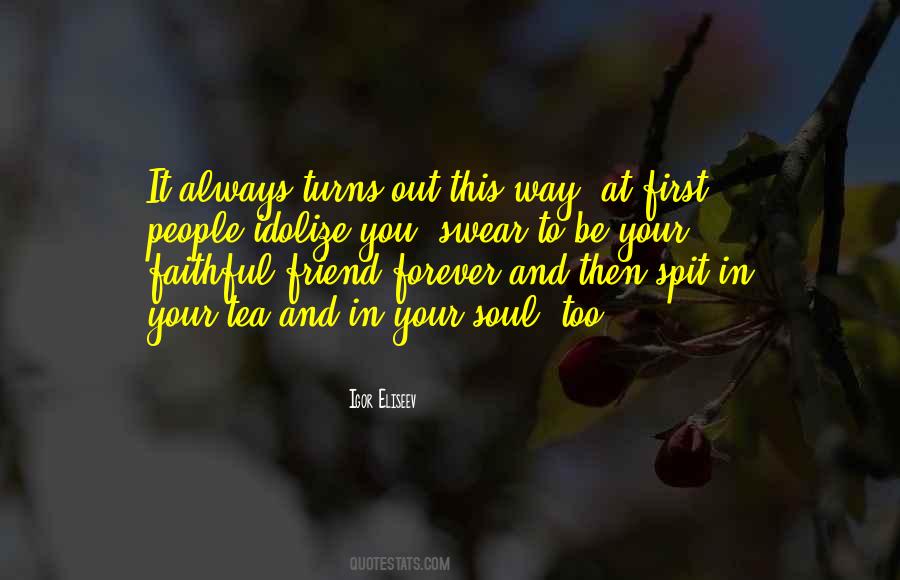 #86. We're just two completely confused souls, scared of a much unwanted yet crucial goodbye. - Author: Colleen Hoover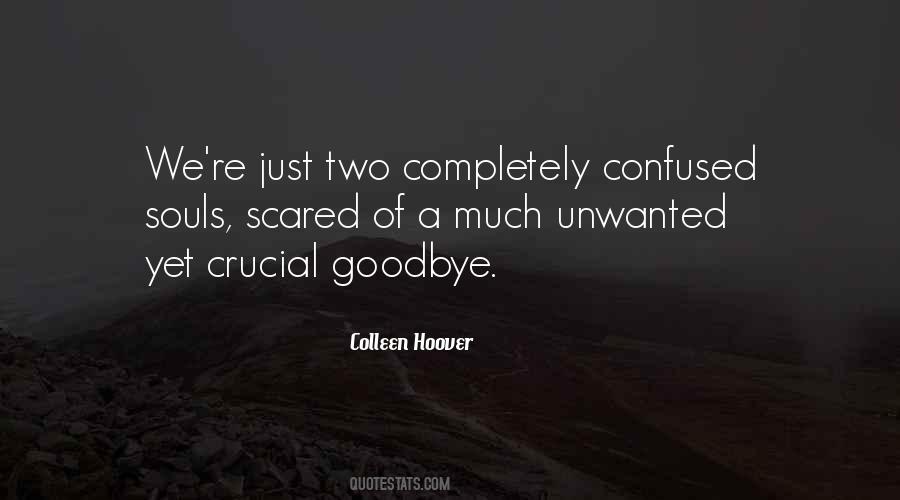 #87. Love is like permanent glue which sticks two souls and they can't be separated unless they are lacerated. Souls are immortal and so is love. - Author: Ritu Chowdhary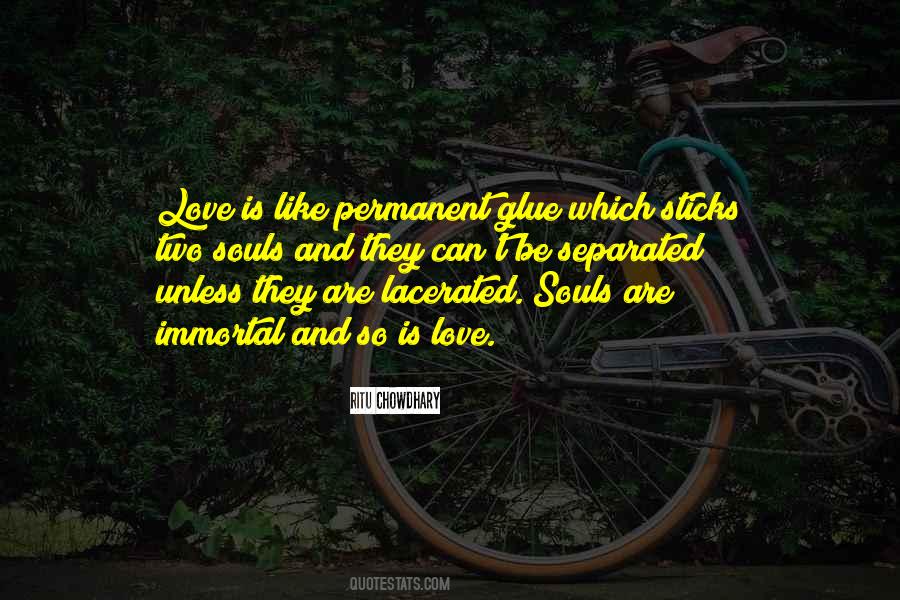 #88. You have always understood and accepted my most genuine, most intimate impulses and responded to them with surprising accuracy. I wish all people turned into such mirrors for each other. - Author: Igor Eliseev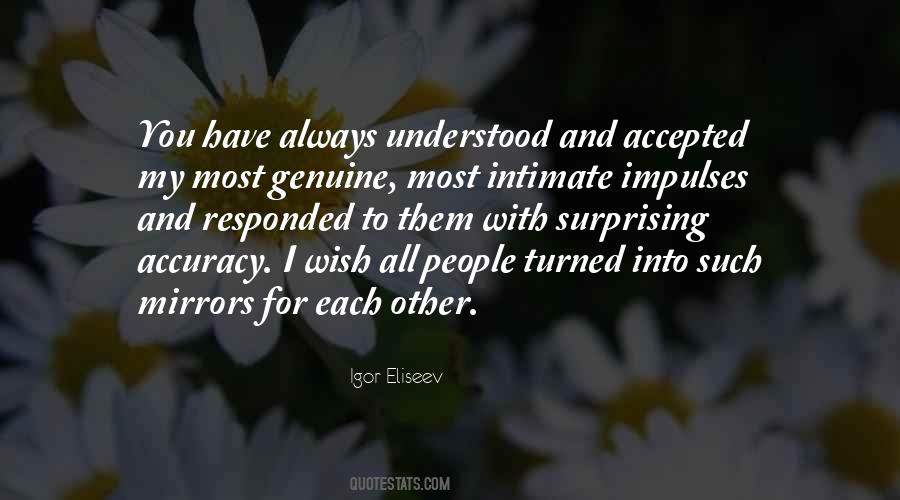 #89. The twin guardian angels whose eyes and hands and wings had focused protective attention on the souls that lay there no longer faced each other. They stared blindly into a random middle distance. The scroll they held between them proclaiming eternal resurrection was broken in two. - Author: Clare Morgan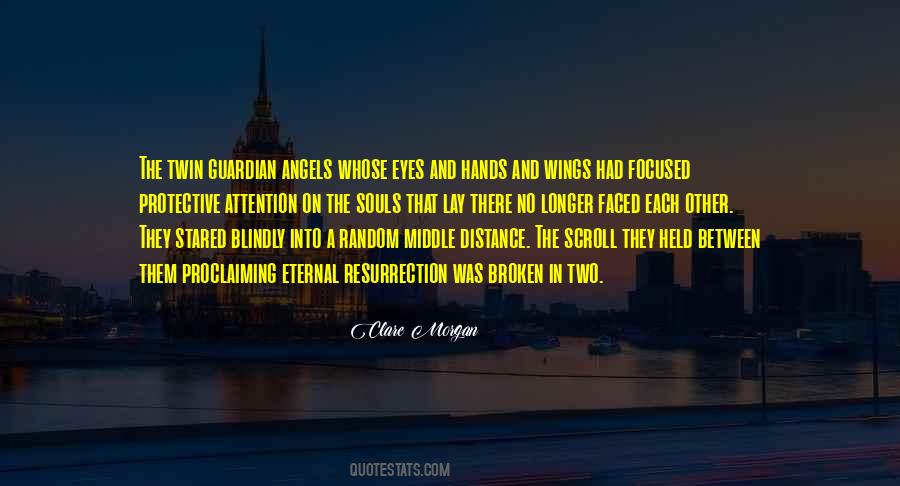 #90. Probably, sooner or later every person founds oneself to be needless. - Author: Igor Eliseev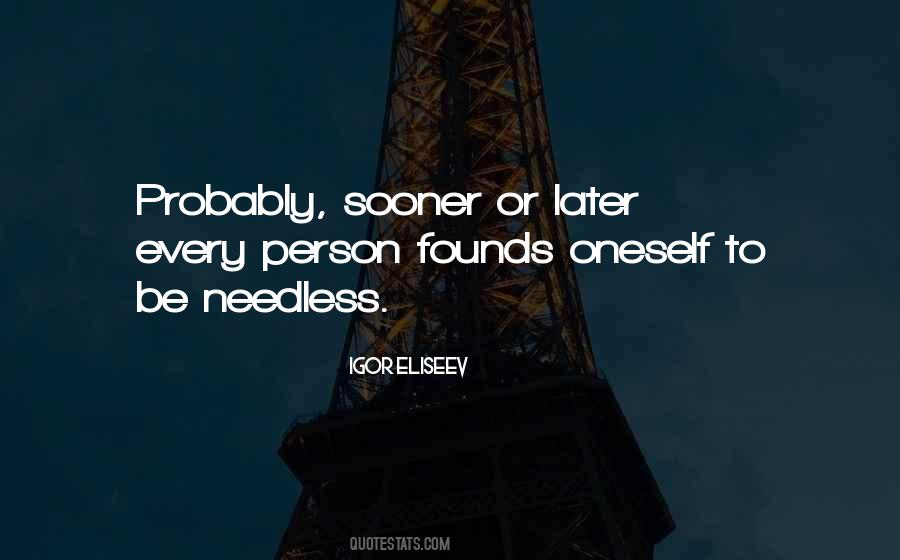 #91. The Roman Church has grown and grown, fueled by immigration but also renewed by two pontiffs who have seemed to understand what Tocqueville knew: People want guidance for their souls once they are convinced they have them. - Author: Hugh Hewitt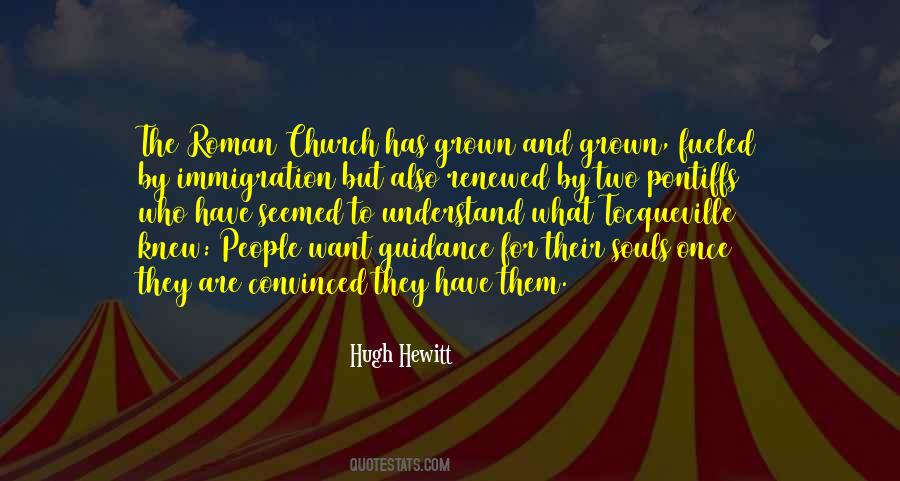 #92. You know how it is when two souls meet in a burst of ecstatic volubility, with hearts tickling to hear and to tell, to know everything, to reveal everything, the shared reverence for the other's otherness, a feeling of solitude radiantly snapped by full *contact* - all that? - Author: Martin Amis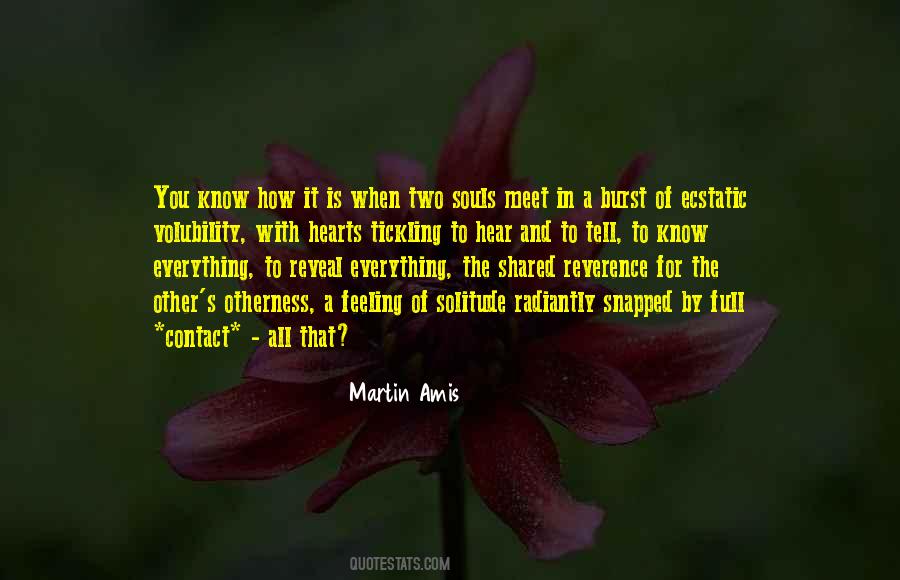 #93. People open bookstores because they want their souls back.
(from "Two Women" published in Do Me: Tales of Sex & Love from Tin House) - Author: Elizabeth Tallent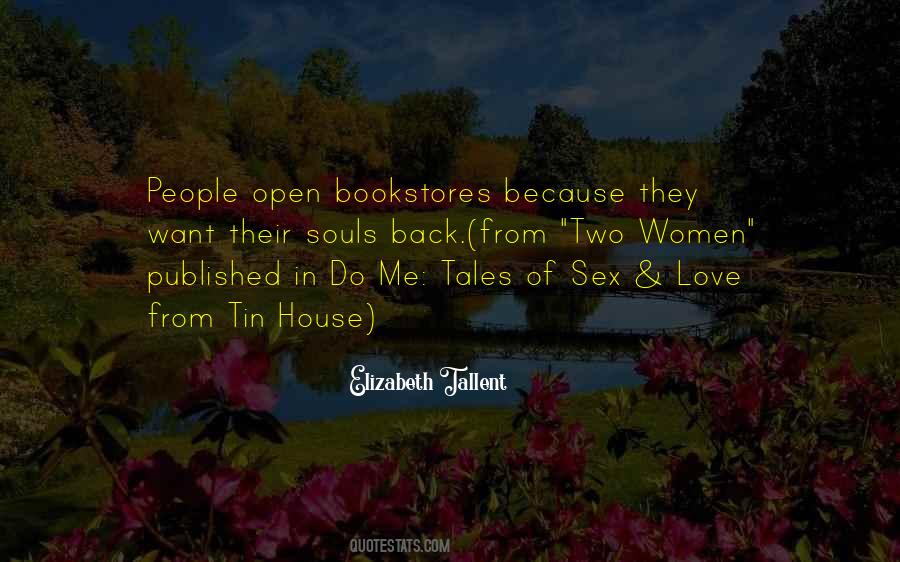 #94. From the time we know the Lord, and are bound to him by the cords of love and gratitude - the two chief points we should have in our view, I apprehend, are, to maintain communion with him in our own souls, and to glorify him in the sight of men. - Author: John Newton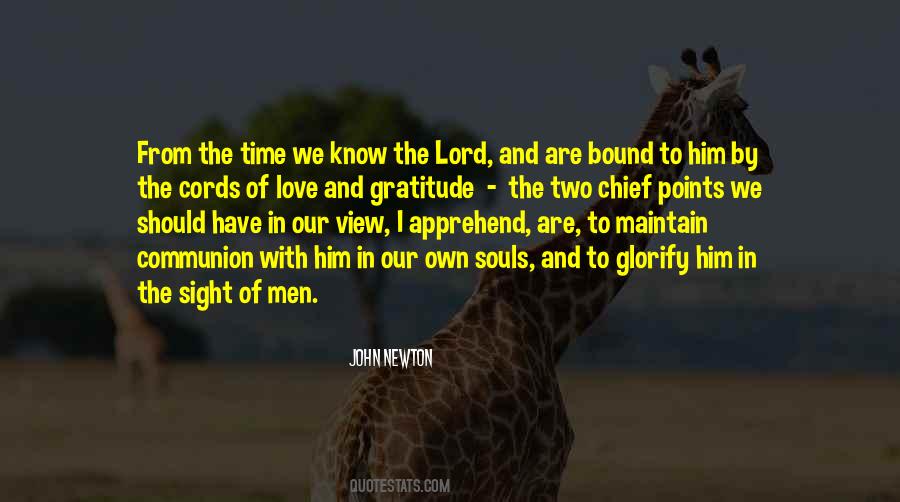 #95. Two souls dwell, alas! in my breast. - Author: Johann Wolfgang Von Goethe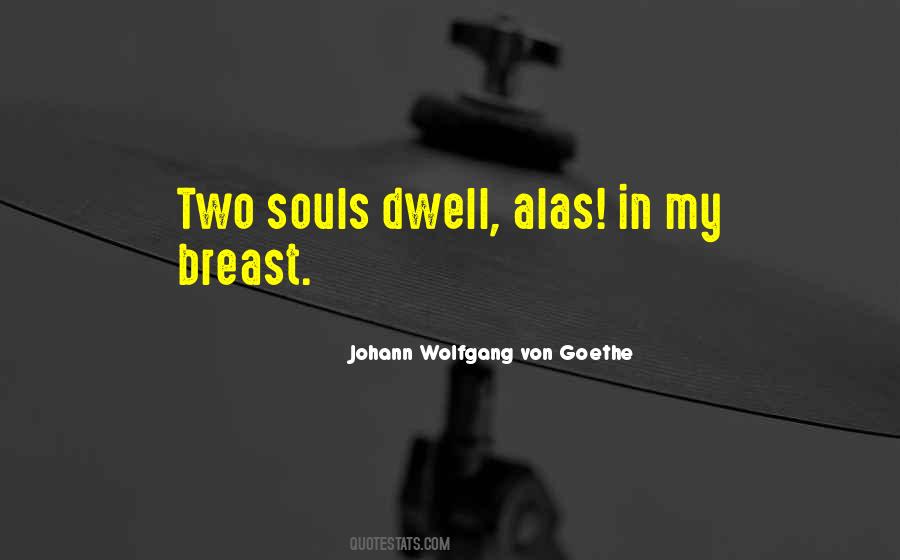 #96. The strongest bond in the universe is when two souls unite to become one. - Author: Matshona Dhliwayo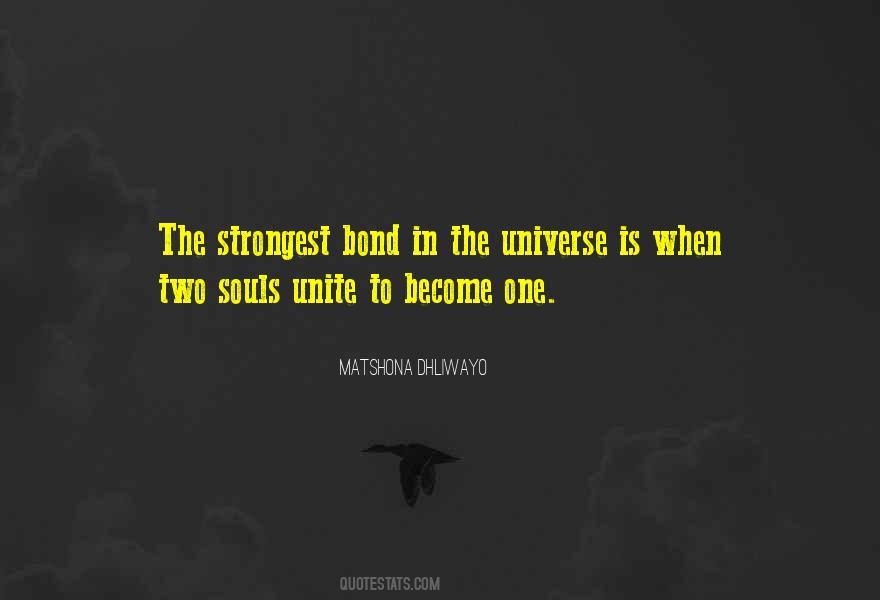 #97. You know, the ancient Egyptians had a beautiful belief about death. When their souls got to the entrance to heaven, the guards asked two questions. Their answers determined whether they were able to enter or not. 'Have you found joy in your life?' 'Has your life brought joy to others?' - Author: Morgan Freeman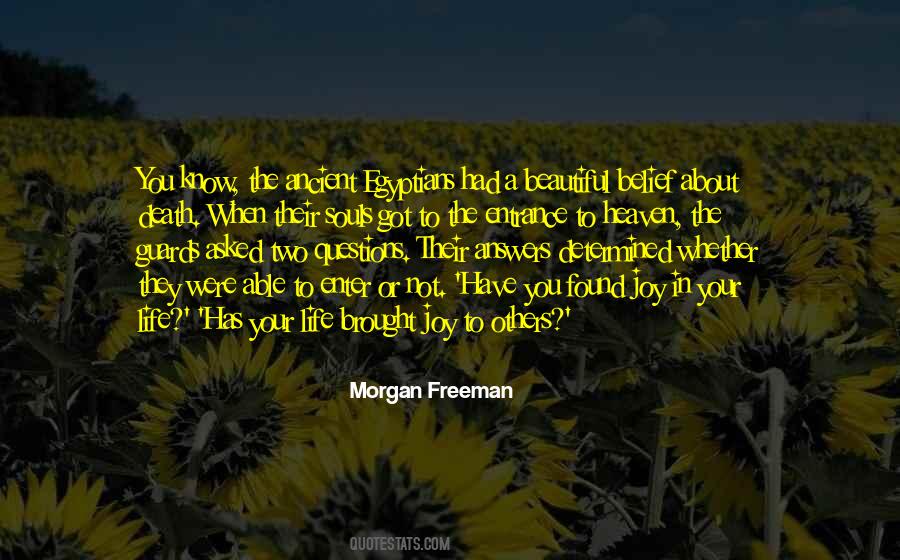 #98. The smallest indivisible human unit is two people, not one; one is a fiction. From such nets of souls societies, the social world, human life springs. - Author: Tony Kushner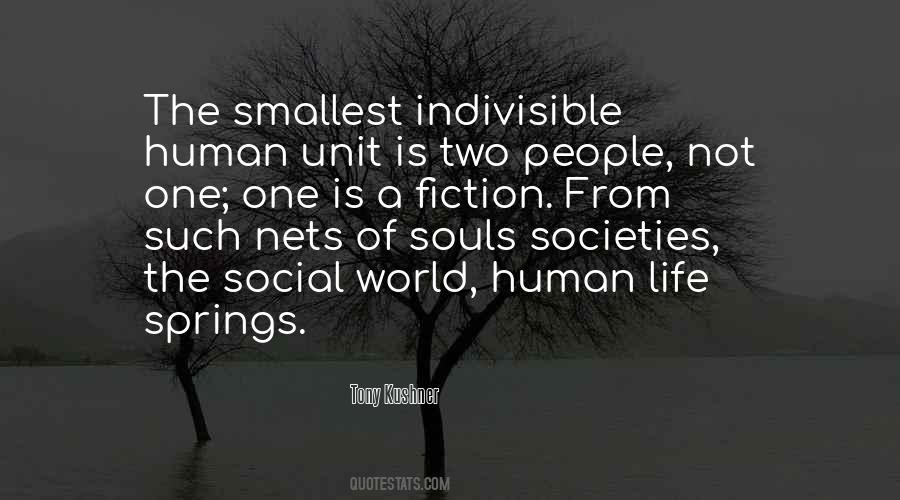 #99. One ever feels his twoness,
an American, a Negro; two souls, two thoughts, two unreconciled strivings; two warring ideals in one dark body, whose strenth alone keeps it from being torn asunder. - Author: W.E.B. Du Bois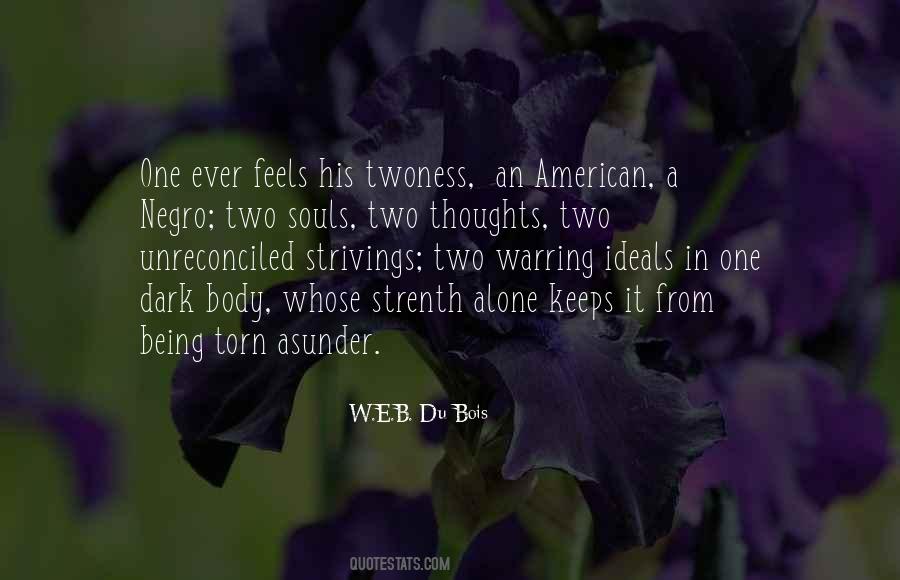 #100. Oh sure, some people give a little bit each day. But there are one or two special souls who, when you least expect it, give an entire life's worth all at once. - Author: Pleasefindthis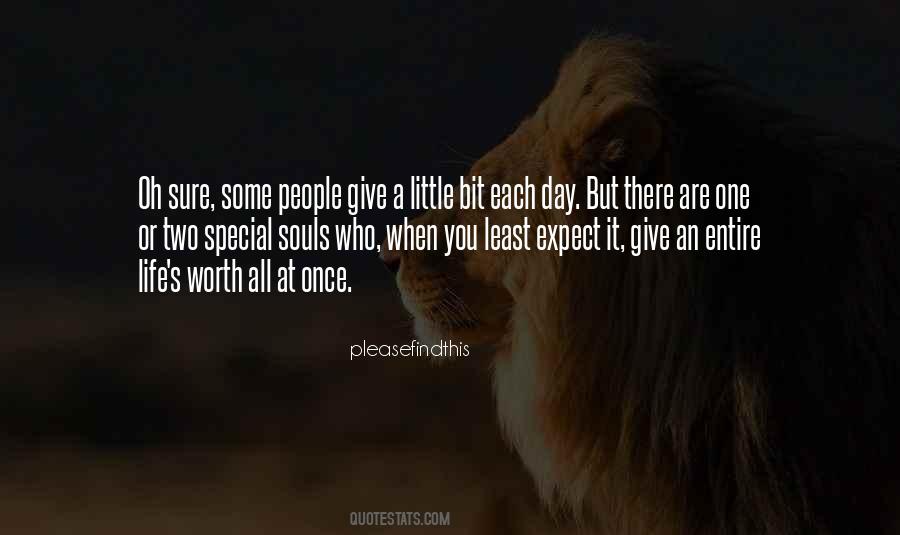 Famous Authors
Popular Topics