Twitter Famous Quotes & Sayings
List of top 100 famous quotes and sayings about twitter to read and share with friends on your Facebook, Twitter, blogs.
Top 100 Quotes About Twitter
#1. The viral power of online media has proven how fast creative ideas can be spread and adopted, using tools like cellphones, digital cameras, micro-credit, mobile banking, Facebook, and Twitter. A perfect example? The way the Green Movement in Iran caught fire thanks to social media. - Author: Tina Brown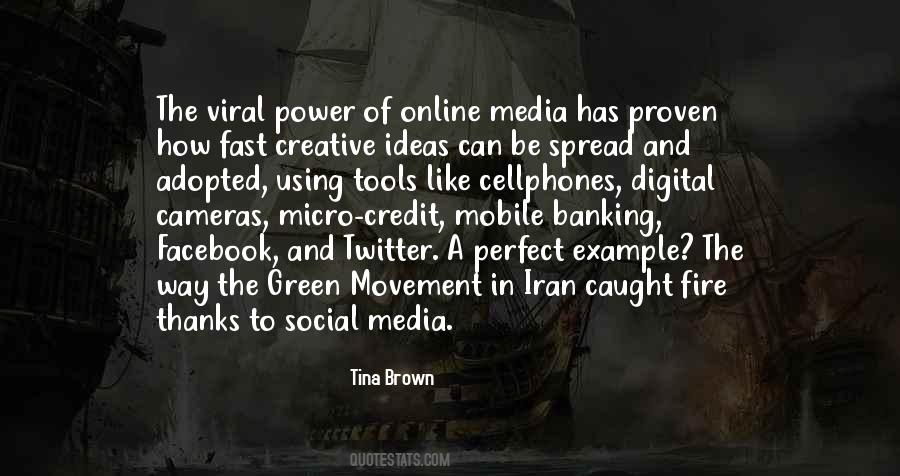 #2. Twitter gives people an illusionary sense of leadership. - Author: Mokokoma Mokhonoana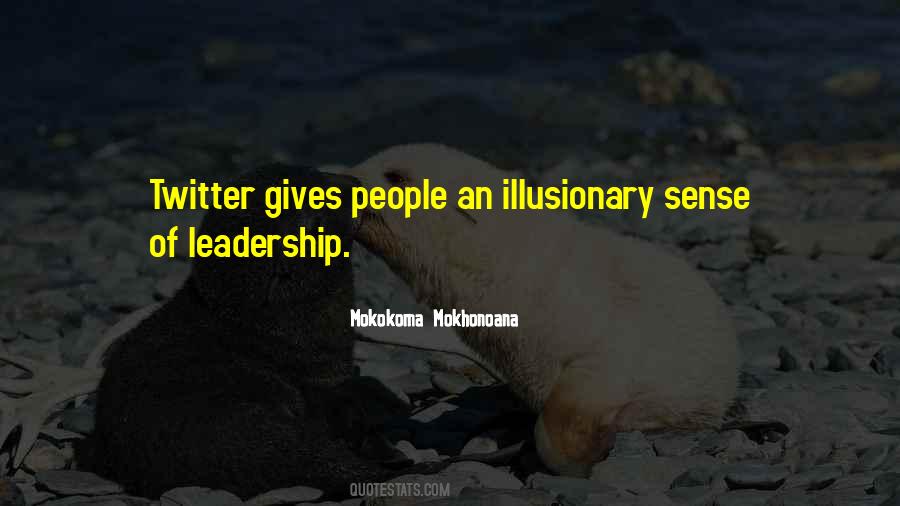 #3. Twitter makes you a comedian in the same way that digital cameras make you a photographer - Author: Ken Jennings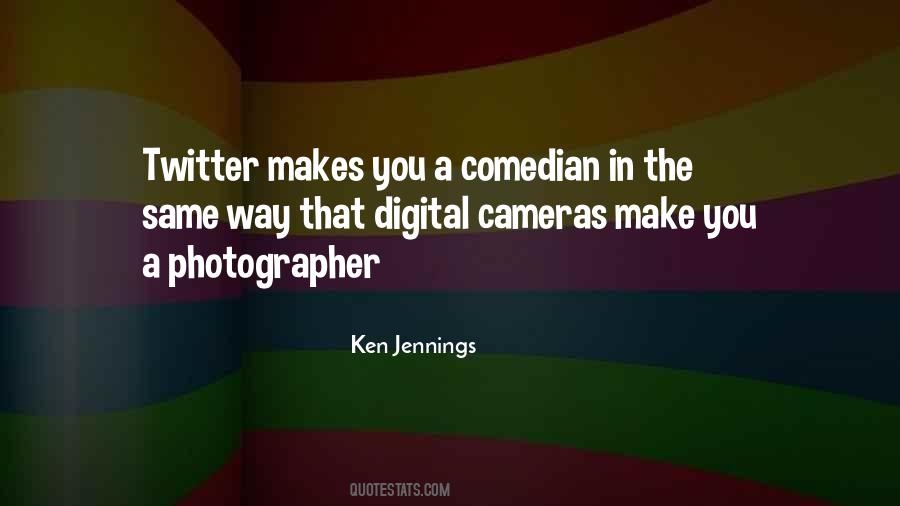 #4. For a long while, I was really against Twitter. I mean, who cares if I'm in an airport or had broccoli for dinner? - Author: Shantel VanSanten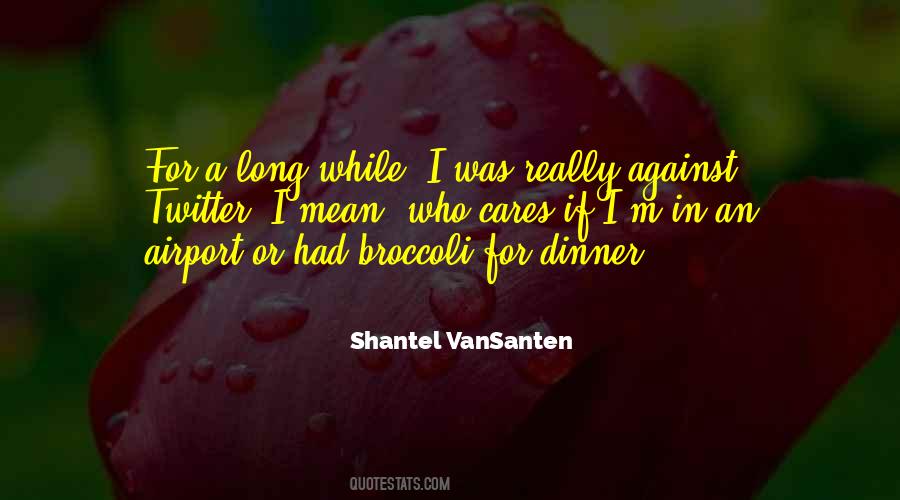 #5. Nearly 7 in 10 Fortune 500 companies have a corporate Facebook page, and more than that have active Twitter accounts. - Author: Clara Shih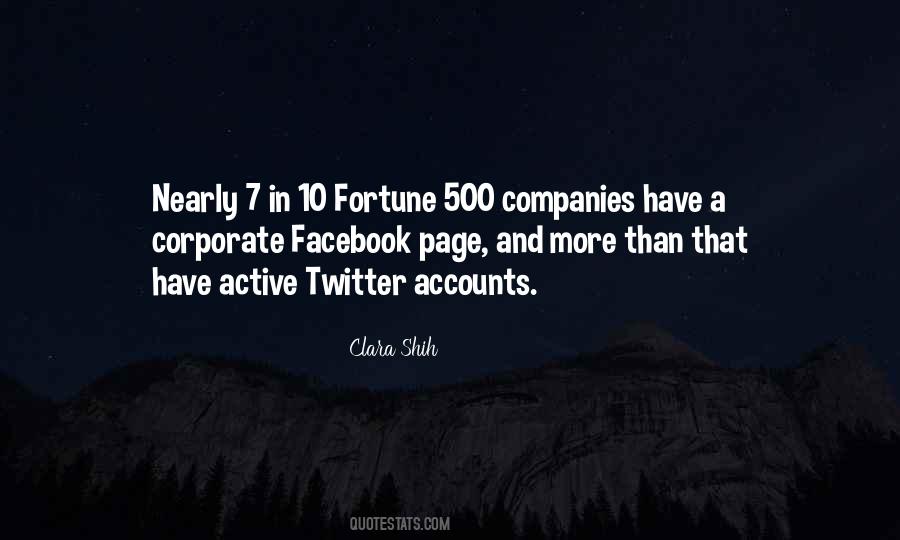 #6. I do Twitter, but I'm still not great on it - I'm not good at writing short little jokes, so my Twitter's not really a jokey thing. - Author: Cecily Strong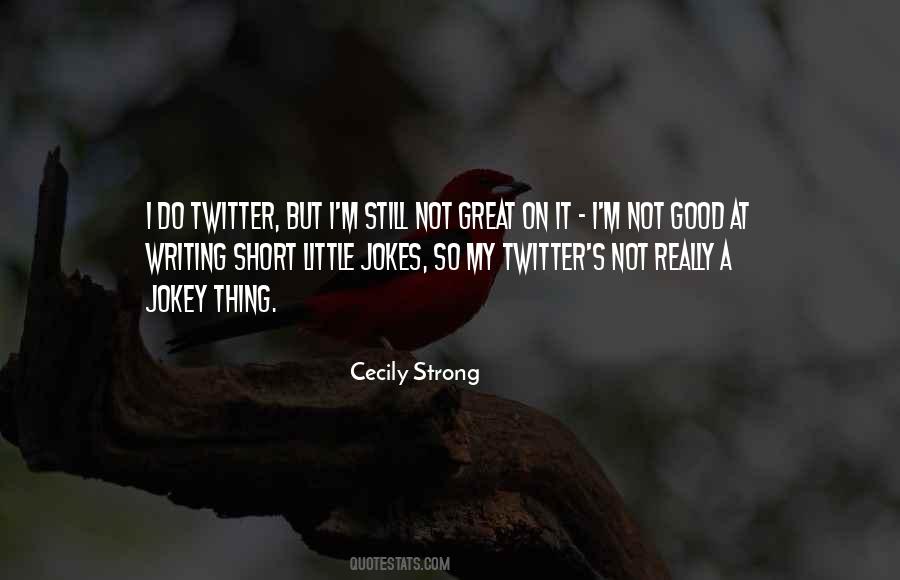 #7. Twitter is so stupid. I mean, it sucks! It's not a good way to communicate and it's really difficult to use it for any functional thing. - Author: Phil Elvrum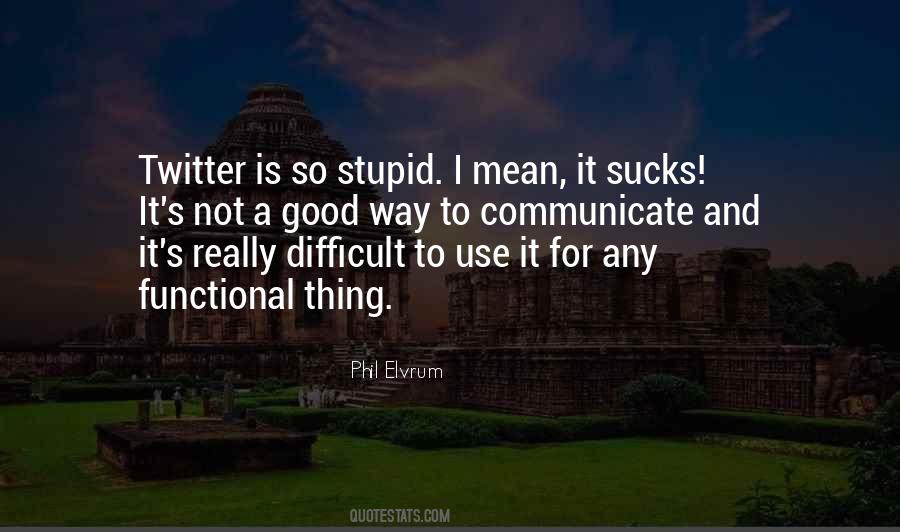 #8. When you go on your Twitter or look down your Timeline and it's all great positivity - I love that. But at the same time, it can really divert you from what your purpose is or what you're trying to do. And I've seen artists get caught up in that. - Author: Kendrick Lamar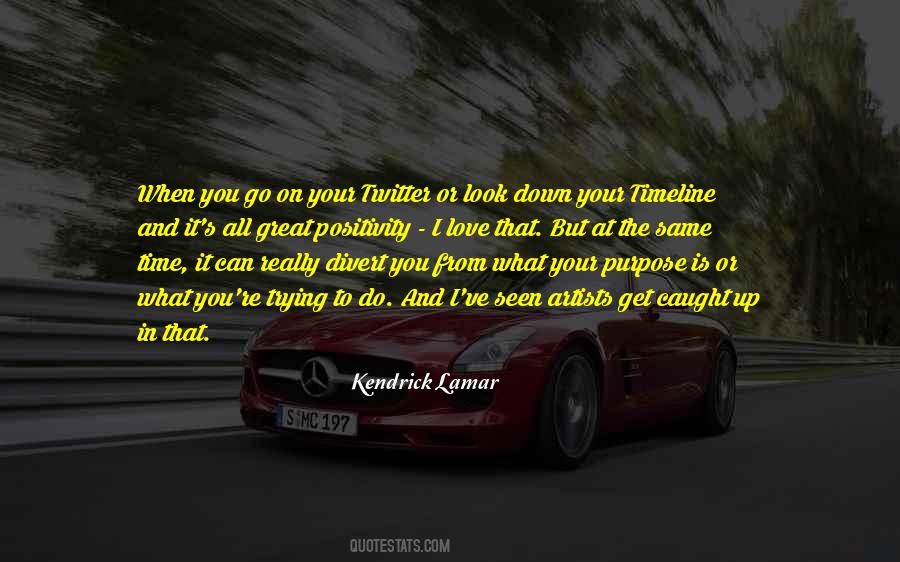 #9. I personally never got the gist of Facebook and Twitter. - Author: Helena Bonham Carter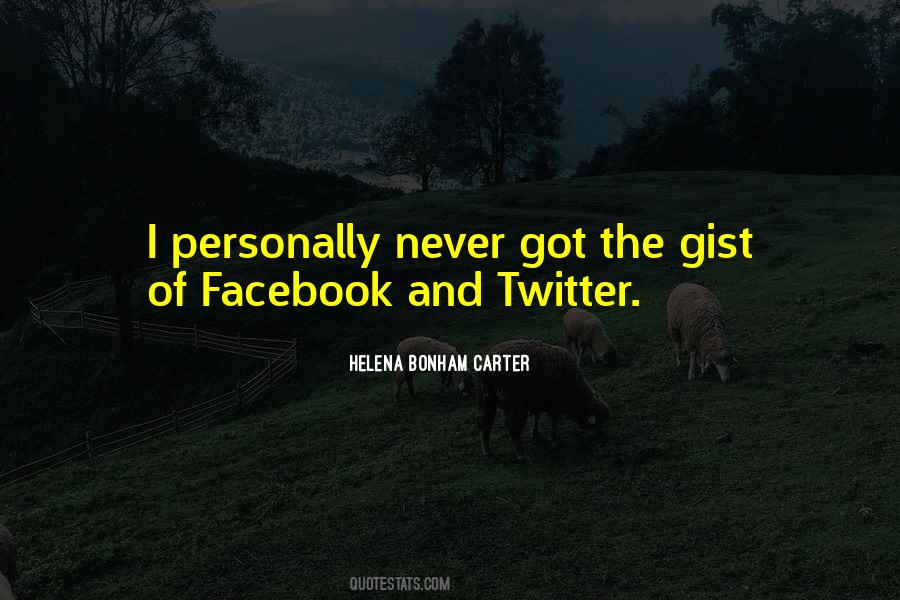 #10. I thought if I had a Twitter feed and say I had a following of a 100,000, that means 100,000 of them would be interested in my book. It was logical, but it didn't turn out to be true. It turned out if I had a Twitter feed of a 100,000, four of them were interested in my book. - Author: Steve Martin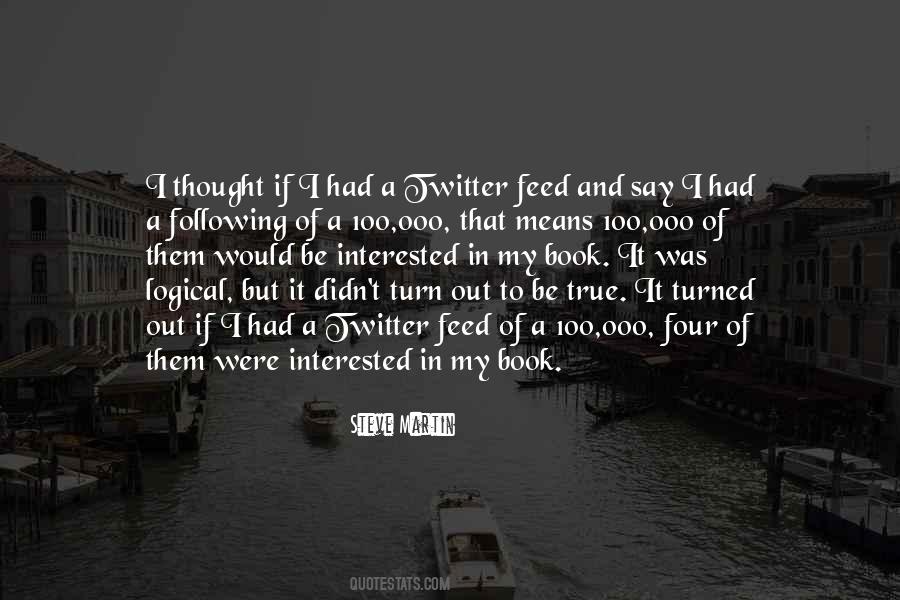 #11. I'd spent five minutes looking at Twitter once and felt I'd wandered into a poker game where everyone immediately displayed their hands against the cool green of the felt. - Author: Jeff Abbott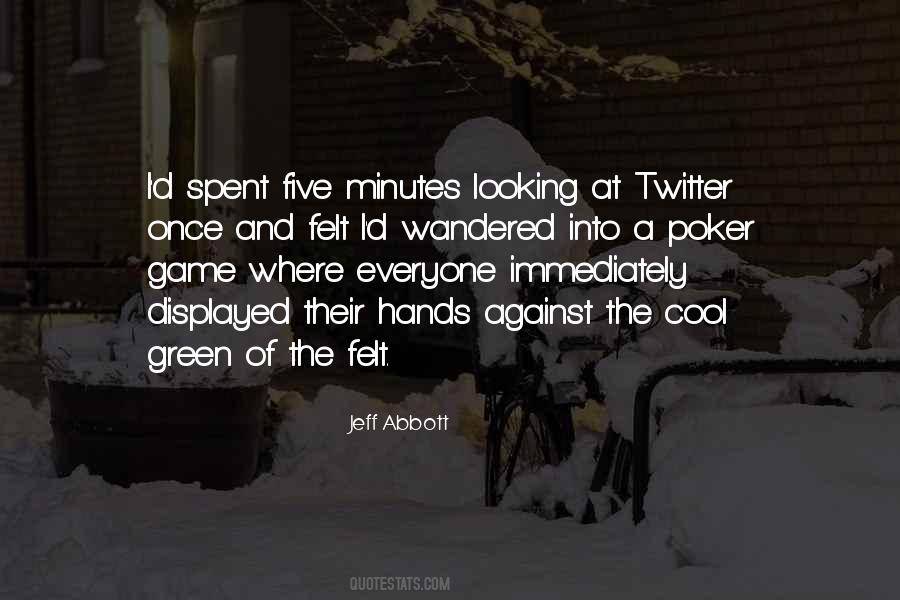 #12. Personalized news aggregators are geared around connecting you to news sources; we're about connecting you to your friends. To people you're inspired by. To people that you're following on Facebook and Twitter. - Author: Mike McCue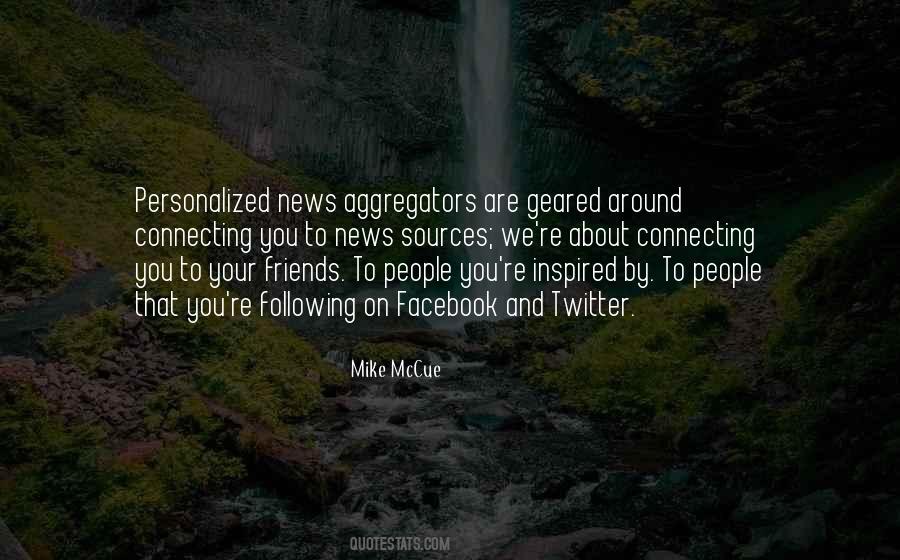 #13. Tweets about the mundane aspects of your life contain something that is vitally important to gaining followers and taking part in discussions: Authenticity. - Author: Ian Lamont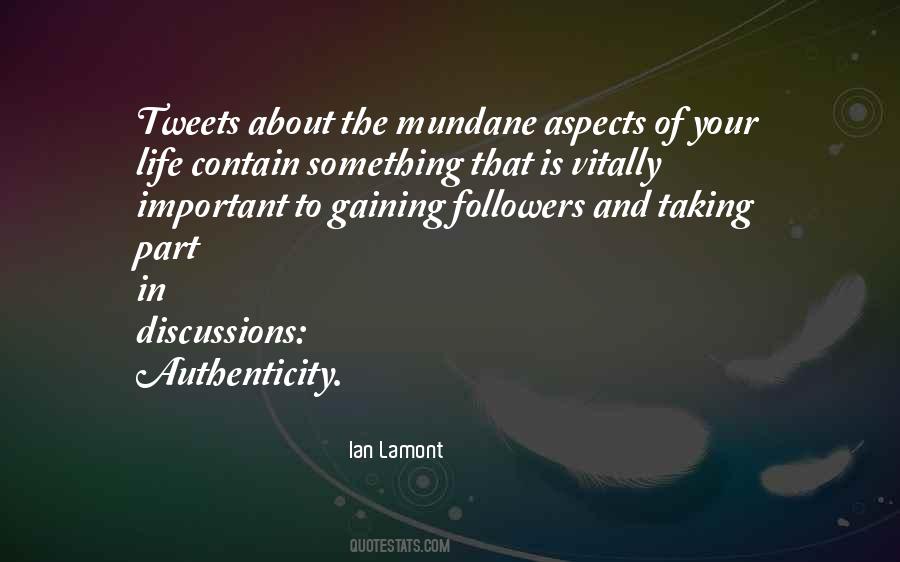 #14. I don't look at Twitter between events because it's a distraction but I will ring my fiance and parents to let them know how it's going. - Author: Jessica Ennis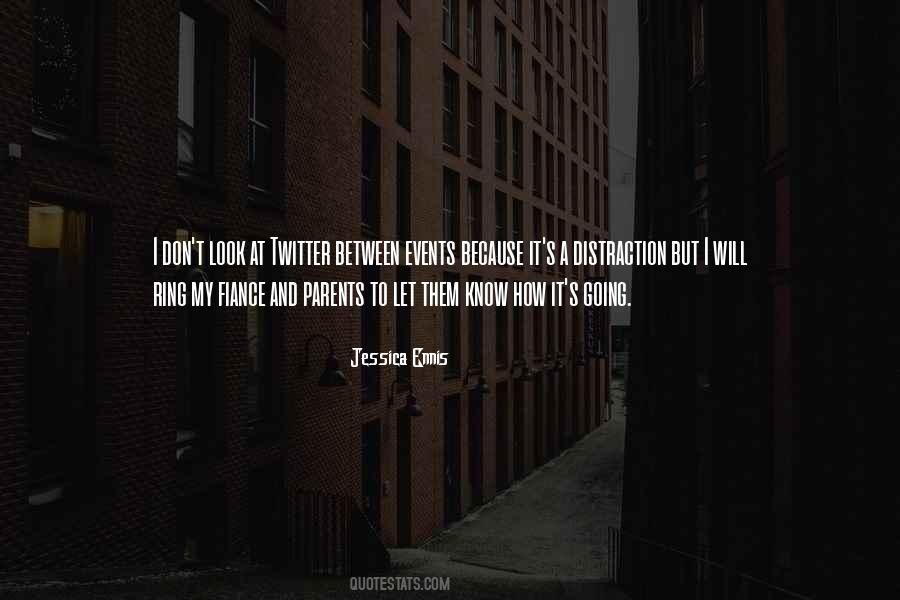 #15. Basically, me and Ed Sheeran are kind of Twitter friends - well, I say that. He probably just thinks I'm weird. - Author: Maisie Williams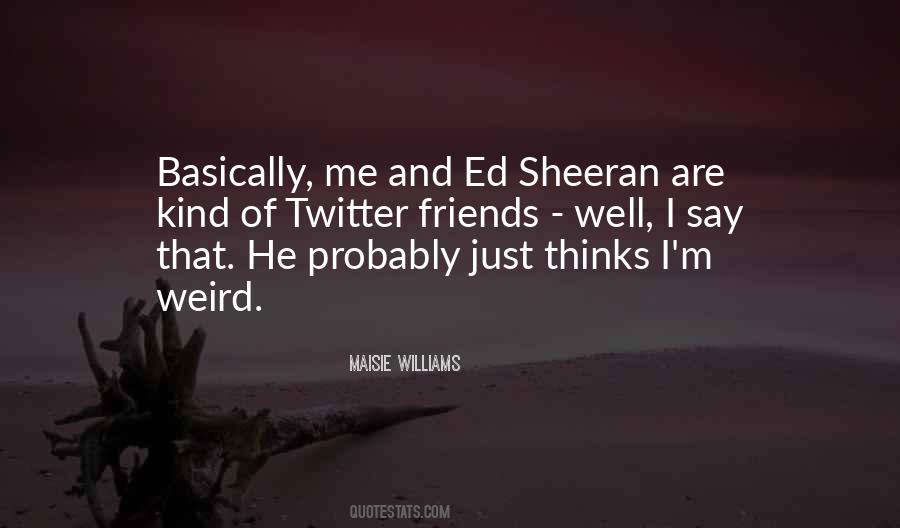 #16. One thing I like about Twitter is that you can hear it from the horse's mouth. - Author: Big Boi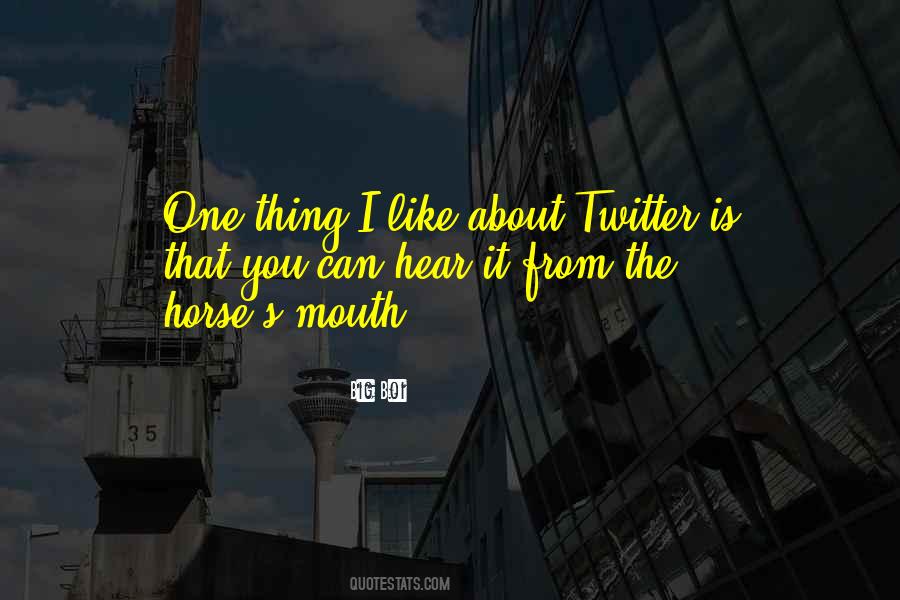 #17. I love all of myself in all ways for all time. I am made of pure love, and it permeates all of my selves. - Author: Amy Leigh Mercree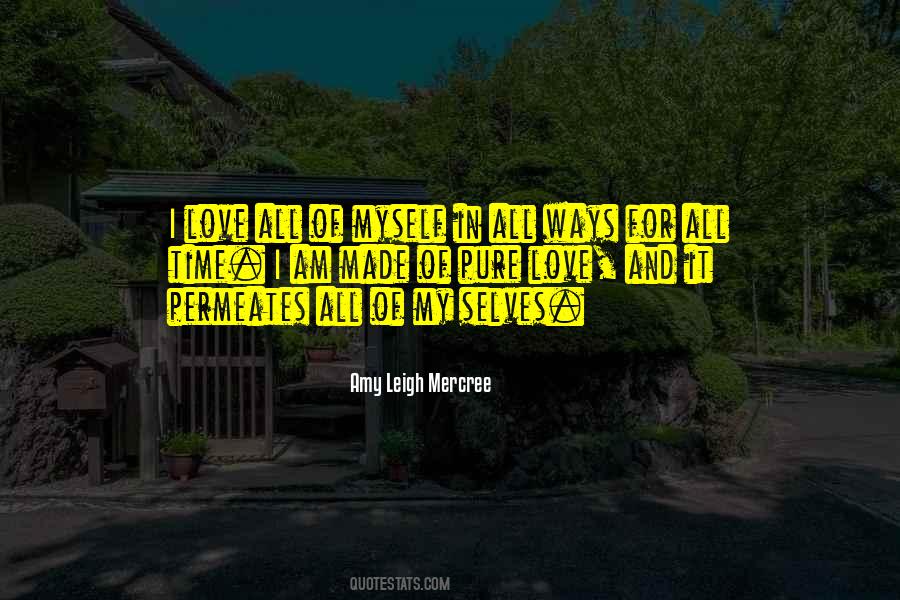 #18. I do occasionally get into that 'checking Twitter every five minutes' state - 'Please, help me avoid my work.' I have a writing room for when I get completely out of control, so I can put myself out of the Internet's reach. - Author: Margo Lanagan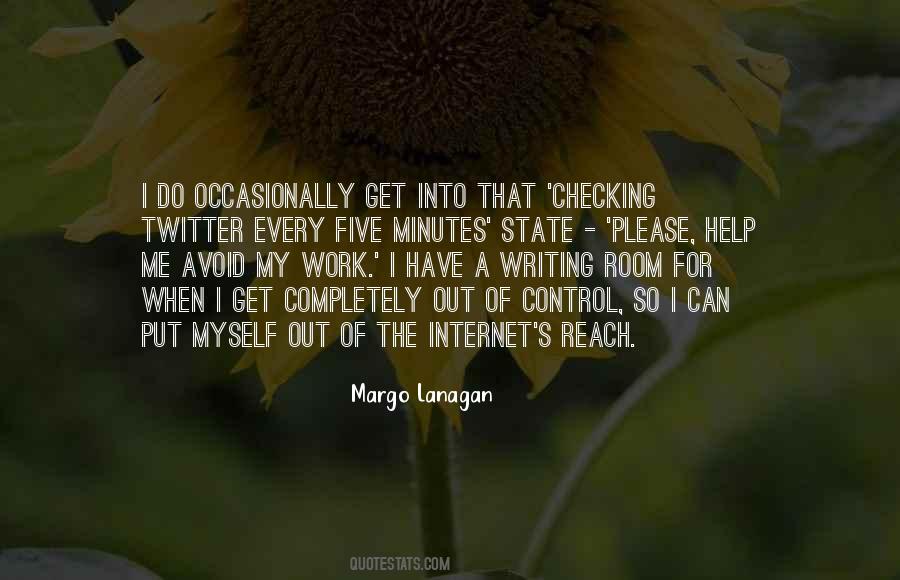 #19. One upside of the heat. Kind of cool to see a cat pant. - Author: Jonah Goldberg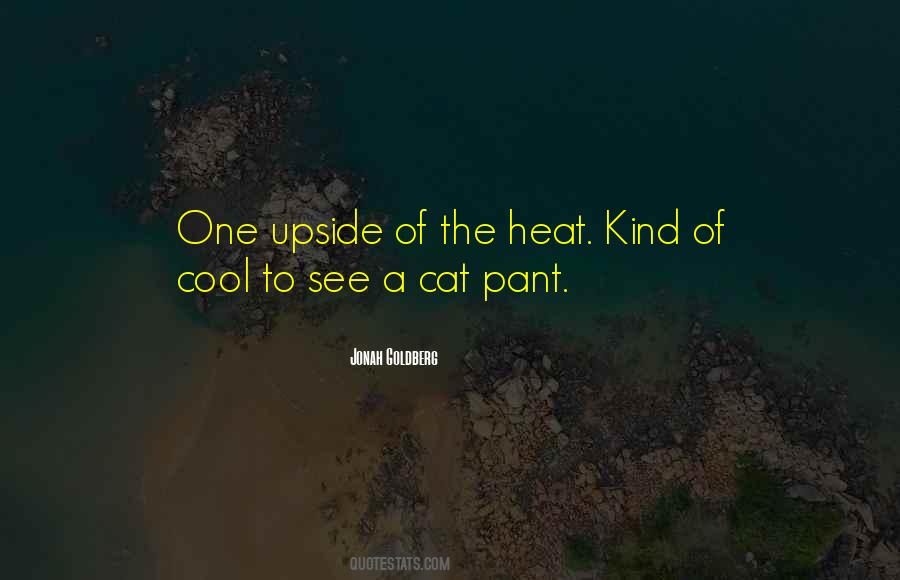 #20. What's cool about Twitter is that you can make a joke about something very of-the-moment or random that I wouldn't be able to joke about in stand-up. - Author: Aziz Ansari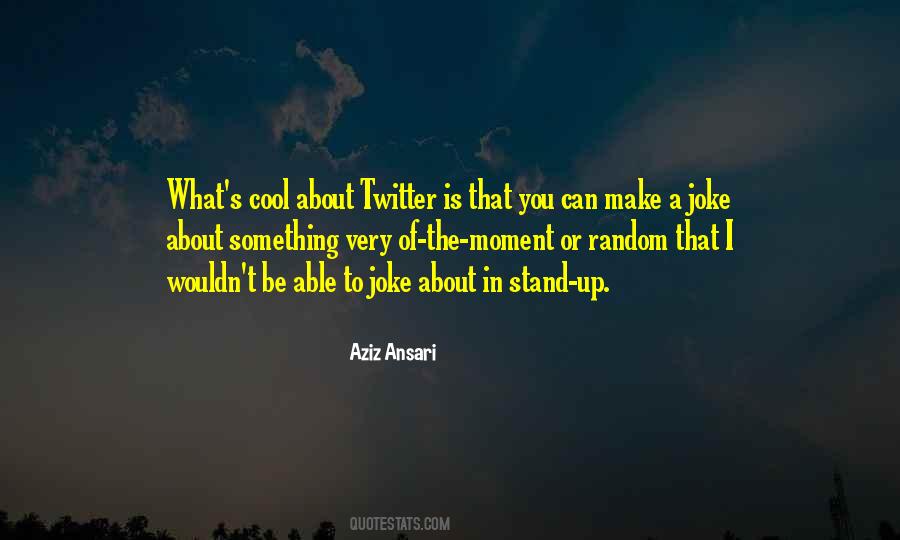 #21. I think people look back on shows like "Firefly" or "Buffy," and they remember it with this glow about it of positive response, but if you look back ... If Twitter had existed, there would have been a lot of negative tweeting about "Firefly." - Author: Jane Espenson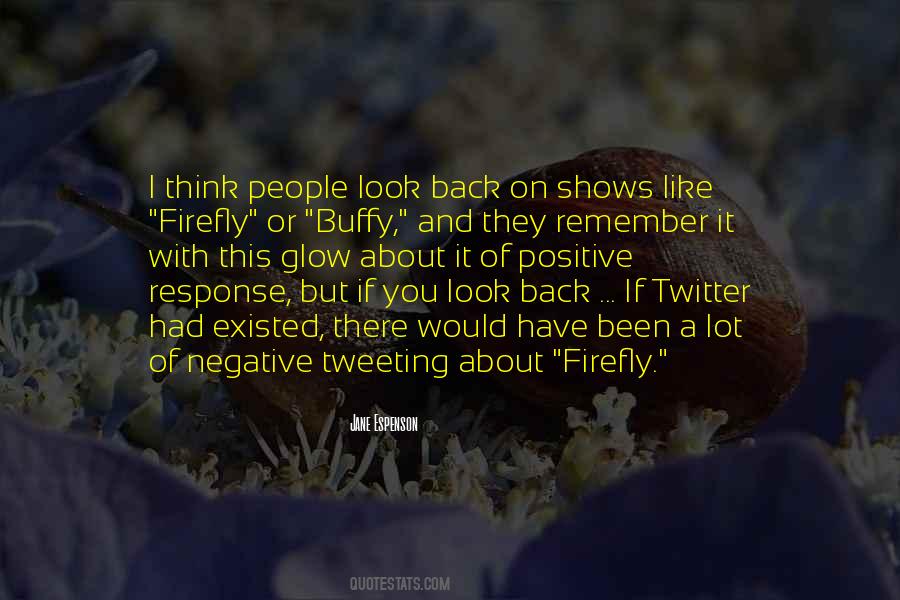 #22. I don't even understand why I have 1.7 million Twitter followers. Every day, I want to remind them and say, "Do you realize I'm an astrophysicist? Do you know what you're doing here?" - Author: Neil DeGrasse Tyson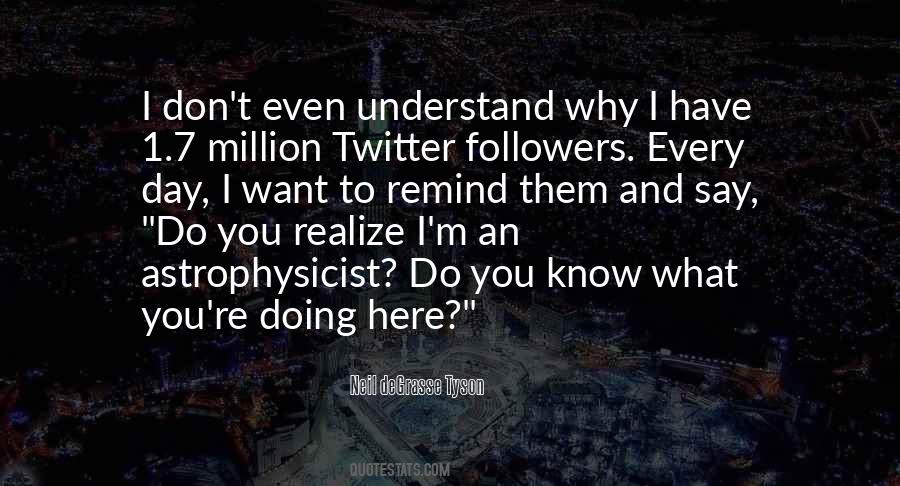 #23. The beauty of Twitter is that more and more people are flocking to it because it's shrinking their world. - Author: Dick Costolo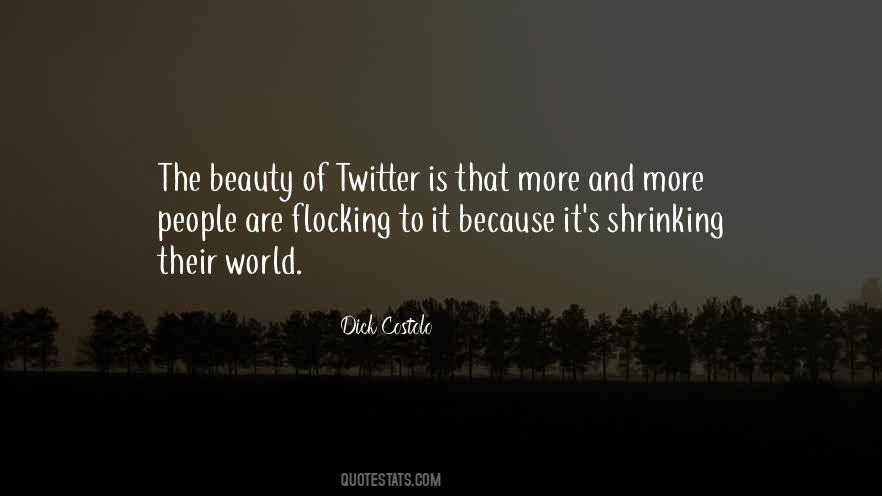 #24. Hey I just met you, and this is crazy, but I'm a potato, I go well with gravy! - Author: Twitter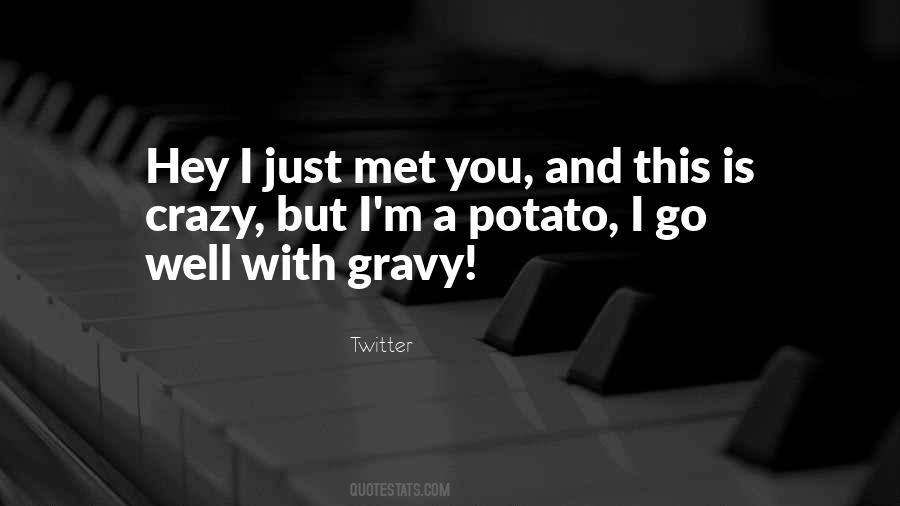 #25. The internet, Facebook and Twitter have created mass communications and social spaces that regimes cannot control. - Author: Shimon Peres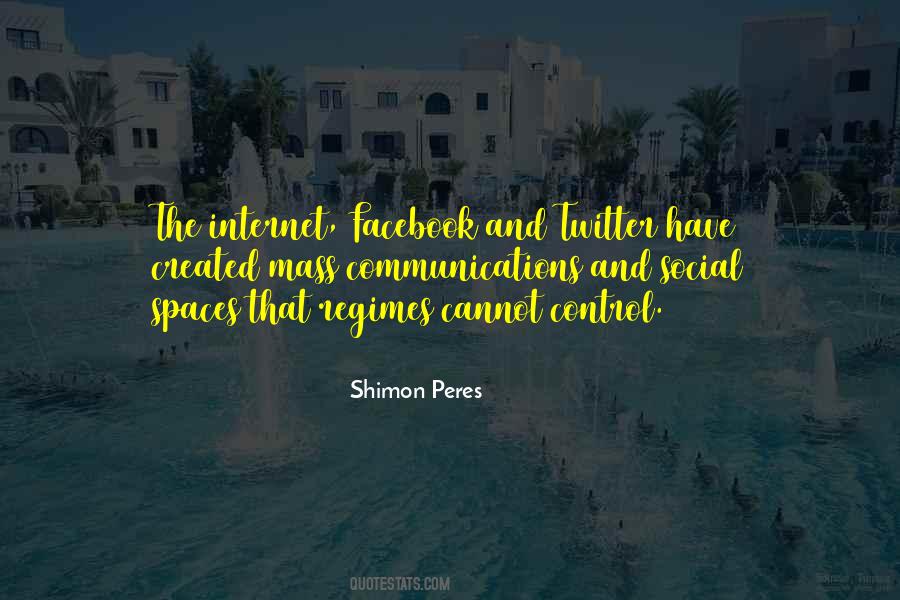 #26. If you look at companies with upside potential, Twitter's right there. They've established a brand in a world where it's extremely difficult to establish a brand. It's a global brand, people recognize it, people want to let you know what their Twitter handles are, etc. - Author: Steve Ballmer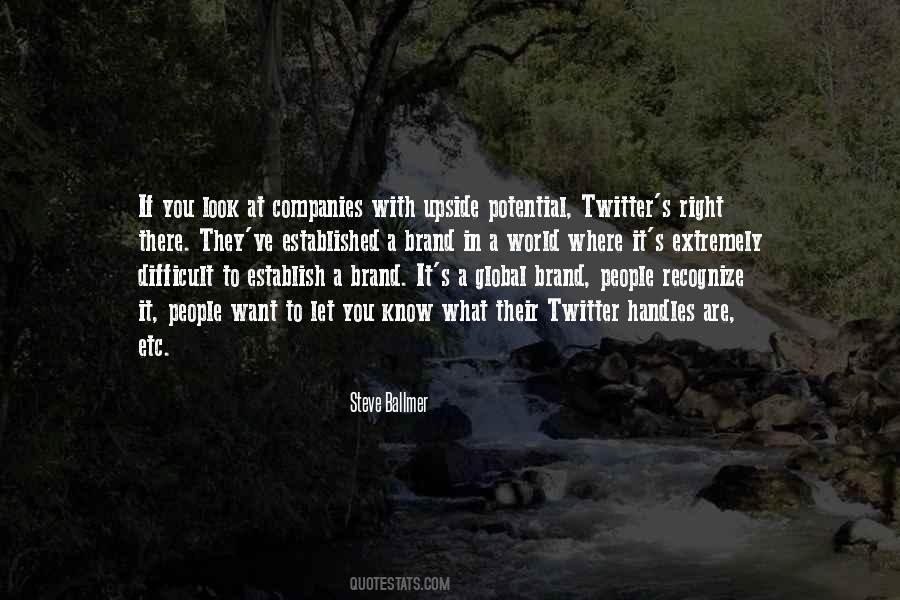 #27. I'm very active on Twitter and Instagram. I'm always posting pictures from set, and little clues and teasing people with fun things. It's awesome! - Author: Tyler Posey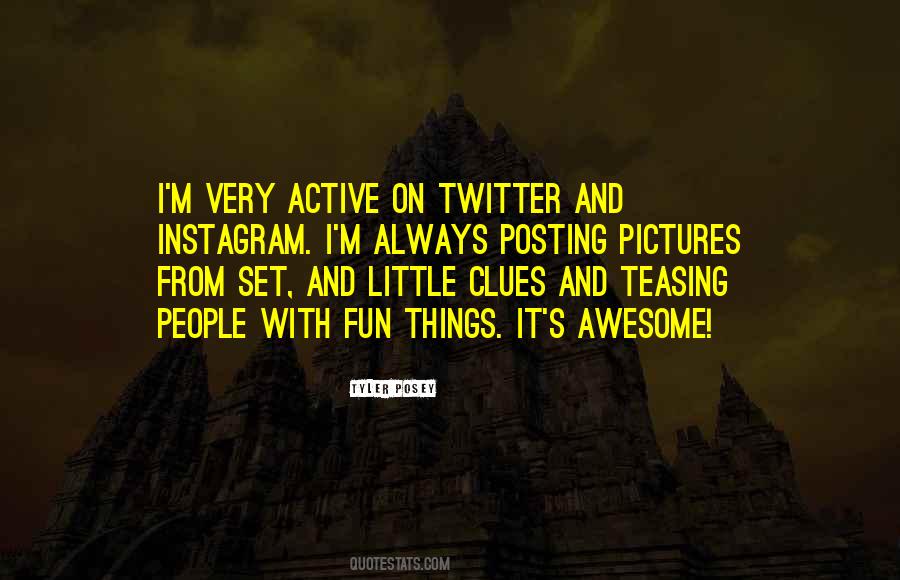 #28. Hopefully, one day I won't have to be so caught up in all of that day-to-day, the Twitter and the Instagram. But I also would like to, at some point, turn off and take a break and also be, like, an artist. - Author: Madi Diaz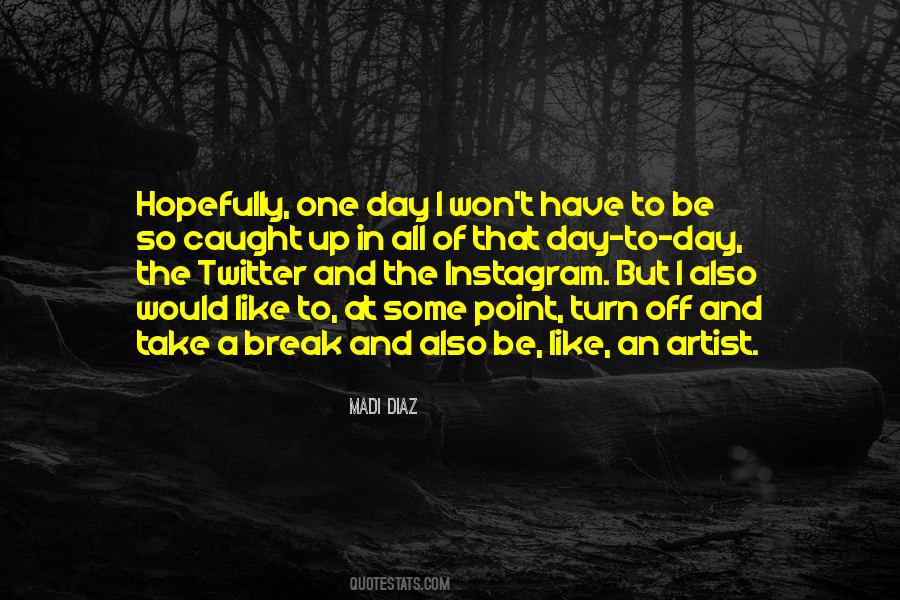 #29. Summer movie idea: take all the sequels that are out right now, and make movies about their backstories. - Author: Stephen Colbert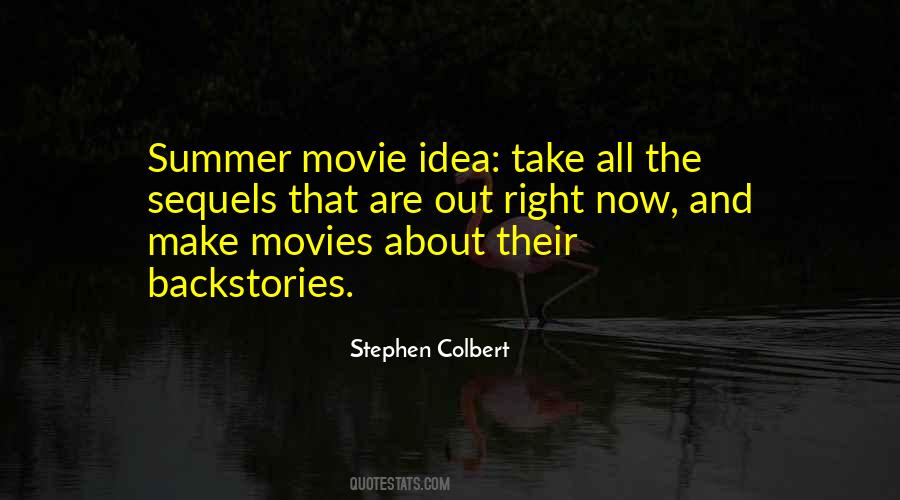 #30. It's a matter of invitations versus context. Twitter is really good at providing context, like, I'm having coffee at Third Rail Coffee.' Foursquare is about invitations to places. In this respect Foursquare has started to replace Yelp for me. - Author: Jack Dorsey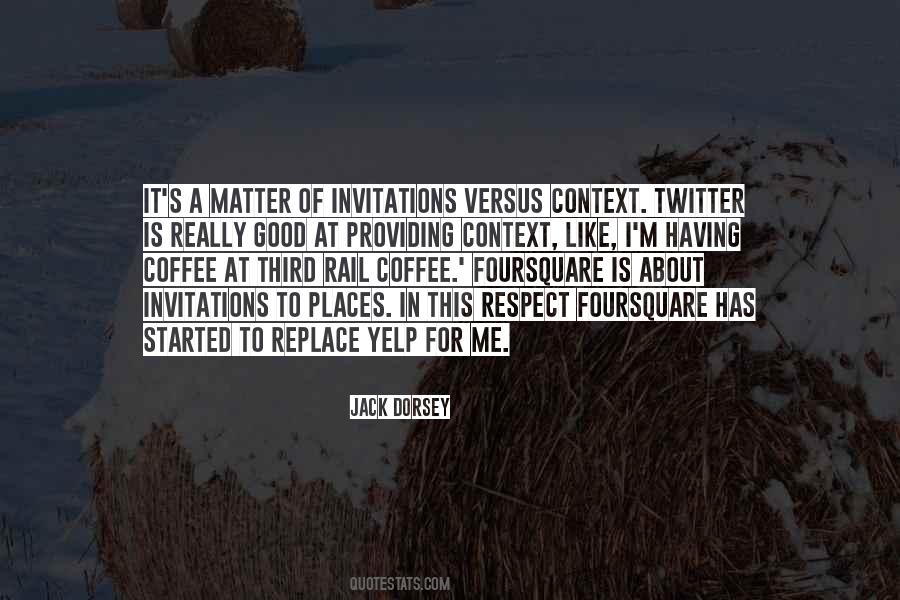 #31. I love and commit to nourishing my inner child. - Author: Amy Leigh Mercree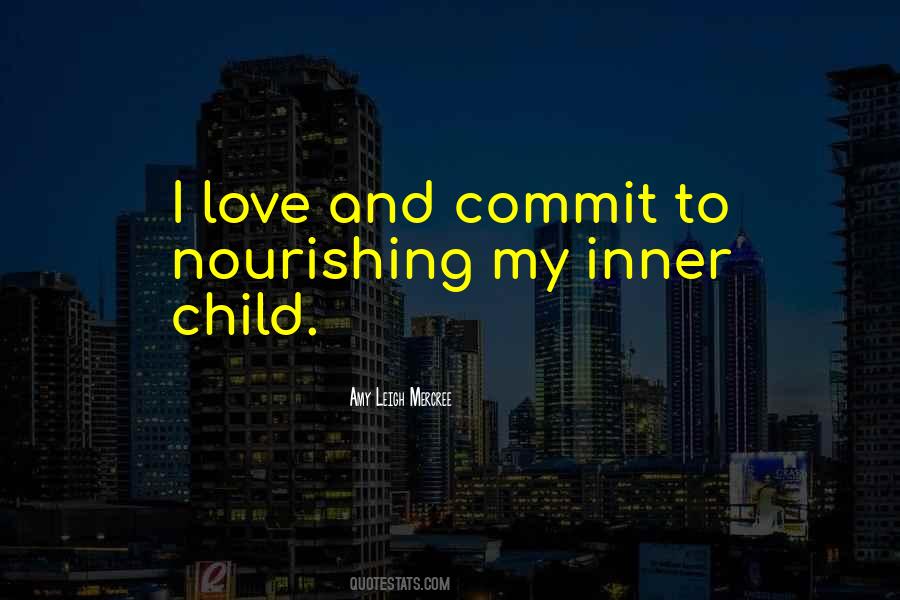 #32. Twitter, Facebook and YouTube have to respect the Turkish Republic's laws - Author: Recep Tayyip Erdogan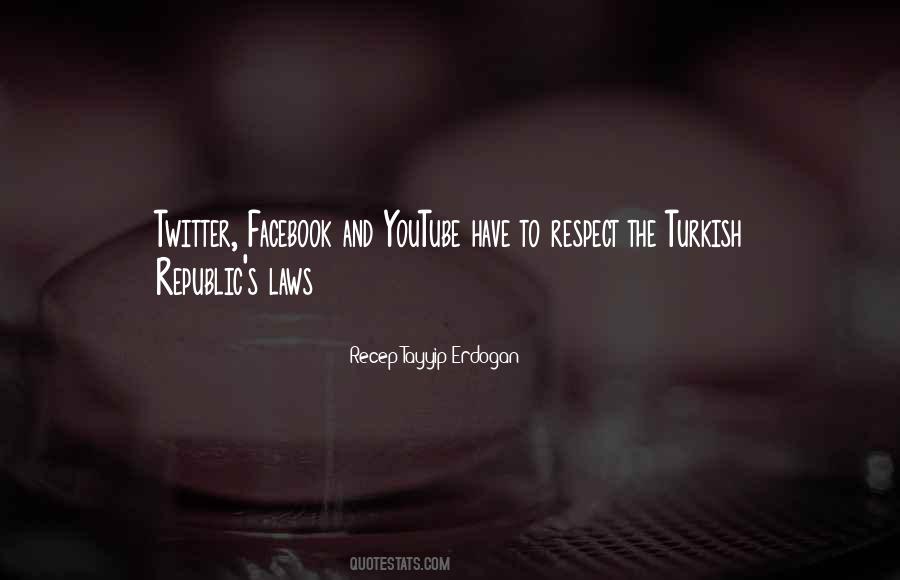 #33. I don't understand this whole Twitter, Facebook stuff. I don't get it. Make a phone call. Talk to somebody. - Author: James Avery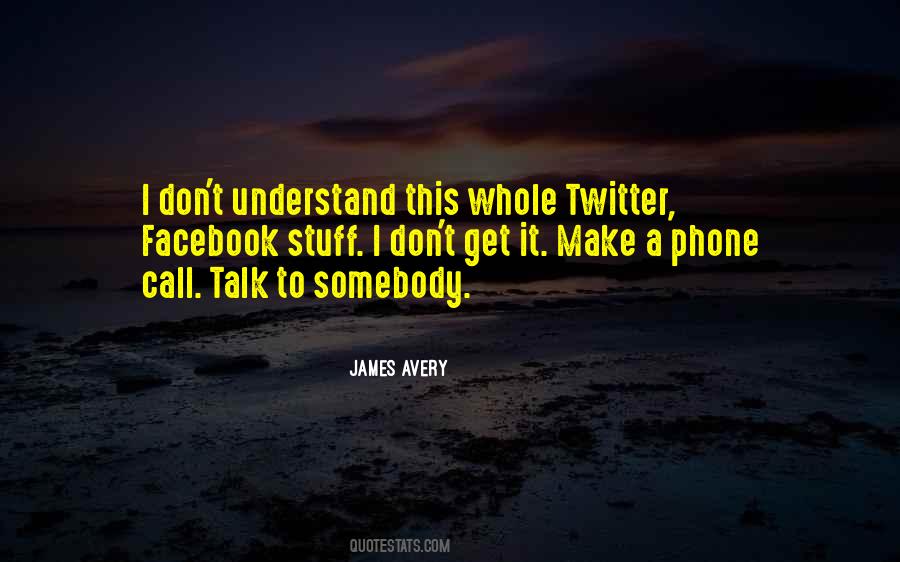 #34. Very sad, very upset, very glad I did not have to hear about this though Twitter. Probably going to be taking some time off it for a while. - Author: Mara Wilson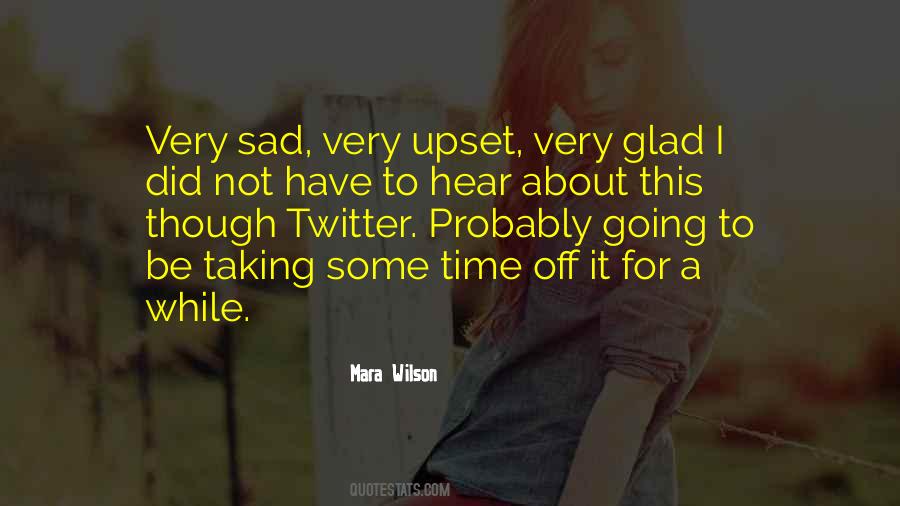 #35. Twitter is almost novelistic. - Author: John Niven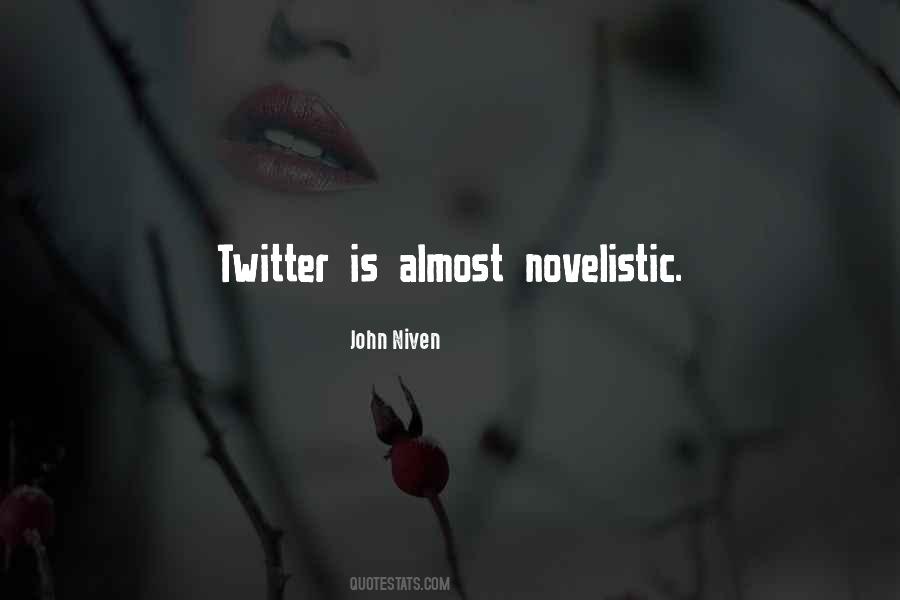 #36. To leave a man's ego bigger, retweet him. To leave his faculty of reasoning better, challenge his tweet. - Author: Mokokoma Mokhonoana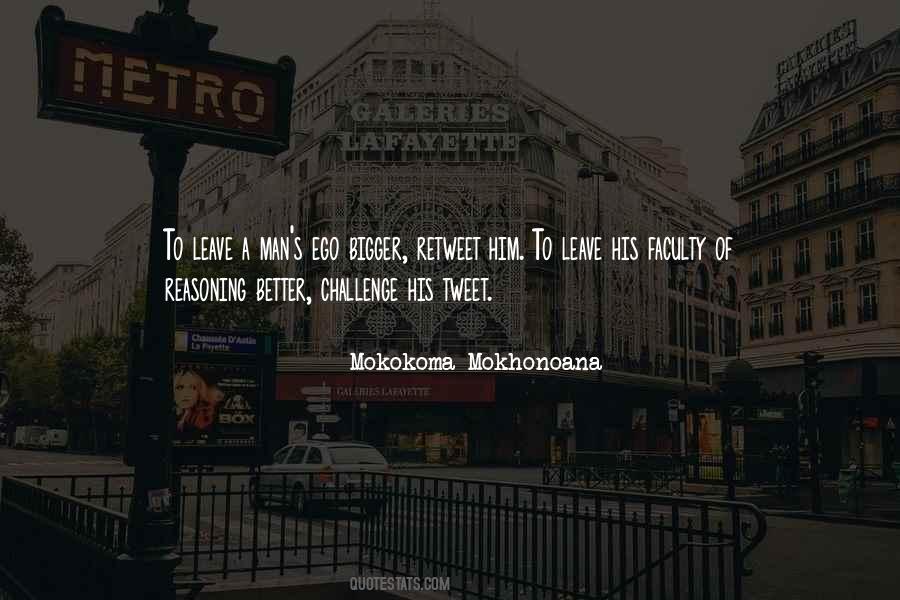 #37. One of the things about being on Twitter, for me, is mostly about just being on the pulse of what people are interested in, what people are doing and what people are looking for. I look at entertainment projects and storytelling, and I really try to think about what people want. - Author: Ashton Kutcher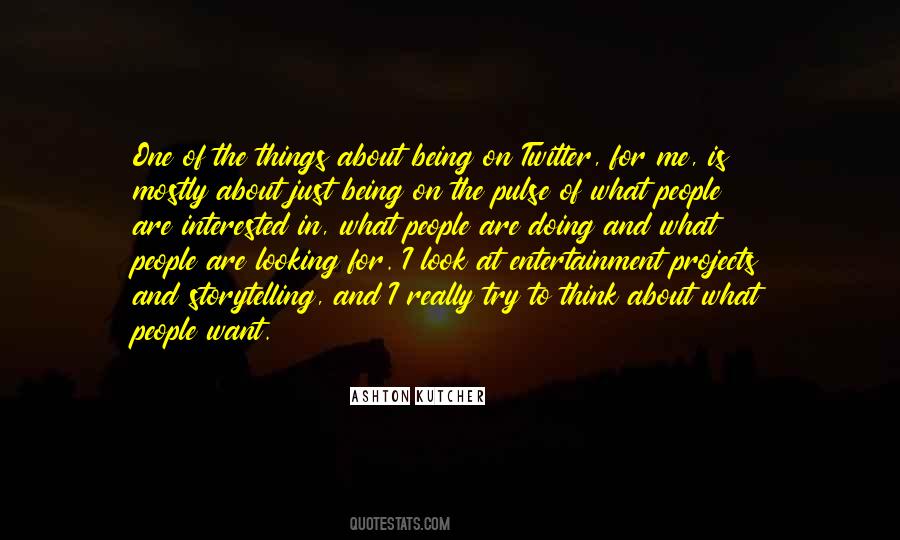 #38. Twitter. It's not a good sound, is it? If it were worth doing, there would be a better word for it. - Author: Roy Blount Jr.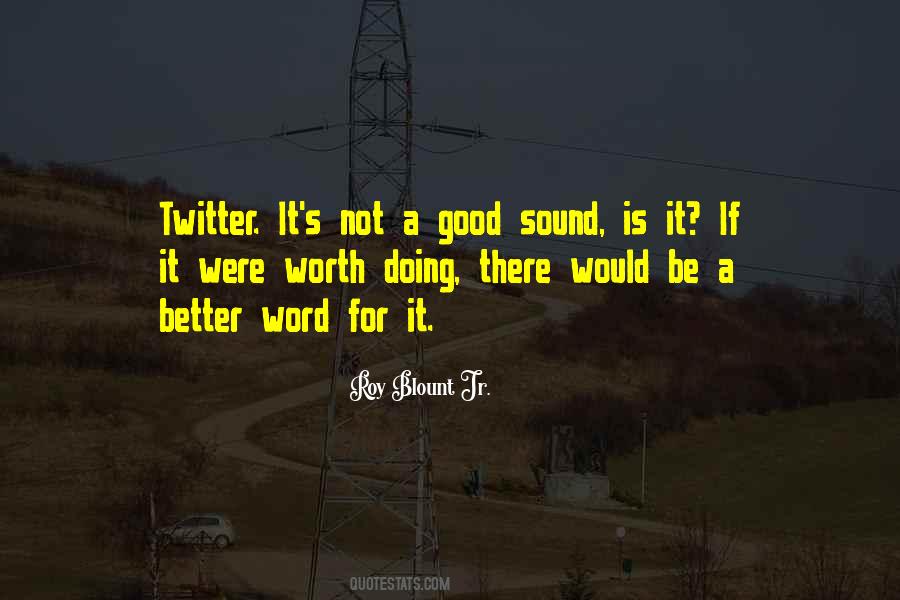 #39. It's annoying when people tag my name in their conversation with someone else [on Twitter.] - Author: Casper Smart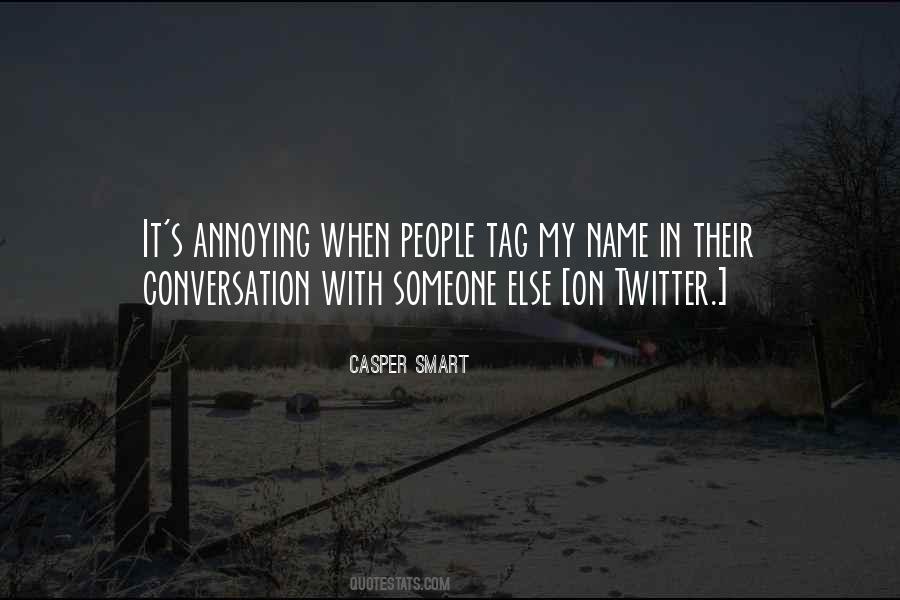 #40. The Facebook of China, however, is Renren, launched in 2005. (The Google of China is Baidu, and the Twitter of China is Sina Weibo.) - Author: Clay Shirky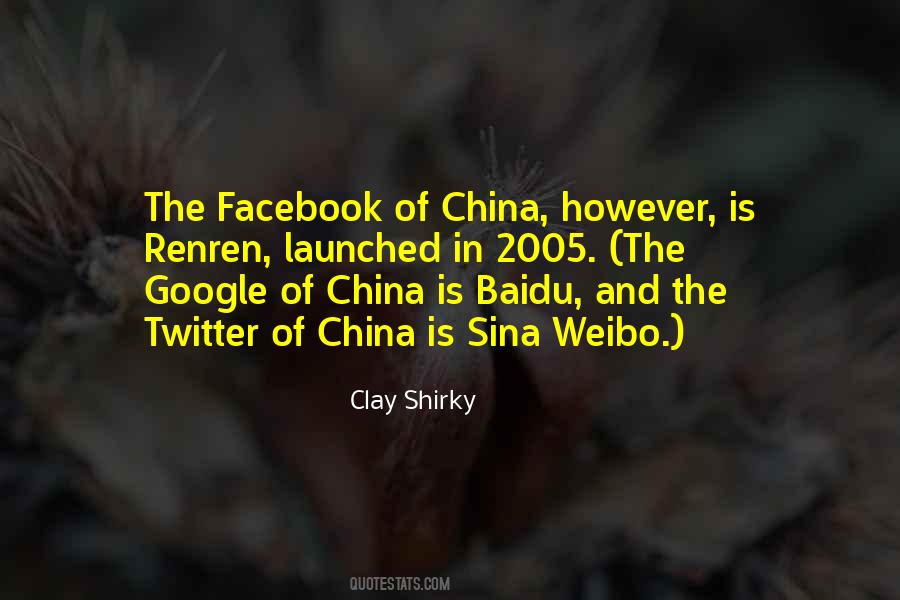 #41. It was one of those cases where you approve the broad, general principle of an idea but can't help being in a bit of a twitter at the prospect of putting it into practical effect. I explained this to Jeeves, and he said much the same thing had bothered Hamlet. - Author: P.G. Wodehouse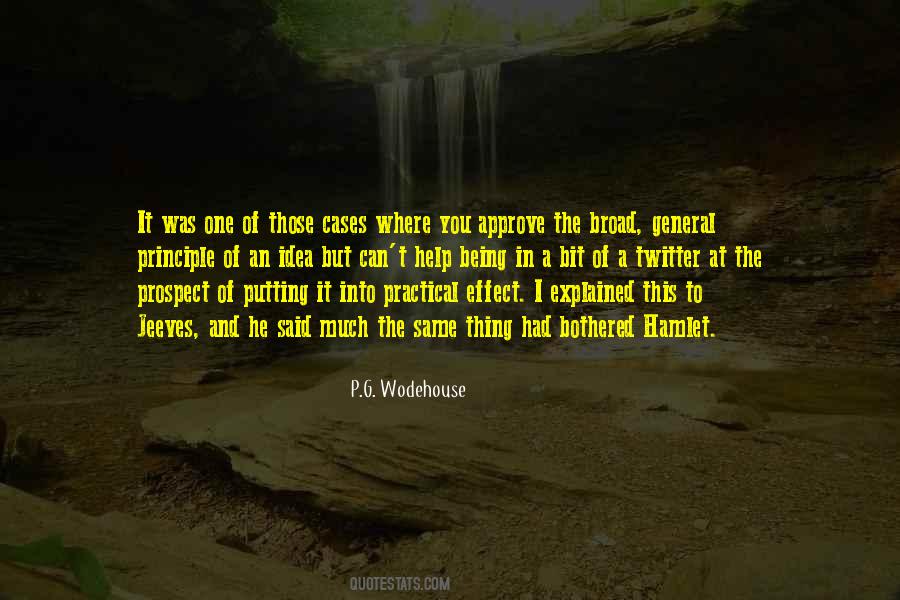 #42. Tom Friedman says China is so awesome they make kosher pigs. - Author: Jonah Goldberg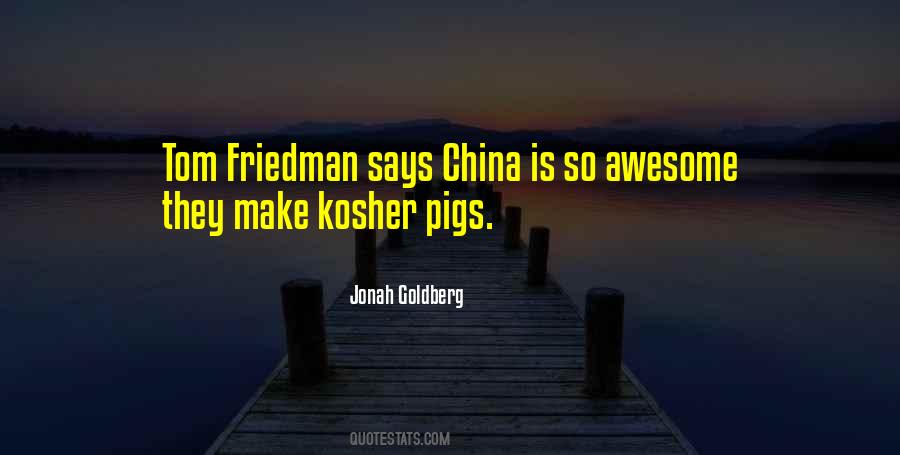 #43. At the risk of sounding like that old guy in 'Gran Torino' telling those 'young punks' to 'get off my lawn,' it's gotten to the point that whenever I hear somebody talking about Twitter or twittering or tweeting, it just makes my little tummy want to hurl. - Author: John Ridley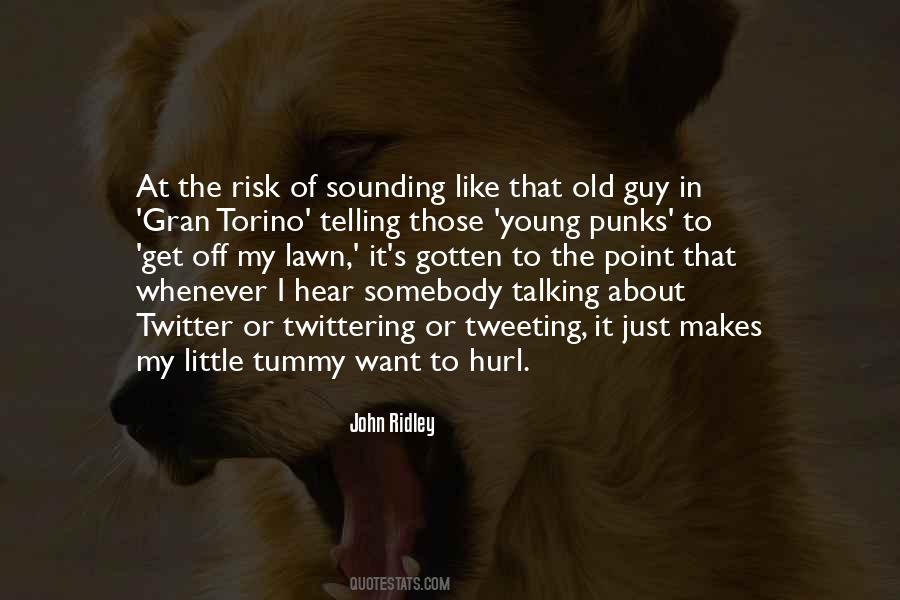 #44. Now, admittedly, Twitter can be entertaining on occasion, as it turns out that 140 characters offers a great chance to be misunderstood - and an even greater chance one will expose his inner troglodyte. - Author: David Harsanyi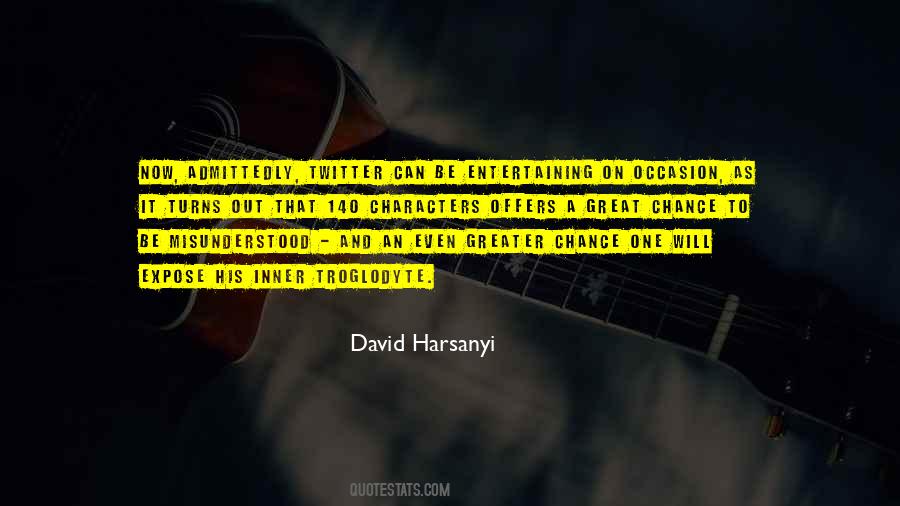 #45. He'd done that to her and it woke all the primitive instincts a man in this day and age was supposed to have conquered. Fuck that. The only thing he wanted to conquer was her. - Author: Blue Kincaid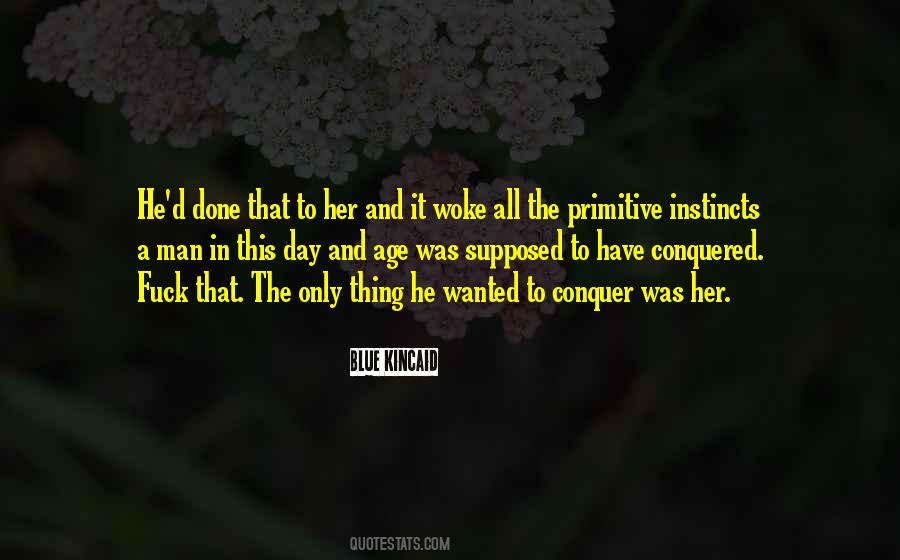 #46. When you have critics filing on Twitter, it leaves no time for thought and perspective. - Author: Alejandro Gonzalez Inarritu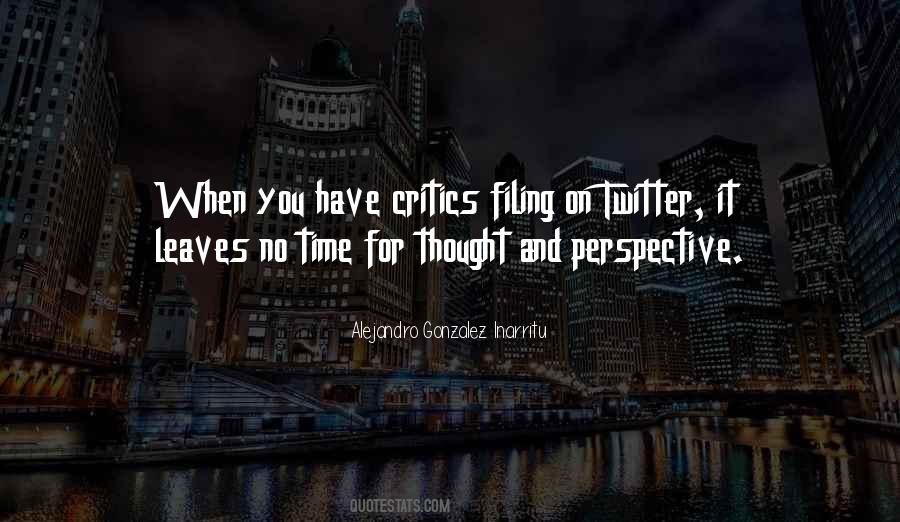 #47. I'm sort of shy, and Twitter feels like chatting all day with a group. I like to follow people. I'm following Joel Osteen, Steve Martin, and an anonymous purple egg - just to see where they go with it. - Author: Maria Bamford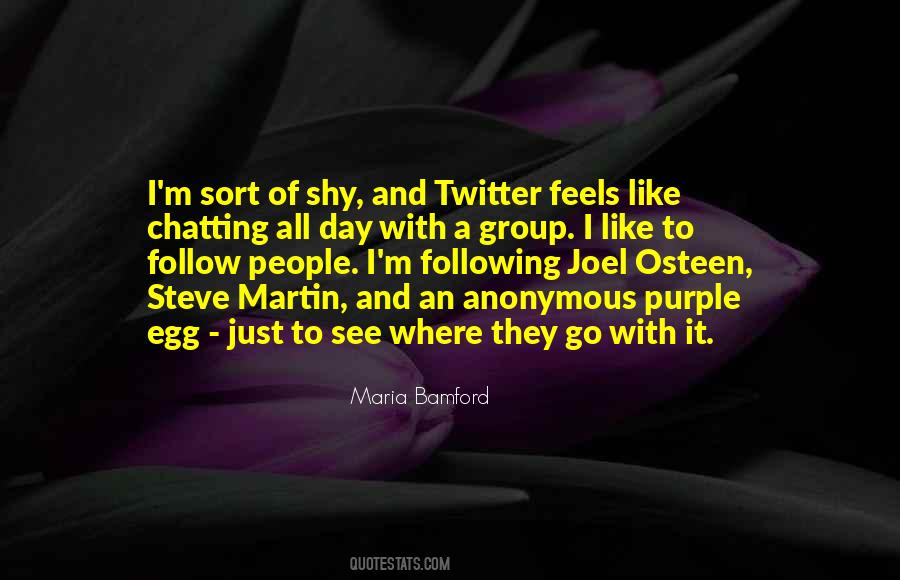 #48. I was really excited by the idea that people were sharing information now and discovering information in a totally new way on the Internet via Twitter and Facebook, yet that experience was pretty clunk and just lots of bit.ly links. - Author: Mike McCue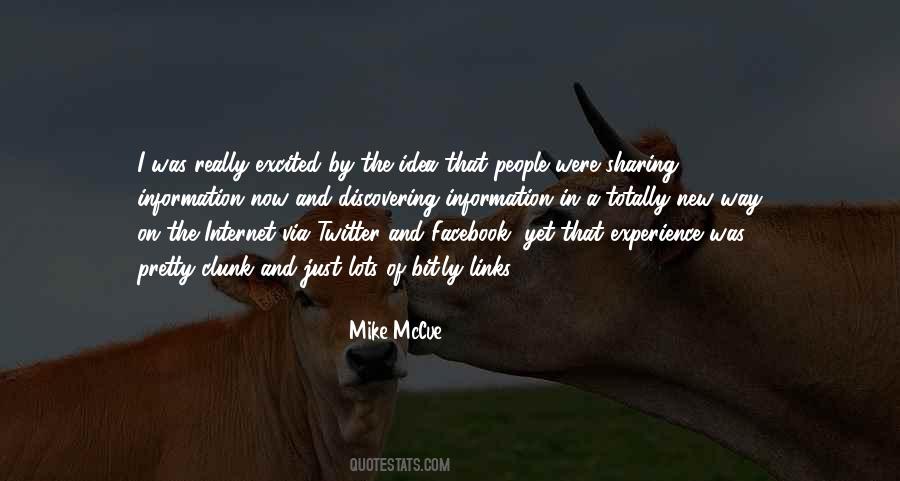 #49. I don't read blogs, I don't have MySpace, I don't have Facebook or Twitter - none of that. - Author: Jessica Szohr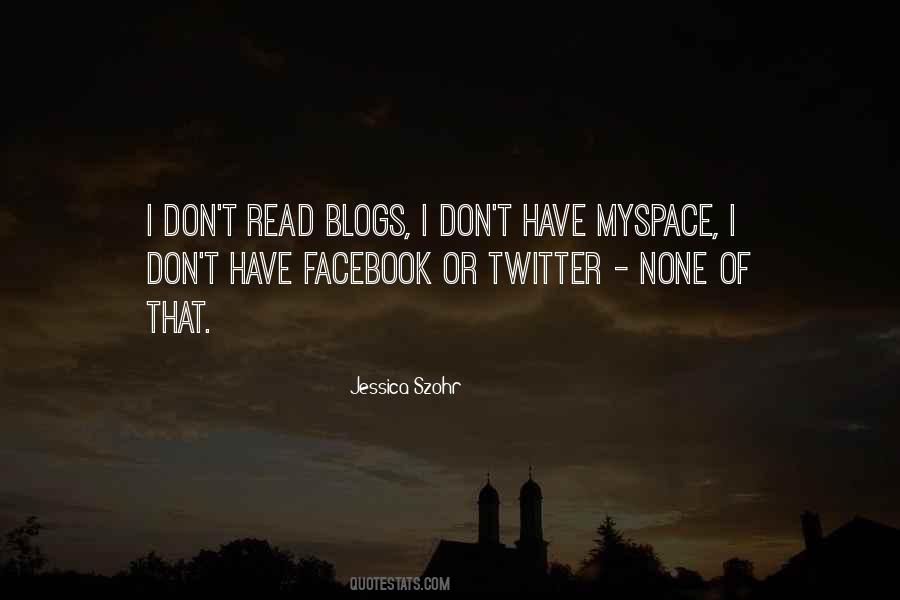 #50. My Twitter feed is probably my biggest resource of news. Other people scour the web so I do not have to, and I thank them for it. - Author: Jami Attenberg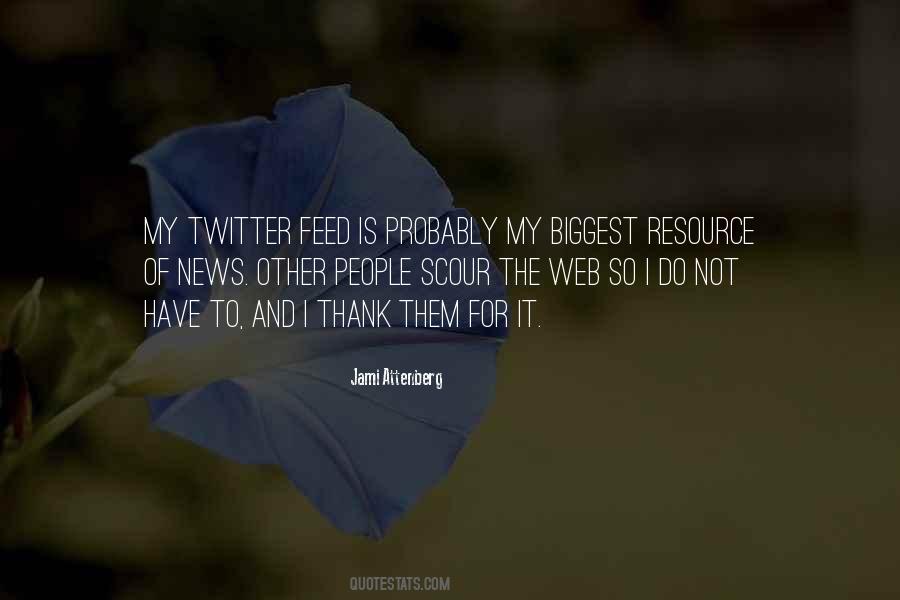 #51. I started my Twitter account for selfish reasons: I wanted to have a place to post updates on my book signing tour and stuff like that. I never realized that I'd have so much fun tweeting. It's become the deleted scenes for my DVD of columns and podcasts. - Author: Bill Simmons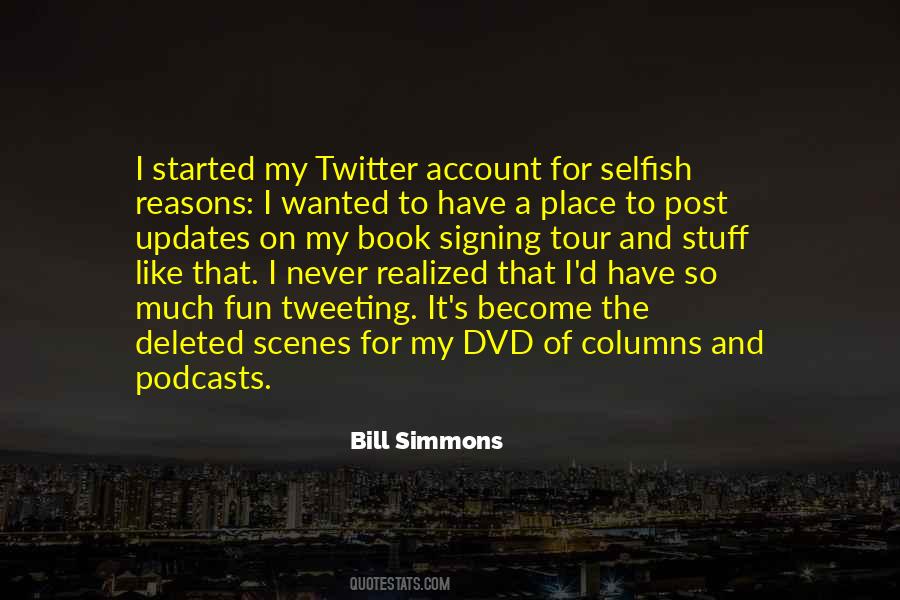 #52. I am literally obsessed with Lena Dunham. She's, like, my favorite person in the world. I follow her on Twitter; I read her every day. - Author: Emma Watson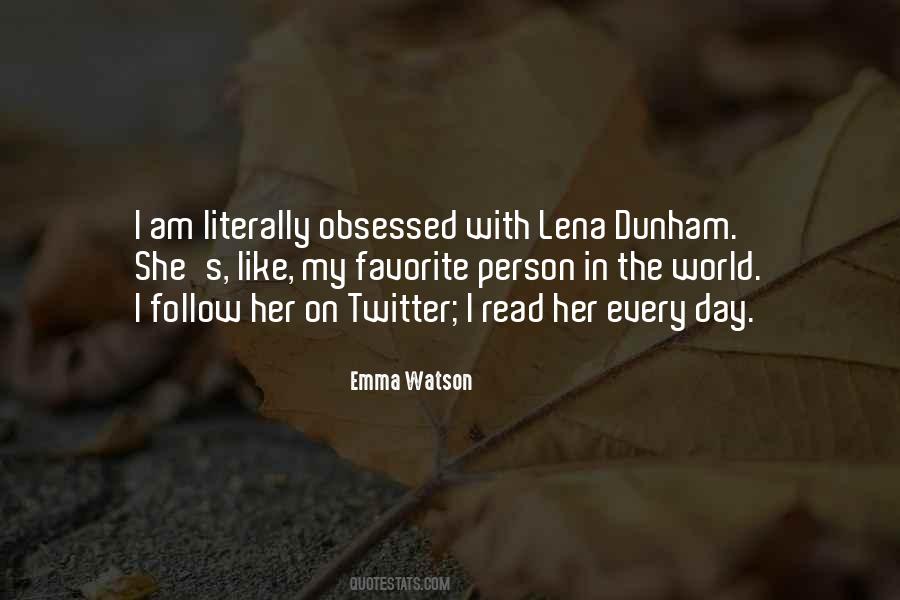 #53. Open your creative heart like an unfurling flower and petal and share your exquisiteness. - Author: Amy Leigh Mercree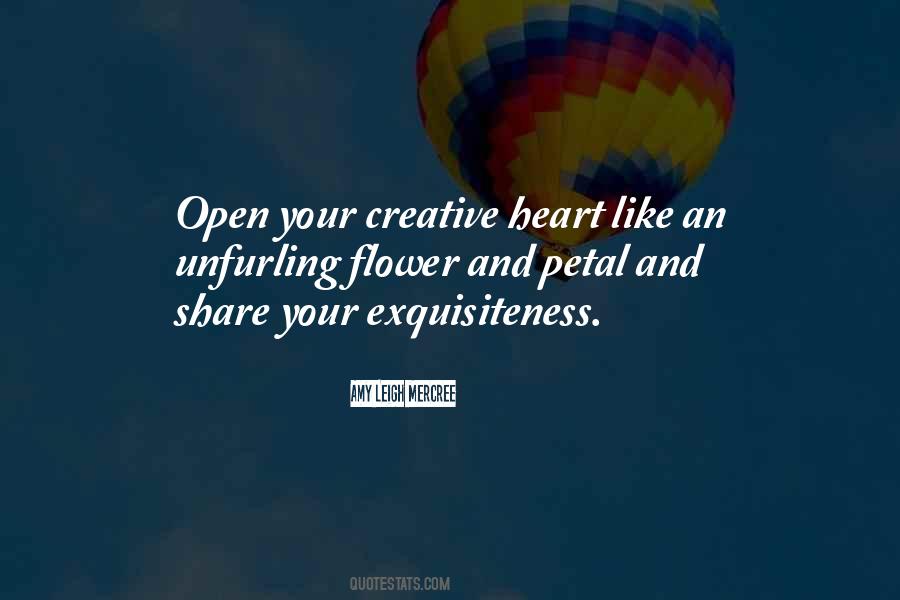 #54. I have a Twitter and have followers from all over the world. It's pretty overwhelming. - Author: Dot Jones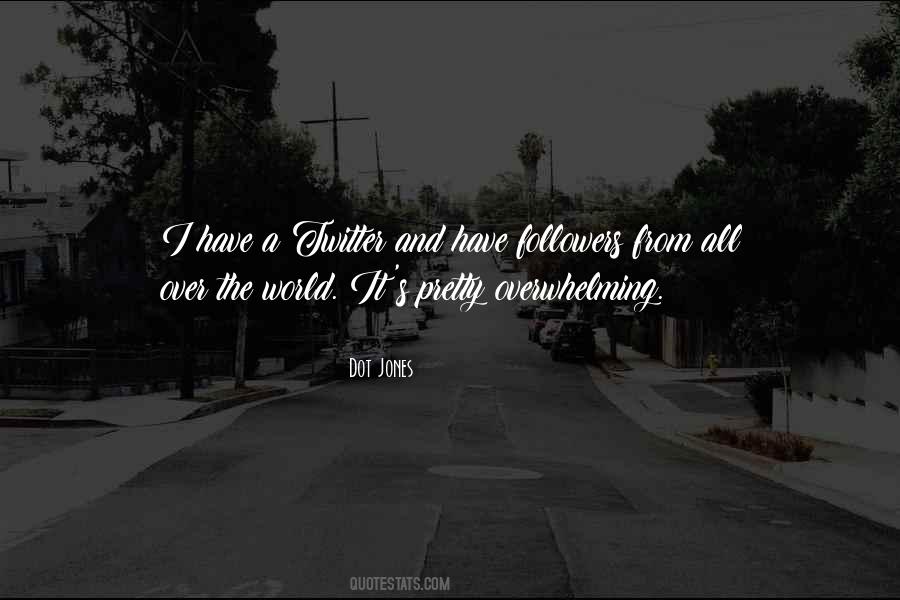 #55. My twitter fans are all pretty weird. A lot of them are kind of weirdly sexually aggressive. Some of them made me laugh and then I instantly tried to forget them, because I'd hate to find myself in a bar kind of drunk and accidentally use one. - Author: Stephen Merchant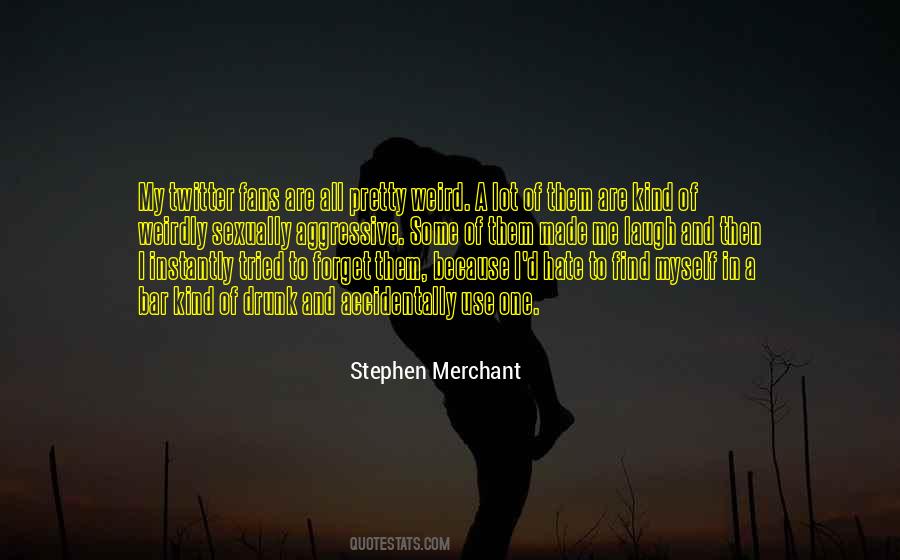 #56. If there's a takeaway from working here, it's an understand that, as bioorganisms, we are a walking time bomb programed for cellular self-destruction. Not if, when. - Author: Laurie Nadel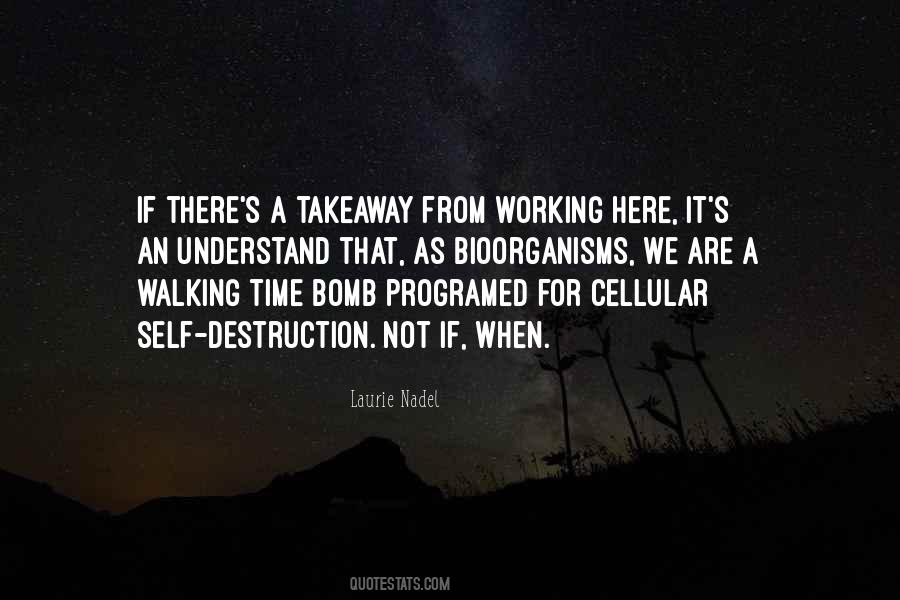 #57. A large family party is rather too much like a flight of tomtits; everlasting twitter, but no conversation; gregariousness without companionship. - Author: Charles Buxton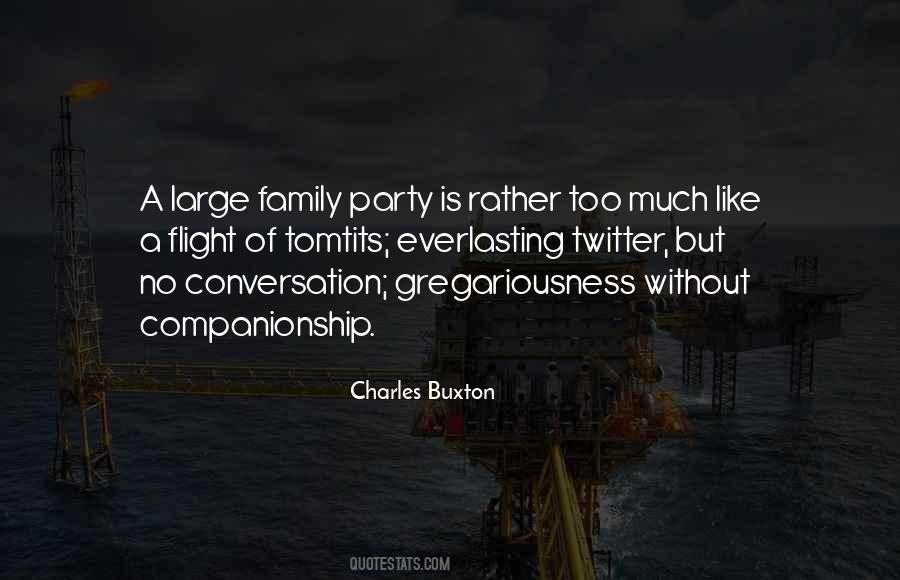 #58. I think, like, Twitter is somewhat difficult sometimes, and it can be kind of negative. - Author: Chrissy Teigen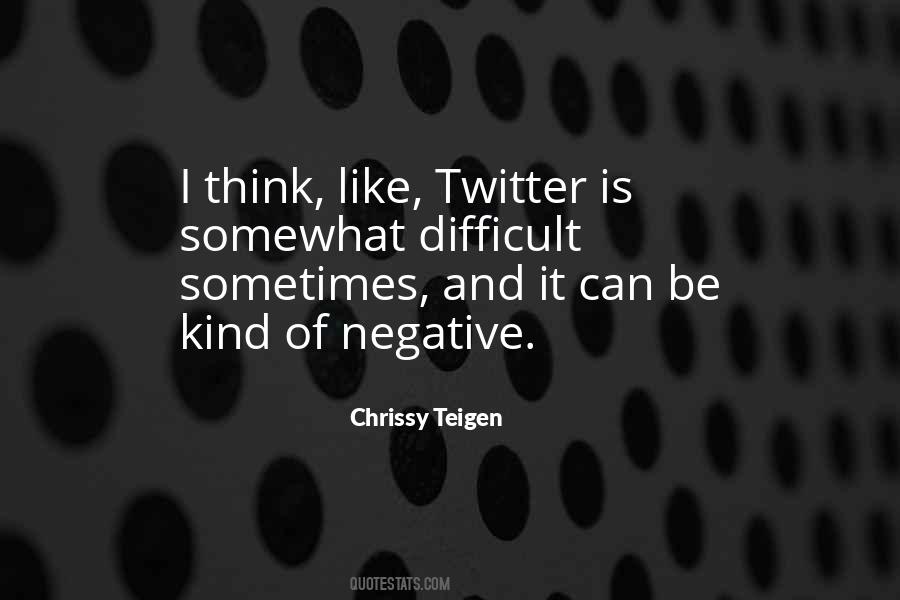 #59. Some folks have suggested that, using WordPress, Prologue, and RSS, you could create a pretty effective distributed version of Twitter. - Author: Matt Mullenweg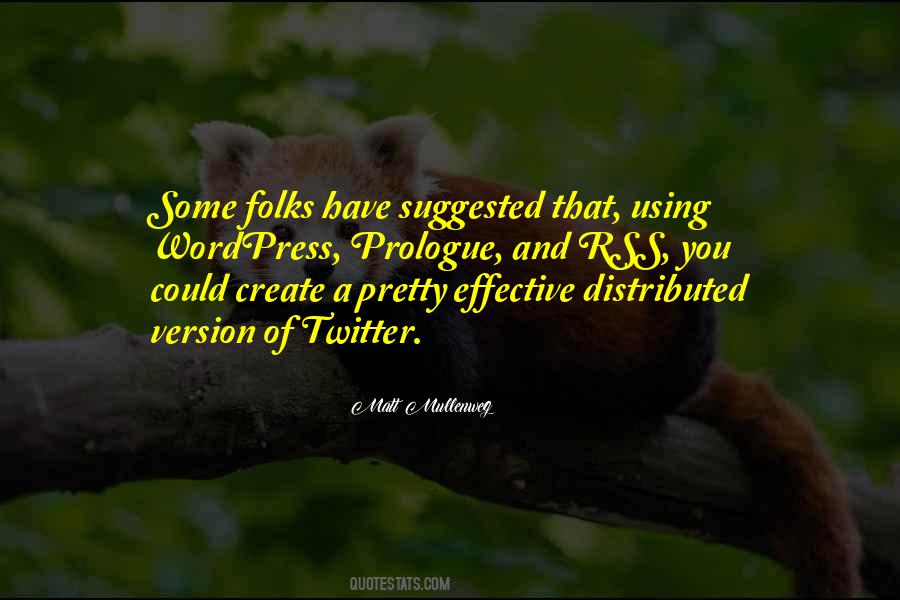 #60. Twitter provides us with a wonderful platform to discuss/confront societal problems. We trend Justin Bieber instead. - Author: Lauren Leto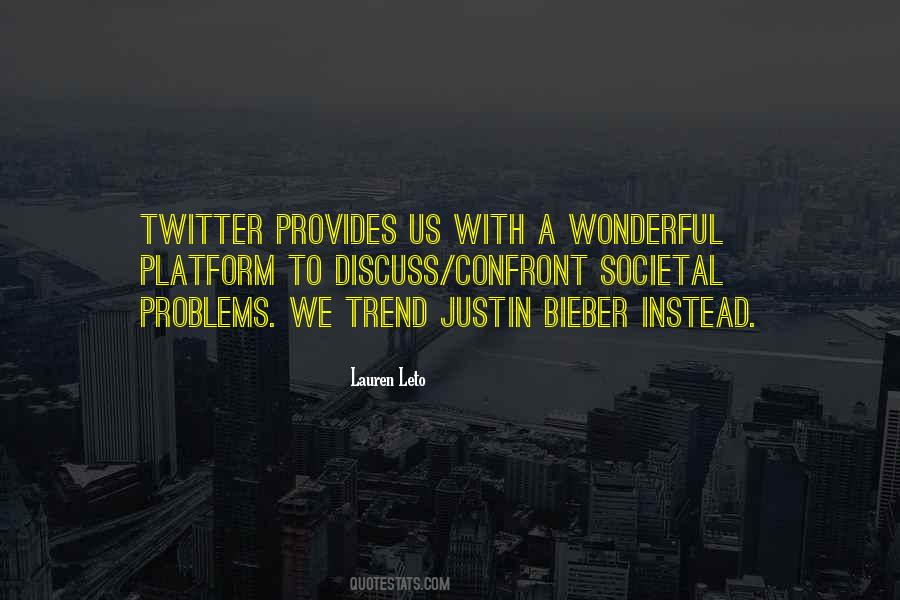 #61. If you use it intelligently, Twitter can be a form of engineered serendipity. - Author: Jason Silva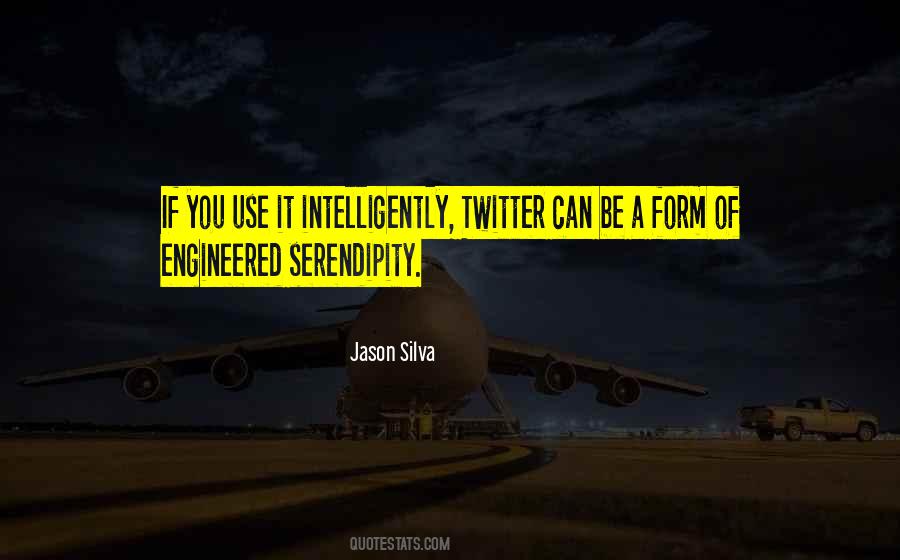 #62. I talk to friends who get their feelings hurt when they read Twitter mentions. I have an amazing solution - don't read Twitter mentions. - Author: Sarah Silverman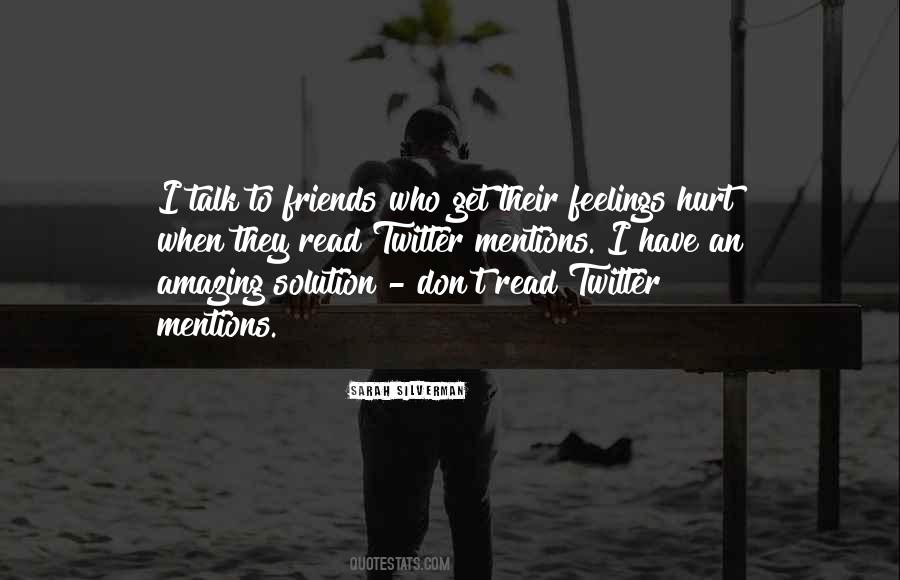 #63. Don't tell me I should only talk to people with a high influence score, or I'll Klout you ... - Author: John Geddes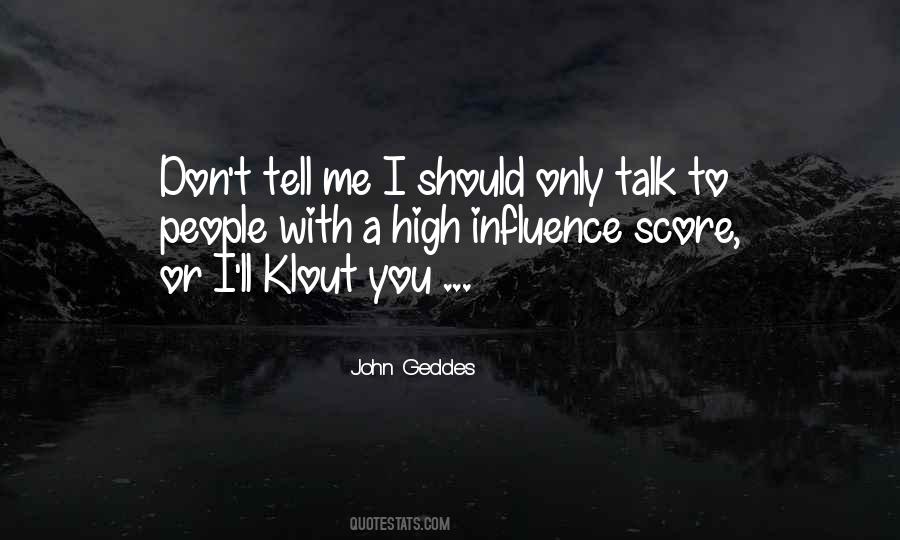 #64. Becoming a lake has put a lot of things in perspective for me. - Author: Heather Christle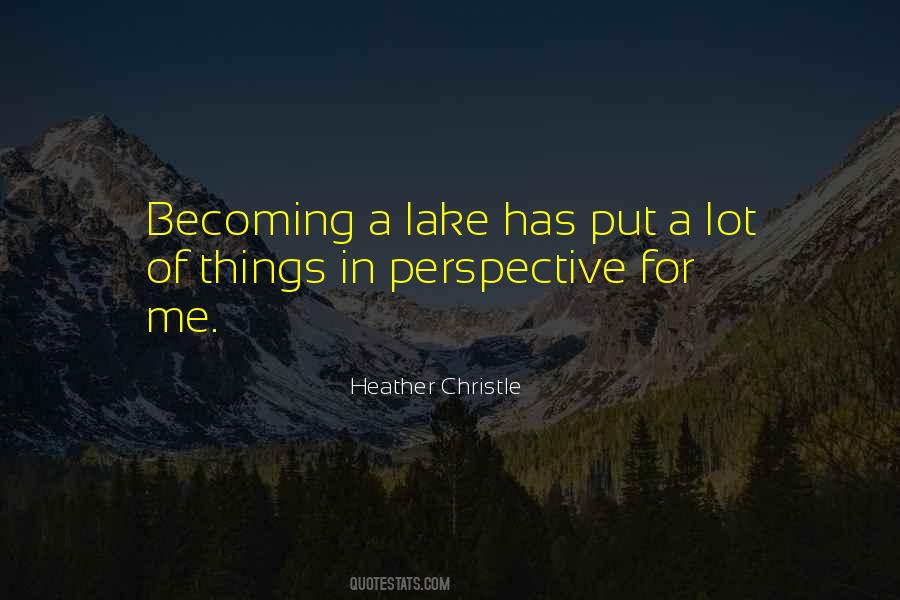 #65. My fans are all pretty cool, you know; I've never really seen anybody fighting on Twitter, no death threats, no harsh language, no gay slurs, nothing like that. - Author: Drake Bell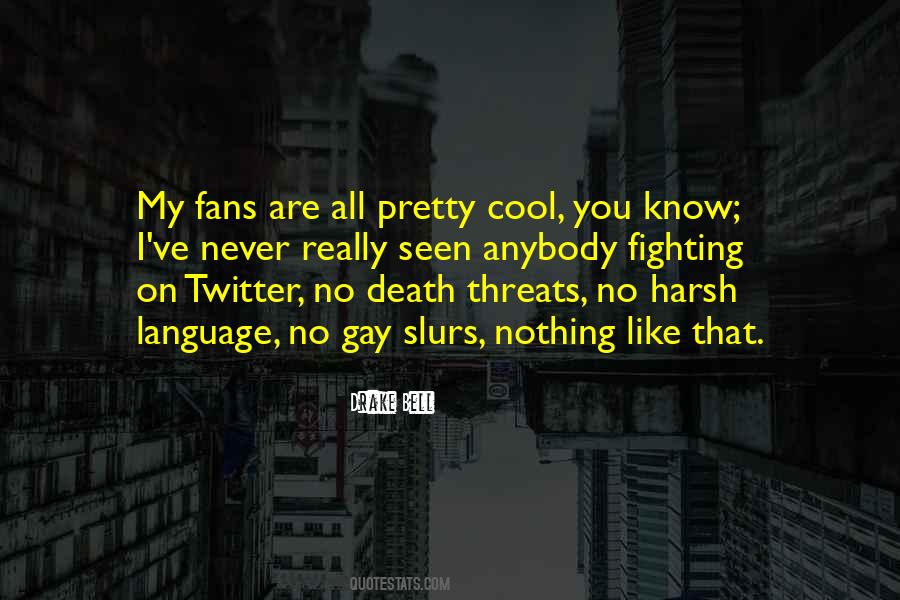 #66. The problem is Twitter is designing the metaphorical equivalent of a Toyota Prius. A car for the masses. While I want a Formula One race car. - Author: Robert Scoble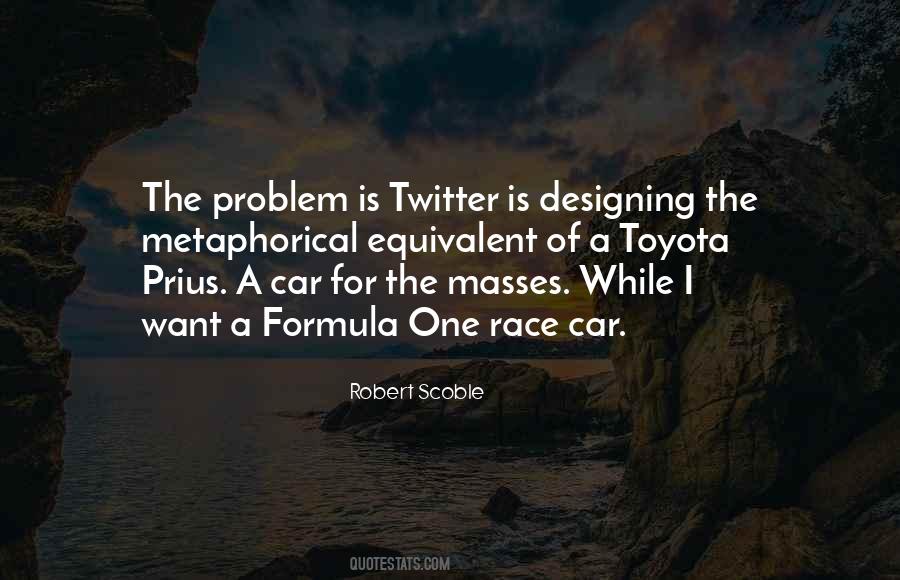 #67. Twitter seems just to be constant updates; it seems to me as promotional tool where people talk themselves up, and I don't want it to take over what I'm doing. - Author: Tristan MacManus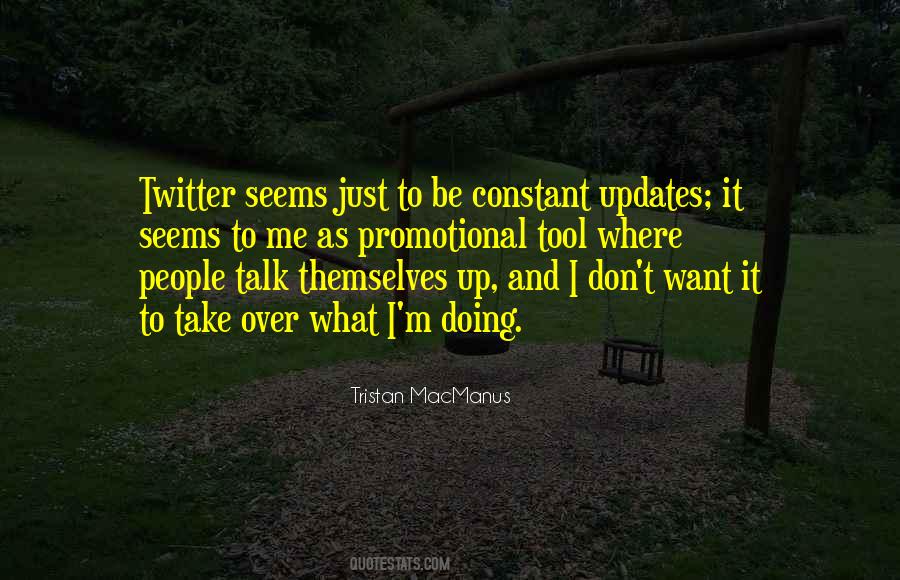 #68. Technology moves so fast and social media moves so fast because everyone wants the new thing, but also, everyone wants to be where their parents are not. Once the mom got a Facebook and a Twitter and an Instagram, I don't want to be there anymore. - Author: Ansel Elgort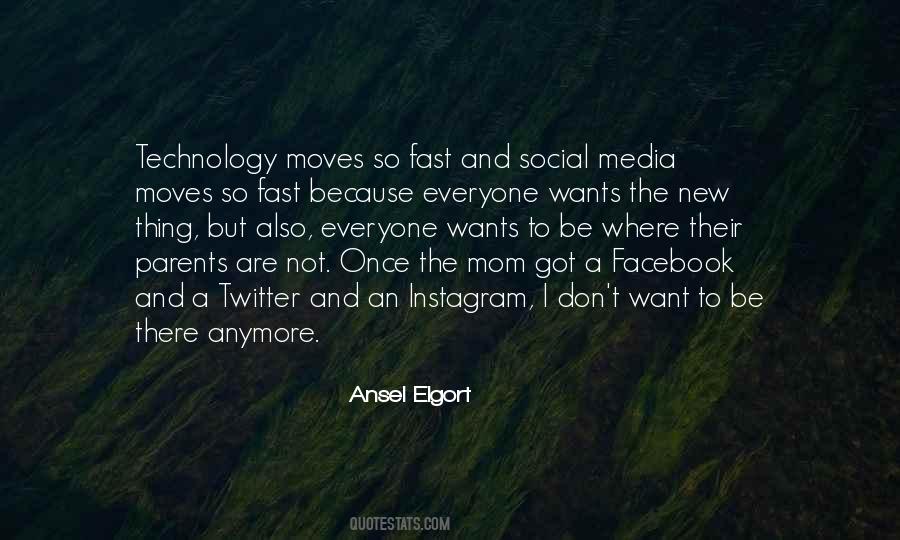 #69. If Mark Twain had had Twitter, he would have been amazing at it. But he probably wouldn't have gotten around to writing Huckleberry Finn. - Author: Andy Borowitz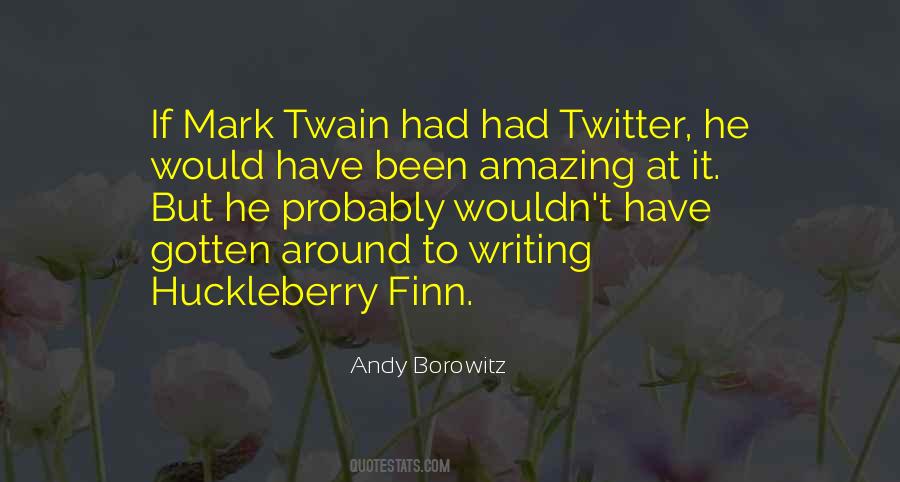 #70. With Twitter and other social networking tools, you can get a lot of advice from great people. I learn more from Twitter than any survey or discussion with a big company. - Author: Daniel Ek
#71. Twitter is a much more dangerous cauldron of groupthink than happy hours or dinners. On Twitter the reward comes from agreeing or loudly disagreeing with the joke, or the "smart take." In person you hash things out. - Author: David Weigel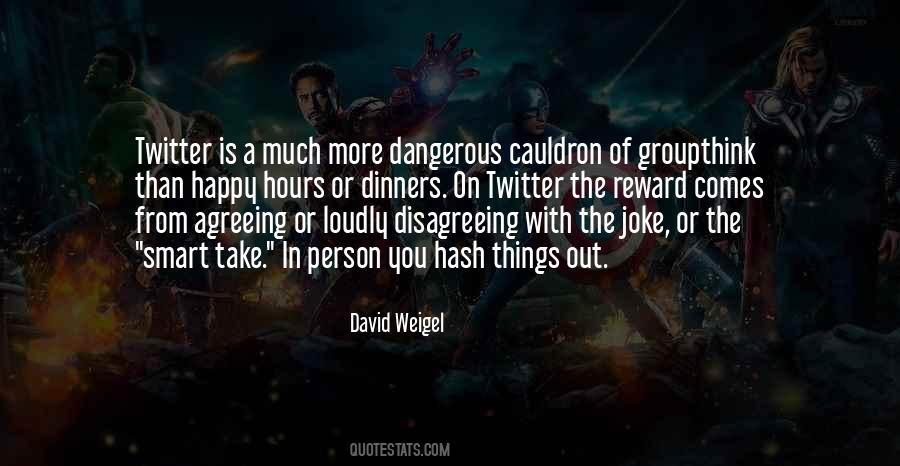 #72. There are athletes and celebrities that are out there and they Twitter and they constantly try to drum up press because they're narcissists. - Author: Geoff Stults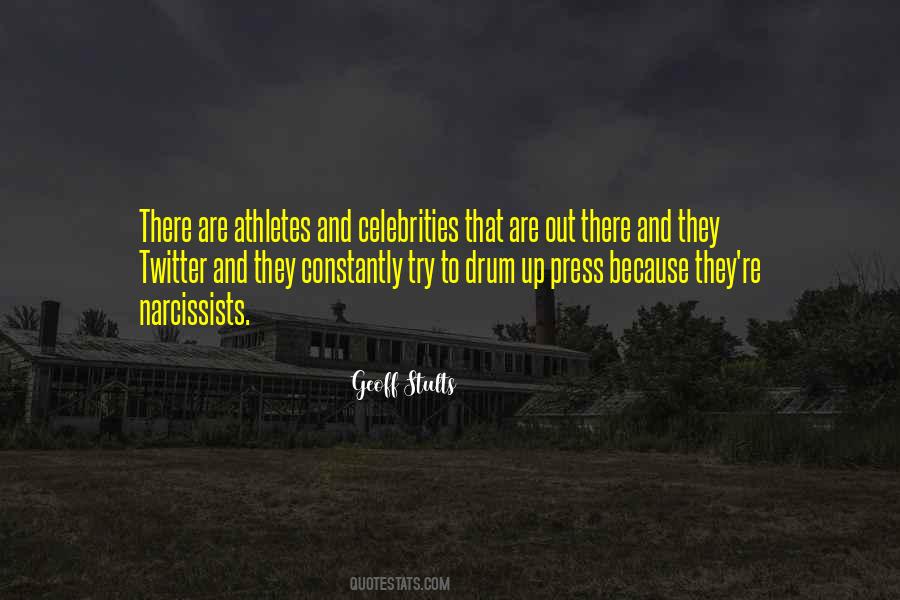 #73. Why get thinner, when you can get more dinner - Author: Twitter, Inc.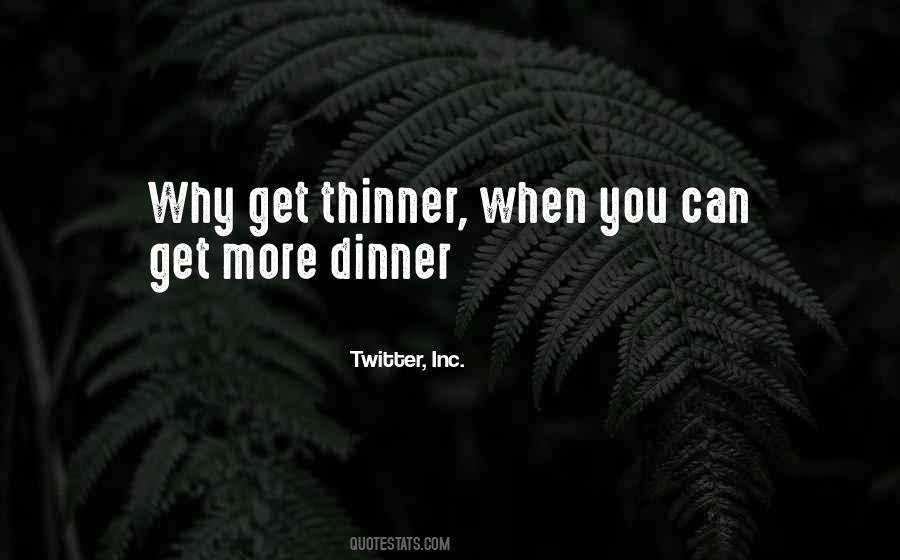 #74. Always put yourself in others' shoes. If you feel that it hurts you, it probably hurts the other person, too. - Author: Rachel Grady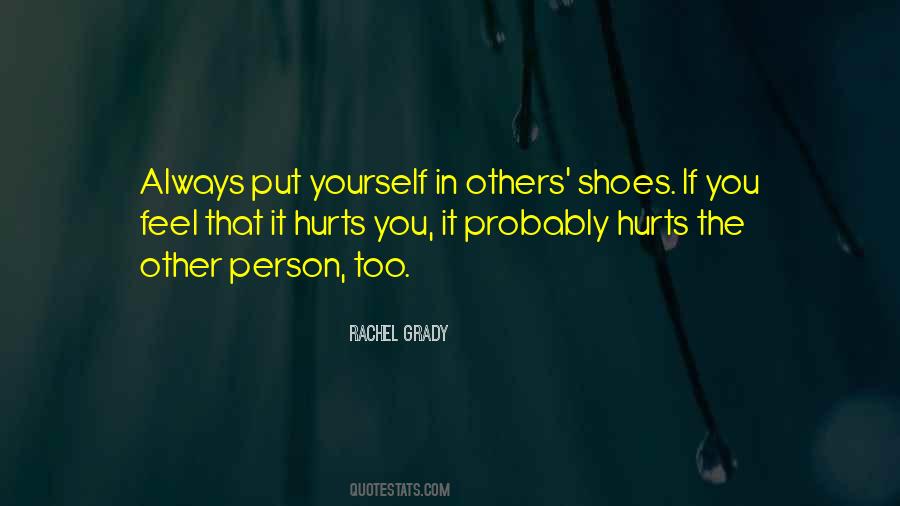 #75. I started writing music when I was 15 in my bedroom, and I'd post them on MySpace, and from there it shifted to doing covers on YouTube and building my Twitter. - Author: Tori Kelly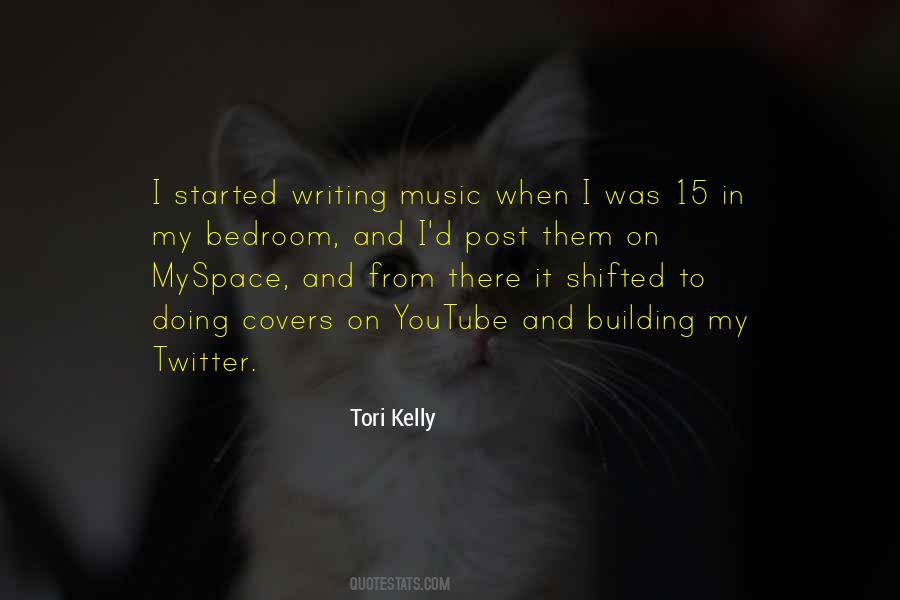 #76. I've stayed away from Twitter for a long time because I sort of didn't trust myself with such an intimate but very public way of relating to the world, but I feel like I've studied it enough. - Author: Elizabeth Reaser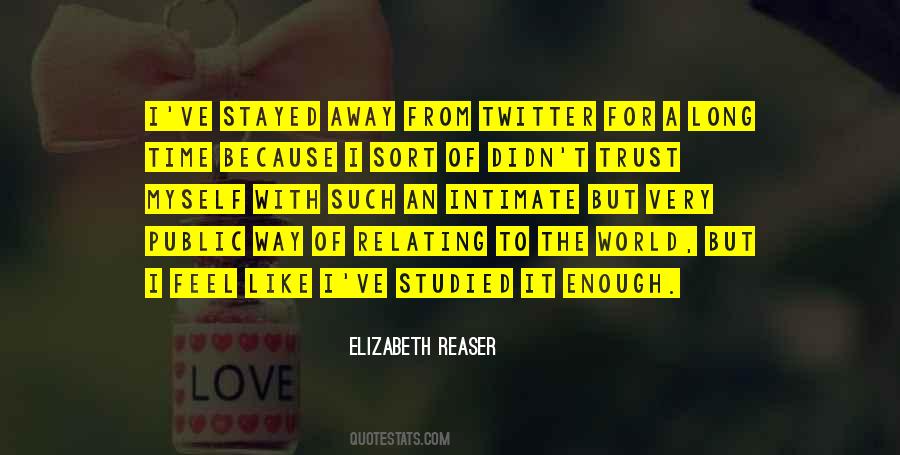 #77. For me, Twitter is a public persona. It's UbuWeb or Kenneth Goldsmith (as opposed to Kenny Goldsmith). I don't interact. It's a lousy form for conversation and opinion (what can you really say in 140 characters?), but a wonderful propaganda and sloganeering tool. I use it as a one-way street. - Author: Kenneth Goldsmith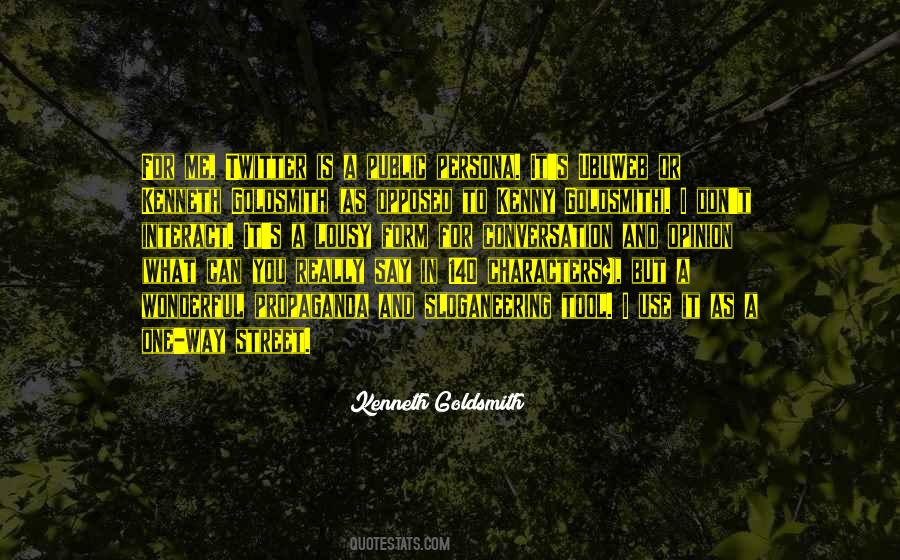 #78. I cannot understand how sensible people still defend Facebook, YouTube and Twitter - Author: Recep Tayyip Erdogan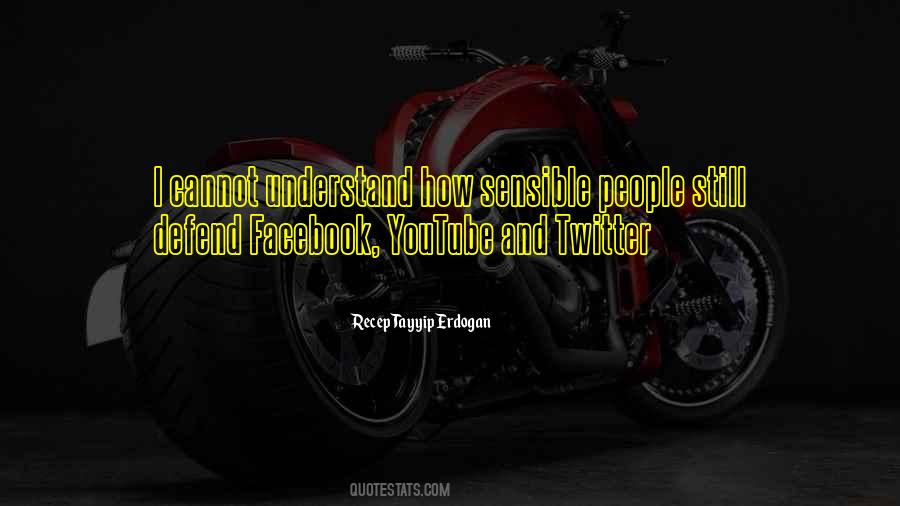 #79. I'm not a Facebook girl. Even though there is a fake Facebook with my name, it's not me. I'm not on Twitter; it's not me. - Author: Carine Roitfeld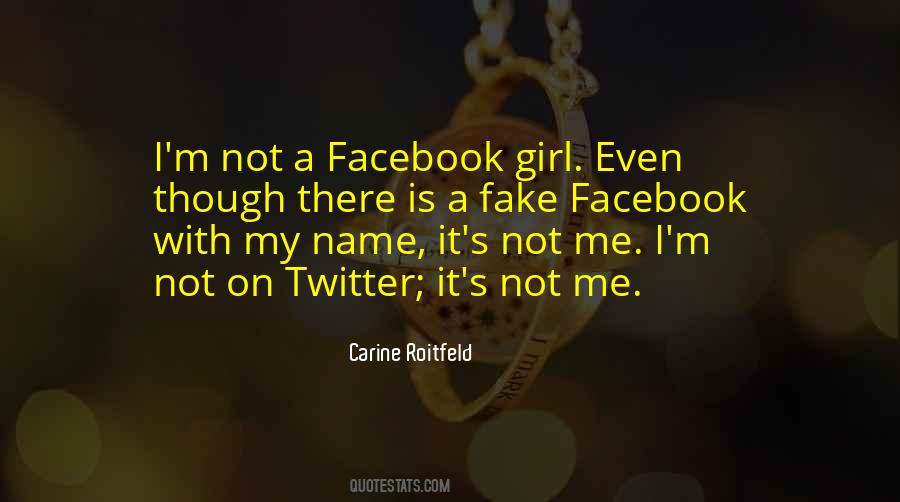 #80. I'm always aware that under the spritely twitter of birds, bones are being crunched and ribbons of flesh are being stripped away, all of it the work of bright-eyed creatures without feeling or conscience. I don't look to nature for comfort or serenity. - Author: Sue Grafton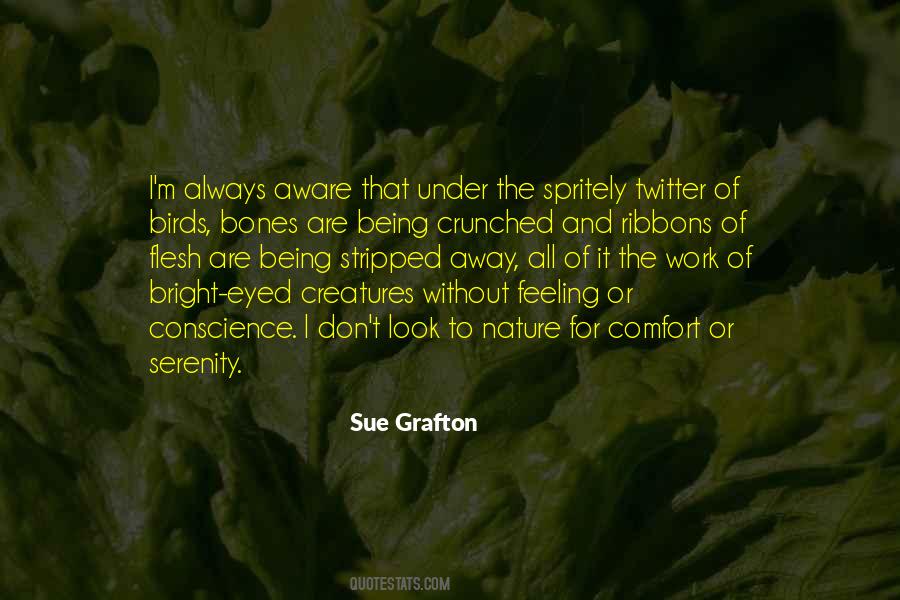 #81. I have lots of support on Twitter and I think it's great. - Author: Jessica-Jane Applegate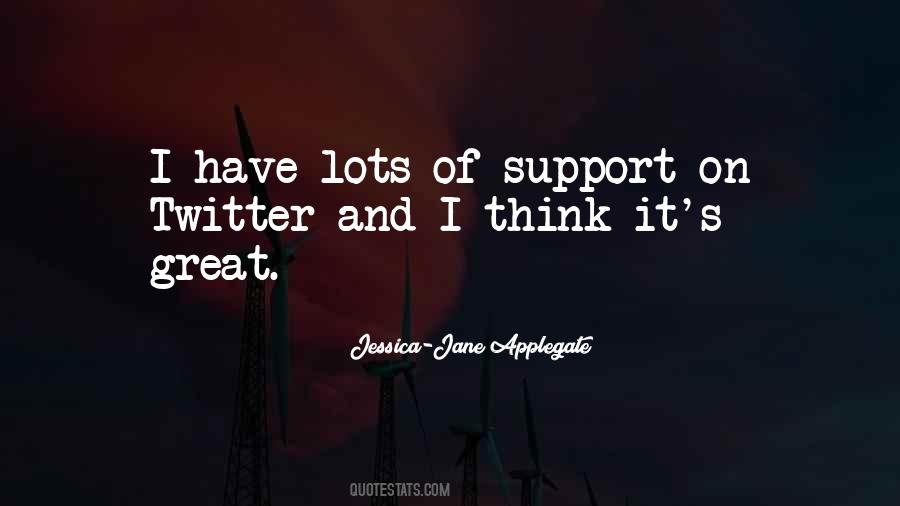 #82. I'm always mystified by the day-to-day workings of entities like Twitter that provide framework but not content, but I suppose it could be compared to the U.S. Postal Service, which manages to keep a lot of people employed doing lots of stuff other than writing letters. - Author: Susan Orlean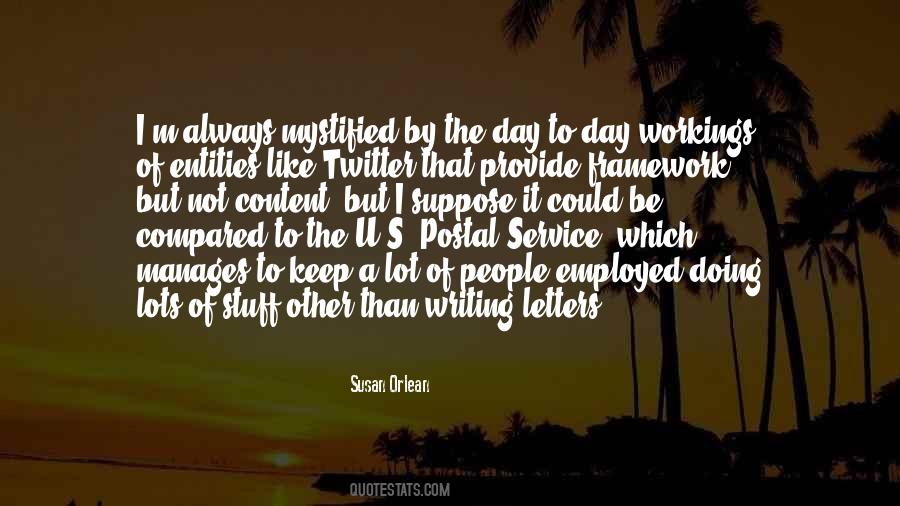 #83. I think Twitter is great. - Author: Chris Hughes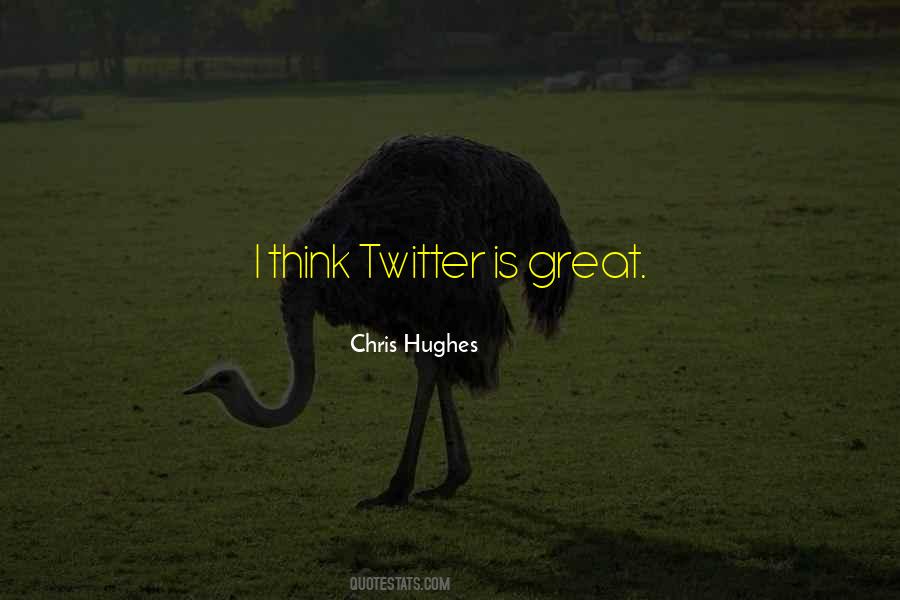 #84. If I have the power to post 'Happy Birthday' on someone's Facebook page and make them feel really good, it feels really good to make other people feel really good. I love it. I'm a huge Facebook and Twitter person. And I love talking to my fans. It's fun. - Author: Rebecca Mader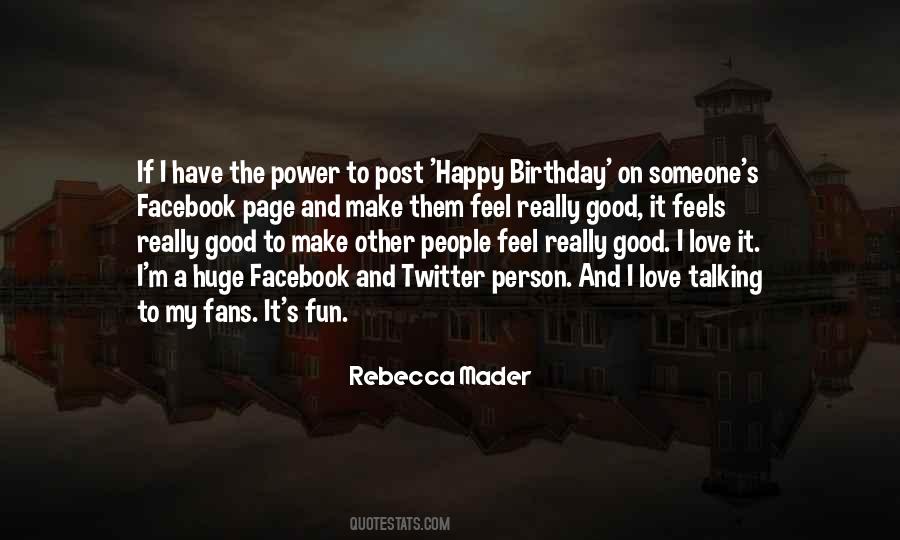 #85. Be strong and solid in your uniqueness. - Author: Amy Leigh Mercree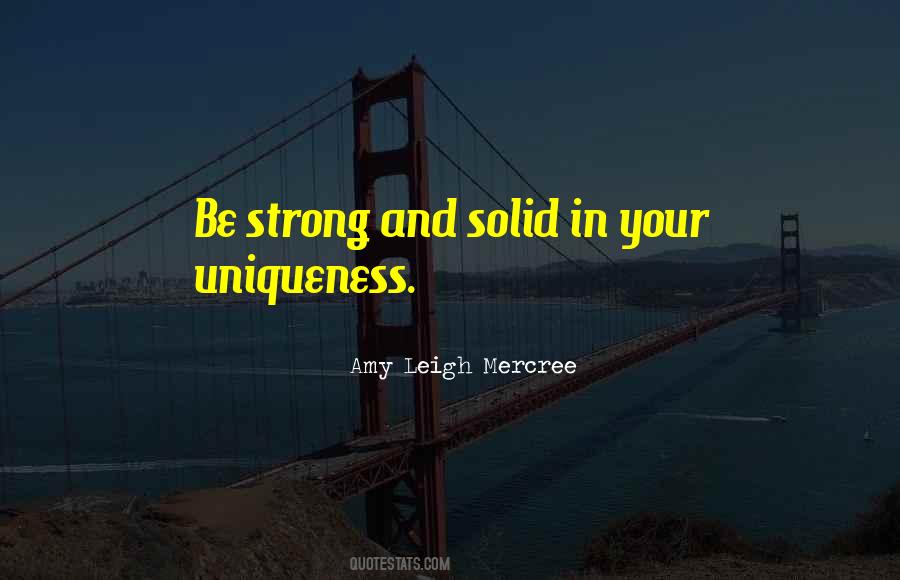 #86. People despite their struggles, flaws and faults are honestly the most beautiful creatures. We are wonderfully-broken pieces of art. - Author: Alexander Pyles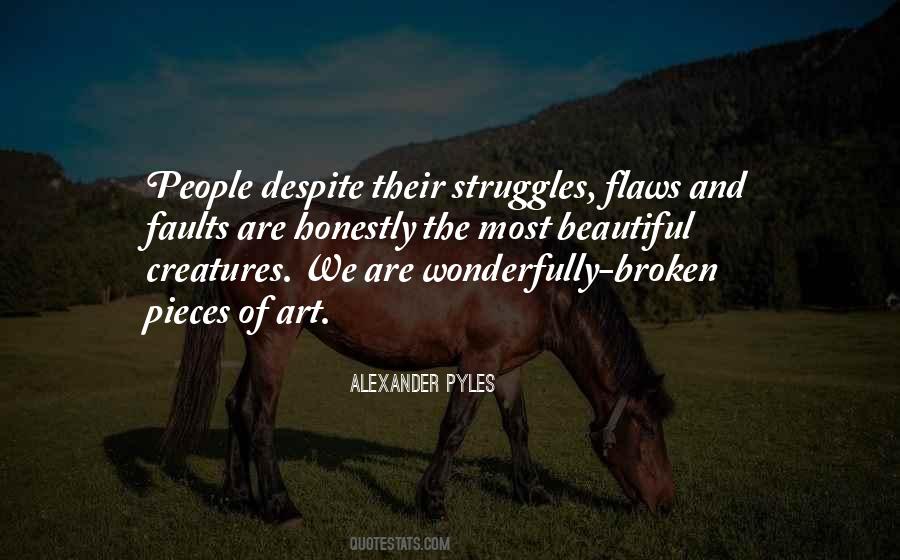 #87. To use a word I never thought I'd apply to myself, I've sort of become a Luddite with regard to information. Where everyone else is getting their Twitter feeds from 'The New York Times' and their 'Huffington Post' emails, I live in a little bit of a bubble. - Author: Mark Feuerstein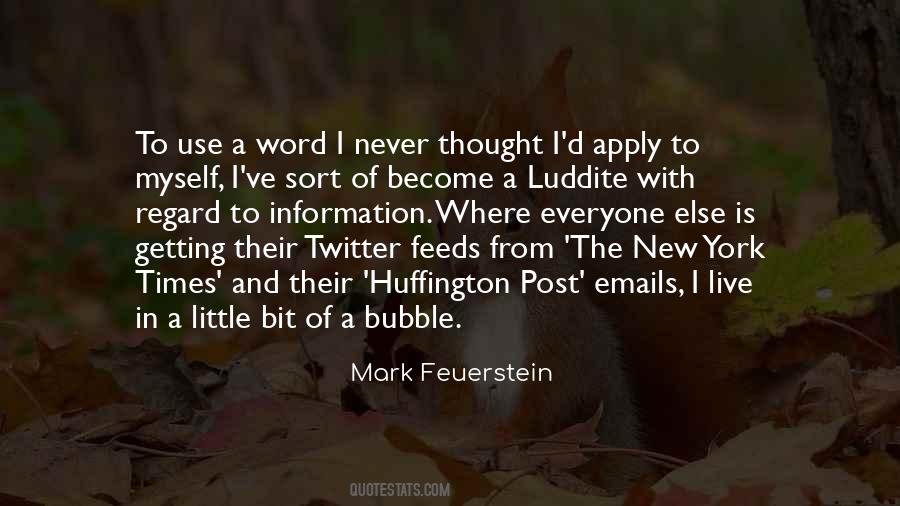 #88. I compose most of my tweets with care, as if they were aphorisms - they are not usually dashed-off. Sometimes I'm surprised by the high, poetic quality of Twitter - it lends itself to a surreal sort of self-expression. - Author: Joyce Carol Oates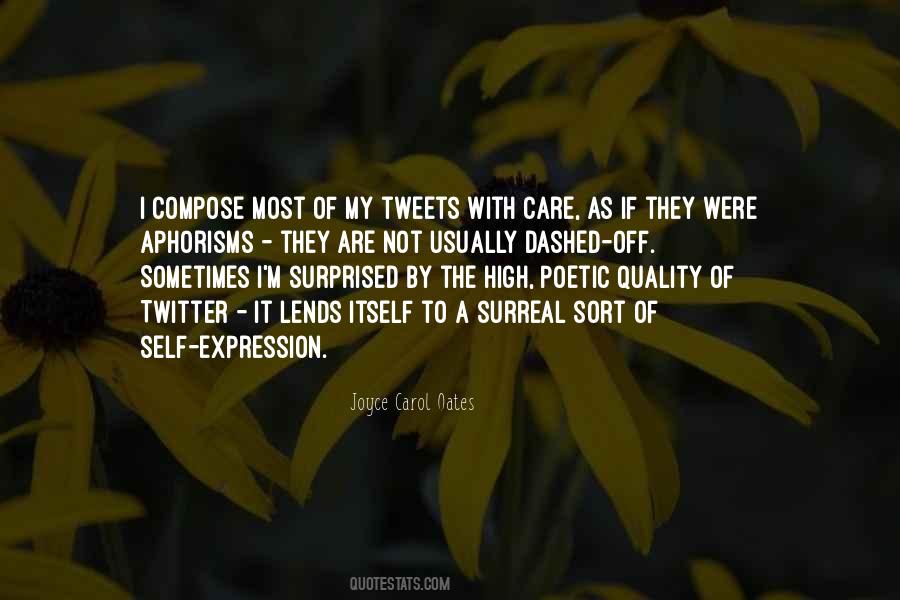 #89. All you need is coffee, some cigarettes, and a Twitter account and your writing career begins! How far you go is determined by the followers you call friends. - Author: Stanley Victor Paskavich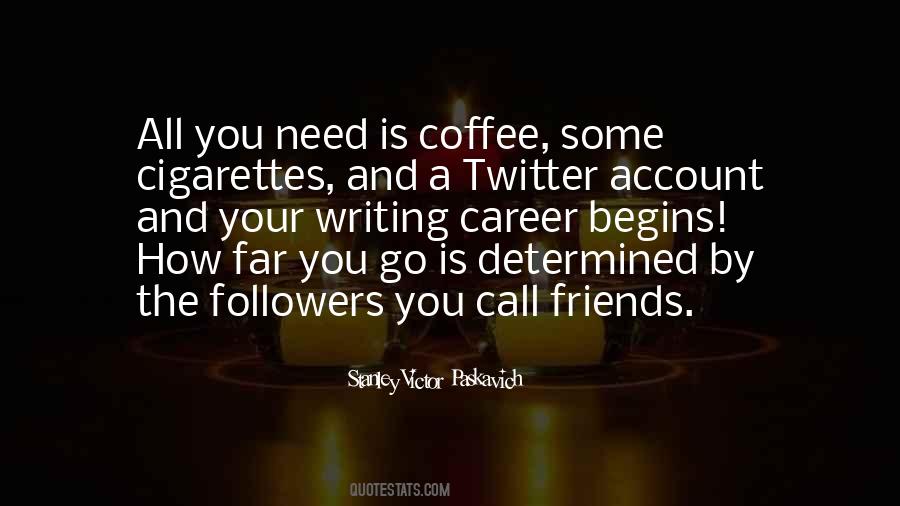 #90. Twitter should ban my mother. - Author: Frances Bean Cobain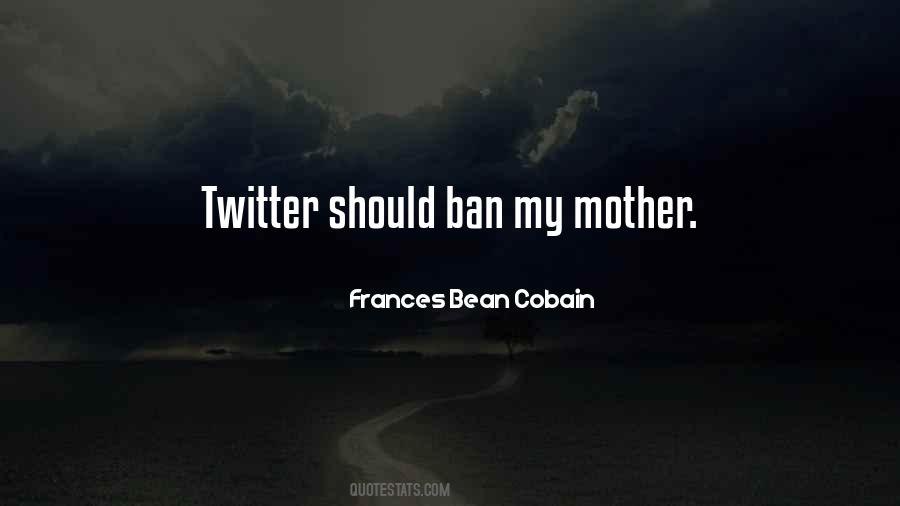 #91. Twitter was created as an open platform, an open communications ecosystem, and I hope it can stay that way. You have to be really careful not to let money get in the way of that. - Author: Mike McCue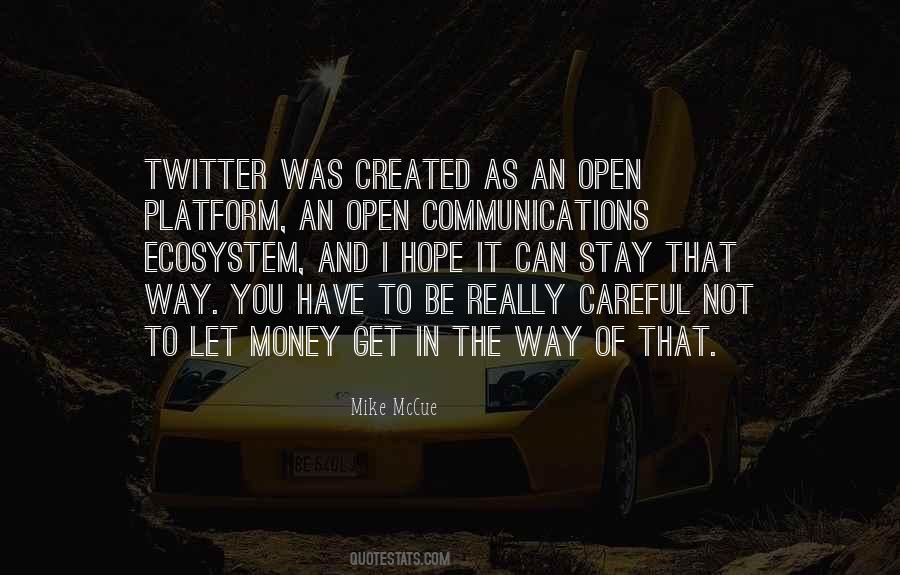 #92. It feels like every day or two, people on Twitter and the Internet are outraged about something. - Author: Demetri Martin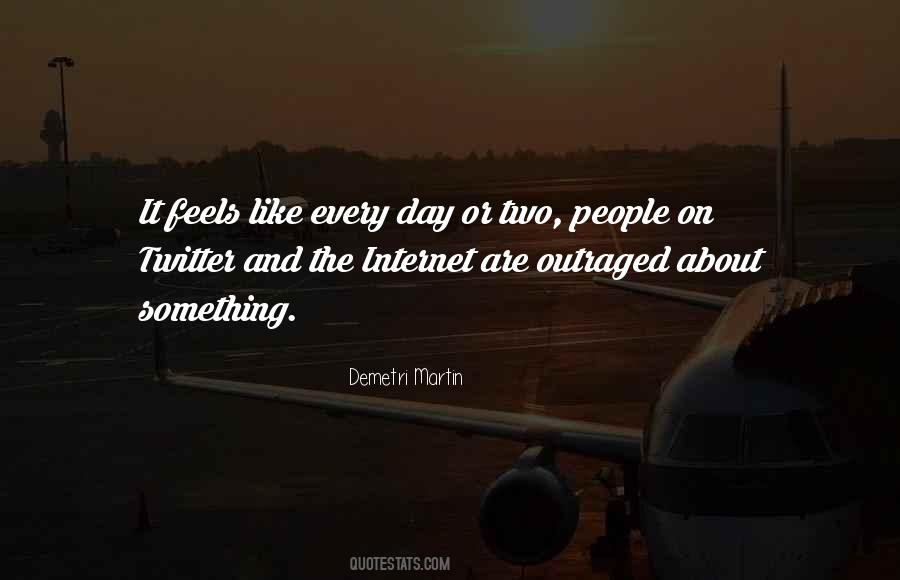 #93. In goodreads it's hard to find my progress in some stuff like quotes new and it needs a lot of work. But in twitter you can find everything - is it just a theory or a true. You decide! - Author: Deyth Banger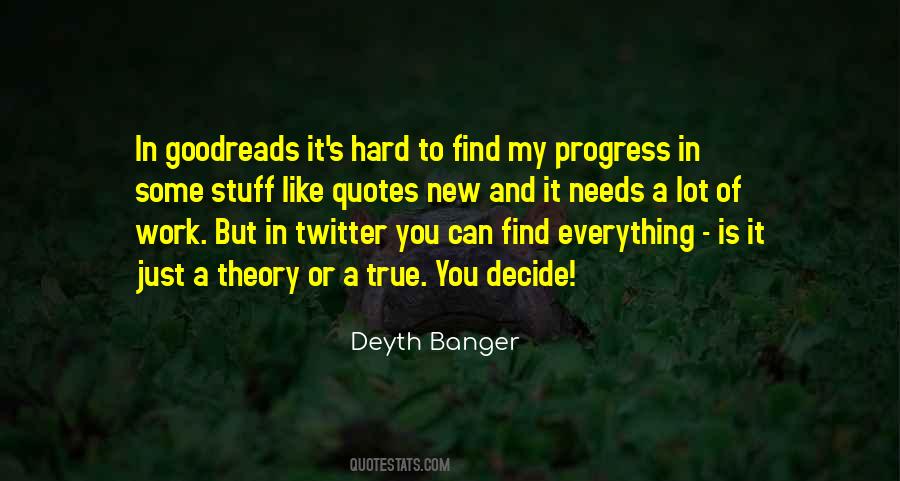 #94. I love to post behind-the-scenes photos of what is really going on. My twitter friends really seem to like that and the great thing is I can deliver them information right away. - Author: Nancy O'Dell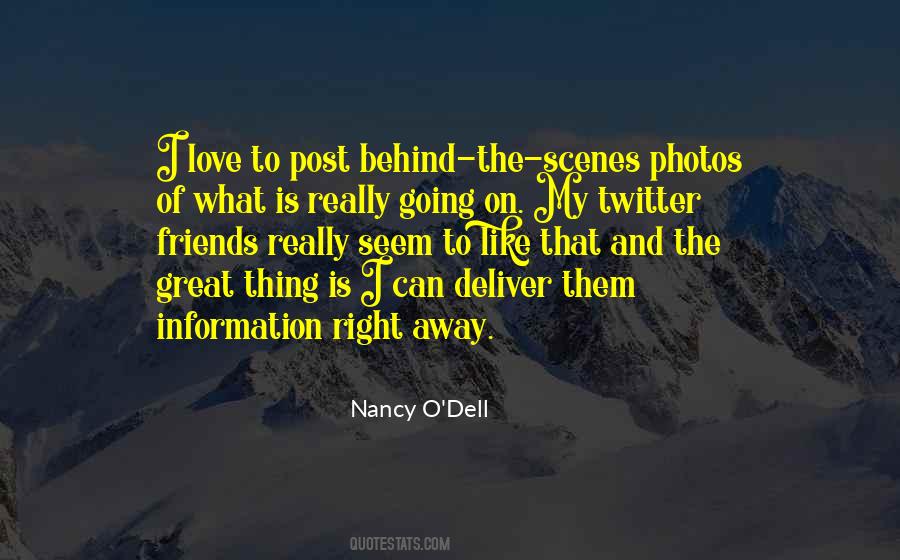 #95. The network made me join Twitter. I am very scared of social media, and I don't know how to use it, so it's kind of trial and error. - Author: Jay Ryan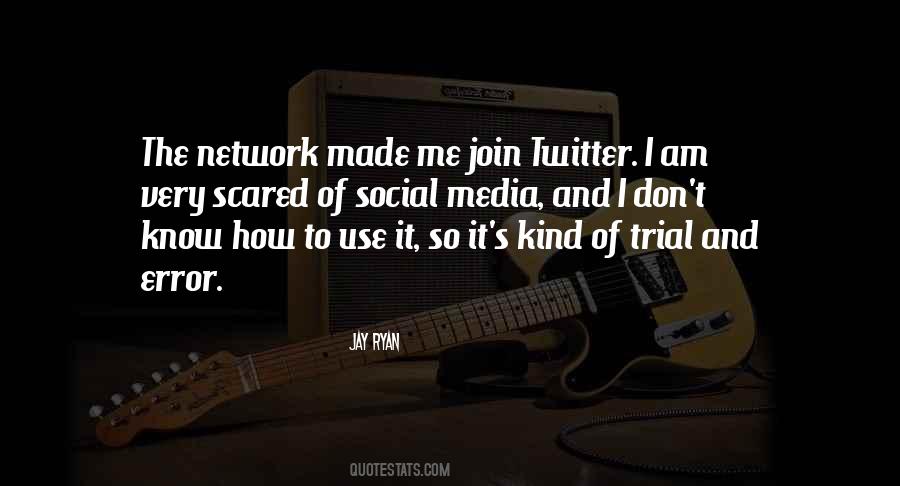 #96. I'm definitely not on Twitter. I do have a Facebook page and Facebook friends. It's a lot of fun, especially if you don't just start friending people you don't know. - Author: Quentin Tarantino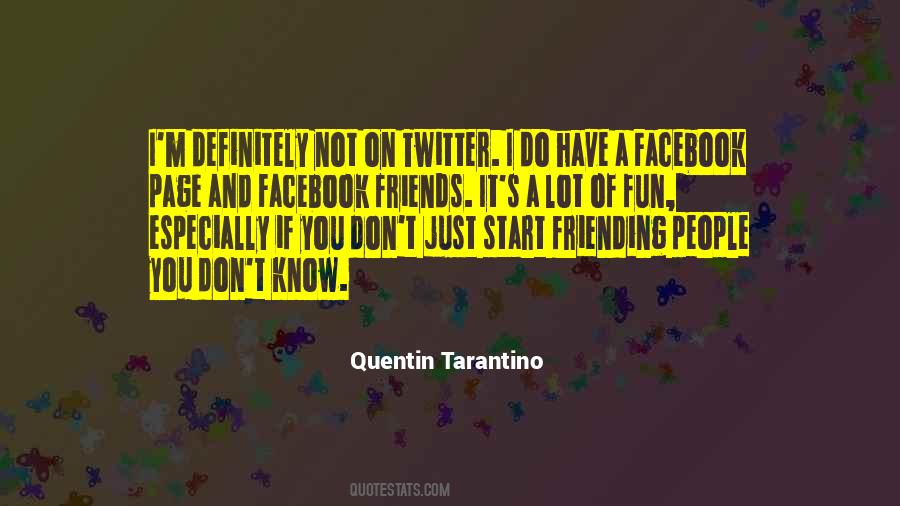 #97. The only sharks I'm afraid of are the ones that wear three-piece suits and write memos. - Author: Laurie Nadel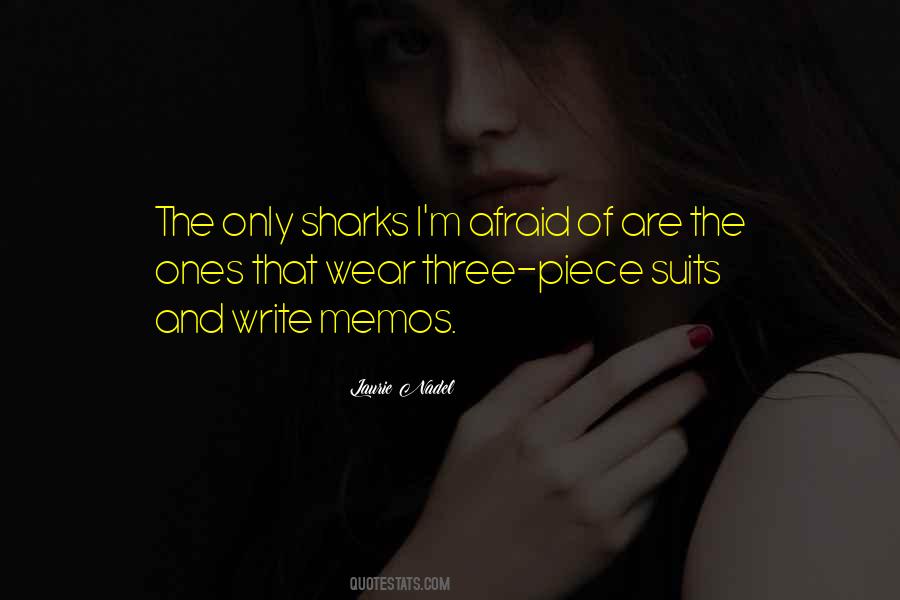 #98. Linkedin is for people you know. Facebook is for people you used to know. Twitter is for people you want to know. - Author: Jay Baer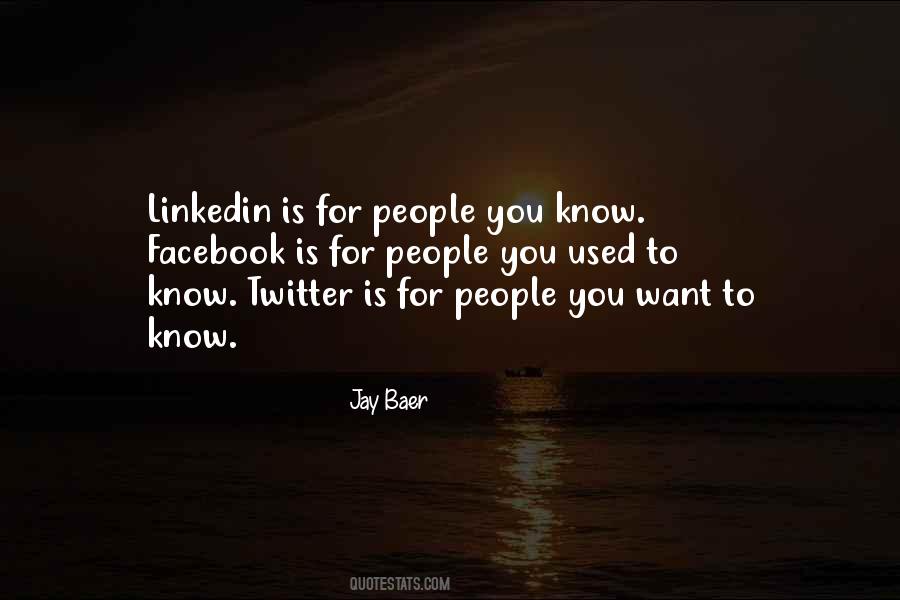 #99. I love how I can see [on Twitter] some of the thoughts and ideas of my favorite cultural figures and still also chatter with my friends and family. It's a cocktail party with a fraction of the awkwardness of an actual cocktail party. - Author: Roxane Gay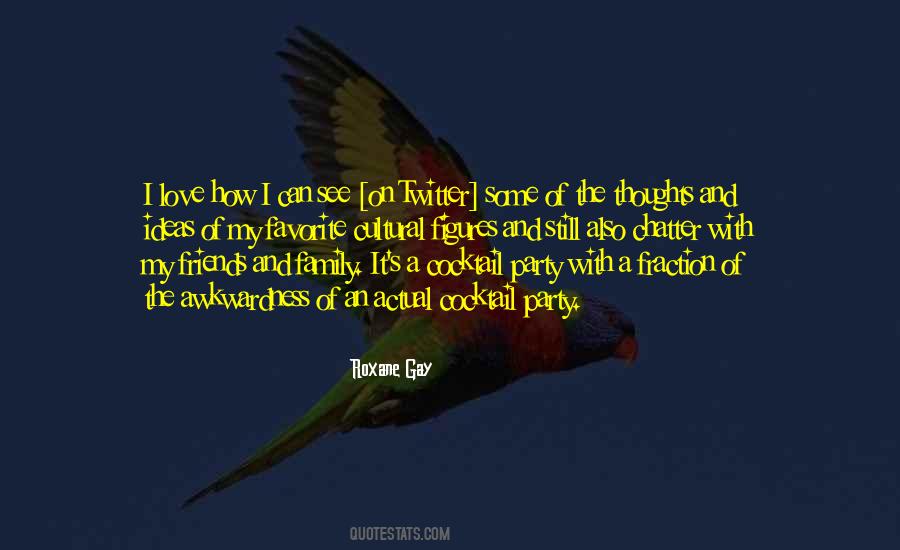 #100. Loving yourself is the single most important thing you can do to create the life of your dreams. - Author: Amy Leigh Mercree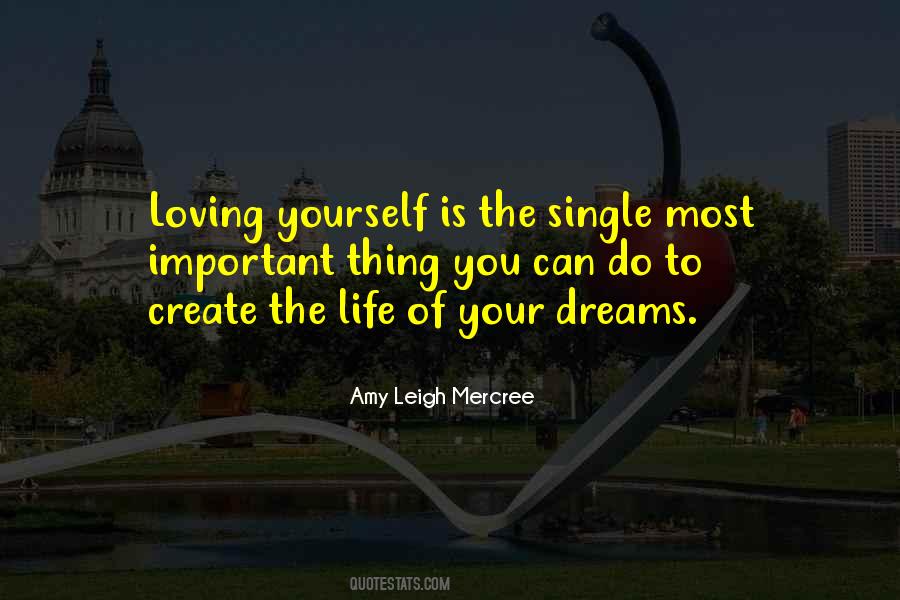 Famous Authors
Popular Topics