Things Never Change Famous Quotes & Sayings
List of top 100 famous quotes and sayings about things never change to read and share with friends on your Facebook, Twitter, blogs.
Top 100 Quotes About Things Never Change
#1. I try to be careful because technology changes so much over the years. But some things don't change. Kids and parents have disagreements, kids try to manipulate, parents try to sit down with rules and regs. That part never changes. - Author: Paula Danziger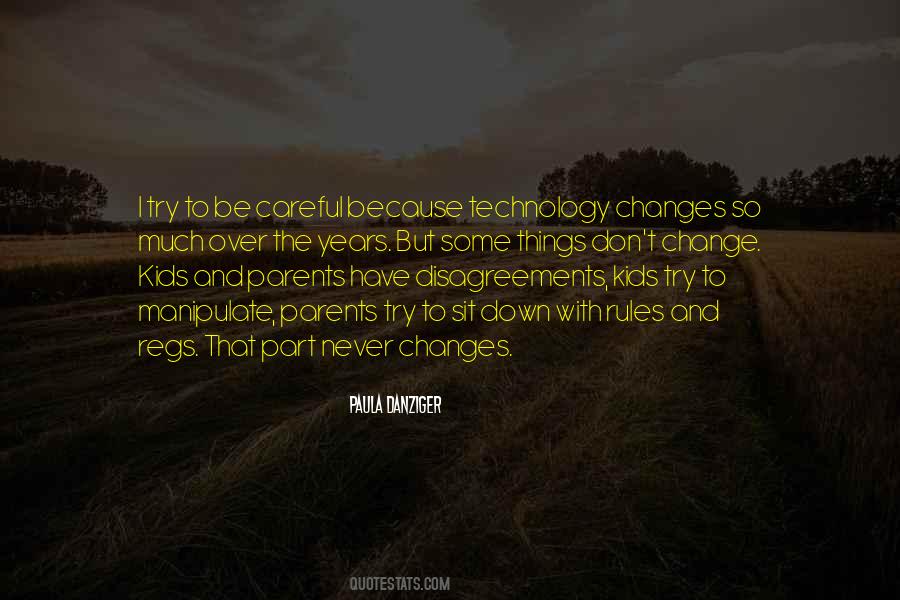 #2. If we focus our efforts on doing, we will always fall short of our real potential. We can do all the right things, but if we do not do them for the right reasons, they will never have the power to change our internal view of life. - Author: Rand Olson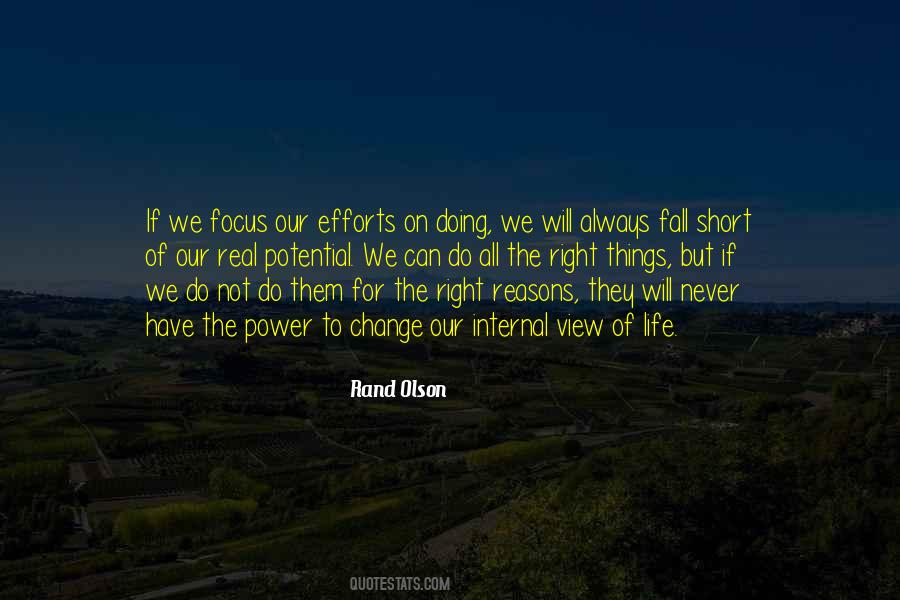 #3. Every individual can make a difference ... if we continue to leave decision making to the so-called decision makers, things will never change. - Author: Jane Goodall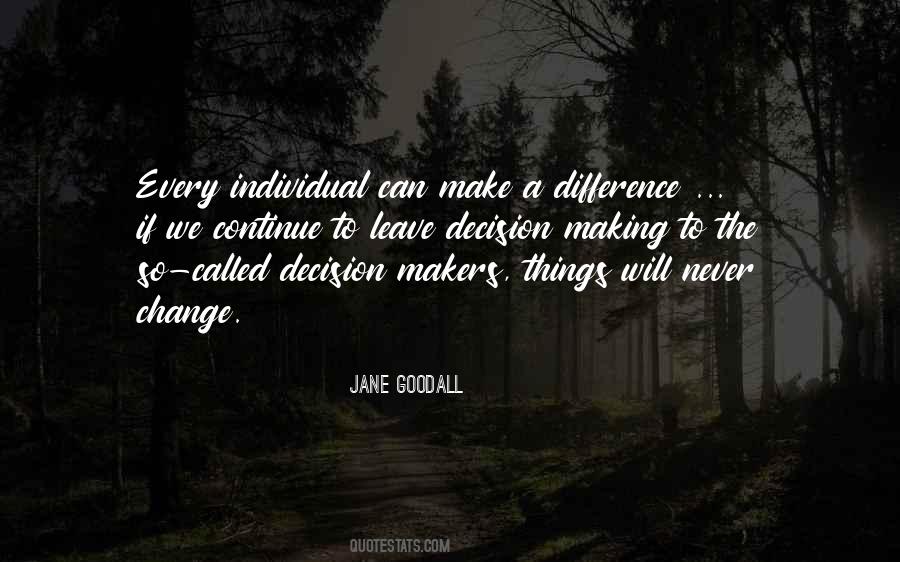 #4. They never get easier, never stop my heart from trip-trapping, never let me escape, this time, unscathed. But they teach me things, and they open my eyes, and if they hurt, they hurt in ways that make me think and grow and change. - Author: Neil Gaiman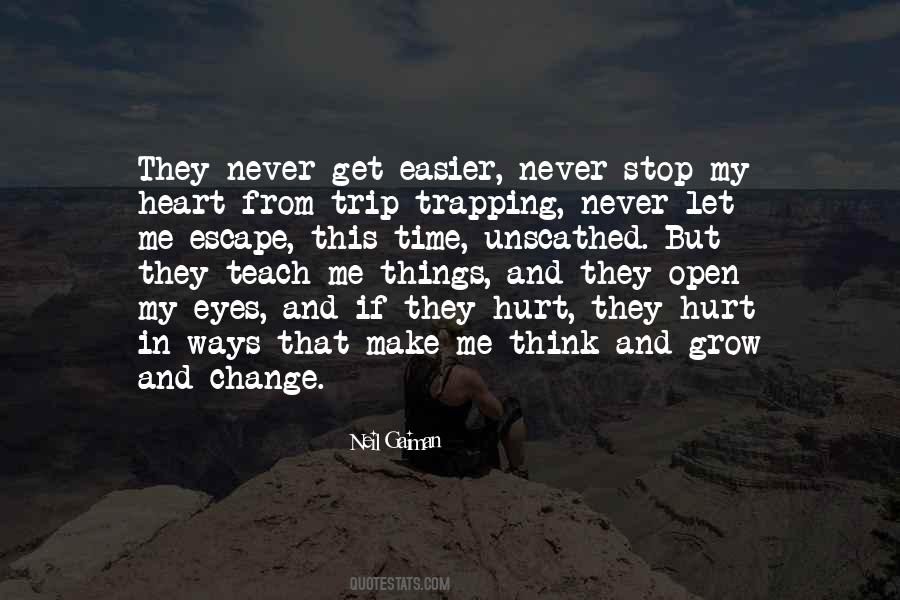 #5. I never have changed in my taste, and the things that I love, and the way that I act, and all that. I never wanted to change, I just wanted to be successful, and be able to do more things for more people, and for myself as well. - Author: Dolly Parton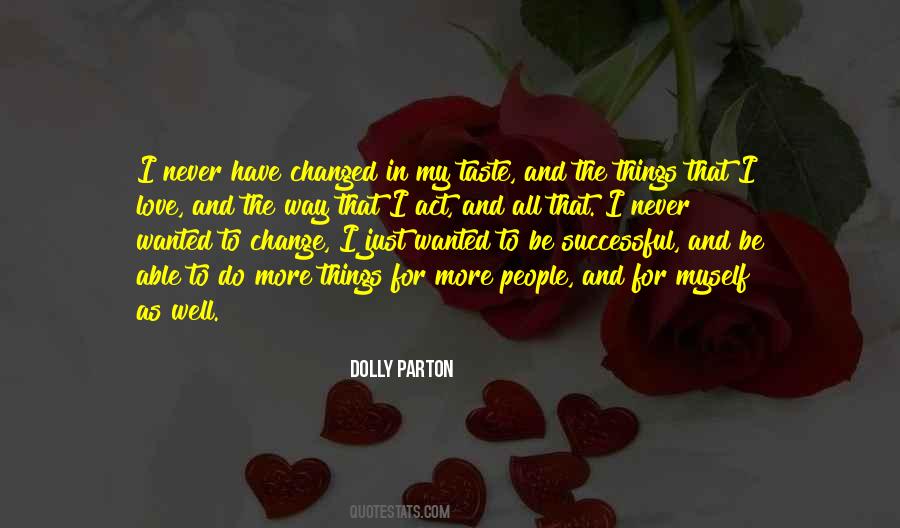 #6. Enjoy every moment: you never know when things might change. - Author: Natalie Imbruglia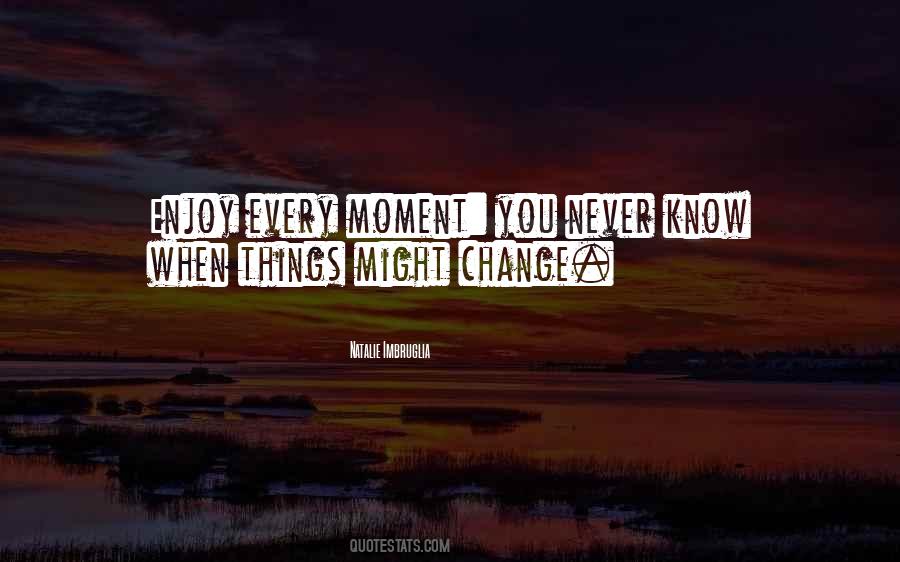 #7. It hurts almost more than I can bear. Tears sting my eyes again; I wipe them away impatiently. I am so tired of crying, so tired of feeling like half a person, but I don't know how to change things... (I have never felt so lost and alone.) - Author: Kristin Hannah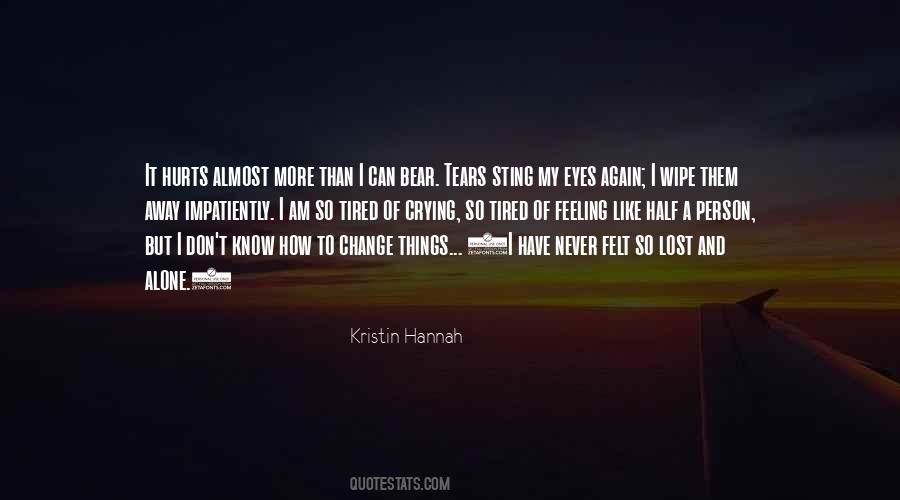 #8. It's better to end something and start another than to imprison yourself in hoping for the impossible. Life can never promise to always be happy but life gets better after you accept things you just can't change. For you Jelle, from me.. with luv. He-he! - Author: Marione Ashley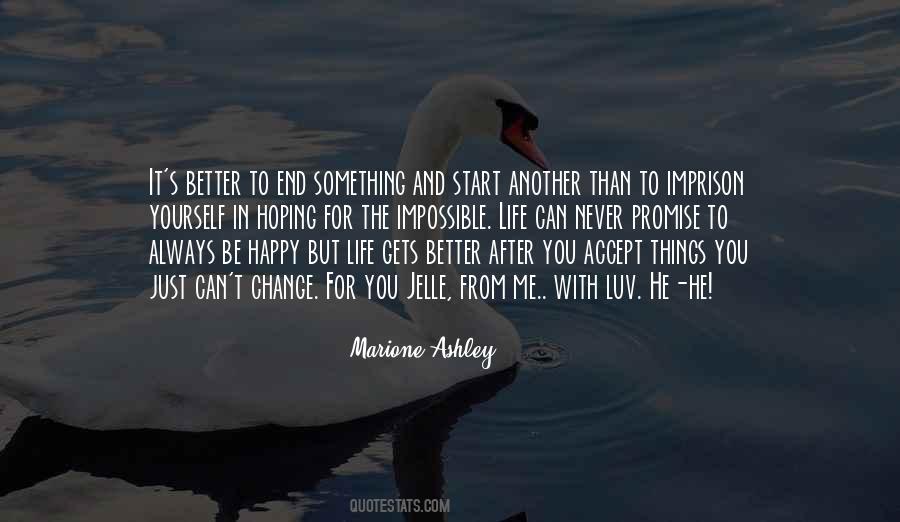 #9. The trying to change what they think, the attempt to explain, the hope they'll come to see your side of things, it was exhausting because it never made a dent and afterward you only ached unbearably. - Author: Marisha Pessl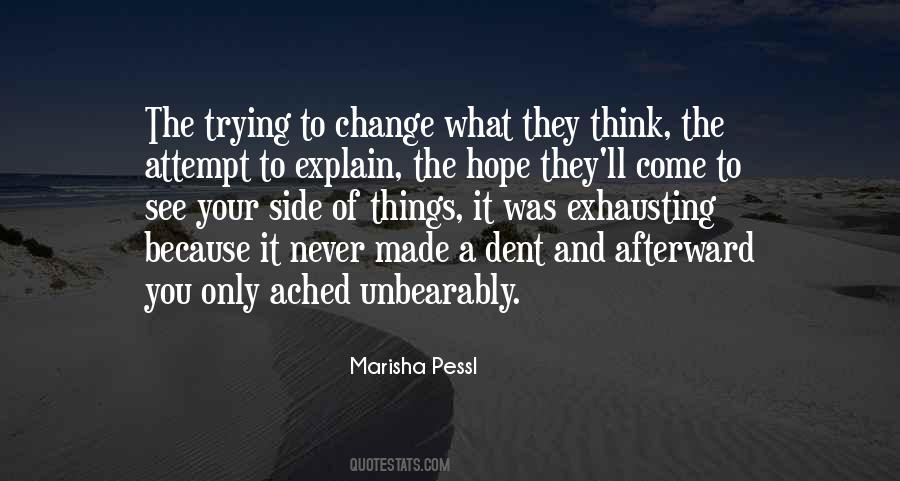 #10. The thing is that I never felt beautiful. I really never did. I think I can change my looks and be different things, but I've never thought of myself as this face. - Author: Juliette Binoche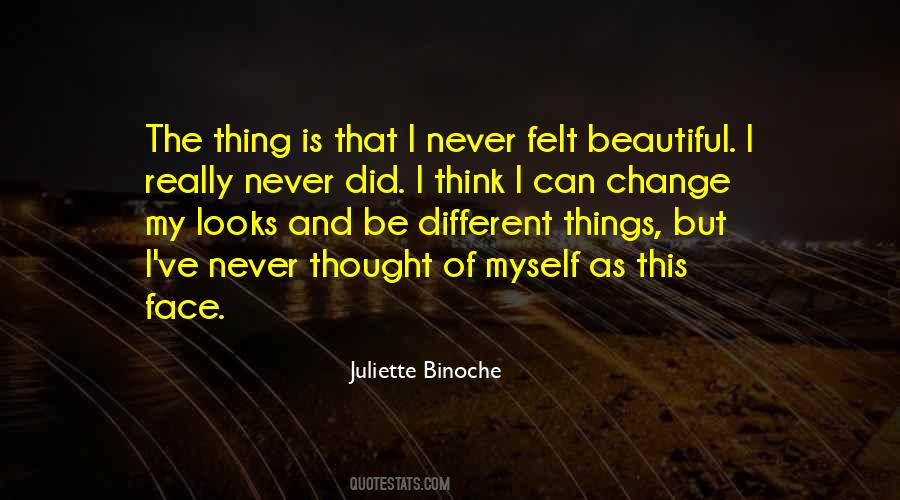 #11. Never change the person that you are just to fit in. You'll find your true friends that like you for you, and if you are happy with doing things that you genuinely enjoy, it shouldn't matter what other people think. - Author: Nicole Anderson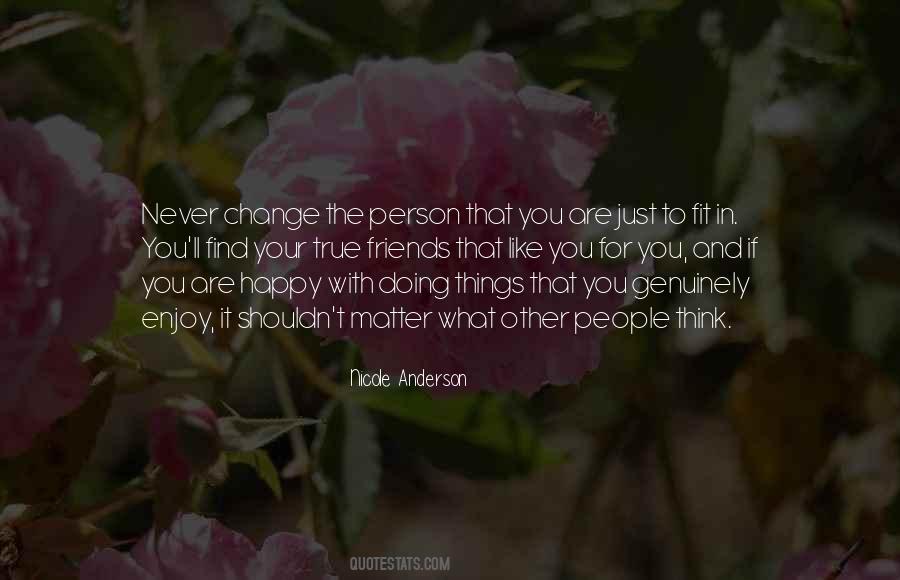 #12. I never put down a bad script and I never walk out of a bad movie because I'm always hopeful things will change. - Author: Peter Segal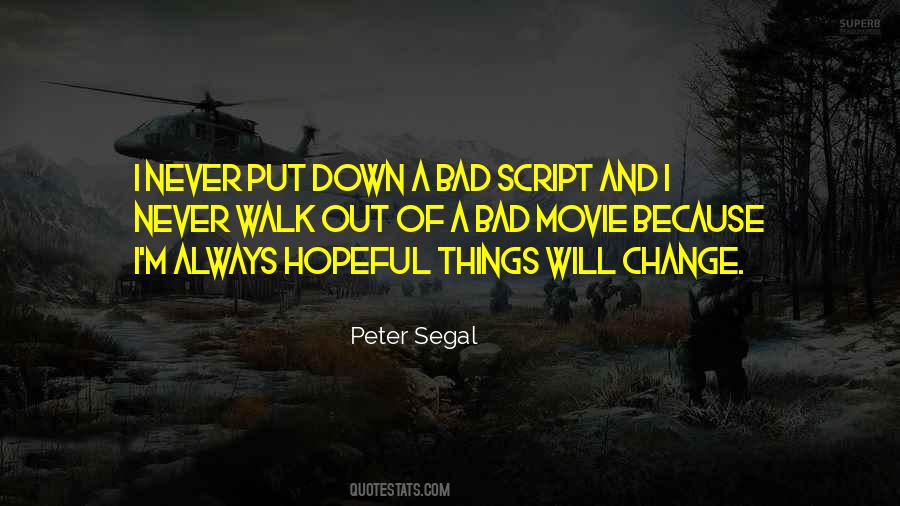 #13. People have worried about things for centuries, but it has never once had a positive effect on the outcome of a situation. - Author: Lisa M. Schab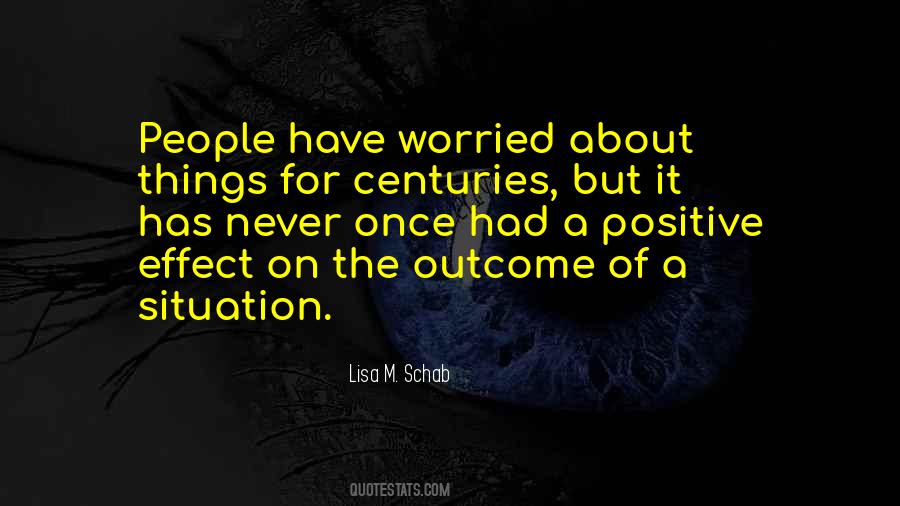 #14. No matter how much things change,
others never will. - Author: Ellen Hopkins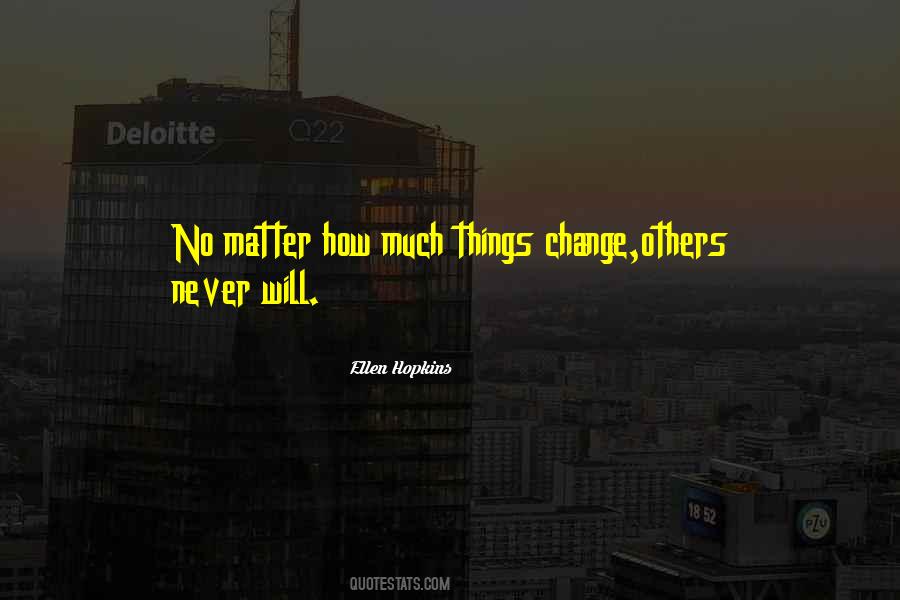 #15. Once a happy old man One can never change the core of things, and light burns you the harder for it. - Author: John Ashbery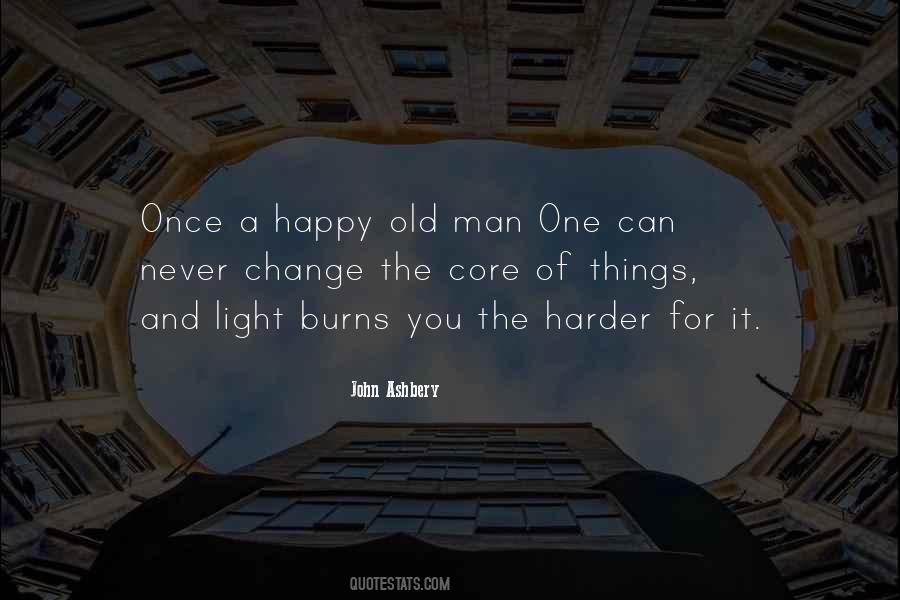 #16. Sometimes we may seem to be resisting letting go, when really, we just can't see a way to move forward - believing things can never change for someone as unworthy as us. - Author: Bryant McGill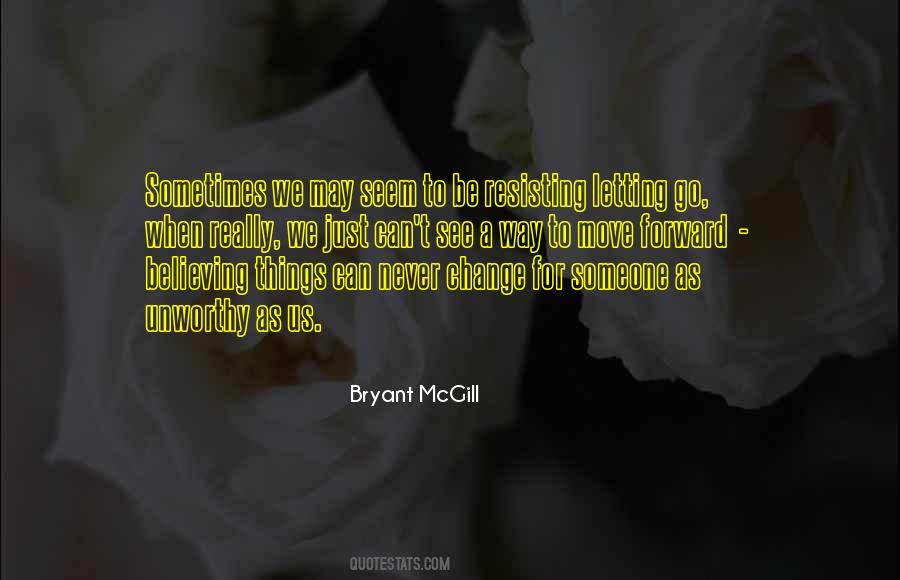 #17. But a lot of things probably will never change - like our friendships and our working relationships. As far as me and Patrick [Stump, the singer] and all of Fall Out Boy, it's in a vacuum. - Author: Pete Wentz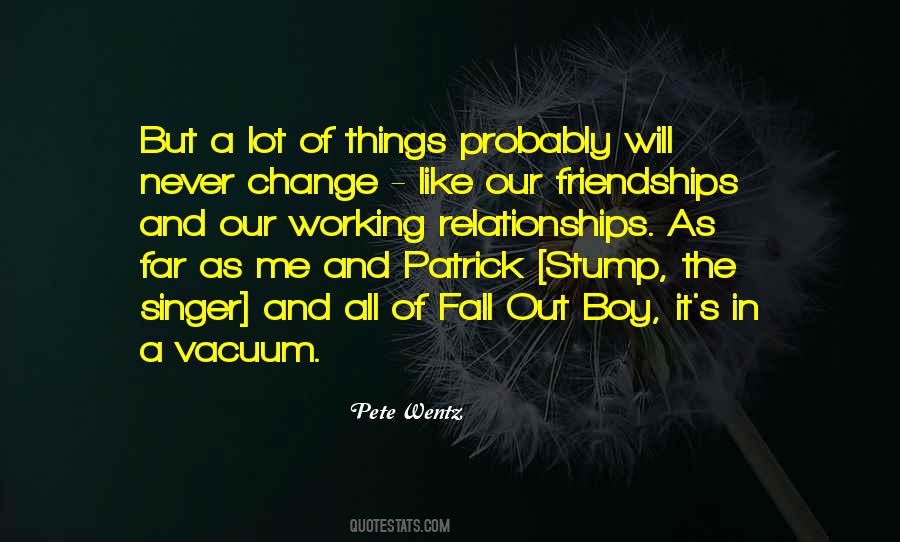 #18. Life is never stagnation. It is constant movement, un-rhythmic movement, as we as constant change. Things live by moving and gain strength as they go. - Author: Bruce Lee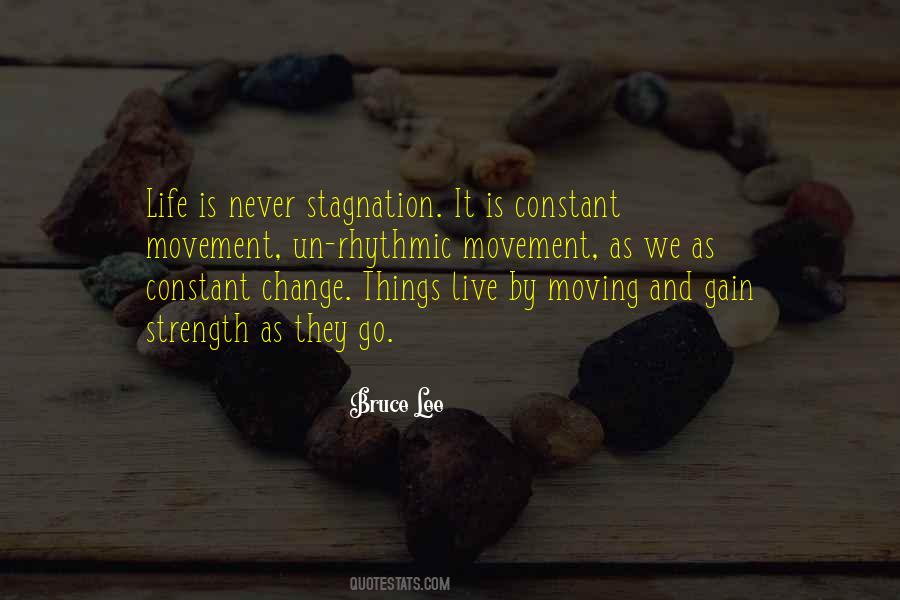 #19. It was the night things changed, can you see it now? These walls that they put up to hold us back fell down It's a revolution, throw your hands up, 'cause we never gave in - Author: Taylor Swift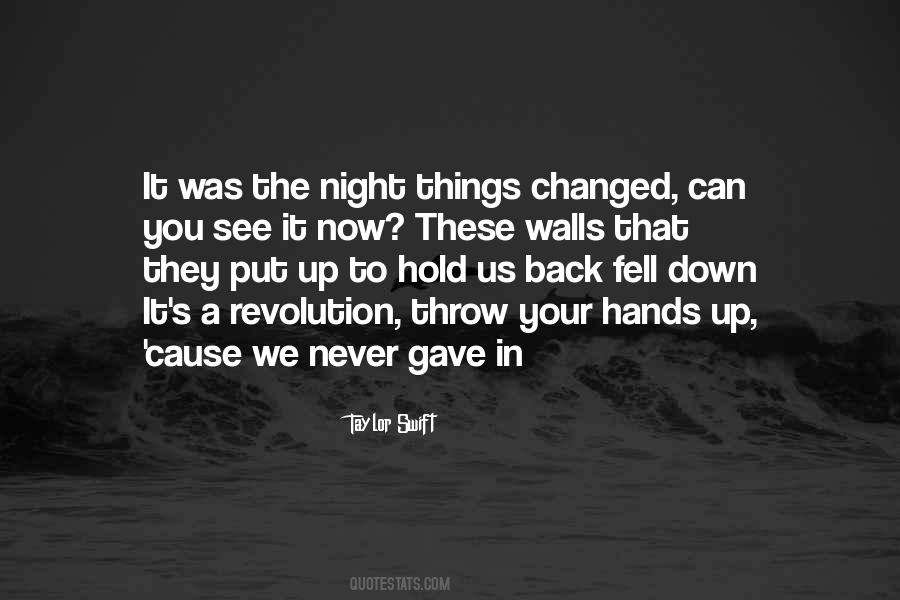 #20. Things are always different than what they might be ... If you wait for them to change, you will never do anything. - Author: Henry James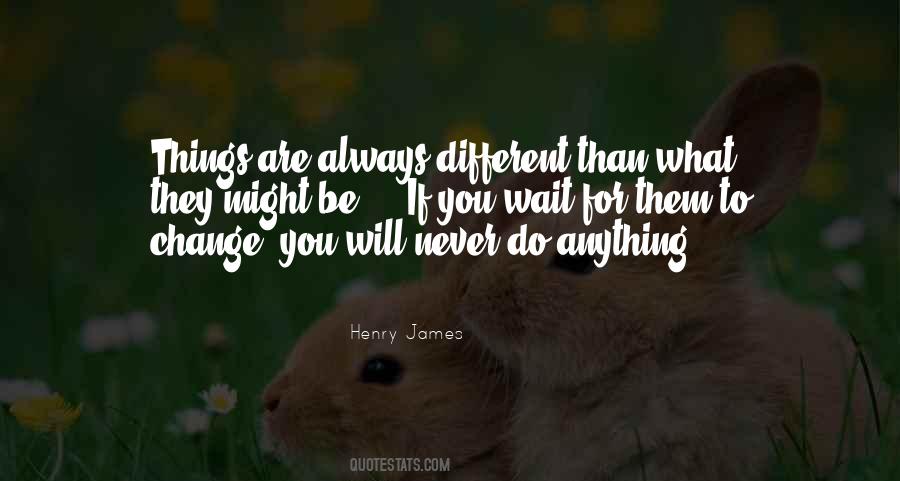 #21. When in doubt, discuss the weather. Some things never change. - Author: Emma Lear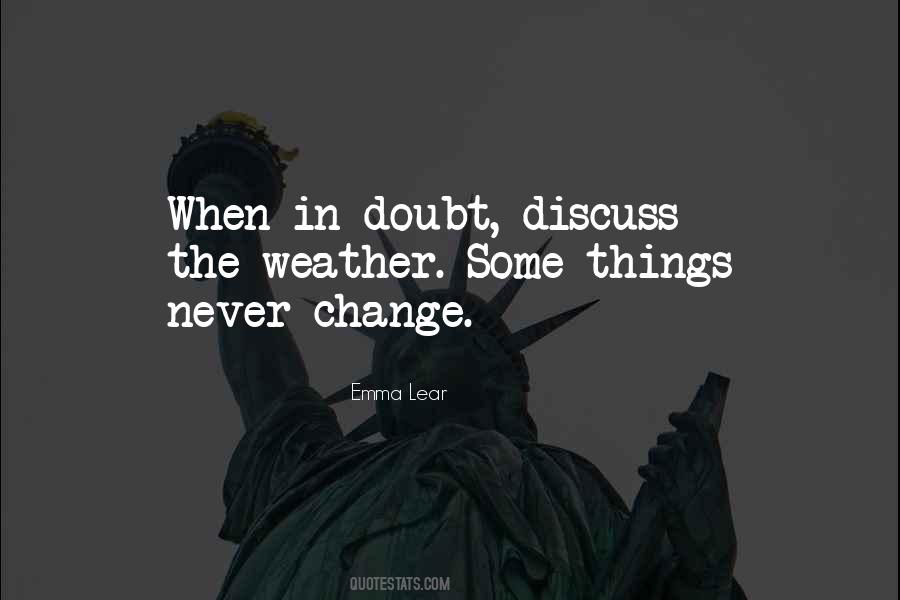 #22. You never really know how much one small single act can change things. - Author: Robyn Carr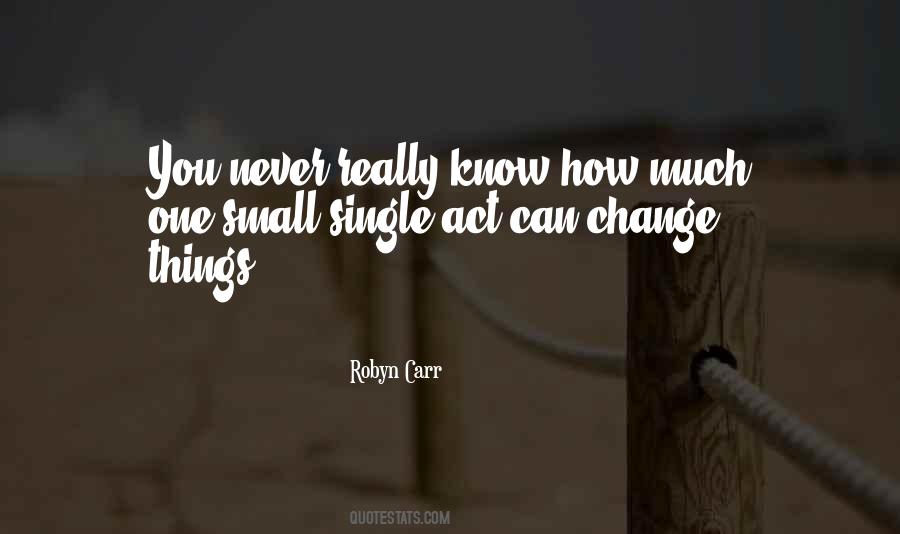 #23. I don't believe the old statement, "If it ain't broke, don't fix it." If that were the case, then Cadillacs and Jaguars and Mercedes would never make a change. I've always looked for ways to make things better. - Author: Vic Bubas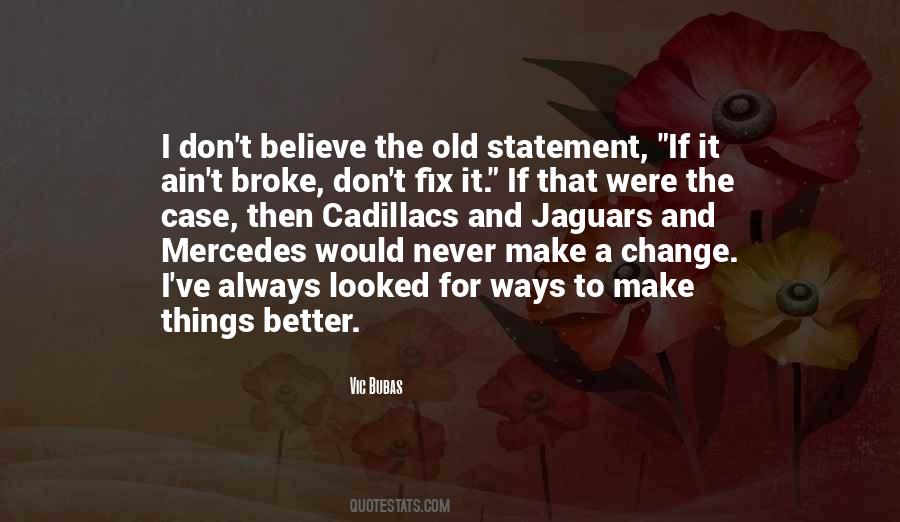 #24. Things change. Never act is if situations won't change - Author: Maureen Johnson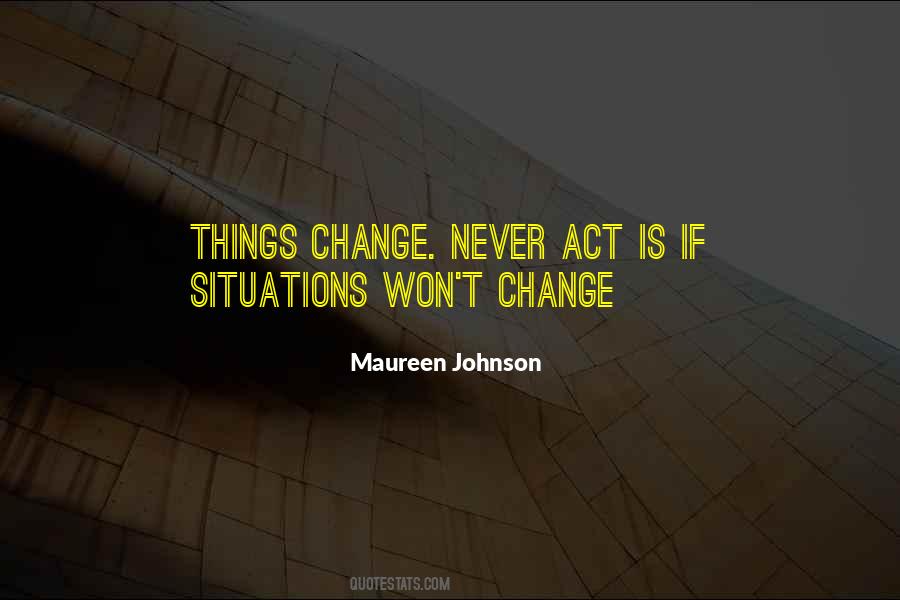 #25. Things change. Nothing ever stays the same, yo. You ain't never gonna stay 25 or 30 or 40. You always gonna change. Every day you change. - Author: Ghostface Killah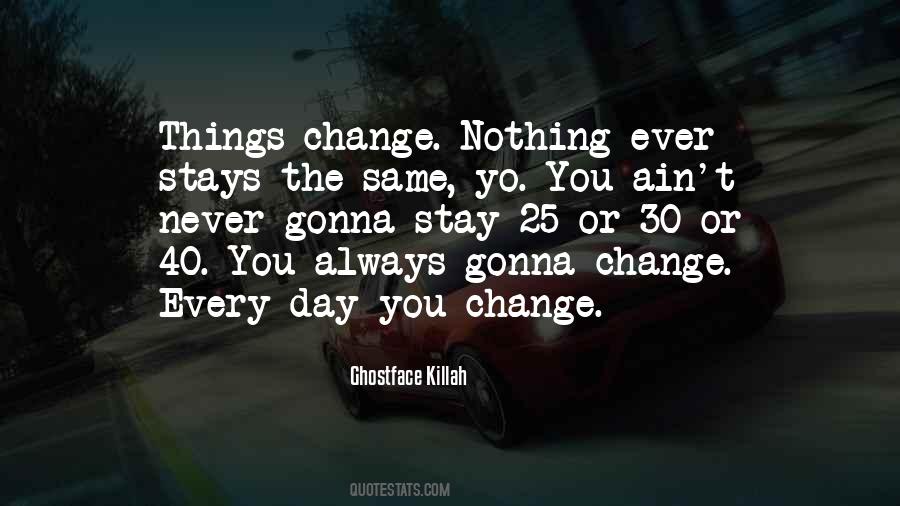 #26. You can never have a successful end if you expect things to change as a result of miracles. Things will never change unless you take up the challenge to change them yourself. - Author: Israelmore Ayivor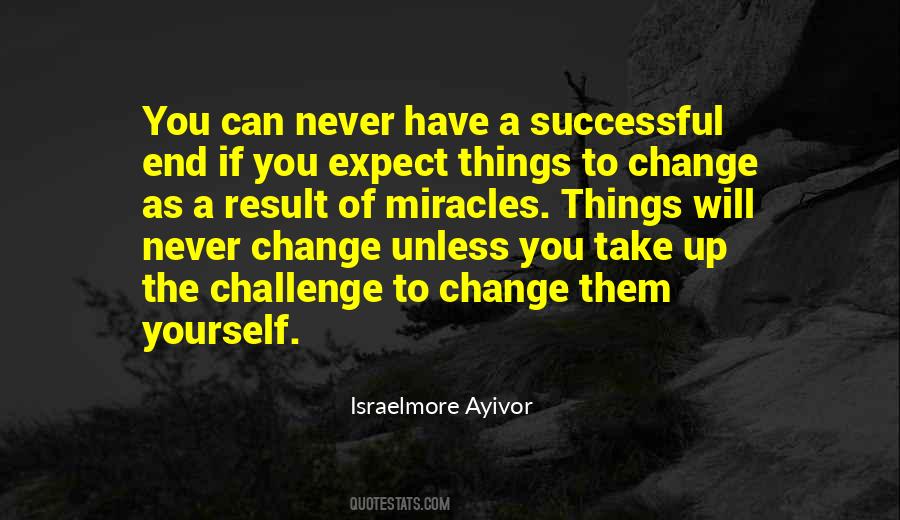 #27. Your life is your teacher and whatever comes to you is the work of your soul. Things are never as they appear on the surface. Your lessons are woven into your losses and challenges and only you can figure out what they mean and allow them to change you. - Author: Karen Clark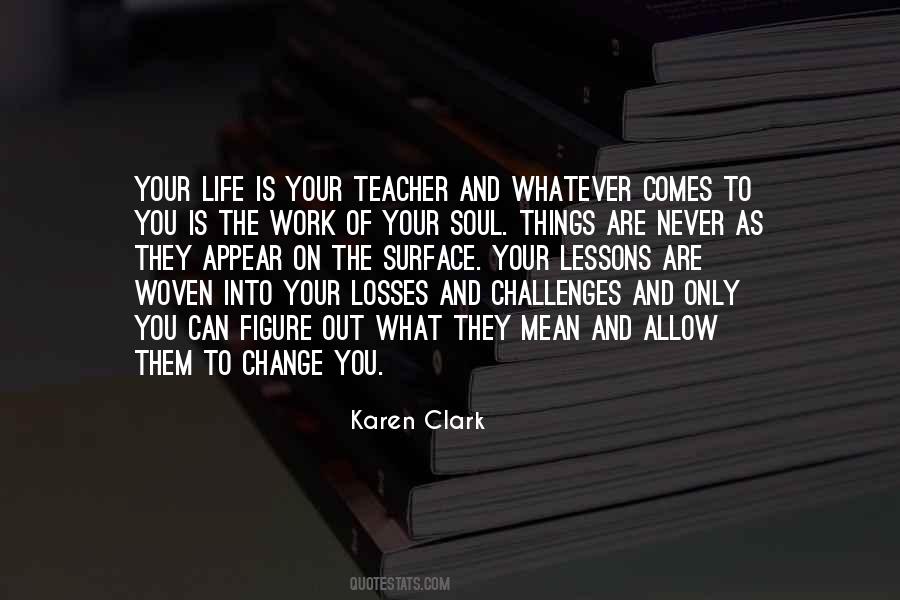 #28. But I will add, there's one thing I will not do, ever: I will never talk to you about things you cannot change. It plants a negativity in the head of a designer or the student, and it's a distraction. - Author: Tim Gunn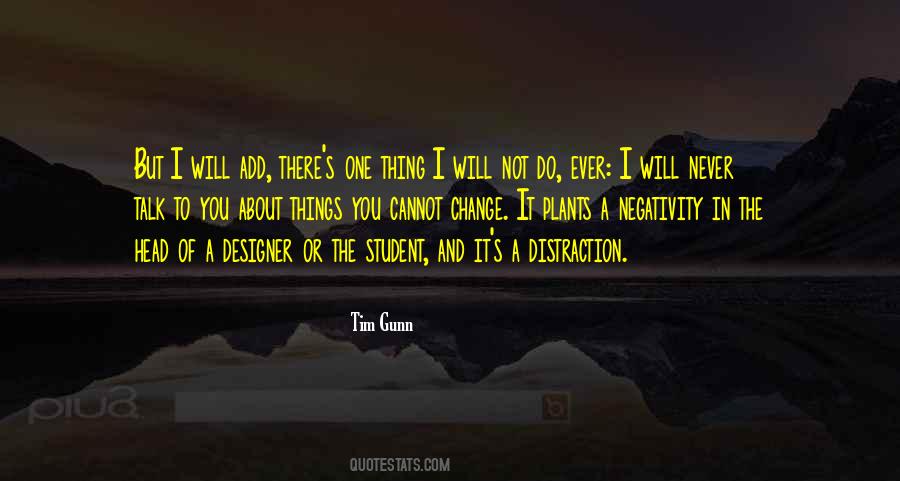 #29. Have patience with all things but first with yourself. Never confuse your mistakes with your value as a human being. You are perfectly valuable, creative, worthwhile person simply because you exist. And no amount of triumphs or tribulations can ever change that. - Author: Saint Frances De Sales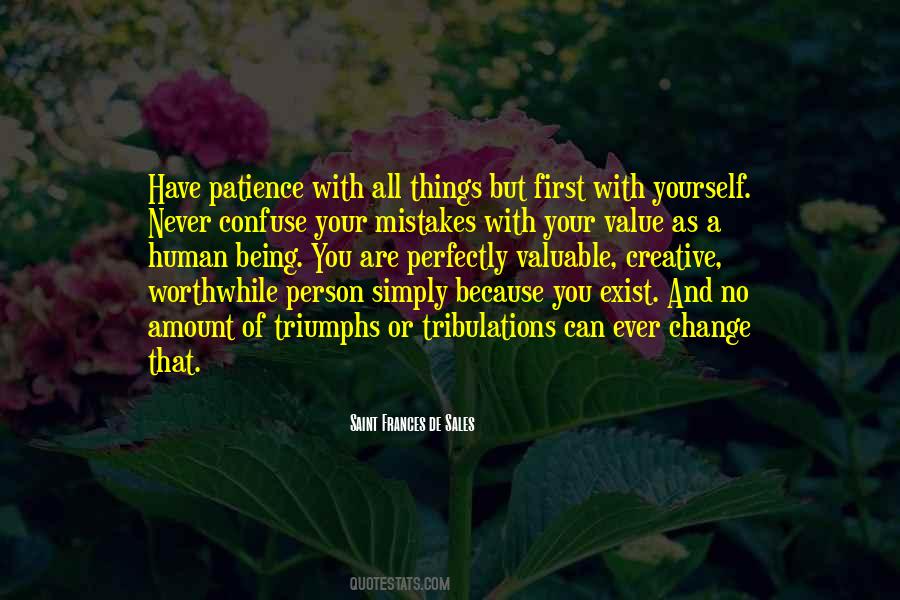 #30. Jon is my darkness. To accept him is to accept that part of myself, and if I do that, I'll never be rid of it. He would accept the things about me that I desperately want to change. I would slip deeper and deeper into the dark recesses of my own mind, and so would Jon. - Author: Sarah M. Cradit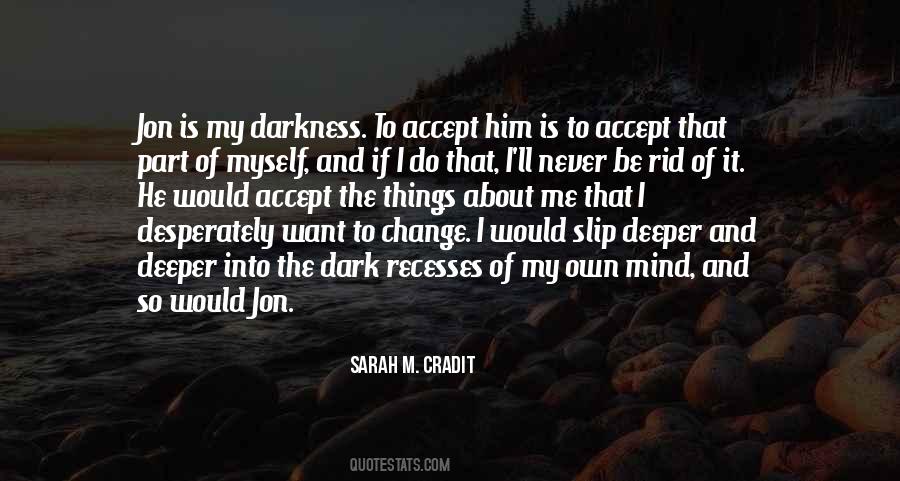 #31. Those of us with too much invested in the way things are will never embrace the revolutionary cause required for wholesale change. - Author: Alan Hirsch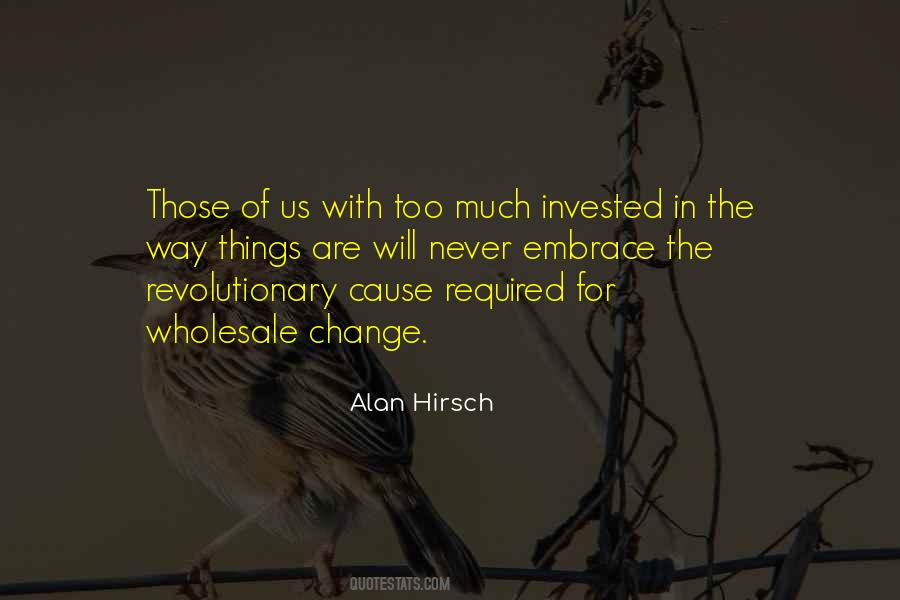 #32. And let me say this as a politician I can promise you this, political leaders will never take risks if the people do not push them to take some risks. You must create the change that you want to see. Ordinary people can accomplish extraordinary things. - Author: Barack Obama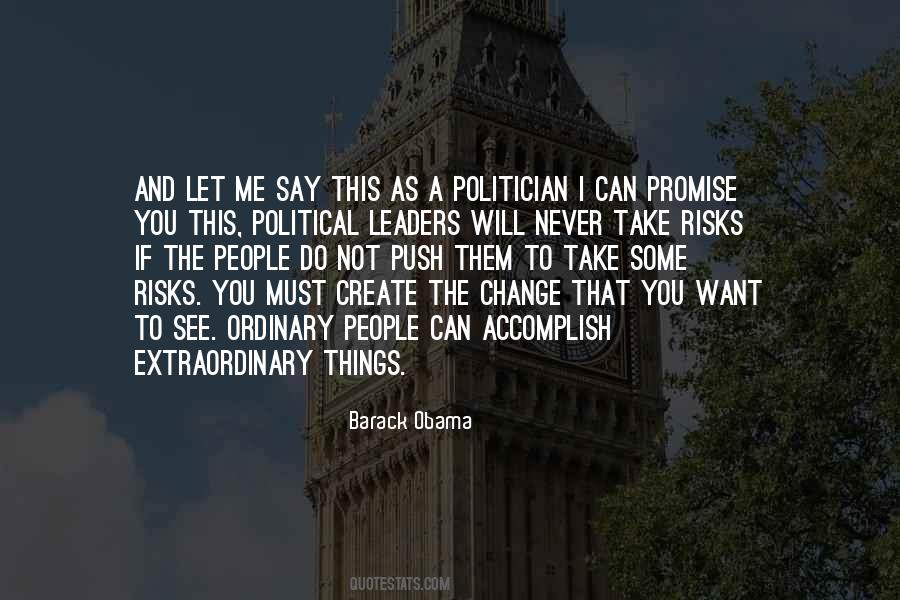 #33. When you do not treat yourself the way you want others to treat you, you can never change the way things are. - Author: Rhonda Byrne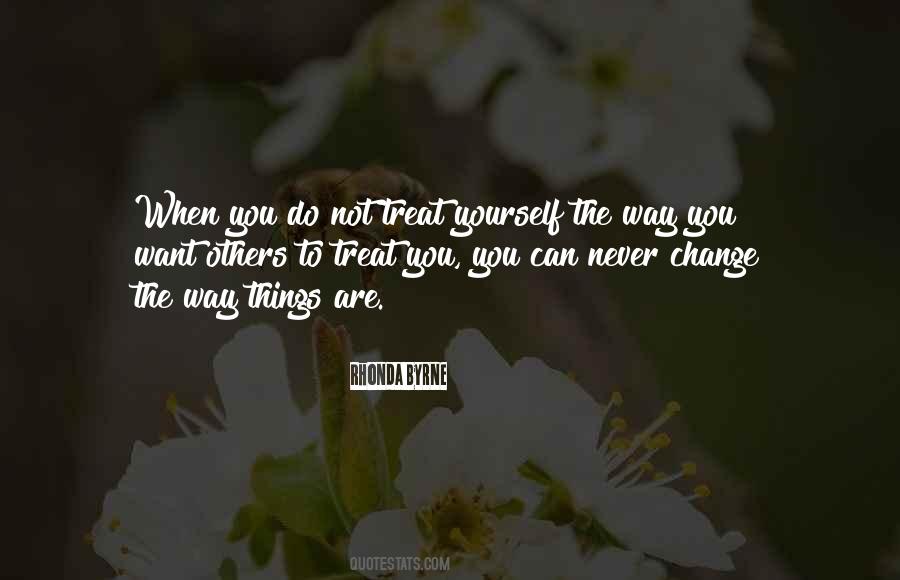 #34. One of my favorite things about what I do for a living is that there is no certainty that, at any hour of any day, I could get a phone call that could change everything. Good or bad. I never know. - Author: Samm Levine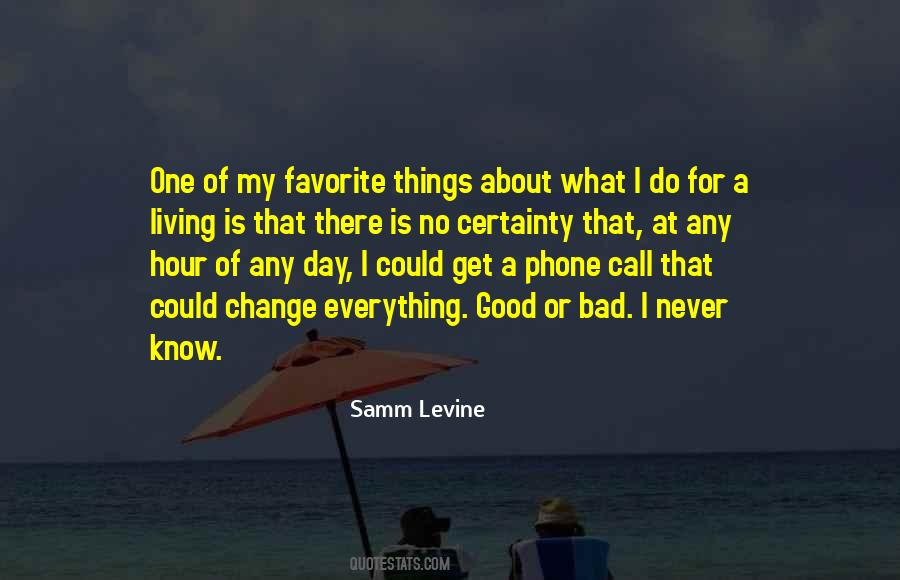 #35. Art is not fashionable. That's why fashion and art are two different things. Fashion can never be art because fashion deals with whim, what is temporary, what changes, what is transient, what is now and not now. Art has to deal with issues that are timeless, that never change. - Author: Duane Michals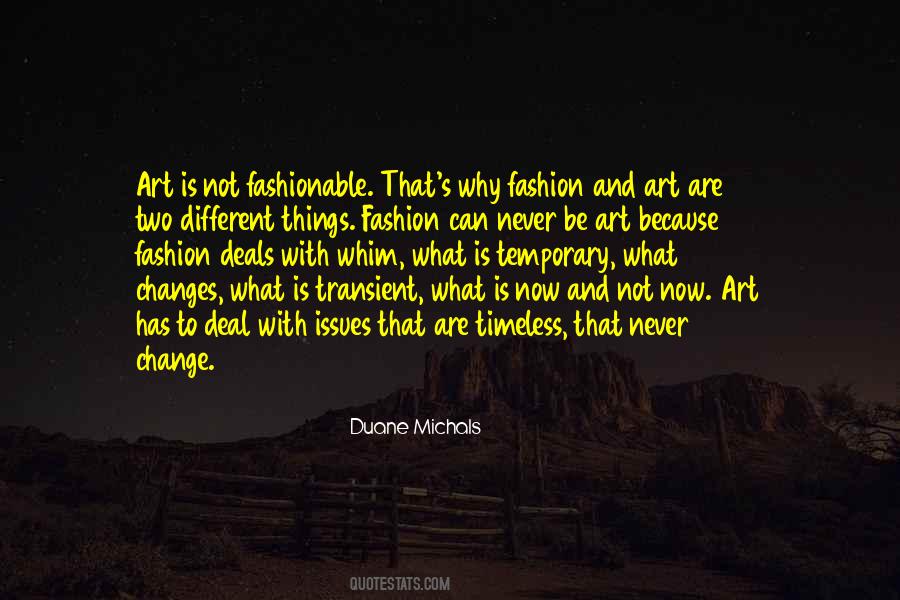 #36. Since the things we do determine the character of life, no blessed person can become unhappy. For he will never do those things which are hateful and petty. - Author: Aristotle.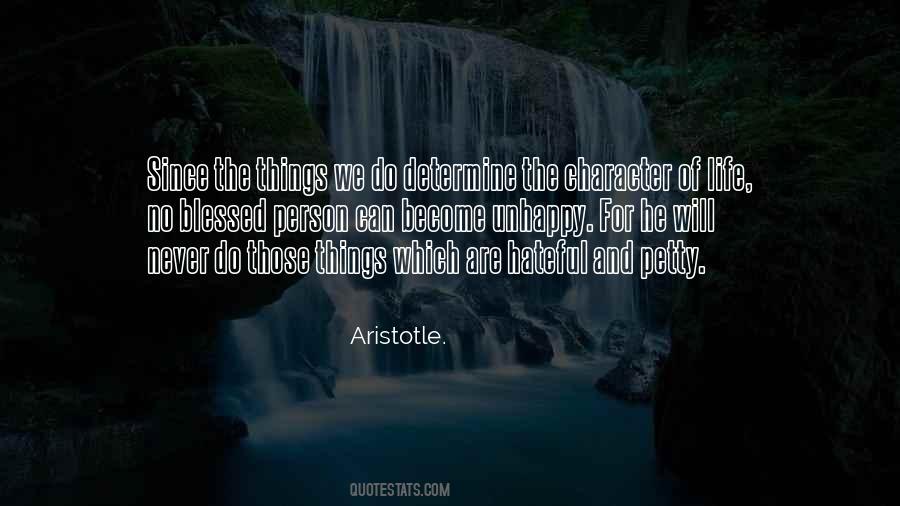 #37. Never worry about things That you are unable to change. Change your own way Of looking at truth, - Author: Sri Chinmoy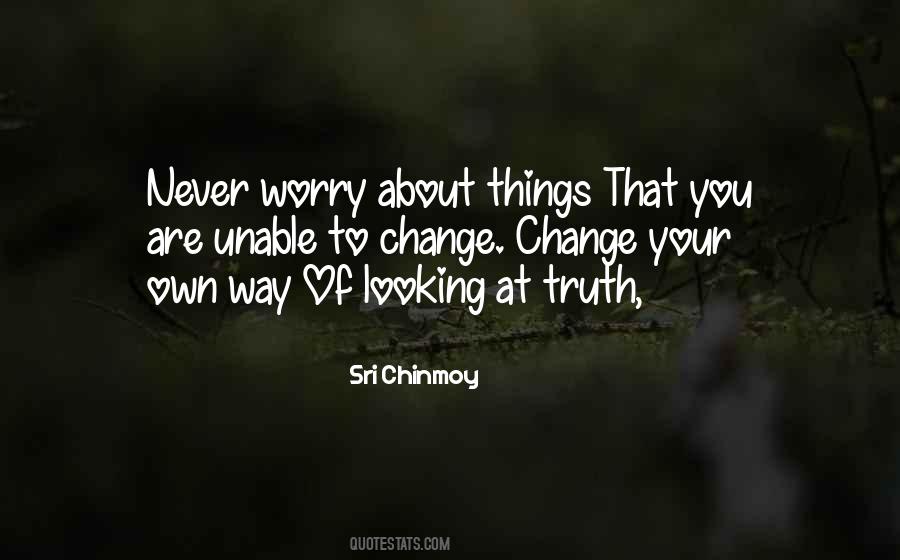 #38. It was the lyrics from PartyNextDoor's song Come and See Me featuring Drake: "I'll admit I'm sorry when I feel I'm truly sorry. Things change, people change, feelings change, too. Never thought the circumstances would've changed you. - Author: Bree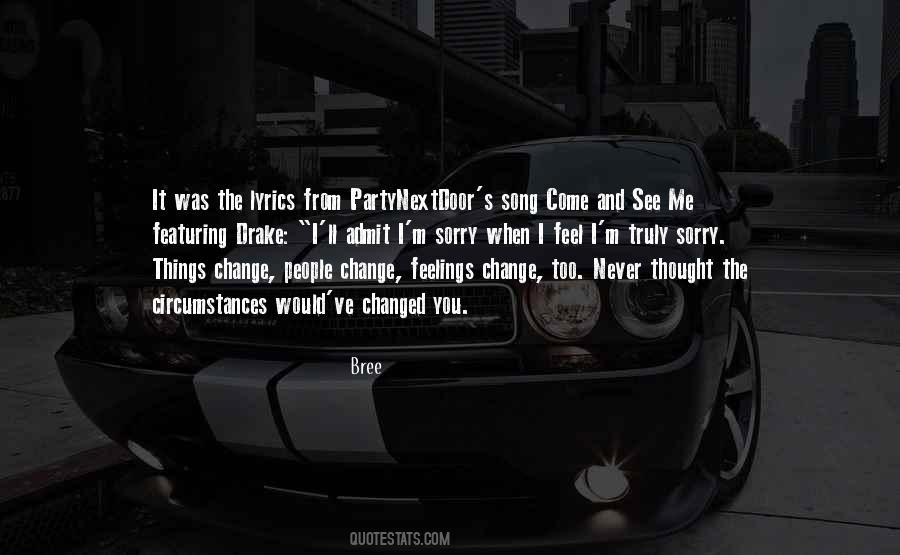 #39. Believe it or not, I write on stage. I can't write anywhere else; I have to be in a moment. I also have to challenge myself to make something funny out of a premise. I never have my own jokes written. I have to change things as I go along, and I have to entertain myself. - Author: J. B. Smoove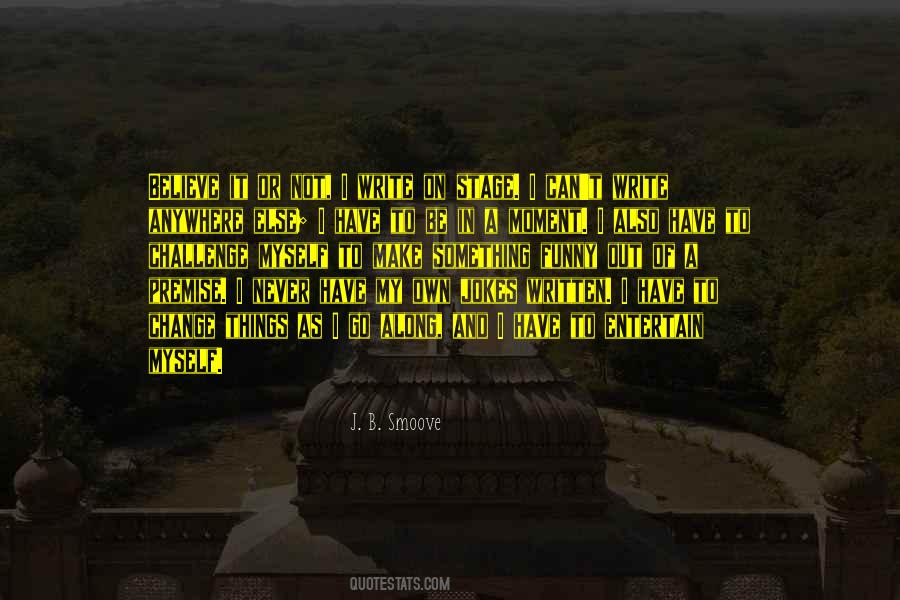 #40. Change the way people think and things will never be the same - Author: Steven Biko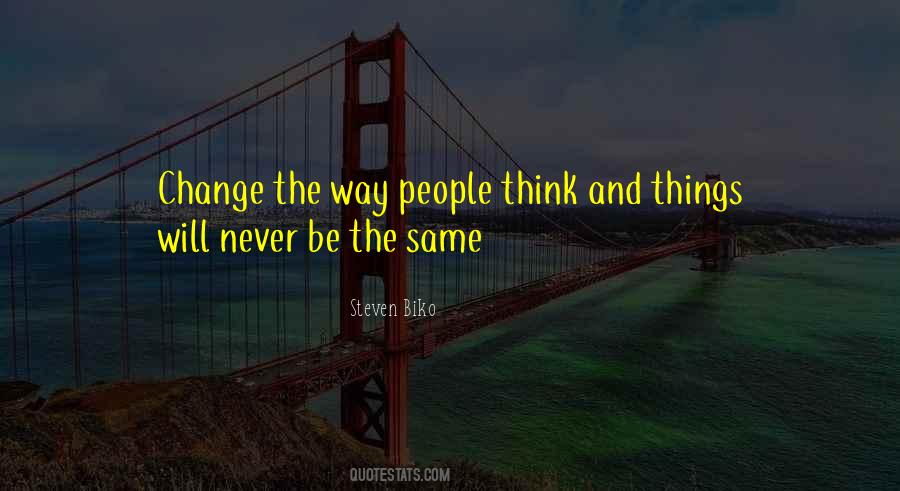 #41. You never know when someone will come into your life and change things, for good or bad, let them in. They don't have to always stay but, human interaction is the pinnacle of life's lessons. - Author: Ron Baratono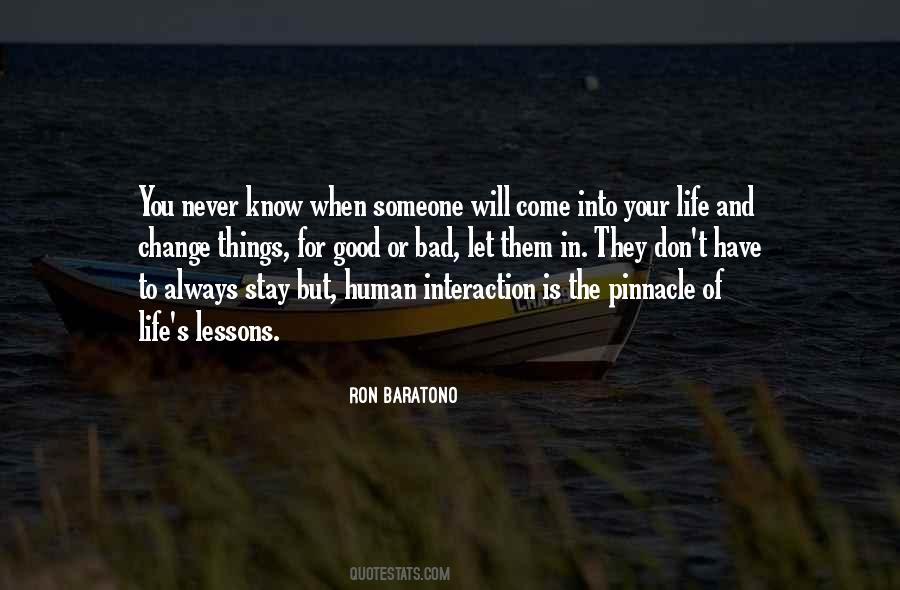 #42. That's what I wanted. Something to enrich me, to make me feel better about the things in my life that I could never change." - Page 56 - Author: Sophie Jordan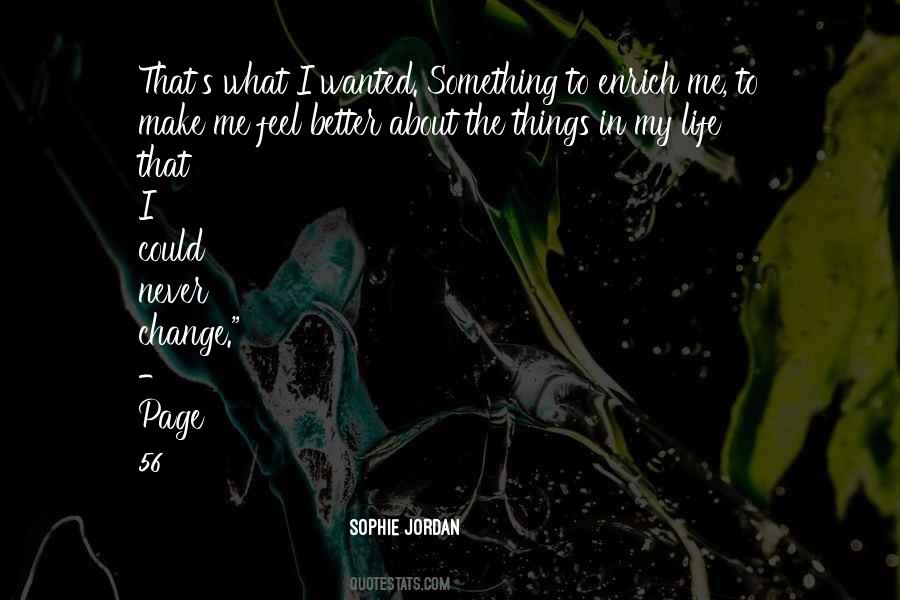 #43. Things can never be as they were. It's astonishing how we comment on change, as if change is something remarkable. On the contrary, not to change is unnatural, against nature. - Author: Shashi Deshpande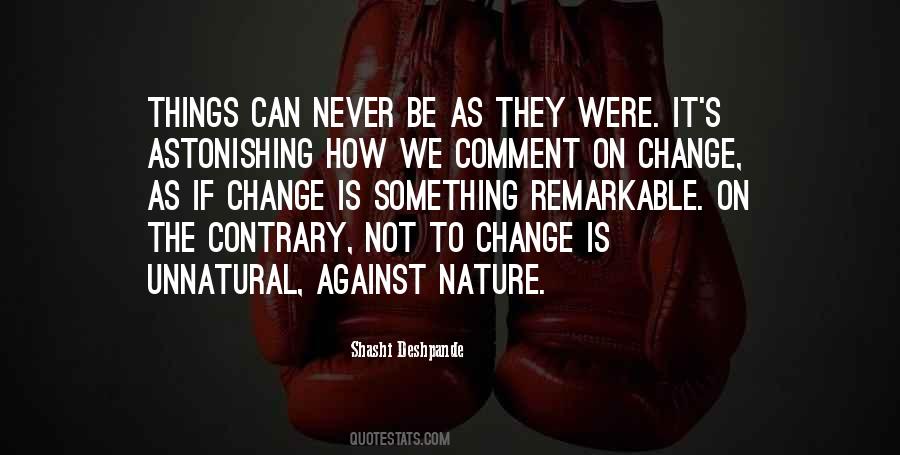 #44. Until you change the way that you look at things,Those things will never change. - Author: Pat Riley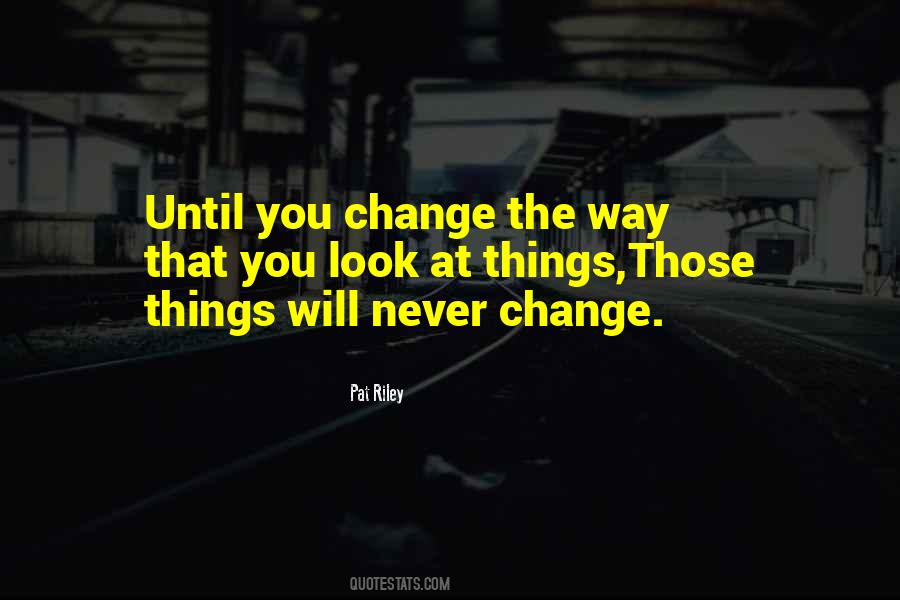 #45. Things change all the time, and they'll probably never be the same again. It's just the natural evolution of the human condition. Things change, and whatever it is is what it is. I mean, you try to start second guessing that, you either get rich or die broke. - Author: Guy Clark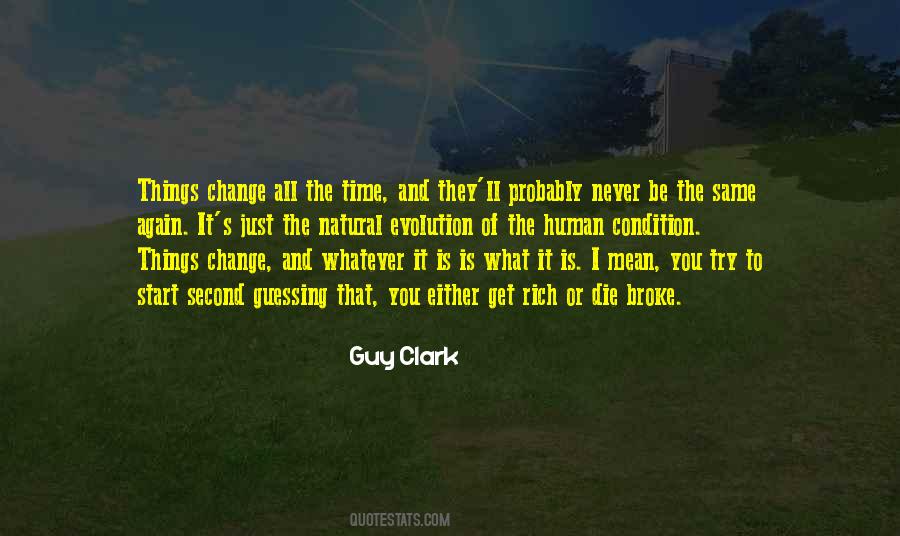 #46. Unless you are prepared to give up something valuable you will never be able to truly change at all, because you'll be forever in the control of things you can't give up. - Author: Andy Law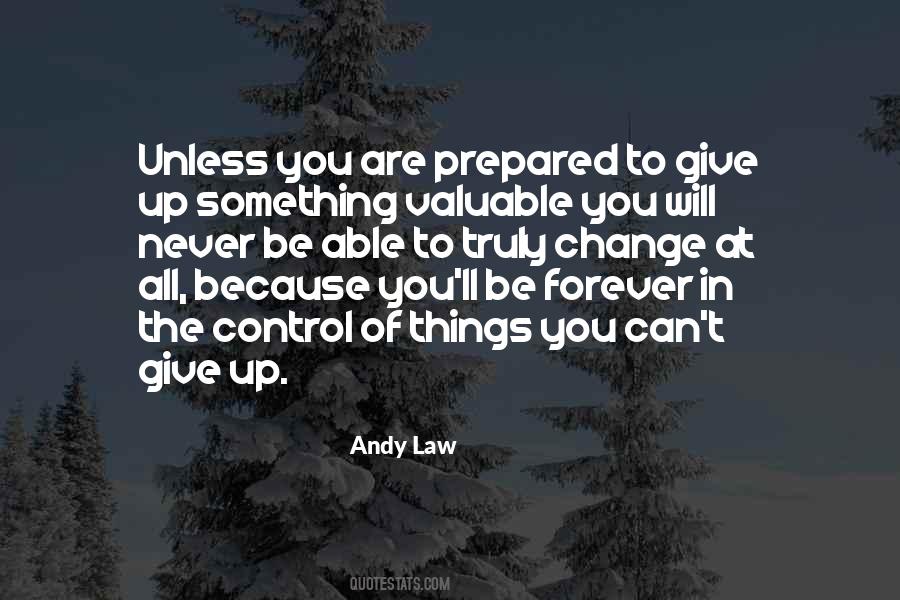 #47. Haw said, "Sometimes, Hem, things change and they are never the same again. This looks like one of those times. That's life! Life moves on. And so should we." Haw - Author: Spencer Johnson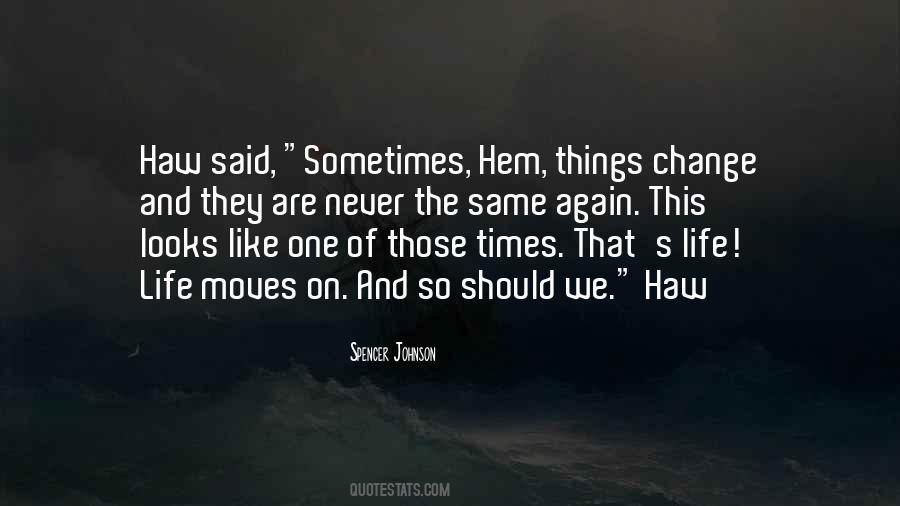 #48. My goal was never to just create a company. A lot of people misinterpret that, as if I don't care about revenue or profit or any of those things. But what not being just a company means to me is not being just that - building something that actually makes a really big change in the world. - Author: Mark Zuckerberg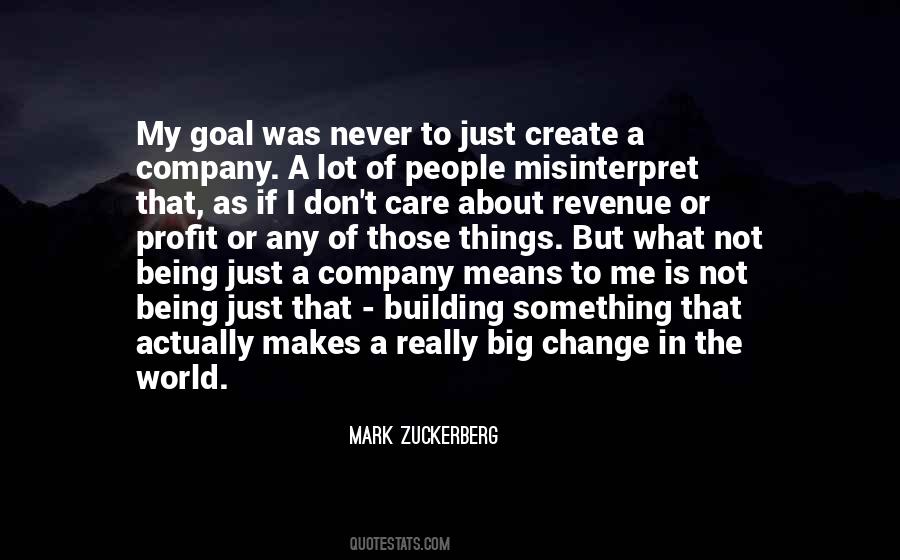 #49. Things ain't never gone change in this town , Aibileen. We living in hell. Our kids is trapped. - Author: Kathryn Stockett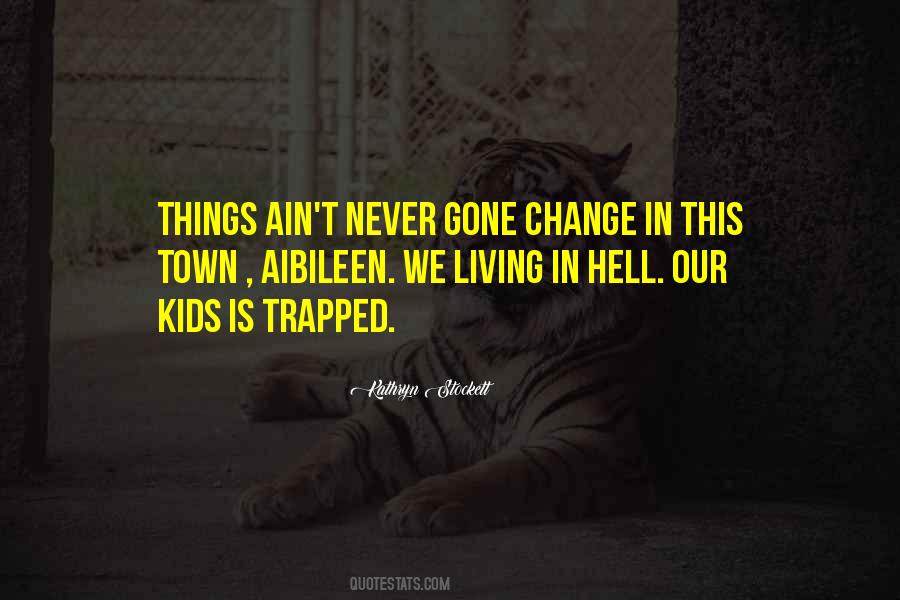 #50. Plato's point is that we can never have true knowledge of anything that is in a constant state of change. We can only have opinions about things that belong to the world of the senses, tangible things. We can only have true knowledge if things that can be understood with our reason. - Author: Jostein Gaarder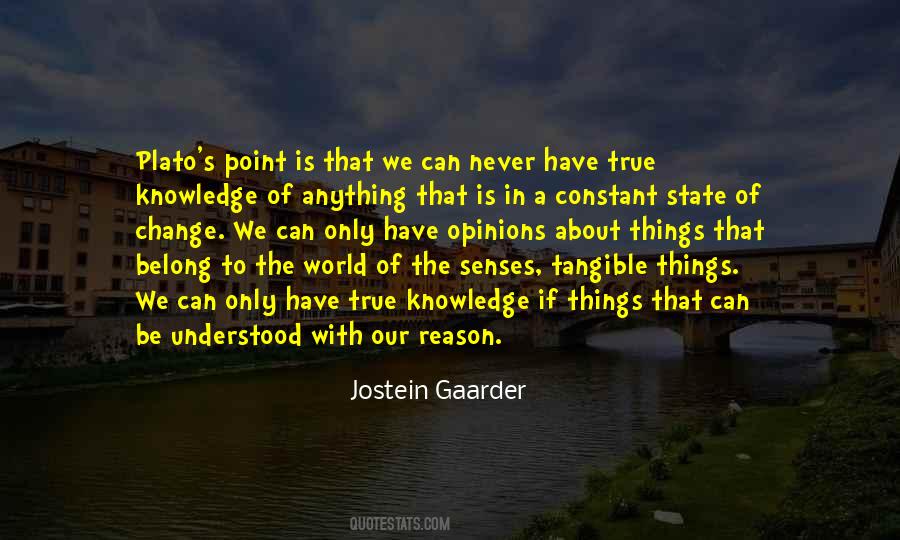 #51. I think people who go out and tell you how much they're gonna change things are the people who end up being just another whatever. I'm never trying to change anything. That's not for me. - Author: Darius Rucker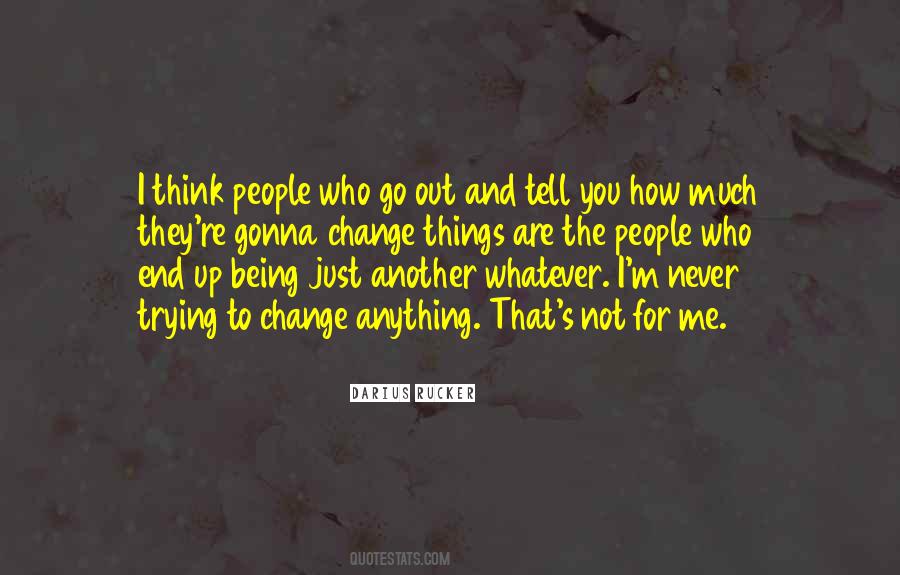 #52. Some things never changed. - Author: Hope Ann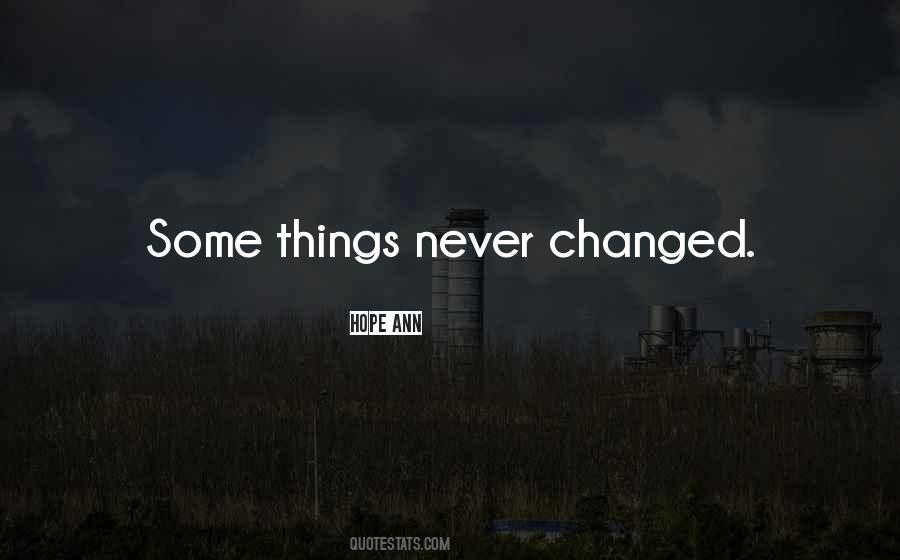 #53. But some things I didn't have to figure out. Some things hadn't changed, and some things never would.
Except me. I had changed, and I would give anything to change back.: - Author: Kami Garcia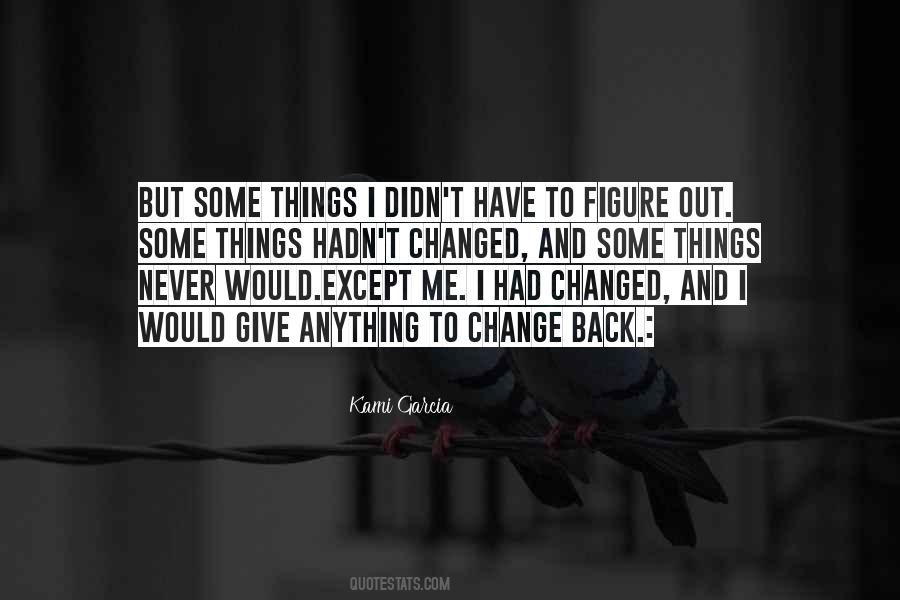 #54. The idea of politics is just so uninteresting to me - I've never paid much attention to it. I don't believe things can really change. It doesn't matter who's president. Nothing really gets resolved. I don't know. I guess that's not the right attitude to take. - Author: Trent Reznor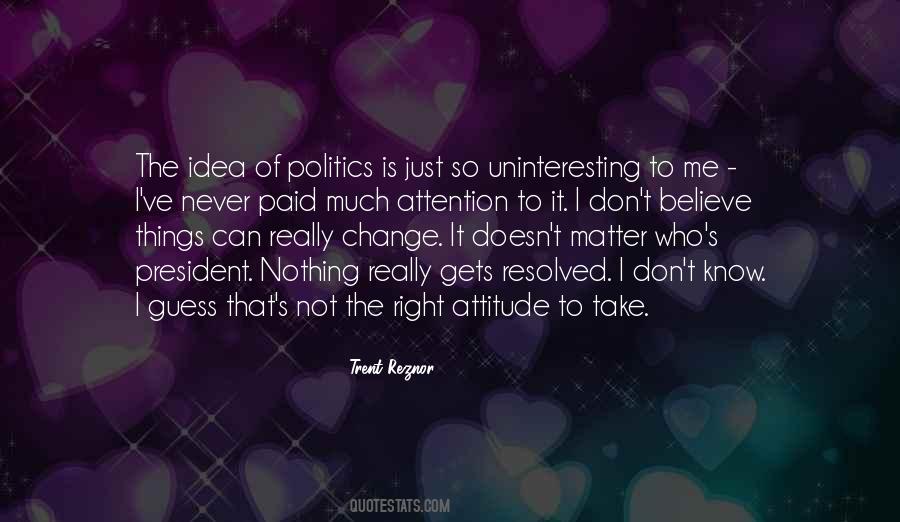 #55. I love you," he says as he stares into my eyes; I fight not to look away. "You may not hear me say this much, and you might even question it because of the way I am, or the things I do, but when you do, think back to this moment and know that it will never change. - Author: Anonymous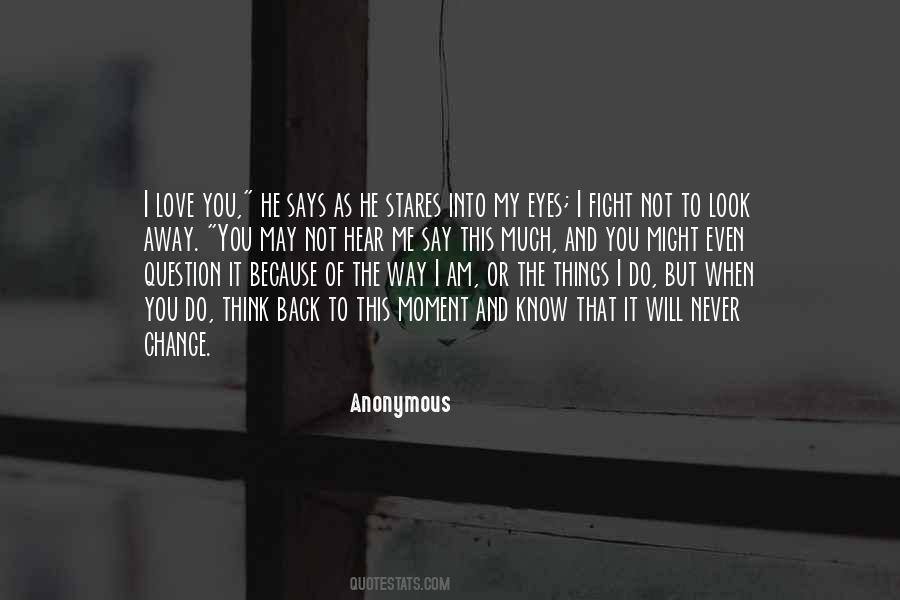 #56. You can't change things. That's life. Poor stays poor, rich says rich, and those two, they will never meet. - Author: Antonia Michaelis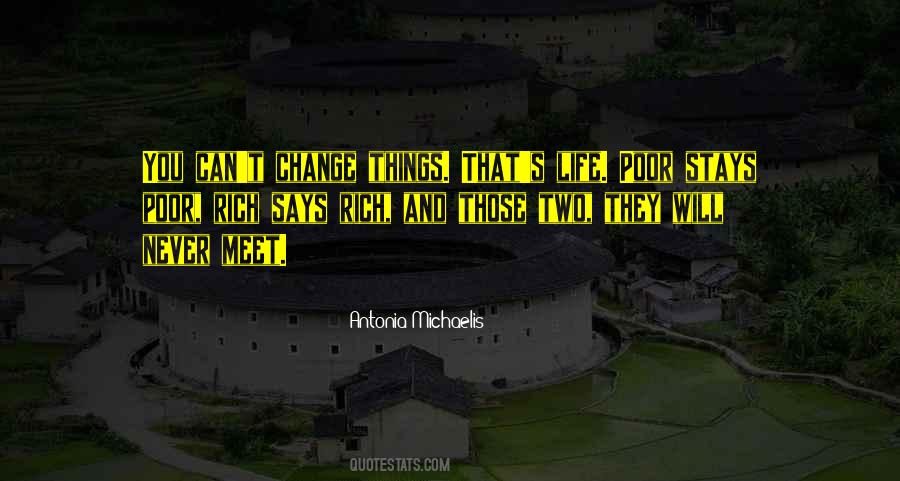 #57. I am near fourteen and have never yet seen a hanging. My life is barren. - Author: Karen Cushman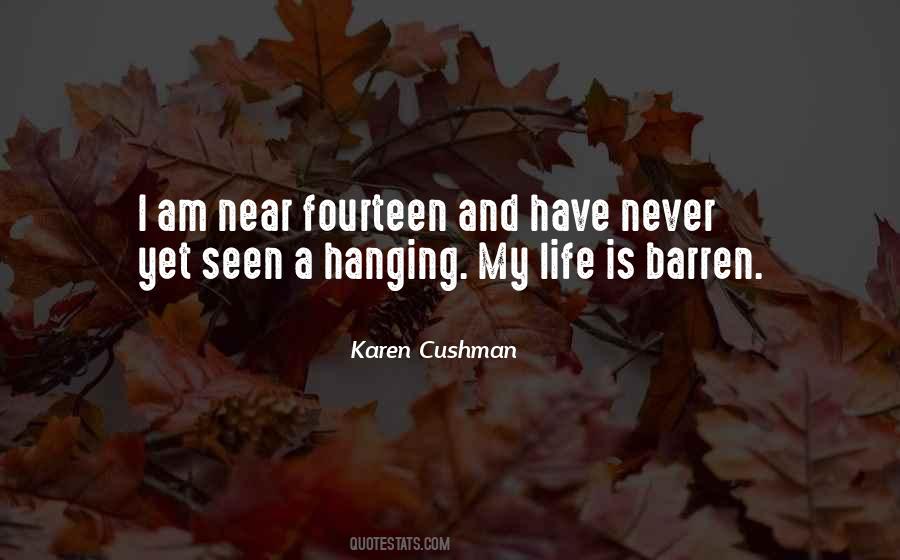 #58. If the theatre has taught me anything, it's that when things change in the body, in the body politic, in the body of the world, in the body of the earth, in the body of the person, there's change. You never go back. - Author: Eve Ensler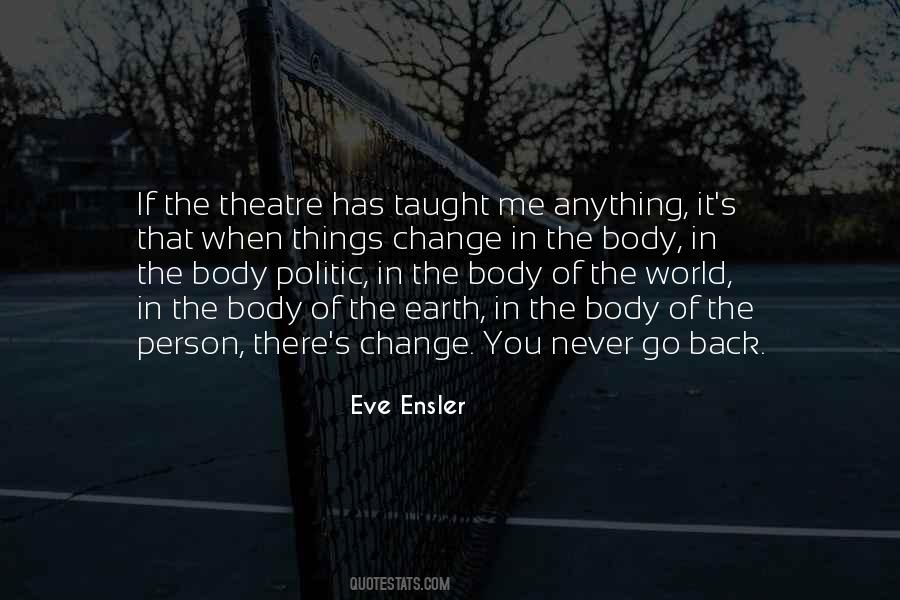 #59. Vivienne Westwood, The Sex Pistols, Seven Stars, coffee with milk and strawberry cake. And Ren flowers.
Nana's favorite things never change.
It was so cool for someone like me who keeps on changing their mind. - Author: Ai Yazawa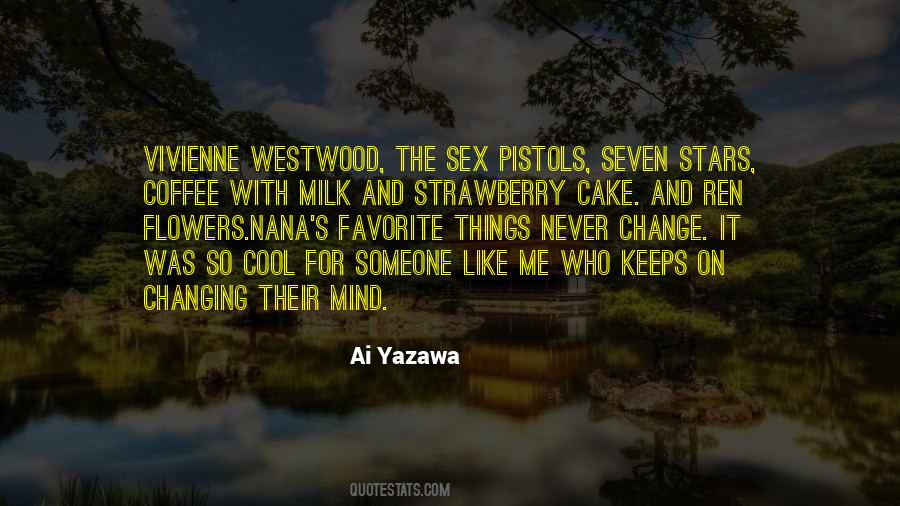 #60. Dagny, we can never lose the things we live for. We may have to change their form at times, if we've made an error, but the purpose remains the same and the forms are ours to make. - Author: Ayn Rand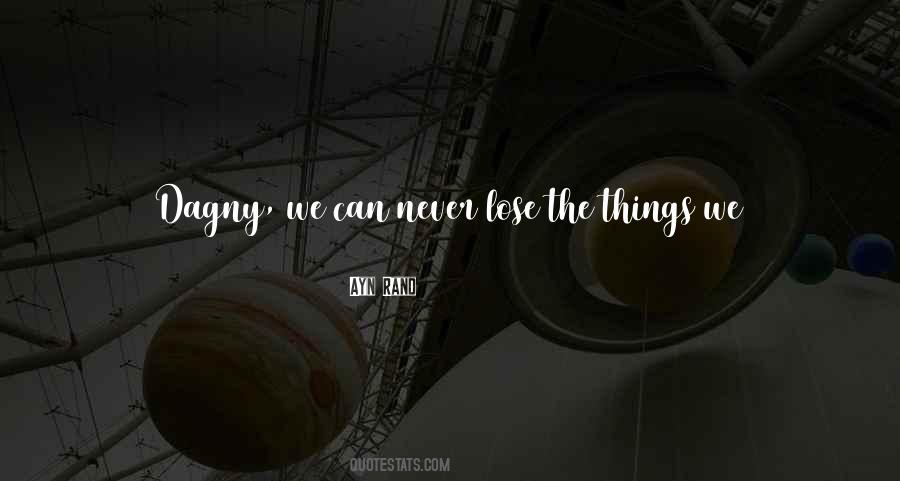 #61. I thought yesterday would never end. There was over me a yearning for sleep in some sort of blind belief that to wake would be to find things changed, and that any change must now be for the better. - Author: Bram Stoker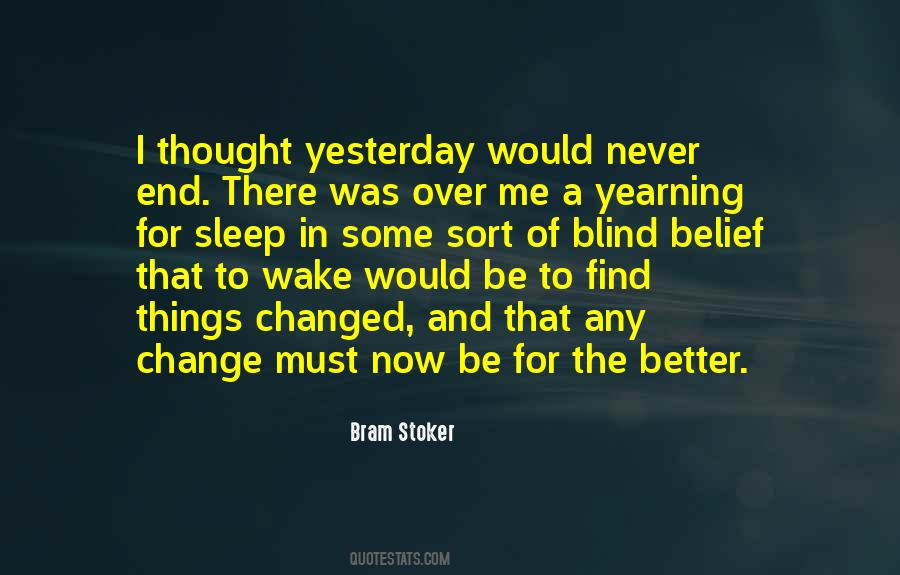 #62. In my many years of working with people, I have never seen things change by chance, you have to work it out yourself ... life really sucks but YOU have what it takes to change it. - Author: Nkem Paul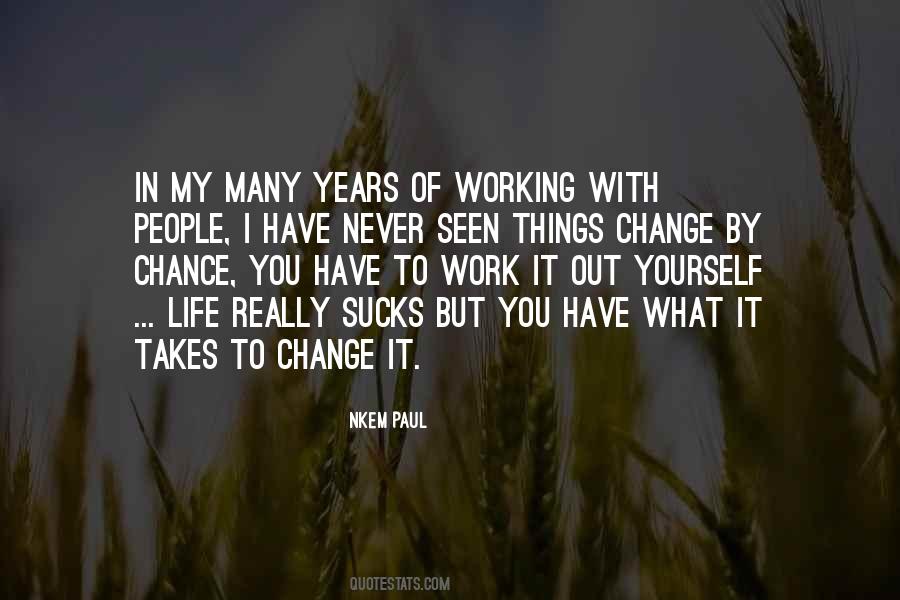 #63. But some things never change. No matter what else happens in the universe - the fall of communism, the destruction of the ozone, the death of punk rock, whatever - you can at least put your faith in one thing: If a man is pretty, available, and breathing, Tommy will stick his dick in him. - Author: Bart Yates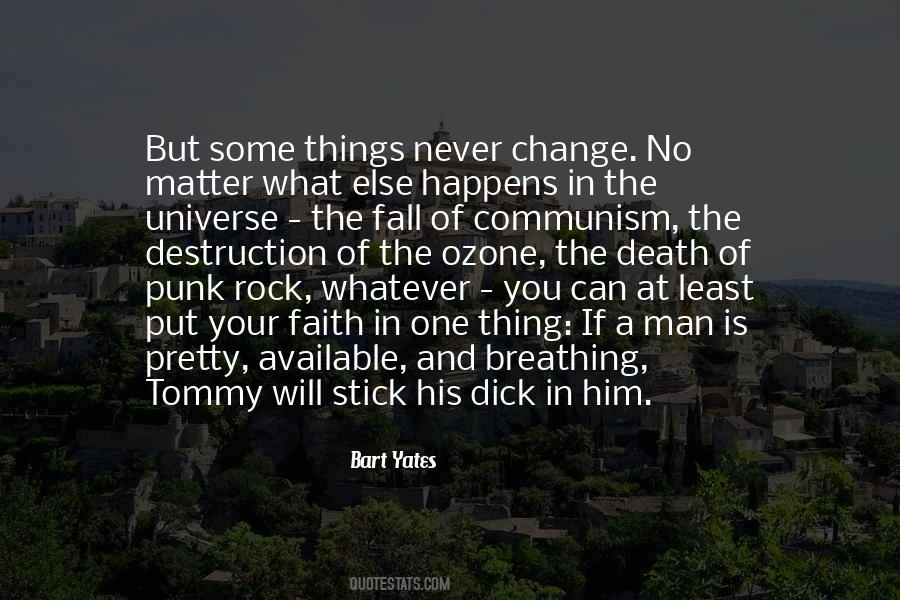 #64. Some Things Never Change. They just Become Different. - Author: Joshua Caleb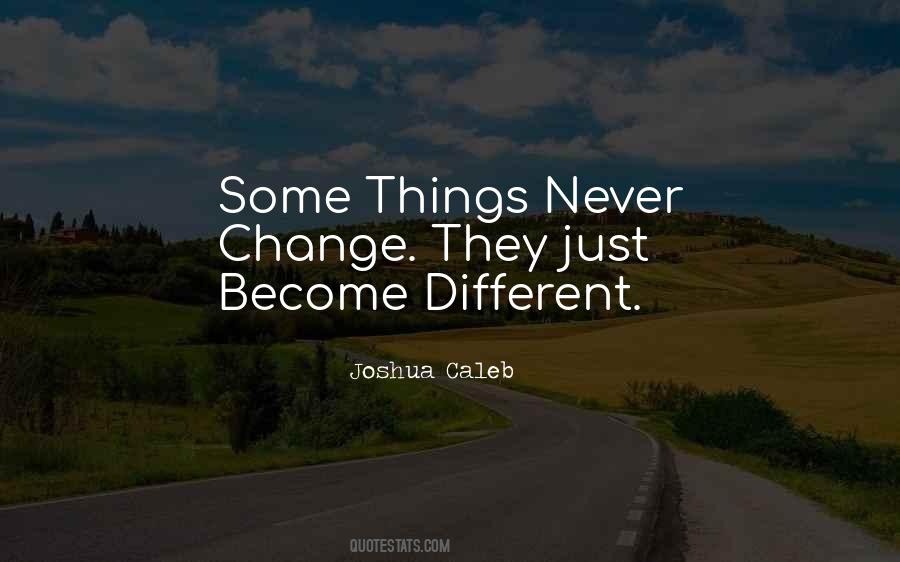 #65. Some things I cannot change, but 'til I try I'll never know. - Author: Stephen Schwartz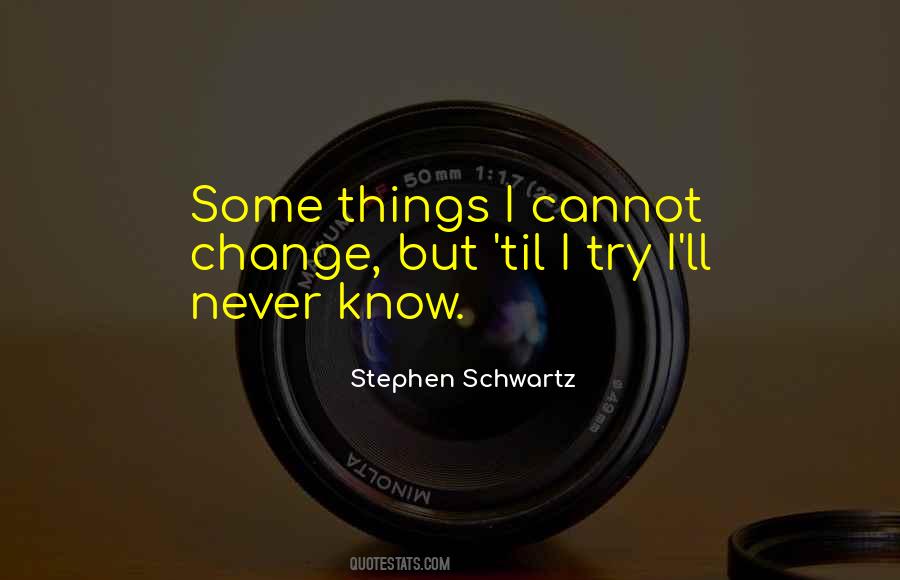 #66. I have several things that I'm working on and trying to put together. It's hard to say exactly what's next. I think I know what it is, but until I'm actually doing it, I never want to say because things change. - Author: David Robert Mitchell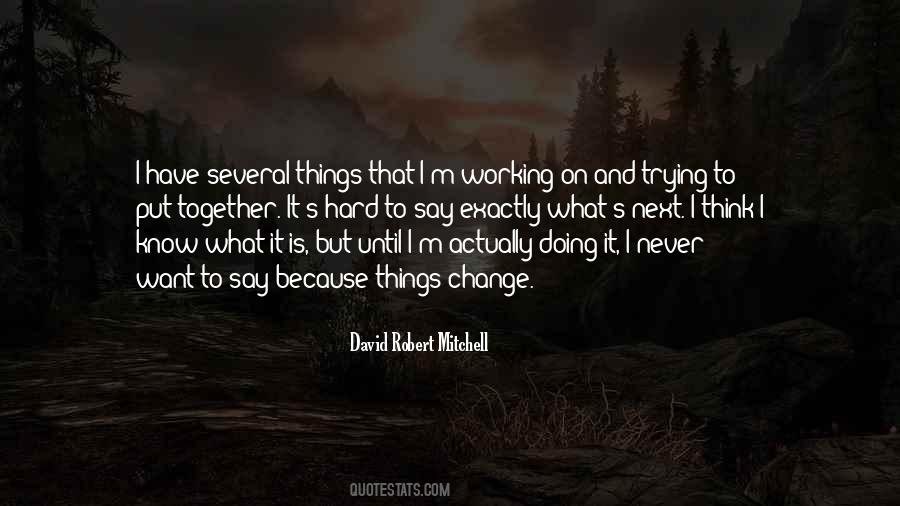 #67. I guess some things never change. - Author: Tim McGraw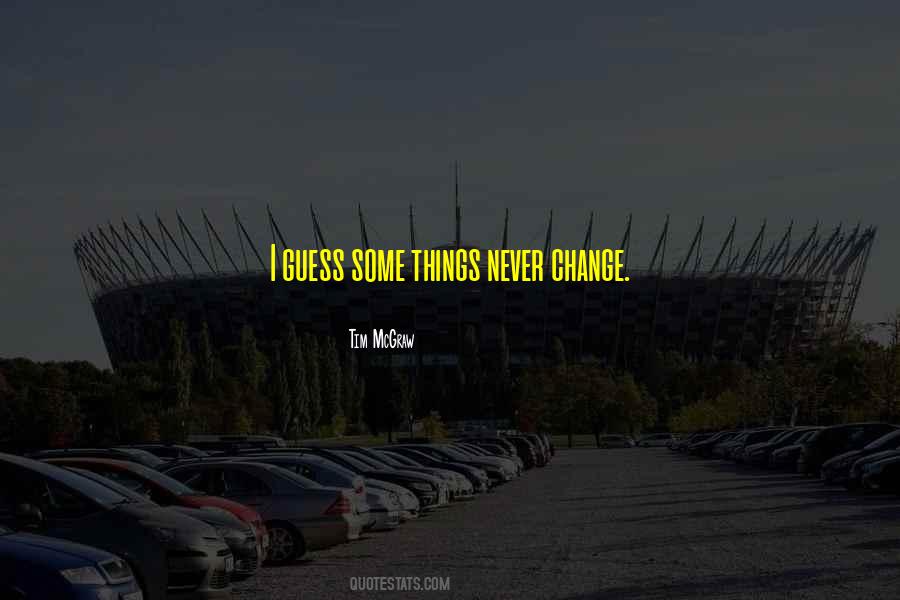 #68. Nothing paralyzes our lives like the attitude that things can never change. We need to remind ourselves that God can change things. Outlook determines outcome. If we see only the problems, we will be defeated; but if we see the possibilities in the problems, we can have victory. - Author: Warren W. Wiersbe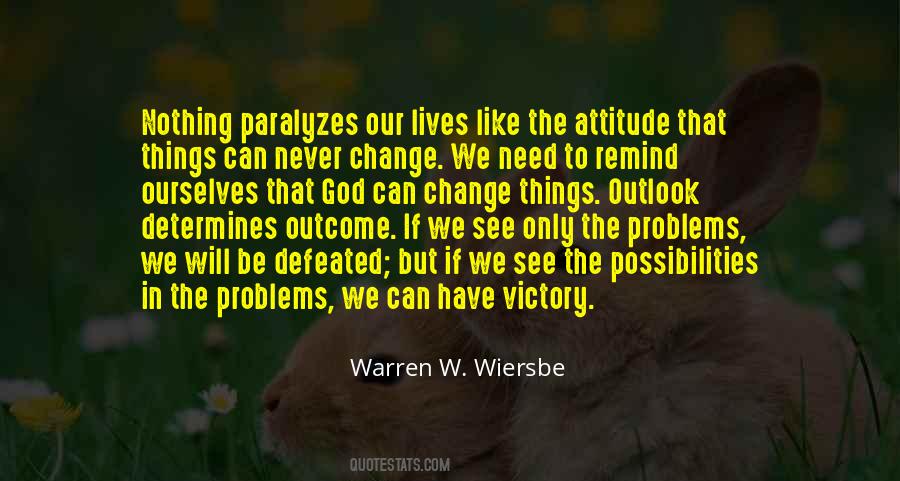 #69. Things come that we never would have predicted for ourselves or even guessed at. And yet they change us for ever. - Author: Paula McLain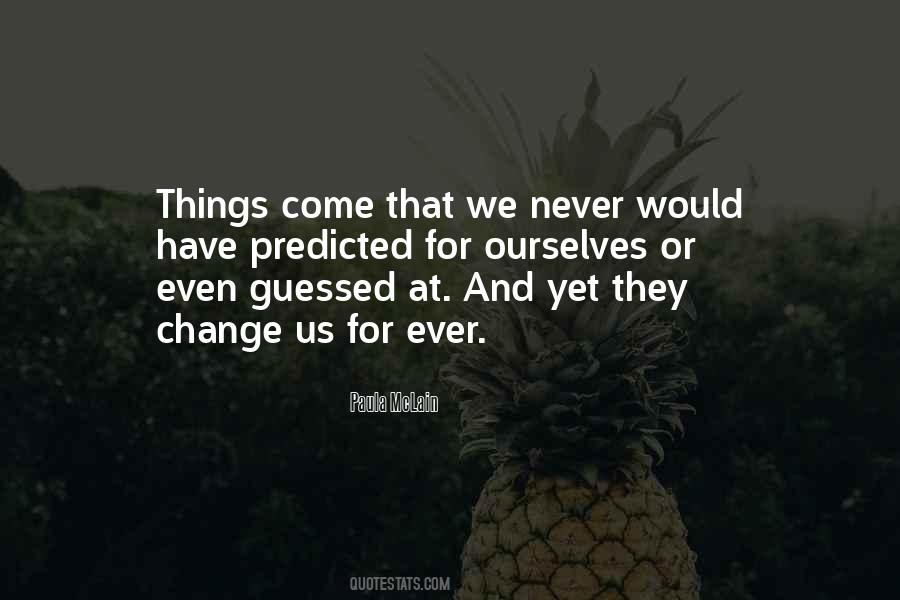 #70. The more that things change, the more we need to depend upon those things that never change. - Author: Daniel Lapin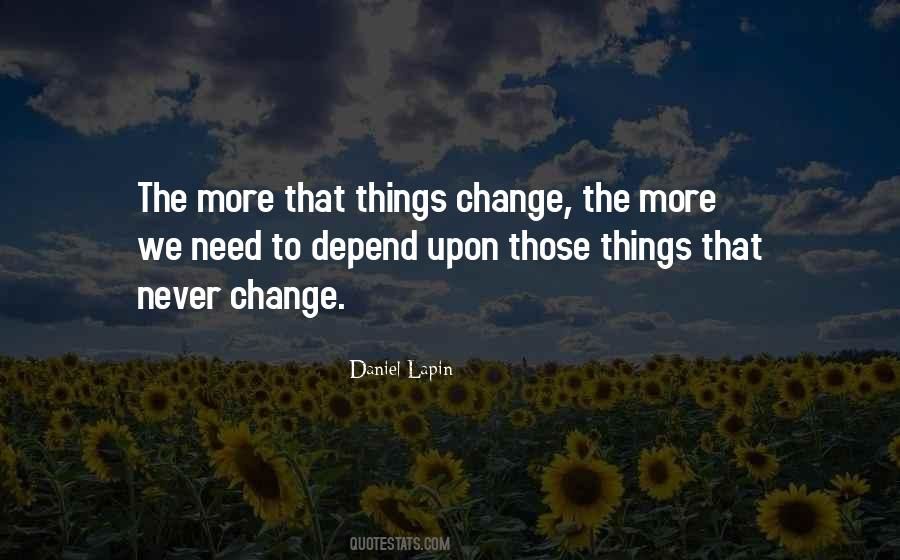 #71. Refuse to be cynical. Refuse to think that things can never change. - Author: John Callaway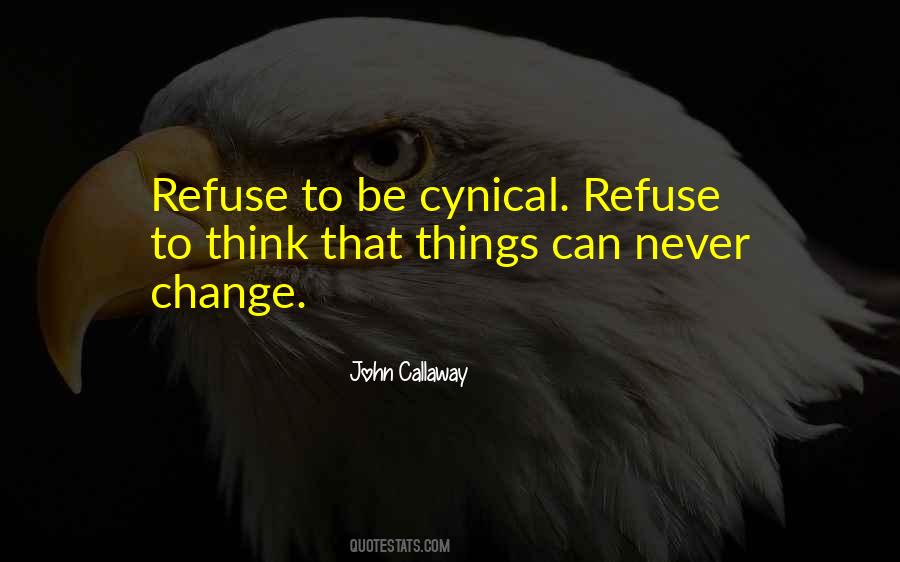 #72. No one is entitled to anything. Everything we get in this life we have worked for. And sometimes we take on baggage we never even signed up for, but that dosen't mean you deserve it. I wake up everyday wishing I could change things, but I can't change past. All I can do is change the future. - Author: E.M. Youman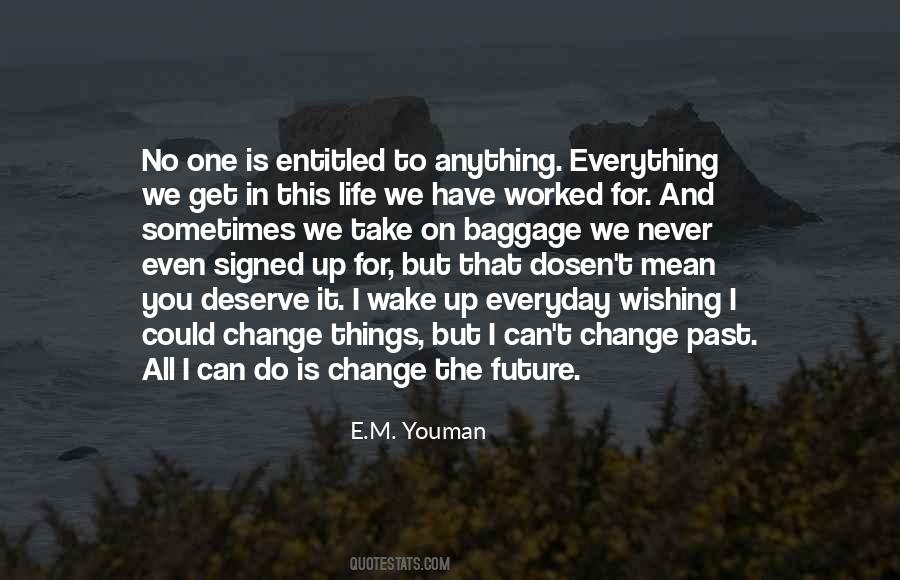 #73. There are lots of gay and lesbian actors who are very secretive about their sexuality. Things leak out, but you never know for sure. Maybe the nineties will change some of that. - Author: Ellen Hart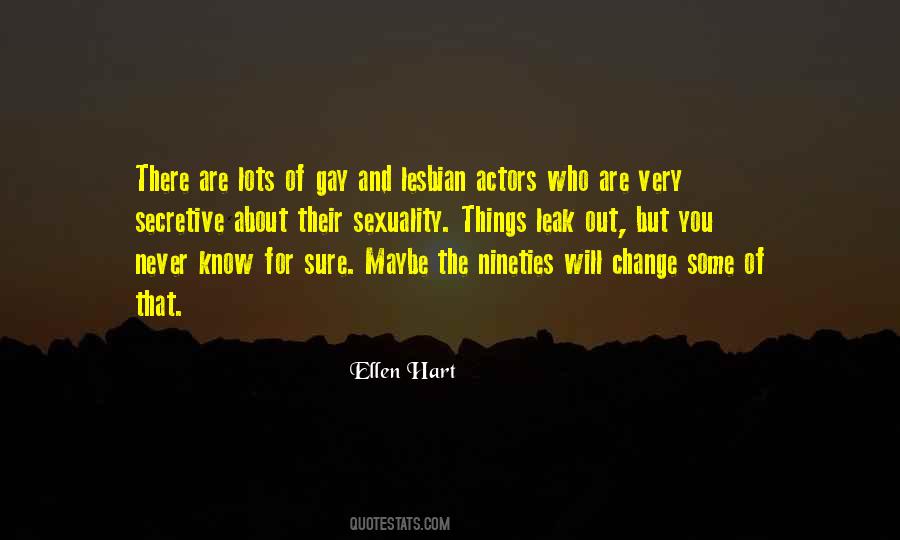 #74. This was never what I wanted for us, but things change. Plans change. People change. I've faced the reality of my destiny and now I need to embrace that. - Author: Siobhan Davis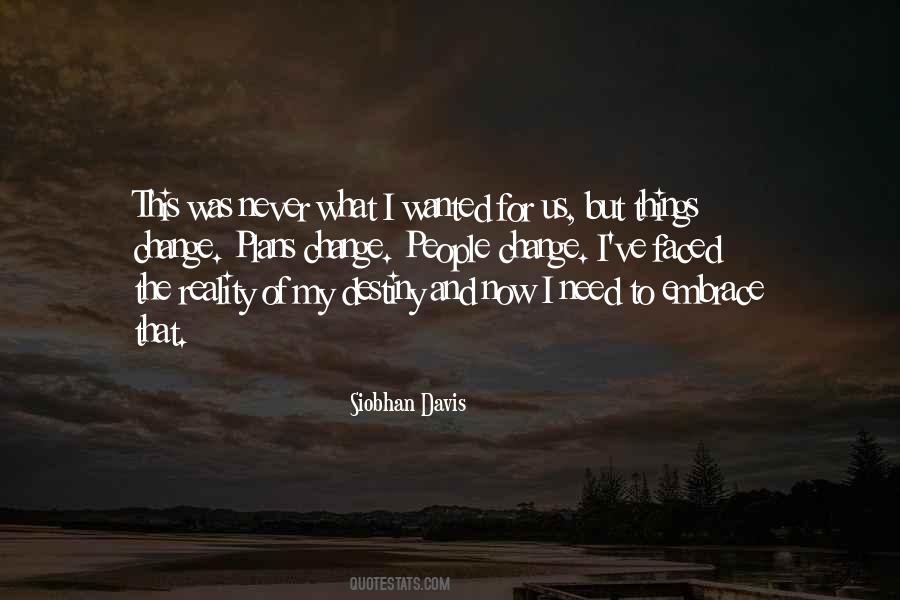 #75. I think if you're an actor, then you can work on stage - but if you've never done it before, you're going to have picked up a few things that you're going to need to change when you're working on stage. - Author: Dominic Monaghan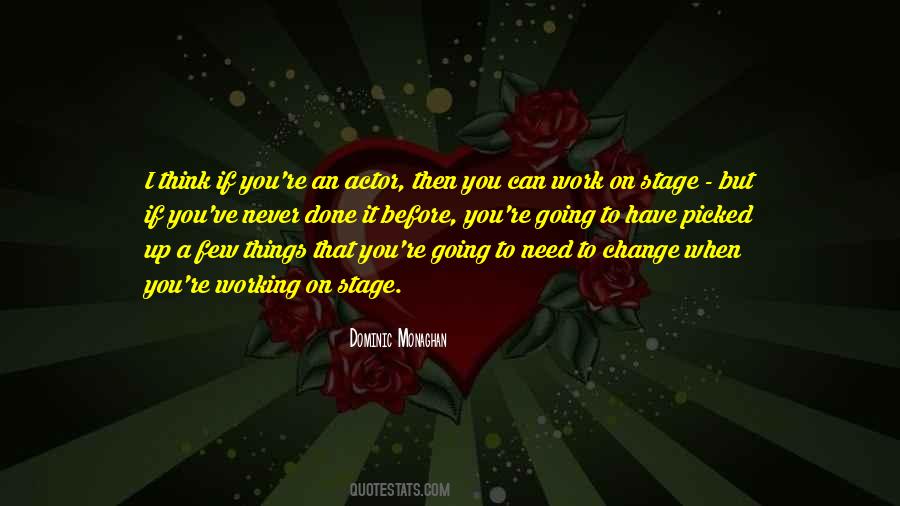 #76. Some things never change, suck up to the government and you get an honour. - Author: George Osborne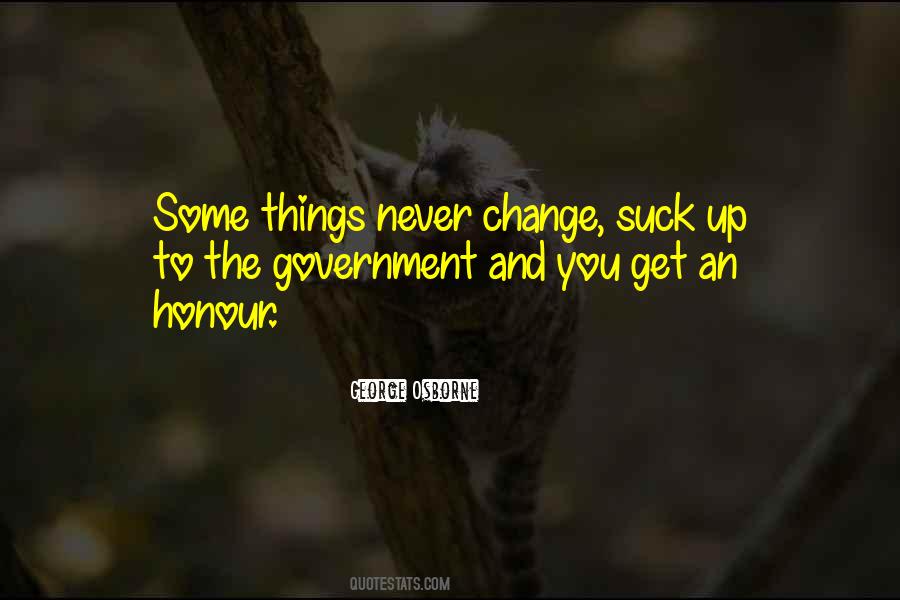 #77. That just the way it is. Some things will never change. That's just the way it is. But don't you believe them. - Author: Malorie Blackman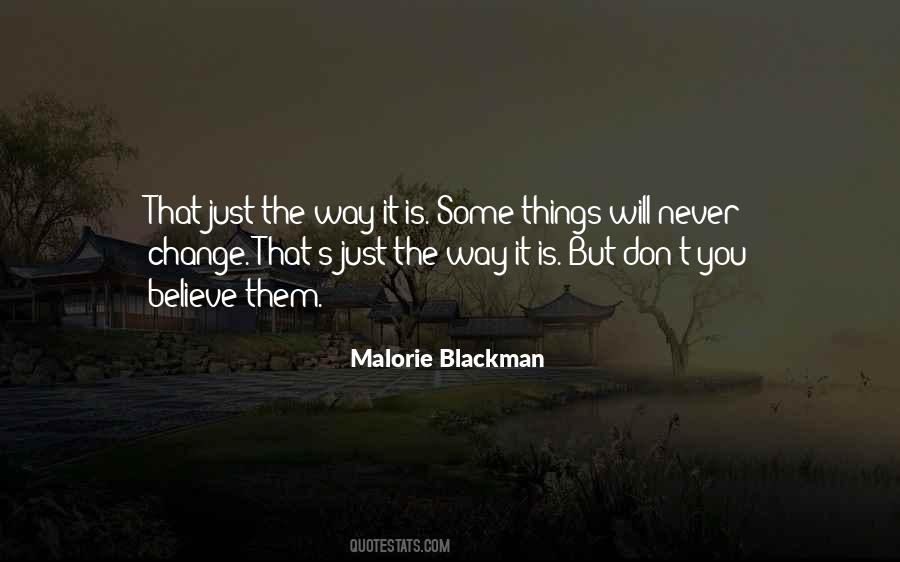 #78. We are seeing some challenges and some changes in American business, American enterprise, but the Malcolm Baldrige National Quality Award is a reminder of things that must never change: the passion for excellence, the drive to innovate, the hard work that goes with any successful enterprise. - Author: George W. Bush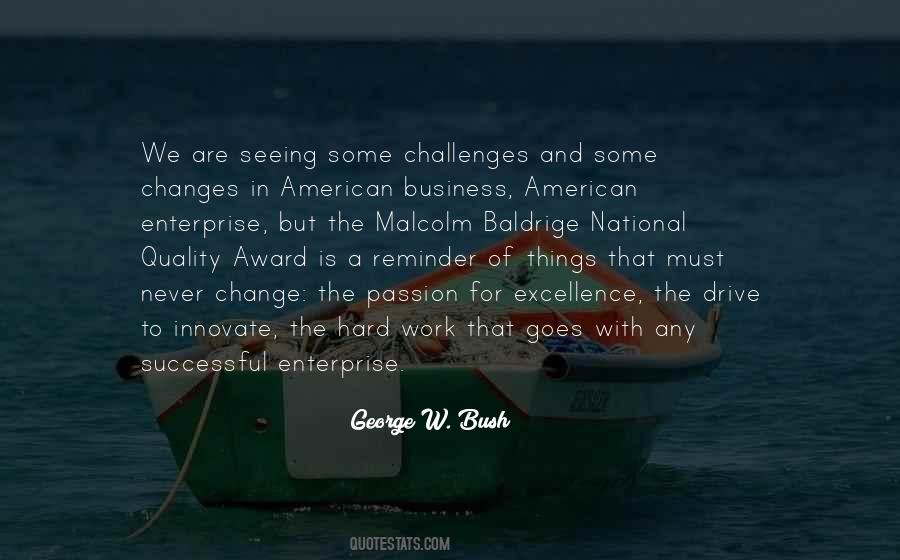 #79. The problem with being happy in the moment is, moments never last. Things change whether you want them to or not, which makes it only smart to keep looking ahead. That's how people avoid getting hit by cars. - Author: Laura Peyton Roberts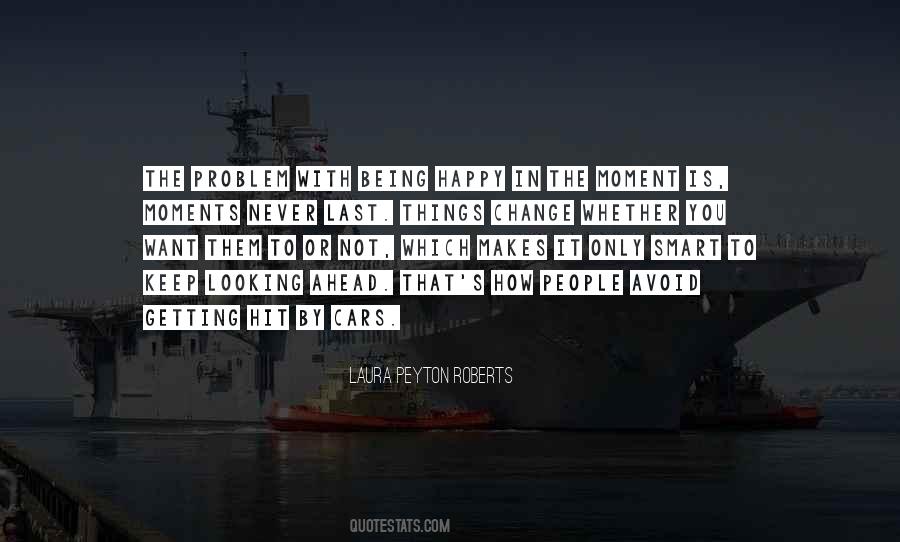 #80. I'm so tired of this shit. Batman never had to get together a petition with 250,000 signatures on it when he wanted to change things. He just went and rammed the Batcar into the Penguin's den. Why can't I ram a Batcar into the Penguin's den? I wish I was Batman. - Author: Caitlin Moran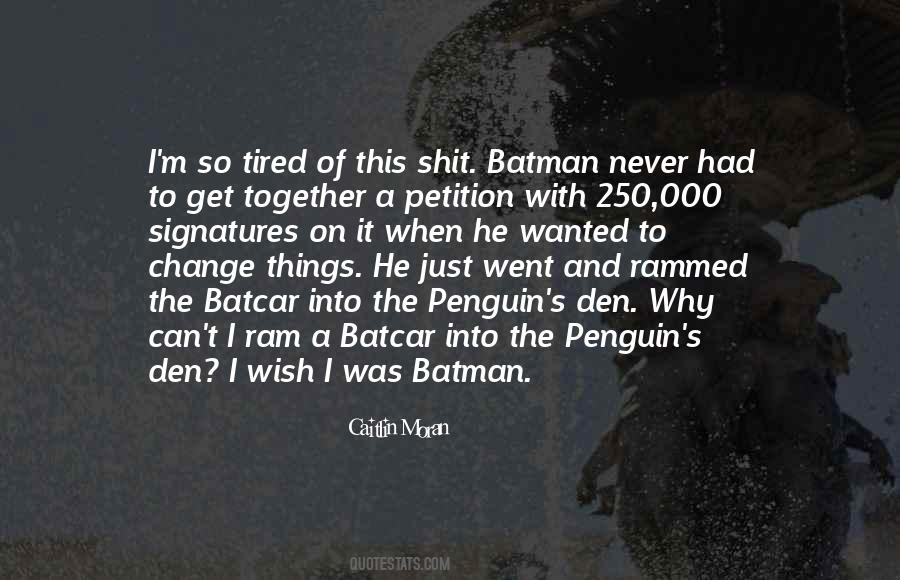 #81. Not merely can people like me write things that would never have been printed before but I think an enormously dramatic change has taken place in public opinion, possibly for the wrong reasons. - Author: Anthony Holden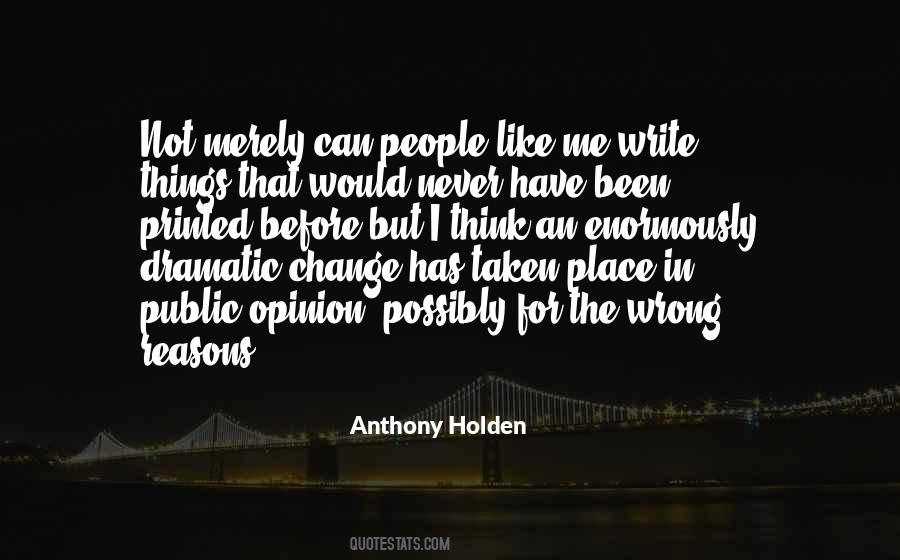 #82. Some things never get that. The replay, and all. So at some point you have to make peace with it as it is, not keep waiting around for a chance to change it. - Author: Sarah Dessen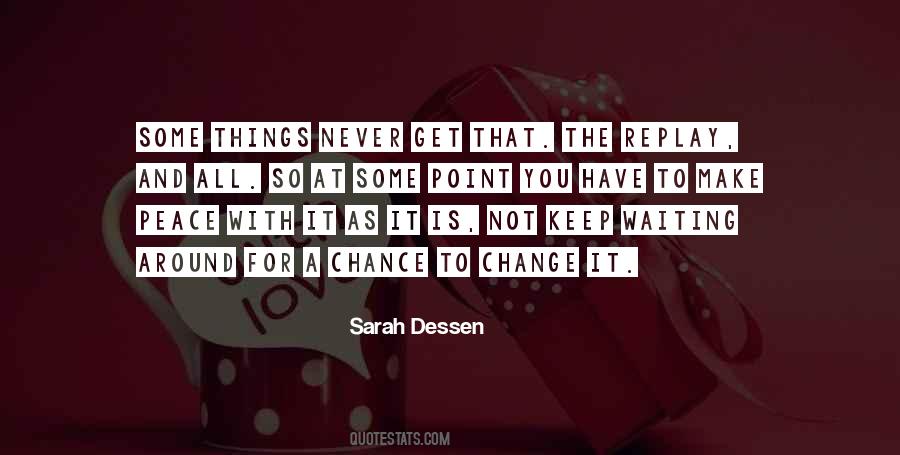 #83. In life, it is never the big battle, the big moment, the big speech, the big election. That does not change things. What changes things is every day, getting up and rendering small acts of service and love beyond that what's expected of you or required of you. - Author: Cory Booker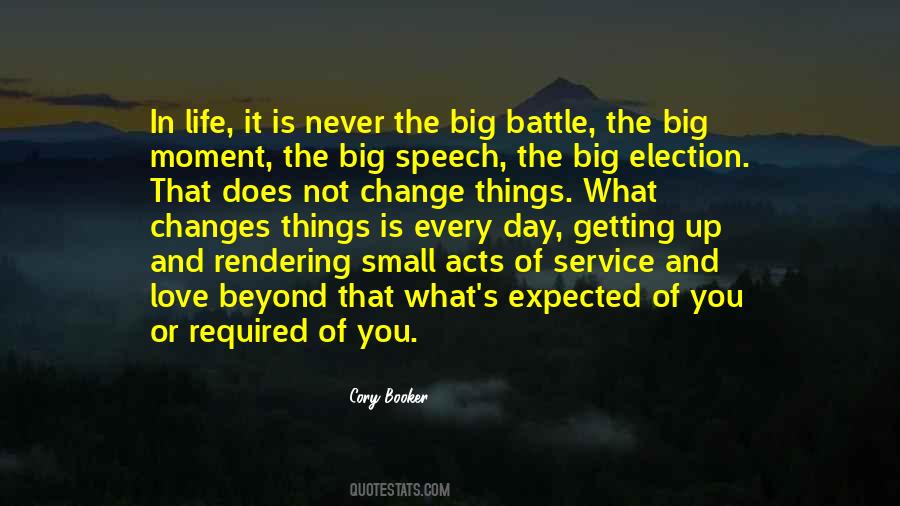 #84. There is only one thing in life which never changes, and it is change. - Author: Confucius
#85. We are born to believe
We can't change a thing
We can't, and we never could.
But before you believe
The things you believe
You must understand
To be understood. - Author: John C. O'Callaghan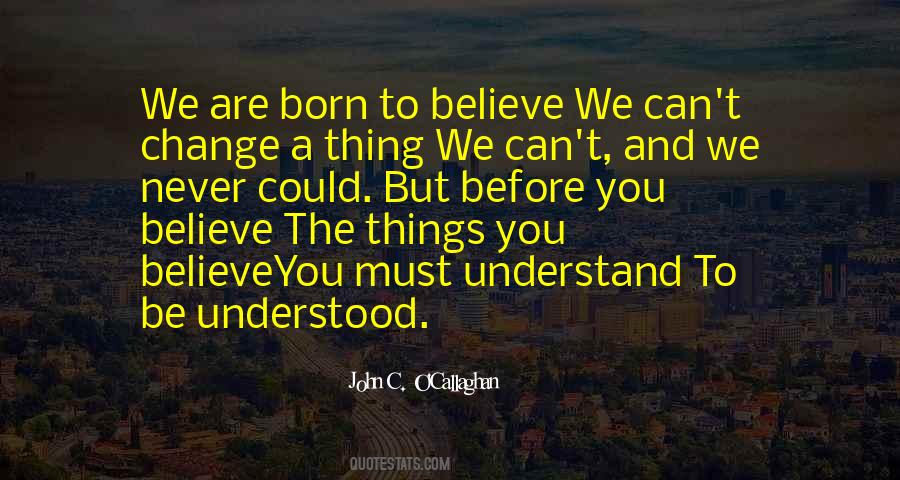 #86. I'd like to get the sex thing over with, but I realized I'm not done with it.You should never will a change in your work-you have to work an idea to death. I often find that the best things happen when you're near the end. - Author: John Currin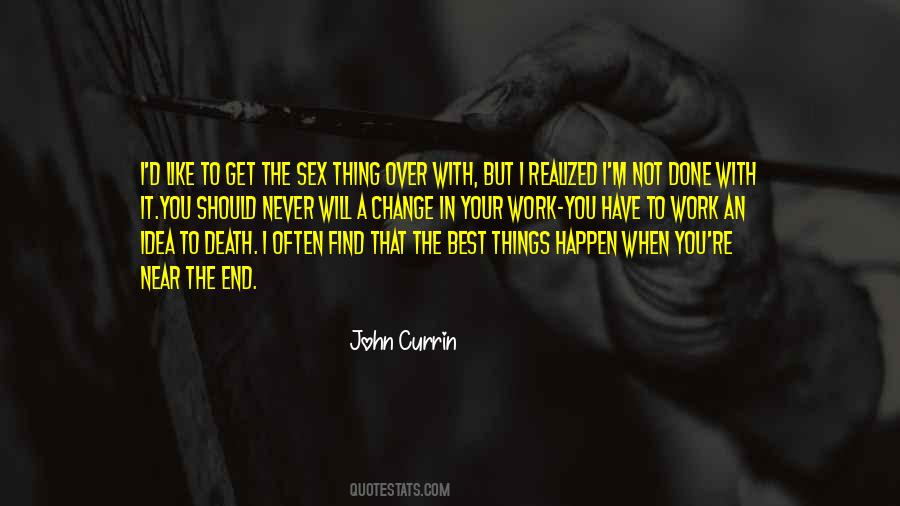 #87. Coming from bad results, you have more tension and you get more into the game, maybe. You never know which is best. I prefer to come from good results. You have more confidence and you believe you are doing things well. But in football everything can change very quickly. - Author: Tito Vilanova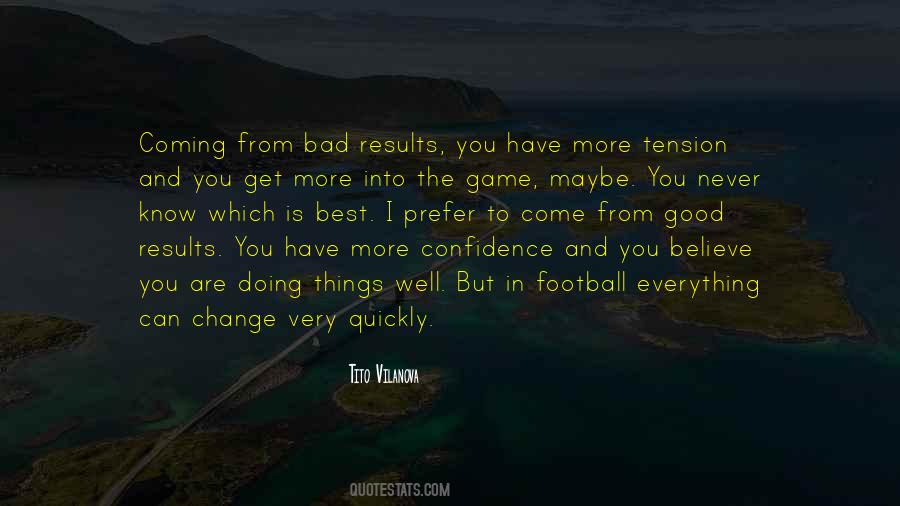 #88. Everything changes, money rules. In my era, if you were successful, you were going to make money, but you never worried about it. - Author: Ron Santo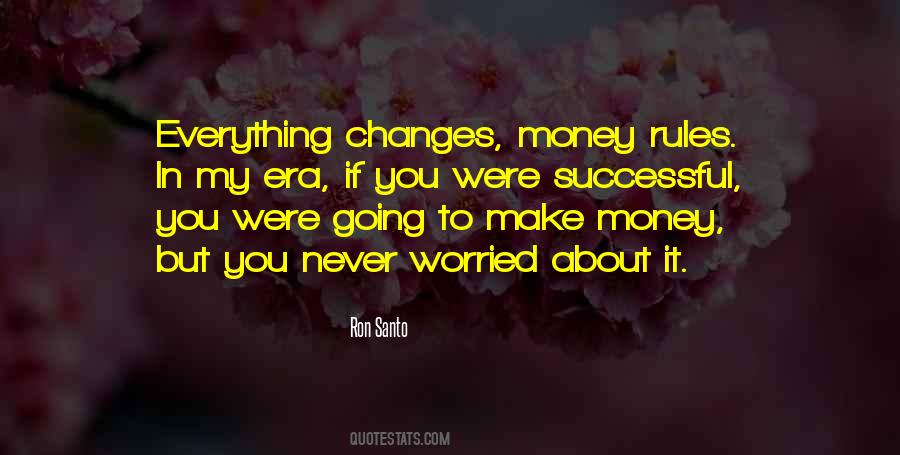 #89. It never occurred to me that I couldn't change things that needed changing or couldn't have what I wanted if I worked hard enough and was good enough. - Author: Kathleen Turner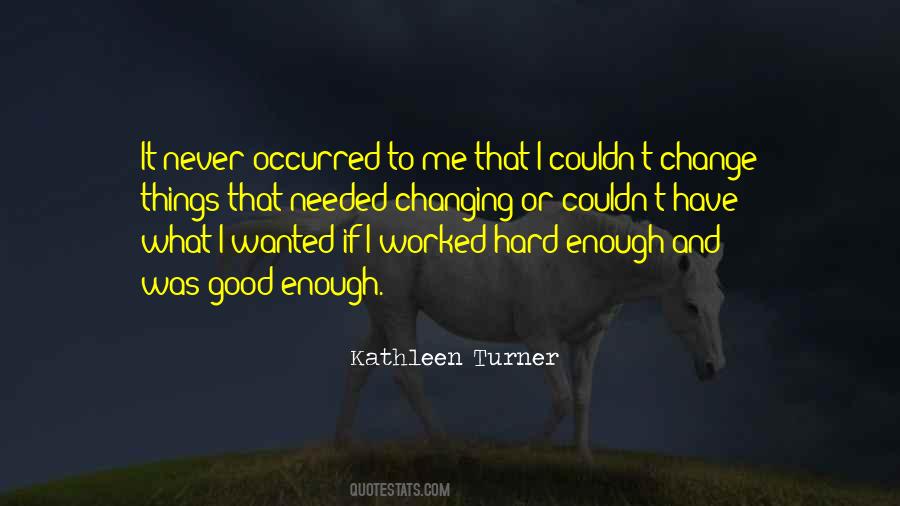 #90. The problem with putting it all on the line is that it might not work out. The problem with not putting it all on the line is that it will never (ever) change things for the better. Not much of a choice, I think. - Author: Seth Godin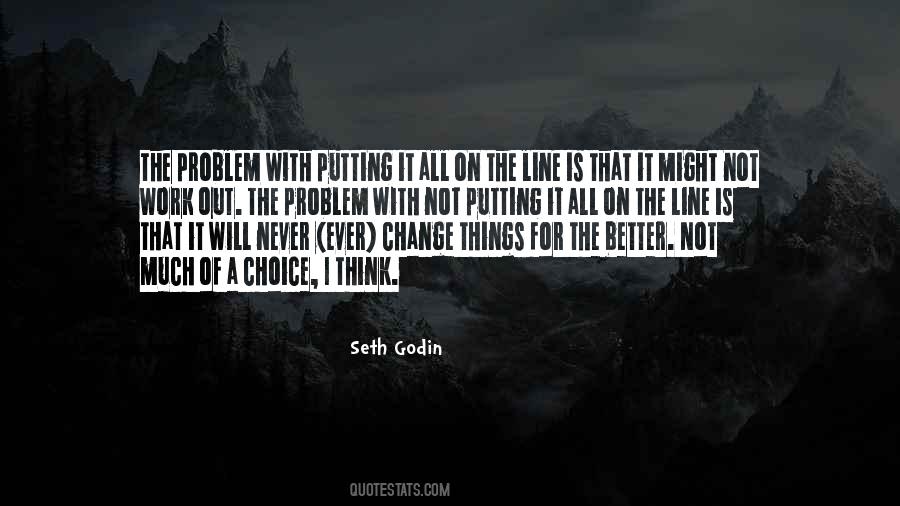 #91. I'm through accepting limits 'cause someone says they're so Some things I cannot change But till I try, I'll never know! Too long I've been afraid of Losing love I guess I've lost Well, if that's love It comes at much too high a cost! - Author: Stephen Schwartz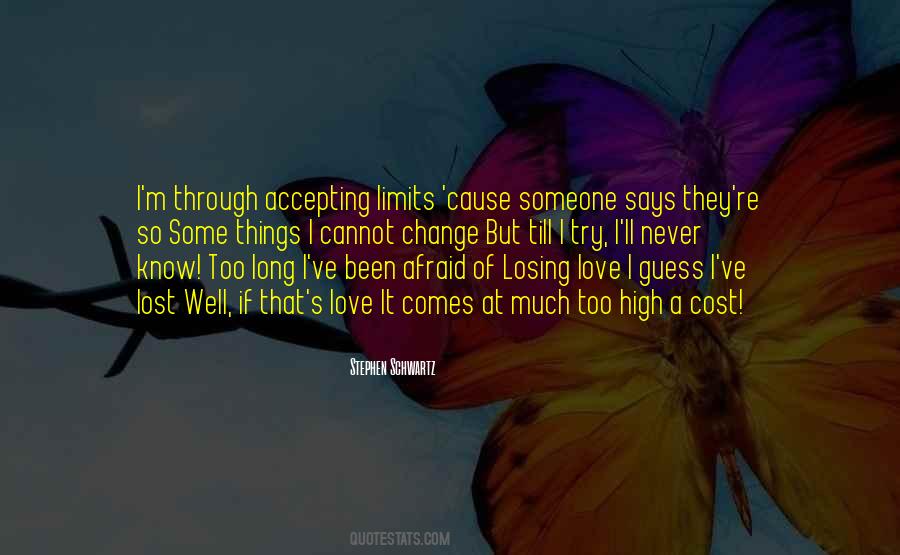 #92. The time we waste never comes again. The opportunities we miss never come again. The loves we lose never come again. Indeed, in this world of constant change we are fortunate that these things never come again. - Author: Frederick Lenz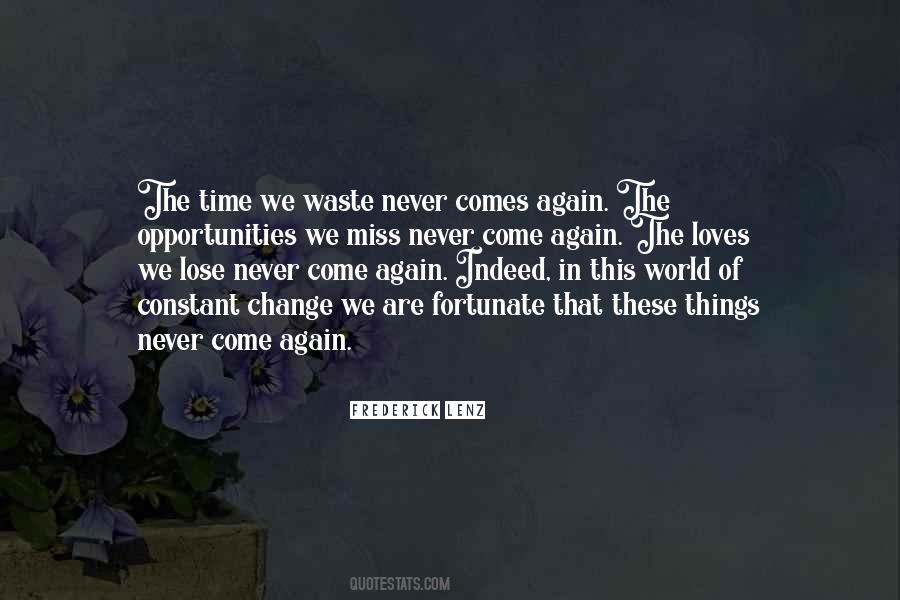 #93. I'm starting to think, though, that some things never get that. The replay, and all. So at some point you have to make peace with it as it is, not keep waiting for a chance to change it - Author: Sarah Dessen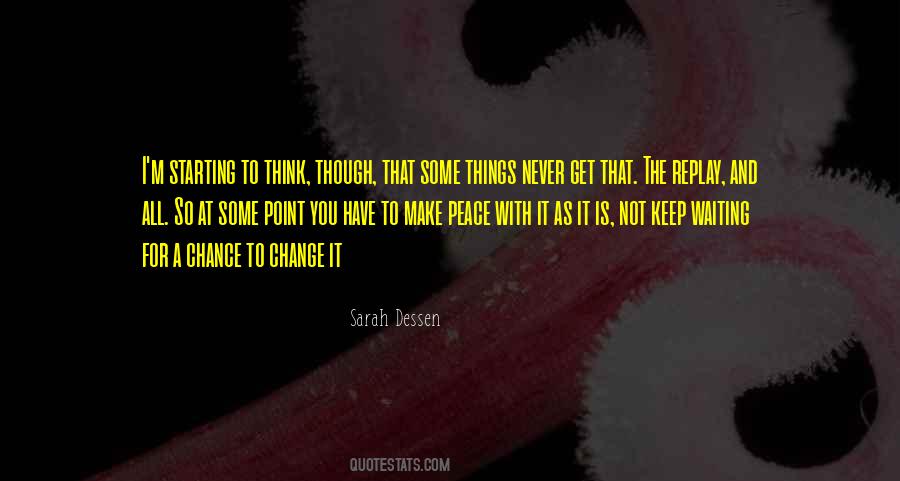 #94. Let nothing disturb you, / Nothing dismay you; / All things are passing: / God never changes. - Author: Teresa Of Avila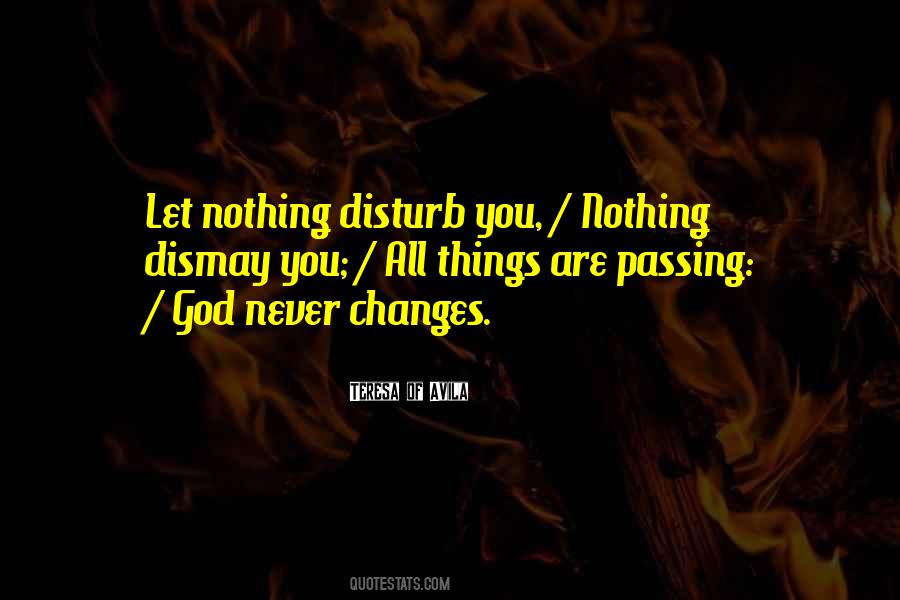 #95. We always wish for money, we always wish for fame. We think we have the answers, some things ain't never gonna change. - Author: John Waite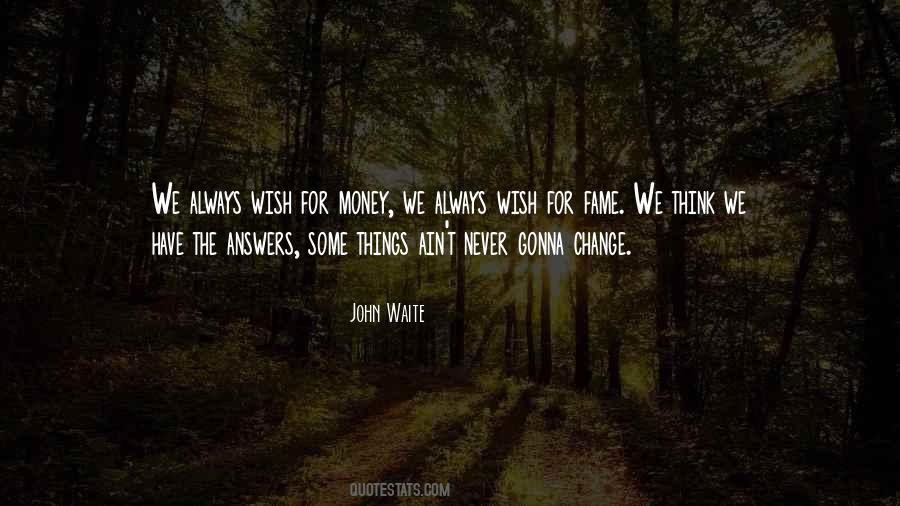 #96. I don't need to edit names out of songs and I don't need to edit details out of my songs because I've always been able to be honest with my music. That's the one place where I'm never ever going to change how I do things. - Author: Taylor Swift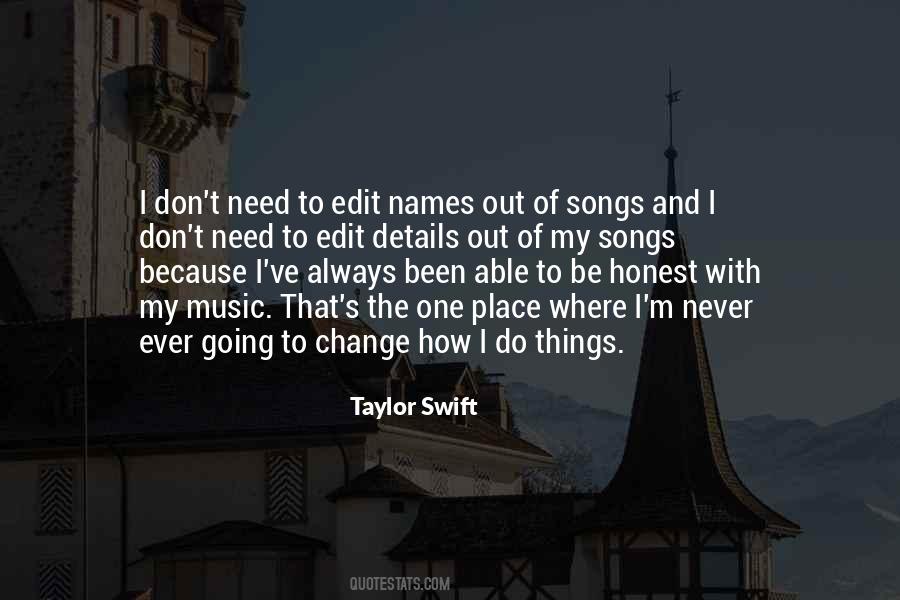 #97. When you're young, you have all these things to worry about - should
you go there, what about your mother. And you worry, and try to decide, but
then something else comes up. It's much easier to just plain decide. Never
mind - nothing is going to change your mind. - Author: Richard Feynman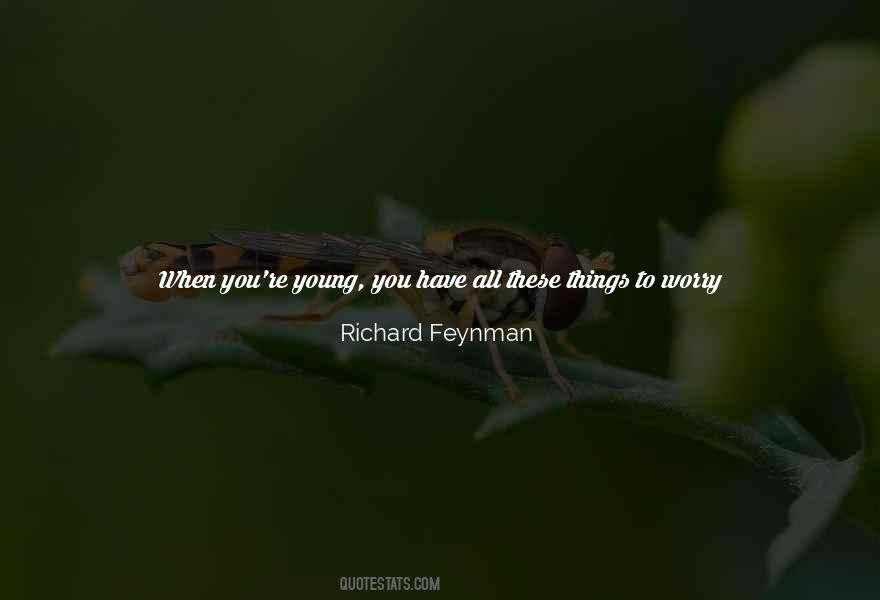 #98. These are hard and uncertain times we're living in," he said. "You never know what will still be here tomorrow. That's why we must take joy every day in what we do have, so it's something we can carry in our memories when things change. - Author: Jaye L. Knight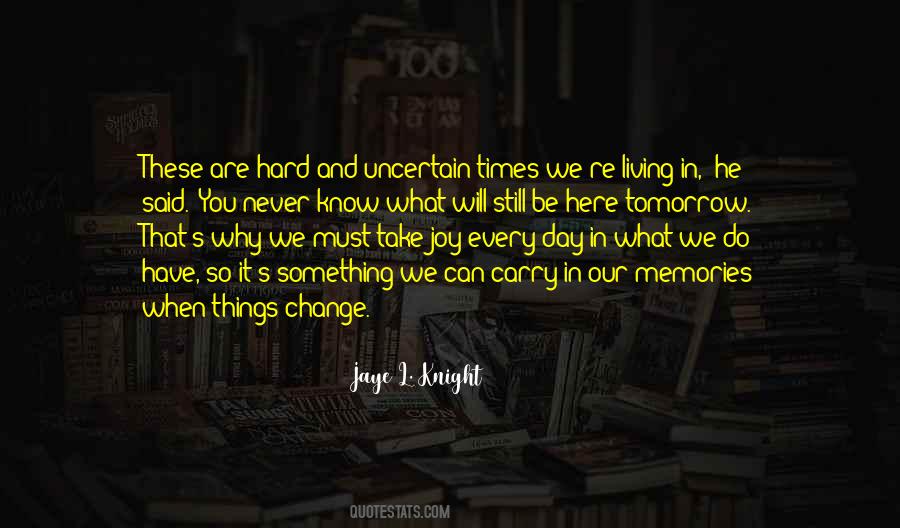 #99. Books can truly change our lives: the lives of those who read them, the lives of those who write them. Readers and writers alike discover things they never knew about the world and about themselves. - Author: Lloyd Alexander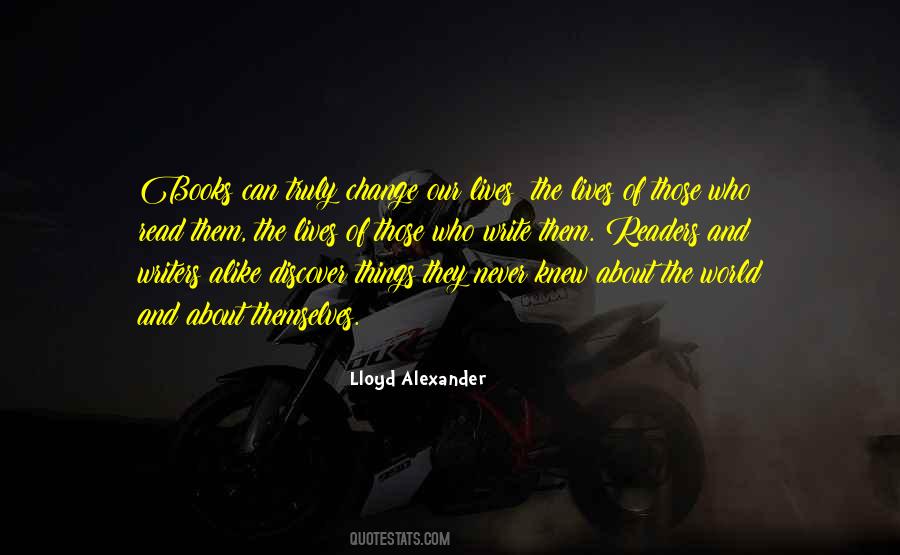 #100. Physical beings want things to be the same. They want people to think the same. You work rather hard at sameness, but you will never win that battle because, from Nonphysical, diversity is known to be the most beneficial part of the game. - Author: Esther Hicks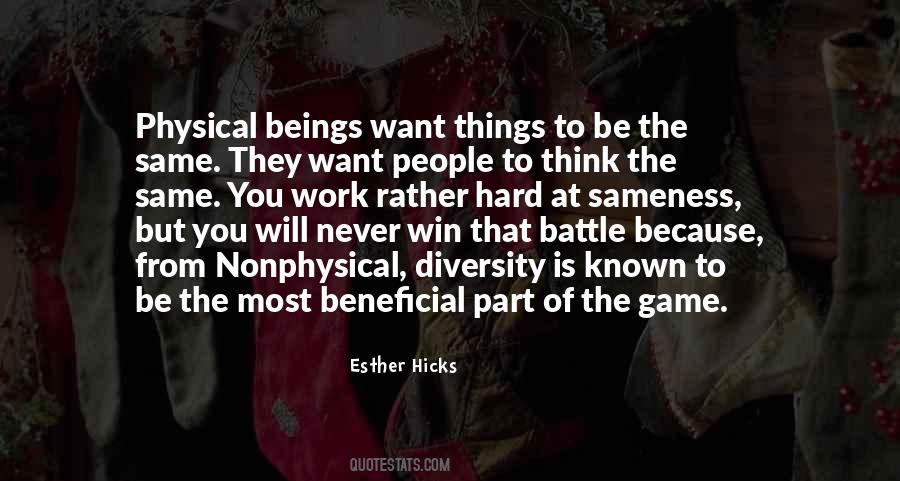 Famous Authors
Popular Topics