The Sixties Famous Quotes & Sayings
List of top 100 famous quotes and sayings about the sixties to read and share with friends on your Facebook, Twitter, blogs.
Top 100 Quotes About The Sixties
#1. Had Ken Kesey opened Electric Kool-Aid stands on every college campus in the country, it would have made a lesser contribution than Life to the creation of that era of unprecedented foment we like to call the sixties. - Author: Tom Robbins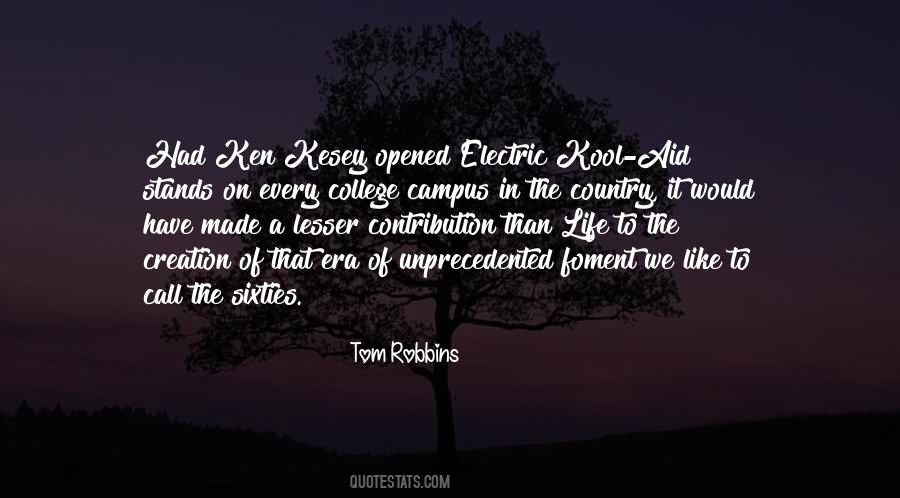 #2. My own interest in Yoga came from a vague understanding of Indian thought and Indian philosophy in the late sixties and early seventies and from looking at the idea of meditation and at what meditation was. - Author: Paul Harvey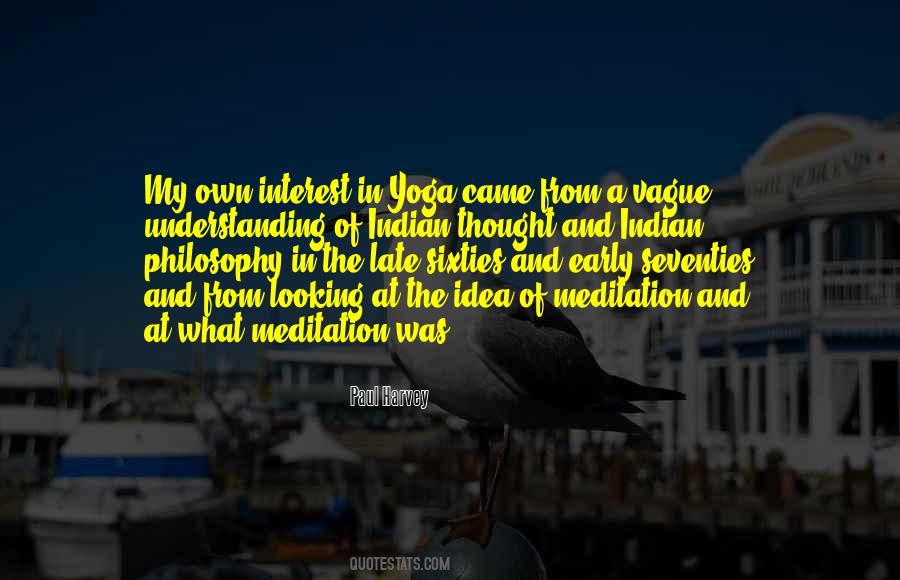 #3. The great British blues guitarists of the Sixties - people like Eric Clapton, Jeff Beck, Jimmy Page and Peter Green - could play like virtuosos, but they also understood the importance of energy and intensity - Author: Joe Perry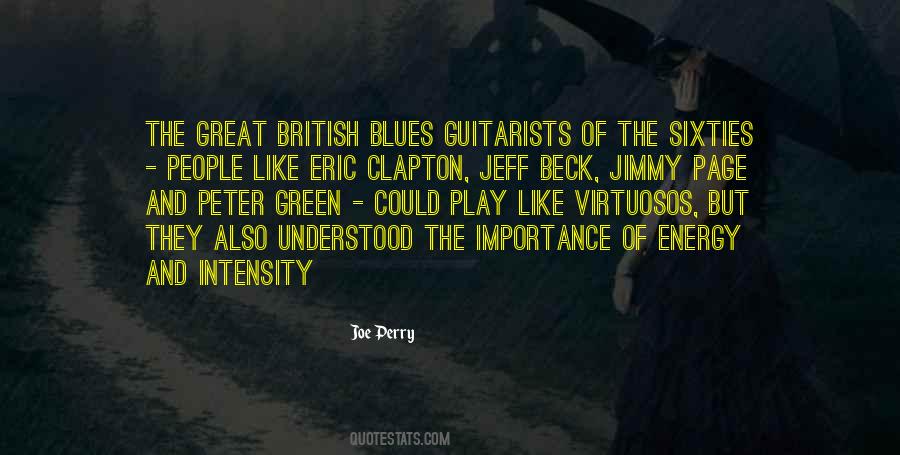 #4. You may say, But wasn't this the Sixties? Yes, but only for some people, only in certain parts of the country. - Author: Julian Barnes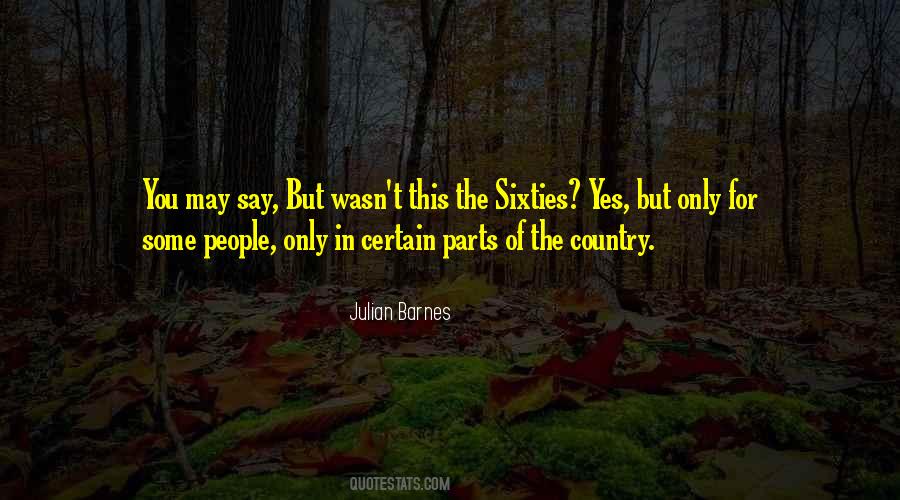 #5. There are days when I definitely look in the mirror and go, "All right, I need to find a cream." I can't foresee myself ever going under the knife, but then again, I'm only in my mid-thirties. Maybe it's different when you're in your mid-sixties. - Author: Kristen Stewart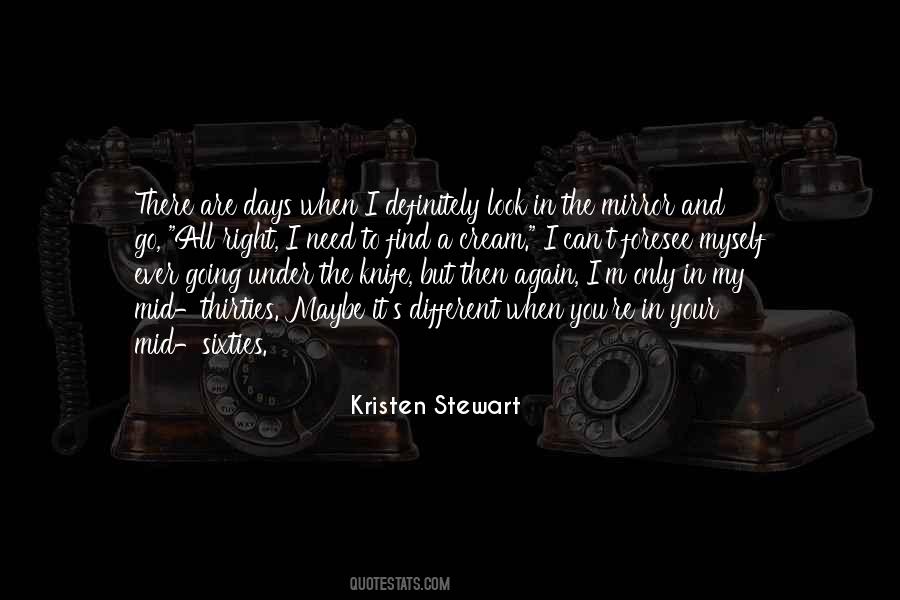 #6. Bob Dylan was the source of pop music's unpredictability in the Sixties. Never as big a record-seller as commonly imagined, his importance was first aesthetic and social, and then as an influence. - Author: Jon Landau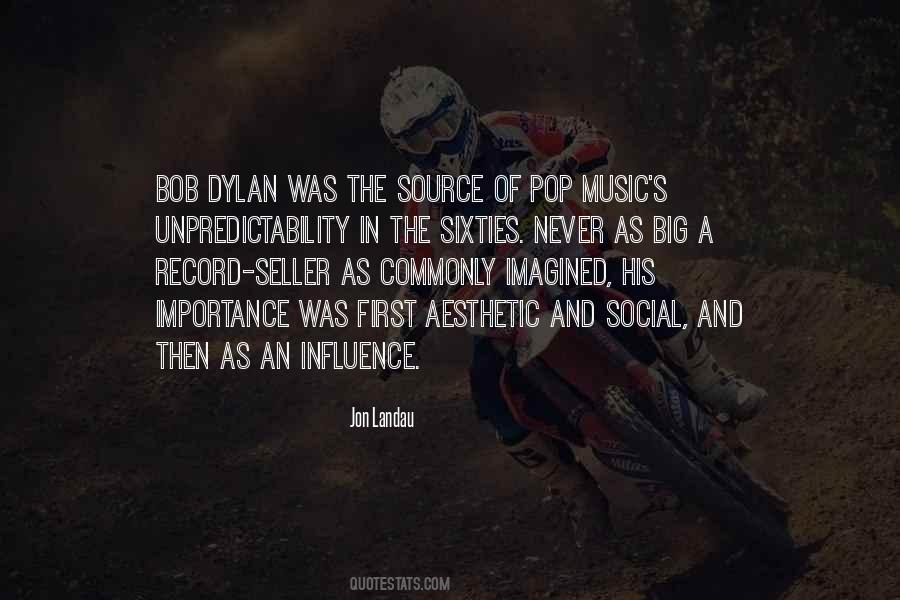 #7. I think the Sixties in some ways is a barrier to young people today. They think of it, you know, what we're doing is not that. But it's partly the myth of the Sixties. It always felt embattled and small. It always, almost always, was a small group of people relative to the opposition around. - Author: Bernadine Dohrn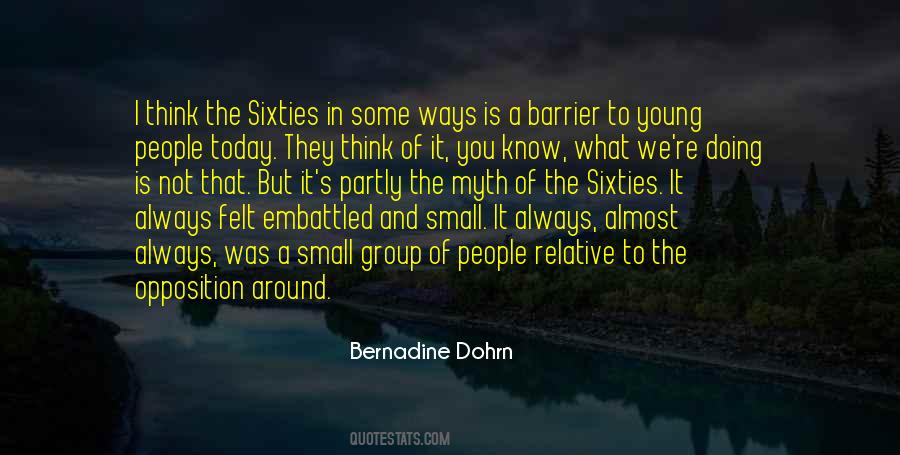 #8. Now I know I understand that it was Sgt. Pepper's Band, that put the sixties into song, where have all the heroes gone? - Author: Joan Baez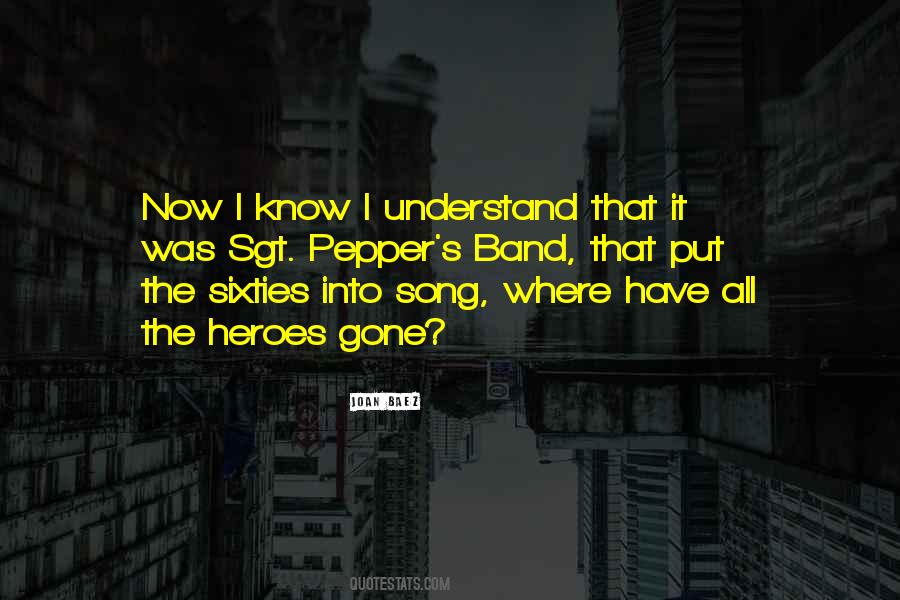 #9. Basically, my parents messed up because it was the Sixties, and they both had affairs, but they had a great love for each other. I saw that when my father flew over from Los Angeles when he knew my mother was going to die. - Author: Saffron Aldridge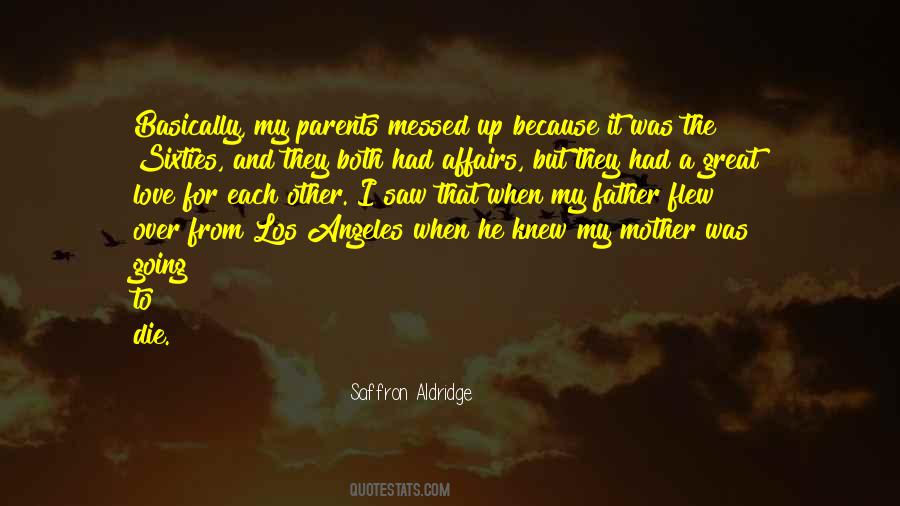 #10. The word conservative is used by the BBC as a portmanteau word of abuse for anyone whose views differ from the insufferable, smug, sanctimonious, naive, guilt-ridden, wet, pink orthodoxy of that sunset home of the third-rate minds of that third-rate decade, the nineteen-sixties. - Author: Norman Tebbit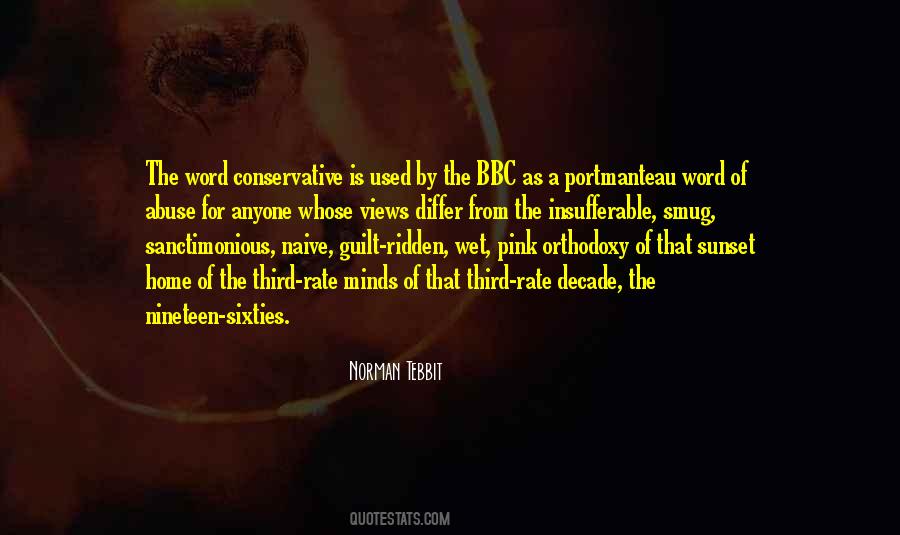 #11. The thing the sixties did was to show us the possibilities and the responsibility that we all had. It wasn't the answer. It just gave us a glimpse of the possibility. - Author: John Lennon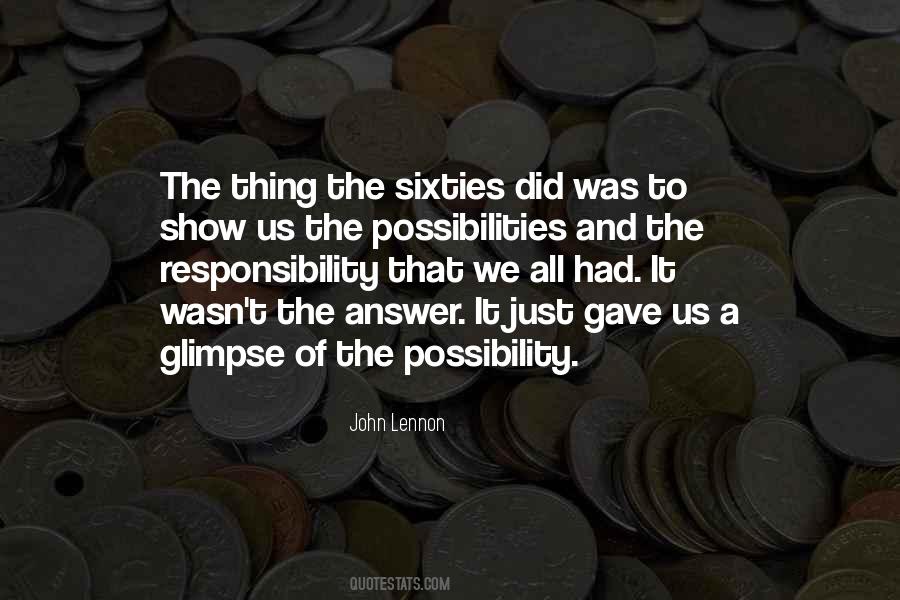 #12. In his sixties and partially deaf, Jimmy came from some vague Middle East country. Periodically, during the Iraq war, he had gone door to door in the building explaining that he was not a Muslim, which convinced everyone in the building he was. - Author: Marshall Thornton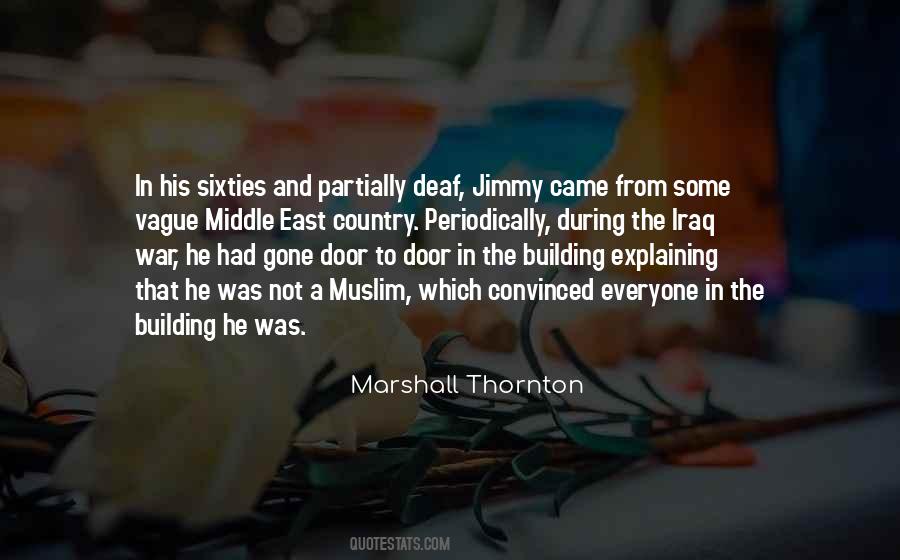 #13. A woman in her late sixties described her new iPhone: it's like having a little time square in my pocketbook. All lights. All the people I could meet. - Author: Sherry Turkle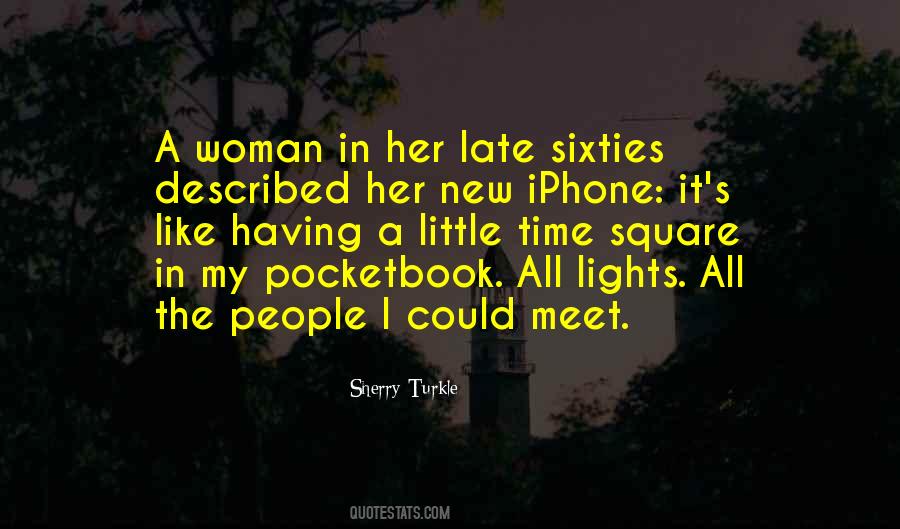 #14. I designed the miniskirt that caused so much havoc in the Sixties - the miniskirt that was such fun but has travelled well to today. - Author: Mary Quant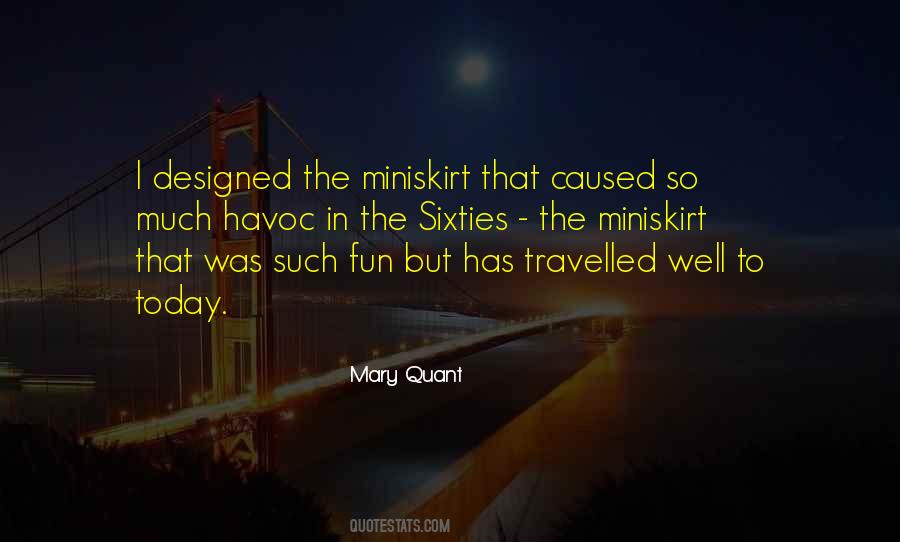 #15. I went to the big Picasso retrospective at the Tate in the sixties, and I think I went to an Andy Warhol retrospective at the Tate in the sixties, too. My mother was very good at taking me to things like that. We lived in Reading, but we went on these cultural trips to London. - Author: Marianne Faithfull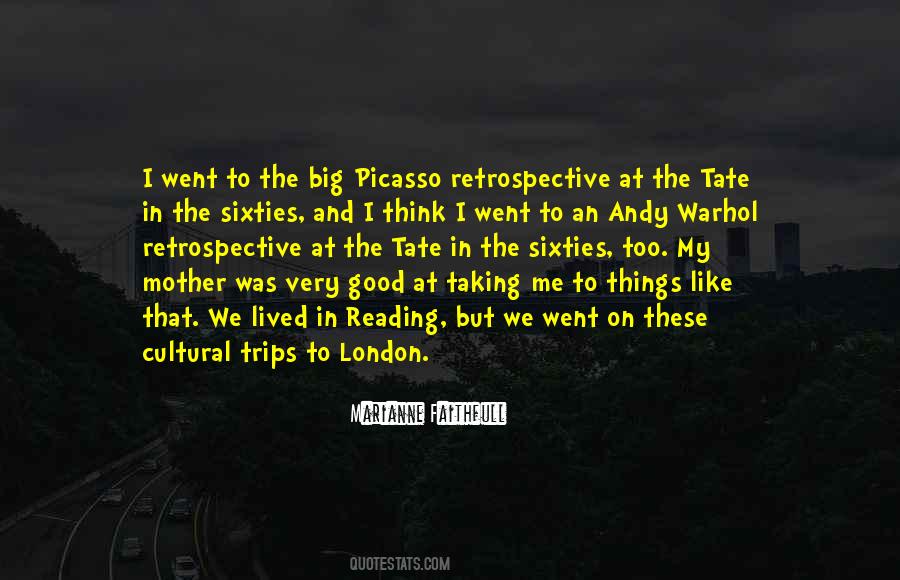 #16. Perhaps the purpose of life is forged moment by moment. If you're going to wait till you find something "bigger than that" before you do anything, then you're doing a sixties kind of "I can't do anything till I find myself. - Author: Laura C. Schlessinger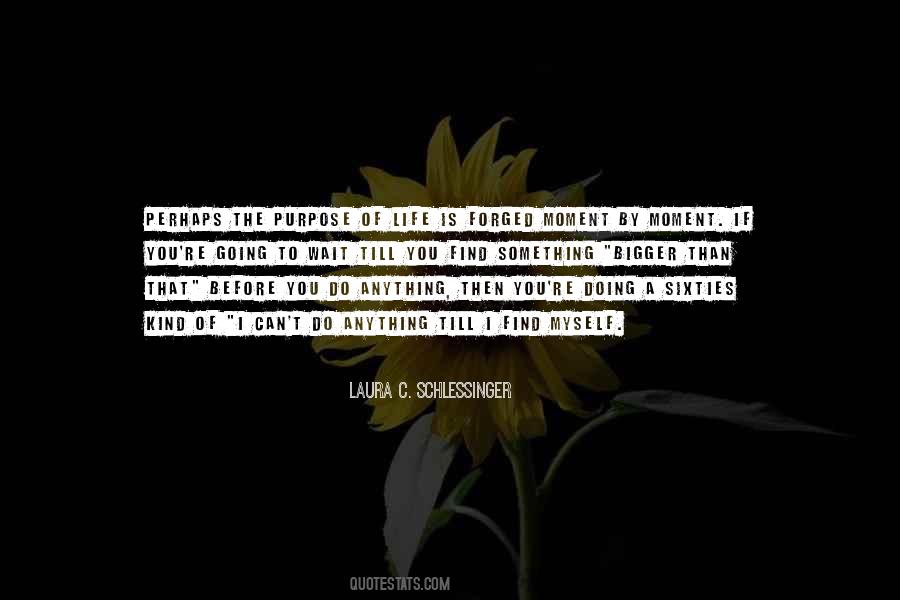 #17. With him big Phil from Notting Hill an old "face" from the sixties a pin up gangster with a "mars bar" weal scraping his left cheek and of course two "wag" slags in tow trussed up like French Poodles with "Bratz babe" stares and Gucci Handbags - Author: Saira Viola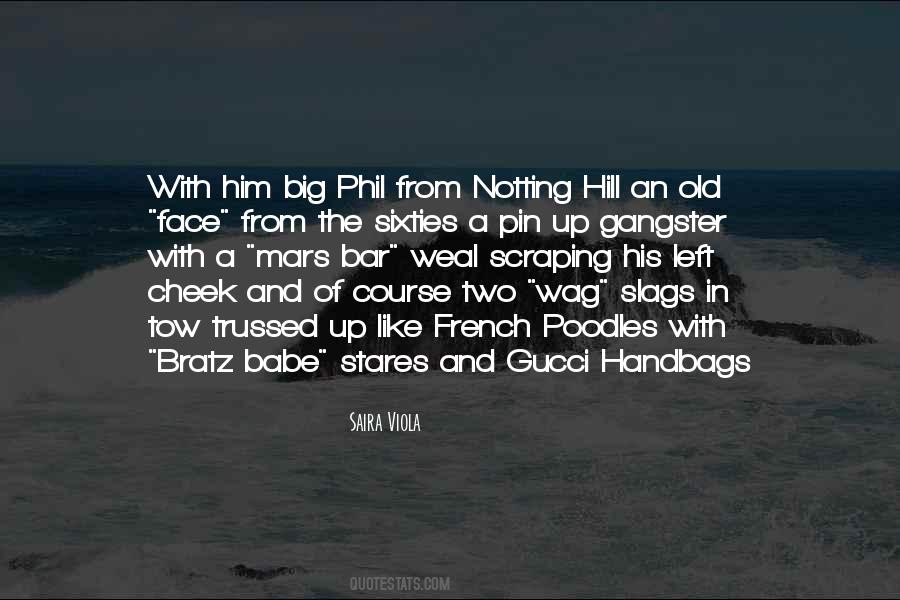 #18. For those that don't know, my sister was born with Down Syndrome, and she was institutionalized in the very early sixties. Me, being just a small boy and being shuffled around between my mother and grandparents, I never knew her. - Author: Nikki Sixx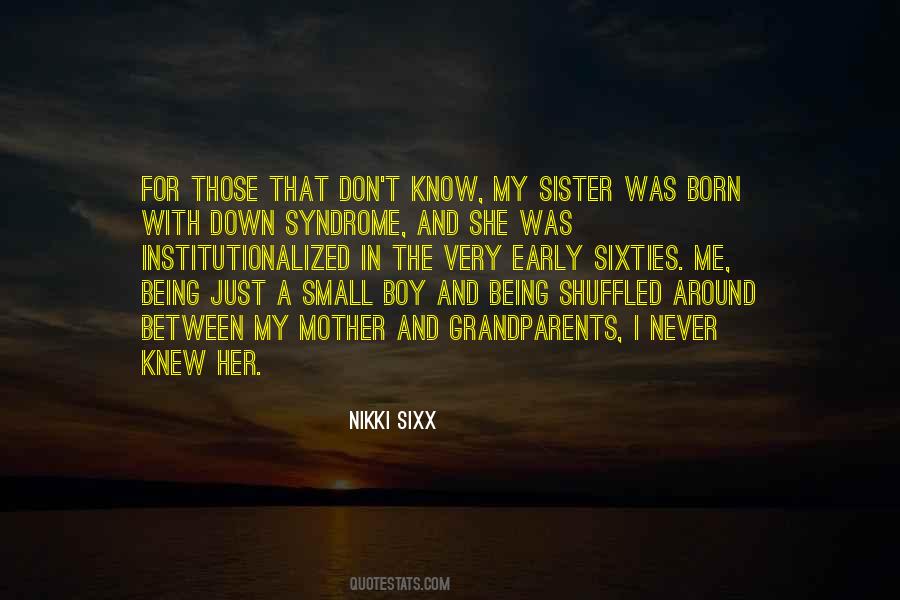 #19. As an older person, I do feel an obligation to tell the story about what was really happening in the fifties, sixties, and seventies, as I saw it. - Author: Grace Paley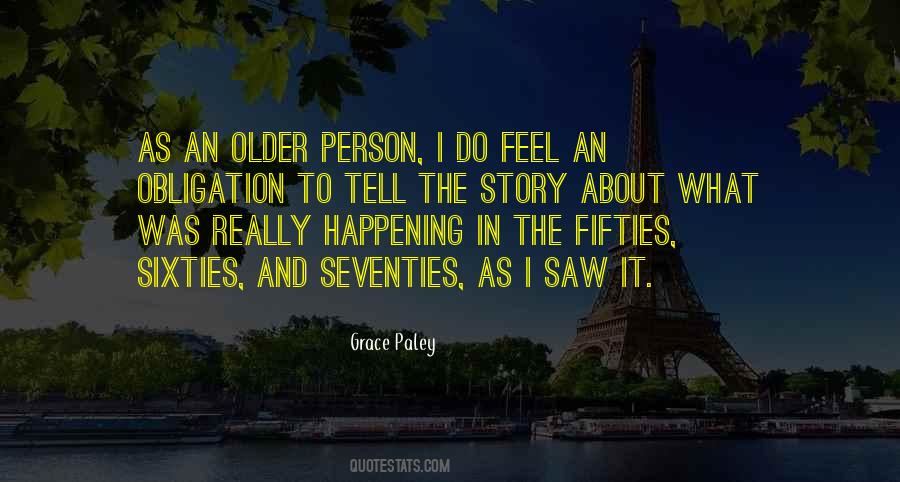 #20. I was initially recruited while I was in business school back in the late sixties by the National Security Agency, the nation's largest and least understood spy organization; but ultimately I worked for private corporations. - Author: John Perkins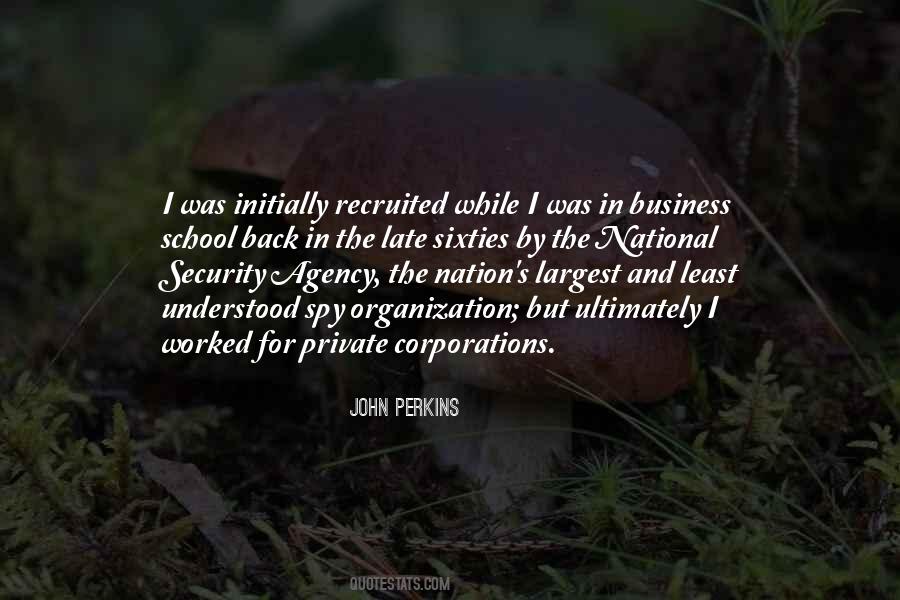 #21. When community action was put into federal law in the early sixties as part of the effort to combat poverty and social injustice, I supported it intellectually. - Author: Barney Frank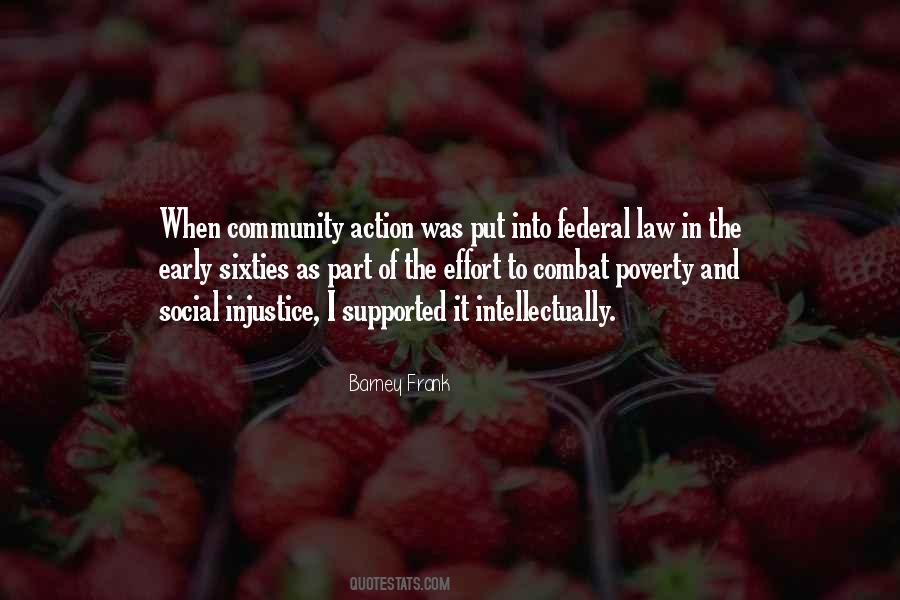 #22. Thankfully I'm not endlessly ambitious, but I have done some crazy ambitious things like buying an island off the west coast of Scotland in the late Sixties. - Author: Jack Bruce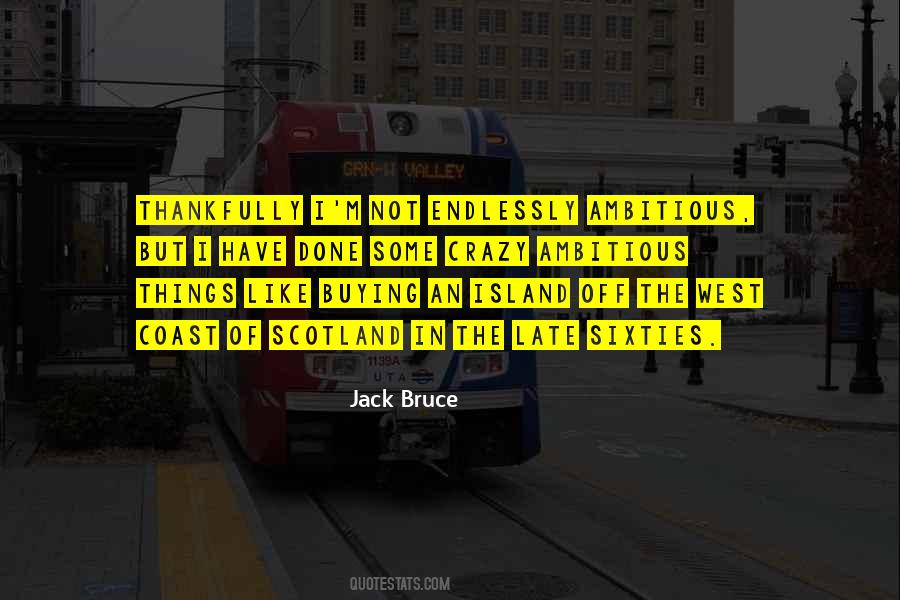 #23. Soul was the music made by and for black people. For most of the Sixties it was thoroughly divorced from white popular music, but by the end of the decade several artists with their roots firmly in both soul and R&B traditions had crossed over. - Author: Jon Landau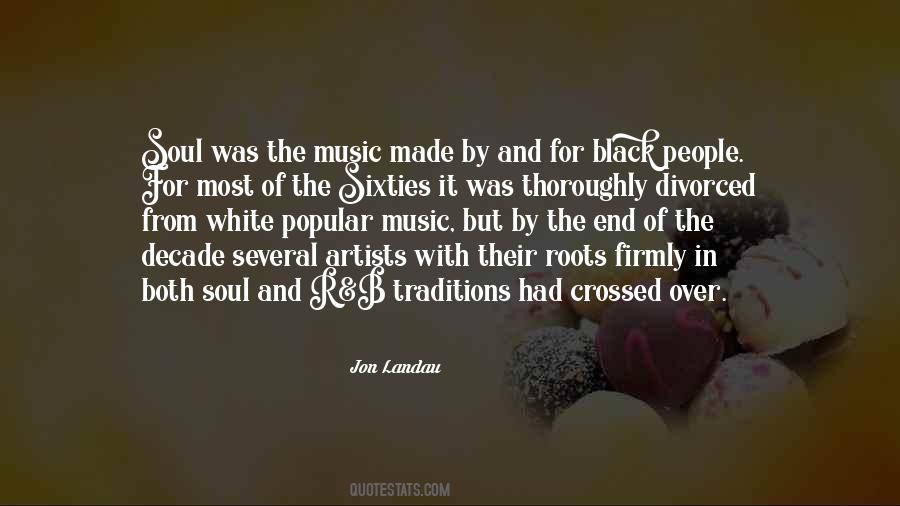 #24. In the Sixties people took acid to make the world weird. Now the world is weird, people take Prozac to make it normal. - Author: Damon Albarn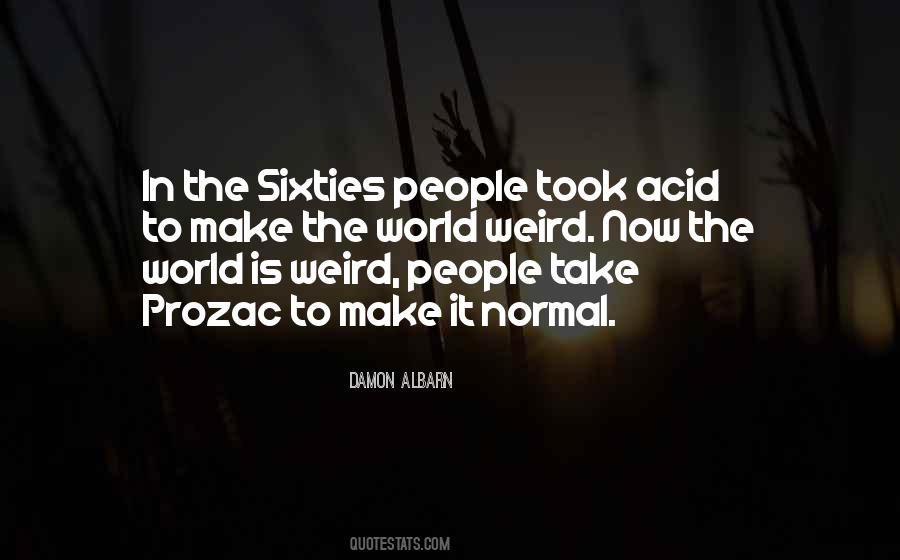 #25. All the proliferating falsifications of what I and everyone I know experienced once in what it is now so convenient to call the "fifties" or "sixties," as if life was really measured or lived in arbitrary decades, when the history books are sold like comix. - Author: Lester Bangs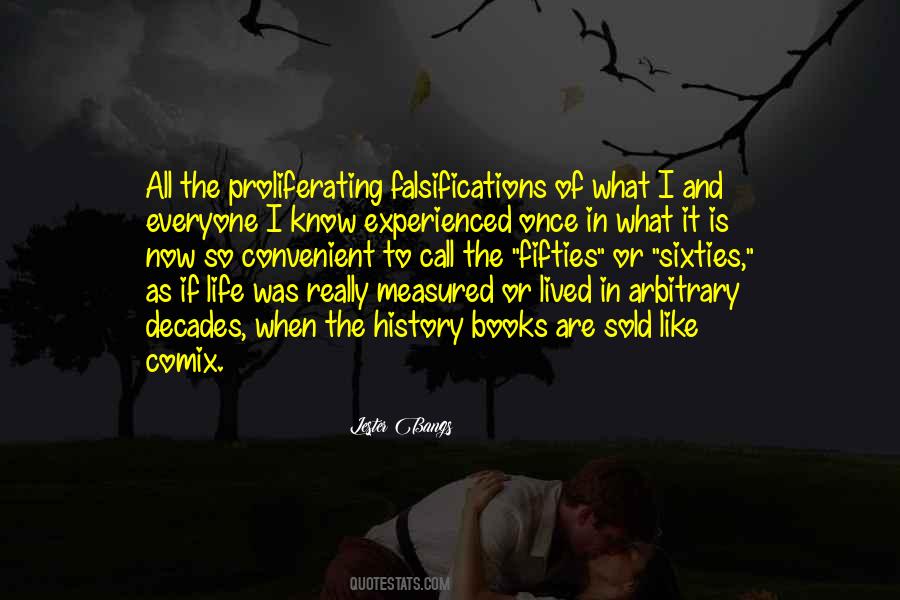 #26. There weren't a lot of people kind of manning the barricades in the sixties and looking up their genealogy. - Author: Sean Wilsey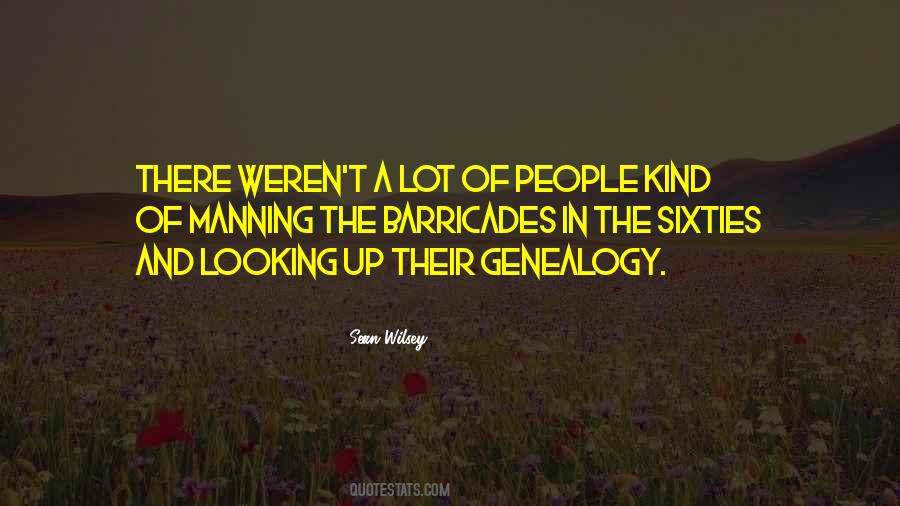 #27. By the eighties, a lot of radio stations had started playing "Sixties" music. They called it "Classic Rock," because they knew we'd be upset if they came right out and called it what it is, namely "middle-aged-person nostalgia music. - Author: Dave Barry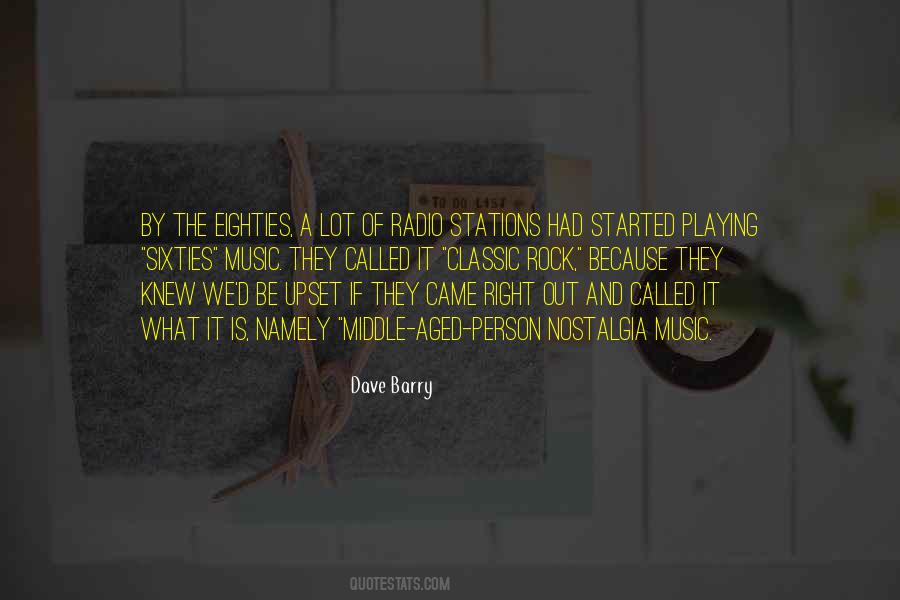 #28. Androgynous fashion, long hair, the Pill, a new interest in the inner psychological life - an unabashed sloppiness, if you will - really marks the sixties. It was when Britain went girlie. And what do girls do? Girls shop. - Author: Andrew Marr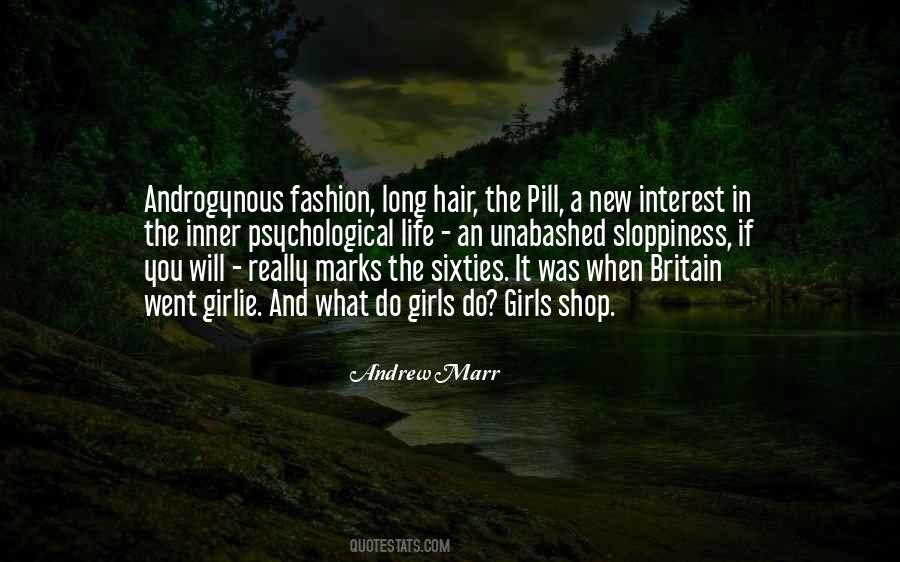 #29. In Windsor in the forties, and even up into the fifties and sixties, if you were black, you had to sit in the balcony of the theatres, and you couldn't buy property in most places. - Author: Wayne Grady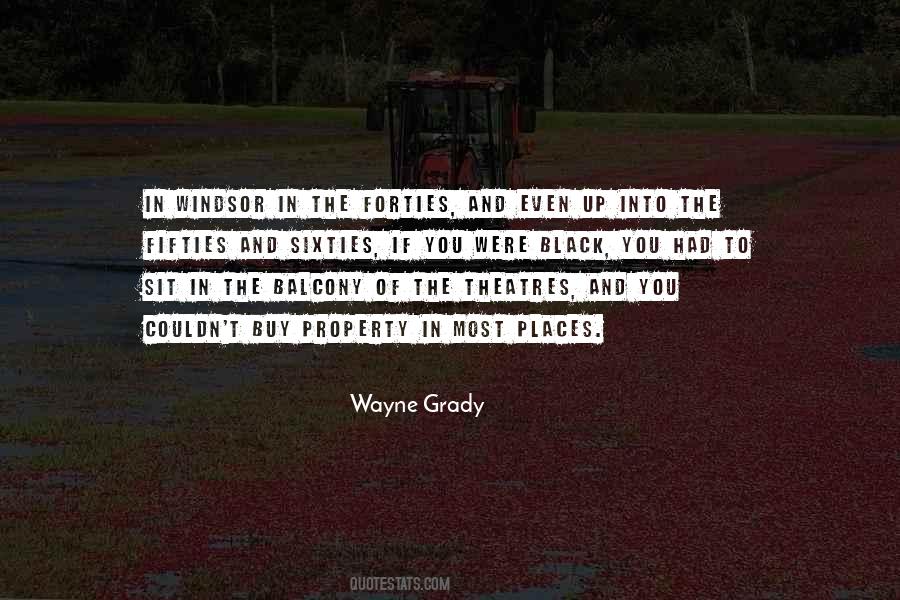 #30. In the late Fifties and early Sixties, opposition to state terror and aggression and torture and so on was zero. That was a horrible time: the massive Kennedy terror operation against Cuba, the first attacks on Vietnam in 1962, the imposition of national security states in South America. - Author: Noam Chomsky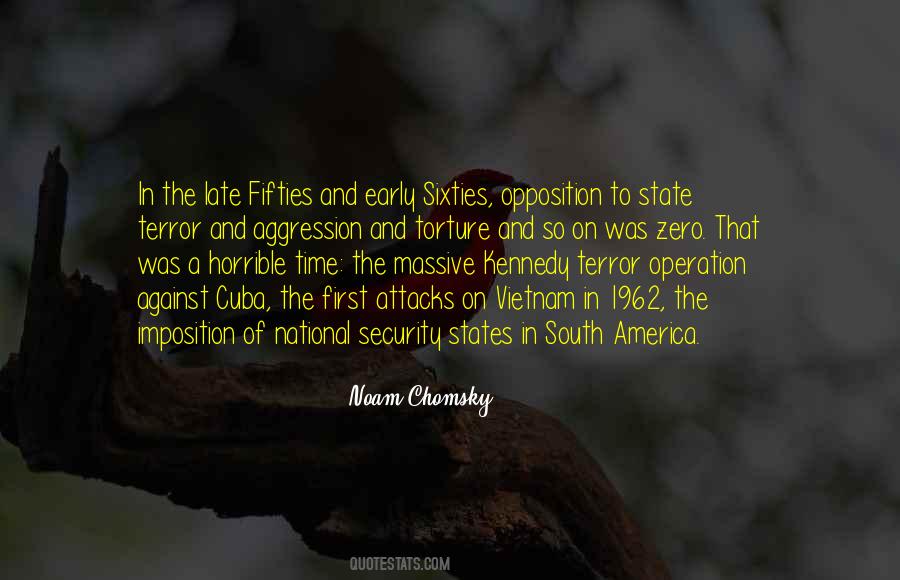 #31. I don't regret what I did in the Sixties. I was young and took myself terribly seriously. In the Seventies, I spent too much time in inner-party factional disputes. - Author: Tariq Ali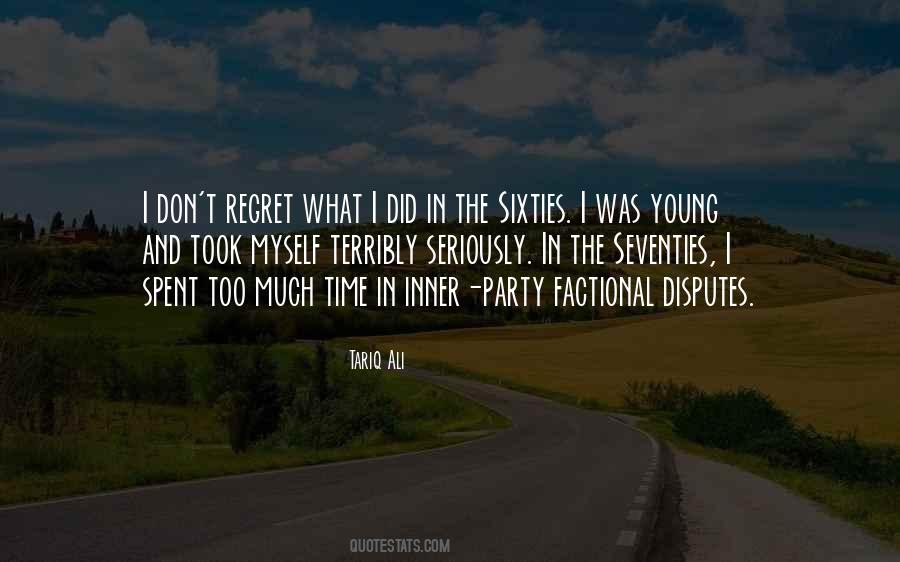 #32. Many people I know in Los Angeles believe that the Sixties ended abruptly on August 9, 1969, ended at the exact moment when word of the murders on Cielo Drive traveled like brushfire through the community, and in a sense this is true. The tension broke that day. The paranoia was fulfilled. - Author: Joan Didion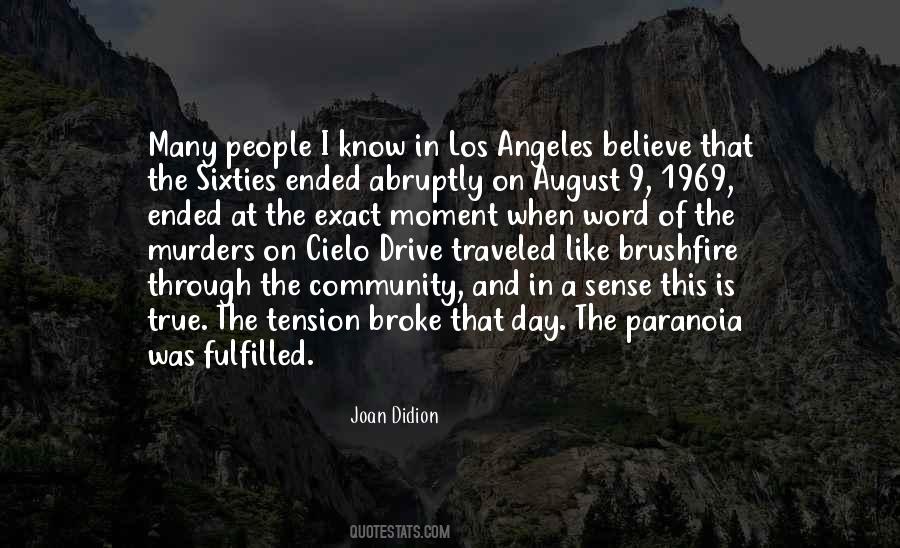 #33. CUSTOMER: I read a book in the sixties. I don't remember the author, or the title. But it was green, and it made me laugh. Do you know which one I mean? - Author: Jen Campbell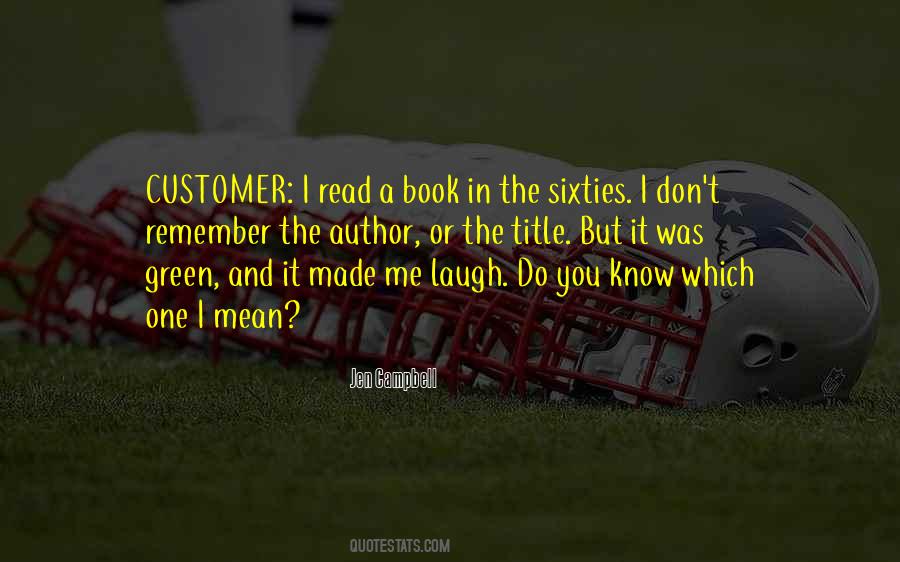 #34. The best and only authentic book written on the sixties underground. - Author: Dennis Hopper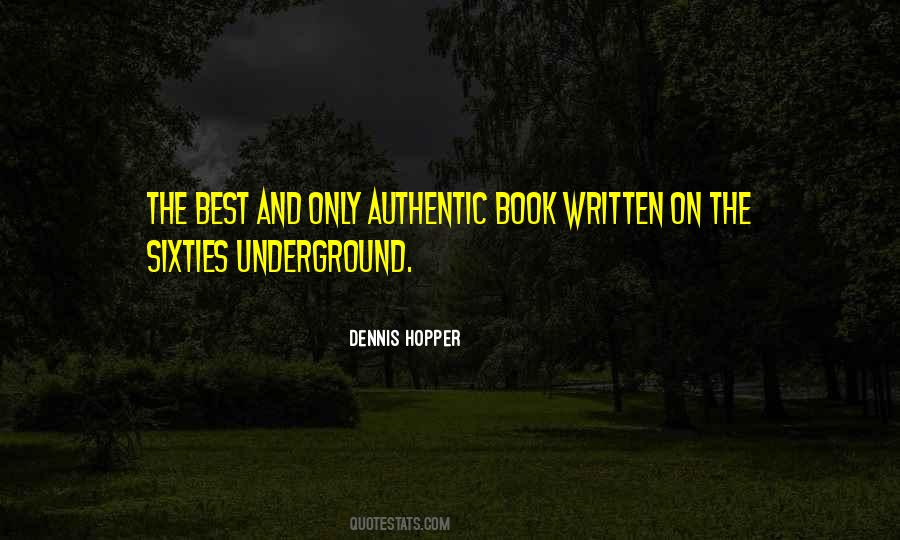 #35. All that Swinging Sixties. It didn't do anyone any good, did it? Easy sex and the Pill. Marriages were ruined. I never did approve. I never really enjoyed the sex. - Author: Christine Keeler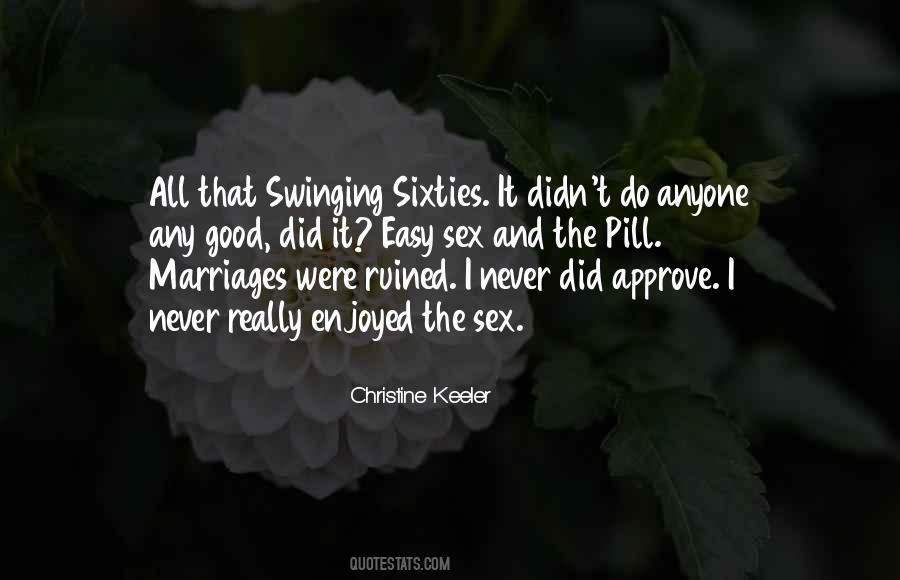 #36. Sixties folk rock was my original muse and the folk audience-people who listen to music off the beaten track-fostered my career. I definitely don't want to abandon the genre but I also need to make sure I'm Dar Williams first. - Author: Dar Williams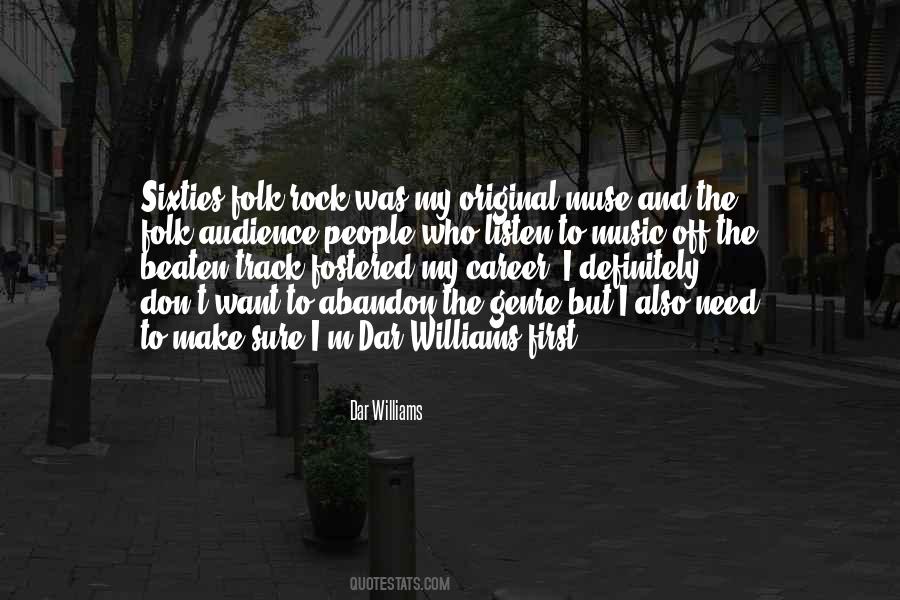 #37. People of my generation who became photographers in the late fifties, early sixties, there were no rewards in photography. There were no museum shows. Maybe MOMA would show something, or Chicago. There were no galleries. Nobody bought photographs. - Author: Duane Michals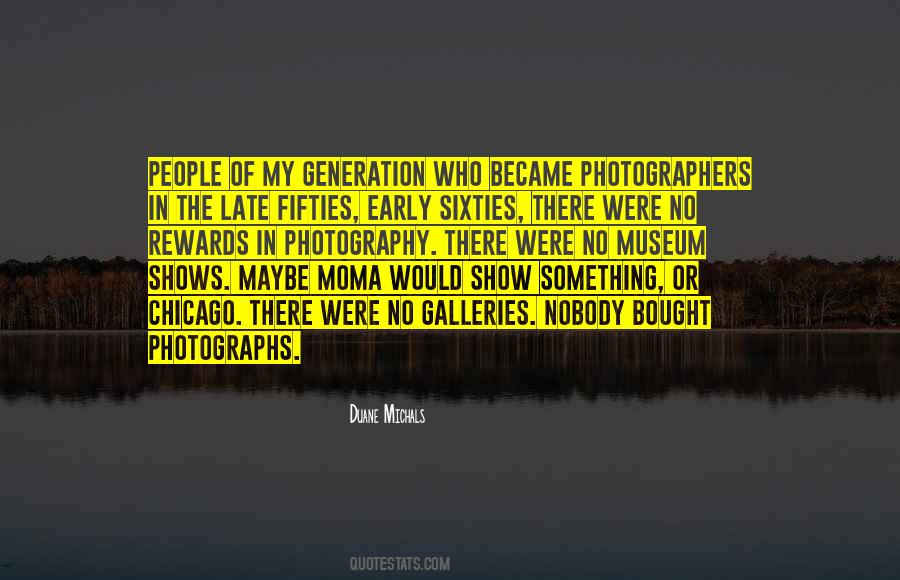 #38. Rap's conscious response to the poverty and oppression of U.S. blacks is like some hideous parody of sixties black pride. - Author: David Foster Wallace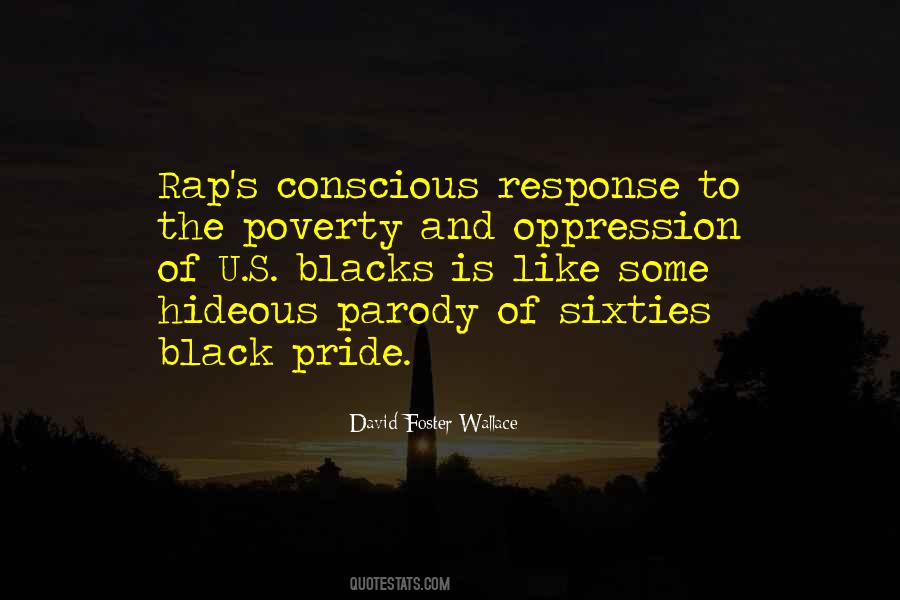 #39. I was in college in the sixties when movies really got good. I'm a fan of Bergman and Hitchcock and Polanski and Antonioni. Those are my gods. - Author: David Small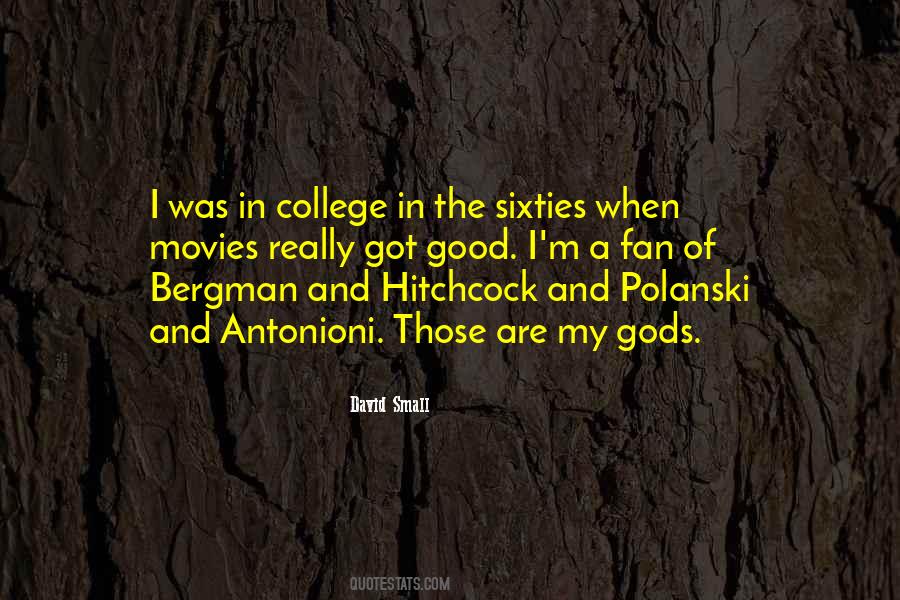 #40. I first came to Brazil in the Sixties. Then I started coming back every year since touring most of the country. I grew to love it, the people, the music. I thought this is where I belong. I've been living in Brazil for the past 23 years. I call it my stress-free country. - Author: Dionne Warwick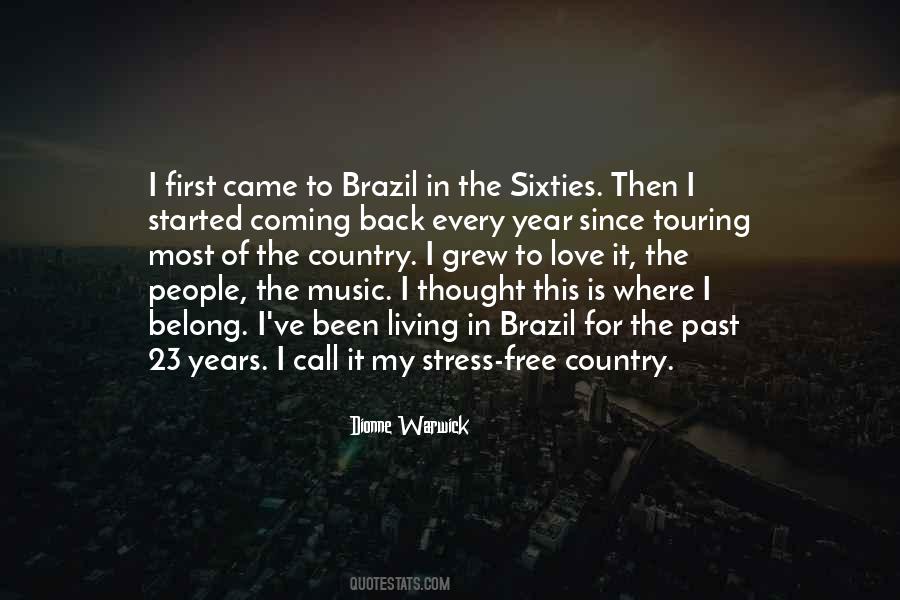 #41. During the sixties, all the risk-type sports were very popular, because everybody was rebelling against their parents, or rebelling against the whole system. But those days are over. This is the day of conservatism. - Author: Yvon Chouinard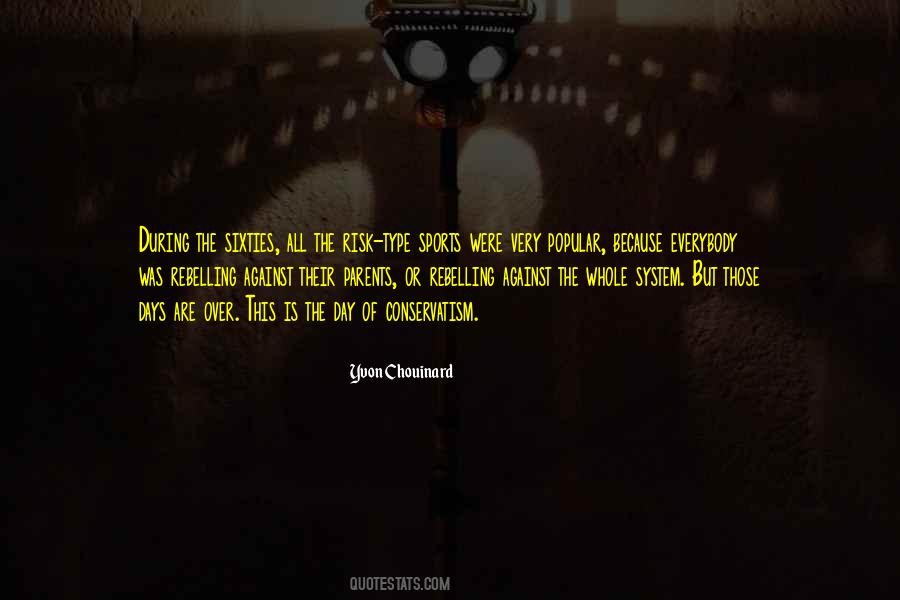 #42. I hate being so nostalgic about the Sixties. - Author: David Bailey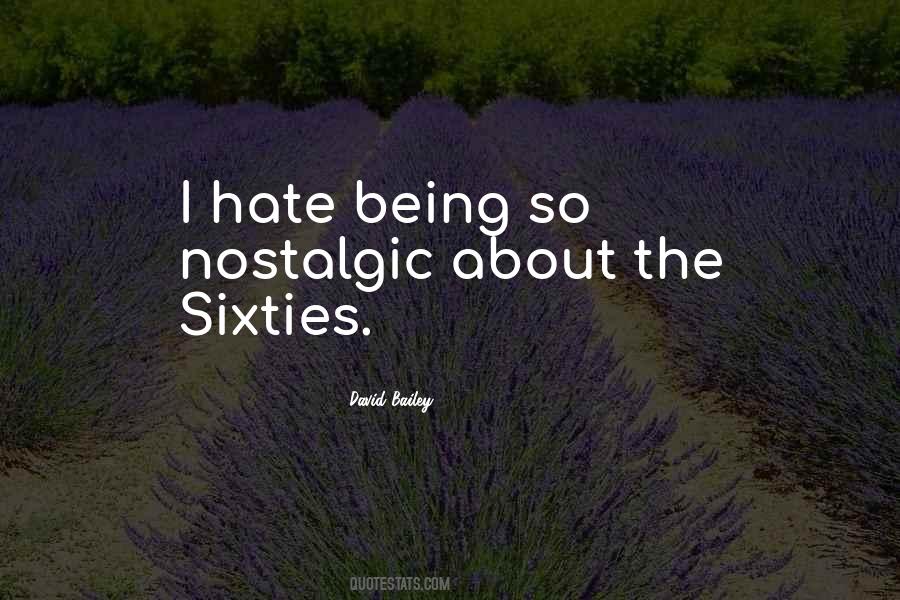 #43. I had other priorities in the sixties than military service. - Author: Dick Cheney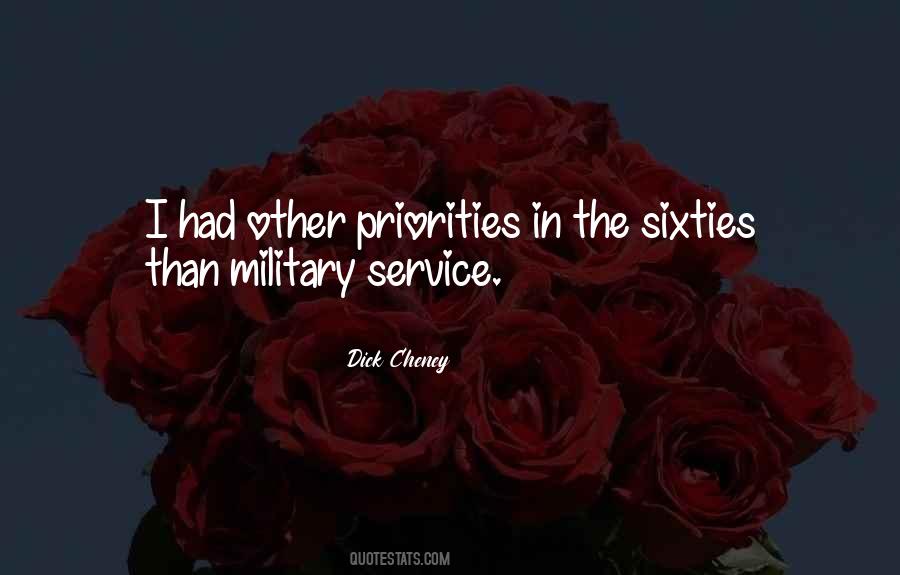 #44. One of the things that fascinates me most about the toys of the Sixties and Seventies is that they were characters without stories, as such. - Author: Chris Roberson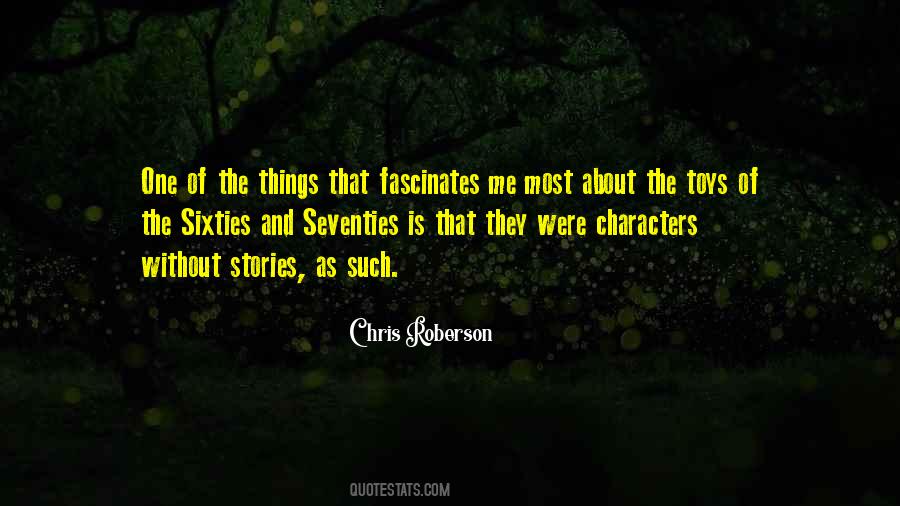 #45. We called ourselves Child, and we played the bars and nightclubs of the late-sixties Shore. We played original music with some covers, and the simple fact that we were so good was all that kept us working. - Author: Bruce Springsteen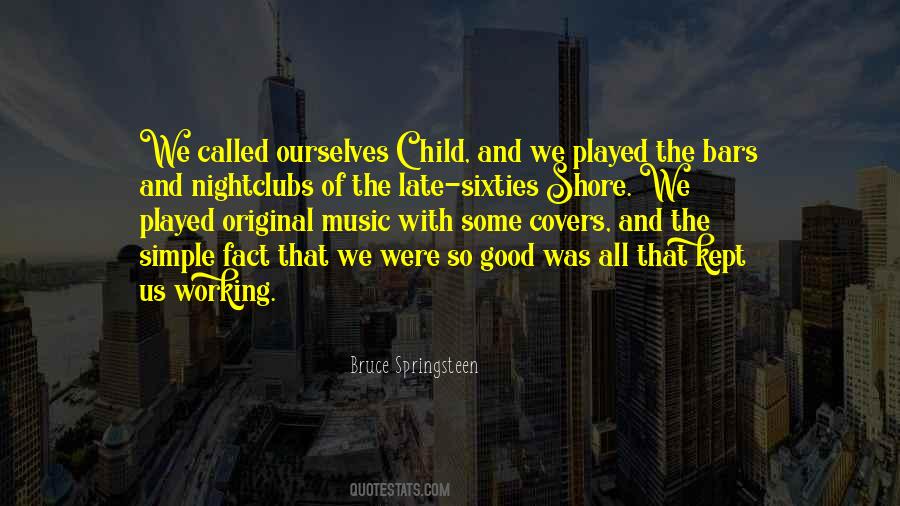 #46. Of course, I remember when everybody was thin. It wasn't until I went to America in the Sixties that I saw anyone who wasn't skinny thin. - Author: Mary Quant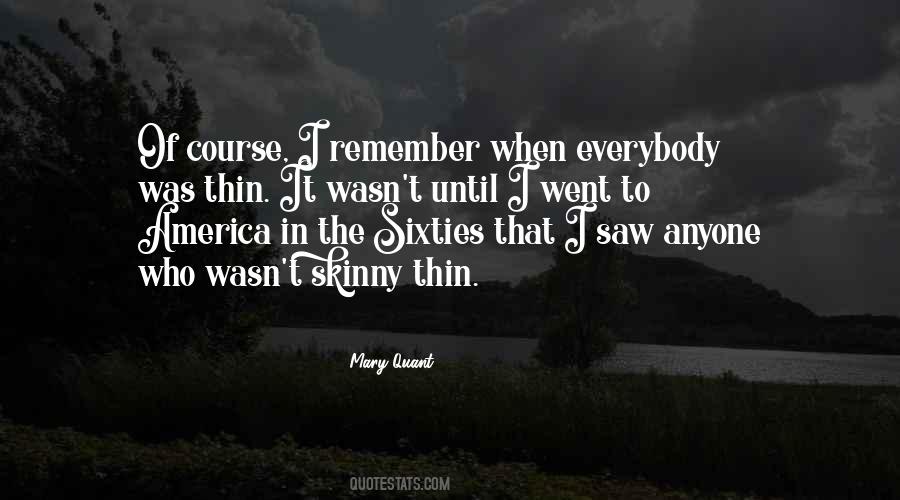 #47. Here we were supposedly changing the world for the better in the Sixties, but as we get 40 years further down the line, we realise that some of those changes such as the drugs probably weren't all that great or sensible. It was all about social experiments. - Author: Steve Winwood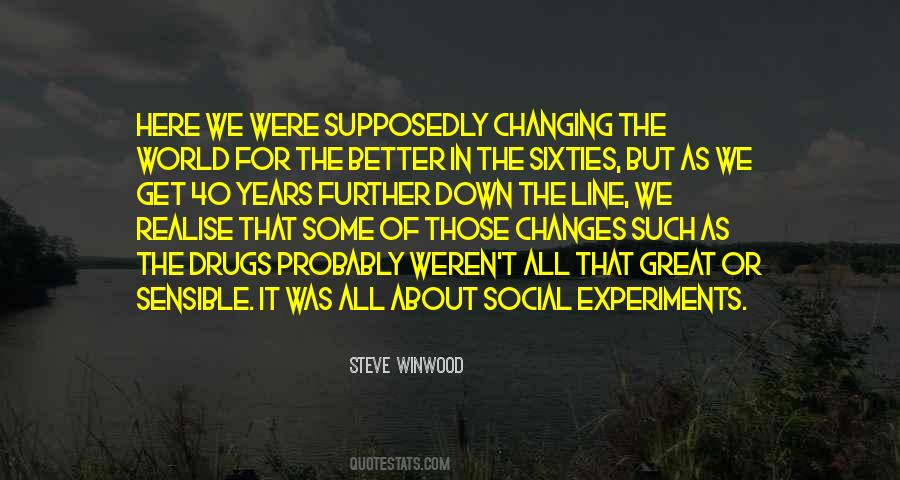 #48. I think until Britain acknowledges just how much of a presence black people had here before the Sixties, then there are certain stories that are not going to be inclusive of what I have to offer. - Author: David Oyelowo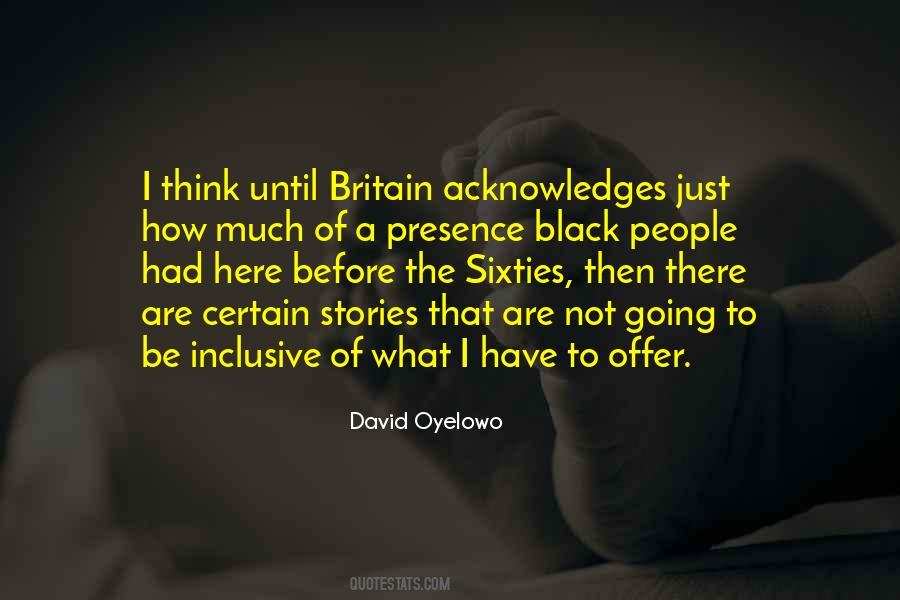 #49. And feigned innocence, the vise that keeps women "girls" well into their sixties. - Author: Frances Mayes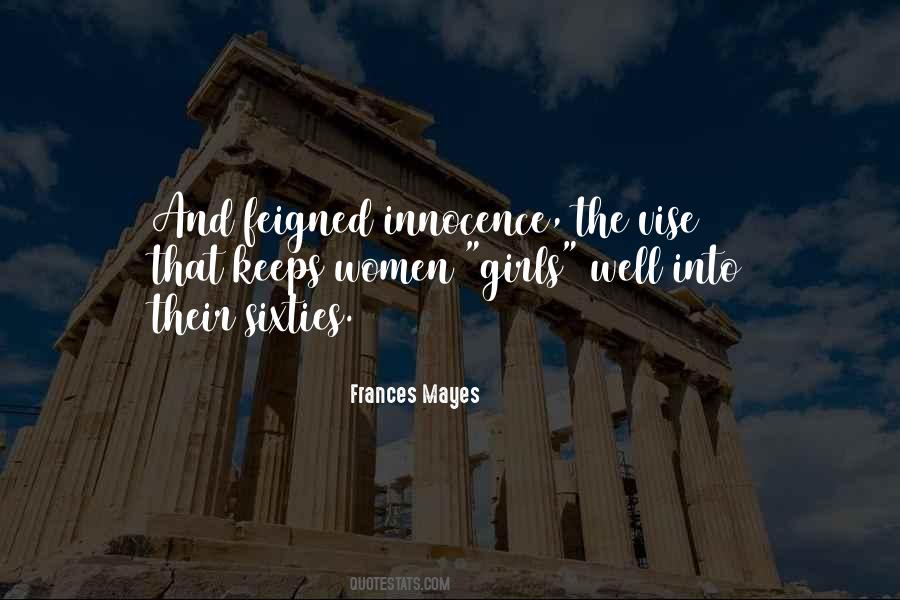 #50. That's what the whole Sixties Flower-Power thing was about: 'Go away, you bunch of boring people. - Author: George Harrison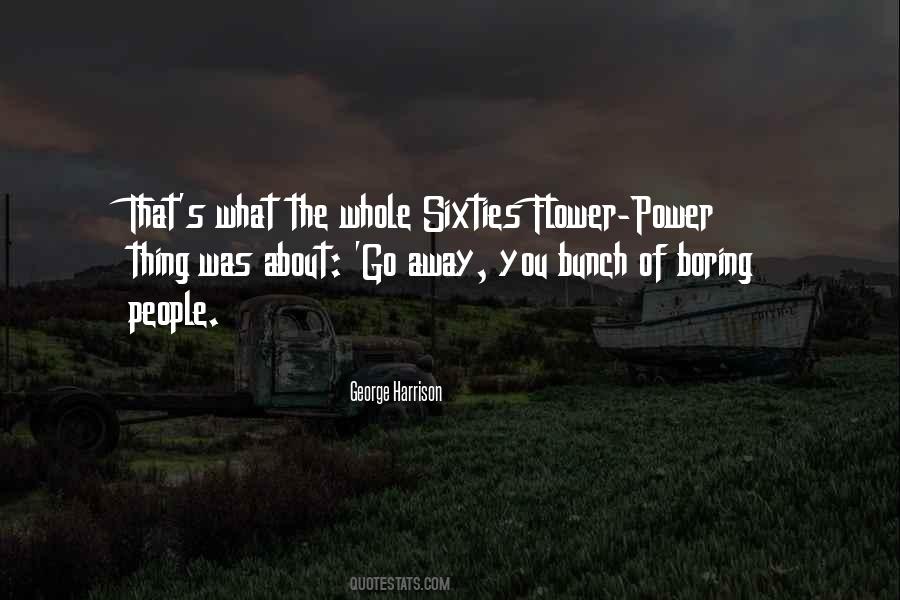 #51. I grew up in central Florida in the nineteen-sixties, barefoot half the time and running around the orange groves where my father worked. I remember flocks of white birds that would lift from the backs of cattle, disturbed by the jackhammers and bulldozers clearing land for Walt Disney World. - Author: Anne Hull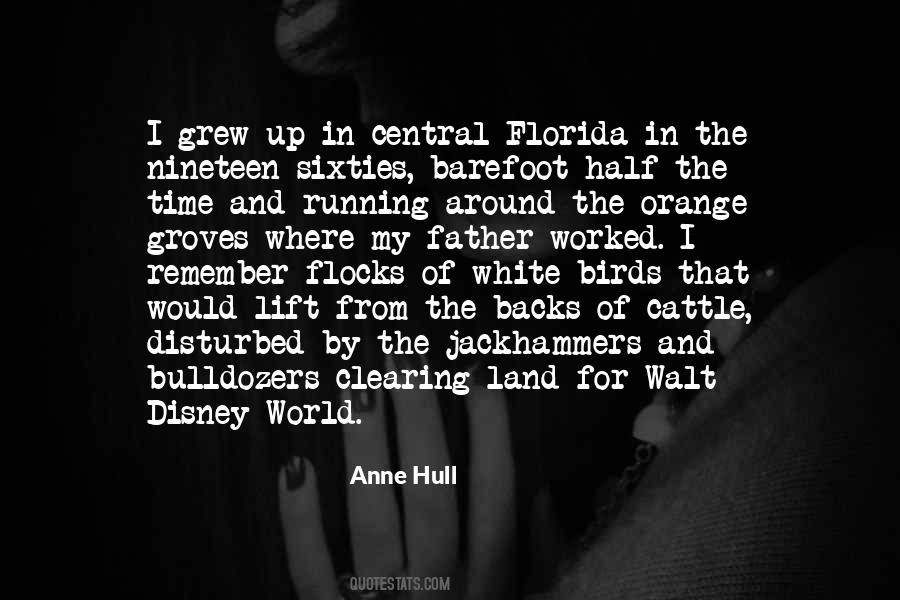 #52. I dieted all the time in the Sixties, but we had no idea what dieting meant - we thought it meant not eating anything. - Author: Britt Ekland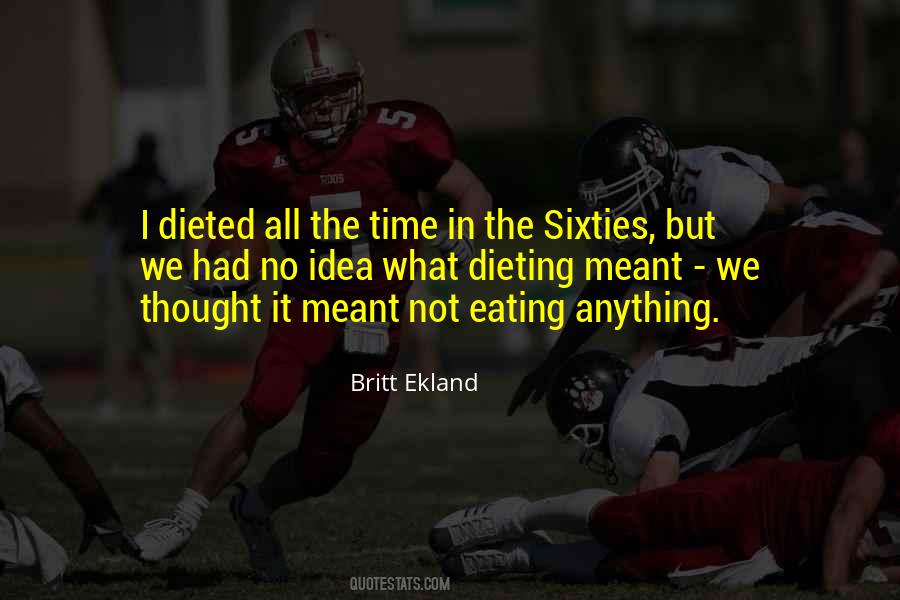 #53. In the forties, to get a girl you had to be a GI or a jock. In the fifties, to get a girl you had to be Jewish. In the sixties, to get a girl you had to be black. In the seventies, to get a girl you've got to be a girl. - Author: Mort Sahl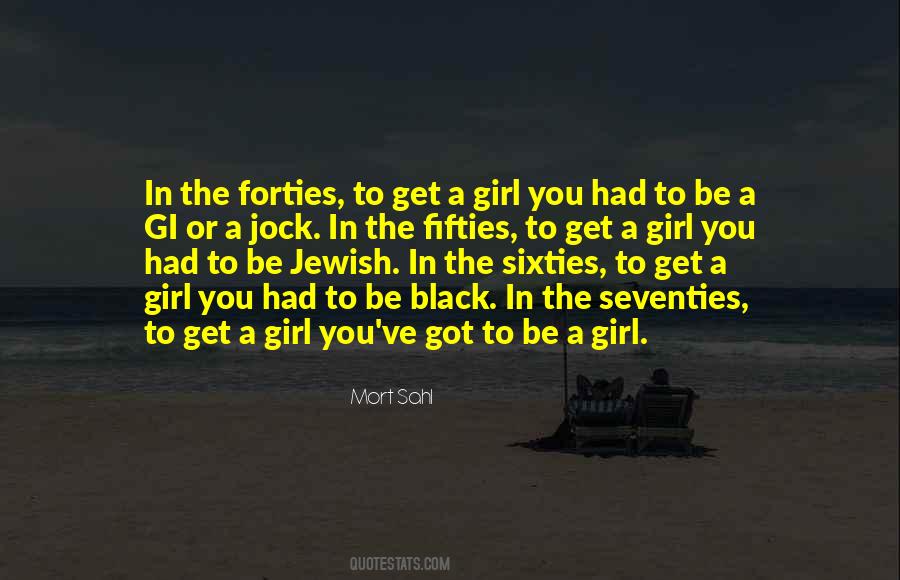 #54. If you can remember the sixties, you weren't there. - Author: Robin Williams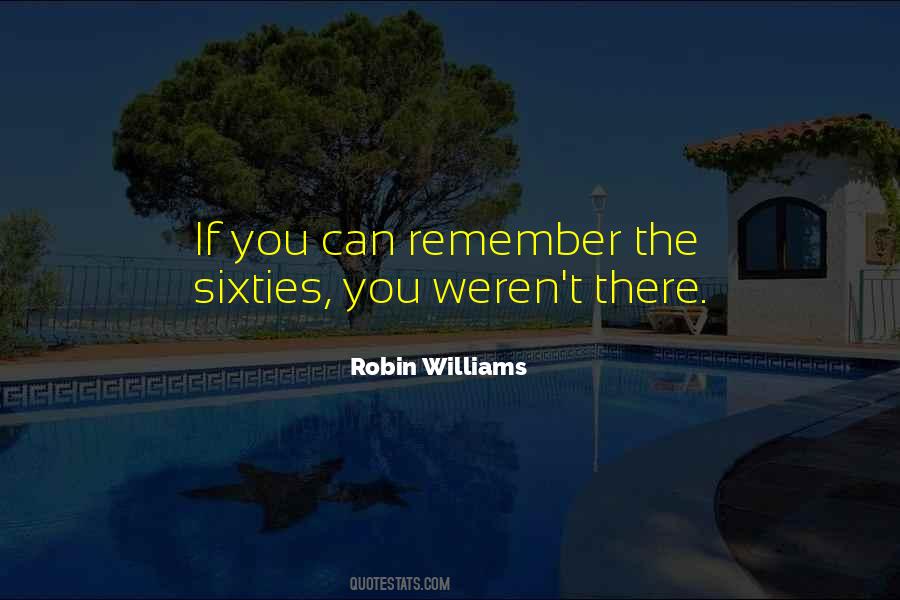 #55. I grew up in the Fifties and early Sixties, which were still quite conservative, and I wasn't given any information about sex or anything like that; I went out with girls at school because one had to. I didn't experiment with sex for quite a long time. - Author: Elton John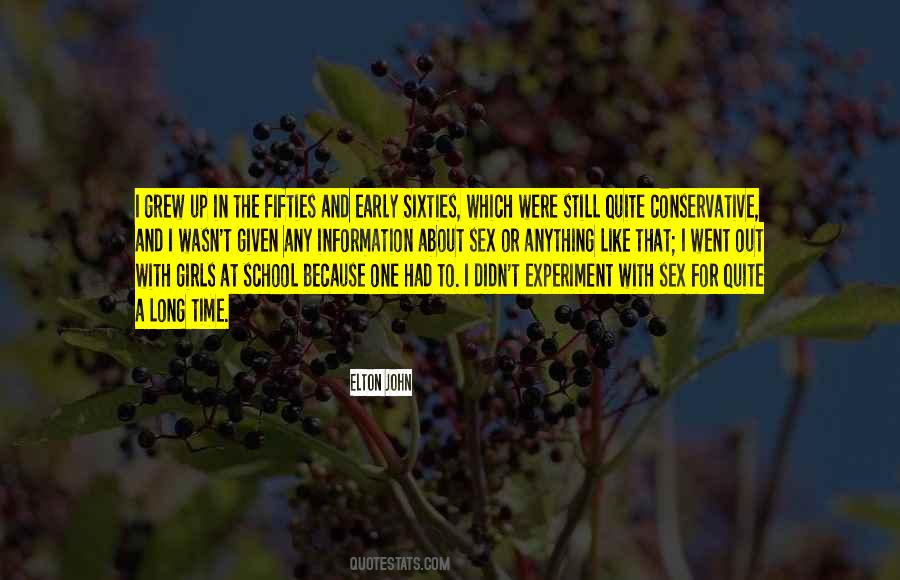 #56. What happened in the late Fifties, early Sixties in French cinema was a fantastic revolution. I was in Italy, but completely in love with the nouvelle vague movement, and directors like Godard, Truffaut, Demy. 'The Dreamers' was a total homage to cinema and that love for it. - Author: Bernardo Bertolucci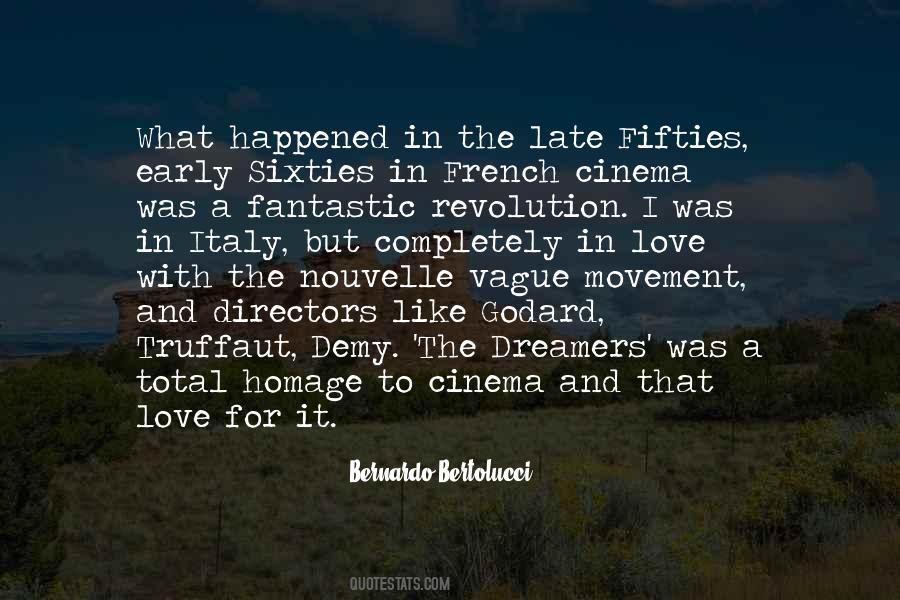 #57. Rob chuckles, I'm not some sparkly-skinned, jealous, child whose sensibilities are still stuck at the turn of the twentieth century. Eve, I can adapt. If we survived the sixties I promise you we can survive learning to share the most important person in either of our long lives. - Author: Angela Louise McGurk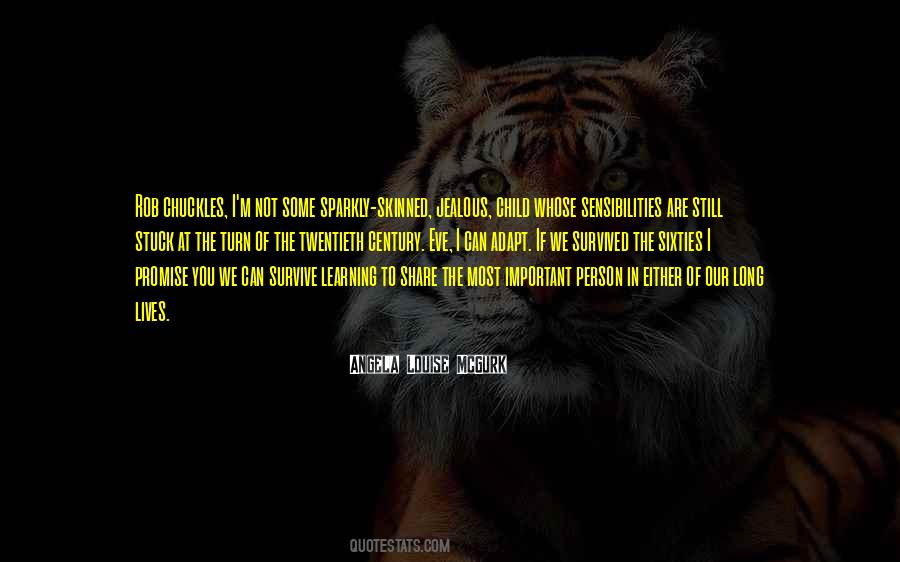 #58. In my small way I became an integral part of the pottery movement, and added fuel to the fire which consumed New Zealand and and swept pottery to the forefront of the of the fifties and sixties. - Author: Theresa Sjoquist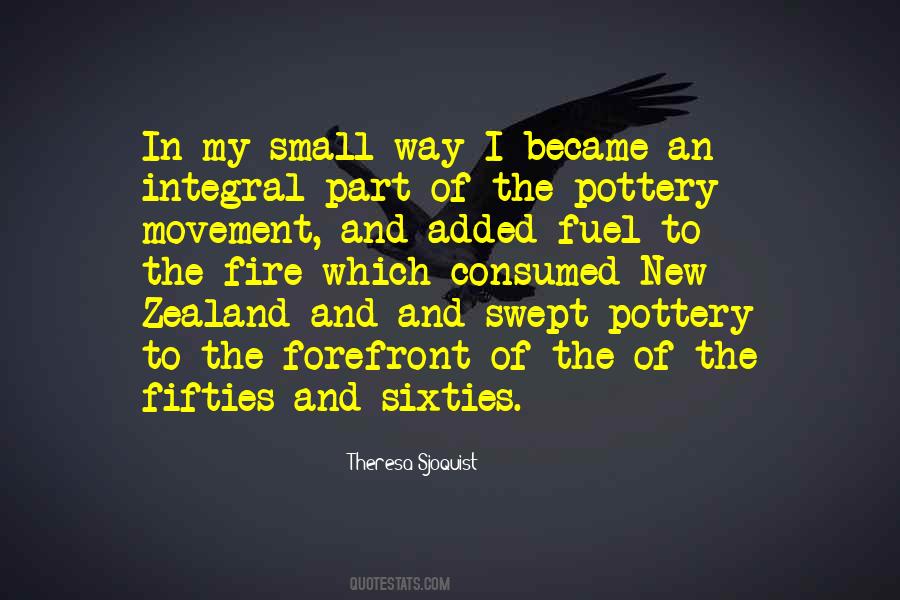 #59. The trauma of the Sixties persuaded me that my generation's egalitarianism was a sentimental error. I now see the hierarchical as both beautiful and necessary. Efficiency liberates; egalitarianism tangles, delays, blocks, deadens. - Author: Camille Paglia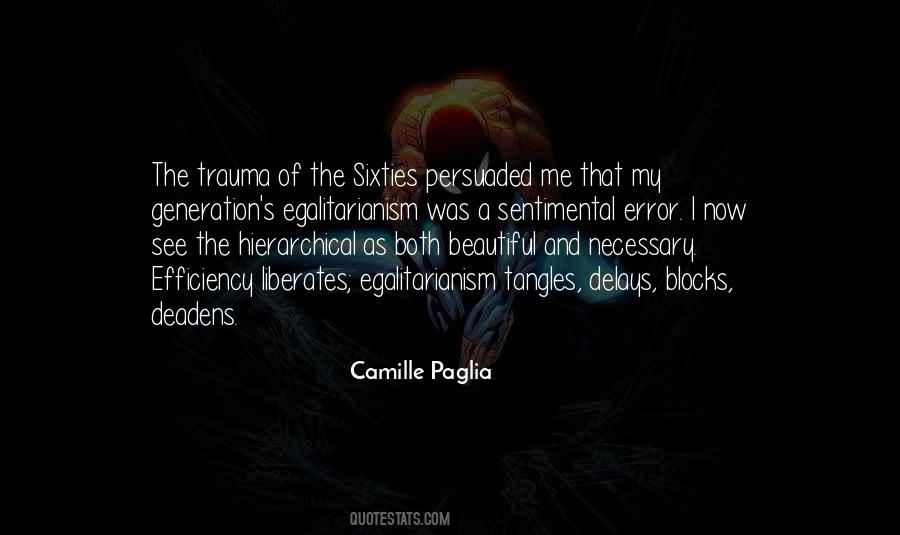 #60. Artists and musicians of the Sixties were definitely into clothes. - Author: Yoko Ono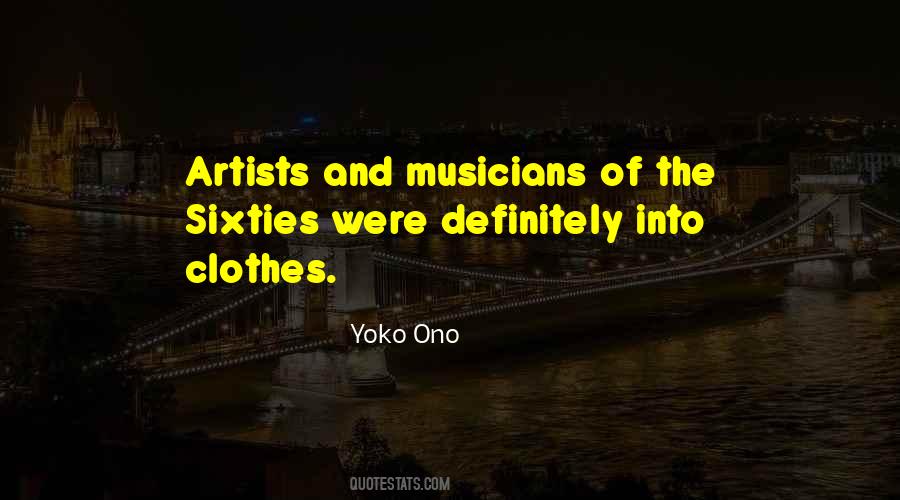 #61. Food became, for dinner parties in the sixties, what abstract expressionism had been in the fifties. - Author: Nora Ephron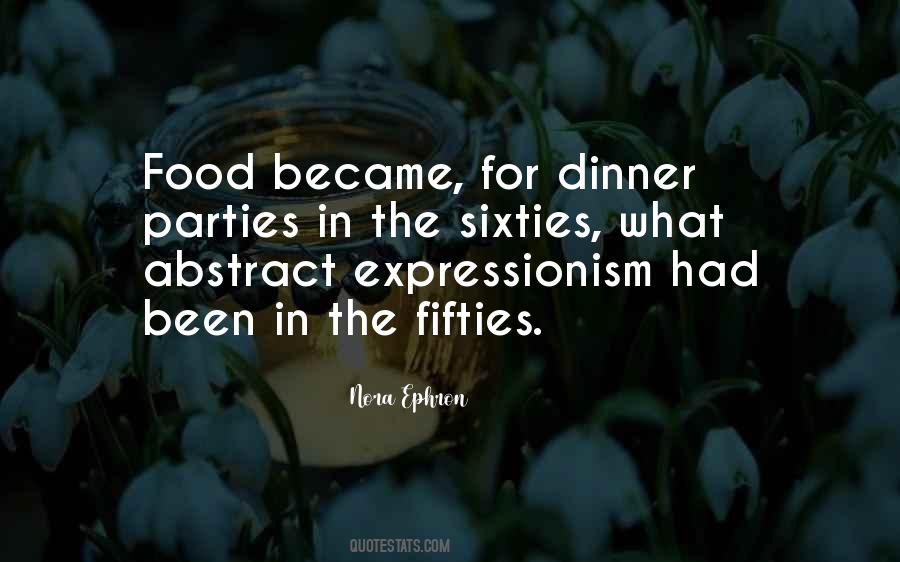 #62. Well, I actually grew up in the sixties. I feel very lucky, actually, that that was my slice of time that I was dealt. Let's remember that the real motivation in the sixties, and even in the fifties, was the Cold War. - Author: Ann Druyan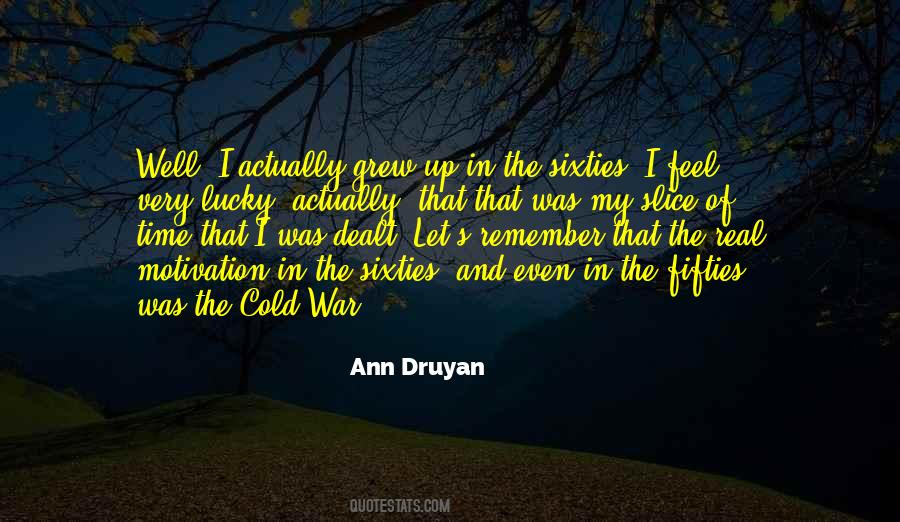 #63. England was always very special. It was so important because the reason Benny and I started writing was the Beatles. During the Sixties, England was everything. To be number one in England was more important than being number one in America because England set the tone. - Author: Bjorn Ulvaeus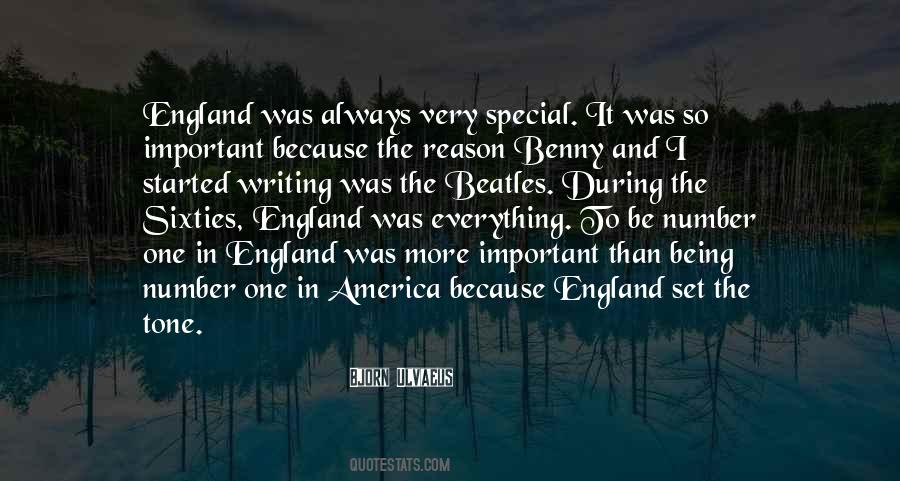 #64. I suddenly became aware over the last couple of years that I'm in my sixties. I never thought about it. I thought I'd better start acting my age or find roles that are going to be interesting to me in the sexagenarian repertoire, because it's not what you do in your forties or fifties. - Author: Geoffrey Rush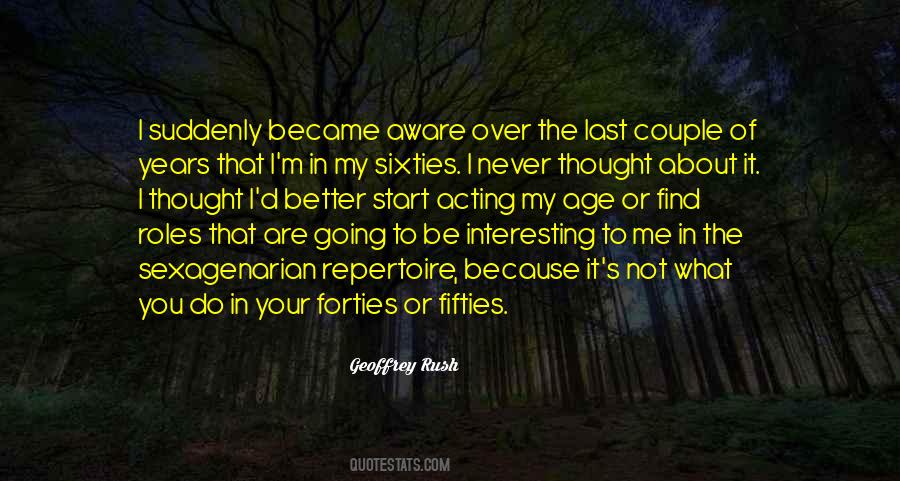 #65. Some of these sketches were done at the very beginning of the Pirates project, when I was trying to find a direction for myself. That was the early sixties ... maybe 61 or 62. - Author: Marc Davis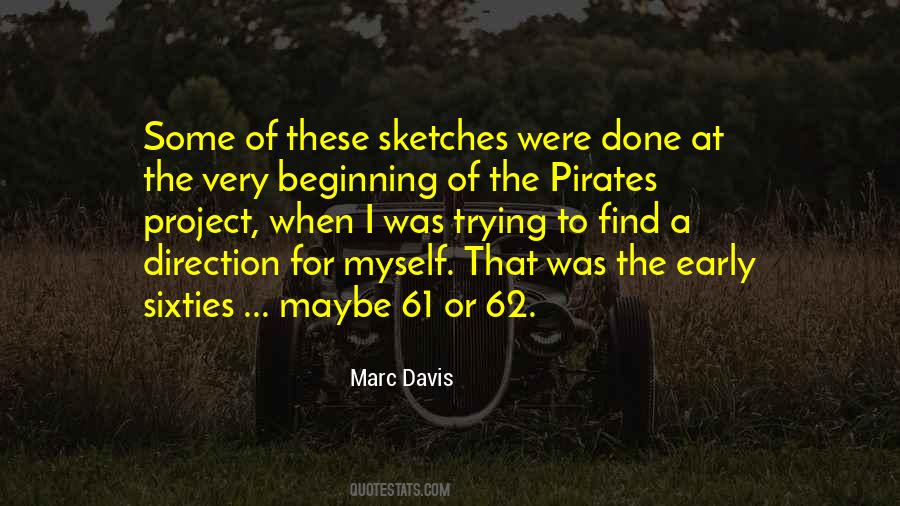 #66. I missed so much of the Swinging Sixties by working. From 1961 to 1969, I got up at 4.30 A.M., a car came for me at 5.30 A.M., and I was taken to our studio at Teddington or Elstree, and we filmed until I got home at 9.30 P.M., five days a week. - Author: Patrick Macnee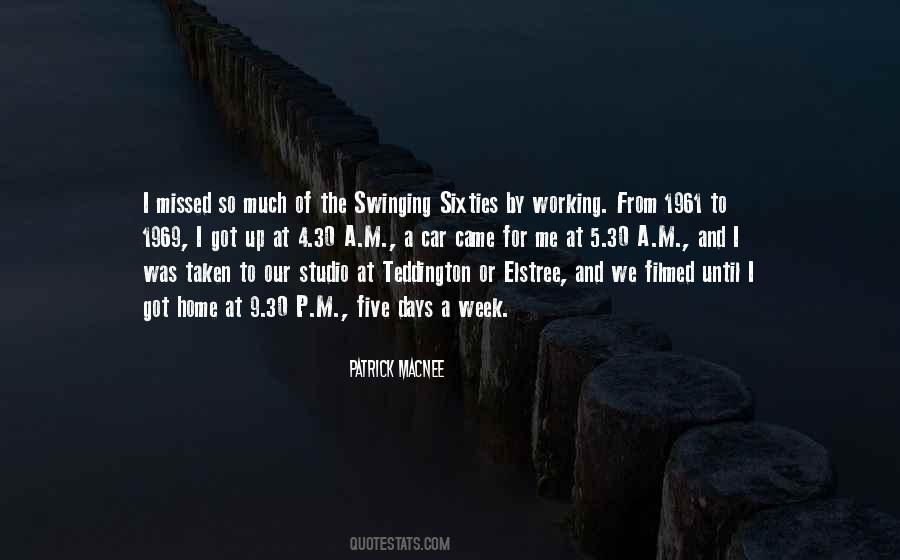 #67. If you want to know about the Sixties, play the music of The Beatles. - Author: Aaron Copland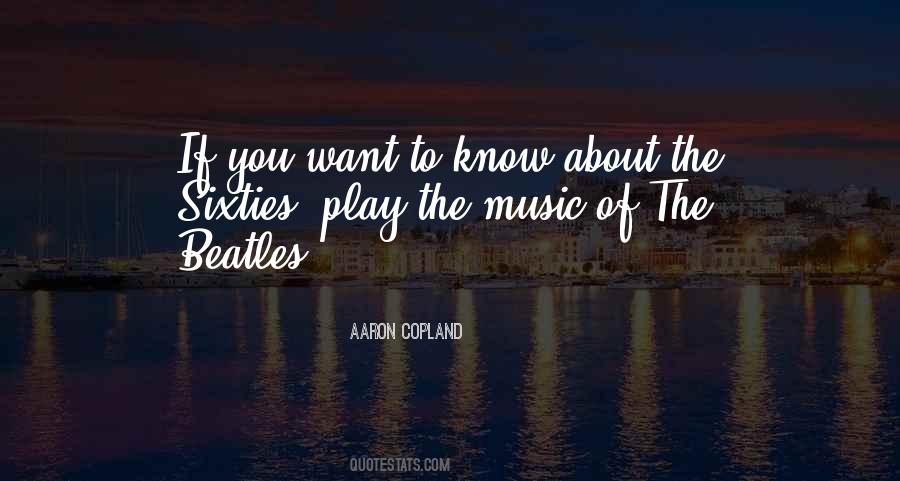 #68. To me, the most amazing the most amazing transformation in my lifetime is not the revolution of the Sixties but the counter revolution of the Seventies, where they managed to put the cuckoo clock back together again - Author: Terence McKenna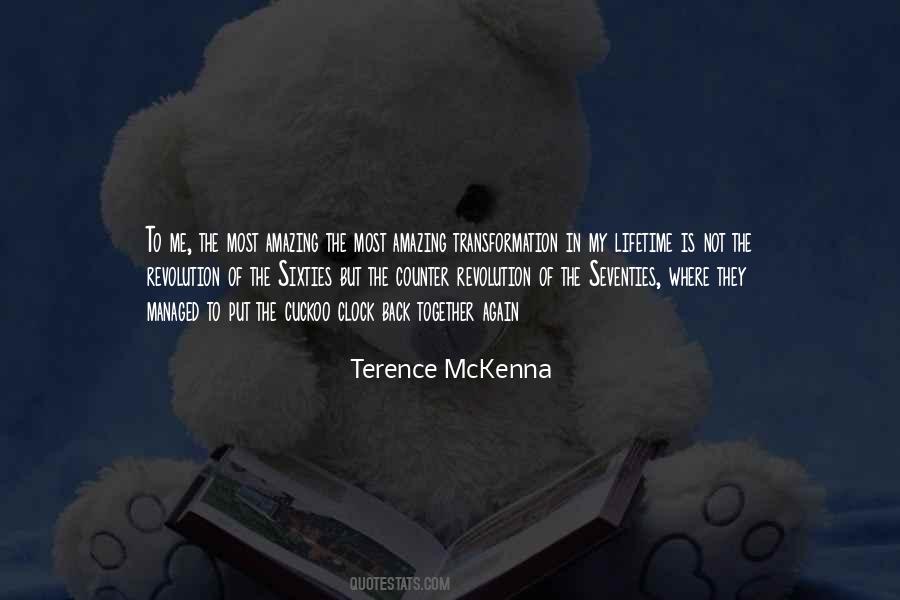 #69. When we're out of the eighties, the nineties are gonna make the sixties look like the fifties! - Author: Dennis Hopper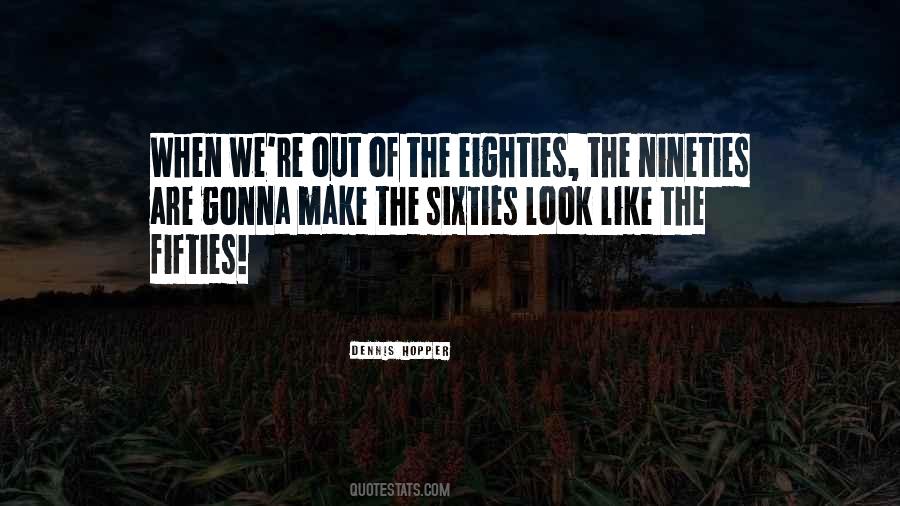 #70. Obviously, the Sixties was a time when everyone wanted to experiment, and then everything became very formulated and corporate, so artists tended to get pushed into a kind of pattern. Now, I think that has continued with the emergence of televised talent shows like 'X Factor.' - Author: Steve Winwood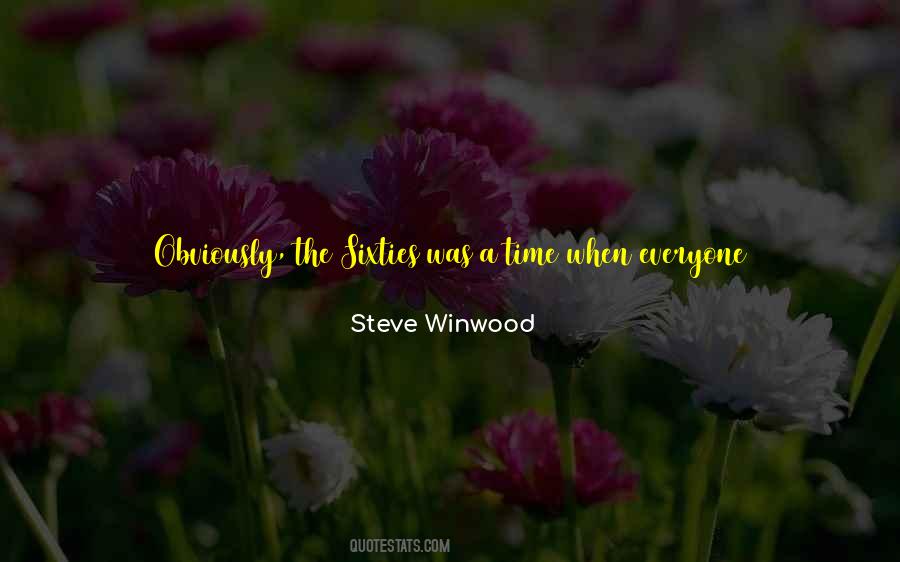 #71. Many things happened in the sixties, but the period is no more significant, better, or more 'political' than today. It's time to turn the page. - Author: Jerry Saltz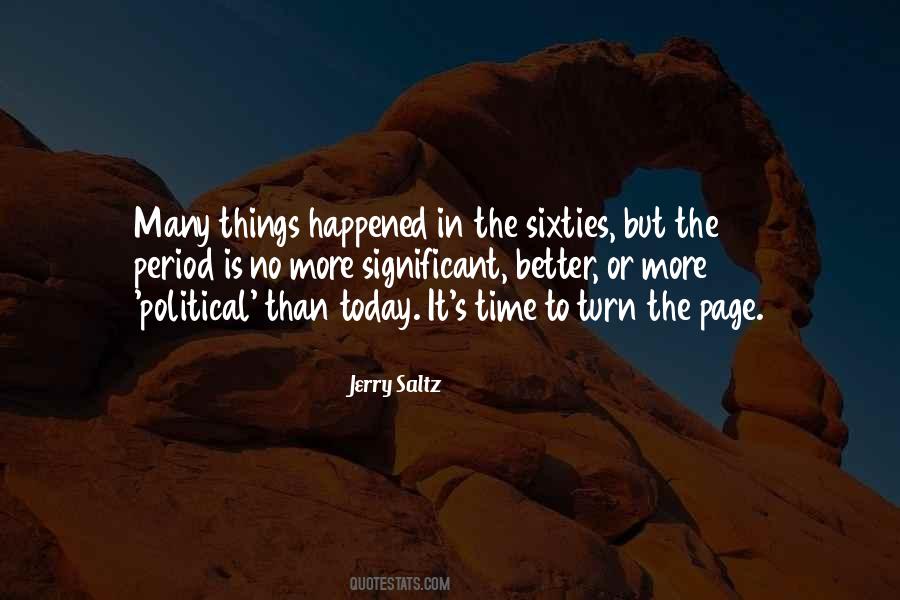 #72. But, you know, the Stones were my opening act in the Sixties. I loved those British guys, the way they just stood there and shook their hair. - Author: Ronnie Spector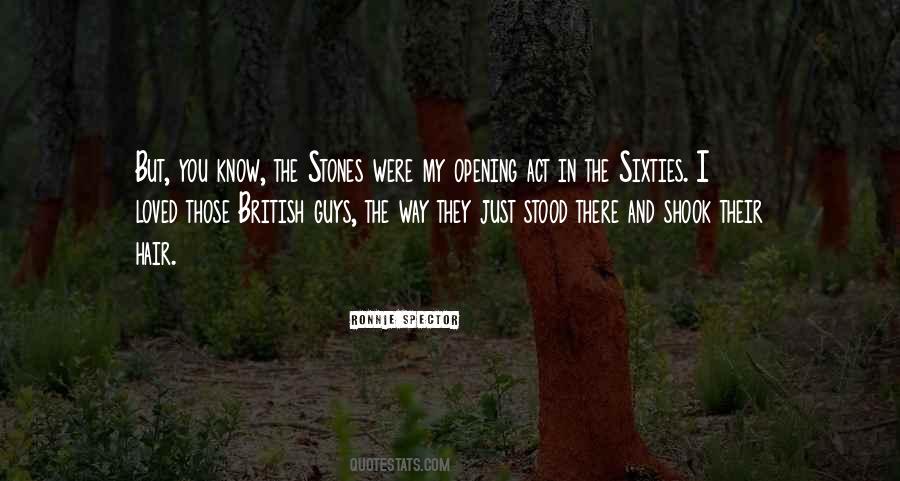 #73. In the early sixties, the notion that racism was not acceptable even in certain regions or certain clubs or certain circumstances - the notion that it could not be treated with moderation - was a notion largely confined to black people. - Author: Calvin Trillin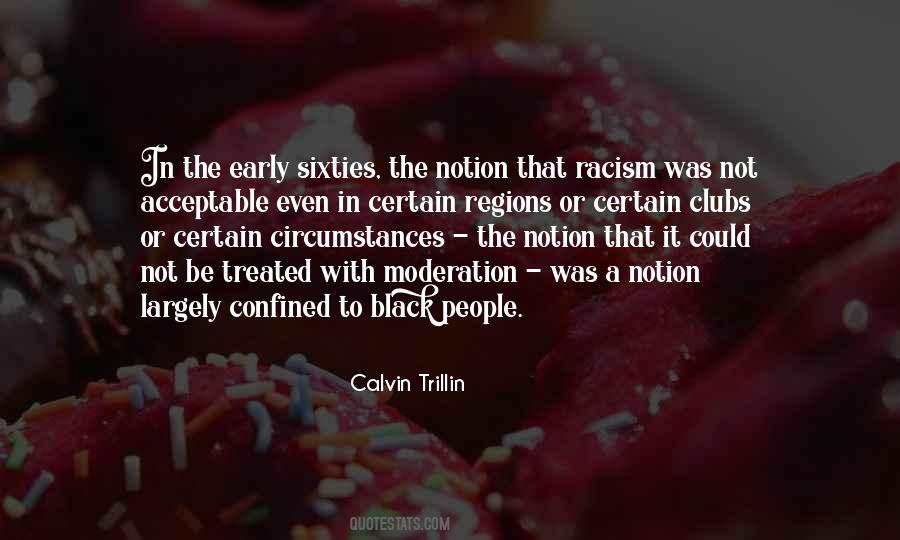 #74. That attitude toward women as objects may have worked for the late Sixties, but it doesn't do so now. - Author: John Schlesinger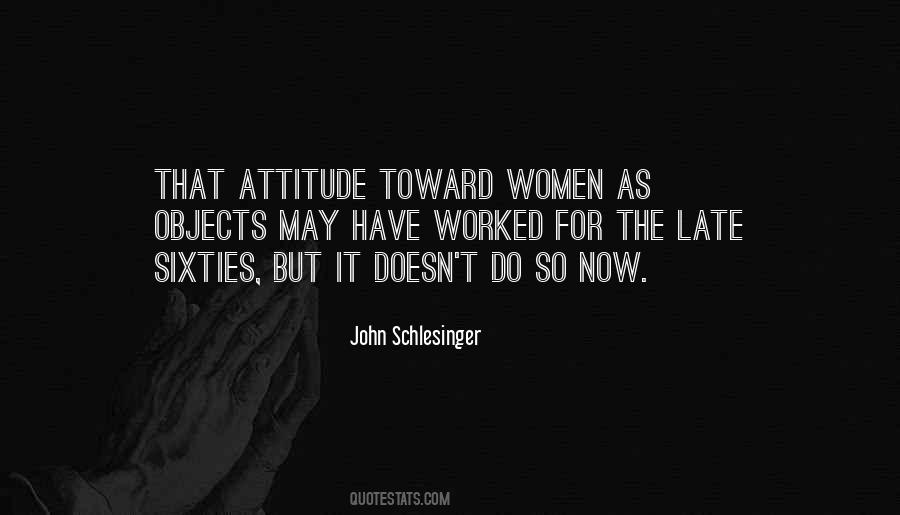 #75. I do think that people who are now in their sixties and their seventies are living a different kind of life than their grandparents led, even in these tough times. A lot of them are more active, a lot of them are still working, which was not the case when our grandparents were in their sixties. - Author: Anna Quindlen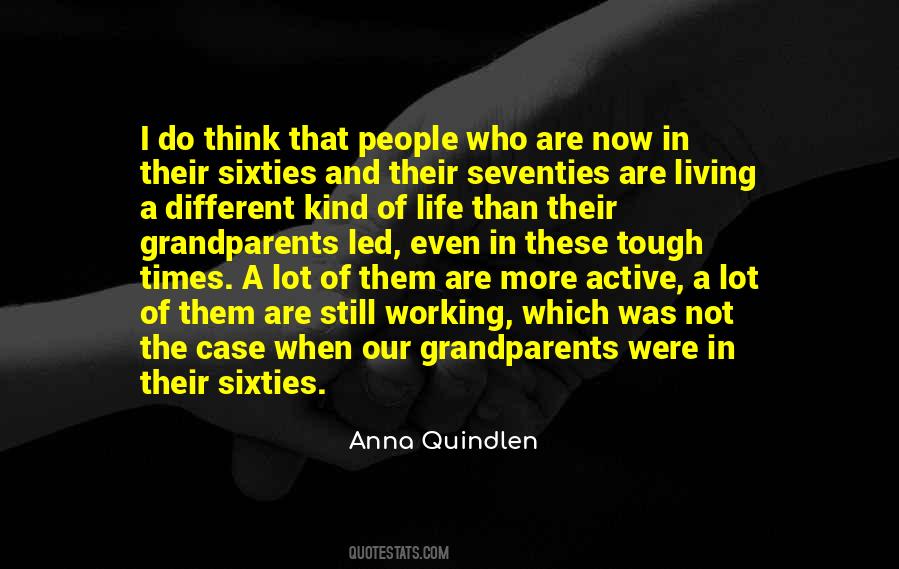 #76. You're always trying to do something that, on one hand, honors all those stories, that is still in some way the same character that Stan Lee and Jack Kirby were doing back in the sixties. But, at the same time, you want to be able to tell new stories and not just rehash what's come before. - Author: Jason Aaron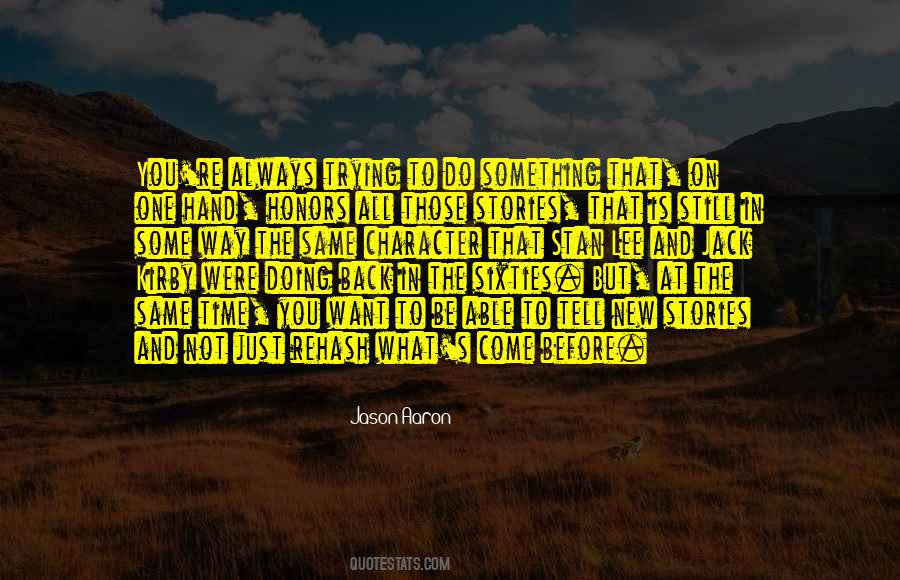 #77. My generation of the Sixties, with all our great ideals, destroyed liberalism, because of our excesses. - Author: Camille Paglia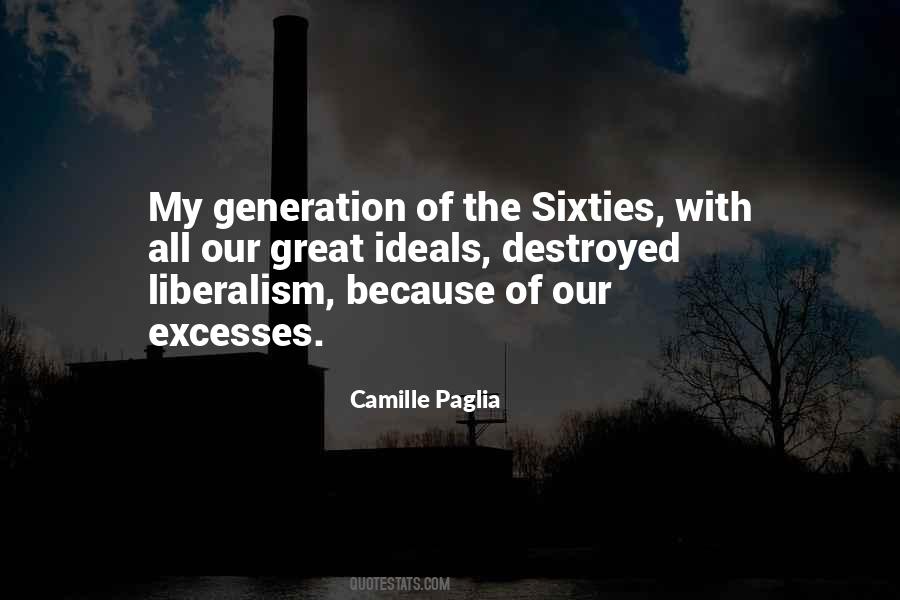 #78. Manson's the man who's responsible for "killing the Sixties." He really knew how to play up the whole "most dangerous man alive" thing when at the time, the most dangerous man alive was Richard Nixon. - Author: John Roecker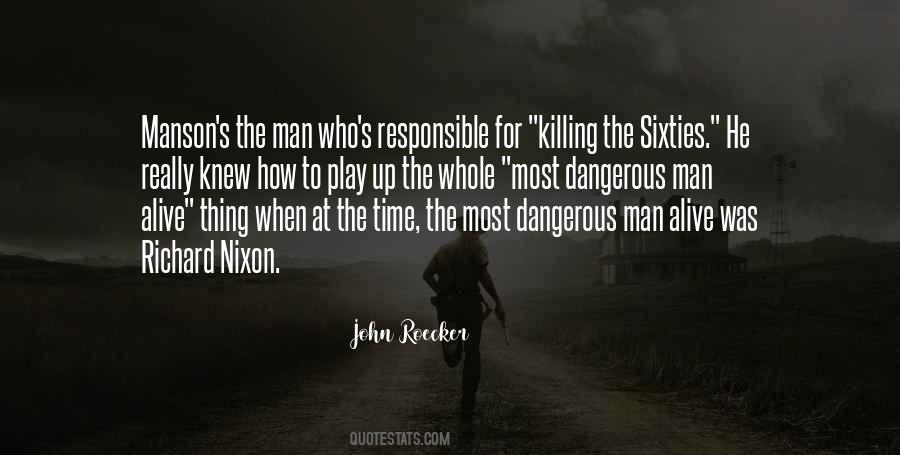 #79. I want a revamped feminism. Putting the vamp back means the lady must be a tramp. My generation of the Sixties rebels wanted to smash the bourgeois codes that had become authoritarian totems of the Fifties ... Thirty years later, we're still stuck with the ["nice" girl]. - Author: Camille Paglia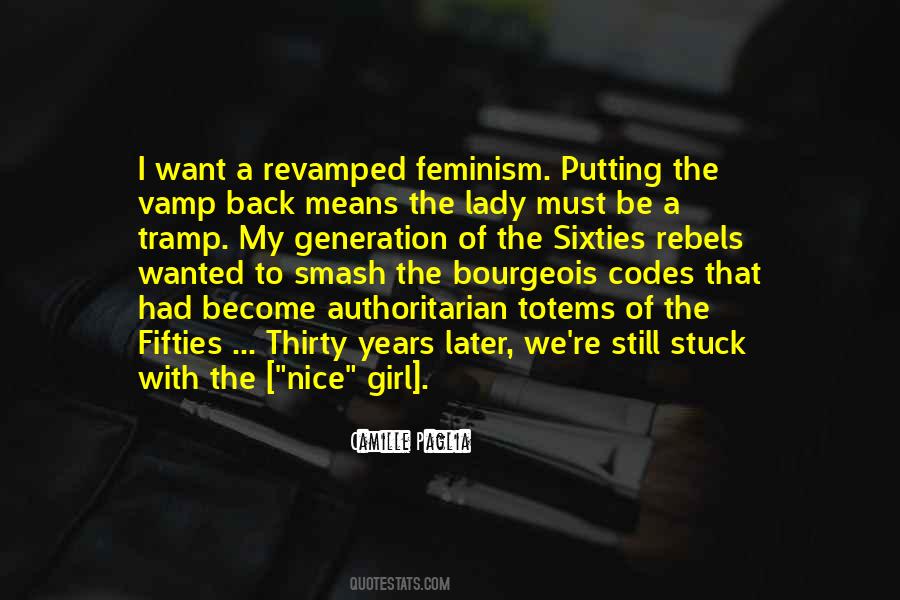 #80. I remember driving to North Carolina when I was a little girl in a snowstorm to get down to my mom's family in the Carolinas. There were chains on the car - it was the late sixties - and we were just singing in the car. Christmas carols. - Author: Tori Amos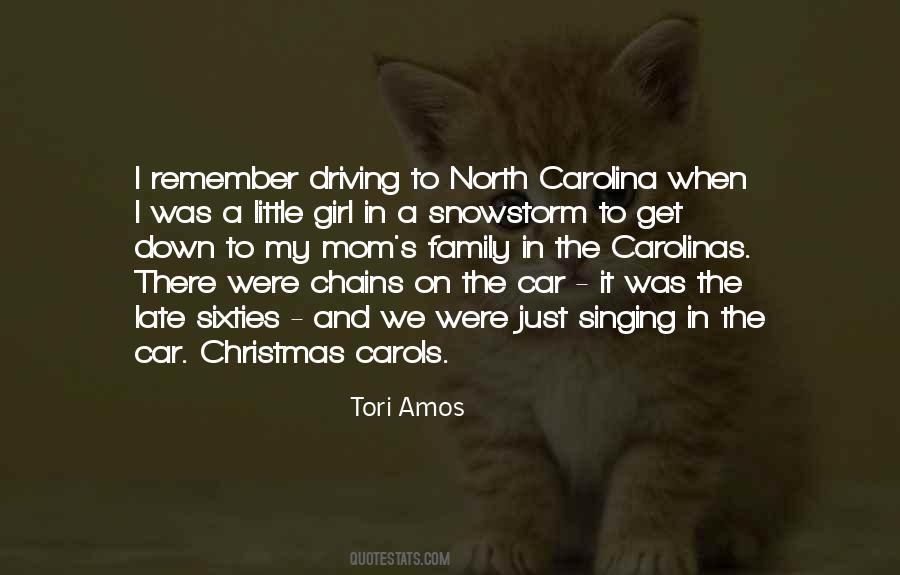 #81. Kennedy's assassination was the opening salvo in the social revolution of the sixties. In some ways, perhaps, Princess Diana and Mother Teresa dying when they did, and how they did, represent the opening salvos of a social revolution in the nineties. - Author: Marianne Williamson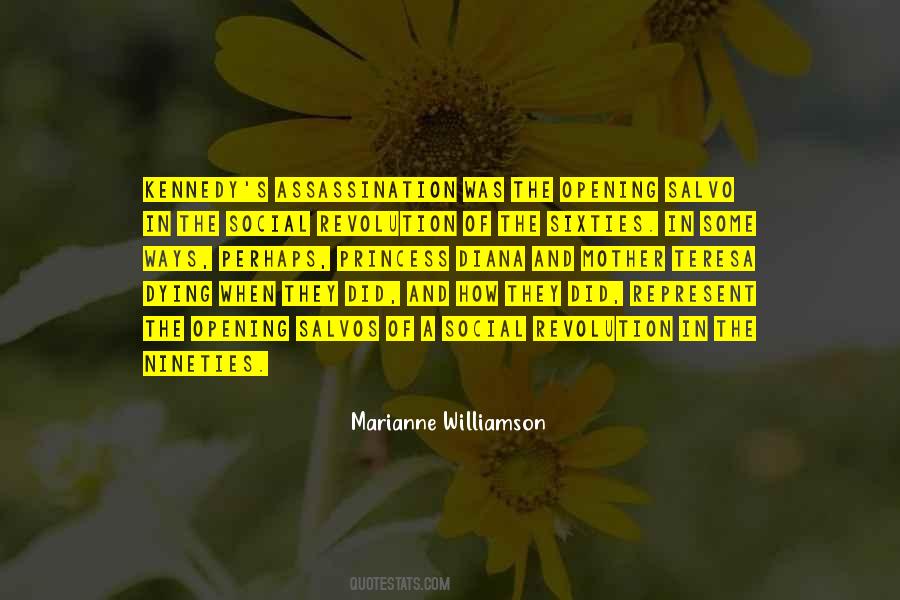 #82. Remember when you used to watch TV in the Sixties and you'd see Perry Como in a cashmere sweater? That's what rock 'n' roll is becoming. It's your parents' music. - Author: Neil Young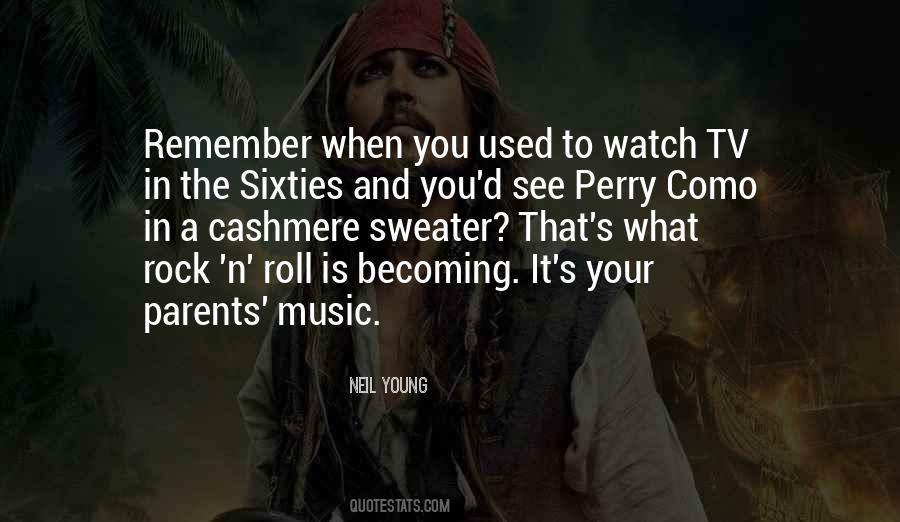 #83. When just a kid, moved back to Canada and looking for a taste of England, I'd picked up a book of my Gram's, a dog-eared romance from the 'sixties about English hospital 'sisters' trying to get it on with the doctors, and thought it very shocking behaviour for nuns. - Author: Roberta Pearce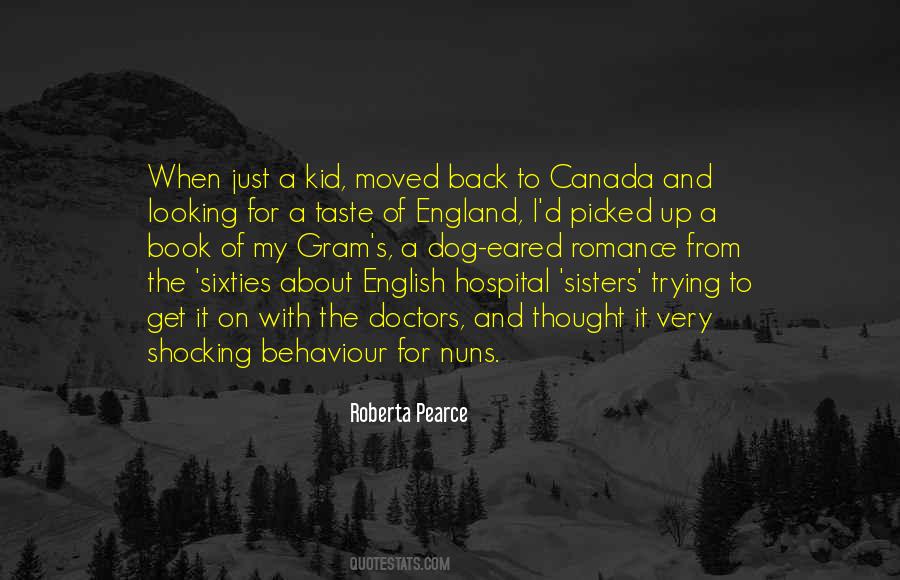 #84. In housing in the fifties in Britain and the sixties, we pulled down the terraces - destroyed whole communities and replaced them with tower blocks and we built walkways that became rat-runs for muggers. That was the fashionable opinion. But it was wrong. - Author: John Major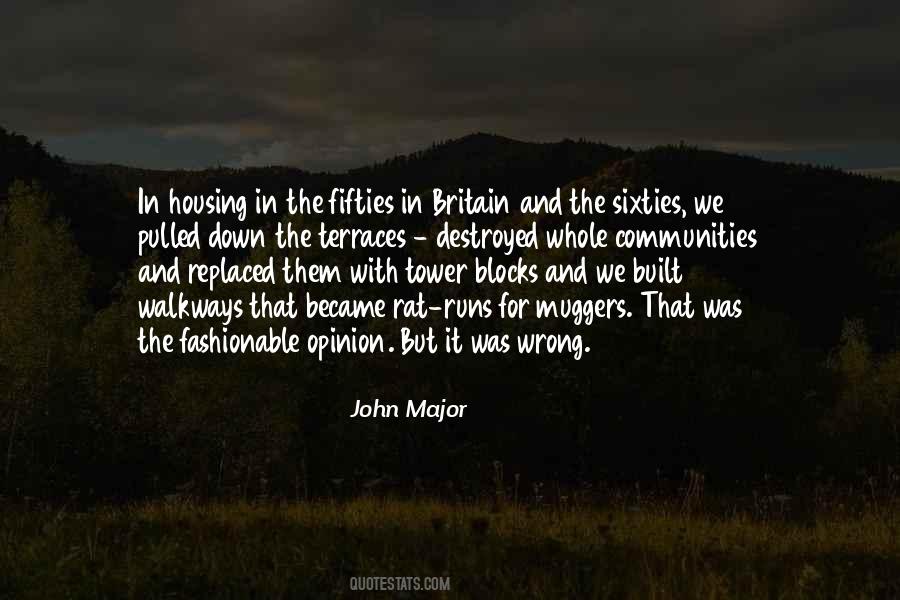 #85. The music I like best is kind of frozen in my mind from the Sixties and Seventies. I still listen to the same jazz music I listened to when I was eighteen years old, and like and admire it just as much. - Author: Don DeLillo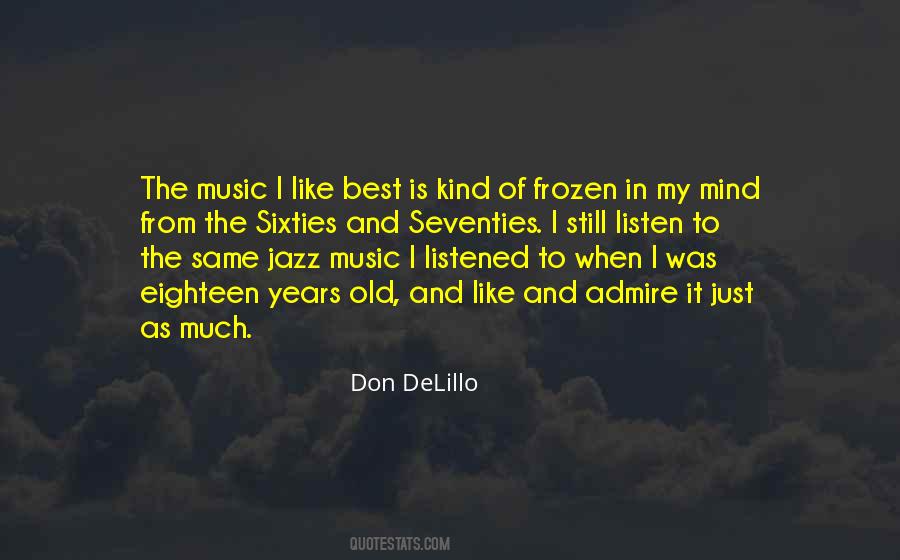 #86. The Sixties was all about style and a certain look. But what was interesting about 1963 was that it was pre-Beatles, so the clothes of that time, especially the suits, were very different from the clothes post-Beatlemania. - Author: Luke Evans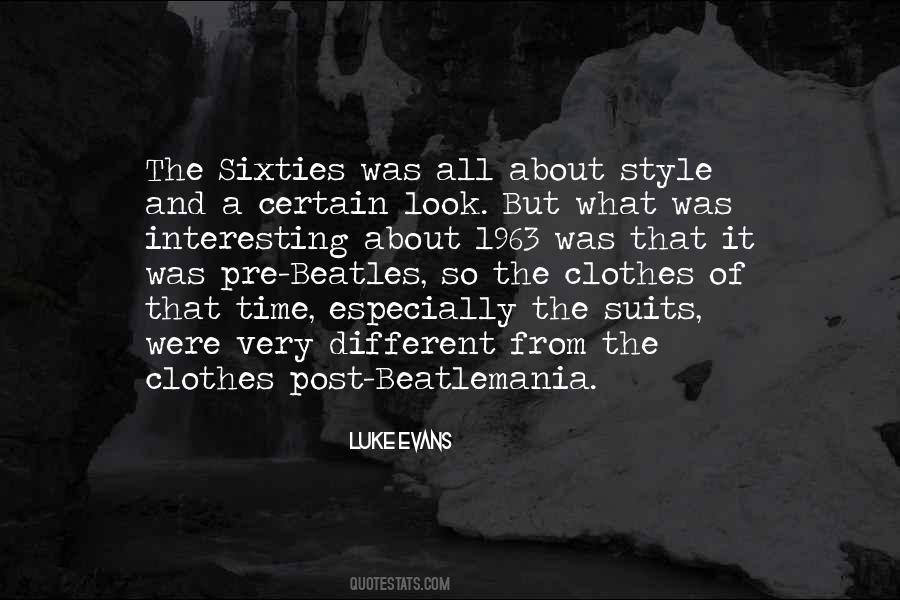 #87. I helped make the Sixties swing, and I'm very proud of that. - Author: Cilla Black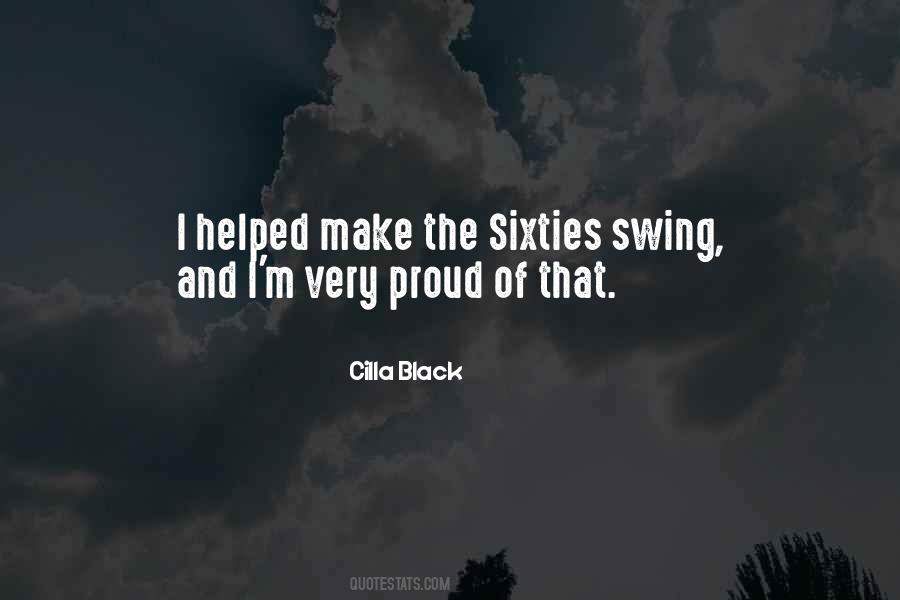 #88. But the whole point of the Sixties was that you had to take people as they were. If you came in with us you left your class, and colour, and religion behind, that was what the Sixties was all about. - Author: Michael Caine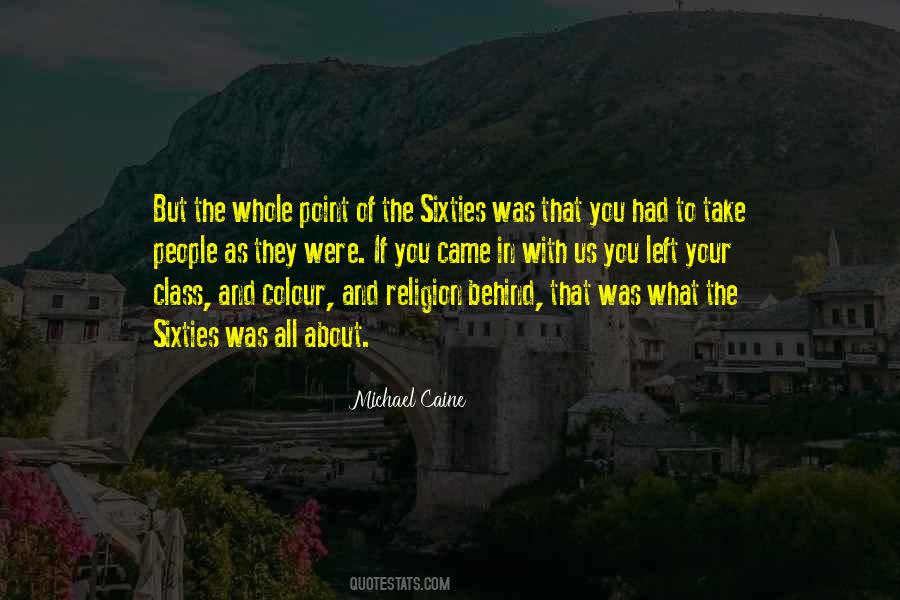 #89. The Sixties, of course, was the worst time in the world to try and bring up a child. They were exposed to all these crazy things going on. - Author: Nancy Reagan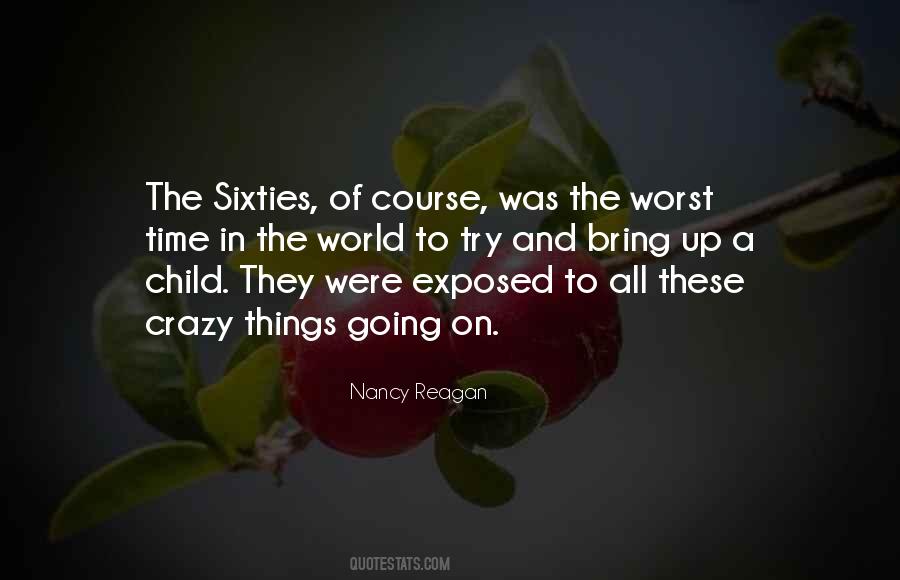 #90. I was trying to organise my DVDs into a sort of chronological order, and I am afraid that it all trailed off after the Sixties. - Author: Paul Merton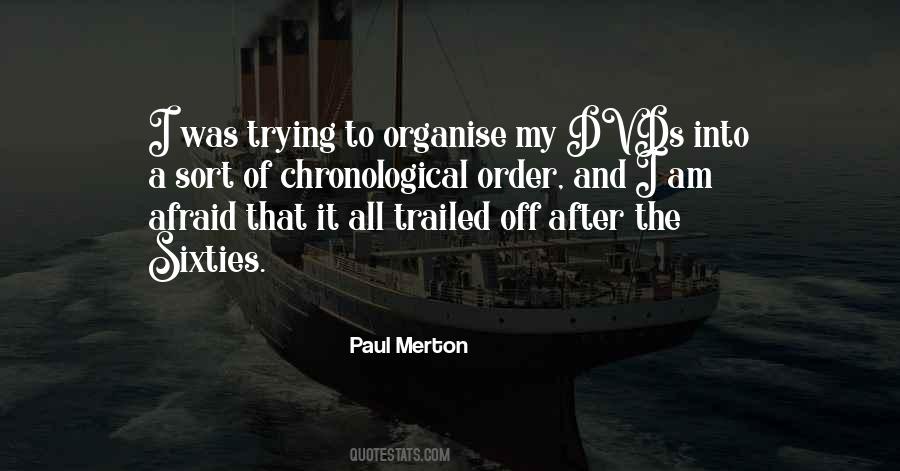 #91. Ginsberg, Burroughs, and Kerouac were all on the side of the savage. That their penny-ante gnosticism was not only perpetuated but mythologized and spread abroad as a gospel of emancipation is something for which we have the Sixties to thank -- or to blame. - Author: Roger Kimball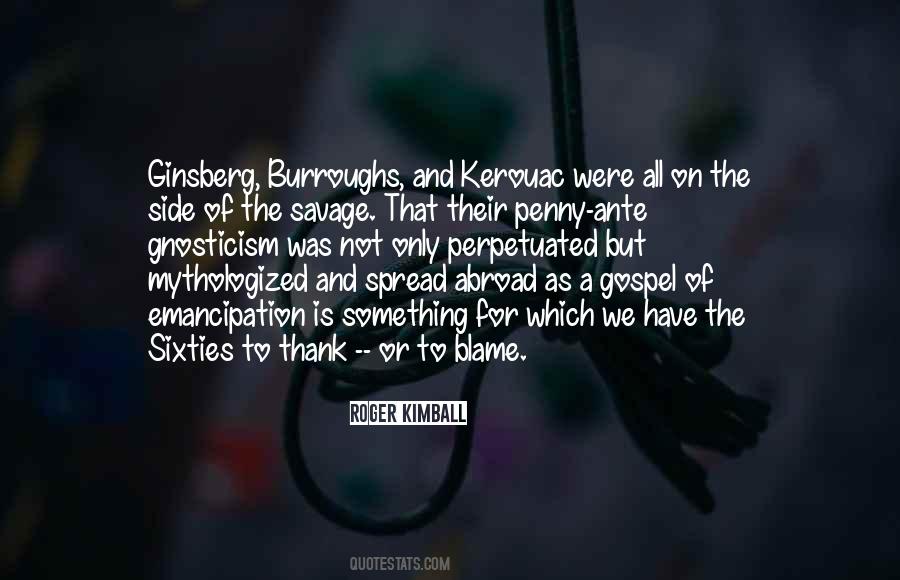 #92. In the early Sixties, having begun to describe the physiology of cells in the adult cat visual cortex, David Hubel and I decided to investigate how the highly specific response properties of cortical cells emerged during postnatal development. - Author: Torsten Wiesel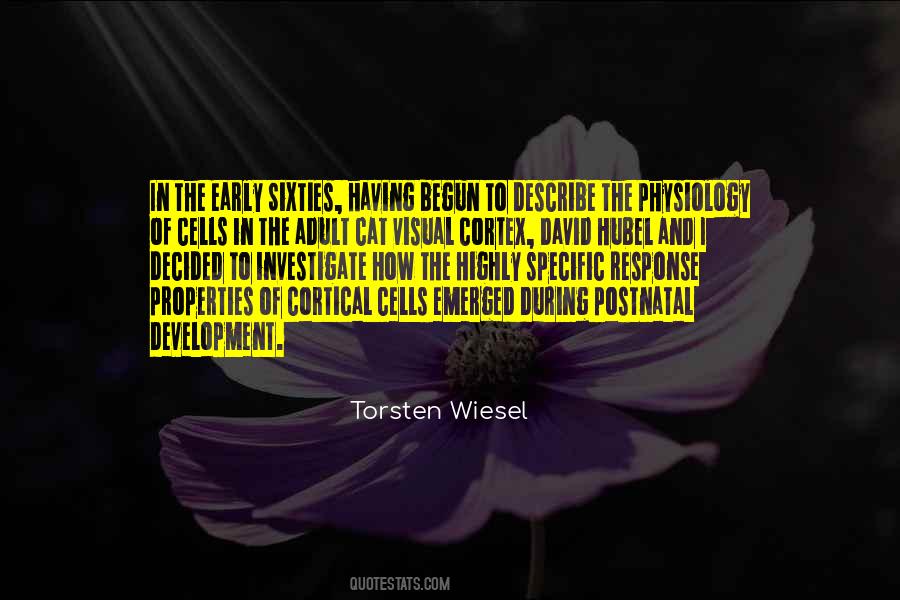 #93. On one level the sixties revolt was an impressive illustration of Lenin's remark that the capitalist will sell you the rope to hang him with. - Author: Ellen Willis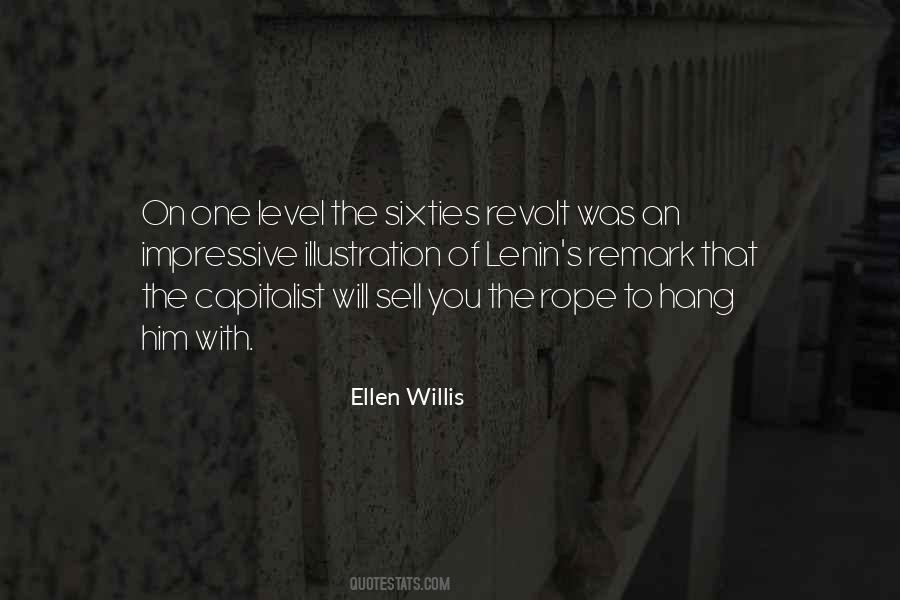 #94. In the Sixties, you needed talent to make it. - Author: Cilla Black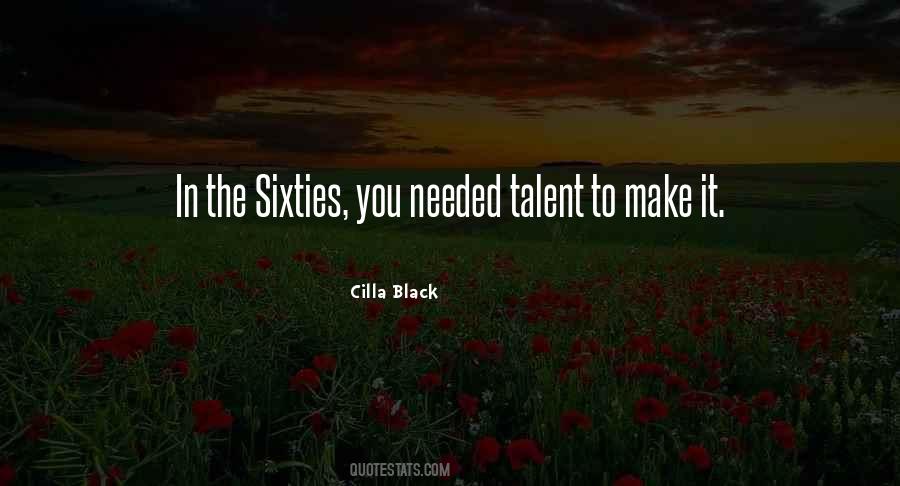 #95. I feel that the social revolution of the sixties is like a revolving door that came our way, and then left. It's back again. - Author: Marianne Williamson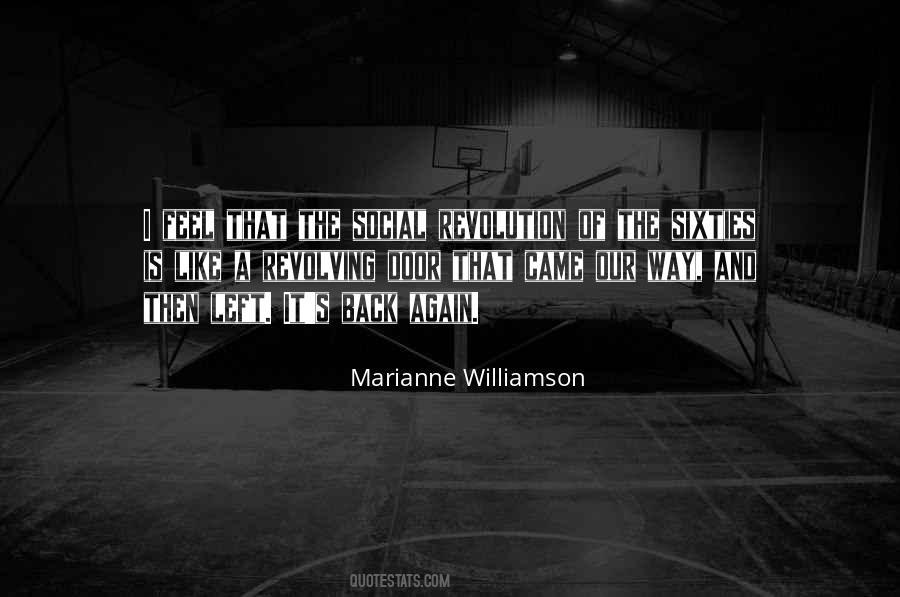 #96. he almost never spoke about himself, in my hearing at least: though once, shortly after his marriage, when he brought his wife to lunch with me, he said...looking at her across the grassy quadrangle, 'I never expected to have, in my sixties, the happiness that passed me by in my twenties. - Author: Jocelyn Gibb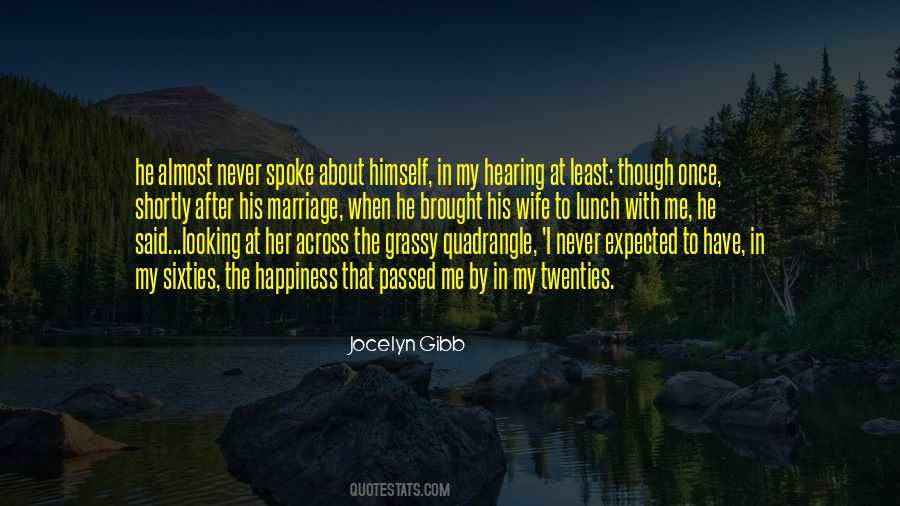 #97. Rock and roll's relatively new, in the sense of the Fifties, Sixties, right? They invented the first sort of rock stars, and they took it to excess, and then the excess became bitter, tormented. Then it became okay to succeed. - Author: Albert Hammond Jr.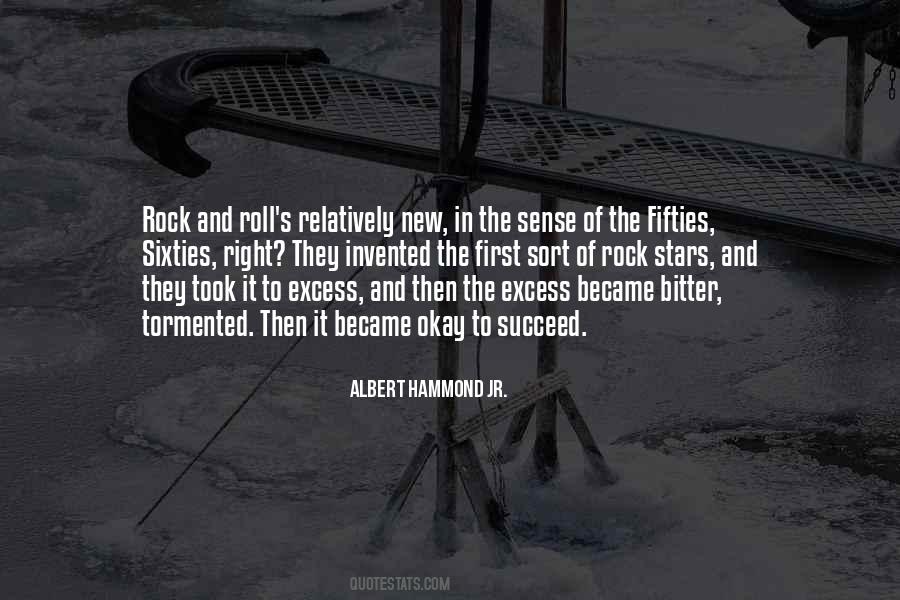 #98. In the Sixties, fashion was about liberation. It was about setting women free; it wasn't about being unable to walk. - Author: Veruschka Von Lehndorff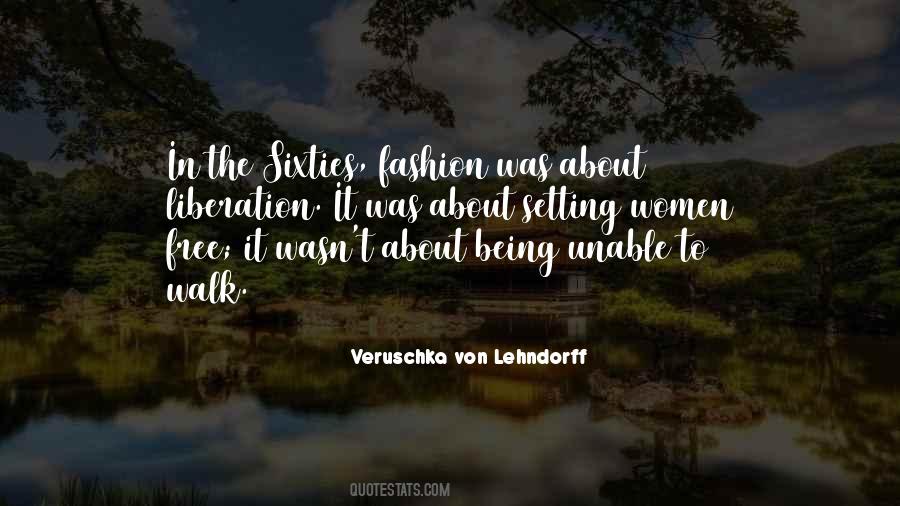 #99. Back in those days, in the fifties and sixties, countries had balance of payment's deficits or surpluses, those were reflected much more than today in movements of reserves among countries. - Author: Robert C. Solomon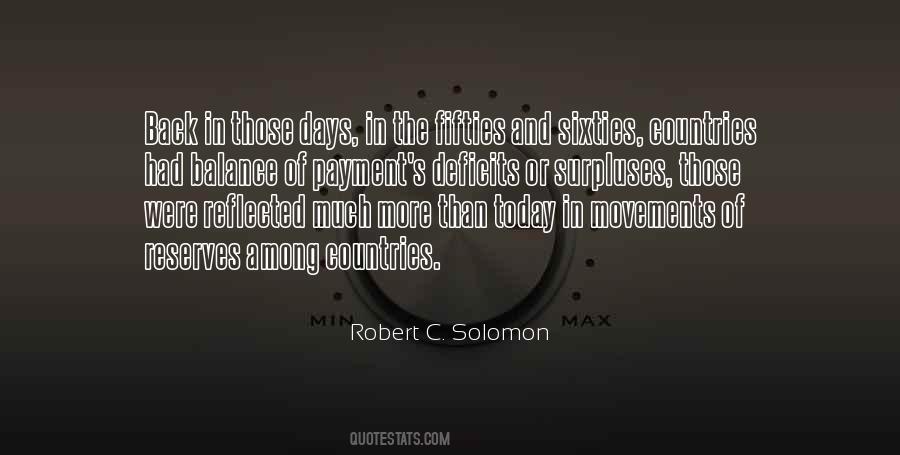 #100. The sixties - most of which took place in the seventies... - Author: John Thorndike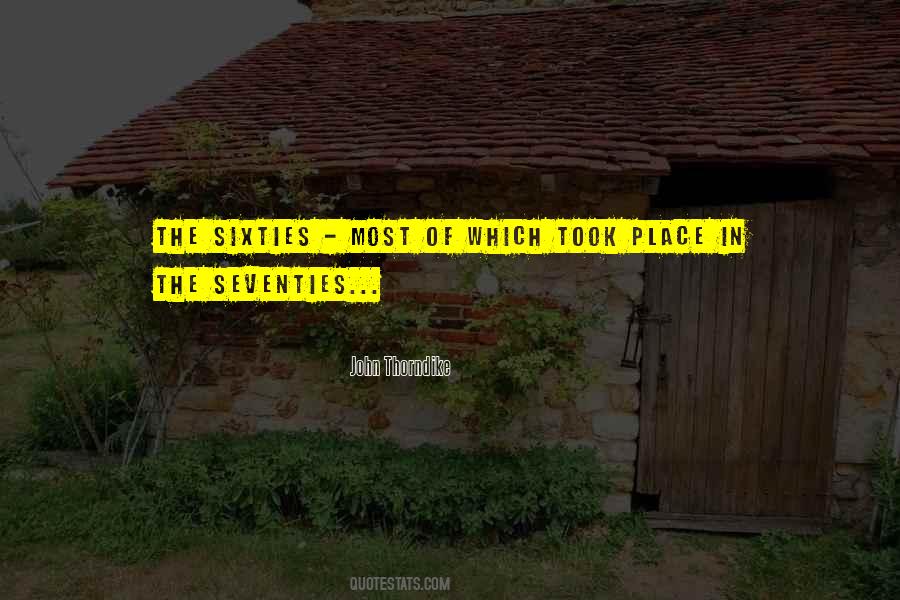 Famous Authors
Popular Topics