The Road Of Life Famous Quotes & Sayings
List of top 100 famous quotes and sayings about the road of life to read and share with friends on your Facebook, Twitter, blogs.
Top 100 Quotes About The Road Of Life
#1. I don't live life a whole lot differently than some of the more notable characters in my books. It has been a road less traveled, but worth every step along the way. - Author: P.S. Meronek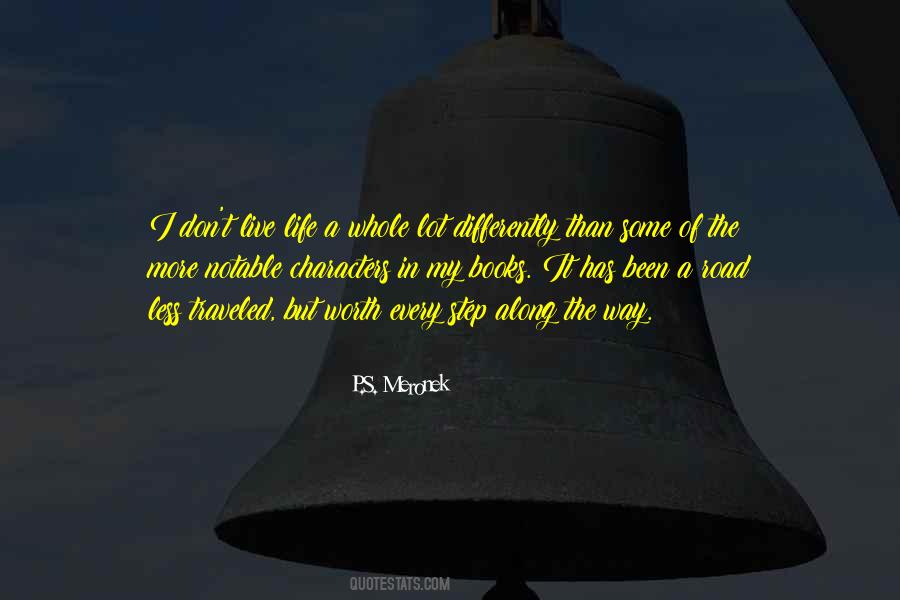 #2. I have a full life off the road. I was never in it just for the money or the career. That's why I'm comfortable with myself. I know who I am out of the spotlight. - Author: Dion DiMucci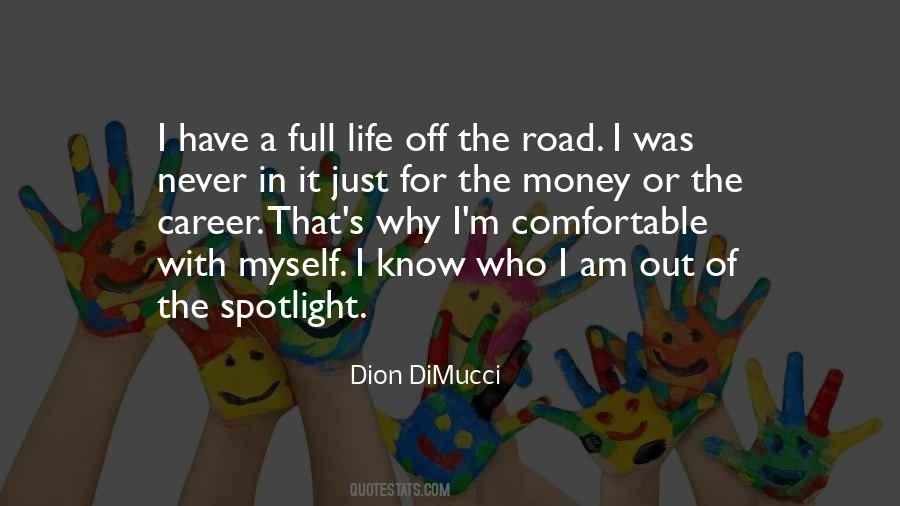 #3. There are no rest stops on the road of life. Otherwise they'd be congested with traffic. - Author: Richelle E. Goodrich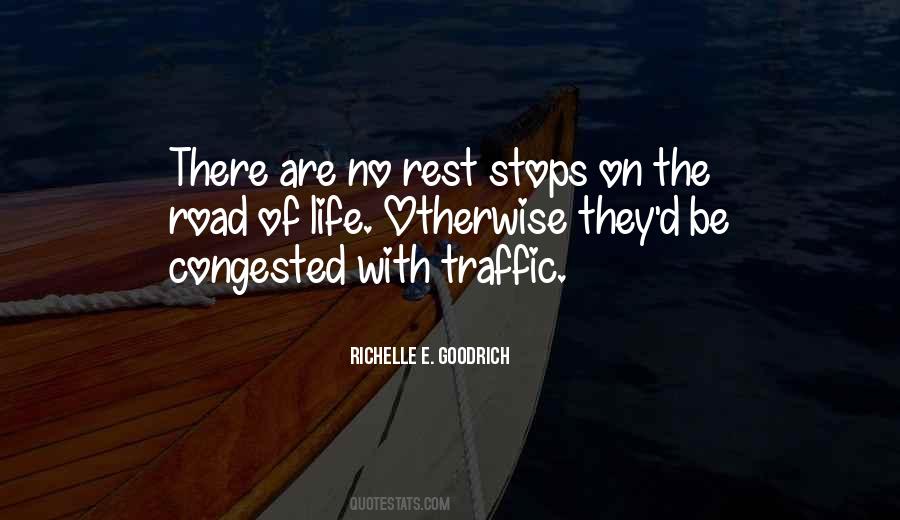 #4. The road to success in life is never an individual battle but a collective effort. - Author: Abdulazeez Henry Musa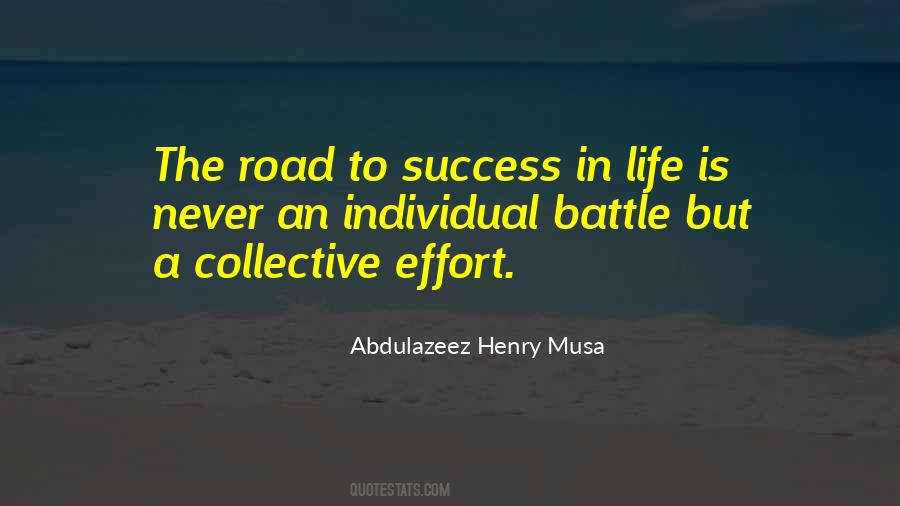 #5. It may be said that the vices await us in the journey of life like hosts with whom we must successively lodge; and I doubt whether experience would make us avoid them if we were to travel the same road a second time. - Author: Francois De La Rochefoucauld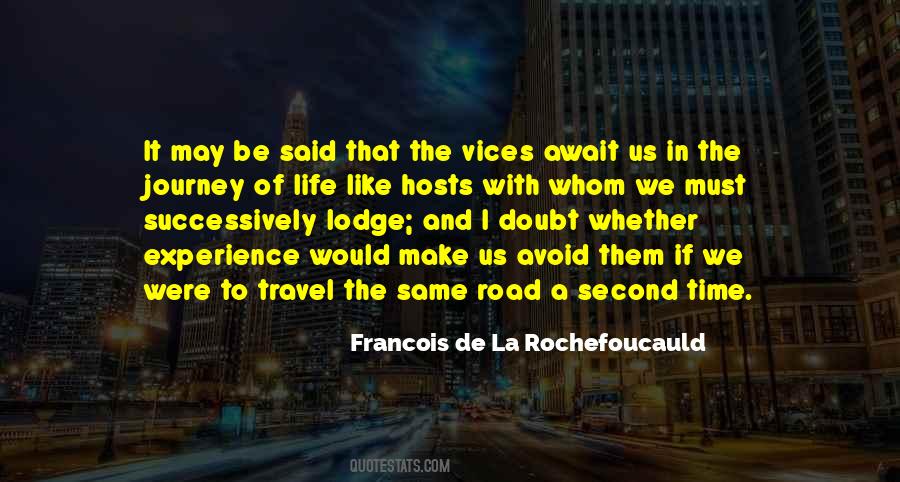 #6. Some of the choices in life will choose you. How you face those choices, these turns in the road, with what kind of attitude, more than the choices themselves, is what will define the context of your life. - Author: Dana Reeve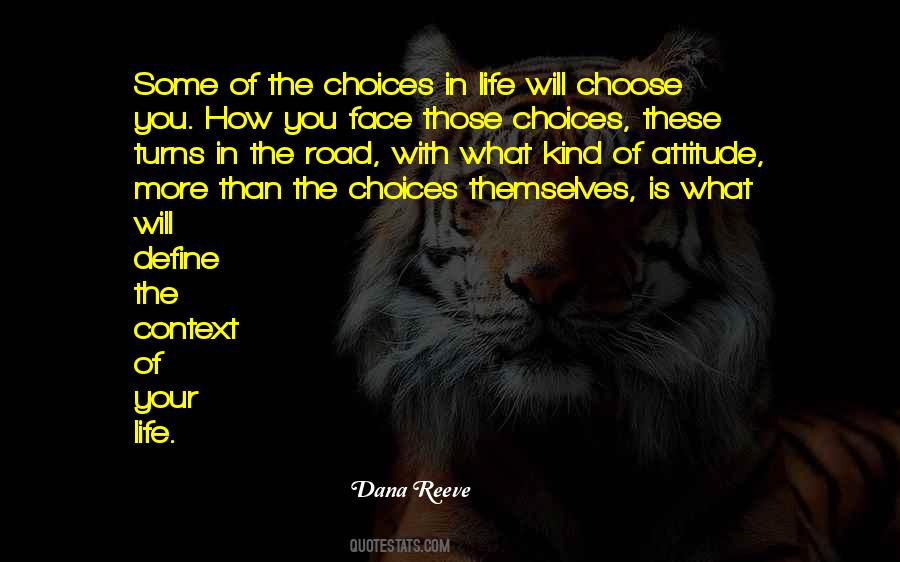 #7. May find the right road to travel on. - Author: Lailah Gifty Akita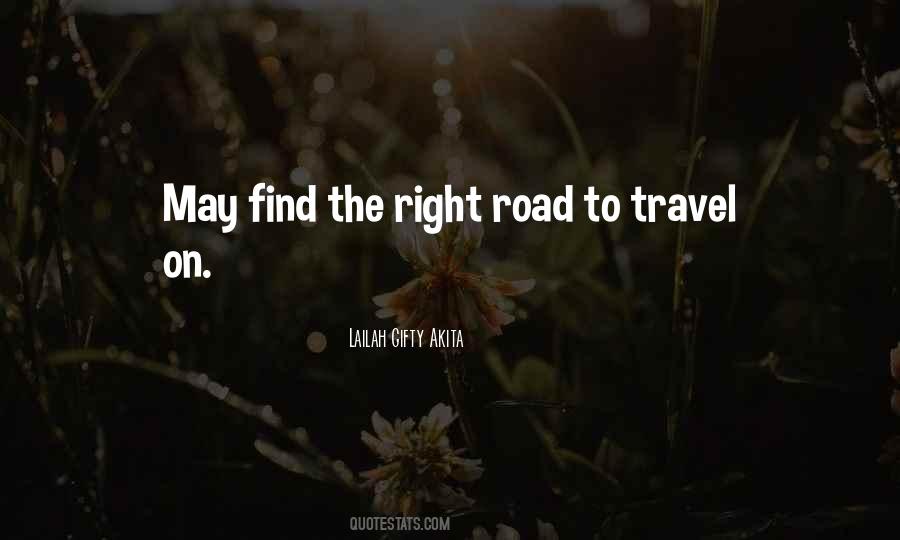 #8. The way to be happy is to
take pleasure in what you do and how you do it, not in
imagining that happiness is some place at the end of the road. - Author: Toby Reynolds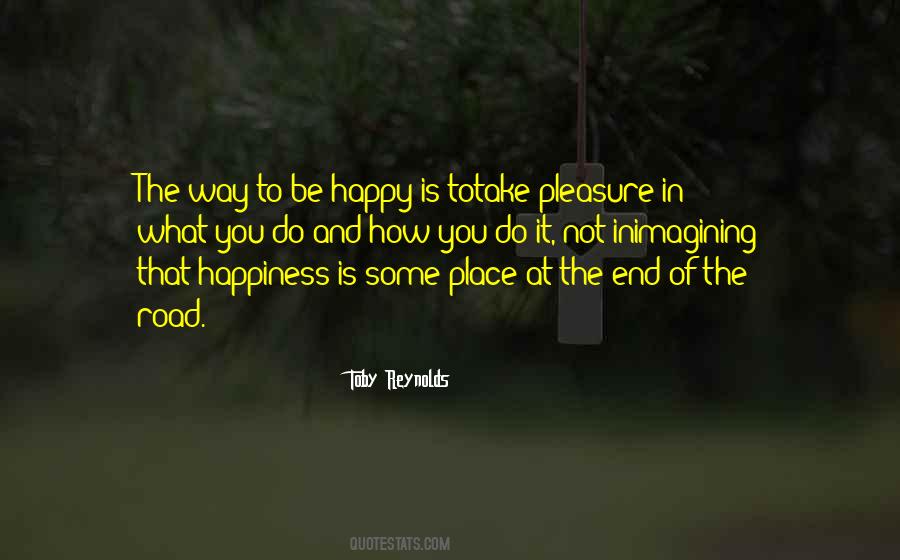 #9. What is life but God's daring invitation to a remarkable journey? And what is human nature but a staunchly inbred tendency toward self-preservation? And because of the rigidly paradoxical nature of these things, the road of life is seldom trod beyond a few scant steps. - Author: Craig D. Lounsbrough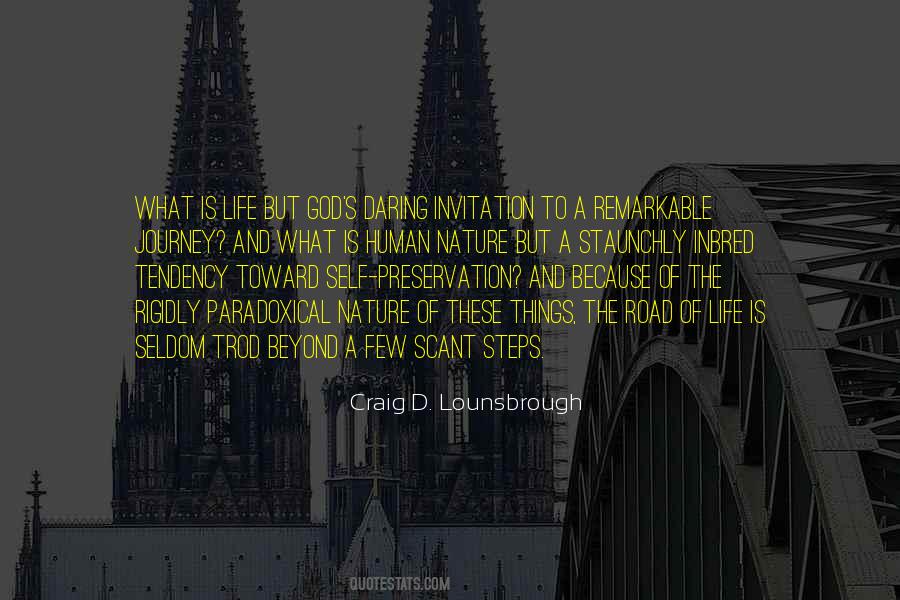 #10. Happiness is not the Achievement of Dreams.
It is the Path to Dreams. - Author: Vineet Raj Kapoor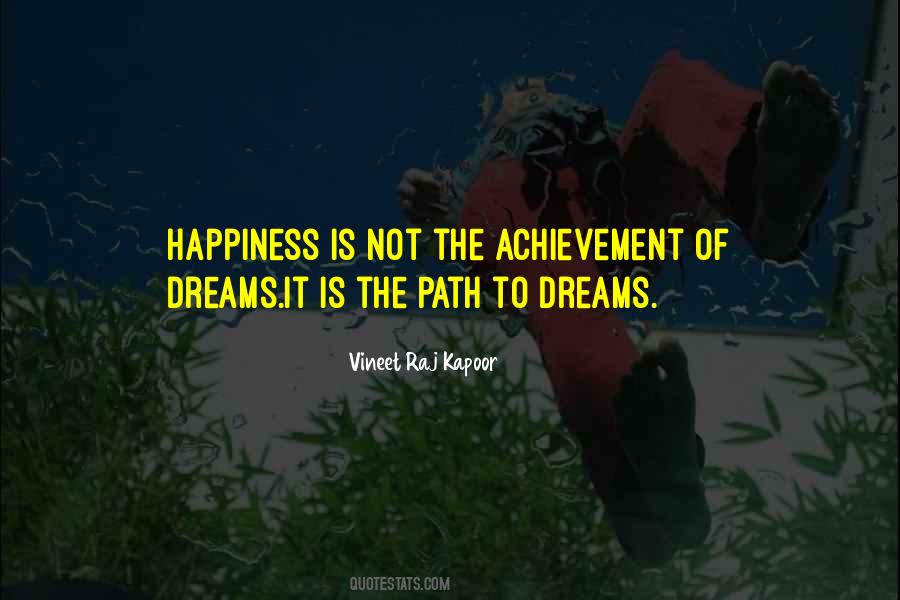 #11. When thoughts arise, as soon as you sense them heading on the road of desire, bring them right back onto the road of reason. Once they arise, notice them, once you notice them, you can change them. This is the key to turning calamity into fortune, rising from death and returning to life. - Author: Zicheng Hong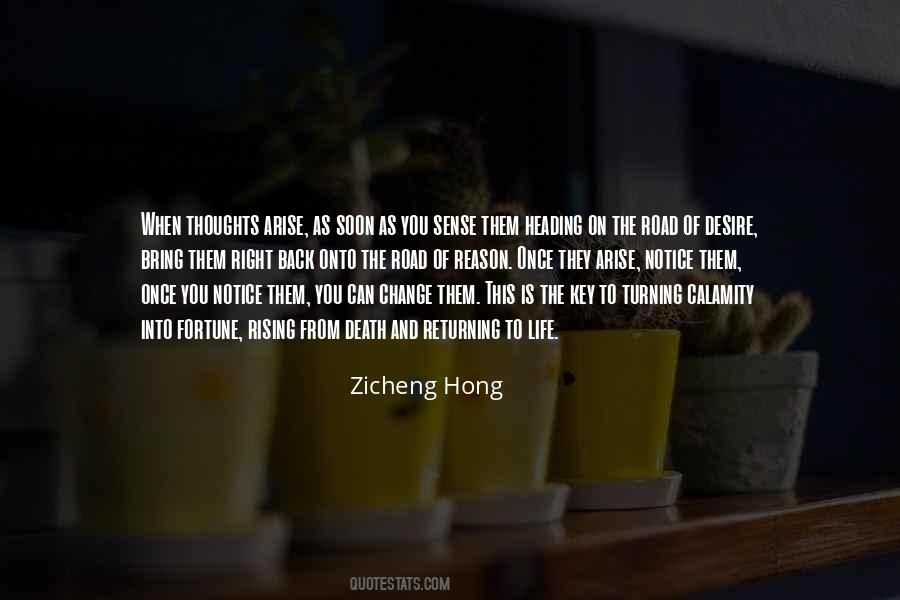 #12. Life without thankfulness is devoid of love and passion. Hope without thankfulness is lacking in fine perception. Faith without thankfulness lacks strength and fortitude. Every virtue divorced from thankfulness is maimed and limps along the spiritual road. - Author: John Henry Jowett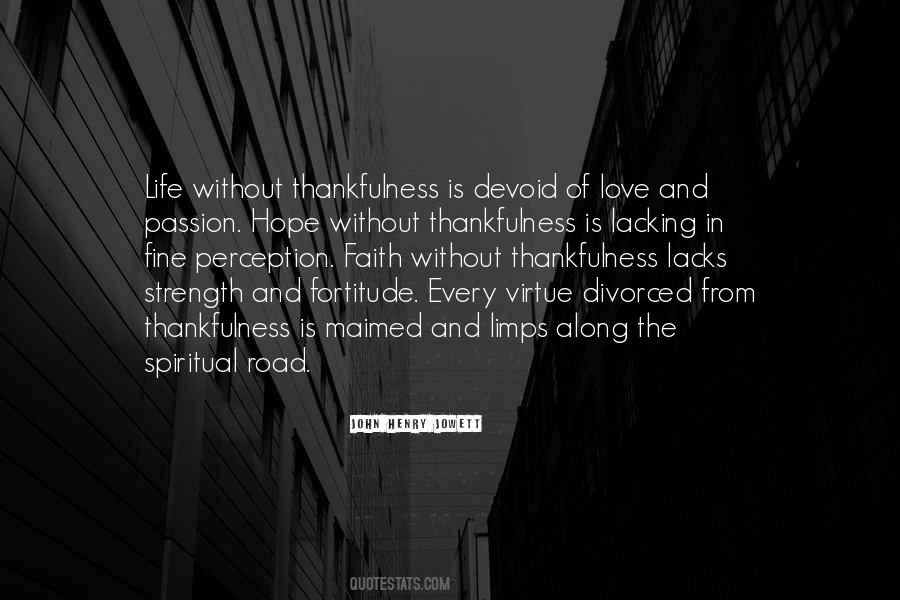 #13. War is a matter of vital importance to the state; the province of life or death; the road to survival or ruin. It is mandatory that it be thoroughly studied. - Author: Sun Tzu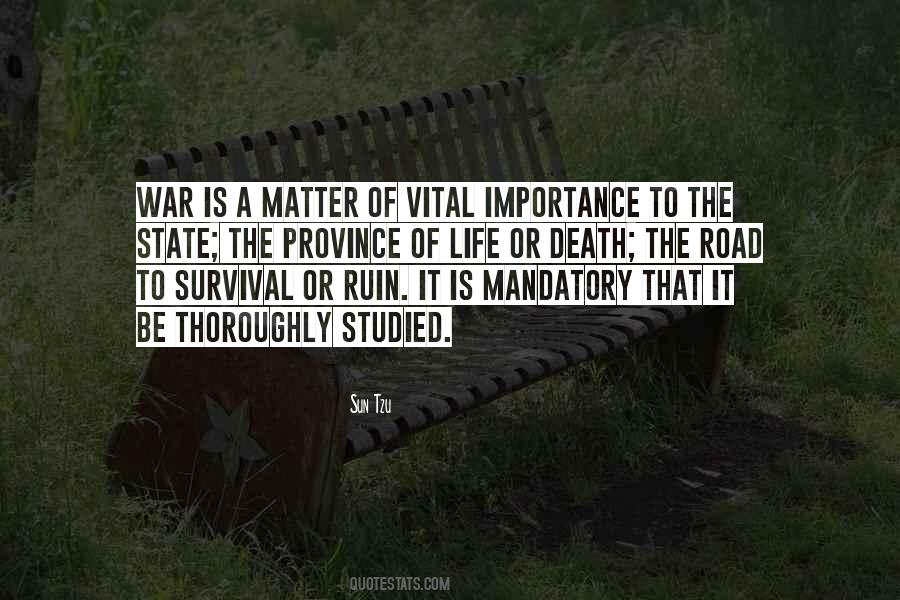 #14. Who has not raised a tombstone, here and there, over buried hopes and dead joys, on the road of life? Like the scars of the heart, they are not to be obliterated. - Author: Ninon De L'Enclos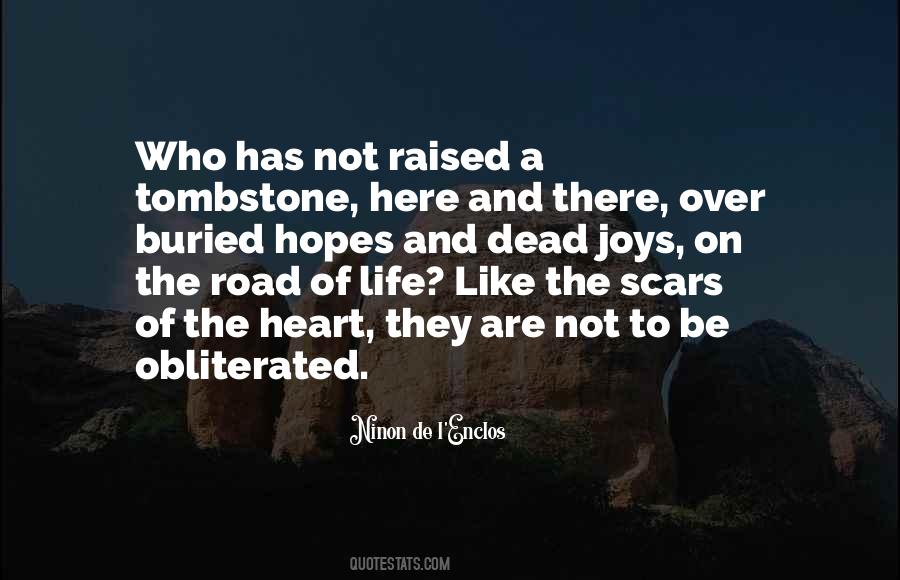 #15. I'm going to be on the road for the rest of my life. - Author: Woody Herman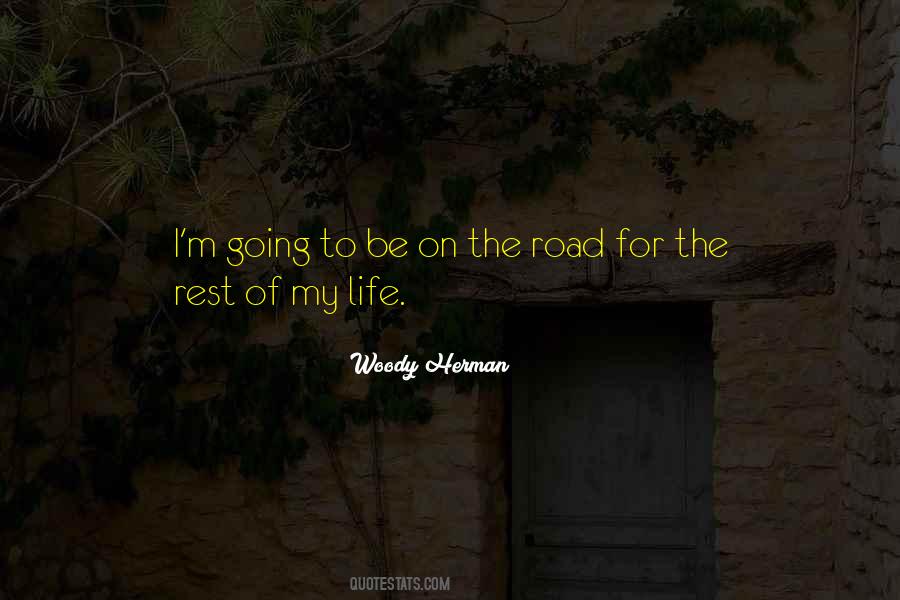 #16. The map of our life is folded in such a way that we cannot see one main road across it, but as it is opened out, we are constantly seeing new side roads. We think we are choosing, and we have no choice. - Author: Jean Cocteau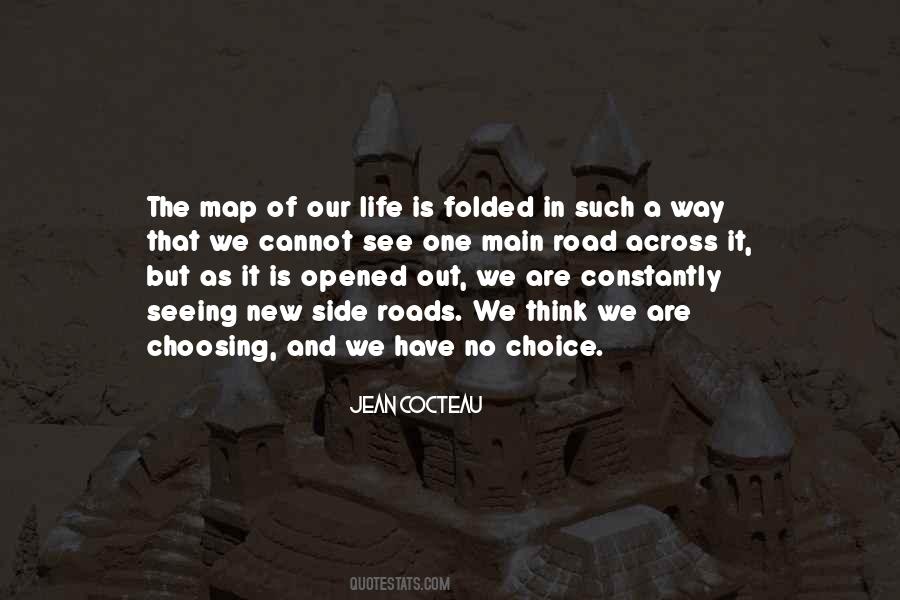 #17. We make our own destiny, not because we can see the road ahead, but because we cannot see the road ahead. It is the road, the motion, the forward movement, that takes us to ourselves. - Author: Chloe Thurlow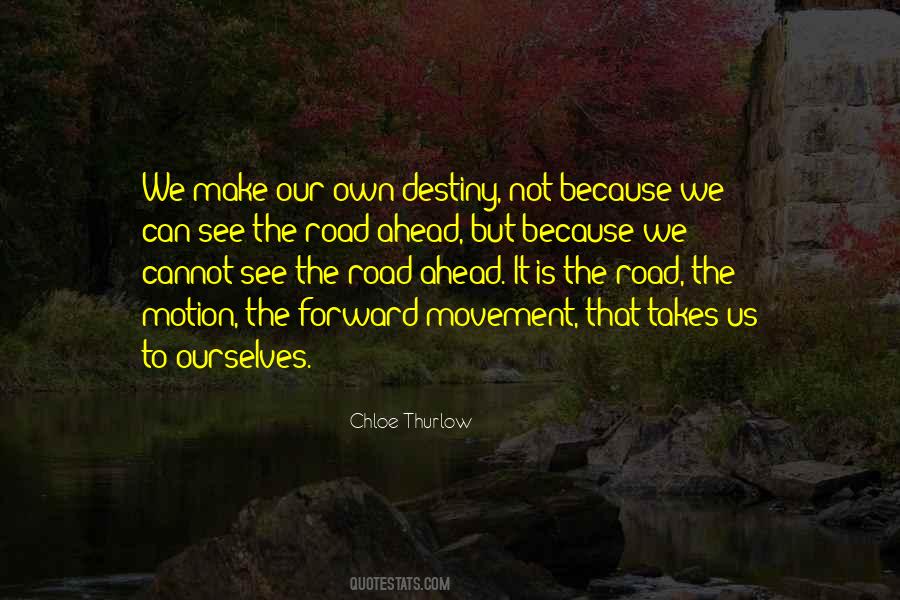 #18. There are such moments in a life. Solitary seconds on which the reality of what life means pivots and turns from a dead end toward a road of untrodden grass that stretches on forever. - Author: Jonathan Maberry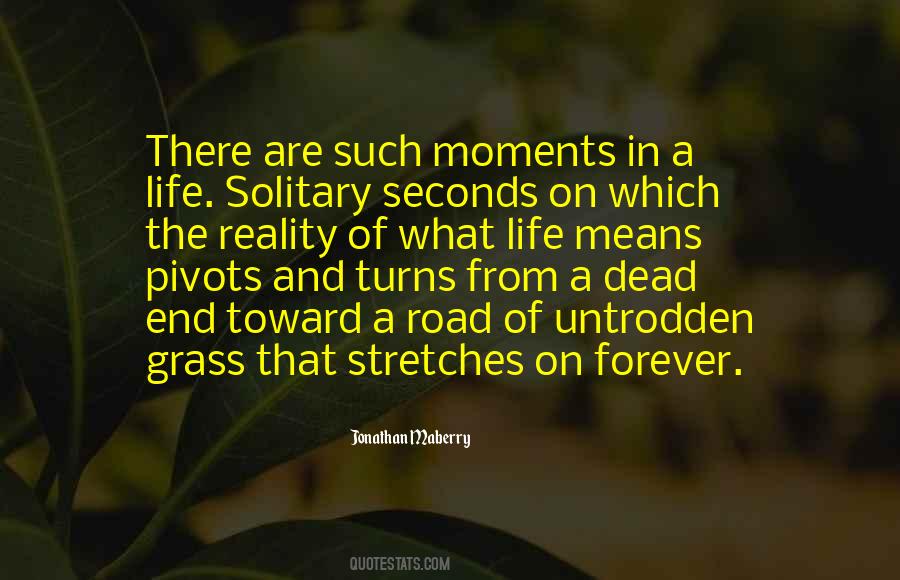 #19. To find what you seek in the road of life,
the best proverb of all is that which says:
Leave no stone unturned. - Author: Edward Bulwer-Lytton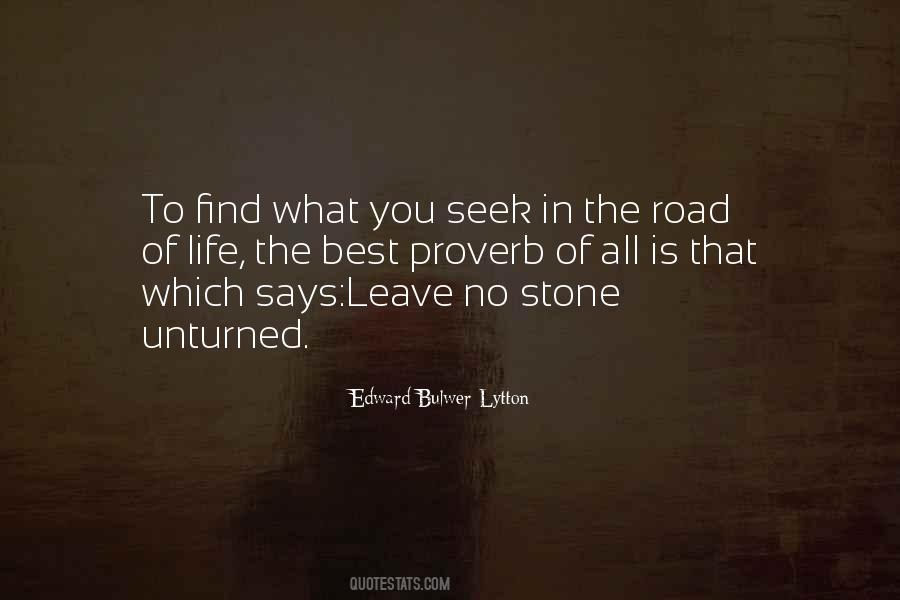 #20. God, you'd think that great corners in life should come with a warning sign at the side of the proverbial road, a little yellow number that announced which direction you were going to go in, and maybe offered a "reduce speed" kind of advice. - Author: J.R. Ward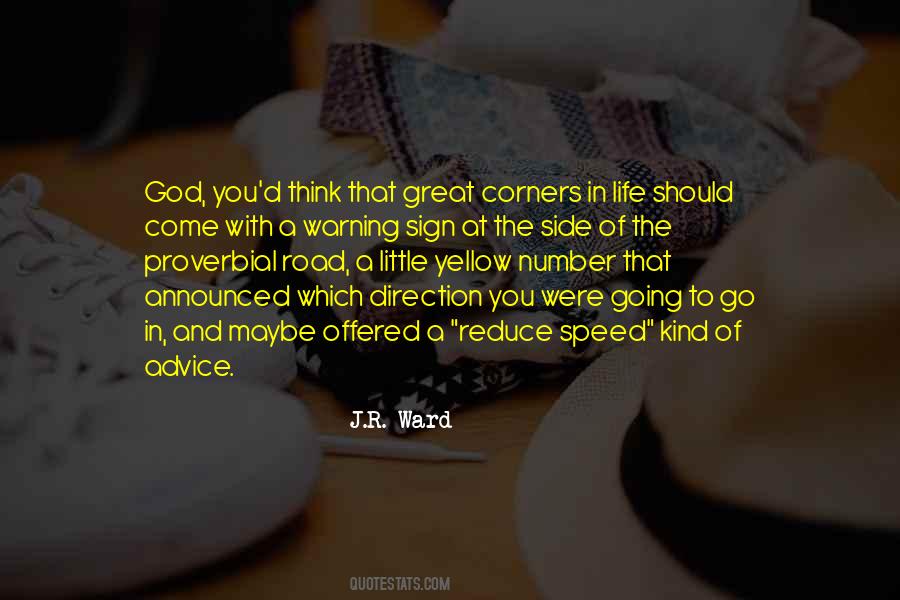 #21. You know, just in terms of having to have a life on the road, you know, having the celebrity aspect be a burden for my family, friends and extended family. - Author: Julius Erving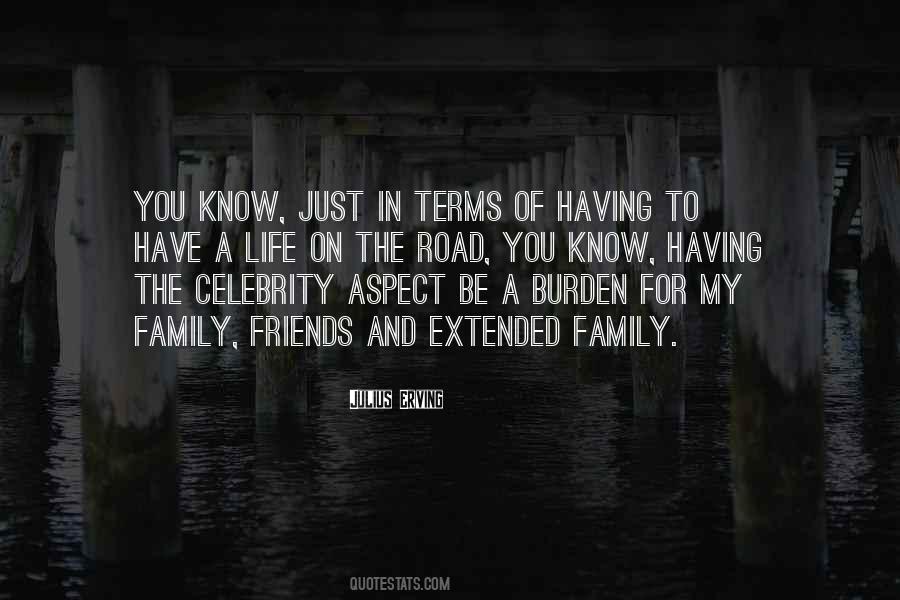 #22. I've written a number of songs over the years and it's a big part of my life, this sort of tension between a longing for home and the call for the open road. It's sort of like a tug between two families. I even love to miss my home. - Author: James Taylor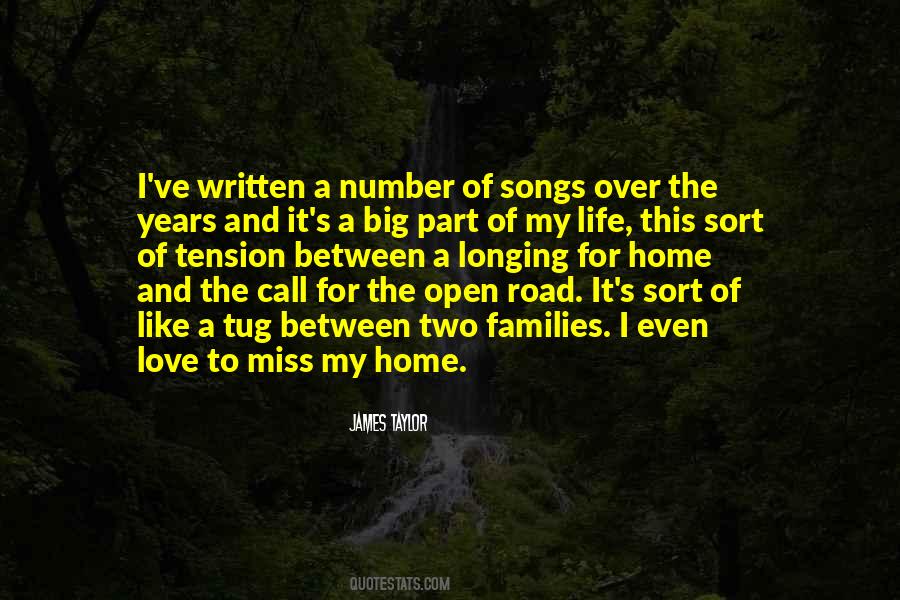 #23. I'm on this road for the rest of my life. - Author: Dennis Banks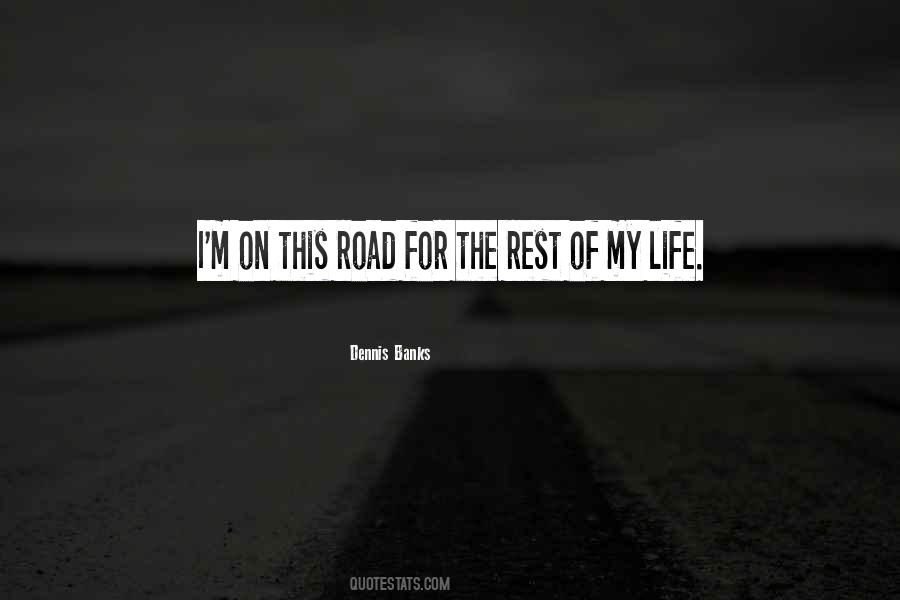 #24. You have to change your life for yourself, and it's about the fun of getting there - sitting in the tour van, breaking down on the side of the road, you know, having a laugh with the guys in the band, making mistakes with nobody watching. - Author: Imelda May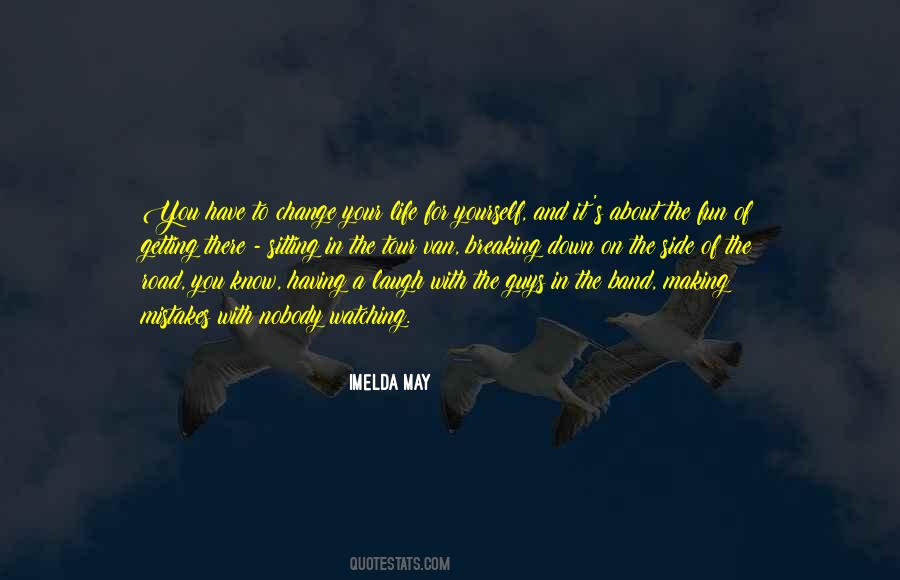 #25. There are large moments in life; but sometimes it is the small moments - the casual moments - that change everything. The second's absent wandering of attention before an accident. The choice to take one road, instead of another. - Author: Simone St. James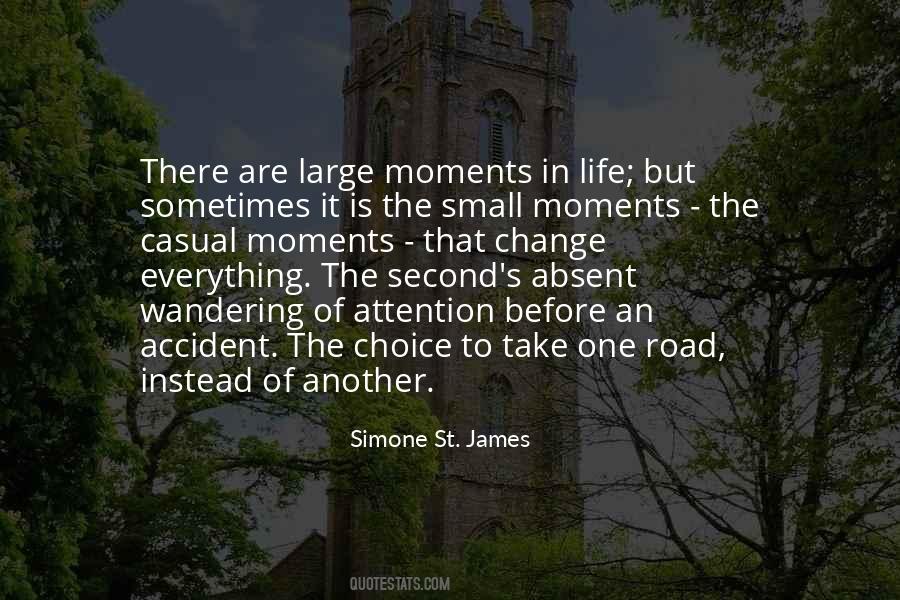 #26. I've developed my passion for cars that drive themselves from being stuck in traffic for many, many, many hours of my life. I don't know what it adds up to, but I feel like I've lost a year or two just in traffic. That's big to me. That's a lot of time, a lot of money that I just lose on the road. - Author: Sebastian Thrun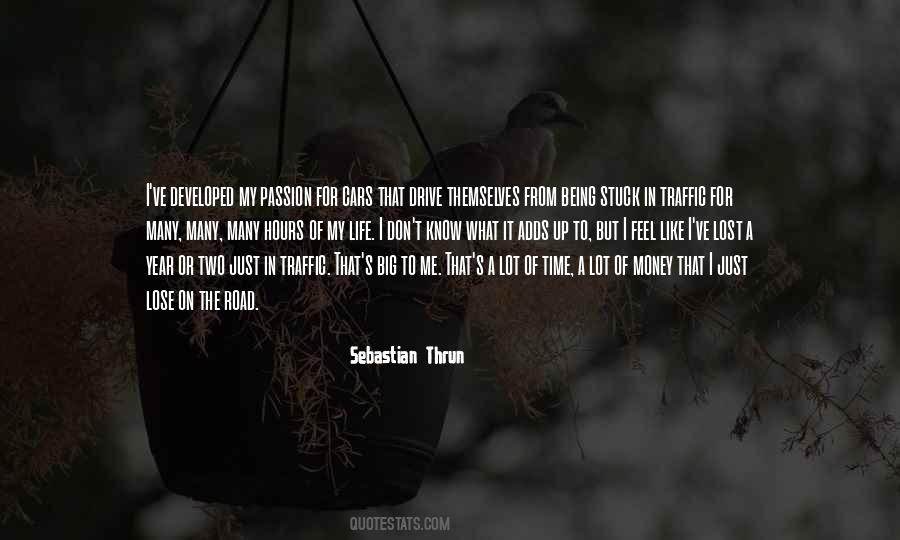 #27. The most striking feature if this map is the stark fat of the Two Roads. There is the road that leads to Life, and there is the road that leads to Death. There is Good, and there is Evil. There is Right and there is Wrong. - Author: Peter Kreeft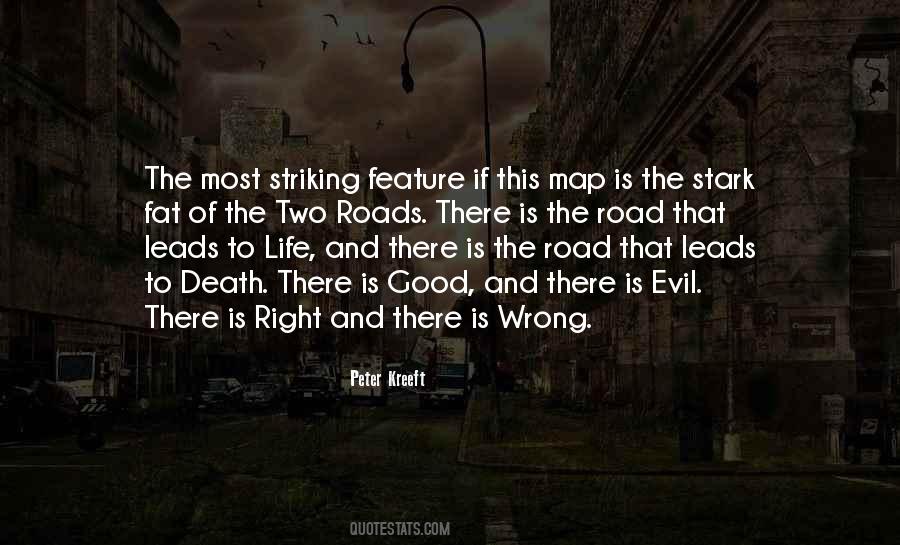 #28. A young gratuitous smile; trust and distrust;
Promiscuities of bed and board and road;
The one assured treasure
A life, in recollection, truly possessed. - Author: Robert Wells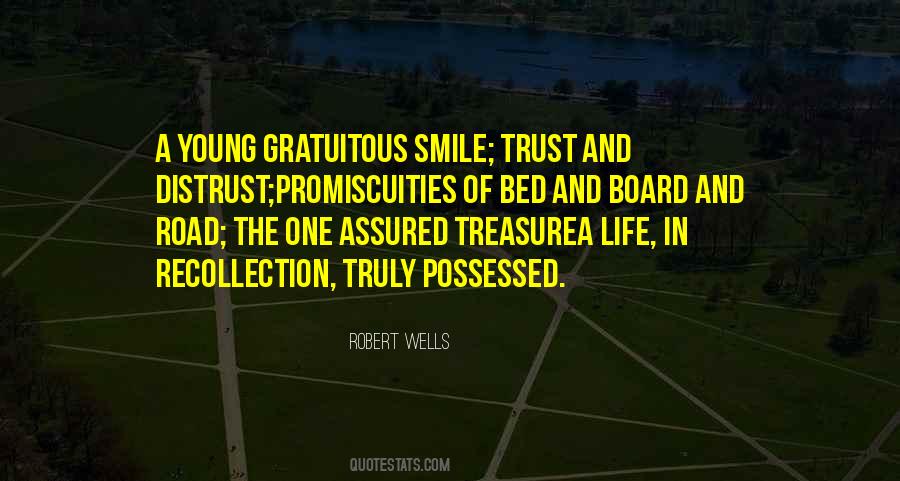 #29. All parents make mistakes. They're only human, so all of us grow up with at least a few invisible scars. But maybe that's okay, because the hard times are what make us strong enough to survive all the crap life throws at us down the road. - Author: Alexa Land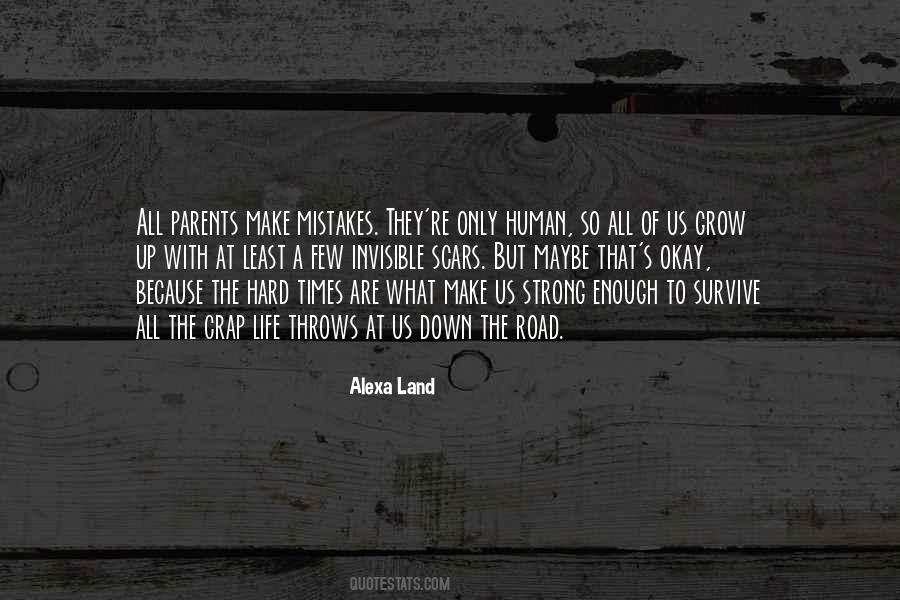 #30. Once you have linked yourself with love, a flood of inspiration is revealed to you, whatever the subject, whatever the problem in life may be. Whatever it be that your eye casts its glance upon, it will disclose itself. Then you are on the real road, and what a joy this is! - Author: Hazrat Inayat Khan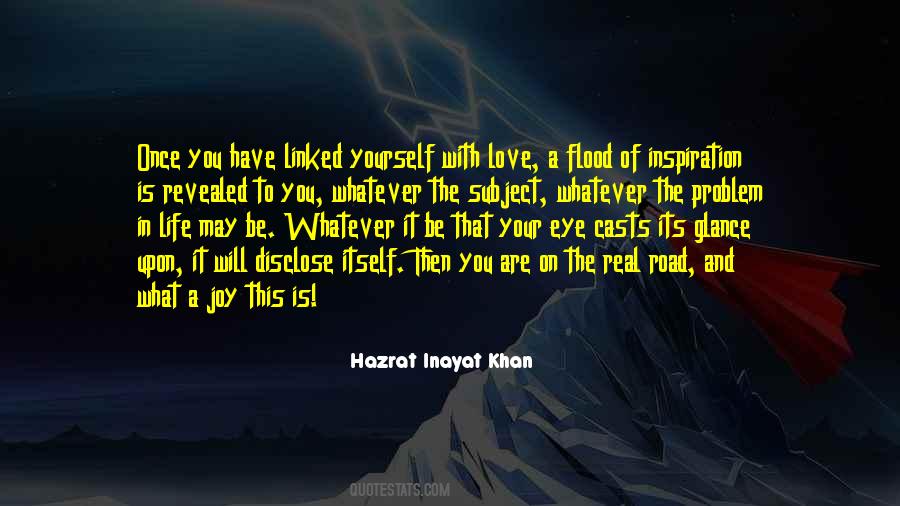 #31. Do not let arguments of expediency persuade you. That is the slow road to oblivion. That is the tortured path to undoing step by step, bit by bit, as the river creates a canyon, the way of life that we love. - Author: Chuck Schumer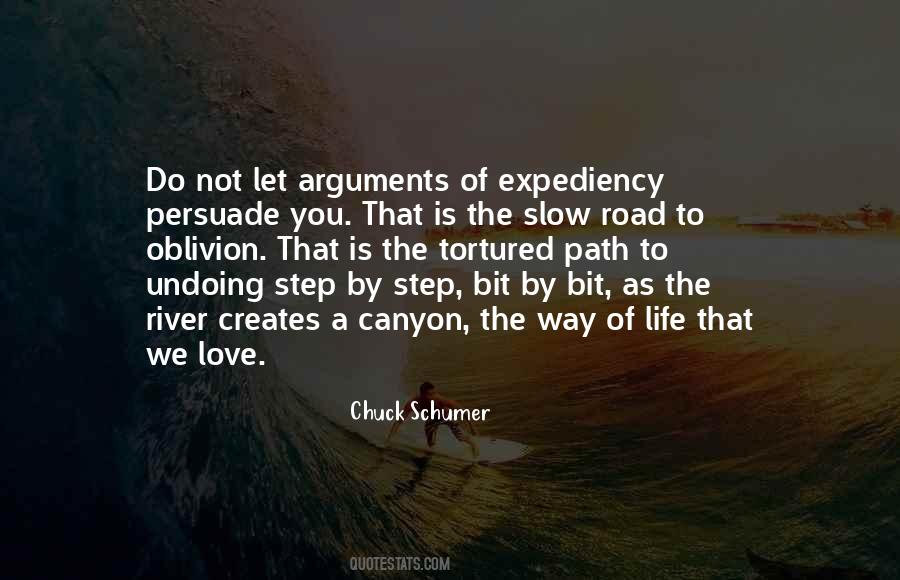 #32. All that old road of the past unreeling dizzily as if the cup of life had been overturned and everything gone mad. My eyes ached in nightmare day (235). - Author: Jack Kerouac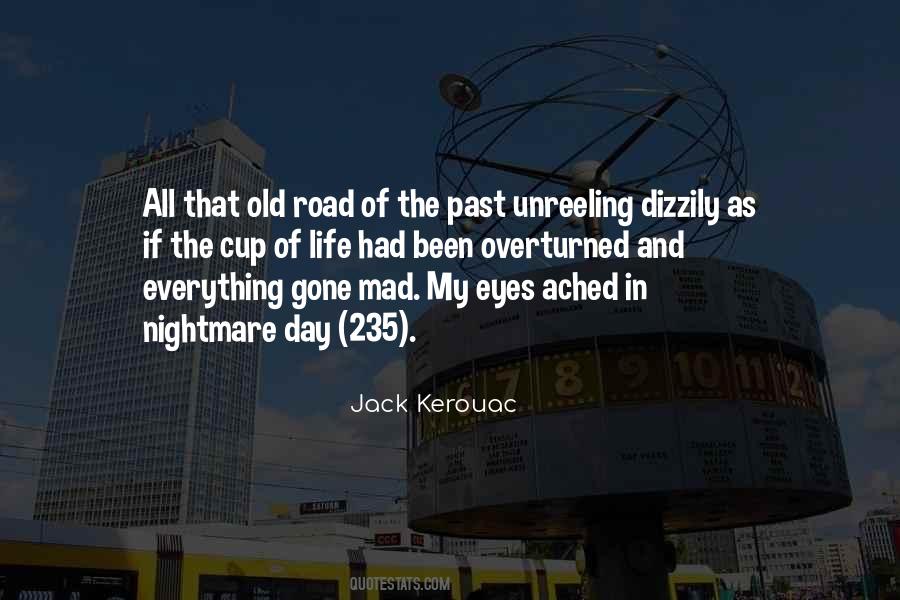 #33. You let people into your life and you ended up getting hurt. Or hurting them. Either way, the road to pain was paved with other people, and she wanted no part of it anymore - Author: Stacia Kane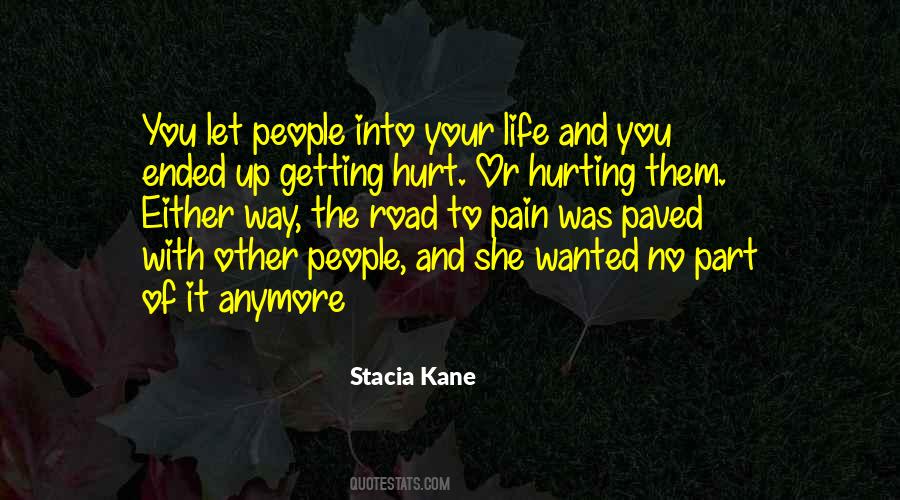 #34. I don't live my life on the road. I'm getting on a bit and there's a lot of other things in my life. Our lovely children and their lives. It's more of a part-time business these days. - Author: David Gilmour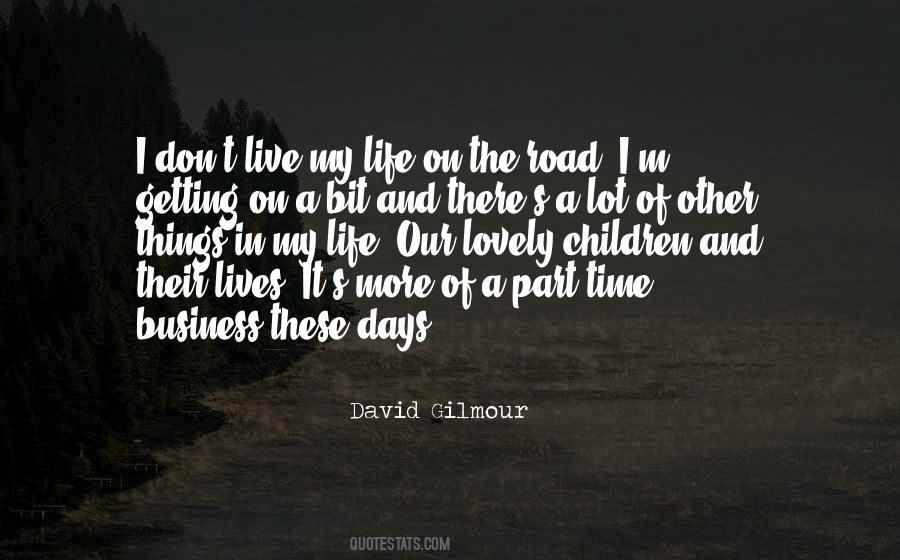 #35. This fork in the road happens over a hundred times a day, and it's the choices that you make that will determine the shape of your life. - Author: Liz Murray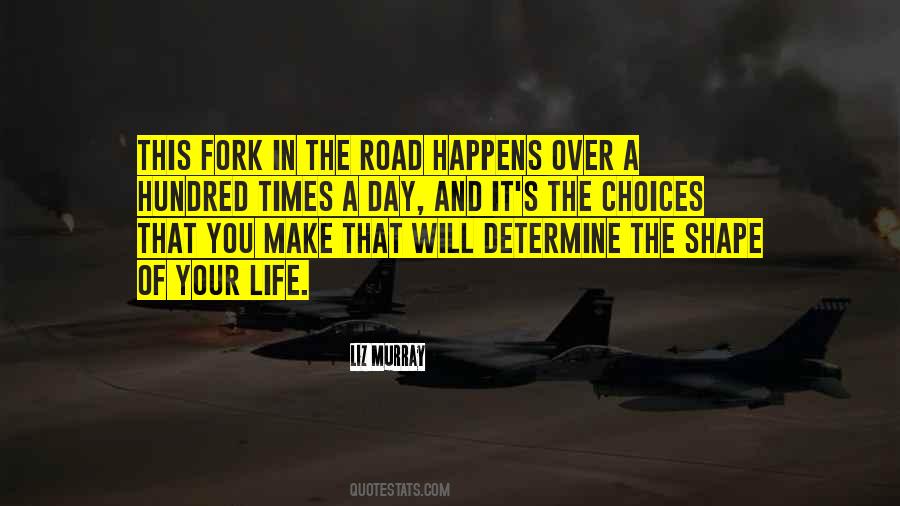 #36. Kiwis must not fall behind the standards of other countries. We pride ourselves on our quality of life. Thus we must pave the road in the right way for the future generations. - Author: Kylie Bax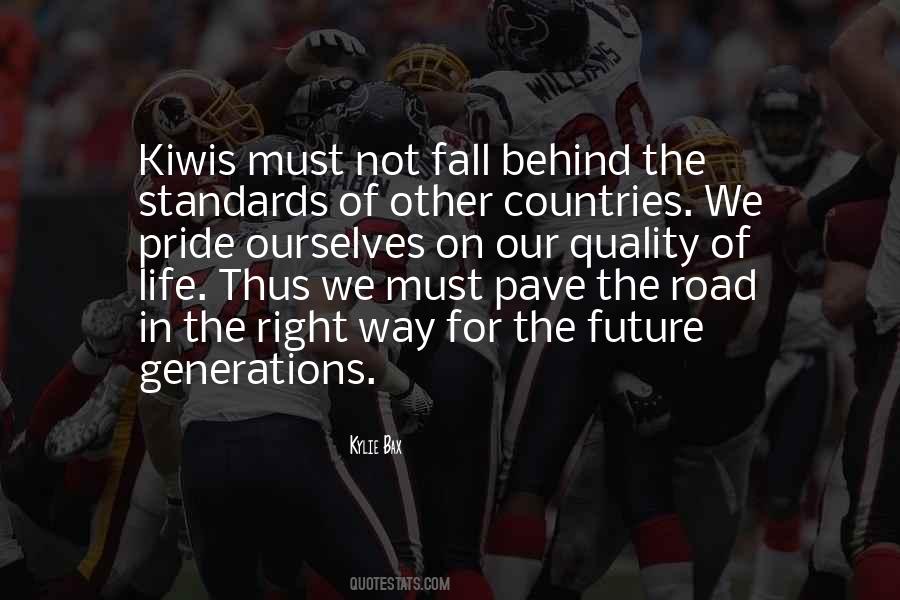 #37. Every man's road in life is marked by the graves of his personal liking. - Author: Alexander Smith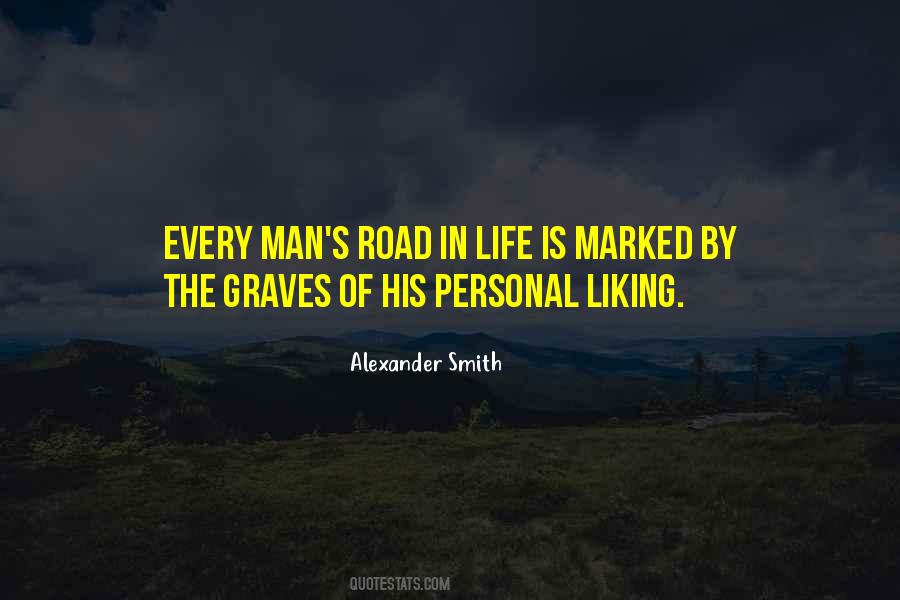 #38. I thrive on being on the road, waking up in a different place every day and having my life revolve around music. When you walk out in front of 300,000 people and pull it off, it validates you. - Author: Sheryl Crow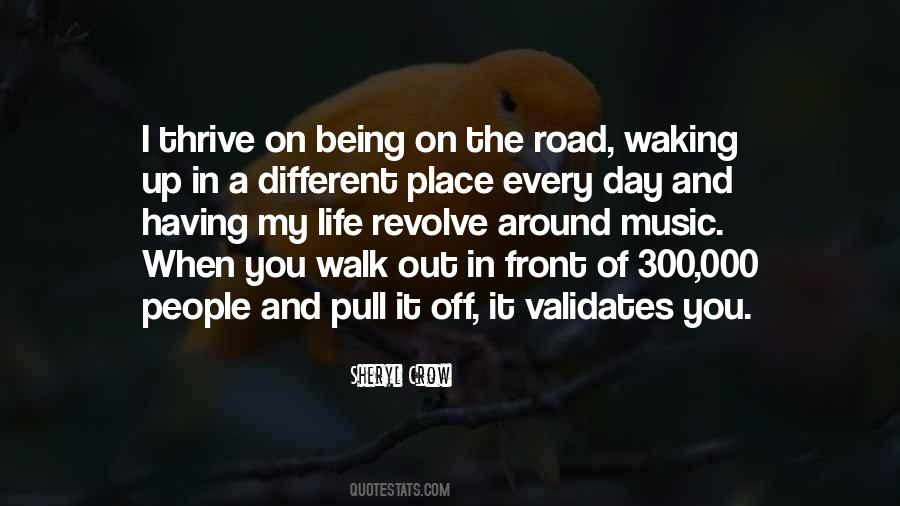 #39. I really love baseball. The guys and the game, and I love the challenge of describing things. The only thing I hate - and I know you have to be realistic and pay the bills in this life - is the loneliness on the road. - Author: Vin Scully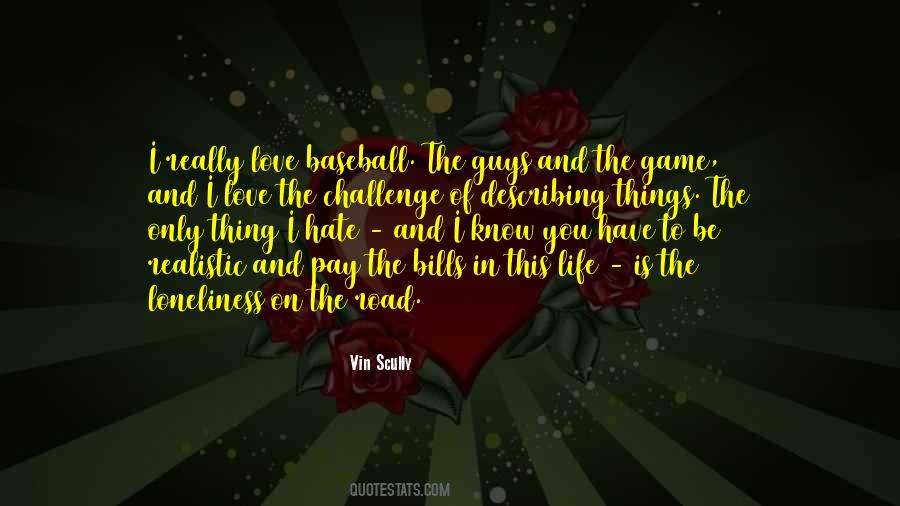 #40. Doing yoga on the road was really a life-saver, and a life-changer ... .It kept me focused and gave me more control over the way I divided my energy. I realize that if [a place of goodness] is the basis for all decision-making, then the road is clear. - Author: Sheryl Crow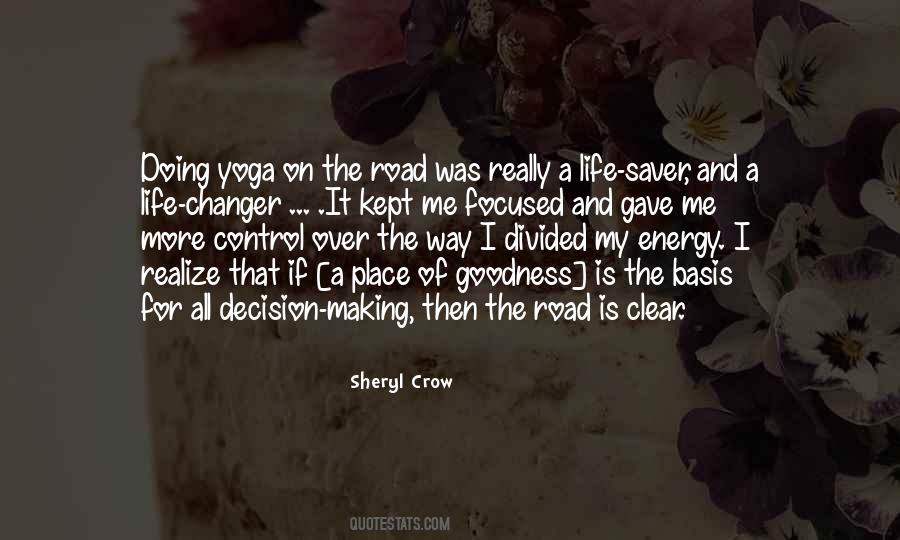 #41. I did it, and it's all right. Even the worst experiences were right in their time, because otherwise, it wouldn't have come to this point. That was your road, and you had to walk it. - Author: Michael "Bommi" Baumann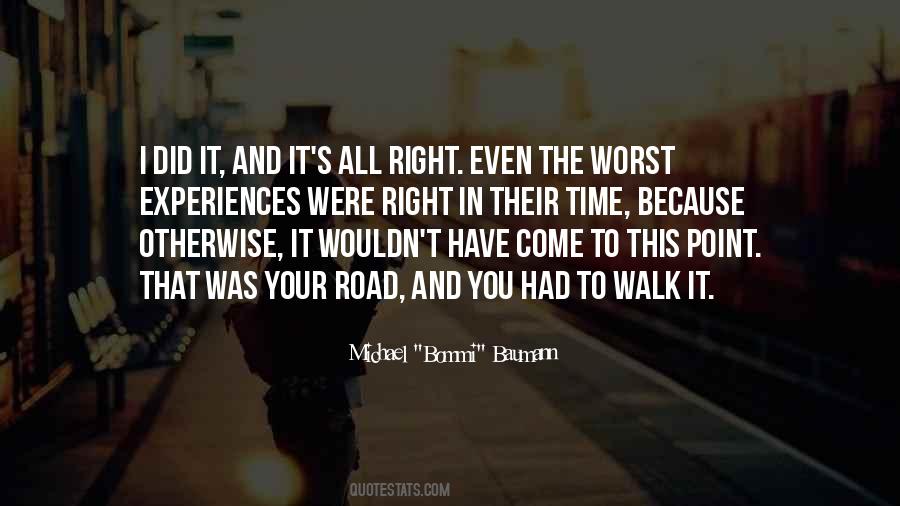 #42. By exercise. I'll tell you one thing, you don't always have to be on the go. I sit around a lot, I read a lot, and I do watch television. But I also work out for two hours every day of my life, even when I'm on the road. - Author: Jack LaLanne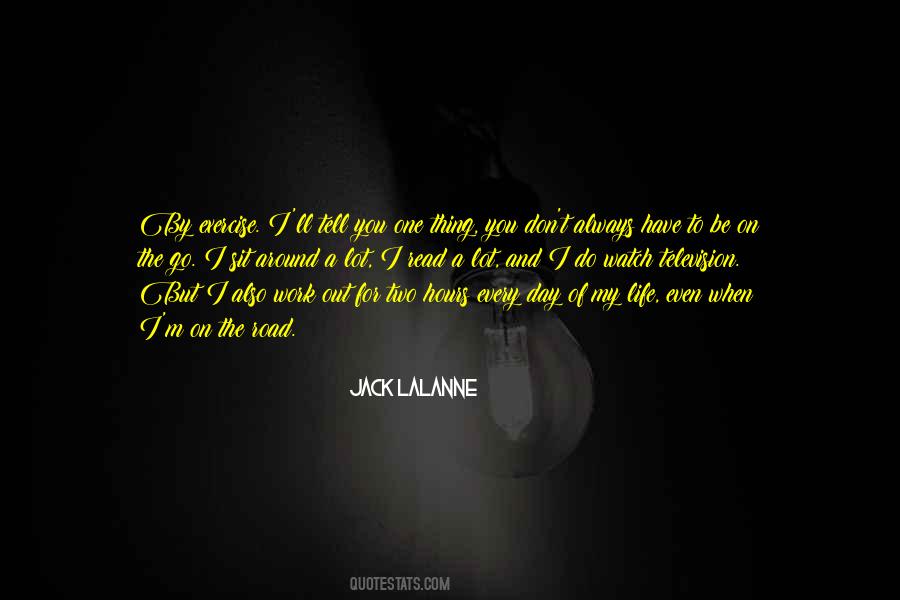 #43. The untented Kosmos my abode,
I pass, a wilful stranger:
My mistress still the open road
And the bright eyes of danger. - Author: R.L.S.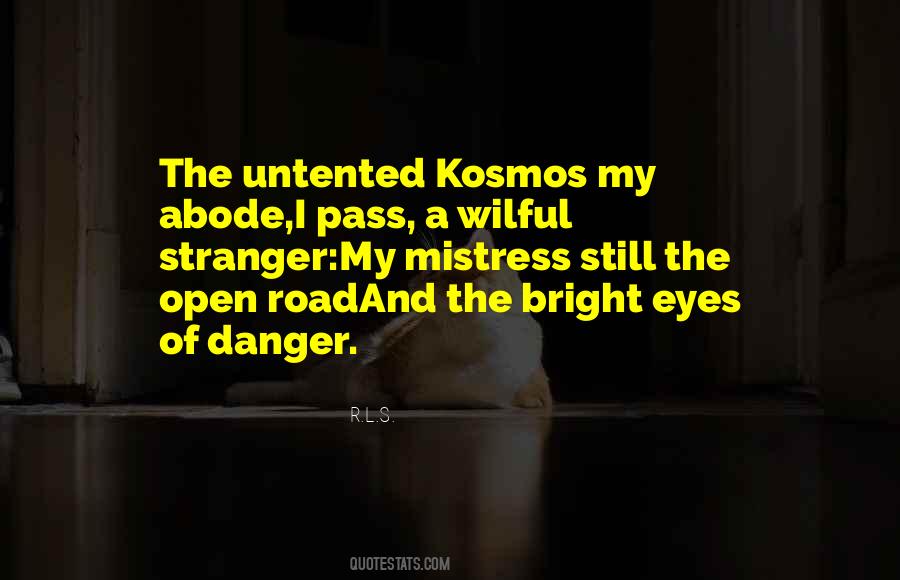 #44. ADEPT ADAPTATION
Potholes on the road of life sharpen our maneuverability skills
Kamil Ali - Author: Kamil Ali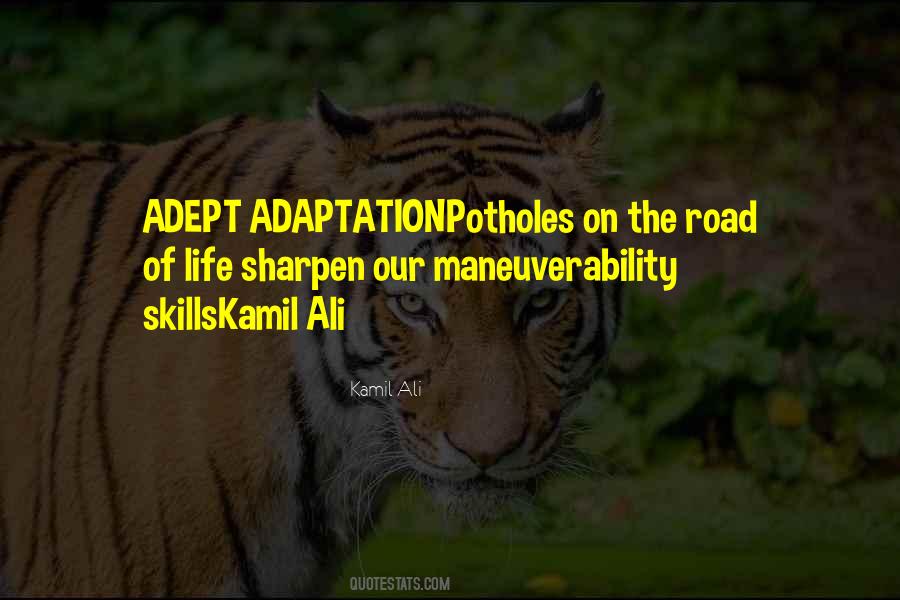 #45. I am the son of the road , my country is a caravan and my life is the most unexpected of voyages. i belong to earth and to the god and it is to them that I will one day soon return - Author: Amin Maalouf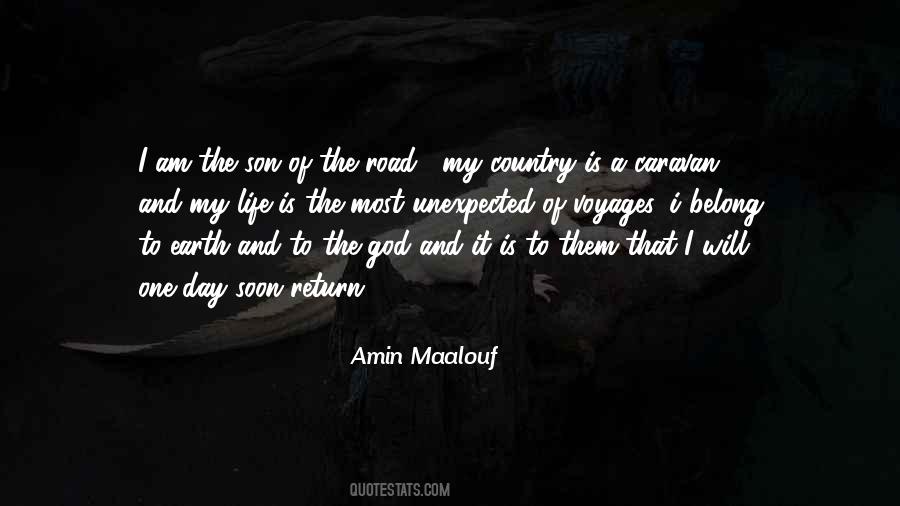 #46. One road was simple acceptance of life, the other road offered sweet peace. When I made my decision, my vision became my release. - Author: Dan Fogelberg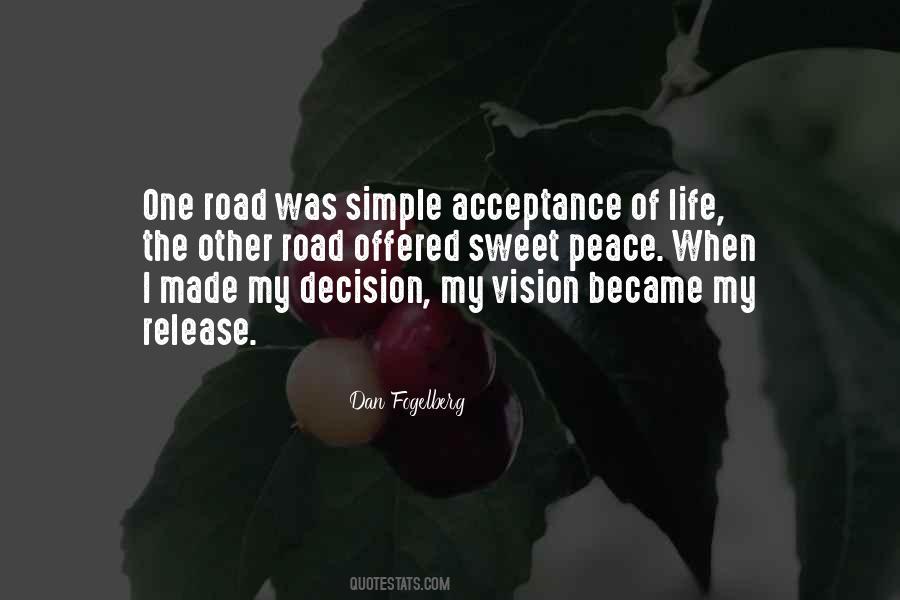 #47. But one wrong half turn of a steering wheel, one patch of wet road, one out of control moment, and the amount of life measured out to Victoria Nolan had run cruelly short. - Author: Lisa Kleypas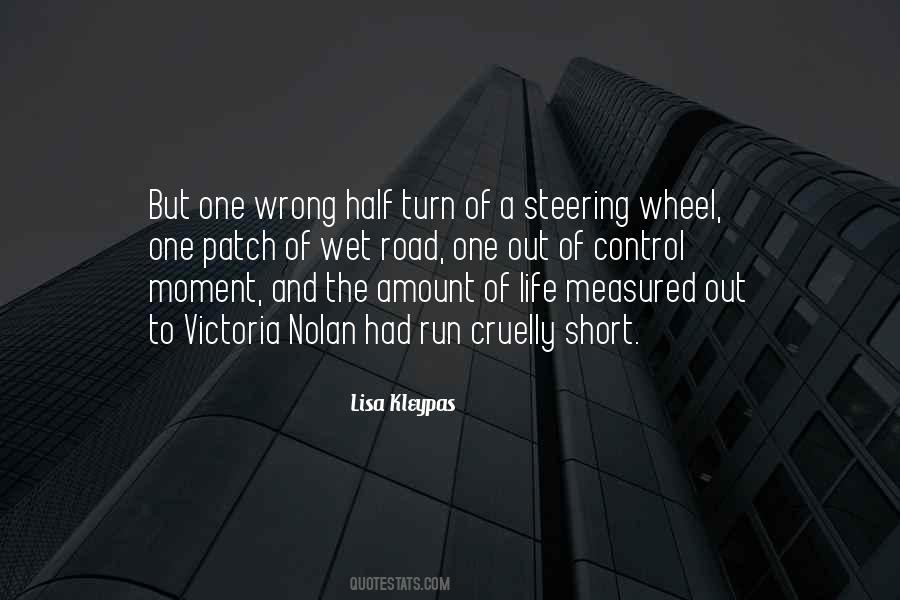 #48. You start living for the obsession alone ... You want to arrive somewhere regardless of whether you're enjoying the road or not. - Author: Paulo Coelho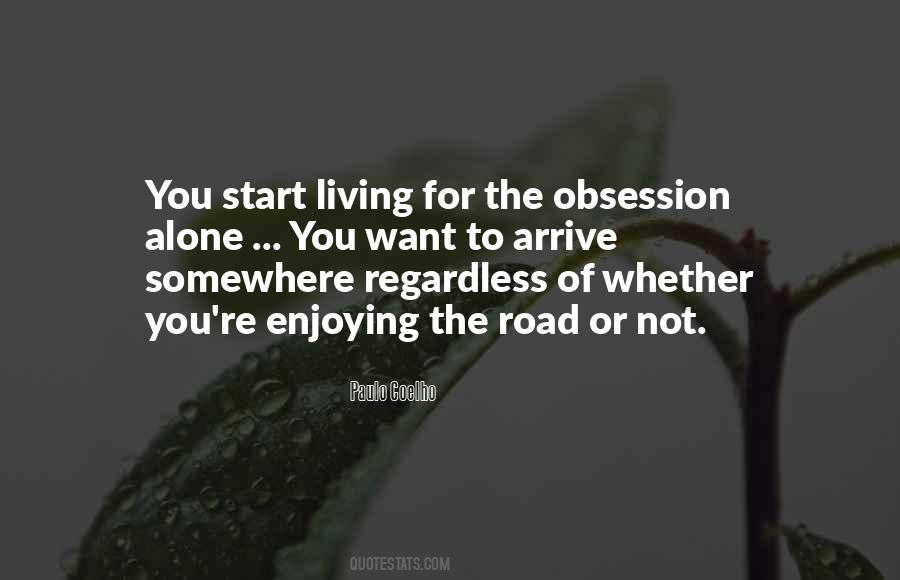 #49. As you walk the road of life, be careful of your friends. They can make you or break you. - Author: Gordon B. Hinckley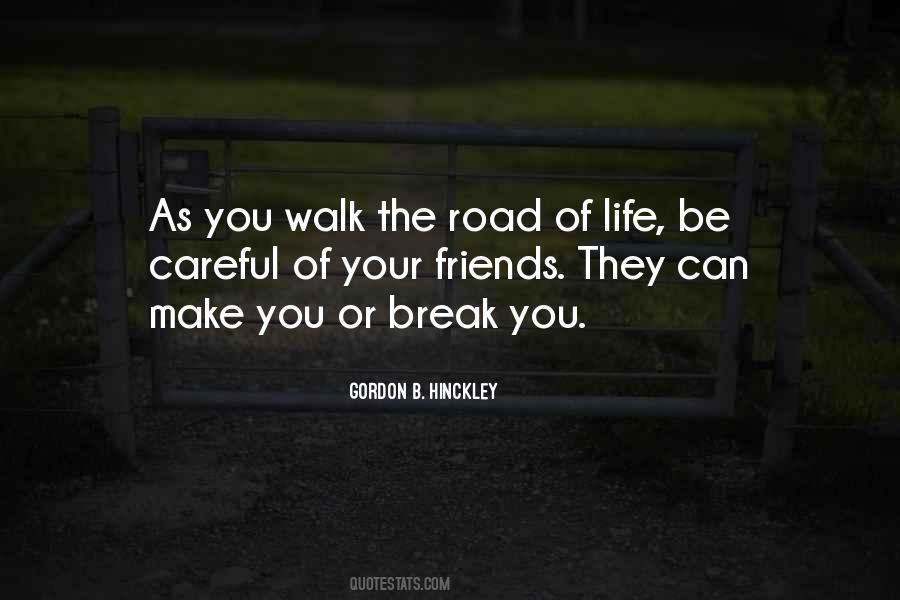 #50. Most men are scantily nourished on a modicum of happiness and a number of empty thoughts which life lays on their plates. They are kept in the road of life through stern necessity by elemental duties which they cannot avoid. - Author: Albert Schweitzer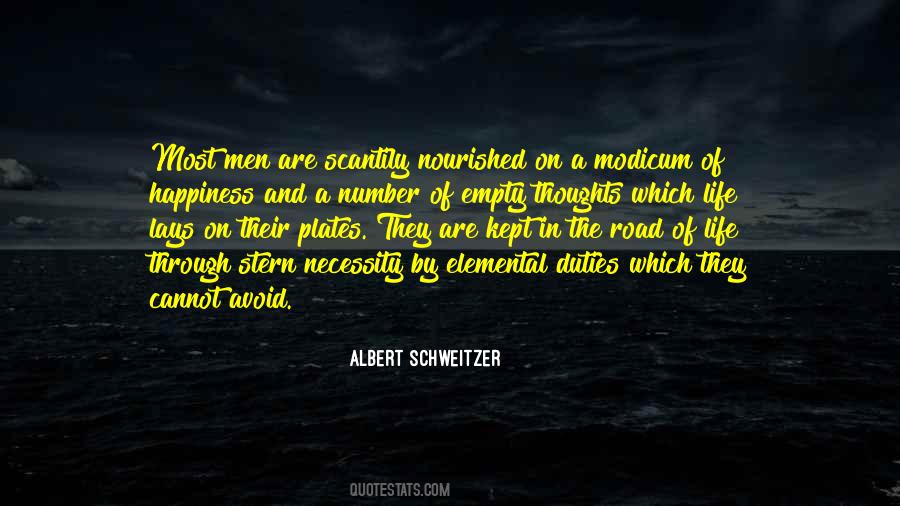 #51. This is the Modern Man, who cannot save himself but wants to save the world.
He is the Wise who knows not.
And his footsteps on the road click tic-tac, tic-tac - Author: Cristiane Serruya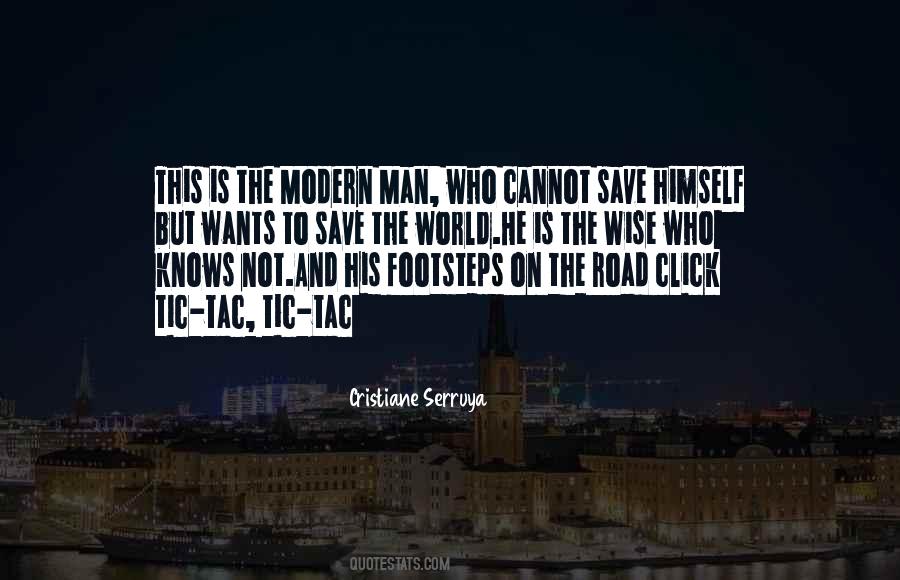 #52. It takes incredible fortitude to keep on the road, even though it's fun and it's rewarding and you can't complain, it's just a great life, but it takes a lot of energy. - Author: Kate Pierson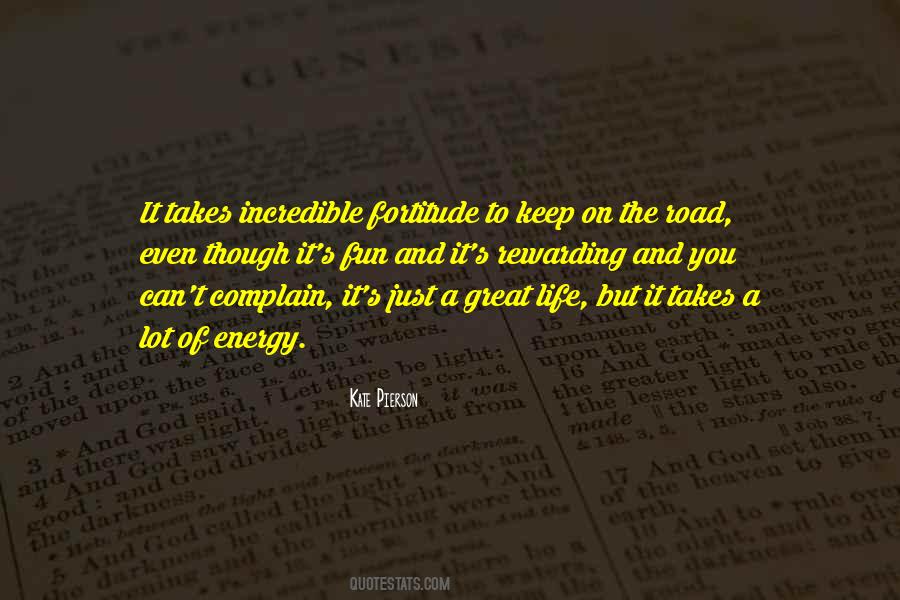 #53. I want to know what's wrong with loving someone for life? Even when they're dead? What exactly is wrong with that? Why should I put him away, out of my mind? Like he's out of fashion. Does no one love for ever any more? Is no one built for the long road? - Author: Josephine Hart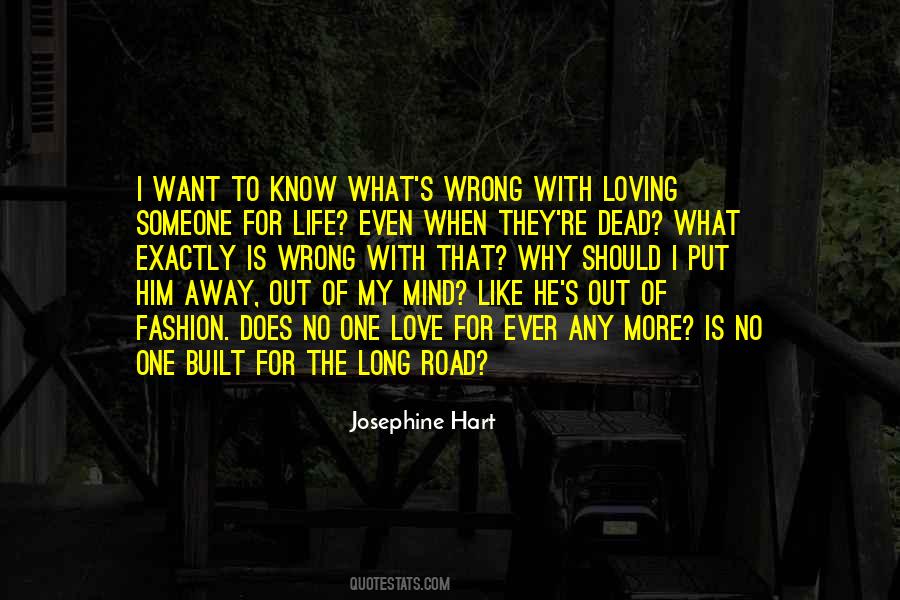 #54. At one time or another, we all stand at the crossroads and at the fork in the road.We can go back where it's comfortable, predictable and easy. Or we can go forward. If you go back, my friend, you will miss the ride of your life! - Author: Donna Schultz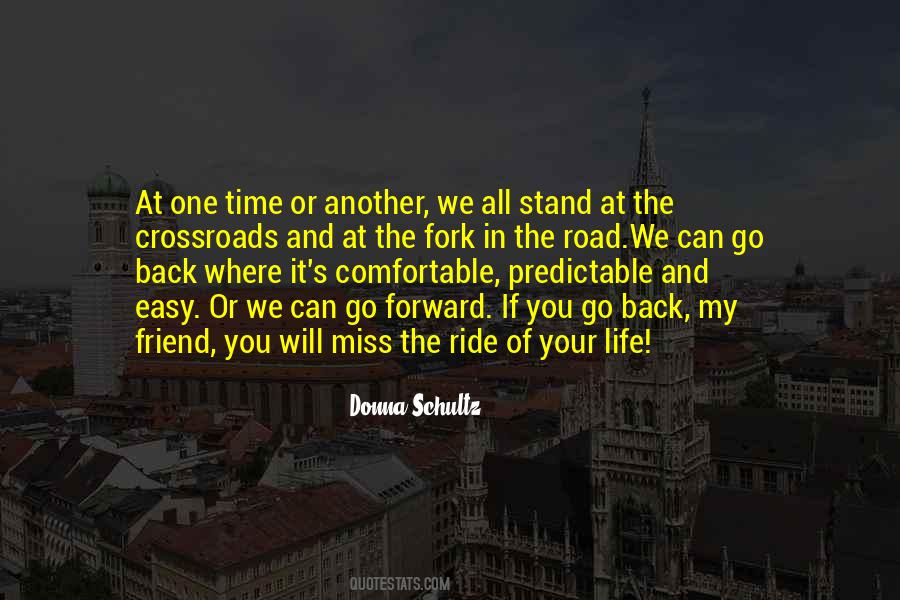 #55. Life on the open road is liberty ... to be alone, to have few needs, to be unknown, everywhere a foreigner and at home, and to walk grandly and solitarily in conquest of the world. - Author: Isabelle Eberhardt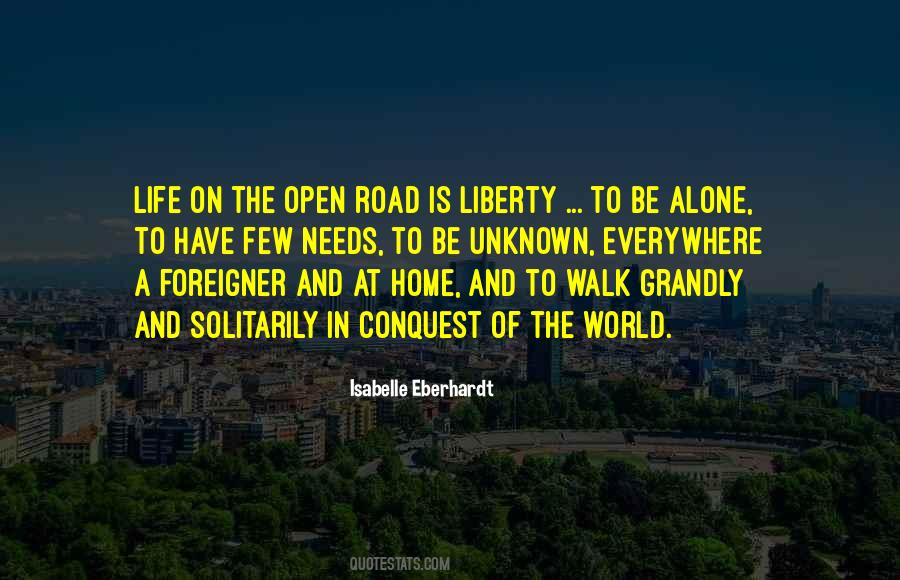 #56. Life is a journey, the metaphor guides you to some conclusions: You should learn the terrain, pick a direction, find some good traveling companions, and enjoy the trip, because there may be nothing at the end of the road. - Author: Jonathan Haidt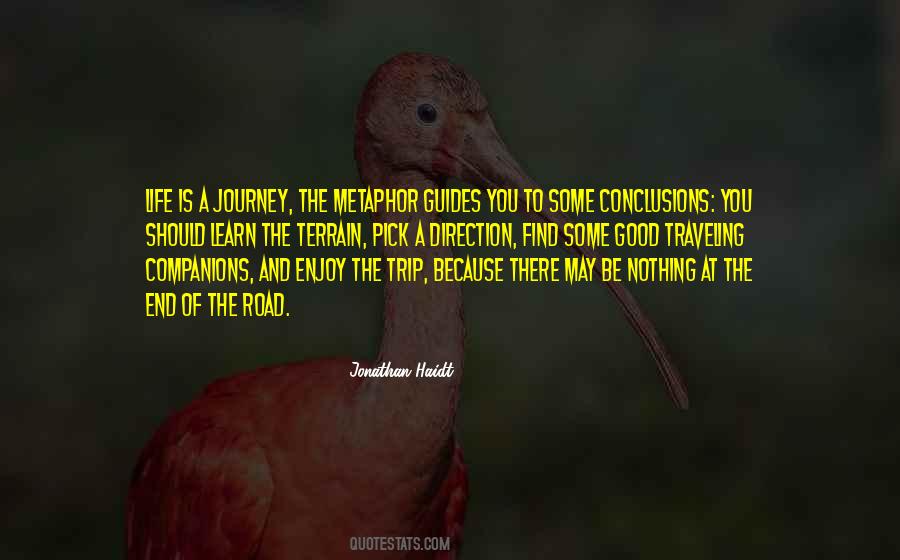 #57. Each man's life represents a road toward himself, an attempt at such a road, the intimation of a path. No man has ever been entirely and completely himself. - Author: Hermann Hesse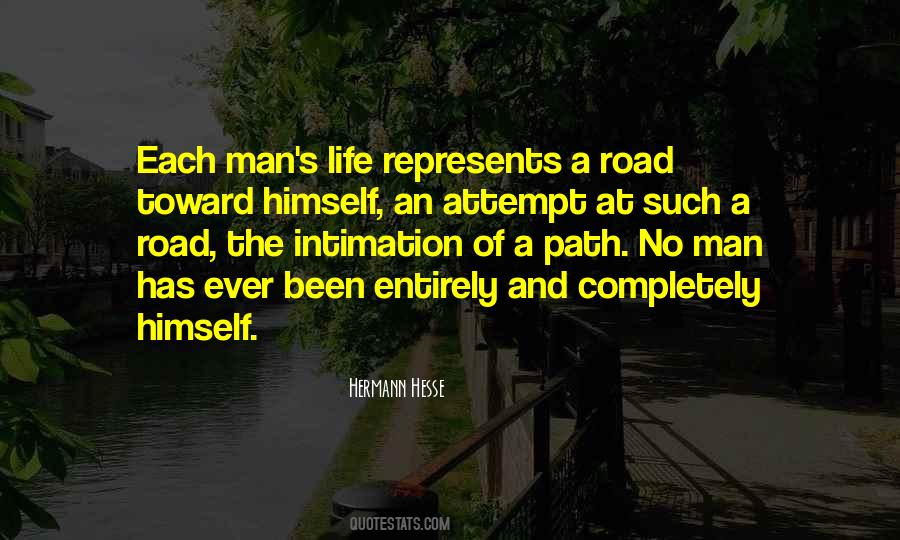 #58. I'm standing behind a wall of jokes. You don't know about my personal life, my girlfriends, or what I do when I'm not on the road. There's this guy, this comedian, and this is how he thinks, but people really don't know anything about me. - Author: Steven Wright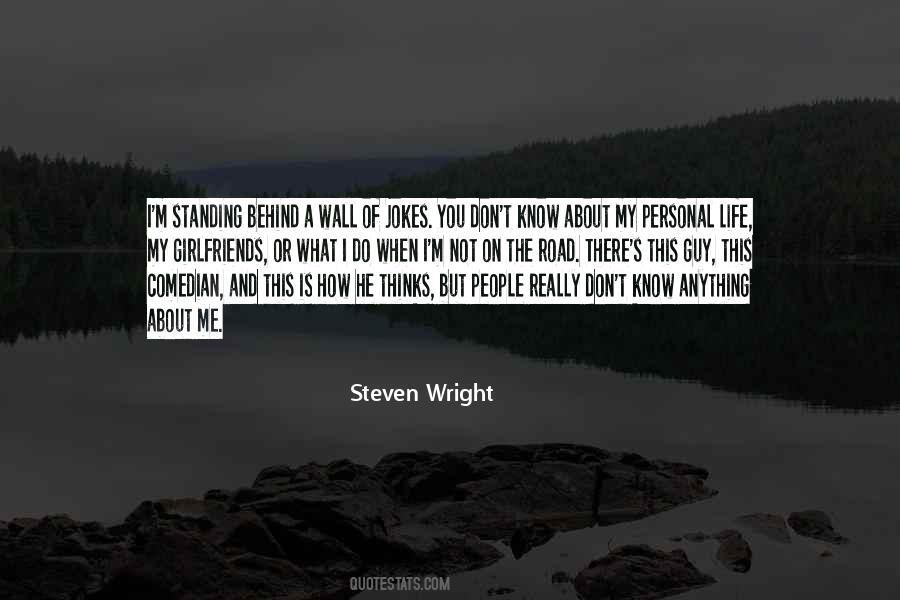 #59. Keep traveling, even if you don't know where the road will end. - Author: Lailah Gifty Akita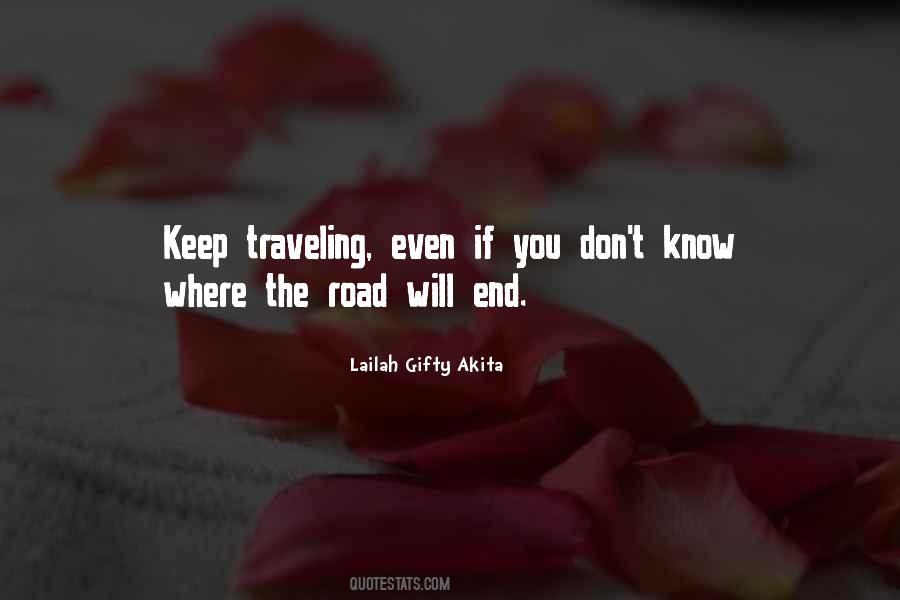 #60. You take these." A pair of bulky blue mittens dropped into Hallorann's lap. "You'll need em when you go off the road again, I guess. Cold out. You wear em unless you want to spend the rest of your life pickin your nose with a crochetin hook. - Author: Stephen King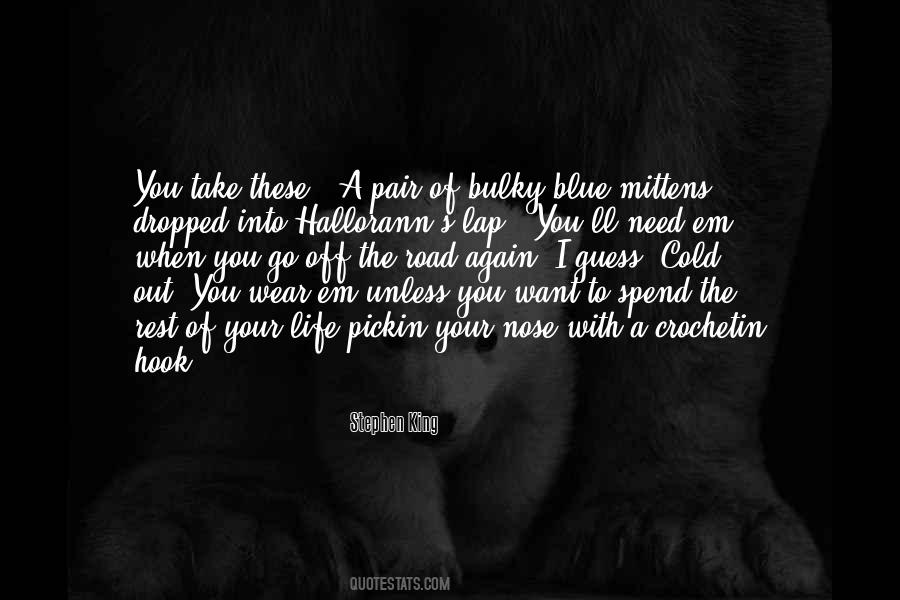 #61. One of the most important things that I have learned in my 57 years is that life is all about choices. On every journey you take, you face choices. At every fork in the road, you make a choice. And it is those decisions that shape our lives. - Author: Mike DeWine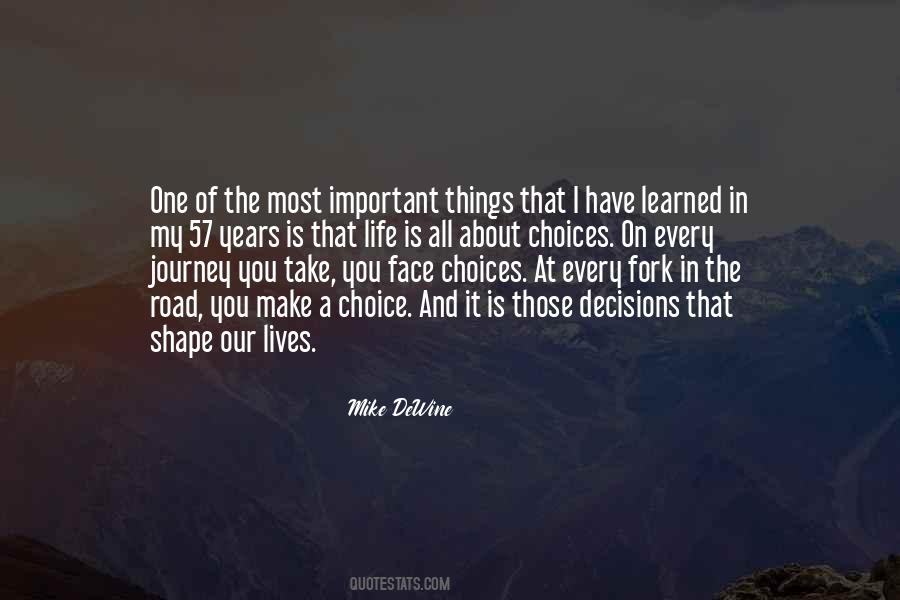 #62. All of it was new to him. After a life of Sameness and predictability, he was awed by the surprises that lay beyond each curve of the road. - Author: Lois Lowry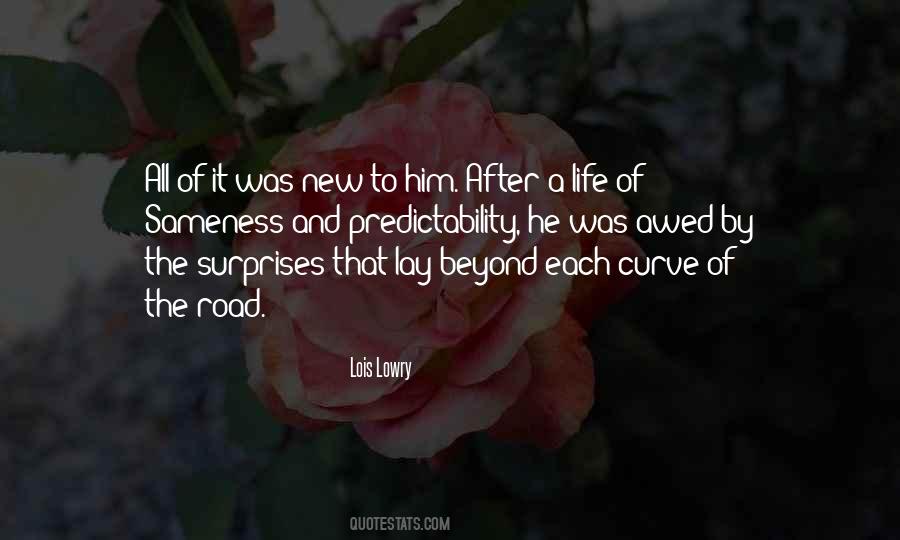 #63. Bad things happen to good people all the time. It sucks. It's not fair but then much of life isn't fair. It's how you live that matters. It's how you deal with the bumps in the road. - Author: Maya Banks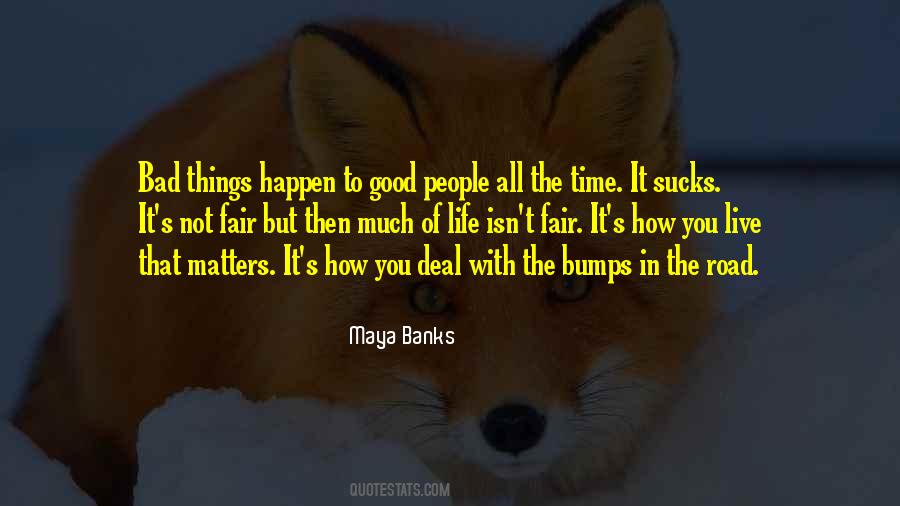 #64. The road might seem long,
But the joy of arriving makes it all worth it.
All I have to do is be strong. - Author: Innocent Mwatsikesimbe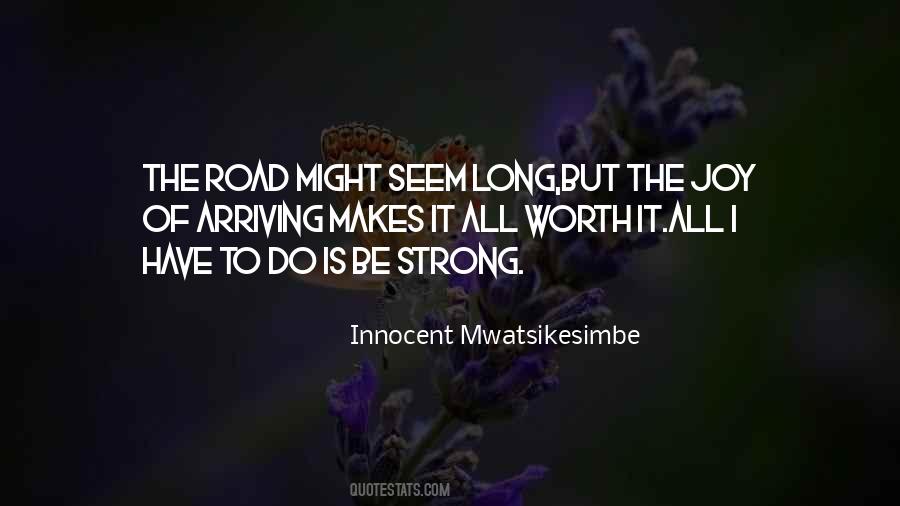 #65. Embracing a life content with fewer possessions has modeled for them the important truths that personal belongings are not the key to happiness, that security is found in their character, and that the pursuit of happiness runs a different road than the pursuit of possessions. - Author: Joshua Becker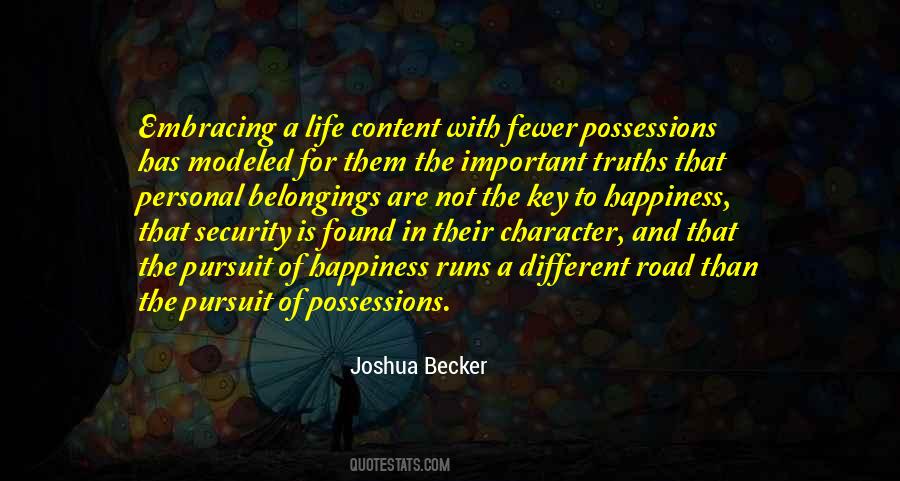 #66. I spend a lot of time talking about something I believe passionately, which is that life is what you choose to make it, for the most part, and more often than not all you need to do is seize it by the throat and demand more from it. - Author: Frank Turner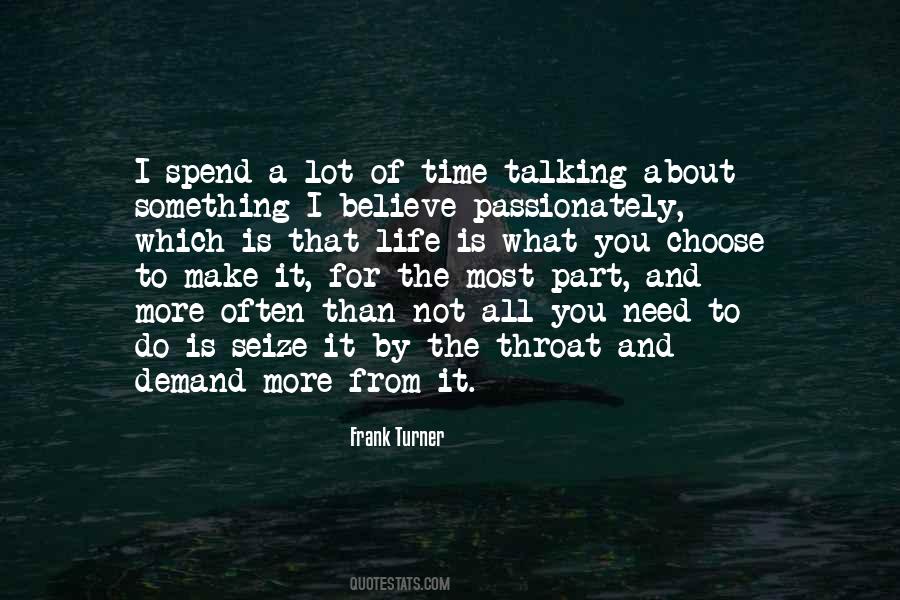 #67. Now I'm having the time of my life being on the road with one of the world's all-time great big bands, and performing with symphonies. I wouldn't trade it for anything. - Author: Doc Severinsen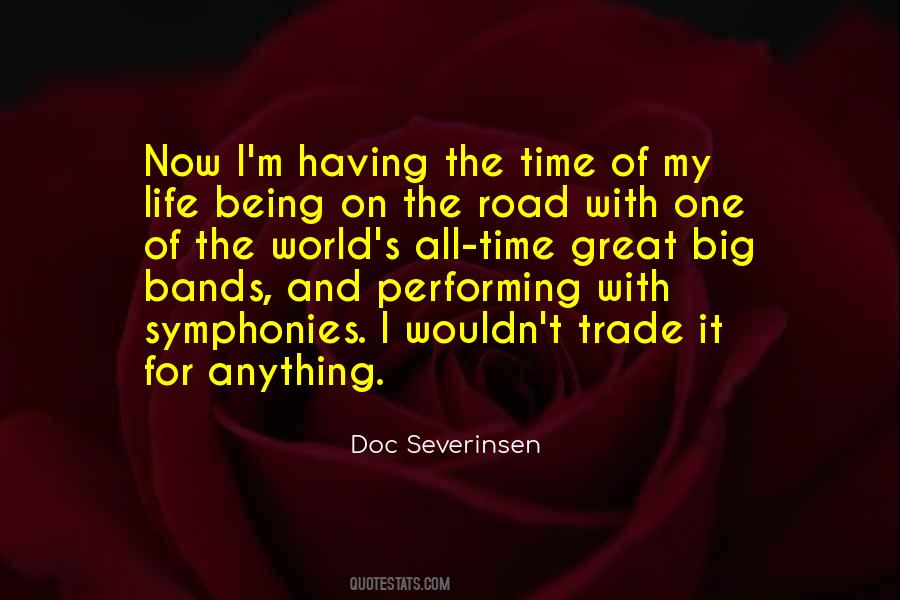 #68. Who does not see that I have taken a road along which I shall go, without stopping and without effort, as long as there is ink and paper in the world? I cannot keep a record of my life by my actions; fortune places them too low. I keep it by my thoughts. - Author: Michel De Montaigne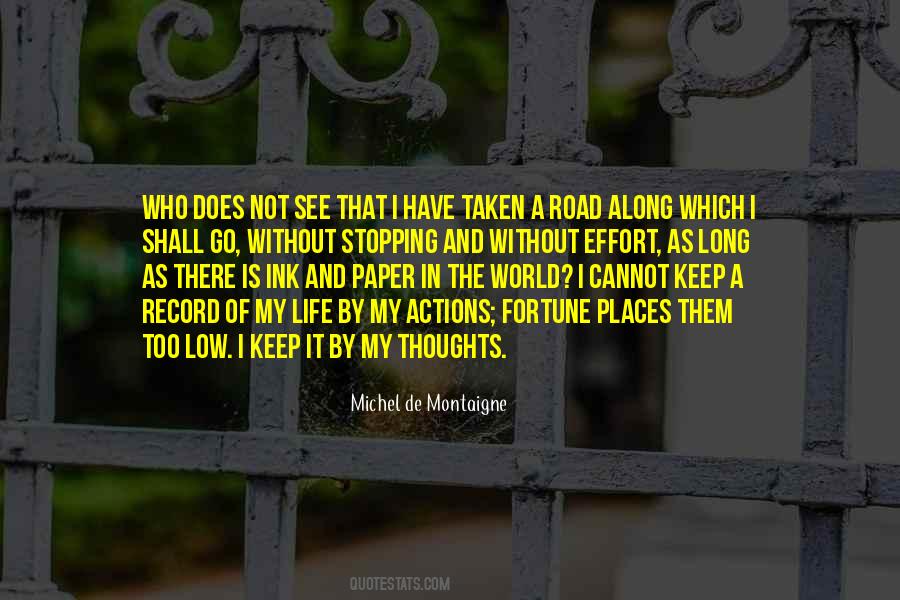 #69. When I think of Robert Frost's poems, like "The Road Not Taken", I feel the support of someone who is on my side, who understands what life's choices are like, someone who says, "I've been there, and it's okay to go on". - Author: Fred Rogers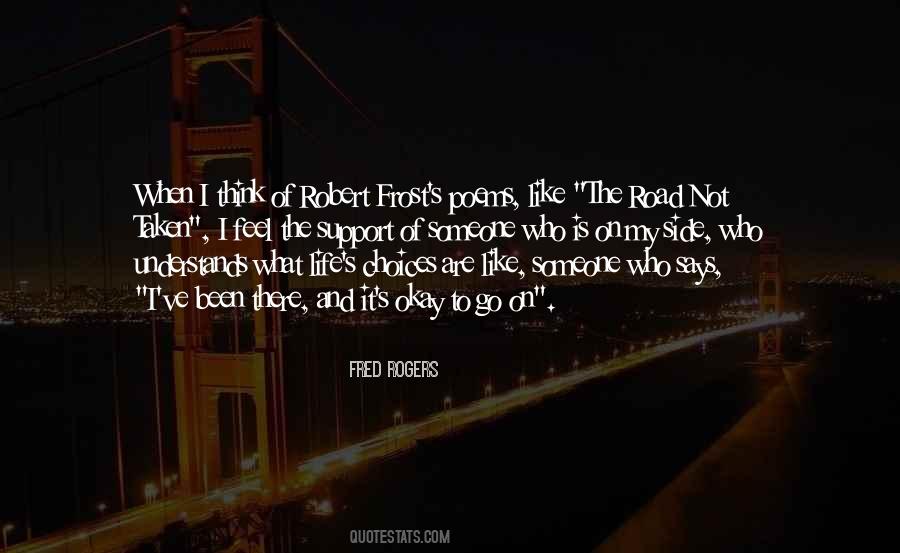 #70. Find your way early, on the road of life. For the way is too long to be struggling, and far too short to be waiting. - Author: Anthony Liccione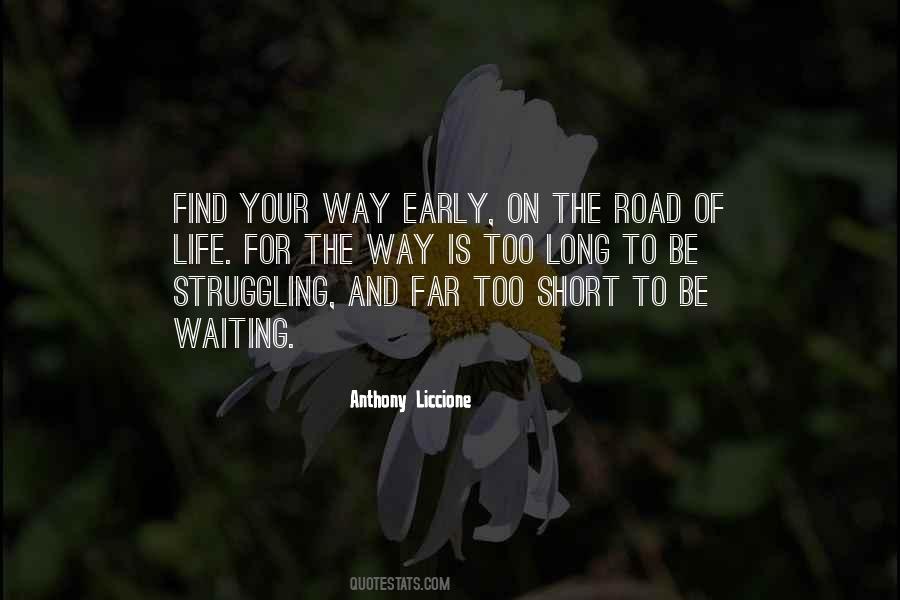 #71. Changes in life, taking the turning point.
Everyone passes numerous paths along the road of life. There's a dilemma when it comes to choosing. - Author: Hlovate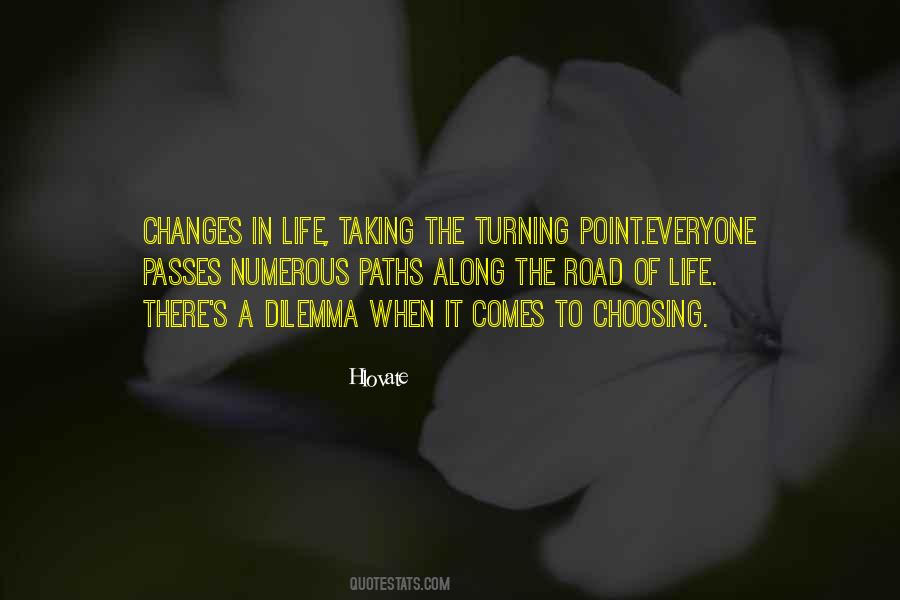 #72. It's just that ... I just think that some things are meant to be broken. Imperfect. Chaotic. It's the universe's way of providing contrast, you know? There have to be a few holes in the road. It's how life is. - Author: Sarah Dessen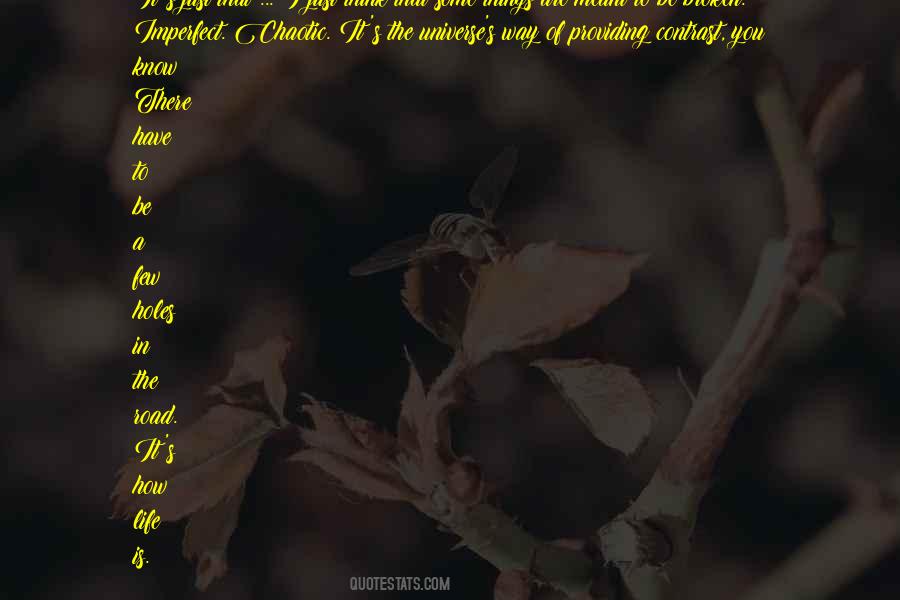 #73. Life is a long road with lots of junctions and every time you chose to go one way, you may just have easily have gone the other. We don't make choices so much as choices are made like a new fashion we slip into without realising. - Author: Chloe Thurlow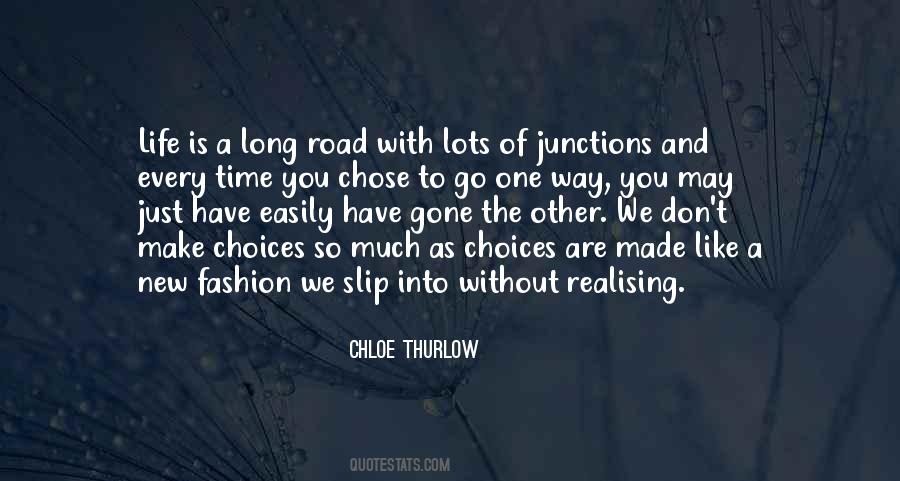 #74. On the road of life ... Meet people where they are, Accept who they are. And there are some folks that you need to leave where they are ... Keep walking. - Author: Denise Linn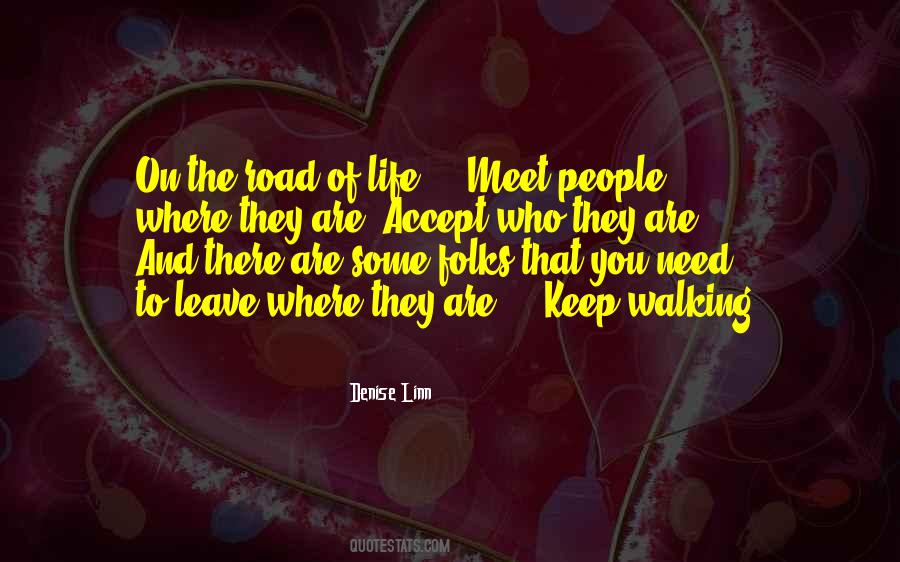 #75. As a result of my life on the road and the increasing number of rainy afternoons in cinemas, I began to get the idea that I might write a film. - Author: Jeremy Lloyd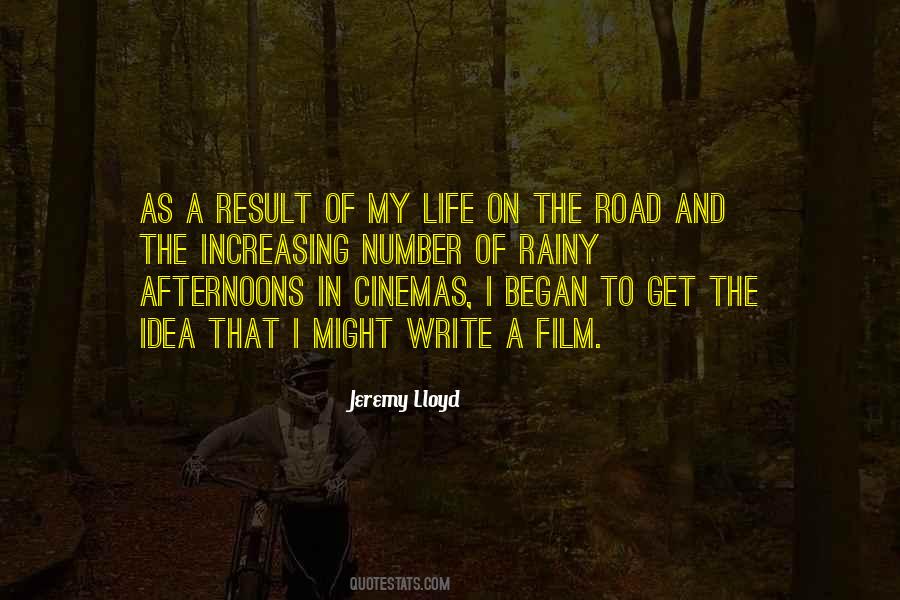 #76. I'm one of the slowest drivers on the road. I mosey along. If you're doing anything too fast, including living life too fast, that creates sudden death. If I have to be somewhere on time, I make sure I leave early enough. - Author: Anthony Hopkins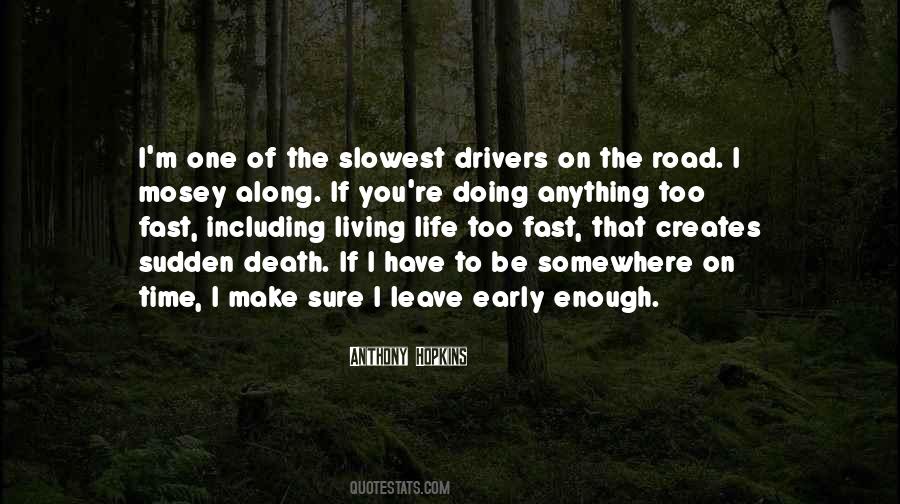 #77. I am ready for the most exhilarating time of my life, discovery before me, negativity behind me, through the road to ruin, I will find within me, my most unshakeable truth. - Author: Nikki Rowe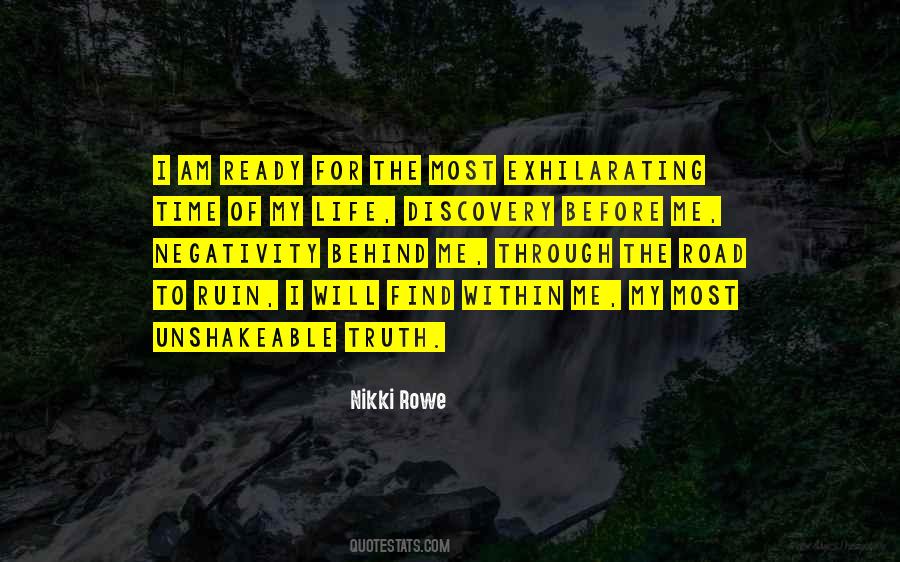 #78. Life on the road can get a little one-dimensional. I didn't want to reach 40 and have to say all I'd done was look out the window of a tour bus and get drunk. - Author: Bruce Dickinson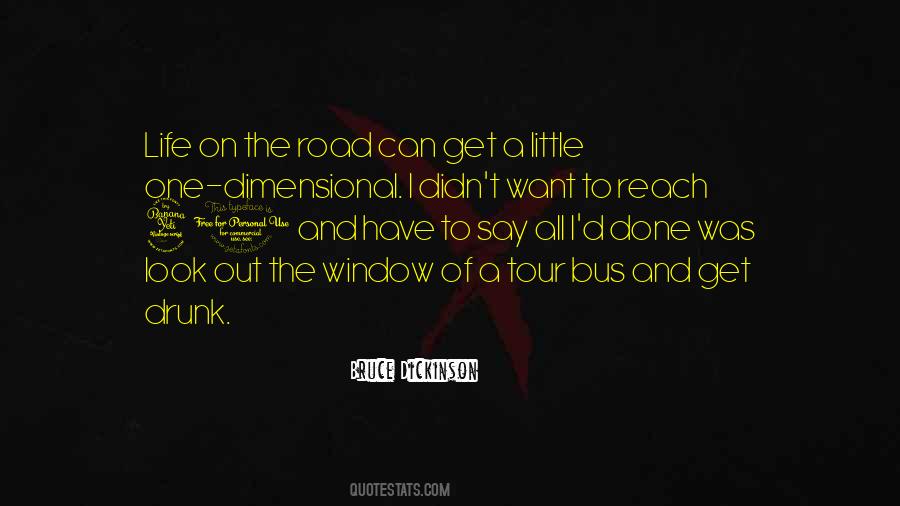 #79. Ain't nothing in this life comes easy to any of us, child. Every road you walk down's got a price. Sooner you learn that the better. Don't matter the direction you go, there'll be some bad mixed in with the good and you just gotta learn to take the one with the other. - Author: Victoria Forester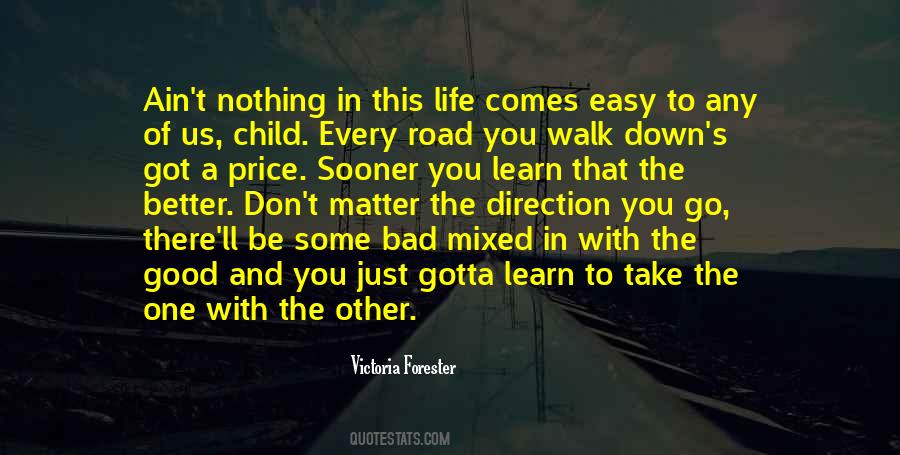 #80. As you travel the road of life, your self-concept is the pedal that controls your speed. - Author: Jo-Ann L. Tremblay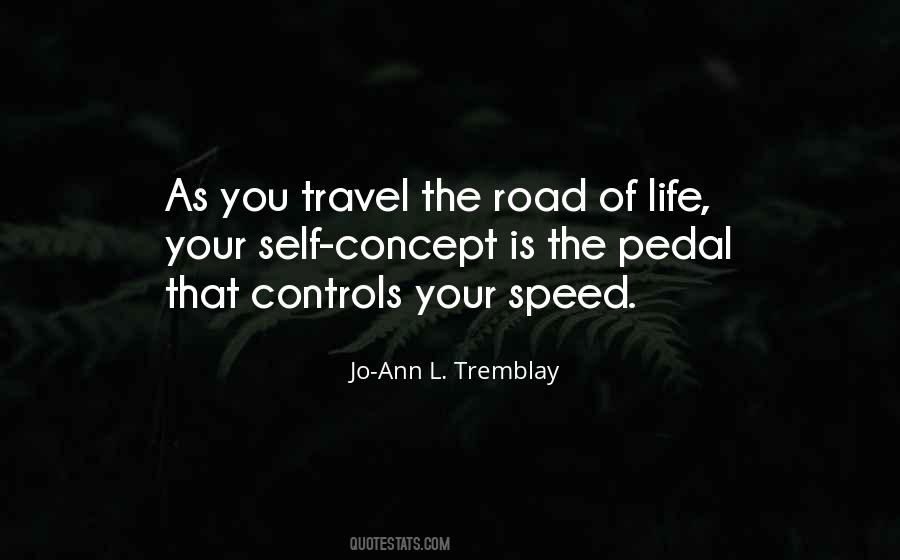 #81. Later down the road of life, i made the discovery that salt water was also good for the mental abrasions one inevitably acquires on land. - Author: Jimmy Buffett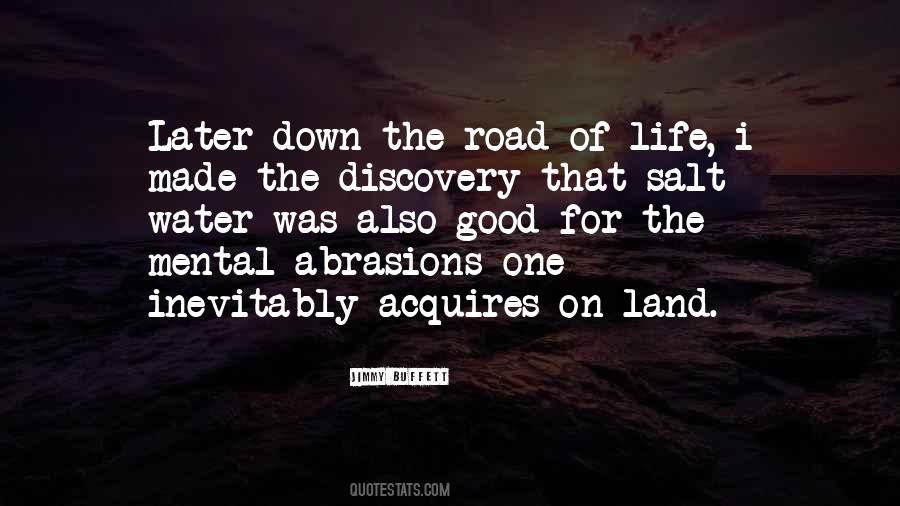 #82. Nearly every aspect of life was subject to some measure of legal restraint. At a local level, you could be fined for letting your ducks wander in the road, for misappropriating town gravel, for having a guest in your house without a permit from the local bailiff. - Author: Bill Bryson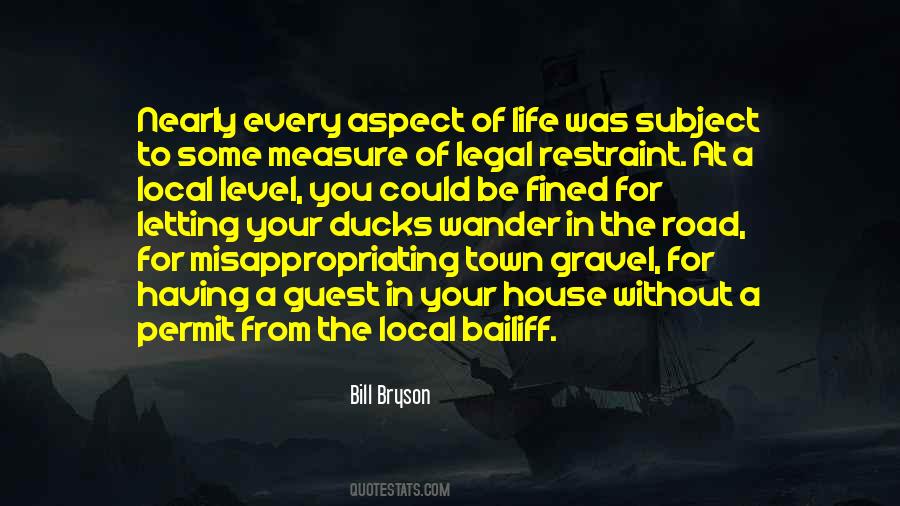 #83. The real home of man is not his house but the road. Life itself is a travel that has to be done by foot. - Author: Bruce Chatwin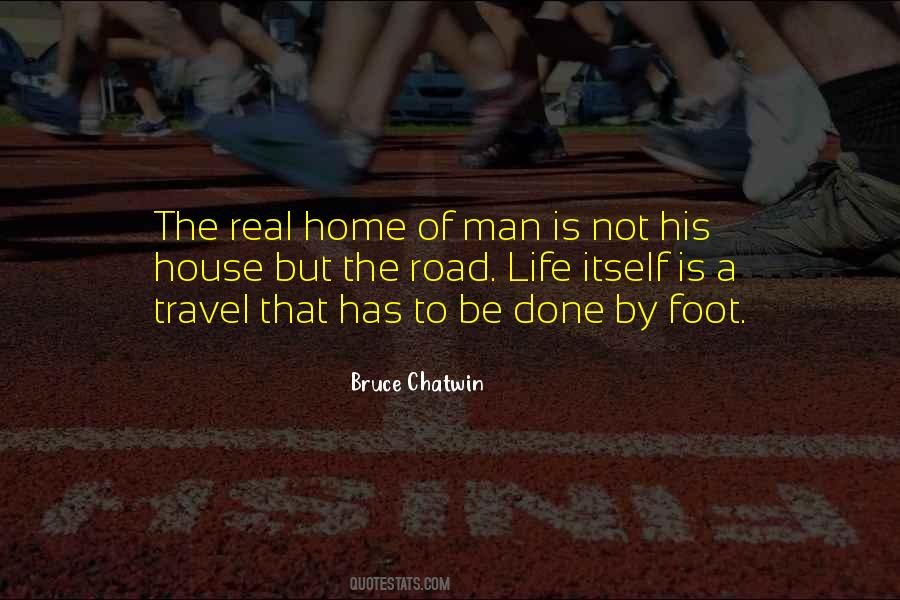 #84. I travel a lot with my students. We go on the road and even learn about things like doing your laundry and managing your time. And maybe that's not on the test at the end of the year, but it's in the test of life and that's why my classroom is successful. - Author: Rafe Esquith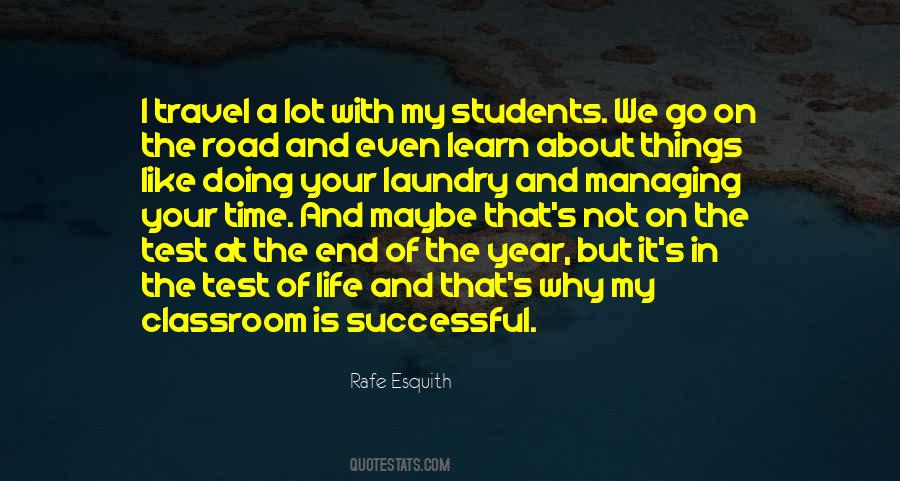 #85. Our life is an endless journey; it is like a broad highway that extends infinitely into the distance. The practice of meditation provides a vehicle to travel on that road. Our journey consists of constant ups and downs ... - Author: Chogyam Trungpa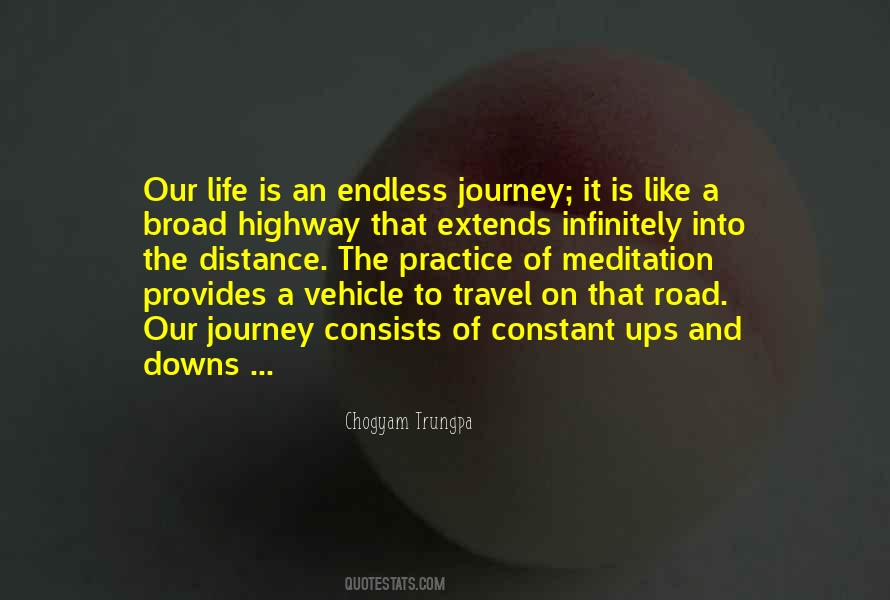 #86. I would alter nothing of the journey made for it is in this road travelled that the sweetest of lessons are learnt. - Author: Truth Devour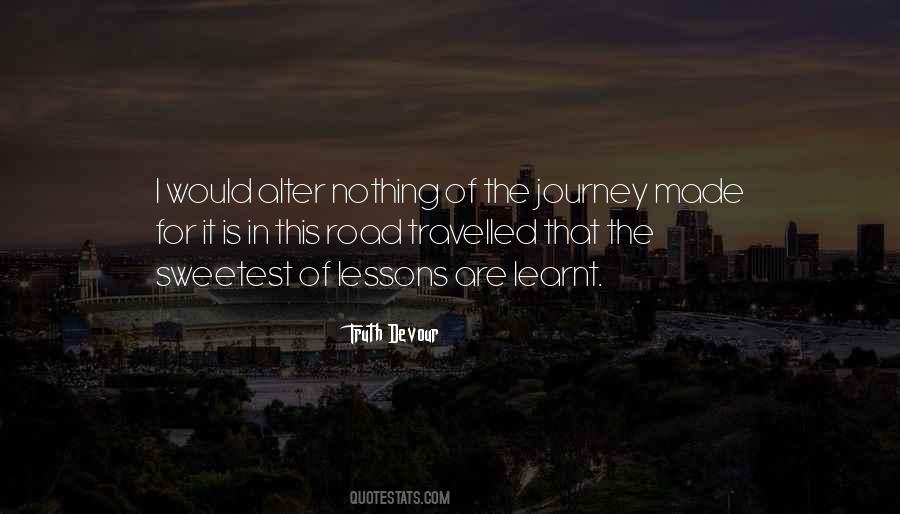 #87. The road of rock and roll (much like life) is littered with broken dreams and death. And it's our job to overcome these and to survive. - Author: Courtney Love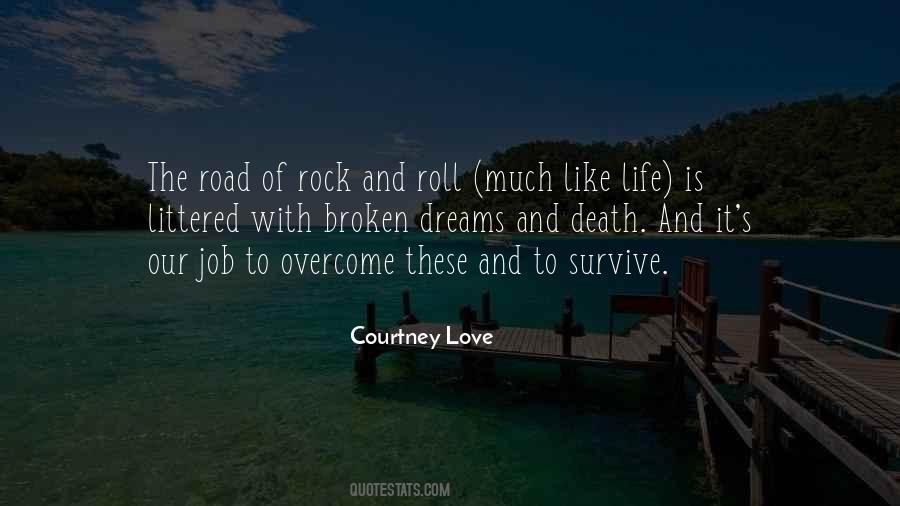 #88. For a while there's nothing I can do but stand in the middle of the road, because going forward hurts too much. Going forward means continuing to try, when trying is so hard. The world is filled with idiots and assholes and monsters. Where are the guardian angels? - Author: Carolyn Lee Adams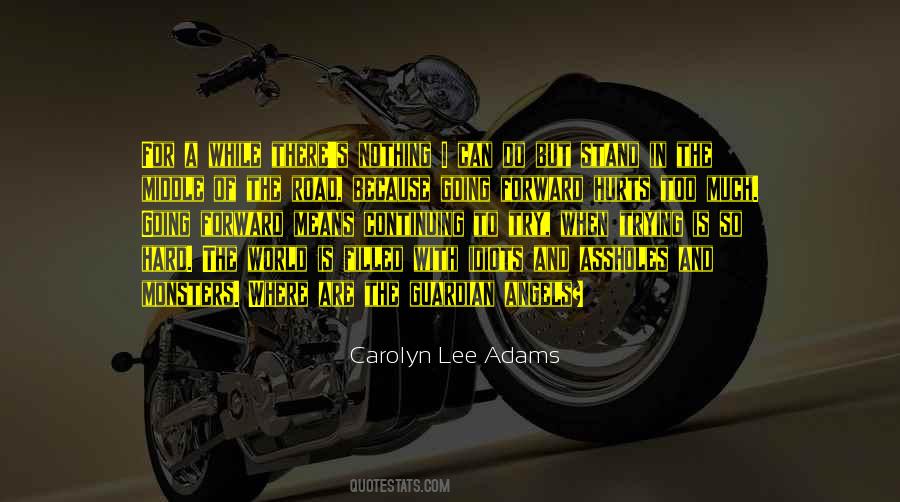 #89. Evils in the journey of life are like the hills which alarm travelers upon their road; they both appear great at a distance, but when we approach them we find that they are far less insurmountable than we had conceived. - Author: Charles Caleb Colton
#90. When I got out of high school I hit the road. I lived like a gypsy. Those were the best times of my life. I was living from club to club not knowing where my next meal was coming from. No credit cards, no apartment, no bills, no managers, just on the road with a truck and five guys. - Author: Rex Smith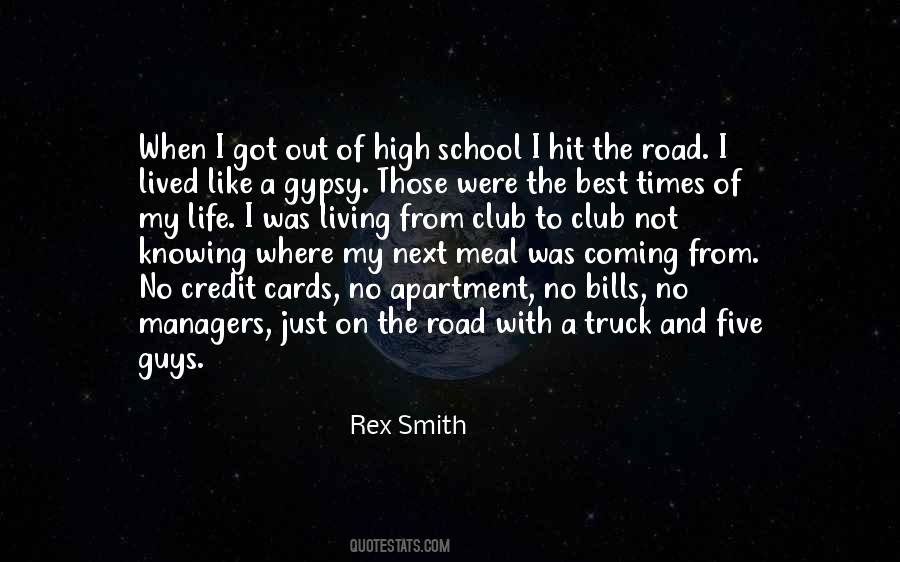 #91. As the warm air blew in the car, simple snapshots of the life they'd lived together surfaced in his mind; but as always, those images led inexorably to their final day together. - Author: Nicholas Sparks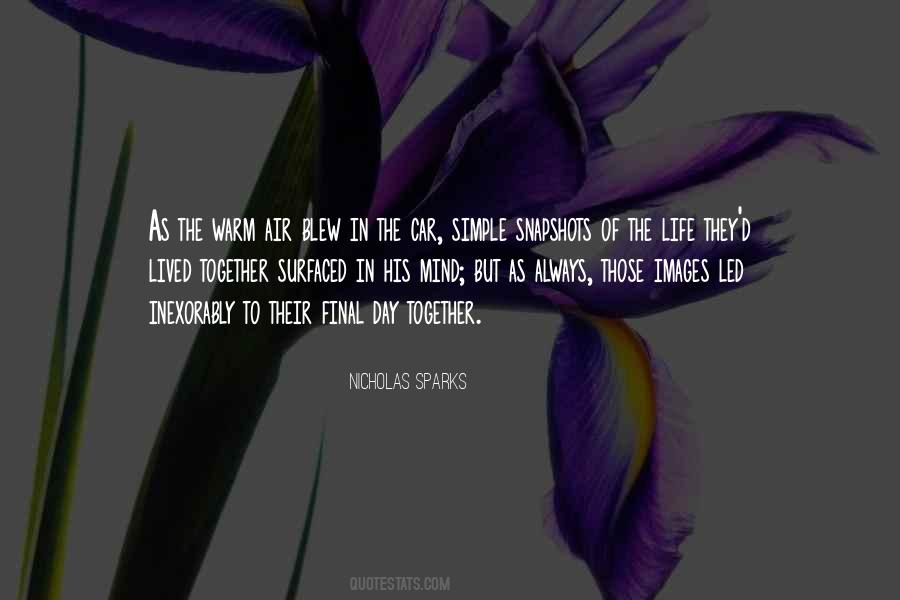 #92. There is no easy way to the journey of life. Those who follow the easy road cannot fully appreciate life. - Author: Lailah Gifty Akita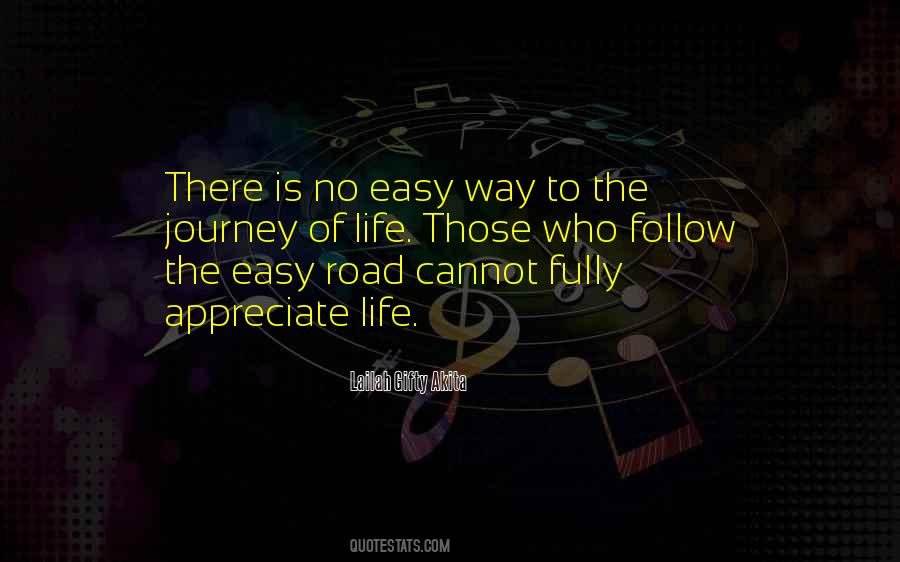 #93. Yes, a guide can help point the way to your own sense of self and your purpose in life. No, a guide can't replace your own search. When you are in your car driving through town, signposts can tell you where each road goes, but only you can turn the steering wheel. - Author: Deepak Chopra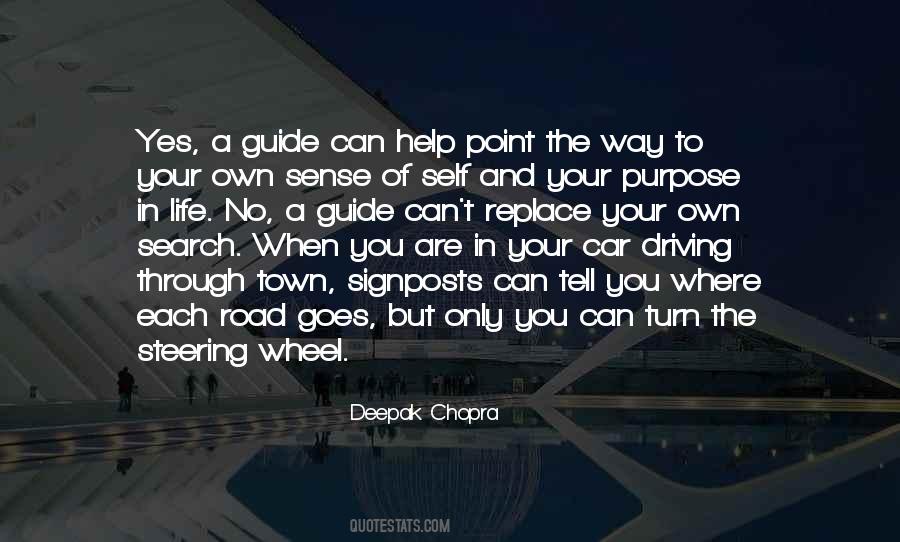 #94. If you ever find yourself presented with a fork in the road of life and you do not know the correct direction, close your eyes and listen to your heart. I have found more adventure, more love, more happiness, and more life by listening to who I am, rather than attempting to tell myself. - Author: Karen Hawkins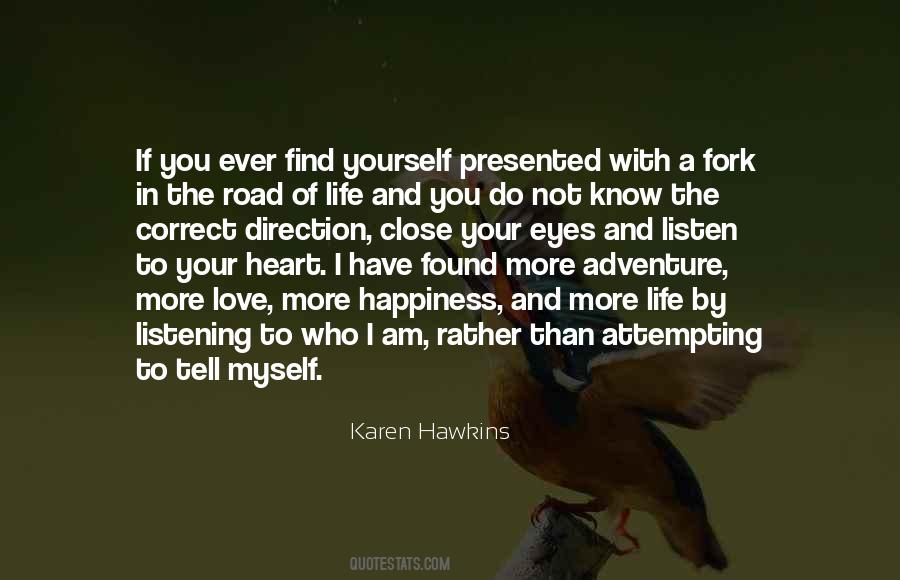 #95. Luck comes and goes; you have to seize it. Bad luck comes and goes; it must be overcome. But I will never, never sit at the side of the road showing my wounds and shouting, 'It's destiny'! - Author: Jean Van Hamme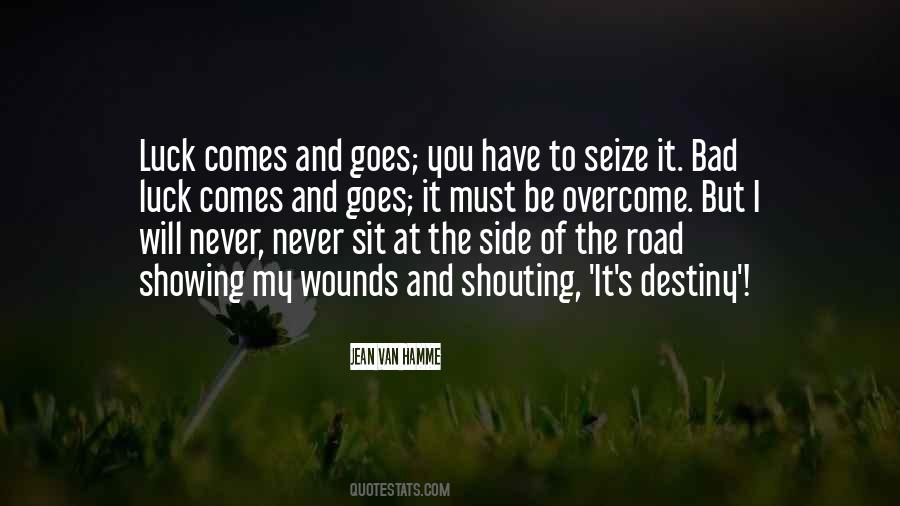 #96. Retire? Not on your life. I have no plans to stop singing. What are you going to do when you love music? It's a terrible disease. You can't stop. Of course, I'd like to get off the road. - Author: Peggy Lee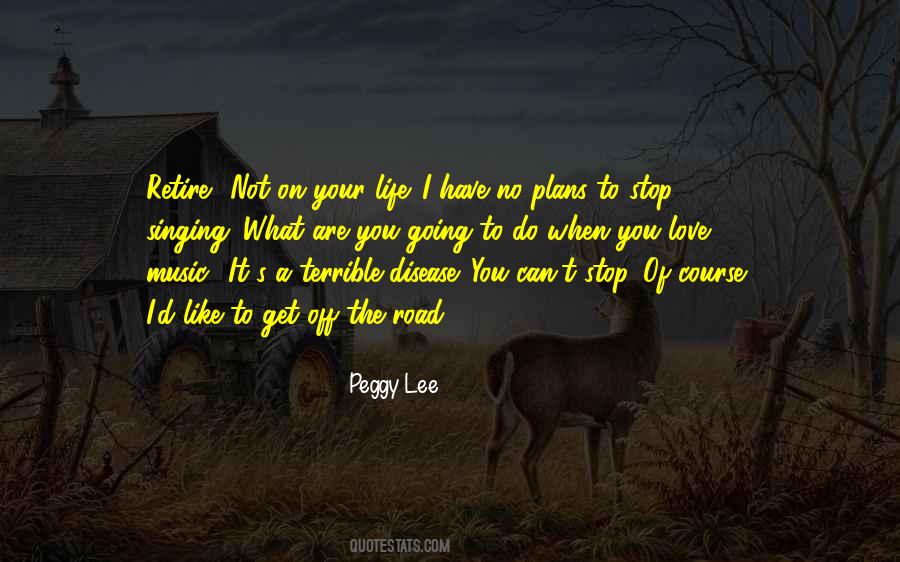 #97. We love, while knowing that someday our love might be lost forever. We laugh as we stride along, even while recognising that doom lies at the end of the road. We give, while comprehending that in the end 'twill all be taken away. we are nothing less then heroes. - Author: Cecilia Dart-Thornton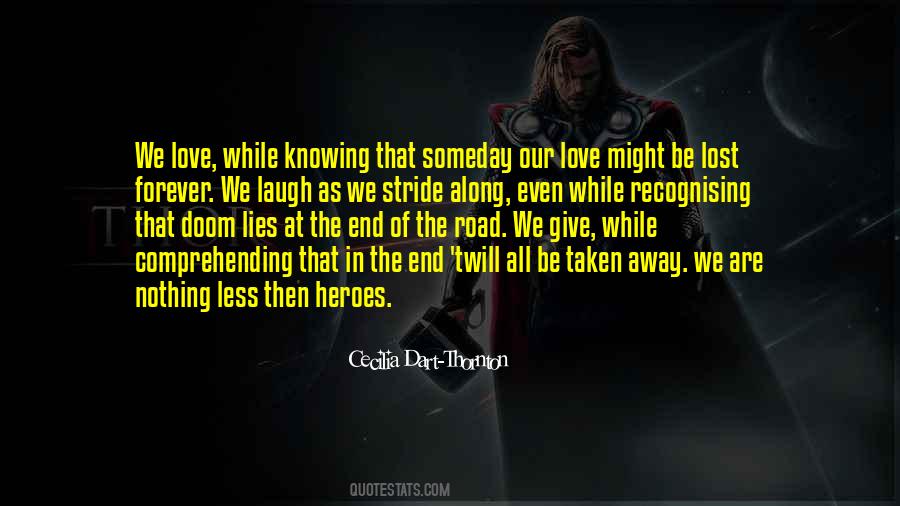 #98. Why is it that when your life is at a breaking point, every freaking song on the radio relates to it. If I heard one more sad song, I was going to rip the radio out of the dash and toss it out on the road. - Author: Jennifer Foor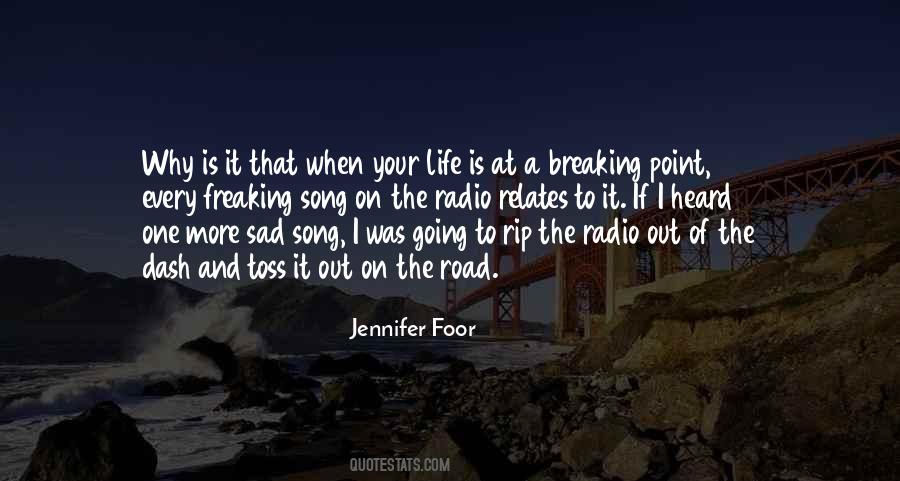 #99. The road less traveled might just be the ride of your life! - Author: Carolee Dean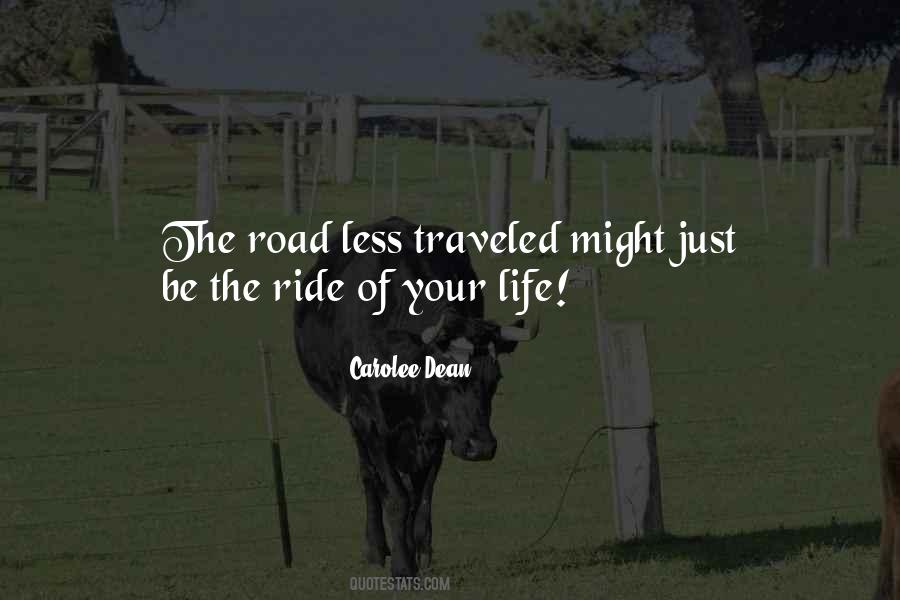 #100. One of the dreariest spots on life's road is the point of conviction that nothing will ever again happen to you. - Author: Faith Baldwin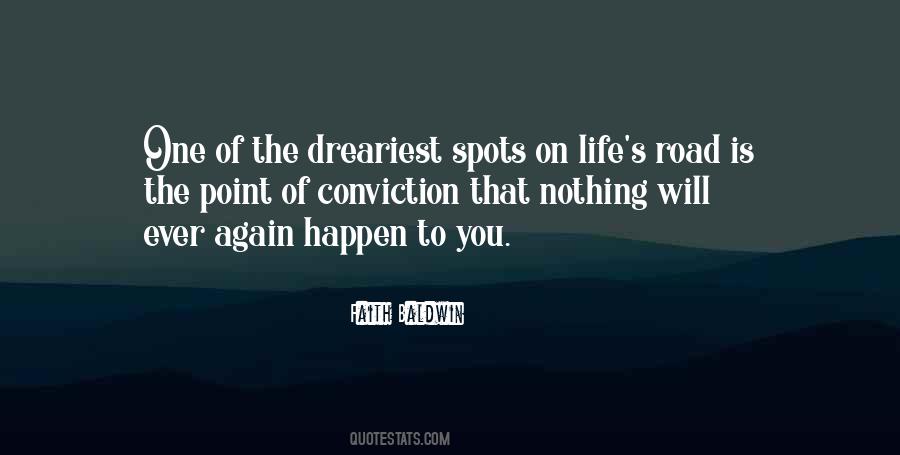 Famous Authors
Popular Topics