The Element Of Surprise Famous Quotes & Sayings
List of top 35 famous quotes and sayings about the element of surprise to read and share with friends on your Facebook, Twitter, blogs.
Top 35 Quotes About The Element Of Surprise
#1. There's not much TV these days where you really get that element of surprise. There are so many spoilers all the time. - Author: Jenna-Louise Coleman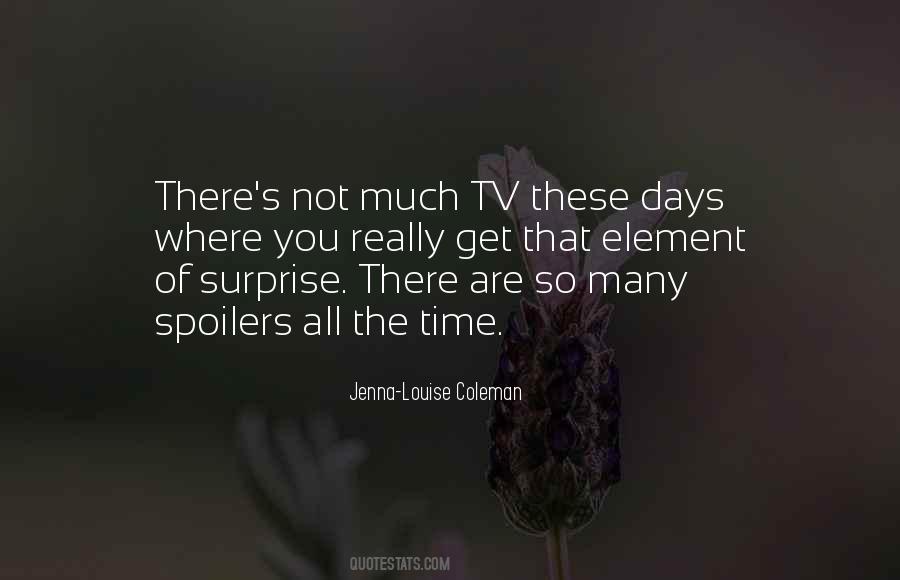 #2. I don't outline at all; I don't find it useful, and I don't like the way it boxes me in. I like the element of surprise and spontaneity, of letting the story find its own way. - Author: Khaled Hosseini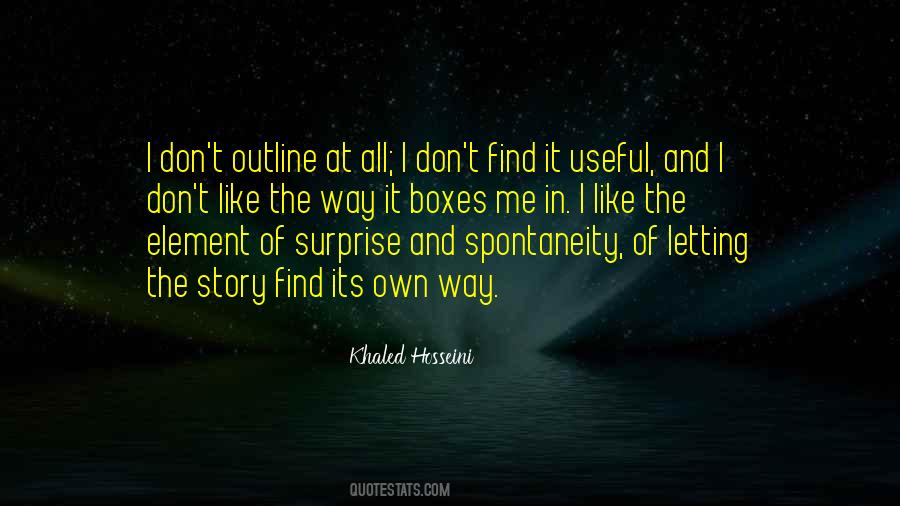 #3. That's the hardest thing about doing sequels - you've lost the element of surprise. - Author: Sylvester Stallone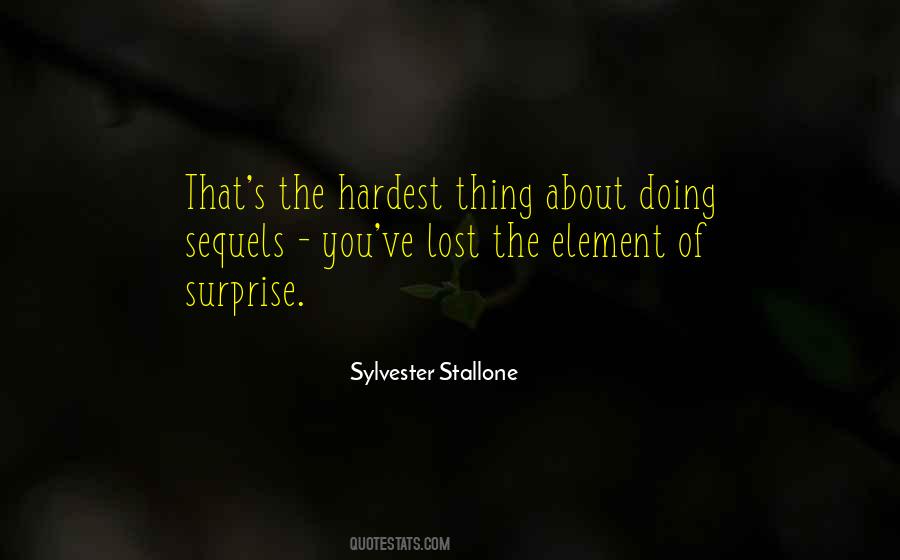 #4. Vince Russo destroyed the Periodic Table as he only recognises the element of surprise. - Author: Jim Cornette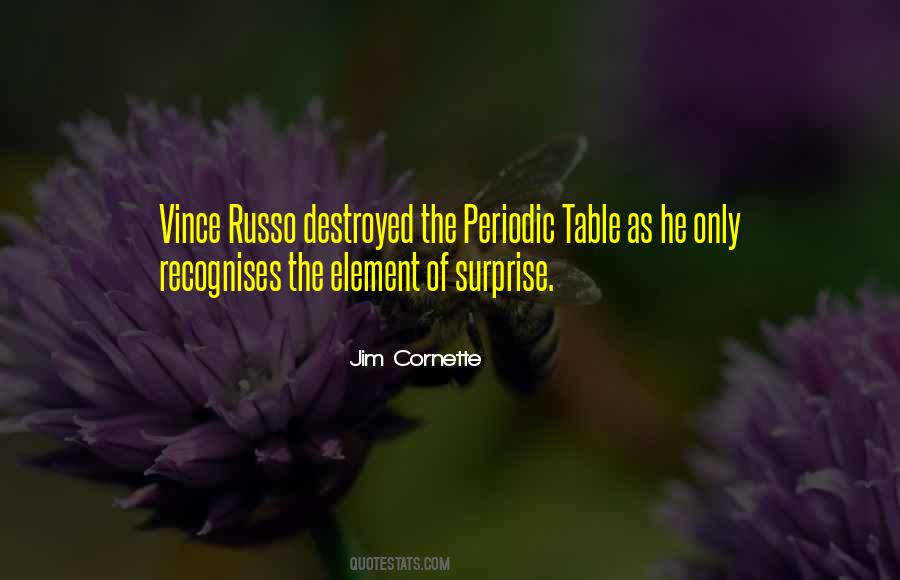 #5. The essence of humor is that it should be unexpected, that it should embody an element of surprise, that it should startle us out of that reasonable gravity which, after all, must be our habitual frame of mind. - Author: Agnes Repplier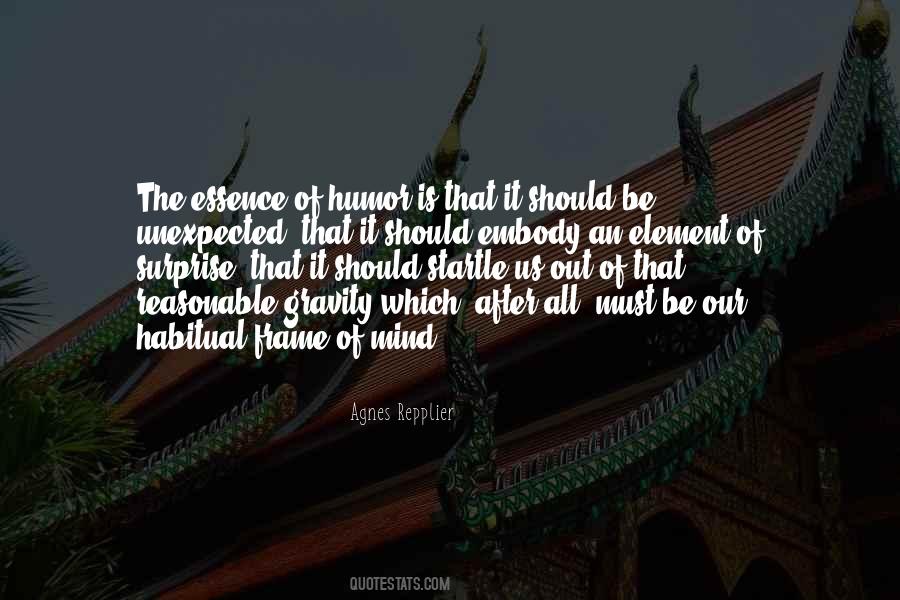 #6. For me, what is most important is the element of surprise. If I can surprise you with every film of mine, that is exactly what I am trying to do. - Author: Arjun Rampal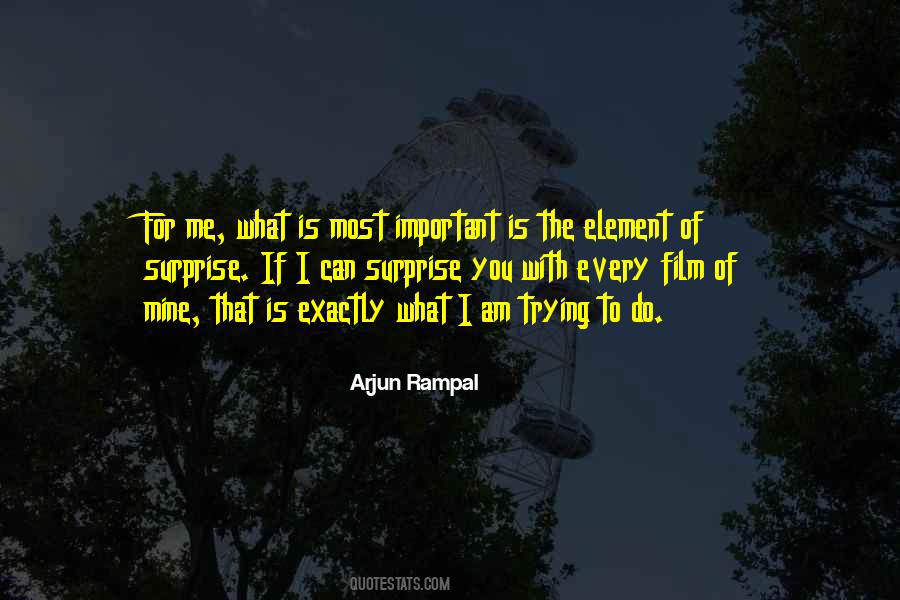 #7. When conventional tactics are altered unexpectedly according to the situation, they take on the element of surprise and increase in strategic value . - Author: Sun Bin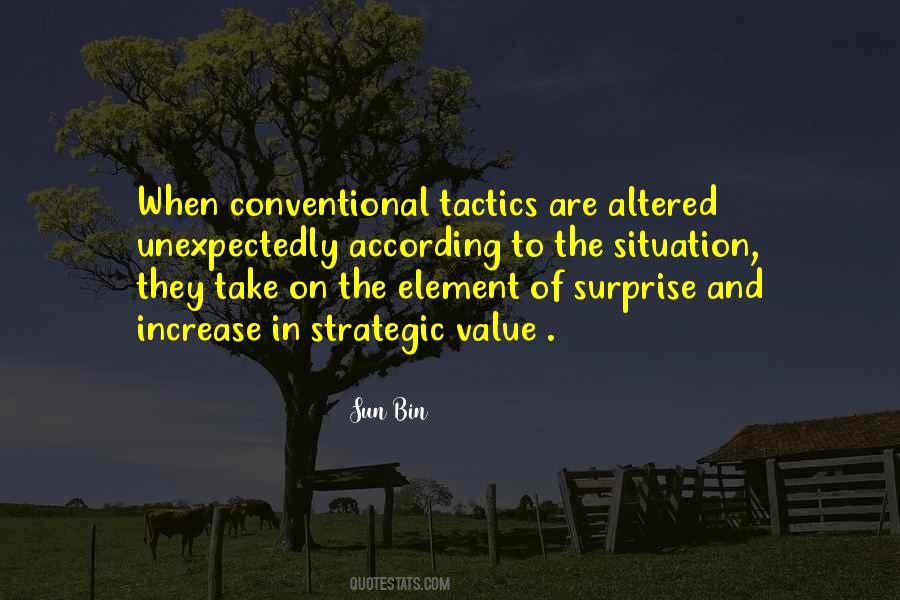 #8. I quite like the element of surprise, and as much as I have my ideas, I always appreciate ideas that come from other people as well, and I love the mystery of not knowing. - Author: Sam Claflin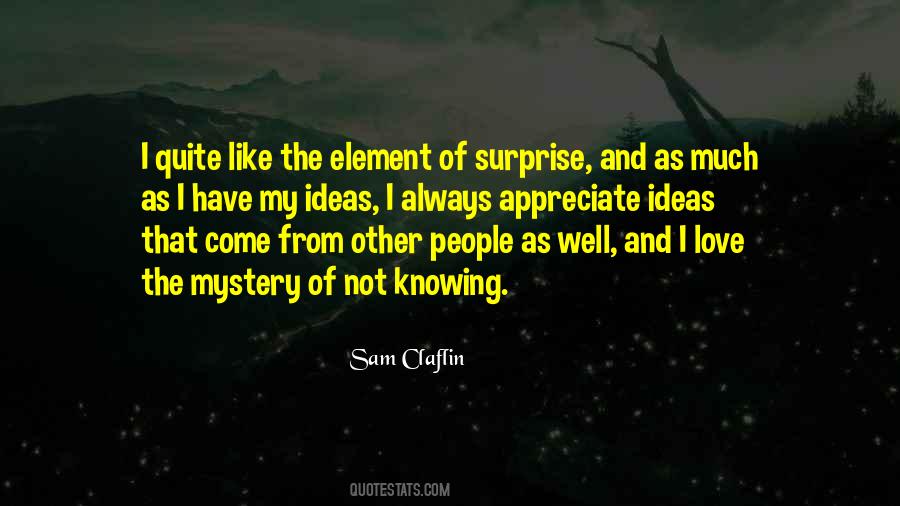 #9. The element of surprise wasn't allowed near the Periodic Table. - Author: Joseph Gordon-Levitt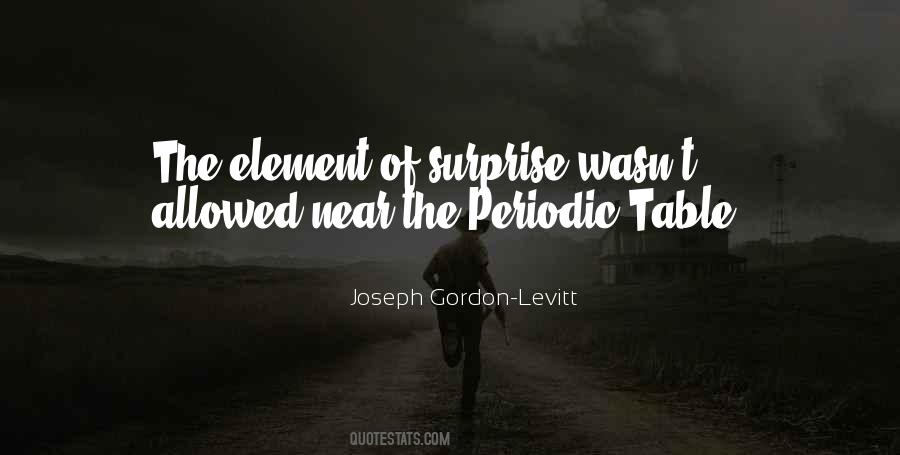 #10. Acting in film, you know, I hear all the time, people say 'You did so much better than I thought you would.' So there's an added element of surprise in film, different than in music. - Author: T.I.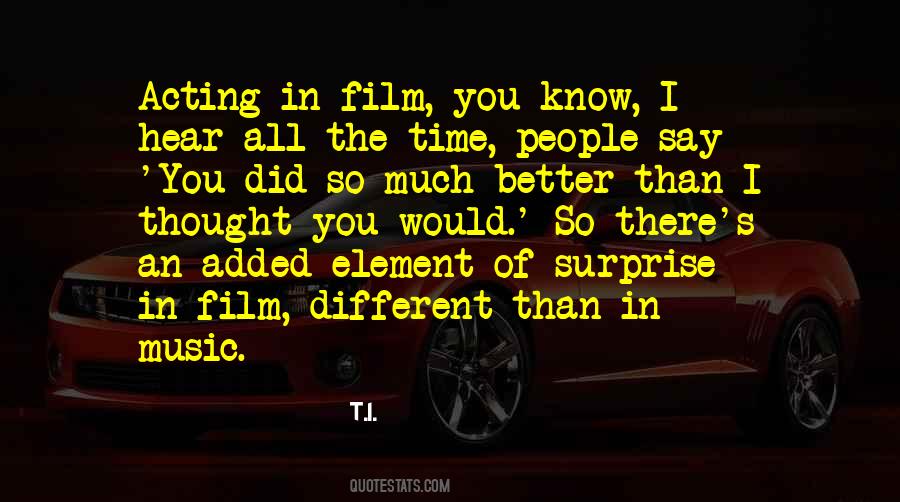 #11. If you can capture the element of surprise, you're way ahead of the game. - Author: Jay Maisel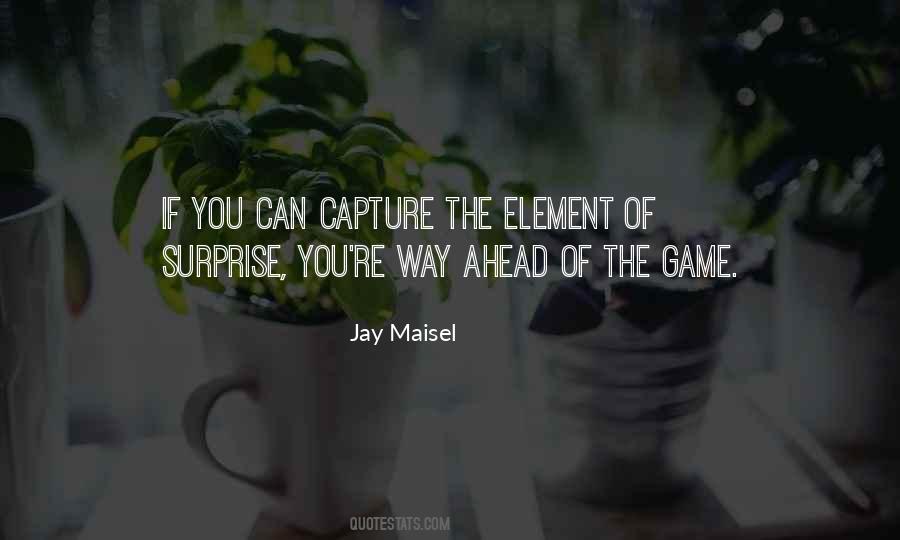 #12. The table of elements does not contain one of the most powerful elements that make up our world, and that is the element of surprise. - Author: Lemony Snicket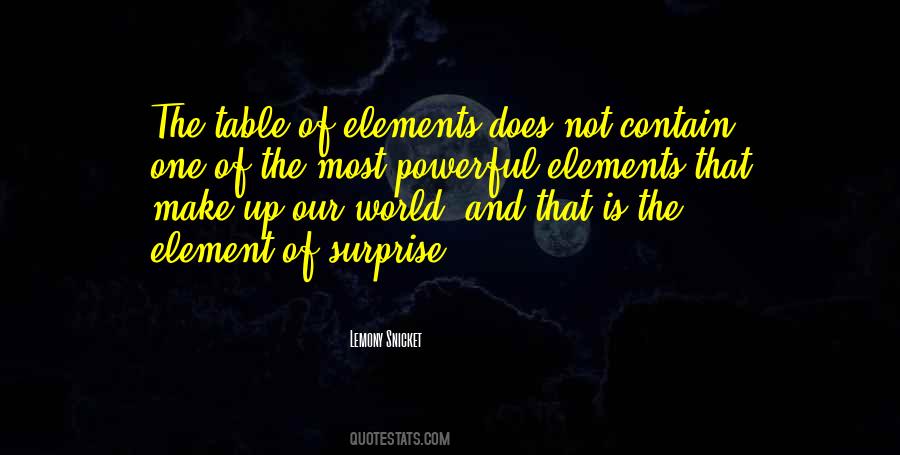 #13. The surprise element of her betrayal was what burned me the most. The fact that I never saw it coming. - Author: Emily Giffin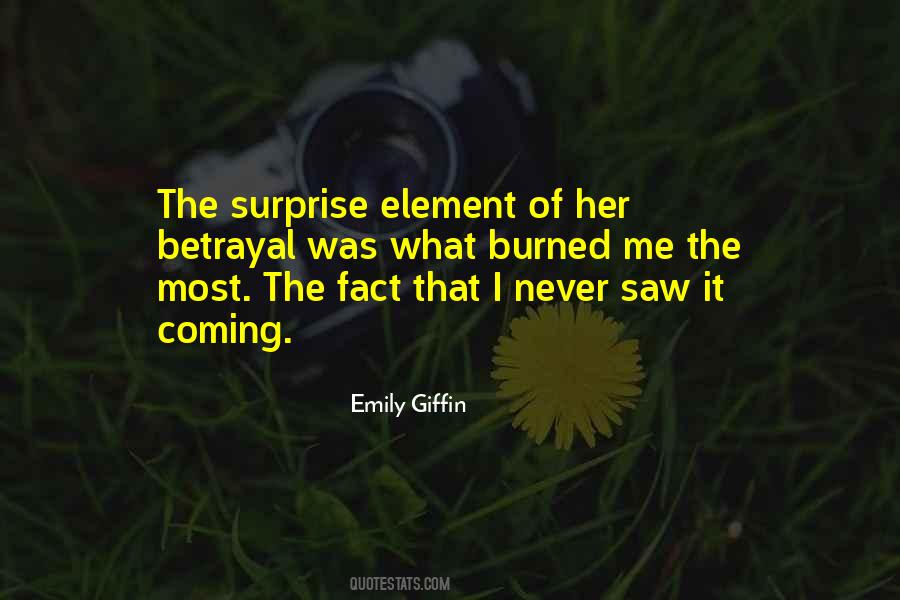 #14. I think it's keeping a surprise element, so that the audience never gets ahead of you. I like to pull the rug out from audiences, I don't like for them to think they know what's happening next. - Author: Jason Graae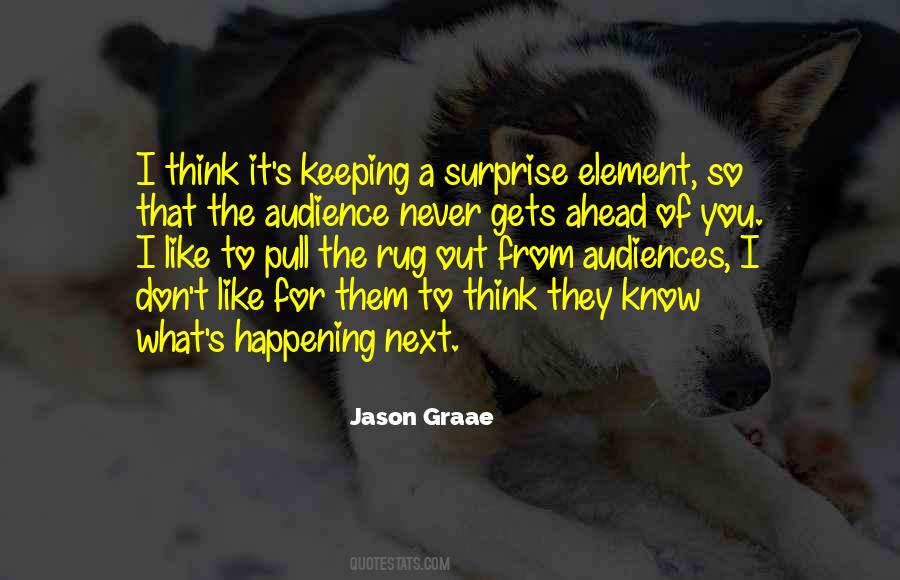 #15. So much of television is incredibly predictable. You watch the first five minutes and you know where it's going to go. If you can just create an element of surprise in both the storytelling and tone of a show, you're going to be way ahead of the pack. - Author: David Nevins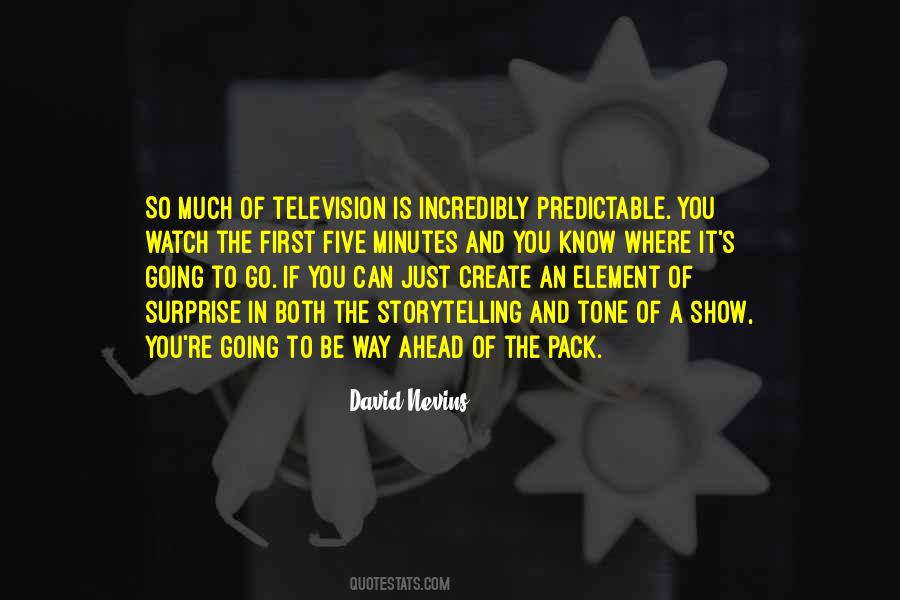 #16. When I go to the cinema, I'm often frustrated because I can guess exactly what is going to happen about ten minutes into the screening. So, when I'm working on a subject, I'm always looking for the element of surprise. - Author: Sergio Leone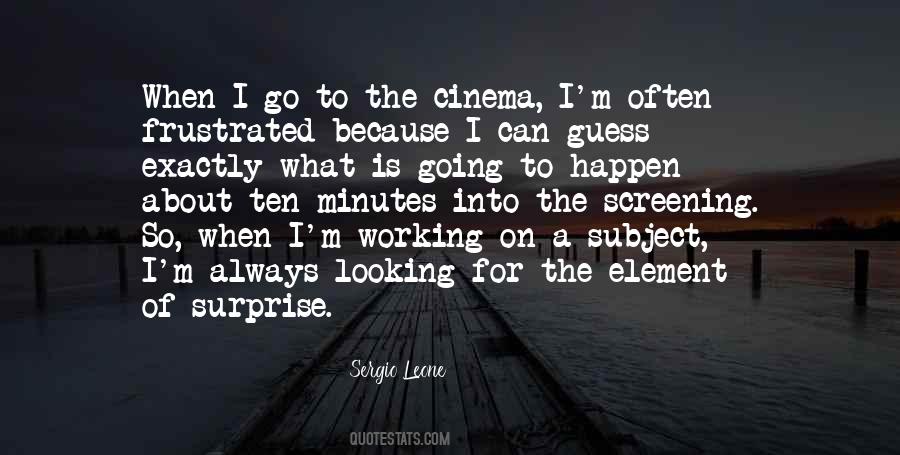 #17. The stupidity of a stupid man is exercised in a restricted field; the stupidity of an intelligent man has a much wider diffusion, and a far greater effect, aided as it is by the element of surprise. - Author: Peter Ustinov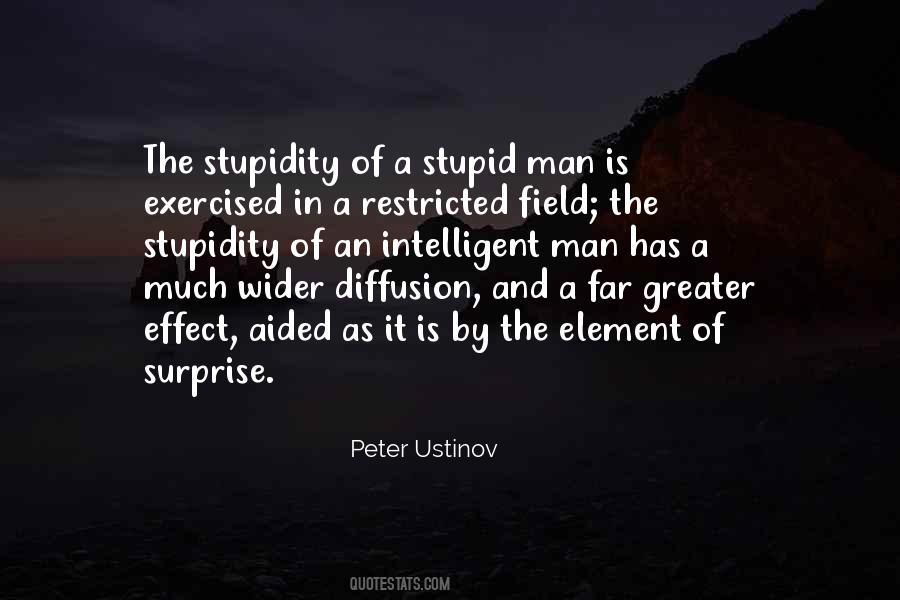 #18. If these were Plumber's people, that would mean he knew we were coming. That we'd lost our element of surprise and we were walking into a trap.
Which, you know, was obviously at the top of my to-do list today. - Author: Violet Cross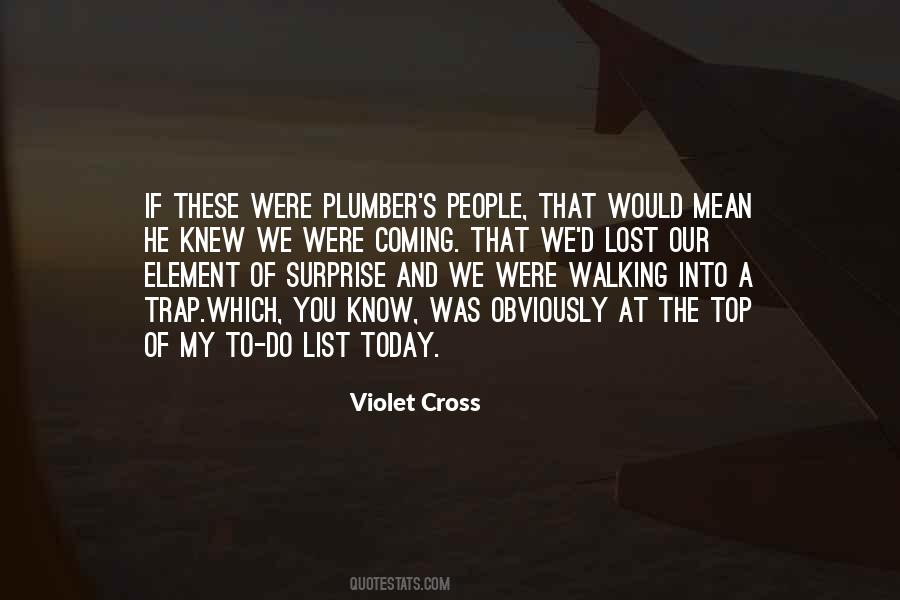 #19. You shouldn't strategize your career if you're in a creative realm. You can't either. I love the unknown. I love the element of surprise. I've always felt really inspired by it. I love the spontaneity of the job. I think you can't really fight against it. - Author: Emily Blunt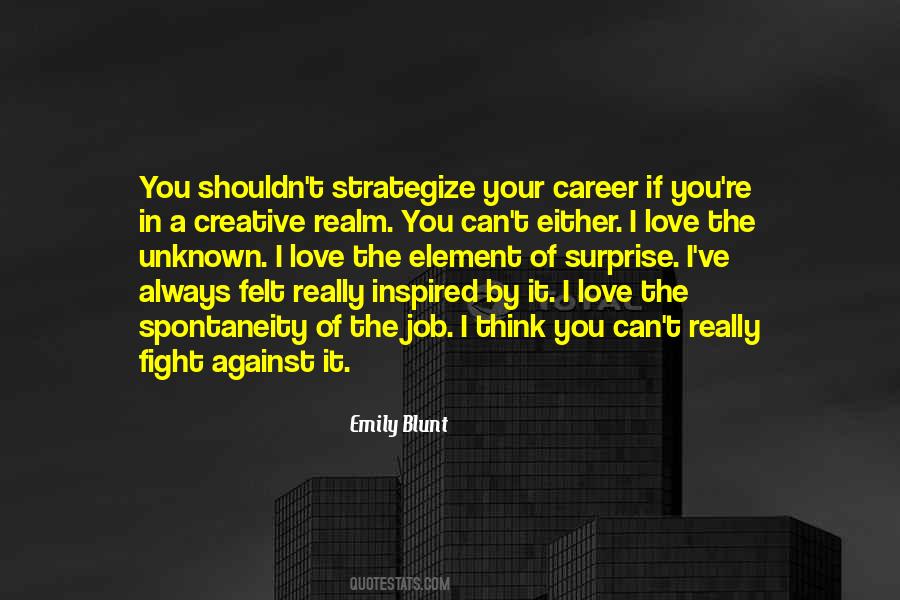 #20. Priests, like all of us, are affected by culture, ... When the culture is sick, every element in it becomes infected. While it is no excuse for this scandal, it is no surprise that Boston, a seat of academic, political and cultural liberalism in America, lies at the center of the storm. - Author: Rick Santorum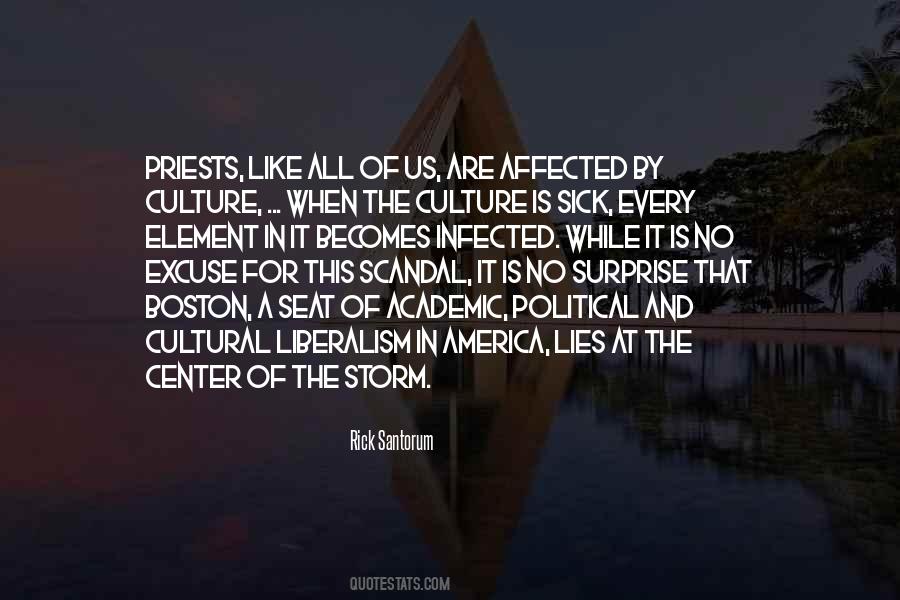 #21. One of the elements of writing that is most delightful to the engaged reader is the element of surprise. And one of the ways to surprise the reader is to set up an expectation that you then veer away from it at the last moment. A stitch in time saves the penny earned. Or something like that. - Author: Douglas Wilson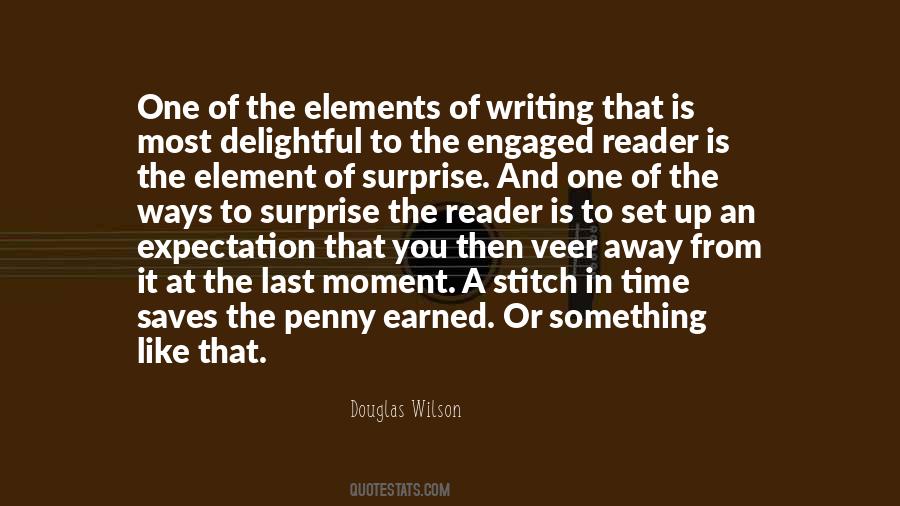 #22. Because we all know one of the main factors of war is the element of surprise. And what could be more surprising than the First Batallion Transvestite Brigade? Airborne Wing. - Author: Eddie Izzard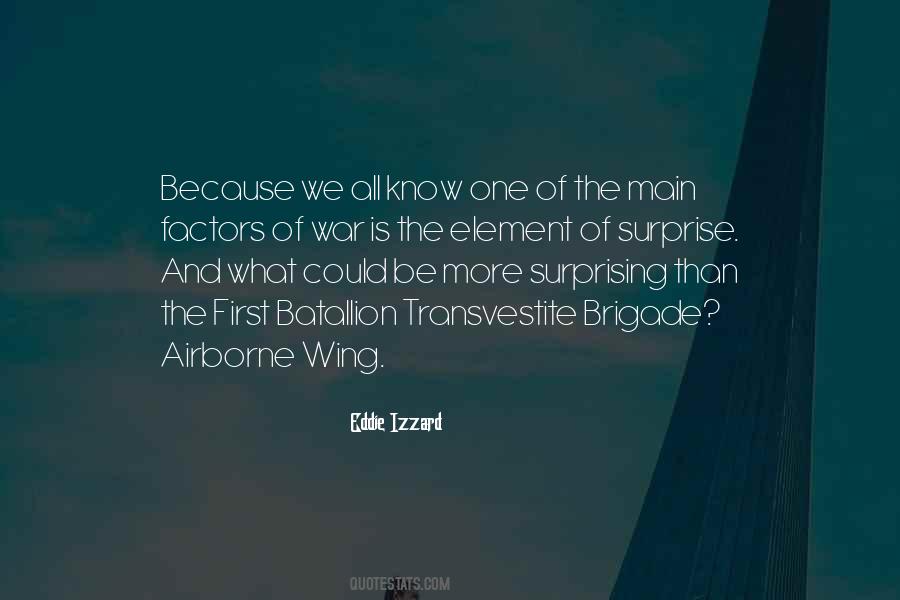 #23. Because from what I've seen of marriages and relationships, there aren't any rules. You deal with what comes, like anything else in life. There's no template. No freaking outline. And that's what makes relationships interesting, right? The element of surprise. - Author: Kristin Walker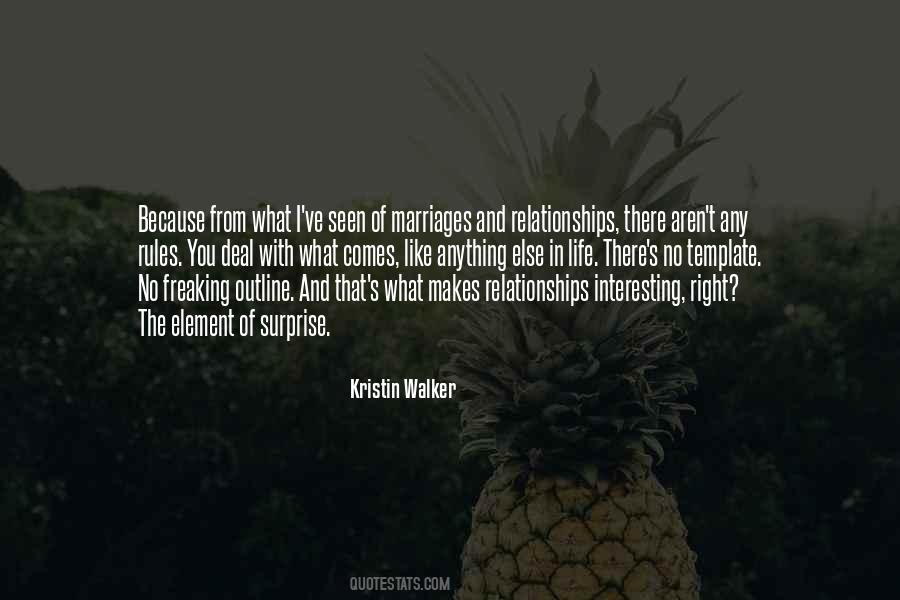 #24. Tal's combinations often exert a sort of paralysing influence on the opponent's play. It would seem that the element of surprise plays a big part in this. - Author: Mark Taimanov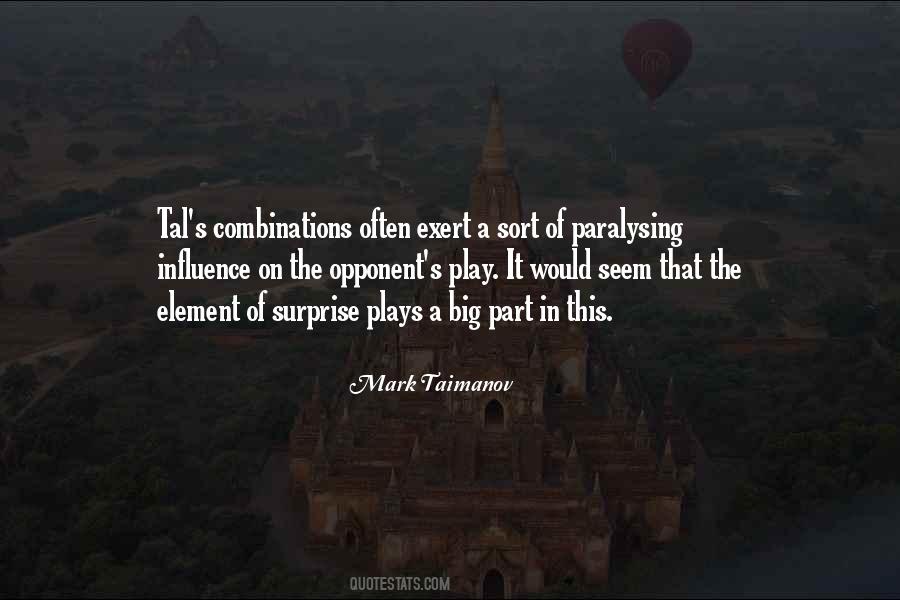 #25. Unfortunately most magicians are immune to their own magic. We see behind the veil, we live inside the nuts and bolts, the element of surprise is lost on us. But we can help each other. - Author: Menna Van Praag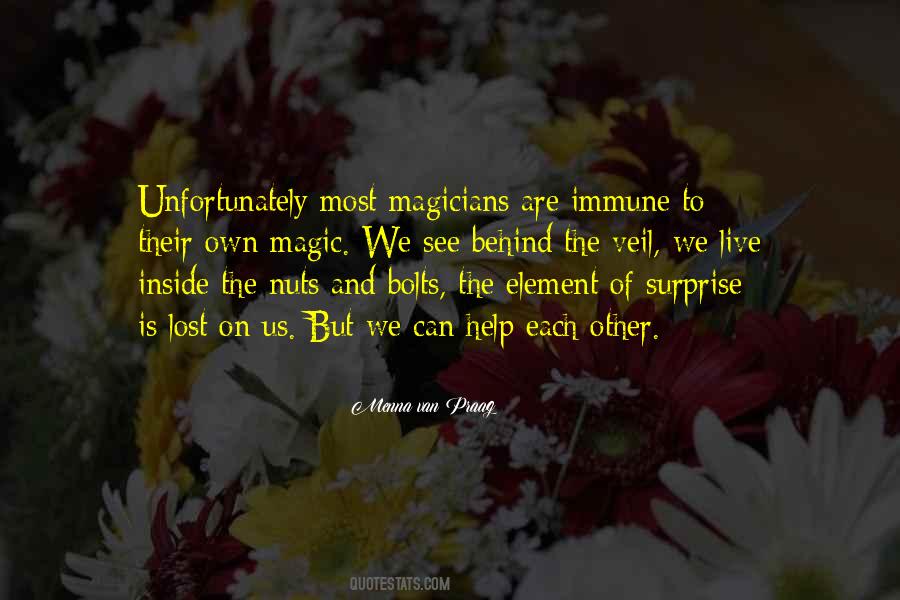 #26. Only way to eliminate the element of surprise is to know yourself and now your adversary. - Author: Georges St-Pierre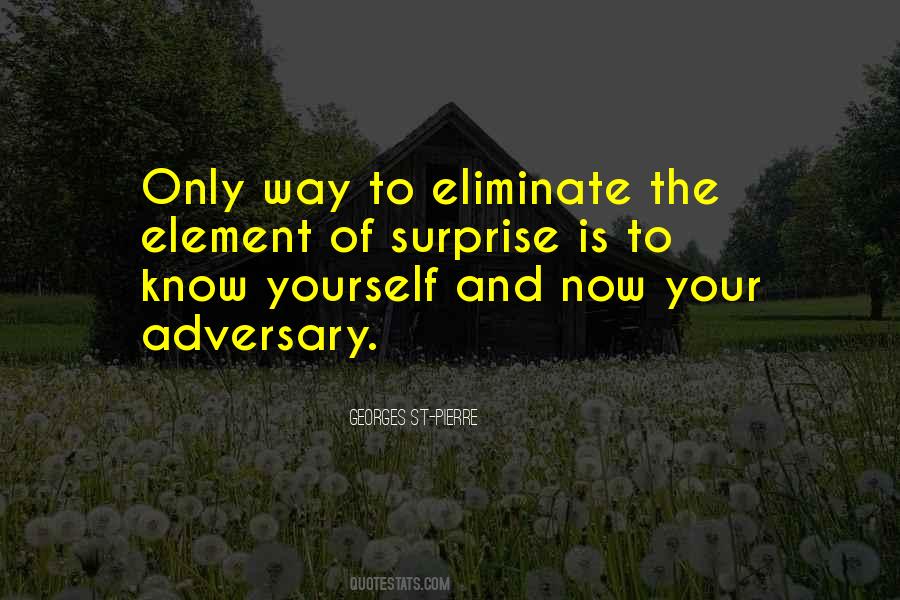 #27. The element of surprise is vastly overrated in any relationship. - Author: Molly Harper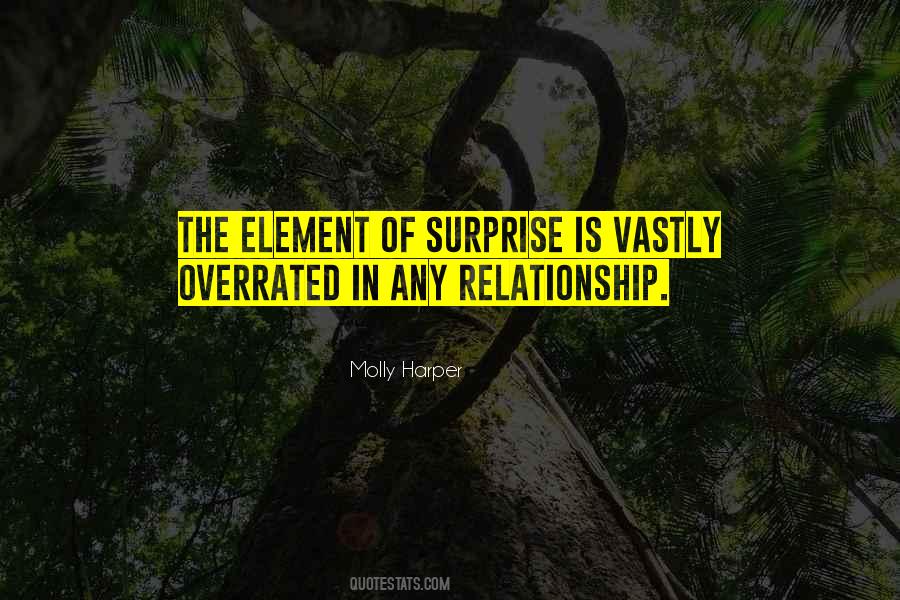 #28. I love the surprise element of being a mom. - Author: Jessica Capshaw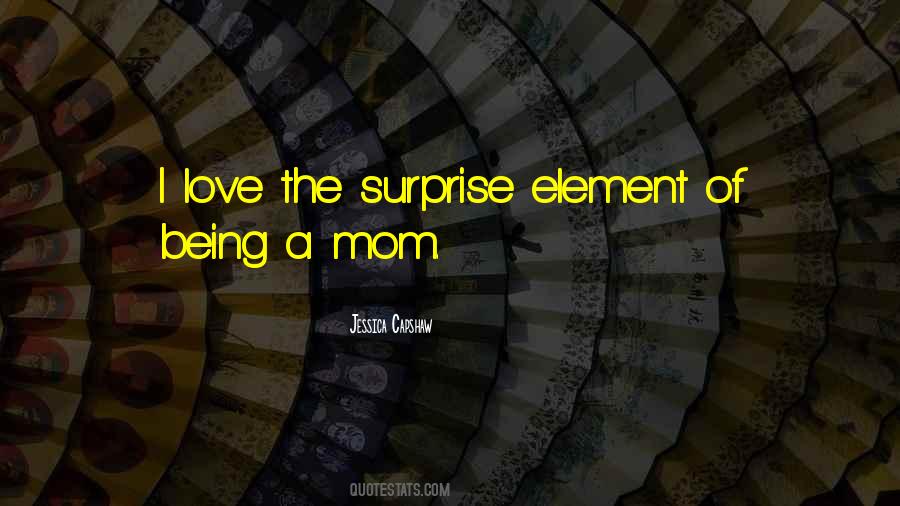 #29. If you are in difficulties with a book, try the element of surprise: attack it at an hour when it isn't expecting it. - Author: H.G.Wells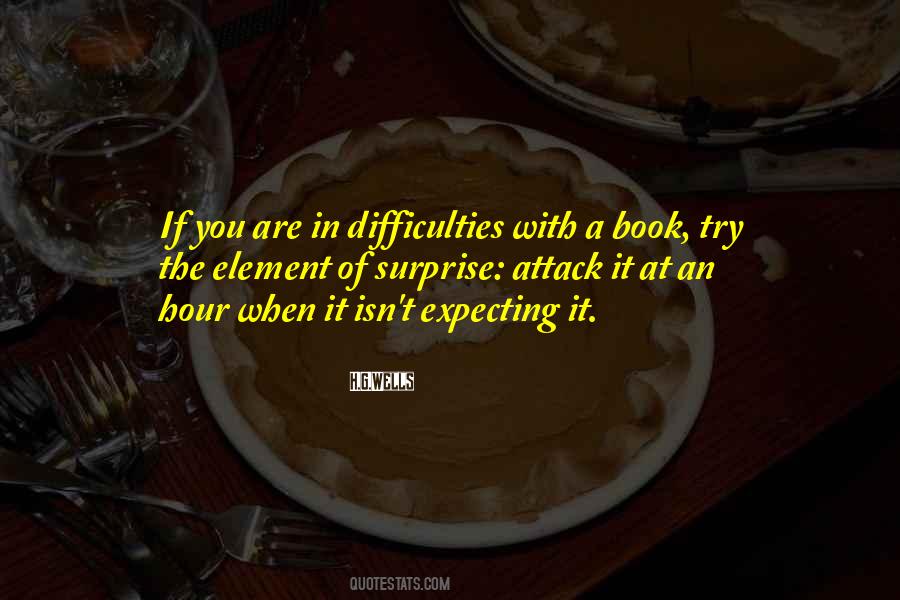 #30. Although this table contains a great many elements, from the element oxygen, which is found in the air, to the element aluminum, which is found in cans of soda, the table if elements does not contain one of the most powerful elements that make up our world, and that is the element if surprise. - Author: Lemony Snicket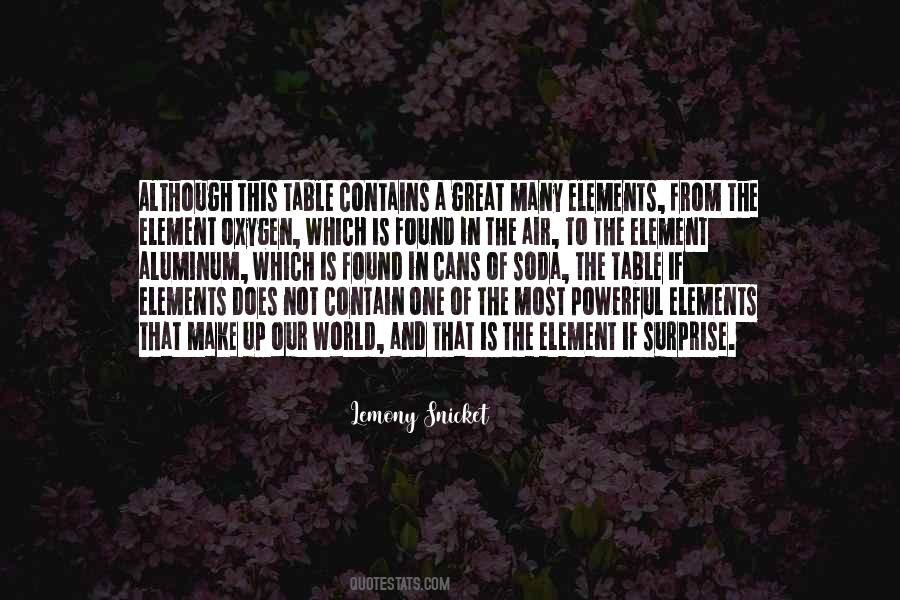 #31. On the sequel, you've lost the element of surprise. Usually, on the first one you may not go very, very deep into character; the second one you start to explore the character a bit more. - Author: Sylvester Stallone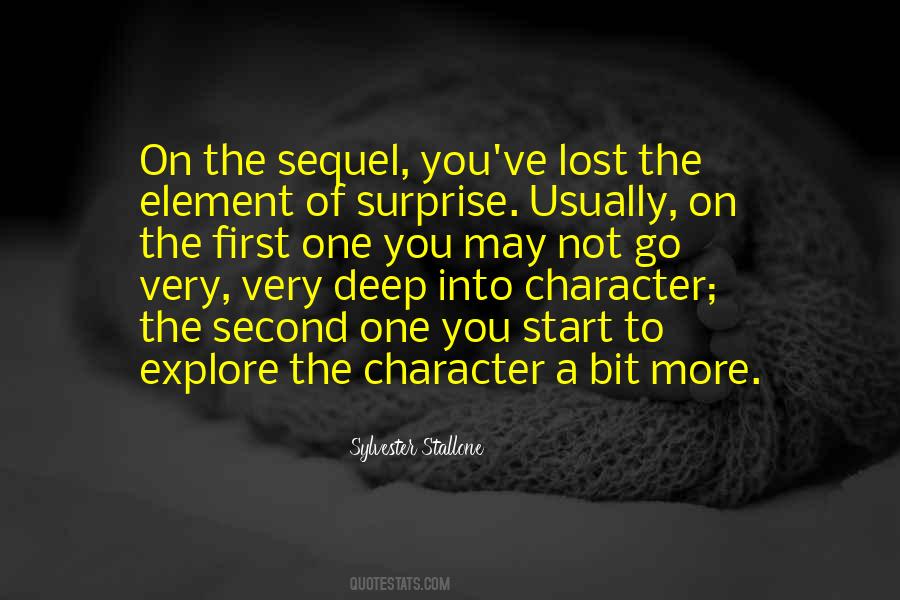 #32. The initial attraction of a political convention was that often the outcome was not preordained. There was at least some element of surprise. But, now it's like tuning in to a movie where you already know the plot and the ending. It's just not that interesting. - Author: Mark McKinnon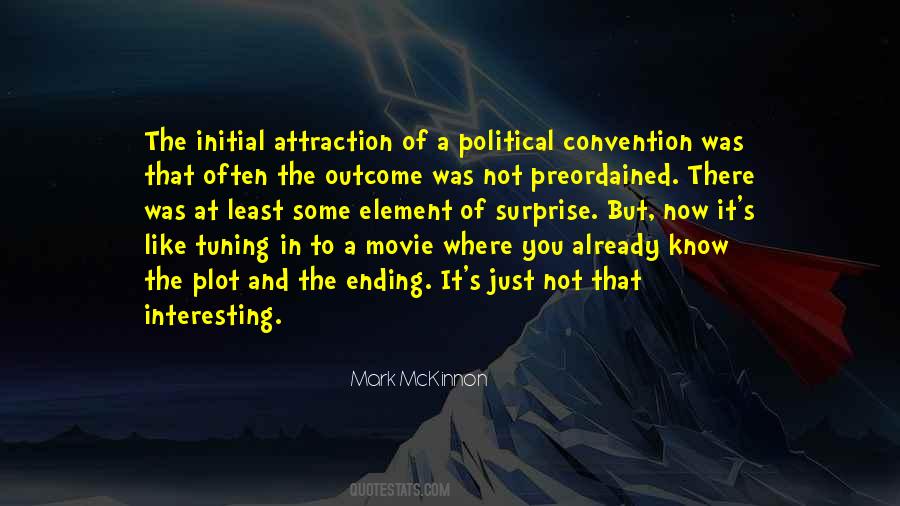 #33. A certain strangeness, something of the blossoming of the aloe, is indeed an element in all true works of art: that they shall excite or surprise us is indispensable. - Author: Walter Pater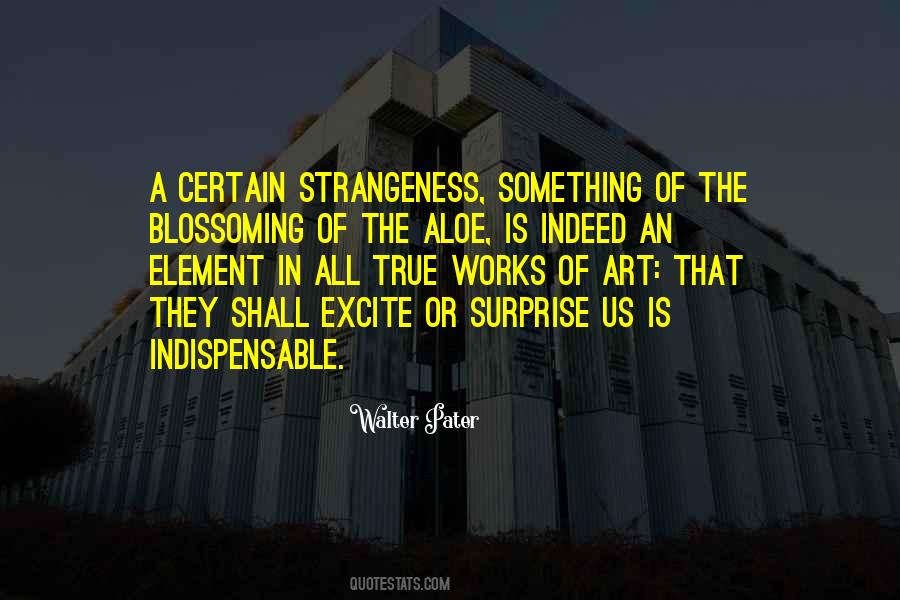 #34. Many of my poems try to use a comic element to reach a place that isn't comic at all. The comic element works as a surprise. It is unexpected and energizing. - Author: Stephen Dobyns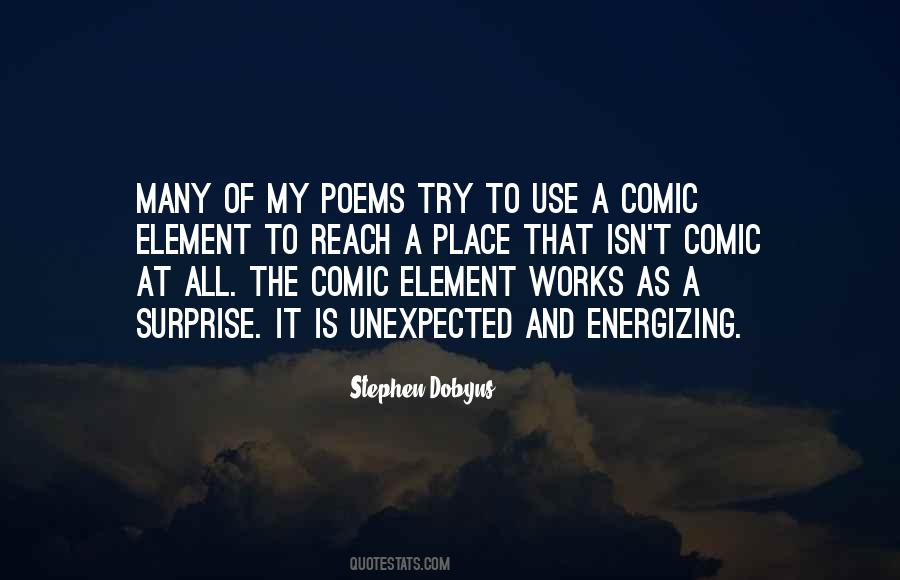 #35. Every actor knows that tragedy, being linear and inevitable, is taxing - but comedy, which depends on the element of surprise, is the hardest act of all. - Author: Robin Morgan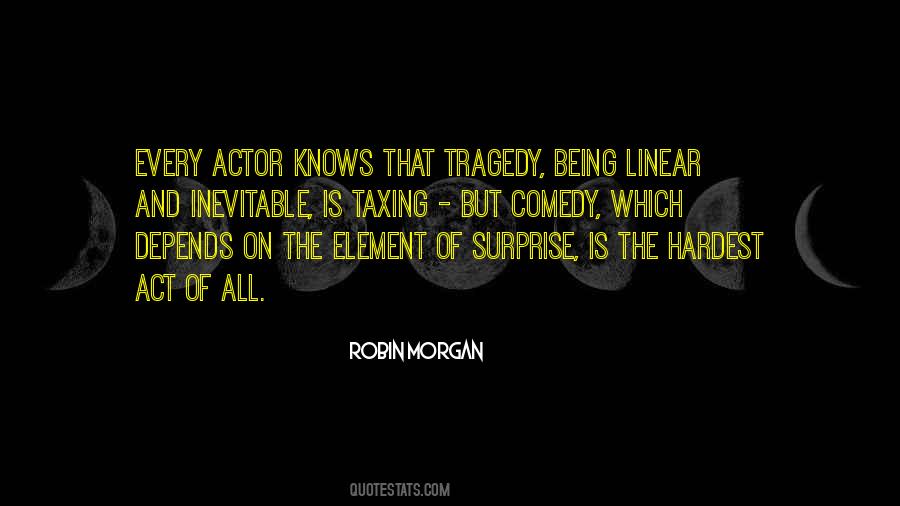 Famous Authors
Popular Topics