Technology And Business Famous Quotes & Sayings
List of top 94 famous quotes and sayings about technology and business to read and share with friends on your Facebook, Twitter, blogs.
Top 94 Quotes About Technology And Business
#1. Technology and technology-driven change has virtually nothing to do with igniting a transformation from good to great - Author: James C. Collins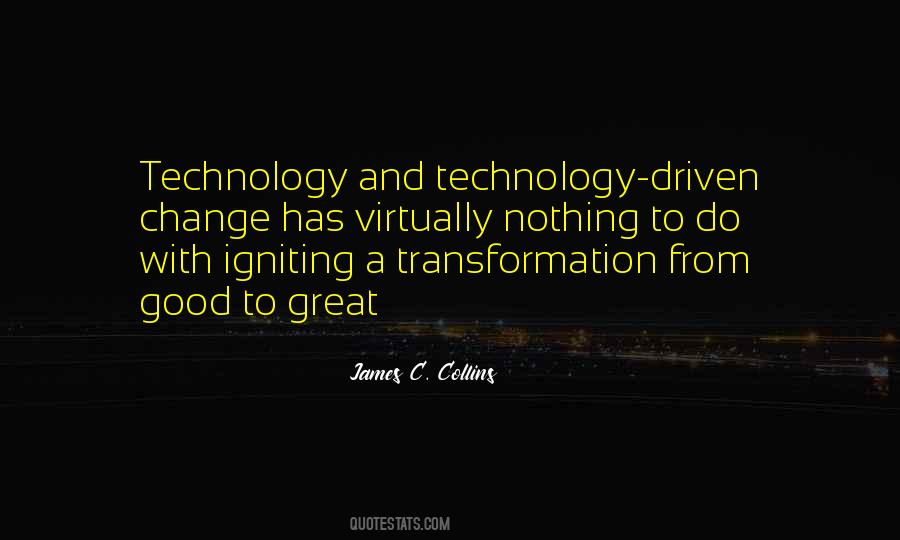 #2. The mobile phone acts as a cursor to connect the digital and physical. - Author: Marissa Meyer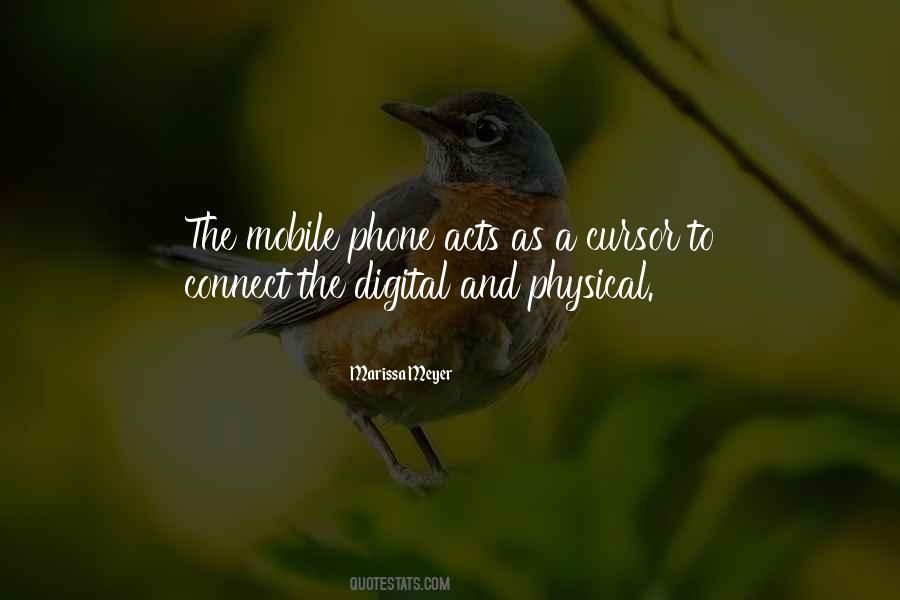 #3. We have already discovered how quickly we become dependent on the Internet and its applications for business, government and research, so it is not surprising that we are finding that we can apply this technology to enable or facilitate our social interactions as well. - Author: Vint Cerf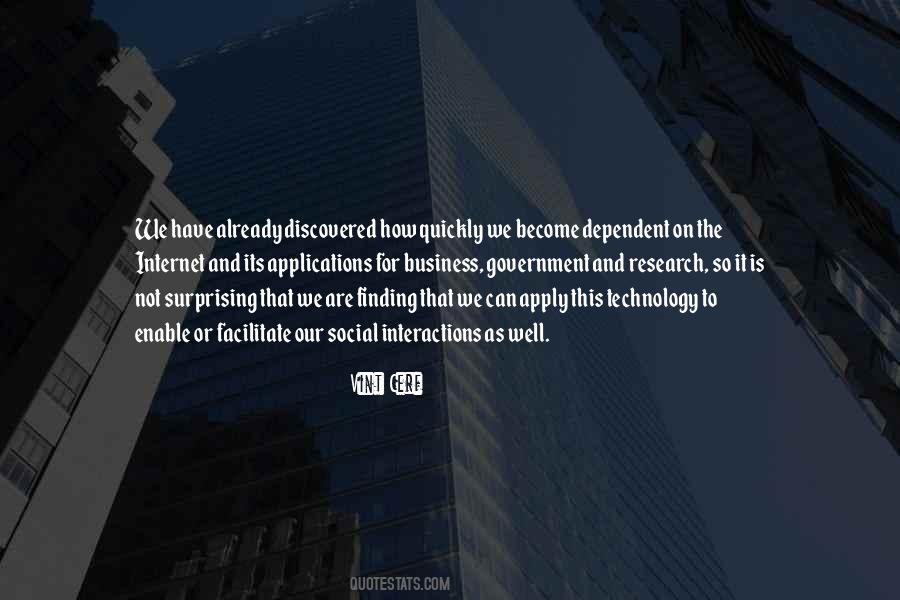 #4. Silicon Valley has some of the smartest engineers and technology business people in the world. - Author: Elon Musk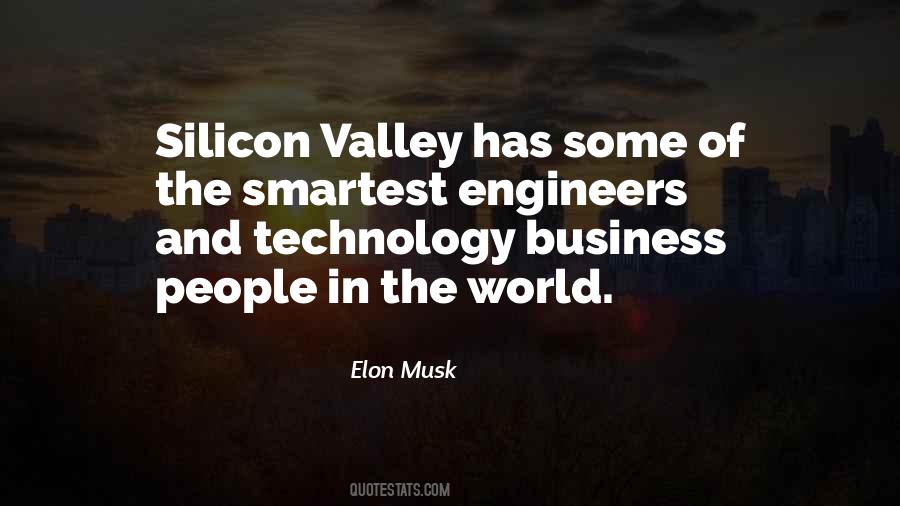 #5. The Web and new technology offer more opportunities to reach a world market at a lower price. Today, a person can start a business at home and reach the world market. - Author: Robert Kiyosaki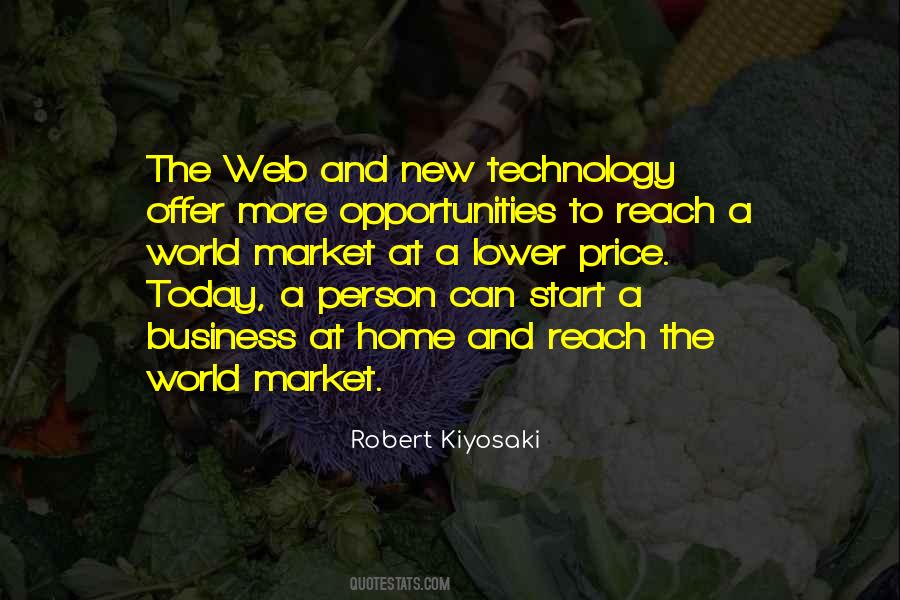 #6. Look, the media are trapped by changes in the technology and business of their industry. - Author: David Frum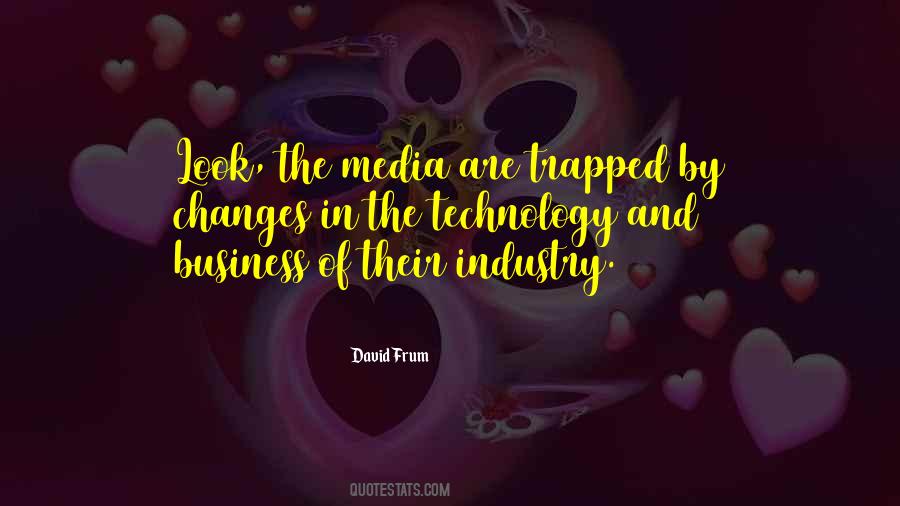 #7. I had been in the technology business for so long, I had seen the PC-bubble come and burst, I had seen the local area and wide area networking-bubble come and burst, it was no shock that the internet-bubble was going to burst. - Author: Mark Cuban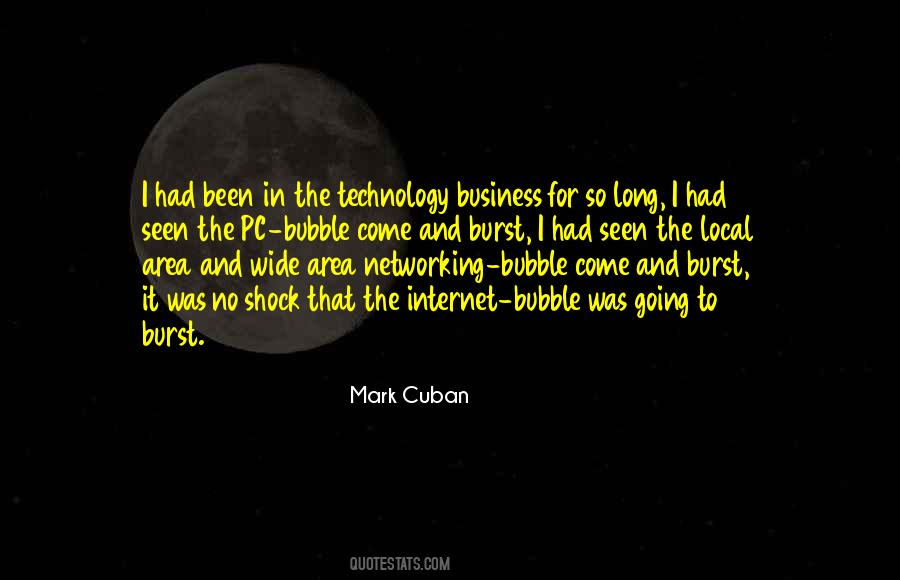 #8. Sabanci has many years of experience in the tire reinforcement industry, and we are committed to the success of this business through an advanced technology relationship with KoSa and a strong commitment to our customers. - Author: Guler Sabanci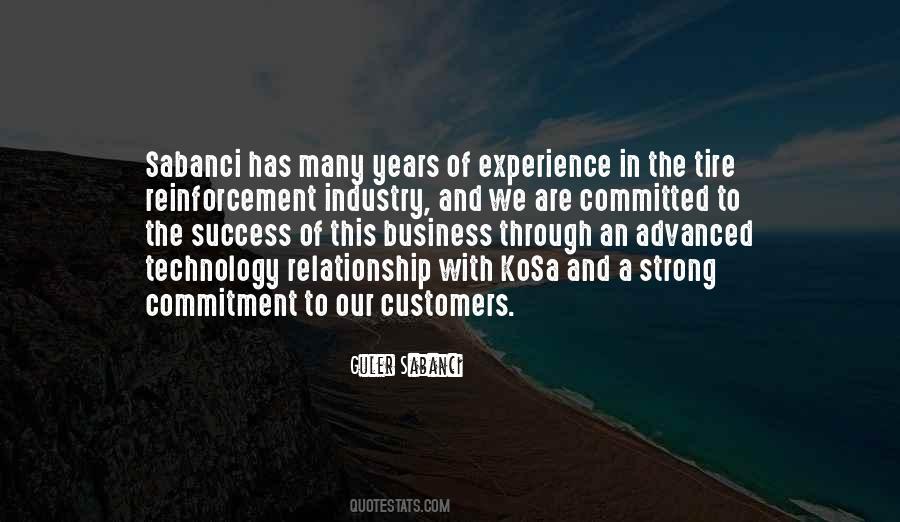 #9. The fact that I have entered into IT-related business is proof that businesses have to evolve and keep with time. One has to re-invent continuously. - Author: Kerry Packer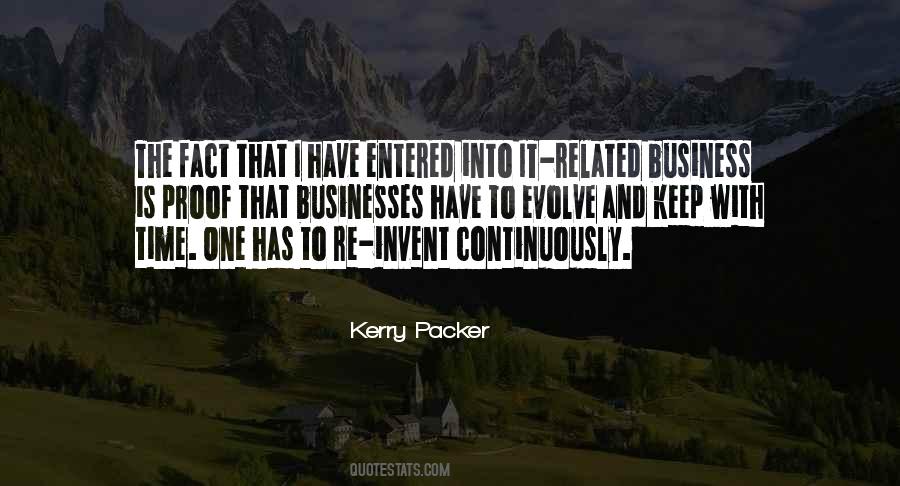 #10. There is some confusion because we only recently began our marketing. We're in an era were people need to think about business processes and applications horizontally ... We need to think of the enterprise not as an island of stand-alone technology. - Author: Carly Fiorina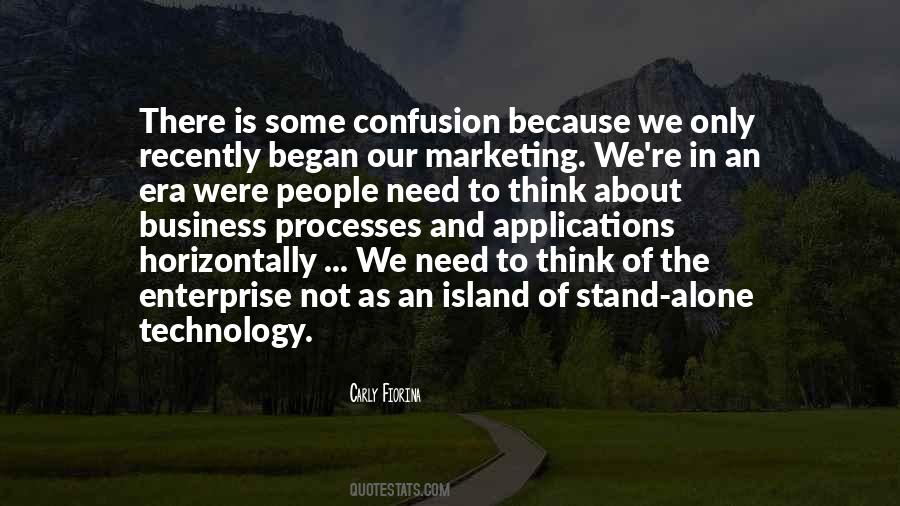 #11. There are three creativities: creativity in technology, in product planning, and in marketing. To have any one of these without the others is self defeating in business. - Author: Akio Morita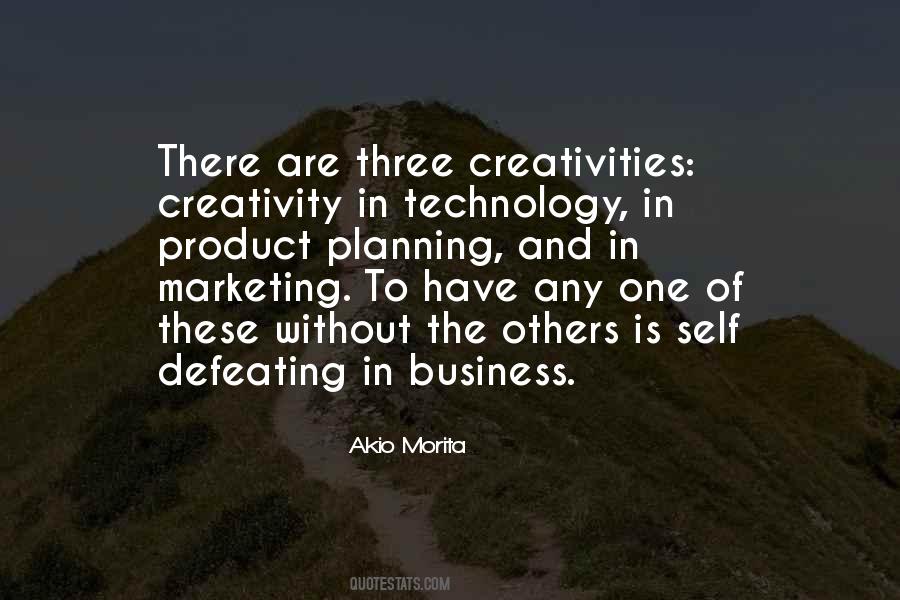 #12. Technology helps us become more efficient and productive but our business still has a lot of art as opposed to strictly science. - Author: James Sinegal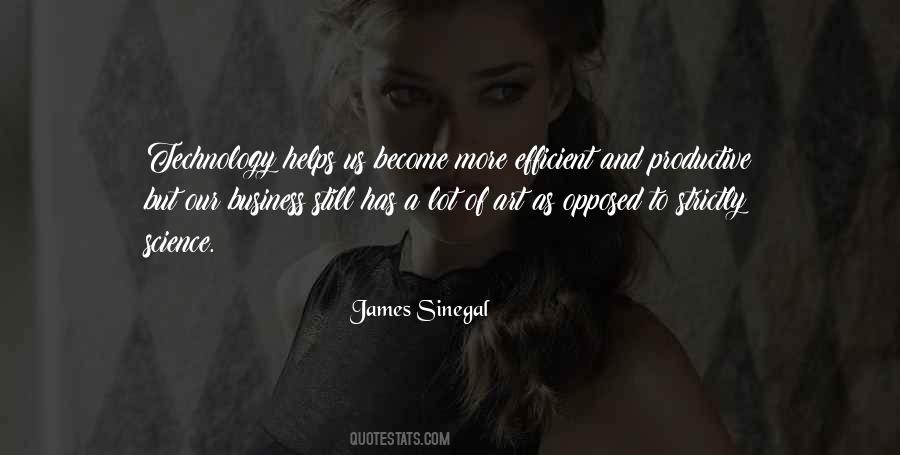 #13. The only technology that helps to create a plethora of business and employment opportunity while promoting the green environment, is serving good for the society and, therefore, the sustainability. - Author: Anuj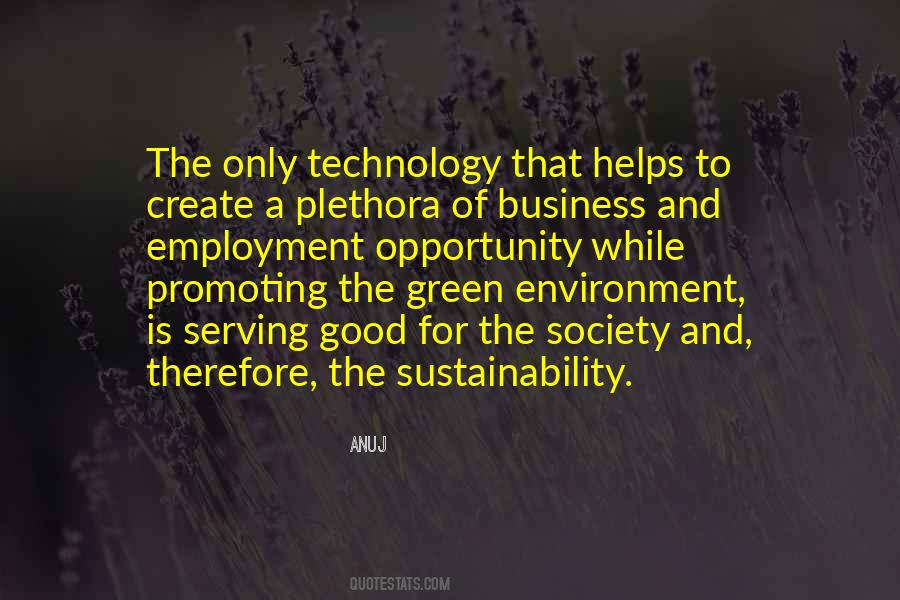 #14. I don't think piracy is going to kill the music industry. But digital technology and the ability to download will change the packaging from CDs to a single-based business. - Author: Richard Parsons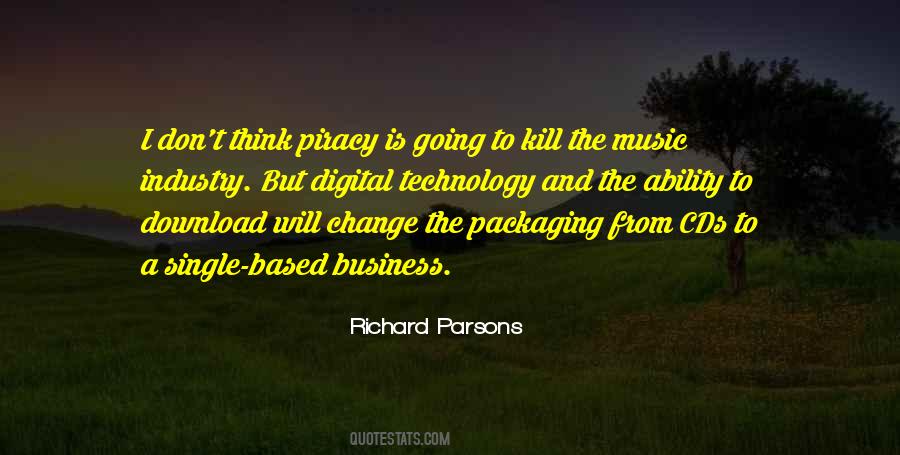 #15. Ten million new millionaires will be created by 2016, and you can become one of them
especiall y if you are in direct selling, technology or home-based business.. - Author: Paul Zane Pilzer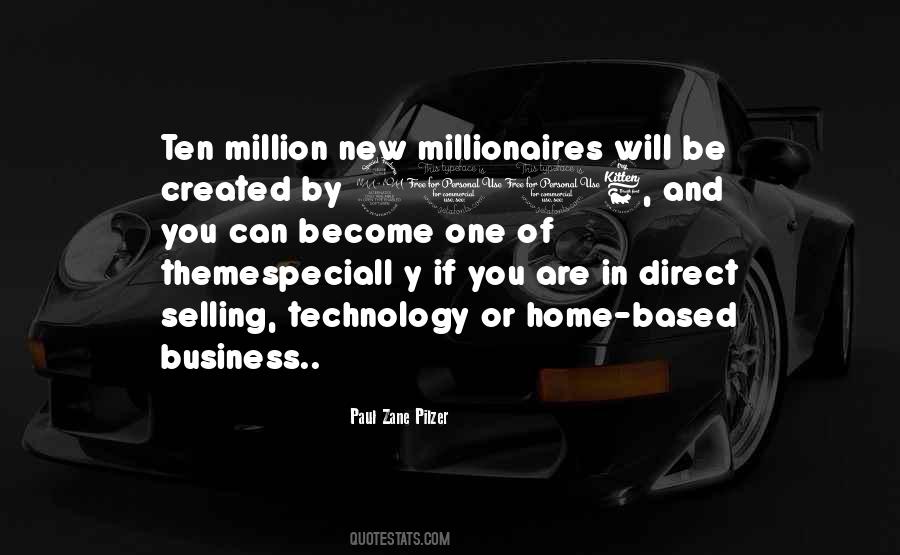 #16. Potatoes are popped, with no oil, using the same technology used in the rice cake manufacturing business. It took a lot of trial and error and lots of practice, though, to get the right flavor. - Author: Keith Belling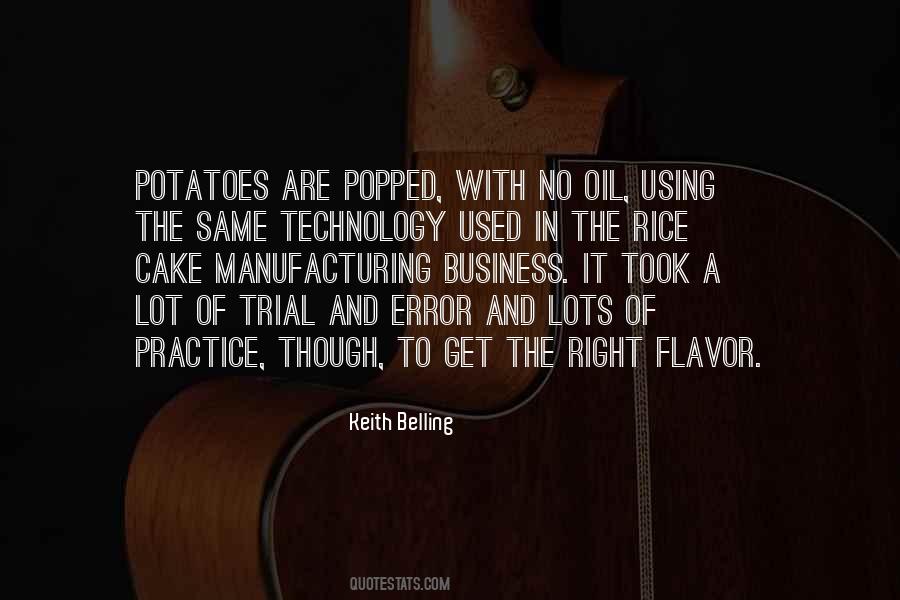 #17. Technology is something we buy to sell to the customers. Ericsson, Nokia and IBM do technology for a living, so let's give it to them because they know best. It has made the business model of Bharti very, very sustainable. - Author: Sunil Mittal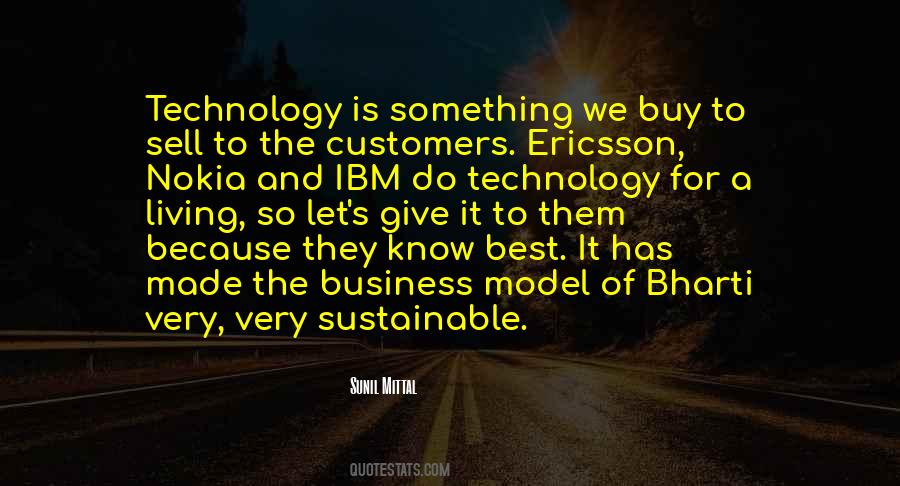 #18. Information technology is at the core of how you do your business and how your business model itself evolves. - Author: Satya Nadella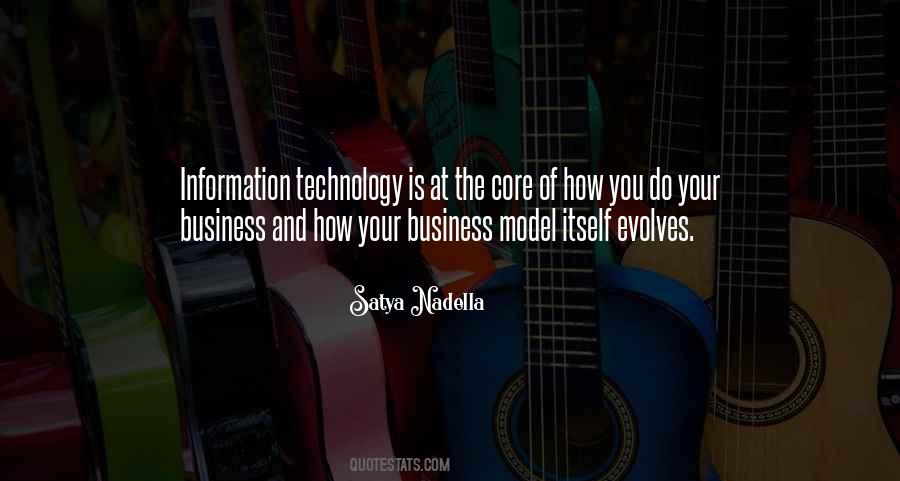 #19. There is a difference between what technology enables and what historical business practices enable. - Author: Bill Gates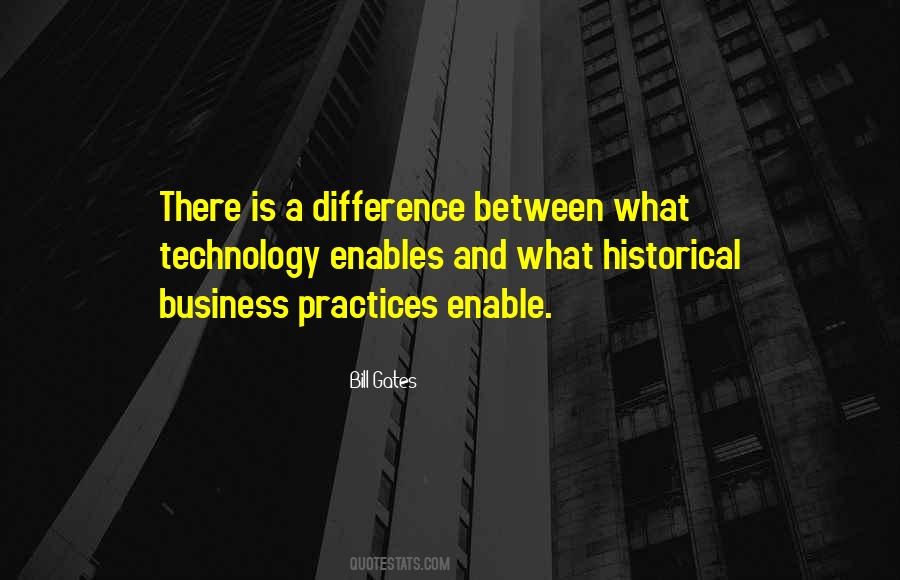 #20. In terms of the technology I use the most, it's probably a tie between my Blackberry and my MacBook Pro laptop. That's how I communicate with the rest of the world and how I handle all the business I have to handle. - Author: John Legend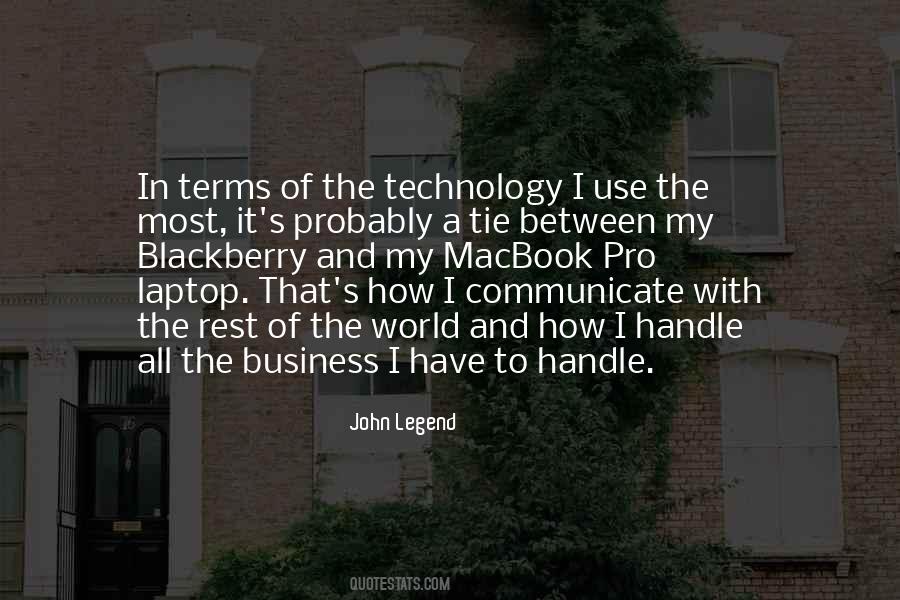 #21. Be a surfer. Watch the ocean. Figure out where the big waves are breaking and adjust accordingly. - Author: 37 Signals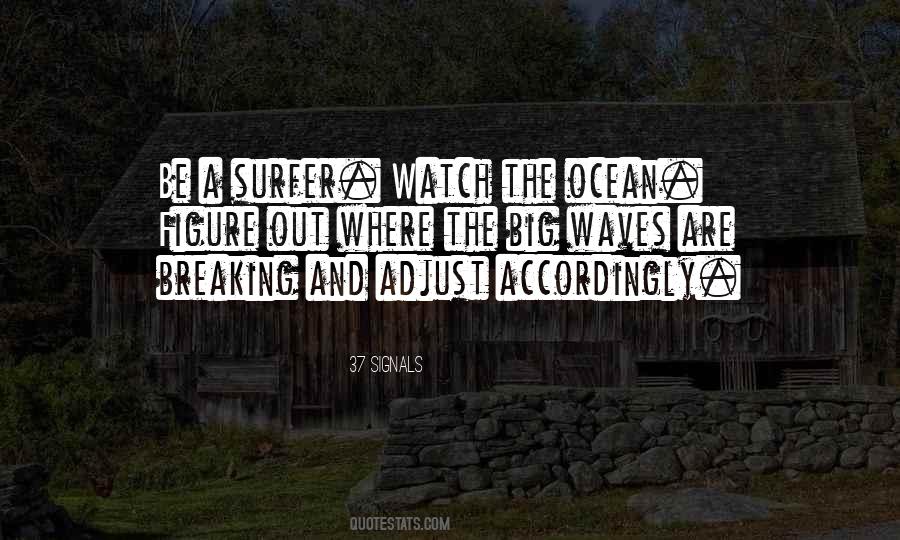 #22. Not since the digital revolution in the early '90s has technology placed such a comprehensive burden on business, employees and individuals to reinvent their business plans, services and products, and themselves to keep pace with the changing marketplace. - Author: Simon Mainwaring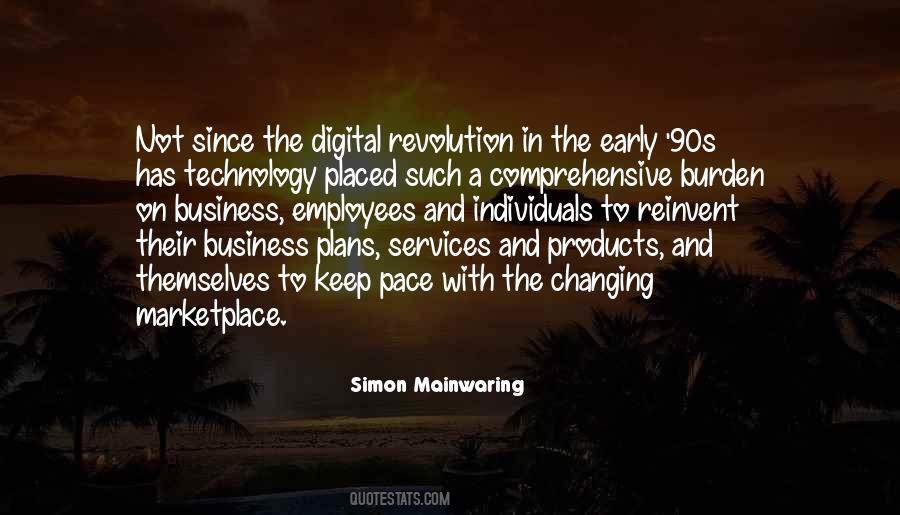 #23. One reason product management is such an appealing career is you get to sit at the intersection of technology, business, and design. - Author: Gayle Laakmann McDowell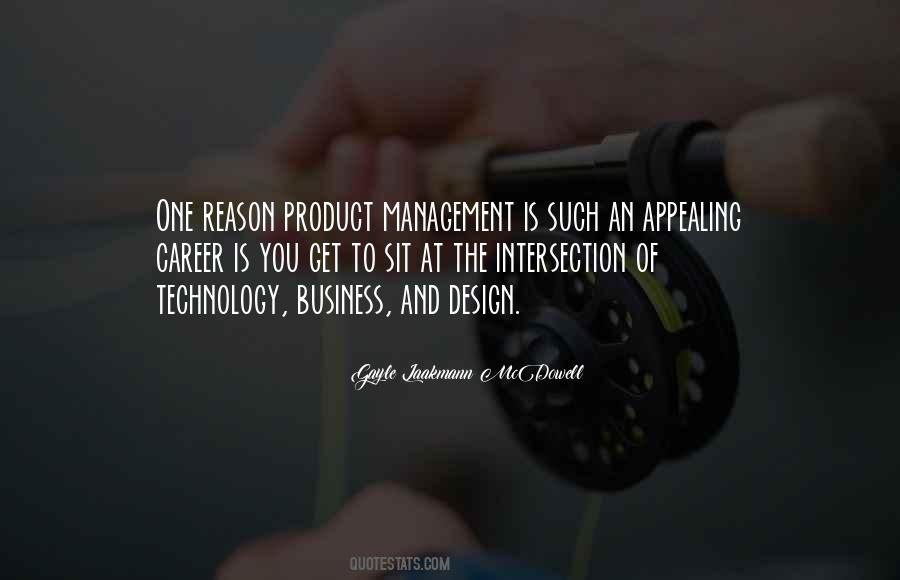 #24. Clear content, simple navigation and answers to customer questions have the biggest impact on business value. Advanced technology matters much less. - Author: Jakob Nielsen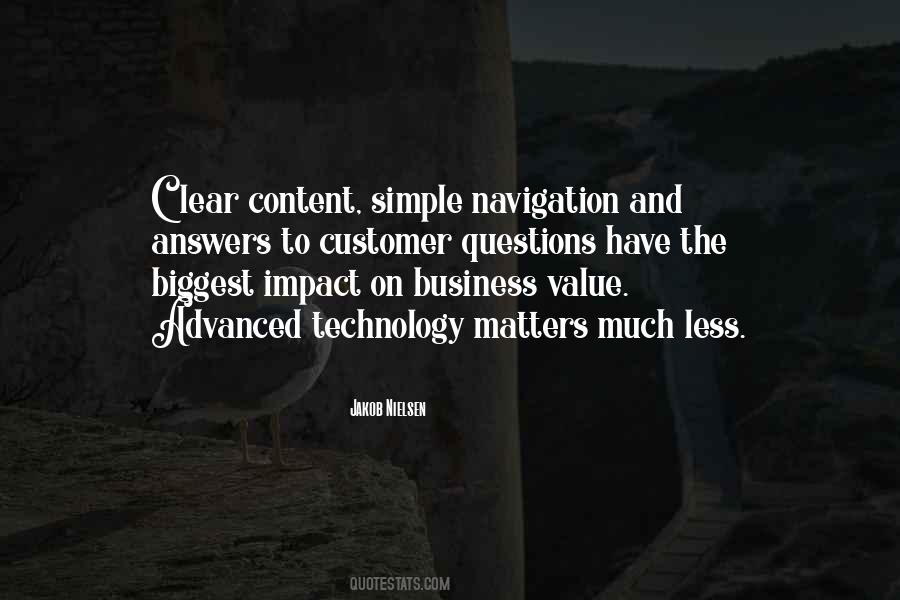 #25. Zefr has all the ingredients for success - dynamic, inspiring management, the ability to marry technology and content, and a business model that can scale. I'm thrilled to be part of the team. - Author: Ross Levinsohn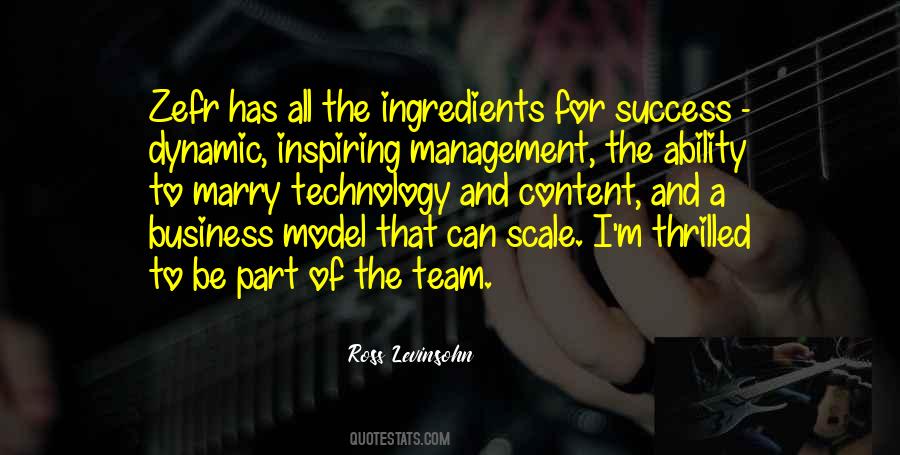 #26. The role of business in advancing women's rights is growing, particularly in the area of economic opportunity including opening access to training, mentoring, networks, markets, technology and even to capital in some circumstances. - Author: Melanne Verveer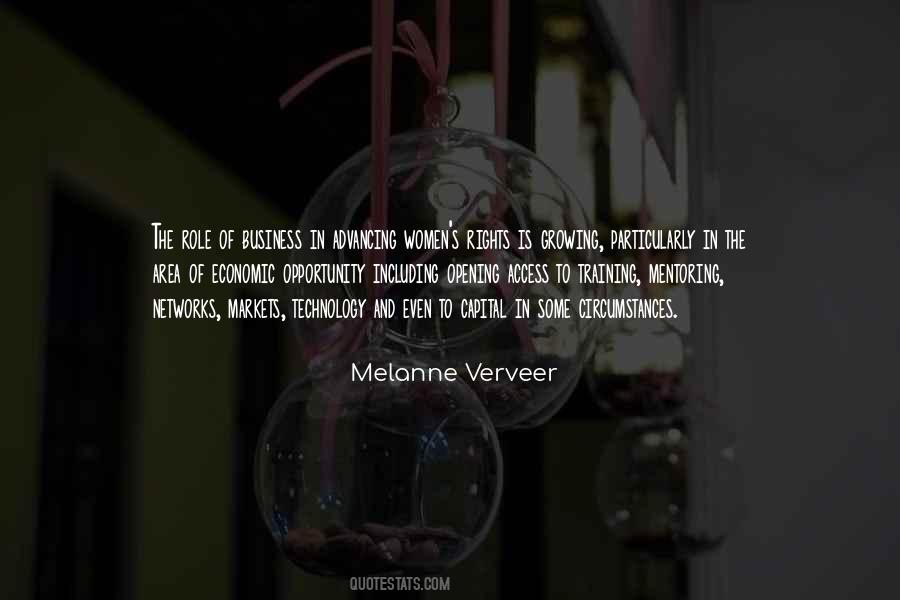 #27. IT can weave all crucial business elements such as people, process, and technology into organizational competencies for running a living and fluid digital organization. - Author: Pearl Zhu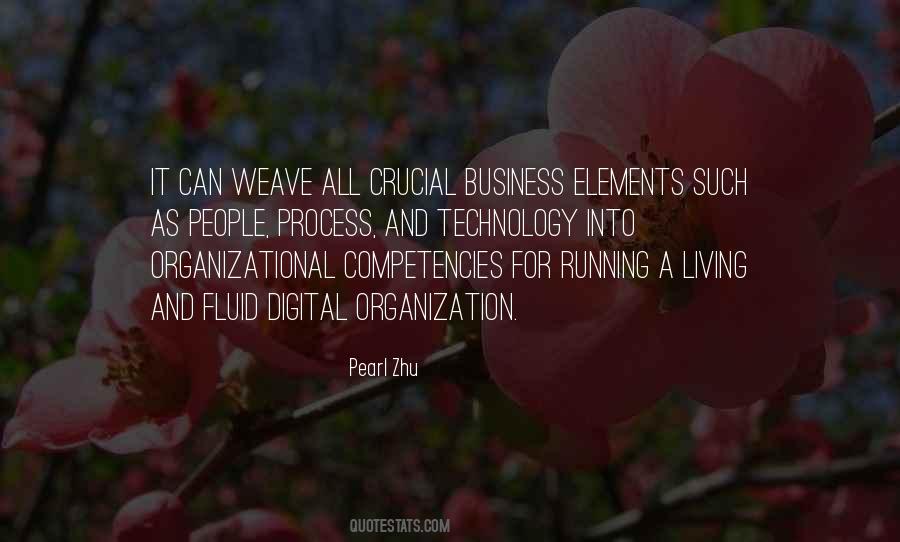 #28. When you build a product, you make a lot of assumptions about the state of the art of technology, the best business practices, and potential customer usage/behavior. - Author: Steven Sinofsky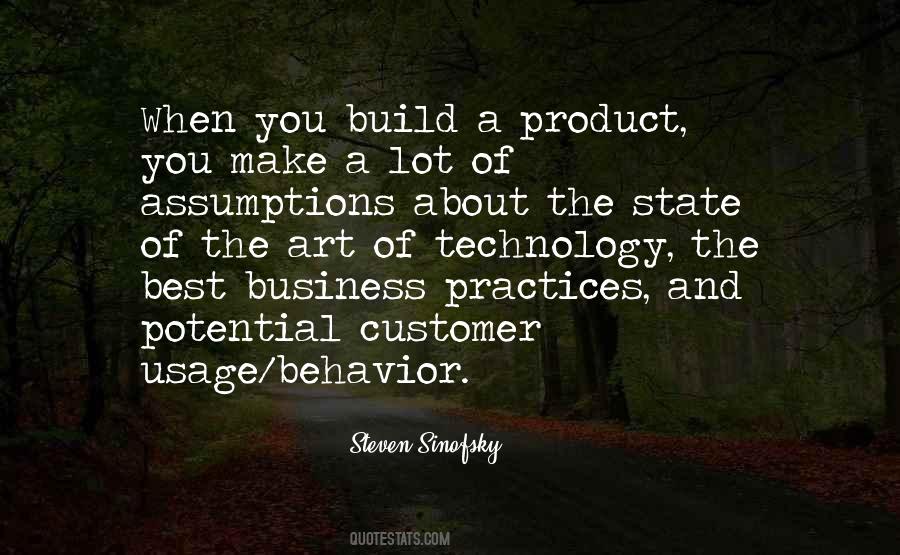 #29. I have reviewed literally hundreds of dotcoms in my drive to bring Boomer Esiason Foundation onto the Internet, and have selected ClickThings as a partner because of the advanced technology it offers small business, and its understanding of the entrepreneurial spirit of the small business community. - Author: Boomer Esiason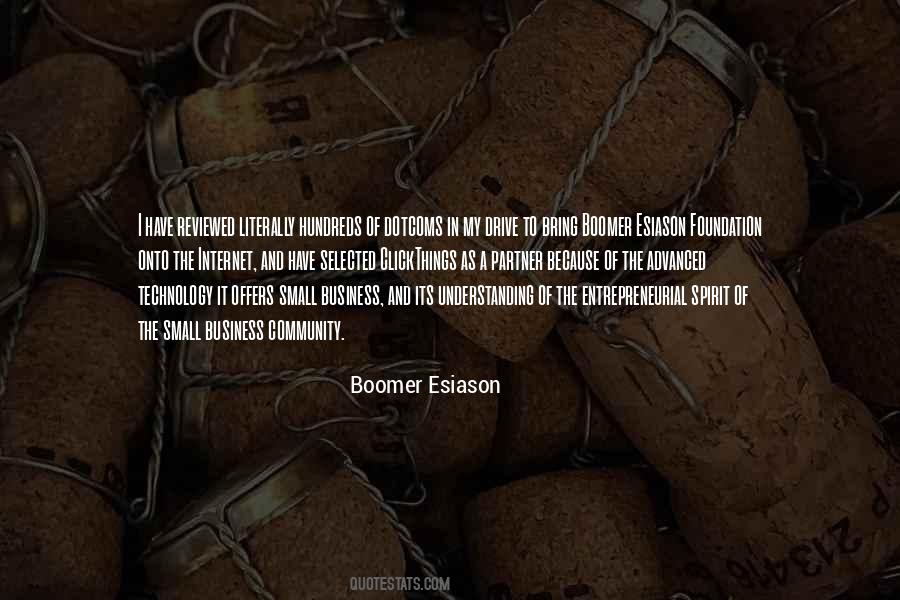 #30. Today, companies have to radically revolutionize themselves every few years just to stay relevant. That's because technology and the Internet have transformed the business landscape forever. The fast-paced digital age has accelerated the need for companies to become agile. - Author: Nolan Bushnell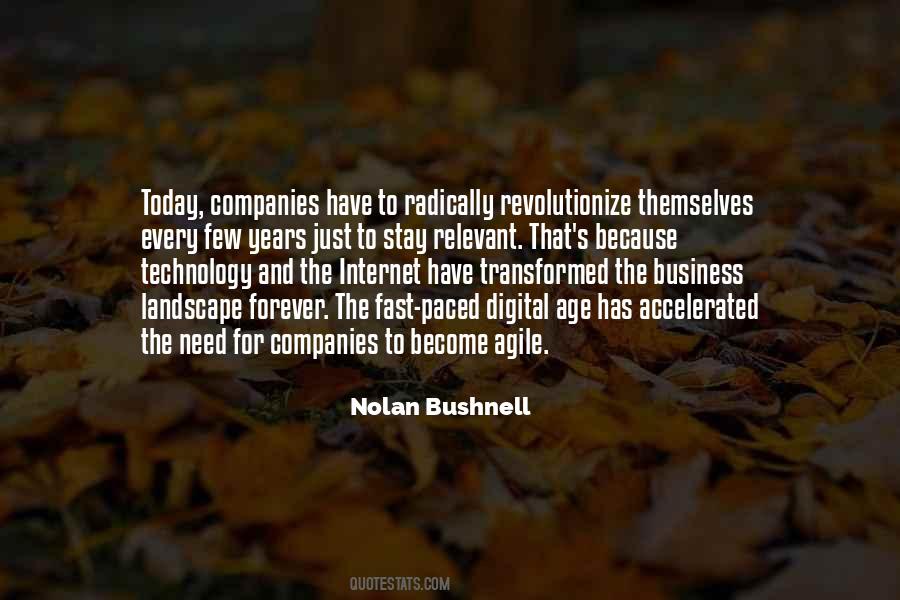 #31. In my column series 'The Main Thing', I often talk about how Internet technology can improve the way people communicate - both within a business and between a business and its customers and partners. - Author: Jim Barksdale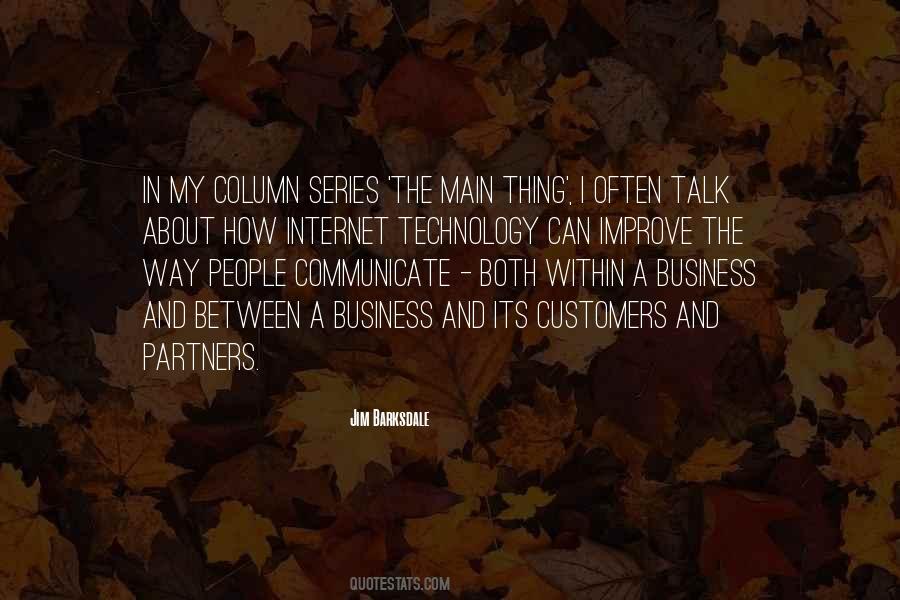 #32. I'll be involved more with Adobe overall in terms of our technology direction and the problems we are trying to solve, working across the different business units at Adobe. - Author: Kevin Lynch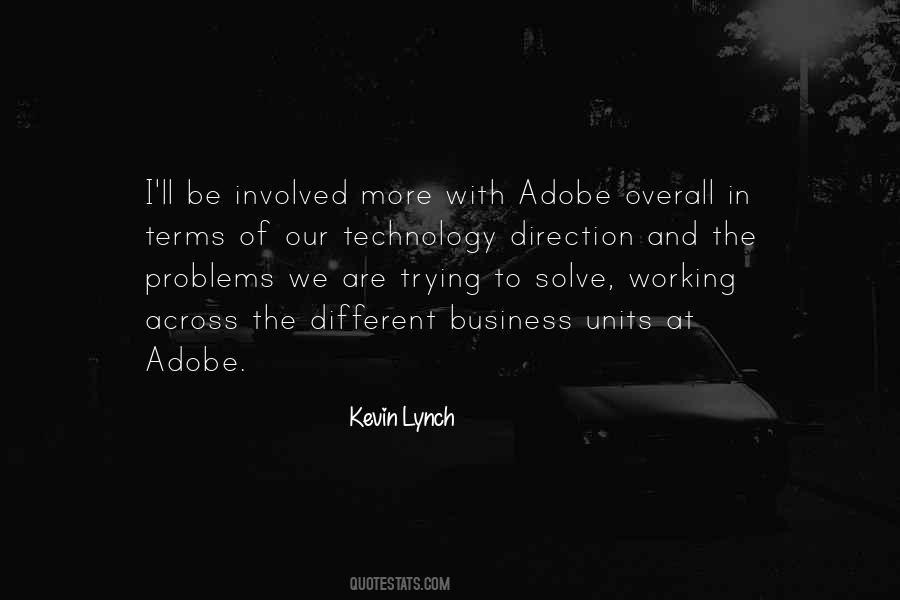 #33. I'd really love to see a business model for higher education going forward that is actually affordable, that uses modern technology to reach scale and quality and that really reimburses the services rendered in a way that's meaningful to everybody. - Author: Sebastian Thrun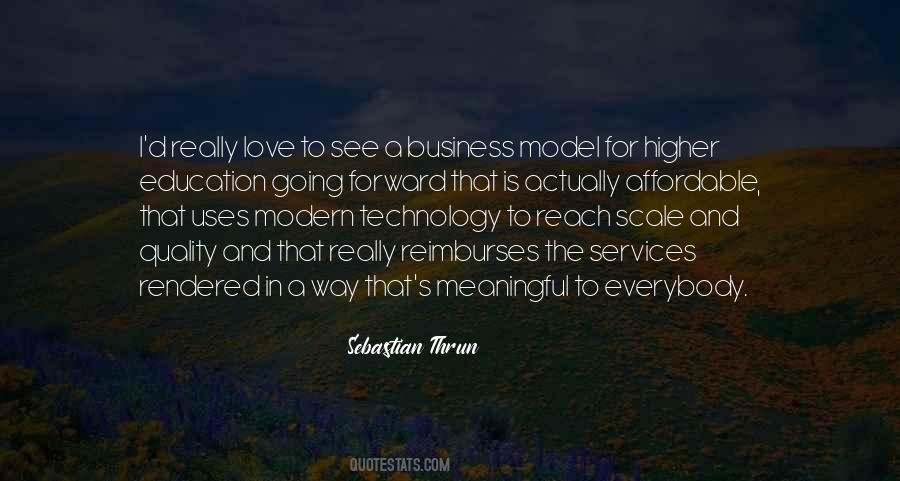 #34. The last trillion-dollar industry was built on a code of 1s and 0s. The next will be built on our own genetic code. - Author: Alec J. Ross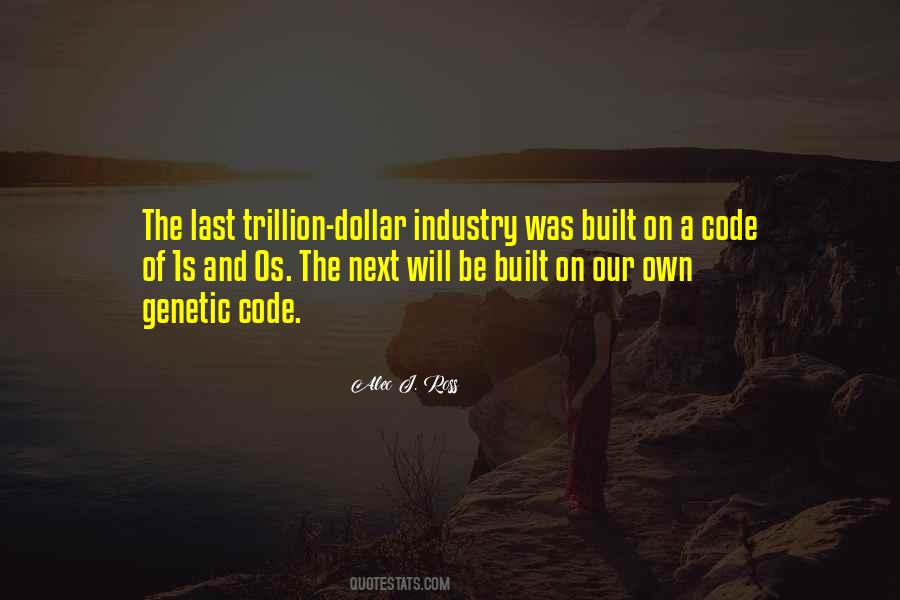 #35. Information technology and business are becoming inextricably interwoven. I don't think anybody can talk meaningfully about one without the talking about the other. - Author: Bill Gates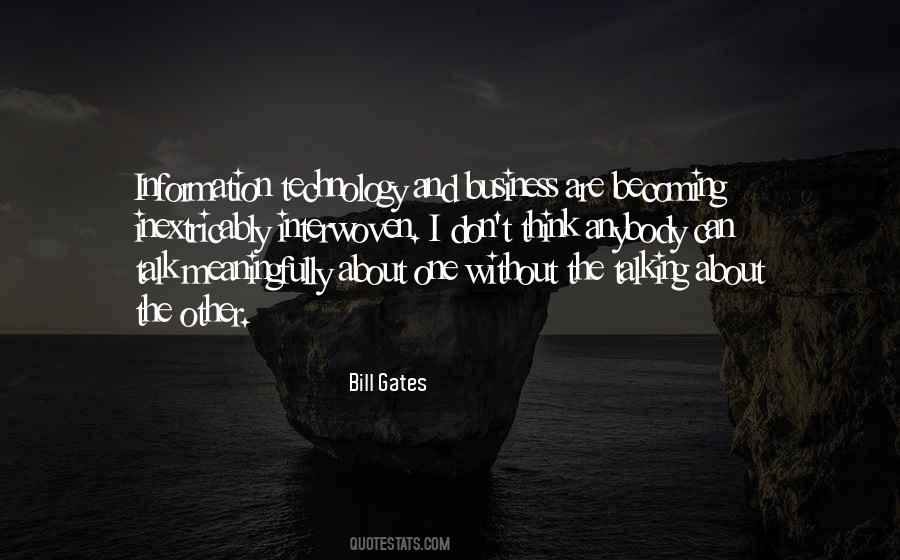 #36. It's a scary question for a musician or songwriter today - what does the future hold? It is a strange time in the music business too; it feels like we are all in some kind of transitional period, stuck between old technology and new. - Author: Dean Wareham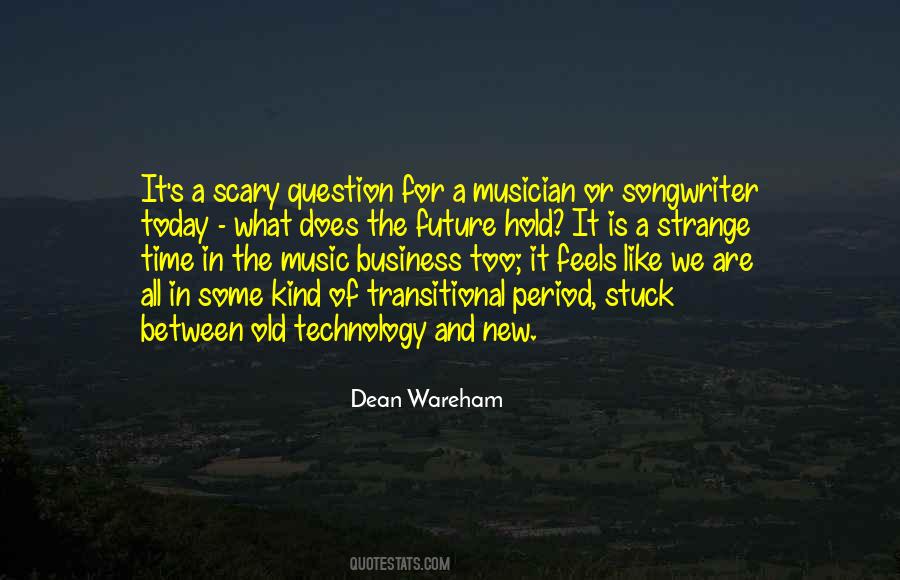 #37. The point of an accelerator is to teach you about companies and business, not about technology. - Author: Sam Altman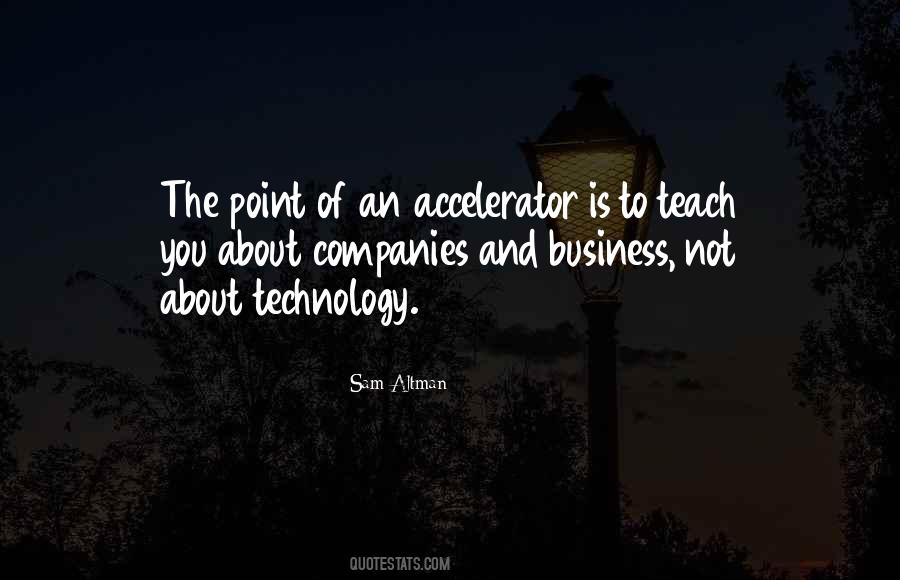 #38. Grassroots techies - the mostly unknown people who write code and start companies that don't make the headlines - hate, loathe, and despise Microsoft. At technology conferences, it is the devil, or the guaranteed laugh line. Its products are mocked, its business practices booed. - Author: Virginia Postrel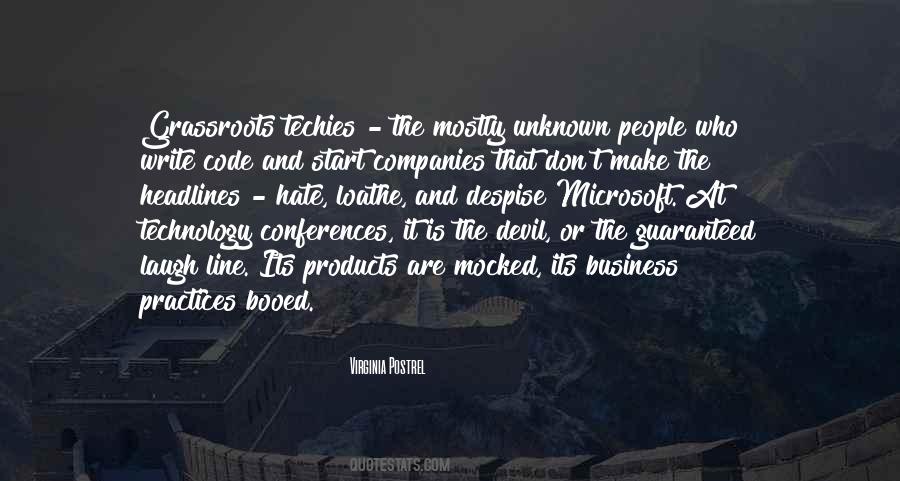 #39. Today, the forces of competition, technology, and globalization have converged to spur innovation and to transform the way business is done in the securities industry. - Author: Arthur Levitt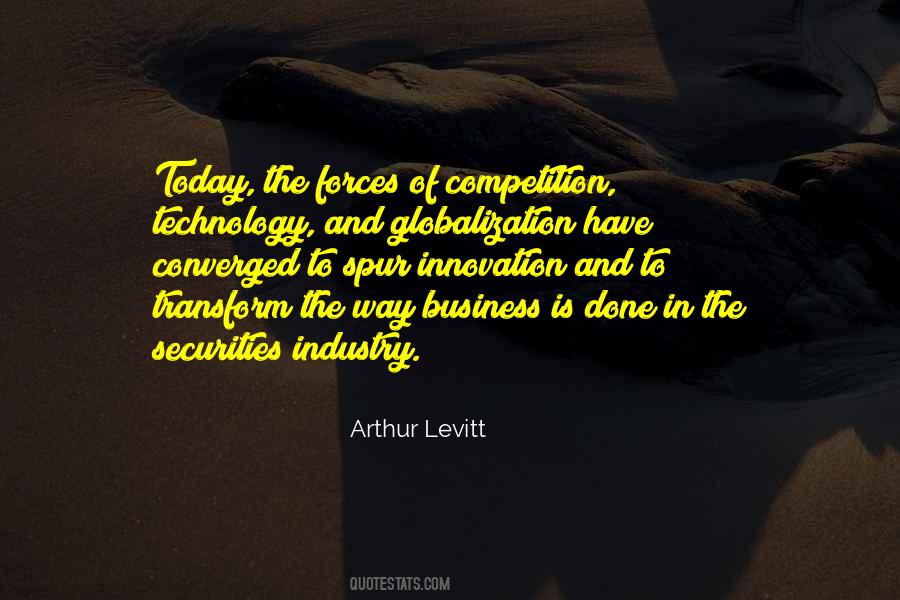 #40. People look at technology as sometimes an end to things, and it isn't an end in certain cases. In the movie business, the act of creating in the art form of movies, the craft of movies is completely technical, and that's all it is. - Author: George Lucas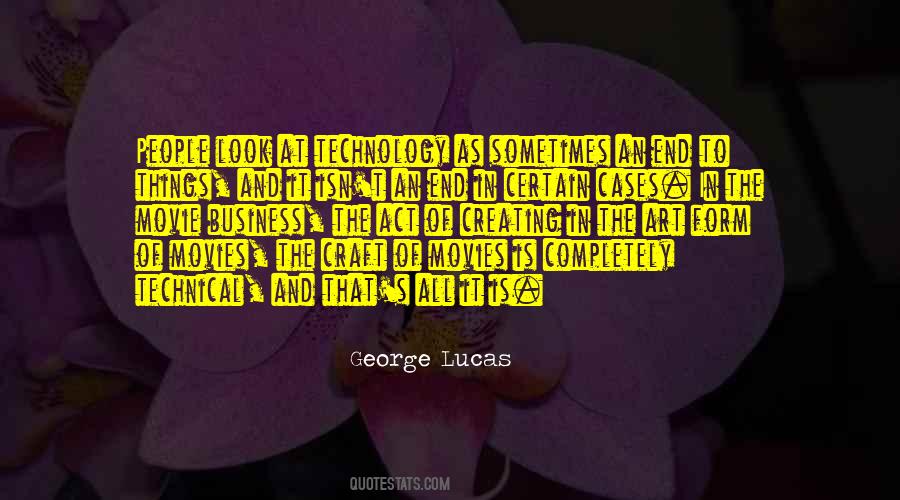 #41. It is important to note that everything in the business is converging with technology. The more you can understand how that convergence is happening, and the more you can steward that change into your organization, then the more you'll be sought after as that strategic partner. - Author: Stephen Gillett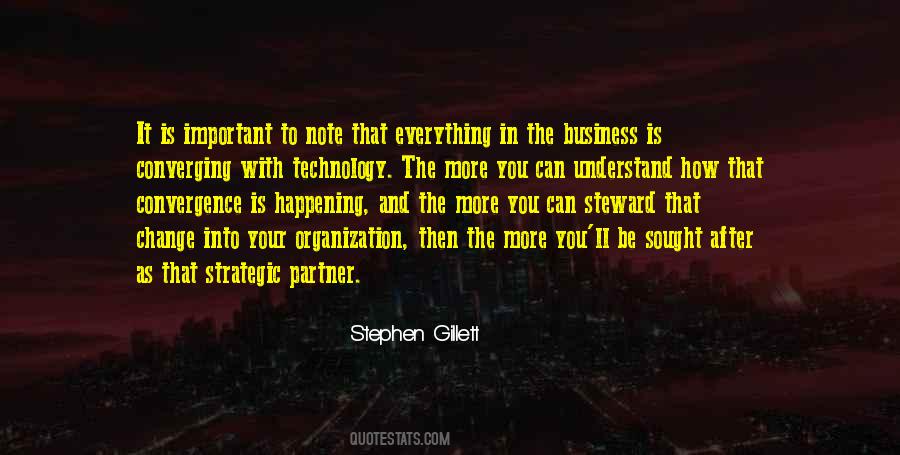 #42. I tend to not discriminate when it comes to people I can learn from. Basically, if someone has built a meaningful business in software, technology or media, faced disruption and adversity, and overcame underdog status, I want to know how they did it. - Author: Aaron Levie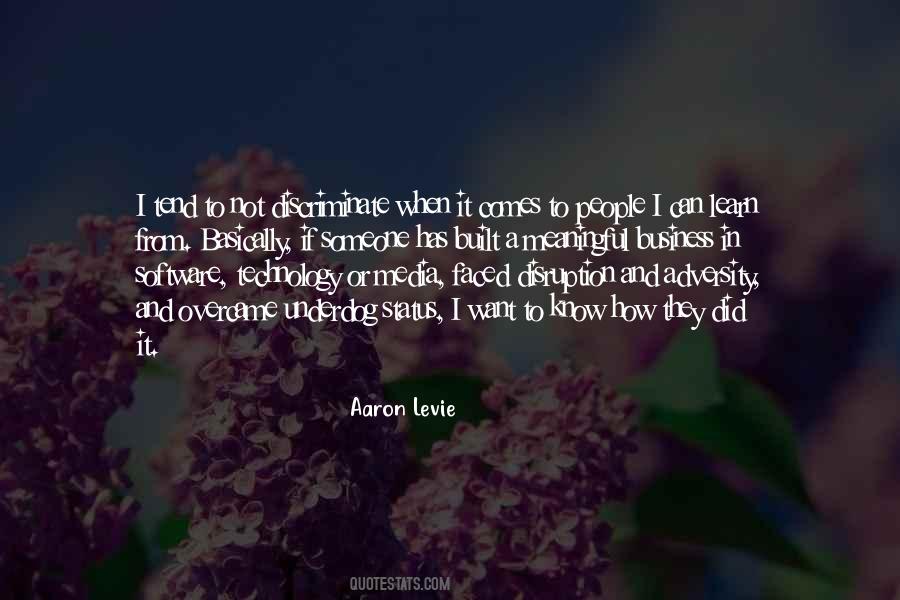 #43. When I returned from the Massachusetts Institute of Technology in 1972, my father was running a forging business with a turnover of Rs 3.5 crore. But I had no patience and wanted to grow the business via exports. - Author: Baba Kalyani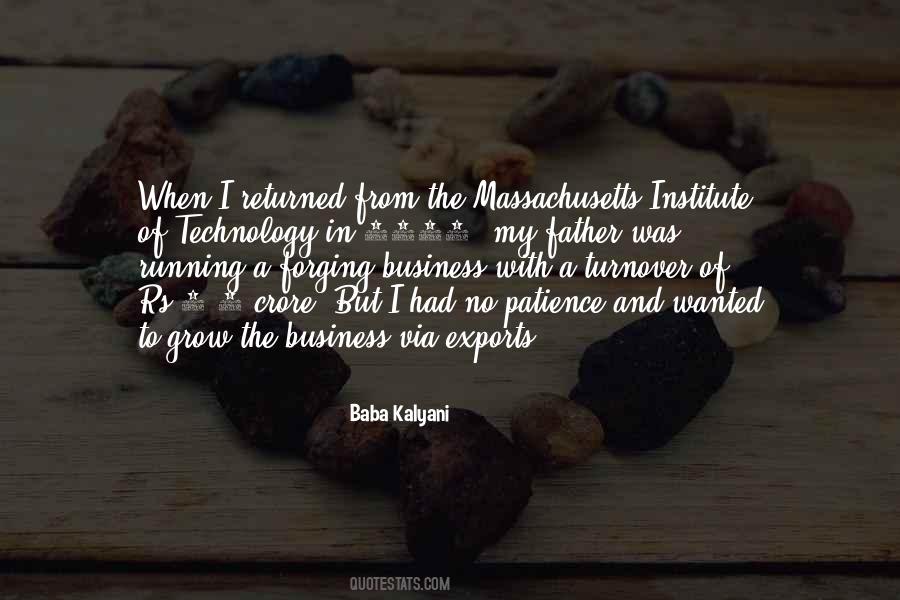 #44. Government is itself an art, one of the subtlest of the arts. It is neither business, nor technology, nor applied science. It is the art of making men live together in peace and with reasonable happiness. - Author: Felix Frankfurter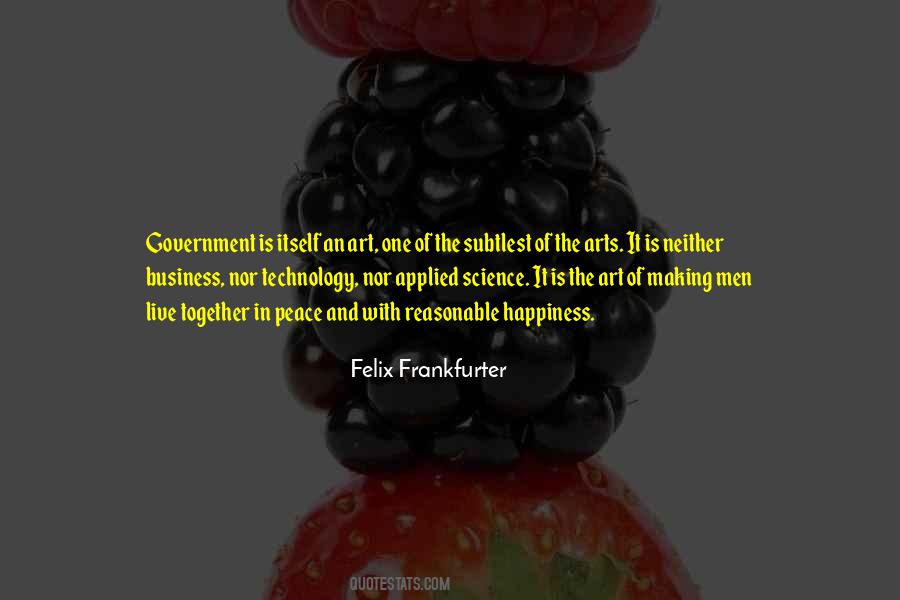 #45. To reboot your association for success, you must shift your beliefs to realize how vitally important key investments in technology can be as an ongoing and personalized communication tool with your members. - Author: Holly Duckworth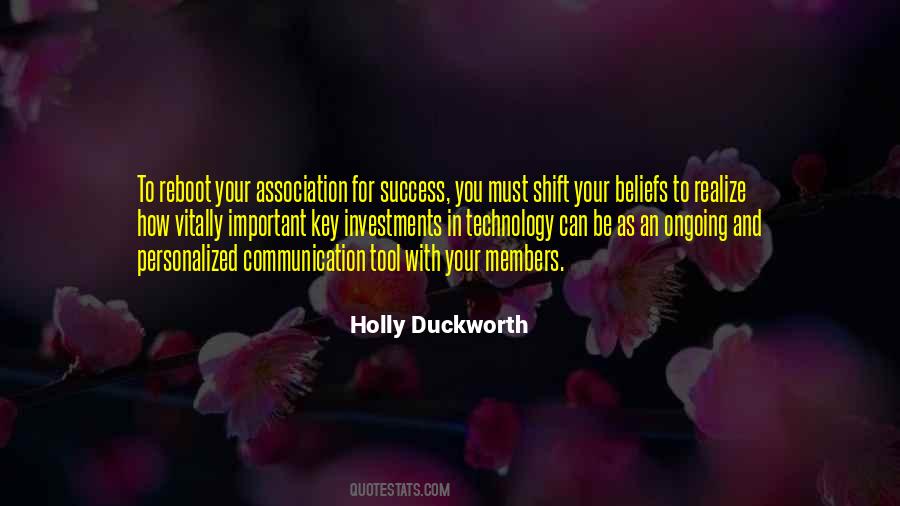 #46. Generating a system architecture is not a deterministic process. It requires careful consideration of business requirements, technology choices, existing infrastructure and systems, and actual physical resources, such as budget and manpower. - Author: Andrew Holdsworth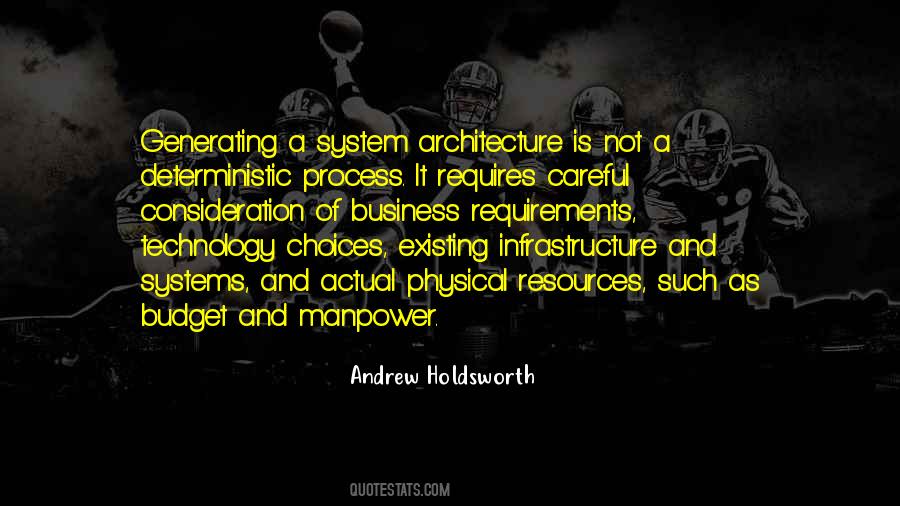 #47. Always seek input from others to aide you in reaching the best possible decision for your business/start-up. This is due to entrepreneurship mostly being about taking calculated risks, and you will always create better strategies if more facts and information go into the decision-making process. - Author: Luigi Wewege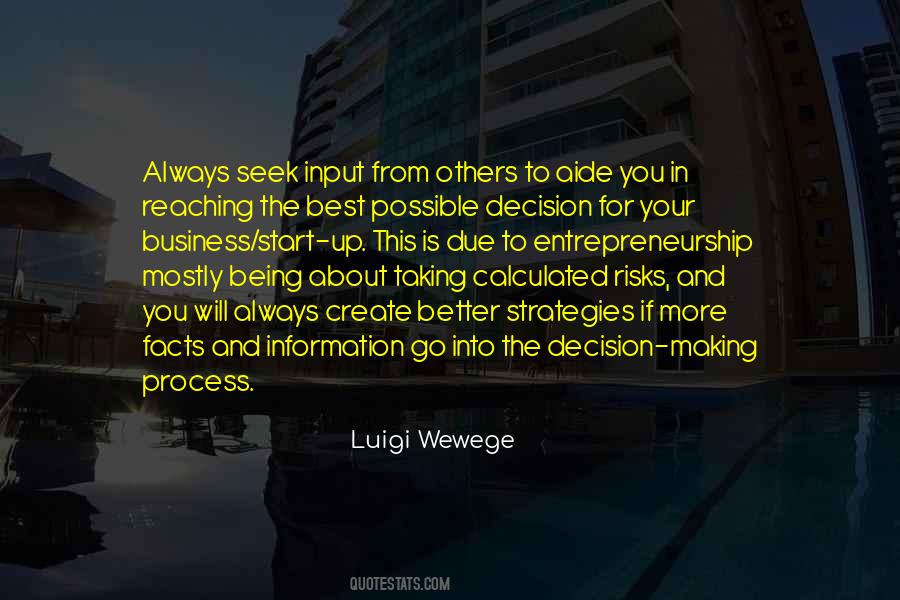 #48. Societies or companies that expect a glorious past to shield them from the forces of change driven by advancing technology will fail and fall. That applies as much to my own, the media industry, as to every other business on the planet. - Author: Rupert Murdoch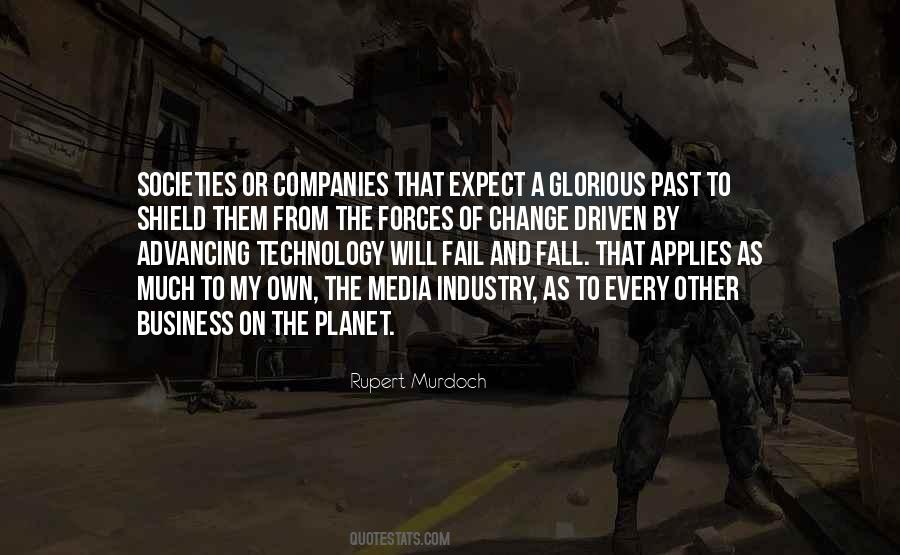 #49. In various fields, such as science, technology, sports, business and the arts, immigrants enrich our culture every single day. - Author: Charles B. Rangel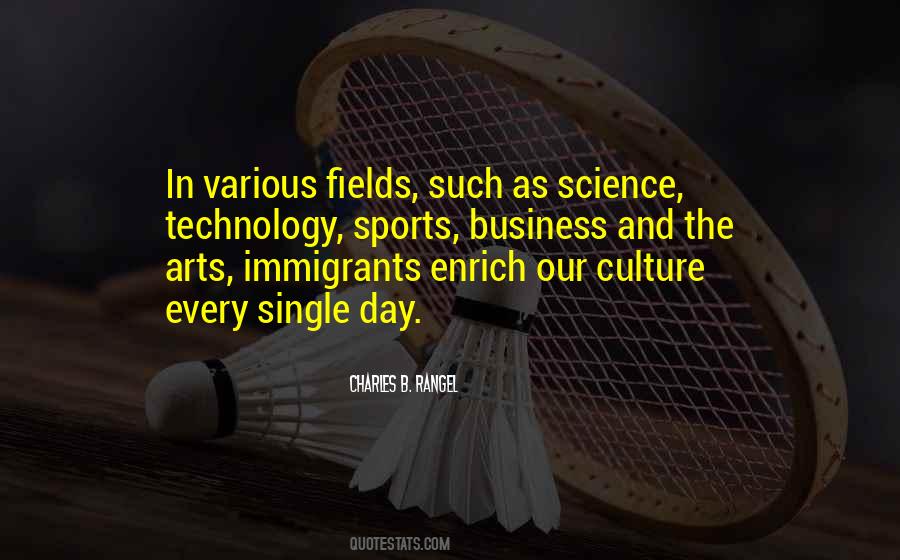 #50. In practice, downsizing is too often about cutting your work force while keeping your business the same, and doing so not by investments in productivity-enhancing technology, but by making people pull 80-hour weeks and bringing in temps to fill the gap. - Author: James Surowiecki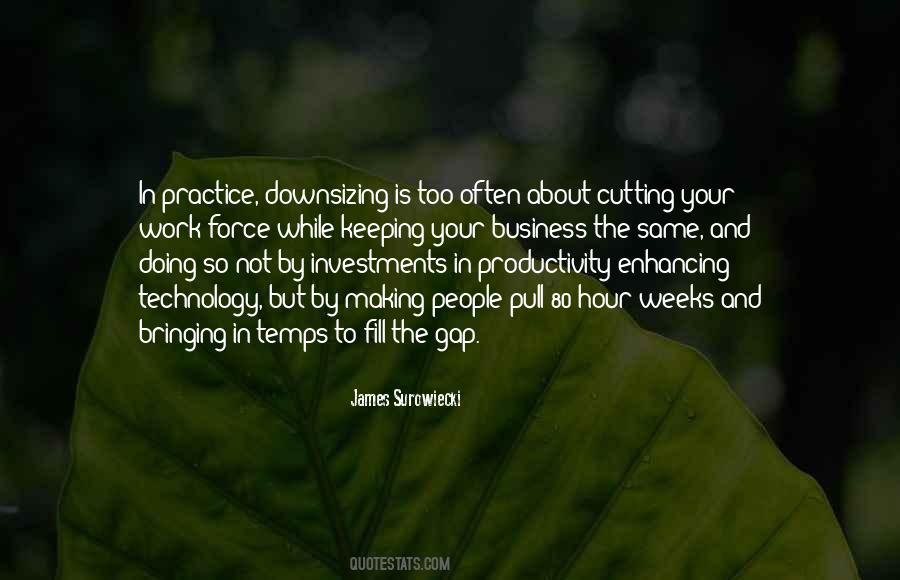 #51. The key to success for everything in business, science and technology is never to follow the others. - Author: Masaru Ibuka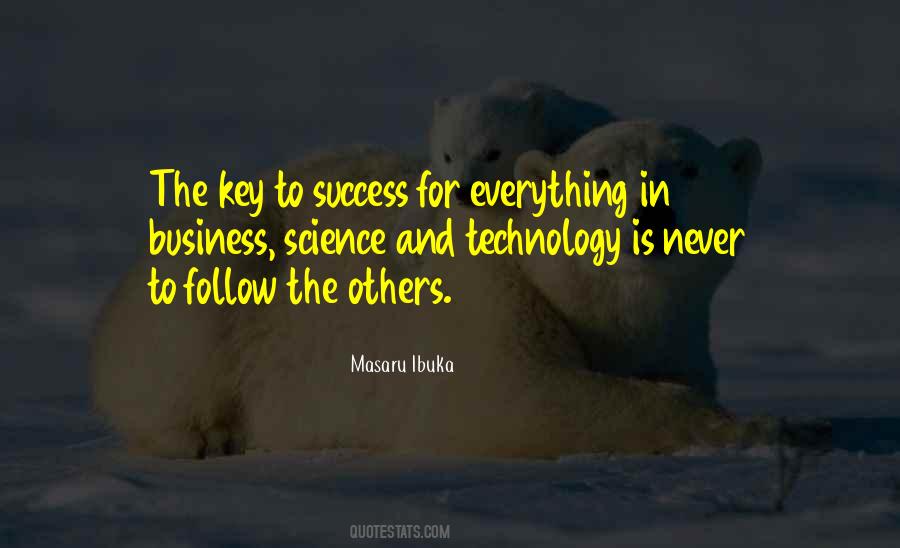 #52. Product management really is the fusion between technology, what engineers do - and the business side. - Author: Marissa Mayer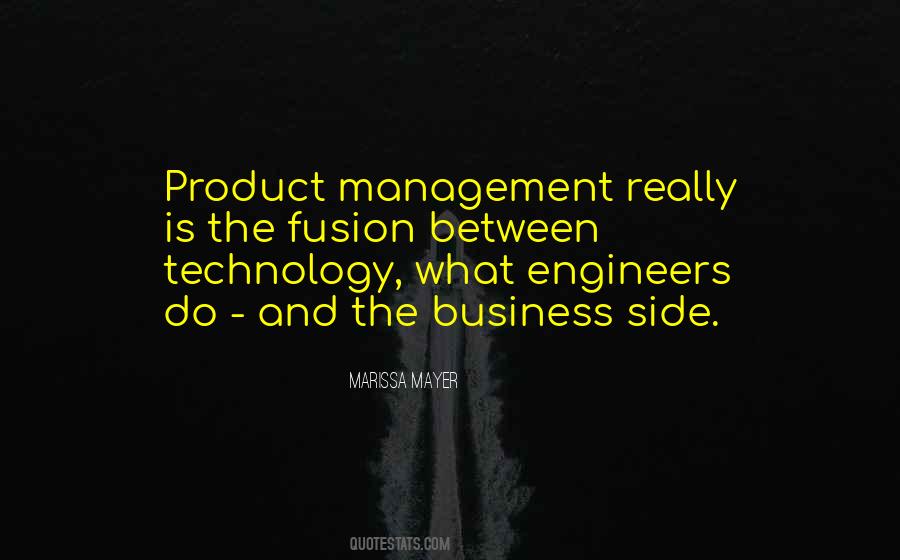 #53. Everyone always wants new things. Everybody likes new inventions, new technology. People will never be replaced by machines. In the end, life and business are about human connections. And computers are about trying to murder you in a lake. And to me the choice is easy. - Author: Michael Scott
#54. I sold Blockbuster because I saw what was coming: the satellite dish, technology that would make the business obsolete in a few years. Why would people go to a store for a video and then have to return it when they had a dish? - Author: Wayne Huizenga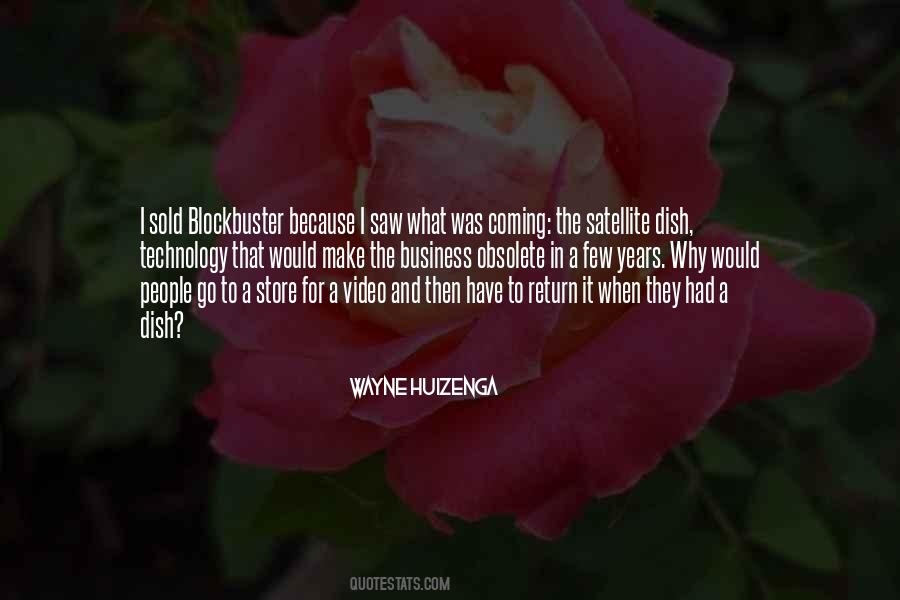 #55. We should never lose sight of the underlying essence of a market-a place where buyers and sellers come together. Every other feature-whether crafted by tradition or technology-exists only to serve that primary purpose. - Author: Arthur Levitt Jr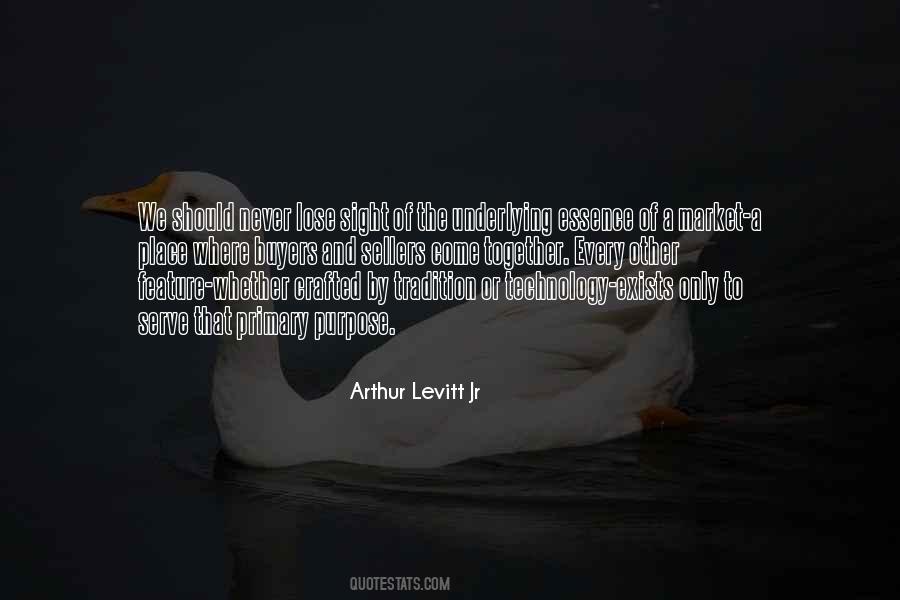 #56. For associations to emerge healthy and strong, they must re-engage with their members around the heart-centered why of why they exist, leverage current leadership, and build future leadership while they integrate the balance of technology and face-to-face experiences. - Author: Holly Duckworth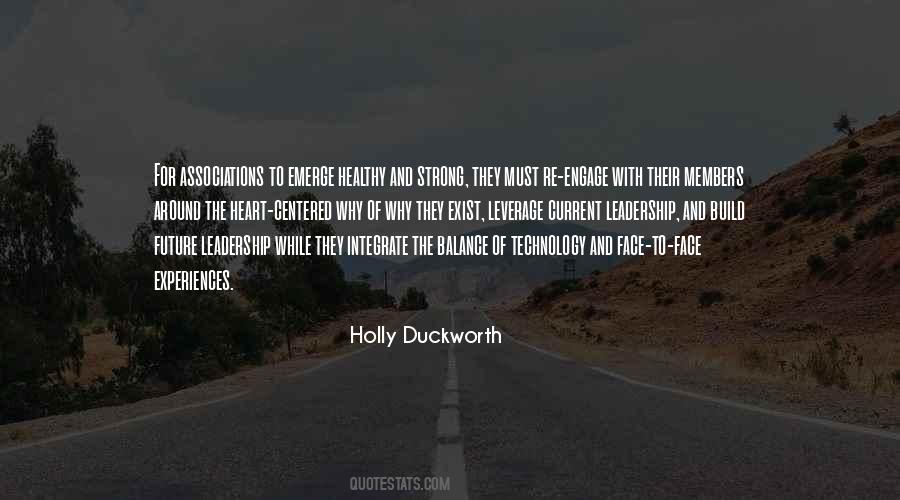 #57. The markets were now run by technology, but the technologists were still treated like tools. Nobody bothered to explain the business to them, but they were forced to adapt to its demands and exposed to its failures - which was, perhaps, why there had been so many more conspicuous failures. - Author: Michael Lewis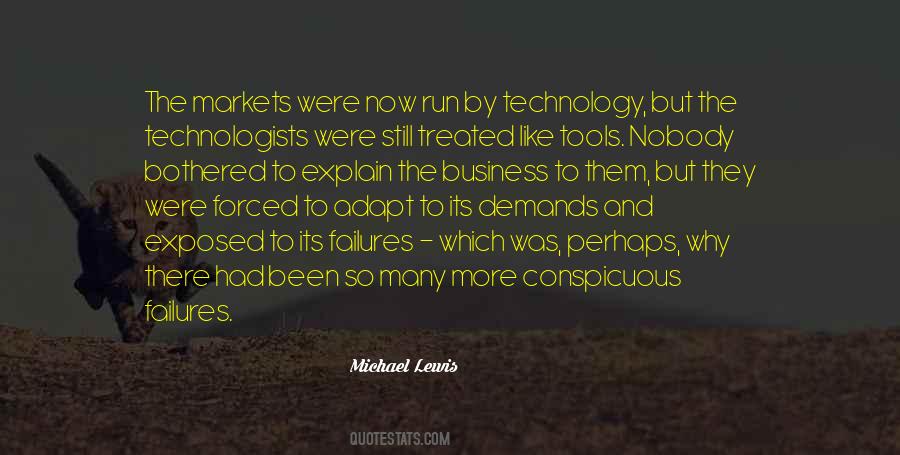 #58. New York has been, and will continue to be, a magnet for people from all over the world. This is where the arts, business, research and technology converge to create the world's foremost urban economy. - Author: Michael Bloomberg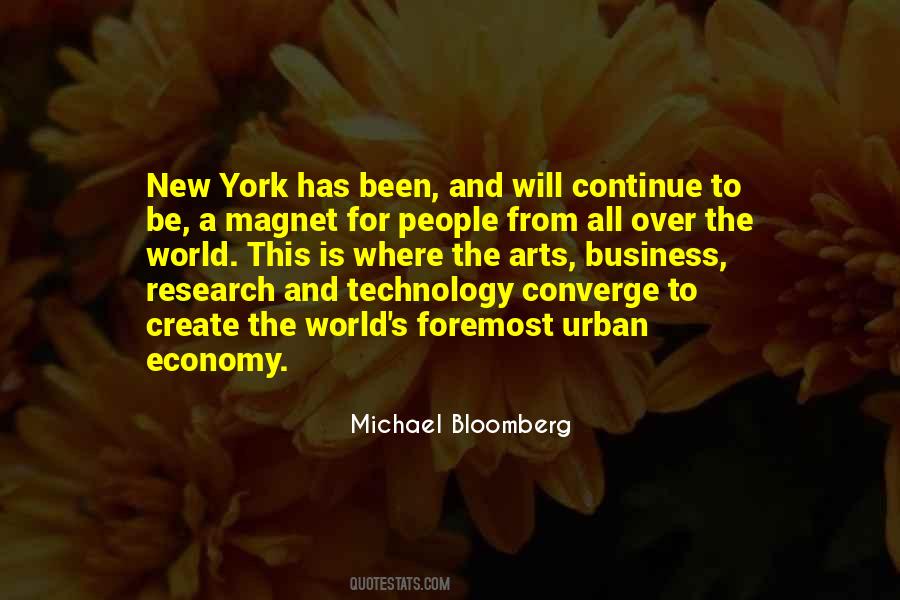 #59. My father taught us that to thrive, excellence in technology, quality, and customer service along with cost competitiveness is a prerequisite. His contribution to business, the economy, and society at large can never be underscored enough. - Author: Kumar Mangalam Birla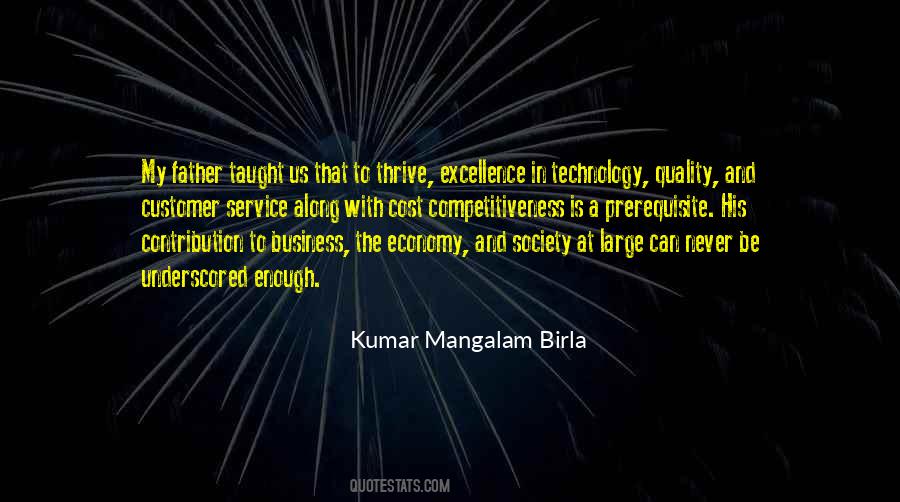 #60. Each business is a victim of Digital Darwinism, the evolution of consumer behavior when society and technology evolve faster than the ability to exploit it. Digital Darwinism does not discriminate. Every business is threatened. - Author: Brian Solis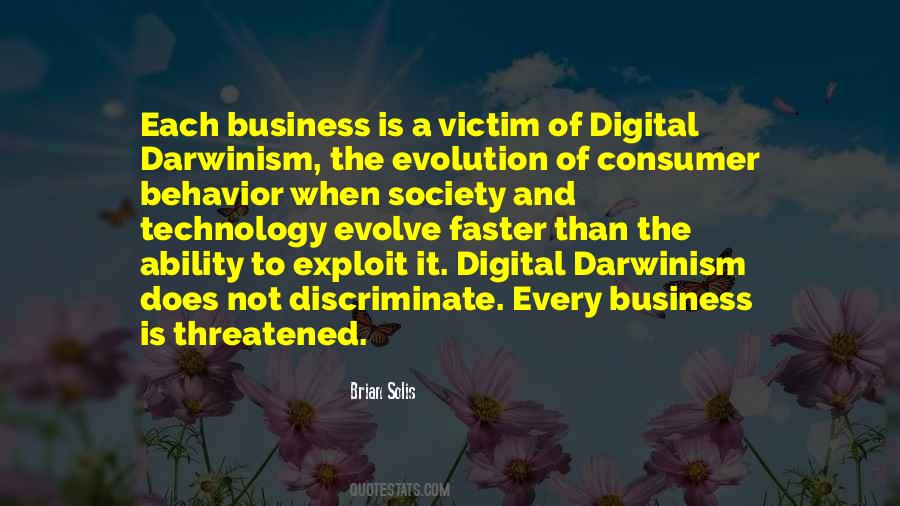 #61. Consumers today are less responsive to traditional media. They are embracing new technologies that empower them with more control over how and when they are marketed to. - Author: Jim Stengel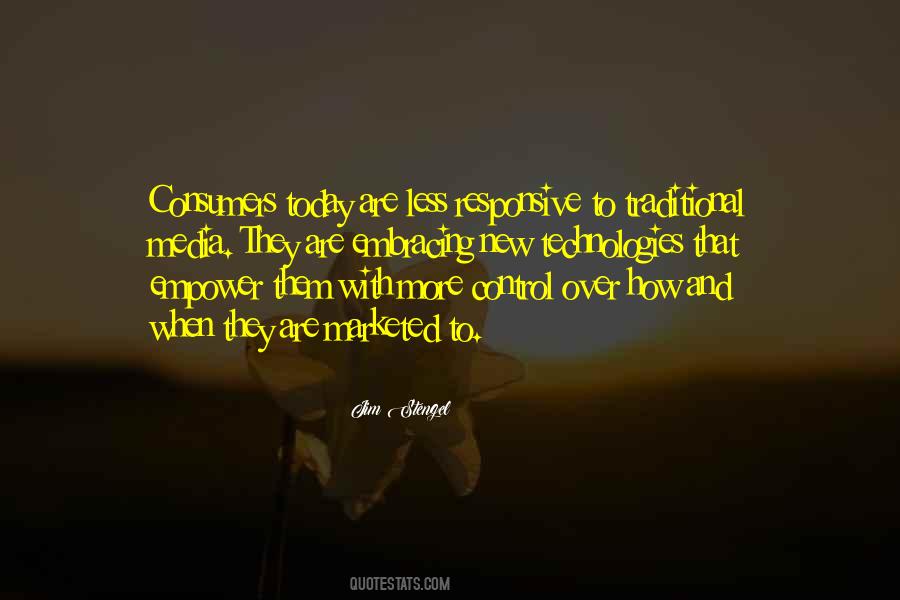 #62. You'd better have the technology knowledge. I really urge you not to think you can start a whole company and business with just ideas on paper, because you'll end up owning so few of those ideas. - Author: Steve Wozniak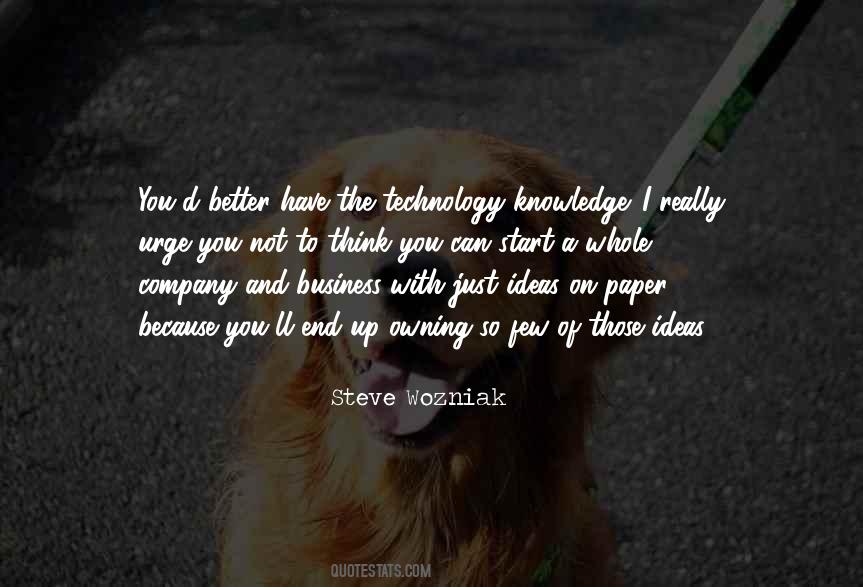 #63. All this technology has not changed the way NFL Films does business and our process. Yes, with one touch of a button now you reach millions of people but it is still the same approach that my father and I started out with. - Author: Steve Sabol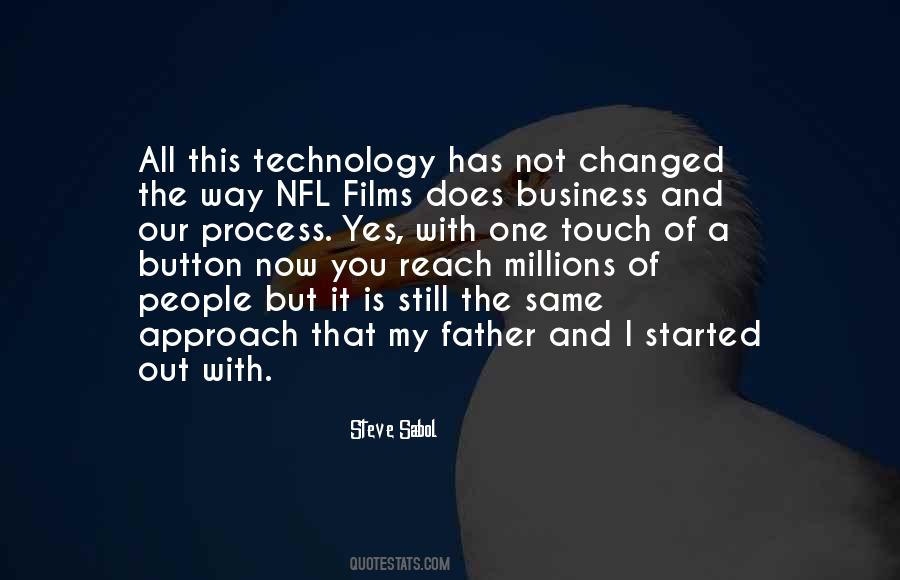 #64. A 2001 survey of business owners with MBAs conducted by the Rochester Institute of Technology found that money was the primary motivator for only 29% of women, versus 76% of men. Women prioritized flexibility, fulfillment, autonomy and safety. - Author: Warren Farrell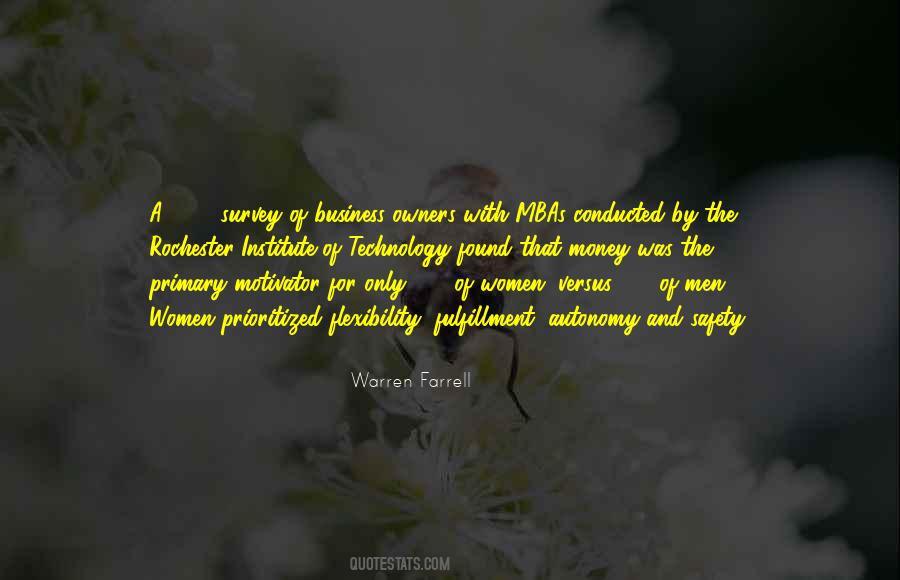 #65. Many people see technology as the problem behind the so-called digital divide. Others see it as the solution. Technology is neither. It must operate in conjunction with business, economic, political and social system. - Author: Carly Fiorina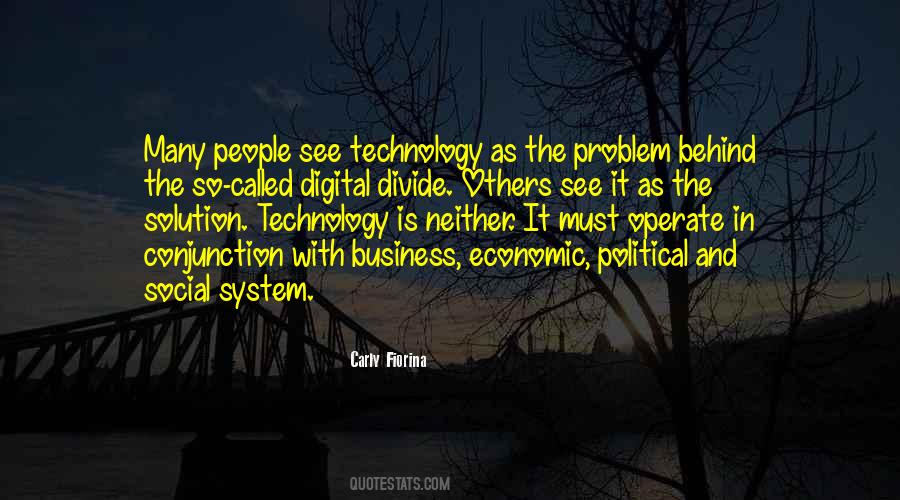 #66. Xerox's innovative technology and service offerings - delivered through an expanding distribution system with a lean and flexible business model - continue to solidify our market leadership, driving consistently strong earnings performance. - Author: Anne M. Mulcahy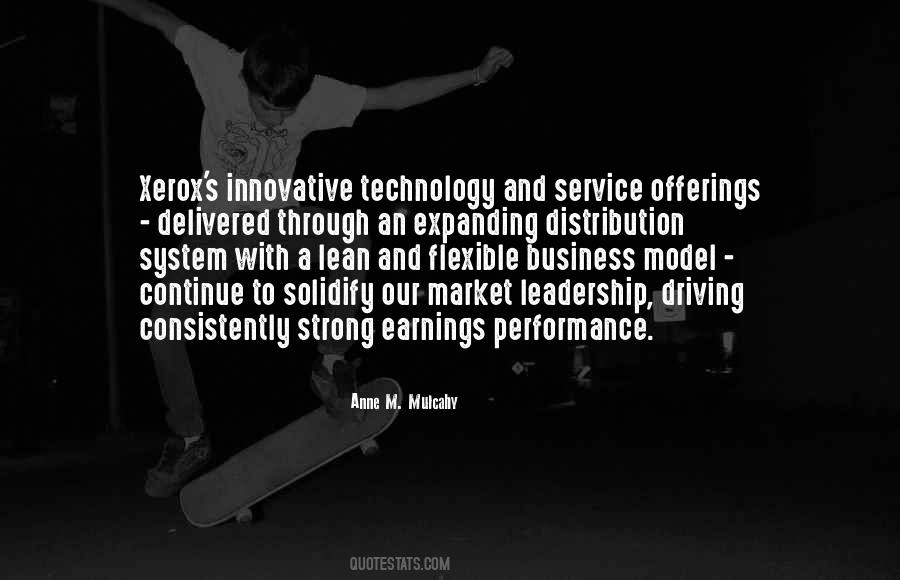 #67. The best and most evolved technologies are those that do not destroy the very base on which we live - Author: Vandana Shiva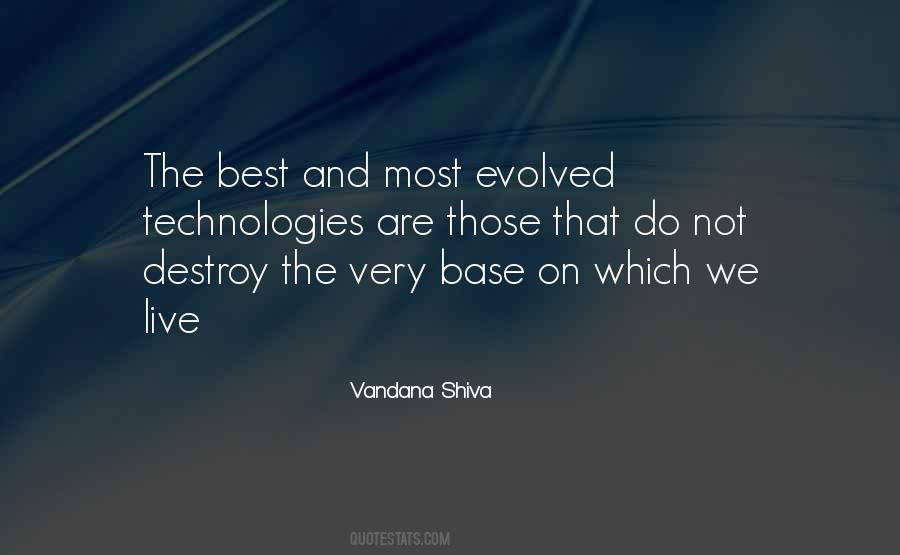 #68. Forward-thinking organizations seek hybrid professionals who are highly proficient writers, analytical, creative, and tech savvy, with strong competencies in business management, information technology (IT), and human behavior. - Author: Paul Roetzer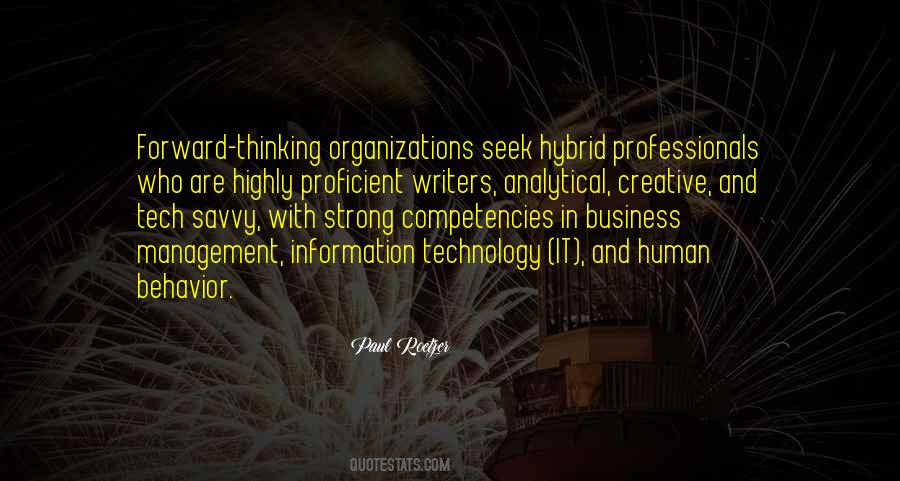 #69. The great thing about reading diverse news from the fields of business, health, science, technology, politics, and more is that you automatically see patterns in the world and develop mental hooks upon which you can hang future knowledge. - Author: Scott Adams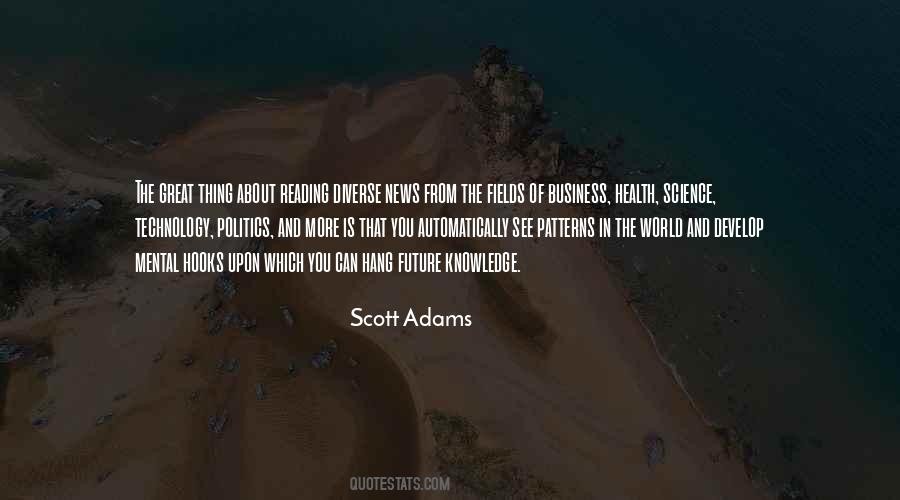 #70. Innovation happens at the intersection of people, process, technology, customers, and business ecosystem. - Author: Pearl Zhu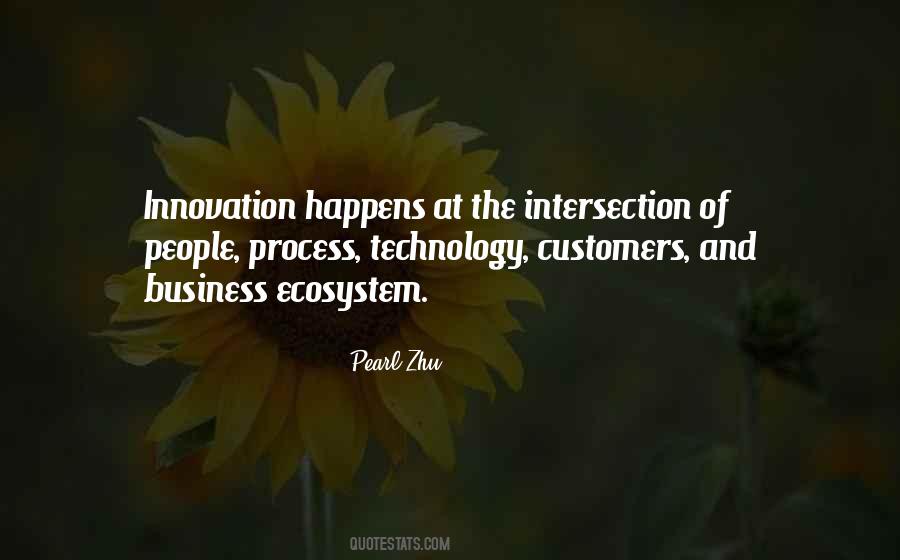 #71. I'd say we [Apple Inc.] are the most creative of the technology companies and definitely the most artist-friendly. Almost everyone in the music business uses a Mac and everyone has an iPod. - Author: Steve Jobs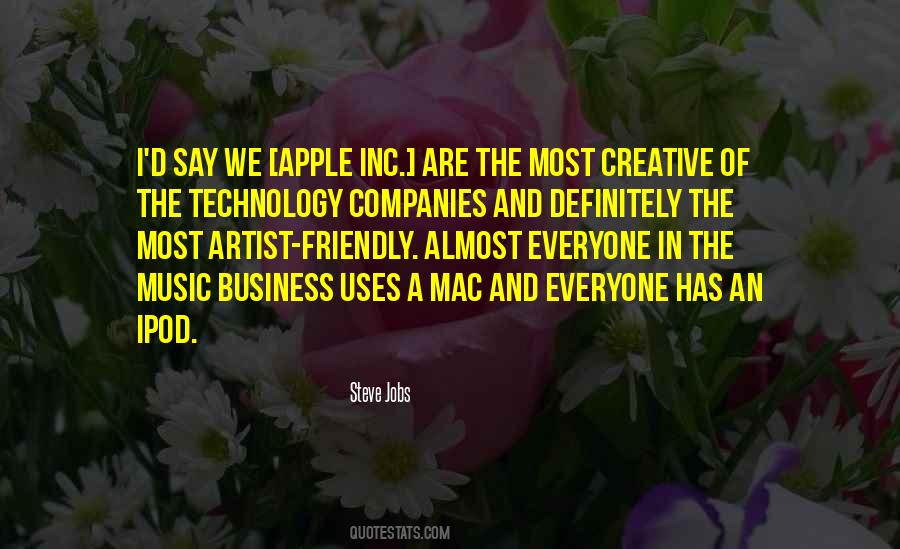 #72. The big reason why we don't have space colonies and regular trips to the moon is that flying into outer space is just plain 'hard.' The business of safely transporting people off the Earth is a costly affair that requires a lot of technology. - Author: Ben Parr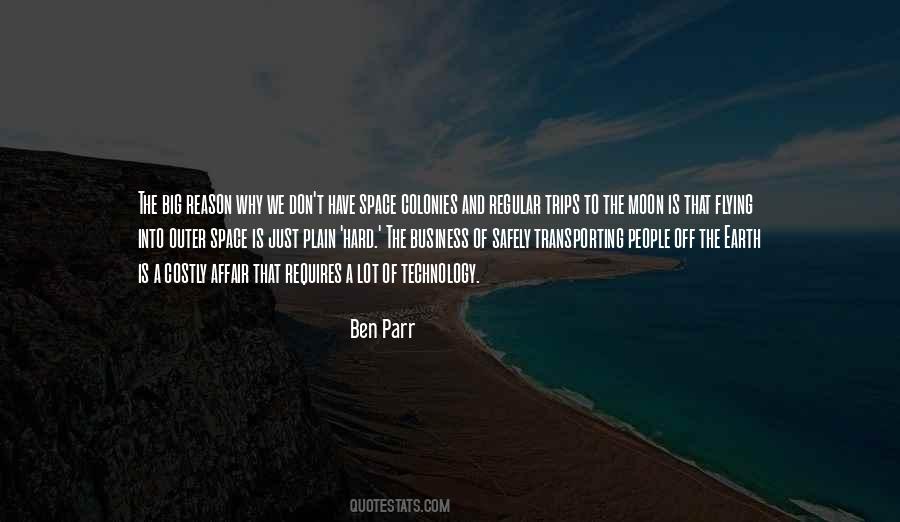 #73. The Internet is ultimately about innovation and integration, but you don't get the innovation unless you integrate Web technology into the processes by which you run your business. - Author: Louis V. Gerstner Jr.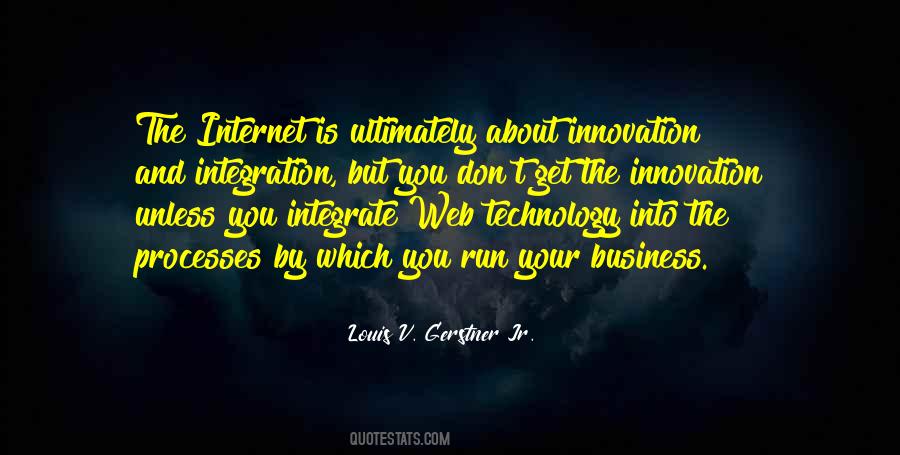 #74. The key to success for Sony, and to everything in business, science and technology for that matter, is never to follow the others. - Author: Masaru Ibuka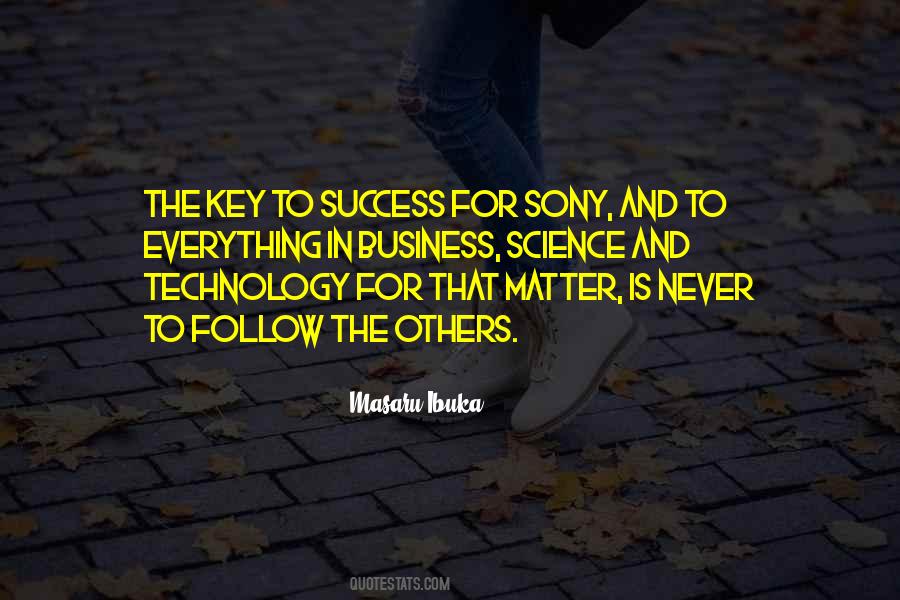 #75. The global triumph of American technology has been predicated on the implicit separation between the business interests of Silicon Valley and the political interests of Washington. - Author: Evgeny Morozov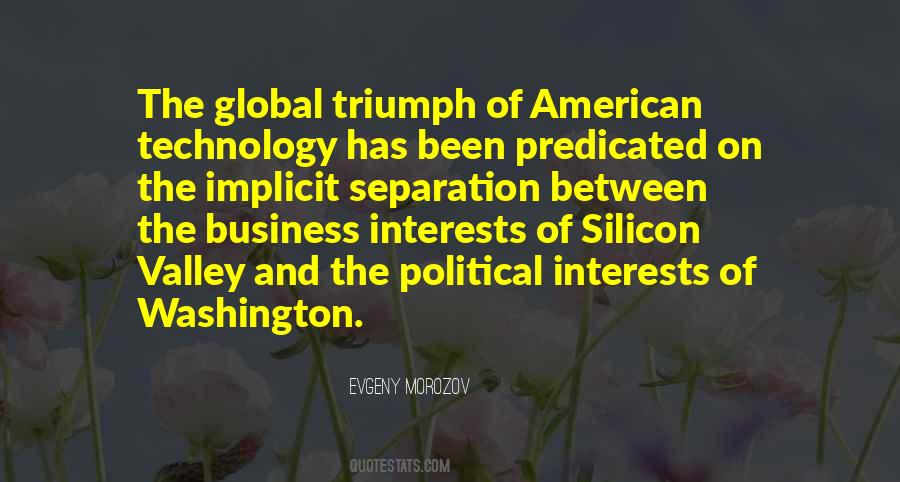 #76. After coming from a major label, I realized the entire business has been decimated, and you can't look to labels to try to figure it out because they don't even use the technology, and they're oblivious to how people consume music these days. - Author: Trent Reznor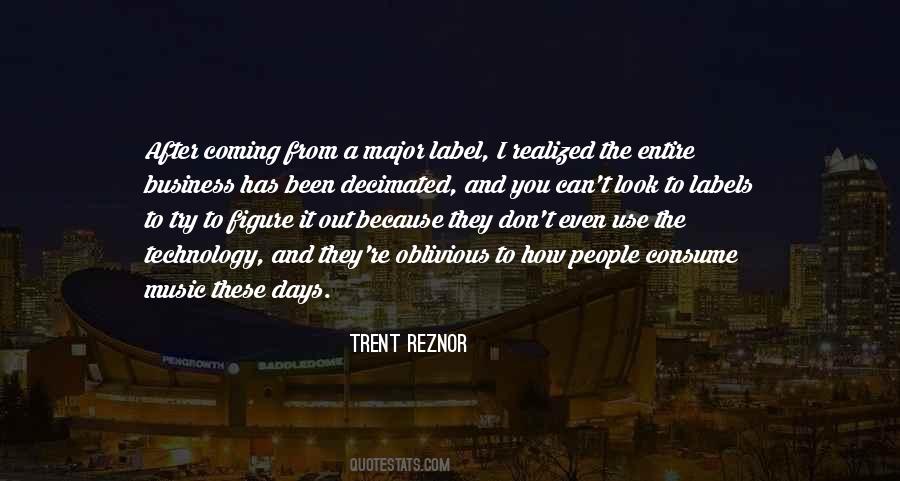 #77. Heavy investments in information technology have delivered disappointing results - largely because companies tend to use technology to mechanize old ways of doing business ... Instead of embedding outdated processes in silicon and software, we should obliterate them and start over. - Author: Michael Martin Hammer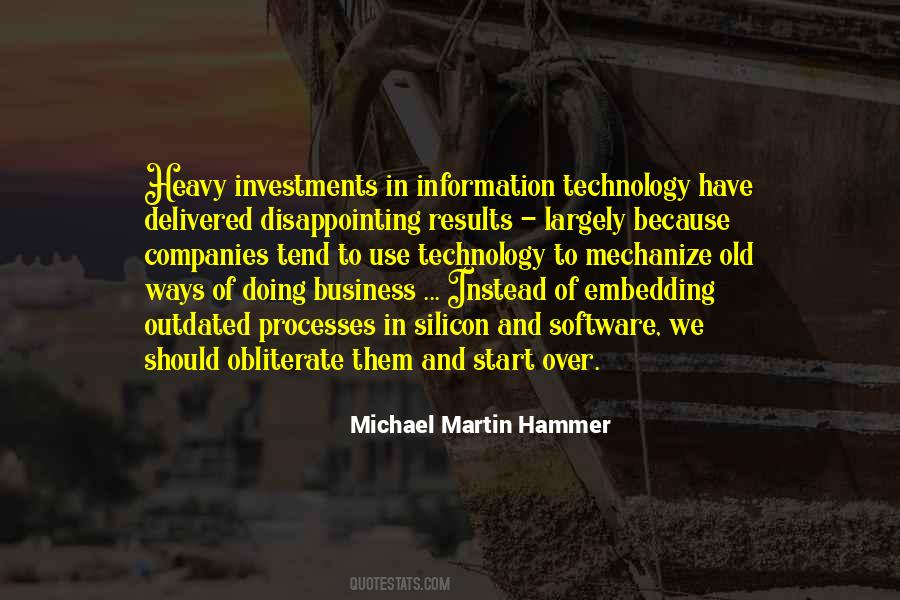 #78. After Scour, I started a company called Red Swoosh. The idea was to take those litigants who sued us for a huge amount of money and turn them into customers with the same technology. I wanted to get them to pay me. It was a revenge business. - Author: Travis Kalanick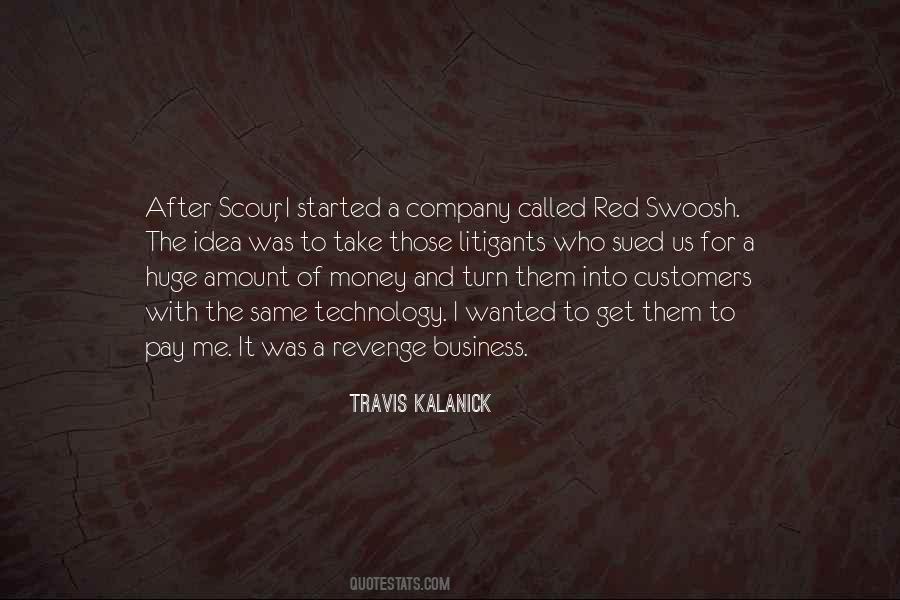 #79. This use of advertising - to add a subjective value to the product - becomes increasingly important as the trends in our technology lead to competing products becoming more and more the same. - Author: James Webb Young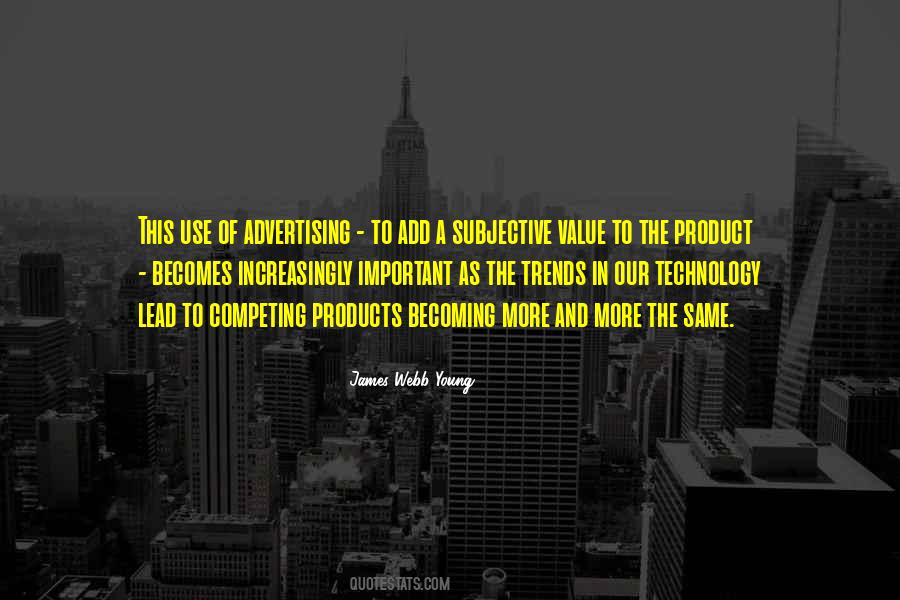 #80. I think the high-tech industry is used to developing new things very quickly. It's the Silicon Valley way of doing business: You either move very quickly and you work hard to improve your product technology, or you get destroyed by some other company. - Author: Elon Musk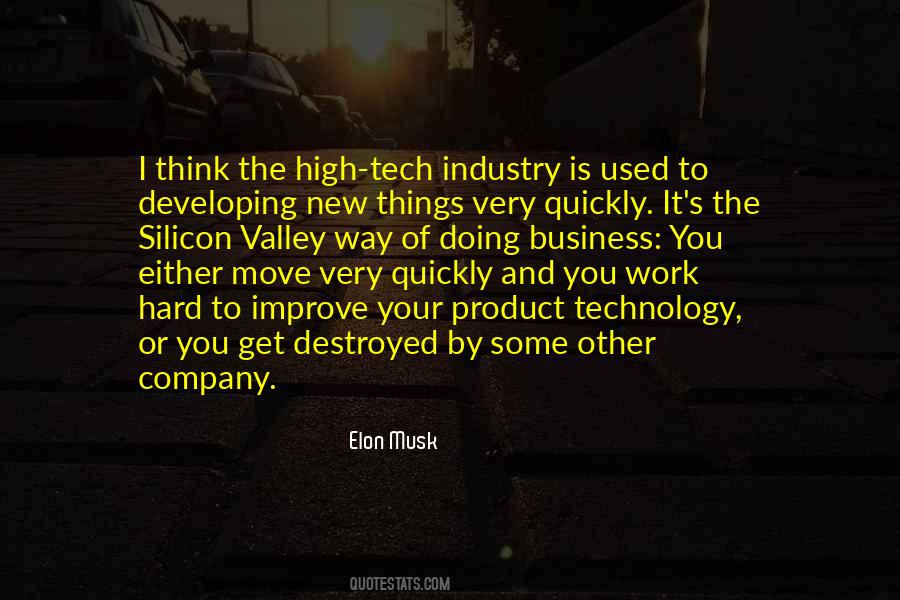 #81. I spent my whole career in the technology business, and I was convinced of the importance, at a grand scale, of the development of global connectivity. - Author: John Morgridge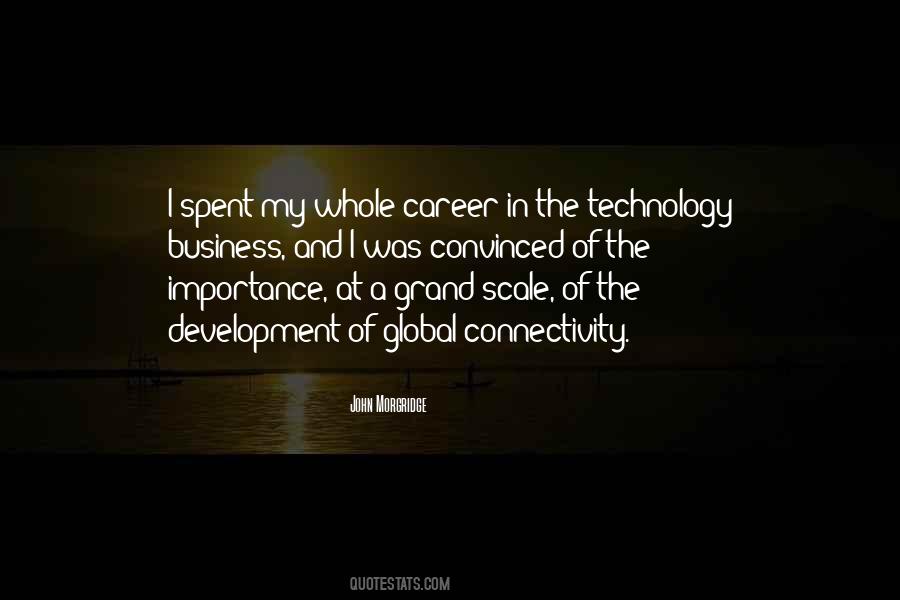 #82. Good design successfully manages the tensions between user needs, technology feasibility, and business viability. - Author: Tim Brown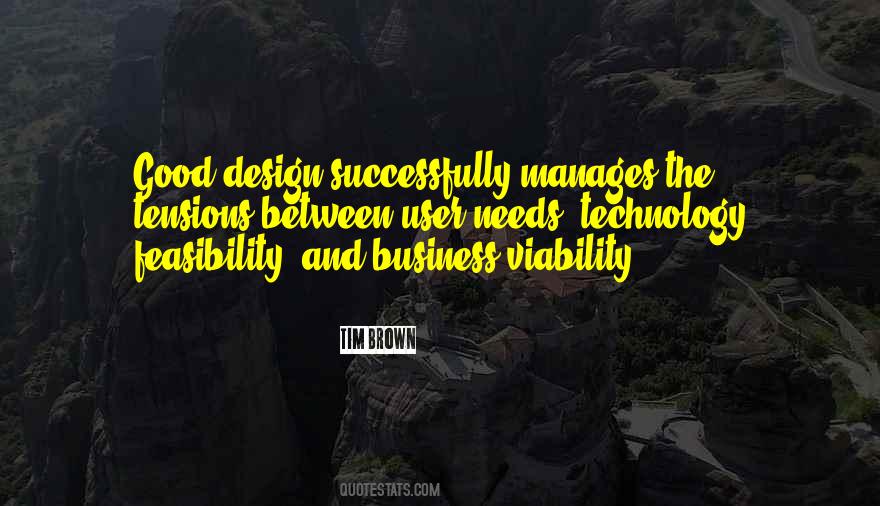 #83. The genomics revolution, proteomics, metabolomics, all of these 'omics' that sound so terrific on grants and on business plans. What we're doing is we are seizing control of our evolutionary future. I mean we're essentially using technology to just jam evolution into fast-forward. - Author: Gregory Stock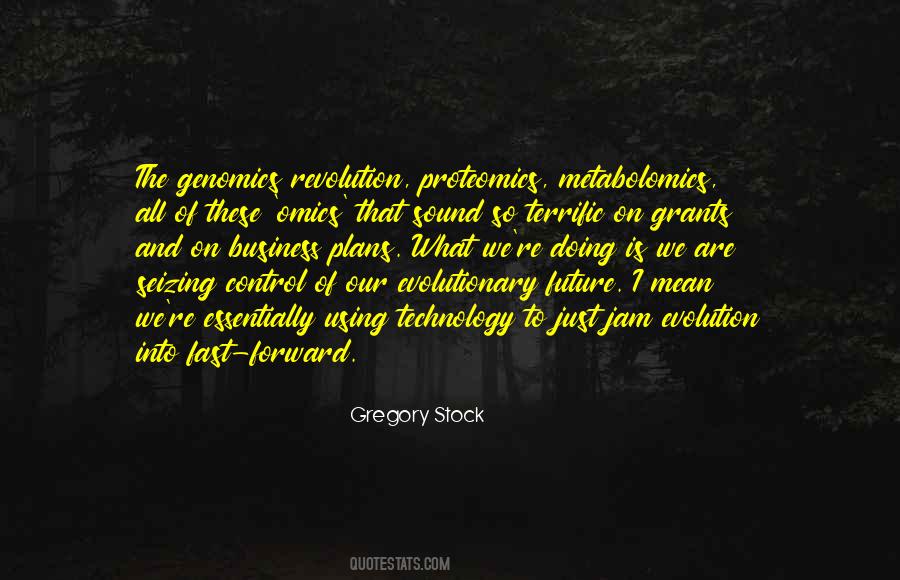 #84. When you come to the spiritual needs, the emotional needs, the needs of our inner life, then politics and business and technology are completely impotent. They are completely unable to meet and address the needs of human beings. - Author: Satish Kumar
#85. No matter how much technology changes scouting, no matter how much free agency and big TV contracts change the business of baseball, I hope and pray that the heart of the game will never change. - Author: Pat Gillick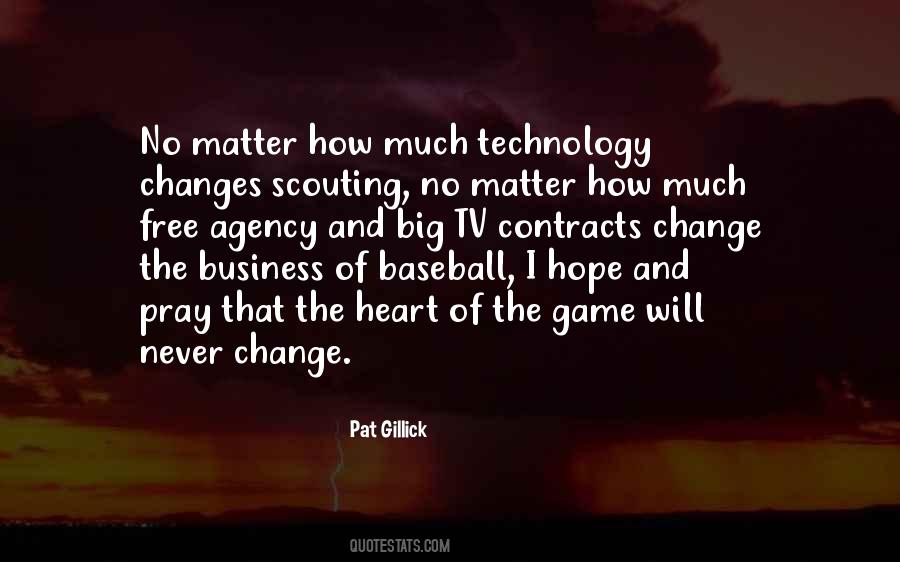 #86. The app saved three minutes of my time. But in the process, it cut a neighborhood business out of the economic equation. And, in a way, I had cut off myself from the inconvenient, maddening, but all-too-necessary messiness of human interaction. - Author: Nick Bilton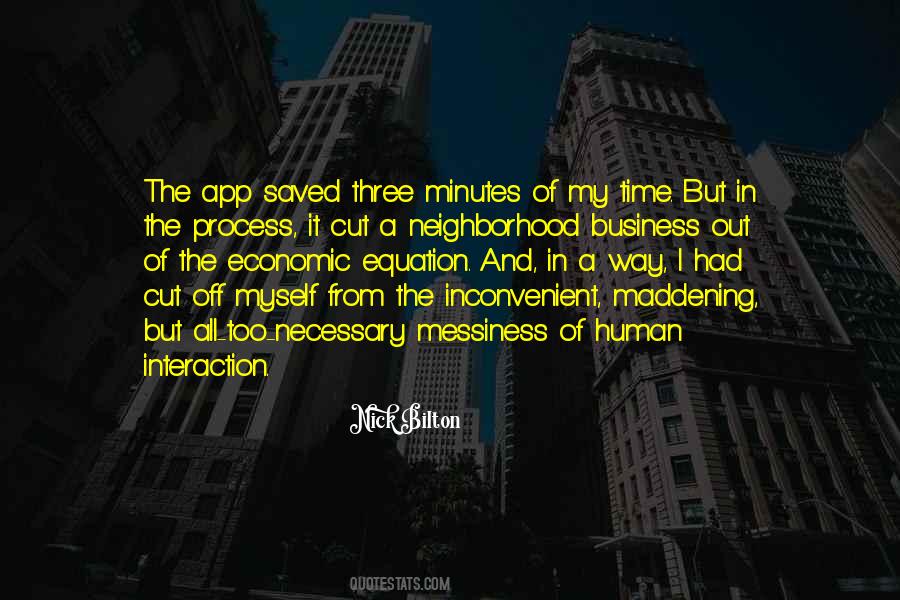 #87. Every single industry is going through a major business model and technology oriented disruption. - Author: Aaron Levie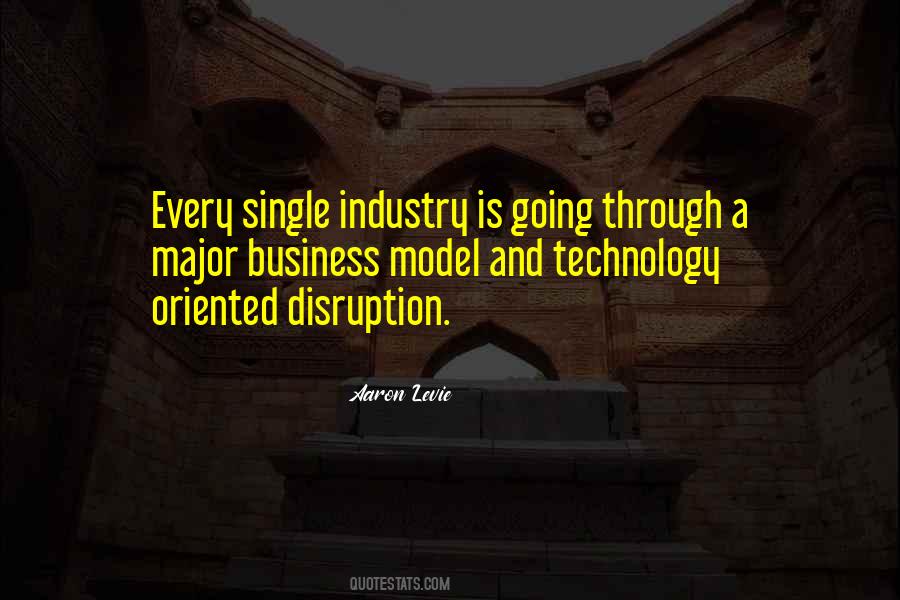 #88. We use technology to make it cheaper, better, and faster for the client. And then if you have the most flow, you can win. Now, having said that, Silicon Valley wants to take on this business. They think they see an opening. - Author: Jamie Dimon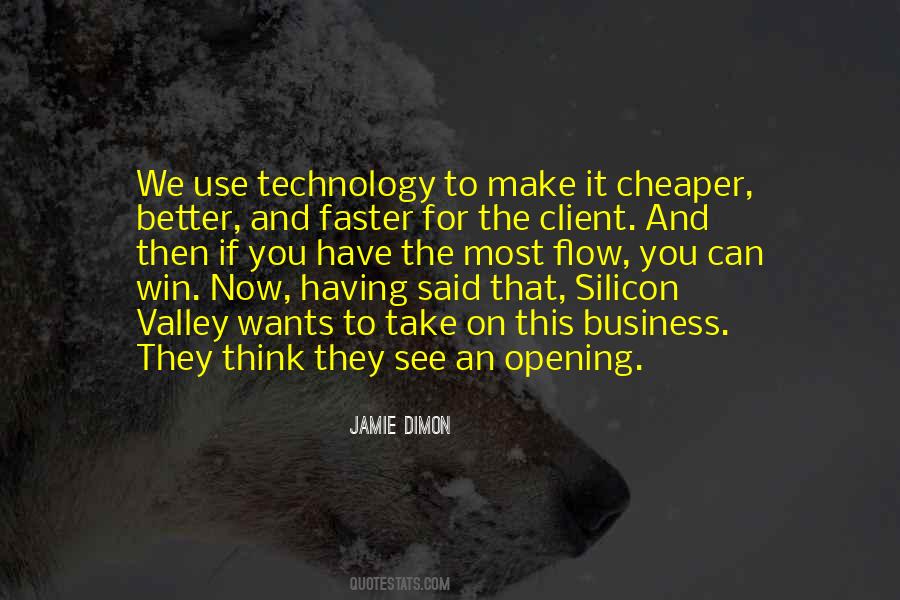 #89. If you ask what keeps me up at night, it's the pressure in the system forcing us to do all sorts of things. Content, data and technology are forcing us to think about business in a very different way. - Author: Martin Sorrell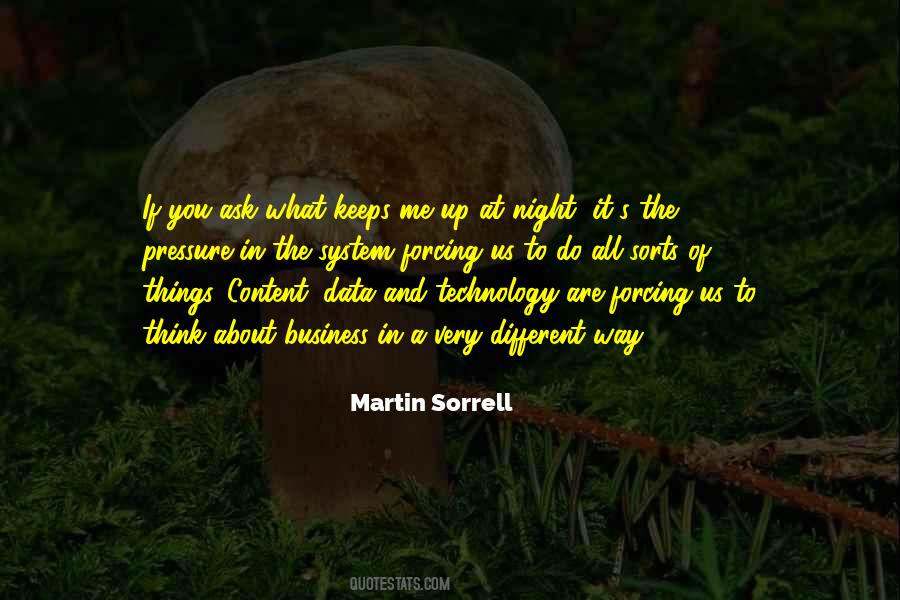 #90. Libraries function as crucial technology hubs, not merely for free Web access, but those who need computer training and assistance. Library business centers help support entrepreneurship and retraining. - Author: Scott Turow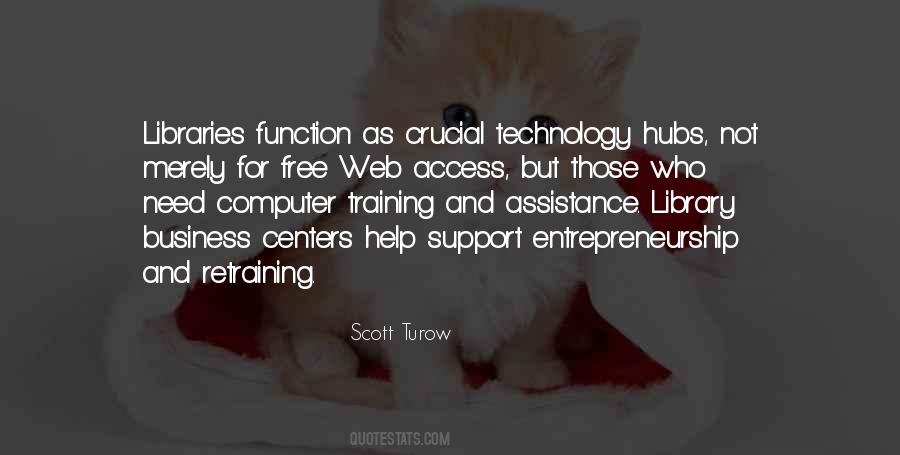 #91. I develop artificially intelligent technologies, along with educational and game software and let the business people take it where they will. - Author: Frederick Lenz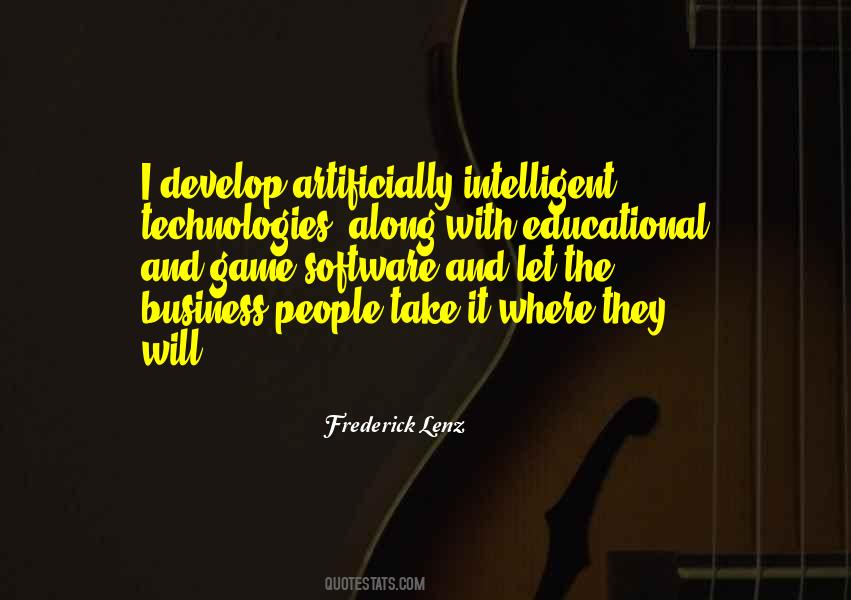 #92. I believe that the telephone and telegraph and other such conveniences were permitted by the Lord to be developed for the express purpose of building the kingdom. Others may use them for business, professional or other purposes, but basically they are to build the kingdom. - Author: Spencer W. Kimball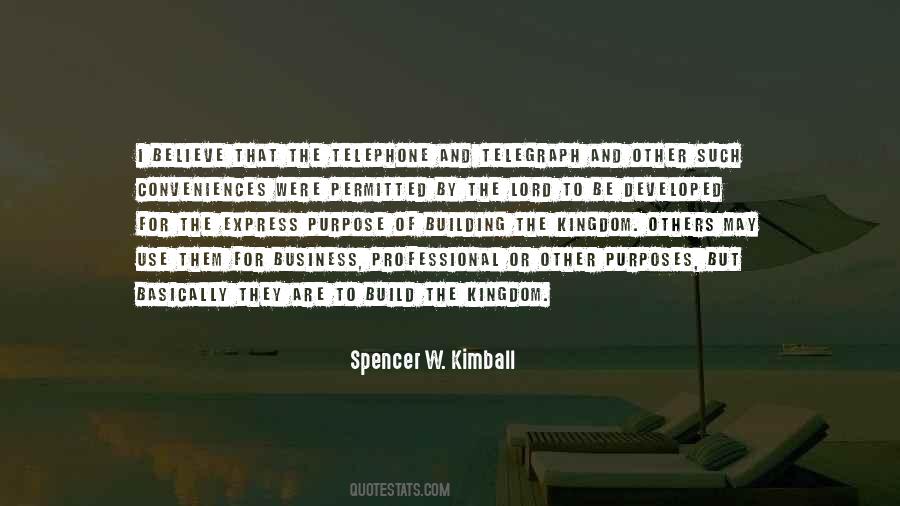 #93. Our business is about technology, yes. But it's also about operations and customer relationships. - Author: Michael Dell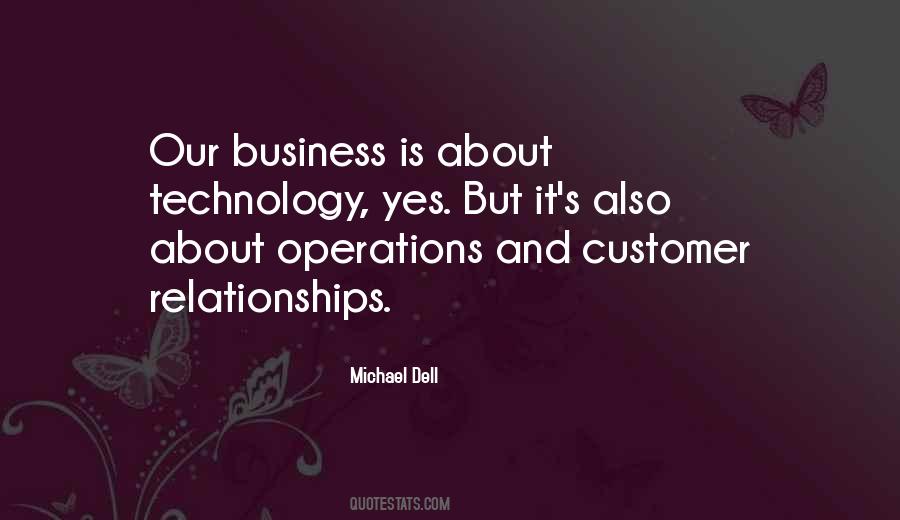 #94. The business of education is not to make the young perfect in any one of the sciences, but so to open and dispose their minds as may best make them - capable of any, when they shall apply themselves to it. - Author: John Locke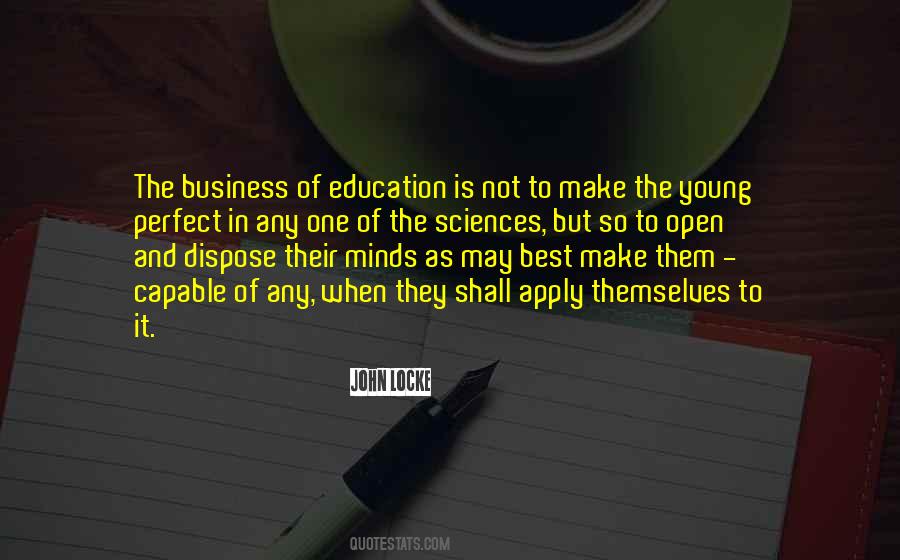 Famous Authors
Popular Topics