Scars Famous Quotes & Sayings
List of top 100 famous quotes and sayings about scars to read and share with friends on your Facebook, Twitter, blogs.
Top 100 Quotes About Scars
#1. The scars weren't overly red, but faded, some just light lines on my skin. Some of them I could cover with makeup, while others would never truly disappear. I felt like they completed me. A reflection of the way I felt inside.
Lo The Wild Hunt - Author: Ashley Jeffery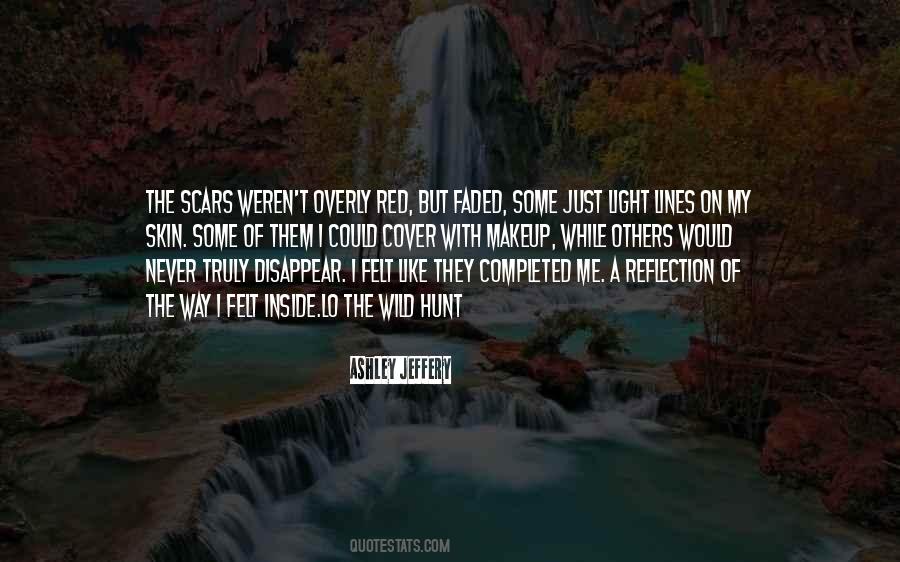 #2. The body is an organ of memory, holding traces of all our experiences. The land, too, carries the burden of all its changes. To truly see and understand a landscape is to see its depth as well as its smooth surfaces, its beauty and its scars. - Author: Kristen Iversen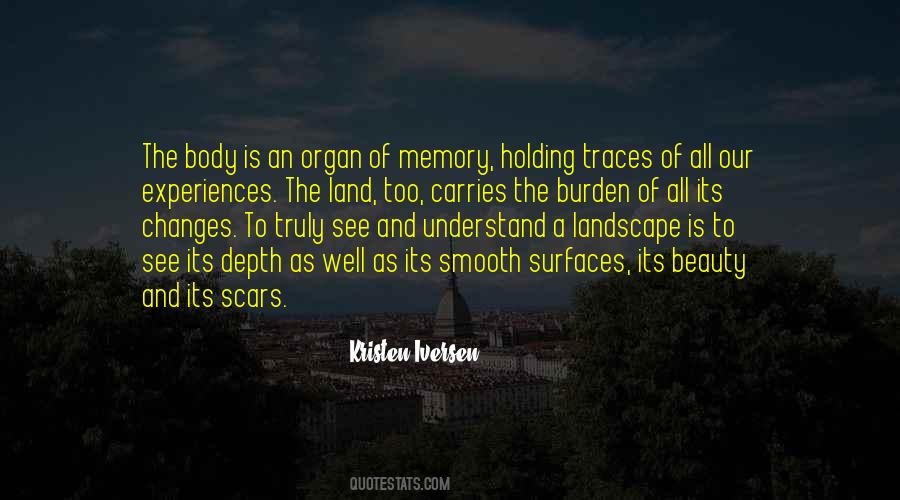 #3. the pain from lies scars a soul, especially those lies told to oneself. - Author: Emily March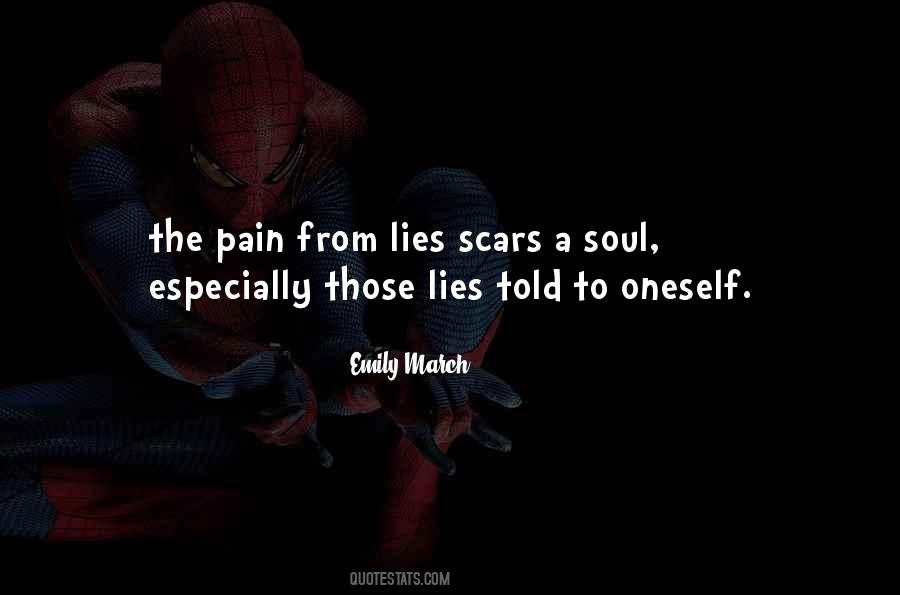 #4. [The Catholic convent] had been like the Valley of the Shadow of Death, and there are white scars on my soul, where ignorance and superstition burnt me with their hell fire in those stifling days. - Author: Voltairine De Cleyre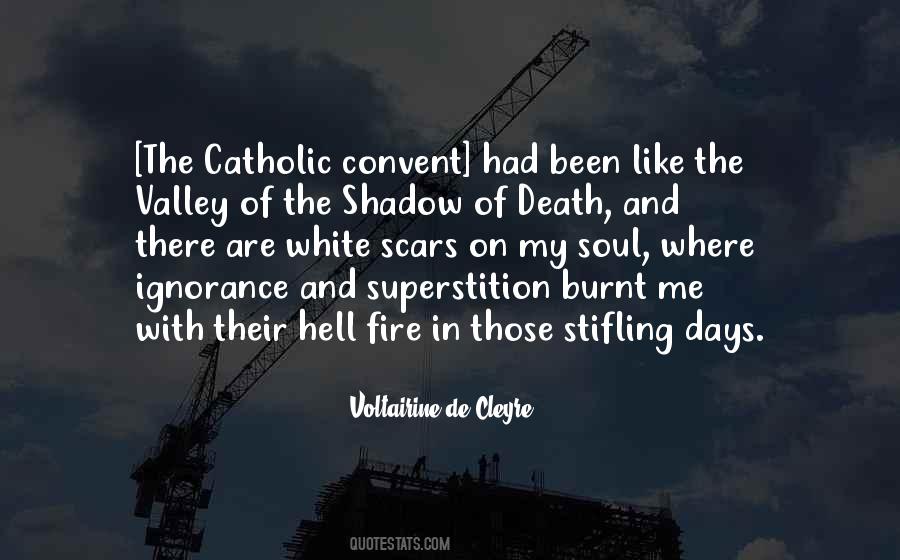 #5. Bones heal, pain is temporary, and chicks dig scars - Author: Evel Knievel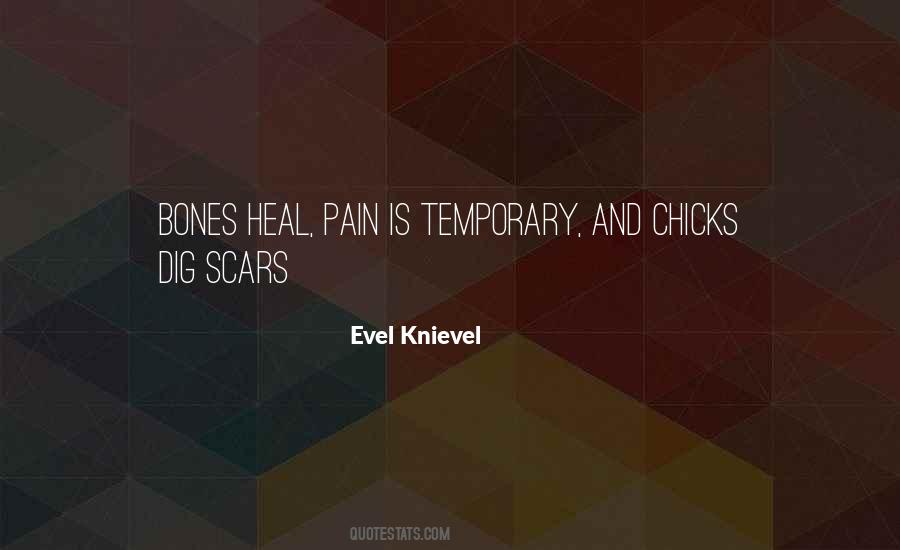 #6. Life leaves scars. Sometimes you don't see them until later. Sometimes you don't know where they've come from. Sometimes they fade before your eyes. But the world leaves its mark on us. - Author: Karina Halle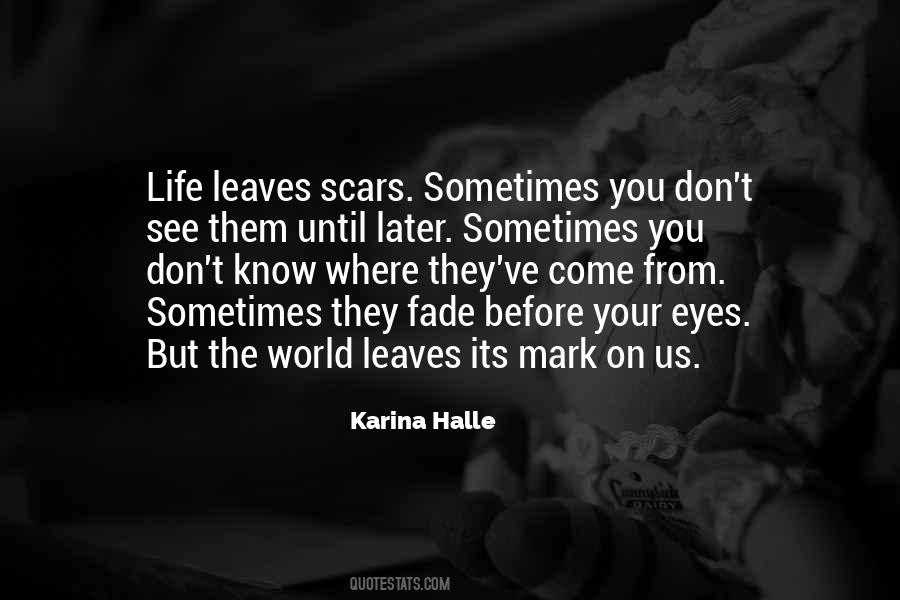 #7. Eddie asks, So what next?
And Jesus, his eyes dark but laced with a hint of mercy, the thorn scars just barely visible at his hairline, says, Damned if I know. - Author: Tom Piccirilli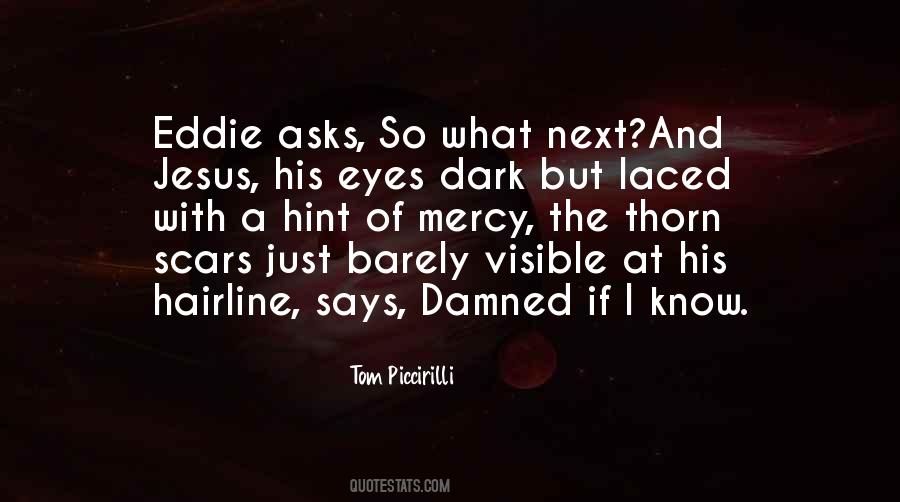 #8. I wanted to carve the scars that he left me with on his skin. - Author: Christine Brae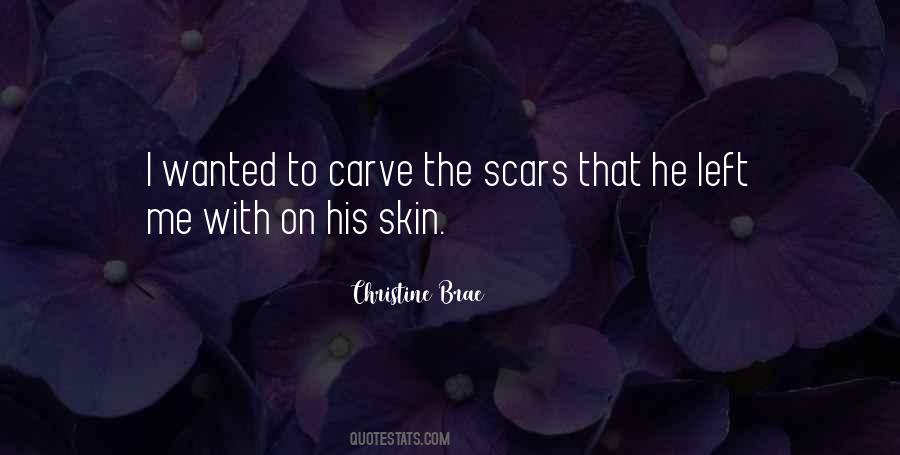 #9. A cave of scars!
ancient, archaic wallpaper
built up, layer on layer
from the earliest, dream-white
to yesterday's, a red-black scrawl
a red mouth slowly closing - Author: Adrienne Rich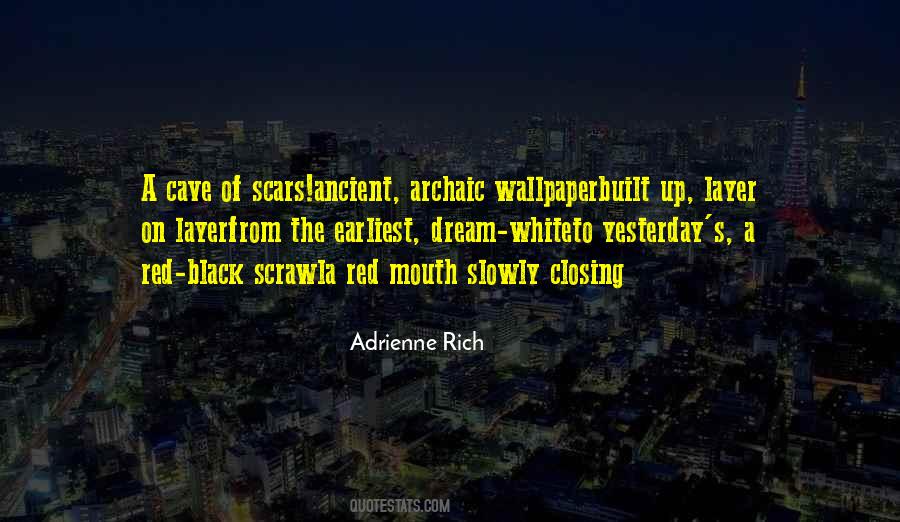 #10. Peter was struck by the scar's essential nature: it was not a disfigurement, it was a miracle. All the scars ever suffered by anyone in the whole of human history were not suffering but triumph: triumph against decay, triumph against death. - Author: Michel Faber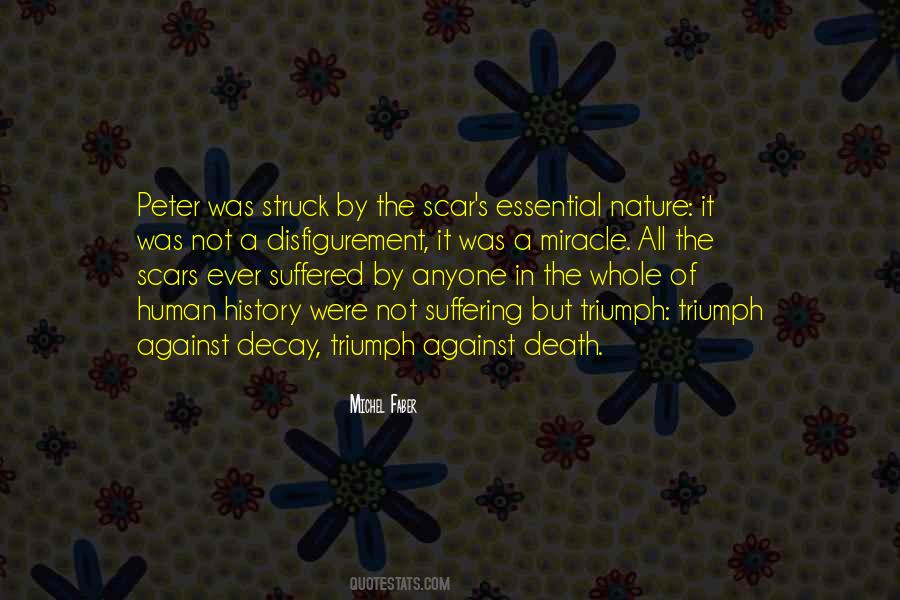 #11. If I am preoccupied with the changes my storm has created and concentrating on my scars, I will not be able to recognize Jesus. - Author: Jan Harrison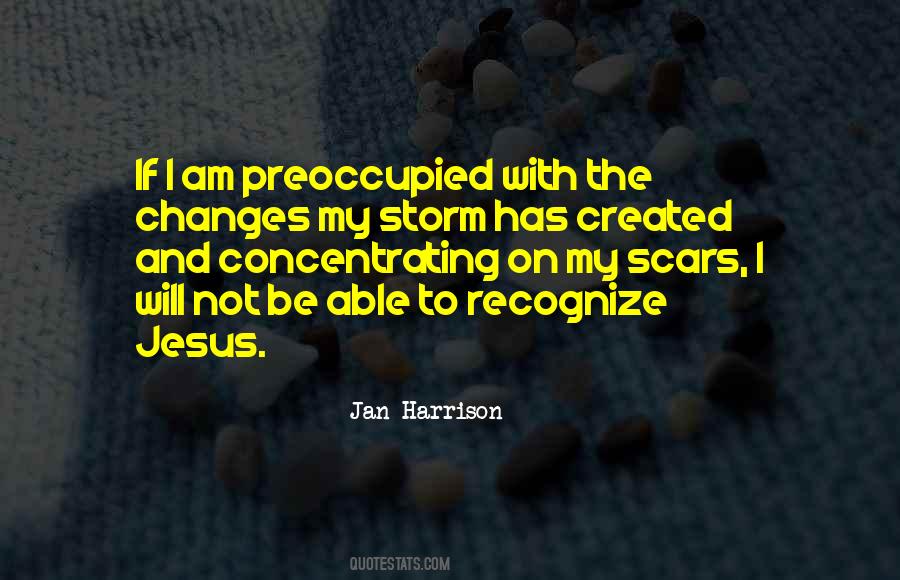 #12. Time heals. Crushes let up. Splinters work their way out. Doesn't mean they don't leave scars that itch. - Author: Lauren Beukes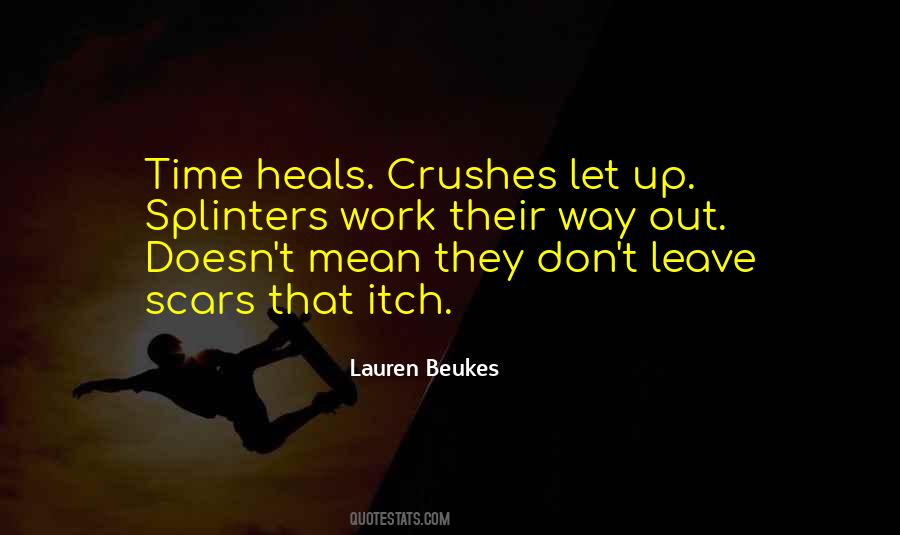 #13. I think scars are like battle wounds - beautiful, in a way. They show what you've been through and how strong you are for coming out of it. - Author: Demi Lovato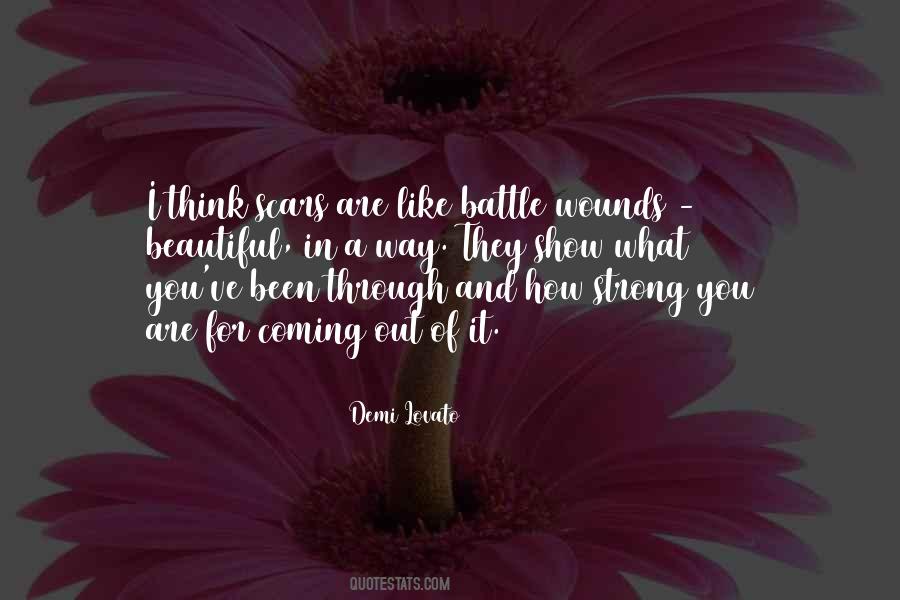 #14. Scars are not a disfigurement, they are a sign telling the world that you fucking survived whatever it was that tried to kill you. - Author: Jaden Wilkes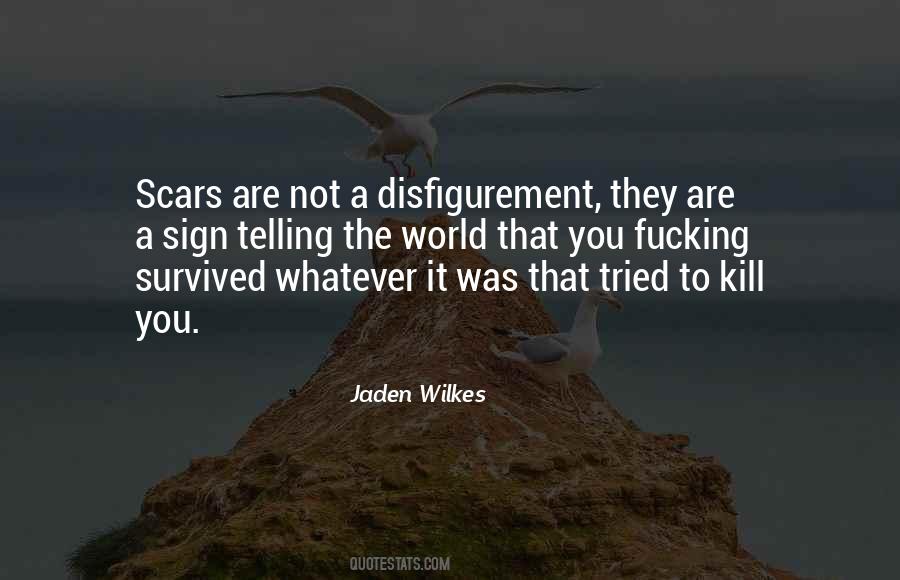 #15. Maybe your past isn't perfect. Maybe it was brutal. Maybe you were brutal. Maybe you've got more scars than you thought one skin could hold. You can't linger on those thoughts. You will drown in them. After all, it's only an interesting backstory if you can get past it. - Author: Jessica Hagy
#16. Empathy is a hand thick with scars offering you a bandage. - Author: Richelle E. Goodrich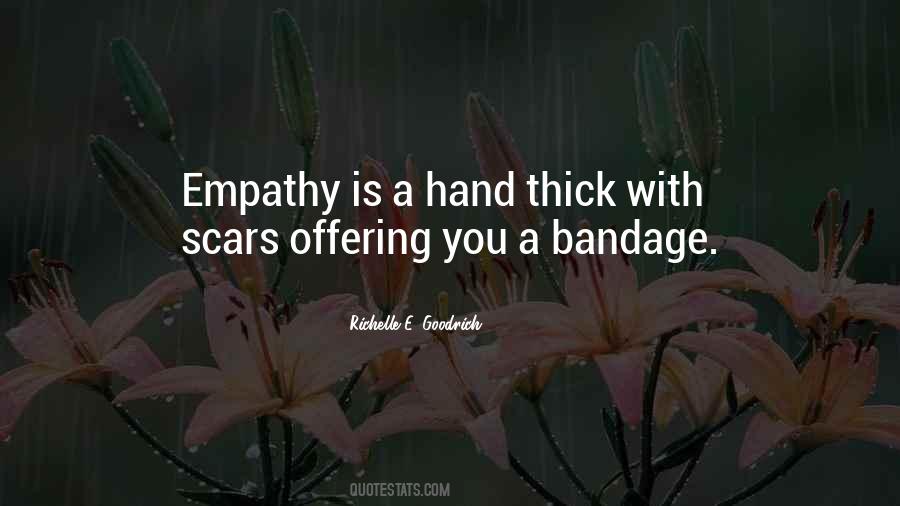 #17. Scars, whether physical or emotional, could be not just a representation of survival but also a story of hope. - Author: Jennifer L. Armentrout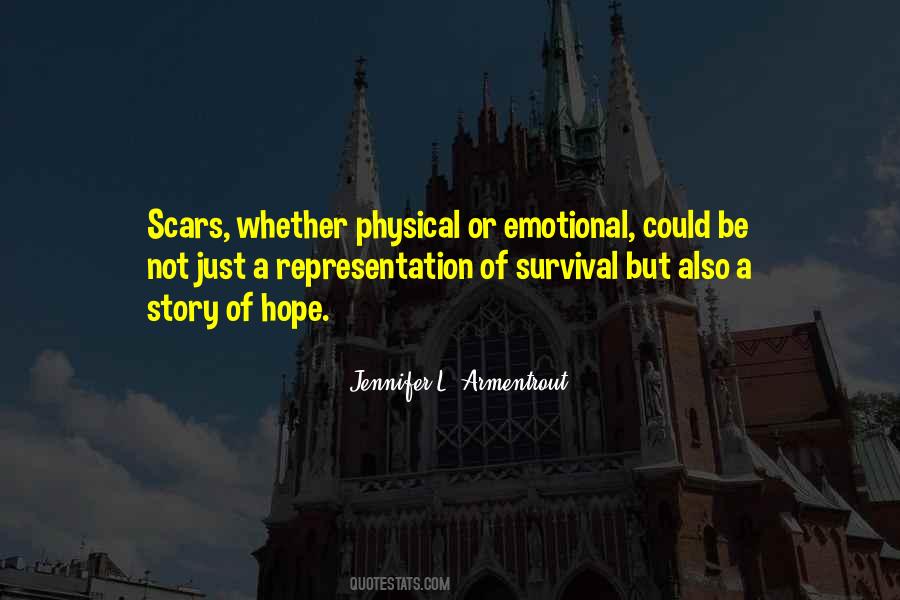 #18. You are afraid to let anyone in, but you still leave the door open, hoping someone good will shut the door behind him and throw away the keys. - Author: Jenim Dibie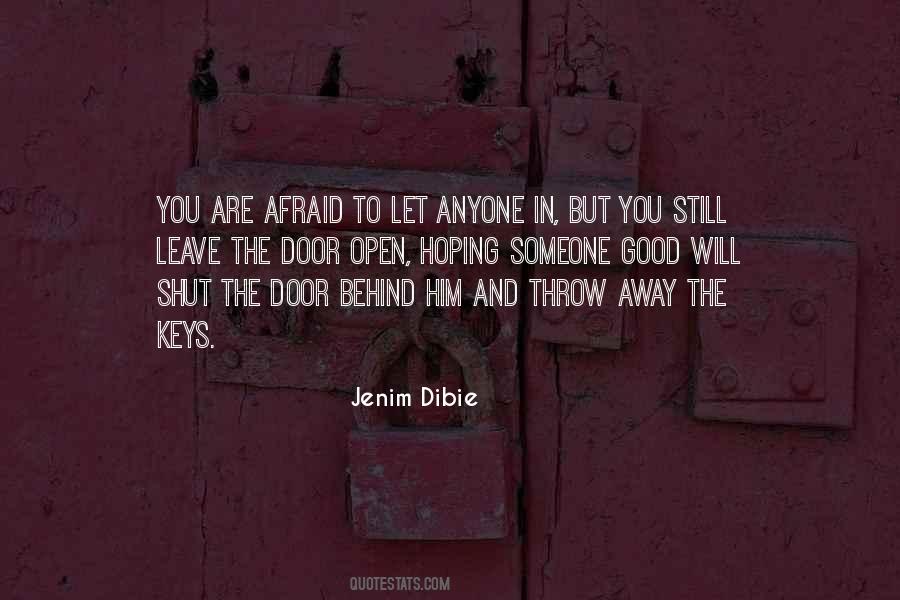 #19. I'm gonna love you with all these scars, with this sexy-as-fuck- short hair. However the fuck you look, wearing a damn Glad bag if you want. I'm in this with you 'til the very end. - Author: Tillie Cole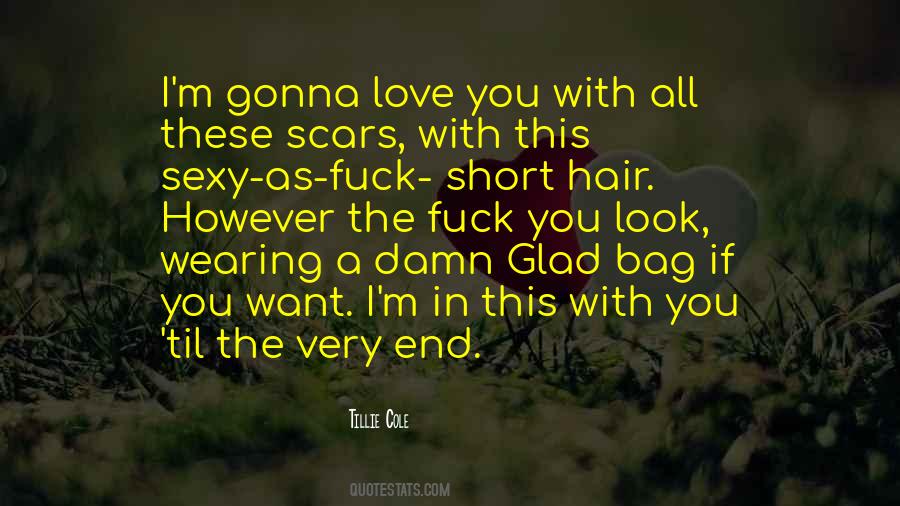 #20. I thought of how proud he was when he took the marks- cutting the skin of his throat in a long slash and then packing it with ashes until keloid scars rose up.
He called it his second smile. - Author: Holly Black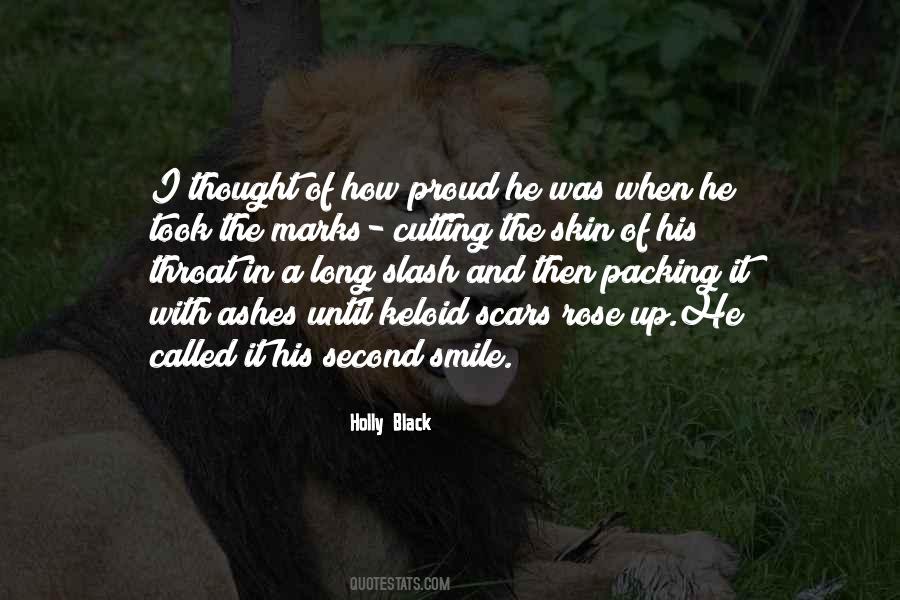 #21. I tear my heart open, I sew myself shut
My weakness is that I care too much
And my scars remind me that the past is real
I tear my heart open just to feel - Author: Papa Roach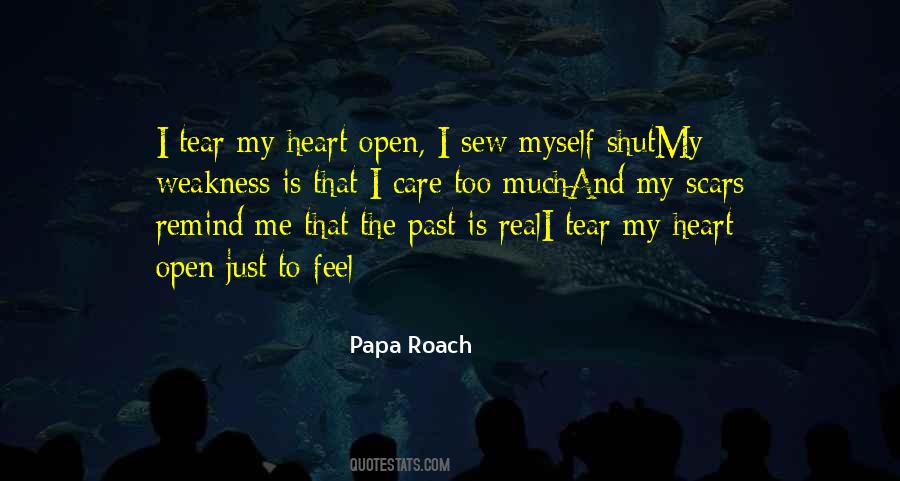 #22. My life was hurrying, racing tragically toward its end. And yet at the same time it was dripping so slowly, so very slowly now, hour by hour, minute by minute. One always has to wait until the sugar melts, the memory dies, the wound scars over, the sun sets, the unhappiness lifts and fades away. - Author: Simone De Beauvoir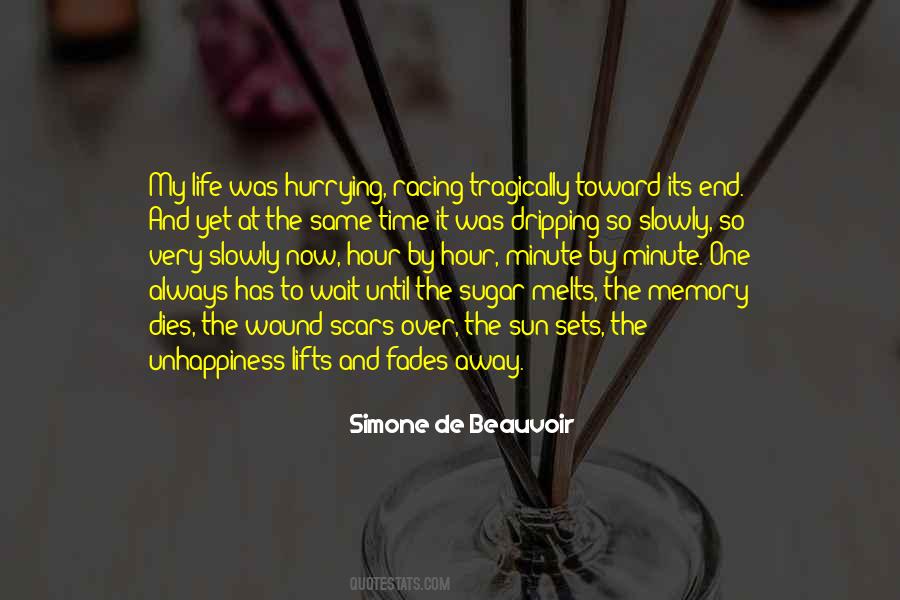 #23. Beware of biting jests; the more truth they carry with them, the greater wounds they give, the greater smarts they cause, and the greater scars they leave behind them. - Author: Johann Kaspar Lavater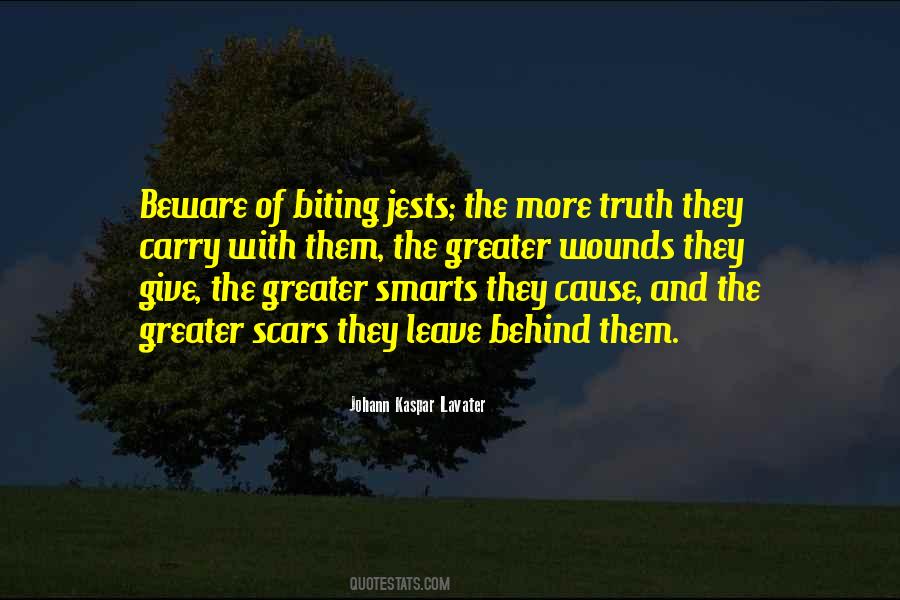 #24. I want to leave a mark.

But Van Houten: The marks humans leave are too often scars. - Author: John Green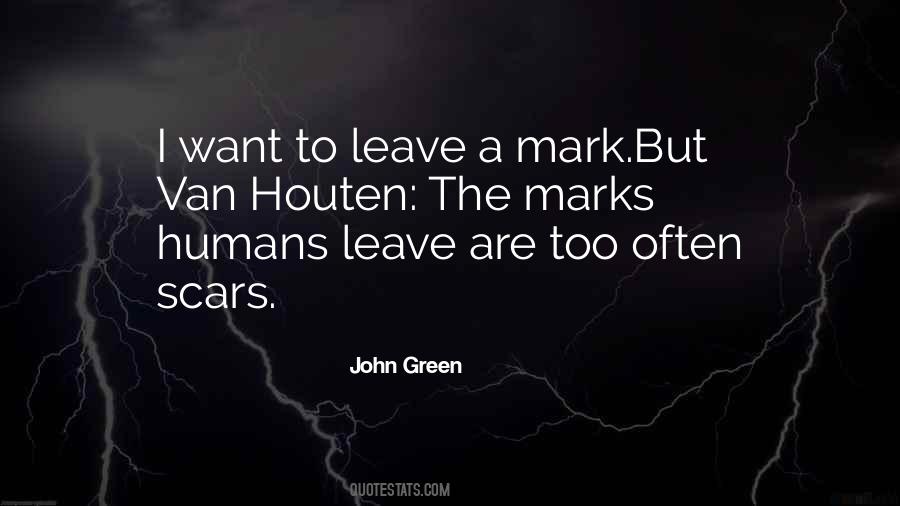 #25. Success demands a price that only a few are willing to pay ... blood, flesh, time, money, pride, heartbreak and energy. Anyone who has ever succeeded has the battle scars to prove the sacrifices they've made. - Author: Toni Sorenson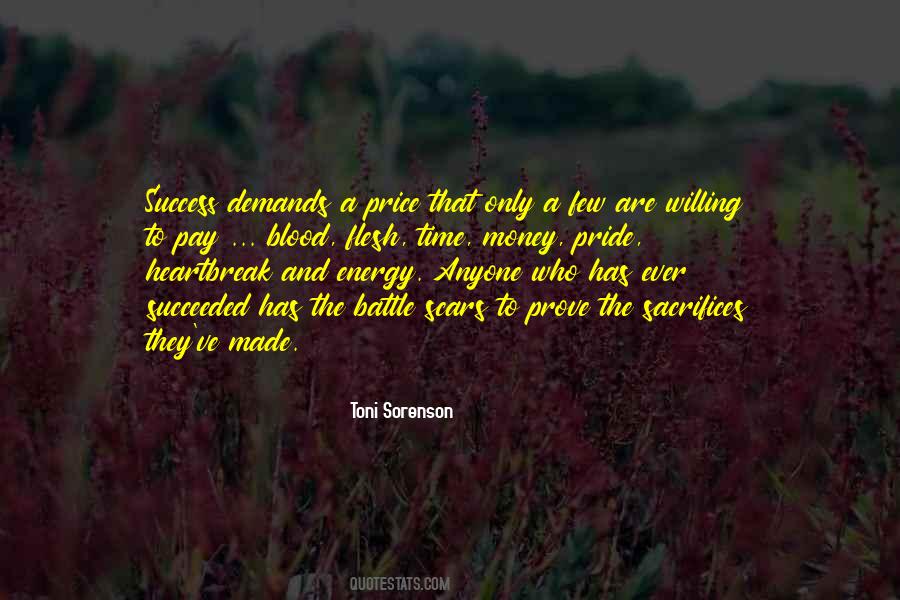 #26. This little kid pointed at me and said, 'You look disgusting!' That was the first time I thought maybe I did. I decided I'd better start eating. I'm just thankful that I made it through with relatively few scars. - Author: Susan Dey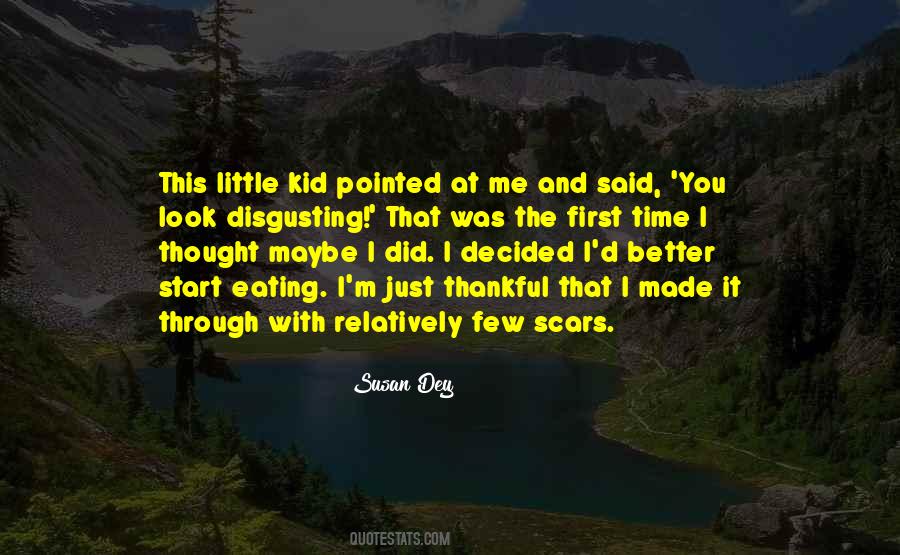 #27. When wounds are healed by love,
The scars are beautiful. - Author: David Bowles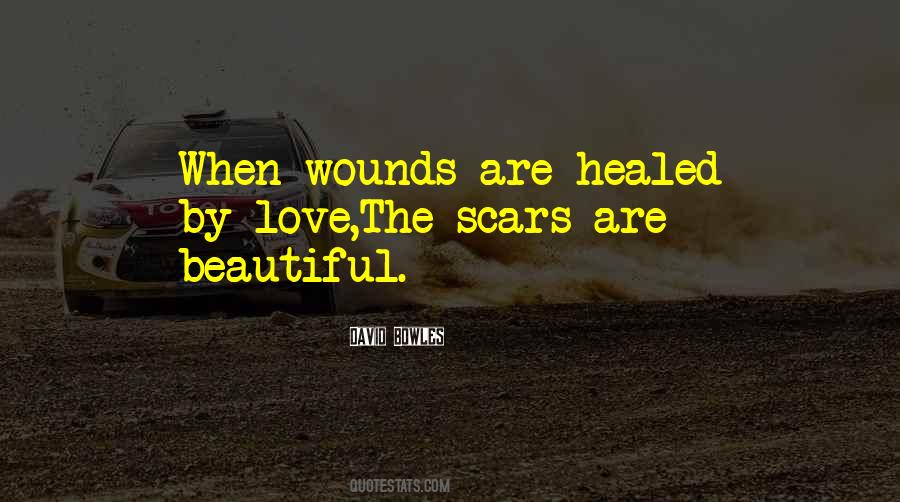 #28. Life does pack a punch. But it's the scars that make us who we are, that tell the story of the life we lived. - Author: Adriana Locke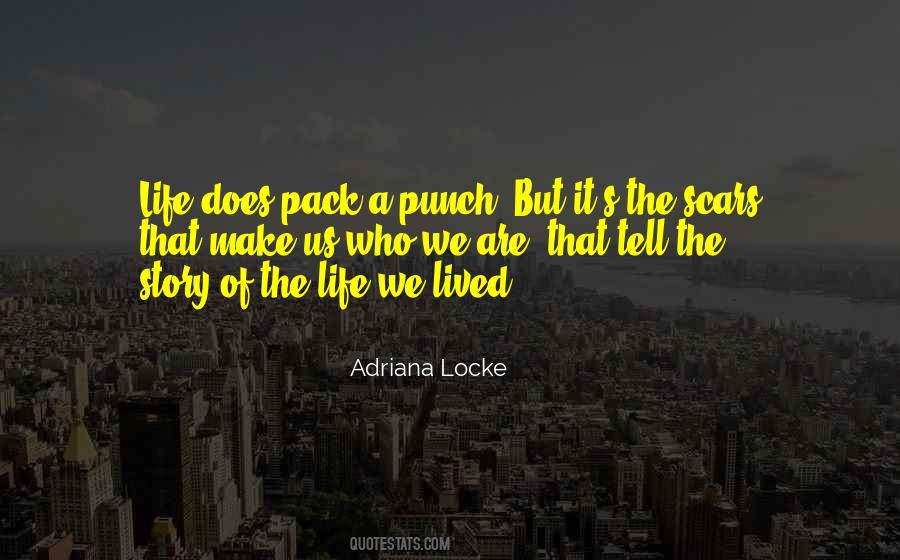 #29. Silk didn't care if it slid over scars or smooth, untouched skin. I'd earned my right to be paranoid. - Author: Laurell K. Hamilton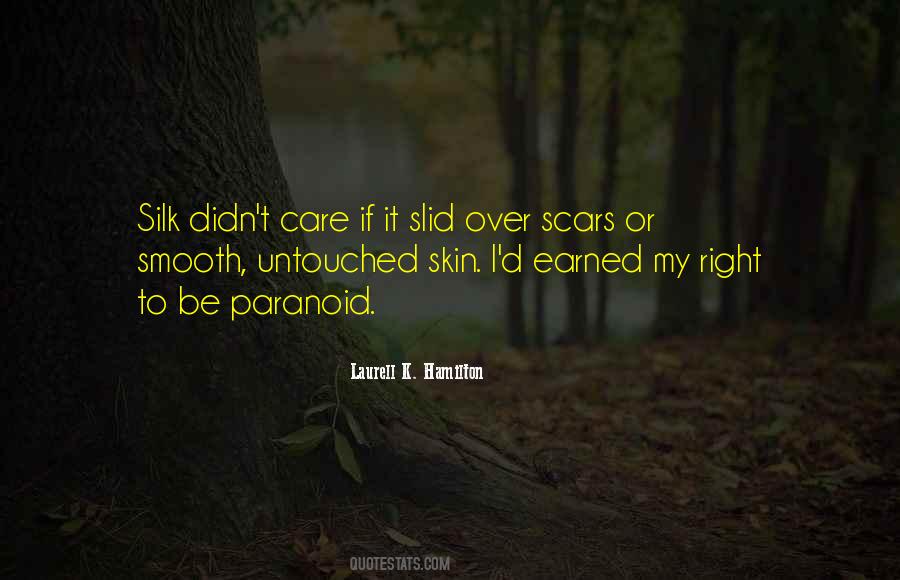 #30. It's our scars that define us. - Author: Lisa Renee Jones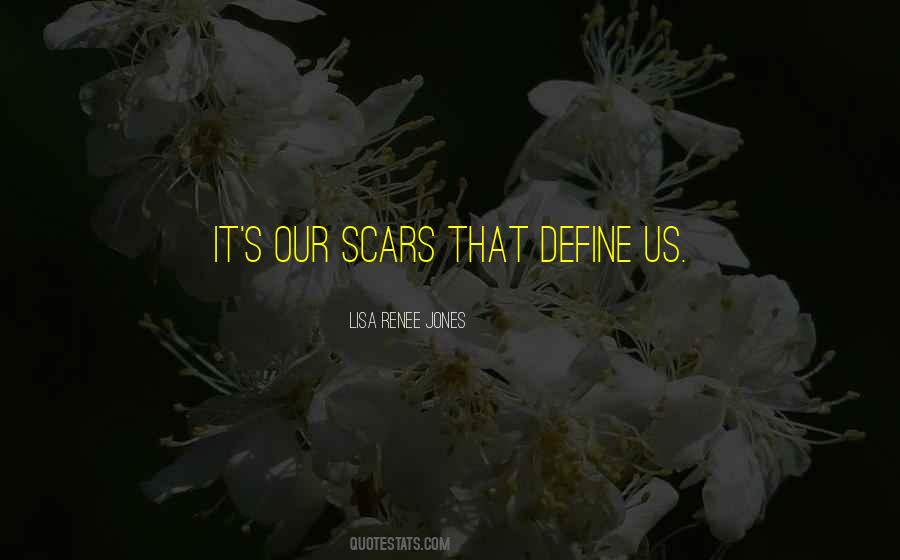 #31. Injuries heal, but wrinkles are the scars of time. - Author: Bauvard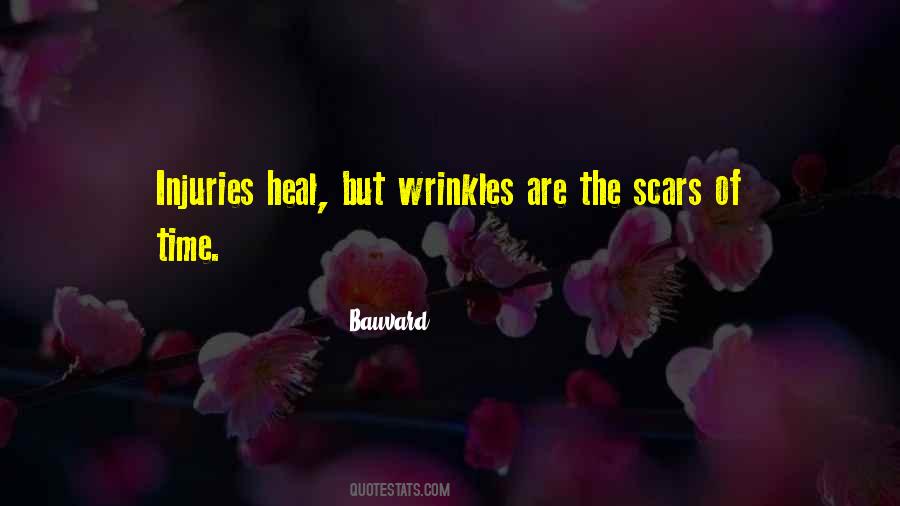 #32. I think that I am a walking testimony to you can have scars. You can go through turbulent times and still have victory in your life. - Author: Natalie Cole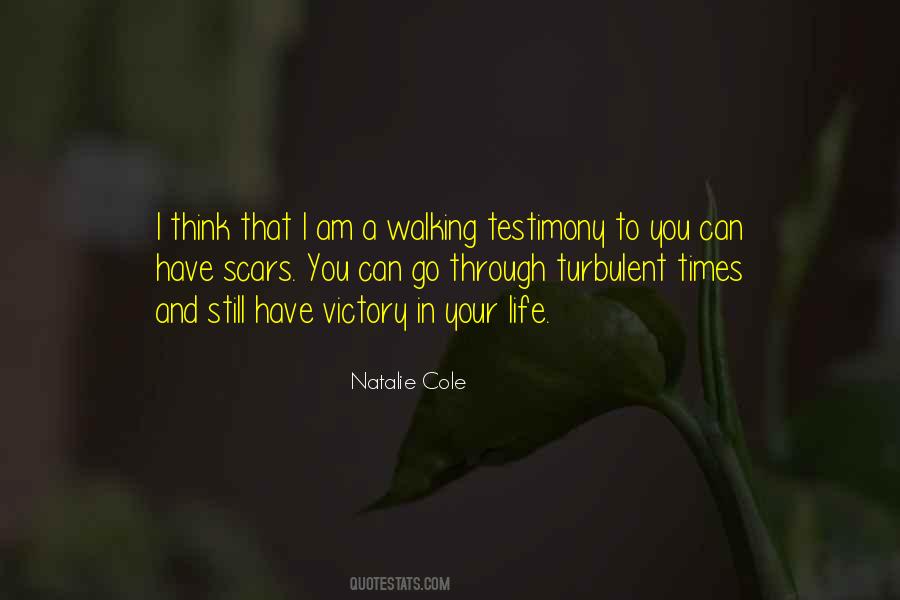 #33. And all the hurts and scars / Of everyday were healed, and I would sleep / Safe with the good-night memory of stars. - Author: Jane Merchant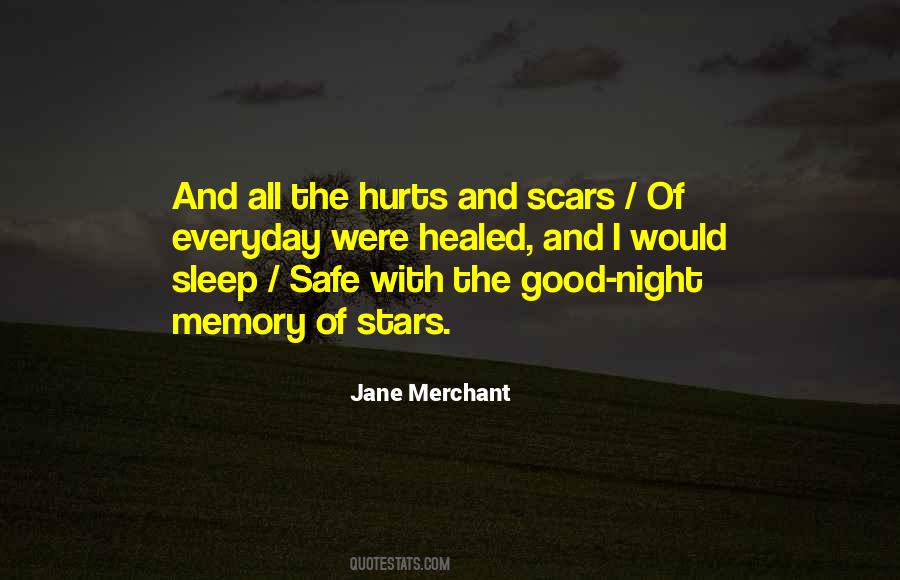 #34. The tenderness in his touch lashes out and scars my heart. - Author: Colleen Hoover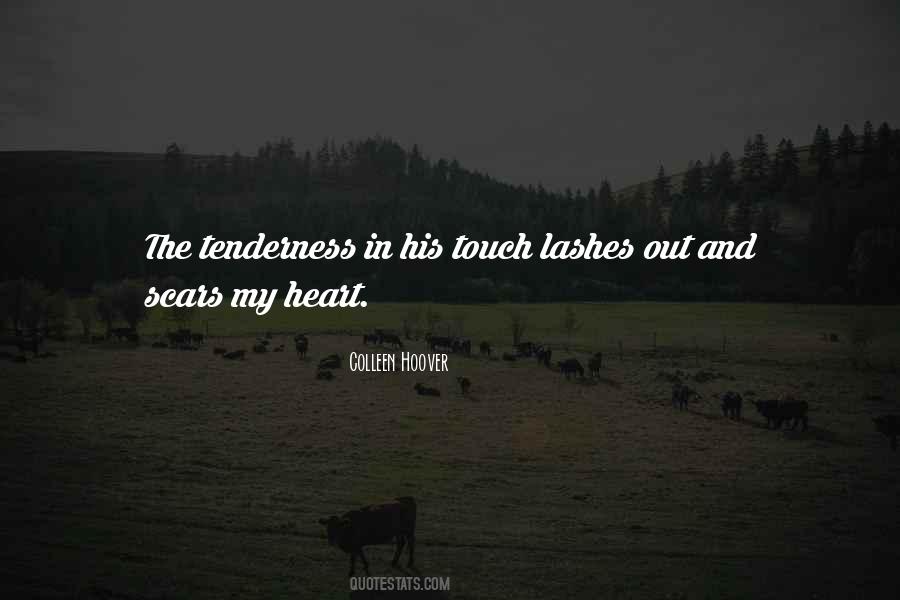 #35. Everyone deserved at least one friend they could trust with their secrets and fears. With their guilt, with their happiness. Everyone deserved a person who could look into their eyes and say, "You're enough. You're perfect, scars and all." I thought Tristan deserved that more than most, though. - Author: Brittainy C. Cherry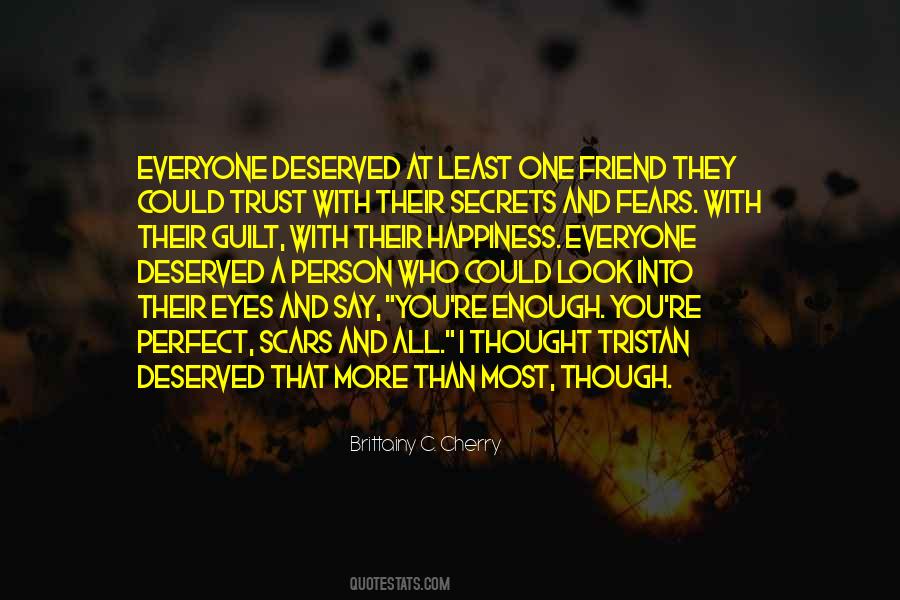 #36. I look in the mirror and see a few scars, but I like myself. - Author: Steven Adler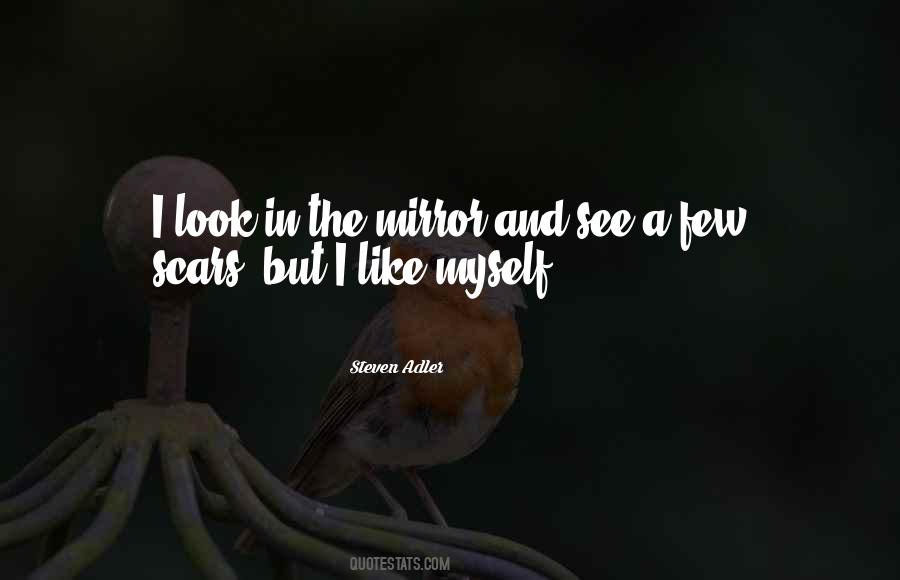 #37. I don't need no surgery, or tattoos. I already got the marks and scars of the Universe on my face and body. - Author: Robert Black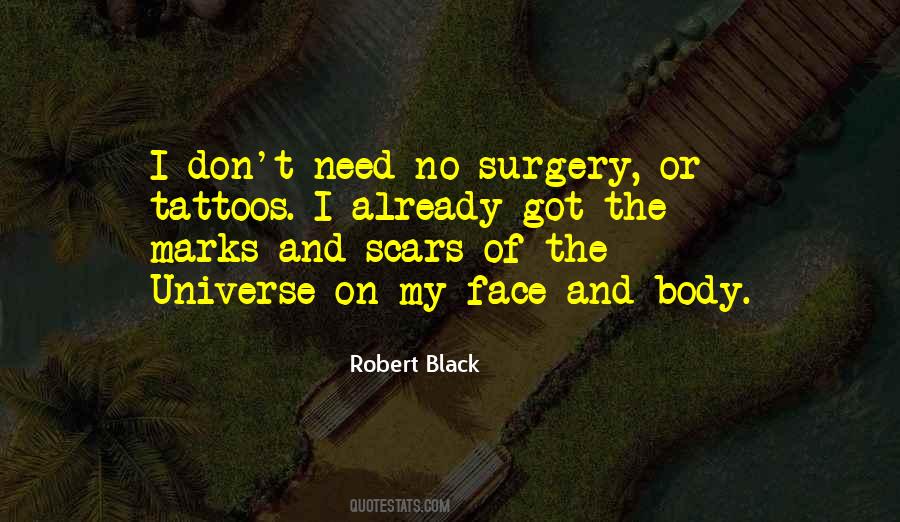 #38. I want Little Noah looking like a beat-up mess by the time he's eighteen."
"Why?"
"Cause no woman wants a delicate man. He needs to be sporting at least five scars. - Author: S. Walden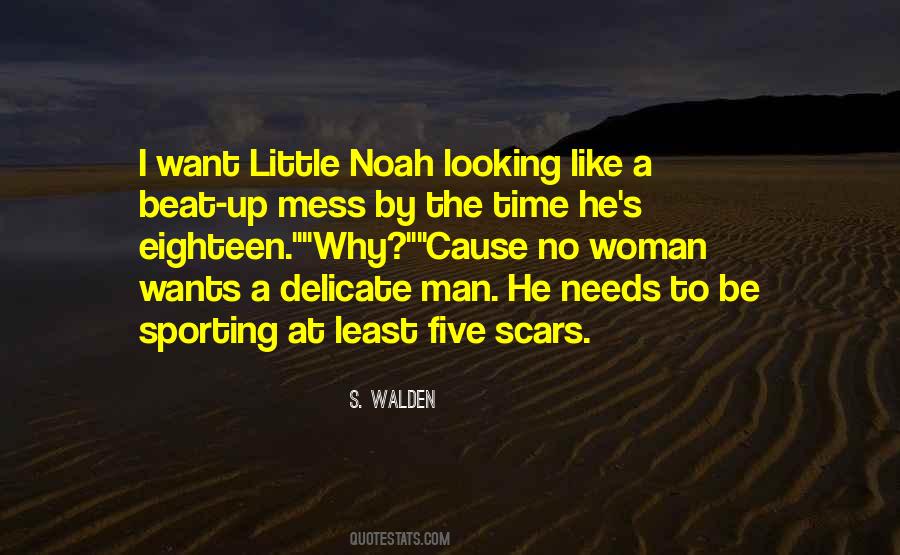 #39. I'm seventeen. This isn't puppy love any more. The boys are nearly men, when they bite they leave scars. - Author: Tanya Byrne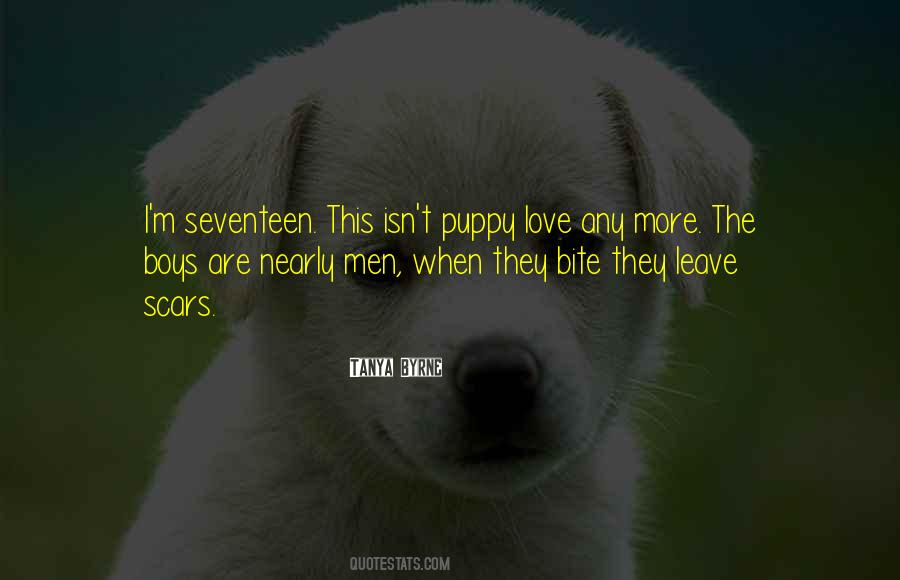 #40. Wait patiently for the right moment to act. Do not let the next opportunity slip by you. Take pride in your scars. - Author: Paulo Coelho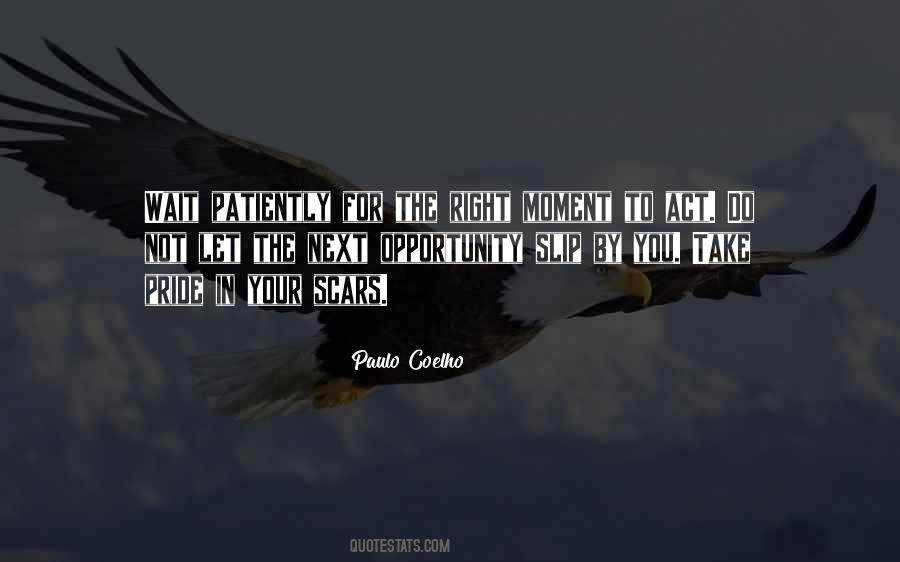 #41. Bruises heal more quickly than emotional scars do. - Author: The Arbinger Institute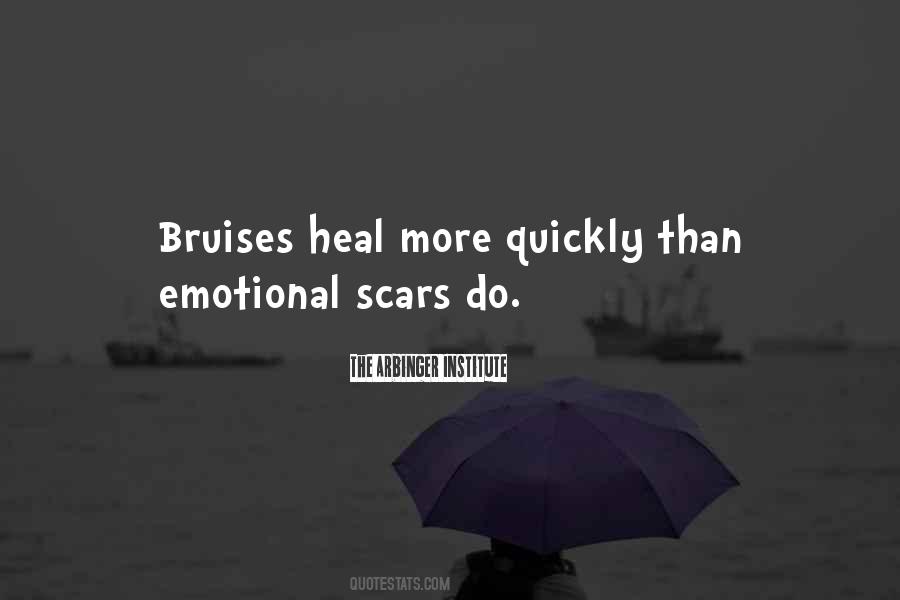 #42. Love leaves scars. - Author: Stephen King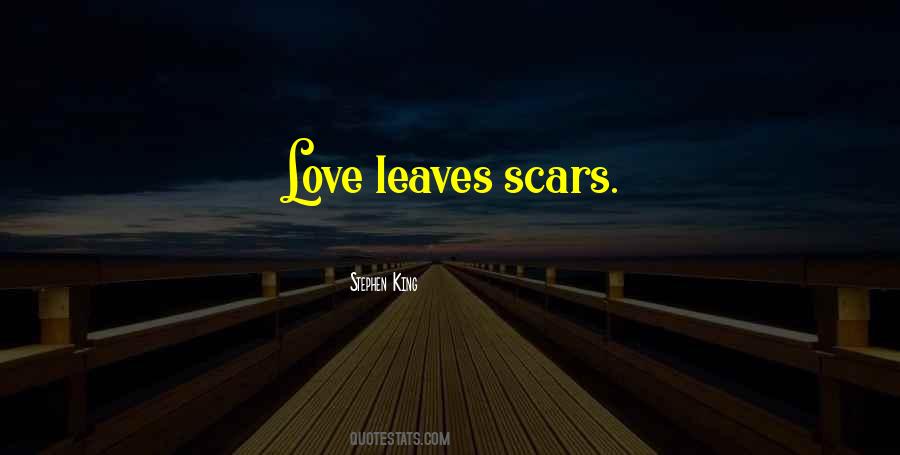 #43. Scars are the evidence that wounds can heal. That wounds don't last forever. That healing is possible. - Author: Lecrae Moore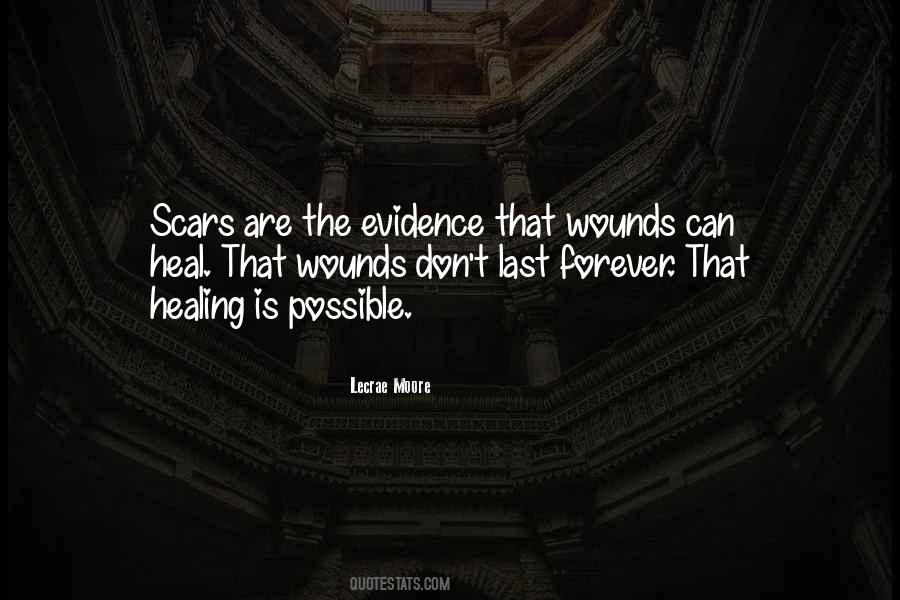 #44. Contrary to what we may have been taught to think, unnecessary and unchosen suffering wounds us but need not scar us for life. It does mark us. What we allow the mark of our suffering to become is in our own hands. - Author: Bell Hooks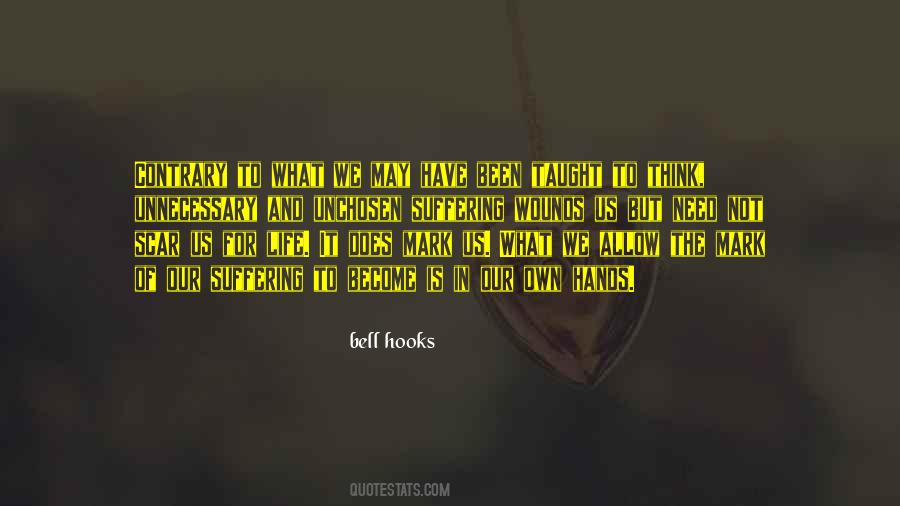 #45. Scars remind us we can live life without fear because no matter what happens, we'll heal. We'll get better. - Author: Lindsey Fairleigh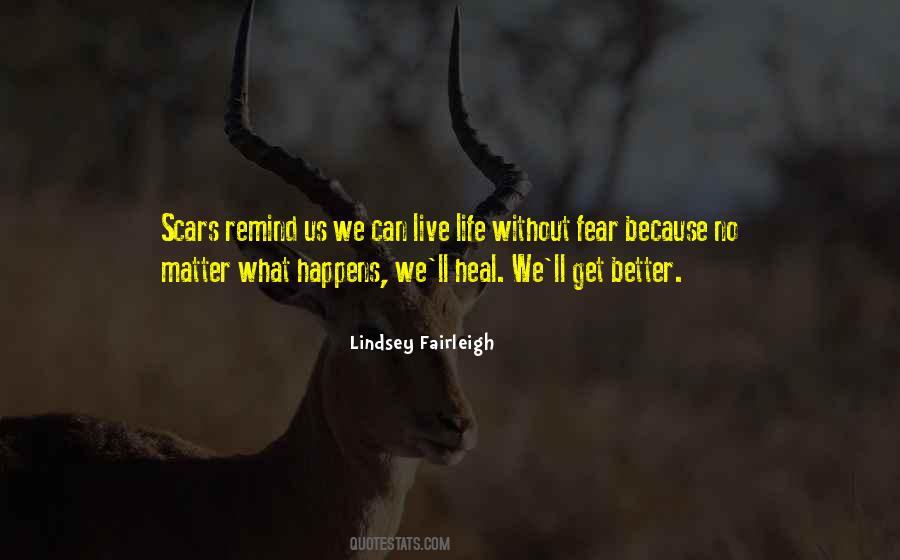 #46. Under her thick pancake makeup, her skin had been pockmarked, but he would stare at her adoringly from his cot at night and imagine her scars were constellations, a secret map to a far-off, happy place. - Author: Sarah Addison Allen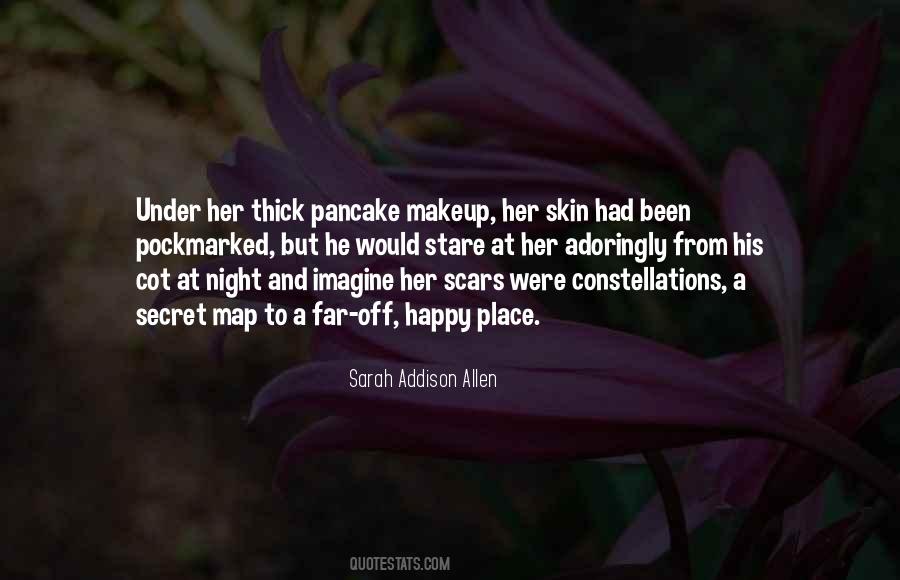 #47. We have our agreement about scars, I know, but this time I looked away because sometime you can see too much beauty. - Author: Chris Cleave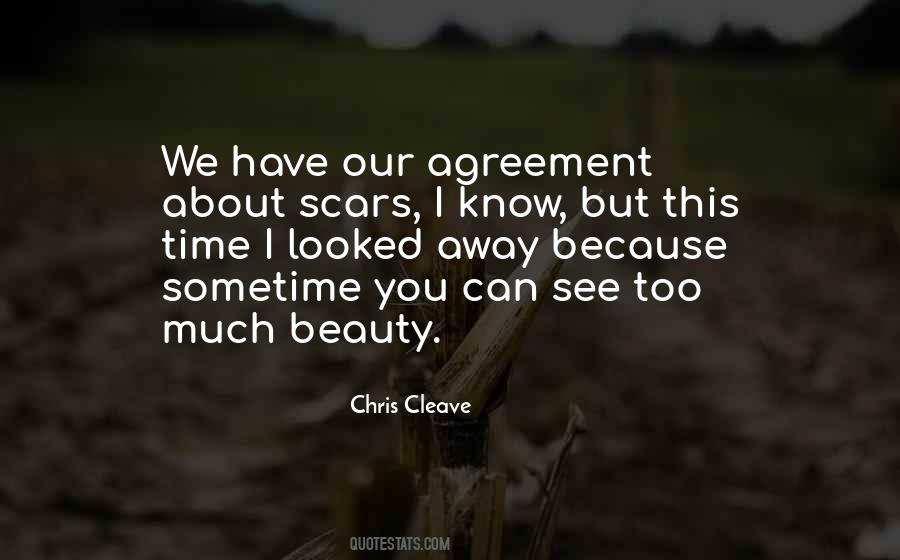 #48. A really strong woman accepts the war she went through and is ennobled by her scars. - Author: Carly Simon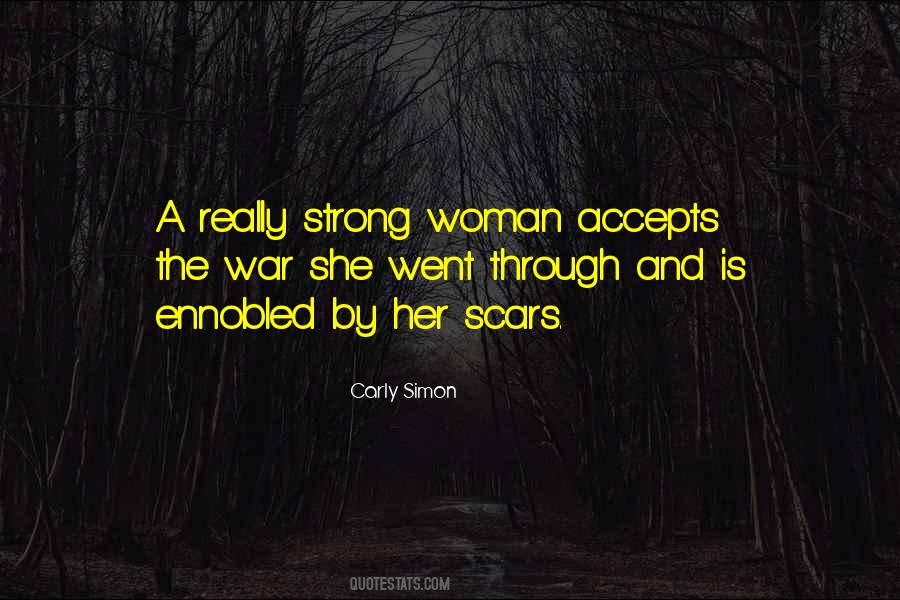 #49. My husband used to say that scars were like tattoos but with better stories." "I - Author: Gayle Forman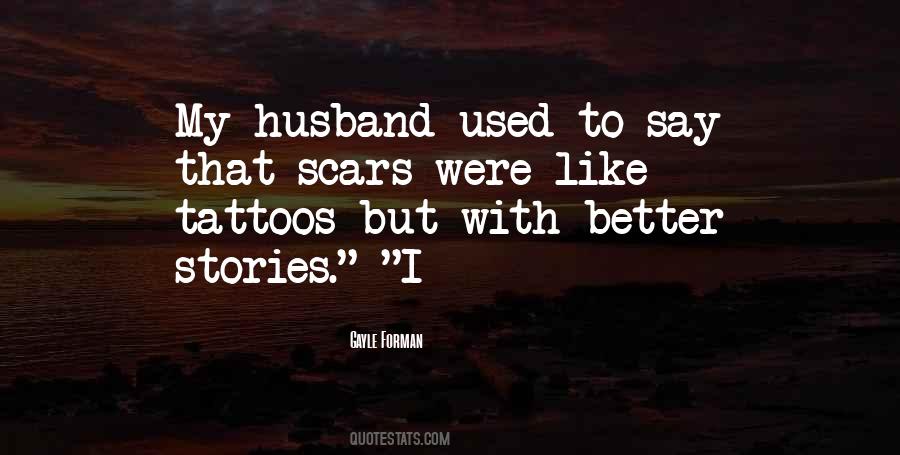 #50. Scars are beautiful when we see them as glorious reminders that we courageously survived. - Author: Lysa TerKeurst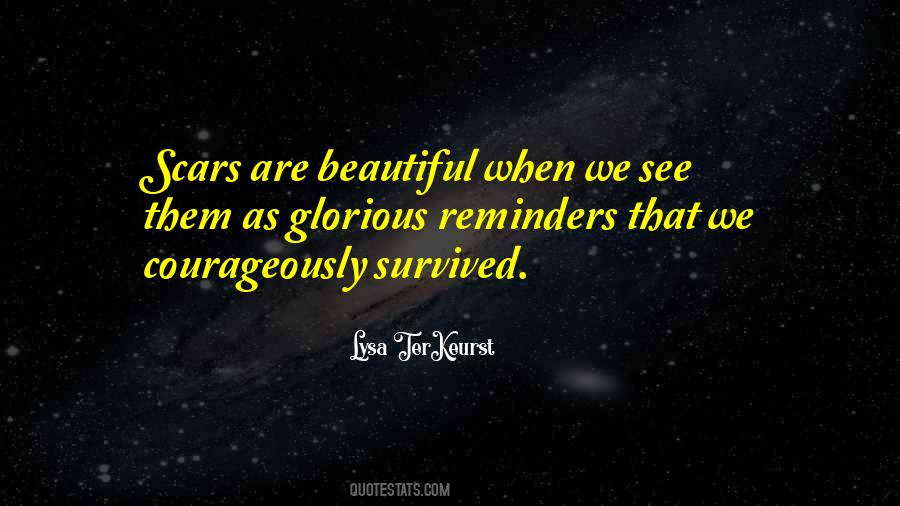 #51. The Irish tell the story of a man who arrives at the gates of heaven and asks to be let in St. Peter says, "Of course, just show us your scars." The man says, "I have no scars". St. Peter says, "What a pity was there nothing worth fighting for"? - Author: Martin Sheen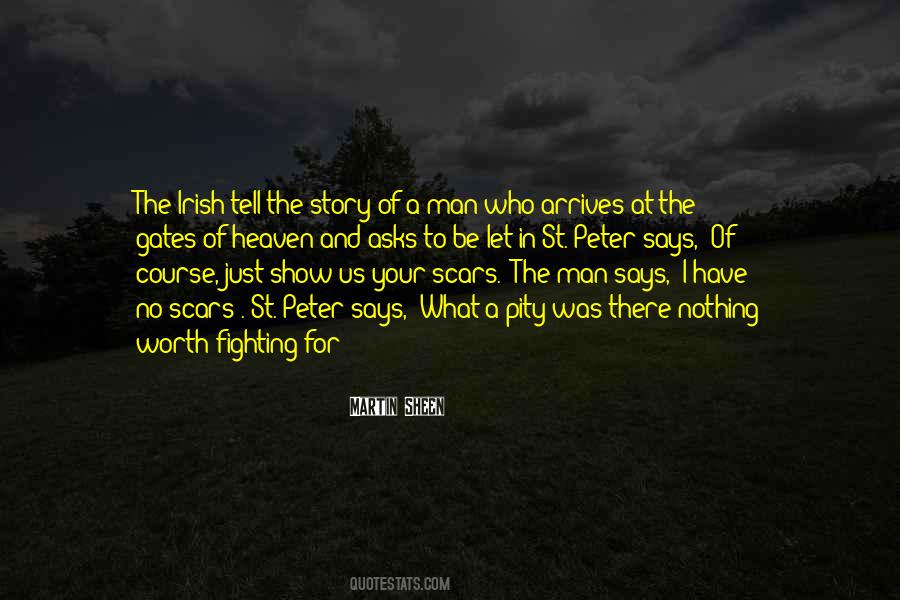 #52. When we learn from experience, the scars of sin can lead us to restoration and a renewed intimacy with God. - Author: Charles Stanley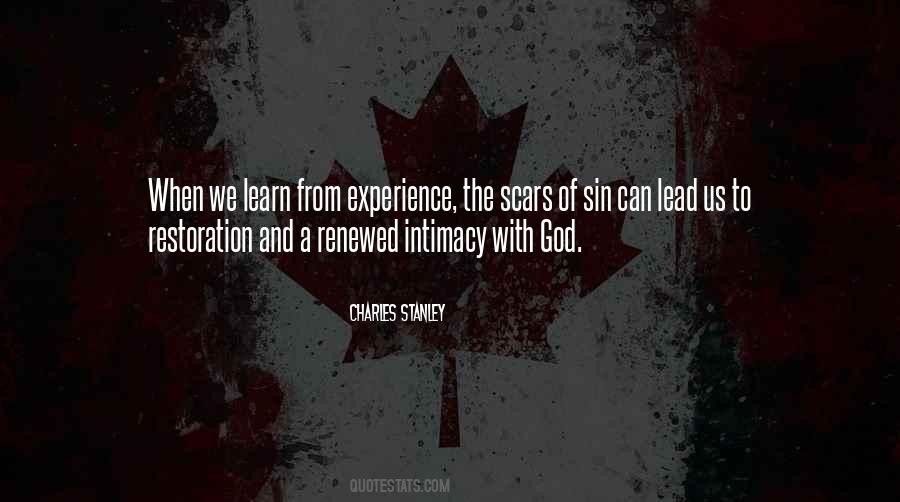 #53. You used to think your scars were your kryptonite. To me they've always made you seem like a superhero. - Author: Posy Roberts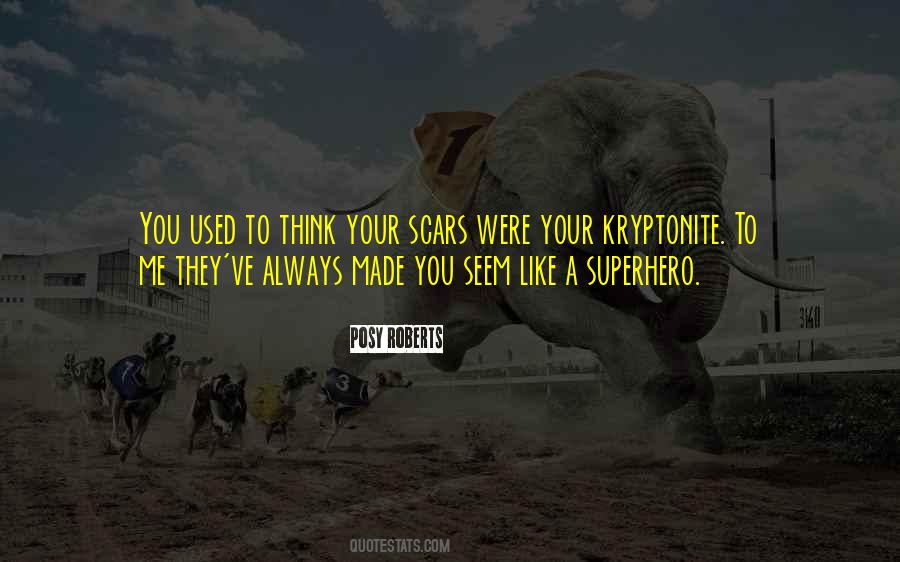 #54. I think you should leave [the scar]. [...] It's not as bad as you think. It will look better once it is healed. And besides, you already have a classical beauty. This gives you a romantic beauty as well. - Author: April Adams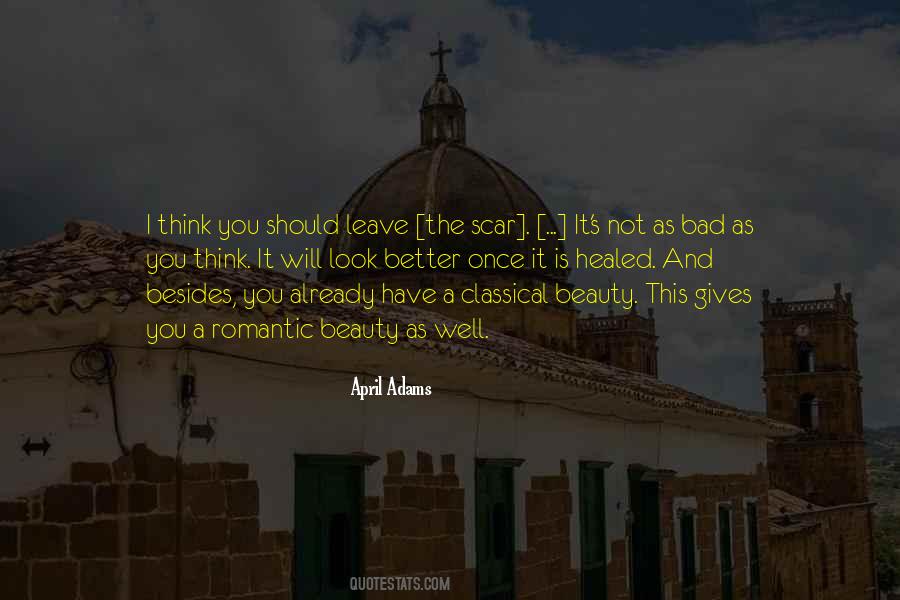 #55. I averted my eyes, looked around, and stumbled through all the faces in the room till they finally rested on his. He was standing like a scared bird, waving one wing and using the other to hide his scar. Aya Rabah- Scars - Author: Refaat Alareer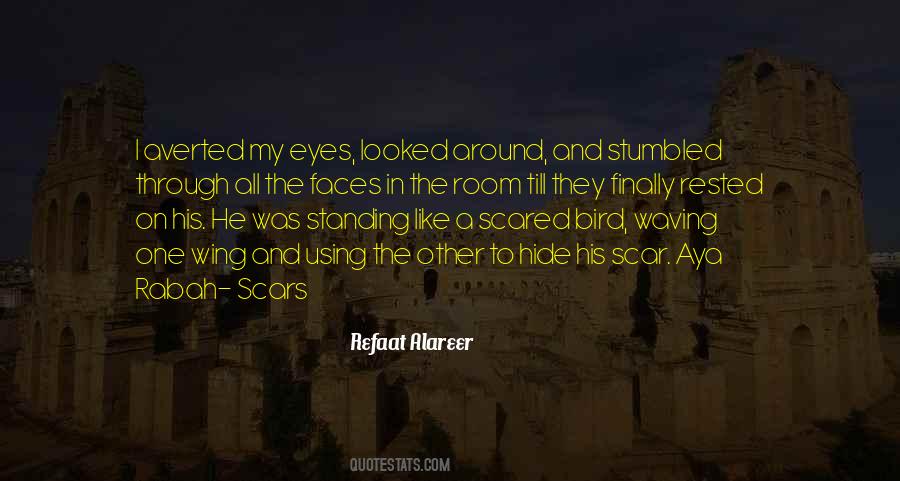 #56. The patchy starlight gives every one of his bee-sting scars its own shadow, so his face mirrors the desert landscape: bursts of scrub and rocks, miles of flat. - Author: Lindsay Eagar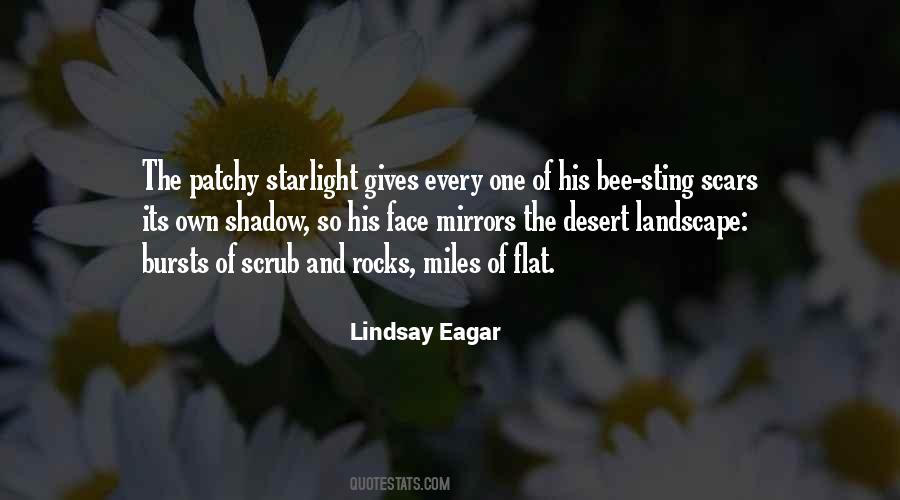 #57. Comedy is a necessity to get through life with the fewest scars. Humor is the best antidote to help relieve all struggles. - Author: Suzy Kassem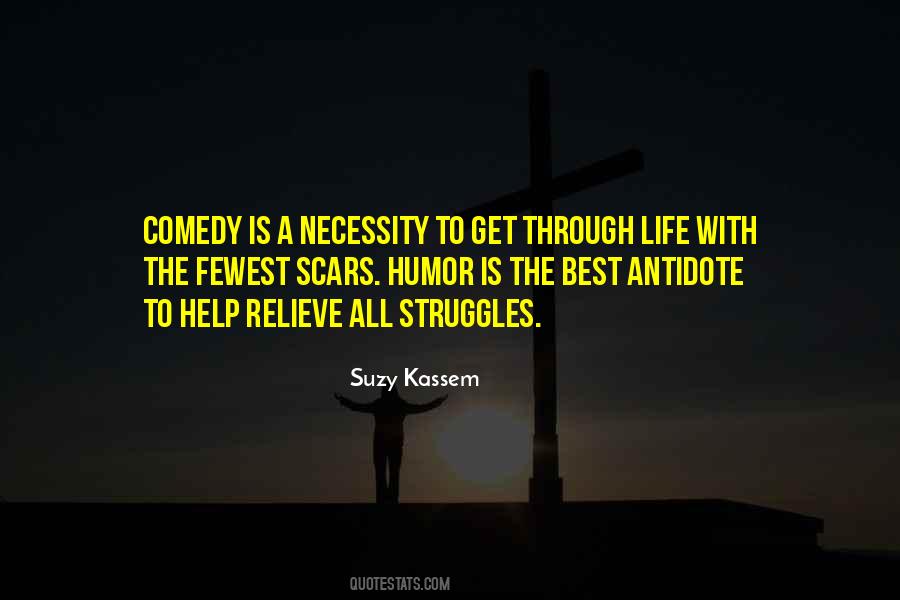 #58. He carried emotional and mental scars as long-lasting and vivid as the whip marks on his body. - Author: Marguerite Labbe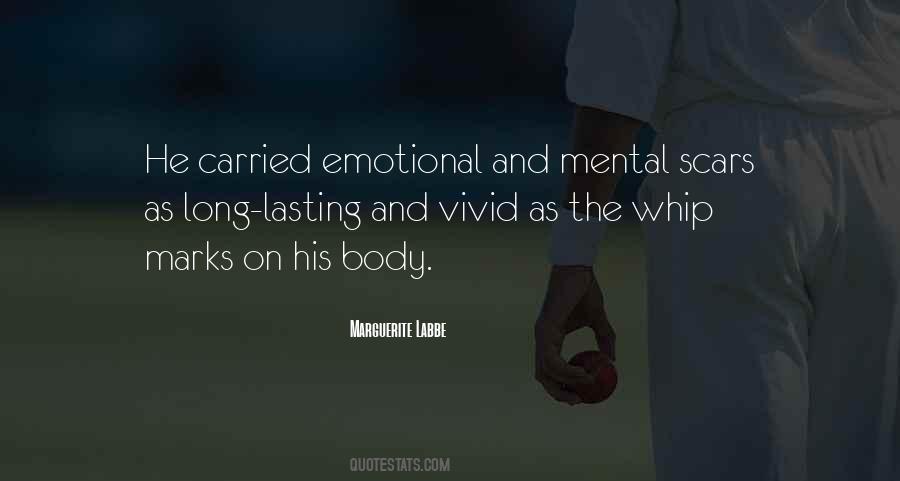 #59. Revenge is a tricky beast. Her claws face both ways. I don't mind a few more scars. They'll be unnoticed among the rest. - Author: Kim Harrison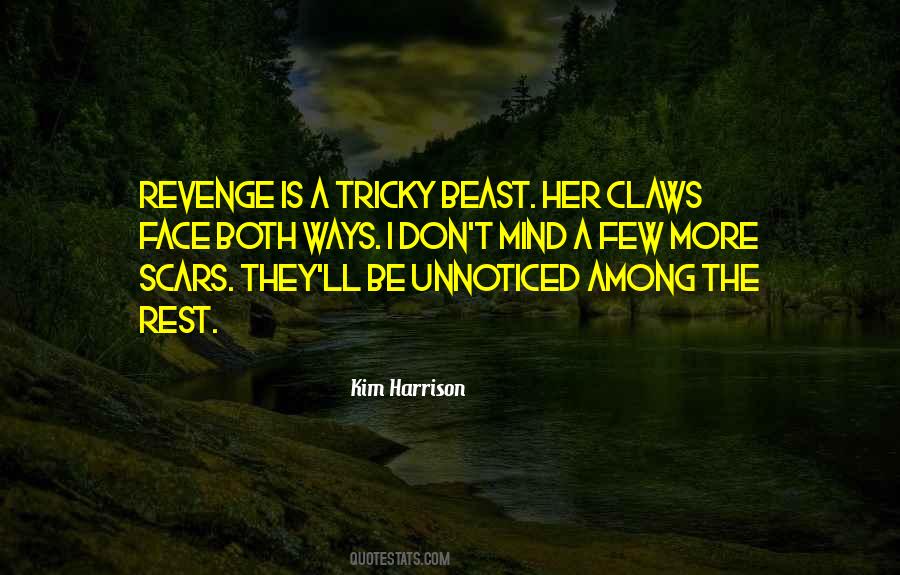 #60. Scarred was better than dead, so Neil figured he'd get over the stares eventually. - Author: Nora Sakavic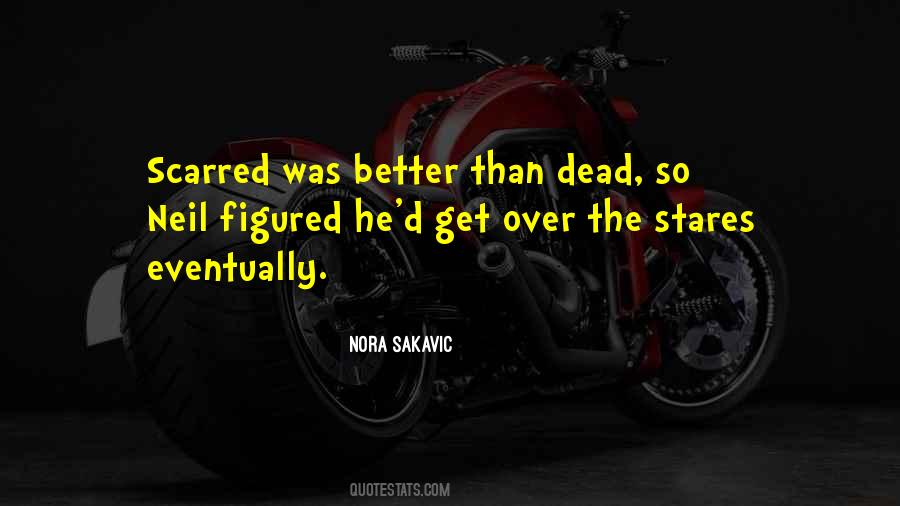 #61. Another reason why we must love our enemies is that hate scars the soul and distorts the personality. - Author: Martin Luther King Jr.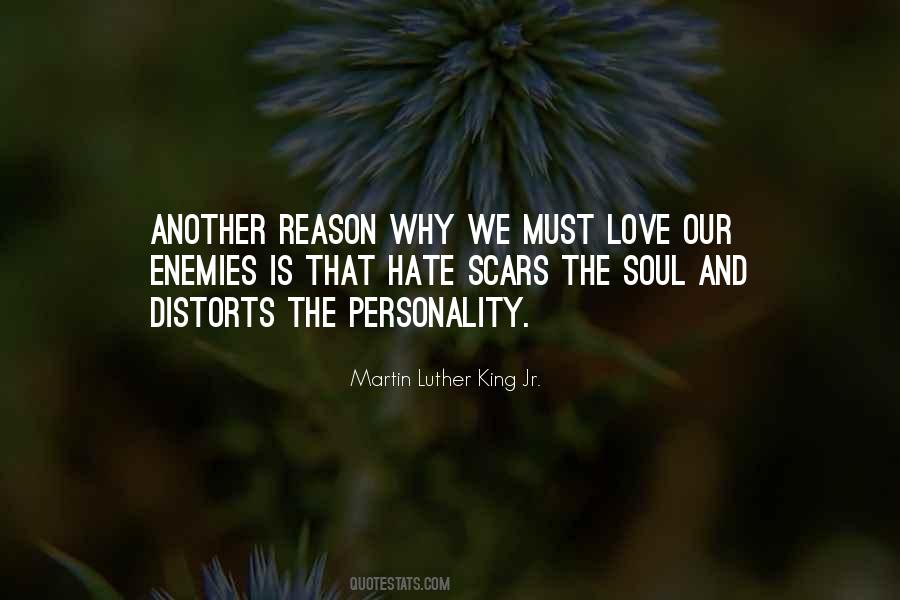 #62. I do have a few little tattoos, but they were mostly done to cover scars because I'm so fair. - Author: Dolly Parton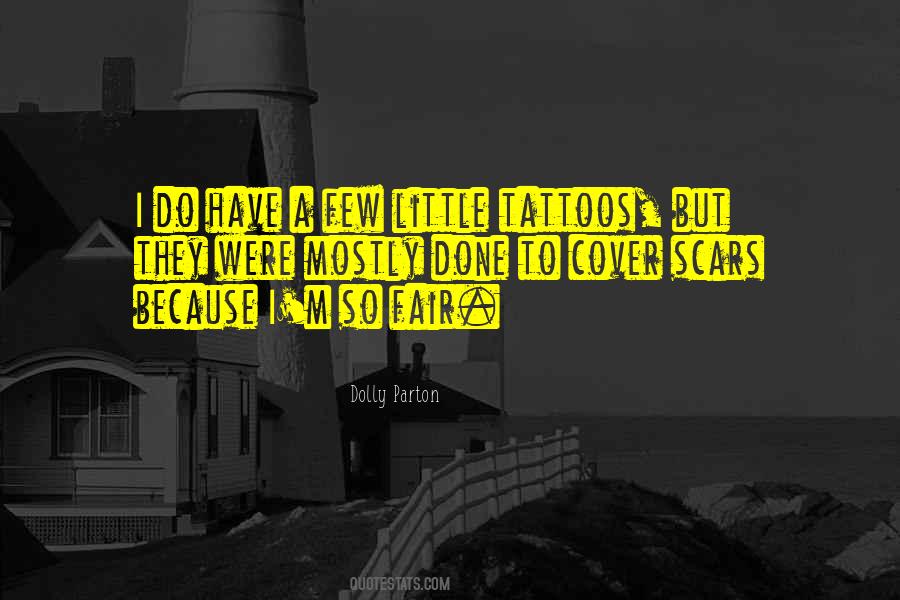 #63. There's the suffering from love and the suffering from grief - either pain permanently scars the soul ... - Author: John Geddes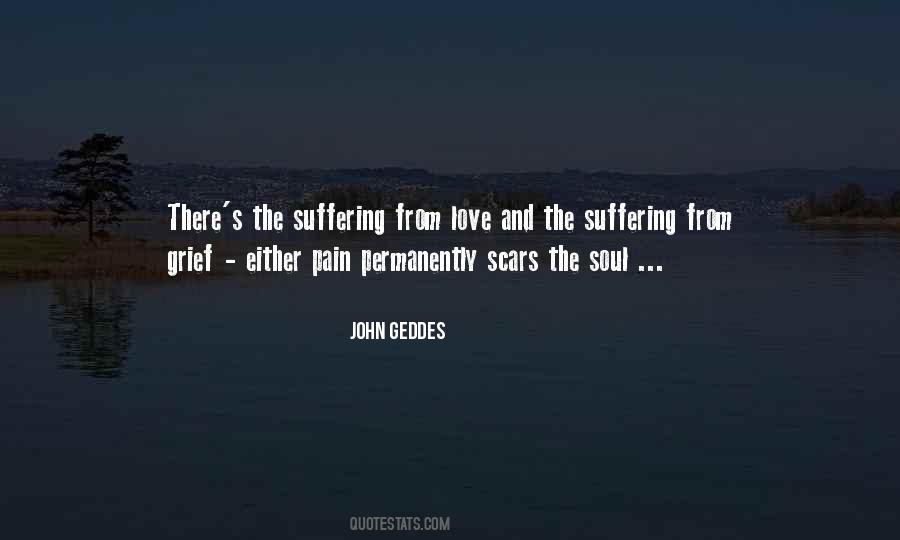 #64. Everyone has scars, Tenley.
If we're lucky, they're only on the outside". - Author: Helena Hunting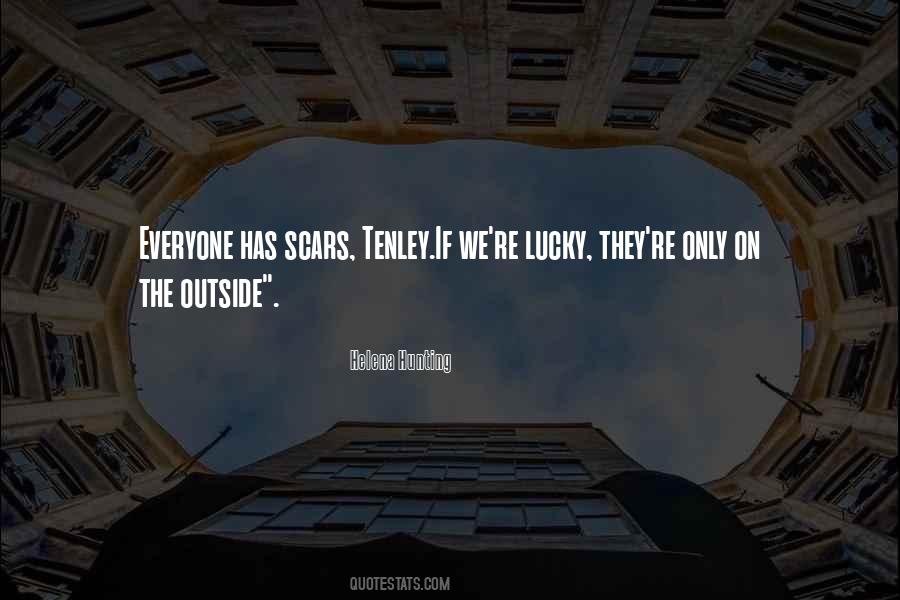 #65. Hide the scars, let us pretend. If you burry deep enough, no one can find them. - Author: S.L. Northey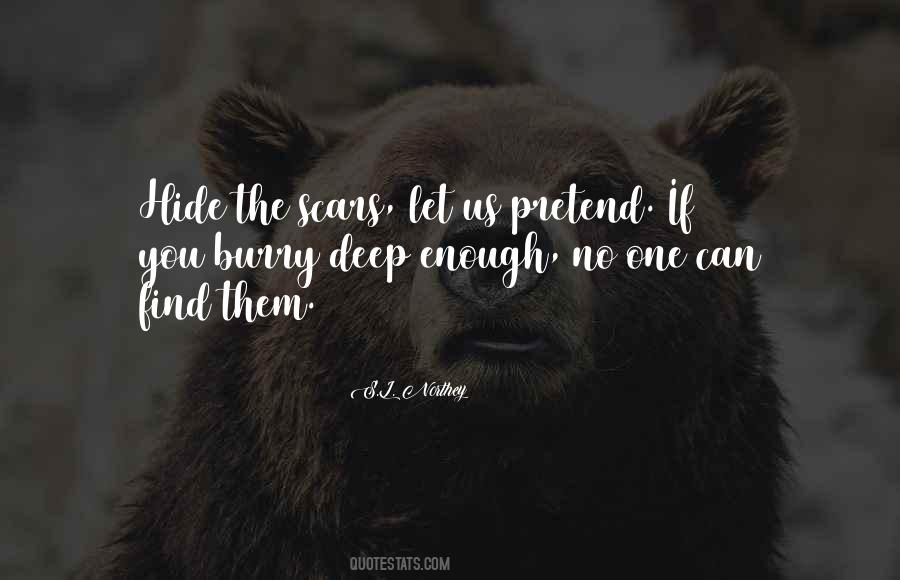 #66. Of all the priceless objects left behind, this is what we rescue. These artifacts. Memory cues. Useless souvenirs. Nothing you could auction. The scars left from happiness. - Author: Chuck Palahniuk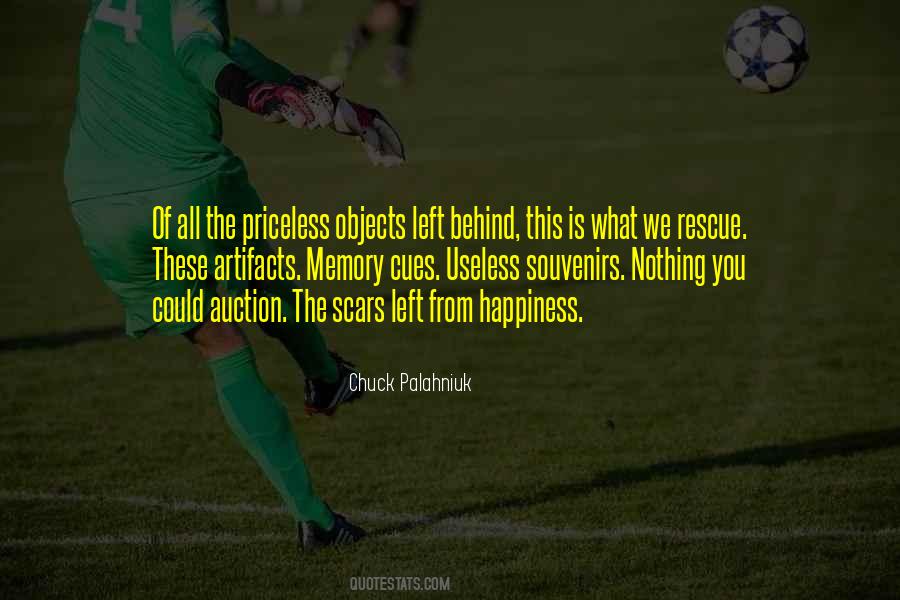 #67. I would expect another Scars album before another System album. - Author: Daron Malakian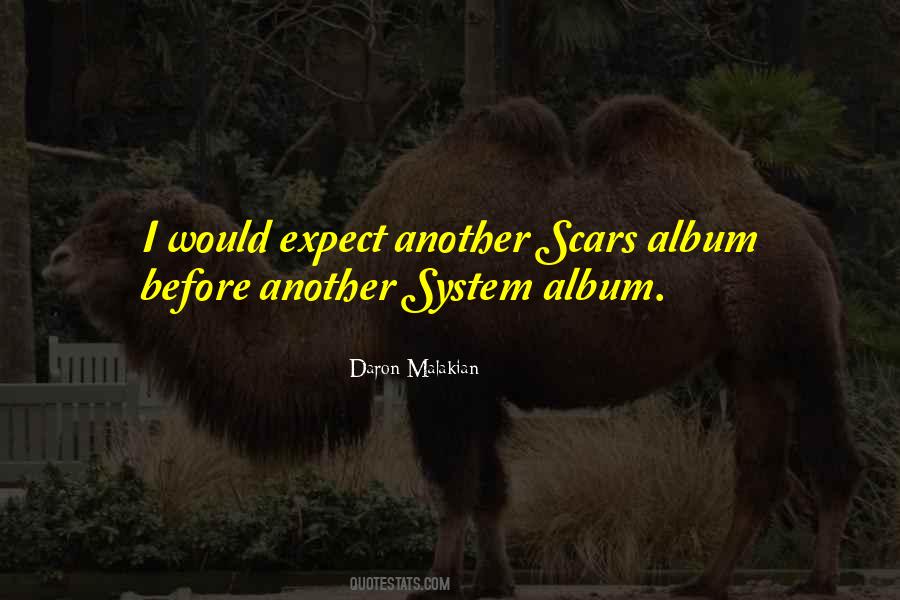 #68. Never mind. The self is the least of it. Let our scars fall in love - Author: Galway Kinnell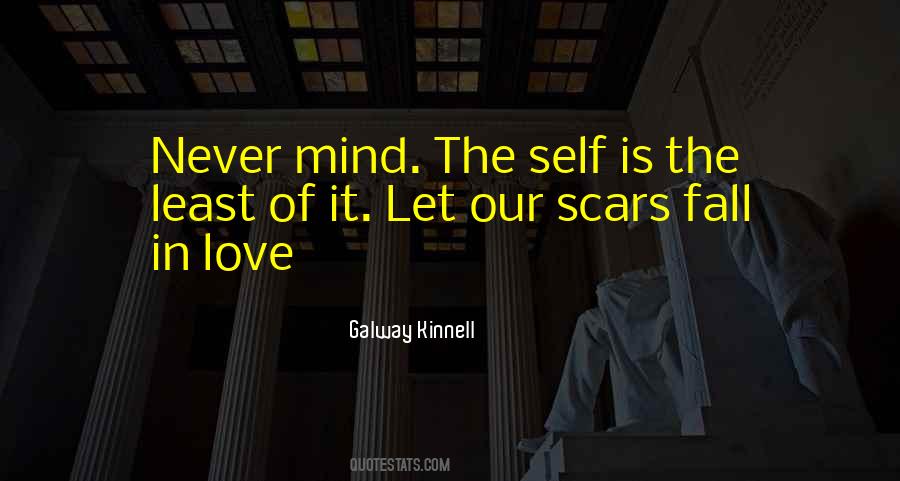 #69. Scars are badges of honors. They tell people you've lived a full life - Author: Lizzy Ford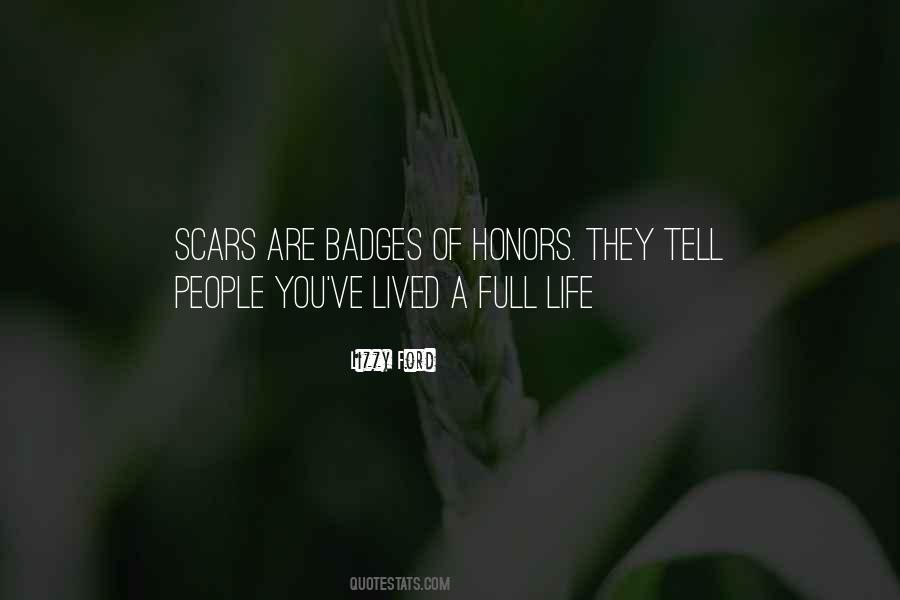 #70. My scars tell a story. They are a reminder of times when life tried to break me, but failed. They are markings of where the structure of my character was welded. - Author: Steve Maraboli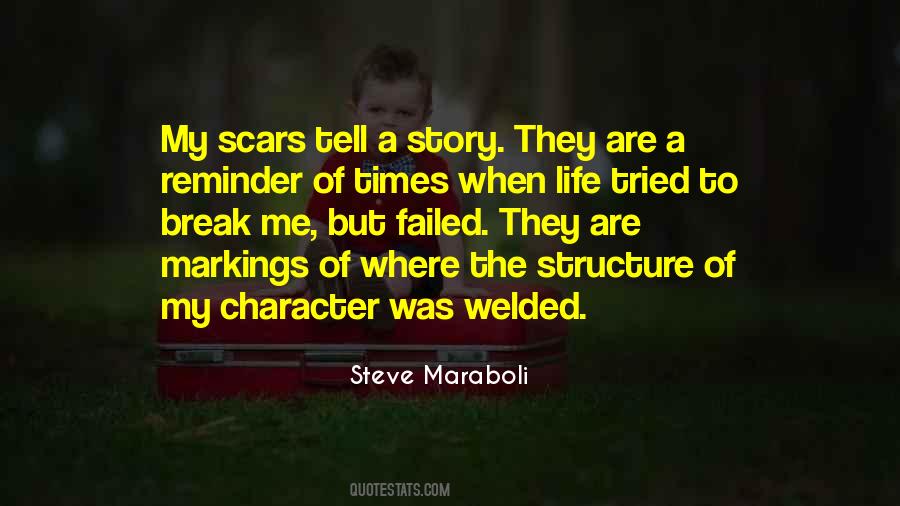 #71. The wound is the place where the Light enters you. - Author: Rumi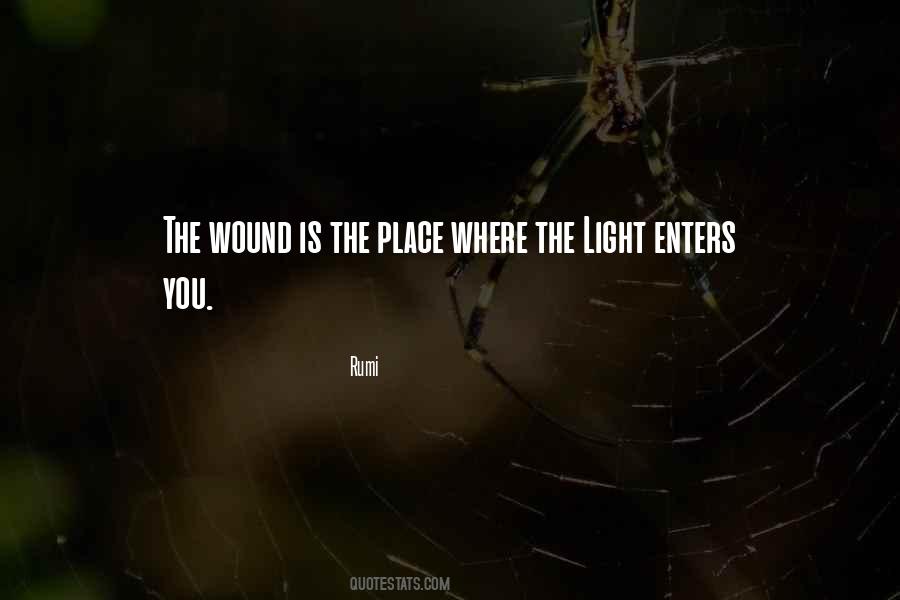 #72. I'm sorry. (Valerius) It's okay. We all have scars. I'm just lucky most of mine are on the outside. (Tabitha) - Author: Sherrilyn Kenyon
#73. A scar is a wound that has healed. We need to bring our wounds to Jesus, let Him heal them, and use our scars for Jesus. Our scars may be our greatest ministry. - Author: Adrian Rogers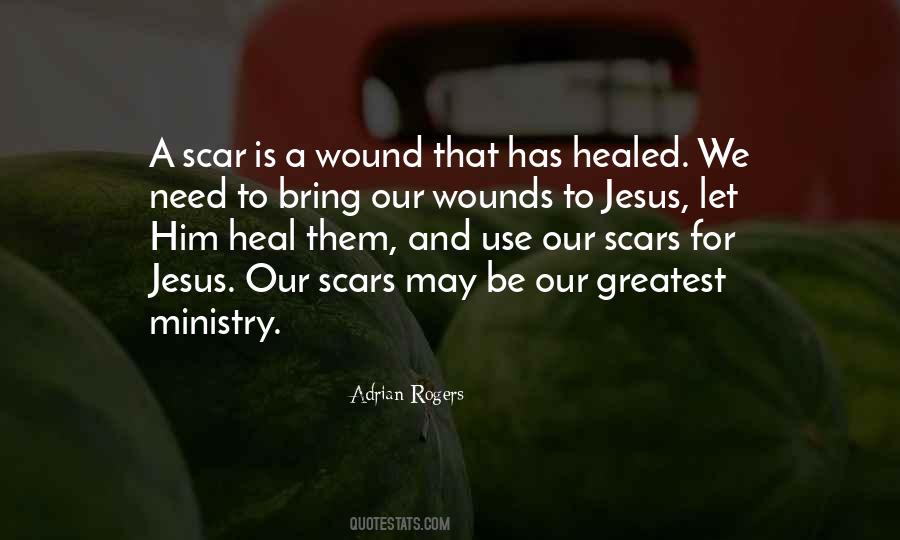 #74. What doesn't kill you leaves scars, ruins your lungs, dries out all your tears, leaves you lying awake at 4 in the morning
wishing you weren't alive. - Author: Walt Whitman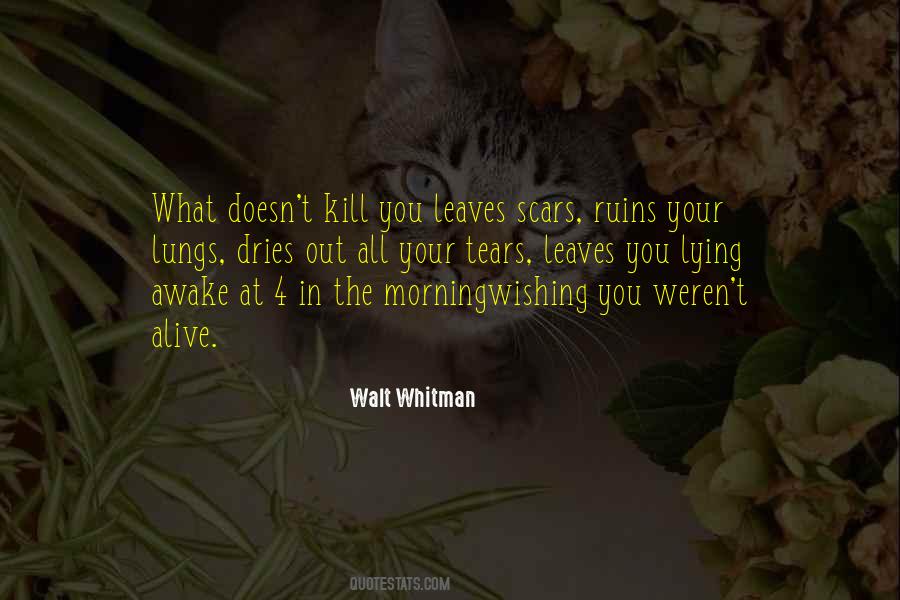 #75. Segregation ... not only harms one physically but injures one spiritually ... It scars the soul ... It is a system which forever stares the segregated in the face, saying 'You are less than ... 'You are not equal to ... ' - Author: Martin Luther King Jr.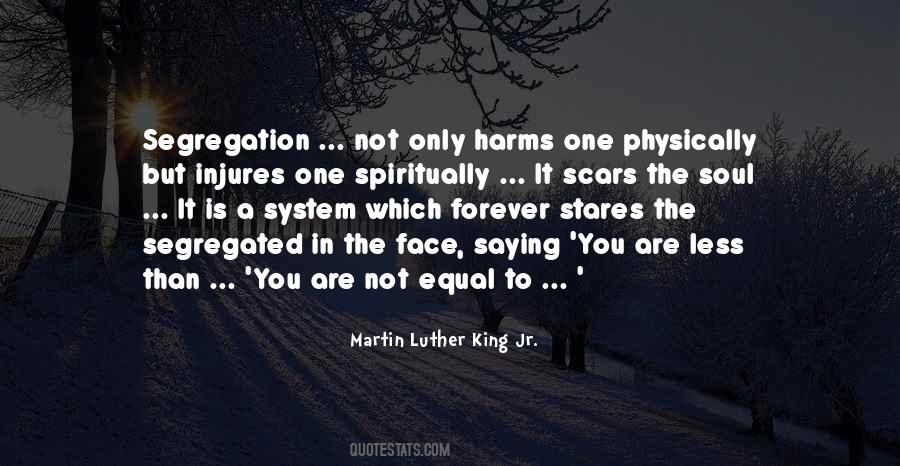 #76. All these scars show is zat my husband is brave! And - Author: J.K. Rowling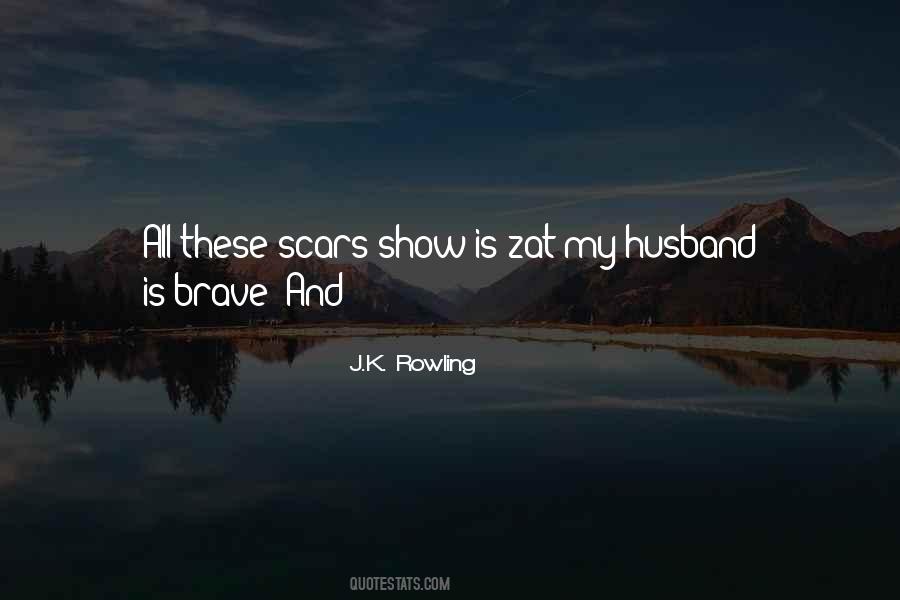 #77. When I stand before thee at the day's end, thou shalt see my scars and know that I had my wounds and also my healing. - Author: Rabindranath Tagore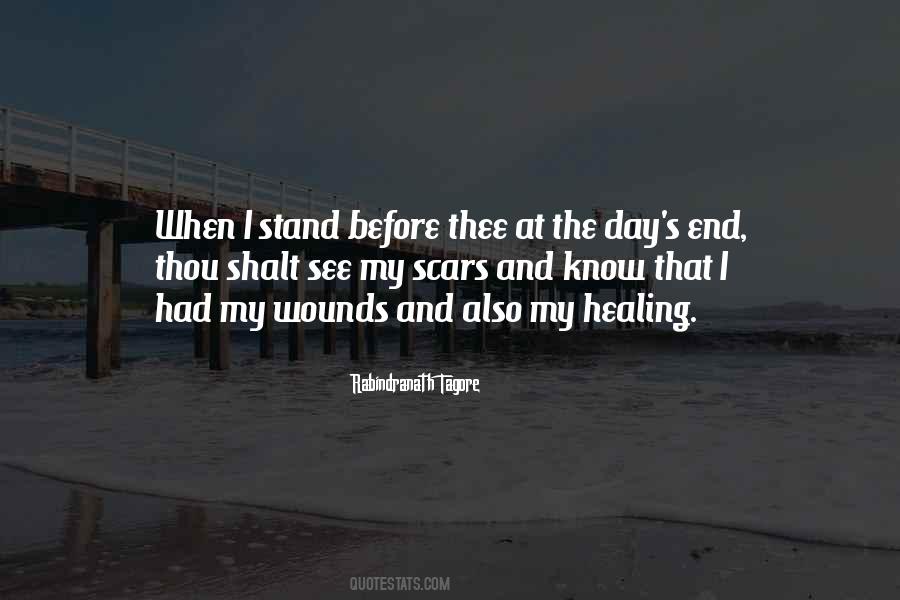 #78. The earth is, like our own skin, fated to carry the scars of ancient wounds. - Author: Fernand Braudel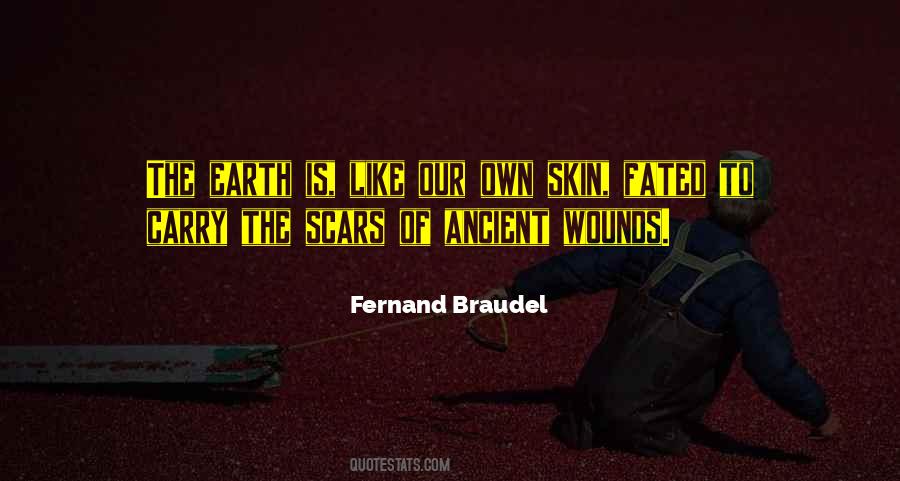 #79. Don't fret none, darlin'. I got your back."
"You said that in Budapest. I still have the scars, too. - Author: Shelly Laurenston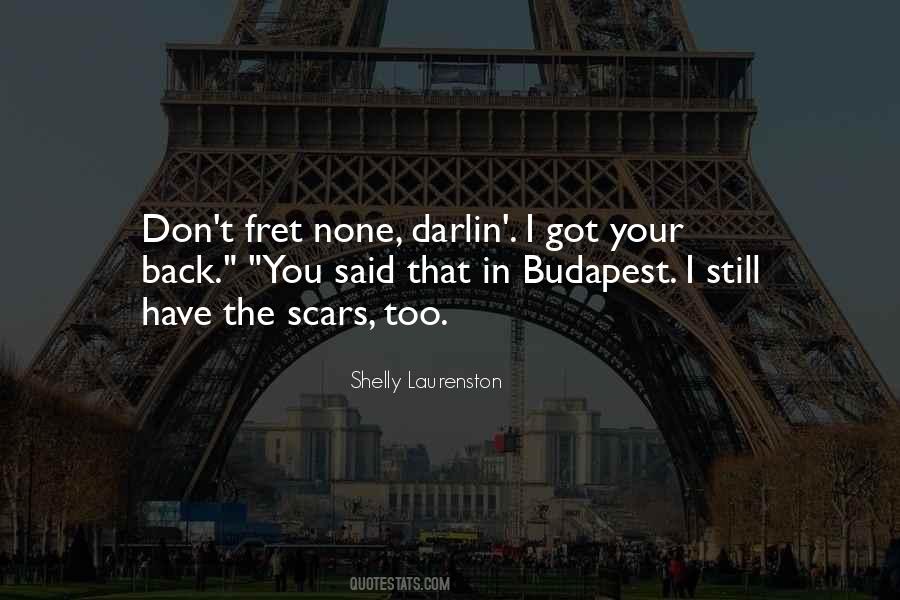 #80. To know your mind, to see your heart,to taste your pain, to touch your dreams, to trace your scars, and to worship your joy...is my sole interest. - Author: Beth McGirt Adams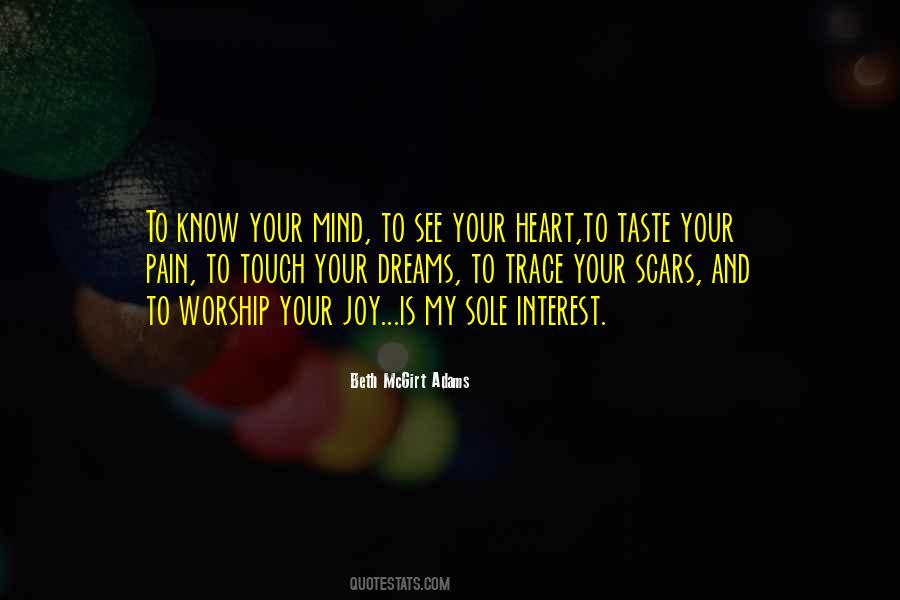 #81. Over the years, I've had about 80 stitches in my head and face from football incidents and bar incidents, so I have lots of scars. I don't think I look intimidating, but I'm sure other people have their opinions. - Author: Vinnie Jones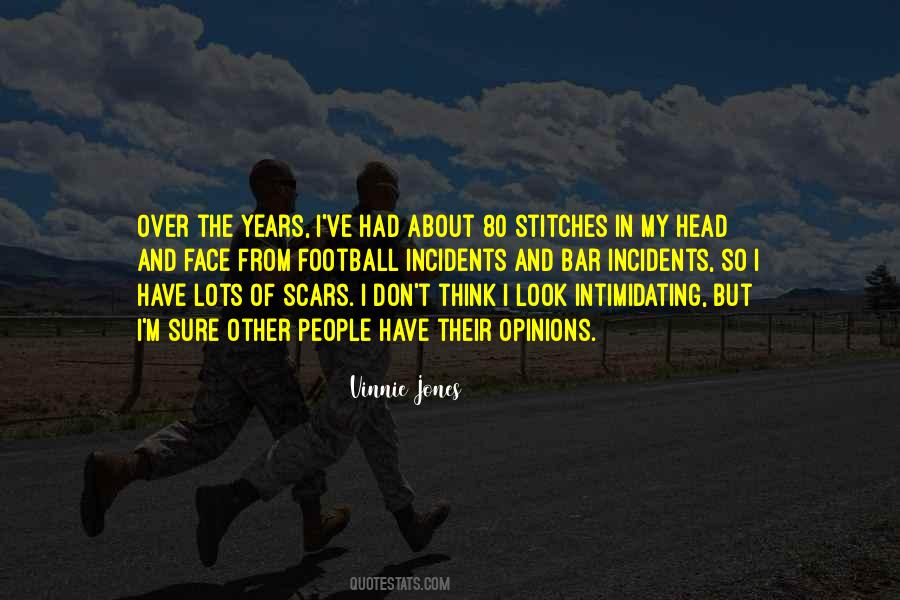 #82. If ever sorrow and suffering set their profaning marks on the youth and beauty of Miss Fairlie's face, then, and then only, Anne Catherick and she would be the twin-sisters of chance resemblance, the living reflections of one another. - Author: Wilkie Collins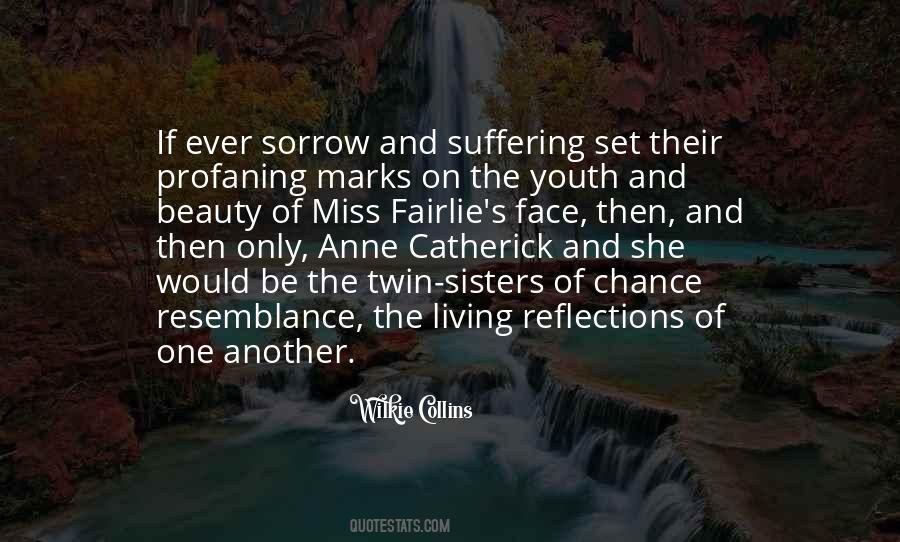 #83. I'm a sucker for a guy with scars, so for your protection, we should probably stick to the case."
"I'm not scared. - Author: Lisa Kessler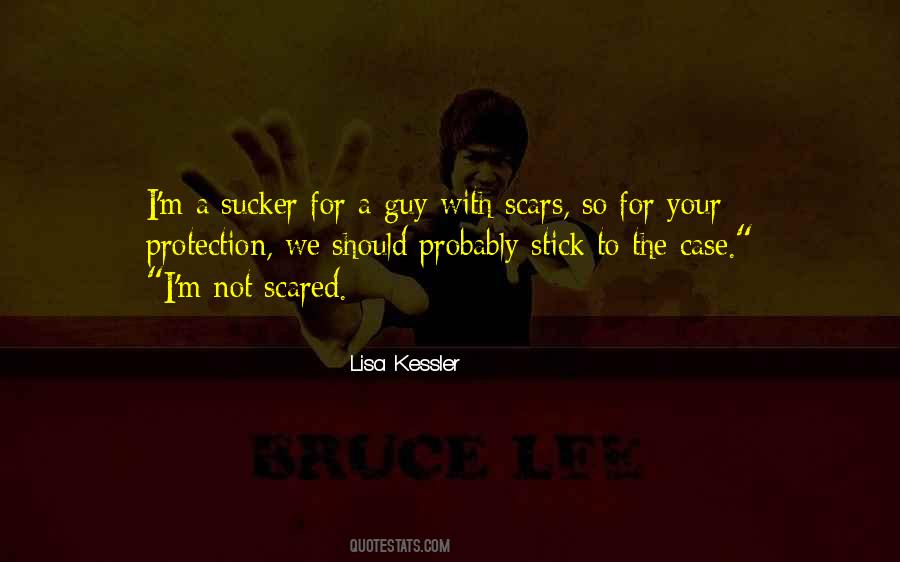 #84. Scars you refuse to hide can become lighthouses that warn other people who are headed to the same rocks you crashed on. - Author: Jon Acuff
#85. Everyone wants to know how you can tell when it's true love, and the answer is this: when the pain doesn't fade and the scars don't heal, and it's too damned late. Jonathan Tropper, from The Book of Joe - Author: Madelon Phillips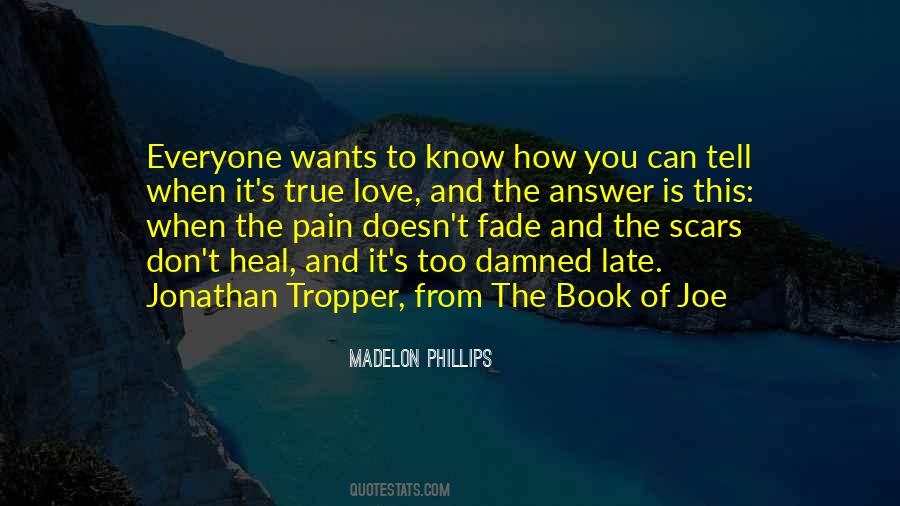 #86. Just because my scars aren't visible doesn't mean I don't have them. - Author: Michelle Watson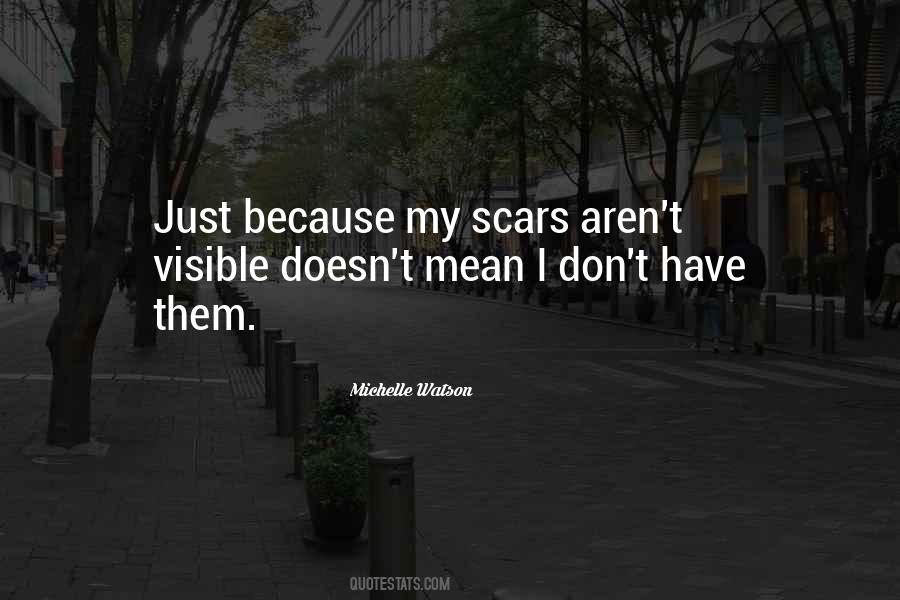 #87. She wore her scars
as her best attire.
A stunning dress
made of hellfire. - Author: Daniel Saint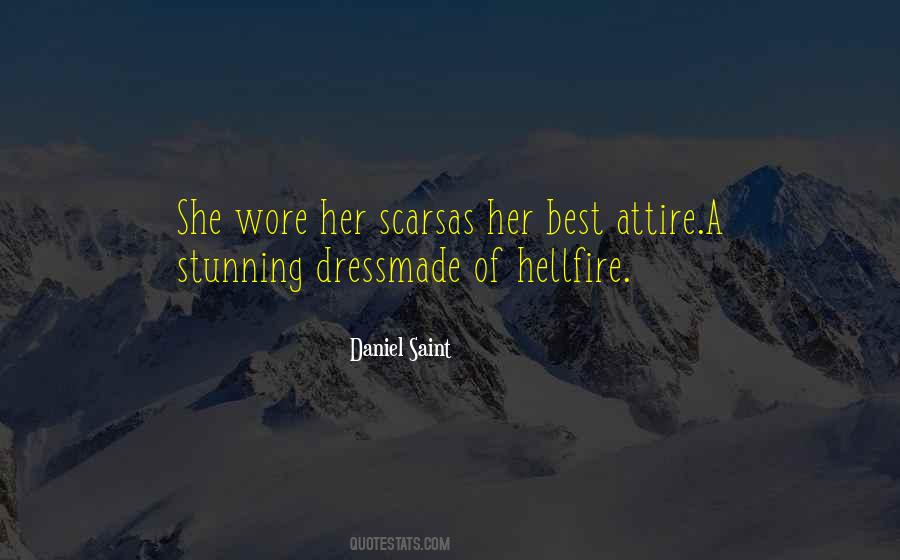 #88. Hearts everywhere bear scars of one form of hurt or the other, and it is necessary to keep this in mind when trying to understand why a person is the way he or she is. - Author: Innocent Mwatsikesimbe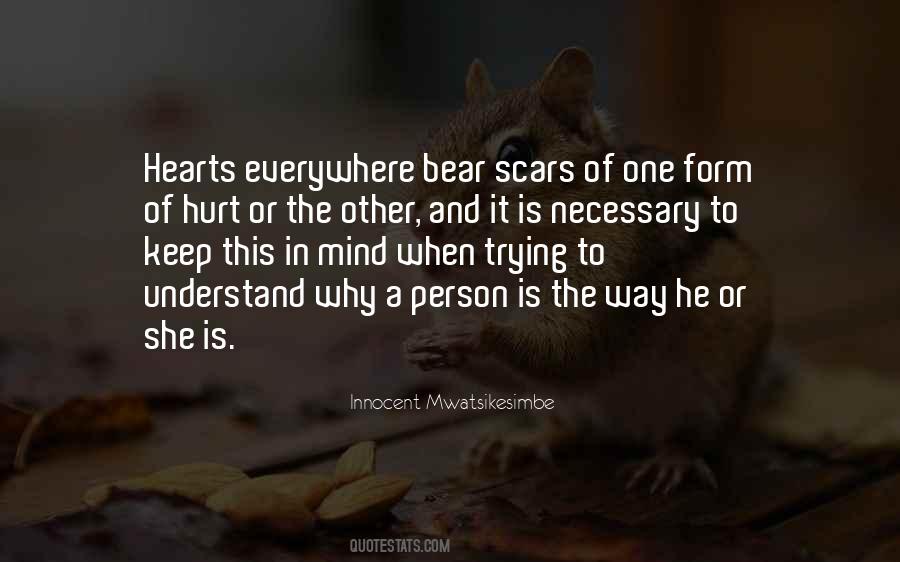 #89. Betrayal is a more subtle, twisted feeling than terror. It burns and eats, but terror stabs right through. - Author: Wendy Hoffman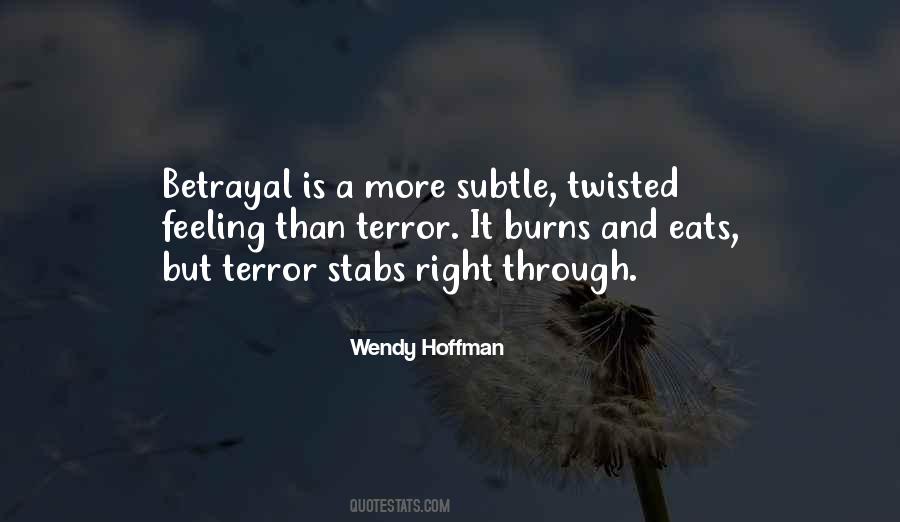 #90. I couldn't believe they were saying I put a horrible fake plastic bosom over scars I was trying to heal and keep it in place with a tight bra, which could stop my blood flow, just so I could fit into my clothes. - Author: Koo Stark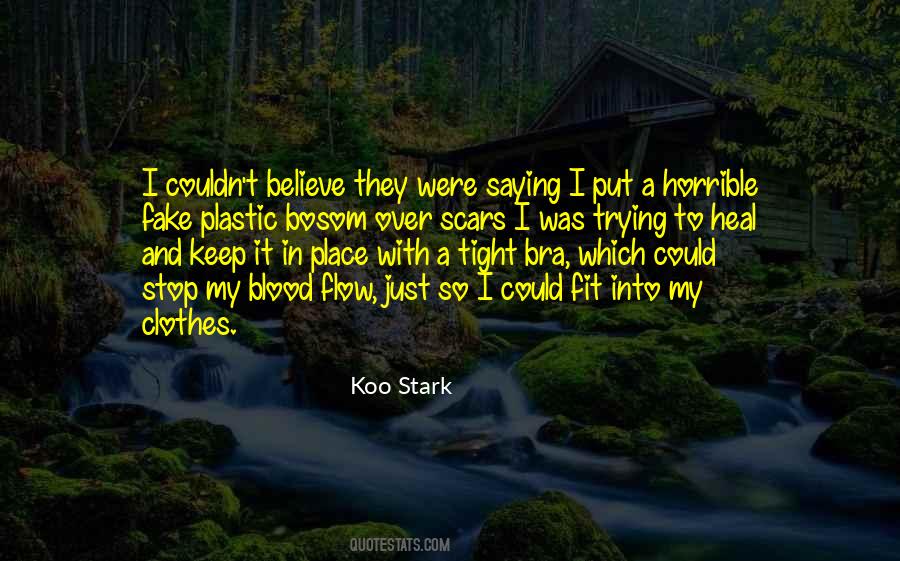 #91. She had no scars to show for her happiness except her laughter lines - Author: Srividya Srinivasan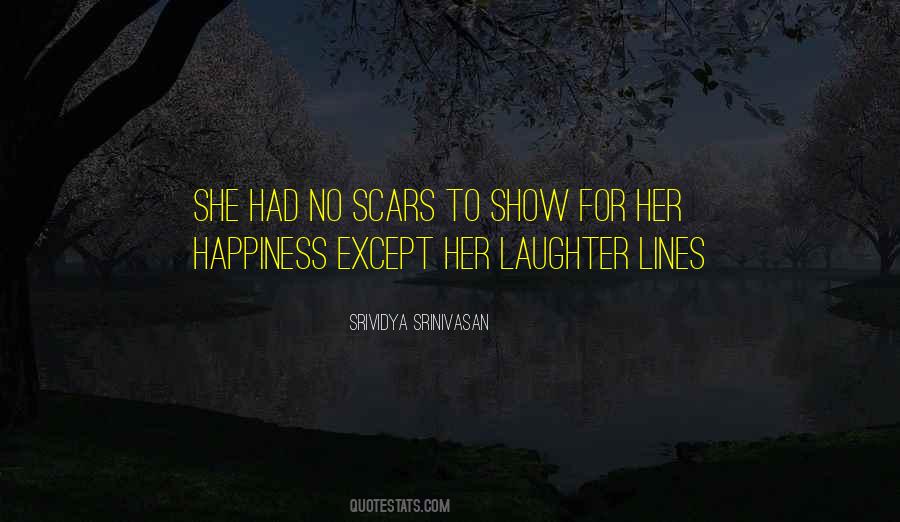 #92. He pulled himself out of hard times, dealt with the scars from it, pushed himself to make a mark. A little bit of the wild side there, always. I told myself, oh no, I won't get tangled up with this one. And I said it again, even when I was tangled up. - Author: Nora Roberts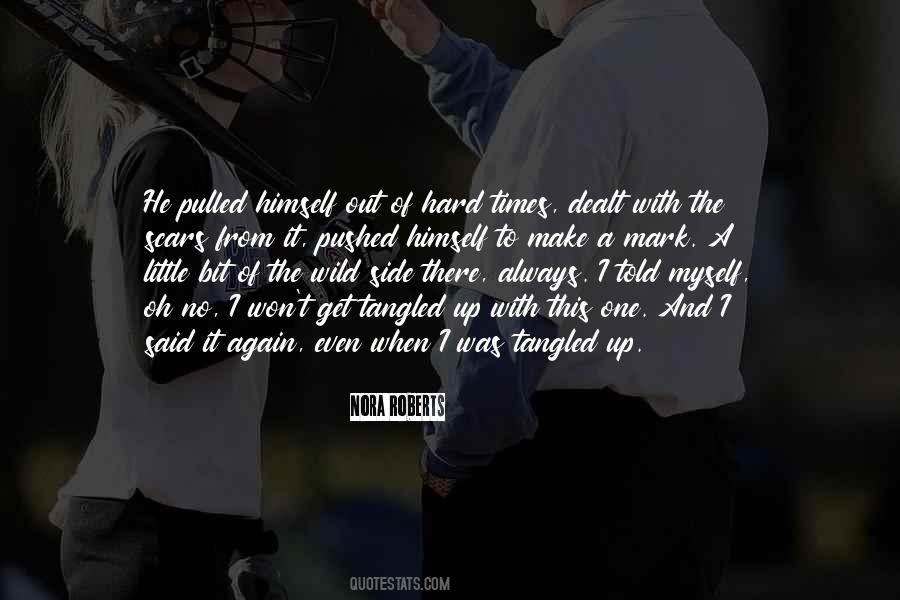 #93. To be alive at all is to have scars. - Author: John Steinbeck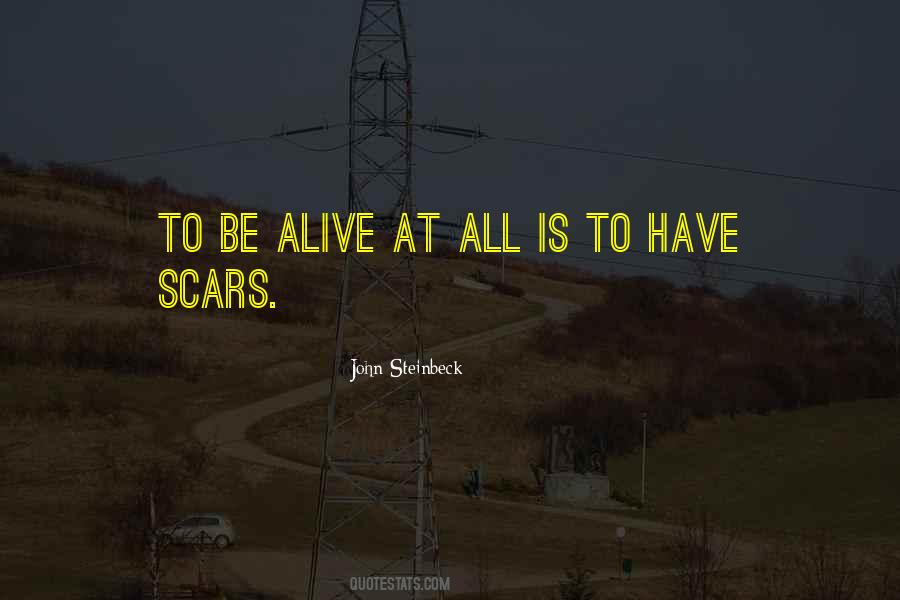 #94. everyone has scars," she says. "A lot of them even worse than mine. The only difference is that mine are visible and most people's aren't." I - Author: Colleen Hoover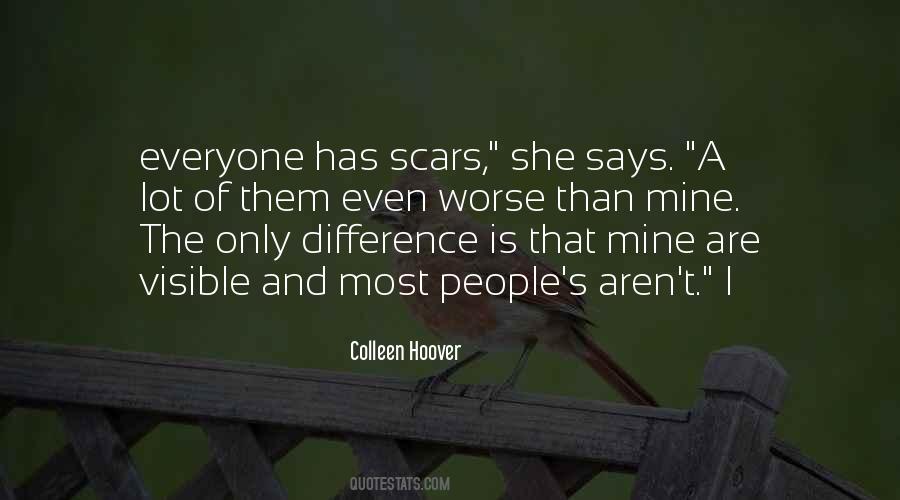 #95. Maxim kept grudges like scars. They faded by degrees but always left a mark. Kell - Author: V.E Schwab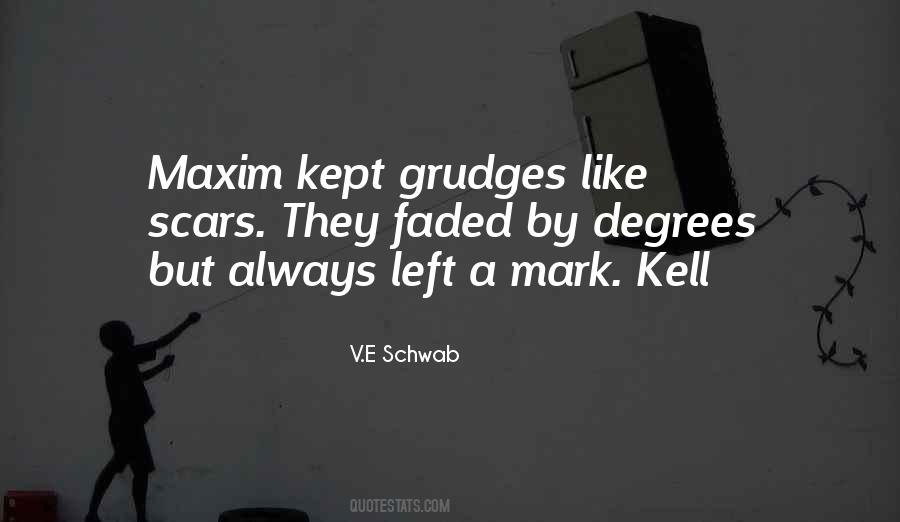 #96. Although I'm marked by my inner scars, I'm also empowered by my experiences. - Author: Cecil Murphy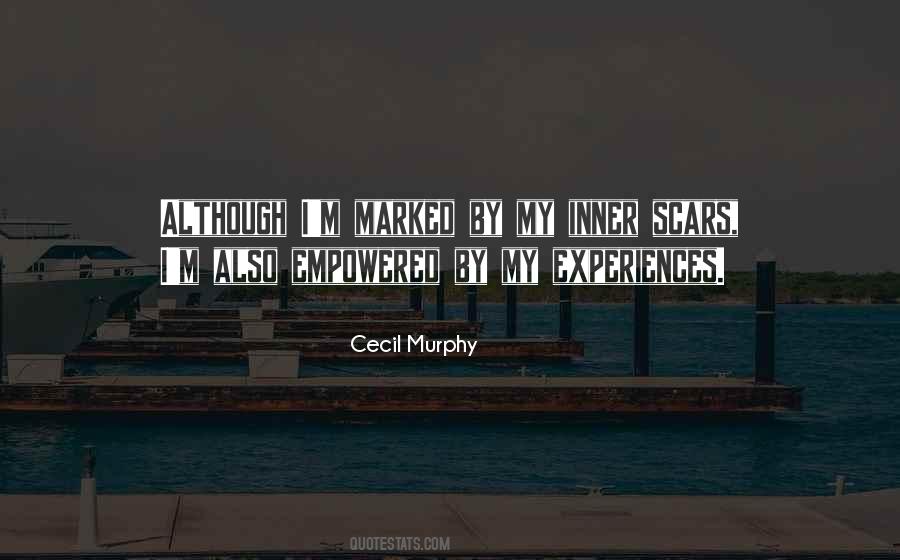 #97. The only rules he wanted to remember were "never kiss a girl whose brothers have knife scars" and "never gamble without knowning a back way out - Author: Robert Jordan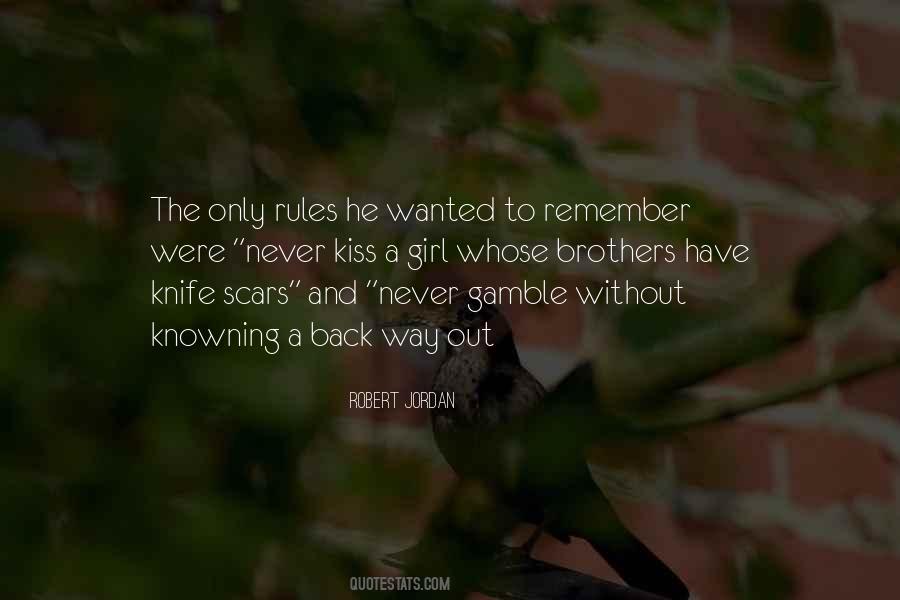 #98. Rowan knew it was now possible to look directly at Zandra, Zandra the Princess of Jupiter, the one he had loved all his life. He reached out to take her hand. True, he was covered all over with scars and scratches and stitches, but then, in a way, so was she. The end. - Author: Phoebe Stone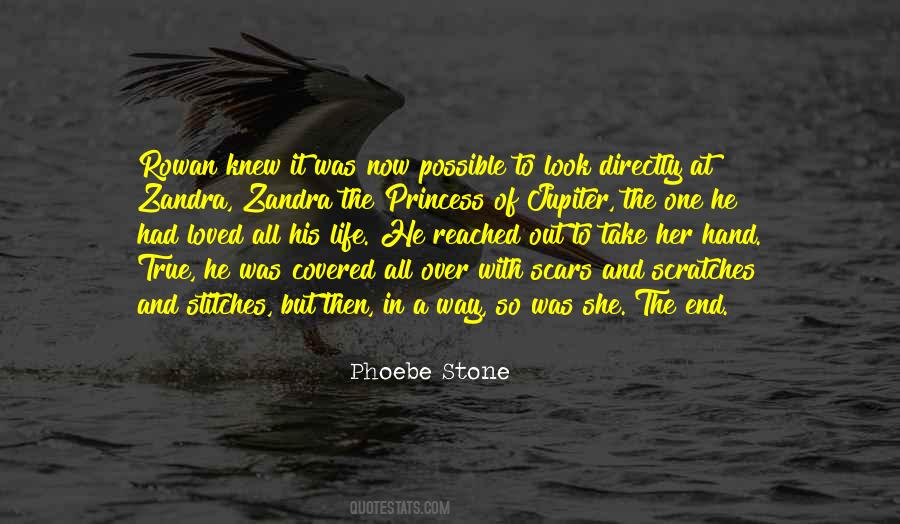 #99. A lot of us grow up and we grow out of the literal interpretation that we get when we're children, but we bear the scars all our life. Whether they're scars of beauty or scars of ugliness, it's pretty much in the eye of the beholder. - Author: Stephen King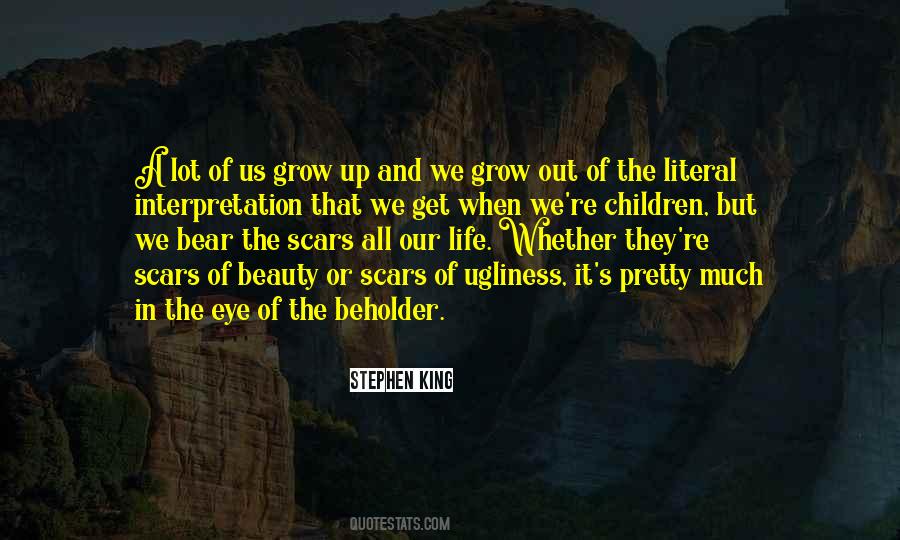 #100. She just keeps kissing my scars. Every scar. She knows about them all. She watched them all appear and heal. Sophie's lips against me make every punch, every kick, every wound, every scar worth it. - Author: Chelsea Fine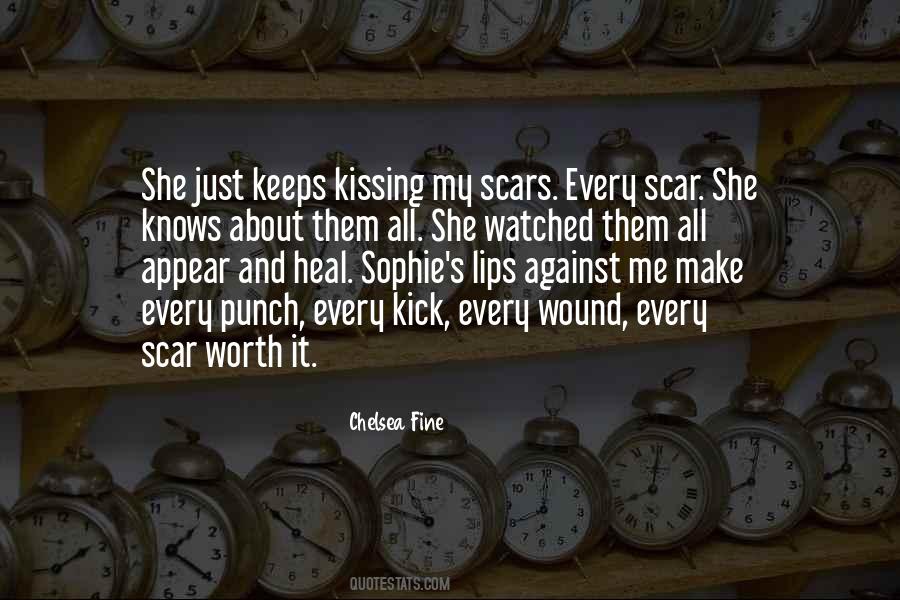 Famous Authors
Popular Topics